The Best Weekend Getaways from Seattle (Complete Guide)
Seattle is a beautiful city and one I was lucky to call home for almost two decades (though somehow, I only made it to a handful of these spots during that time before coming back in 2020). Situated on the Puget Sound, Seattle is surrounded by towering mountains, alpine lakes, and even picturesque beaches (of the rocky variety – no sexy white sand beaches here!).
There aren't many cities that have such a great balance of city life and easy access to nature (San Francisco and Portland are close seconds, though). Of course, no matter how much you love your home city, you need to take off and see somewhere new once in a while.
One of my favorite things about living in the Pacific Northwest is that you don't have to go far at all for some of the best weekend getaways from Seattle.
The places we've picked for you here are all within four hours of downtown Seattle, so they are perfect for feeling like you're getting away without being too far to make the travel time a problem for a weekend. Each offers some combination of a diverse set of things to do, whether you're into hiking in the mountains or relaxing at the spa, and incredible places to stay.
Looking for a great getaway from Seattle? Check out our list of the best Airbnbs in Washington State to find your next getaway, from rustic cabins in the woods to beachfront treehouses.
Disclaimer: Some of the links in this post, like hotel links, are affiliate links, meaning at no additional cost to you, we make a little bit of money if you click through and book. That being said, we would never recommend something to you that we don't stand behind 100%.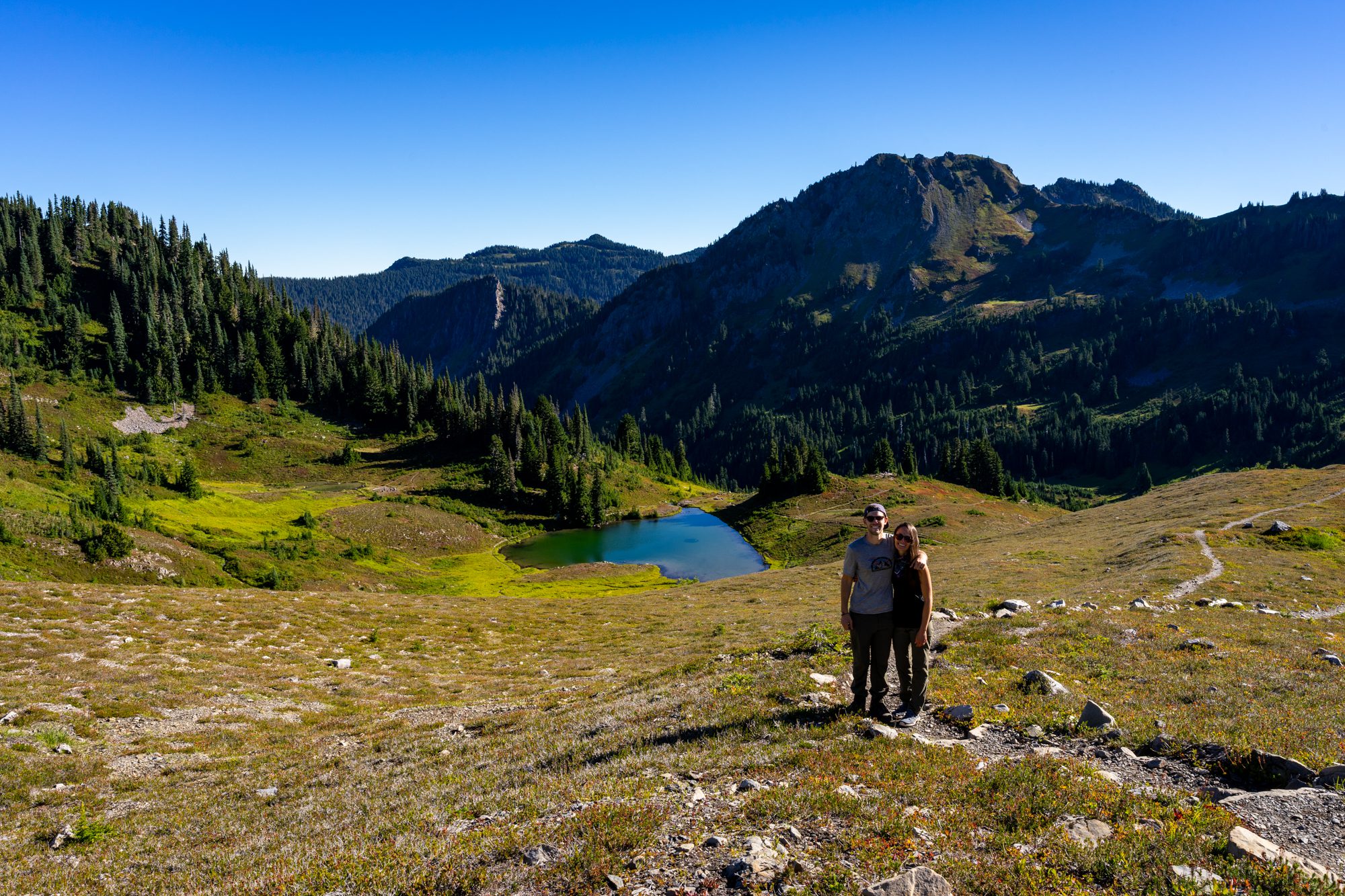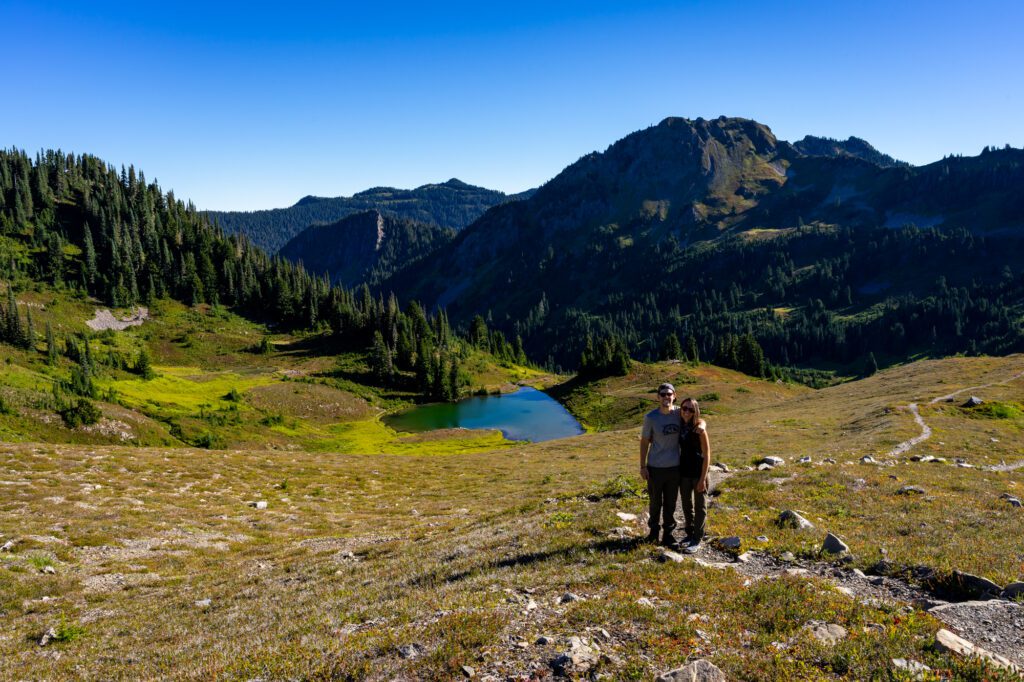 Hey! While you're here, make sure to go read (or bookmark for later) the other Seattle travel guides I've written to help you plan an incredible adventure.
The Best Weekend Trips From Seattle: 10 Amazing Getaways within 4 Hours
The best part about Seattle, aside from, you know, the city itself, is the fact that there are so many amazing places to visit within a few hours of the city.
We've tried to bring a bit of order to your decision-making process by splitting them up into three categories: outdoor adventures, charming towns, and island escapes.
Note that we have purposely excluded some closer-in places like Bainbridge and Vashon Island, because we think they make a better day trip from Seattle than a weekend away.
Could you spend a weekend there? Definitely. But you can cover most of the main things to do and see in a day, which is why they're over on that list.
Weekend Trips to Explore the Great Outdoors
If you're looking to escape the city and explore the incredible natural landscapes in Washington, these are the best weekend trips from Seattle for you.
Olympic National Park
Distance from Seattle: 82 miles (if you take the ferry) / 2 hours 30 minutes travel time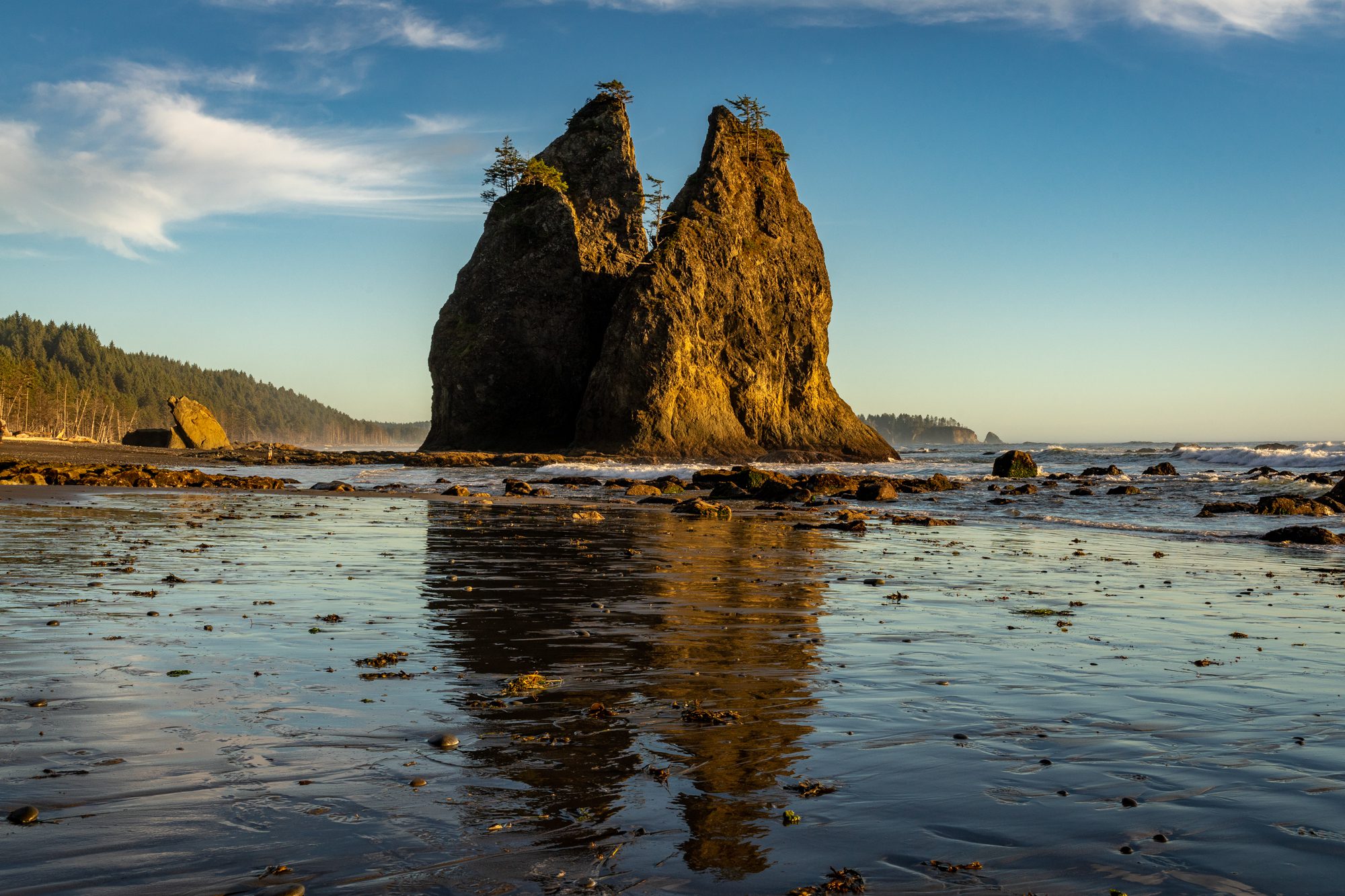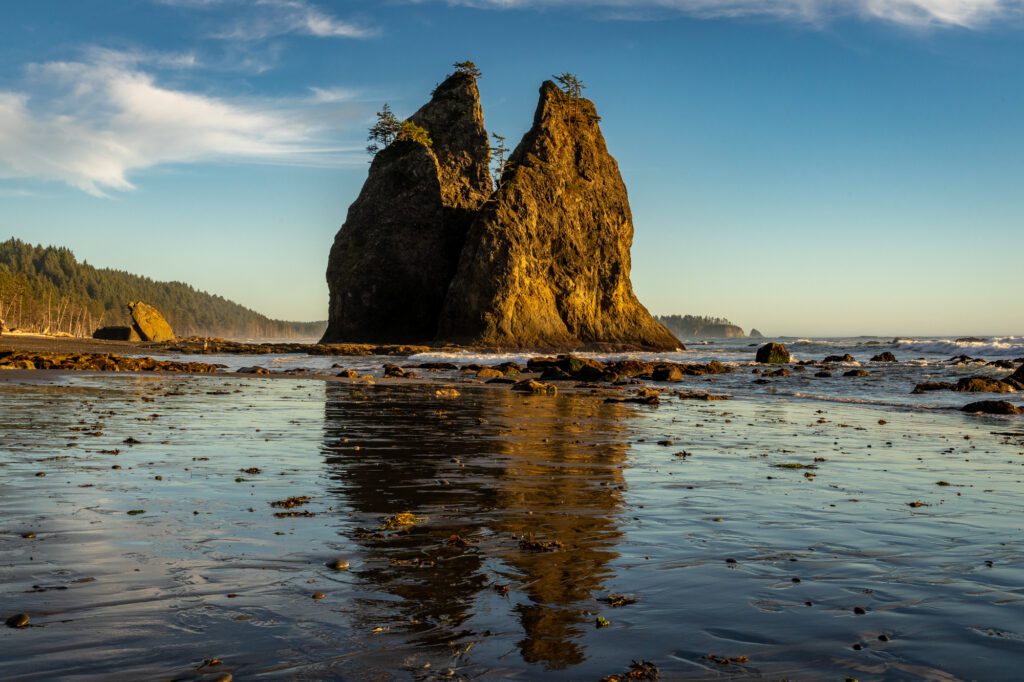 Olympic National Park is one of our favorites. It's incredibly diverse – there's the high alpine parts like Hurricane Ridge, the rugged Pacific Coast beaches, and the world-famous temperate rainforest, all packed into one single national park.
Whether you're into hiking miles and miles at a time, or you just want to do a short stroll to the beach, you're going to love Olympic National Park. The biggest problem with Olympic National Park is figuring out what to do and see, and how to organize your time (lucky for you, we have an entire Olympic National Park itinerary dedicated to helping you do just that). It's a huge park, which means lots of driving if you end up having to backtrack.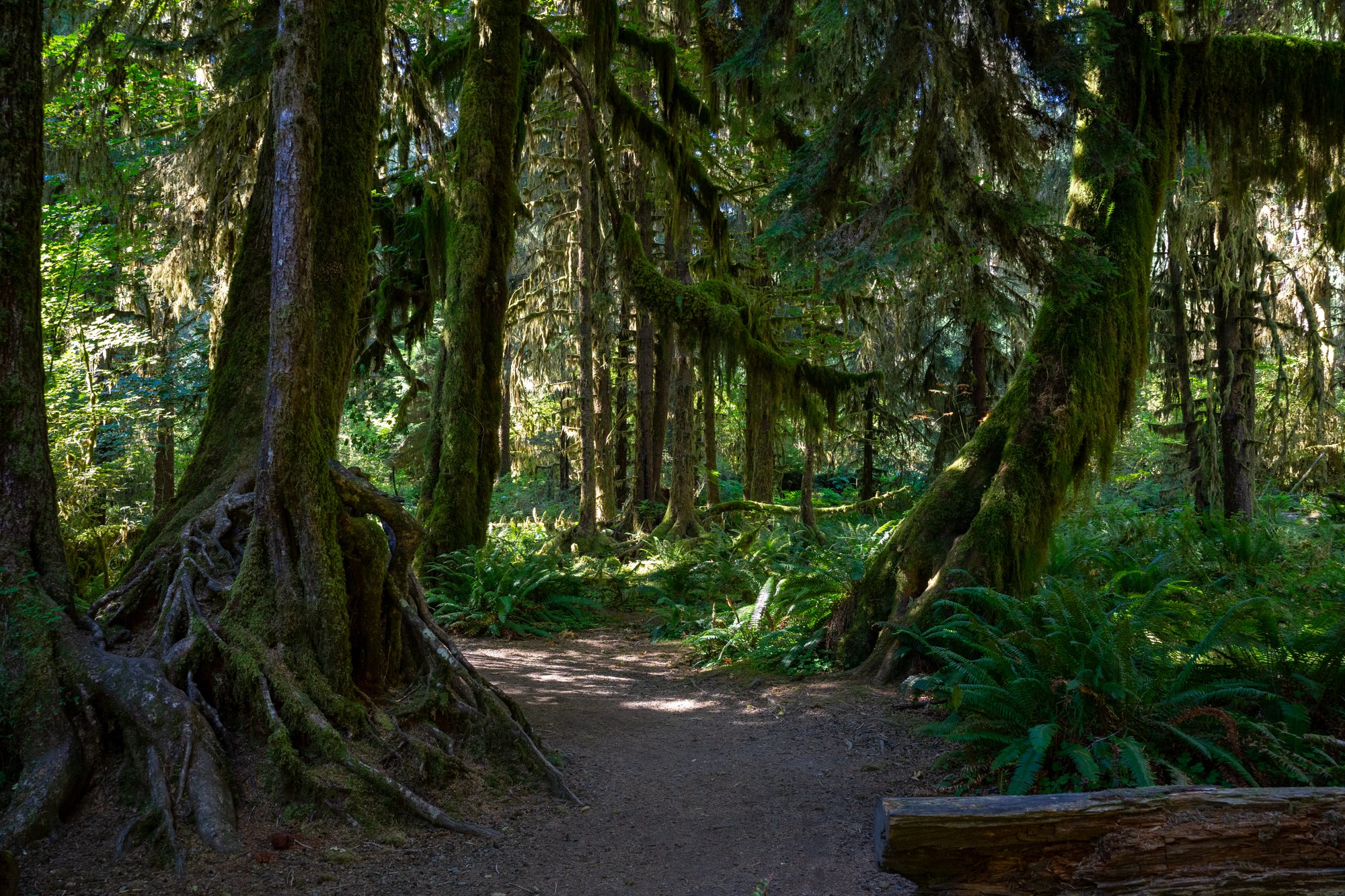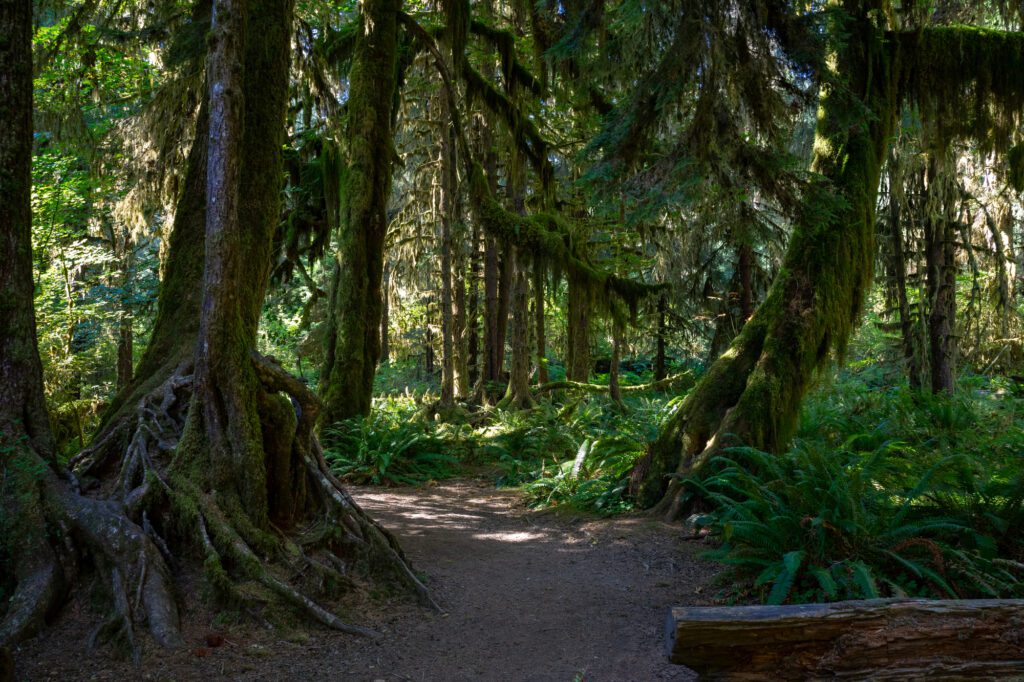 Our biggest tip is to spend your weekend doing a loop that starts in Port Angeles, works your way down towards Forks, and loops down past Lake Quinault, returning to Seattle through Olympia. If you stay in one place – say, Port Angeles or Forks – you're going to be doing a lot of driving to get back and forth between places. For context, it's a 1 hour and 45 minute drive between Hurricane Ridge (the alpine part of the park) and Forks (the Pacific Coast beaches).
Then it's ANOTHER hour to get from Forks to the Hoh Rainforest.
Trust us – book one night in Port Angeles, and one in Forks, and make a giant loop around the Olympic Peninsula.
It is 82 miles to Port Angeles (the jumping off point at the western edge) if you take the car ferry to Bainbridge Island from Seattle, or 138 miles if you just go by road. The journey time is about the same: just short of 2 ½ hours. From Port Angeles to the Hurricane Ridge Visitors Center is about 20 miles, and it'll take you about 45 minutes.
Things to Do in Olympic National Park
Olympic National Park is a must-visit for Seattle residents who want to get out in nature – you really can't do better in terms of hiking and exploring (well, except maybe Mount Rainier), and there are so many miles of trails and beaches, you can return again and again.
Hurricane Ridge: You've got plenty of choices in Olympic National Park if you like hiking, but Hurricane Ridge should be high on your list. Located 17 miles south of Port Angeles, this easily accessed area offers wonderful views and trails that vary from the easy to the strenuous. We hiked Hurricane Hill in the early morning, and were stunned by the sweeping views across the Puget Sound – you could see all the way to Victoria, BC and Mount Baker!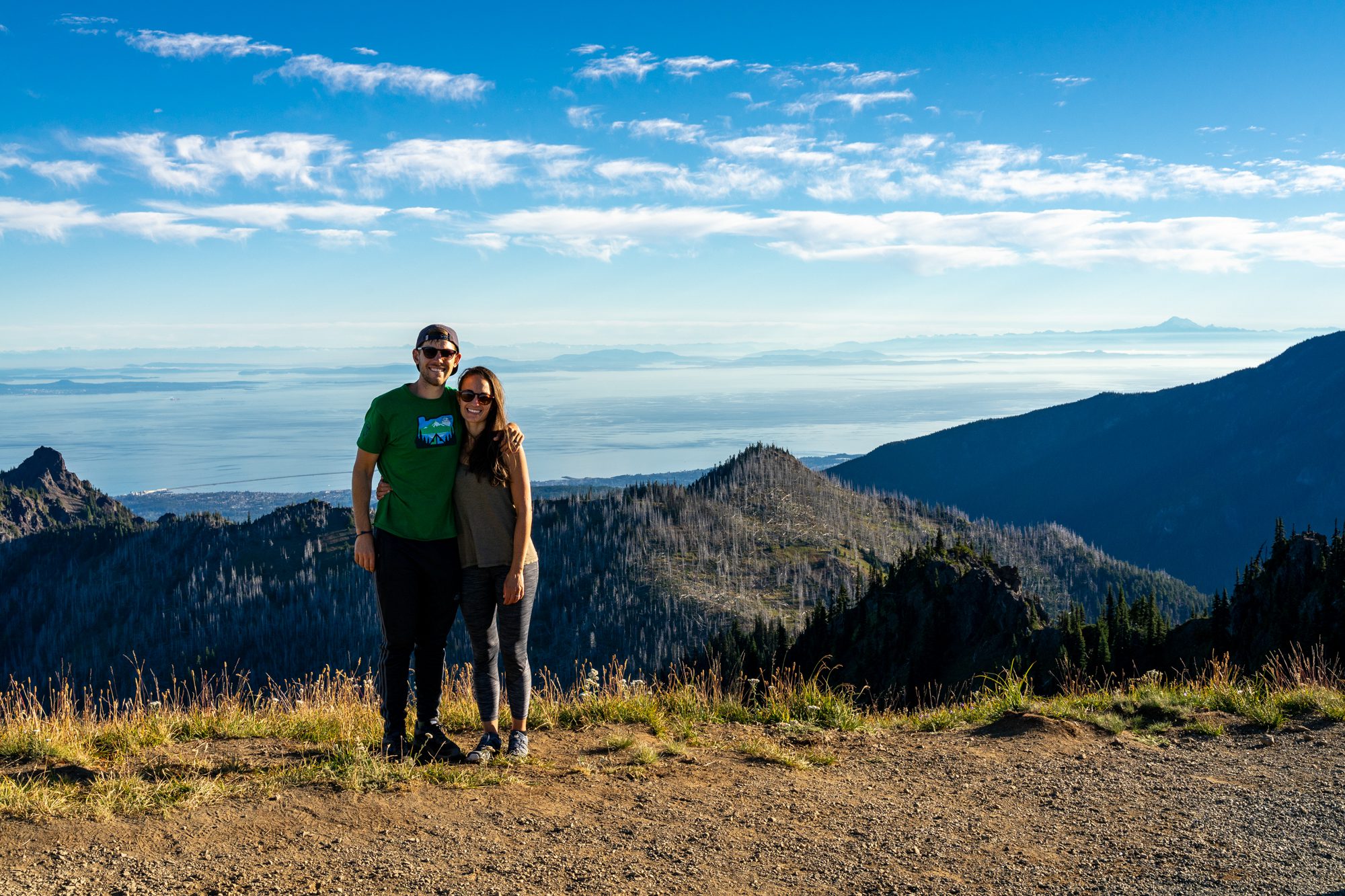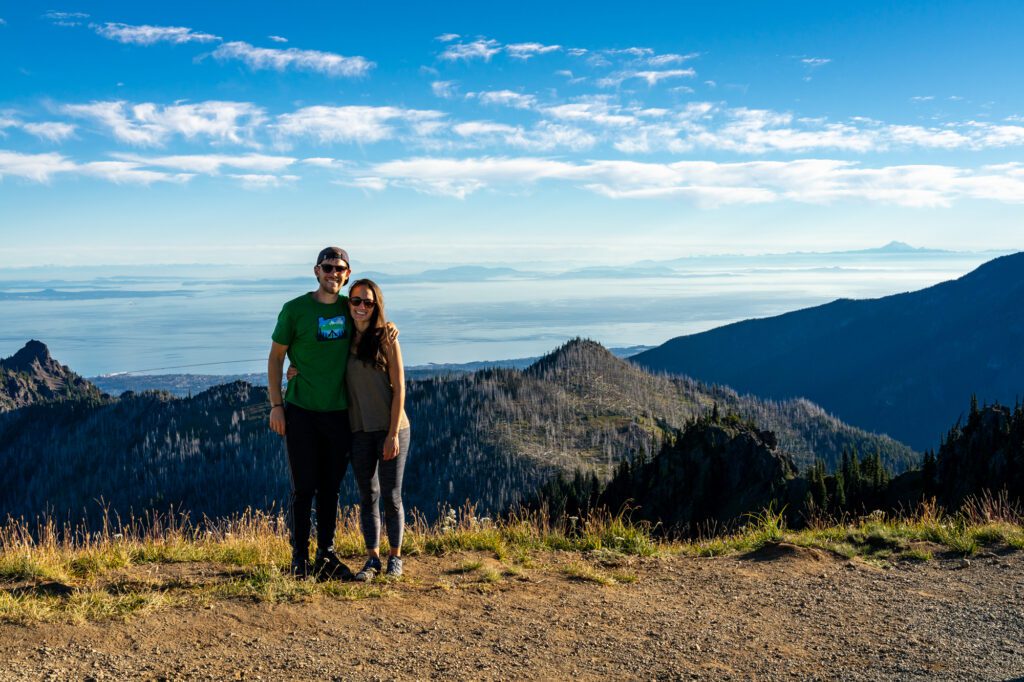 The Hoh Rainforest: The Hoh Rainforest is one of the most incredible examples of coastal temperate rainforest as you will find in the country. A mix of softwoods, hardwoods, ferns and mosses makes for an enchanting experience. You won't want to miss the Hall of Mosses, a quick hike through the moss-covered forest (be on the lookout for Roosevelt Elk!). It's a two-hour drive from Port Angeles (only 45 minutes from Forks!), but well worth the day trip.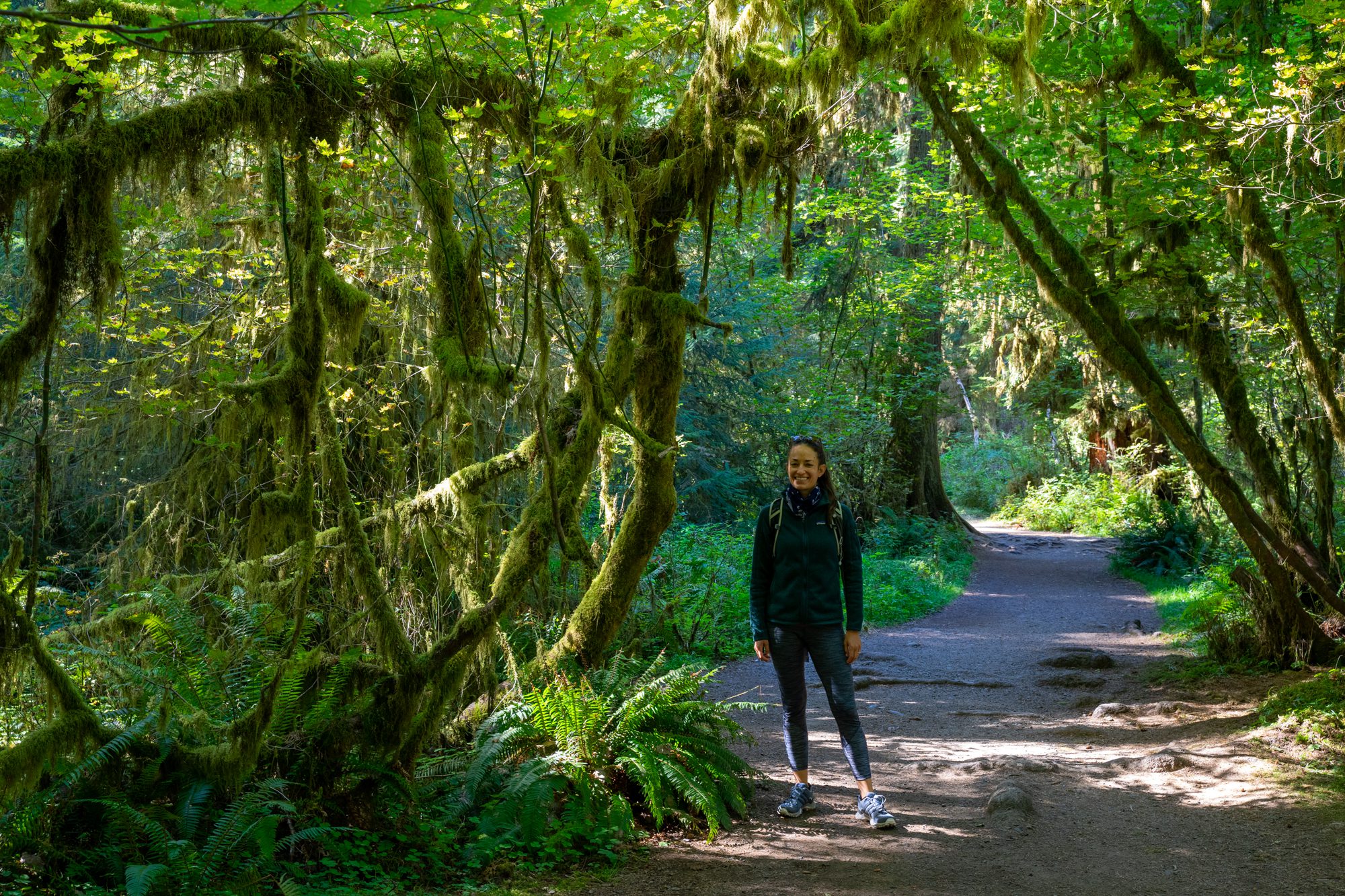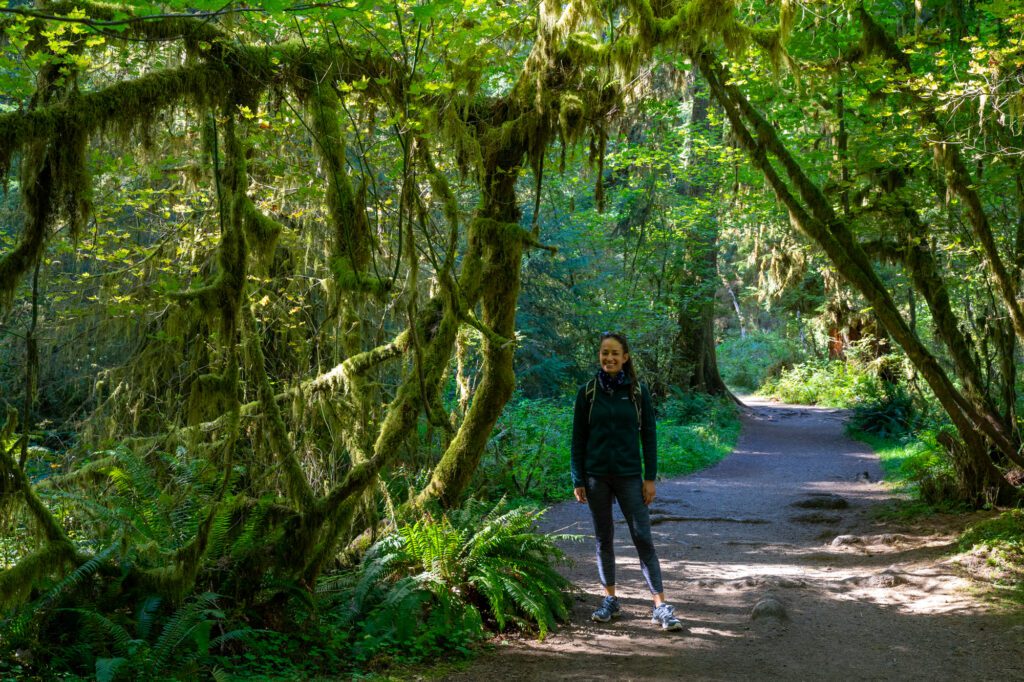 Pacific Coast Beaches: The beaches of the Pacific Coast are wonderful wild places. And there are so many of them! Just don't go into it expecting sandy, sunny beaches like Southern California. They're decidedly more rocky, windy, and cloudy out here.
Rialto, about 75 miles from Port Angeles, offers rocky beaches, pounding surf and views of the offshore "sea stack" islands. Amazing spot to catch a sunset! Make sure to walk out to Hole in the Wall, which is exactly what it sounds like.


Shi Shi Beach has a mix of sand and rocks, tide pools and views of the tree-clad sea stacks and the fabulous Point of Arches.


Ruby Beach and Kalaloch are the places to go if you are into bird watching. Apart from the large colonies of birds like common murres and tufted puffins, you also might get the chance to spot western gulls and the majestic bald eagle.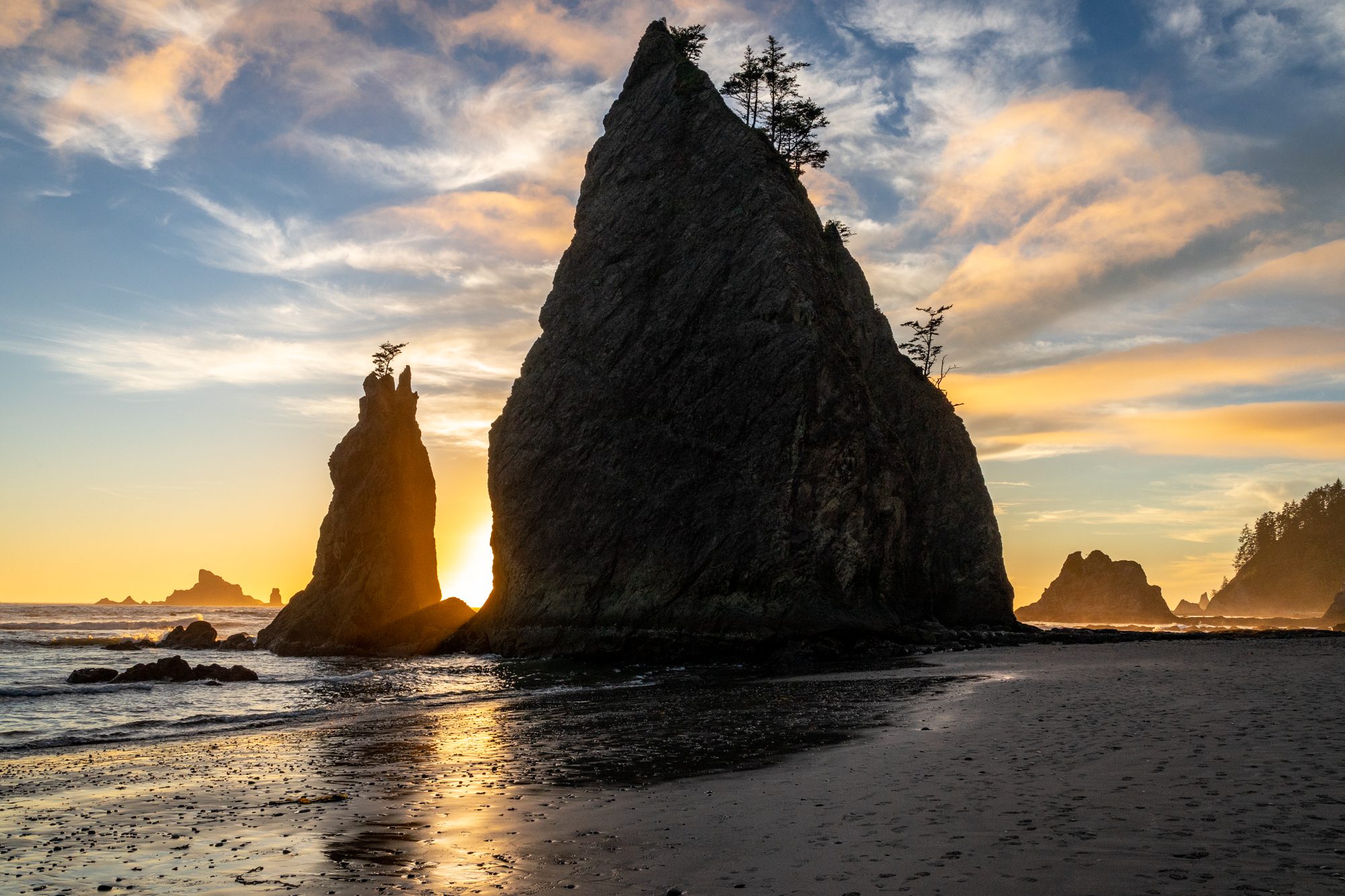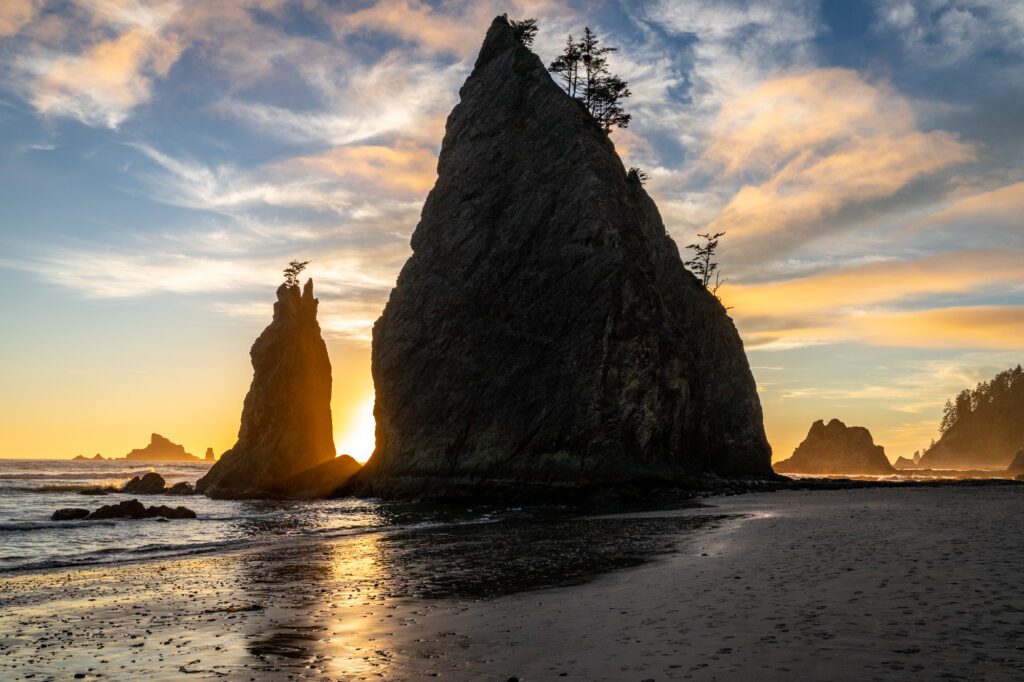 Where to Stay
I've got a bunch of suggestions for you on where to stay to explore the park. Like we mentioned above, you're going to want to spend one night in Port Angeles (or nearby), then one night in Forks.
Port Angeles is going to be one of the best places to stay if you're looking for a central location that also has all the amenities of a city, but is still close to the park. It's a good base for Hurricane Ridge, Lake Crescent, and the Sol Duc Valley.
Forks, most famous for its role in the Twilight saga, is another good home base, roughly equidistant between Hurricane Ridge, the Hoh Rainforest, and the beaches on the Pacific Coast. It's significantly further from Seattle though, so plan for that extra drive time as you make your way out there for the weekend.
In Port Angeles
Klahhane Ridge Guest House: A real find, this guest house is on the eastern edge of Port Angeles. A detached chalet set among trees, this beautifully curated Airbnb sleeps four in style. Enjoy the mountain views knowing there is a choice of great restaurants only minutes away. A great weekend base for the park.
Olympic Lodge: An incredible rustic resort at the gateway to Olympic National Park that recently underwent a remodel. It has all the comforts of a modern luxury hotel, like nice sheets, comfy pillows, and nice HD TV's (hopefully you aren't using it too much during your stay though) but has kept the warm wood finishings that give it that rustic charm. It's also just 45 minutes to Hurricane Ridge Visitors Center, which makes it a perfect place to base yourself to explore that part of the park.
Camping Options: Heart o' the Hills Campground and Fairholme Campground are both in the area, and are first come, first served. Show up early on Fridays and weekends if you want to get a spot during the summer months. We've camped at Sol Duc Hot Springs Campground, which is reservable in advance here.
In Forks
Quillayute River Resort: Close to the Pacific Coast, Quillayute River Resort features one-bedroom suites with full kitchens, fireplaces and sofas. Only seven miles from La Push Beach and set in forested grounds on the banks of the river, it offers unparalleled access to the coast and the beautiful rainforests of Olympic National Park.
Vacation Rentals in Forks – If you know me, then you probably know that I'm a sucker for tiny homes. We've stayed in plenty of them during the course of our travels, and I like the idea of having exactly what you need for your stay – no more, no less. Here is a nice tiny home in Forks near Rialto Beach that would be perfect for couples. If you're traveling with a group, skip the tiny home and look at this brand new 2 bedroom house in downtown Forks.
Camping Options: Mora Campground is your best bet. It's 5 minutes from Rialto Beach, and it's a nice campground with good facilities. Reserve as far in advance as possible – up to six months for summer weekends – here.
Want to plan a trip to Olympic National Park? We've got you covered with all the resources you'll need to plan an incredible trip.
Mount Rainier National Park
Distance from Seattle: To Paradise, 103 miles / 2 hours 30 minutes travel time – To Sunrise, 96 miles / 2 hour travel time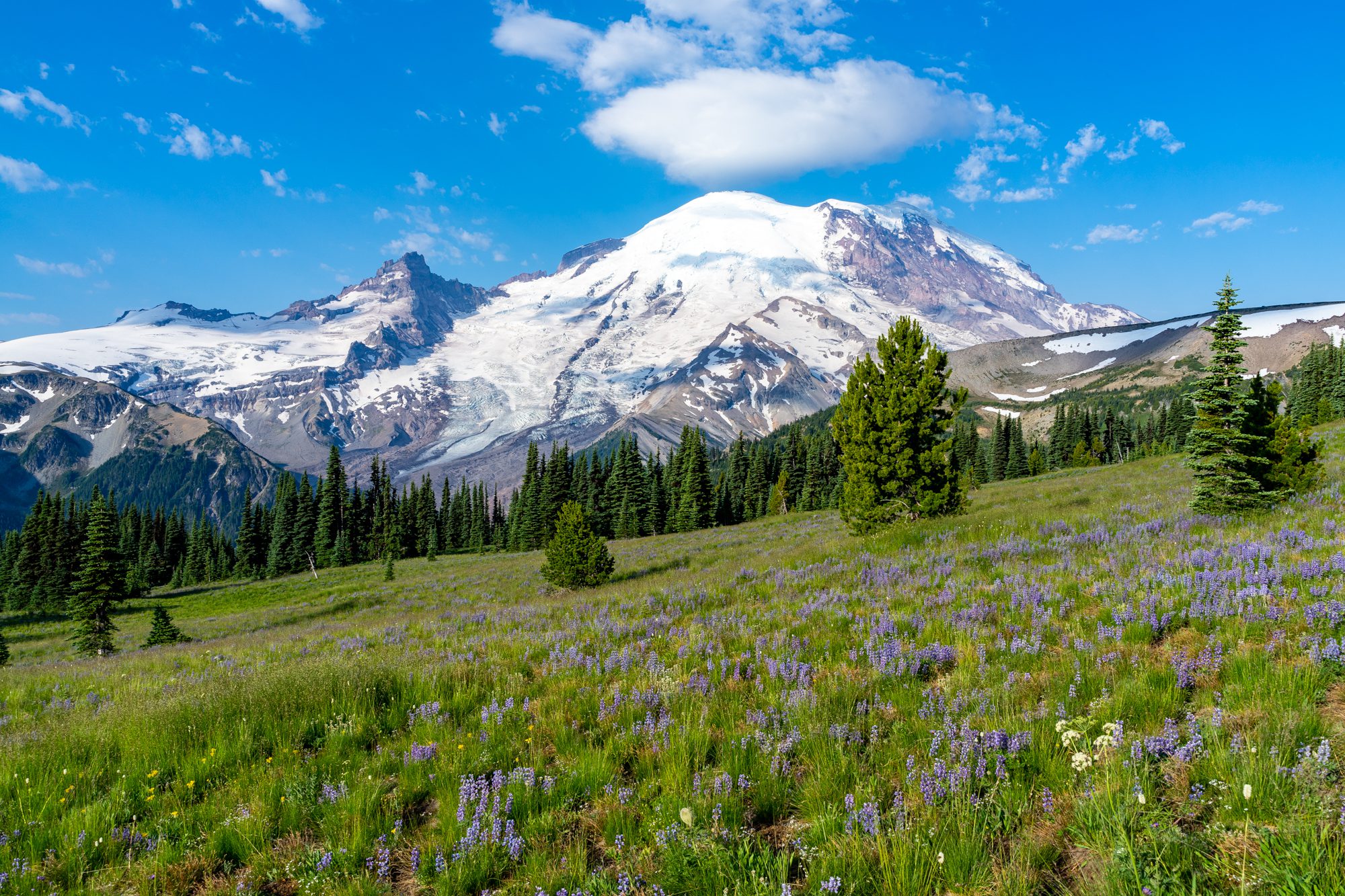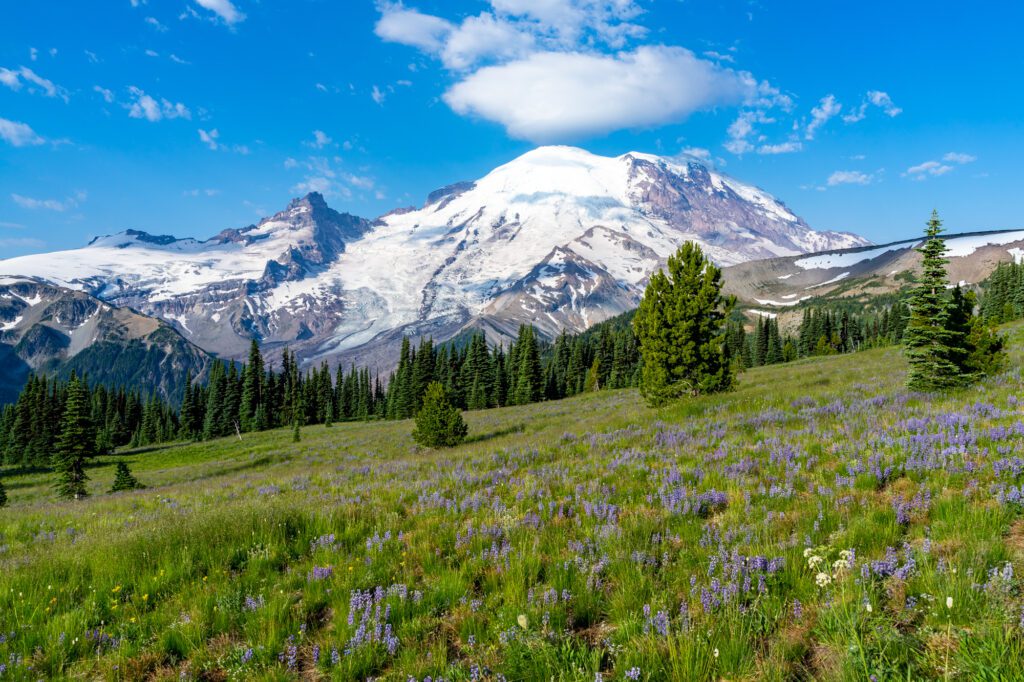 It is so crazy to me that I never actually made it to Rainier National Park until after living in Seattle for the better part of two decades. But here we are.
I will say that it exceeded all of my lofty expectations. In the summer, wildflowers bloom and make it one of the premier hiking destinations in the country. In the winter, snow falls and turns it into a winter wonderland and a snowshoeing paradise.
Things to Do at Mount Rainier
There are essentially three areas of Mount Rainier National Park that you can visit – Paradise, Sunrise, and Mowich Lake.
Paradise is the most visited part of Mount Rainier National Park, and has the most amenities and things to do of the three places here. If I were you, this is where I'd spend my time. The downside is that it is further from Seattle, on the south side of the Mountain. It'll take between two and a half and three hours to get there, depending on traffic.
Here are some of my favorite things to do in and around Paradise:
Hike the Skyline Trail: Get up close and personal with Mount Rainier. Over the 6 miles (round trip), you'll get crazy mountain views, wide open meadows full of wildflowers in the summer, and panoramic vistas of the surrounding Tatoosh Range. I think this is the best hike in Mount Rainier. Must do.


Explore around Reflection Lake: Go here for sunrise or sunset to capture Mount Rainier reflected in the glassy water. Truly spectacular. But bring bug spray because the mosquitoes are crazy in the summer.


Explore the small town of Packwood: But mostly the Mountain Goat, the best coffee in the area. Driving around Packwood, you might see some herds of elk in the surrounding meadows. Keep an eye out!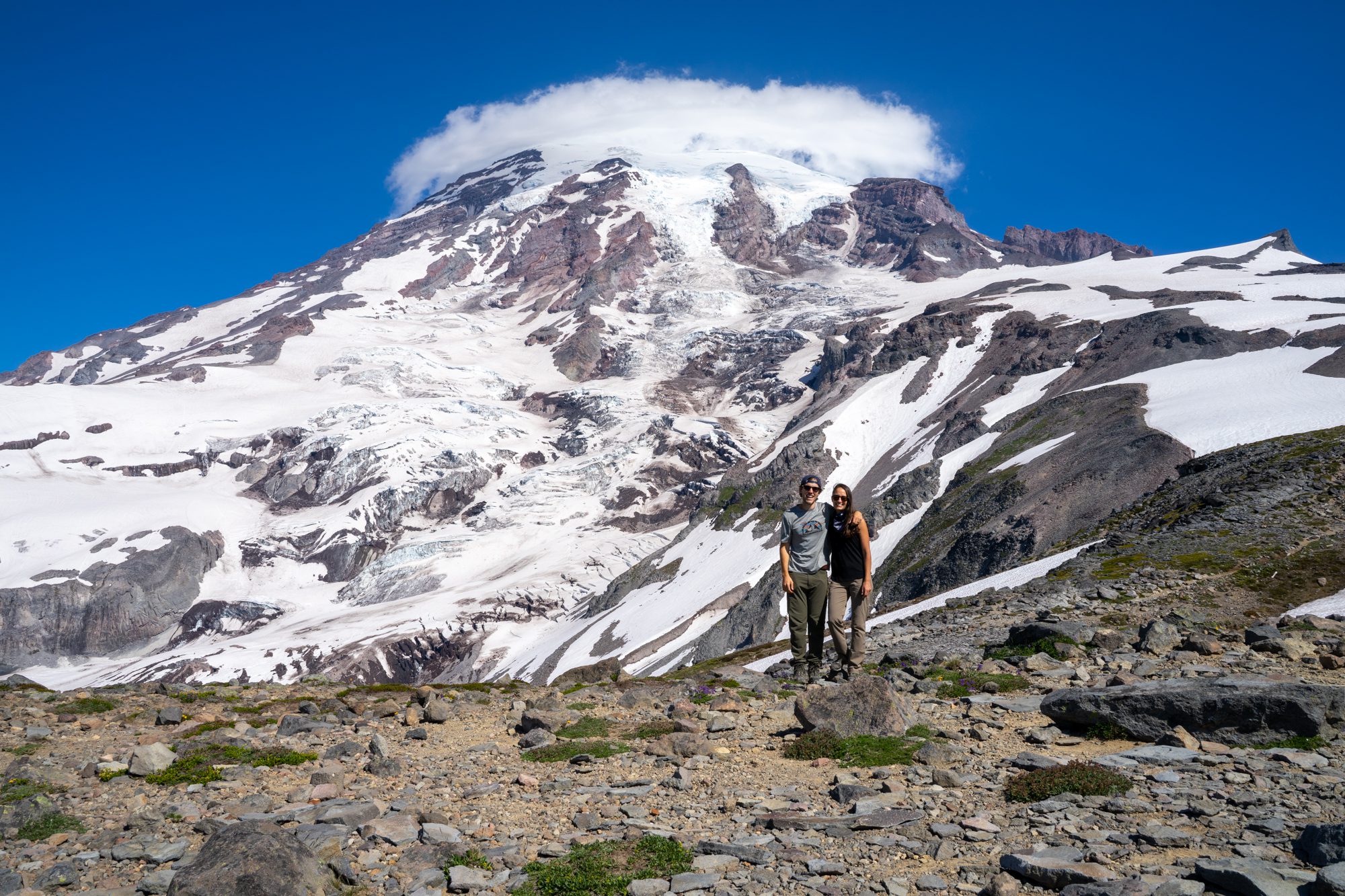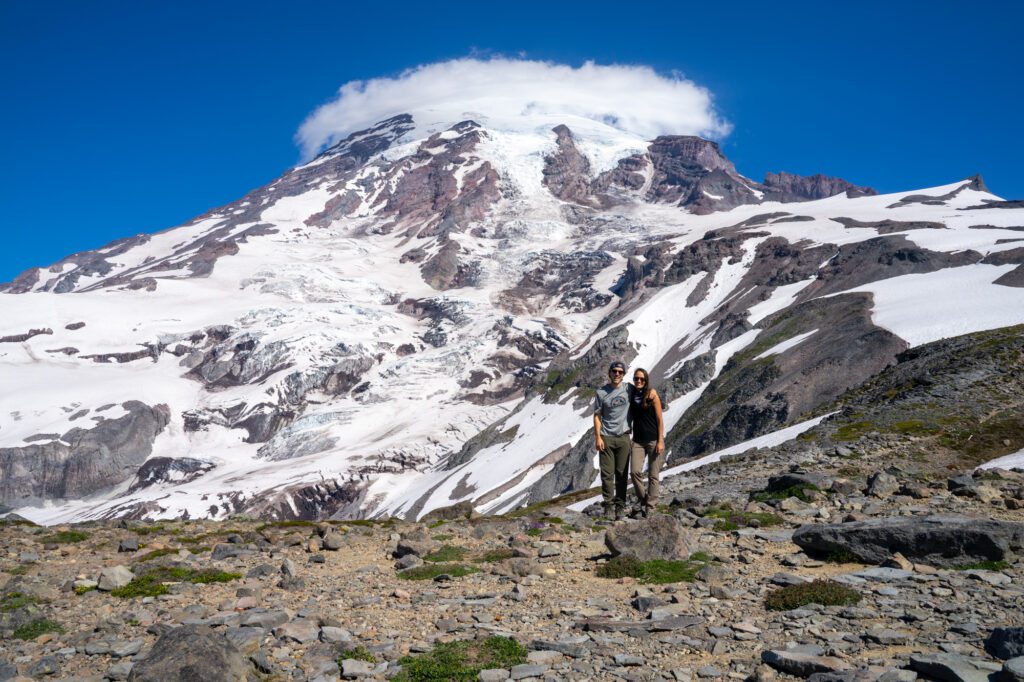 Sunrise is on the east side of the mountain, and is the highest elevation in the park that you can drive to. Hikes leaving from Sunrise give you incredible mountain vistas, spectacular wildflowers in the summer, and the chance to see wildlife like mountain goats, marmots, and black bears (we saw all three!).
You'll want to hike either to Mount Fremont fire lookout, one of many old fire lookout around Washington State that serve as incredible viewpoints (and Instagram backdrops, if that's your thing), or do the Burroughs, which will put you so close to Mount Rainier that you'll be able to practically reach out and touch it.
Mowich Lake is the closest to Seattle, but has the fewest amenities. There's a small (but amazing) walk-in campground, and that's about it. But, two of the best hikes in Mount Rainier National Park leave from here – Tolmie Peak and Spray Park. It takes two hours to drive here, and the road is rough once you get off the highway. 4WD and high clearance recommended, but you can make it in a regular vehicle (just plan on driving SLOW).
Where to Stay
There are three options for your stay around Mount Rainier – rustic mountain lodges, cozy cabins, and campgrounds.
Near Paradise
Paradise has the best selection of places to stay, by far, of any parts of the park.
You can't go wrong with the Paradise Inn, which is right at the trailheads and in the perfect location for a weekend visit. It will be a trip to remember.
Ashford is the town outside the park entrance, and it's the best place to stay if you're not up for camping, and you don't want to splurge on the Paradise Inn (which is relatively expensive for what you're getting in terms of facilities). Stay in a cozy rustic cabin (we like this one for couples and this one for bigger groups), or at the Paradise Village Hotel.
If camping is more your thing, Cougar Rock Campground is where we stayed for part of the trip, and it's got everything you need in a campground.
Near Sunrise
If you're up for camping, White River Campground is the best spot inside the park, but we stayed at Silver Springs Campground just outside the park, and it was a perfect home base. Site 32 was one of the best campsites we stayed in, period, on our three month Pacific Northwest Road Trip.
Near Silver Springs (and Crystal Mountain, the nearby ski resort), you've got your choice of cabins rentals. Most are about 45 minutes away from the Sunrise Visitors Center. 
Planning a Trip to Mount Rainier National Park? You won't want to miss our detailed guides to visiting Mount Rainier that are all based on our own personal experience exploring the park.
All the Best Things to Do in Mount Rainier National Park
The Best Hikes in Mount Rainier National Park: A Helpful Hiking Guide
North Cascades National Park
Distance from Seattle: To Diablo Lake, 2 hours 30 minutes / 125 miles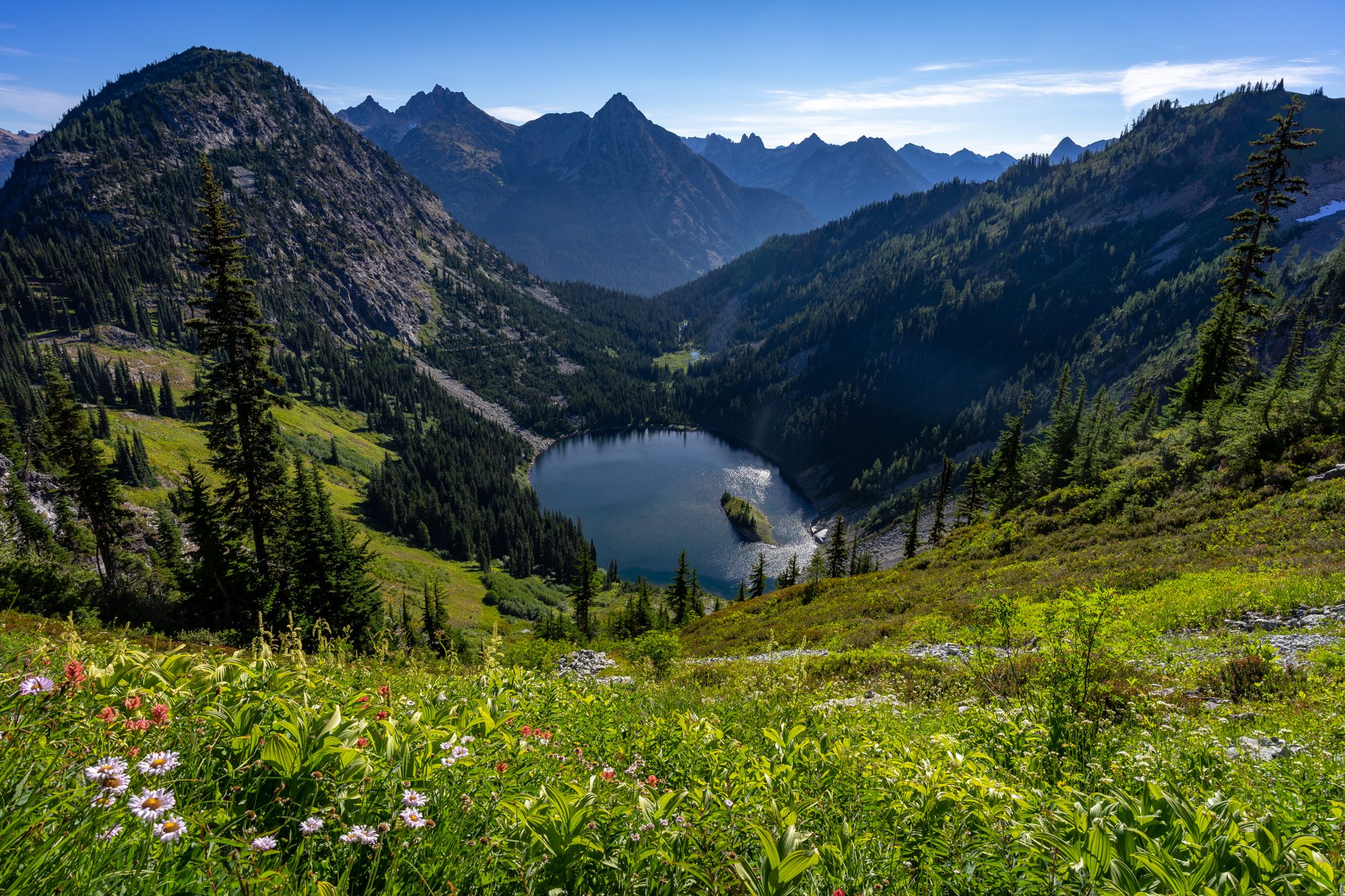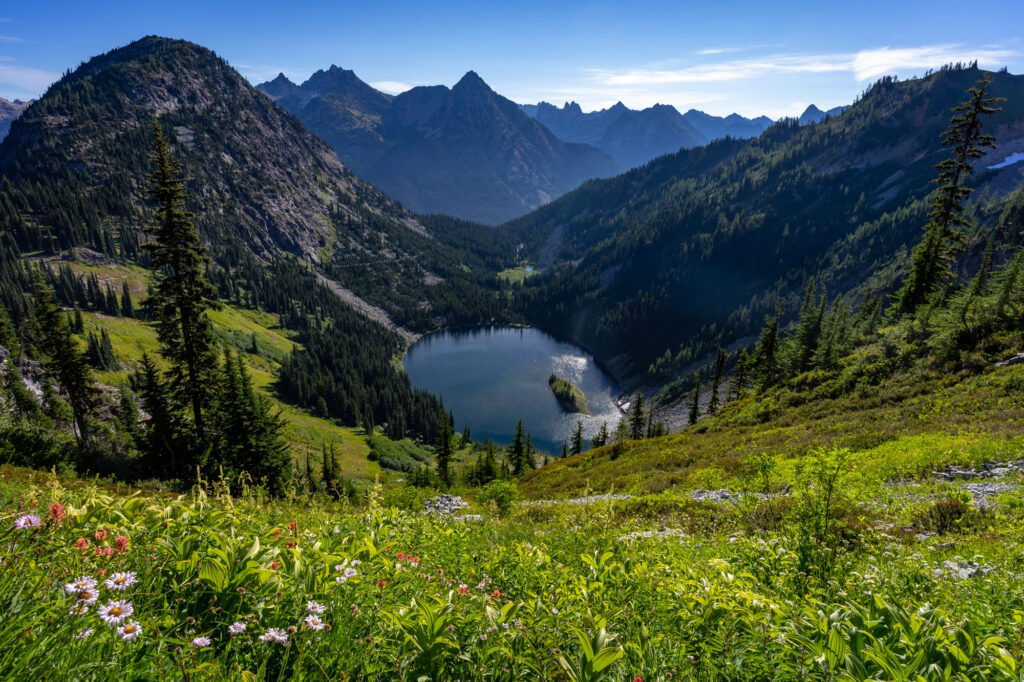 Of the three National Parks in Washington State, the North Cascades are by far the least visited. That's partially because the season is so maddeningly short – the road through the park is only open June to October most years, and trails aren't clear of snow until July or so – and also because it's relatively compact. For whatever reason, despite growing up in the Seattle area, the North Cascades were my first National Park in Washington… at the age of 25. A good reminder that no matter how well you think you know a place, there are probably some amazing places to explore in your own backyard.
If you're looking for a mountain getaway that consists of jagged rocky peaks, turquoise alpine lakes, and tons of amazing hiking, then the North Cascades are for you.
Things to Do in the North Cascades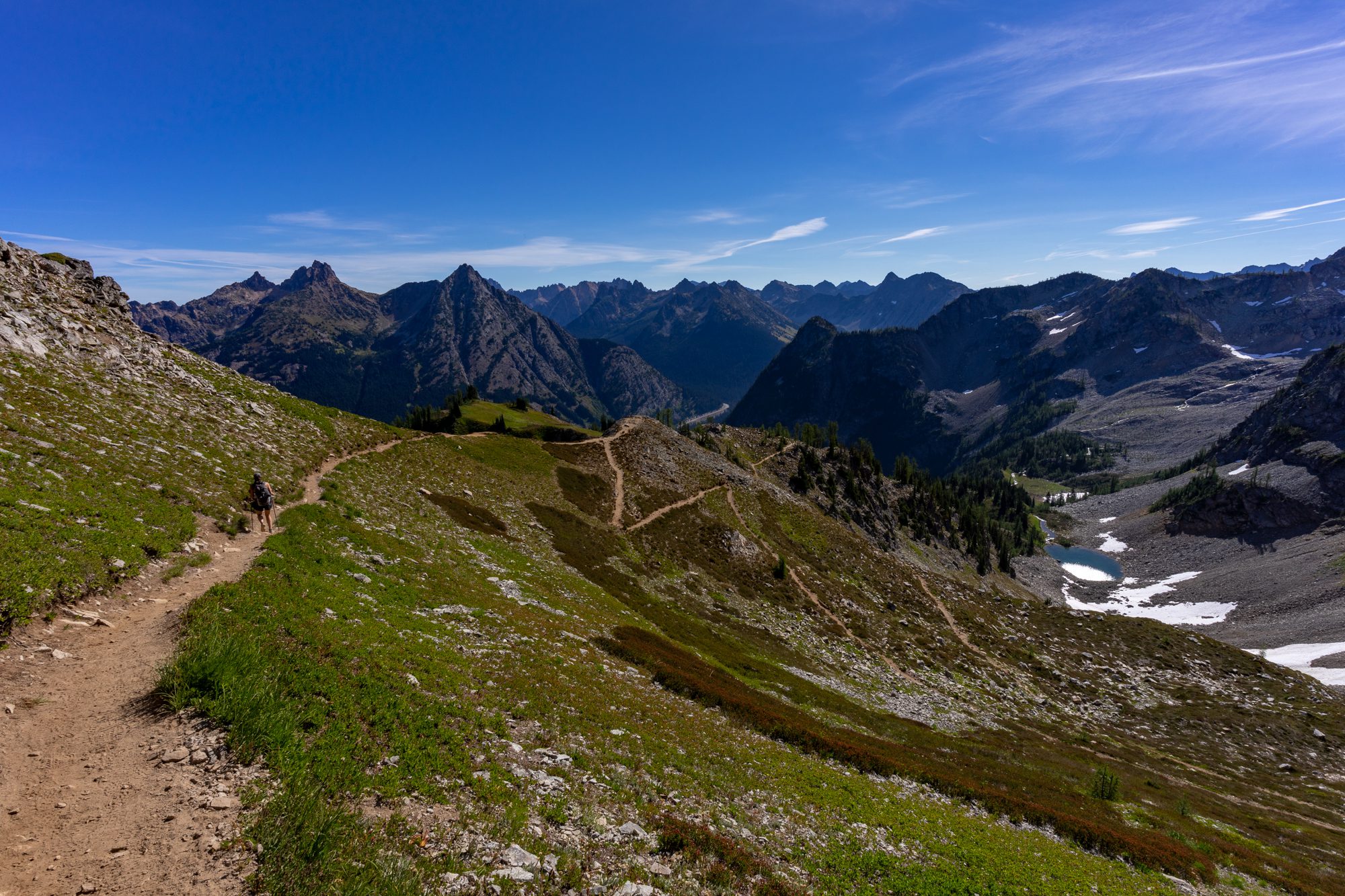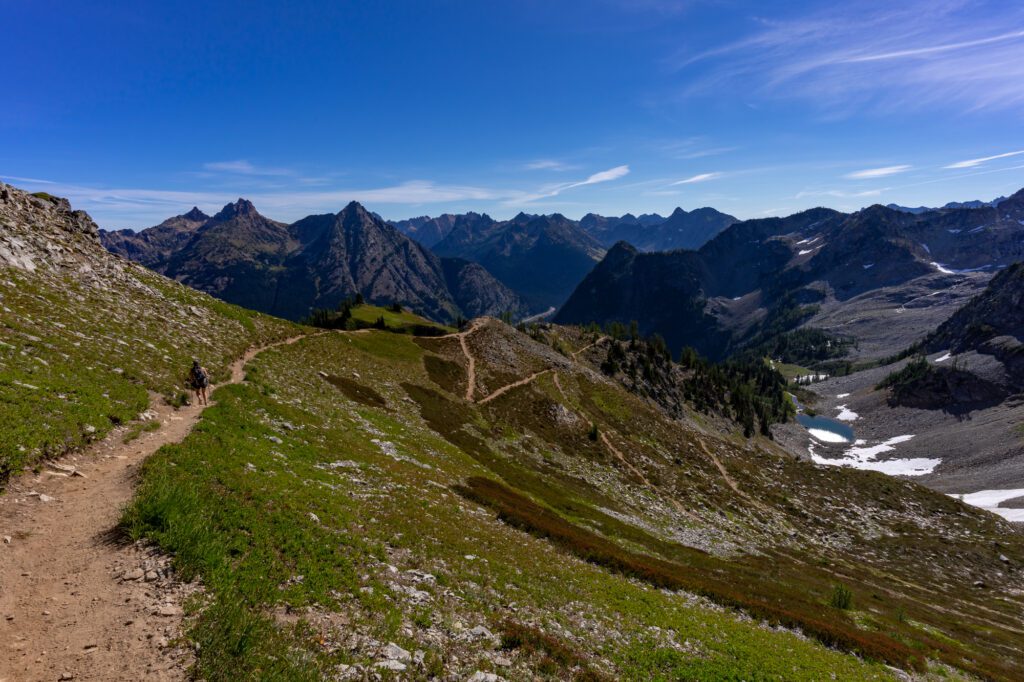 Here are some of our favorite things to do in the North Cascades.
Drive the scenic byway end-to-end: Start in Sedro Wooley on the western edge of the park, and drive all the way through the park to Washington Pass Overlook. Along the way, stop at Diablo Lake, one of the many hikes in the park, and any other scenic pullouts that catch your eye.
Hiking in the North Cascades: The North Cascades is home to way too many amazing hikes to tackle in just a weekend. The Maple Pass Loop, which climbs to a ridge above a beautiful alpine lake, is our favorite hike in the state of Washington. Blue Lake is a great, relatively easy, family-friendly hike to a crystal-clear lake backed by rocky peaks. And the hike to Hidden Lake Fire Lookout is as spectacular as it is difficult – the end of the trail is a perched lake with the peaks of the North Cascades rising above it in the distance.
Rent a Kayak or Canoe on Ross Lake: Ross Lake Resort is an oasis in the middle of Ross Lake that is only accessible by ferry. Head out there to rent a kayak or canoe and go exploring along the far shores of the lake, which are only accessible by overnight trip or boat.
Where to Stay
There are two campgrounds in the park – Colonial Creek and Newhalem – that you'll want to reserve as far in advance as possible for summer trips. We like Colonial Creek better in terms of location and amenities. If you're not up for camping, your options are very limited.
The best place to stay is going to be on the east side of the park in and around the town of Winthrop both in terms of location (many of the best hikes are on the eastern half of the park) and in terms of selection and quality of places to stay. Rolling Huts is on our bucket list, with their spectacular modern and minimalist huts in the Methow Valley. Mt. Gardiner Inn and the Methow River Lodge are two great, more traditional hotel options.
There are also some nice vacation rentals in Winthrop if you'd like more space and the ability to cook for yourself – look at this perfect studio for couples, and this house on the hilltop that will house a family or group.
Mount Baker
Distance from Seattle: To Artist Point, 140 miles / 2 hours 30 minutes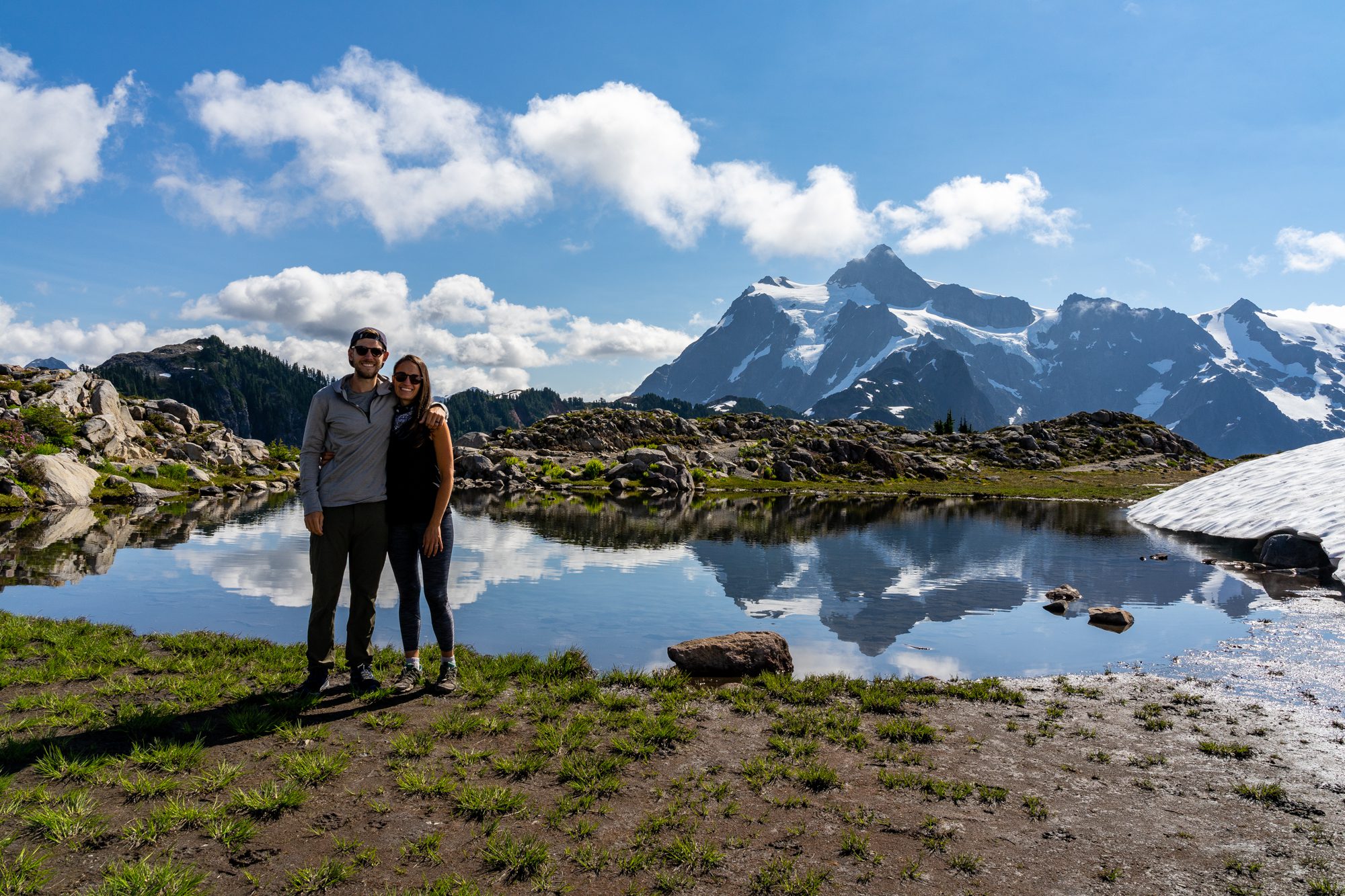 Mount Baker was the unsung hero of our Washington Road Trip. We loved it! Neither of us had ever been, although we had visited the North Cascades, and some of our favorite hikes in Washington were on the north side of Mount Baker.
The thing we really like about Mount Baker is the lack of crowds, even in the height of summer. We were up there in August and saw a tiny fraction of the people we saw in the North Cascades just on the other side of the mountain.
Things to Do at Mount Baker
The highlight here is hiking, and there's not much else to do in the area.
IMPORTANT NOTE: The hiking season is incredibly short because of the elevation and location. Snow will be on the trail well into August, and returns in October most years. HOWEVER, it turns into a winter wonderland, and outside of that short summer hiking season, it would be a fantastic romantic weekend getaway from Seattle. Particularly if you stay at one of the many incredible cozy cabins you'll find nearby.
Here are a few of our favorite hikes in the area.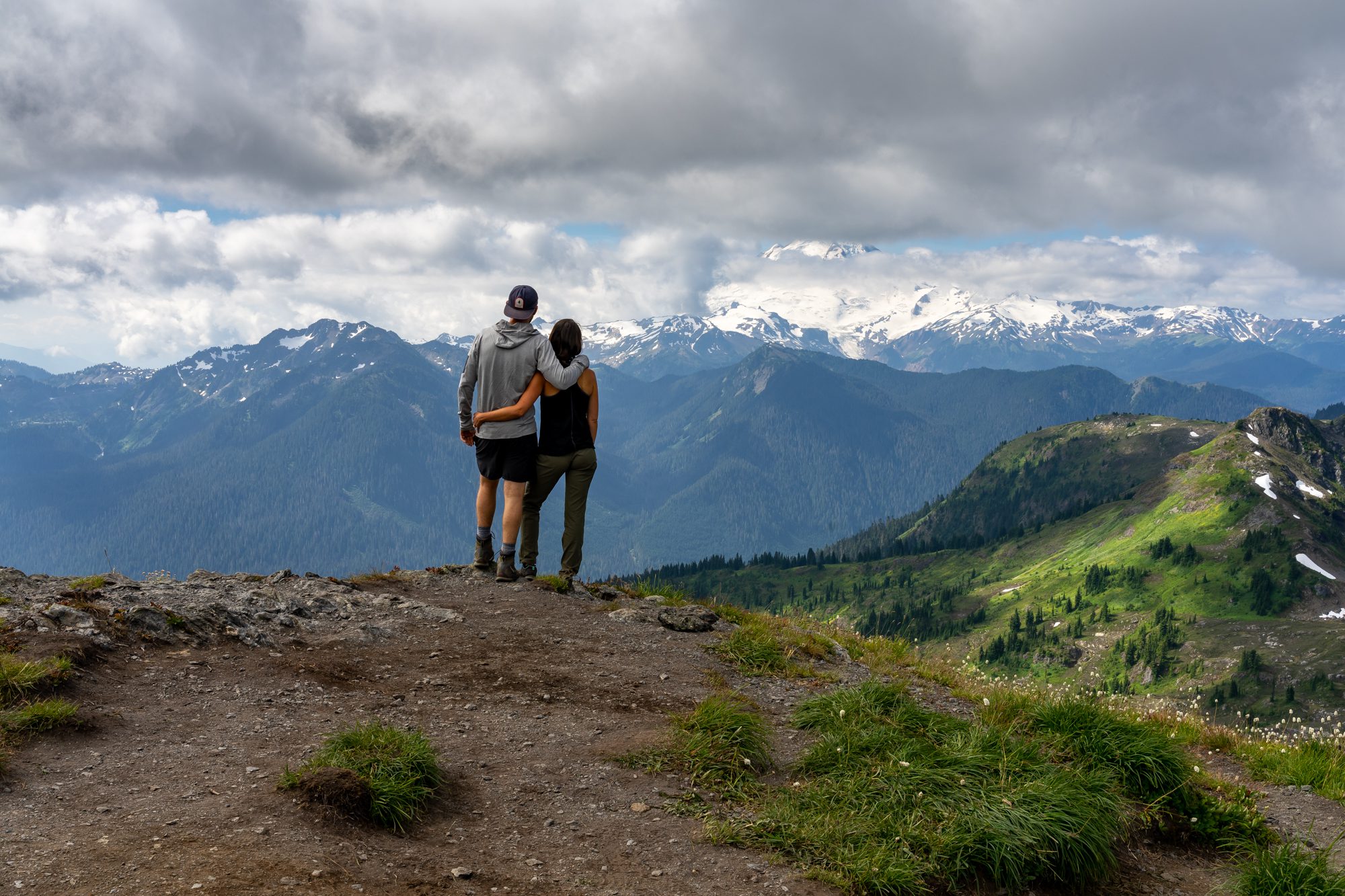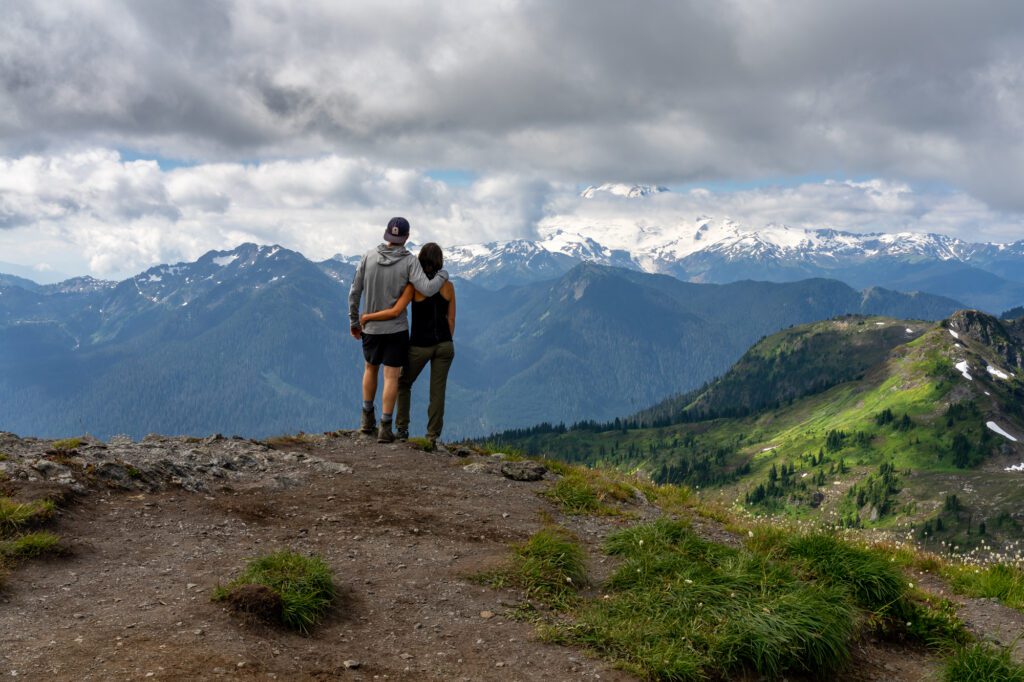 Yellow Aster Butte was our favorite trail. It takes you up on a pretty steep climb before it levels out a bit and you stroll through a beautiful valley, full of wildflowers in the summer. You'll round a corner and see Mount Baker straight ahead. Wind along the ridge and eventually you'll start the ascent to the high point of the hike, where you'll have 360 degree views of the area, including Mount Baker and Mount Shuksan. It's a long hike with a good amount of elevation gain (7.5 miles / 2,550 feet), but it's so worth it once you reach that summit.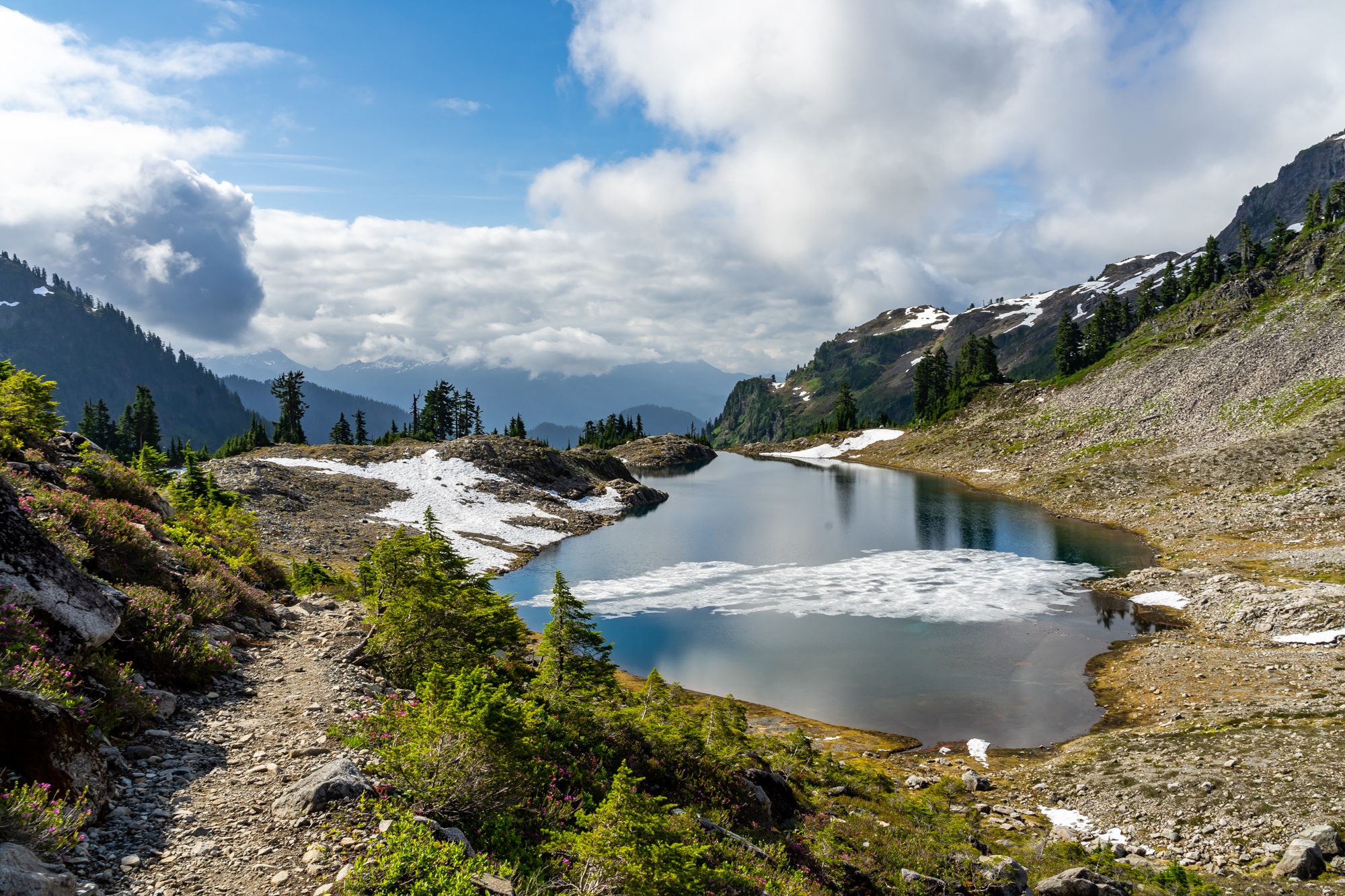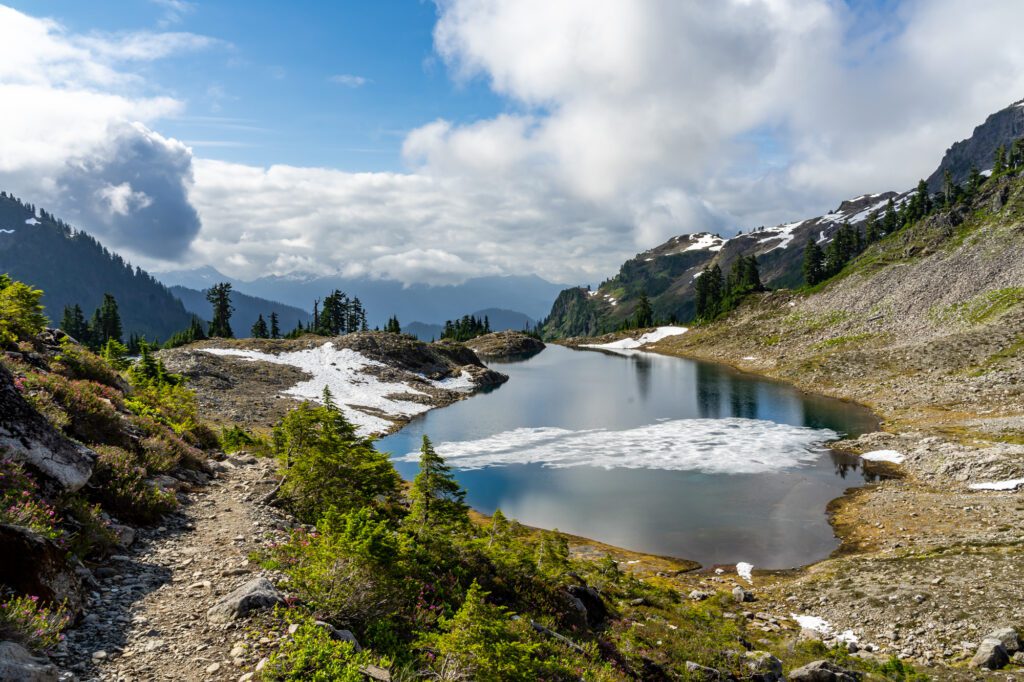 Lake Ann was another favorite. The end point is a beautiful hanging lake high in the mountains where the only people you'll come across are backpackers. Throughout the climb, you'll have incredible views of Mount Baker across the valley. At least, if it's not shrouded in fog at the summit. It's a long one (9+ miles, 2,600 feet elevation gain), but again, WORTH IT.
Two other hikes we loved were the Chain Lakes Loop, which was an easy hike past several Alpine Lakes, and Park Butte, which is on the other side of Mount Baker, but is worth the detour for the hike up to an old fire lookout with Mount Baker RIGHT IN YOUR FACE.
For incredible views, you'll want to go to Picture Lake at either sunrise or sunset, and Artist Point. Both are basically right off the road, although Artist Point does require a short climb to get to the viewpoint.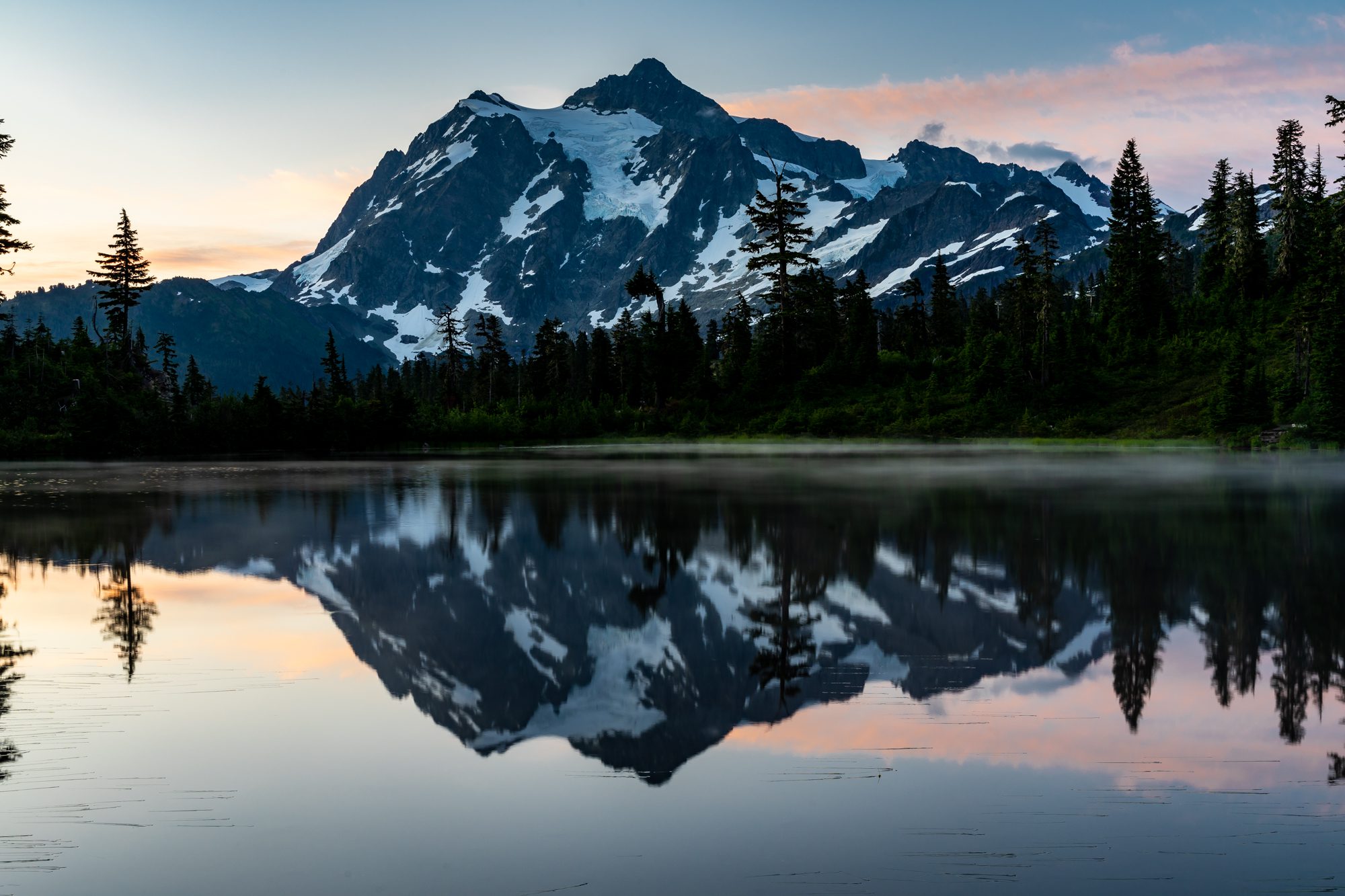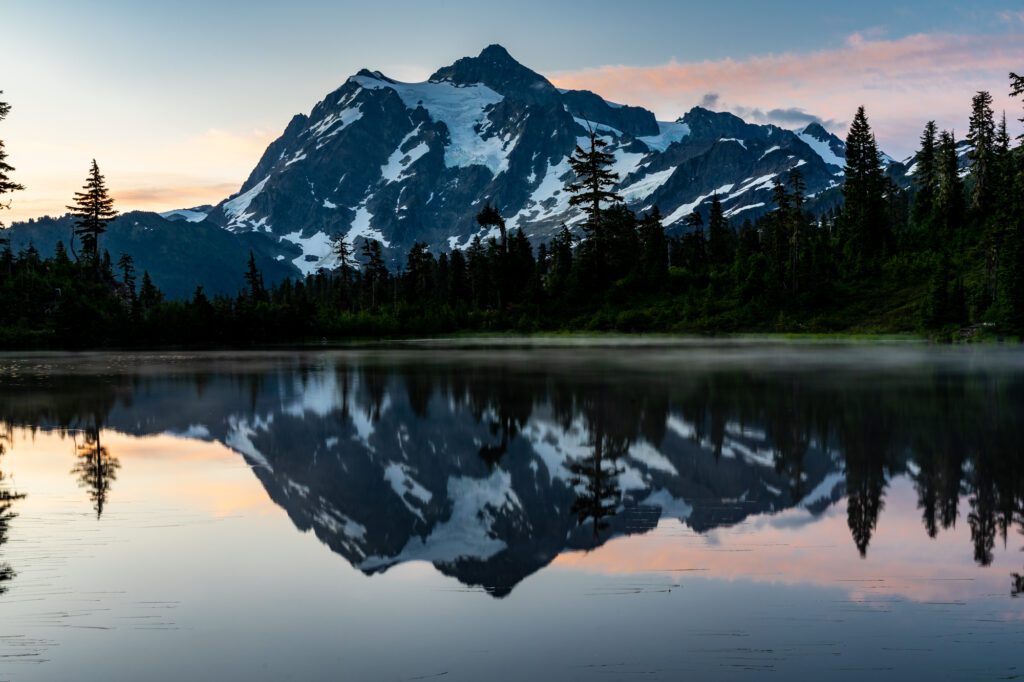 Where to Stay at Mount Baker
We ended up camping at Douglas Fir Campground, which was super nice and just 30 minutes or so away from Artist Point (the end of the road).
However, there are some incredible cabins along the road to Mount Baker, and I'm a little sad we didn't choose one of them for our trip. We'll have to come back, I suppose. If you don't want to camp, these are basically your only options.
Weekend Trips to Charming Towns and Cities Near Seattle
If you're looking for a place to relax, eat and drink, and do some exploring, here are some great towns and cities within a few hours of Seattle.
Leavenworth, Washington
Distance from Seattle: 135 miles / 2 hours 30 minutes travel time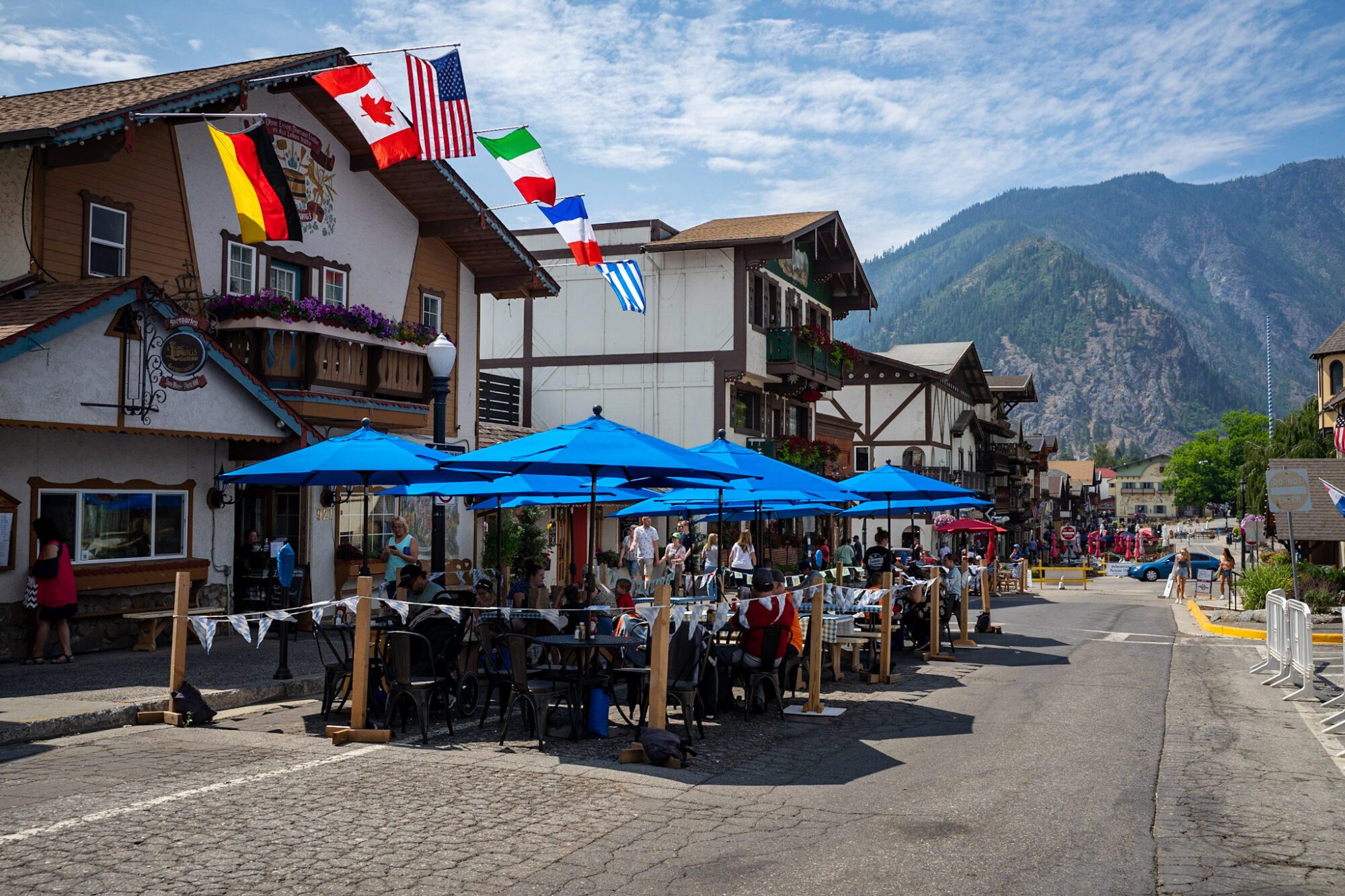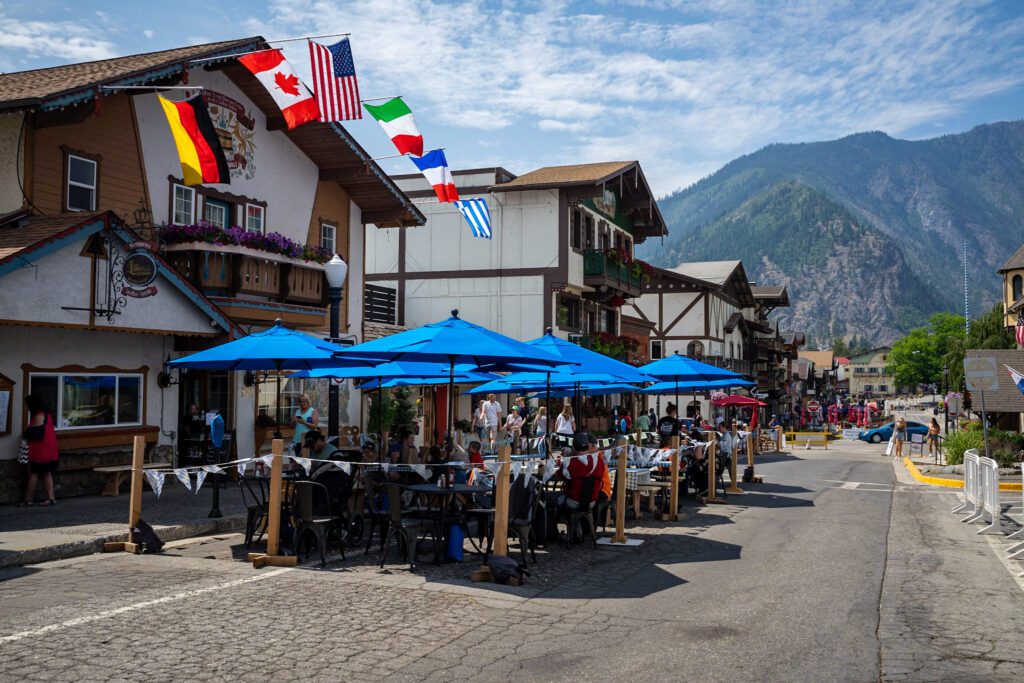 Leavenworth is actually a great option for both hiking and a romantic getaway at the same time. It's quiet and cute, but also close to some of the best hiking (in the Insta-famous Enchantments) and whitewater rafting in Washington.
In Leavenworth, Bavaria comes to the Cascade Mountains, a superb base for hiking, wineries and water sports. It's about a two and a half hour drive east from Seattle to Leavenworth, around 120 miles on US-2.
How, exactly, did a Bavarian town spring up in the heart of the Cascades, you ask? It's actually an interesting story.
Basically, it was a timber town until that industry dried up, and they decided that their best bet was tourism. Two Seattle businessmen came up with the idea of a Bavarian getaway, and they started slowly and systematically transforming the town over decades to resemble a Bavarian Mountain town, which is what you see today.
There aren't many places in the world where you can eat and drink German food and beer (tons of cider and wine too!) and watch bald eagles and ospreys swoop over the river.
What to Do in Leavenworth
When in Leavenworth, you should check out…
Wine-tasting: Leavenworth has a growing reputation as a wine-producing area with its unique terroir. There are literally dozens of nearby wineries to visit where you can taste their wonderful and complex wines.
Oktoberfest: Pretend to be Bavarian! Leavenworth was a dying logging town until it reinvented itself in the 1960s as a Bavarian village. They have their own Oktoberfest celebration in October, which is a lot of fun, even if you aren't a fan of beer. There's plenty of cultural events, free-flowing wine and cider, and picturesque fall foliage that makes it a VERY pleasant place to be. Book early, because everything fills up fast.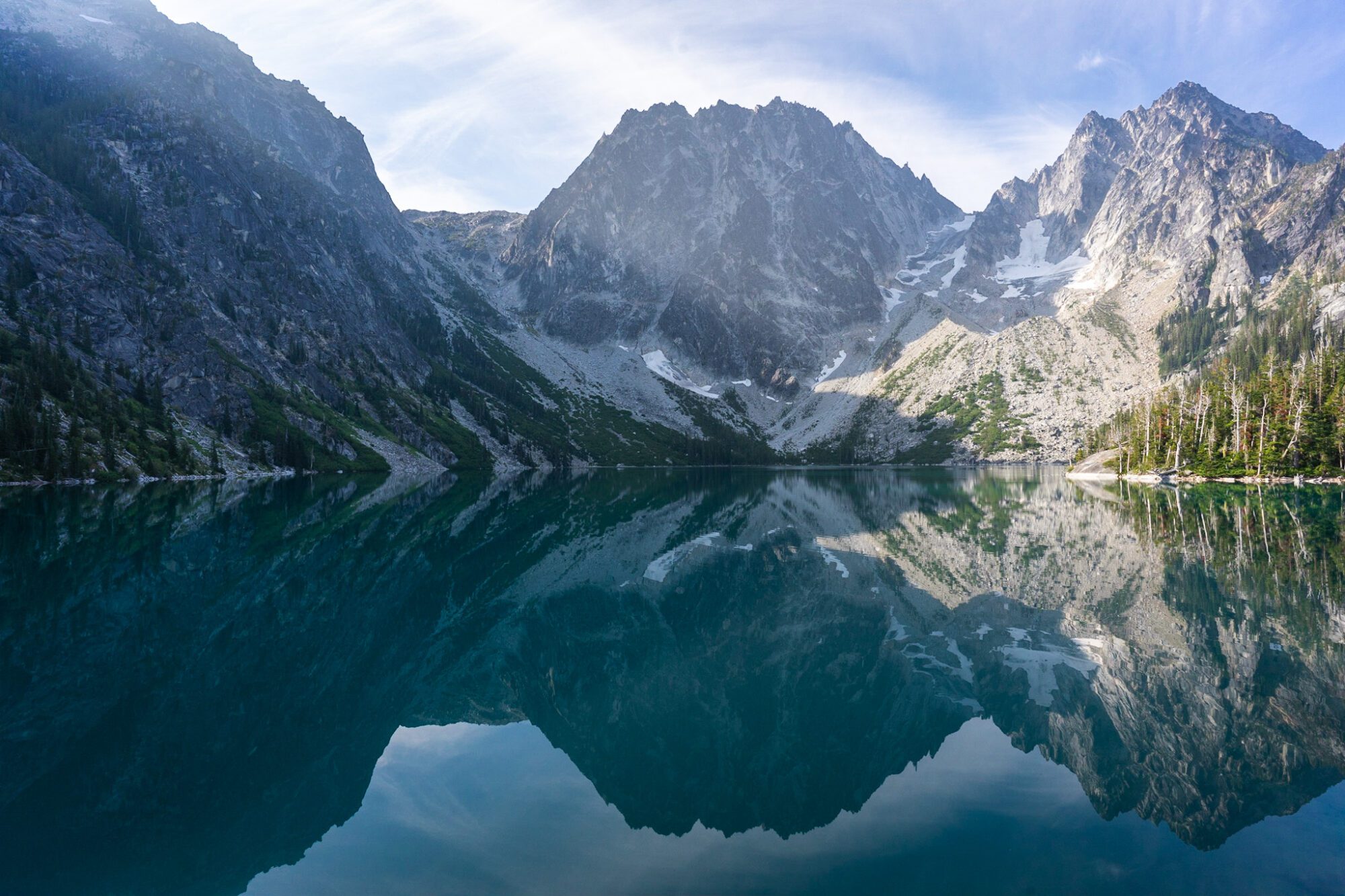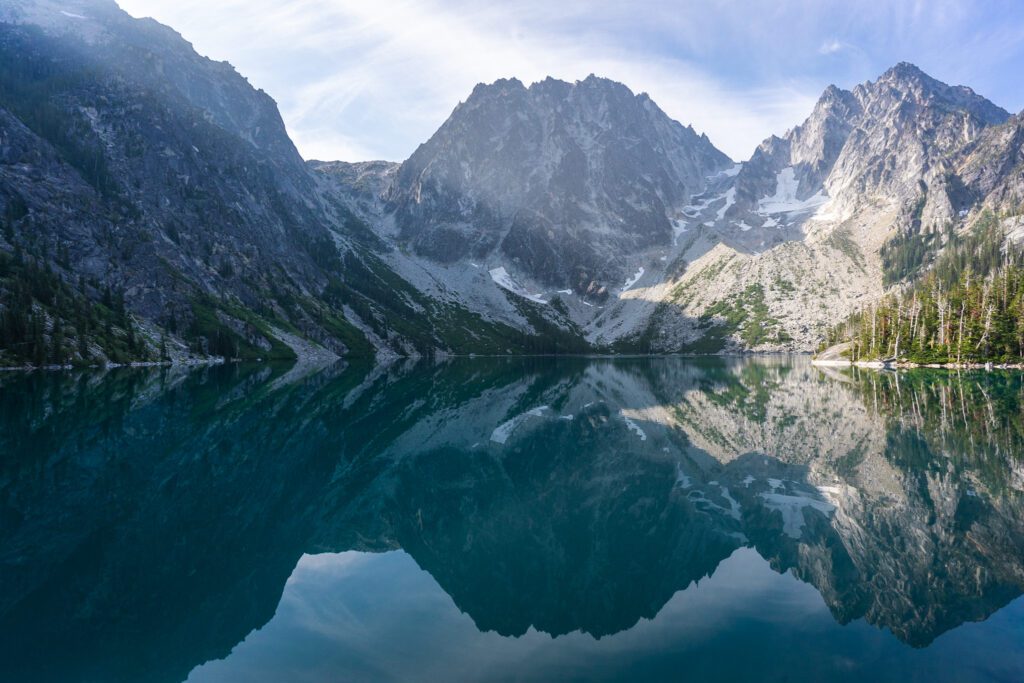 Colchuck Lake is a gem set between two of Washington State's highest mountains. The hike from the trailhead is a tough one, climbing about 2,500 feet over 4.5 miles (one way), but the sight of the stunning blue alpine lake will make the juice worth the squeeze in the end. Continue up to the top of Asgard Pass, which climbs the same amount (about 2,500 feet) in less than a mile, to conquer the hardest hike I've ever done, and break into the Upper Enchantments. Or, if you're feeling super adventurous (and you're in really good shape) hit the trail at dawn and thru-hike the entirety of the Enchantments, a 23 mile journey full of alpine lakes, stunning rocky mountain vistas, and plenty of (cute but somewhat annoying) mountain goats.
Whitewater Rafting: The Wenatchee and Icicle Rivers offer every float and whitewater rafting and kayaking experience you could wish for right up to the Class IV rapids of "Triple Shot" and "Tiny Falls."
Floating the Icicle River: A slightly different speed from rafting, this is a fun, family-friendly experience. Or a debaucherous bachelor party experience if you do it with friends and coolers full of beer and cider. It's an easy float that takes a couple of hours. Go with one of the many companies who will shuttle you to the place where you get into the river, then float down to where your car is parked for a nice afternoon. Bring sunscreen.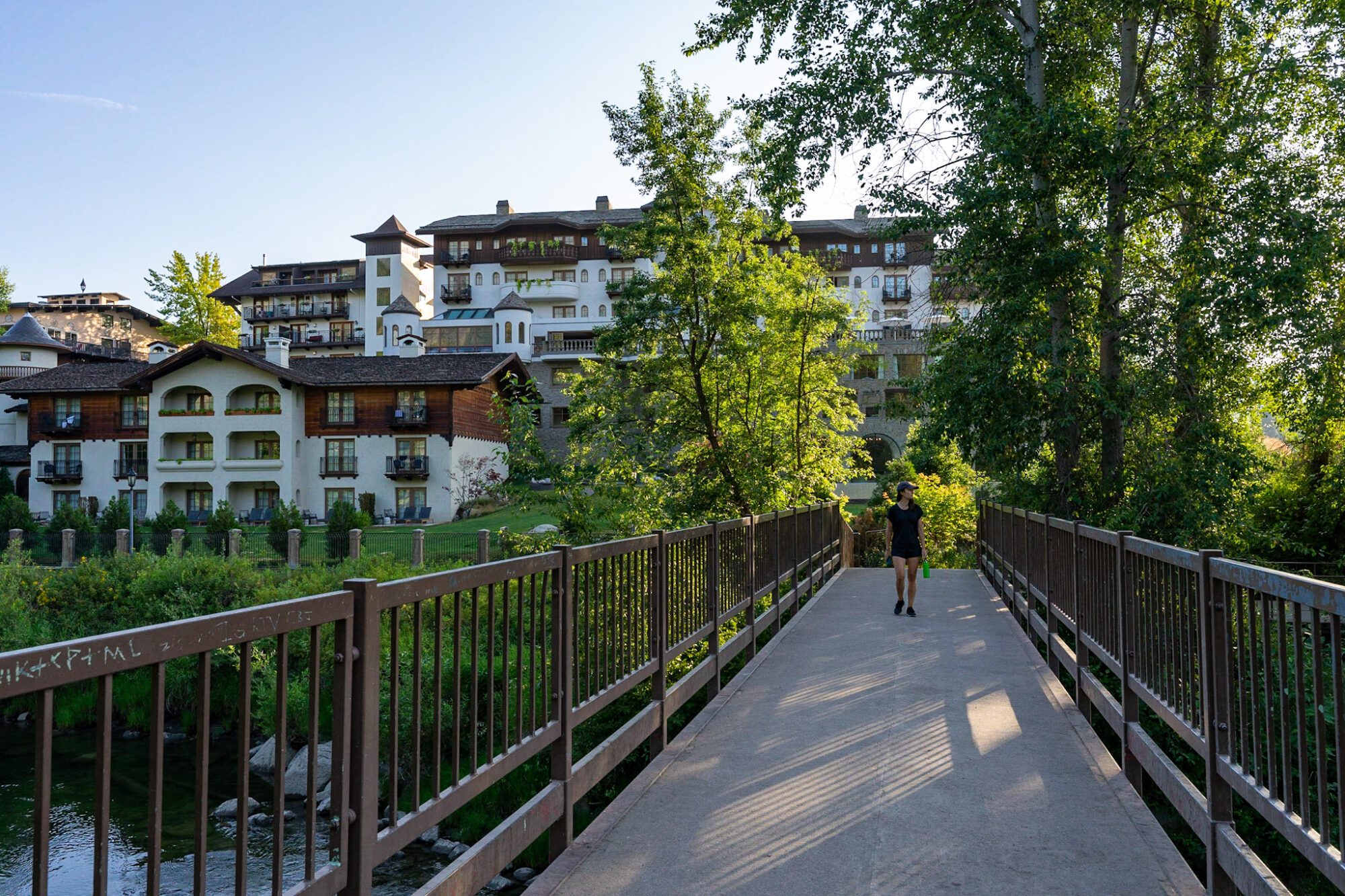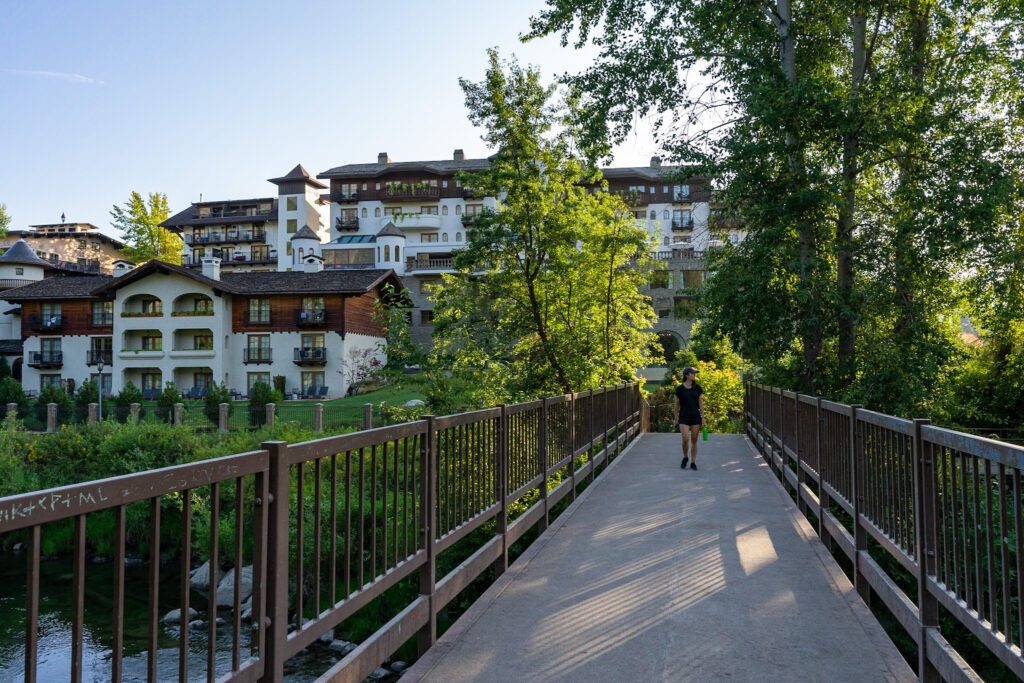 Where to Stay in Leavenworth
Leavenworth has some beautiful places to stay – I always recommend it as one of the best getaways from Seattle for couples – take a look at these to see why!
I've actually stayed at this GIGANTIC Airbnb (for a bachelor party) and it would be a fantastic place to book for a similarly huge group.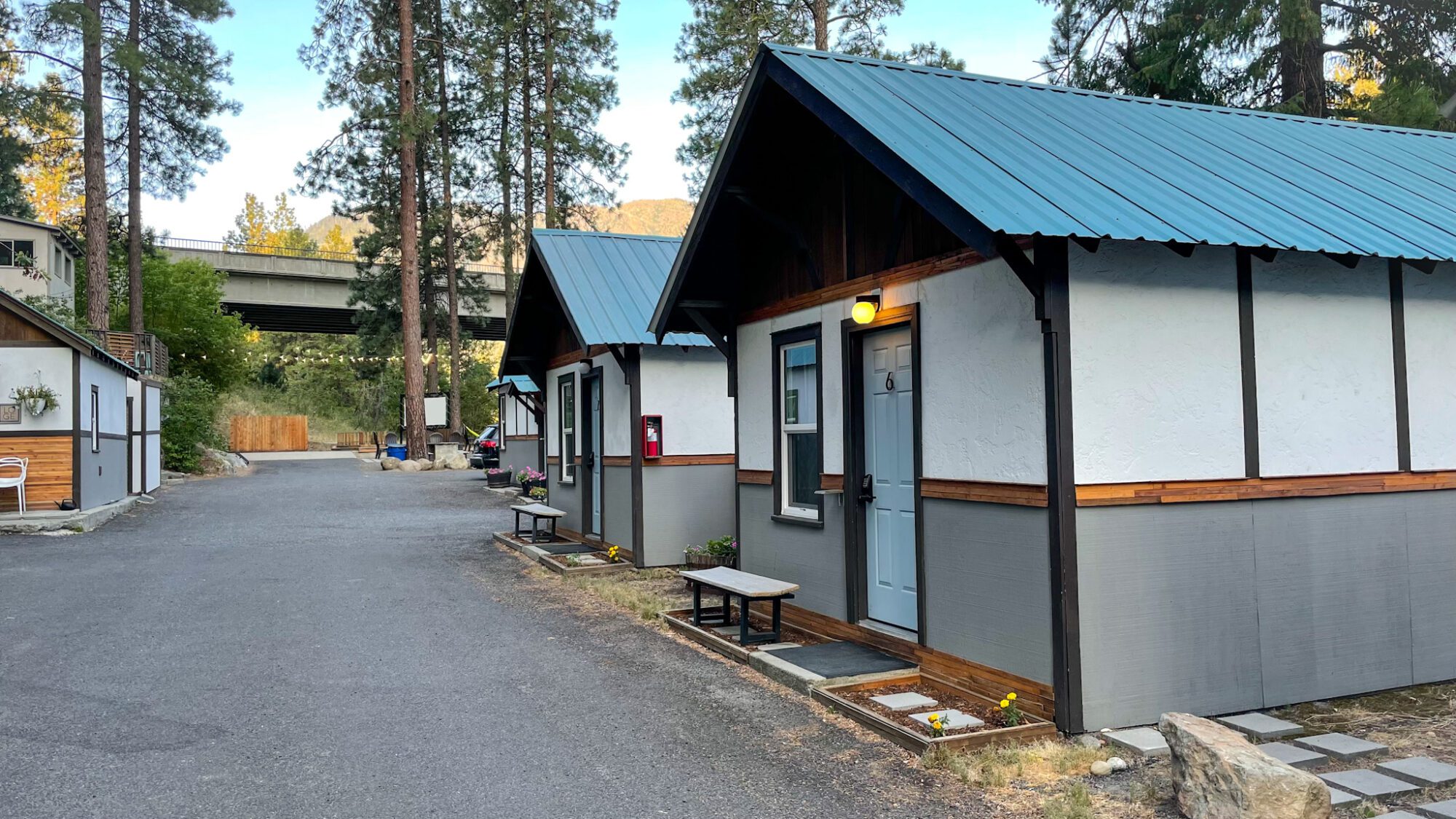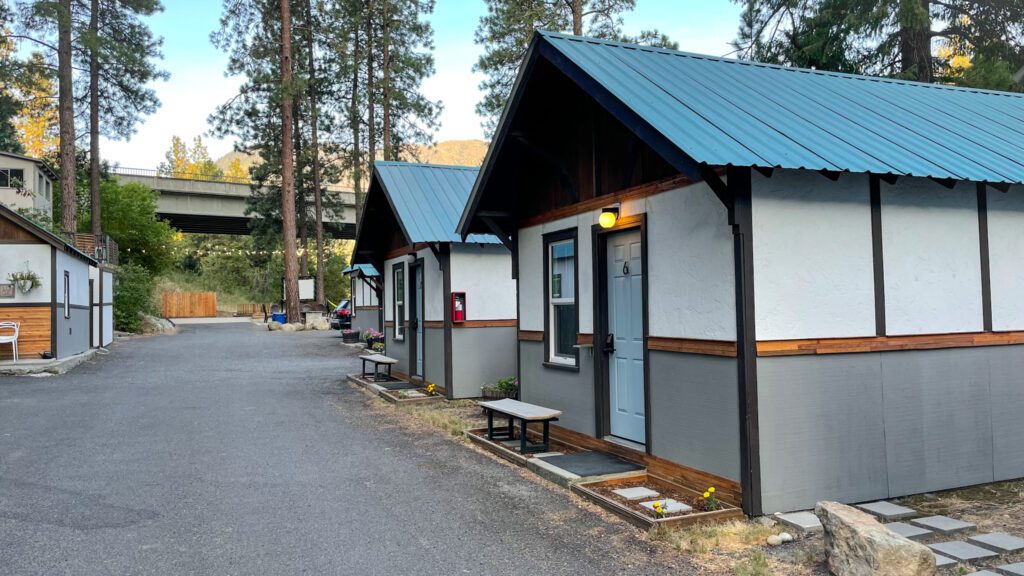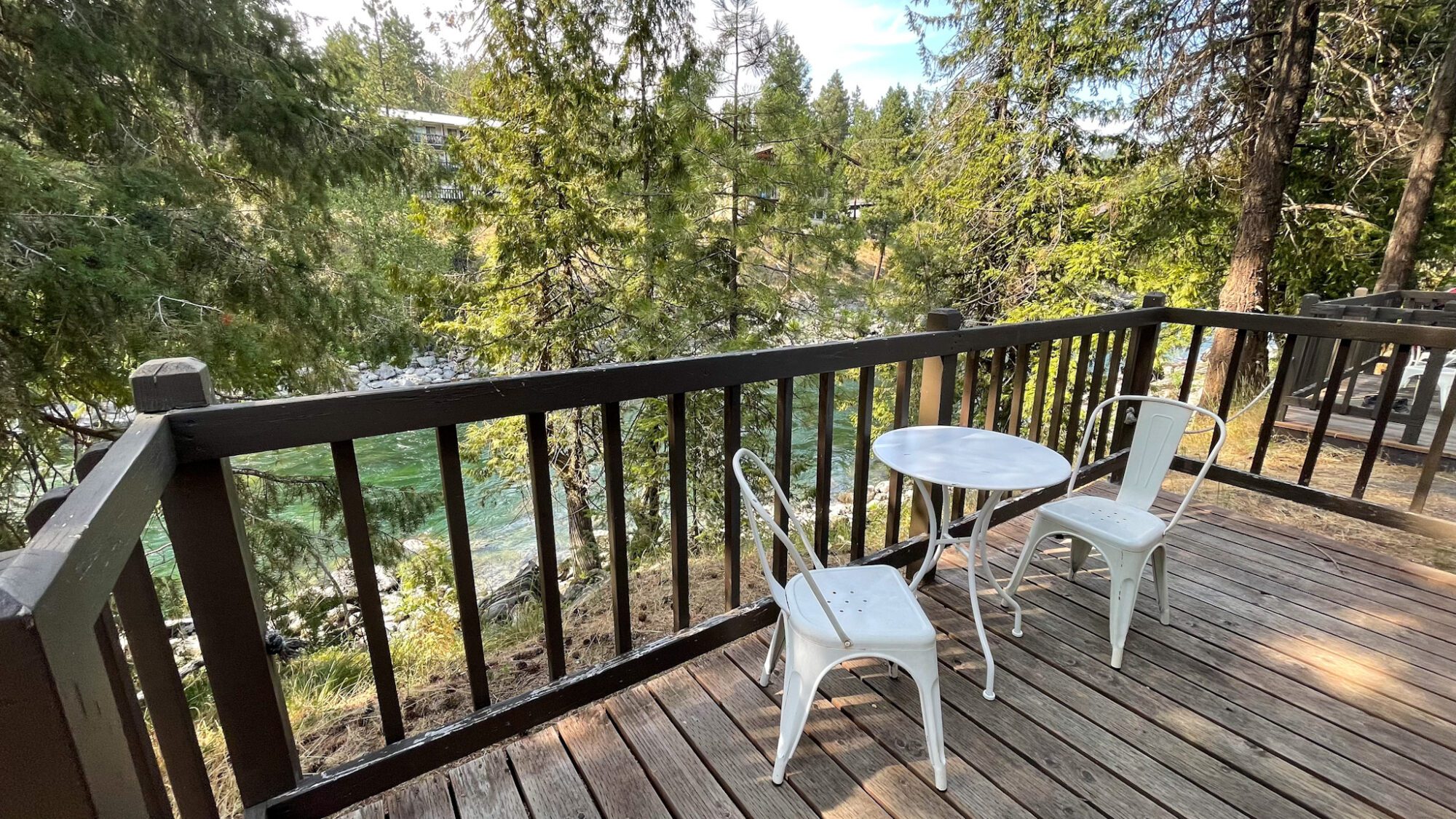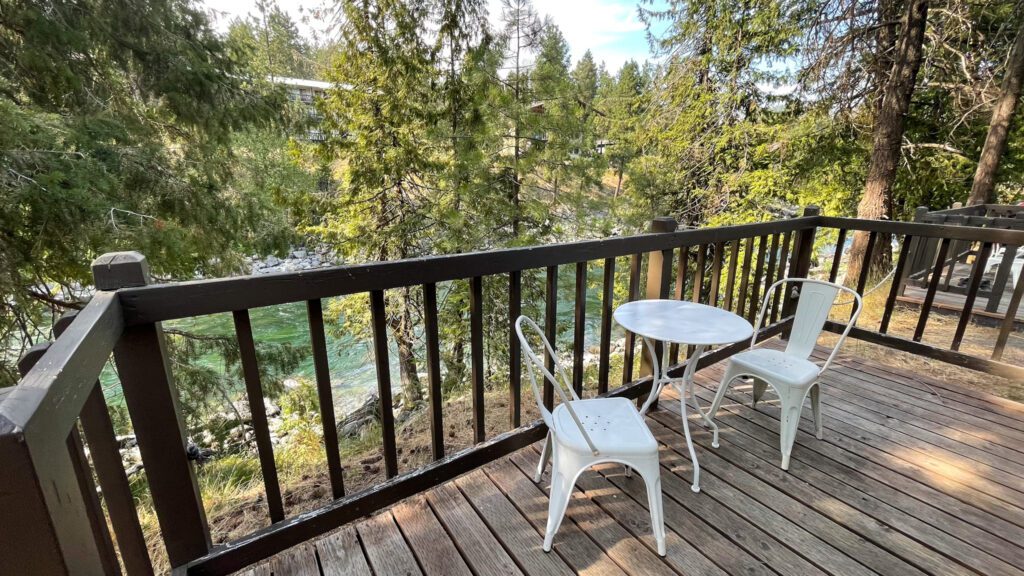 Loge Riverside: We stayed here on our latest three day weekend in town, and would highly recommend it. Loge is a company we've liked for at least a year or two now, and they actually have two properties in the town of Leavenworth. The Riverside location is just outside of town along the river, and is quiet enough for a nice romantic getaway while also being close enough to town to walk (though you can use their bikes, too). They have a set of lovely studio-style cabins, all with back porches overlooking the river. There's a bunch of shared outdoor space – perfect for the summer – and a shared kitchen inside the main house.
Loge Downtown: The other Loge location in Leavenworth is right in the heart of downtown. It's more of a hotel / hostel style, versus the cabins at the Riverside location, and they have similar amenities. Free bike use, an onsite coffee shop, and a beer garden downstairs. Plus, you're literally right in the middle of all the action. It'll be a bit louder and less private, but it's still a very pleasant place to stay.
Bavarian Lodge: A true alpine experience awaits you at Bavarian Lodge. Family-friendly, this great, central hotel offers great service and its Woodsman Pub is the perfect setting to enjoy a nice cold beer after a day on the river or the trails. It's right across the street from the main square, so you really can't beat the location.
Portland, Oregon
Distance from Seattle: 174 miles / 3 hours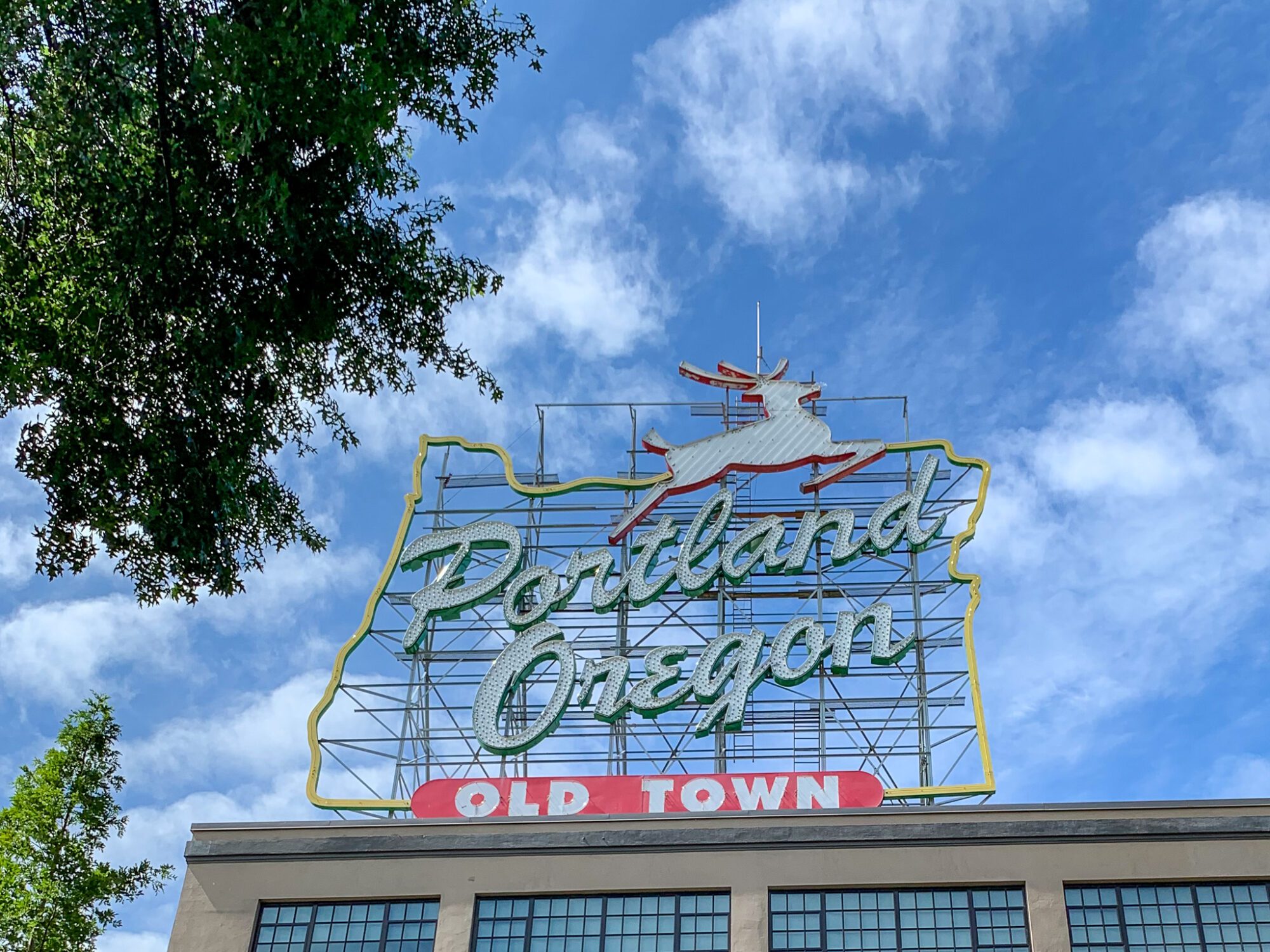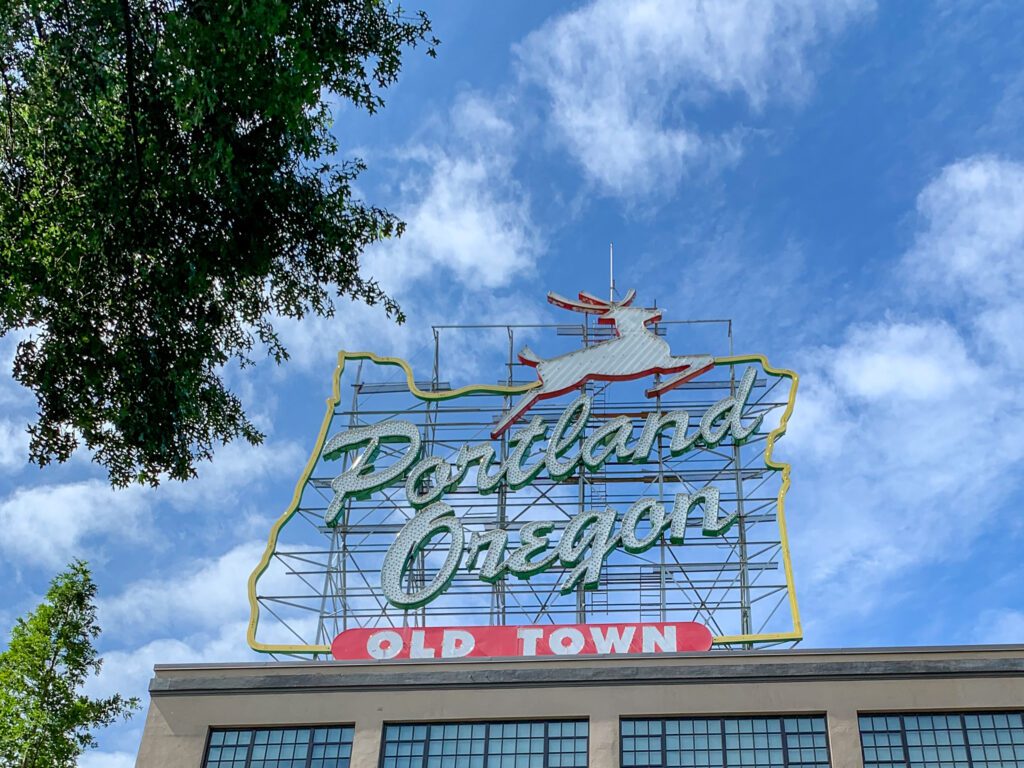 Ah, Portland. One of our favorite cities in the country, and possibly the place where we'll end up long term. Here's what we love about Portland: it has an incredible combination of access to outdoor activities (the Columbia River Gorge, home to countless gorgeous waterfalls, is literally half an hour away), a thriving small business culture which basically means endless amazing food and drink options, and a range of things to do and see within a 90 minute drive that range from sleepy coastal towns to wine tasting.
And the best part? It's only three hours south of Seattle – a straight shot down I-5.
We've spent more than two months in Portland over the past year or two, and we love the city.
If you're looking for an urban getaway and you've never been to Portland, we think you should make it down there ASAP.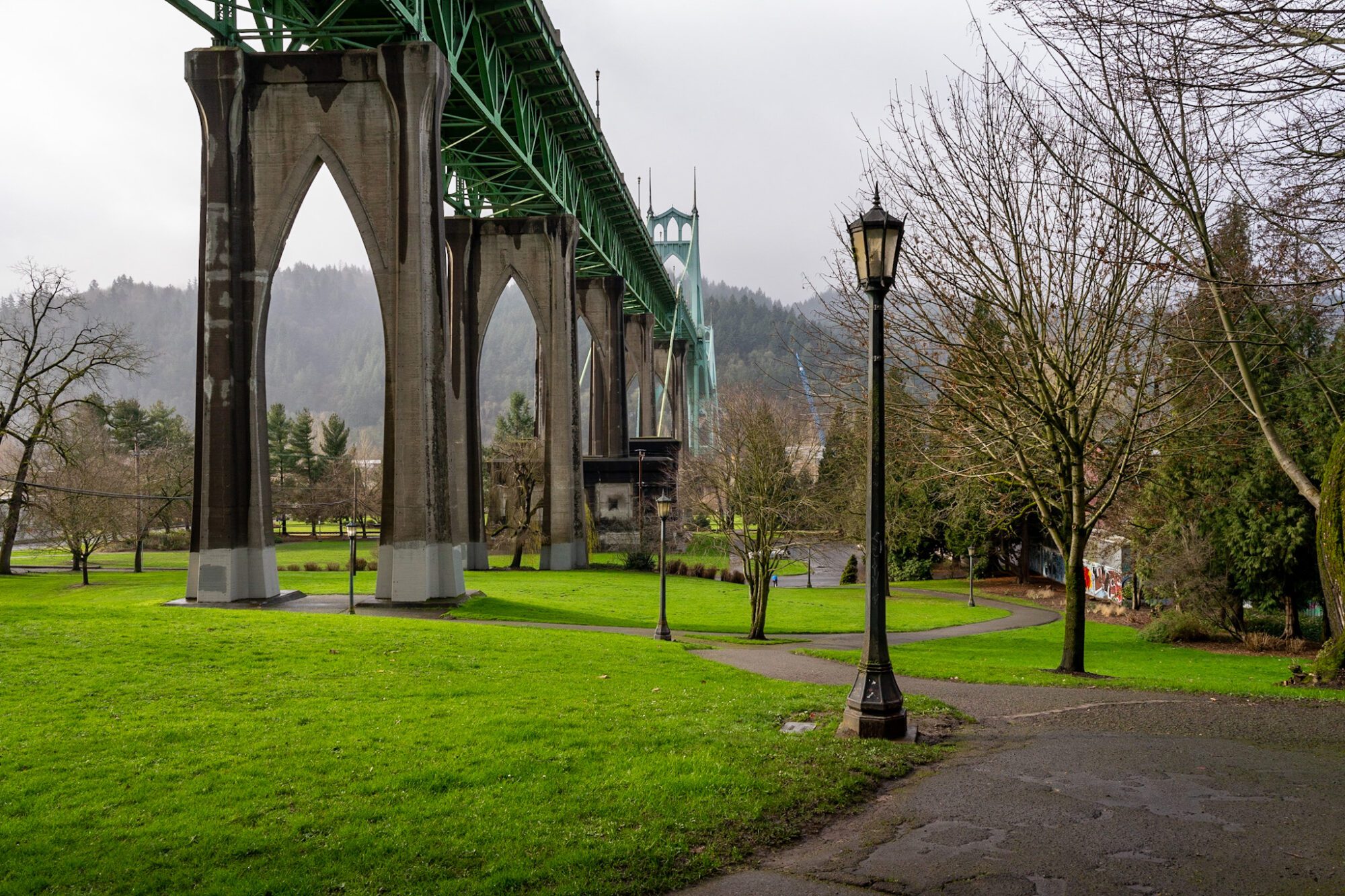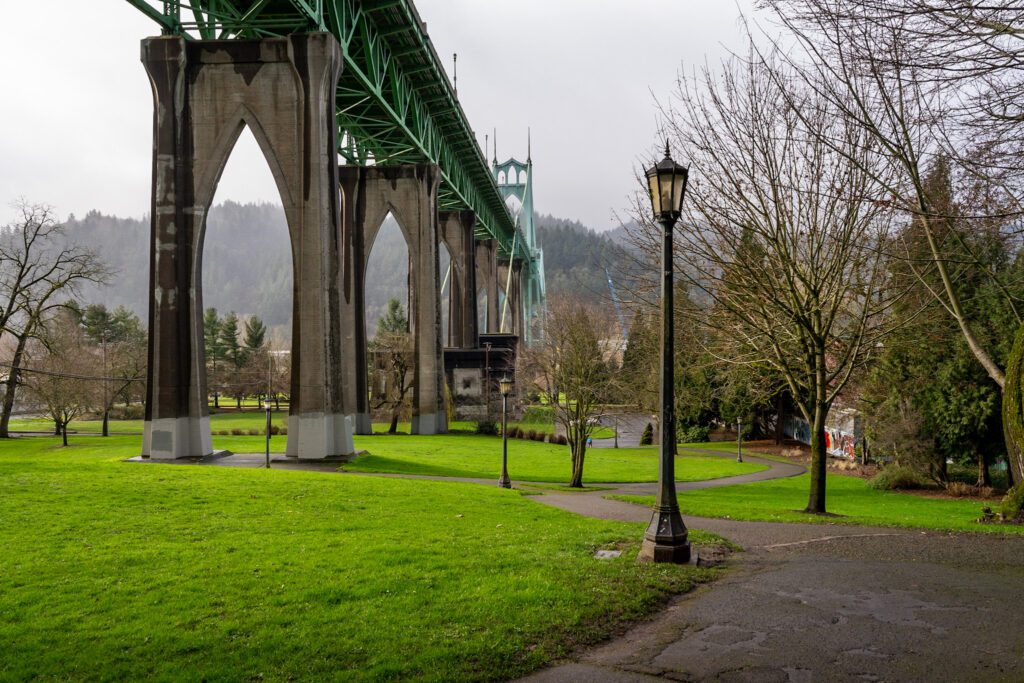 Things to Do in Portland
Conveniently, we have an entire guide to spending a perfect weekend in Portland. If you want the details, make sure to read that!
Here are some of our favorite things to do and see in Portland.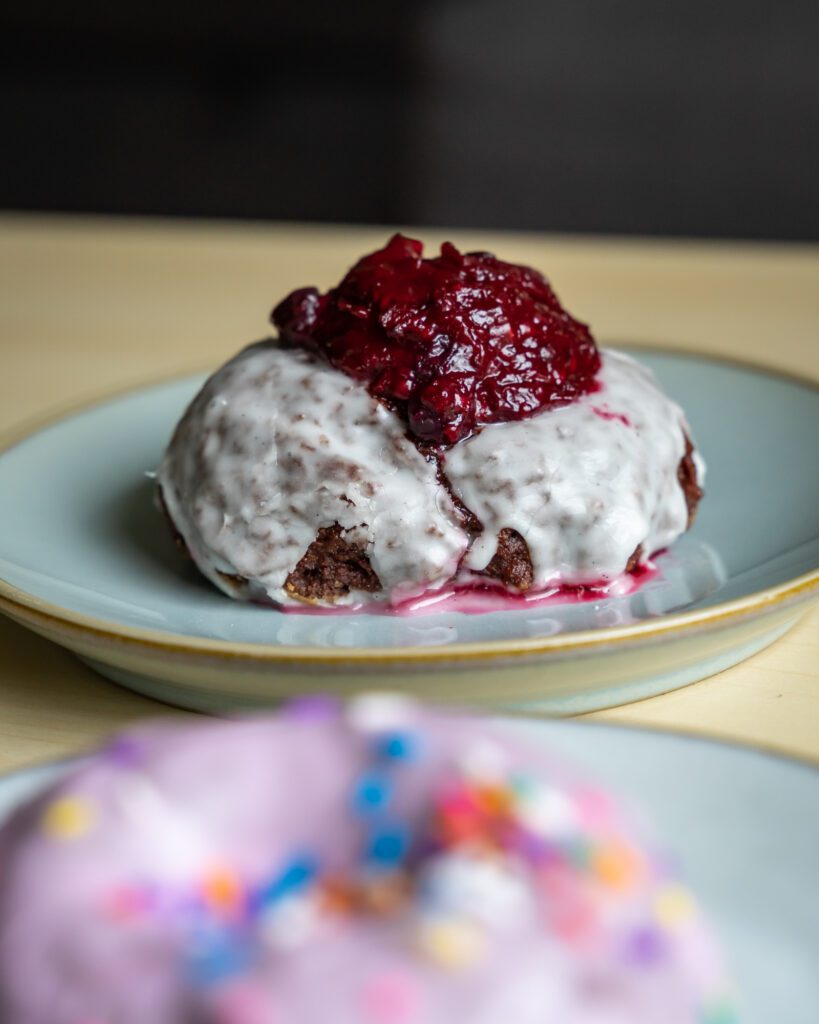 Donuts! Is it weird that, on a list of tourist attractions in Portland, somehow donuts comes up near the top in my mind? You've probably heard of Voodoo before, who are known for their novelty donuts and long lines. But locals recommend Blue Star and Pip's Original Donuts & Chai (Alysha's favorite chai in Portland) instead. If you're gluten free, head to Petunia's Pies & Pastries on weekend mornings for the best gluten free donuts in the city, and possibly the entire country.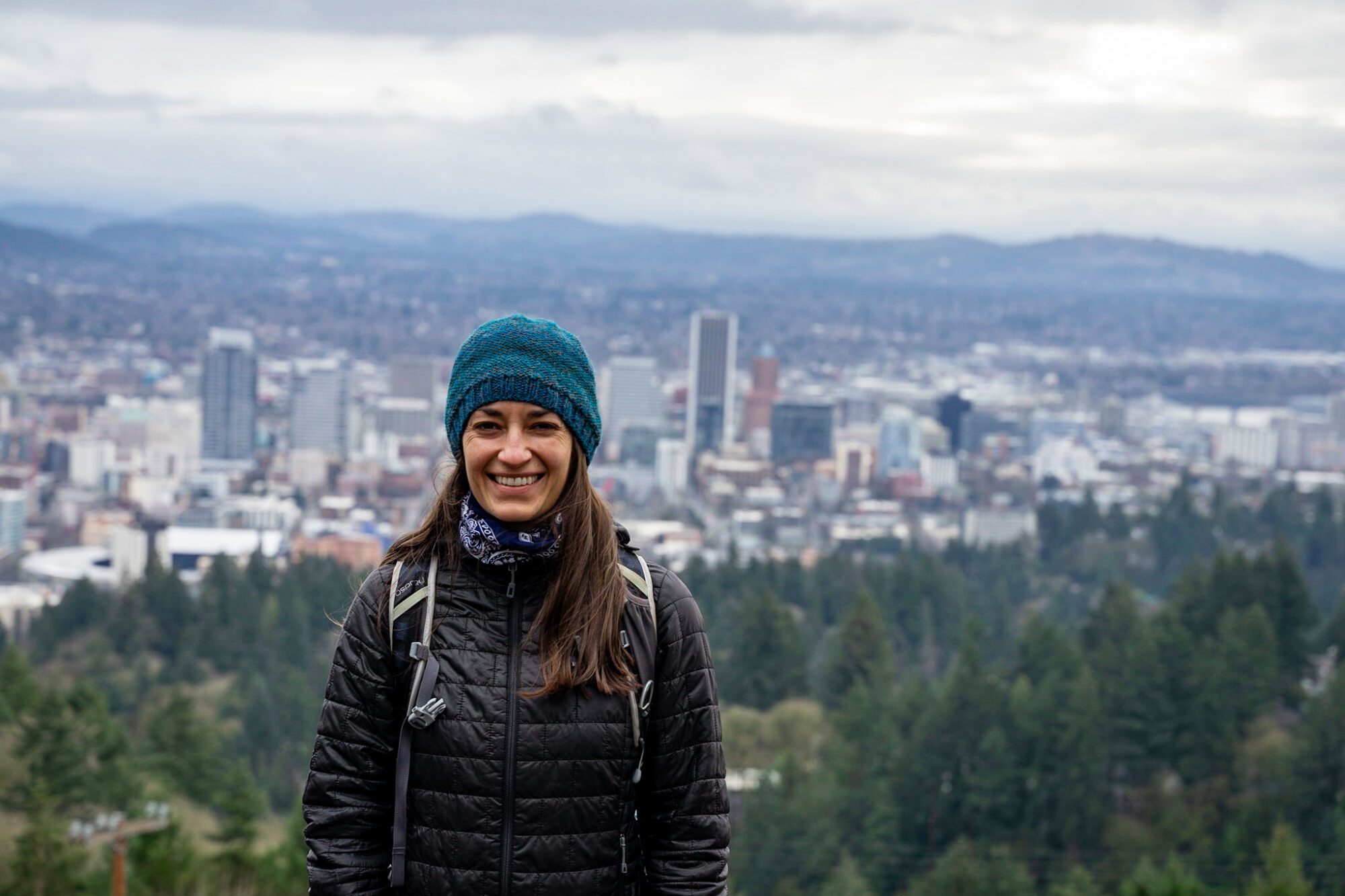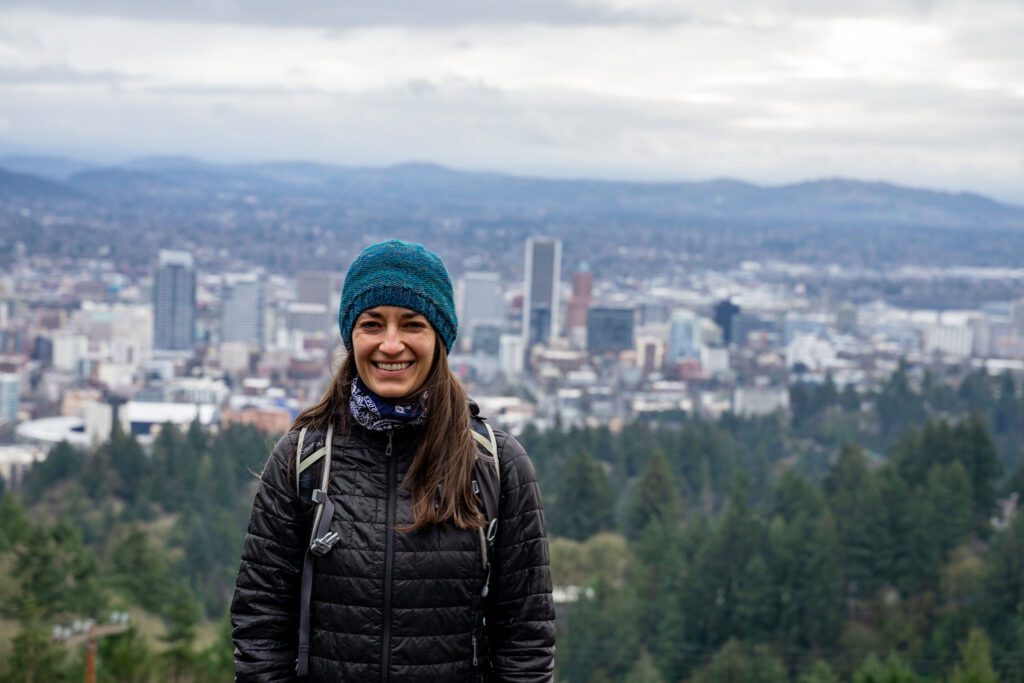 Explore the Parks: Washington Park and Macleay Park are worth a visit, and both are a hop, skip, and a jump from downtown Portland. Head up to the International Rose Test Garden, home to a bazillion roses of all colors, shapes, and sizes, all blooming in the spring and early summer. The Hoyt Arboretum is a pleasant place to take a stroll through the trees, which they grow and nurture as part of their mission – don't miss the Redwood Observation Deck! Hike up to Pittock Mansion (or drive) for drool-worthy views over the city. And the Japanese Garden across from the rose garden is worth a visit too.
Explore the Eastside: East of the Willamette River, which divides the city neatly in two, is BY FAR our favorite part of the city. It's more residential, but has a couple of charming stretches that are worth exploring if you love great restaurants, bars, and shops. Our favorite thing to do is walk, and the eastside is a fantastic place to just stroll. We lived at Division and 25th for roughly five weeks last winter, and can't get enough of that part of the city.
Walk down Hawthorne, stopping at Harlow for 100% gluten free and vegetarian brunch, Portland Cider Co. for some local cider, and Coava Coffee for some of the best coffee in Portland.


A couple of blocks south on Division Street, head to Salt & Straw for local ice cream with rotating seasonal flavors, Blue Star donuts for… donuts, Bollywood Theater for amazing Indian food (that's not really safe for Celiacs, unfortunately), and New Cascadia Traditional, which is our favorite gluten free bakery in Portland and also our favorite gluten free pizza of all time.


The Alberta Arts District, which is in northeast Portland, is another great place to spend half a day. Eat at the Teote Mezcaleria and get an arepa or three, get coffee at Australia-based Proud Mary (this is their only location outside Australia, and it's great), and do a walk of the entire stretch between 15th and 25th.
Go to the Gorge: The Columbia River Gorge is home to an amazing array of scenic vistas and thundering waterfalls. Hike to Angel's Rest – one of our favorite hikes near Portland – which has commanding views over the Gorge, then stop by Multnomah Falls, the biggest waterfall in the Gorge that you've almost certainly seen pictures of. On the way back, drive the Columbia River Scenic Highway, stopping at Latourell Falls to hike the short two mile loop to the upper and lower falls, then stop at the Women's Forum State Scenic Vista.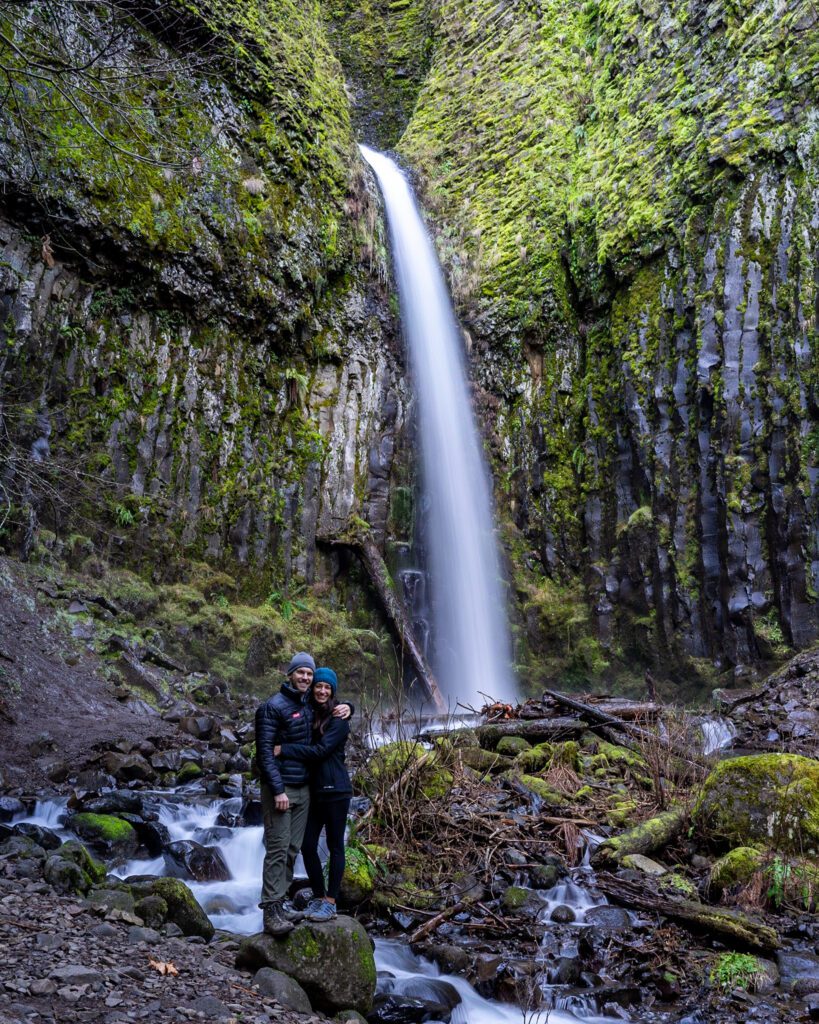 Powell's Books: Powell's is the best independent bookstore on the west coast, and I can't walk in the door without spending at least $100 on new books I didn't know I needed. It's a lovely place to browse, and it's gigantic. Find it in downtown Portland.
Where to Stay in Portland
We have a whole guide detailing the best places to stay in Portland, so head over there for the long version. The short version is that you have three options.
First is downtown Portland, which is super central and full of things to do, see, eat, and drink, but is less charming than other parts of the city. If you're traveling with kids, you should know that downtown Portland has a large unhoused population, which might make you uncomfortable if you're not used to seeing unhoused people (but you're coming from Seattle, so…). Stay at the Hoxton or the Society Hotel if you want to stay in the heart of all the action downtown.
Second is the Central Eastside, which is across the river from Downtown (and still walkable) but is more charming and has some great hotel options. This is probably the best blend of central location and walkability in the city. Stay at Kex Hotel, a hip and stylish Icelandic hotel that, somehow, is surprisingly affordable. Or at the Jupiter NEXT Hotel, which is one of the better locations in the area and is one of the more established hotels in this part of Portland.
Last is finding a cozy vacation rental on the Eastside, which is what we usually do. There are an endless number of rentals of all shapes and sizes – we think you should look in Southeast Portland, between Hawthorne and Division (though we love Alberta Arts too, it's just way further away). Here are a few options that we like.
Bellingham, Washington
Distance from Seattle: 90 miles / 1.5 hour travel time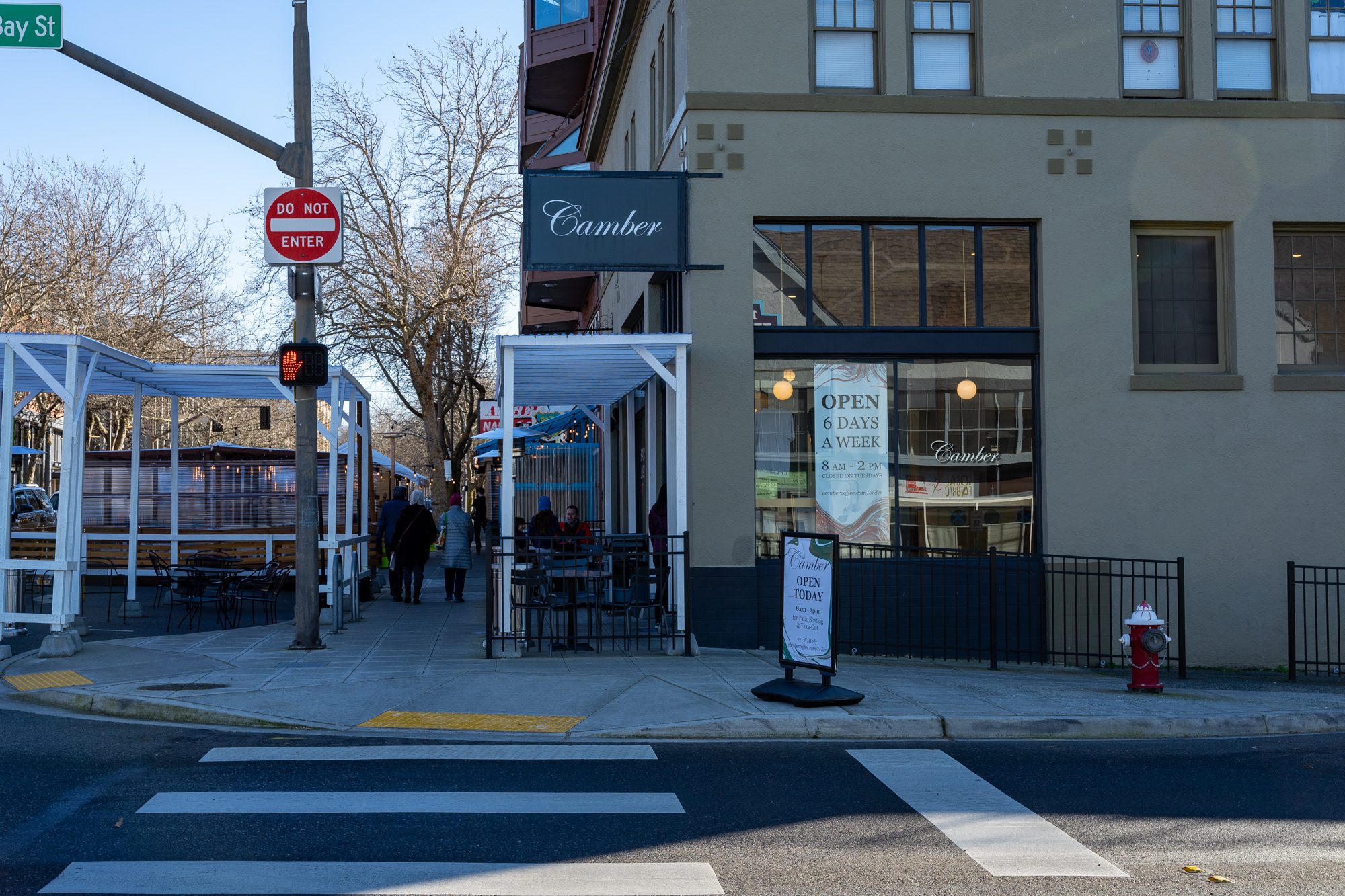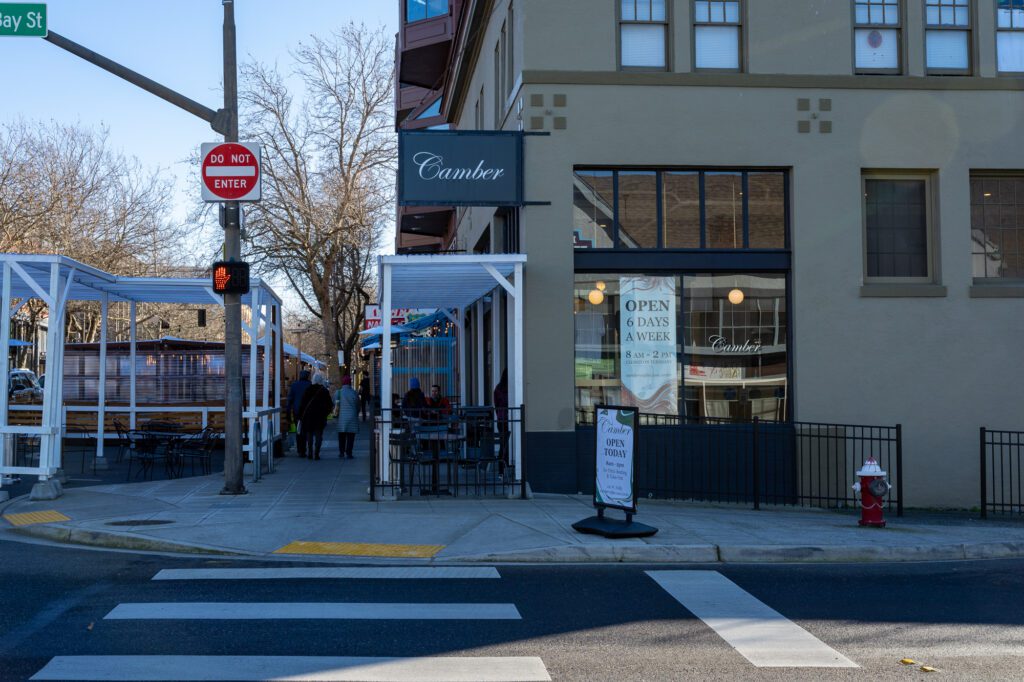 Bellingham is 90 miles from Seattle and just 21 miles from the Canadian border. The city is surrounded by scenic, snow-capped mountains and offers a laid back way of life.
It's a really interesting mix of part college town, part farming community, and part hipster paradise. The combination makes for a really eclectic town, full of restaurants, breweries and cideries making use of the bounty of farm fresh local produce to craft all sorts of foods and drinks that appeal to hipsters and college students alike (the venn diagram of those two groups certainly isn't separate circles).
You can get there in about an hour and a half by car, so it's perfect for a getaway weekend – even a spontaneous one!
Things to Do in Bellingham
Bellingham is a great base for a relaxing weekend away, especially if you love hiking and exploring, but aren't a big fan of camping. When in Bellingham, you should check out…
Taste Some Local Cider: Cider is big in this city, which is no surprise given its location in the middle of apple country. Between Thousand Acre Cider Co, a cider taproom with all 20+ local ciders on tap and 200+ bottles and cans, and two local cider producers Lost Giants Cider and Bellingham Cider Company, you could spend all weekend tasting cider, and never have the same thing twice.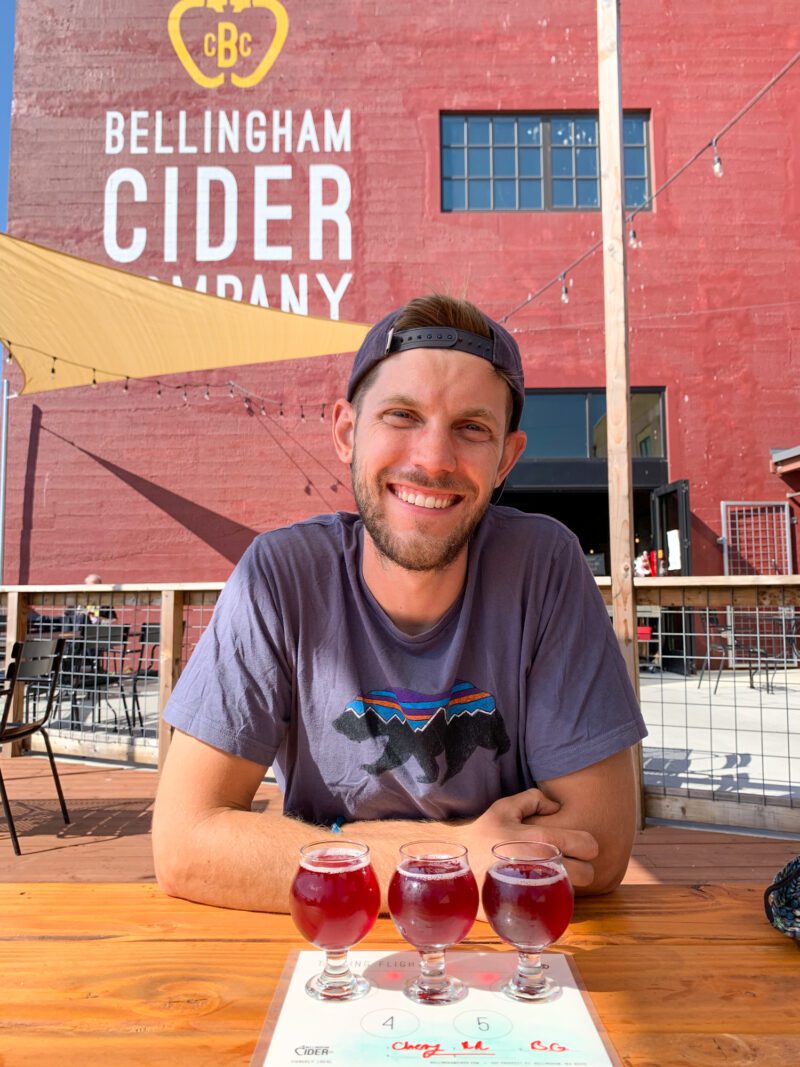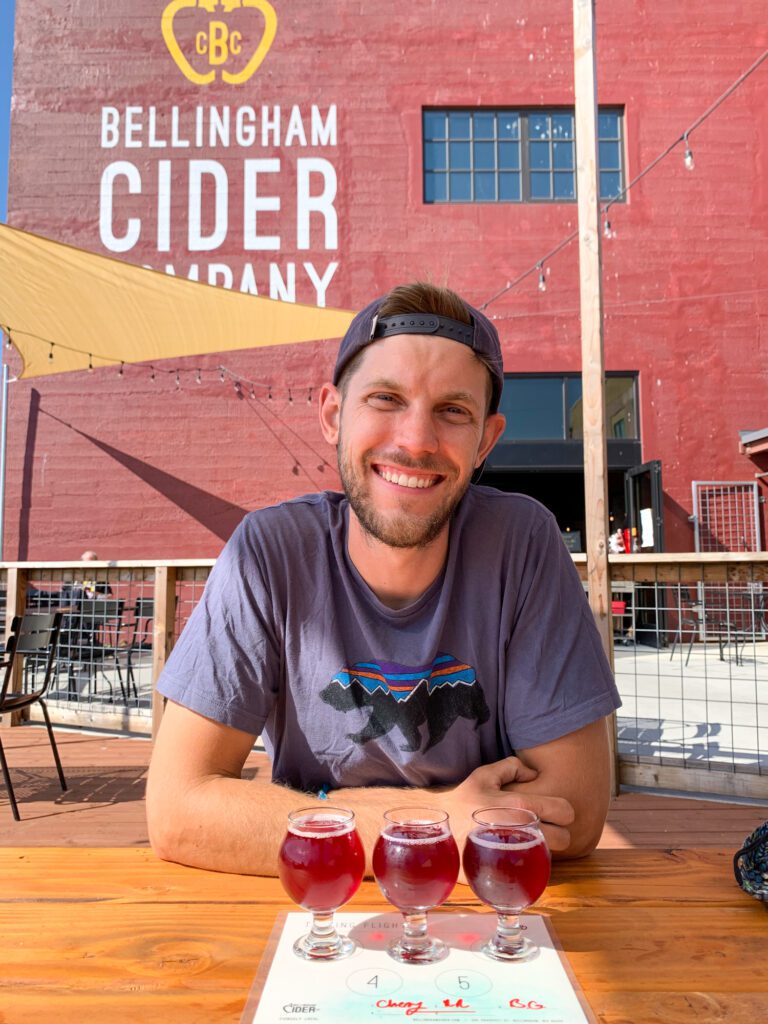 Local Coffee: As you know, coffee is serious business in the Pacific Northwest, and Bellingham is no different. Try Black Drop Coffee, Camber Coffee or Woods Coffee (a Bellingham original!) for a cup (or seven) of joe.
The Bellingham Farmers Market: If your weekend getaway happens to be on Saturday between April and November, you'll be able to experience the vibrancy of the Bellingham Farmers Market. Over 100 vendors offer food, crafts, and more, all made locally. A great Saturday morning activity paired with a coffee from one of the shops above.
Coastal Views: There are fabulous coastal views on the 24-mile Chuckanut Drive, where the Cascade Mountains reach the sea. Definitely make a stop at Washington's first state park, Larrabee Park, just a few miles south of the city – sensational.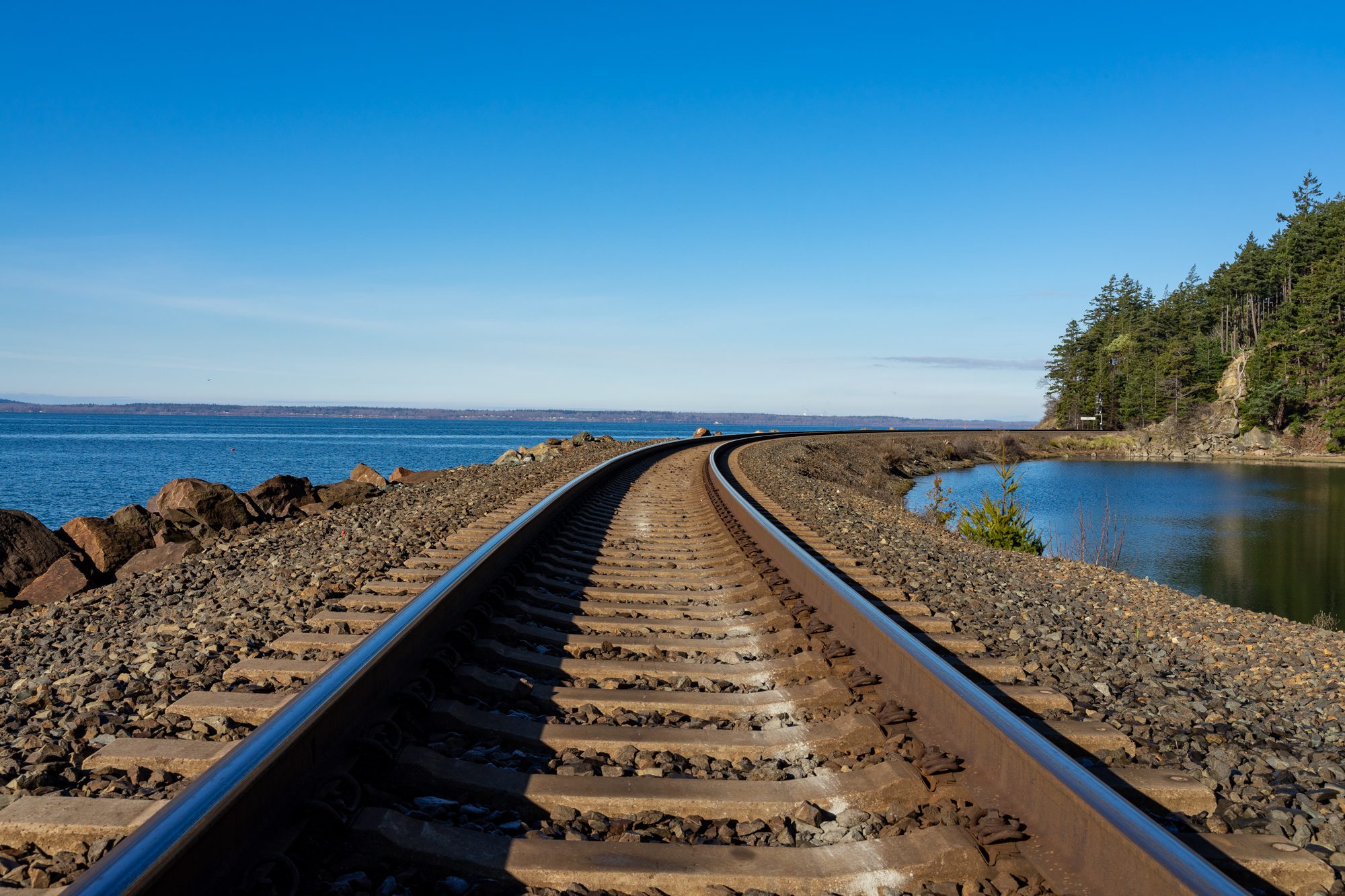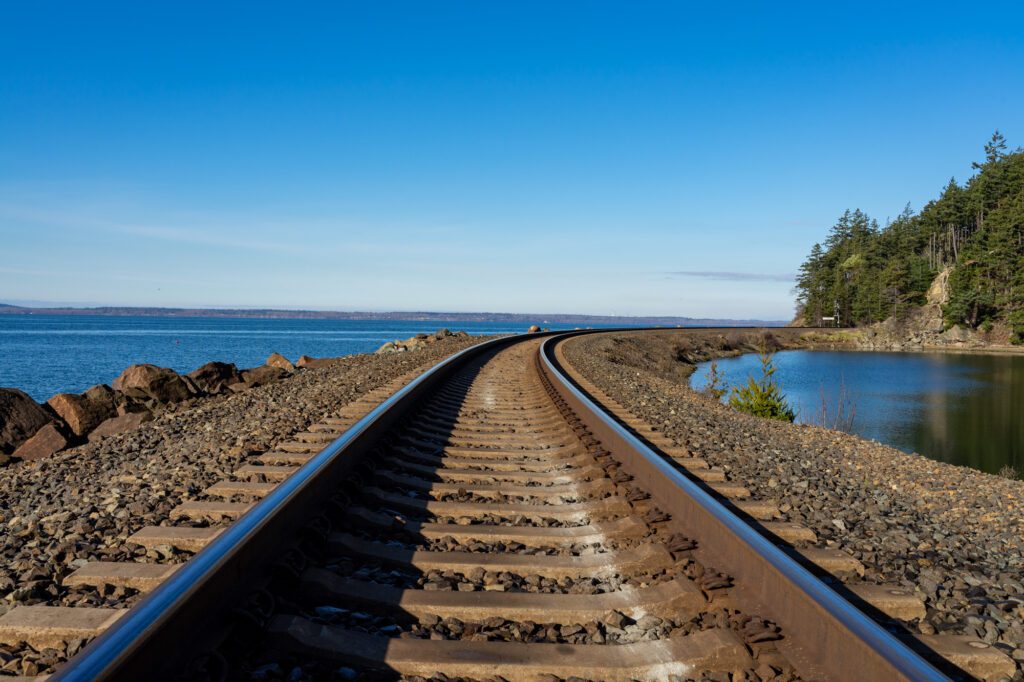 Hiking Trails: If you like hiking, you have to visit North Cascades National Park, a huge wilderness area with unbelievable landscapes full of rocky peaks and blue-green lakes, and Mount Baker Wilderness, the most underrated hiking destination in Washington State (in my opinion). Hike Cascade Pass and the Sahale Arm for one of the best hikes in the North Cascades, or Yellow Aster Butte for crazy 360 degree views at the top of Mount Baker or Mount Shuksan.
Where to Stay in Bellingham
There are a couple of great hotels in Bellingham, perfect for a weekend.
Hotel Leo: Hotel Leo only opened in November 2019, but the building has been a hotel since 1889, first as the Byron and then from 1929, the Hotel Leopold. So we are talking about modern with a 1920's feel. 40 rooms, many with great views of the city, locally produced artworks, some with kitchenettes, a few with full kitchens, all beautifully decorated and outfitted.
Hotel Bellwether: On the waterfront, this hotel is close to all the restaurants, stores, and cultural attractions Bellingham has to offer. Upscale and offering spacious, comfortable rooms, with fireplaces, it makes a great location for relaxing with a good book before wandering out into Bellingham for dinner.
Port Townsend, Washington
Distance from Seattle: 56 miles / 2 hour travel time (with ferry)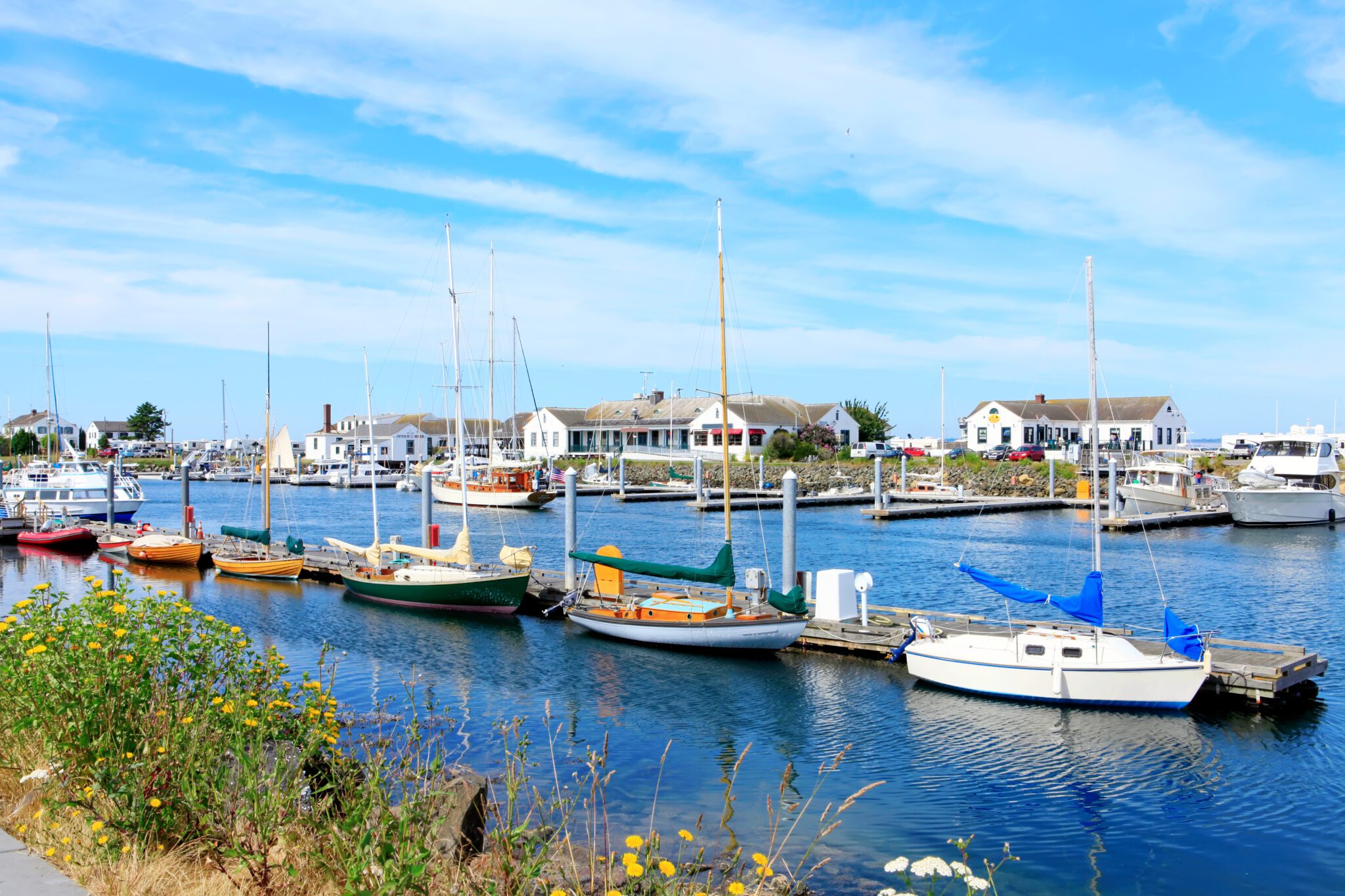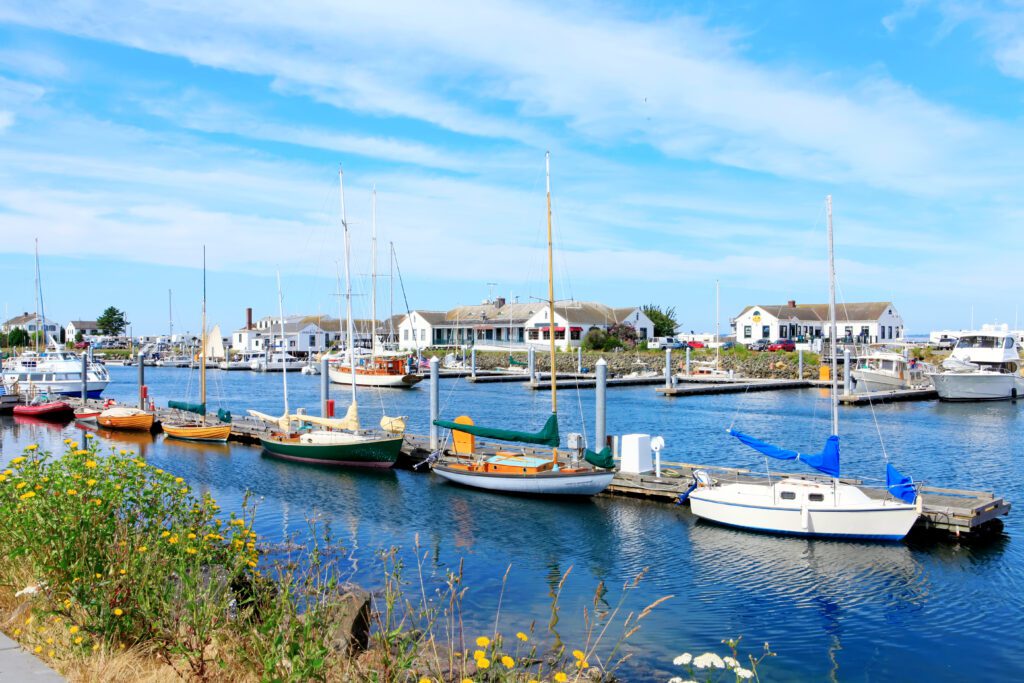 In a straight line, Port Townsend is only about 30 miles away from Seattle, but to drive there without using the ferry, it's about 112 miles and takes the better part of 2 ½ hours. However, if you take the ferry to Bainbridge Island, you cut the journey time by 30 minutes and the distance by half. For a more scenic journey and to save on gas, take the ferry.
What to Do in Port Townsend
When in Port Townsend, you should check out…
Waterfront Breakfast: Go and have breakfast at Better Living Through Coffee. Enjoy the waterfront view, the organic food and more coffees and teas than you have a right to expect.
The Cider: If you like cider like I do, you're going to be in heaven in Port Townsend and the surrounding area. You'll find some of the best cider makers in the Pacific Northwest within 20 minutes. Finnriver (their Black Currant cider is my favorite), Alpenfire (all sorts of interesting ciders, like the Ember) and Eaglemont cider makers are all nearby. Eaglemont also makes wine!
Whale Watching: Port Townsend is a good home base for whale watching trips, particularly from May to October. Minke, humpback and orcas all migrate through Puget Sound. You'll never forget this experience. And after you've been there, check out the Port Townsend Marine Science Center to learn more about the abundant sea life that calls the Puget Sound home (there's more than you think!). However, we're a little hesitant about commercial whale watching trips given the questionable ethics and the fact that said trips have a negative impact on the whales. Here's a good primer on what to look for in a responsible whale watching company.
The Farmers Market: The Port Townsend Farmers Market is held on Saturdays and is a showcase for fresh, locally produced food. You can find the cider makers I mentioned above there, if you would rather not venture outside of Port Townsend, along with plenty of farm fresh fruit, veggies, and cheese.
Where to Stay in Port Townsend
Port Townsend has some incredible places to stay, but my top two picks are…
The Palace Hotel: This hotel on Water Street is a Victorian lover's delight. 26 unique rooms, all with a historic feel and 21st-century comfort, many with great views over the picturesque city. As it says on their website: "A step back in time."
The Nest: Luxury House in the Trees (Airbnb): The Nest has two bedrooms, two bathrooms and sleeps six. It is set in woodland, the views from the decks in the tree canopy and "the Overlook" at the end of the wooded lane are awesome. Add in a six-person hot tub, outdoor sauna, unique design and stunning interior.
Island Getaways from Seattle
Near Seattle, there are several great islands that would make for a great weekend trip. Some, like Bainbridge and Vashon, are close enough for a day trip from Seattle. Others, like San Juan and Orcas, are a little far for just a day, which is why we have them on this list.
Orcas Island, Washington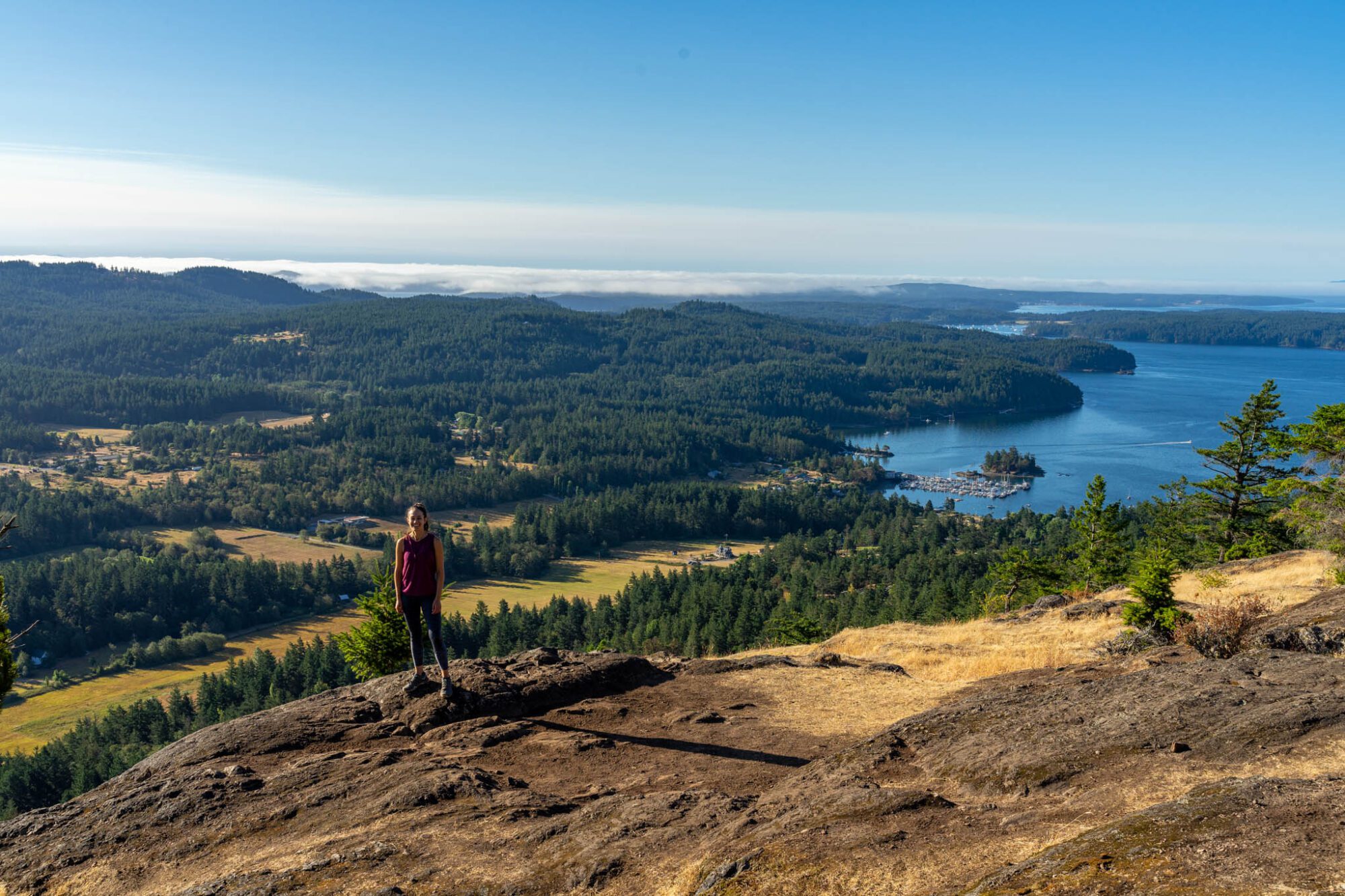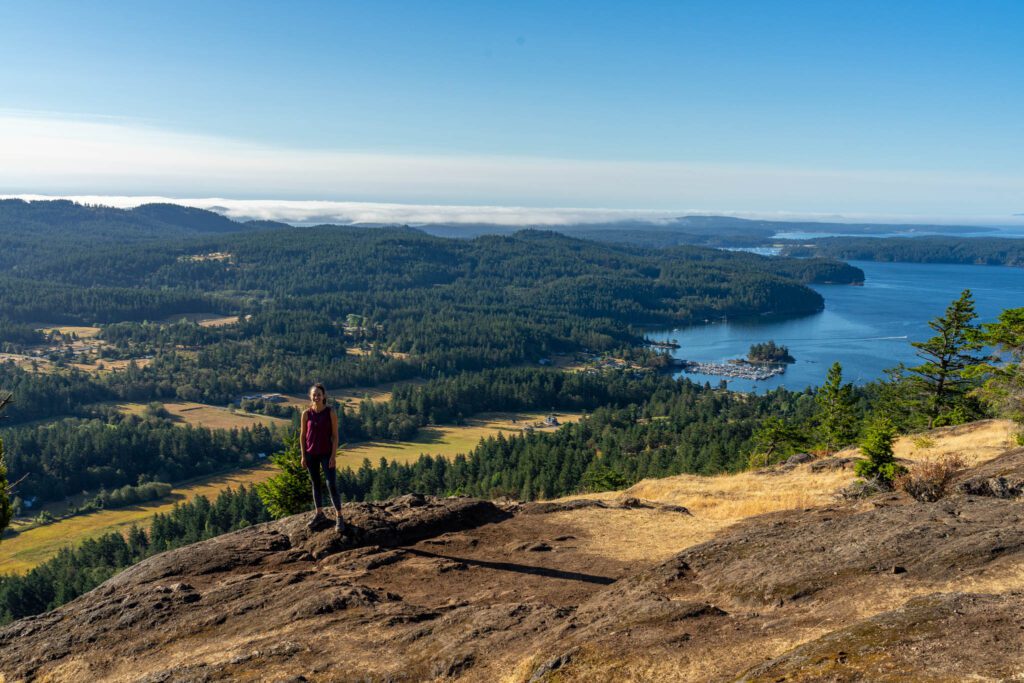 The largest island in the San Juans also happens to be our favorite. We like San Juan Island, which is significantly more "commercialized" (for lack of a better word), but the laid back nature of Orcas combined with the plethora of outdoor activities puts it right in our wheelhouse. If you're looking for a relaxing island getaway from Seattle, Orcas is our top pick.
The journey begins from the ferry terminal in Anacortes, where you'll board the ferry (we'd suggest boarding with your car, which you really need to get around on the island) and embark on a scenic boat ride through the San Juans to the ferry terminal on the southwest end of Orcas.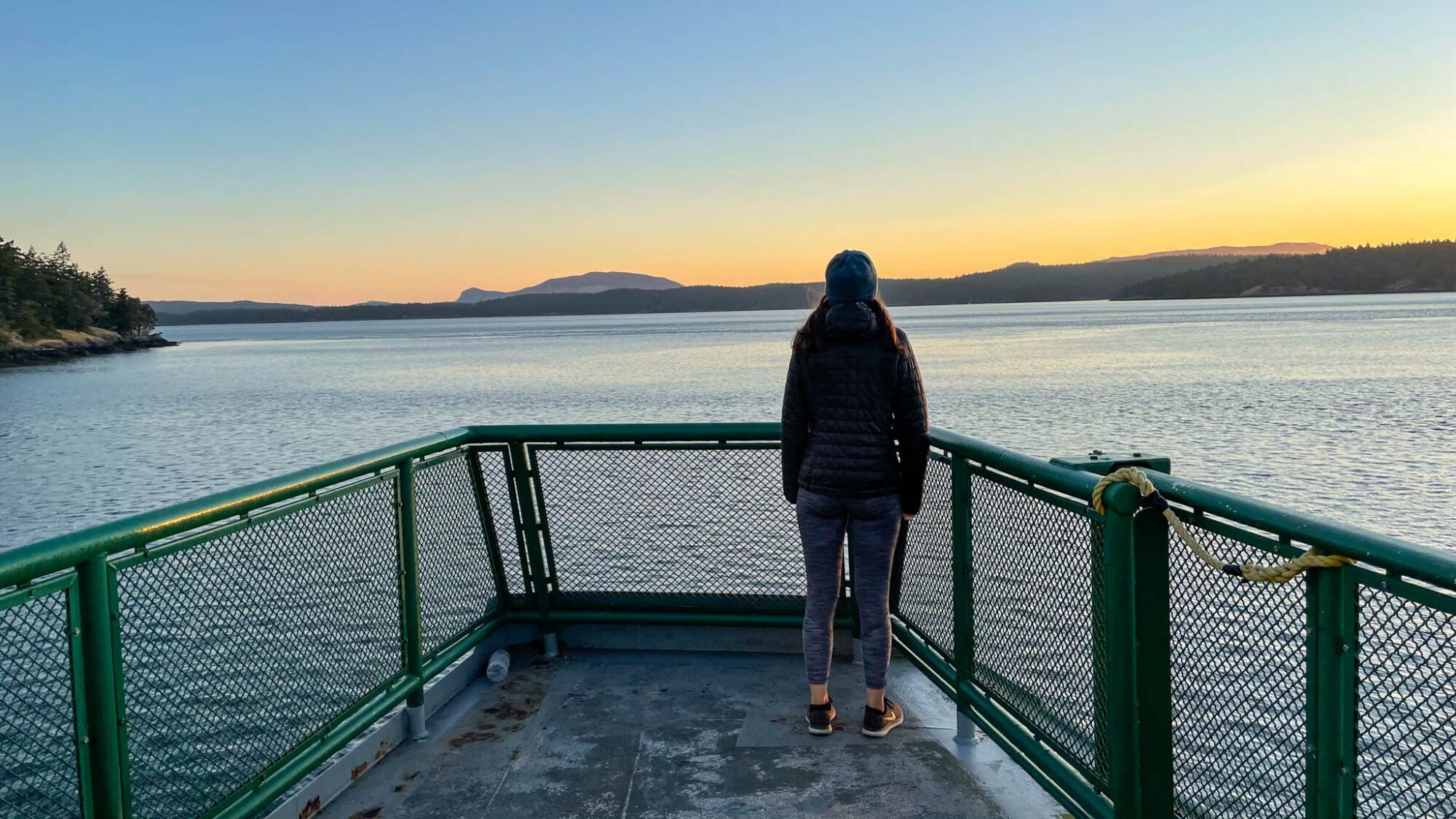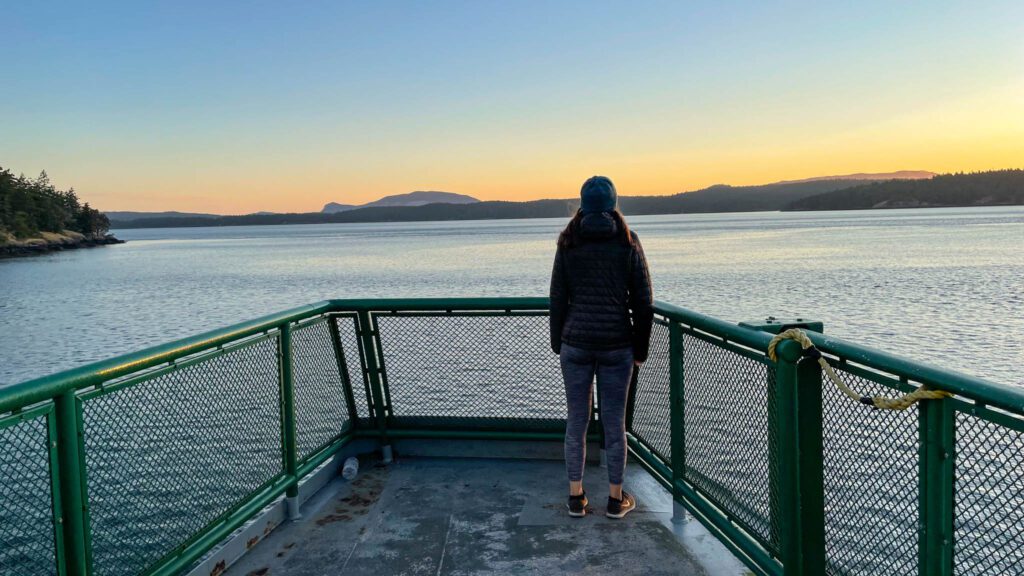 As soon as your feet touch down on the island, you'll be transported to a different world, where work emails don't seem so pressing, and you're not in a rush to get to your next stop. After two or three days of island time, you might find yourself wondering why you don't live like this all the time.
What to Do on Orcas Island
We love Orcas, and actually have two entire guides devoted to exploring the best that Orcas has to offer – our guide to hiking on Orcas Island covers our favorite hikes on the island, and our guide to the best things to do on Orcas gives you a starting point for planning your trip.
Here's a brief overview of what you'll find on Orcas Island.
Hiking: There is some fantastic hiking on Orcas, which is something that is sorely missing from San Juan Island in our humble opinions. Two dueling mountains – Turtleback on the west side, Mount Constitution on the east – offers a variety of hiking trails for all skill levels. We like the 6.5 mile Turtleback Loop from the south trailhead (but mostly the first bit up to Ships Peak, which has all best views) and the hike from Little Summit up to the top of Mount Constitution (adventurous hikers can do the full loop from the shore of Mountain Lake, which is 8 miles and 1,700 feet of climbing).
Wine Tasting: There are two places to go wine tasting on the island. Orcas Island Winery is on the west side of the island, and is the only traditional winery (in the sense that there's a big property with a tasting room) on the island. It's locally owned since 2019, and we had a pet-nat rose that we really enjoyed. The property is beautiful, with the barn style tasting room as the focal point. The second place is Doe Bay Wine Company, which is a teeny tiny locally-owned wine shop in Eastsound where you can taste wines from their house label the Orcas Project, or buy bottles of wine and cider from all over, including the San Juan Islands.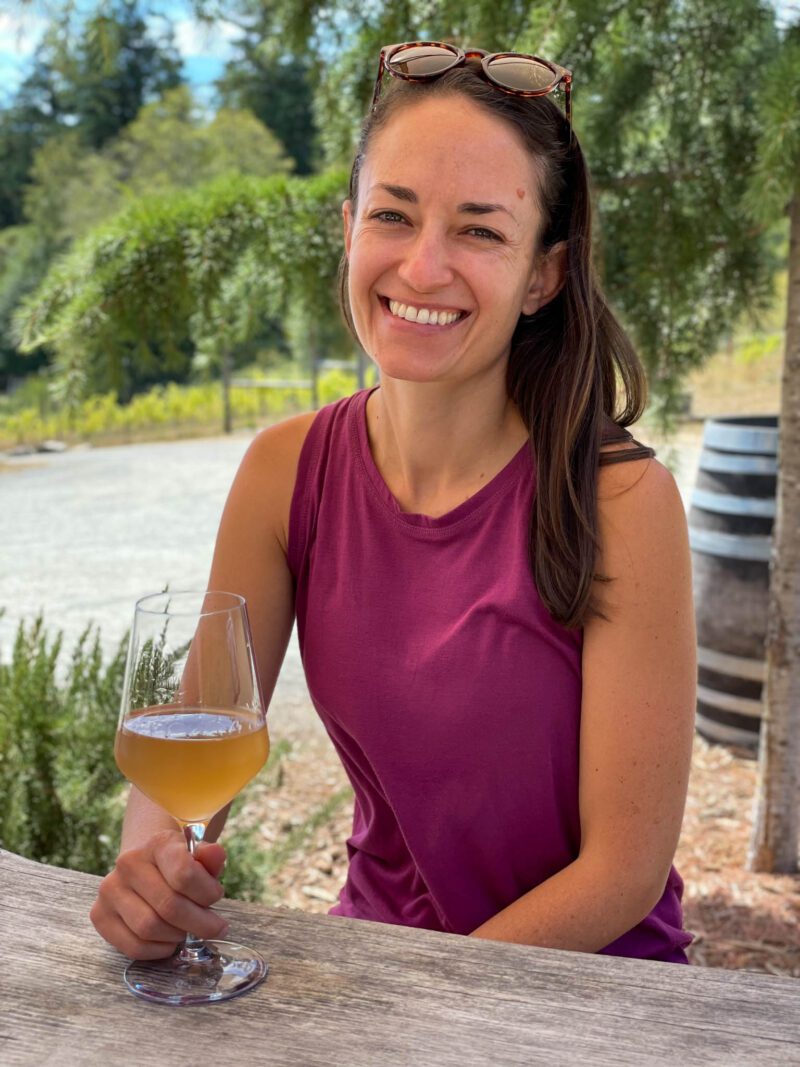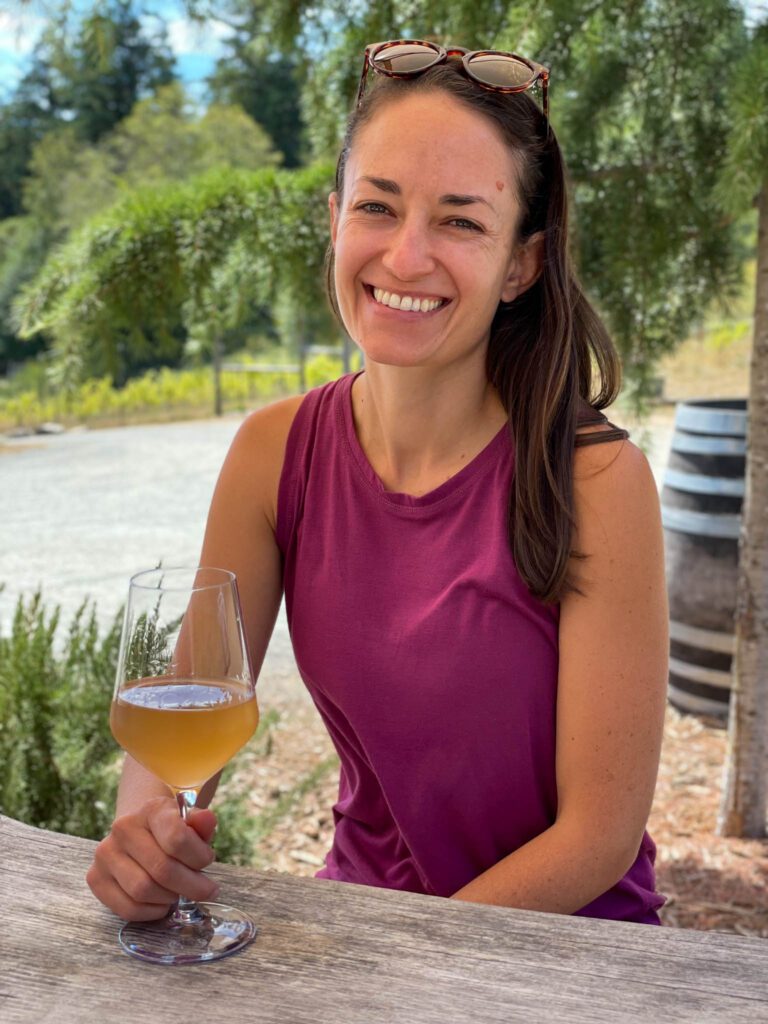 Exploring Eastsound: Eastsound is the largest town on the island, and it's a charming little place that is only a couple of blocks in area. Here are some of our favorite stops:
Brown Bear Baking for delectable pastries (NOT GLUTEN FREE, but Alysha loved them as did the broader family we brought them back to)
Darvill's Bookstore for browsing the best local bookstore on the island (and also the best coffee shop, but it's closed on weekends)
Doe Bay Wine Company for wine tasting
Clever Cow Creamery for ice cream
Printshop for on-demand screen printed t-shirts with designs from local artists
Girl Meets Dirt for amazing fruit preserves made from Orcas Island fruit
Orcas Food Co-Op for the best grocery store on the island.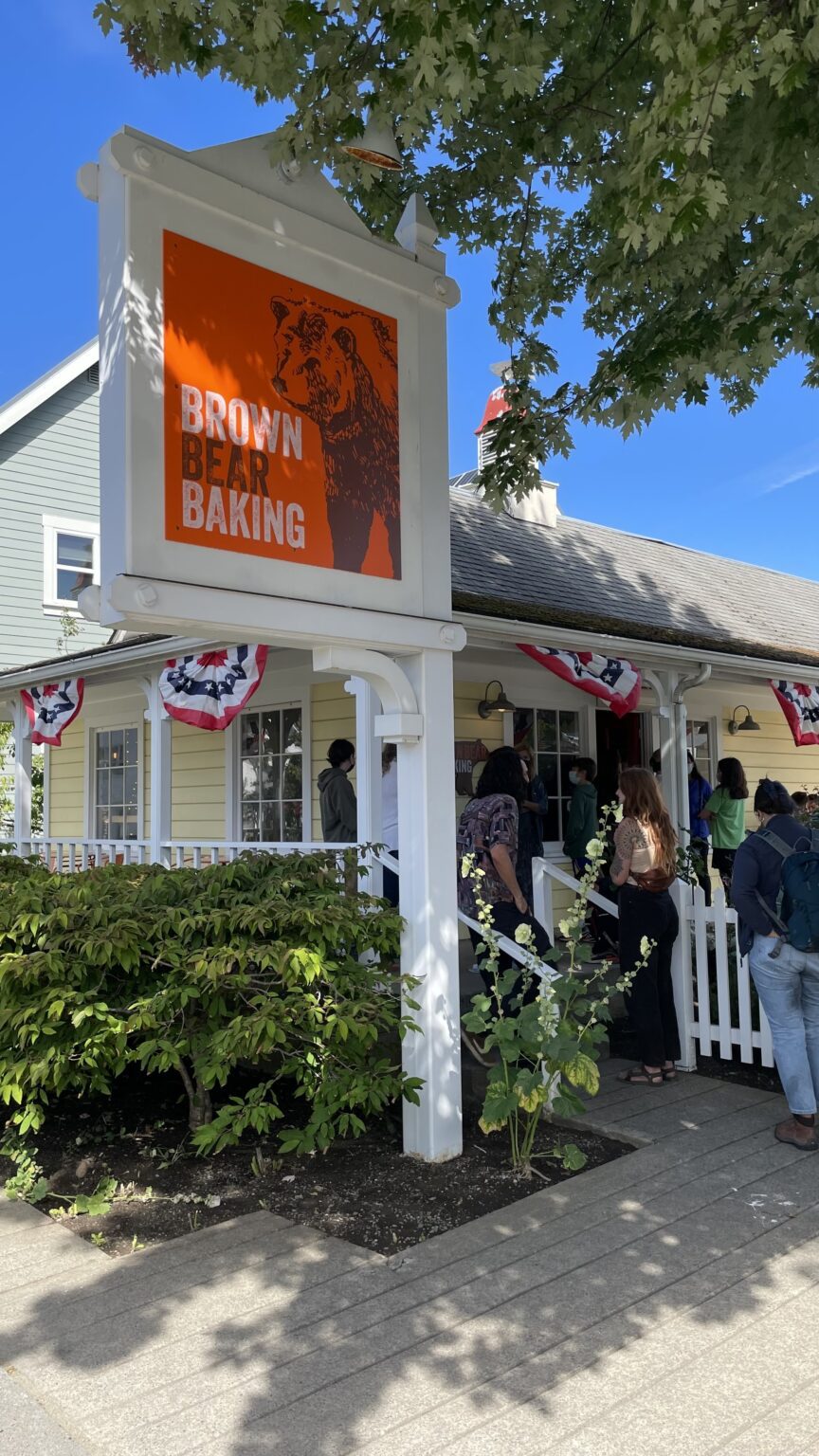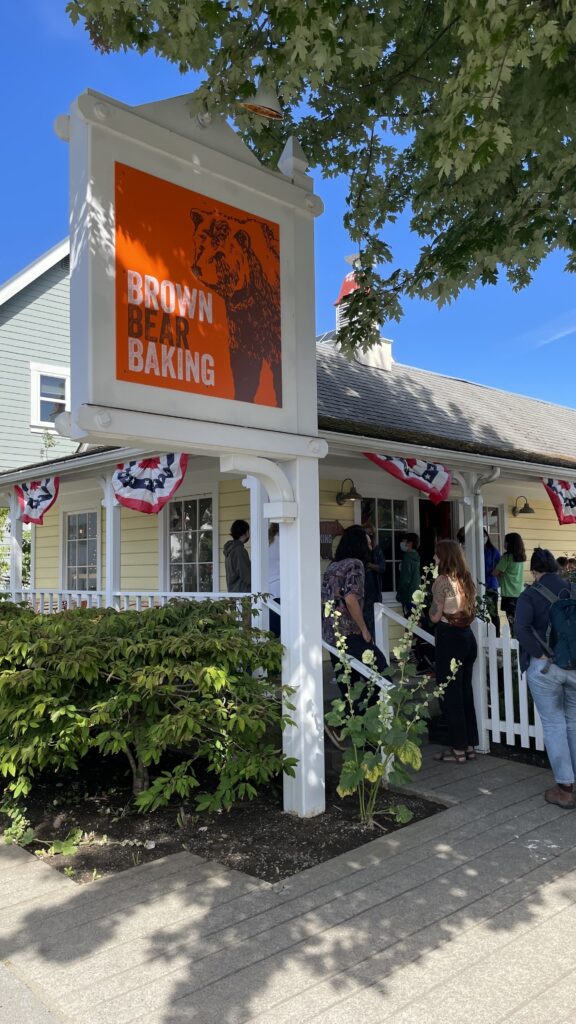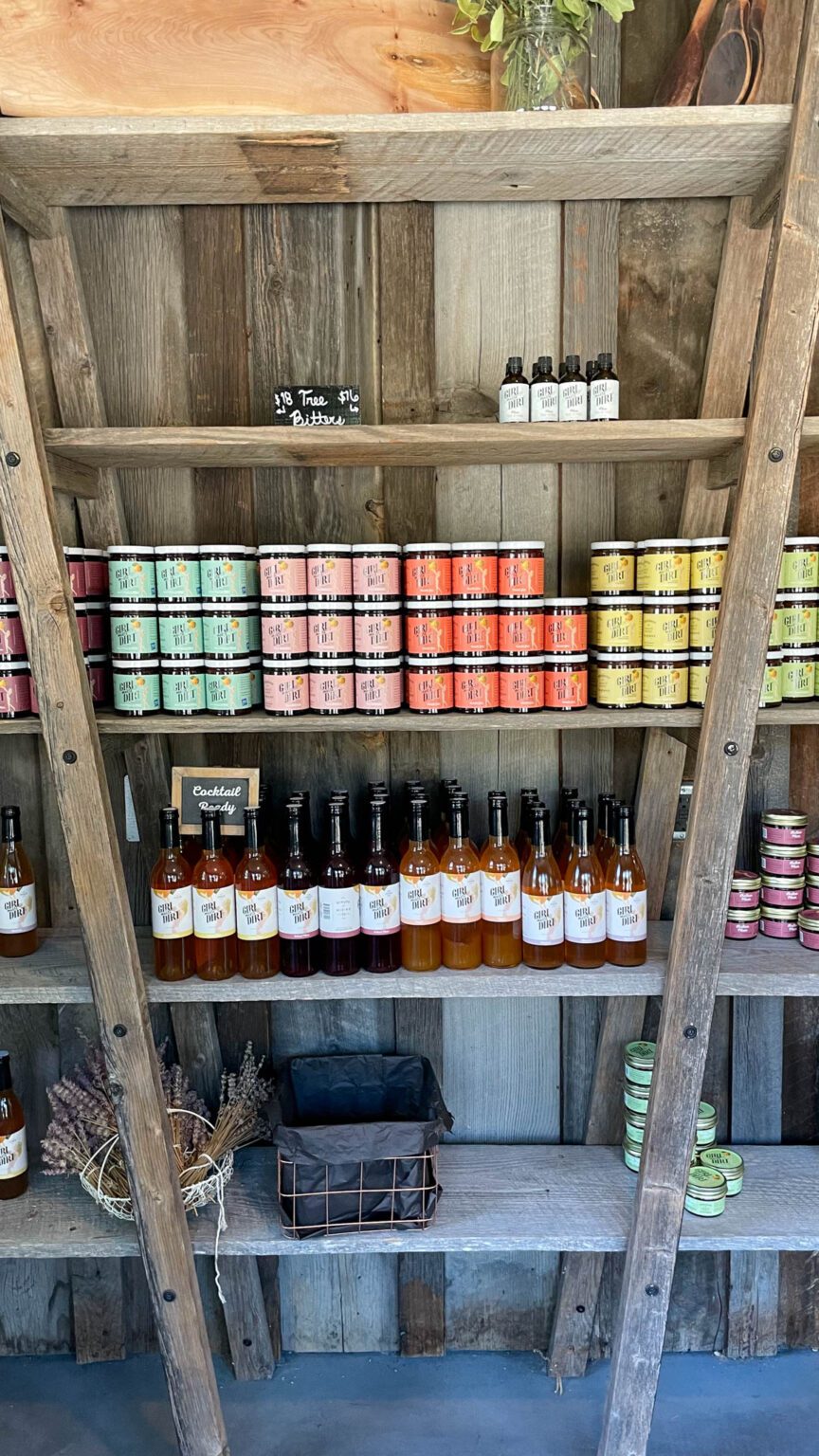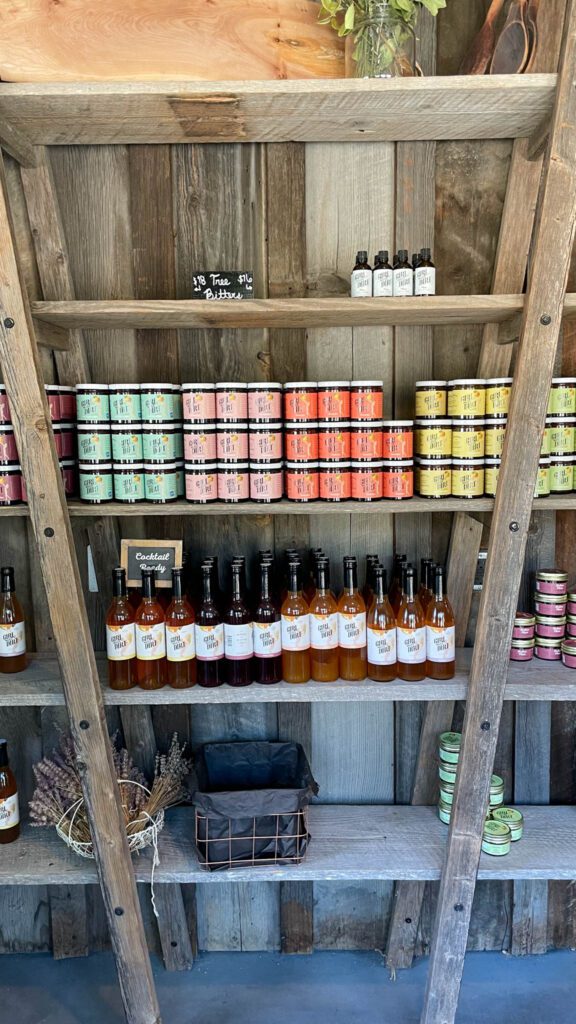 Hit the Lake: There are two nice lakes on the island – both in Moran State Park – with plenty of opportunities for swimming, canoeing, kayaking, and stand up paddle boarding. Cascade Lake is the more heavily visited, mostly because the campground for Moran is along its shore. They rent boats on a first come, first served basis. It's a popular spot, so get there early. Mountain Lake is further into Moran State Park, and has a couple of cool islands in the middle that are a good place to explore by kayak. Both lakes have hikes that circumnavigate the lake, which are mostly flat and make for a nice leisurely stroll.
Where to Stay on Orcas Island
In Eastsound, there's a fantastic historic hotel right on the water called the Outlook Inn, which has a range of rooms for different budgets from smaller rooms in the historic wing with shared bathrooms, to luxe suites right on the water.
There are two great resorts on the east end of the island – Doe Bay Resort (more rustic and low key) and West Beach Resort (rustic cabins right on the water).
If you want a charming bed and breakfast, look at the Kangaroo House B&B.
San Juan Island
Distance from Seattle: 103 miles / 3 hour travel time (with ferry)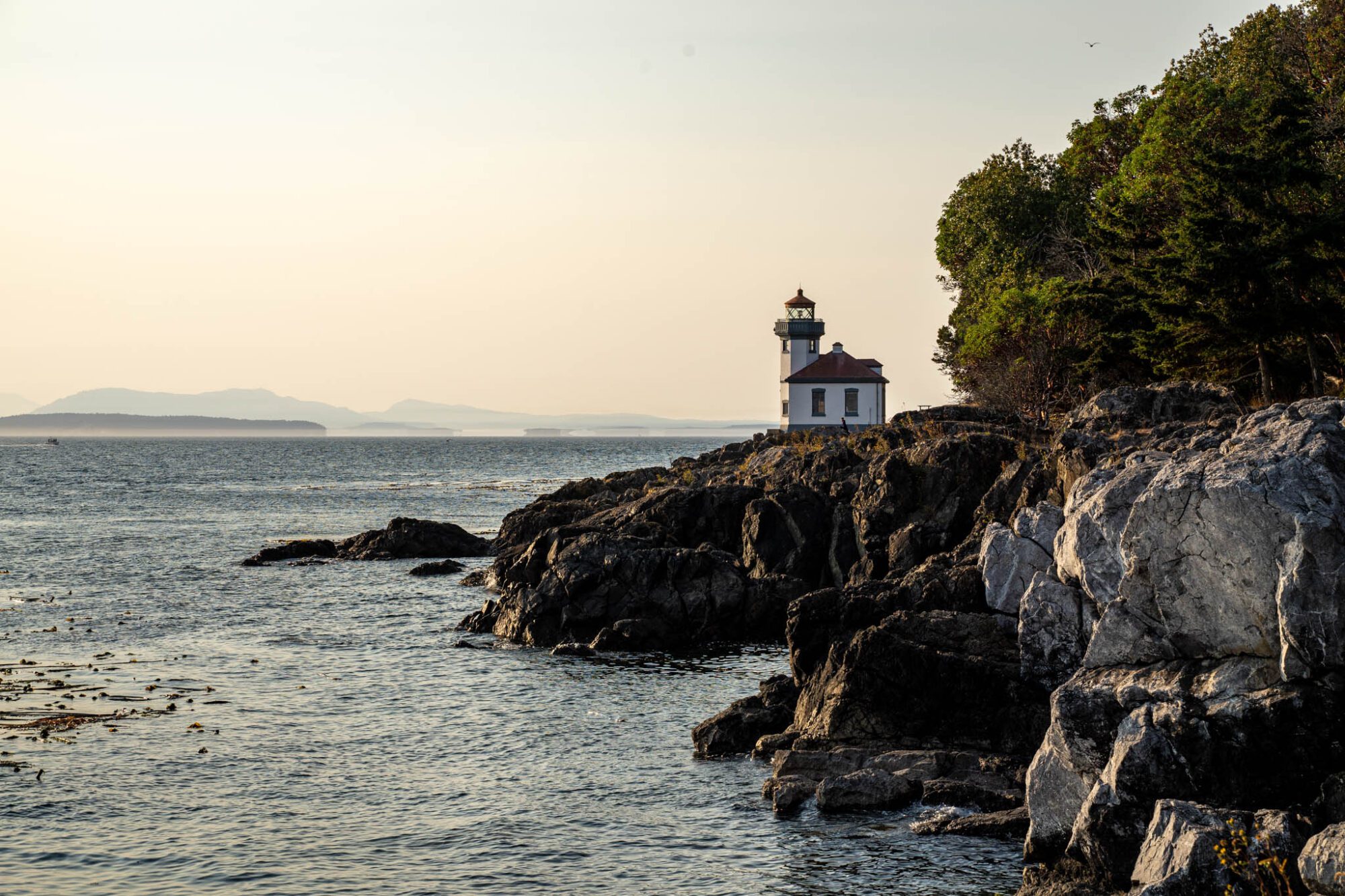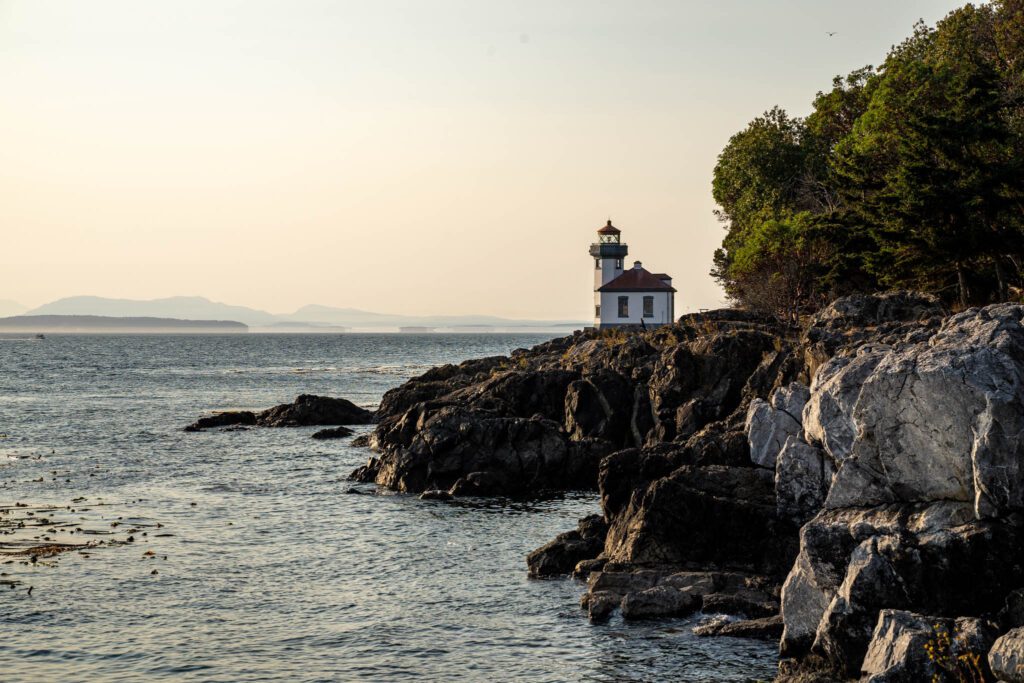 The most-visited island in the San Juan Islands is home to the charming waterfront town of Friday Harbor, some of the best whale watching in the world if you're looking for orca whales, and the pastoral center of the island means there's a bunch of good local food and drinks on the island.
Growing up in Seattle, my family would go camping on San Juan Island every single summer, where we'd spend time wandering the cute downtown area that is Friday Harbor, Orca spotting at Lime Kiln State Park (the best place in the state to see them – they pass right off the coast!), and exploring the lavender farm on the island.
We think while you're on San Juan Island – particularly if you have a whole weekend – you absolutely must get out on the water. Preferably in a sea kayak – we went on a 6 hour paddle with Outdoor Odysseys and it was pretty spectacular – or on a whale watching tour. The best time to see orcas (and other whales like humpbacks) is from June to September, and if you're on the island during that time frame, you HAVE to do your best to see them. You can also go to Lime Kiln State Park, which is known as one of the best places to see whales from land in the world.
Here are some other things to do on San Juan Island while you're there for a weekend.
Things to Do on San Juan Island
When in the San Juan Islands, you should check out…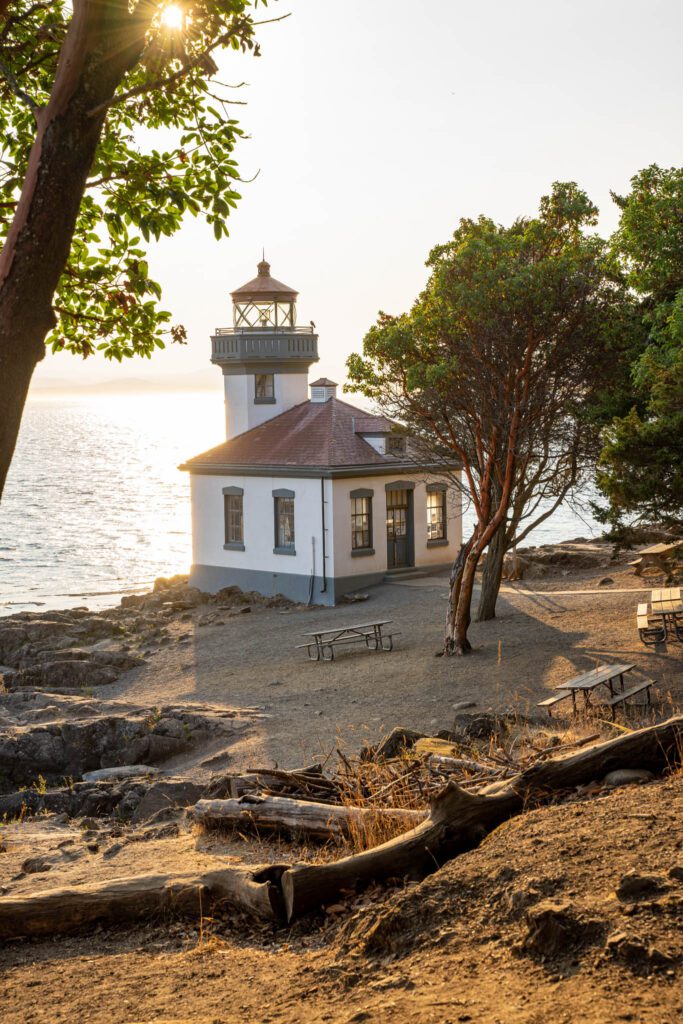 Whale Watching for Free! Lime Kiln State Park on the western shore of San Juan Island is the place to see orcas from the comfort of dry land. And not just orcas but pods of humpback and minke whales too. The best time is May through September. I have very fond memories of many summer days spent sitting on the rocks, talking to rangers, and keeping my eyes peeled. And we saw orcas almost every time!
Sea Kayaking around the San Juan Islands is superb. Beginners and seasoned kayakers alike will find plenty of adventure on the open water. Whether you just want a couple of hours on the water or are craving a multi-day trip, the friendly folks at Outdoor Odysseys have you covered.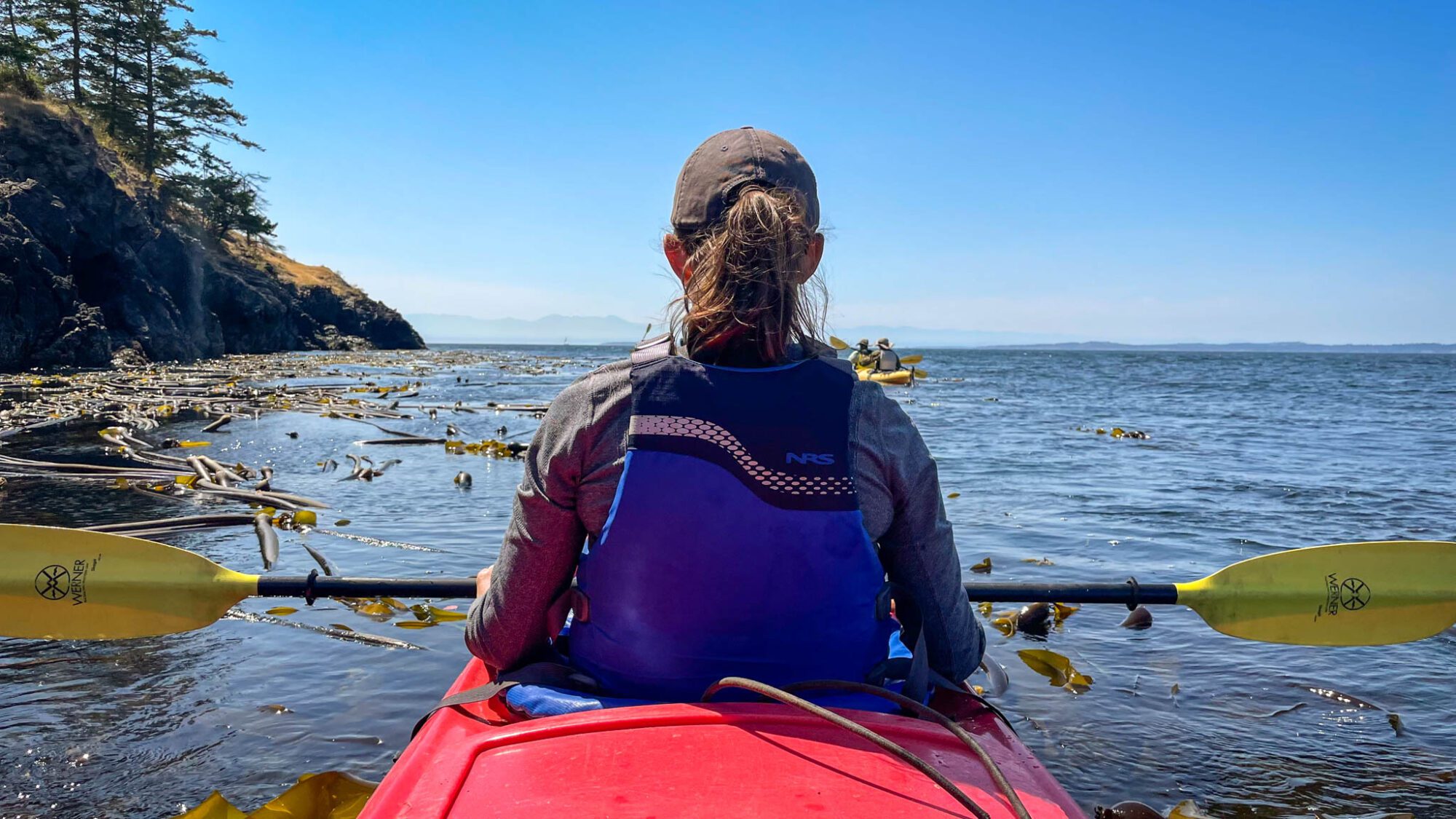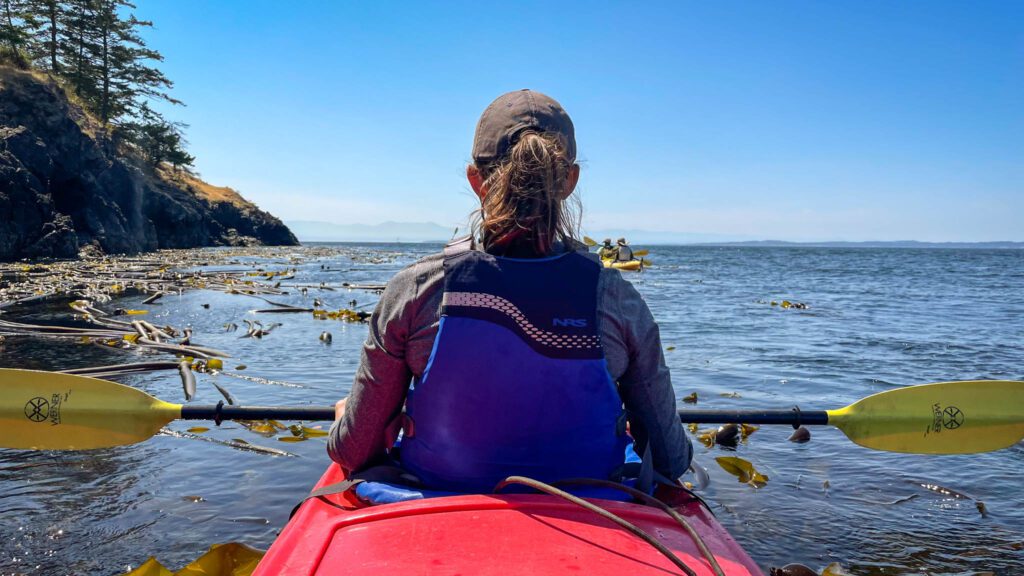 Lavender: Pelindaba Lavender Farm is a lovely place to visit, particularly in July and August when the fields are in full bloom. At other times of the year, there is always the store, distillery and exhibits to see, but you won't see the vast fields of purple.
The Farmers Market: Located on Nichols Street in Friday Harbor, the Saturday Farmers Market is a smorgasbord of fresh local produce in a relaxed atmosphere accompanied by music from guest musicians.
The Bars: San Juan Island Brewing Co. in Friday Harbor produces superb craft ales and lagers and has a bar and restaurant where you can sample them. Being a brewpub doesn't stop them from serving wine and cider too, so if you're not a beer fan (or you can't drink it, like me), don't let that stop you. Madrone Cellars is right in downtown Friday Harbor and makes amazing cider and wine, serving it up in a charming and tiny tasting room. We ended up doing a cider flight, and walked away with a bottle of their lavender black currant cider.
Where to Stay on San Juan Island
The hotels and resorts on San Juan Island really have it all! These two choices are great places to stay if you want it all right on your doorstep. Of course, if you'd prefer something more private, this Airbnb is a great choice.
Island Inn at 123 West: This hotel is the newest in Friday Harbor. They pride themselves on their green credentials and offer a variety of fresh, modern accommodation with a huge choice of eateries within three blocks. The penthouses have stunning views.
Lakedale Resort: An 82-acre site where you have the choice to stay in the luxurious lodge, the yurts, glamping tents, log cabins, or even a vintage Airstream trailer! There's also a campsite and space for RVs. All in a forested, lakeside setting. This is where we used to camp growing up!
---
That's all we've got! And it's a long one. We hope this guide has helped you discover something new and plan a trip that you hadn't thought about before.