How to Plan an Incredible Utah National Parks Road Trip
First of all, we love Utah, and think you will too. I, Matt, have been to Utah four or five times at this point, including two trips in the past six months. The diversity of landscapes in southern Utah – which is home to the "Mighty Five" national parks – is pretty mind boggling.
You'll find natural arches in, well, Arches National Park. Unique rock formations called hoodoos in Bryce Canyon. The vast and surprisingly lush canyon in Zion National Park. And there's so much more – it would take a lifetime of exploring to see everything that Utah has to offer.
If those incredible landscapes sound like something you want to experience, you're in the right place. In this Utah national parks road trip itinerary, we're going to cover – in detail – how to plan an amazing road trip through Utah. In the guide below, you'll find pretty much everything you need to plan a bucket list-worthy trip, including the best stops, things to do and see, sunrise and sunset spots, hikes, places to stay, and more.
Update 2021: Over the last 12 months, we've been to 13 National Parks. And multiple Utah National Parks make it into our top five list of America's national parks (though we haven't visited them all…yet). We've now been twice in the past six months – fall and spring – and have updated the guide below with some of our latest discoveries. We love Utah, and think you will too.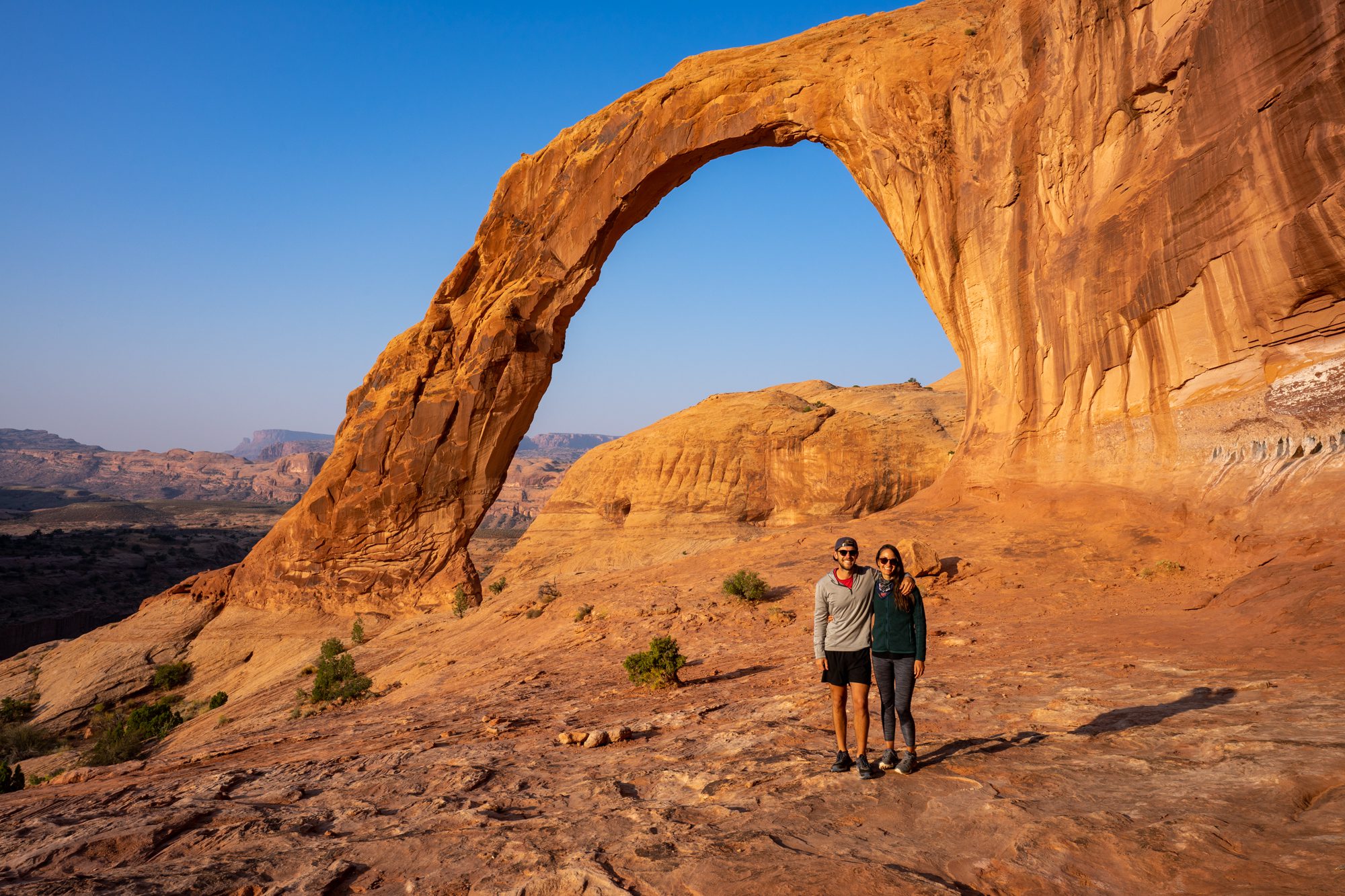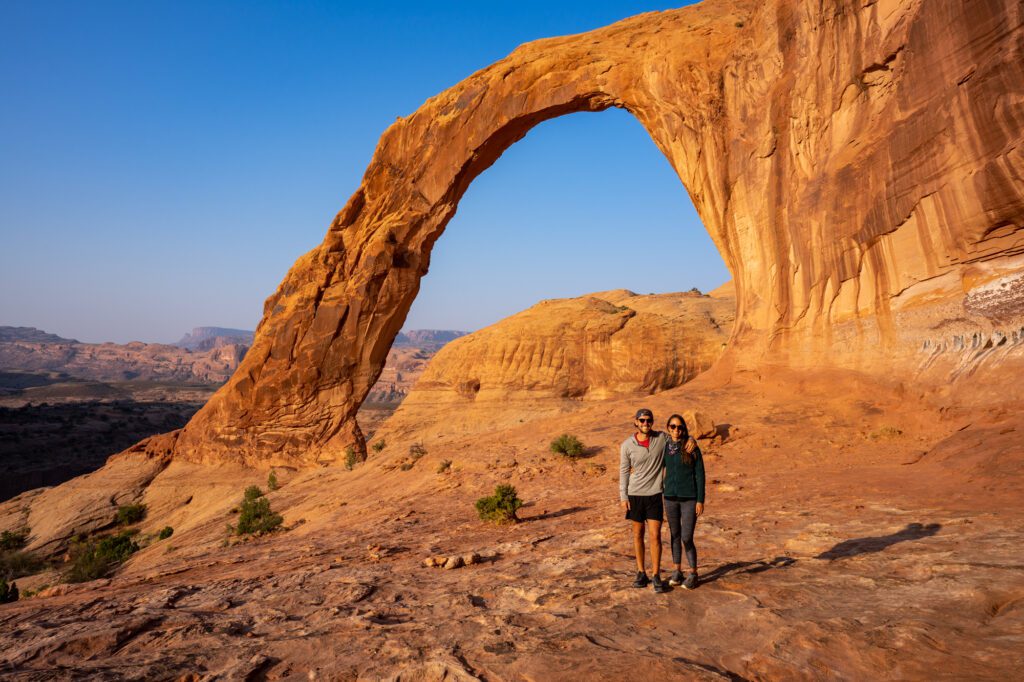 Disclaimer: Some of the links in this post, like hotel links, are affiliate links, meaning at no additional cost to you, we make a little bit of money if you click through and book. That being said, we would never recommend something to you that we don't stand behind 100%.
What is the "Mighty Five"?
The "Mighty Five" refers to the five national parks in Utah. They are:
Arches National Park
Bryce Canyon National Park
Canyonlands National Park
Capitol Reef National Park
Zion National Park
Each of these parks is super unique, and offers something a little different than each of the others. The natural arches in aptly-named Arches National Park, the deep fissures in Canyonlands, the hoodoos (our new favorite word) in Bryce Canyon, the lush canyon in Zion, and the oasis in the desert that is Capitol Reef.
They're all worth visiting, and in the itinerary below you'll visit all five of them.
It is also worth noting that the five national parks are not the only things worth seeing in Utah. However, with limited time, you're going to have to save those other stops for another trip. Speaking of limited time…
How Many Days for Your Utah National Parks Road Trip?
We think that you need a full 10 days to do the complete Mighty Five circuit. Less time means a lot of driving and not a lot of time dedicated to each park. With 7 days, you'd essentially only have one day for each. Which we don't think is enough time.
Here is the 10 day Utah national parks road trip itinerary that you'll find – in detail – below:
Day 1: Arrive in Salt Lake City, Drive to Moab
Day 2: Arches National Park
Day 3: Canyonlands National Park (Island in the Sky)
Day 4: Around Moab + Drive to Capitol Reef
Day 5: Capitol Reef National Park + Drive to Bryce
Day 6: Bryce Canyon National Park
Day 7: AM in Bryce + Drive to Zion National Park
Day 8: Zion Canyon
Day 9: Zion Canyon + Kolob Canyon
Day 10: Valley of Fire State Park + Fly Home from Vegas
If you have a full two weeks in Utah, you'll be able to get a little bit off the beaten path, exploring places like Kolob Canyons in Zion National Park and the Needles District in Canyonlands National Park that most visitors never even realize exist. Below the full itinerary, you'll find our suggestions for extending the 10 day trip.
With 7 days, rather than trying to fit in the entire Mighty Five Circuit, we'd opt for spending 7 days exploring EITHER Zion, Bryce, and Capitol Reef OR Arches, Canyonlands, and Capitol Reef.
Where to Start and End Your Utah Road Trip
There are two options for getting to Utah – driving in from nearby, or flying in, renting a car, and driving.
The two best starting points for this road trip are Las Vegas and Salt Lake City. Denver is a distant third. It's still doable, but involves more driving.
We have the itinerary below starting in Salt Lake City, which is closest to Moab, and ending in Las Vegas, which is closest to Zion. You'll want to book a flight that arrives in Salt Lake City and out of Vegas to follow the itinerary as written, but you can also fly in and out of the same airport, it'll just involve a few hours of extra driving.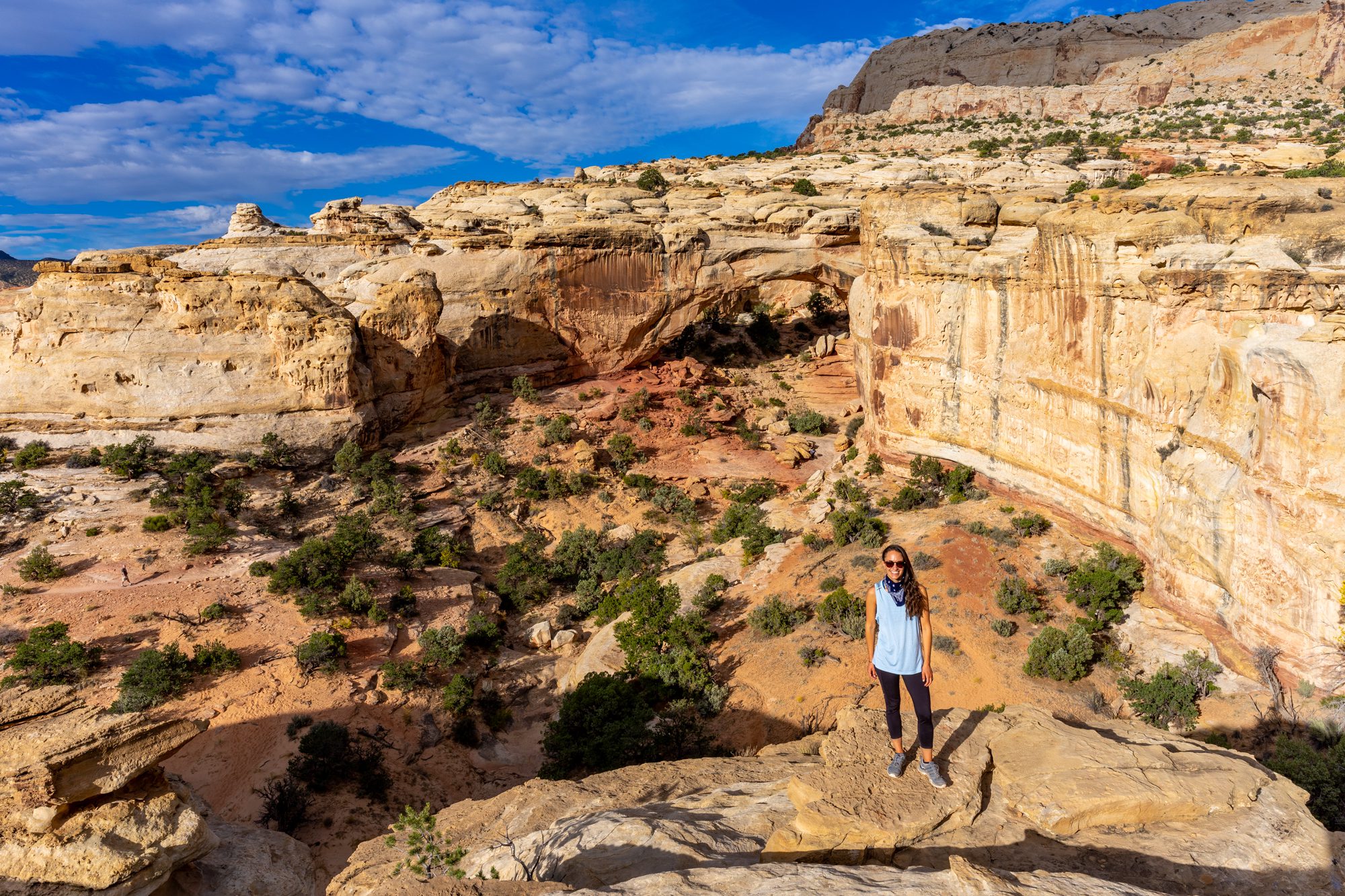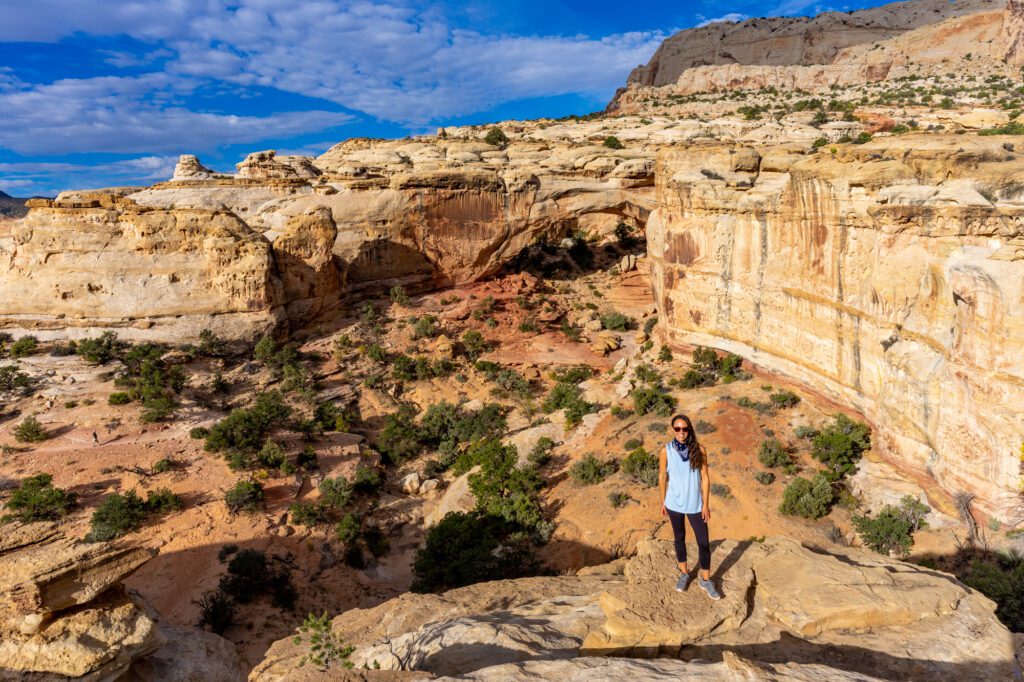 Tips for Planning Your Utah National Parks Road Trip Itinerary
First, a few general tips about planning a road trip through Utah.
There is SO MUCH TO SEE in Utah. If you only have a week, I'd recommend focusing your time on either Bryce and Zion, OR on Arches, Canyonlands, and Capitol Reef. Some parks have more to see than others and are worth spending two to three days in to have the best experience. I've written this guide for someone with 10 days, which I think is the perfect amount of time to see all five national parks in Utah, and have an extra day to spend on the other things that make Utah special.


On this trip, you're going to be visiting several national parks, which means it's probably worth buying an America the Beautiful Pass before your trip. That pass will get you into all national parks. Without it, our summer road trip would have cost us around $400 in park fees alone! Instead, we picked up the pass and it cost us a whopping $80. You'll break even if you visit three national parks in the year after you buy it.


Camping inside the national parks is super competitive. For reservable sites, people book months and months in advance, and when there are first-come-first-served sites, they are snatched up immediately in peak season. The good news? There are tons of camping options outside of the parks that are affordable and accessible, and you'll find some recommendations in the where to stay section for each park.


If you're not into sleeping in a tent, consider an RV or Campervan rental. It's a good way to save money on accommodations by staying at campgrounds or RV Parks instead of hotels. Think of it as a middle ground between camping and staying in hotels and vacation rentals. I like Outdoorsy, which is basically Airbnb for campervans/RVs. Native Campervans is another good choice, and they have options for the exact route (Salt Lake City to Vegas) that the itinerary below has you on.


If you're planning on staying in hotels and Airbnbs, book several months in advance between May and October. That's peak season, and things fill up FAST. Even outside of those months, you'll still find that some places are full a few months in advance. You'll find some hotel and Airbnb recommendations in each section to help you find the best place to base yourself to make the most of your time in each park.
The Complete 10 Day Utah National Parks Road Trip Itinerary
Now, onto the itinerary itself! Below, you'll find a detailed day-by-day itinerary for a 10 day Utah national parks road trip based on personal experience over the course of multiple trips. We'll give you our favorite stops, the best hikes, places to stay, and more.
Grab a cup of coffee and strap in – this is a long one, but it has literally everything we could think of to help you plan an amazing adventure.
Here's an overview of that road trip, plus a map to help you visualize the route.
Day 1: Arrive in Salt Lake City, Drive to Moab
Day 2: Arches National Park
Day 3: Canyonlands National Park (Island in the Sky)
Day 4: Around Moab + Drive to Capitol Reef
Day 5: Capitol Reef National Park + Drive to Bryce
Day 6: Bryce Canyon National Park
Day 7: AM in Bryce + Drive to Zion National Park
Day 8: Zion Canyon
Day 9: Zion Canyon + Kolob Canyon
Day 10: Valley of Fire State Park + Fly Home from Vegas
Day 1: Arrive in Salt Lake City, Drive to Moab
On your first day, you'll spend most of the day in transit to Moab, which is the jumping off point for this itinerary.
We spent five full days in Moab, and loved just about every minute of it – minus the hour-long wait to get into Arches National Park to check into our campsite. A good reminder to make sure to enter the parks early (before 9am at the latest!) to avoid long lines and crowds.
We didn't realize it before arriving, but there are an astounding number of things to do in Moab. Between exploring the two national parks that are a stone's throw away – Arches and Canyonlands – to hikes outside the parks, and more adventurous activities like whitewater rafting and 4WD-ing, there's plenty to keep you busy even if you had a full week JUST in Moab.
Getting to Moab
Fly into Salt Lake City (or make your way to Moab from wherever you're coming from) and get settled in. It's going to take you about four hours to get from Salt Lake City to Moab via highway 6 and 191, and it's not the most eventful drive in the world. In this case, it's definitely NOT about the journey, it's about the destination.
Once you get to Moab, get groceries, check into your hotel, and relax for the afternoon.
Sunset at Delicate Arch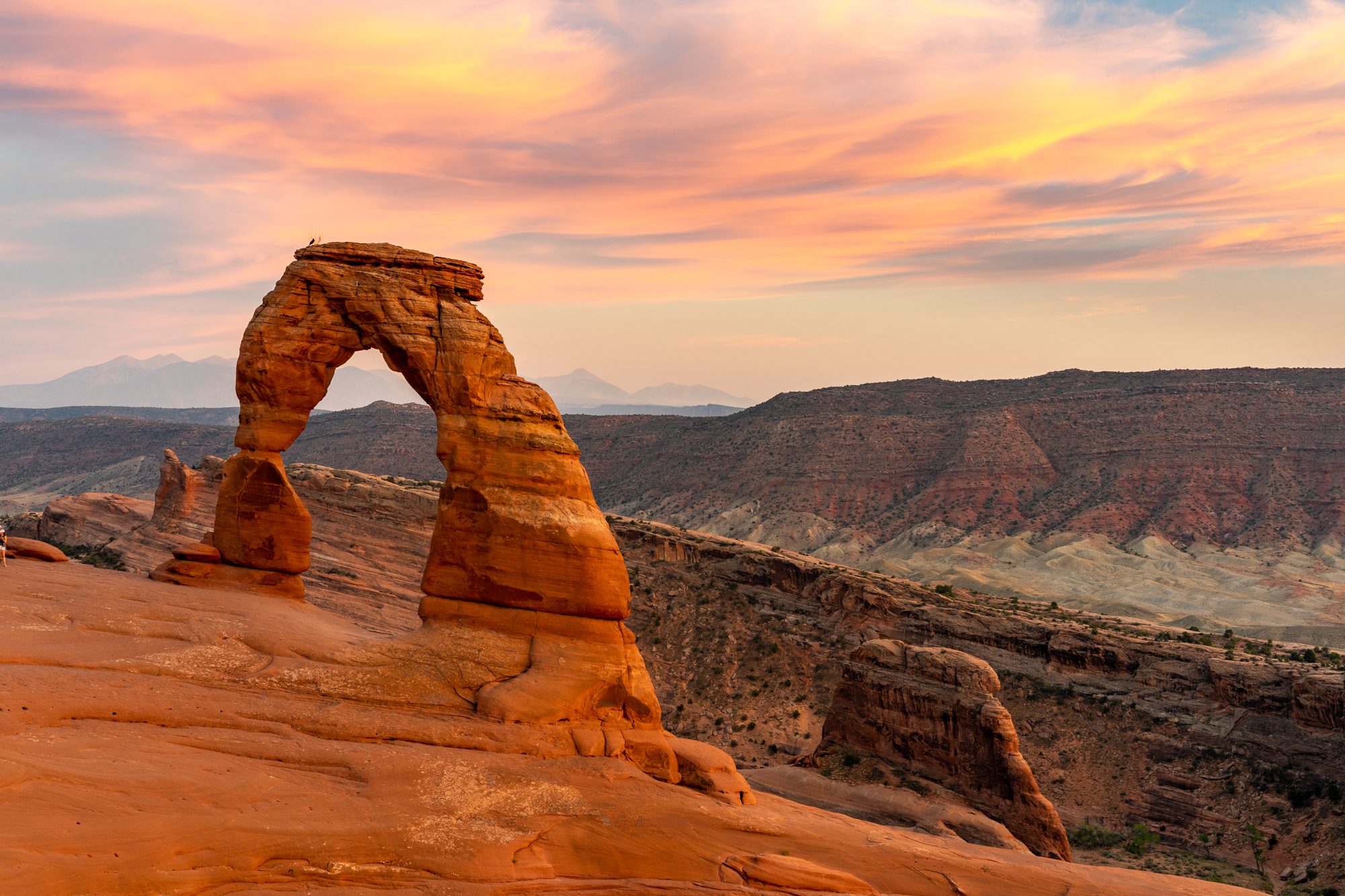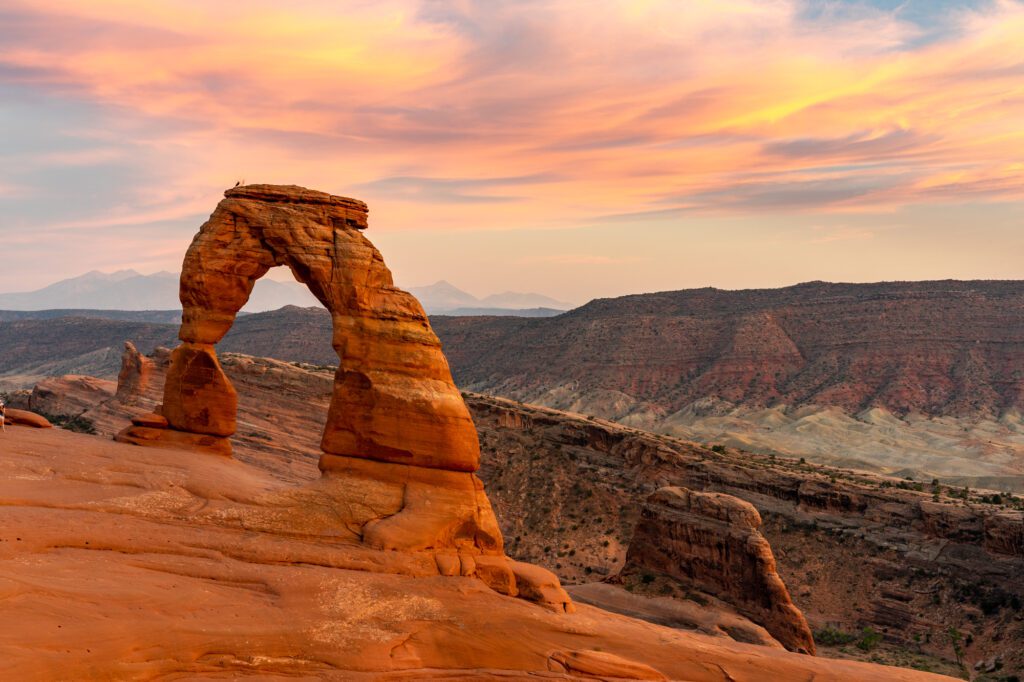 On your first day, you'll be driving from the airport and you're probably going to be arriving mid-afternoon depending on what time your flight was (try and get the earliest flight possible!).
Check into your accommodations for the next few days and head up to Arches National Park for that sweet, sweet golden hour light and sunset at Delicate Arch.
It's a 3 mile hike (round trip) that was a little harder than we thought it would be, but that didn't stop literally a hundred people – ages 5 to 65 – from doing it. It will probably be crowded if you're there anytime between April and the end of October, but it's worth it. You'll climb up a section of rock, so you'll want to wear your hiking shoes with plenty of grip.
Side note: I saw so many people with the stylish and affordable Columbia Newton Ridge Hiking Boots on our four month trip that Alysha went out and got some of her own. She loves them, and they're her first real hiking boot (she usually hikes in hiking shoes). They've got men's and women's versions, and waterproof versions too, and they come in under $100.
There's one short section of the trail right before you get to the arch that's narrow with a steep drop off, so keep an eye on your kids.
If you do that hike at sunset, make sure to bring a headlamp for the way down. It gets dark FAST, and the last thing you want is to be hiking down the slab of rock in the dark.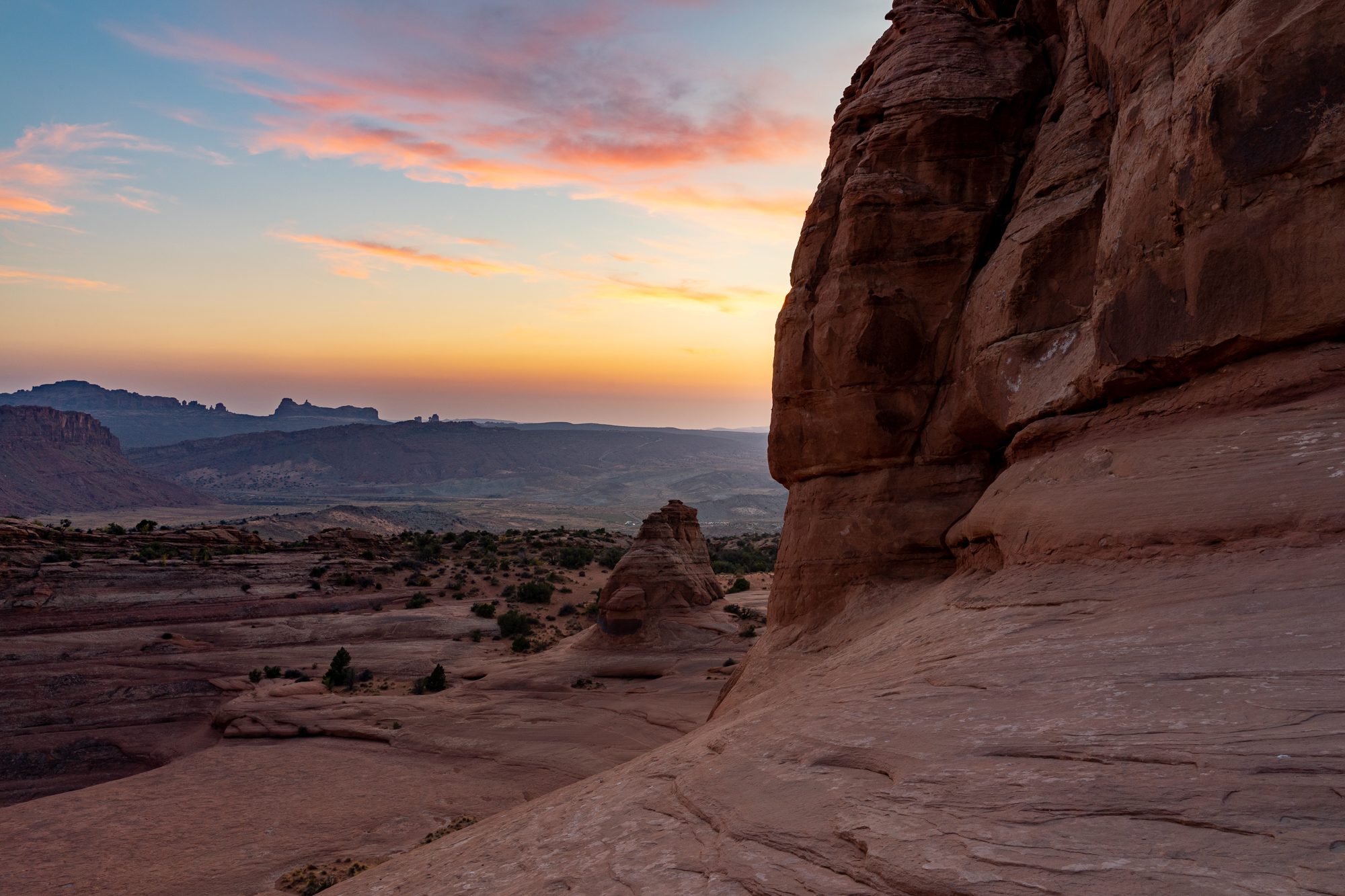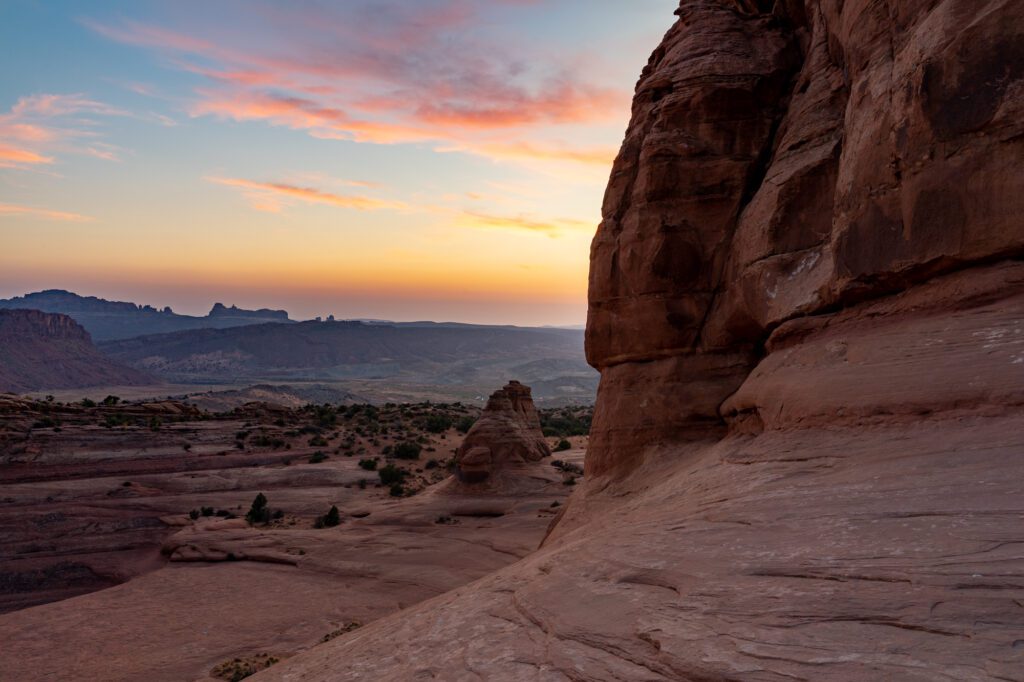 Where to Stay in Moab
You're going to stay in Moab for the first three nights of this itinerary. You should try to stay in one place for all three nights UNLESS you're camping, in which case we'd try to find a site in Arches for the first night.
Pssst! Make sure to read our guide to the best places to stay in Moab to find the perfect home base for exploring this incredible area.
Hotels in Moab
We were planning on staying in a hotel in Moab for a night to shower and take a break from the weeks of sleeping in our van, but later decided to stay at a campground for an extra night instead.
There were exactly three places on our list of hotels that we wanted to stay in.
The first is Moab Springs Ranch, which has a range of rooms from bungalows to more lodge-style rooms, and has a great coffee shop onsite (Horsethief Coffee). Unfortunately, they were sold out for our dates (book early, people!), but we would have chosen to stay there given the opportunity.


The second, which is a place we booked then later canceled, is the Expedition Lodge. It's in a great location along the main drag in Moab, and it looks nice. It's motel style, which was what we were looking for during the summer of 2020, and it has some nice retro touches like the mint green mini fridges in the rooms. They also have some unique room configurations, like two queen bunk beds, which are nice for a traveling family (nobody likes sleeping on the cot on a hotel room floor). Oh, and there's a pool, which is always a bonus.


The last option was Moab Under Canvas, which is less a hotel, more glamping, but still fits here. This is your chance to stay under the stars while still maintaining some semblance of the comforts of a hotel. It looks incredible.
Camping In and Around Moab
If you're looking to camp, you've actually got a fair number of options both inside Arches and Canyonlands, and just outside the national parks.
Inside Arches, there's only one campground – Devils Garden. It's reservable in advance (learn more here), and it's a really nice campground. We stayed there for three nights, and it's a great base for exploring Arches for a couple of reasons. First, it's at the trailhead for Devils Garden, so you can get an early start to beat the crowds and heat (staying outside the park means a 45 minute drive to the trailhead). Second, being inside the park means you'll avoid the crazy lines at the entrance to the park. We waited an hour to get in one day because we had to leave the park to get ice for our cooler.


Inside Canyonlands, you have only one option in the Island in the Sky District (which is the part of the park you want) – Willow Flat Campground. It's first-come-first-served, and only has 12 sites. Unless you show up early AND get lucky, you're probably out of luck. You could also camp at Dead Horse Point State Park, which is close to the entrance of Canyonlands, and is worth a visit in its own right, particularly for a spectacular sunset over the canyons.
Outside the park, there are a surprising number of campgrounds on BLM land that are all first-come-first-served. There are two major areas where you'll find them.
The first group are along Highway 128 northeast of Moab on the Colorado River, and they are competitive and you'll need to show up relatively early for the first few campgrounds. They're in an incredible location along the river and deep inside a gorgeous red rock canyon. Goose Island, Grandstaff, and Big Bend are the nicest based on our drive through the canyon.


The other area is along Highway 279 northwest of Moab – check out Gold Bar campground, which is near the trailhead for Corona Arch.
Day 2: Arches National Park
Spend your second day in Utah exploring the rest of Arches National Park, which is one of the most compact national parks in the country, making it totally doable in about 36 hours, which is essentially what you'll be doing.
Early Morning at the Windows and Double Arch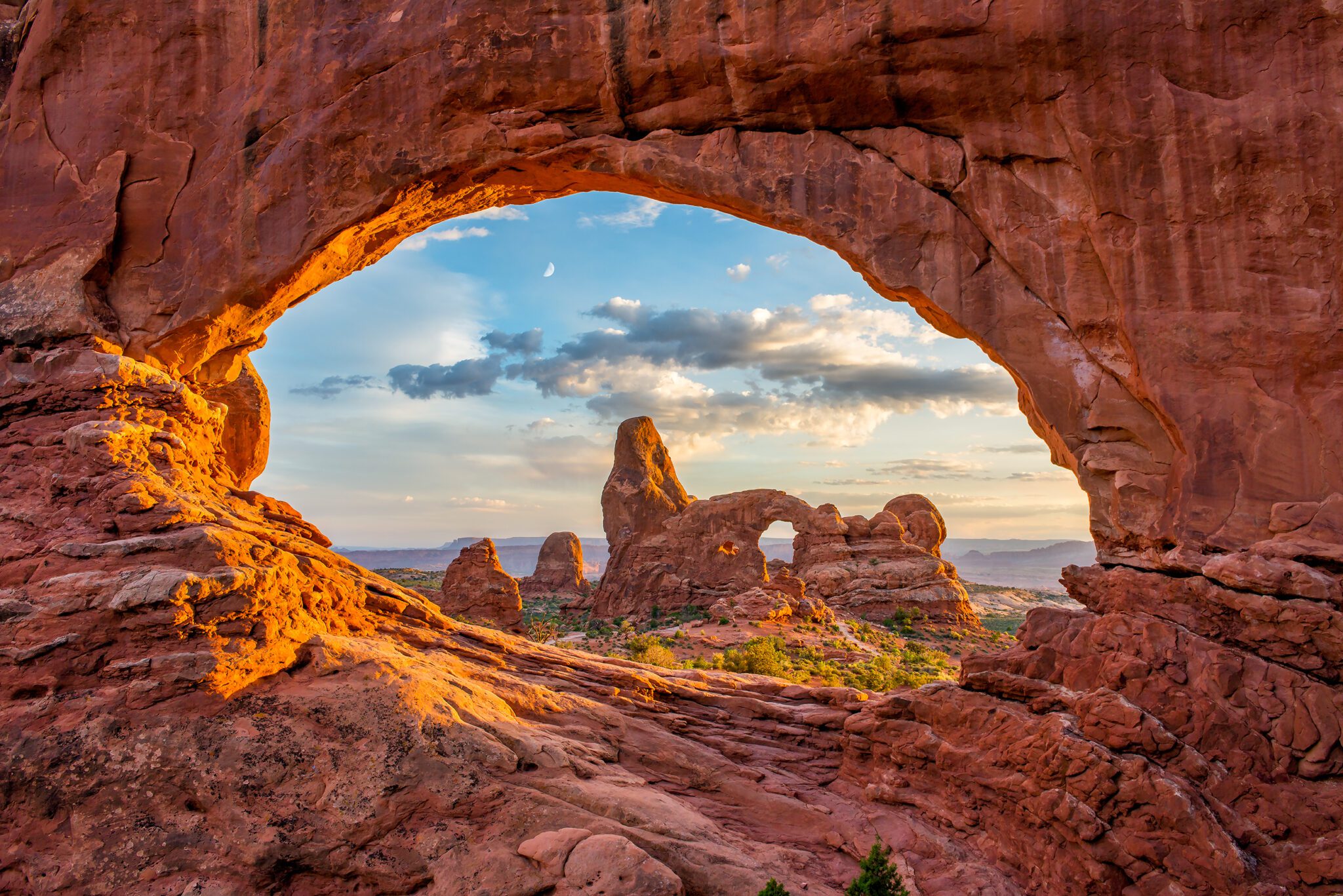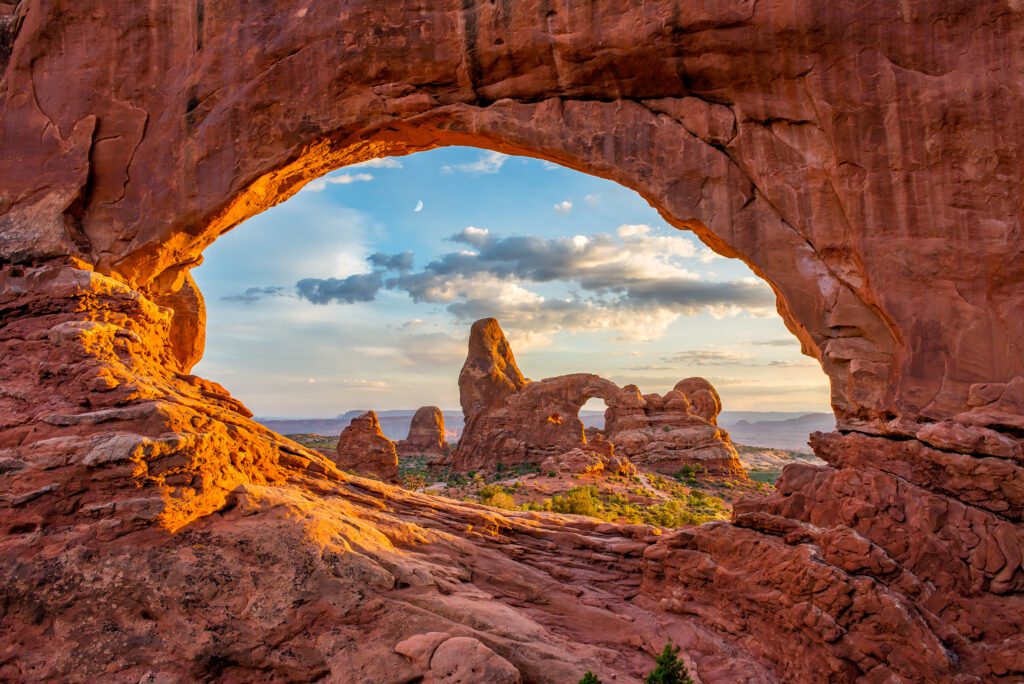 Start your day off with an early morning at the Windows and Double Arch, which are quite possibly our favorite set of arches in the park. And they're so close together that you can easily see all of them (there's four arches here in total) in about an hour or so.
The Windows are two huge rock formations that are on the southeast side of the parking lot. There's a nice trail that connects the North and South windows, along with nearby Turret Arch. Make sure to walk through the north arch and look back through the window to get a nicely framed picture of Turret Arch.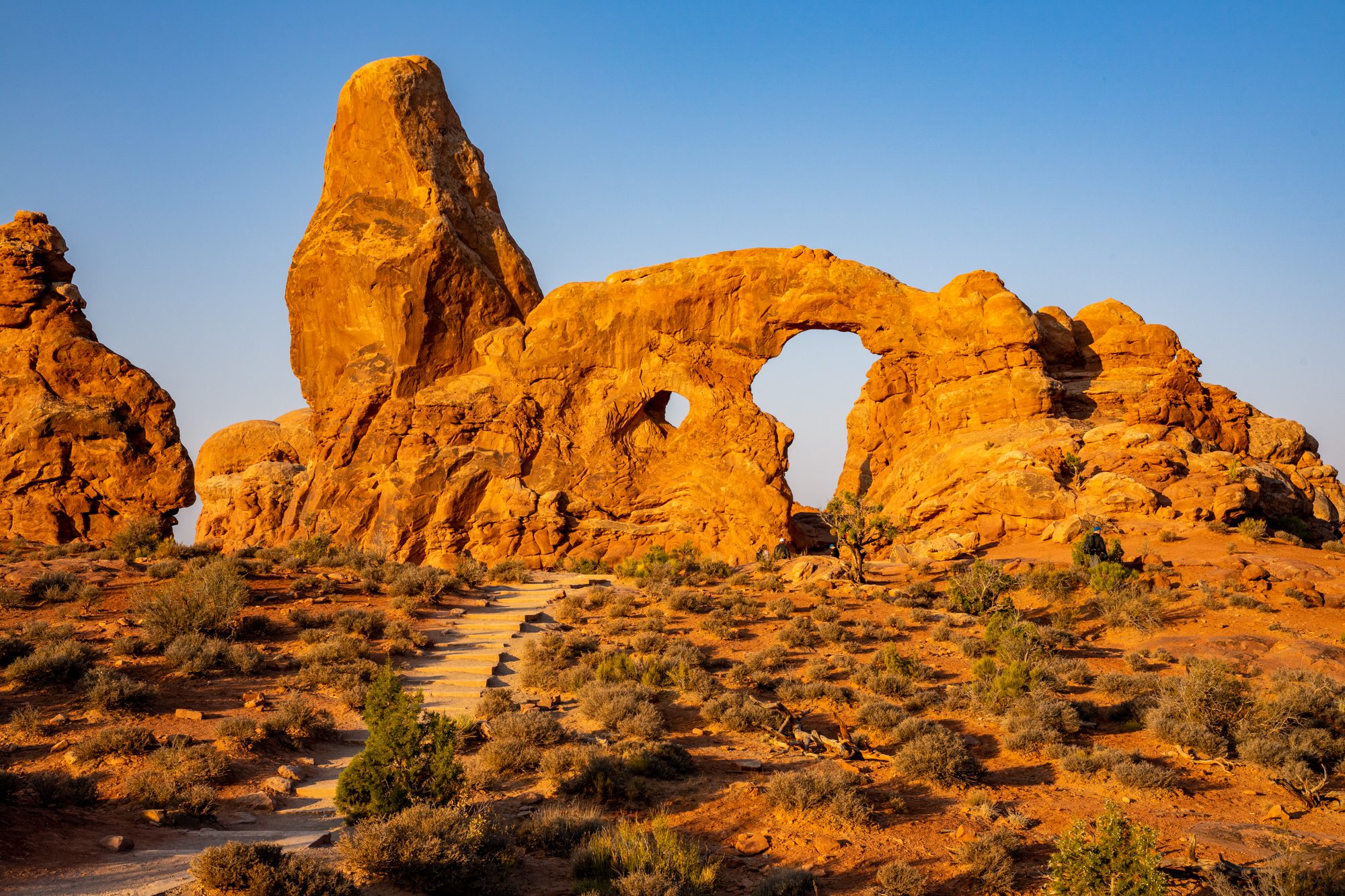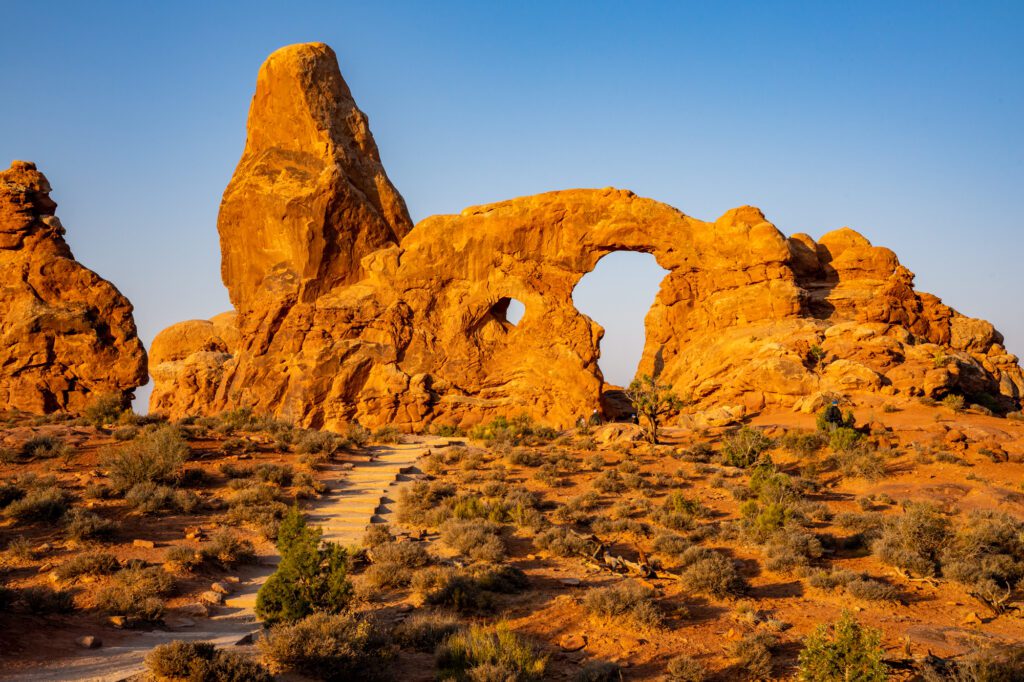 Double Arch is on the opposite side of the parking lot, and it's the tallest arch in the park. There are two separate (huge) arches that you'll be looking up at. You can climb around inside the arch and marvel at the two arches sharing the same base structure. It's about a quarter of a mile from the parking lot on a flat, sandy trail.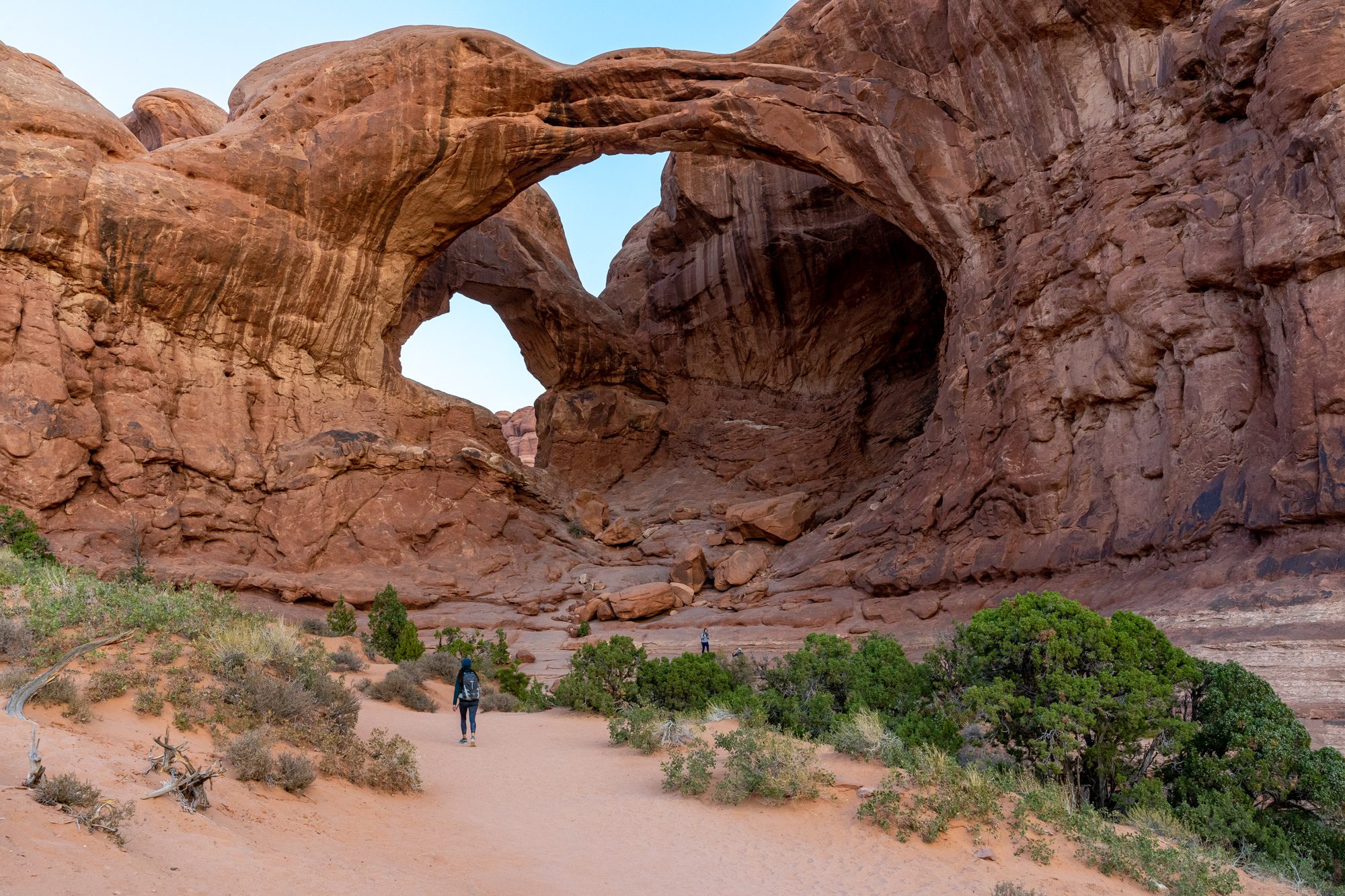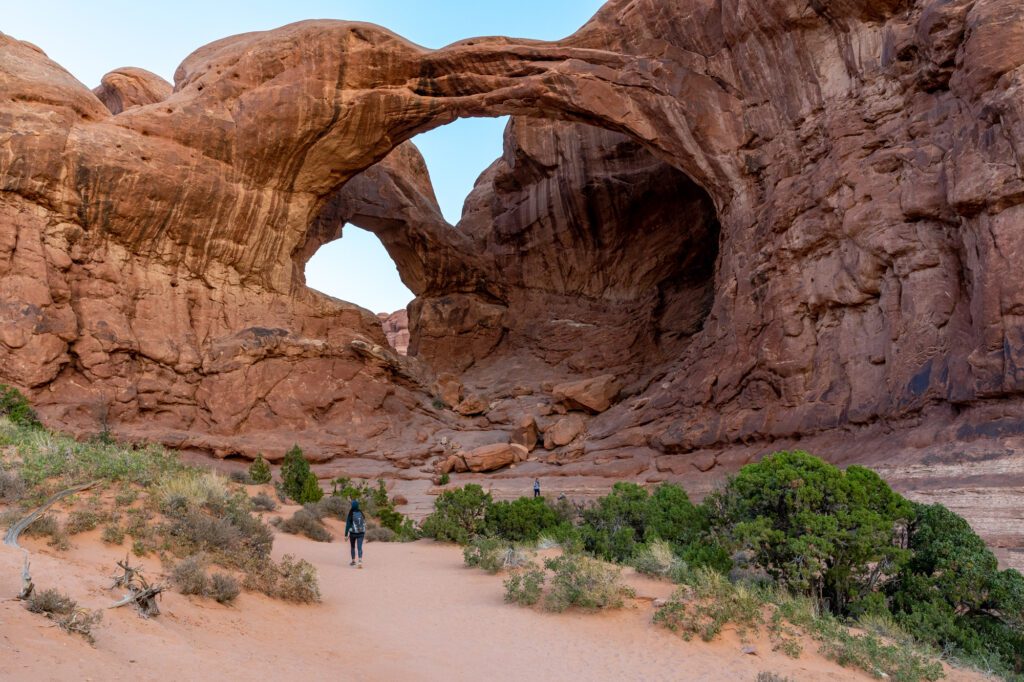 Hike Devils Garden Trail
The Devils Garden Trail is a must-do hike in Arches National Park. The best part about this hike? You can customize it based on your experience and fitness level.
If you do the entire loop, including the fun primitive trail on the way back, it's going to be just under seven miles, with 1,000 feet of elevation gain. Along the way, you'll see seven different arches, and you'll do some light scrambling and trail finding on the primitive trail, which we thought was a lot of fun.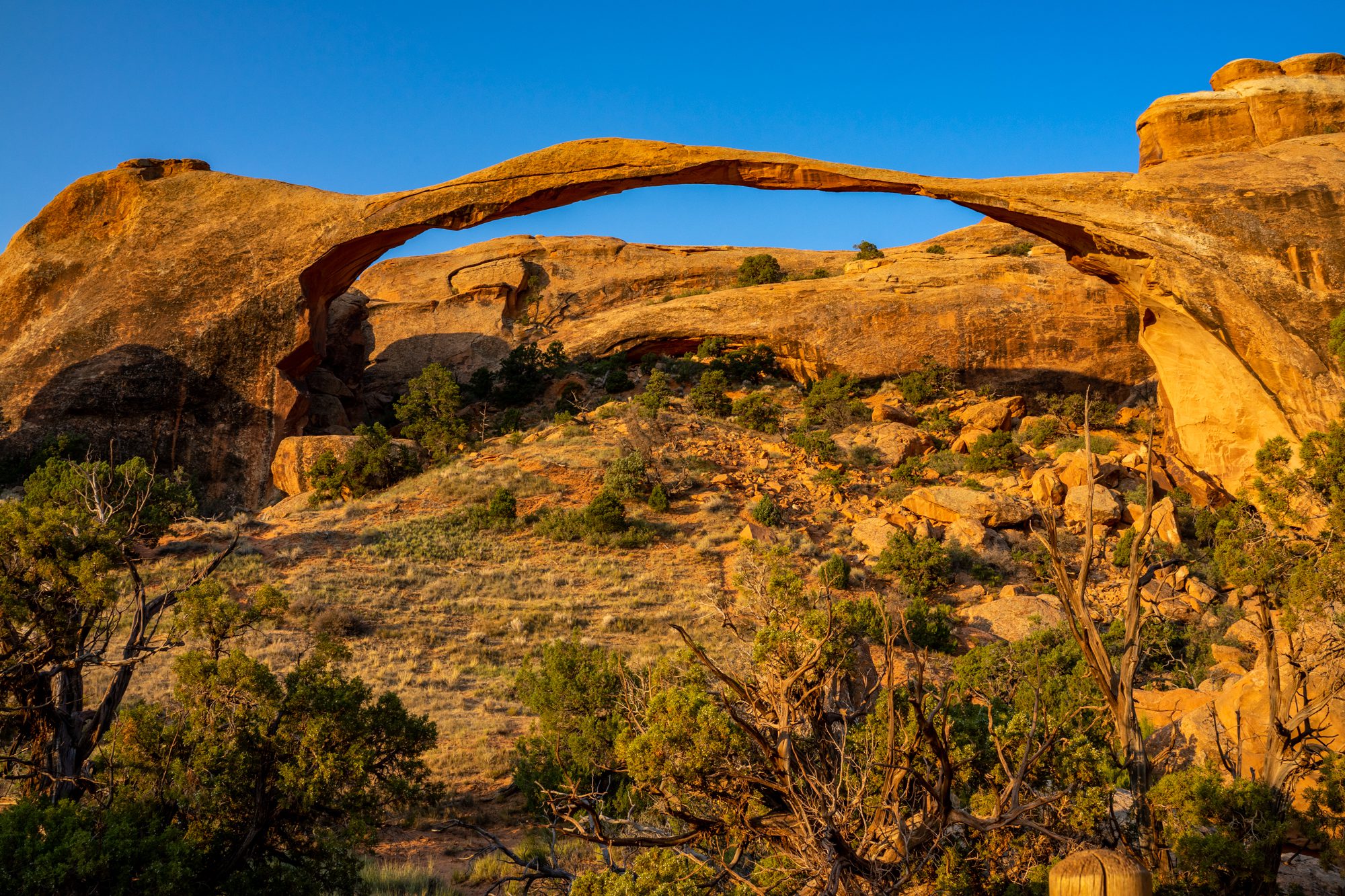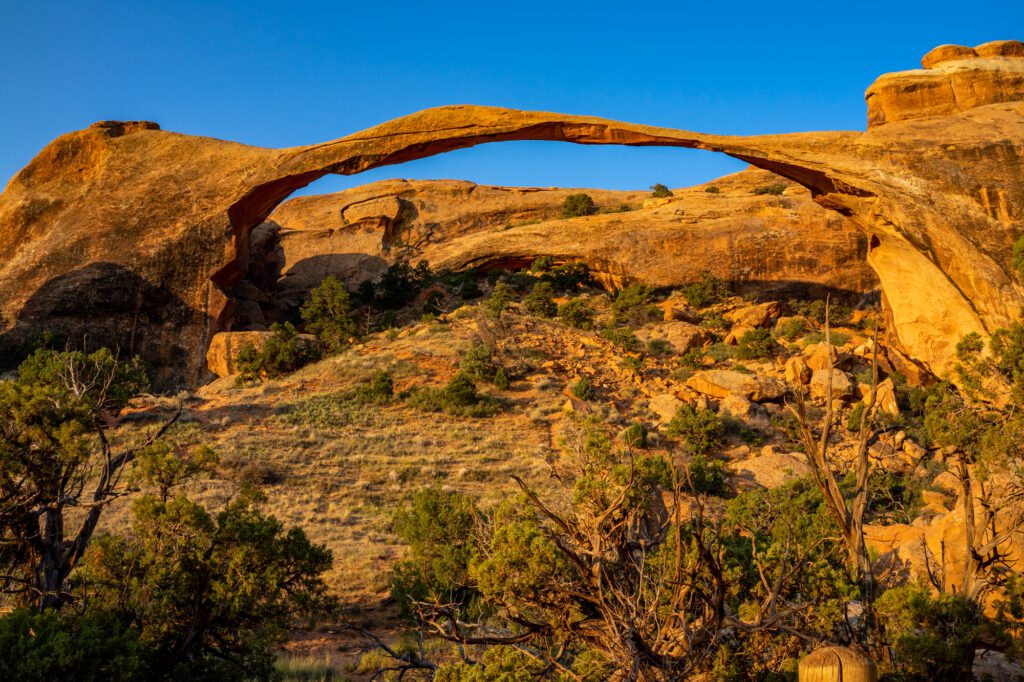 You'll want solid hiking shoes or hiking boots (Alysha loves her Columbia Newton Ridge boots, an excellent first hiking boot) with good traction for the scrambling sections, which have you making some steep climbs on rock that necessitate good footing. It's nothing too crazy though if you're an experienced hiker.
If you're not up for 7 miles in the desert, do the 2 mile hike to Landscape Arch or the 4 mile (ish) hike to Landscape, Navajo, and Partition Arches, which takes you a bit further than most of the hikers go.
Whatever you choose, it's going to be hot. Drink plenty of water, eat plenty of snacks, and wear sun protection. Sun exposure is no joke, particularly in the summer.
Broken Arch & Skyline Arch
Stop for a quick picnic lunch near the Devils Garden trail (there's a picnic area just south of the campground and trailhead), then do the short hikes out to Broken Arch and Skyline Arch.
You can park in Devils Garden Campground (here) to start the hike out to Broken Arch.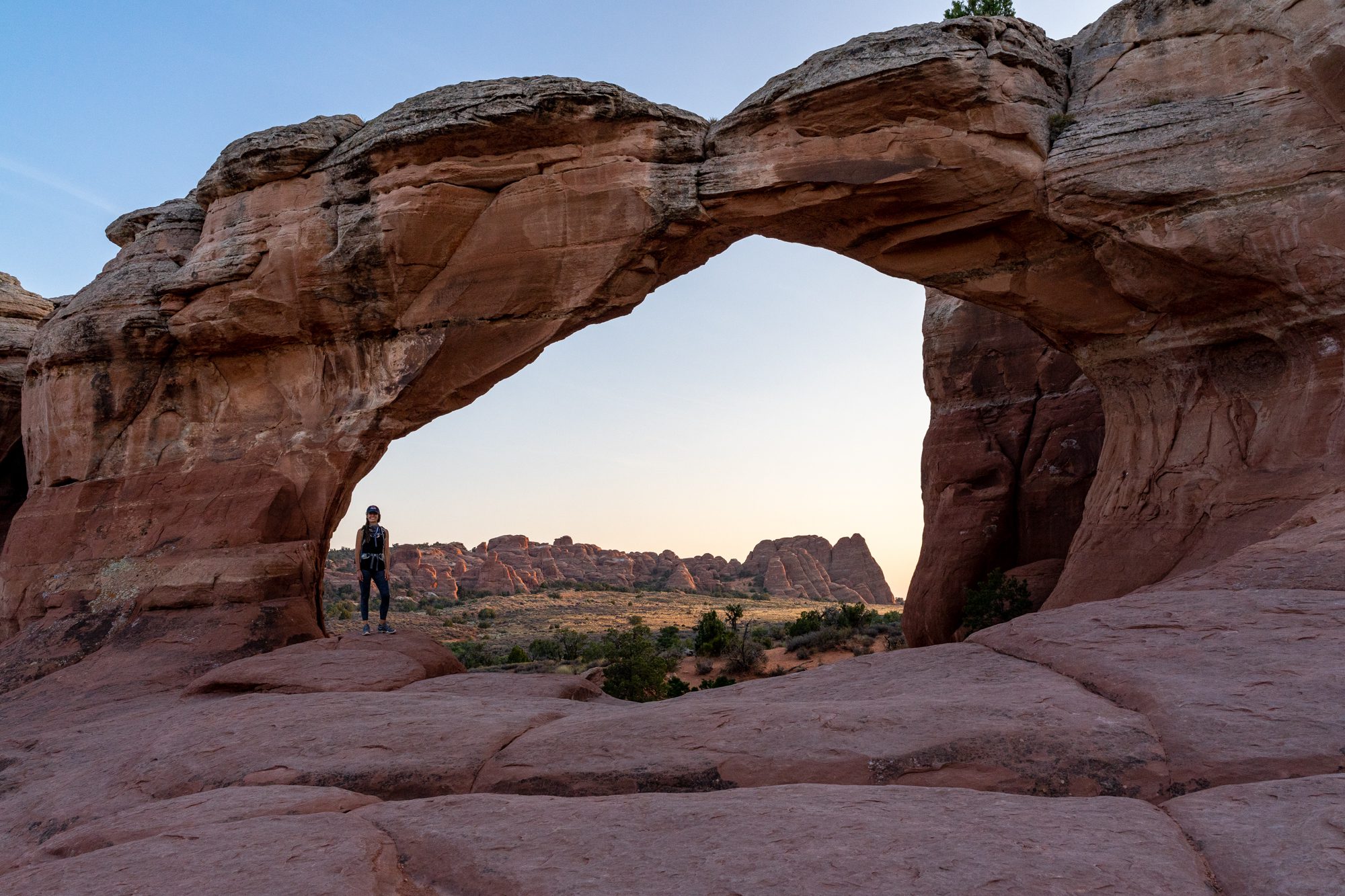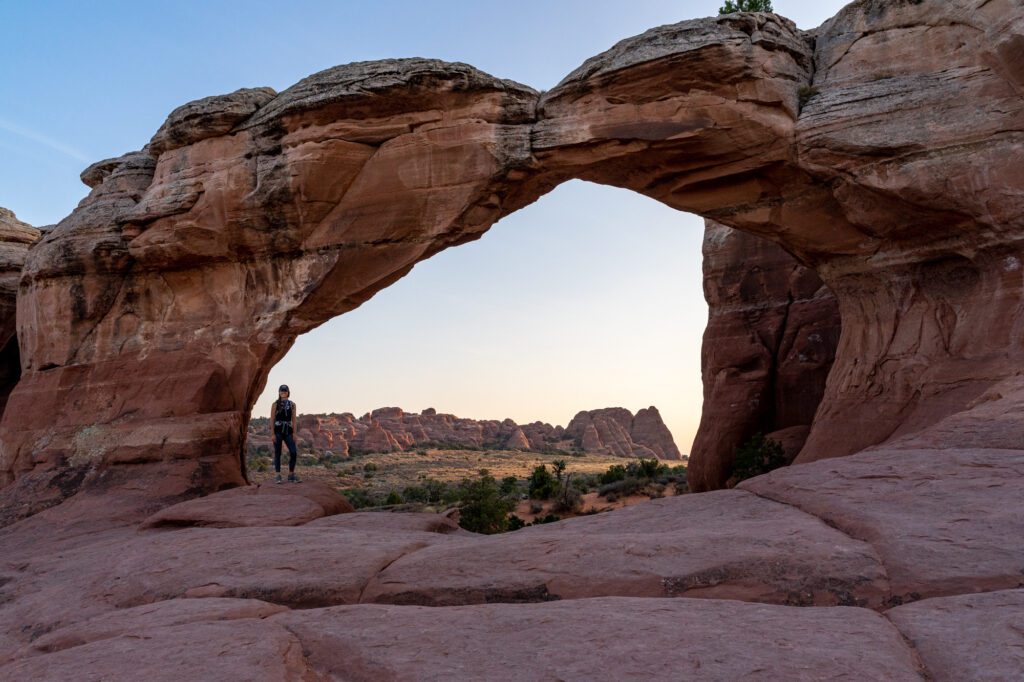 It's a cool hike, which is why it's on this list duh, and you'll pass through a couple of cool canyons on the way back from Broken Arch. It's about 1.8 miles round trip, and is basically flat. This is a good sunset hike too if you're staying at Devils Garden Campground since you can leave from camp without driving anywhere.
Skyline Arch is also worth seeing. You get there via a pull off just south of the campground, and it's a short, easy hike out there.
Park Avenue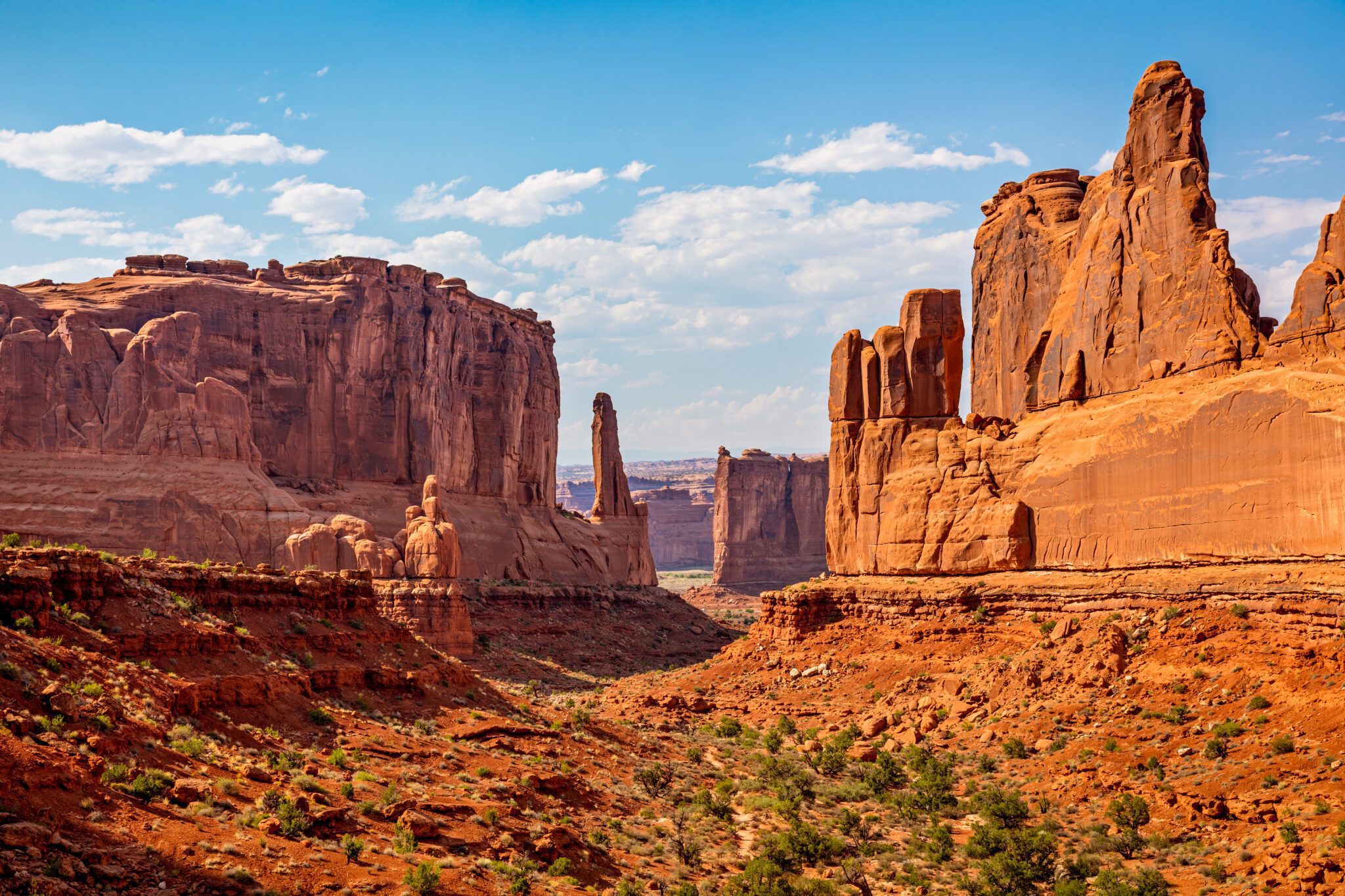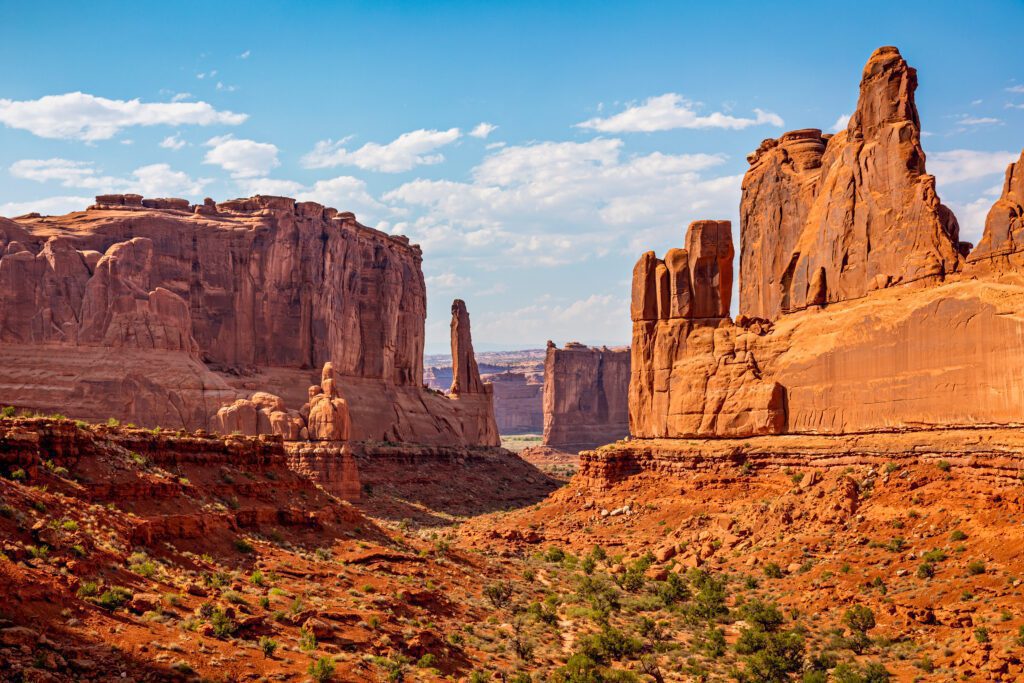 Finish off your day in Arches with a short hike – Park Avenue – on your way out of the park. This is an easy two mile hike that is mostly flat, and it leaves from near the park entrance.
First, you'll descend a short set of stairs to enter a nice canyon where you can admire the texture on the walls, then the trail opens up to a view of the Courthouse Towers, which might actually be one of the best views in the park despite the fact that there's not actually any arches in it.
Day 3: Canyonlands National Park (Island in the Sky)
On your second full day in Moab, head out to Canyonlands National Park, which is a very different experience than Arches. While Arches is about feeling small standing under the towering rock formations littered around the park, Canyonlands is about feeling miniscule while looking out over the deep fissures in the earth created over thousands (millions?) of years of tectonic plate action.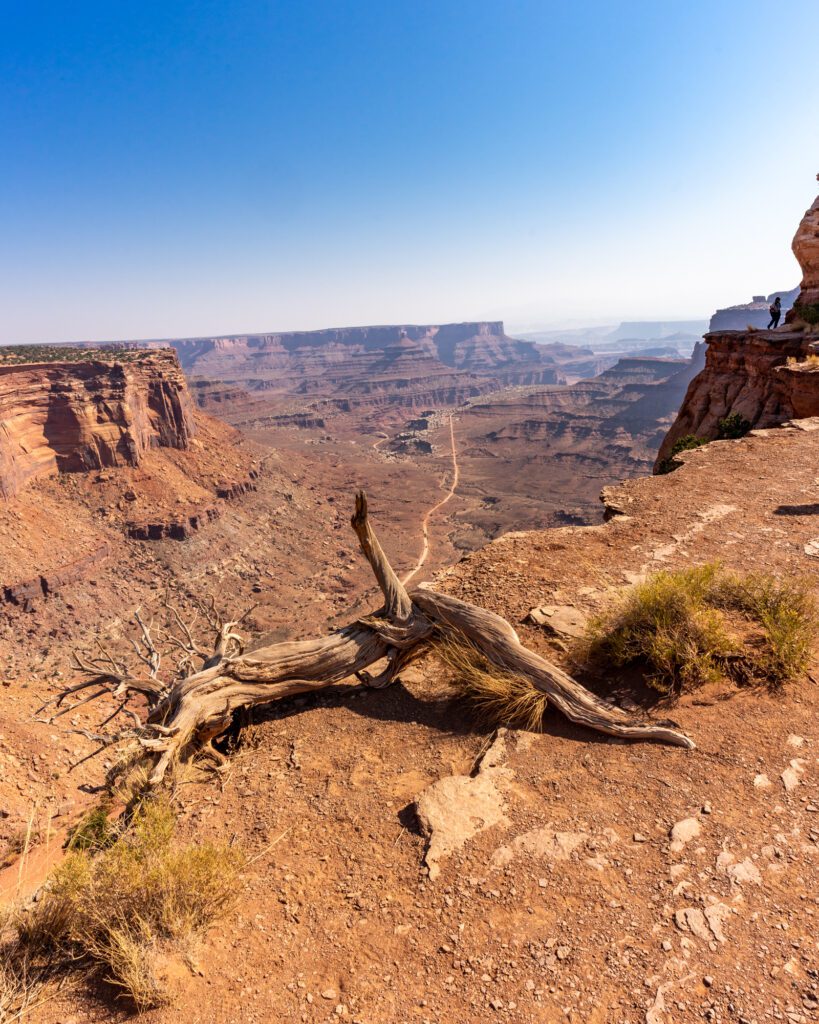 There are three sections of Canyonlands: Island in the Sky (closest to Moab, most accessible), the Needles District, and the Maze (technically I think there's a fourth called the Rivers, but I'm not quite sure about that one).
With just one day, you should focus on Island in the Sky, which is the most accessible part of the park coming from Moab. However, if you have more time, a trip down to the Needles District is worth your time.
Early Morning at Mesa Arch
Start your morning at Mesa Arch just after sunrise. It's a really short hike out to a low arch, through which you get a nice glimpse of the vastness of Canyonlands.
Why just after sunrise, you ask? Because at sunrise, there will be hundreds – yes, hundreds – of photographers vying for a perfect position to take that picture-perfect shot of the natural bridge with the sunstar on the bottom. I bet you've seen it before – it looks like this: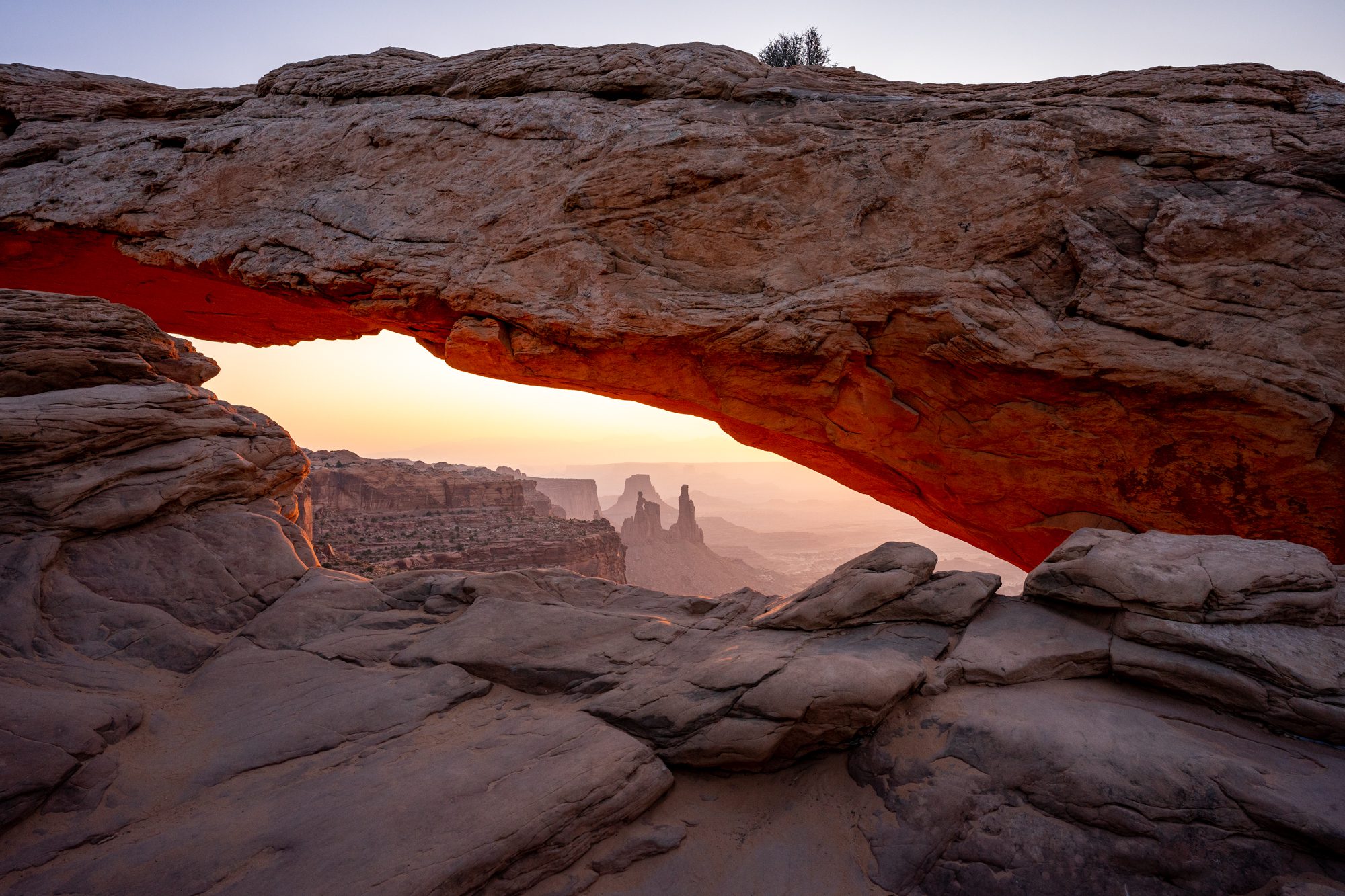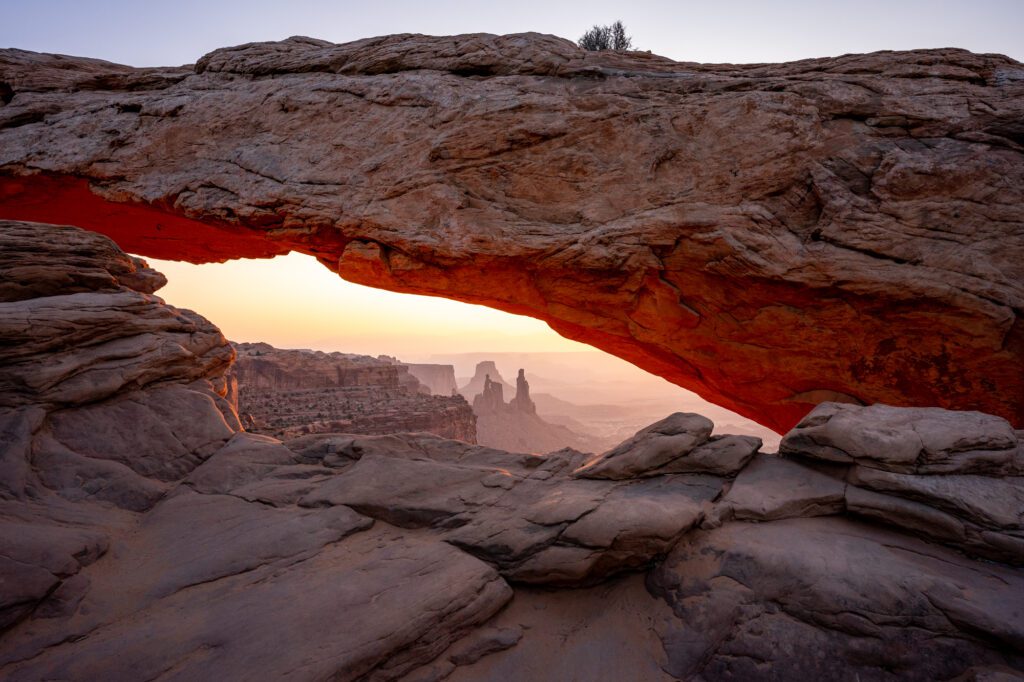 I took that around sunrise at Mesa Arch, where we'd arrived an hour before sunrise and still didn't get a spot. Instead of jostling for position, we took a seat on a rock overlooking the arch and watched the sun rise, then I ventured down when the crowds started to thin.
Here's the behind the scenes view of the sea of photographers that you don't see in the pictures on Instagram.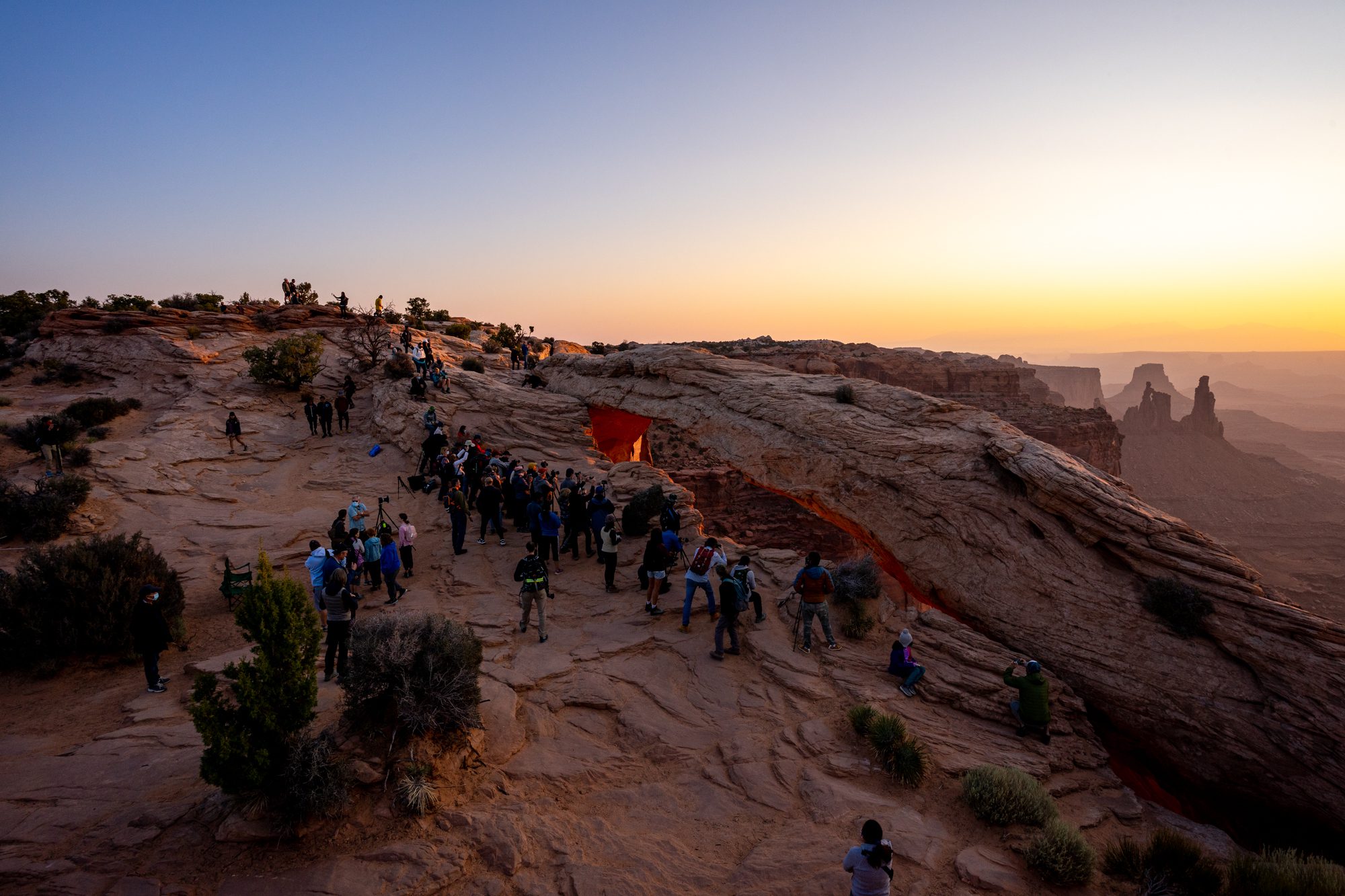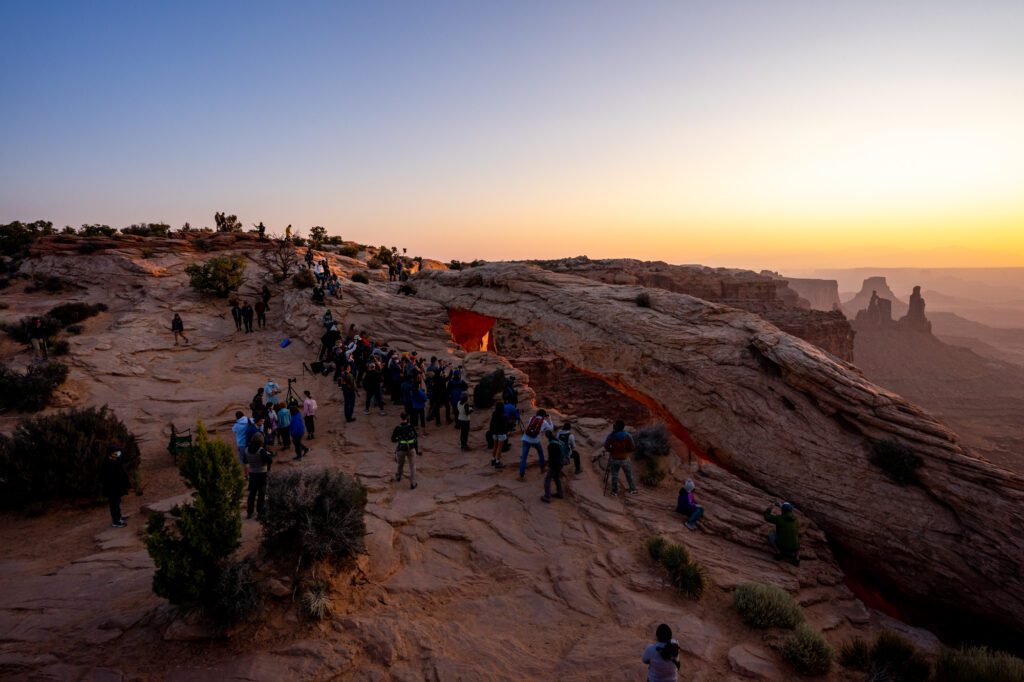 The point is that going after sunrise is a much more pleasant experience.
A Morning Hike in Canyonlands
After experiencing Mesa Arch, head out on a hike in Canyonlands' Island in the Sky District. Here are three options for various levels of hiking experience and fitness. If you're up for it, you could totally do a couple of the shorter ones together as part of a little circuit along Canyonlands' main thoroughfare.
Aztec Butte (1.7 miles / 250 ft. elevation gain): This is a cool hike that has two distinct parts that form a "Y" shape. First, take the right fork to climb to a nice viewpoint over Canyonlands. Then on the way back, take the left fork and check out the ancestral Puebloan structures, which are pretty cool. DON'T TOUCH THE STRUCTURES – leave them be.
White Rim Overlook (2 miles / 200 ft. elevation gain): A short and sweet hike to an incredible overlook that really illustrates the scale of Canyonlands. It's a short, well-marked hike out to a little "peninsula" (for lack of a better word – there's no water, but it's a peninsula shaped part of the canyon rim). Follow the rock piles, known as cairns.
The Gooseberry Trail (5 miles / 1,500 ft. elevation gain): This hike is no joke. You basically climb straight down the wall of the canyon to get to the lower plateau, which takes you to a nice overlook of the canyon forged by the mighty Colorado River. Just remember, the first part of the hike is a descent…which means what goes down must come back up. Try to get an early start so that you're not out there in the heat of the day.
Grand View Point Overlook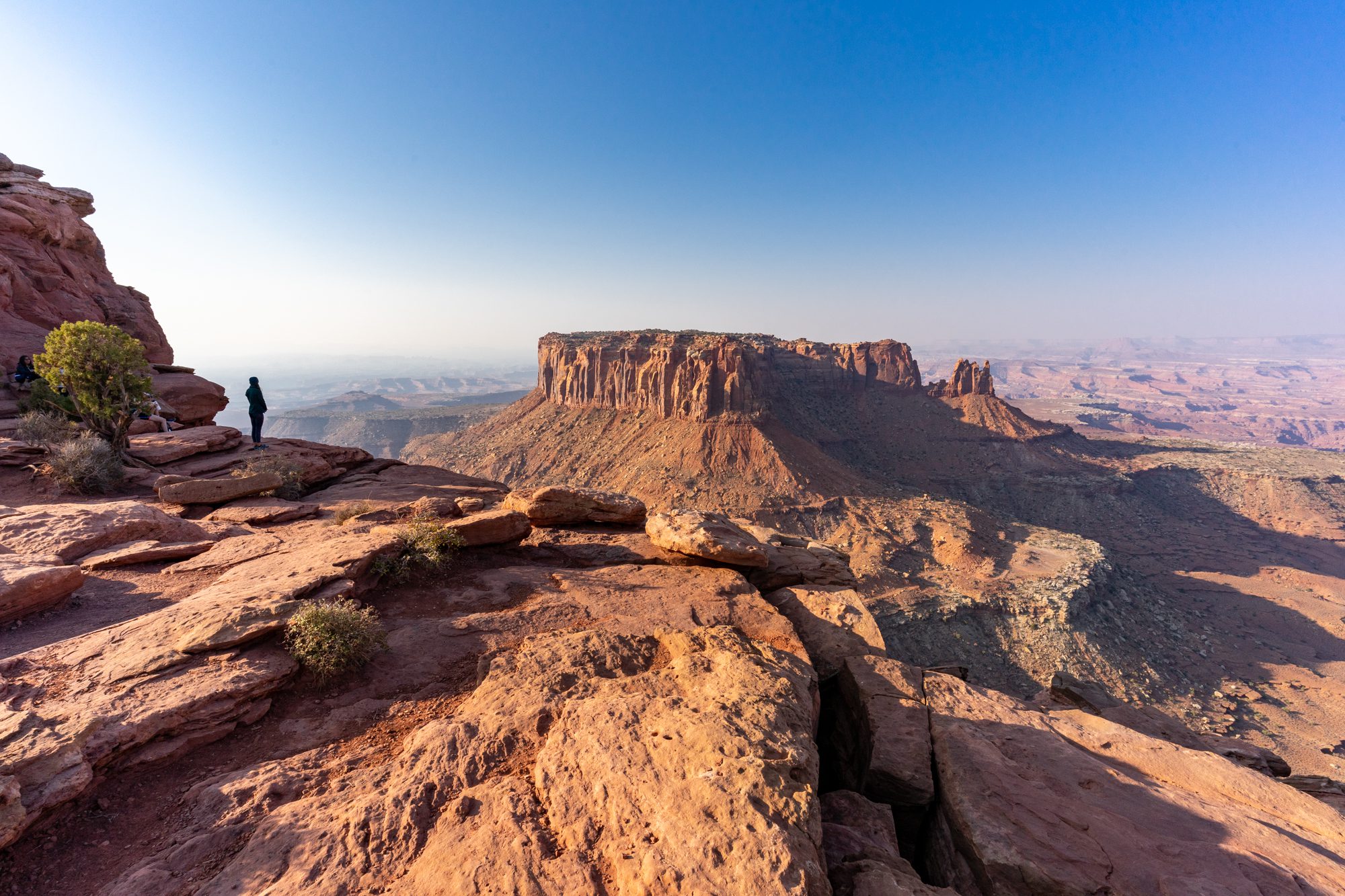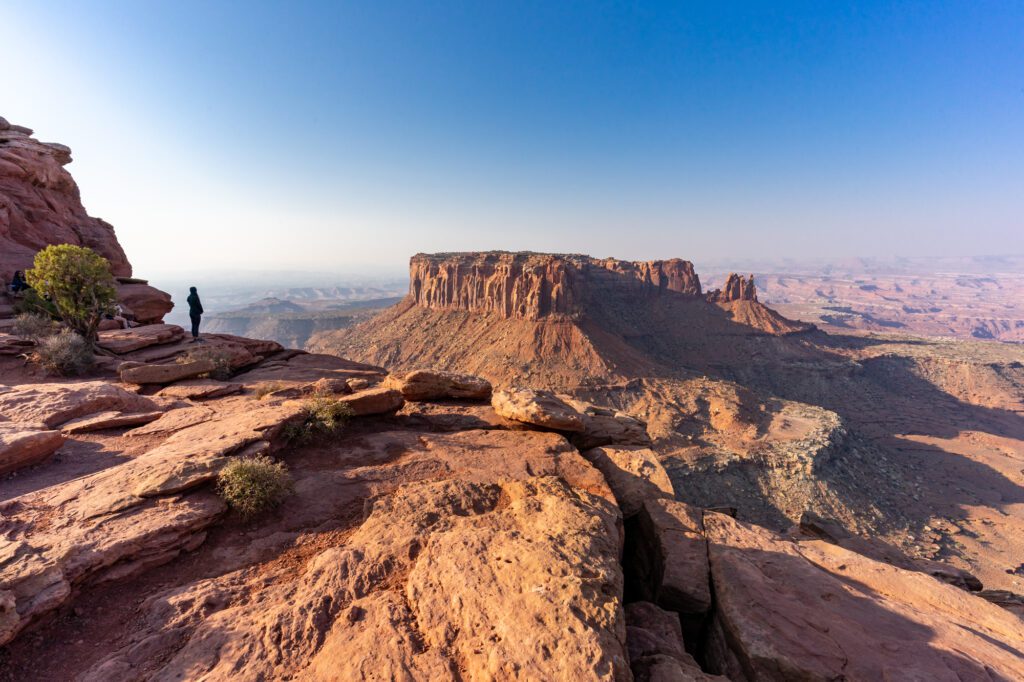 Next, head out to Grand View Point, which is another short stroll along the rim of the canyon that we DEFINITELY think you should do, no matter what. It's mostly flat, with a little bit of up and down, but the end viewpoint is going to be well worth the small effort to get there.
The Scenic Drive
Grand View Point is at the end of the road, which means you can make the drive back towards the Visitor Center a scenic drive by stopping at all the viewpoints along the way.
The first stop, if you didn't already tackle it, is the White Rim Overlook. We loved this short hike, and it's worth mentioning again.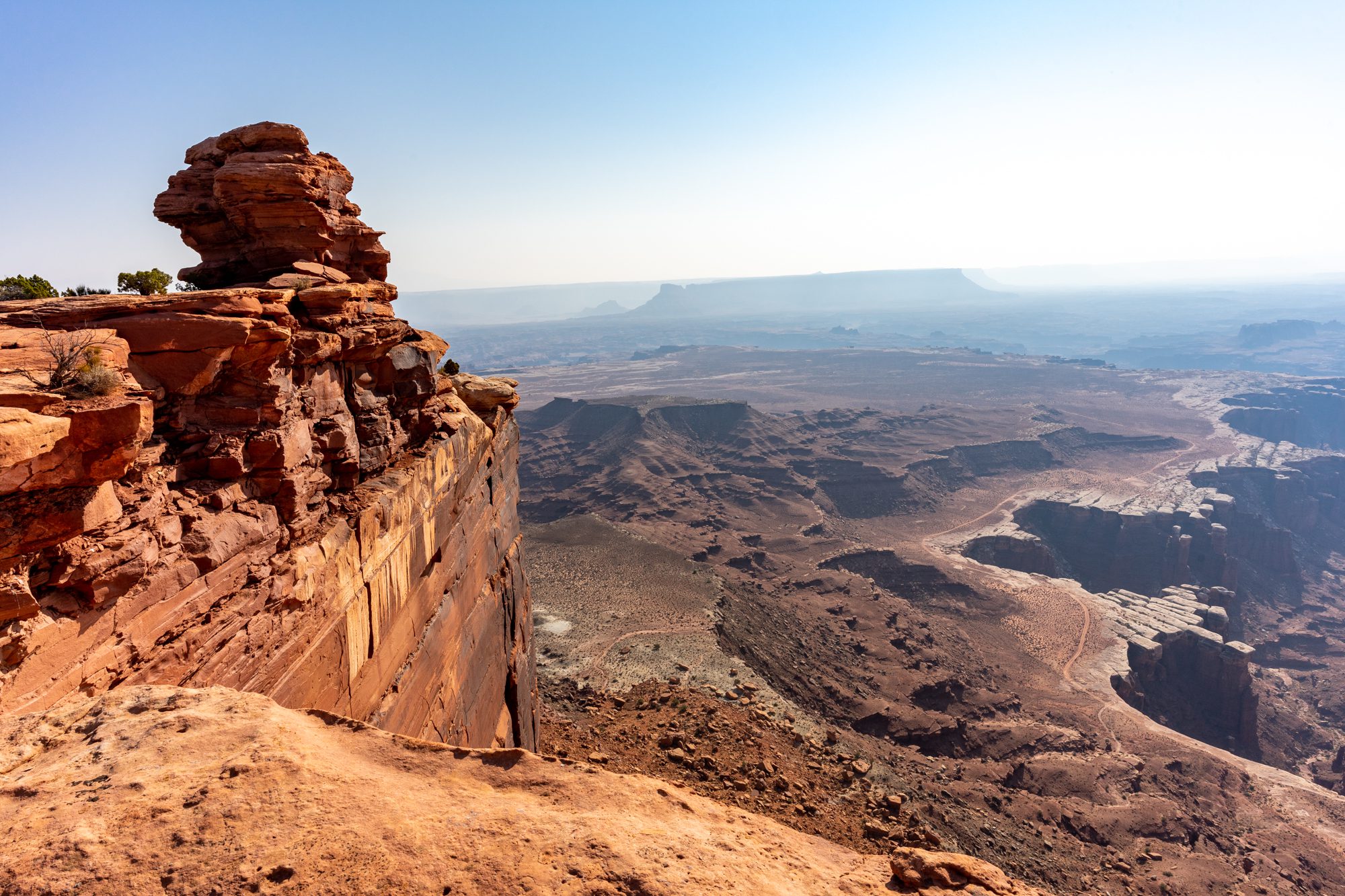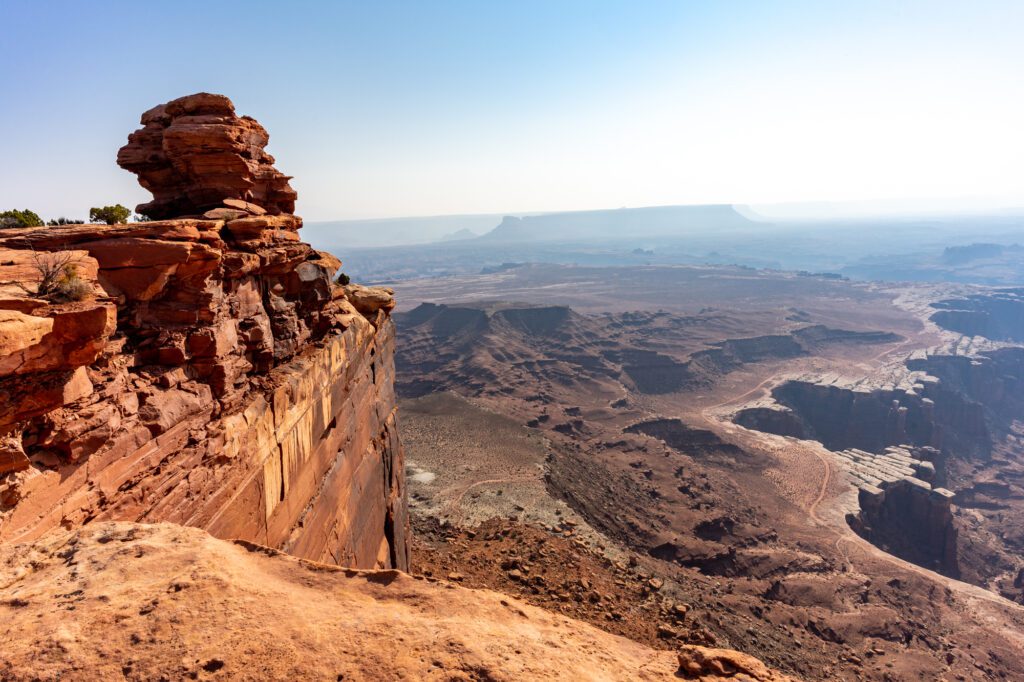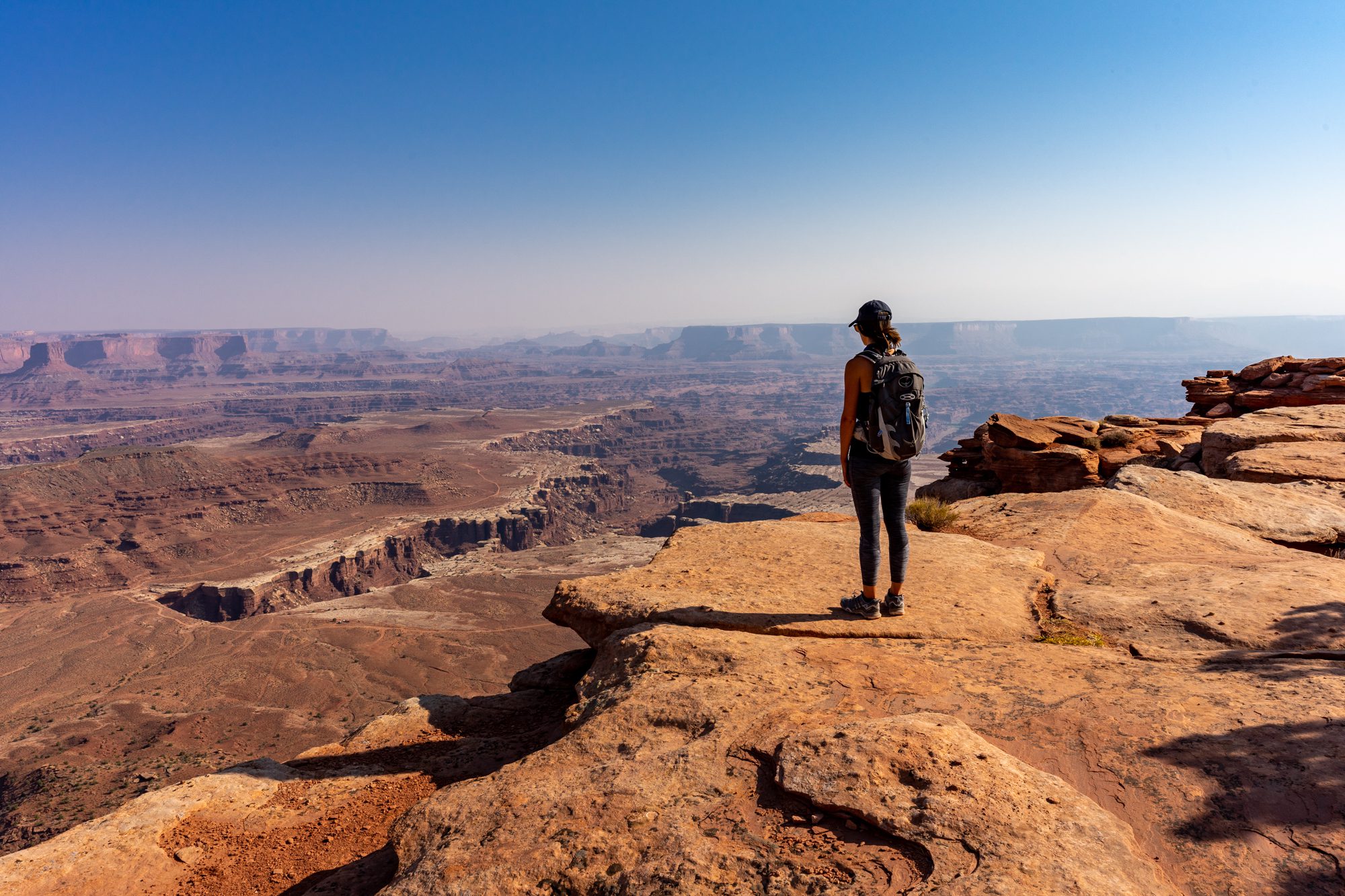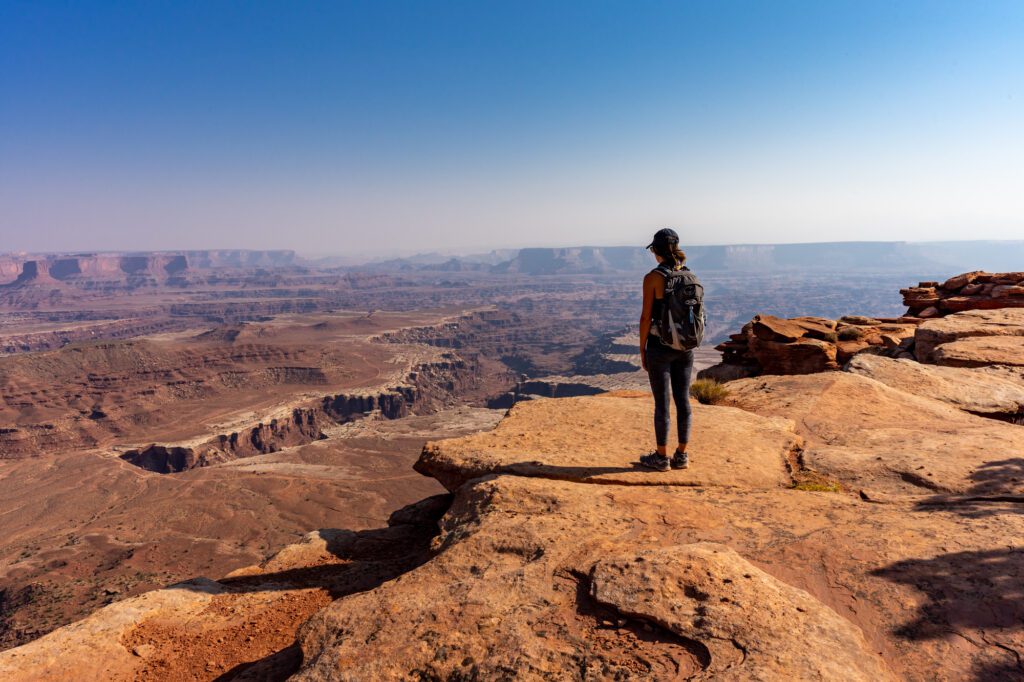 Make sure to also stop at the Buck Canyon Overlook and, our favorite viewpoint on the drive, the Shafer Canyon Overlook, which has amazing views of the canyon, and of the steep switchbacks of Shafer Canyon Road, which descent from the rim down to the plateau via tight switchbacks that I would be too terrified to drive myself.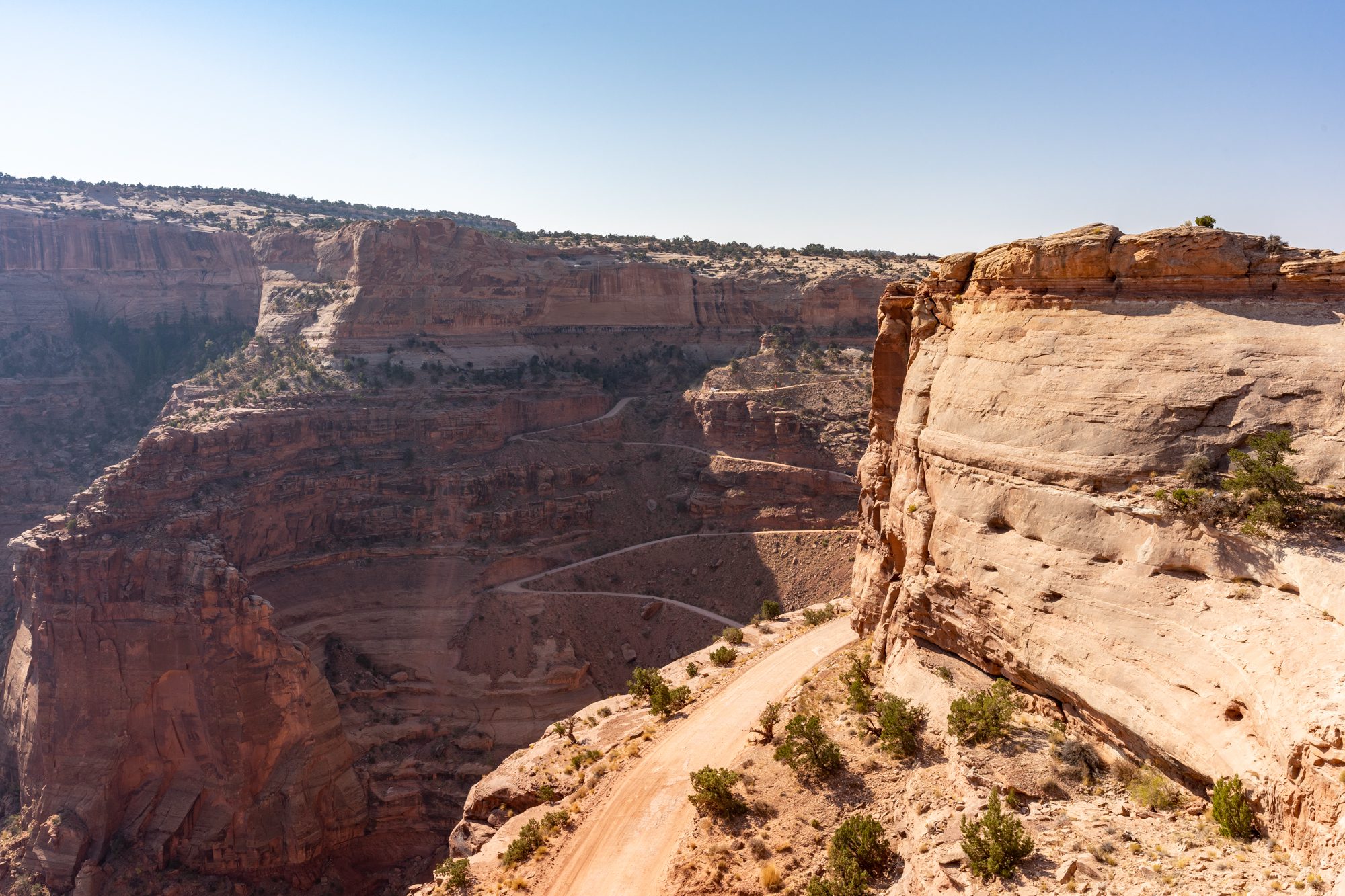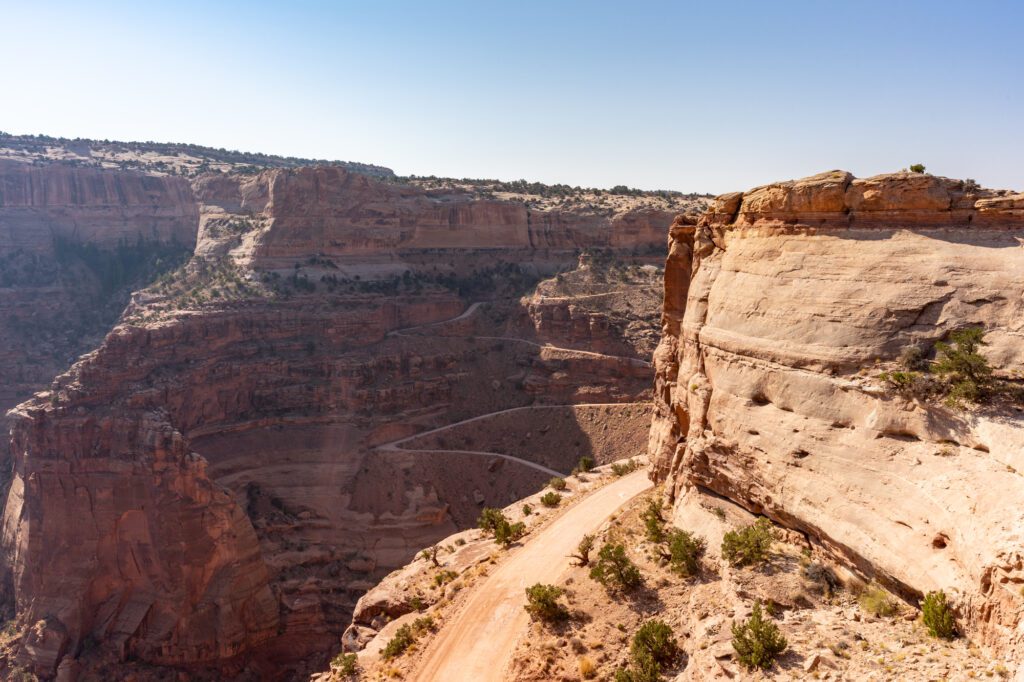 It's also worth venturing out on the road that leads to Upheaval Dome, aptly named Upheaval Dome Road. The turnoff is a little ways south of Shafer Canyon Overlook. Willow Flat Campground, the main campground in this part of Canyonlands, is out there, but stay on Upheaval Dome Road to get to Upheaval Dome, Whale Rock, and Aztec Butte – three great short hikes just off the road.
Sunset at Dead Horse Point State Park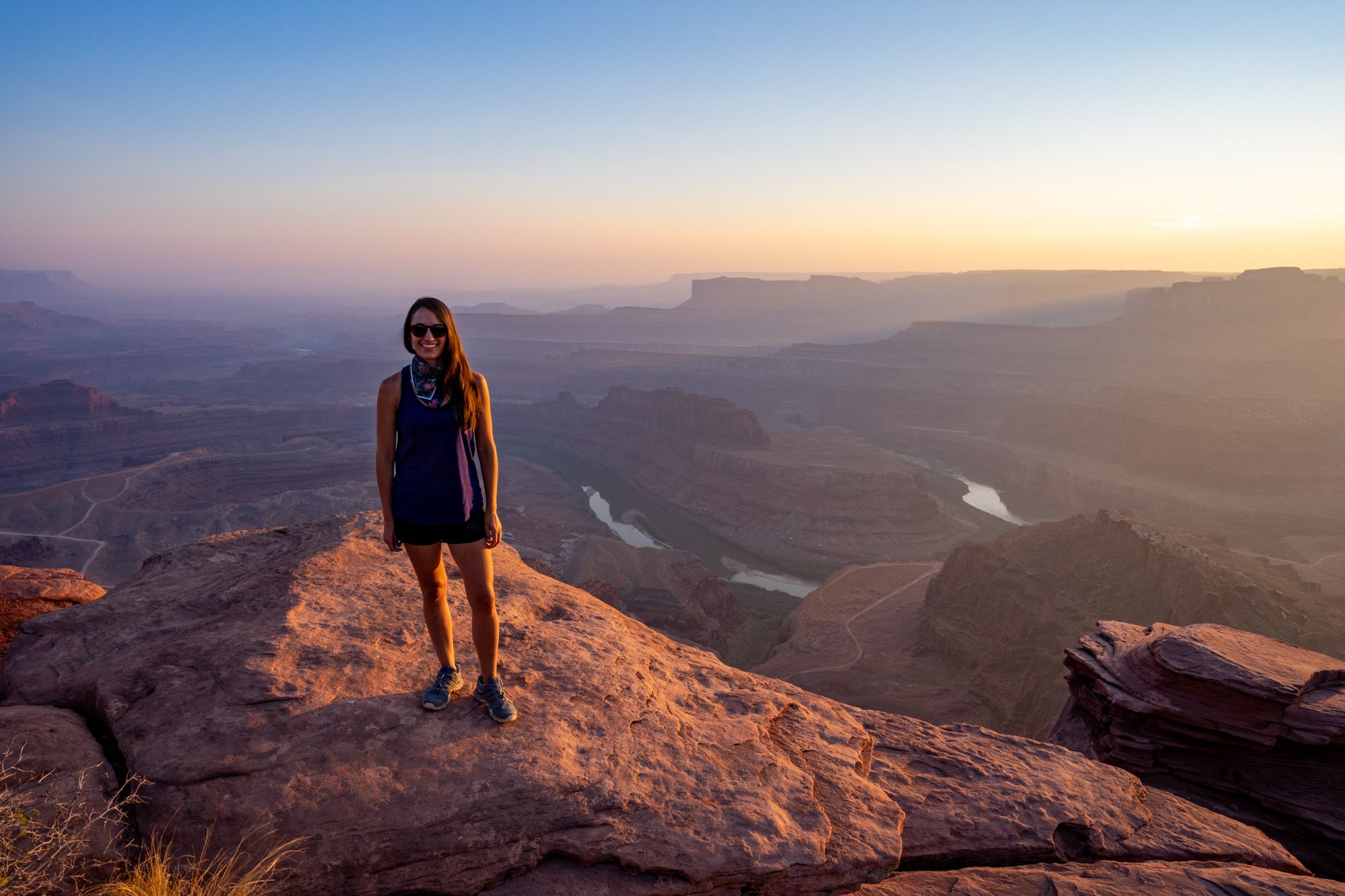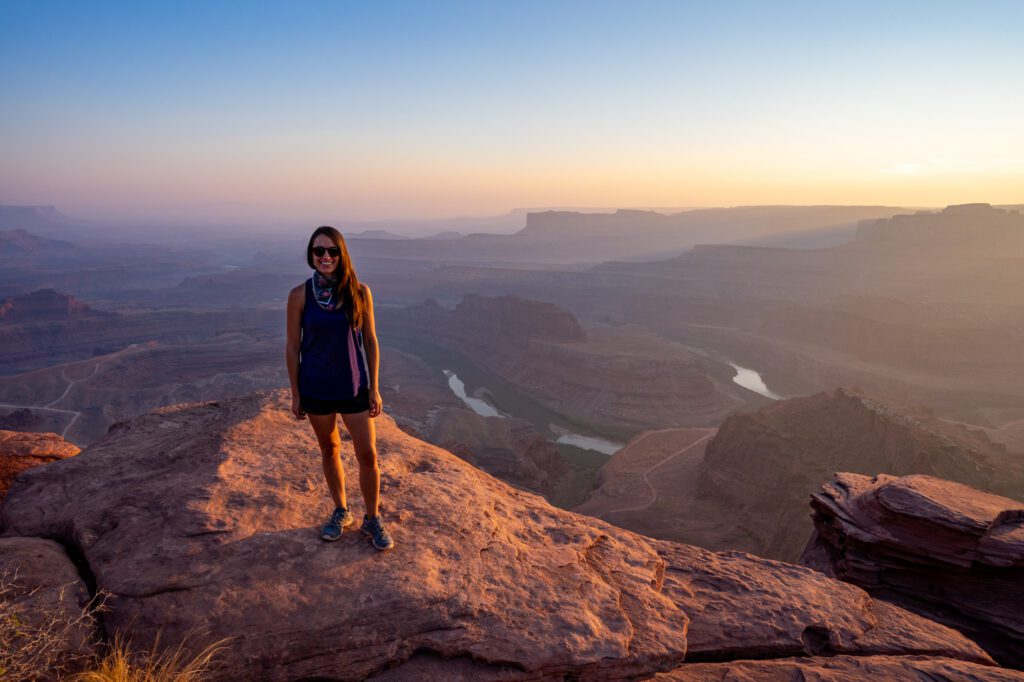 After a day of exploring Canyonlands, head out to nearby Dead Horse Point State Park for sunset. Dead Horse Point is on the way back to Moab, which makes it a perfect last stop of the day before retiring to your hotel or campground for the night.
You'll need to pay the entrance fee, since it is a Utah State Park and is not covered by your America the Beautiful Pass. It's $20 a vehicle as of 2021 – double check the up-to-date fees here.
If you're up for it and have some extra time before sunset, it's worth doing one of the short hikes along the west rim. Our pick would be to park at the main parking lot and hike out to the Rim Overlook, and back along the rim to the parking lot, with a short detour to the Shafer Canyon and Meander overlooks along the way. It's about 2.5 miles there and back, and it's flat.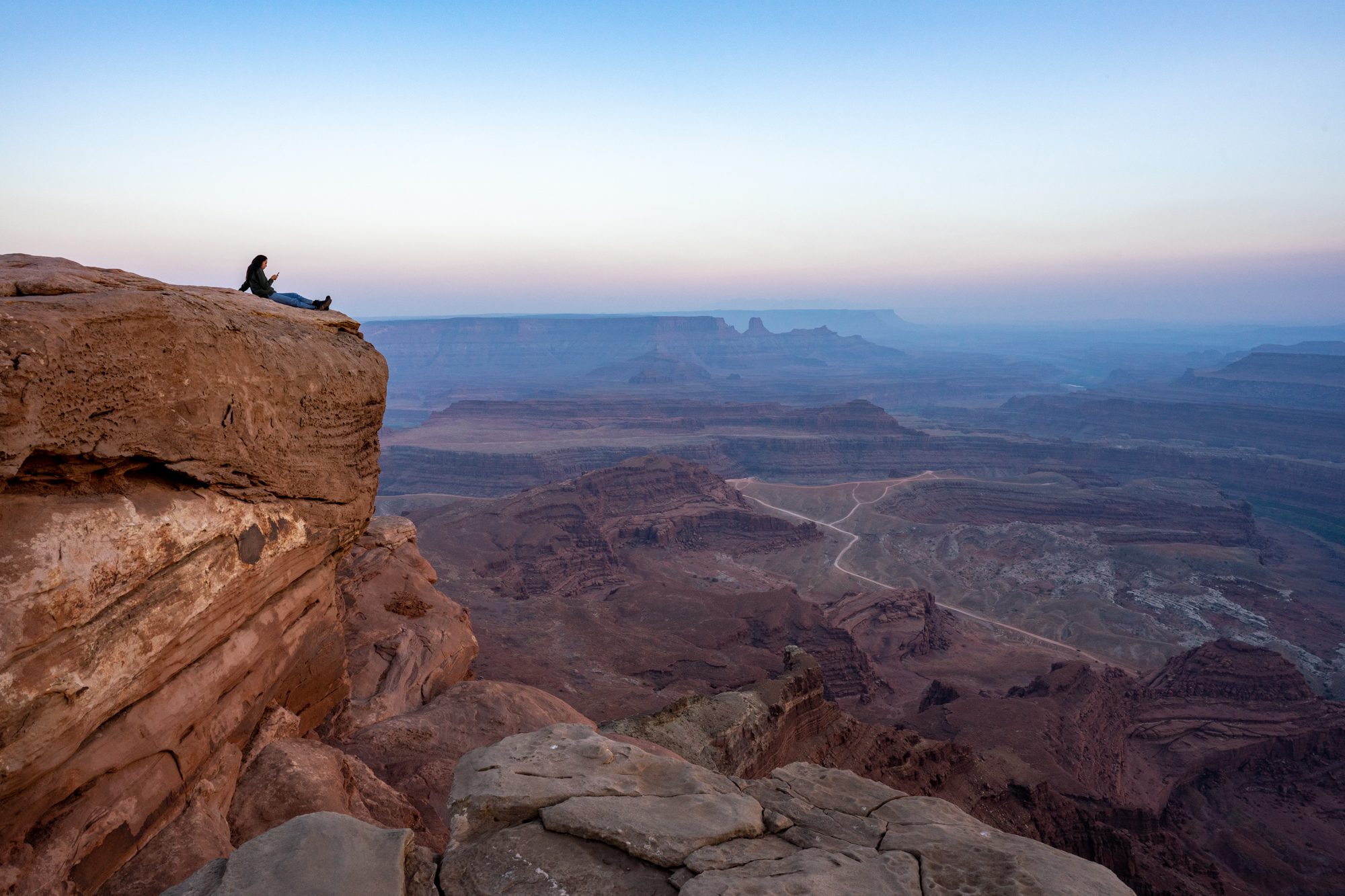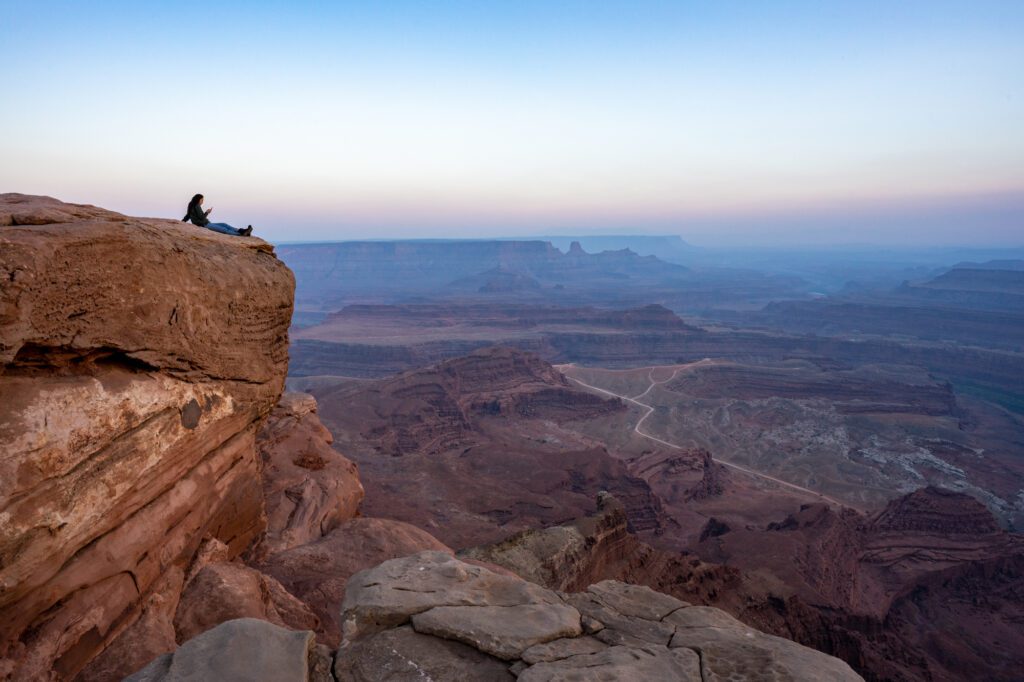 After that, pick your spot, plop down, and watch the sunset over the canyon.
Day 4: Around Moab + Drive to Capitol Reef
Spend the morning around Moab, exploring what we think are two of the best hikes in the area – neither of which are inside a national park – and then make your way over to Capitol Reef National Park.
Corona Arch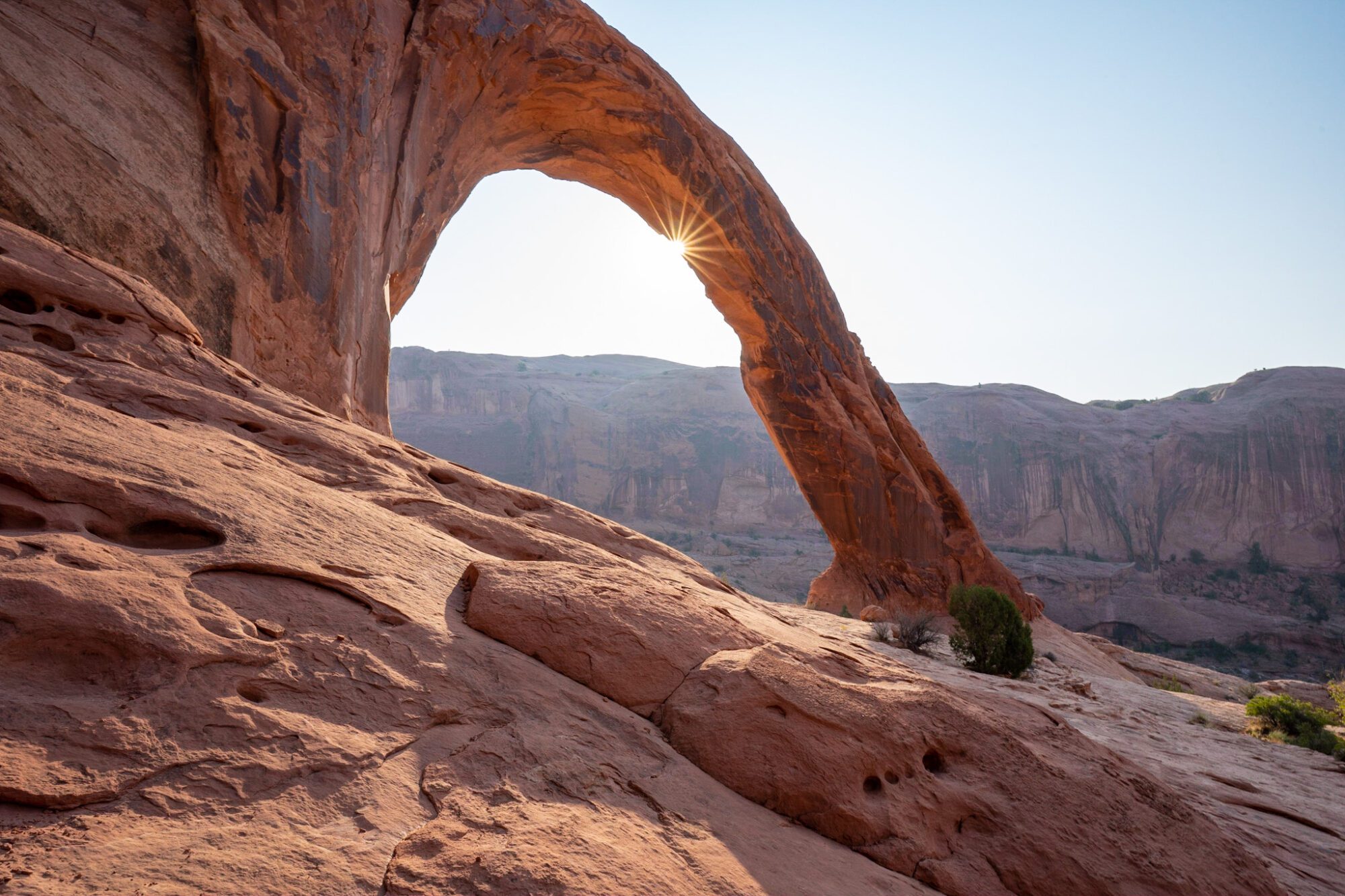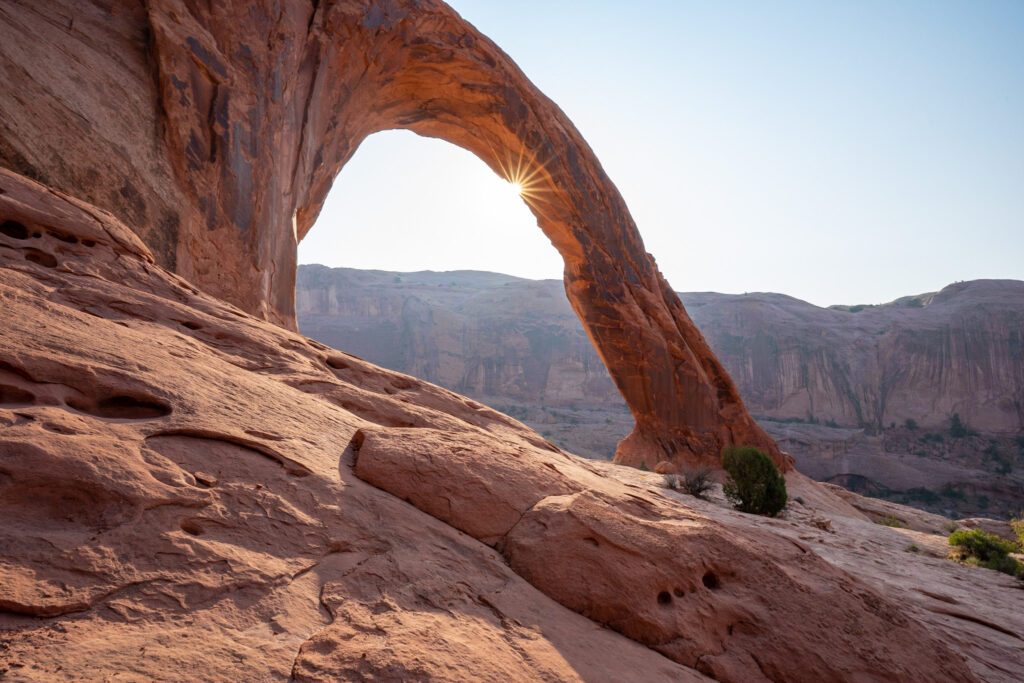 We did this hike at sunrise, and sat on a rock watching the light creep down, illuminating the arch about an hour after sunrise. Because of the rock walls here, we actually think the best time to be here is just after sunrise.
It's only 2.5 miles long (round trip), but there are some sections of scrambling along slickrock, and a ladder that you have to climb. As long as you're prepared with sturdy footwear, you should be fine, but you should know what you're getting into before you leave the parking lot.
The arch itself is enormous, and is one of the more impressive arches we saw in Moab, including the ones in Arches (Delicate Arch and Double Arch might be the only two ahead of it).
The trailhead is along highway 279, just a twenty minute drive northwest of Moab.
Jeep Arch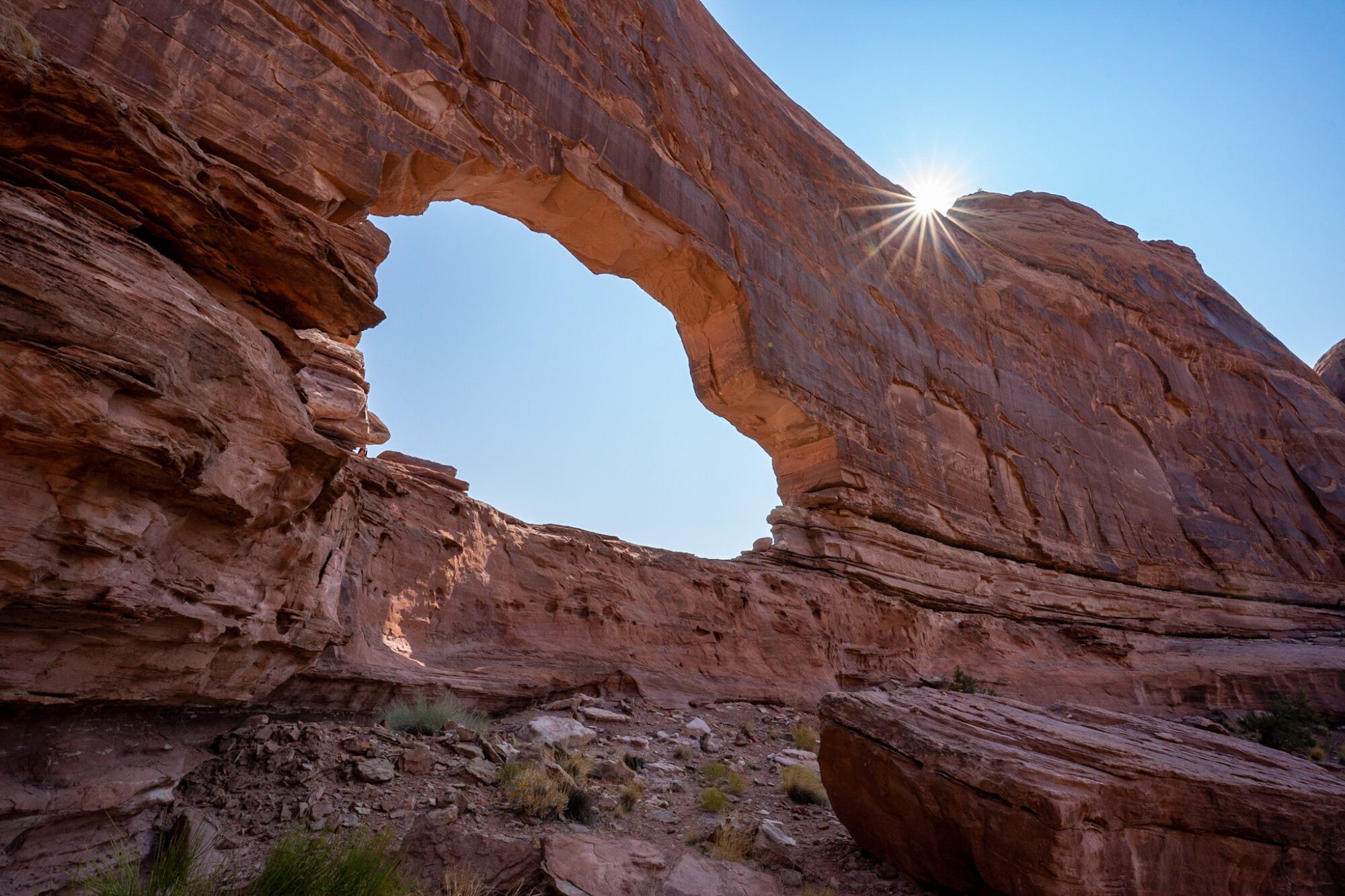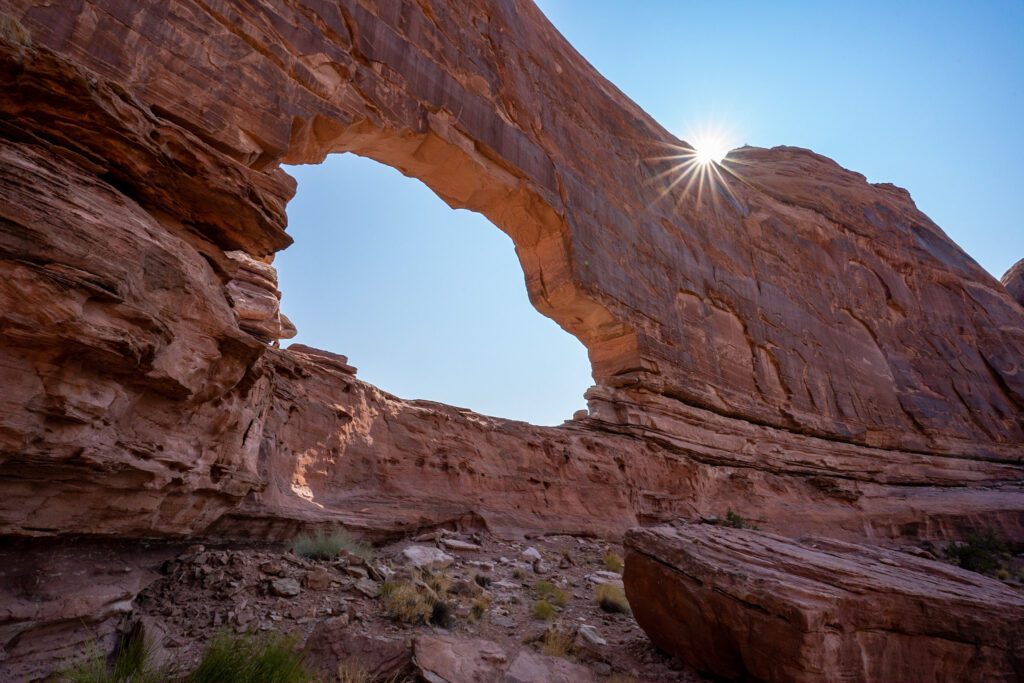 Just down the road from Corona Arch is another amazing hike that most people probably skip since it's not inside one of the nearby national parks – and that's Jeep Arch. You'll park in the small dirt parking lot along the road. We were there mid-morning after our hike to Corona Arch, and we were only the second car in the parking area.
This hike is a bit longer at 3.6 miles (1,000 ft. of elevation gain), and it is COMPLETELY exposed. No shade to speak of, except right at the base of the arch.
You'll start by hiking up through the water pipe, which we didn't realize on our way out and ended up hiking up to the railroad tracks, crossing the tracks, and then scrambling down the other side. Only to look through the other end of the pipe and say "ah, that's the way you're supposed to go."
From there, you'll follow a trail that is somewhat well marked by cairns across the rocky landscape, surrounded by the towering red rock walls of the canyon. It's a loop, and after doing it both directions, we really don't think it makes a huge difference which direction you go.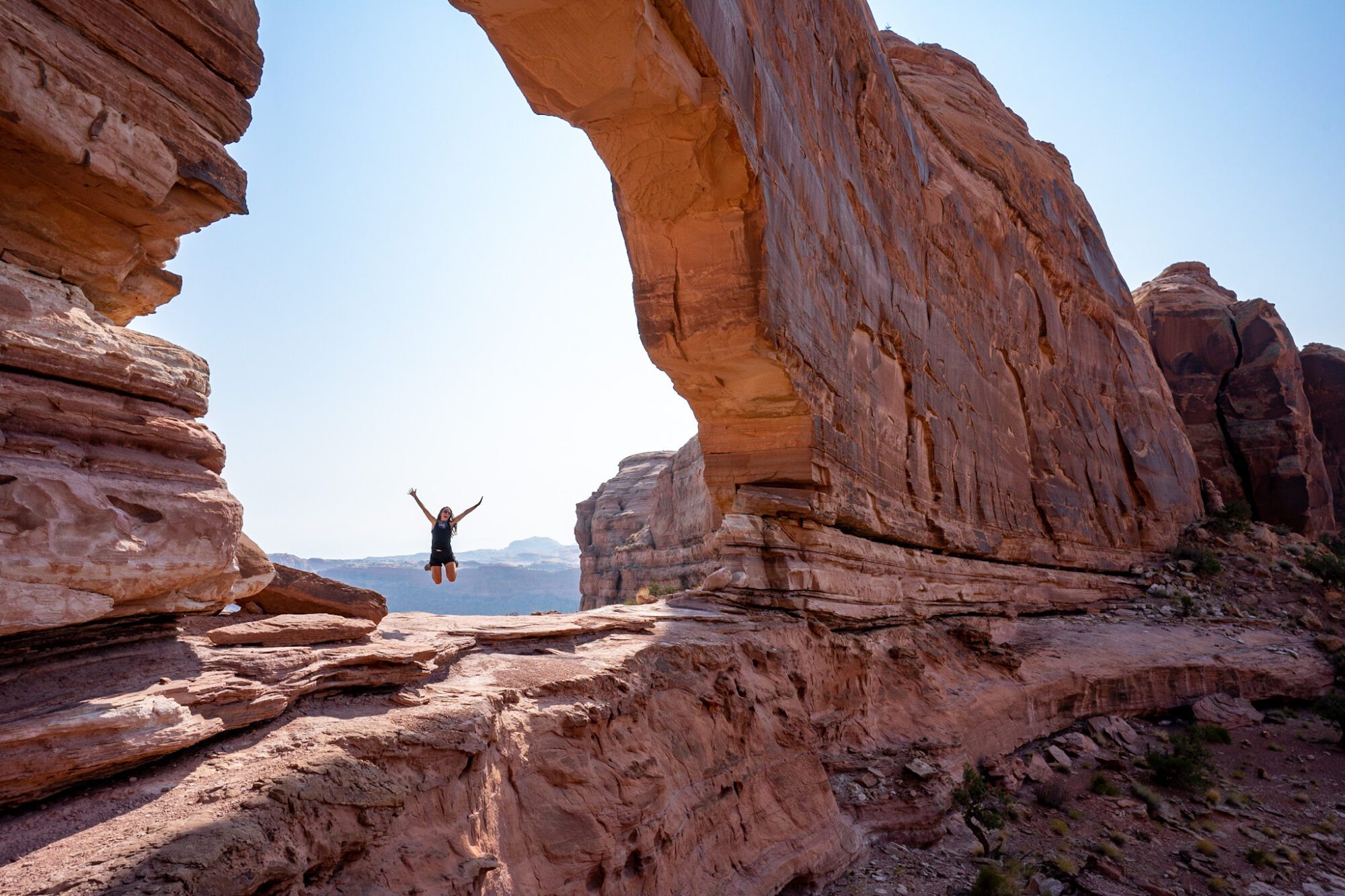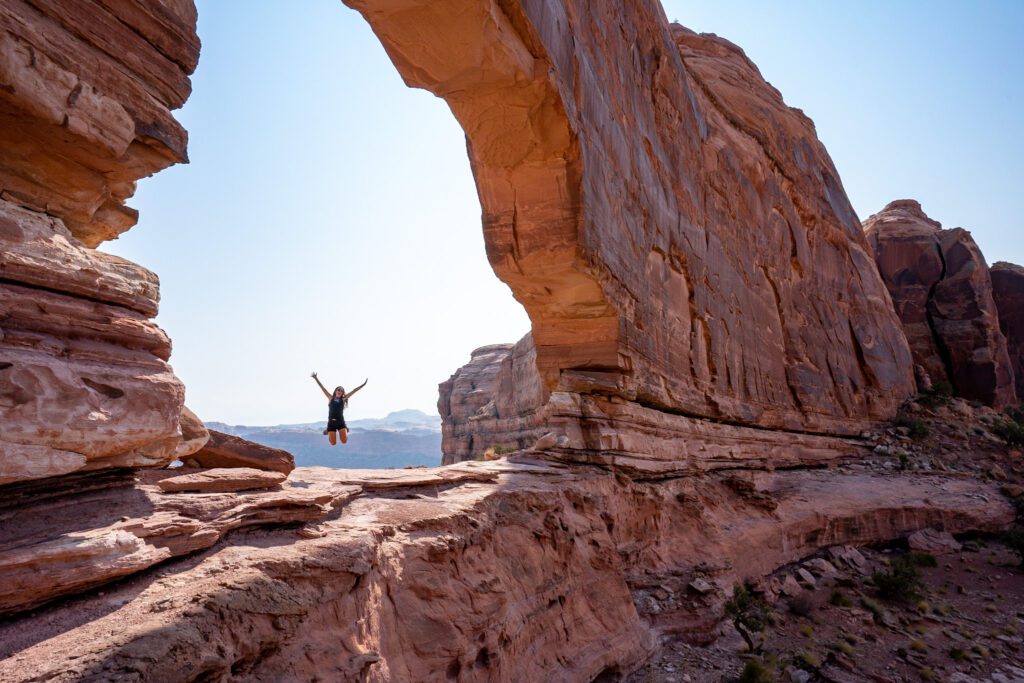 We will say that the arch will sneak up on you. We were very worried that we were going the wrong way because the map showed the arch just ahead of us, and we couldn't quite see it yet. It's carved into the towering canyon wall, and if you squint, it looks a little bit like a jeep, hence the name (Matt's not convinced).
Drive to Capitol Reef
After a morning of exploring near Moab – there's plenty of other things to do in Moab if you have more time – start your journey to Capitol Reef National Park, the most underrated park in Utah.
I wish I could tell you that this is a cool drive, but it's really not until you get close to Capitol Reef and start noticing the lush greenery that starts to pop up. Is that a river? In the desert?
Drive time: Two and a half hours / 140 miles
Arrive in Capitol Reef National Park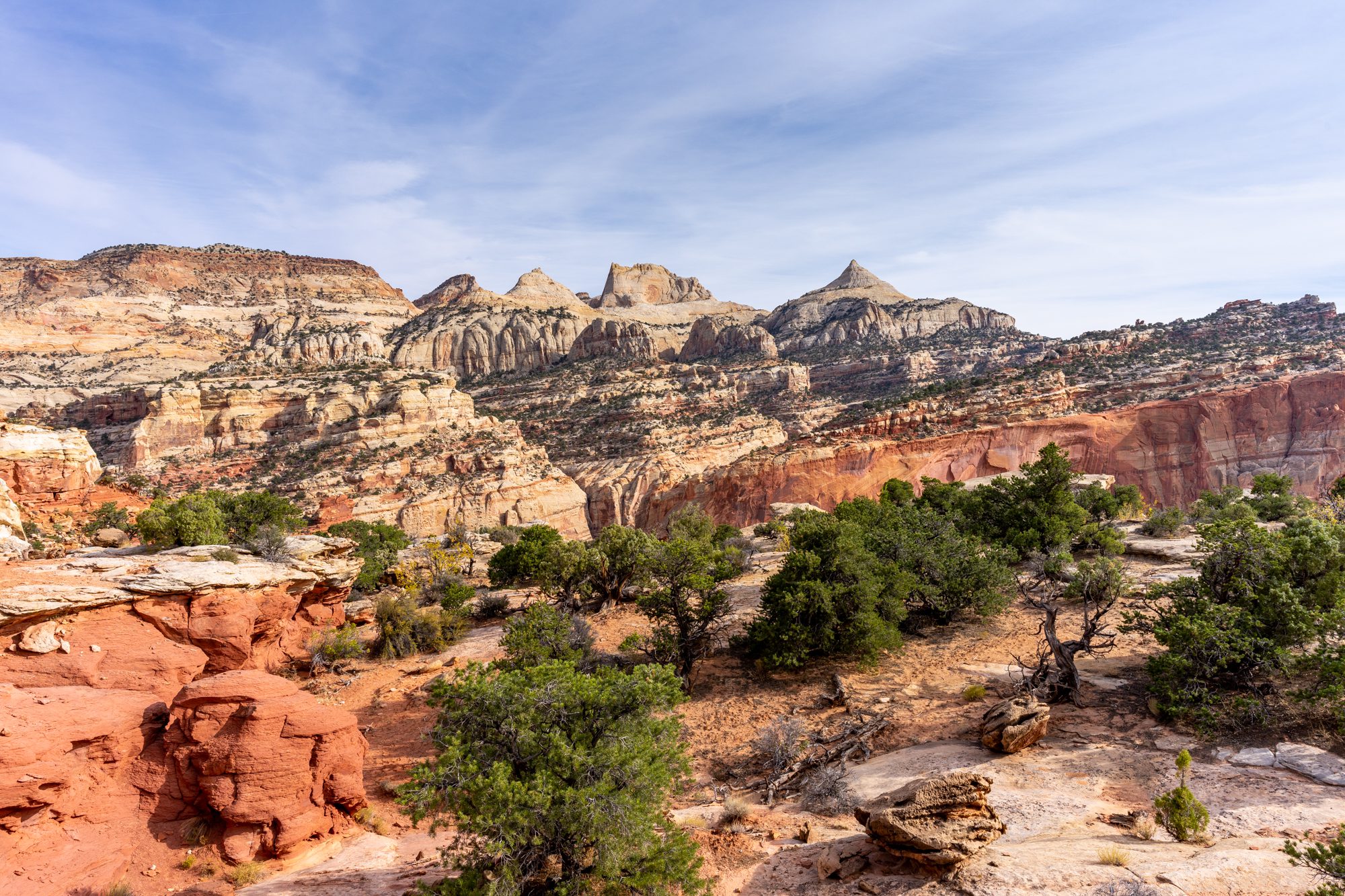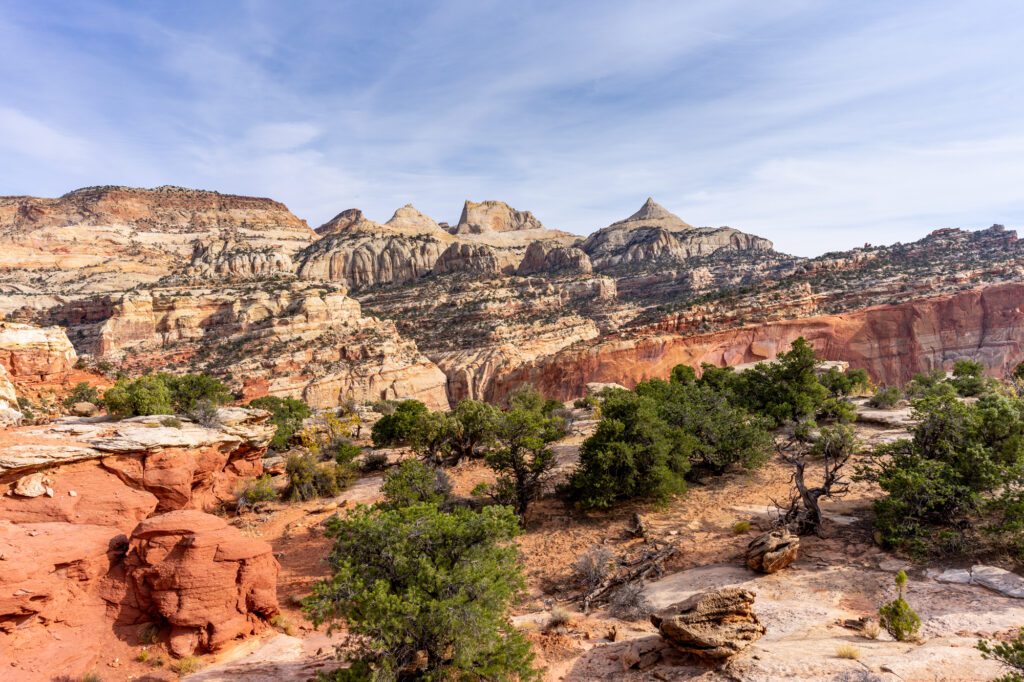 Be honest – before you started researching for this trip, had you ever heard of Capitol Reef National Park?
Me neither.
But I understand why. Sandwiched between Arches and Canyonlands to the east, and Bryce and Zion to the west, it is the runt of the litter. Not that it isn't a great stop and well worth your time, it's just that the rest of the national parks in Utah are spectacular.
The most unique part of Capitol Reef in my book is the amount of green you'll see. Coming from Moab, it's pretty surprising to drive around a corner with red rocks towering above you and see… an orchard? Several orchards, actually. And you can freely walk through them and eat the fruit in the late summer too! You have to pay if you want to take it to eat later though.
Here's our take on how to spend a perfect 24 hours in Capitol Reef, split over this afternoon and the next morning.
Capitol Reef Scenic Drive
Stop at the Visitor Center to grab a map and a hiking guide, then it's time to tackle the 10 mile scenic drive out to Capitol Gorge.
Take your time on the drive – it's a gorgeous road through the red rock formations that are Capitol Reef's specialty.
Eventually, you'll arrive at the end of the paved road, where there's a small parking lot and picnic area. If you continue on the dirt road, you'll end up at the trailhead for Capitol Gorge, which is the beginning of a short one mile stroll through the towering canyon along the original path into the Fruita Valley.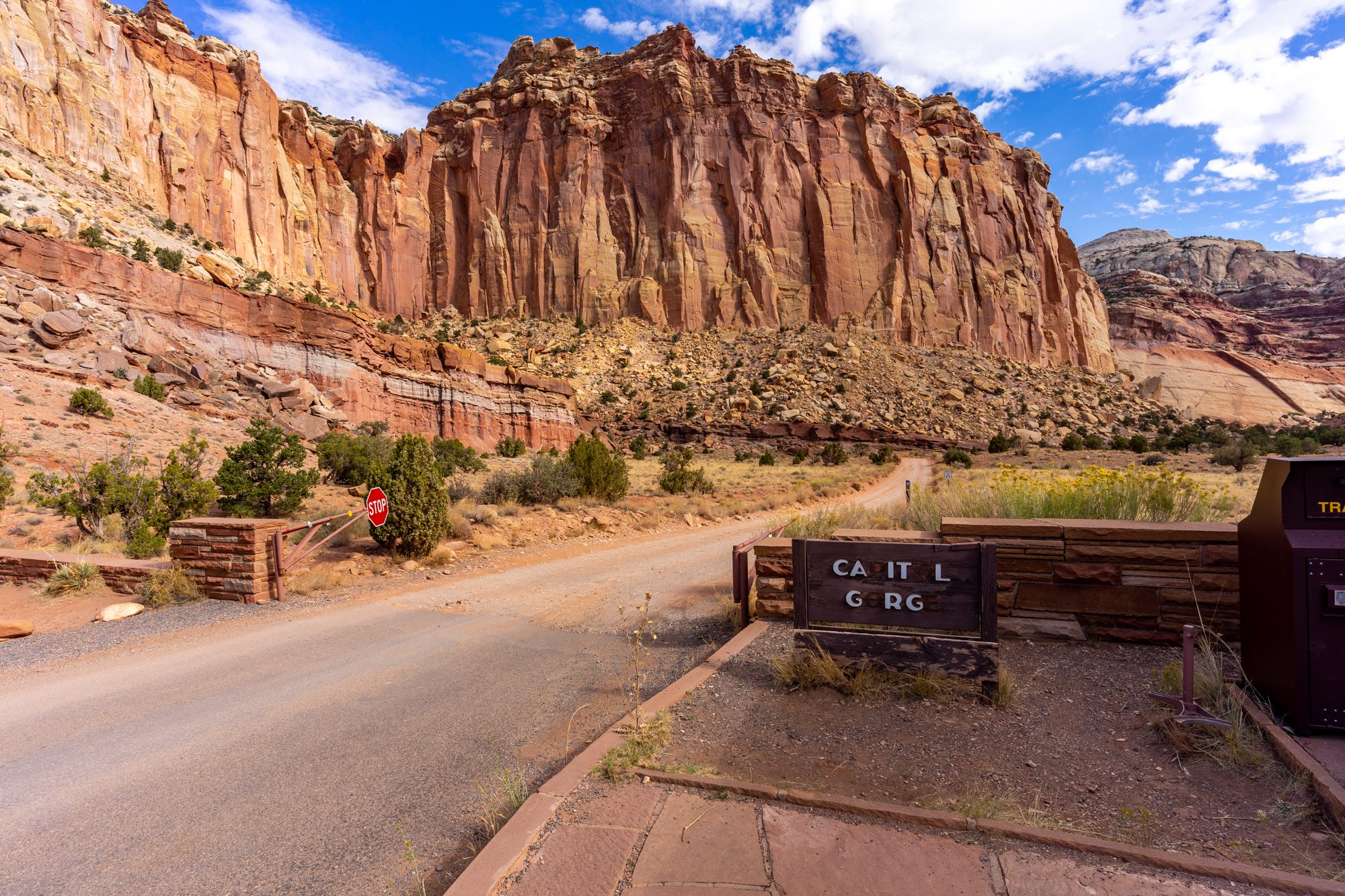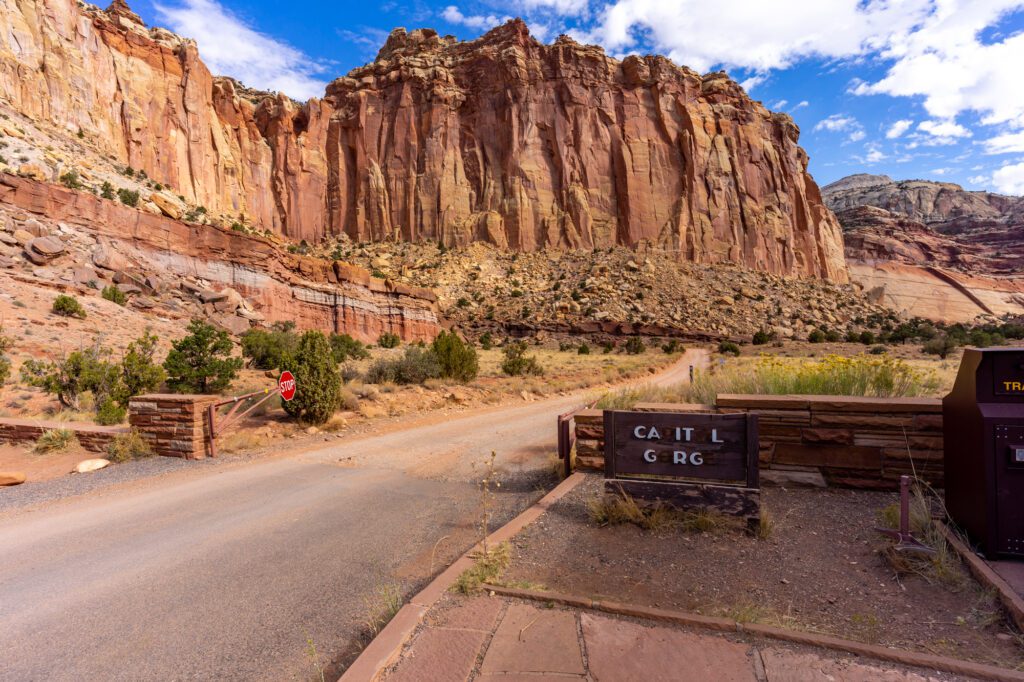 Be careful with weather in the summer – afternoon thunderstorms and rain showers can cause flash floods, and you definitely don't want to be stuck in the gorge during a flash flood.
Head back the way you came, making a right onto the dirt road that will take you to the Grand Wash Trailhead.
Cassidy Arch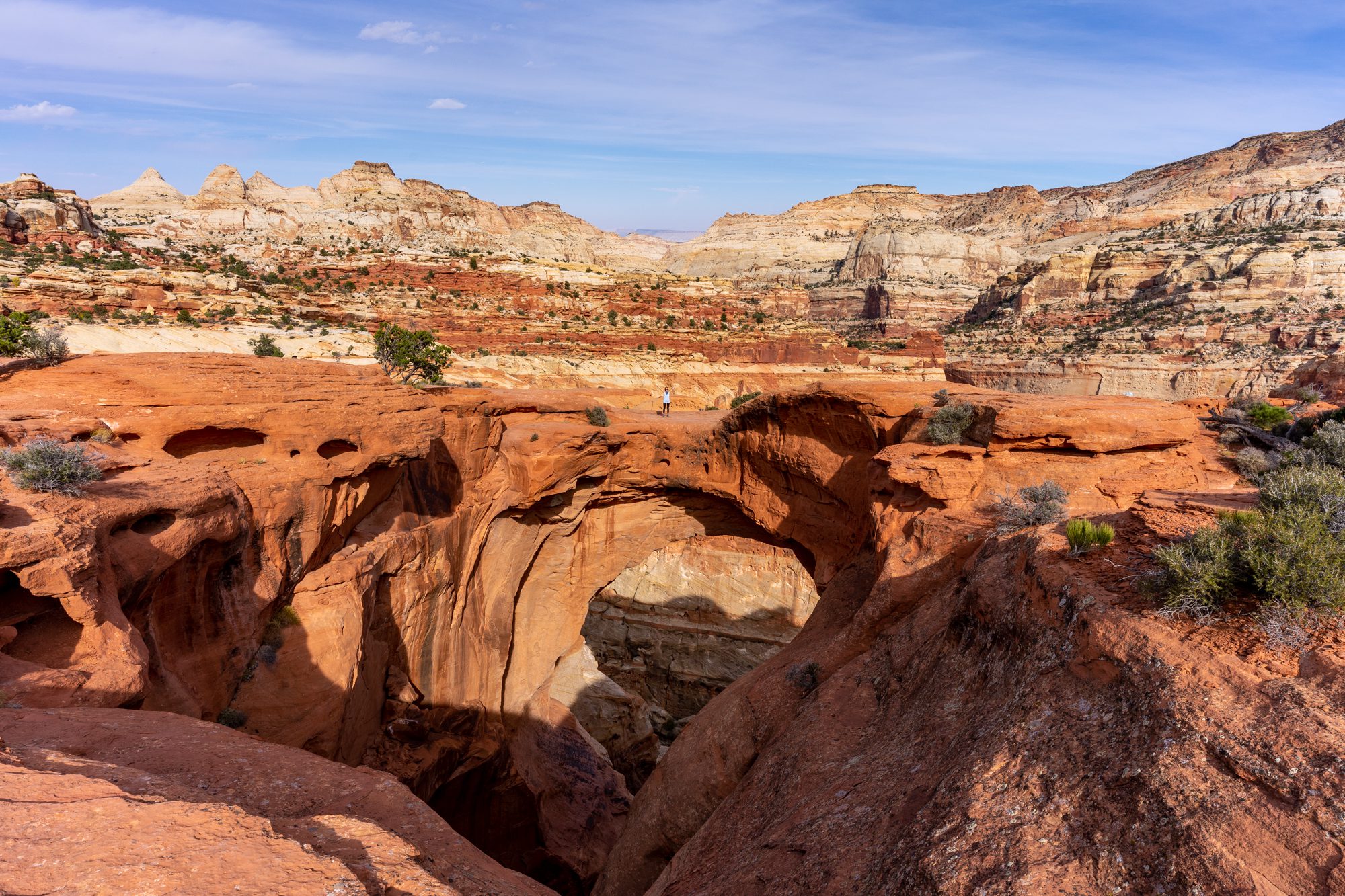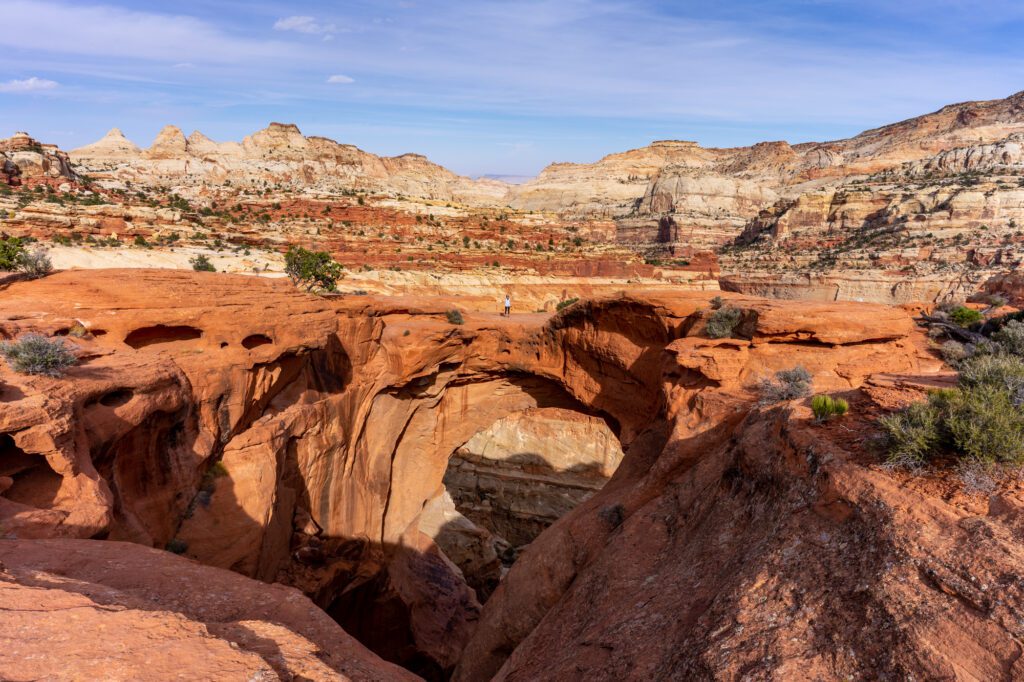 Head to the Grand Wash trailhead, which includes a short drive on a well-maintained dirt road, to hike to Cassidy Arch.
In high season, you might have to wait a few minutes to get a parking space, since the lot is small and the dirt road makes it hard if not impossible to park on the side of the road. The wait will be worth it – you'll climb the wall of the valley to an arch that you can actually walk on!
It's a steep climb up some stairs for the first bit of the trail, but it mellows out as you wind between the cairns (those are the little rock piles that mark a lot of the trails) up to the arch. It's a pretty stunning hike, as you'll get views of the surrounding valley and beyond as you make the ascent. All in all, it's a three mile hike with 660 feet of elevation gain.
You should know that it will be hot in the afternoon, so bring tons of water, snacks, sunscreen, and a hat for sun protection.
Sunset Point for… Sunset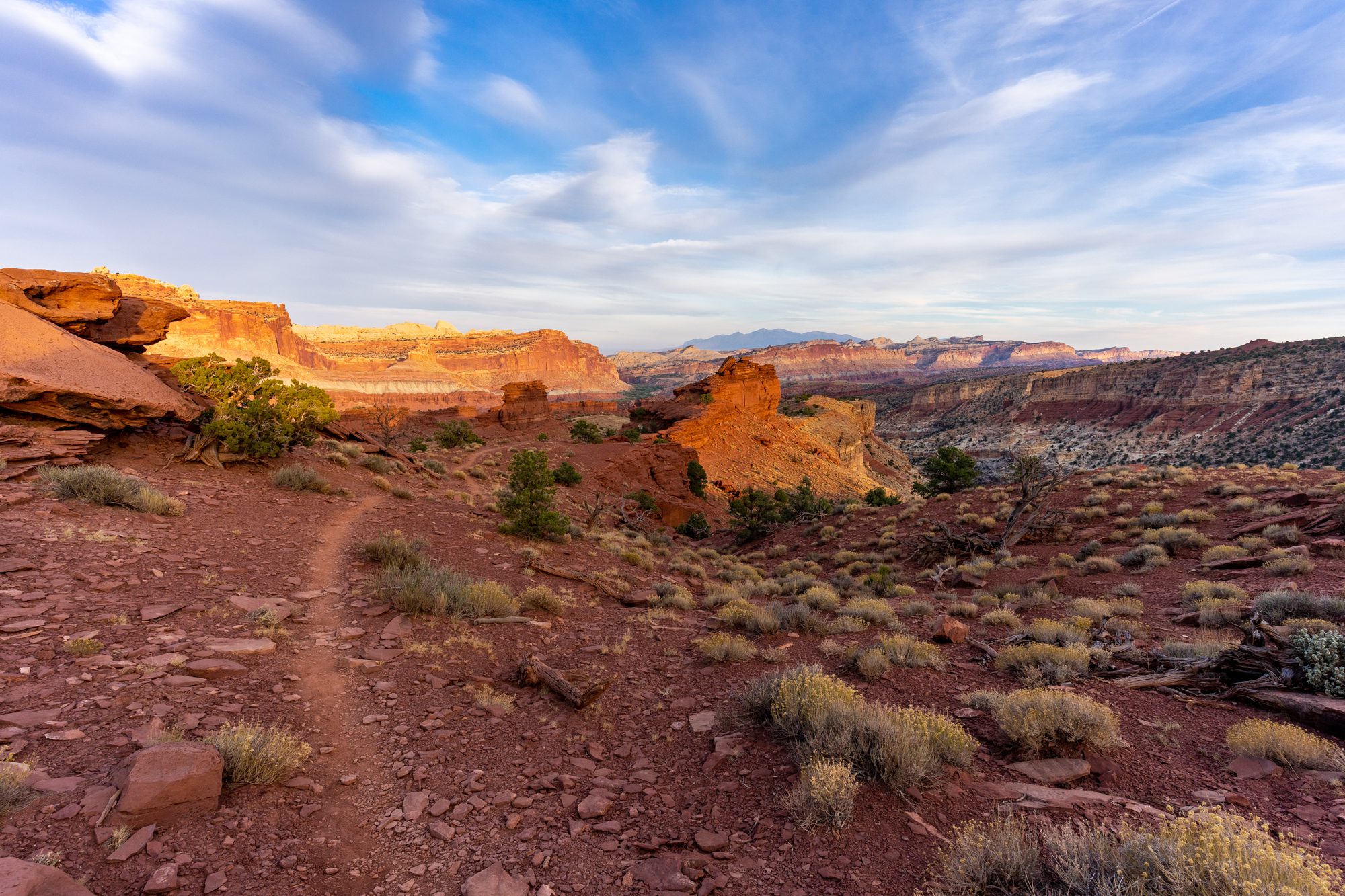 A little over an hour before sunset, head out to Sunset Point / the Goosenecks for the second most breathtaking panorama in the park (don't worry, you'll tackle the best viewpoint tomorrow morning).
The Goosenecks are an okay view of the river winding through the valley below, and they're basically at the parking lot.
But the star of the show is Sunset Point, which has a view across the Fruita Valley with all sorts of interesting terrain as far as the eye can see. It's spectacular about a half hour before sunset, when the golden light brings out all the different colors in the surrounding landscape, particularly the red in the canyon walls. Here are a few pictures for you from our trip, if you're not convinced.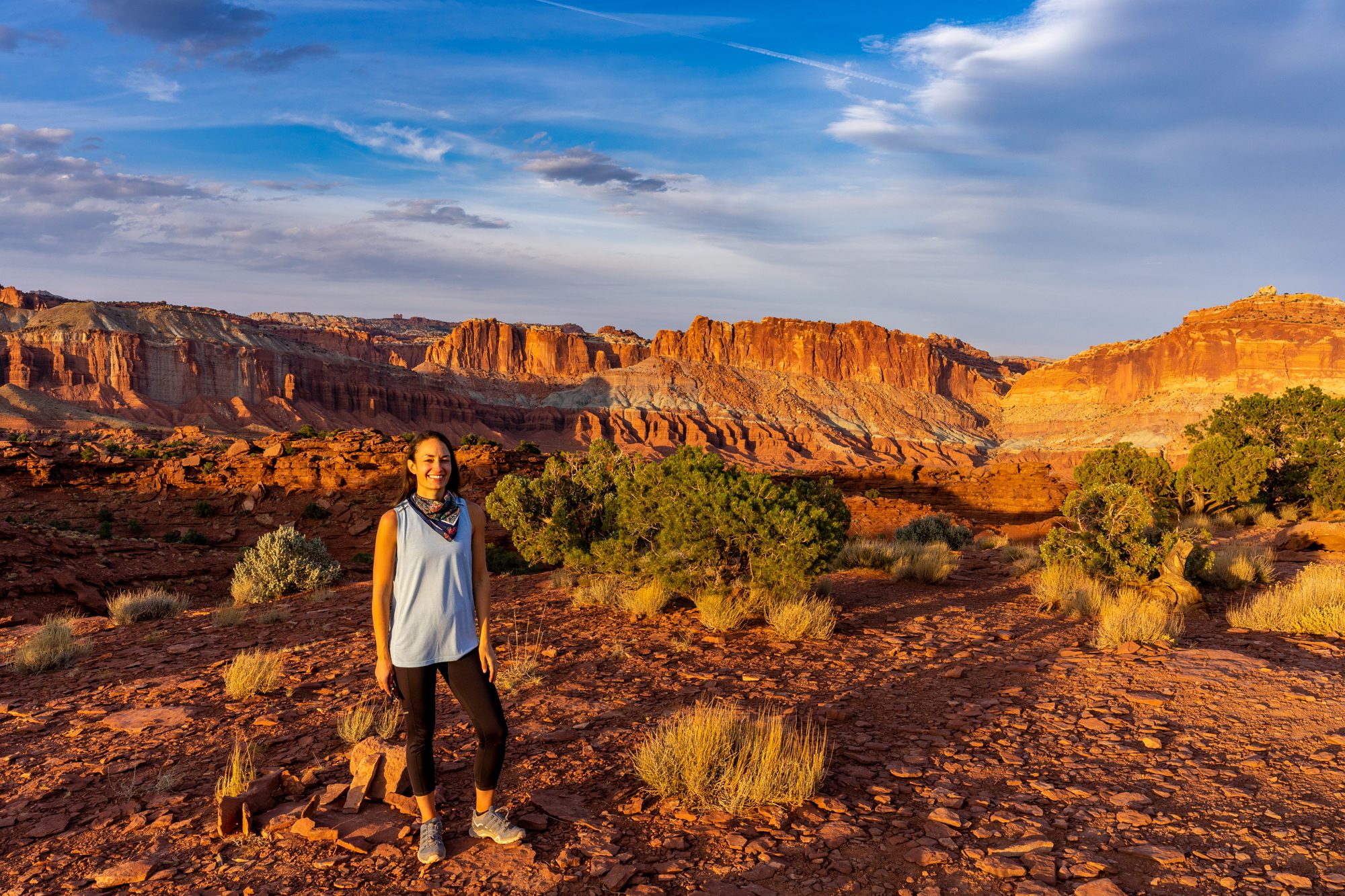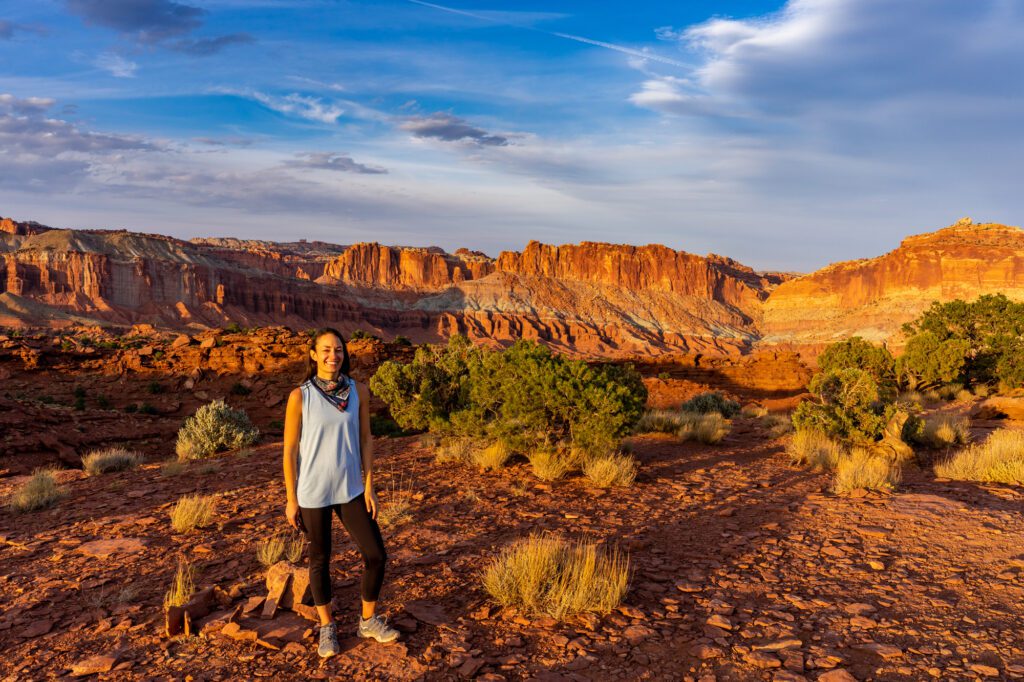 Where to Stay at Capitol Reef
There's really not that many options near Capitol Reef – you can either camp inside the park, or stay in the nearby town of Torrey, Utah.
Camping: The best option, by far, is Fruita Campground, which is the only place to stay inside the park that you can reserve in advance. It's a super nice campground, set in between red rocks and orchards. We were discussing whether it was the nicest campground we'd stayed in on our four month road trip, and it's definitely in the top five. Check availability here. You could also stay at Cathedral Valley Campground, which is near the Temple of the Sun and Temple of the Moon, but it's a journey to get there and it's super remote with no amenities. That being said, it's free, so there's that. Make sure you have a 4WD, high clearance vehicle or you're going to have a bad time.


Hotels: You'll have to head to nearby Torrey to find a place to stay that isn't camping. It's only about a 15 minute drive to the park entrance, so it's a perfect stopover before heading onwards to your next stop, Bryce Canyon National Park. As far as hotels and resorts go, the leaders of the pack are Capitol Reef Resort – which is also the closest place to stay near the park (and their two bedroom cottages have a kitchen) – and Red Sands Hotel.


Vacation Rentals: If you want a vacation rental with more space and access to a kitchen, there are a couple of good options around Torrey. For couples, we like this cozy house. For families and groups who need a bit more space, look at this modern two bedroom flat.
Day 5: Capitol Reef National Park + Drive to Bryce
On day 5, tackle our favorite hike in Capitol Reef, then make the drive to Bryce Canyon, which is our favorite national park in Utah.
Hike Hickman Bridge + Rim Overlook Trail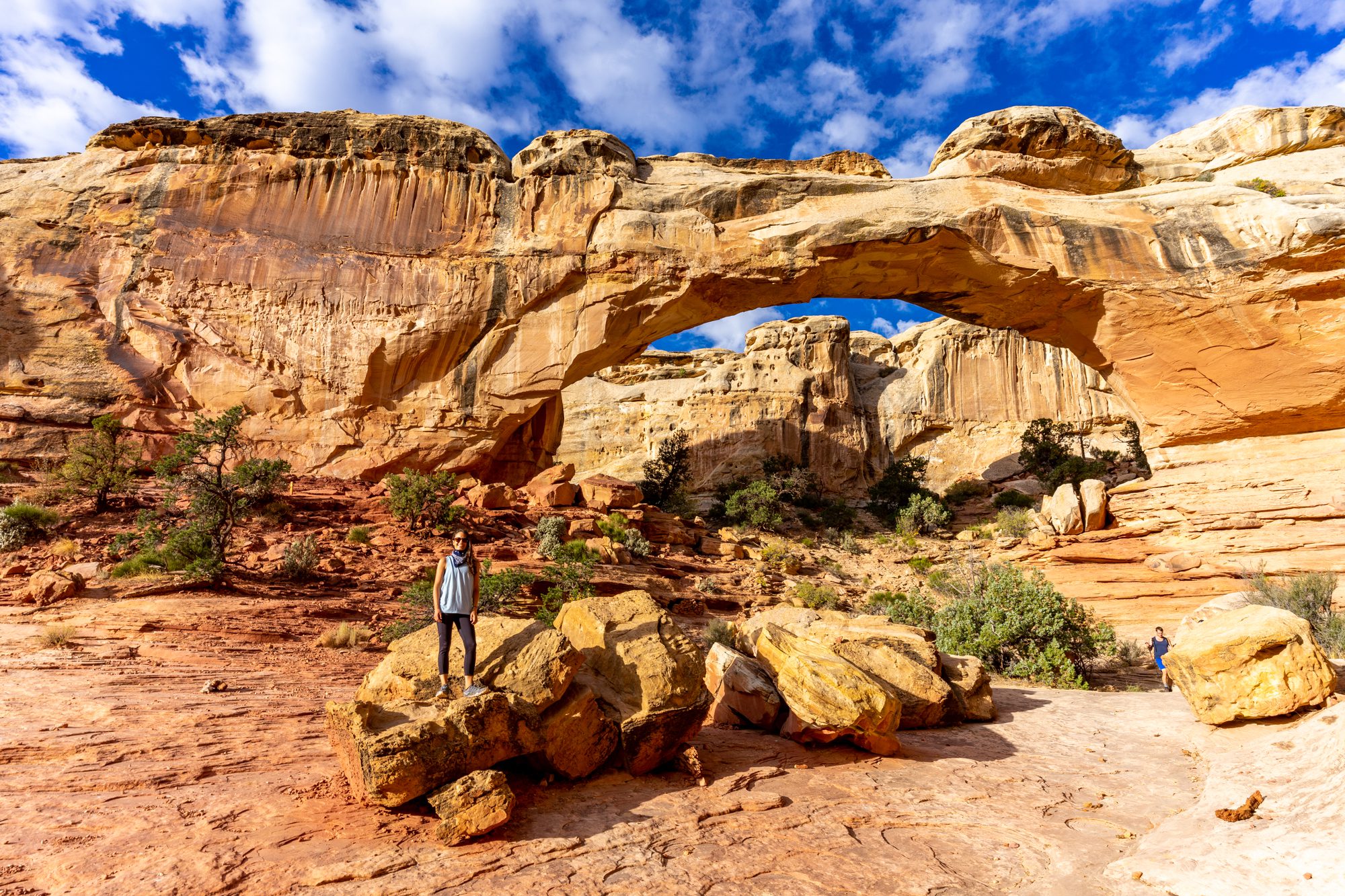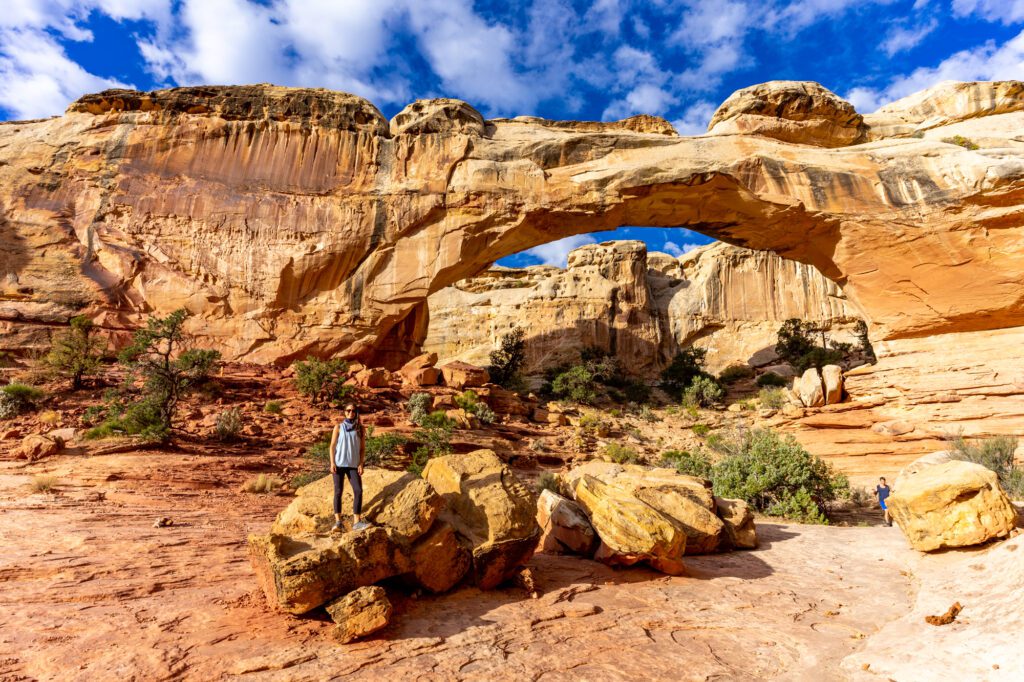 Complete your perfect 24 hours in Capitol Reef with a morning hike to the Hickman Bridge, which is another natural bridge (which is similar to an arch, but slightly different). It's a short one mile hike up, and it's another spot where the trail actually takes you up and through the arch, which is pretty cool.
Now, it's time to end on a high note (I mean that literally and metaphorically). From the Hickman Bridge, it's another 2 miles to the Rim Overlook, which is an incredible hike that takes you to a high point on the canyon walls and looks over the entire valley. It was one of our favorite spots not only in Capitol Reef, but on our entire Utah road trip. Well worth the effort.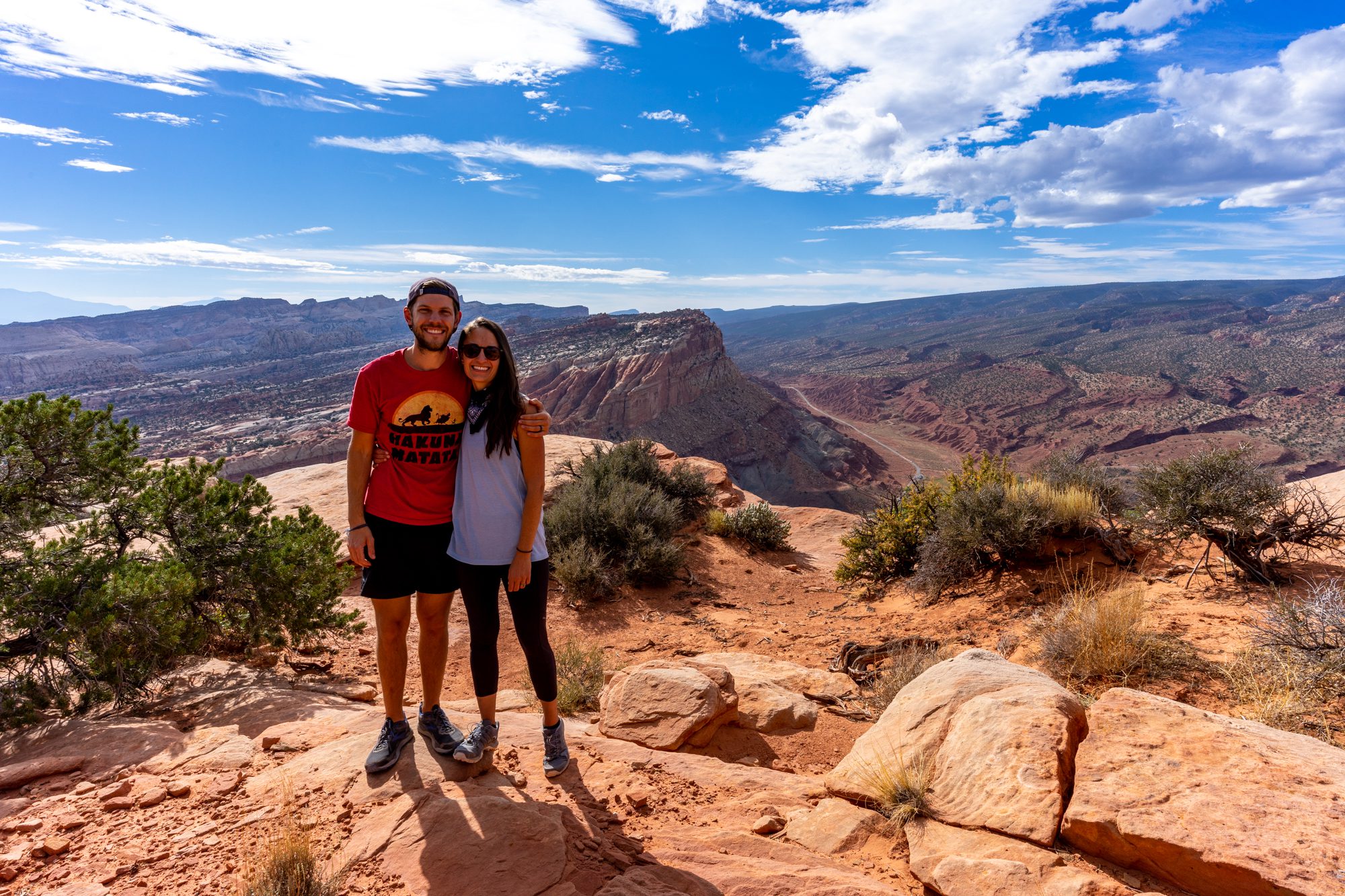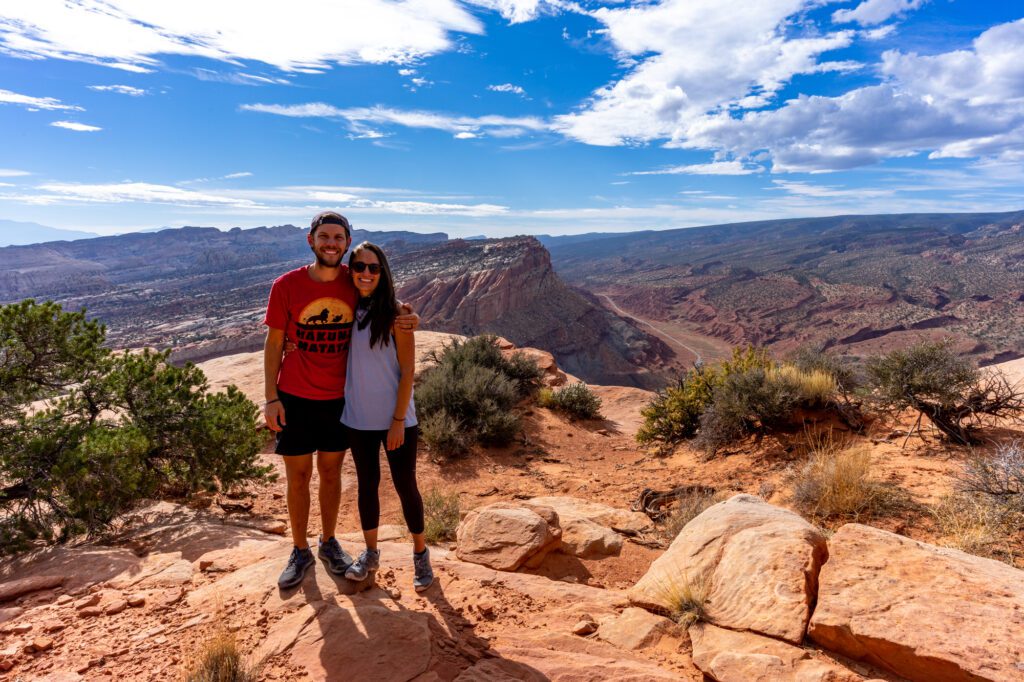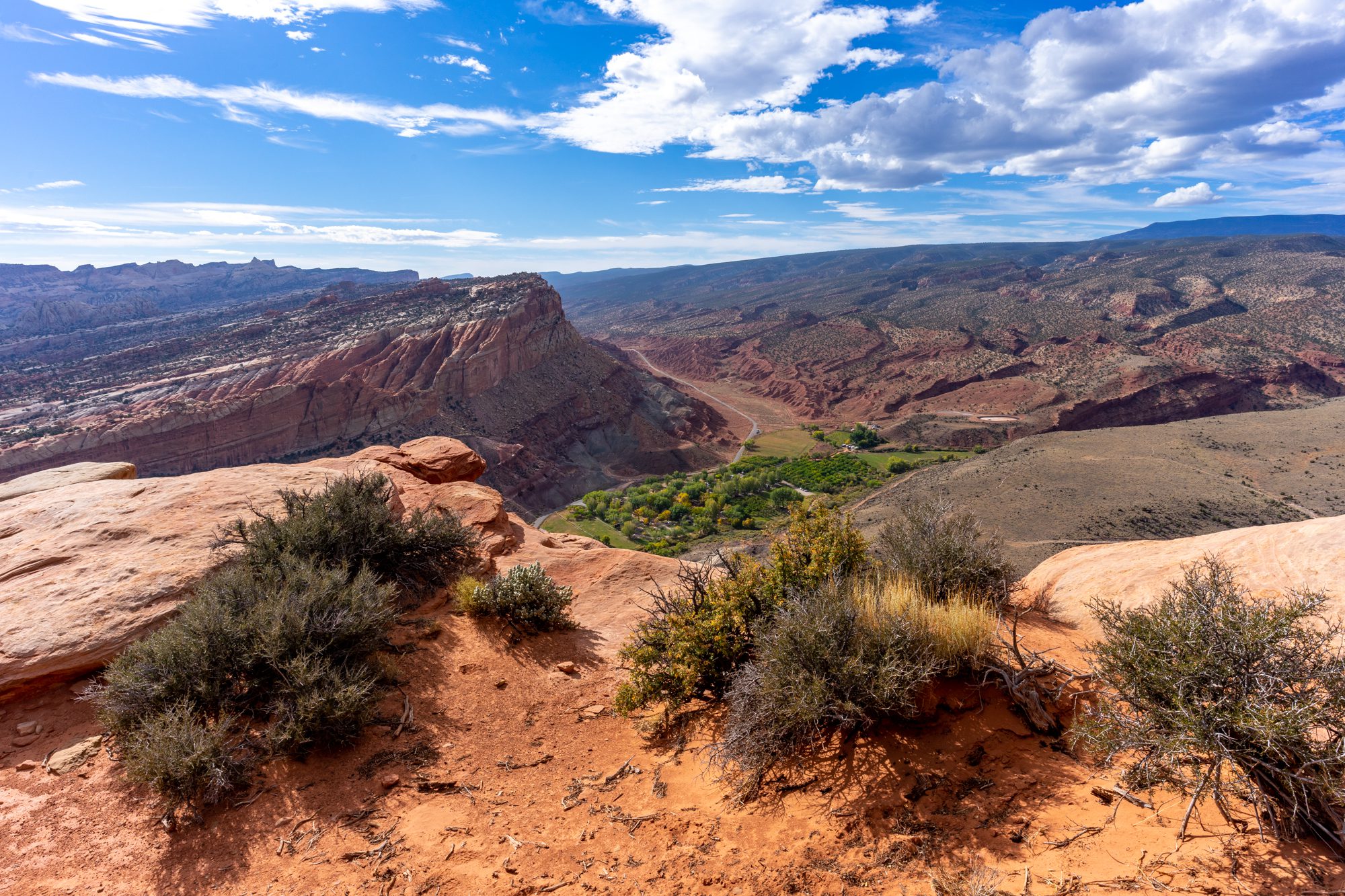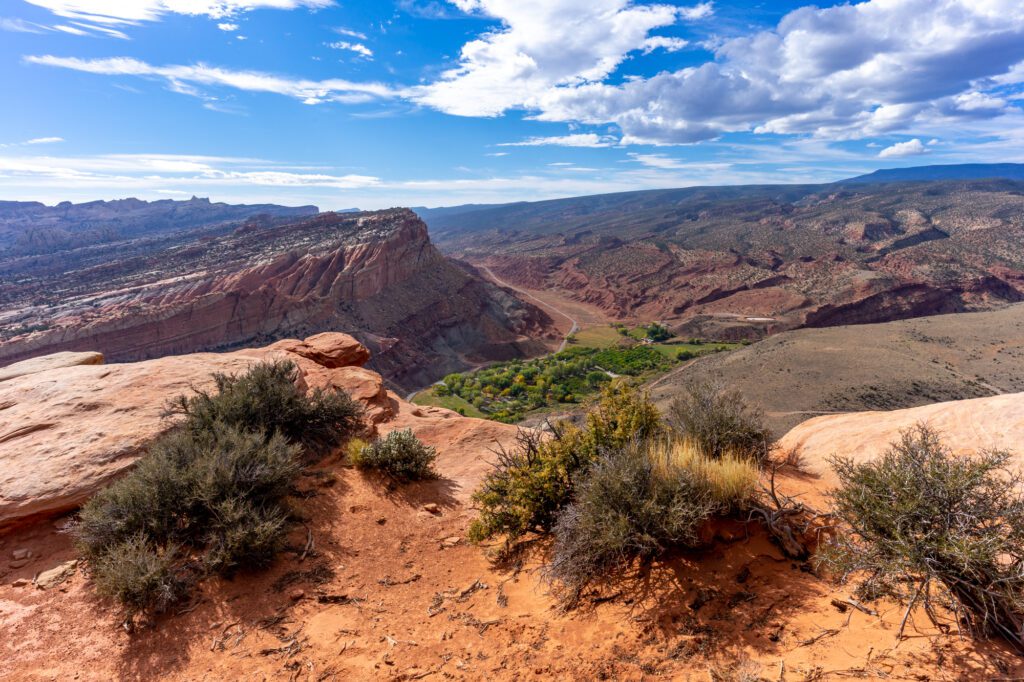 All-in, it's going to be between 5 and 6 miles, with a moderate elevation gain of about 1,000 feet.
Fruita and the Barn
Post-hike, Head to Fruita and hit the Gifford House for a fresh baked fruit pie as a reward for finishing the morning hike. They don't have gluten free options, so we ended up skipping the actual pies, but the historic Gifford House is worth a stop regardless.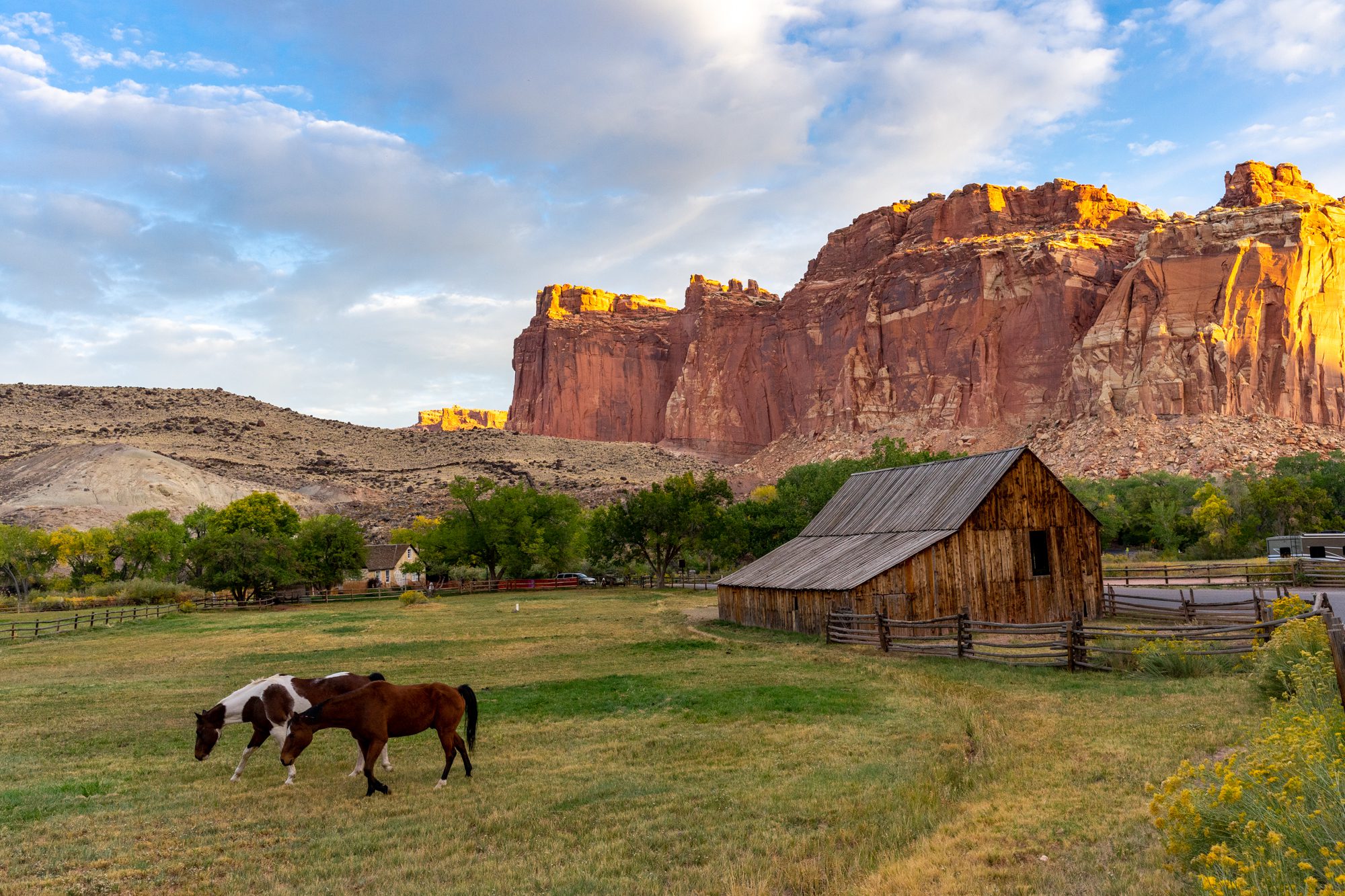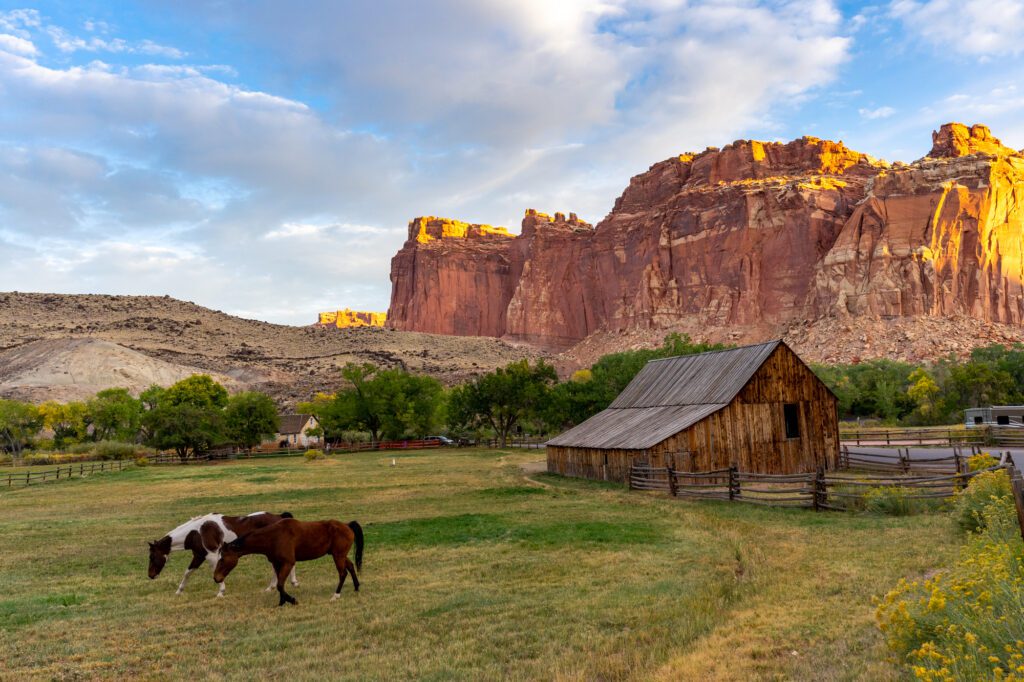 It's a good representation of the original Mormon Settlement in Fruita Valley, though it has definitely been updated and renovated since it was built in 1908. Grab a mini pie and take it out to the picnic area outside.
Don't miss walking up the road towards the campsite to get a picture of the Fruita Barn with the red rocks in the background – I love the contrast between the dry red rock canyon, and the lush field (with horses, if you're lucky) where the barn stands. Super unique.
Drive to Bryce Canyon
This is going to be another two and a half hour drive, but we highly recommend you take the southern route through Boulder and Grand Staircase Escalante National Monument and make a stop along the way to stretch your legs and take in a beautiful oasis in the middle of the desert.
Drive time: Two and a half hours / 120 miles
Upper Calf Creek Falls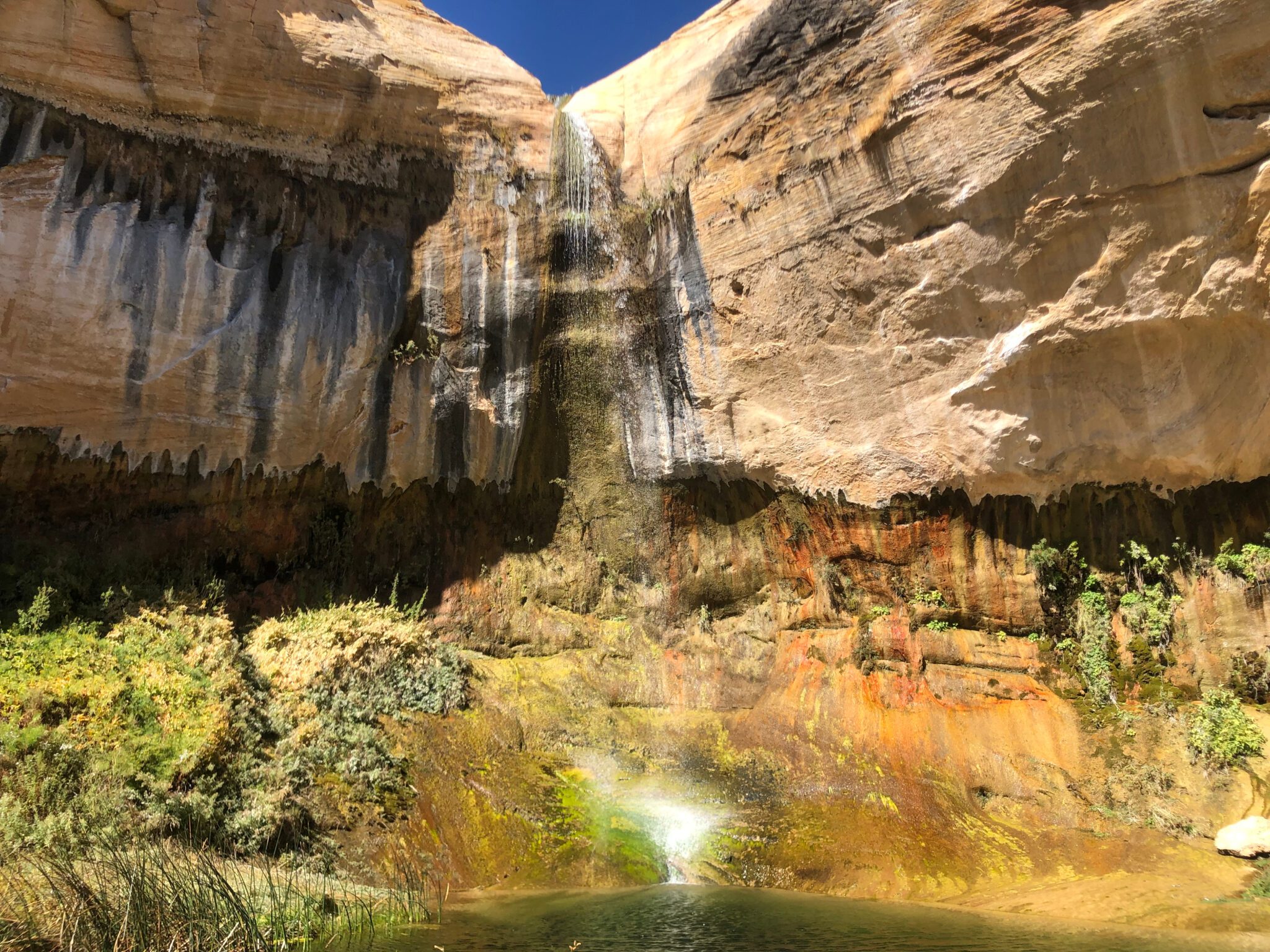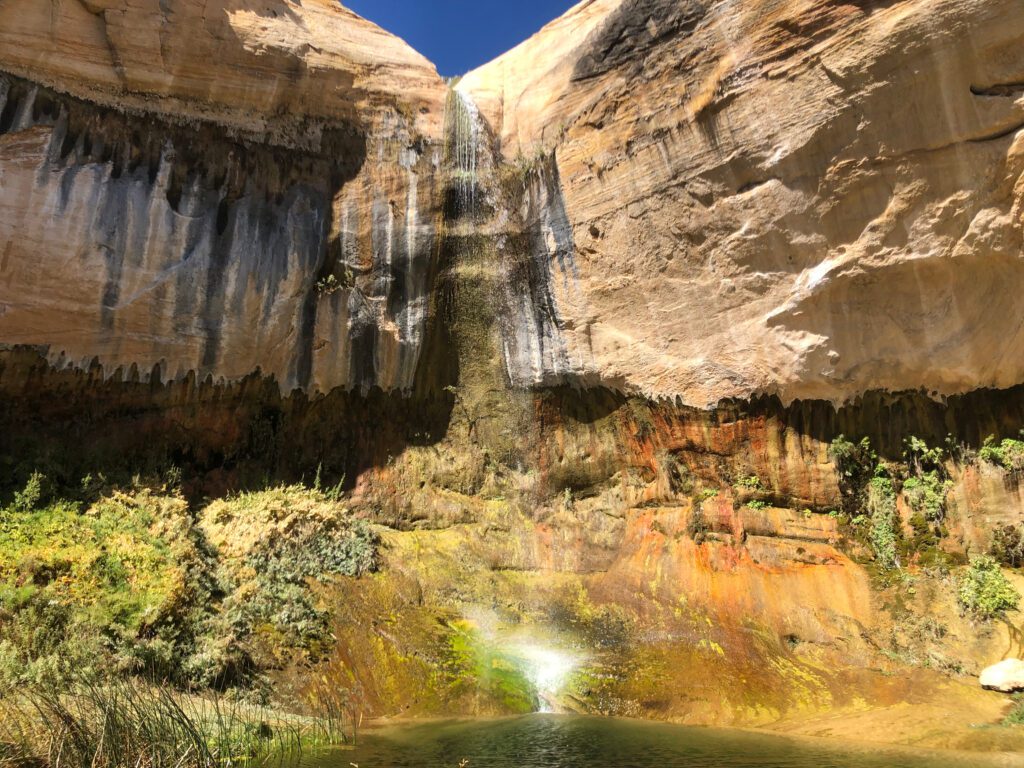 There are two parts of Calf Creek Falls – the lower falls and the upper falls. Since you've already gotten six miles in today, we're going to assume you're probably not up for the eight miles to Lower Calf Creek Falls, which is the better of the two in our opinion. If you have more time in Utah, this is probably the first stop we'd add.
However, the hike to Upper Calf Creek Falls is also worth a visit. It's much shorter – just over two miles – with a little bit of climbing to reach a clear pool with a trickling waterfall, at least in the summer and fall. Even if it's not a rip-roaring waterfall, it's still an impressive oasis in what feels like the middle of the desert.
Where to Stay in Bryce Canyon National Park
There's exactly one place to stay in the park (plus two campgrounds – scroll down to read about those) – the Bryce Canyon Lodge. The location is great, but it's going to be expensive and it's a little dated. That being said, it's a solid choice if you want to stay in the park and aren't on board for camping.
Staying Outside the Park
If you're looking for more options, you'll need to look outside the park to the towns of Bryce and Tropic.
The best place to stay to be close to the park is in the town of Bryce. It's as close as it gets to the entrance of the park, and you've got a few options. Unfortunately, the selection isn't great.
The Best Western Plus Canyon Grand is, by far, the best place to stay. I know what you're thinking – "really Matt? Best Western? That doesn't seem like you." I hear you, believe me. I had the same reaction. But this is a NICE Best Western.
Tropic, Utah is another place you could stay, and it's about 15-20 minutes outside the park entrance, which means it's about 30 minutes from Sunrise Point, which is where you'll start the next morning. Generally, Tropic is going to be the cheaper option between the two, but also the less convenient option.
Camping in and Around Bryce Canyon
There are two campgrounds inside the park.
Sunset Campground is the bigger of the two, and is the only one that takes reservations. You'll need to book well in advance, or be prepared to check the availability daily for a cancellation, which is how we ended up getting a spot for a night. The location is great, right across from Sunset Point, which will mean you can walk over and skip dealing with the parking nightmare that is that parking lot in the morning. Oh yeah, and the bathrooms are heated, which I've never encountered before at a campground. More information here.
North Campground is basically right on the rim of the amphitheater, which also means that you will be able to leave the car at camp and walk to the two best hikes in the Bryce Canyon National Park (more on that in a second). There are 99 sites, and they're all first come, first served. In the high season, the sites will be gone by 8am, so if you want to snag one you'll need to show up early. More information here.
The best option for camping (and RV sites) outside the park is Ruby's RV Park and Campground, which is where we stayed for the rest of our time in Bryce Canyon because we couldn't get a reservation in the park.
Day 6: Bryce Canyon National Park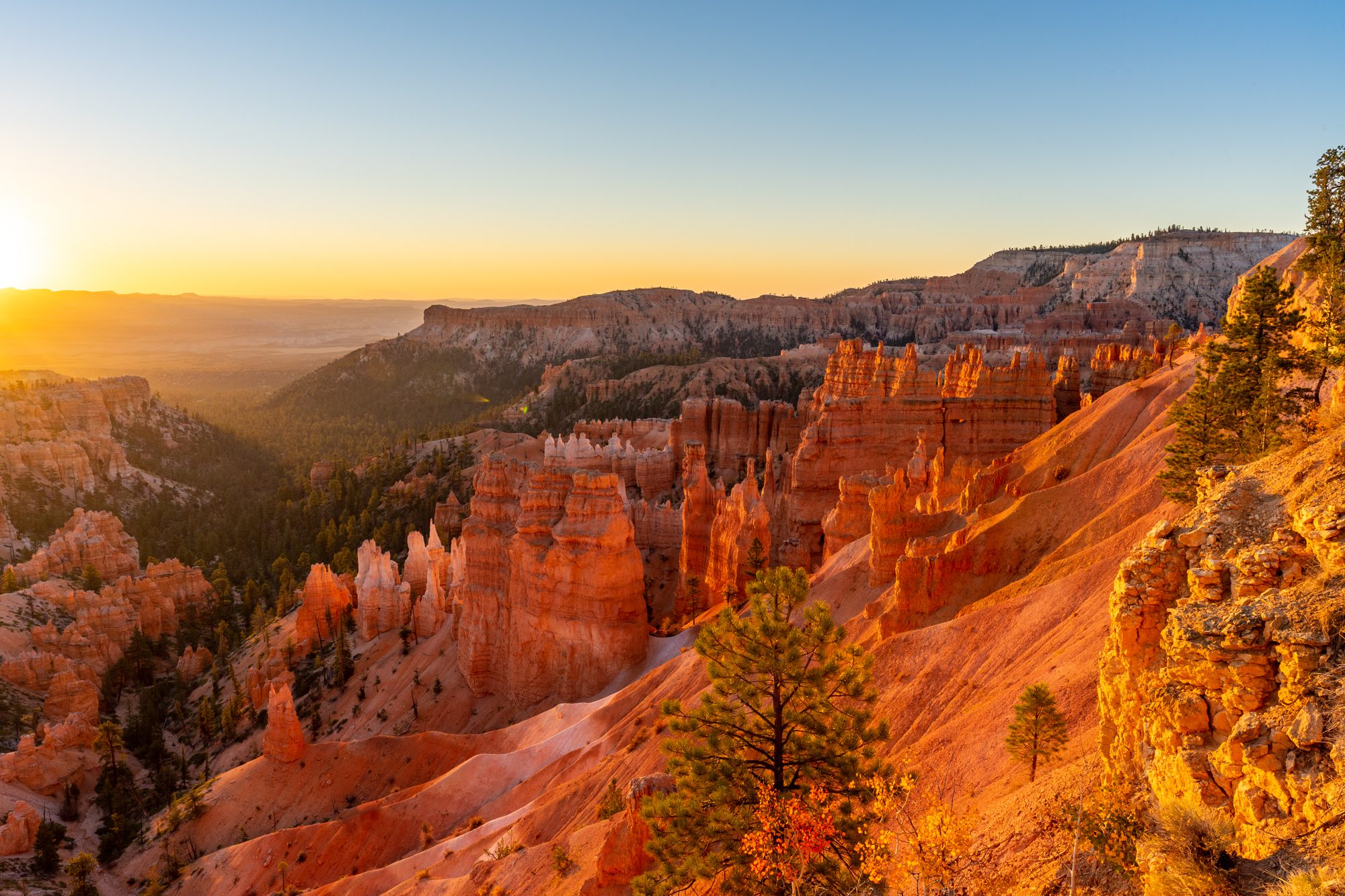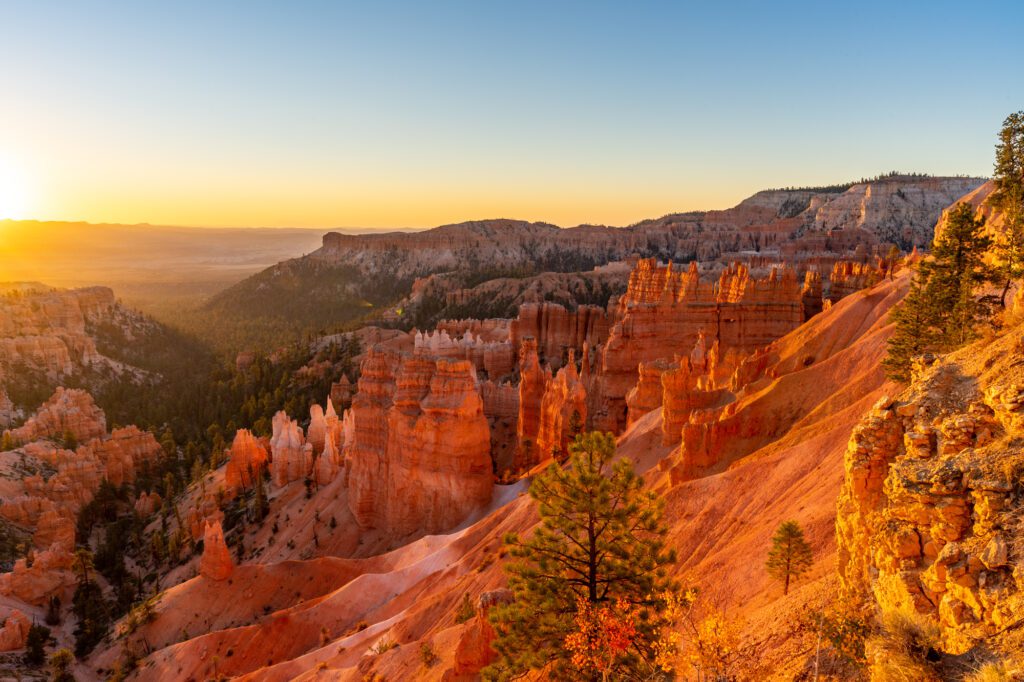 We spent two and a half days in Bryce Canyon, and I didn't quite realize just how compact this national park is. Unlike places like Yellowstone and Yosemite, where you can literally drive for hours and still not leave the park, there's essentially one 19 mile road that makes up the entirety of Bryce Canyon National Park.
Bryce Canyon really isn't that big, so we think that a day and a half is enough to see the highlights.
For that reason, if you're time constrained and only have ten days, I'd only spend one day in Bryce Canyon National Park, plus a portion of the next morning before driving to Zion.
If you've got more than 10 days, this is the first place I'd add time (an extra day would be perfect).
One thing you should know for Bryce that I didn't know before my trip: the best light for photos is in the morning.
In the afternoon, the sun is on the opposite side of the canyon from most of the interesting stuff, which leads to long shadows that really mess with your pictures because of the extremes of light and dark in the photo.
In the morning, the sun lights up the hoodoos and other formations, making them that much more spectacular.
Sunrise at … Sunrise Point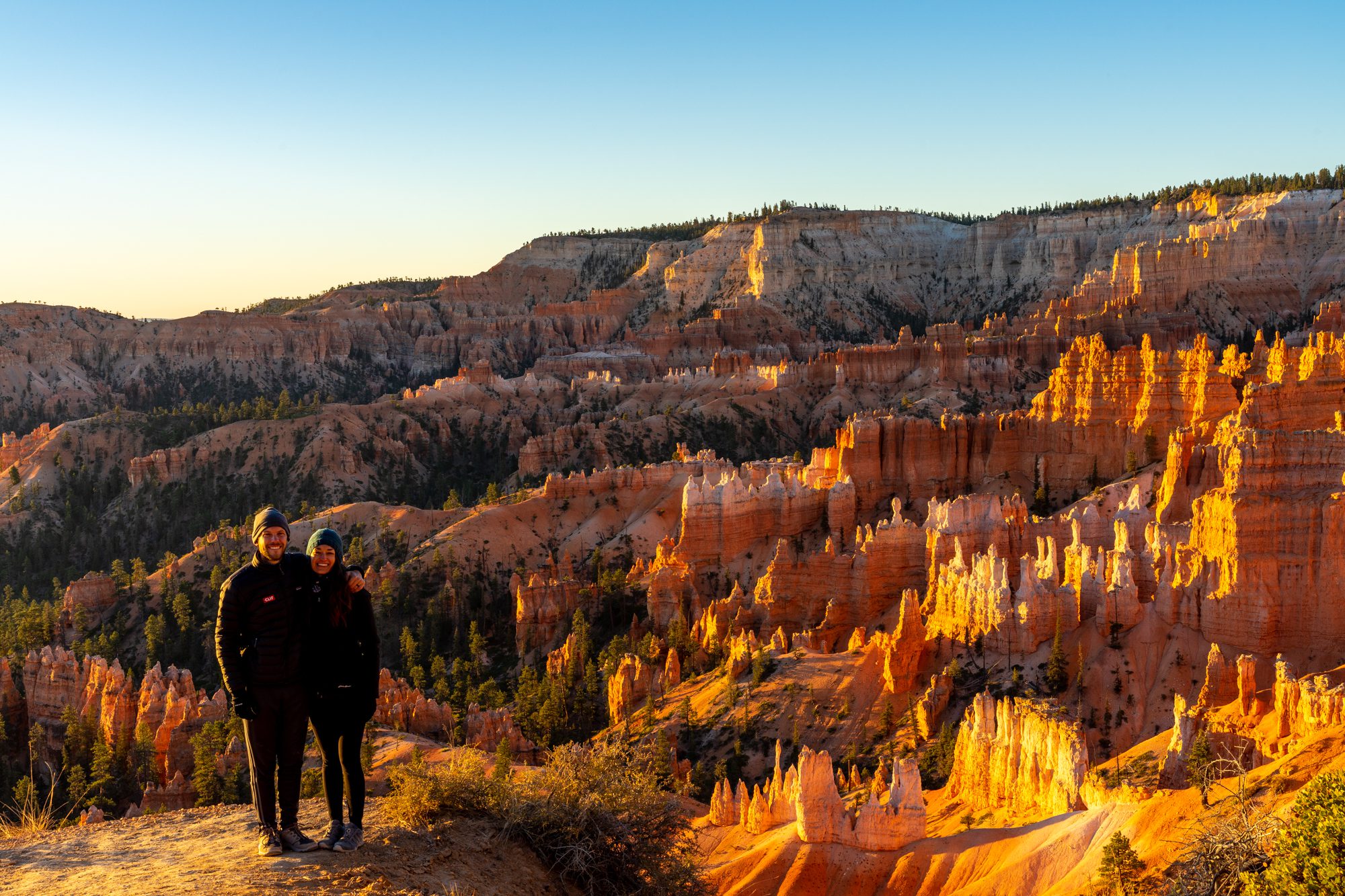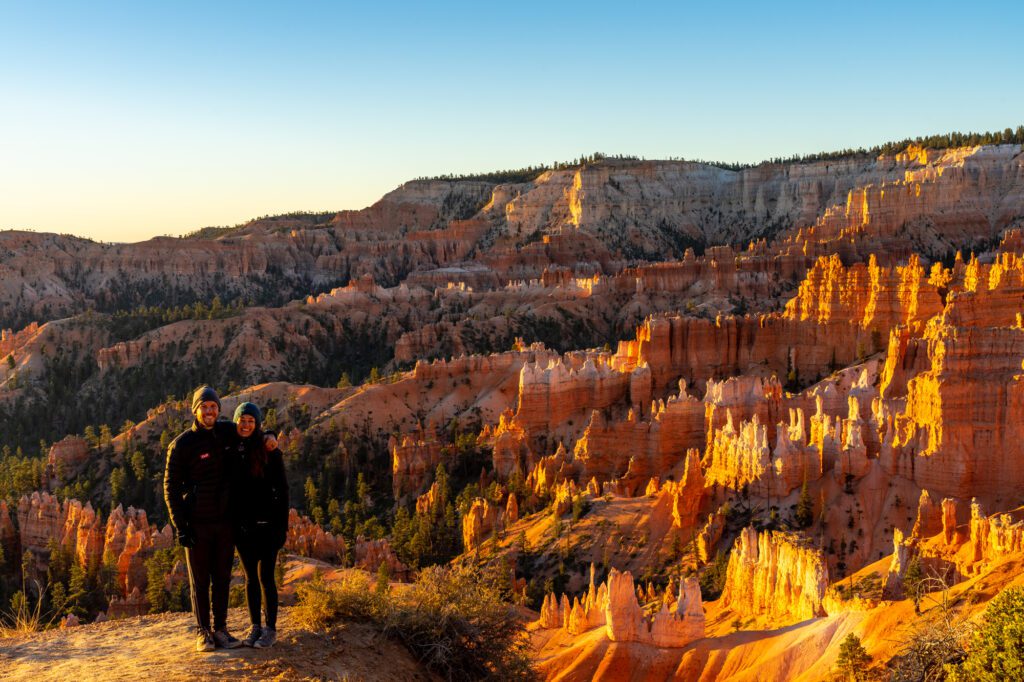 Start your time in Bryce Canyon with sunrise at Sunrise Point. This is a popular spot, so get there early.
You'll have views of the hoodoos to your right, which is the direction you want to be facing, and the horizon on the left, which is where the sun will come up. Again, it bears repeating, make sure to watch the rising sun light up the hoodoos – most people will be looking at the horizon to watch the sunrise, which would be a mistake!
As the sun comes up, it brings out all the different hues of the hoodoos, making for some spectacular photos.
Sunset Point and Thor's Hammer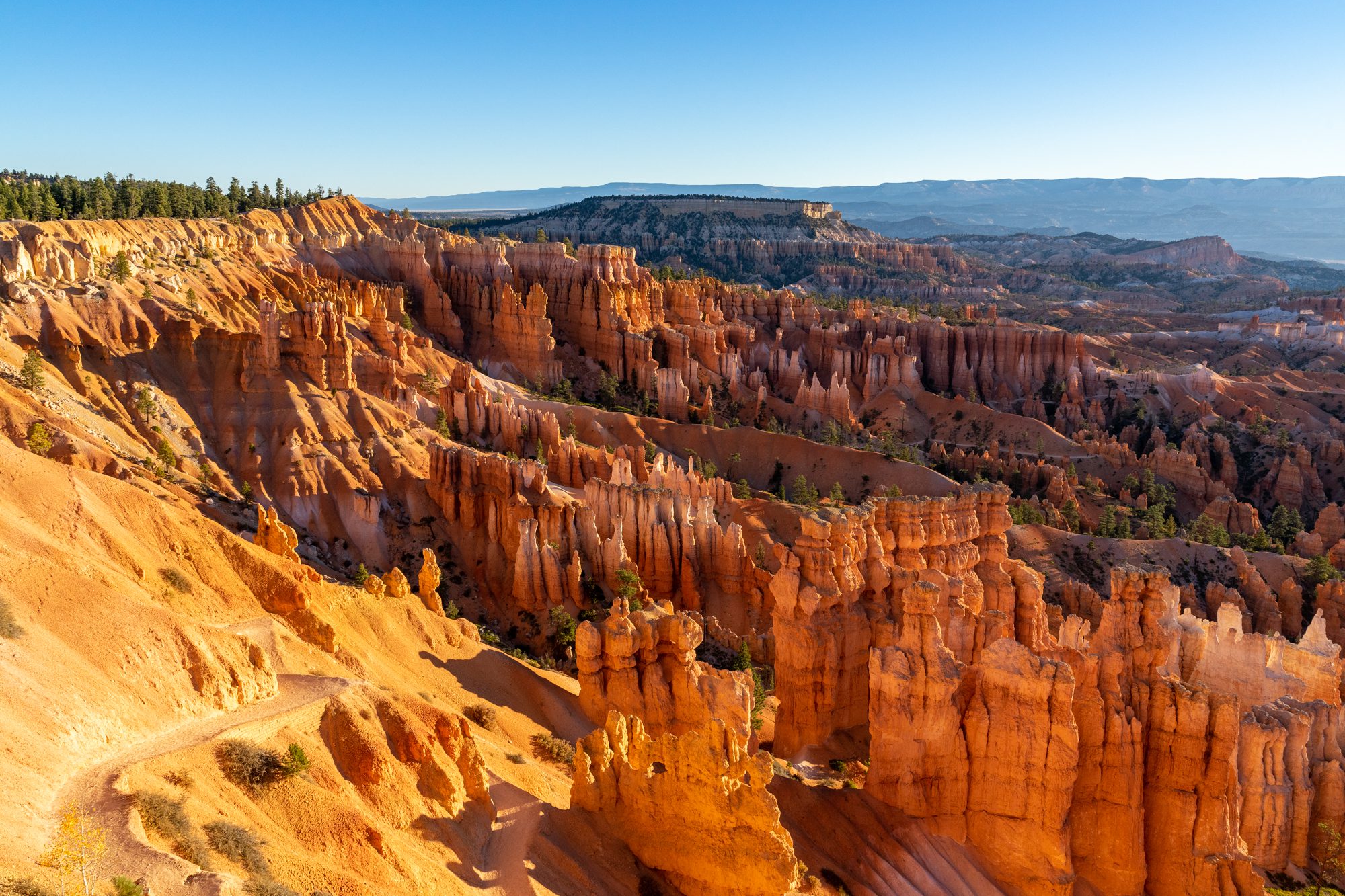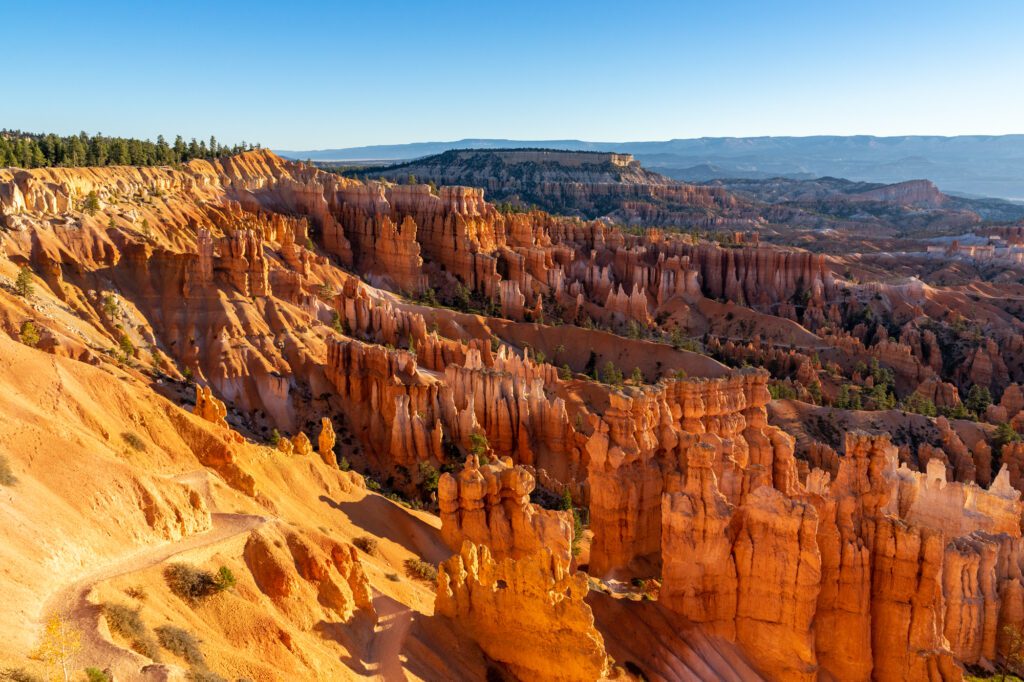 Next, walk along the rim to Sunset Point, which is another good viewpoint to see the hoodoos from a slightly different angle.
Hike down a little ways to get a good view of Thor's Hammer, a unique rock formation that looks like the Marvel hero's signature hammer.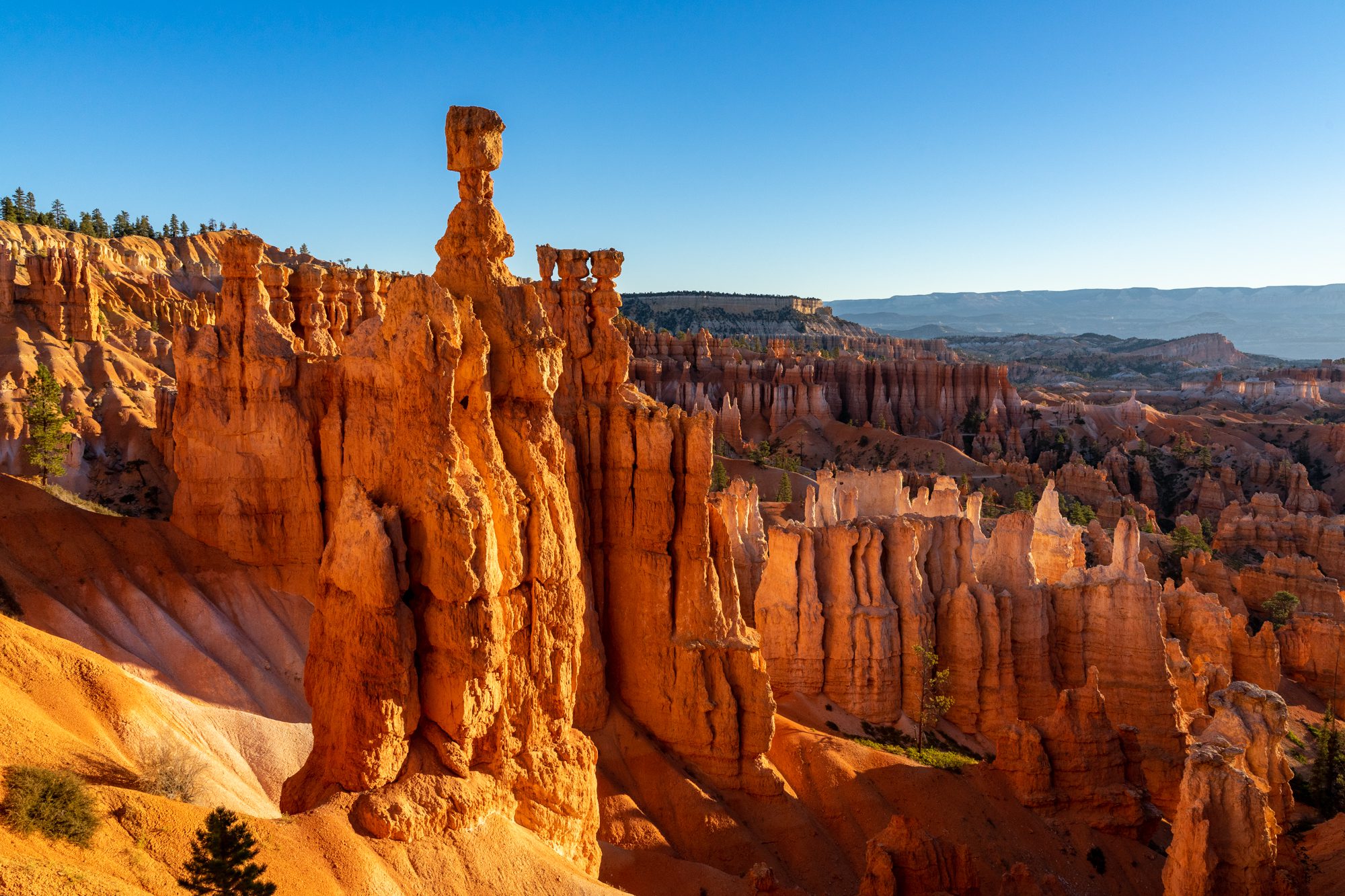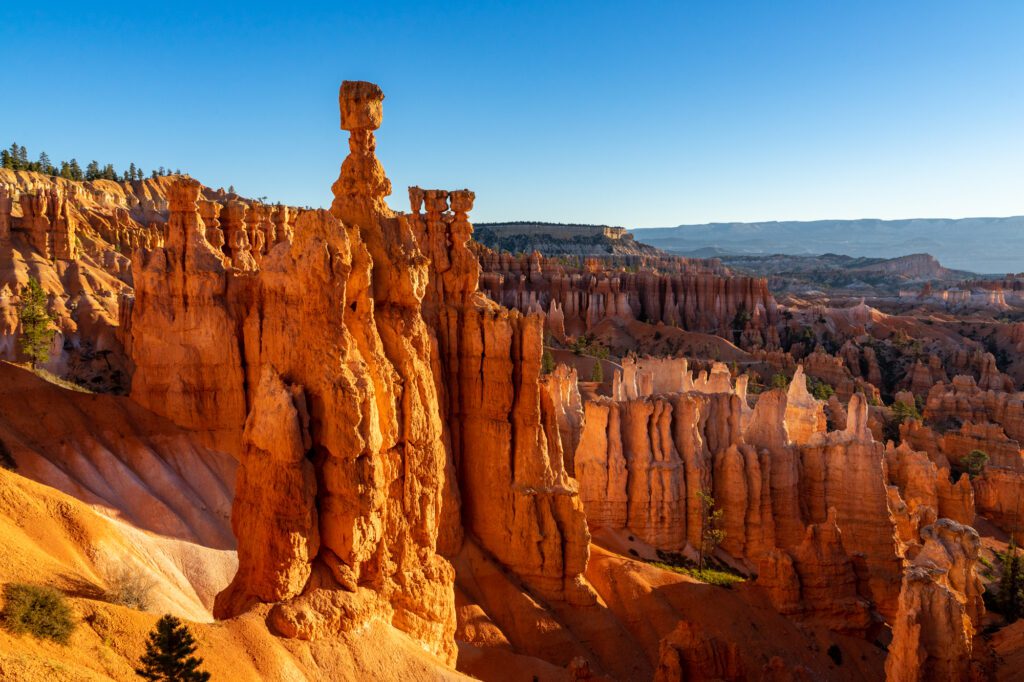 Hike the "Figure 8" Loop
After you've taken ALL the photos, you should embark on our favorite hike in Bryce Canyon – the Queen's Garden / Navajo / Peek-a-boo Loop, which we'll call the "Figure 8" loop because it sounds cooler and is less of a mouthful.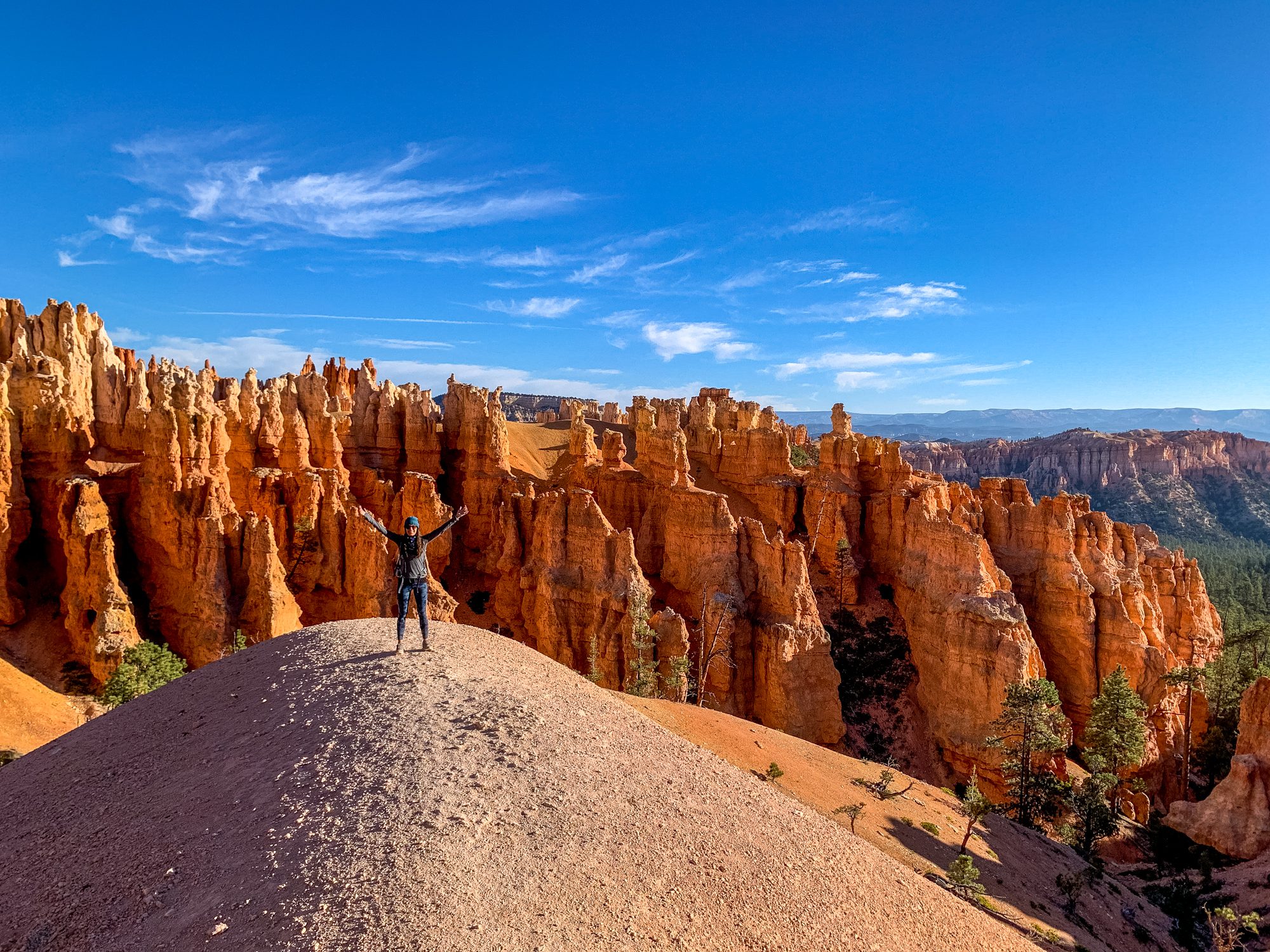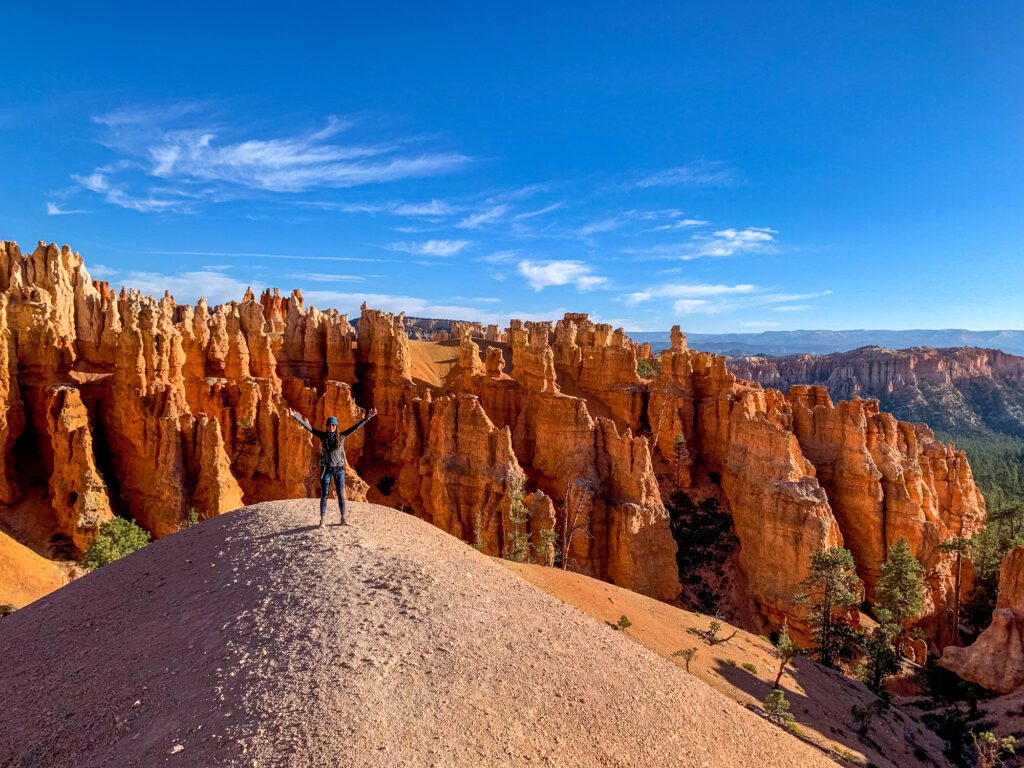 It's a six mile hike with 1,500 feet of elevation gain. You'll start at Sunset Point and end along the rim near Sunrise Point.
Make sure you're fueled up with coffee and breakfast before heading out. To really take in the beauty and scale of Bryce Canyon, you HAVE to get below the rim. This hike takes you through canyons, between hoodoos, and to viewpoints with sweeping views of the magnificence of this park.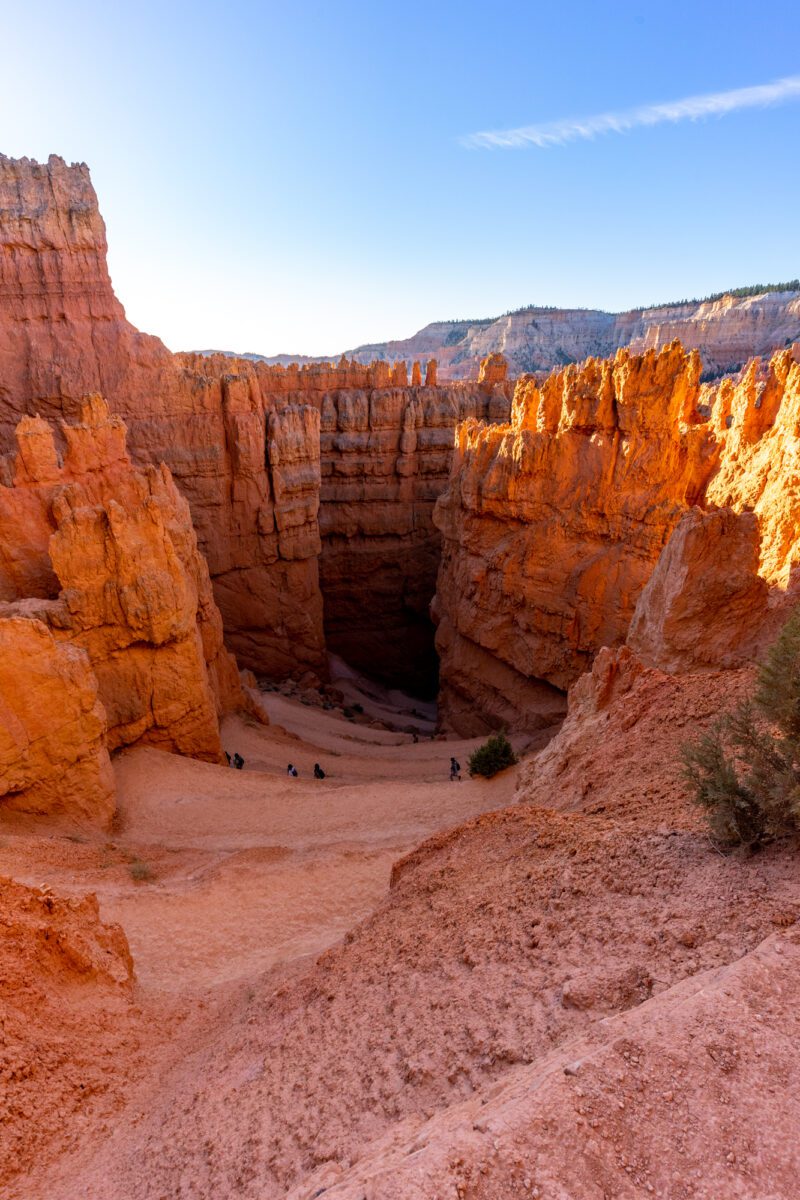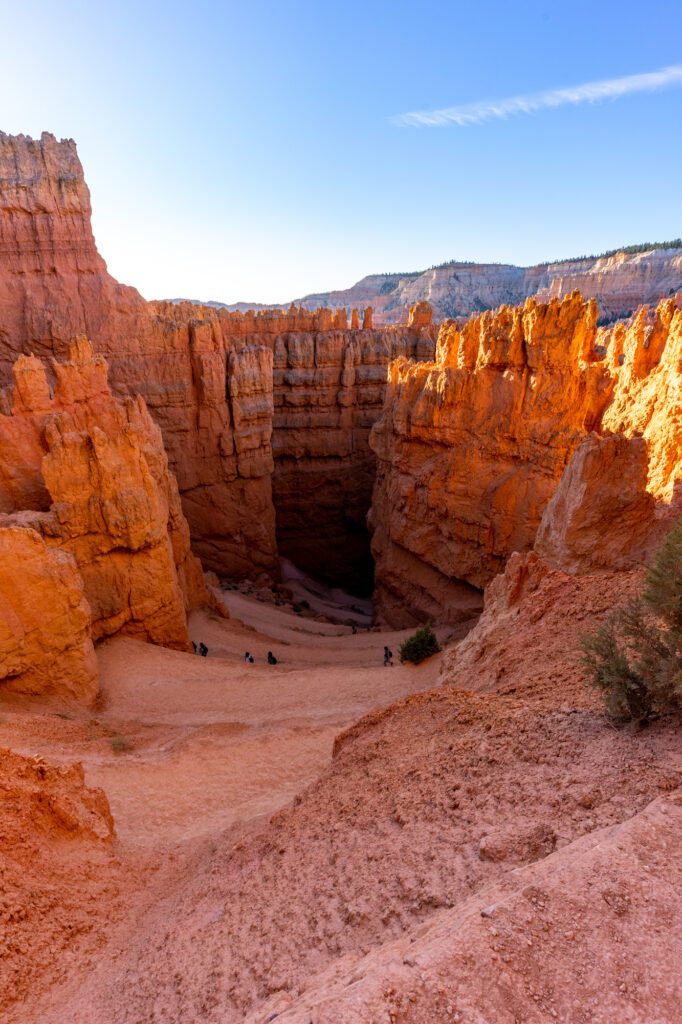 You'll start by descending Wall Street – a set of (very photogenic) steep switchbacks that take you down, down, down into the canyon. Try to get started early, because this spot gets very, very congested.
You'll wander through the canyon for a bit before you reach a junction – veer right to tackle the peek-a-boo loop, ending back at the exact point you veered right. From there, you'll climb back up to the rim of the canyon via the Queens Garden trail, which is not an easy hike, especially if it's hot, but it's totally doable for most people.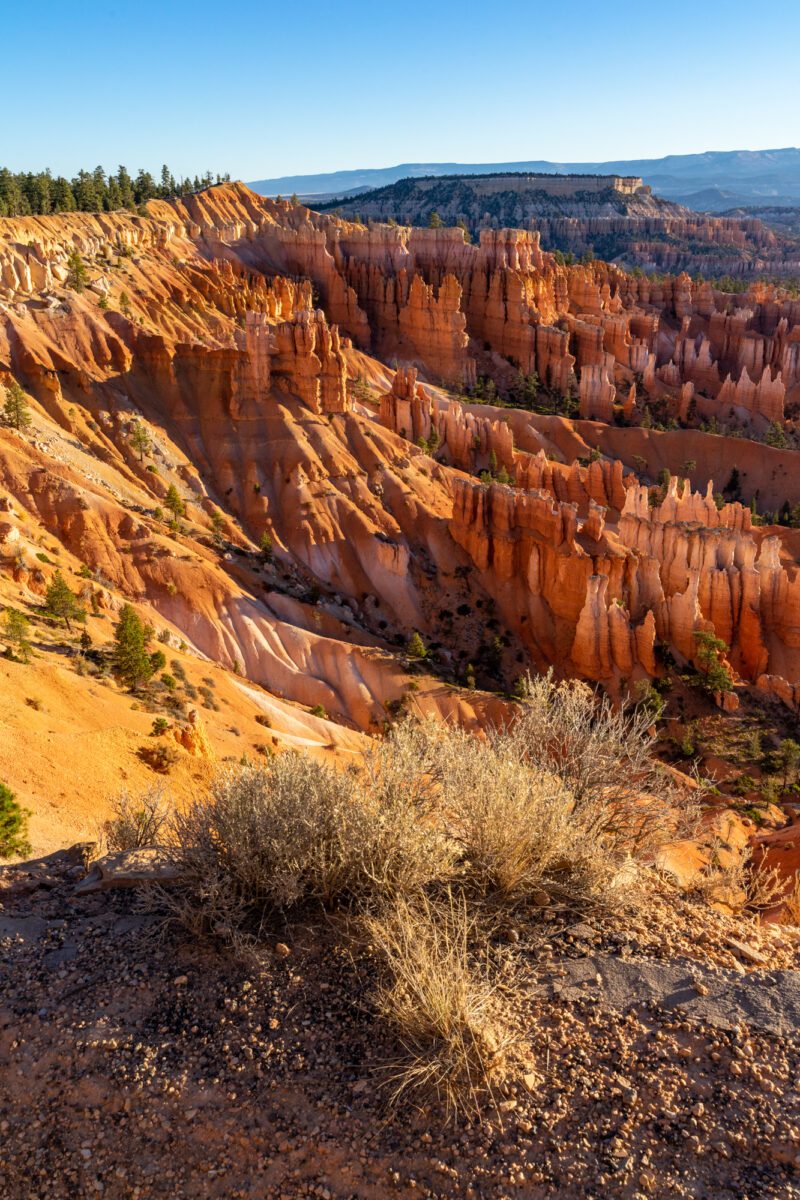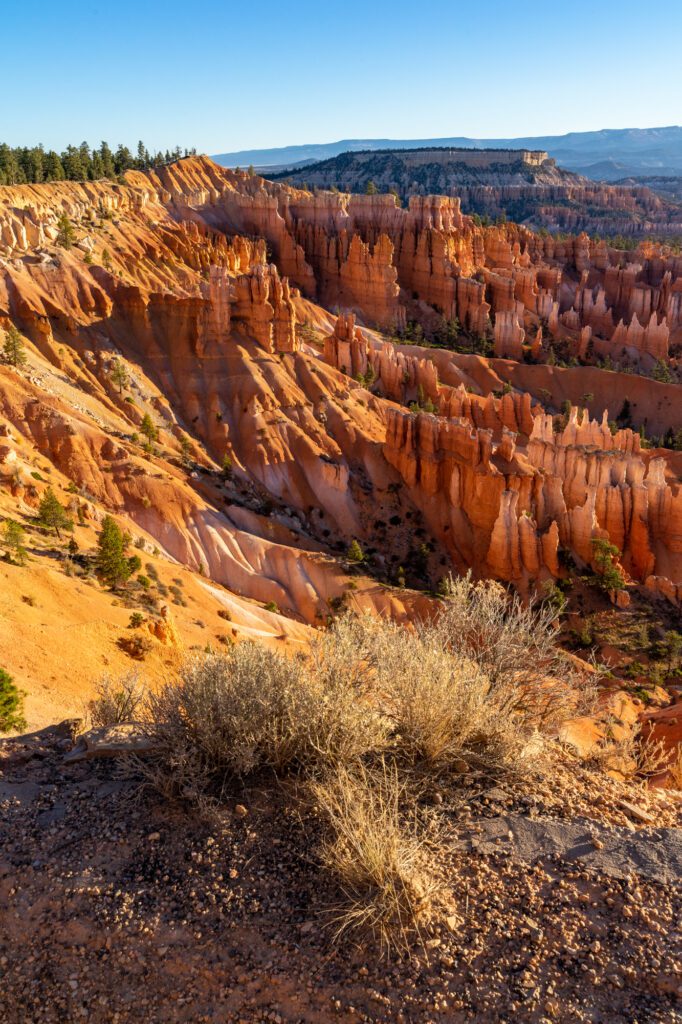 After the hike, take a break from being in the sun and eat some lunch to refuel, either a picnic lunch, or at the Bryce Canyon Lodge are your best options.
Scenic Drive
End your day in Bryce Canyon with a drive along the 19-mile scenic drive to the end of the road.
Make sure to check out Natural Bridge and Bryce Point, our two favorite stops, and stop at any viewpoints along the way that catch your eye. You'll want to start this drive at least two hours before sunset, before the sun drops behind the canyon wall and takes all the color out of the hoodoos for the night.
Day 7: AM in Bryce + Drive to Zion National Park
Today, stretch your legs with a short-but-sweet hike near Bryce, then hop in the car to head to the grand finale – Zion National Park.
The Mossy Cave Trail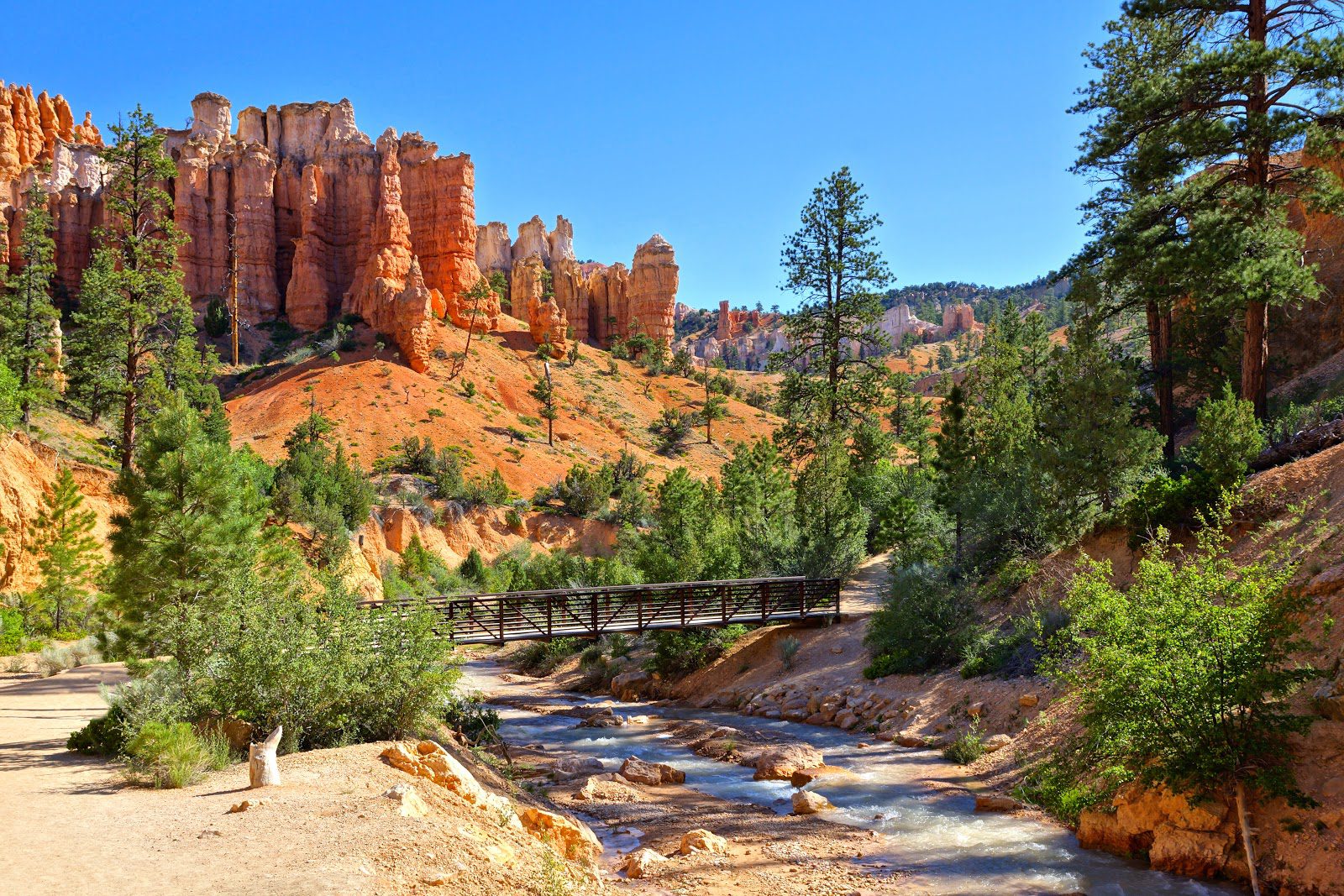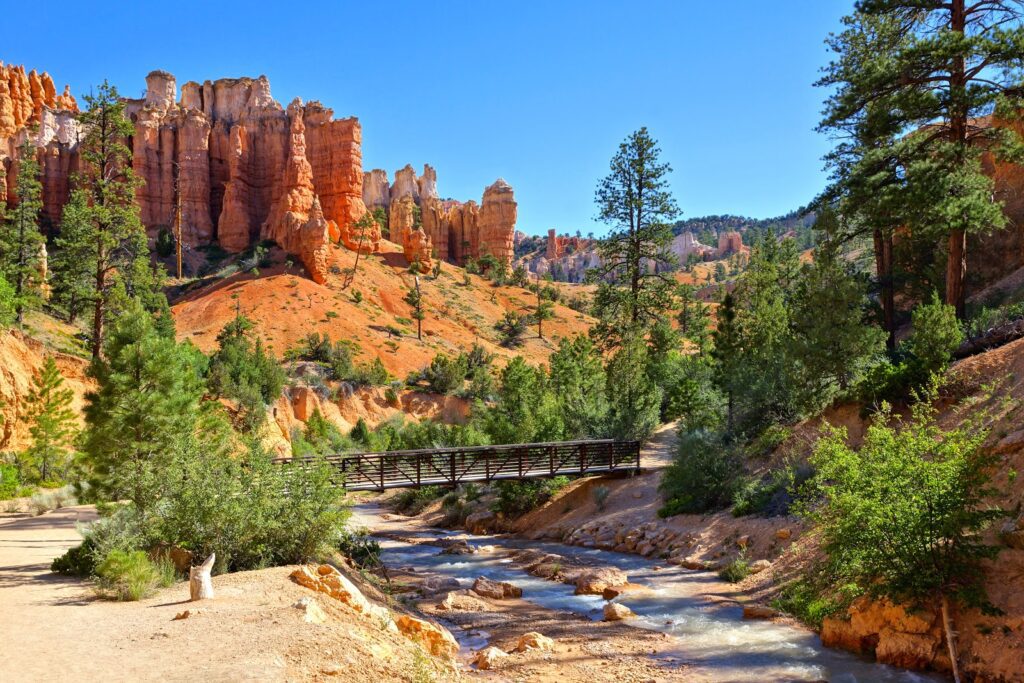 On your way out of Bryce, stop at the Mossy Cave on the outskirts of town to do another quick hike to a cool waterfall before you make your way to Zion. The trailhead is 3.5 miles southeast of Bryce on highway 12.
It's an easy, flat mile long out-and-back walk with a nice payoff, and is a good way to start your day before spending some time in the car enroute to Zion.
The Drive to Zion National Park
The drive between Zion and Bryce is only about two hours, and you'll come in through the east entrance, which is great because there are a bunch of things worth seeing on that side of the park, so you can tackle them as you make your way to the place you're staying for the night, which is likely down in the canyon or in Springdale, which is right outside the main park entrance.
Driving Distance: 2 hours / 86 miles
Note here for RVs and trailers: if your vehicle is higher than 11' 4" or wider than 7' 10", you'll have to pay a $15 "escort fee" to pass through the Zion-Mt Carmel tunnel (which you'll have to do to get into the park from the east) which basically means that a ranger will stop traffic in the tunnel and make it one-way so that you can pass through to avoid accidents. More information can be found here.
Introduction to Zion National Park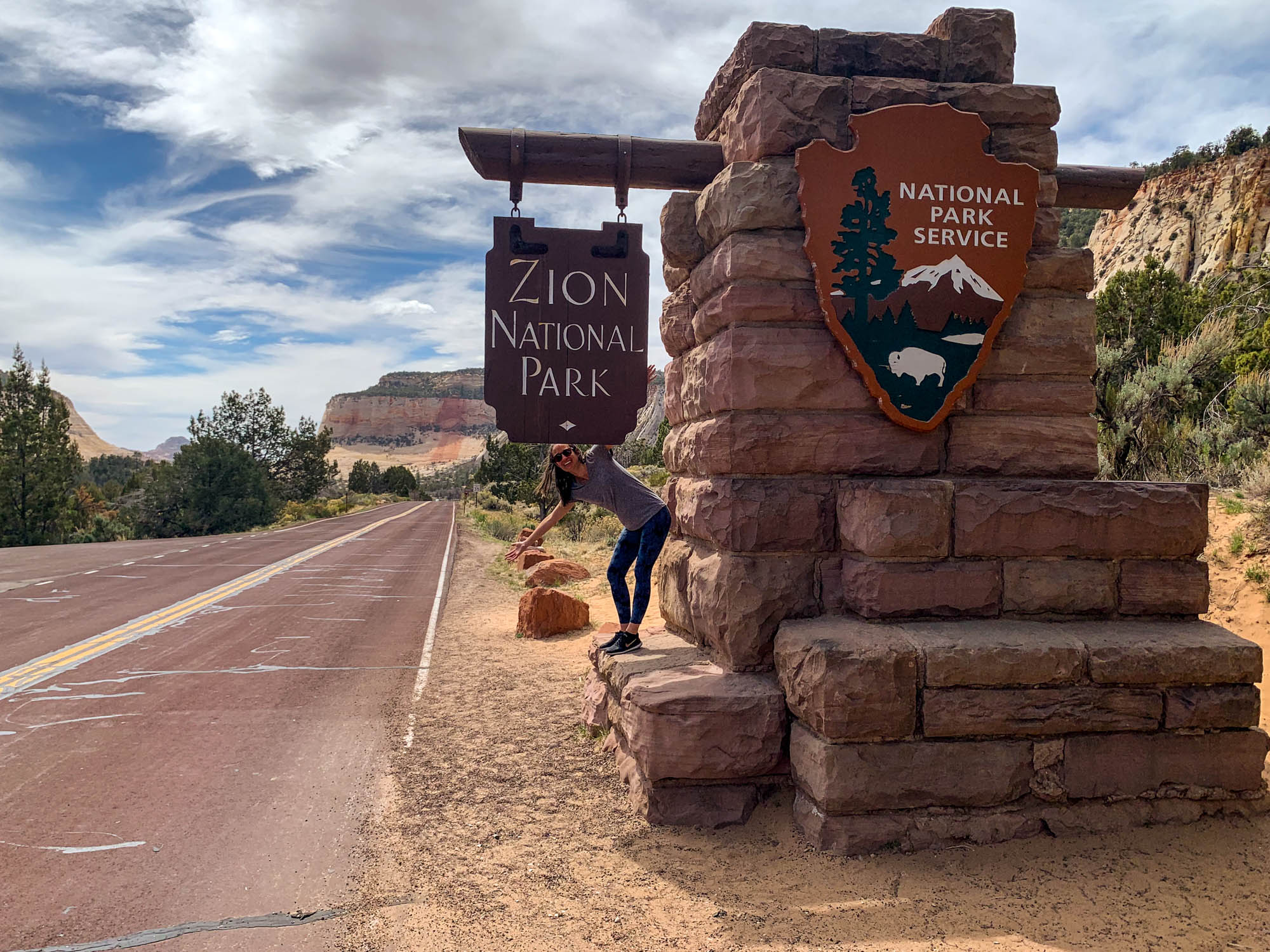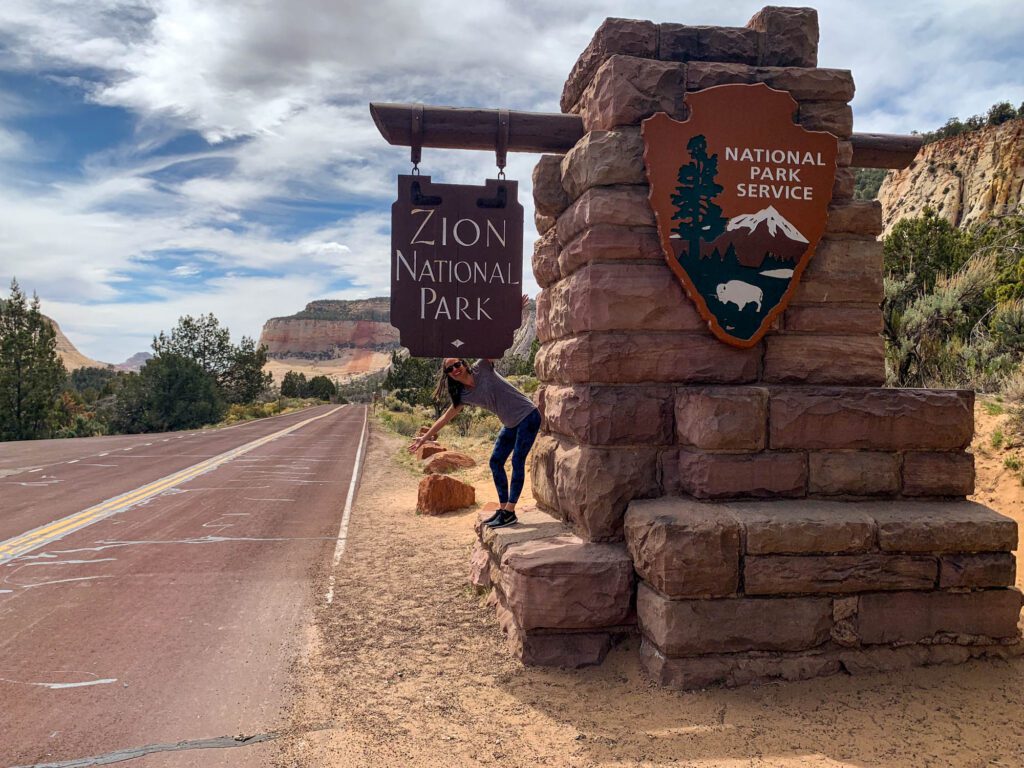 Zion is one of the best national parks in the country, let alone Utah, so you're ending your trip on a high note.
There's tons to do and see, and two days in Zion is not nearly enough time to see all there is to see, but you can get a great taste of the park that will leave you hungry to return and spend more time exploring the canyons, rivers, and hanging gardens that make Zion a special place.
The best thing to do in Zion National Park, by far, is hiking. And there are two iconic hikes in the park that you should tackle – one on each day.
They are the Narrows and Angels Landing – you'll do Angels Landing on Day 1, then the equally-iconic Narrows of the Virgin River on Day 2. In between, there are some great shorter hikes to tackle.
Hike to Observation Point via the East Mesa Trail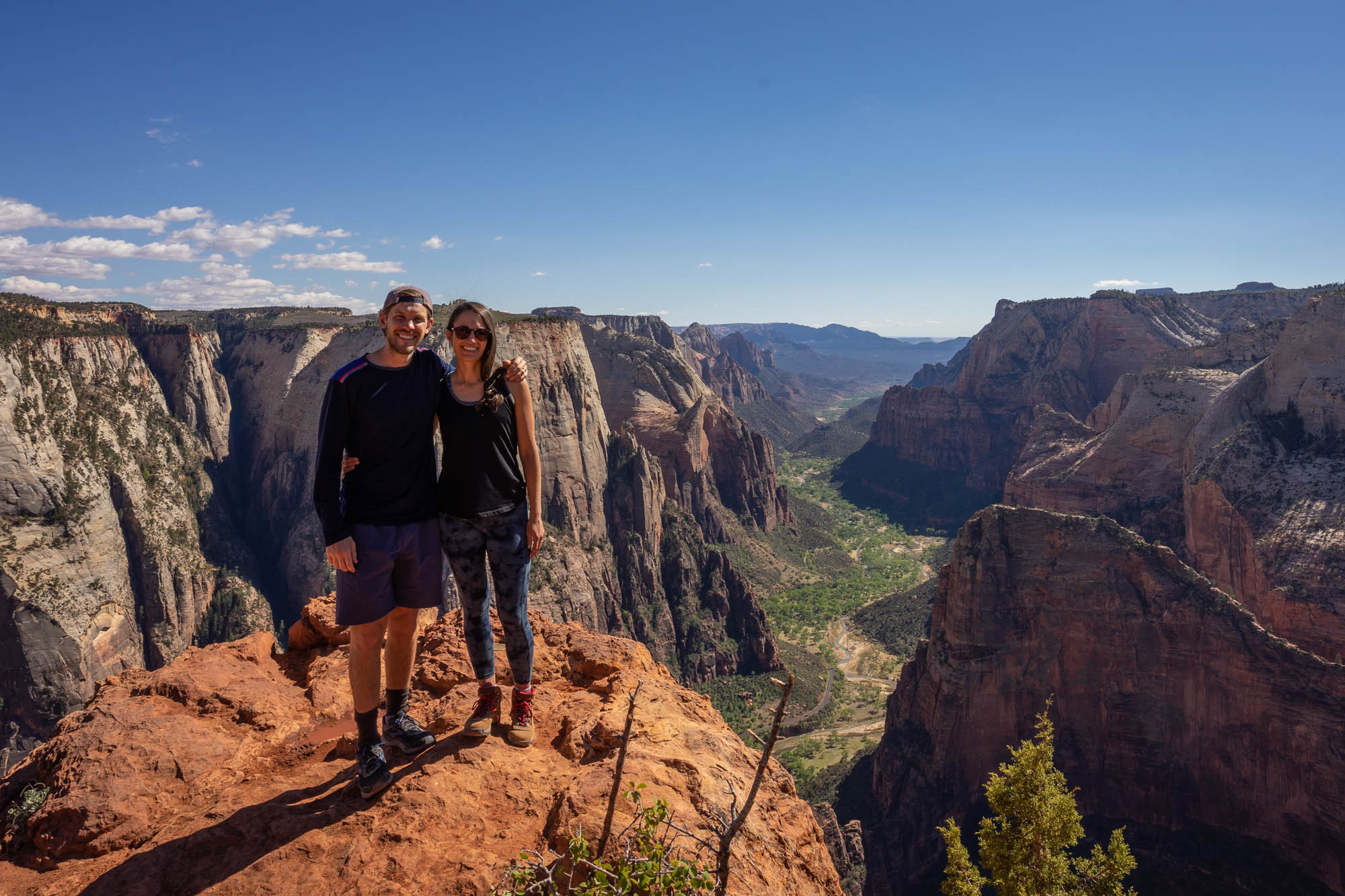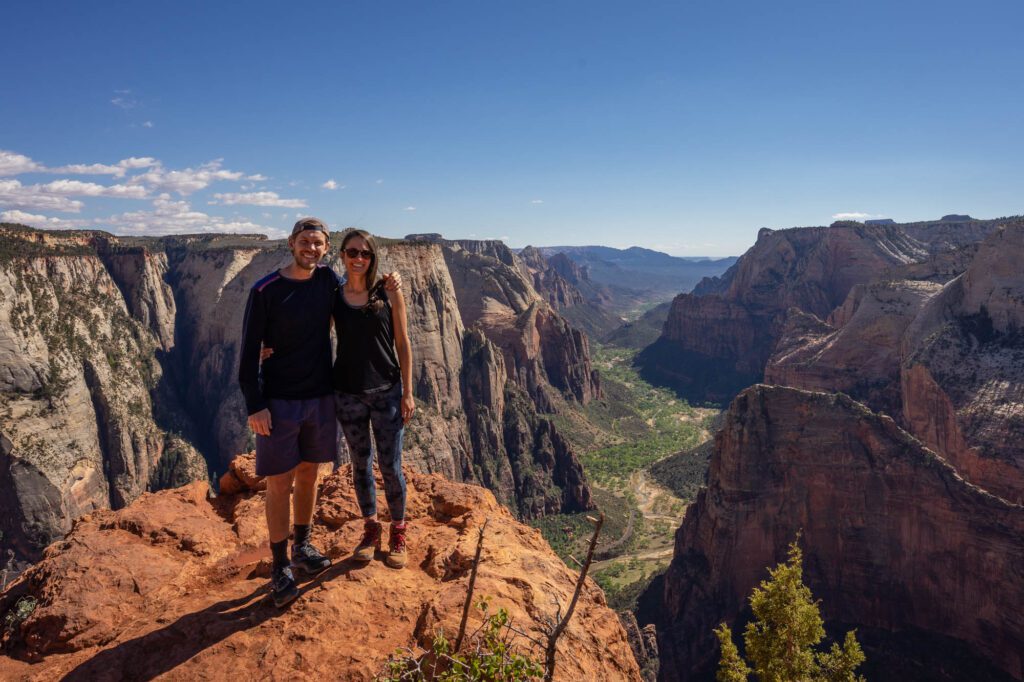 We discovered a secret on our latest trip to Zion. Did you know the best view of the park isn't actually from the top of Angels Landing? Though the effort and harrowing journey it takes to get to the top of that particular hike might make it feel like you're on top of the world.
But we think the best view of the canyon is from Observation Point. You'll be above Angels Landing, and looking down at the summit and the canyon beyond. Unfortunately, the trail to Observation Point from the canyon floor was closed when we were there due to a MAJOR rockfall. It's closed indefinitely, which is not a surprise if you watched that linked video. Terrifying.
But the helpful ranger at the Visitor Center informed us that there's another way to get to Observation Point, AND that it doesn't involve climbing 2,500 feet from the floor of the canyon!
The East Mesa Trail takes you out to Observation Point from a point on the east side of the park. The best part is that you're basically starting along the rim of the canyon, so it's a mostly flat hike to get there. The trickiest part about this hike is the road to the trailhead – it's rutted and bumpy, and the last half mile is impassable if it has rained at all, even a drop, in the past few days.
Seriously, that last half mile of the road is BAD. There were parts of cars littered along the road (somehow someone lost a floor mat? I'm still trying to wrap my head around how THAT happened).
The good news is that you can totally park about a half mile away from the trailhead, approximately here, and add an extra mile to the hiking distance. I would say that, absent any bad weather, that road is passable by all vehicles, though you'll have to take it slow.
That additional mile brings the hike to roughly 8 miles, with just 700 feet of elevation gain. It's worth every ounce of effort.
East Zion Scenic Drive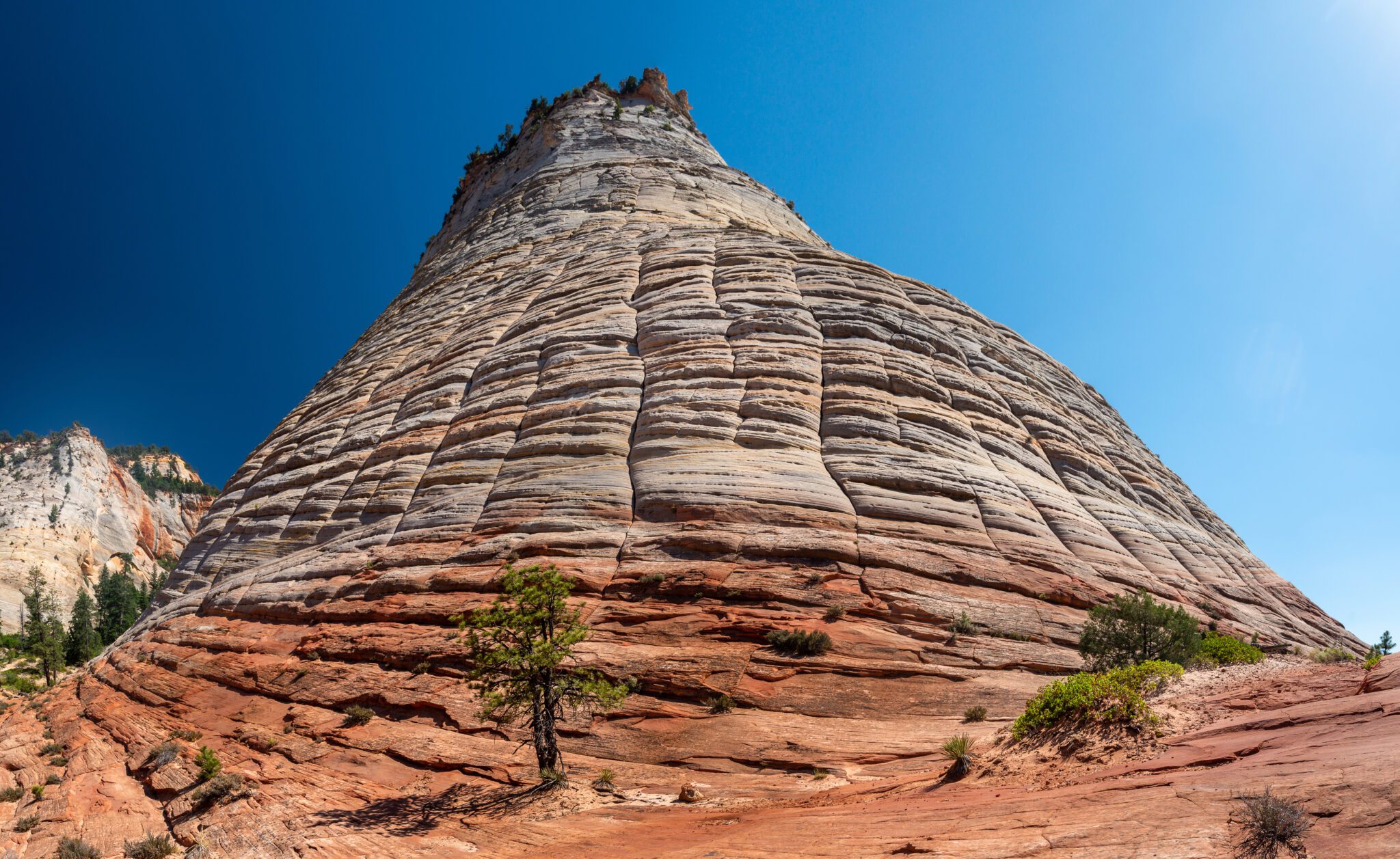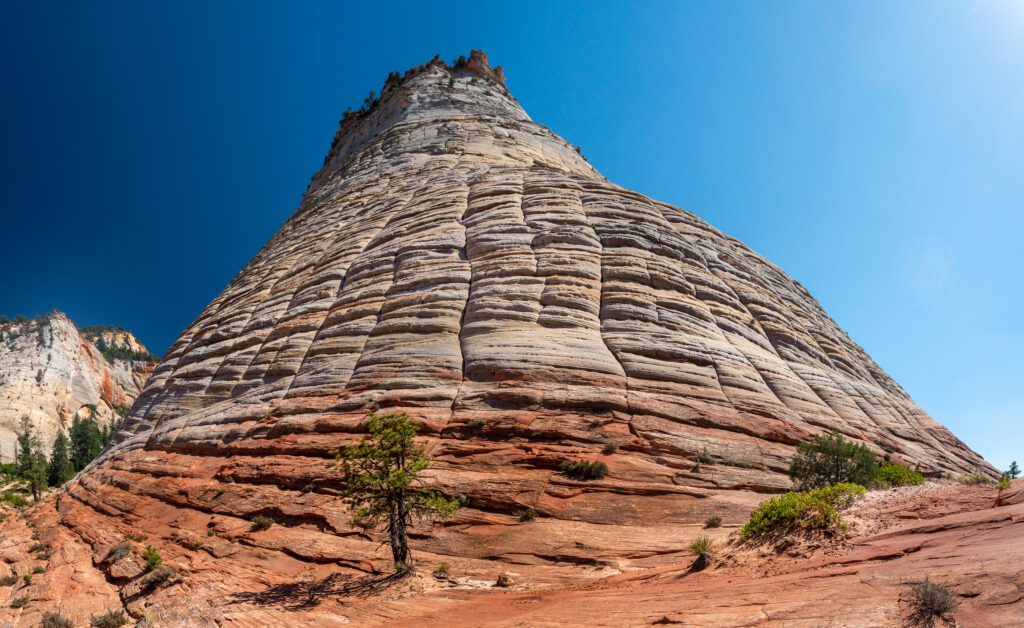 The eastern side of Zion National Park is one of the more unique landscapes in the country. Checkerboard Mesa, in particular, is pretty impressive. It's a huge, textured cone-like formation that has checkerboard textures all over its surface.
The drive through the eastern side of the park, from the East Entrance to the tunnel, is spectacular. You should do it in the late afternoon if you can, so that you're well-positioned to do the Canyon Overlook Trail at sunset.
The Canyon Overlook Trail at Sunset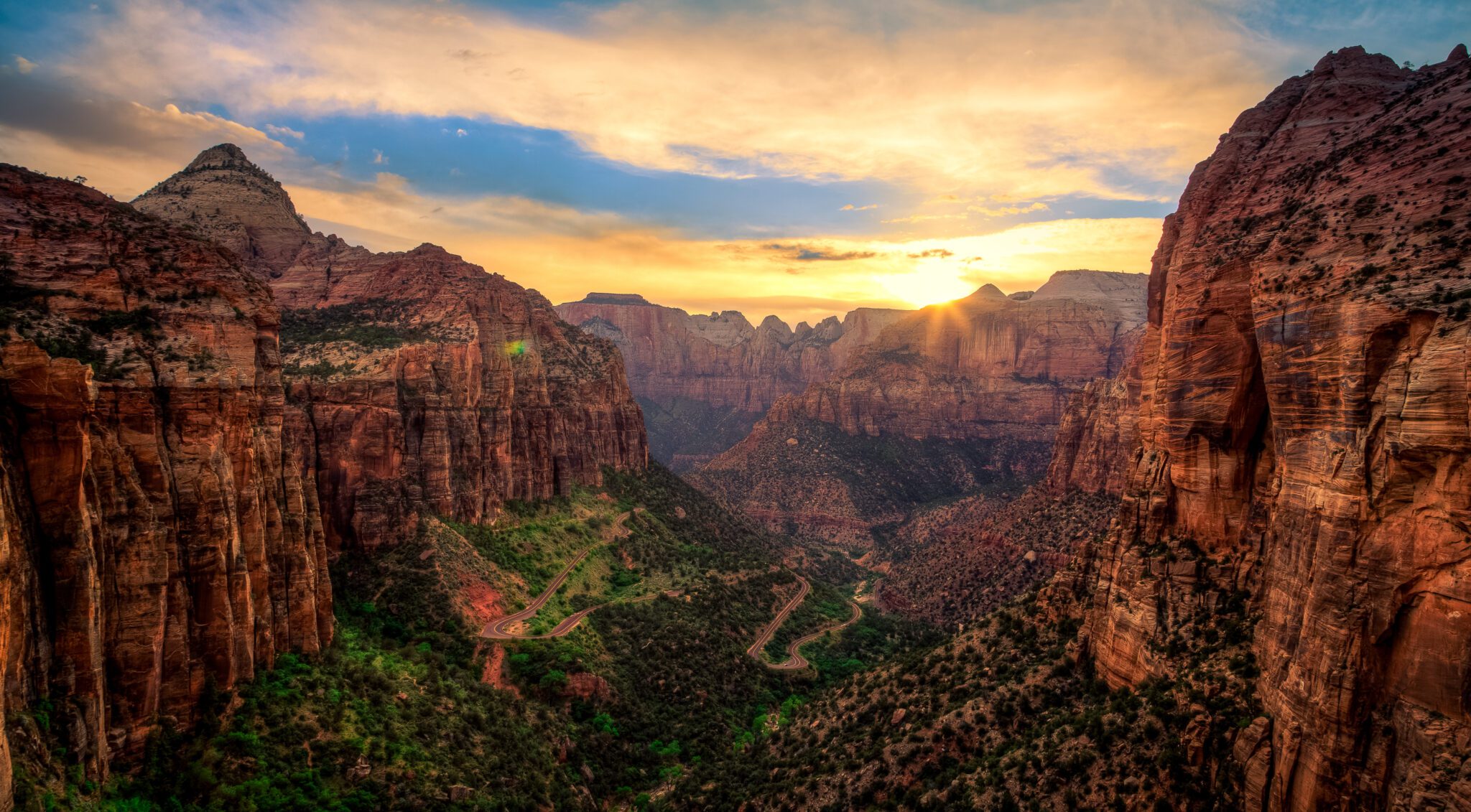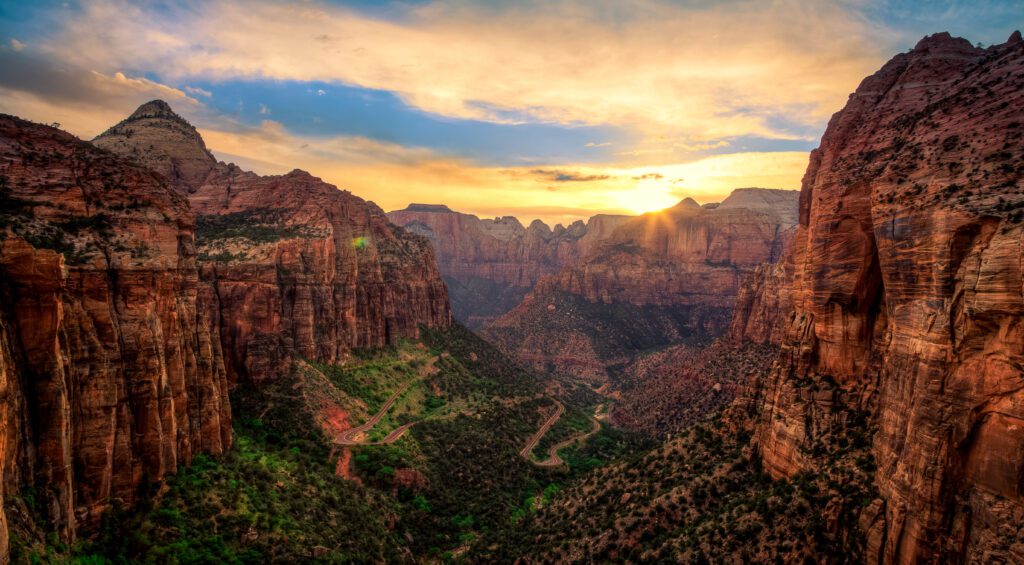 Parking for this one is a bit of a pain due to all the people vying for a very limited number of spots. You'll need to park along the road and walk to the trailhead.
The hike itself is short, but a little steep, and takes you up to a spectacular view out over the canyon. Below, you'll see the road switchbacking its way up to the tunnel, and the iconic, impressive rock formations of Zion Canyon across the valley below.
Last light on the canyon from the setting sun is amazing, and it's worth hanging out up here for a bit until after sunset.
Where to Stay at Zion National Park
Unlike a place like Capitol Reef, where it's hard to find a place to stay that's close to the park, Zion has some great options in Springdale, Utah. Whether you're looking for a campground or you want a comfortable hotel, there are plenty of great places to stay near Zion.
Inside the park, your options are splurging on a lodge room or private cabin at the iconic Zion Lodge, or snagging a campground at either Watchman Campground (we stayed here and it's great) or South Campground. Both are walkable to the Visitor Center, which is where you'll need to catch the shuttle if you're here between March and November.
In Springdale, which is immediately outside the entrance to the park, you've got a wide range of options, from budget to bougie. Here are some picks based on what you're looking for.
On a budget: I have stayed at the Holiday Inn Express, and it's nicer than most Holiday Inns, and there's a shuttle that will take you to the park entrance right outside the front door. The Best Western is another option, and it's slightly closer to the park entrance.


Mid-Range: I love the cottages at the Red Rock Inn Cottages, and that's where we would have stayed if we weren't camping. Flanigan's Inn is an eco-friendly hotel with nice rooms, a beautiful property, and a great onsite restaurant. The Desert Pearl Inn is a good choice if you need a kitchen (and the rooms all have nice patios overlooking the pool).


Best of the Best: The Cable Mountain Lodge is the best place to stay near Zion thanks to its location RIGHT OUTSIDE the park entrance. It's a nice boutique hotel, so it's not the cheapest, but it's worth every penny for the location alone. In the same complex, there's a small grocery store, a coffee shop, a brewery, and an outfitter that rents bikes and gear for the Narrows if you need it.

You could also stay in a vacation rental in Springdale, which there are plenty of. That'll give you more space to spread out and relax, which is particularly helpful if you're traveling with a group. Nobody wants to cram four people in a small hotel room with two queen beds.
For a once-in-a-lifetime glamping experience, stay at Zion Under Canvas. It's a little further out – 45 minutes from the South Entrance – but it'll make up for the distant location with the superb facilities. They have a range of options – from simple "safari tents" that are basically a bed with a shared bathroom (they're single-occupancy and nice, though) to "Stargazer" (private bathroom and deck!) and Suites. Some even come with a separate kids tent – perfect for families.
Psst! We have a whole guide dedicated to helping you find the perfect place to stay at Zion National Park – you can read it here.
Day 8: Zion Canyon
Zion is the park I've spent the most time in on road trips growing up, and finally we made it back in the spring to marvel at both the canyon itself, and the ingenuity that went into constructing the Mt. Carmel – Zion tunnel, and the trail up to Angels Landing.
Both were built during the Great Depression by the Civilian Conservation Corps, and are amazing feats of engineering, especially when you consider they were made almost a century ago.
The Zion Shuttle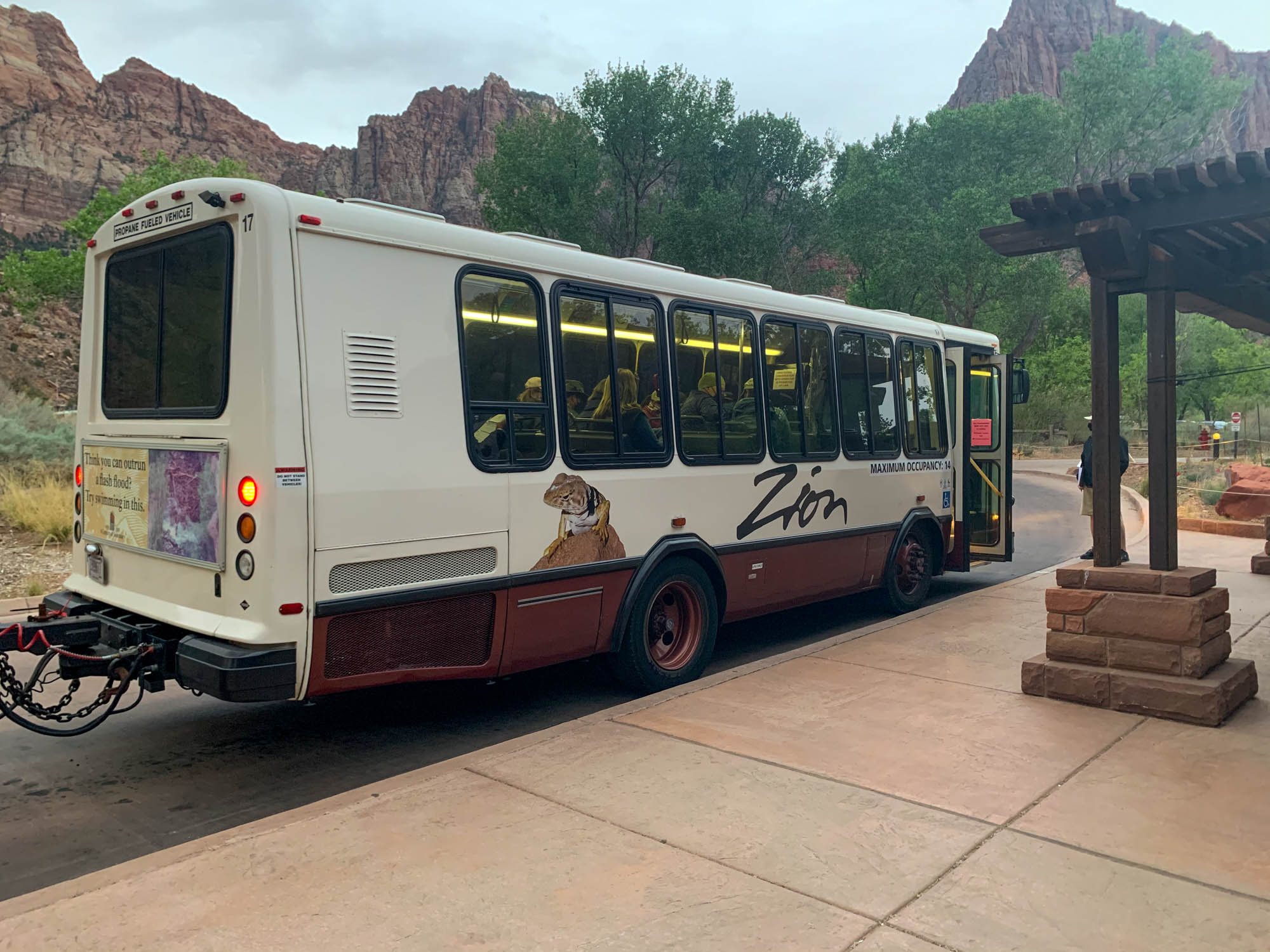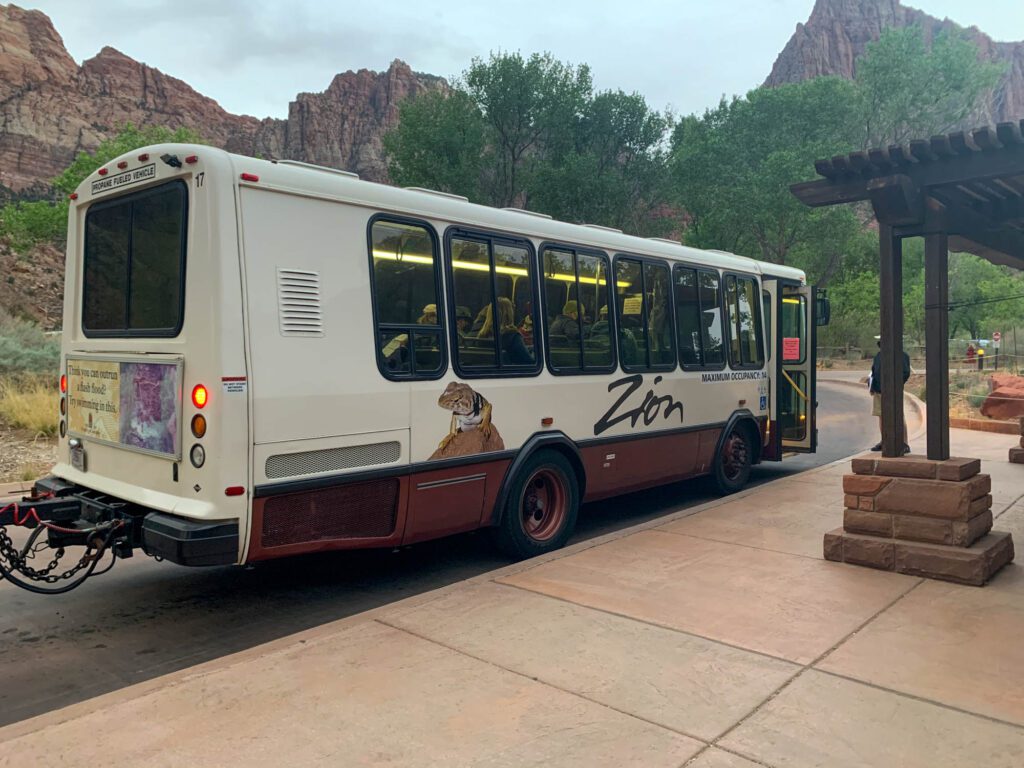 The first thing you need to know about Zion is that during peak season, the roads in Zion Canyon are closed to private vehicles. Instead, you'll need to hop on the super convenient and mostly efficient Zion shuttle system, which stops throughout the park. It's free, don't worry, but you'll be up against long lines, especially in the late spring and summer.
Being one of the first groups on the shuttle is really important to have a great experience in Zion. To take it, head to the Visitor Center in Zion. The shuttle leaves from here, and embarks up the canyon, stopping at eight different places along the way.
You'll need to get to the parking lot at the Visitor Center BEFORE 9am. That's when we noticed that the parking lot was full on every day that we were in Zion.
Morning Hike to Angels Landing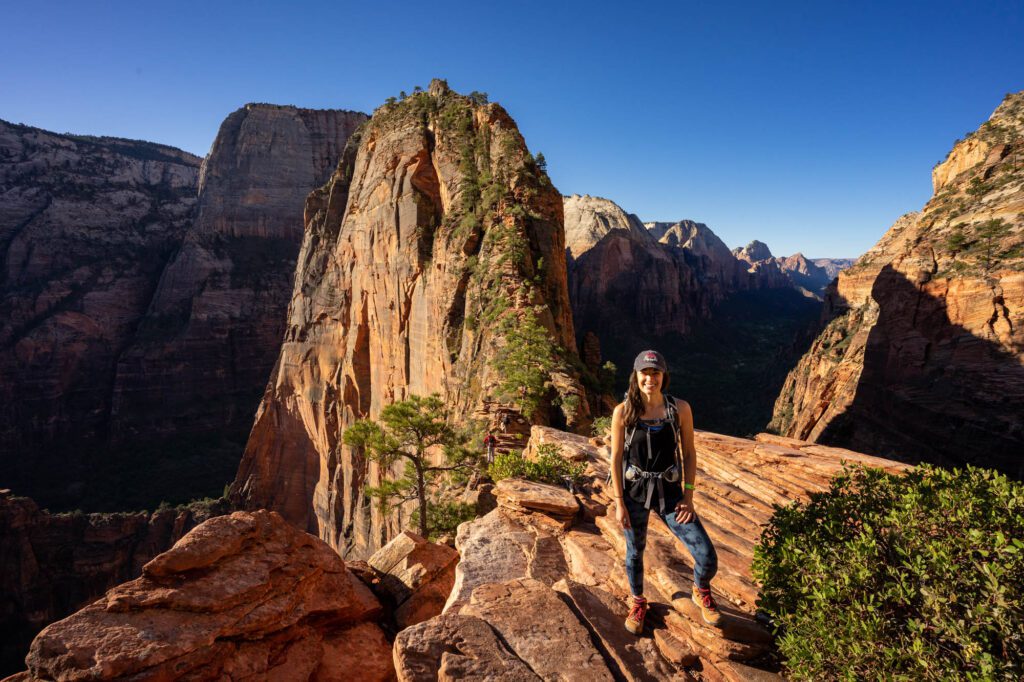 Get an early start on your second day in Zion to make your way out to Angels Landing (shuttle stop is the Grotto). It is, along with the Narrows, one of the best and most unique hikes in Utah if not the entire western United States.
It's only 5.4 miles long, but it's a steady climb of over 1,500 feet, which is going to feel like A LOT at this elevation and temperature. Seriously, the trail starts flat for about a quarter of a mile, but then it starts climbing steadily for the rest of the hike up to Angels Landing.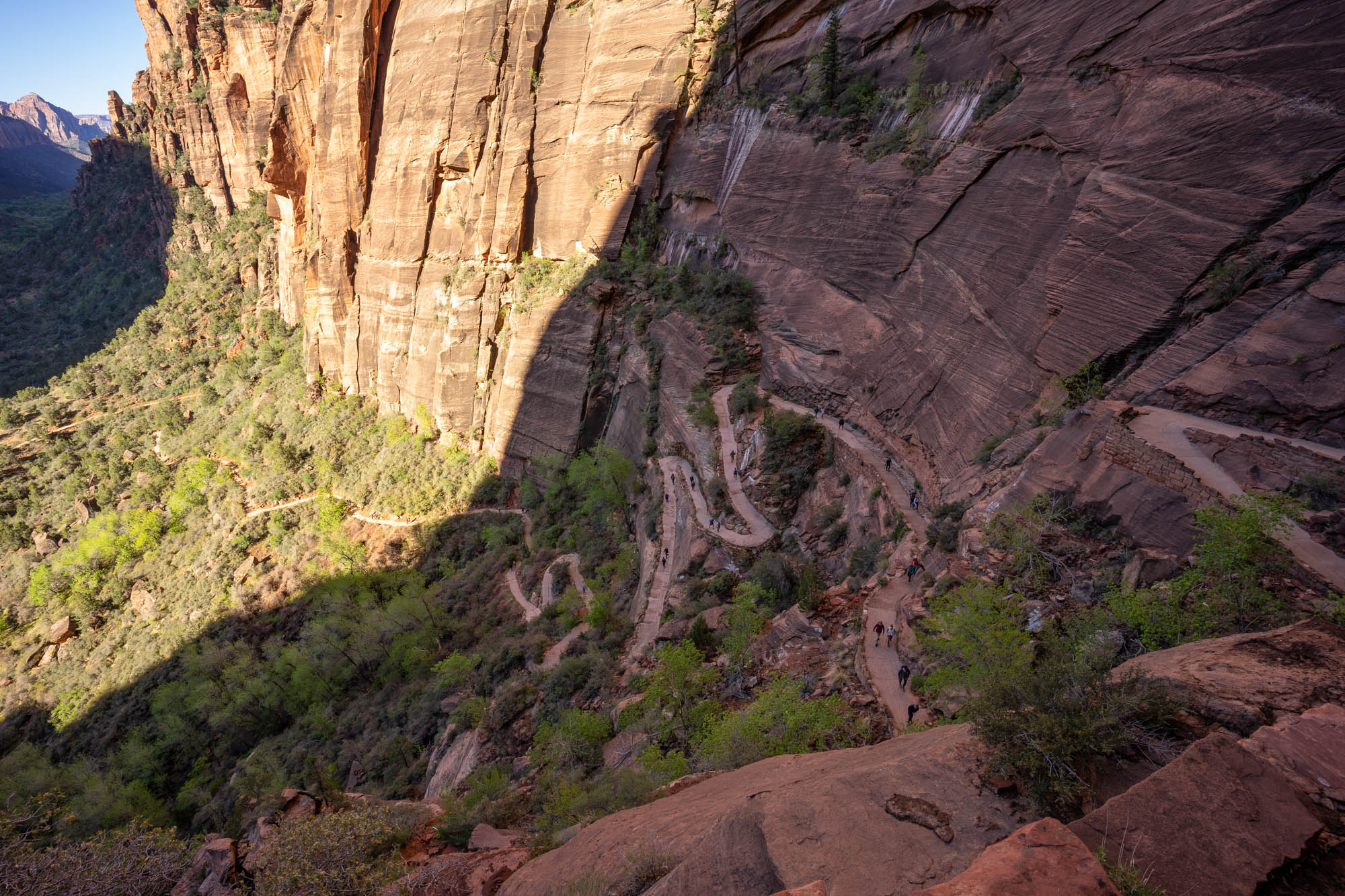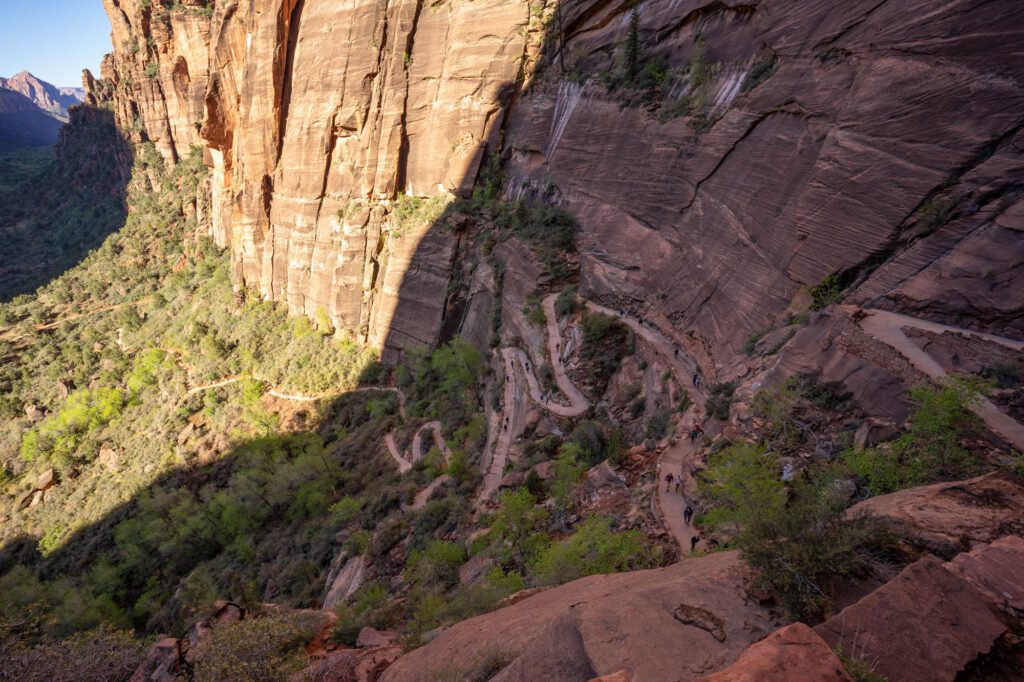 You need to pack plenty of water (more than two liters per person), sunscreen, and a hat. If you're afraid of heights, the tail end of this hike is going to test your willpower. You'll need to do some scrambling and climbing with the help of chains, but the sweeping views at the top will make it all worth it.
However, you should know that we stopped before the serious part of the chains started. There are essentially two sections of chains – one that traverses the side of a ridge, and another that makes the ascent to the summit. We did the first section, and turned around before the second section.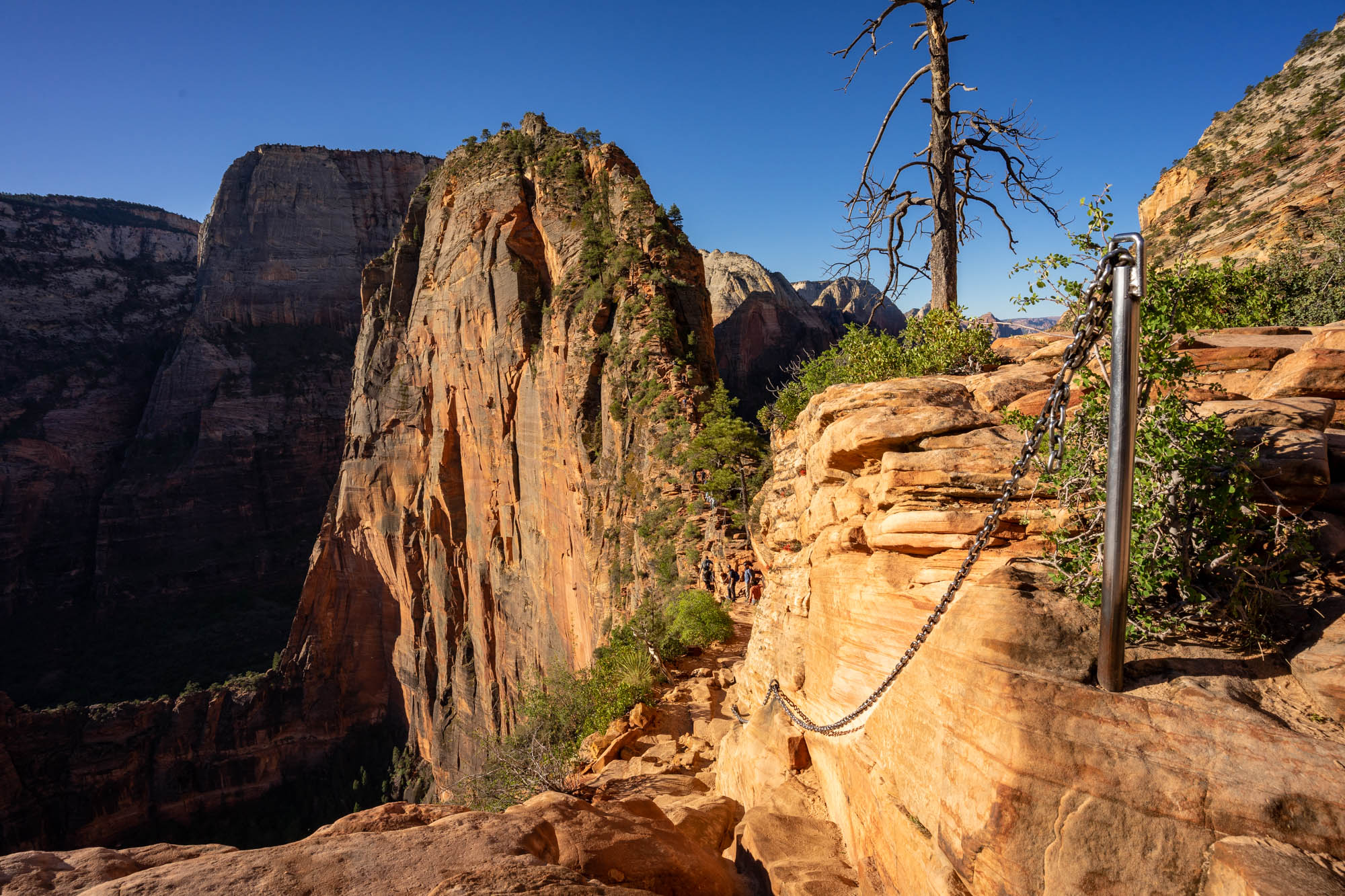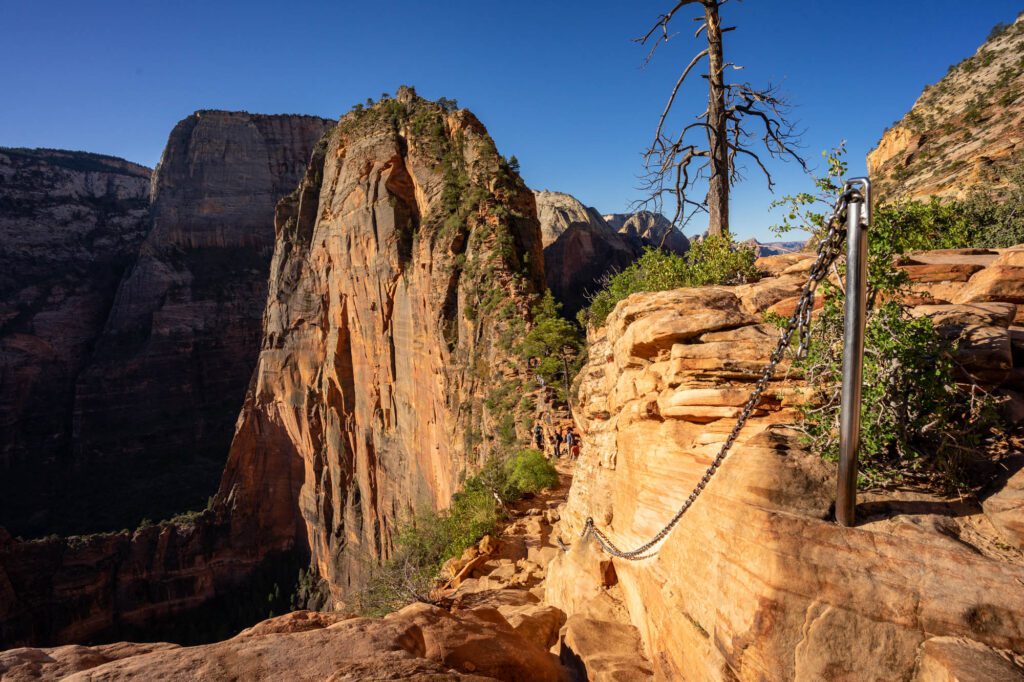 It had rained the day before, which created a fine sand that coated every rock surface on the hike. We weren't super comfortable with our footing as we were traversing the first set of chains, and the unbearable crowds didn't help with the anxiety. Know that it is perfectly okay to stop and turn around if you're not feeling comfortable. We did, and we regret absolutely nothing.
I mean it when I say to start early. It gets hot in Zion, and the last thing you want is to be stuck at one of the sections with chains waiting for a slow group to go up or down while you, quite literally, roast in the desert sun.
It's going to take you most of the morning and part of the afternoon to do this hike. Afterwards, head to the Zion Lodge to eat lunch – either a pre-packed picnic, or a meal at the lodge's cafe – and relax before tackling some other short hikes in the afternoon.
The Emerald Pools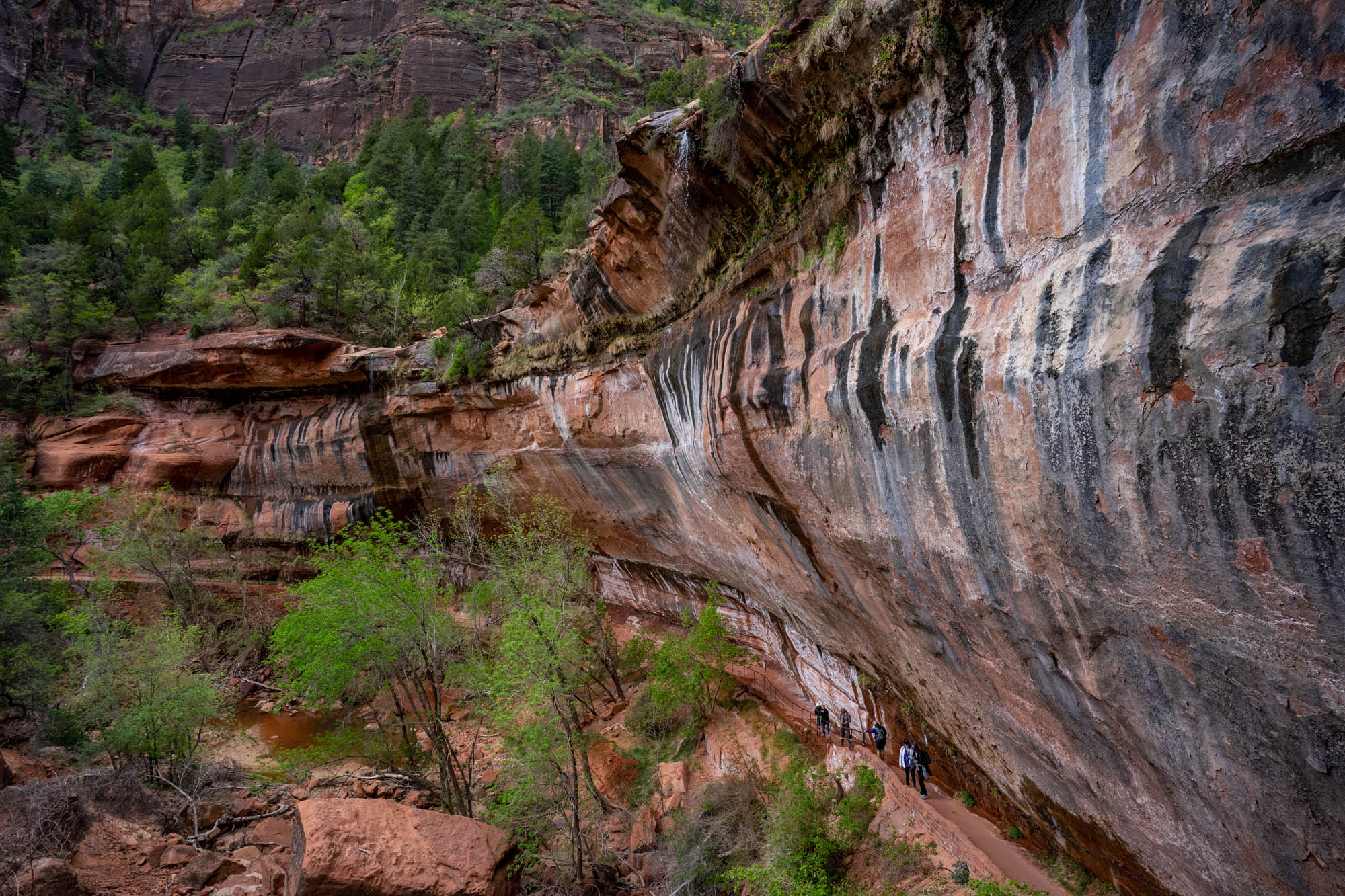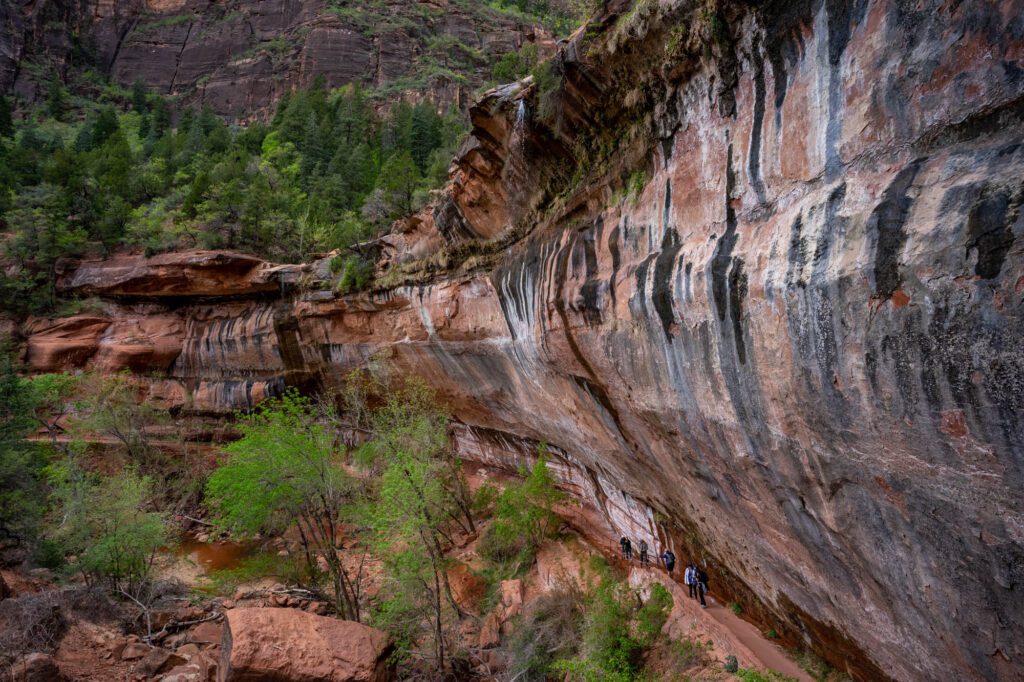 The Lower Emerald Pools are worth the short stroll from the Zion Lodge. It's a cool little overhang that you can walk under with multiple waterfalls cascading off of the ledge above you. It's a paved, flat trail from the Zion Lodge, which makes it a perfect afternoon activity before you head back to the Visitor Center on the shuttle.
Sunset at the Watchman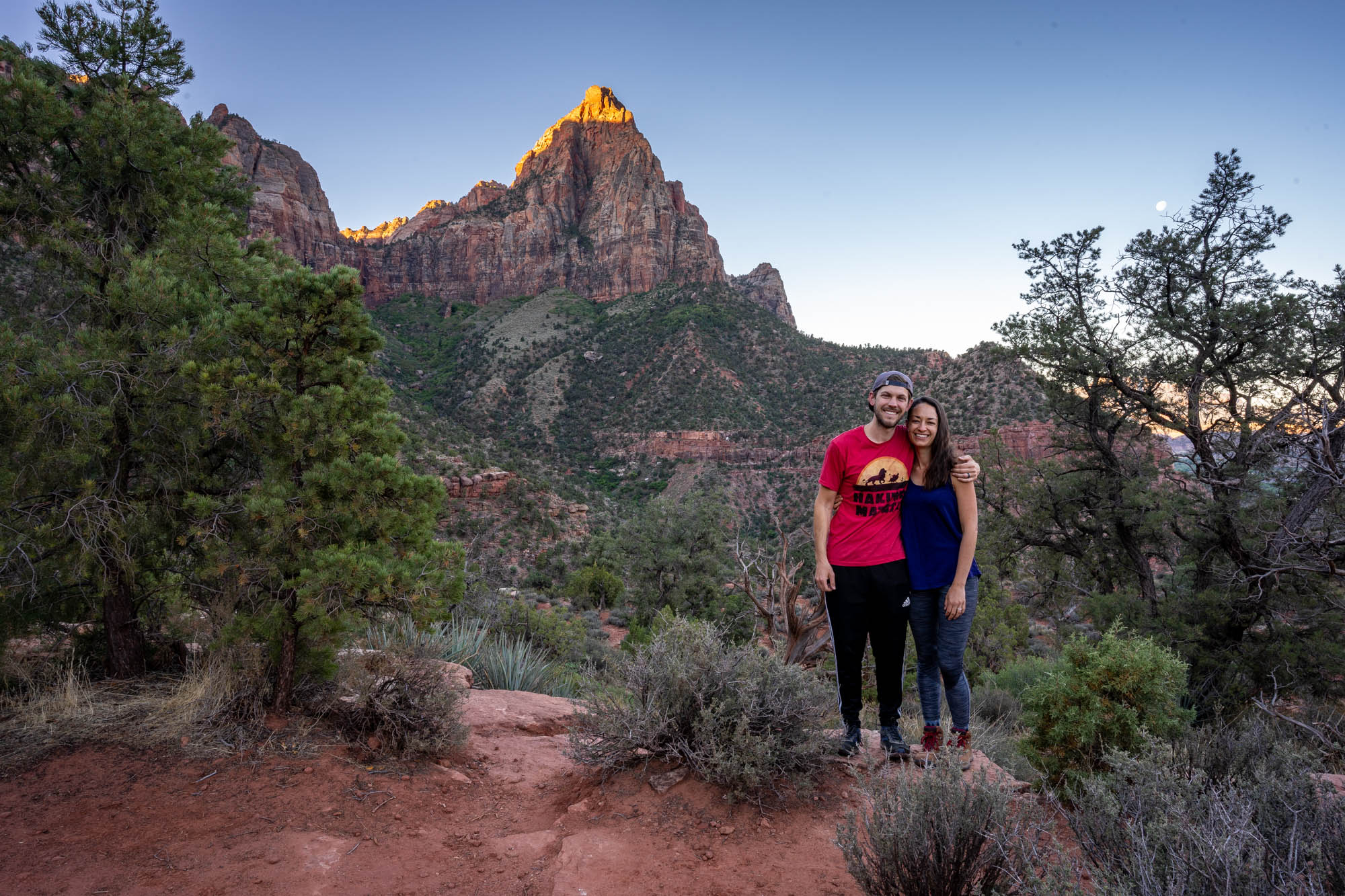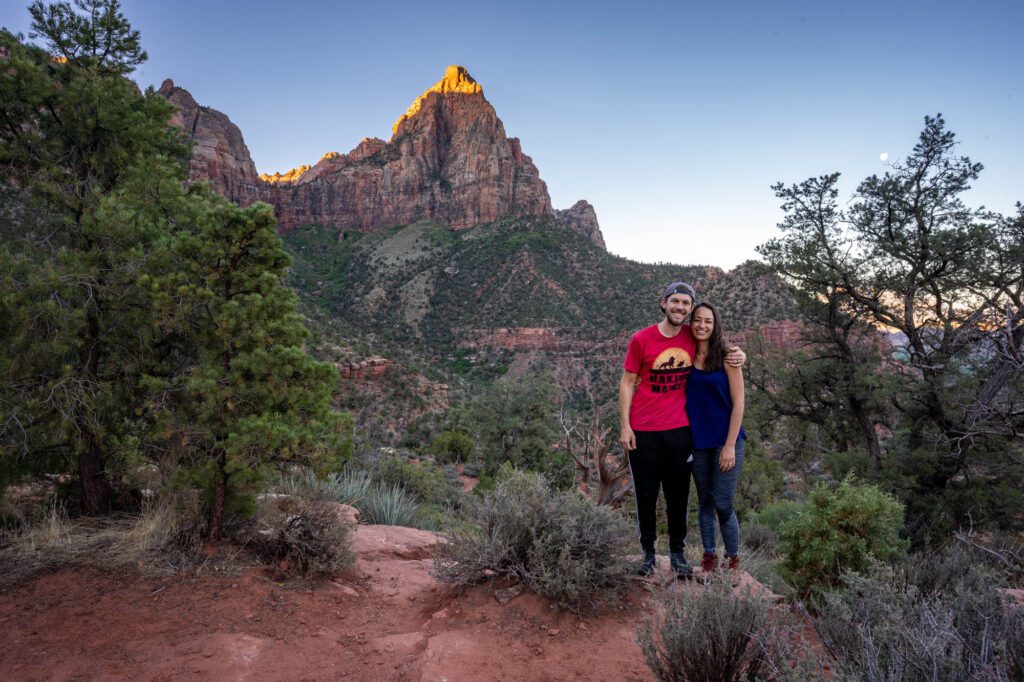 This was one of our favorite hikes in Zion, though we did it at sunrise, when the light wasn't at its best thanks to the towering rock wall behind you that blocks the sun from lighting up the Watchman. That's why we have it here, at sunset instead.
It leaves from the Visitor Center, and climbs pretty gently to a mesa that is directly across the valley from the Watchman, one of the most famous rock formations in the park. It's a good spot to pack a picnic and a couple of beers after a long day of exploring.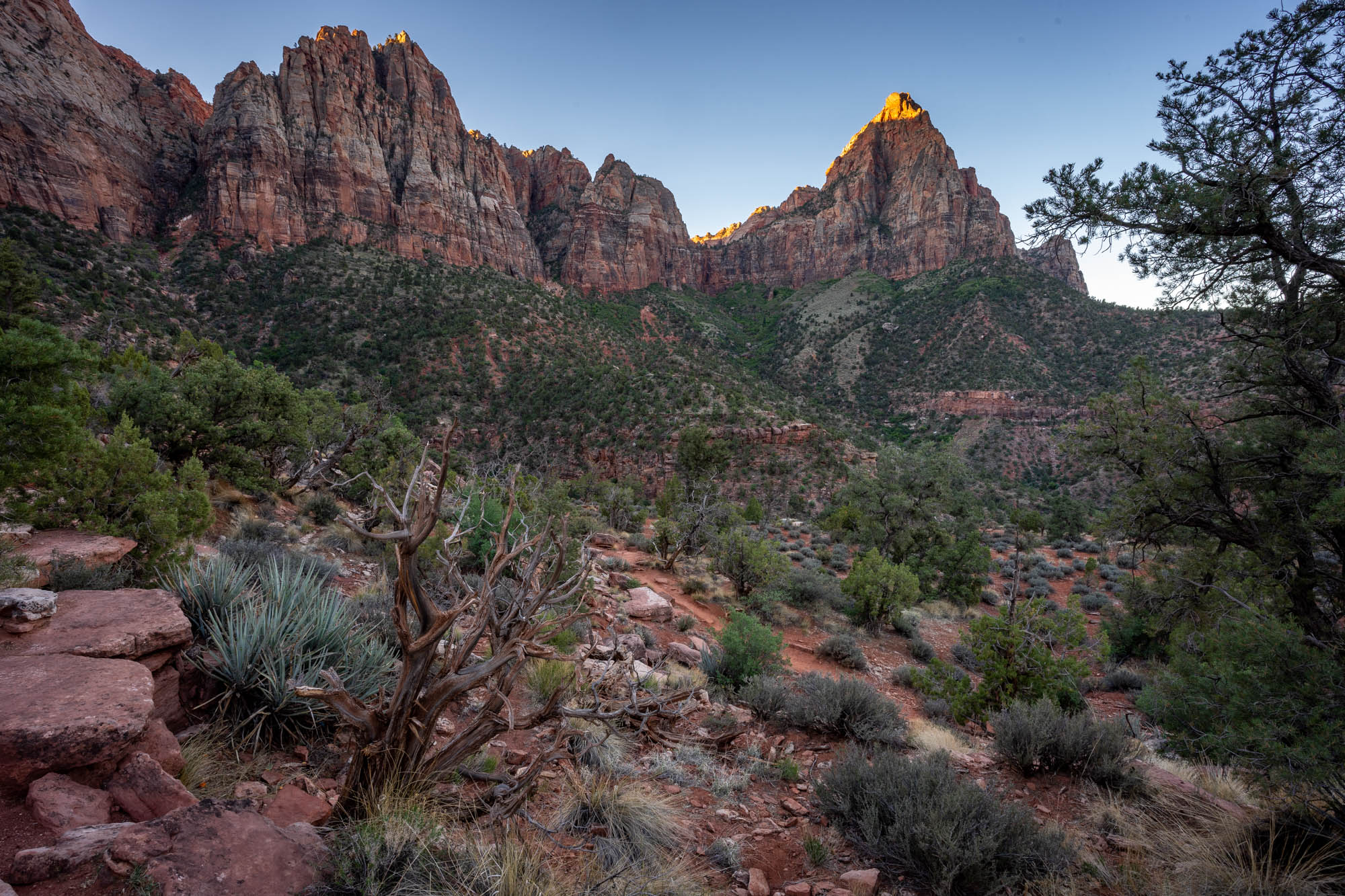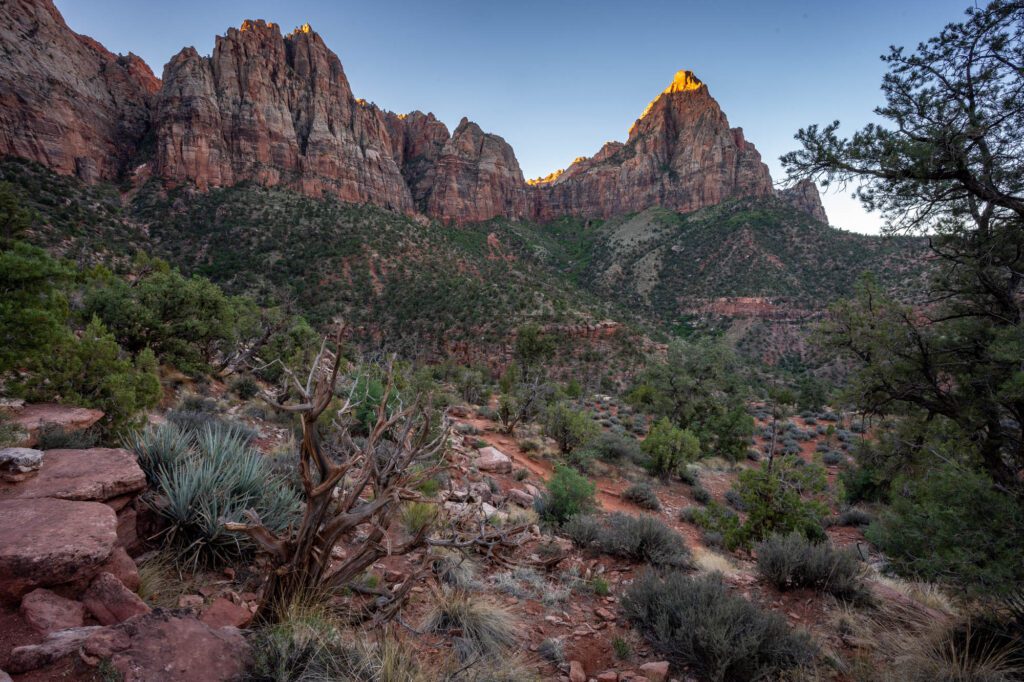 Day 9: Zion Canyon + Kolob Canyon
On your last day in Zion, first tackle the Narrows, the other iconic hike in Zion, then do the scenic drive through the often overlooked Kolob Canyons section of Zion National Park.
Hiking The Narrows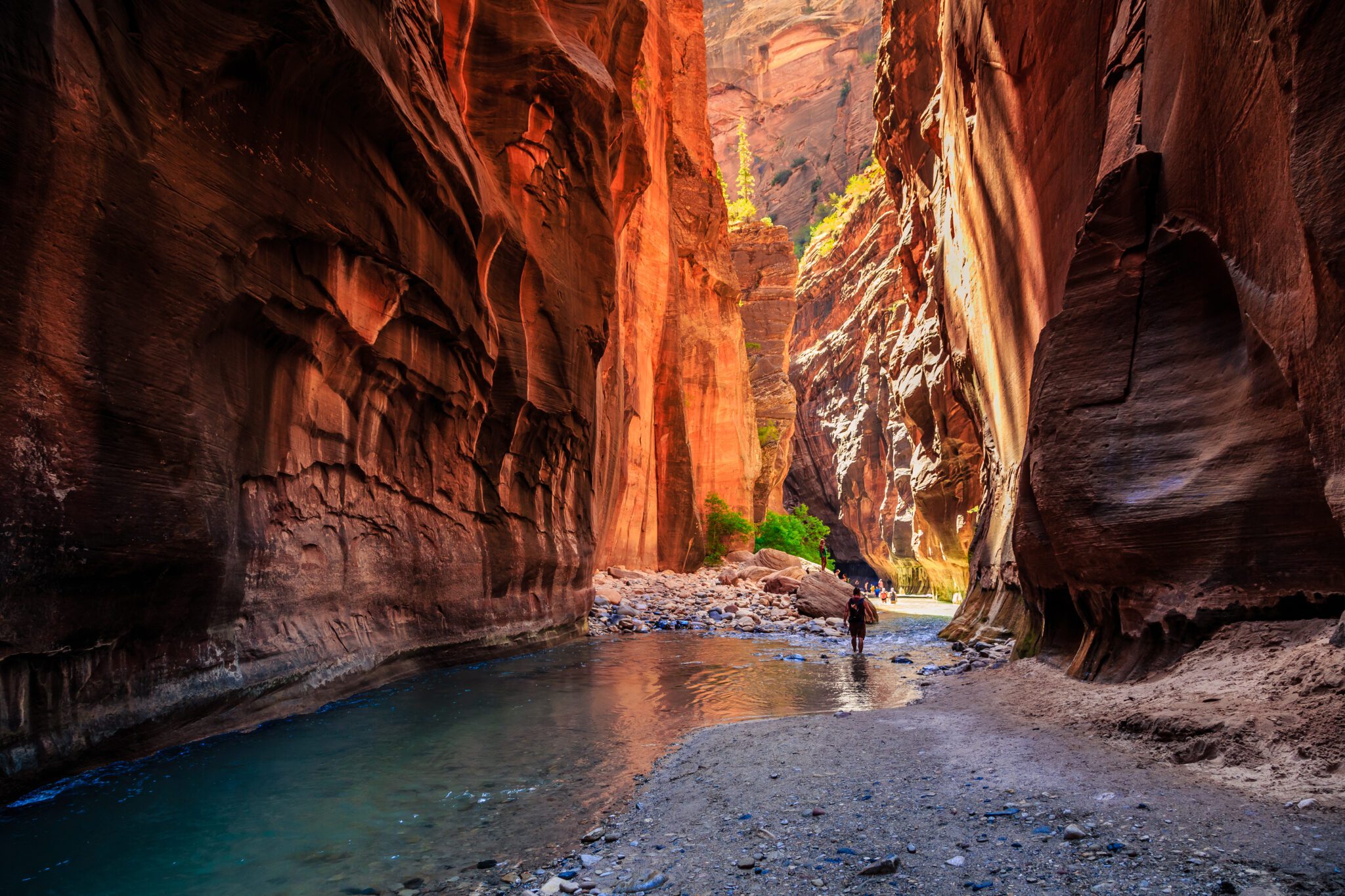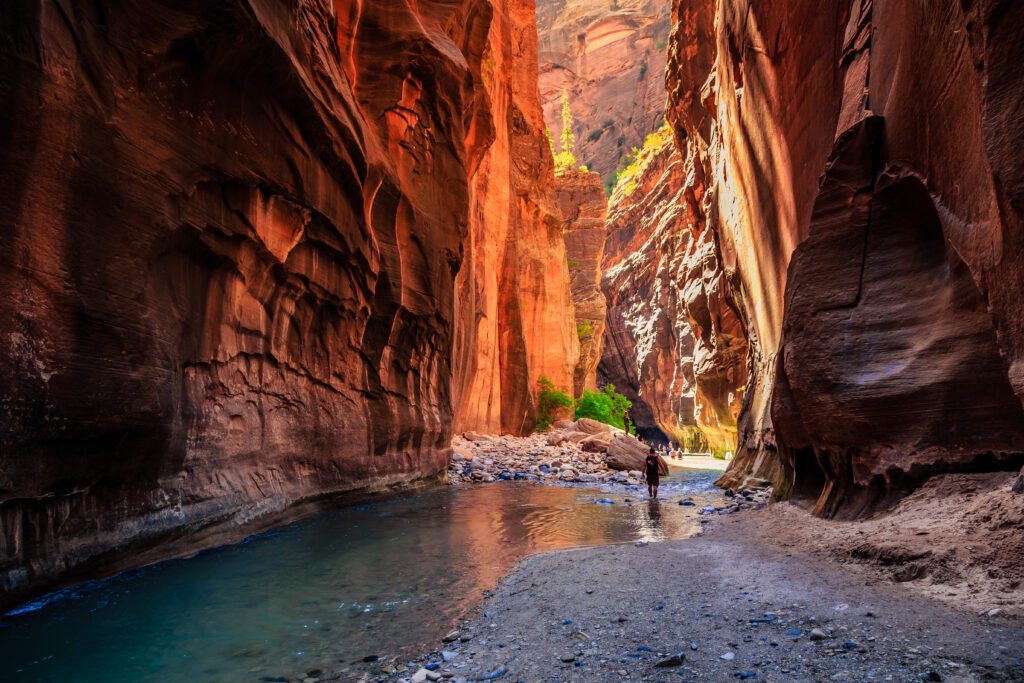 Today, hop on the shuttle early and head up the canyon to the Temple of Sinawava stop to do the ten mile hike (roundtrip) to the Narrows. This hike is through a canyon and river, which means it is CRUCIAL that you check with the rangers about conditions and flash flood warnings before you start the hike. In the spring, heavy water flow from snow runoff might mean that this trail is closed.
Seriously, flash floods in canyons are no joke. Stop by the Visitors Center to make sure you're good to go.
Don't let that scare you – the hike through the Narrows is the #1 Zion experience that I think you should have on your trip. The hike follows the Riverside Walk for the first bit, then continues on when that trail ends. You'll pass through narrow canyons, deal with knee-high water, and do some bouldering en route to Big Springs, where the hike ends and you'll turn around to head back the way you came.
It's going to take you five to six hours, maybe more. To make it as smooth as possible, bring plenty of water, tons of snacks, proper footwear (not flip flops – either hiking sandals like Chacos, or real hiking shoes), a dry bag, and a pair of trekking poles for stability.
After that, recharge for a second and catch your breath. Maybe take a nap. It has been a whirlwind of a couple of days!
Kolob Canyons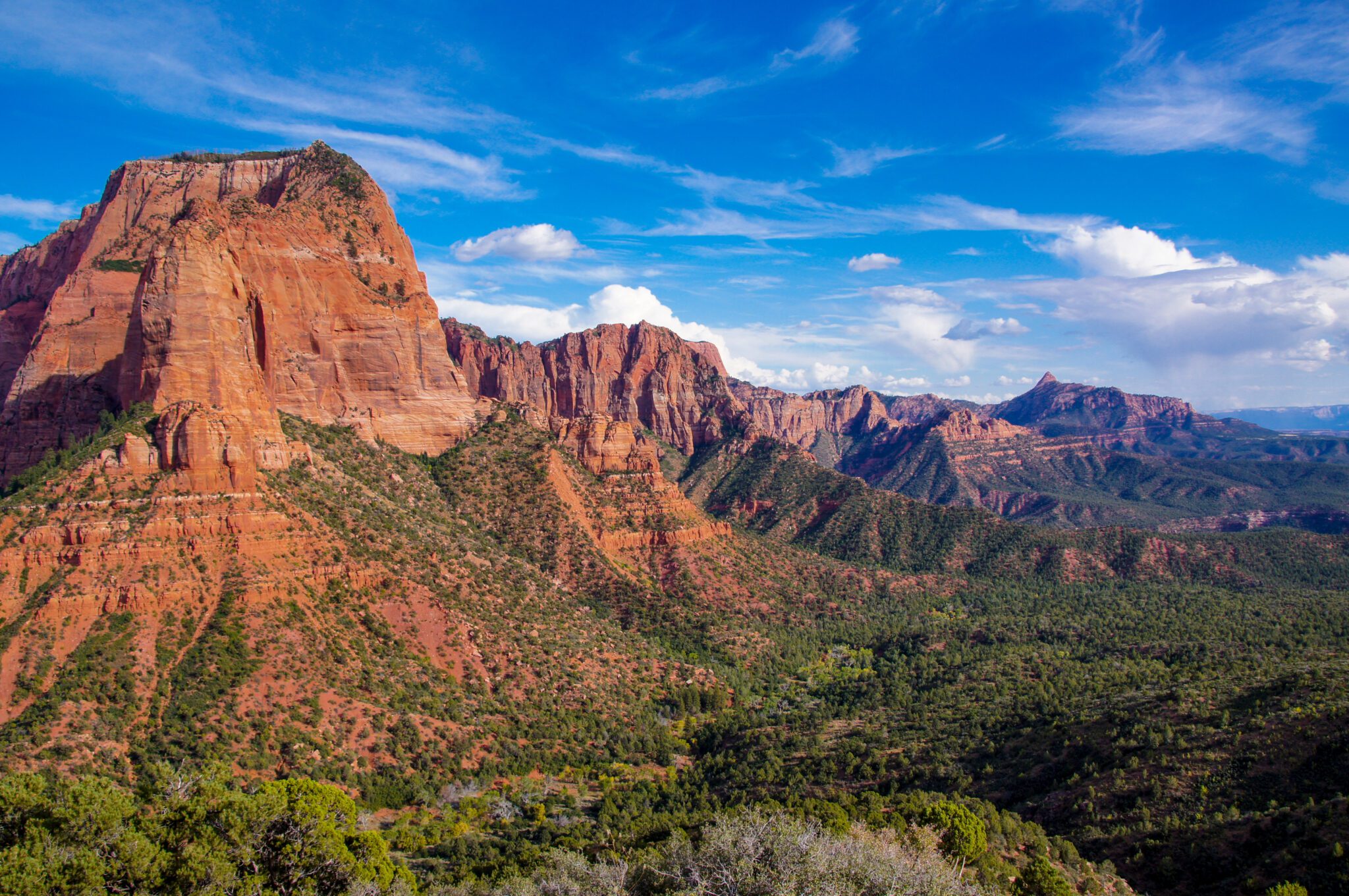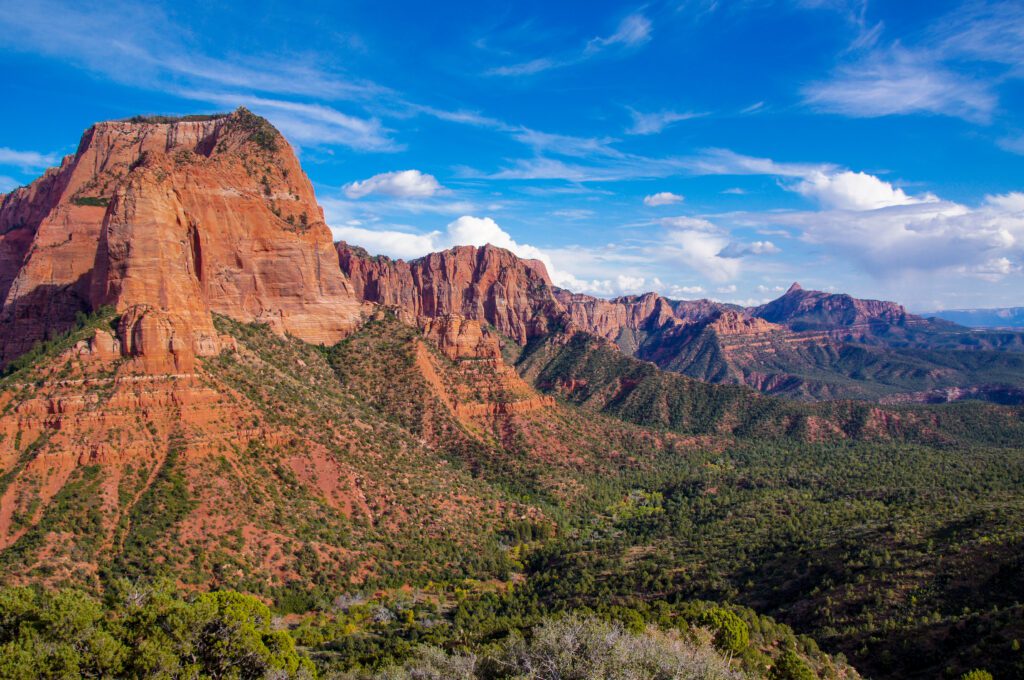 In the late afternoon, head 45 minutes northwest of the Zion Canyon to the less famous part of Zion National Park – Kolob Canyons. Yes, this is still technically inside the park.

Here, you'll find a five mile scenic drive, which we happened to catch on a day where it was actively snowing, which was gorgeous (but stopped us from doing any of the hikes here). Drive the scenic drive to the end and tackle the short trail to the Timber Creek Overlook, a beautiful scenic viewpoint that looks out over the less famous canyon in Zion.
This is a nice way to end your time in Zion, which has been a whirlwind of amazing hikes and scenic views that you won't soon forget.
Day 10: Valley of Fire State Park + Fly Home from Vegas
On your last day, you'll need to make your way to Las Vegas to catch your flight home (assuming you're flying, otherwise you'll be driving back towards home if you're driving from elsewhere).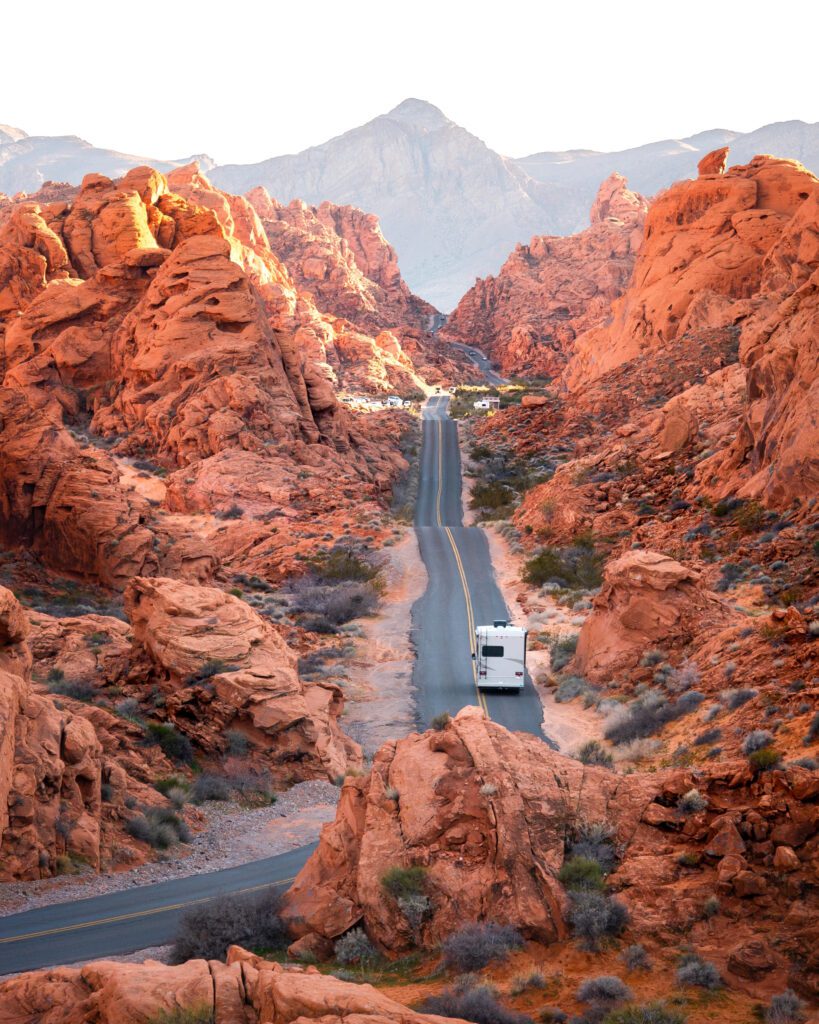 Depending on if you have time before your flight, it's worth a stop at Valley of Fire State Park in Nevada, which is about an hour east of Vegas. There's a great scenic drive and a couple of short hikes to do, but it's mostly about the spectacular scenery that heavily features bright red sandstone formations. It's a slight detour on the way to Vegas from Zion. It's best at sunset, when the red rocks are glowing with the light from the setting sun, but you'd have to have an extra night to see that (which we'd recommend, if you can swing it).
What to Add with More Time
If you find yourself with some extra days on your trip, here are a few ways we'd recommend spending them.
Grand Staircase Escalante National Monument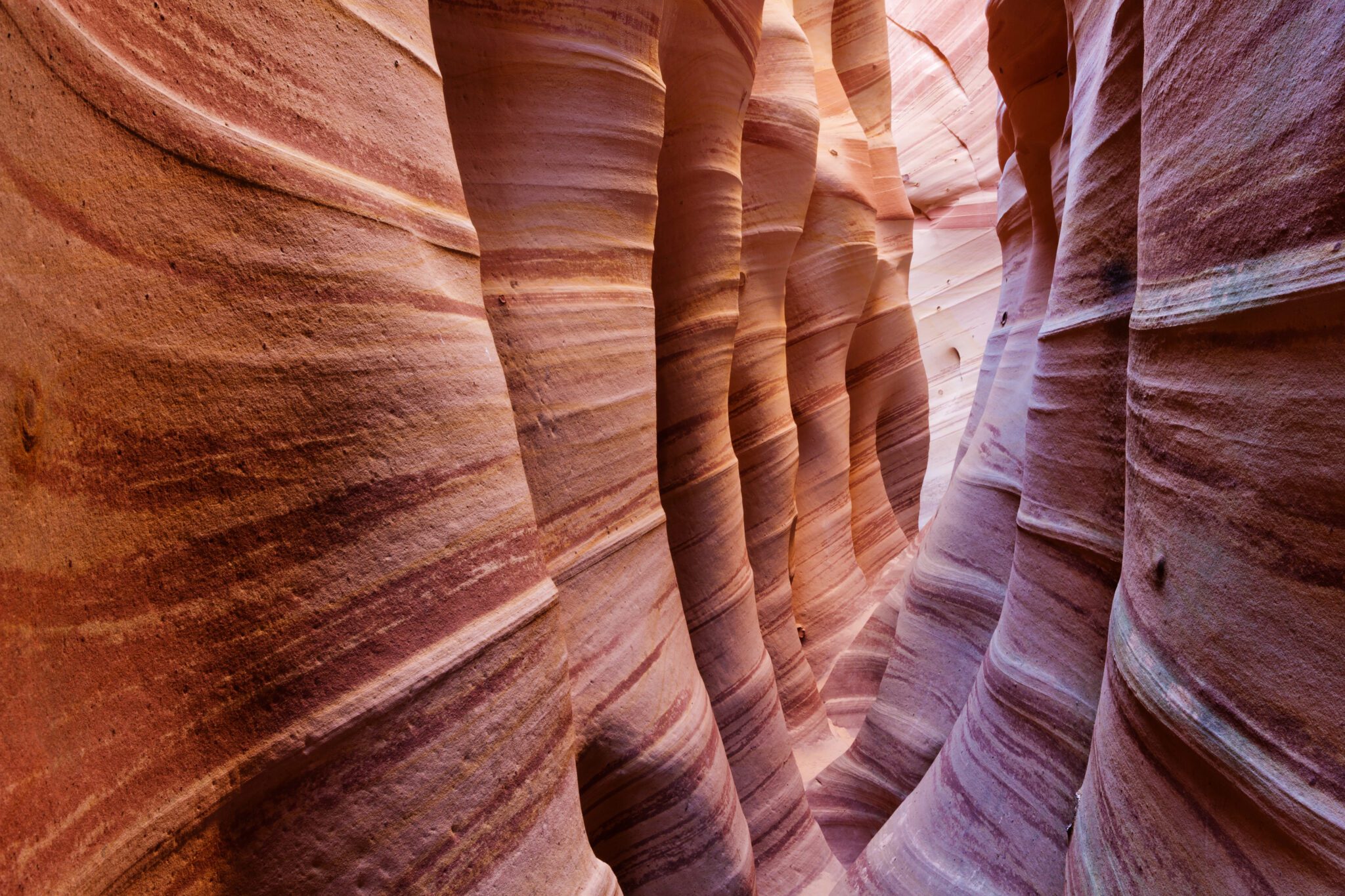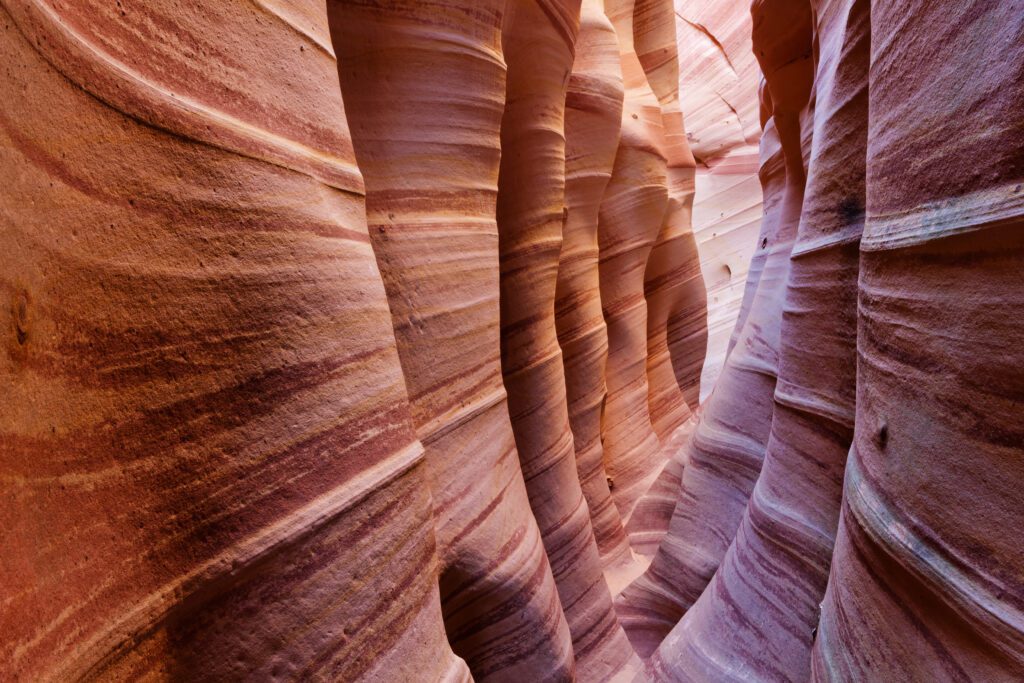 Time required: 1 full day
Before heading to Bryce, it's well worth a stop in Grand Staircase Escalante National Monument, home of some of the best slot canyons in Utah that don't require a permit lottery to access. The best way to do it is to tackle one or two of the hikes (if you're ambitious) on the way to Bryce Canyon, staying overnight either in nearby Boulder, Utah, or completing the hikes and heading into Bryce at the end of the day.
There are at least three hikes that are worth your time in this area, and which ones you choose basically depends on your ability to navigate a long dirt road with some questionable spots for passenger vehicles and your willingness to navigate tight spots in slot canyons.
The road to get to the trailhead for Peek-a-Boo and Spooky Canyons is a 26-mile long dirt road called "Hole-in-the-Rock Road". It's passable in a passenger vehicle, but you'll need to take it slow and it's going to take you about an hour. I'd recommend a 4WD, high clearance vehicle to get to the second two hikes on the list.
We skipped them all because Homer, our Honda Odyssey, is sick of unpaved roads after some misadventures in the Pacific Northwest.
Here are those three hikes, with a short description of each.
Lower Calf Creek Falls (6 miles roundtrip): This is right along Scenic Byway 12, which means you don't have to survive a dirt road to get to the trailhead. It's a lovely hike through a surprisingly green canyon to a 126 foot waterfall, Lower Calf Creek Falls, which is in a grotto-like setting. Bring a swimsuit on a warm summer day to take a dip in the pool underneath the falls. More trail details here.


Zebra Slot Canyon: This trail is not always accessible, since the entry point fills with water after storms. But if it hasn't rained in a while, it's a worthy five mile trip. I haven't personally done it, but I've seen plenty of pictures on Instagram of the wave-like textures in the Zebra slot. More trail details here.


Peek-a-Boo and Spooky Slot Canyons: This hike includes a 15 foot climb on rock walls, and a 20 foot descent with assistance from a rope, along with some very tight spots (12-18 inches wide) through a slot canyon. We didn't make it here because the 26 mile long dirt road scared us and our minivan off, but I've heard from family members and friends who have done it that it's amazing. The reward is two of the best slot canyons in Utah, which means it's a busy trail. Be careful in slot canyons if there's an incoming rainstorm – flash flooding is no joke. More trail details here.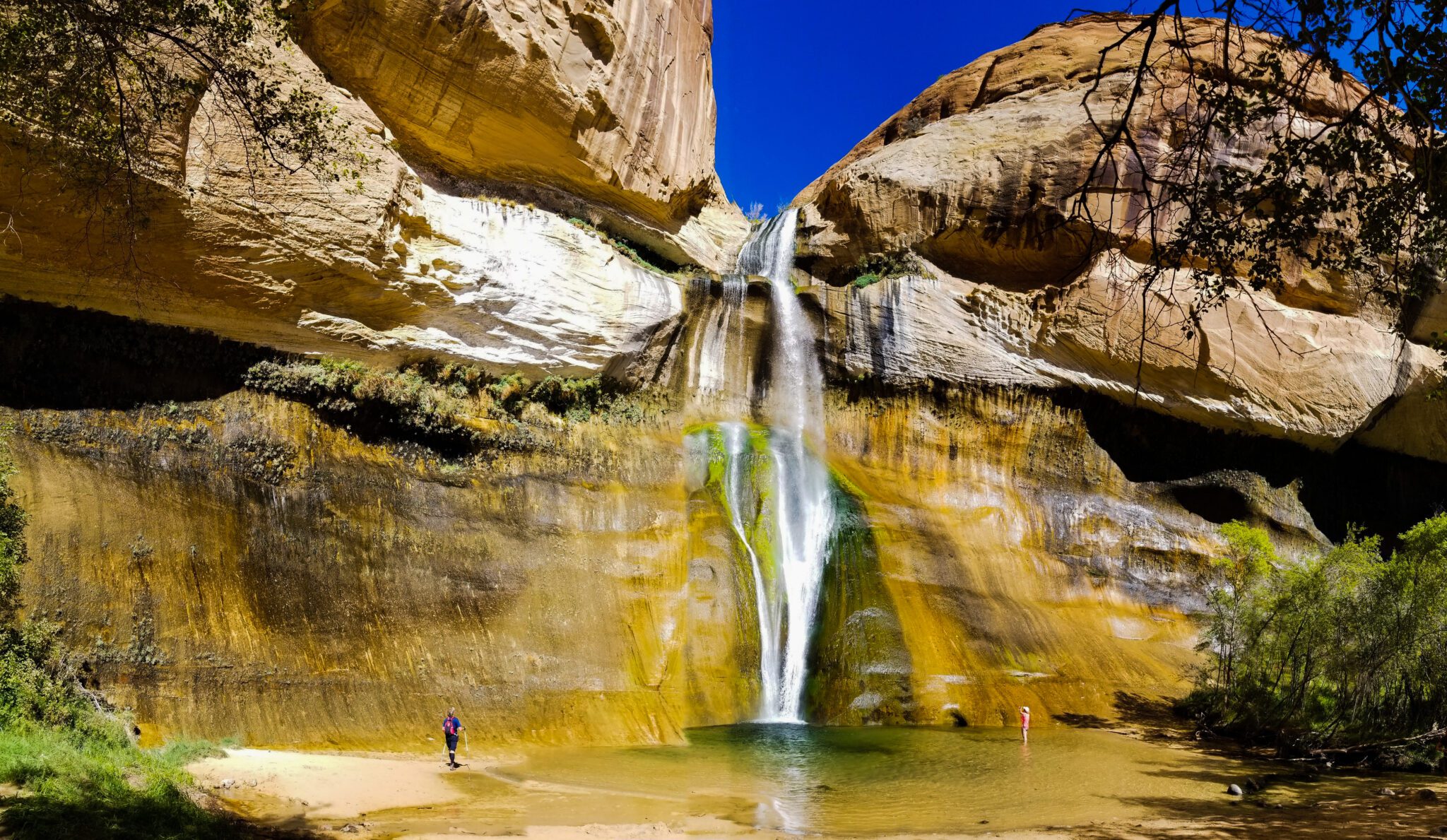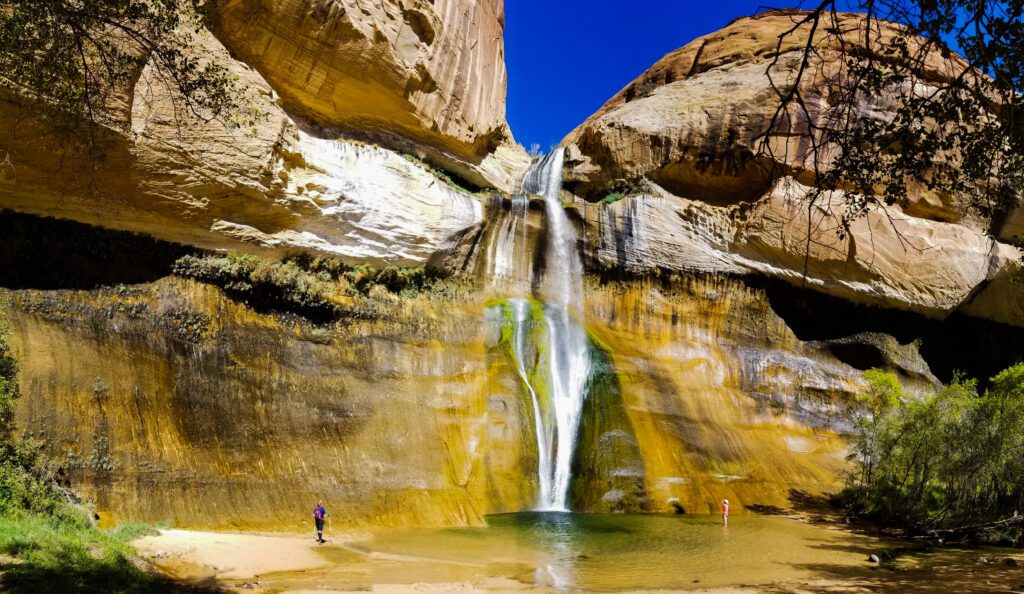 If you're looking for an awesome overnight backpacking trip, look no further than the 11.5 mile journey to Coyote Gulch. It has quite a bit of elevation gain, which makes it a little much for a day hike. But the destination is pretty epic. Permit information here.
If you're not up for the 26 mile drive on a dirt road, do the hike to Lower Calf Creek Falls on the drive from Capitol Reef, then head to Bryce Canyon National Park that night.
Arizona Detour: Grand Canyon + Page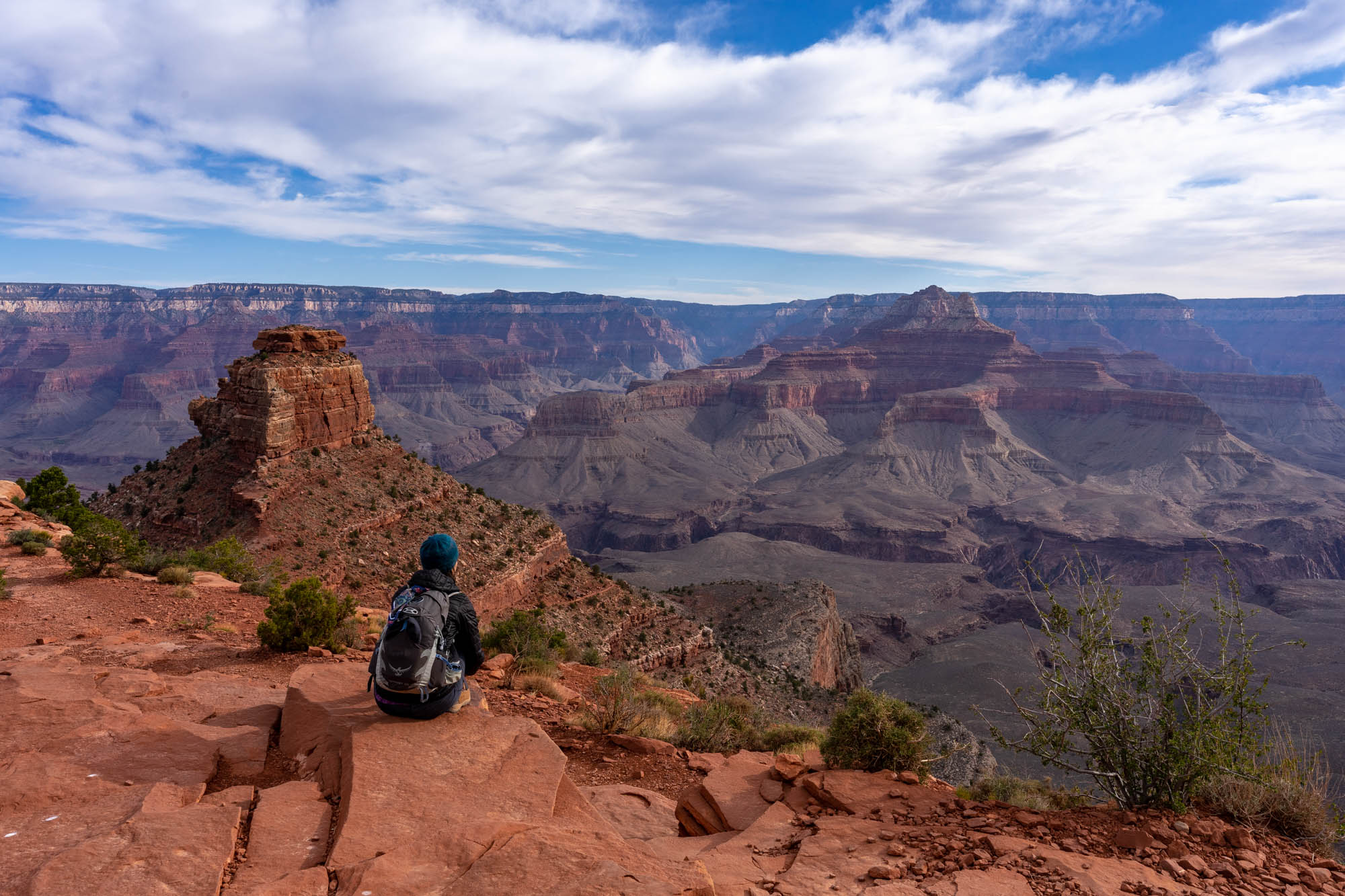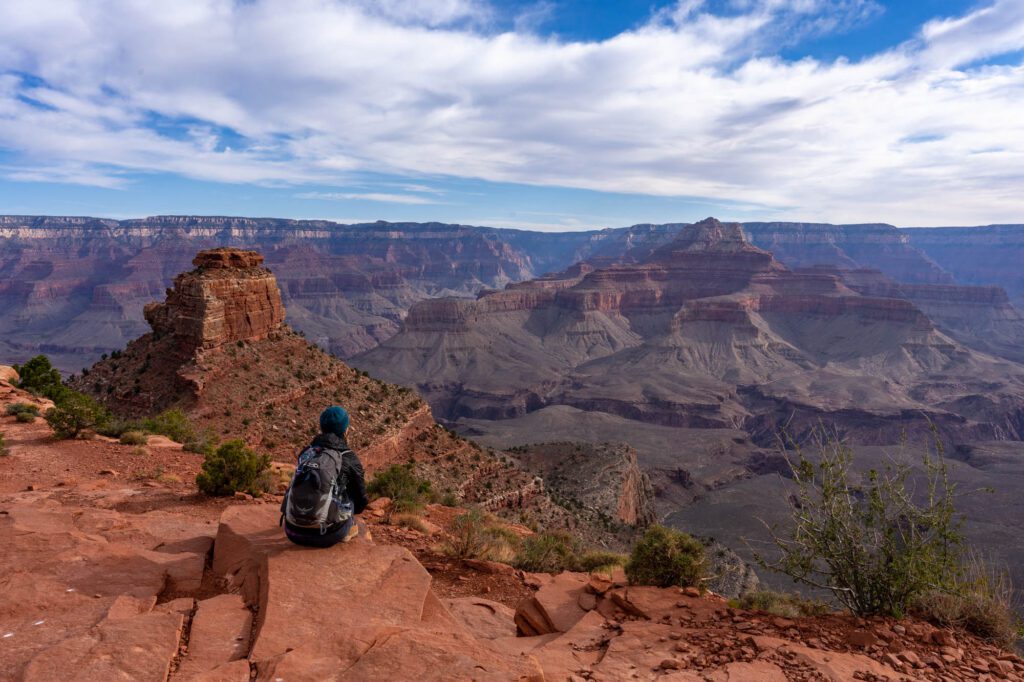 Time required: 3-4 days
If you've got two weeks and you're looking for a great addition to your Utah road trip adventure, a mini Arizona road trip would be a great option.
Zion is just two hours away from Page, Arizona, which is home to two amazing natural wonders – Horseshoe Bend (you've probably seen it on Instagram) and Antelope Canyon. Horseshoe Bend is a giant picture-perfect bend in the Colorado River that makes for an amazing sunset location, while Antelope Canyon is one of the most picturesque slot canyons in the Southwest, but is only accessible by guided tour (check out this company, which is Navajo-owned).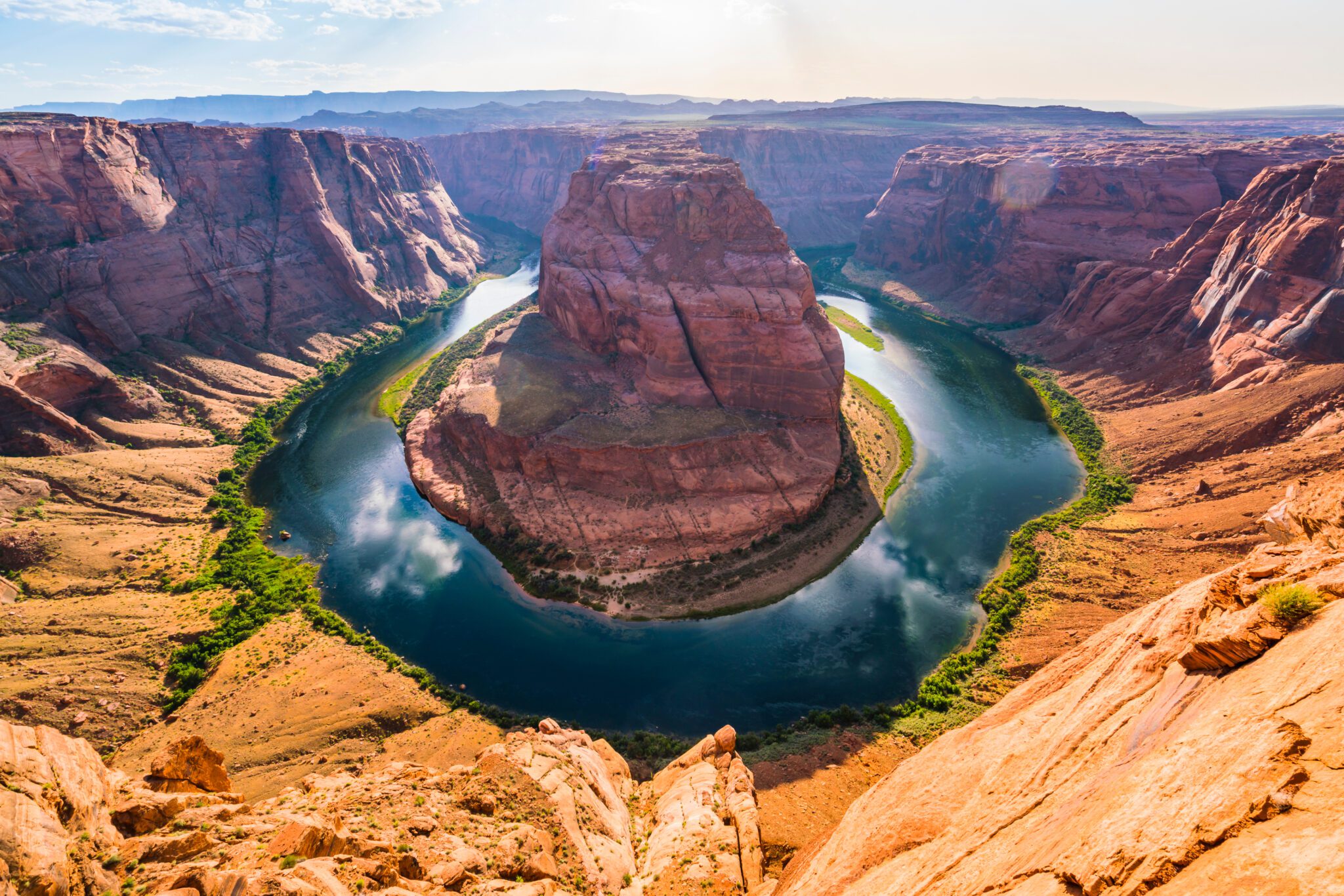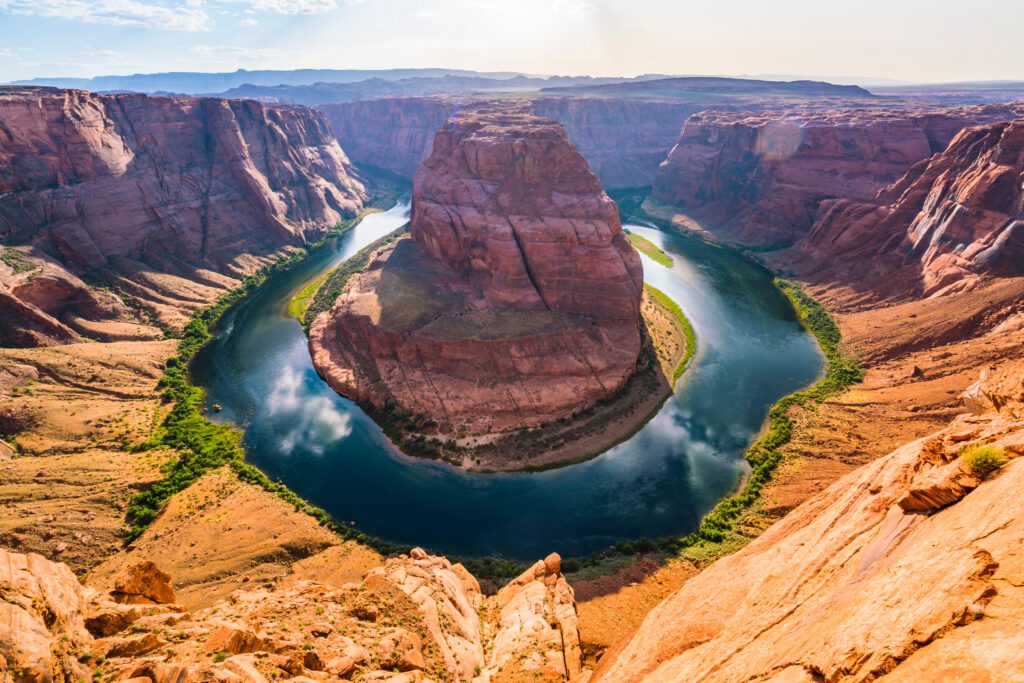 On the way to Page, make a stop at Paria Canyon to hike to Buckskin Gulch. The Wave is also here, in Vermillion Cliffs National Monument, but you'll need to apply in advance to get a permit to hike it. More information here.
After Page, continue on to the South Rim of the Grand Canyon, and spend two days at the Grand Canyon in constant awe over the natural beauty and scale on display. Make sure to drive Desert View Road at sunset, hike the South Kaibab Trail, and catch sunset at Hopi Point along Hermit Road while you're there.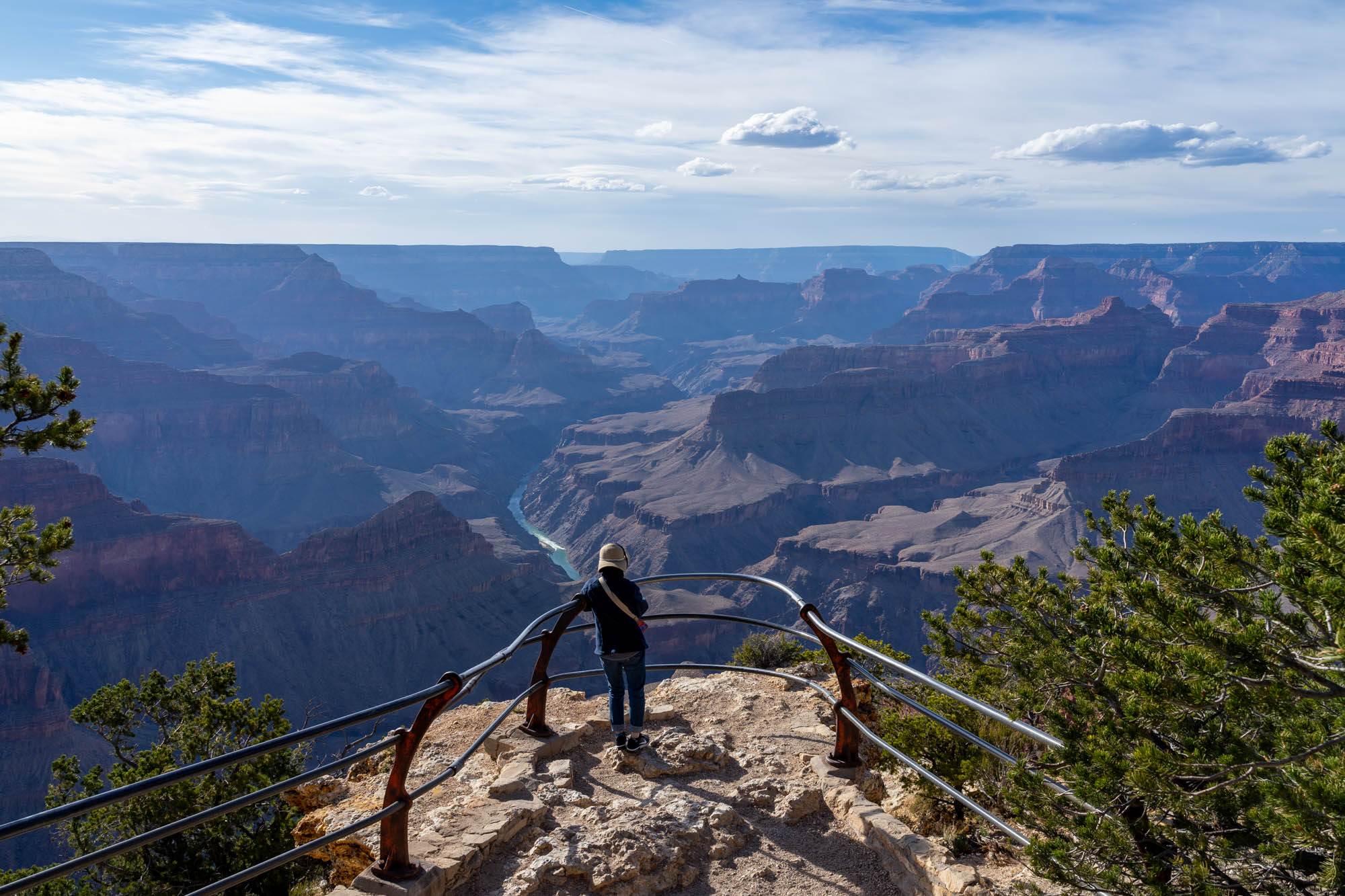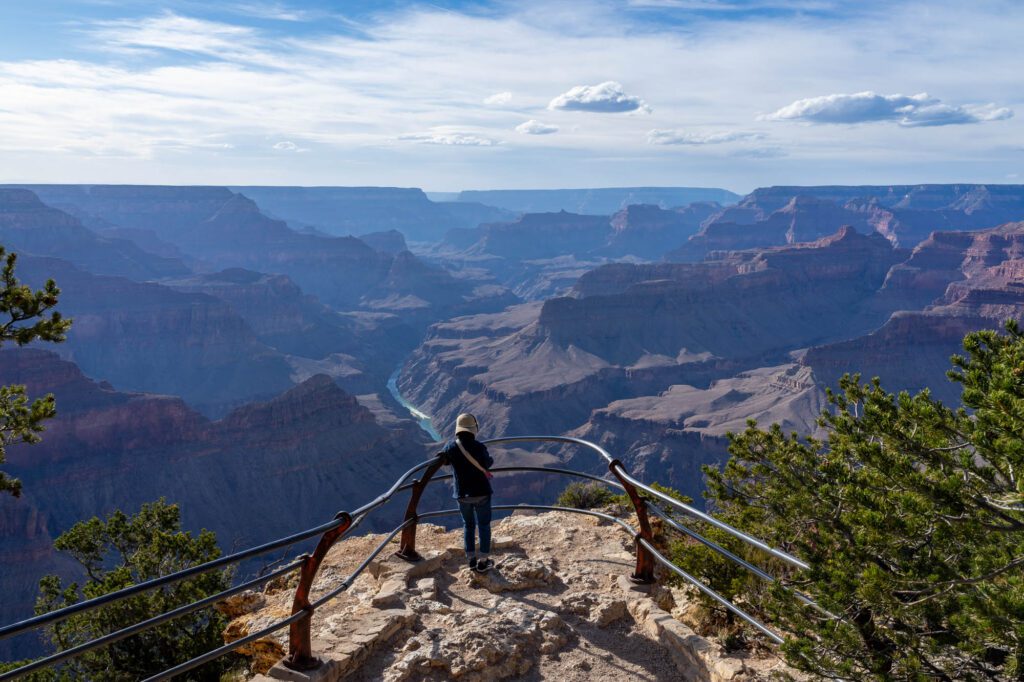 From the Grand Canyon, it's a four hour drive west to Las Vegas. You'll pass by Hoover Dam along the way, which is worth a stop for the sheer scale of the dam.
Rafting the Colorado River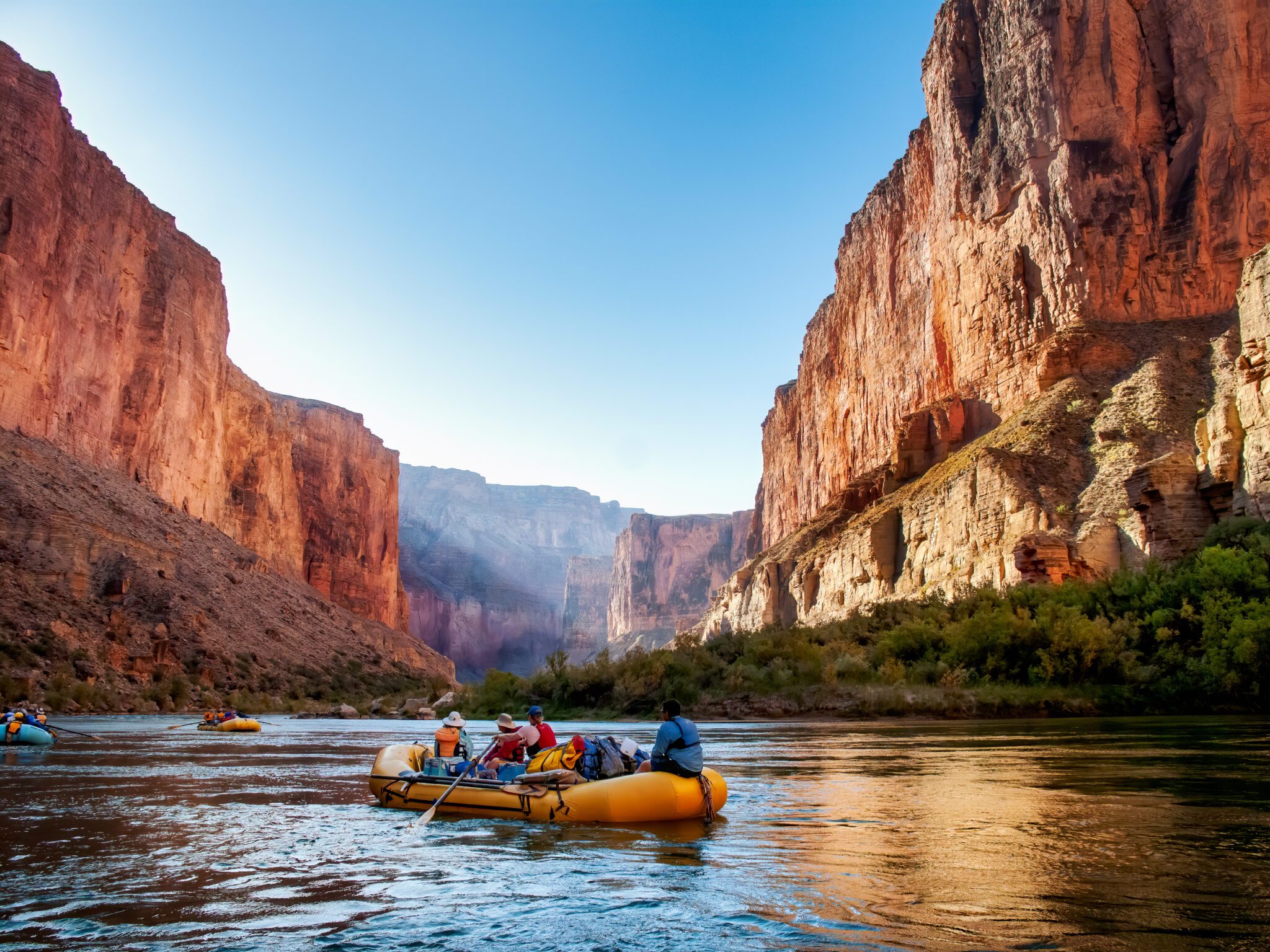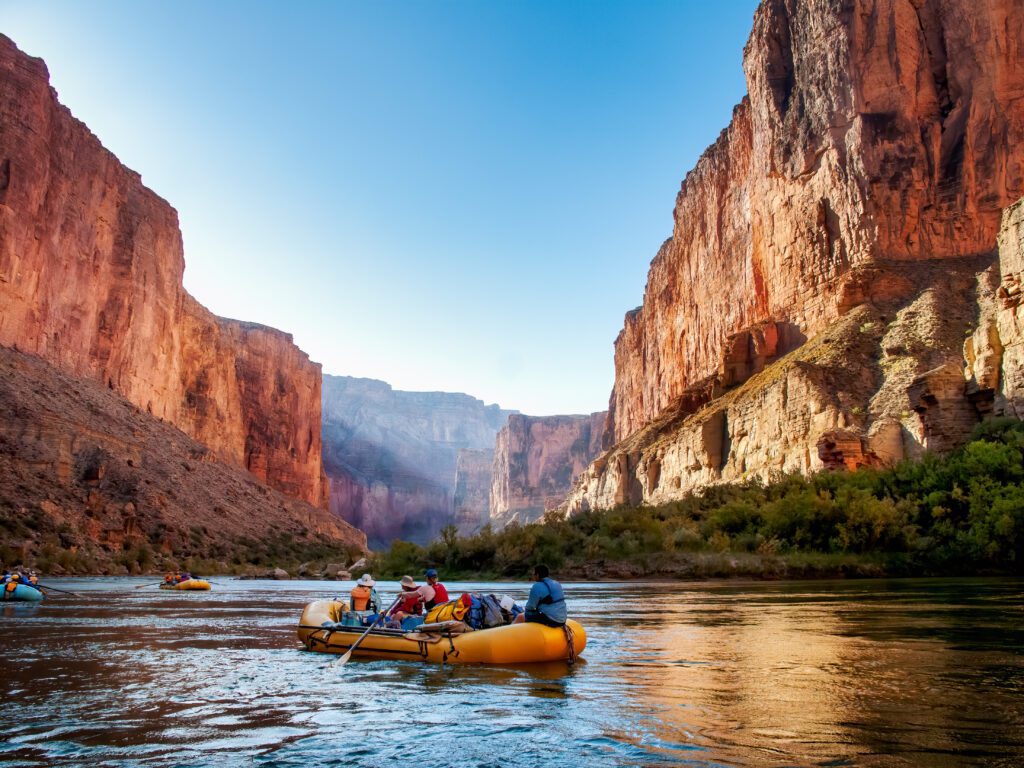 Time required: 1 full day (or up to 2 weeks!)
Whether you've been whitewater rafting before, or you've never been, there's no better place to do it than the mighty Colorado River. Rafting the Colorado through the Grand Canyon is on a lot of bucket lists out there, and there's no better time than the present to start checking things off!
Near Moab, you have four great options for whitewater rafting, depending on your comfort level with whitewater and how much time you have.
(Easiest) First is a half day trip on the Colorado River from Fisher Towers to Rocky Rapids (about 7 miles). This is a pretty tame stretch of river with smaller rapids, so it's probably best for people not comfortable in the water, and families with smaller children.
(Easy, Longer Trip) Next would be doing a full day trip on the Colorado River through the Castle Valley, which is about 14 miles and covers the same stretch of river in the half day tour, plus the stretch of river below Rocky Rapids.
(Medium – this is my sweet spot) Consistently rated among the best short whitewater trips in the USA, a full day trip to Westwater Canyon is at the top of my list of things to do when we make it back to Moab.
If you're making a detour to Arizona, then you'll have the option of rafting the Grand Canyon. You can do a day trip, but a better way to do it would be to do 5-7 days on the river so you can do the full stretch of river through the canyon. There are options for two weeks or more too! Look at O.A.R.S., one of the most reputable rafting companies around.
Cedar Breaks National Monument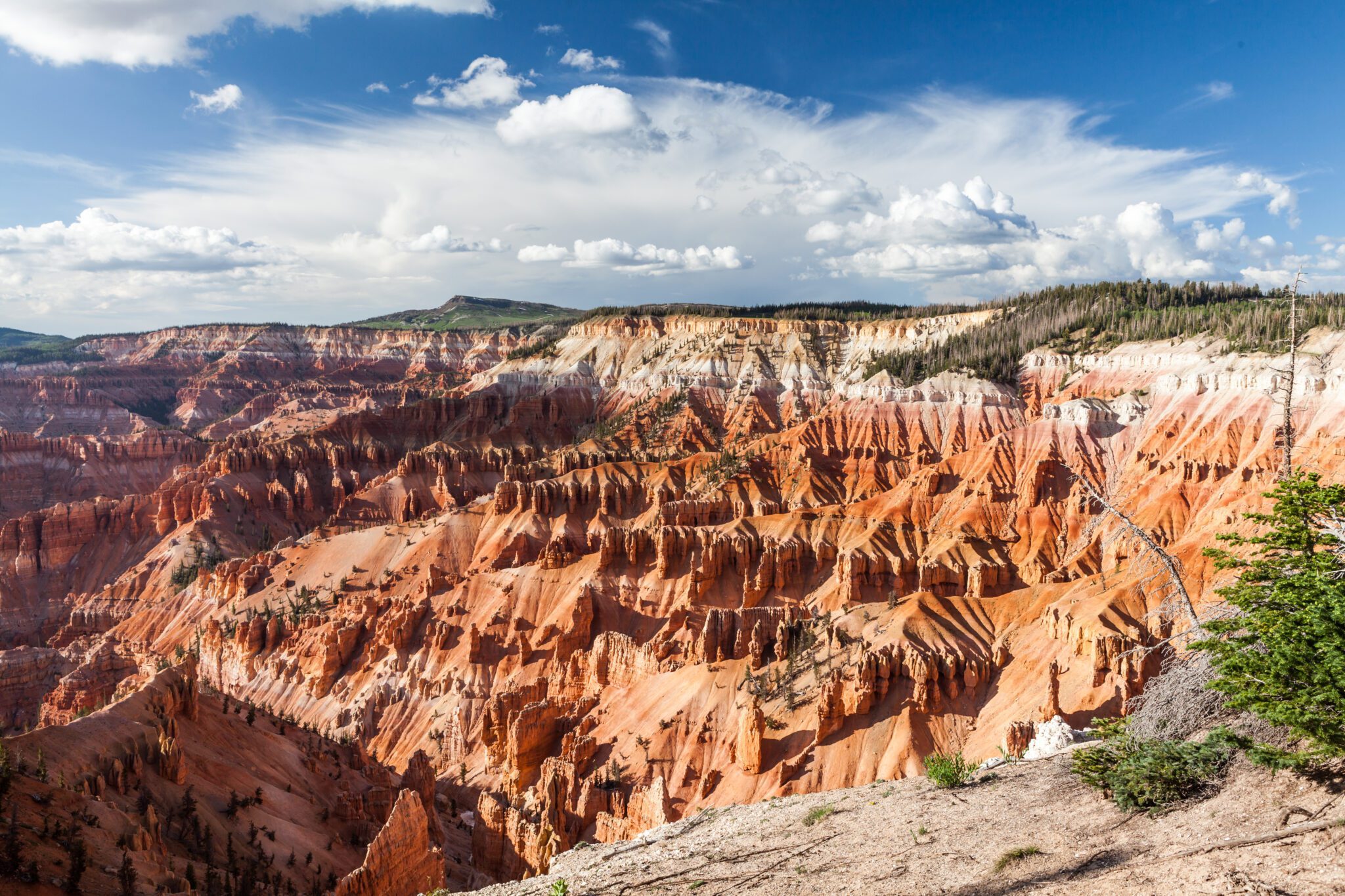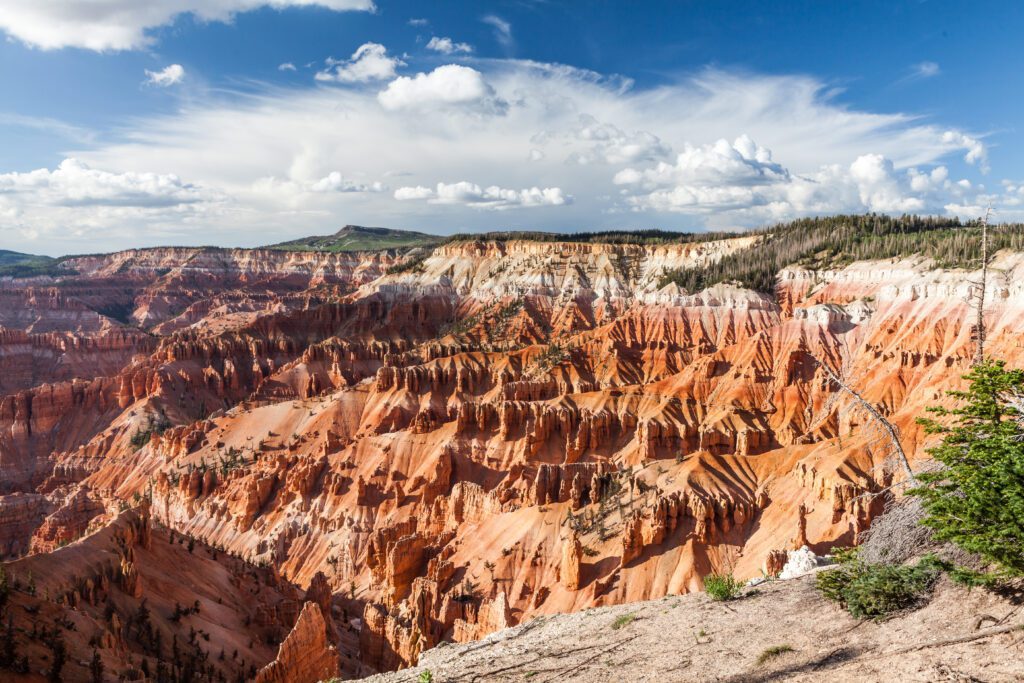 Time required: 1 full day
Siting just north of Zion (an hour and a half drive) is Cedar Breaks National Monument. It's even higher than Bryce Canyon at 10,000 feet above sea level, which means the ecosystem is very different than most of the places you've seen so far in Utah. It's most similar to Bryce Canyon, with its orange-tinted rocks and ponderosa pine forests.
It's also shaped kind of like Bryce, forming an amphitheater, but unlike Bryce you can't hike below the rim because it's steep and dangerous. As a result, there aren't a whole lot of long hikes here, so a half day is probably enough time.
Similar to Bryce, morning is the best time to be here for the light since the sun sets behind the canyon and mid-afternoon it's shrouded in darkness. While you're there, make sure to hike both the South Rim Trail and the Alpine Pond Trail. Both are short and relatively easy.
The Best Time to Visit Utah's National Parks
In general, we think fall and spring are the most pleasant times to be in Utah (we were there in October and April, and it was lovely).
Visiting in the Fall and Spring (March – May / September – October)
Fall and spring in southern Utah, which is where the national parks are, are fairly similar. We've been in both October and April over the past year, and both were very pleasant times to be there. However, the weather is certainly more unpredictable than the summer – it was 80 degrees and sunny one day, and then snowed the next day on our trip in April.
On our road trip to the Mighty Five in the fall (October), we found temperatures in the 70's and 80's during the day, and between 50 and 60 degrees at night. This varies by park – Bryce Canyon is at 8,000 feet above sea level, and is much cooler than Arches and Canyonlands, for example.
The parks are still busy, so you'll need to reserve things early – it's actually still considered high season.
Visiting in the Summer (June – August)
Summer is crowded and blazing hot. In the United States, a lot of families plan summer vacations because that's when the kids are out of school. The result? Parks are packed, camping reservations are few and far between, and good luck getting a parking spot at the most popular trailheads in the park.
Usually, the weather is the most predictable in the summer, where it's often warmer and drier than other times of year. There's also going to be afternoon thunderstorms, which are a phenomenon that we've run into multiple times in the southwest and in Colorado.
Summer isn't the best time to visit Utah's Mighty Five national parks. You'll find unbearable temperatures in the heat of the day, often reaching over 100 degrees, which basically means you can't do much during the middle of the day. You'll need to plan on being out early in the morning and late in the afternoon and drink plenty of water.
That being said, I've been on two separate versions of a Utah road trip in the summer growing up, and I'm still here. It's doable, but not preferable.
Visiting in the Winter (November – February)
In the winter, the parks are basically empty, but it's going to be freezing cold. You might even get a little bit of snow, which is a particularly beautiful way to see the Mighty Five in Utah. Pack a warm jacket (we basically wore this jacket every night on our road trip) and some long underwear and you'll be fine.
It'll be in the 30's and 40's during the day, and drop below freezing at night. You might even get treated to a nice dusting of snow covering the parks, which is stunning. If you're planning on visiting in the winter, I'd avoid camping (although we've camped in Yellowstone when it was below 20 degrees before) and plan on staying in hotels and vacation rentals along the way.
The best part? You won't have to brave the crowds – you'll have the major sights virtually all to yourself. The worst part? Some roads and hikes might be closed due to snow and ice, so you might miss out on an experience or two.
Getting to Utah
Driving to Utah
There are a couple of places that are within driving distance of the starting point for this road trip. They are Salt Lake City, Denver, and Las Vegas.
Salt Lake City is a four hour drive away from Moab, which puts you in the perfect position for this road trip. The drive back to SLC from Zion is about six hours.
Las Vegas, Nevada is closest to Zion at just two and a half hours away. If you're coming from Vegas, you have a couple of choices. You can either get the long drive out of the way up front and head straight to Moab – a six hour drive – which will make the drive home from Zion a breeze. Or you can do the short drive to Zion now, and save the long drive home from Moab for the end. We'd opt for the long drive on the front end when you're still bright-eyed and bushy tailed, but that's our personal preference.
Denver, Colorado, is a five and a half hour drive from Moab, which is the first stop on this road trip. If you're doing this road trip from Denver, the challenge is going to be that the endpoint – Zion – is a full nine hours away. You'll have a long drive to get home, but you can break it up a bit by turning the trip home into a mini Colorado road trip.
If you're coming from further west – like Los Angeles or San Francisco – we'd recommend stopping for a night in Las Vegas before and after your trip to break up the long drive.
You could also include Utah as a part of a broader southwest road trip itinerary, which would mean you'd likely be coming from Arizona (likely either the Grand Canyon or Page, Arizona). In this case, we'd recommend heading through Monument Valley en route to Moab, and starting this trip from there, heading back to Las Vegas.
In fact, if you've read our Southwest USA road trip itinerary, you know that's exactly how we've laid it out.
Flying to Utah
If you don't live nearby, like in Salt Lake City or Denver, you'll need to fly to one of the gateways to Utah, rent a car, and drive to your first destination.
The two easiest airports to fly into would be Salt Lake City and Las Vegas.
From Salt Lake City, it's going to take around four hours to drive to the start and end points on this road trip itinerary (Zion and Moab).
From Las Vegas, it's going to be just two and a half hours to Zion, but six and a half hours to Moab.
The best way to do this road trip if you want to avoid long days of driving is to fly into Salt Lake City and out of Las Vegas, which is how we've organized the itinerary below. You could absolutely do it the other way around, but doing it this direction front loads the longer drive from Salt Lake City to Moab, versus having to do that drive at the end of your trip when your enthusiasm is waning and you only have your return flight to look forward to.
Important Note: You need to check with the rental car company to make sure that it's okay to pick up in one spot and drop off in another. You might have to pay a one way fee, but we think it's worth it to avoid wasting a day of your vacation driving. See below in the rental car section to see what the tradeoff is between picking up / returning to the same place, and doing a one way rental.
You could fly into Denver and out of Vegas if you wanted to add on a few days exploring Colorado. It's going to be five and a half hours of driving between Denver and Moab, but there's plenty of things to do and see along the way. Don't miss our Rocky Mountain National Park itinerary and our guide to driving from Denver to Moab if you choose that option.
Good to Know: Book the earliest flight you can into Salt Lake City, and the latest flight out of Las Vegas to give yourself as much time as possible to explore.
Do You Need a Car?
Yes, you definitely need a car to explore Utah's national parks. There's essentially no public transportation to speak of, and the car will give you the flexibility to do a bit of exploring beyond the boundaries of the parks.
Rent a car at the airport that you arrive into, and make your reservation as far in advance as possible.
There's a tradeoff to think about here, and you'll need to make a decision on what's right for you. This also affects where you fly in and out of. Prices for one-way car rentals are going to be a bit more expensive than picking up / returning to the same place. However, picking up / returning to the same place is going to involve about four more hours of driving.
It comes down to whether it's worth the extra money (usually a one way fee of $80-$100, but it varies by company and time of year) to avoid an extra half day or so of driving. We think it definitely is, but it depends on your budget.
---
We loved our road trip, and think you will too. There's an incredible amount to do and see, and some of the best hikes in the western United States can be found in Utah.
Did you find this guide helpful? Leave a comment down below and let me know what your favorite part of your Utah adventure was!