2 Weeks in Spain: How to Plan an Amazing Spain Itinerary
Wondering how to spend two weeks in Spain? Or maybe your time is shorter or longer than two weeks and you're trying to figure out how to make the most of your trip to Spain. You're in luck! We recently spent more than a month in Spain – mostly southern Spain – and wrote this detailed guide to help you plan an amazing Spain itinerary for anywhere from 7 days to 2 weeks or more.
We loved Spain, and can't wait for a return trip to explore some of the parts of northern Spain that we missed.
Because this guide is based on our experience, it is essentially a southern Spain itinerary. You'll visit Spain's major cities – Madrid and Barcelona – along with some of the highlights in Andalucía, which is our favorite part of Spain.
It needs to be said at the beginning of this guide – Spain is a huge, diverse country with a bunch of fascinating regions with their own distinct identities. You're not going to be able to see even close to everything in two weeks.
Even with over a month in Spain we still had to put some places on the list for our next trip.
This guide to planning your Spain itinerary is meant to help you narrow down where to visit, and help you figure out how to organize your visit to Spain based on our personal experience and what we enjoyed.
Don't worry if you have less than two weeks – below the main itinerary, we have ideas on how to condense the itinerary into shorter time frames. We DON'T think you should try to visit the same number of places in a shorter time, and instead would recommend choosing less places and spending the same amount of time exploring each.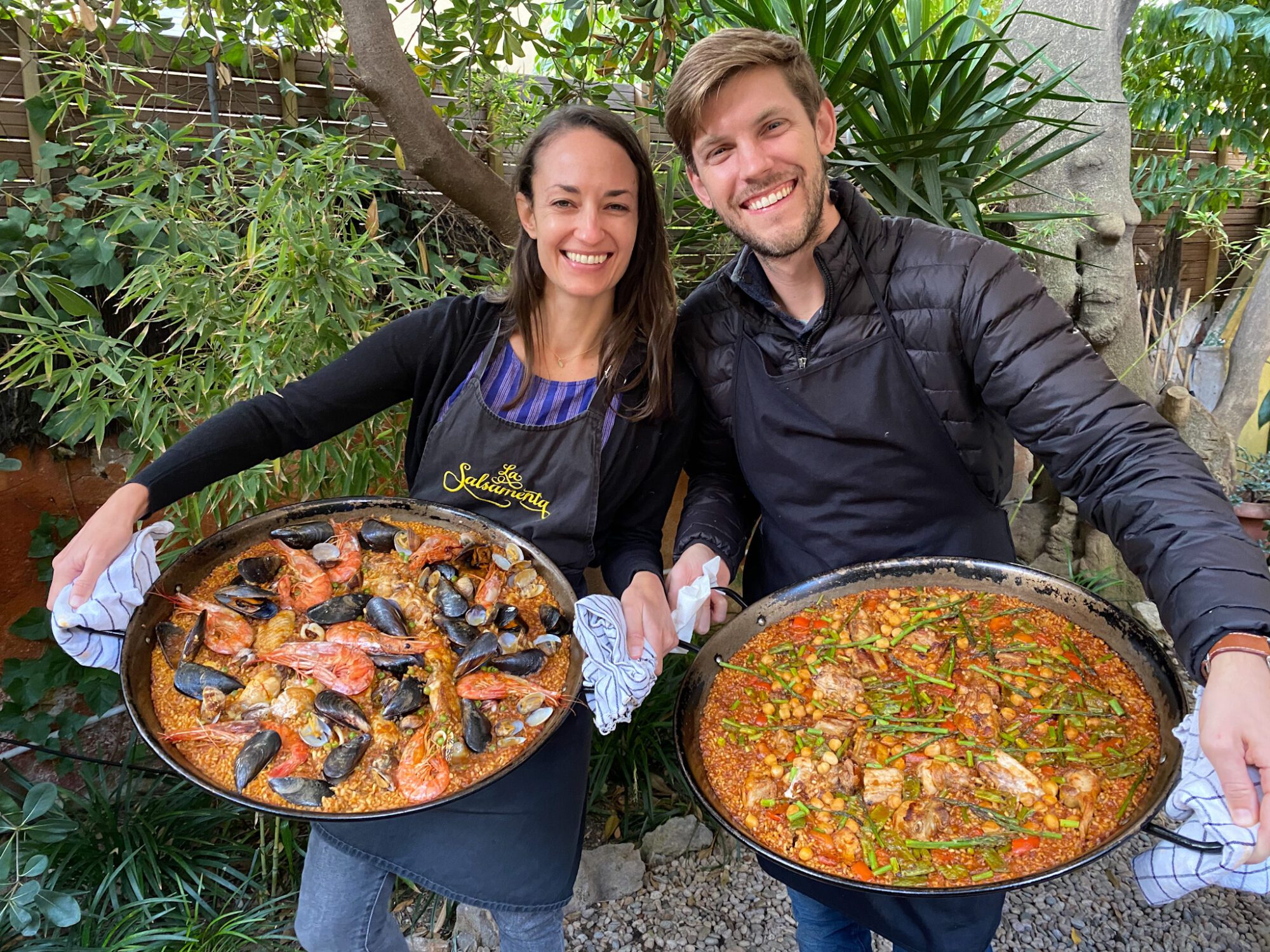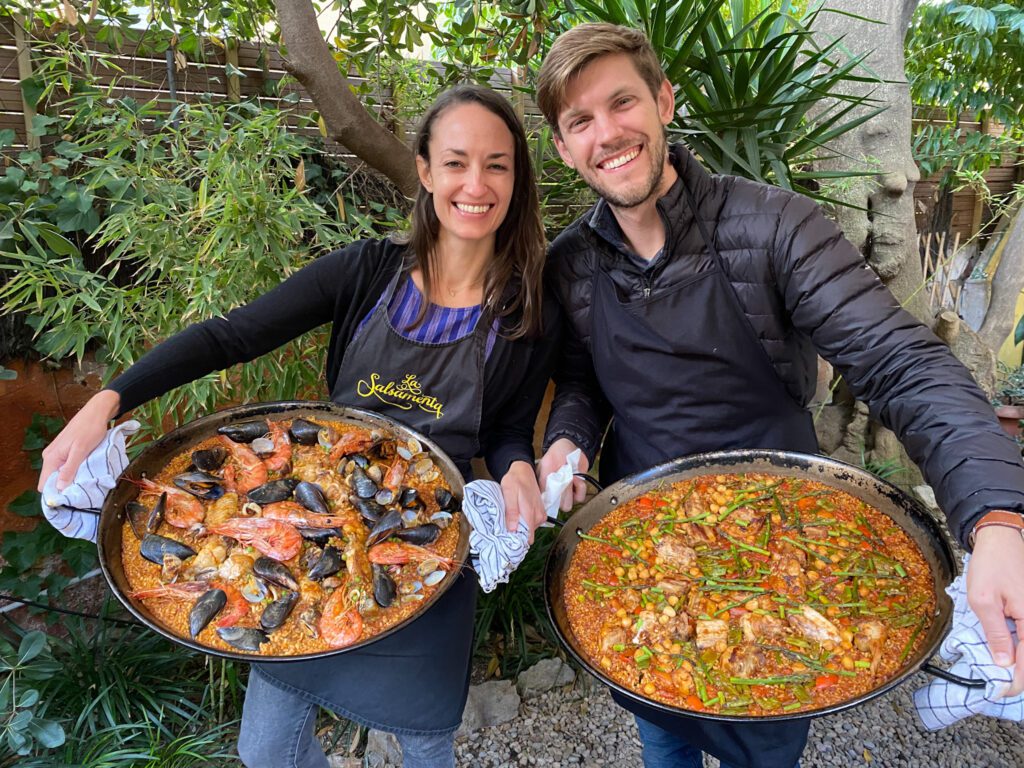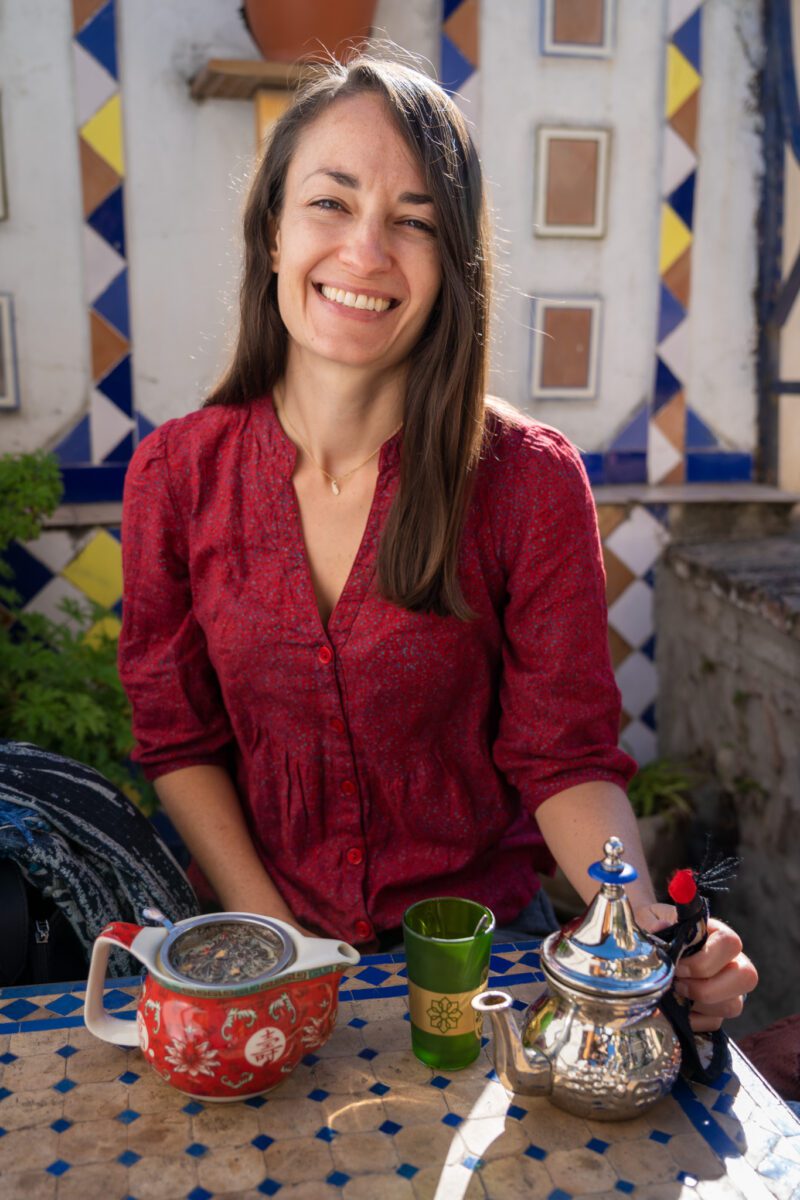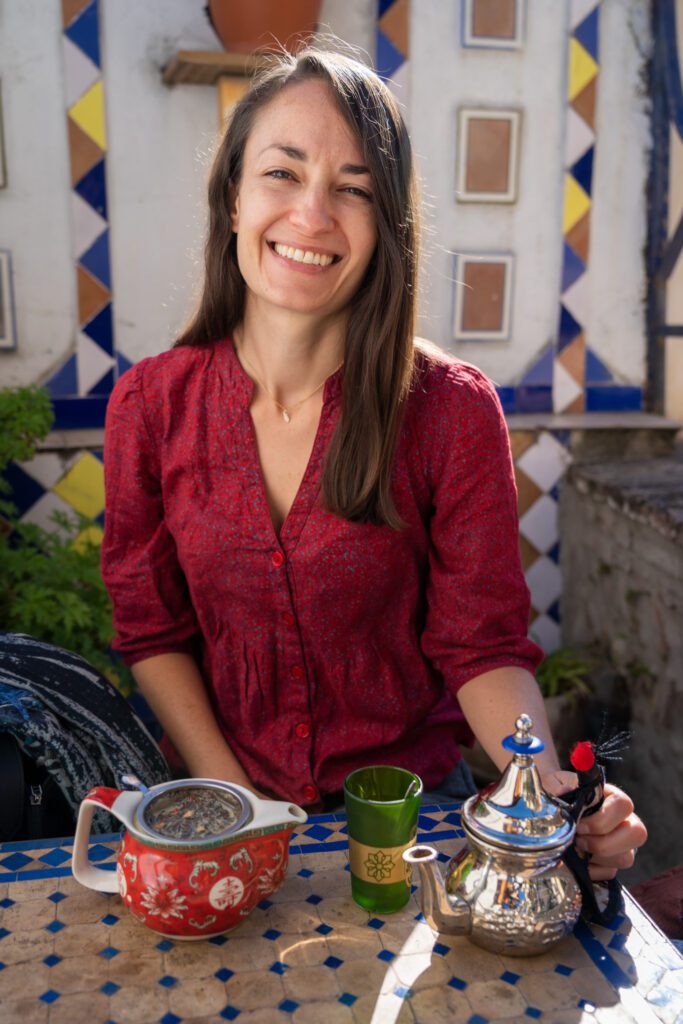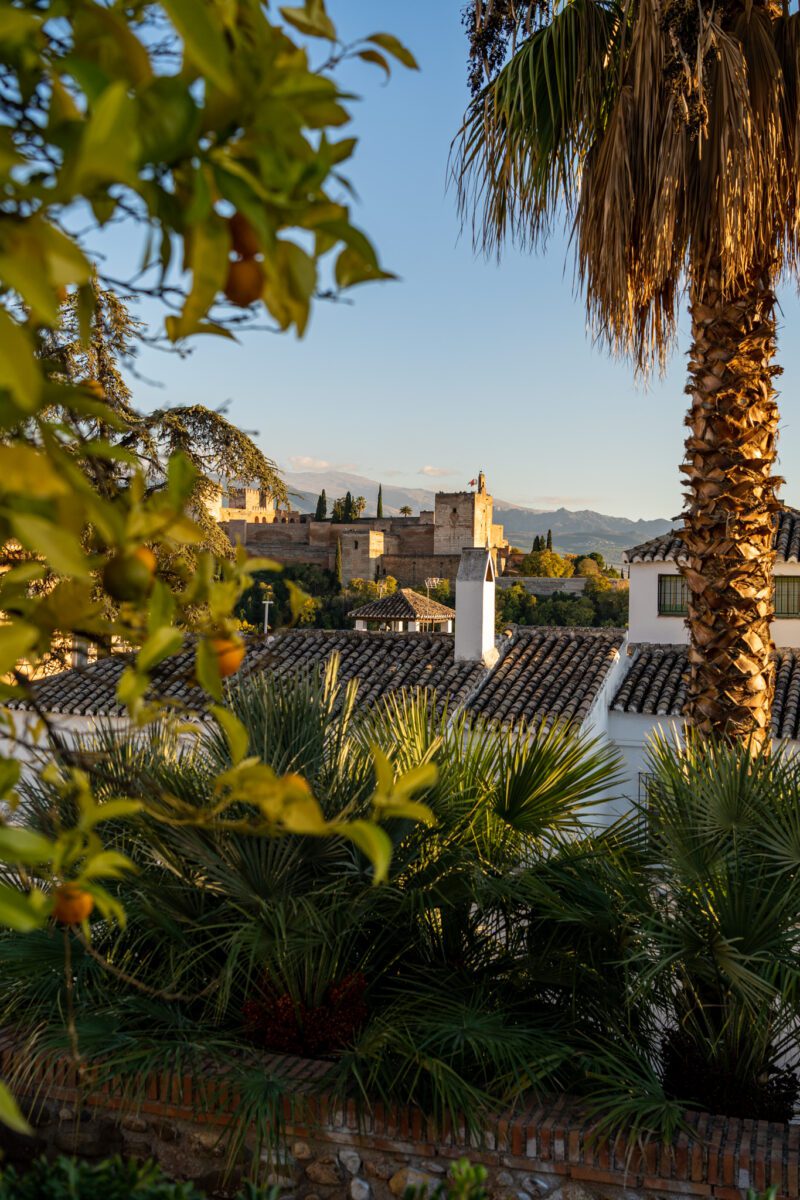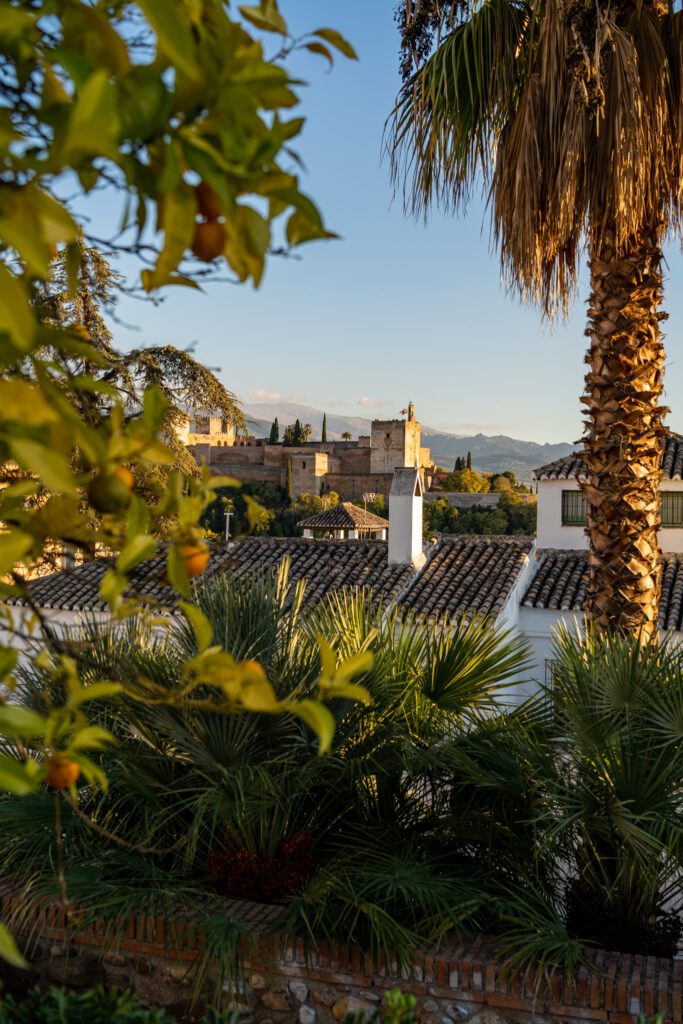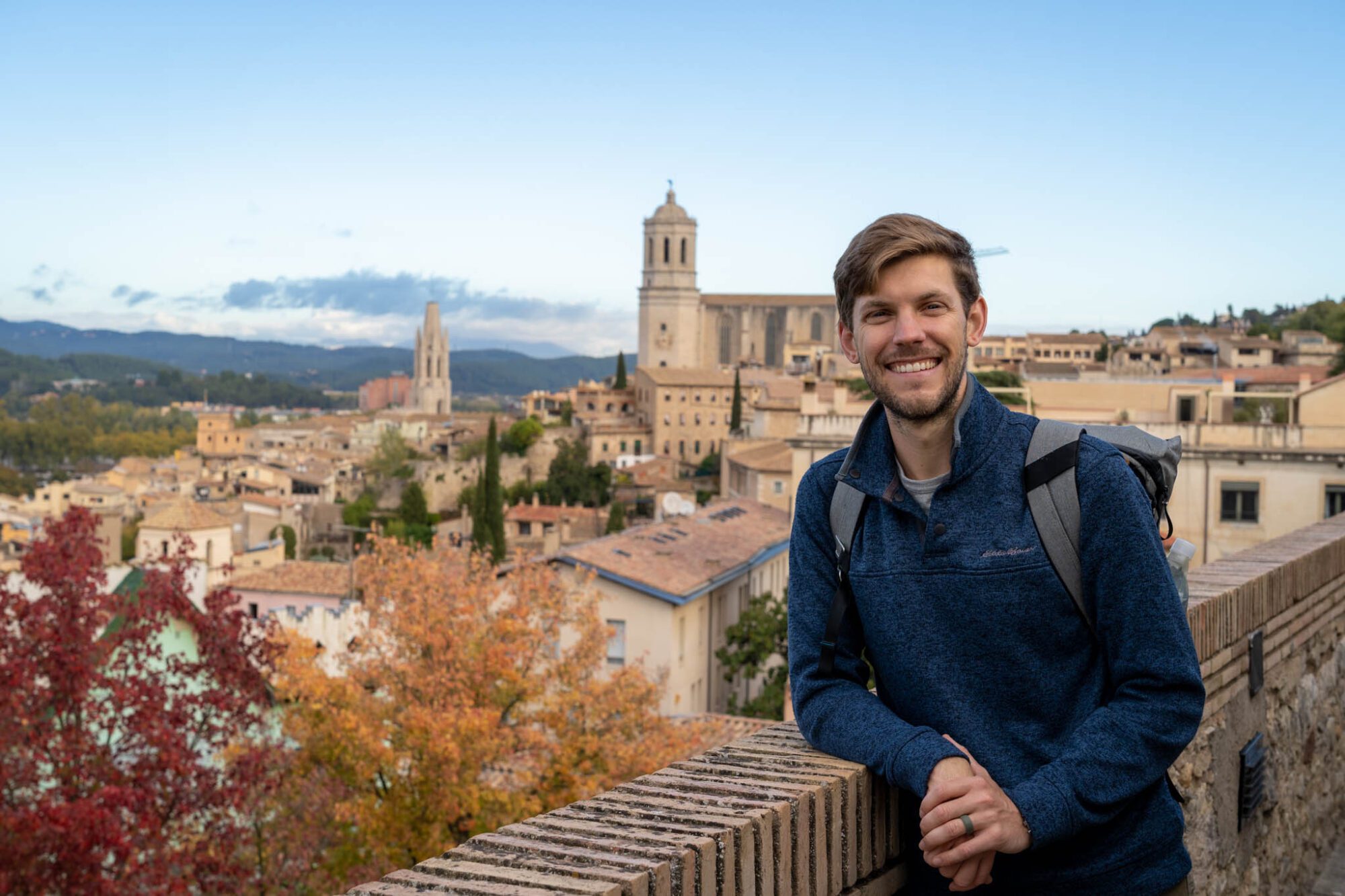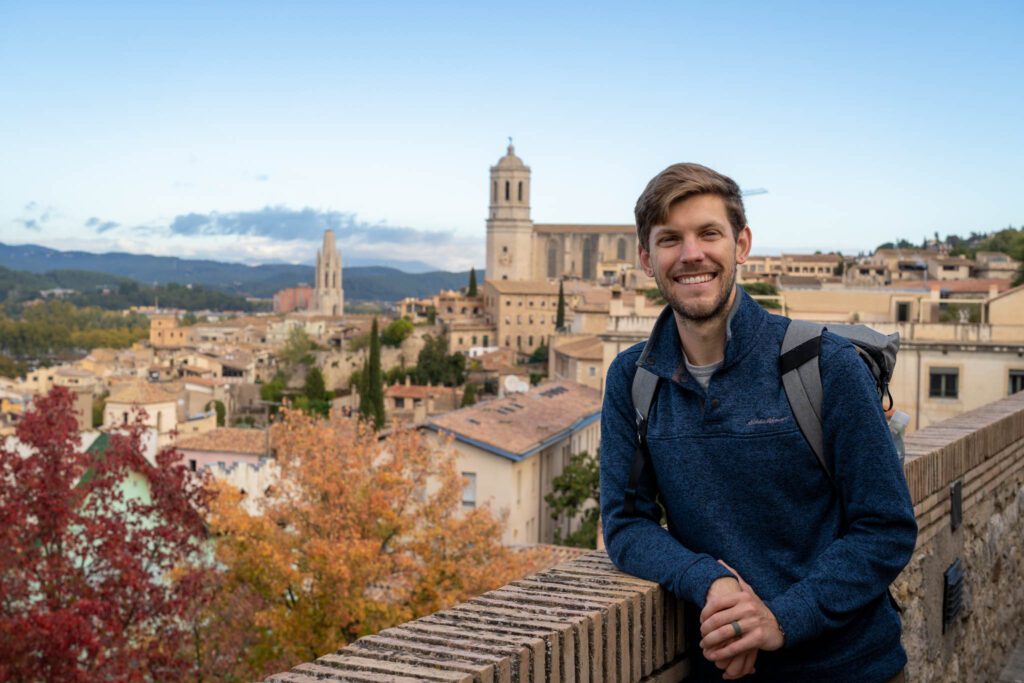 Disclaimer: Some of the links in this post, like hotel links, are affiliate links, meaning at no additional cost to you, we make a little bit of money if you click through and book. That being said, we would never recommend something to you that we don't stand behind 100%.
How Much Time Do You Need in Spain?
Well, the answer to this question is essentially, as many as you can spare!
If you have 14 days in Spain, you'll have enough time to see both the highlights and some of the destinations that most tourists never make it to. However, two weeks still isn't really that much time, so there are going to be times you're going to say "I guess we'll have to do that next time." We certainly did, and we had over a month!
With that in mind, we strongly recommend that you focus on picking four to five cities or regions in Spain rather than spending a night in each place and trying to fit it all in. That trip will be exhausting, and you'll be missing so much richness and history by shortchanging each individual place.
Our recommendation for you is to focus your time on: Barcelona (and Catalonia), Madrid (and the surrounding area), Granada, and Seville.
That means your itinerary is going to be heavily focused on southern Spain, which we think is the best introduction to Spain, and you'll have to come back to explore northern Spain like Basque country and Asturias another time.
If you're visiting Spain with less time, we'd cut down on the number of places you're visiting rather than spending a day or two in each place and still trying to fit them all in. I know, it feels weird to go all that way and only see a couple of cities and their surrounding areas.
But we'd strongly recommend opting for fewer places and more time in each place, which will give you a deeper understanding of the city, the culture, and the people and allow you to get a level deeper than just seeing the main sights.
If you have 7 or 10 days in Spain, we have suggestions on how to spend that time below the main itinerary.
Where to Start and End Your Trip to Spain
We've organized this trip going east to west from Barcelona to Seville, but you could easily do it the opposite direction.
If you follow it as written, you'll want to fly in and out of different airports on what's called an "open jaw" flight. This will save you a 5 to 6 hour train ride to return to Barcelona or Seville at the end of your trip, though the flight might cost a little bit extra (not always, though).
If you do this as a one-way journey working from east to west, that means you'll want to fly into Barcelona and out of Seville.
Barcelona has a very nice international airport with plenty of domestic and international flights available, and Seville's, though smaller, will still give you plenty of options (though you'll need to connect if you're flying back to the US or Canada – not a whole lot of direct flights go from Seville to North America).
If you find a cheap flight deal (we use Scott's Cheap Flights, which sends you flight deals from your home airport to your inbox, and love it!), you can absolutely fly in and out of the same city.
But you'll have to organize your time in a way where you make your way back to the airport you're flying out of, which is going to mean extra train time and cost over the course of your trip.
The price might work out though, depending on how cheap the flight is!
Getting Around Spain
Once you're in Spain, you should plan on using the efficient and affordable rail network to get between places.
Occasionally, like from Madrid to Segovia, the bus is actually more efficient, but we took trains between cities and on day trips and always had a great experience. The train is a fantastic way to travel, and we wish we had a better high-speed rail network back home in the US.
You shouldn't fly domestically between Spanish cities. It'll be more expensive and once you've gotten to the airport a couple of hours in advance, it'll likely take longer than the train, where you can show up 20 minutes ahead of time and still have time to grab coffee before boarding (in most cases).
Plus, it's generally more expensive and time consuming to get from the airport to the city center (or vice versa).
Our point is that trains are easier in almost every way.
We often ran into issues with the website of Spain's rail network, Renfe, where it wouldn't take our credit cards no matter how many times we tried.
After being frustrated several times, we turned to Omio, a private company that presents all the bus and train options in a significantly more user-friendly package (an app with tickets available offline, no glitches with payments, and it's all in English). You'll pay a small service fee, but we think it's worth it for the significantly better experience.
Should You Rent a Car in Spain?
For context, we did not rent a car, used exclusively trains, and had a lovely time exploring the country.
However, there is one place where it might be nice to rent a car and have a little more flexibility to explore at your own pace, and that place is Andalusia. If that sounds like something you're interested in, our advice is to pick up the car as you're leaving Madrid, and drop it in Seville the day you arrive.
You won't need a car in Barcelona or Madrid, and the day trips to Toledo and Girona are very easily accessible using the train.
Check prices and book on AutoEurope, which is our go-to rental car company in Europe. We used them twice on our three month European adventure – including in Sicily – and it was perfect both times.
The Route for a 2 Week Spain Itinerary
If you have two weeks, we'd recommend starting in Barcelona, making your way to Madrid, heading down to Granada, and ending in Seville.
Here's what that looks like in map form.
You'll notice that this itinerary is missing HUGE swaths of the country, but two weeks really isn't enough time to see everything. Instead, we'd recommend taking the time in the places you do visit to really get a feel for each place and go deeper on the unique histories and cultural quirks, which is what makes each place special.
Here's a day-by-day breakdown of what that trip looks like.
Day 1: Arrive in Barcelona (and sleep)
Day 2: Barcelona
Day 3: Girona Day Trip
Day 4: Barcelona
Day 5: Barcelona & Late Train to Madrid
Day 6: Madrid
Day 7: Madrid
Day 8: Toledo Day Trip
Day 9: Granada
Day 10: Granada
Day 11: Seville
Day 12: Seville
Day 13: Córdoba Day Trip
Day 14: Seville & Fly home
Obviously, you have a little bit of flexibility in terms of which days you choose to do a day trip, how many days to spend in each place, and more. But this is how we'd do it if it was our first time in Spain.
Two Weeks in Spain: A Complete Guide to Planning a 14 Day Spain Itinerary
Alright, now that we've covered logistics and given you an overview of what the itinerary below looks like, time to get into the details.
Days 1-5: Barcelona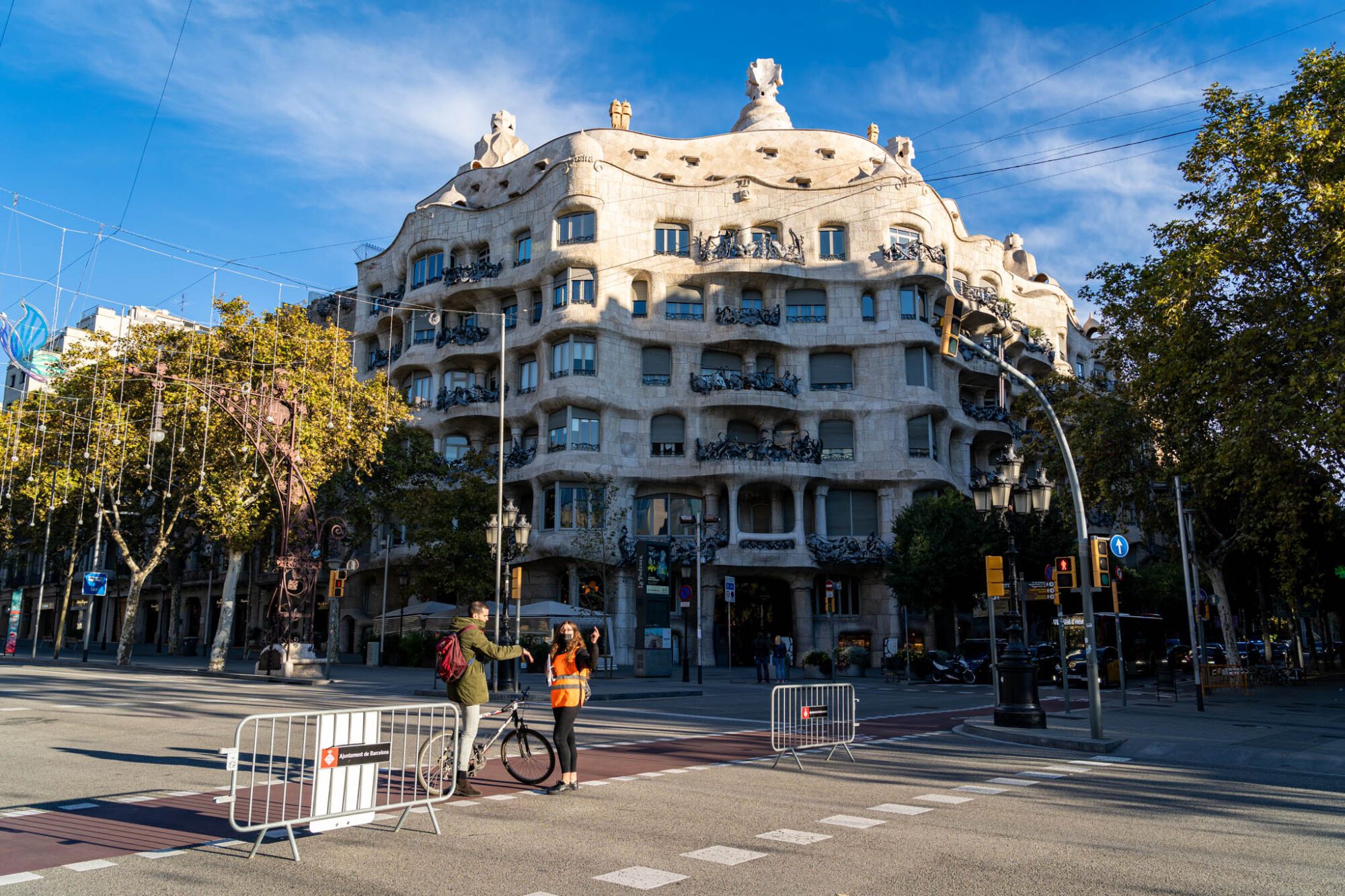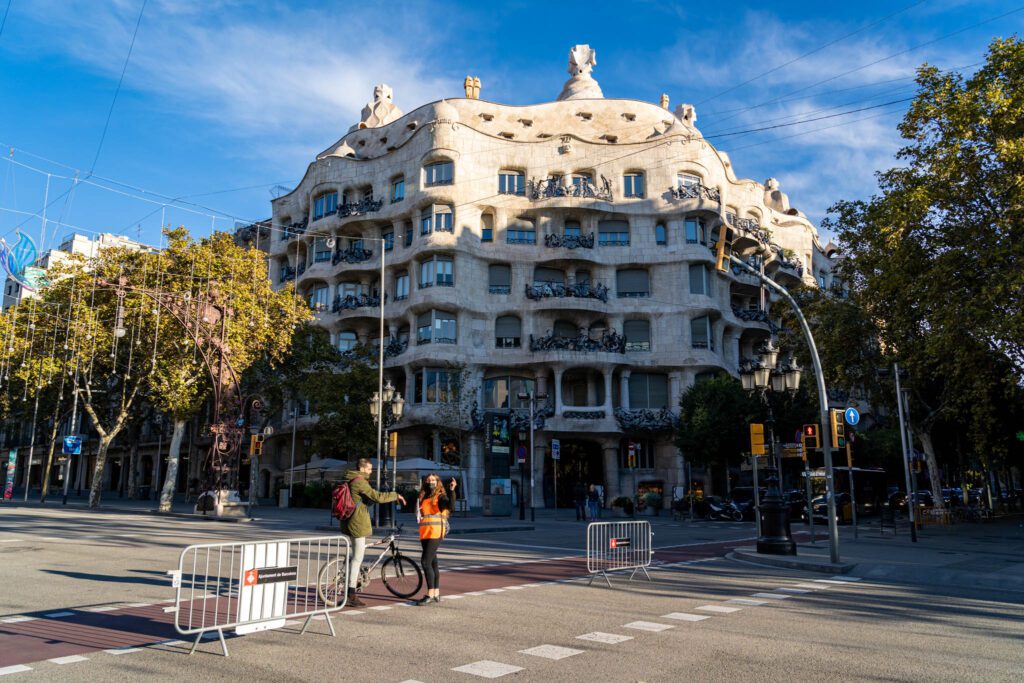 Barcelona is one of the most famous cities in Europe, and it's not really that hard to understand why when you're immersed in its charm. It has a great food and drink scene, plenty of fun neighborhoods to explore, and is a hub for some great day trips.
And, of course, there's the fingerprints of Antoni Gaudí, the Modernist architect who has had such an impact on the look and feel of various parts of the city, from Modernist buildings along Passeig de Gràcia, to the Sagrada Familia, one of the most impressive religious sites we've seen.
You really can't visit Spain without including Barcelona. We think Barcelona is worth a full three days, and we think a day trip to Girona to get deeper into Catalonia and see one of our favorite cities in Spain also deserves a place on your visit to Spain. So that's four full days in and around Barcelona.
Please note that we're assuming you arrive on the first day of this itinerary, probably sometime in the afternoon depending on where you're coming from.
If you're coming from outside of the EU, that means you're going to have some jetlag to deal with, which means that the first day is largely lost. If you're not dealing with jetlag, lucky you! You can probably spend one less day in Barcelona, and take that day and use it somewhere else later in the itinerary.
What to Do in Barcelona
Here are some of the things to do in Barcelona that we think should be staples on your trip. Obviously, there are a ton of other things to do, see, eat, and drink, but these were the highlights for us.
For more detail, head over to our guide to planning a Barcelona itinerary.
One important note: Tickets for the Sagrada Familia and Parc Guell – especially in high season – sell out. Sometimes months in advance. After you book your place to stay in Barcelona, those should be the next things you book if you want to see them.
The Sagrada Familia
Of all the churches we saw on our three month European adventure that took us to Italy (including Sicily), Spain, and Portugal, this was our favorite of them all.
The reason? The amount of thought and care that has gone into every single element – the two facades, the interior, everything – is staggering.
It's a masterpiece, and it's well worth having the audio guide or a guided tour to enrich your experience and learn more about Gaudí's masterpiece, which is still in-progress (though is due to be completed in 2026, 100 years after his death). Y
ou can get tickets on the official site.
If they're sold out for your dates, look at Get Your Guide for skip-the-line tickets, or join a guided tour (we'd recommend this one with Take Walks, our favorite tour company in Europe).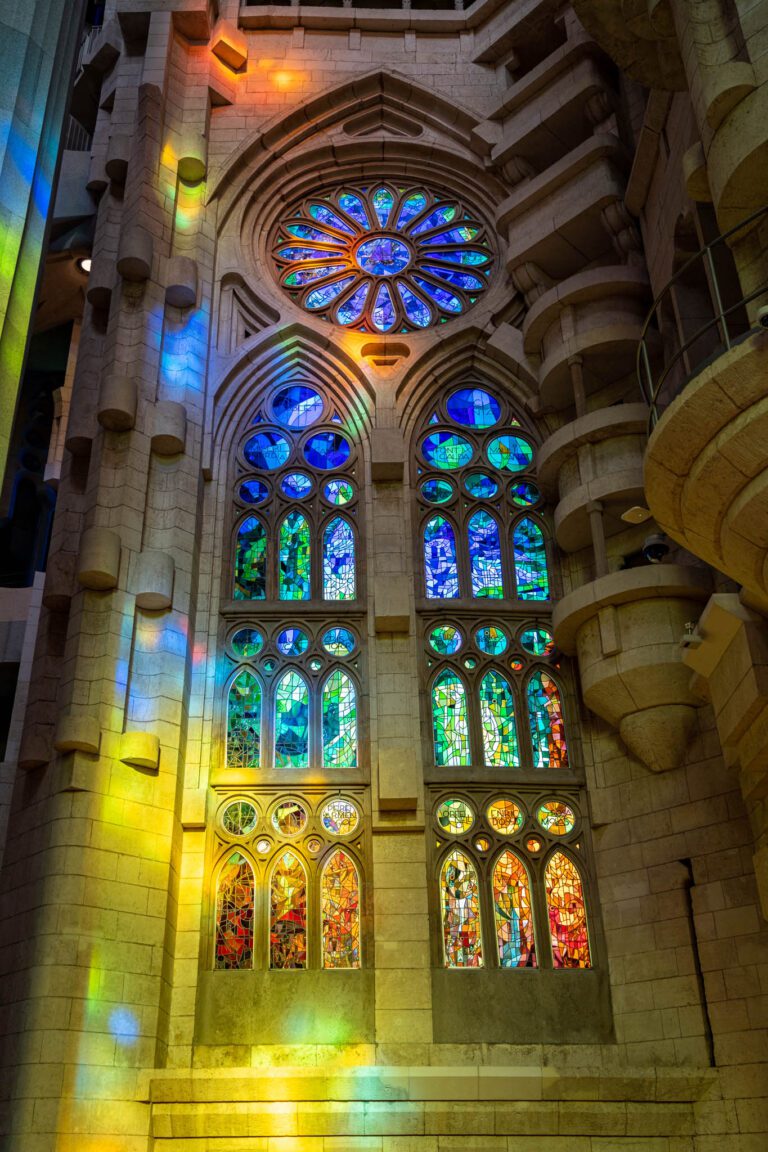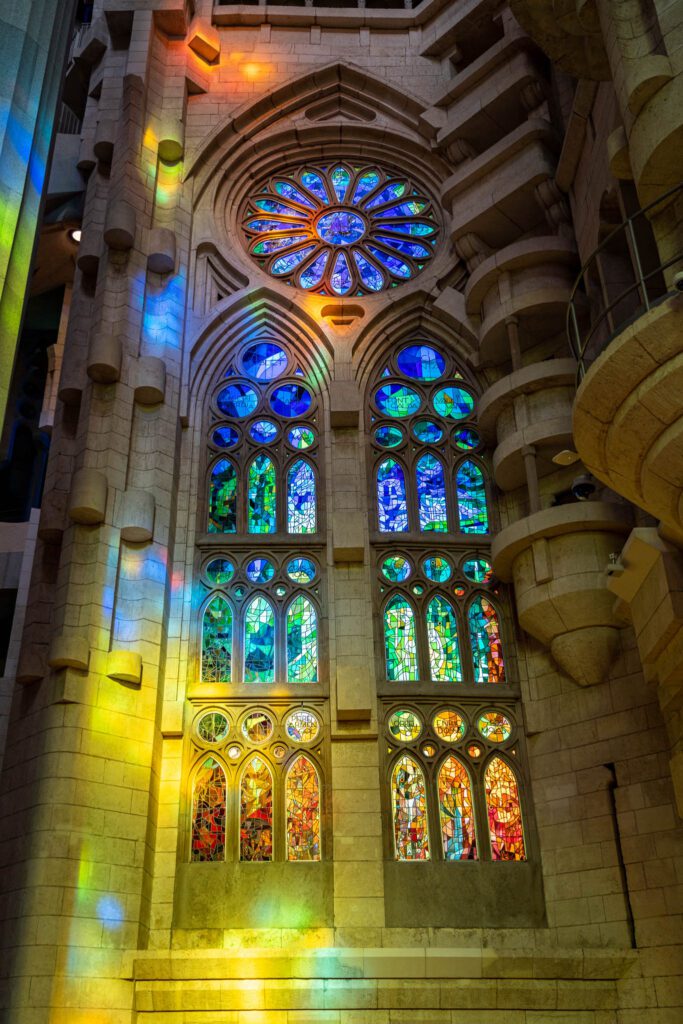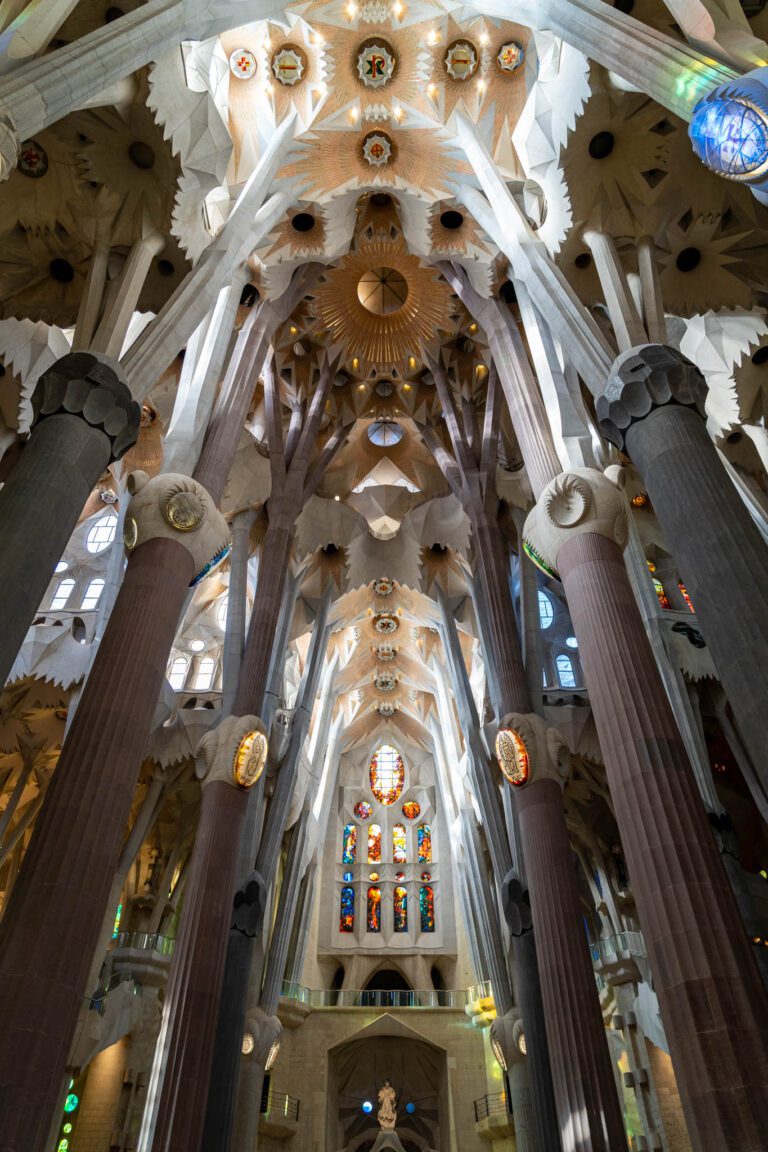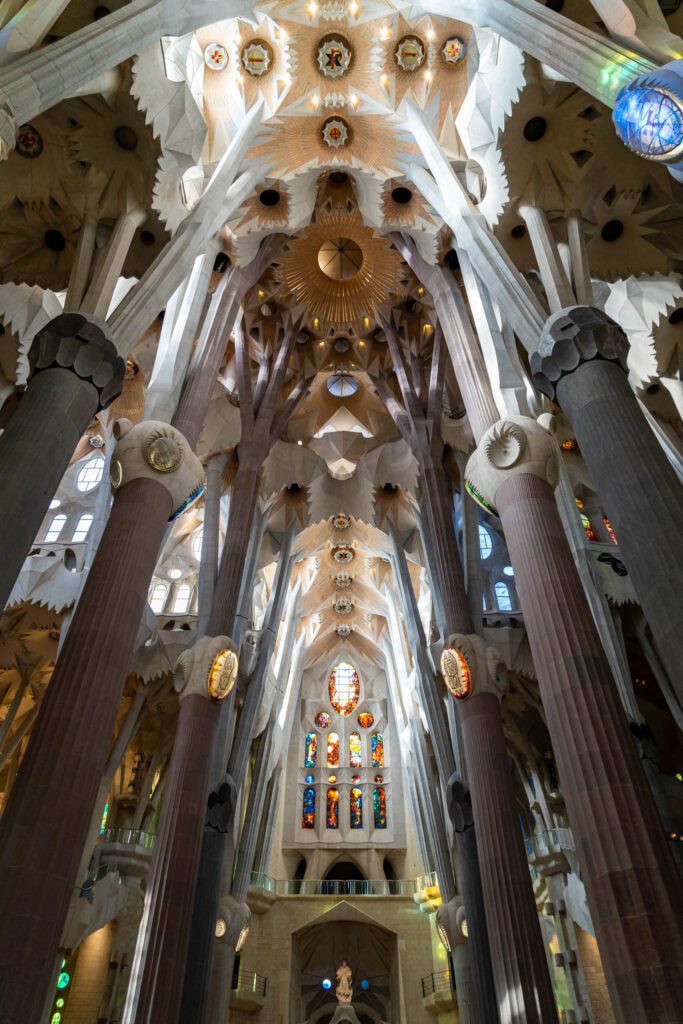 Parc Guell
Another Gaudí masterpiece, this is a park up on the hill behind the Gràcia neighborhood with great views back towards the city and water.
It's going to be crowded at any hour, but it's worth braving the crowds for the Modernist architecture.
Tickets here.
Explore Barcelona's Markets
There are three markets in Barcelona that we liked (though we went to a couple of the more local markets that are found in each neighborhood and enjoyed those too).
First, and most famous, is La Boqueria, which is right on Las Ramblas. It's the biggest, and because of its location, it's always crowded with tourists. Go early in the morning for the best experience, and get some fresh fruit or fruit juice for breakfast (Satan's Coffee Corner a few blocks away is where you should go to get coffee).
The other two – Santa Caterina and Barceloneta – are within fifteen minutes on foot, and are smaller. But both are more enjoyable and are more evenly split between tourists and locals going about their shopping.
Learn About Catalonian History
We really enjoyed the Museu d'Historia Catalunya, a relatively small multi-floor museum in Barceloneta by the beach.
It's a dive into the history of both Spain and specifically Catalonia, which is something we had never really learned about in school.
You'll come away with a deeper understanding of the region and its complex history and origins of its unique culture.
Discover the Secret to Perfect Paella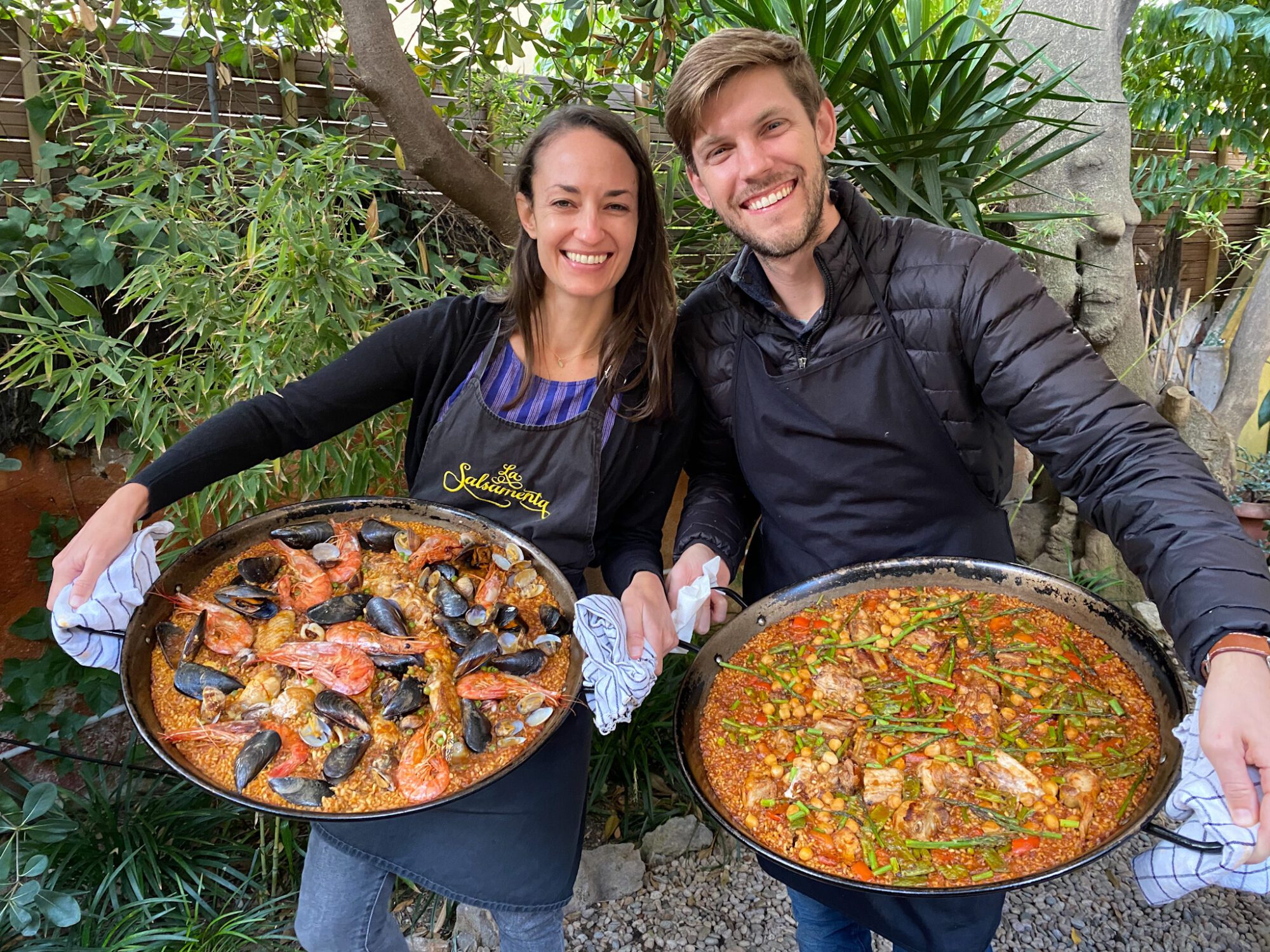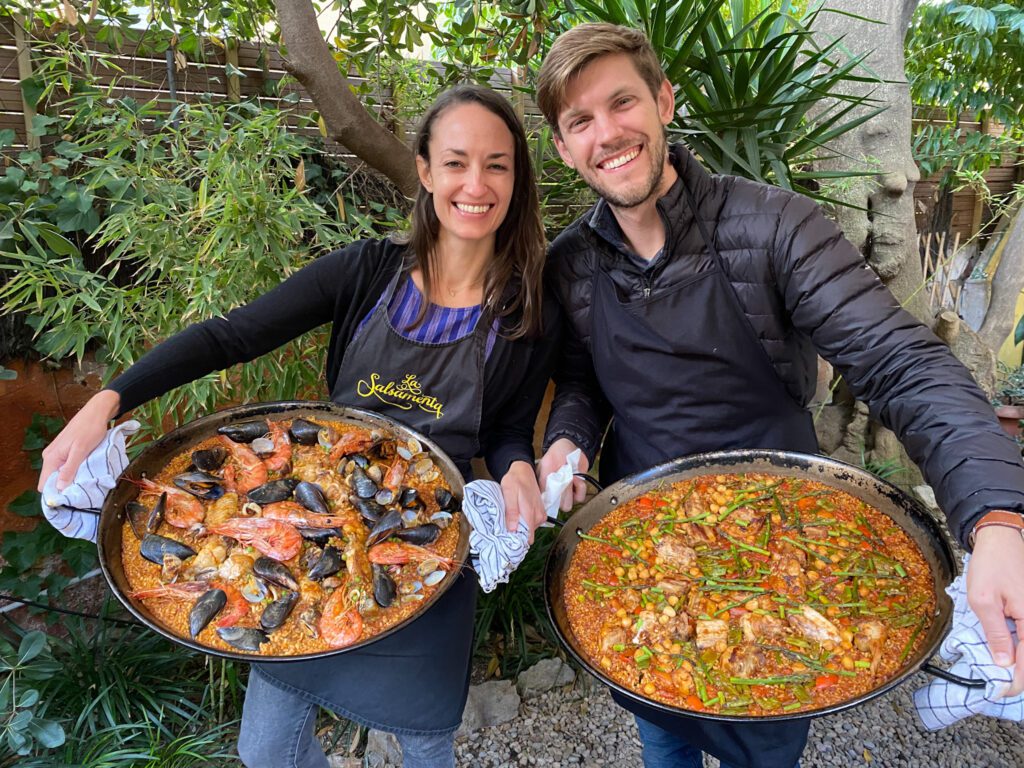 We love to cook (and eat, of course), and when we sat down to talk about the best things we did in Spain, our cooking class with Clara where we learned the secrets to a good paella was at the top of the list for both of us.
You'll meet Clara at her family's house up in Gràcia and learn how to make two different kinds of paella in a beautiful outdoor garden.
Plus, Spanish wine and a variety of tapas to enjoy while it cooks, and the opportunity to connect with Clara and fellow like-minded travelers.
Click here to check prices, reviews, and availability.
A Day Trip to Girona
We loved Girona, which is 100km northeast of Barcelona and is a deeper dive into Catalonia and its unique culture. Plus, it's a gorgeous small town set on a river (multiple rivers, actually) and Game of Thrones filmed a bunch of major scenes from Season 6 in Girona.
We have an entire guide dedicated to planning a day trip to Girona from Barcelona, which you should read for more details. Otherwise, here are the highlights.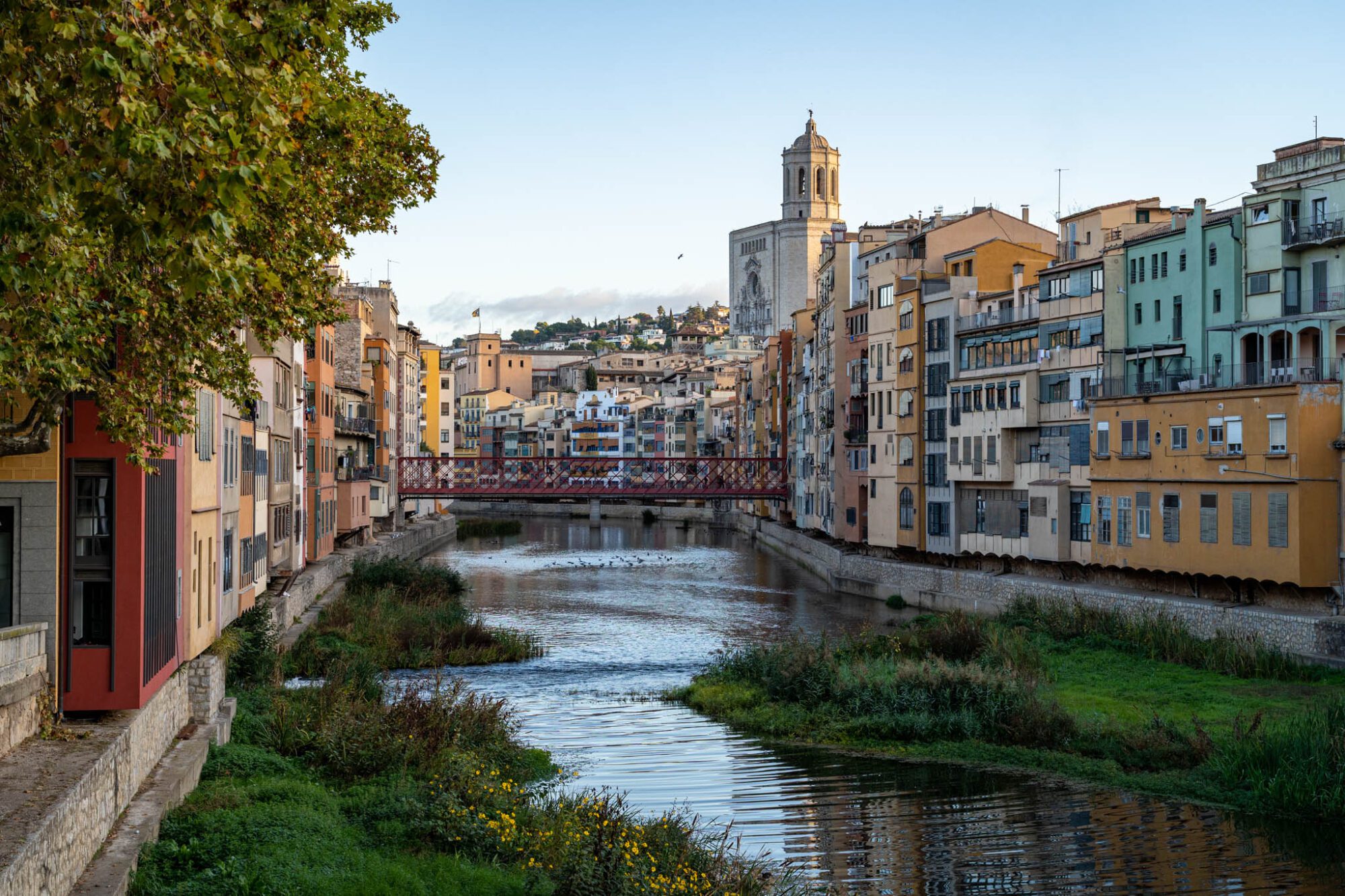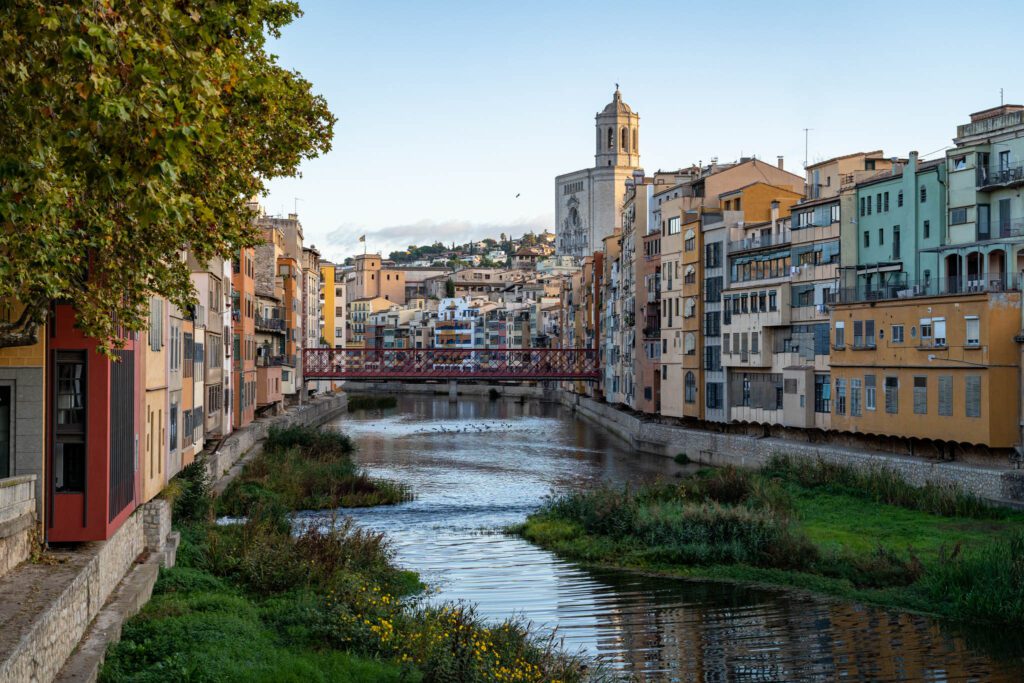 Take the high-speed AVE train from Barcelona-Sants to Girona, which takes just 40 minutes each way. Book tickets either directly through Renfe, or through Omio for a much more user-friendly experience (that comes with a small service fee).
Arrive early and walk the city walls before it gets packed. You can get up onto the walls from the Jardins de la Francesa behind the massive cathedral (here on Google Maps), and they continue alllll the way around back to right around Plaça de Catalunya (though you can get off the walls at several points between those two spots). Don't miss climbing up into at least one of the towers along the way for great views of the city and cathedral!


Head down to Espresso Mafia for the best coffee in Girona and a pastry or two, or over to their sister cafe La Fabrica if you're in the mood for a more hearty brunch.


Join our favorite walking tour in Spain at 10:30 am. And the best part is, you have two options! We loved the history-focused walking tour we did with Raquel, whose knowledge about Girona and Catalonia as a whole was impressive, and it's the one we'd recommend for most people. However, they also do a Game of Thrones Tour, which fans of the TV show (minus the last season of course, which was hot garbage) will appreciate because it takes you to places in the city where they filmed pieces of Season 6.


After the tour, grab lunch somewhere in the old town (ask your guide for a recommendation!).


During the siesta, where the entire city basically shuts down for a few hours in the afternoon, hit the informative Jewish History Museum, which covers the history of the Jewish population in Girona, which shaped the city prior to being expelled in 1492, and then the Girona Cathedral, which is home to an impressive cloister, a huge nave (with no arches in the middle, which is unique) and the Tapestry of Creation from the 11th (ish) Century.


Afterwards, spend the rest of your time wandering the old town and stopping into any place that catches your eye before catching your train home!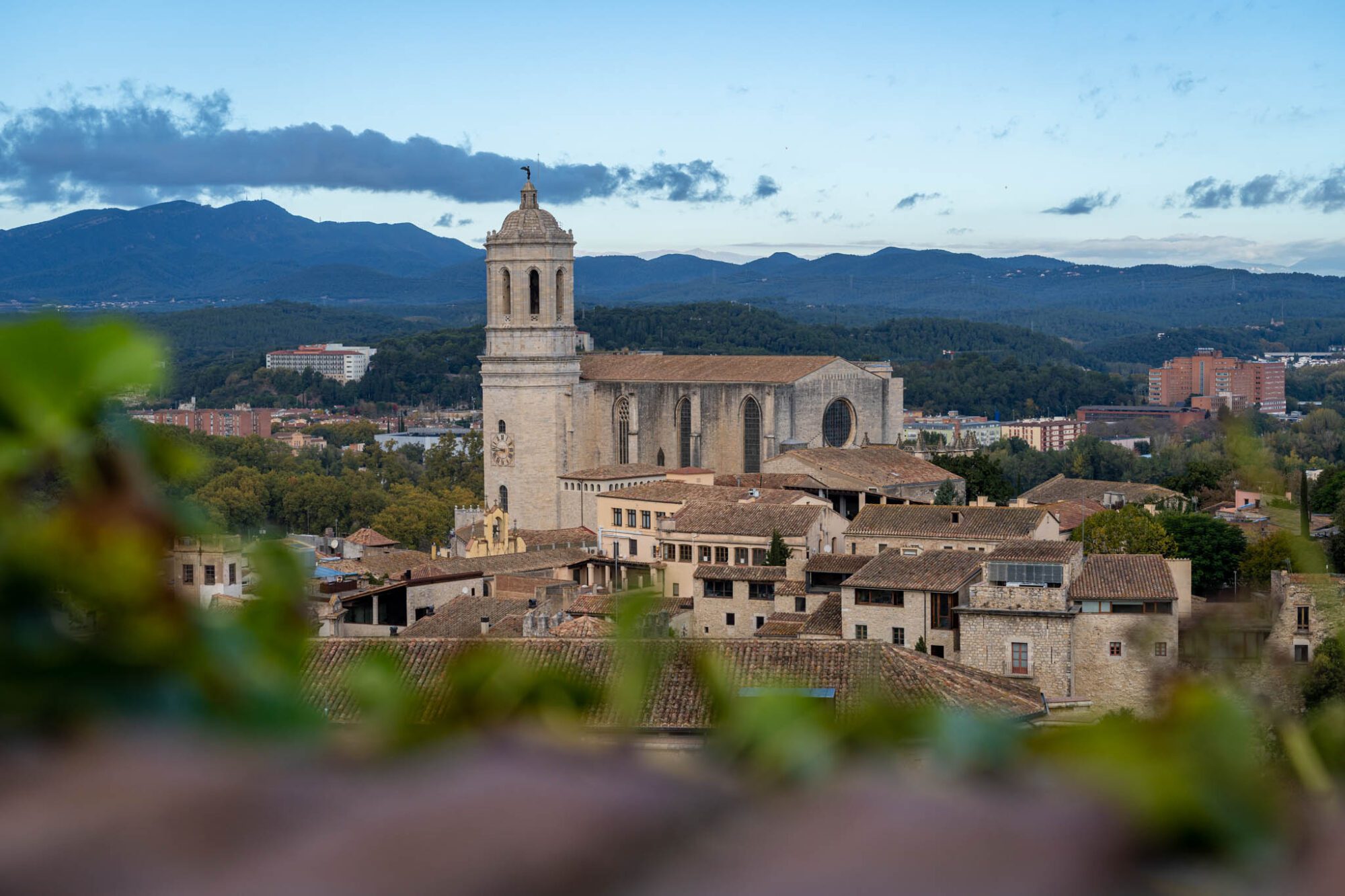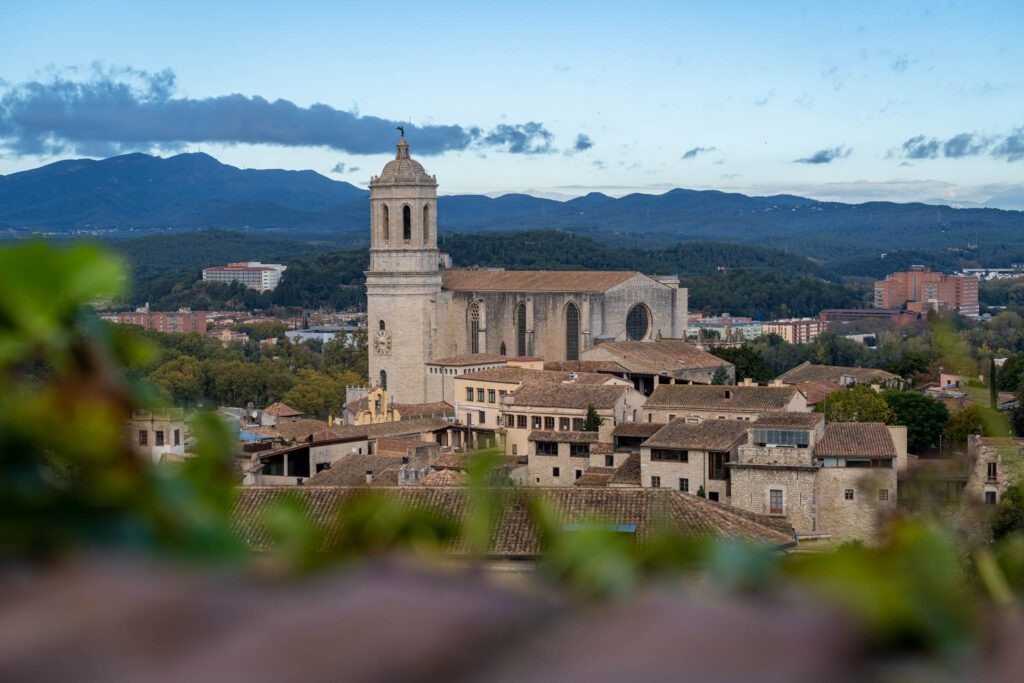 Where to Stay in Barcelona
There are, essentially, two main options in our minds here.
We have a guide to choosing where to stay in Barcelona that goes through five neighborhoods, in detail, with pros and cons for each to help you find the right place to stay for your group, style, and budget. If you want more detail, make sure to read that.
Now, back to those two areas. They are Gràcia, a more residential and low-key area north of the city center (our personal favorite), and l'Eixample.
Staying in Gràcia: Endlessly Charming with Great Food and Drinks
Like we mentioned above, Gràcia is our personal favorite neighborhood in Barcelona. It's a little further out, sure, but we stayed there for the majority of our time on our latest trip, and found that the metro made it easy to get everywhere we needed to go, and fast.
You're going to want to invest in the fabulous Hola Card if you stay here, which gives you access to unlimited transportation from between 24 hours and a week (in 24 hour increments).
Once you get off of the bustling wide boulevard of Passeig de Gràcia and into the narrower streets in the core of the neighborhood, you'll start to see why we like it so much. It used to be a separate town from the city of Barcelona, and has very much retained its own unique character despite being swallowed up by the Catalonian capital.
It's charming, full of locals with their kids and dogs (or both), and has a great selection of bars, restaurants, and coffee shops and cafes. In other words, all of our favorite things.
Staying in l'Eixample: Central, Walkable, and Well Connected
L'Eixample is the area between the Ciutat Vella (old town), the site of the original Roman city dating back two thousand years, and the outlying neighborhoods like Gràcia that used to be separate towns. It was created to connect the two and modernize Barcelona, which is why it has wide boulevards with multiple lanes of traffic, and a grid layout (versus narrow, winding alleys).
It's a great compromise between location (and therefore, convenience) and calmness. It's still very busy, don't get me wrong, but not nearly as chaotic as staying in a place like the Gothic Quarter, which is swarming with tourists at all hours of the day.
We really like the range of places to stay in l'Eixample too. There are great options from affordable hostels all the way to luxury hotels, and just about everything in between.
If you want a hostel: Yeah Hostel Barcelona (they have private rooms and dorms)
If you want a fun, mid-range hotel: Look at the Praktik Hotels (Garden, Vinoteca, and Bakery in particular), which are designed with the modern traveler in mind and give you everything you need at a relatively affordable price tag. Each property is centered and designed around a theme (like wine or gardens), which we're into!
If you want a boutique hotel: Stay at Casa Bonay. Period. The end.
Days 6 & 7: Madrid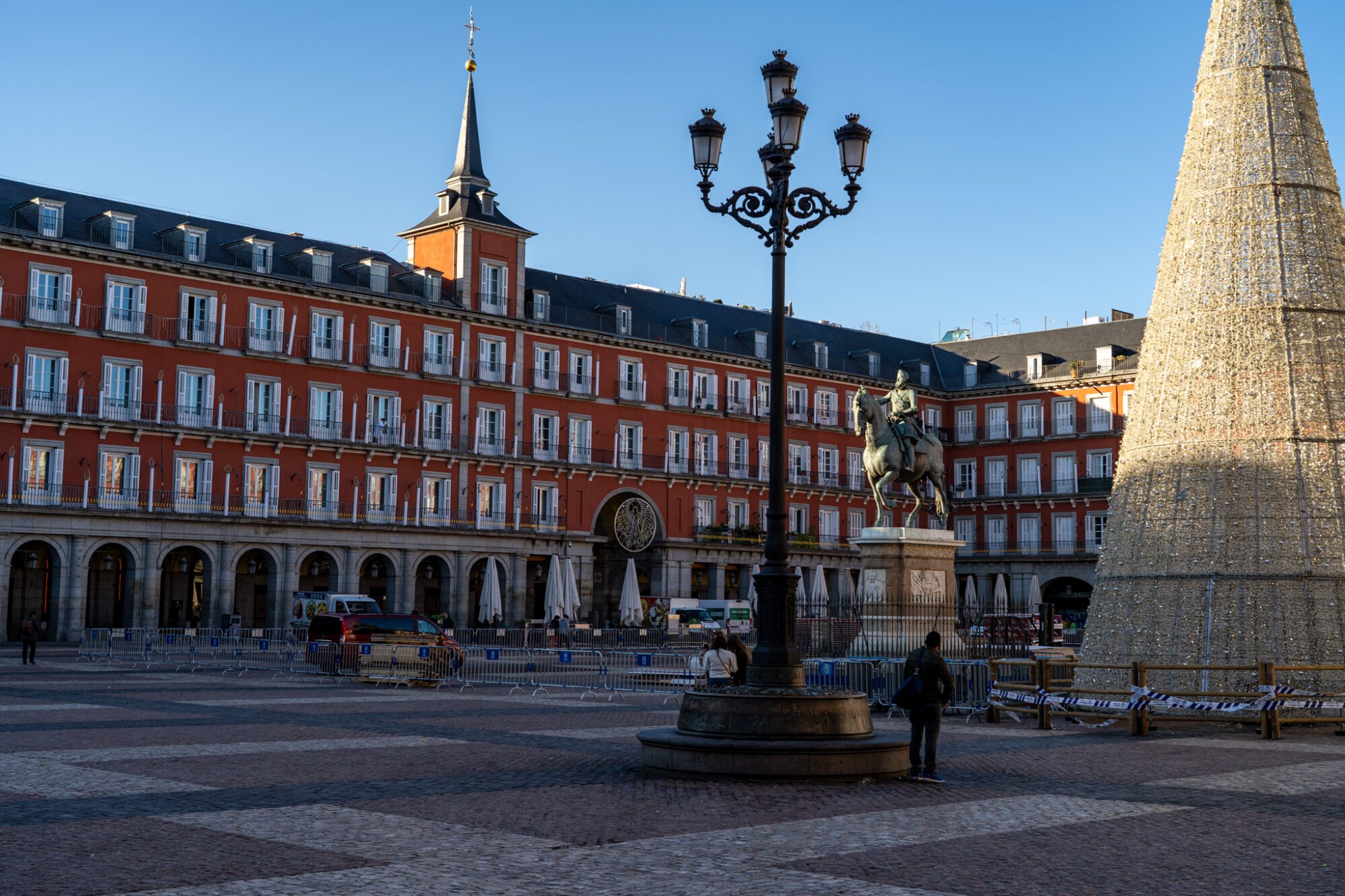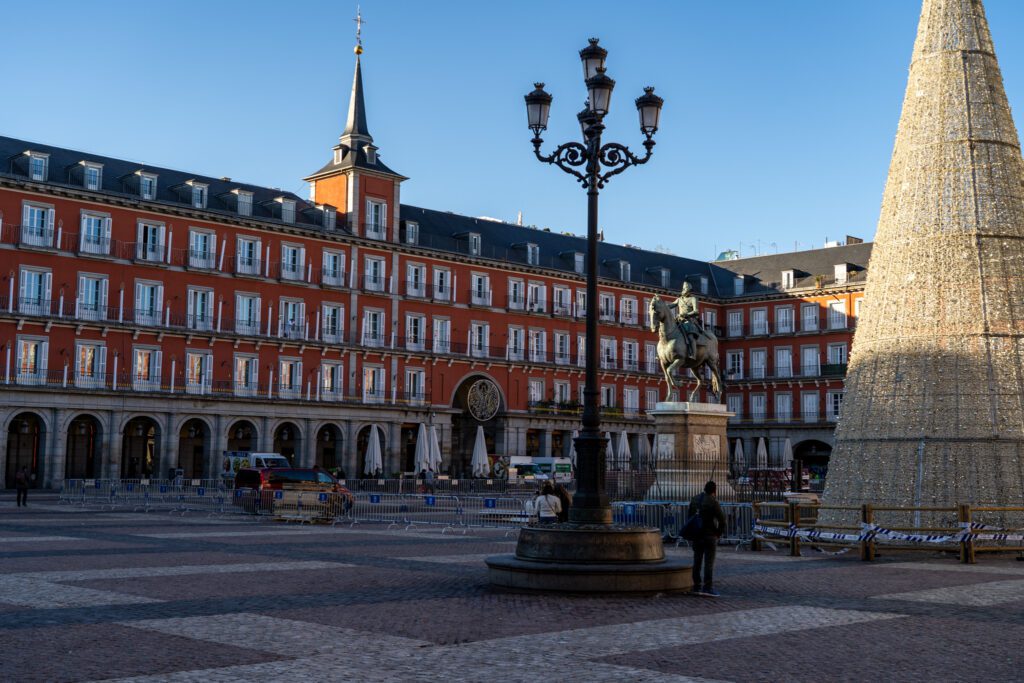 As a second stop in Spain after Barcelona, Madrid is going to be quite the contrast. You'll get to see the stark differences between the Spanish capital city and its most famous city (the latter being Barcelona). Madrid feels distinctly more livable, with dense housing and sprawling green spaces, and the biggest difference we noticed is that we heard far, far fewer people speaking languages other than Spanish.
The other thing we noticed is that Mardillenos say "vale" (which means "okay," roughly) about every three words. We love those funny language quirks.
We enjoyed Madrid, and think two days in the city itself is a perfect amount of time to see the highlights and get a feel for the bustling capital.
However, there are some great day trips to be had from Madrid – Toledo, Segovia, and Avila, to name a few.
We'd highly recommend spending an extra day to do a day trip to Toledo from Madrid, where you'll see a city shaped by Muslim, Jewish, and Christian cultures over the course of centuries. You could also spend the night in Toledo, but it is going to mean extra time on your trip to Granada.
Getting to Madrid
The best way to get to Madrid is by train.
There are multiple direct high-speed trains a day running between Barcelona-Sants and Madrid Puerta de Atocha, which are the stations you're going to want.
It takes roughly three hours and costs around 40 Euros per person to start, more if you book closer to your travel dates. So try to book your long-distance train tickets as far in advance as possible to save money!
One other thing to note – the best way to get from Atocha Station to the center is using the regional train system (called "Cercanías"), and your train ticket includes a transfer to that system.
You have to scan your long-distance train ticket at a special scanner – ask an attendant how to do it if you can't figure it out. More information here.
Click here to see prices and timetables for the journey from Barcelona to Madrid on Omio.
What to Do in Madrid
Madrid has fewer major tourist attractions than, say, Barcelona, but it's an equally enchanting city, with fun, lively neighborhoods full of people that actually live there (versus Barcelona, which feels like it might actually just be 100% tourists in places like the Gothic Quarter).
The most famous of the things to do in Madrid is the Museo del Prado, a collection of mainly paintings that was shaped by the Spanish royal family at the peak of their power between the 16th and 19th Centuries. We have an entire section on the Prado below, because we think it's that important.
Here are some things that you shouldn't miss while you're in Madrid.
Visiting the Prado Museum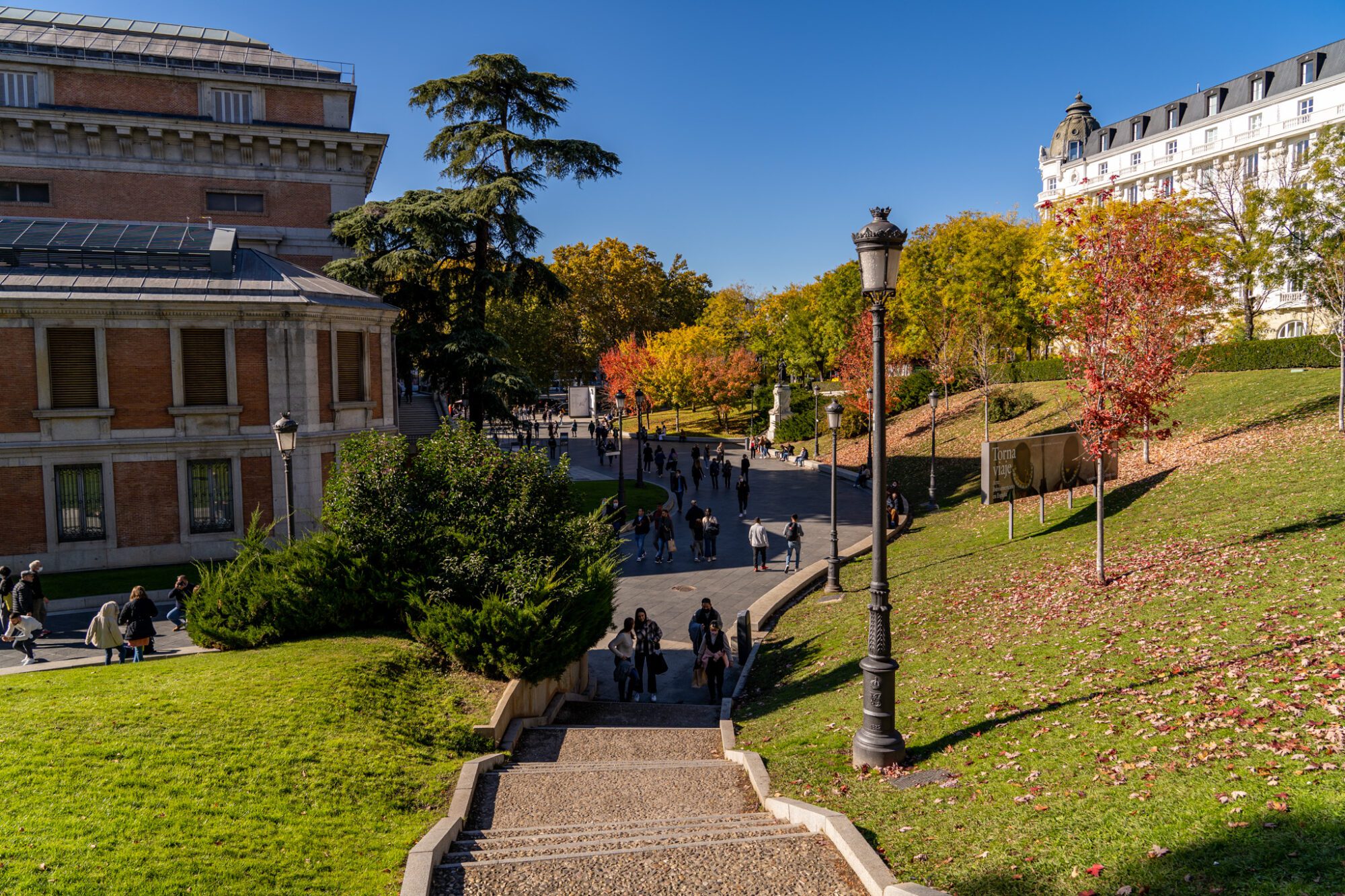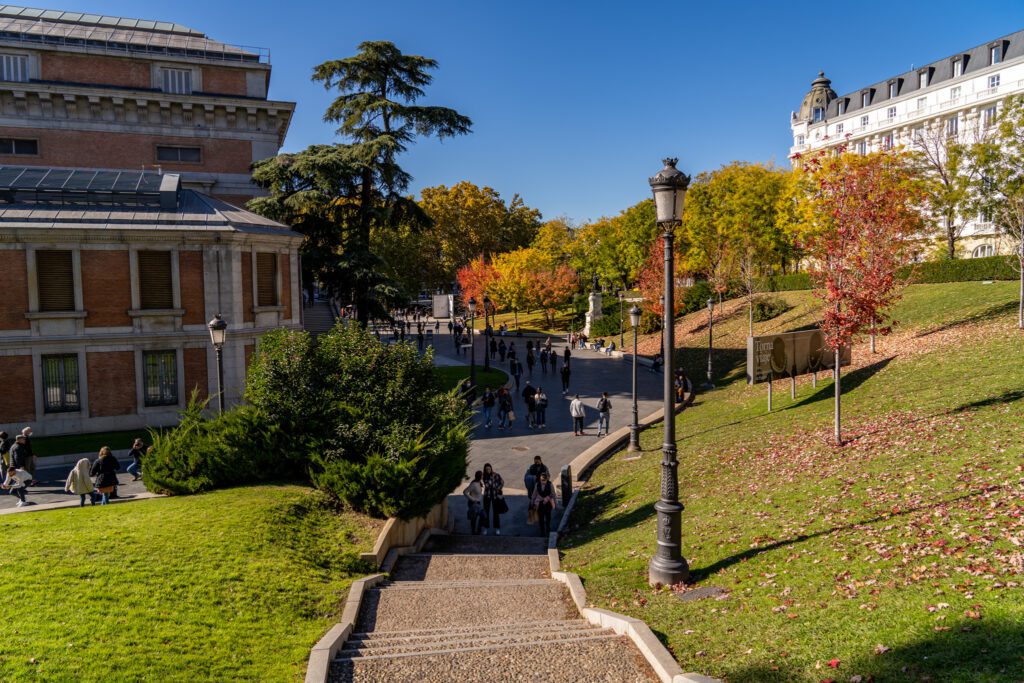 I want to preface this section with the fact that we're not really art museum people. But thanks to an expert guide who helped make sense of the huge collection at the Prado, it was still a highlight of our trip to Spain.
The Museo del Prado is the premier attraction in Madrid, and it made its way onto our list of our favorite art museums in Europe.
For that reason, you'll find that tickets are competitive in the same way that the Sagrada Familia is, and you'll want to buy tickets well in advance to ensure that you get to see it. Tickets are known to sell out in the high season.
There are a couple of themes in the Prado Museum, the main ones being the Spanish collection, featuring some of Spain's most famous painters like Goya and Velasquez, the Italian collection, and the Flemish collection, which was our favorite.
Flemish art is imaginative, vibrant, and… dark. Very dark. It's a very, very unique style, and the Prado Museum is one of the best places in the world to see it. There are entire rooms dedicated to the Flemish masters, and we would make sure to cover it on your visit.
The Prado is massive. You could easily spend a full day here and not see everything.
Like most of the main art museums across Europe, we think the Prado is best experienced with a knowledgeable guide who knows something about art history. Which is how we experienced the museum.
After considering a bunch of tours, we picked this tour with Jaime, whose knowledge about Spanish and art history turned our experience from "those are some cool paintings" to a much deeper understanding of the pieces of art, including the context around them in terms of Spanish history, and the artist's life.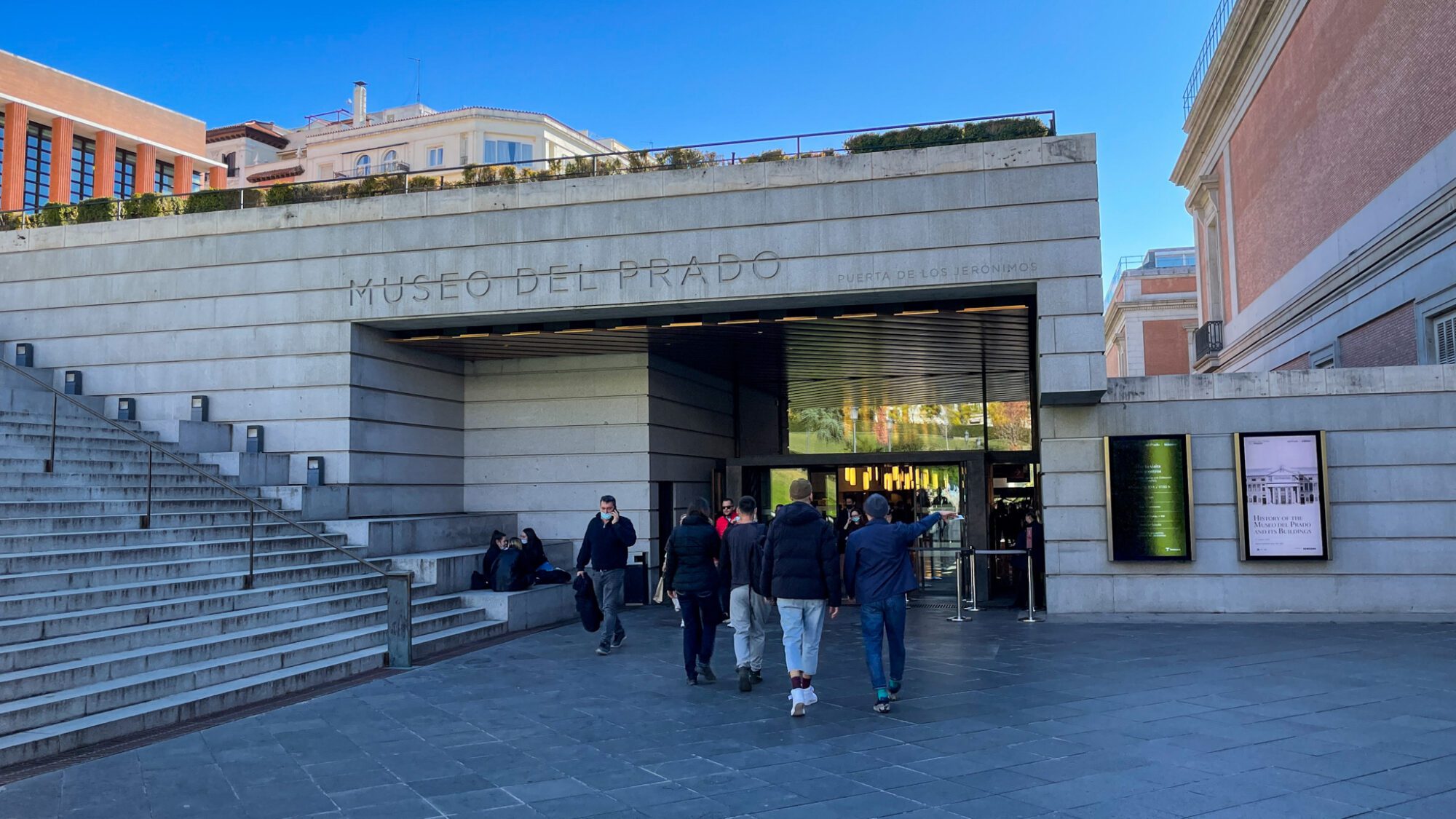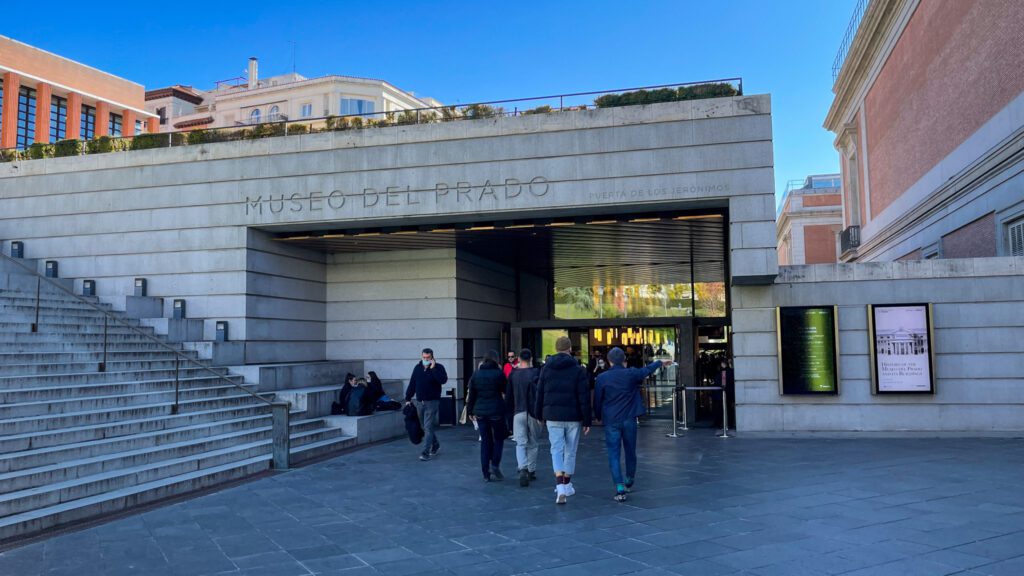 Perhaps the most important thing a guide brings to the table is curation. There are thousands of pieces of art in the Prado, and we certainly would've had no idea where to start. Jaime picked out a few important pieces in each section, and we went deep on those rather than trying to see everything.
If you're interested in a guided tour, we'd recommend this one with Jaime (the one we did), or if Jaime isn't available, this tour that was on our shortlist.
Visiting the Prado independently: If you want to visit on your own, you can find tickets on their official website. You'll need to choose a timeslot for your visit – we heard that the later afternoon times tend to be the least busy, but it's generally always full in peak season.
Pro-tip: Leave the backpack at home – you'll need to check it in the coatroom, and the lines are notoriously long.
Tickets sold out for your dates? You have a couple of options. Show up on the day you want to go when the ticket office opens to buy tickets for that day. Check Get Your Guide to see if they have any skip-the-line tickets available. Or join a guided tour that includes tickets.
The Royal Palace
One of the biggest in Europe, the Madrid Royal Palace is built on the site of the original Muslim city. Madrid became the capital of Spain in the 16th Century, and the Royal Palace as we know it today was built around that time.
Sort of, it has burned down a couple of times and has been rebuilt. Buy your tickets in advance to avoid the huge ticket lines.
Tickets are available on their official website.
Tapas in La Latina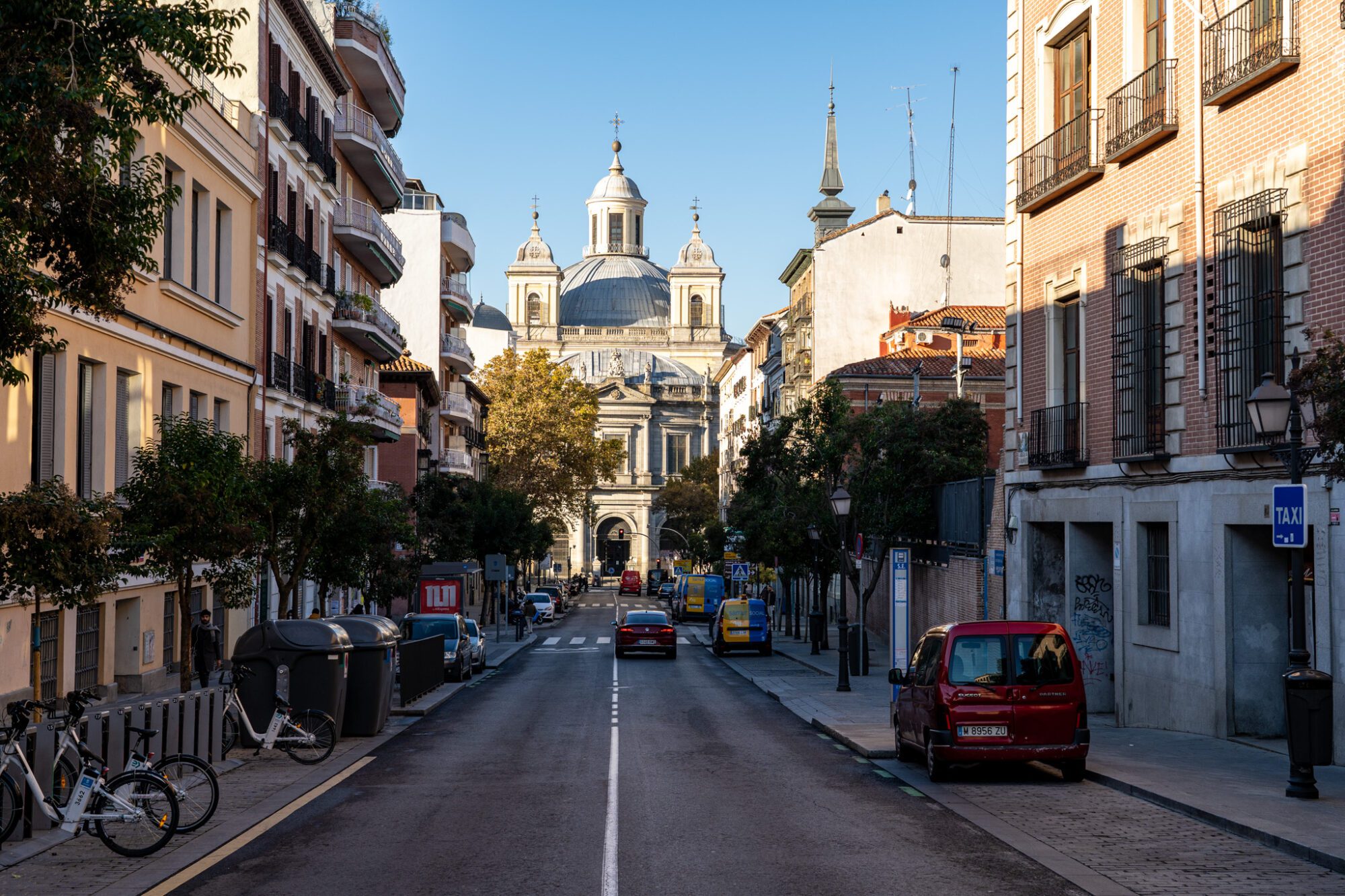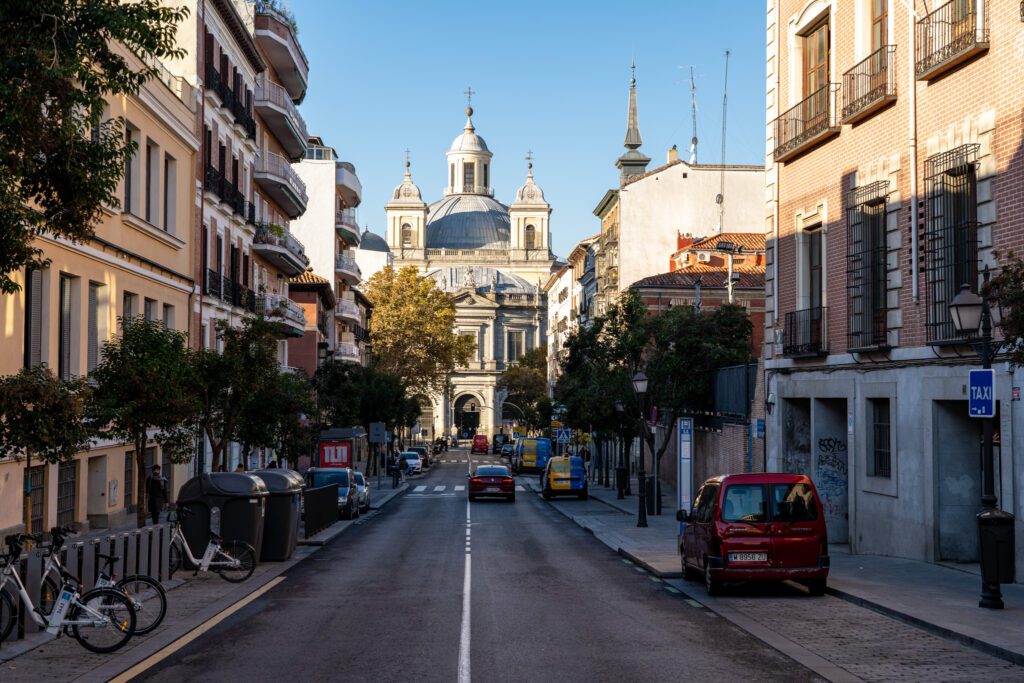 Tapas qualify as a must-do in Madrid, and there's a particular street in La Latina, a very fun neighborhood just south of the main center, that is famous for tapas bars.
It's called Calle Cava Baja, and it's lined with all sorts of different tapas joints of varying qualities and styles. It's particularly popular around lunchtime and in the late afternoon before dinner.
A Walking Tour through Medieval Madrid
To understand the context around Madrid and its role in Spanish history, we'd recommend connecting with a local expert.
You'll learn about how Madrid wasn't much of a big city until the 16th Century when it became the capital, and all the shenanigans that have happened since.
We have two personal recommendations here. First, the walking tour we did with Bradley, an American with a PHD in Spanish history, which covered the origins of Madrid and the evolution of the city over the centuries.
Second, Jaime's version of a similar walking tour. Jaime was our guide for the Prado, and he was born and raised in Madrid and has an encyclopedic knowledge of Madrid's history, culture, and art.
Parque El Retiro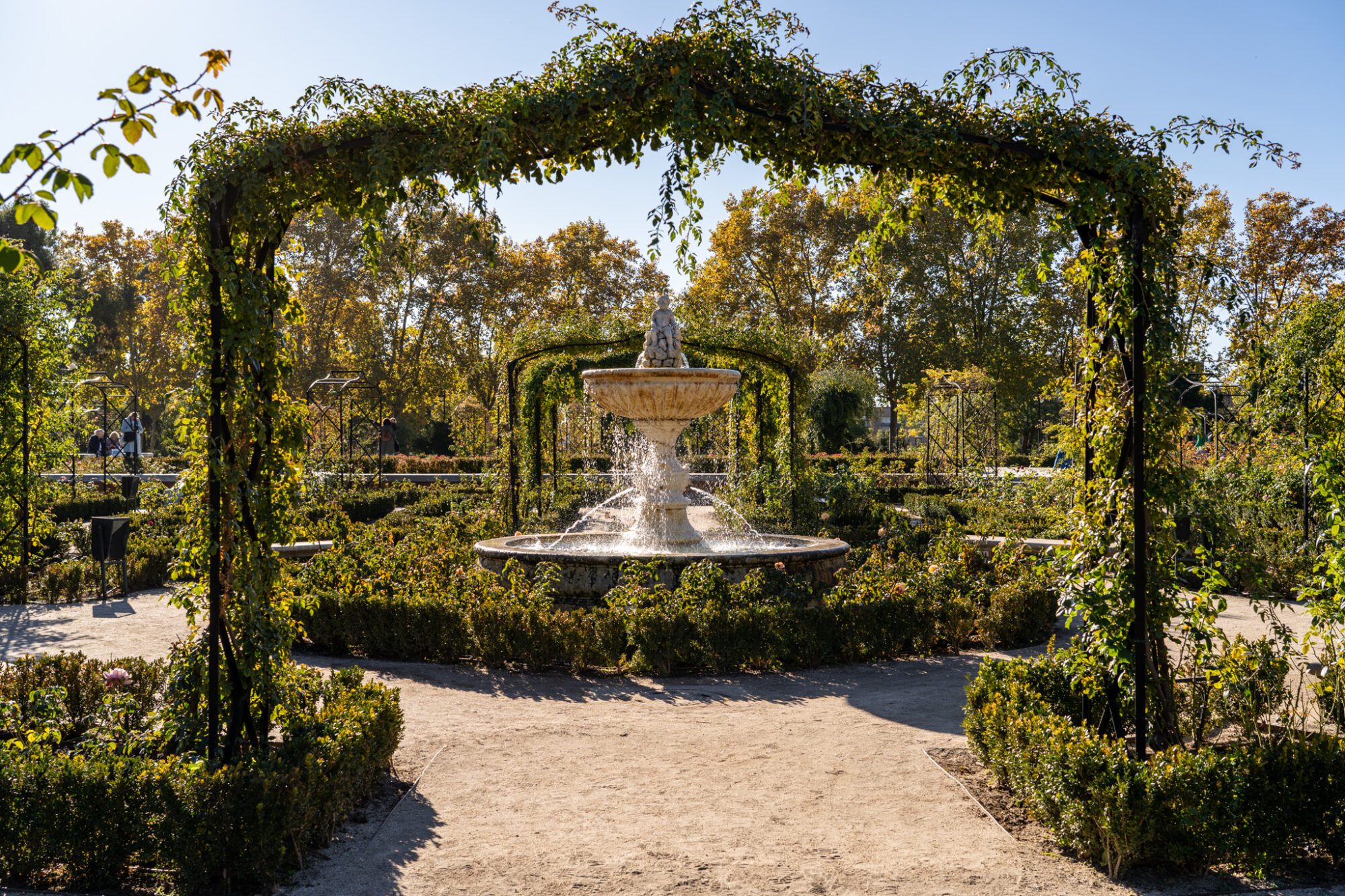 Madrid's best green space, located on the eastern side of the city near the Prado Museum. There's a rose garden, a lake, and all sorts of lovely greenery that provide a nice break from the bustling city streets.
Start from the northwestern corner at Puerta de Alcala, and make your way south to the rose garden, passing the lake and Palacio Cristal along the way.
Where to Stay in Madrid
While there are a bunch of fun, unique places to stay in Madrid (you can read all about them in our guide to the best places to stay in Madrid), two areas rise to the top for very different reasons.
Staying in Malasaña: Our Favorite Neighborhood in Madrid
Malasaña is the hipster haven just north of Gran Vía, the main artery running east to west through the heart of Madrid. It's charming, hip, and full of amazing places to eat and drink at all hours of the day, from morning coffee to midnight mojito.
Here are some specific places to consider:
Staying in Sol-Gran Vía: As Central as it Gets
Sol-Gran Vía is much more about the central location than how charming it is. It's where we stayed, and we basically walked everywhere we went in Madrid. It's 15-20 minutes to both the Royal Palace and Prado Museum, and 10 minutes to the heart of Malasaña and La Latina, two of our favorite places to hang out in Madrid.
Plus, Plaza Mayor is going to be just a few minutes away (it's inside the boundaries of the neighborhood).
Here are some specific places to consider:
Day 8: A Toledo Day Trip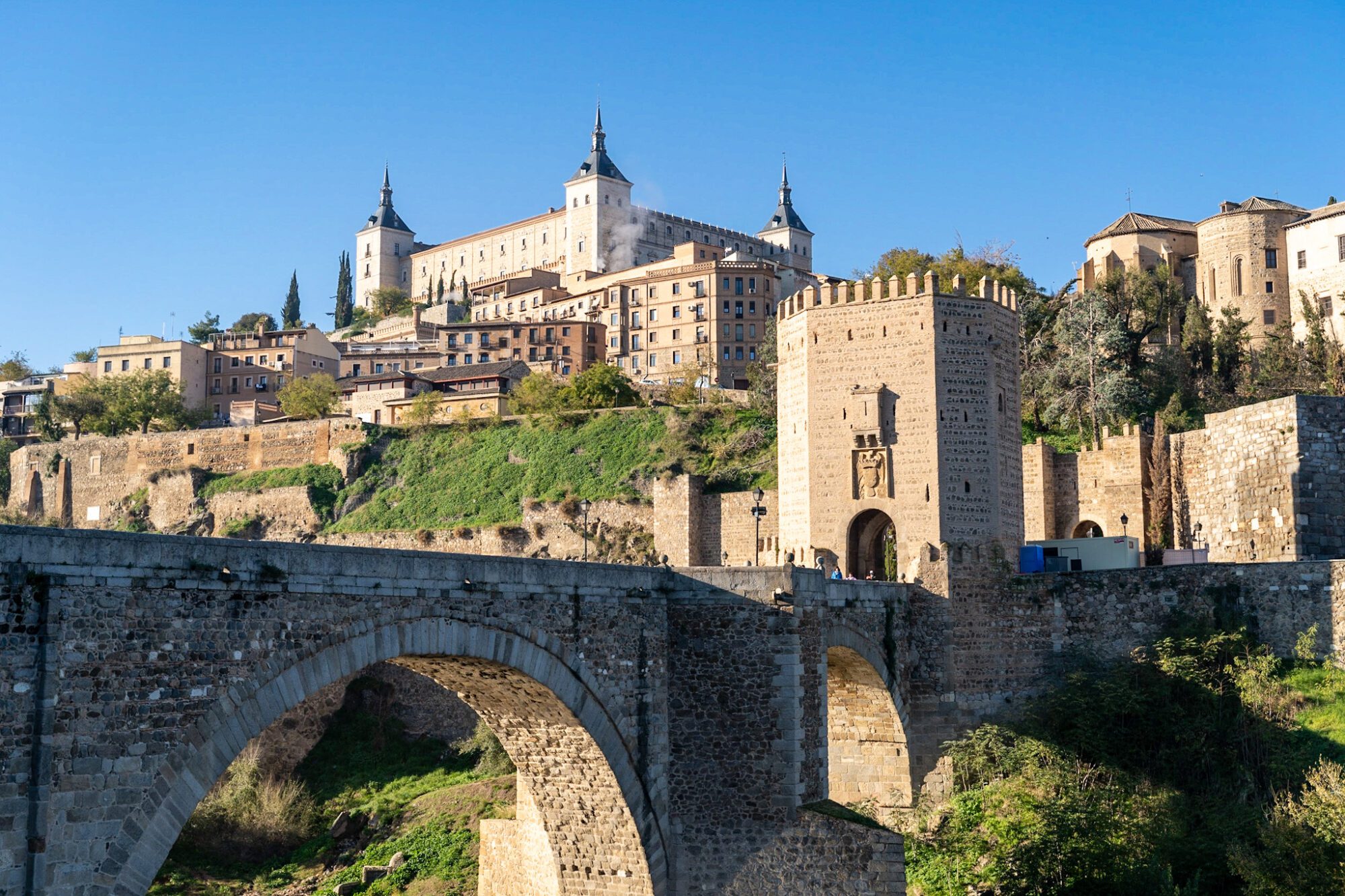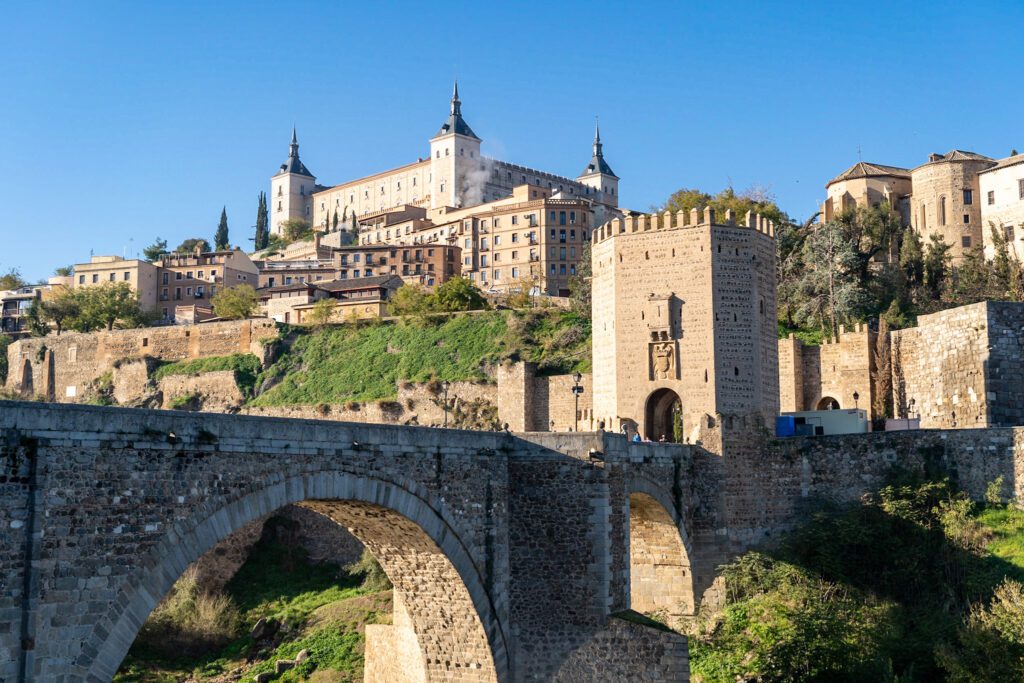 Before Madrid rose to prominence in the 16th Century, Toledo was actually the most important city in the region. Today, it's one of the best examples (outside of Andalucía, I suppose) of the coming together of the three prominent religions and cultures in Spanish history – Muslim, Jewish, and Christian.
It's one of the few places in Spain where you can see a cathedral, a synagogue (two, really), and a mosque.
Plus, Toledo is a beautiful city, with the alcazar perched atop a hill overlooking the Tagus river below. Even the walk to the center from the train station is gorgeous – you cross a bridge with the center of Toledo across the river from you, towering above you.
To Day Trip, or Not to Day Trip?
Because it's just a 30 minute train ride from Madrid, Toledo is absolutely doable as a day trip from Madrid. In fact, that's exactly how we did it.
However, we also think that it's worth investing some extra effort to be in Toledo early in the morning and late in the afternoon, when the pesky day trippers aren't around and the city is at its most beautiful.
You'll get to see the city at its best, when only a fraction of the day's tourists are around, and you'll have a little more time to go a level deeper and really appreciate the coming together of the three cultures in Toledo.
We see the merits of both approaches, and this one comes down to your personal preferences. It is worth noting that you have a somewhat long train ride down to Granada, and to do it from Toledo you'd actually have to go back to Madrid (even though Toledo is located towards Granada) and connect from there.
That alone might make it worth doing it as a day trip, but it's up to you.
How to Spend a Day in Toledo
Here are the best things to do with a day in Toledo.
We would actually skip the interior of the Toledo Cathedral, which, while spectacular, costs more than 12 Euros to enter, and even more if you want to go up into the belltower and cloister. It's a church! Sure, it's massive and monumental, and beautifully decorated with works from famous Spanish artists like Goya, but we think 12 Euros is still steep.
The Alcazar & Military Museum
The Alcazar of Toledo – which is a castle with roots in the 3rd Century – is perched on a hill overlooking the Tagus River (which runs all the way to Lisbon in Portugal) and is now home to a military museum. But it's not actually about the military, really.
The best part of this museum is the detailed chronicle of Spain's history in six chapters. Which does include a lot of things focused on the military, but uses a much wider aperture to explore the history of the country.
They also have some collections of guns and swords and stuff like that, which isn't that unique or impressive, in my opinion.
It's well worth the couple of hours it'll take you to go through Spain's history. The museum is free on Sundays!
The Two Synagogues
There are two synagogues in Toledo that are worth visiting, and they represent two of very few old synagogues left in Spain.
The first, Sinagoga de Santa María La Blanca, is the more famous one, and I was a little surprised at the lack of information inside. Still, the arches and in the dimly lit interior are quite something.
It's technically no longer a synagogue after it was confiscated when the Jews were expelled in 1492. Today, it's owned by the Catholic Church, who has yet to return it to the Jewish community despite them asking the church to do so.
The second is the Sinagoga del Tránsito, which is very different – far less ornate – and has a small but mighty museum (the Sephardi Museum) on the history of Judaism on the Iberian Peninsula.
We enjoyed the Mudejar style, which takes inspiration from Islamic architecture and was often created by Muslim artists for non-Muslim buildings and patrons. More on that style when we get into Andalucía.
The Monastery of San Juan de los Reyes
Just down the street from the two synagogues is a nice monastery whose main attraction and highlight is undoubtedly the multi-floor cloister in the middle.
Originally, it was supposed to be the burial place of Queen Isabella and King Ferdinand – the royal couple responsible for bringing the two Spanish kingdoms together – but they ended up deciding on Granada later in life after they conquered the last Muslim kingdom in Granada in 1492.
Make sure to do the ground floor and upper floor of the cloister, and check out the gargoyles on the upper floor.
The Mosque
You've seen Christianity, you've seen Judaism, now for the last of the three main monotheistic religions, Islam. There's a small (former) mosque in the center of Toledo near Puerta del Sol that was built in 999 AD.
Throughout our time in Spain, particularly in Andalucía, we were struck by the contrast between the grandeur of cathedrals and churches, which were very much meant to project power first and foremost, and mosques, which are more humble places of worship.
This former mosque, called the Mosque of Cristo de la Luz, is small compared to any church in the city, and it was converted into a church when the Christians conquered the city (SURPRISE).
Days 9 & 10: Granada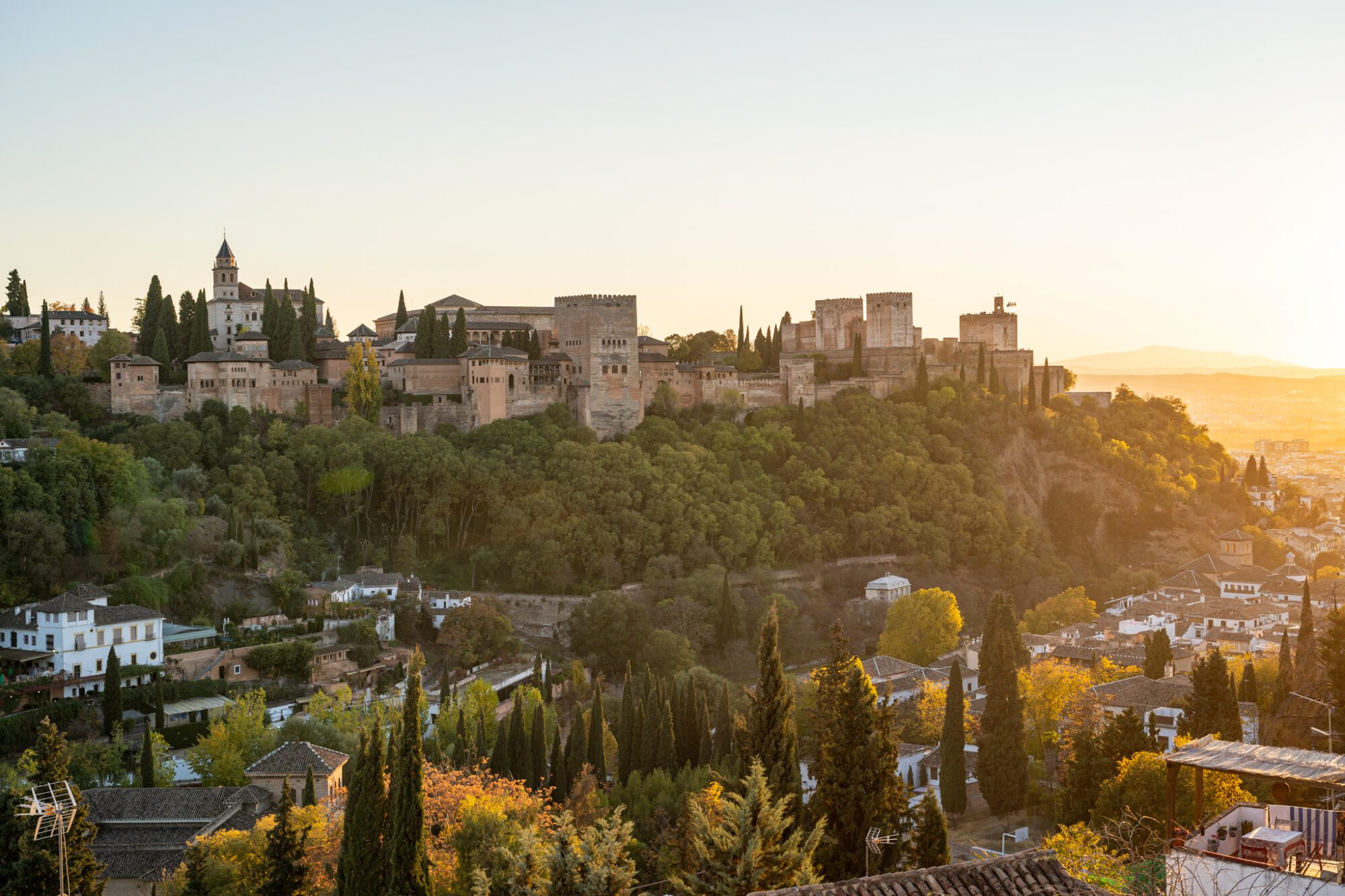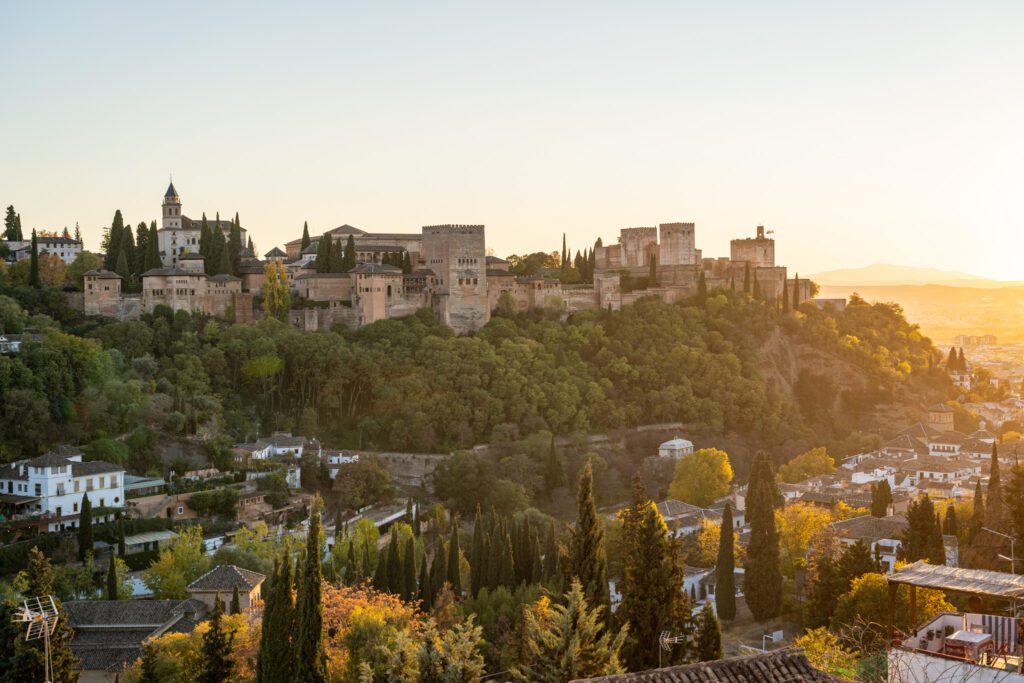 Granada was one of our favorite stops in Spain for a couple of different reasons. First, the Alhambra is an impressive feat of architecture, and it's well worth half a day exploring the former fort turned palace at the top of the hill. The gardens of Generalife, the former summer palace of the Nasrid family, and the Nasrid Palaces in particular are stunning.
However, Granada is more than the Alhambra, which is why we'd recommend spending a couple of days here rather than coming, doing the Alhambra, and then leaving.
Granada was the last Muslim stronghold on the Iberian Peninsula, falling in 1492 to the Christian monarchs after many centuries as part of a Muslim caliphate. The impact of those centuries of a strong Muslim community are immediately evident as you walk the streets of Granada, particularly in the Albaicín, the Muslim Quarter.
From mosques that have been turned into churches but still retain some unique architectural elements, to countless tea houses (Alysha's favorite!), Granada is a city worth exploring beyond just the Alhambra to understand how the different cultures have mixed over the centuries.
For more information on Granada, make sure to check out our guide to 2 days in Granada, which has everything you need to know to spend a couple of days in the city, including how to see the Alhambra.
Getting to Granada
From Madrid, Granada is a bit of a journey. It's basically due south, and the Sierra Nevada Mountains make the journey a little longer and more circuitous than it should be. Along the train ride, you'll pass olive trees as far as the eye can see.
No, seriously. Almost the entire train ride is just views of row upon row of olive trees.
It's going to take you three and a half hours or so to get from Madrid to Granada, but we think it's worth it and the train ride is pretty beautiful. Tickets can be expensive, so book as far in advance as you can.
Check prices and train times for your dates on Omio, which is what we used in Spain to book trains and buses when the official Renfe website wouldn't take our American credit card (which happened at seemingly random times).
We like Omio because it's a more user-friendly experience, giving you all the train and bus options in one place, and it's all in English. You'll pay a small service fee, but we think it's worth it.
Things to Do in Granada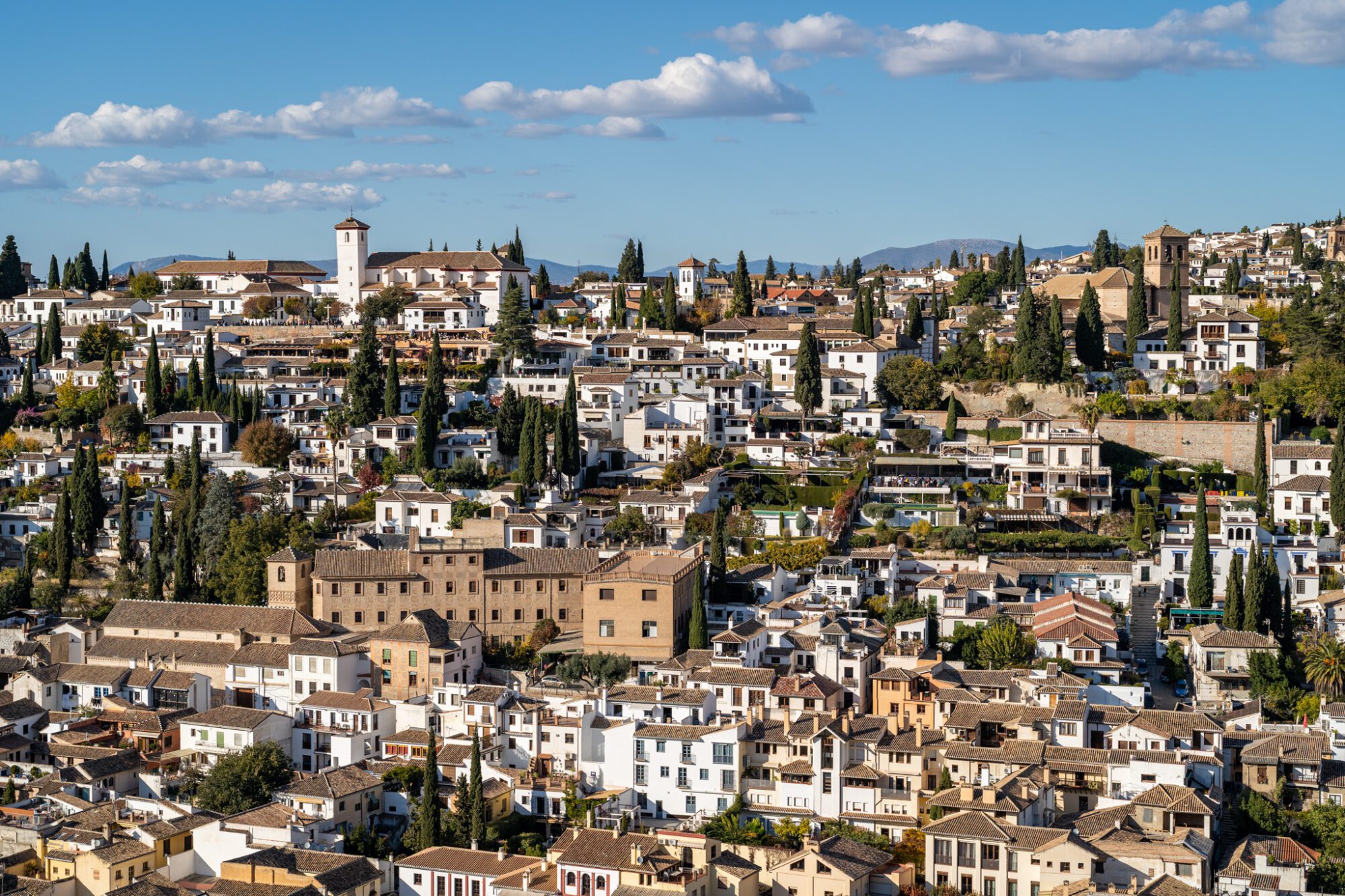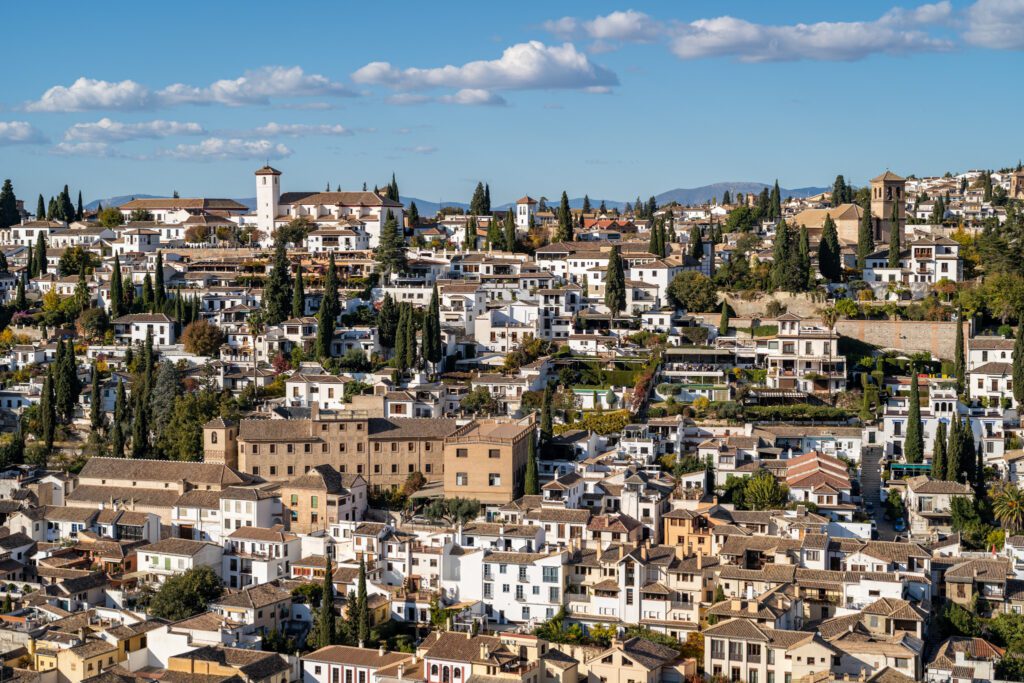 Like we mentioned, Granada is more than the Alhambra, though we definitely think you should see the Alhambra while you're there.
The Alhambra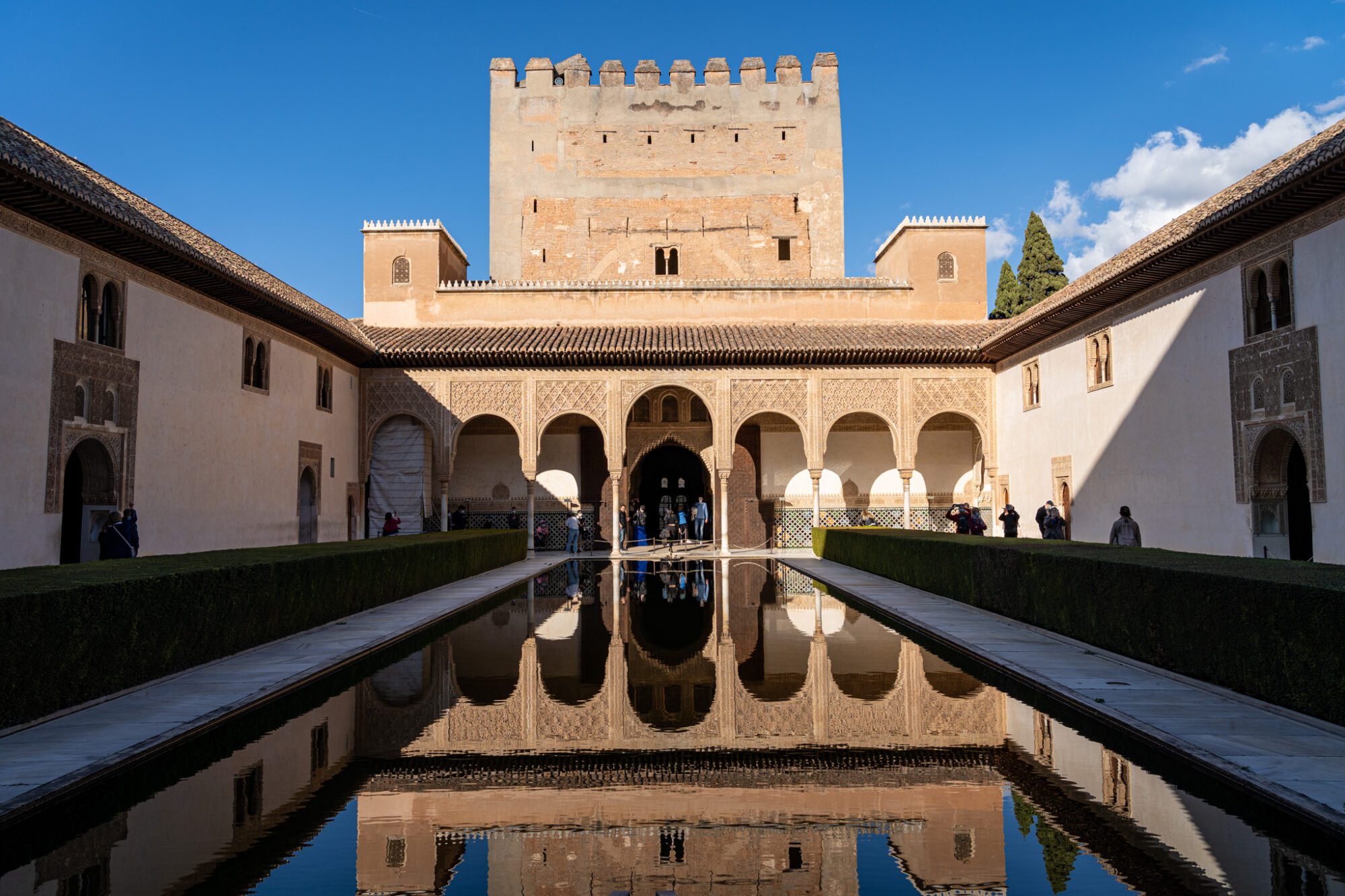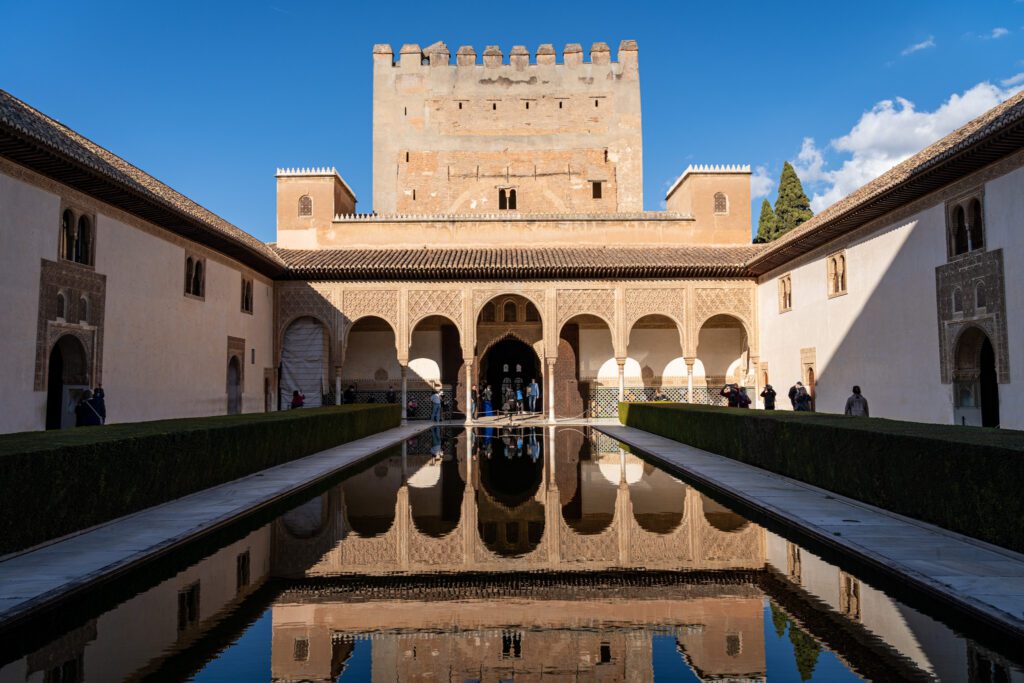 One of the most popular tourist attractions in Spain, the Alhambra was built by the Nasrid dynasty, the last Muslim territory on the Iberian Peninsula. It's part defensive castle, part royal palace, and there are three parts of the complex.
The Generalife (summer palace and gardens), the Alcazaba (the castle part), and the Nasrid Palaces (the most unique and beautiful part).
You can get a ticket that covers all three, but the Nasrid Palaces require a timed entry reservation, while the other two can be visited at any time on the day your ticket is for.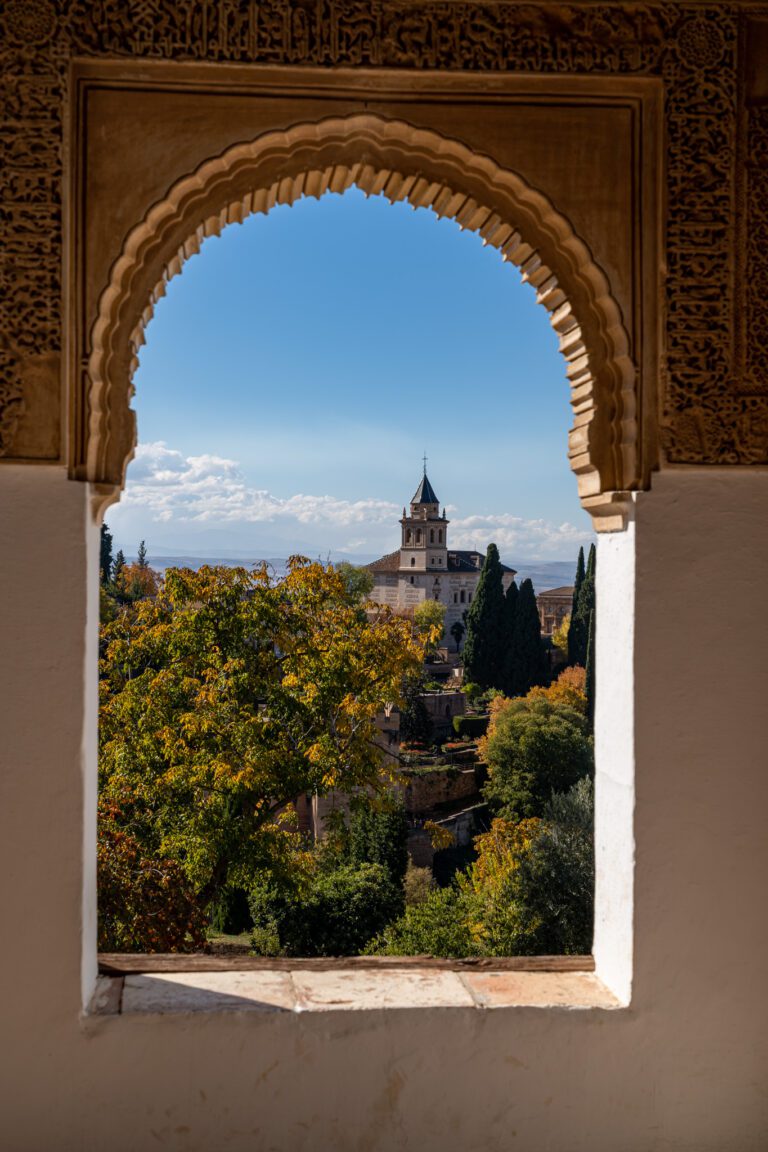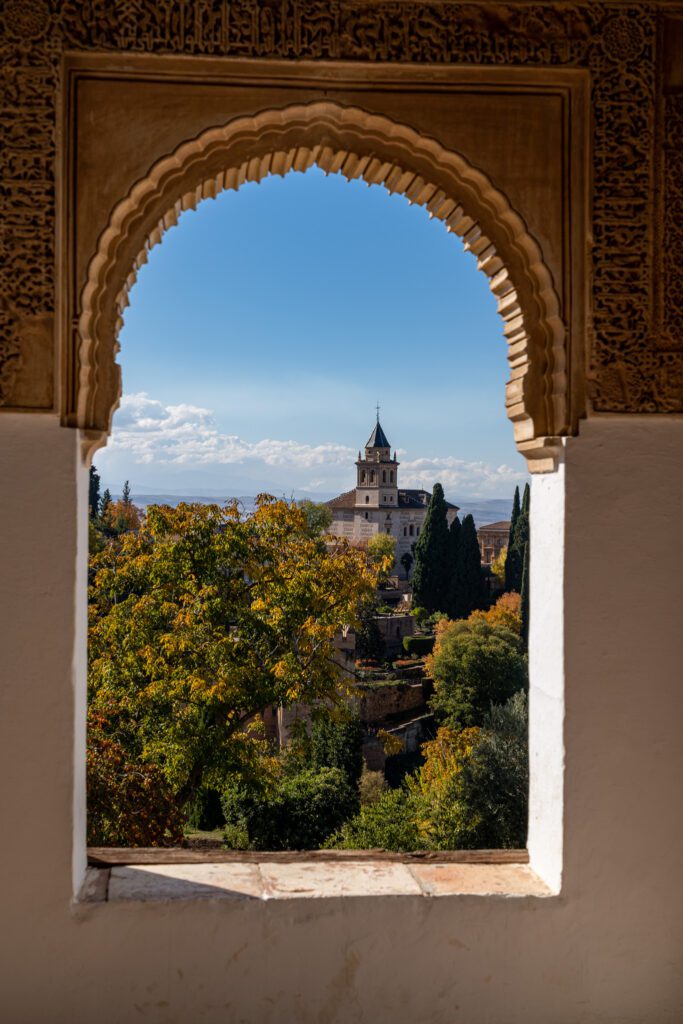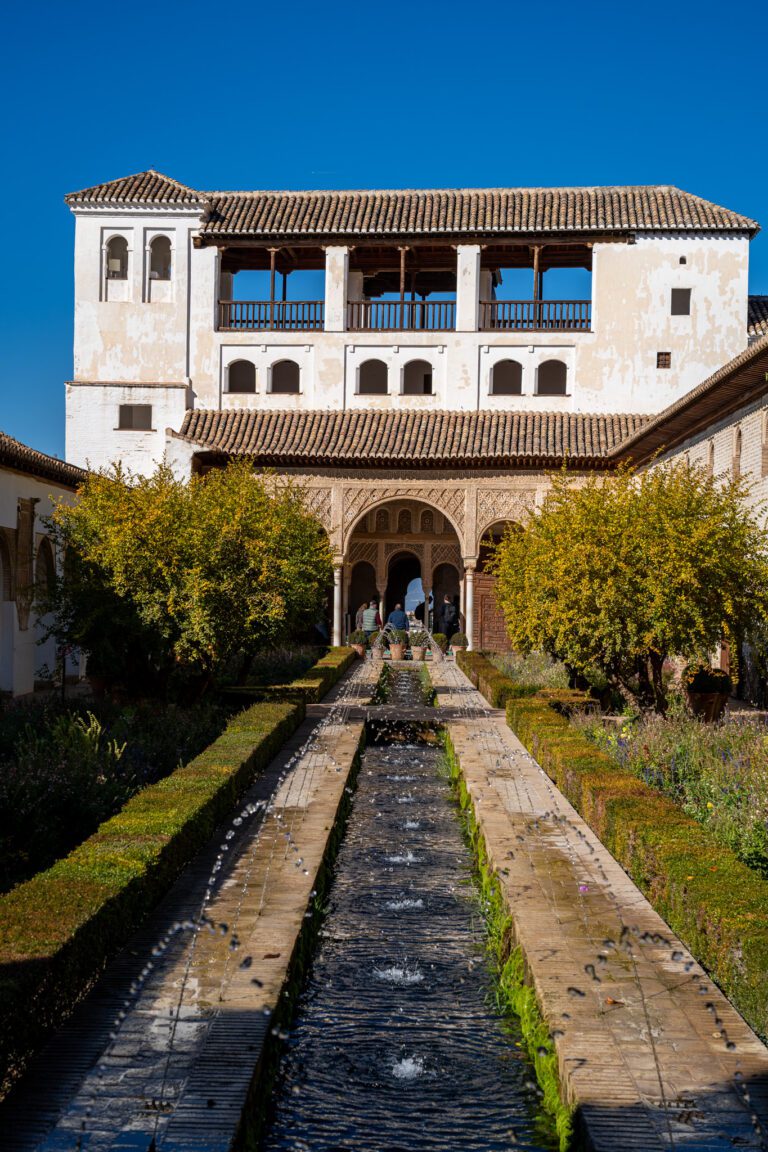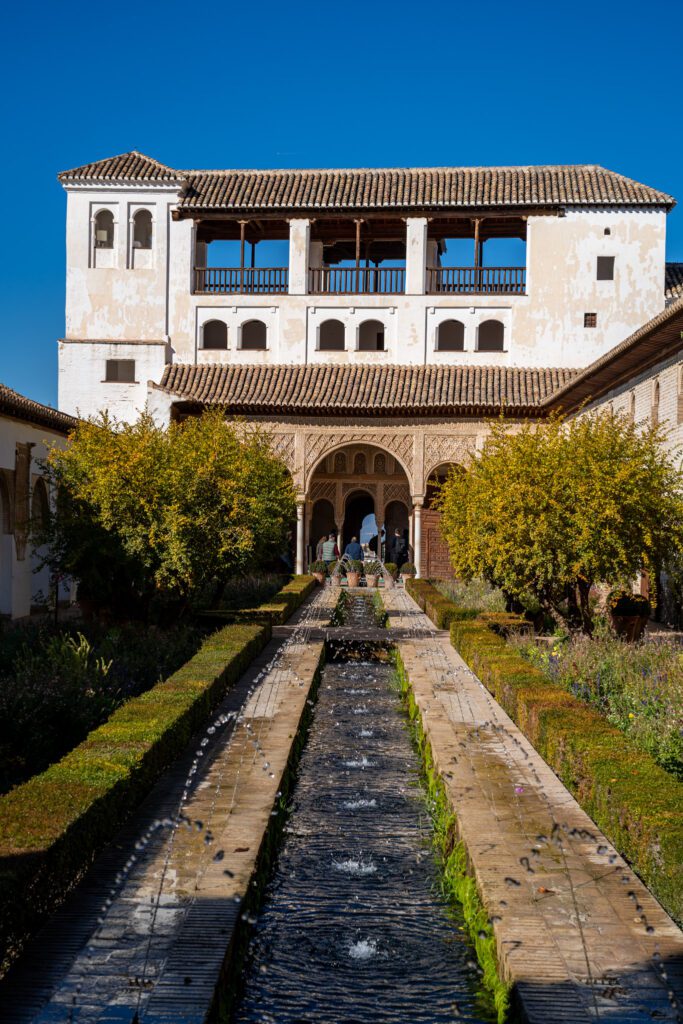 All three are a must-visit, and you should get the ticket that gives you access to the entire complex.
Buy tickets on the official website as far in advance as possible to visit independently, but we'd recommend a guided tour to get the context you need to really understand what you're looking at.
We did this guided tour, and really enjoyed it.
Pro-tip: Bring water, sunscreen, comfortable shoes, and a hat if you're visiting in the summer.
Alhambra Tickets sold out for your dates? You have a couple of options. Show up on the day you want to go when the ticket office opens to buy tickets for that day. Check Get Your Guide to see if they have any skip-the-line tickets available. Or join a guided tour.
Albaicín at Sunset
The Albaicín is the most romantic and charming part of Granada, at least in our view.
The Muslim Quarter of Granada sprawls up the hill, which used to be the home of the ruling family's palace before it was moved to the Alhambra under a new ruling family.
It's full of narrow streets and open plazas, some of which have spectacular views of the Alhambra across the valley.
It's particularly stunning at sunset.
Go to The Mirador de San Nicolás (here on Google Maps), which is more popular and full of people, or the nearby Mirador de la Vereda de Enmedio (here on Google Maps) which is where we ended up, and there were only a small handful of people around as the golden light washed over the Alhambra.
We loved this walking tour of the Albaicín, where we got to learn more about the history of the neighborhood.
Experience a "Tetería"
Alysha isn't a coffee drinker, but she LOVES tea. And the place to get tea in Spain is at one of the teterías – tea houses – in Granada.
One of the unique things you'll find in Granada (and other parts of Andalusia, though not nearly as prominently as in Granada), are tea houses, which are a clear example of the influence of the seven centuries of Muslim rule in Granada.
We had a favorite that we went to multiple times over our time in Granada – La Tetería del Bañuelo (here on Google Maps).
The Granada Cathedral and Royal Chapel
We had heard from the guide on our walking tour that the Royal Chapel was the best part of the Cathedral complex to visit, and we'd have to say we agree with that assessment.
Inside the Royal Chapel, the first Catholic monarchs of Spain (Isabella and Ferdinand) are buried, along with their children (Joana and Phillip). You can walk down into the crypt to see where they're buried beneath the ornamental mausoleums in the center of the Chapel.
It costs 5 Euros, and there's a handy audio guide in English.
Where to Stay in Granada
Granada is relatively compact, though we'd recommend staying somewhere near Plaza Nueva, which will give you access to everything you'll want to see within about 15 minutes on foot.
We stayed at Limehome in Granada, which was one of our favorite places that we stayed during our entire month in Spain. Spacious, light-filled apartments with kitchens, and our particular apartment had a little terrace where you can catch a glimpse of the Alhambra.
If we returned, we'd probably stay in the endlessly charming Albaicín, but it's a little less convenient because it's hard to access with a car, and it's uphill if you're walking (which can be a problem if you're lugging bags).
Days 11 – 14: Seville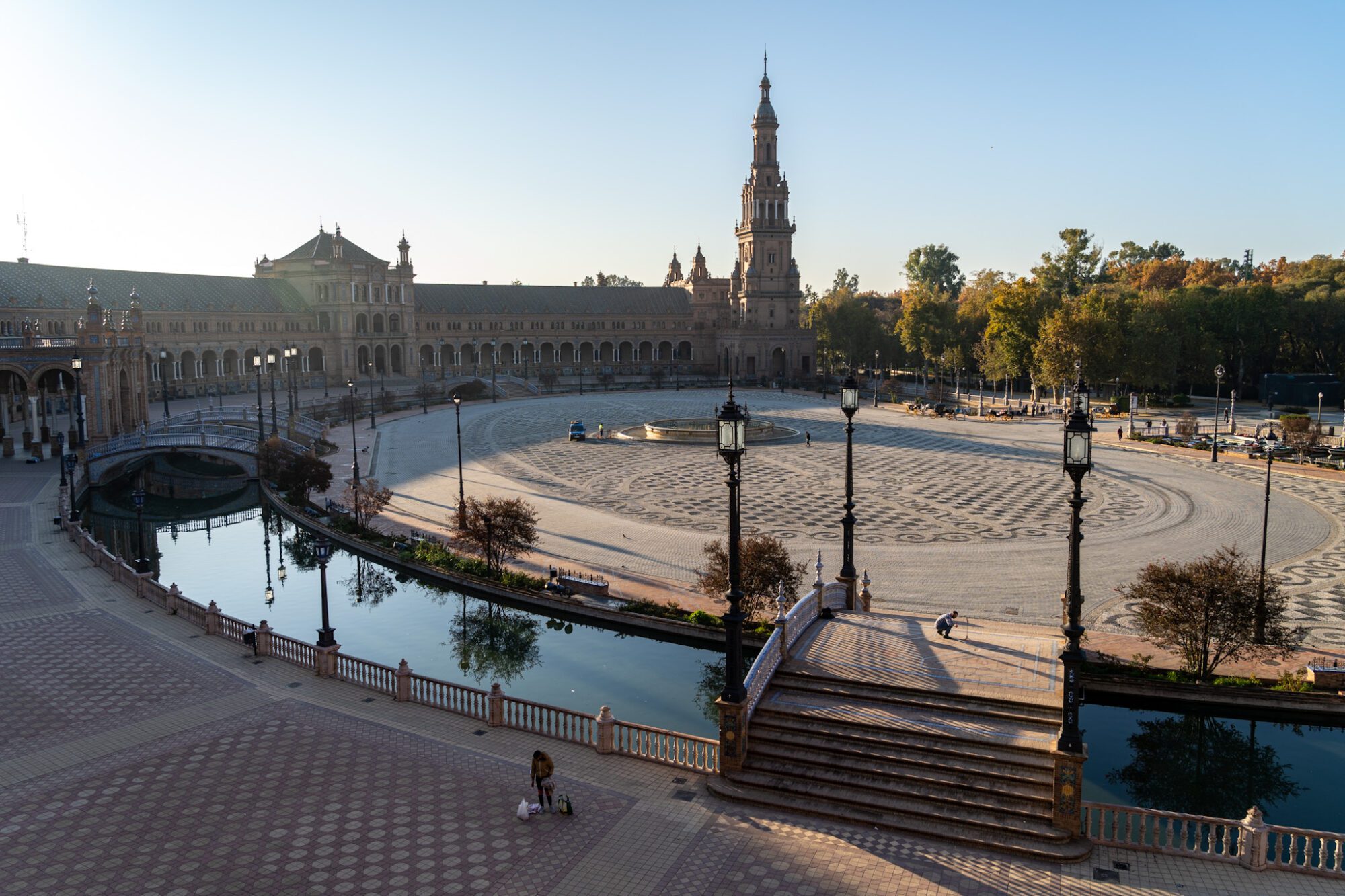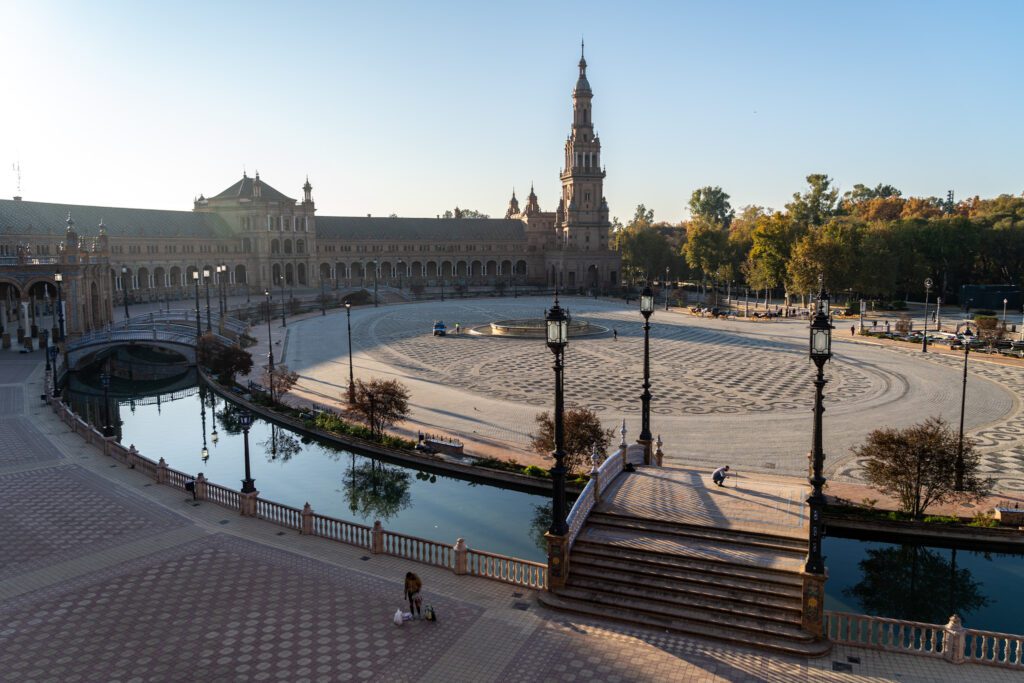 Seville has a very important place in world history, and the city is a fascinating example of multiple cultures coming together, mixing and blending over time.
Before we can really talk about Seville – the capital of Andalucía – as a Spanish city, we have to talk about its origins. Because before coming to Seville, we had a very different picture in our heads of a city that is distinctly "Spanish," more than any other city in Spain.
After visiting, we realized that this quintessentially "Spanish" city is a product of a rich history with a diverse cast of characters, which has resulted in a fascinating city.
Seville's history begins long before the Romans, but that's where we're going to start this fast-paced meander through history. Seville was an important city in Roman times, and if you don't believe me, emperors Hadrian and Trajan were actually born in nearby Italica.
Julius Caesar himself was responsible for the construction of the original city walls of Seville, which are long gone as the city expanded well past the original Roman city's boundaries.
Next came the Visigoths and Vandals, who were in Seville for a few hundred years, before the most consequential period in Seville's history began in the 8th Century.
That, my friends, is when the Umayyad Caliphate arrived, which kicked off a period of Muslim rule on the Iberian Peninsula that lasted for almost eight centuries in total, though Seville was conquered by the Spanish Christians in 1248.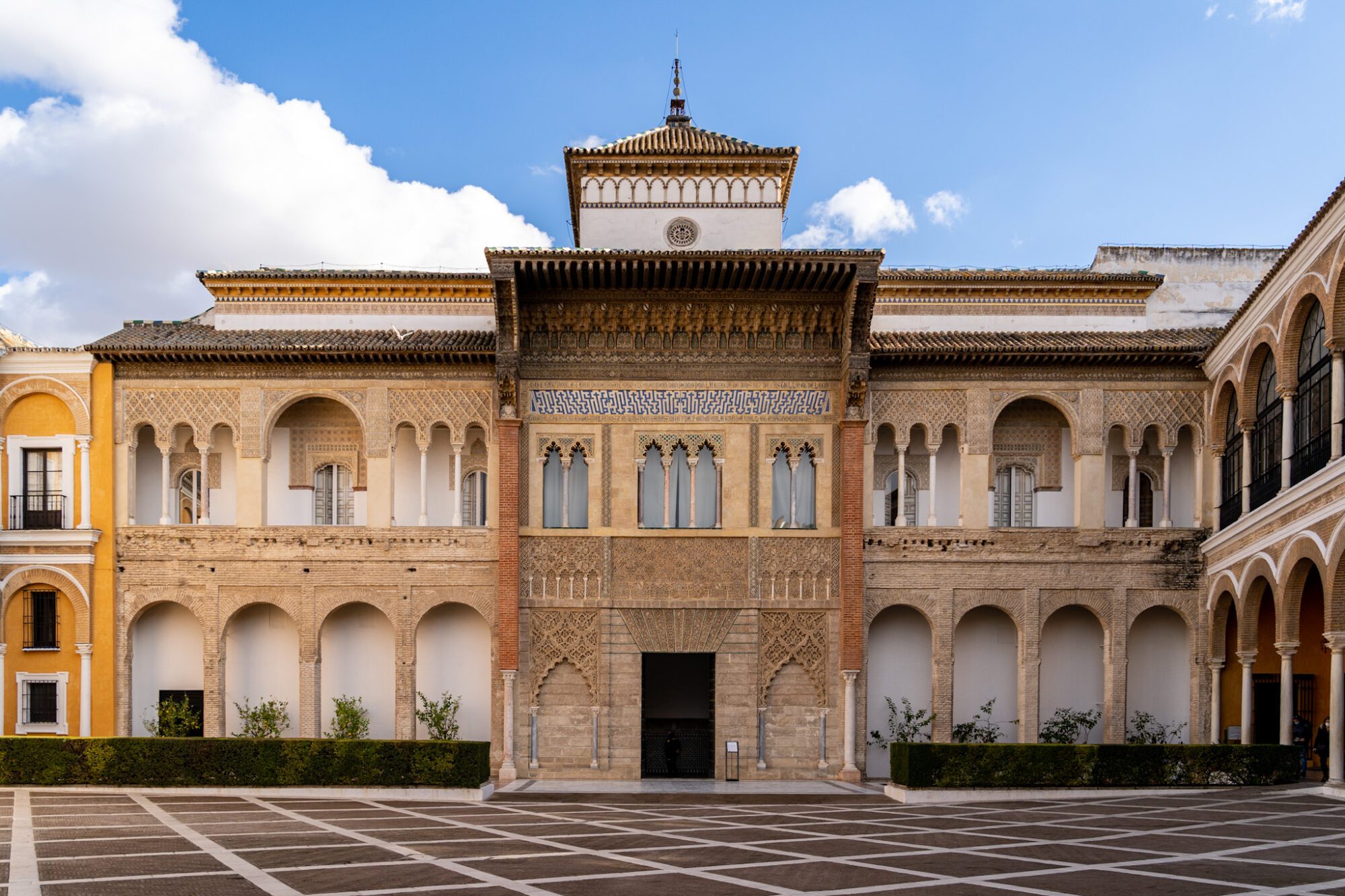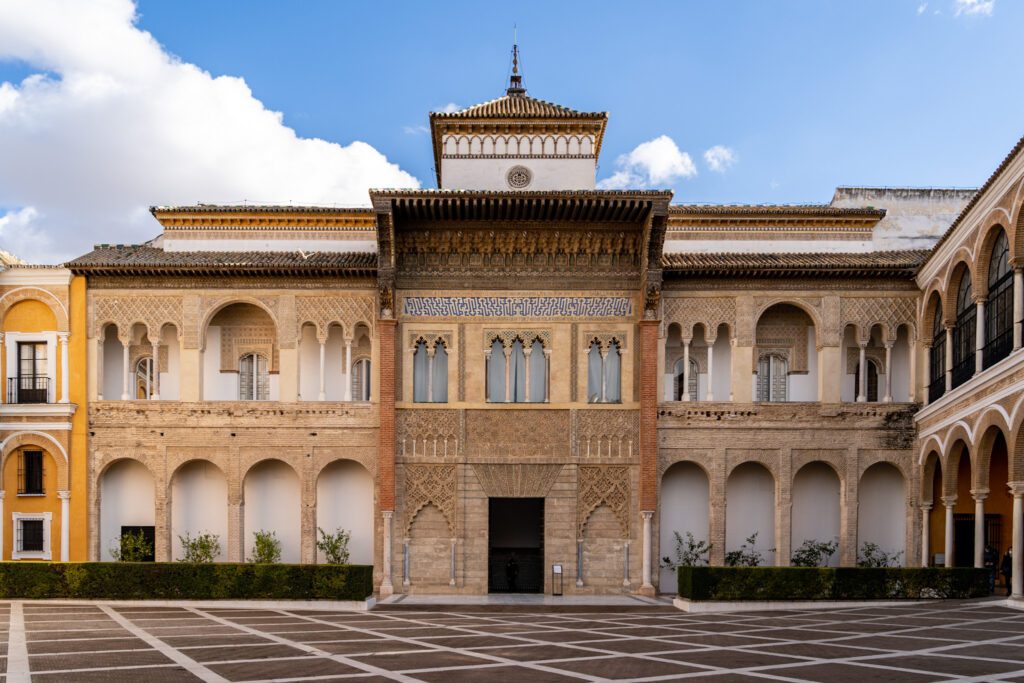 There's a reason why I think it's important to know Seville's history going into your trip.
The entire time you're in Seville, you're going to be seeing the impact of the mixture of the different cultures on modern-day Seville. The main sights – the Alcázar (whose name itself is a good example of the mixing of cultures) and the Seville Cathedral have elements from both the Islamic period and various Christian periods that came afterwards.
In fact, the majority of both buildings are expansions that were built around structures that were built during the period of the Caliphate.
Putting the history aside, Seville is a lovely place to spend a few days. Vibrant, orange tree lined plazas with people eating and drinking their hearts out, gorgeous architecture (especially Plaza de España, which you shouldn't miss), and tons of green spaces in the city make for a perfect end to your Spanish adventure.
Psst! We have an entire detailed guide dedicated to helping you plan the perfect 2 day Seville itinerary.
Getting to Seville
From Granada, there are high speed trains that will take you to Seville in about two and a half hours. Some journeys have a change in Antequera-Santa Ana, which we did twice and is a relatively easy station to navigate.
Don't be scared off by a change there, but know that it will likely be a bit longer with the change (but also a bit cheaper).
What to Do in Seville
There are a few things we think you shouldn't miss while you're in Seville.
This list is obviously not exhaustive, and for more detail you should head over to our guide to 2 days in Seville, which goes deeper on the city and what to do and see while you're there. The Cathedral, Alcázar, and Archivo de Indias (the latter of which isn't really worth visiting) form a three-part complex that is a UNESCO World Heritage site.
We do think that you should devote one day to Córdoba, which is a 40 minute train ride away and is home to one of the most important Muslim sites in Spain – the Mosque Cathedral.
It forms a triumvirate of important pieces of the Muslim history of Andalucía with the Alhambra in Granada and the Royal Alcázar of Seville. It's worth making an effort to see all three during your time in Spain.
Royal Alcázar of Seville
This was our first stop in Seville, and it's a great introduction to the history of the city because it's a palace (with an Arabic-inspired name) built for a Christian king predominantly by Muslims, in a style that blends Muslim and Christian characteristics.
All of this happened immediately after said Christian king conquered the city from the Muslim rulers who had been there for five centuries before he arrived.
The entire thing is one big mashup of different architectural styles, cobbled together over several centuries with Gothic, Renaissance, Mudejar, and other styles all blended together. There are actually three structures here, along with a nice set of gardens where there's a water organ – one of only a few in the world – that plays every hour, on the hour.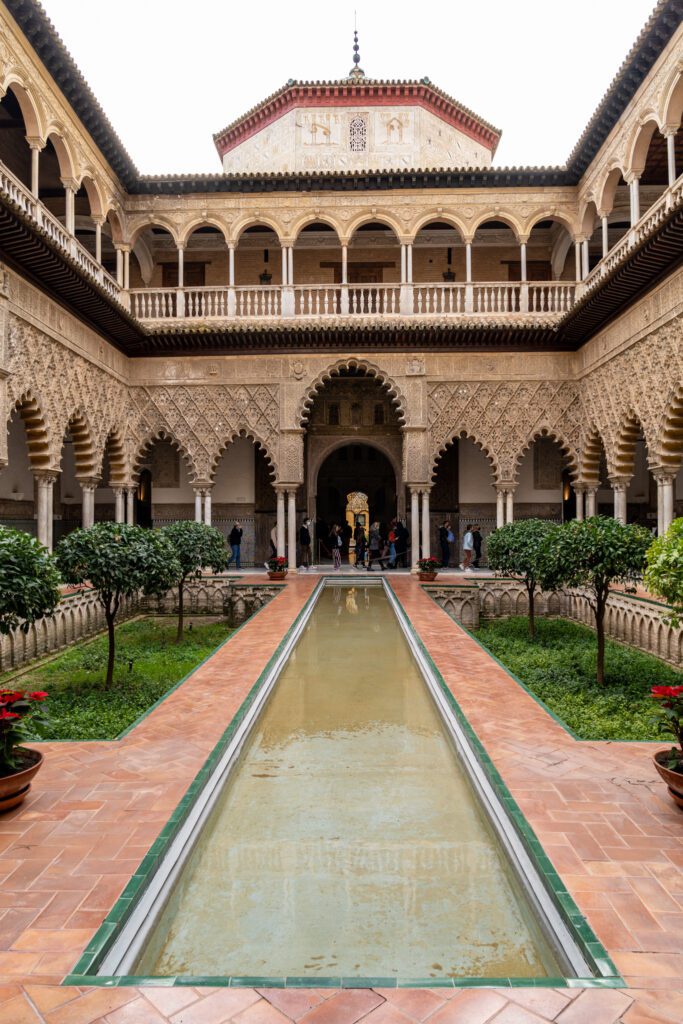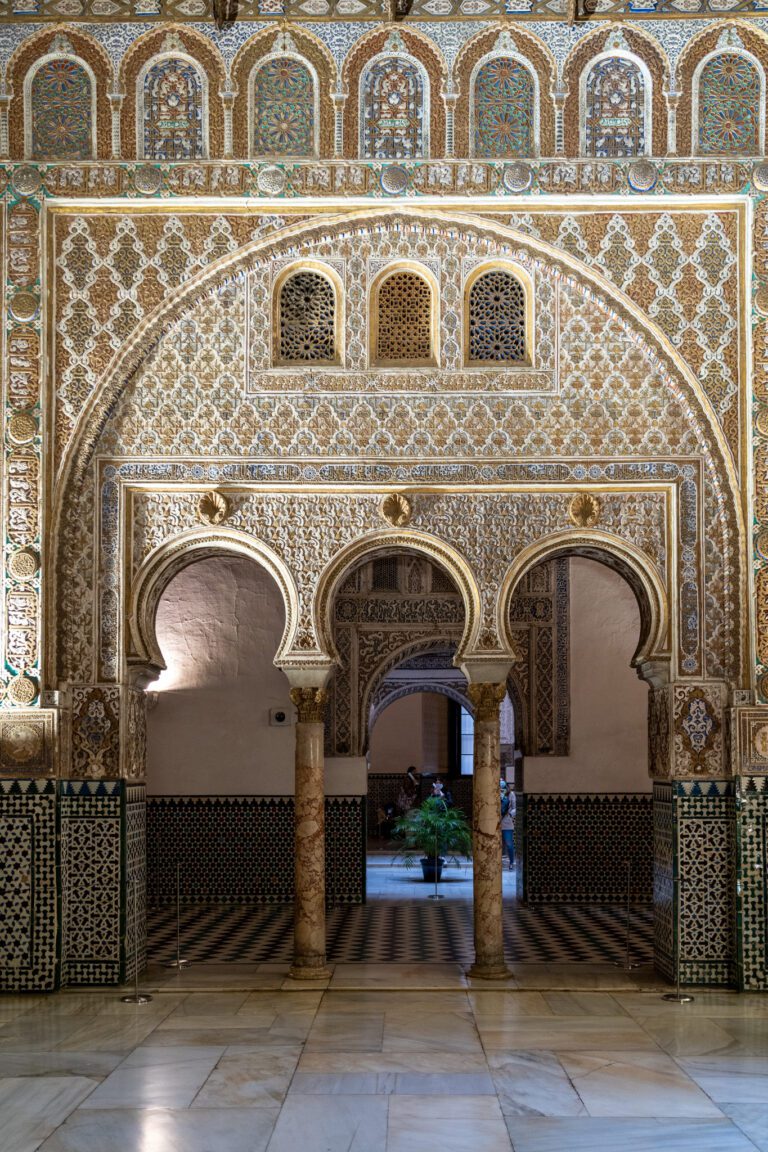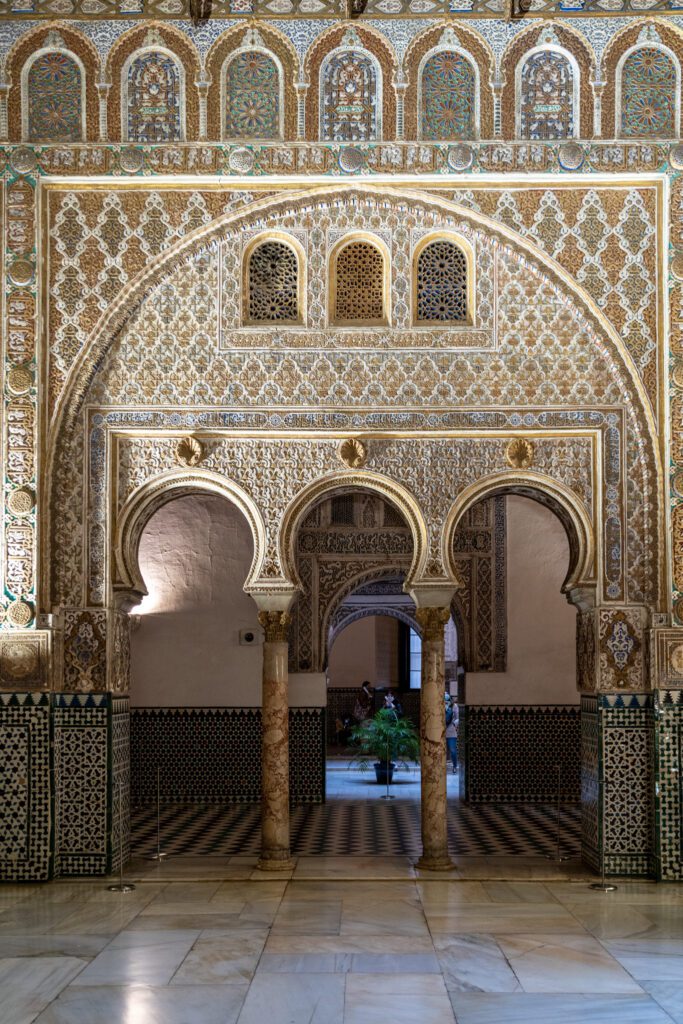 The most interesting of the structures, by far, is the Palace of Peter, where parts of season five of Game of Thrones were filmed (mainly the parts that take place in Dorne).
We did this guided tour with Jose, and think it's well worth it to have someone to help you get a deeper understanding of exactly what you're looking at, which would be a bit confusing on your own.
The Seville Cathedral
The Seville Cathedral was built on the site of a mosque, and provides a contrast between the part of the building that used to be a mosque – a humble place of worship made of affordable materials – and the addition of a massive cathedral that is equal parts worship and power projection.
Christopher Columbus (or at least part of him), famous for basically making one big mistake, is also buried here. The highlight is climbing the bell tower, known as the "Giralda," for a nice view over the city. The way you get to the top is unique too.
Rather than stairs, which is what you find at most cathedrals, you'll climb 35 ramps.
Tickets here.
Plaza de España
All of Spain's major cities seem to have one, but Seville's is the most spectacular, we think. I mean, parts of Star Wars: Attack of the Clones (by far the worst of the first six movies) were filmed there, so you know it has to be good.
It was built back in the early 20th Century before the Ibero-American Exposition, which was meant to strengthen ties between the Americas and Spain but turned out to be a flop given the global financial crisis that was unfolding at the time.
Still, the architecture is spectacular, with two towers, canals, and four bridges – each bridge representing a former kingdom of Spain.
A Day Trip to Córdoba
Córdoba is a perfect place to spend a day, and the Mosque-Cathedral is sure to be one of the most interesting places you'll visit on your trip to Spain.
With a high speed train connecting Seville and Córdoba, you can easily do a Córdoba day trip from Seville and see the main sights in a day.
For a more relaxed pace, spend the night and see the city once all the day trippers have gone home.
We loved Córdoba, and have a guide to a day trip to Córdoba that you should read if you're interested.
Absolutely do not miss the Mosque-Cathedral, and do the gardens of the Alcázar too.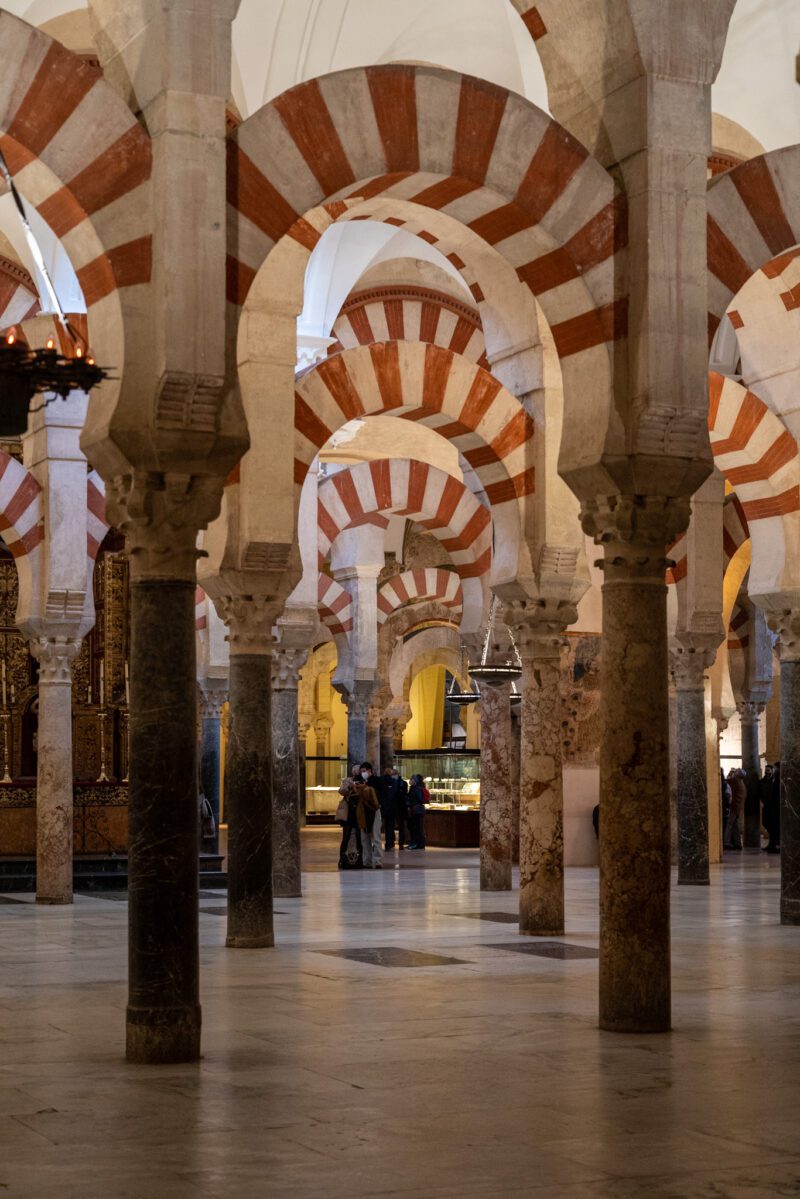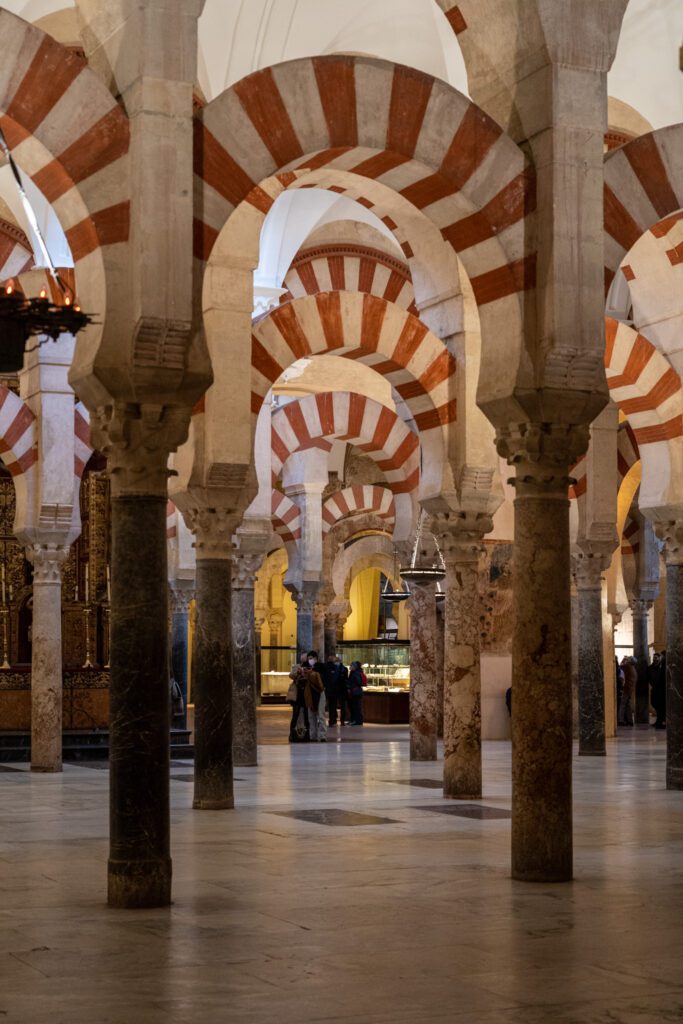 Where to Stay in Seville
Seville is a relatively compact city that is also very flat, which means you'll essentially be able to walk everywhere if you stay central. We'd recommend staying in one of the central neighborhoods that makes up the Casco Antiguo, Seville's charming old town core. We particularly like the charming Jewish Quarter called Santa Cruz.
We stayed at Come to Sevilla – Casa de las Especias, which is a set of serviced apartments (like a cross between a hotel and an apartment complex) in the heart of the old town.
If you want an apartment, we'd recommend it. They also have two other properties in the city, one in Arenal (near the river) and one on the border of Santa Cruz.
If you're looking for a boutique hostel – that's a cross between a hotel and a hostel with private, hotel-style rooms and the social aspects you'd expect from a hostel – look at TOC Hostel. We stayed at TOC in Barcelona and enjoyed it, and they're known for providing a great experience.
Let Us Help You Plan Your Amazing Trip to Spain!
We've got plenty of other detailed guides for our favorite places in Spain – from Barcelona, to Madrid and Andalusia – that we wrote to help you plan an incredible trip.
P.S.: If the link isn't there, it means we're still working on it and the guide will be up shortly. It takes a lot of time and effort to put together these detailed guides! Bear with us.
Exactly How to Take an Amazing Day Trip to Girona From Barcelona
Taking A Day Trip to Toledo From Madrid: A Complete Guide
What to Do with More Time in Spain
The way we see it, the answer to this question has two possible paths you could go down.
The first path is adding more places along this general route, which is the one we'd recommend (and is essentially what we did on our trip).
The second path would be to pick another region – like Asturias in the northwest or Basque Country in the northeast (or even Mallorca, an island off the south coast of Spain), and spend your extra time there. We would only recommend this path if you have another week in Spain – so three weeks total. Otherwise, the travel time to get there probably isn't worth it.
If you're up for the first path, here are some other places that would make a great addition to your itinerary, along with how much time to allocate to each place.
Ronda (1-2 days): One of the more charming towns in Spain, Ronda is one of the famous Andalusian white hilltop towns. It's probably not worth more than two days, and there's no major tourist attractions, which makes it a great place to relax, walk around, and take in the atmosphere. It is definitely worth hiking down to get a good view of the famous bridge, though.


Montserrat (1 day): A day trip from Barcelona for hikers and people who love religious sites.


Avila or Segovia (1 day): Two more great day trips from Madrid, Avila is known for its intact medieval city walls (and defensive towers), while Segovia is known for its Roman aqueduct.


Cadiz or Malaga (1-2 days): If you're looking to spend a few days at the end of your trip on the beach, these are two good options in southern Spain. Both are easily accessible from Seville or Granada, and would be a great, relaxing way to end your trip.
What to Do with Less Time in Spain
If you have somewhere between 7-10 days in Spain, you can do a condensed version of this itinerary, so you'll be able to use the detailed information in the relevant sections to plan your trip. We'll give you two 10 day Spain itinerary ideas, and two 7 day Spain itinerary ideas.
If you have 7 days, we'd focus on two cities (e.g. Barcelona and Madrid, or Madrid and Granada). If you have 10 days, we'd expand that to three cities (e.g. Barcelona, Madrid, and Granada). Use a single city as a home base for the region to cut down on packing up your bags and moving around, which is a big lesson we learned on our three month trip to Europe. Packing sucks, so do it as little as possible!
7 Days in Spain: Two 7 Day Spain Itinerary Ideas
Here are two ways to organize a week in Spain, one that focuses on Madrid and Barcelona, which provide a nice contrast, and one that focuses on Madrid and Andalusia, some of the most "Spanish-feeling" parts of Spain.
Madrid and Barcelona in 7 Days
Focus on Spain's two major cities – Barcelona and Madrid – and use them as a home base to do a couple of day trips.
Day 1: Arrive in Barcelona
Day 2: Barcelona
Day 3: Girona Day Trip
Day 4: Early train to Madrid
Day 5: Madrid
Day 6: Day Trip to Toledo
Day 7: Madrid & Fly Home
Madrid and Seville in 7 Days
Start your trip in Madrid, Spain's capital, and make your way south to Seville, the capital of Andalusia, over the course of seven days.
Day 1: Arrive in Madrid
Day 2: Madrid
Day 3: Toledo Day Trip
Day 4: Train to Seville
Day 5: Seville
Day 6: Seville
Day 7: Seville & Fly Home
10 Days in Spain: Two 10 Day Spain Itinerary Ideas
With 10 days, you have a bit more time, but not quite enough to fit Barcelona, Madrid, and Andalusia all into your trip.
Barcelona, Madrid, and Granada in 10 Days
In this version, you're skipping Seville (one of our favorite places in Spain) in favor of Barcelona, Madrid, and Granada. Granada and the Alhambra gives you a taste of Andalusia, which you can come back to on a dedicated trip later.
Day 1: Arrive in Barcelona
Day 2: Barcelona
Day 3: Girona Day Trip
Day 4: Barcelona
Day 5: Early train to Madrid
Day 6: Madrid
Day 7: Day Trip to Toledo
Day 8: Granada
Day 9: Granada
Day 10: Fly Home from Granada
Madrid and Andalusia in 10 Days
In this version, spend the bulk of your time in Andalusia, with a couple of days in Madrid at the beginning and a full week split between Seville and Granada, where you'll be able to dive a little deeper into the complex, intertwined history of the Muslim and Christian periods in southern Spain.
Day 1: Arrive in Madrid
Day 2: Madrid
Day 3: Toledo Day Trip
Day 4: Madrid
Day 5: Granada
Day 6: Granada
Day 7: Seville
Day 8: Seville
Day 9: Seville
Day 10: Seville & Fly Home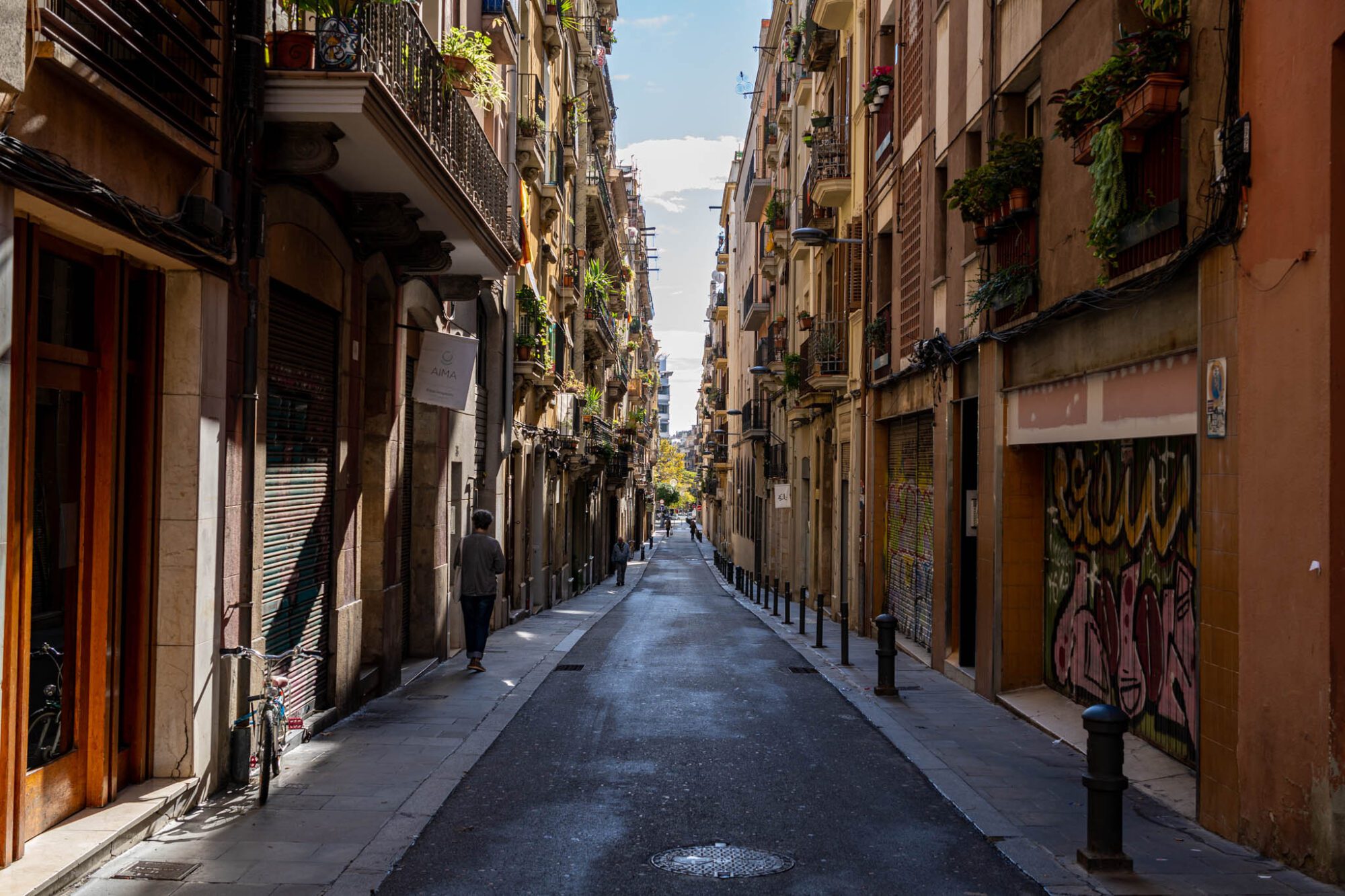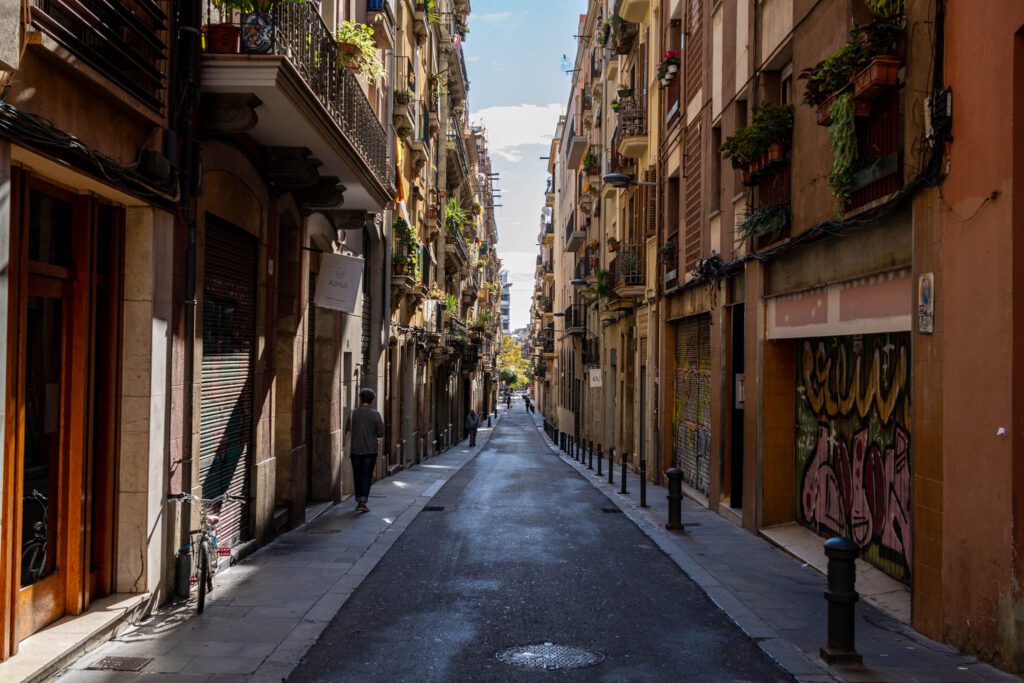 ---
Let Us Help You Plan Your Amazing Trip to Spain!
We've got plenty of other detailed guides for our favorite places in Spain – from Barcelona, to Madrid and Andalusia – that we wrote to help you plan an incredible trip.
P.S.: If the link isn't there, it means we're still working on it and the guide will be up shortly. It takes a lot of time and effort to put together these detailed guides! Bear with us.
Exactly How to Take an Amazing Day Trip to Girona From Barcelona
Taking A Day Trip to Toledo From Madrid: A Complete Guide