Gluten Free Bogota: A Celiac's Guide to Colombia's Capital
Ah, Bogota. Our first stop on our trip around the world. When we arrived at 5am on a Friday, we were shocked to find the streets mostly empty except for buses and taxis. "No traffic? This is going to be so great!" I said to Alysha as we zoomed to our hostel from the airport.
Turns out it was a day where they limit cars on the road to minimize pollution.
The next day, traffic was an absolute nightmare. When it comes down to it, Bogota is a huge city. Traffic. High rise buildings. Sprawling suburbs. Tons of people.
That was one of the things that shocked me. It has ~10x the population of San Francisco and Seattle. It's big. Like most big cities around the world, there are gluten free options in Bogota. Keep reading for a guide on how to navigate Bogota gluten free if you have Celiac Disease and need to avoid gluten at all costs.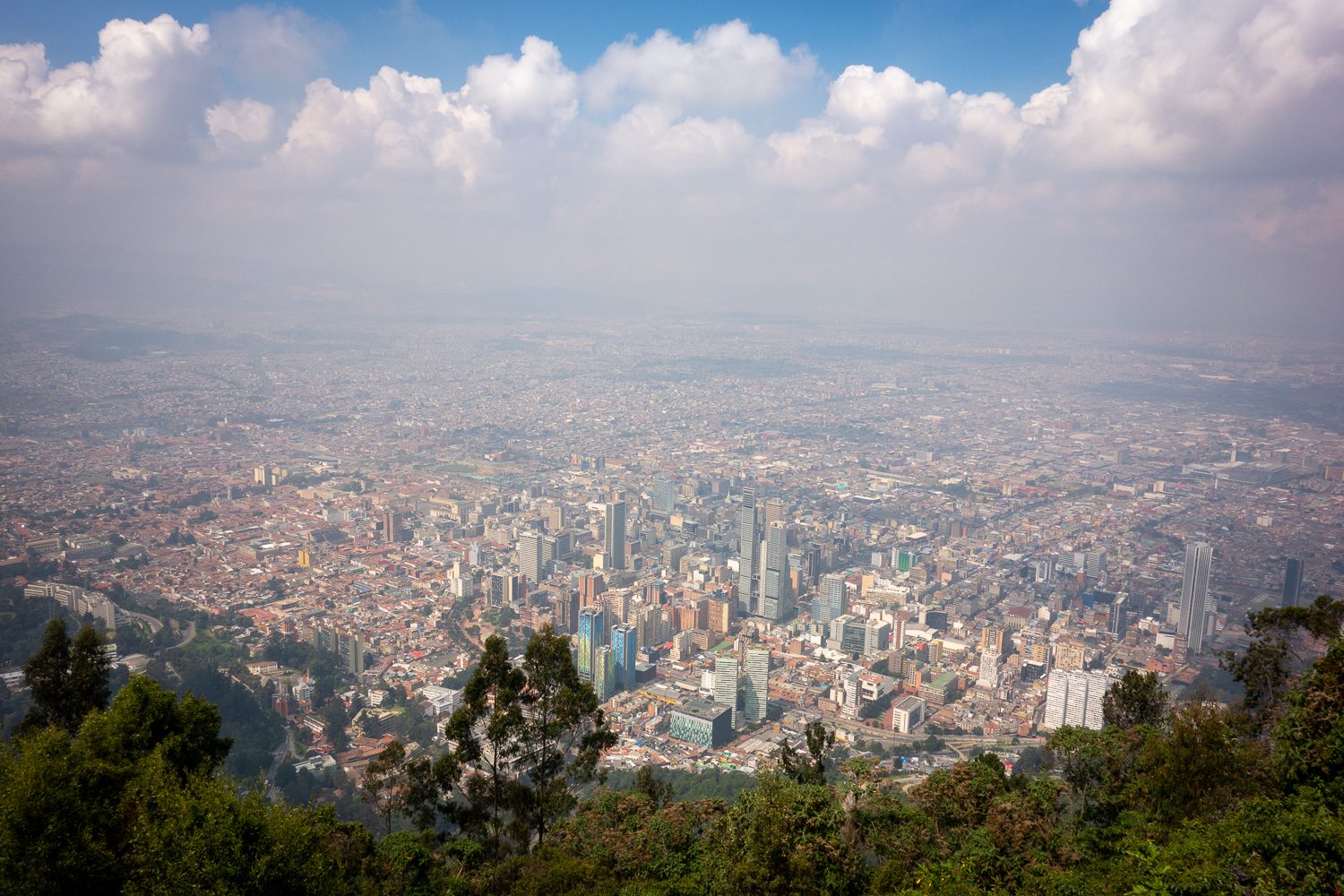 Gluten Free in Bogota: Tips for Traveling Gluten Free
Before we get to specific restaurants in Bogota, let's talk about traveling gluten free in Colombia.
Psssttt! I have a whole guide for traveling gluten free in Colombia that you should DEFINITELY check out if you're planning on traveling to Colombia and need to eat gluten free. It has everything you need to know about navigating the country gluten free.
The short version is that awareness of Celiac Disease, gluten, and cross-contamination is basically zero in Colombia. In Bogota, I found that there was a bit more knowledge than other places we traveled, like the small mountain towns, but it's still limited, so you will need to be prepared for that.
The single biggest tip I have for traveling gluten free to Medellin, and Colombia as a whole, is to book a place with a kitchen. You need to be willing to cook for yourself – there are a handful of gluten free options in Bogota, and having the flexibility to cook for yourself will give you peace of mind that no matter what, you'll be able to eat safely.
That means you're probably staying in an apartment, through Airbnb or Booking.com, or a hostel with a shared kitchen. We stayed in private rooms in hostels throughout our trip, and loved it, but it totally depends on your style and budget.
More on where we stayed in Bogota in a second.
The second tip I have is that you need to speak Spanish. Some people, like servers at restaurants, speak a bit of English. But a lot of people don't. If you don't speak Spanish, you need a gluten free restaurant card in Spanish that explains your situation and outlines your specific needs, like avoiding cross-contact with gluten and specific call outs for sources of hidden gluten.
Jodi over at Legal Nomads has a Latin America card that I have personally used in both Mexico and Colombia with great success. I speak rudimentary Spanish – like 2nd grade level, if we're being totally honest – and when that wasn't enough, I pulled that out and asked the server to give it to the chef. It's that easy. It's the best $9 you'll spend on this trip for the peace of mind and ability to confidently communicate your needs in the face of a language barrier. Click here to get your gluten free restaurant card.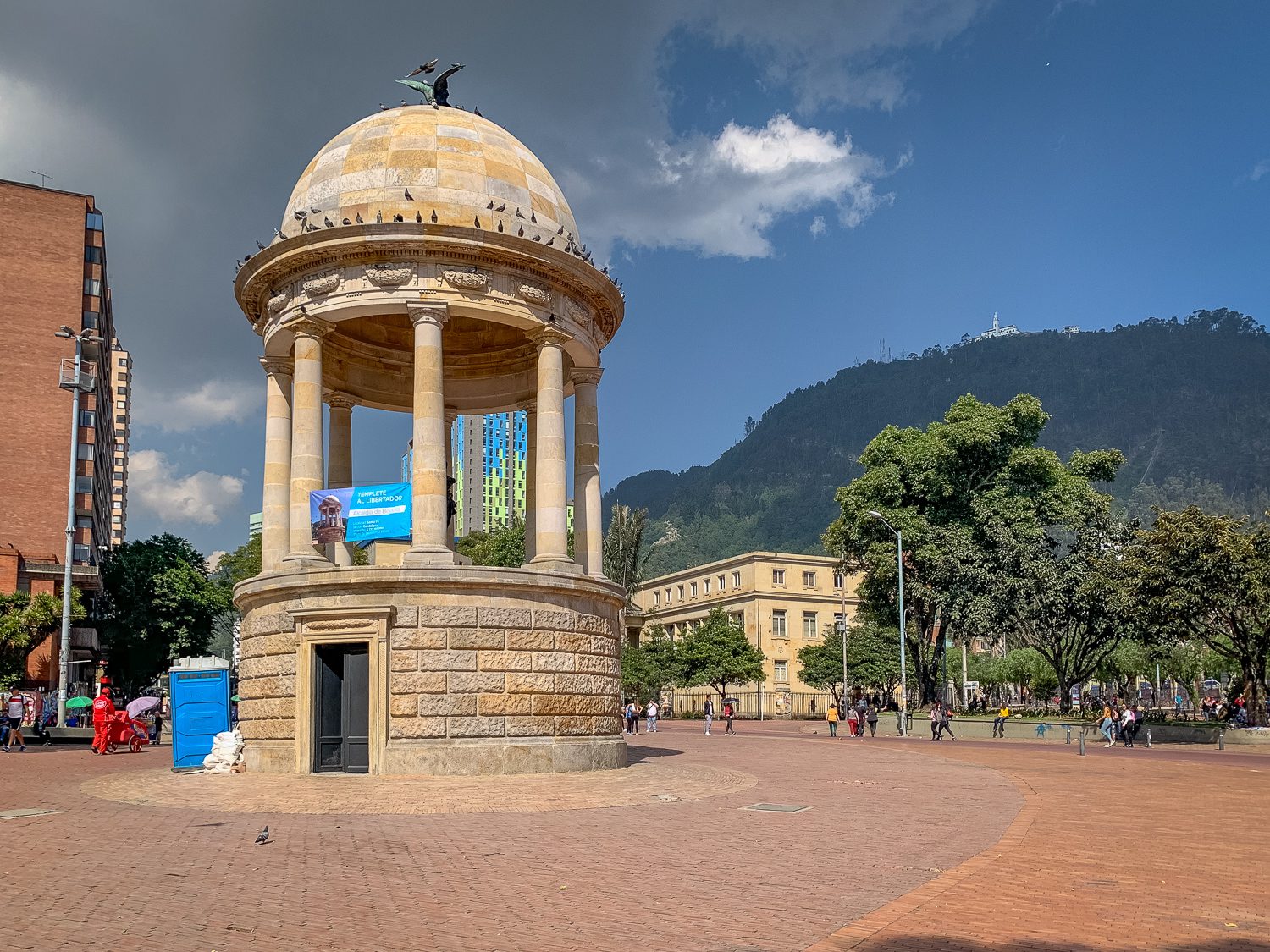 Where to Stay in Bogota
In Bogota, I'd recommend that you stay in Chapinero, specifically in Quinto Camacho, and that's exactly where we stayed while we were in Bogota. It's a fantastic central location with access to both the tourist attractions and hopping parties of La Candelaria, and the laid back elegance of Usaquen, two of the best neighborhoods to explore in Colombia.
Plus, you'll be right in the middle of some of the best food, coffee, and bars in Bogota, like Café Cultor, Misia, and El Mono Bandido.
We stayed at Aurora Hostel, a small boutique hostel that honestly feels more like a hotel, with room for only 20 people max. It's super clean with a big kitchen, relatively quiet, the staff are friendly and helpful, and the private room with a bathroom was hotel-level quality at hostel prices. Plus, it's right in the middle of all the action in Quinta Camacho. Click here to check prices, reviews, and availability.
Alternatively, stay in an Airbnb in Quinta Camacho, which are a fantastic value in Bogota This Airbnb is basically in the same spot as Hostel Aurora, and looks like it has everything you'll need for a comfortable stay in Bogota. This modern studio in Zona G, a few blocks away from Quinta Camacho, is another top-rated option for you.
Click here to find the perfect Airbnb in Quinta Camacho for your style and budget.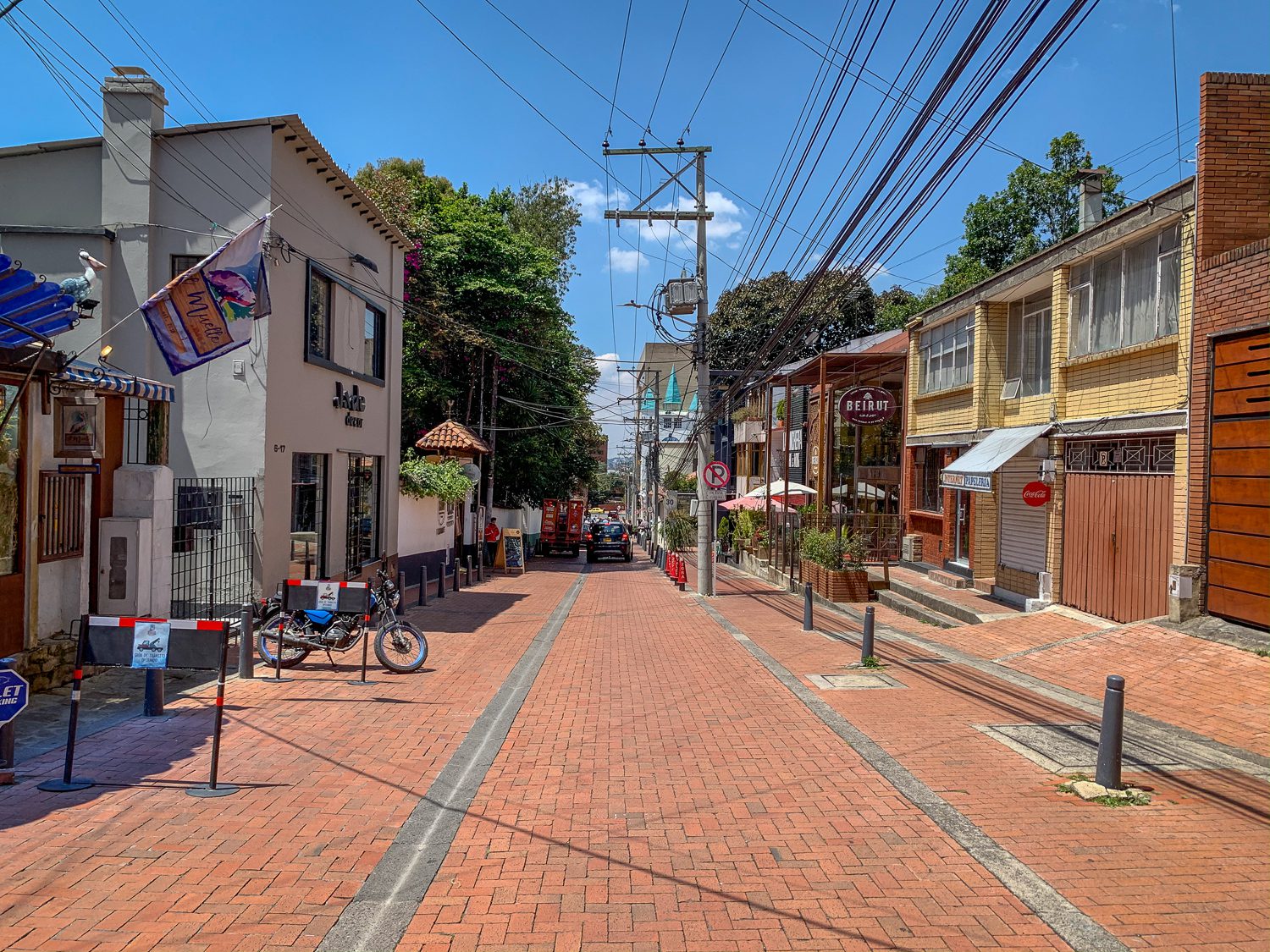 Top Tips for Traveling Gluten Free in Colombia
Here are the sources of hidden gluten that I came across, and how to avoid them.
Wheat flour used in arepas and empanadas. Confirm that all areas and empanadas are 100% corn – no wheat flour is added. For what it's worth, every single time I asked, they were 100% corn, but you need to confirm.
Wheat flour as a soup thickener. Confirm that no flour is added to thicken soups, which happened a few times.
Soy sauce and other sauces. As about soy sauce and jugo Maggi in ceviche and meats, like fillings for empanadas or tamales.
Bouillon cubes (cubitos de caldo) are often used to add flavor to soups, rice, and more. And they contain gluten. You need to ask about them specifically to make sure they aren't added. Most higher-end places don't do this, but best to confirm.
Avoid everything fried. As a general rule, there are no dedicated fryers in Colombia, as often the kitchen is small and there's only room for one. It's a cross-contamination nightmare. You can ask whether other foods are fried in a fryer if you're Spanish is good, or use a gluten free restaurant card.
Avoid arepas, empanadas, and tamales made with store-bought masa (like P.A.N.), which all are processed on the same equipment as wheat and have a "may contain gluten" statement on the back. I accidentally ate P.A.N., which is safe and certified gluten free in the US, for a few days at the beginning of the trip and wasn't feeling so hot. Then I found out why when I flipped it over and read the back of the package. Always read the label. A good reminder.
Where to Find Gluten Free Groceries in Bogota
In Bogota, there are two chains that are perfect for finding gluten free food that you'll find scattered around the city.
Exito, which is kind of like a Walmart or Target, has a handful of full size locations between La Candelaria and Chapinero, which is probably where you'll find yourself staying in Bogota. Here is one in La Candelaria, here is one near Chapinero. You'll find everything you need to cook for yourself at Exito, from packaged gluten free food like pasta and pasta sauce, rice, and even gluten free bread, to fresh fruits and veggies and arepas. Exito also has a line of Express stores, that are more like a convenience store, but most have a solid selection of groceries if you're in a pinch.
Carulla is your other option, and it's more like a Kroger or Safeway. Basically, a standard grocery store. There is a Carulla every 10 blocks or so in Bogota between La Candelaria and Chapinero, and they're all super nice. They even have a couple of ciders, including the only cider made in Colombia, Golden Lion. Yes, it's gluten free – I checked with them!
For a list of the best gluten free groceries I found in Colombia, head over to my guide to gluten free Colombia.
Don't miss the yuca + cheese arepas from either Sary or La Cajonera – SO GOOD.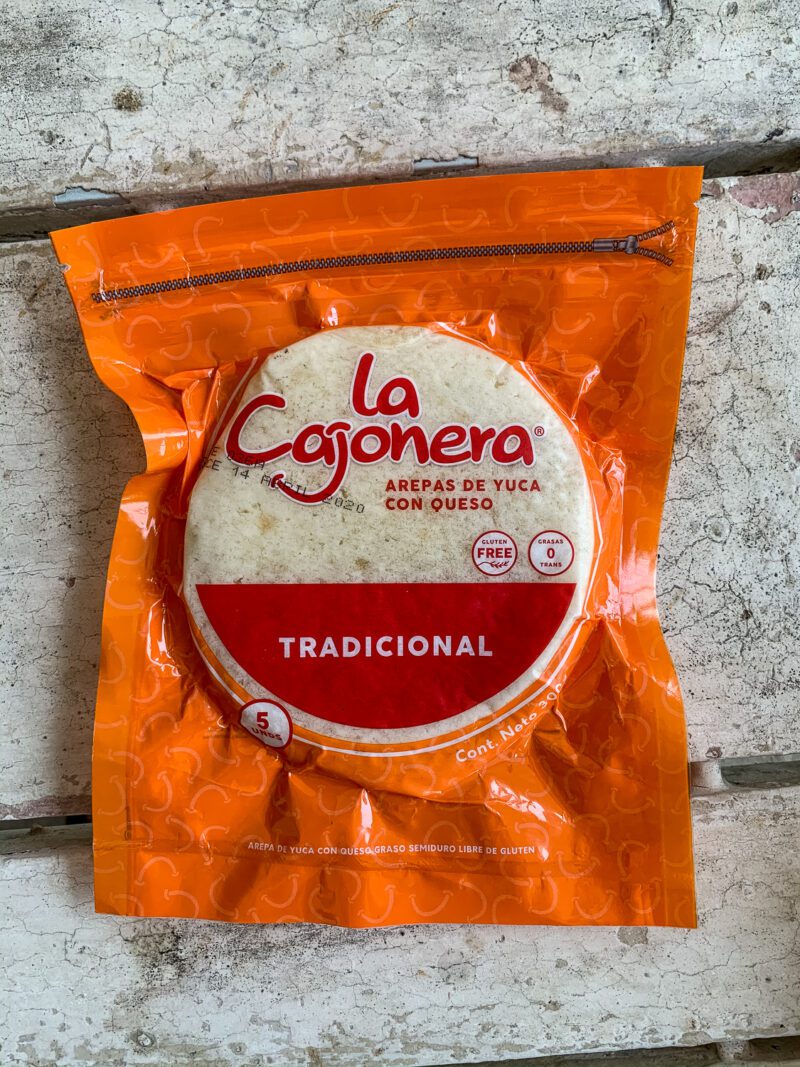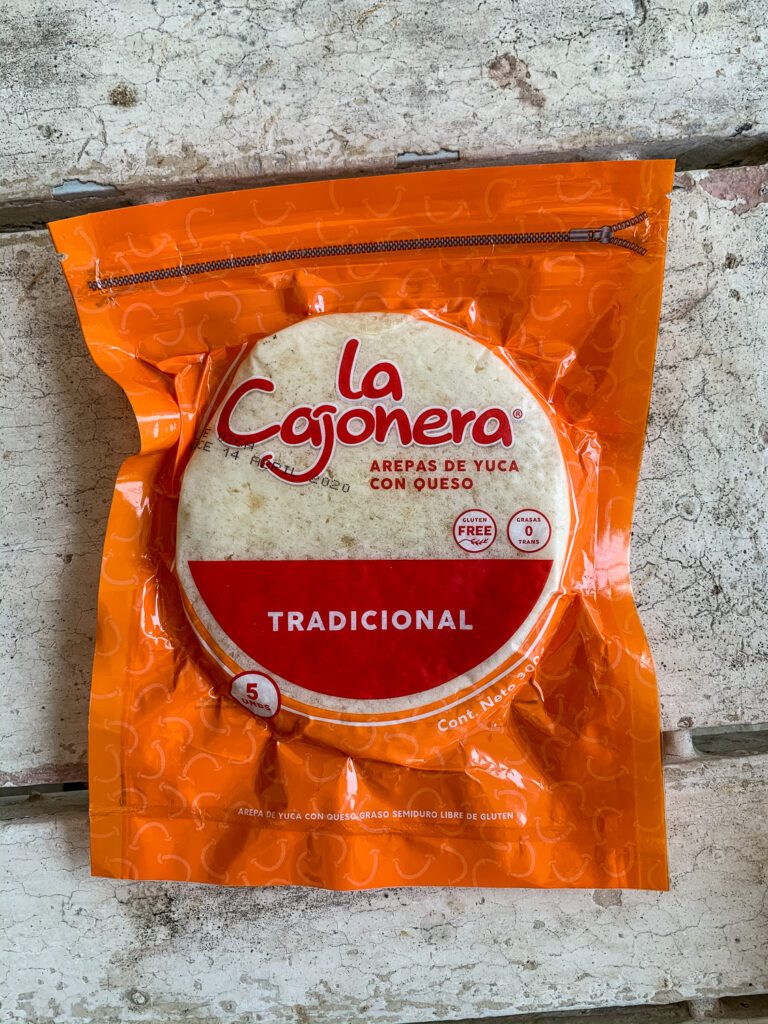 Don't Speak Spanish? Use a Gluten Free Restaurant Card!
Like I mentioned above, a gluten free restaurant card in Spanish is a must if you don't speak Spanish, or you're not sure if your high school Spanish is going to cut it.
I recommend Jodi's cards specifically because they do two very important things. First, they call out cross-contamination, which most of the free cards completely ignore. Second, it calls out specific ingredients – like bread, cubitos de caldo, and soy sauce – that people who don't know what gluten is might not realize aren't safe for you.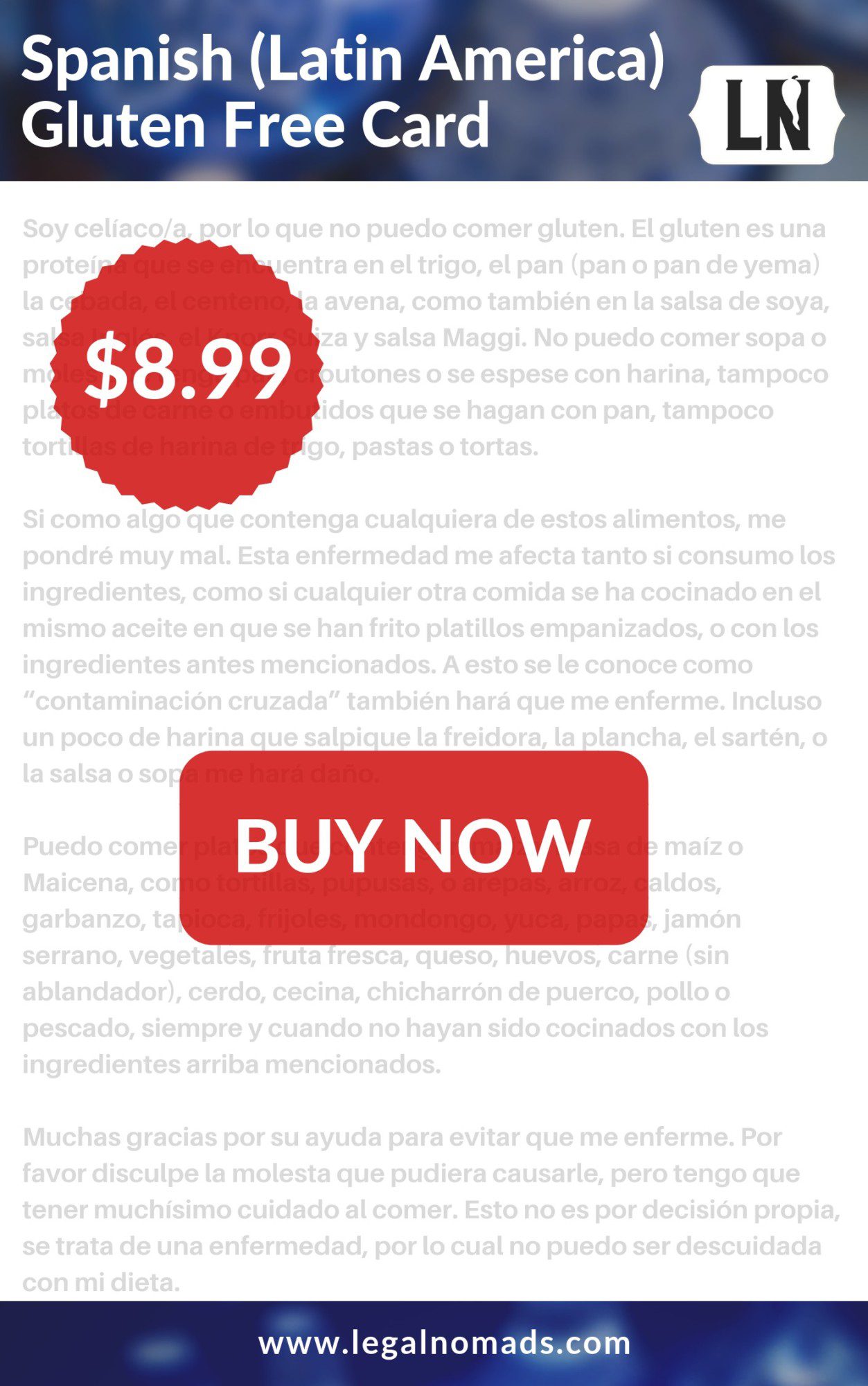 I personally have used her cards for years, and can't recommend them highly enough for people who are anxious about the language barrier. With her cards, I can confidently communicate my needs and safely travel in spite of an intimidating language barrier. You'll pay $9, but it's more than worth it in my book.
Click here to get your Gluten Free Restaurant Card for Latin America
Gluten Free Bogota: The Best Gluten Free Restaurants
Below, you'll find a list of gluten free restaurants that I made for myself while I was in Bogota. All of the ones featured with a longer description are places that I personally talked to and/or ate at who were able to accommodate people with Celiac Disease. The second group, the ones listed at the bottom with a short description, are places that were on my list, but I wasn't able to connect with (read: they didn't respond to my emails or Instagram DMs).
For both groups, you will need to communicate your needs – in advance, if possible. One of my top rules for gluten free travel is to NEVER, UNDER ANY CIRCUMSTANCES, take an internet stranger's word for whether or not a food is safe for you. And yes, that includes me. Things change in kitchens all the time, so make sure to double check with each restaurant that you want to eat at.
Pasteleria Marvelous (Dedicated Gluten Free Bakery & Café!)
MUST STOP, even though I tragically didn't make it here. There was only a handful (two, that I found) of dedicated gluten free restaurants in Bogota that I came across – the best and most interesting being Pasteleria Marvelous. It's a gluten free bakery north of Chapinero and Quinta Camacho. Sadly, I ran out of time and didn't get a chance to visit, which I am currently kicking myself for because it looks SO GOOD. They have tons of options – both sweet and savory – from pizza dough and hamburger buns, to orange and chocolate tortes. They also have some mixes you can buy to cook at home – like pancakes, cake, and all purpose gluten free flour.

They also have an onsite café where they serve a totally gluten free lunch menu. Soup of the day and a rotating menu del dia (menu of the day) are served daily from 9am-6om (only until 5pm on Sundays).
They also ship within Colombia, but I don't know what shipping costs are like.
Vegoto Fast Food (Dedicated Gluten Free)
100% gluten free, and 100% vegan. Vegoto Fast Food has a bunch of delicious plant-based burgers served on a bun made of quinoa, pizzettas served on a quinoa-based crust, and a handful of other main dishes. It's located in central Chapinero, which means that if you followed my advice on where to stay in Bogota, it's nearby wherever you're staying.
Abasto
This was our best gluten free meal in Bogota. Abasto has a location in Quinta Camacho and also in Usaquen, and they known for breakfast and brunch. We went for an early lunch, and it was absolutely fantastic.
They use fresh ingredients, but they do serve bread and use flour in the kitchen. The arepas (100% corn – double check though) are a specialty of theirs, but they're only served in the morning, so we missed out. I was eyeing the arepa con huevo y queso (egg and cheese), but when I ordered it, I was informed that they had moved onto the lunch menu. Instead, we shared an amazing carrot soup, which far exceeded my expectations, and the fish cooked in banana leaf served with coconut rice. And that's what you should order too. It's a Colombian specialty, and it was DELICIOUS.
Abasto was recommended to me by a friend that lives in Bogota as a great place for lunch, and it delivered. It was absolutely packed – like line out the door packed – for a leisurely weekend lunch in their rustic, wood paneled dining room, so be prepared to wait if you show up during rush hour.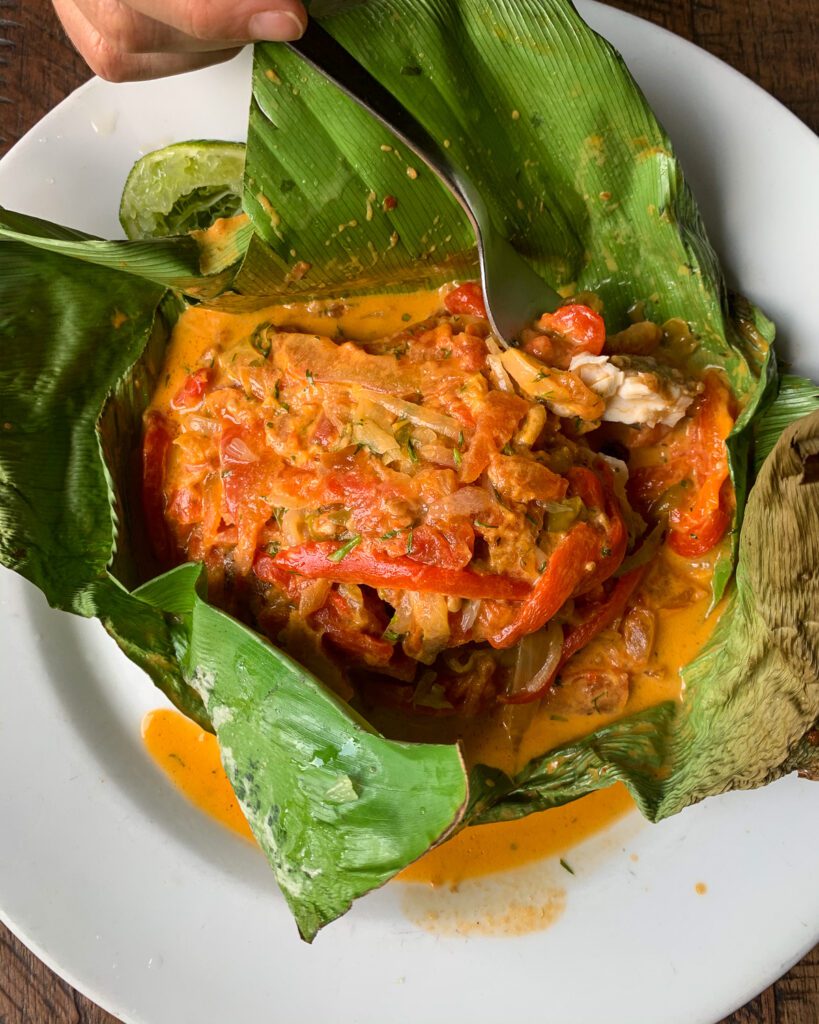 Quinua y Amaranto
Quinua y Amaranto was our first meal out in Bogota, and it's right in the middle of La Candelaria, so it's a perfect lunch spot if you're in the area sightseeing. During the week it's all vegetarian, but on the weekend they add some meats.
I had a little bit of trouble (and a lot-a-bit of frustration on the server's part) communicating my needs, I made it happen thanks to my gluten free restaurant card. A good reminder that, no matter how well you THINK you speak Spanish, it all goes out the window when you don't have English as a fallback. Over the course of the trip, I definitely found myself needing the card less and less, which is a good sign.
In their open kitchen, you'll see the chefs cooking up the menu del dia, which is basically all they serve and exactly what you should get. It comes with a soup, a main dish, and a dessert, all for $5-6 USD per person. When we went, we got a quinoa and corn soup, a tomato/veggie stew with coconut rice, and a strawberry dessert that was basically strawberry jam – the ingredients were strawberries, lemon, and sugar, and it was served with a spoon. YUM.
When I asked about wheat, they mentioned that they do cook some things in the kitchen with wheat, like lasagna. But from what I gathered, the menu del dia would be cooked separately from the pasta and other items, so the risk of cross-contamination isn't high, like it would be if it was a shared oven for pizzas or a shared fryer. Make sure to double check, using your restaurant card if you need to, that the menu del dia is safe.
Insurgentes Taco Bar
The first thing you'll notice about Insurgentes Taco Bar is that it is HIP. It's in Chapinero, and it doesn't really get too busy until 8pm, when all of a sudden you look around and it's PACKED.
Most of their tacos, which are the highlight, are served on handmade corn tortillas that are 100% corn. The bad news is that the fryer isn't safe – they make their fish tacos in it – so you'll need to avoid the chips.
The tacos are good, the cocktails are great, and the ambiance is fun and lively.
Misia
Misia is also just around the corner from Aurora in Quinta Camacho (told you – SO MUCH GOOD FOOD), and I totally stumbled upon it when we were wandering the neighborhood on our first day in Bogota. I had read about it in a guidebook – the chef is famous – and after checking it out on our walk, I reached out. They specialize in dishes from Colombian's Caribbean Coast and confirmed that the can accommodate Celiacs without a problem.
Other Gluten Free Bogota Restaurants (NOT CONFIRMED – CONTACT YOURSELF)
Here are the restaurants that are on my list, but never responded. I re-reached out once I got back home, and if I receive confirmation I'll add them to the section above.
Make sure to triple check these restaurants for yourself!
Mini Mal (Looks amazing, no response yet)
Tapas Macarena (No response yet)
Arepas dpeto (arepas are gluten free, not sure on the fillings)
De Raiz (vegetarian, definitely have some gluten free options, but unclear which dishes are gluten free, and what to watch out for)
Central Cevicheria (You guessed it, they serve ceviche! ask about for soy sauce.)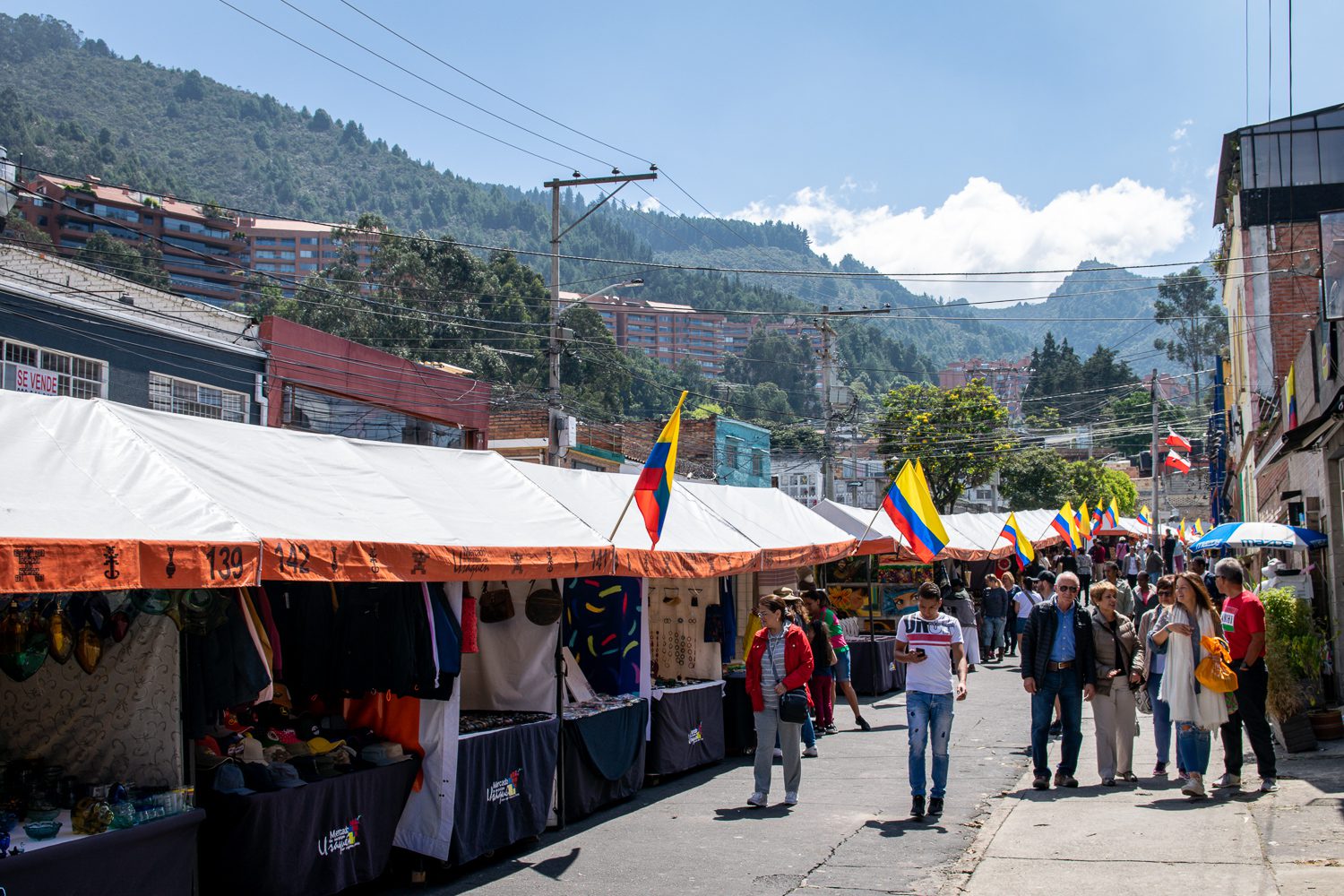 Final Thoughts: Gluten Free Bogota
Bogota was a surprising city in a bunch of different ways. Mostly because I basically didn't know anything about it going in. I was flabbergasted at how big it is, both in physical size and in population. There were certainly cute, upscale neighborhoods, and parts of the city that we passed on the bus that I wasn't so sure about. Kind of like any big city you'll find around the world.
It was also fairly Celiac-friendly in Colombian terms – there are a bunch of places to eat that can serve Celiacs safely, but not too many dedicated gluten free spots. Though two is better than none, which is what you'll find elsewhere in Colombia.
I liked Bogota, and I'd go back to explore more.