Hiking in Bend, Oregon: The 12 Best Hikes in Bend
Hiking in Bend, Oregon, was one of the highlights of our four month US road trip, where we set out from California and made a big loop up through Oregon and Washington, and then over to Yellowstone and Grand Teton, Colorado, and Utah. We love hiking, and were lucky to spend that amazing summer outdoors, hiking almost every day.
I am very fortunate to have been to some beautiful places around the world on my travels, and Oregon is right up there with the most spectacular landscapes I've seen.
Oregon is smack dab in the middle of the two places I have lived – Seattle and San Francisco – and I haven't spent more than a few days at a time exploring it. Until 2020, that is.
We were fortunate to spend six weeks living out of our van exploring the amazing state on an Oregon road trip, and we spent our time in Bend hiking in the morning and relaxing at camp with a cider in hand in the evening (if you're into cider, or even if you're not but want to try it, definitely don't miss Tumalo Cider while you're in town).
This is a guide to 12 of the best hikes near Bend, so you can make the most of your time in the area and see some of the jaw-dropping landscapes of central Oregon for yourself.
Between the hikes in this guide, there is a nice mix of different difficulty levels and scenery to choose from depending on what you're looking for. Most of these trails are VERY popular, so the earlier you can set out, the more peaceful your hike will be.
If you're looking for a guide to some of the other hikes we love in this beautiful state, you can find it in our guide to the best hikes in Oregon.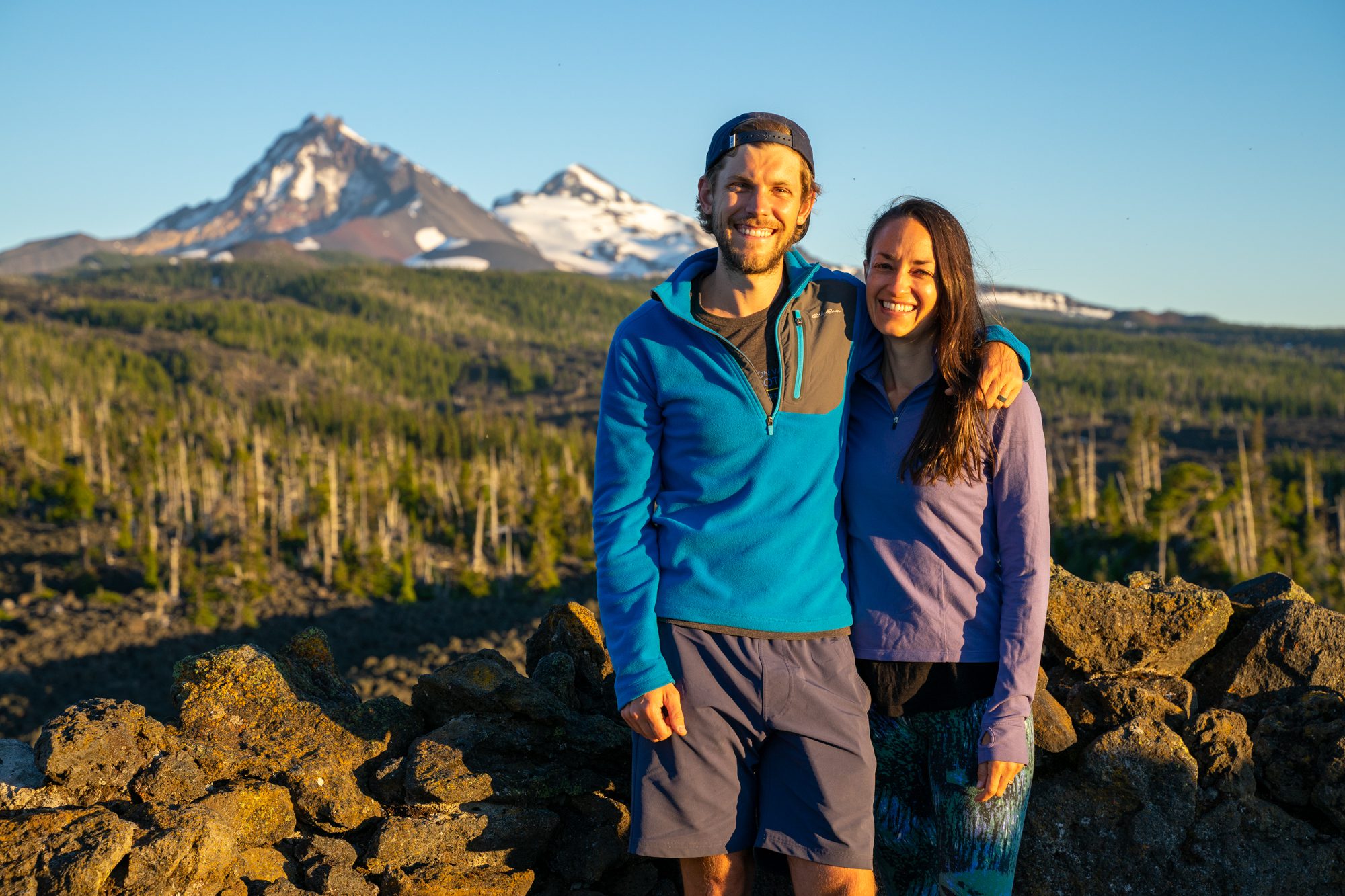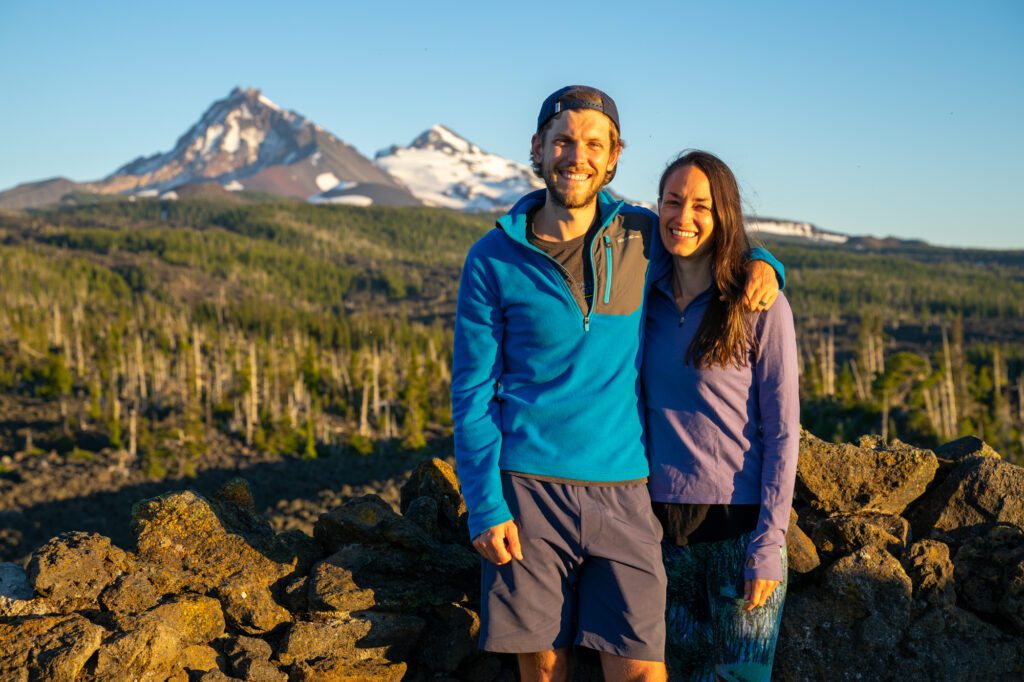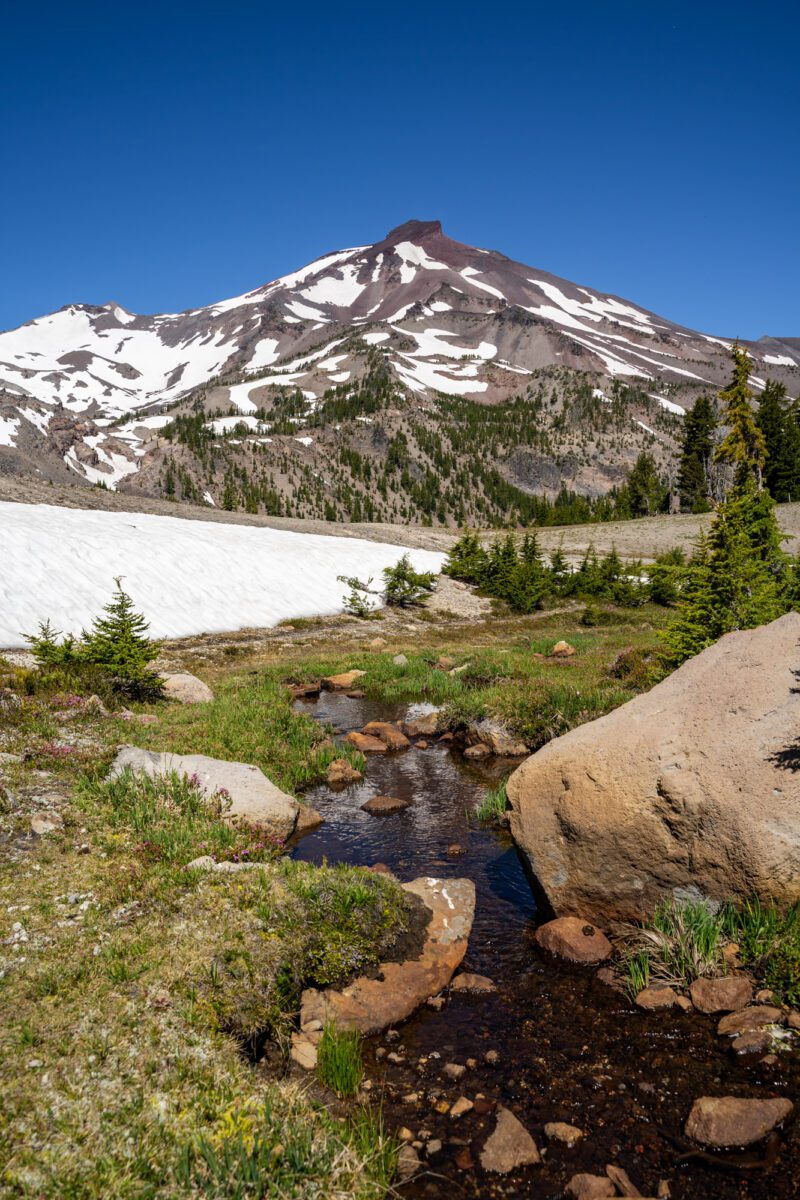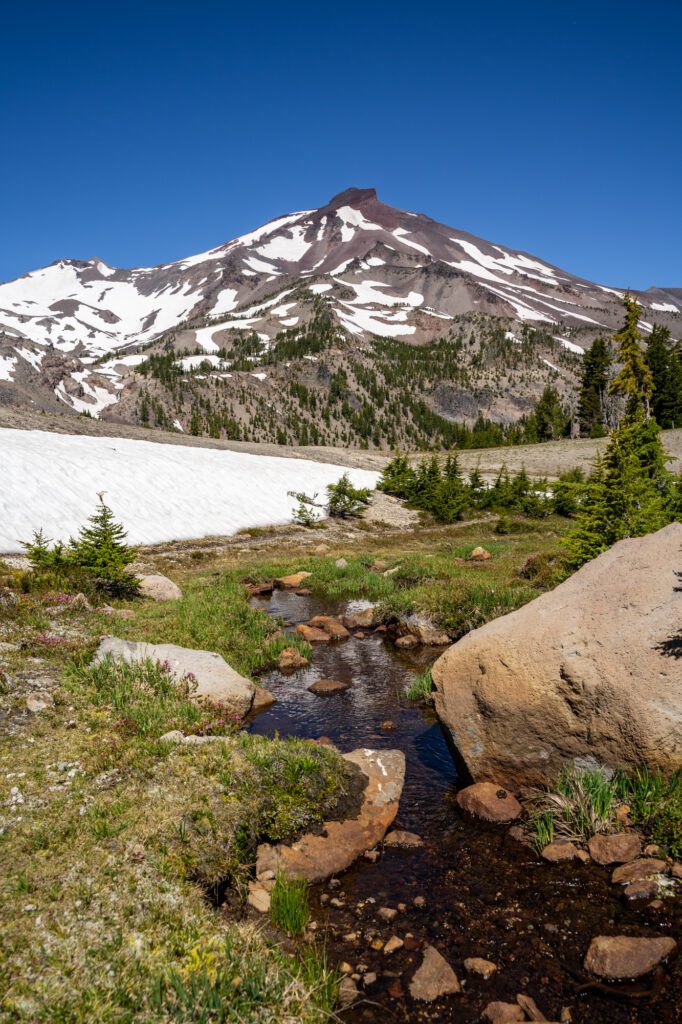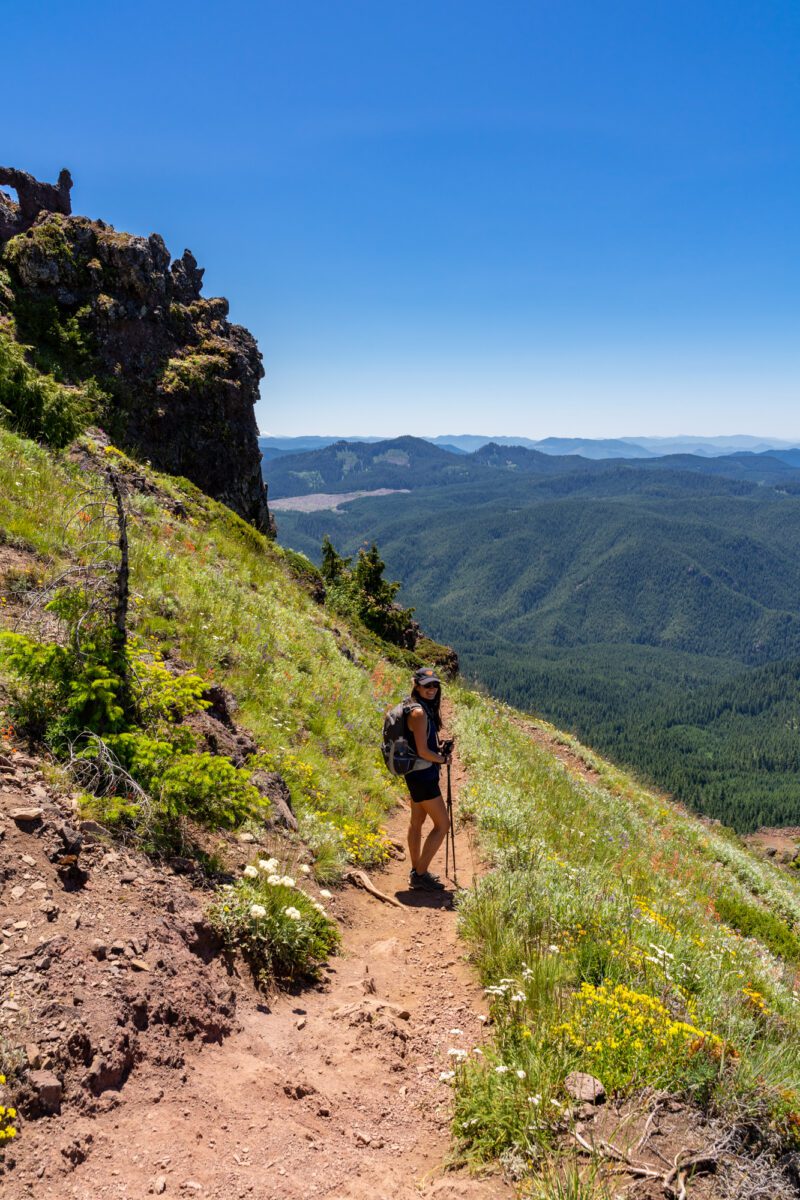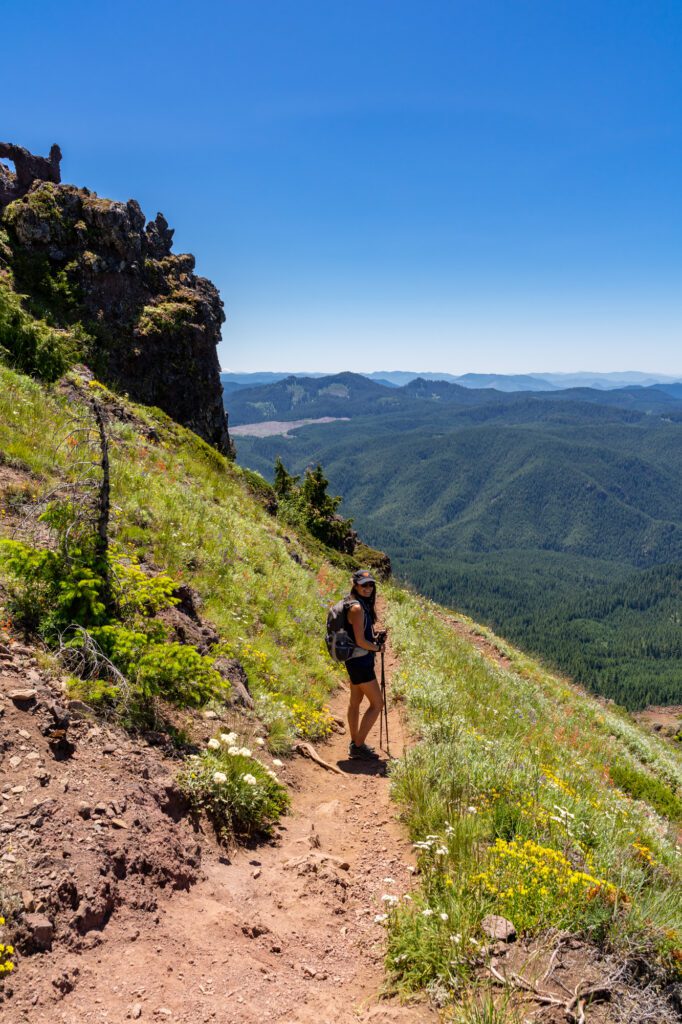 Disclaimer: Some of the links in this post are affiliate links, meaning at no additional cost to you, I make a little bit of money if you click through and book. That being said, I would never recommend something to you that I don't stand behind 100%.
What is the Best Time to Visit Bend For Hiking
Bend is a good all-year-round destination, but for hiking, summer is the best times to visit. Late June to September is when the flowers are out, the weather is beautiful, and the days are longer. You'll find most trails free of snow by mid-July, and even in the middle of summer the weather is fairly mild and rarely makes it past 85 degrees Fahrenheit (29 degrees Celsius).
In the winter, Bend turns into a winter wonderland, and there are some good opportunities for snowshoeing, skiing, and snowboarding around Mount Bachelor. It's certainly not hiking weather though – roads are closed, and you're going to find lots of snow on trails at higher elevation.
In the springtime, waterfalls and rivers will be roaring, which makes it a good time to visit places like Tumalo falls, but the trails at higher elevations will still be snow-covered.
Fall is a good time to explore around Bend. With cooler temperatures and more precipitation, you might not get the perfect weather that you'll find in the summer. As long as you're prepared for a little rain between September and mid-October, you'll find less crowds to share the trails with.
12 Incredible Hikes Near Bend, Oregon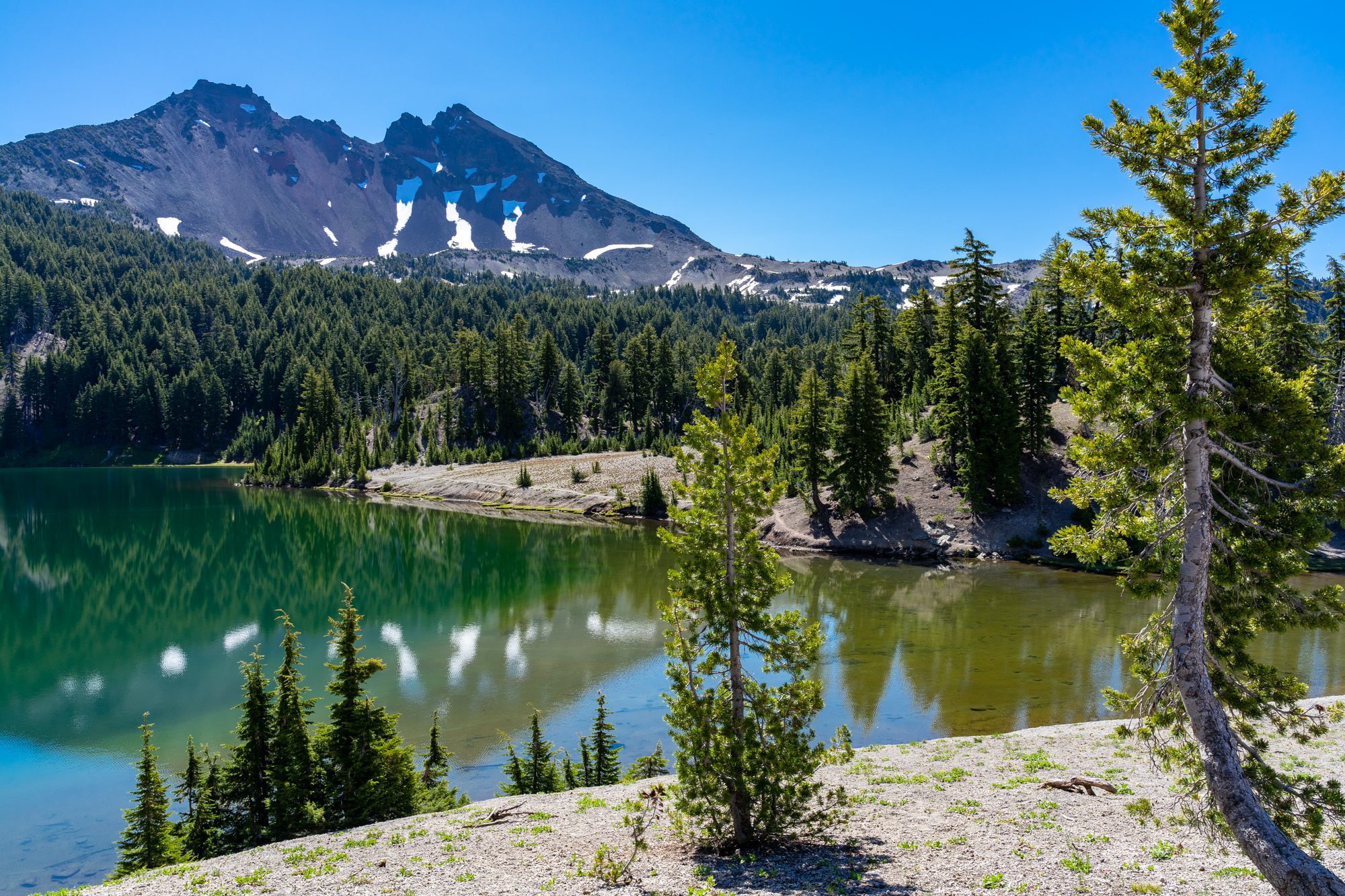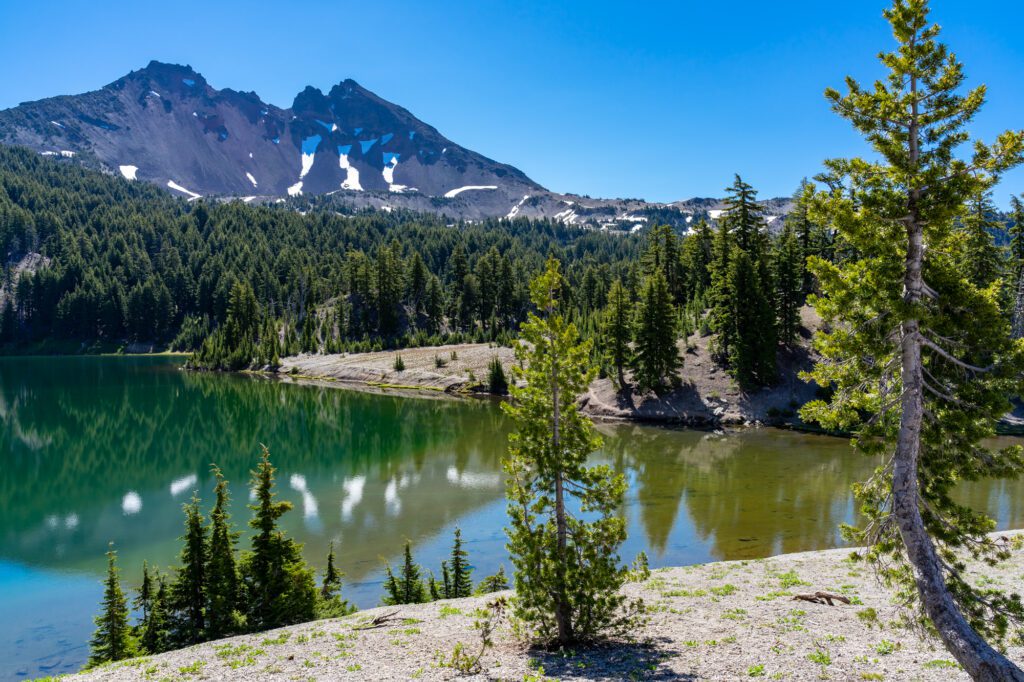 Most of the best hikes near Bend are actually outside of Bend, either in Deschutes National Forest, Willamette National Forest, or up at Smith Rock State Park.
However, there are a handful of nice hikes inside Bend's city limits if you're looking to get some exercise without venturing too far away from town (or, if you don't have a car while you're visiting).
We'll start with three hikes inside Bend's city limits, then move on to our favorite hikes near Bend.
Pilot Butte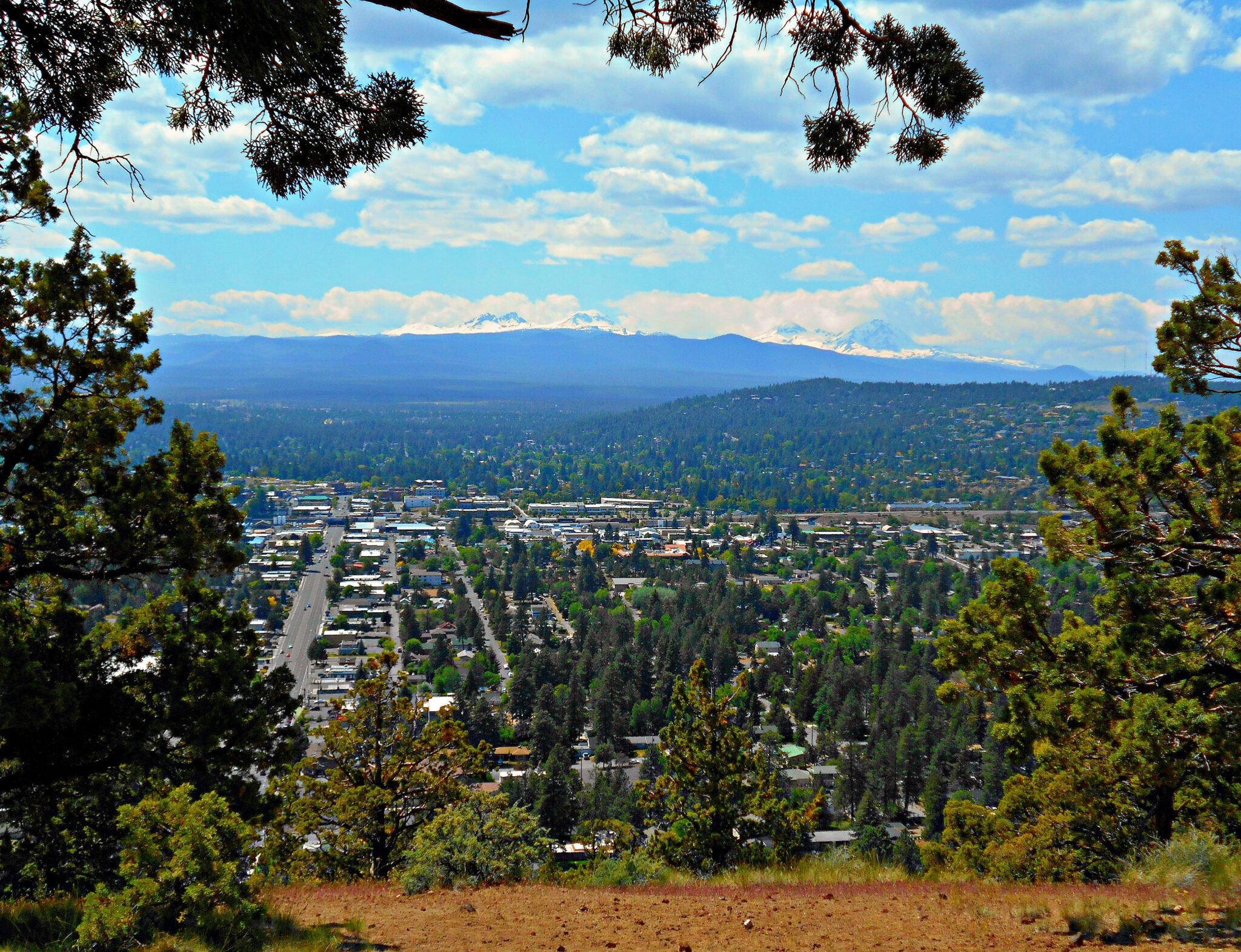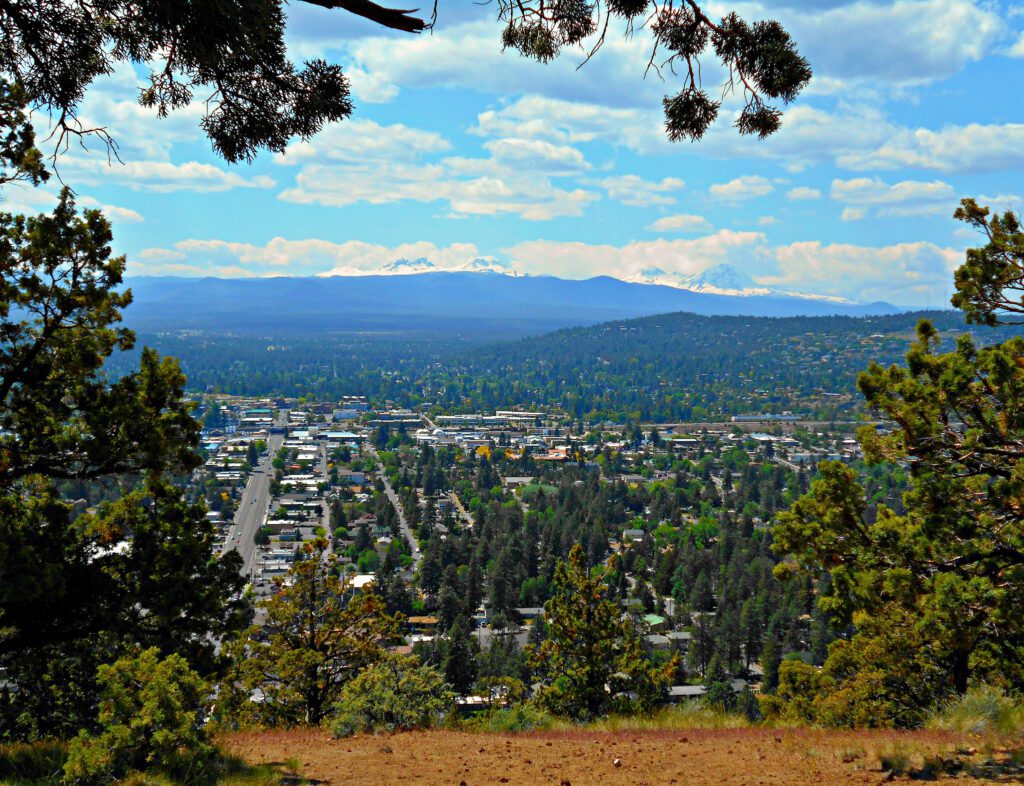 Length: 2.1 miles/ 3.3km
Elevation Gain: 470 ft / 143m
Difficulty: Easy
Trailhead Location
Drive Time From Bend: 5-10 minutes
This trail is one of the most popular hiking trails in Bend for residents and visitors alike, mostly because it's right in the middle of town. The hike is relatively easy, making it a great option for all fitness levels as it spirals upwards in a gentle, gradual climb.
At the top, panoramic views of the city and surrounding landscape await hikers.
There is even an interactive area which helps you identify which mountains they are looking at, which is super helpful in a place where you are essentially surrounded by snow-dusted peaks on all sides. After a while, they all start looking the same.
The Deschutes River Trail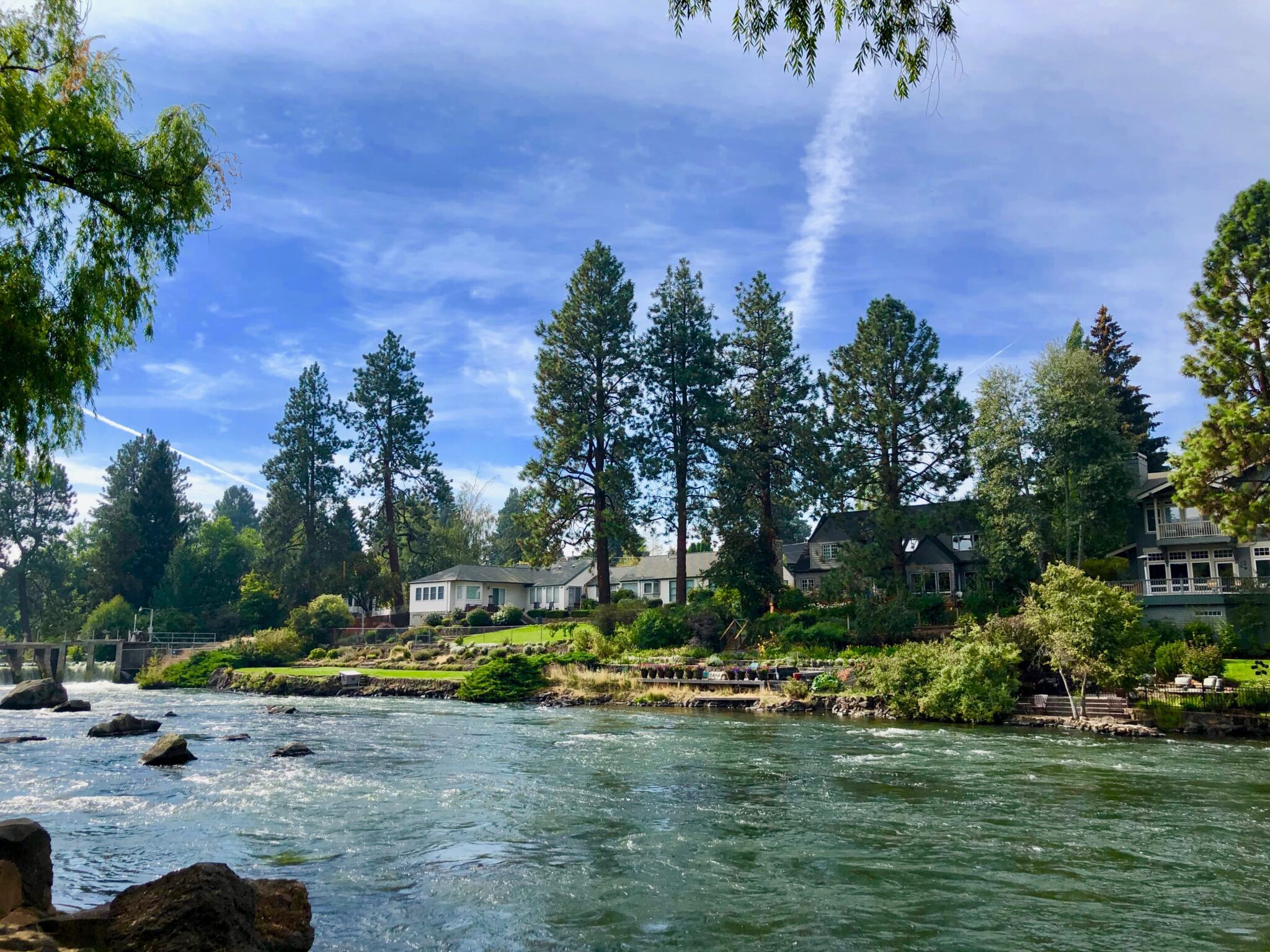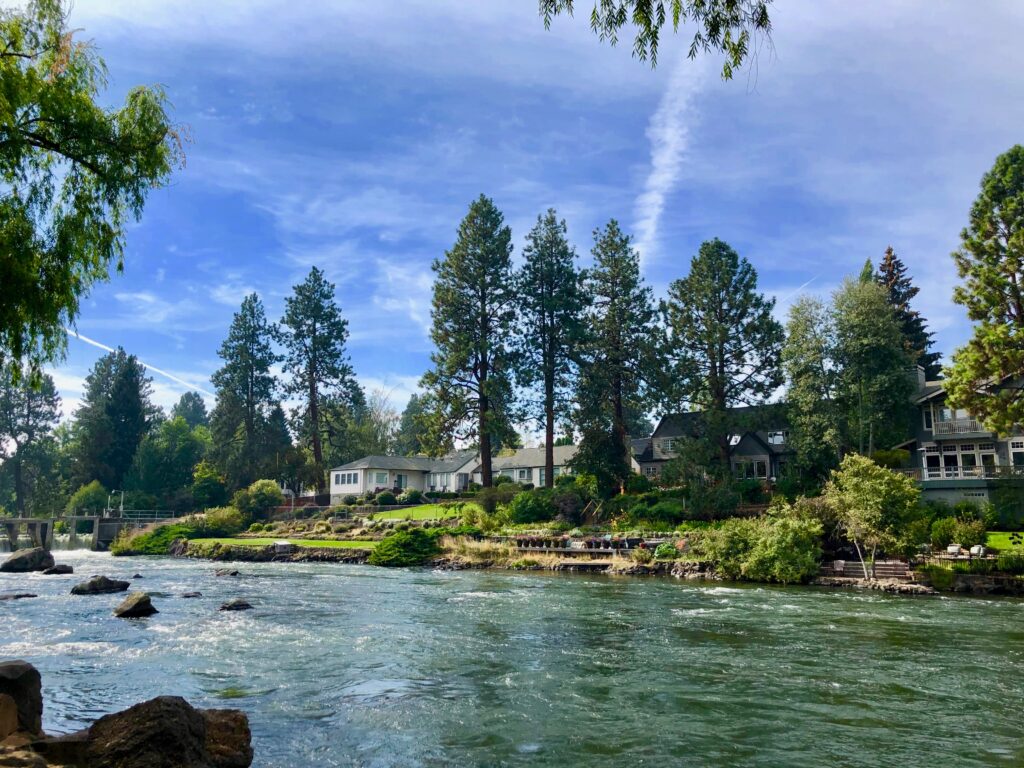 Length: 22.6 miles /36km
Elevation Gain: 400 ft/121m
Difficulty: Easy
Trailhead Location
Drive Time From Bend: 5-10 minutes
The Deschutes River Trail is a great, leisurely hike for families and easy-access picturesque scenery. It follows the river for most of the trail, allowing views of the canoers, kayakers, and rafters enjoying the sunshine on the water. Along the trail, you will see evidence of Bend's early settlement history, including railroads, old farm machinery, and ruins of homesteads.
It is a long trail, but with little elevation, and plenty of interesting things to see along the way, it goes quickly. You can also stop anytime you want and turn around to head back to the parking lot, which makes it a great option for
Tumalo State Park to Riley Ranch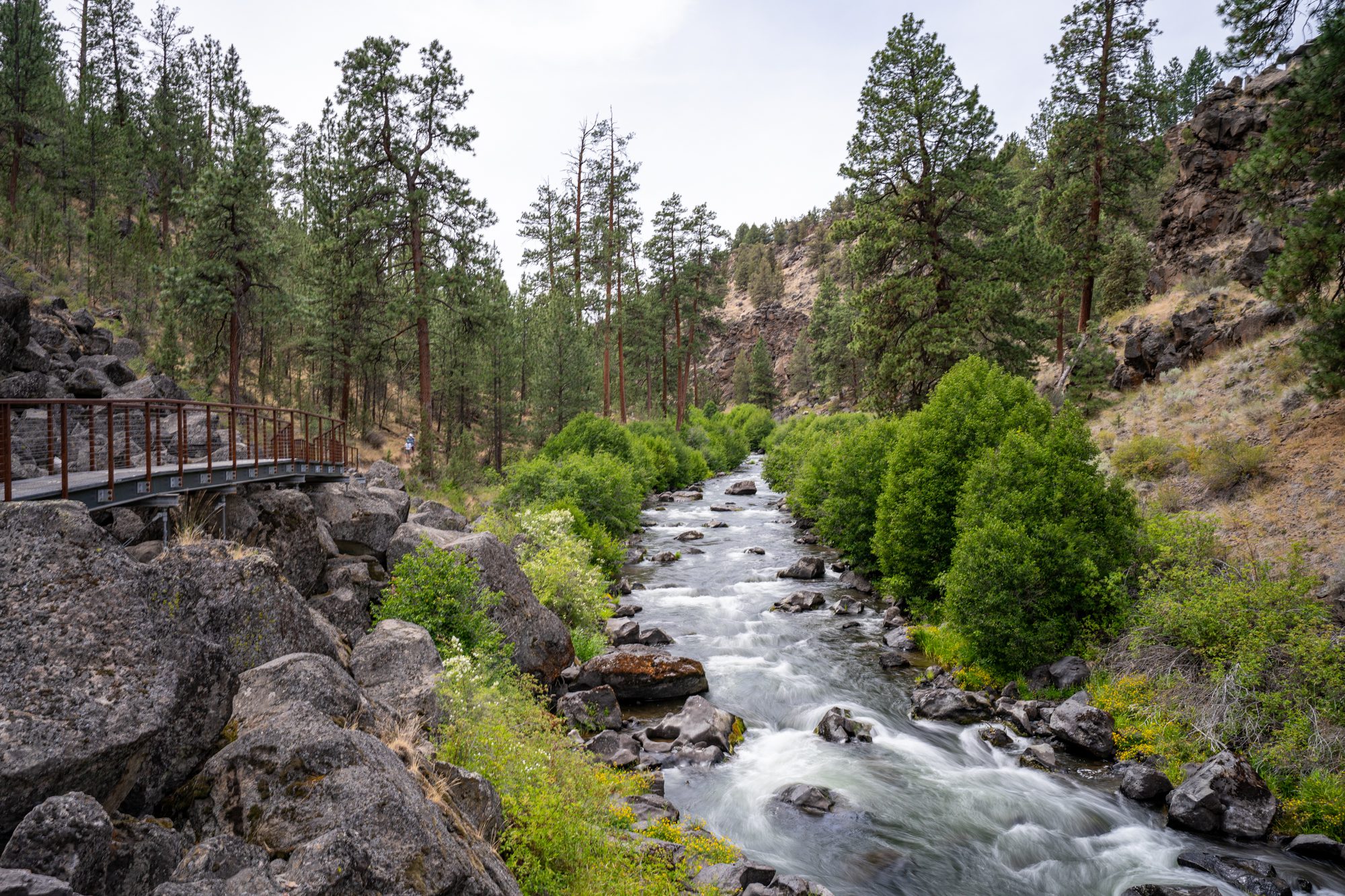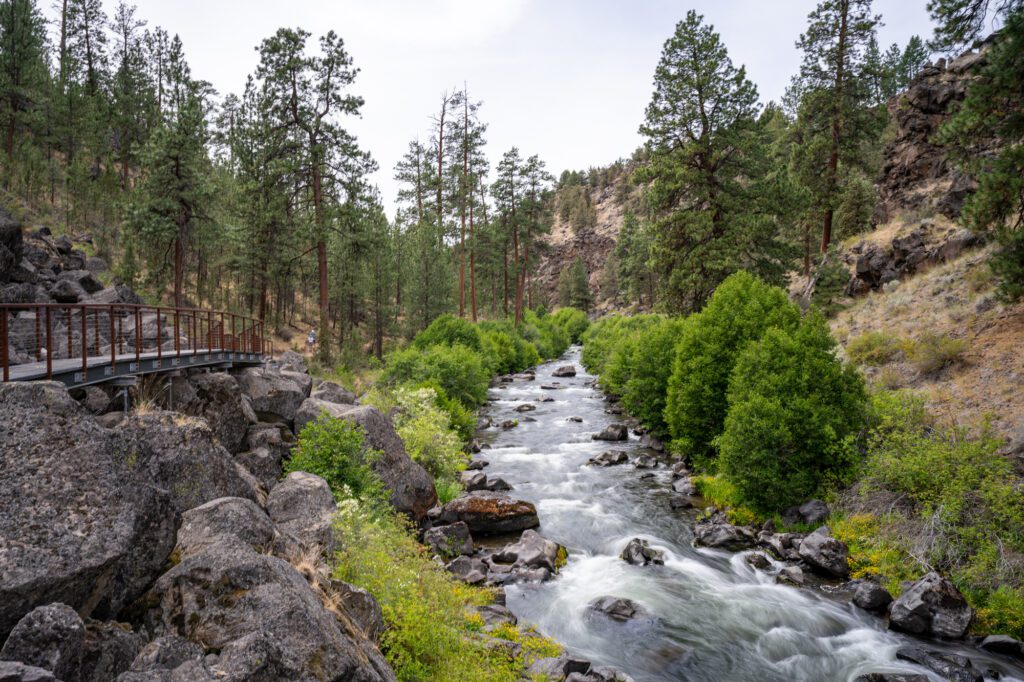 Length: 7 miles /11.3km
Elevation Gain: 416ft /127m
Difficulty: Easy/Moderate
Trailhead Location
Drive Time From Bend: 11 minutes
This is a nice and pleasant riverside hike which offers beautiful views of the Deschutes all the way through. It's relatively easy, gaining under 500 feet of elevation over the 7 miles.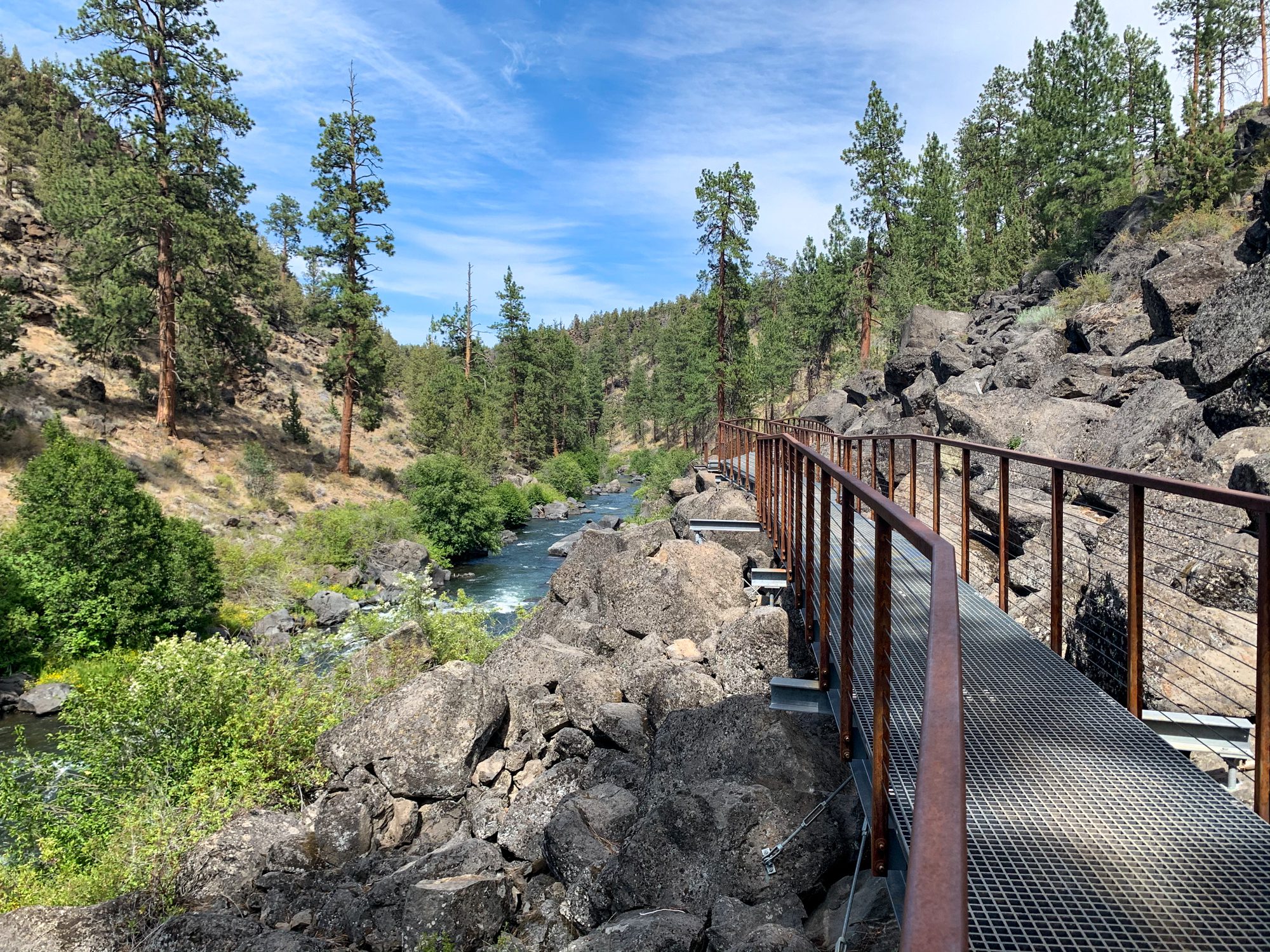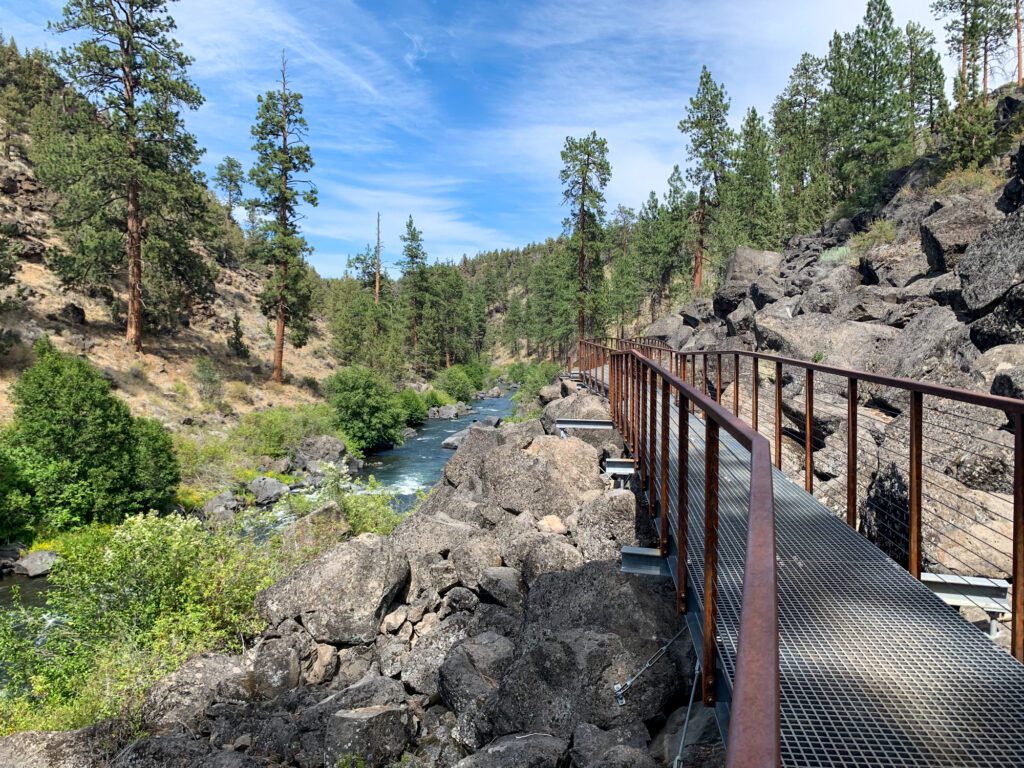 We were staying at Tumalo State Park Campground, which is the starting point, so we set out on this hike one afternoon and found it to be about as relaxing as a hike can be. The rugged cliffs, Ponderosa Pines, and rushing river make for a very pleasant hike.
Make sure to bring swimsuits or fishing gear so you can spend some time enjoying the beautiful river on your hike.
The Green Lakes Trail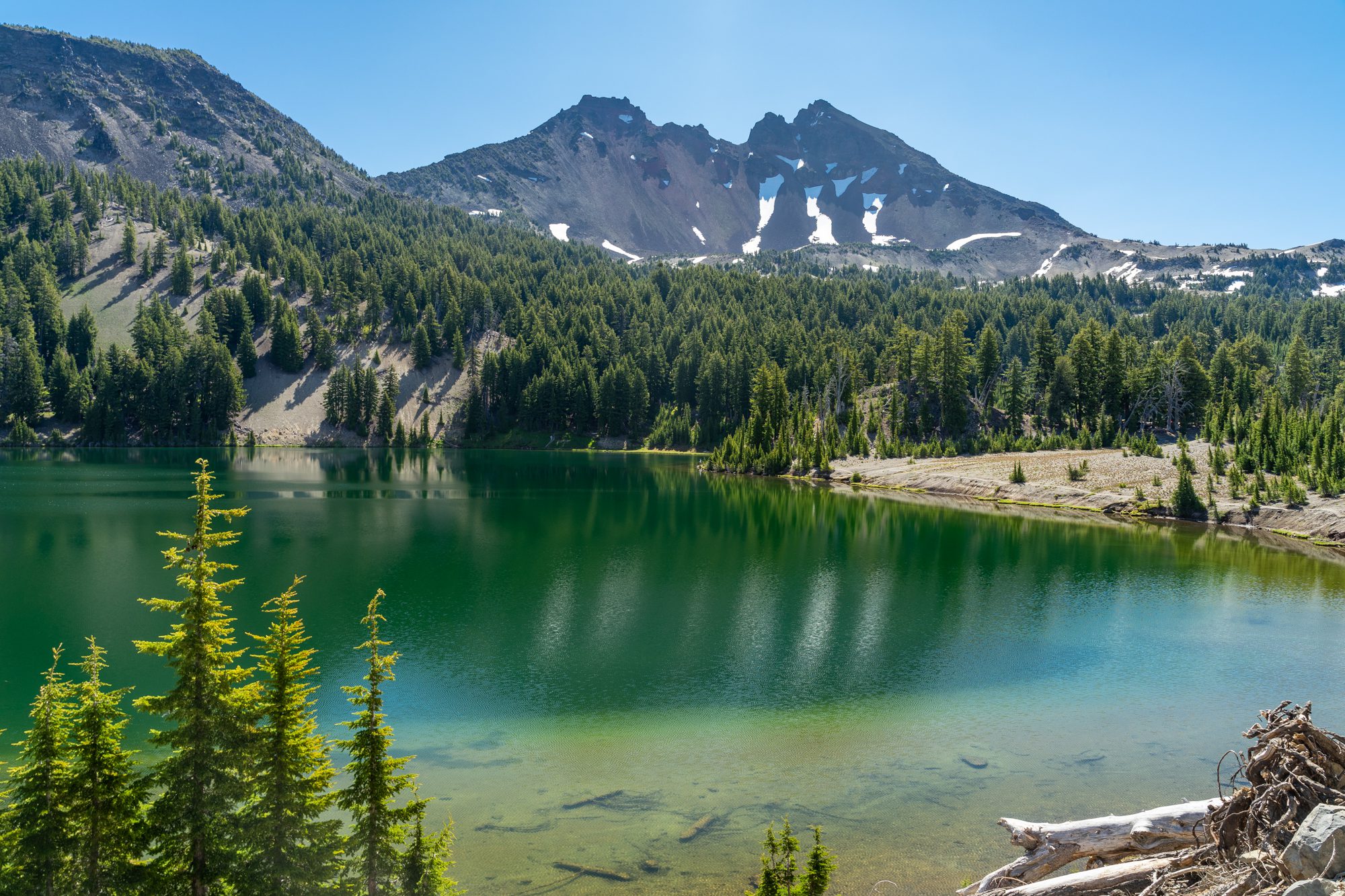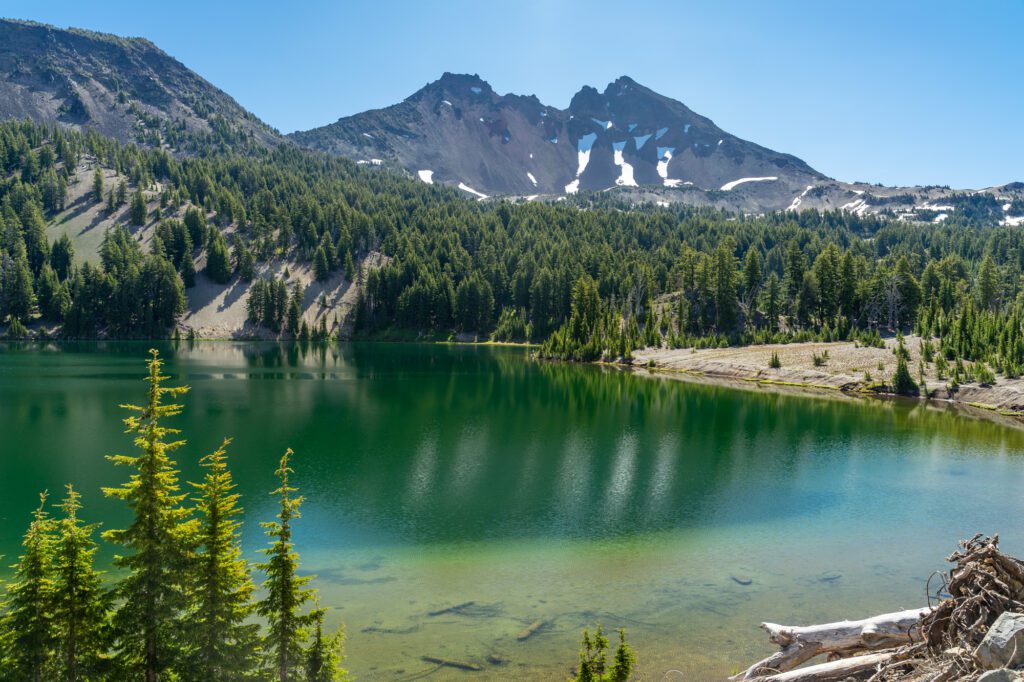 Length: 9.5 miles /15.4km
Elevation Gain: 1155ft/352 m
Difficulty: Moderate
Trailhead Location
Drive Time From Bend: 30 minutes
If meandering through lush meadows alongside a rushing river before emerging into a jaw-dropping valley nestled between two rocky peaks – the South Sister and Broken Top – sounds like a good time, this is the trail for you.
Plus, it offers the best bang for your buck in Oregon in terms of the beauty to effort ratio. Despite the distance, Alysha and I agreed that this hike is actually pretty easy. There aren't any really steep portions. It's just a gentle climb all the way through. Don't let the 9 mile length scare you off! It's among the best hikes in Oregon, at least according to us.
We did it at 7:30 am on a weekday in July, and it was already fairly busy. I'd recommend either a weekday hike, or getting to the trailhead no later than 8am on a weekend.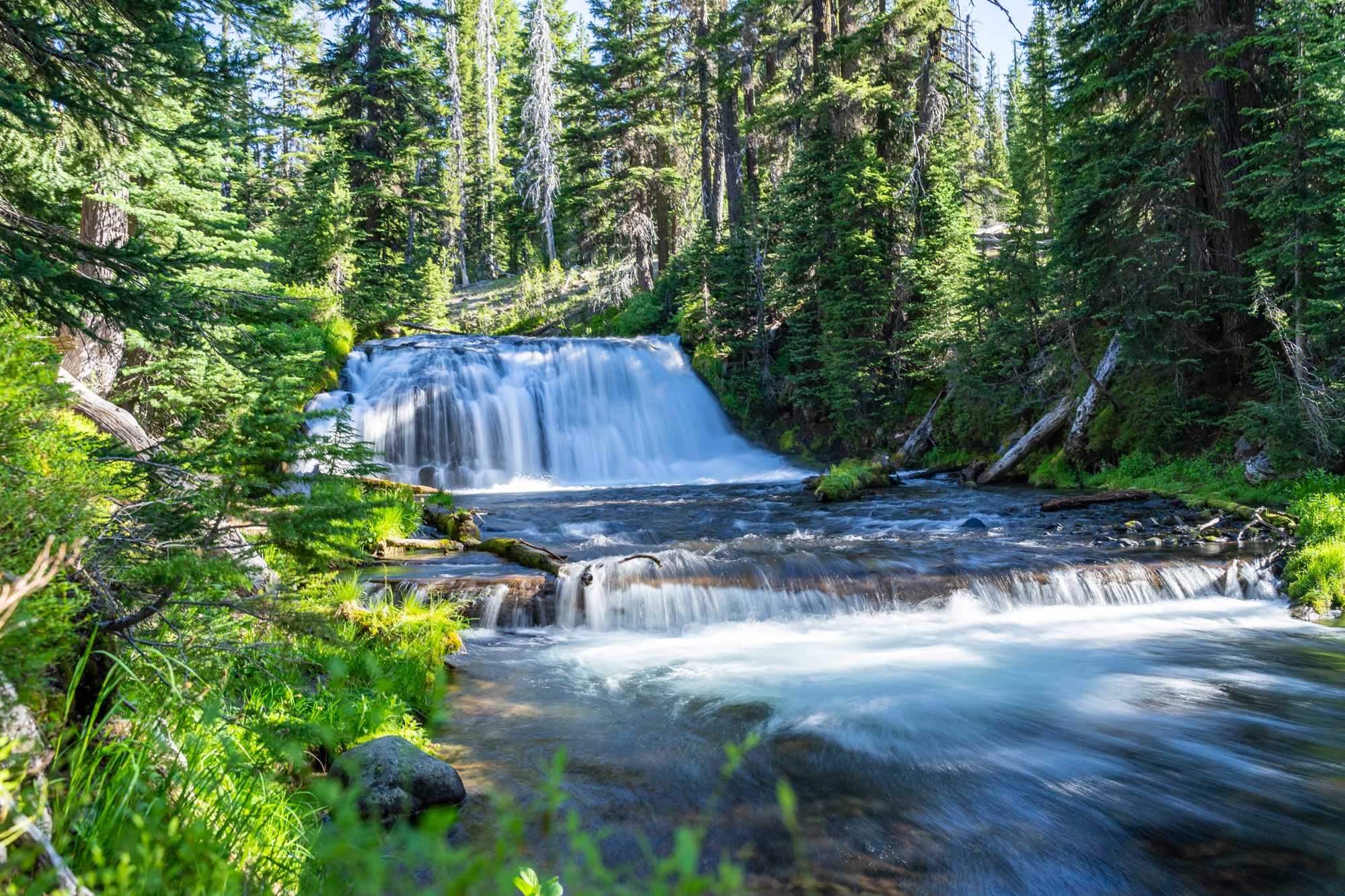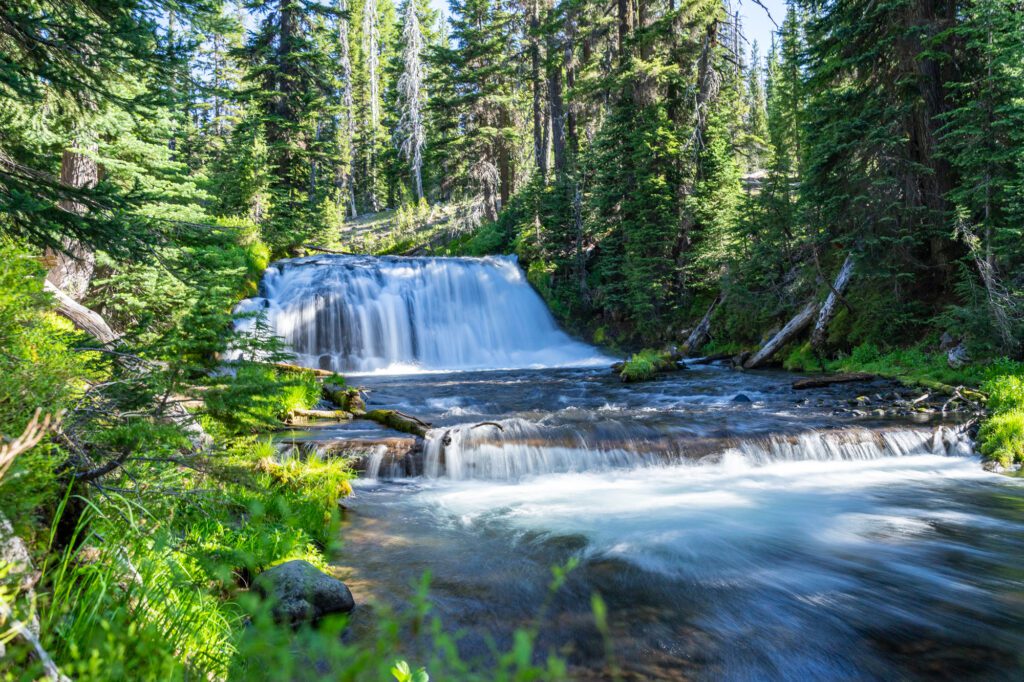 The Green Lakes Trail is named for the three beautiful turquoise lakes that you'll find at the end of the trail. All three lakes are fed by a spring, and the water is lovely to swim in.
It starts just west of Mount Bachelor and Sparks Lake, and you'll begin by crossing the river and following it slightly uphill. And by start, I mean 90% of this hike follows that same river, passing by picturesque mini-waterfall after picturesque waterfall. The sound of the rushing water is surprisingly peaceful, and never really ends until you make it to the lakes at the end of the trail.
At the end, take some time to have lunch or a snack at the lake, and make sure to explore the area between the lakes.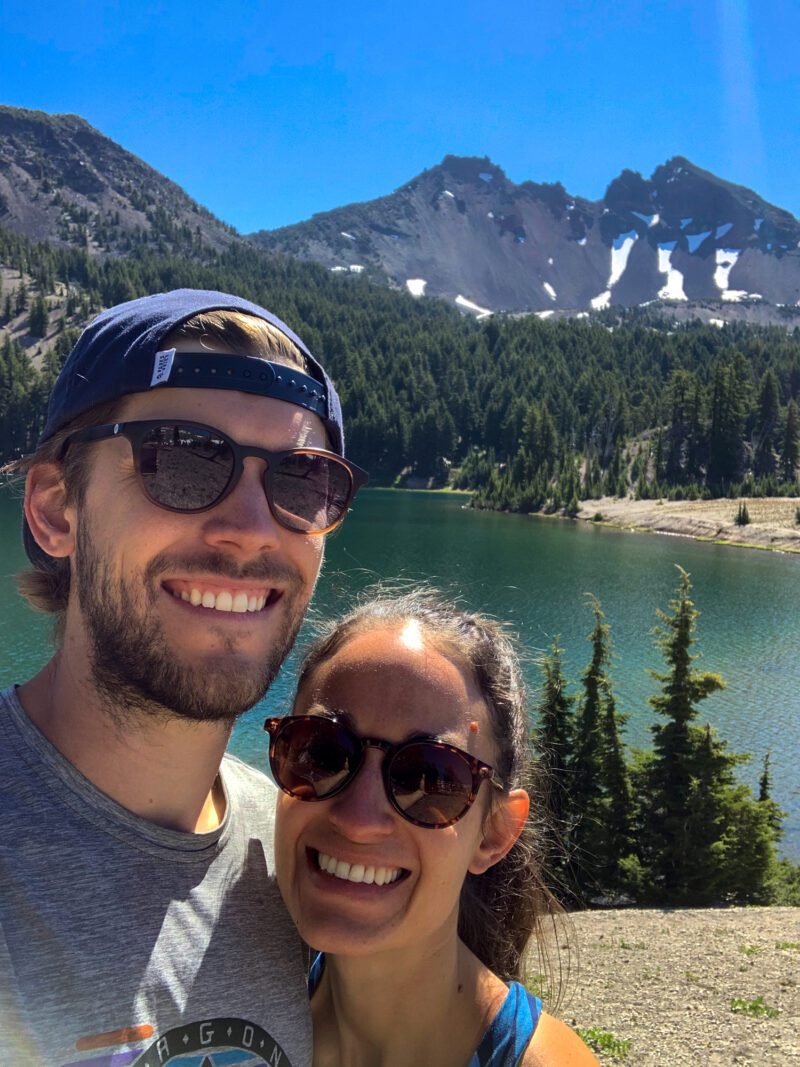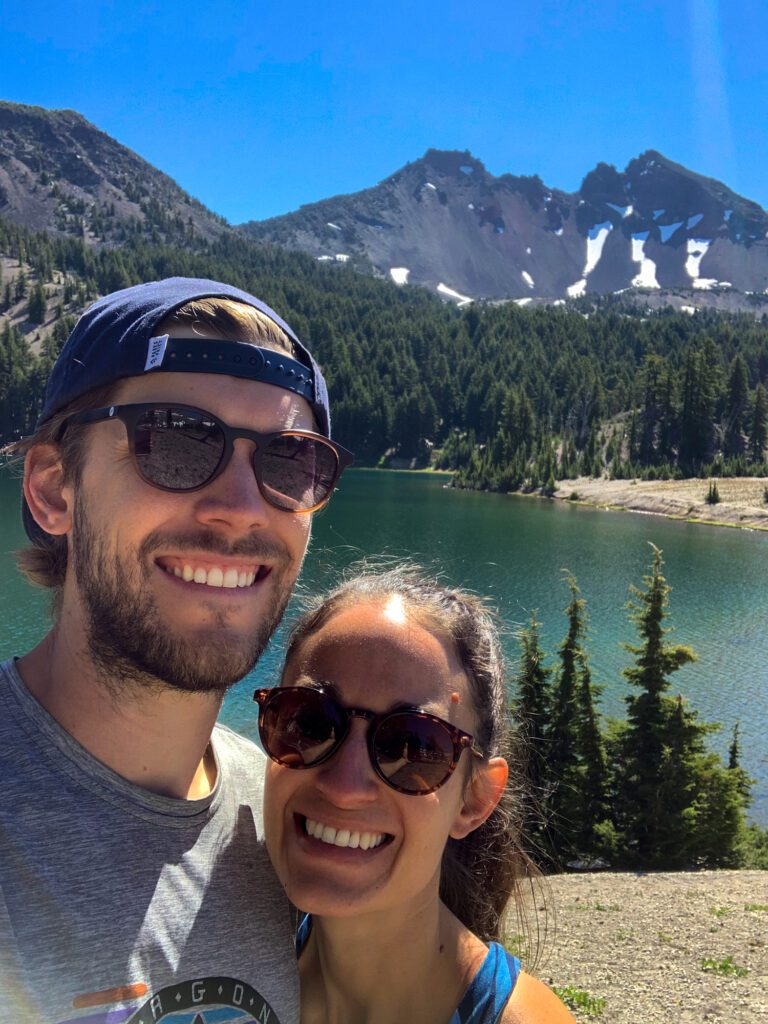 This is also a great backpacking destination, with tons of lakeside campsites available. It's a good home base if you're looking to summit the South Sister or Broken Top, but want to break up the hike into shorter chunks.
Koosah and Sahalie Falls
Length: 2.6 miles /4.1km
Elevation Gain: 380 ft / 115m
Difficulty: Easy
Trailhead Location
Drive Time From Bend: 1 hour and 10 minutes
This easy trail takes you through some dense forest to . Sturdy steps give the elevation along the trail as you marvel at the rushing waterfalls and the lush green forest of Douglas Firs and Hemlock. This short trail is perfect for a family adventure, and the numerous lookouts make perfect photo points.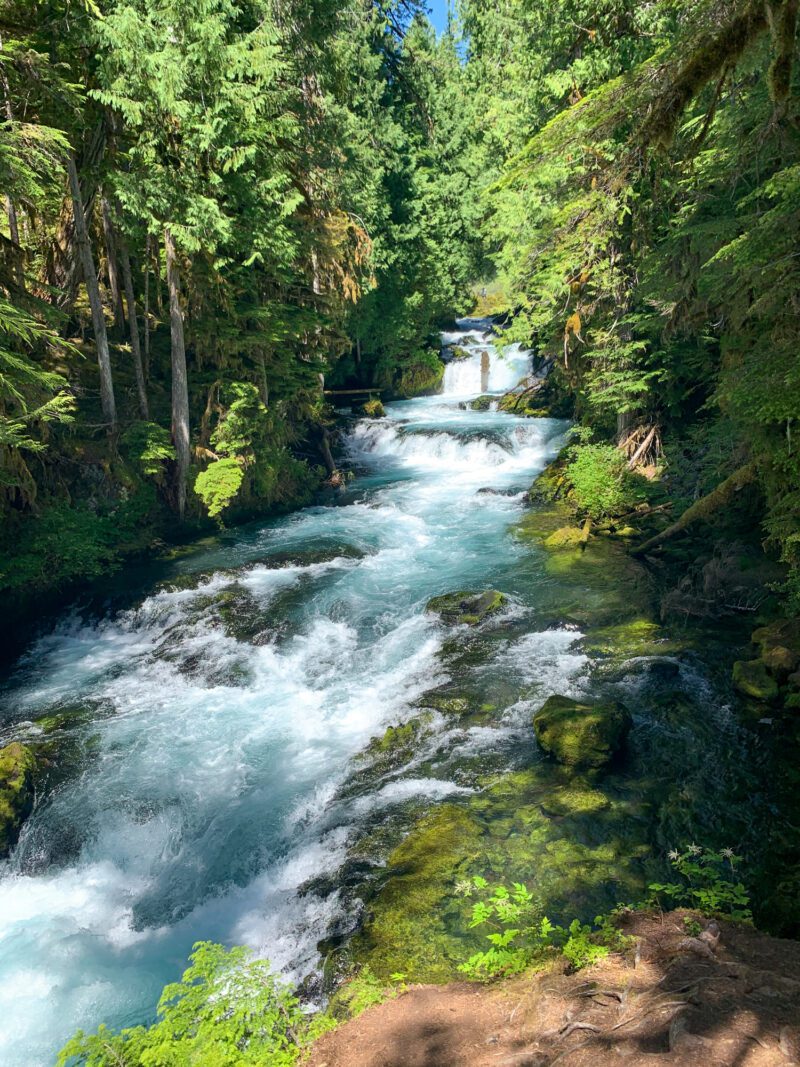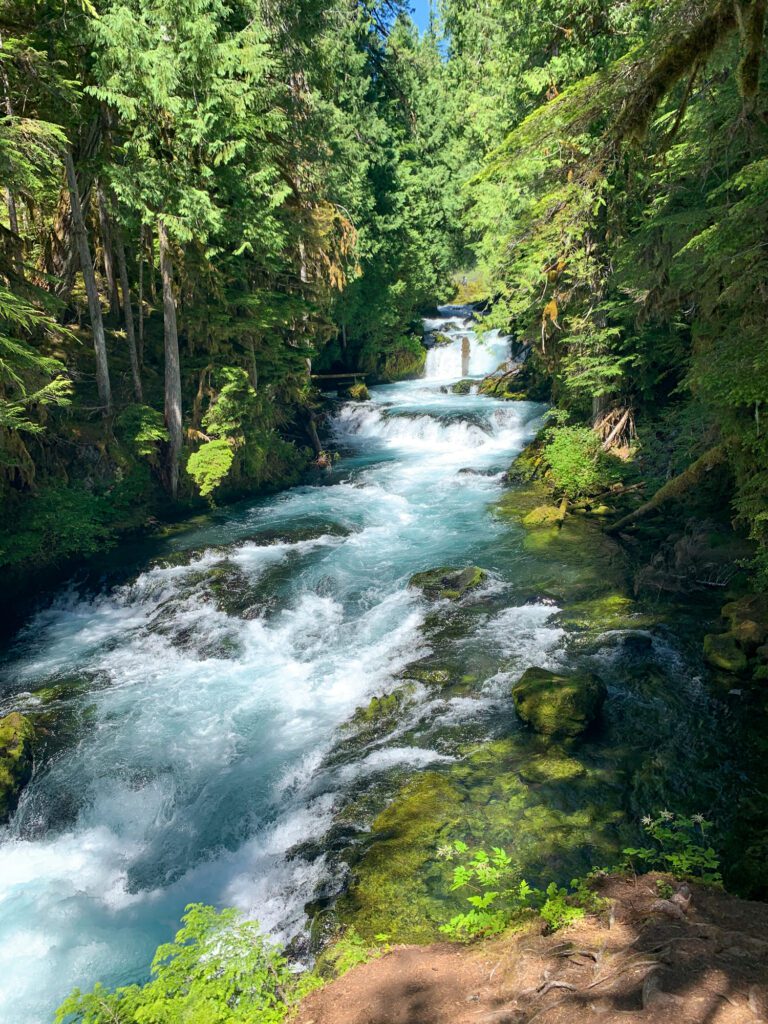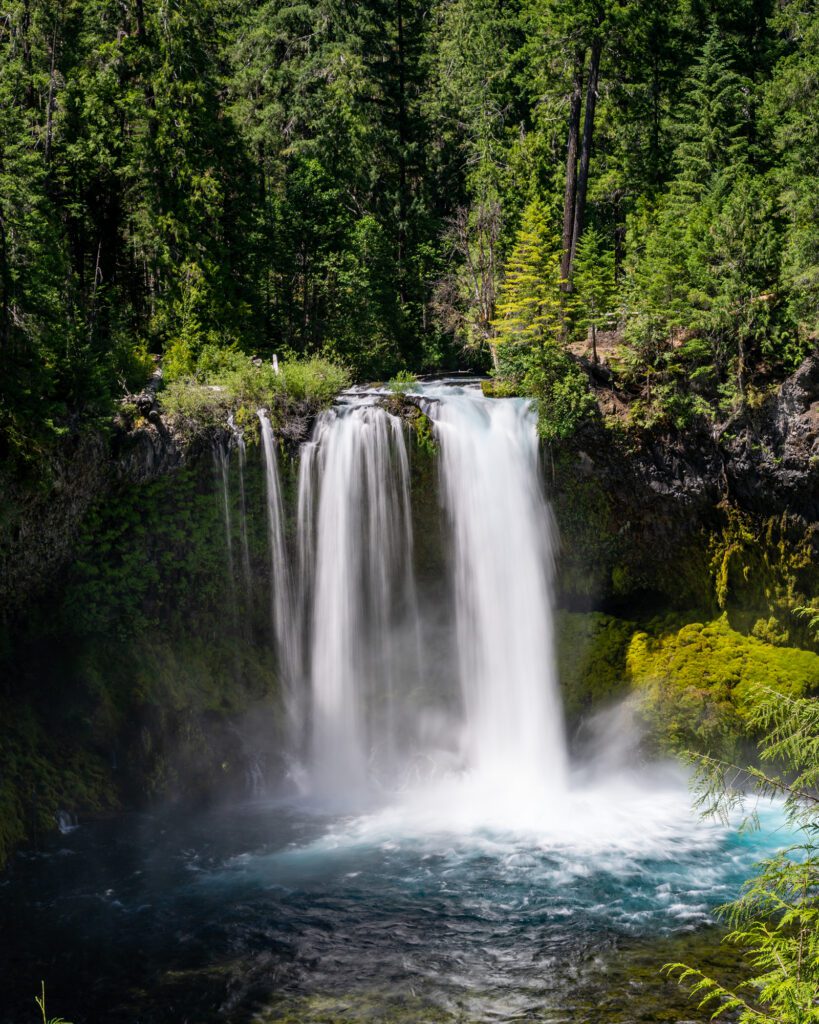 Cone Peak and Iron Mountain Trail
Length: 6.1 miles / 9.8 km
Elevation Gain: 1,820 ft / 550 m
Difficulty: Moderate / Difficult
Trailhead Location
Drive Time From Bend: 1 hour and 15 minutes
This challenging hike is perfect for those who love wildflowers; the trails are full of them during spring and summer. But when we did the hike in late June, we had NO IDEA there would be any wildflowers. I was looking for hikes to do near where we were camping, and this trail came up with tons of positive reviews. "Sure, why not" I said, and off we went. Then as soon as we started climbing the switchbacks up to Iron Mountain, BOOM. Wildflowers everywhere.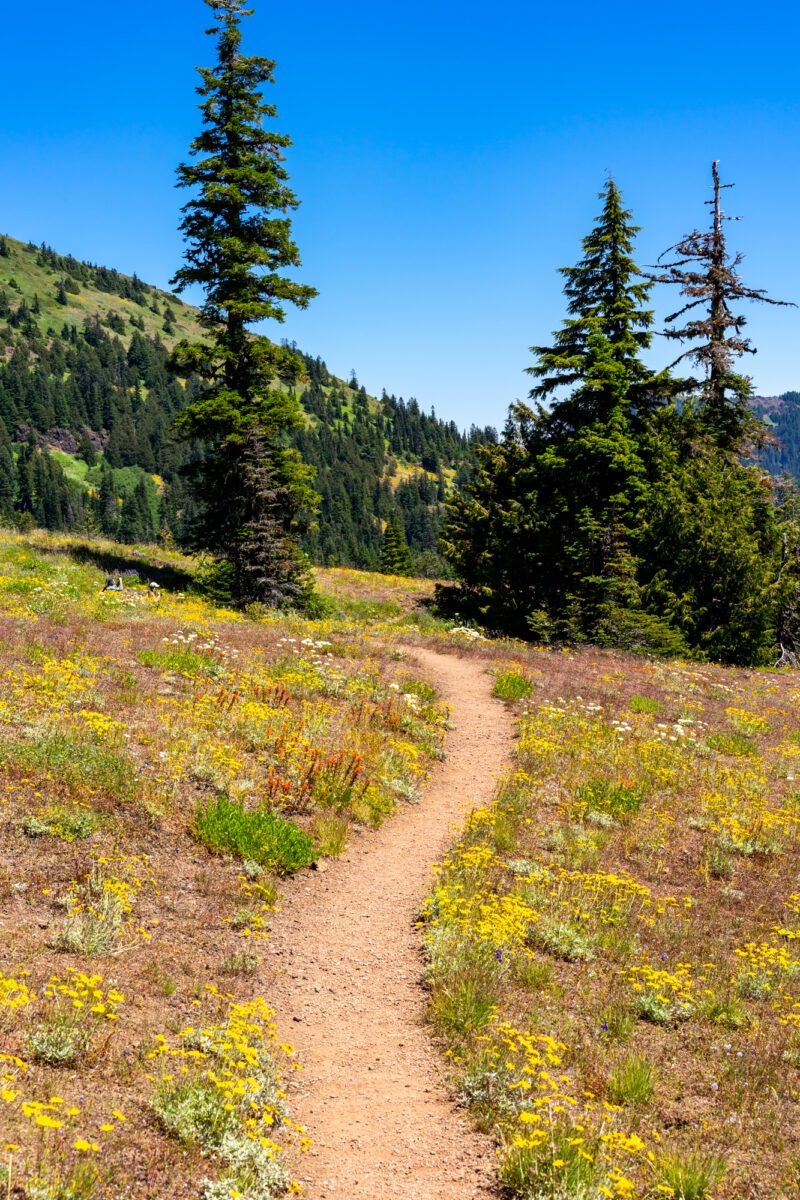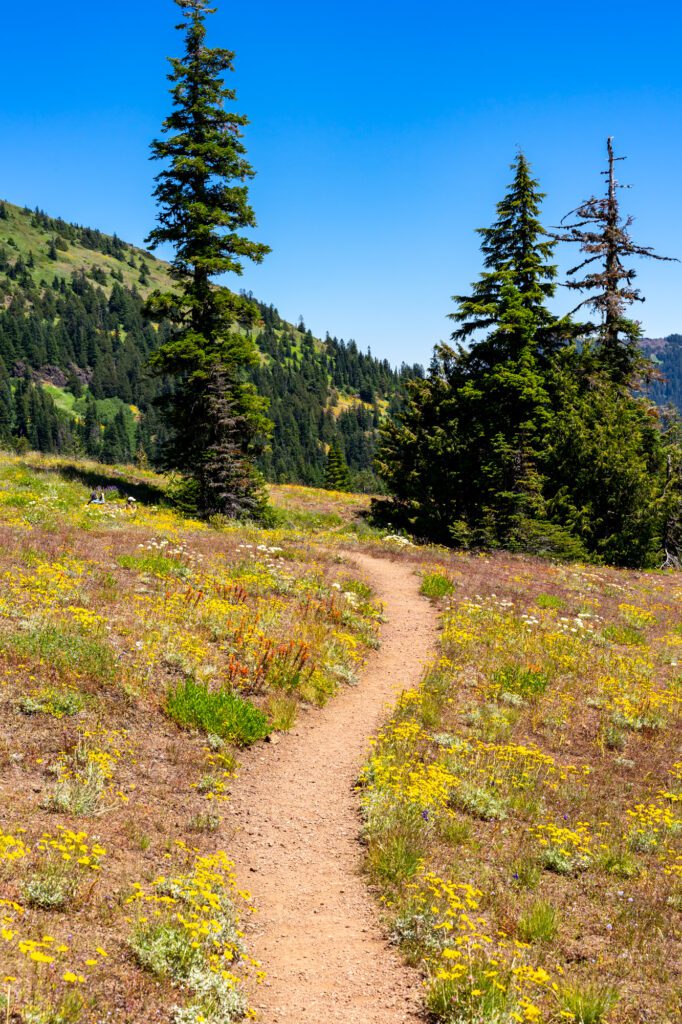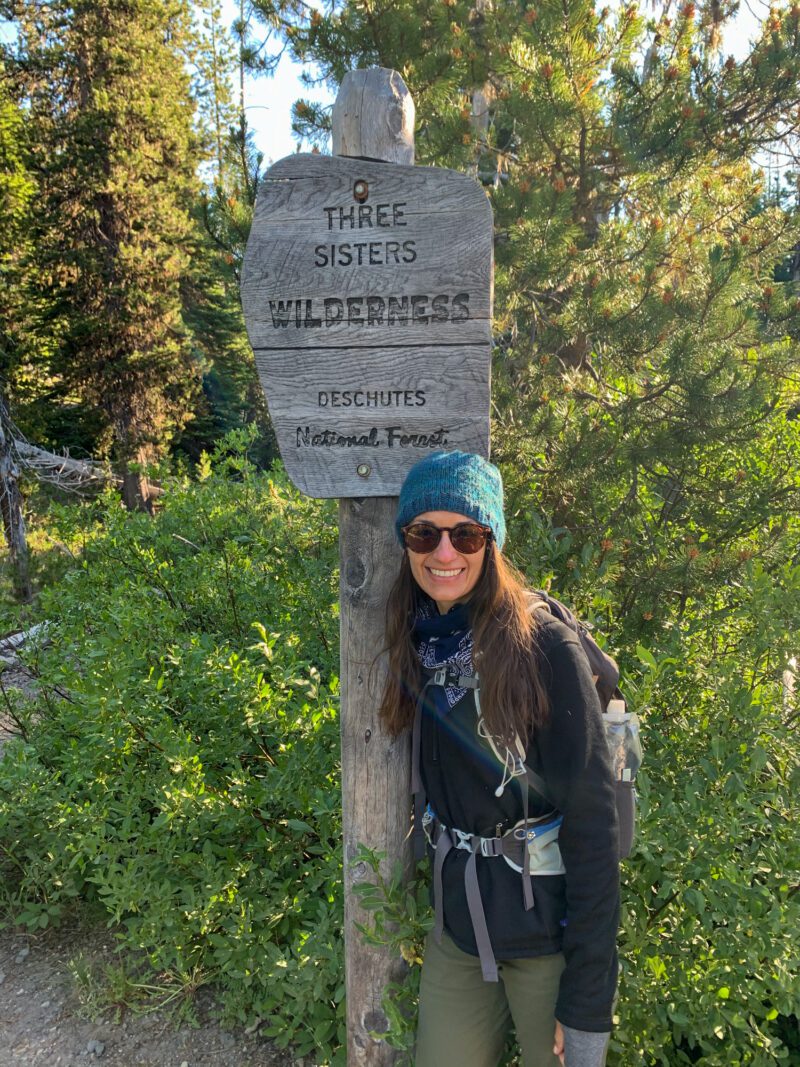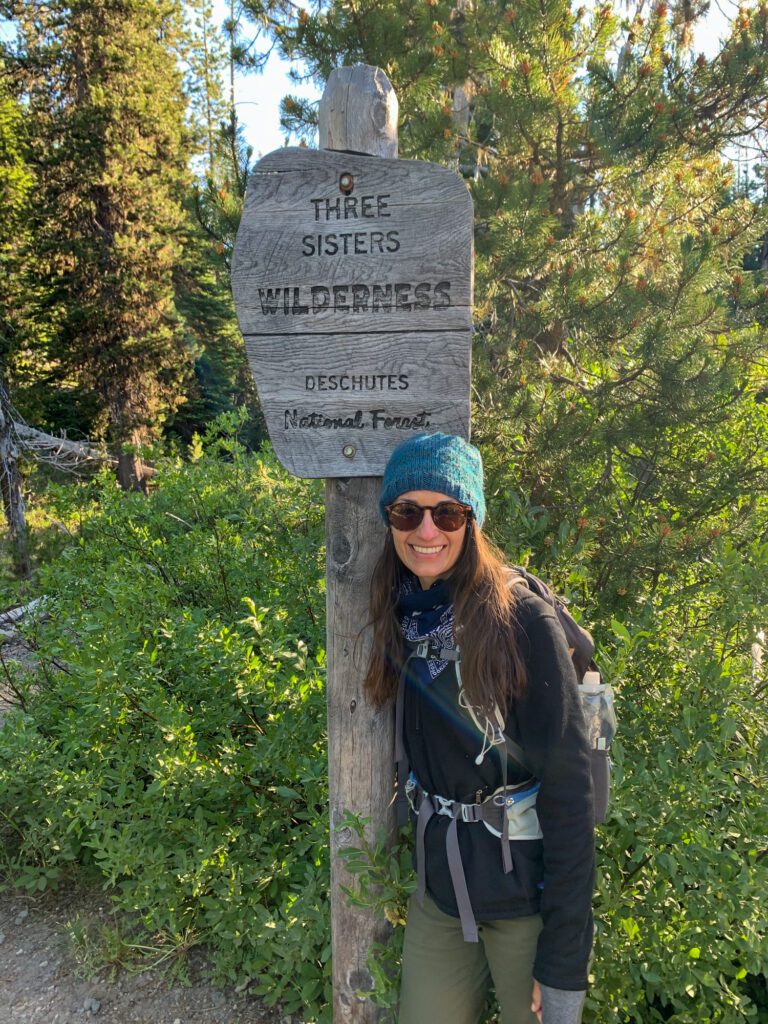 It was even more stunning once we made it to Cone Peak, where blankets of yellow flowers covered the hills around us.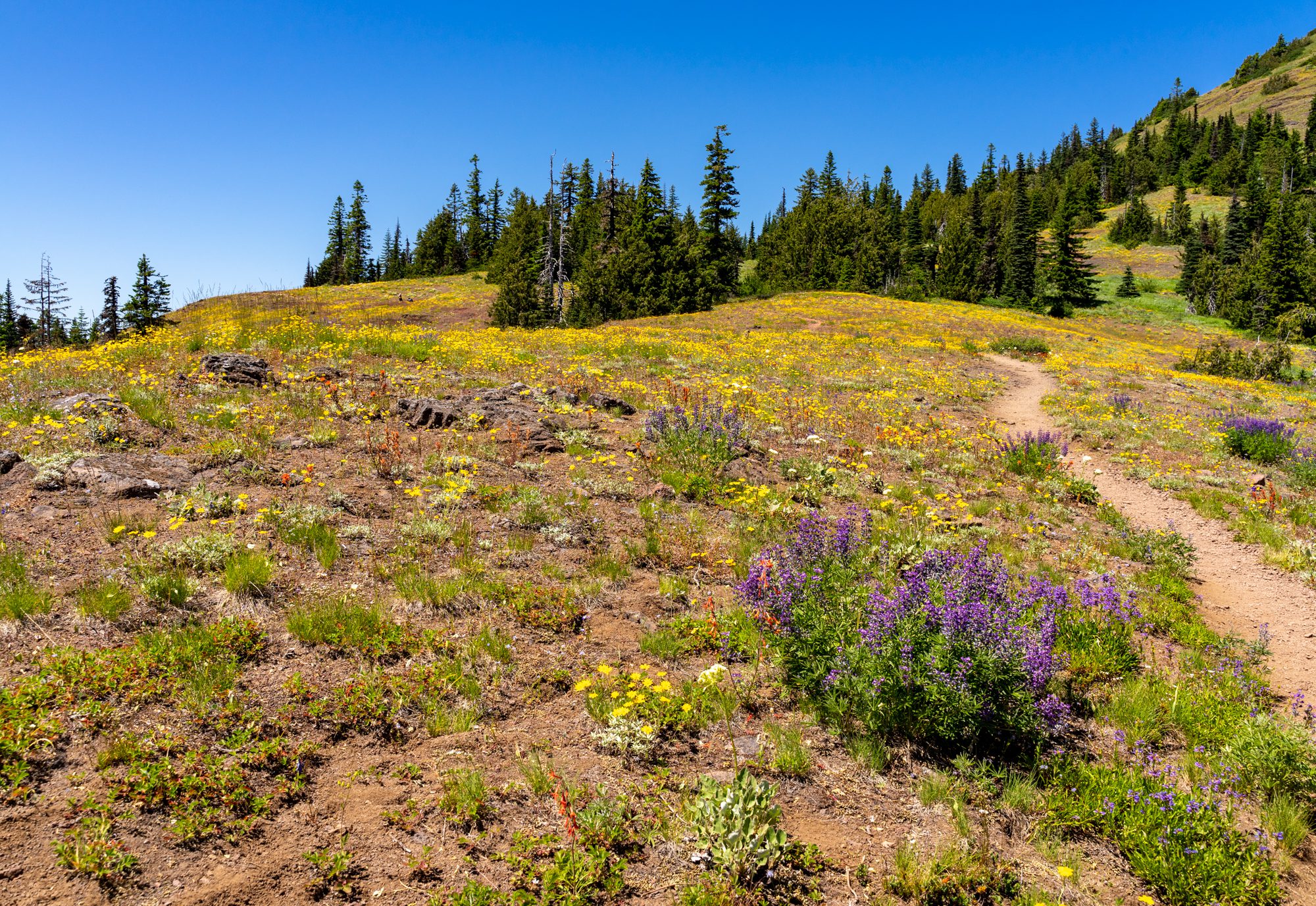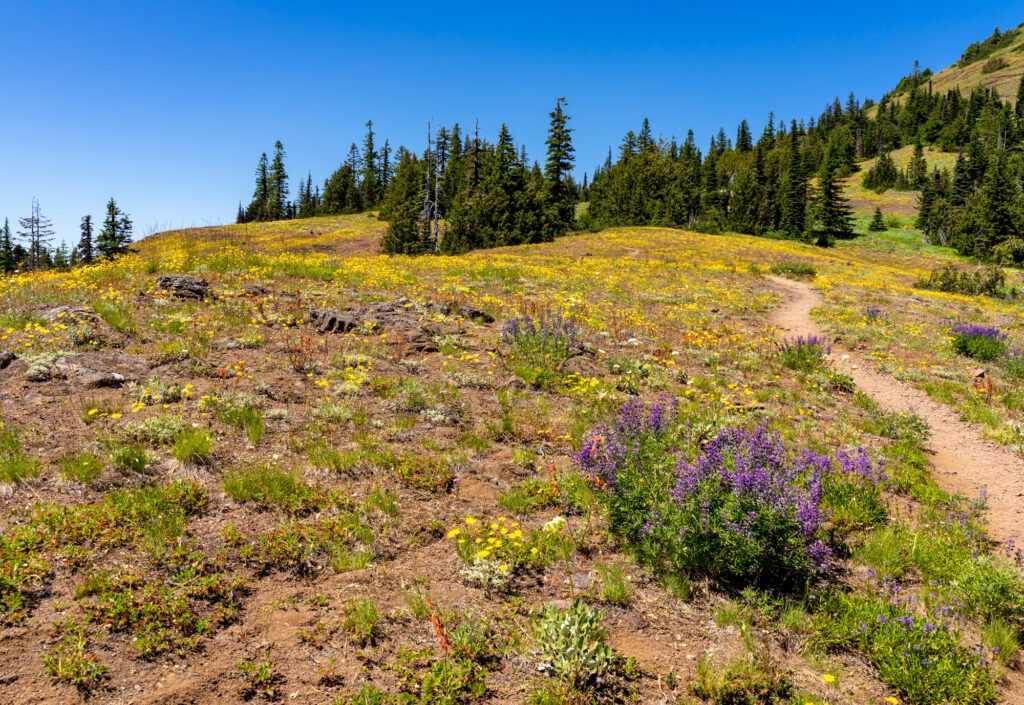 The 360-degree views at the top of Iron Mountain, where there's a handy lookout that points out all the peaks that you can see surrounding you, is worth the climb even if it's not peak wildflower season. The view of the Three Sisters, in particular, is incredible.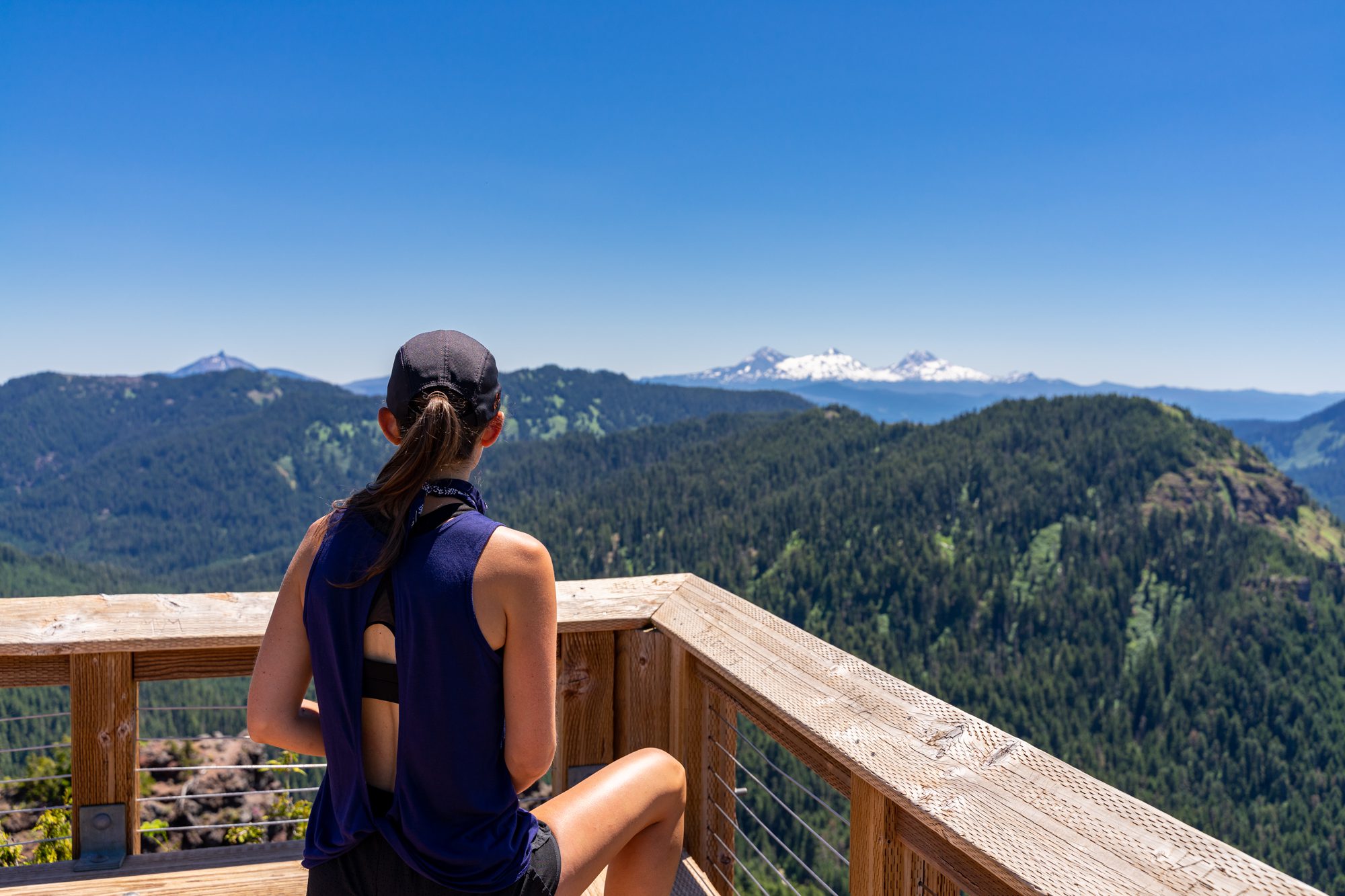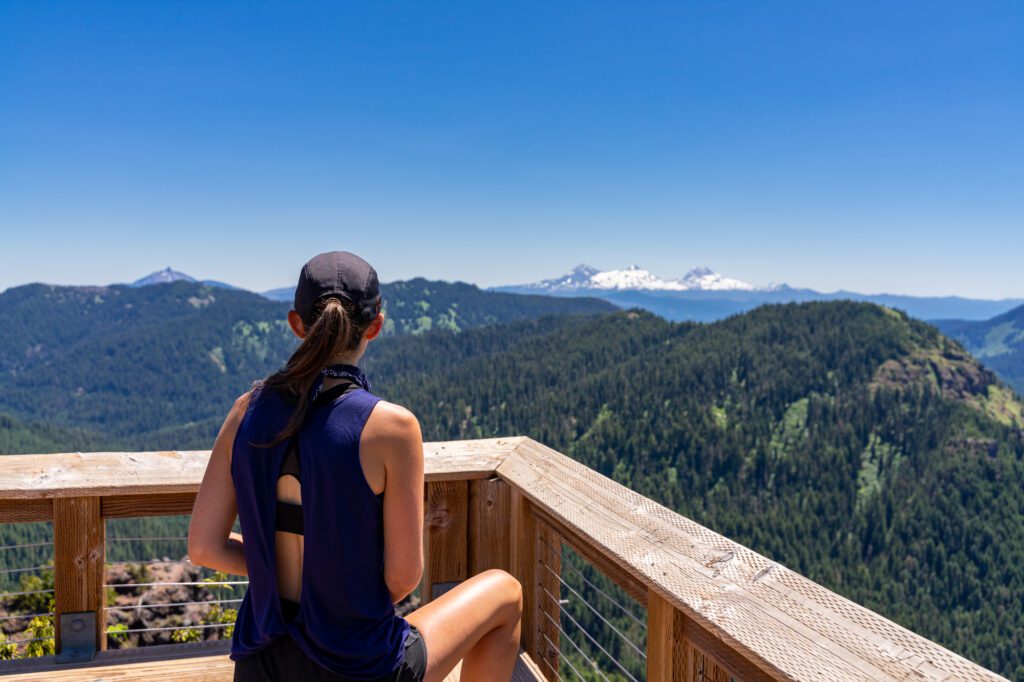 The Misery Ridge Trail + Summit Trail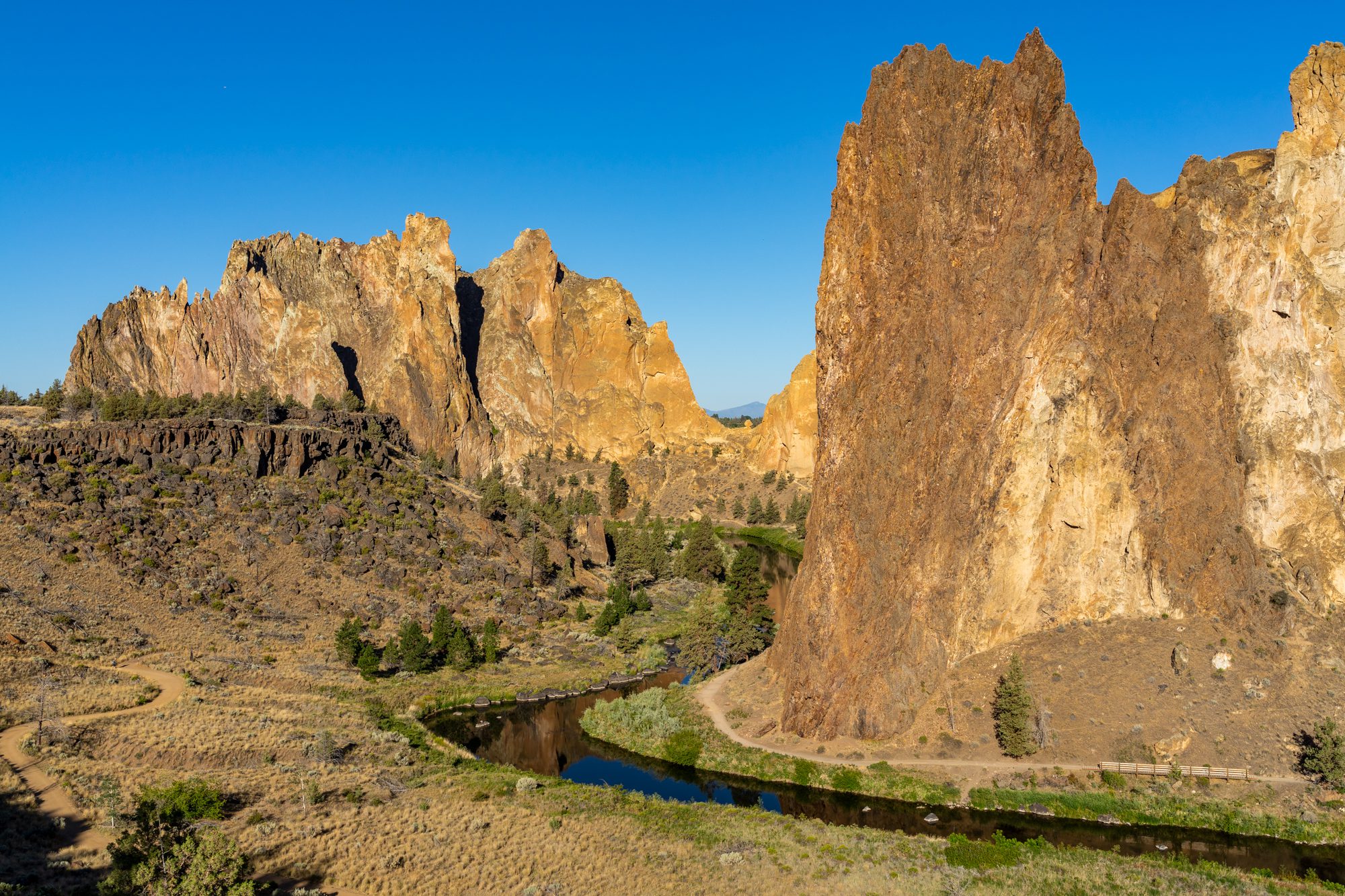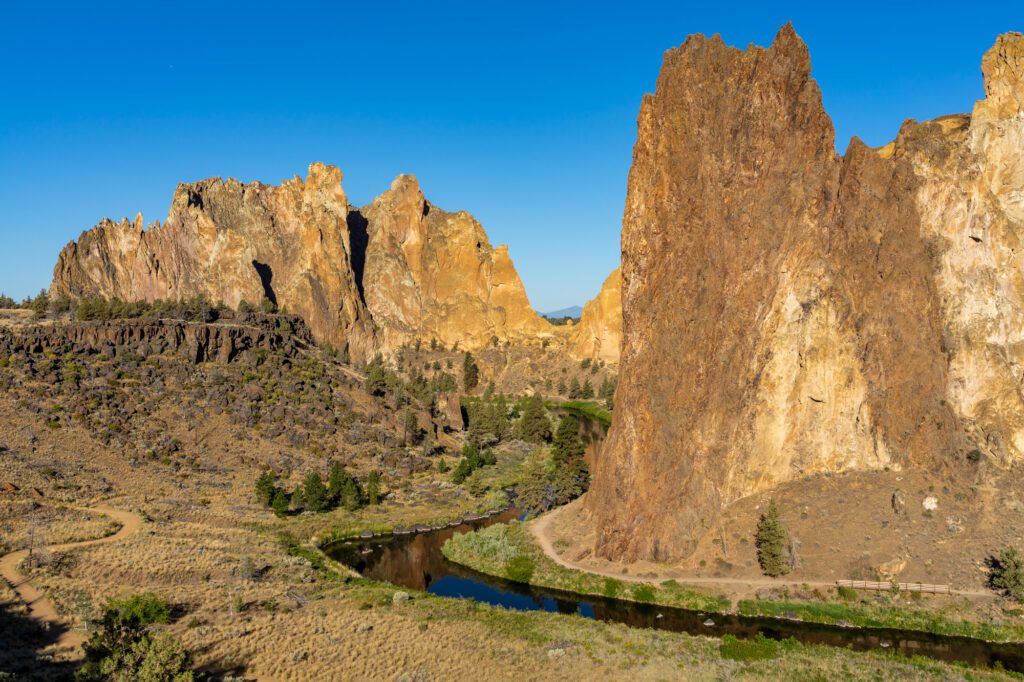 Length: 6 miles / 9.7 km
Elevation Gain: 1,774 ft / 540 m
Difficulty: Difficult
Trailhead Location
Drive Time From Bend: 40 mins
Note: You'll either need an Oregon State Parks Pass, or pay a day use fee of $5, which you can pay by card at the electronic kiosks.
Smith Rock State Park is pretty incredible. You're going to be immersed in a desert-esque landscape that always makes me do a double take because I never associate Oregon with the desert.
Misery Ridge and Summit trail is a challenging but rewarding trail for hiking near Bend. It offers numerous viewpoints over the rugged landscape and some great opportunities for some rock climbing, if that's your thing.
There's really only one good hike in the park – Misery Ridge – but you can do it a couple of different ways.
With both of these hikes, you'll also get a close-up view of Monkey Face, a popular rock climbing destination that looks like, you guessed it, the face of a monkey. We were lucky to catch some climbers at the top last time we were there, and spent a few minutes watching their descent.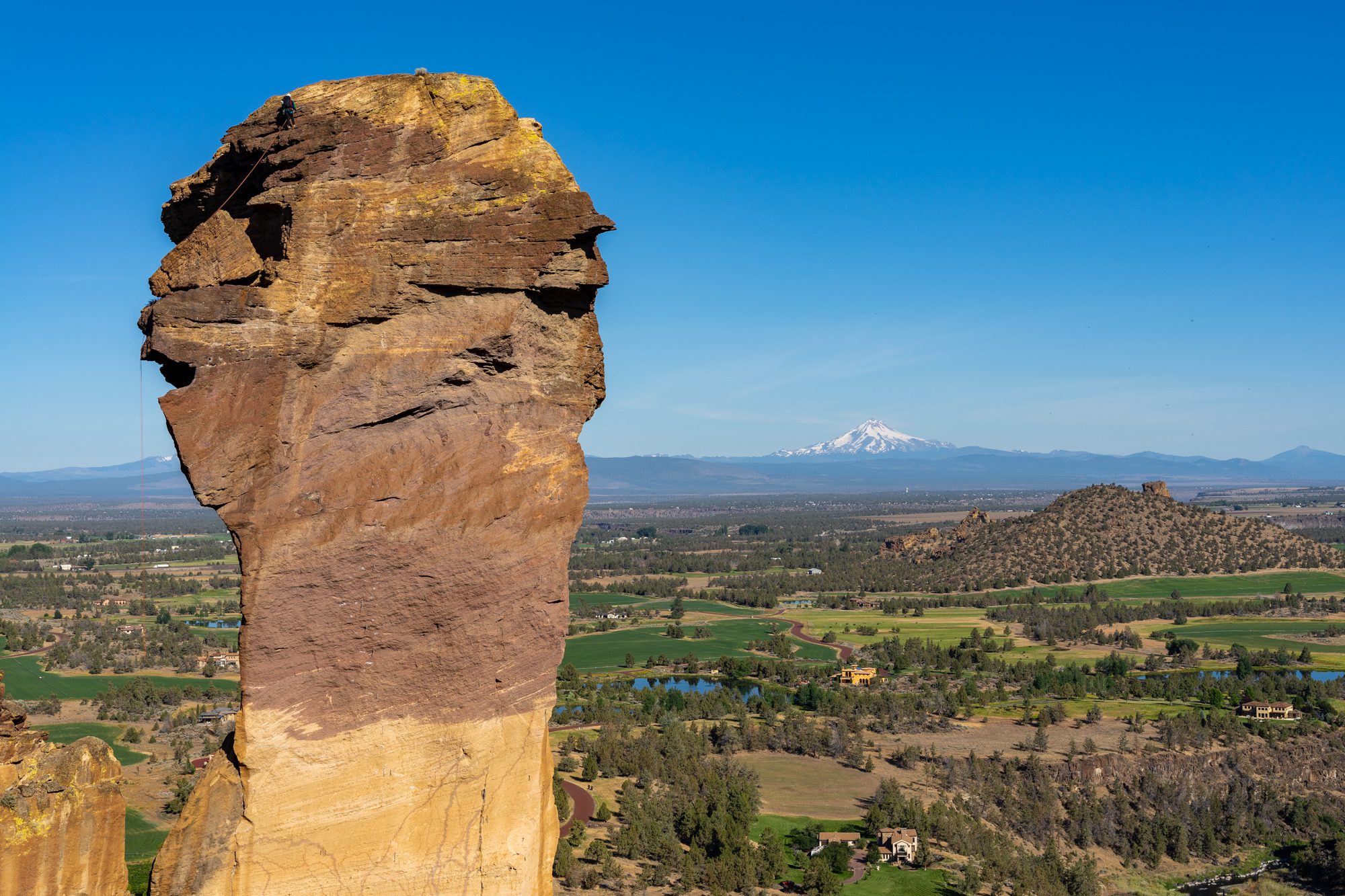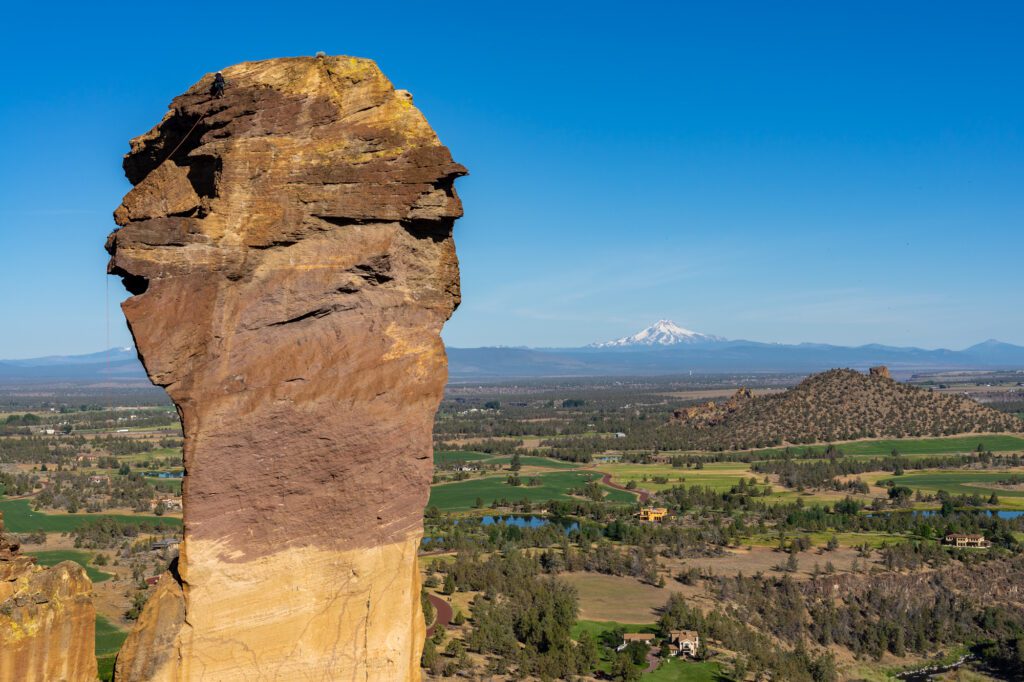 Which affirmed my belief that I never will be into rock climbing. Ever.
You'll climb Misery Ridge first, which is accurately named. It snakes straight up a valley, using steep switchbacks to climb 700 feet in half a mile. Then, you'll tackle a steep descent past Monkey Face that takes you back down to the river, except on the other side of the ridge. This is the trail junction that separates this hike from the hike below.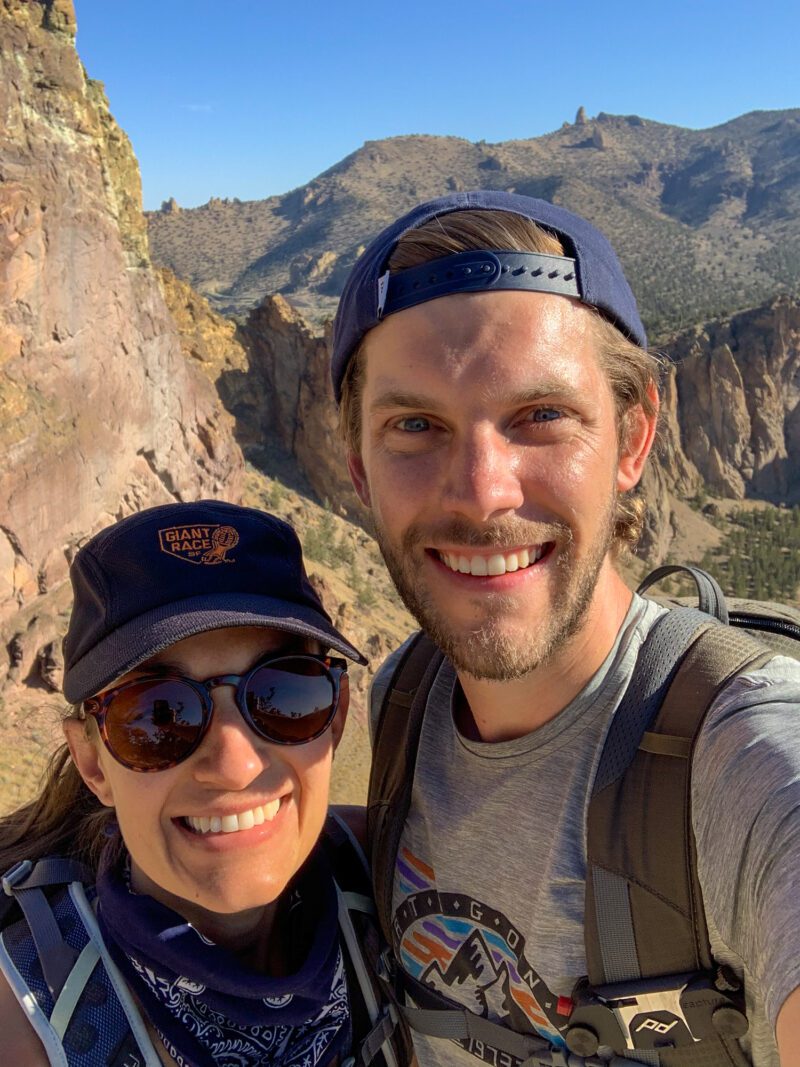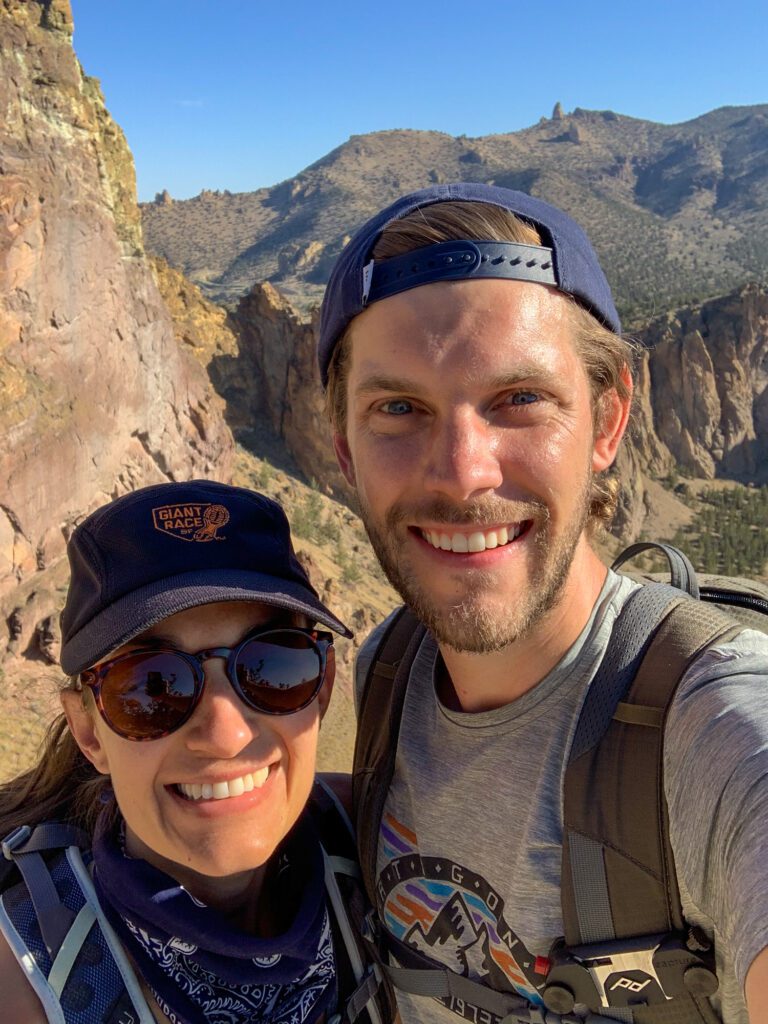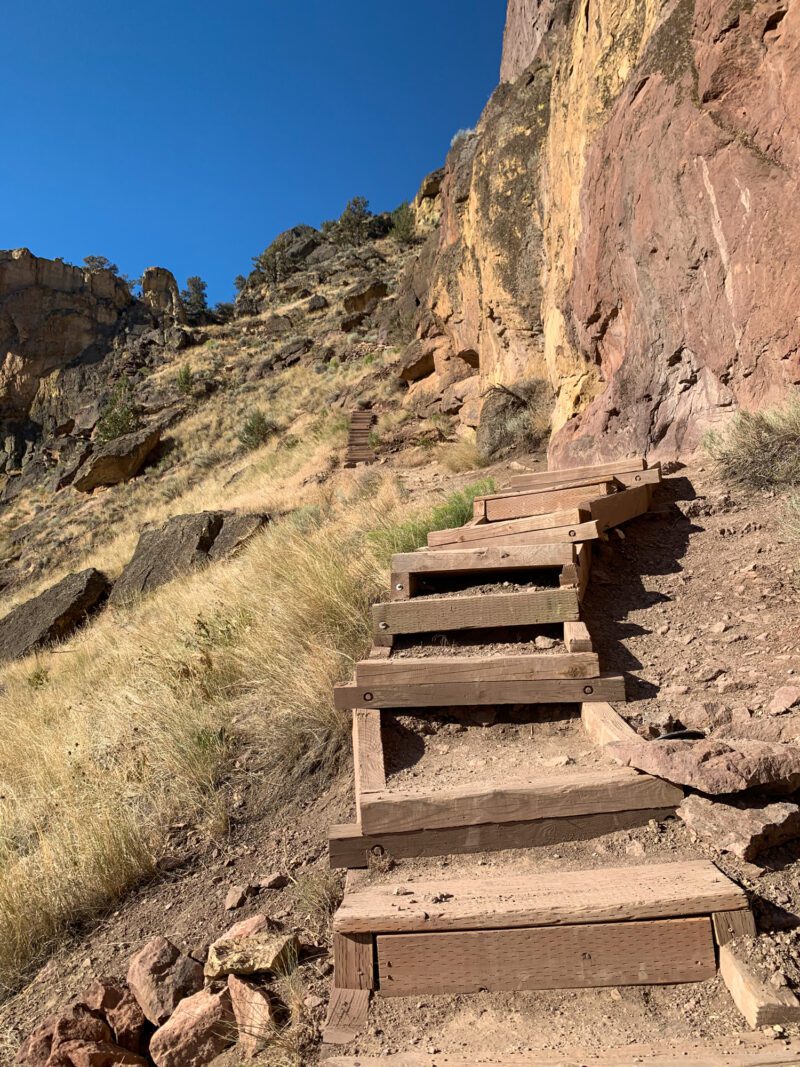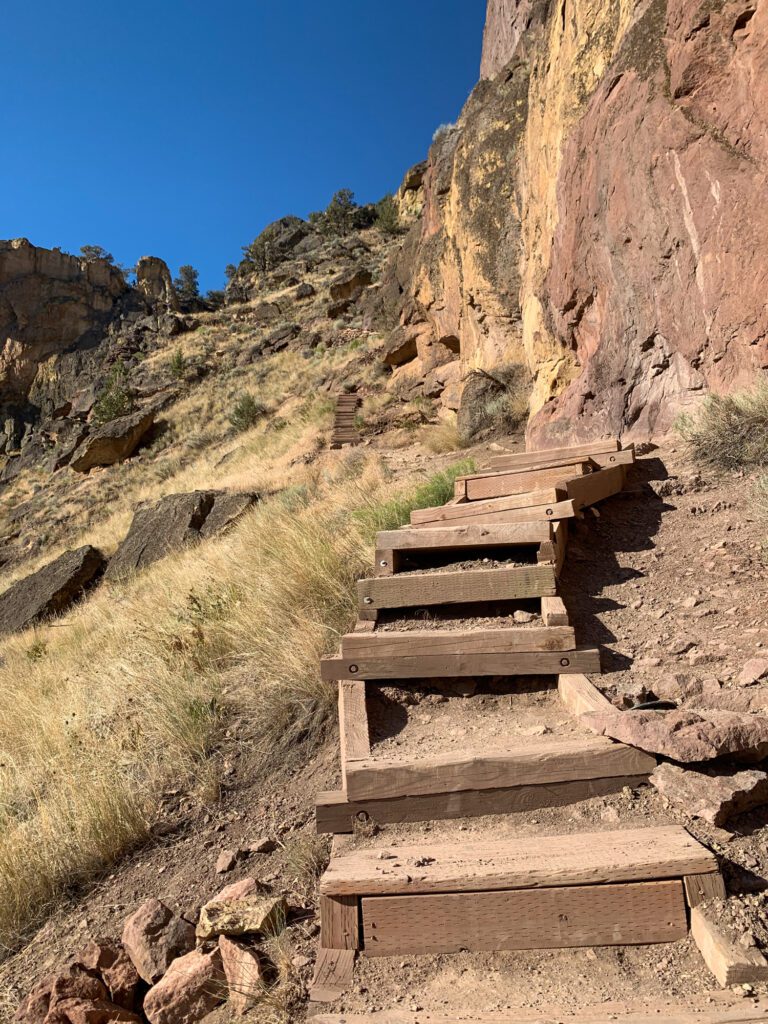 Go right to follow the summit trail, which steadily climbs to incredible views of Smith Rock and the river before gradually dropping back to the trailhead.
This trail can get very hot in the middle of the day, and there's very little shade, so it is best to head out there as early as possible.
Also, be sure to keep your eyes peeled for rattlesnakes, especially in summer. I almost stepped on one along the trail. Which would have been cool, except my heart was racing faster than it was climbing Misery Ridge.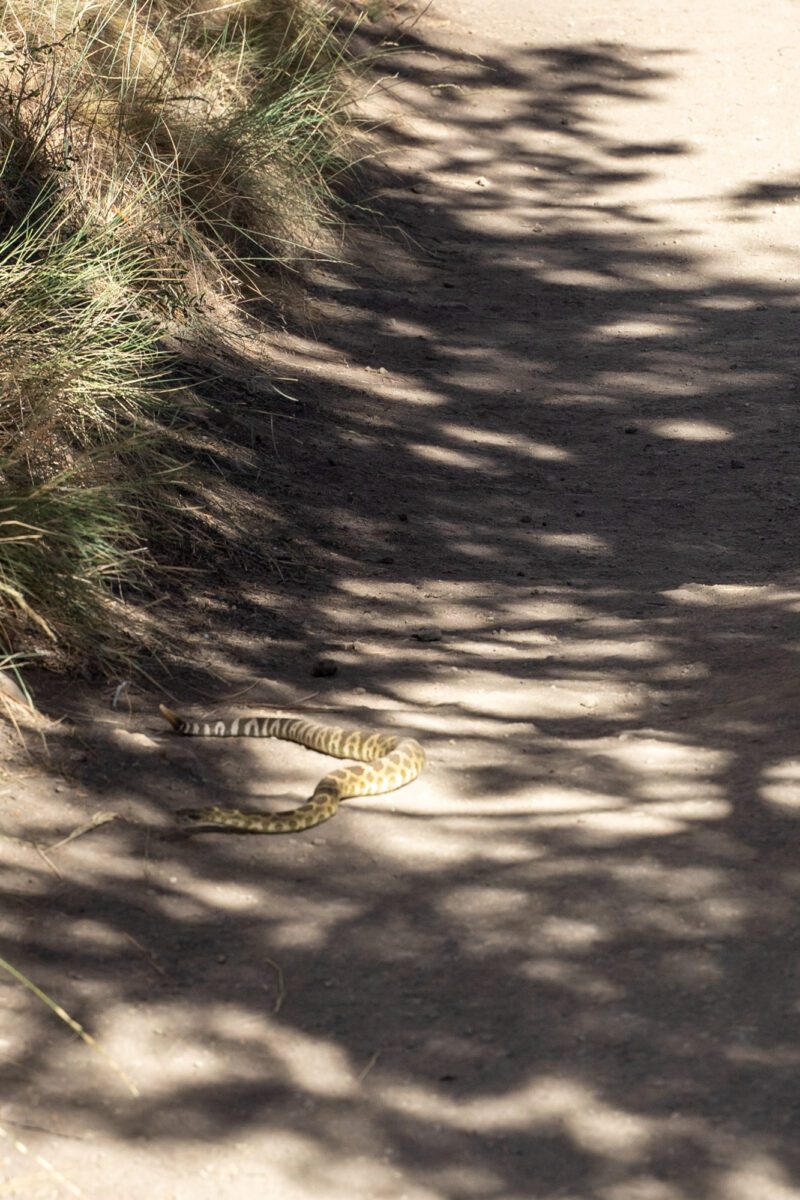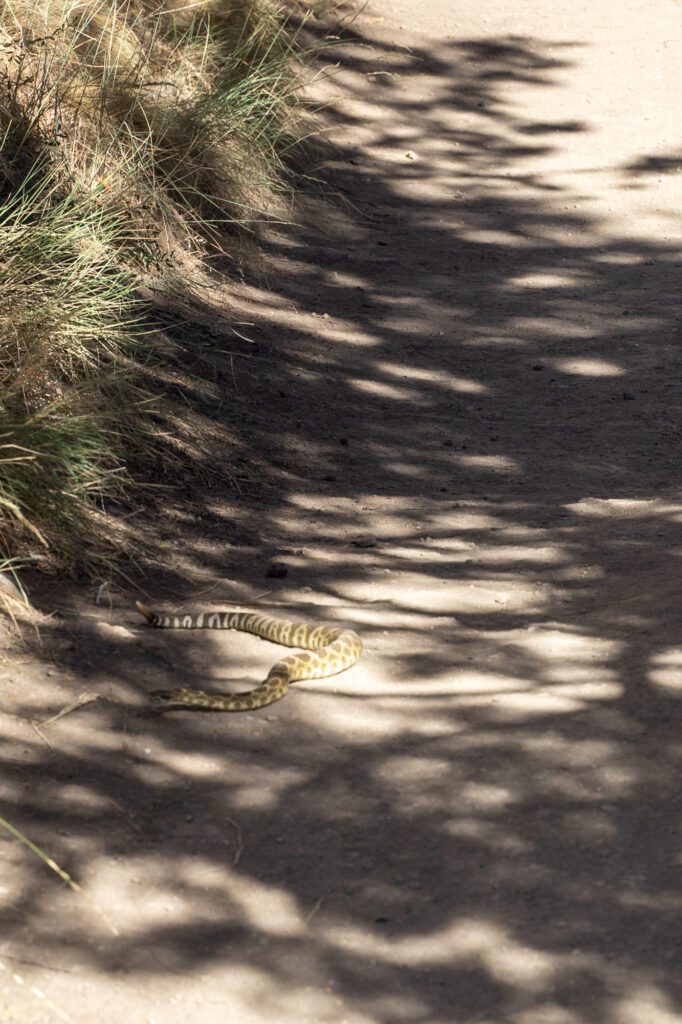 The Misery Ridge + River Trail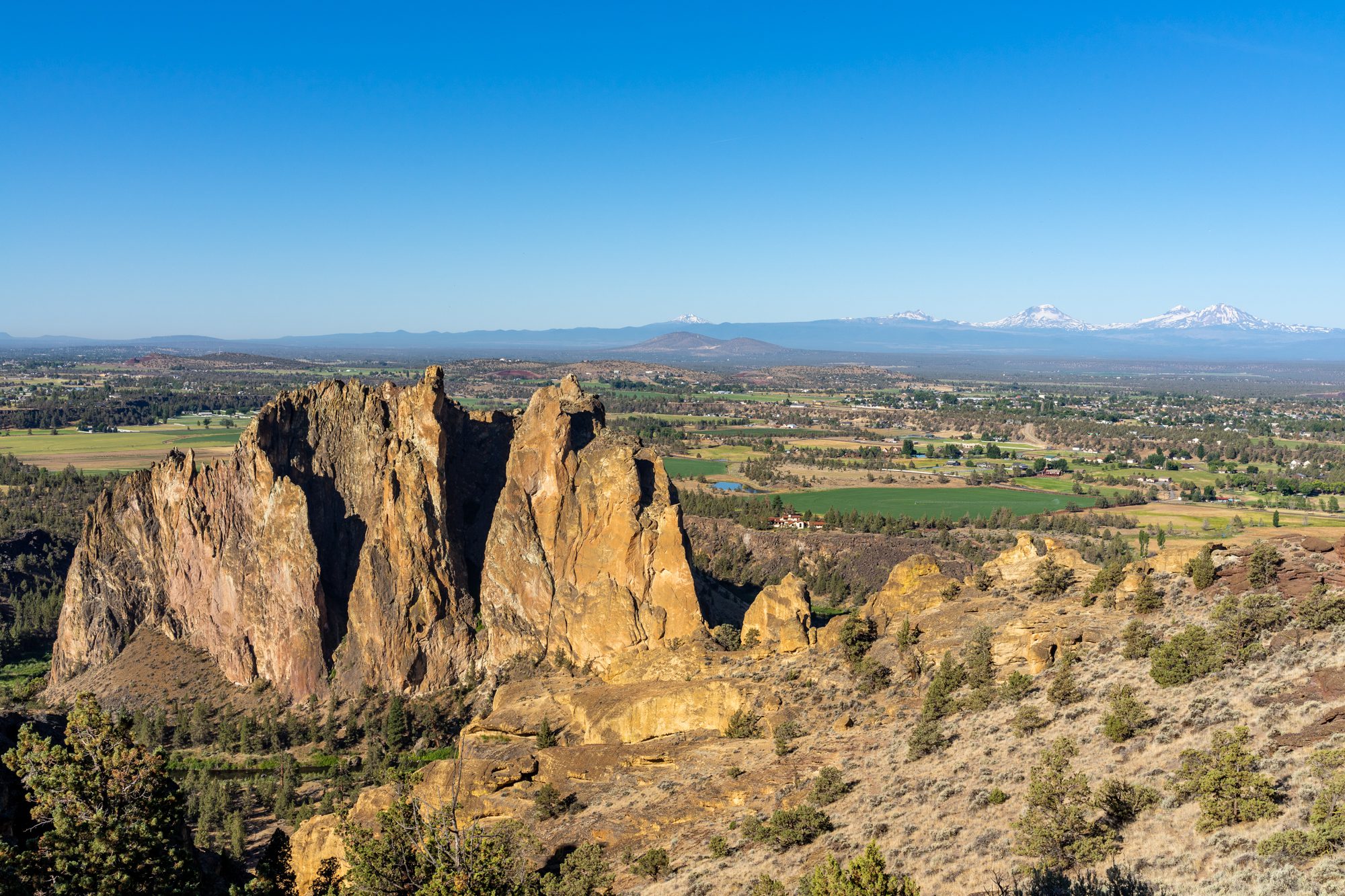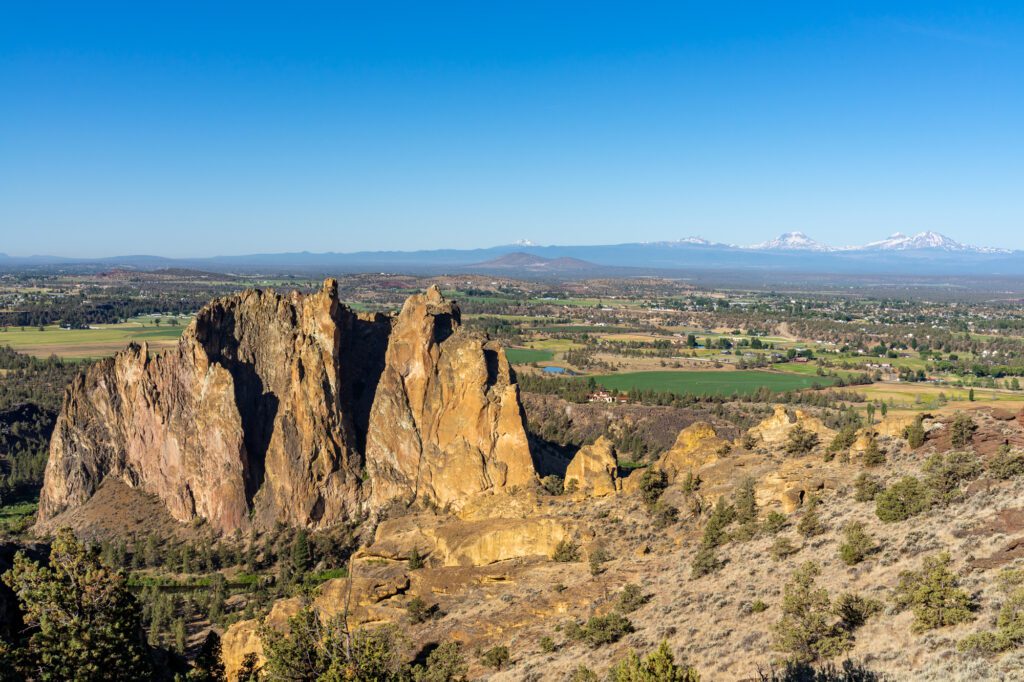 Length: 4.5 miles /7.2 km
Elevation Gain: 1050 ft/ 320m
Difficulty: Moderate
Trailhead Location
Drive Time From Bend: 40 mins
This hike is really similar to the Misery Ridge and Summit Trail, but a slightly easier option by taking the River Trail, which curves around to the left at the base of Monkey Face, rather than the path to the right (the summit trail) that climbs to the summit overlooking the rugged landscape.
The trail is still beautiful and runs alongside the river for the second half of the hike. It is possible to do both the summit trail and the river trail in a loop if you wish.
The South Sister Trail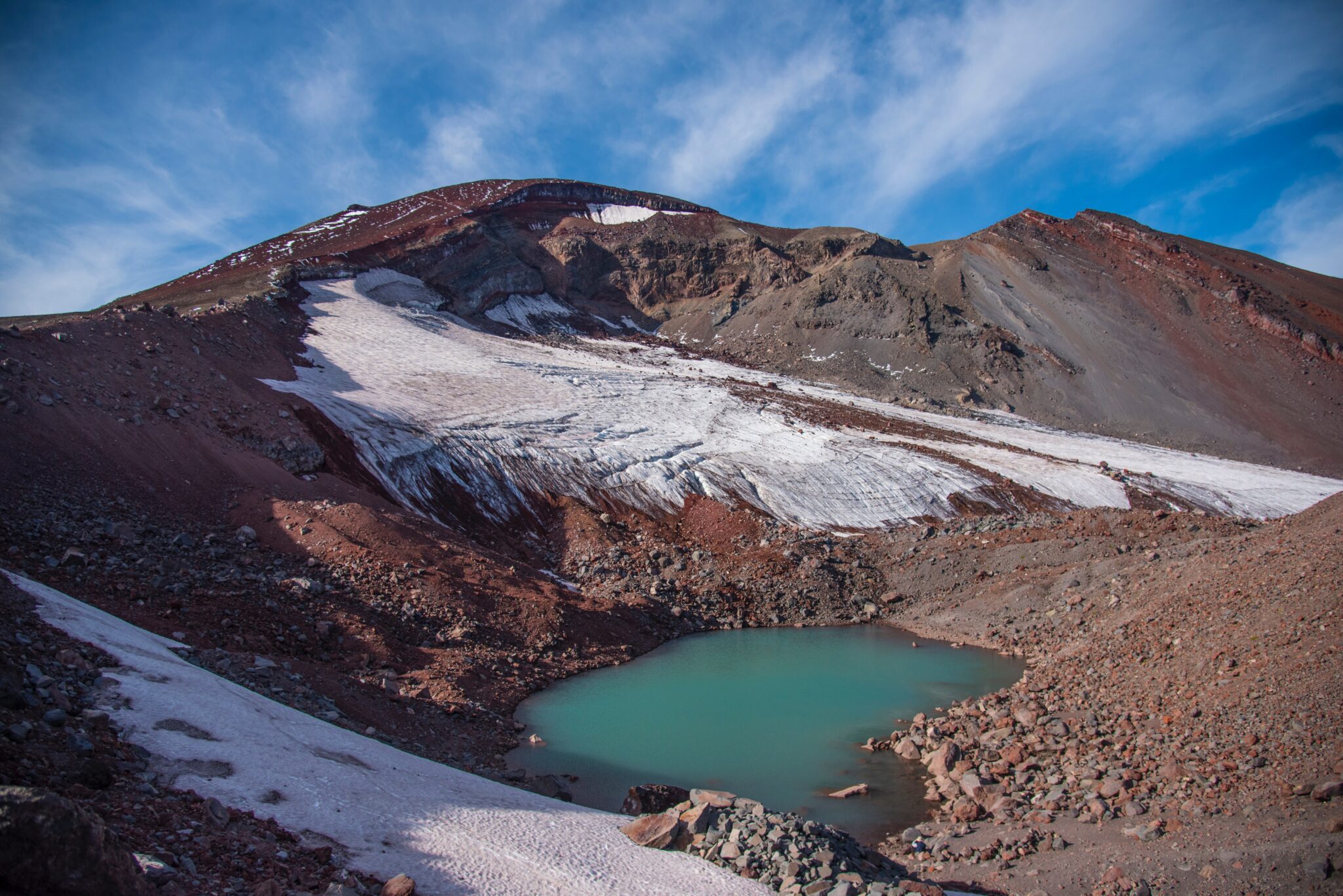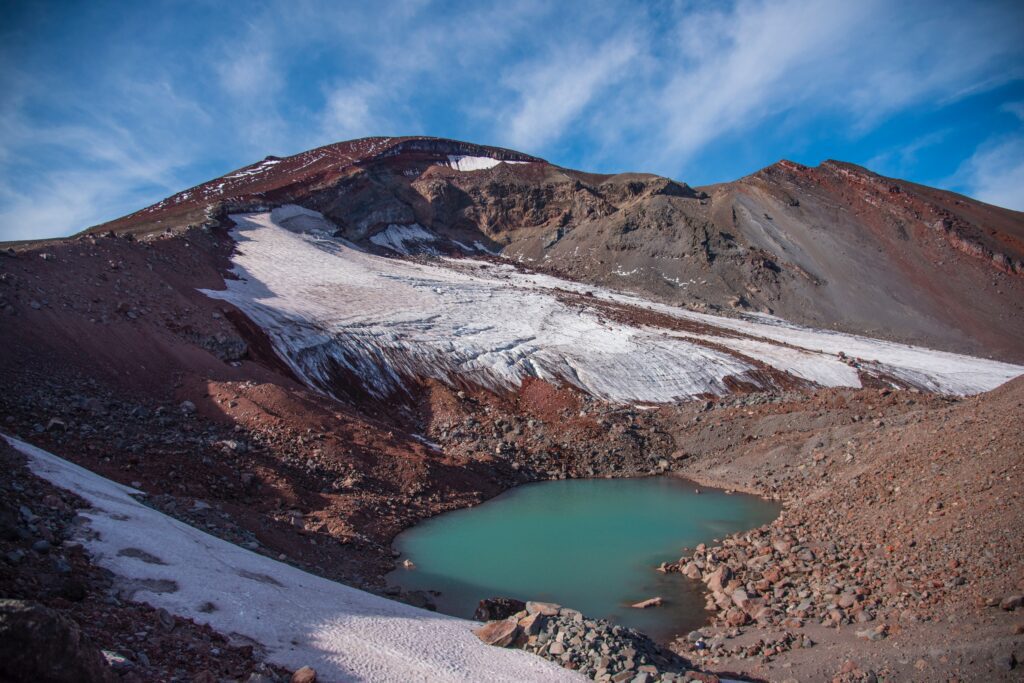 Length: 12 miles /19.6km
Elevation Gain: 4898ft /1493 m
Difficulty: Very Difficult
Trailhead Location
Drive Time From Bend: 30 mins
The South Sister is the third largest mountain in Oregon, and the climb to the top is challenging but well worth the effort. From the summit, you can see half of the state, not to mention the beautiful nearby Moraine Lake. While you don't need mountaineering skills like you do to summit nearby Broken Top, you will feel this one for a couple of days, even if you're in the best shape of your life.
While you are climbing, you will pass glaciers, and the highest lake in the state, Teardrop Pool.
Do not attempt the climb in anything but perfect weather, a cloud over the summit could mean a blizzard when you get up there.
To make the climb more manageable, consider making it an overnight trip and sleeping at either Moraine Lake or near the Green Lakes. That will cut off about 4 miles, which certainly makes it a bit more achievable. Any way you slice it though, this one is a thigh burner that only experienced hikers in good shape should attempt. Get an early start, and bring plenty of snacks, water, and water filtration.
Tumalo Falls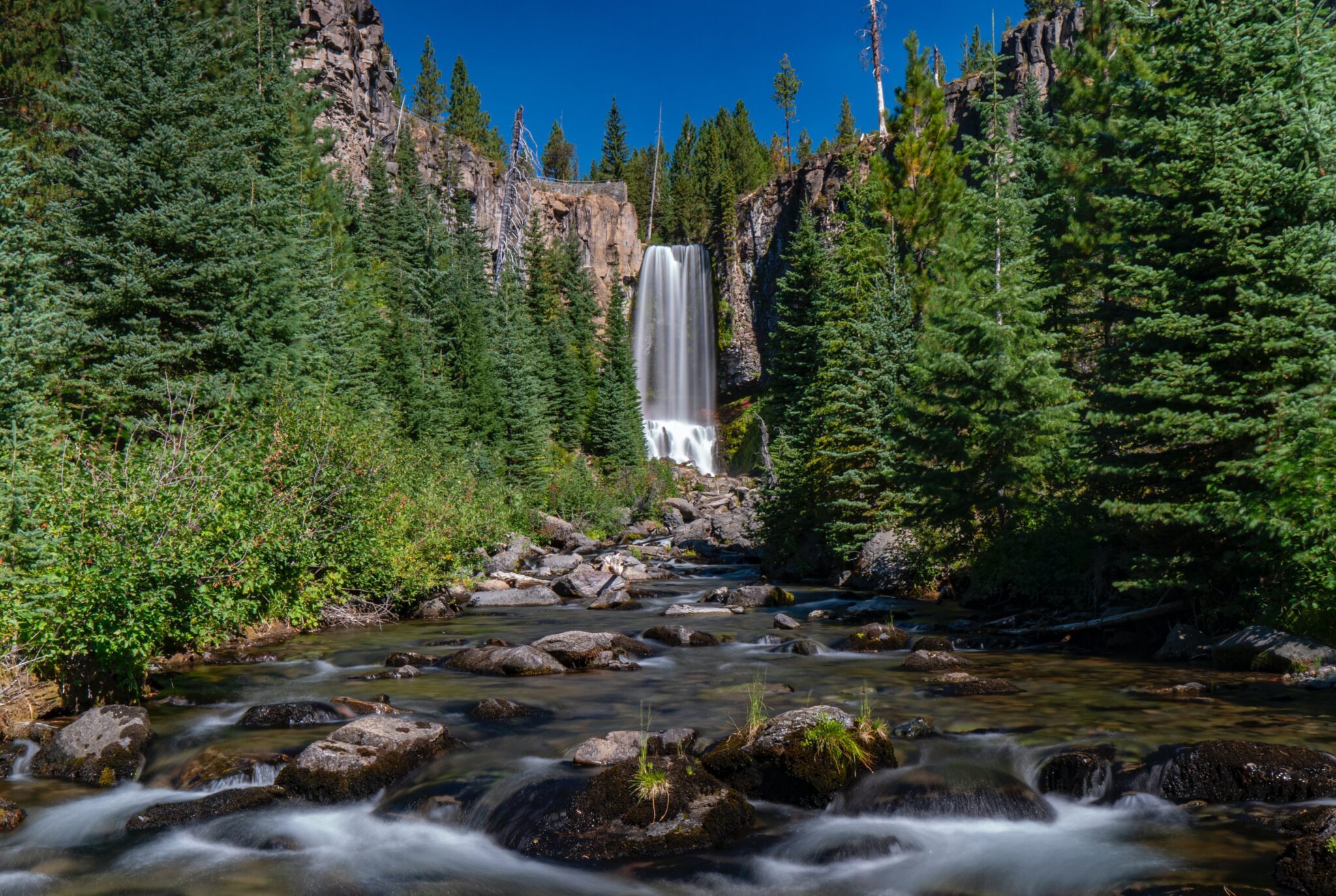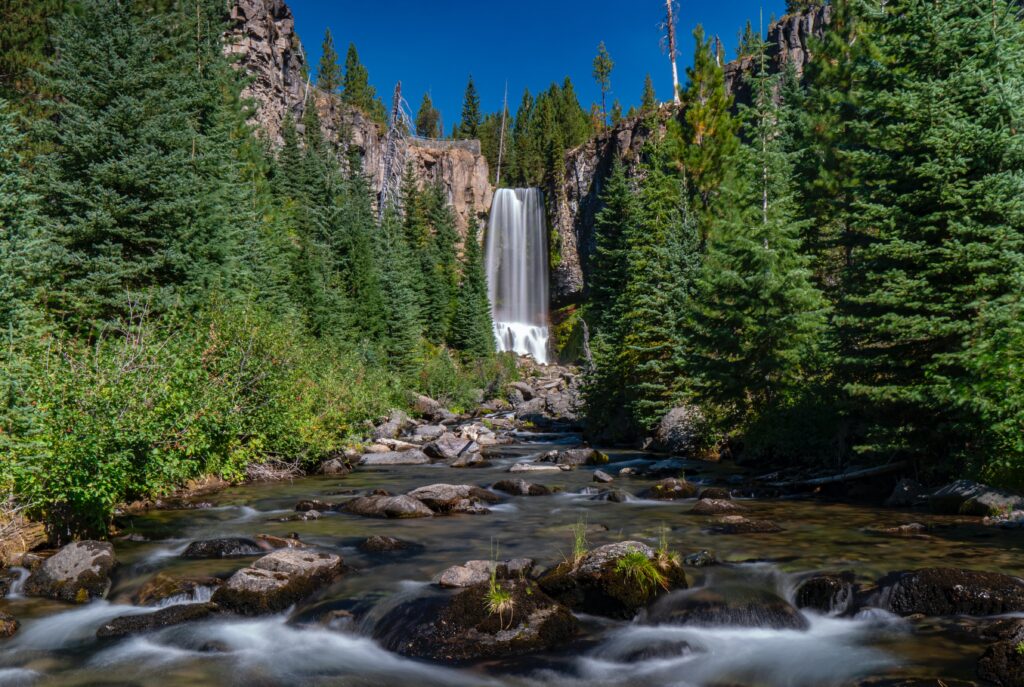 Length: 7 miles / 11km
Elevation Gain: 1460 ft / 445m
Difficulty: Moderate
Trailhead Location
Drive Time From Bend: 30 mins
There are tons of great waterfall hikes in Oregon, and this one is right up there with the best of them. On this hike, which is super accessible from Bend, you'll meander past several spectacular waterfalls, including the namesakes, 90 foot tall Tumalo Falls. You can do this as an out and back, turning around and coming back the way you came from the waterfall, but I'd recommend doing the loop version for a more peaceful experience free of the crowds clambering up to the falls.
From the start of the trail at the parking lot, you'll get plenty of different views of Tumalo Falls throughout the first part of the hike. And they don't stop until you're close enough that you can almost reach out and touch them.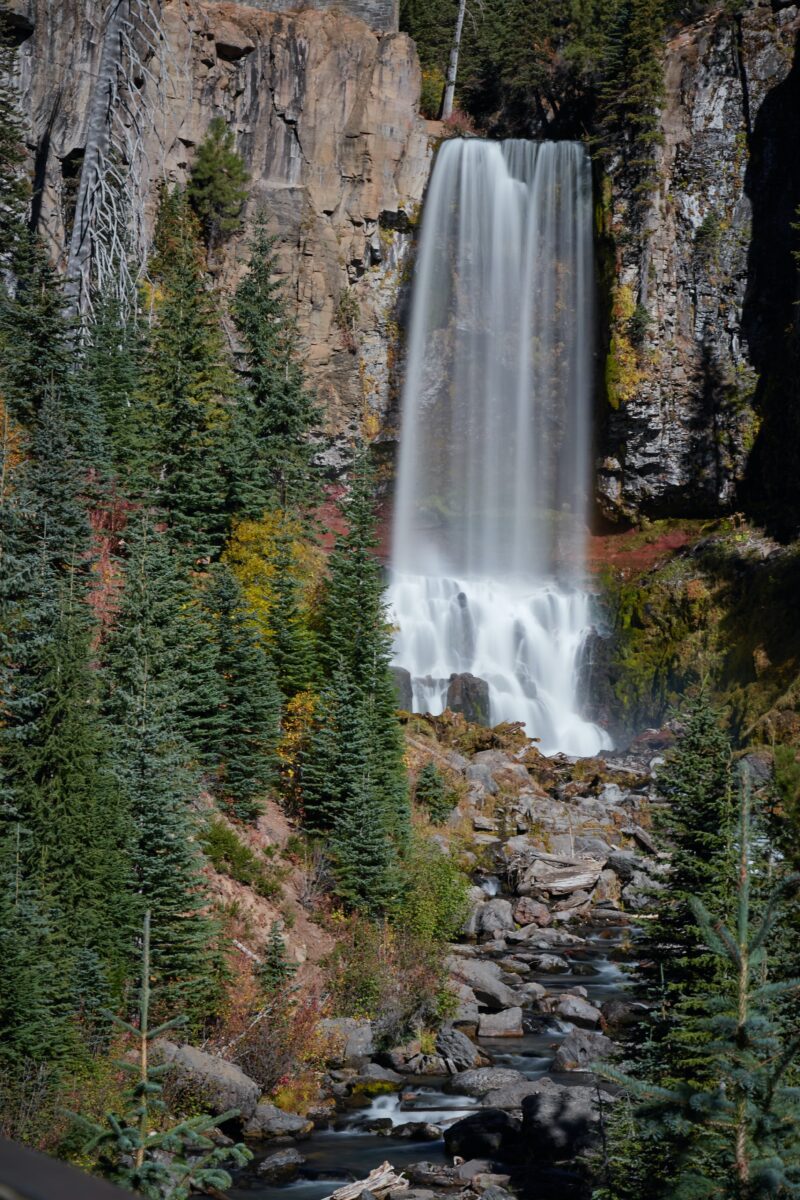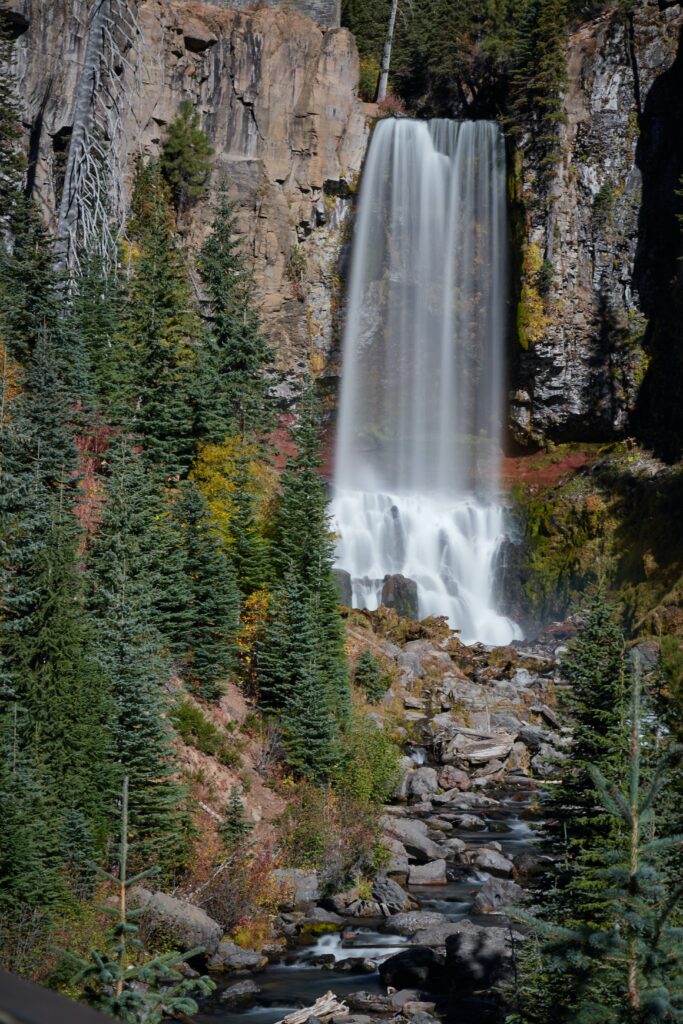 During the weekend the trail can be very busy up until Tumalo Falls, but past that the trail gets much quieter as most people will turn around and walk back the way they came (that's the part where you continue on the loop, and don't see another soul for the entirety of the hike).
While the second part of the loop trail has fewer waterfalls (there is one more, though!) the lush forest and glacier-fed creeks still make for a pleasant hike.
Tumalo Mountain Trail
Length: 4 miles / 6.3km
Elevation Gain: 1440ft / 438m
Difficulty: Moderate
Trailhead Location
Drive Time From Bend: 30 mins
Unfortunately, we ran out of time for this one, but it was on our list and I wrote "great views-to-effort ratio" in the margin of the book I have on hiking in Oregon.
The Tumalo Mountain Trail is a moderately busy trail that climbs to the top of a summit with panoramic views of the surrounding area.
From here you can see across the town of Bend, the Three Sisters, and Broken Top.
Even though the hike is steep in places, it is not very long, so it is doable for families. It takes you through a multitude of landscapes, wildflower meadows, pine forests, and barren landscapes with red lava rocks before you emerge onto the summit with those trademark sweeping views.
Moraine Lake Trail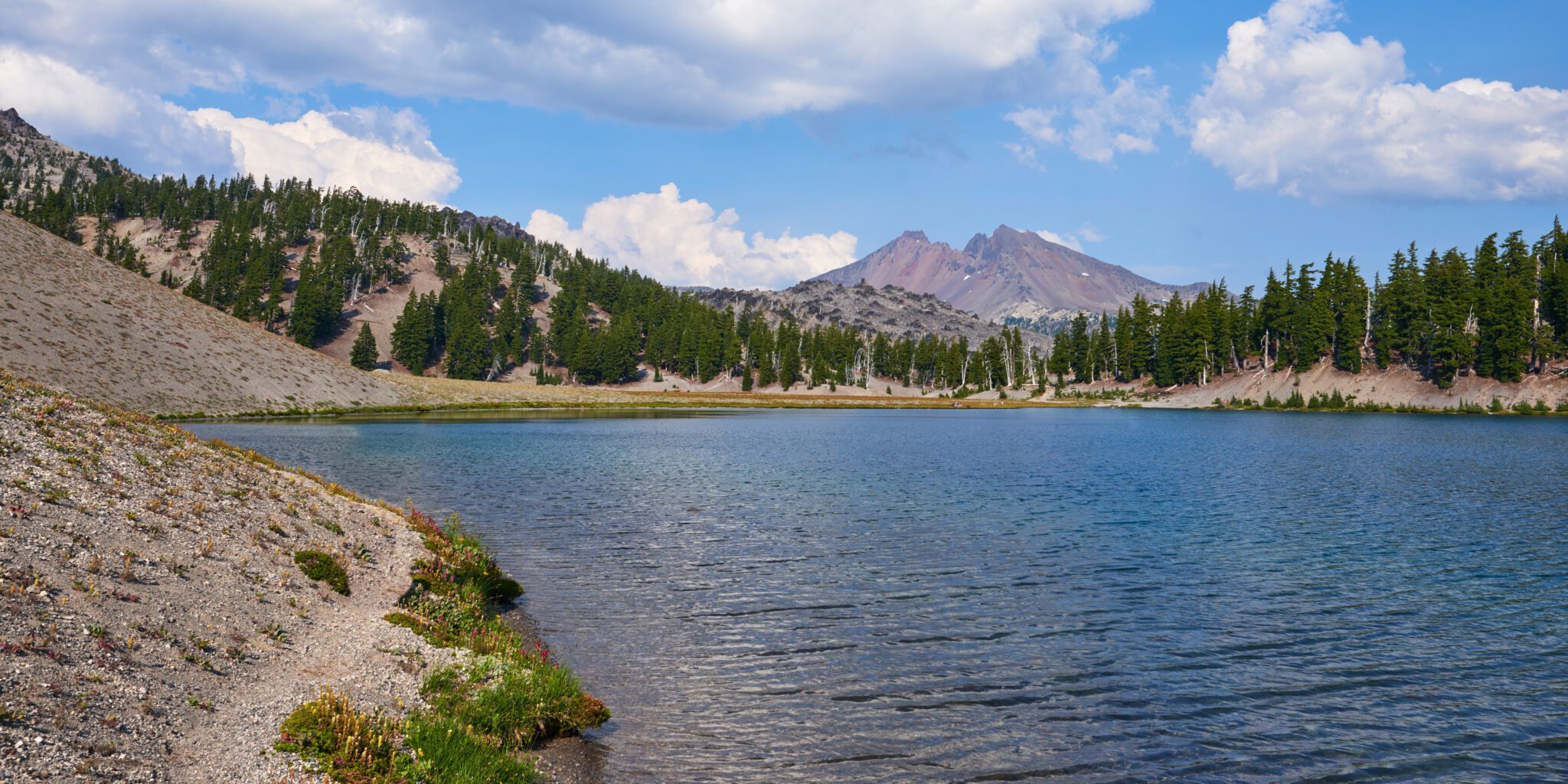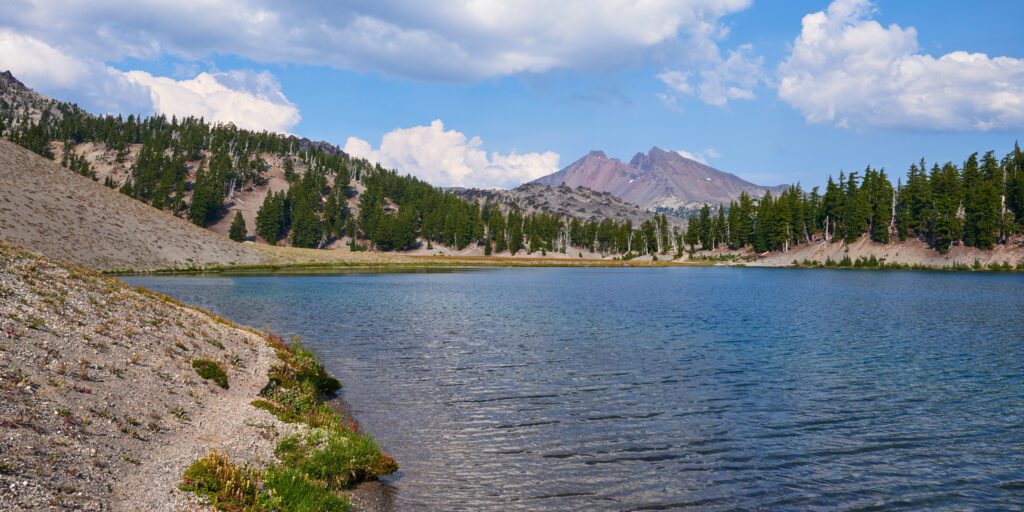 Length: 4.6 miles / 7.4km
Elevation Gain: 1500ft / 457m
Difficulty: Moderate
Trailhead Location
Drive Time From Bend: 40 mins
Moraine Lake is a beautiful high mountain lake which is an absolute treat to get to. There are constant views of snow-dusted mountains, the beautiful turquoise lake, and a scattering of pine trees. While the first part of the hike is a bit of a climb, the rest of the trail is a gradual rise and therefore it is a great option for families with older or teenage kids.
If you are here in the summer, bring a picnic lunch and some swimsuits to enjoy the lake before heading back.
This is a good spot to camp if you're wanting to tackle the South Sister – it'll cut a few miles off of the strenuous climb and make it a bit more manageable.
Proxy Falls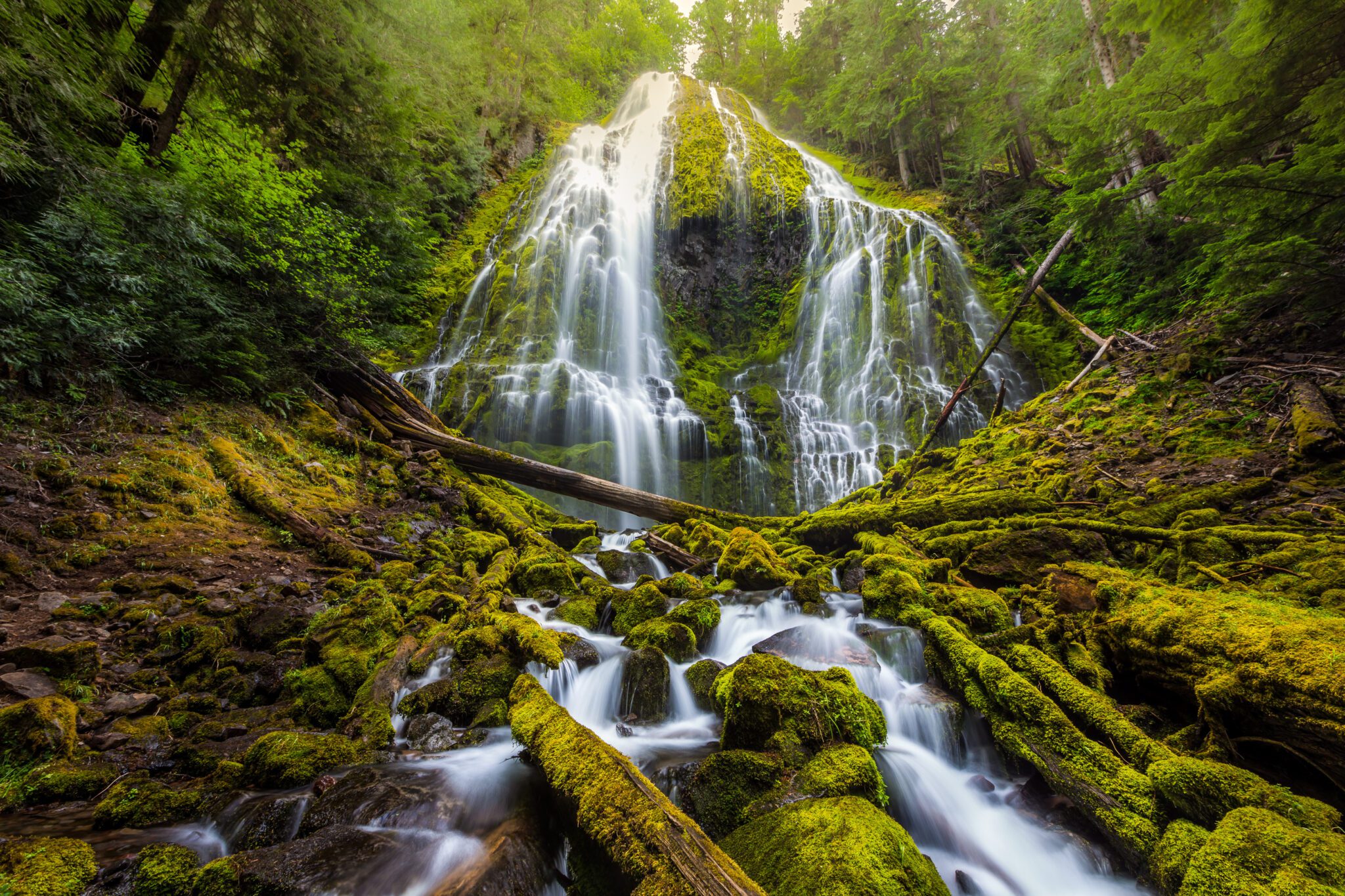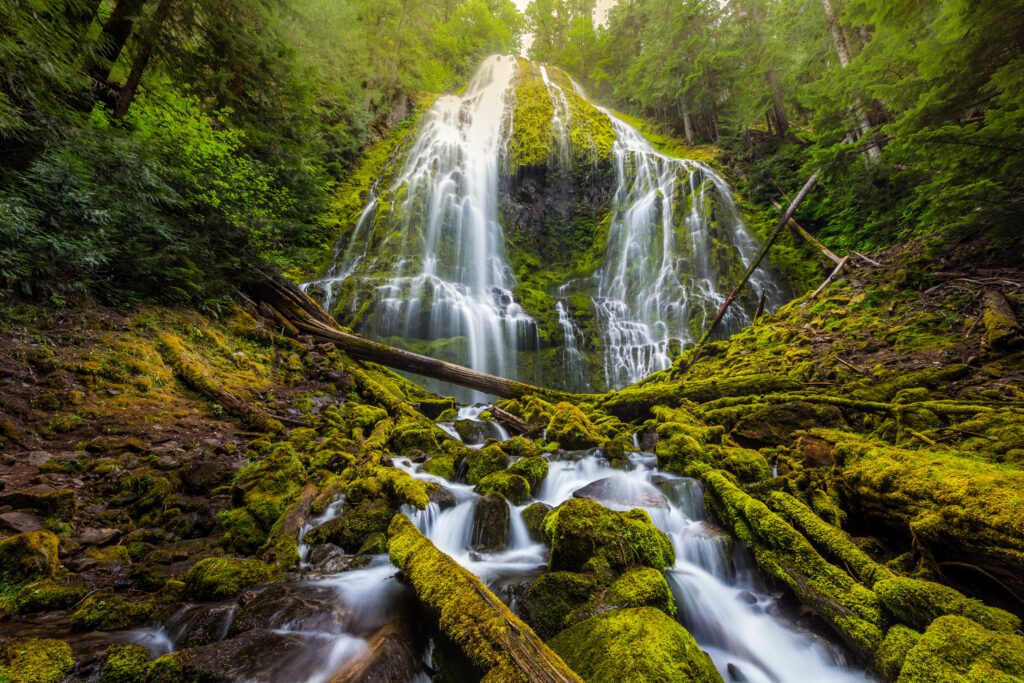 Length: 1.5 miles / 2.4km
Elevation Gain: 147ft / 45m
Difficulty: Easy
Trailhead Location
Drive Time From Bend: 1 hour and 30 minutes
Proxy Falls is an easy hike for families and people of all fitness levels. It is a short but picturesque trail, with very little elevation. There are waterfalls, mossy logs, grottos, and refreshing streams to delight explorers. The trail is open in all seasons, but in the fall the waterfall is not at full strength.
What to Pack for Exploring Bend
Before we get to the best hikes, let's talk about the essentials you'll need to bring along when you hit the hiking trails in Bend.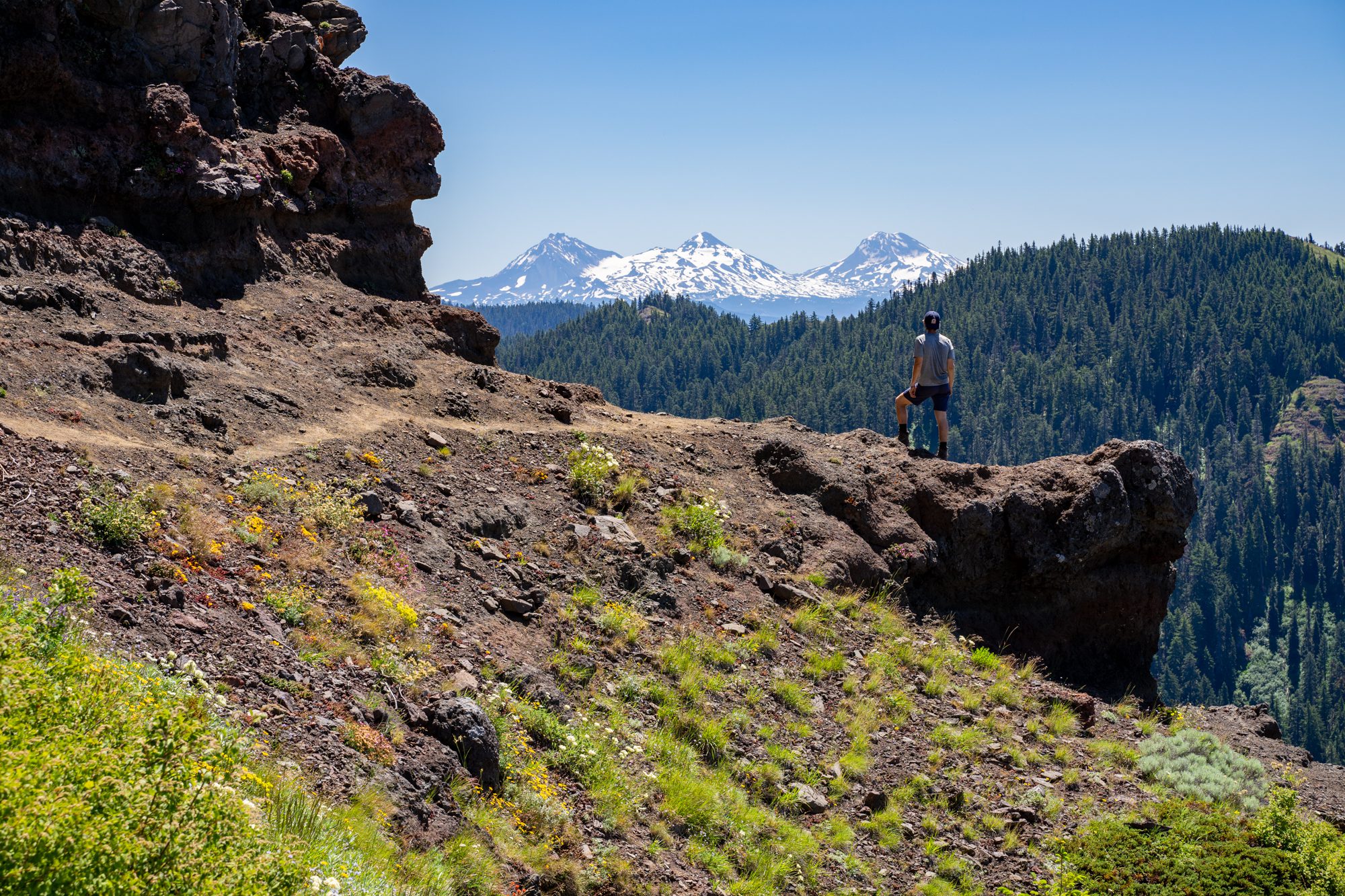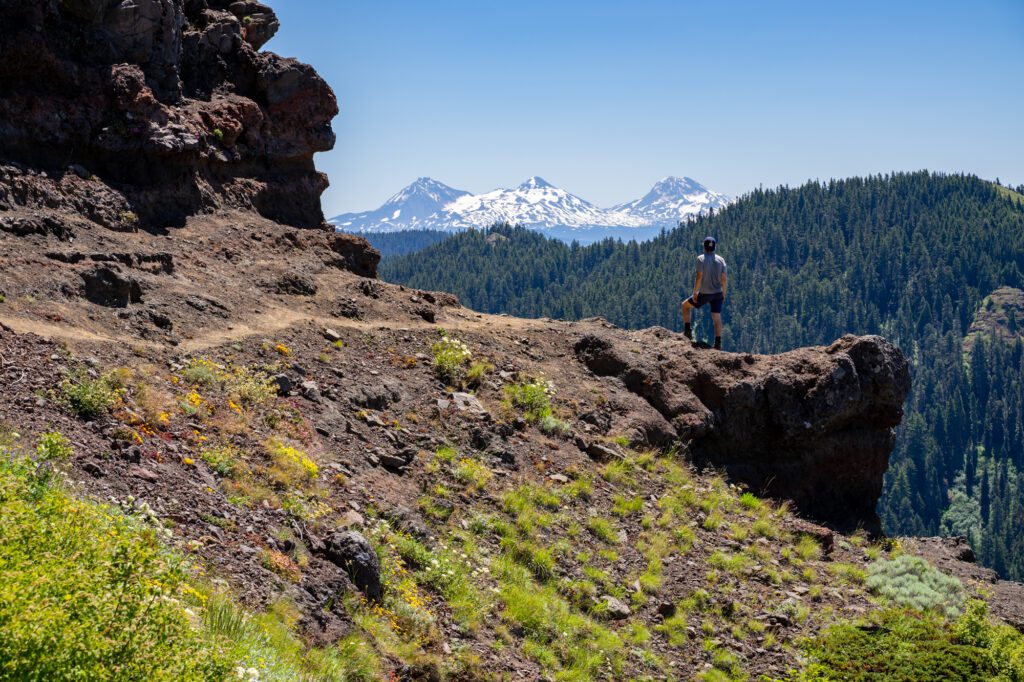 Sturdy Footwear
Here are a few things that you might encounter while hiking in the Pacific Northwest – snow, lots of elevation gain, rock scrambles, creek crossings, steep and slippery patches, and, of course, some rain. Alysha, a born and bred California Girl, still isn't quite sure what to make of the classic Pacific Northwest drizzle – her current strategy is to make sure that exactly zero skin is susceptible to rain.
To combat the Pacific Northwest's plethora of natural obstacles, you'll want a sturdy pair of hiking shoes or boots. My recommendation is to make sure they're waterproof too for good measure – there's no better feeling than walking straight through a creek crossing without trying to hop from slippery stone to slippery stone trying to avoid the water (we've all been there).
Now, what "sturdy footwear" means to you completely depends on your personal preference and style. Take Alysha and I for example.
Recommended Gear
Adidas Terrex Swift Hiking Shoes and Salomon X Ultra 3 Mid Boots are the cream of the crop. For a more affordable first pair of hiking boots, I saw tons of people on our road trip hiking in the stylish and budget-friendly Columbia Newton Ridge.
A Comfy Daypack (20+ Liters)
Your day pack is important, mostly because it holds the snacks! And the water, layers, and more. But did I mention snacks? For any hike over 5 miles, I recommend a 20L daypack or bigger, which will give you plenty of space for all the essential day hiking gear you need to bring with you. If you're planning on going more than 10 miles or carrying camera gear with you, you might need something closer to 30L.
Look for a pack that has a solid waist strap so that you can keep the weight of your pack on your hips, not your shoulders, which will make hiking much easier for you.
Recommended Gear
Osprey makes amazing hiking backpacks, as does Deuter. I have an older version of this Deuter pack, and Alysha has the Osprey Tempest 20, which she loves.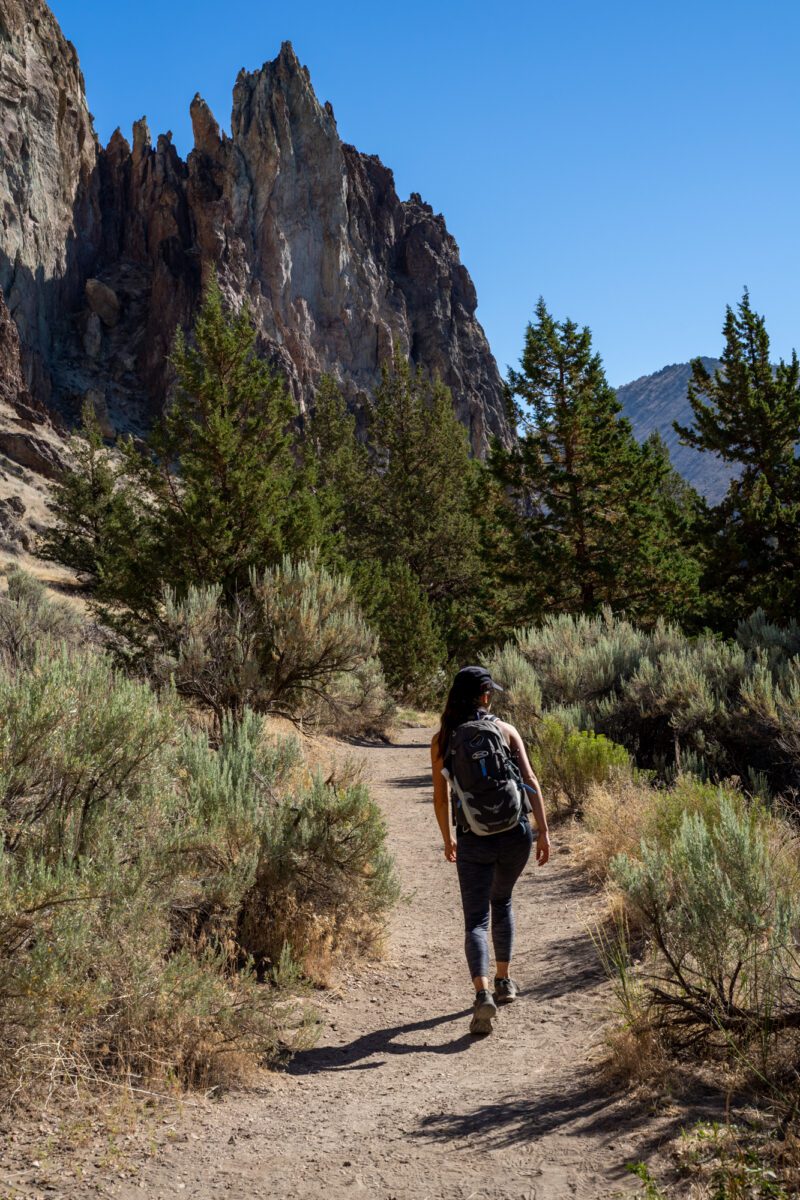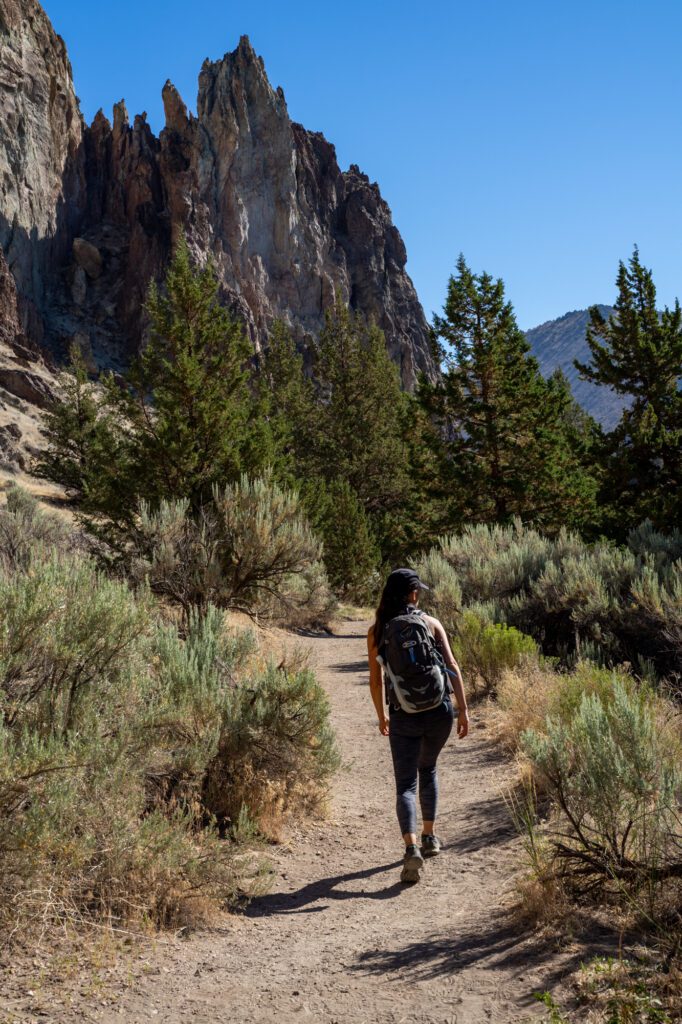 Plenty of Water
A good rule of thumb is to bring a liter of water for every two hours of hiking you'll be doing.
Not sure how long you'll be hiking? Here's how to calculate it. If you're hiking at an average pace, you'll probably be able to do about a mile and a half per hour assuming there's some ups and downs, and you take some breaks.
Say you're planning on doing a six mile hike. It will take you around four hours, which means you'll need two liters of water.
Recommended Gear
We love our collapsible Platypus water bottles, which are perfect for hiking and traveling because they weigh next to nothing, and roll up nice and small when you're done. Save the planet by spending the $9 for a reusable water bottle!
Plenty of Layers
I don't know if you've heard, but it rains in the Pacific Northwest. And if you're in the mountains, it can get COLD, especially at night and early in the morning. Plus, the weather changes constantly. Here are three essential layers to pack on every single hike you do to stay warm and dry in the Pacific Northwest (good thing you have a solid daypack to carry them in!).
Trekking Poles
I used to hate on trekking poles. "I don't need trekking poles!" I yelled, "I'm young!" Now that I'm old and creaky, I use them on any hike that has even a smidge of elevation gain (most of the hiking trails in Bend have some climbing, so I used them almost every time). They'll save your knees on the way downhill, and make the climbing just a bit easier. In Bend, you'll be doing plenty of both.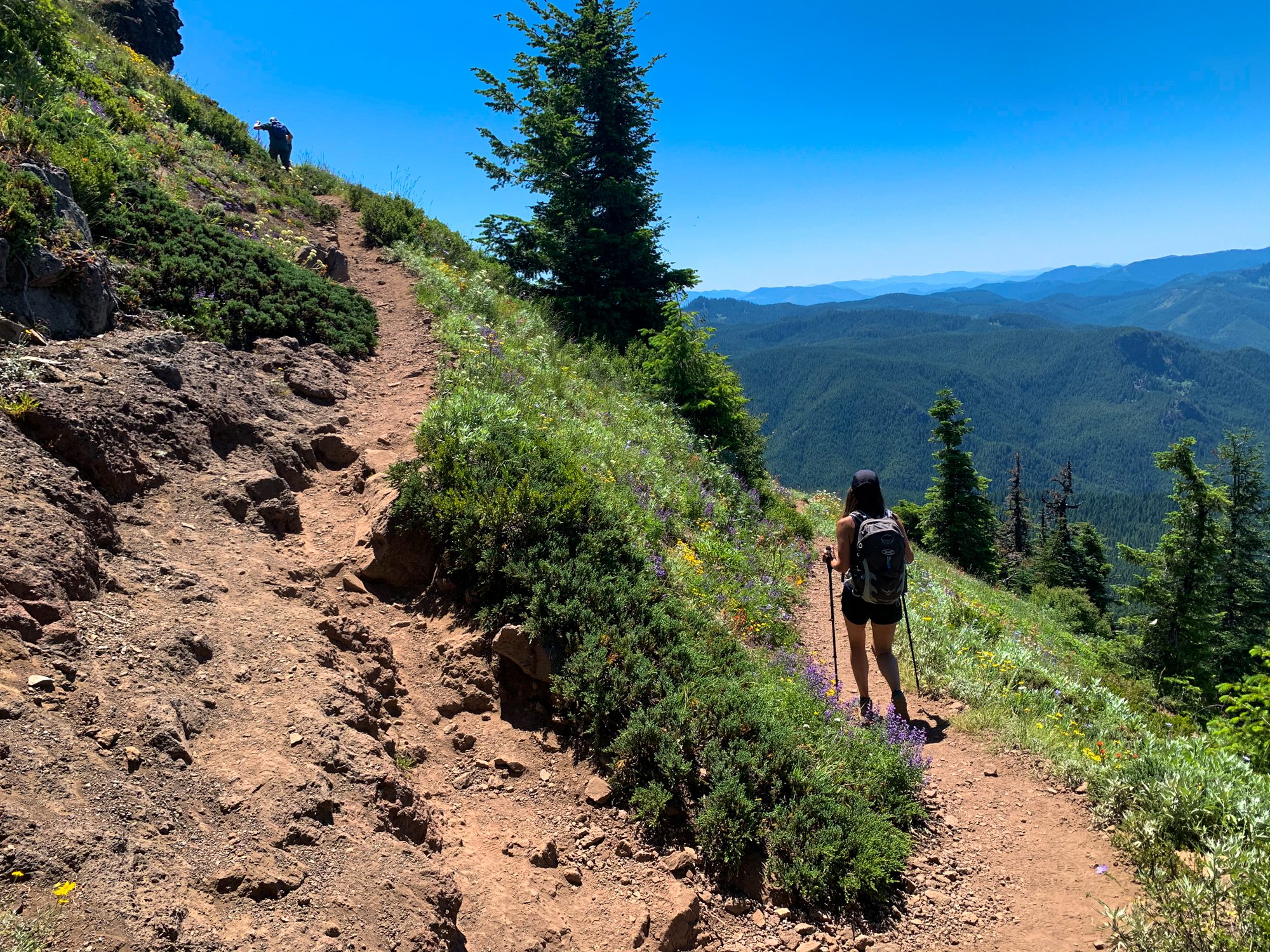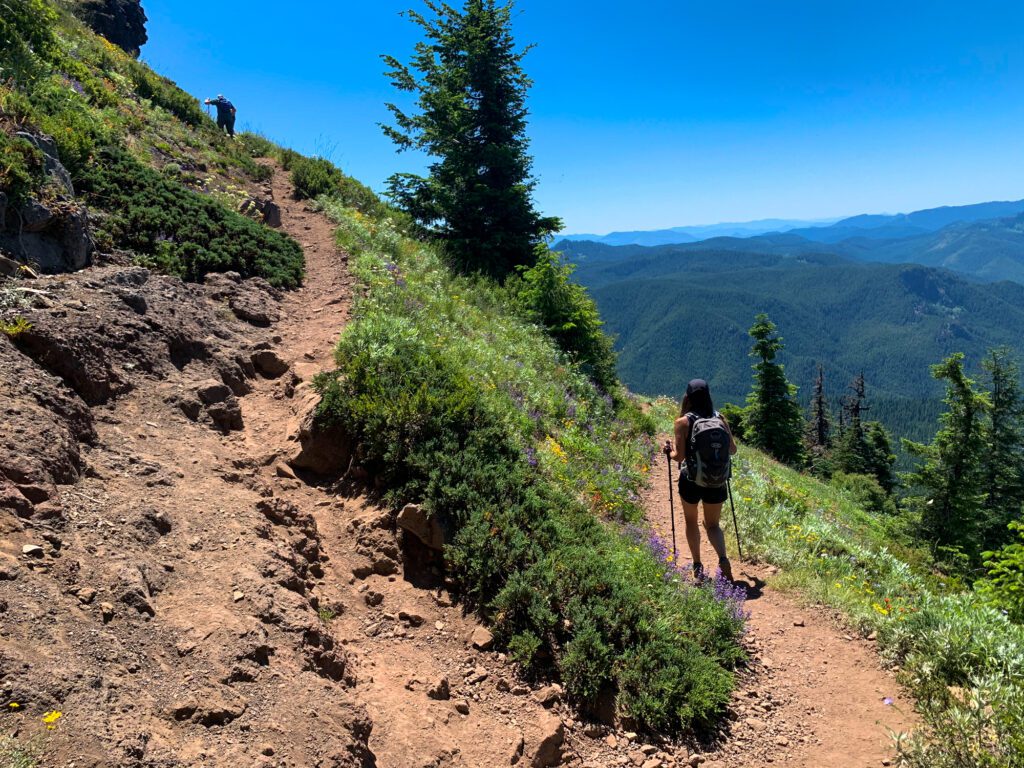 Hiking Snacks
AKA the most important piece of gear. I say that half jokingly, but I've done hikes where I didn't bring enough food, and hiking while hungry is miserable.
Energy Bars: I'm a big fan of the Gluten Free Bar (their bars and bites), along with both Taos Bakes Energy Bars and Picky Bars, the latter is based in Bend!
Beef Jerky: I love Country Archer Jerky, and their Mango Habanero jerky is my fave, and it's the best jerky I've ever had. And I used to work at a beef jerky company, so I've had a lot of it.
Savory & Crunchy Snacks: Sometimes you need a break from the sweet snacks that you usually find on the trail. For those times where I need something crunchy and salty, I turn to Half Pops and Inka Chips.
Some other snacks I love are fresh fruit that is less prone to bruising, like an apple, along with some Yumbutter Cashew Butter.
Apps to Download
Alltrails is my go-to destination for discovering new hikes, reading recent trip reports to check on trail conditions, and for tracking progress during a hike using their handy map feature. I'm a pro subscriber, which means I can download maps for offline use in case there's no cell service on the hike. Which happens a lot.
Offline Google Maps are a lifesaver for getting to the trailhead. You can still use navigation, even when you don't have service.
The Dyrt is a great resource for finding awesome places to camp, like National Forest Campgrounds and free camping.
Other Stuff to Bring
Headlamp – especially if you'll be doing a sunrise or sunset hike (which I recommend for EPIC views and lighting)
Hiking socks – you've got the shoes, but good thick hiking socks are an often overlooked part of your day hiking wardrobe. Your feet will thank me later.
Sunscreen – I love Sun Bum because I love smelling like I bathe in coconut milk.
---
There you have it – 12 incredible hikes in Bend, Oregon to add to your hiking bucket list. Oregon is an incredibly beautiful state with so much to explore, and even with six weeks there is a ton that we want to go bac and do and see.
More Oregon Travel Guides
If you like this guide, you won't want to miss our other Oregon travel guides!