3 Days in Porto: How to Plan a Perfect Porto Itinerary
In this guide to spending 3 days in Porto, we'll give you our take on exactly how to plan your Porto itinerary with everything you need to know to plan your trip. All the details you need to plan your trip are below – what to do, where to stay, when to visit, and more.
Porto is a charming city, offering something a little different from Lisbon and the Algarve, and it has a unique contrast going on that you'll feel immediately when you get off the train.
On a walking tour we did (this one, if you're curious, which we really liked), we relentlessly questioned our walking tour guide about why it feels so different from other parts of Portugal, particularly the parts to the south. 
On one hand, Porto feels much younger and more vibrant than any of the other places we've visited in Portugal (with the exception of Coimbra, which is essentially a college town).
On the other hand, Porto feels much, much older than most of the other places we visited in Portugal (again, with the exception of both Coimbra and Évora).
It's an odd feeling, and we were anxious to explore the reasons behind that.
Porto may not be as well known as the Portuguese capital of Lisbon, but it has a distinctly older feeling than Lisbon, which was leveled by an earthquake in 1755. You'll especially experience this when you're walking around the areas near the river just below the cathedral, which have some winding, narrow alleyways that feel very medieval.
Our walking tour guide let us know several times that Porto is the country's original capital, and lended its name to the country in its early days before the capital was moved to Lisbon in 1255 at the end of the Portuguese Reconquista.
While it doesn't get nearly as much press as Lisbon these days, Porto is absolutely worth a visit, whether it's as a part of your Portugal itinerary, or as a weekend trip (if you live in Europe) thanks to its thriving food scene, rich history, and, of course, port.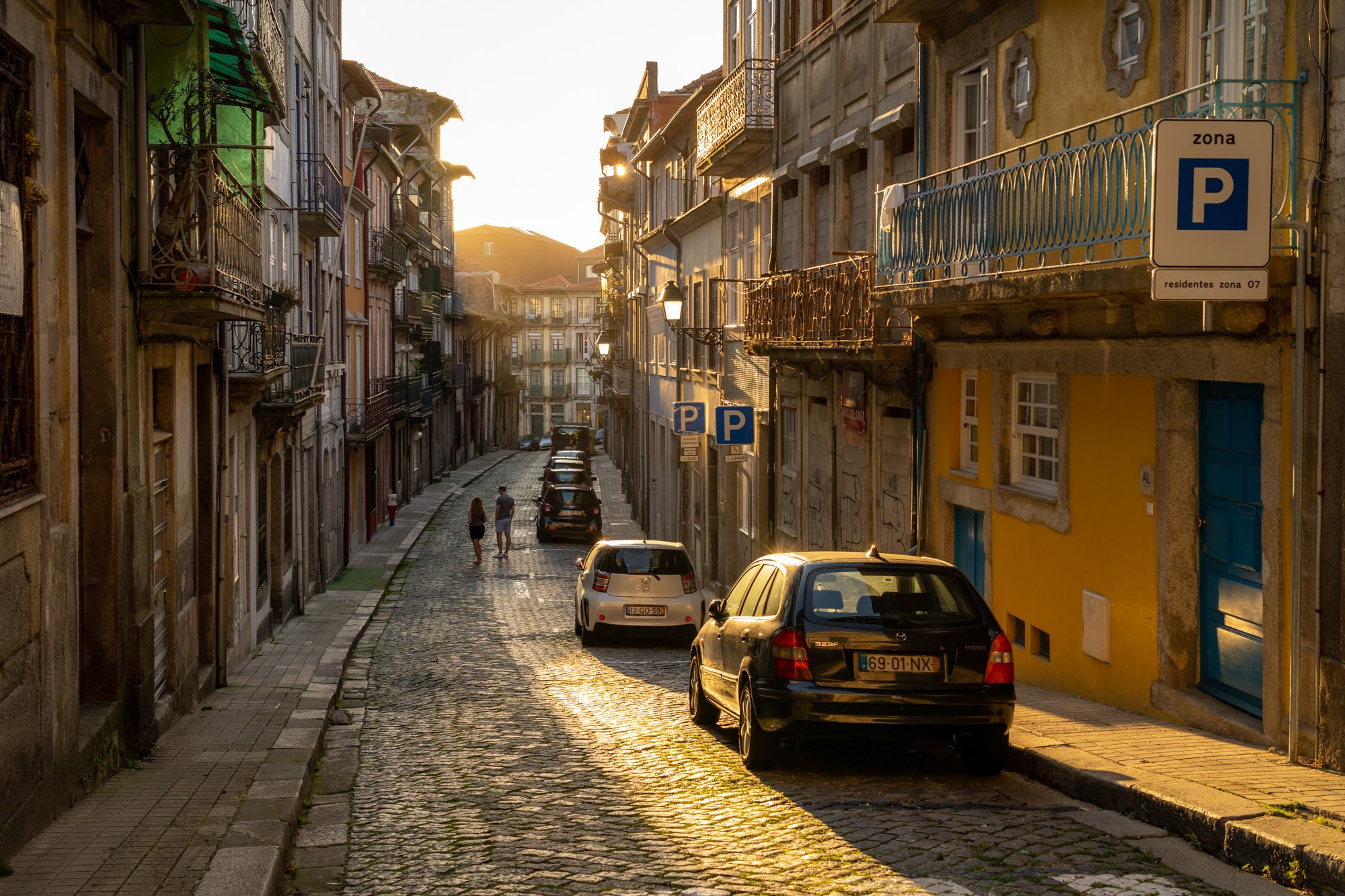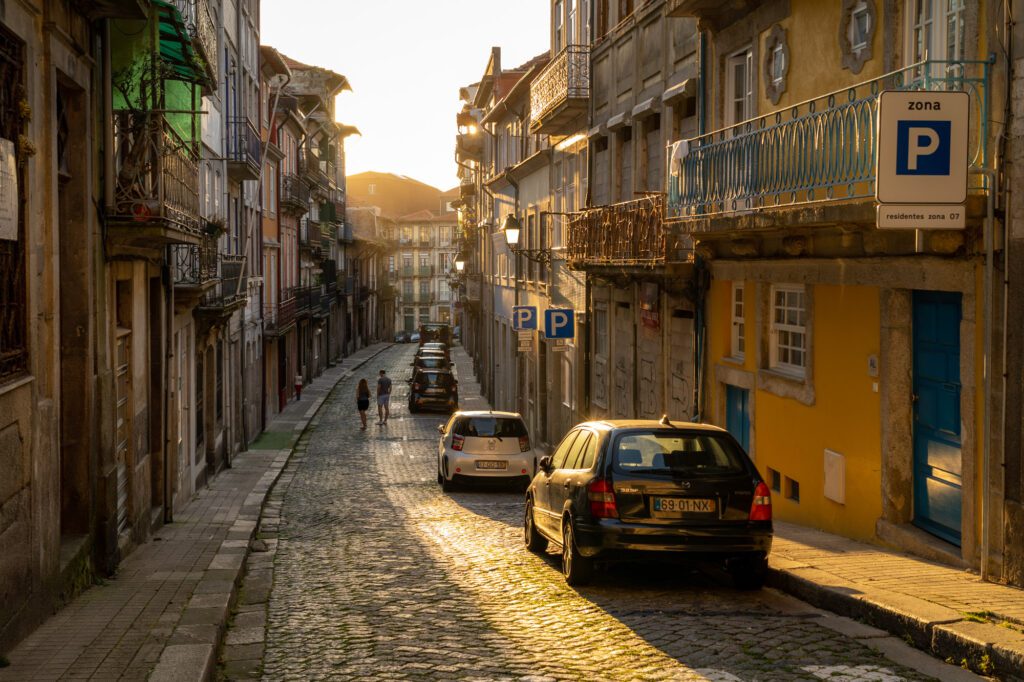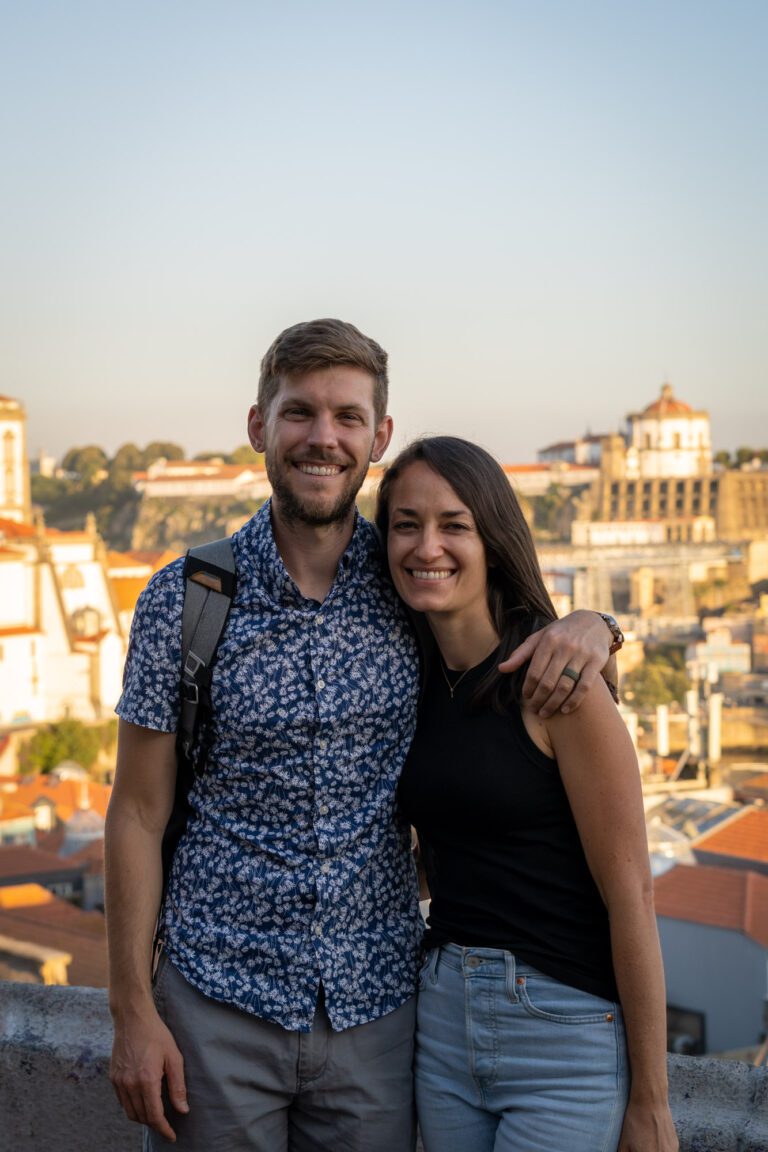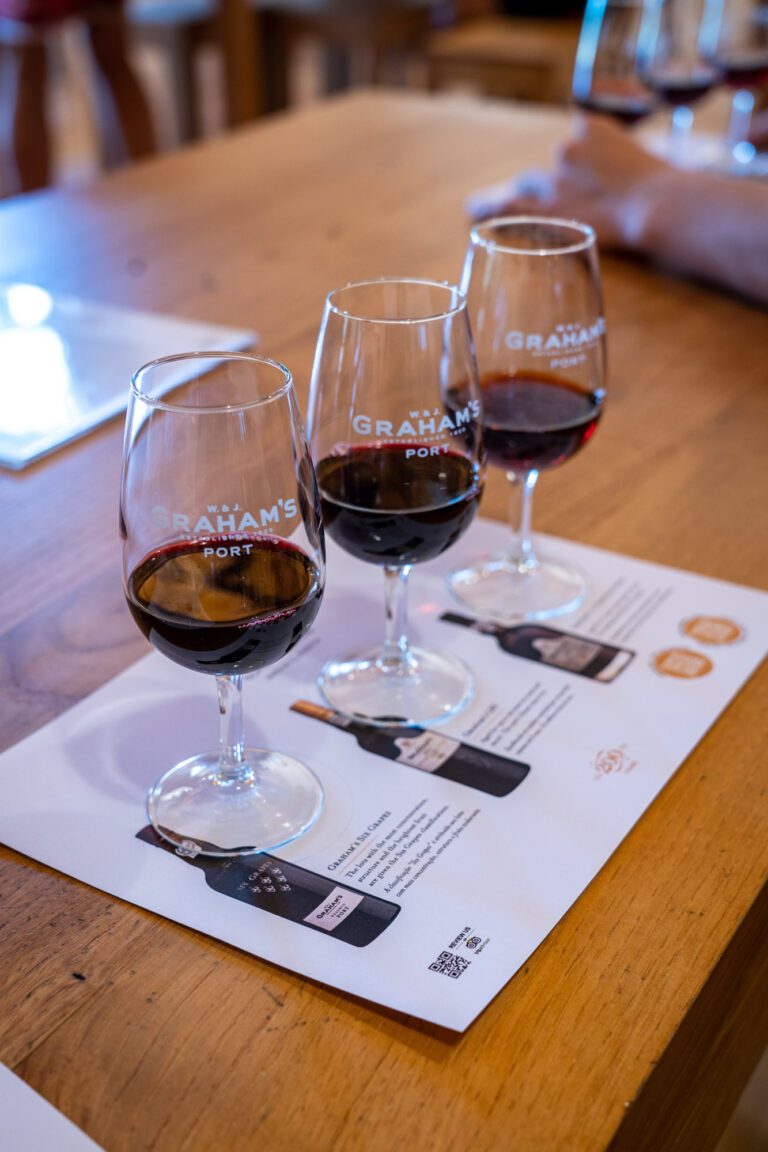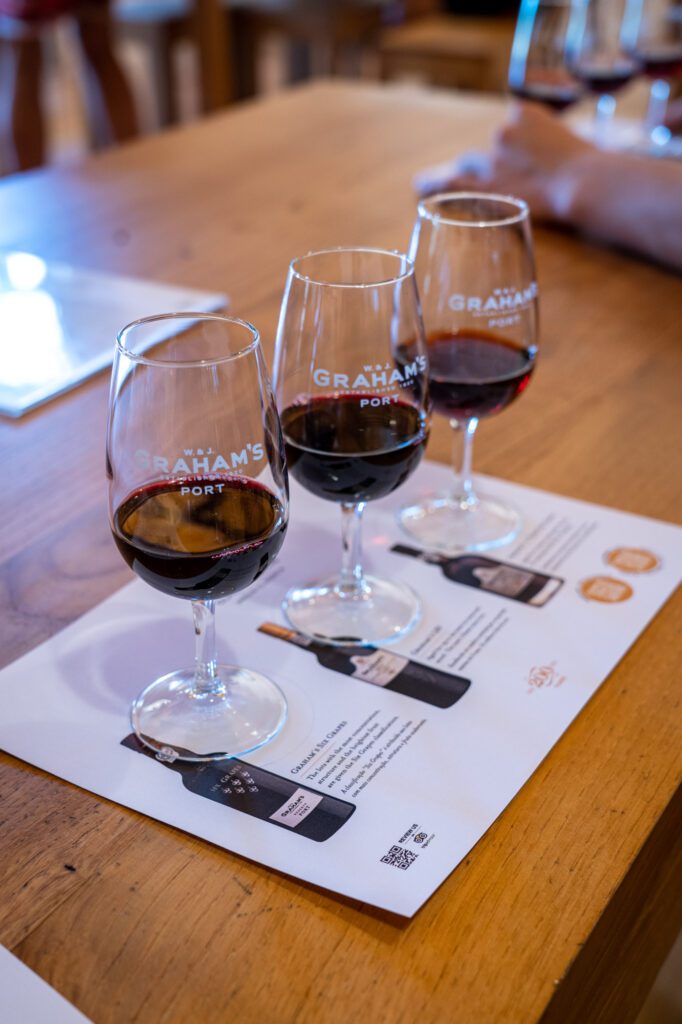 Planning to spend 3 days in Porto? You're in the right place! Located in northern Portugal on the Douro River estuary, Porto is one of the oldest and most beautiful cities in all of Europe. Wandering through the city's narrow cobblestone streets, taking in the mix of ​​Baroque, Gothic and Neoclassical architecture, it's difficult not to fall in love with Porto's charm.
Over the course of this Porto itinerary, we'll help you experience the very best this fascinating city has to offer. From admiring the exquisite blue and white tiled churches to sampling its namesake port wine, we'll give you everything you need to know to enjoy a long weekend in Porto.
Pro-tip: Every single local we met in Porto said something along the lines of "hey, be careful with port" – it's super easy to drink, it's 20% alcohol, and it's full of sugar so the hangovers are awful. You've been warned.
Disclaimer: Some of the links in this post, like hotel links, are affiliate links, meaning at no additional cost to you, we make a little bit of money if you click through and book. That being said, we would never recommend something to you that we don't stand behind 100%.
How Many Days Do You Need in Porto?
For your first trip to Porto, we think three days is ideal.
We had three days, and we felt like it was the right amount of time to get a taste for what makes Porto special (and different from Lisbon, which is where we were coming from).
You'll need two days to take in the city's main highlights, and an extra day to explore the nearby Douro Valley.
Being a relatively small city, it's possible to pack all of Porto's main attractions into a day (here's our guide on how to do Porto in a day). But this will feel rushed. To appreciate the laid-back atmosphere of this historic city, you'll want at least 48 hours to explore.
Then on your third day, take a day trip to the Douro Valley (we did this tour and absolutely loved it – it was legitimately a top three travel experience of our lives). The Douro Valley is a beautiful UNESCO World Heritage Site close to Porto and the birthplace of port wine.
We highly, highly recommend doing a guided tour (here's the one we did) where you'll get to connect with like-minded travelers and learn all about port wine, including touring a vineyard and doing a river cruise on the Douro River. We did it for my little brother's birthday, and after spending the next three months exploring Spain and Italy, it is STILL the #1 memory from our trip.
Where to Stay in Porto
For 3 days in Porto, you'll want to base yourself somewhere pretty central, especially if it's your first time.
We have an entire detailed guide to choosing where to stay in Porto. For more detail, head over there and read that, which has an in-depth guide to each neighborhood we'd recommend with pros and cons, neighborhood highlights, and more.
But here's the shorter version, if you're short on time.
You want to be within walking distance of the majority of the main landmarks, plus a good selection of restaurants and bars, and the city's main transportation hubs (for your day trip to the Douro Valley on day 3).
Of the neighborhoods that check those boxes, Ribeira and Baixa are our top picks. Though we stayed right off of Rua de Santa Catarina a few more blocks north, and we thought it was a great location – we loved our apartment at YourOpo Cosy Apartments.
Ribeira: Romantic & Close to the River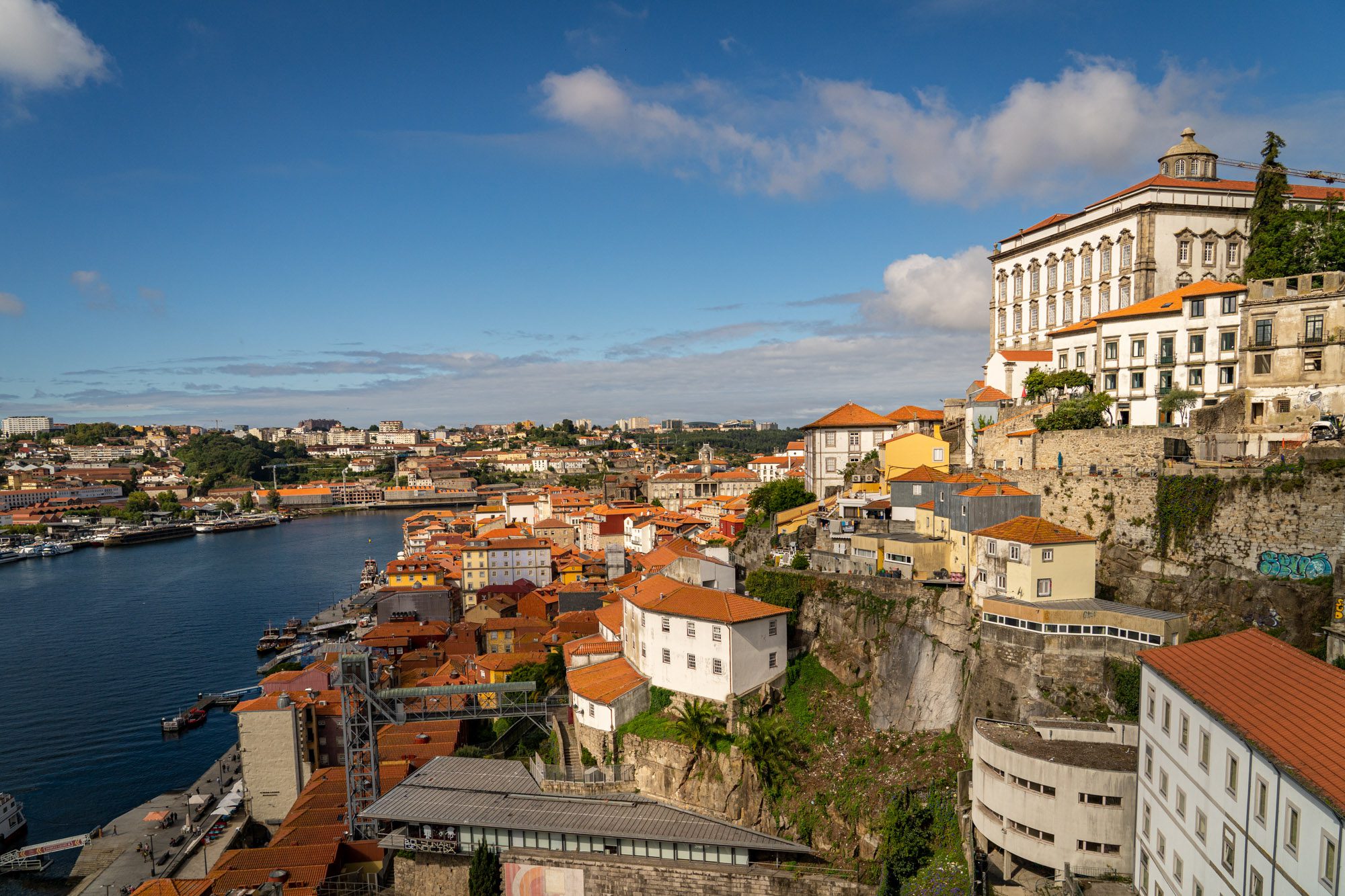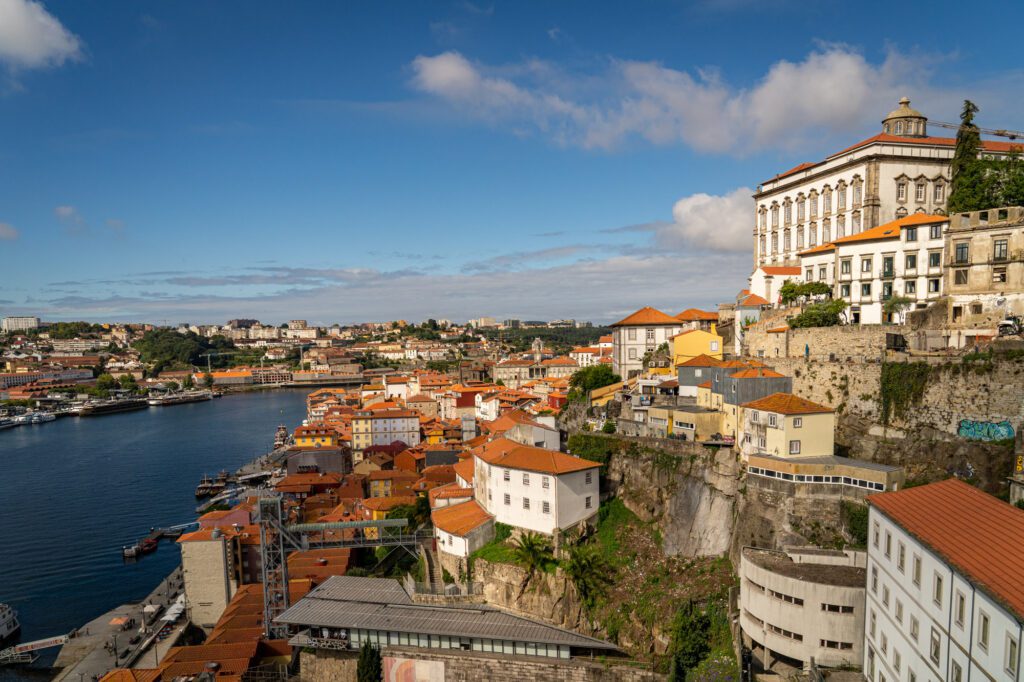 Ribeira is the area of Porto's old town that encompasses the Medieval harbor and riverfront. The neighborhood is known for its colorful facades and many restaurants and bars with spacious terraces overlooking the Douro River.
By night, the area really comes alive. People from all over the city head to Ribeira to enjoy tasty local delicacies while taking in the fantastic views of Dom Luís I Bridge and Vila Nova de Gaia.
Located just a short walk from most of the city's main attractions, Ribeira is a great area to base yourself for exploring the best of Porto in 3 days.
Baixa: Central and Packed with Great Food & Drinks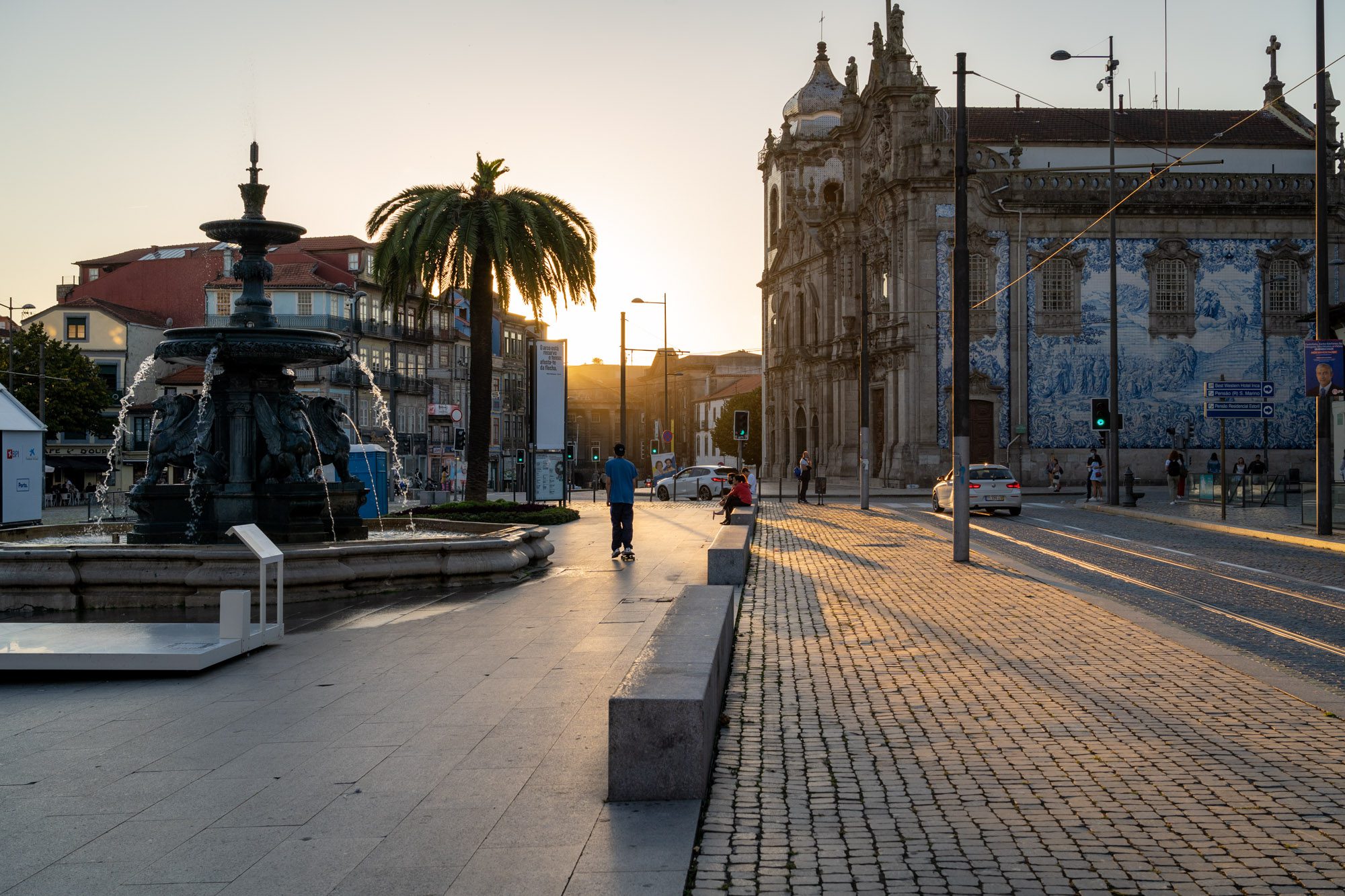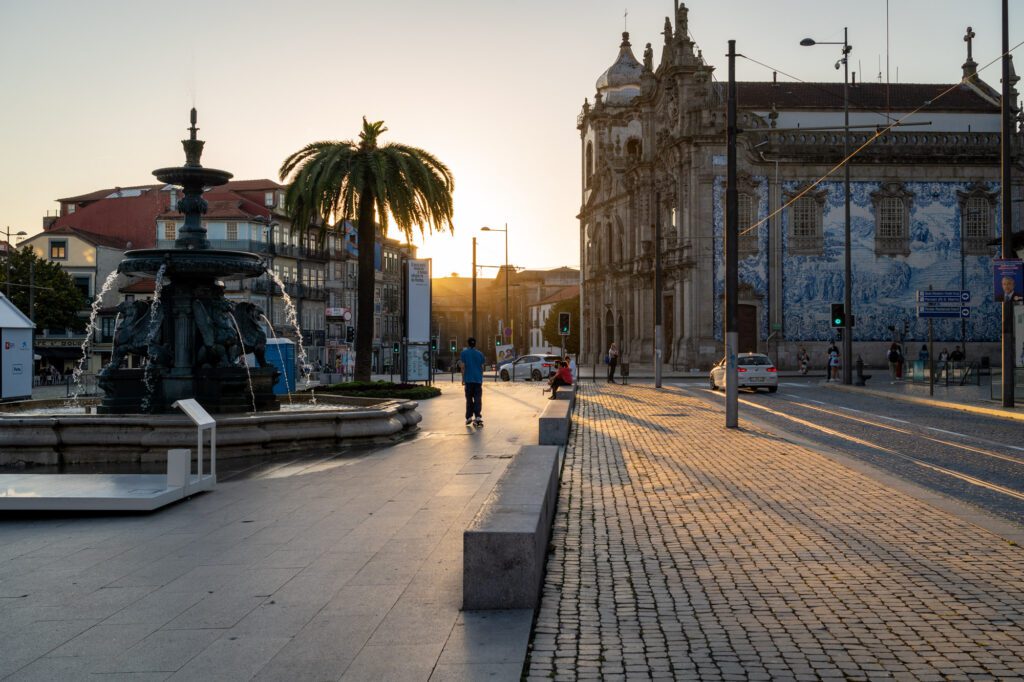 Baixa is Porto's buzzing city center, which is essentially Porto's downtown area.
Centered around the Avenida dos Aliados (Avenue of the Allies), the neighborhood is packed with important landmarks such as City Hall, the Cathedral, and more.
The neighborhood is known for its cool and trendy vibe. It's where you'll find Porto's young, hipster crowd sipping coffee in cozy cafes by day, and enjoying the vibrant nightlife scene once the sun goes down.
Baixa also has the highest concentration of hotels in all of Porto. With a wealth of attractions, restaurants, bars, and shops right on your doorstep, it's no surprise that the neighborhood is one of the most popular places to stay in Porto.
Fabrica 55 – Modern and elegant studios and one bedroom apartments with fully equipped kitchenettes. The apartments are located on a quiet backstreet just seconds from some of Porto's top attractions. You really can't get much more central than this.
Chic & Basic Gravity – A hotel that's just as cool as the neighborhood it's located in. It's difficult to put this unconventional Porto hotel into words, so we'll use theirs instead… "A place where sneakers hang from the ceilings, lifts go down but you go up, fish fly, letters are falling, and ceilings become floors."
Selina Porto – An exciting and social hostel right in the heart of Porto. You can choose from private rooms or dorms depending on your budget. The hostel has a communal kitchen, movie room, coworking space, lively bar and nightclub, and large garden courtyard. They also run a packed schedule of events, tours, and parties for guests.
How to Plan an Amazing 3 Day Porto Itinerary
3 days in Porto is enough time to experience the best the city has to offer, from exploring the historic city center to wine tasting in the beautiful Douro Valley.
Here's a quick overview of the itinerary below:
Day 1: Introduction to Porto's historic center
Day 2: The Cathedral, Ponte Luis I Bridge, and Vila Nova de Gaia
Day 3: Day trip to the Douro Valley
For this itinerary, we'll assume you're arriving the evening before and have three full days to explore.
Day 1: Downtown Porto and the Historic Old Town
On the first day of this itinerary, you'll explore Porto's historic center, which is made up of the Sé, Baixia, and Ribeira districts.
Start Your Trip with a Walking Tour for Context and a History Lesson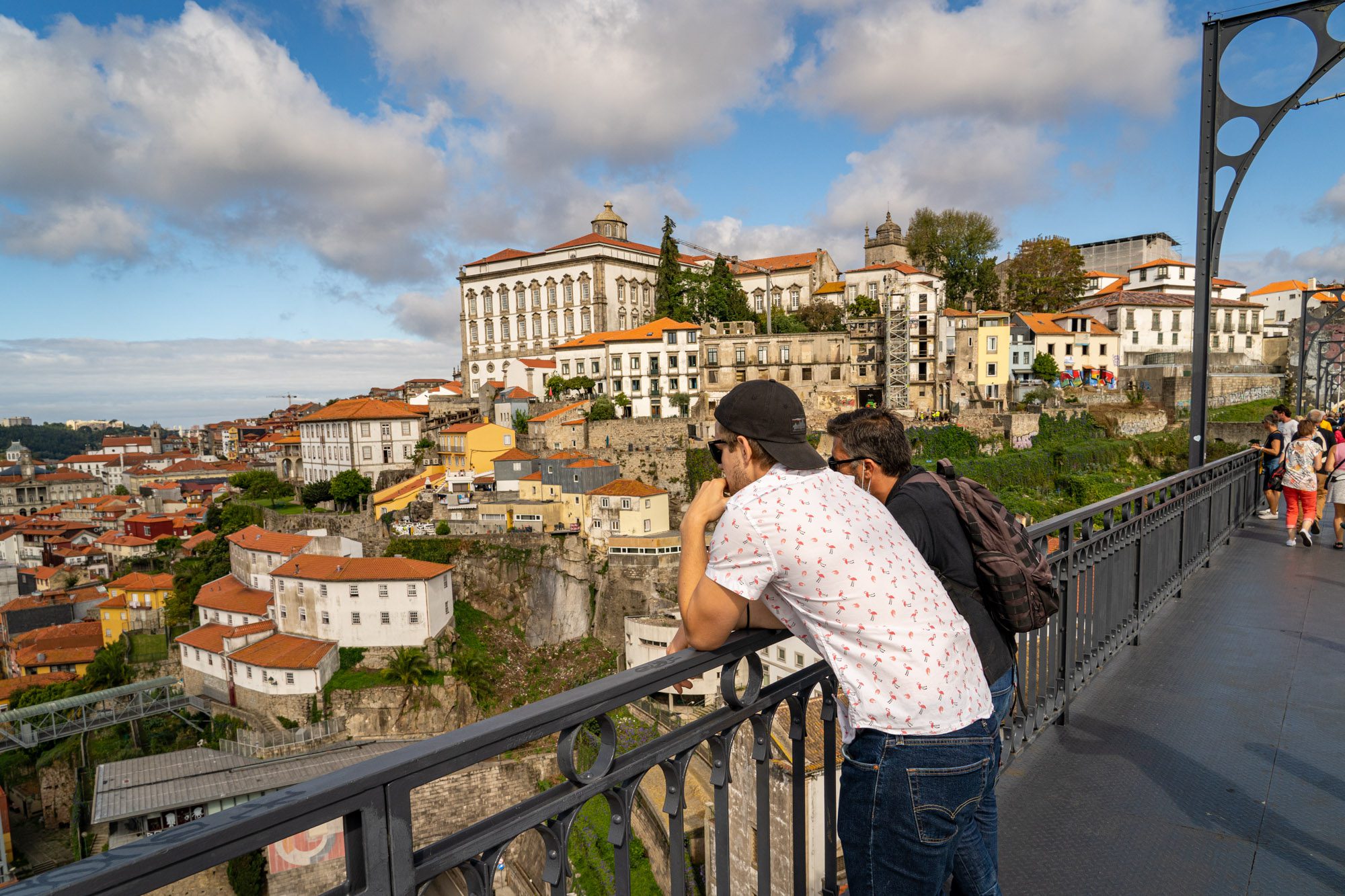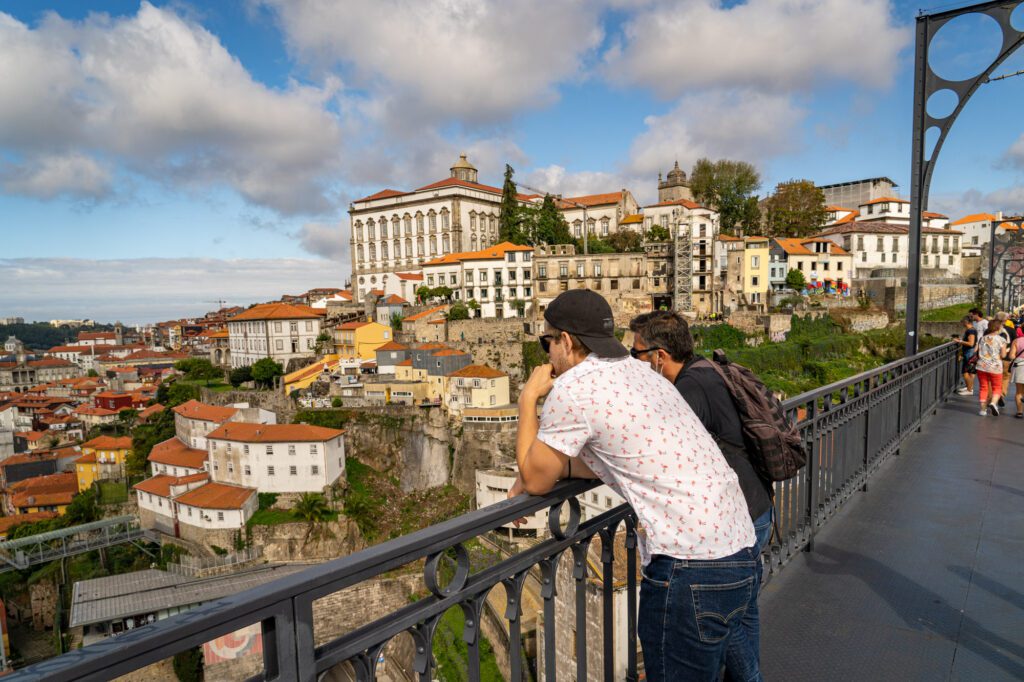 We almost always start our time in a city with a guided walking tour. And we'd highly, highly recommend that you start your first day in Porto with a guided walking tour for a couple of reasons.
First, a walking tour will help you get a feel for the city and see many of the major landmarks. You'll also get to learn about Porto's complex history, from the Roman and Moorish occupations to the Napoleonic invasions and Portuguese civil war.
Plus, a tour gives you the opportunity to connect with a local and get valuable insights into the city, such as where to eat and drink, how to get around, and useful tips for seeing the main sights.
Here are three walking tours in Porto that caught our eye. On our trip, we did this private tour – which we liked a lot – because we had a bigger group and the cost worked out for us.
Travel Back to Porto's Roots Tour (3 hours) – A walking tour run by a lovely local couple with a passion for Porto's history. Carlota and João will take you to explore the oldest parts of the city and share with you their favorite hidden places, stories, and secrets of Porto. You'll also spend some time enjoying a bica (strong Portuguese espresso coffee) in one of their favorite local cafés where they'll share more tips and you can ask all the questions you want.
The Other Side Hidden Porto Tour (3 hours) – Discover Porto's major attractions and hidden gems on this half-day walking tour with a local guide. The first part of the tour focuses on Porto's beautiful 'azulejos', the traditional Portuguese tiles, so don't forget your camera for some great photo ops. The tour also includes a stop to try the best pastel de nata (custard tart) in the city.
Be My Guest In Porto Highlights Tour (3 hours) – On this locally run tour, an expert guide will teach you about Porto's captivating history and architecture while visiting the city's most important historic landmarks. You'll pass by sites including the grand Neoclassical City Hall, 12th-century Sé Cathedral, forgotten Serrana café, and the remains of the old city walls. This Porto tour is a great option for history lovers.
Try a Bifana at Conga
After a busy morning walking around the city, you'll no doubt be hungry and ready for a well-deserved lunch. So it's time to try your first Portuguese delicacy – the bifana.
A bifana is a traditional Portuguese sandwich consisting of a soft bread roll filled with thin slices of marinated pork and plenty of mustard and piri-piri sauce. No one is quite sure of the origins of the dish, but today the sandwich is one of the most popular fast foods in Portugal.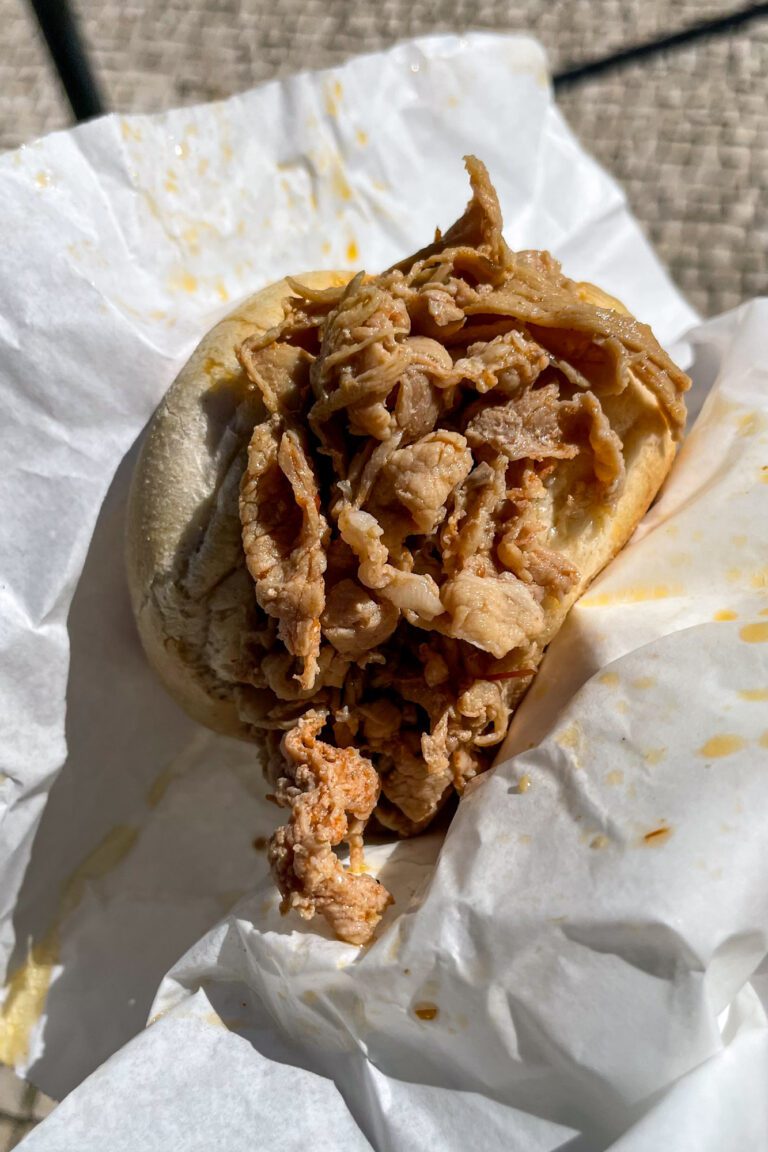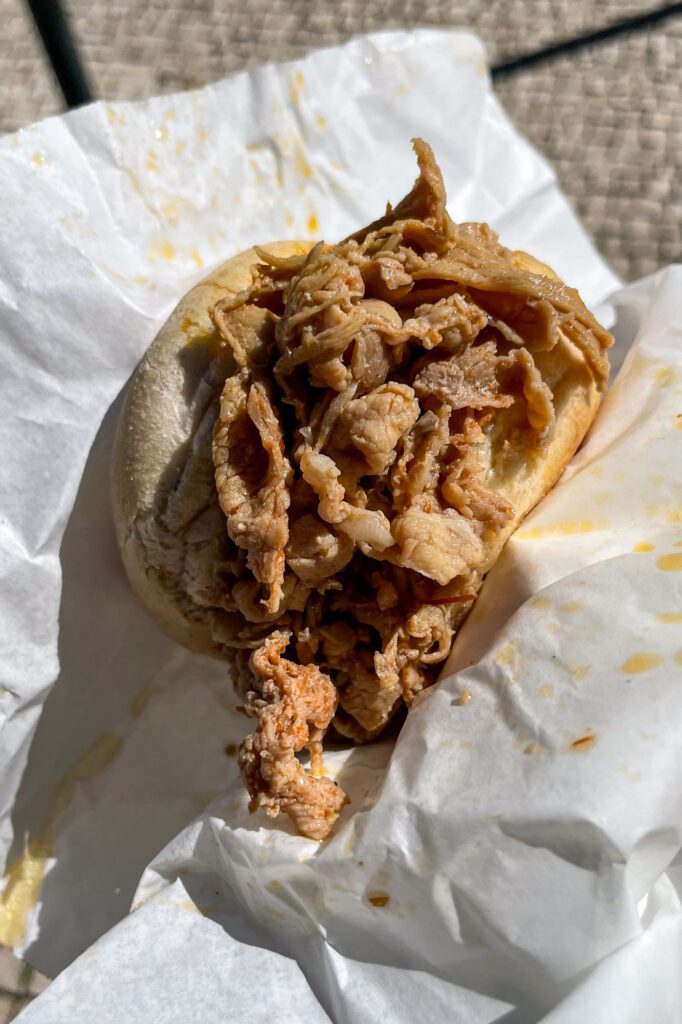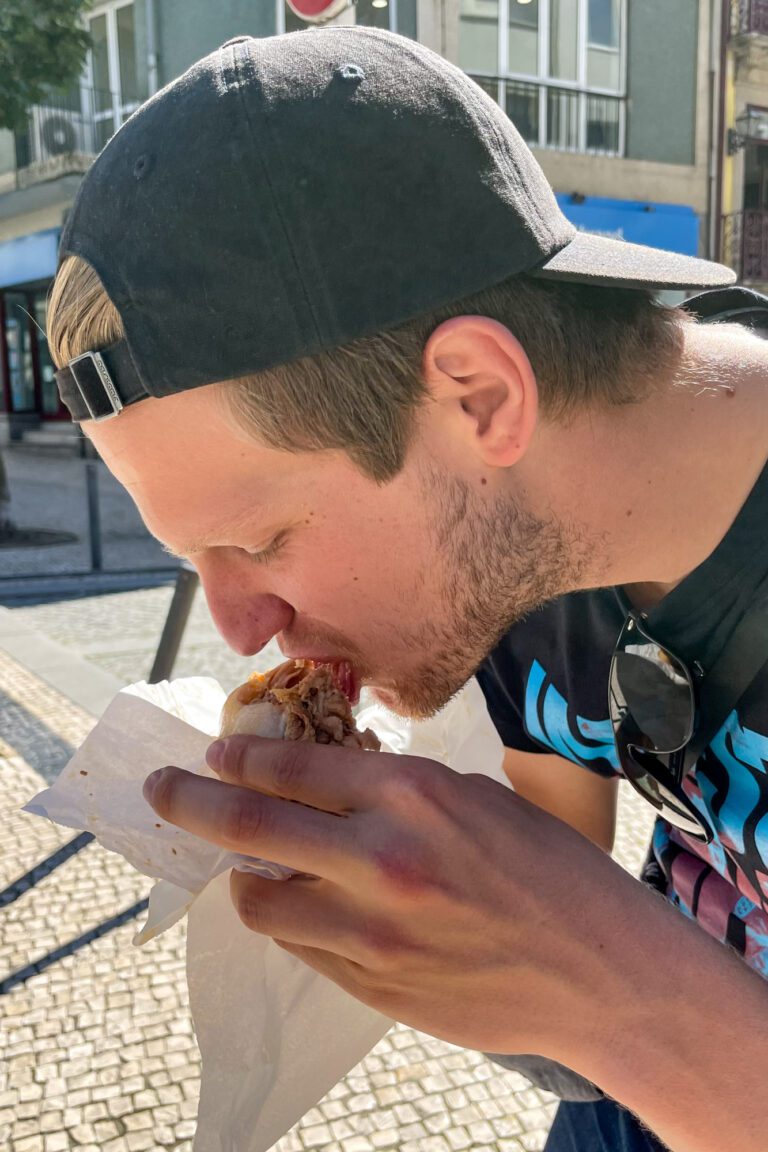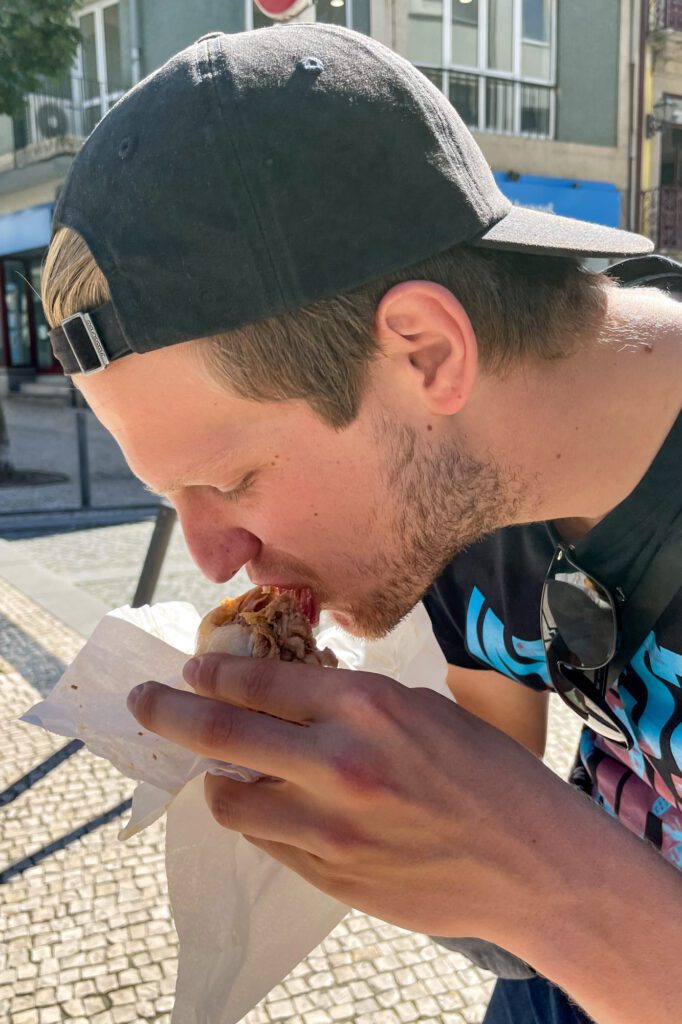 The bifana is made slightly differently in cafes and restaurants across the country, and there are even some regional variations. In a traditional bifana, the pork is marinated and cooked in white wine, vinegar, garlic, paprika, and salt. While in the Porto-style bifana, beer and Port wine are added to the mix for a more tangy taste.
So where should you try a bifana in Porto? This is where the benefits of connecting with a local on a walking tour come in! Our tour guide highly recommended that we visit Conga.
The casual eatery has been open since 1976 when the owner claims to have invented the dish.
Whether this is true or not, we don't know. But what we can be sure of is that they cook up one of the tastiest pork sandwiches in town. And it will only set you back €2.40. But do expect a line as this is one of Porto's most popular bifana spots.
Grab a Pastel de Nata for Dessert
If the bifana hasn't filled you up, round off your lunch with a proper Portuguese dessert – a pastel de nata.
The pastel de nata is a traditional Portuguese egg custard tart, often dusted with cinnamon. The popular sweet pastry was created in the 18th century by Catholic monks in the Jerónimos Monastery just outside Lisbon.
At this time, nuns and monks would use egg whites to starch their clothes. The leftover egg yolks were then used to make cakes and pastries, leading to the creation of the pastel de nata.
You can find tasty pastéis de nata (that's the plural version) in cafes all over the city. But our favorite was from the famous pastry shop Manteigaria do Porto, conveniently located just a few minutes from Conga.
Here you can watch the fresh natas being made in front of you, before treating yourself to a warm custard tart and strong coffee in preparation for the afternoon ahead.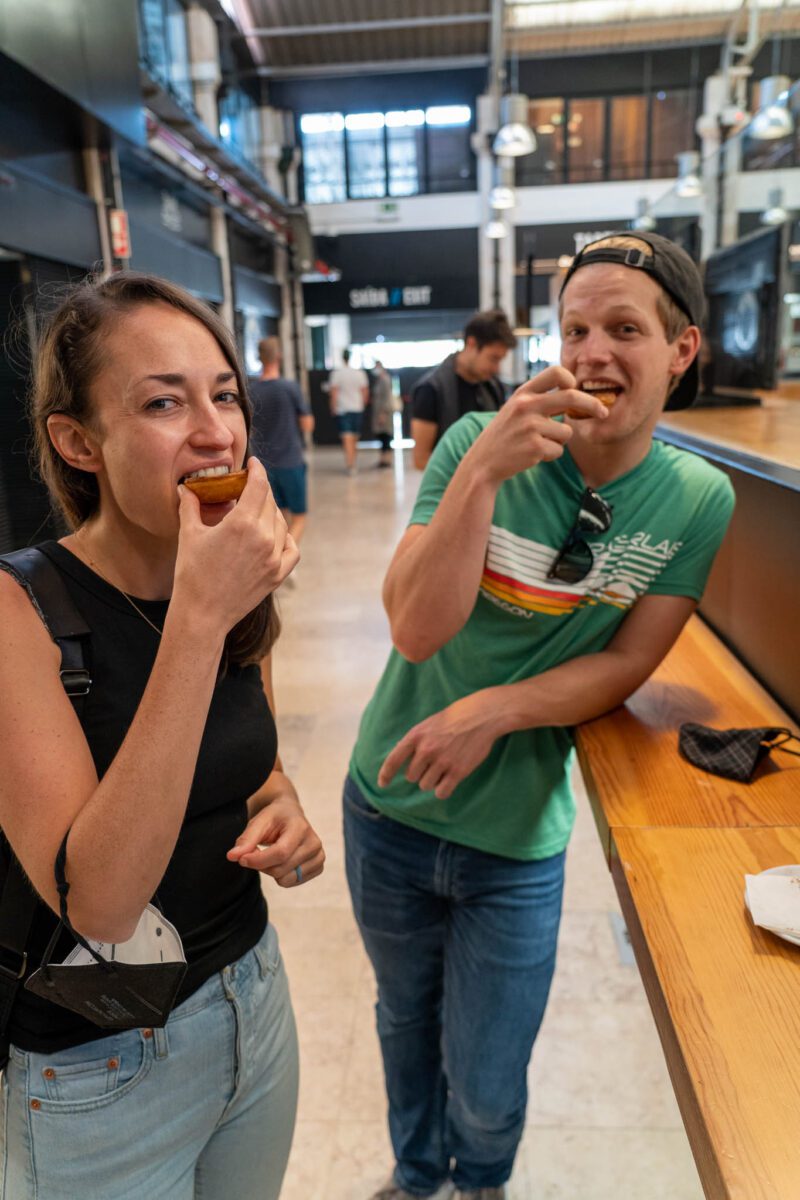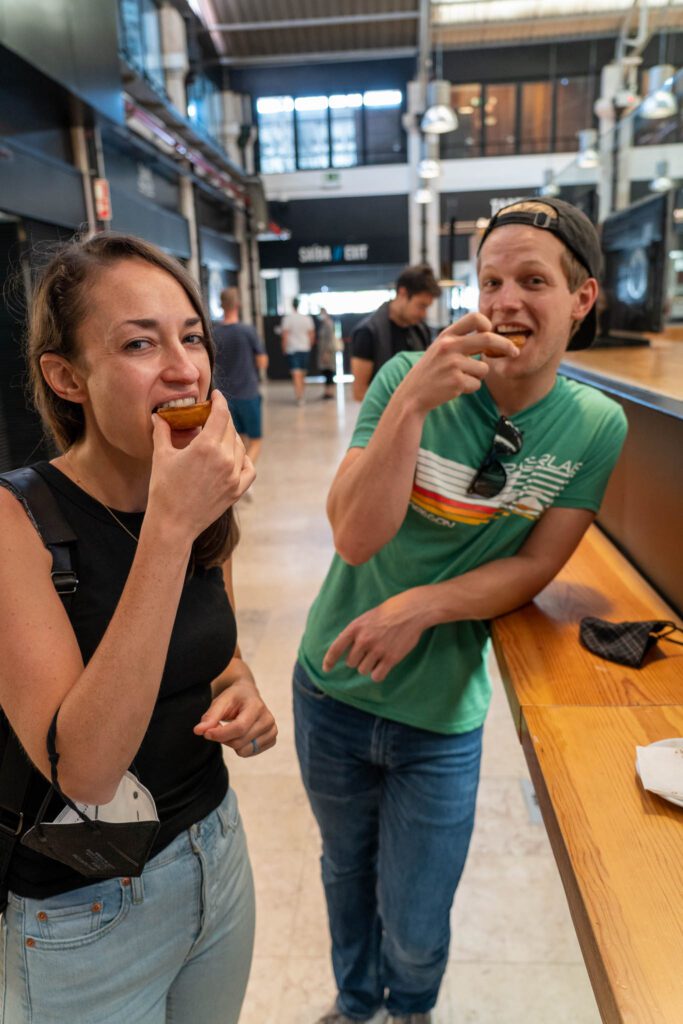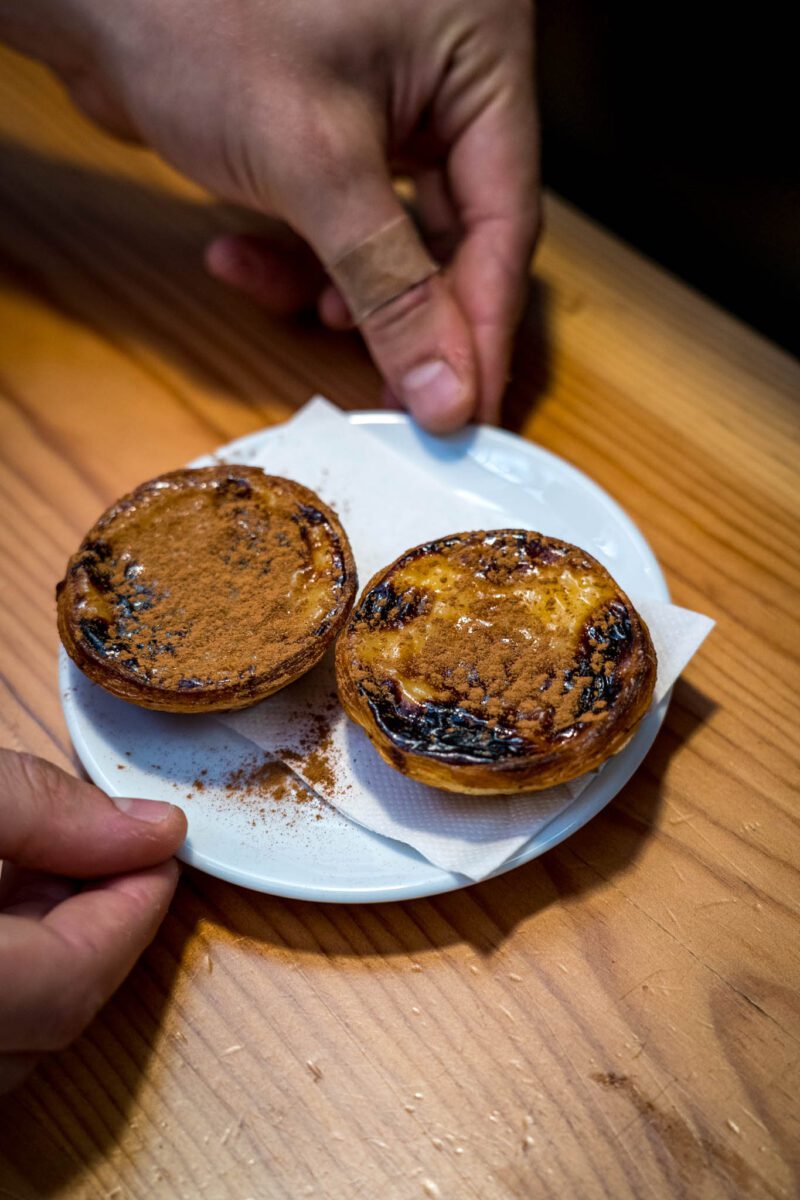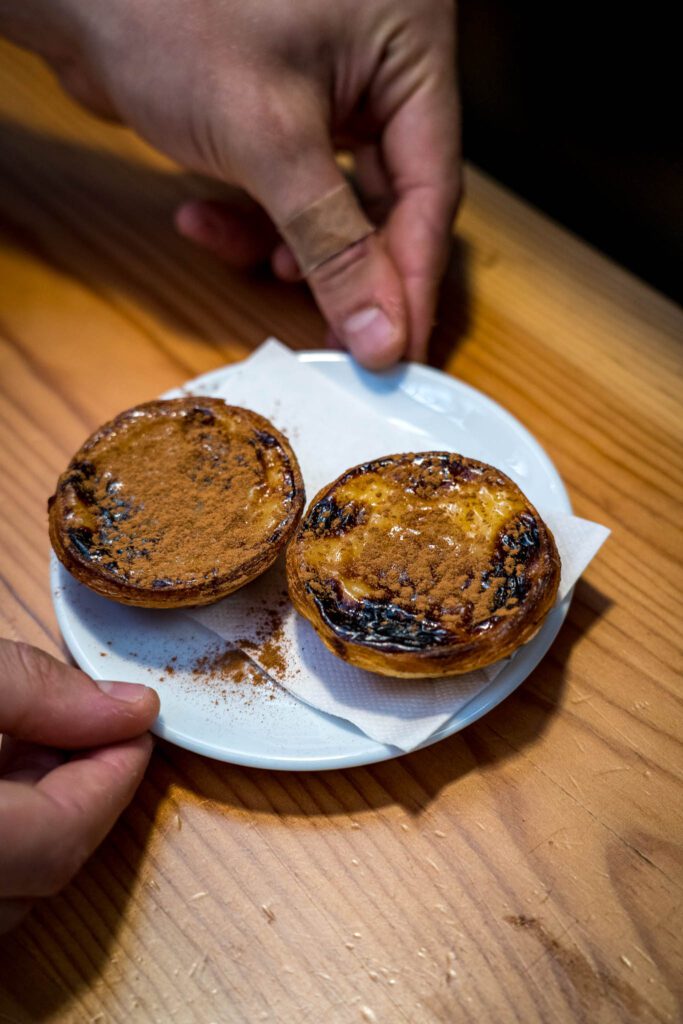 In Lisbon, Alysha teamed up with Matt's two brothers to do a mini taste test of the main spots for pastéis de nata. Manteigaria was the clear winner there, and we were happy to find that they also had a Porto location!
Confeitaria do Bolhão is another great spot for pastéis de nata. This historic cafe was founded in 1896 and has kept all of its traditional decor. It's a stunning spot to sit inside (if you can get a table) and enjoy a freshly made nata.
Climb to the Top of Clérigos Tower
After lunch, it's time to walk off the pork sandwich and pastel de nata by climbing 240 steps to the top of the Clérigos Tower.
Clérigos Tower is the imposing bell tower of the beautiful Baroque church by the same name. Built in the mid-1700s, the church and its tower are one of the most emblematic monuments in the city.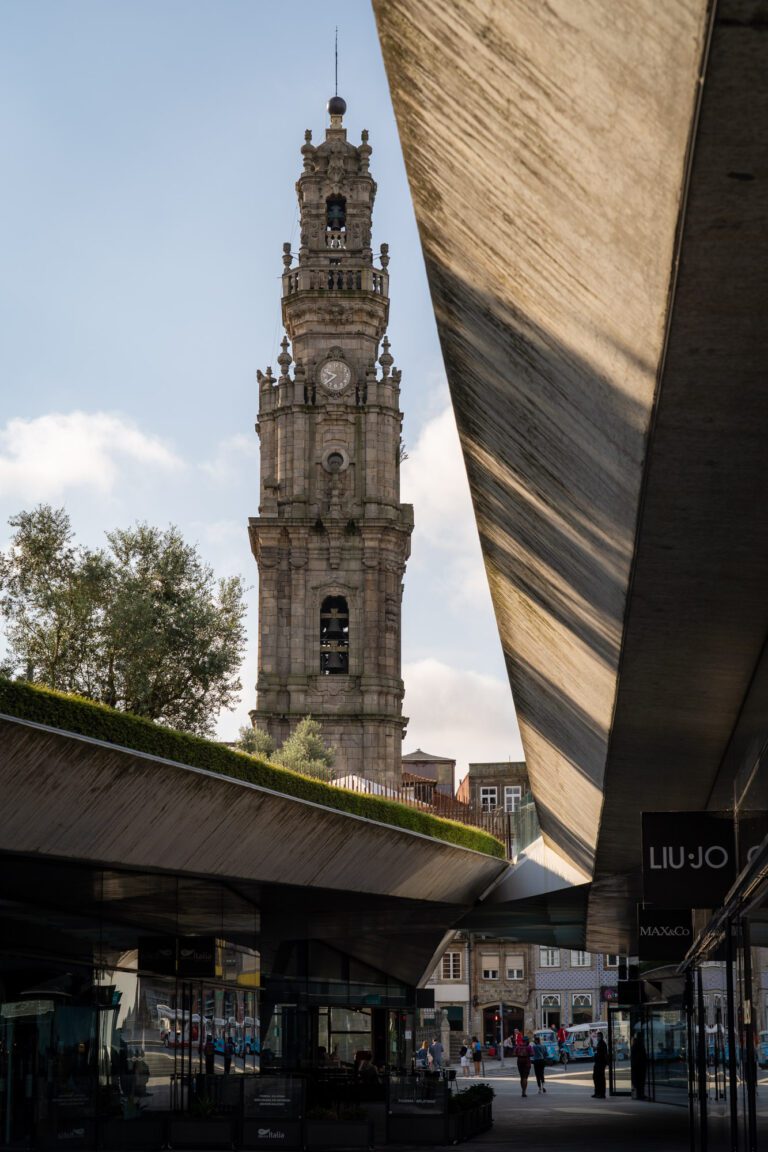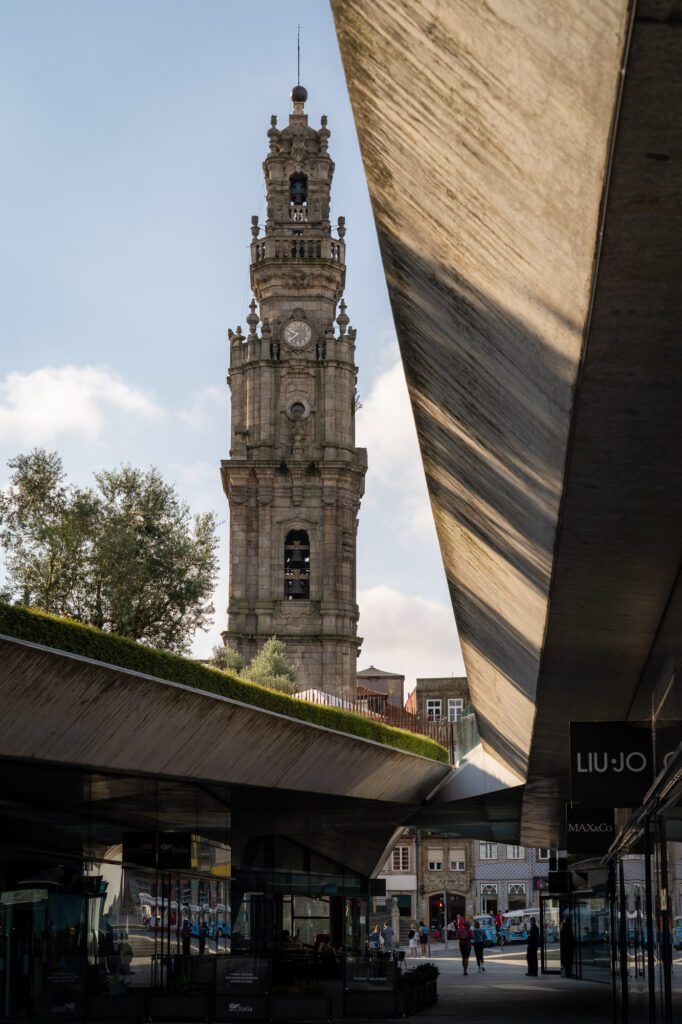 The impressive tower stands at 249 feet (76 meters), making it the tallest of its kind in Portugal. It's pretty difficult to miss Clérigos darting above the rooftops when wandering around Porto.
You'll have to confront a steep and narrow spiral staircase to reach the top of the tower. But the climb is worth it for the breathtaking 360 views over the city and Douro River from above.
Clérigos Church is free to enter. It costs an additional €6 to climb the tower and visit the Clérigos Museum. The tower is extremely popular and only a certain number of guests can climb it each hour, so it's best to book your ticket in advance.
Livraria Lello: To Visit or Not to Visit?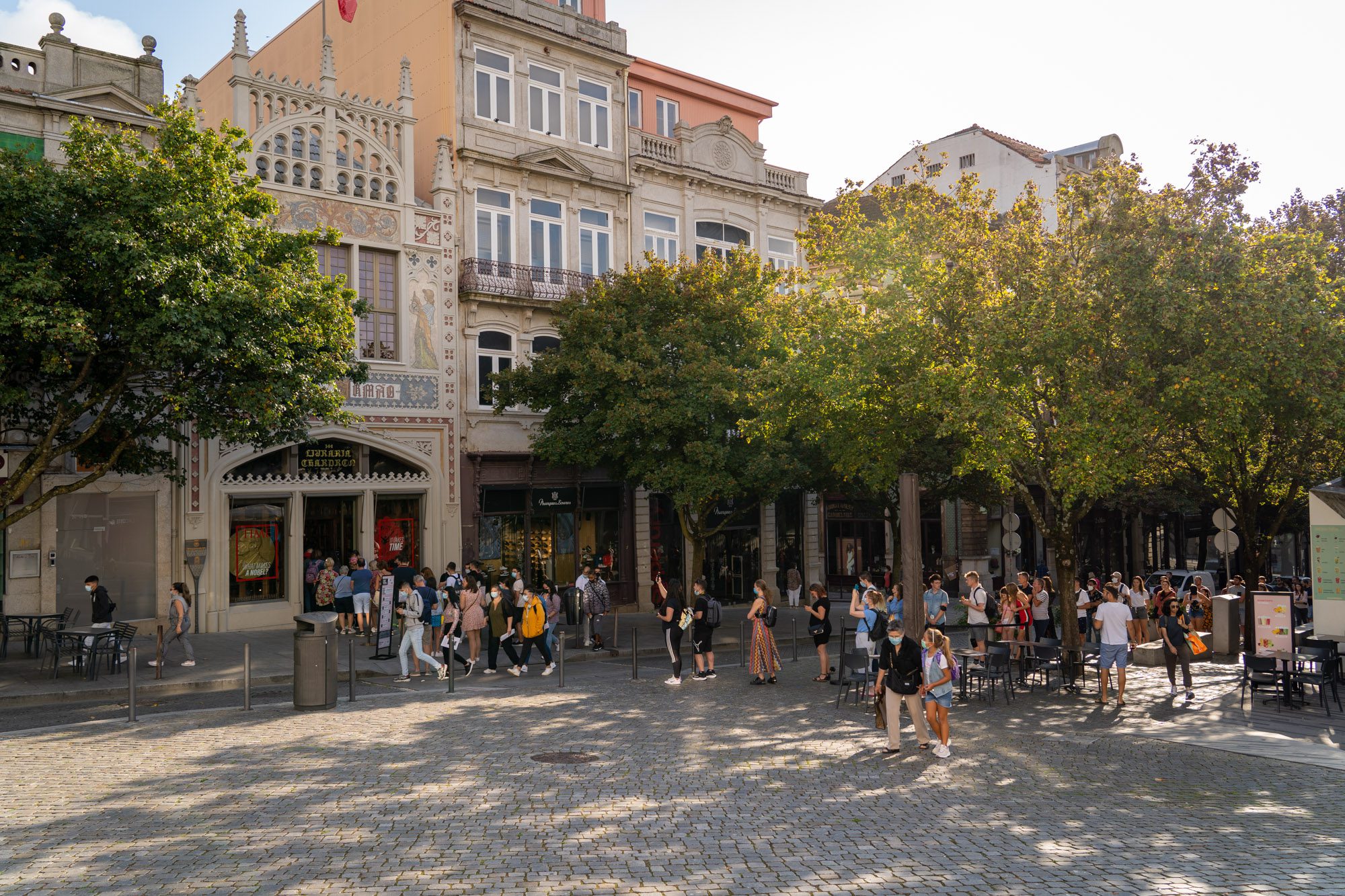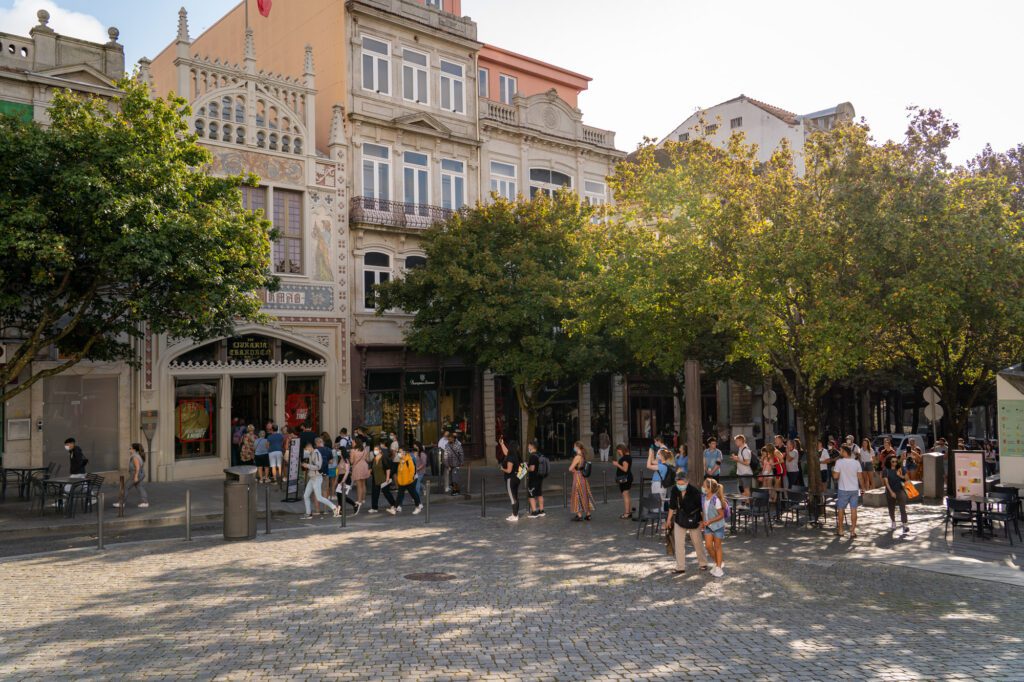 The next stop on this itinerary is a slightly controversial one – Livraria Lello Bookshop.
Some people love it, and some hate it. So we'll leave it entirely up to you whether you choose to visit or not. But to help you decide, here's what we thought.
Livraria Lello is often described as the most beautiful bookshop in the world. And it's pretty hard to disagree. Dating back to 1881, the bookshop is famous for its lavish neo-Gothic and Art Nouveau interiors. Its grand staircases, elaborately carved archways and columns, floor to ceiling bookshelves, and elegant stained-glass skylight are truly a sight to behold.
It was rumored that J.K. Rowling drew inspiration from Livraria Lello when she was in Porto crafting the first drafts of her now-famous books.
The author herself has since debunked this myth. But it's certainly not difficult to imagine bumping into Hermoine Granger browsing the shelves of the historic bookshop, looking for her next potions book.
So what's the downside? The bookshop has gained such fame in recent years that it has turned into one giant tourist attraction.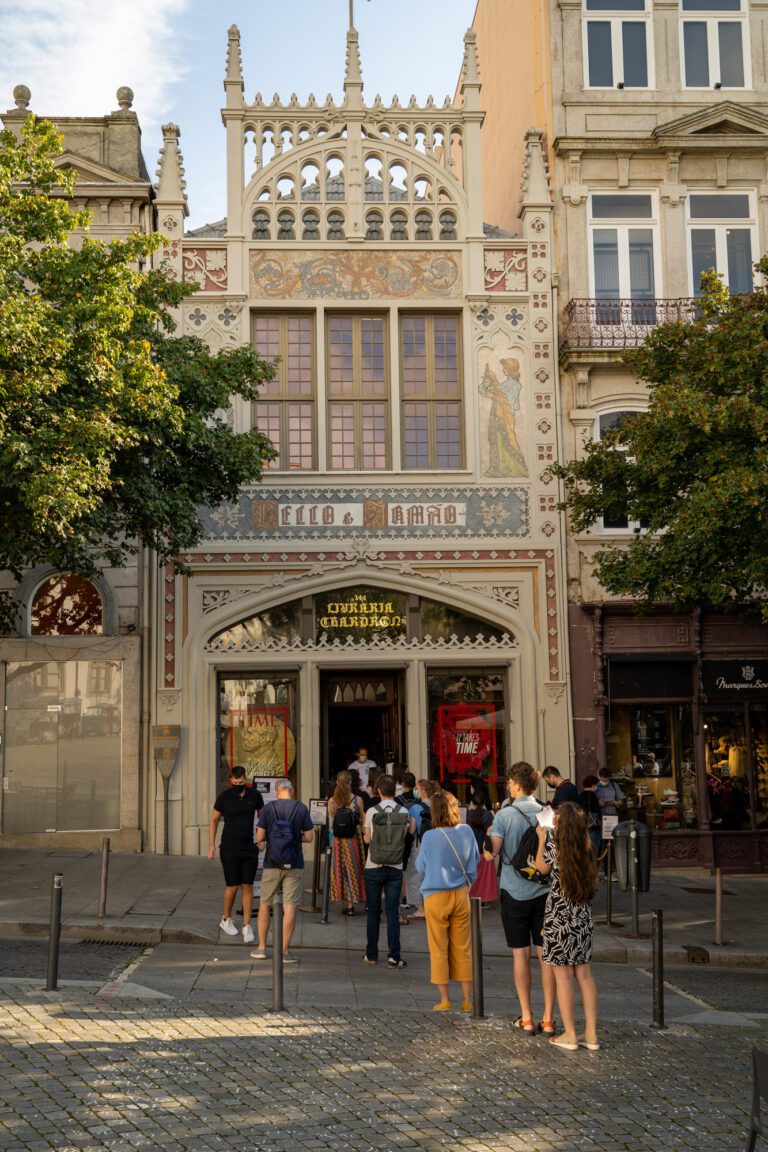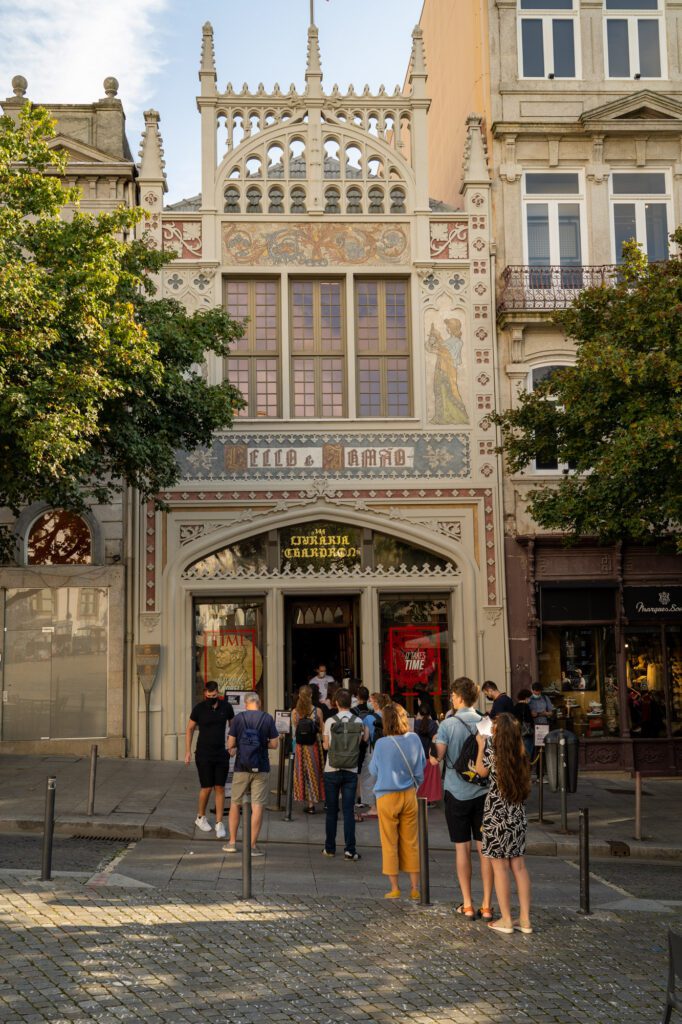 For a start, there's always a huge line to enter. We walked past in the morning, midday, and just before closing, and the line was the same at all hours. You also need to pay an admission fee to go inside. And you can forget about curling up in a corner in silence with a good book. You'll be fighting your way through countless photoshoots instead.
If you do plan on visiting Livraria Lello, you can buy your ticket in advance online for €5 (you'll need to pick a date and time slot) or at the entrance on the day for €6. The ticket fee is taken off the price of any books that you buy.
For what it's worth, we saw the line around the block and decided it wasn't worth waiting in line for a couple of hours. But, based on the pictures, it's certainly a gorgeous space, and had there not been a long line, we would have definitely considered it (and probably done it).
See Some Beautiful Tiled Churches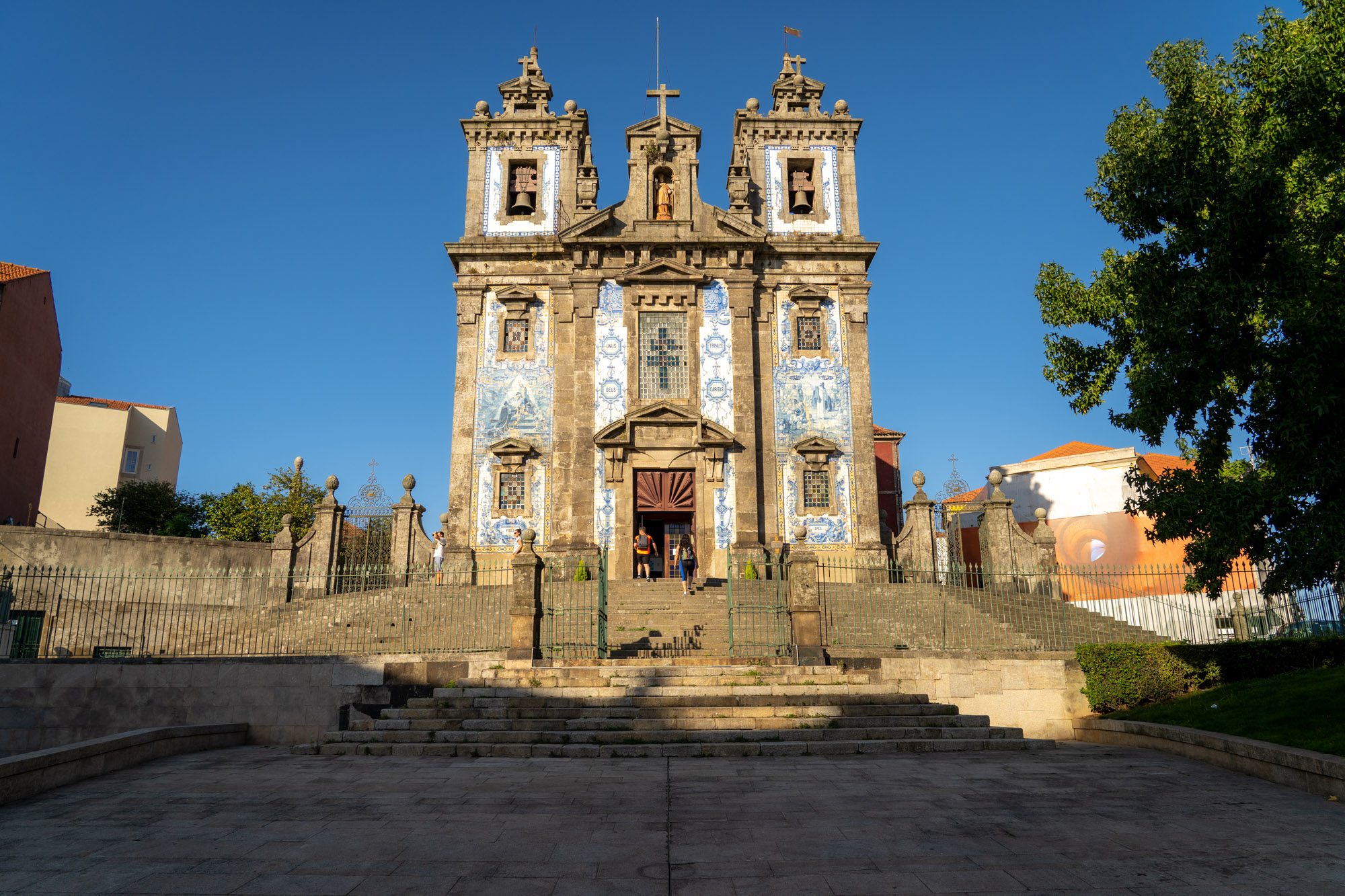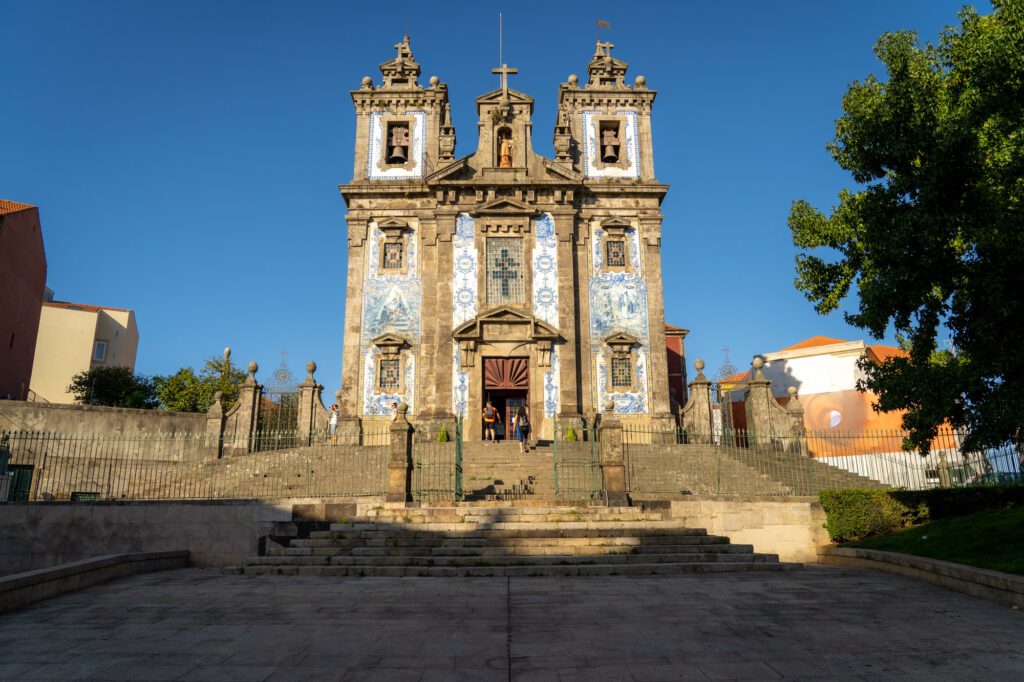 After wandering around Porto all day, you've probably already noticed the city's many exquisite tiled churches. But just in case you didn't, there are a bunch to discover around the Old Town. This was one thing we loved the most about Porto.
Grab your camera and check out some of these beautiful churches adorned in traditional Portuguese ​​'azulejo' tiles.
Capela das Almas – This small chapel is famous for its striking blue and white tiles painted with scenes from the lives of saints. The church has become one of Porto's most photographed landmarks. You'll find it here in the Bolhão district.
Igreja de Santo Ildefonso – A baroque 18th-century church at the top of a hill in Old Town with azulejo blue and white painted ceramic tiles. Find it here close to São Bento Train Station.
Igreja dos Carmelitas & Igreja do Carmo – These two connected 16th-17th century churches feature orate granite facades with beautiful tiled walls. The lavish Baroque and Rococo style interiors of Igreja do Carmo are worth visiting too. The twin churches can be found here.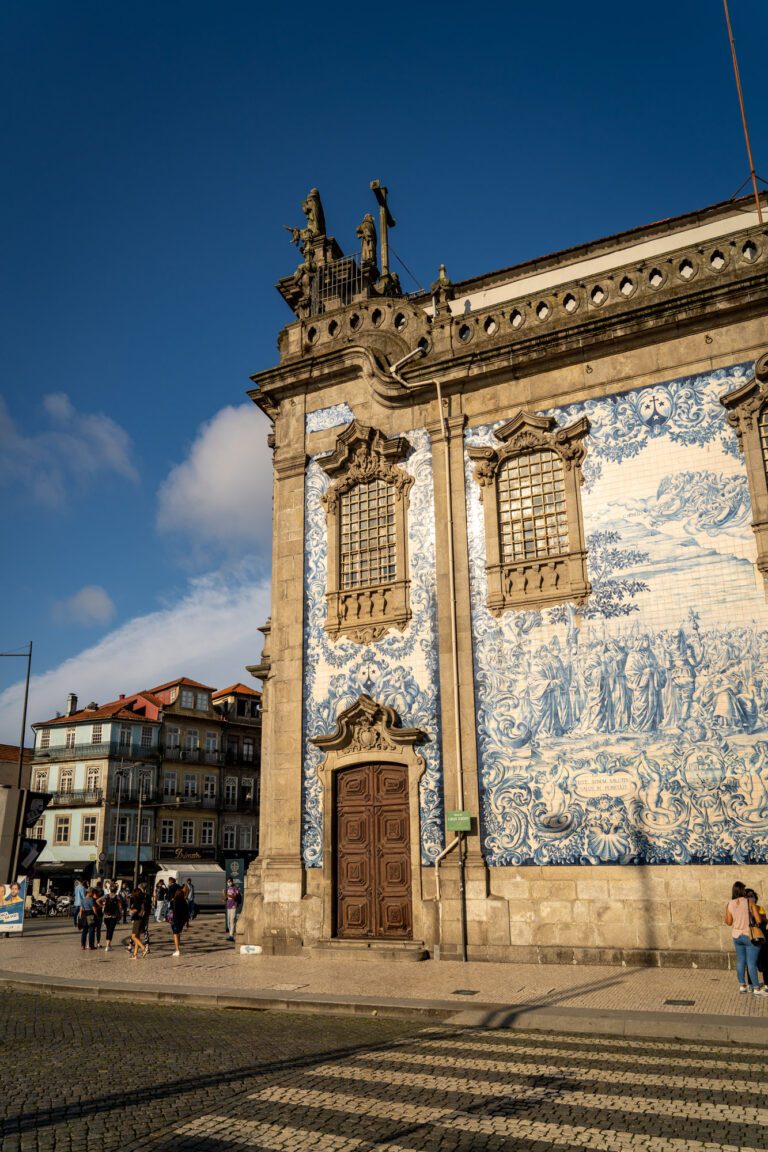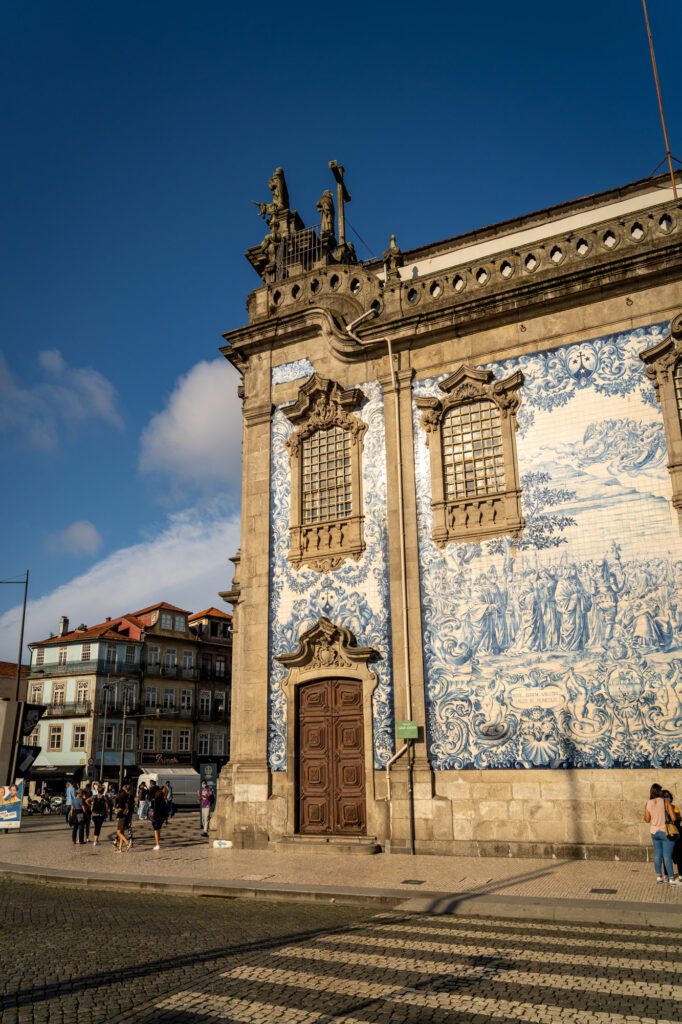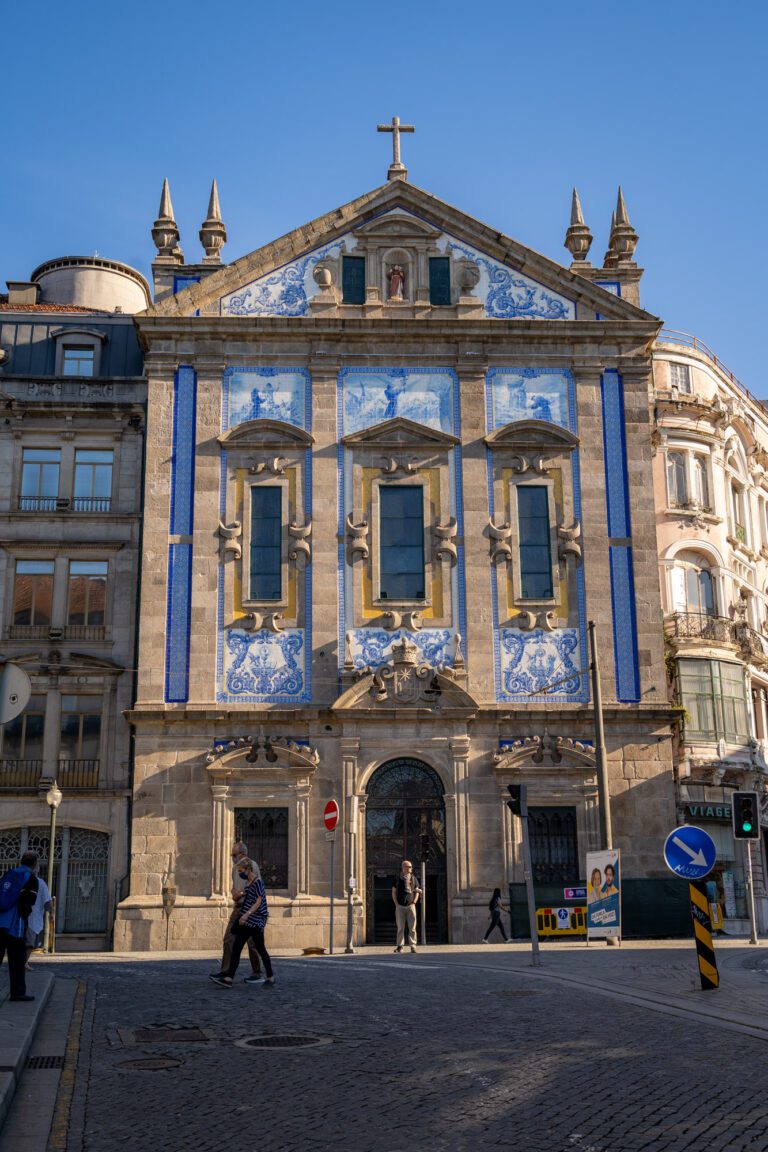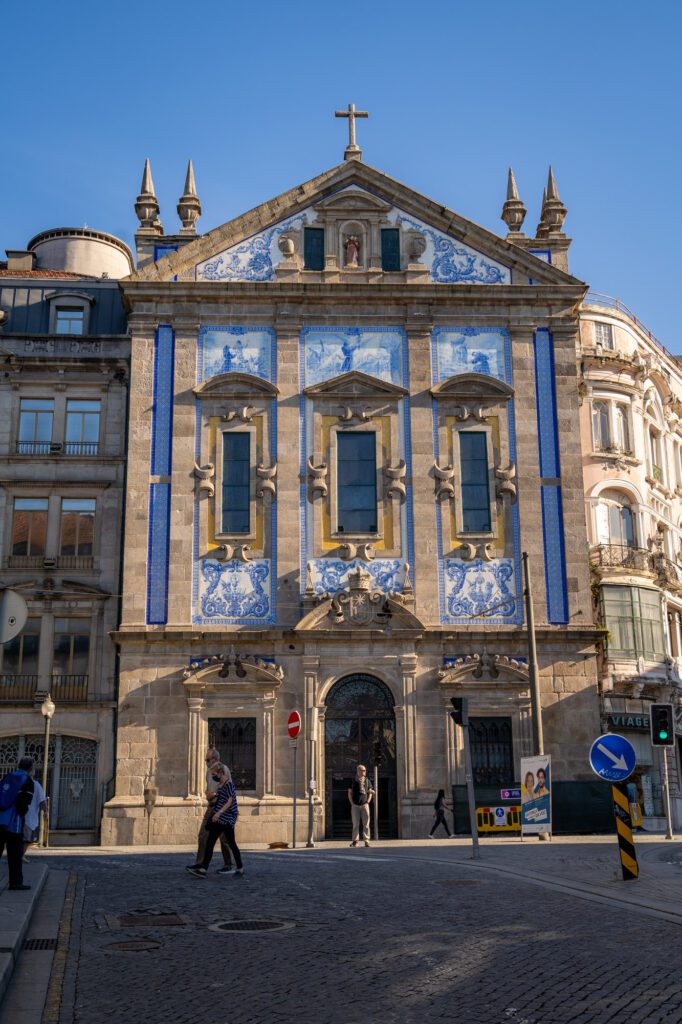 Sunset at Miradouro da Vitória
Finish your first full day in Porto by watching the sunset from one of the best viewpoints in the city, Miradouro da Vitória.
Located on the top of a hill in the heart of Old Town, the viewing platform is completely free to visit.
From Miradouro da Vitória, you'll be treated to amazing panoramic views over many of the city's major landmarks, including the Cathedral, Bishops Palace, Douro River, and Dom Luis I Bridge. It does get pretty busy around sunset, so you will have to share the viewpoint with others.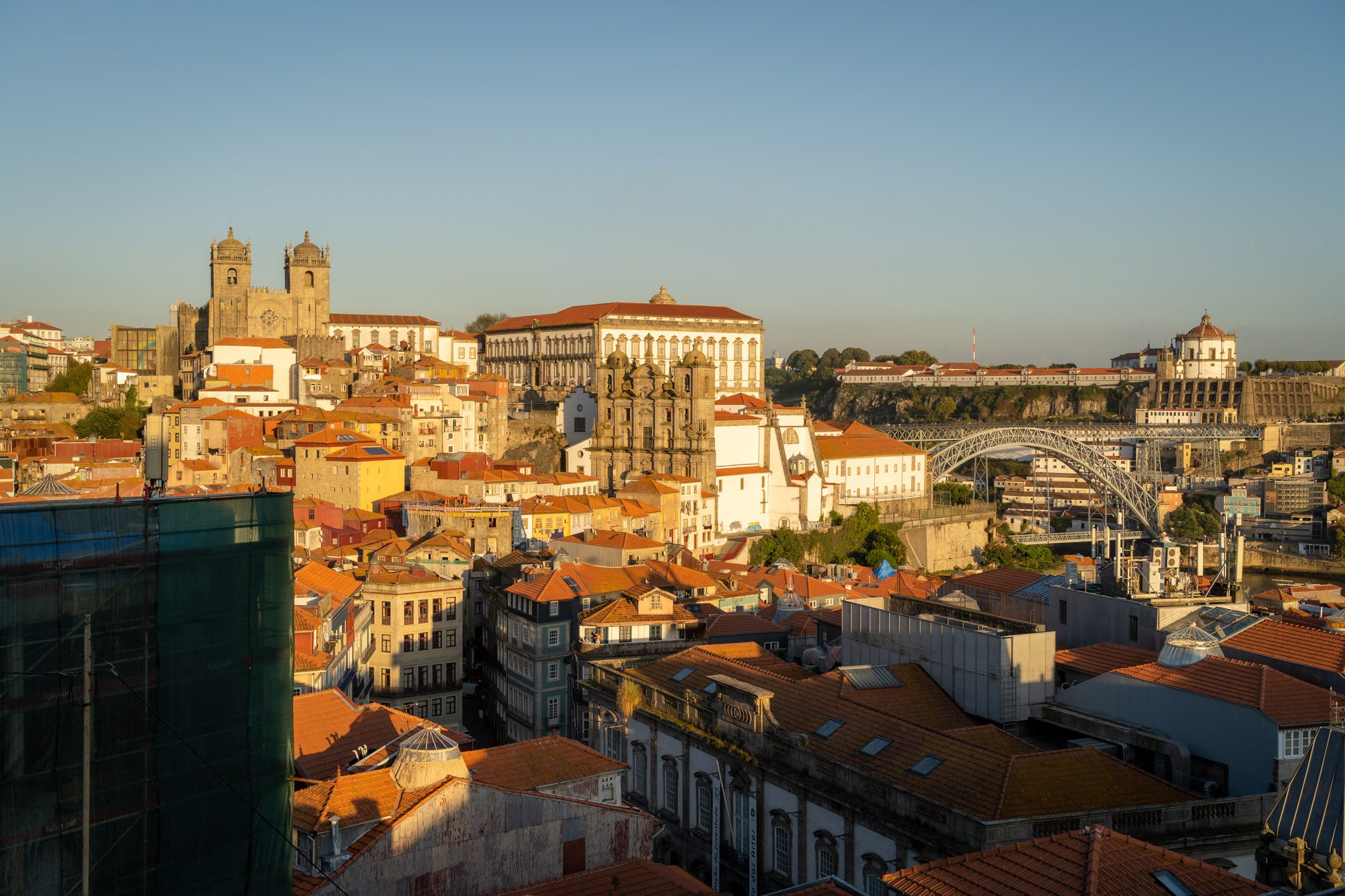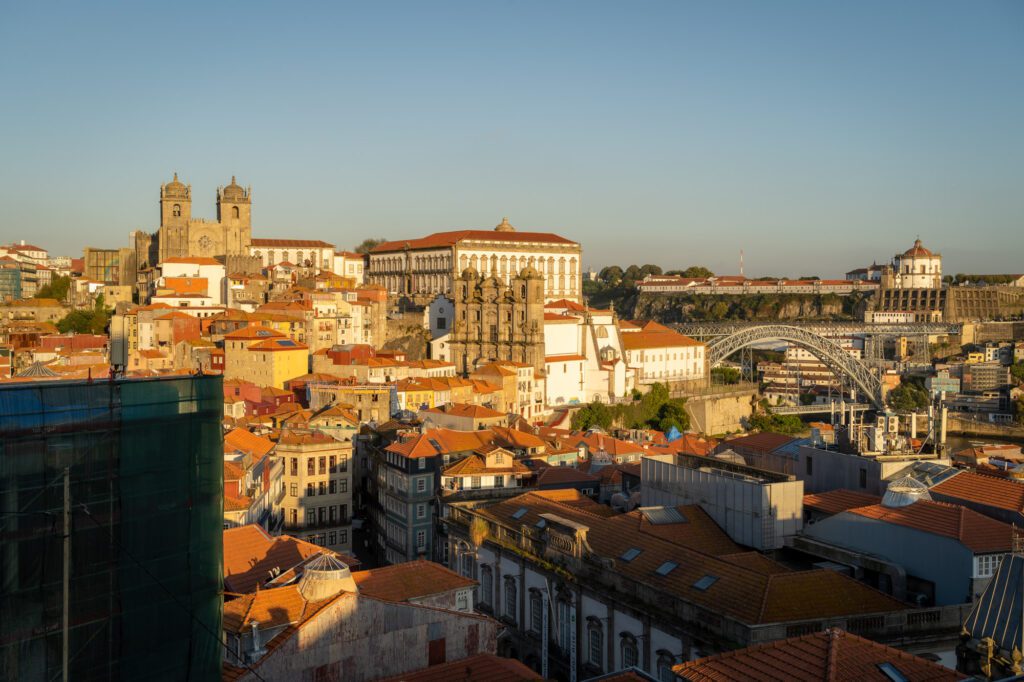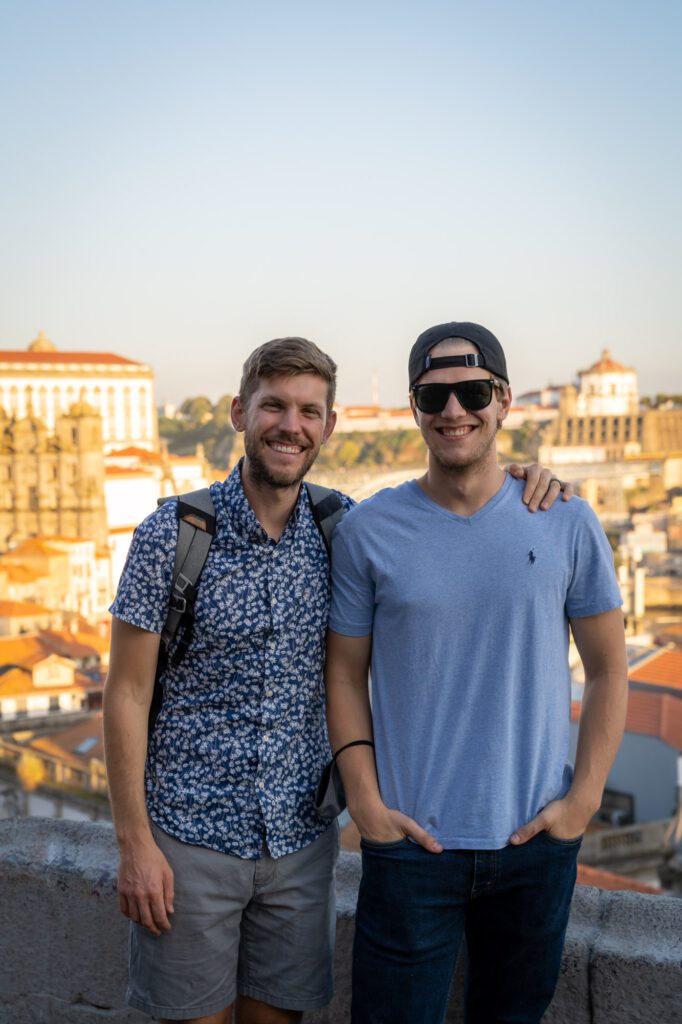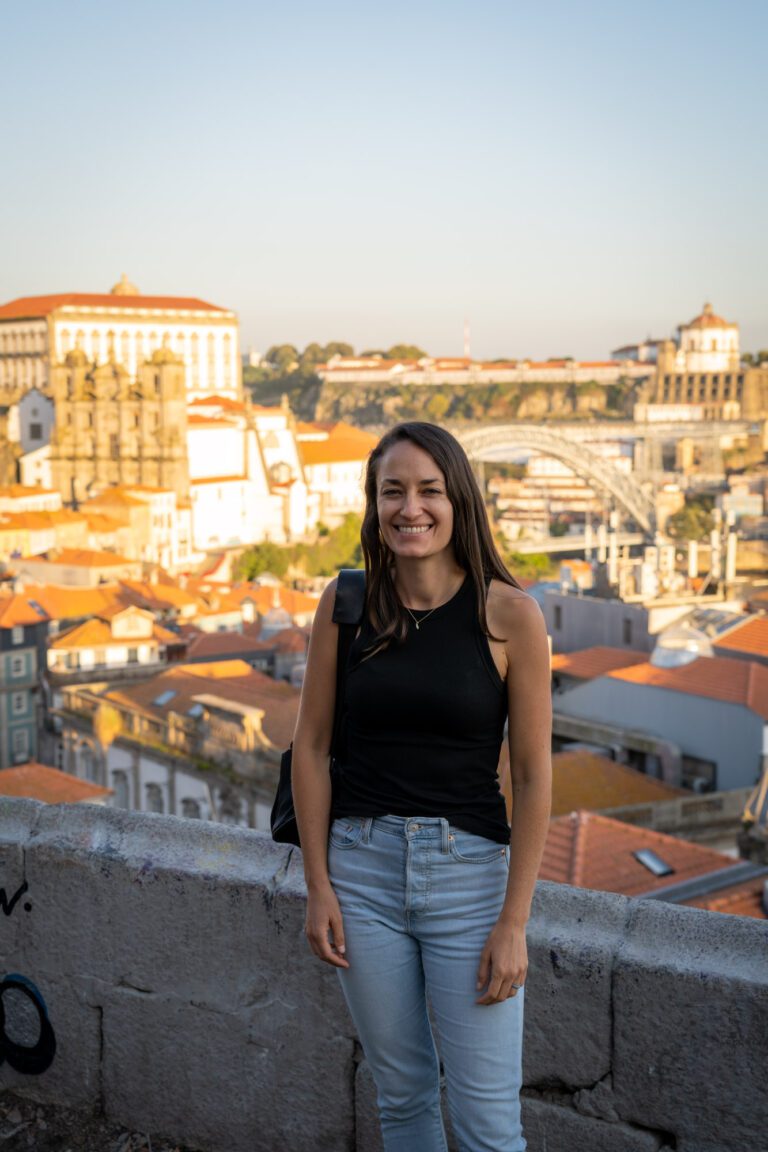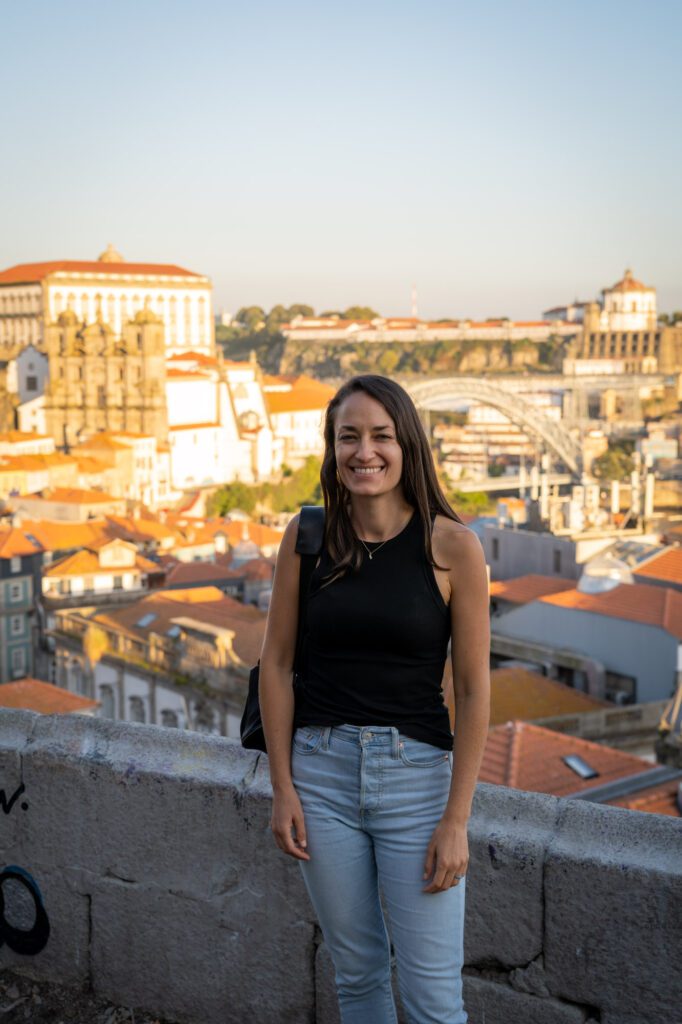 Afterwards, head down a couple of blocks to Prova for a glass of Portuguese wine. This was our introduction to wine in Porto, and they have a fantastic choice of wines and port, carefully selected food pairings, and super helpful staff who will help you find something you like!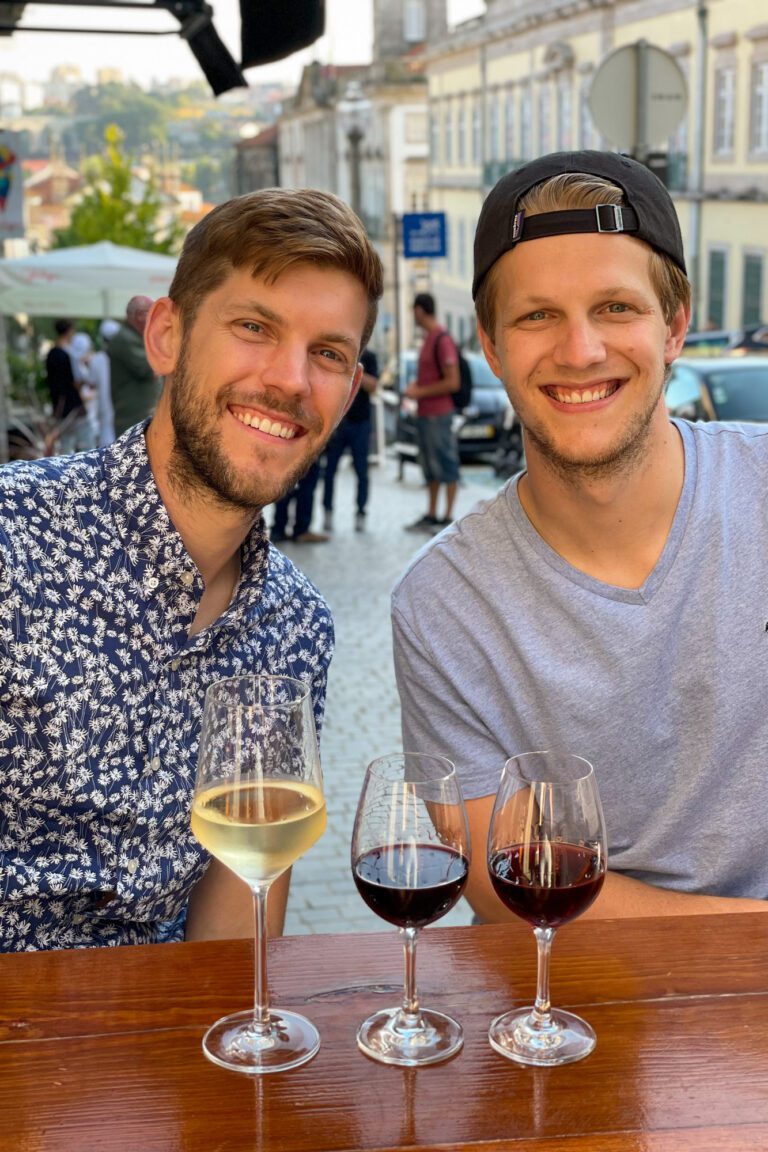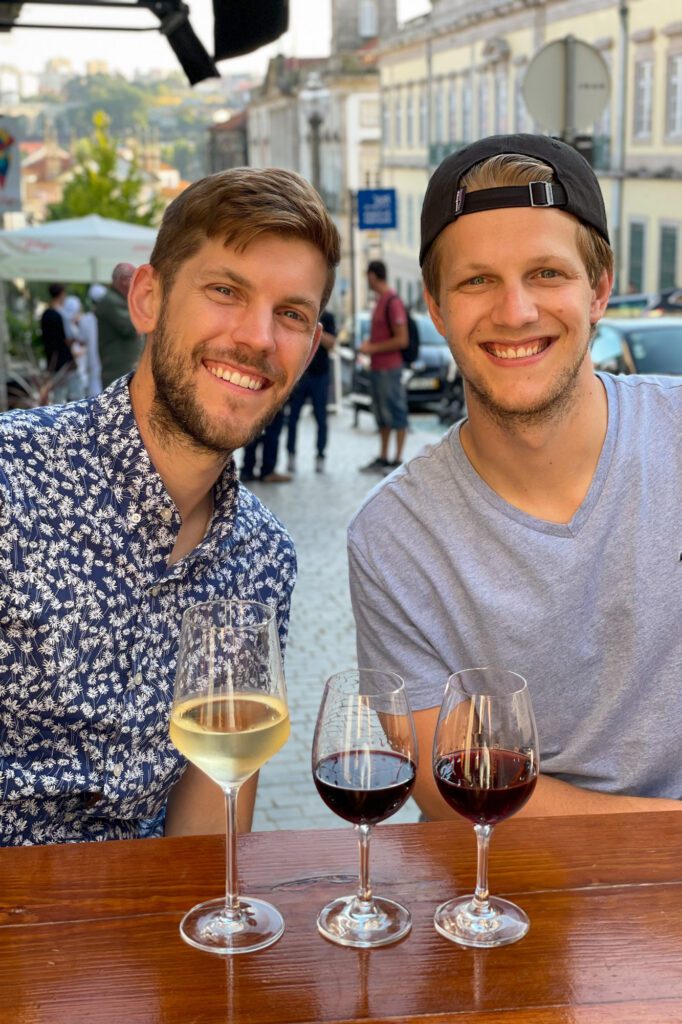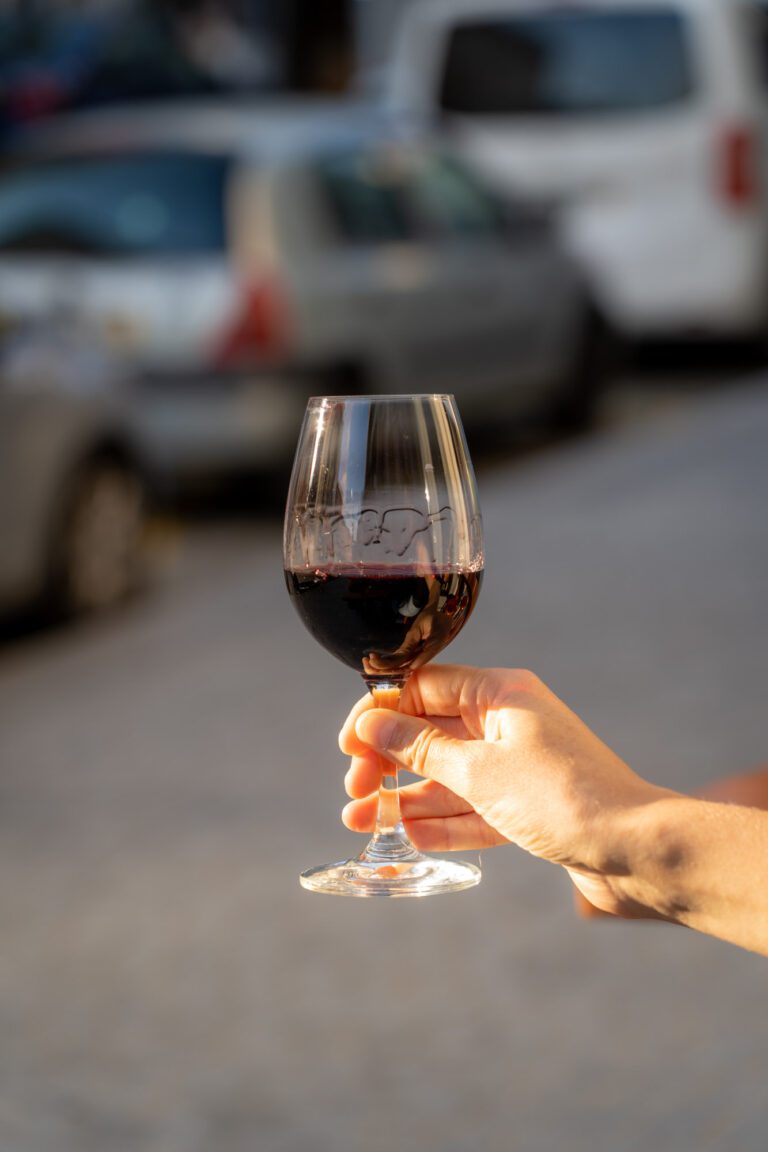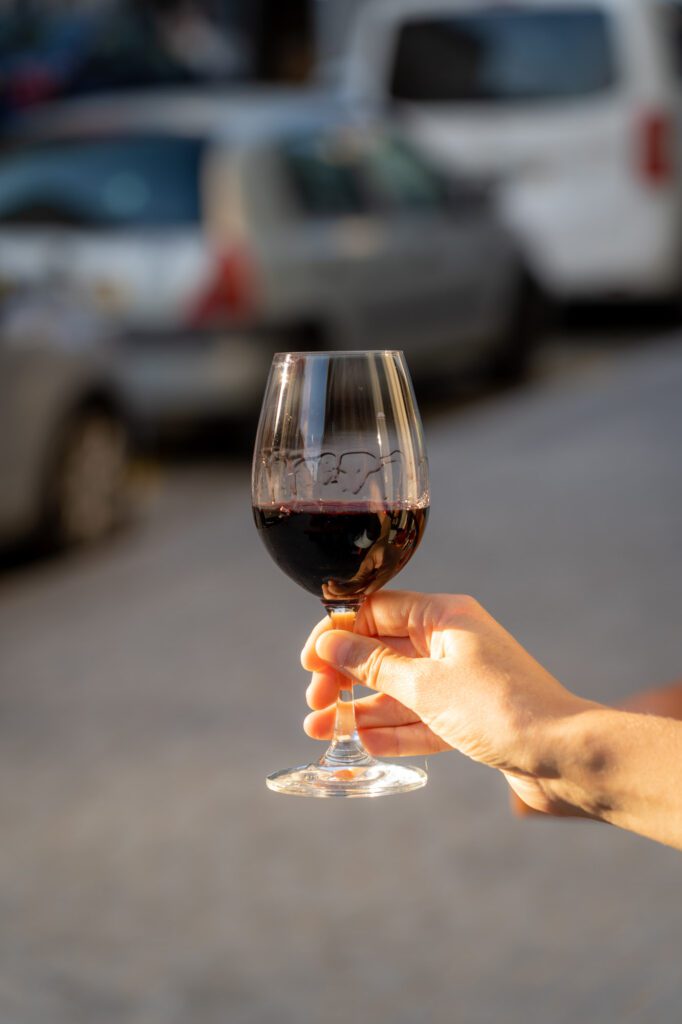 Day 2: Sé do Porto and Vila Nova de Gaia (read: Port!)
On day two, you'll tick off two of Porto's most iconic landmarks, Sé do Porto and Ponte de Dom Luís I (the main bridge in Porto), before heading to Vila Nova de Gaia on the south side of the river for an afternoon of port tasting.
Porto Cathedral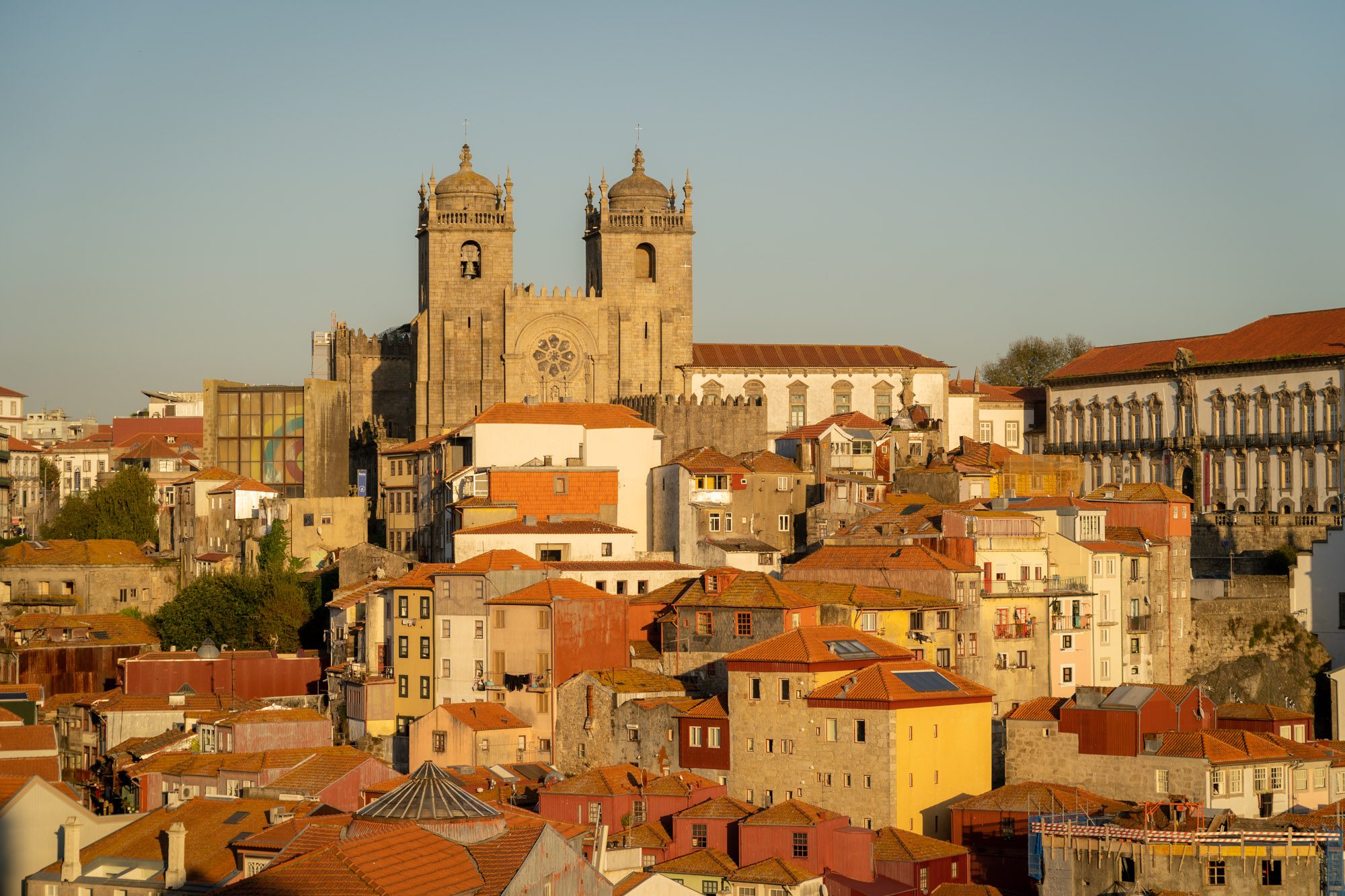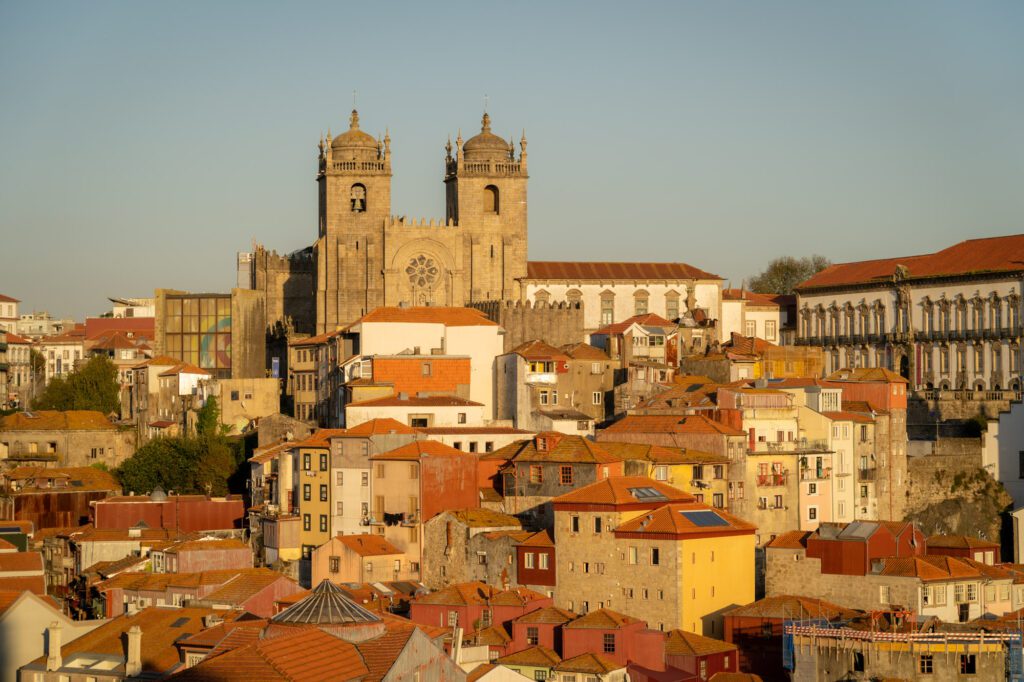 Start day two with a visit to Porto Cathedral, or Sé do Porto as it's known locally. Standing on the top of a hill in the historic center, the large Roman Catholic Church is the most important religious building in the city.
The fort-like Cathedral was constructed in the 12th century, making it one of the oldest buildings in Porto, and has been renovated several times throughout its history. Stepping inside, you'll see the stunning mix of Baroque, Romanesque, and Gothic architectural styles that make the church so unique.
The Cathedral is free to visit, while a ticket to its cloister costs €3. The Gothic cloister is one of the highlights of the church and definitely worth paying for. Dating back to the 14th century, it's decorated with beautiful blue and white azulejos tiles painted depicting scenes from the Bible.
Walk Across Ponte Luis I Bridge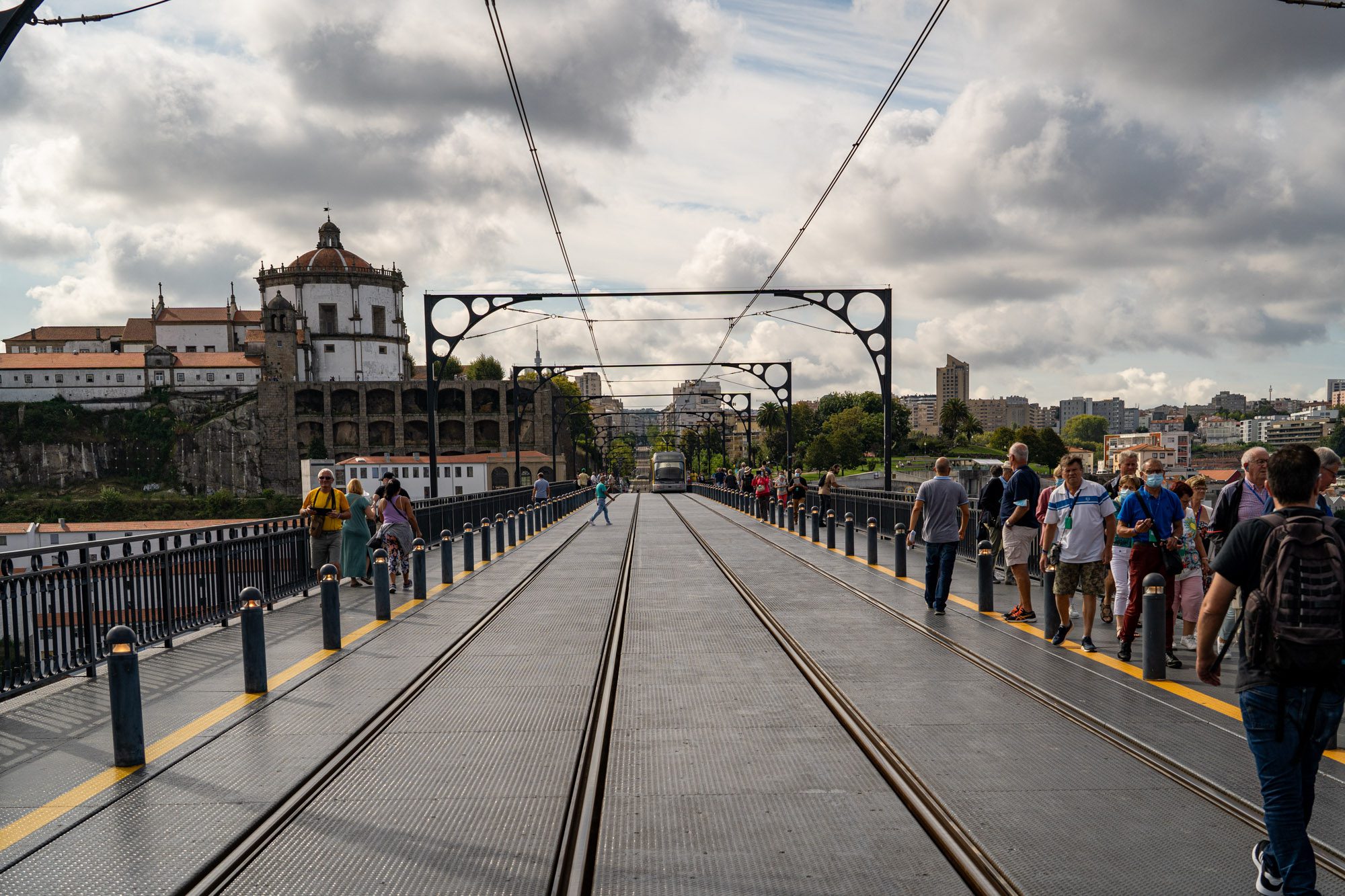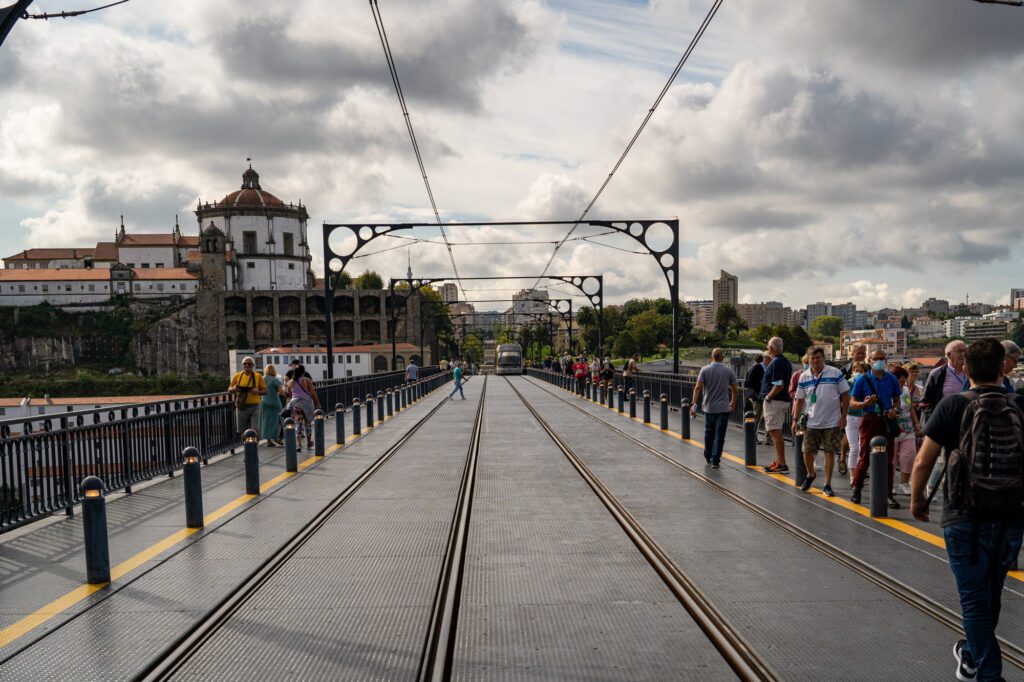 From Porto Cathedral, turn onto Calçada de Vandoma then Av. Vimara Peres to reach the upper walkway of the Ponte Luis I Bridge.
Ponte Luis I Bridge connects Porto and Vila Nova de Gaia over the Douro River and is one of the city's most recognizable landmarks.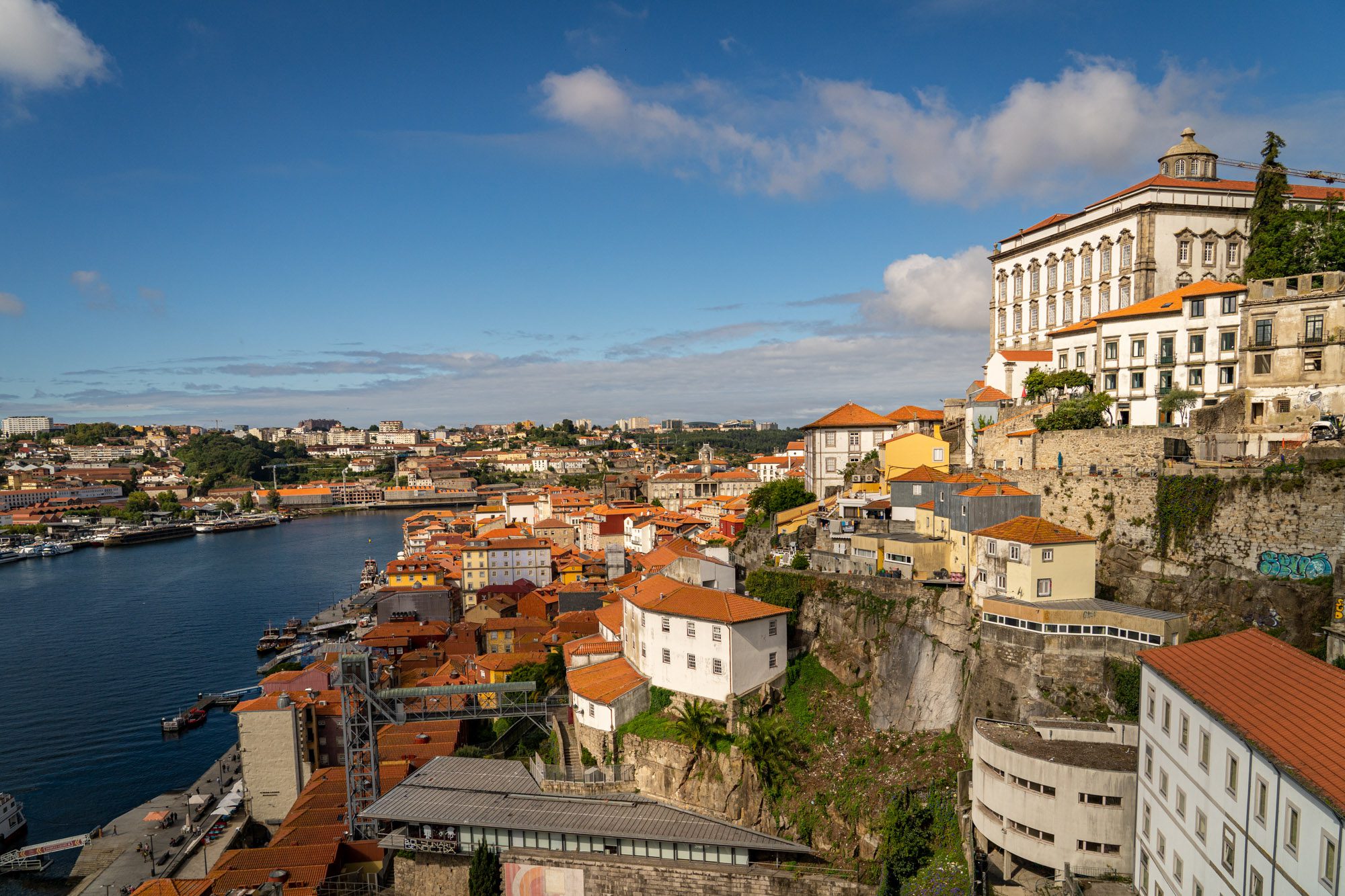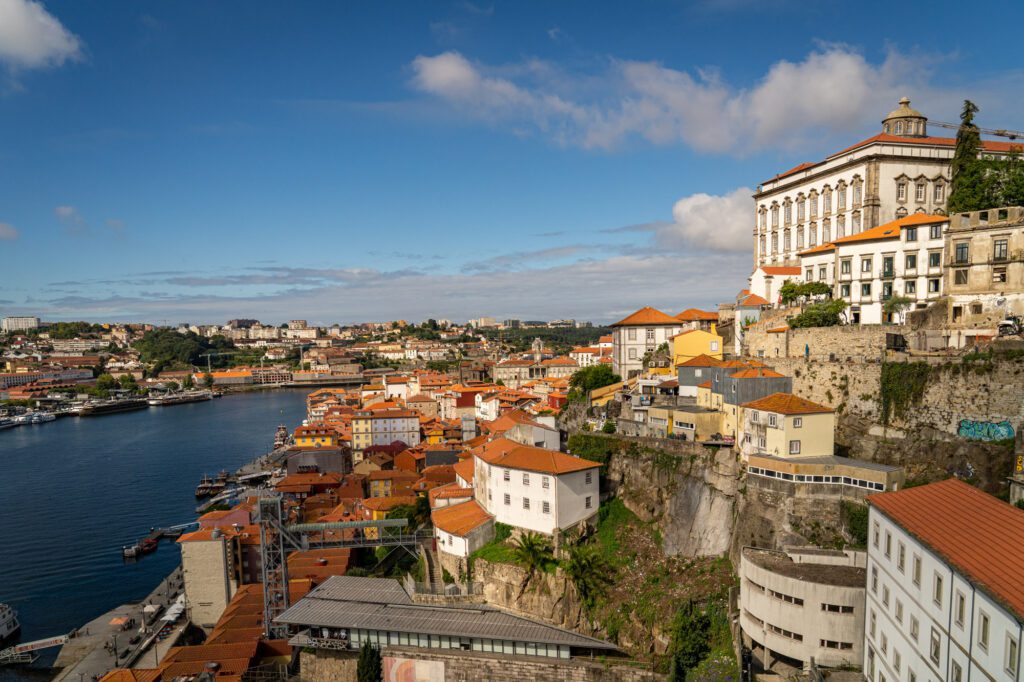 The impressive bridge was ​​designed by German architect Téophile Seyrig, a disciple of French engineer Alexandre Gustave Eiffel (the designer of the Eiffel Tower). When it was completed in 1886, it was the longest spanning metal bridge in the world. Ponte Luis I was an architectural marvel of its time.
The upper level of the bridge carries a metro line and a pedestrian walkway, while the lower level is for cars and pedestrians. If you're okay with heights, walk along the upper walkway for some fantastic views down the river and over the city skyline.
Miradouros of Vila Nova de Gaia
Shortly after crossing the upper level of Ponte Luís I to Vila Nova de Gaia, you'll reach several incredible viewpoints, or 'miradouros' in Portuguese.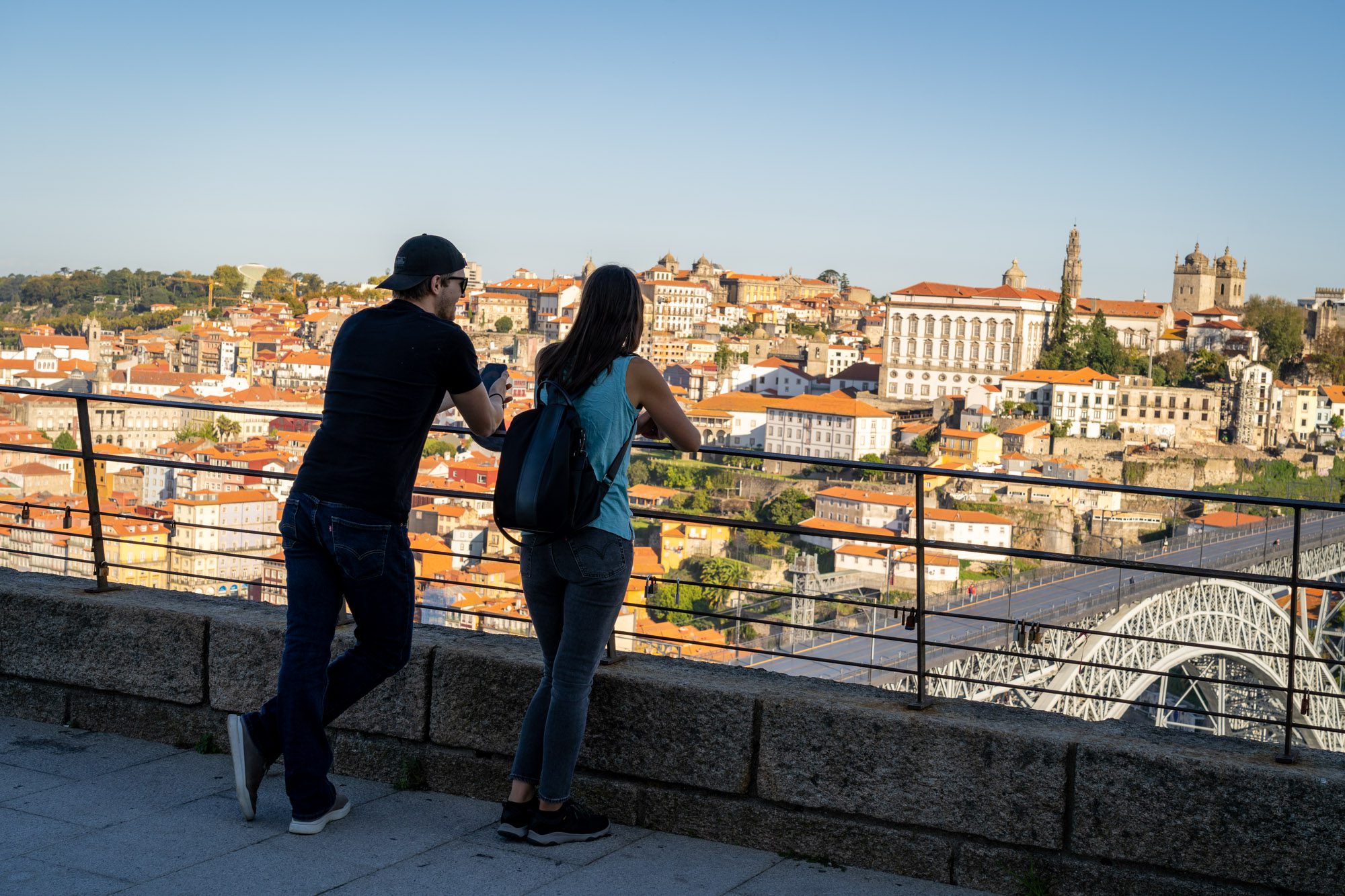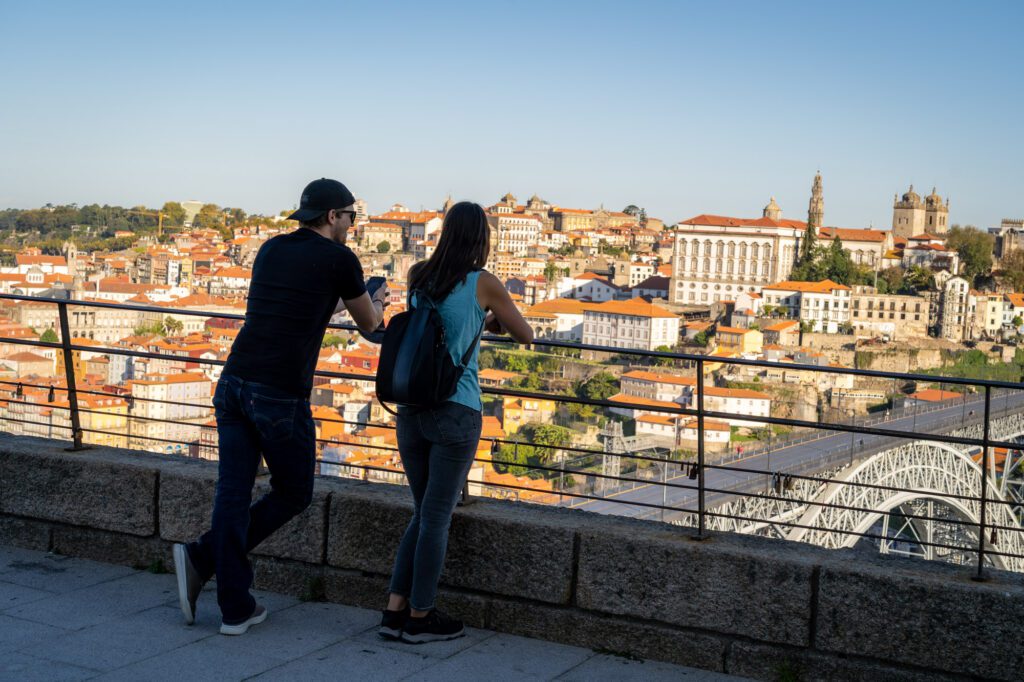 Miradouro da Serra do Pilar is the large terrace of the 15th-century hilltop monastery by the same name. From this viewpoint, you'll get a unique perspective over the Ponte Luis I bridge, down to the historic harbor, and over the rooftops of Porto on the opposite riverbank.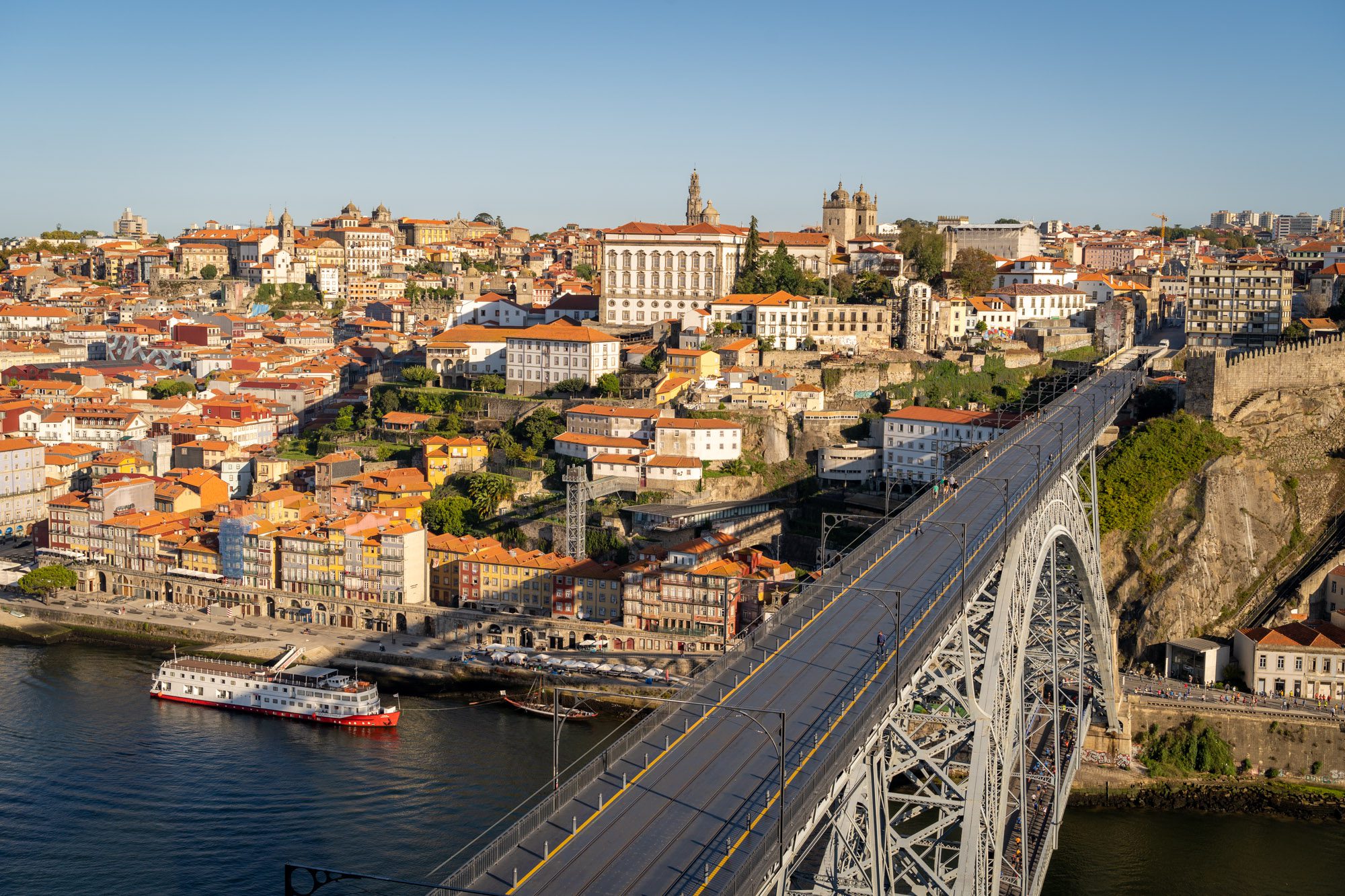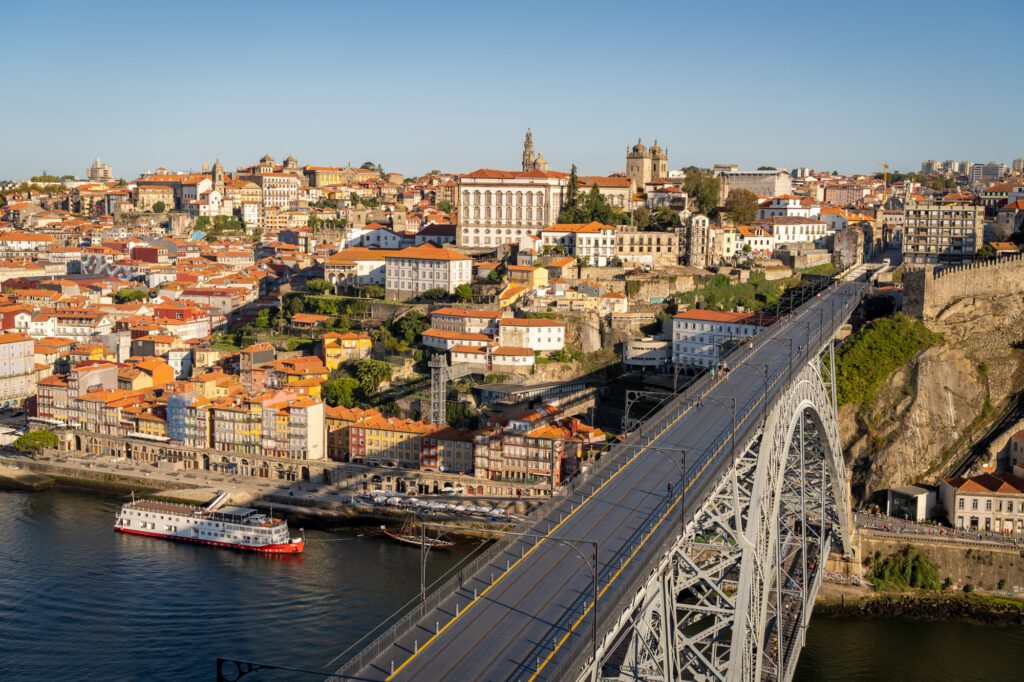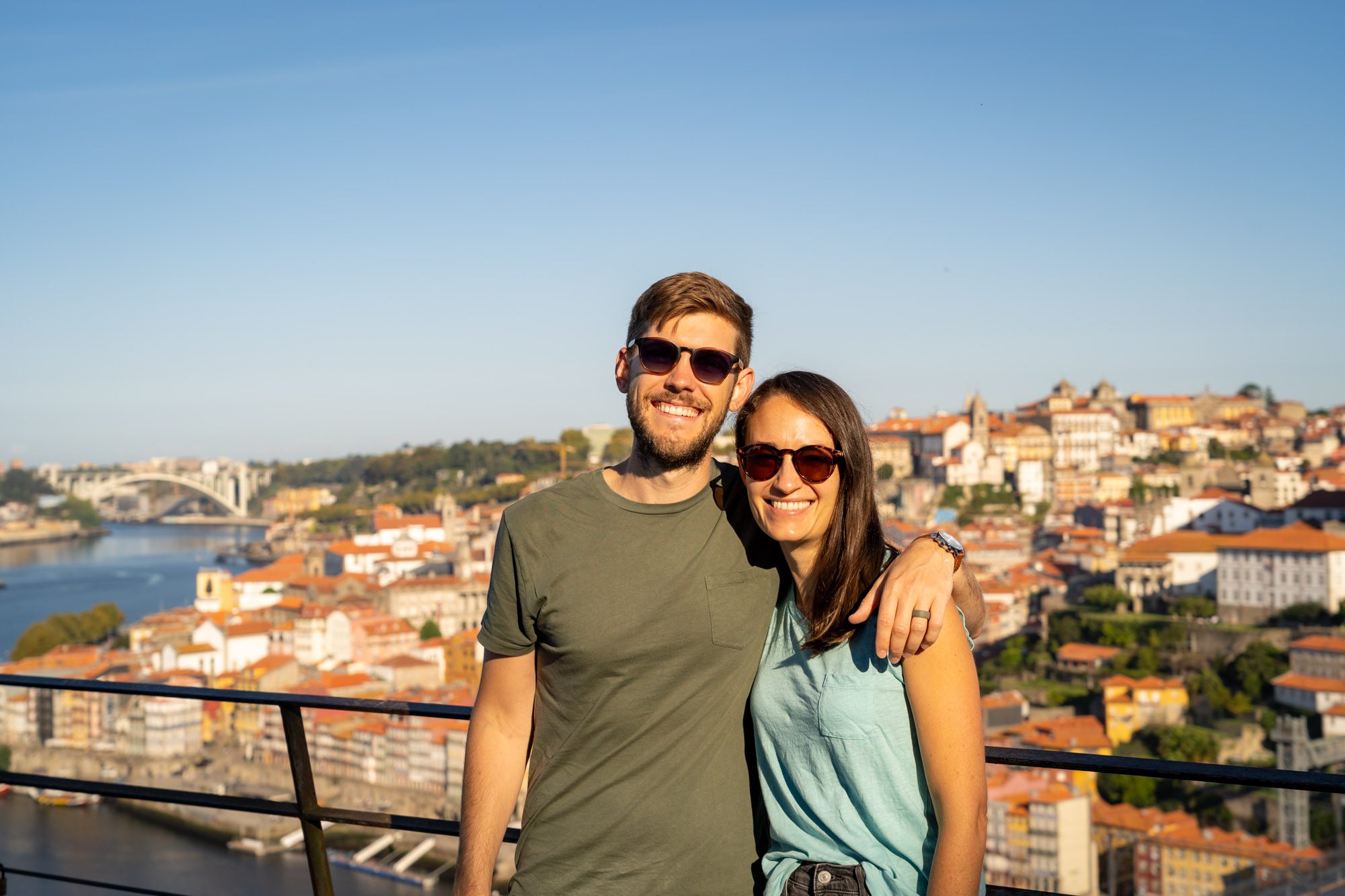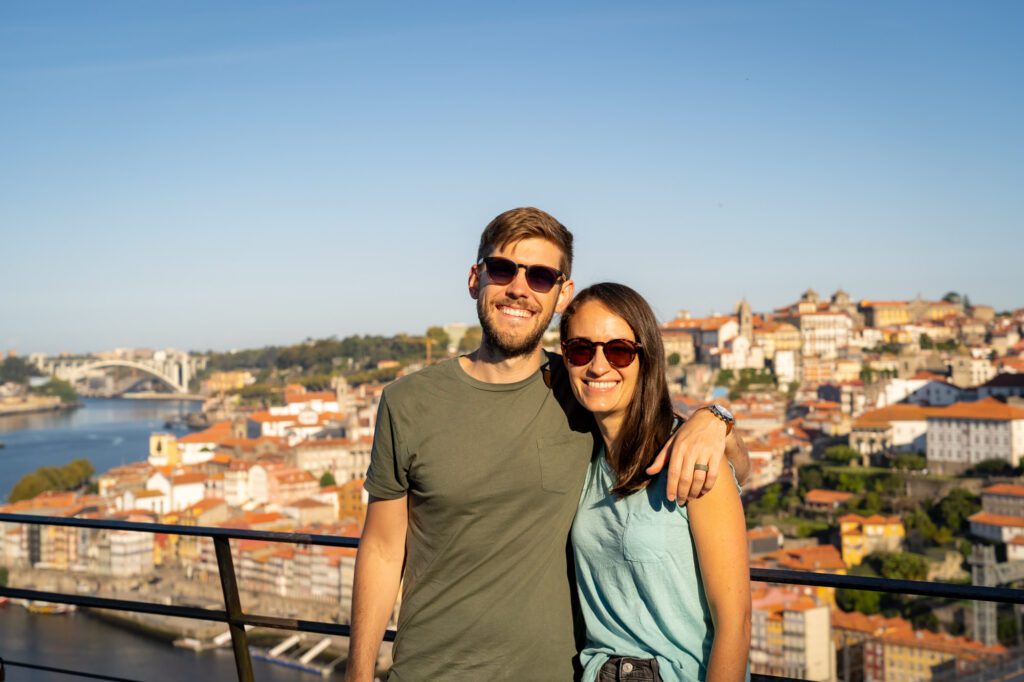 As you make your way down from the monastery to the waterfront, you'll come across several more viewpoints with stunning views over the city, including Miradouro da Ribeira and Miradouro do Teleférico.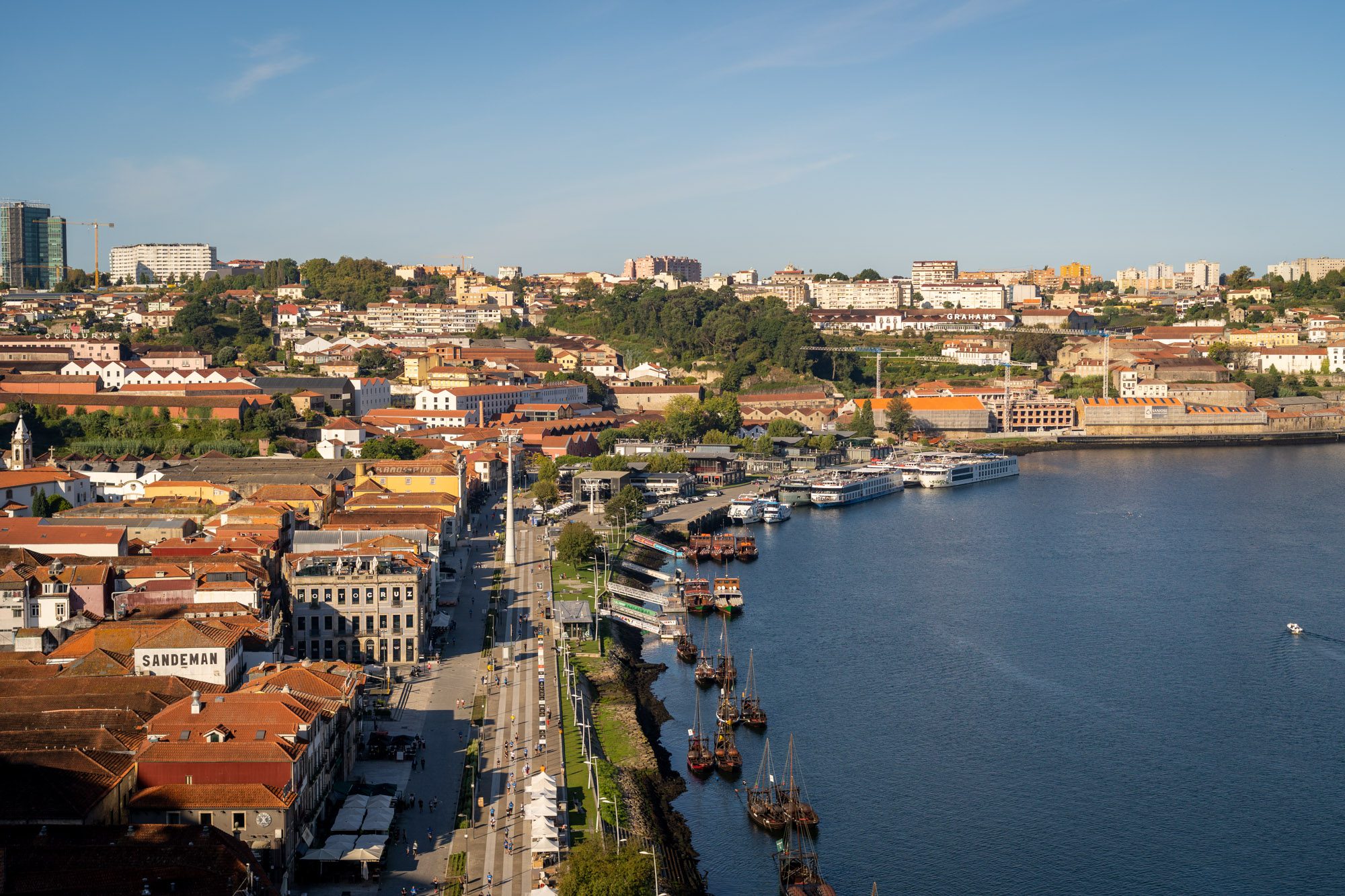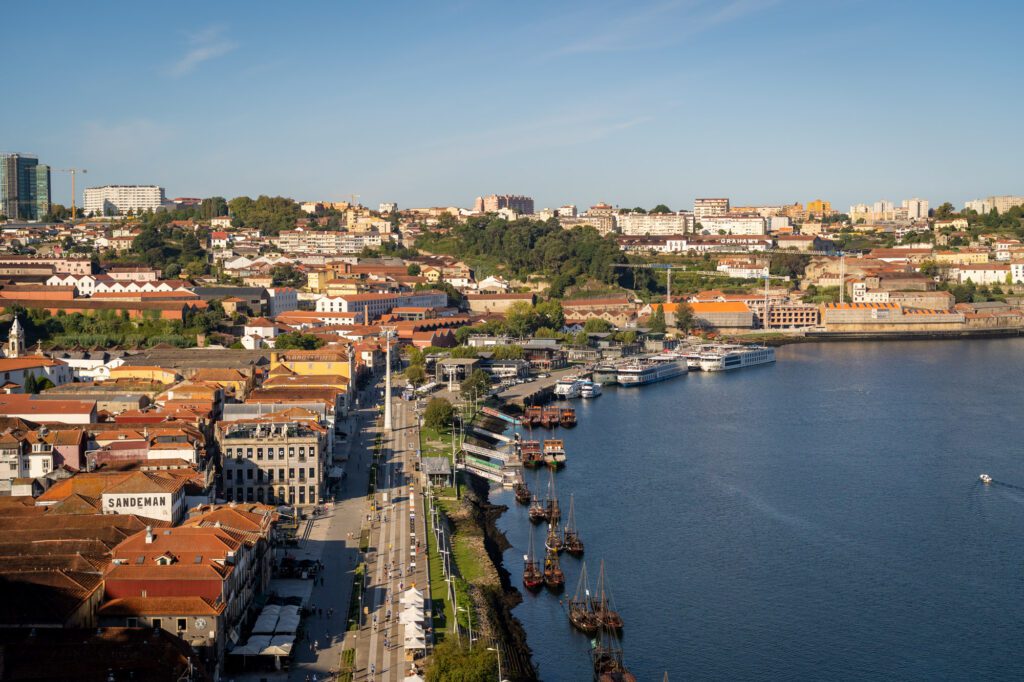 If you're already tired of walking at this point, you can jump on the Gaia Cable Car to reach the waterfront. At €6 per person for the 5-minute ride, it is a little overpriced. But you'll get some great views, and you can give your legs a quick rest.
Port Tasting in Vila Nova de Gaia
You can't go to Vila Nova de Gaia without visiting one of its historic port cellars. Many of the port lodges offer tours and tastings for visitors. Some lodges you can simply walk up to and join a tour, while others require advanced booking.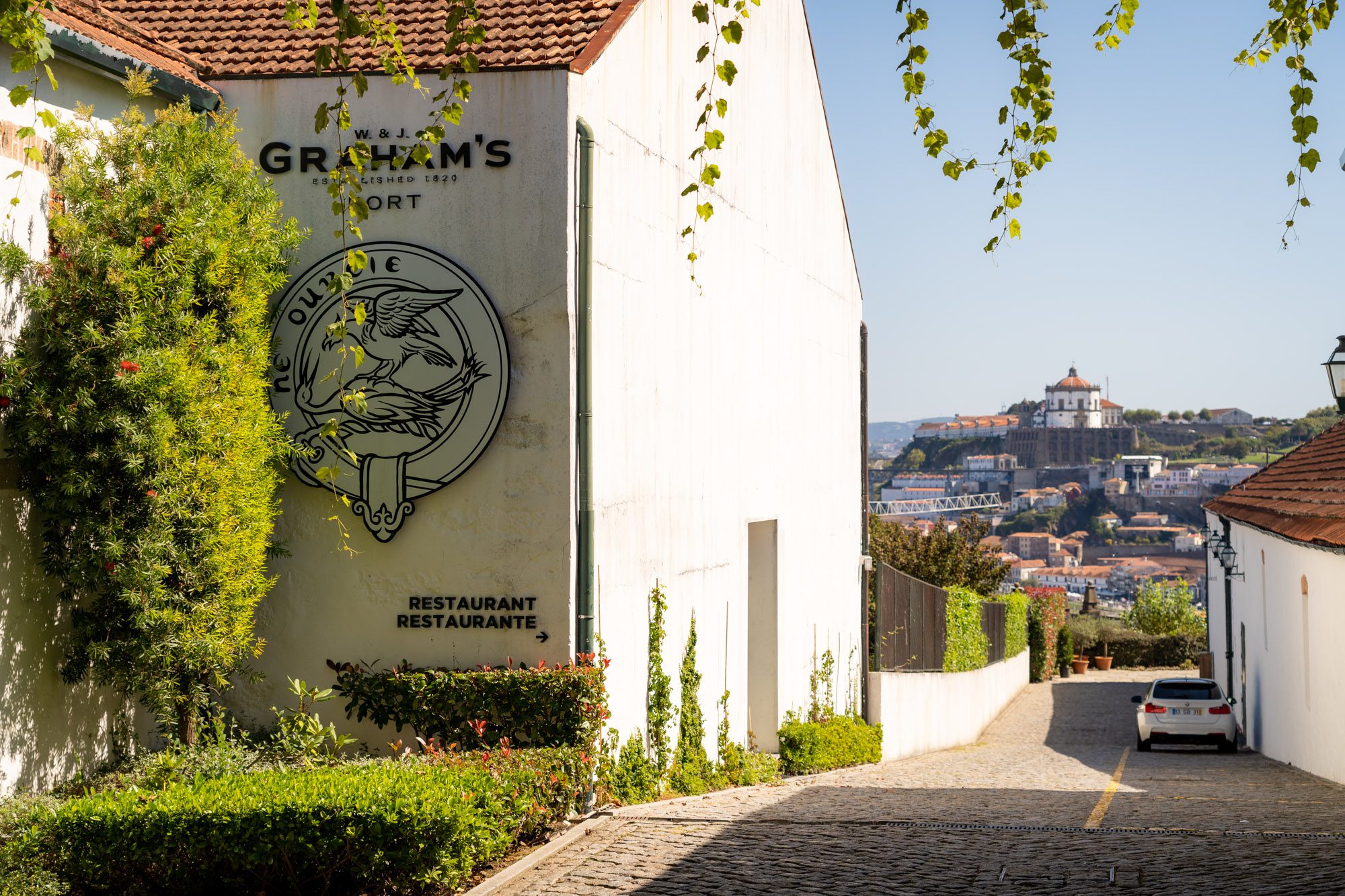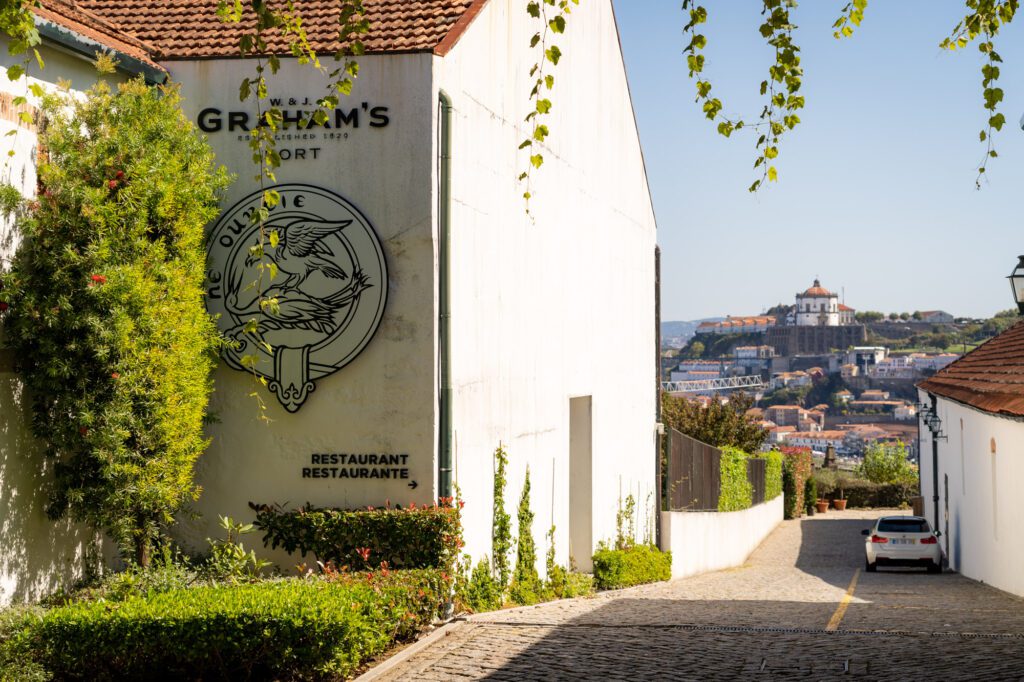 Graham's is the port lodge we visited, and we enjoyed the tour and tasting. Graham's dates back to the 1800s and is one of the most famous names in the industry. When we came back from Portugal, we actually did a port tasting with friends at home in the US, and we were able to find Graham's 10 Year Tawny at home (at Trader Joe's, of all places).
The reason we chose Graham's is the fact that the lodge is set a little back from the main tourist area, so it doesn't get the big crowds the others do. Plus, it's up on a hill with great views (though to our disappointment, the tastings are done inside, and the restaurant is the part that has the nice views).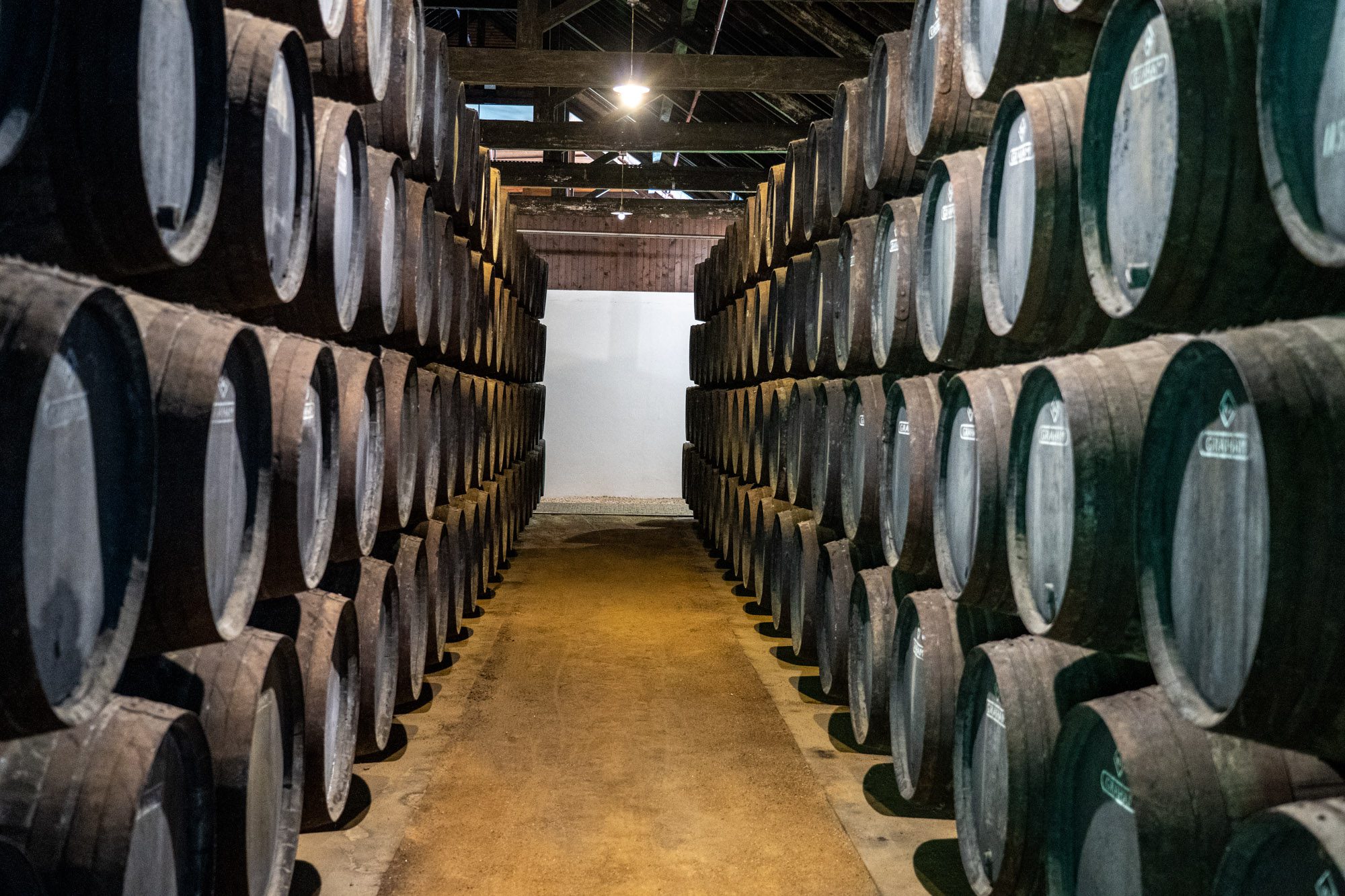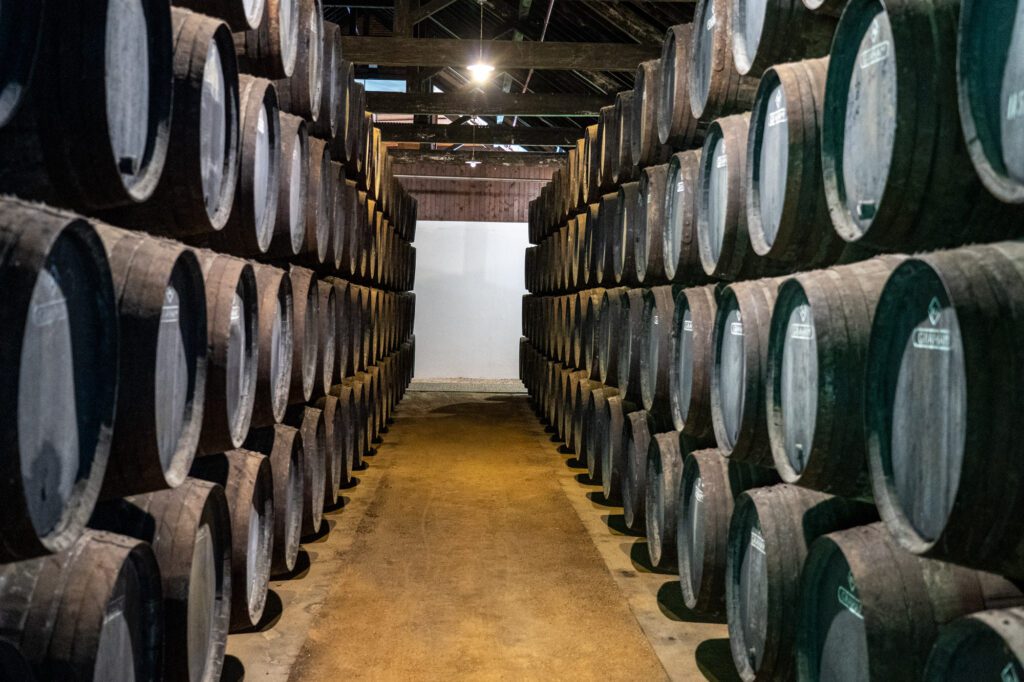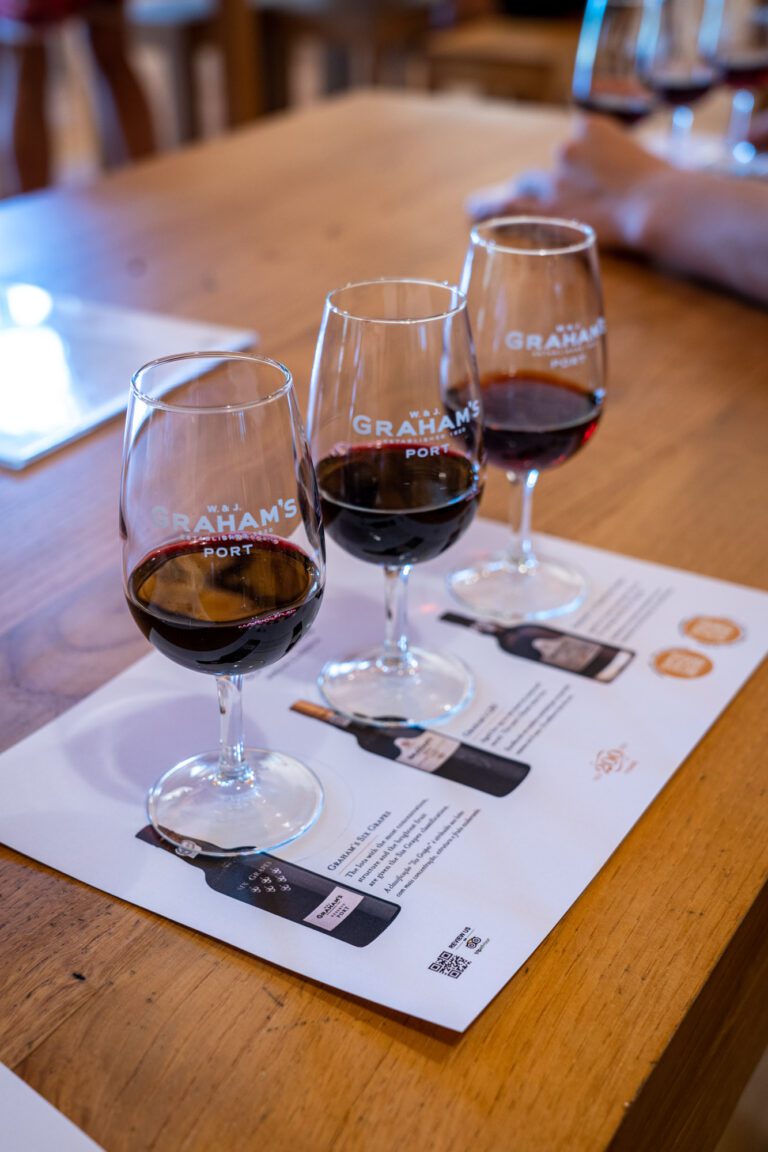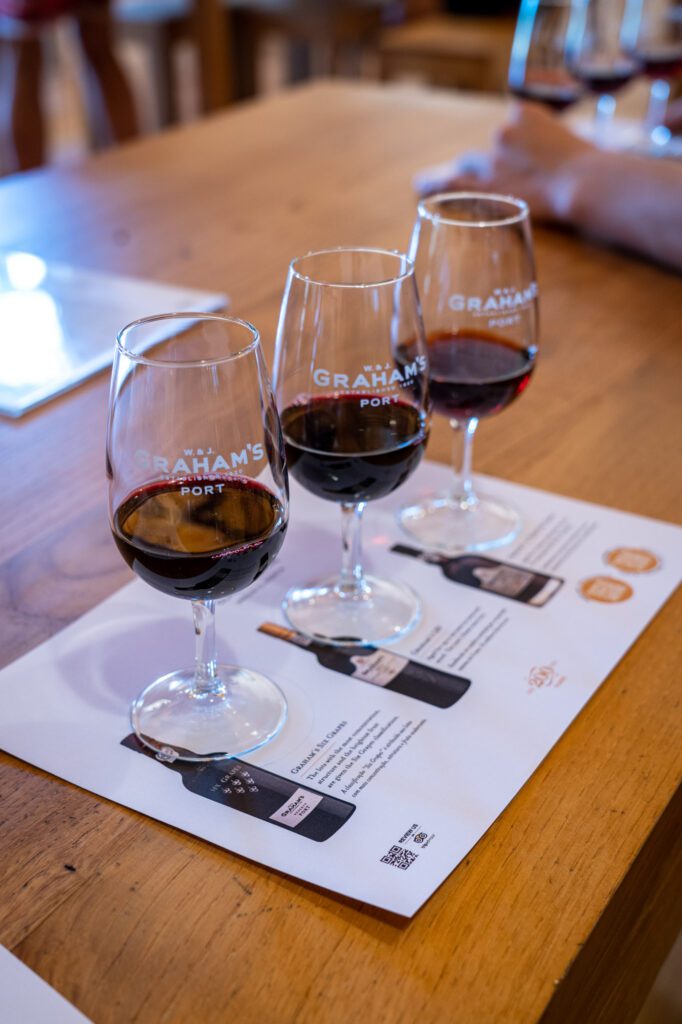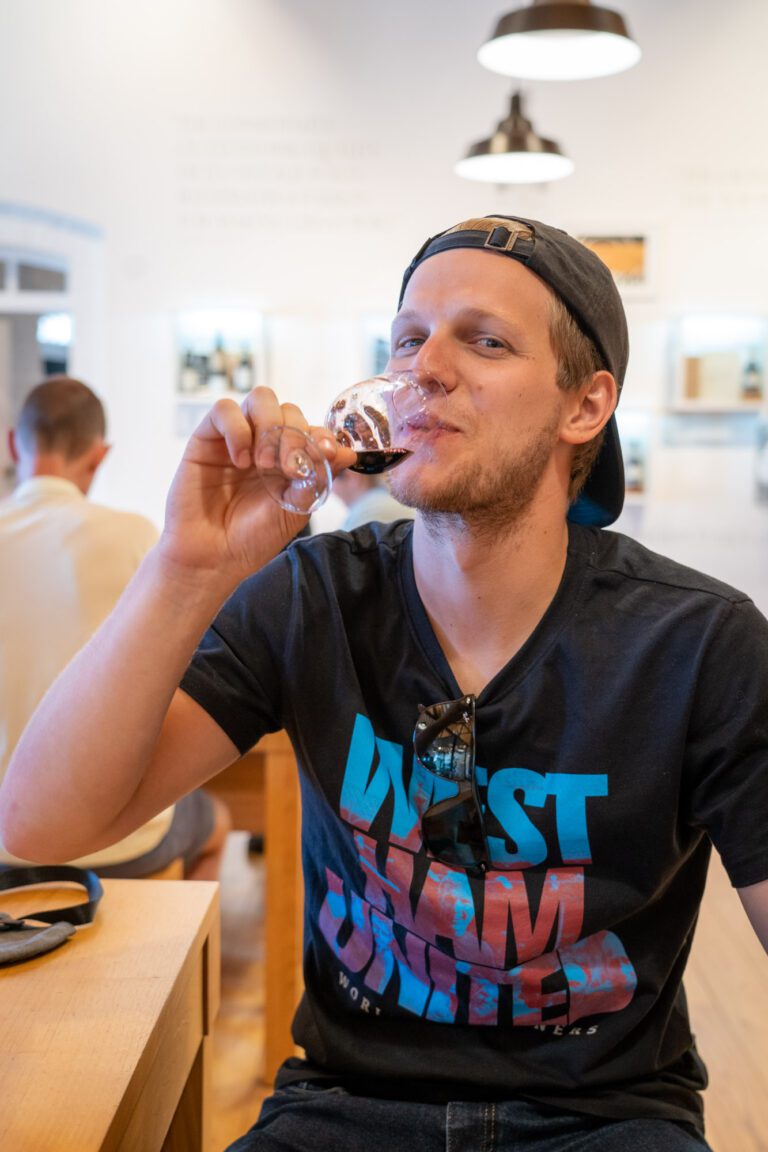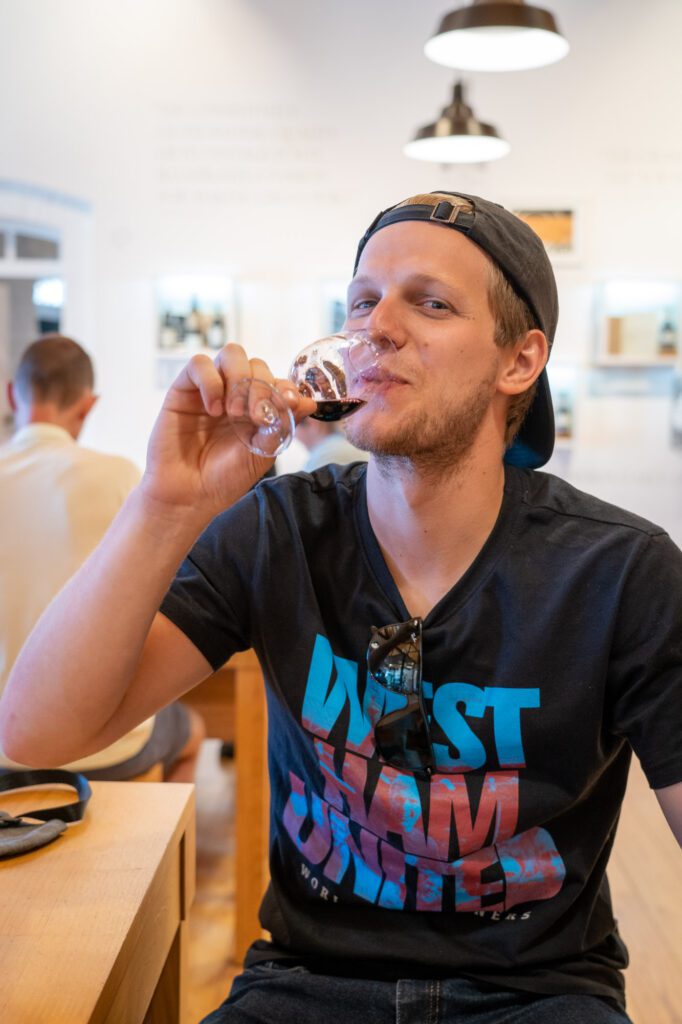 Tasting and tours are by reservation only. And for real port aficionados, don't miss the vintage room where you can try some of their rarer ports.
There are countless other great port lodges you can visit on this side of the river. Here are a couple of others:
Sandeman – A 200 year old port cellar with one of the most impressive and significant wine bottle collections in Europe.
Taylor's – Taylor's historic cellar is home to a modern museum about the history of port and the house of Taylor's, and can be explored on an extensive ​​audio-guided visit.
Caves Cálem – Calém port lodge not only offers tours of their cellars and museum, but the innovative brand also has a 5D film about port wine production, fado shows, and fantastic port and food pairing sessions.
Drinks in a Secluded Garden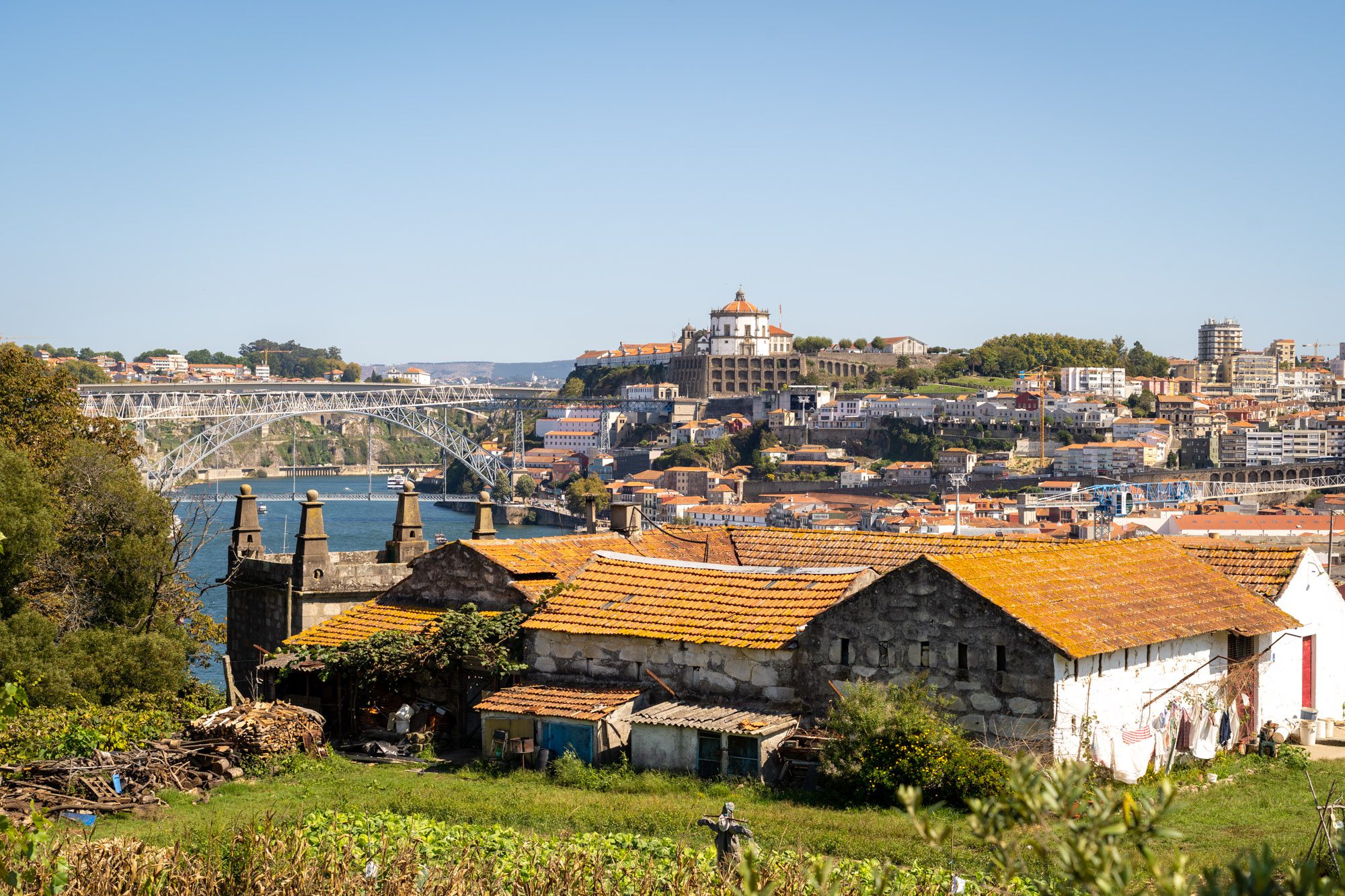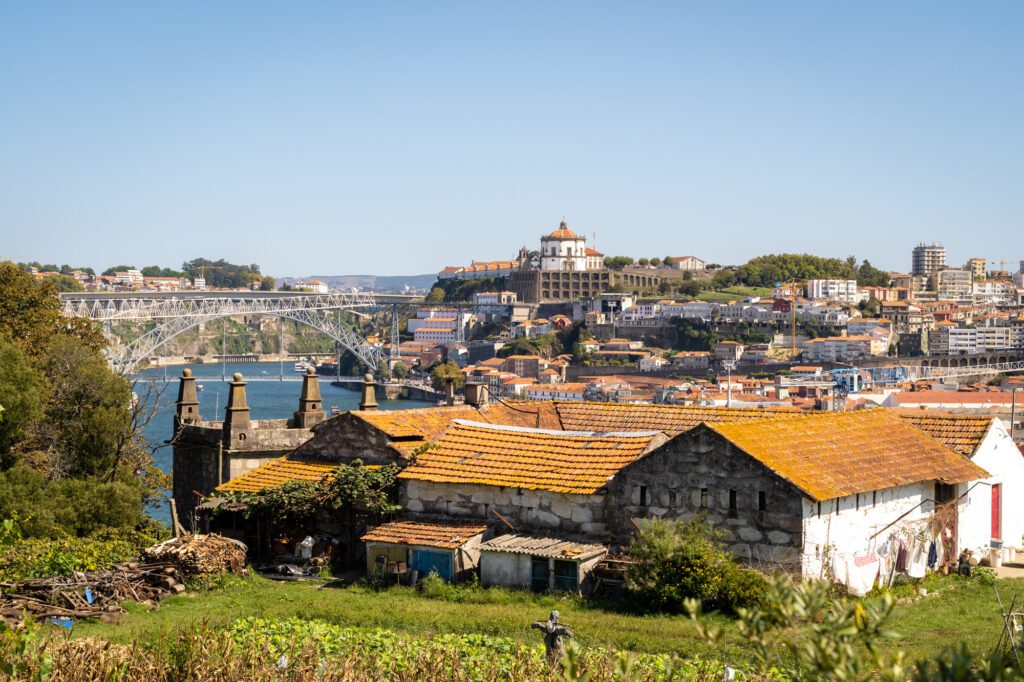 Continue your port tour of Vila Nova de Gaia with another glass or two at the hidden gem that is Churchill's 1982 Garden Bar.
Located in the secluded garden of Churchill's port lodge, there are several picnic tables spread out across a large lawn. The garden is fully immersed in nature, with the river and lodges peeking through the trees below.
There's nowhere better to escape the busy city for a small moment of peace.
And, of course, a port tonic or three.
Walk Back Through Vila Nova de Gaia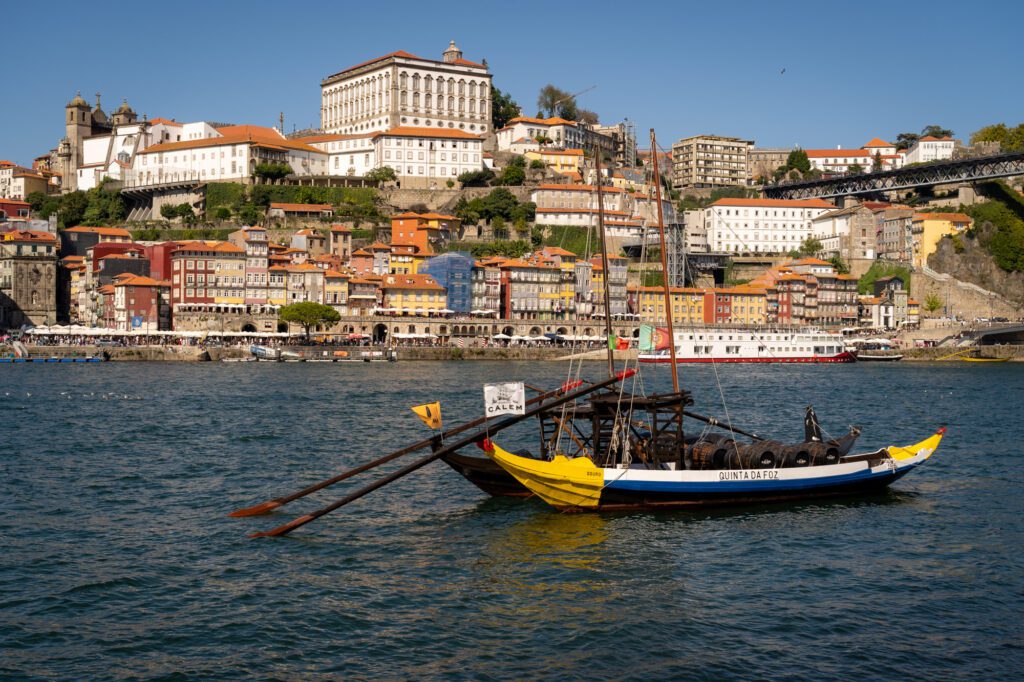 After you've finished at Churchill's, complete your day with a walk back through Vila Nova de Gaia. Take some time to explore the neighborhood at your own pace.
A few places you might want to stop include:
Half Rabbit – A unique piece of modern art depicting a giant rabbit made from trash and repurposed materials. The well-known artwork is a critique of society's wastefulness.
7g Roaster – If you're in desperate need of a strong cup of coffee after all of that port, this is where you'll find some of the best coffee in Porto.
Casa Portuguesa do Pastel de Bacalhau – A touristy but fun fast-food spot where you can try pastel do bacalhau (traditional cod cakes) in a beautiful building while listening to live organ music. Skip the port here, there's better to be had elsewhere.
Espaço Porto Cruz – A five-story building on the riverfront that celebrates the history and culture of the port making industry. Each floor has interactive exhibits and games, as well as a tasting room and restaurant. But the highlight is the large rooftop terrace – the best spot in Gaia to watch the sunset over the city with a glass of port.
Day 3: A Day Trip to the Douro Valley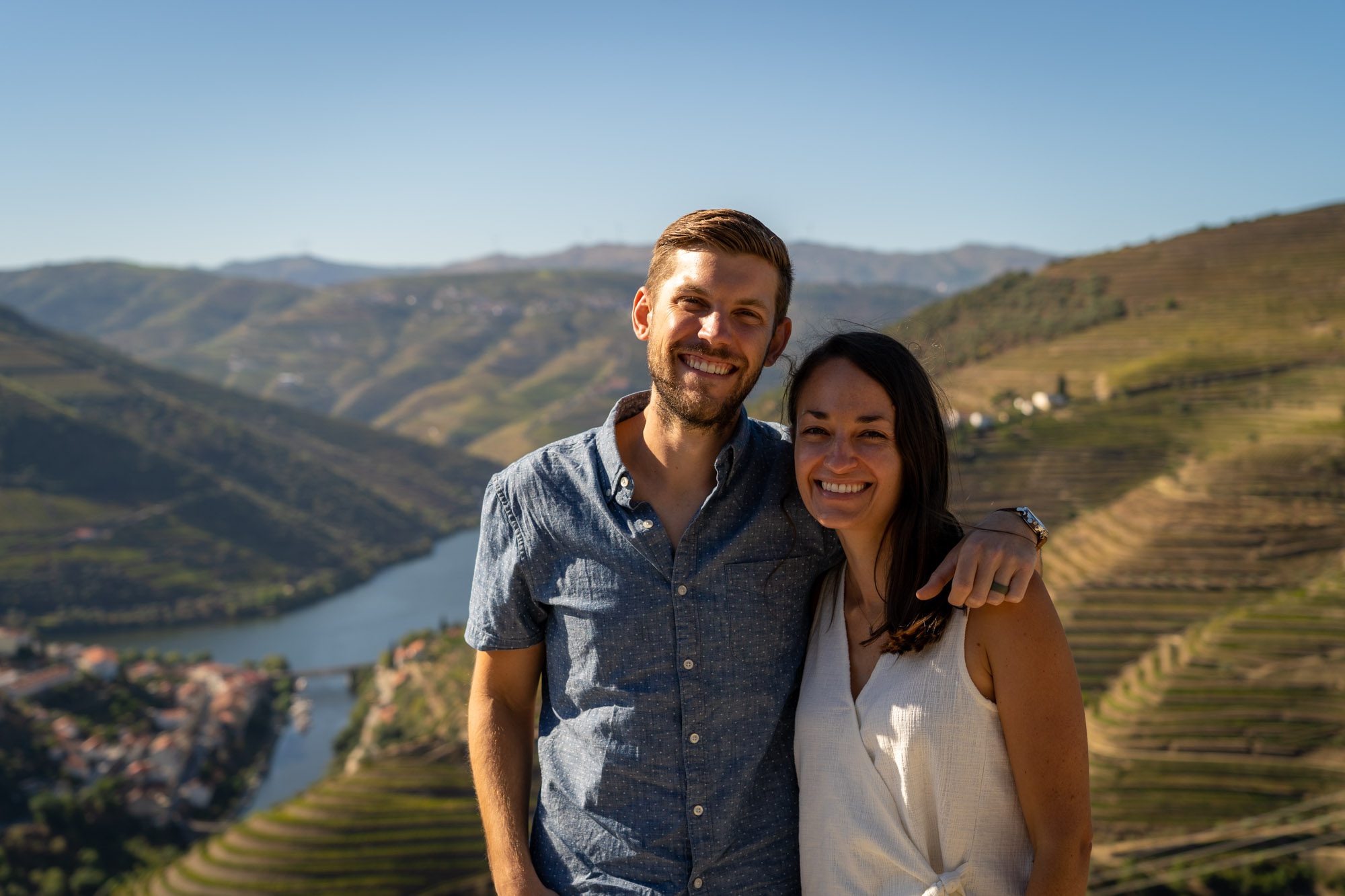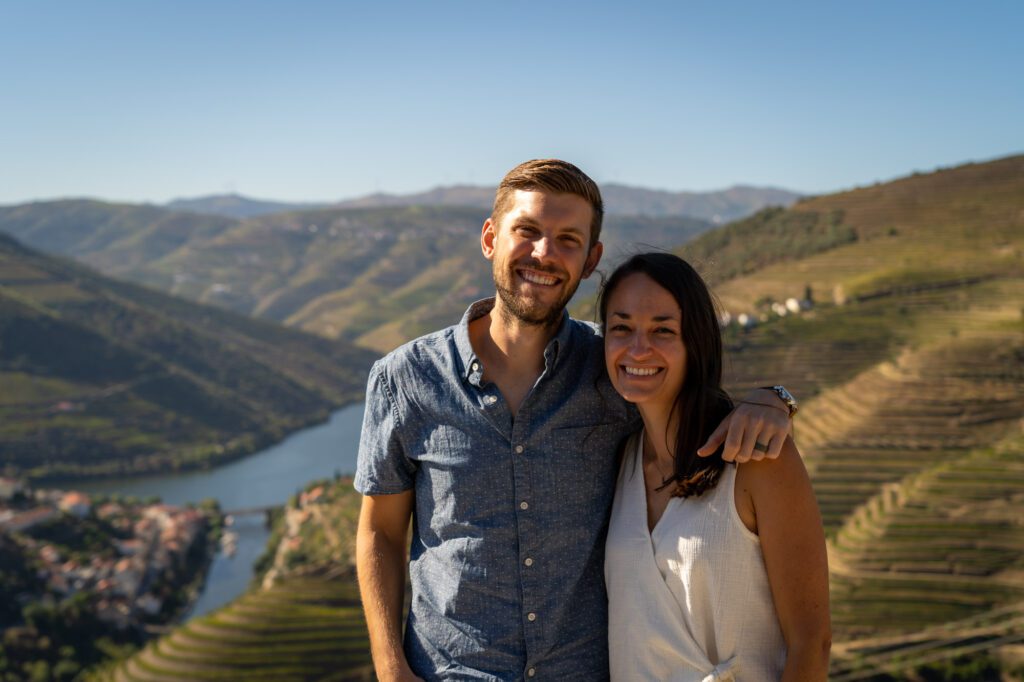 Use day 3 of this itinerary to take a trip from Porto to the nearby Douro Valley. If you only have time for one day trip during your stay in Porto, we'd highly recommend making it this one.
Our visit to Porto was part of a three month European adventure that took us to Portugal, Spain, and Italy, and our day trip to the Douro Valley was among our top memories from the entire trip.
Located 100km east of Porto, the Douro Valley is home to the many vineyards and wineries that produce port wine. The region is an UNESCO World Heritage Site and the oldest determined (DOC) wine region in the world.
The enchanting vineyard-dotted countryside is also known for its stunning scenery, great hiking routes, and picturesque towns and villages nestled on the banks of the winding Douro River.
One of the most interesting parts of the Douro Valley is the terraced vineyards, which reminded us a lot of coffee farms in Colombia that use the mountainous landscape to their advantage. We've never seen that technique used in wine before, and it makes for some pretty spectacular vistas.
We'd definitely recommend taking an organized tour to the Douro Valley. We did this tour, and it was a highlight of our entire Portugal trip (and our entire three months in Europe, to be honest).
The tour starts with a drive out to the Douro Valley, stopping at a stunning viewpoint on the way to your first winery. Here you'll learn about the wine making process and sample some locally produced wines.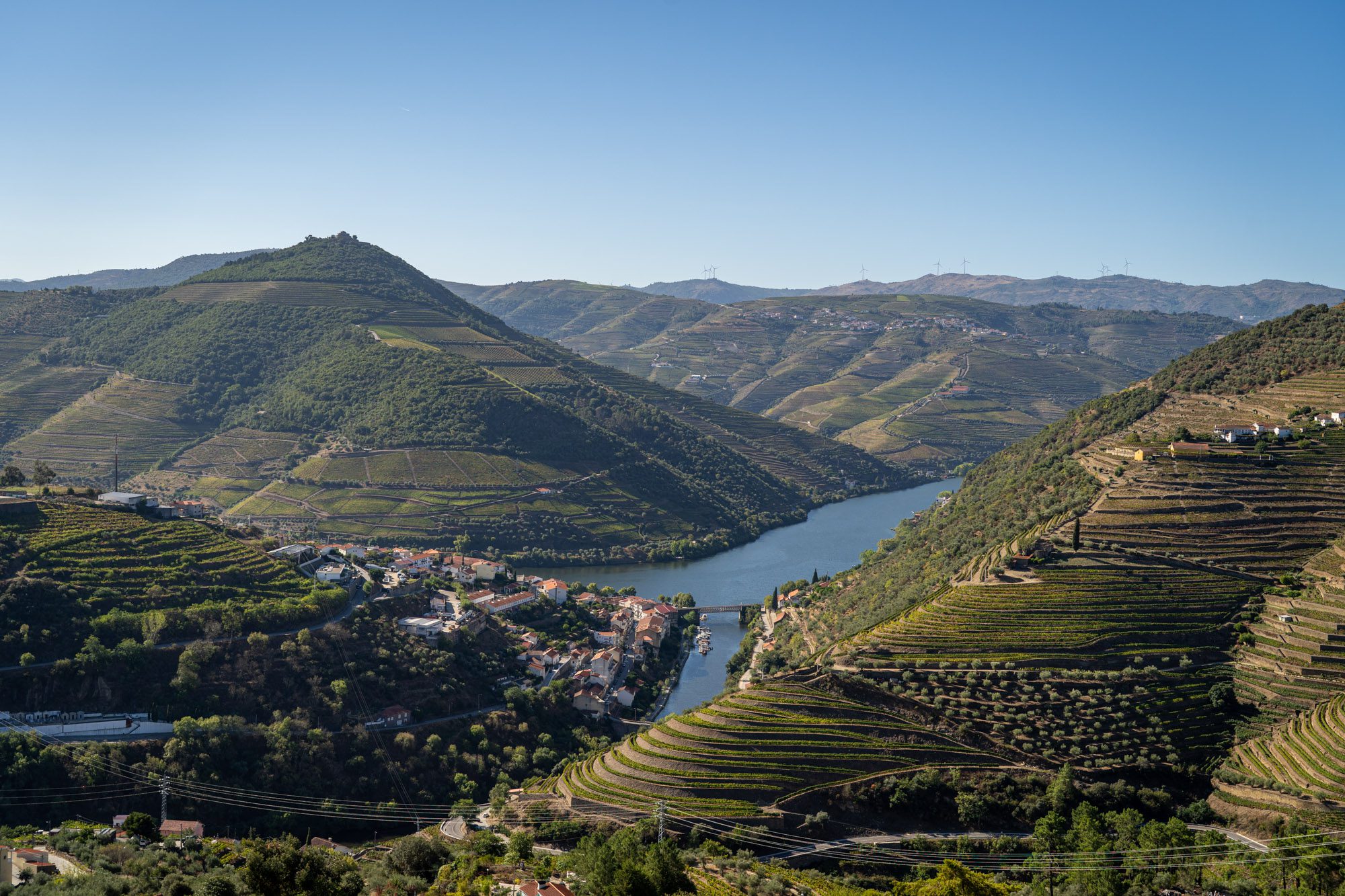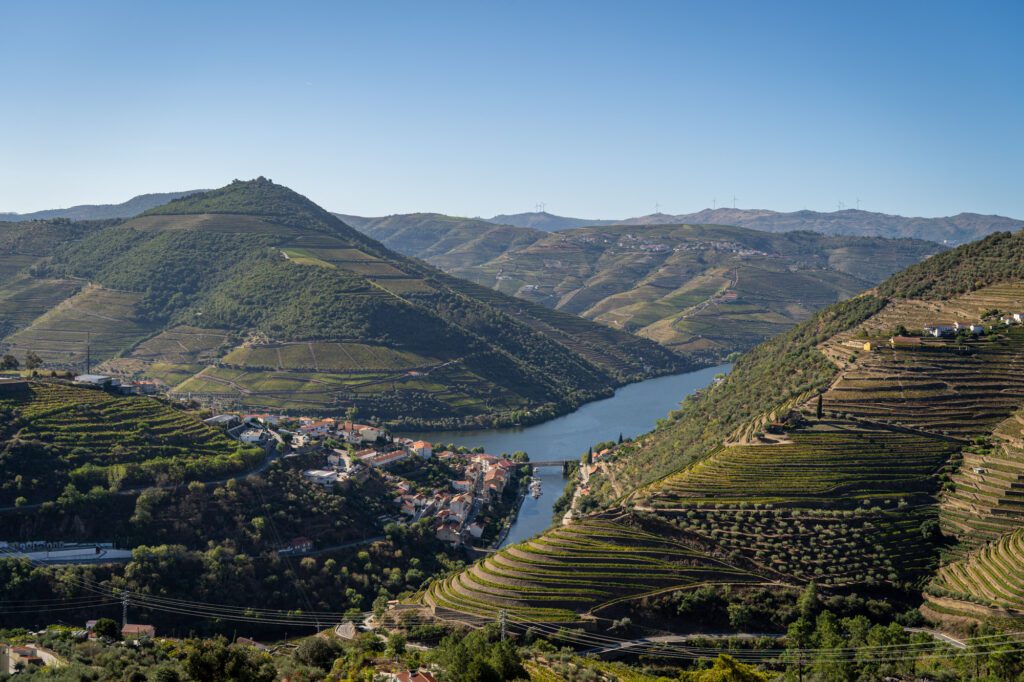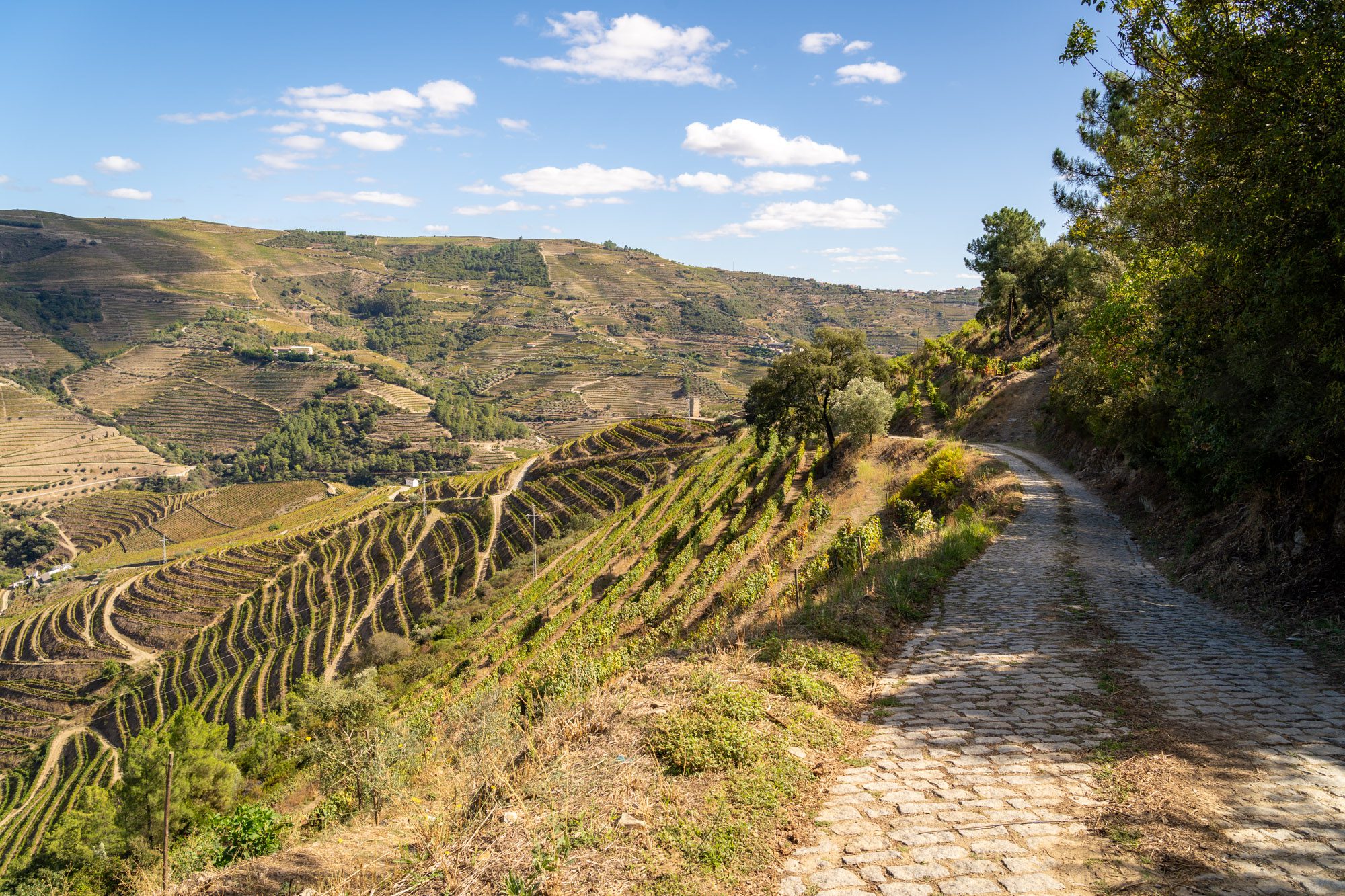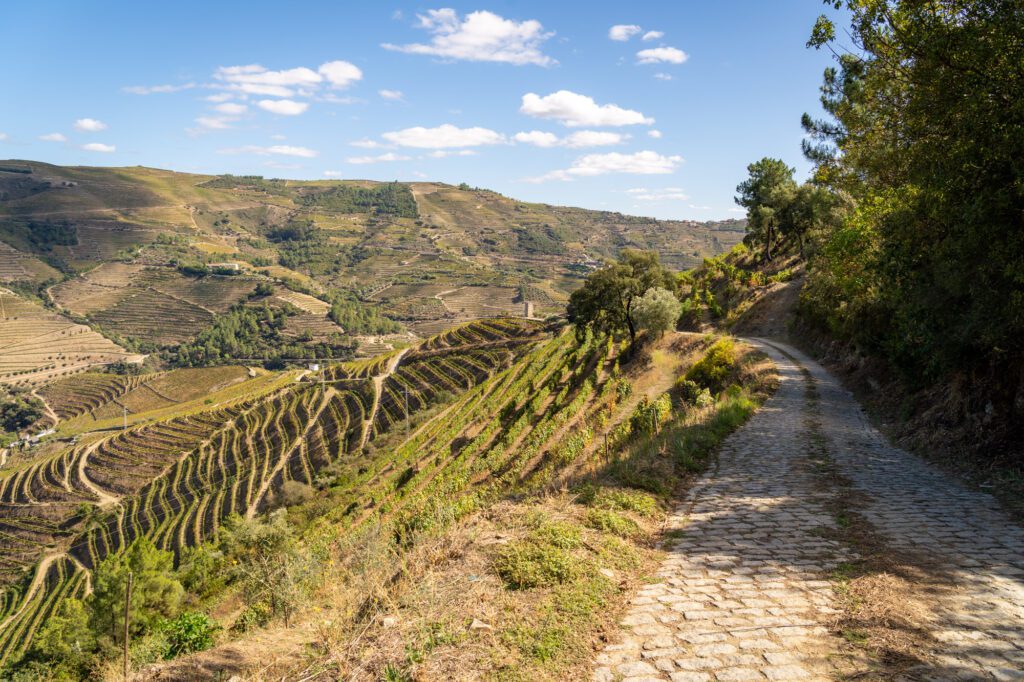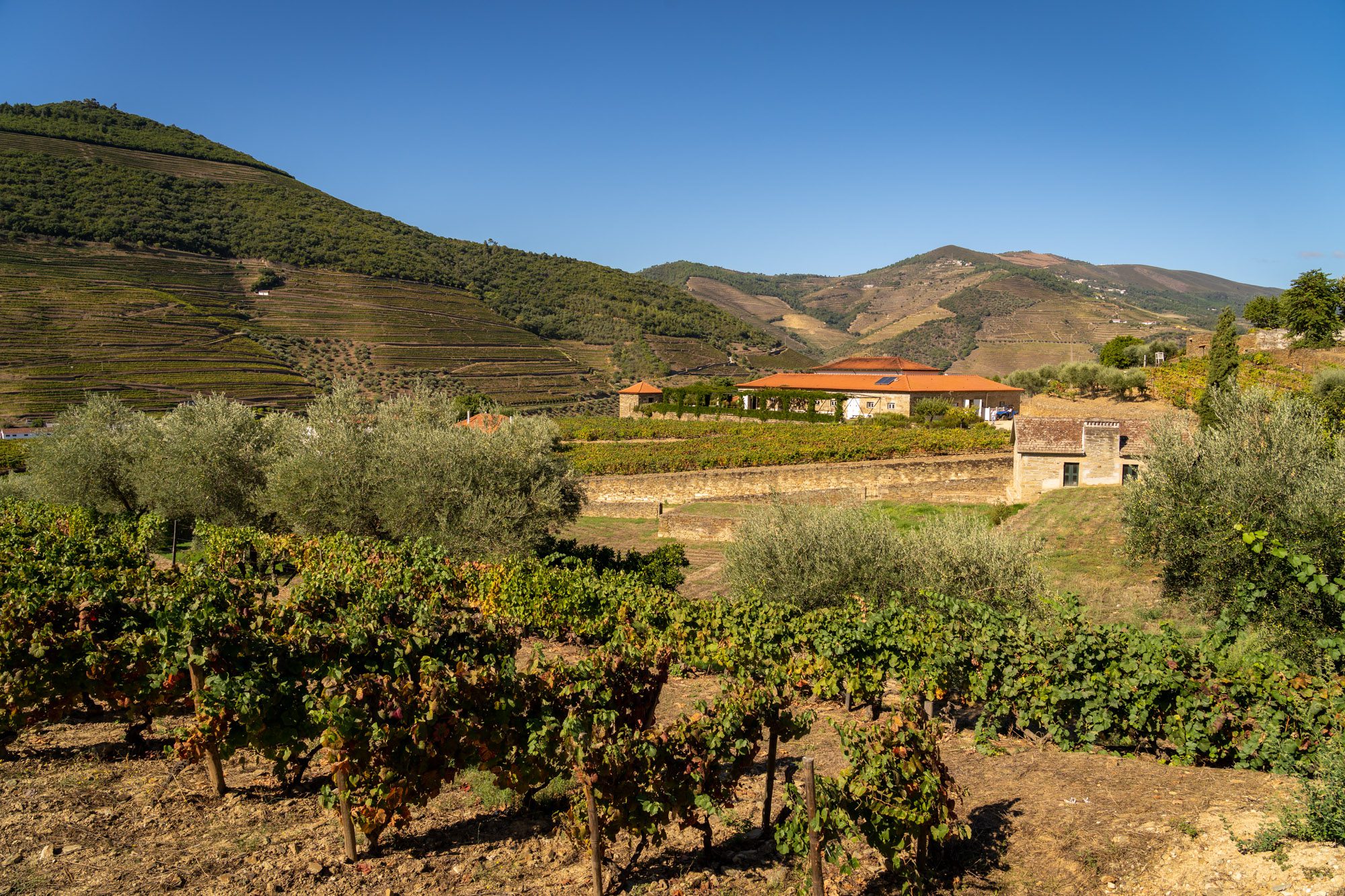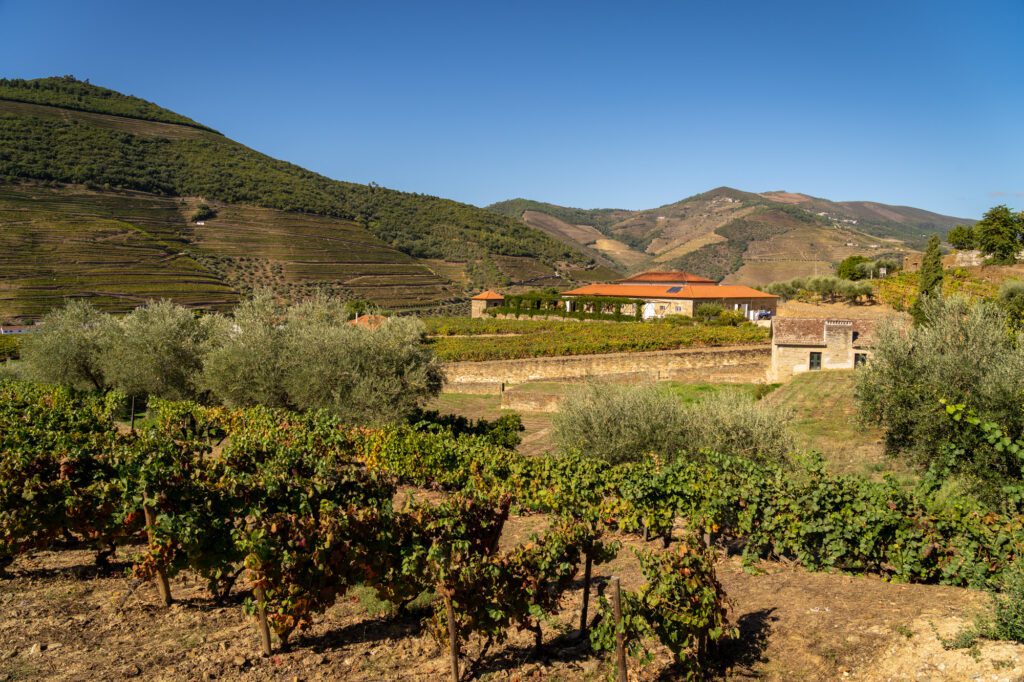 Next, you'll head to lunch at an old estate, where there's no shortage of delicious food and wine. Gluten free and vegetarian options are available too.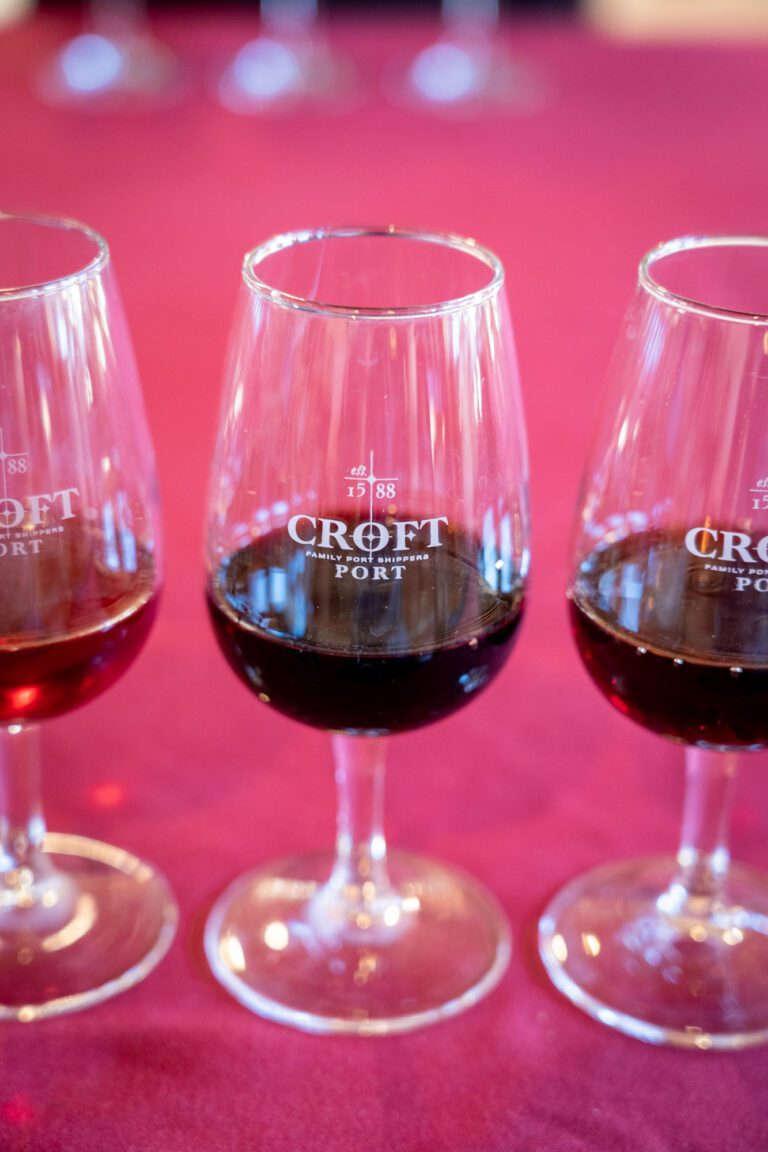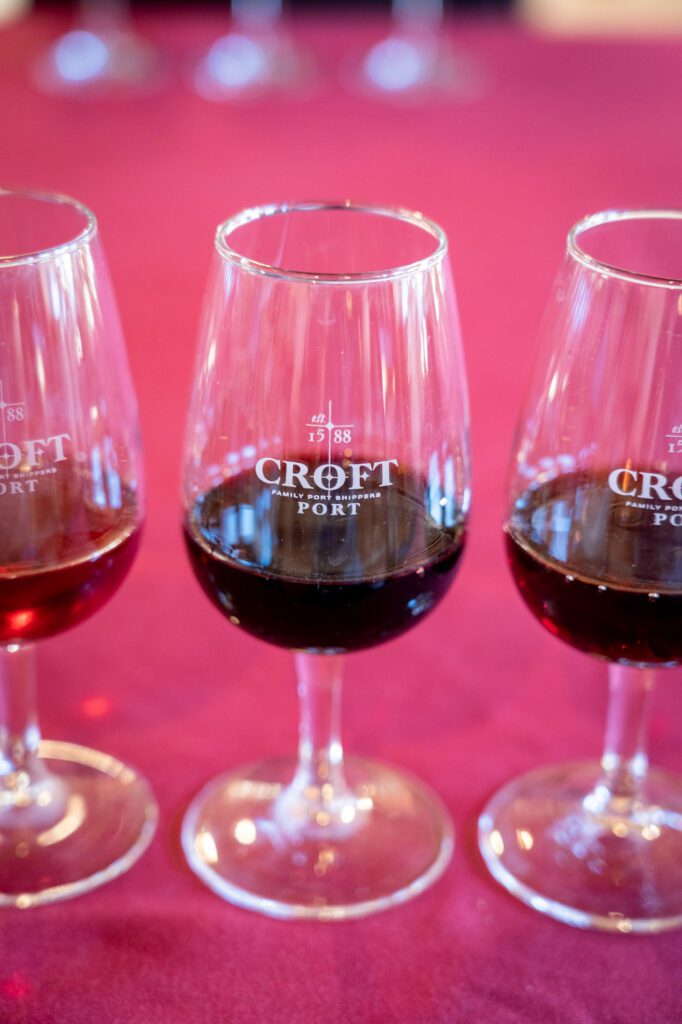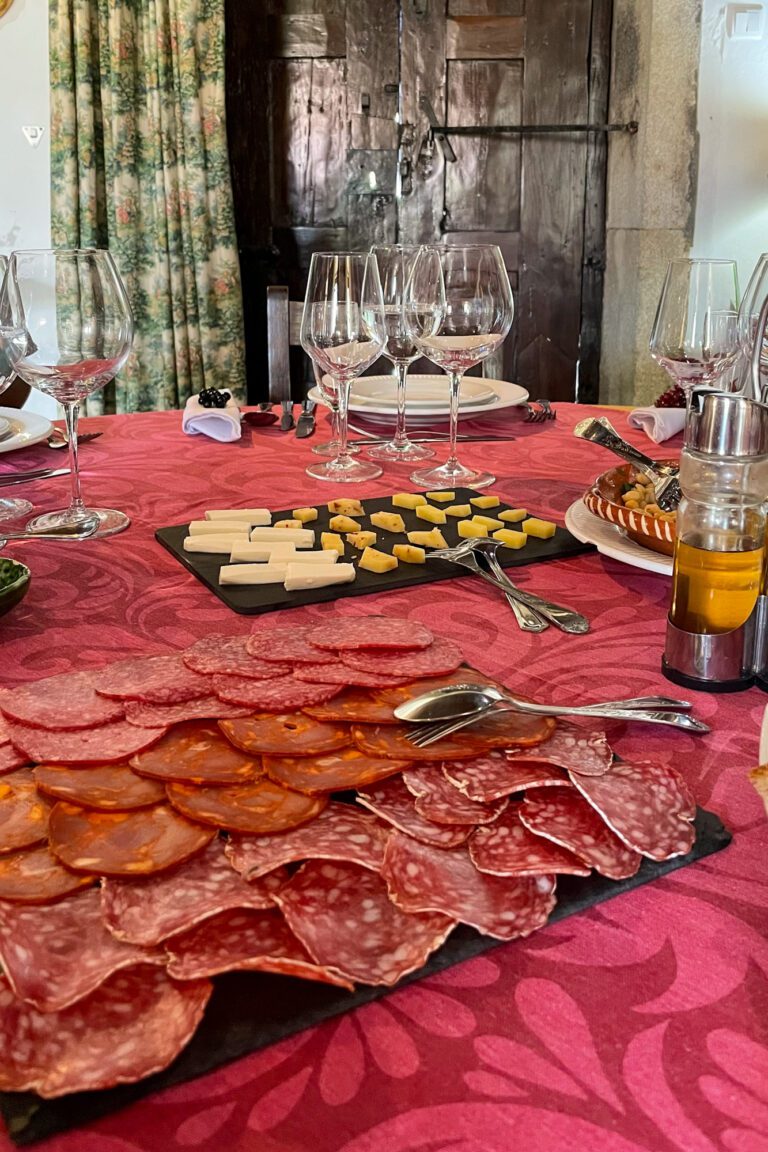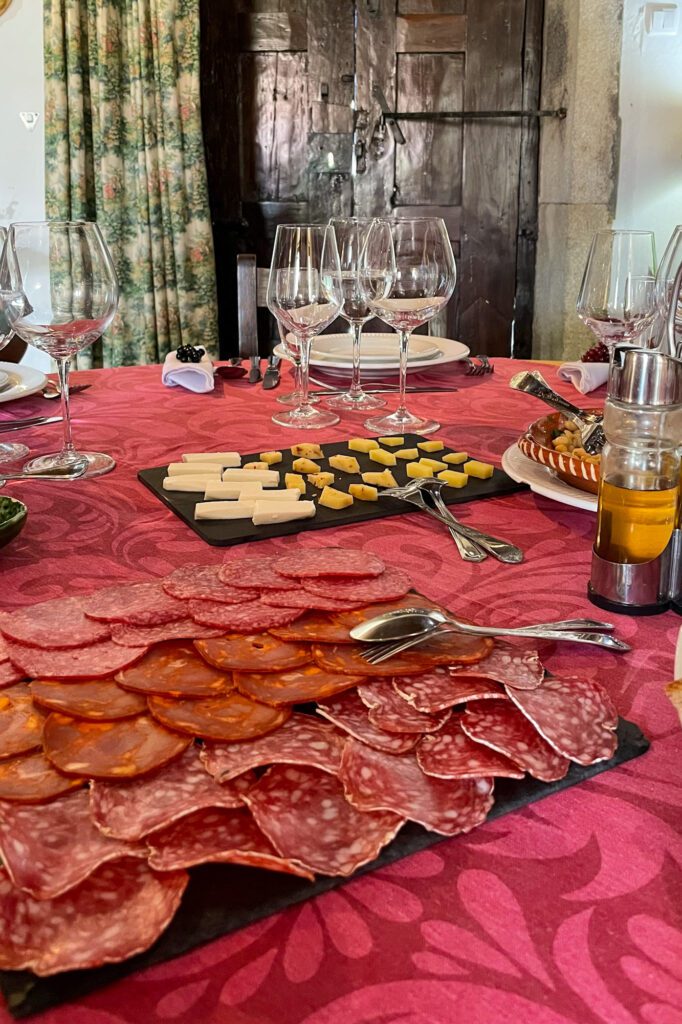 After visiting a second winery in the afternoon, you'll embark on an hour-long cruise along the Douro River with a charismatic captain and plenty of porto tonico (port and tonic) cocktails. The day trip ends with a leisurely ride back to Porto.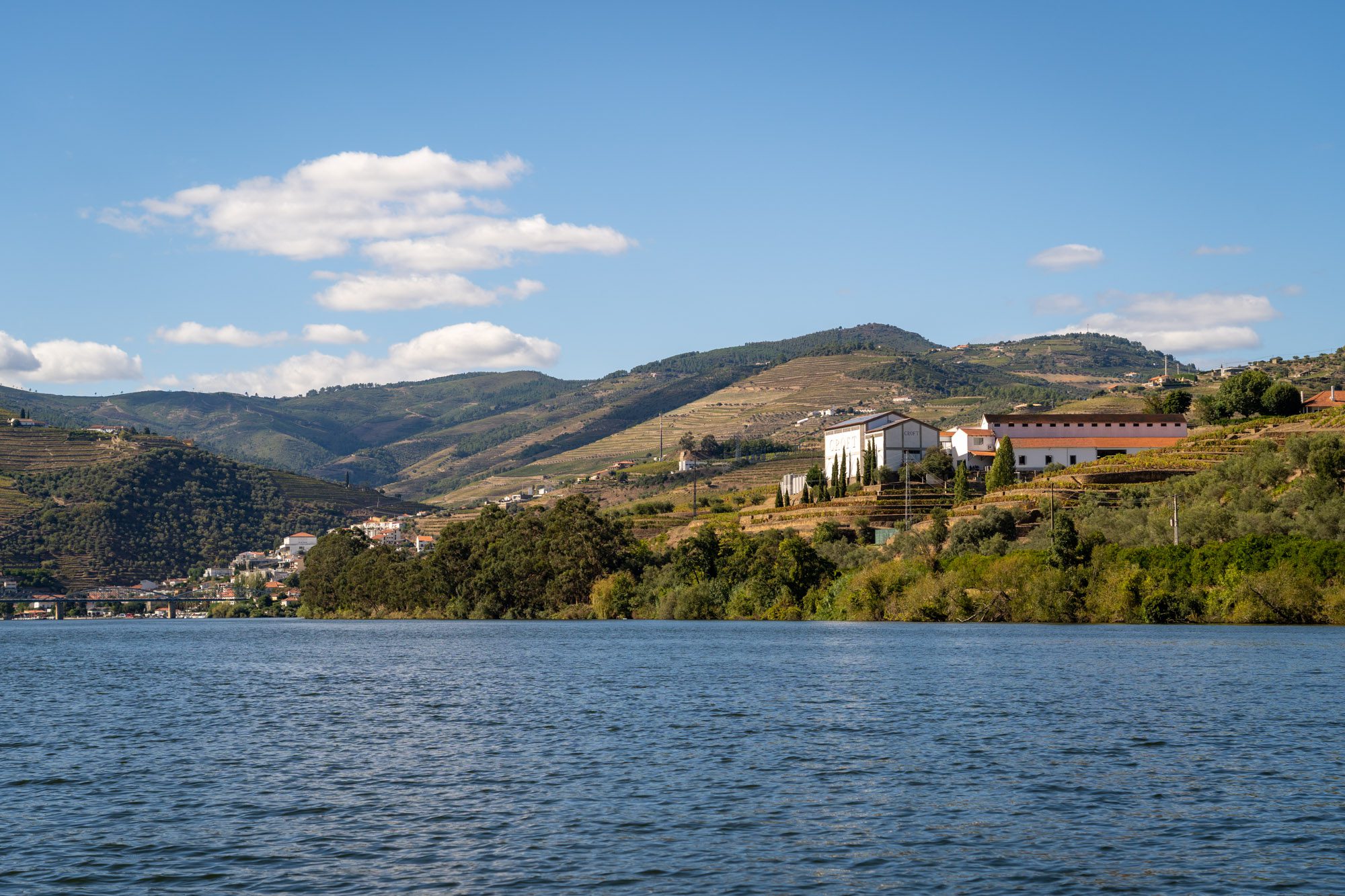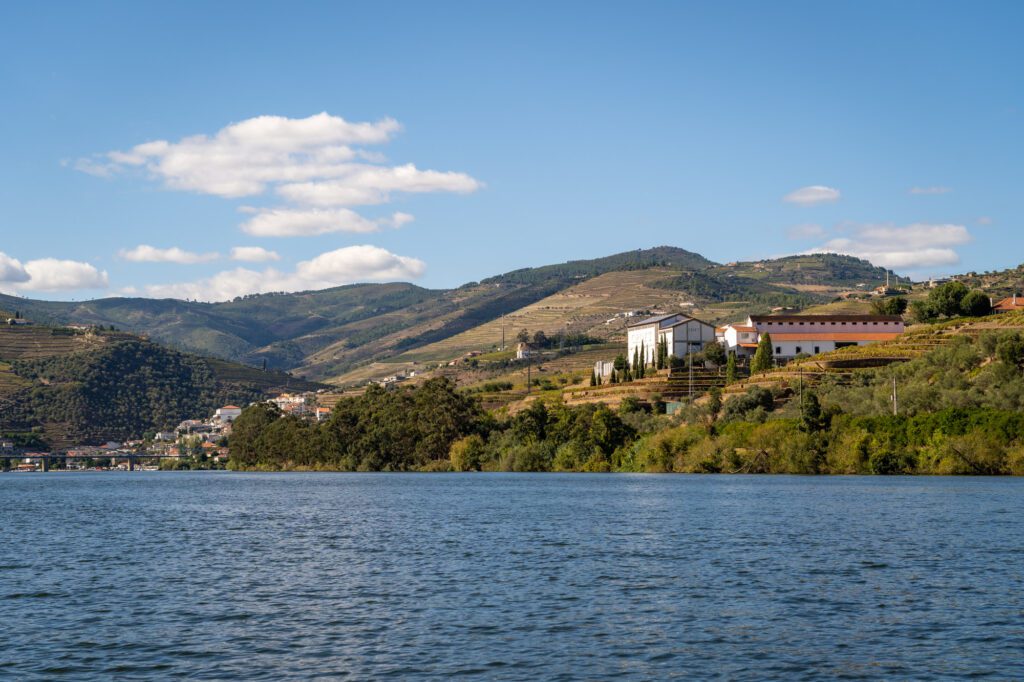 But why choose an organized tour over visiting the Douro Valley by yourself? Well, the region is not the easiest place to visit on your own.
It is possible to reach the Douro Valley from Porto by train. A direct line runs to Pocinho, with Peso da Régua and Pinhão being two of the most popular stops. However, once you arrive in the Douro Valley, the area isn't particularly well-served by public transportation. Without a car to get around, you'll only be able to explore the towns and limited surrounding areas.
The other option is renting a car and driving to the Douro Valley yourself. The biggest downside of this method is that you'll need a designated driver who won't get to sample the local wine, and renting a car can be a bit of a hassle.
You'll also be missing out on visiting the more off-the-beaten-path vineyards and scenic viewpoints that only local guides know about. And you'll miss connecting with both the guide, who has a wealth of knowledge about Porto and its port, and like-minded travelers who also love learning and trying new things.
Got More Time in Porto?
If you have more than 3 days in Porto, there are plenty of ways to expand on this itinerary. This could be spending more time exploring Porto itself or adding on some additional day trips.
Palacio da Bolsa – A Neoclassical 19th-century palace built as the headquarters of Associação Comercial do Porto and used to host official state receptions and visiting representatives. The majestic palace is classified as a National Monument and a UNESCO World Heritage Site. When it's not being used for official business, you can visit the architectural jewel of Porto on a 30 minute guided tour.
Mercado do Bolhão – The city's large central market is a must-visit for foodies. Porto's lively market hosts a variety of local traders, selling meat, seafood, fruit and vegetables, dairy products, bread, cakes, and more. You'll also find a handful of cafes and wine bars if the food is making you a little peckish. The original market dates back to 1914, but it's recently undergone a huge renovation and will reopen in September 2022 (it was closed when we were there, sadly).
Take a Porto Food Tour – Another great option for foodies in Porto is to join a local food tour. This Eat Like a Local Tour takes you to visit some of the city's most authentic family-run restaurants and small producers to sample delicious local dishes, paired with wine, beer, and port. Or choose this Vintage Food Tour to learn about the revival of Porto's cuisine and try fresh spins on traditional Portuguese dishes.
Beaches to the North – Spend a day relaxing on one of the beautiful sandy beaches to the north of Porto. Praia de Matosinhos, Praia dos Ingleses, and Praia do Molhe are all reachable in around 15 minutes by car or 30 minutes on the metro and bus.
Day Trip to Braga – Visit the oldest city in Portugal, with a rich and fascinating history that dates back to Roman times. Braga is known for its many religious buildings, ancient monuments, and beautiful gardens. There's a direct train between Porto and Braga that takes around an hour each way, so this is an easy day trip to take on your own.
Day Trip to Guimarães – Spend a day exploring Portugal's former capital. The historic city center of Guimarães is also a UNESCO World Heritage Site thanks to its many well-preserved medieval buildings, including a castle, palace and numerous churches. The direct train from Porto to Guimarães takes just over an hour.
Less Time in Porto? Here's How to Spend Limited Time in Porto
If you have less time in Porto, here's how we'd organize your time.
With One Day in Porto
If you only have one day to explore Porto, we'd suggest condensing the first two days of this itinerary into one.
Start your day with a walking tour in the morning, grab a bifana and pastel de nata for lunch, then walk across Ponte Luis I Bridge for a port tasting in Gaia.
Depending on how leisurely you want your time in Gaia to be, you may have time to fit in another attraction in the afternoon, such as climbing the Clérigos Tower or stepping inside the cathedral.
With 2 Days in Porto
This one is easy! With two days in Porto, simply follow the first two days of this itinerary. You can always return another time to explore more of the wider Porto district.
When to Visit Porto
The best time for this 3 day Porto itinerary depends on your vacation priorities. Do you want the highest chance of warm, sunny weather? Or are you willing to brave a little rain to experience the city without crowds?
In general, Porto's weather is much milder than places further south in Portugal such as Lisbon and the Algarve. The city's infamous wind can make it feel pretty chilly during the winter and spring months.
We visited Porto in the fall when the weather was still sunny and warm, the leaves were changing color, and the summer crowds were starting to tail off. But each season has its pros and cons.
Summer – Summer is the warmest time of year in Porto, but still cooler and more bearable than southern Portugal. The average temperature increases to 70-75°F and the sun will almost definitely make an appearance. However, July to August is also the peak tourist season, so you can expect larger crowds and increased prices.
Fall – Our favorite time of year in Porto. The warm weather often lasts from the summer months into September and October. The tourist crowds are disappearing and the trees along the Douro River are turning a golden color. Plus, it's harvest time in the Douro Valley, so the wineries are busy picking grapes to turn into port wine.
Winter – The city can get pretty gray and wet during the winter months. The average temperature drops to around 50°F. Unsurprisingly, most tourists tend to avoid this time. But this does mean that the city is less busy and flights and hotels are cheaper.
Spring – Porto starts to warm up again in spring. But you can still expect some rain and wind. Crowds are also smaller than during the peak summer months.
The Geography of Porto
We know this may sound odd, but what most tourists consider to be Porto is actually two cities divided by the Douro River. Porto sits on the river's north bank, while Vila Nova de Gaia is on the south bank.
The area of Porto on the north bank of the river is the oldest part of the city, some of which dates back to Roman times, and is where you'll find most of the prominent landmarks. This is also the area that most tourists gravitate towards.
Vila Nova de Gaia to the south is home to countless historic port warehouses and cellars dating back to the 17th century. The city has become increasingly popular with tourists in recent years, with people flocking to sample locally produced port at the many riverside port lodges.
You can reach Vila Nova de Gaia from Porto by crossing over the famous Luís I Bridge or taking a Douro River Water Taxi.
Getting Around Porto
Porto is a fairly small and compact city. The narrow, winding streets don't lend themselves well to cars and taxis.
If you choose to drive around, you'll spend most of your time stuck in heavy traffic or attempting to navigate confusing one-way systems. Which is why we'd definitely recommend NOT trying to drive in Porto (drop your car off at a parking lot, or find a hotel with parking!).
Your best bet for getting around Porto is by walking or taking public transport.
Exploring Porto On Foot
Porto is a great city to explore on foot. Most of the main sites and attractions are located just a short distance from each other. You'll also get to appreciate the sites along the way and discover charming little alleyways and backstreets that you'd miss by taking other forms of transport. Walking around the scenic streets of Porto is an experience in itself.
The only downside of walking around Porto is that it's not the flattest city. There are many steep slopes and staircases to navigate in the historic center. Make sure to wear comfortable walking shoes. And jump on public transport if you do get tired of walking.
Using Public Transportation in Porto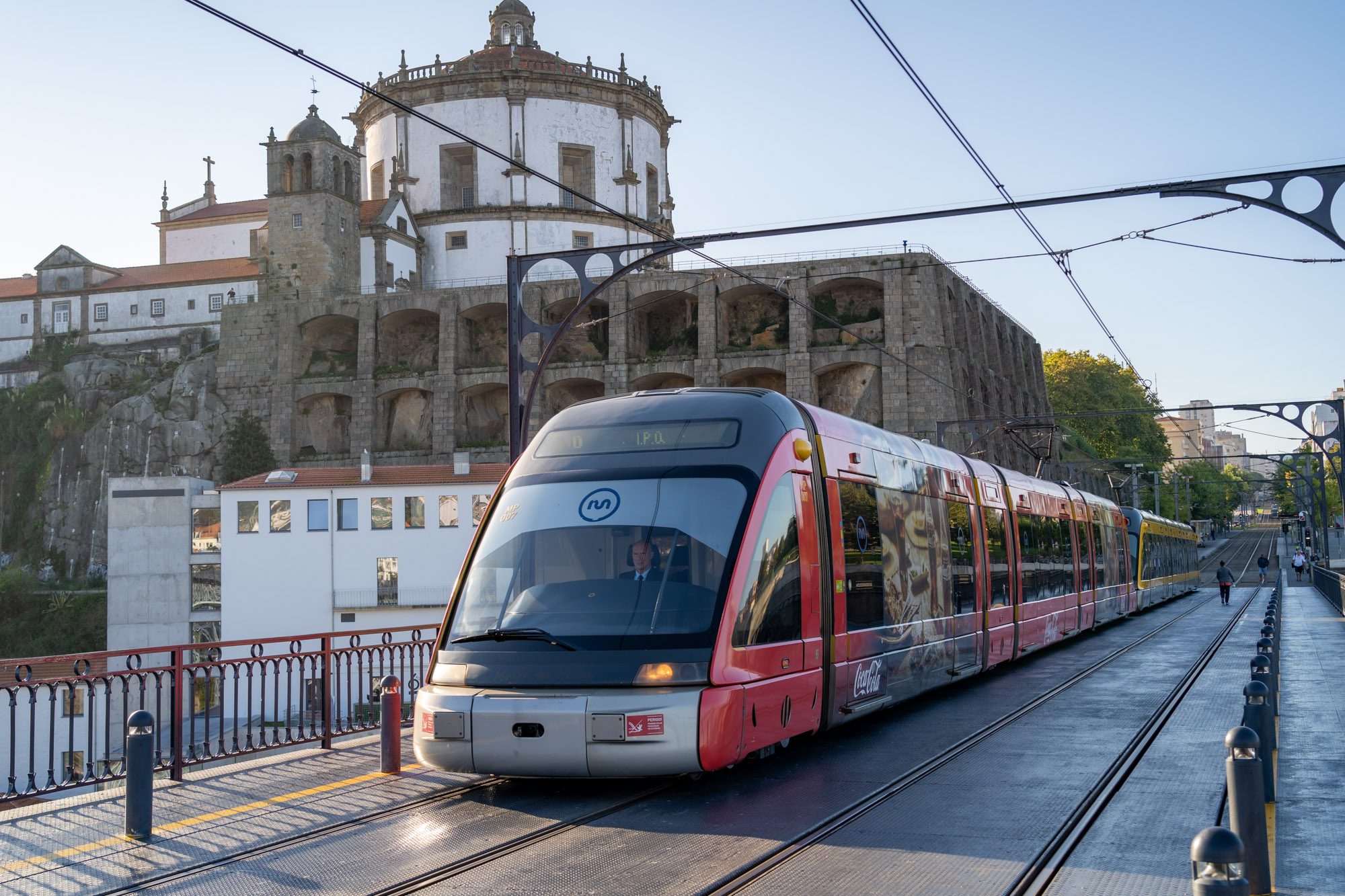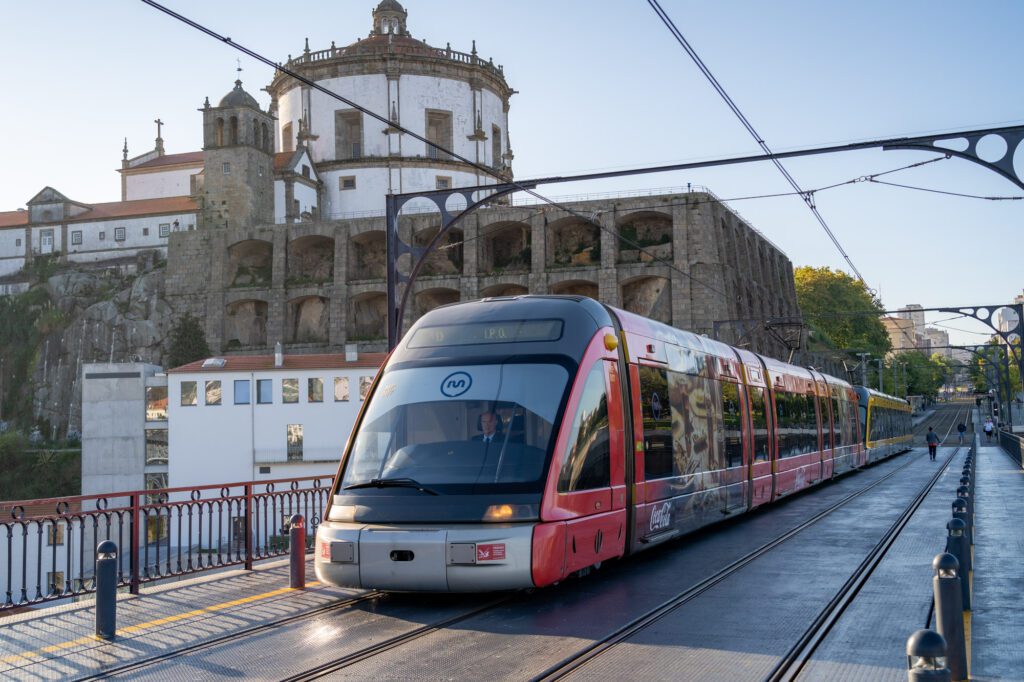 Porto has an extensive public transportation system operated by the Sociedade de Transportes Colectivos do Porto (STCP) that includes the metro, local buses, and trams. Public transport in Porto is extremely affordable and can get you anywhere you need to go.
Metro – Porto's metro system has six lines covering the city and outer suburbs. A single ride starts at €1.20. You'll need to get an Andante card to travel on the metro.
Buses – There are numerous public bus routes all across Porto. The buses also cover some areas on the outskirts of the city that the metro doesn't reach. A single bus ticket costs €1.85, and you'll need an Andante card to board. The downside of buses is that you may still end up stuck in infamous Porto traffic.
Trams – Vintage tourist trams are a fun and unique way to get around Porto. There are three main routes – Line1, Line18, and Line22 – covering different areas of the city. At €3.50 for a single ticket, the trams are more expensive than the metro or buses.
Find more information here about public transport in Porto.
The Andante Card
The Andante card is Porto's public transportation card. You'll need to purchase an Andante card for €0.60 (refundable) to use the city's metro and buses. You can buy and top-up your card at the Porto airport and in most metro and train stations.
If you only plan to use public transport once or twice during your stay, you can top up your card and pay for single journeys. But if you'll be using the metro and buses regularly, there is a good option for you.
The Andante Tour Card is exclusively for tourists and gets you unlimited access to the metro and buses in all zones. The Andante Tour 1 is valid for 24 hours and costs €7, while the Andante Tour 3 is valid for 72 hours and costs €15. The benefit of the tourist Andante card is that you don't have to worry about which zone you travel to. Worth noting that this card DOES include the airport journey!
The Porto Card (SPOILER: We Don't Recommend It)
We've seen the Porto Card recommended by other travel bloggers, but when we actually did the math and lined it up with the attractions we recommend visiting, we realized that it's not really worth getting unless you're literally going to spend the entirety of your three days running around trying to check off every sight you get a discount on.
Which is definitely not how we like to travel.
But, we also recognize that not everyone has the same perspective as us, so let's talk about what it is and why it might be useful.
The Porto Card is an alternative to the Andante Tour Card (the one that gives you unlimited rides on public transportation). The Porto Card gets you unlimited transport on Porto's metro and buses, PLUS admission discounts and free entry to many of the city's main museums, monuments, and tours.
You can buy the Porto Card online, at the airport, or in official tourist offices around the city.
Here are the costs:
1-day Porto Card – €13 (vs. €7 for the 24 hour Andante Tour Card – you'd need to visit places that give you €6 in discounts for that 24 hour period to make it worth it)
2-day Porto Card – €20
3-day Porto Card – €25 (versus €15 for the 3 day Andante Tour Card – you'd need to visit places that give you €10 in discounts for that 72 hour period to make it worth it)
4-day Porto Card – €33
If you follow the itinerary as written, you'd save €3 on the Clérigos Tower and €1 on the Cathedral (if you do the cloister) with the Porto Card, for a total of €4 in savings.
Even if you added the Palacio da Bolsa to the itinerary (another €2.50 savings), it still wouldn't be worth getting the 3-day Porto Card over the Andante Card for either one or three days.
If you want the ability to hop on and off public transportation, go for the Andante Tour card.
We wouldn't recommend the Porto Card unless you were planning on doing things not included in this itinerary, such as a river cruise or some of the smaller museums that are included for free.
IMPORTANT: Even if you have an unlimited Andante Card or Porto Card, you still need to validate your card before every journey at the station machines. Not validating your card can result in a hefty fine.
Getting to Porto
Porto is well connected to the rest of Portugal and other nearby European destinations by plane, train, and road.
Flying to Porto
Francisco Sá Carneiro Airport (OPO) is Porto's main airport and the second largest airport in Portugal. The international hub serves both the city and the surrounding areas.
Porto's airport is reachable by direct flight from many other European destinations. Most long-haul flights from the US have a connection in a larger city such as Lisbon, London, Paris, or Madrid.
The airport itself is located just 11 km north of Porto, so getting into the city center is super quick and easy. The metro is the easiest and cheapest way to reach the city from the airport – and the one that we'd recommend using. But buses and taxis are available too and slightly more convenient if you're traveling with a lot of heavy luggage.
By Metro – Line E (purple) of the Porto Metro runs between the airport and city center every 20-30 minutes from 6:00 am to midnight. The journey takes around 25 minutes to reach ​​Trindade station. A single ticket costs €2. You'll also need to pay a refundable card fee of €0.60.
By Bus – A direct airport shuttle is operated by GetBus. The bus takes 25 minutes to reach the center and costs €2.80. However, GetBus only runs six times a day, so you'll have to time your journey well to catch it. STCP runs more regular public buses between the airport and the city center. But these are much slower and the routes/timetables can be confusing, so we wouldn't recommend using them.
By Taxi – You can also book an Uber or jump in a taxi outside of arrivals. A taxi from the airport to central Porto takes just 20 minutes and should cost you around €25. If you're arriving early in the morning or late at night, a taxi is your best option.
Taking the Train to Porto
Porto is well connected to many other cities in Portugal via the high-speed train network Alfa Pendular. The network links Porto with destinations including Lisbon, Faro, Coimbra, Braga, and Guimarães in next to no time at all. The trains are modern, comfortable, and have great onboard amenities.
Intercidades trains also run between most major cities and towns in Portugal. These trains aren't quite as flashy and the journeys take a little longer than Alfa Pendular. But it's a good budget alternative for traveling to Porto by train.
Most high-speed and intercity trains arrive at Porto's Campanhã station in the city's east. From here, you'll need to jump on a 5-minute local train to São Bento station in the historic city center.
Don't make the mistake of getting off the train at Campanhã (unless you're staying nearby). The station is at least a 45 minute walk away from the hotels and attractions of the historic city center – not a fun journey with heavy luggage!
Driving to Porto
If you're incorporating this Porto itinerary into a wider Portugal or European road trip, you can also arrive in the city by car. The highways between major cities in Portugal are easy to navigate and well maintained.
You'll need to be cautious once you arrive in Porto itself. The historic city wasn't built with cars in mind. There are many narrow roads, confusing one-way systems, and restricted areas. Plus finding parking is a nightmare. Do not, under any circumstances, try to drive around Porto's city center.
If you are arriving in Porto by car, either pick accommodation with private parking or find a parking lot on the outskirts of the historic center.
.Estacionamento Palácio de Cristal is a great underground parking garage in the west of the city that offers 72 hours parking for just €20. You can then walk and use public transport to get around the city during your stay.
---
Planning a trip to Portugal?
Here are our other Portugal travel guides to help you plan an incredible trip (even if you have to eat gluten free!).
If there's no link below, it means we're still working on it – long, in-depth guides take time! We're working on it, though, we promise.
Portugal:
Lisbon
Porto:
The Algarve: