How to Hike the Seven Hanging Valleys Trail: Complete Guide
Look, we're from coastal California (which we realized over the course of our Algarve road trip is remarkably similar to the Algarve in terms of scenery, flora, and fauna) and we still thought this hike was spectacular.
If you're not used to sweeping coastal vistas, blue-green waters that perfectly contrast with the golden sand of countless beautiful beaches, and unique sinkholes that form deep caverns (only accessible by boat), then we can only imagine the sheer joy you're going to experience as you hike the Seven Hanging Valleys Trail. 
The scenery you'll see along the way is like a mix of Big Sur and Point Reyes, two of our favorite places in California (Alysha's home state). We've hiked all over the world, and this hike is somewhere in the top 10 hikes we've ever done (we should probably sit down and figure out what that list looks like, now that I think about it). If you're on the Algarve and looking for a hike to tackle, this would be our top choice for you.
The Seven Hanging Valleys hike is one of the most popular hikes on the Algarve, and probably makes the top two or three hikes in Portugal. Armed with the right information, you can beat the crowds (and the heat) and have an amazing coastal experience.
Below, we're going to give you the information you need to know to do the hike confidently and safely, along with a trail description so you know what you're getting yourself into. Plus, some alternative route options if you don't want to walk the entire thing there and back, and other practical information that we hope you'll find useful.
Sound good? Let's get into it!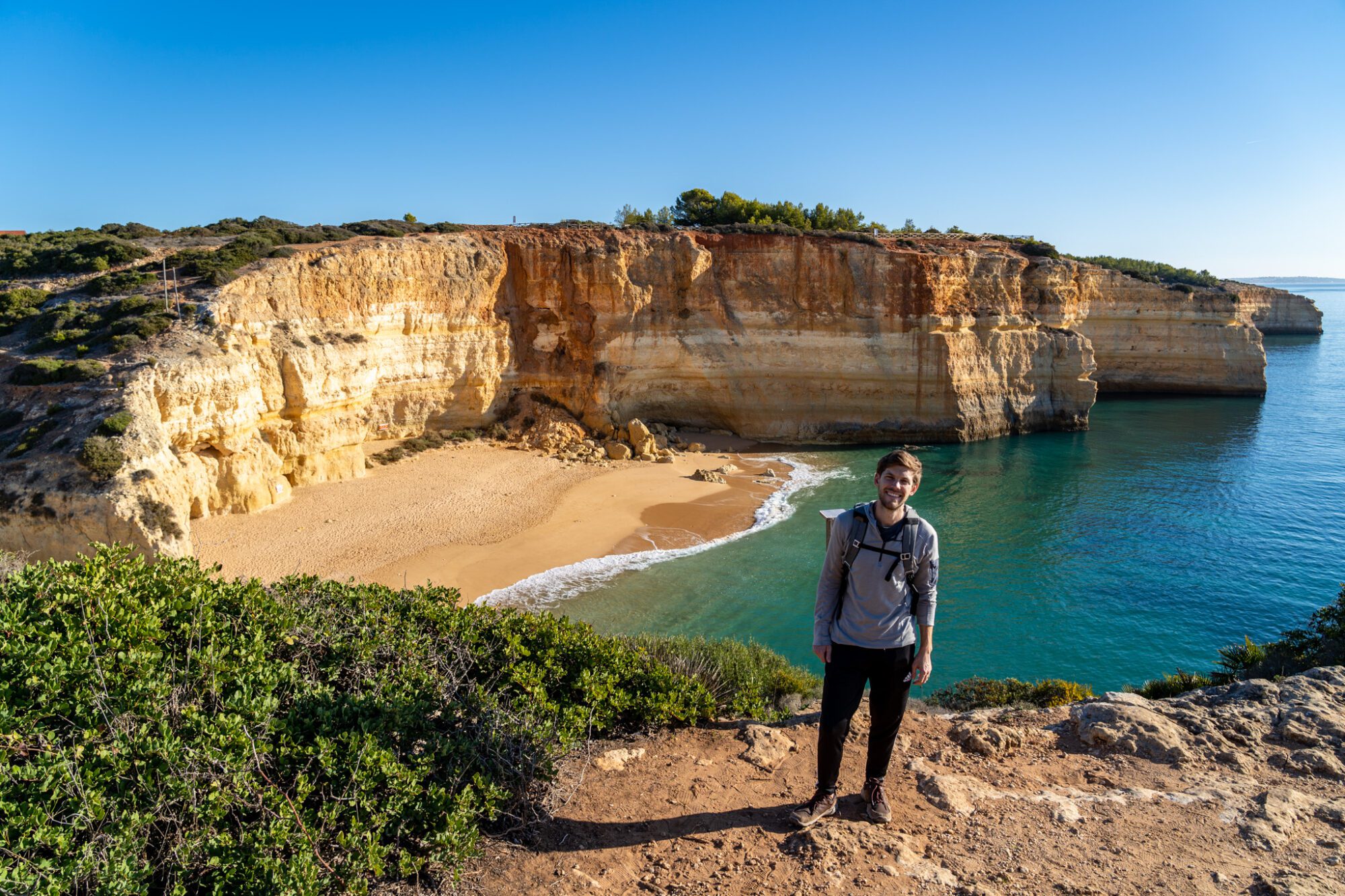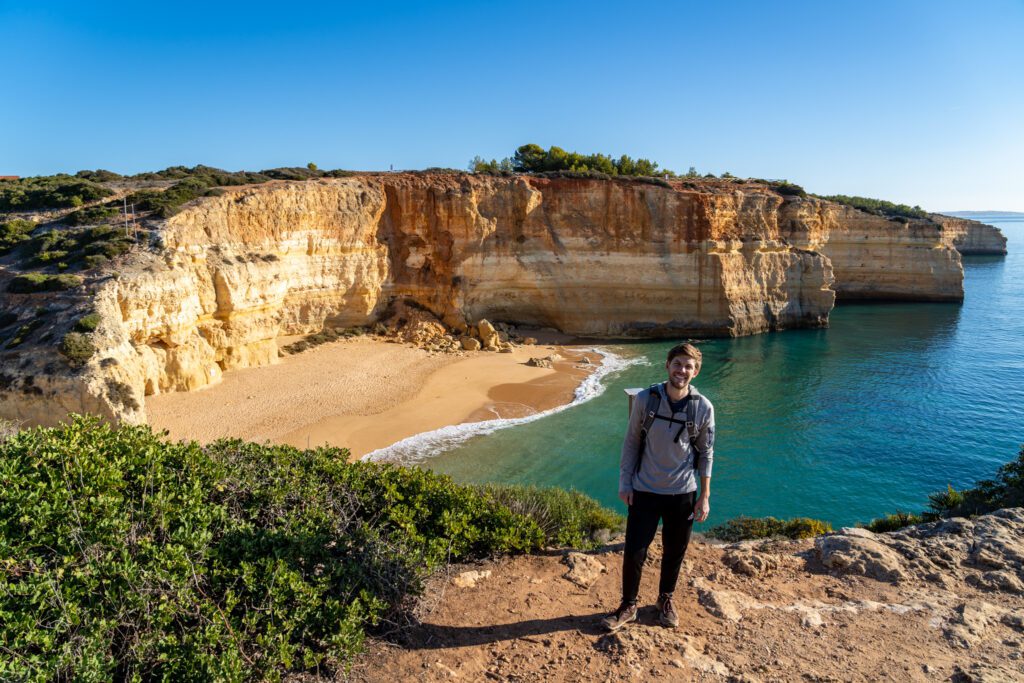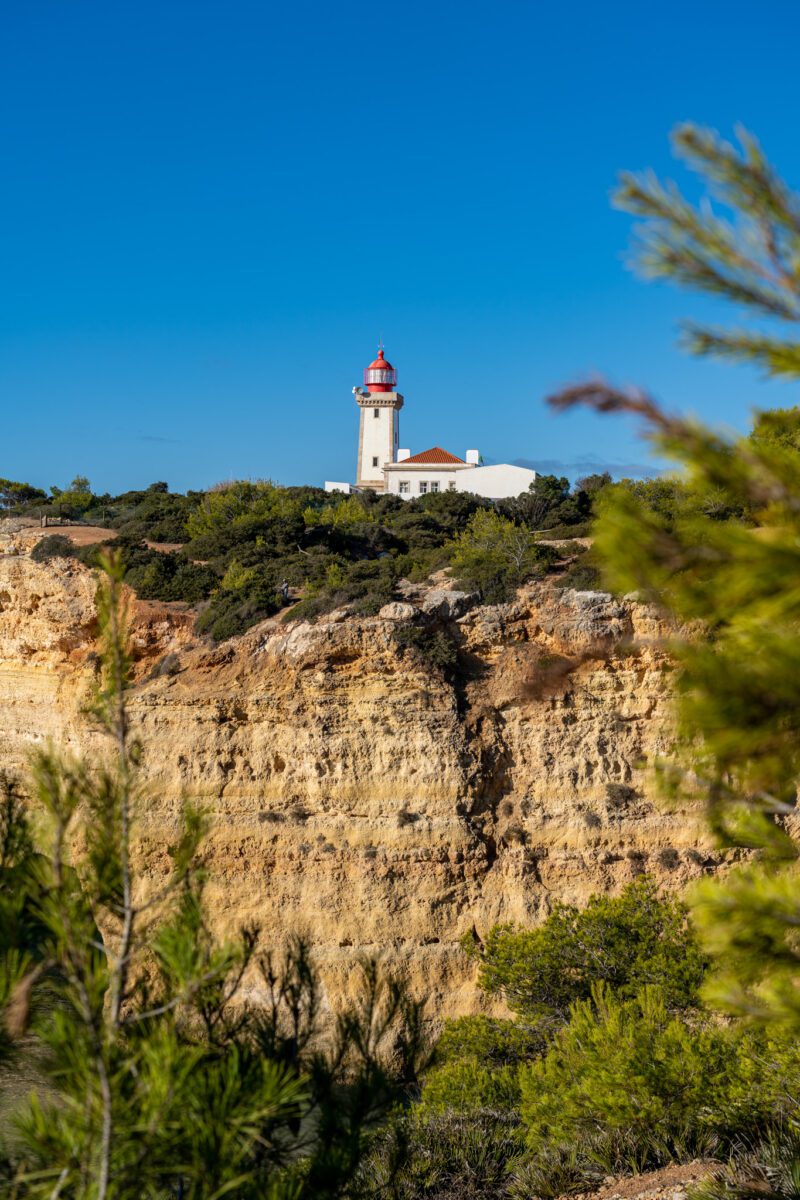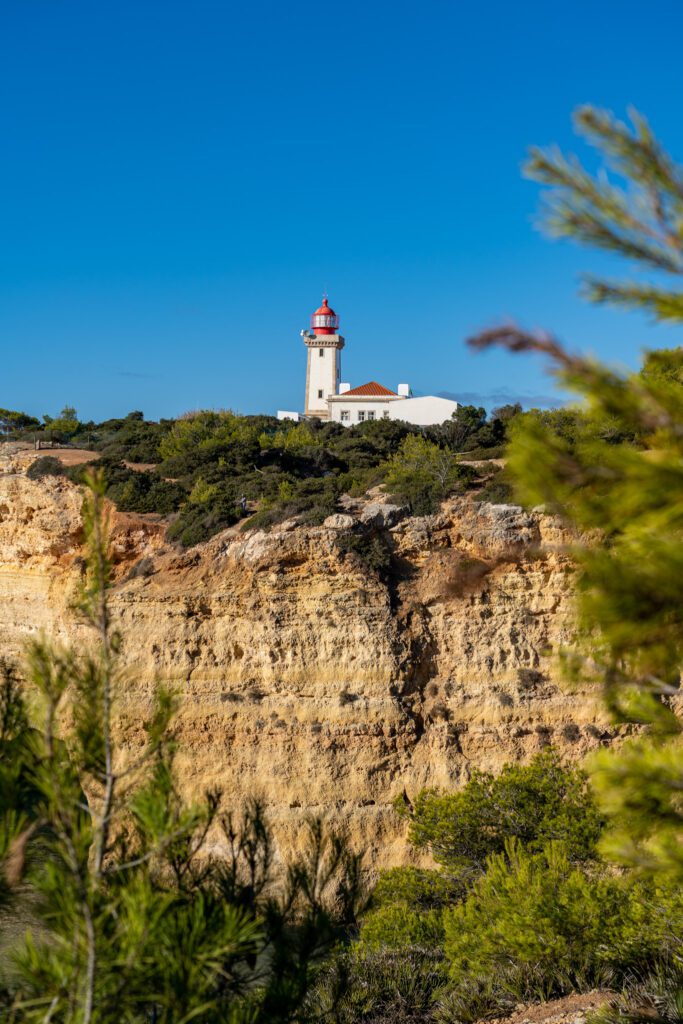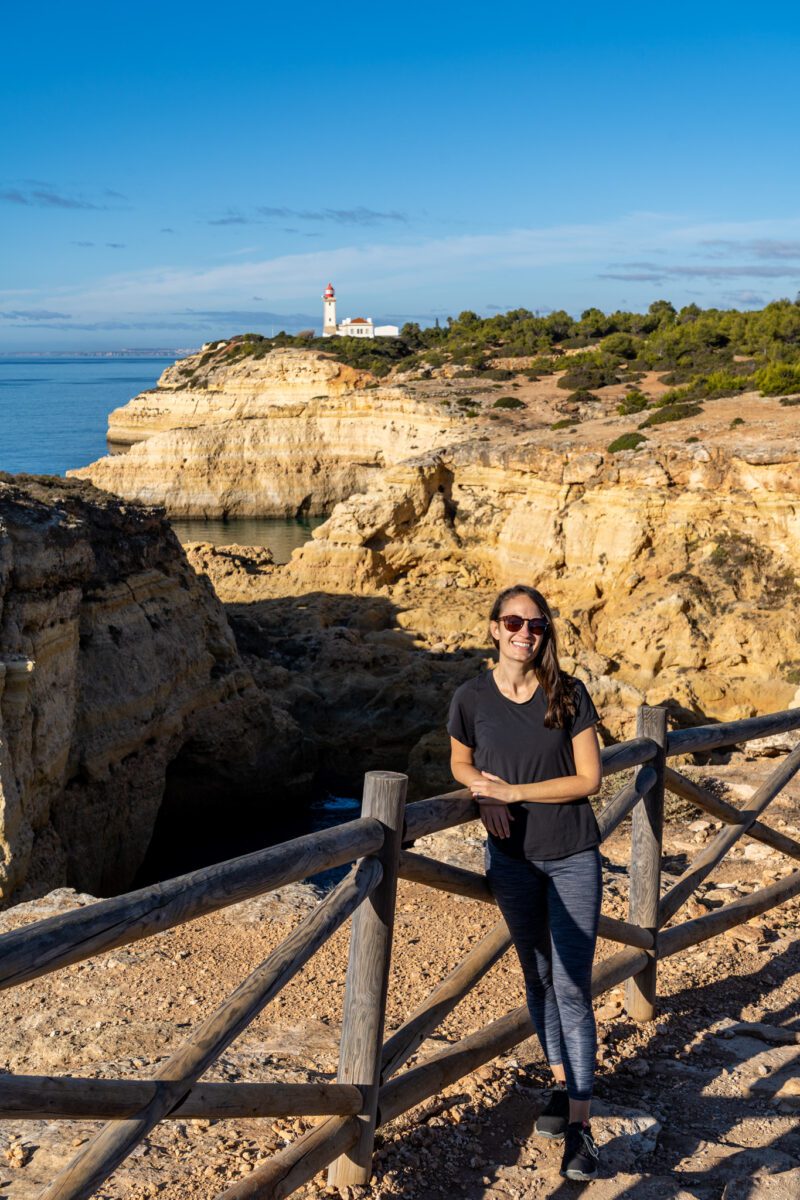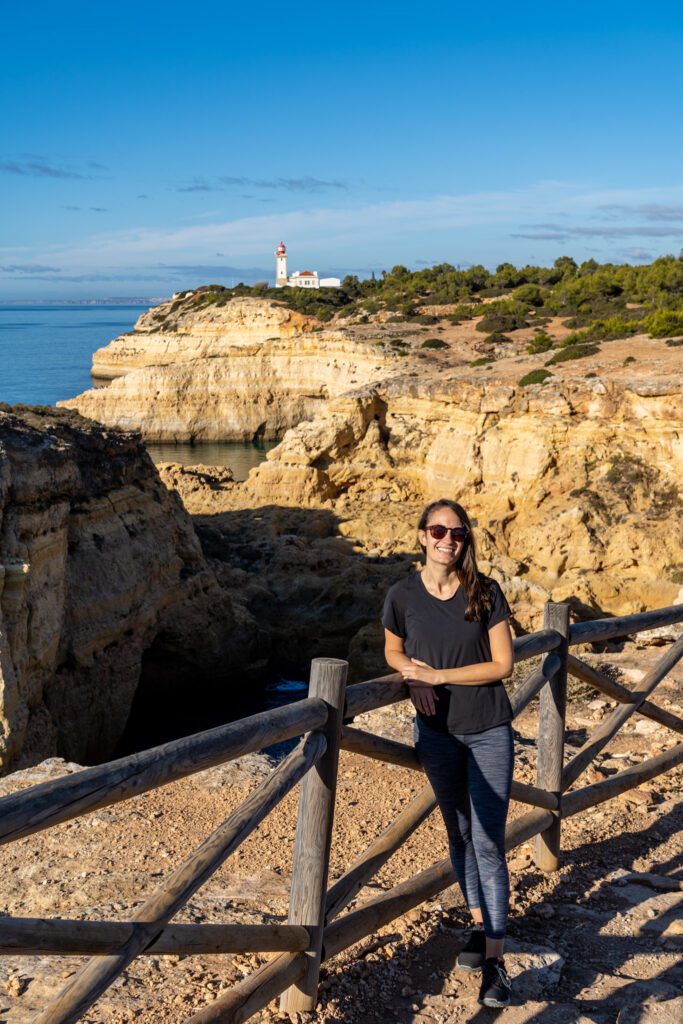 Disclaimer: Some of the links in this post, like hotel links, are affiliate links, meaning at no additional cost to you, we make a little bit of money if you click through and book. That being said, we would never recommend something to you that we don't stand behind 100%.
Hike Details
First, an overview of the full out-and-back hike.
Length: 7 miles / 11.4 km
Elevation Gain: 1,200 ft. / 365 meters
Season: Year round (more on this below)
Trail Type: Out and Back (we have ideas on alternate routes below)
Difficulty: Easy / Moderate
Trailhead Location: Either Praia da Marinha or Praia do Vale de Centeanes
Dog Friendly: Yes!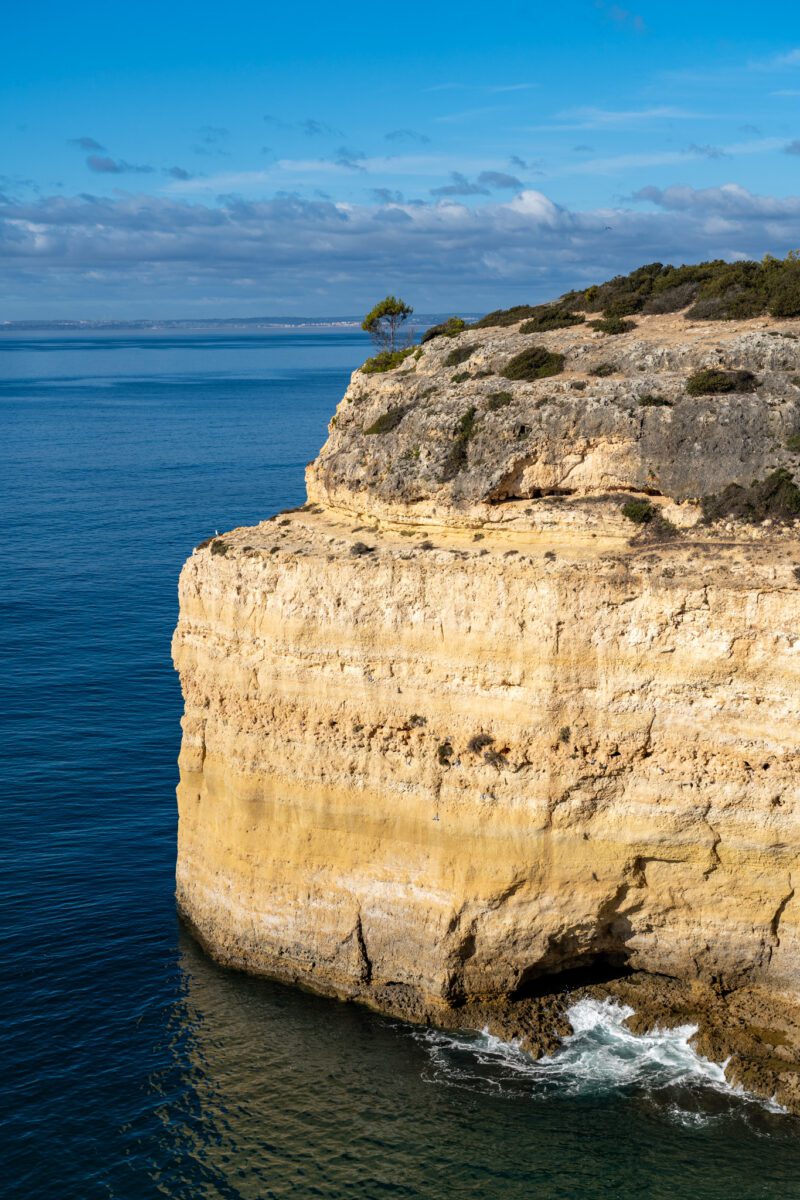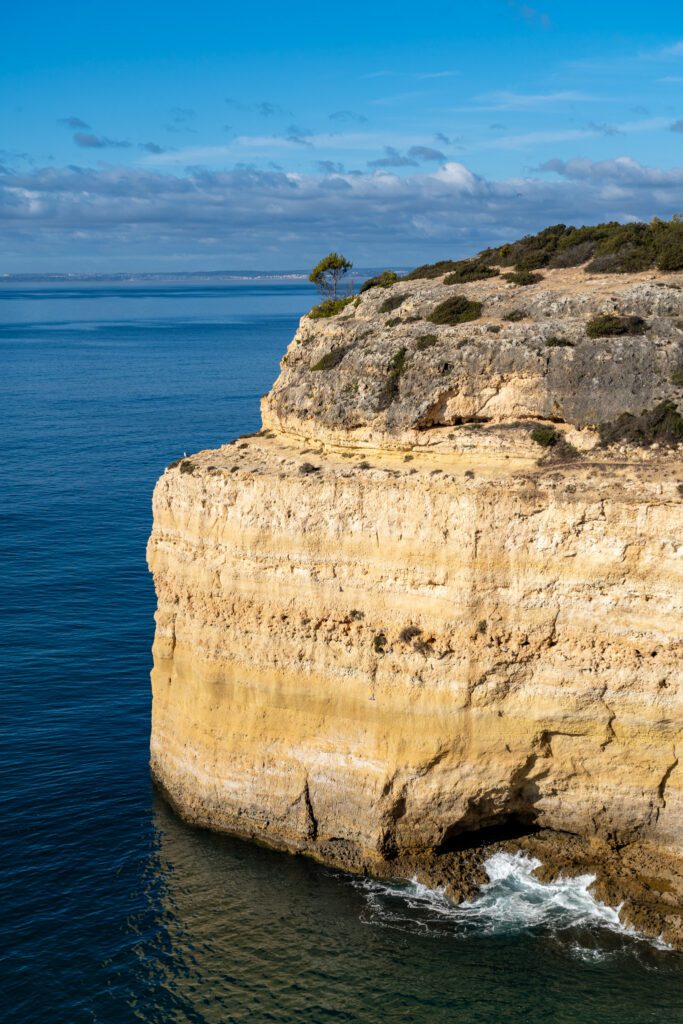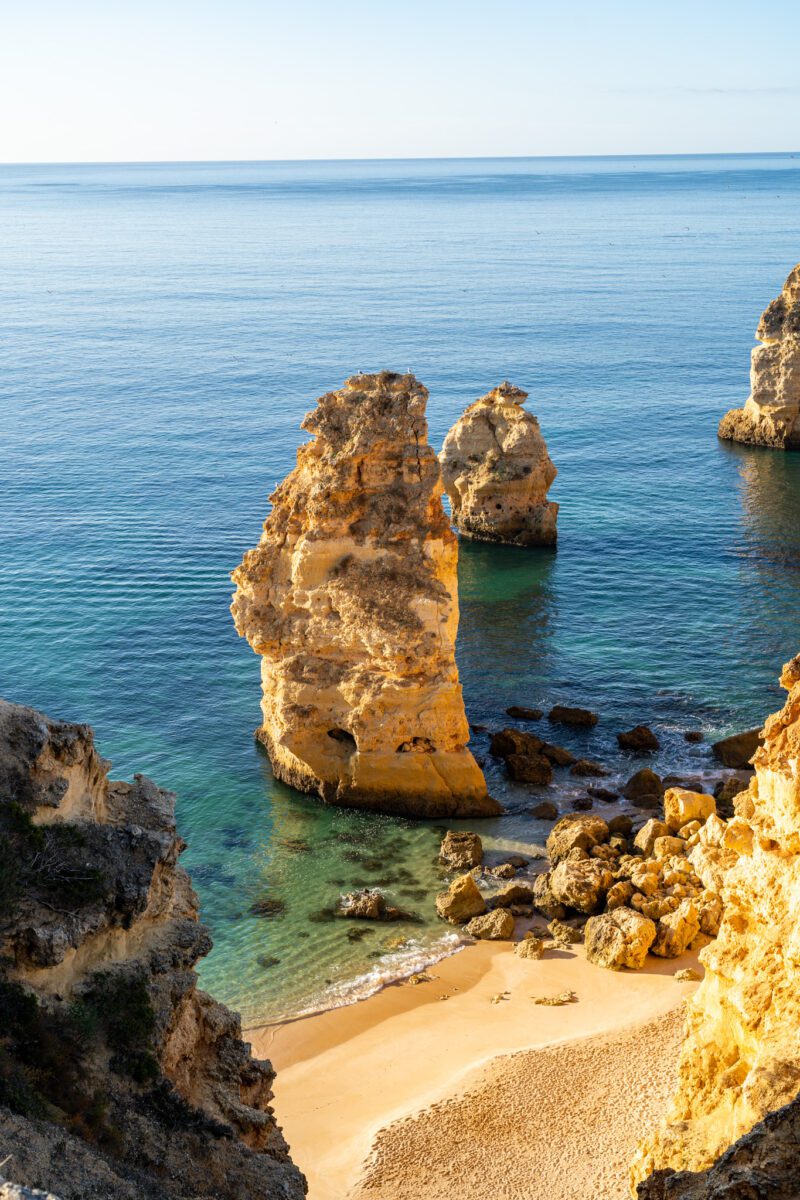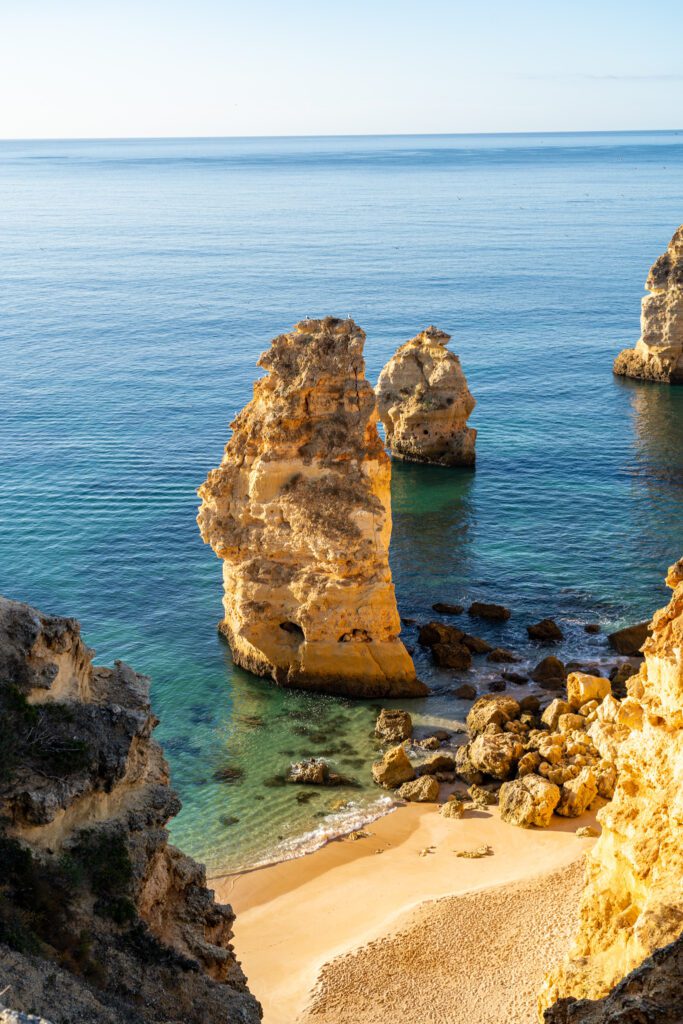 Which Route Should You Take?
This hike is a point-to-point hike along Portugal's gorgeous southern coast. In other words, it's either a shorter one-way hike (if you can find transportation to / from the trailheads), or a longer out-and-back hike.
You have a few options, depending on how much walking you're up for, how much time you have, and what you're interested in seeing. In the detailed trail guide below, we have the hike broken down into four distinct parts.
In general, we think that the best part of the hike is along the eastern end of the trail, between Praia da Marinha and Praia do Carvalho. If you have limited time and / or energy, focus on that section.
Here are your three route options as we see them. Of course, you can go until any point when you feel like turning around, then simply turn around and walk back. But these are the three ways we would do it if we were you.
Option 1: The Full Hike, Round Trip – 7 miles / 1,200 feet of elevation gain (11.4 km / 365 m). Hike the entire trail out-and-back from Praia da Marinha to Praia do Vale de Centeanes, and then back the way you came.


Option 2: The Full Hike, One Way – 3.5 miles / 600 feet of elevation gain (6 km / 180 m). Do the entire hike, but only one way. This requires using either taxis, Uber, or hitching a ride to get back to your car at the first trailhead (or finding a way to get there without a car).


Option 3: Partial Hike, Out and Back – 3.3 miles / 600 feet of elevation gain (5.6 km / 180 m). Hike the section between Praia da Marinha and Praia do Carvalho, which in our opinion is the best part of the trail. You can continue on to the nice lighthouse – Farol de Alfanzina, for an additional 2 miles (3.2 km) added to your round-trip distance.
Which Direction Should You Hike?
Because we think the eastern section is the best part of the hike, we'd suggest starting from Praia da Marinha and hiking west along the coast.
An added benefit of doing it this way is that, if you start in the morning, you'll never be hiking directly into the sun. On the way out, the sun will be behind you. On the way back, the sun will be higher in the sky, so it won't be as bothersome.
The parking lot at Praia da Marinha also happens to be significantly bigger, which is another reason to start from there.
Getting To and From the Trailheads
If you have a car, drive. The end.
Public transportation isn't super reliable to and from the trailheads (nobody was able to give me a bus we could take to get there), so Uber or a taxi might be your only option if you don't have a rental car.
If you decide to do the one-way hike, the best way to get back to your car is also Uber / taxi. You should be able to find one near the beach at the end of the hike, especially if you walk back up the hill towards the town.
When I say "Uber," I mean any ride-sharing or taxi-hailing app you prefer. You could also try FreeNow, which we found to be more reliable in most European cities.
When to Hike This Trail
The first thing that you should know about this trail is that there is absolutely zero shade along the way. It's very exposed, which means on a hot summer day, it's going to be miserable around midday. If you're hiking between June and August, roughly, get an early start. Like, 8:00 am. Earlier if you can. It's also the busiest time of year, so you'll want to get to the parking lot early to get a parking spot.
Spring and fall will be plenty warm, but not blistering. Still do your best to get an early start to avoid the midday heat, and carry plenty of water, some sunscreen, and a hat and sunglasses. Crowds are still a problem at this time of year, so an early start will get you a prime parking spot.
We did this hike on December 1st, and it was absolutely lovely. It's much more manageable in the winter, with its mild temperatures, but there's a chance you might get some rain. The whole "get an early start" thing isn't as much of a problem in the winter since it doesn't get nearly as hot, but we were surprised to find a completely full parking lot when we got back to our car around 1:00 pm.
Things to Know Before You Hike the Seven Hanging Valleys Trail
Here are a couple of reminders about this hike before we get into the detailed trail description.
It. Will. Be. HOT. Especially in the summer, but also in the spring and fall to a lesser extent. Bring plenty of water – preferably in a reusable water bottle – and sunscreen. A sunhat and sunglasses are also basically essentials, especially in the summer.


There are limited places to eat and drink along the trail, especially in the off-season (though there are a few places near Benagil Beach). Pack lunch and snacks for the journey. And plenty of water.


While you pass Benagil Beach, you cannot access the Benagil Caves from the trail, or many of the beaches along the way. You'd need to rent a kayak or stand up paddleboard from the beach to do that, or join a guided tour that takes you there.


Please do not leave human waste along the trail. Or toilet paper. If you carried it in, you can carry it out.


Have a map of the trail accessible. We lost the trail a couple of times – nothing major, we just realized we weren't on the official trail anymore and had to course correct – and we were happy to have had the Alltrails app up so that we could figure out where we were supposed to be. There are red and yellow trail markers along the way, but they're easy to miss.


It seems like a lot of elevation gain, but it's mostly small up-and-down grades, not huge climbs. We're from the west coast of the United States, where most hikes tend to be straight up a mountain. This hike is a piece of cake compared to that, but it's still somewhere between easy and moderate.


Don't hike in sandals. A pair of sneakers is fine, a pair of hiking shoes is better (for what it's worth, we love the Adidas Terrex Swifts).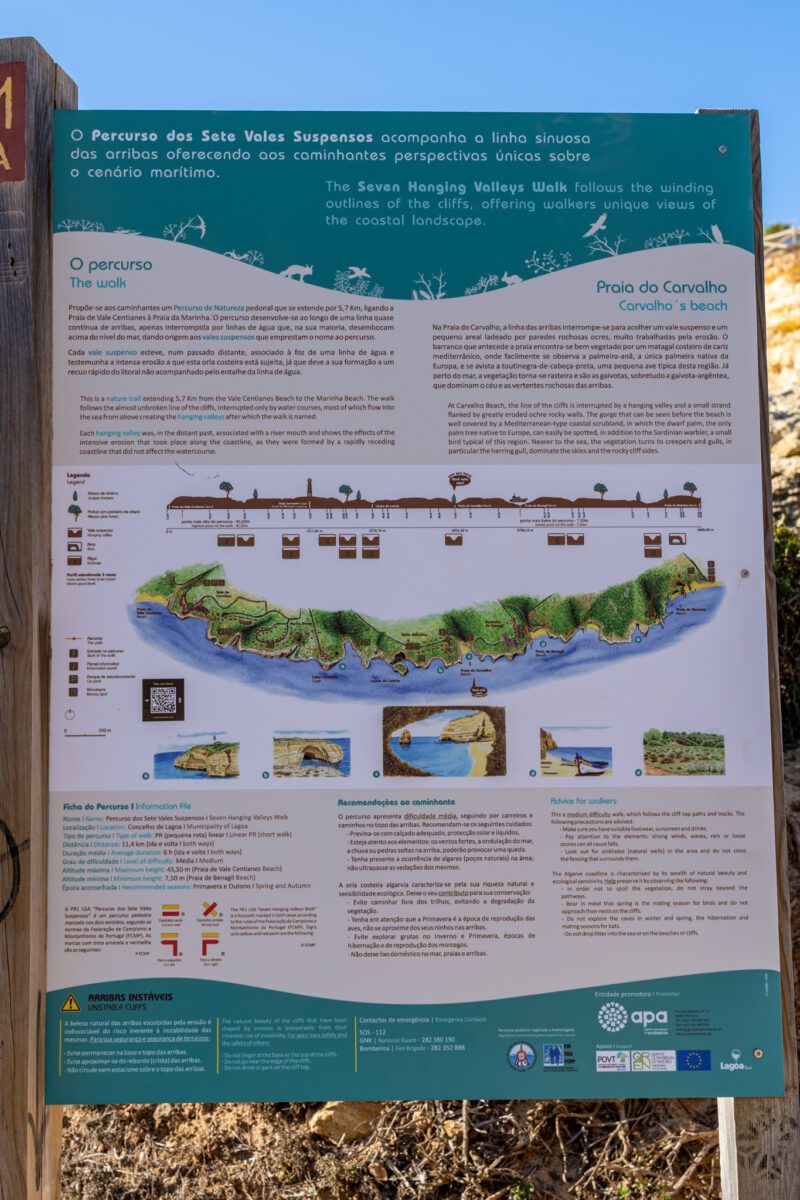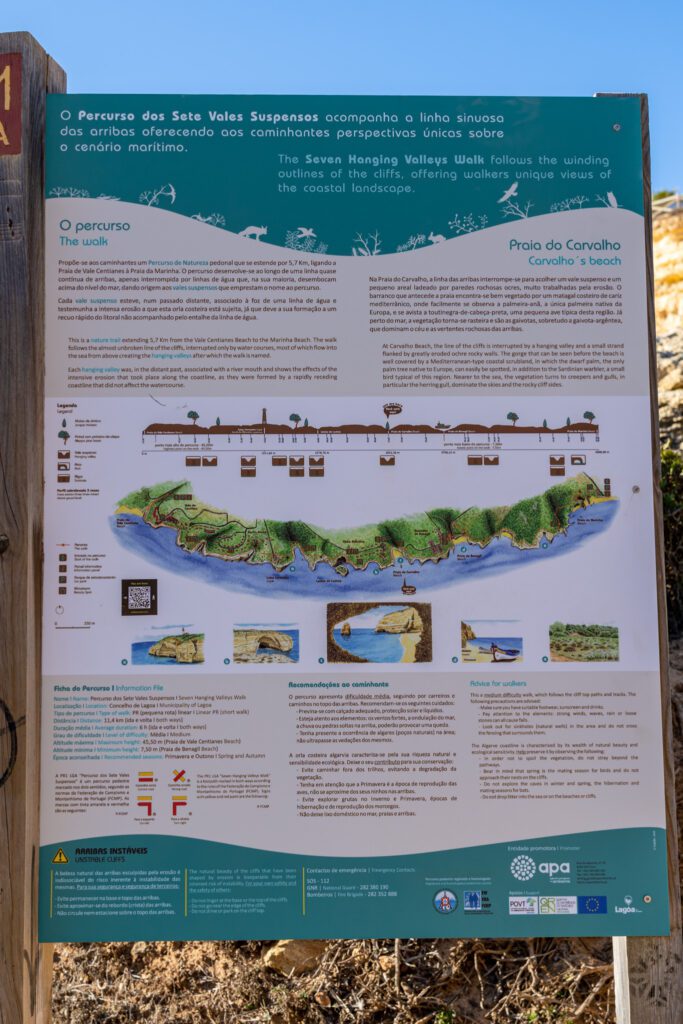 Trail Report: What to Expect on the Hike
And now, onto the description of the trail so that you know exactly what to expect along the way. This description follows the trail from east to west, starting from Marinha Beach and ending at Praia do Vale de Centeanes.
To make it a little easier, we're breaking it up into four distinct parts. They are:
Marinha Beach to Benagil Beach
Benagil Beach to Praia do Carvalho
Praia do Carvalho to the Alfanzina Lighthouse (Farol de Alfanzina)
Alfanzina Lighthouse to Praia do Vale de Centeanes
For each section of the hike, we'll give you the approximate distance covered so that you can make an educated decision about how much of the walk to tackle.
If you decide to do it in the other direction, it's simple enough to reverse this description to understand what you're getting yourself into.
Marinha Beach to Benagil Beach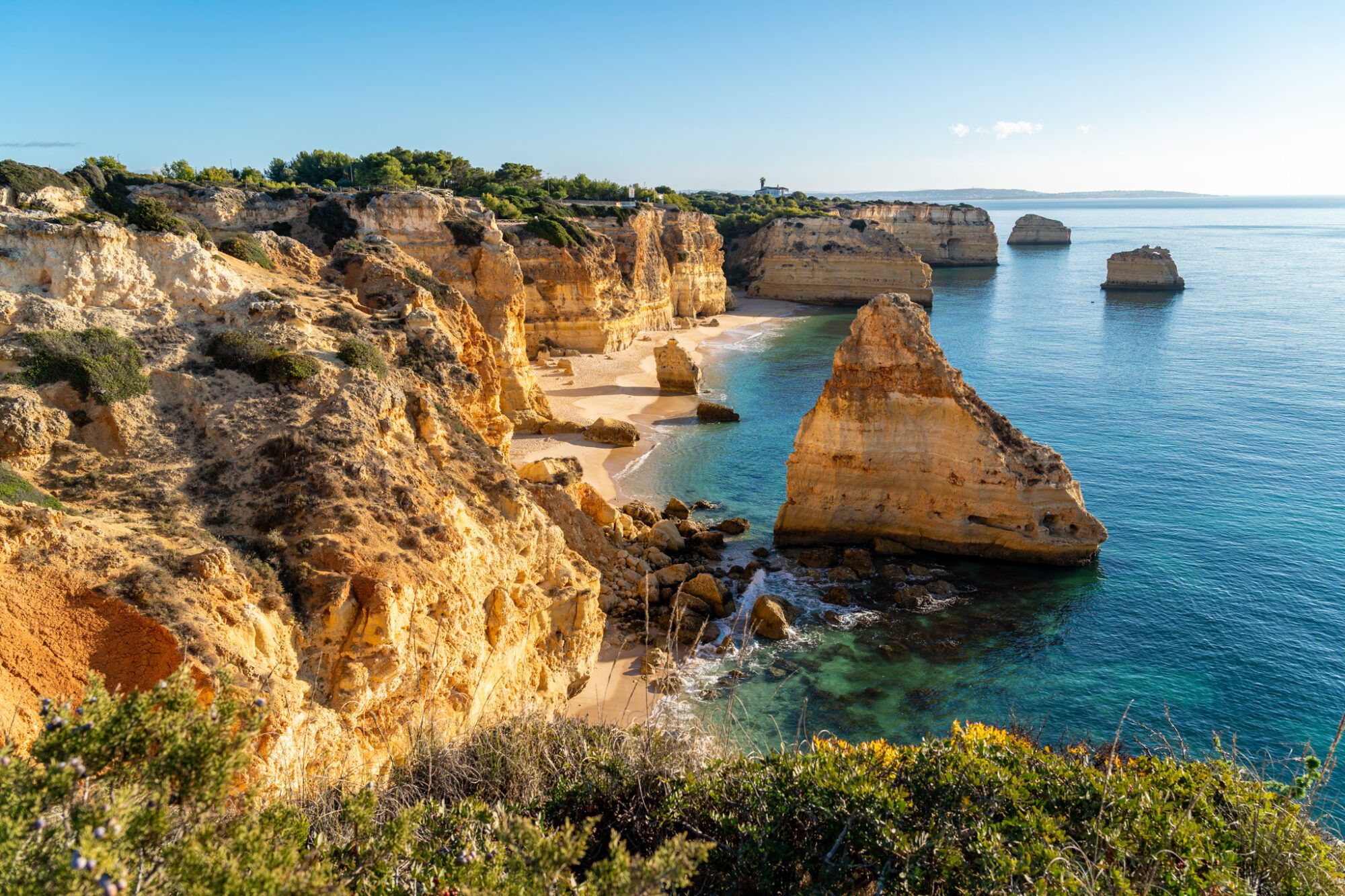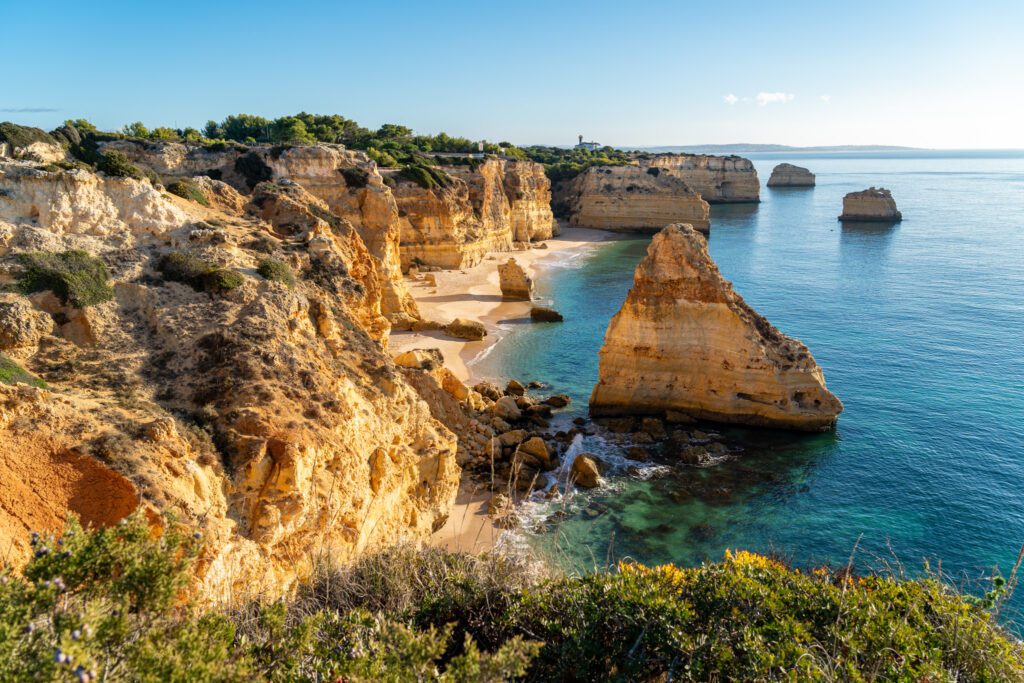 Distance Covered: 1.1 Miles / 1.8 km
The hike starts from the parking lot at Marinha Beach, and you're immediately met with some of the best views of the entire hike. Sheer cliffs of limestone seem to drop off directly into the ocean below, and the water is crystal clear, giving it a brilliant blue-green color when the sun is high in the sky.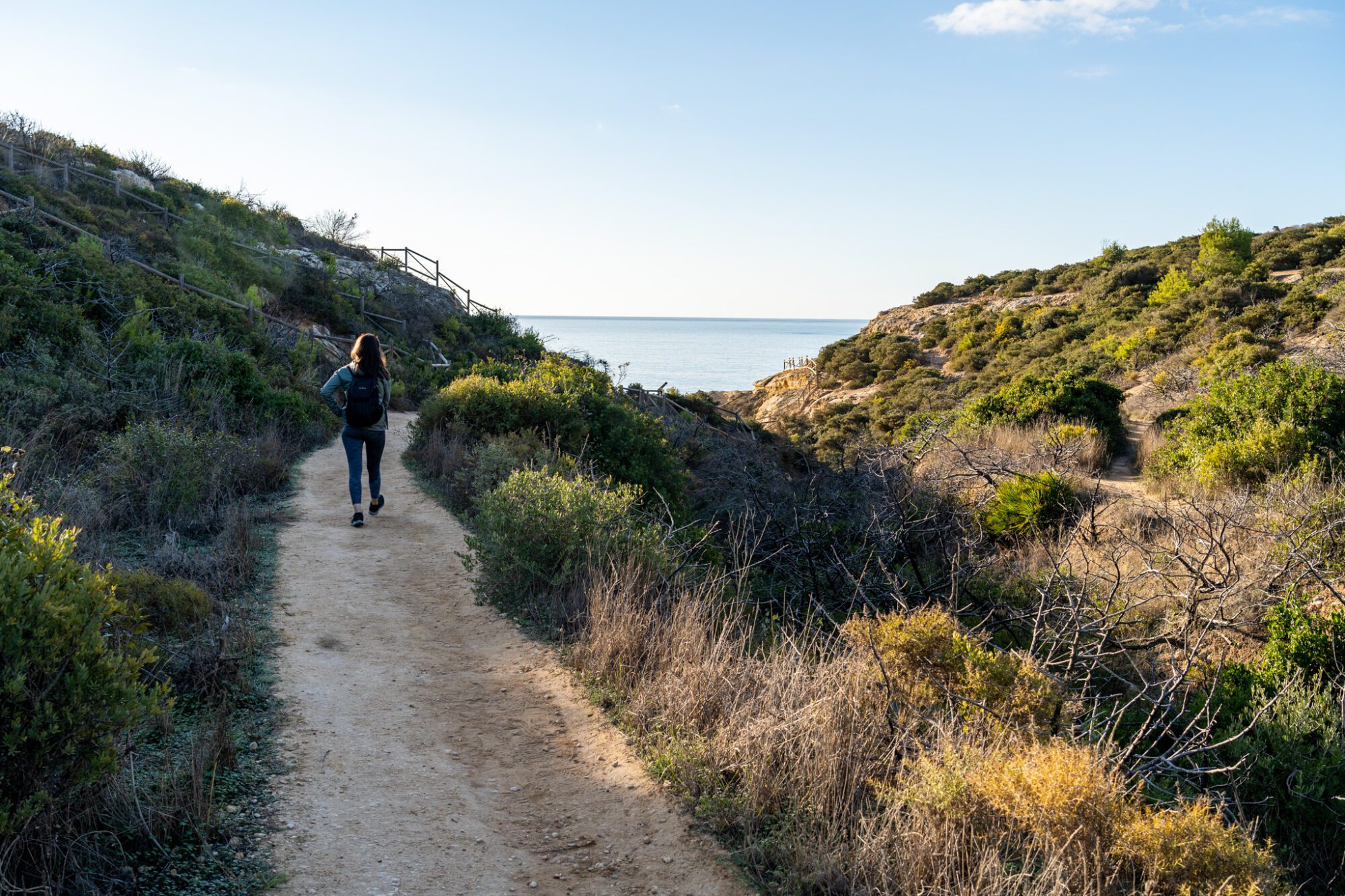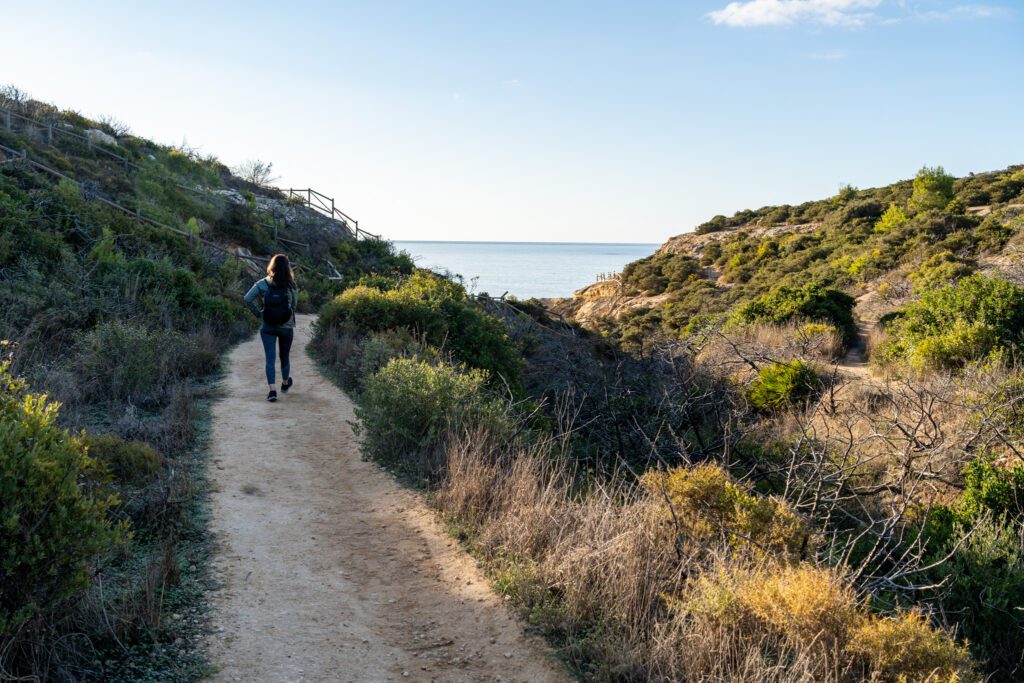 This is also the part of the hike where you'll find the highest concentration of sinkholes, along with some helpful signage in English explaining the geological process that led to them. It's a little unnerving hiking along a path littered with sinkholes, but you'll get over it pretty quick since you'll be distracted by the views.
As you head out along the bluffs, you'll round the point and turn inland, where you're met with the first of many beautiful beaches you'll see along the trail – Praia do Cão Raivoso. We're pretty sure you can't access this beach without a boat, but let us know in the comments if we're incorrect on that! We know it's accessible in some way, because someone had written "CHEERS!" in big letters on the beach.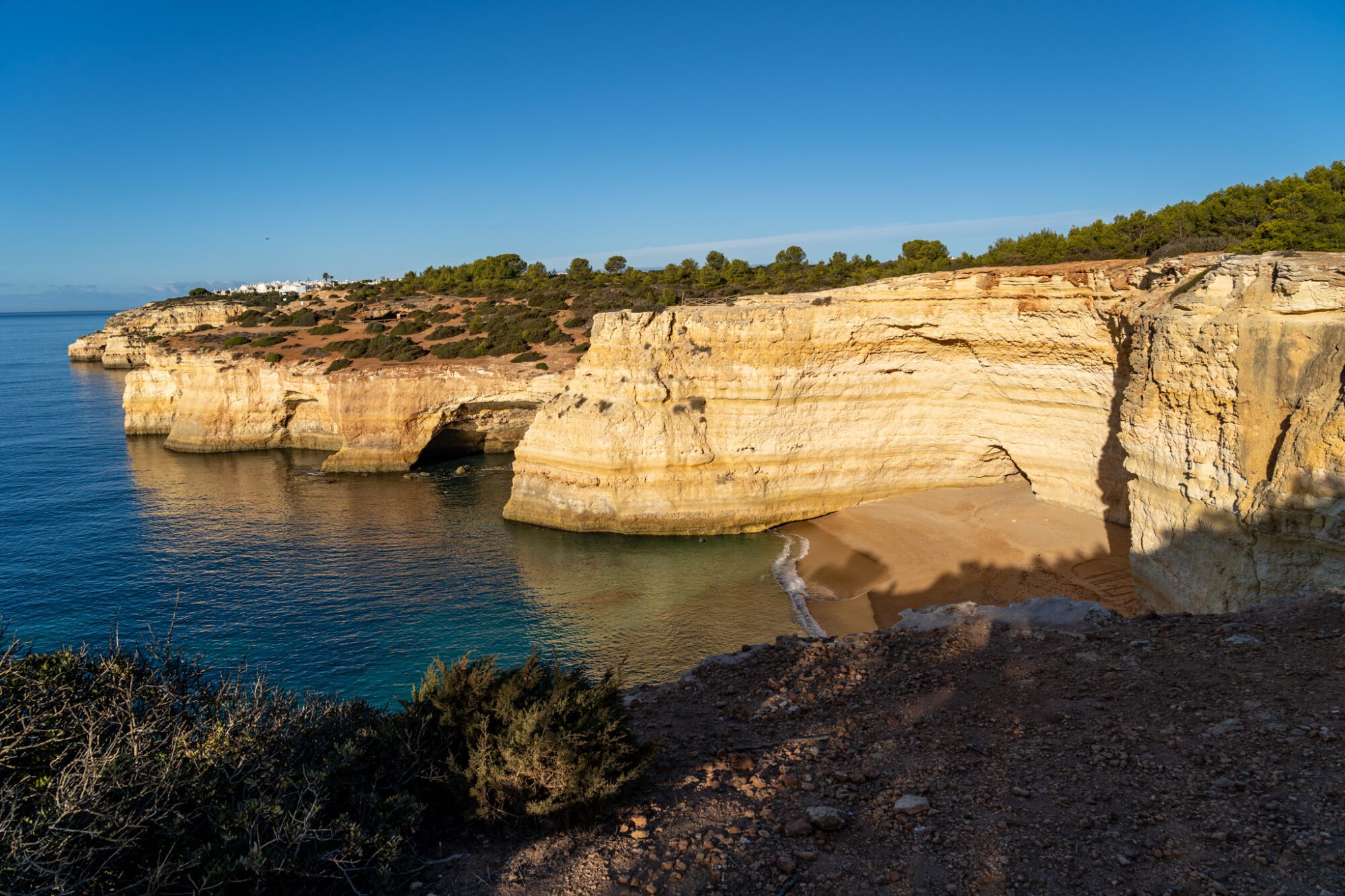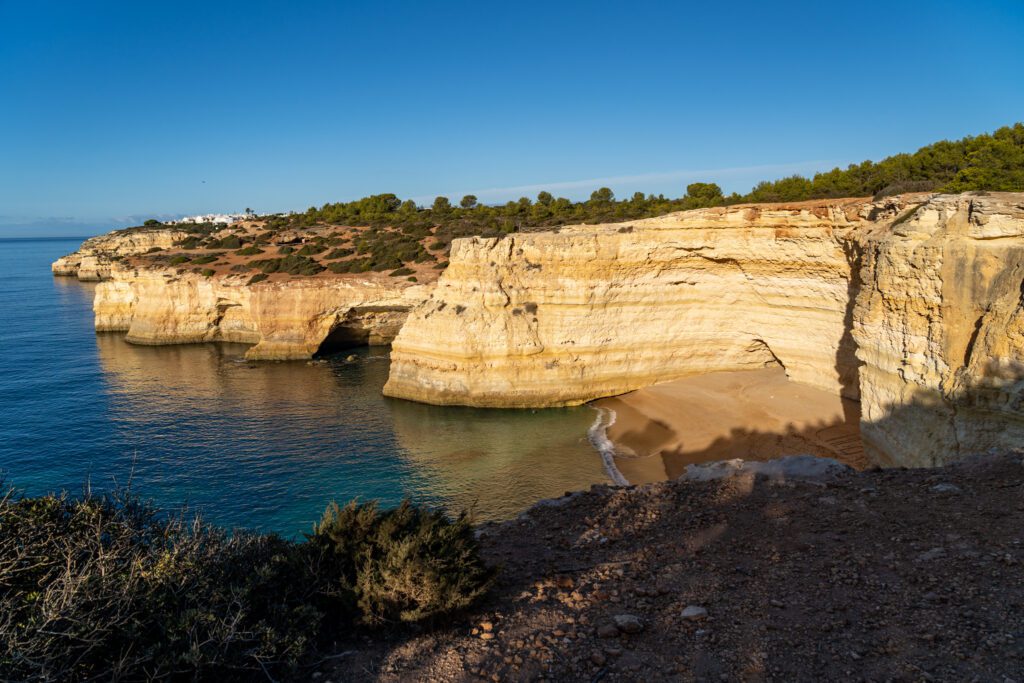 Continue back out of the hanging valley and around another point where you'll see your second beach – also inaccessible without a boat – and then make your way down to Benagil Beach.
This is a point where we got a little confused. To get there, follow the trail downhill and emerge onto the road right next to O Algar (here on Google Maps), a restaurant. Take a left, and follow the road straight down to the beach.
Benagil Beach to Praia do Carvalho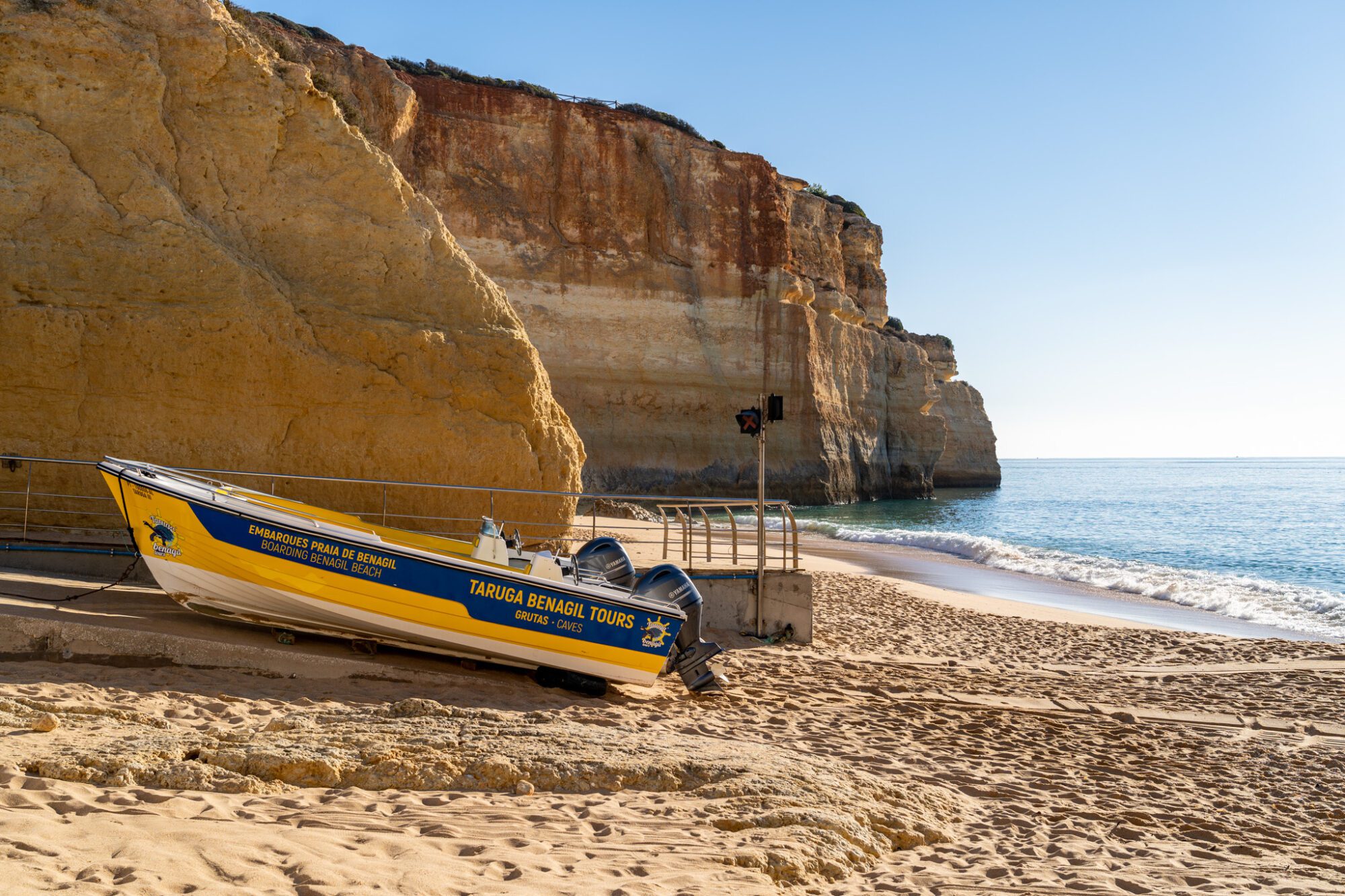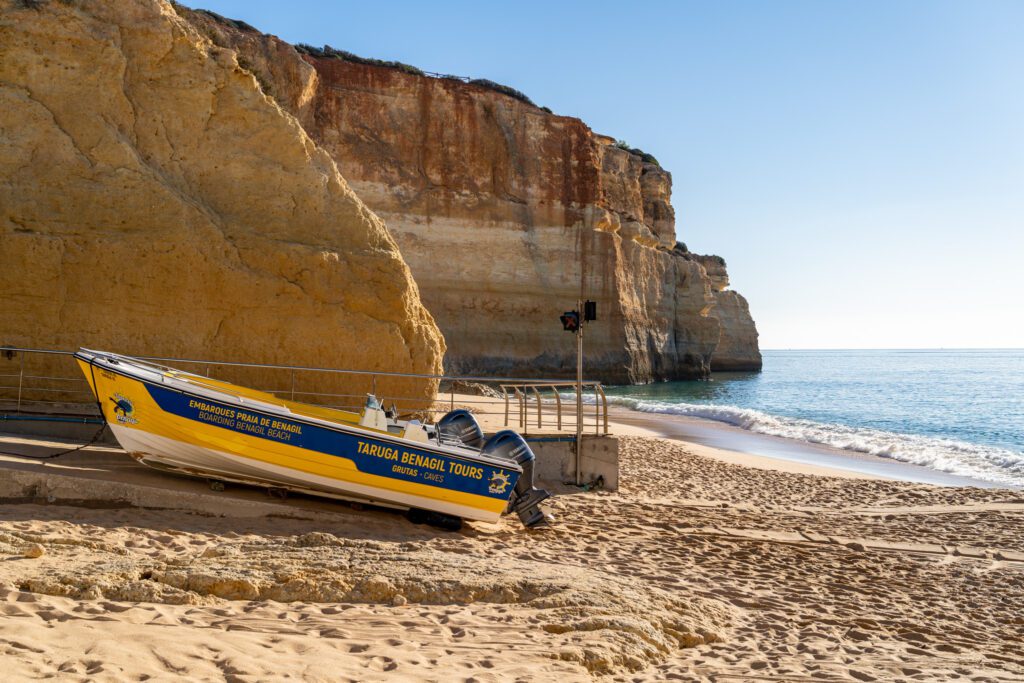 Distance Covered: 0.5 Miles / 0.8 km
This is another slightly confusing part, but we managed to figure it out after a few minutes of poking around.
Basically, you need to get up onto the bluff on the other side of the beach, and there are two ways to do it. First, you can head up the road from the beach to the left, and take a left at Casa Lamy (here on Google Maps), pass the restaurant, and follow the stairs up the hill. Second, you can head out onto the beach and take the stairs / ramp on the right, which heads up to the same place, meeting up with the trail (approximately here on Google Maps).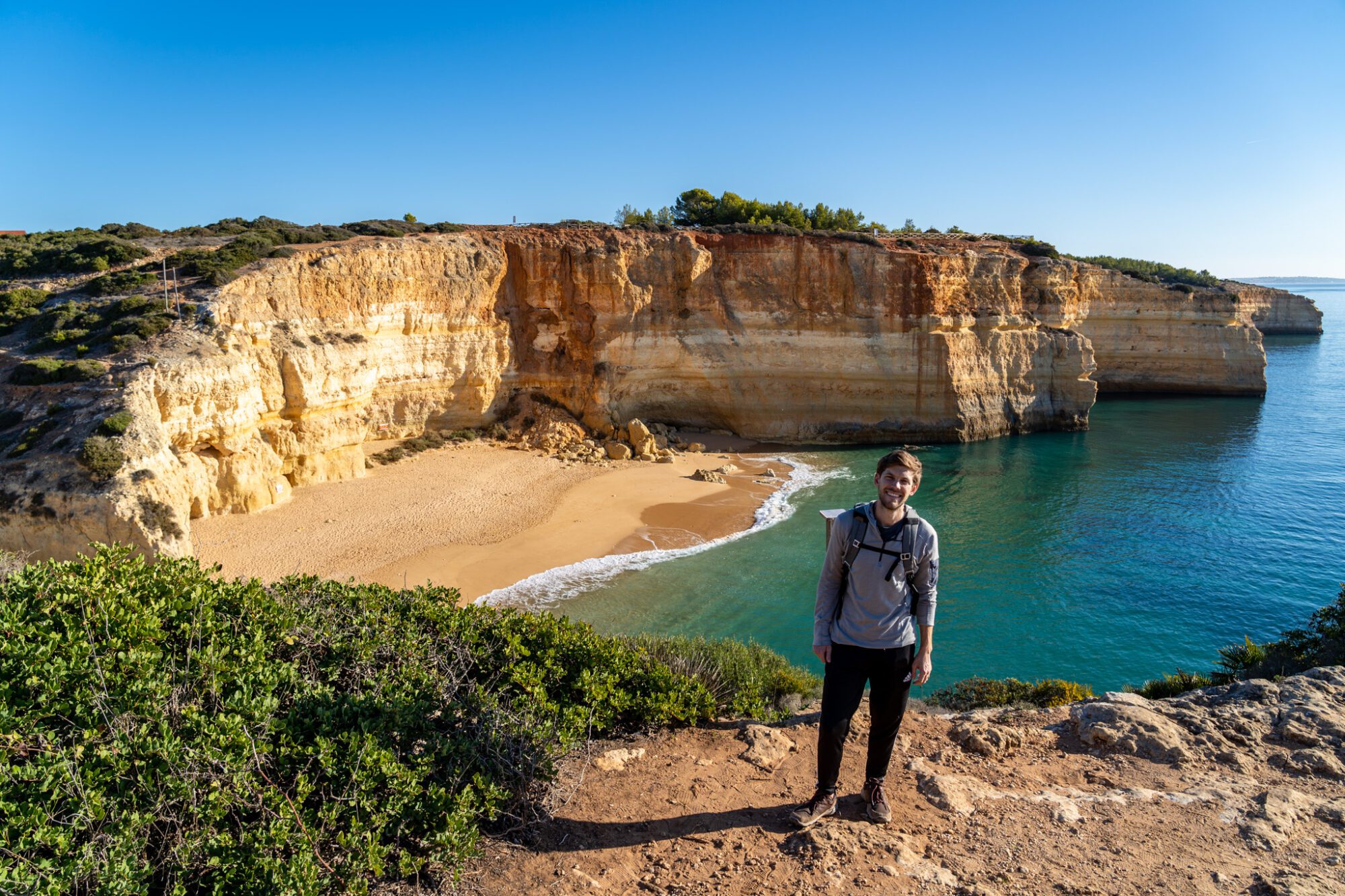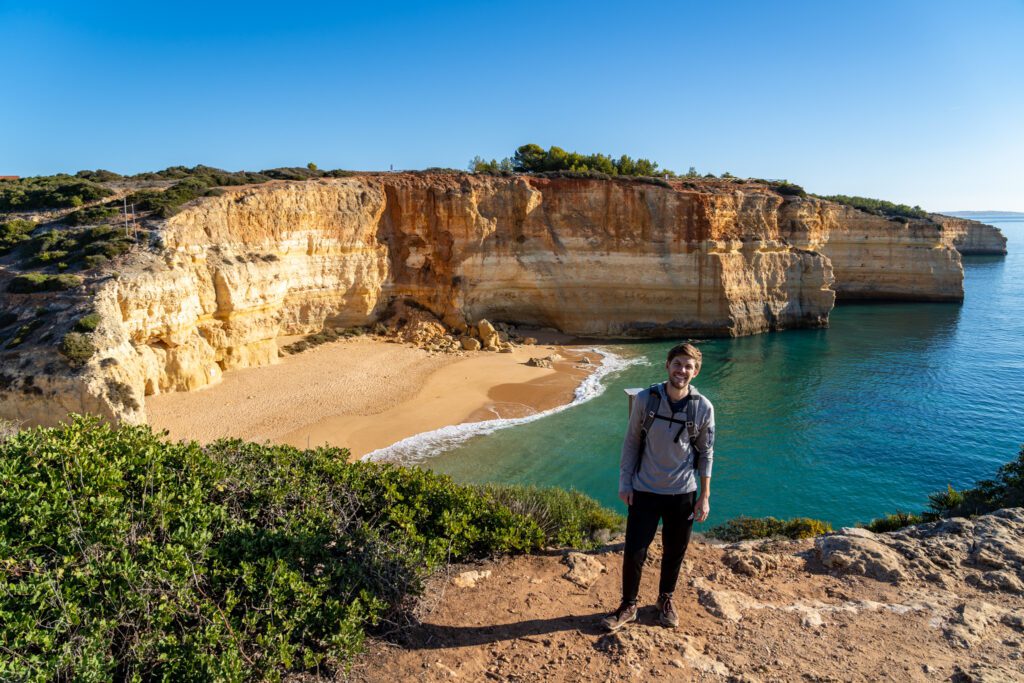 There's a nice view back towards the beach atop that cliff, where we stopped to take a few pictures before moving on.
From there, follow the trail out towards the coast – NOT towards the housing developments. After a short walk, you'll arrive at our favorite of the beautiful beaches on this trek – Praia do Carvalho. We stopped here for lunch on the way back, and it was lovely. To access the beach head down the stairs to the right of the trail through a cave that dumps you out on the beach.
Praia do Carvalho to the Alfanzina Lighthouse (Farol de Alfanzina)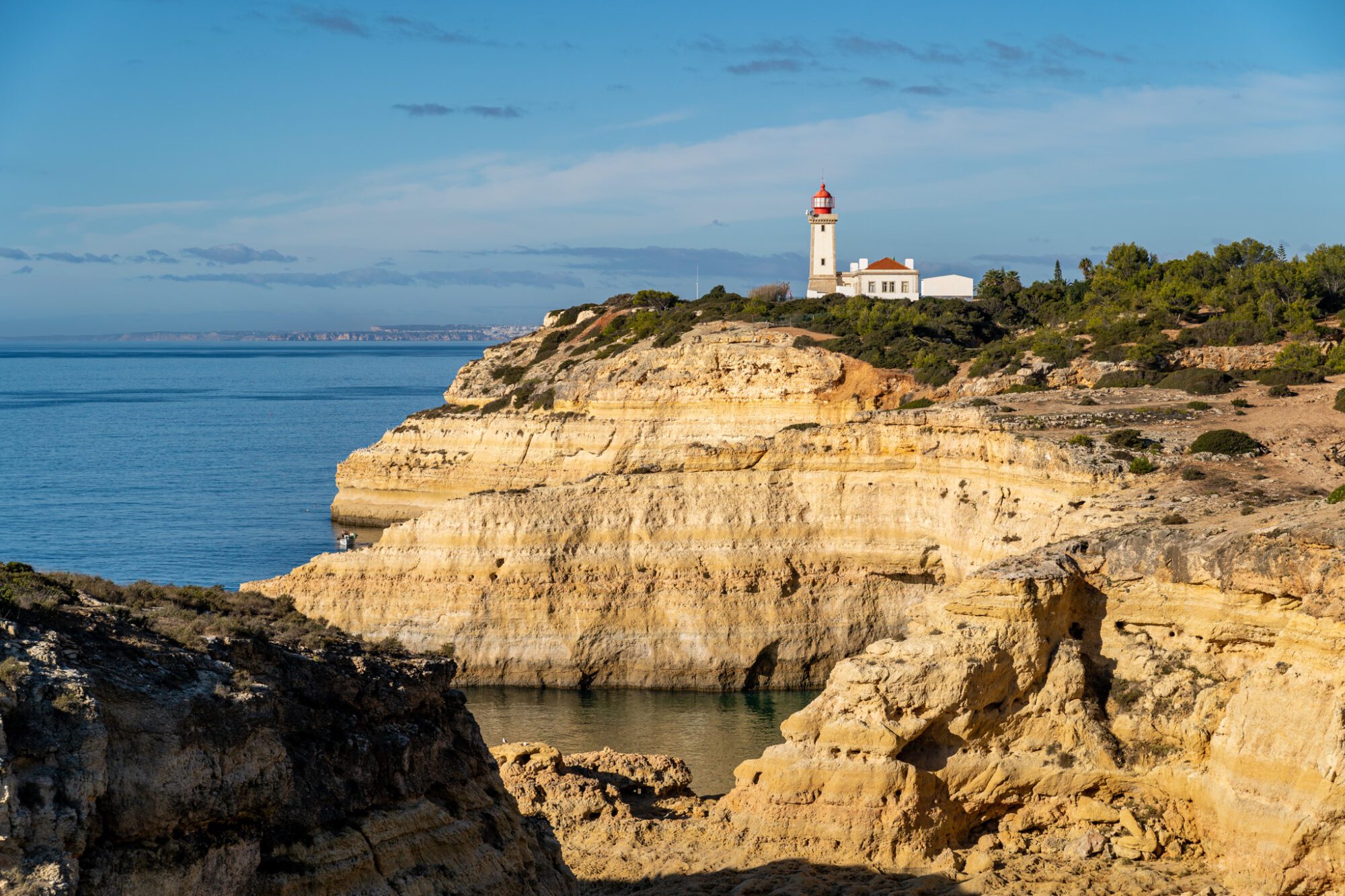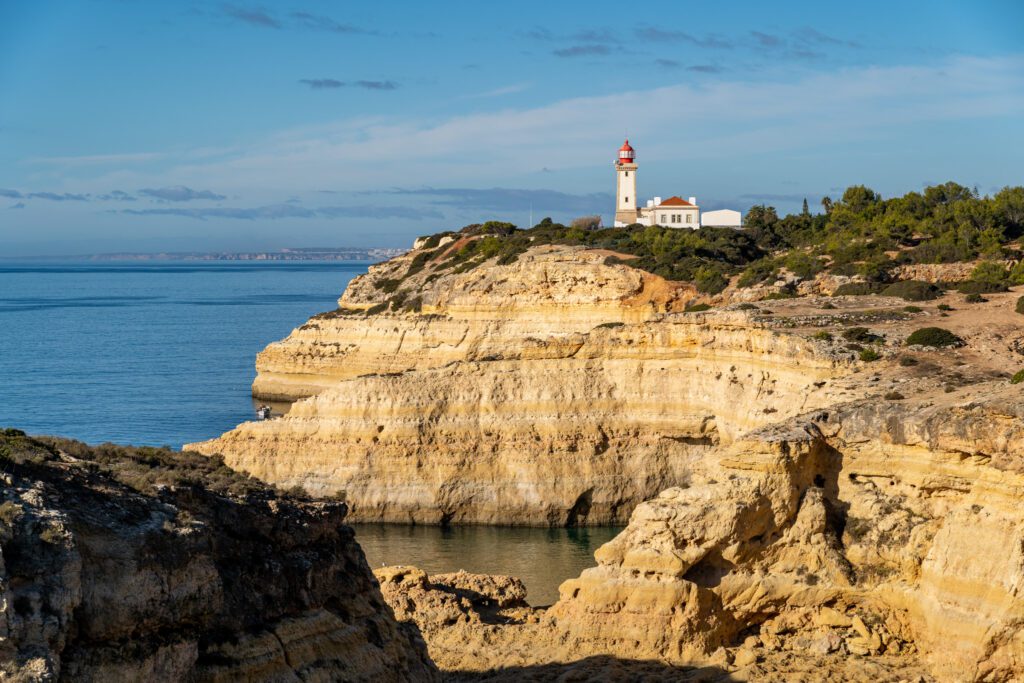 Distance Covered: 0.8 Miles / 1.3 km
One of the best views of this entire hike is along this stretch of trail as you come around a bend and the lighthouse appears in front of you, with Cabo Carvoeiro jutting out into the ocean. The blue-green water flowing into a large sea cave in the foreground with the lighthouse looming in the background makes for a nice picture. We stopped and sat on the benches here and admired the view for a few minutes before continuing on.
The trail meanders along the coastline, passing by another secluded beach only accessible by boat, before you have to tackle a steep ascent that can be a bit of a scramble. Take it slow, find good footholds, and you'll be fine.
Your reward at the top is… well, a lighthouse. But when we were there, you couldn't get close to it as the gate was closed and it was completely fenced in. The views back down the trail that we described above are much better than the view from up close, in our opinion anyway. You can do a tour of the lighthouse in the summer, which would be a nice break from the sun, but we were there in the winter and it was closed.
Alfanzina Lighthouse to Praia do Vale de Centeanes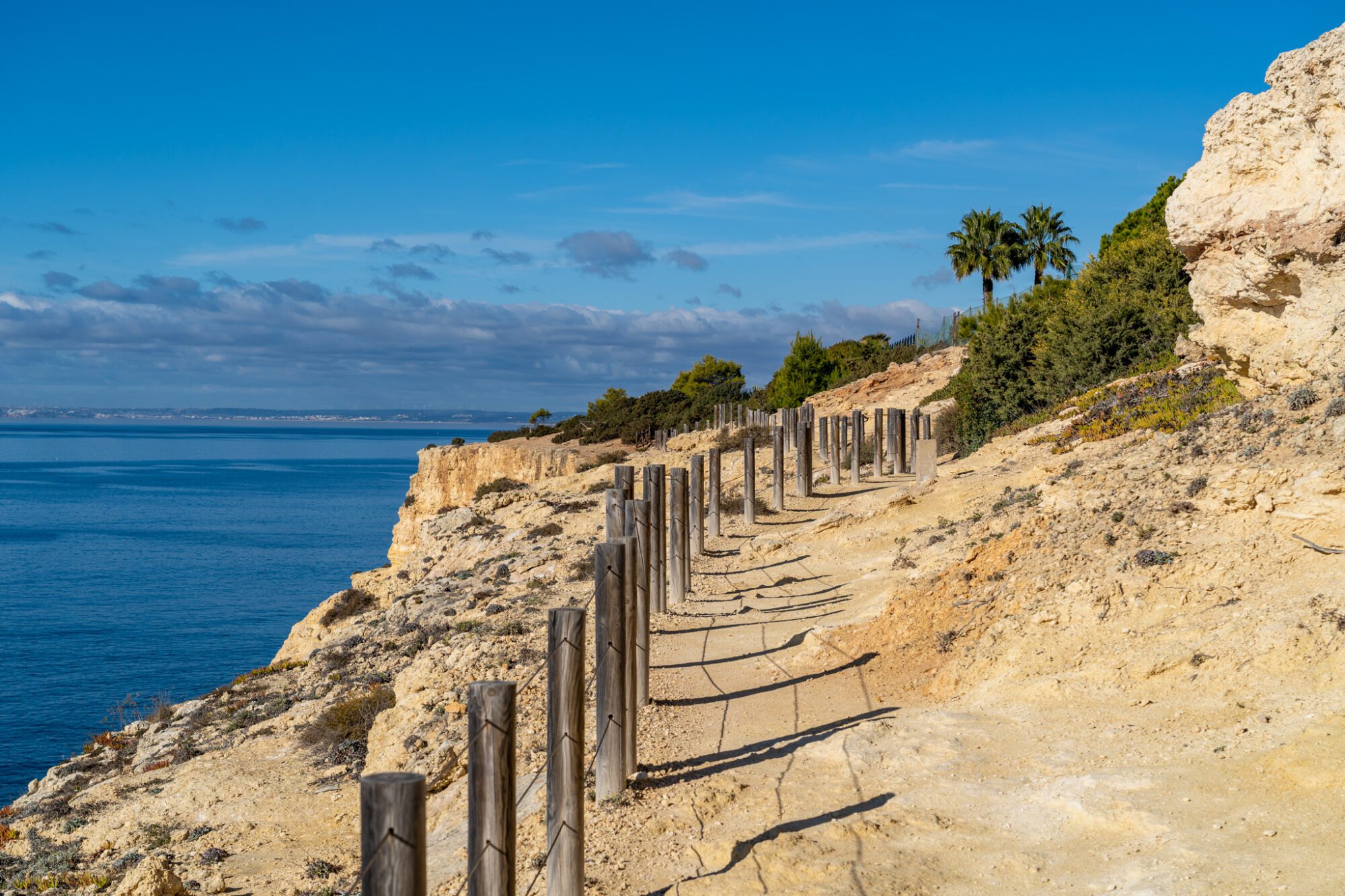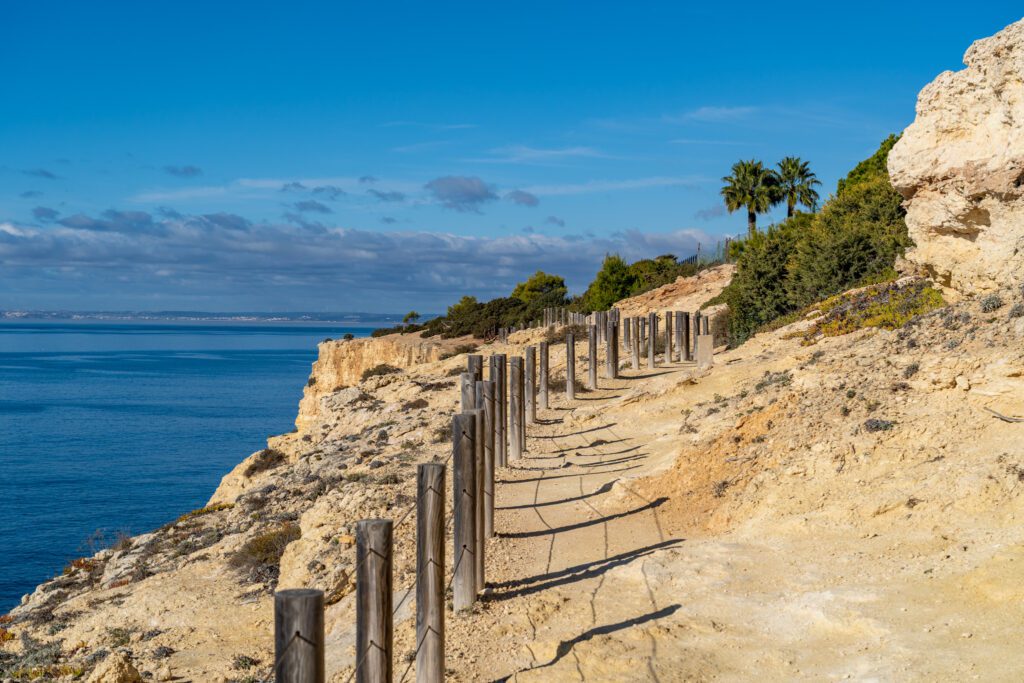 Distance Covered: 1.1 Miles / 1.8 km
This is the least interesting part of the trail, at least to us. It continues along the coastline, but you're basically walking on a narrow strip of land between the housing developments on one side, and the water on the other. The housing developments kind of ruin the ambiance a little bit.
There's a great view of the beach from atop the cliffs before you head down to the beach to either end your hike or turn around and head back the way you came.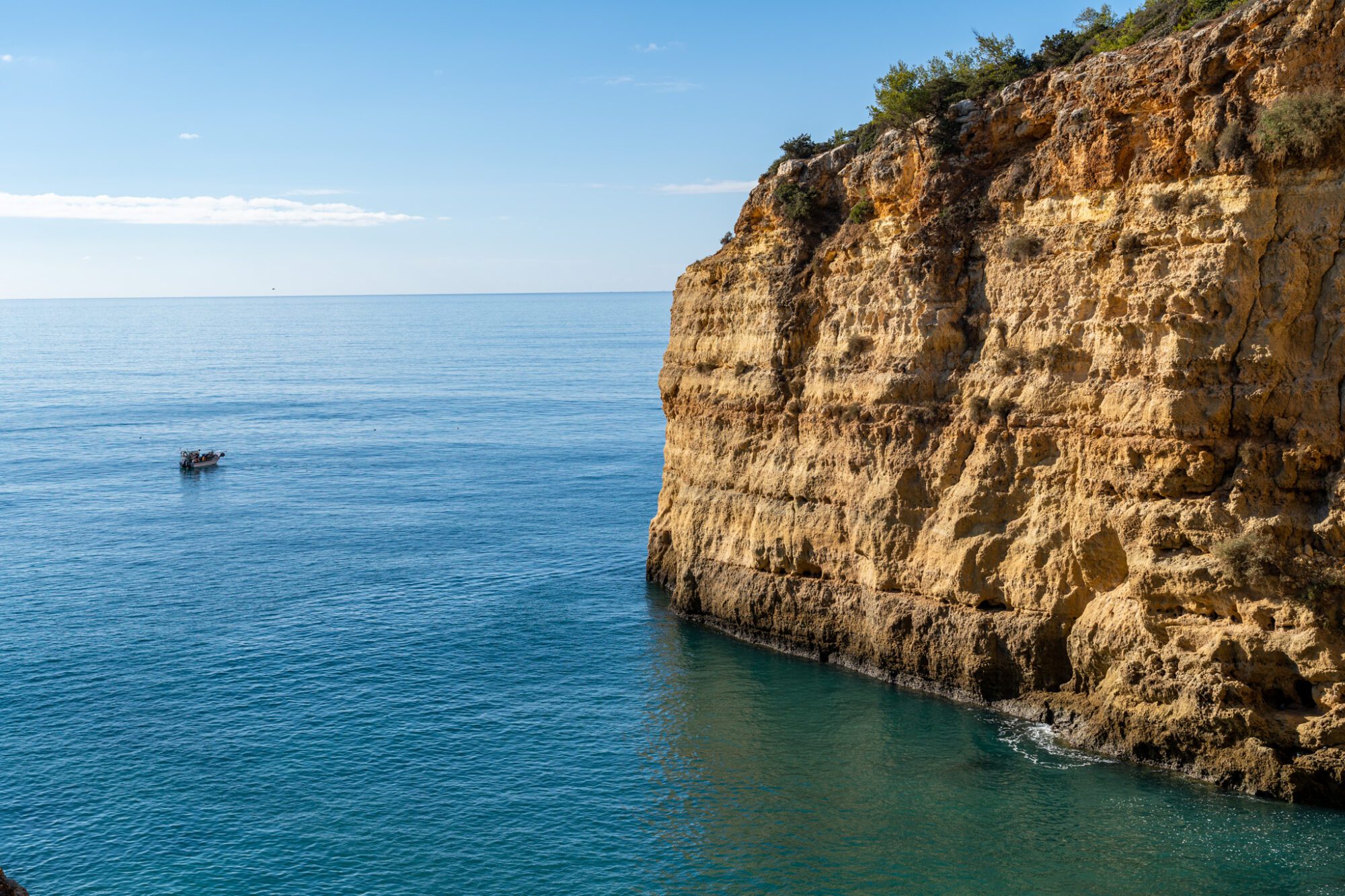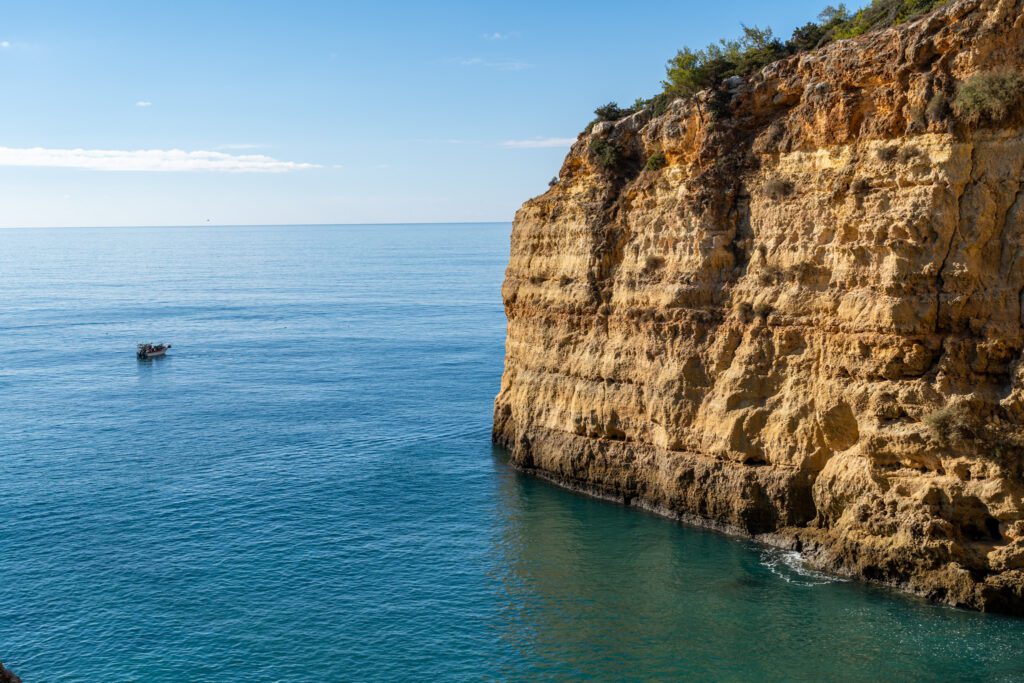 ---
Planning a trip to Portugal?
Here are our other Portugal travel guides to help you plan an incredible trip (even if you have to eat gluten free!).
If there's no link below, it means we're still working on it – long, in-depth guides take time! We're working on it, though, we promise.
Portugal:
Lisbon
Porto:
The Algarve: