From the first view we had of the Grand Tetons driving south towards Jenny Lake just before sunrise, we fell head-over-heels in love with the stunning natural beauty surrounding us. The rocky peaks to the west, the crystal clear lakes, and the stellar hiking in Grand Teton National Park made it one of our favorite stops on our summer road trip around the USA. That trip included trips to Rocky Mountain National Park and the Utah National Parks, so competition was fierce for the best stops of the summer.
Add to that an abundance of wildlife (we saw SEVEN moose in one day) and some incredible hiking trails, and you've got yourself one of the most visited National Parks in the country. Lucky for you, I crafted this Grand Teton Itinerary to help you make the most of your time in the park, and fall in love with it just like I did.
If you're heading to Wyoming, chances are you're probably going to Yellowstone. Don't miss my 4 day Yellowstone itinerary, which gives you all the information you need – the best things to do, see, places to stay, and how to spend four days – to plan a perfect trip.
Want to combine Grand Teton with Yellowstone? Check out our Grand Teton and Yellowstone itinerary, which takes this 3 day trip and combines it with our 4 day Yellowstone guide for an amazing 7 day adventure.
Disclaimer: Some of the links in this post are affiliate links, meaning at no additional cost to you, I make a little bit of money if you click through and book. That being said, I would never recommend something to you that I don't stand behind 100%.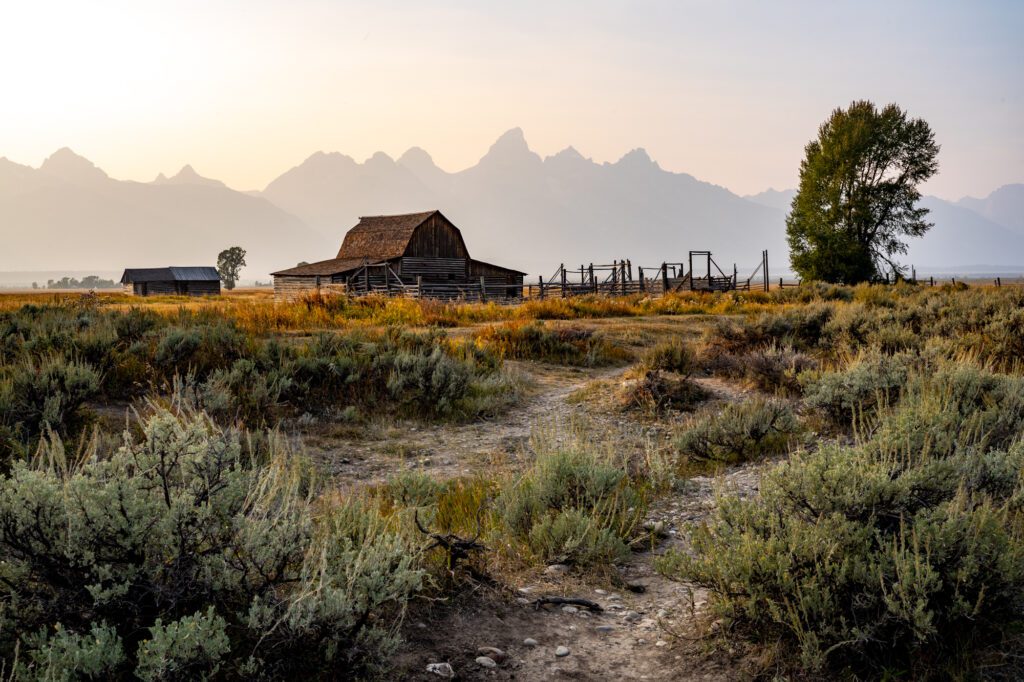 Before we get to the best things to do in the park, and how to organize your trip to make the most of your time, let's cover the basics of Grand Teton.
Where to Stay in Grand Teton National Park
You have a couple of options here, both inside the park, and outside the park in the town of Jackson.
Staying inside the Park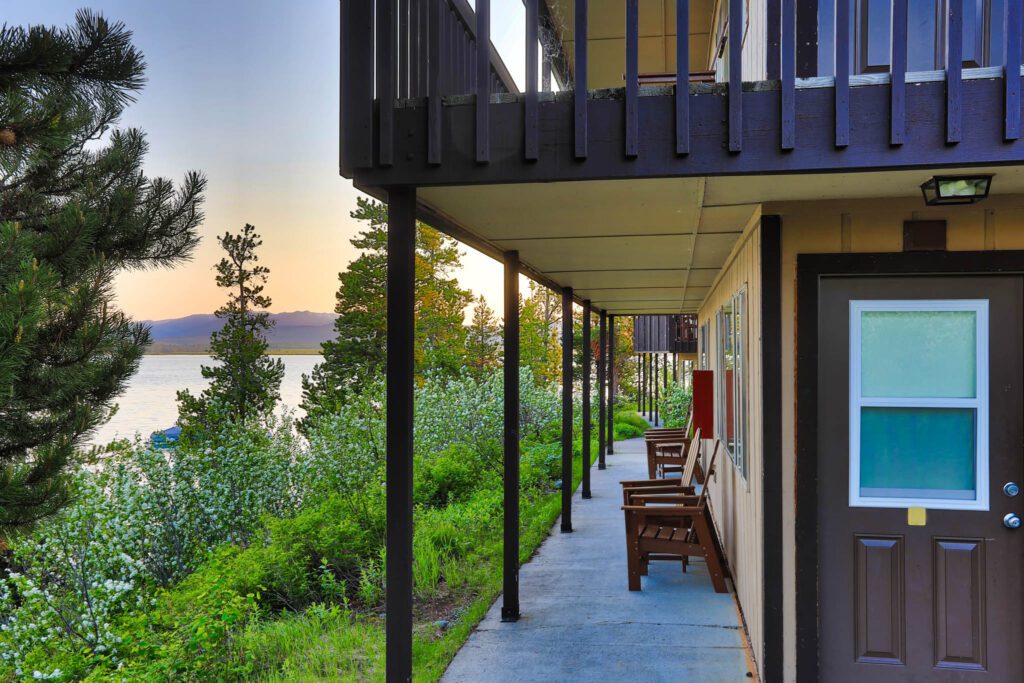 There are a few lodges inside the park if camping isn't your idea of fun. Lodges inside national parks are, generally, expensive for the quality of room, but unbeatable in terms of location. If you're on a budget, look outside the park.
Jenny Lake Lodge: The nicest lodge in the park, and also the most expensive. The location really can't be beat, but you're going to pay for it. The cabins are nice as far as national park accommodations go, and it's walkable to both Jenny Lake and String Lake.


Jackson Lake Lodge: This one is further north, closer to Oxbow Bend and the Willow Flats Overlook, which are two of the best places to see wildlife in the park. It's on a hill, so it has nice views of the lake and the Tetons. It's much more modern than most national park lodges, which is nice, and you can choose from rooms that are hotel-style, or private cottages.


Signal Mountain Lodge is on Signal Mountain, which is a pretty central location for exploring the park. Accommodations are rustic – cabins and lodge rooms could use an update, but the location is good.


Colter Bay Village: The furthest north of these four options, this is the worst location. But, that also means it's the cheapest option, so if you don't mind an extra ~20 minutes of driving, this wouldn't be a bad choice.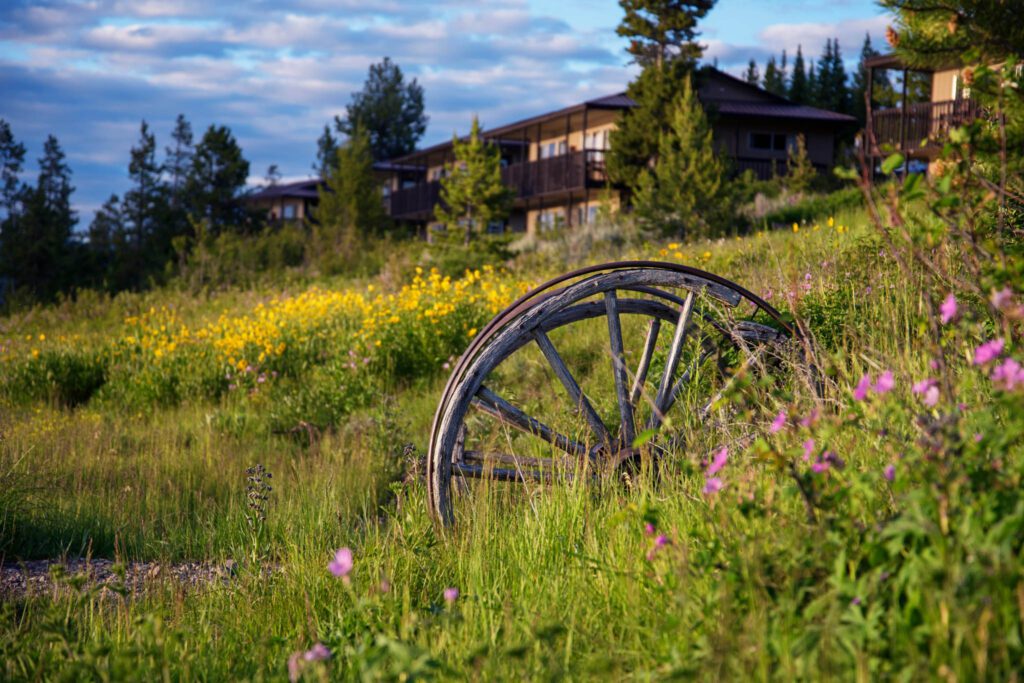 Want to stay on a self-proclaimed Dude Ranch? Check out Triangle X! They've got 20 log cabins, complete with a private bathroom and incredible views of the Teton Range.
Camping in Grand Teton National Park
There are five campgrounds inside the park, and they all take reservations. They open six months in advance, and they go quick. For the best shot at securing a site, you're going to want to get on right when they open the window. Seriously. Within five minutes. If you don't snag one, the next best thing is going to be checking on a consistent basis to try to snag
If you're planning on camping you'll want to secure your spot ASAP – up to six months in advance, if you can.
We stayed at Jenny Lake Campground. It's relatively primitive, with only one bathroom, but the location a few hundred yards from the shore of Jenny Lake truly can't be beat. It's the best campground in the park, and everybody knows it.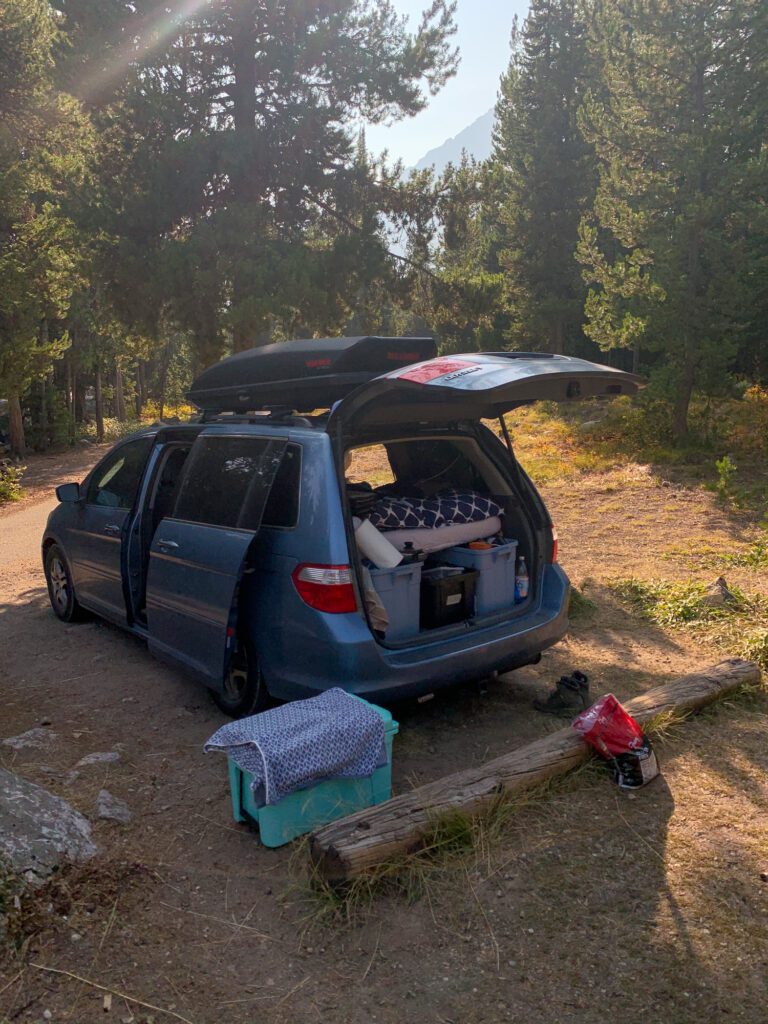 Signal Mountain is the next best option. It's on Jackson Lake, which is a great central location in the park.
Gros Venture and Colter Bay are bigger campgrounds, with 250+ sites each, and aren't as atmospheric, but are generally easier to reserve.
Staying Outside Grand Teton National Park
If you don't want to stay inside the park, either because it's too expensive, unavailable, or you'd prefer more comfortable accommodations, then you have three solid options nearby.
Staying North of the Park
The first option outside the park is Headwaters Lodge at Flagg Ranch. We spent a night here because it was a Saturday and we were spending the first part of the day in Yellowstone and weren't sure we were going to be able to get a first-come-first-served camping spot inside the park.
And we realized that this is actually a really good option for exploring either Grand Teton, or Yellowstone.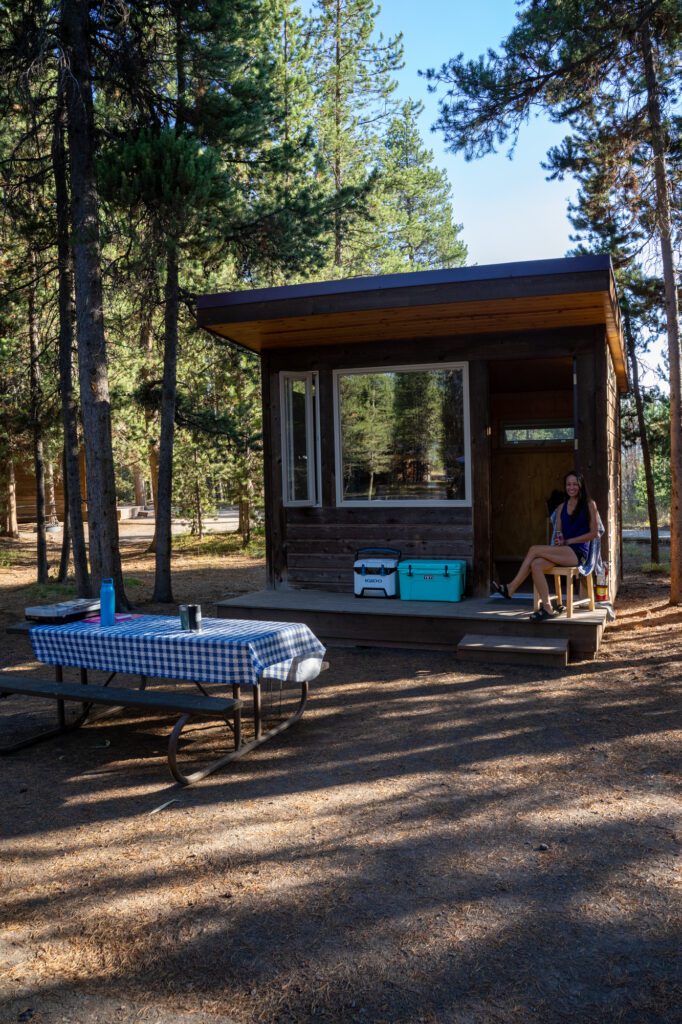 It's about 15 minutes outside the entrance to both of them. They've got campsites (first-come-first-served), camper cabins (this is where we stayed – no electricity, but a cute cabin with a bunk bed, porch, and a firepit and table outside), and premium cabins.
Staying in Wilson, Wyoming
Just outside the park's south entrance, you'll find the town of Wilson. It's a hop, skip, and a jump from one of the best places to see wildlife in the park – along Moose Wilson Road!
It's one of the closest places to stay outside the park itself, and will put you in a great spot to be in the park early, before it gets crazy busy.
I'd recommend a vacation rental in Wilson – there aren't that many hotels, and none of them jumped out at me as particularly interesting. If you're looking for a hotel, look at nearby Teton Village.
Here are five vacation rentals that caught my eye.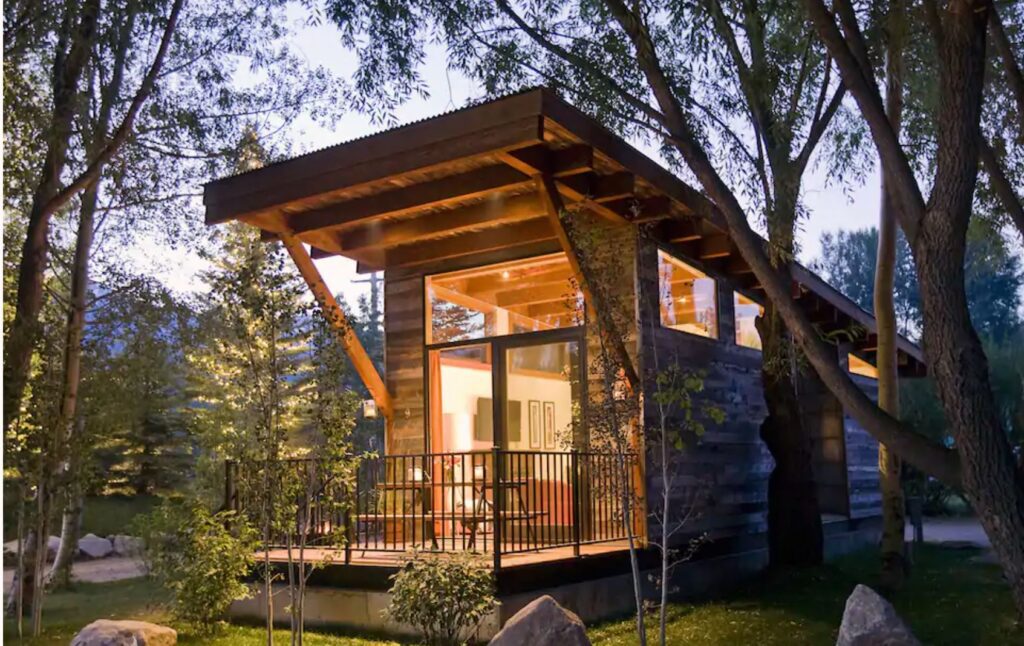 (YES PLEASE – pictured above) Jackson Hole Modern Rustic Cabin – 1 bedroom / 1 bathroom
Outpost: Hollyhock 2011 – 1 bedroom + 1 bunk bed / 1 bathroom
Outpost: Windflower 2113 – 2 bedrooms / 2 bathrooms
Beautiful Family Condo with Full Kitchen + Shared Pool & Hot Tub – 2 bedrooms (one has two twins) / 2 bathrooms
Outpost: Thistle 923 – 2 bedrooms + sofa bed / 2 bathrooms
Staying in Jackson, Wyoming
The other option outside the park is Jackson, Wyoming. It's about 20 minutes (13 miles) away from the southern Moose entrance to the park, and 30 minutes from Jenny Lake.
Vacation rentals in Jackson
I usually love staying in vacation rentals, but I wasn't that impressed with the selection in the town of Jackson itself. They're mostly luxury condominiums, and are expensive for what you're getting. Plus, there aren't too many good options for couples (or a group of two) – if you're a couple and want to stay in the town of Jackson, then a hotel is your best bet (see below for hotel picks).
That being said, there are some cool rustic cabins worth looking at. Here are four that caught my eye.
Beautiful Creekside Condo in Downtown Jackson – 2 bedrooms / 1 bathroom
Outpost: Pitchfork 2303 – 2 bedrooms / 2 bathrooms
Outpost: Town Square Hideout 4A – 2 bedrooms + futon / 2 bathrooms
Downtown Jackson Hole Cabin (2 Blocks from Jackson Town Square) – 2 bedrooms / 2 bathrooms
Hotels in Jackson
There are a surprising number of stylish hotel options in Jackson for you to choose from. Here are five that piqued my interest based on style, location, and amenities.
Hotel Jackson – Low Key Luxury
The Anvil – Hipster AF (and I love it!)
Mountain Modern Hotel – Modern & Trendy Mountain Chic
White Buffalo Club – Rustic & Elegant
Lexington at Jackson Hole – Pretty Standard (some suites have full kitchens)
---
So You Want to See Some Wildlife?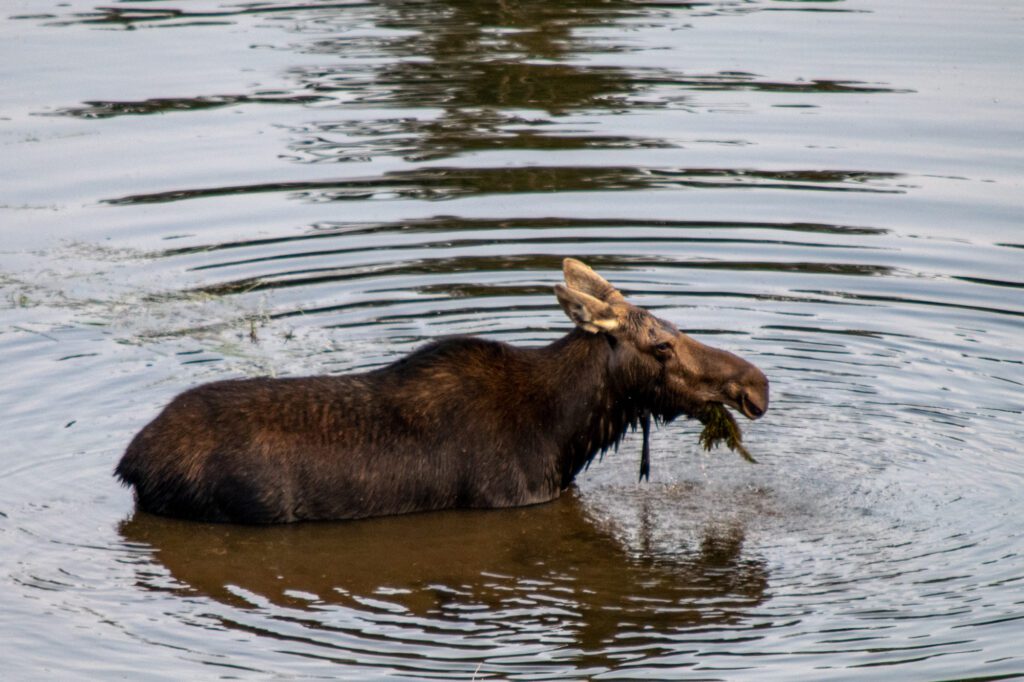 One of our favorite parts about Grand Teton was the incredible abundance of wildlife living in the park. From pronghorns, which look like antelopes straight out of the Serengeti, to moose and grizzly bears, there's a ton to see.
You need to remember that these are WILD animals. Some of them are accustomed to seeing hordes of humans gawking at them as they do the most mundane things, like eating dinner or taking an afternoon nap, but that does not mean you can walk up to them and take a selfie.
Make sure to stay at least 25 yards away from anything bigger than a chipmunk, and 100 yards away from bears and wolves.
Especially during the fall rut for elk and moose, when the males become agitated and aggressive.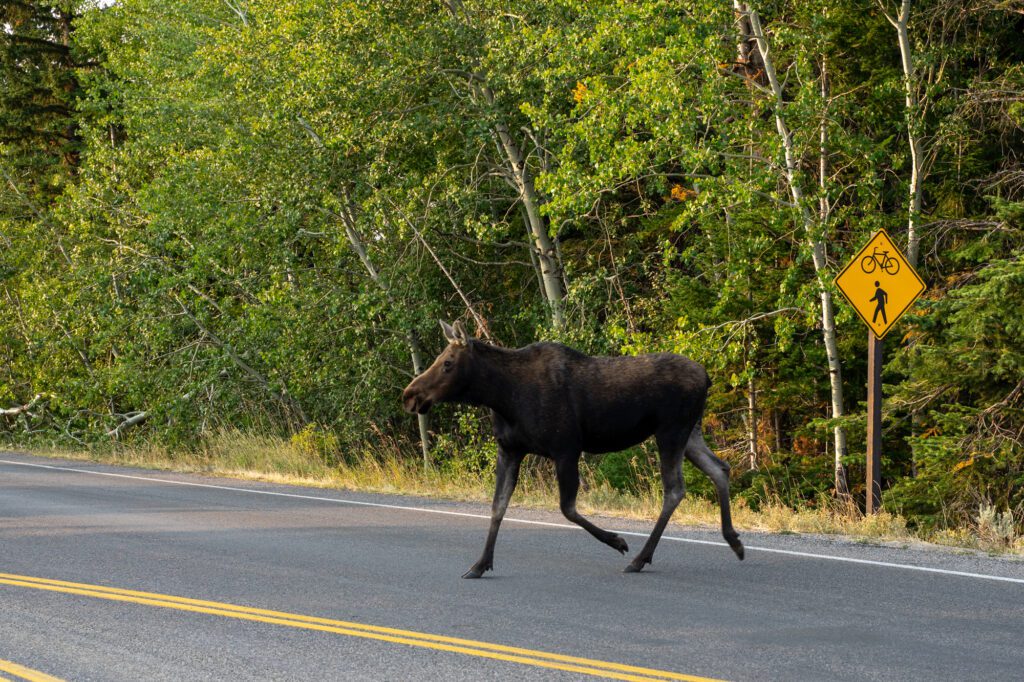 Also, never ever get between a mom and her baby. Ever.
All that being said, you're going to want to get out and see some wildlife on your trip to Grand Teton National Park, right? The best time to see them is at dawn and dusk – an hour before the sun rises, and an hour after the sun sets. That means you're in for some early mornings and late nights!
On our four day trip, we were up every morning at 5:30 am, back at camp between about 2 and 5pm, and then back out for sunset.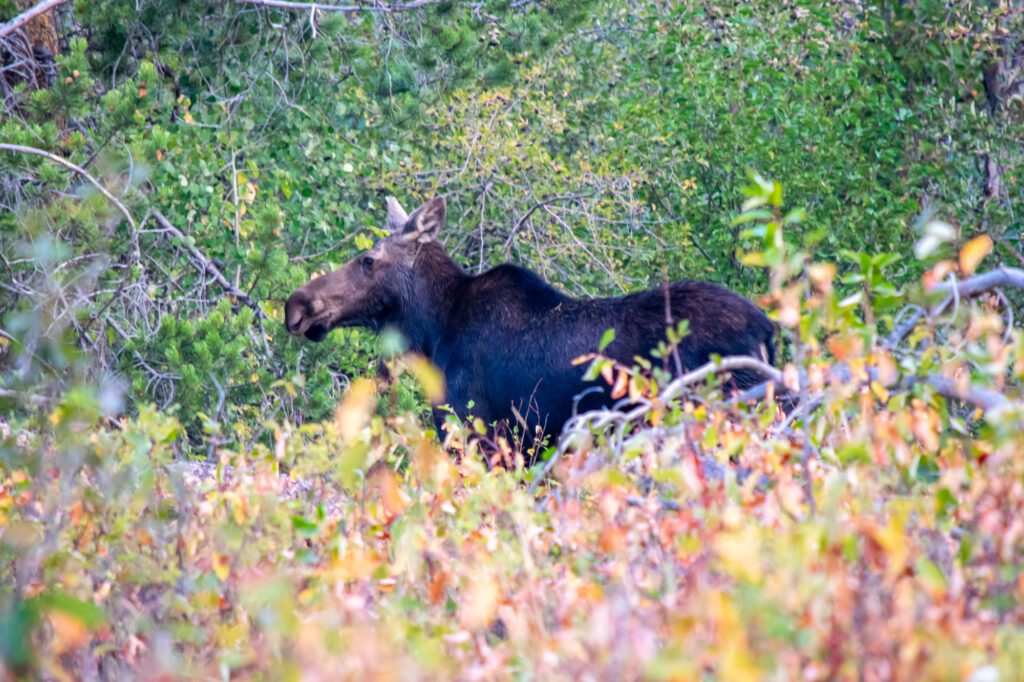 What are the best places to see Wildlife?
You can find wildlife all throughout the park, and where to look varies a bit by season. In general, here are the three spots we had the most success with on our Grand Teton adventure.
Oxbow Bend: North of Jackson Lake, this is a fantastic spot to find elk, moose, beaver, and occasionally, bear. Plus, it's a great view of the Tetons.


Blacktail Ponds: This overlook near Mormon Row was a place we went back to multiple times. We saw elk, including a bugling male and his harem, multiple times, and just missed a bull moose.


Moose–Wilson Road: The pullout at the northern end of this road is a gold mine! We saw a black bear mama and her three cubs, AND a mama moose and her baby here (twice!). Make sure to walk along the trail that leaves from the parking lot, but make lots of noise so you don't startle any animals along the way!
Leave No Trace
Millions of people flock to Grand Teton every year, and it puts a strain on the natural beauty and resources of the park. Practice leave no trace principles, and respect the park so that you can come back and enjoy its beauty another time and preserve it for others to enjoy.
An Unforgettable 3 Day Grand Teton National Park Itinerary
Now that you've got the basics down, let's get to the meat of this itinerary for the Grand Tetons. We made it to nearly every single one of the spots in this guide, save a few of the hikes mentioned that we just didn't have time for. In fact, this itinerary basically mirrors what we did on our trip.
Expect Heavy Crowds from 10am-4pm. Grand Teton is in the top 10 most visited national parks in the US, with almost 3 million visitors per year. The VAST majority show up between the hours of 10am and 4pm, when parking can be unbearable (especially around Jenny Lake) and crowds at the boat dock and along the easy, popular hiking trails are at their peak. For a more tranquil Grand Teton experience, definitely get up early, and stay out late.
Day 1: Jenny Lake + Cascade Canyon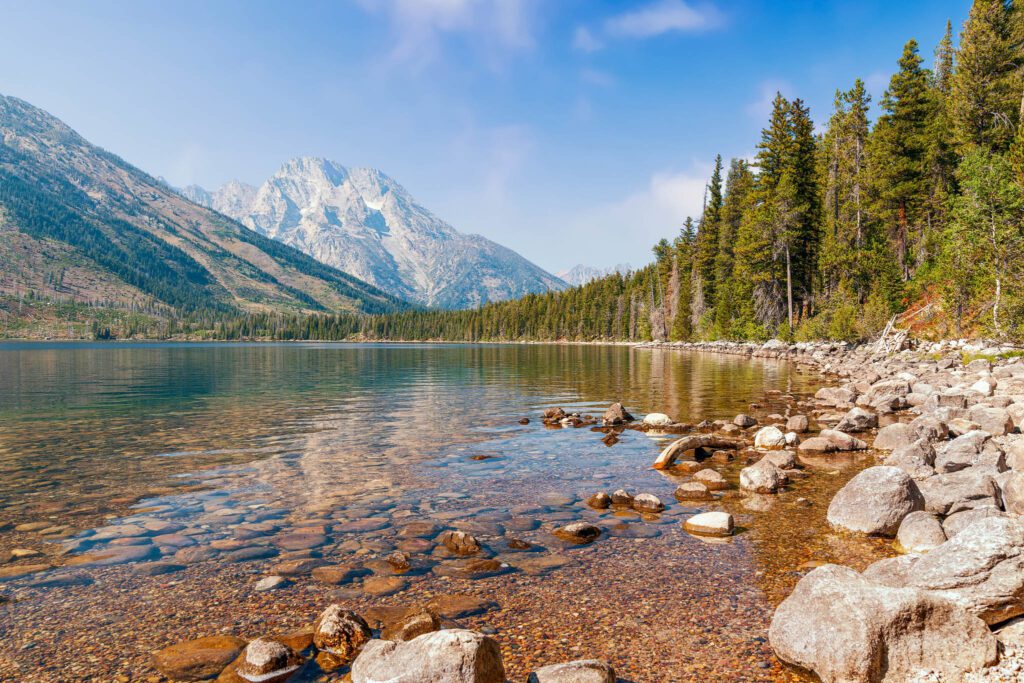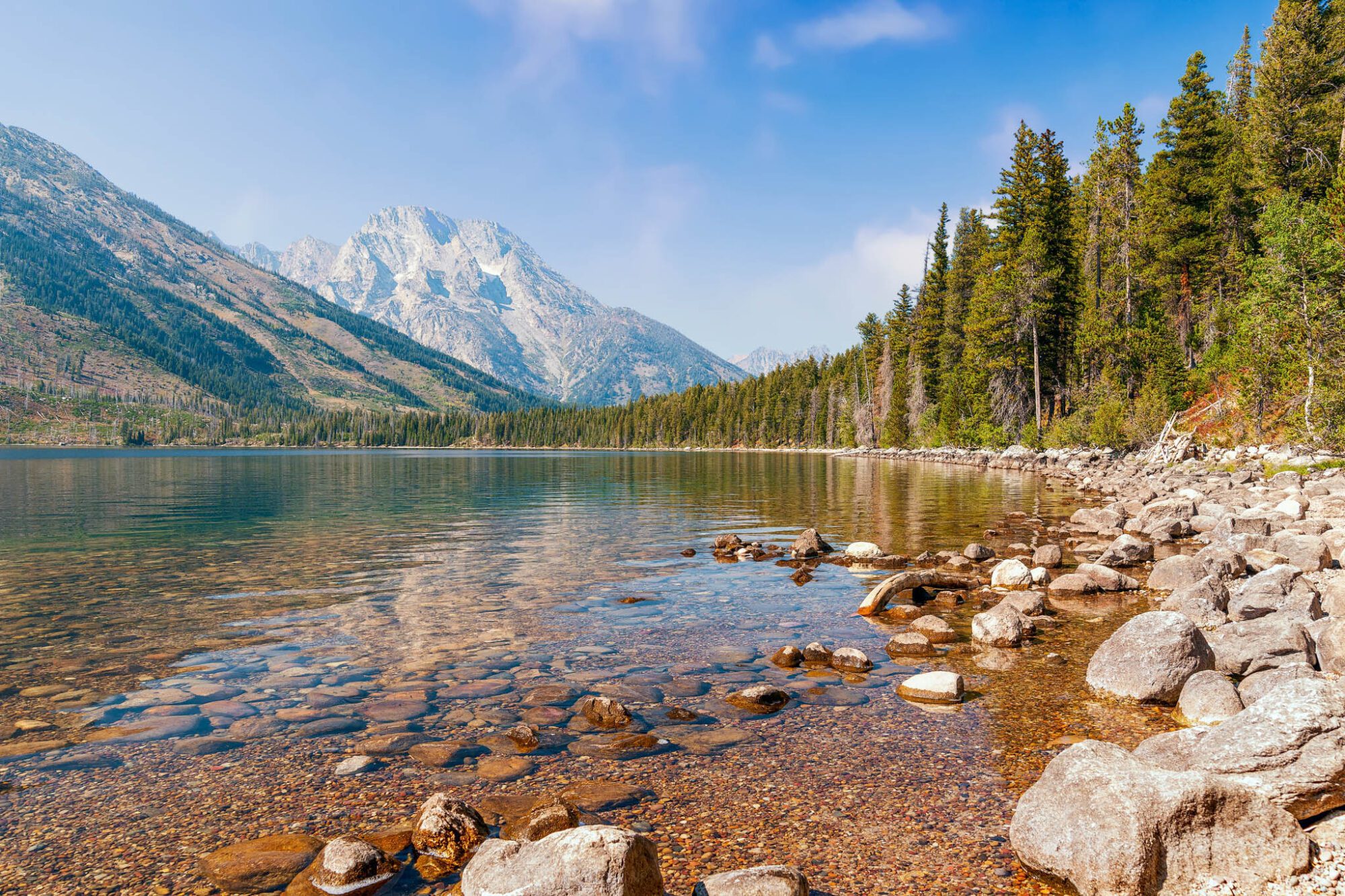 First thing's first, head over to Jenny Lake and get a parking spot in the notoriously busy lot next to the visitor's center (if you're camping at Jenny Lake, leave your car and walk over).
Hiking Near Jenny Lake
Spend your morning hiking along Jenny Lake! A few of the best hikes in Grand Teton National Park leave from Jenny Lake, and there are options for every level of fitness and comfort in the outdoors.
Use the Jenny Lake Boat Shuttle to cross the lake and cut 4.5 miles off of the hiking distance. Unfortunately, it doesn't run super early, so if you want to get an early start and beat the crowds, I'd recommend hiking out one way, and taking the shuttle back across the lake, which saves you just over 2 miles.
The shuttle costs $18 for a round trip adult ticket ($10 one way), and $10 per child round trip ($8 one way).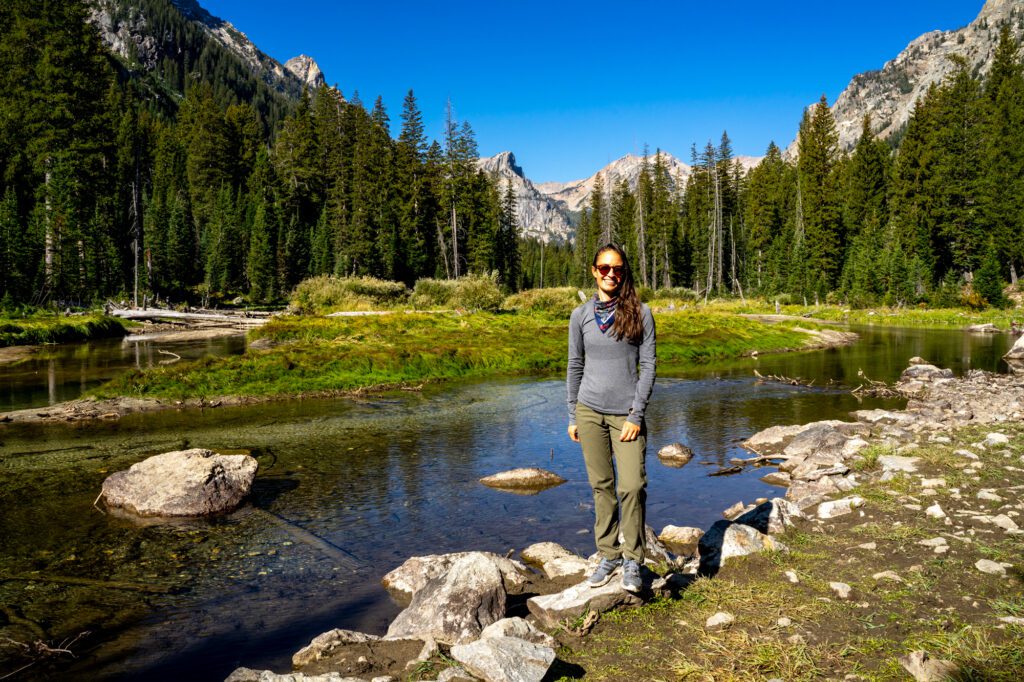 Here are three great hikes that leave from Jenny Lake. Remember, add 4 miles if you opt not to take the shuttle (or 2 if you decide to take it one way).
Hidden Falls & Inspiration Point (1-2 miles, easy) – this is an easy hike to Hidden Falls, a beautiful waterfall, and Inspiration Point, which has sweeping views east over Jenny Lake.,
*(Our Pick)* Cascade Canyon (9.5 miles, moderate) – this is my recommendation for you! Don't let the mileage scare you – it's actually a pretty easy hike after Inspiration Point. You'll follow the trail past both Hidden Falls and Inspiration Point before hiking along the river through Cascade Canyon. Which, by the way, is home to a bunch of moose! We saw five on our hike. You'll want to see them in the morning when they're most active, which is another good reason to get an early start. It's a beautiful hike, and I'd recommend it over and over again. We avoided the shuttle, and clocked it at about 13.5 miles if you hike all the way around. Bring plenty of food and water.
Lake Solitude (16 miles, hard) – If you're up for a big hike, this is it. The trail follows the Cascade Canyon Trail to the fork in the road, then continues to the right up to Lake Solitude. It adds 5.5 miles and a lot of elevation, making it a difficult hike that you should only attempt if you're in good hiking shape. Once you get to the lake, you'll find Grand Teton towering above the lake, which is a spectacular sight.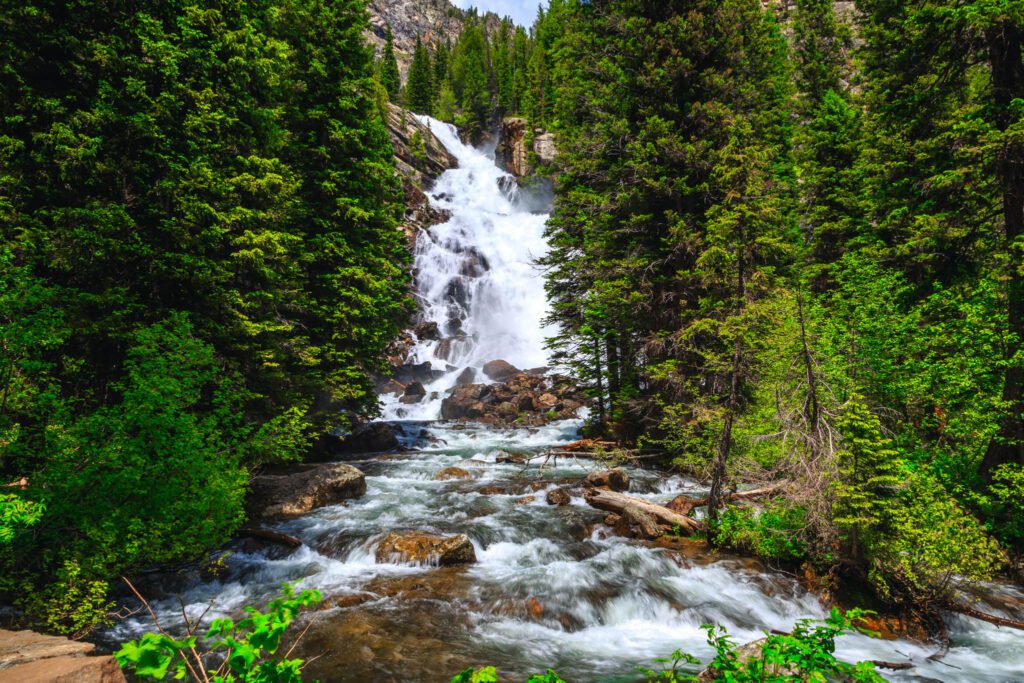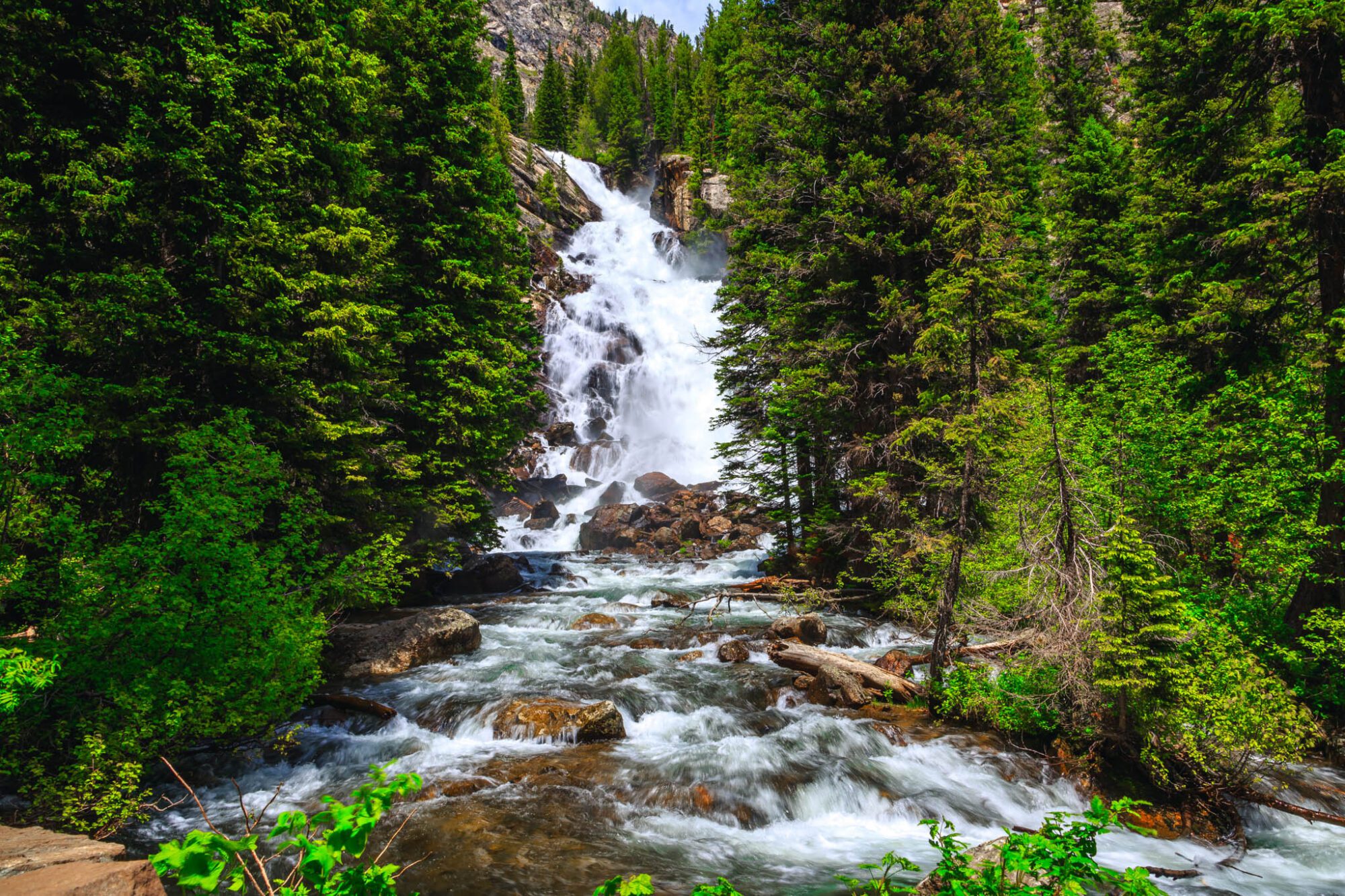 The latter two hikes will take most of the day, so by the time you're done it'll be afternoon. Head back to the place you're staying and relax, recharge, eat dinner, and prepare for your evening activity.
Wildlife Drive at Sunset
About an hour before sunset, it's time to head out for a wildlife drive. You'll want to make sure you've eaten and are ready to go before you head out.
When you're ready, head north of Jenny Lake to Willow Flats overlook. From here, you'll be able to see across to the Grand Tetons, and numerous elk and moose hang out in the area below the overlook. Walk out from the parking area to the left and follow the semi-established trail to the top of the hill for the best vantage point. You won't be alone, so ask around to see if there's any activity going on.
Your last stop of the day is Oxbow Bend, which is not only gorgeous, with Mt. Moran in the background, but might be the best place to find wildlife in the park. We saw a herd of elk across the river to the left of the parking area, and what I think is a beaver. Wander down the road in the direction of the Tetons to get a good viewpoint over the river and surrounding marshy areas. If you're lucky, you'll find moose hanging out in the willows.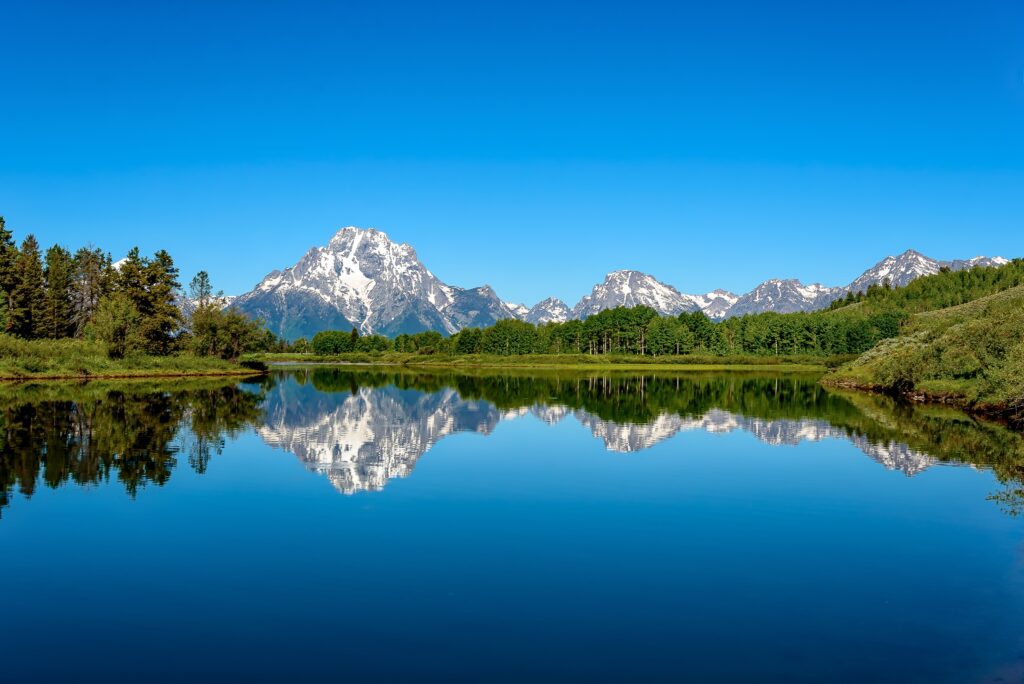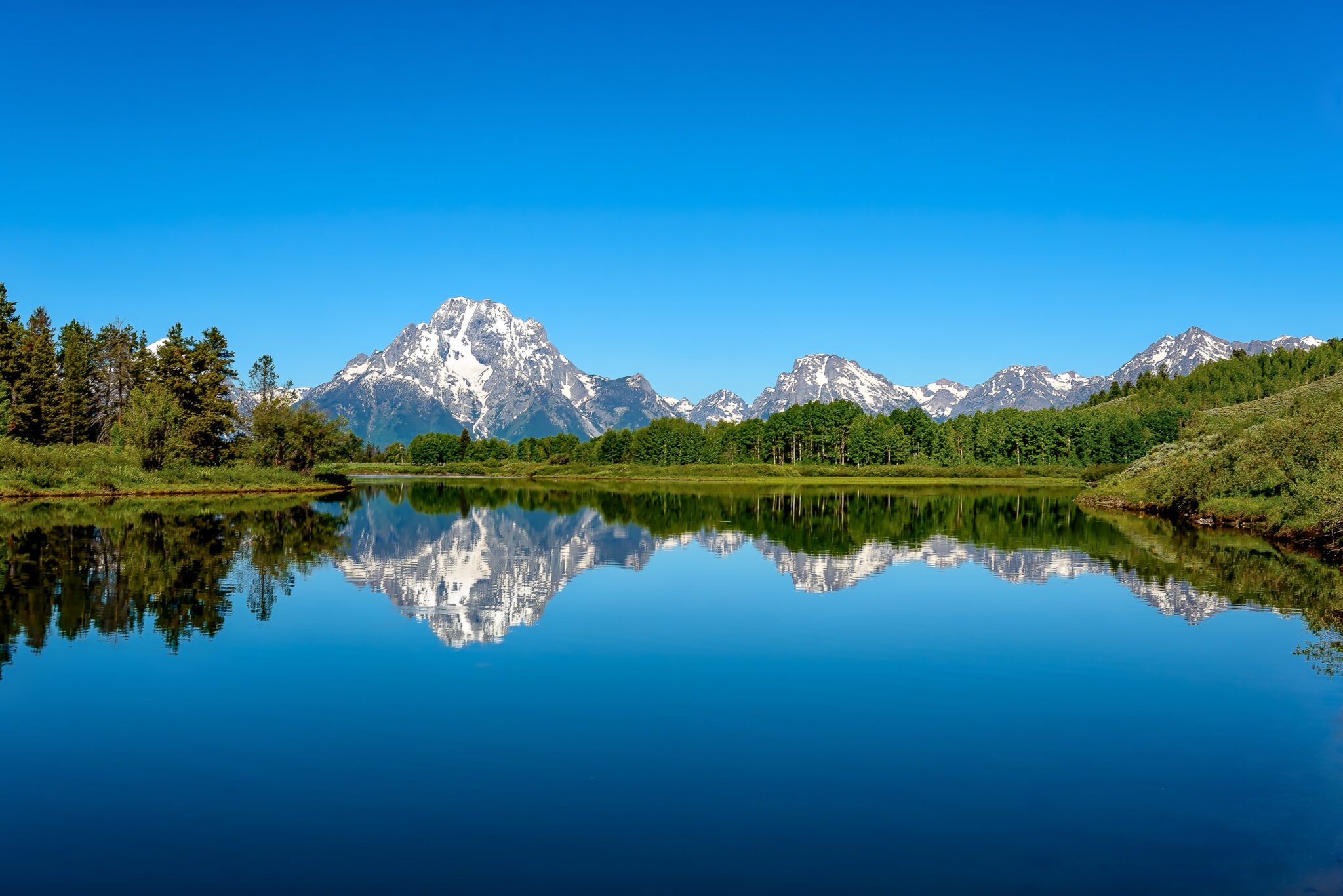 Oxbow Bend is a great sunrise spot too. If you get there thirty minutes before sunrise on a clear day, you'll get the treat of seeing the pink glow on Mt. Moran as the sun rises behind you to the west.
Insider Tip: Make sure to bring a good pair of binoculars so you can actually see wildlife from far away. We didn't and really regretted it. Here is a solid, well-reviewed pair.
Day 2: Views and Moose
On your second day in the park, bookend your day with scenic vistas, and spend the middle of the day on a hike to one of the many amazing lakes in Grand Teton National Park.
Sunrise Views
If you're up for an early wake up call (you need to get here half an hour before sunrise, so plan accordingly) and stunning mountain vistas, head to the Snake River overlook for sunrise.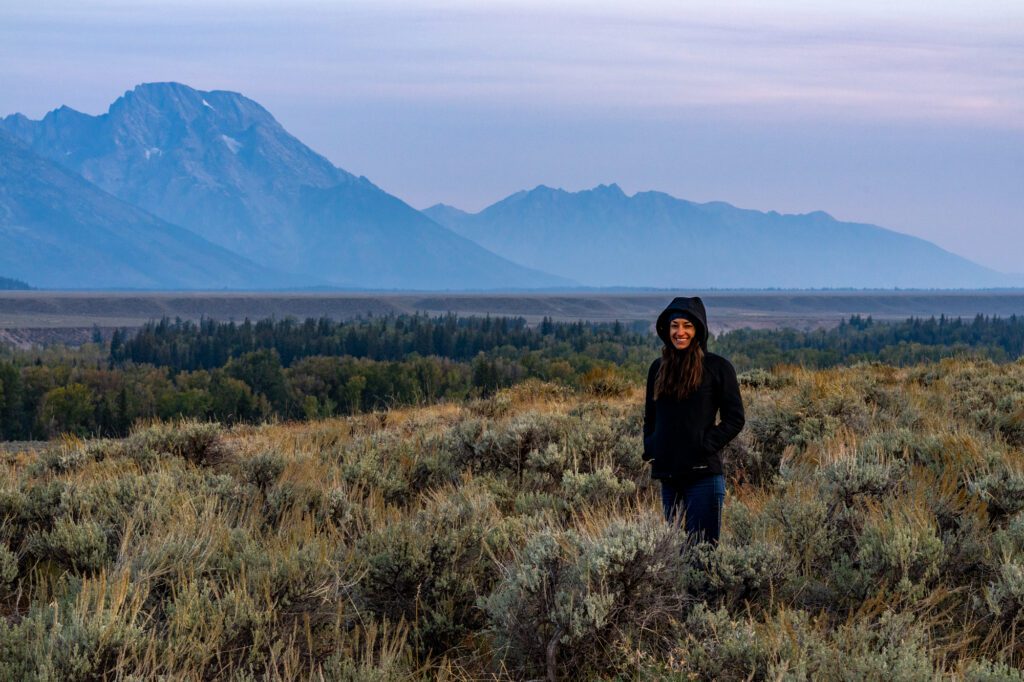 The Teton Range lights up with this incredible pink hue as the sun hits it, and both Alysha and I were mesmerized as the pink slowly morphed into golden hour. Fun fact: Ansel Adams loved this spot!
About 30 minutes after the sun has risen and its golden glow has lit up the valley, head over to Mormon Row to check out the Insta-famous T.A. Moulton Barn. I learned that this area is called Mormon Row for a reason – Mormons left Utah in search of more land, found themselves in Wyoming with spectacular views of the Tetons, and said "Yeah, this looks pretty good." Not a bad spot to grab real estate.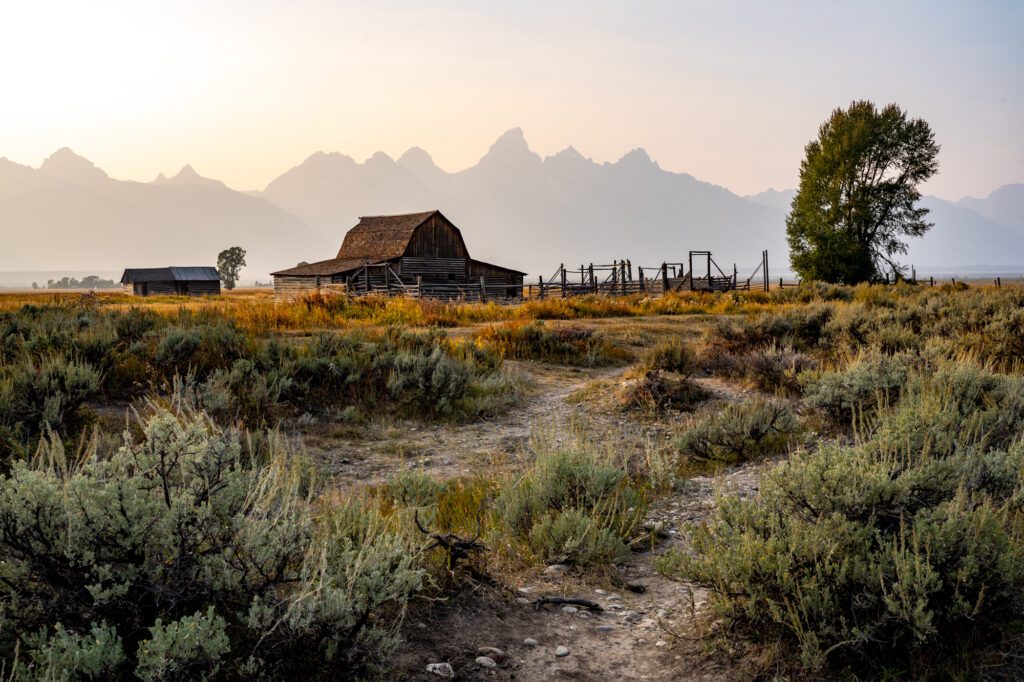 I'll be completely honest, the barn was definitely one of those "Instagram vs. Reality" moments, especially because we were there when it was a little smoky from wildfires on the West Coast. Still, it's worth seeing, and it's a good spot to find bison too. Make sure to head across the main road from T.A. Moulton barn to check out the rest of Mormon Row too.
Lakeside Hiking
Next, it's time for a leisurely stroll around some beautiful lakes. You've got two great options for that nearby.
The first option is String Lake and Leigh Lake, which is a 7 mile hike with almost no elevation gain along the lake. Park at the String Lake Trailhead, which is just north of Jenny Lake, and head north first along the shores of String Lake, then all the way to the north point of Leigh Lake. Remember to bring a picnic lunch and enjoy it somewhere along the shore!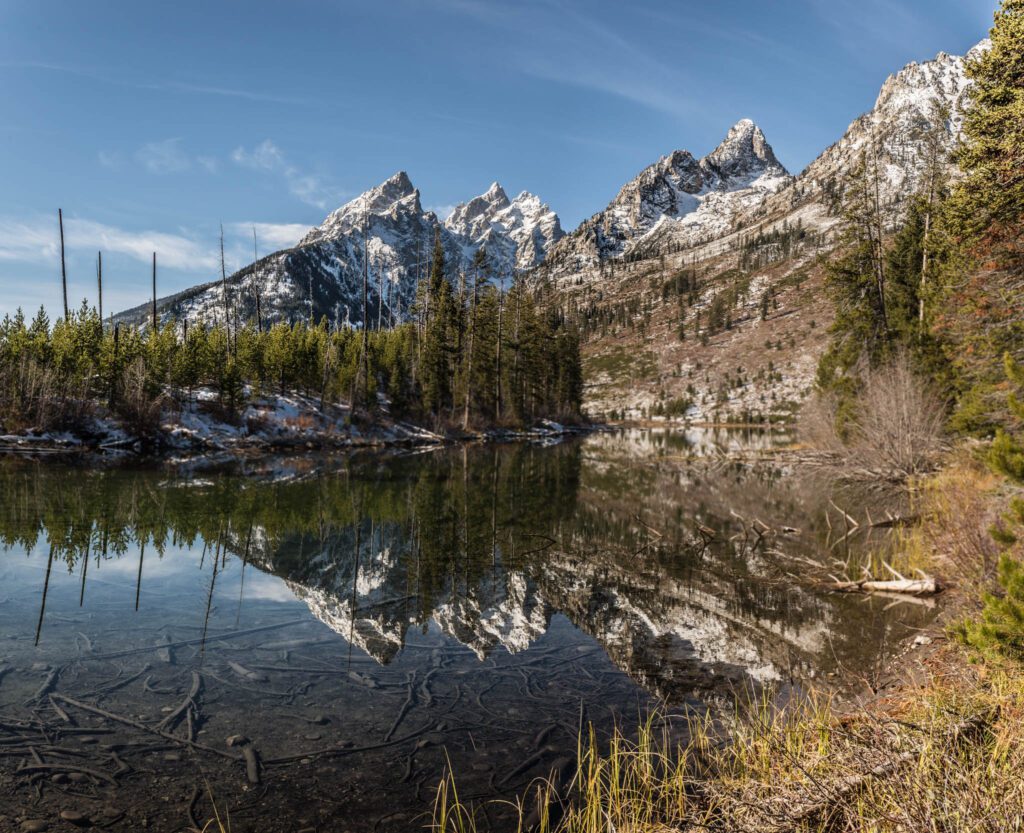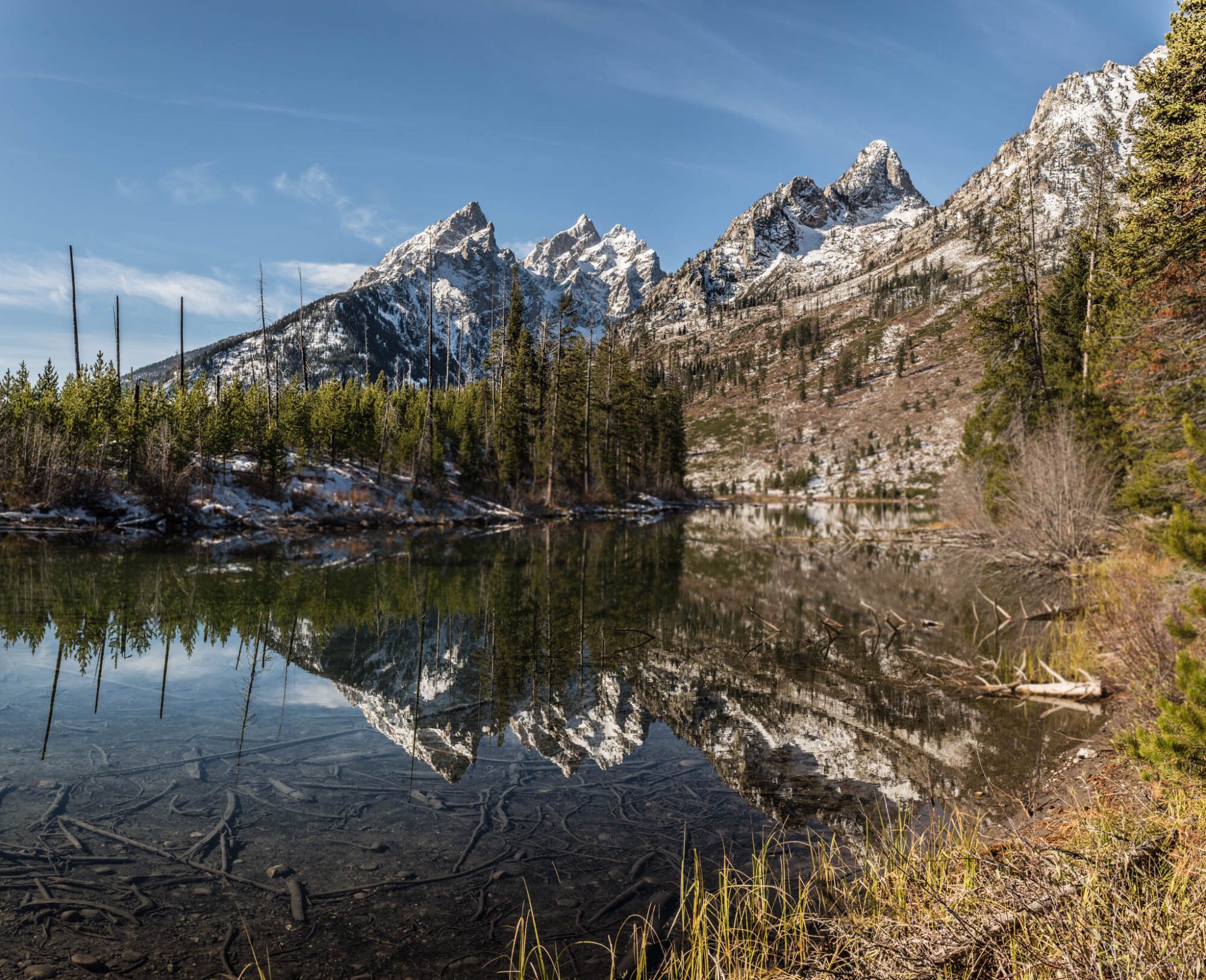 The second option is Bradley and Taggart Lakes, which is a 6 mile hike with a bit of elevation gain that is south of Jenny Lake. On calm days, you'll find a mirror image of the Tetons in the lakes, which is pretty cool. Try to get there before 10am, otherwise parking could be a nightmare and you'll share the lakes with 100 of your new best friends.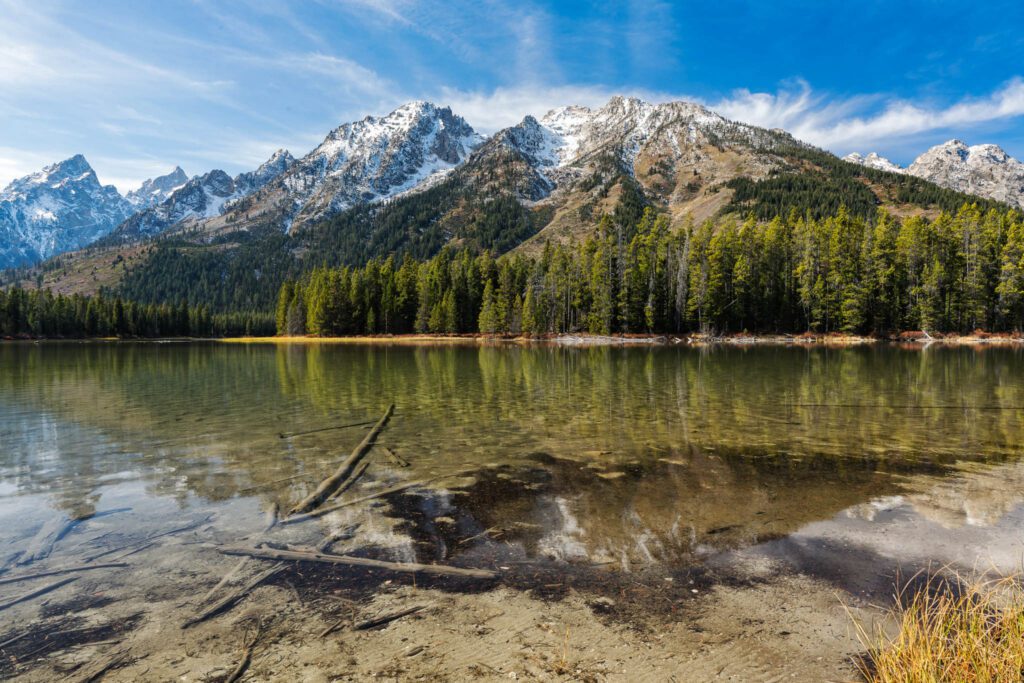 Spend the afternoon relaxing and recharging again before heading out to Moose-Wilson Road an hour before sunset.
This was our go-to wildlife spot in the park – we went back multiple times and saw amazing stuff each and every time. Particularly the first overlook on the left if you're coming from north / the park. From the parking lot, you'll be able to get a great vantage point over the Snake River, and if you walk along the trail to the southwest, you might find even more!
We went back three different times at both sunrise and sunset, and here's what we saw:
First time, sunrise: A mama bear frolicking with her cubs across the river, and another bear eating some berries along the trail (we didn't actually see this one, because it was too close to the trail and we didn't want to get too close and disturb it).


Second time, sunrise: We saw a baby moose and a mama moose chowing on some grass! We sat and watched them for half an hour – they're fascinating animals.


Third time, sunset: Baby moose and mama moose again, only this time mama moose was snorkeling in the river. It was super cool to watch – I had no idea that moose swam, let alone dived down to search the bottom for snacks.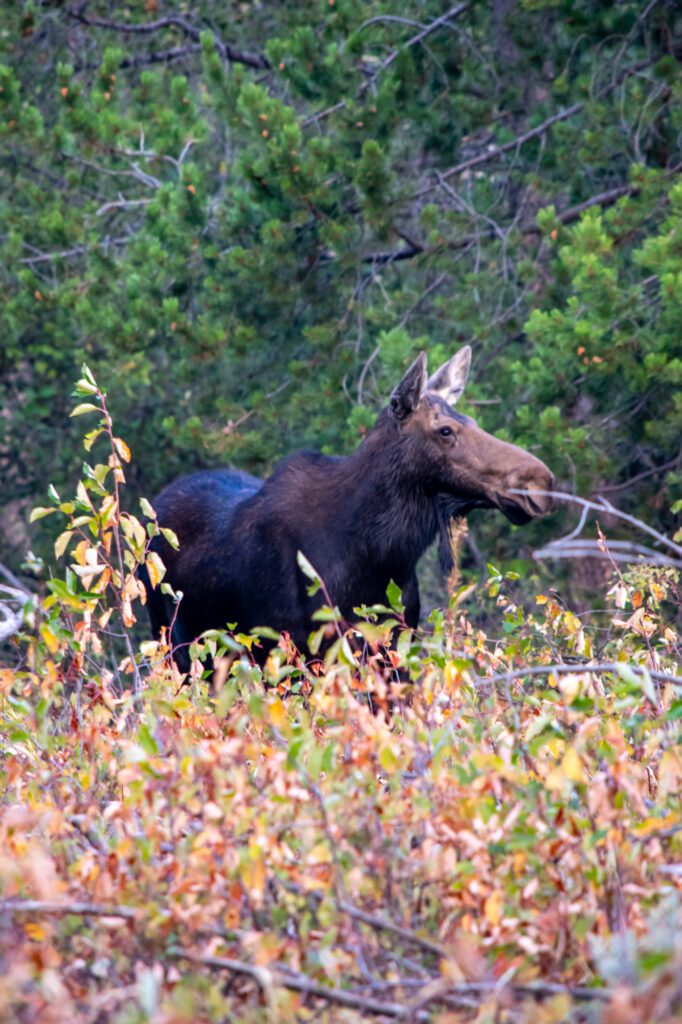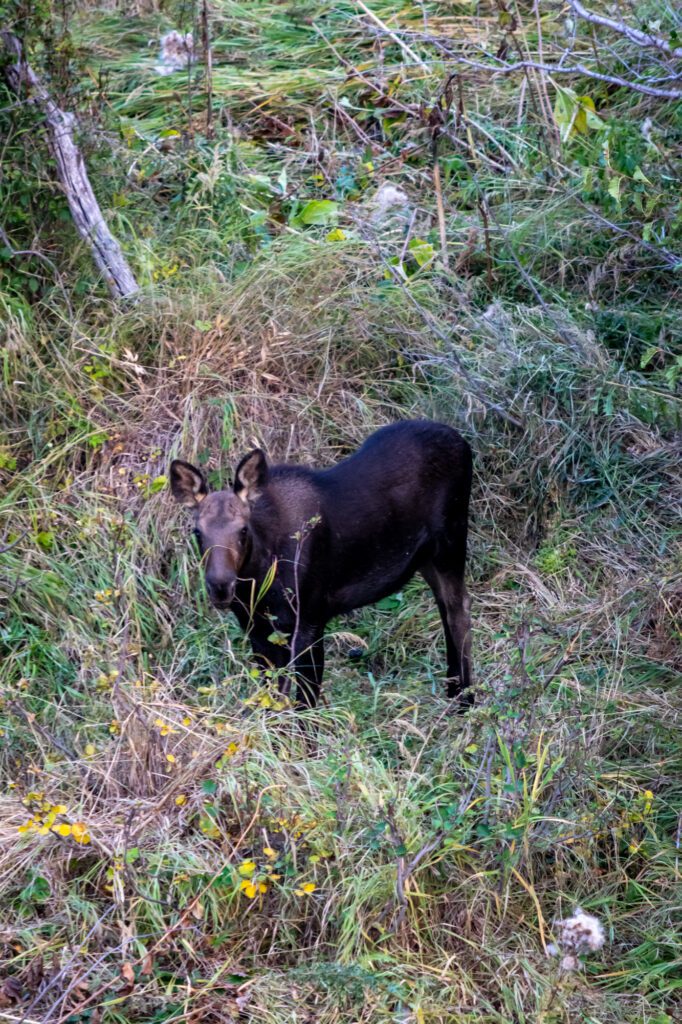 Hop back in your car and continue south along Moose-Wilson road for more prime wildlife territory, although there's limited overlooks and the first pullout you already stopped at is by far the best spot, if you ask me.
Day 3: The Hike to Delta Lake
Time to start off the last day of your itinerary with a bang.
Schwabacher's Landing at Sunrise
Wake up an hour before sunrise and head to Schwabacher's Landing for a sunrise you won't forget anytime soon.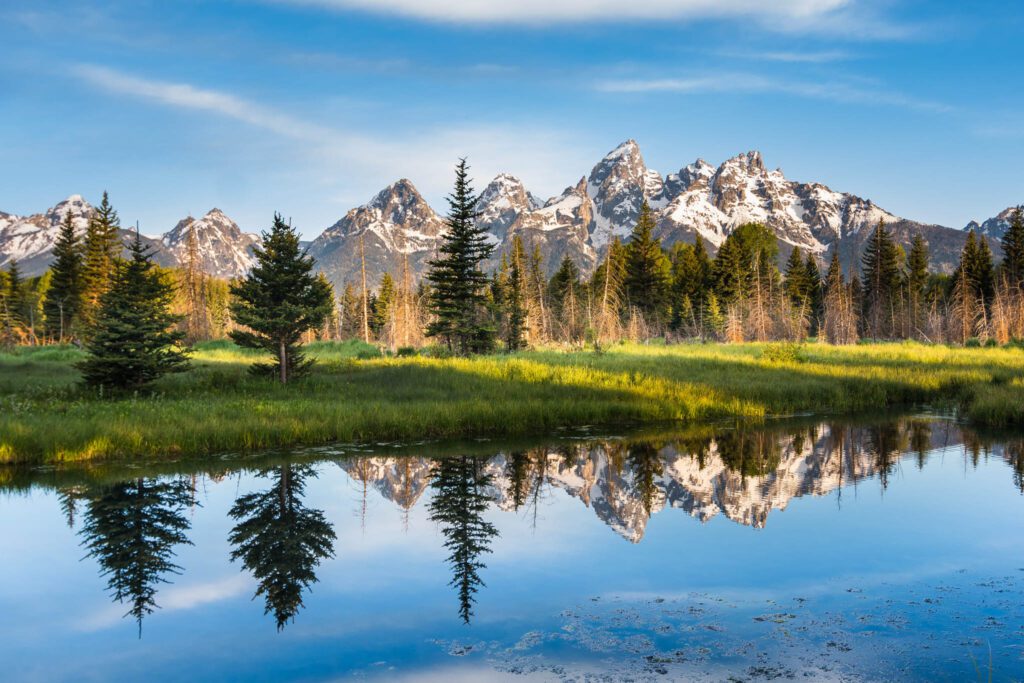 This is one of the best photo spots in Teton, and for good reason. The Snake River bends and the foliage around it makes a great foreground, while the mountains rise up thousands of feet above the river in the background.
Simply stunning.
It also happens to be a good place to see wildlife, with moose and elk occasionally making an appearance.
It's a dirt road to get down there, but it's worth the bumpy drive. It's short.
Hike to Delta Lake
Next, head over to the Lupine Meadows trailhead, just south of Jenny Lake, and get ready for one of the most spectacular hikes in the park – Delta Lake. It's a 9 mile hike with 2,300 feet of elevation gain, which is pretty steady throughout the hike until the last mile, when you climb A LOT in a short distance.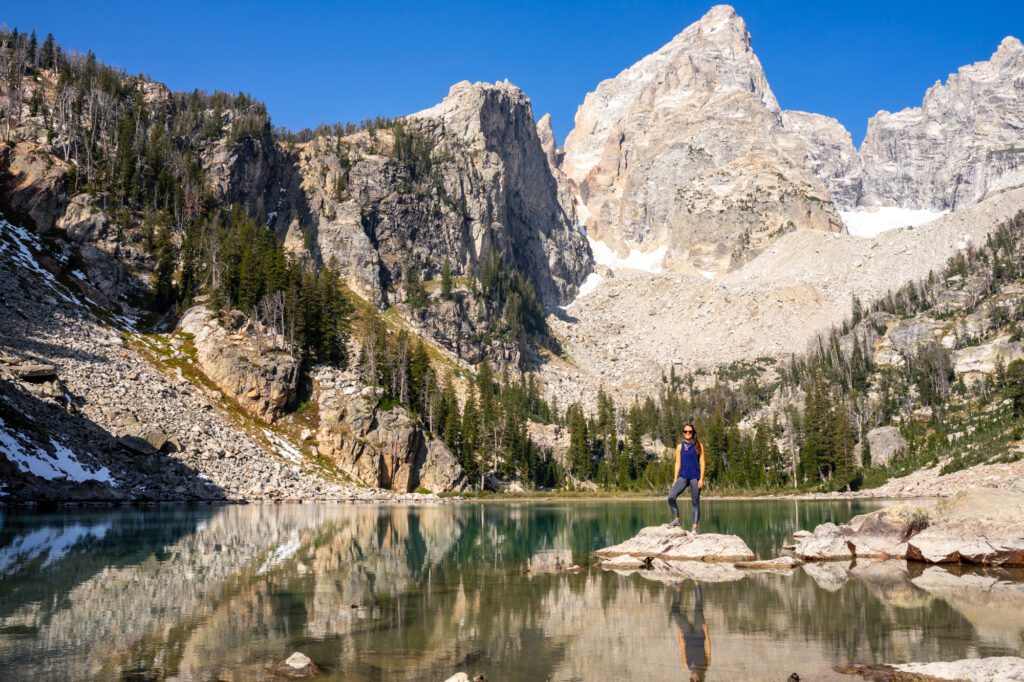 You won't see it listed on any of the hiking brochures given out by the park because the latter part of the hike is unmaintained, but I talked to a ranger and he was happy to give me information about how to do it safely.
It follows the Amphitheater/Surprise lake trail about half way up, before branching off at the fifth switchback. If you're coming up the trail, you'll know it's the right place because the real trail continues up and to the left, and you'll see some steep steps that head off to the right at the point where the trail switches back. You'll want to have a map handy, which you can use Alltrails for (save the hike to a list, open it when you have service, and then you'll be able to use the GPS feature while you're on the hike).
From there, it's a climb through a boulder field (follow the cairns and you'll be fine – you need to make your way up and to the right), then a steep dirt path, and finally another mini boulder field. If it's wet, I'd be really careful.
We thought for sure we'd be the only ones on the trail, since it's unmaintained and all. BOY WERE WE WRONG.
You'll get to enjoy the spectacular blue lake with at least fifty of your new best friends.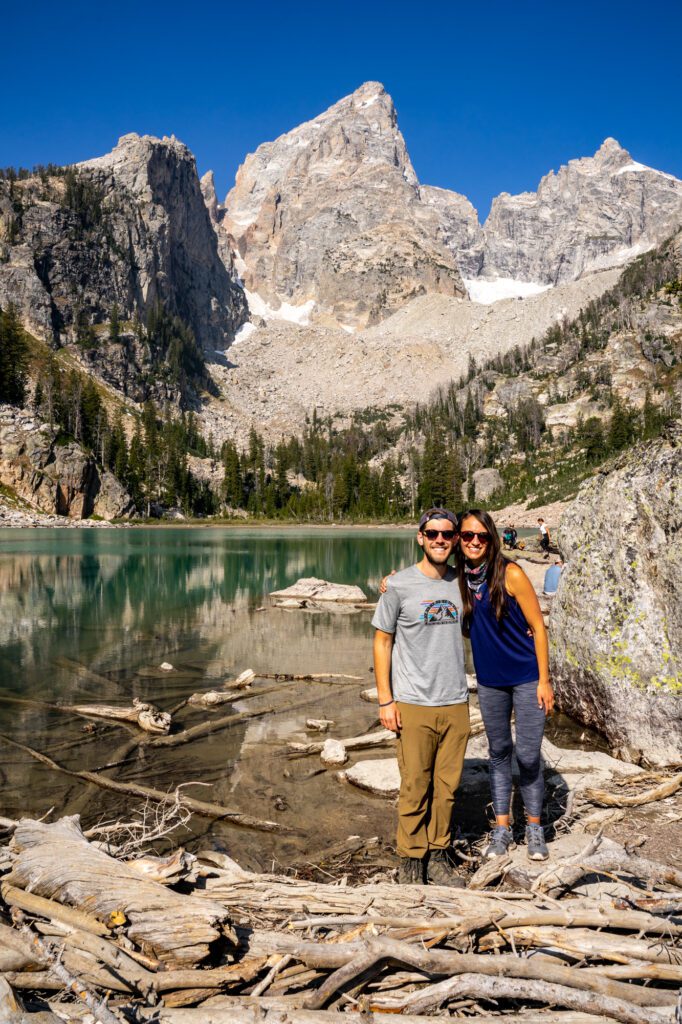 I'd still say it's worth it – the views are pretty spectacular from all angles, with Grand Teton towering above the east end of the lake. Find a flat rock along the northern shore and plop down for a picnic lunch and spend some time taking It all in. It doesn't get much better than this spot.
The hike took us a full five hours (including time at the top) and we were both acclimated to the altitude and in the best shape of our lives from our summer of road tripping and hiking 9 miles a day. I'd plan on at least 5-6 hours for the round trip hike, which puts you back at the trailhead in the afternoon. Head back to Jenny Lake and relax along the shore somewhere to recharge.
Sunset Picnic at Signal Mountain Overlook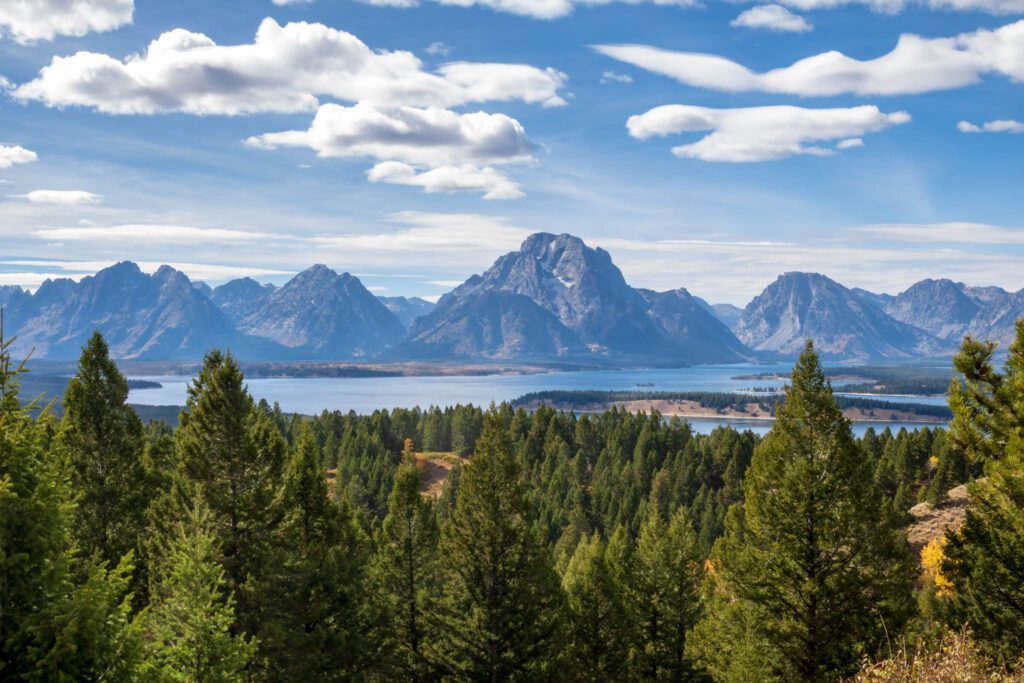 For your last hurrah, head to the Signal Mountain overlook for sunset and a picnic dinner. Bring cheese, crackers, sandwiches, beer, wine – whatever your heart desires, really – and enjoy the sunset. You can drive up to the viewpoint, or hike if you're somehow still up for another climb after your big hike earlier in the day.
Pro-tip: The viewpoint that is just before the summit is actually better. It's called the Jackson Lake overlook, and it looks out over the lake and Grand Tetons.
How to Get To Grand Teton National Park
The best overall option is to fly into Jackson Hole Airport (JAC) – it's going to be a bit more expensive, since it's a relatively small airport, but it will be super convenient and save you multiple hours of driving.
If you're planning on doing Yellowstone and Grand Teton together, you could also fly into Bozeman. Flying into Bozeman would put you a couple of hours away from the northern border of Yellowstone, then you would drive south from Yellowstone to Grand Teton, and either fly out of Jackson Hole, drive back to Bozeman, or continue the adventure south to Denver or Salt Lake City.
Flying into Denver or Salt Lake City is going to leave you with a LONG drive (believe me – we drove from the park to Denver and it is brutal and not even a little scenic, for the most part). But, flights and rental cars will be cheaper.
Once you're in the park, you need to rent a car. There's really no other way to do it and see all the amazing sights.
How Many Days in Grand Teton National Park?
We spent four days in Grand Teton, and it was probably one too many for most people.
Three days is the perfect amount of time to spend in Grand Teton National Park. Plus, then you can combine it with my four day Yellowstone itinerary and make it a week-long adventure.
You can do it in two days, but you'll be rushed. Especially considering you'll need to spend the first morning securing a camping spot if you'll be staying at one of the campgrounds in the park (more on that in a second).
One day is not enough. Period. You'll end up missing a bunch of the things that make the park special. On the other hand, I totally get it – you've got limited vacation time, and don't have the luxury of spending more time. If you could, you would, right? Don't worry, I'll give you an option below to make the most of a single day.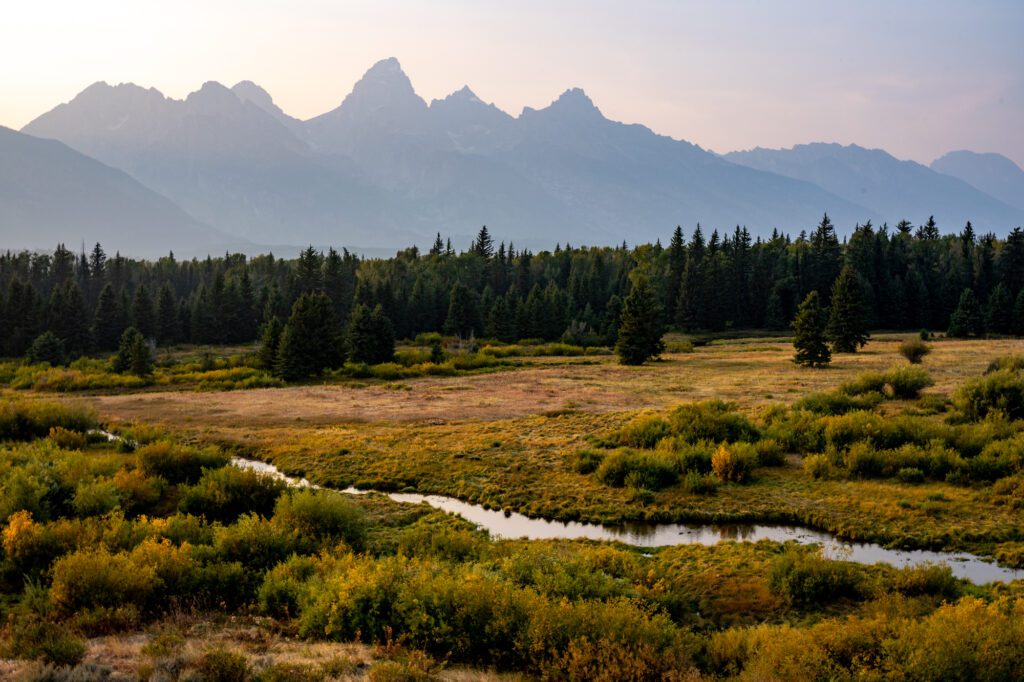 ---
We loved Grand Teton National Park – on our four month US road trip, both Alysha and I agreed that it was top 3 of the 12 National Parks we visited. Honestly, I'd say top 2, with Olympic National Park being the other one.
It's also a relatively small area, especially compared to Yellowstone, which makes it easily explorable in a couple of days.
There's tons of great hikes, stunning scenery, and an abundance of wildlife – the trifecta of things we look for in our favorite national parks.
You're going to have a great time. Enjoy, and remember to leave no trace. Protect the places we play so more people can experience them and enjoy them too.
Liked this guide? Read more of my guides for outdoor lovers: