How to Spend 3 Days in Florence, Italy: A Complete Guide
Florence is without a doubt one of the most beautiful cities in all of Italy. Known as the 'Birthplace of Renaissance', the city is an unparalleled hub of world-class art and architecture. From Michelangelo's Statue of David to the towering Duomo and its renowned dome, Florence is home to more masterpieces than you'll know what to do with.
The rich and sometimes salacious history around the Medici family, one of the most famous families in Florence's history, is worth learning about. And I do mean "rich" in multiple ways.
At one time Florence was the banking capital of Europe, and was where the first gold florins that were later used as international currency were minted. Florence was, like, a big deal. Florence wasn't rich because it had a lot of art. It was, in fact, it was quite the opposite. Florence had a lot of art because it was rich, and that wealth allowed for the commission of all these amazing works of art.
Florence's history has all the makings of a good HBO series – murder, mystery, intrigue, and plenty of scandal (a pope with a son, who was made the duke of Florence? Questionable at best).
We've set up this 3 day Florence itinerary to help you learn alllll about it. From world-class art museums to walking tours, you'll have plenty of opportunities to dive into the stories that bring the city's history to life.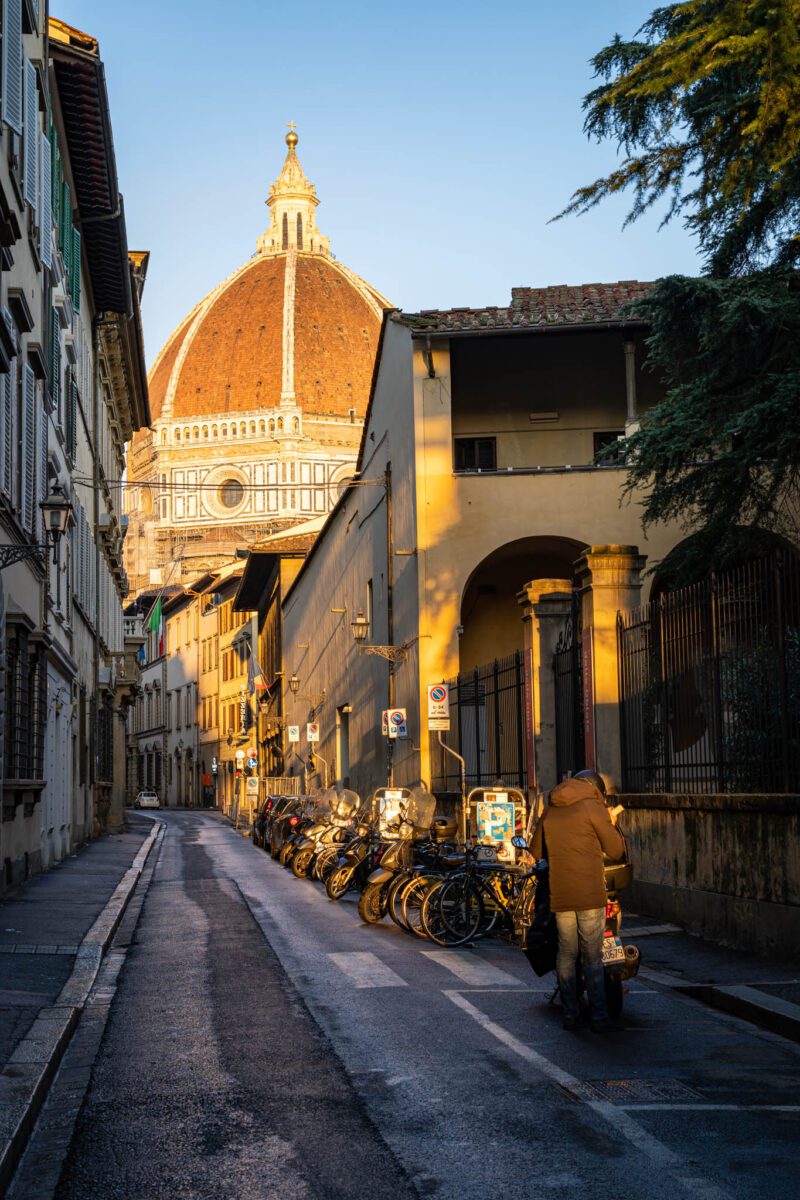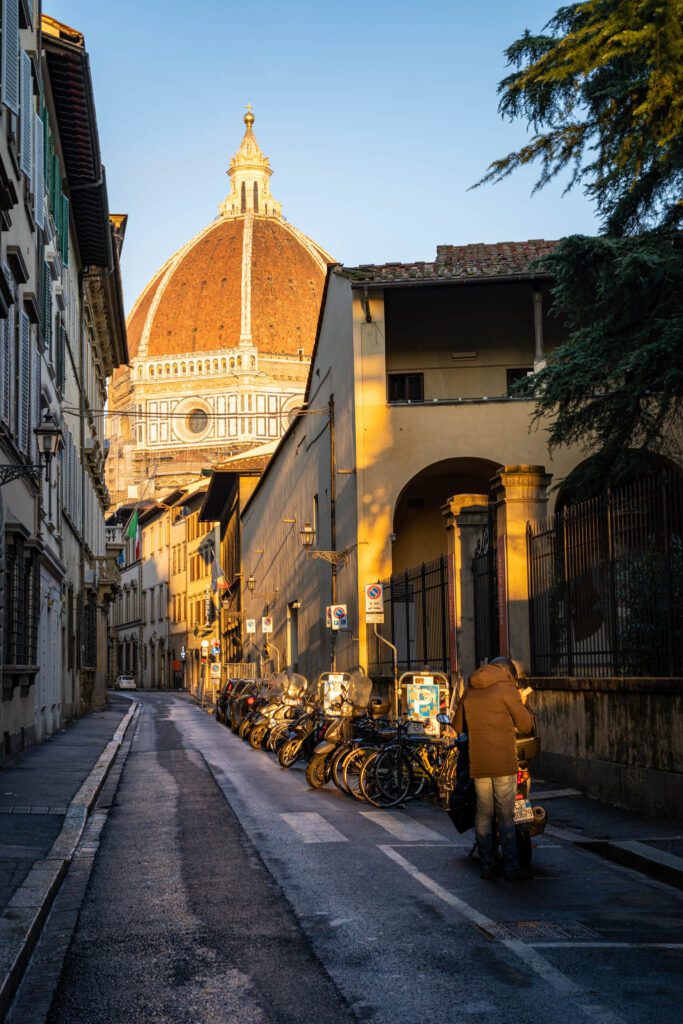 Our favorite thing to do in Florence, though, is to wander the quiet streets before 9:00 am, which is just about when all the tourists seem to wake up. It's so calm and serene, and the architecture is beautiful.
Three days in Florence isn't a huge amount of time. While the city may be small in size, there are countless fantastic things to do, including several huge museums where you could easily spend an entire day alone.
This 3 day Florence itinerary is here to help you experience both the city's most famous attractions, and save some time for other experiences so that you get as much out of your time as possible.
With three days, we also think you should take advantage of Florence's amazing location in the heart of Tuscany to get out of the city and explore other parts of this glorious region on your third day.
The easiest way to do that is to take a guided tour, but you could also do it yourself via train or renting a car. We've got plenty more on where to go on a day trip from Florence and what to do and see below.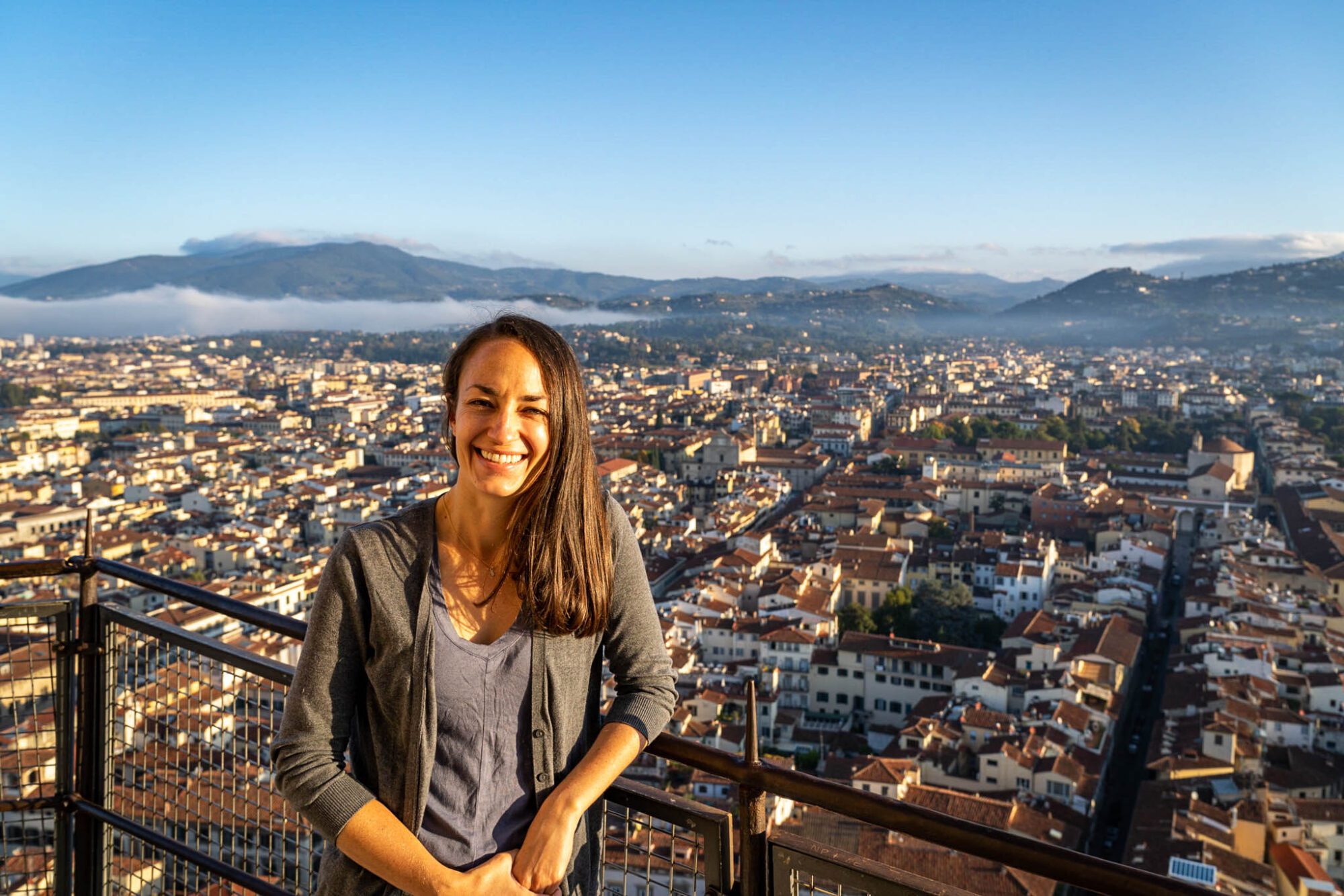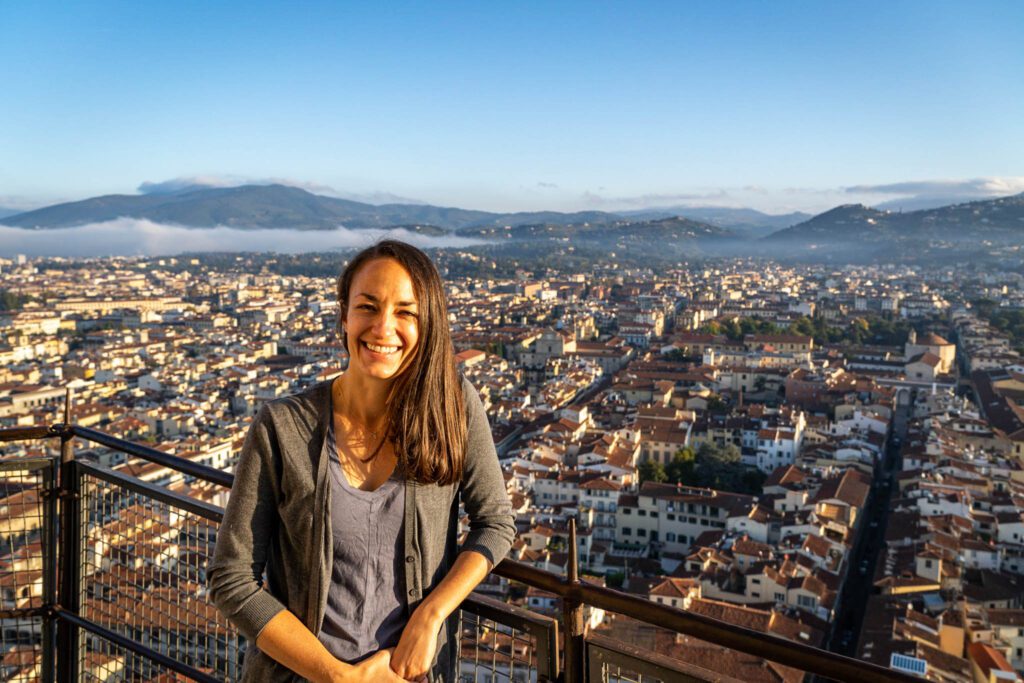 Disclaimer: Some of the links in this post, like hotel links, are affiliate links, meaning at no additional cost to you, we make a little bit of money if you click through and book. That being said, we would never recommend something to you that we don't stand behind 100%.
Where to Stay in Florence
Being a small city, you can't really go too wrong wherever you choose to stay in Florence. We have an entire guide on where to stay in Florence that dives deeper into the specifics and details – make sure to read that if you're trying to decide where to stay and want more details.
These are a few of our top suggestions.
The Historic City Center: Best Overall Location
The historic city center of Florence is fairly compact and is where you'll find the majority of the city's main attractions and hotels. For context, no matter where you stay in this area you'll likely be no more than a 10-minute walk from most of the places you'll want to visit.
Staying in the historic city center will ensure you get as much out of this 3 day Florence itinerary as possible.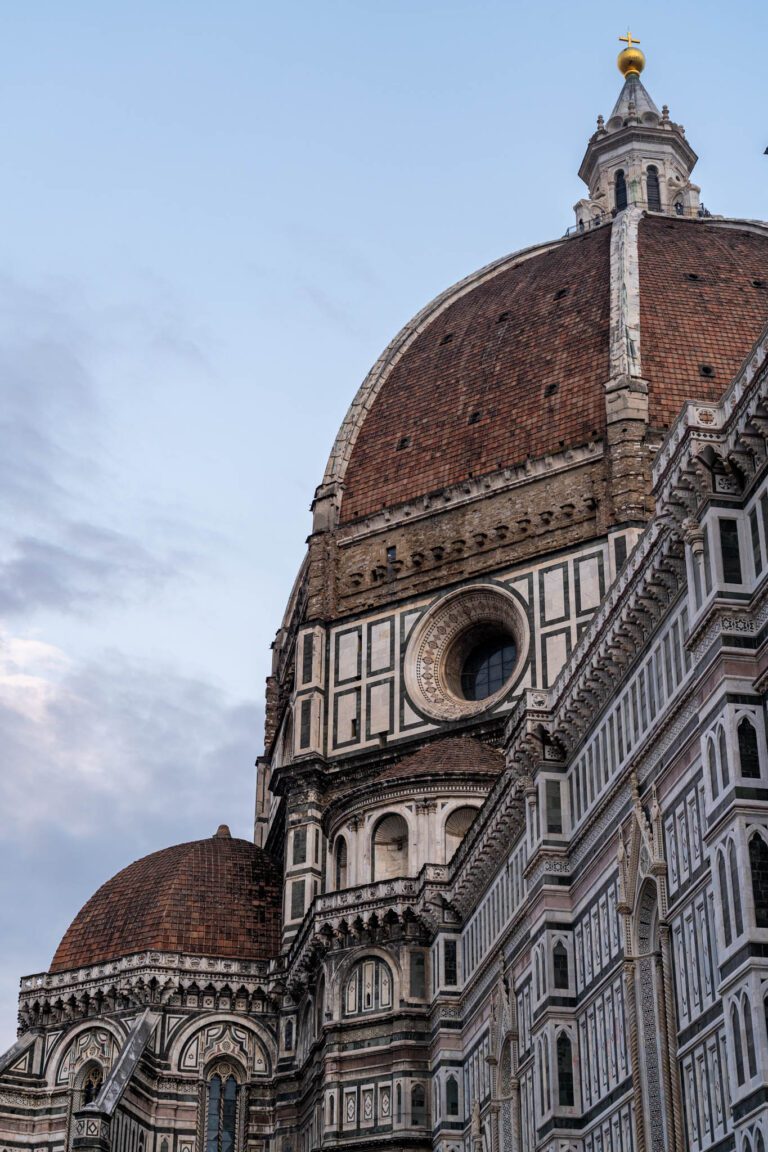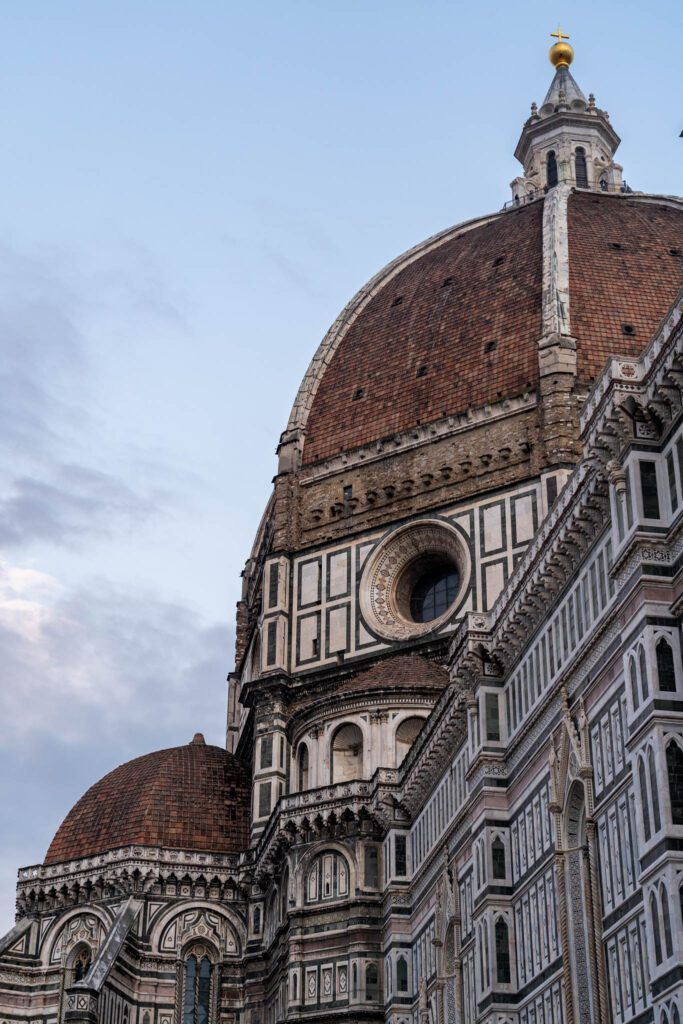 The best hotels in Florence's historic center:
Palazzo Gamba Luxury Apartments – An amazing aparthotel with elegant and spacious rooms, all with their own private kitchen and some of which have frescoed ceilings and a balcony. But the best part? It's just a few steps away from the iconic Cathedral so is about as central as you can get in Florence.


Arte' Boutique Hotel – A super stylish and cozy boutique hotel sitting between Accademia Gallery and the Cathedral. The spacious suites can sleep up to six people so are a great option for larger groups or families. Some rooms also have a private terrace with stunning views across the Florence skyline.
Oltrarno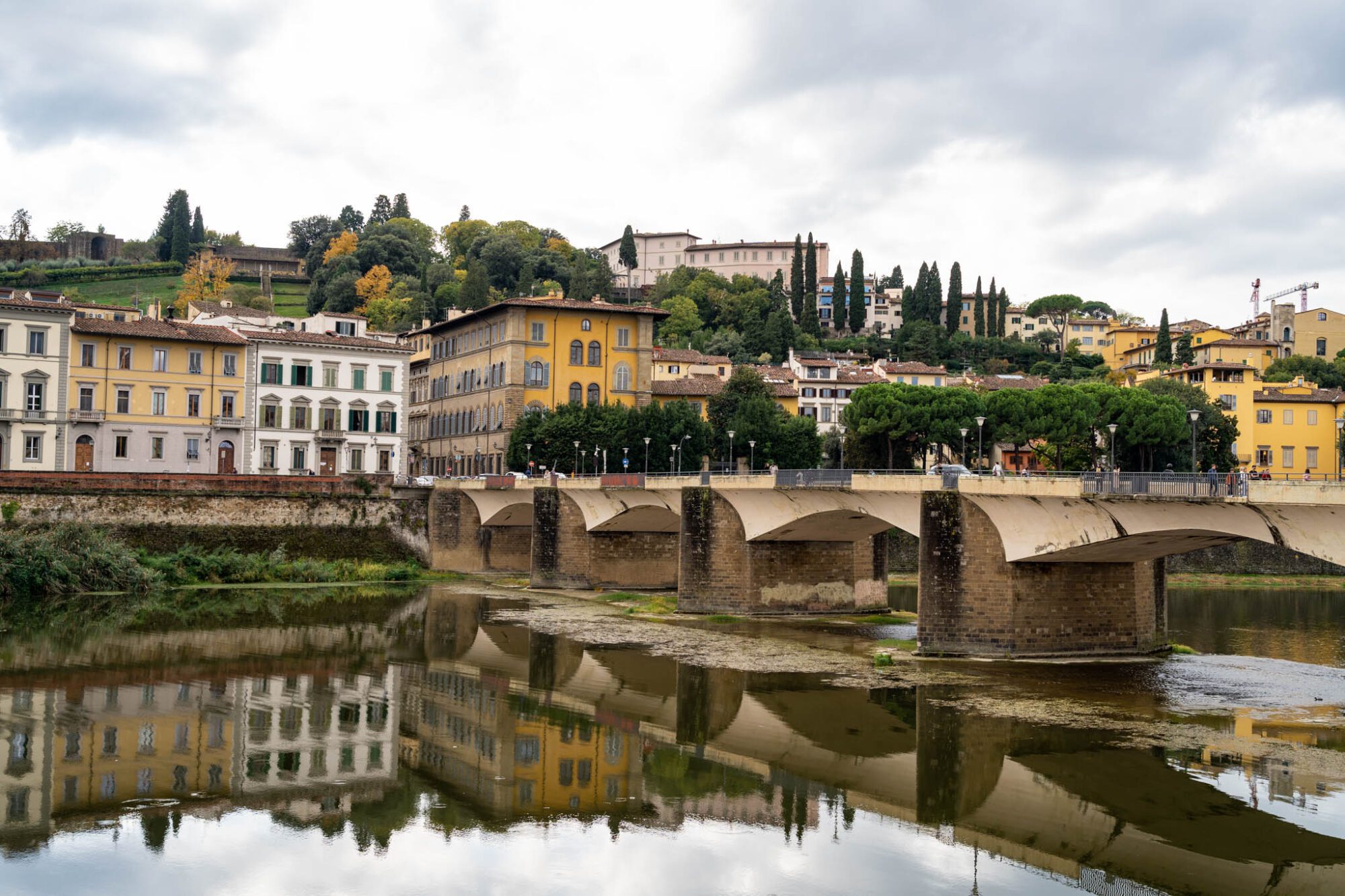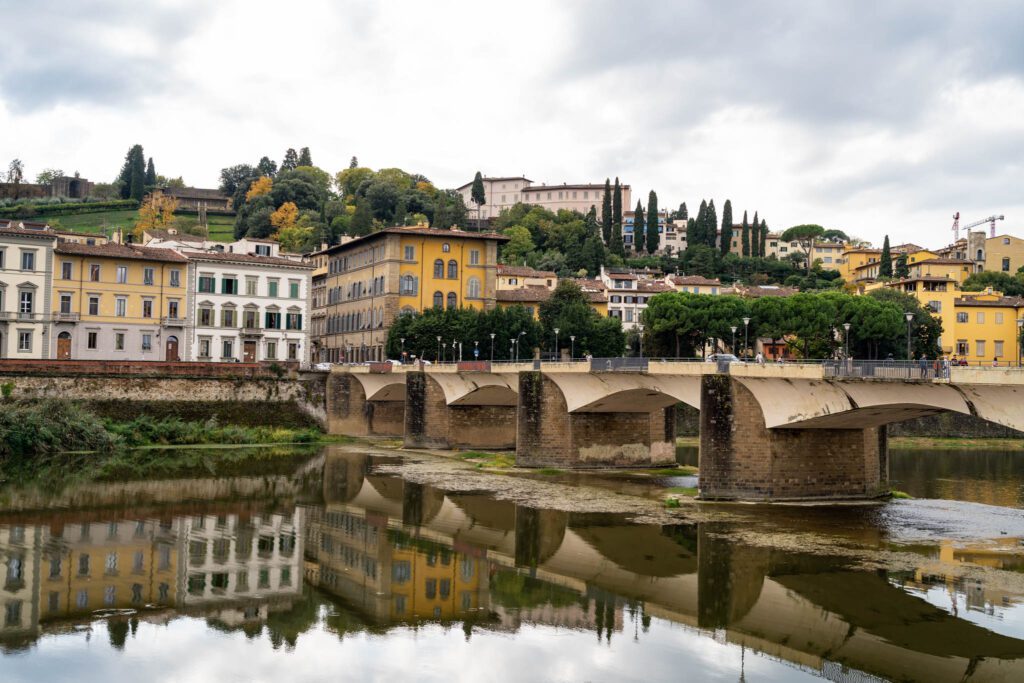 Oltrarno is the area to the south of the Arno river – Oltrarno translates to 'across the Arno' – and is Florence's artisans quarter, with plenty of small workshops and independent boutiques. There are also a few nice piazzas filled with restaurants and bars.
While technically still a part of the historic city center, Oltrarno is usually a little quieter than the main tourist district north of the river. It's a neighborhood where you'll be able to get a glimpse into authentic local life in Florence.
Some parts of the neighborhood are outside of the ZTL so it's also a convenient place to stay in Florence if you're traveling by car.
The best hotels in Oltrarno:
The House of Books – A modern and spacious apartment that is guaranteed to give you interior design envy. The chic split-level apartment has a large kitchen, views across to the Duomo and a beautiful shared terrace. It's conveniently located just a short walk from the center but outside of the ZTL area so you can park your car on the street right outside.


Hotel Pitti Palace al Ponte Vecchio – An affordable 4-star hotel sitting right next to Ponte Vecchio (bridge), which means that while it's in Oltrarno, the hotel is only a couple of minutes walk to the many attractions north of the river. The highlight of the hotel has to be its top floor restaurant terrace with panoramic views.
Your Complete 3 Day Florence Itinerary
There are a number of amazing things to do in Florence, and it's definitely not possible to fit it all in if you only have 3 days in Florence. In this guide, we're going to help you figure out what to prioritize (and by doing that, what to save for next time).
We think that Florence is best experienced slowly. Of course, you're going to want to see the Uffizi Gallery and some of the other famous sights in Florence. But you'll also want to save time to experience the magnificent food and wine scene of Tuscany and to wander along the river.
One of our favorite parts about Florence is that it serves as a fantastic home base for exploring the surrounding area of Tuscany. On your third day in Florence, we highly, highly recommend you take a day trip either to Lucca, Bologna, or the wine region of Chianti.
Here's what the itinerary looks like at a high level.
Day 1: Brunelleschi's Dome, an Introduction to Florence, and the Statue of David
Day 2: The Uffizi Gallery and Exploring Oltrarno
Day 3: Choose Your Own Day Trip Adventure
For this itinerary, we'll assume you're arriving the evening before and have three full days to explore.
Planning a trip to Italy? You won't want to miss our guide to planning an incredible Italy itinerary, with ideas for one week in Italy, 10, and 14 days in Italy, how to organize your trip, and the best things to do and see along the way.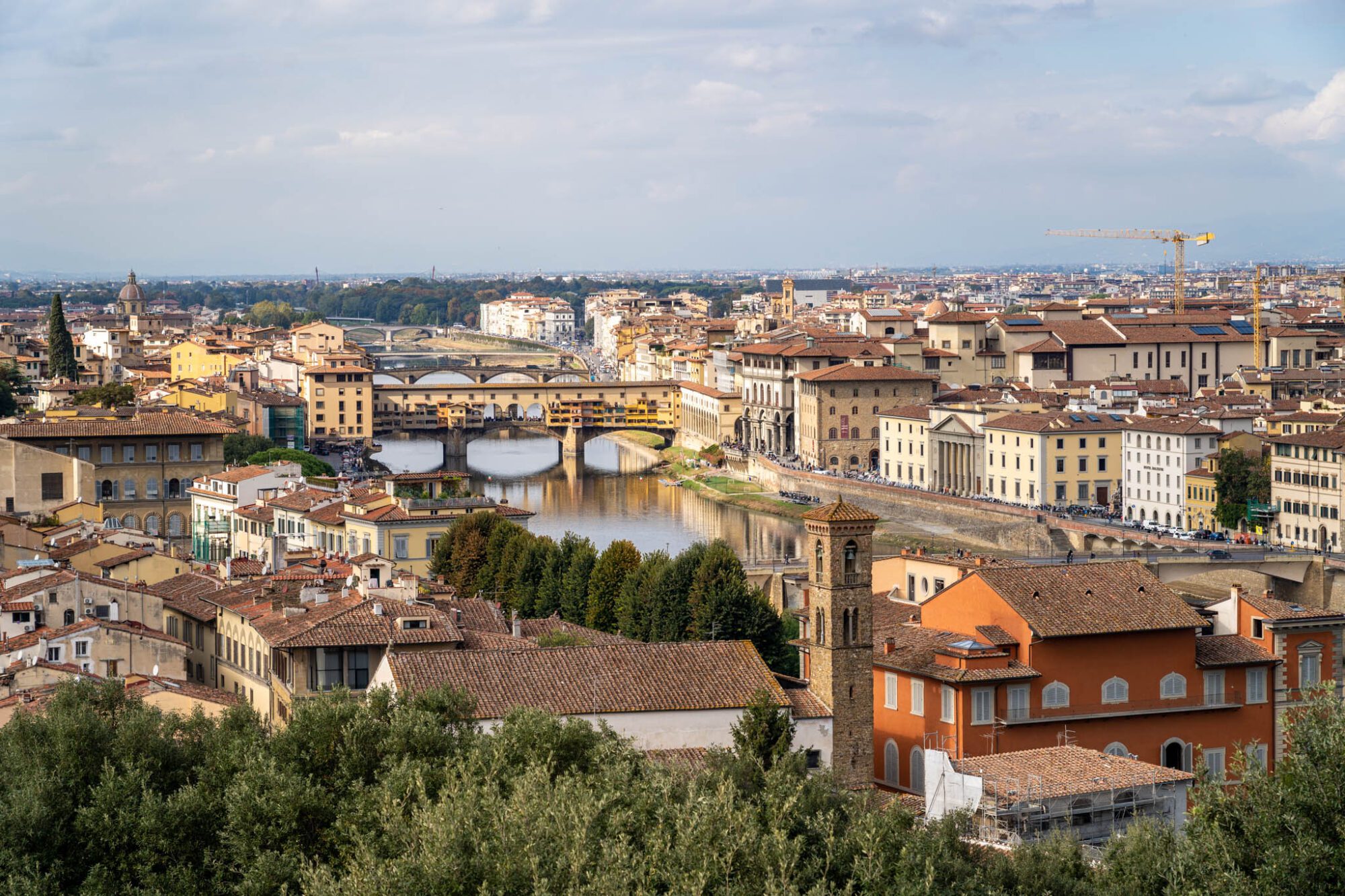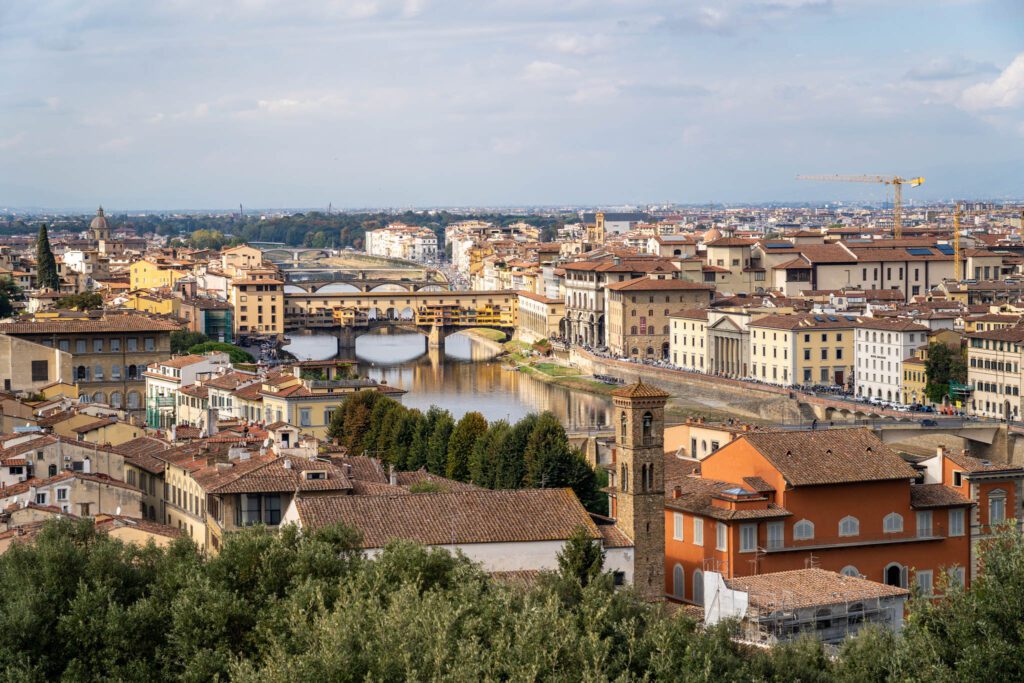 Day 1: Brunelleschi's Dome, an Introduction to Florence, and the Statue of David
On your first day, take in the view from the top of Florence's Duomo before diving into the history of the city and finishing with the David.
Brunelleschi's Dome and the Florence Cathedral
You'll want to get out nice and early on the first day of this Florence itinerary so you can hit the main attractions of Piazza del Duomo before the crowds get too big.
The Piazza is where you'll find several of Florence's most important landmarks, including the iconic Duomo, as well as the Baptistery and Giotto's Campanile. It's not hard to see that these three buildings are all part of the same complex from their shared Gothic-Renaissance architecture and famous marble design.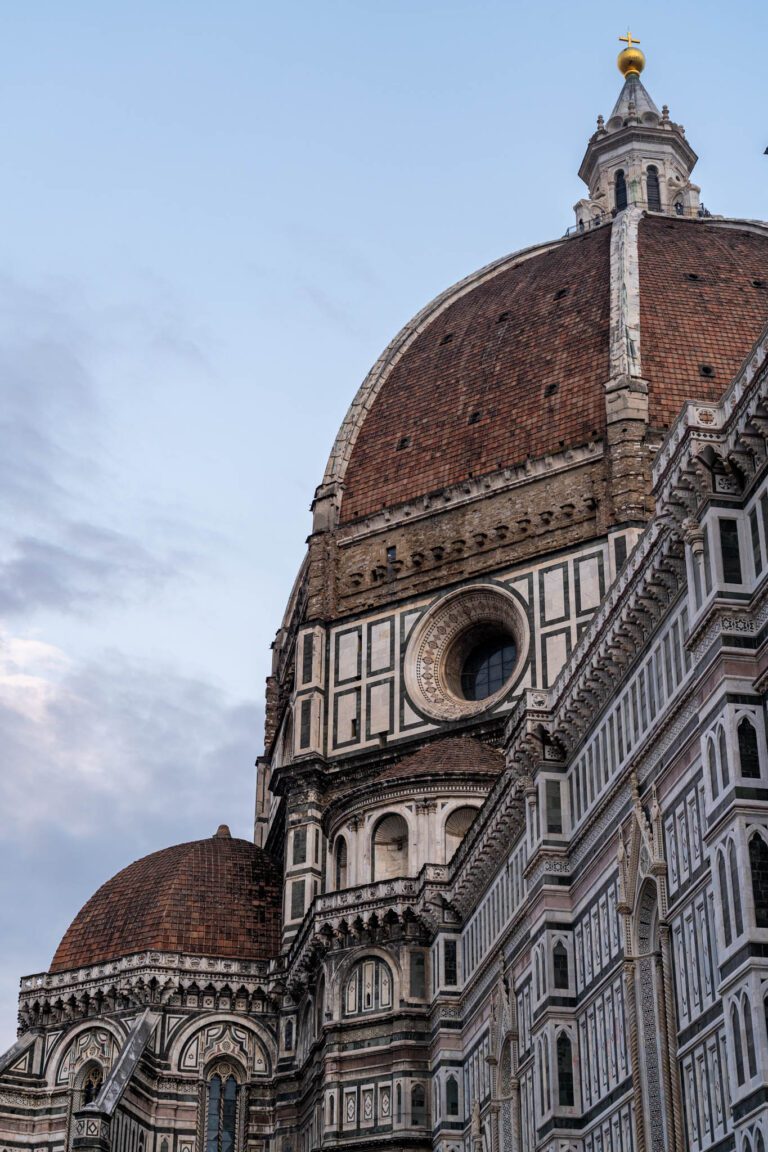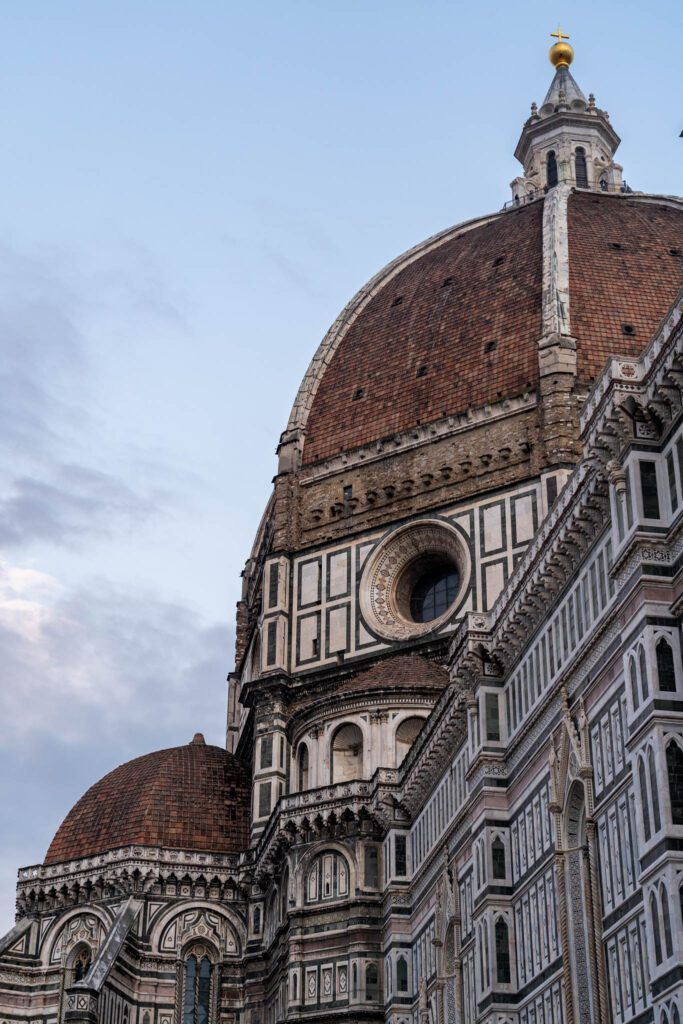 We'd strongly recommend choosing one attraction here to focus on (there are five separate pieces of the complex) rather than trying to see it all. And we'd recommend that one attraction is Brunneleschi's Dome. Here's why.
The Dome gives you both the best view of Florence from the top (the Campanile or Bell Tower has a netting at the top, which makes it hard to take pictures), and an up-close-and-personal view of the best part of the interior of the cathedral, the dome (which means you don't have to wait in the crazy line to get into the interior of the cathedral).
If you are interested in visiting all of the attractions on Piazza del Duomo, you'll save both time and money by purchasing a combined Duomo complex ticket. You could also book a guided tour of the Duomo complex.
Opening times for key attractions on Piazza del Duomo:
Campanile: 8:15 am to 6:45 pm
Baptistery: 8:15 am to 10:15 am and 11:15 am to 7:30 pm
Duomo Museum: 9:00 am to 7:00 pm (closed Sunday afternoons)
Duomo: 10:00 am to 4:30 pm
Brunelleschi's Dome: 8:30 am to 5:00 pm
Climbing Brunelleschi's Dome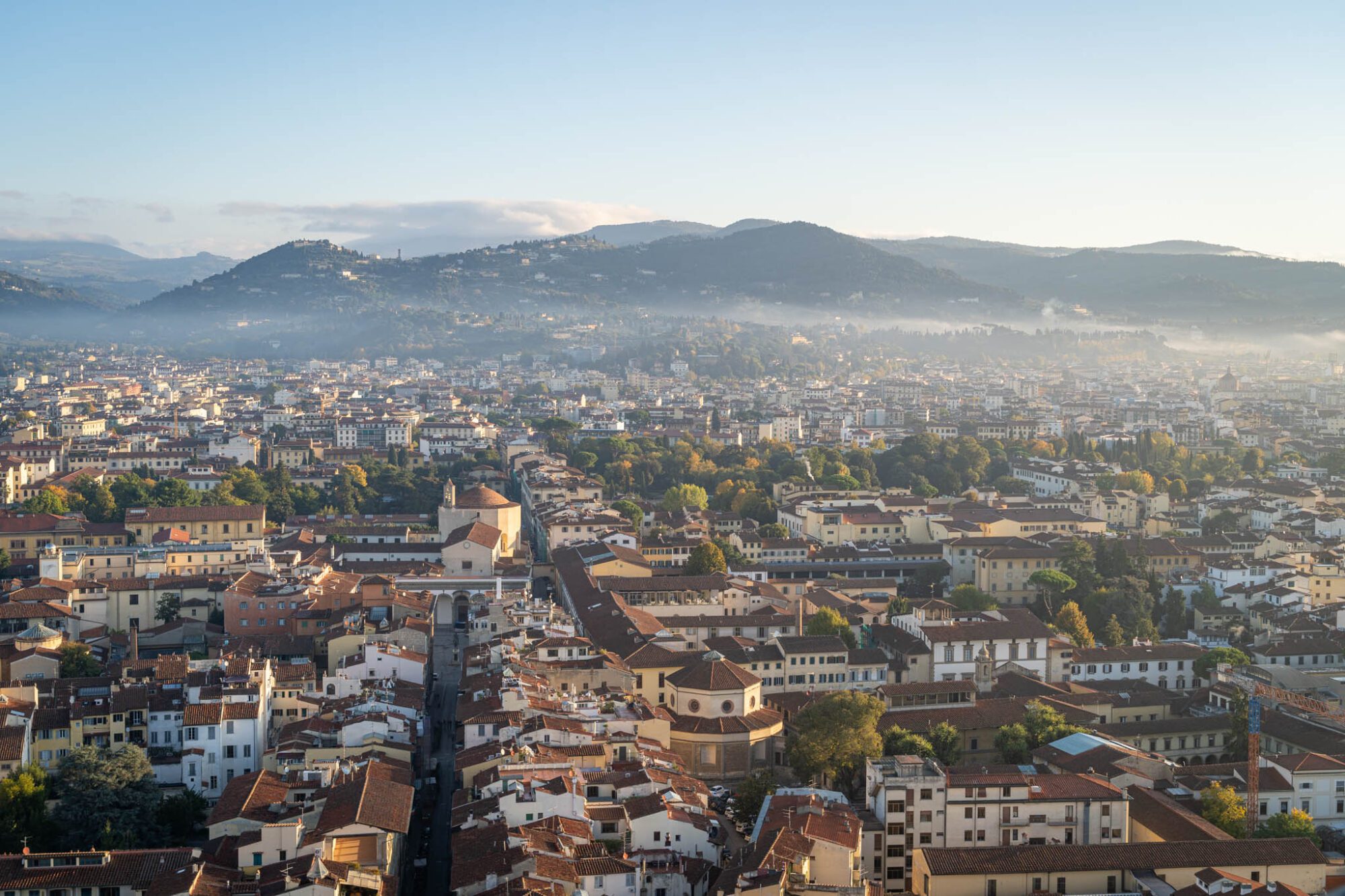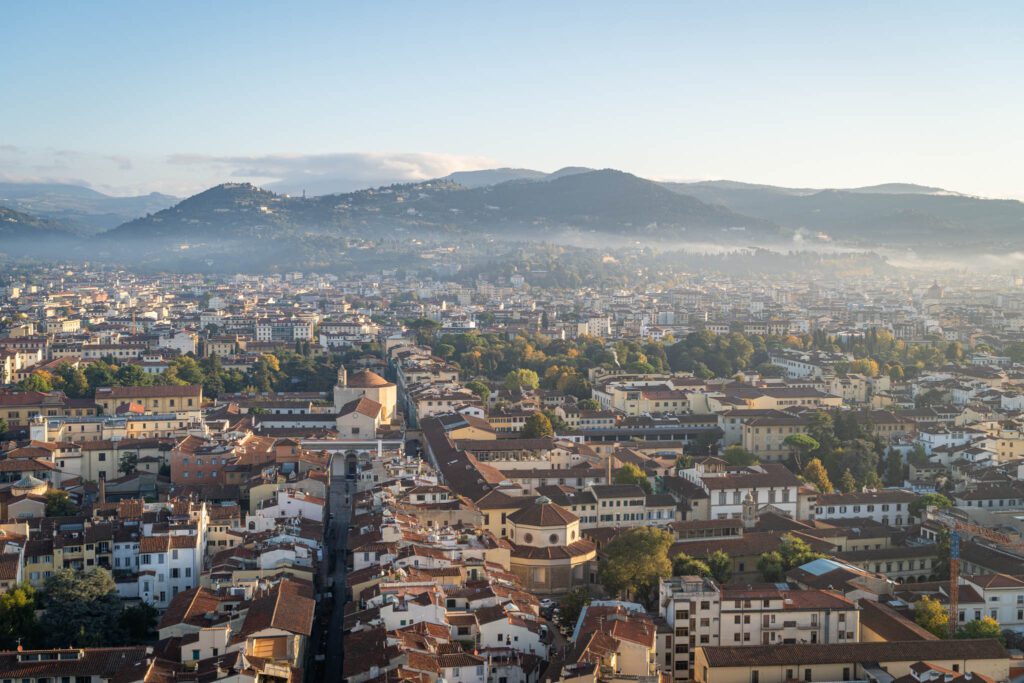 The striking 13th-century Gothic-Renaissance cathedral is one of the largest Christian churches in the entire world. But the real highlight of the Duomo has to be its magnificent dome – known as Brunelleschi's Dome – which was once the largest of its kind in the world.
Be sure to admire the outside of the Duomo first, which is intricately decorated with amazing sculptures and designs. Once inside, you'll notice that the cathedral is a little less elaborate. Don't miss the marble floor and its pure immense size.
Then, climb up to the top of the dome to see its striking frescoes up close and to take in the fantastic views over Florence.
We did this first thing in the morning, and would strongly recommend that you do the same for the best light over Florence and fewer crowds. Which means you'll want to buy tickets for the 8:15 am time slot and be in line by 8:00 am.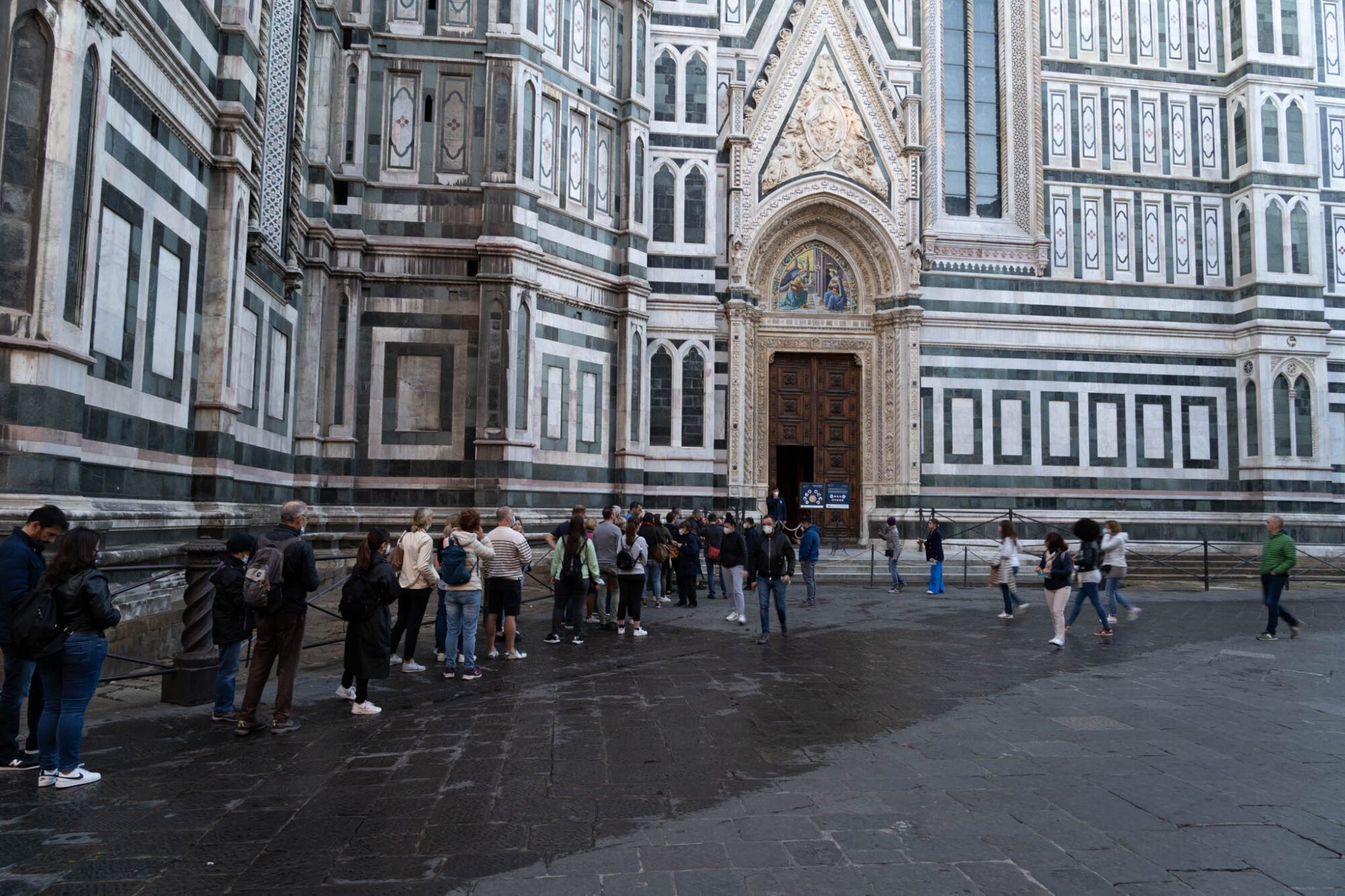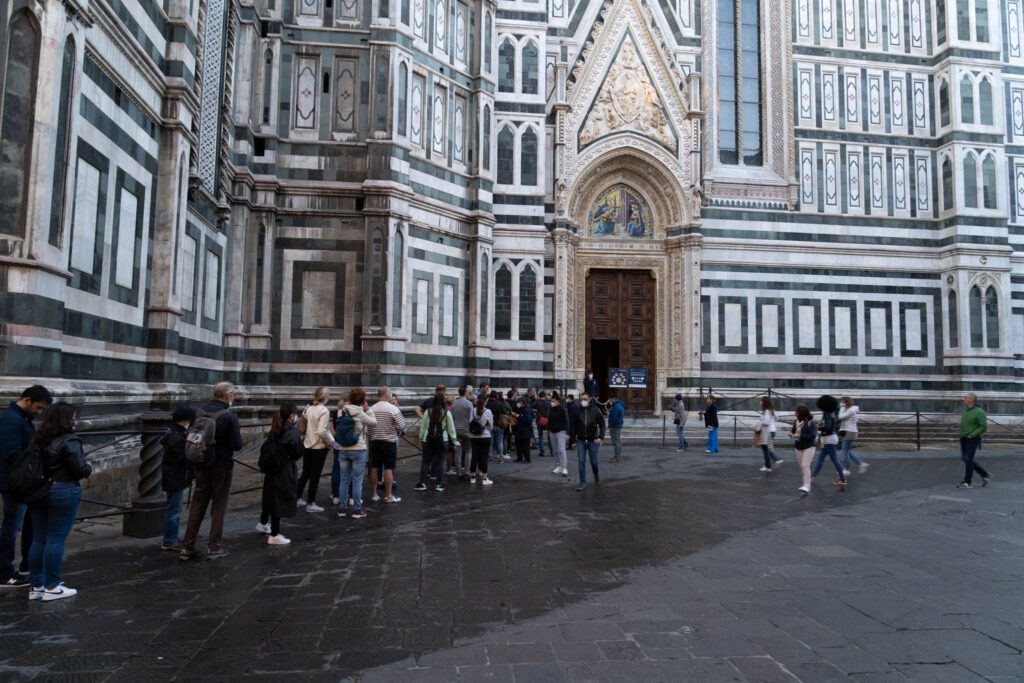 It's an early morning, but we think it's worth it.
The website to buy tickets for the Dome is here. You'll follow that link, click on "Brunelleschi's Dome," then choose a date and time slot and go from there. Alternatively, if you want to avoid the sometimes confusing official website, you can book skip-the-line tickets here, which are exactly the same thing – tickets for entry to the Dome.
There are another 463 steps (there's no elevator) to reach the top of the dome. The walkways to the top are a little narrow and cramped so it's not something we'd recommend for anyone who is super claustrophobic.
There's a point where you are shuffling along a narrow balcony (behind a glass wall, of course, it's not like you're at risk of falling) around the base of the dome high above the floor of the church below, which is spectacular.
From there, you can see the details in the art on the interior of the dome, which is worth stopping to admire. There are depictions of heaven and hell, and some of the figures in the hell portion really make me wonder exactly what drugs artists back then were taking. The imagination that went into creating this piece is truly wild.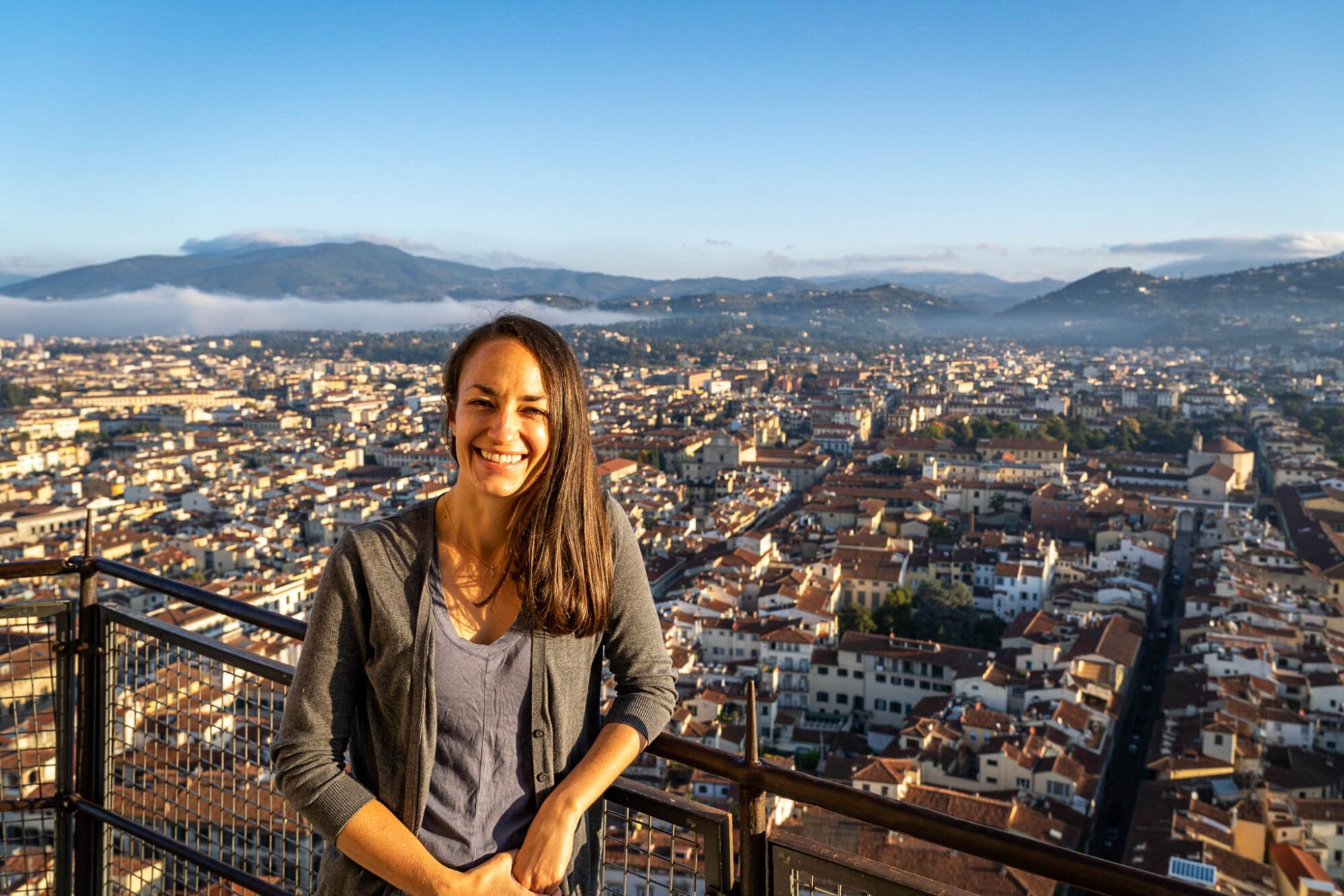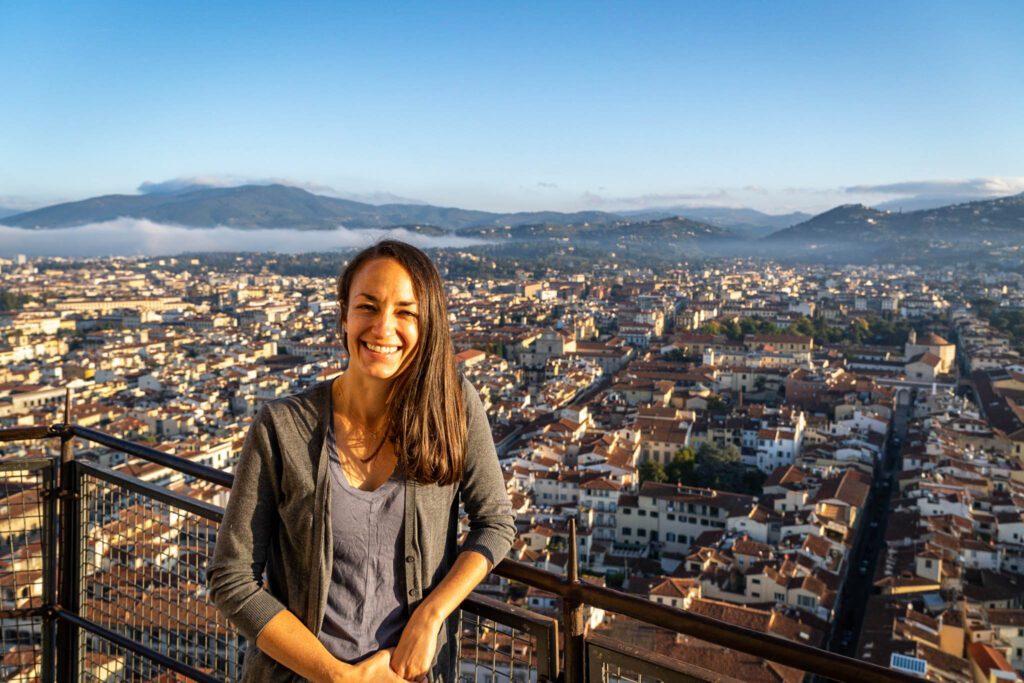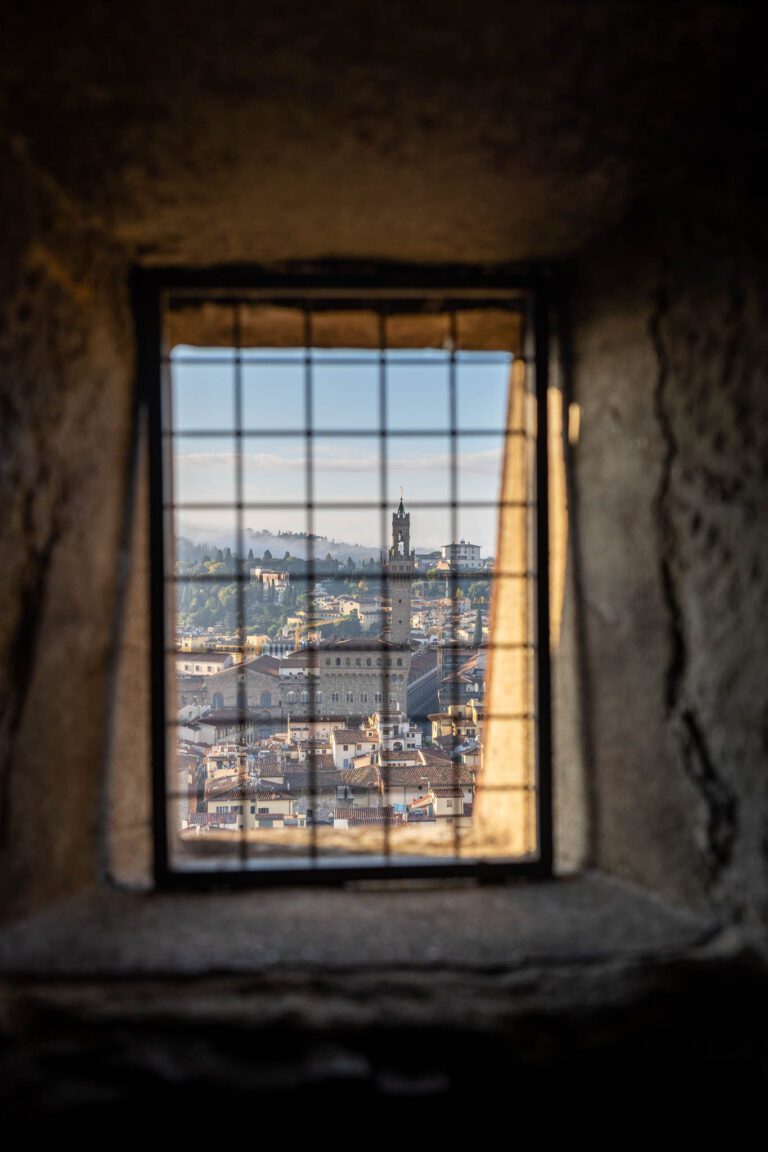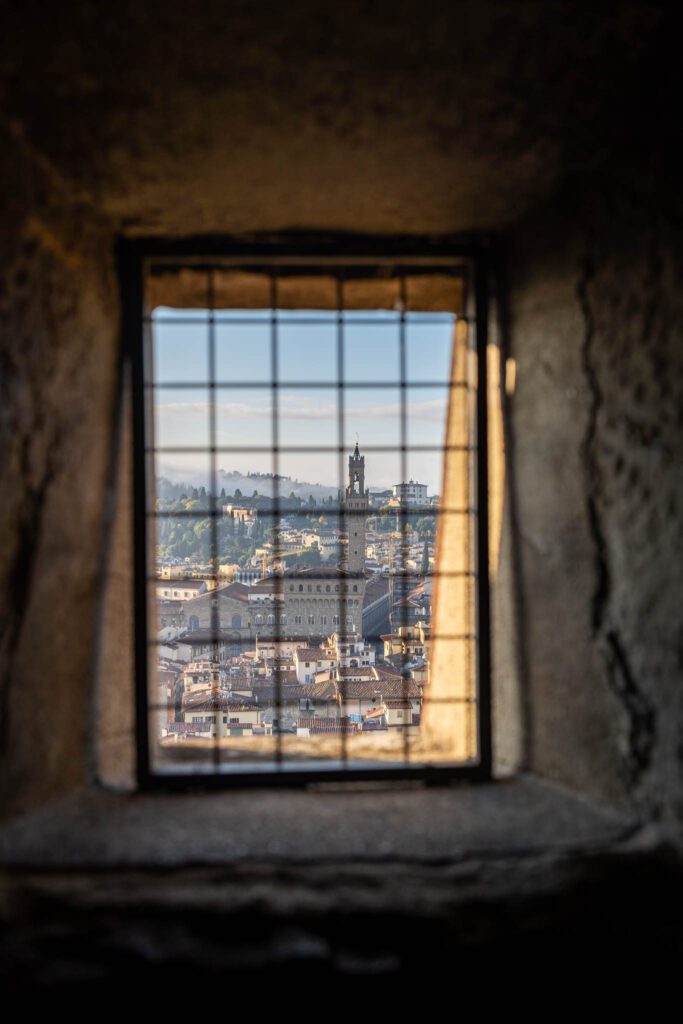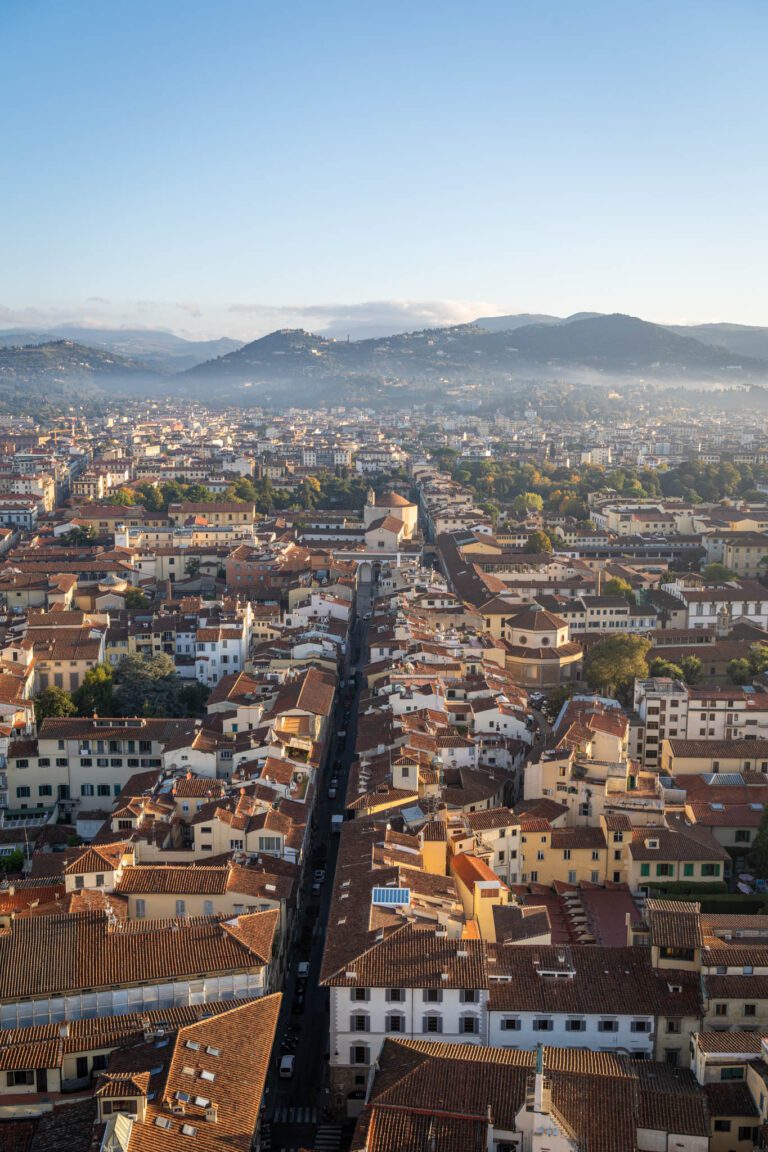 However, by stopping to admire, and everybody else doing the same, you will be standing there, suspended several hundred feet up on a narrow ledge, which isn't for everyone. Alysha was a little antsy to be done with it after about five minutes, which is why I've included this little blurb. I'm not a fan of heights, but I was totally fine on this one.
A Walking Tour with Andrea
A walking tour is our favorite way to get to know a new city when we first arrive. And it's how we'd recommend spending the first morning of this 3 day Florence itinerary after climbing the dome.
Not only will you be able to get to grips with the layout of the city and where to find all of the main attractions, but you'll also learn about Florence's fascinating past and have a chance to ask a knowledgeable local guide any questions you might have.
There are a few different walking tours of Florence that we'd suggest as an introduction to the city, but we have a specific recommendation based on our own personal experience in Florence.
We did Andrea's Walking Tour on our first evening in Florence, and we thought it was one of the best walking tours we did during our three month adventure to Italy, Spain, and Portugal! Andrea is about as Italian as it gets, and we loved the energy and enthusiasm he brought.
His tour is a great overview of the city, and we liked that it was only two hours long, so it's plenty of time to dive into the history, see some sights, and give you enough knowledge to know what to focus your time on or come back to later, but not so long that it feels like a slog by the end.
You'll start from Piazza di Santa Croce on the eastern side of the city and make your way to Piazza di San Lorenzo over the course of the tour, with stops at Piazza della Signoria to learn about Cosimo I de' Medici, the Grand Duke of Tuscany, and see the bronze statue of Perseus, which has stood in the same spot for more than 500 years.
We highly recommend it as an introduction to Florence, and you should do it as early in your trip as you can.
Click here to check prices, reviews, and availability for Andrea's Tour.
There are a few other walking tours of Florence that we'd suggest as an introduction to the city.
Take Walks Best of Florence Tour (2 hour 30 minutes) – If you've read our guides to Rome, then you already know we love Take Walks (if you're interested, you can read about our amazing Colosseum tour). This is a great small-group walking tour of Florence which covers the histories and stories of all of the city's highlights, from the unique Ponte Vecchio bridge to Florence Duomo and plenty more. The tour also includes a skip-the-line entry to see Michelangelo's David at the Florence Accademia, which we have you doing later in the day on this itinerary. Two birds, one stone.
Context Travel: Introduction to Florence (3 hour 30 minutes) – With Context Travel, a local historian will help you to get acquainted with Florence's main sites and neighborhoods while talking you through the city's fascinating history. The tour also includes a visit to see Michelangelo's David and the Accademia Gallery.
Lunch at Mercato Centrale (San Lorenzo Market) or Sant'Ambrogio Market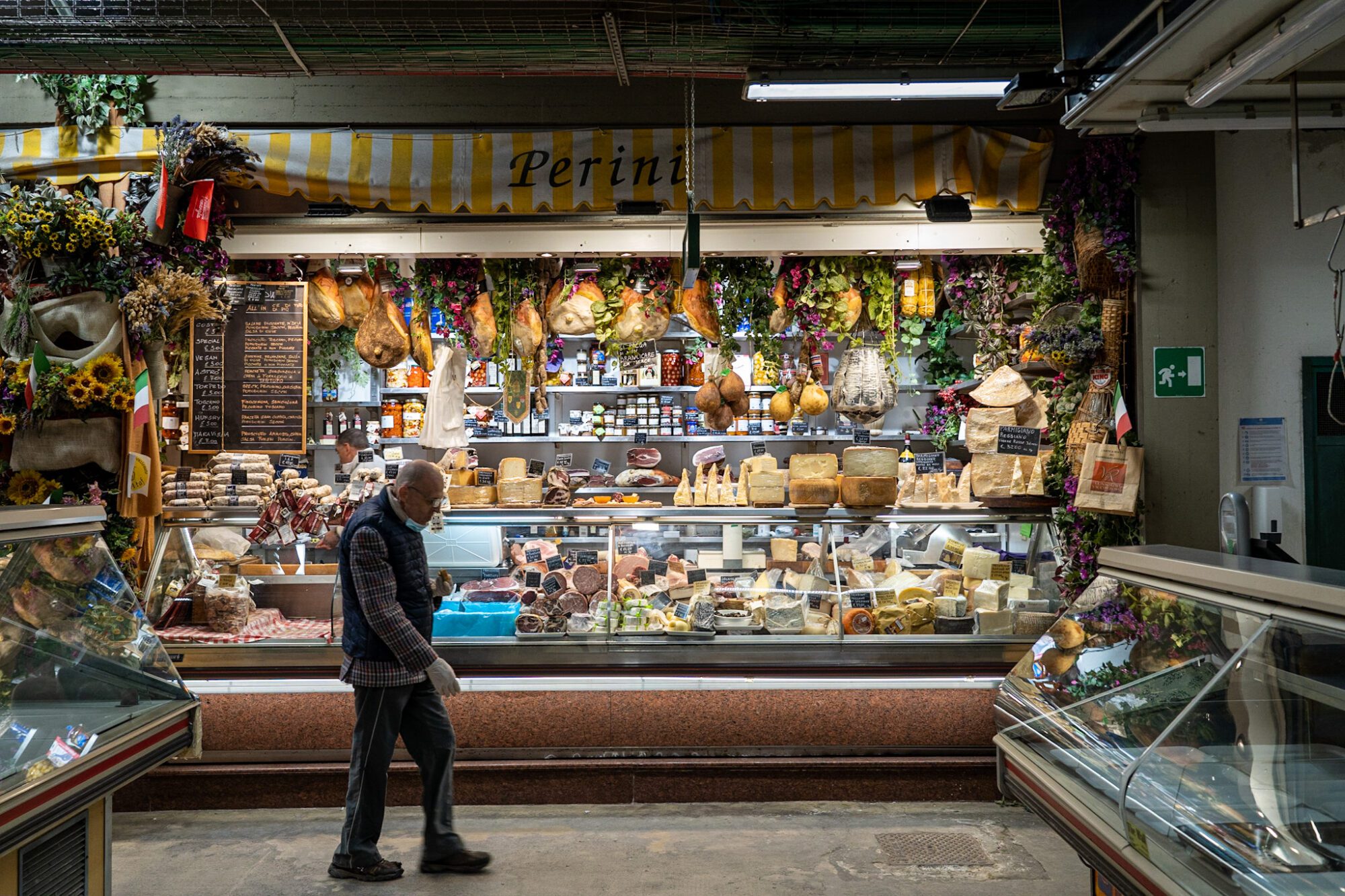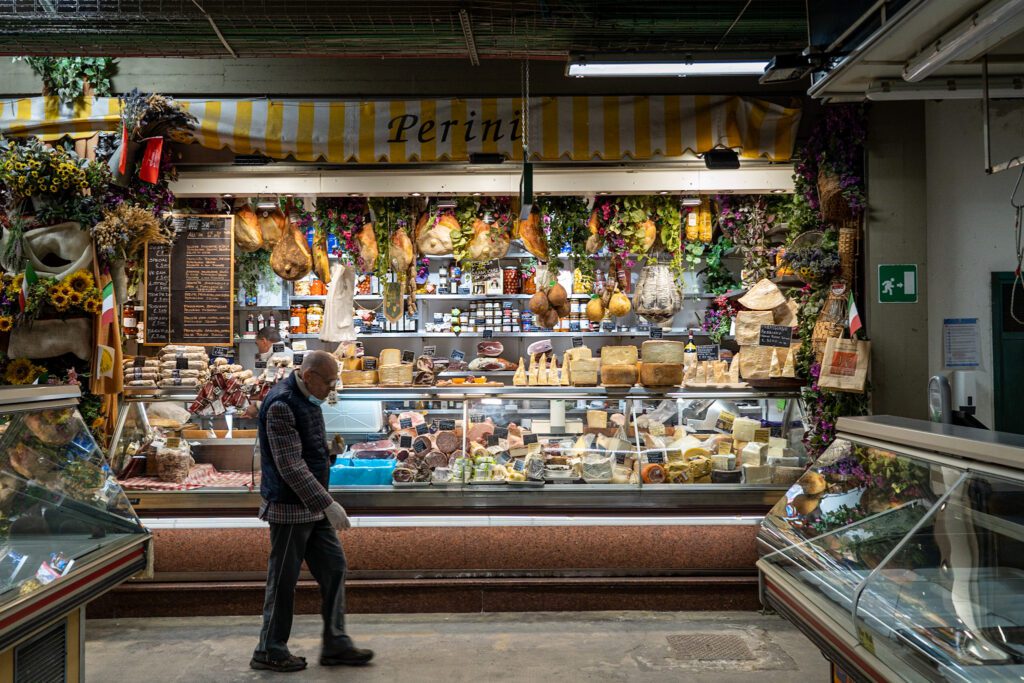 Florence has a duo of food halls, and they offer slightly different experiences. Both would be a good option for lunch in between attractions here, though San Lorenzo Market is in a more convenient location given the agenda for the day.
San Lorenzo Market (also known as Mercato Centrale) has two levels – the lower dedicated to fresh foods like fruits, vegetables, cheeses, and meats, and the upper being a hip food hall with tons of different stalls and options. There's also an outdoor market that is full of leather goods, trinkets, and other gadgets.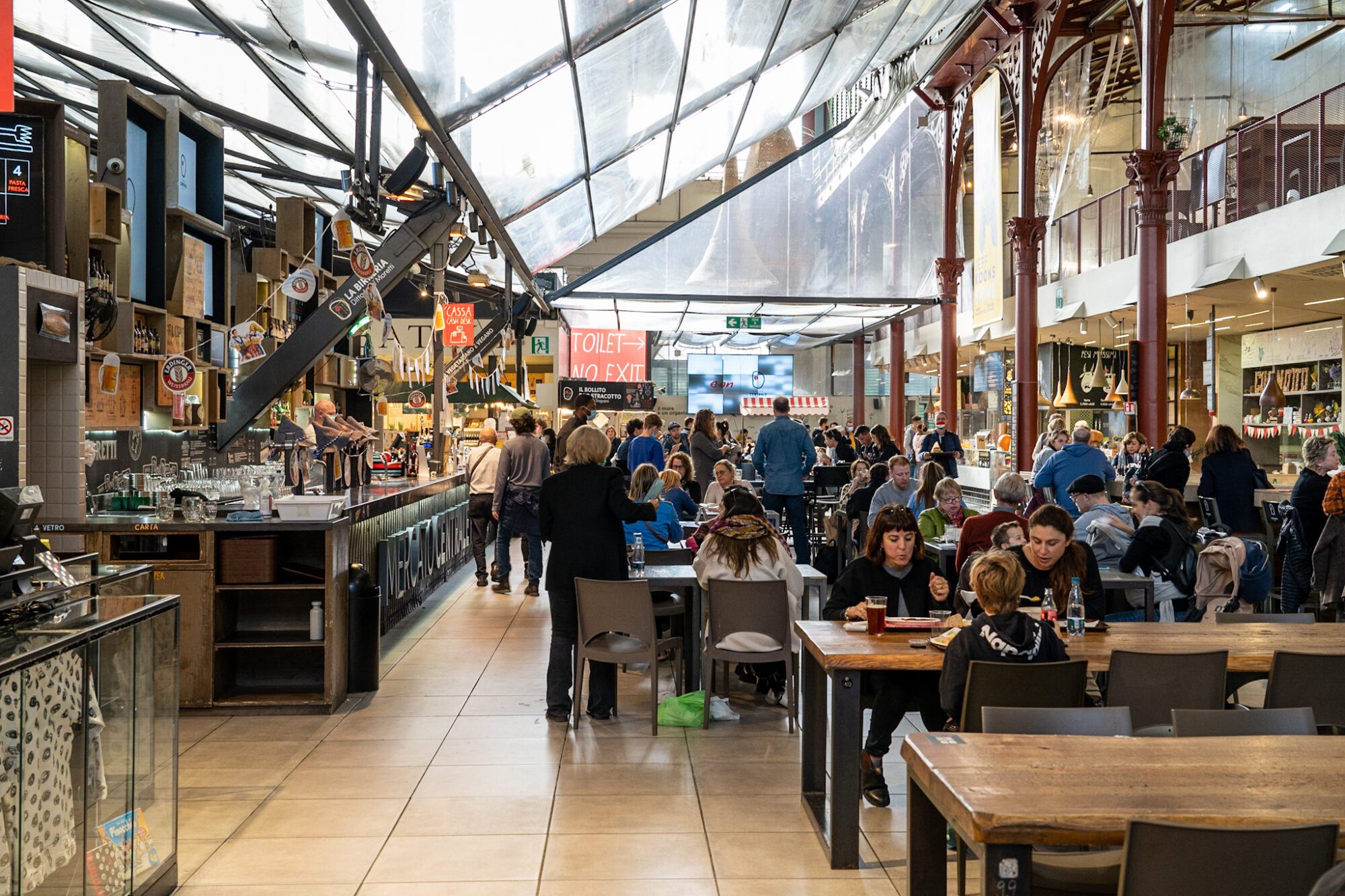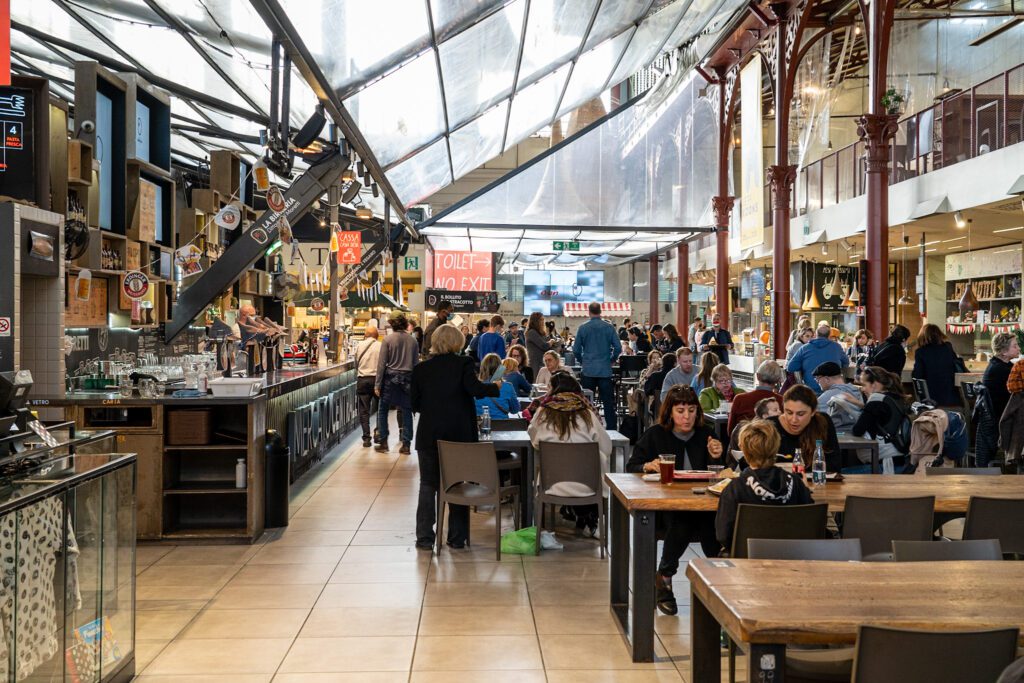 The other market – Sant'Ambrogio – is filled with locals going about their weekly shopping, particularly on Saturday. There's a smaller but more authentic selection of stands ranging from butchers and cheesemongers to ready-to-eat foods.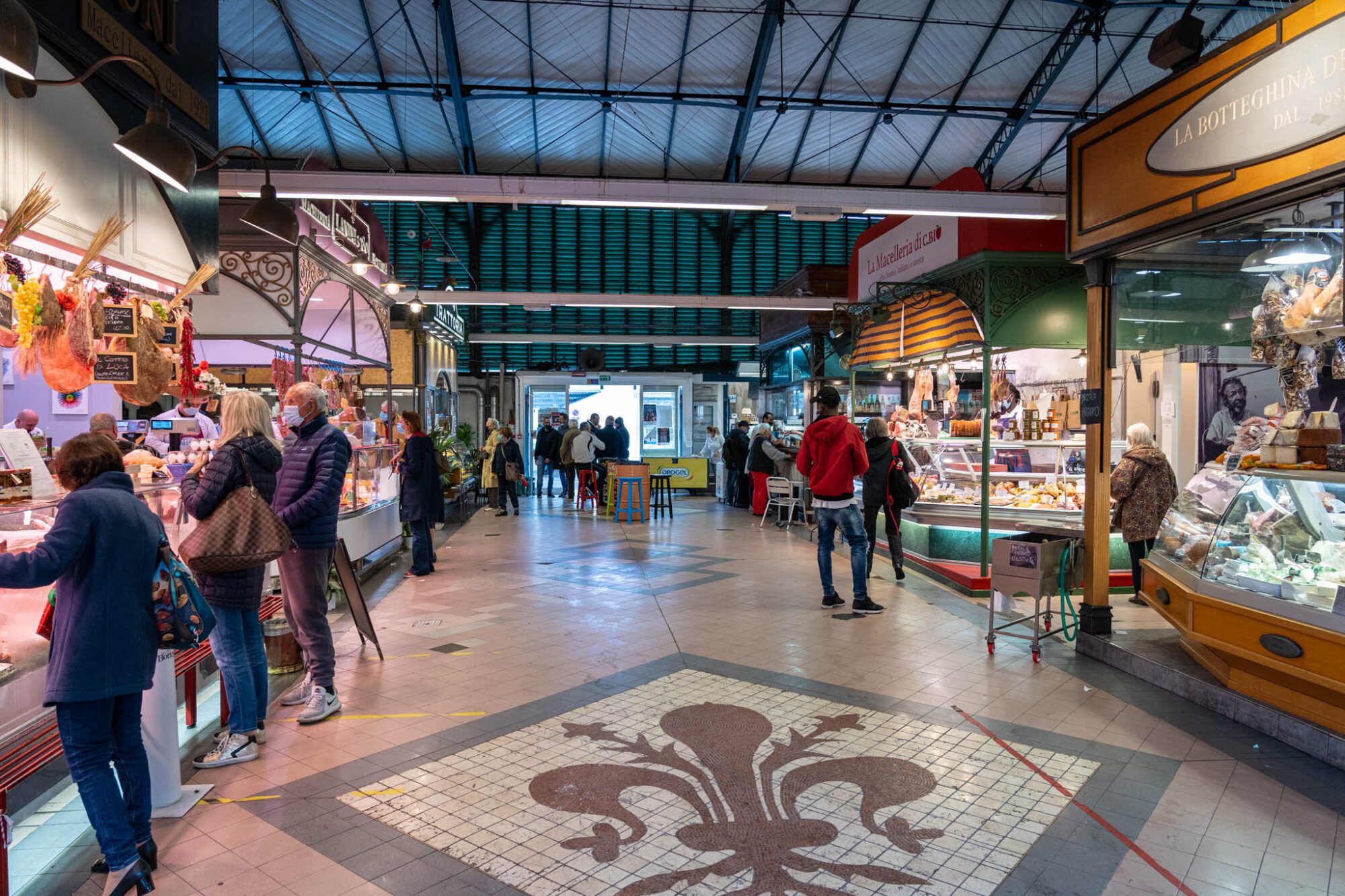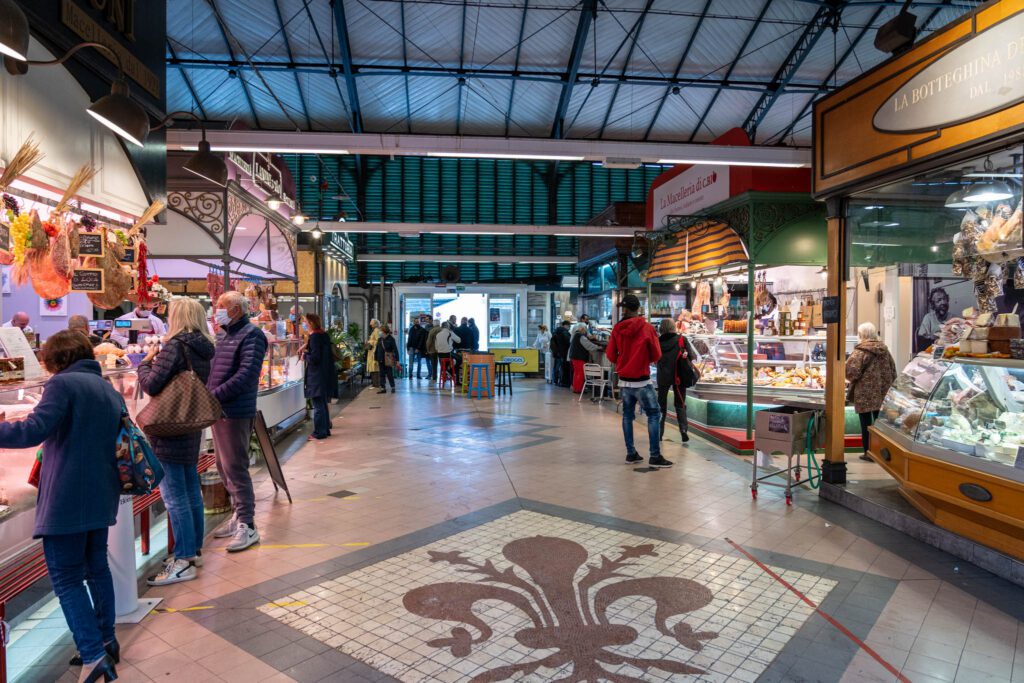 Better yet, take a guided food tour that includes a visit to the markets and try some local delicacies with the help of a knowledgeable guide!
The Statue of David and the Accademia Gallery
We would say that the Accademia Gallery is one of the three things you shouldn't miss in Florence, along with the Uffizi Gallery and the Duomo di Firenze (specifically, the view from the roof and the art on the inside of the dome).
My memory of seeing the statue of David for the first time is realizing just how huge this statue is. It's not life-sized, which is kind of what I had thought before seeing it in person. It's actually 17 feet tall.
The Accademia Gallery is really all about the David, though there are a couple of other noteworthy pieces that you should spend some time exploring.
You essentially have two options to see the Galleria dell'Accademia. You can pre-book tickets yourself (and yes, we'd highly recommend pre-booking here), or you can join a guided tour. If you want to do it on your own, you should know that tickets sell out months in advance for peak season (aka the summertime), so book as early as humanly possible.
If you're planning a trip at the last minute and tickets are sold out, jumping on a guided tour is the best way to see the David.
The museum is closed on Mondays, so plan accordingly.
Day 2: The Uffizi Gallery and Exploring Oltrarno
This day is action-packed, starting with one of our favorite art museums in the world, the Uffizi Gallery, and moving across the river to explore a more low-key neighborhood, Oltrarno, finishing with one of the best views in all of Florence.
Santa Croce Church (Basilica di Santa Croce)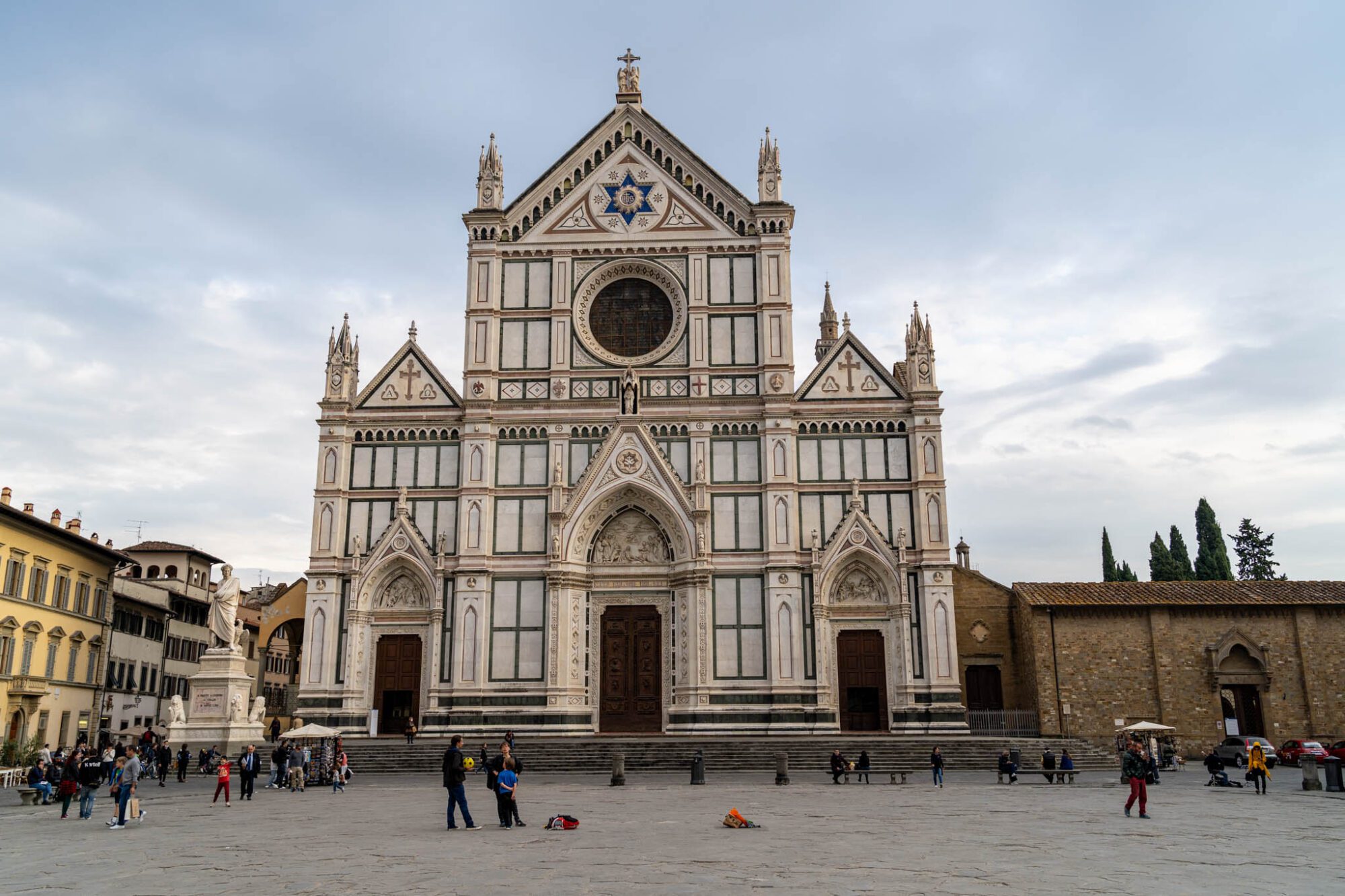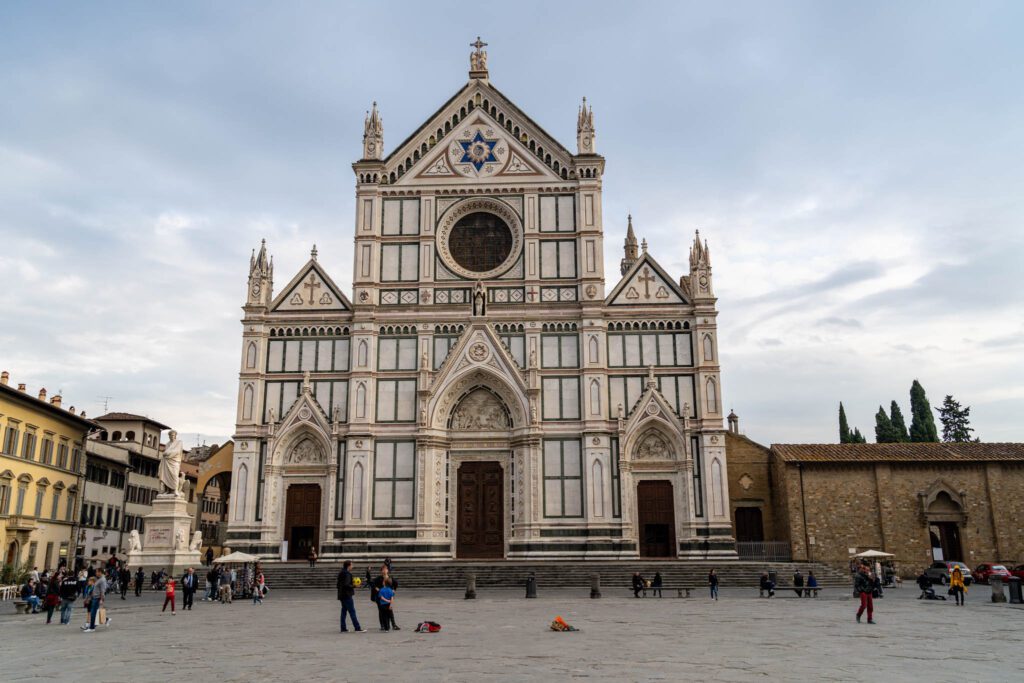 Start your day with a quick visit to the Basilica di Santa Croce. The Gothic-Renaissance church is a little removed from the other main attractions (and by that we mean a 5-10 minute walk away) but it's worth visiting, being the burial place of many notable Italians.
Some of the most famous names you'll find buried at the church include artist Michelangelo, who called the neighborhood of Santa Croce home, scientist Galileo Galilei and political philosopher Niccolò Machiavelli. The church also has an impressive art collection.
Our favorite part of the church is the facade, which you can see from different angles was basically just added on to the front of the church to make it look prettier from the front. Other parts of the church are less ornate and more austere, which shows how the church evolved over the years from a humble place of worship to one of the more important churches in Florence.
Piazza della Signoria
While there are numerous piazzas in Florence, Piazza della Signoria is the city's main square and a definite must-visit.
The large square is somewhat of a free open-air gallery, with numerous statues and sculptures in every direction you look.
Keep an eye out for:
The Fountain of Neptune


Cosimo I de' Medici on horseback, one of the most important figures in the sometimes salacious history of Florence


A replica of Michelangelo's David – don't let anyone convince you it's the real one! – in the place where the original used to stand before being moved indoors out of the elements


The many lifelike statues of important historical figures like Galileo and Da Vinci along the Loggia dei Lanzi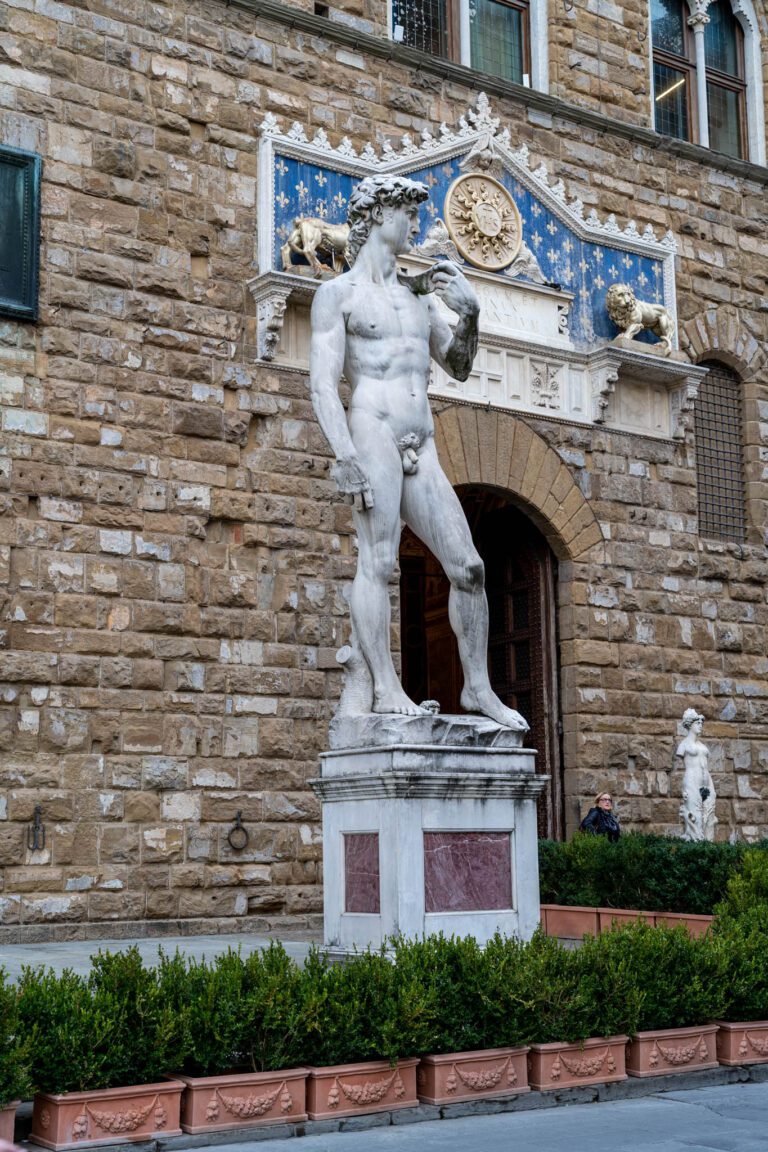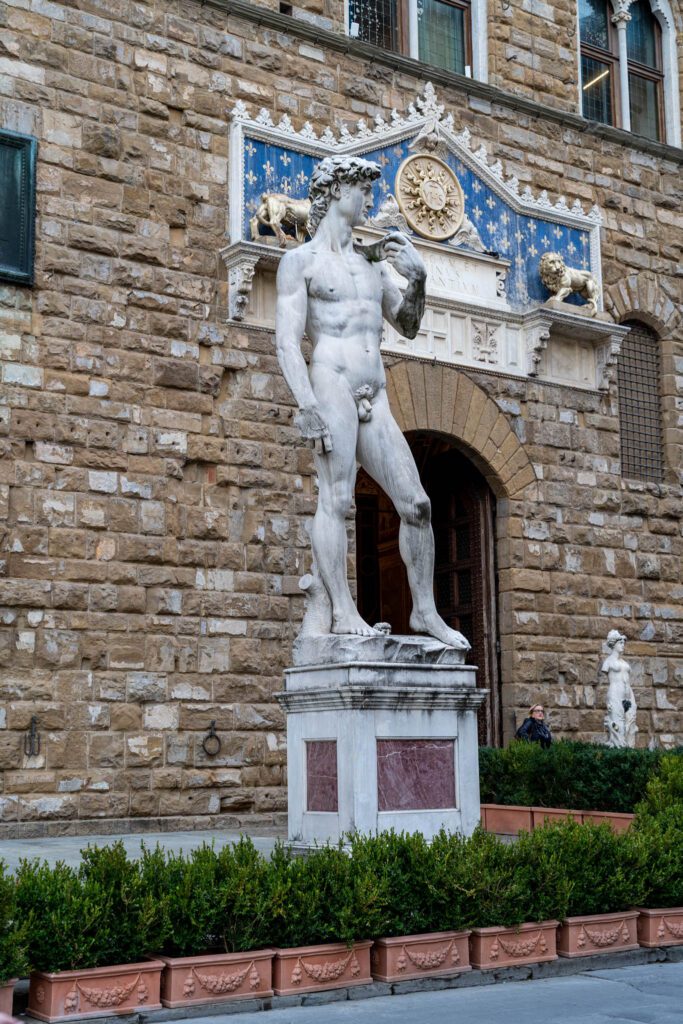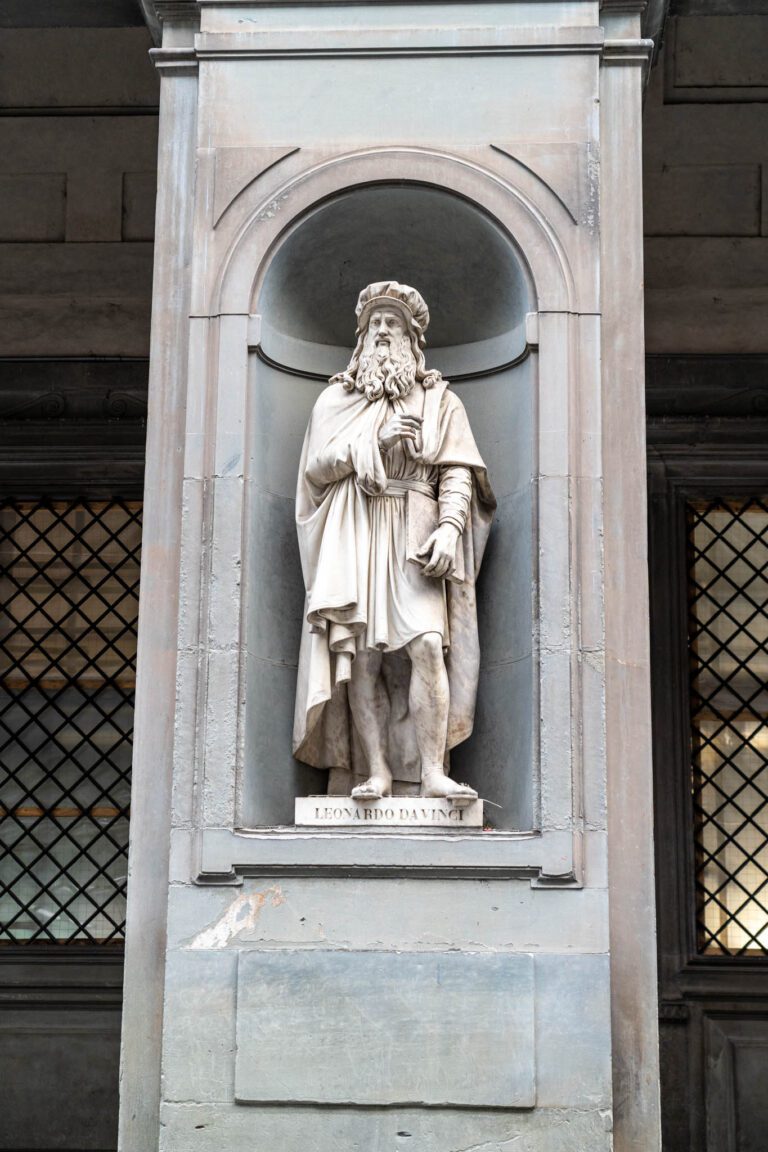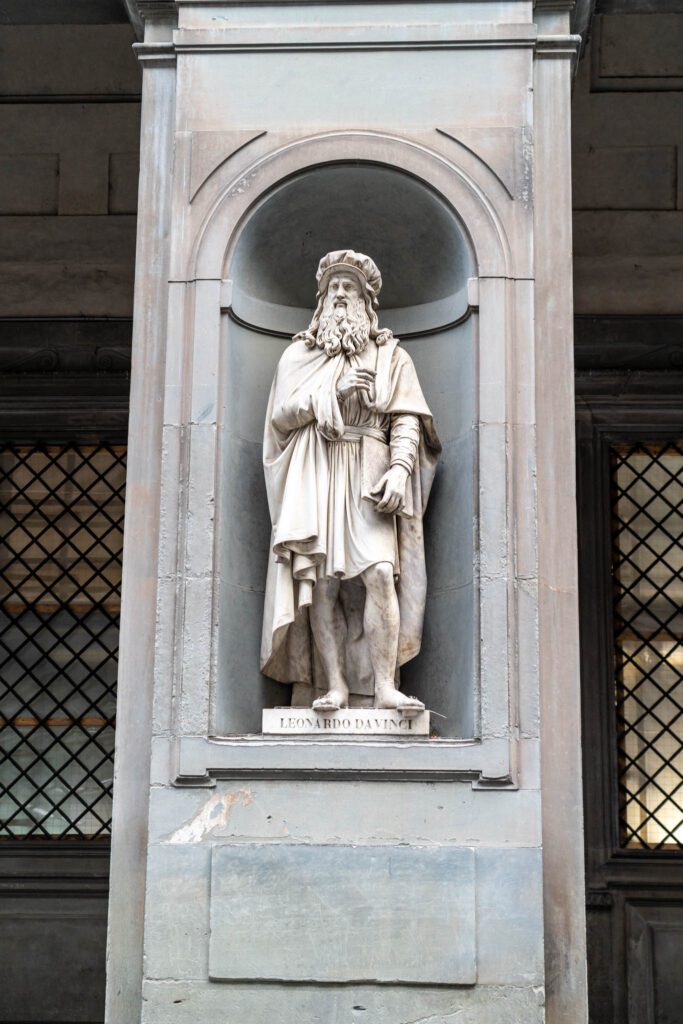 Piazza della Signoria is also home to Palazzo Vecchio, the town hall of Florence and one of the city's most important historic government buildings. You won't be able to miss it.
A History of Renaissance Art at the Uffizi Gallery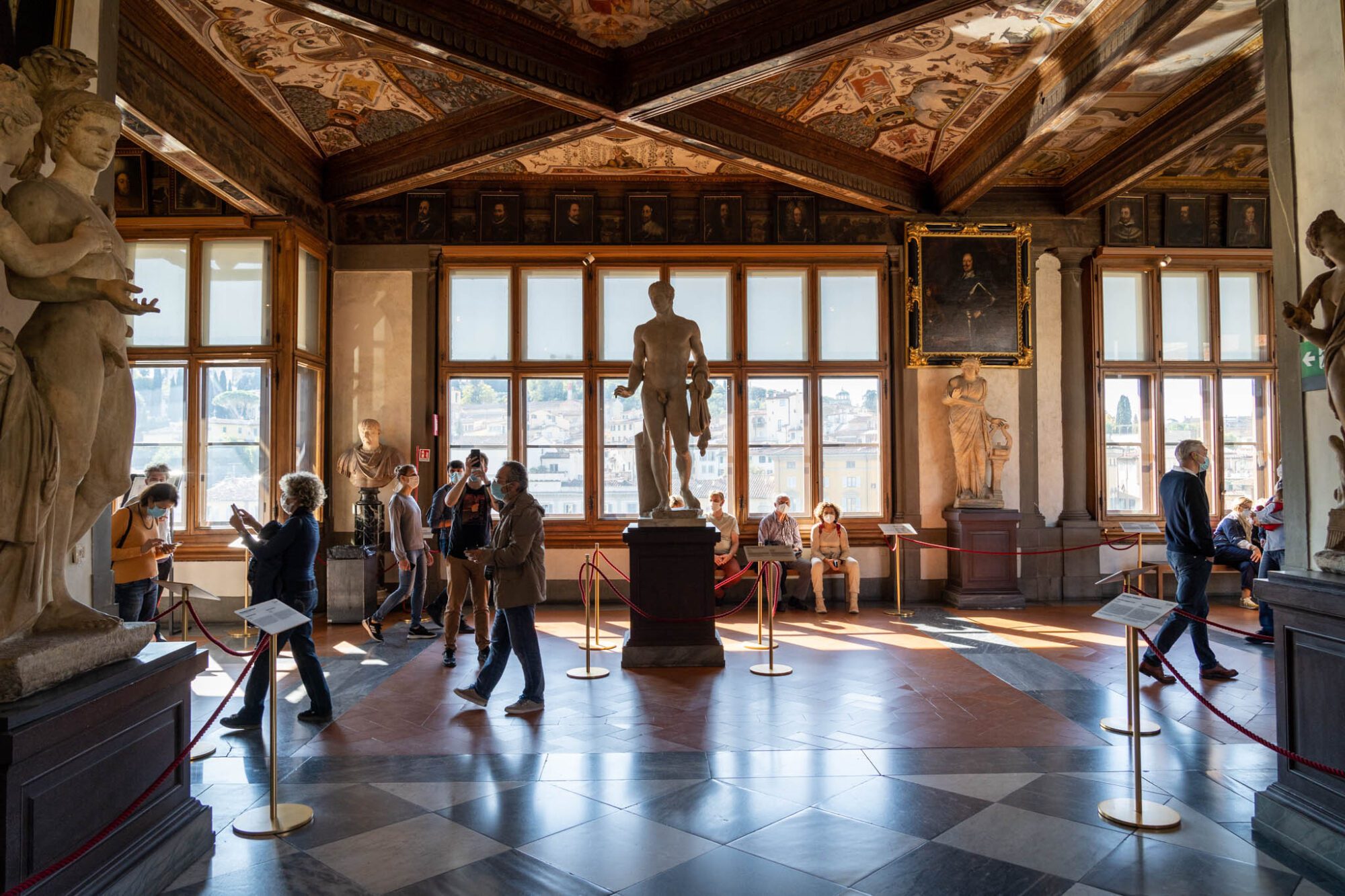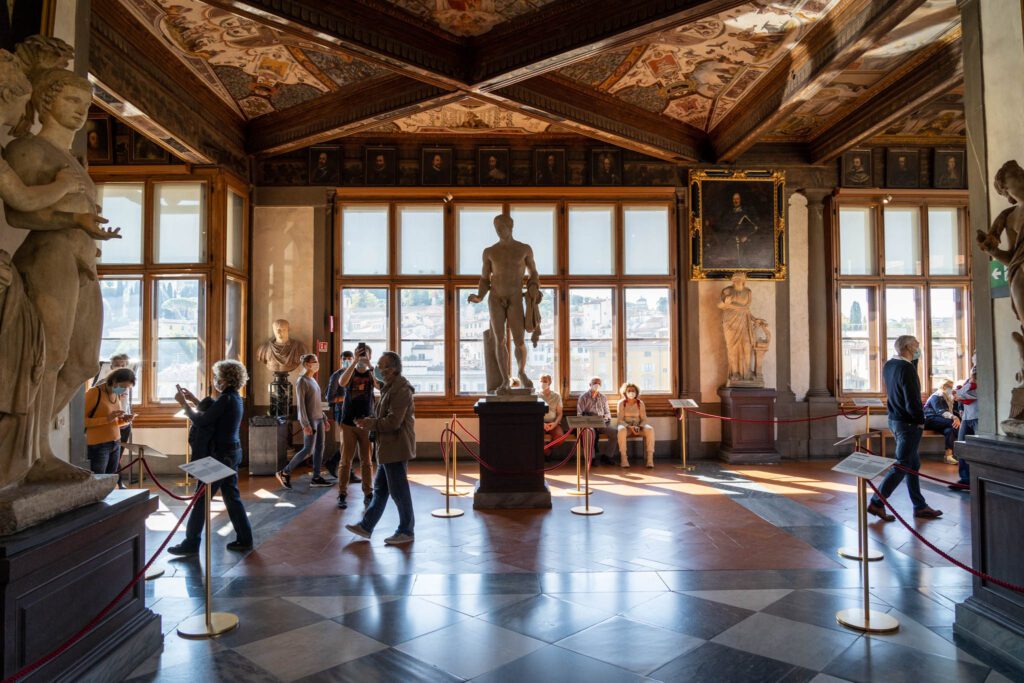 Round off your second afternoon in Florence by ticking off another of the city's most famous attractions, the Uffizi Gallery. The gallery is just to the south of Piazza della Signoria.
The world-famous Uffizi Gallery has an unparalleled collection of Renaissance and European art assembled by the Medici family over the course of their centuries at the top of the Florence food chain.
It's an absolute must-visit in the city known as the 'Birthplace of the Renaissance'. The gallery is home to many priceless masterpieces from different famous Italian artists including Botticelli's 'The Birth of Venus', Michelangelo's 'Doni Tondo' and Leonardo da Vinci's 'Annunciation'.
With an astounding 101 rooms and thousands of artworks to explore, you'll need at least a couple of hours in the Uffizi Gallery. But how do you know what to focus on?
This is the part where we tell you that the best way to see the Uffizi is on a guided tour, which is exactly what we did.
We like taking guided tours of places like the Louvre in Paris and the Vatican in Rome, because the expert guides are able to give you so much context and color that is lost on us when we walk through the museums on our own.
Otherwise, we'd look at the art, say "yeah, that looks pretty," and move on without really understanding the context behind what we're looking at.
We believe that a guided tour is worth it for a few reasons.
As we already mentioned, the gallery is massive. Which means, unless you're an art history buff, you're going to want someone to help curate the pieces and artists that you should focus on.


An art historian brings two important things to the table that will help bring the pieces of art you're going to see to life. They are historical and cultural context (who was the artist and what was happening in the world when this piece was created?) and stories. The added richness will help you understand the piece of art and its role in the history of Florence and broader Italy.


Skip-the-line tickets. The ticket line is always huge, and whether you do a tour or not, you should book your tickets in advance to walk right past them directly to the security line.
We booked this tour of the Uffizi in Florence, and we really enjoyed it.
Visiting Independently: If you want to visit independently, we'd definitely recommend investing in the audioguide. Being one of the city's most popular and busiest attractions, you're going to want to book your ticket and time slot online in advance. The entrance can be booked in 15 minute time slots until 5:00 pm each day. The museum stays open until 6:50 pm so you'll have plenty of time to wander around, even if you arrive late in the afternoon.
Lunch at Via dei Nei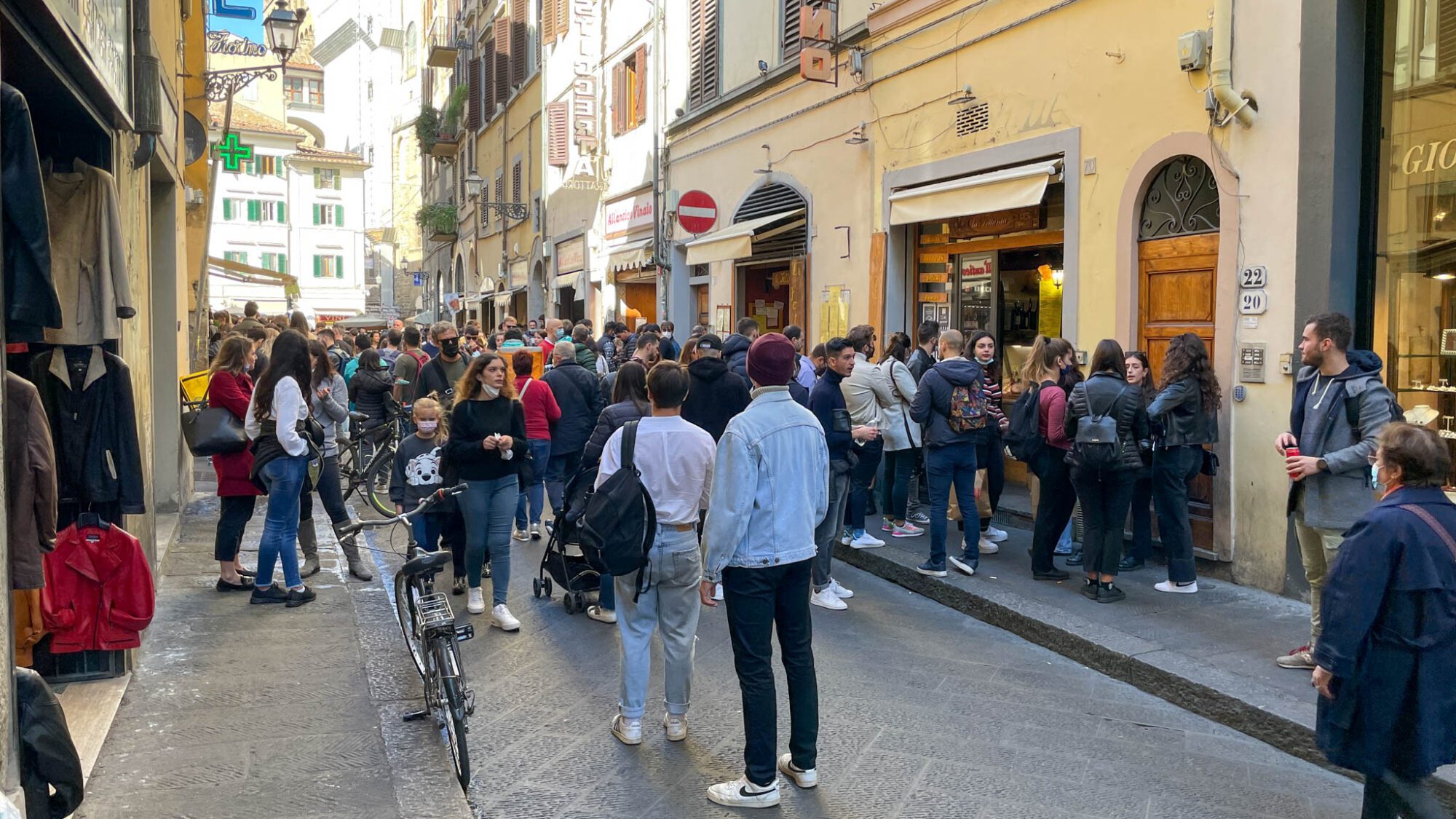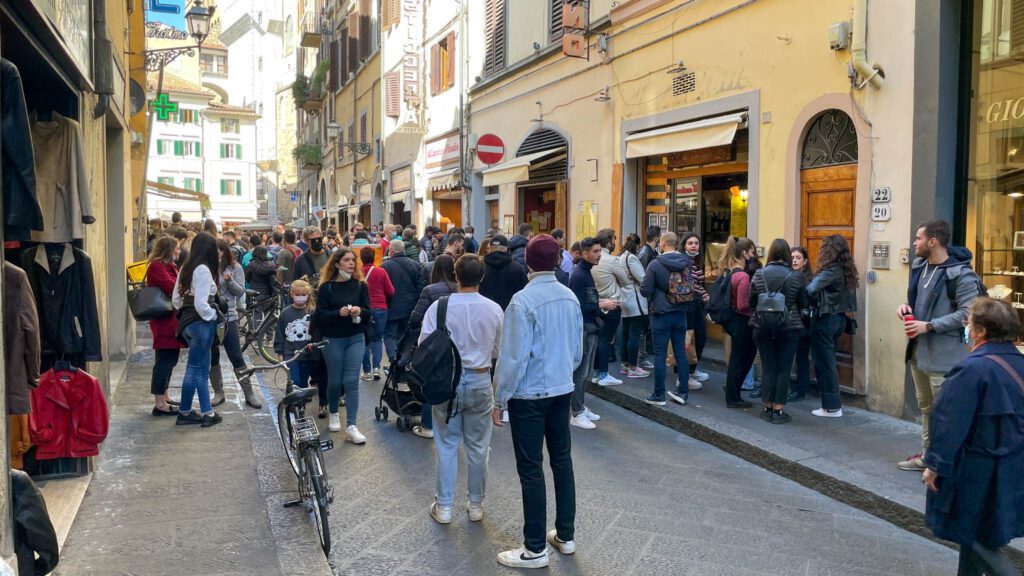 Imagine our surprise when we exited the Uffizi Gallery onto Via dei Neri (here on Google Maps) only to find ourselves in the midst of another long line.
"Oh, this must be the line for the ticket office? Or is the line wrapped around the building? Weird that it's all the way over here."
We meandered alongside the line, curious to see what exactly all these people were not-so-patiently waiting for. At the front of the line was a surprise.
They were in line for a sandwich. Not just any sandwich, though. A "Schiacciata" (we also have seen Schiacciate, which I think is the plural form) from All'Antico Vinaio, one of the most reviewed food establishments IN THE WORLD.
The sandwich is a very popular form of street food in Florence, which we learned when we saw multiple different shops selling essentially the same thing, all with long lines pouring into the street.
The sandwich itself is basically two pieces of focaccia (though, I want to be clear – it's not focaccia, it's made differently and with more salt than your typical focaccia), with some sort of cured meat, a cheese, and some other accouterments stuffed in between.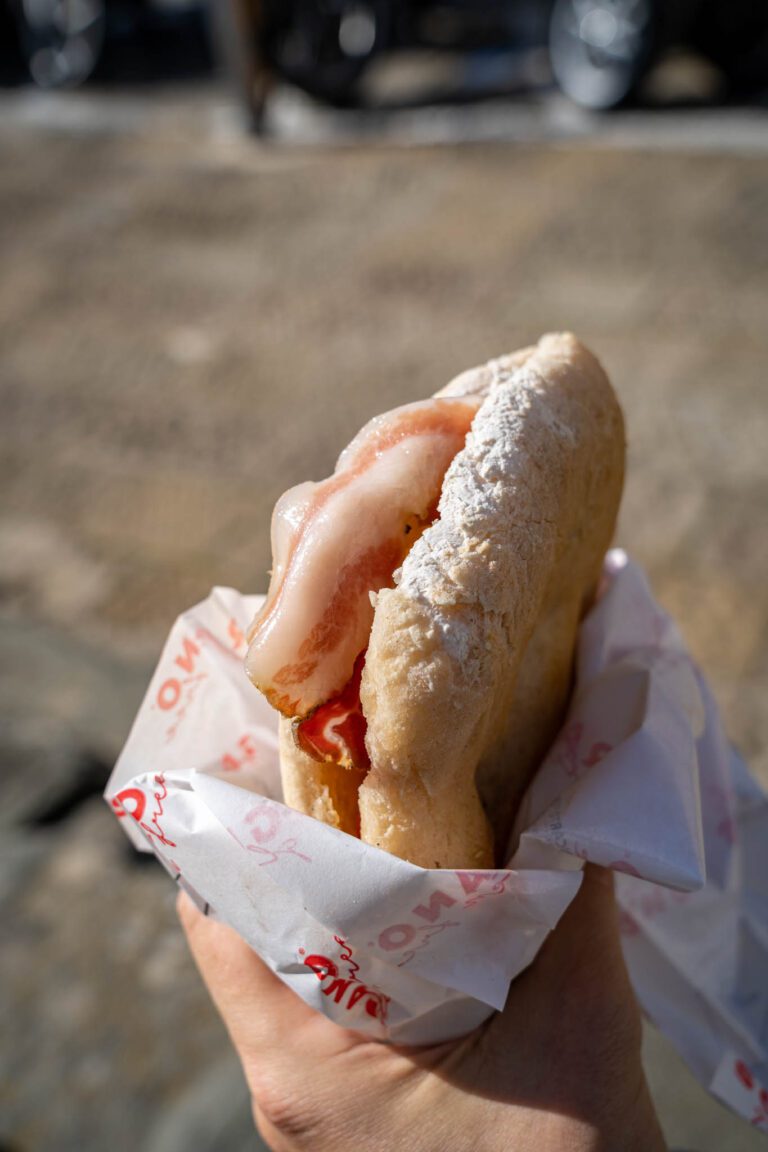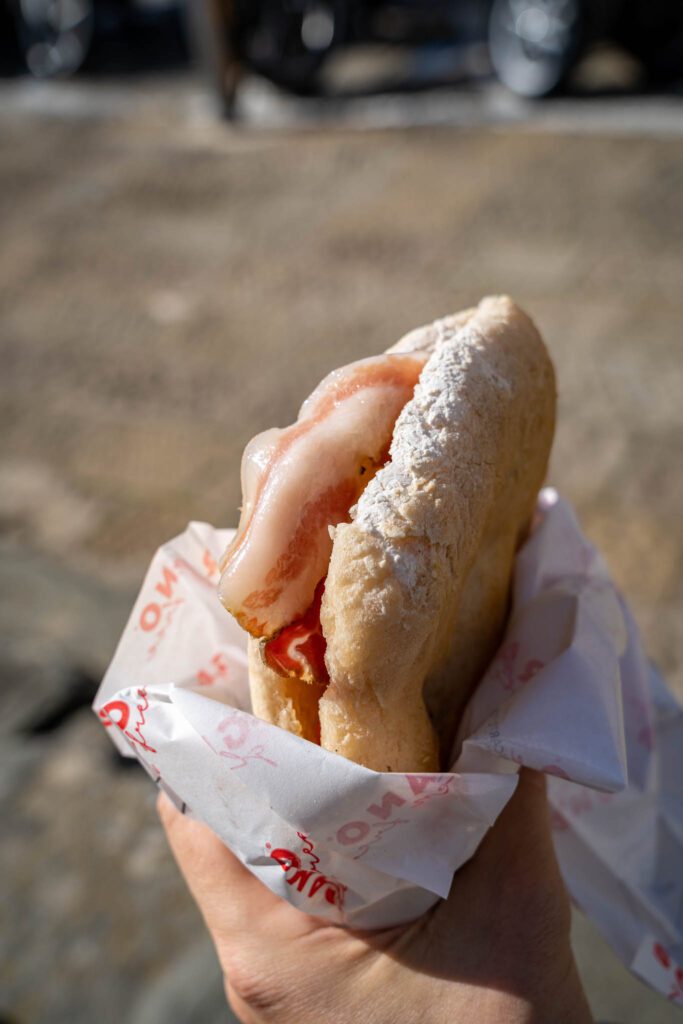 Either stand in line for the famous one, find another alternative nearby that looks good to you, or head a half block down the street to Sgrano for a gluten free version made in a 100% gluten free restaurant.
Take your sandwich over to the Arno and enjoy it on the banks of the river before making your way to Ponte Vecchio and preparing to cross the Arno.
Ponte Vecchio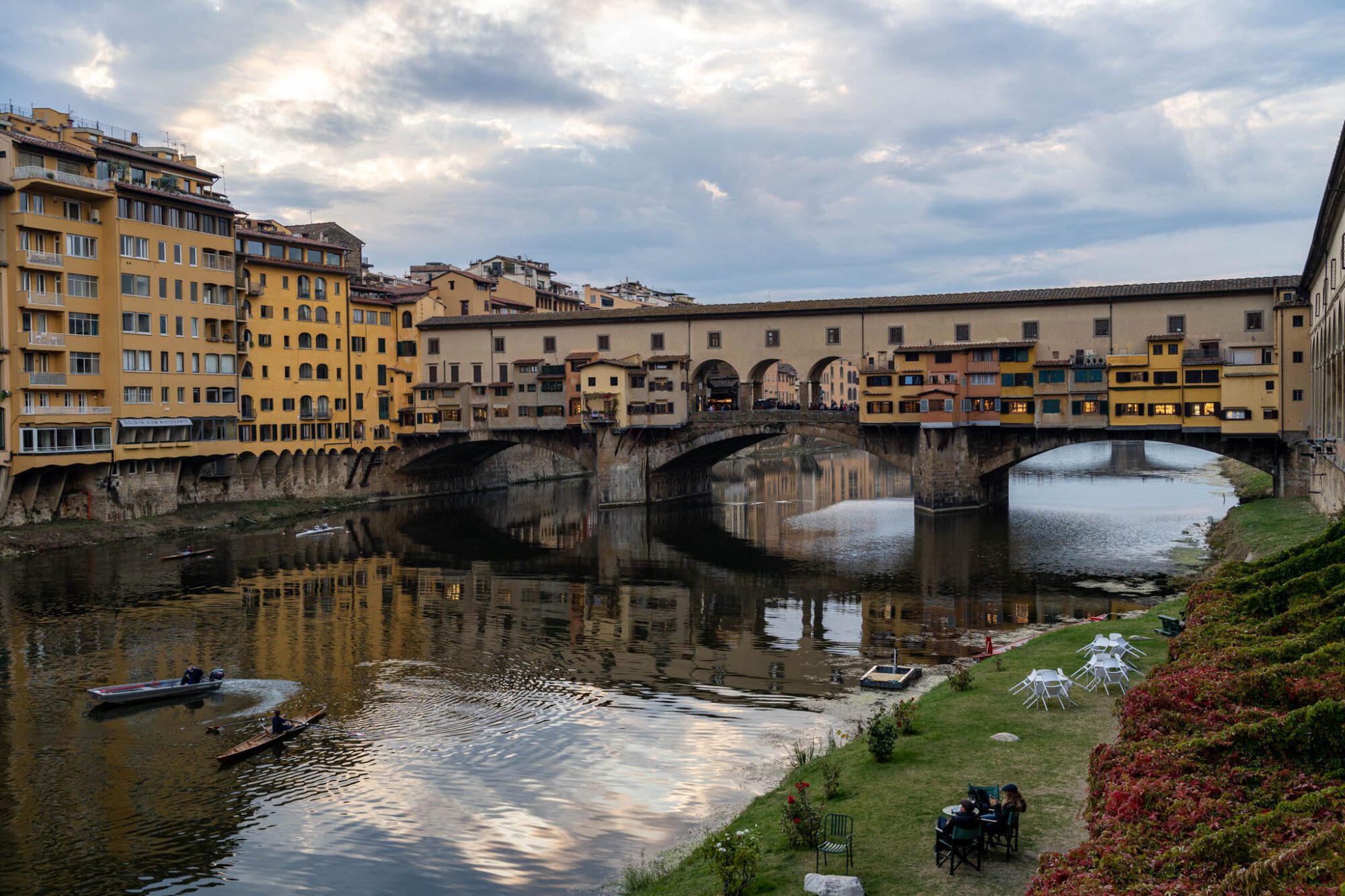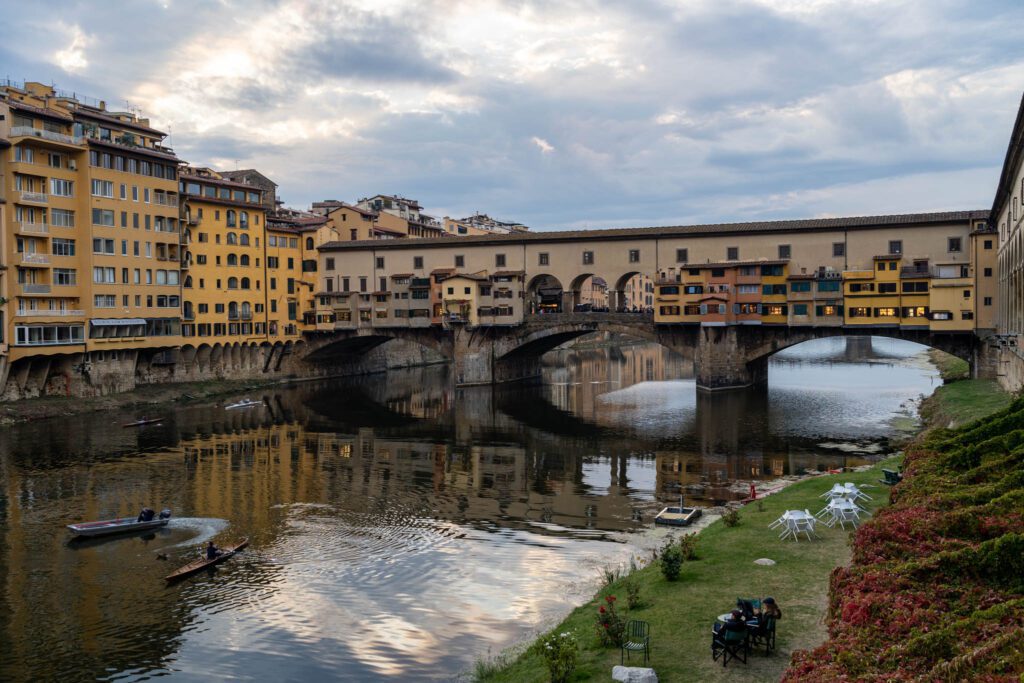 Just a two minute walk away from the Uffizi Gallery you'll find Florence's famous bridge, the Ponte Vecchio (Old Bridge) crossing over the Arno river.
The unusual-looking bridge is the oldest in Florence and was the only one to survive the bombings of World War II. It's been lined with shops since the 13th century. Originally, many of the shops were butchers or fishmongers, but due to the awful smell they were banned and most of the shops you'll find there today are high-end goldsmiths and jewelers.
You'll probably catch glimpses of Ponte Vecchio a couple of times while exploring Florence during this itinerary, but our favorite time to visit is when it starts to light up around sunset.
By the evening, most of the shops will be closed. However, taking a slow stroll across the bridge with all of the wooden shutters down, stopping to marvel at the sunset views along the Arno river, is one of the most romantic things to do in Florence in our opinion.
Don't forget to look up and see the Vasari Corridor, a raised corridor built by the Medici family so they could cross without rubbing shoulders with commoners.
Oltrarno: A Self-Guided Walking Tour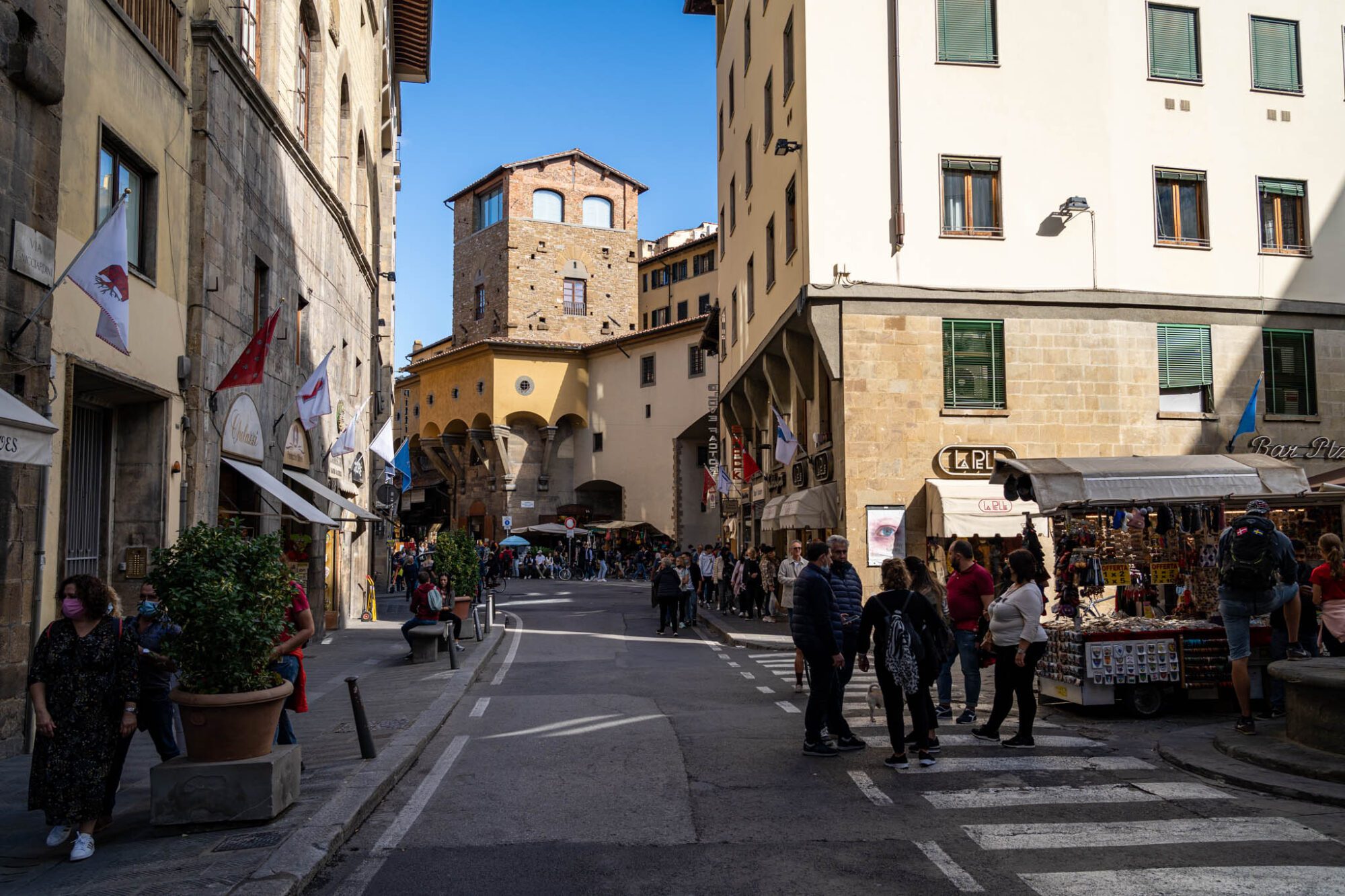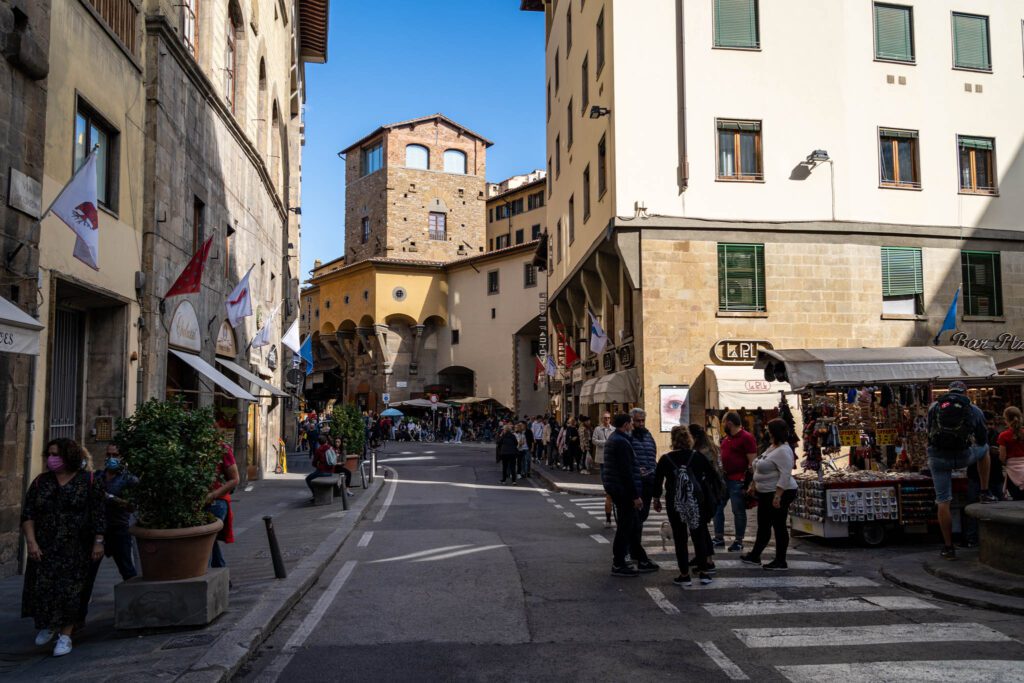 Between Ponte Vecchio and the Boboli Gardens, take some time to explore the neighborhood on the other side of the river, which is full of great food, drinks, and piazzas that are worth a stop.
Here's a map of a route you could start from, but we'd encourage you to do some exploring on your own.
Here are some stops we'd recommend based on our own experience.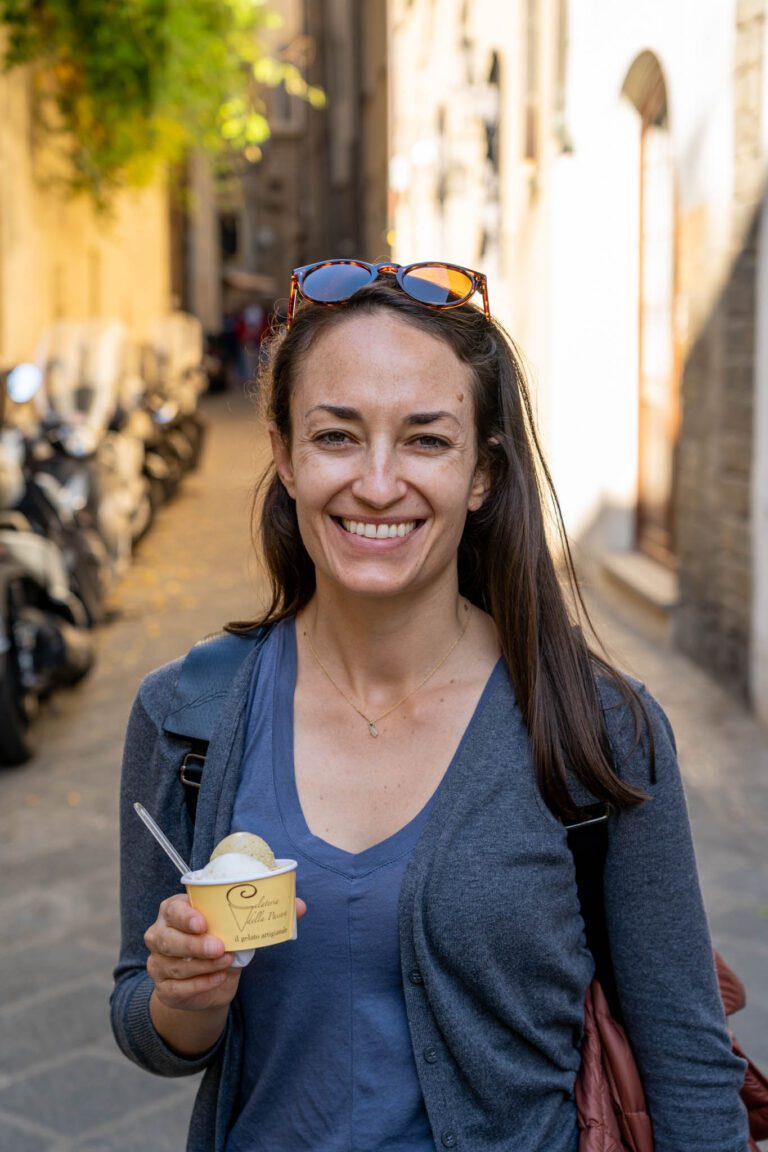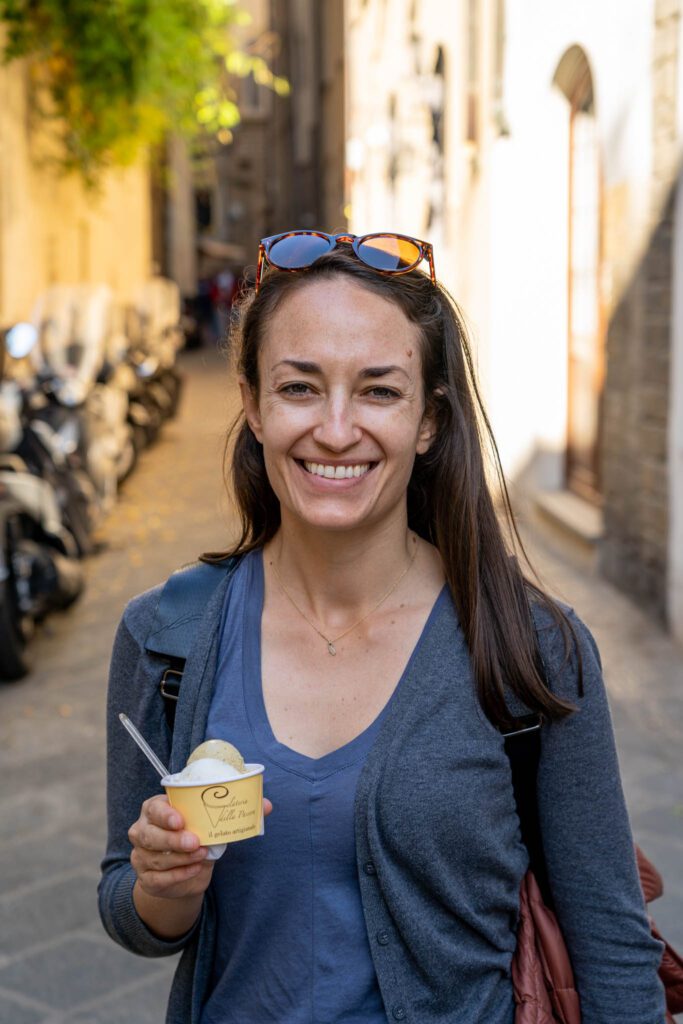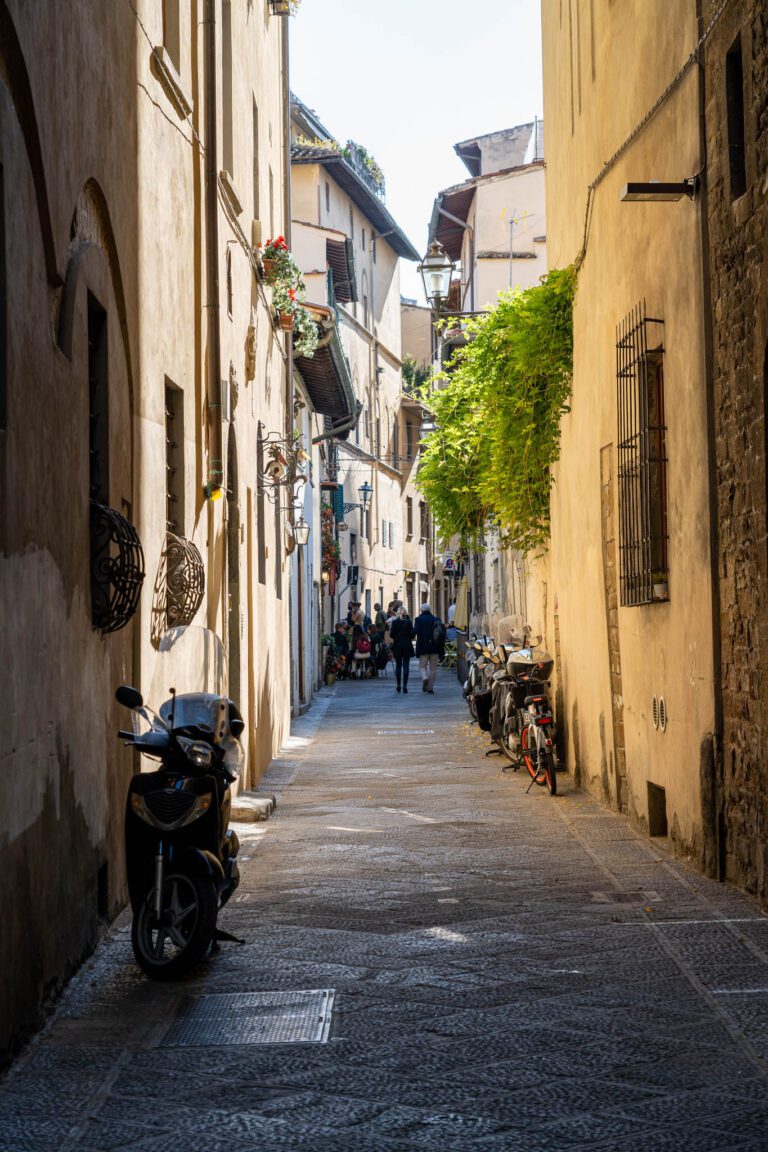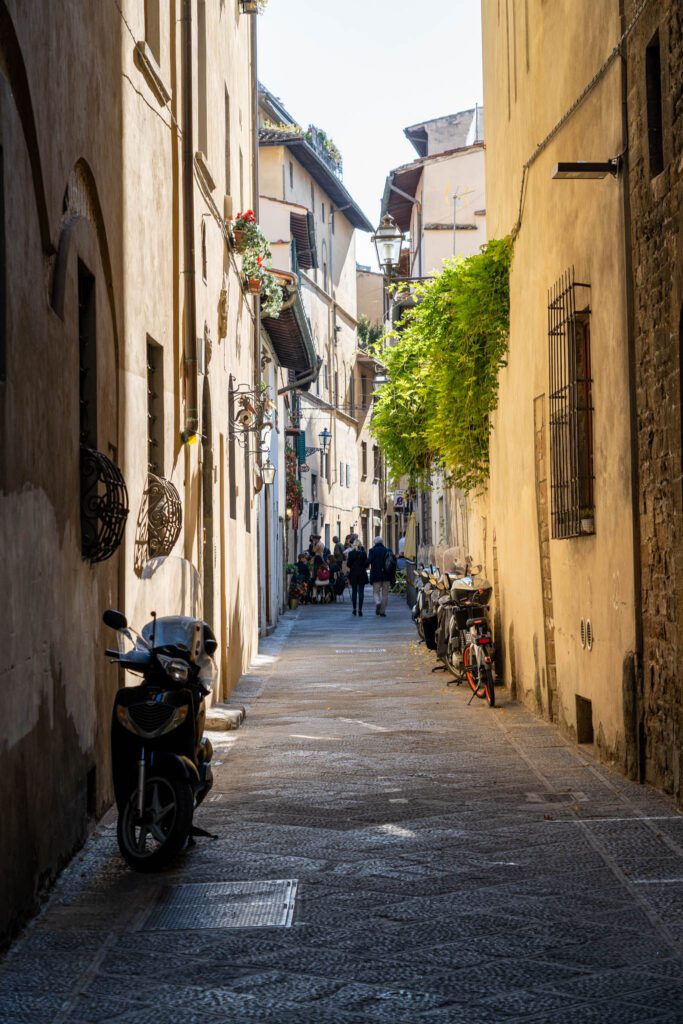 Ditta Artigianale: One of the O.G. specialty coffee shops in Florence, this location is newer, and has a beautiful interior and nice outdoor patio. Great coffee, too.


Gelateria Della Passera: Alysha's favorite gelato in Florence, and maybe all of Italy. It's on a nice little square too, which is a good spot to relax, eat gelato, and do some good old fashioned people watching.


Piazza Santo Spirito: Andrea, the walking tour guide mentioned above, told us this is where the locals hang out. It's a big piazza, with the Basilica Santo Spirito at one end, and a nice fountain on the other. The outside of the square is lined with bars and restaurants, and it's a good place to pass the time in the sun.


Le Volpi e l'Uva: One of our favorite wine experiences in Florence. They have a wide range of Italian wines, both from Tuscany and from other Italian regions, and are passionate about wine and willing to chat about different grapes and wines they're loving at the moment.
The Boboli Gardens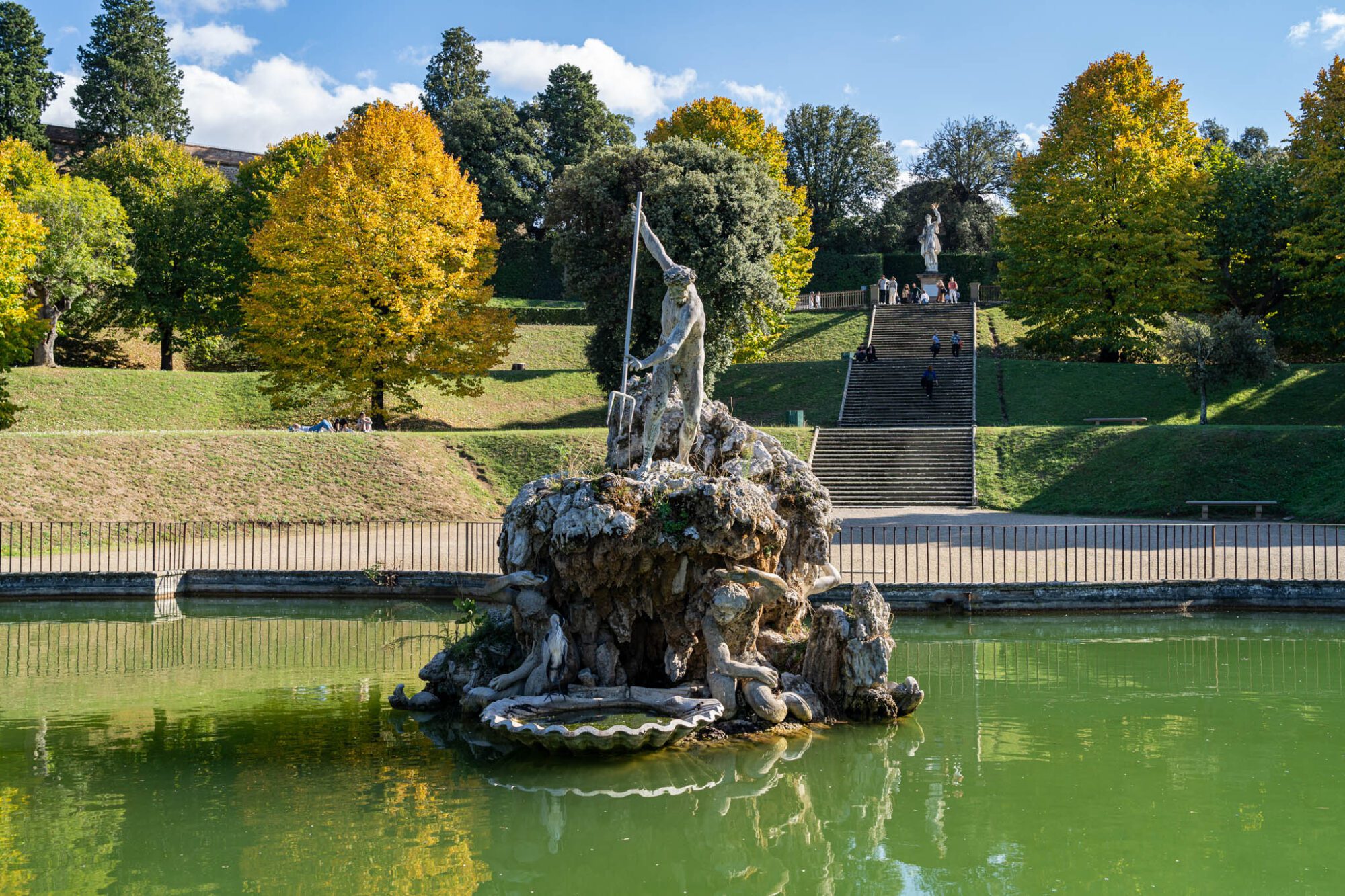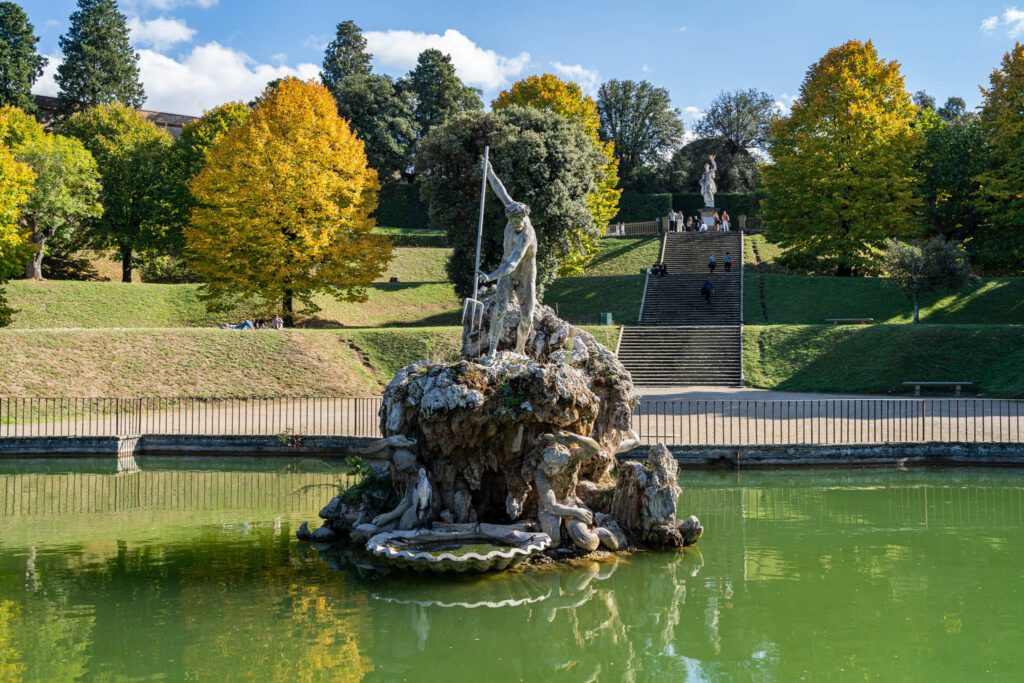 After a glass of wine or two, head up the street to Pitti Palace.
We actually don't recommend doing the Pitti Palace if you have limited time – you'll find it in the "with more time" section below. Instead, focus on the lovely green space that sits behind the palace, the elegant Boboli Gardens.
It's part of the Pitti Palace Complex, but you can buy a separate ticket that is significantly cheaper and just covers the gardens.
The vast grounds span over 45,000 square meters, making them the largest green area in all of Florence. On a stroll around, you'll discover fountains, pergolas, grottos, a small lake and hundreds of ornate Renaissance statues. A lovely way to take a break from the crowds of the busy city outside.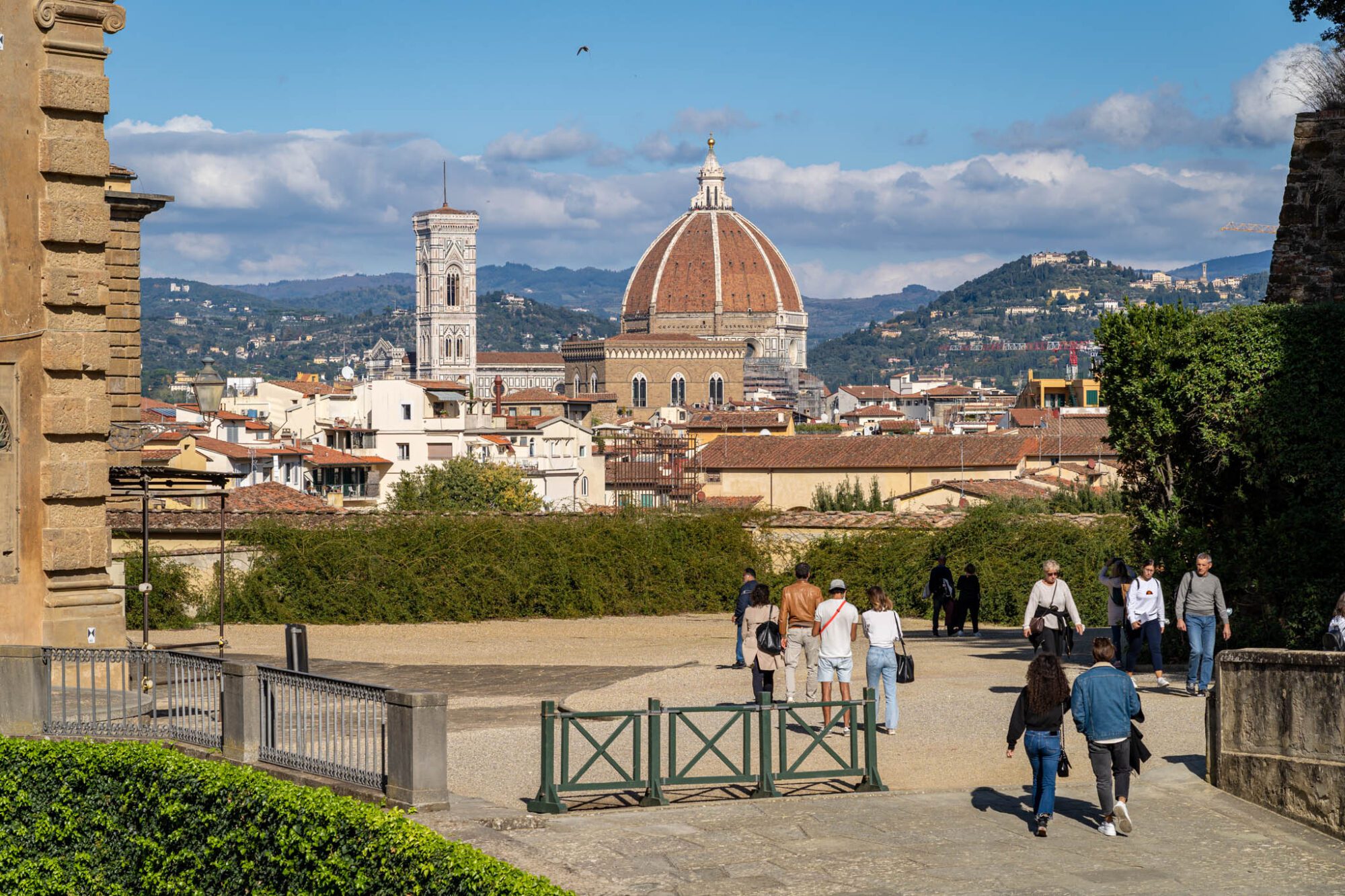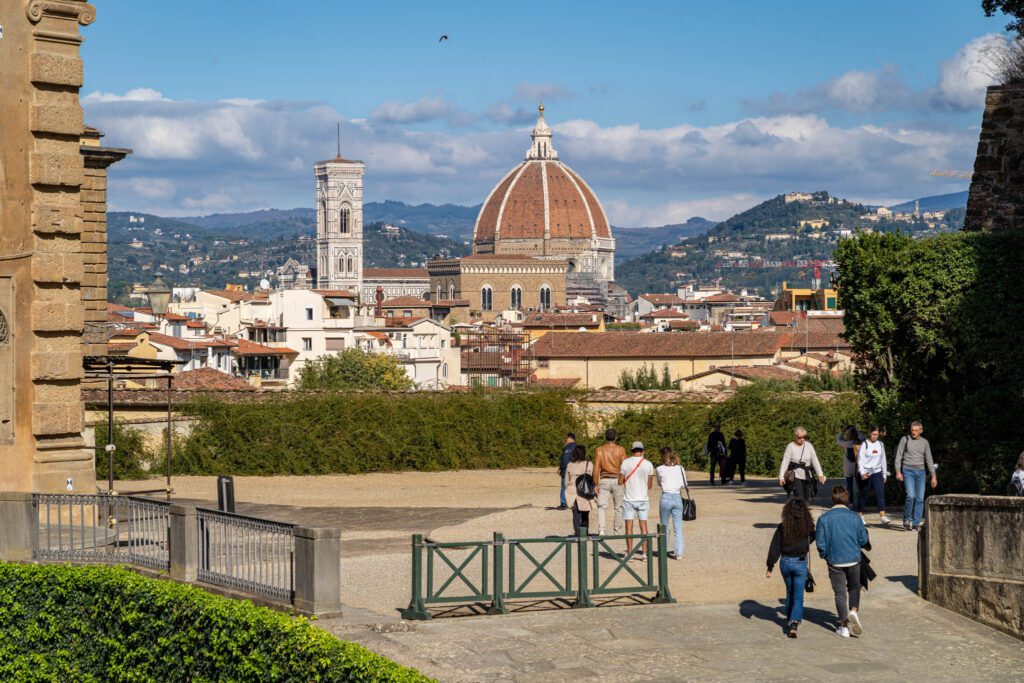 On a warm day, we'd also recommend bringing some drinks (Aperol Spritz?) and snacks to enjoy a late lunch or afternoon aperitivo as a picnic in the tranquil gardens.
Note: The entrance to the gardens is the same as the entrance to Pitti Palace (here on Google Maps). If you're looking at Pitti Palace, the ticket office is off to the right.
Get your tickets in advance – the ticket line can be very, very long, and you get to skip right to the front if you already have tickets. You will still need to exchange your electronic tickets for paper tickets, though, which surprised us. Again, though, you skip the line, show a barcode, and off you go! Learn more and get tickets here.
Piazzale Michelangelo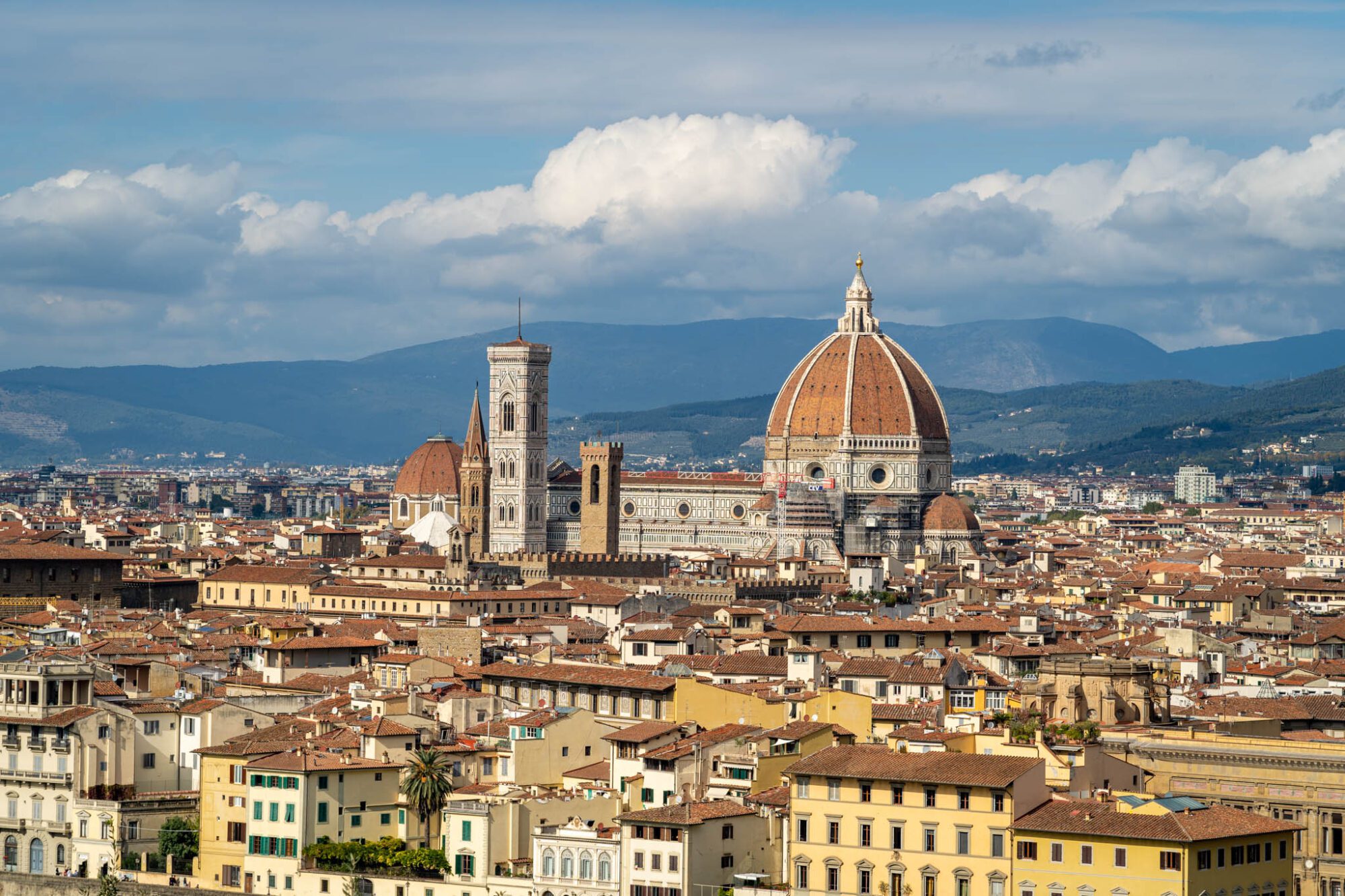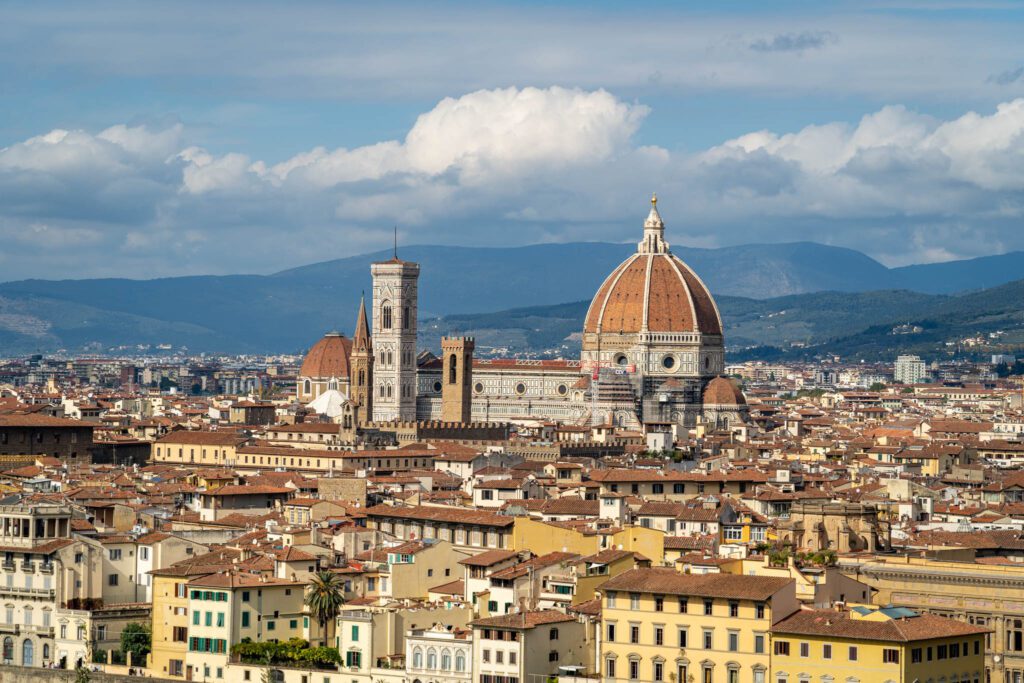 Finally, end your day on the other side of the river with a walk up to the best viewpoint in the city, Piazzale Michelangelo. Follow the crowds of locals and tourists up to Piazzale Michelangelo for the most spectacular sunset views in the city.
The large hilltop terrace has a bronze replica of Michelangelo's David – once again, don't let anyone convince you that it's the original – as well as a restaurant and plenty of vendors catering to the crowds that flock to this stunning spot for the views each evening.
From Le Volpi e l'Uva, you can walk up to Piazzale Michelangelo in around 20 minutes, and you'll walk up through the rose garden, which is worth a stop to admire the blooming roses in the spring and summer. You'll get some great panoramic views on your stroll.
If you don't feel like walking, jump on bus line 12 to the top, which you can catch from the southwestern end of Boboli Gardens at Porta Romana (here on Google Maps).
Dinner at Mister Pizza or Ciro and Sons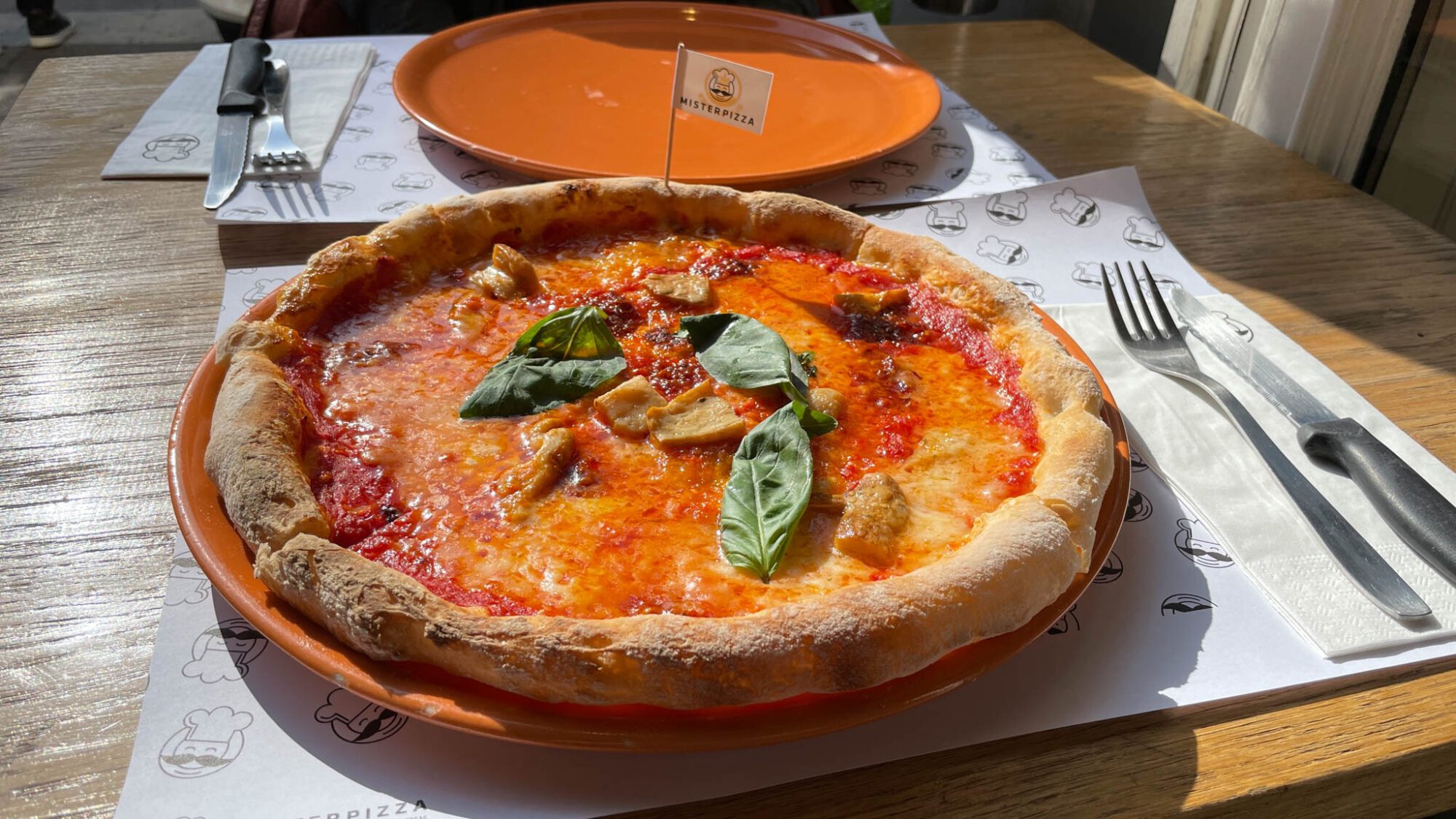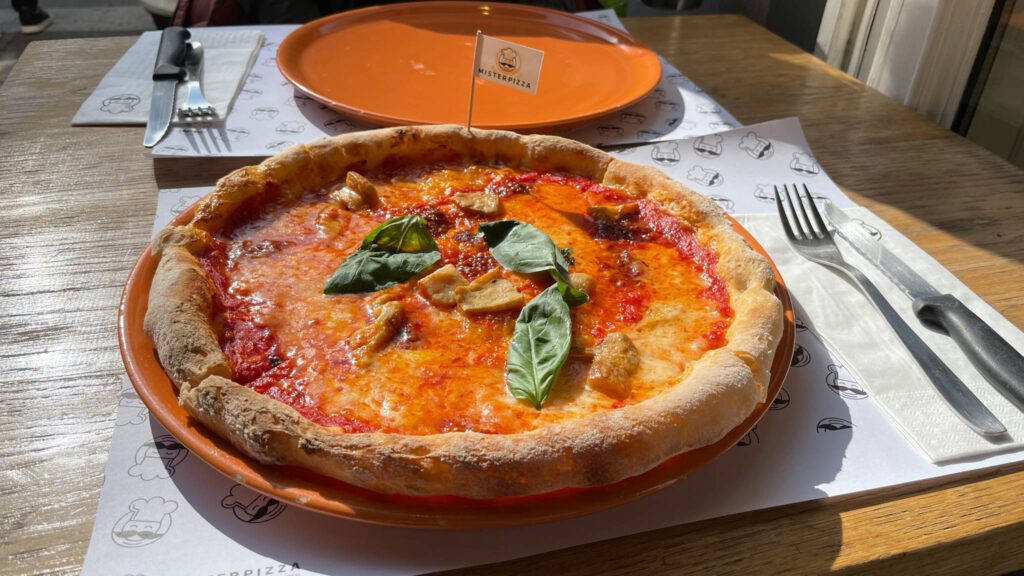 On your second night in Florence, it's pizza time!
We spent five weeks in Italy, and ate our body weight in pizza over that timeframe. We love pizza, even though Matt has Celiac Disease and needs to eat gluten free.
There are two places we'd recommend for pizza (including gluten free options) in Florence.
Mister Pizza was our favorite pizza in Florence, and they have two locations in the city center. One right under the Duomo, where you can eat with a view of the dome, and one quieter location towards Santa Croce, which is where we ate lunch on our last day in Florence.
Ciro and Sons is a few blocks from the main attractions in Florence, but that doesn't mean the food isn't good. The biggest problem is the huge line and unorganized staff, which meant we were standing in a line (and by line, we mean blob of people) waiting for our table that we reserved for over an hour after our reservation. The pizza is good, but it wasn't our favorite in Florence.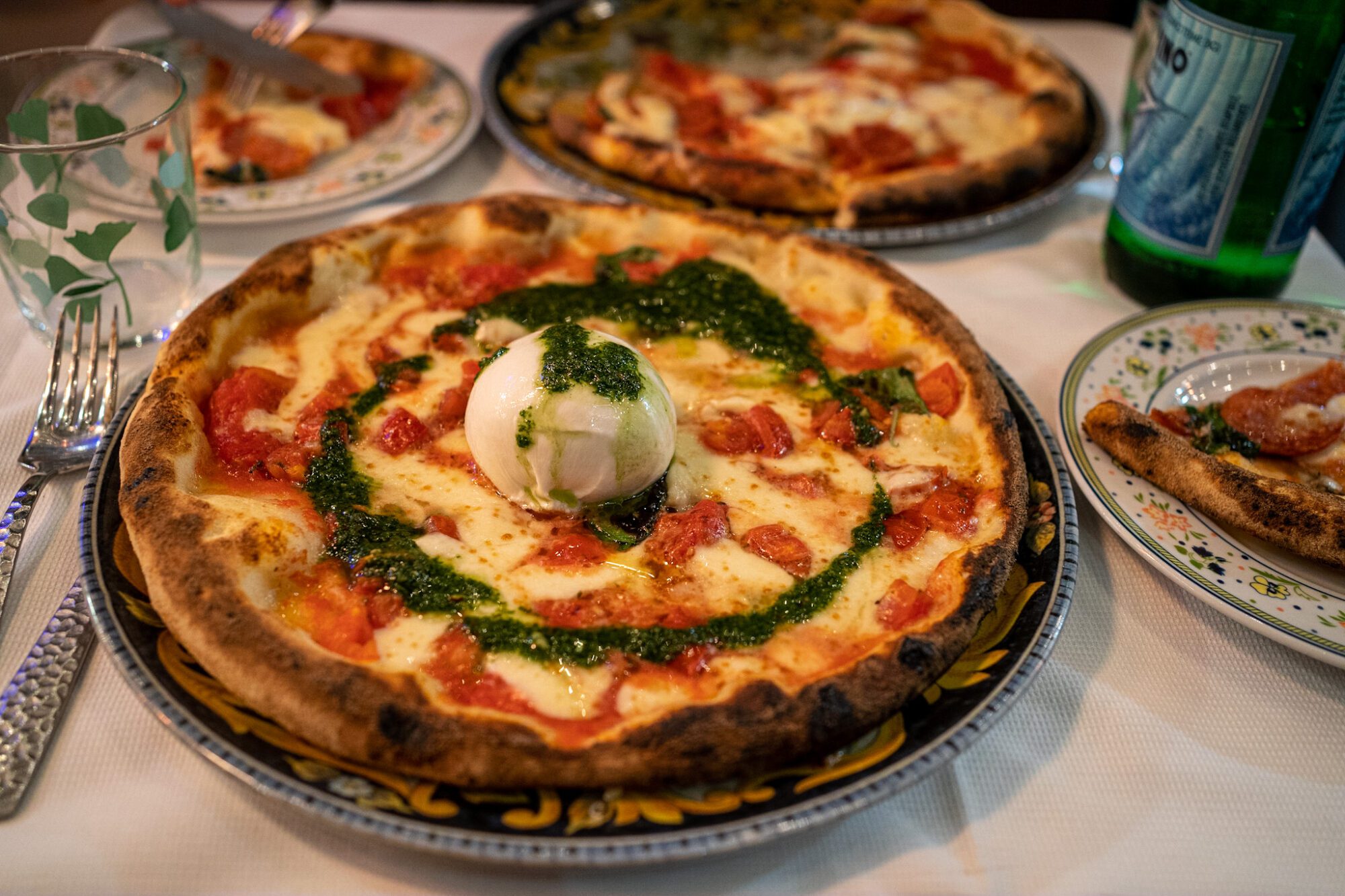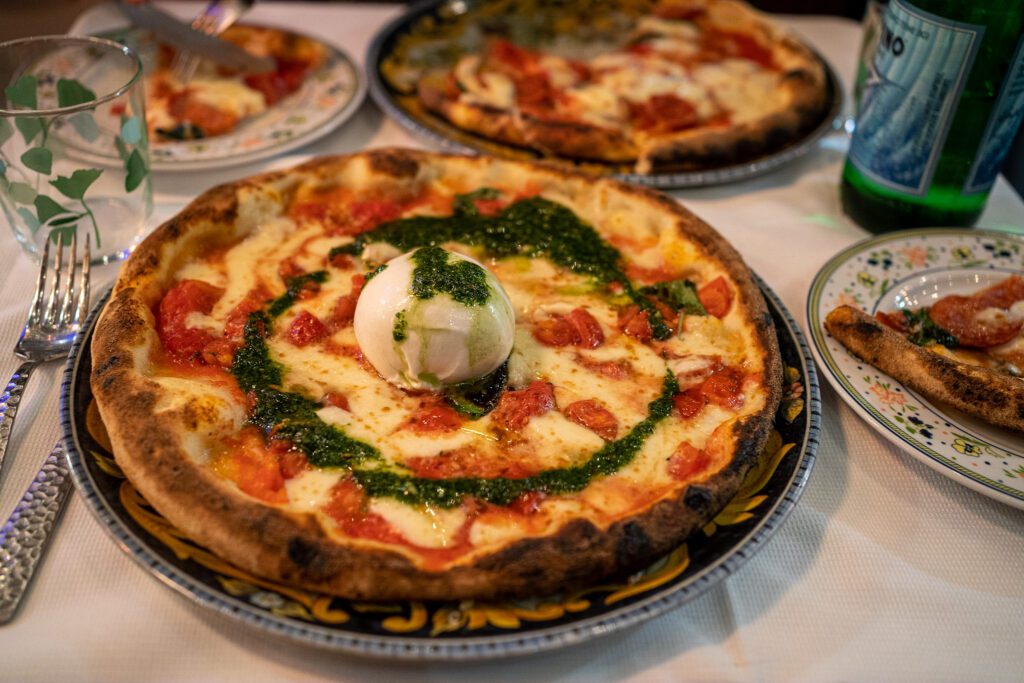 Day 3: Choose Your Own Day Trip
For your final day in Florence, make the most of the city's prime location in the heart of beautiful Tuscany by taking a day trip from Florence out to one of the amazing nearby destinations.
You might be wondering about Pisa and Cinque Terre, and we wouldn't recommend either as a day trip from Florence for different reasons.

We wouldn't recommend Pisa because it's not that cool. There's the leaning tower, sure, but that's it. And it's absolutely swarming with tourists. Guess what? There's a leaning tower in Bologna too, which is a day trip we'd recommend.
Cinque Terre is too far to comfortably tackle as a day trip, and it requires more than a day to see it properly.
Instead, we would recommend either doing a day trip to Bologna, one of the best food cities in Italy (if you're a foodie and you're into prosciutto, parmesan, and bolognese, this is the place for you), to Lucca, a charming town whose medieval walls are still intact, or the Chianti wine region.
Option 1: Bologna – the Choice for Foodies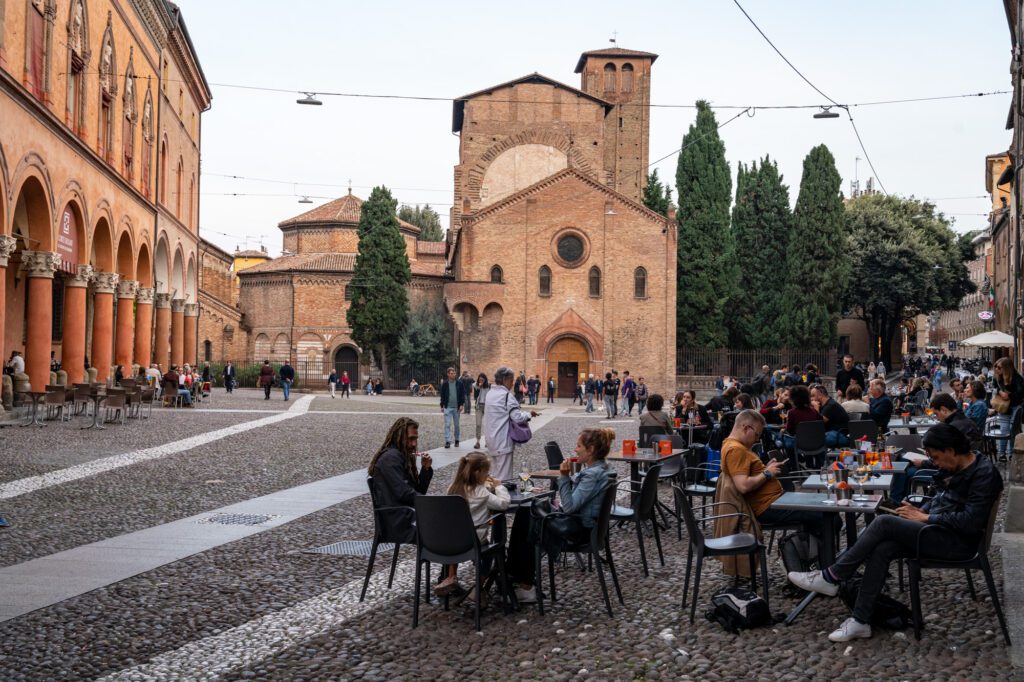 Bologna is our number one recommendation for foodies in Florence. Bologna is known for its food, both within Italy and throughout the European continent.
We were lucky enough to experience Bologna with friends who had moved there from the United States, and they did a great job showing us around and introducing us to the Emilia-Romagna region, which is known for Italian delicacies like tagliatelle al ragu (which is similar to pasta Bolognese, but is very different than what I think you're probably picturing, at least if you're American), parmigiano reggiano, prosciutto di Parma, balsamic vinegar from Modena, and mortadella.
Basically, if you want to experience some of the best food Italy has to offer, a day trip to Bologna should be on your agenda.
Getting to Bologna
Bologna is easy to get to from Florence – there's a high speed train that gets you from Florence's Santa Maria Novella Station to Bologna Centrale in 40 minutes or so. From the station, it's a 20 minute walk to the main attractions in Bologna.
What to Do in Bologna
Basically, walk, eat, repeat.
Climb the Torre degli Asinelli: Did you know Bologna has its very own leaning tower? It's just not nearly as famous as the one in Pisa. Climb to the top of the Torre degli Asinelli for great views out over Bologna.
Eat your heart out: A good place to start would be the Quadrilatero, which is a huge area just east of the main square – Piazza Maggiore – full of amazing eateries, market stalls, and shops to buy meats, cheeses, and all of the foods. Specifically, we'd stop by Mercato di Mezzo, which is a food hall with tons of different options. We stopped at Tamburini, a gourmet grocery store, to buy some prosciutto and parmesan to take back to Florence with us.
Option 2: Lucca – a Beautiful Town with Medieval Walls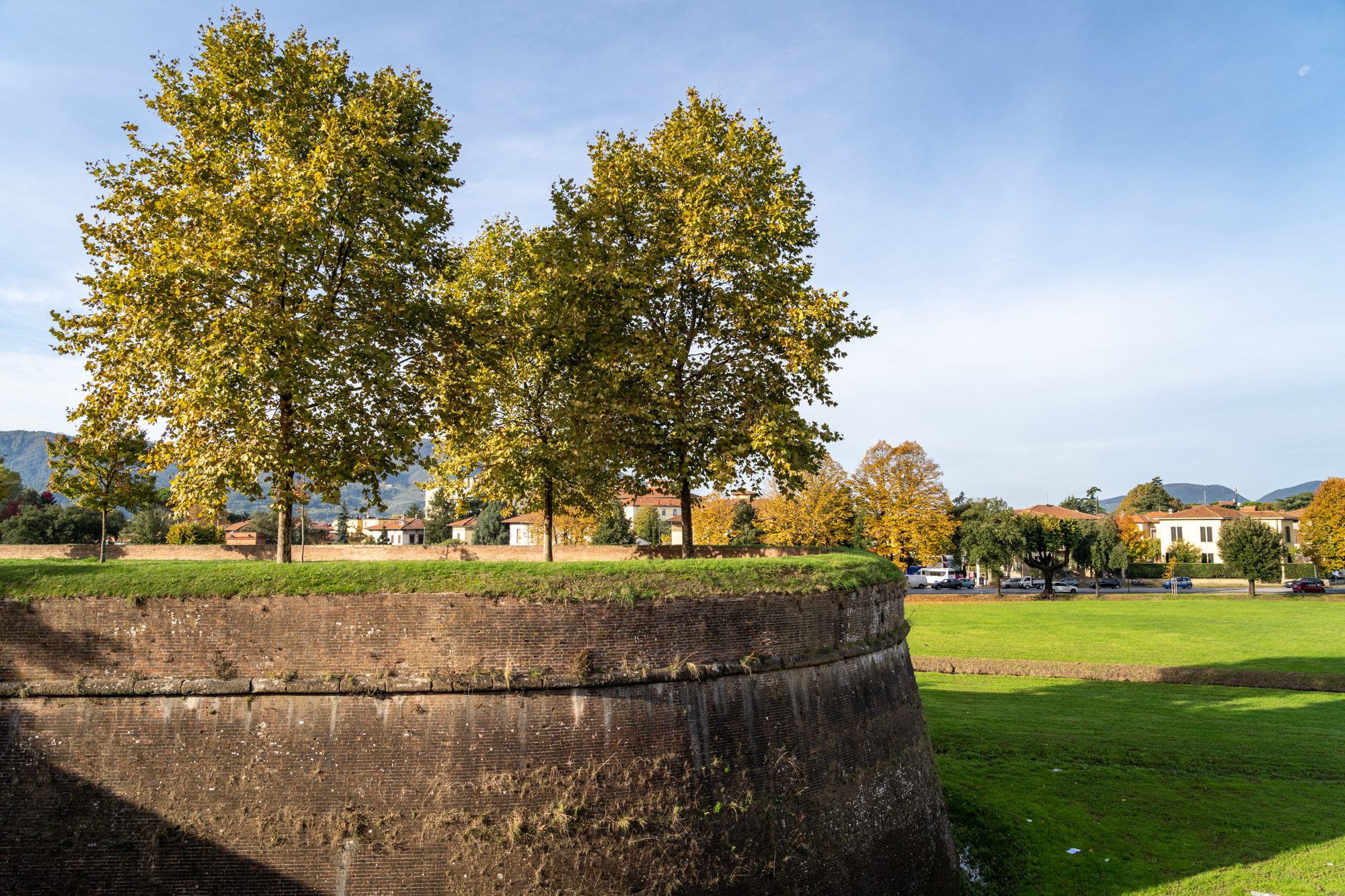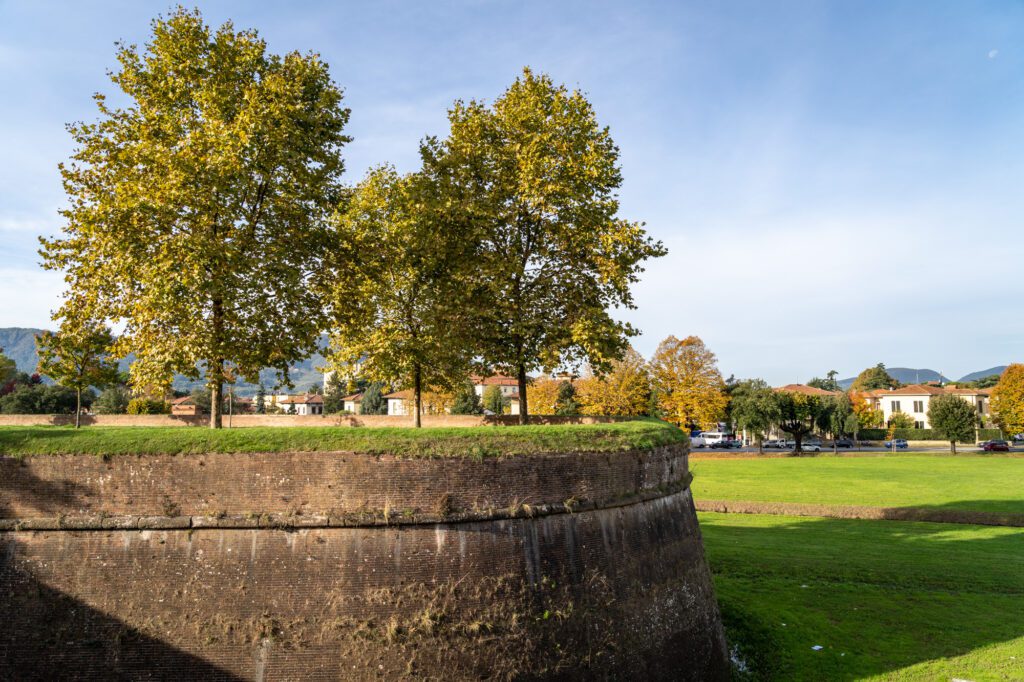 Lucca is a great day trip if you're looking to experience a Tuscan town that is less visited than other cities in the region like Florence and Siena, but still has all the charm you'd expect from Tuscany.
Located west of Florence towards the coast, Lucca was founded by the Etruscans more than 2,000 years ago before becoming a Roman settlement. It's unique because it has a set of medieval city walls that completely encircle the city, which is fairly hard to find.
Getting to Lucca
We have good news and bad news for this one.
The good news is that getting to Lucca from Florence is both easy and cheap.
The bad news is that the journey is on a regional train, which is slower and takes a long time.
It's 10 Euros each way, and takes an hour and twenty minutes if you opt for a direct train (roughly once an hour).
What to Do in Lucca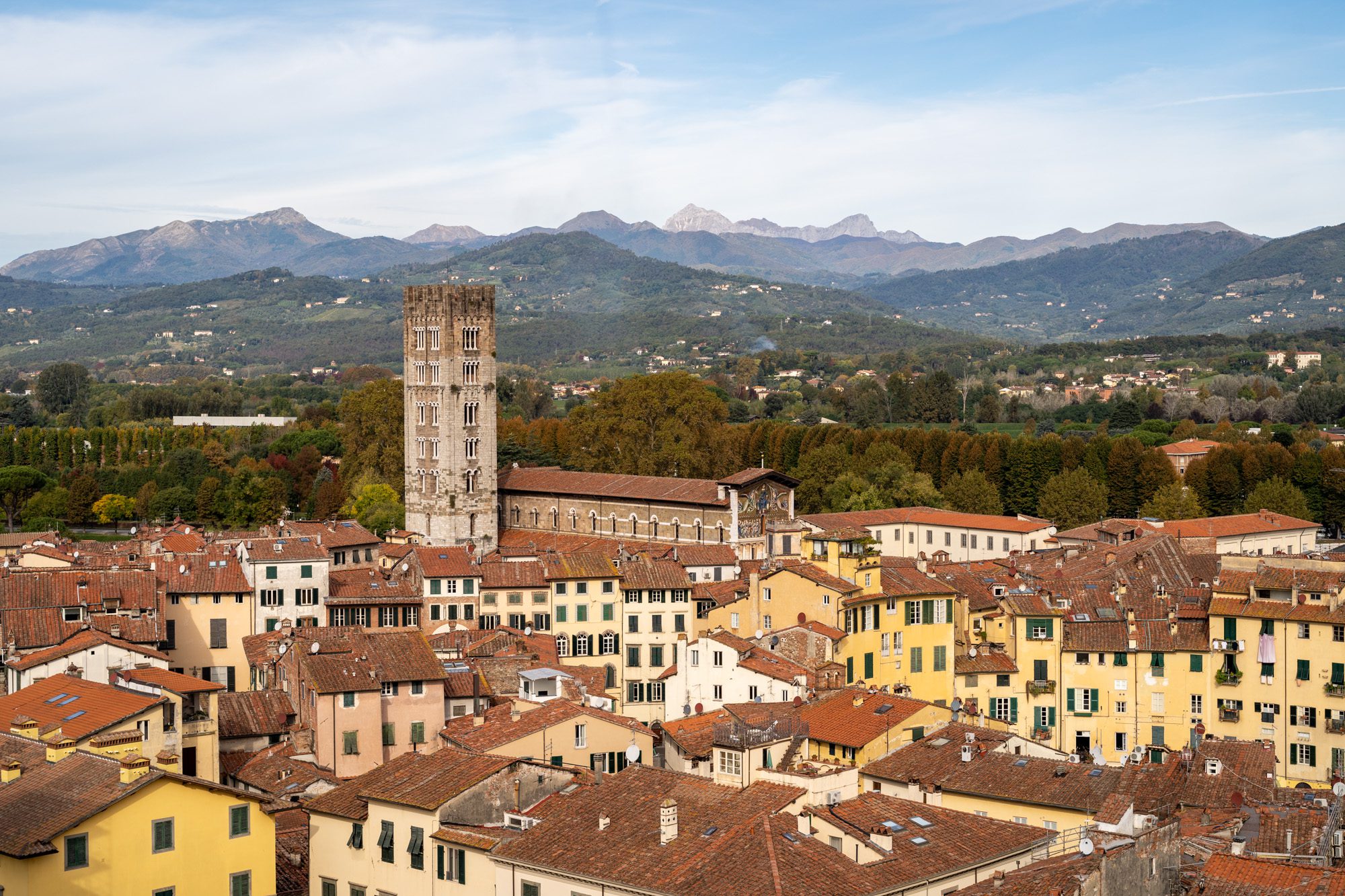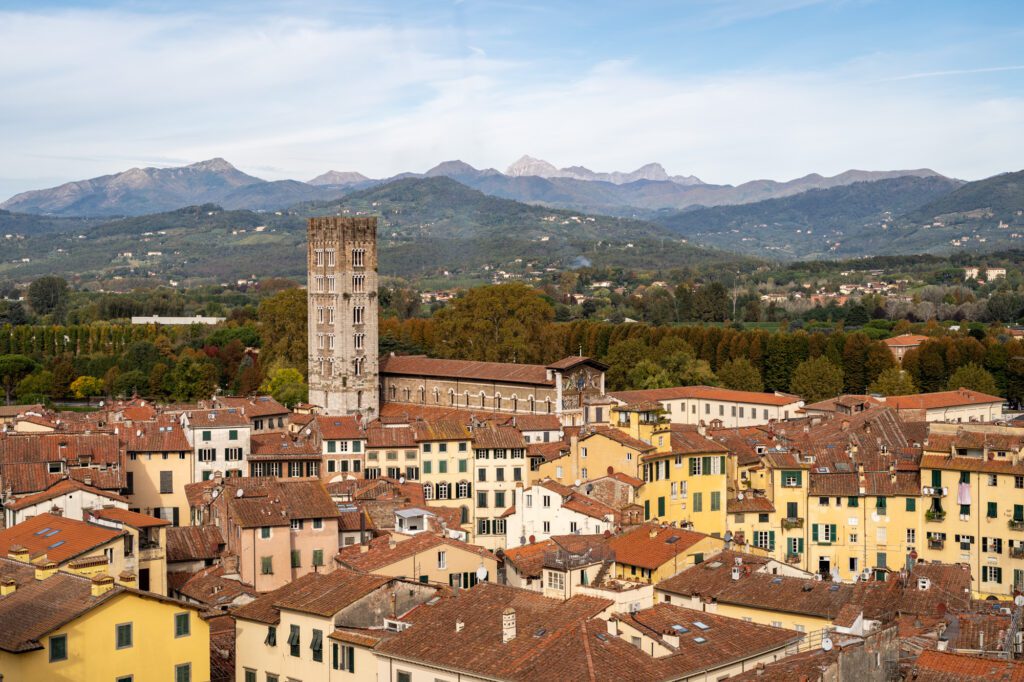 Circumnavigate the city on the walls: Far and away our favorite thing to do in Lucca was to circumnavigate the city walls, which is a 4km journey that takes you allll the way around the city along its intact medieval walls. It's a unique experience, and it's gorgeous. We were there in the fall, so there was plenty of nice fall color to go around. A lovely way to spend your morning before venturing into the center of Lucca.
Climb the tower: Torre Guinigi is the main tower in the middle of Lucca, and it's unique because it has a little garden growing on top. From the top, you have incredible 360 degree views of the surrounding landscape, which includes the city and the mountains in the distance. You'll climb 230 steps up to the top of the tower, which sits at 145 feet above the ground.
Piazza dell'Anfiteatro: One thing you should definitely do is wander around the old medieval center of town a bit. And Piazza dell'Anfiteatro is a great place to start. It was a Roman amphitheater for centuries, but now all that remains of that structure is the shape of the public square, which is distinct because it's the same shape as an amphitheater rather than being square or circular. This would be a good place to take a break from exploring with a glass of wine or an espresso in the sun.
Option 3: Chianti – Taste Some of the Best Wine in the World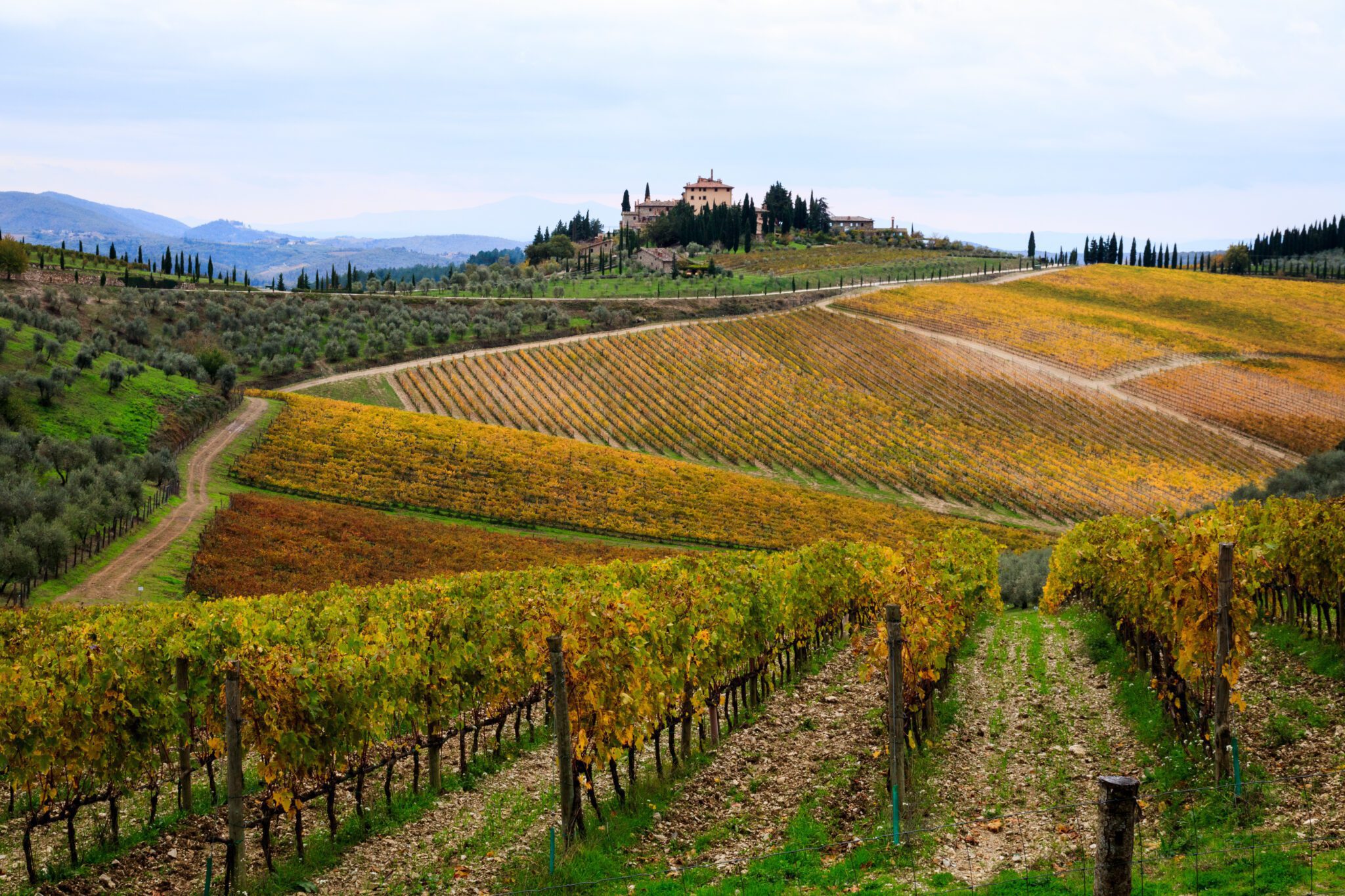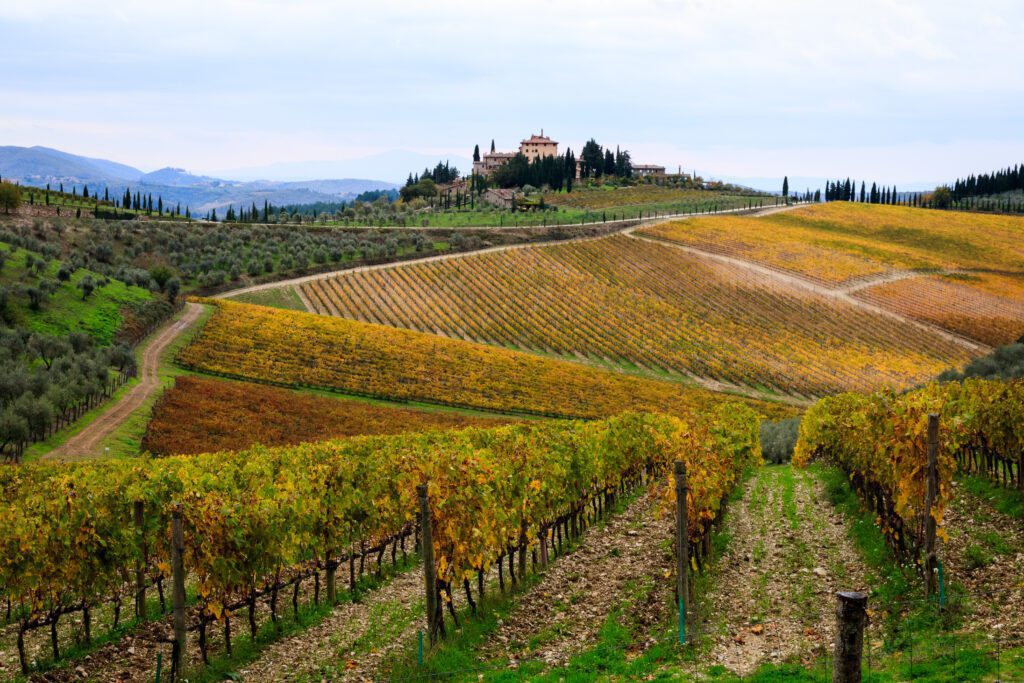 If you're interested in wine, you're in the right place. Tuscany is one of the most famous wine regions in the world, and is easily accessible by day trip from Florence. Big bold reds rule the roost here, and you'll find famous grapes like sangiovese and barolo at wineries just outside of Florence.
The best way to do a day trip into wine country from Florence is with a guided tour.
You could also do it independently if you have a rental car. But, it's going to be a much more enjoyable experience with a group tour where you have a driver so you can imbibe in all the amazing wine without worrying about getting behind the wheel.
You have two options – do a tour that visits multiple wineries and includes transportation (like this one or this one), or go DEEP with a single winery, and deal with getting to and from the winery on your own (like this one or this one).
The former is easier because there's no trains and buses to worry about, the latter is cheaper, but you'll have to deal with the logistics of getting there.
They're both great ways to experience one of the most famous wine regions in the world.
Planning a trip to Florence? We've got some detailed travel guides to help you plan an unforgettable trip.
What to Do with More Time in Florence
If you find yourself with more time in Florence, below are a few other attractions in the city worth adding to your itinerary.
Pitti Palace (Palazzo Pitti)
The Pitti Palace is a series of museums and galleries housed inside a grand 15th-century Renaissance palace. For many years the palace was the chief residence of the ruling families of the Grand Duchy of Tuscany.
The palace is now split into four main museums:
The Treasury of the Grand Dukes
The Palatine Gallery and the Imperial and Royal Apartments
The Gallery of Modern Art
The Museum of Costume and Fashion
To really explore the entire palace you could spend an entire day here. But for a leisurely couple of hours, we'd suggest visiting the opulent Appartamenti Reali and the Costume Gallery, a stunning collection of clothing including pieces from brands such as Gucci, Versace, and Prada.
You can buy a single ticket to visit all of the museums of the Pitti Palace. However, if you're following this itinerary and plan on visiting the Pitti Palace, Boboli Gardens and Uffizi Gallery, you'll save money by purchasing the PassePartout combination ticket for all three instead (€38).
The Campanile di Giotto (Giotto's Bell Tower)
The Campanile di Giotto is the bell tower of Florence's Duomo.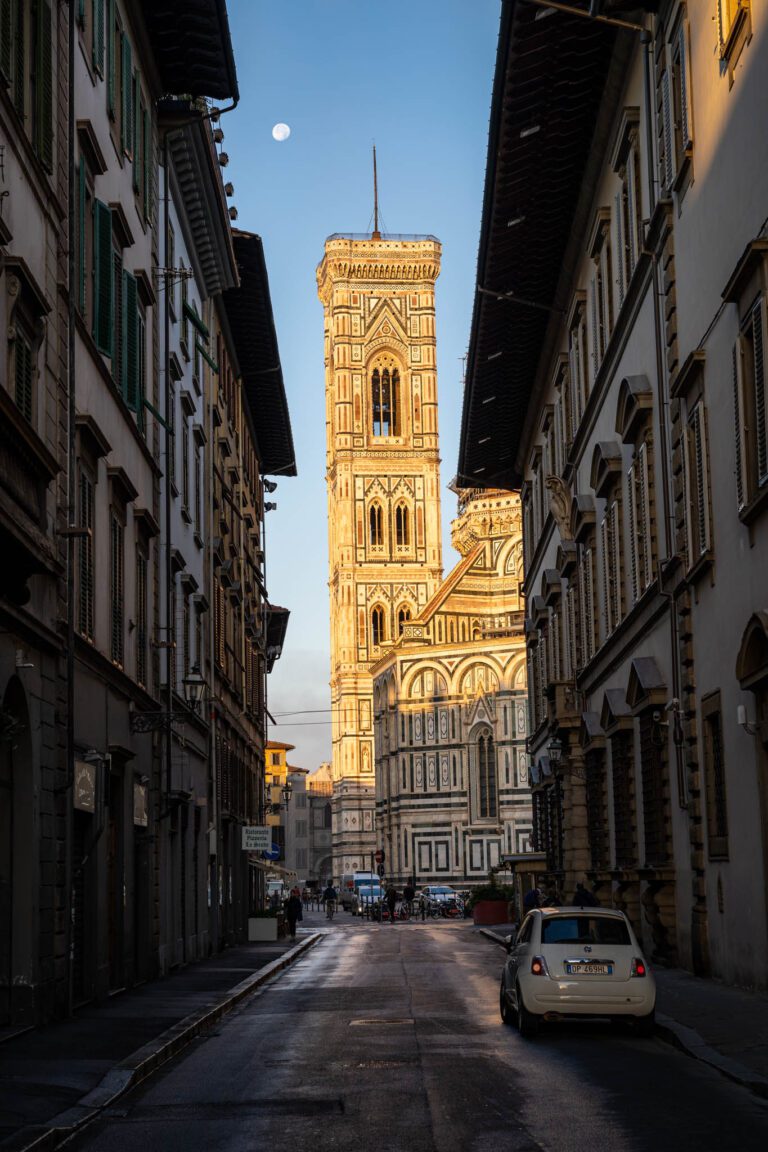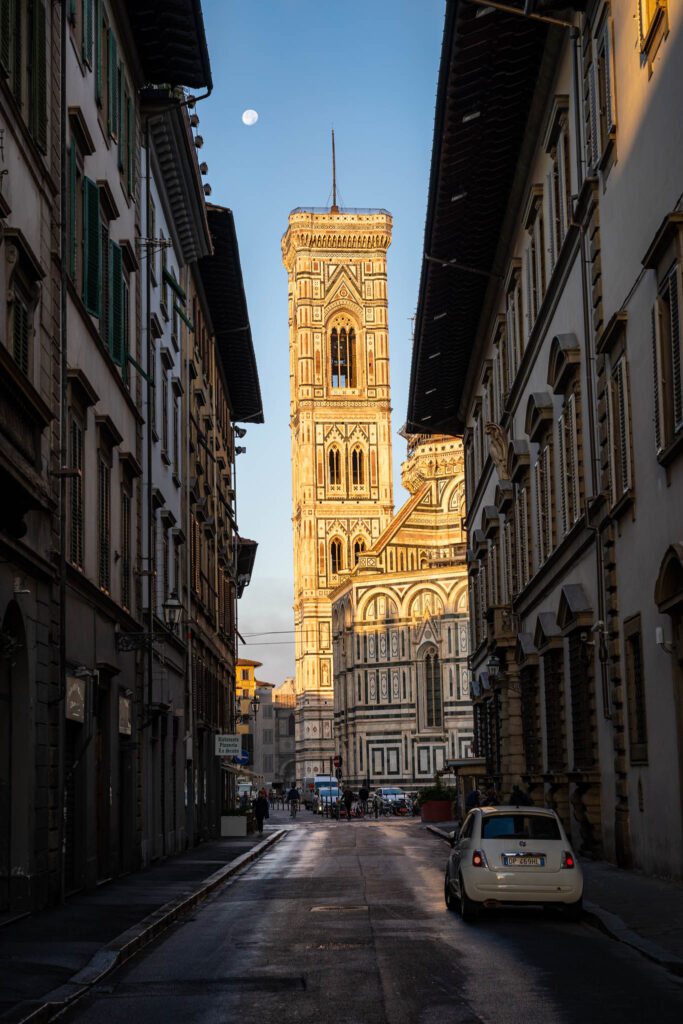 The impressive 277.9 foot tall free-standing tower dates back to the 14th century when it was originally designed by celebrated painter Giotto di Bondone, after whom the building is named. However, Giotto died long before the tower was complete and it took another two architects 25 years to complete the job.
To reach the top of the Campanile you'll have to walk up the 414 steep steps (there's no elevator). As long as you don't mind a little morning workout, the climb is worth it for the amazing views back over Piazza del Duomo and out across Florence from the top.
The Campanile opens at 8:15 am, so the earlier you arrive, the better to avoid the crowds in Florence.
The Baptistery (Battistero di San Giovanni)
From the Campanile, head across to Florence Baptistery, which is believed to be one of the oldest buildings in the city.
While many people choose to view the Baptistry from the outside, we'd recommend heading inside to admire the incredible Byzantine ceiling mosaic which dates back to the 12th century.
One of the most famous parts of the Florence Baptistery is the Porta del Paradiso (Gates of Paradise). However, what a lot of people don't realize is that the current gates are only a replica of the original. The original gates are kept in the nearby Museo dell'Opera del Duomo (Cathedral Museum).
The combined ticket includes entry to the Cathedral Museum so it won't cost you any extra to pop inside and see the original gates, even if you don't have long to spend there. Although, if you've got more time on your trip to Florence, you could easily spend a few hours exploring the fascinating museum.
The Baptistery opens at 8:15 am, but it's important to note that it shuts for a short period between 10:15 am – 11:15 am each day. This is why it's best to arrive early in order to visit the Campanile and Baptistery between 8:15 am – 10:15 am.
Even More Things to Add to Your Florence itinerary
What to Do with Less Time in Florence
Only have a day or two in Florence? Here's how to make the most of your time on a shorter Florence itinerary.
Florence in Two Days
With two days in the city, just follow days 1 and 2 of this Florence itinerary. You can always come back again to explore more of the Tuscany region.
Florence in One Day
With just one day in Florence, spend the morning on a walking tour to get to see as much of the city as possible in a few hours. Try to choose a tour which includes a visit to see Michelangelo's David in the Accademia Gallery.
In the afternoon, fit in a visit to the Duomo to climb the dome then on to Piazza della Signoria and the Uffizi Gallery.
End your day by walking over Ponte Vecchio and climbing up to Piazzale Michelangelo for sunset.
Eating and Drinking in Florence
What's a trip to Italy without eating and drinking as much as possible?
Eating in Florence
Schiacciata on Via di Neri. All'Antico Vinaio, which is one of the most reviewed restaurants in the world on all sorts of platforms, which means hundreds of tourists flock there every day to get their hands on one of their Insta-famous focaccia (ish) sandwiches. There are multiple lunch options on this street, and it's a must-do if you're visiting Florence.


Da Garibardi. For traditional Tuscan cuisine (and good wine), head to this small Trattoria and order the pici with wild boar or pumpkin tortelloni (they have Celiac-safe gluten free options, too).


Mister Pizza. Delicious pizzas at a quick and easy canteen-style restaurant close to the Duomo. Every pizza can be cooked on a gluten free base!


Grom Gelato. Our favorite gelateria in Florence, if not all of Italy. Everything they serve is 100% gluten free, but that doesn't mean it's not good. Their gelato is top notch, and you should order the pistacchio.


Ciro and Sons. Florence's first gluten free pizzeria serves delicious Neapolitan style pizzas that are both gluten free and lactose free. Ciro and Sons have even won the world champion award for their amazing gluten free pizzas.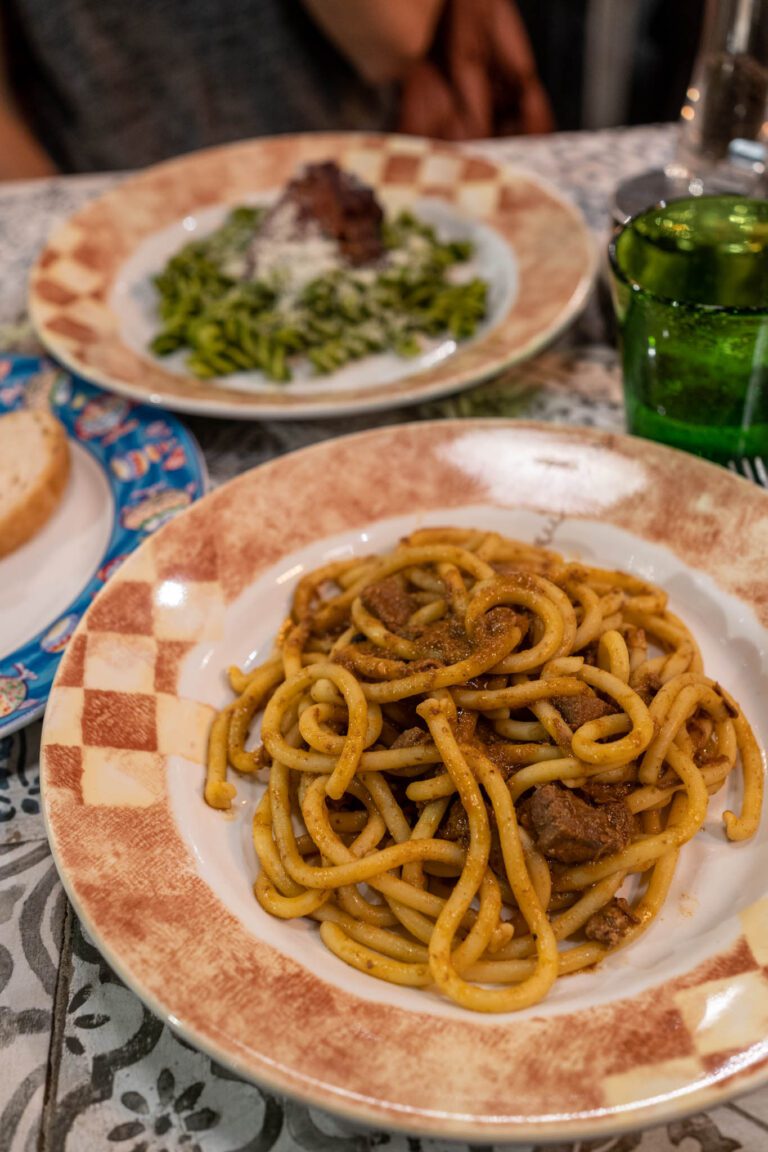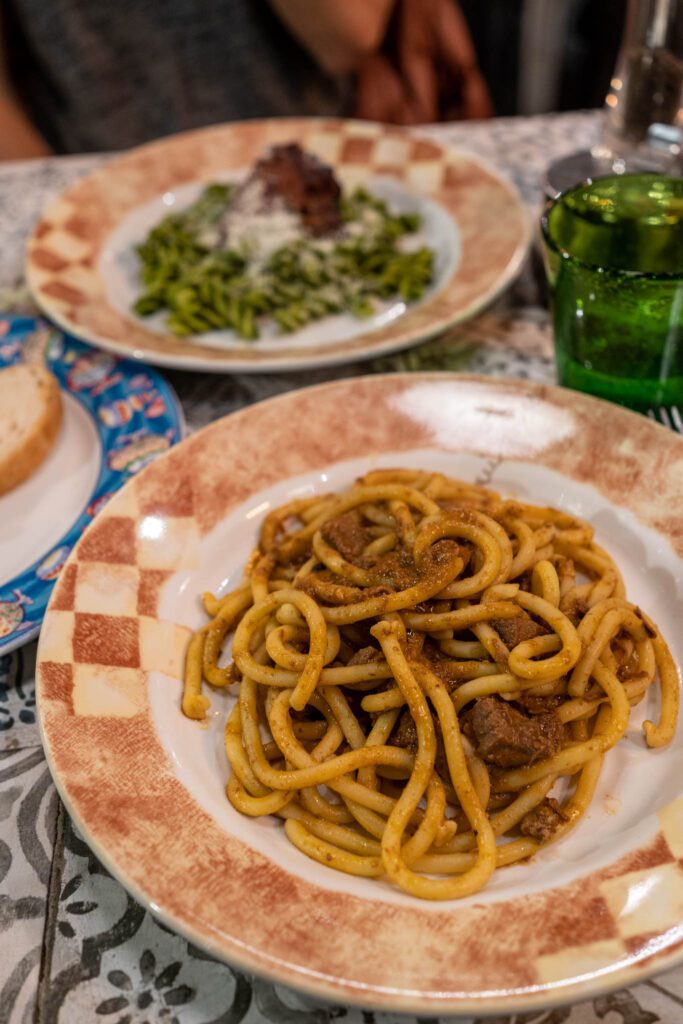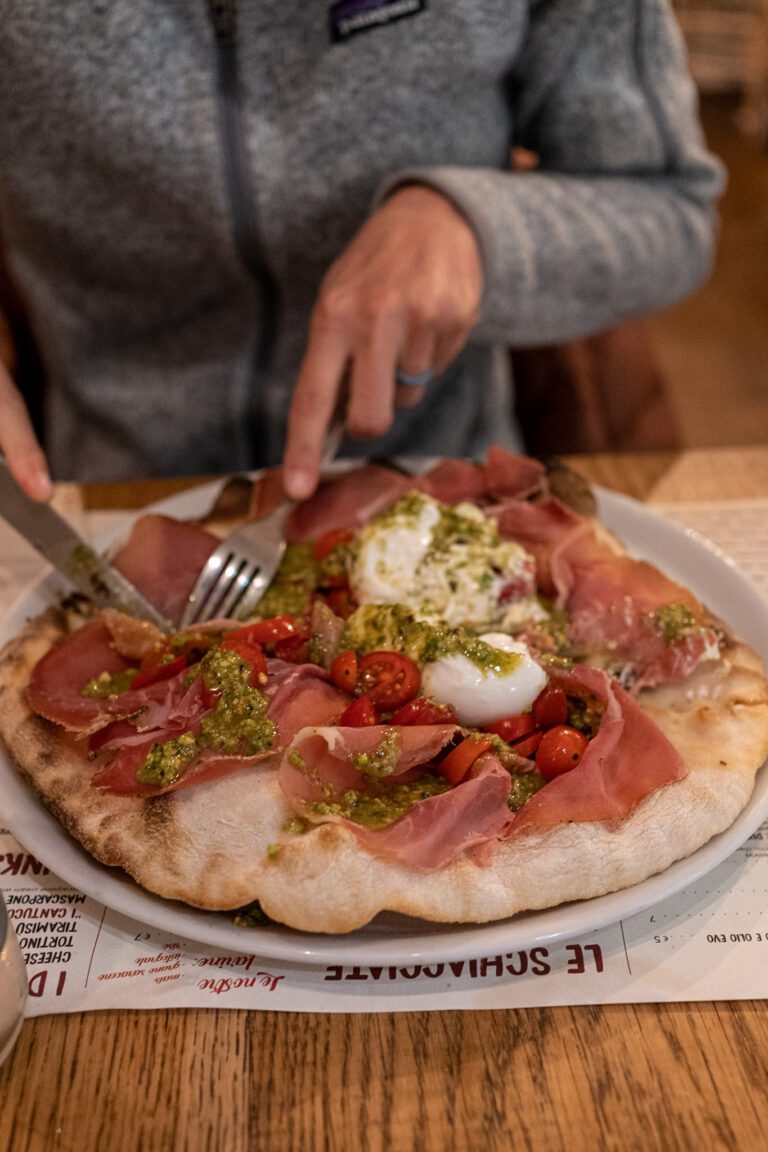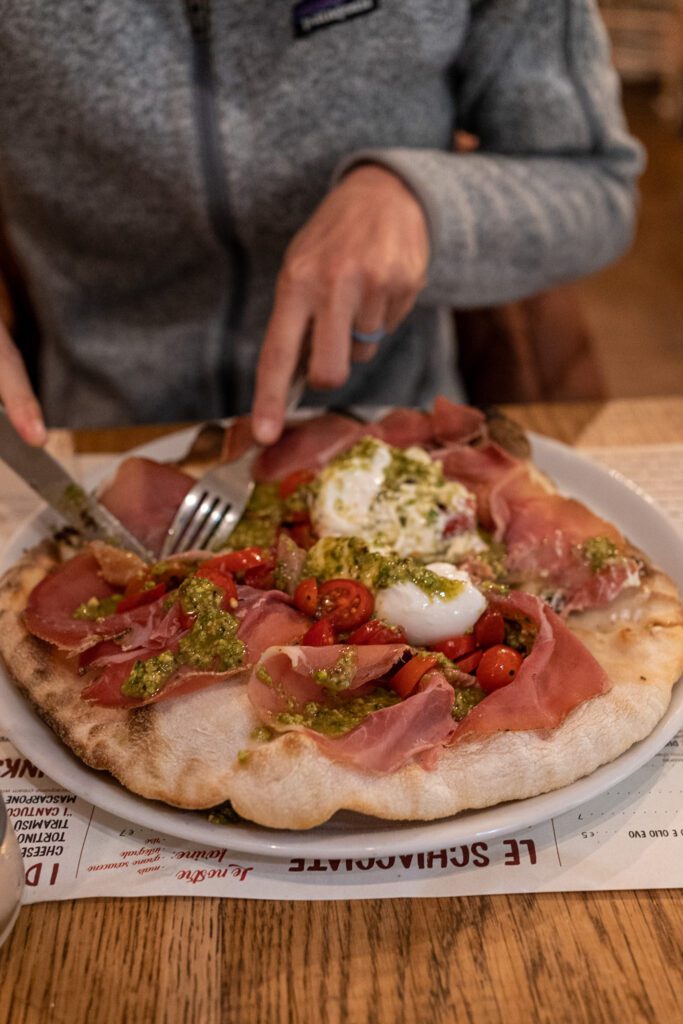 Psst! Need to eat gluten free? Check out our gluten free guide to Florence for the best gluten free eats.
Coffee and Tea in Florence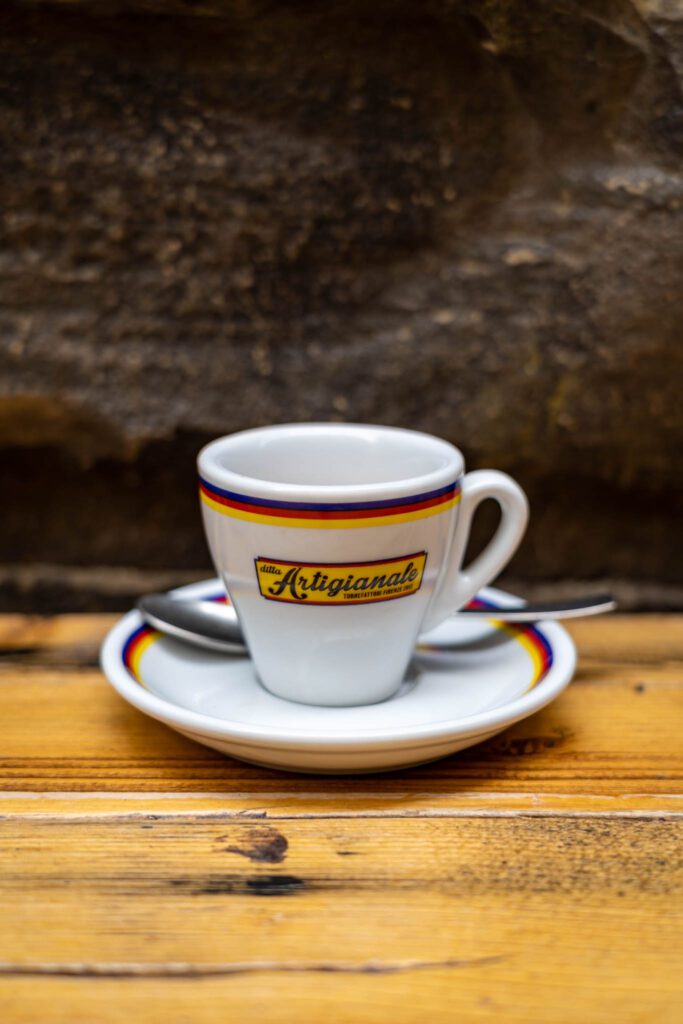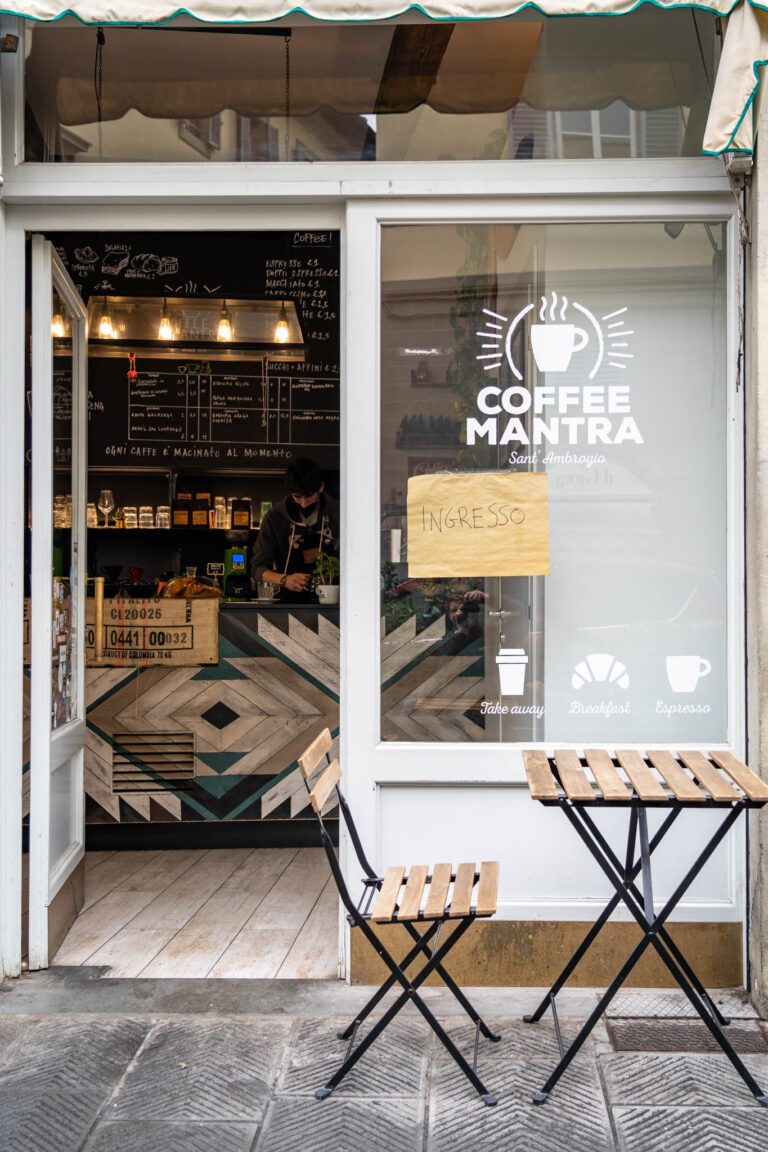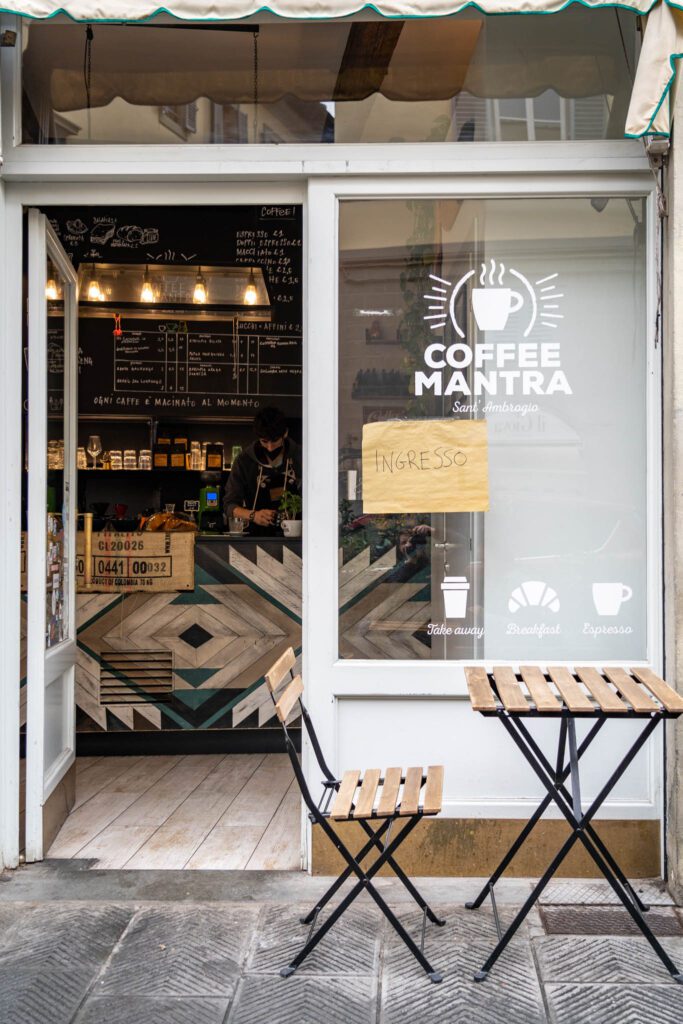 Bars in Florence
Casa del Vino. There are countless wine bars all over Florence, but Casa del Vino has to be one of our favorites. A cozy local wine bar with a comprehensive wine menu and extremely popular with locals – so you know it's good!


Loggia Roof Bar. A romantic rooftop terrace bar in the Oltrarno district, close to the Pitti Palace, with a great cocktail list as well as amazing panoramic views over the city and surrounding hills.


Beer House Club. The best selection of beer in all of Florence, with over 100 bottles from all over the world. Plus, don't miss their unusual Birramisù, the popular Italian dessert made with beer instead of coffee.
The Best Time to Visit Florence
Florence is a popular tourist destination all year round, so there's no real low season. However, the height of summer is when the largest crowds descend upon the city. So this is the time to avoid unless you want to spend your entire trip waiting in line for attractions in the grueling summer heat.
The shoulder months of April, May, September and October are the best time to visit Florence, with pleasantly warm weather and fewer other tourists to share the city with.
Summer sees temperatures in Florence rise to the high 80s and 90s. So hot that many locals choose to escape the city in August to cooler destinations. July and August are also the peak tourist season so you can expect much larger crowds.


In Fall, the weather in Florence remains warm and sunny, and you can still enjoy open-air dining and the city's many festivals, but with fewer tourists than summer.


Winter in Florence doesn't get too cold and there's an extremely low chance of snow, making it a popular winter destination in Italy for people who prefer to avoid extreme temperatures. You'll also get to experience the city's Christmas decorations and festivities.


Spring is a beautiful time to visit Florence, with long sunny days, slightly fewer crowds, and the flowers in full bloom in the city's parks. It's also the perfect time to explore the surrounding Tuscan countryside.
Getting to Florence
For the most part, you're probably going to be arriving for your trip to Florence either by train from another place in Italy, like Rome or Venice, or you'll be flying in from somewhere outside of Italy.
Flying to Florence
There are two main airports from which to reach Florence; Pisa International Airport and Florence Airport.
Pisa International Airport (Galileo Galilei Airport, PSA) is the main airport in the Tuscany region and the airport where most international flights arrive.
To get from Pisa Airport to Florence there are a few options:
Train. Take the Pisa Mover shuttle train from Pisa Airport to Pisa Central Station (€5) where you can catch one of the regular trains to Florence Santa Maria Novella station (€13.70). This takes around 1 hour 30 minutes and is the method we would recommend.

Bus. Sky Bus Lines Caronna runs a bus from Pisa Airport to Florence for €19 which takes around 1 hour 15 minutes. However, these only run a few times a day so it's important to check whether timings lineup with your flight.

Taxi. While a taxi is a convenient option, it is extremely expensive. You'll pay around €150-200 to get from Pisa Airport to Florence.
Florence Airport (Aeroporto di Firenze-Peretola, FLR) is a smaller international airport, just 4 km from Florence city center. Many European and internal flights arrive at this airport.
To get from Florence Airport to Florence city center:
Tram. The new Tramway Line T2 is now the easiest and cheapest way to reach Santa Maria Novella train station in the city center. The journey takes 15 minutes and tickets are only €1.50 one way.

Bus. The 'Vola in bus' shuttle bus is another easy way to get from the airport to the city center. The bus runs every 30 minutes during the day and every hour at night, takes just 20 minutes, and costs €6.00 for a single ticket and €10.00 for a return.

Taxi. A 15-minute taxi from the airport to the center will cost you around €25.
Arriving by Train
If you're arriving in Florence by train, you'll want to head to Stazione di Firenze Santa Maria Novella (SMN) which is right in the heart of the historic center.
The other two major stations on the outer edges of the city are Firenze Campo di Marte and Firenze Rifredi. If your train arrives in either of these, just swap onto a connecting train into Santa Maria Novella station.
Arriving by Car
Florence isn't the most car-friendly city. Much of the historic center is pedestrianized and the few roads are a 'Zona a Traffico Limitato' (ZTF) or Limited Traffic Zone. This means you'll get a fine for driving or parking there.
Even if you do manage to get a ZTL permit, the narrow one-way roads are extremely difficult to navigate your way around.
If you're arriving in Florence by car as part of a wider Tuscan road trip, try finding a hotel on the outskirts of the city away from the ZTL zone. You can park at your hotel and get the local bus into the historic center.
Getting Around Florence
Considered a 'living museum', there's only one way to properly explore Florence's stunning historical center – on foot!
Wander around the ancient streets, soak in the atmosphere and admire the city's world-renowned Renaissance architecture. Florence is truly one of the most beautiful cities in the world so you won't want to miss a thing. Plus, the historic center is pretty small. You can walk from one side to the other in roughly 30 minutes.
If you'd rather use public transport, you can also make the most of Florence's fleet of small electric ATAF buses. Tickets (valid for 90 minutes) cost €1.50 and can be purchased from convenience stores around the city. If you can't find a store and need to purchase a ticket on the bus it will cost you €2.50 instead. Don't forget to validate your ticket as soon as you step onboard the bus.
---
Heading to Italy?
We've been to Italy multiple times – obviously we love it – including more than a month on our last trip!
If you enjoyed this guide and found it helpful, you definitely won't want to miss our detailed guide to planning an amazing 10 Day Italy itinerary, which covers Rome, Florence, and Venice and is perfect for a first trip.
We also have a guide to spending two weeks in Italy, which combines those three main cities with a few lesser known cities (Bologna and Verona), or a guide to spending one week in Italy, which has six different ways to spend 7 days.
Here are some of our other Italy guides to help you plan an incredible Italian adventure.
Rome:
Florence:
Venice & Milan:
Cinque Terre:
Sicily:
Need to Eat Gluten Free in Italy?
If you're traveling and need to eat gluten free like me, Matt (I have Celiac Disease, which is why I started this site in the first place), then you'll want to check out our gluten free guide to Italy, along with our city guides for Rome, Florence, and Milan to help you find the best gluten free pastries, pizzas, and more.