The Best Things to Do in Cinque Terre: Complete Guide
Sitting on a point in Manarola looking back at the stunning array of colorful buildings basking in the glow of the setting sun, it's not hard to understand why thousands of people flock to the Cinque Terre every year. The unique landscape – mountains that end at the sea – is a UNESCO World Heritage Site that is a prime example of how humans have adapted to the natural landscape.
From towns perched on rocky outcroppings, tucked between the mountains and the Ligurian Sea, to terraced vineyards using handmade stone walls that produce unique wines, everything in the Cinque Terre revolves around the natural landscape.
The Cinque Terre certainly isn't "off the beaten path" by any stretch of the imagination. Between the hours of 10:00 am and 4:00 pm, the Cinque Terre's five villages are packed with tourists ambling up and down the narrow cobblestone streets and hiking paths.
It's noticeably quieter in the evening, when most of the day trippers are gone, and those who remain have started to head into local restaurants for dinner.
Many of the people you'll see in the Cinque Terre are here for just a day, but we spent four days and think a day is not nearly enough time to appreciate the natural beauty and human ingenuity that coexists on this stretch of the Ligurian Coast. You'll want two days at the very least, and three would be better.
In this guide, we're going to go through our favorite experiences and things to do in Cinque Terre, from hiking through the terraced vineyards between the charming villages, to shopping for handmade pottery, to devouring pesto, focaccia, and gelato.
By the end, we hope you'll have discovered a few experiences to add to your own Cinque Terre itinerary.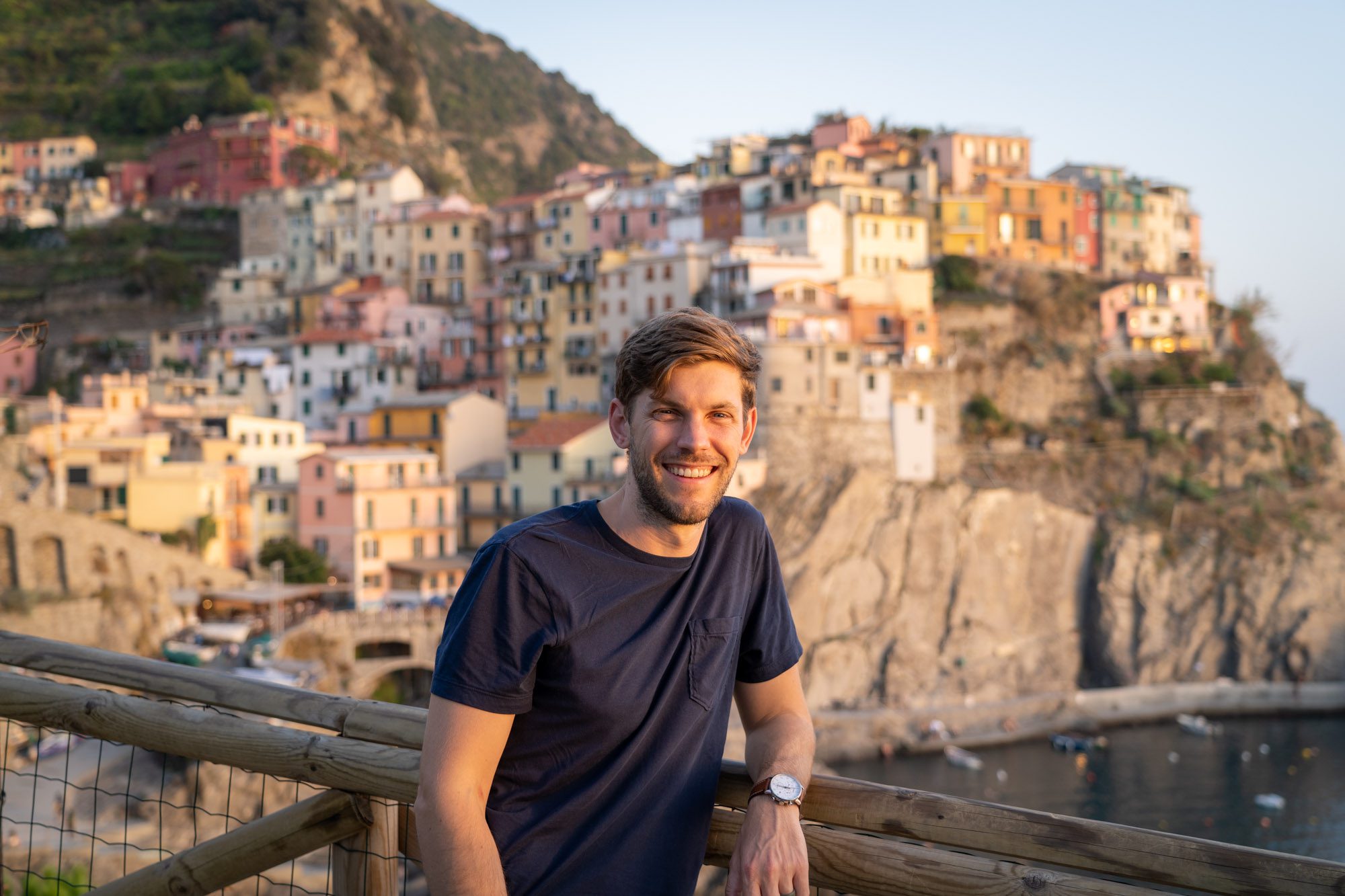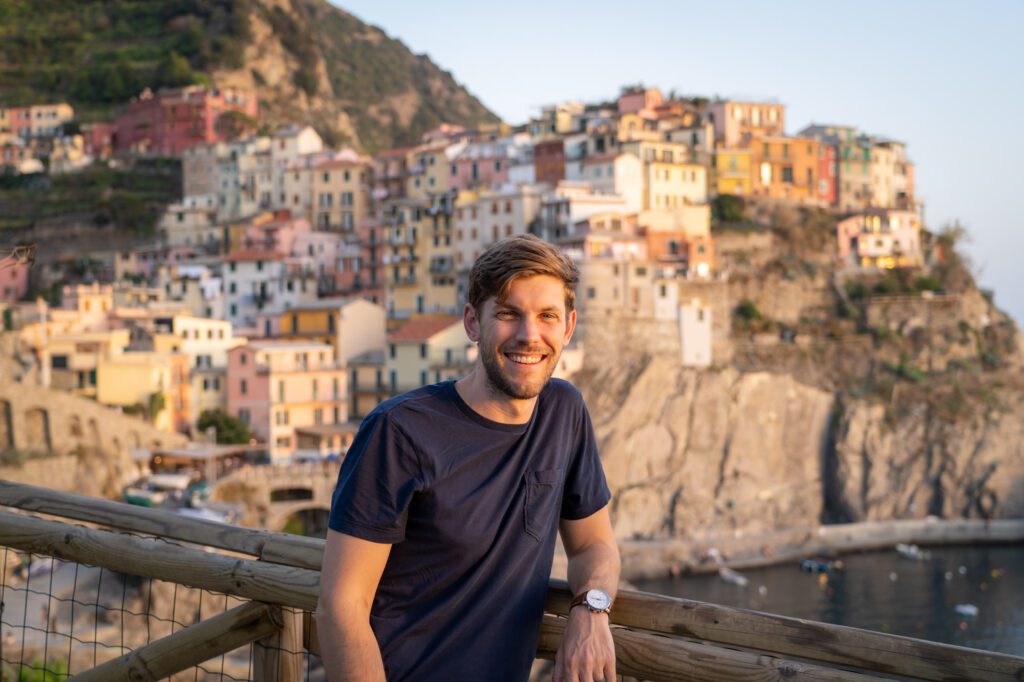 Note: We visited Cinque Terre in late October, and it was lovely. A little chilly in the mornings, but perfectly warm and pleasant in the middle of the day. Plus, far fewer people were in the Cinque Terre towns than, say, in the summer. We'd highly recommend a shoulder season trip to the Cinque Terre.
Disclaimer: Some of the links in this post, like hotel links, are affiliate links, meaning at no additional cost to you, we make a little bit of money if you click through and book. That being said, we would never recommend something to you that we don't stand behind 100%.
The Best Things to Do in Cinque Terre
In this guide, we're going to take you through our favorite things to do in Cinque Terre, from hiking the world-famous Blue Trail in Cinque Terre National Park, to discovering some of the region's best local delicacies, and everything in between.
Our intention here is to help you explore the Cinque Terre, and find some experiences that you wouldn't have otherwise come across.
Hike the Scenic Blue Trail
There are a few things the Cinque Terre is known for, like colorful buildings and beautiful sunsets, but what it's perhaps most famous for is hiking. Specifically, the famous Sentiero Azzurro (Blue Trail), which is a coastal hiking trail that connects each of the five Cinque Terre villages.
Snaking its way through terraced vineyards and small towns, the Sentiero Azzurro is nothing short of spectacular, with mind blowing views of the sea and colorful villages around every bend in the trail.
Now, there's something you need to know before we go any further: the majority of the Blue Trail is experiencing a long term closure, and is expected to be closed until sometime in 2023 (we'll update this guide when more information becomes available).
Currently, there are two sections of the trail that are open to hikers: the section between Monterosso al Mare and Vernazza, and the section between Vernazza and Corniglia.
Below we'll cover some things you need to know before you hit the trail, and then talk about those two sections, along with an alternative hike that we really enjoyed that sees far fewer hikers (though, being in the Cinque Terre means it's not exactly off the beaten path).
What to Know Before Hiking in the Cinque Terre
First, a couple of things you need to know about hiking in the Cinque Terre.
It's harder than you probably think.
On the train ride to the Cinque Terre, my mom was reading about the hikes in a guidebook and she was a little concerned that the hikes would be too hard for her (she's a somewhat active hiker at home in Washington State).
After hiking the trail ourselves, we decided that the guidebook made an intentional decision to overstate the difficulty to impress on readers that these hikes are not a joke. They are firmly in the "moderate" category, with lots of climbing, steep steps, and narrow paths.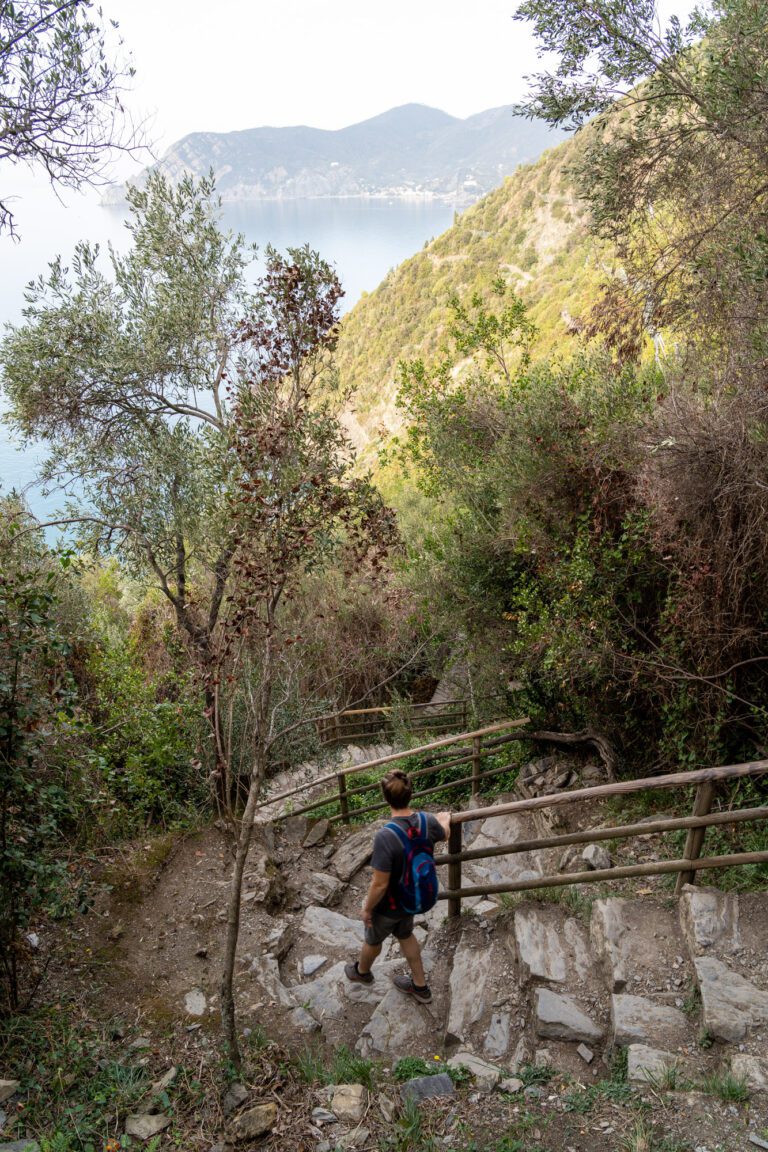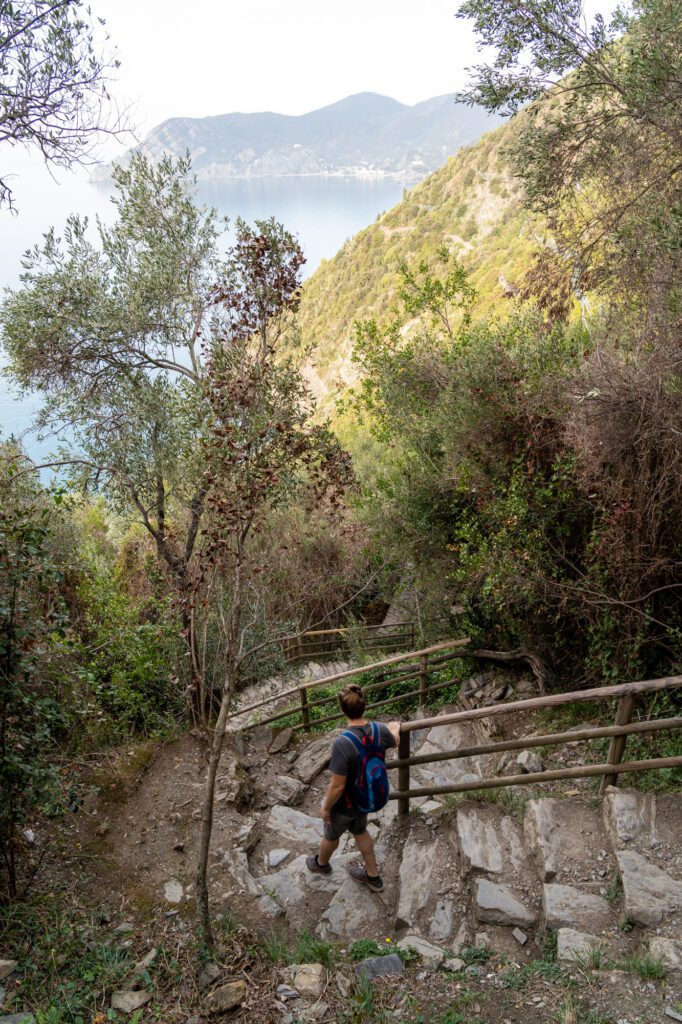 Don't underestimate them – bring water, sun protection (sunscreen and a hat would be good), and proper footwear.
You need the Cinque Terre Card to hike on the Blue Trail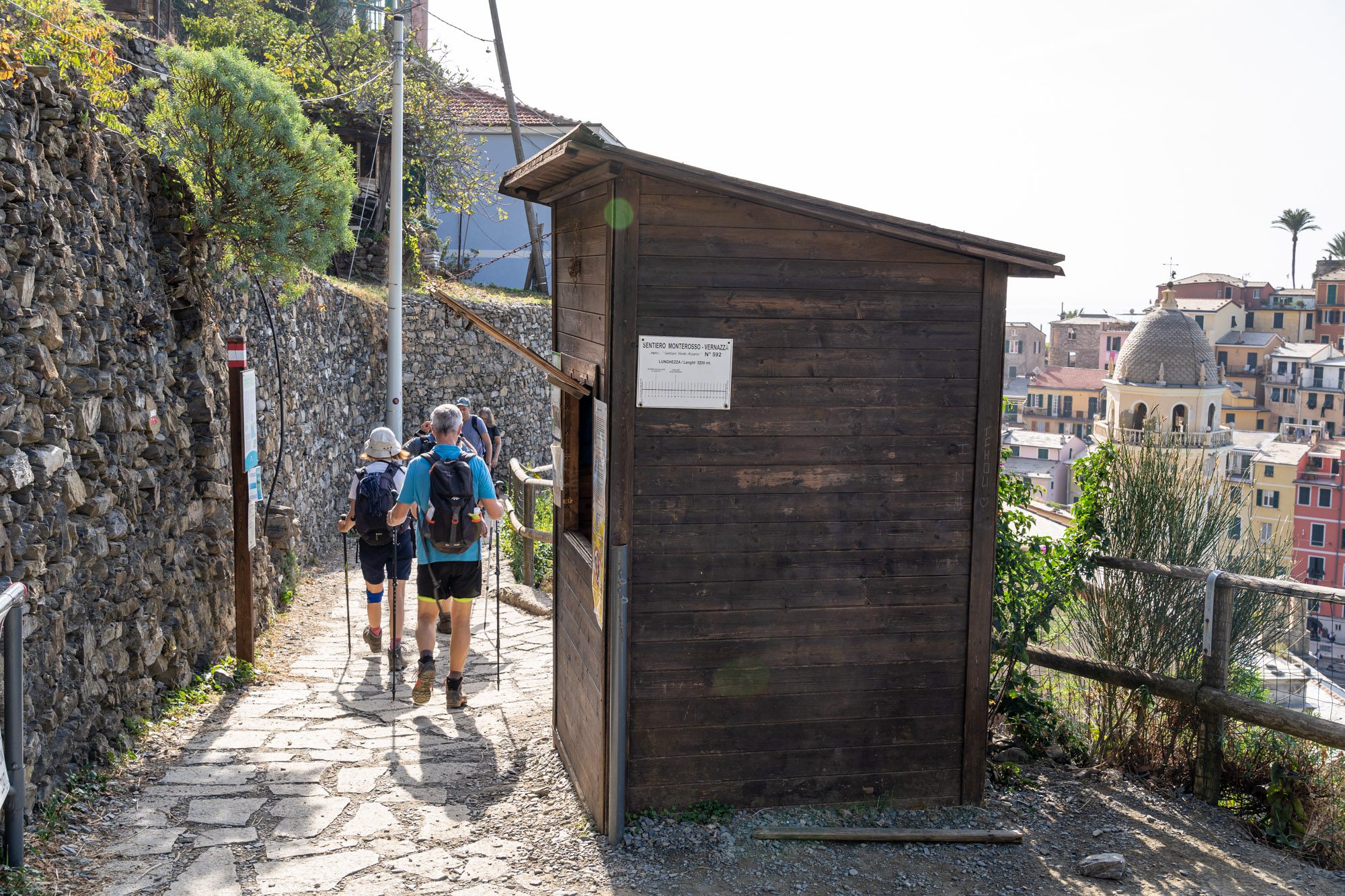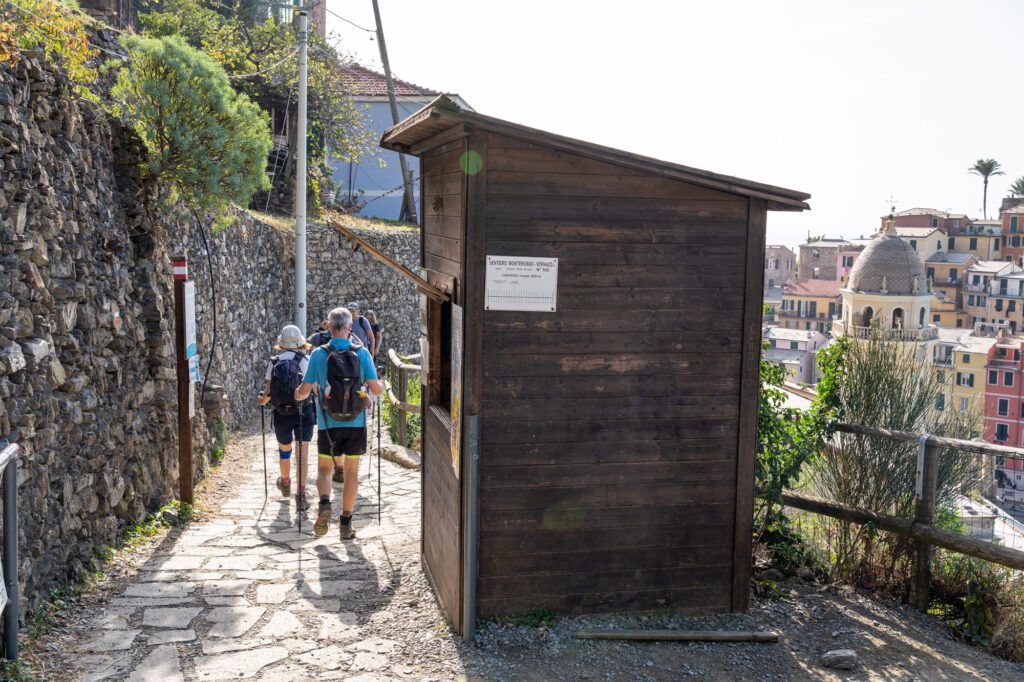 There are booths at each entry point to the trail where a ranger will check your pass. You can either buy it online in advance and show it on your phone (from this website), or buy it as you pass through the booths (which open around 9:00 am).
The exception is during the offseason (November 7 through the end of March), when hiking the trail is free for all visitors.
BUY IT IN ADVANCE! You'll avoid the lines, and be able to use the card's other benefits (like the bus to get from the Corniglia train station to the town, which is a big, stair-filled climb if you walk it).
You need the right footwear
There are signs all over the place at the entry points to the trail that say it is prohibited to hike the trail in sandals, and that you're subject to a hefty fine if you hike it in flip flops.
My brother and I hiked it in tennis shoes, and were totally fine (though it would have been a little harder if the weather hadn't been good and it had been wet).
My mom brought high-top hiking boots, and was happy she did.
If you don't have the right footwear, you can buy it in Manarola at Cinque Terre Trekking.
Start early or late
Seriously. If you can avoid it, do not hike this trail between the hours of 10:30 am and 3:30 pm.
The trail is narrow, with tons of stairs and steep drop offs, and plenty of places where only one person can go at a time.
When the day trippers arrive around 10:00 am, this trail becomes unbearably crowded. Believe us, we did the section between Vernazza and Monterosso midday, and it was hot, crowded, and an overall unpleasant experience.
Contrast that to the other section, which we hiked at 8:30 am and were the only people on the trail, which was magical.
Start before 9:00 am or after 4:00 pm (ish) for the best light and fewest people.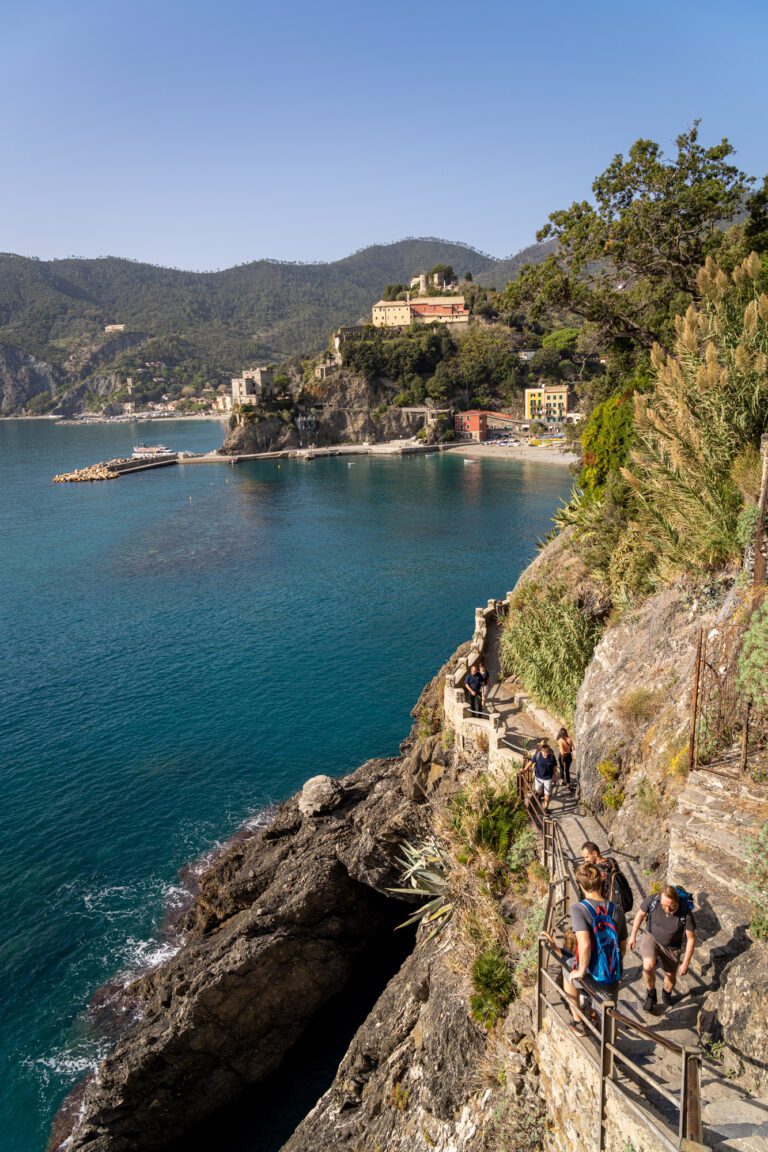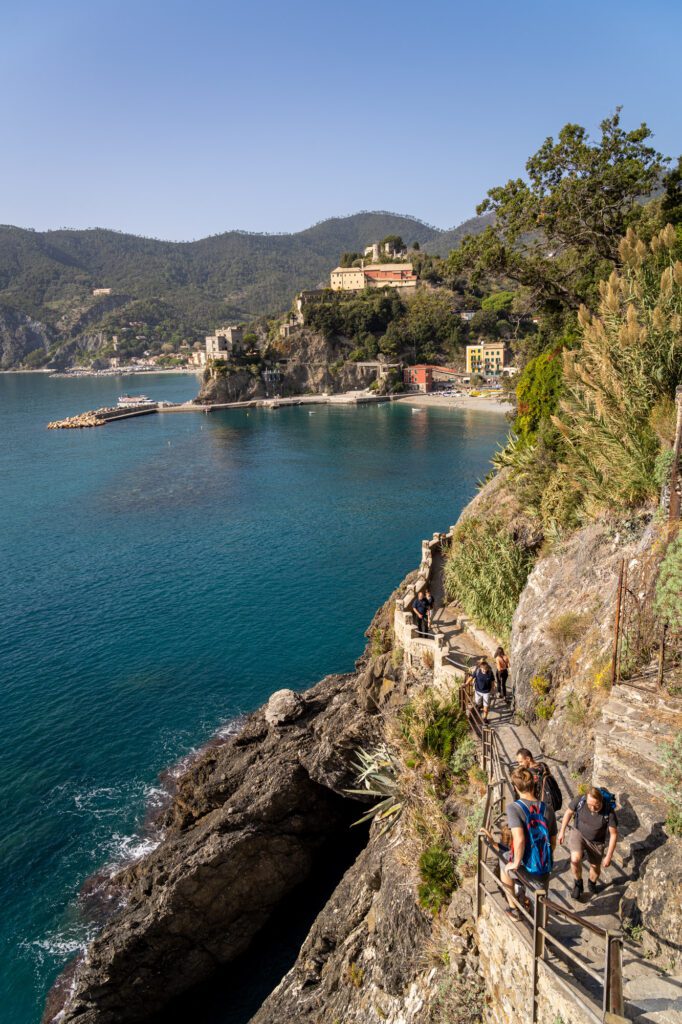 Now, on to the hikes themselves!
You'll notice that these two sections are adjacent to each other – covering the coastline all the way from Corniglia to Monterosso al Mare – and you can absolutely hike the whole thing in one day.
We'd start early in Corniglia, stop for a coffee at the Blue Marlin in Vernazza (here on Google Maps), and continue on to Monterosso, capping the day off with a meal in Monterosso and glass of local wine at Enoteca Da Eliseo (here on Google Maps). It'll take you the majority of a day, especially if you stop and explore in Vernazza.
Corniglia to Vernazza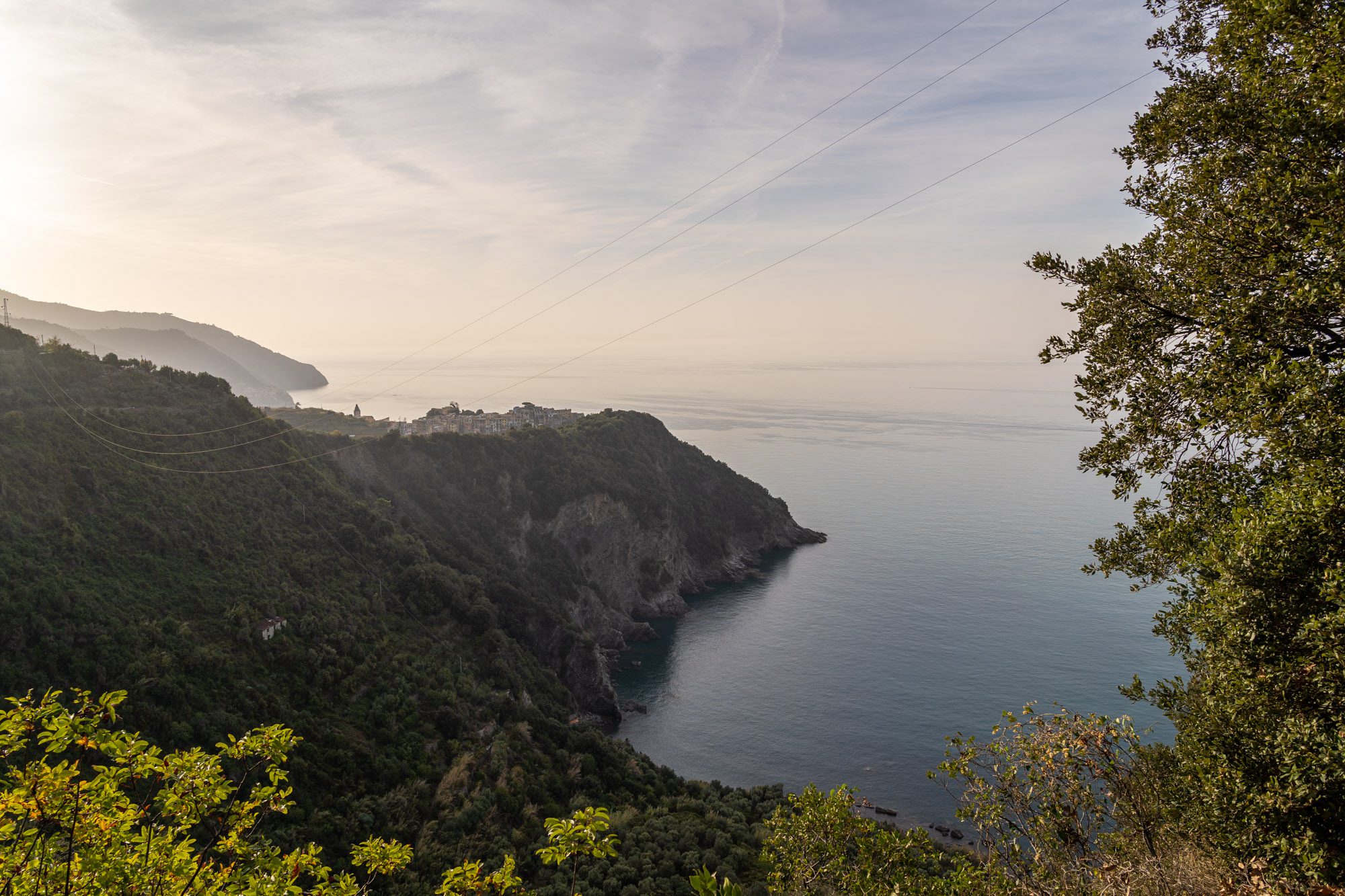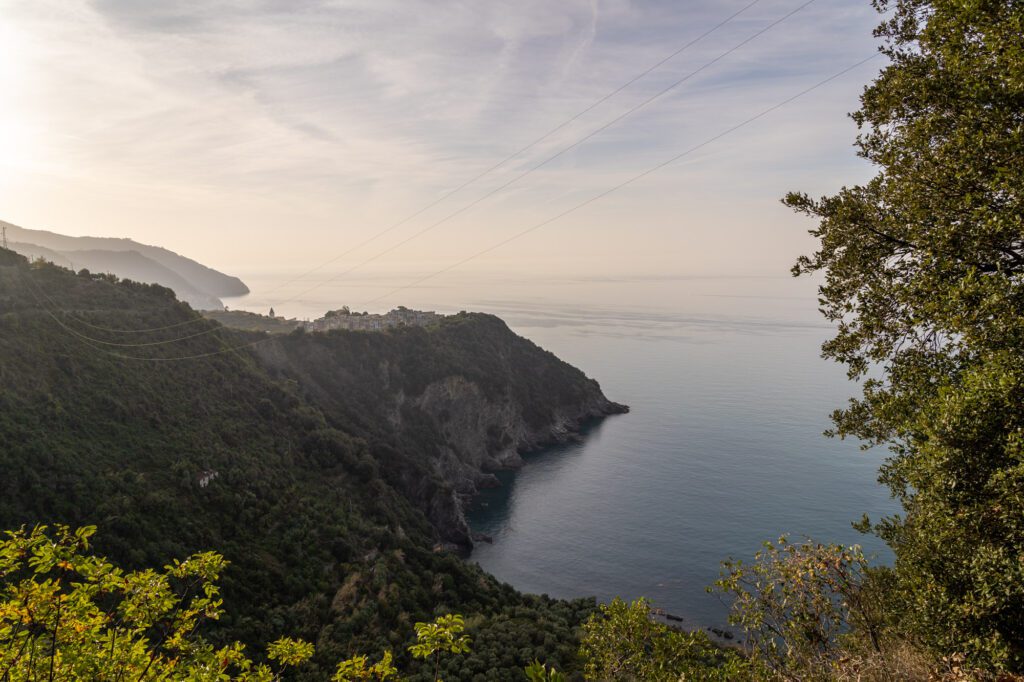 This was by far our favorite section of the trail, even if you put aside the midday crowds we experienced on the other section. The trail hugs the coast, and you can see the water for most of the hike, which we loved.
We'd highly recommend starting this section early in the morning (before 9:00 am) and hiking from Corniglia to Vernazza, so that the sun is roughly at your back as you hike (in the summer and early fall, anyway).
Two things to know here.
One, the climb from the Corniglia train station to town is brutal, but there's a shuttle that stops across the street from the station that will take you into town (included with the Cinque Terre card – more reason to buy it in advance).
Two, doing it this direction means you have a more gradual climb and a very steep descent on the other end (which we usually prefer).
The hike starts with a climb out of Corniglia, and you'll immediately find yourself hiking through olive groves and terraced vineyards. As you climb, make sure to look behind you, because there are some excellent views of Corniglia and its colorful buildings perched on a bluff above the sea.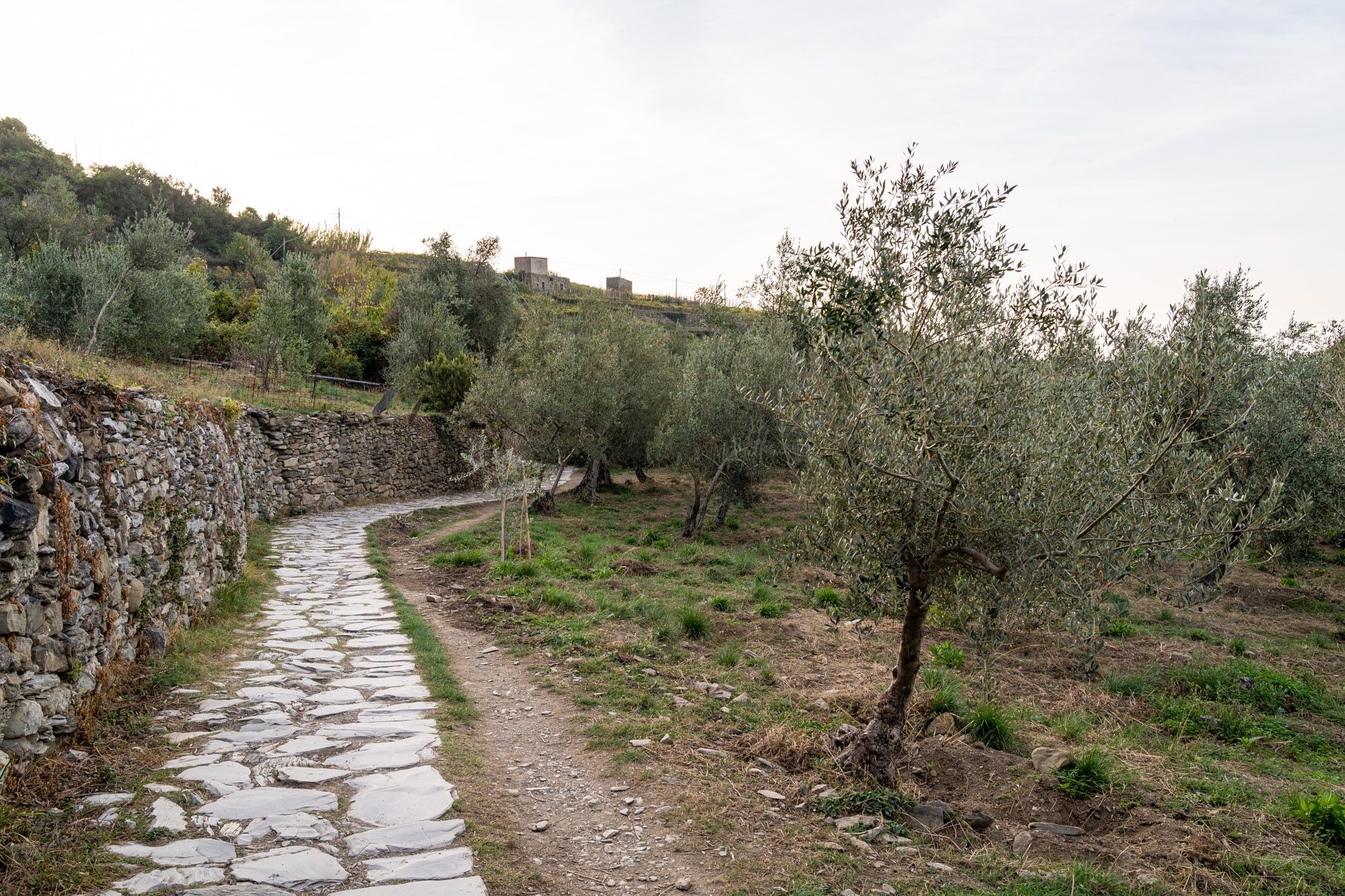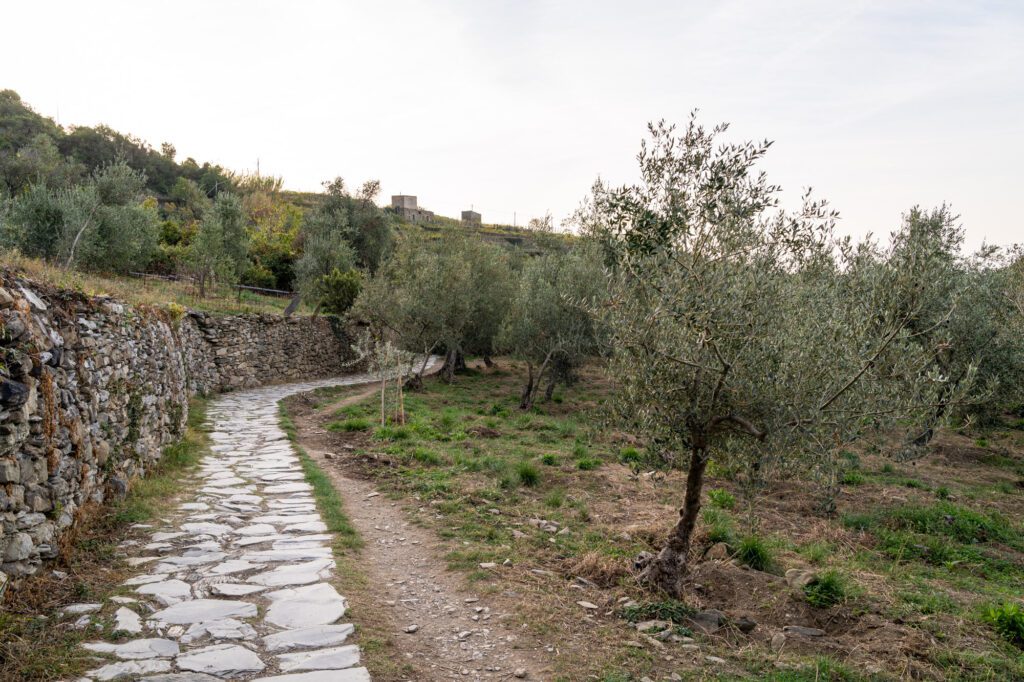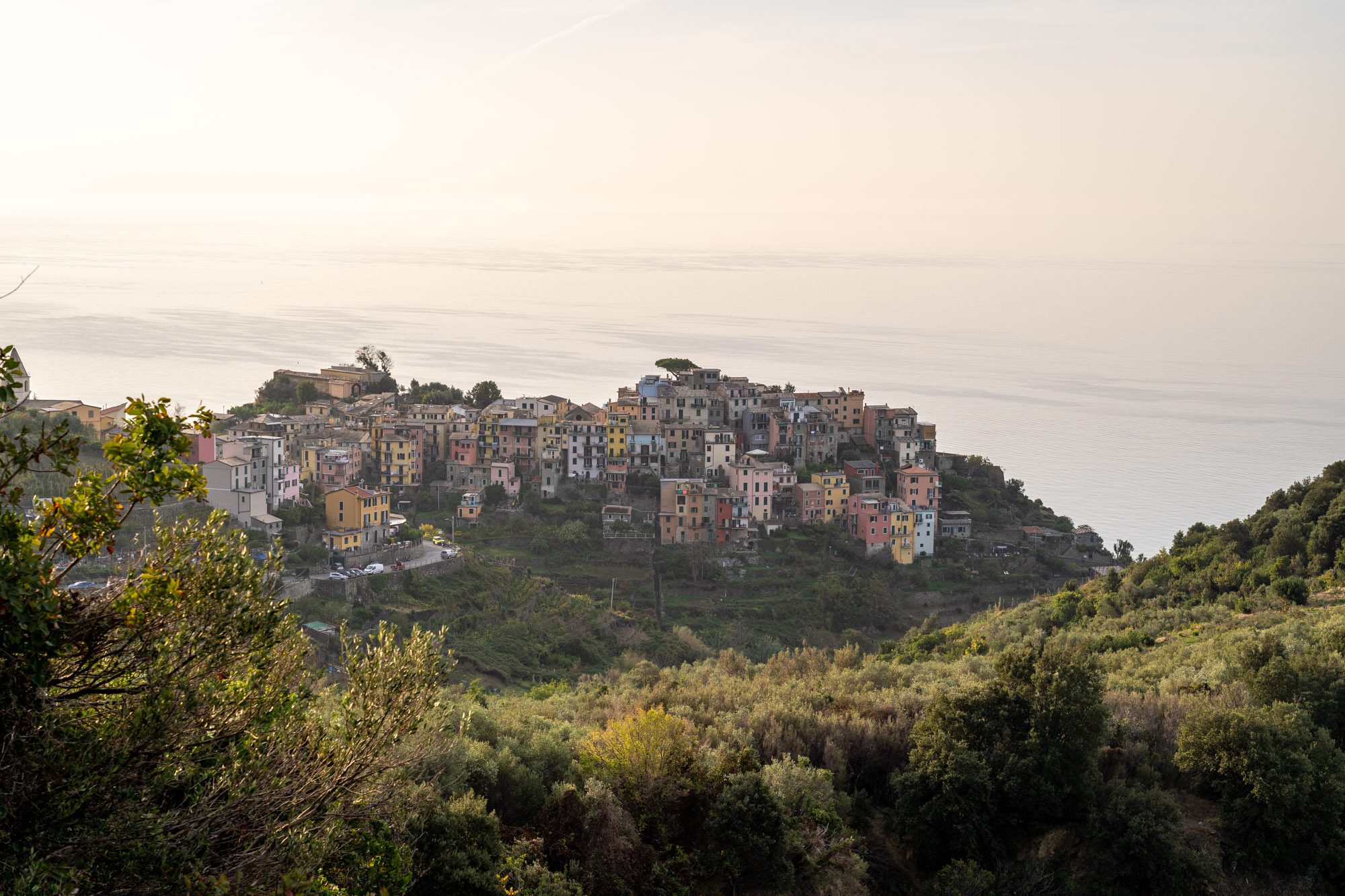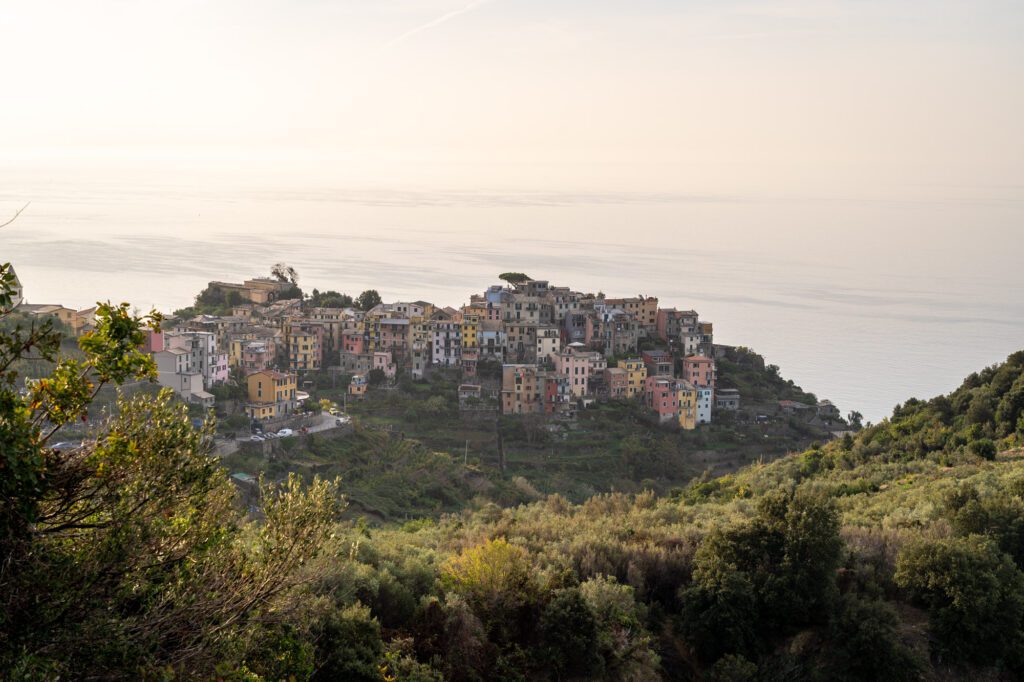 Eventually, you'll hit the high point, and start the middle section of the trail, which has some ups and downs.
Right before starting the descent in earnest, you'll reach a little bar where you can get some fresh orange juice and coffee and take it up to their patio, which has a spectacular view. This would also be a great place to have a spritz in the afternoon and watch the sunset. It's called Bar il Gabbiano.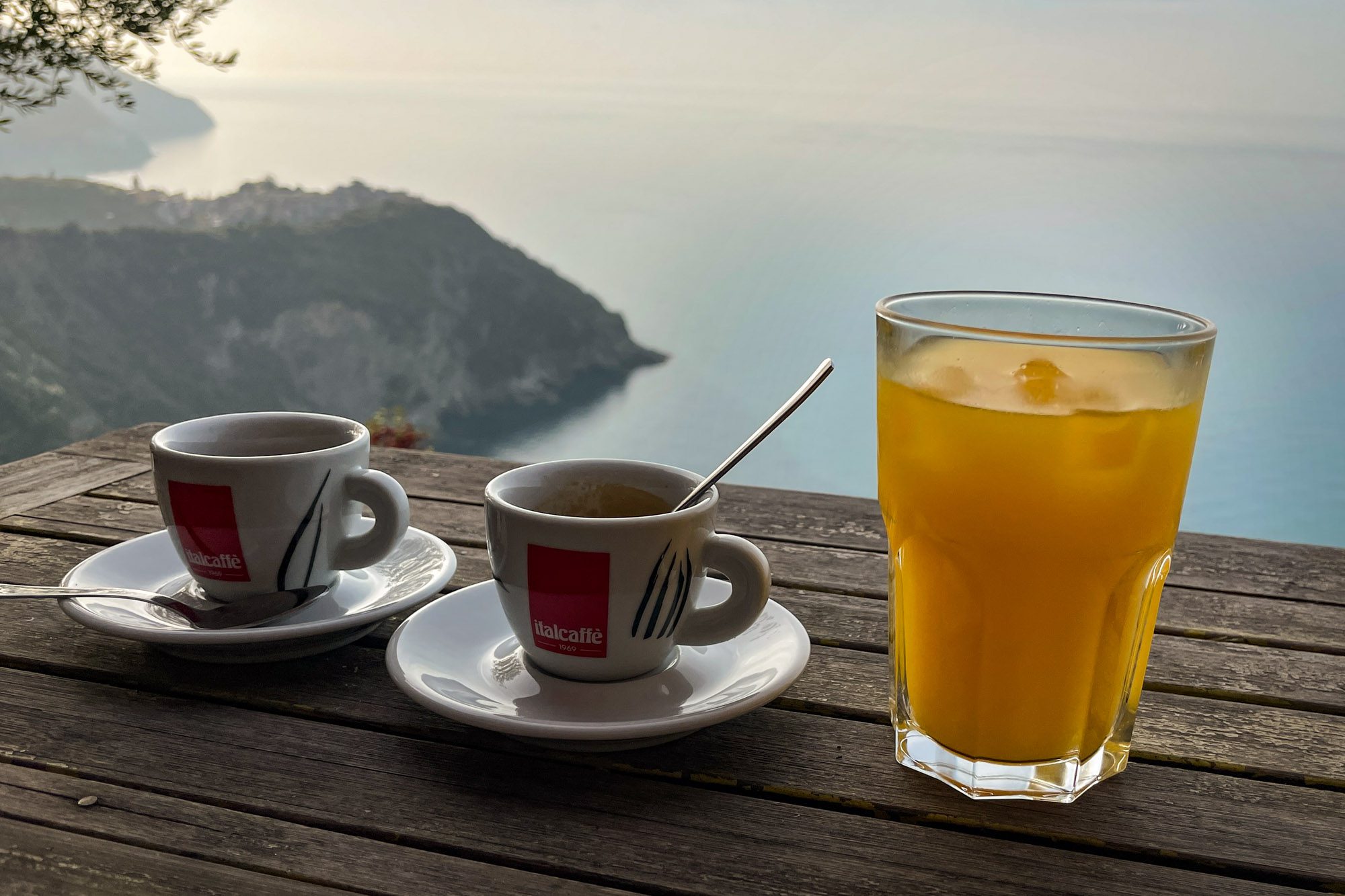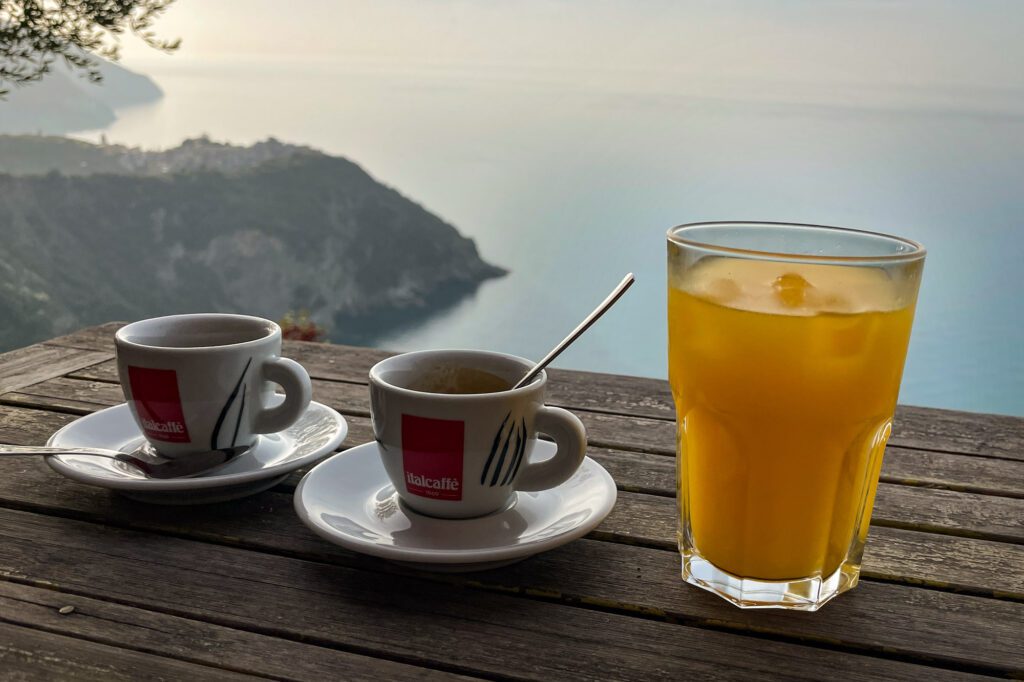 From there, it's a steep descent down a long set of tall steps.
Along the way, there's a couple of great views of Vernazza, but our favorite viewpoint is here.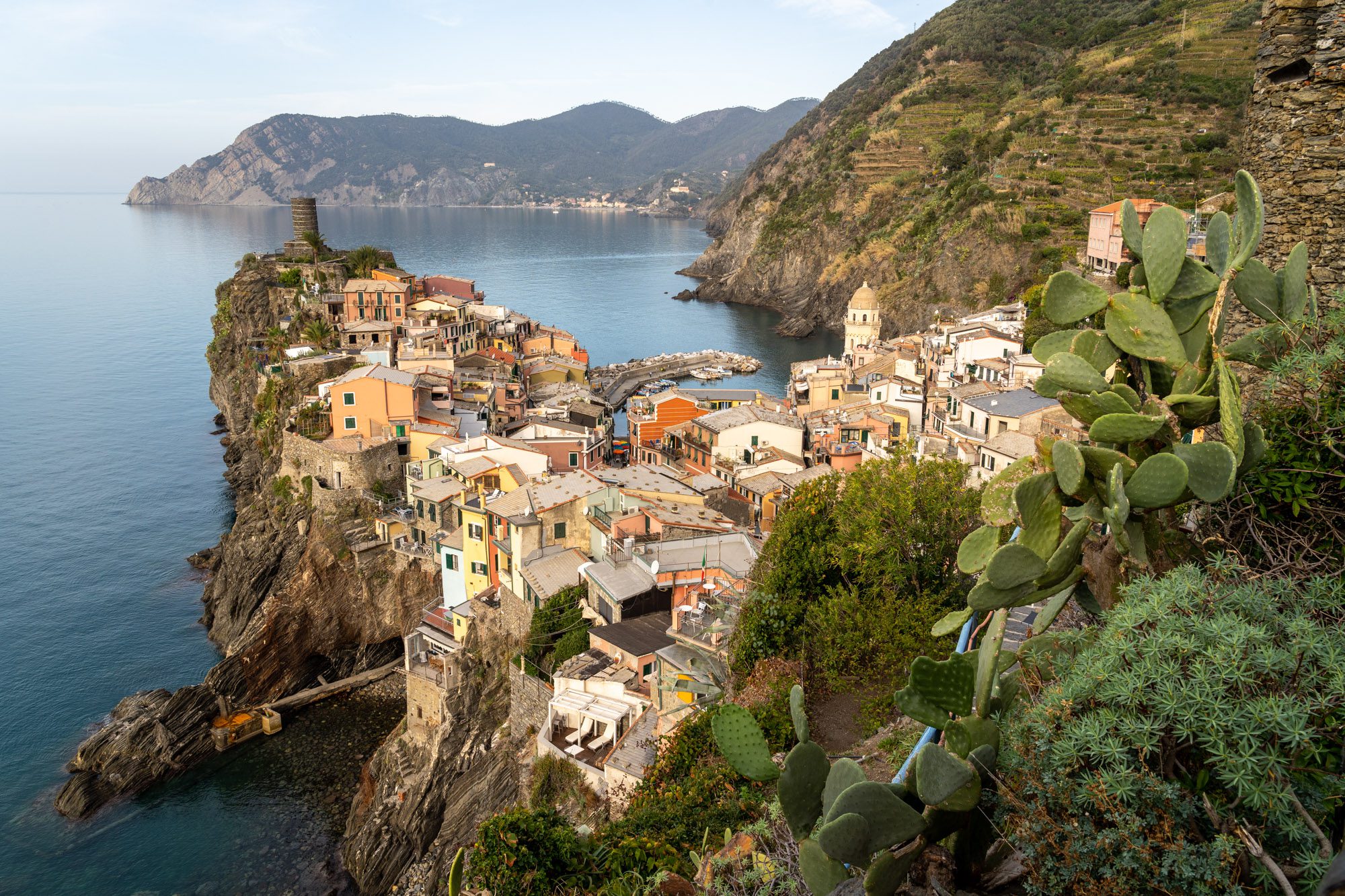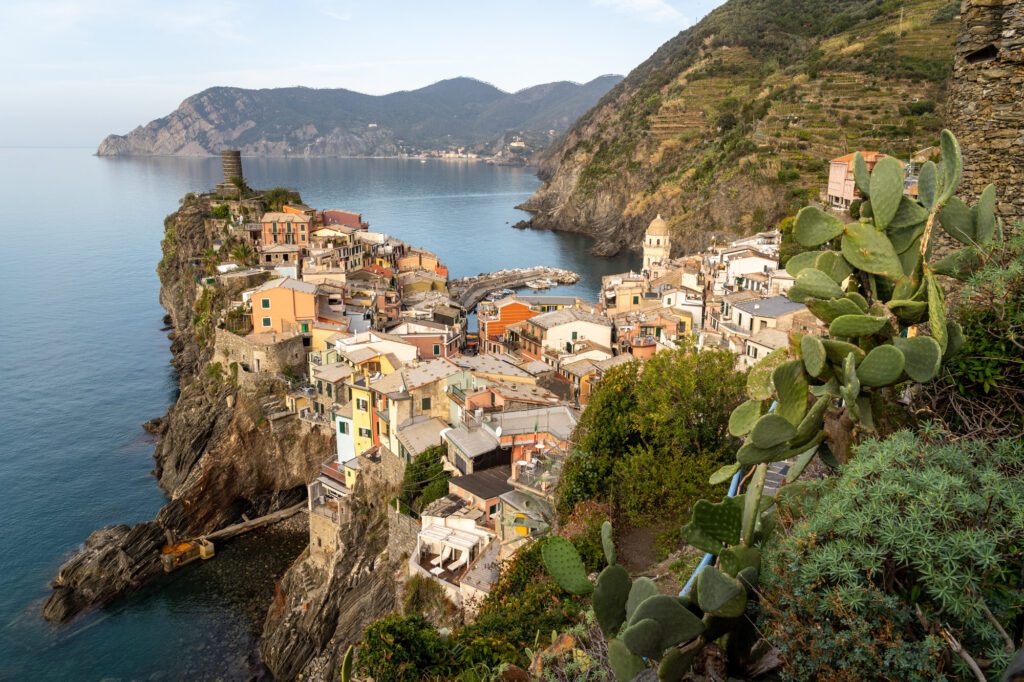 Vernazza to Monterosso al Mare
This section was a little less pleasant for us because we got a late start, but we'd still recommend doing it. There are also fewer spectacular views along the way because you're going to be hiking through the forest for the bulk of the trail.
It's also the harder section of trail, with lots of climbing to be done along the hike.
This is another hike that you should definitely start early in the morning to beat the crowds (or late in the afternoon).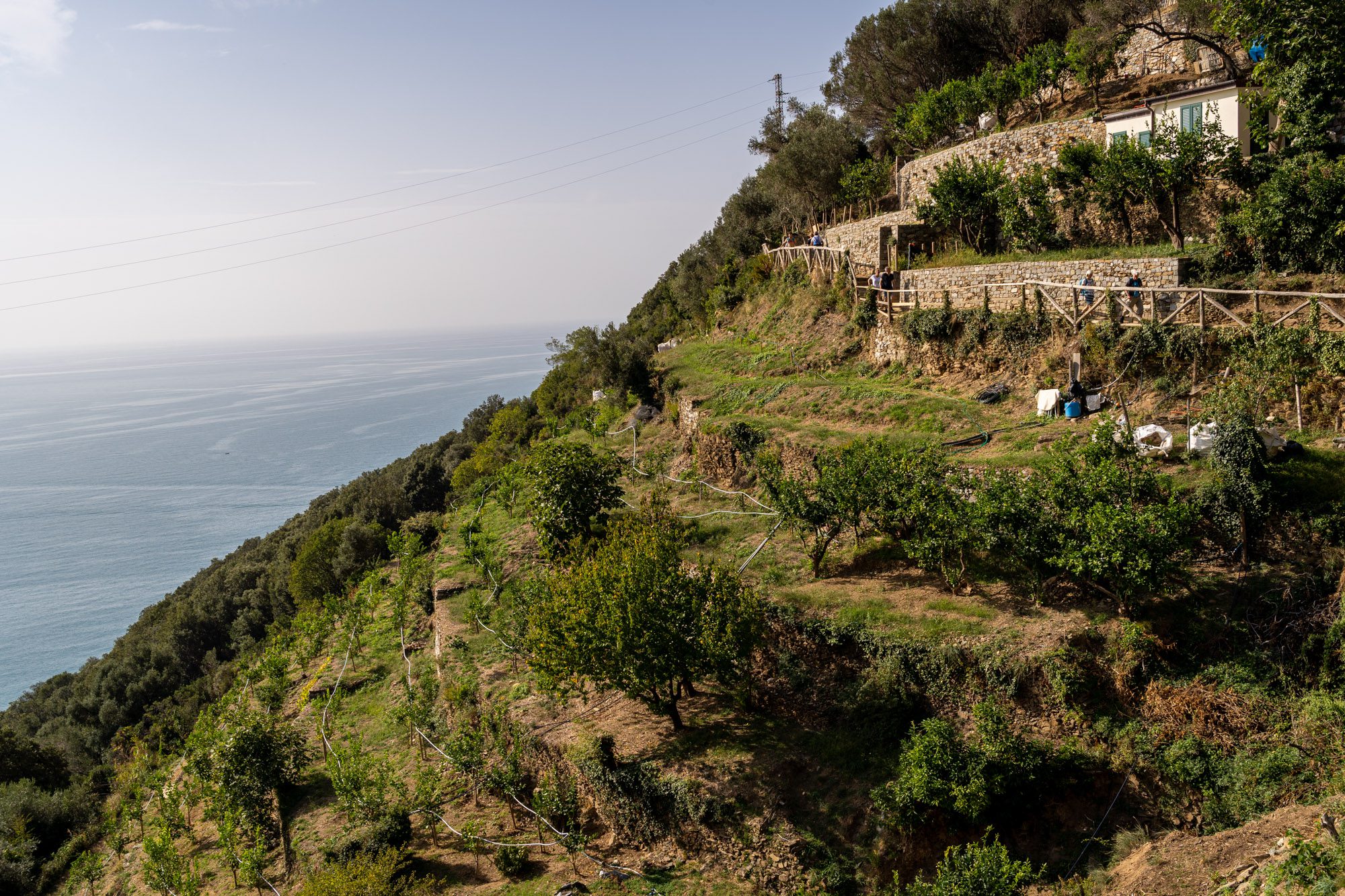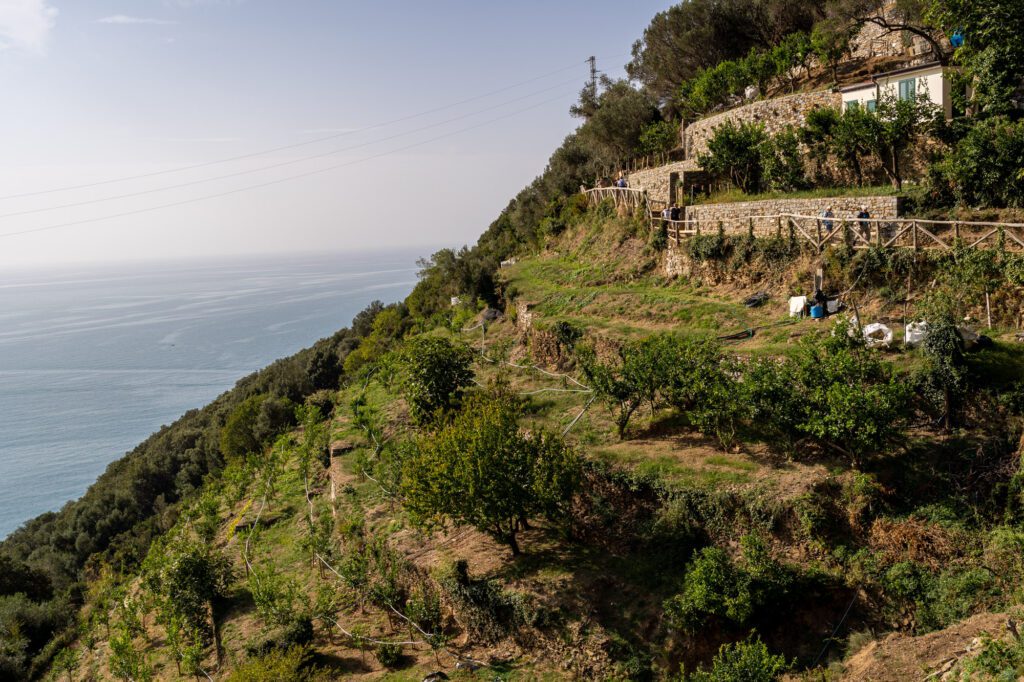 Either way you slice it, this hike includes a brutal, stair-filled ascent, because the trail ascends steeply to a point, then continues along relatively flat, then descends steeply back down to sea level.
The first quarter of a mile or so in either direction is going to be tough – take it slow, drink water, and make sure you're wearing sunscreen.
An Alternative Hike: Through the Vineyards between Manarola and Corniglia
If you're looking for an alternative to hiking the Blue Trail, either to avoid the fee, to avoid the crowds, or because you've already done those two sections, we've got a treat for you!
We fell into the latter category. Having already done the two parts of the Blue Trail that were open, we were looking for a third hike to tackle, and got a recommendation to do the hike from Manarola, up the hill through the terraced vineyards to Volastra, and down into Corniglia.
Keep in mind that this hike is significantly harder than the hikes along the Blue Trail because you have to go up and over the mountain to Volastra, which is a tiny town on the hilltop, before you can descend into Corniglia.
For reference, you'll have to climb 1,100 feet on this section of trail (with many, many stone steps), compared to about 500-600 feet on the two sections of the Blue Trail.
If you're concerned about fitness, you can take the bus from Manarola up to Volastra to cut out the bulk of the climbing (but also the bulk of the best views).
You'll begin from the wooden walkway in Manarola, which is roughly here, and start up the hill that towers over Manarola to the north. Follow trail 6p (that's the name of the trail) and signs to Volastra, which means you'll take a right to climb the steep set of steps up the hill.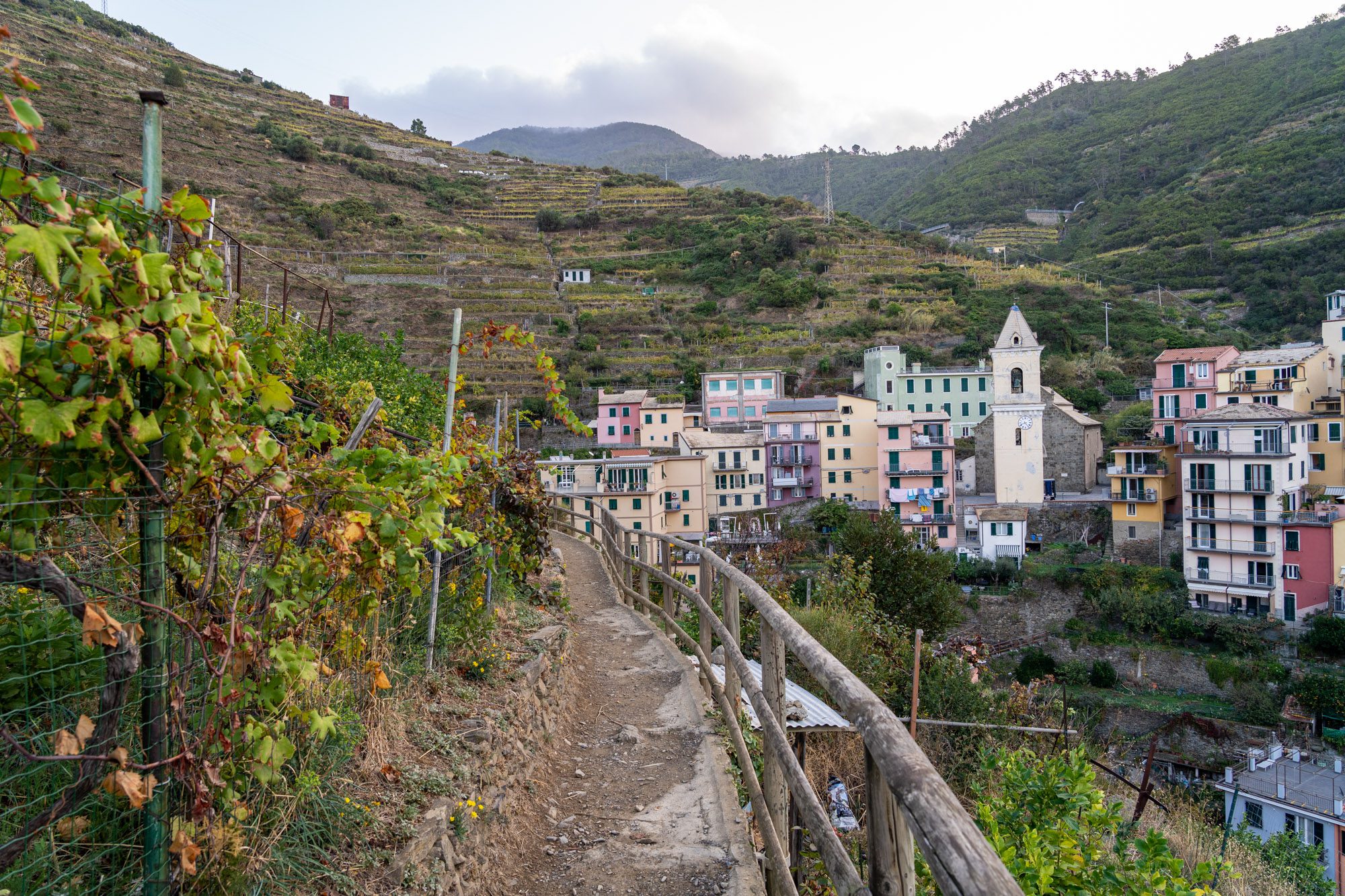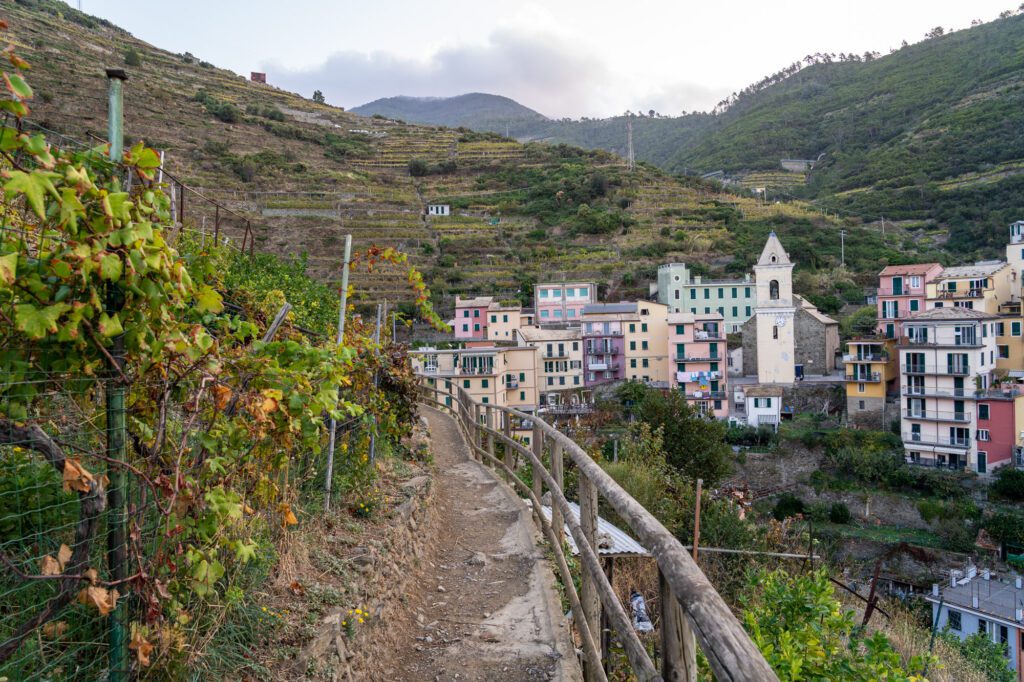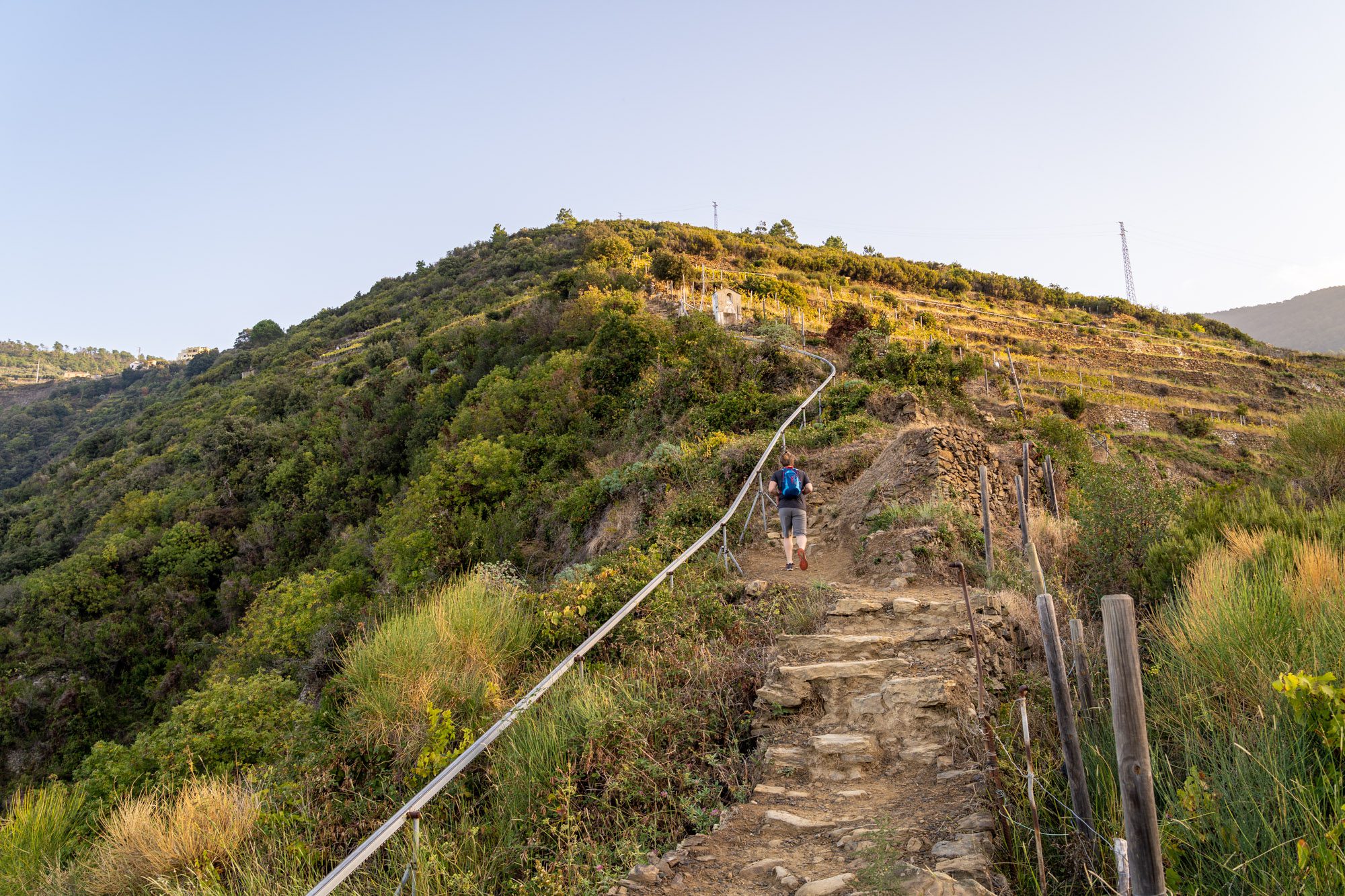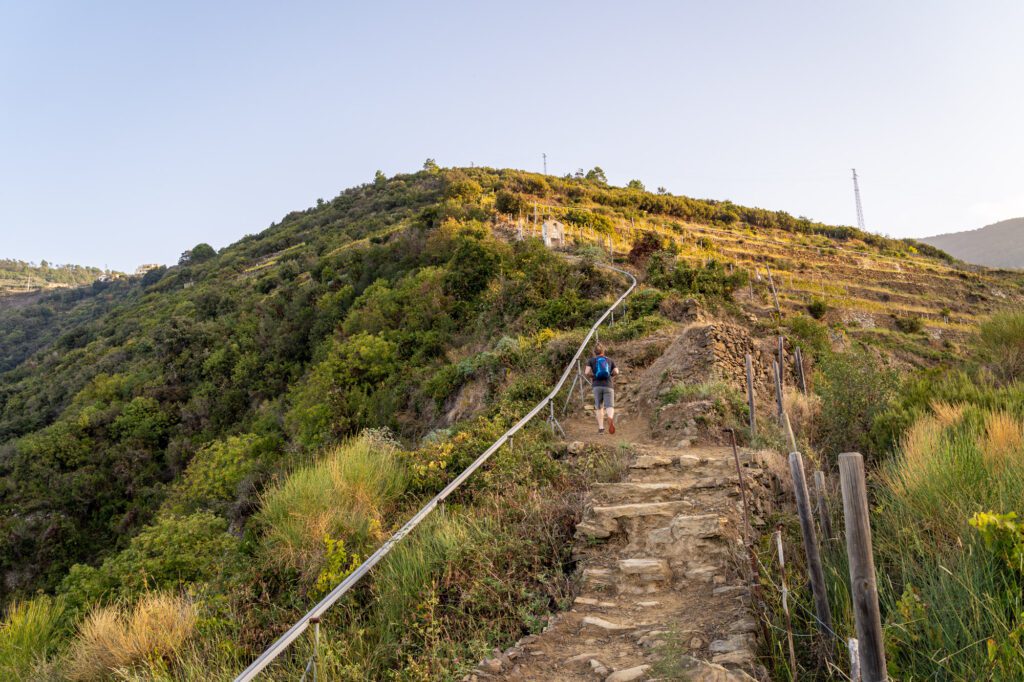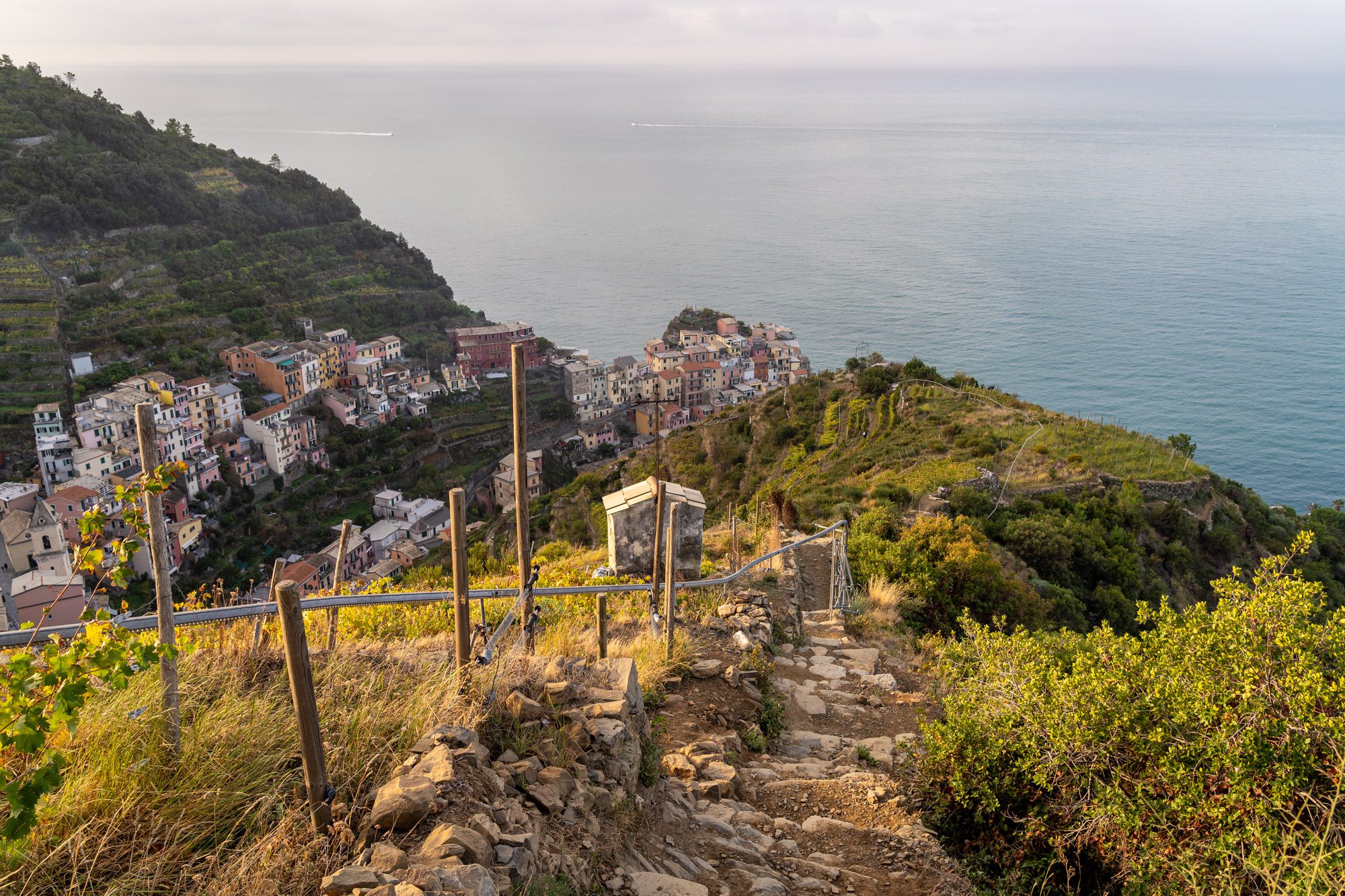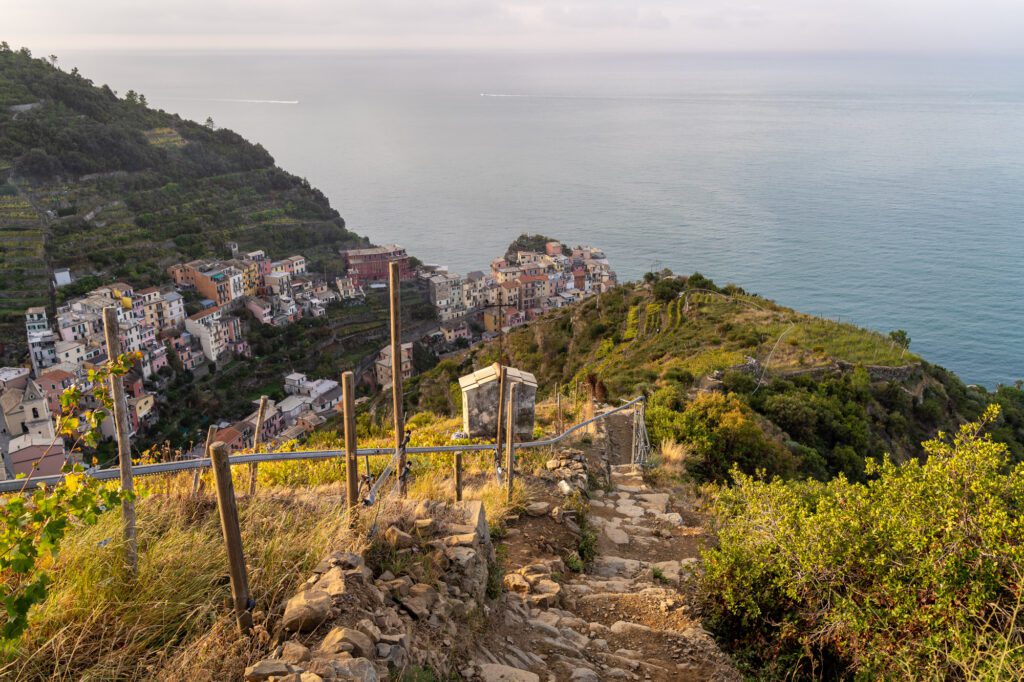 As you climb, the views of Manarola get better and better, and you'll find yourself right in the middle of the famous terraced Cinque Terre vineyards.
Eventually, you'll reach a junction in the trail, where it meets the road, and you'll take a left, continuing to climb up to Volastra.
Congratulations! If you've made it this far, you've essentially made it to the high point of the hike!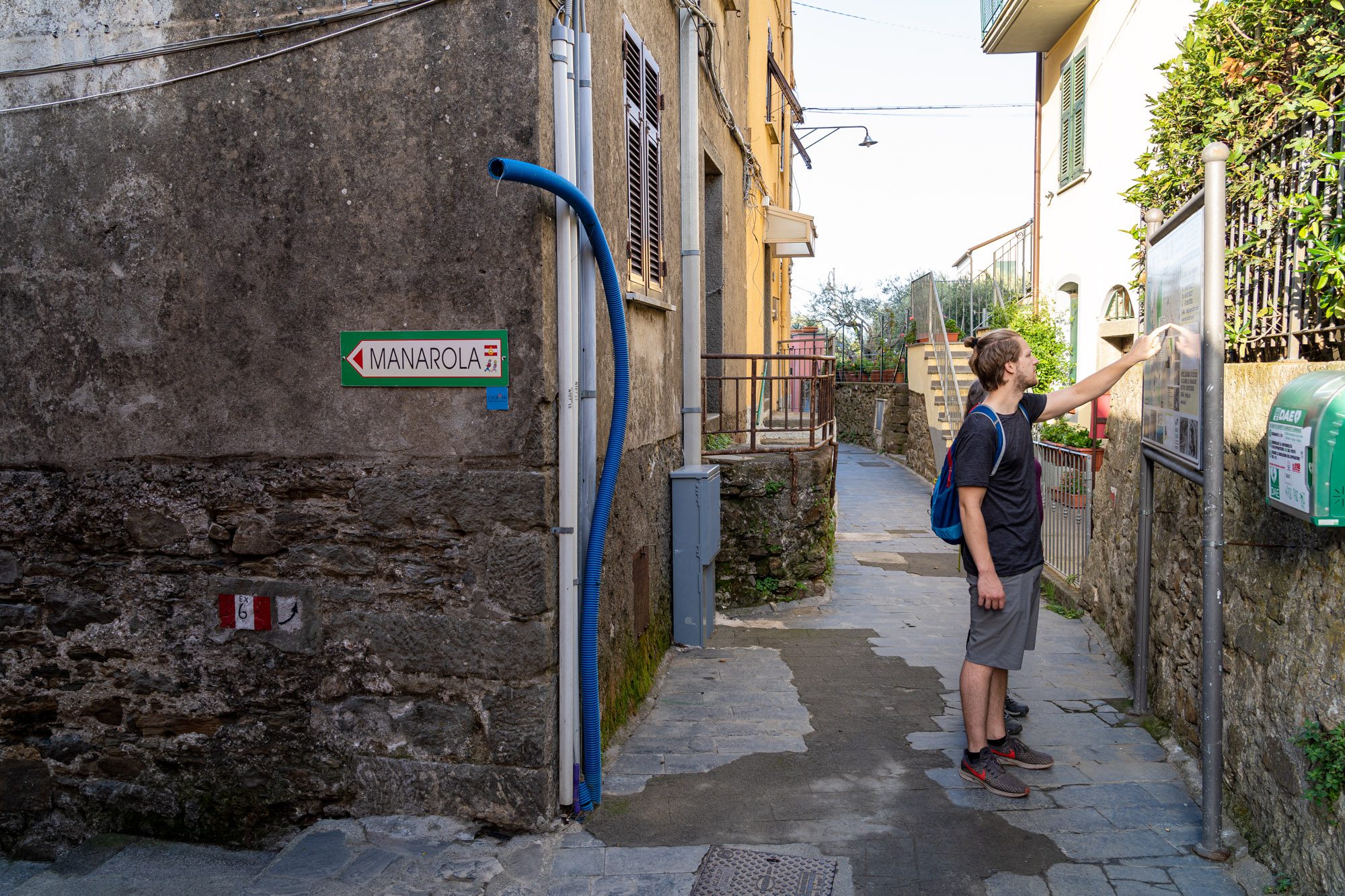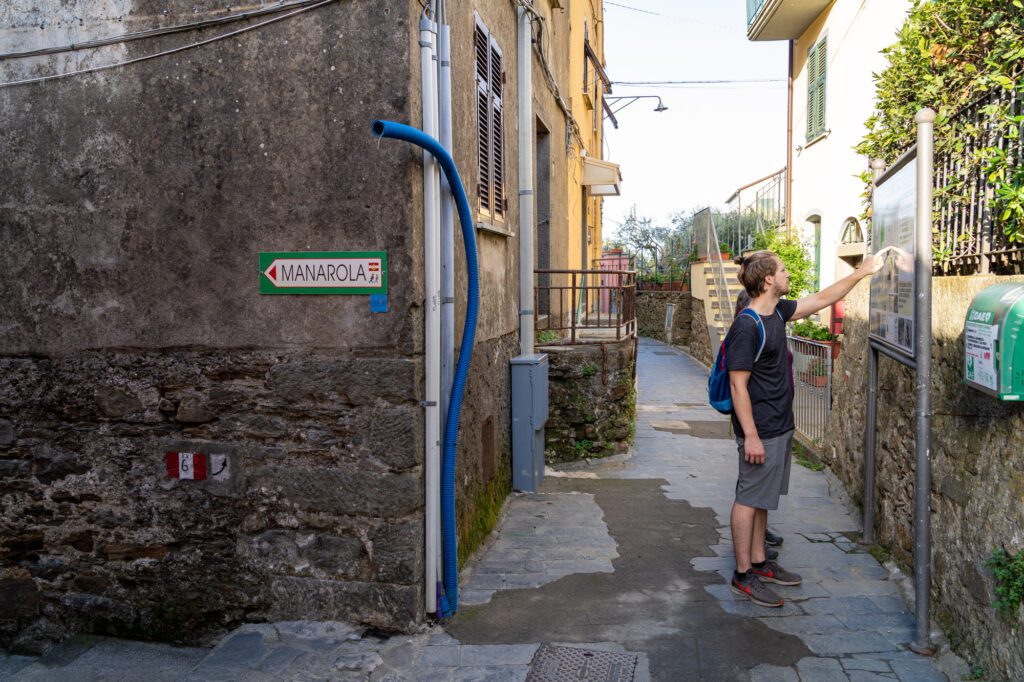 We'd highly recommend a slight detour to Società Agricola Cooperativa 5 Terre (here on Google Maps), a winery up above Manarola just below Volastra. They were closed when we were in the area, but we tried their wines at a wine bar in Riomaggiore (and, we should note, bought a special bottle to bring home), and were bummed we couldn't actually visit. More on this in the next section.
From there, it's a mostly level walk along the hillside, and a steep descent immediately before arriving in Corniglia.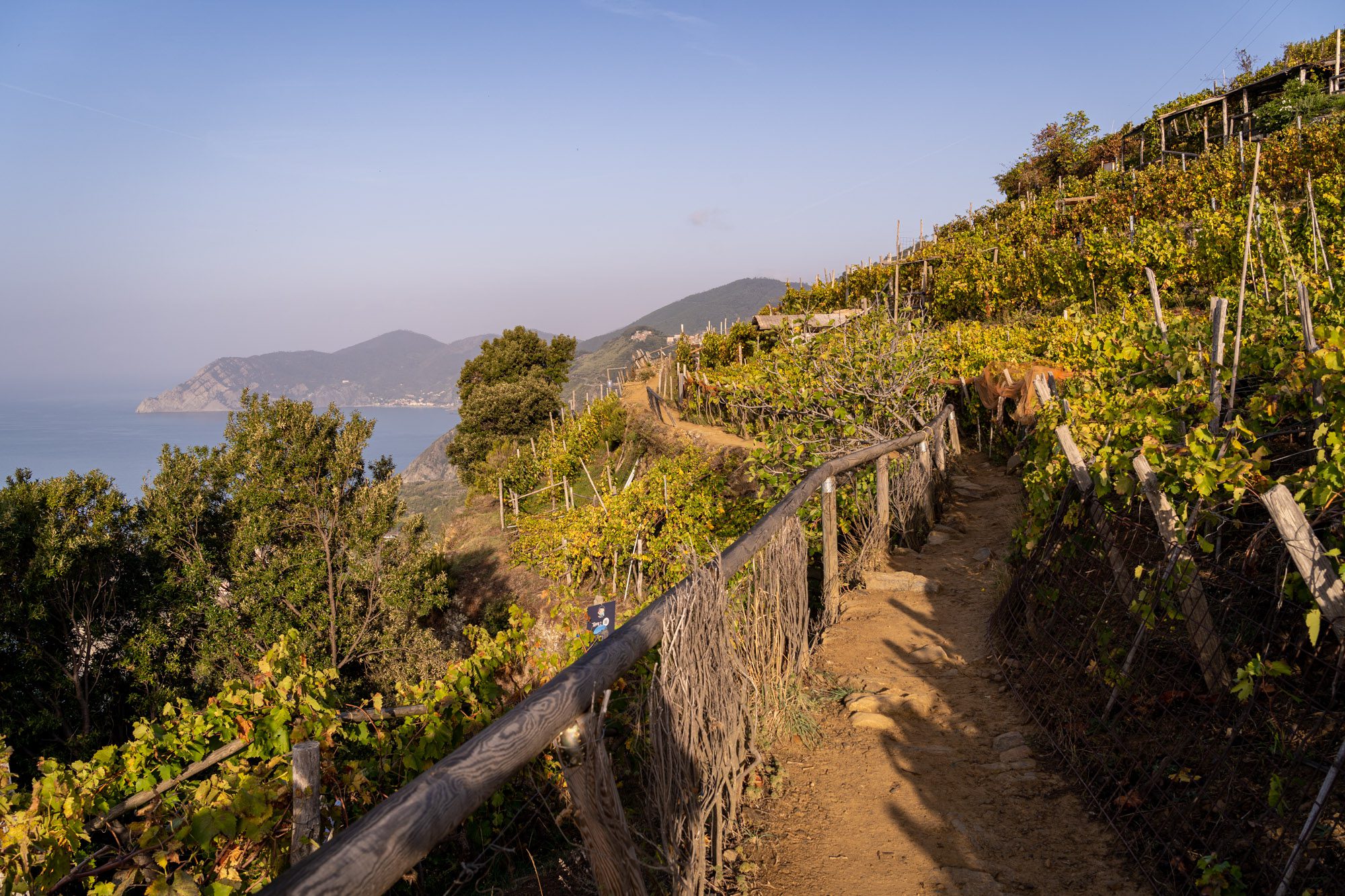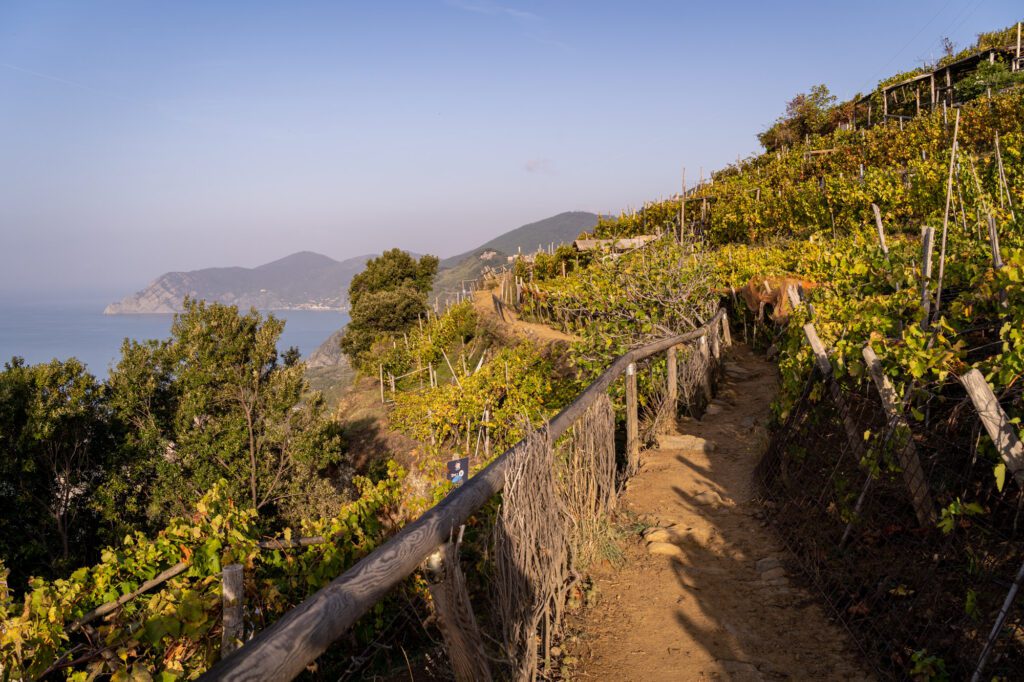 Discover the Two DOC Wines of the Cinque Terre
If you've spent any time in Italy at all, you've likely come across a product or two that falls under a "DOC" (used for wine) or "DOP" (used for food products) designation.
All that means is that, when you see the name and seal, the product in question is guaranteed to have come from a specific region (and often uses a specific production method).
In the Cinque Terre, there are two wines that you should turn your attention to. We'll talk about those two wines first, then tell you where to try them (we have three specific recommendations based on our experience).
Cinque Terre DOC
The first wine is the aptly-named Cinque Terre DOC, which is a white wine made of grapes grown in the terraced vineyards that you'll see all throughout the Cinque Terre. It must be made up of 40% bosco grapes, and up to 40% albarola and vermentino.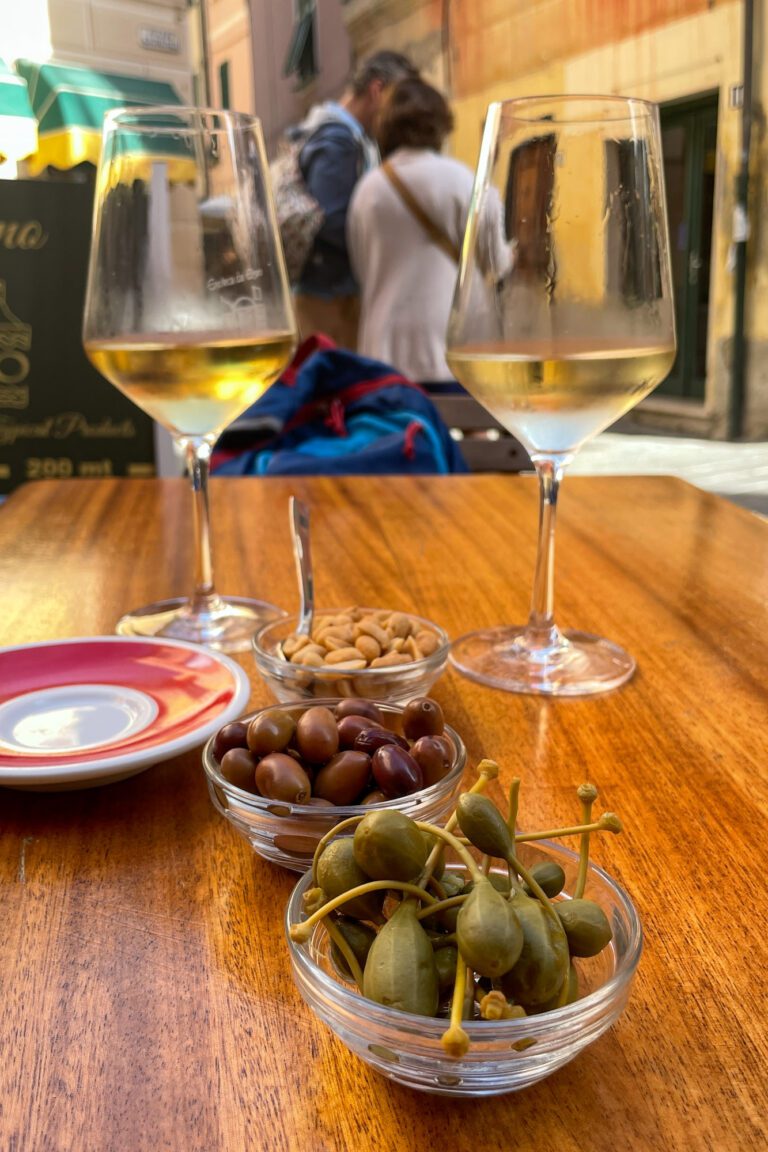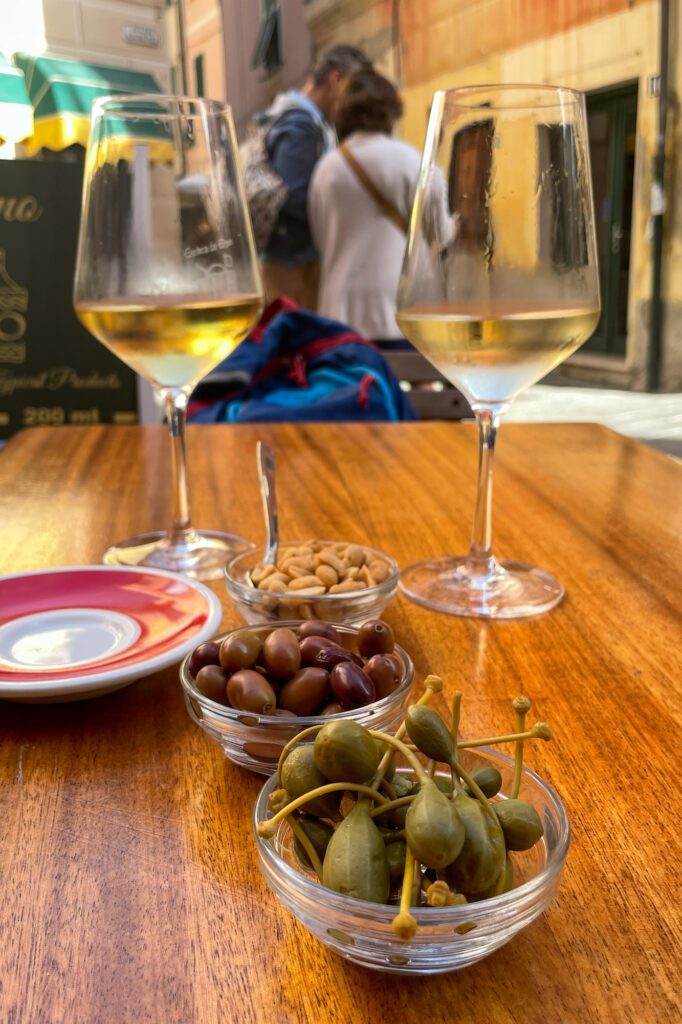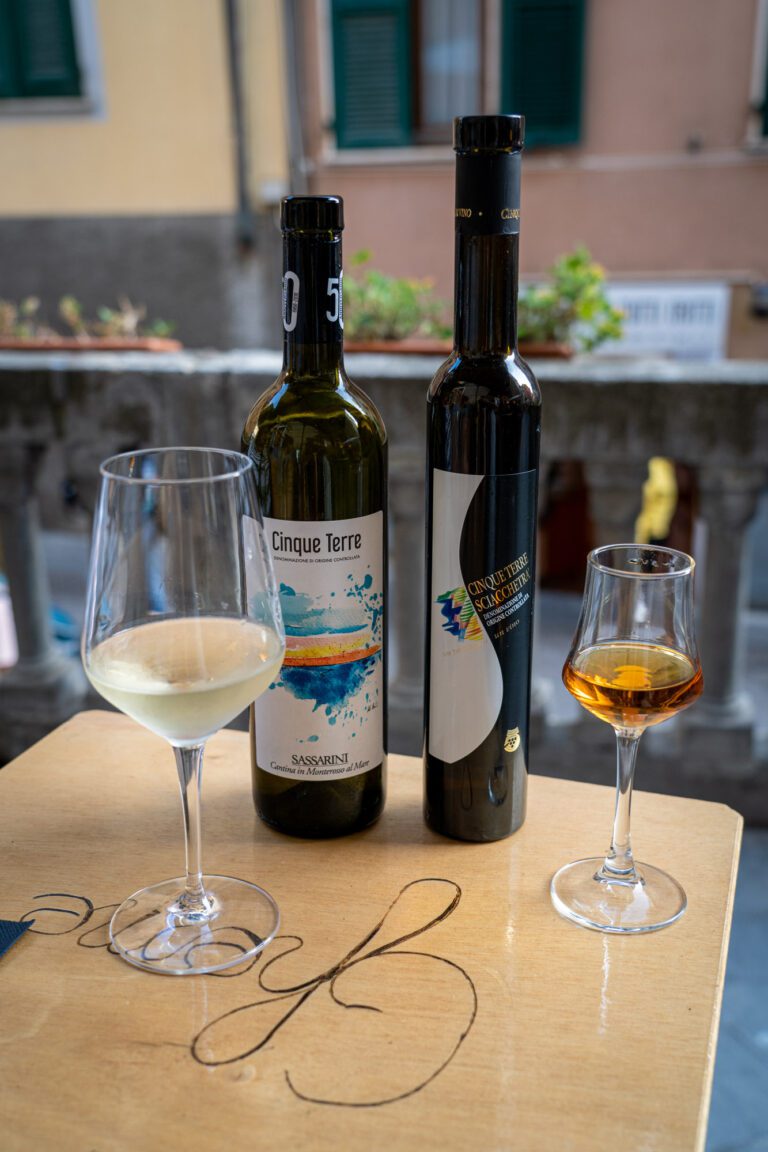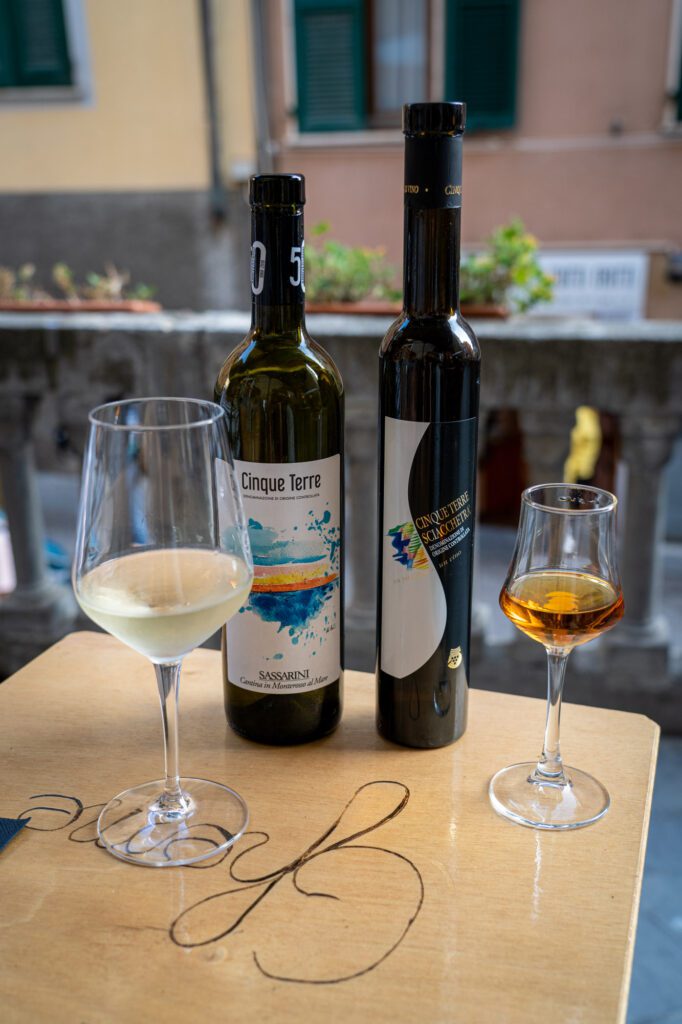 We tried a few, and all of them tended to be on the dry side, but the wines varied wildly depending on the specific mix of grapes.
We had some that were bone dry with high minerality, and some that were semi dry with a heavier body and darker golden color.
Sciacchetrà
The second wine is a fun one. It's a complex sweet wine called Sciacchetrà, and while I'm not usually a fan of sweet wine at all, I ended up carting a bottle of it home. It uses the same grape varieties, but a completely different production method.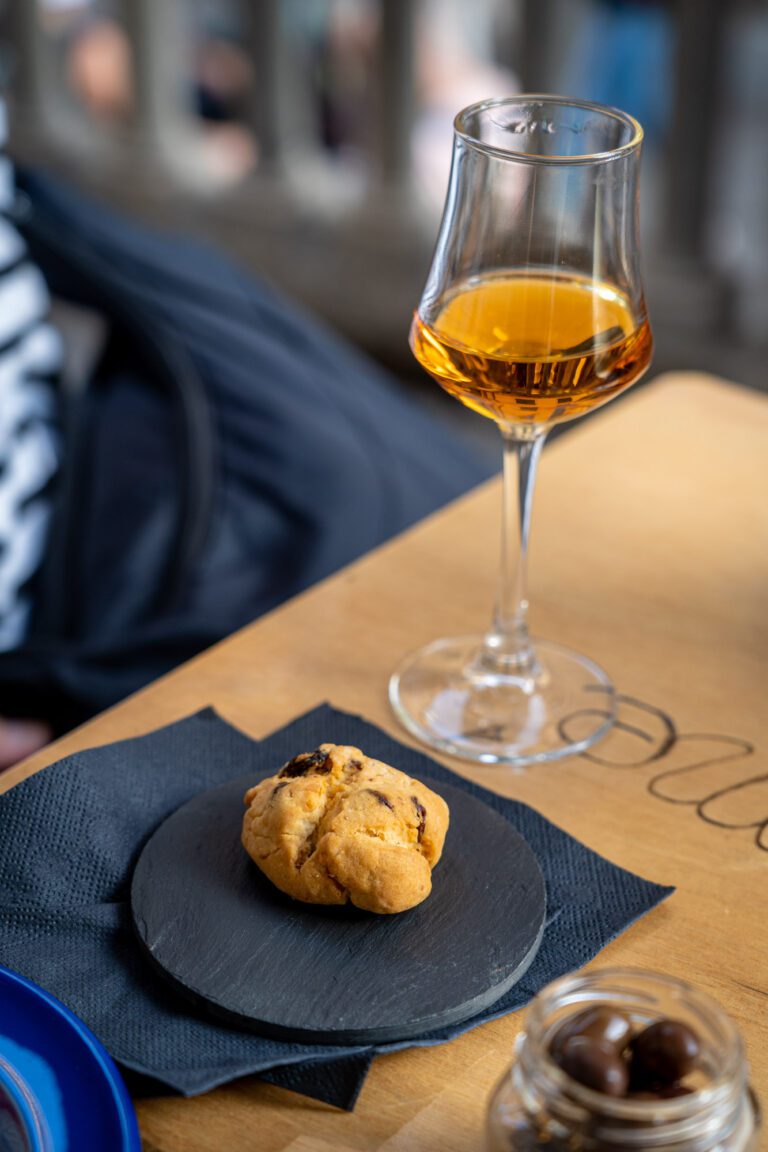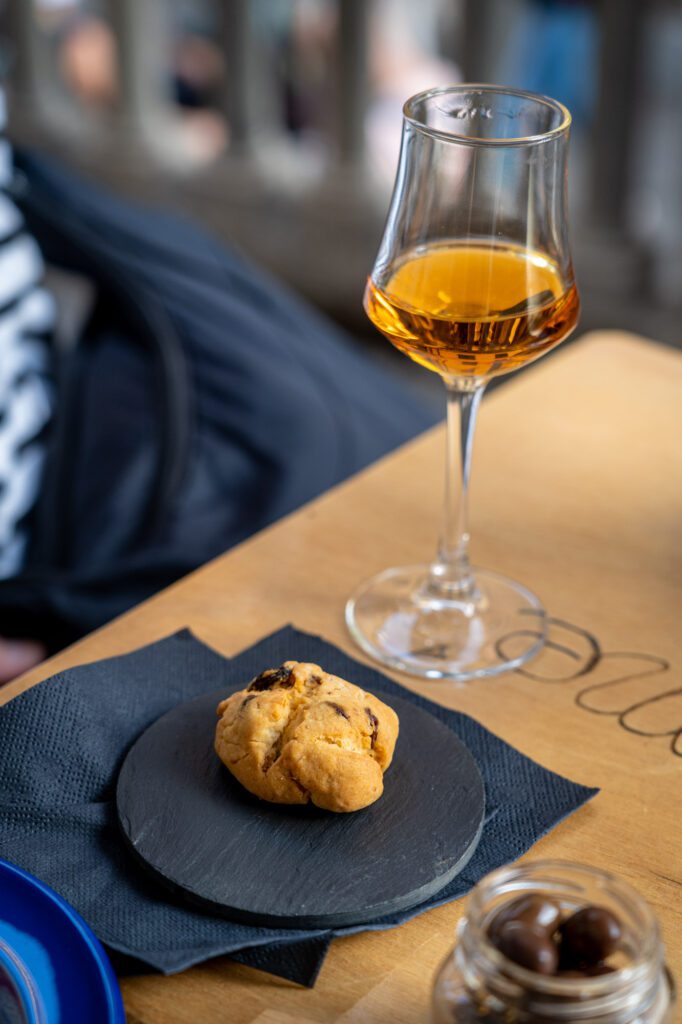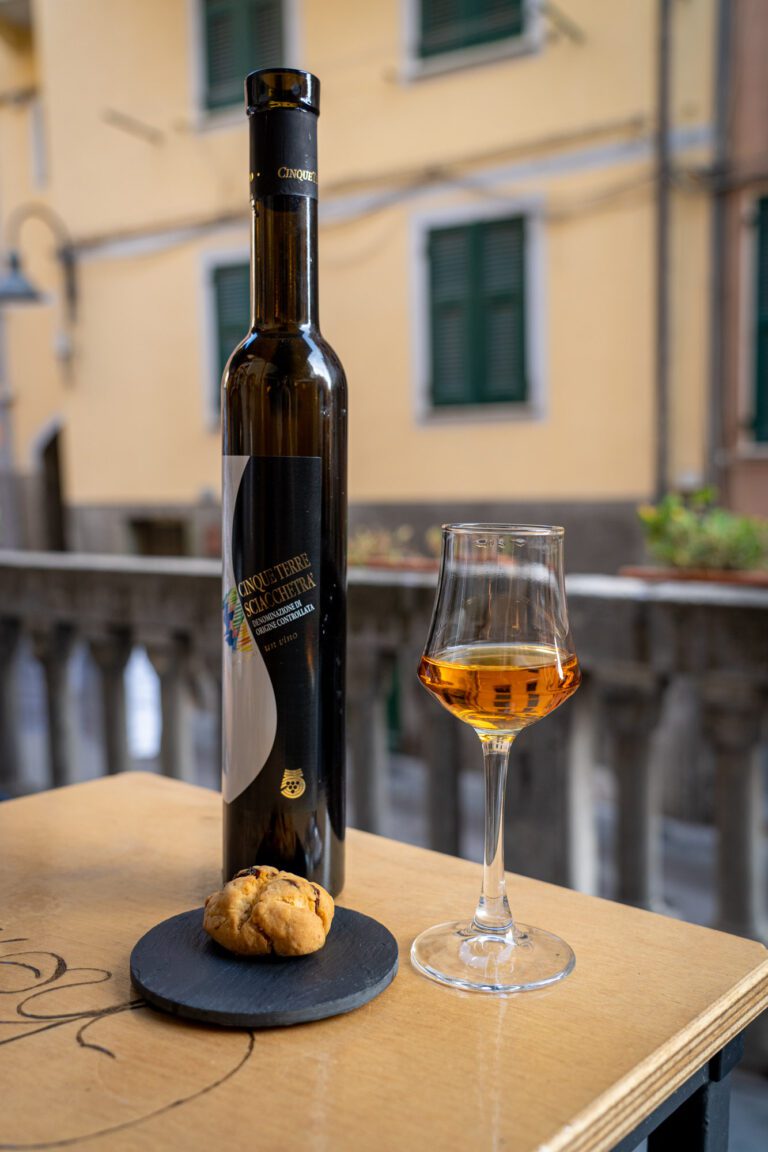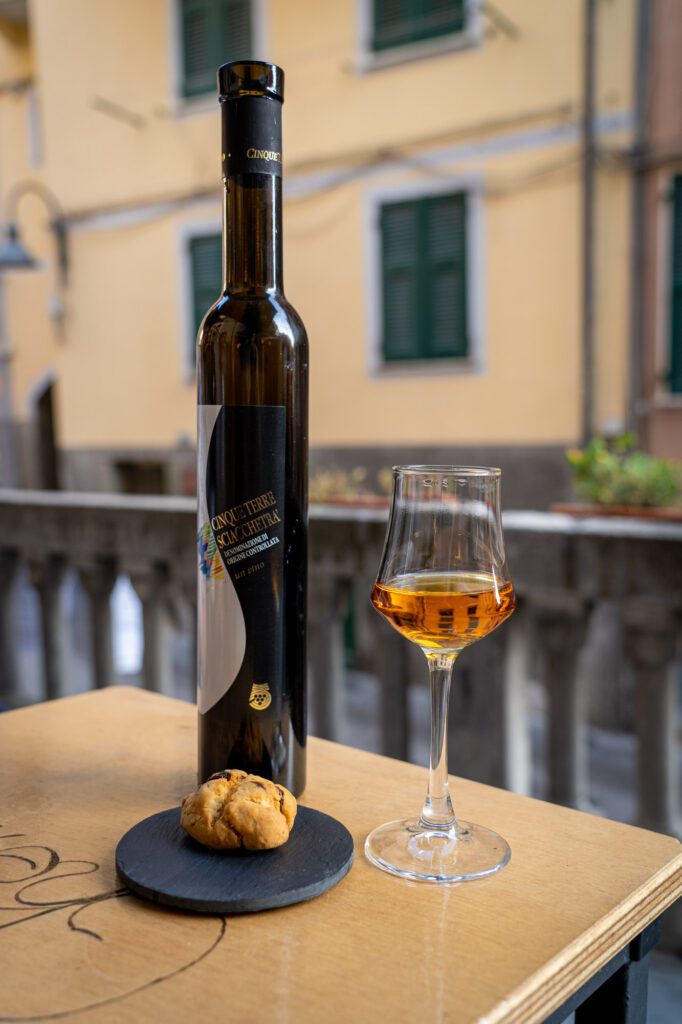 The production is tiny – for reasons we'll get into briefly in a second – and it's traditionally given as a token of good luck around things like births and graduations.
It's an expensive wine and supply is low, mostly because it's incredibly labor intensive.
Before the main harvest in the Cinque Terre in September, the winemakers go out into the vineyards and manually pick the best of the best grapes, which are dried to get rid of the water and concentrate the flavor and sweetness.
Then, they are picked through one-by-one after drying to ensure the quality.
Which, as you might imagine, means you can't make a whole lot of it, and the bottles you do make need to be relatively expensive.
We really enjoyed it, and would highly recommend at least trying a glass while you're in the area, even if you don't think you like sweet wine. It's sweet, but also complex and interesting.
Where to Try the Wines of Cinque Terre
Here are three places we'd highly recommend visiting if you're interested in trying these wines with the guidance of knowledgeable, friendly staff. Two wine bars / shops, one producer.
Ghemé (Riomaggiore): This is by far our top recommendation, mostly because the second we sat down, Laura (the sommelier) walked up, took our order, and came back with bottles and an incredibly informative 15 minute crash course on the wines of Cinque Terre. We tried a few different wines – including the two above – and she was incredibly friendly and knowledgeable as she explained to us the intricacies of making Sciacchetrà, and how winemakers navigate the terraced vineyards. Highly recommend it!
Enoteca da Eliseo (Monterosso): Another excellent experience! We sat down around lunchtime on a weekday, and a friendly man (spoiler: it's Eliseo!) walked over and patiently listened to my attempt to ask him for two Cinque Terre DOC wines that were very different. When he came back, he had exactly what we were looking for – two very different expressions of the Cinque Terre DOC. He also recommended heading a few hundred meters up the hill to Buranco…
Buranco (Monterosso): Just up the hill from Enoteca da Eliseo, this place is a producer (rather than a wine bar or shop), and was a recommendation from Eliseo. It's a steep walk from the town, but you can taste their wine or join a hike through the vineyards. More information here.
Cantina 5Terre (Manarola): This is the winemaker behind the sciacchetrà we bought. Unfortunately, they were closed when we were in town, but they do tastings, cellar visits, and more. You can find more information here.
Catch a Magical Sunset
Some places are best for sunrise, some are best around sunset. The Cinque Terre, because of its geography along the coast facing west, is undoubtedly best at sunset.
Here are our favorite places to catch the sunset while you're in the Cinque Terre.
The Riomaggiore Viewpoint (here): This might be the most Instagrammed place in all of the Cinque Terre, but for good reason, we think. From the rocky outcrop in Riomaggiore's beautiful harbor, you have an excellent view of both the sun setting over the sea to the west, and the colorful buildings of Riomaggiore basking in the golden light. If you're not comfortable heading out on the rocks, there's a viewpoint above them with a paved path.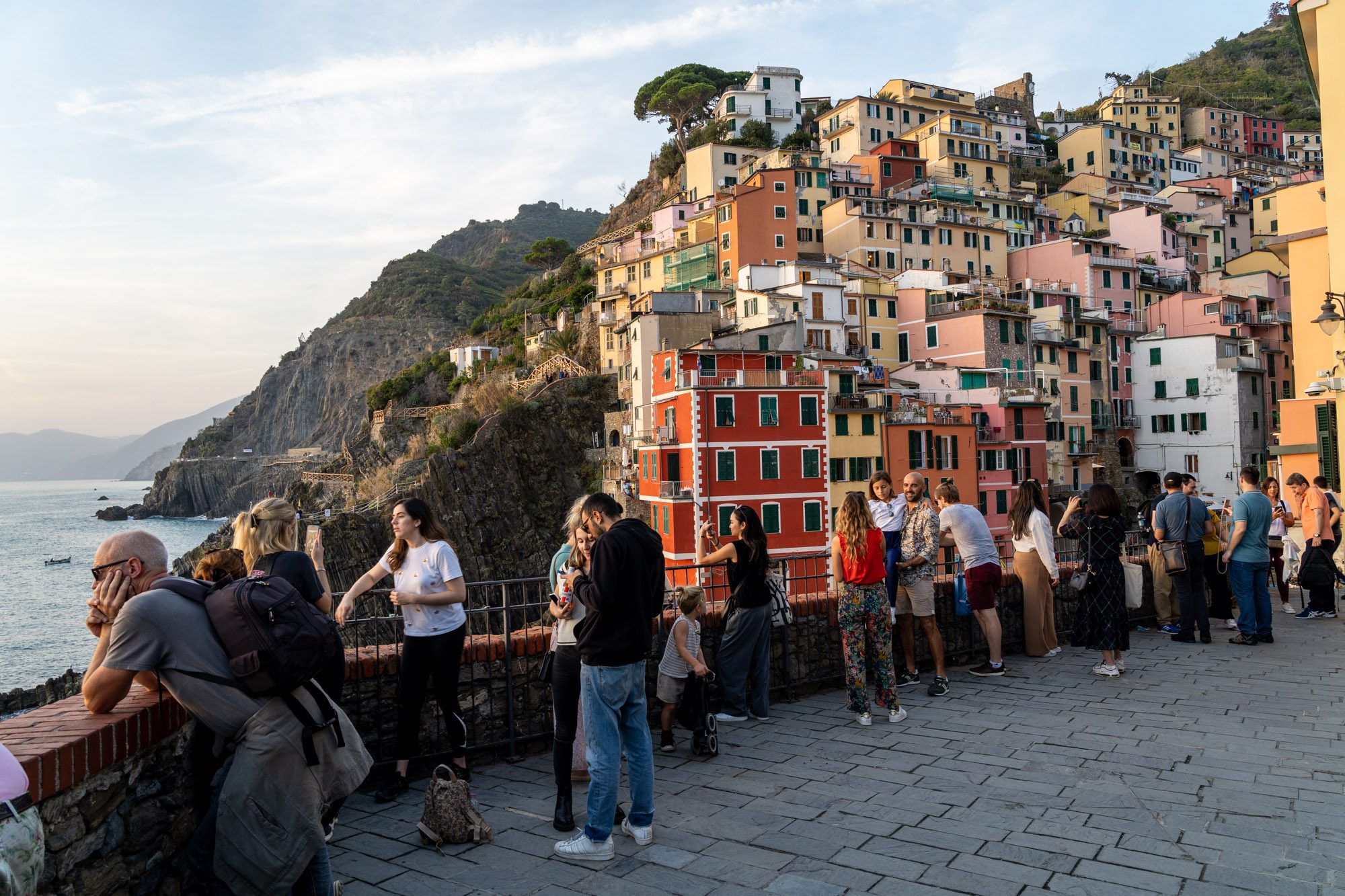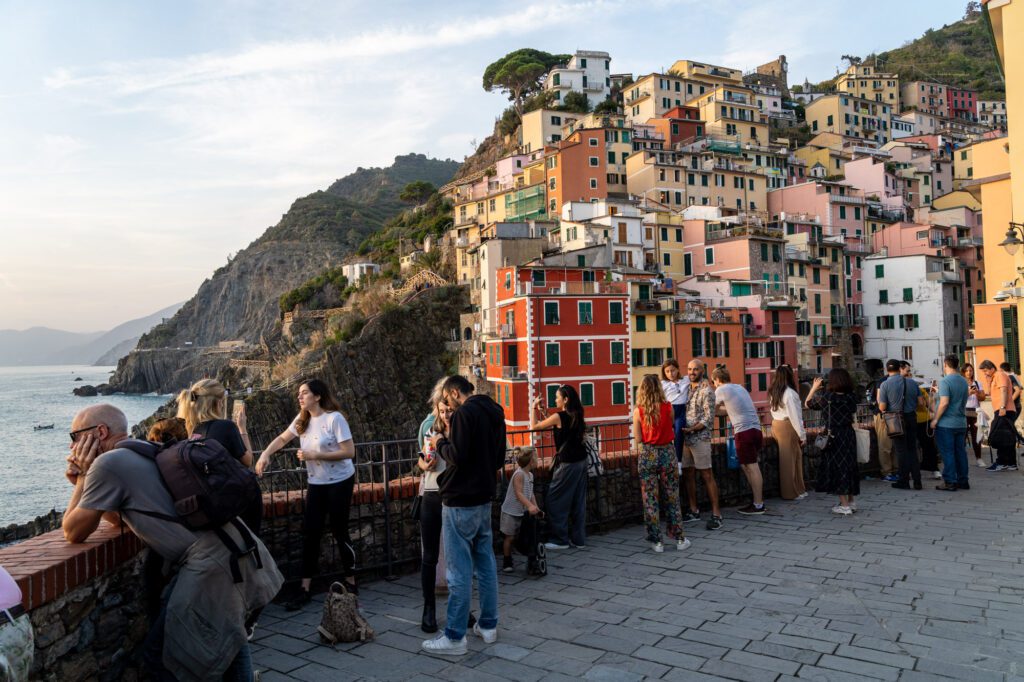 The Point in Manarola (here): This is the photo that's seemingly on every postcard that you'll find in the Cinque Terre. Again, for good reason, we think. We stayed in Manarola, and we came here multiple times at different times of the day. It never disappointed. However, it's definitely best at sunset, though it's crowded. Come early to get a spot, and if you want to experience aperitivo (aka drinks and snacks), get a table at Nessun Dorma, a popular bar with tables that have THE view. They have an innovative digital waiting list, which you'll want to hop on early to secure your spot (find more information on their website).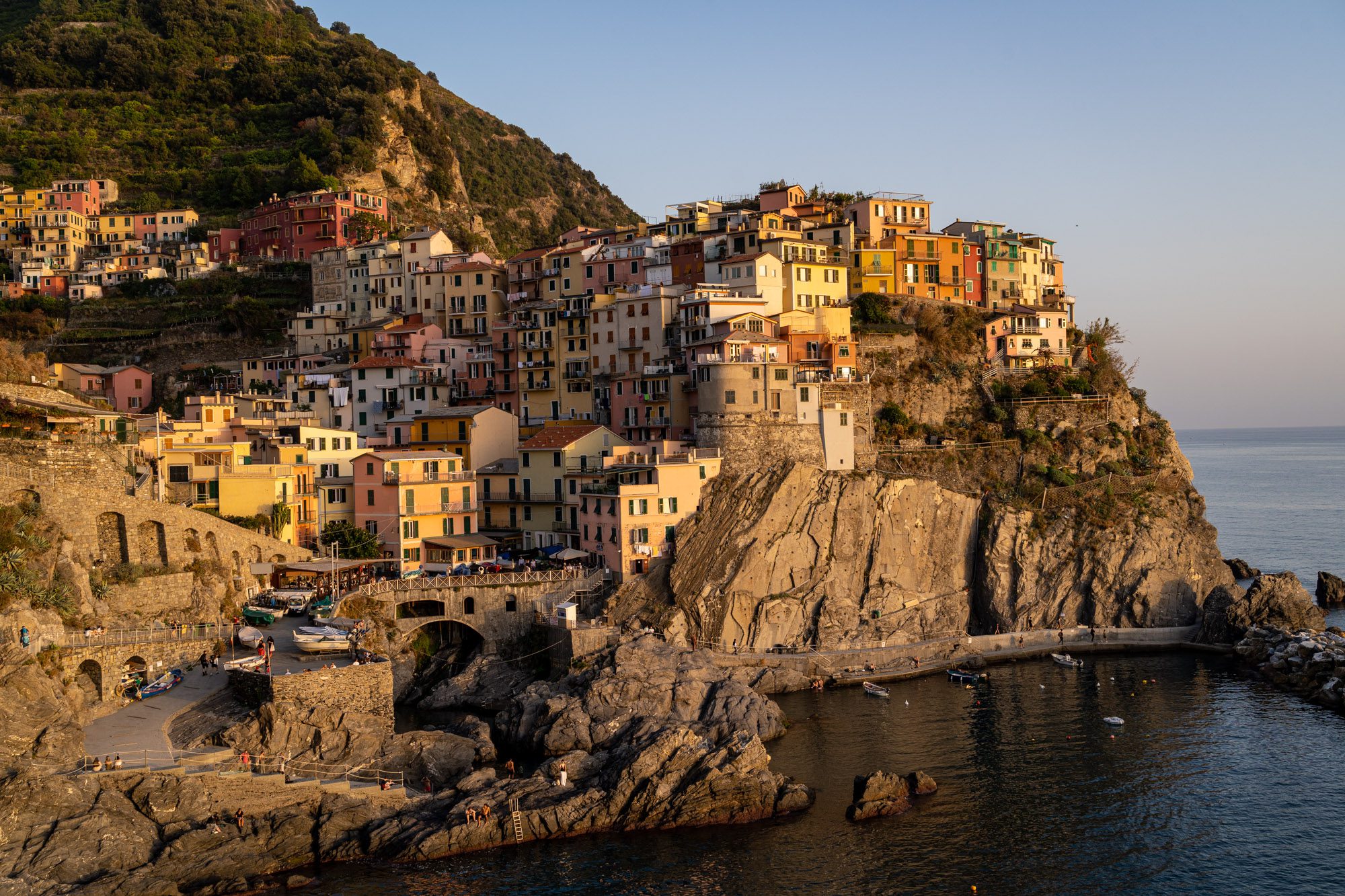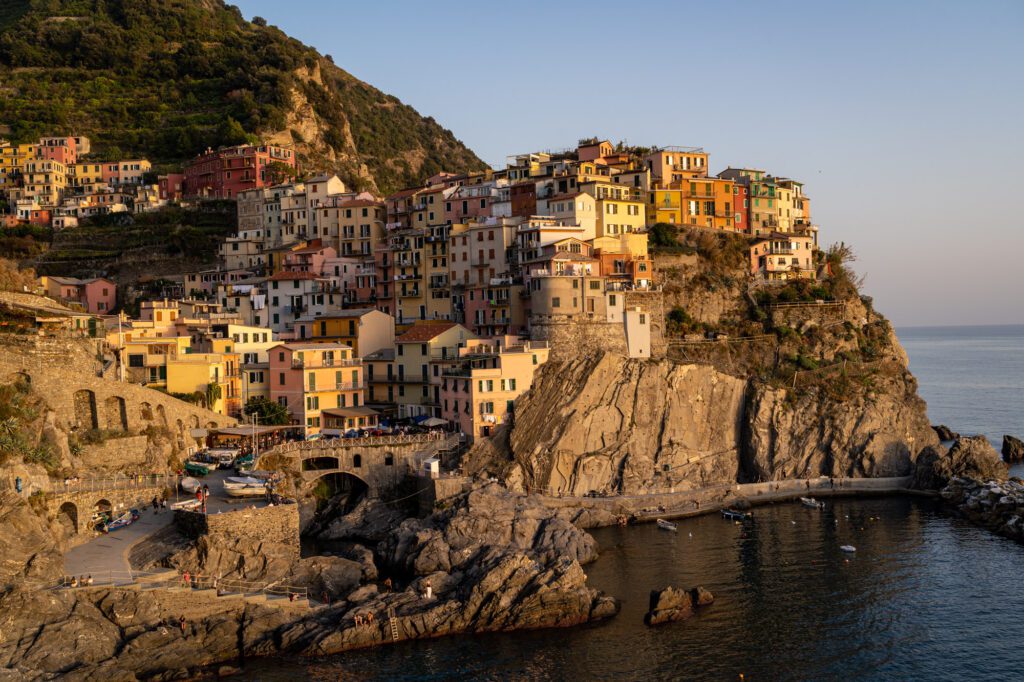 Vernazza's Harbor (here): This is a good DIY spot for a sunset picnic, with plenty of places to sit and a great view of Vernazza.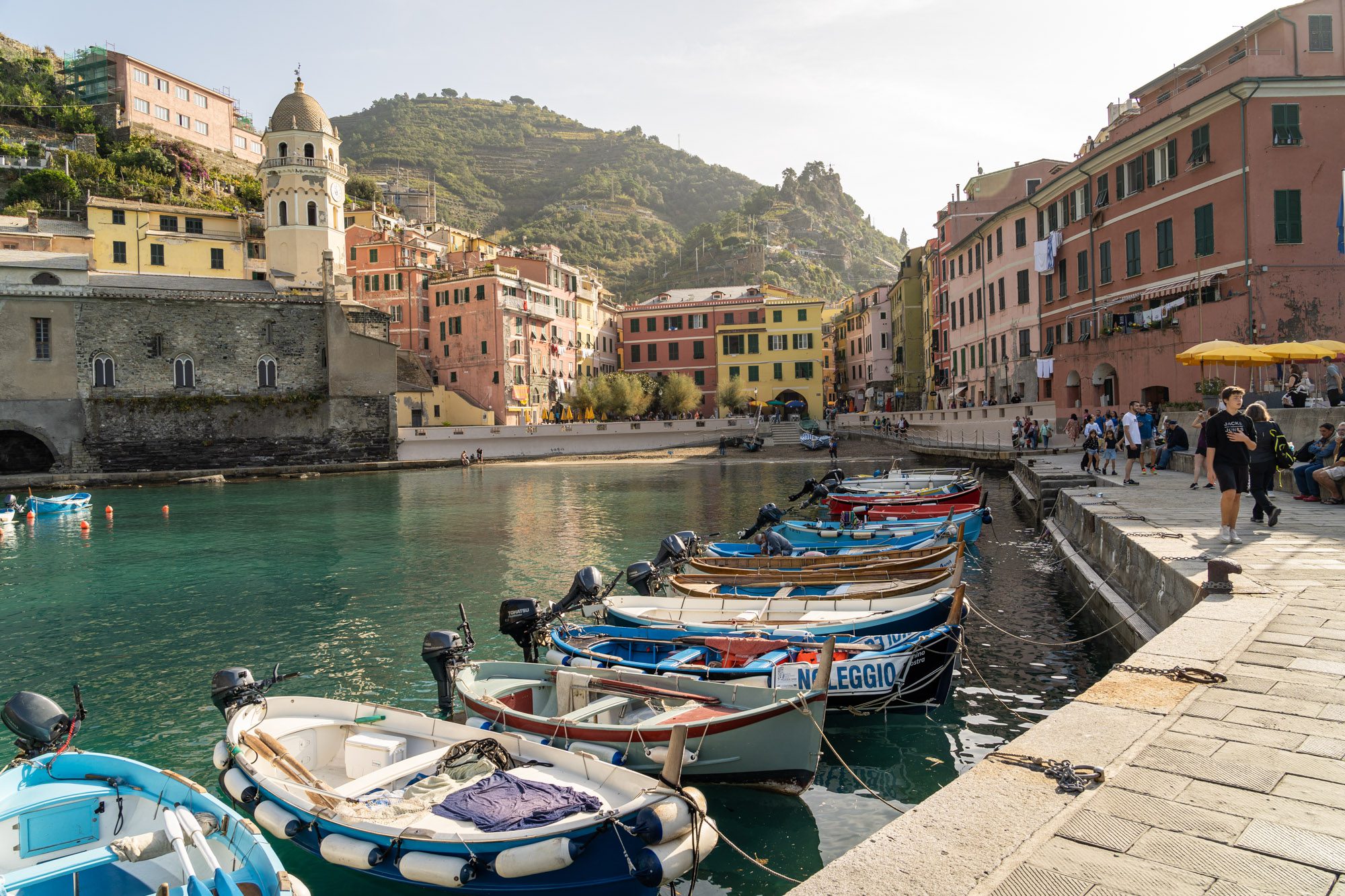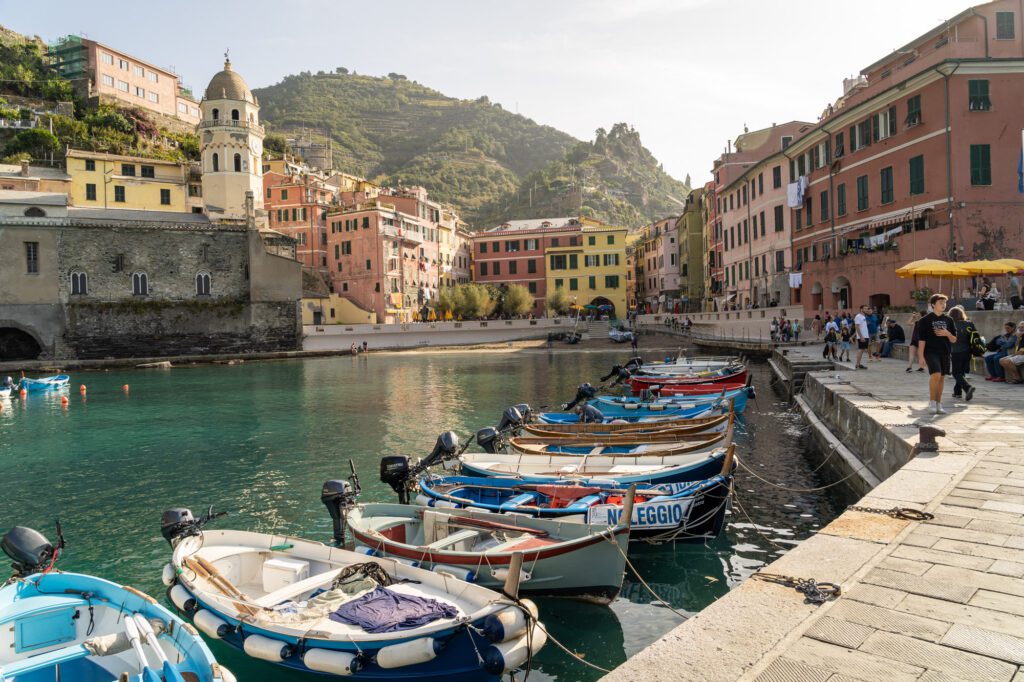 Bar il Gabbiano: We mentioned this place in the section above about hiking between Corniglia and Vernazza as a place to stop for fresh squeezed orange juice on a morning hike, but it's also an excellent sunset spot. Grab a spritz and take it up to the patio, which has a commanding view of the coastline of the Cinque Terre. The downside is that you won't have a view of one of the cities, whose colorful buildings come alive in the soft golden glow of the setting sun. You can find it here.
Hit the Beach (in Monterosso)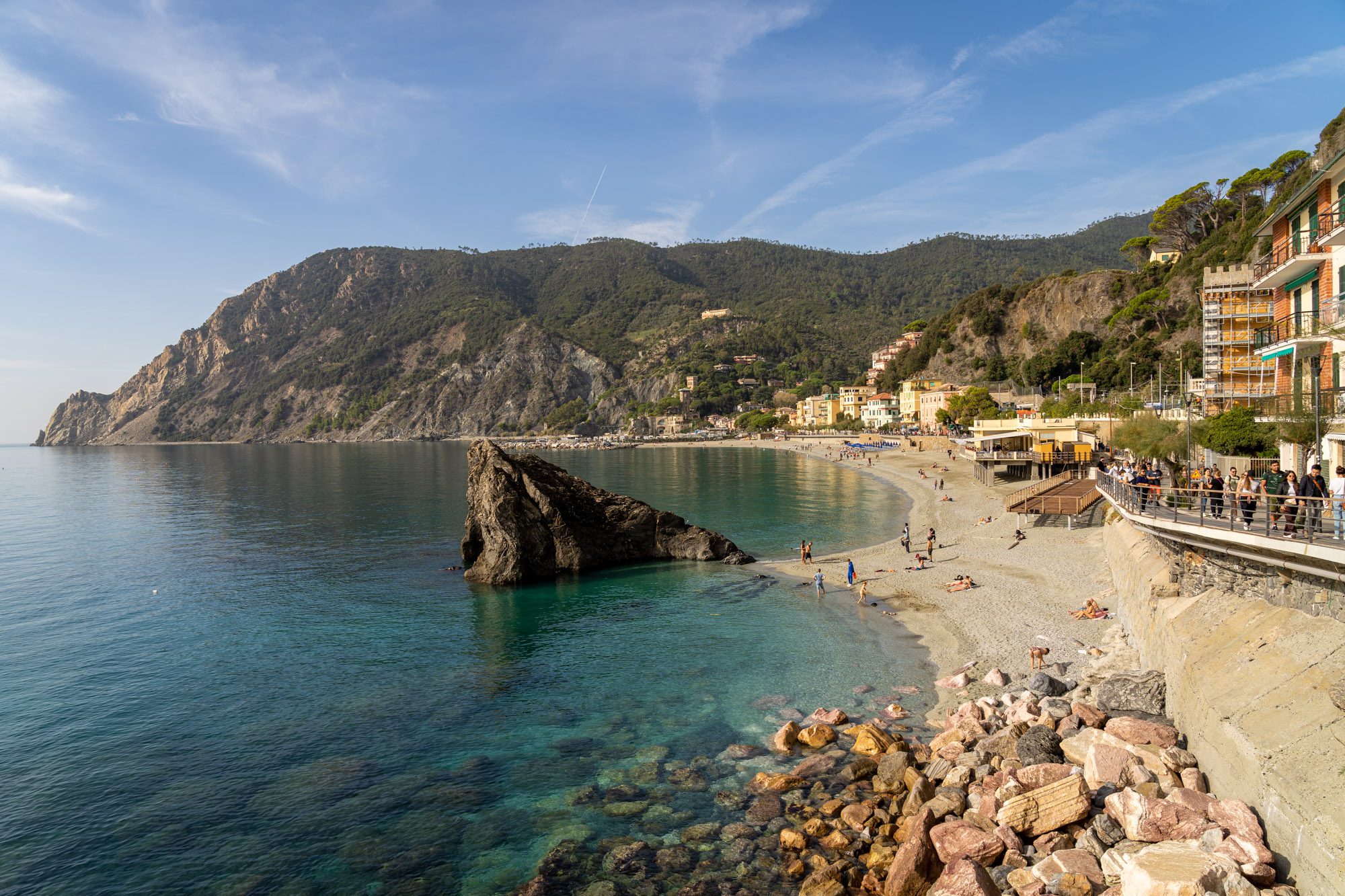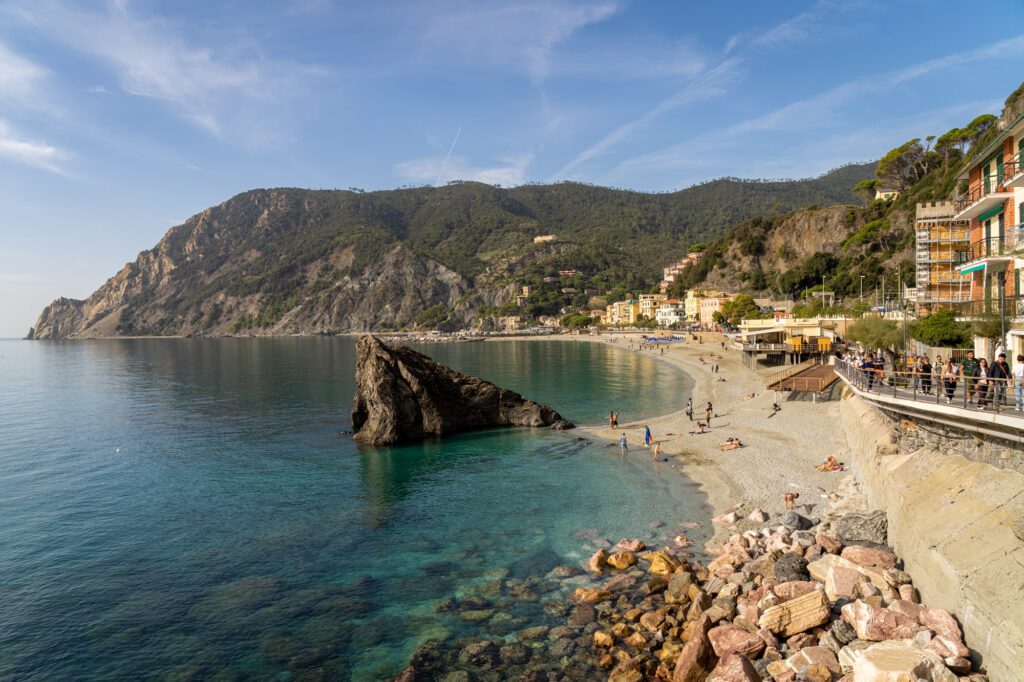 Given the geography and geology, the Cinque Terre isn't exactly known for its sandy beaches. Most of the coastline is rocky, and butts right up against the mountains making for a unique landscape that you don't find in very many places around the world.
However, if you're visiting the Cinque Terre in the summertime, chances are it's going to be blazing hot and some good old fashioned beach time is in order.
There are a few beaches in the Cinque Terre, and most of them are concentrated in the northern towns of Vernazza and Monterosso.
If you're looking for a wide, sandy beach, the only choice in the Cinque Terre is Monterosso al Mare, which has multiple options. There's one smaller beach near the old town, and one bigger beach adjacent to the train station.
Keep in mind that, in Italy, the beach chairs you see are not free – you have to pay for the privilege to sit in them (and they're often expensive). However, there are sections of the beach that are public, which you should feel free to use.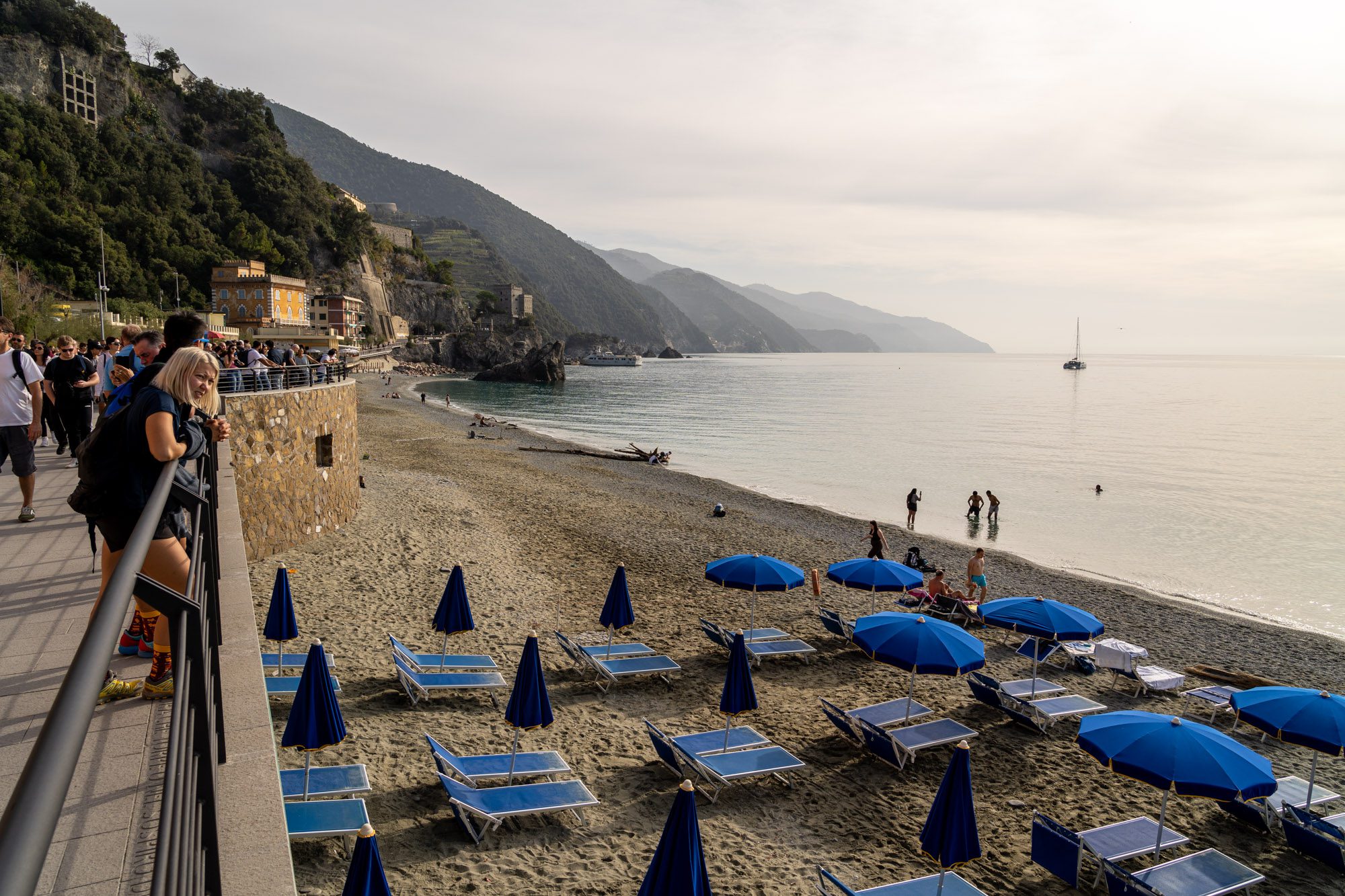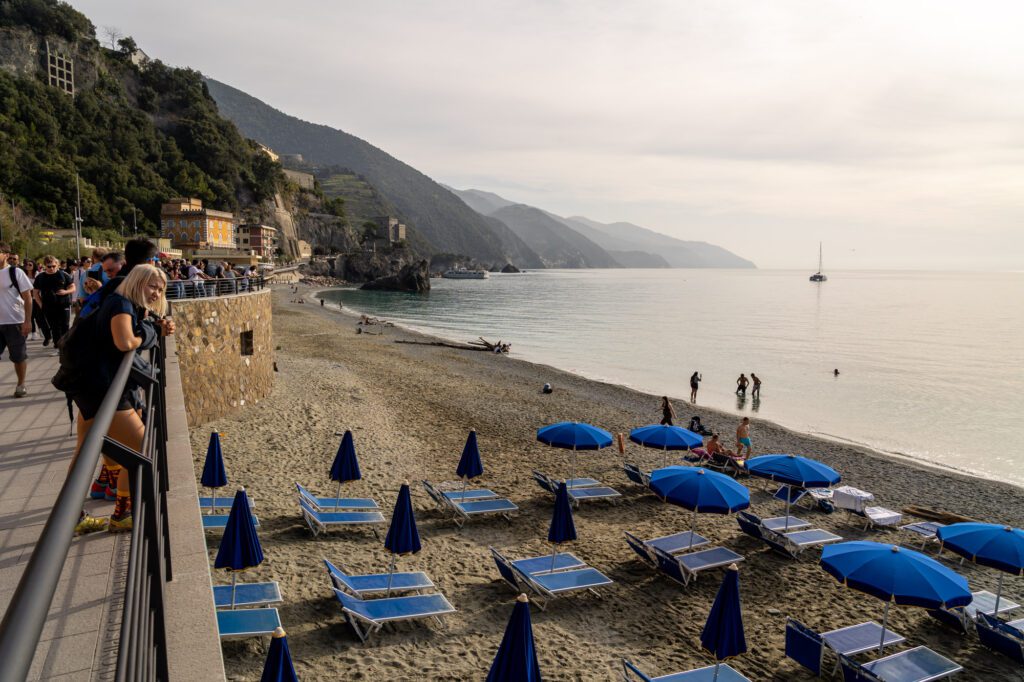 There's also a small, rocky beach in Vernazza at the harbor, though it's not nearly as nice as the ones in Monterosso.
Devour All of the Pesto
Cinque Terre is within the region of Liguria, which is in northwestern Italy, and is known as the creator of pesto, a delicious melange of fresh basil, olive oil, garlic (although you can buy it without garlic – look for "senza aglio"), hard cheese (like parmesan-reggiano), and pine nuts.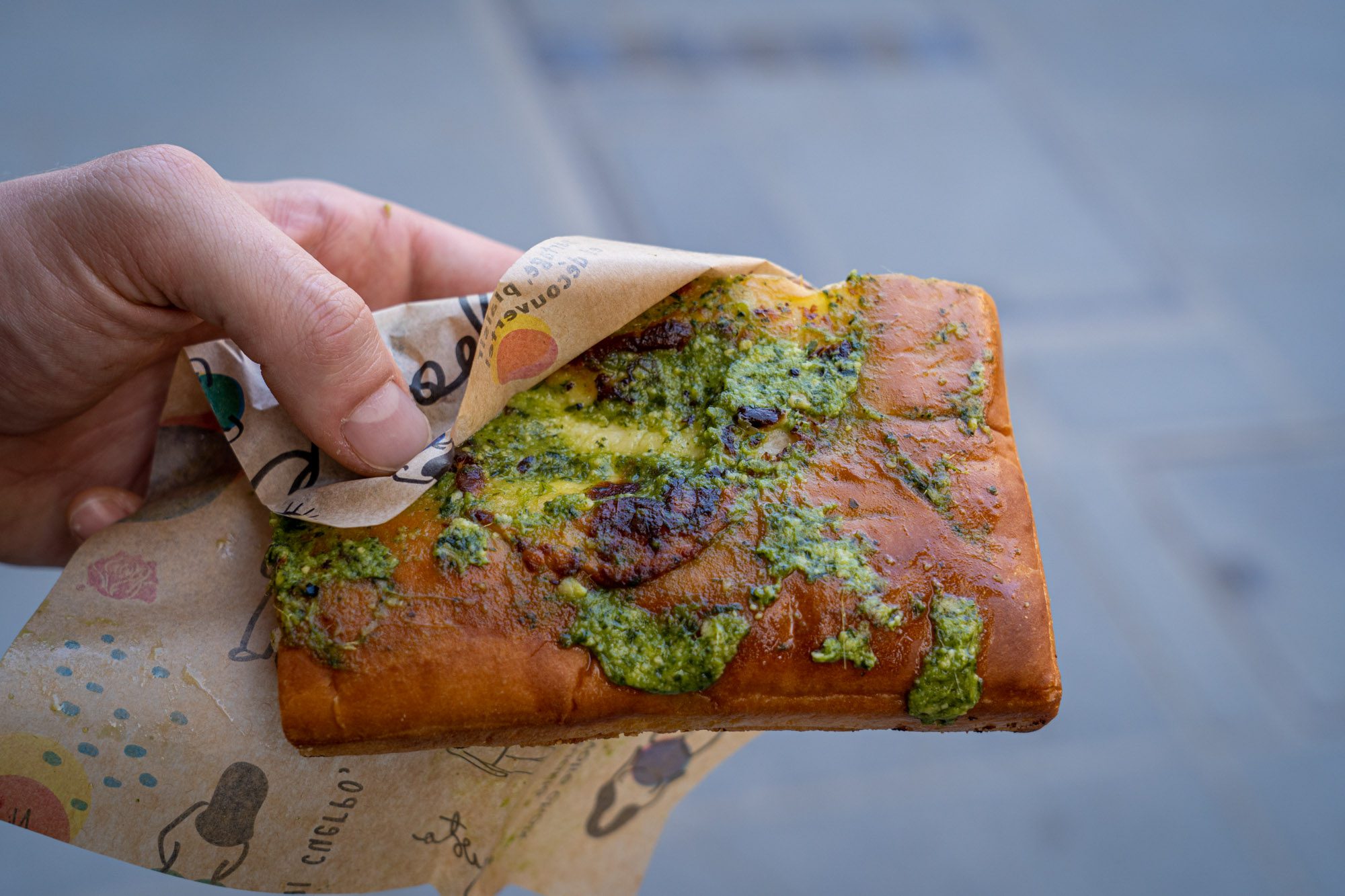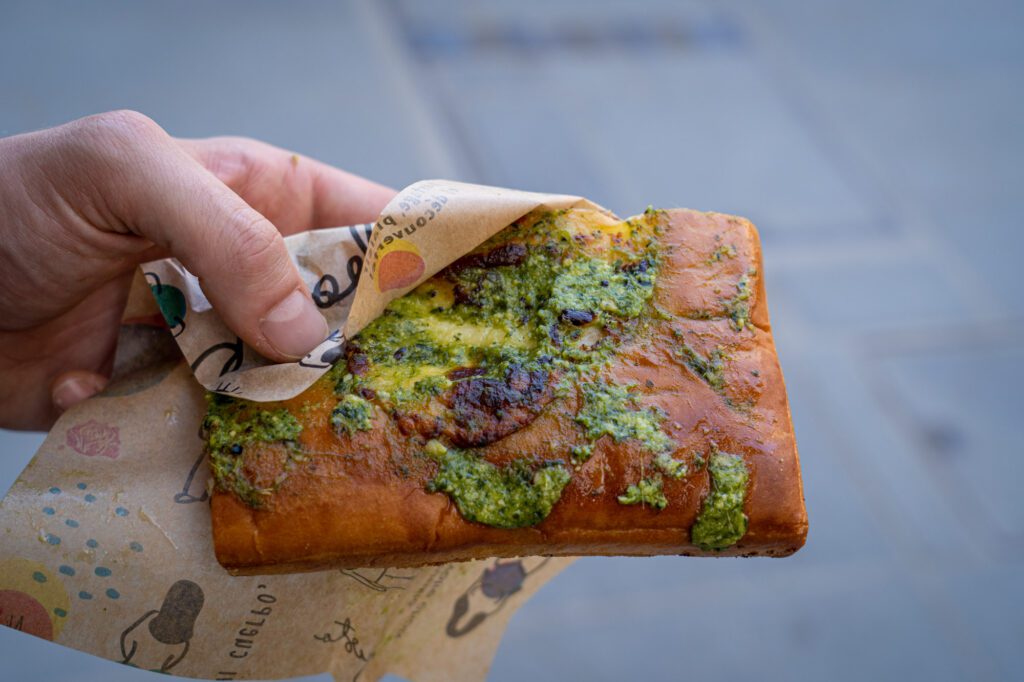 It's actually a DOP product – when you're looking for jars of pesto in Cinque Terre, make sure it says "DOP," which means it's the good stuff from Liguria.
There are a few ways to eat pesto (other than straight out of the jar), but we have two favorites. First is lathered on a thick, warm slice of focaccia. Second is as part of a pasta dish. We'd recommend trying both while you're in the Cinque Terre.
Want to Learn to Make Pesto?
Cooking classes are among our favorite ways to dive deeper into a food culture and learn about the history and traditions of a place. Unfortunately, because Matt has Celiac Disease and needs to eat strictly gluten free, cooking classes in Italy are essentially off the table.
However, that doesn't mean they have to be off limits for you!
The best way to learn about pesto is to make it yourself, and there are a few cooking classes in the Cinque Terre that look excellent.
The Great Pesto Experience (Riomaggiore): Make homemade pesto with a mortar and pestle, and then enjoy it with a glass of wine and some pasta on a terrace with great views.
Pesto Experience at Nessun Dorma (Manarola): We mentioned this bar above as a good place to catch the sunset with an excellent view of Manarola. They also do cooking classes! It also includes some wine tasting with a sommelier.
Get Out on the Water
While there are some pretty great views of the five villages to be had from land, the best perspective is from the water, where you'll be looking up at the colorful towns sprawling up the steep mountainside.
There are a couple ways to have that experience.
Most people choose a sunset boat tour, which is undoubtedly going to be a memorable experience. We like this boat tour through Airbnb Experiences, where you'll meet in Riomaggiore before sunset for a leisurely cruise up the coast, taking in the five stunning villages from the sea as the sun sets (with pesto-laden focaccia and local wine in hand, of course).
However, while a sunset boat cruise sounds incredible, we have an alternative for you if you're craving something more adventurous where you can visit places you can't access by motor boat.
If we were to do it again, we would have chosen to hop on this kayak tour, where you'll meet your guide in Monterosso al Mare and paddle along the coast, stopping to snorkel and exploring Punta Mesco, the point of the Ligurian coast that juts out into the sea just north of Monterosso al Mare.
You'll have a qualified guide, a small group, and a couple of hours of peace on the water, seeing things from a different perspective than 99% of tourists who visit the Cinque Terre.
Keep in mind that these boat tours stop running in late October or early November, and pick up again in the spring (sometime in April). If you do an offseason Cinque Terre trip, you won't be able to do a boat tour.
Explore the Five Towns of the Cinque Terre
Whatever your Cinque Terre itinerary looks like, you're going to want to save some time to wander a little bit, poking your head into the nearly unlimited shops in each of the five towns, grabbing a slice of focaccia on a whim, and eating your bodyweight in gelato.
Here are some of our favorite spots to eat, drink, and shop, organized by town.
Riomaggiore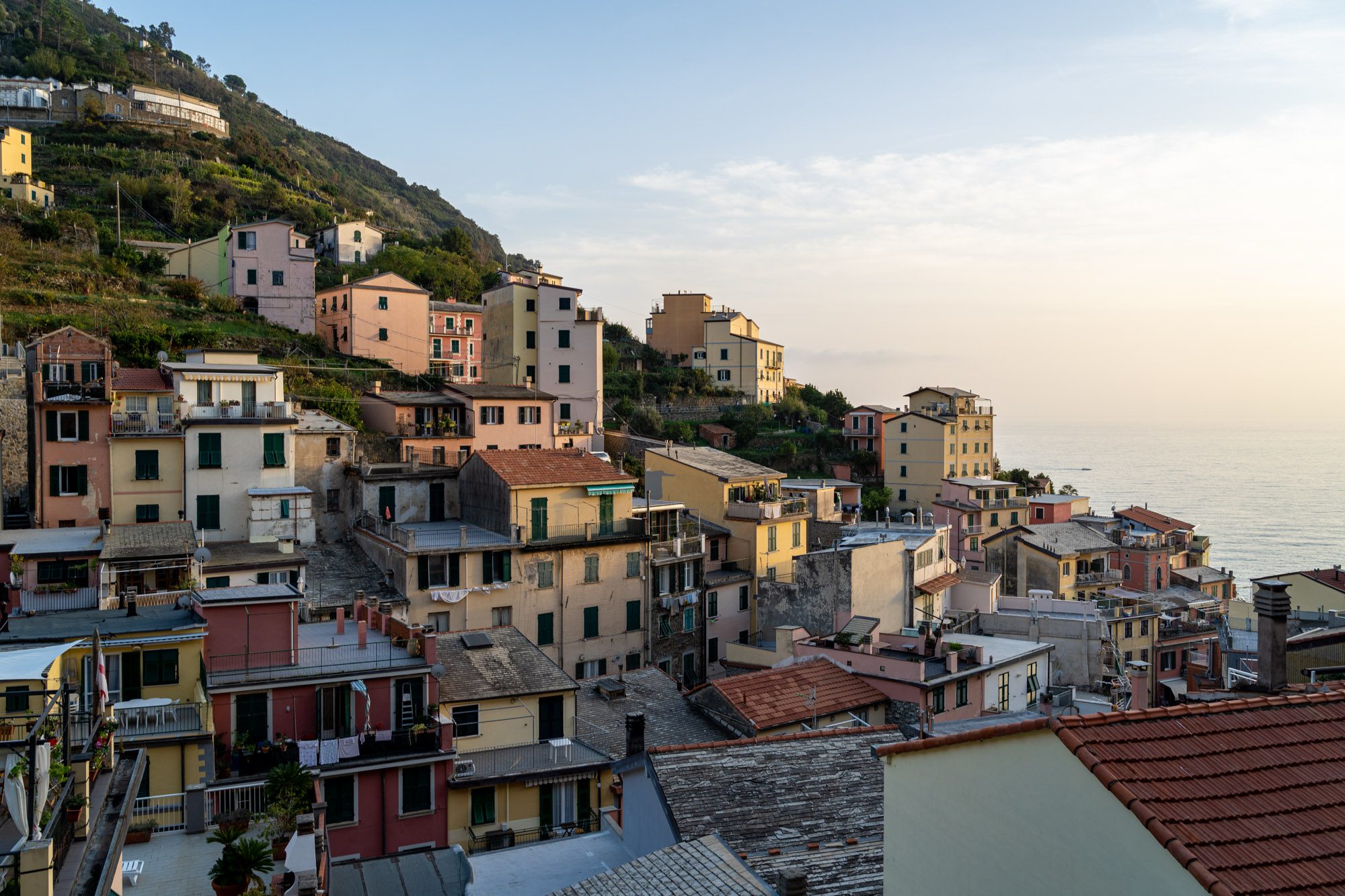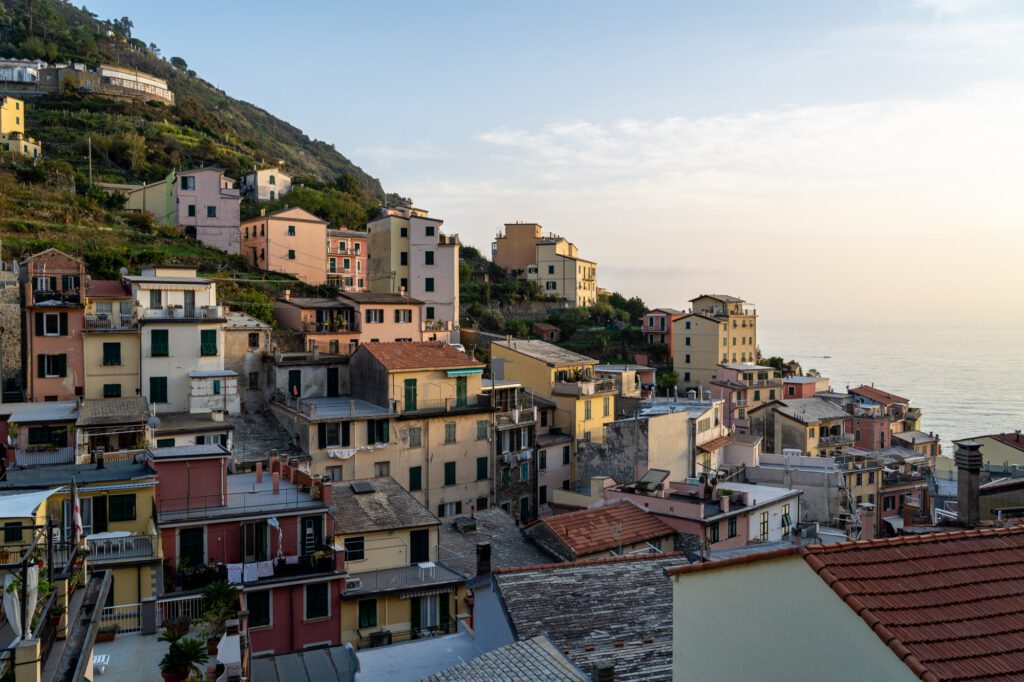 Ghemé: We already gushed about this place in the wine section above, but this was one of the more memorable experiences of our trip. Highly recommend going here to learn about the wines of Cinque Terre!
Tutti Fritti and Il Pescato Cucinato: Basically next door to each other, these are two excellent fried fish spots where you can get a cone packed full of fried fish goodness. We went to Tutti Fritti, for what it's worth, and they were very friendly and helped me practice my Italian. Anchovies are the local specialty, and my mom – who isn't particularly adventurous – enjoyed them. Huge portions.
Old School Cocktails & Food: A little out of the way of the main strip, this is a hip bar up on the hill near the castle that we walked by and I saved to my Cinque Terre Google Map. It's an all day cafe, from breakfast and coffee to drinks in the evening. Cash only.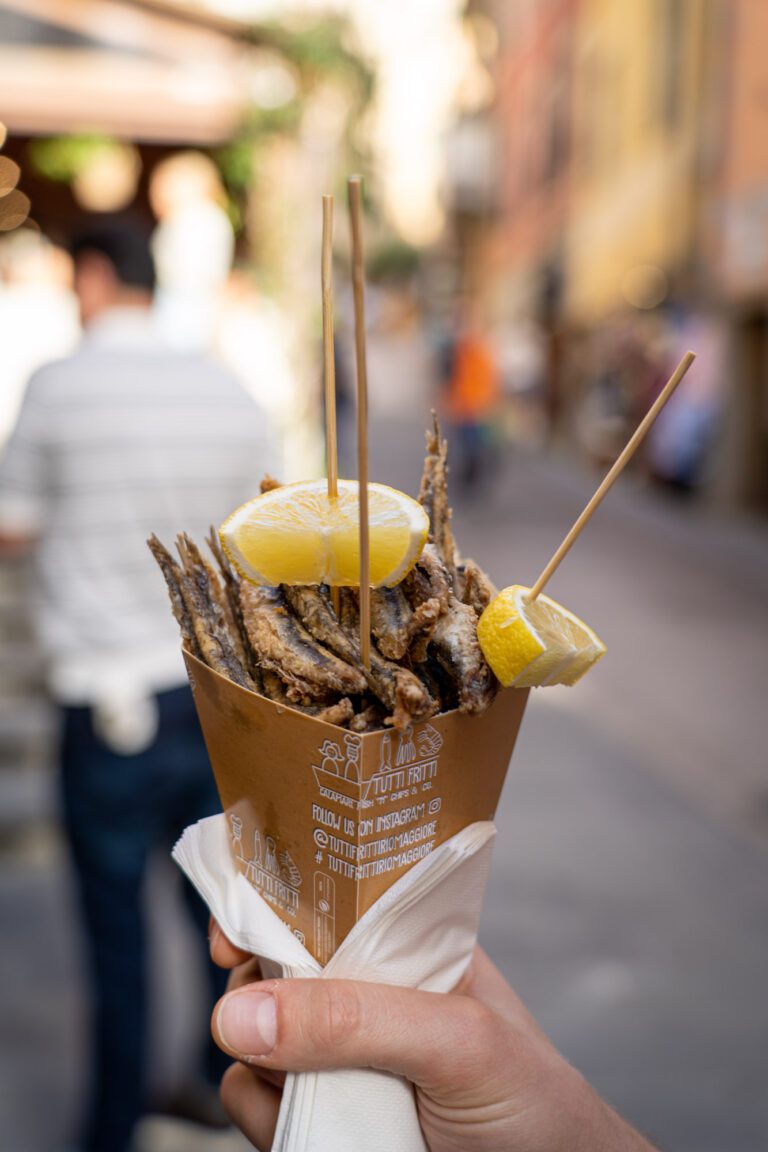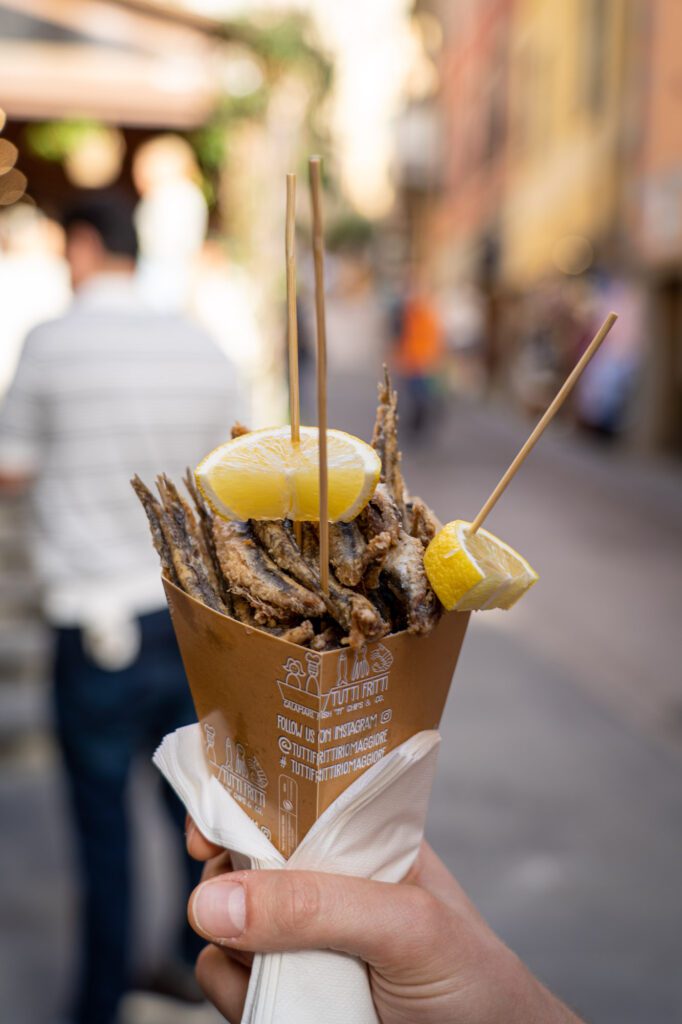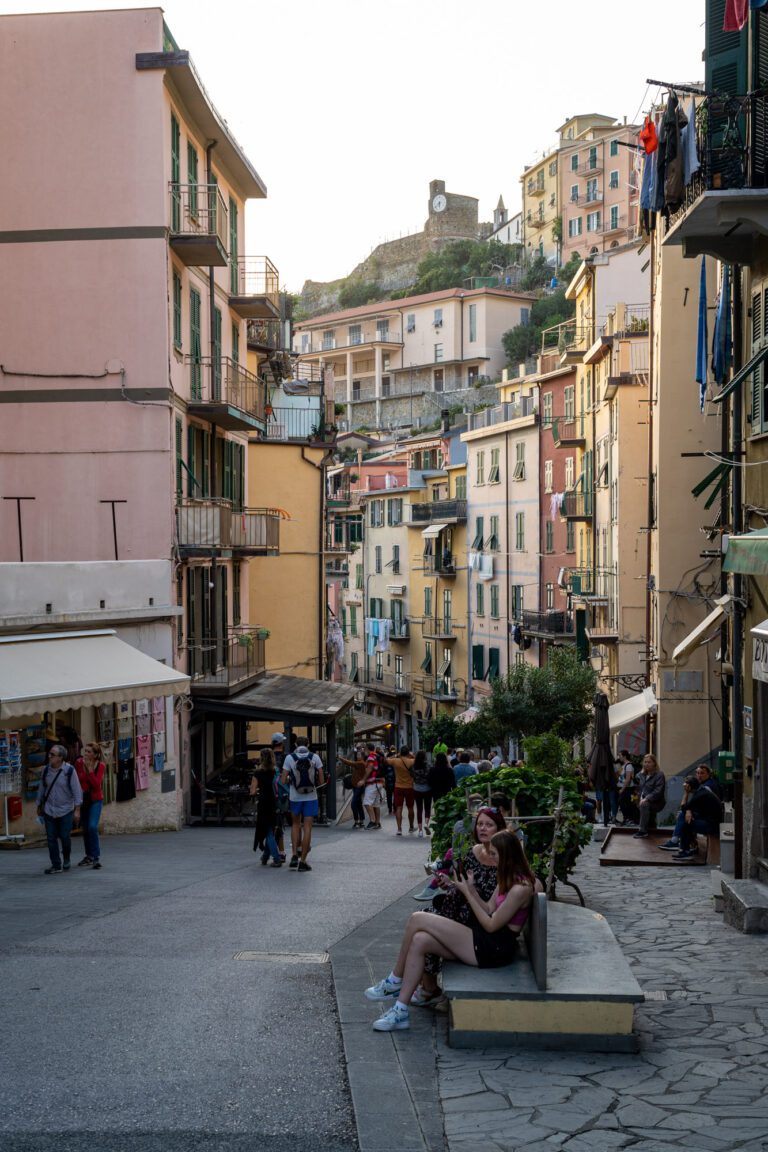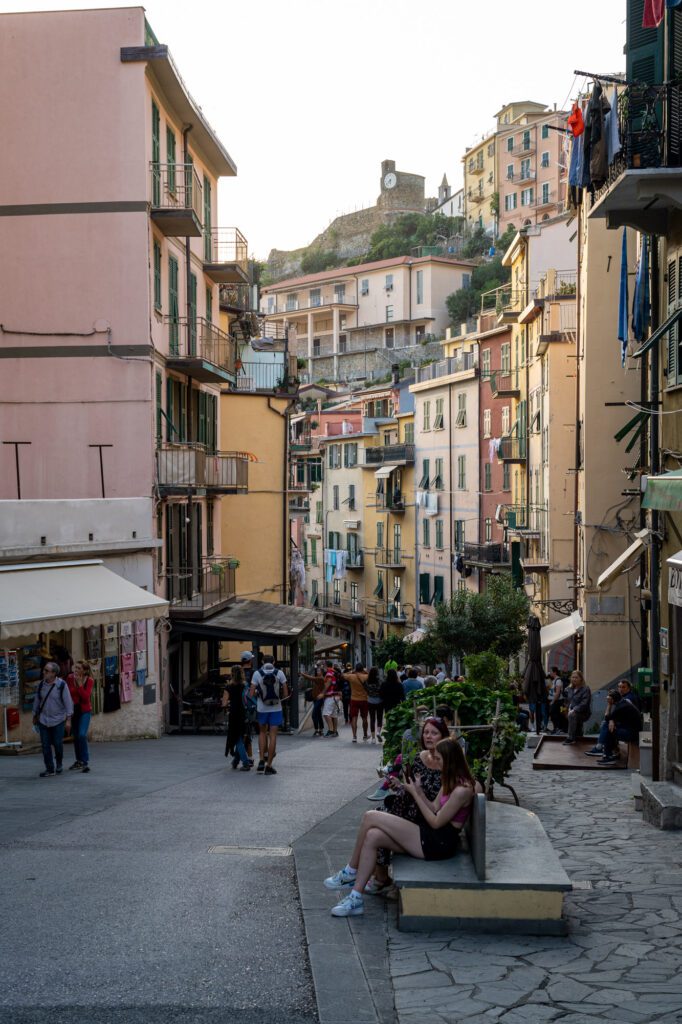 Manarola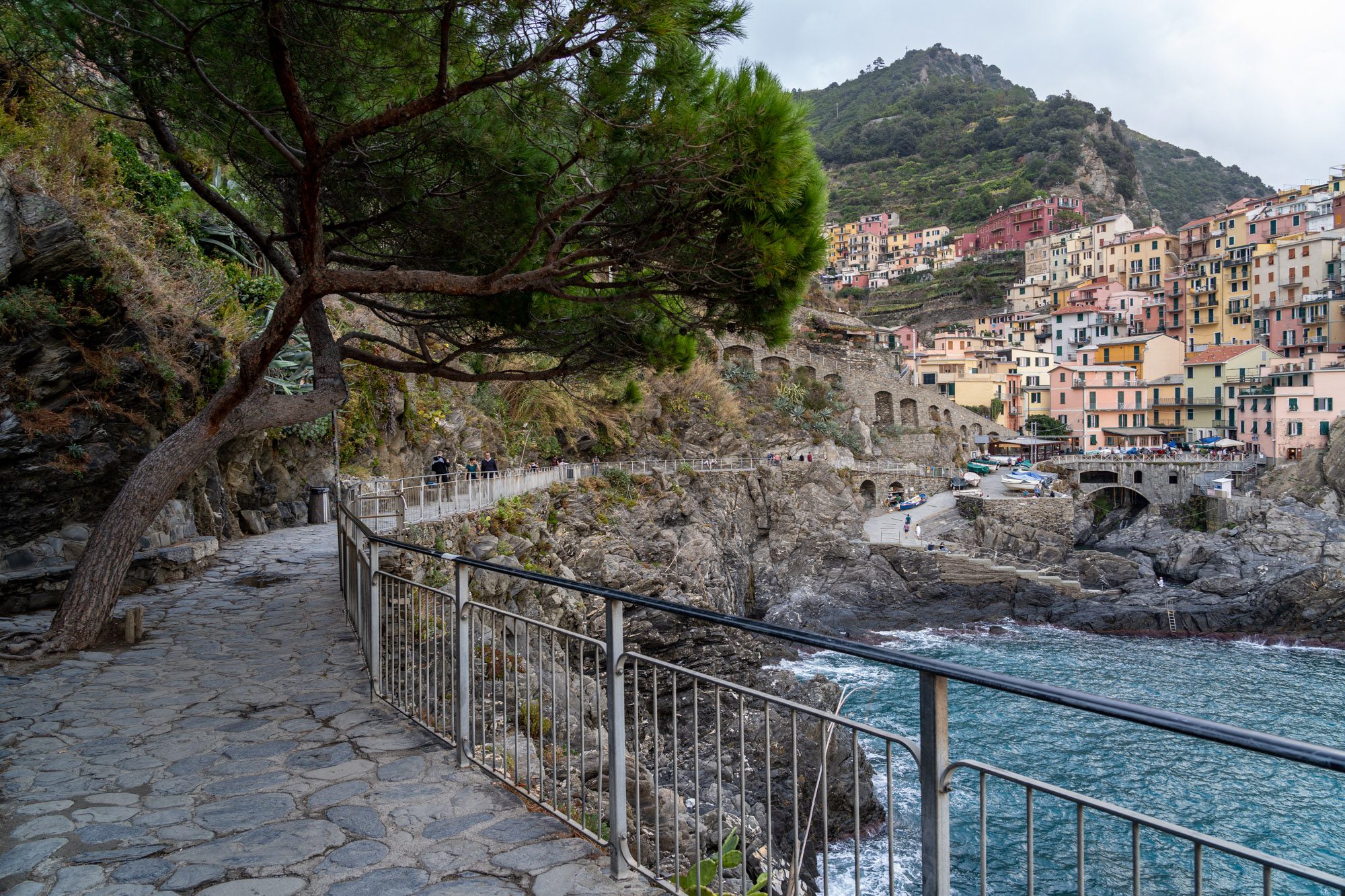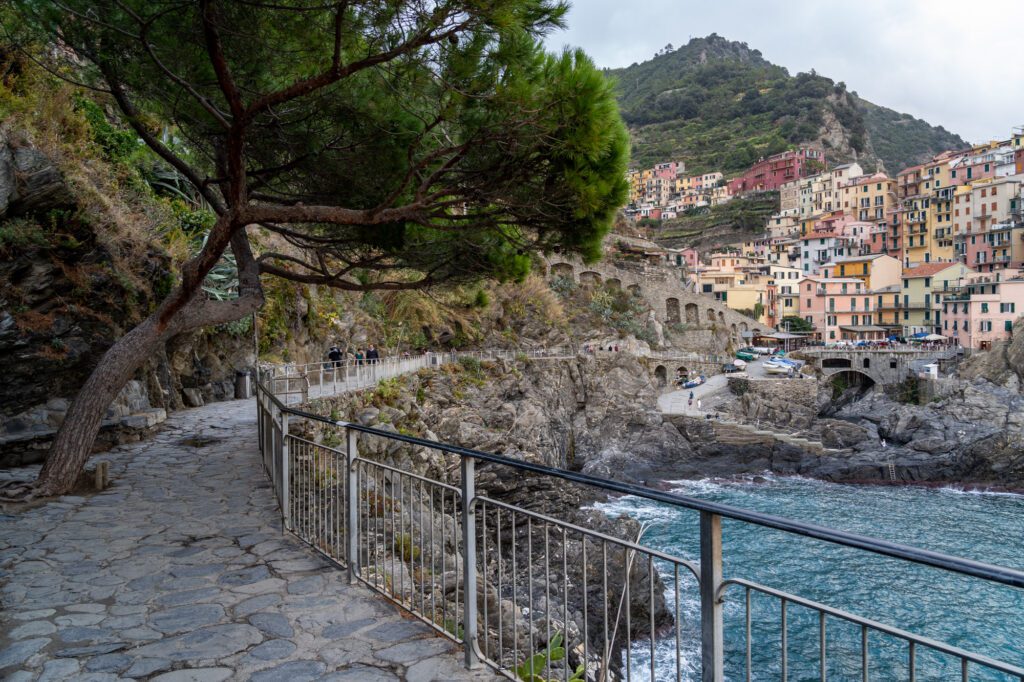 Gelateria Sorbetteria Gelateria 5 Terre: We stopped here literally every day on our way home from hiking for gelato, and it was one of our favorite gelato shops on our entire last trip to Italy. Everything is made in house with fresh ingredients, everything – including cones – is gluten free, and they have tons of dairy free / vegan gelato options. Get the pistachio and the banana (not together though, that would be weird).
A Pié de Campu: This place was closed for the season when we were in town, but we were dying to grab a glass of wine and a freshly baked focaccia on their patio!
Nessun Dorma: It's easy to see why this place is recommended all the time. It sits on the outcropping that looks back at Manarola, which is the postcard picture of the Cinque Terre you see all over the place. Go here for aperitivo as the sun sets, but get there early (and book ahead on their website if you can).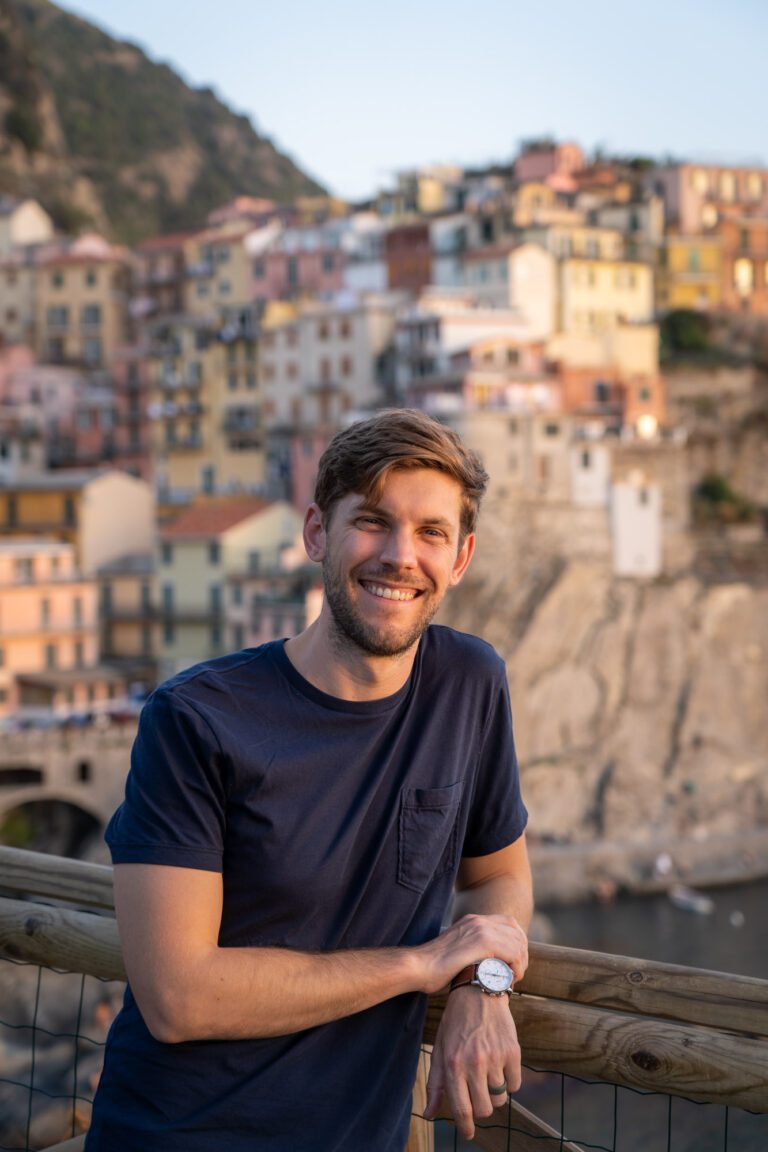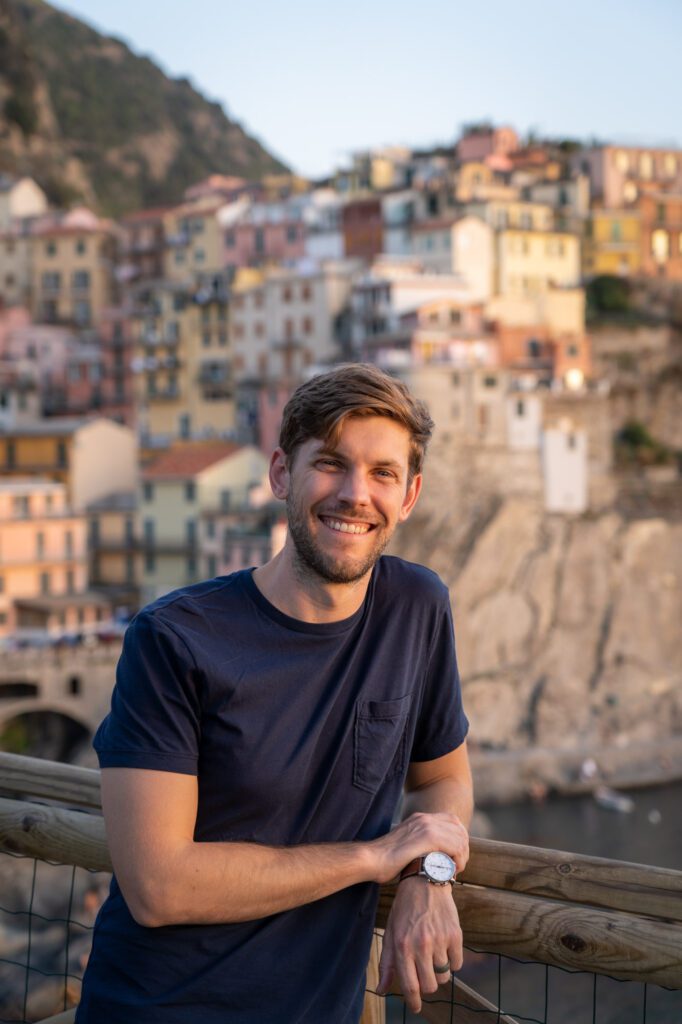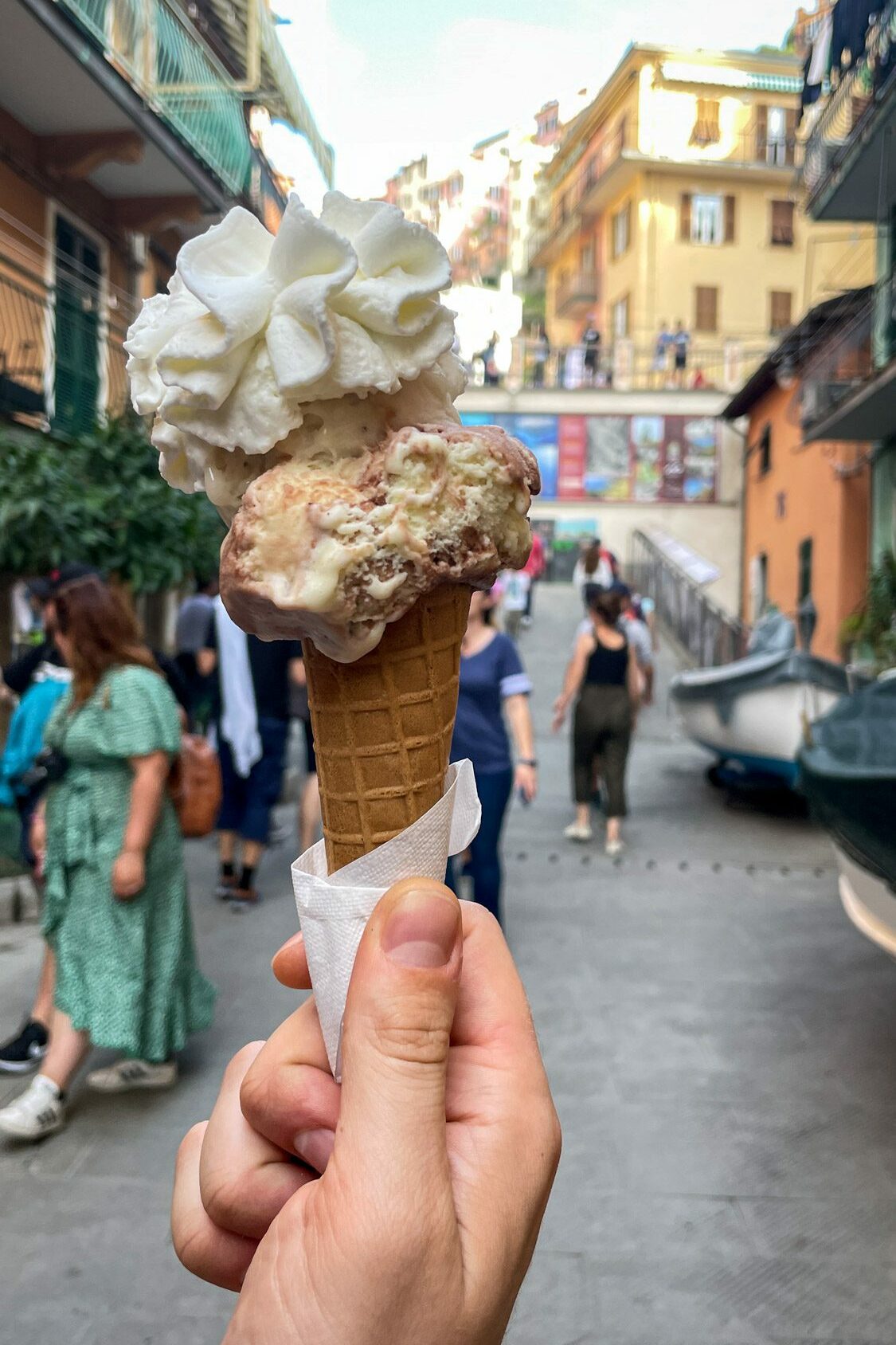 Corniglia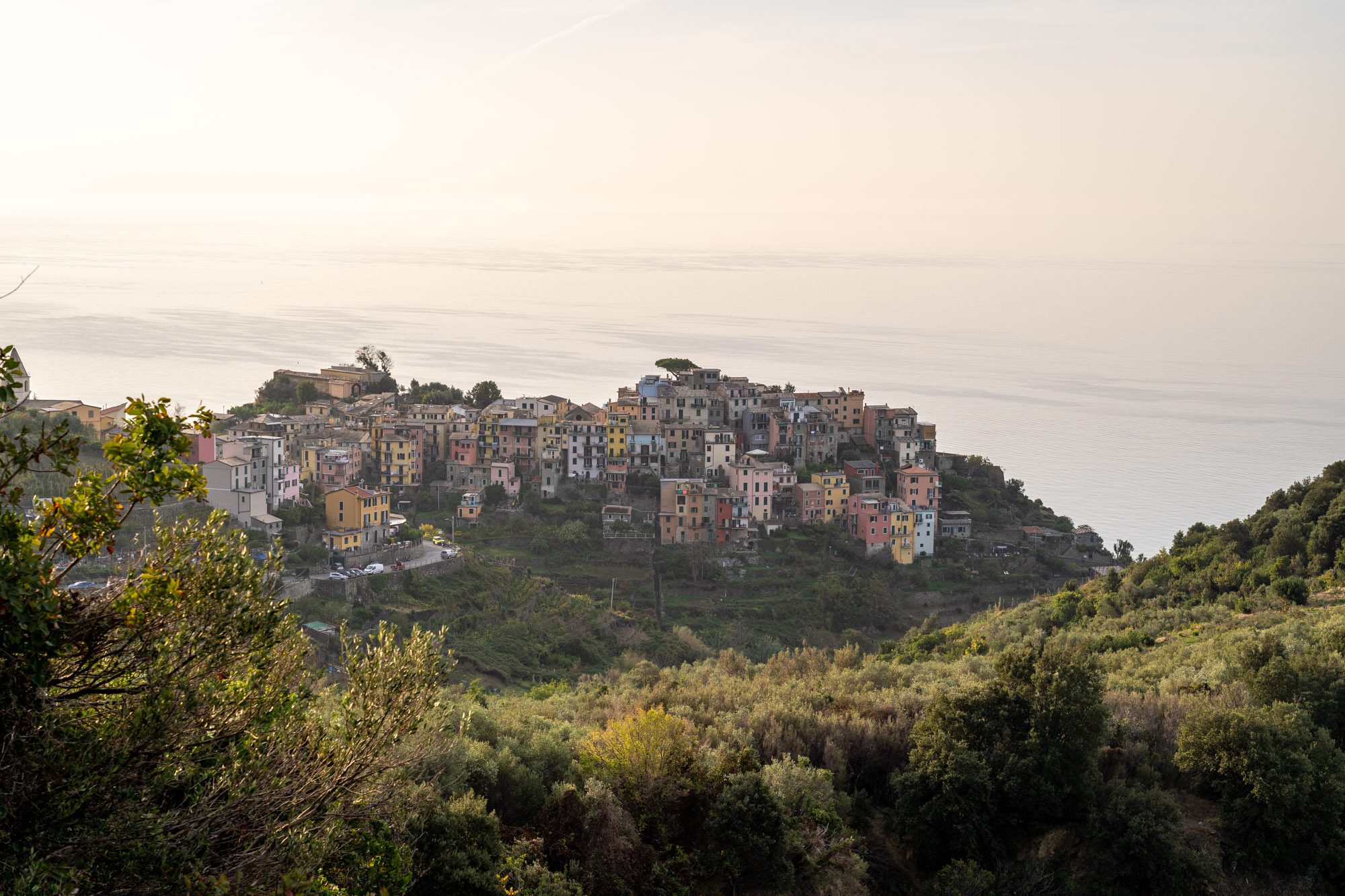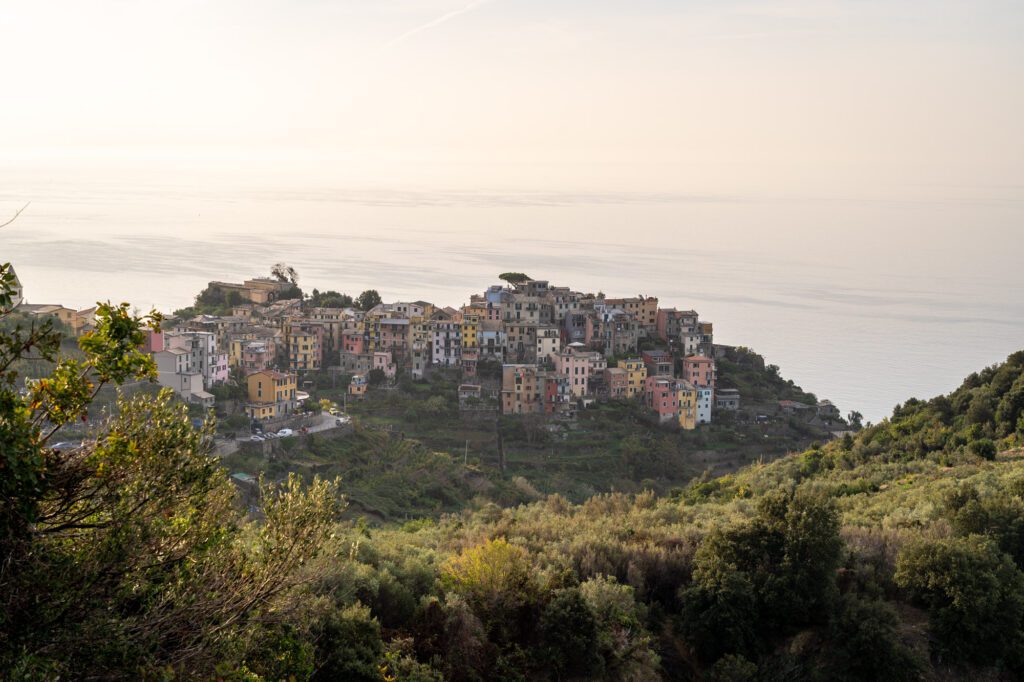 Since you're up high when you're in Corniglia, you're definitely going to want to find a place for a drink or dinner that has a terrace overlooking the sea.
La Scuna Wine and Beer: Great view from the terrace, but you're going to pay a premium for it. Popular spot, so get there early if you want to watch the sun set.
Ristorante La Posada: Just outside of the hustle and bustle of Corniglia on the road above the train station, the highlight here is the view and the seafood.
Osteria A Cantina De Mananan: A cozy little osteria with dishes scribbled on a whiteboard, affordable wine, and fresh seafood dishes.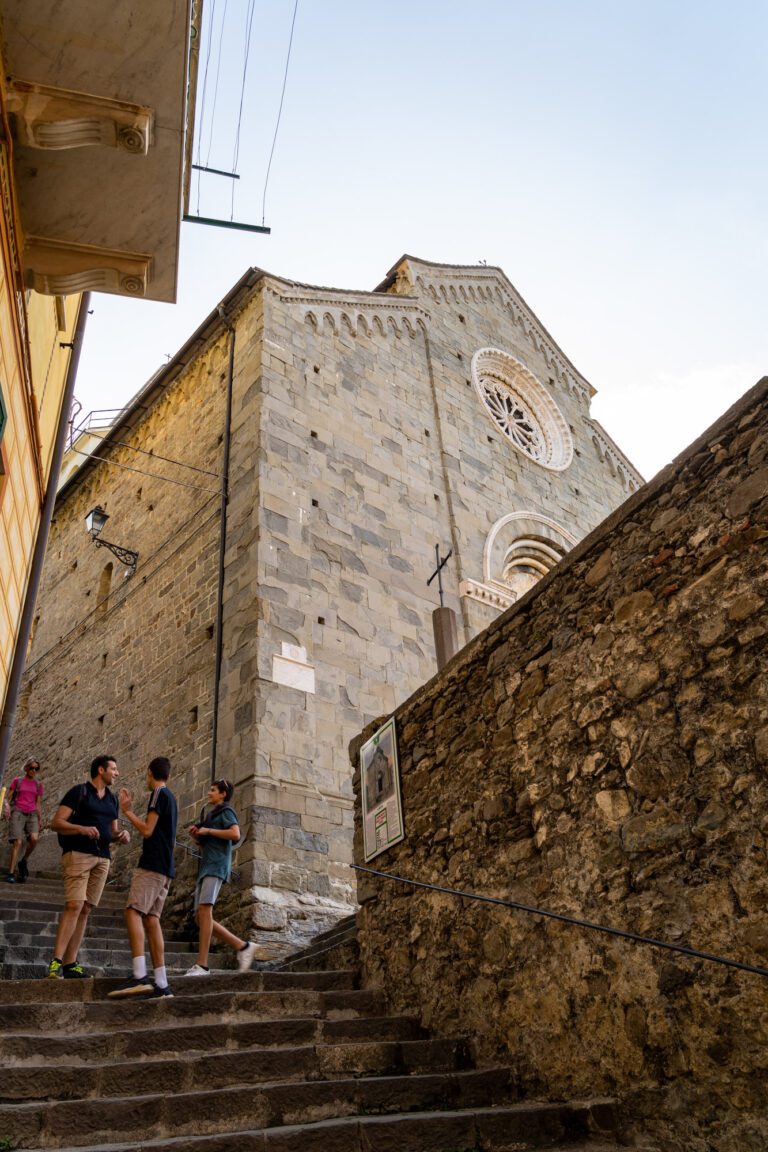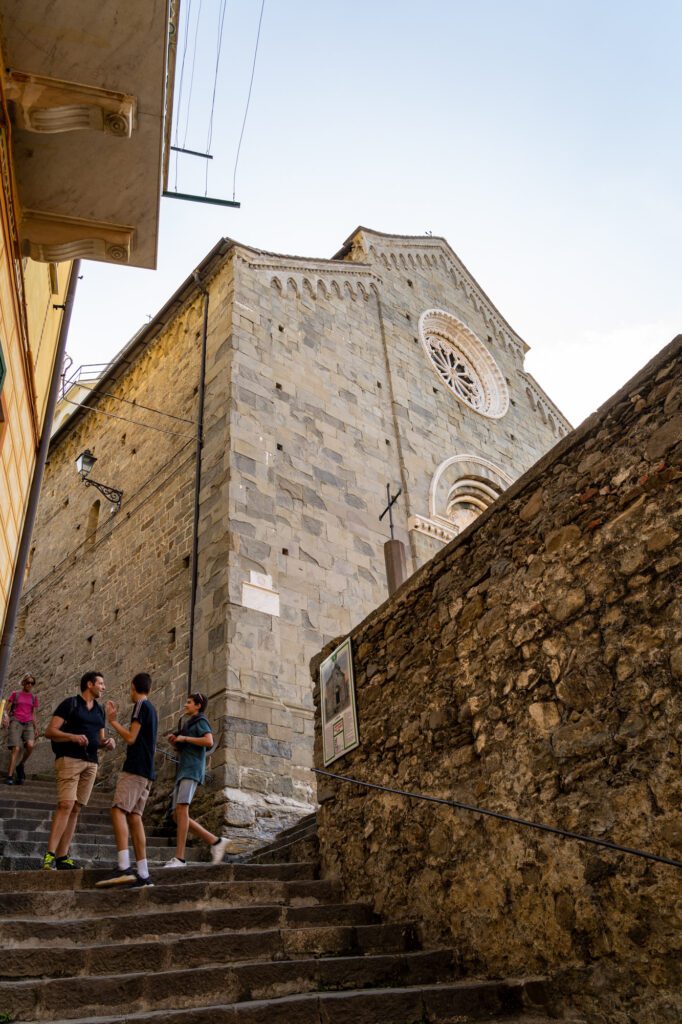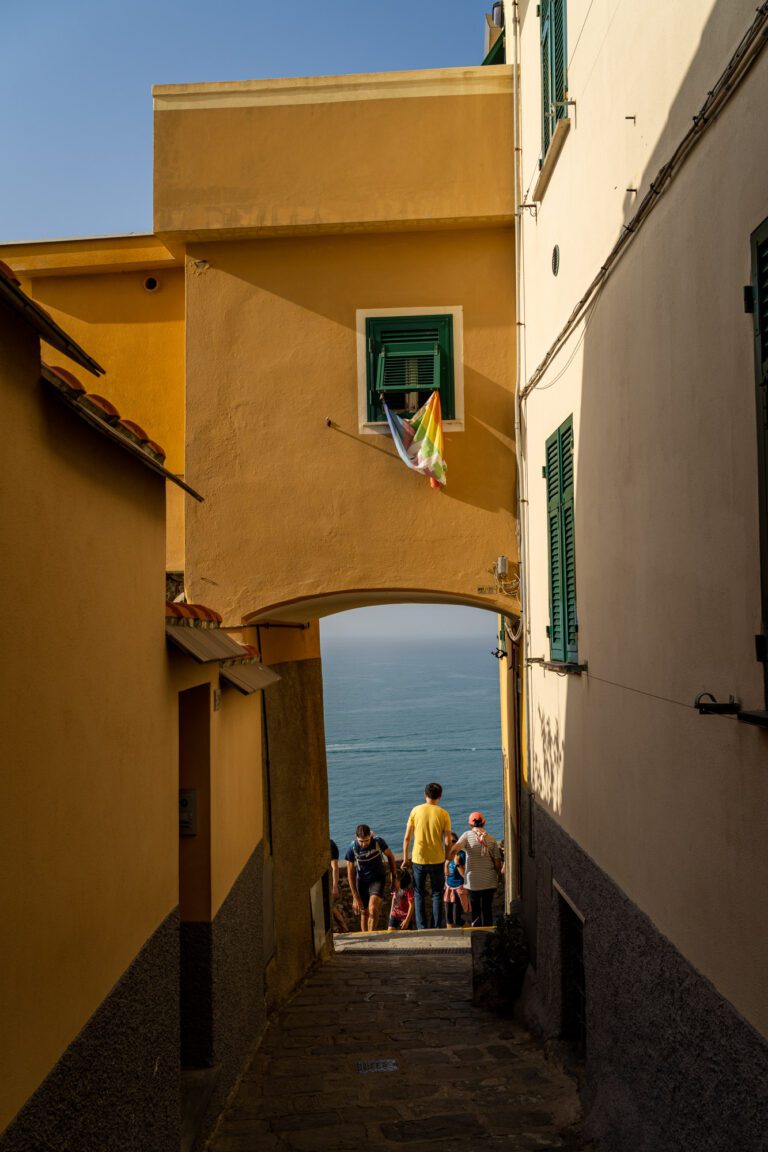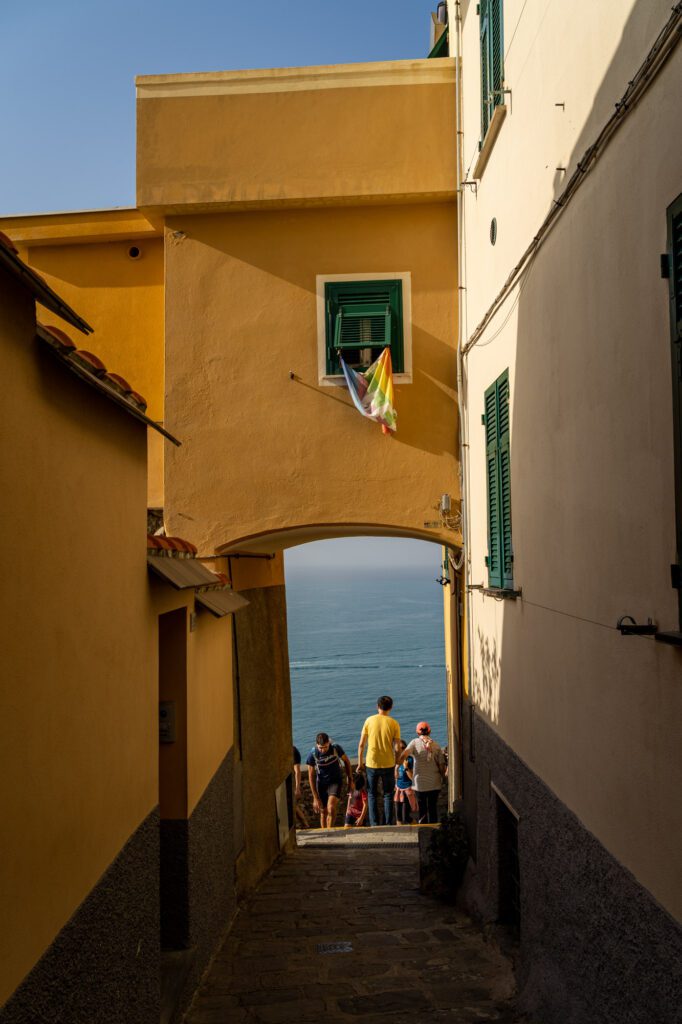 Vernazza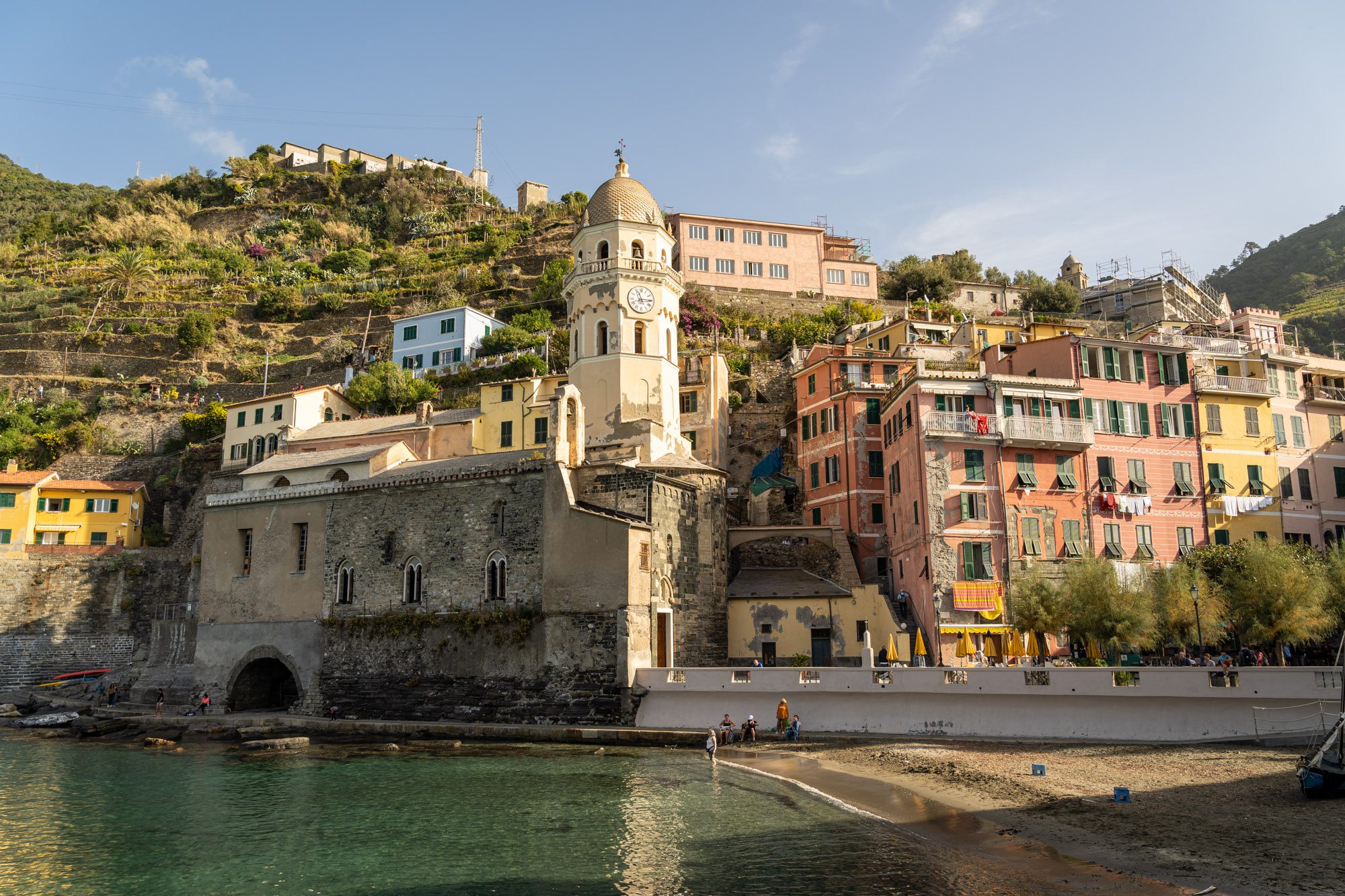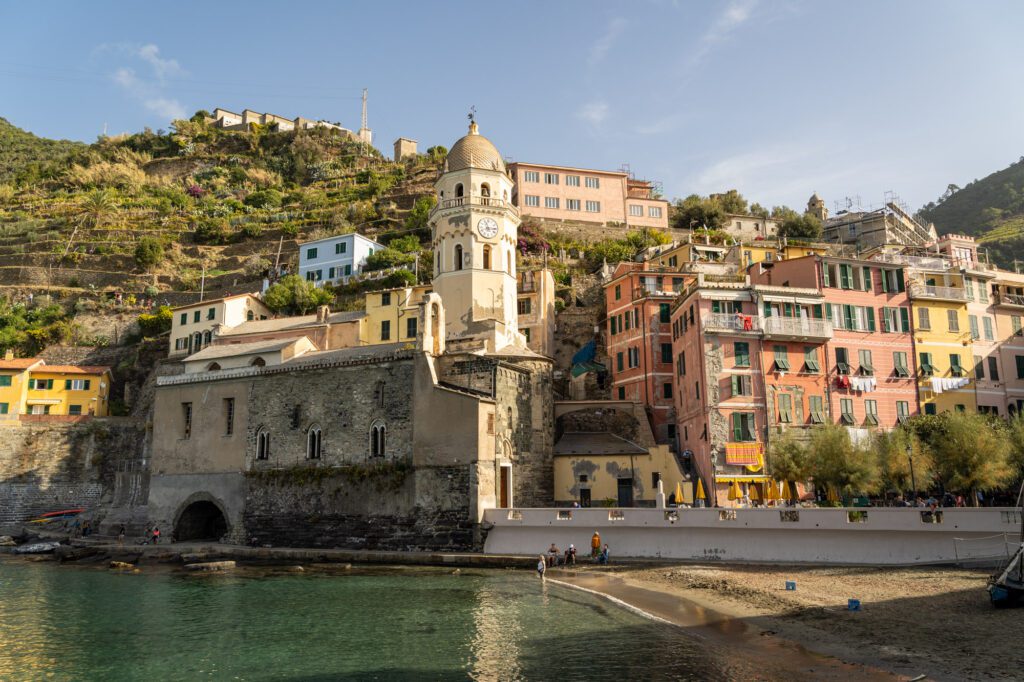 The Blue Marlin: It looks more like a dive bar, but this place served us the best coffee we had in the Cinque Terre. It also looks like a lovely place to grab a drink, but we were there in the morning both times, so we stuck to coffee.
Batti Batti' Focacceria: More focaccia! This was another impulse stop after a morning hike. Get the pesto pizza version with tomato sauce, pesto, and melted cheese (or just the version with pesto, which is more traditional).
Il Gattaccio: We stopped here because the focaccia caught my brother's eye, but they're really known for their fish, specifically anchovies.
Pippo a Vernazza: Up the hill on the other side of the train station, this is the place to go for an affordable lunch or dinner with a rotating selection of sandwiches and pasta dishes. We tried to stop by, but they were closed for the season at the end of October. They're also plastic free, which I love.
Monterosso al Mare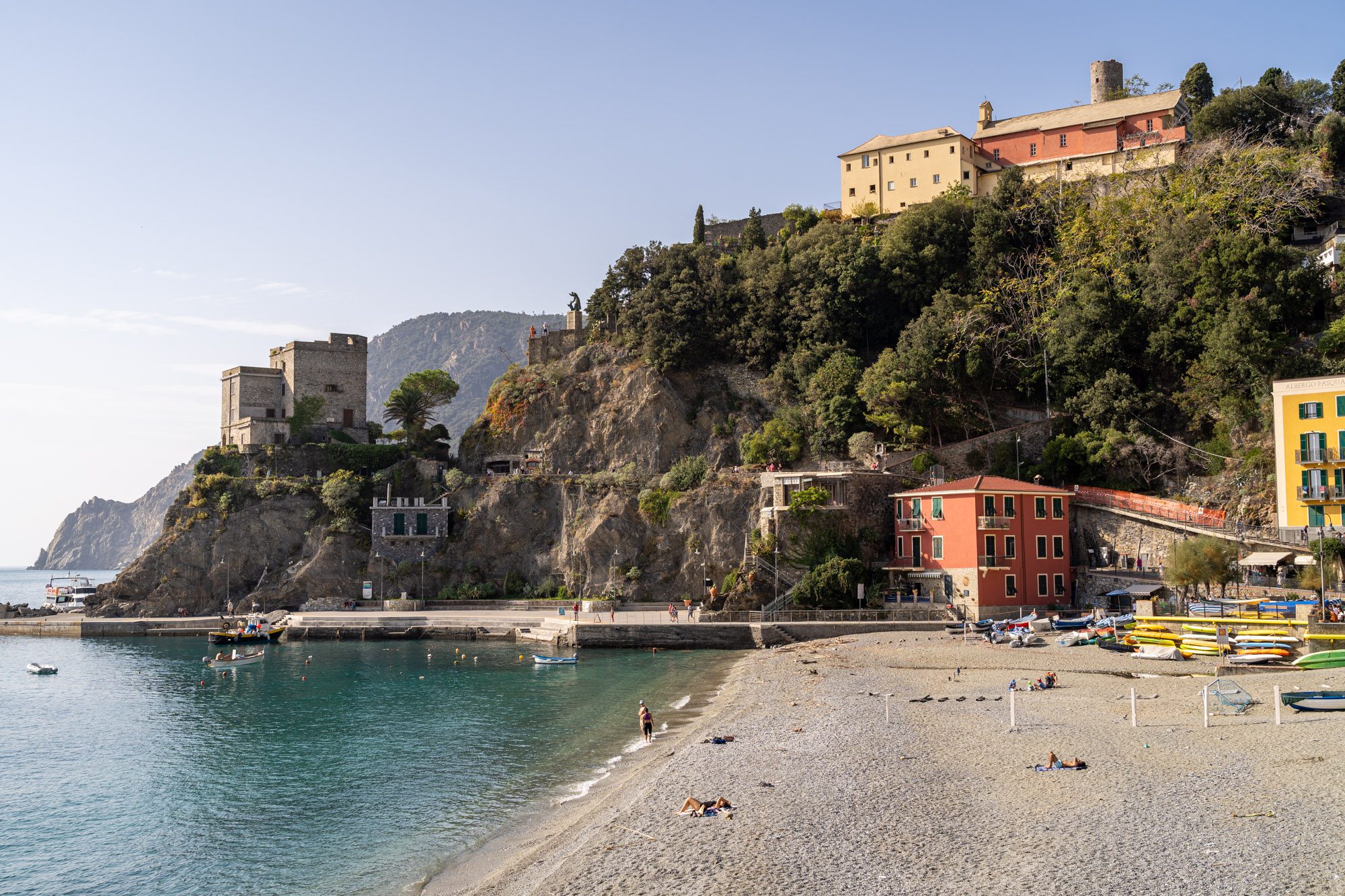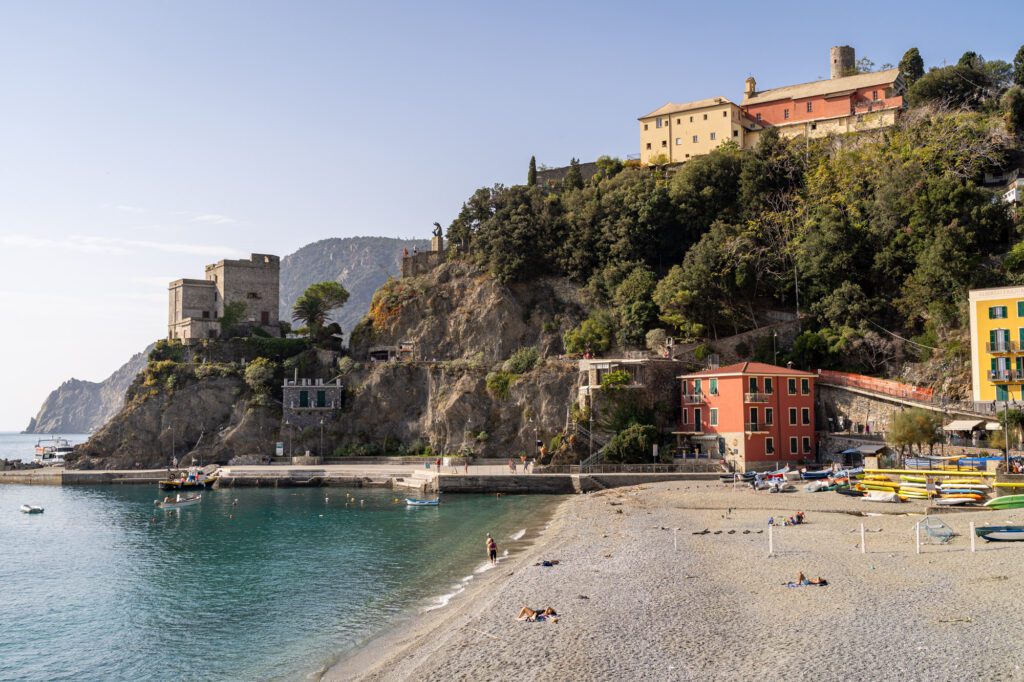 Wine: I already gushed about Enoteca da Eliseo and Buranco above – if you want wine in Monterosso al Mare, I'd head straight to Eliseo and ask him to help you find something you like.
Fabbrica D'Arte Monterosso: Saving the best for last, this was perhaps our favorite find in any of the towns. It's a family owned and operated pottery shop, where they show off their beautiful pieces that they make a few miles away from the Cinque Terre. I grabbed a mug and an espresso glass, my mom grabbed one of their gorgeous colored terracotta pieces. Highly recommend for gifts and souvenirs to bring home!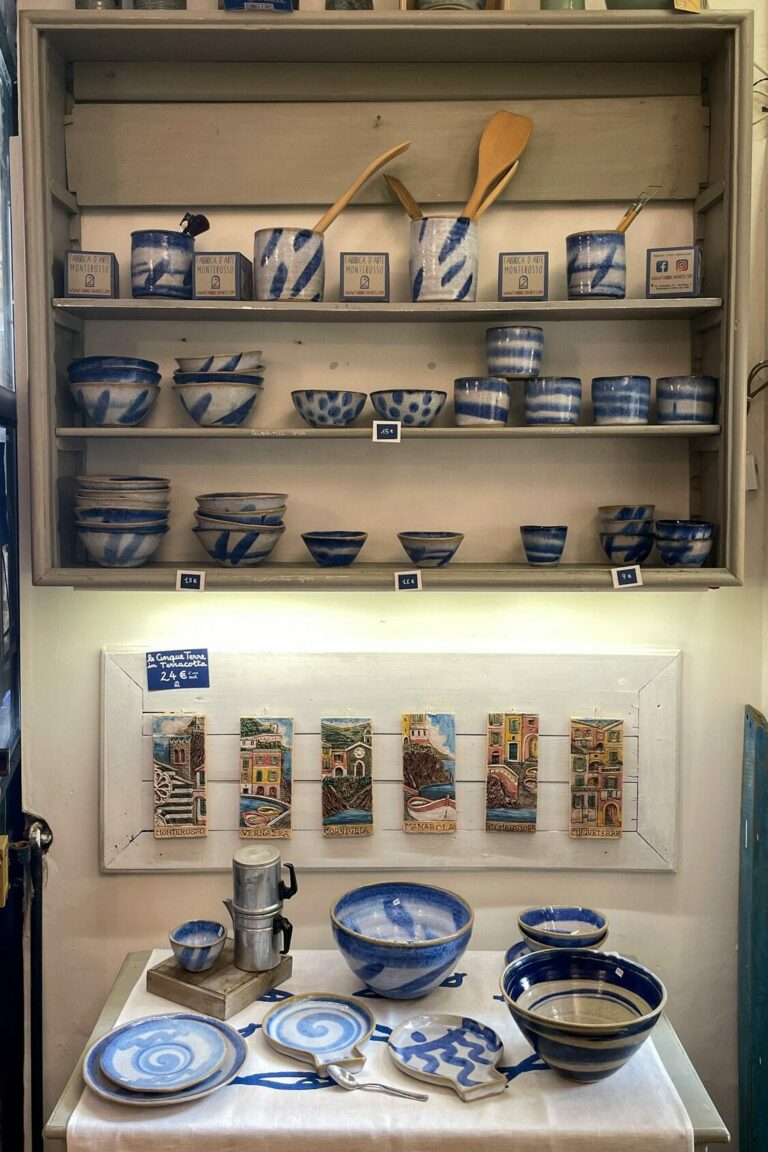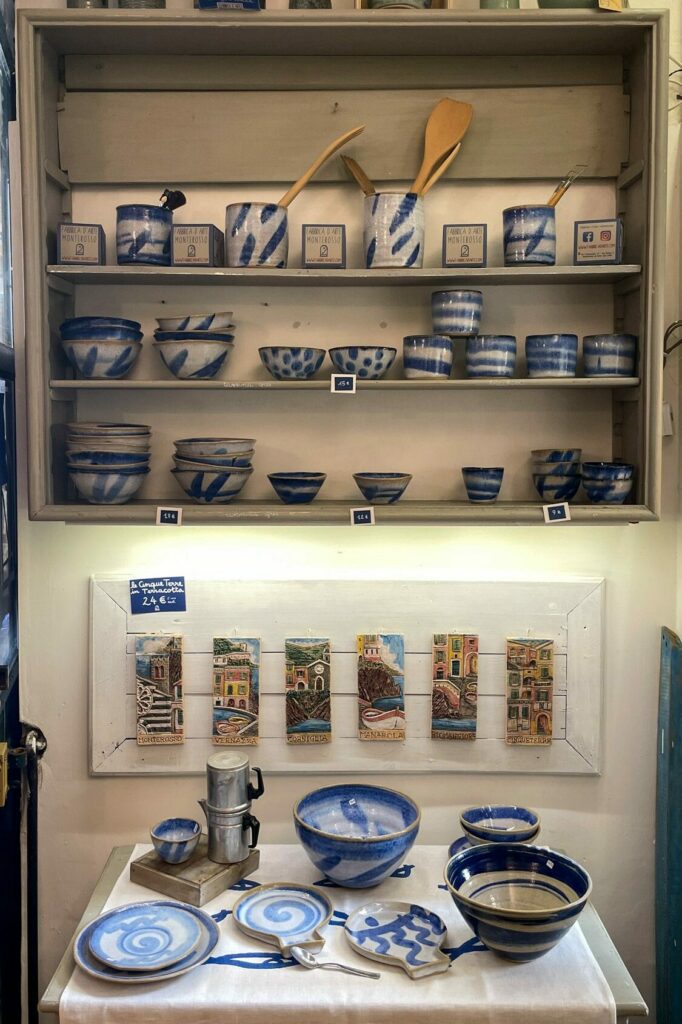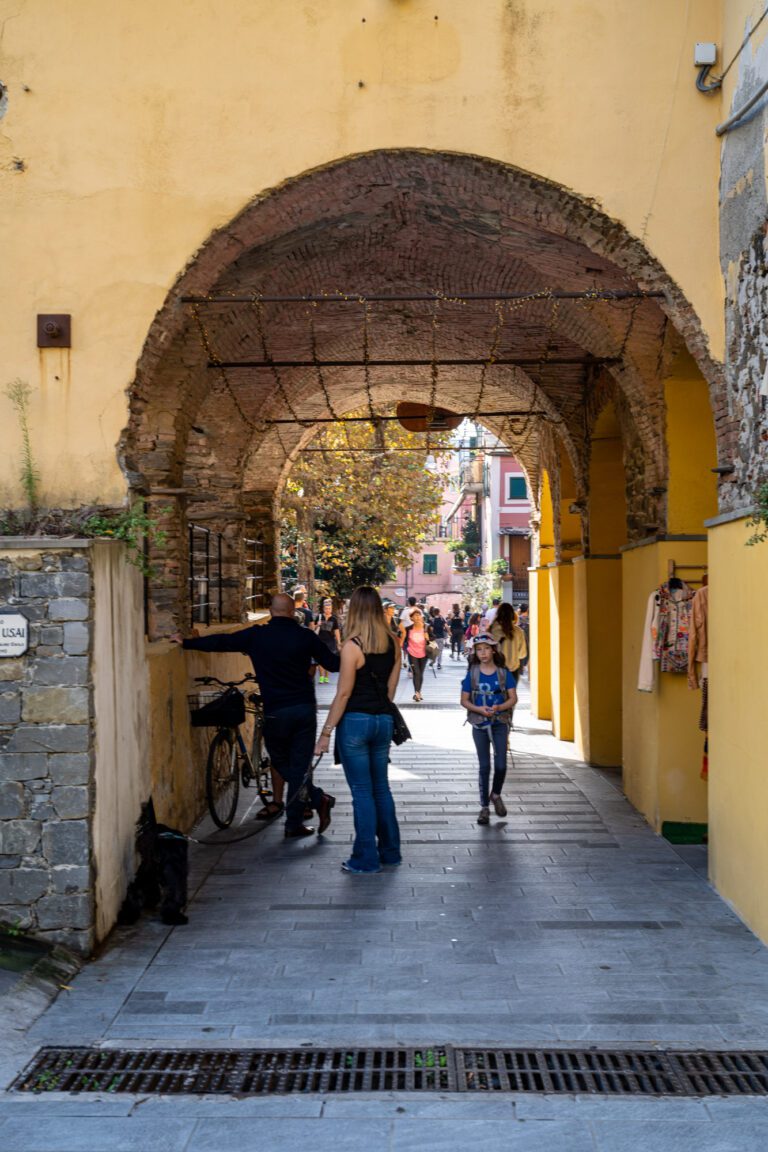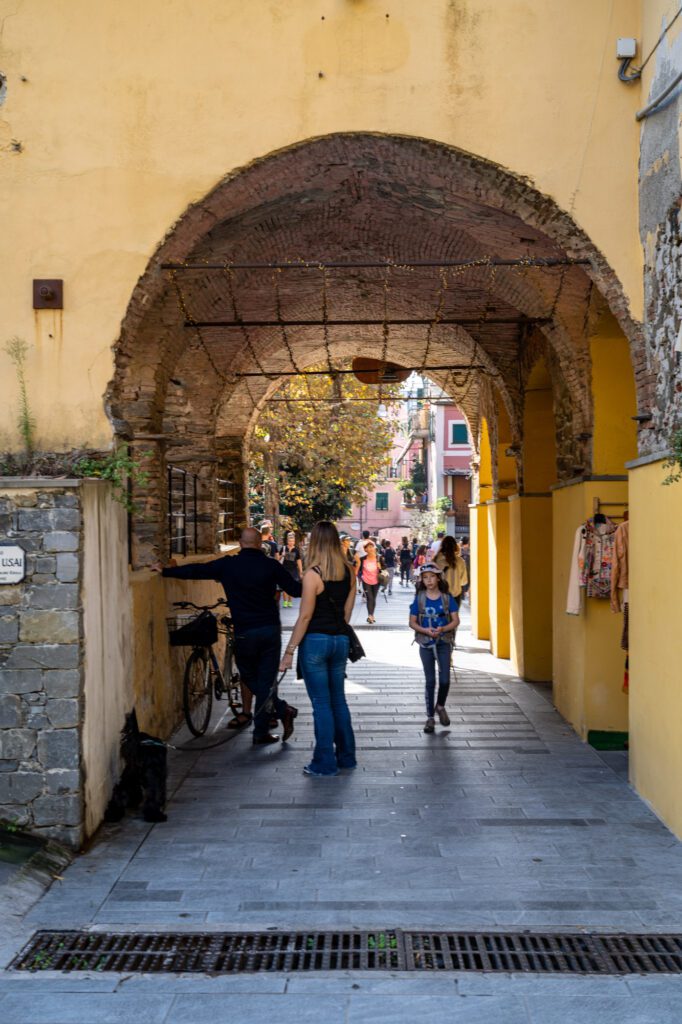 Important Logistics for Visiting Cinque Terre
In addition to all the amazing things to do in Cinque Terre that we covered above, we also want to give you the important (and somewhat boring) logistics you'll need to know for your trip.
How Much Time to Spend in the Cinque Terre?
One of the first things you'll notice in the Cinque Terre is that it's a completely different place in the middle of the day than it is either early in the morning or later in the evening.
The reason?
The vast majority of people who visit the Cinque Terre do it as a day trip, either from a nearby city or from a cruise ship parked in La Spezia.
For this reason, along with the fact that it's a bit of a journey to get to, we'd HIGHLY recommend that you do not visit the Cinque Terre if you only have a single day.
At a minimum, we'd spend two days in the Cinque Terre. More time is obviously better, and three or four days is a nice amount of time to see the highlights at a reasonable pace, with some extra time to wander the narrow alleys and staircases of the five towns.
Getting to the Cinque Terre
The Cinque Terre is a little tough to get to, which is why we recommend only visiting if you have at least one night to spare (better with two or three, if not more!).
Basically, if you're adding the Cinque Terre on as part of a broader Italy itinerary, which is what we did, you're most likely going to be coming from either Florence or Milan.
Let's talk about getting there by train, car, and plane (spoiler: if you arrive by plane, it also requires a train ride).
Arriving by Train
Arriving by train is going to be your best bet for getting to the Cinque Terre.
If you have a rental car, we'd return it before you make your way to the Cinque Terre because driving and parking are a nightmare, and (as you'll soon read) we're recommending leaving it parked outside of the Cinque Terre anyway, so it'll just be sitting there costing you money.
There are good train connections from both the east (Florence / Pisa) and the north (Milan / Genoa).
If you're coming from the north (Milan or Genoa), there are direct Intercity trains every two hours or so between Milano Centrale and Levanto, which is where you'll connect with the regional train to get to where you're staying. The journey from Milan takes three hours (two from Genoa).
If you're coming from the east (Florence, Bologna, Pisa, etc.), then the trains are a bit less simple, and will take a little longer because you're going to be using the slower regional train lines. There are a couple of options, and it's going to take somewhere between two and three hours, depending on the date and time you're traveling.
The simplest (and cheapest) option if you're coming from Florence, we think, is to hop on a regional train from Santa Maria Novella (the main station in Florence) that goes directly to La Spezia Centrale, where you can hop on the regional train to get to your home base in the Cinque Terre. They come every two hours, and the journey takes two and a half hours.
You can also make a connection in Pisa, which actually turns out to be faster because you'll take a high speed train from Pisa to La Spezia. However, if you get delayed, you could miss your connection, which we just BARELY avoided by sprinting from platform to platform. This route also requires you to use the Cinque Terre Express to get to your home base.
Arriving by Car
Do not drive in the Cinque Terre. Under any circumstances. Narrow streets, limited parking, and ZTL's (parts of the city that it is forbidden to drive in unless you're a resident) make it a veritable nightmare.
However, if you're reading this, chances are you're planning to have a car. So what should you do with it?
Leave it parked at a lot in either La Spezia or Levanto (it depends on which direction you're coming from) and use the Cinque Terre Express (more on that in the getting around section below) to get around while you're in the region.
In Levanto, the best place to park is the lots around the train station (lot P4 or P3). It's going to cost you €24 / 24 hours, but it's worth not having to navigate the driving and parking situation in the Cinque Terre. If you have a camper, you'll need to park in P3, and it's slightly more expensive (€36 / 24 hours).
In La Spezia, you can park right at the train station (here it is on Google Maps). It's going to be €30 / 24 hours (that's the latest rate I can find – let me know in the comments if you find something different!).
Flying to Cinque Terre
If you're flying in for a trip to the Cinque Terre, you have a few different options. Which airport you choose is going to depend on whether or not the Cinque Terre is the only stop on your itinerary, so you'll need to take this information and decide which makes the most sense for you.
It's also important to remember that you're going to (most likely) need to connect to the Cinque Terre Express – that's the regional train line connecting the five towns to La Spezia and Levanto. The exception is if you're staying in Monterosso, in which case you can take a direct intercity train from Genoa or Milan.
In general, the two most convenient airports for accessing the Cinque Terre are in Pisa and Genoa.
Flying into Pisa International Airport (PSA) is probably the best combination of convenience and number of flight options. From the airport, you'll have to take a short taxi or bus ride over to Pisa Centrale (Pisa's main train station), where you can catch a train to La Spezia. From there, hop on the Cinque Terre Express and head to wherever you're staying. It's going to take you about an hour from door-to-door by regional train.
Flying into Genoa Airport (GOA) is also fairly convenient, however there are definitely fewer flight options here. From the airport, you'll need to cross town to the train station (Principe) to catch the train to Levanto. There are Intercity trains every two hours or so between Genoa and Levanto, where you can connect with the Cinque Terre Express line. It's going to take you roughly two hours, door to door.
Milan is also a good option if you're planning on spending some time in Milan while you're in Italy (you should – check out our guide to one day in Milan and 2 days in Milan). We took the train from the Cinque Terre to Milan, and it was a piece of cake, although it's a longer journey.
One important tip if you're going to fly into Milan: Do your best to fly into Milan Linate (LIN), which is significantly closer to Milan's city center and your train connection. There are high speed Intercity trains every few hours from Milano Centrale to Levanto, and it takes about three hours. There are also trains from Milano Centrale to Monterosso, if that's your home base for exploring the Cinque Terre.
Getting Around Cinque Terre
The best option for getting around on your visit to the Cinque Terre is the Cinque Terre Express, which is essentially just a fancy name for a regional train line between La Spezia at the south end, and Levanto at the north end, which connects all five of the towns that make up the Cinque Terre to those two gateway cities.
In total, the journey between La Spezia and Levanto takes roughly 20 minutes. You can find current prices and timetables over at Trenitalia, who operates this train line.
Do You Need the Cinque Terre Treno Card?
The one decision you'll need to make is whether or not to purchase the Cinque Terre Treno Card. Here's the information we think you need to make that decision.
The first piece of information is that it will cost you £5 per person for each individual train ride you take. We saw people checking tickets every single day we were in the Cinque Terre, so you're definitely going to want to make sure you have your tickets before you board the train. Also, make sure you validate your ticket by stamping it at the machines on the platform BEFORE you board the train.
There are two types of Cinque Terre cards available.
The first is the hiking permit, called the Cinque Terre Card. You need the Cinque Terre Card to hike the world-famous Blue Trail, which at the moment is only open between Corniglia and Vernazza, and Vernazza and Monterosso.
In our Cinque Terre itinerary we have you doing one stretch on each of the first two days.
The second is the Cinque Terre Treno Card (we know, the names are confusing). which includes everything the Cinque Terre Card does (hiking permit, bathrooms, and ATC buses), along with unlimited rides on the Cinque Terre Express.
There is one big advantage to having the Treno Card – you don't have to wait in the (sometimes long) lines at the ticket machines at the station, which could be the difference between making and missing a train and having to wait another 20 minutes.
We did the math for our trip, and here's how it works out:
The 1 Day Treno Card pays out if you are planning on hiking the Blue Trail AND taking at least three train rides on the day you're buying it for.
The 2 Day Treno Card pays out if you are planning on hiking the Blue Trail (both days) AND taking five train rides over two days.
For what it's worth, we bought both a Treno card (really, two) for our time in Cinque Terre, and it paid out for us both times.
You can now buy the Cinque Terre card online here, which is the best way to do it. Be prepared to download it and show it at the entry points for the Blue Trail.
---
Heading to Italy?
We've been to Italy multiple times – obviously we love it – including more than a month on our last trip!
If you enjoyed this guide and found it helpful, you definitely won't want to miss our detailed guide to planning an amazing 10 Day Italy itinerary, which covers Rome, Florence, and Venice and is perfect for a first trip.
We also have a guide to spending two weeks in Italy, which combines those three main cities with a few lesser known cities (Bologna and Verona), or a guide to spending one week in Italy, which has six different ways to spend 7 days.
Here are some of our other Italy guides to help you plan an incredible Italian adventure.
Rome:
Florence:
Venice & Milan:
Cinque Terre:
Sicily:
Need to Eat Gluten Free in Italy?
If you're traveling and need to eat gluten free like me, Matt (I have Celiac Disease, which is why I started this site in the first place), then you'll want to check out our gluten free guide to Italy, along with our city guides for Rome, Florence, and Milan to help you find the best gluten free pastries, pizzas, and more.