Gluten Free San Diego: A Travel Guide for Celiacs
San Diego was one of our last stops on our Southern California road trip, and we basically fell in love with the laid-back nature of the city, which was a lovely respite from the hustle and bustle of Los Angeles (psst! Here is our guide to eating gluten free in Los Angeles). It's a lovely place for a pleasant sunny getaway, with near perfect weather year round and plenty of things to do and see whether you have a weekend in San Diego, or more time to spend exploring
. We stayed at a lovely Airbnb on the outskirts of the best place to stay in San Diego – North Park (here's the Airbnb, if you're curious), and spent our days oscillating between exploring and relaxing. And, of course, eating and drinking our way through the city. Below, you'll find our top picks for where to eat gluten free in San Diego, including the best dedicated gluten free restaurants in San Diego, gluten free bakeries in San Diego, and where to find cider and gluten free beer. 
Disclaimer: Some of the links in this post, like hotel links, are affiliate links, meaning at no additional cost to you, we make a little bit of money if you click through and book. That being said, we would never recommend something to you that we don't stand behind 100%.
Gluten Free San Diego: A Complete Guide for Celiacs (Restaurants / Bakeries / Cider)
There aren't really THAT many Celiac-safe gluten free options in San Diego, if we're being honest, but there are a few really good spots that we loved, and think you will too.
Dedicated Gluten Free Restaurants in San Diego
The options below are 100% gluten free
El Tianguis
El Tianguis was probably our favorite gluten free restaurant in San Diego. They make rolled taquitos that are 100% gluten free, and were walking distance from our Airbnb (which is a dangerous game).
It's a fast casual spot where you'll tell them how many taquitos you want (I'd recommend AT LEAST 4-5 per person), have your choice of a couple of fillings, toppings and sides, and salsas, and you'll get your taquitos in a couple of minutes.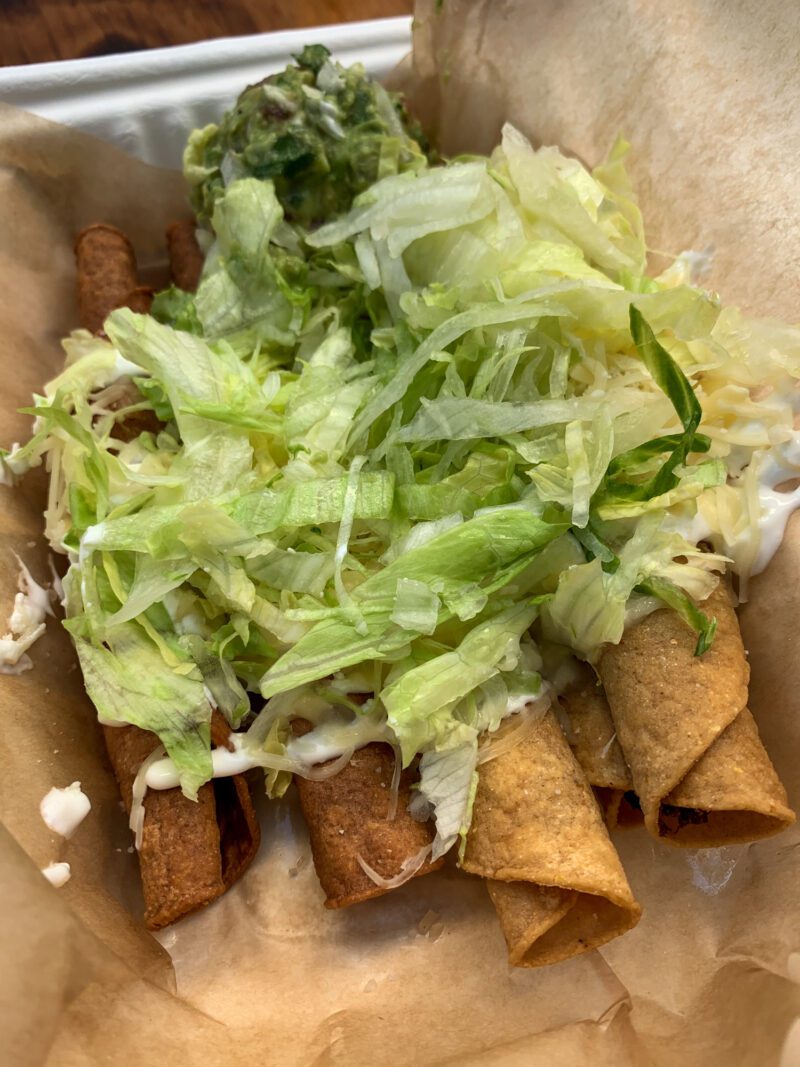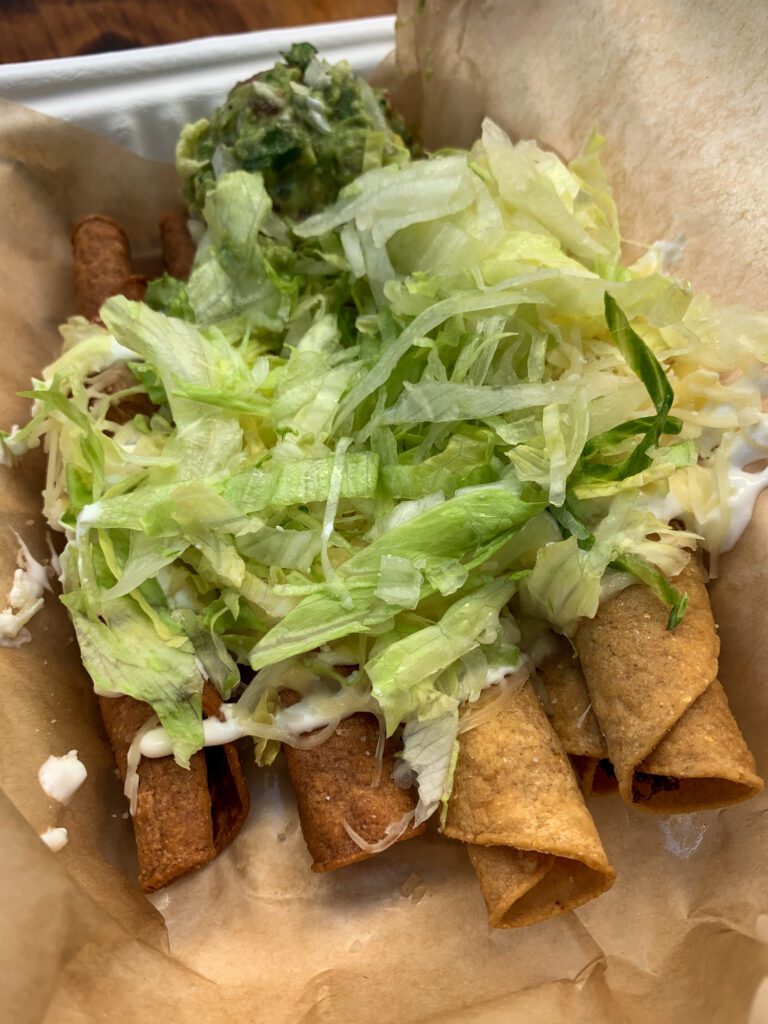 I'd recommend the California, which is shredded beef, potato, and cheese, or just the potato. They have locations in North Park and Chula Vista, the latter is a little outside of town.
Brazilian Guys
Stuffed. Hash browns. It was so good, we went back twice. You'll find the Brazilian Guys at most of the local farmers markets, including Little Italy on Saturdays and Hillcrest on Sundays, which is where we found them two days in a row. See their locations, which changes often, here.
They make the stuffed hash browns in cast iron "flippy pans" – which I can't think of a better name for at the moment – over an open flame, which results in a super crispy outside. And it's incredible.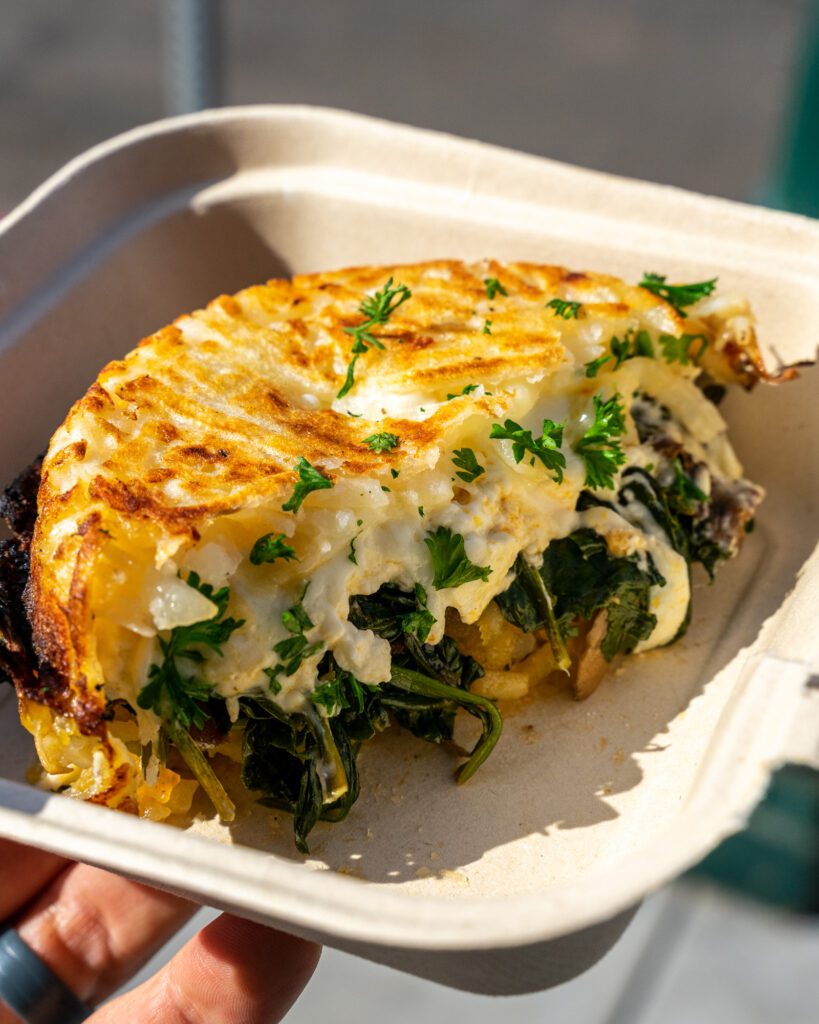 They have a couple of filling options to choose from, some more breakfast-forward, and we opted for the vegetarian version with spinach, mushrooms, mozzarella, and feta. Definitely get the hot sauce, and the special sauce – which is kind of like a garlic aoli – is worth the splurge (it's an extra $1.50).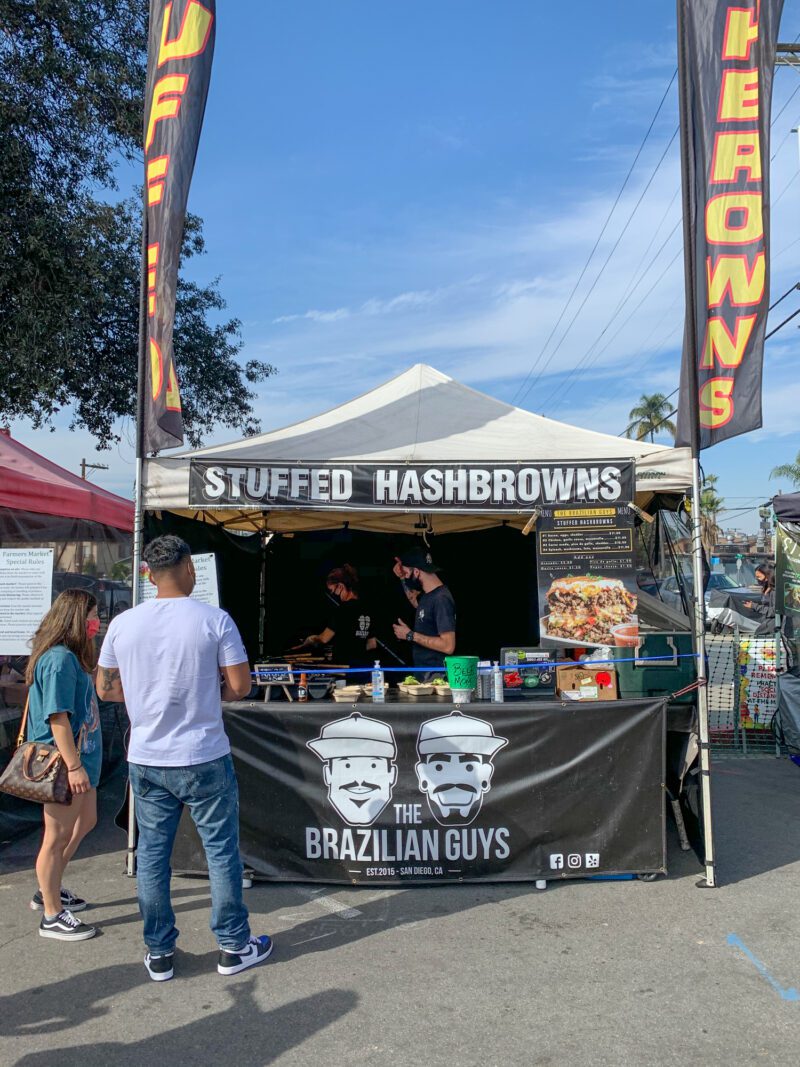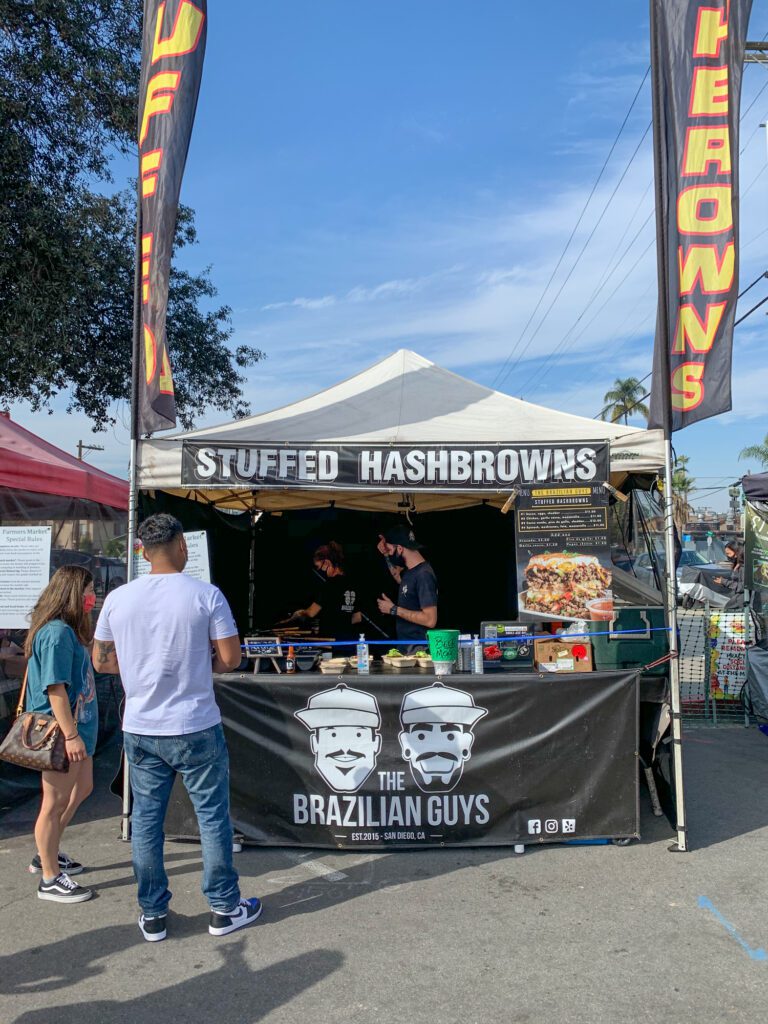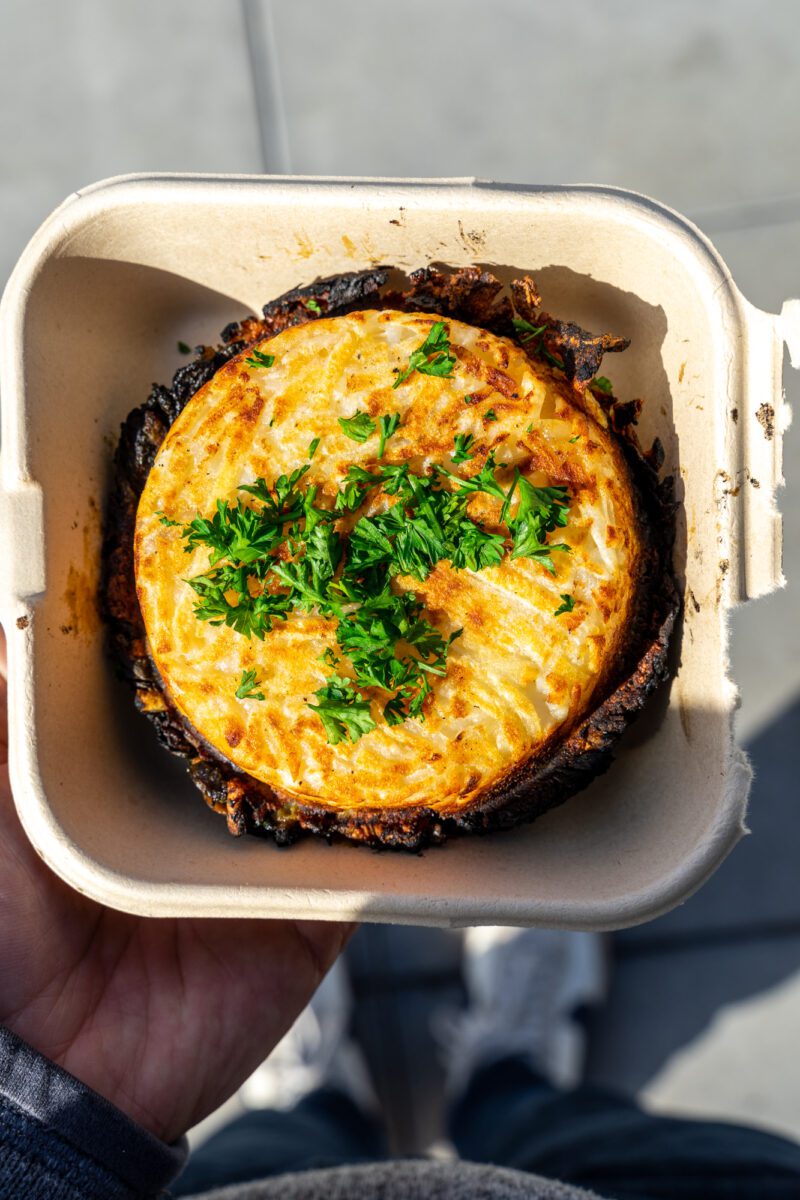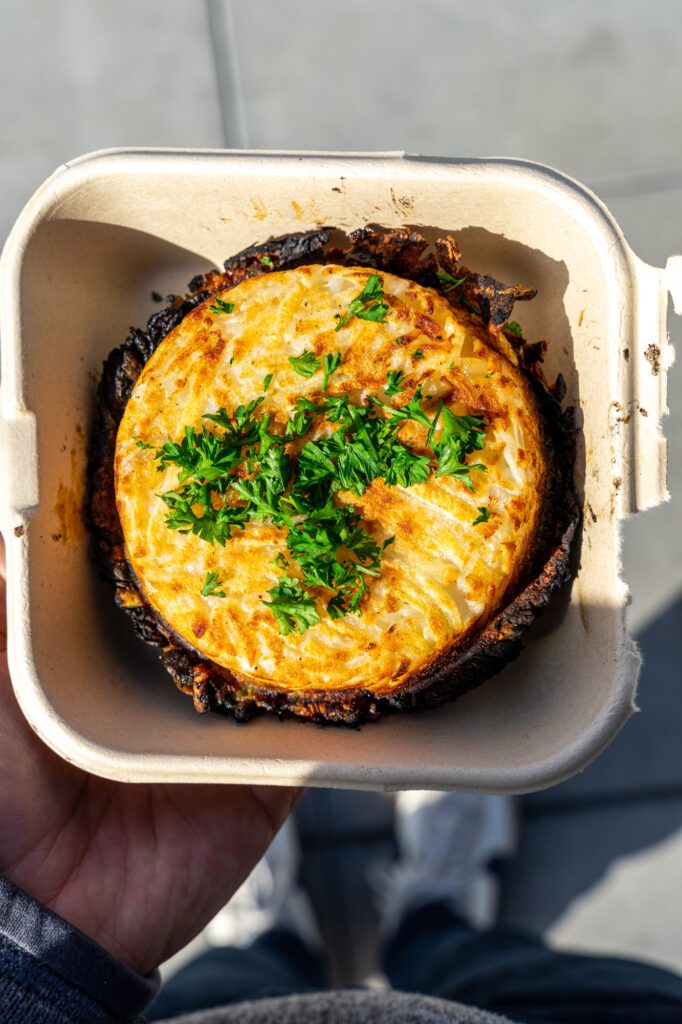 Why is it called "Brazilian Guys?" Mostly because it was started by two Brazilian Guys.
Shout out to Gluten Free Globetrotter for turning me onto them!
Cocina Calavera
Cocina Calavera is all about serving up old school Latin American classics using new school ingredients. You'll find it in the Hillcrest neighborhood literally next door to Starry Lane Bakery, which you'll find below in the gluten free bakeries section.
Started by Josh Evans, who grew up in Bakersfield and LA before living in Mexico for a couple of years and finally landing in San Diego, they serve up Mexican classics – think enchiladas and burritos – with a healthy twist, using unique tortilla options like cassava and cactus to make everything on the menu gluten free.
You read that right – burritos that are gluten free! Plenty of options for both vegans and meat lovers too, along with cocktails made with cold-pressed juices.
Nectarine Grove
To be completely honest, I thought the hype outweighed the actual quality at Nectarine Grove, but I also think it's because we ordered the wrong things. Still, it's worth a stop in Encinitas, which is a quiet beach town just north of San Diego, for their chicken and waffles.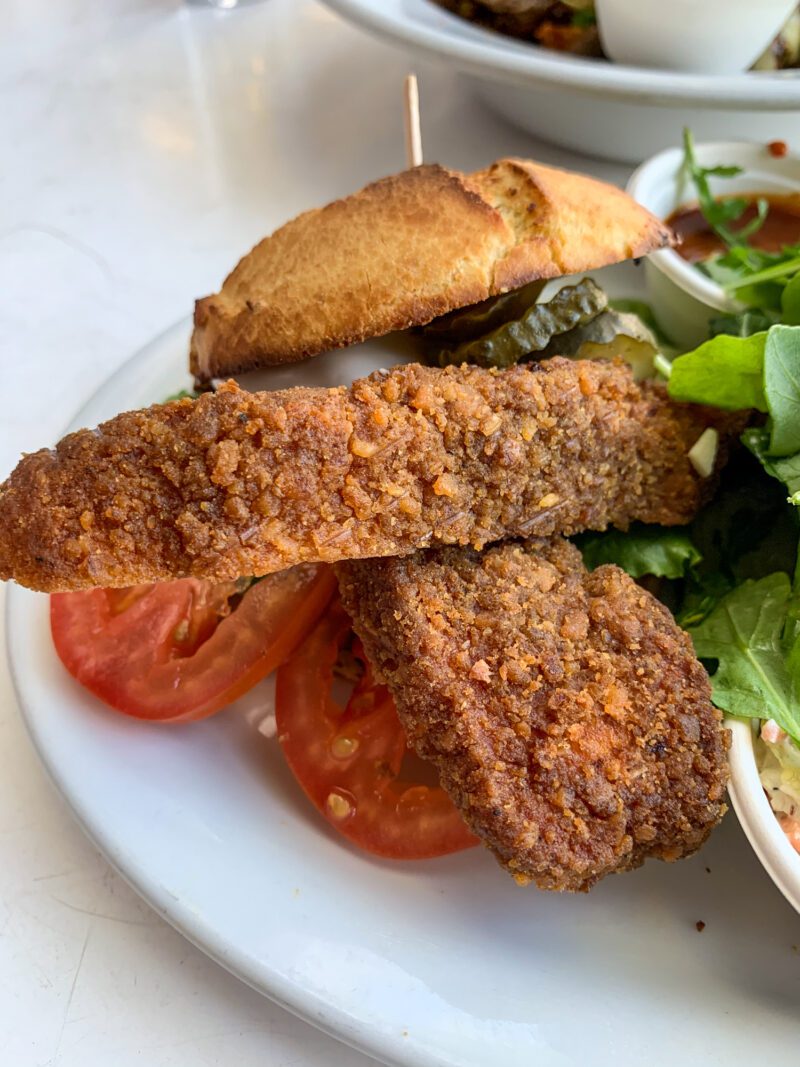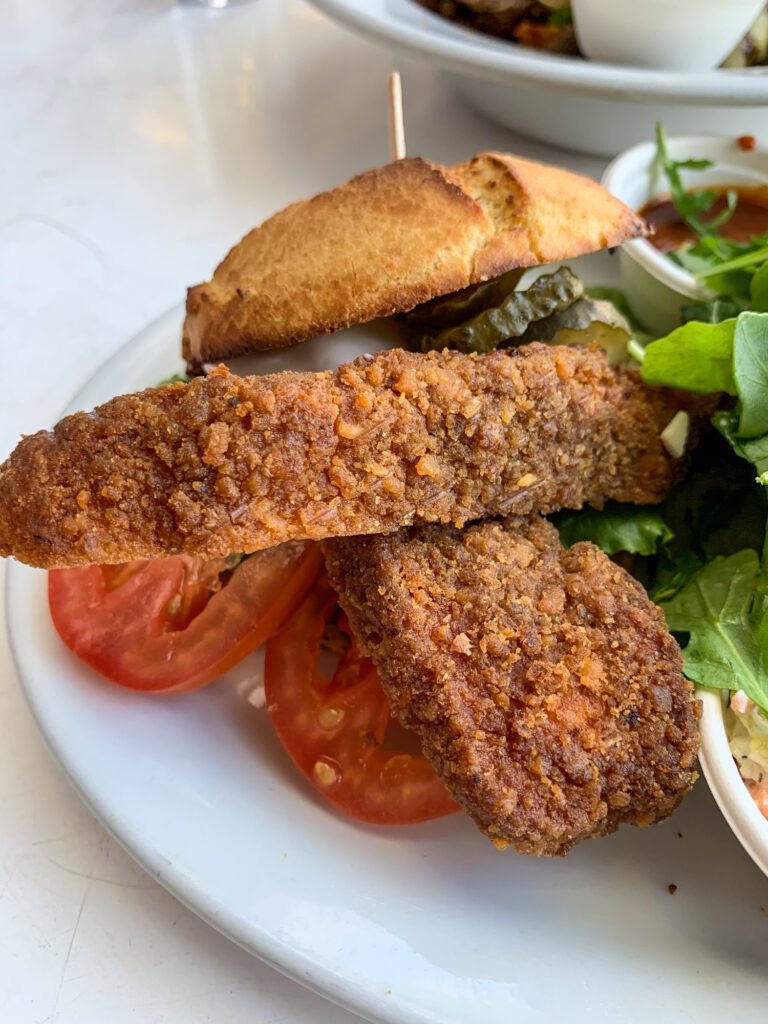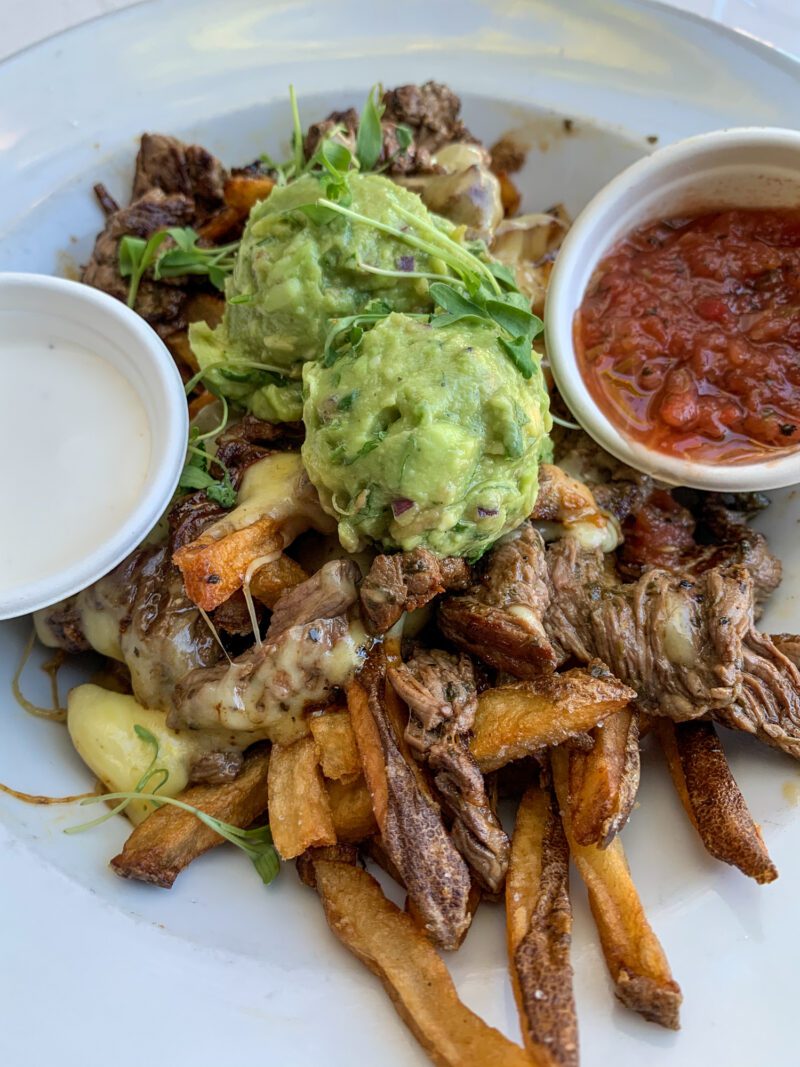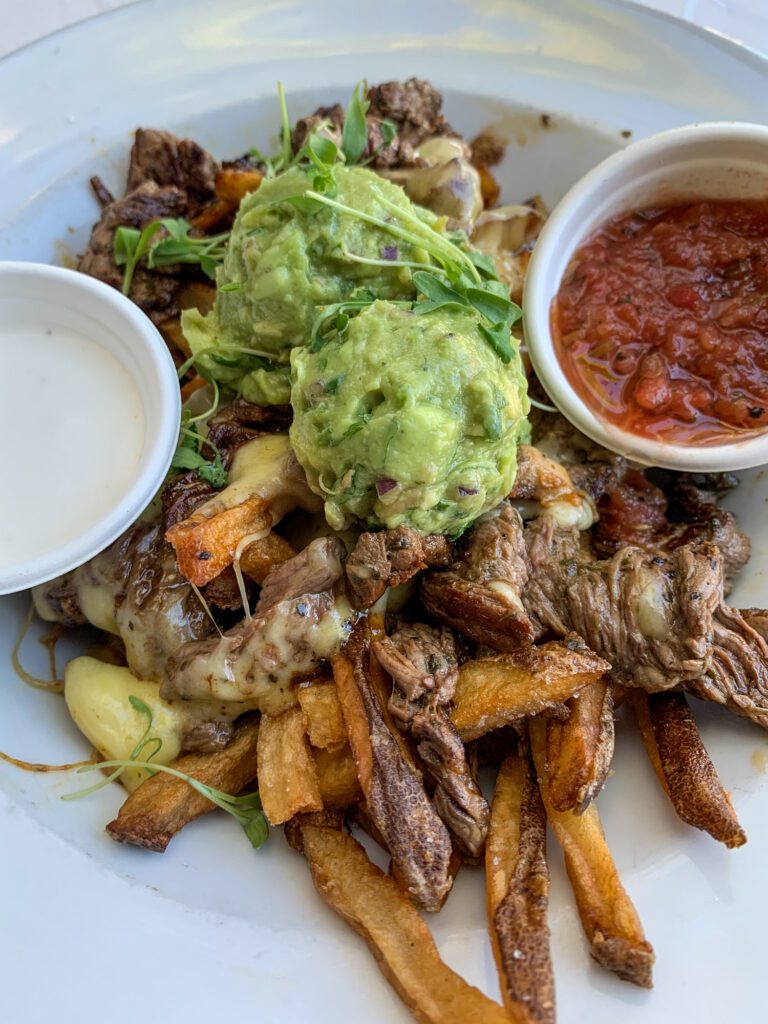 The chicken is plantain-crusted, and is served on top of a paleo Belgian waffle topped with mustard sauce and maple syrup. They also have pizzas and burgers, along with a bunch of other options. It's dedicated gluten free, and they have Groundbreaker beer too!
It's also a bakery, though we didn't try any of the baked goods they had on display.
Like I said, I think it's definitely worth a stop, but my expectations were probably a bit too high after salivating over the delicious food I saw posted on Instagram. Get the pizza and chicken and waffles and you're going to be happy!
Healthy Creations
Healthy Creations is another spot up in Encinitas, but I didn't know about this one while we were actually in San Diego, so it'll have to go on my list for next time.
It's 100% gluten free though, along with having plenty of vegan, vegetarian, and paleo options.
They have all-day breakfast options – including a paleo waffle that's definitely going to be the first item I order – and sandwiches for lunch, including paninis on their house made focaccia and power bowls of various kinds.
Dedicated Gluten Free Bakeries in San Diego
There are two gluten free bakeries we came across in San Diego, along with one farmers market stand I discovered mostly by accident at the Hillcrest Farmers Market.
The GF Baking Co
I really enjoyed the GF Baking Co, which is right in the middle of the action in busy North Park.
In particular, I loved the Boston Crème donut, which was filled with custard. I'm not sure I've had many filled donuts since my diagnosis over a decade ago, and I was blown away by how good this one was.
We also got a chocolate donut with lavender frosting, which tasted like what I imagine eating a sprig of lavender might taste like.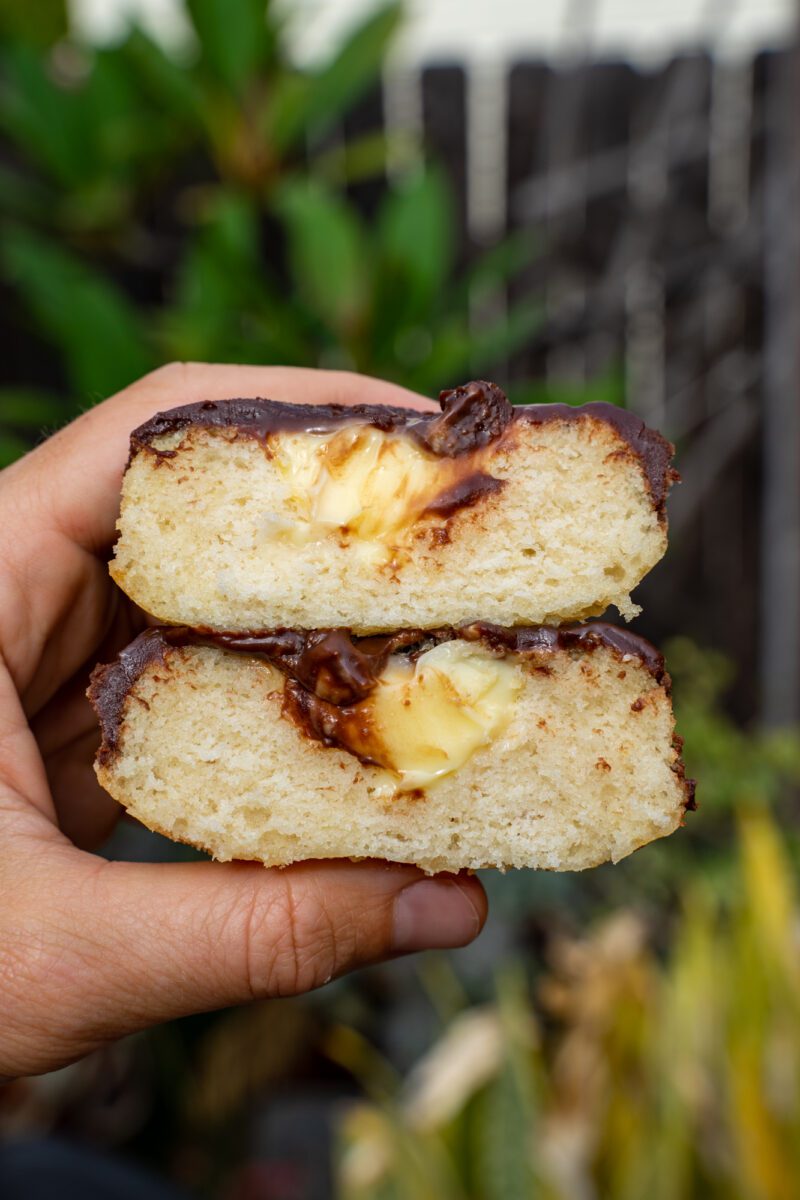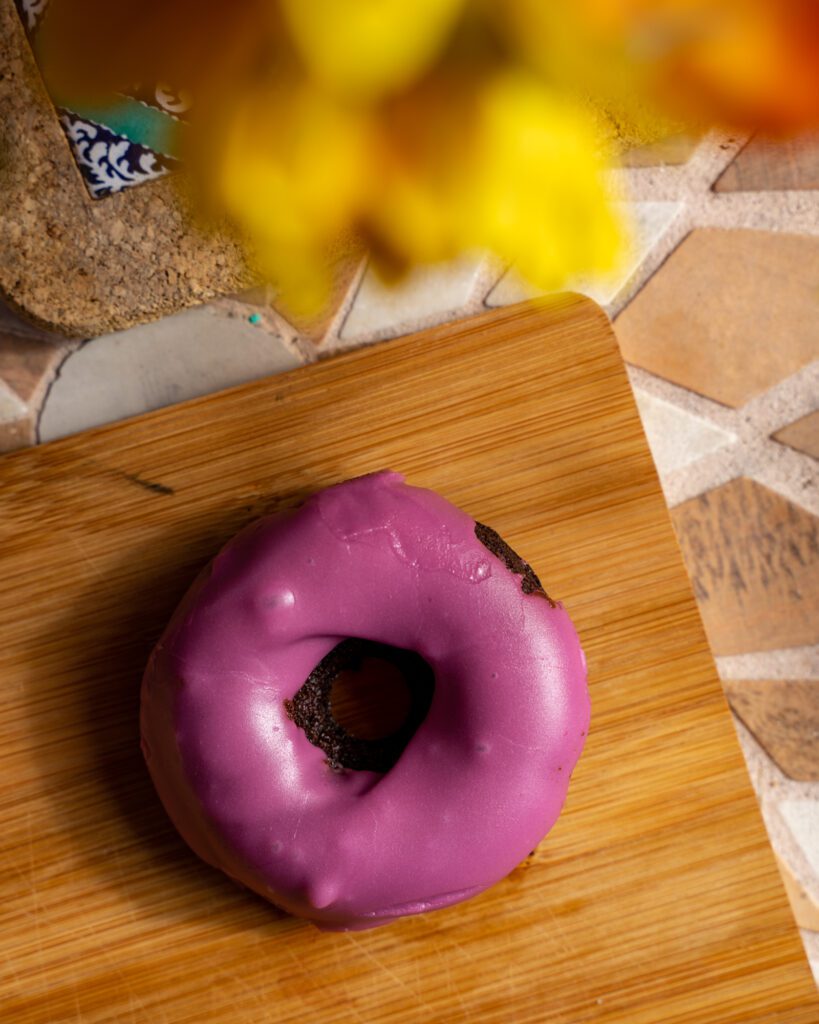 Basically, what I'm telling you is go here. Now. Run, don't walk. They also have cookies, brownies, coffee cakes, and more delicious gluten free goodies.
Starry Lane Bakery
I had been to Starry Lane on my first trip to San Diego, when it was the only gluten free bakery in town. Unfortunately, they use gluten free oats in a bunch of their products, which I personally avoid, so the pickings are slim for me.
But if you tolerate gluten free oats, then you can get all sorts of pastries, baked goods, breads, and more! For what it's worth, the carrot cake cupcake we had was delicious. The staff was more than happy to help when I asked if they use oats in anything, and helped me find a safe option.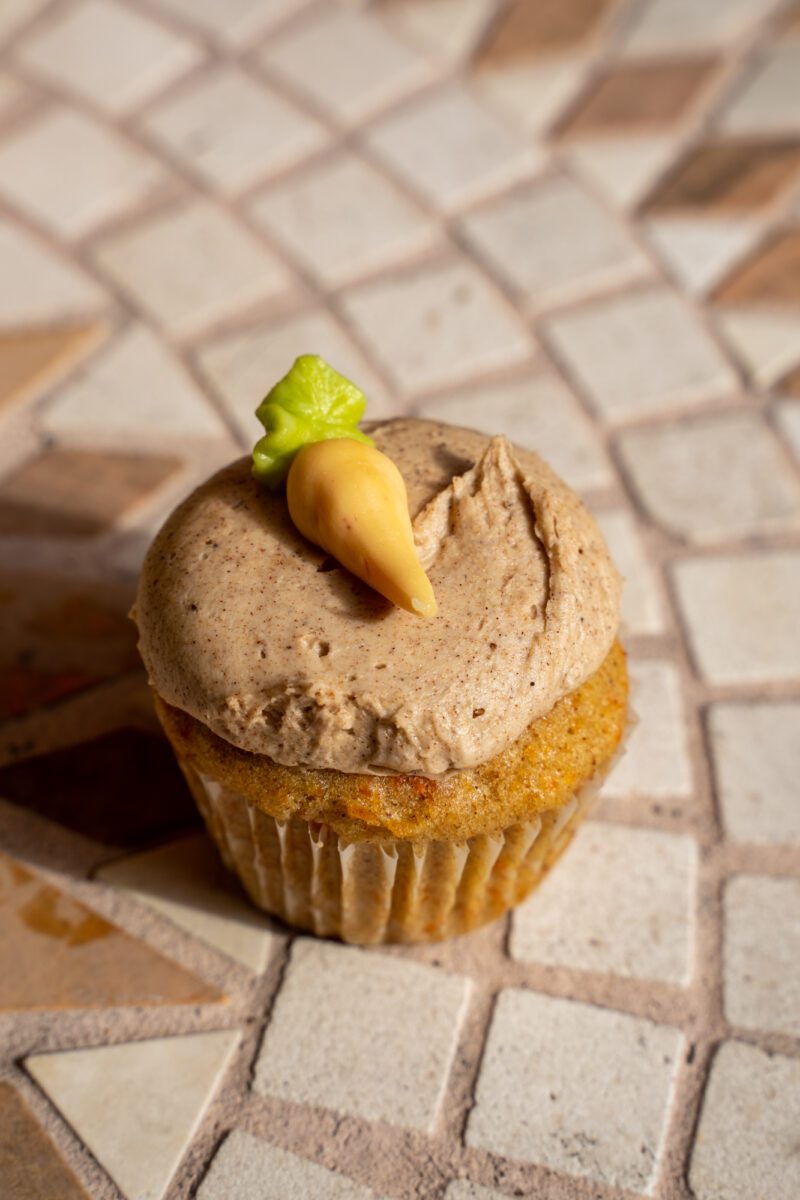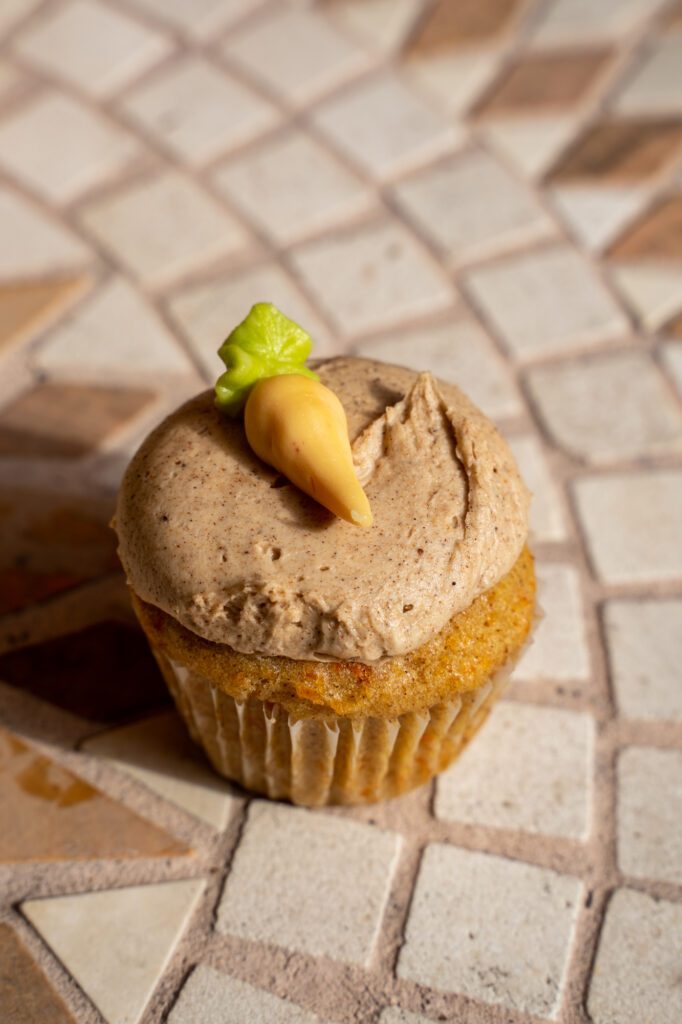 Other Celiac-Friendly Gluten Free Restaurants in San Diego (Not 100% GF)
Here are some other gluten free spots in San Diego that aren't 100% gluten free, but have Celiac-safe options on their menus and do their best to minimize cross-contamination. That being said, they are all mixed kitchens, so the risk is going to be higher than the restaurants above.
For what it's worth, I usually try to prioritize dedicated gluten free restaurants when I'm traveling, both because it feels safer and more comfortable to me, but also to support those restaurants that are supporting our community.
As always, do your own due diligence here. Things change in kitchens all the time, so make sure to talk to your server, ask questions, and make sure you feel comfortable eating at these places.
Las Hadas: Lots of naturally gluten free options, and they're surprisingly knowledgeable about cross-contamination. For example, the fryers are not safe, so they will grill chips for you so that you can still enjoy their chips and salsa.
In-N-Out Burger: When you're in California, you HAVE to go to In-N-Out at least once. It's a regular stop on our road trips because it's a relatively quick and safe gluten free option. There's exactly one thing on the menu that contains gluten – the burger buns. The fries are the only thing that goes in the fryer, and they're gluten free. The milkshakes are gluten free. And you can order a burger "protein-style" to have it lettuce wrapped (they don't have gluten free buns, unfortunately). To order safely at In-N-Out, you have to tell them that you have a "gluten allergy." Yes, I'm aware that Celiac Disease is not an allergy. But that's the term that triggers their allergy protocol, which involves wiping down the grill, changing gloves and utensils, and sometimes (depending on the location) using a whole separate grill. The other thing to watch out for, which I caught on a recent trip, is the special sauce being spread by the same spreader used on the buns. Luckily, they have special sauce in packets on the side to sidestep that issue. Here's my exact order, word for word: "Hey there, I'd love a double-double, protein style with no special sauce. And that's with a gluten allergy. Can I have a packet of special sauce on the side please?" Works like a charm, at least in my experience.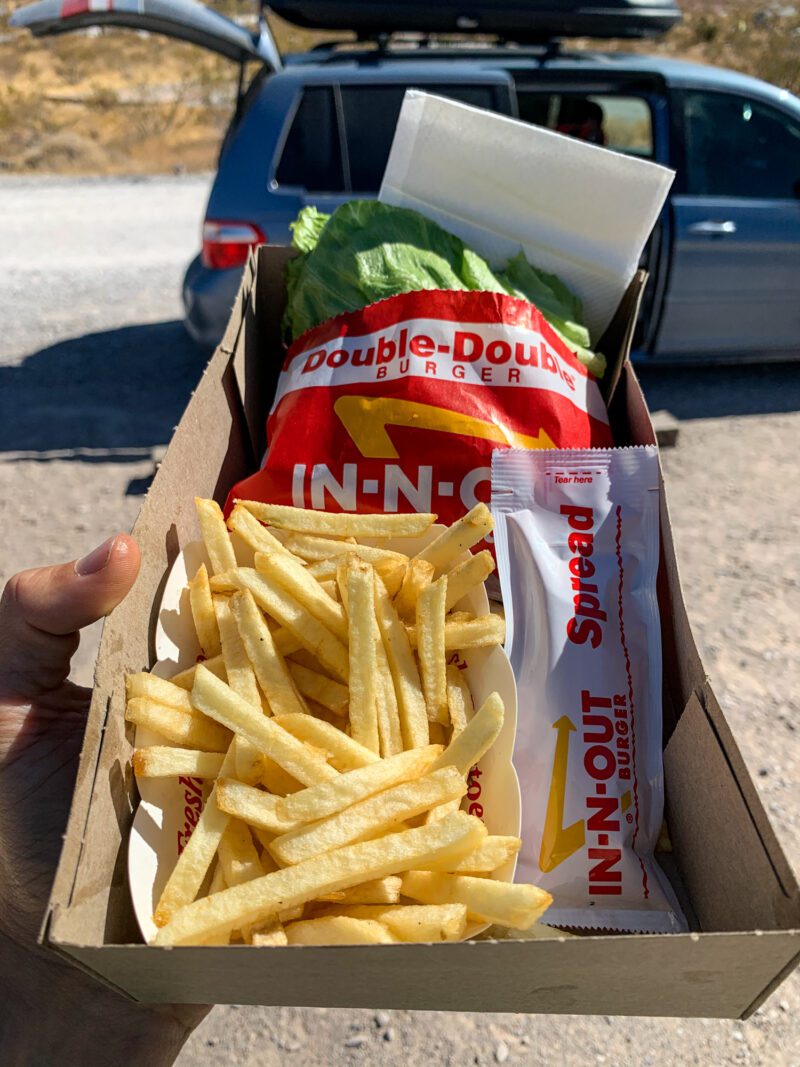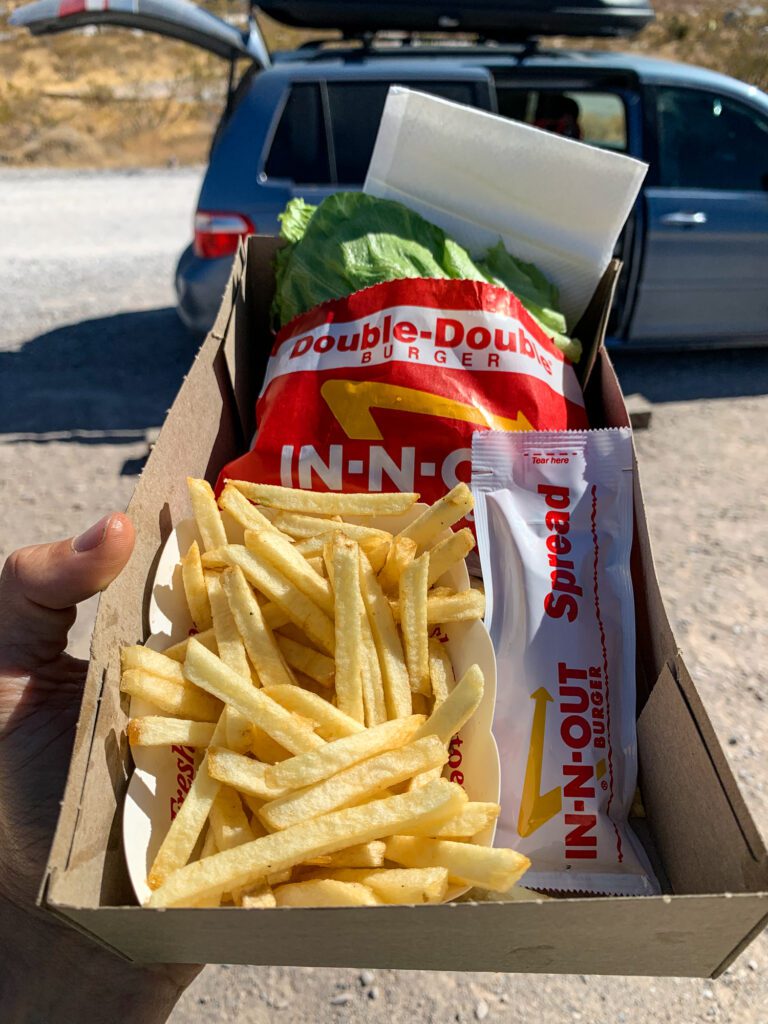 Bobboi Natural Gelato: Not 100% gluten free, but the owner let me know that most of their flavors are, and that they're more than willing to use a fresh scoop and an unopened tub. They make great gelato with fresh, local ingredients, and it shows in the final product (we're suckers for gelato, and have been known to eat it multiple times in one day when in Italy). They have three locations – two in Little Italy, and another in La Jolla.
Salt & Straw: The Portland ice cream chain that we first discovered a few years ago (and waited an hour in line for on a hot summer day in Portland) has made its way up and down the West Coast, including San Diego. Their ice cream is phenomenal, and they've always been open to my request to use a fresh scoop from a new, unopened tub. They are also super knowledgeable about ingredients and allergens, so the person helping you will be able to point you to exactly what you can eat, and what you can't.
Baked Bear: This is an ice cream spot with locations around the country, and they have a spot in San Diego's Pacific Beach (and a location in Encinitas coming soon!). They're known for ice cream sandwiches. And unlike most ice cream places, they proactively offer to scoop with a clean scoop and fresh tub of ice cream to minimize cross-contamination. I'd opt to skip the cookies, just because the risk of cross-contamination is higher, but they will change gloves and use fresh utensils, and they're kept separate from the regular cookies.
Where to Find Cider & Gluten Free Beer in San Diego
San Diego has a really, really good cider scene that was a nice surprise after L.A. disappointed us. Although, given the fact that San Diego is one of the birthplaces of craft beer and has the most craft breweries per capita in the country (according to our friends who live there), we shouldn't have been surprised.
The other thing that we saw a ton of in San Diego is hard kombucha. I'm not sure how I feel about it – it's like regular kombucha, but more funky and vinegary – but it's certainly worth a try when you're in town.
Cider in San Diego
Here are four places to find local cider while you're in San Diego.
Serpentine Cider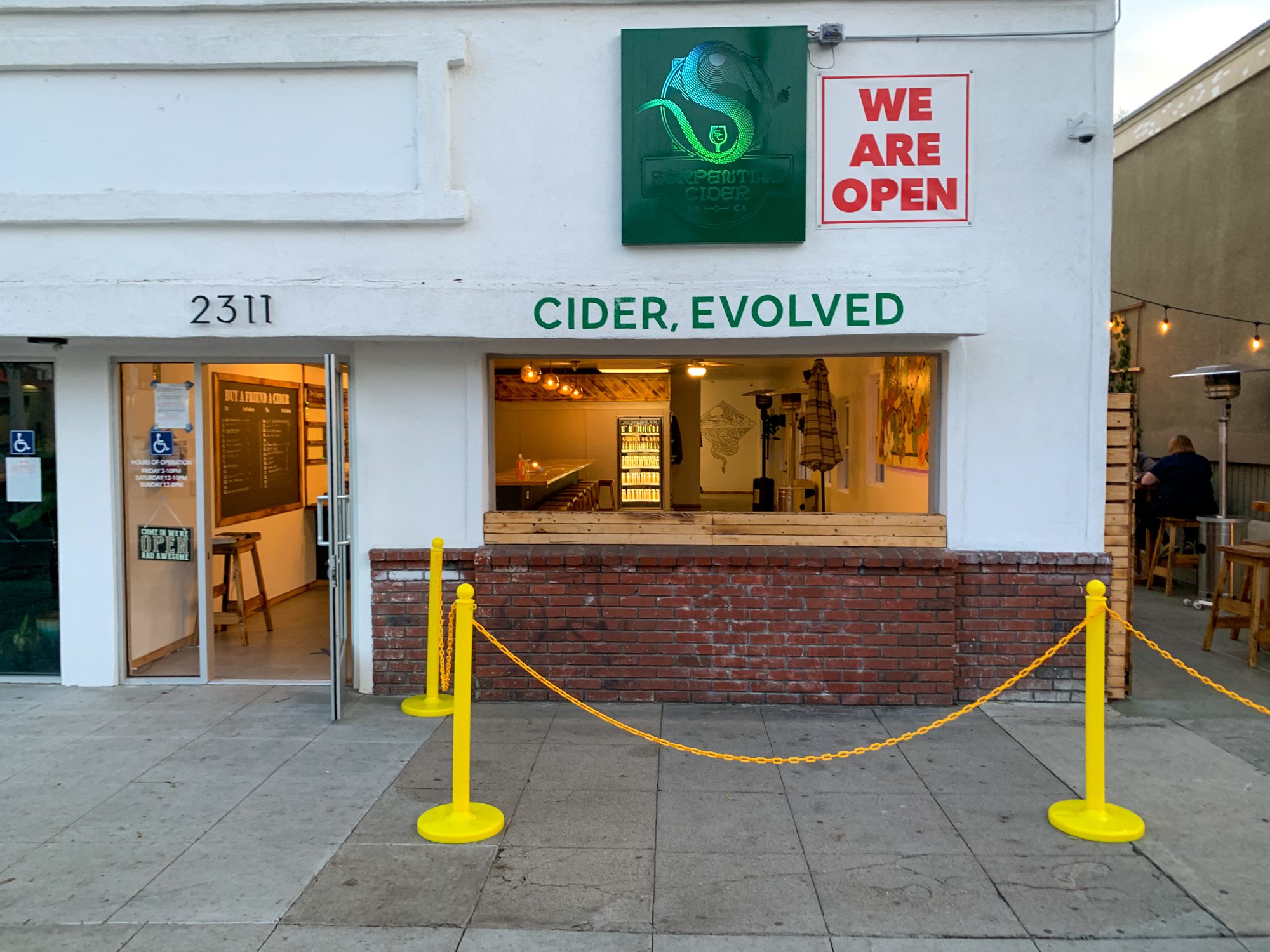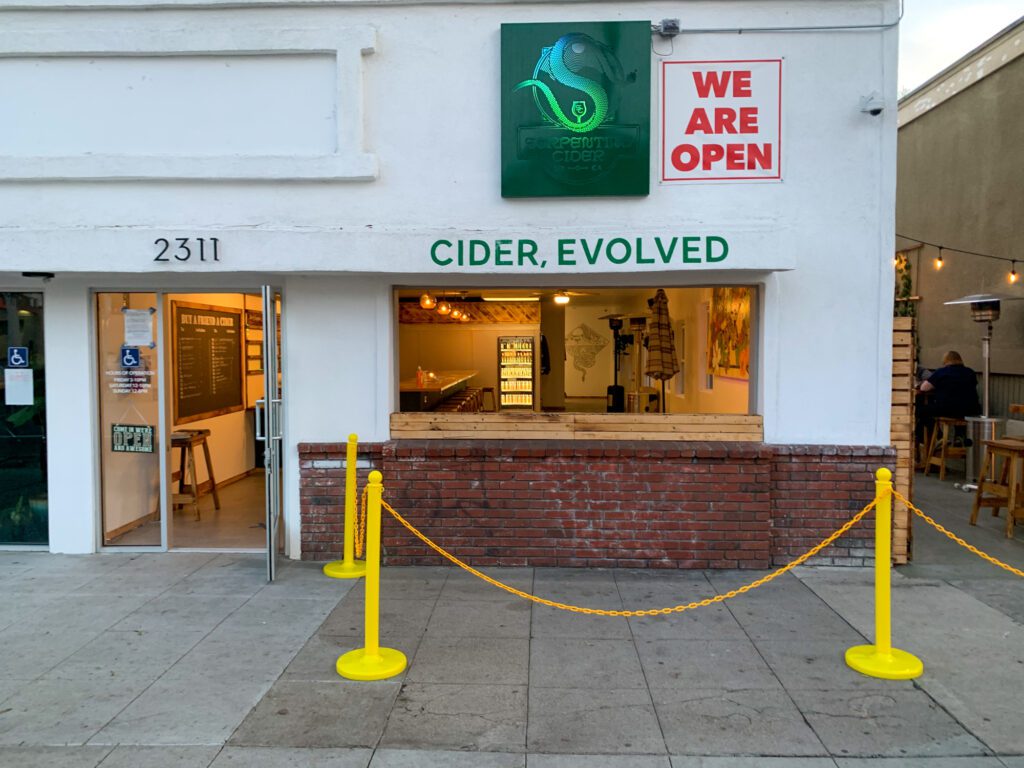 This was our favorite cider find in San Diego, and we were SO CLOSE to saying "nah let's just stay home tonight."
Good thing we didn't, and made the walk out to Serpentine's location in University Heights. Fast forward 90 minutes and we were head-over-heels in love with three crowlers in tow to share with our friends in San Diego who live mere blocks away, but had never been there before.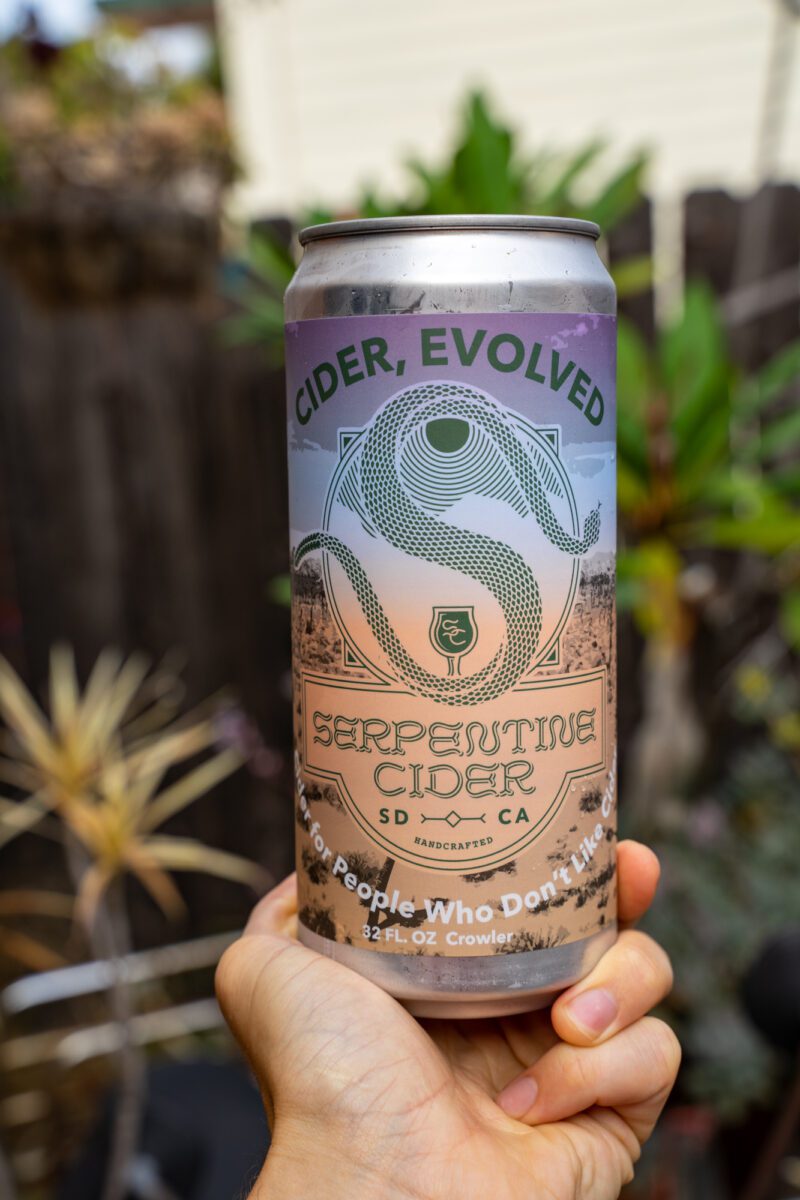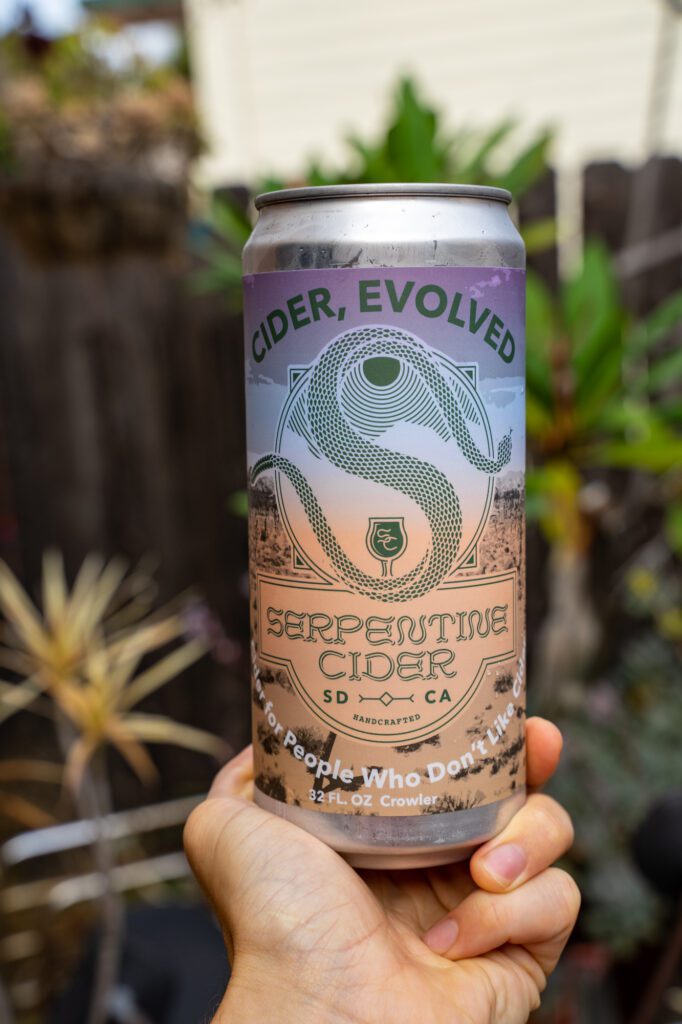 The Pomegranate Mint was like getting smacked in the face with a mint leaf, which I mean in the best possible way, and the hopped apricot was delightful.
They have a cute outdoor patio too, complete with string lights. If you have an outdoor patio and you don't have string lights…. What are you even doing?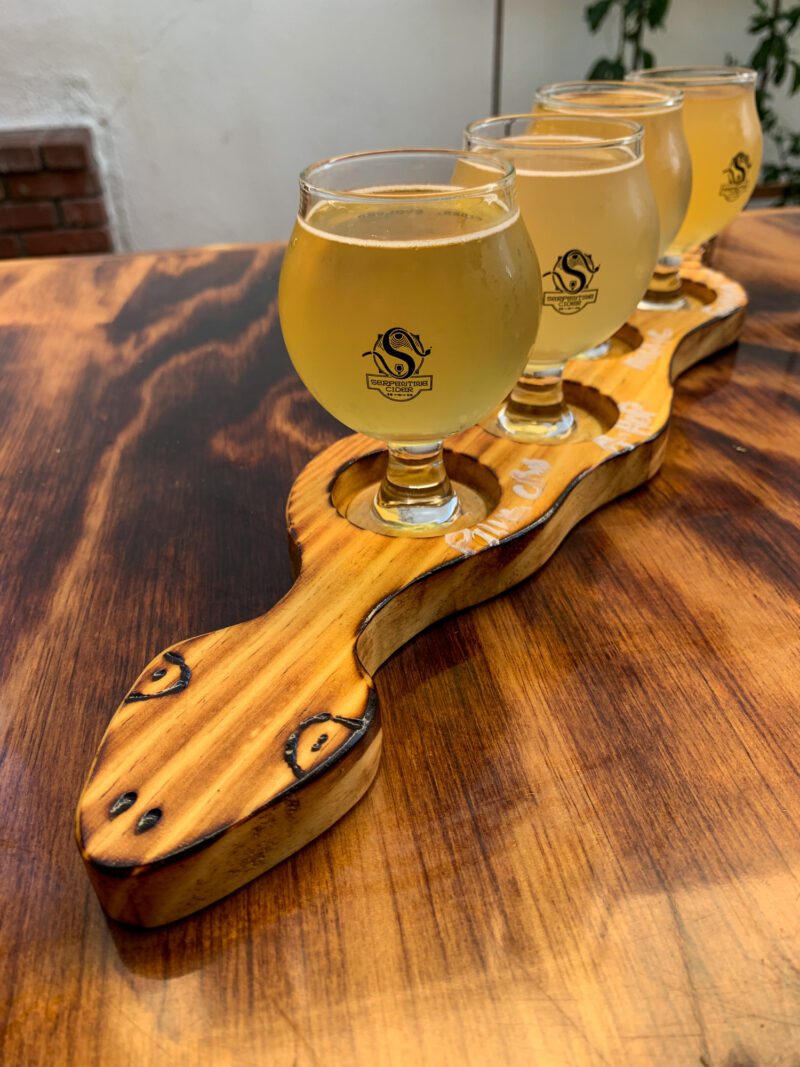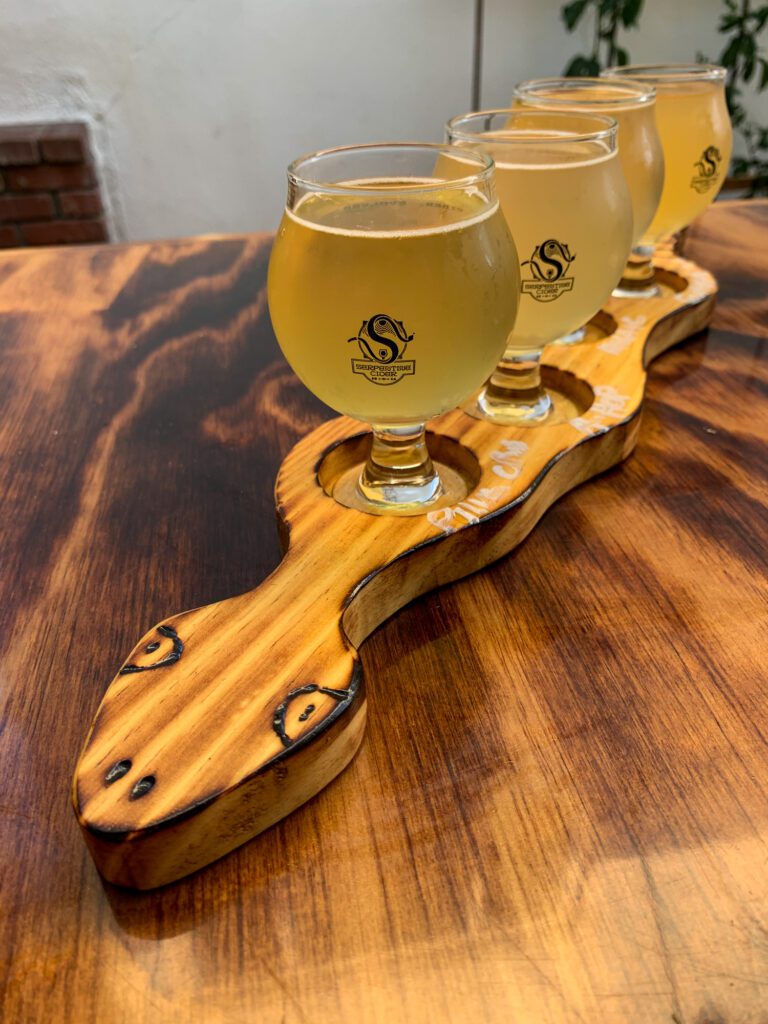 Plus, they allow you to bring your own food, and El Tianguis is just up the road, so grab some taquitos, order a flight of cider, and get started on what is sure to be a great evening. If it starts like that, how could it not be?
Newtopia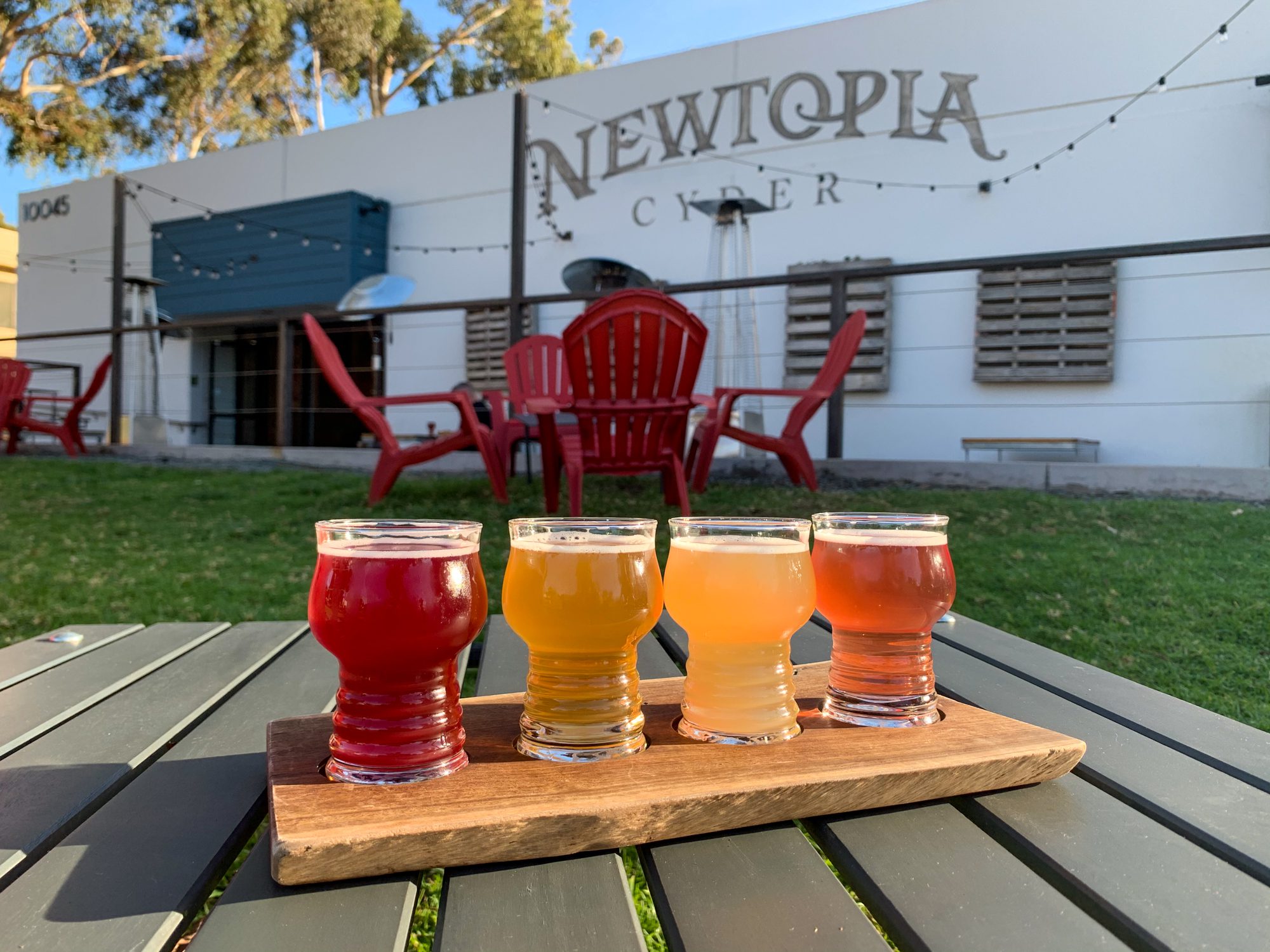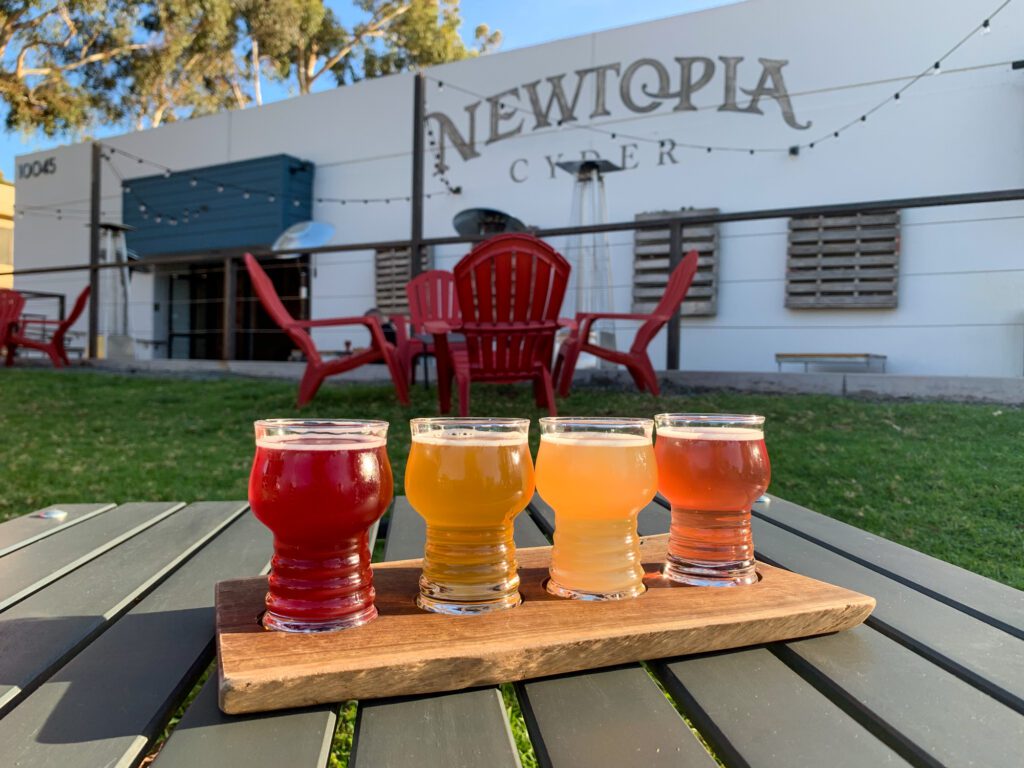 Newtopia was an impromptu stop we made on our way into San Diego, and I'm really glad we did because their cider was great. We stopped at their tasting room up in Scripps Ranch, which has a nice outdoor lawn area and an industrial indoor space.
We particularly liked their hopped cider, which was super floral and light, with none of the gross bitterness that you sometimes get with too many hops. Perfectly done.
Their taproom, which is 15 minutes outside of downtown San Diego, is well worth a stop for cider lovers.
Guthrie Cider
We didn't make it up to Guthrie, which is near Newtopia north of the city, but we grabbed their hibiscus rose cider at a grocery store on our way out of San Diego and went "damn, we should have gone up there."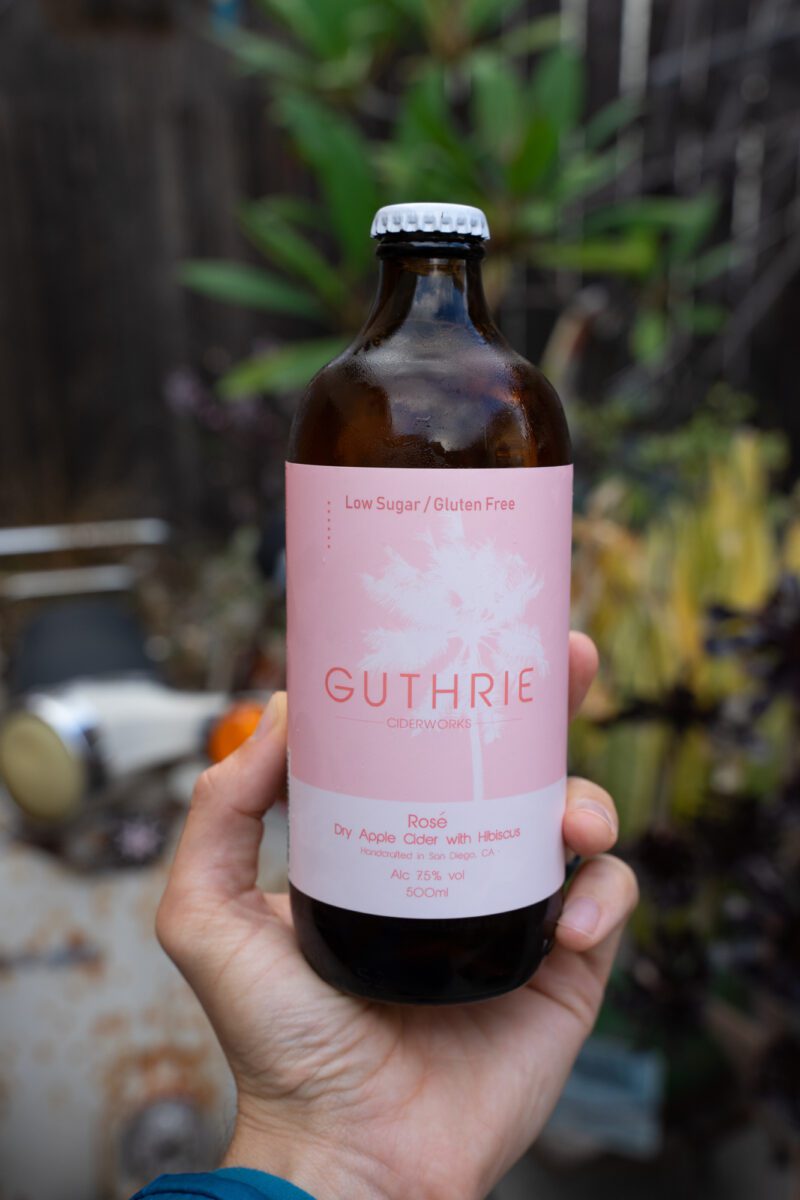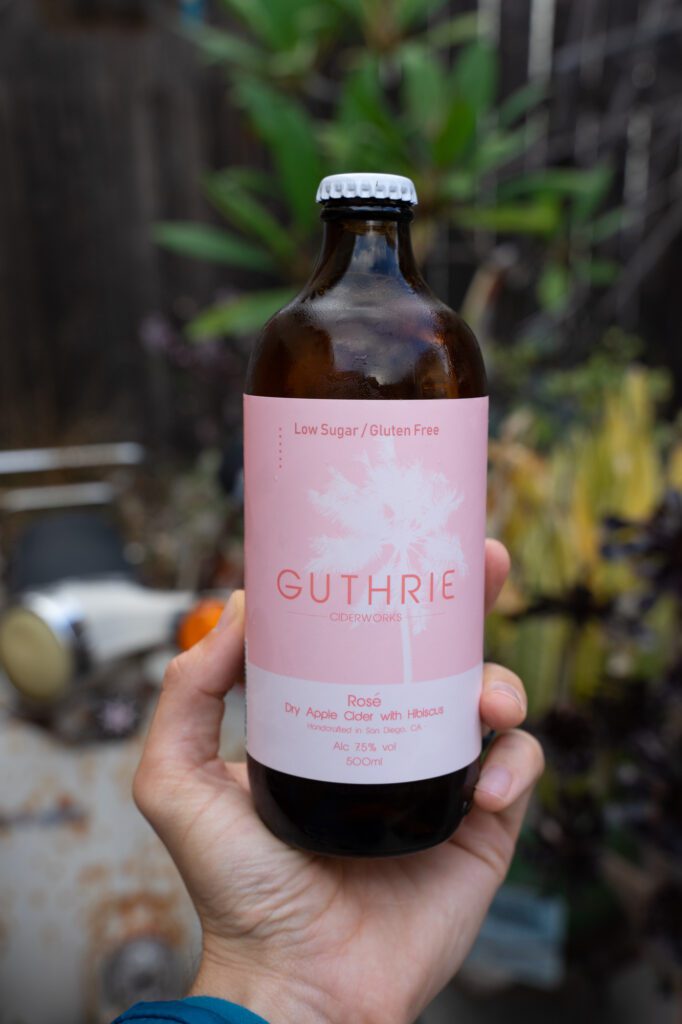 The taproom is north of the city right near Newtopia, and they make dry ciders that have a very champagne-like feeling. We really liked the one we tried, and will be stopping by next time we make it to San Diego.
Bivouac
The best location of any of the cider spots on this list. Bivouac is right on 30th in the heart of North Park, and is a great spot to try a bunch of different kinds of ciders. Fruity, sweet, dry, botanical – they've got a long taplist, along with cans to go. I liked their black currant cider a lot, and their pumpkin spice latte seasonal was also outstanding.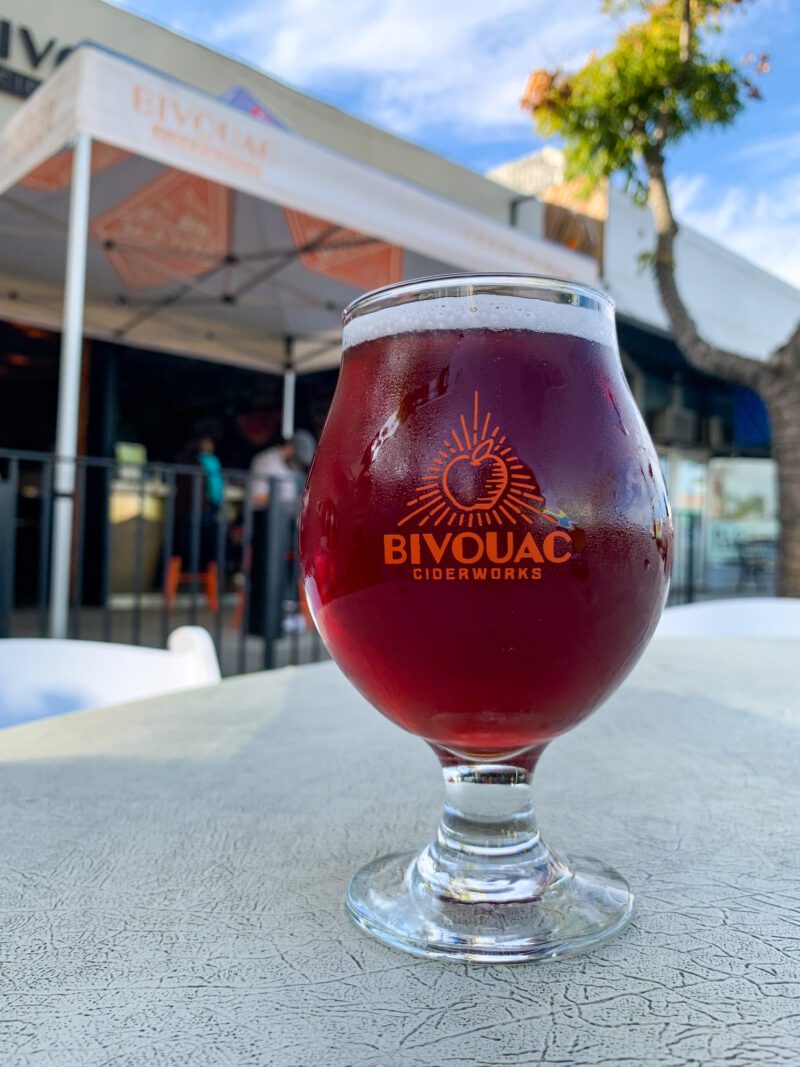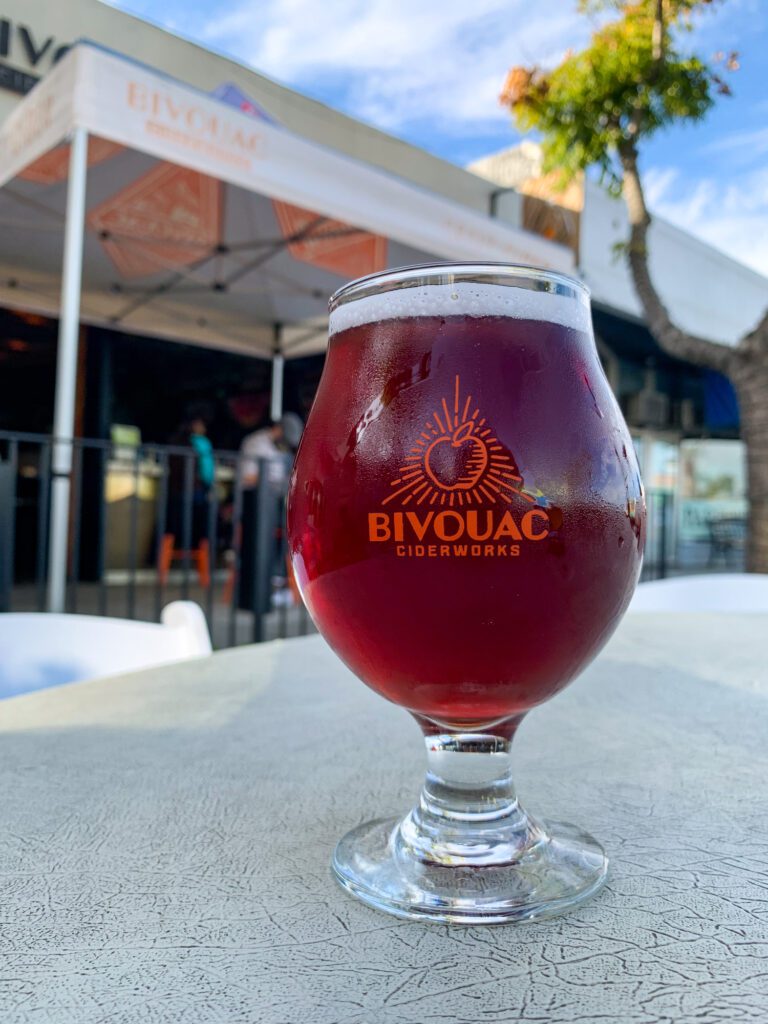 Juneshine Hard Kombucha
With two taprooms in the San Diego area, including one in North Park, Juneshine is leading the hard kombucha charge. And I'm kind of into it. It's a lot like hard cider, and Juneshine has some pretty interesting flavor combinations.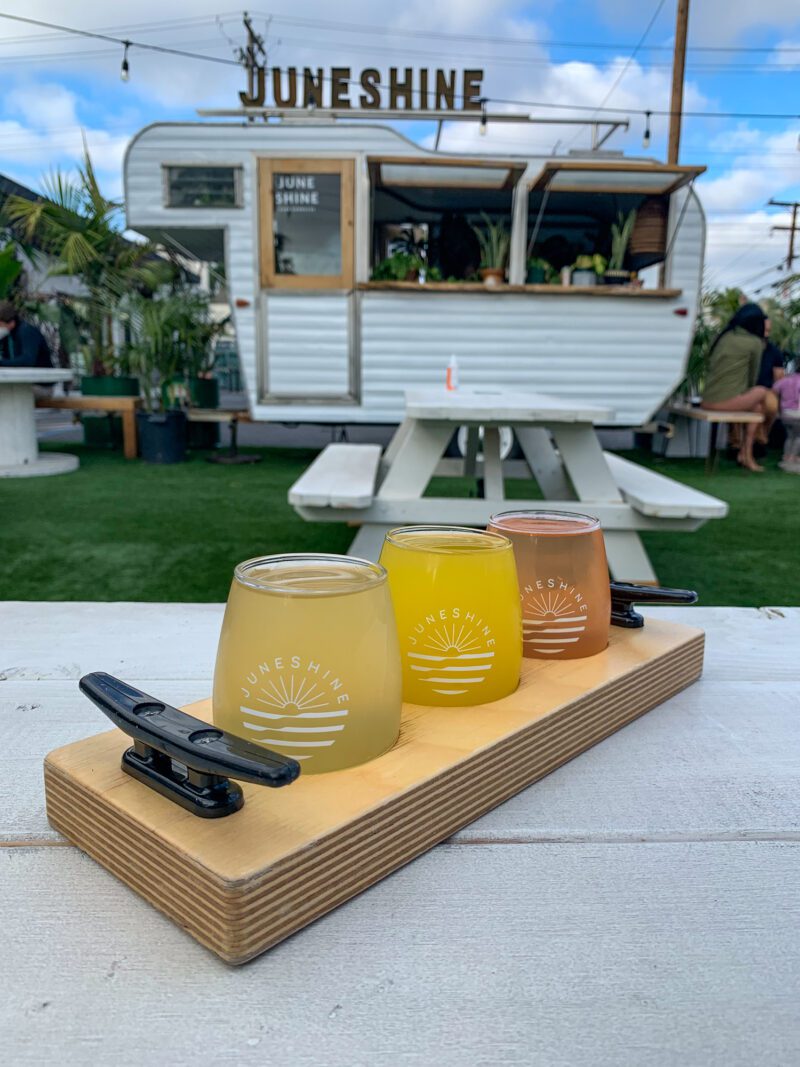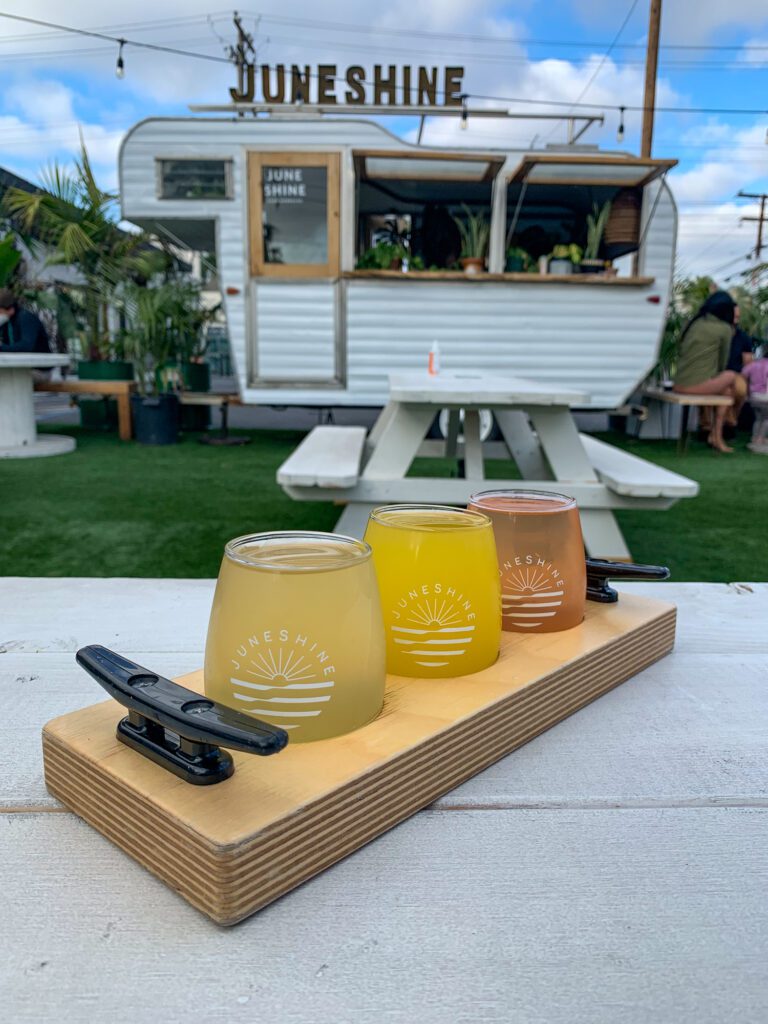 Their taproom in North Park is a cool place to try it, where you can get a flight in their outdoor patio area, which has an Airstream (that is exclusively for show – there's no functional reason for it to be there from what I could tell).
Gluten Free Beer in San Diego
Unfortunately, the local "gluten free" brewery is actually gluten reduced. Which means it's not safe for Celiacs, at least in my opinion. Drink at your own risk. In a city with a metric ton of regular breweries, it's mind boggling that nobody has said "hey, what if we did that, but without barley?" yet.
Here are some places to find bottles and cans of gluten free beer (and cider) while you're in town.
Bottlecraft: This is the best spot to find unique gluten free beers and ciders in San Diego. They have outposts around the city – including North Park and Little Italy – where you'll find a whole refrigerator of gluten free beer, cider, and hard kombucha.


Best Damn Beer Shop: This is a little beer store in the Gaslamp Quarter that doesn't look like much from the outside, but I found a hard-to-find gluten free beer from Groundbreaker Brewing, a gluten free brewery in Portland, ("Gayle" – a Fresh Hop IPA) here somewhat randomly. If you're looking for gluten free beer, it's worth a stop.
Lazy Acres, a grocery store that we're going to get to very shortly, is also a good spot to find gluten free beer and cider.
Grocery Stores to Shop At in San Diego
If you're wanting to cook for yourself, like we do a lot of the time, there are a couple of really good grocery stores for finding gluten free food to cook at home.
Lazy Acres: Bougie AF, but we love it. We love poking around stores like this to find up-and-coming gluten free brands that haven't quite made it big yet, and this store is full of them. Prices are high. Like really high. So know that going in.
Whole Foods: A solid choice, with plenty of gluten free options from pasta, to bread, and more. Prices are more reasonable since the Amazon acquisition, especially if you're a Prime member.
Trader Joes: We love Trader Joes. Only buy things that are explicitly labeled gluten free though. Good prices, but a sometimes-underwhelming selection of gluten free items.
Safeway: Semi-affordable prices, although sometimes we find that things are the same price at Whole Foods in some cases. Shop the sale items for truly great prices.
---
Don't miss our other gluten free travel guides: