2 Days in Madrid: How to Plan an Amazing Madrid Itinerary
Planning a trip to Madrid and want all the information you need to plan an amazing trip? In this detailed guide to planning your perfect Madrid itinerary, we'll use our experience spending a week in Madrid to help you plan your own trip.
The guide is written for 2 days in Madrid, which we think is the right amount of time to see the city highlights. However, we have an entire section below the main Madrid itinerary on how to extend your trip to 3 days, or how to spend just one day exploring the city.
We loved Madrid. After spending a week in Barcelona as the beginning of our month long Spain adventure, we arrived in Madrid, bright eyed and bushy tailed, ready to explore the Spanish capital. With other cities in Spain getting all the headlines (namely Barcelona and Seville, at least in our experience), we weren't quite sure what to expect from Madrid.
Despite the fact that it's Spain's biggest city and it's the country's capital (though until the 16th Century when it was named the capital, it wasn't much of a city at all), we found that we just didn't really know that much about it.
After a week exploring, we found that we really liked Madrid. Jaime, our tour guide from the Prado Museum (a must-see in Madrid – more on that below), asked me which city I liked better – Madrid or Barcelona. And I had a really hard time answering. They're very, very different cities.
Barcelona feels more international – we heard far more English, German, and French in Barcelona than in Madrid – while Madrid feels more cosmopolitan.
Jaime – a Madrileño, born and raised – spent a solid five minutes explaining why Madrid is the heart and soul of Spain. And, to be honest, I found myself nodding my head in agreement as he spoke passionately about his city.
Perhaps the biggest difference between Barcelona and Madrid is that, even in the city center of Madrid, it feels like a real city where people actually live. Which, thanks to overtourism (among other factors), isn't really the case in Barcelona, particularly in places like the Gothic Quarter and El Born.
Madrid is charming, real, and because it's a big city, full of amazing neighborhoods and corners to explore. Plus, it has a world-class art museum (among the best we've experienced in Europe), and it has a vibrant food and drink scene offering a variety of foods from all over the world.
Over the course of your 2 day Madrid itinerary, you'll get a taste for what makes the city special and learn about its pivotal role in Spanish history, particularly from the 16th Century onwards, which is the beginning of the golden age for both the Spanish Empire as a whole, and for Madrid as a city.
P.S.: Planning a trip to Spain? We have a detailed Spain itinerary plus guides to Barcelona, Granada, and Seville to help you plan an amazing trip!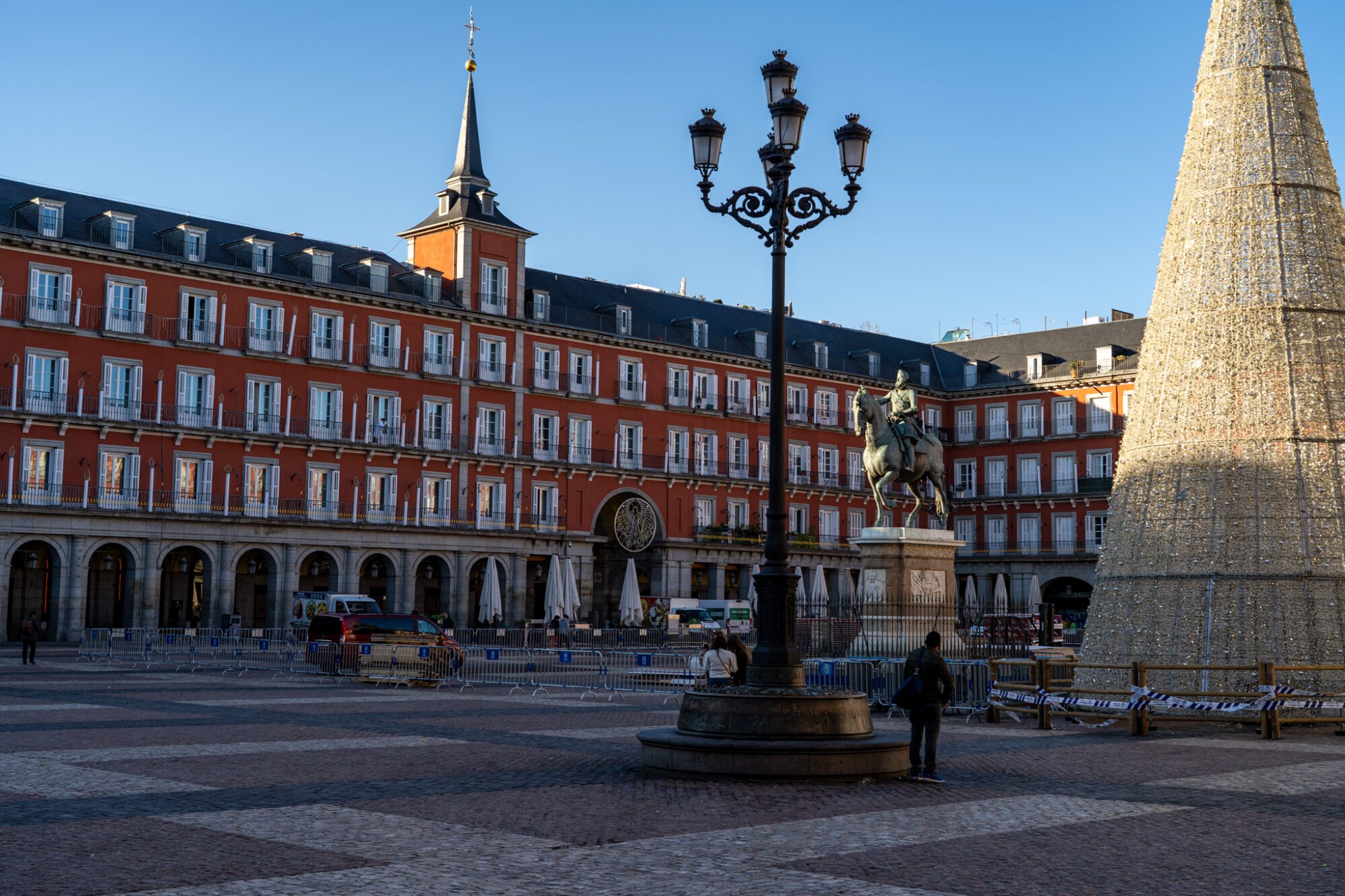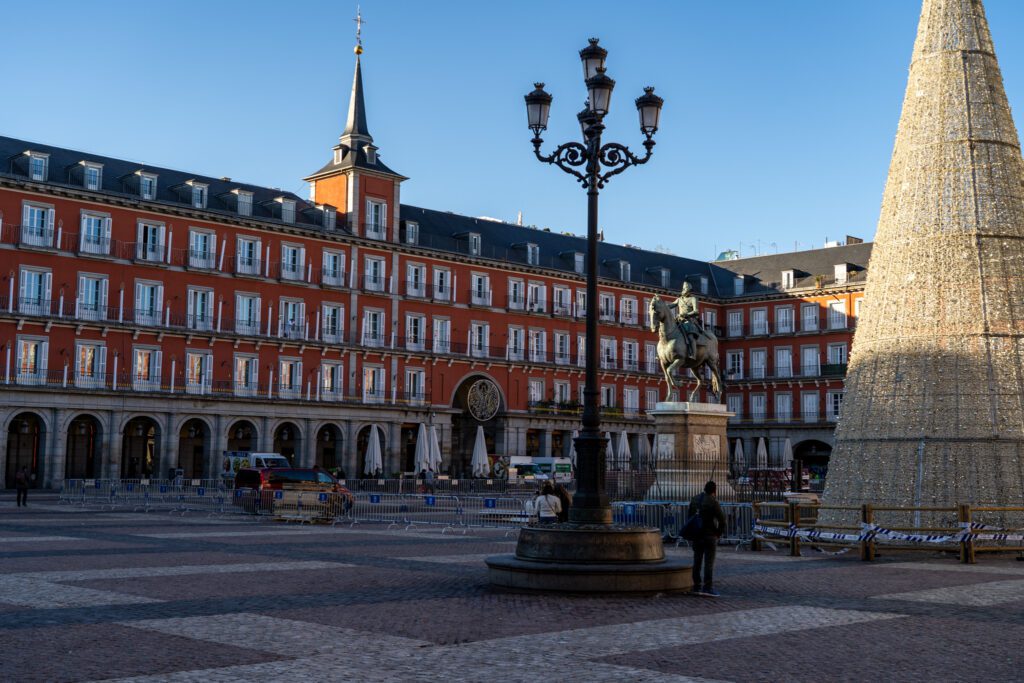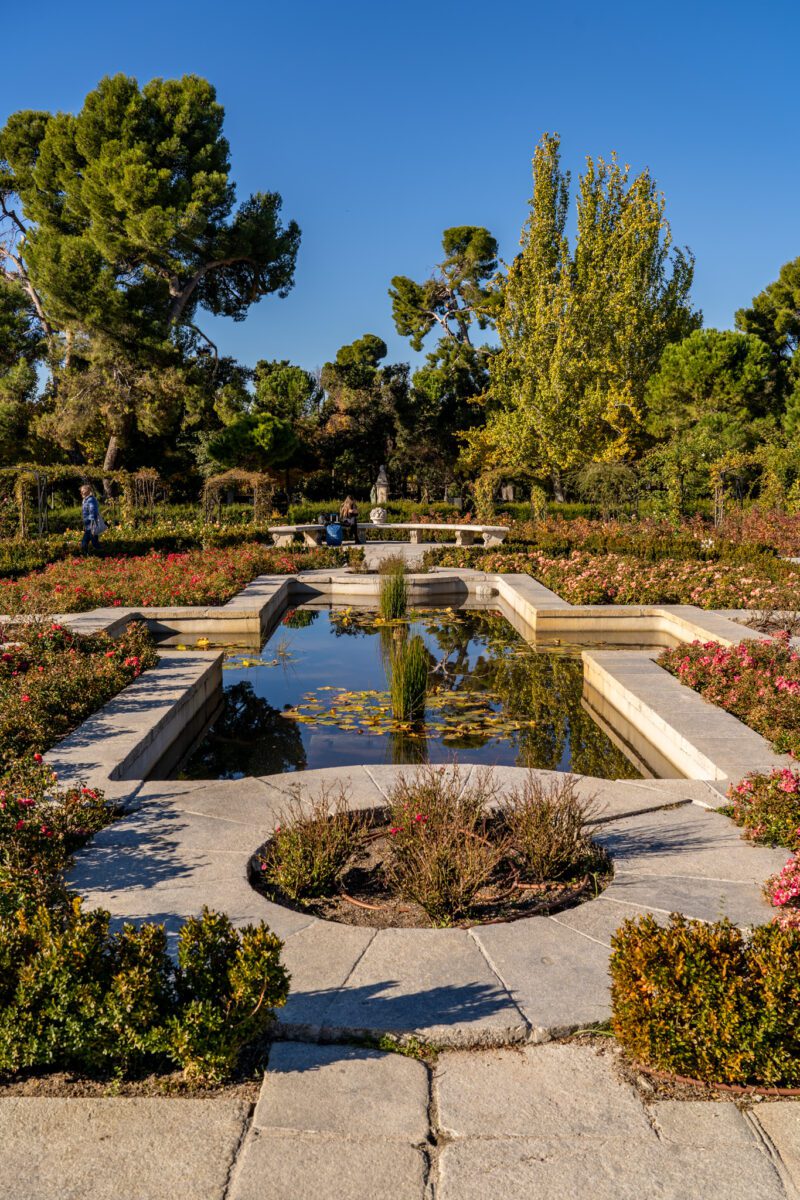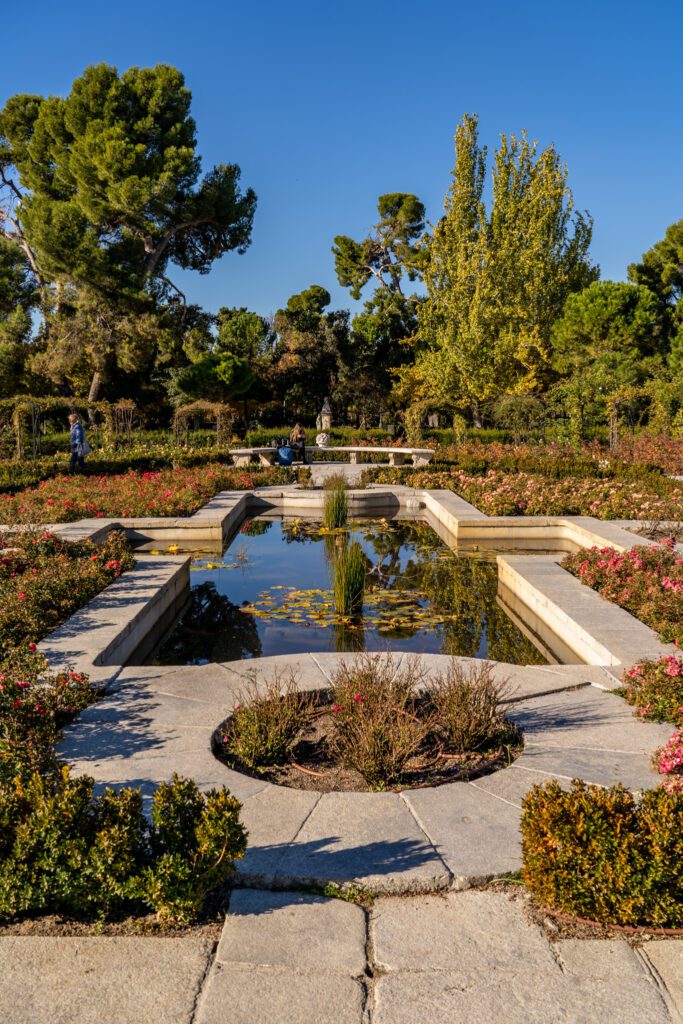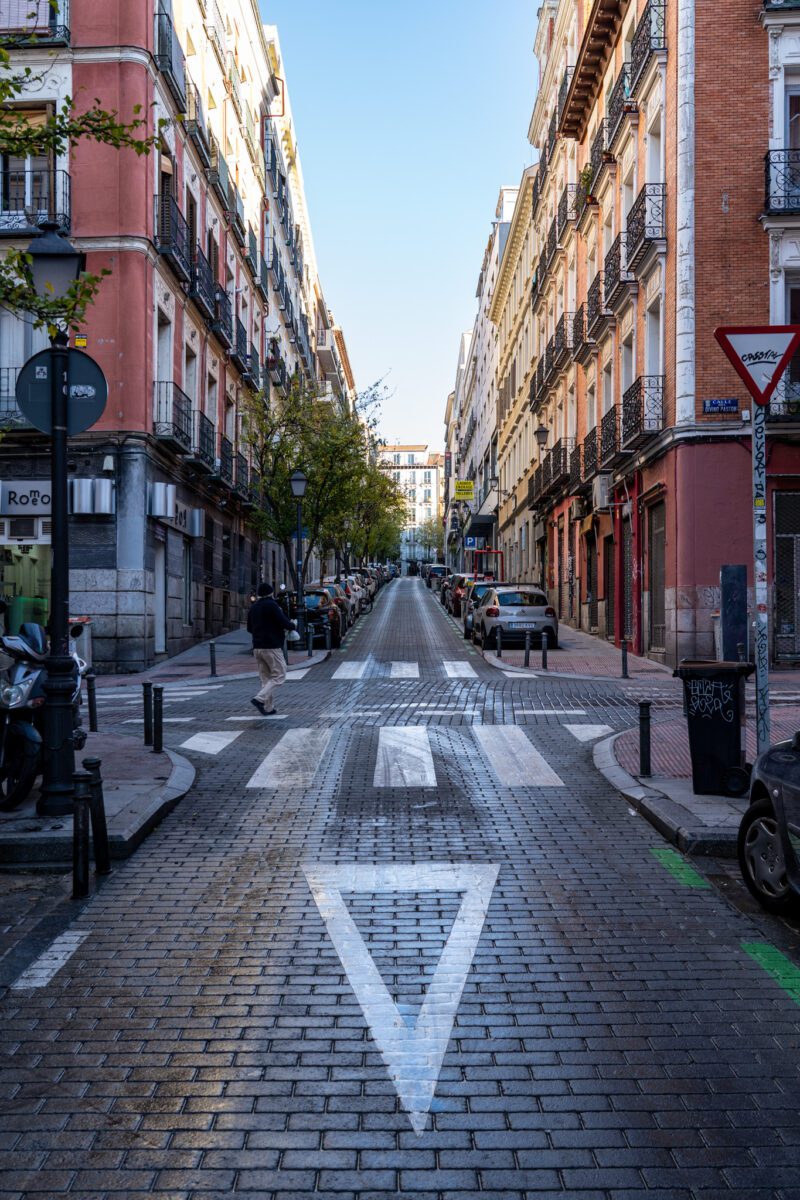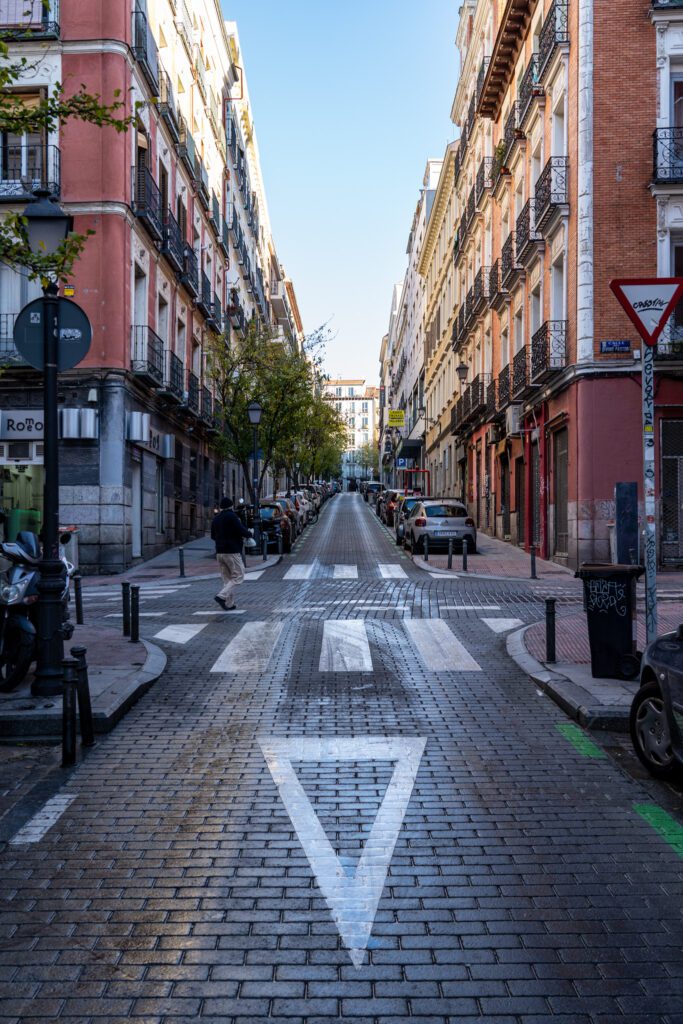 Disclaimer: Some of the links in this post, like hotel links, are affiliate links, meaning at no additional cost to you, we make a little bit of money if you click through and book. That being said, we would never recommend something to you that we don't stand behind 100%.
How Many Days Do You Need in Madrid?
After spending a week in Madrid, we think that 2 days in Madrid is the right amount of time to see the main highlights of the city, though there's PLENTY more to do, see, eat, and drink to fill your time if you're lucky enough to have more.
With 2 days, you can do a walking tour to understand Madrid's layout, history, and significance, visit both the Prado Museum and the Royal Palace, walk in Retiro Park, and eat your way through La Latina and Malasaña.
If you want to take a day trip to Toledo, which we highly recommend for its historical significance in the history of the Iberian Peninsula, then you'll need at least three days in Madrid. If that's what you're looking for, follow this itinerary as written for two days, then head over to our guide to planning a day trip to Toledo to lay out your third day.
We'd recommend staying overnight in Toledo, if you can, but it's also just 30 minutes from Madrid via high speed train, making it an easy day trip.
However much time you have in Madrid, we're here to help you make the most of it. Below the detailed two day itinerary, you'll find our thoughts on how to organize your time with one day, three days, or even more time in Madrid.
Where to Stay in Madrid
Madrid is a huge, sprawling city, and it can be pretty overwhelming to figure out where exactly you should stay based on your particular needs, style, and budget.
We wrote an entire guide to choosing where to stay in Madrid, which has infinitely more detail than this section. If you want to go deeper on the pros and cons of each area, read that. Otherwise, here are the high level takeaways for two of the best places to stay in Madrid.
Malasaña: The Coolest Area in Madrid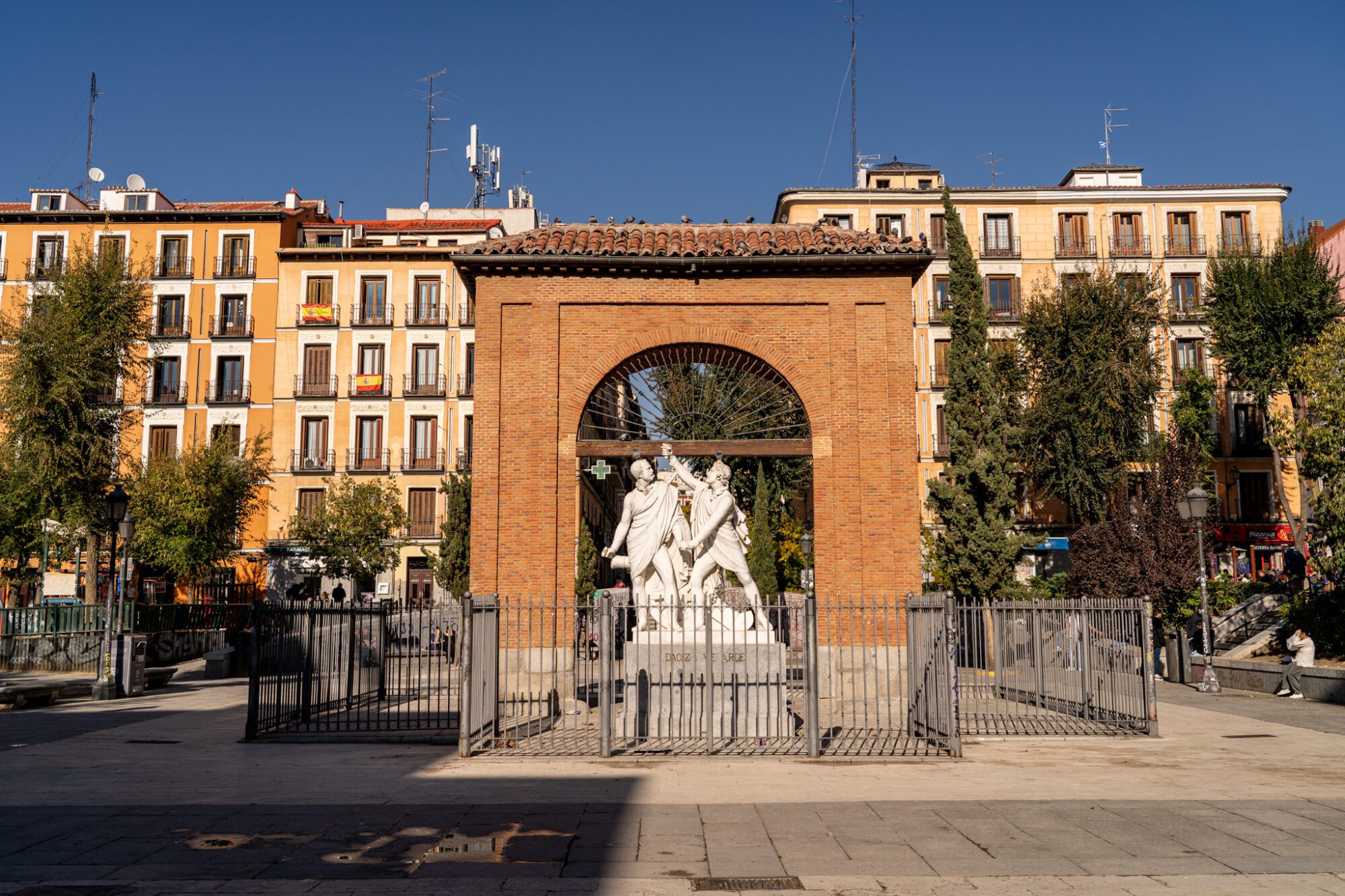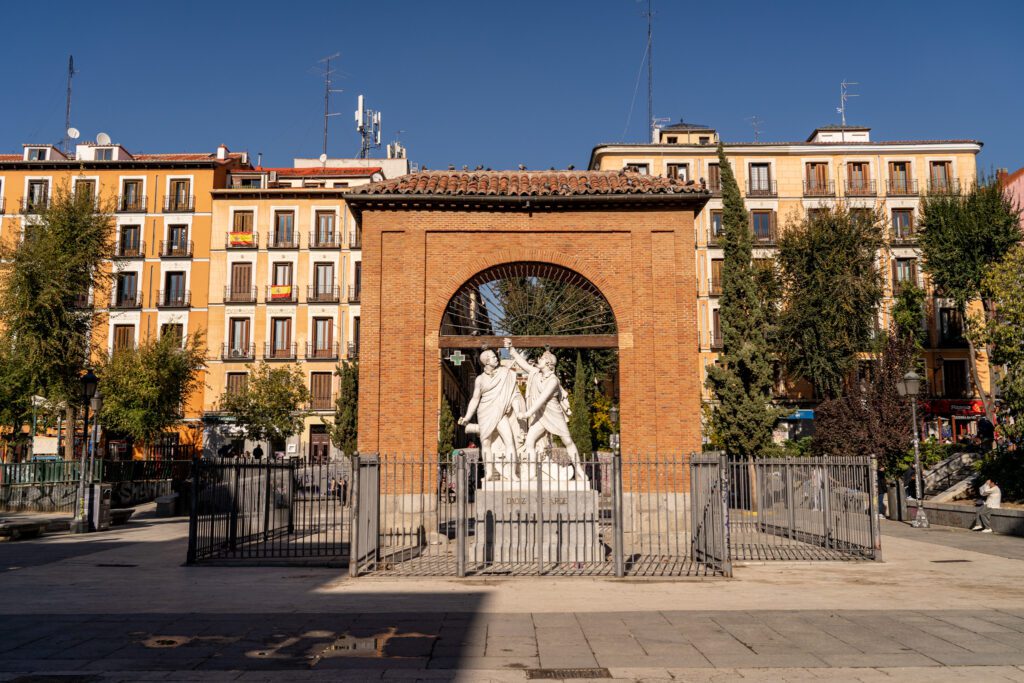 This is our favorite neighborhood in Madrid. Like Gràcia in Barcelona, we fell in love with the endless charm, excellent food and drink scene, and walkability of Malasaña.
It's just north of Gran Vía, which means you'll be able to walk five to ten minutes to hop on the metro and zip off to anywhere you need to go. 
Within the boundaries of the neighborhood itself, you'll find everything you could possibly want. Amazing coffee shops in the morning, a wide selection of great restaurants for lunch and dinner, and a buzzing nightlife scene to close out the evening.
Here are some places to stay in Malasaña that caught our eye, and that we think you will like.
Sol / Gran Vía: Central & Best for First Timers / Short Stays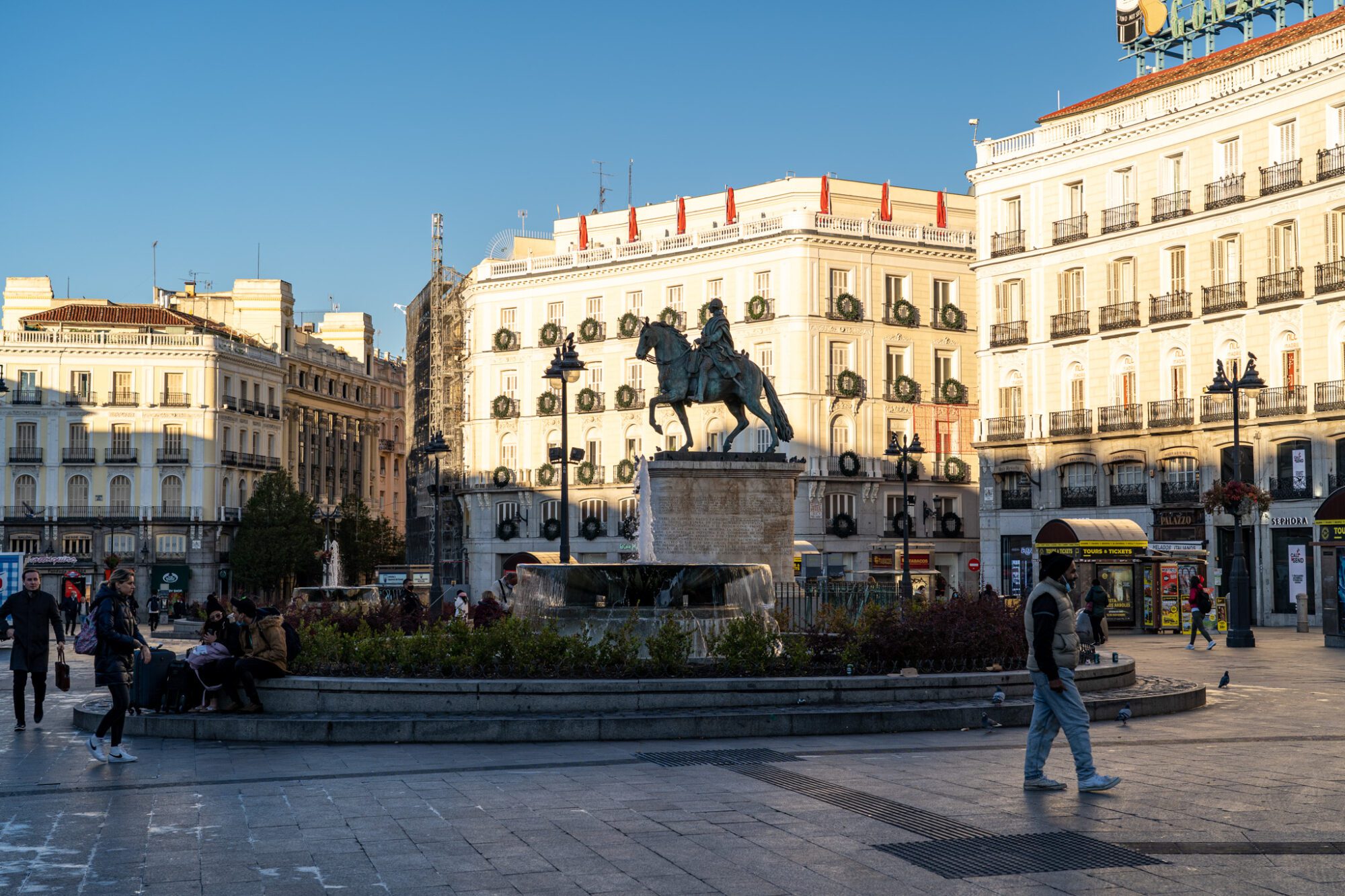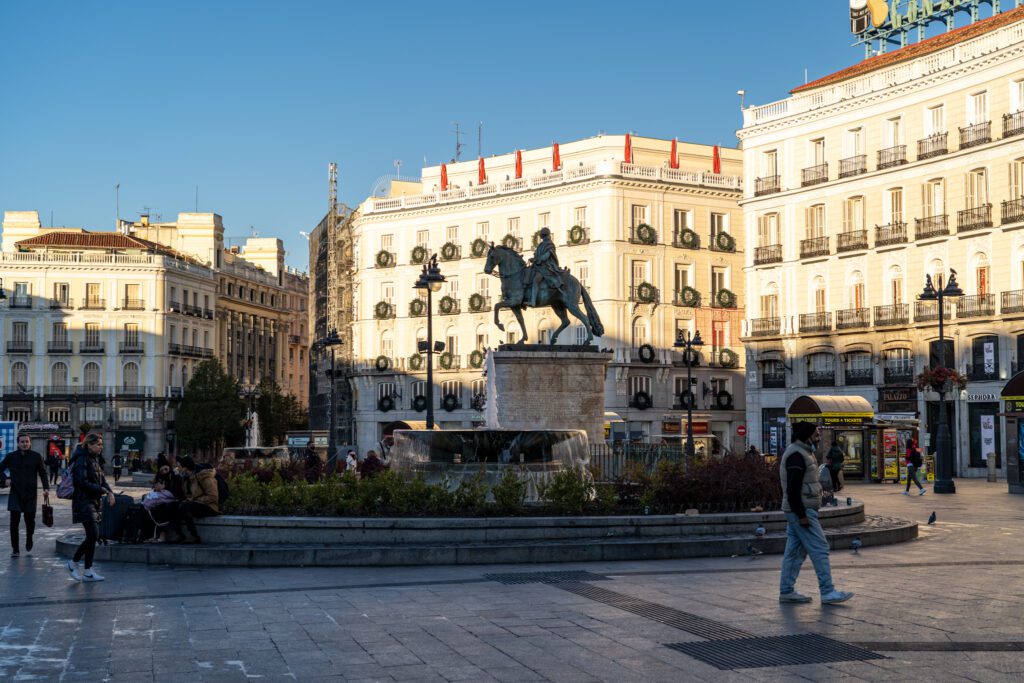 This is where we stayed, and while it may not be the most charming neighborhood in Madrid, it's very functional.
You'll be within walking distance of most of the main attractions in Madrid – including the best foodie neighborhoods – and well connected via the metro to the train station and airport. 
Gran Vía runs through the center of the city, and is a wide boulevard with lots of traffic, foot and car, at all hours of the day. Parts of it feel like Times Square – right down to the theater venues and huge, moving electronic billboards.
In general, we think this is the best neighborhood for first timers (like us!) and people with a short stay in Madrid, because it gives you the best access to the city's main areas.
2 Days in Madrid: Planning Your 2 Day Madrid Itinerary
Over the course of 2 days in Madrid, we'd suggest focusing your time on a single main attraction each day, and spending the rest of your time exploring Madrid's cool neighborhoods, eating your weight in tapas and other delicious food, sipping wine or vermouth in the sun, and poking your head into a few churches and free museums along the way.
A note before we dive in: this is not just a list of different attractions and things to do in Madrid. This is based on our own experience, and is our point of view on the best way to spend a couple of days in Spain's capital. Which, to us, doesn't mean bopping from one tourist attraction to the next. We're far more interested in experiences – which tourist attractions certainly can be – and that's what you'll find reflected in the itinerary below.
Day 1: Walking Tour, Royal Palace, and La Latina
Start your day with a self-guided walking tour of the center of Madrid before joining a guide to dive deeper into Madrid's medieval quarter and fascinating history.
Grab lunch at a food hall (it's not really a market, as the name suggests), and spend the afternoon at the Royal Palace before heading to La Latina, home of the most famous tapas street in the city. 
Morning Coffee and Bites
Before you set off for the day, you're going to need coffee. And I have some strong opinions on where you should get it after scouring Madrid for the best coffee in the city (if you're into coffee, read my guide to Madrid's best coffee).
If you took our advice above, you're either staying in Malasaña or Sol / Gran Vía, which is a perfect location to find great coffee. 
Head to Malasaña for your caffeine fix, and there are two places a few blocks away from each other that are well worth your time.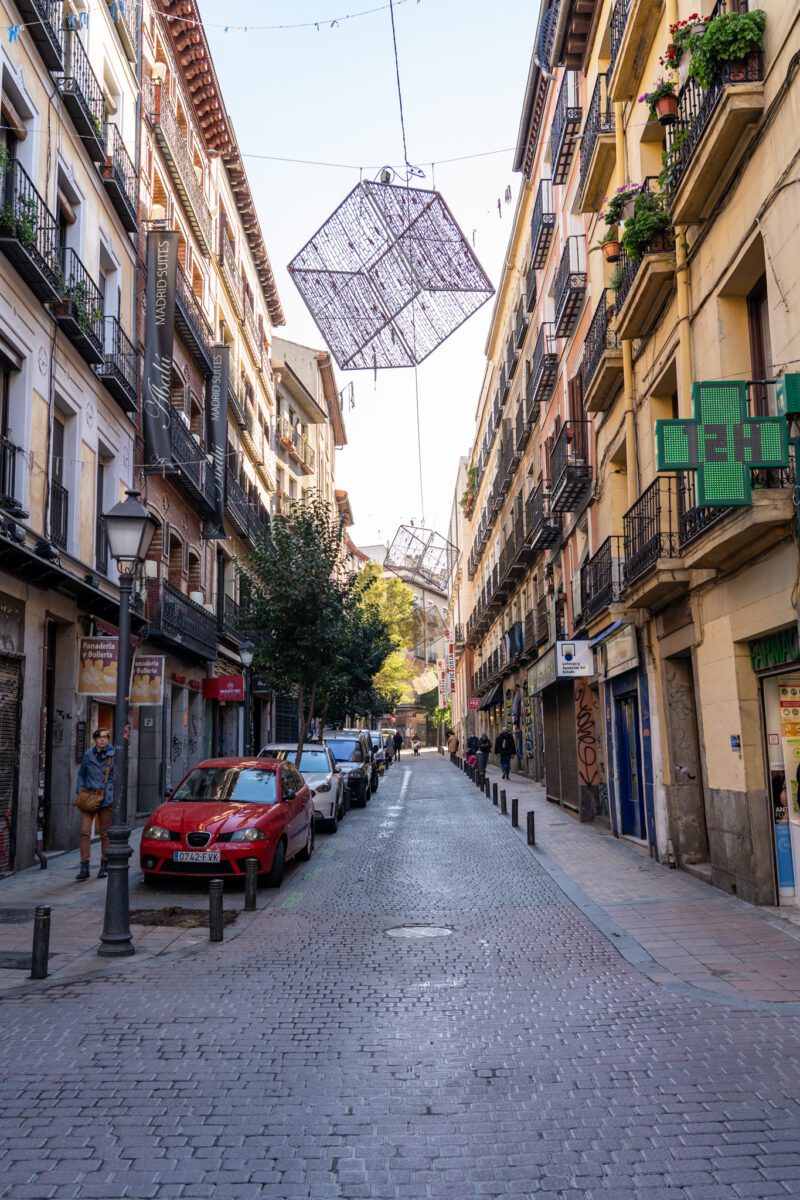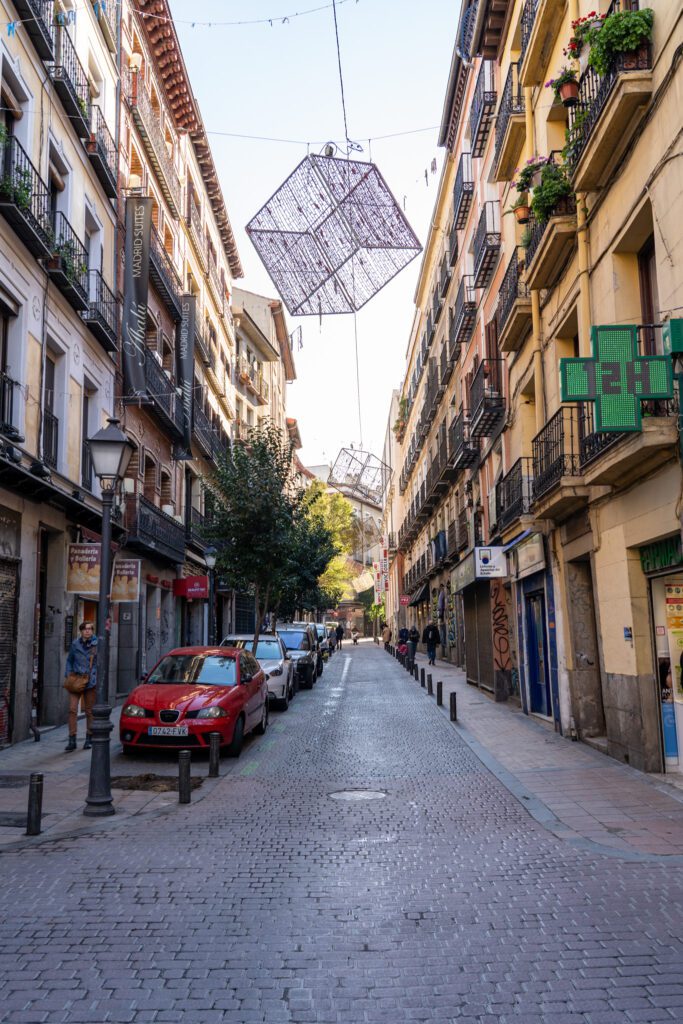 First is HanSo Cafe, which is one of my favorites and has better coffee. They have roasters from all over Europe, and change which coffees they have for you to try periodically. If you're after great coffee, go here.
Second is Misión Café, which has better food (and the coffee is still good). Next door, they have their own bakery, so if you're looking for good coffee and a nice bite to eat before getting your day started in earnest, go here.
Puerta Del Sol & Plaza Mayor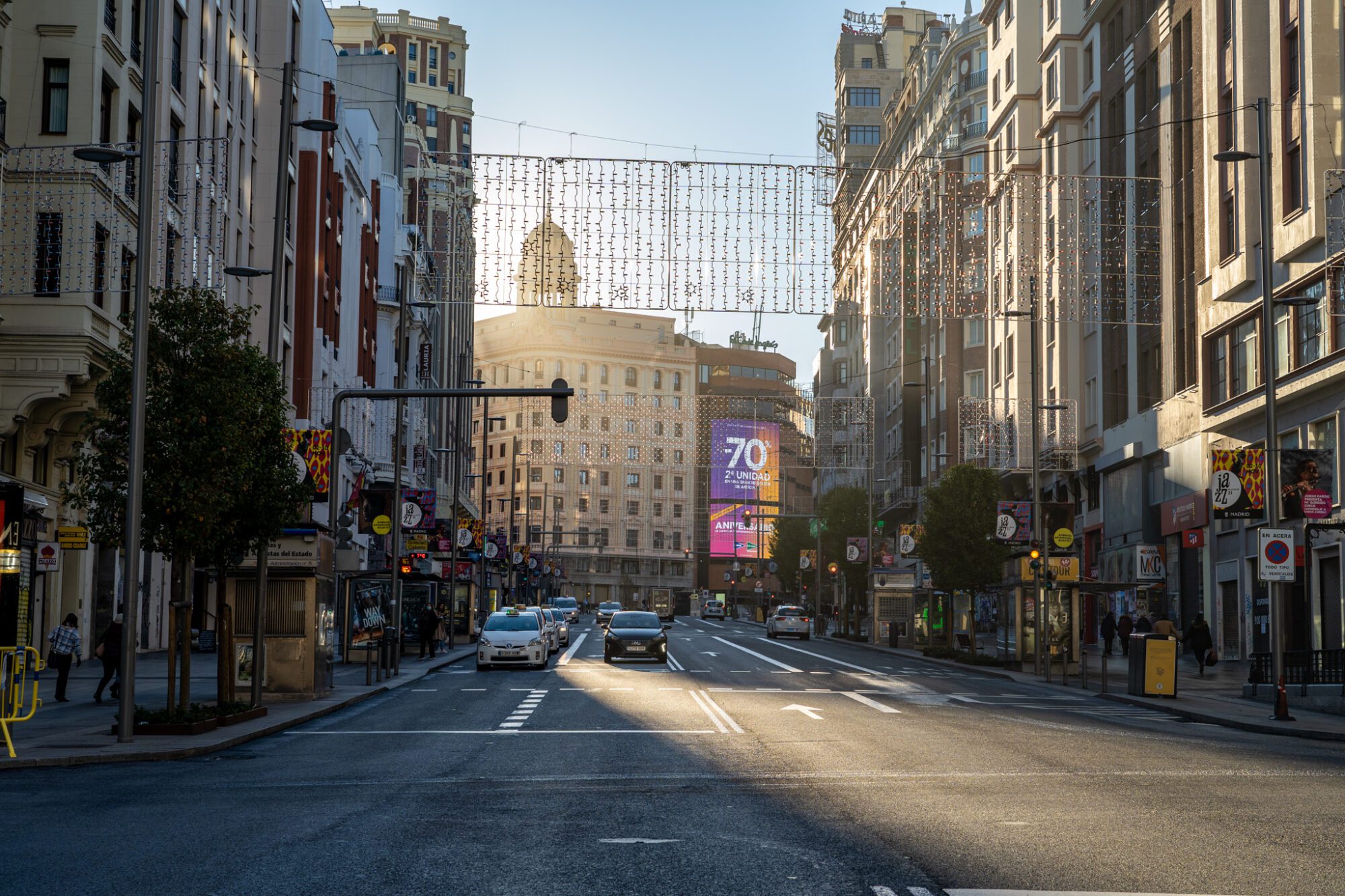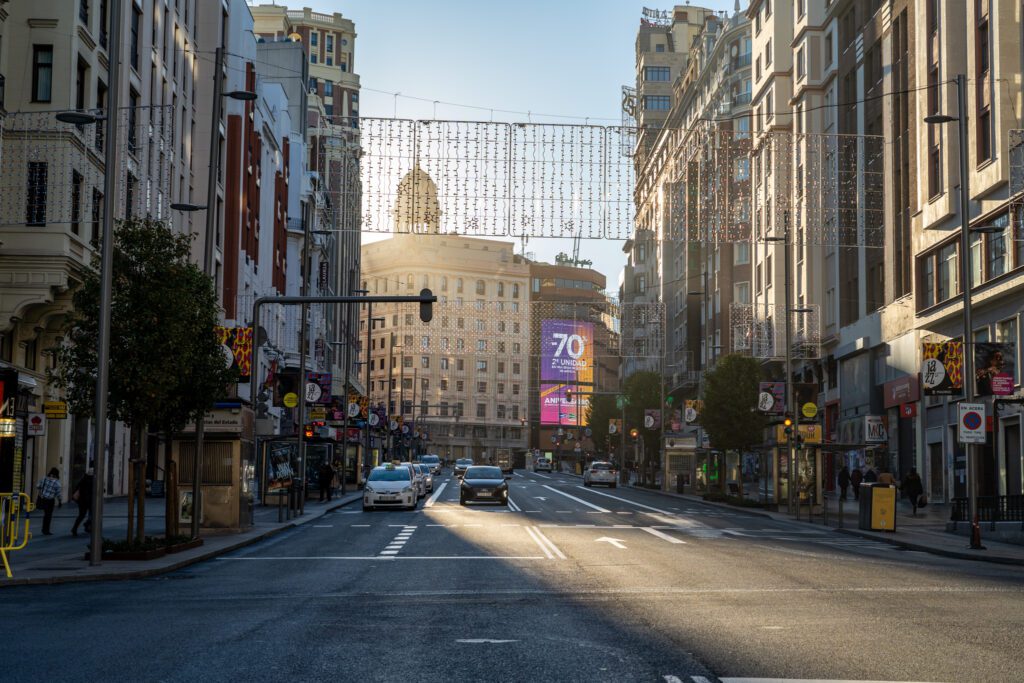 After you're caffeinated and fueled up for the day, make your way from there down through the neighborhood of Sol, crossing the always-busy Gran Vía and entering the most modern part of the city that we encountered.
Plaza del Callao, which was directly across from where we stayed in Madrid, is like Times Square. There's always something going on, and huge video screens are showing ads at all hours.
Continue south to Puerta del Sol, mainly to see the statue of El Oso y el Madroño (the bear and the Madrono tree – madronos are a kind of berry, NOT a madrone like we originally thought).
This is the symbol of Madrid, and it has evolved over the years. Yes, there used to be bears in Madrid. No, there are no longer bears in Madrid (sad!).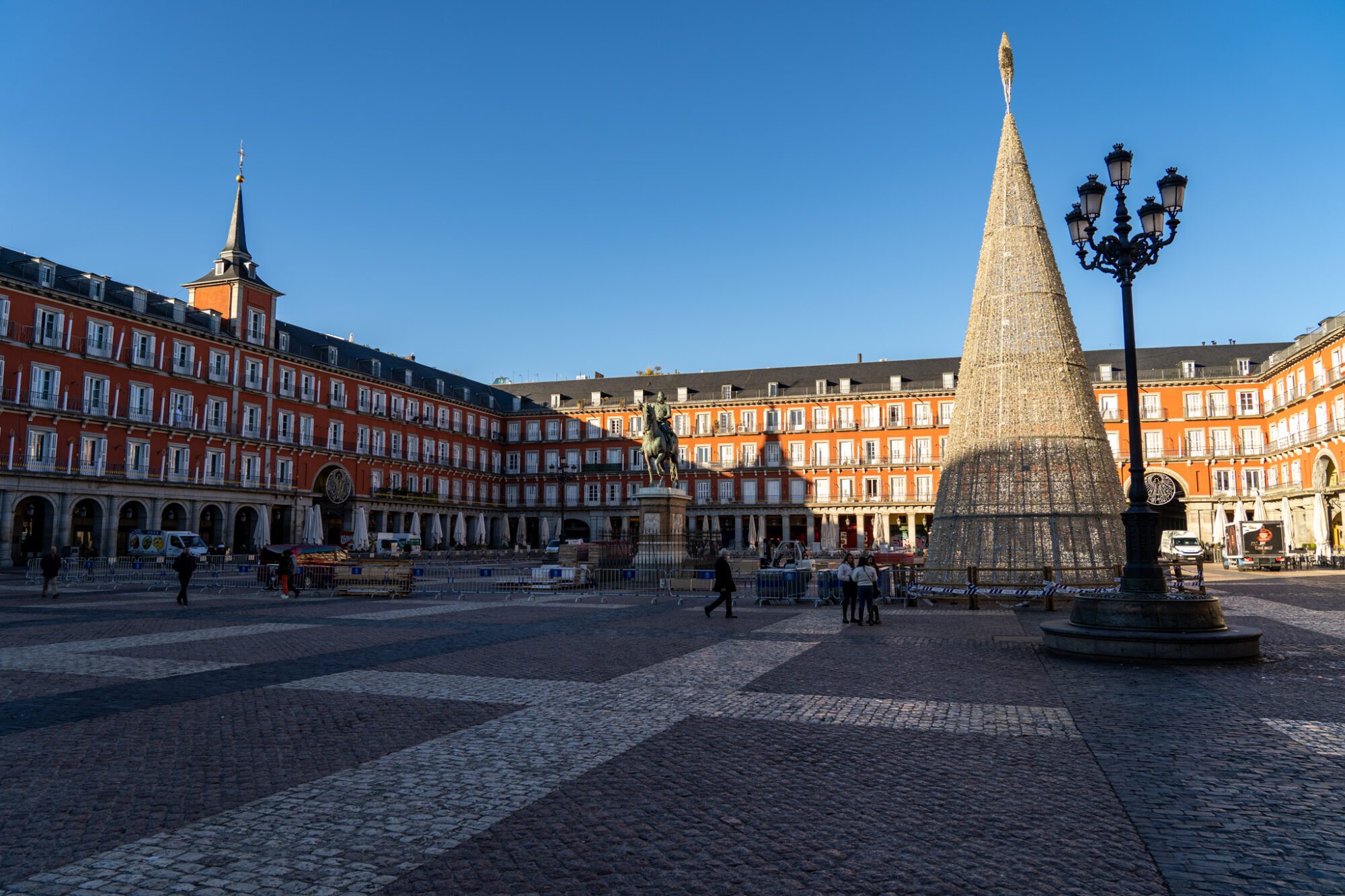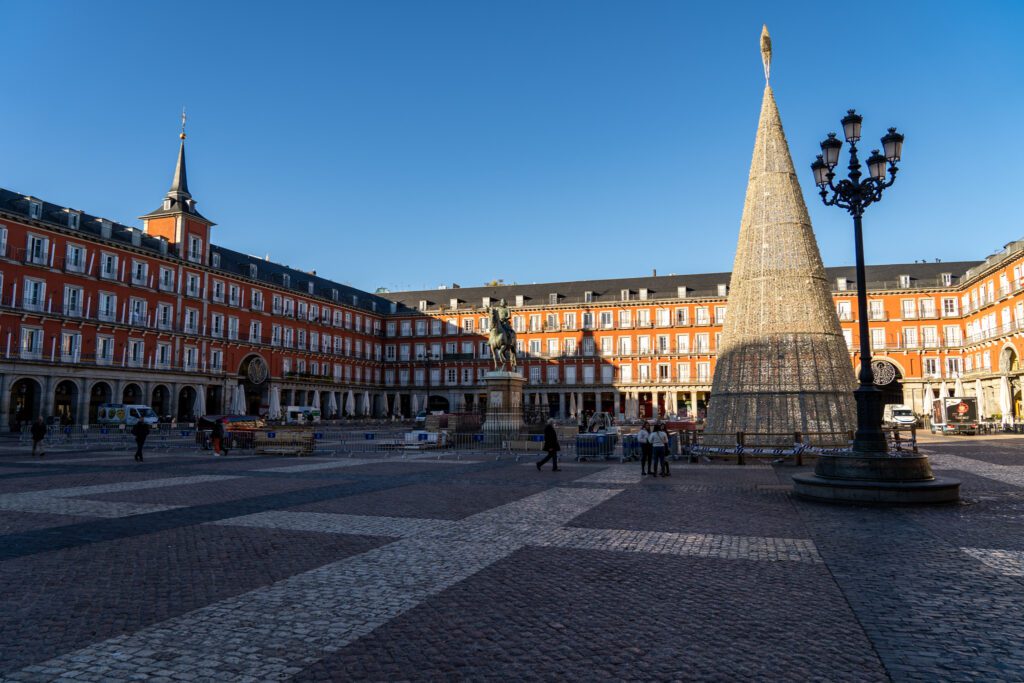 Continue on to Plaza Mayor, which is where you'll meet your walking tour. This is perhaps the most famous plaza in the entire city, and there's a statue of Philip III in the middle of it (note the neck ruff, which was fashionable at the time).
He, apparently, wasn't really a great king like his father, more mediocre, at best. But he still gets a statue, for some reason. 
A Walking Tour with a Local Guide
Taking a walking tour is an essential part of our visit to just about any city we find ourselves in these days.
There's only so much that a guidebook or travel blog can tell you about a place, and having a local guide that can give you the details, anecdotes (oftentimes personal stories), and context around the place you're experiencing can add a level of richness to your trip that just can't be found elsewhere. 
We used to be all about the free walking tours, but learned on our three month European adventure that took us to Portugal, Italy, and Spain, that it's almost always worth paying for a local guide.
Oftentimes, the free tours have guides that memorize a script and don't necessarily give you their own input. 
In Madrid, we'd recommend investing in a walking tour with an expert local guide. We did this walking tour with Bradley, who is an American who has a PHD in Spanish History, is a history professor at a local university in Madrid, and does this walking tour on the side as a different way to teach history.
It's two hours long, and it's a perfect introduction to Madrid and its history through Bradley's tour of the medieval center of the city. 
He usually does his tour from 11:00 am to 1:00 pm, which puts you in the perfect position for lunch afterwards.
If that tour isn't available, take a look at Jaime's walking tour (he was our guide for the Prado Museum and is a wealth of knowledge about all things Madrid, his hometown). It's usually 10:00 am – 12:30 pm.
Mercado de San Miguel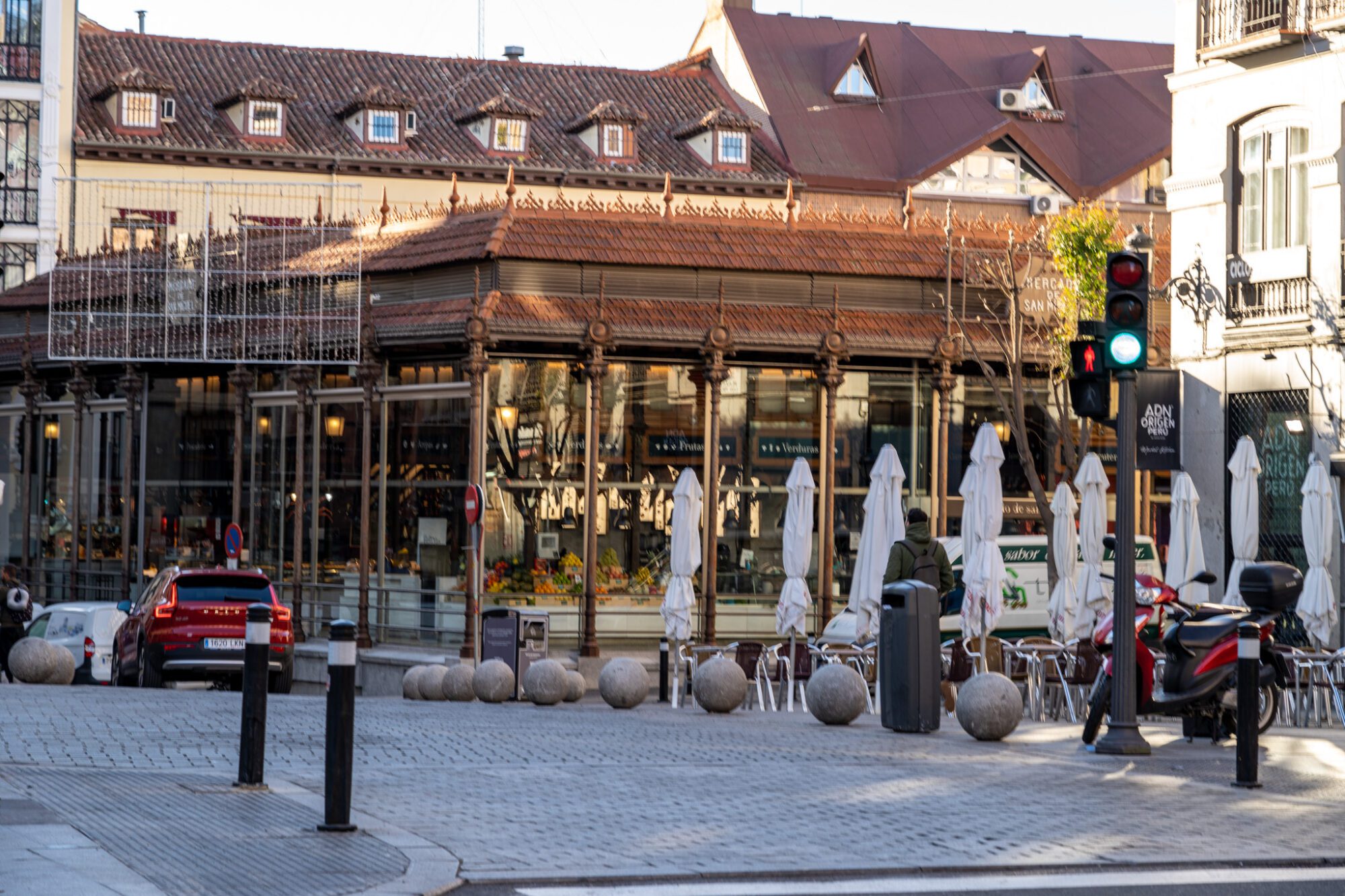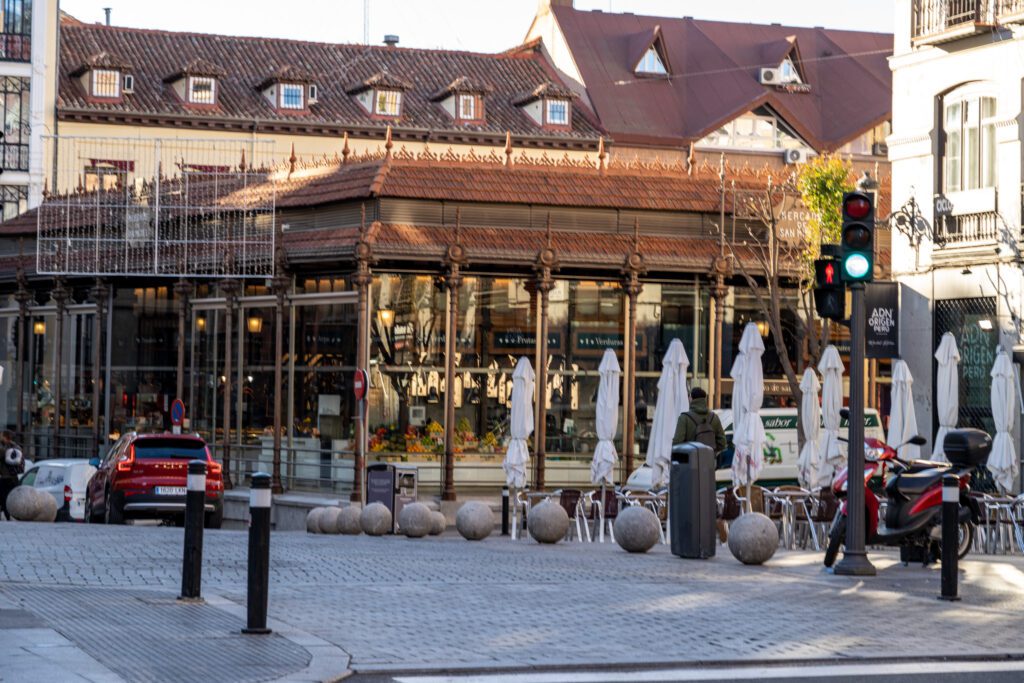 For lunch, take a trip over to Mercado de San Miguel, which is across the street from Plaza Mayor.
It's a food market that was built in the early 20th Century before being rebranded in 2018 to be more of a gourmet food market, with some of the best chefs in the city opening stalls – very similar to the TimeOut Market in Lisbon. 
There's a wide variety of places to eat, which is perfect whether you have a group with different tastes, or you're a couple and want to get a few things to split. See the current lineup of vendors here.
We'd recommend the arepas – a Venezuelan corn pocket – at the P.A.N. stand, and trying some Spanish vermut (you might know it as vermouth) at La Hora del Vermut.
The Palacio Real de Madrid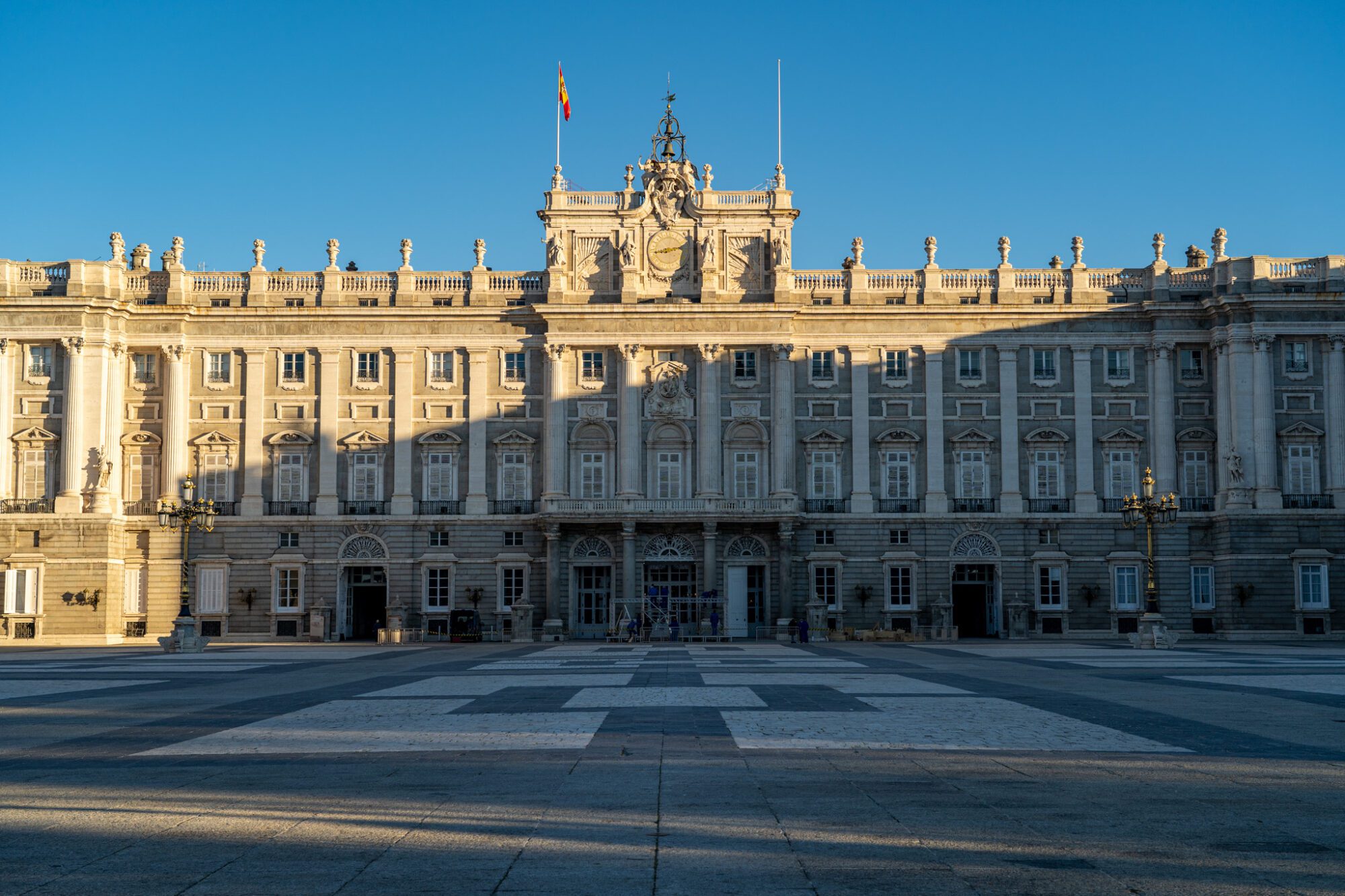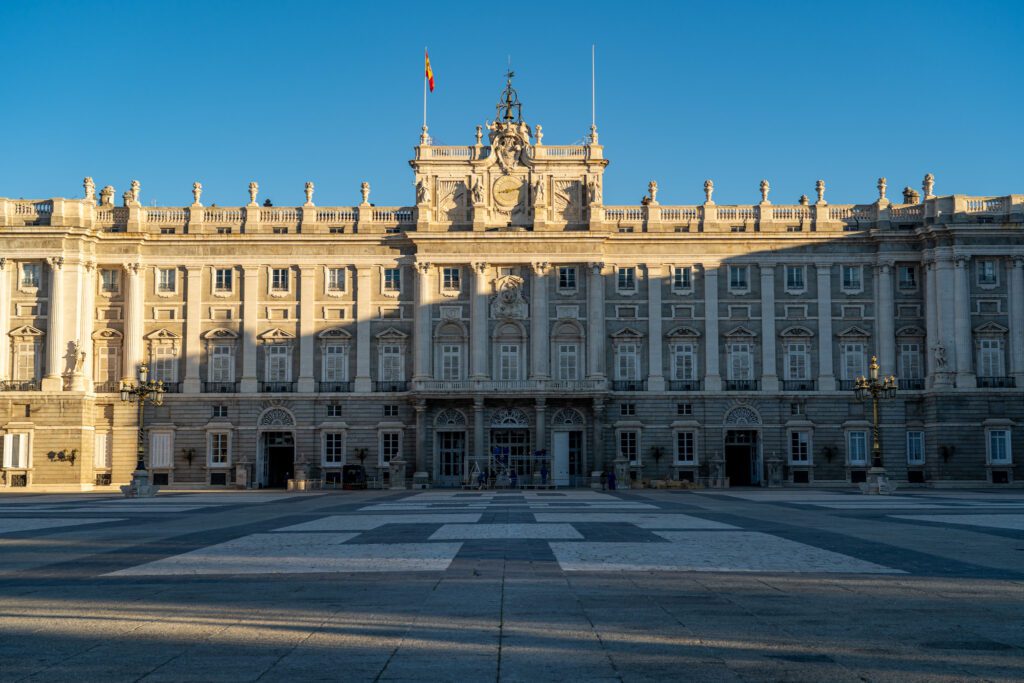 Ah, the Royal Palace of Madrid. Did you know this is the biggest royal palace in Europe? Sure, the royal family rarely shows up here anymore, but it has a very important role in the history of the city.
The area where the royal palace is today is the original heart of Madrid, then called "Mayrit," which comes from an Arabic word (though there are different theories around what exact word is the origin of the name).
It was built by the Emir of Cordoba as a fortress on the border between the Christian lands and Arab stronghold in southern Spain in the 9th Century.
This is not the last time you'll hear about the Arabic influence on Madrid, which is not something I had really understood until visiting and learning about Madrid's history on various tours with experts.
Even the Spanish language has influences from Arabic, as our guide for the Prado Museum Jaime (pronounced "hay-may" with a guttural sound at the beginning that I had a hard time replicating) pointed out, using the sound at the beginning of his name to illustrate his point. 
Madrid was originally just a small town built around that fortress, and nearby Toledo was the main city in the area. In fact, Toledo was the capital before Madrid!
Madrid was conquered by the Christian forces in the late 11th Century as they made their way towards Toledo, and then fast forward a few centuries to when Madrid was named the capital of Spain in 1561, and the Royal Palace as we know it today was created.
Except it burned down a few times, and was subsequently rebuilt. But you get the idea. 
Today, it's essentially a museum, and is open to the public except when there's an official state ceremony happening (which isn't often). Only a portion of the rooms are open to the public, but you can see the throne room, banquet hall, and royal apartments, among other things.
Make sure you buy your ticket in advance! The line to enter gets pretty gnarly, often wrapping the building and taking up to two hours to make it through.
You can easily skip this line with a little advance planning – all you have to do is go to the official website and book your tickets ahead of time. Do this as far in advance as you can – they do sell out. 
What if tickets are sold out? You have three options. First, stand in line at the ticket office. Second, check Get Your Guide to see if they have any skip-the-line tickets available. Third, join a guided tour that includes tickets, like this one (we were going to do this tour, but ended up skipping it).
Pro-tip: It's free to visit from Monday to Thursday between 4:00 and 6:00 pm, but lines are LONG, it's packed, and the last entry is at 5:00 pm. If you want to visit for free, you'll need to show up around 3:00 pm or so.
Catedral de la Almudena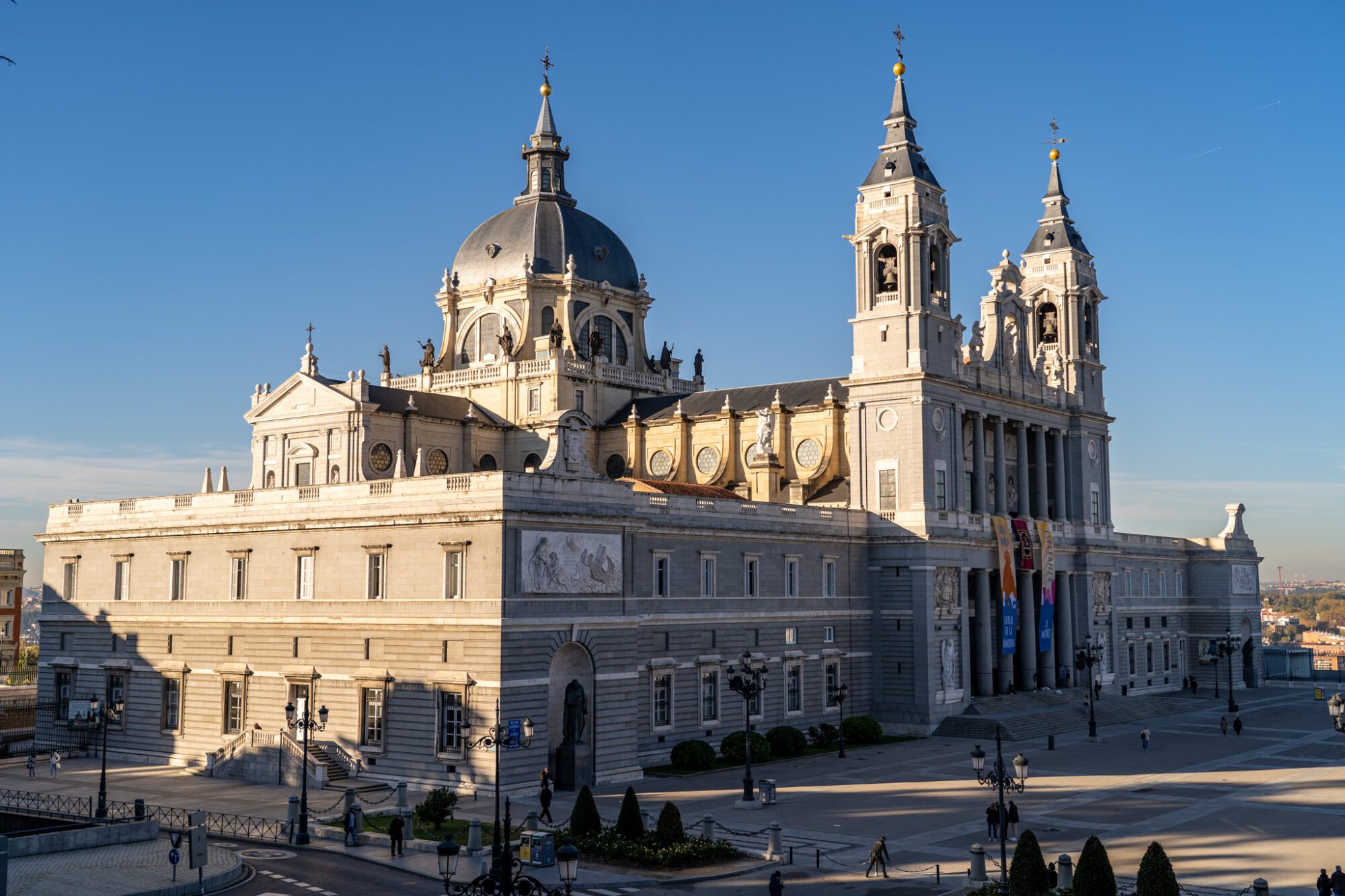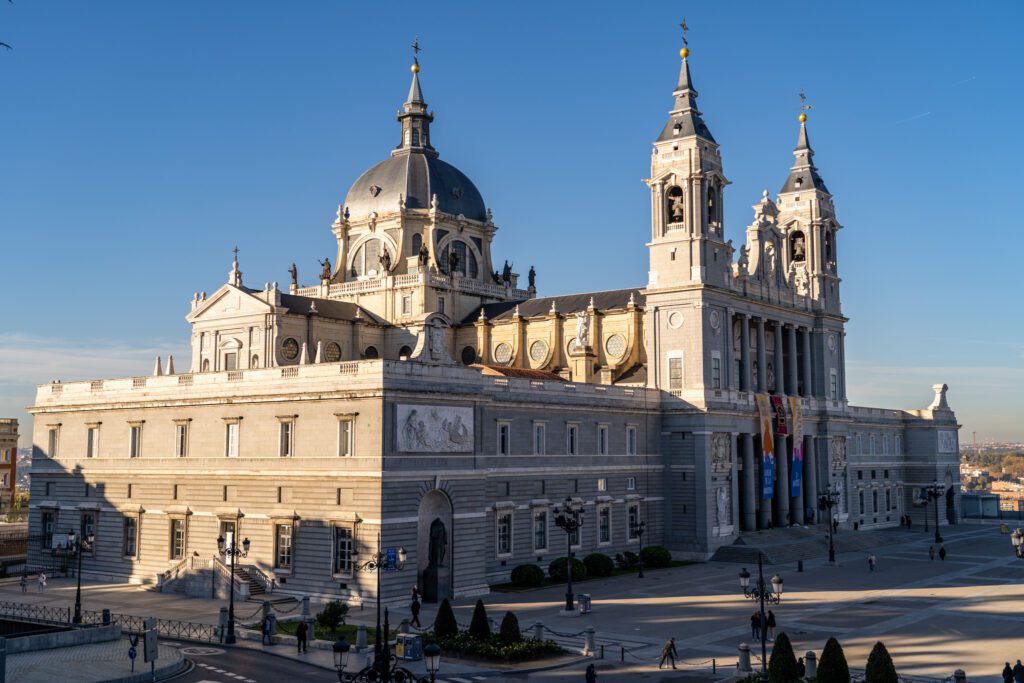 Just across the way is the Madrid Cathedral. It might look old (sort of), but it actually wasn't consecrated until 1993. Before that, Madrid didn't have its own archbishop despite being the capital of Spain – Toledo was the seat of the Roman Catholic Archbishop. Now, Madrid has its own, and this cathedral is their seat.
Construction started in the late 19th Century, but was interrupted by the Spanish Civil War and construction picked back up in the 1950's under a new architect. 40 years later, it was finally complete, and the first royal wedding took place at the new cathedral in 2004.
Before that, the royal family had to trek allll the way from the palace across the city to get married at a church on the other side of the city.
More information on visiting the cathedral here.
Tapas and Exploring La Latina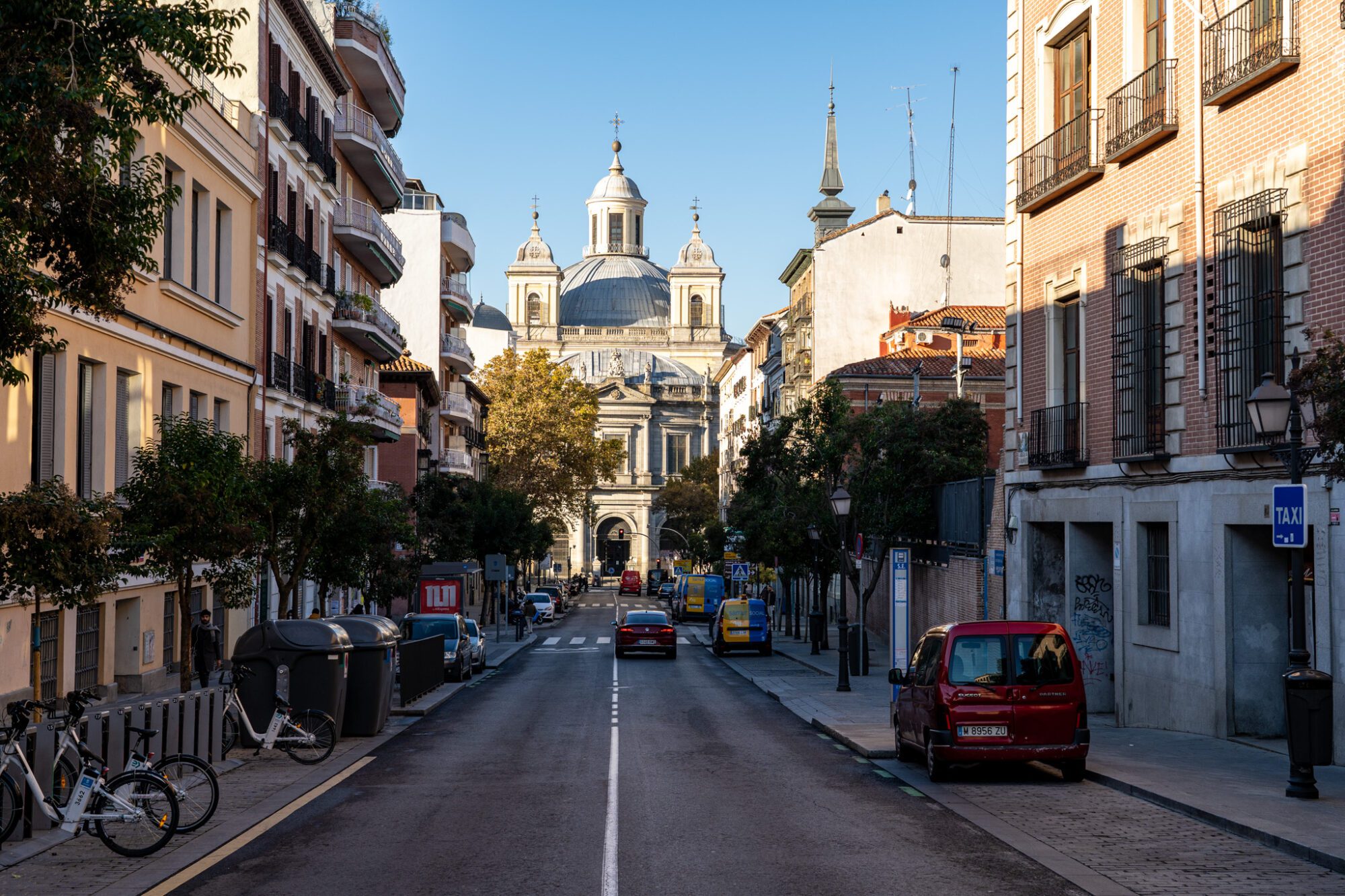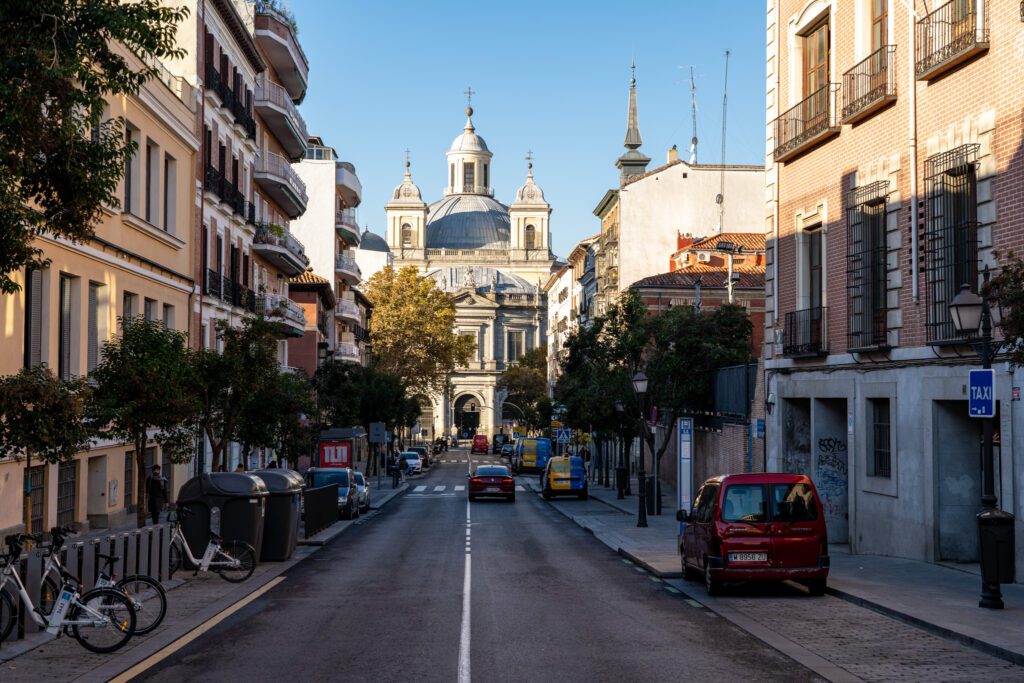 After your exploration of the Royal Palace and Cathedral, head over to the nearby La Latina neighborhood, so-named for Beatriz Galindo (known as "La Latina") who was a teacher of Queen Isabella and an important figure in the neighborhood's history.
Today, it's the place to go for tapas. Particularly Calle de la Cava Baja (or just "Cava Baja"), which is lined with tapas bars on either side of the street that, come lunchtime and later in the afternoon, are bursting with the seams with a combination of hungry Madrileños and tourists shoulder-to-shoulder, eating their hearts out.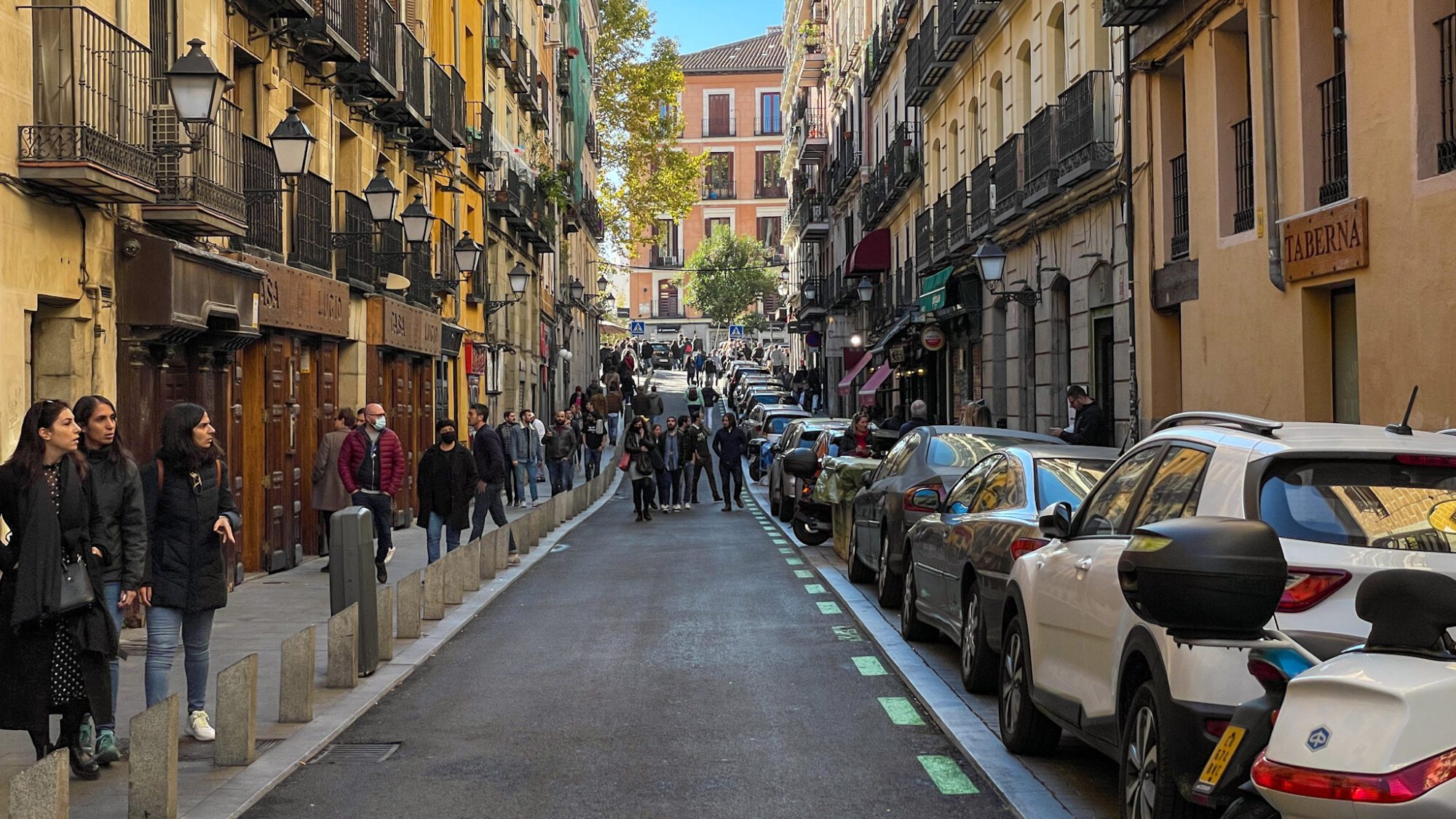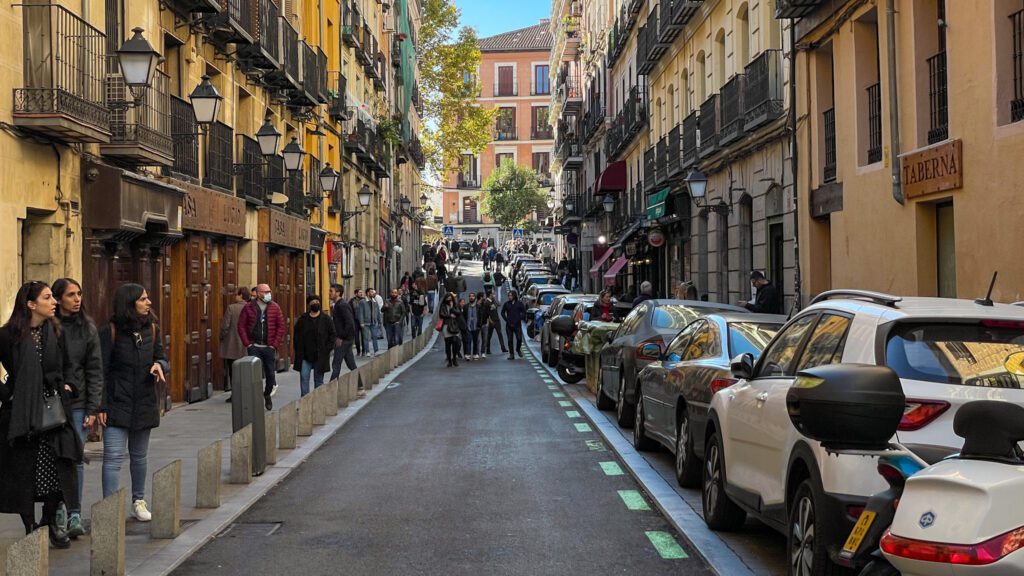 The whole neighborhood is worth exploring more in-depth than just coming here for tapas.
There are a couple of excellent coffee shops (namely, Ruda Café), a market that is significantly more "local" (which is a weird way of explaining it, but hopefully you understand what I mean) than Mercado de San Miguel, and the famous El Rastro flea market that happens every Sunday. 
The Museo de San Isidro – which is free – is also worth 30 minutes of your time, covering the history of Madrid from the first humans to present.
The plaza just outside – Plaza de los Carros – is also an exceedingly pleasant place to relax in the afternoon sun or on a warm summer evening, in the shadow of the dome of the Iglesia de San Andrés Apóstol. 
As you can tell, we really enjoyed La Latina, and think it's worth an afternoon and evening of your time. Grab dinner at one of the many tapas bars lining Calle de Cava Baja.
Taberna Tempranillo and Casa Lucas were recommended to us, though we went to La Lina because they have excellent gluten free options for me. 
Afterwards, grab a drink on the terrace of one of the bars lining either Plaza San Andres (here on Google Maps) or Plaza de Cascorro (here on Google Maps). Or, really, anywhere that catches your eye as you're walking around.
One last recommendation for you – if you're into natural wine, make the trek down the hill from La Latina to Bendito, Vinos y Vinilos for natural wines and light bites.
Day 2: The Prado Museum, El Retiro, and Malasaña
The highlight of today, and potentially your entire trip to Madrid, is the vast and excellent Museo Nacional del Prado, which has an extensive collection of mainly paintings from Spanish, Italian, and Flemish artists. Then, explore El Retiro, a lovely park in Madrid's center, and end your day in Malasaña, our personal favorite neighborhood in Madrid.
Note that the timing today hinges on your Prado Museum tickets, which YOU NEED TO BOOK IN ADVANCE. More below on exactly how to do that, but you may need to shuffle things around and do Parque Retiro before the museum depending on when your visit / tour of the Prado happens.
A Morning in Barrio de las Letras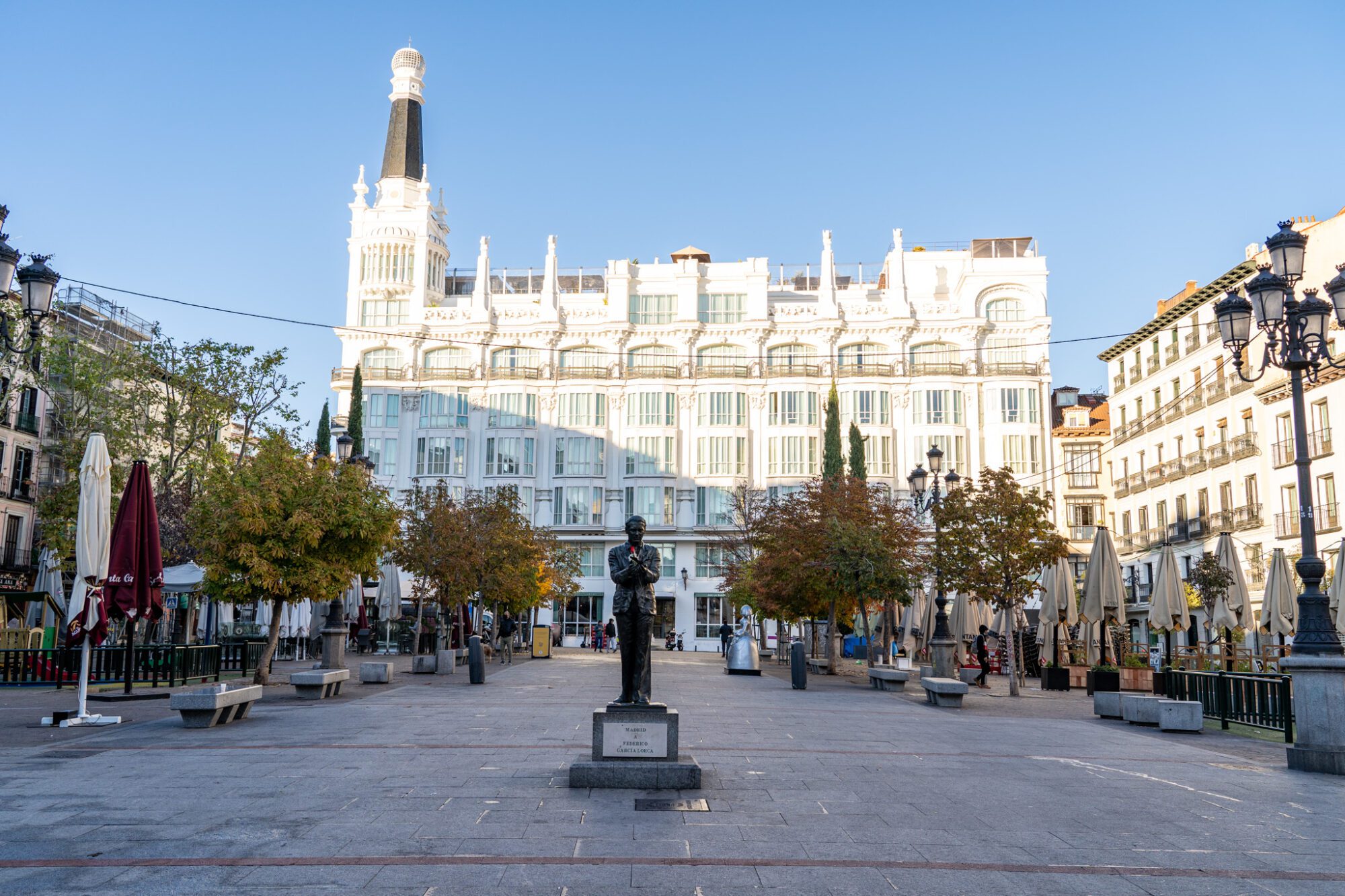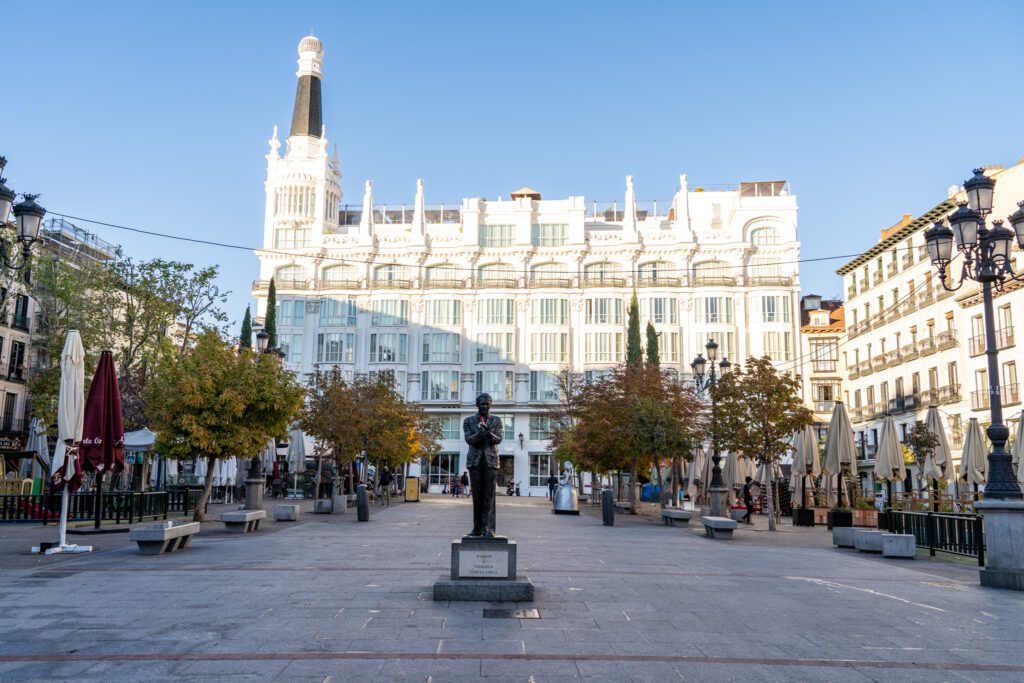 Barrio de las Letras (which is apparently also known as Huertas) is a very romantic part of the city to the southeast of Sol / Gran Vía, and it's along the way to the world-famous Prado Museum, which is your main destination today and will take up the bulk of your day.
Barrio de las Letras is famous because it's where some of Madrid's (and Spain's, really) most famous writers lived in the 16th and 17th Centuries, including Miguel de Cervantes, who famously wrote Don Quixote.
There's a statue of Cervantes in Plaza de las Cortes (here) at the eastern edge of the neighborhood, which makes a good first destination.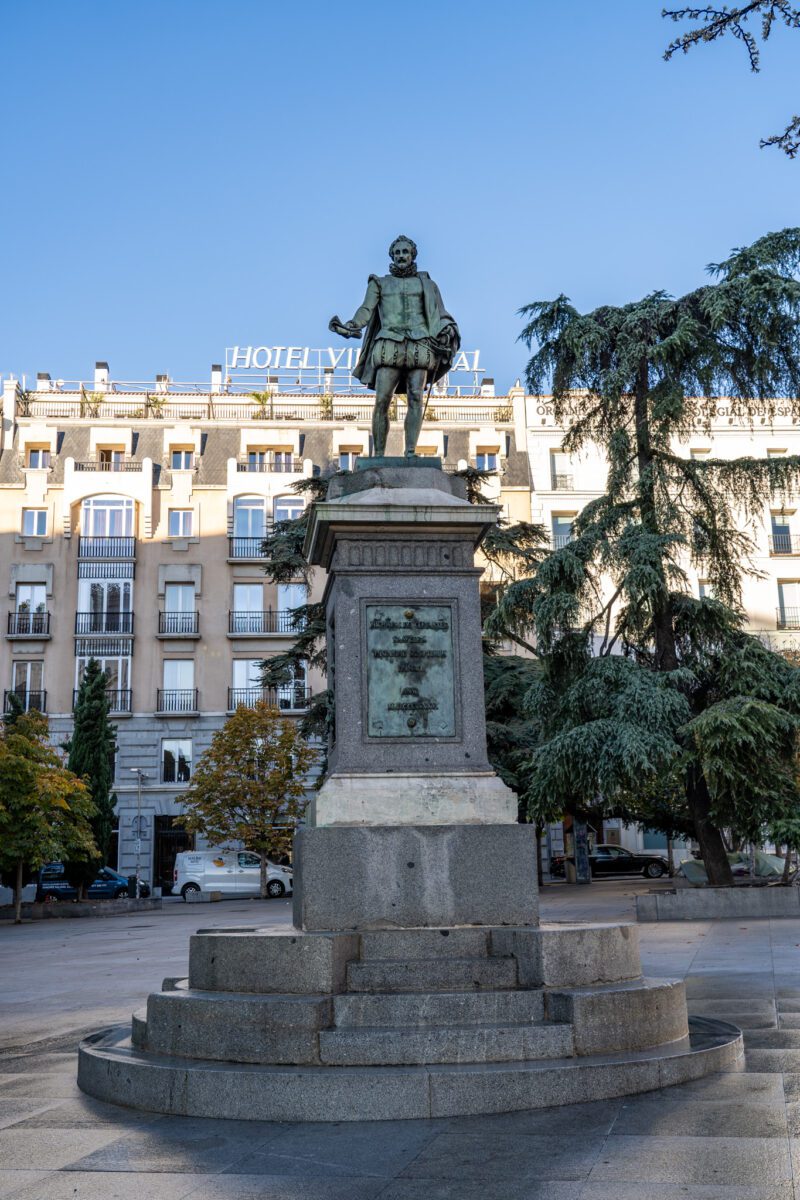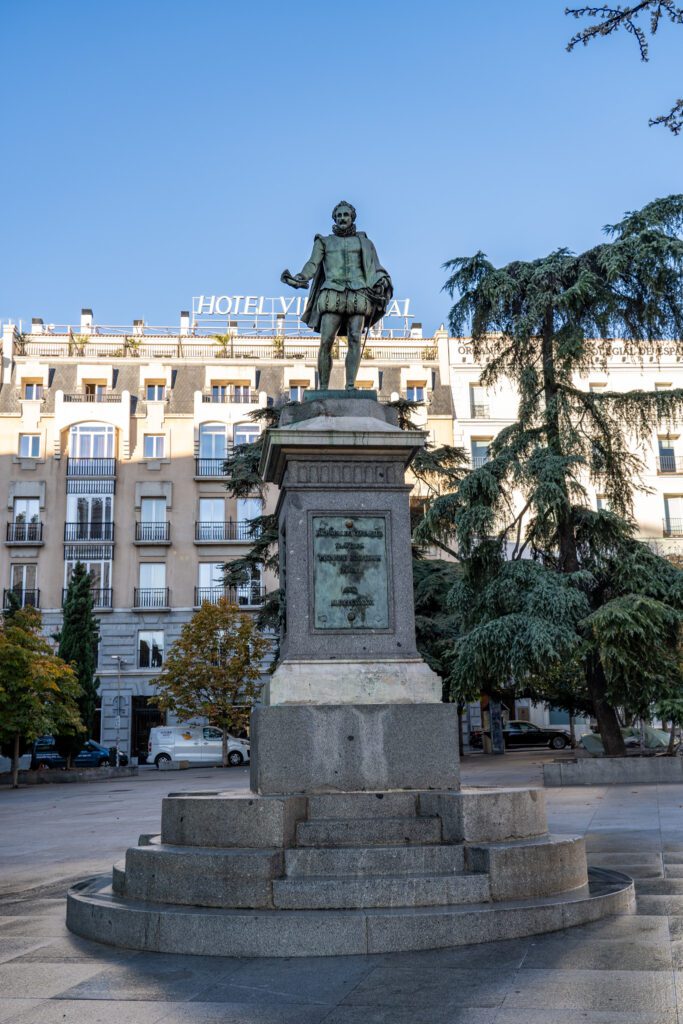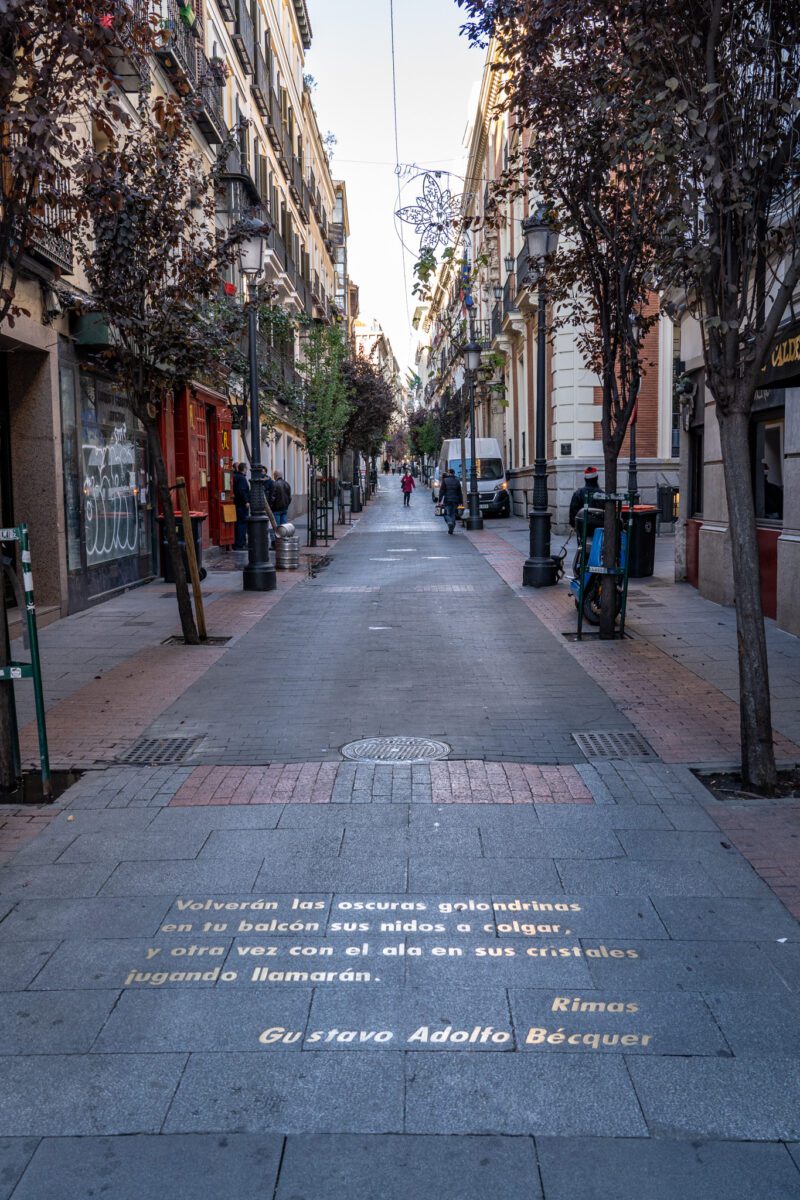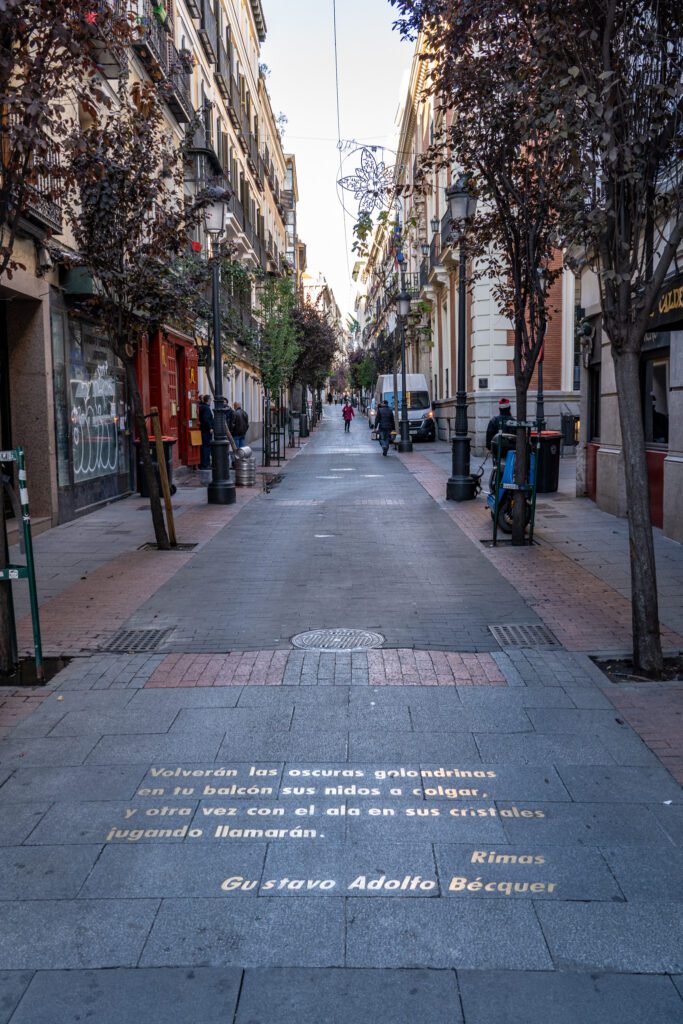 From there, head to Calle de las Huertas, the main corridor here, and look at the street to see some famous quotes from Spanish authors in gold along the cobblestones.
From there, grab coffee at ACID Cafe, which served me one of the best cups of coffee I had in Spain (made with an Aeropress) and had a delicious-looking selection of pastries if you're in the mood for a quick bite before heading to the Prado.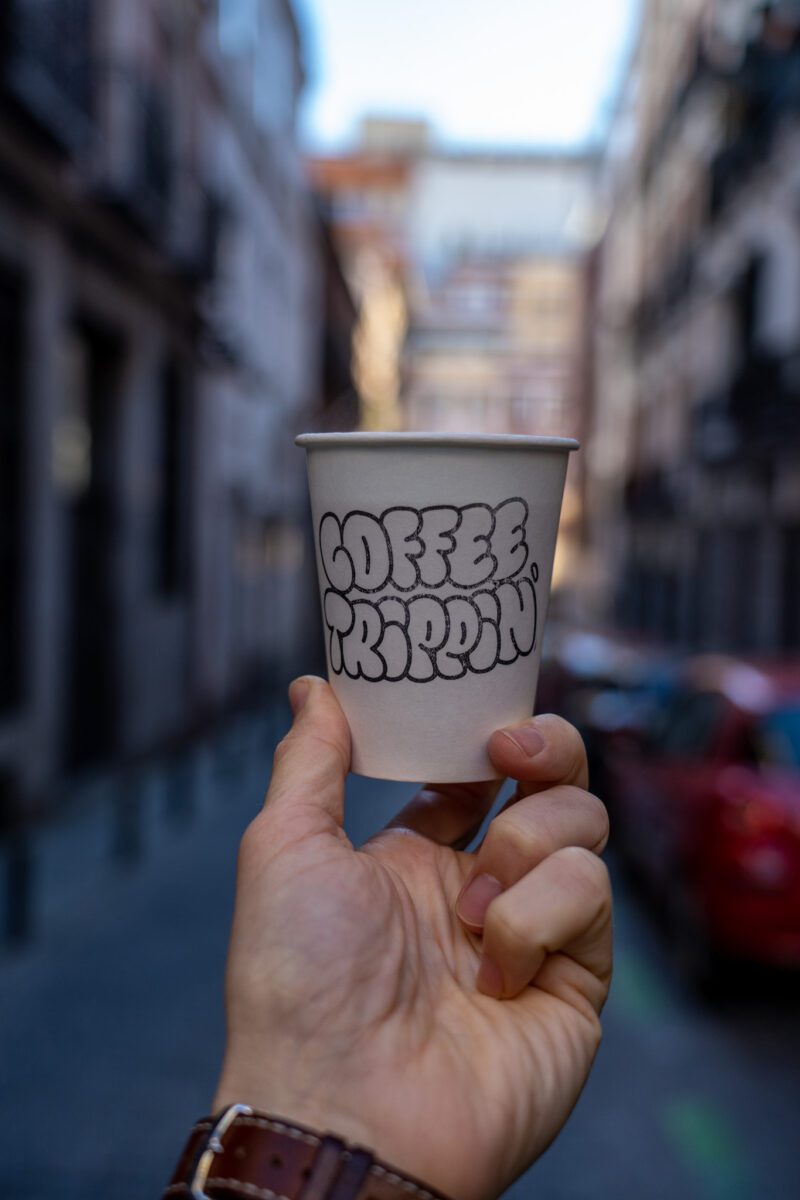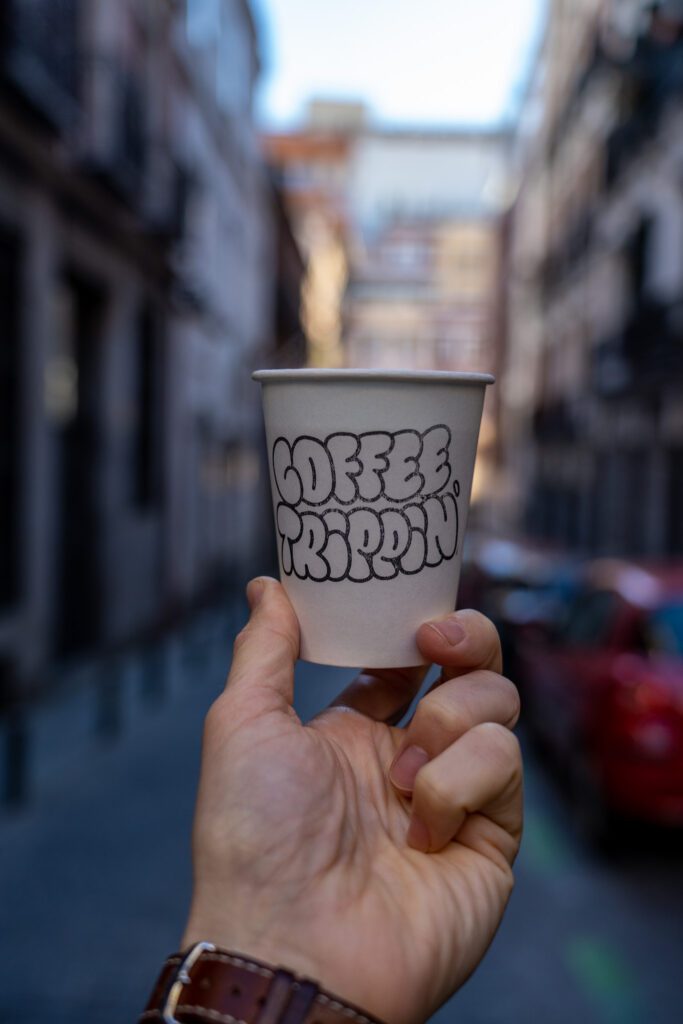 ---
Museo Nacional del Prado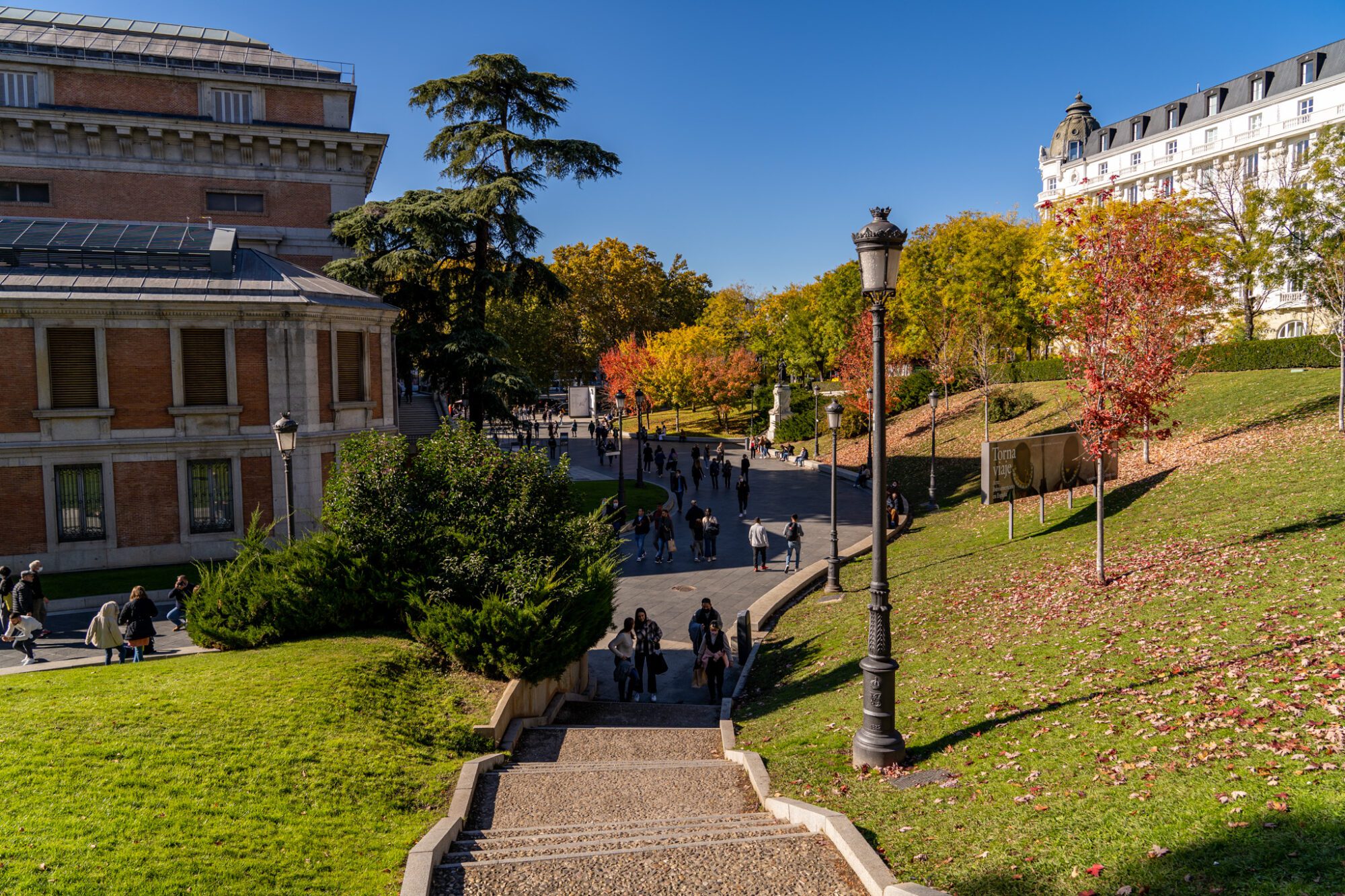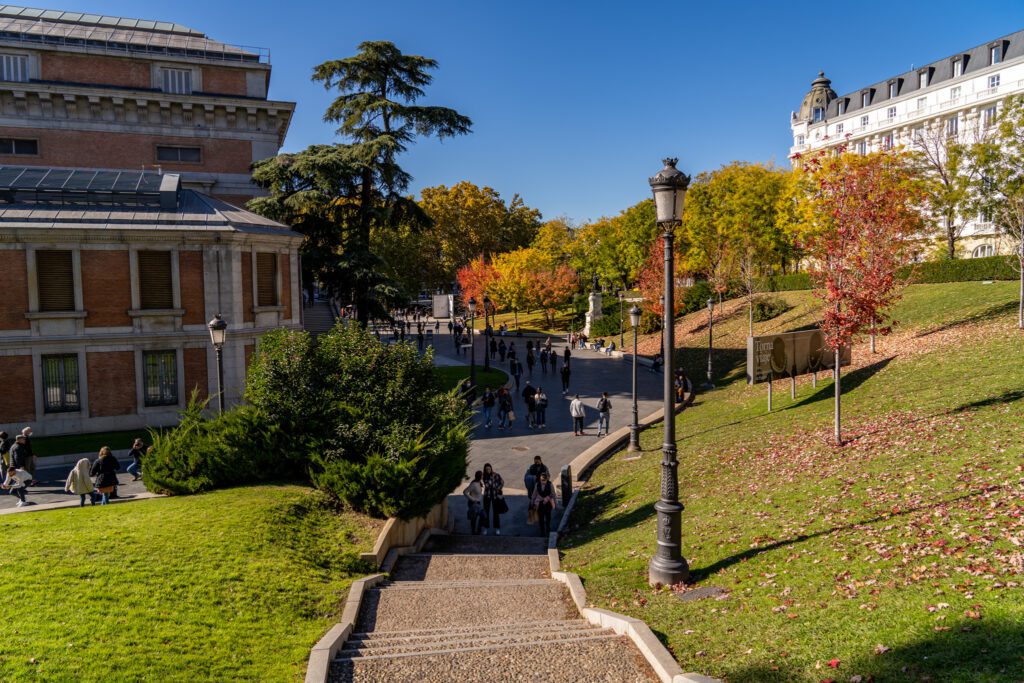 After my visit, I can honestly say that I think the Prado Museum (or Museo Nacional del Prado in Spanish) is one of the best art museums in the world that I've been to. Mostly because it doesn't try to do too much, which is a category that the Louvre and the Met – while amazing – fall into.
It's basically all about the paintings, and the paintings are mainly from Spanish, Italian, and Flemish artists. "Flemish?!" I hear you saying. Yes, Flemish, and it was actually my favorite part of the museum (though the Italian and Spanish sections have their high points too).
The museum is full of art that ranges from 12th to 20th Century, but there are a few main highlights that I think you shouldn't miss:
The work of Flemish painter Hieronymus Bosch: Particularly the Garden of Earthly Delights, which is a mind-bending, imaginative, dark, and colorful masterpiece.


The statue of Charles the III, one of the most famous character's in Spain's history. The armor he's wearing (or isn't – it was off when I was there) is REMOVABLE. How cool is that?


Tintoretto's play with perspective in Christ Washing the Disciples' Feet (make sure to look at it from both sides!).


The Work of Francisco Goya: Especially the "black paintings," which are really, really dark (and were painted on the inside walls of his house – what a creepy thing to have on your bathroom wall).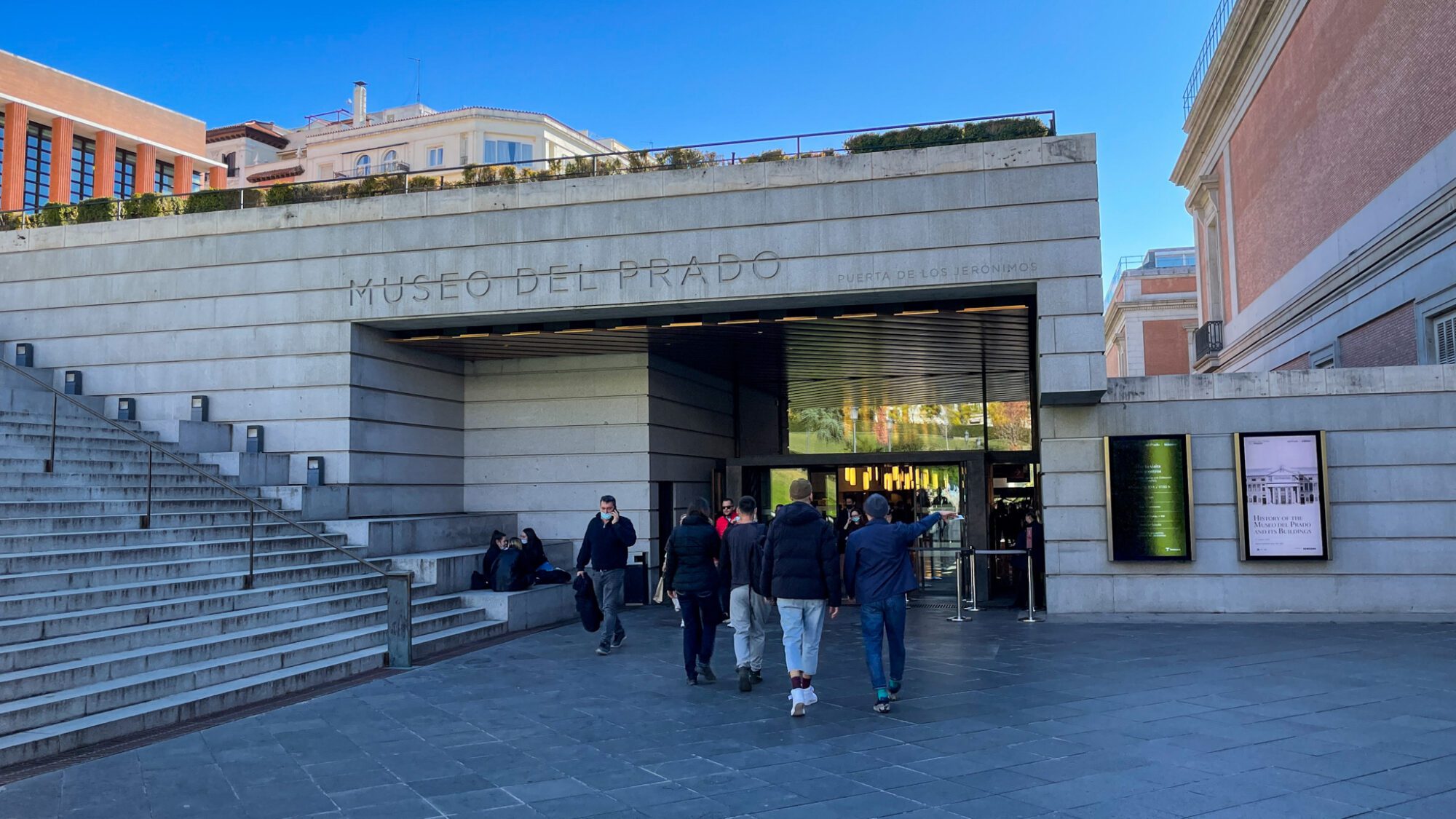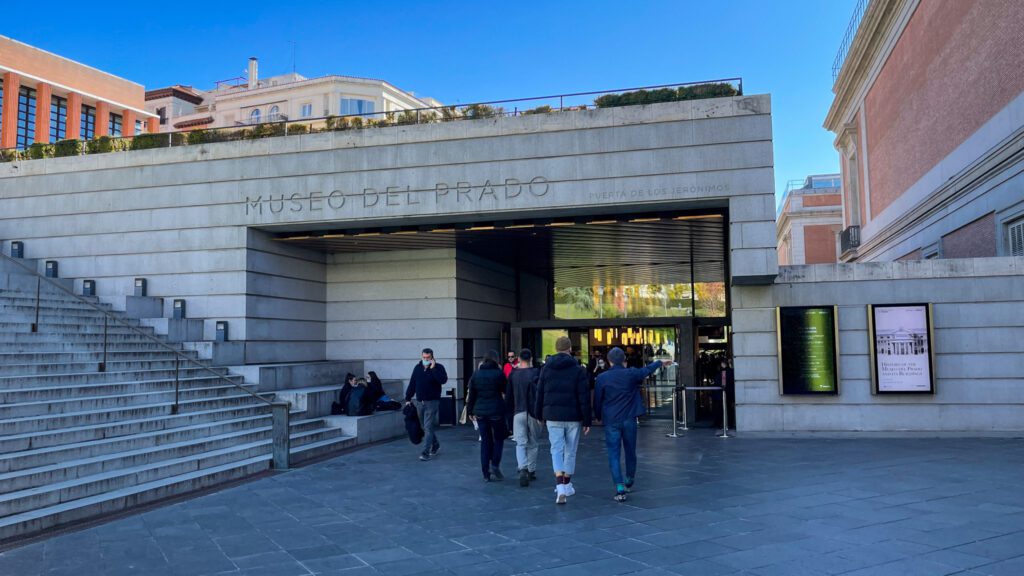 Why We Think You Should Choose a Guided Tour of the Prado
Now, for our pitch on why you should invest in a guided tour of the Prado Museum, which is what we did and loved every second of it. We went with Jaime on his guided tour of the Prado museum, and highly, highly recommend it.
He's an expert in art history and was born in Madrid, and was able to bring a level of richness, detail, and humor to the experience that we would never have gotten on our own. 
The reason you should invest in a guided tour is this.
You could spend a full day exploring the Prado and never see everything.
The expert leading your tour is going to curate a selection of paintings for you to illustrate the historical patterns and influential works, helping you understand what you're looking at, and what you should be focusing on.
Then, you'll end the tour inside the museum, so you can continue exploring if you'd like. 
We've been to many, many museums all over the world. The ones we remember most – and most fondly – are the ones where we've decided to do a guided tour.
The stories behind the art and the context around the time period when the art was created are essential to really understanding what you're looking at, and while you may be an expert in art history, we certainly are not. 
Which is why we recommend a guided tour – to get that extra level of richness and context that will make your experience much, much more memorable (not to mention enjoyable in the moment). This is the tour we did, but this tour was on our list too if the first one is unavailable.
Getting Tickets to the Prado Museum
The first thing you need to know is that you should book your Prado tickets as soon as you know you're going to visit Madrid.
It does sell out, particularly in the summer and on weekends, so if you want to see it, you need to plan a little in advance. If you didn't plan in advance, we have some suggestions on how to get in at the last minute below. 
The Prado is divided up into two main sections, at least in terms of buying tickets. There's the general collection ("general coleccion" in Spanish) – which is the one you want – and then there's the other expositions, which is not the one you want if you want to see the main collection.
All you do is head over to the official website and hit the little ticket icon in the top right (or get there through the menu under "VISIT", if you're on your phone).
Again, you want the "general collection" ticket, which at the time of writing is 15 Euros per person at full price. From there, you'll choose an entry time, and off you go!
If you're not doing a guided tour, we'd recommend paying extra for access to La Guía del Prado, which is essentially the audioguide, but in an app on your phone. Bring headphones!
What if tickets are sold out online? You have three options.
Go early in the morning and wait in line at the ticket office, though this is not a guarantee you'll get a ticket.


Check Get Your Guide to see if they have any skip-the-line tickets available for your dates. This is the same ticket that the Prado Museum official site gives you.


Join a guided tour of the Prado, like the one we did, or this highly rated option.
The Museum is FREE on Monday to Saturday from 6:00 pm to 8:00 pm, and Sundays and holidays from 5:00 pm to 7:00 pm. However, you can't book free tickets in advance, and lines are crazy long, as you can probably imagine. We'd recommend paying for tickets and avoiding visiting at those times.
Tips for Visiting the Prado Museum
Here are some things to know before your visit that we think are helpful to know BEFORE you arrive.
No backpacks allowed. Leave the big, bulky backpacks at home, or wait in the massive line for the coatroom if you must bring it. I brought a canvas tote bag that slings over my shoulder, and it was totally fine.
No pictures allowed! We saw multiple people get accosted by security for trying to slyly take pictures of the collection. Don't do this – it's against the rules!
Bring headphones. For the audioguide app, if you'd like more context during your independent visit.
San Jerónimo el Real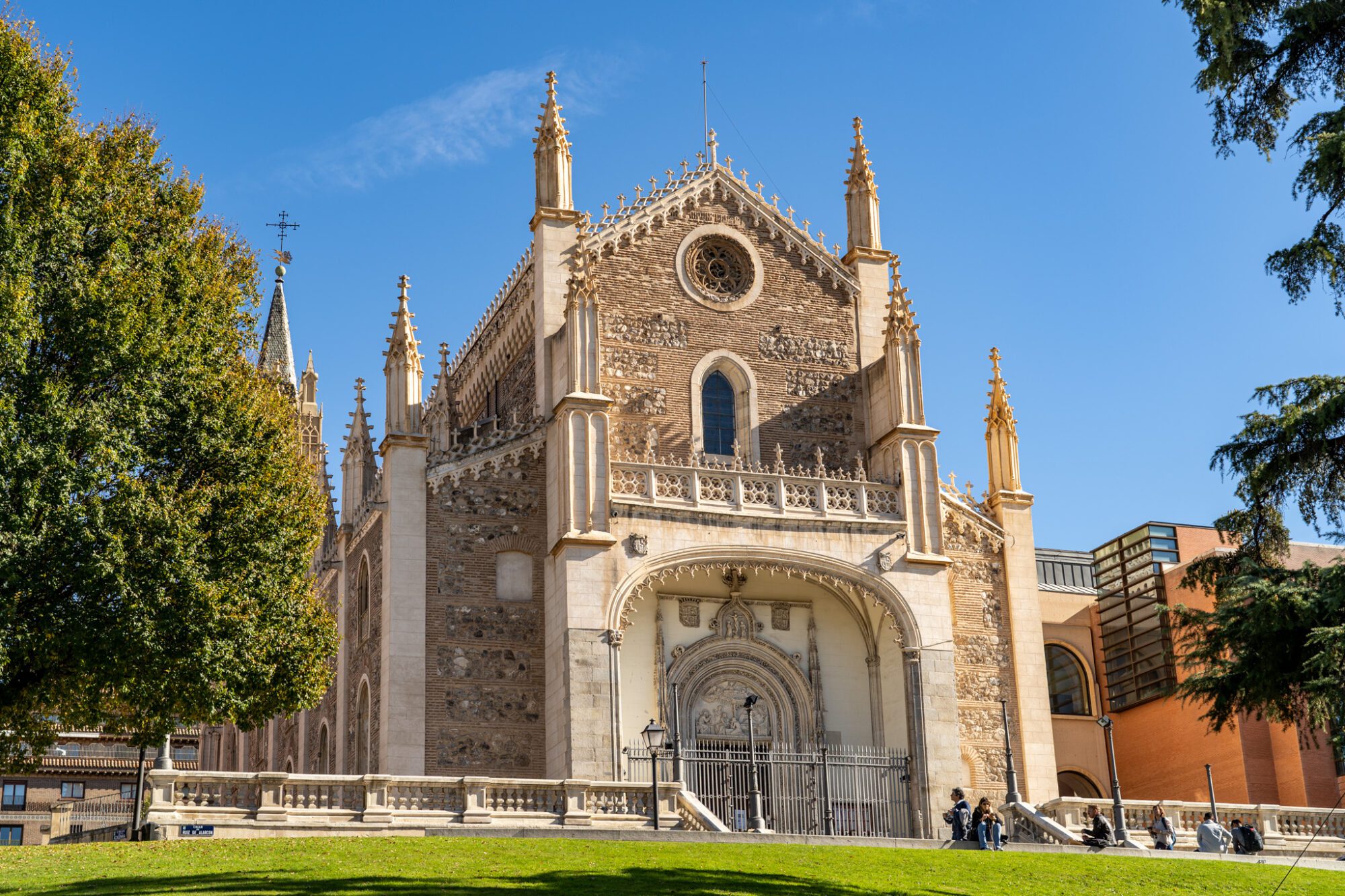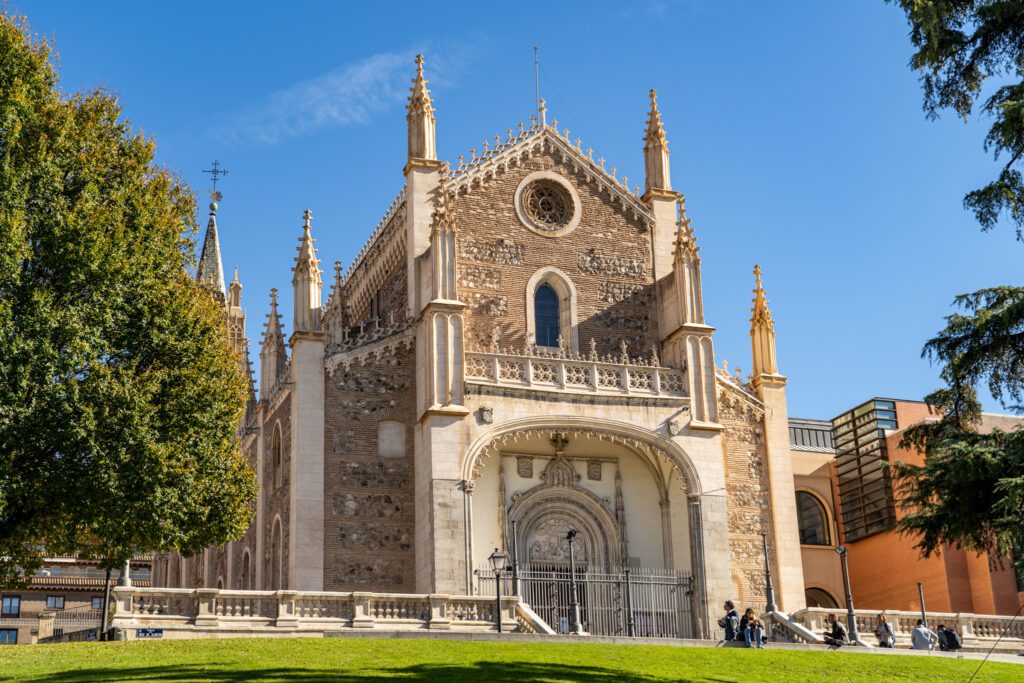 Just outside the museum is San Jerónimo el Real, a nice church that is free to enter and worth poking your head into. It was originally a Hieronymite monastery, and has been transformed over the years after Napoleonic troops expelled the monks and damaged the monastery. It was restored in the Gothic style in the 19th Century.
El Retiro Park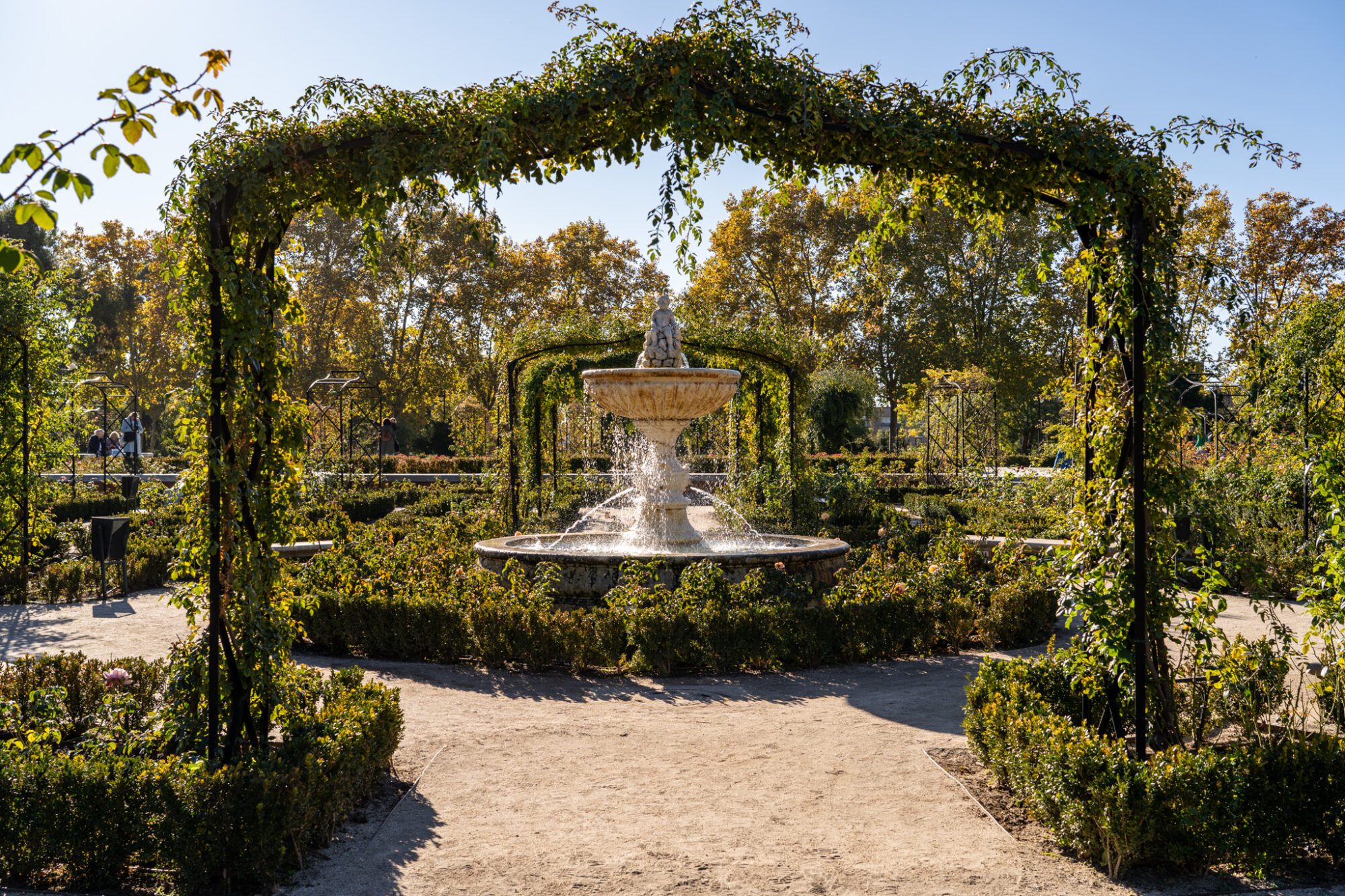 This is Madrid's best green space, we think, and it's so easily accessible from the city center that it's a perfect spot for an afternoon stroll.
You can really spend your time wandering – it's a lovely place to get lost and soak up the afternoon sun – but here's the route we'd choose (in map form here).  
Start from the northwestern corner and the Puerta de Alcalá, a triumphal arch (every major European city has one!) built on the site of one of the original five gates into the city of Madrid.
Make your way south, past the pond, to the opulent Palacio de Cristal, which is gorgeous, and then onwards to the rose garden at the southern end of the park, La Rosaleda.
Head back towards the city center by passing the statue of Jacinto Benavente, and exiting through the Puerta de Felipe IV at the midpoint on the western side of the park.
An Evening in Malasaña and Chueca
Afterwards, head over to hipster hub Malasaña for dinner and drinks, and to close out your second day in Madrid.
Once again, there are tons of choices here in terms of eating and drinking. Walking through this area in the morning and evening are VERY different experiences, which we like.
Unlike La Latina, which is all about the tapas, this area is full of all sorts of restaurants from all corners of the world. We ate here multiple times, and enjoyed food from Central and South America, Asia, and Italy. 
We'd recommend either Guasa (Venezuelan arepas), La Mordida (Mexican food), or Okashi Sanda (gluten free and dairy free Japanese food with vegan options). Though, like we've said, there's an endless number of great options waiting to be discovered.
What to Do with 3 Days in Madrid (Go to Toledo!)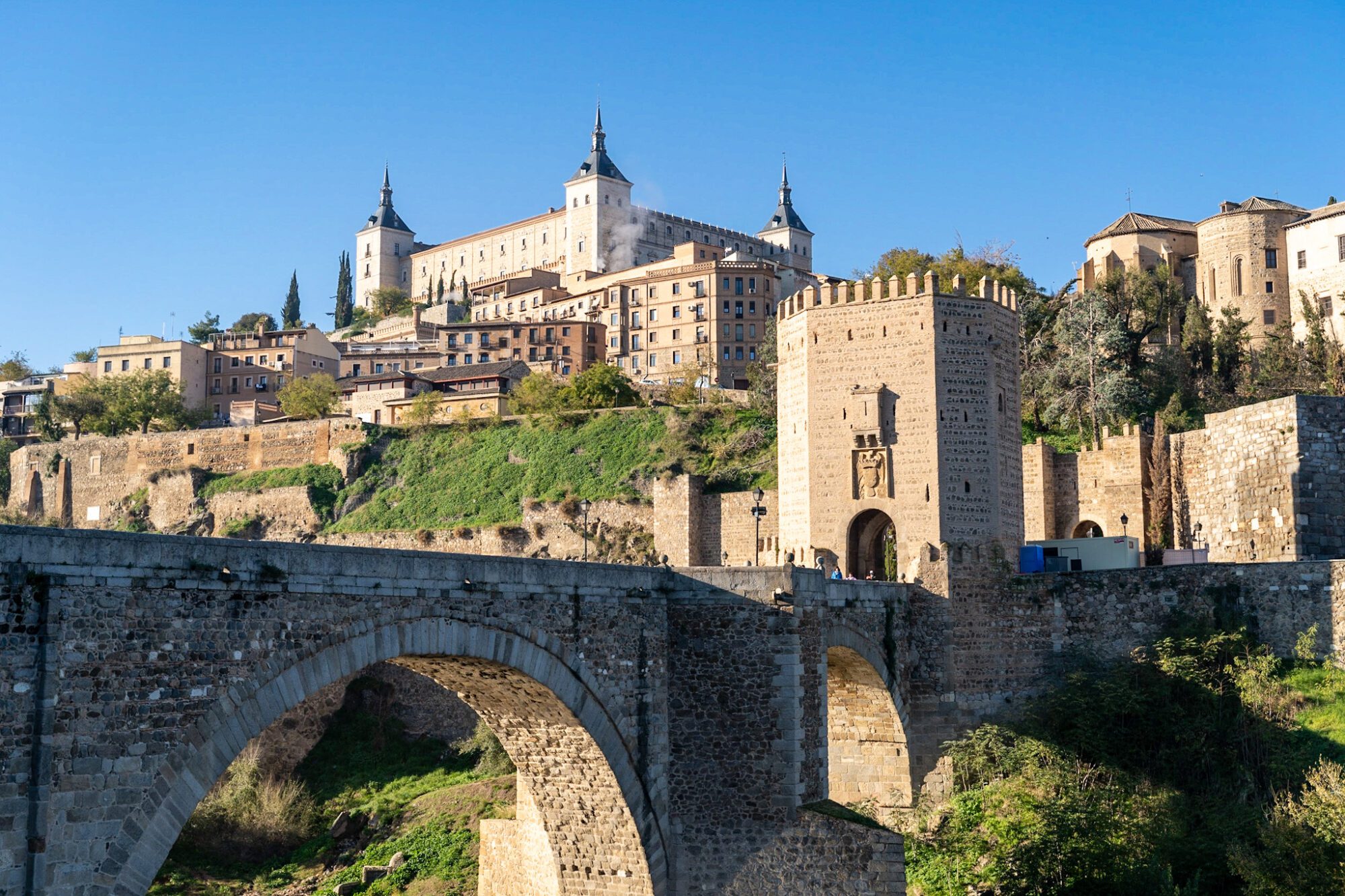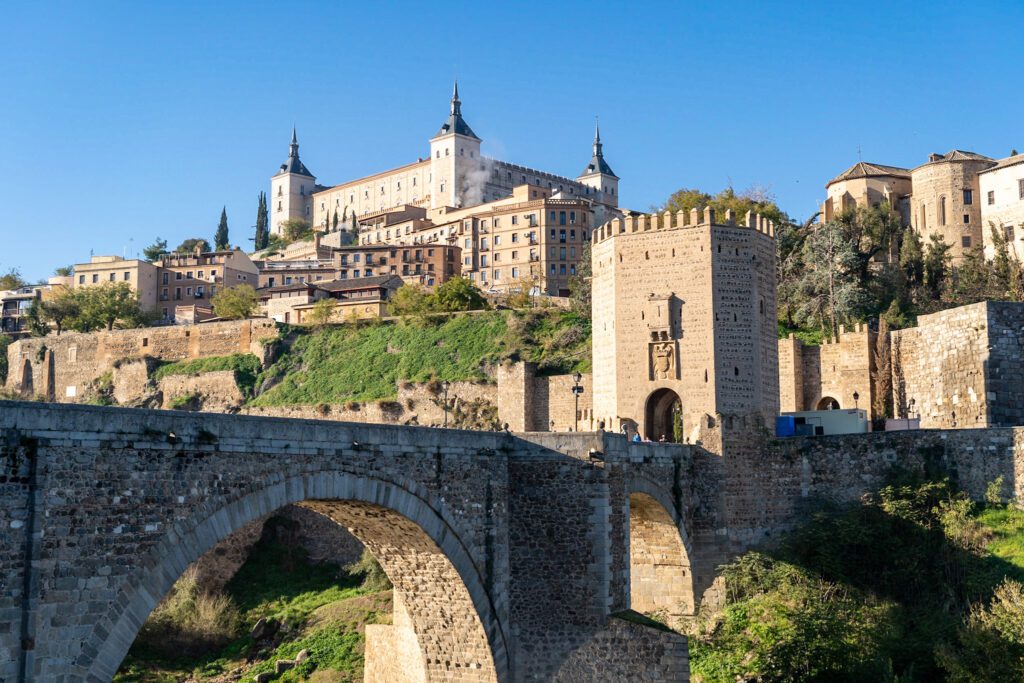 With an extra day in Madrid, we'd recommend following the itinerary above as written and spend your third day on a day trip to Toledo, which is an excellent place to visit for a unique insight into Spanish history.
Getting to Toledo
There is a high-speed train that will take you from Madrid to Toledo in right around 30 minutes flat. We got on the train, got settled in, and all of a sudden we were arriving in Toledo. It's so easy and fast!
The trains leave from Madrid's Puerta Atocha train station, usually from the lower platform located on the ground floor.
If you'd rather not deal with arranging your own transportation and itinerary in Toledo, you can book a guided tour of Toledo, which as a bonus also includes a visit to Segovia!
What to Do in Toledo
For a detailed guide on what to do and see in a day, check out our guide to spending a day in Toledo.
What to Do with More Time in Madrid
If you have more time in Madrid (or you aren't interested in Toledo / already are going there on your Spain itinerary), here are some things to consider adding to your itinerary.
A Food Tour: One of our favorite ways to experience a city is by joining a food tour, where a local guide will take you around to places that you wouldn't otherwise discover on your own. Devour Food Tours are the real deal in Spain. Here's another tour with some stellar reviews.


Temple of Debod: An Egyptian temple that, as a result of a series of events involving international diplomacy between Spain and Egypt, was relocated piece by piece to Madrid.


More Churches! Madrid has fewer big, imposing churches than other European cities, but there are still more to explore. If you've got a religious itch you need to scratch, start with the Pontifical Basilica of St. Michael & Iglesia de San Nicolás.


Take a Cooking Class: Another of our favorite ways to get to know a city! This highly rated tour is the one we'd choose.


Visit the Reina Sofia: The Prado's little brother / sister is worth a visit if you have more time. More information here.
What to Do with One Day in Madrid
If you only have one day in Madrid, we'd spend the bulk of your time on a tour of the Prado Museum. Before your tour, go to Malasaña for coffee and breakfast (at the excellent HanSo Cafe or Misión Café) and then walk through El Retiro briefly before meeting your guide at 11:00 am.
In the afternoon, make your way to Puerta del Sol and Plaza Mayor, stopping at the Mercado de San Miguel for a late lunch, and then head down to admire the Royal Palace from the outside, and go inside the Madrid Cathedral (it's free!).
End your whirlwind day in Madrid with tapas in Barrio La Latina on Calle Cava Baja, which is known for its tapas bars.
Getting Around Madrid
Madrid is a fairly walkable city, though there are some hilly parts outside of the main city center that you may run into if you venture further out. For the most part, we walked everywhere.
But we also had the luxury of time in Madrid – we were there for a whole week.
If you need to get around a little faster, Madrid's metro system is very, very useful. Here's a map of the entire network.
There are a few things you need to know about riding the metro.
You need to buy a reusable Public Transport Card before you are able to buy tickets. It costs 2.50 Euros, and you only need one per group. Alysha and I shared one card, loading it with two tickets whenever we wanted to use it.


Tickets and the Public Transport Card can be purchased at metro stations, including at the airport. There are machines, which toggle to English (and French and German) and are relatively easy to use. Most stations also have attendants, who can help you if, like me, you have trouble figuring out exactly what you need to purchase.


You can choose between buying single tickets (starting at 1.50 Euros at the time of writing and increasing as you get past five stations traveled), a packet of 10 tickets (at a slight discount), and an unlimited pass – called a tourist ticket – for one, two, three, four, five, and seven days. More information on tickets and fares here.


For an unlimited "tourist ticket" that covers the city center (Zone A), it will cost you 14.20 Euros per person for two days. That price DOES include the card, which is 2.50 Euros on its own, AND includes the trip to the airport. If you are spending two days in Madrid, and flying in and out of the airport, it's pretty much a no-brainer as long as that's all within 48 hours. Usually, there is an extra 3 Euro upcharge to go to the airport, but it's included in this card.


Getting to the airport requires a different ticket, which you can also buy at the machines at every metro station.
When you've got your card loaded up, all you do is head to the turnstiles, tap the card on the sensor, walk through the open gate, and repeat for as many people as are in your party. No need to "tap off" when you exit the station.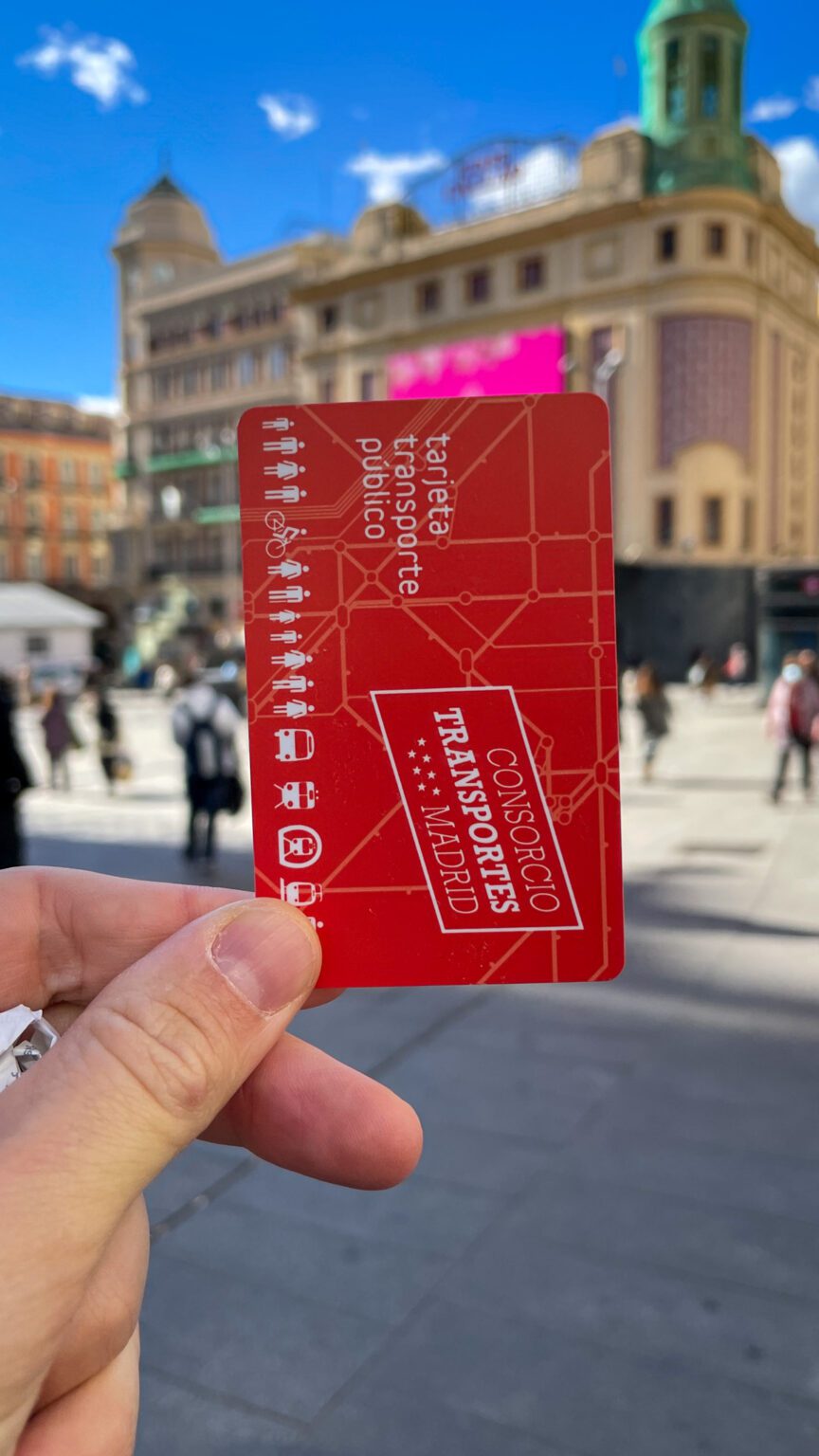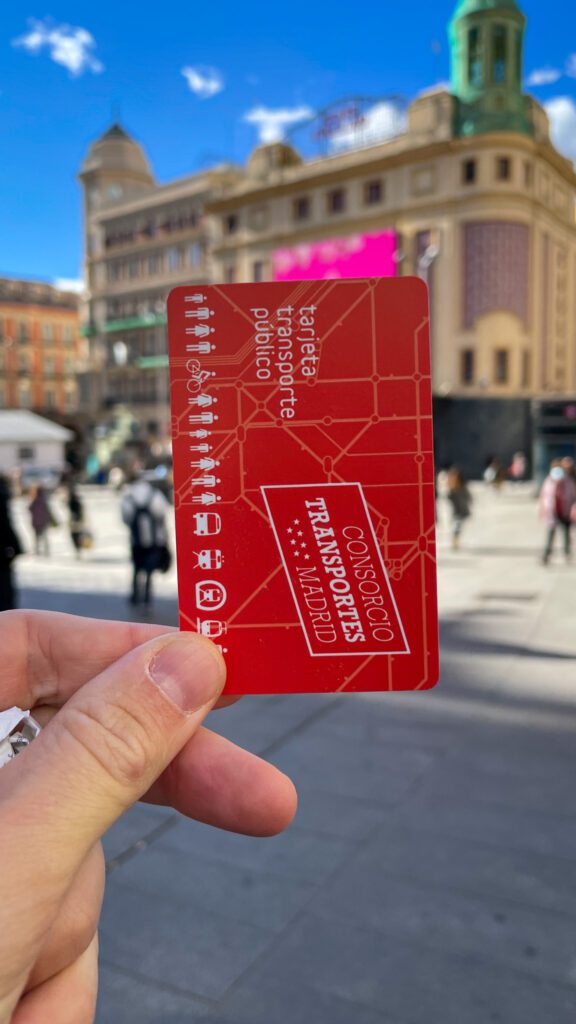 As always, these things change, so make sure to check the official website for up-to-date costs and information.
Getting To Madrid From the Airport
To get to Madrid's center from the airport – Adolfo Suárez Madrid–Barajas Airport (MAD) – you have a few options. There are only two worth considering for most people – the metro and the bus.
Taking the Metro
First is using the metro. You'll need to buy a Public Transport Card – one per group is fine – which will cost you 2.50 Euros, then you need a single ticket (one per person) which is 1.50 Euros, AND you need to pay the airport surcharge, which is another 3 Euros. In all, the journey is going to cost you 7 Euros and take 30 minutes or so.
This is the best option if you're planning on buying a tourist ticket with unlimited access to public transportation in Madrid because both the card and the airport upcharge are included.
There are metro stations at terminals 2 and 4 at the airport, and you can buy tickets at the machines located there.
Pros: More direct as it connects to all metro stops in Madrid. Trains come every 5 minutes from 6:00 am to midnight.
Cons: More expensive if you're not getting the tourist ticket. Stations only at T2 and T4. You might have to transfer within the metro system.
Taking the Exprés Aeropuerto Bus
The second good option is using the Exprés Aeropuerto bus – more information here. This journey costs 5 Euros (you can buy tickets on board), takes 30-40 minutes, and comes every 15 minutes for most of the day (every 20 minutes between 6:00 and 8:00 am).
The bus picks up at Terminals 1, 2, and 4. There are three stops in Madrid – O'Donnell, Cibeles, and Atocha Station. Cibeles is going to be the most convenient for most people – from there you will likely have to transfer to the metro to complete your journey, or walk.
The buses are bright yellow, and are hard to mis.
Pros: Cheaper if you're not getting the tourist ticket metro pass.
Cons: Fewer stops in Madrid, and likely requires a transfer to get to your final destination.
When To Visit Madrid
We'd say the best time to visit Madrid is the shoulder seasons – fall (September – November) and spring (April – June). It's worth noting that the time around Easter is about as busy as it gets, so be prepared for heavy crowds and expensive accommodations if you're in Madrid around Easter.
We were in Madrid in November – late fall -, and it was pretty perfect. Sure, mornings and evenings were a little chilly, but it was sunny, warm during the day, and there were far fewer people than you'll find in Madrid during the summer months.
In the winter, it gets cold, gray, and damp. It's still not as rainy as most of northern Europe, so it would be a nice trip even in the winter months. We were there right before they turned on all the Christmas lights, and were sad that we were missing the Christmas Markets that multiple locals told us were magical.
Summer is both the busiest and most miserable time to be in Madrid. It's sweltering – not as hot as, say, Seville, but still too hot to be pleasant to be outside for long periods of time. Which is kind of a problem, since you'll likely be walking a lot in Madrid.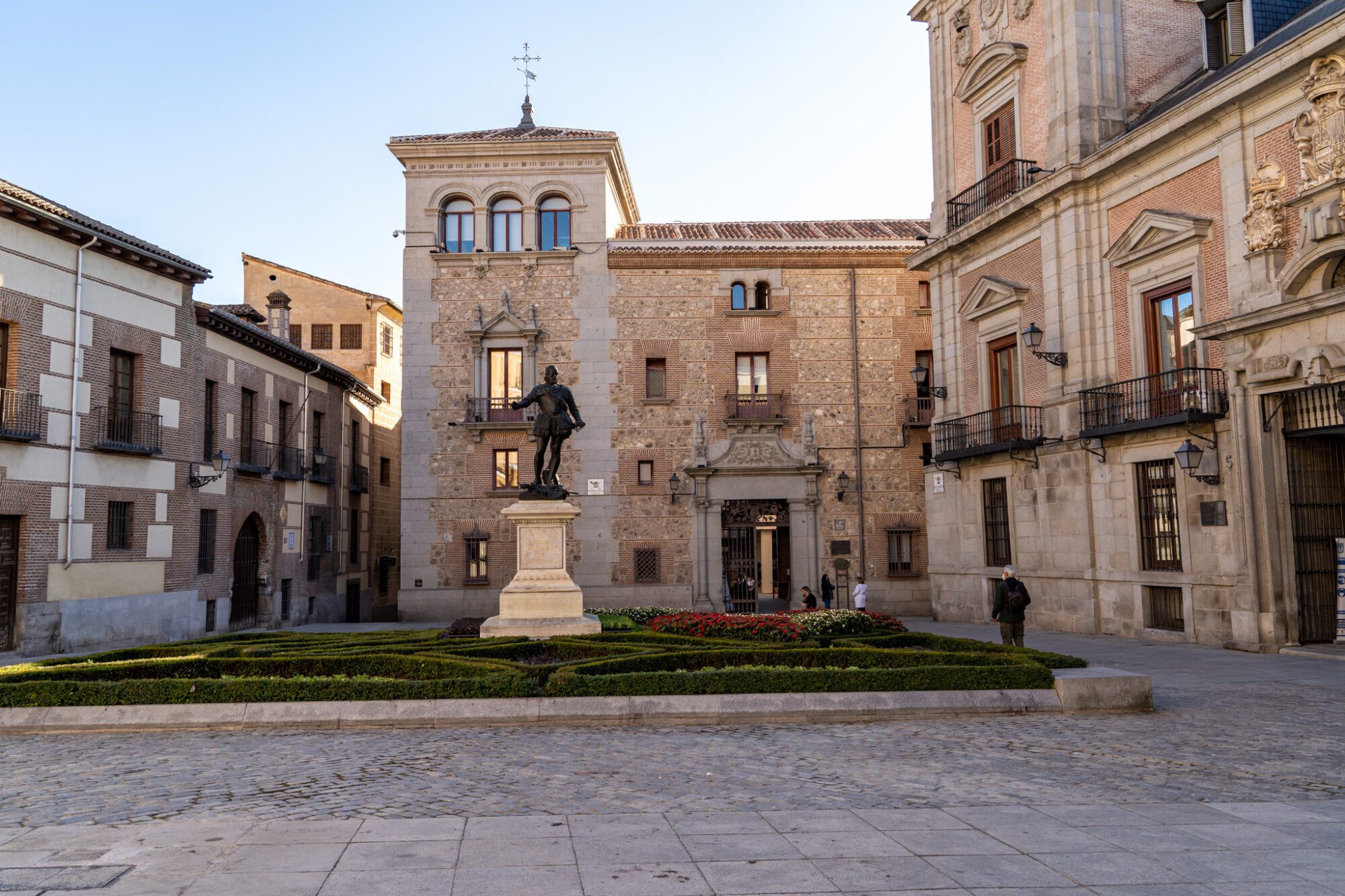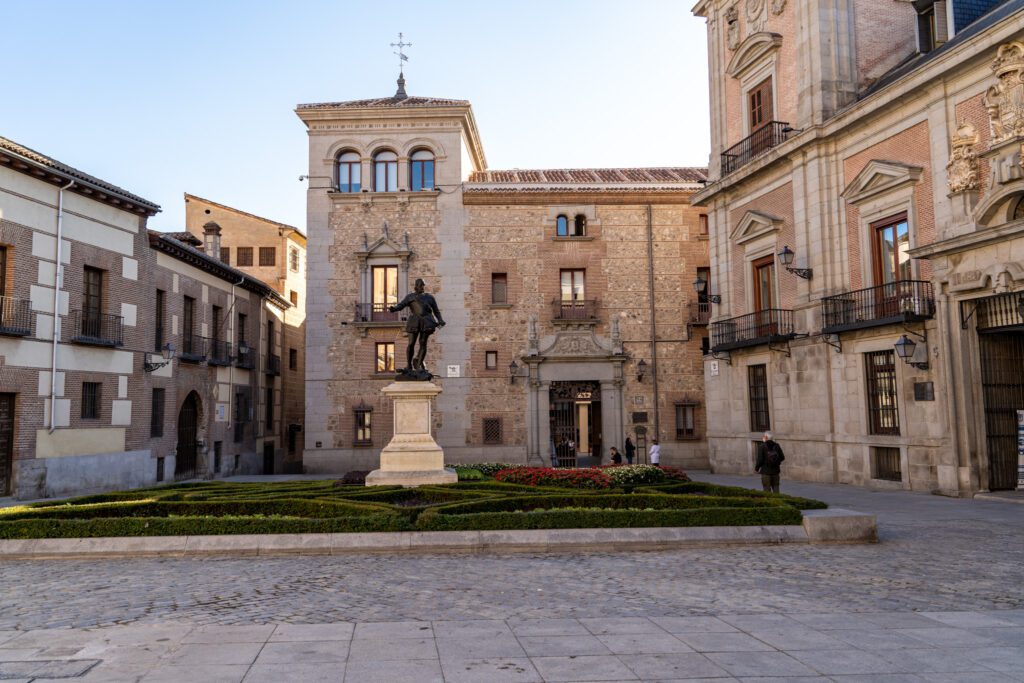 ---
Let Us Help You Plan Your Amazing Trip to Spain!
We've got plenty of other detailed guides for our favorite places in Spain – from Barcelona, to Madrid and Andalusia – that we wrote to help you plan an incredible trip.
P.S.: If the link isn't there, it means we're still working on it and the guide will be up shortly. It takes a lot of time and effort to put together these detailed guides! Bear with us.
Exactly How to Take an Amazing Day Trip to Girona From Barcelona
Taking A Day Trip to Toledo From Madrid: A Complete Guide