Oh, Rome – the Eternal City. You'll rarely find a place as worthy of the bucket list as this. From the colossal Colosseum to the art-filled vaults of the Vatican Museum, it's a capital that enthralls and delights at every turn. This guide to 4 days in Rome has you covered when it comes to checking off all the major attractions, with just a few hidden gems thrown in for good measure.
Planning a trip to Rome is a joy in itself. There are tons of reasons why this is the third most-visited city in Europe. From uber-romantic districts where cobbled alleys roll past bougainvillea-strewn pizza joints to pine-scented parks and majestic monuments that date back more than 2.5 millennia, there's just so much to get through.
Growing up, I (Matt) was fascinated by the role that Rome has played in the history of the world. I devoured Roman history in high school, and was definitely THAT guy raising his hand to ask questions about Roman history when class was supposed to be over. When I finally made it to Rome, I loved it so much that I visited twice in two years.
While Alysha, who lived in the Italian capital for six months, and Matt, who has been multiple times and is particularly knowledgeable about gluten free food in Rome, know a decent amount about the city, we're by no means experts. To create this itinerary, we put our heads together with Rich Francis – a travel writer who has been to Rome nine (or is it ten?) times, has lived in Italy, and is well acquainted with the ins and outs of the ancient town. We hope you can use this guide to help you navigate Rome, discover what to do and see, find where to eat, and uncover any other details you need to have a smooth trip.
Over the course of your trip to Rome, you'll see wonders like the ancient Roman Forum and the Sistine Chapel. But you'll also go hunting for the finest trattorias and gelato shops (gluten-free, of course), and explore secret neighborhoods and people-watching piazzas. You'll find all that and more in our complete guide to what to do in Rome in 4 days.
Planning a trip to Rome? We spent ten days in Rome on our last trip to Italy, and have plenty of detailed travel guides to help you plan an unforgettable trip.
The Best Things to Do in Rome: Getting Beyond the Main Sights (coming soon!)
Planning a trip to Italy? You won't want to miss our guide to planning an incredible Italy itinerary, with ideas for 7, 10, and 14 days in Italy, how to organize your trip, and the best things to do and see along the way.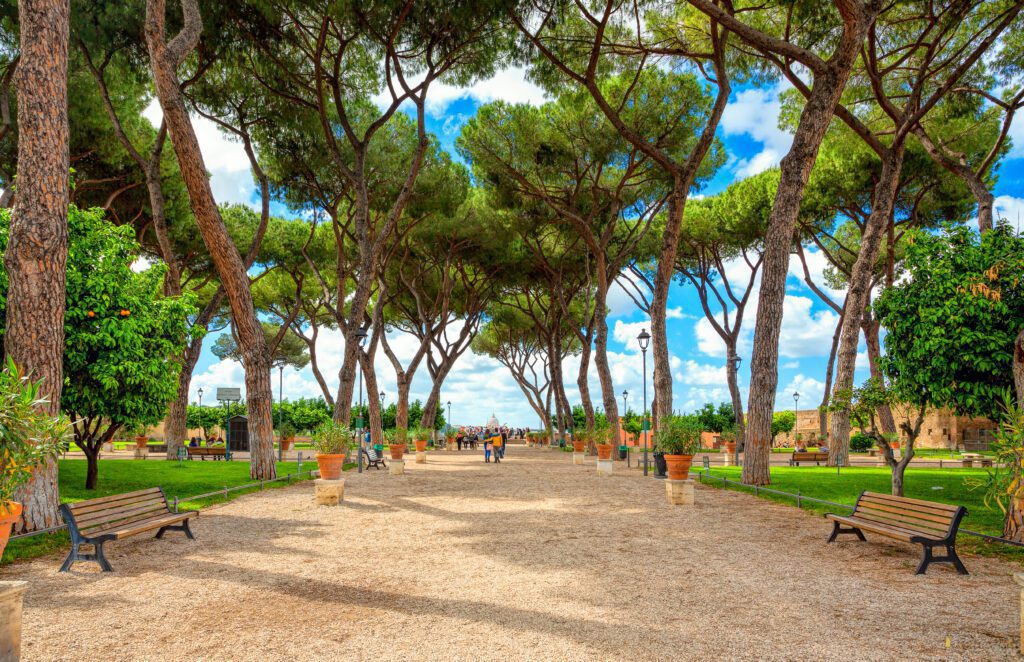 Disclaimer: Some of the links in this post, like hotel links, are affiliate links, meaning at no additional cost to you, we make a little bit of money if you click through and book. That being said, we would never recommend something to you that I don't stand behind 100%.
Where to Stay in Rome
There was a time when Airbnb was our go-to option for a visit to Rome. However, there have recently been rumblings about the platform's contributions to the city's housing crisis (along with many cities on the west coast, which is where we live). That's not something we want to be part of, so we prefer to look to established and licensed hotels. Thankfully, Rome has a whopping 5,000+ of them. You won't have to look hard to find one that matches your budget or offers something special.
The best way to pinpoint the perfect place to stay is to home in on the right neighborhood and then go from there. We've listed some that will be a great base for this 4 day Rome itinerary, but also provide plenty of character and atmosphere.
Trastevere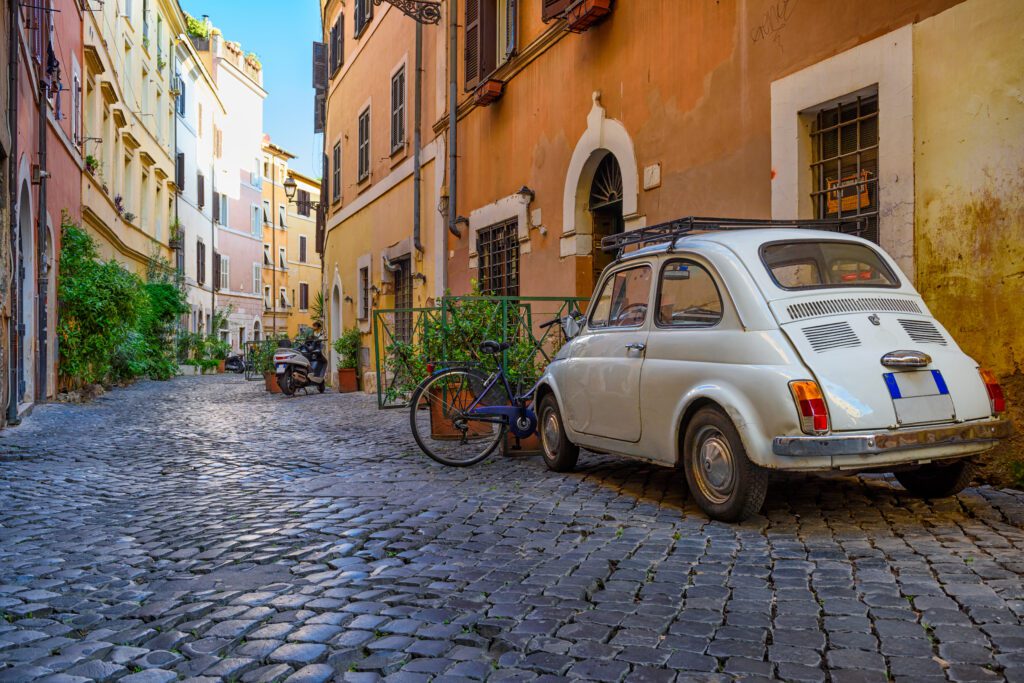 Most travelers who set foot on the crooked cobbles of romantic Trastevere fall in love in one way or another. The neighborhood is one of the most atmospheric in Rome. There are bougainvillea-strewn osterias that bustle with clinking wine glasses and chatting locals. There are Tuscan trattorias that serve pecorino pastas on checkered tablecloths. It's the sort of Rome you've seen in the travel brochures and it's a darn lovely spot to be based.
The best hotels in Trastevere are:
Horti 14 ($$$) –A chic design hotel with Scandi-cool interiors and a hidden botanical garden in the heart of Trastevere.


La Residenza Del Cedro ($$) – Set deep in the backstreets of La Trastevere, this apartment-hotel has spacious suites with kitchenettes (a gift for Celiac travelers) and even some with hot tubs.


Hostel Trastevere ($) – Grab doubles, twins, or bargain dorm beds in this cool posh-tel that's right by the Porta Portese market on Sundays. It even has access to a heated swimming pool! They have a second property nearby – find it here.
Tridente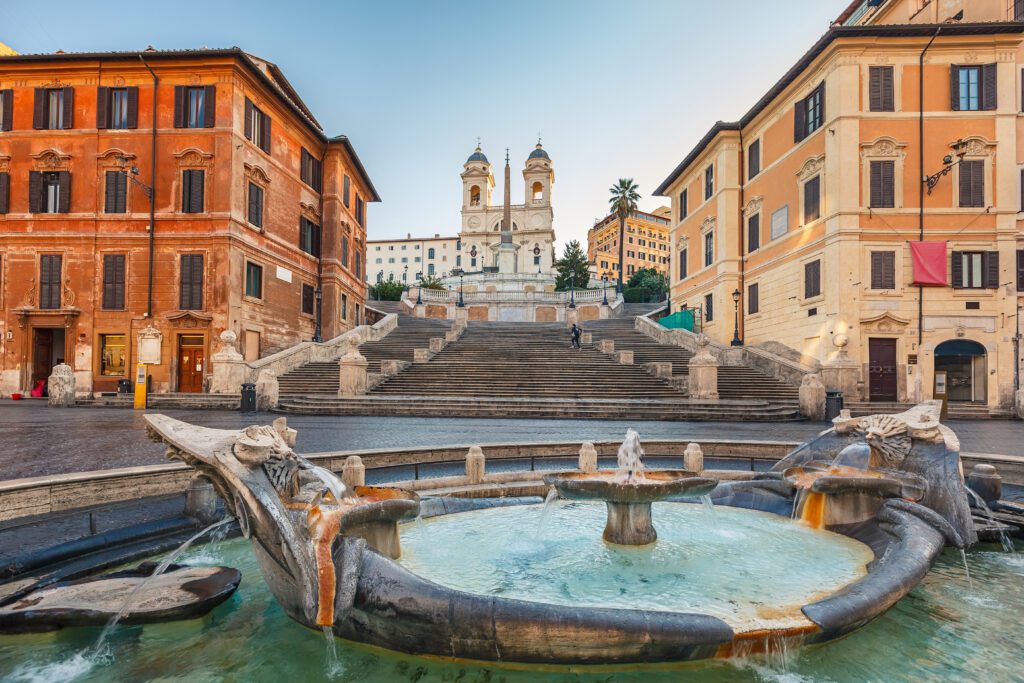 Tridente is a triangular cut-out of downtown Rome that contains some of the city's most iconic sights. At one corner you'll see the gurgling turquoise waters of the Trevi Fountain. Around another you'll spy the elegant Spanish Steps.
Piazza del Popolo caps the whole thing off to the north-east with its ancient obelisk and haunting churches. A stay here probably won't be cheap but gets you right into the thick of the sightseeing action.
The top hotels in Tridente are:
Poēsis Experience Hotel ($$$) – A two-minute walk from the Spanish Steps, this opulent hotel has grand rooms that spill out onto terraces overlooking Rome's iconic skyline.


Hotel Fontanella Borghese ($$) –A rare midrange hotel option in the Tridente area, Fontanella is a B&B with compact rooms in an historic building.
Testaccio
Off-the-beaten-track Testaccio is a hipster's enclave that's at both a little gritty and historic. Situated on the south side of ancient Rome, it unfolds in a patchwork of green piazzas and bustling markets that burst with Italian artichokes and delicious tomatoes when they're in season.
Aparthotels are the option of choice here and they're often a lot cheaper than places in the center of the city.
The downside of Testaccio is that it's a little harder to get to, though there is a direct tram connection from either the Emporio or the Marmorata/Vanvitelli stations.
The top hotels in Testaccio are:
Hotel Aventino ($$-$$$) – Perched on the Aventine Hill just above Testaccio, this grand hotel has a lovely courtyard breakfast area and sprawling suites with tons of space.


Hostel Roma Pyramid ($) – You'll probably need to use public transport to get from here to the tourist trail, but it's quiet, affordable, and has quirky rooms filled with Pop Art.
Prati
Prati isn't the Rome of old, so you won't step from your hotel lobby and be lost in a maze of winding streets and alleys. In fact, the district was largely designed in the 1950s, which makes it one of the more modern parts of the city. The upshot is that the boulevards are wide and the aparthotels spacious.
You'll also benefit from almost unrivaled access to the Vatican Museum and the sights around Piazza del Popolo, not to mention some more affordable hotel choices.
The top hotels in Prati are:
Atlante Star Hotel ($$$) – There's arguably no better view in the city than the one from the sweeping terrace of the Atlante Star Hotel. You're literally steps from the Vatican Museum here, folks!


Casa Frisi ($$) – Casa Frisi is a spacious home away from home for larger groups. It can sleep nine in total and comes with a leafy patio area joined to a big self-catering kitchen.
Major Attractions in Rome: What You Need to Know
Let's get one thing straight: You won't be able to see EVERYTHING in Rome. This city is just too big, too rich in history, to be checked off in a few days. Even locals who've been there for years have yet to see this church or that mausoleum or that particular Caravaggio masterpiece.
Still, 4 days is a good start. There's enough time there to delve into the historical neighborhoods and to complete some of the most iconic must-sees. The danger is overstuffing with museums and monuments at the expense of soaking up the street life and the food scene. That's why it's a good idea to stick to a maximum of three to four major sights.
To be honest, they really pick themselves. There's a trio of things you simply CANNOT miss while touring the Eternal City. We've given each of them a day of their own on our itinerary to spread out all that culture and art. They are:
Centro Storico
The vast medieval heart of Rome that spreads along the eastern banks of the Tiber River, sprawling north to include the Trevi Fountain and the Spanish Steps, and south to the ever-vibrant Campo de' Fiori. Sights like the Pantheon will steal the show here.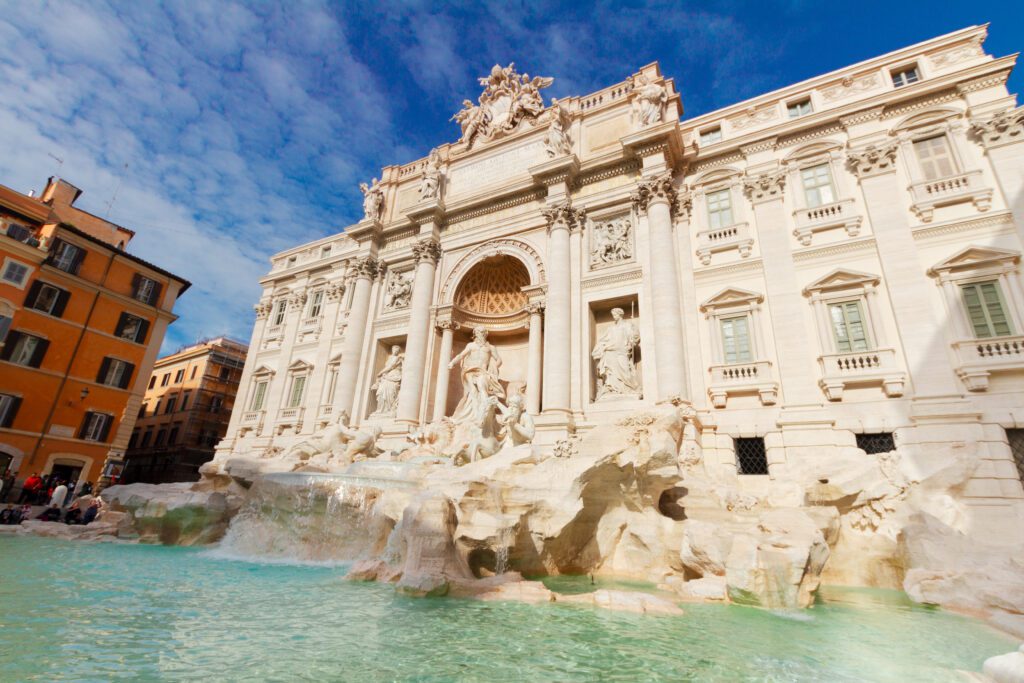 The Roman Forum & Colosseum
Ancient Rome. This area is centered on the Palatine Hill. It requires at least half a day to see in full and includes the majestic Colosseum and the ruins of countless palaces and temples that date back more than 2,000 years.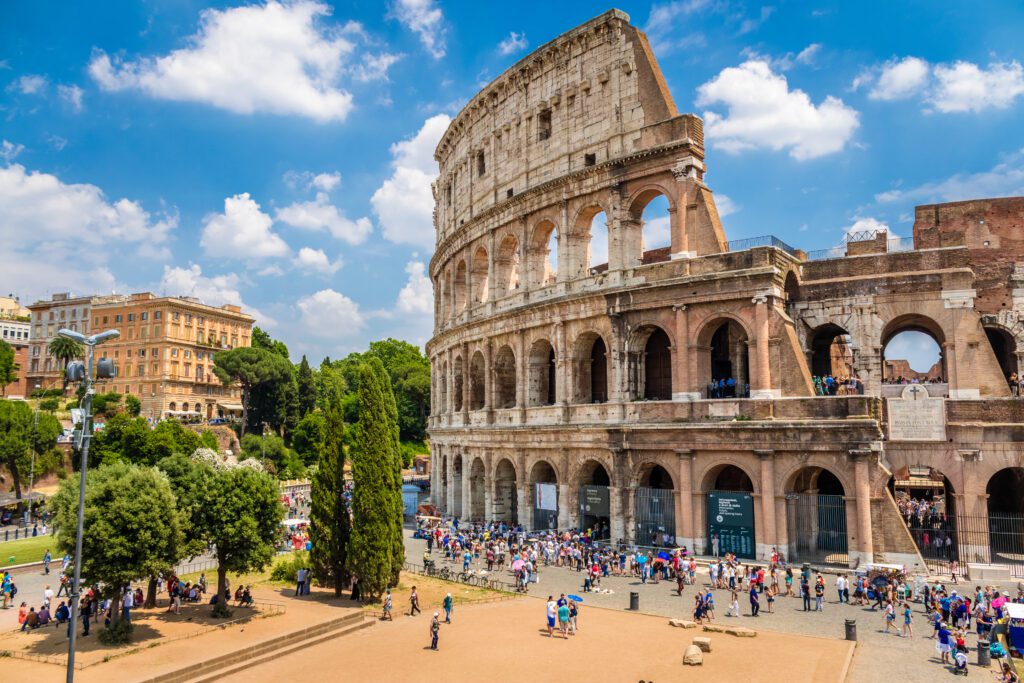 The Vatican Museum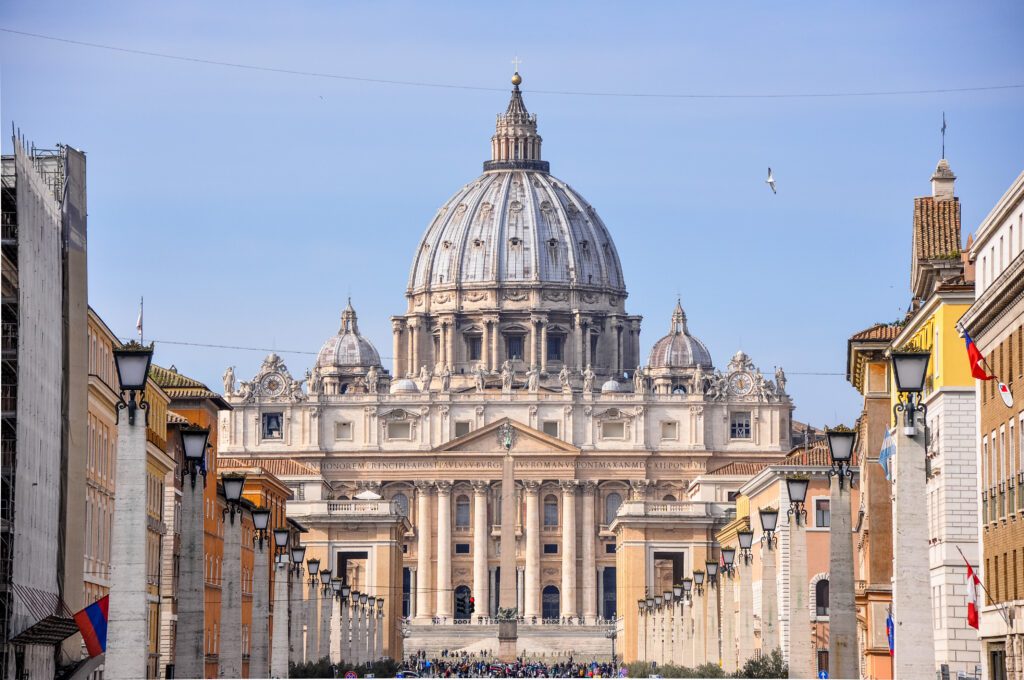 Arguably the most famous museum in the world makes its home in the collections of the Vatican. They show a whopping 20,000 pieces of art and culminate with the legendary Sistine Chapel, where the ceiling frescos bear the work of Michelangelo.
4 Days in Rome: A Complete 4 Day Rome Itinerary
Here's the part you've all been waiting for: The super detailed 4 day itinerary for Rome. We'll lay it out day by day in easy-to-copy segments, with one major attraction per 24 hours and plenty of things to do alongside them.
Day 1: An Introduction to the Eternal City
Day 1 is all about getting oriented to the sprawling mass of churches and obelisks and ancient ruins that is the Eternal City.
Start with a guided walking tour. There are a few to pick from, but the best are the ones that offer a rounded introduction to Rome. You could also go for a walking tour of ancient Rome but that'll be the main focus of Day 2.
For the afternoon, you'll head across the Tiber to delve into Prati, for some fantastic gelato and shopping. The day is capped with an unforgettable tour of the Vatican Museum at night.
Morning: A Walking Tour
There's no better way to start a trip than with a walking tour. Most will take a whole morning, but it's worth it. You'll be guided around by a qualified historian (usually an international or Italian postgrad from a local university), so expect some golden nuggets of information and a broad intro into all of the major attractions.
It's likely you'll encounter some of the places you see again as this itinerary unfolds. That's okay – it simply means you'll know more about them when you pass by later on without the guide.
There are a few walking tours of Rome that we can wholeheartedly recommend. For your first morning the best are the introductory tours. They'll usually start in the Centro Storico and end near the Vatican, which links up well with what's planned for the afternoon.
Rome Free Walking Tour (2 hours/Free or €1/$1 to book in advance + tips at the end) – The morning Free Walking Tour is a great option to get you started in Rome. It's always run by graduates in history of art or archeology and whisks the group through some of the most incredible attractions in old Rome. You'll meet on the Piazza di Spagna to see the Spanish Steps and then move on to the Temple of Hadrian and the Piazza Navona.


Context Travel Introduction to Rome Tour (2 hours) – You'll be able to ask any questions you like on a private tour of Rome. This Context Introduction tour follows a similar route to the Free Walking Tour – from the Spanish Steps up to the Palazzo Borghese – but means it will be just you and your travel crew with the guide. No one else.
Afternoon
LUNCH: Mama Eat Street Food
Salads, pizzas, and salty Neapolitan fried fish cones (one for the more adventurous eaters), all 100% gluten-free – that's the menu at Mama Eat Street Food. This is one of the highest-rated gluten free restaurants in the capital and for good reason. It's usually packed and can sell out by early afternoon, so get there before 1pm!
Self-guided Walking Tour of Prati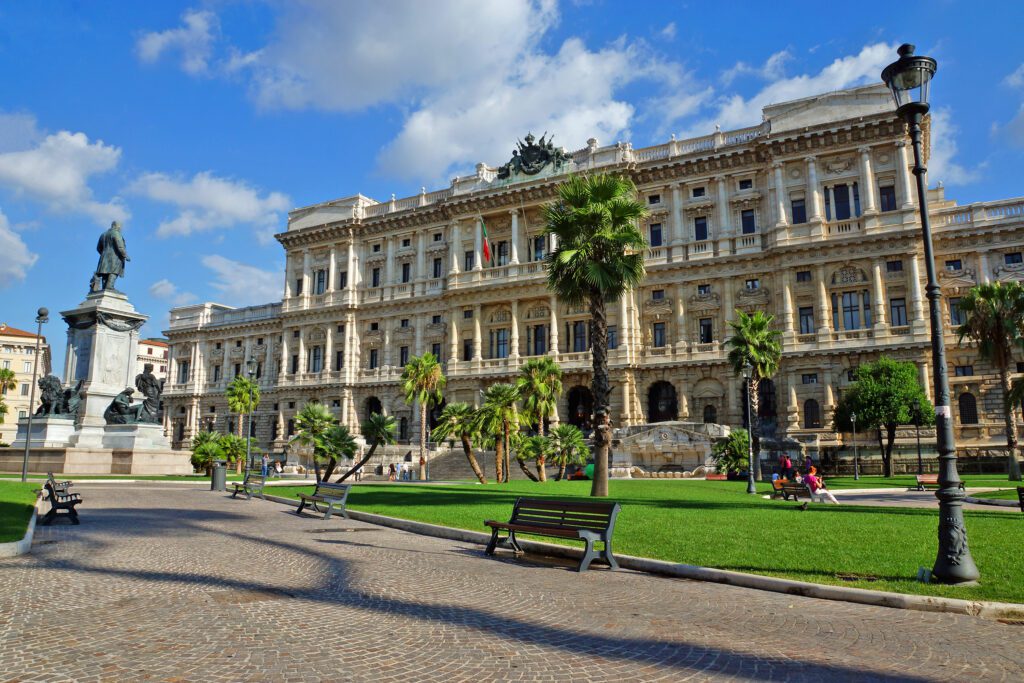 Prati isn't like the rest of Rome. For the next few days, you're going to be navigating narrow cobbled streets overlooked by pastel-painted palazzos.
Not so here.
This area has big, grand boulevards a la Paris, and manicured parks filled with palm trees and equestrian statues. It butts up to the Vatican, but don't head there straight away. There's plenty to see before the greatest museum in Europe comes a-calling.
Castel Sant'Angelo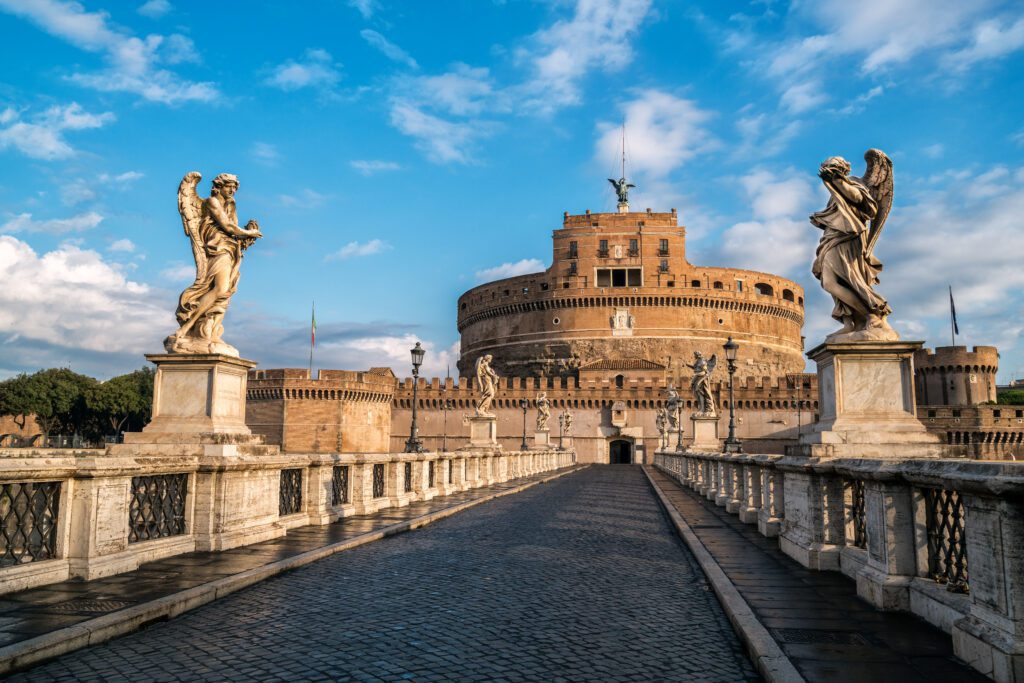 The Castel Sant'Angelo really dominates this northwestern bank of the Tiber River.
Most people think it's a castle, and it's true – it is. But it was originally built as a mausoleum for the Emperor Hadrian (you know, the one who raised that massive wall across England to keep out the Scots!).
Today, there's a museum inside, but the top-floor lookout point is the real money shot. Entry costs €14 ($16.50).
Evening
DINNER: La Soffitta Renovatio
La Soffitta Renovatio channels the rustic charm of the Abruzzo region and brings it to the beating heart of Rome. The menu has tons of Italian staples, many of which were handed through the family by matriarch Mamma Seconda back in the day. The restaurant is a member of the Italian Celiac Association, so expect a gluten-free menu with all the precautions to prevent cross-contamination. .
Vatican Museum Evening Tour (10pm finish)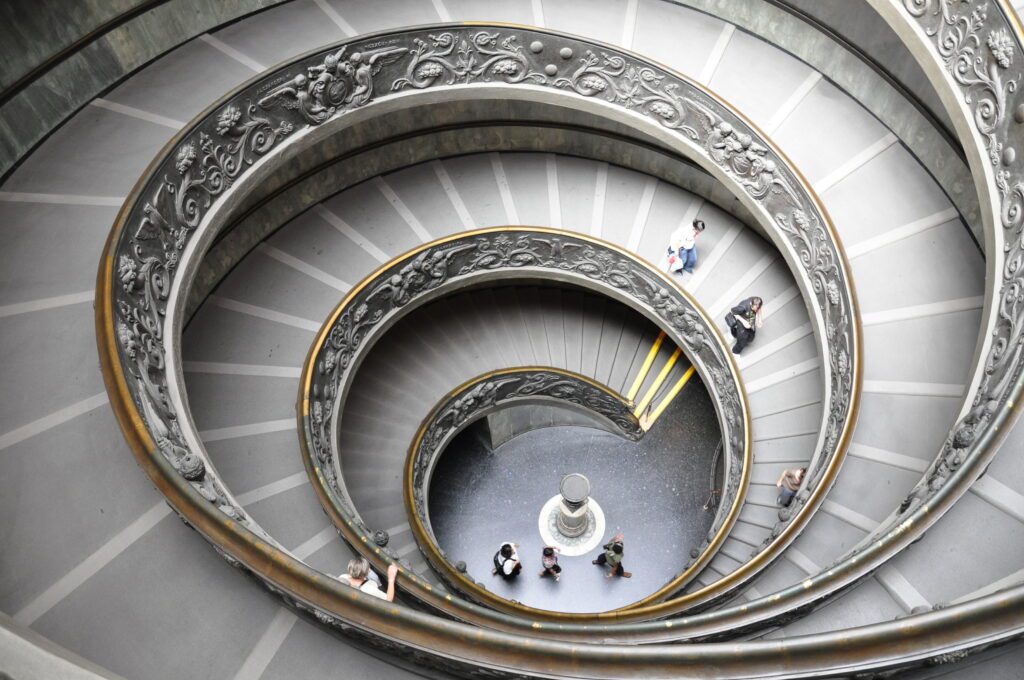 Day 1 ends with a real bang. You've eaten early because it's time to dive into the world-famous Vatican Museum.
One of the best ways to do that without the crowds is to opt for an evening tour. They'll skip the line and get you face-to-face with priceless artworks by Caravaggio and Raphael after most other people have gone.
The Vatican Museums Night Tour with Sistine Chapel is one of the best out there. It's run by an expert guide who knows where to look to pick out the gems of the museum (an important skill when there's 20,000 pieces on display!).
The finale is in the iconic Sistine Chapel, which is sure to be less busy at 10pm than 10am. Remember to wear appropriate clothing for visiting that sacred Catholic religious site – that means shoulders covered (no tank tops).
Day 2: Ancient Rome Awaits
Day 2 will showcase the most venerable part of Rome. Your journey will keep you roughly on the south side of the Centro Storico, which is where the ruins of the ancient city peak above the stone pines. This is the area of Rome that often captures the imagination the most.
You'll hear tales of emperors both bad and good, discover wonderful colonnades, and – of course – encounter the mighty Colosseum in all its glory.
Morning
BREAKFAST: La Pasticciera
It's always a good sign when a gluten-free spot has a non-gluten-free following. Such is the case at La Pasticciera, which is surely up there with the best bakeries for Celiacs in Rome. Savory buffs will love the slaty focaccia with olives. Sweet-toothed travelers can sample real Italian cannoli.
The Colosseum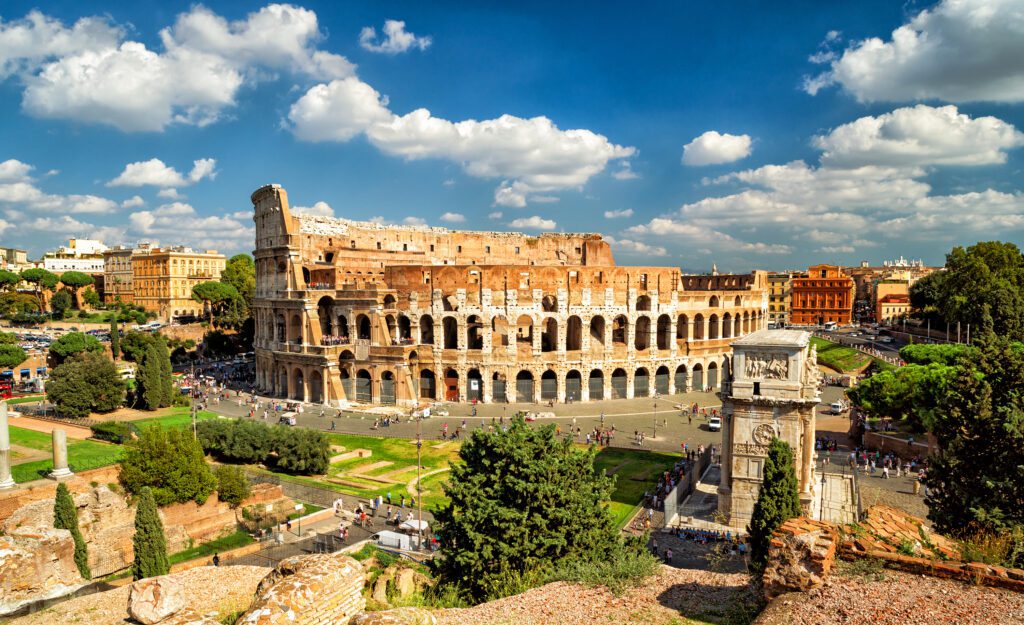 The most iconic sight in all of Rome awaits on the morning of Day 2. Cue the Colosseum.
Built in 70AD under Emperor Vespasian, it once held a whopping 80,000 people in its stone terraces. It soars to 48 meters up and has whole sections that still show the original façade as it was back in ancient times.
It's safe to say that there's not a single Rome itinerary out there that could leave this one off. That's why it's important to do it right. So, we HIGHLY recommend a guided tour. Not only will they offer a far more immersive trip through the Colosseum, but they also usually include a tour of the Roman Forum (more on that below), and – thankfully! – the ability to skip the long line to enter.
The best we've done is the VIP Caesar's Palace Tour with Colosseum and Roman Forum. You get line-skip entry to the mighty amphitheater in the company of a qualified historian who'll be able to tell you all about the lion fights and the make-believe battles that went on for entertainment between the walls.
An alternative tour is the VIP Colosseum at Night Tour with Underground & Arena Floor. That offers a vision of the Colosseum with a difference. You go in after hours when it's free from crowds, and delve into the areas underneath the landmark, to see where the lions were kept and the gladiators prepped.
The Roman Forum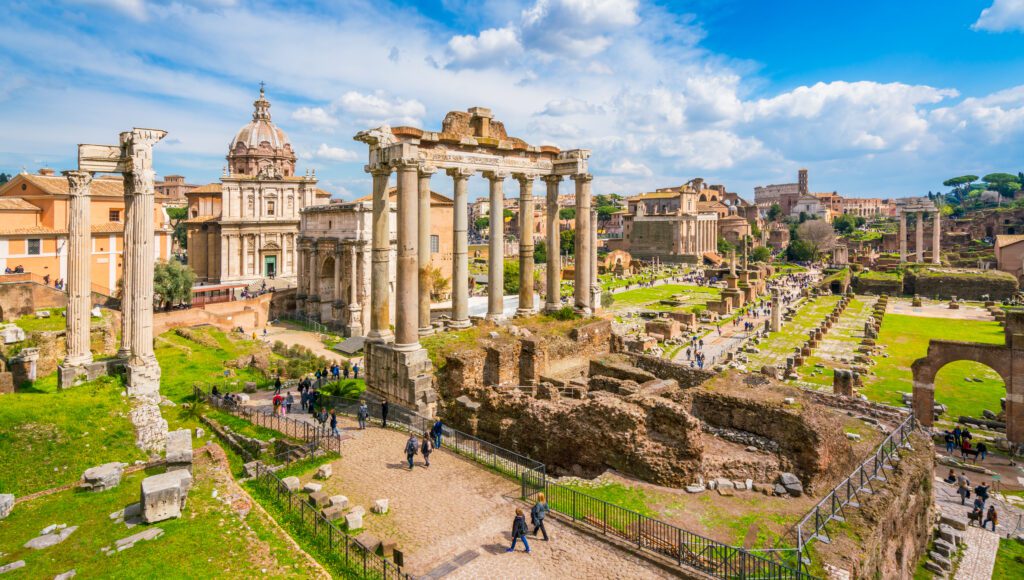 The Roman Forum is adjacent to the Colosseum. It's the area that was once the main downtown core of ancient Rome, and so a must for history buffs. Much of the Forum now lies in ruins, but you can still make out the Senate House (dating from the time before Rome was an empire) and the sacred temple of the Vestal Virgins.
To be honest, if you're not a major in Classics, you're going to need a guide. Or, at least, a guide will really make this part of the city come to life. Thankfully, it's all included in the VIP Caesar's Palace Tour with Colosseum (recommended above), with a particular focus on the home of Rome's first emperor, Augustus Caesar.
Afternoon
Palatine Hill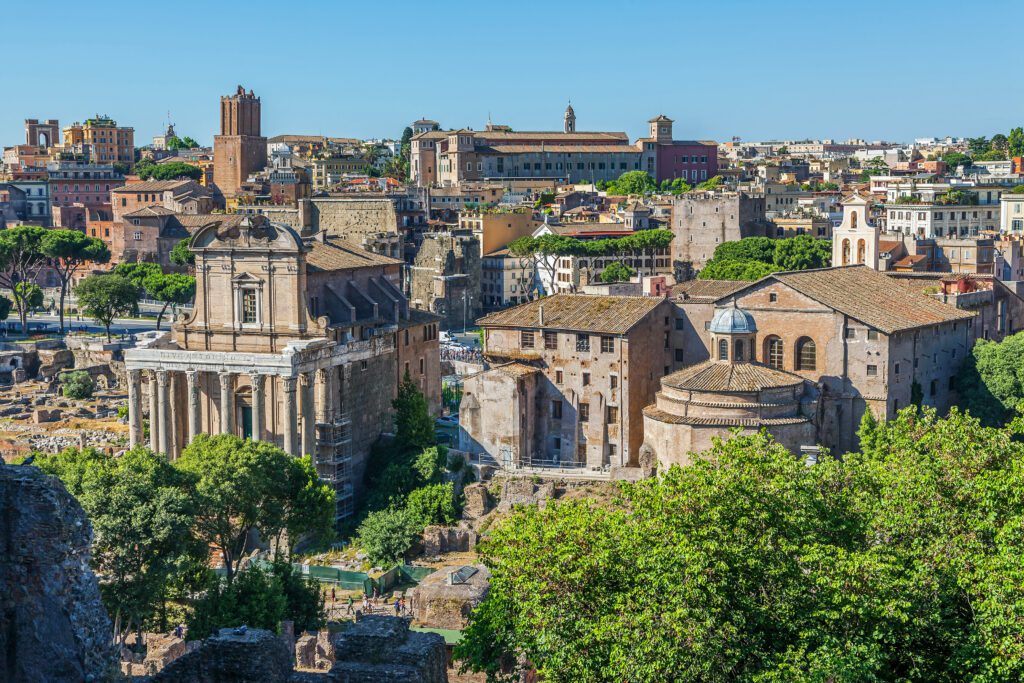 Your tour of the Forum is likely to end on the Palatine Hill. It's worth wandering there for a while if you're not too hungry, because it's got the ruined remains of the Palace of Domitian. That was the largest of all the Roman imperial palaces, and reveals just a glimpse of how powerful the empire was by the 1st century AD.
Trajan Forum & Piazza Venezia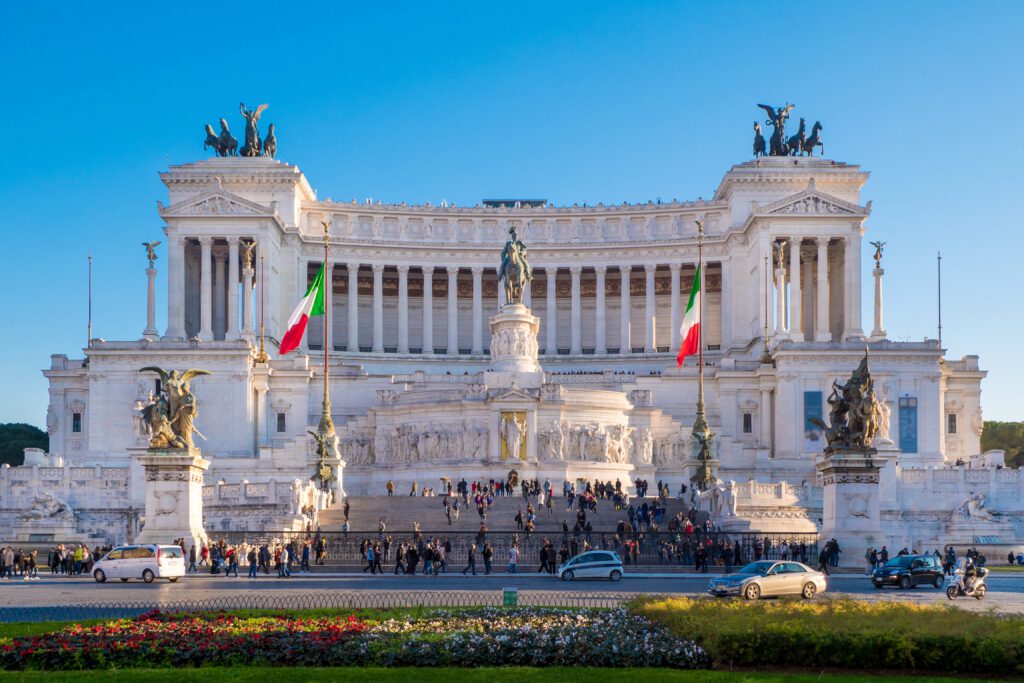 Walk northwest down the Via dei Fori Imperiali to swap the Roman Forum for the Trajan Forum. It's still ancient but dates from a little later, around 107AD. The main landmark here is Trajan's Column, which is an elaborate frieze column that chronicles the victories of Rome in the Dacian Wars.
Right next to that is another piece of architecture that catches the eye: Piazza Venezia. A hulking mass of white marble and gigantic stone steps, it's known as 'The Typewriter' to locals who aren't fans of its gaudy style. You can scale the steps to get a sweeping view of the Roman Forum and all the ancient sites below.
Evening: Explore Monti
Monti links the Termini area with the Colosseum. It's a hidden enclave of central Rome that positively buzzes with life. The evening's the perfect time to explore because that's when the aperitivo bars get into full swing.
Some of the top points of interest in Monti are:
Fatamorgana Monti – Gelato! Again! You bet – this is Rome, folks. This spot has some of the tastiest stuff in the capital and it's 100% gluten free, including the cones.


Libreria Caffè Bohemien – A quirky hole-in-the-wall bar with a sort of absinthe-era Parisian charm. It's best in the colder months because it's dark and brooding inside.


Barzilai Bistrot – Hit this one for an aperitivo hour to sample some excellent local Lazian and Umbrian wines.


Pulp Vintage – The exact sort of off-beat vintage store you can expect of Monti. Head here to shop upcycled threads from the 40s, 50s, and 60s. Closes at 8pm.
Day 3: Street Life and People Watching in Two of Rome's Most Immersive Neighborhoods
Day 3 is your chance to see the hustle and bustle of lived-in Rome. The itinerary takes in two of the most enthralling neighborhoods in the city. First, you stray away from the tourist crowds to Testaccio, an upcoming hipster hub with a strange pyramid and local markets.
Then, you'll head to Trastevere, where a maze of cobbled lanes connect some gorgeous churches and fantastic nightlife spots.
Morning
Explore Testaccio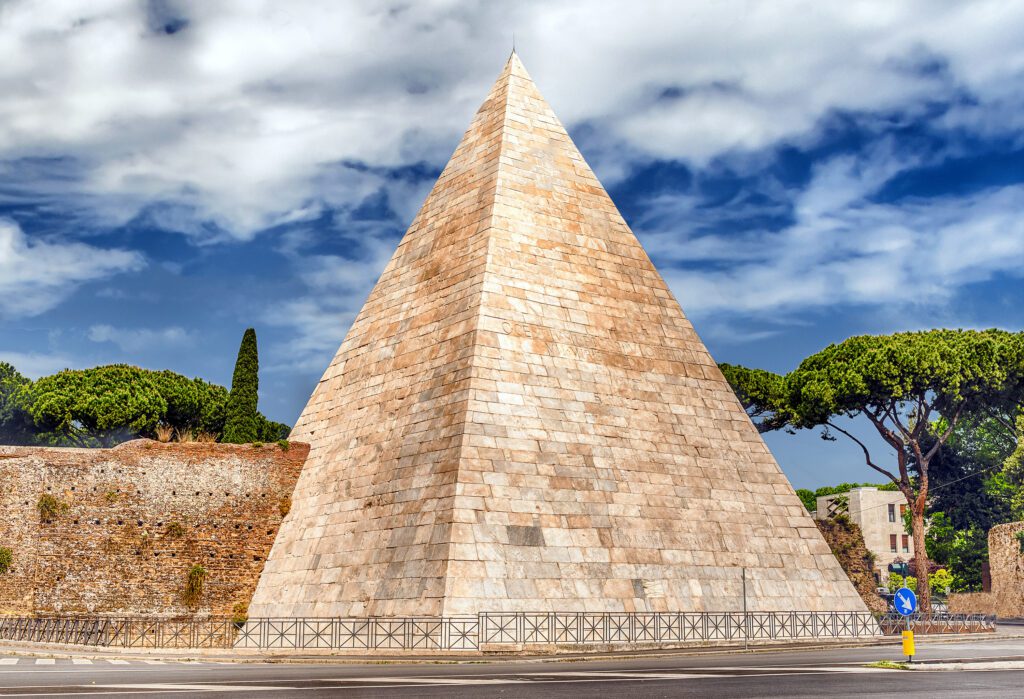 The keywords for Testaccio are youthful, energetic, and different. A neighborhood that's truly off the usual tourist trail, it's got a down-to-earth feel and nowhere near the same crowds as the center. You'll spend the whole morning here on your third day. There's lots to see.
Start at Tram Depot, a hidden gem of Italian coffee. Housed in a little kiosk tucked away in a park, they have plenty of outdoor seating perfect for taking a break before or after exploring Testaccio. In the evenings it transforms into a bar serving wine, spirits and espresso based cocktails.
Mercato di Testaccio – Get your souvenir shopping on. This is a mecca for Italian ingredients. There's a whopping 100+ stalls to get around, selling goods that range from balsamic vinegar to Tuscan tomatoes.


Pyramid of Caius Cestius – Built back in 12BC by a local magistrate who wanted something grand for his mausoleum, this strange structure was completed in a mere 330 days and is the only pyramid in Rome.


Pasticceria Linari – Sweet pastries and pizzette (a mini pizza) prove a local's favorite at Linari. However, this is not a place for Celiacs – there are no gluten free options. Worth a stop if you're not avoiding gluten, though (or if someone you're traveling with isn't gluten free).


Cimitero Acattolico di Roma – Also known as the Non-Catholic Cemetery, this burial ground contains the graves of revered English romantic poets John Keats and Percy Bysshe Shelley. A must for literary lovers.
Mercato di Porta Portese
The perfect pitstop on the way between Testaccio and your next area of Rome, the Mercato di Porta Portese was founded way back in 1945. It only takes place on Sundays, but if it happens to be on when you're around, get ready for a bazaar of electronic gadgets, colorful fashion wear, vintage artworks, and more.
Afternoon
LUNCH: Picnic at the Villa Doria Pamphili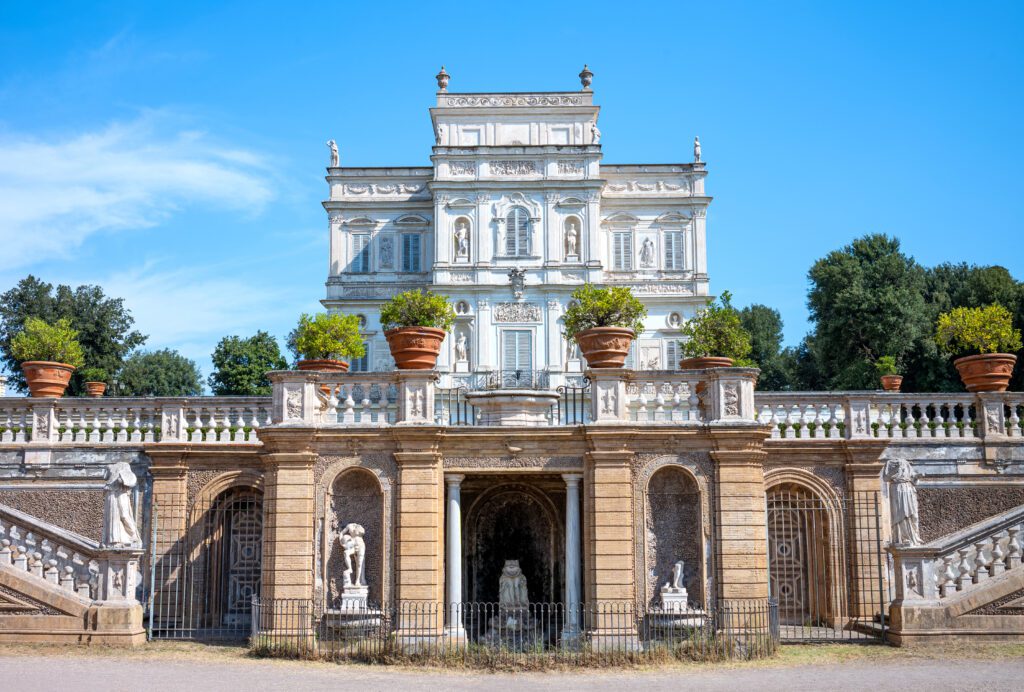 Whoever said there are no secrets left in Rome? Scale the hillside behind the Trastevere area to find the half-dilapidated Villa Doria Pamphili. It's surrounded by patchy lawns and stone pines where chipped statues still haunt the flowerbeds.
There's a CONAD supermarket on the Viale di Trastevere on the way there, where you can go to pick up a picnic. Look for the aisle marked 'senza glutine' – most grocery stores in Rome have them.
Explore Trastevere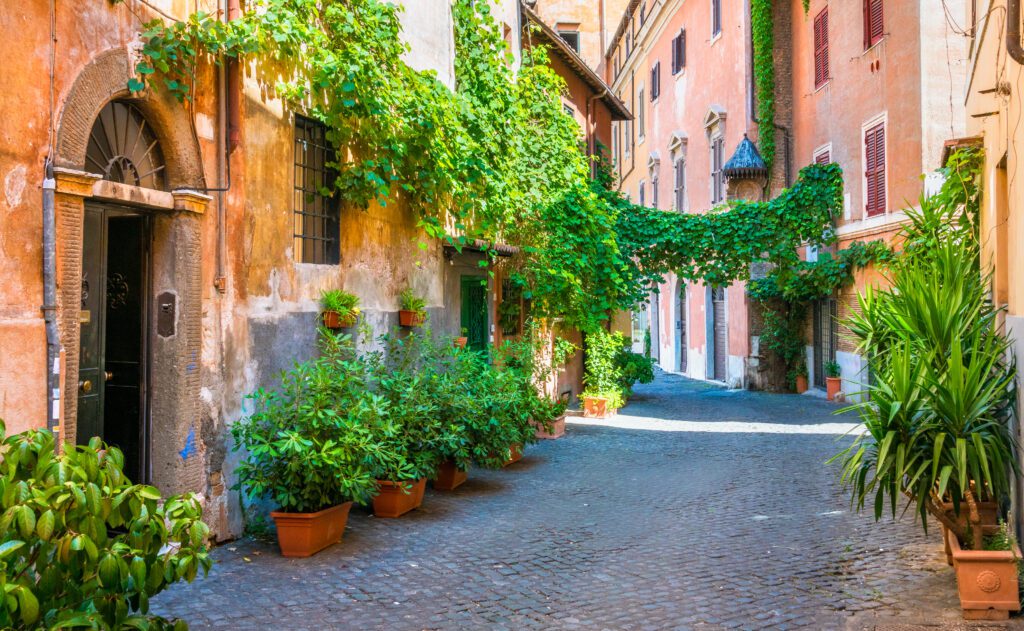 Trastevere rarely fails to enchant those who stray its way. Weathered and ramshackle, it was once a fisherman quarter and, later, a Jewish quarter. These days, it's become established as a major cafe area and nightlife hotspot. However, the real joy is in simply walking around and people watching. Streets like Piazza della Scala and Vicolo del Bologna offer ample photo opportunities. Major sights you might want to add include:
Basilica di Santa Maria – This pretty church huddles over the aptly-named Piazza di Santa Maria in the heart of Trastevere. It dates back to around 340AD and has a glorious apse inside that's decorated with shimmering gold Byzantine-style mosaics.


Orto Botanico – The Orto Botanico spreads over the hills above Trastevere. A little rough around the edges, the gardens still have lots of charm, not to mention 8,000 plant species and fantastic views of the Tiber.
Evening
DINNER: Mama Eat Roma
No gluten-free trip to Rome could possibly be complete without a meal at Mama Eat Roma. It's Celiac-friendly and has some of the most mind-blowing pasta and pizza we've tasted in Italy. It's fair to say the carbonara changed my life. We can't wait to go back.
Nightlife in Trastevere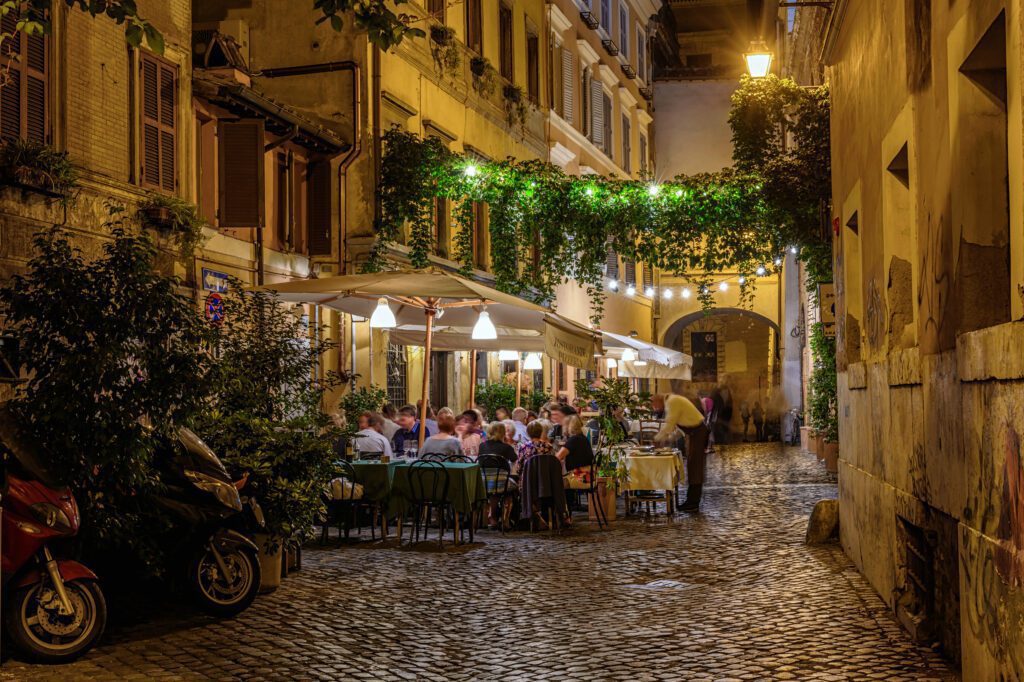 Trastevere stays lively late into the night. Some of the best hours are from 5pm to 7pm, when aperitivo is in full swing. Bars like Bar del Prado show what the vibe is all about – slightly hipster, slightly beatnik.
You could also head to Alembic. It's right by the Tiber and has an interior that feels like an artist's residence. On Sundays there is live jazz and Thursdays mean rock music.
Another option is La Punta Expendio de Agave, where you'll get agave-based cocktails and a lively vibe.
Day 4: A Walking Tour Through the Centro Storico
The final day of your Rome trip takes you into the labyrinth that is the Centro Storico.
Wedged between the Tiber and the traffic-jammed Via del Corso, it brims with Baroque churches, Renaissance palazzos, and piazzas that date back thousands of years.
Today, you'll finally get to see some of Rome's most legendary sights, from the Pantheon to the famous Trevi Fountain.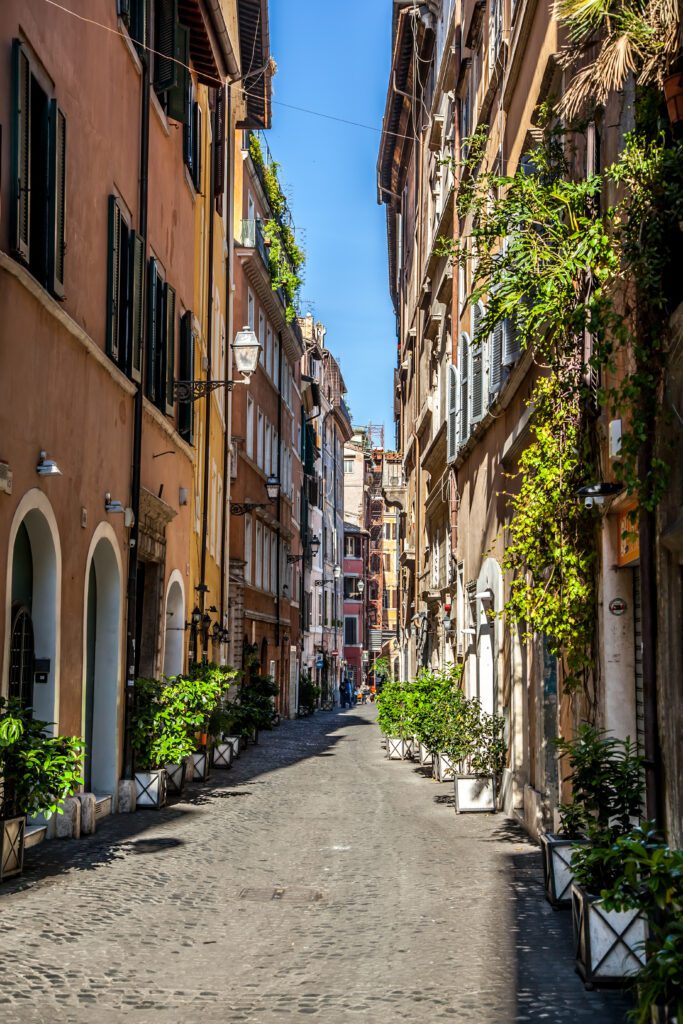 Morning
COFFEE STOP: Faro – Luminaries of Coffee
Caffeine addicts cannot miss Faro. It's one of a new wave of roastery coffee shops in the city that's got some seriously good artisan brews. You can get a classic Italian espresso for just €1, or a fancier single origin brew that will satisfy even the most distinguished coffee snobs (Alysha is looking pointedly at Matt here).
Terrazza del Pincio
Drop by the Terrazza del Pincio to see the sun rising over the skyline of medieval Rome.
Villa Borghese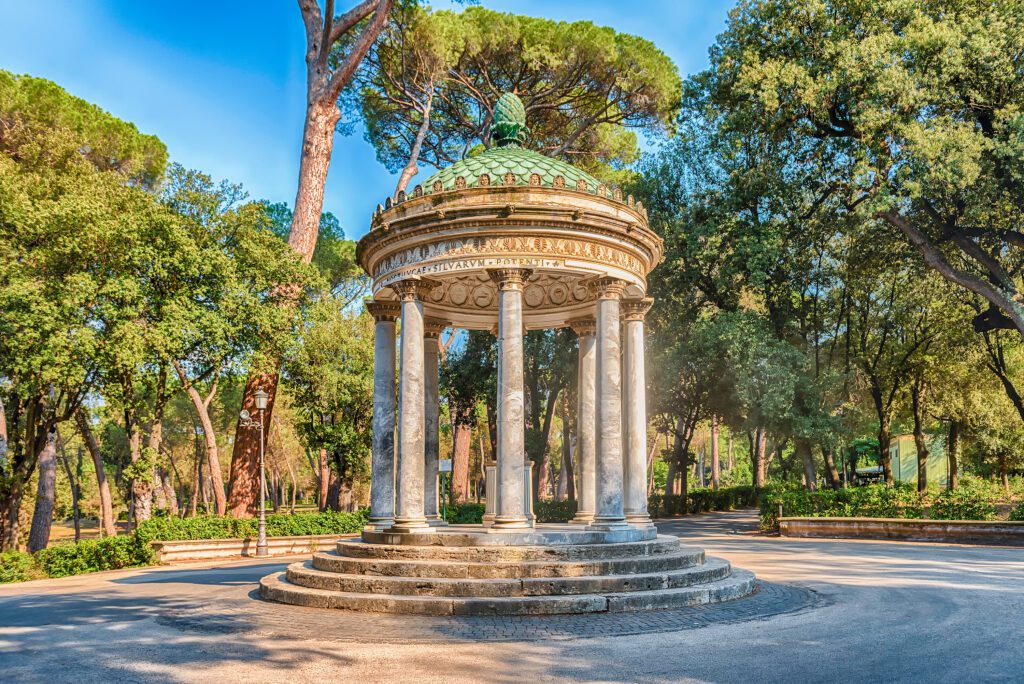 The Villa Borghese is the epicenter of one of Rome's most lovely parks. If you're feeling lazy, grab a seat here under the trees and just watch the world go by.
If you're looking to fit in as much culture as possible, be sure to hit the…
Borghese Gallery
Only 360 people are permitted into this exclusive art gallery every day. We recommend you pre-book tickets as soon as humanly possible so that you have a chance to experience what we think is the most interesting museum in Rome (sorry, Vatican).
Alternatively, if you're interested in taking a deeper dive, grab a spot on the excellent Borghese Gallery Tour with Take Walks. It might be $87 per person, but you'll get to witness some serious masterpieces, most notably by the swashbuckling painter Caravaggio (his spine-tingling David with the head of Goliath is housed within).
Afternoon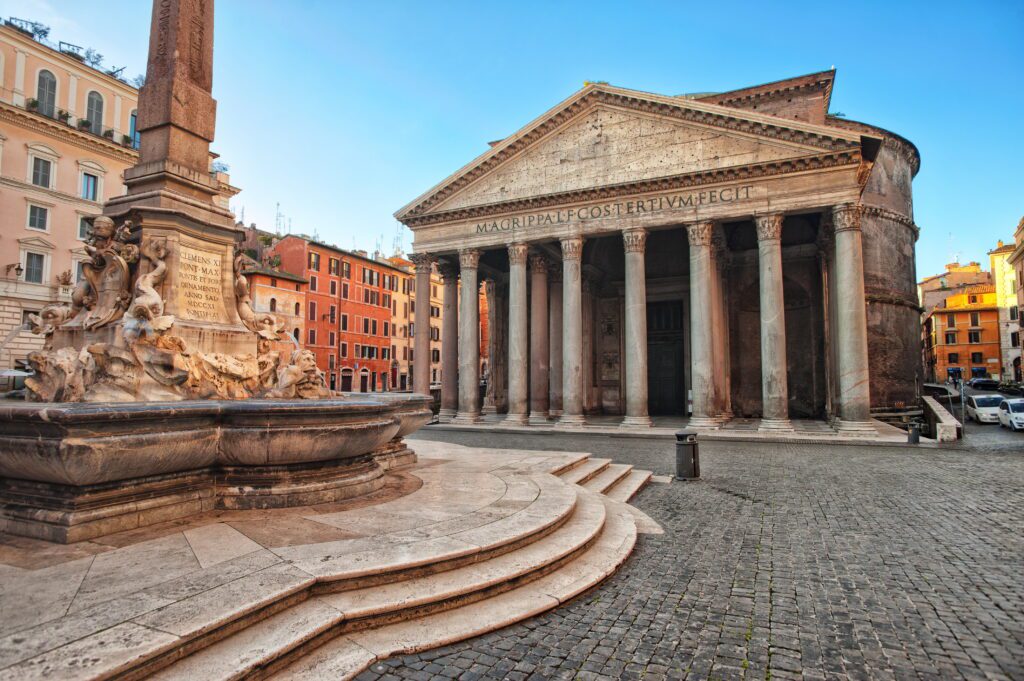 Mausoleum of Augustus
On your way to start your afternoon stroll through the Centro Storico, be sure to detour to the Mausoleum of Augustus. It's the resting place of Rome's first – and some say greatest – emperor.
Next door is the museum of the Ara Pacis, which is a must for real Classics buffs. Entry is €11.50.
Walking tour from the Spanish Steps to the Campo de' Fiori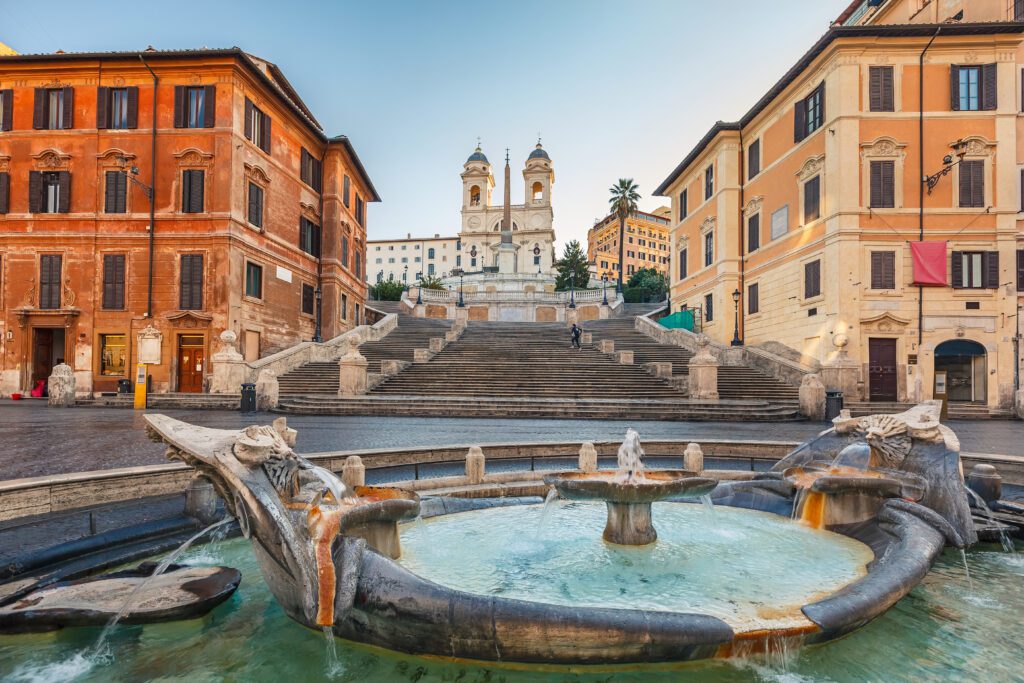 As your last evening approaches, get ready to embark on a self-guided tour of the beating heart of Rome. You might have seen some of the spots here on your initial walking tour on Day 1, but they're going to look much more atmospheric as the lanterns turn on and twilight sets in.
Follow a route roughly south – here's a handy map of this route, along with the stops mentioned.
Spanish Steps – 135 steps of pure elegance await here. They're an icon of Rome and link the Borghese Gardens to thePiazza di Spagna, where a gorgeous Baroque fountain by Pietro Bernini decorates the flagstones.


Trevi Fountain – They say you'll return to Rome if you throw a coin in the Trevi Fountain. Good luck getting close enough to do that. The spot is always packed with crowds, but it's still an iconic sight that's famed for appearing in films like La Dolce Vita.


Pizza in Trevi: Have a pizza lunch at this Italian Celiac Association-certified eatery. The pizza style is Romana. That means crispy sides, not chewy ones like in Naples.


Gelato g Italiano – Your last dose of Italian gelato! Also 100% gluten free, including the cones.


Pantheon – Once a Roman temple, now a Catholic church, the Pantheon has a mighty imperial façade that was rebuilt in the 2nd century AD. The great rotunda inside has a hole in the roof that lets in a solitary beam of sunlight, sometimes illuminating the tomb of the revered artist Raphael.


Piazza Navona – This vast square is built atop an ancient stadium (hence the shape). It's a pandemonium affair, with trattorias and wine bars spilling onto the uneven cobbles. The Fontana dei Quattro Fiumi (by Gian Lorenzo Bernini, no less) looks especially wonderful at night.


Campo de' Fiori – Where better to end your time in Rome than on the Campo de' Fiori? This bustling mass of cocktail bars and crooked medieval buildings is always lively until the early hours. Check out the al fresco terrace of the Roma Beer Company. Or, head for a final pizza at Voglia di Pizza – it's just down the road and has wonderful gluten-free options.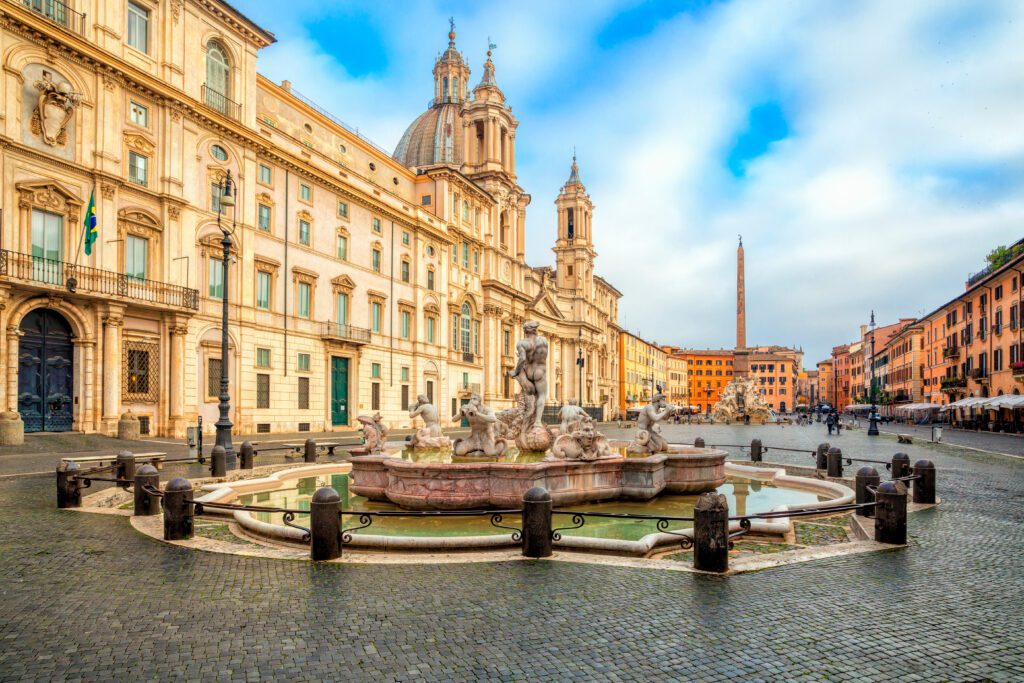 And with that, your time in Rome comes to an end. Grab your bags and head to the airport or train station to head home, or to your next destination on your European itinerary.
More Time? Four Perfect Day Trips to Add On
If you've got more than 4 days in Rome, there are four day trips I'd recommend to fill your other days.
Visit Pompeii and Mt. Vesuvius. You can either do this on your own by taking a few trains to go to Naples, then onwards to Pompeii, or do a guided tour that is all inclusive. Check prices and reviews for the guided tour here.


Visit the countryside and Tuscany on a guided tour. And of course drink some wine. Check prices and reviews for the tour here.


Head down to the Amalfi Coast. If this is not on your itinerary for the rest of your trip, this tour is a great way to see the world-famous Amalfi coast without having to figure out transportation on your own.


Head to Florence – it's an easy train ride from Rome, and you can see Michelangelo's David, the famous Cathedral in the center of Florence, and eat some delicious food.
The Best Time to Visit Rome
There's no hard and fast rule about the best time to visit Rome. The Italian capital is blessed with four distinct seasons.
Our overall pick would be the fall, but each quarter of the year offers its own unique delights.
Summer – High season in Italy. Rome is super busy and very hot. Hotel prices skyrocket and there are long lines for many of the main attractions. The bonus is that you get to see the city fizzing with life and the weather is usually sun, sun, and just a little extra sun for good measure.


Fall – Our favorite time in Rome. Seriously, we don't think you can beat this city in September and October. There's just something so lovely about the changing color of the cork oaks along the Tiber River and the balmy evenings. The only downside to autumn is that there's the chance of some rainfall.


Winter – Rome takes on a brooding, mysterious air in the winter. There can sometimes be freak snow storms, and we've seen frozen fountains on Piazza Navona in the past. Hotel rates tend to be cheaper in winter and there's way fewer people crowding the main attractions. You'll need the thermals and a coat though!


Spring – Like fall, spring is downright stunning in Rome. There can be quite a bit of rainfall, but that's balanced out by the flower blooms in parks like Villa Borghese and Doria Pamphili. May is another sweet spot for crowds because the summer rush hasn't started quite yet.
Getting to Rome
Rome is one of Europe's major capitals, which means it's really well connected to other spots around the world by both air, road, and rail. Getting in shouldn't be hard, no matter if you're starting in New York City or London.
Flying to Rome
Rome has two airports: the Leonardo da Vinci International Airport (FCO) in Fiumicinoand the Rome Ciampino Giovan Battista Pastine Airport (CIA) in Ciampino.
The first is the capital's main international hub. That's where you'll touchdown from long-haul flights from the US, but also on cross-Europe flights with premium carriers like British Airways or Lufthansa. Ciampino is primarily an arrival point for low-cost airlines like Ryanair and EasyJet, which are worth knowing about if your trip to Rome is part of a continent-wide adventure.
Getting into the city from both airports is a cinch:
From Fiumicino (the Leonardo da Vinci International Airport): Take the train. It's pricier than the bus at around $18 each way, but far faster (30 minutes from A to B) and won't slow down when traffic gets bad – and it can get really bad in Rome! The train is called the Leonardo Express. It leaves from the station within the airport (follow the train signs) and arrives into Termini Station.


From Ciampino (Rome Ciampino Giovan Battista Pastine Airport): Sadly, there's no direct train route from the airport in Ciampino to the center of Rome. The buses are pretty reliable, though. Take the service with either Terravision or SITBus. They cost up to $9.50 per person, each way, and take 50 minutes to arrive at Termini Station in the center.
Don't be tempted to use Uber to get to your hotel from the airport. Rome is a taxi culture. Only the deluxe Uber Black cabs are offered on the app. A taxi from either airport to the center should cost around $50.
Arriving by Train
Rome is the hub of a highly efficient Italian railway network that can take you south all the way to Sicily via the pizza mecca of Naples, and north to Vienna and Munich on high-speed and overnight trains that go through the Alps. There are also many shorter, slower trains – known in Italy as Regionale trains – that connect the capital with surrounding towns in regions like Lazio, Tuscany, and Umbria (all of which are worth exploring if you have more time in Rome).
These days, virtually ALL trains to Rome come into the huge Termini Station. We've always loved arriving there. It's a feast for the senses. Everywhere you look there's something going on, from business travelers clinking espressos to huge locomotives purring to a stop. Termini Station is also a convenient arrival spot. It's got a direct link to the Rome Metro network, and there's a major bus interchange right out front.
It might be worth adding a warning: The area immediately around Termini isn't the most welcoming in the city. It can feel a tad rough and gritty. Keep your wits about you if you're arriving late there and don't let it put you off the town right away!
Getting Around Rome
Rome was founded way back in 750 BC. In the 2,700+ years since then it's been expanded and altered and built on more than most cities around the world. So, it should hardly come as a surprise that it's not the easiest town to navigate. The streets can be narrow and winding, particularly in the Centro Storico (the medieval core of Rome). There are even roadways that have to work around ancient monuments – we remember waiting 30 minutes once to pass under an arch in an ancient aqueduct!
The upside? Walking might just be your best bet.
Rome isn't small but it's not massive a la London or Paris. Many of the main areas you'll want to see as a first-time visitor on a 4 day trip to Rome are all linked by paths along the Tiber River. What's more, doing Rome by foot is a joy in its own right. You just never know when you'll stumble upon an imperial arch built by one of Rome's famous emperors, or an inviting little vinoteca beneath the stone pines.
Not interested in hoofing it? Check out:
The Rome Metro
The ever-expanding Rome Metro currently has three lines. They all intersect at Termini Station. Really, the Metro is for commuters who want to reach the suburbs of Rome, because the main lines extend very far to the east and the north of the town. That said, there are a few stops near the major attractions – Circo Massimo, Repubblica, Spanga, Colosseo – that you might make use of.
Buses
The bus network in Rome is very extensive. It covers everywhere the Rome Metro doesn't and even doubles up to offer alternative routes to popular spots like the Colosseum and Vatican City. At last count, there were 338 individual bus lines running throughout the Italian capital. The main interchange is just out the front of Termini Station, but you can catch buses from anywhere along the routes they run. Look for the map of where you can go at the individual stops.
Always remember to validate your ticket at the crunching machines on the buses – this is a common mistake among first-time travelers to Rome and often ends in a fine!
Trams
Rome's above-ground trams connect the major suburbs to the east and west. For that reason, they might not be of such great use to visitors looking to explore the heritage-rich heart of the capital (where the main sights are). However, there are some tram services in Rome that can be handy, like the one from Trastevere to Argentina (just south of the Pantheon) or the Colosseum, for example.
Tickets for Public Transportation
All the tickets for all the different types of public transportation in the Eternal City are linked. Buy one and you can travel on trams, buses, and metros to your heart's content. There are a variety of fare options:
100-minute tickets (€1.50/$1.80) – Valid for any public transportation in Rome for 100 minutes with unlimited transfers.
24-hour ticket (€7.00/$8.35) – Valid for any public transportation in Rome for 24 hours after the moment you validate.
48-hour ticket (€12.50/$15) – Two days of unlimited travel on any public transportation from the moment of validation.
72-hour ticket (€18/$21.50) – Three days of unlimited travel on any public transportation in Rome from the moment of validation.
All tickets can be bought at the kiosks by the stations (there are lots around Termini Station) or from machines on the Metro platforms. Make sure you validate tickets at the punch stations before use!
---
That's a wrap on this Rome travel guide! I hope this guide was helpful as you planned your trip to Rome.
If you have any suggestions of things I missed or should add to the list, leave me a comment below. I'd love to hear about your trip!
About Rich Francis: Rich is a travel writer of more than nine years. He spends most of his time hiking, skiing, and surfing, or seeking out enthralling ancient cities like Rome to explore. You can find more of his work over on his surf-travel blog The Surf Atlas.
Heading to Europe?
Don't miss our other European travel guides to help you plan an incredible European adventure.