The Best Things to Do in Verona in One Day: Complete Guide
Only have one day in Verona and wondering what to do with your time? You're in the right place! Sitting at a wine bar near our apartment on our last night in Verona, we were talking about different cities in Italy and what makes Verona special. Essentially, we realized, Verona has everything we love about Italy – good food and wine, a feeling that there's a ton of history beneath your feet, and an unmistakable romance in the air thanks to the cobblestone streets and colorful old buildings.
What is noticeably missing are the not so enjoyable aspects of other Italian cities like Rome, Florence, and Venice – the huge crowds of tourists, mostly, and the associated effects of overtourism.
We loved Verona, and were completely charmed by its romantic cobblestone alleys, the gorgeous Adige River and the many picturesque bridges, and its low-key, young vibe. It's not really a hidden gem, since it's one of the most visited cities in Northern Italy, but we think it's well worth a day or more (if you have it) on your Italy itinerary.
In this guide, we're going to go through the best things to do in Verona, some logistics that you'll want to know for your trip, and how to put it all together for an amazing day in Verona.
Planning a trip to Italy? You won't want to miss our guide to planning an incredible Italy itinerary, with ideas for 7, 10, and 14 days in Italy, how to organize your trip, and the best things to do and see along the way.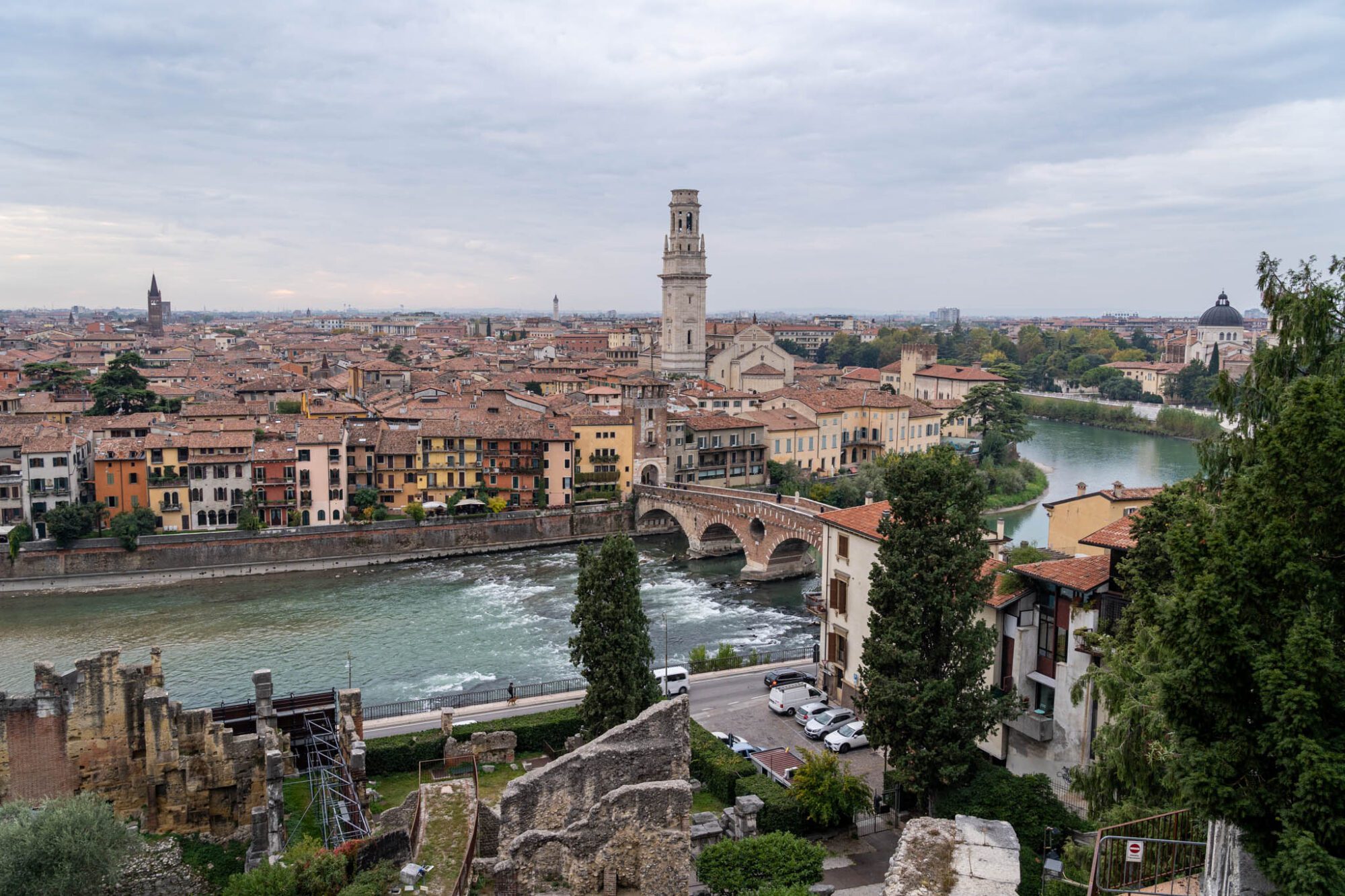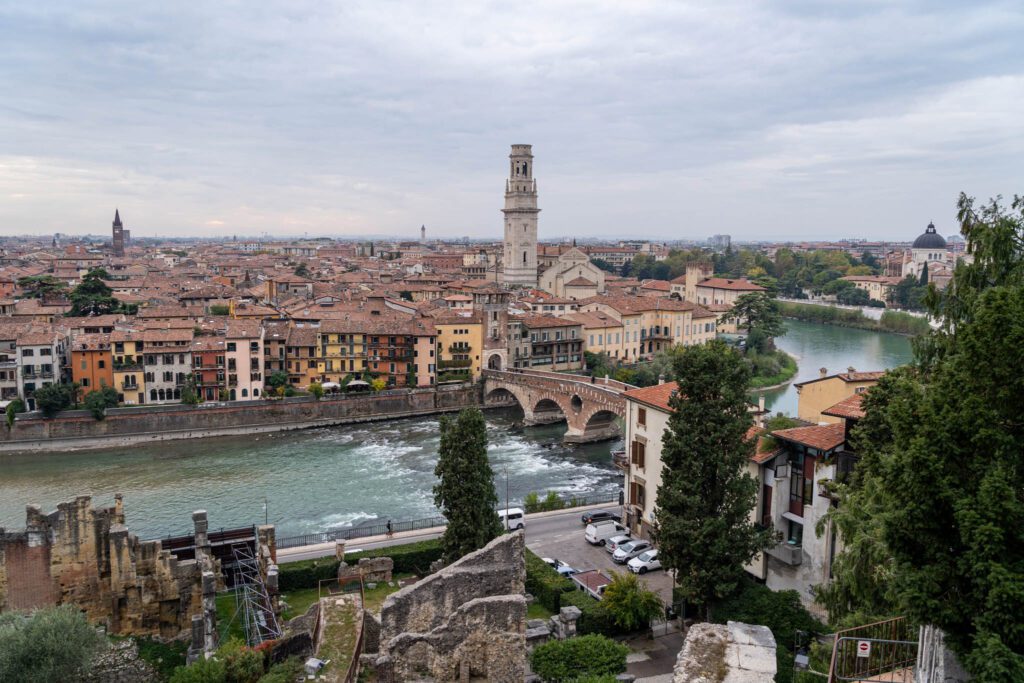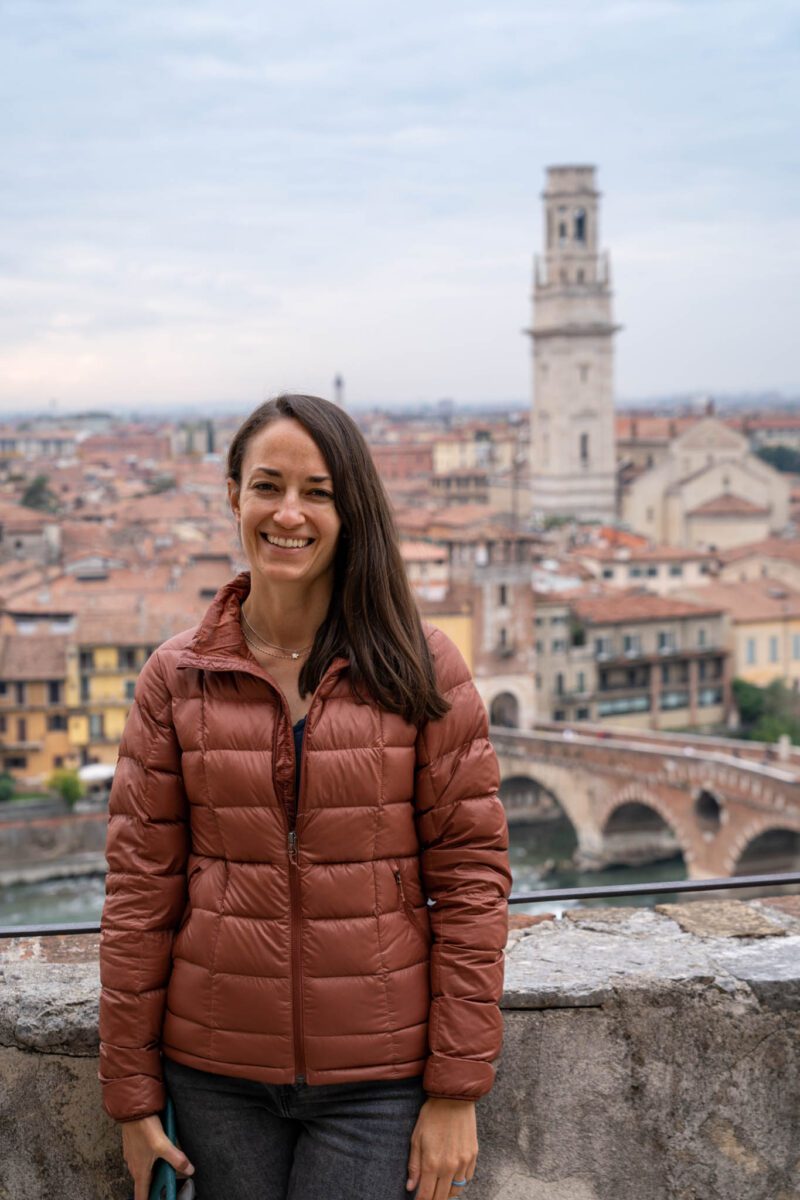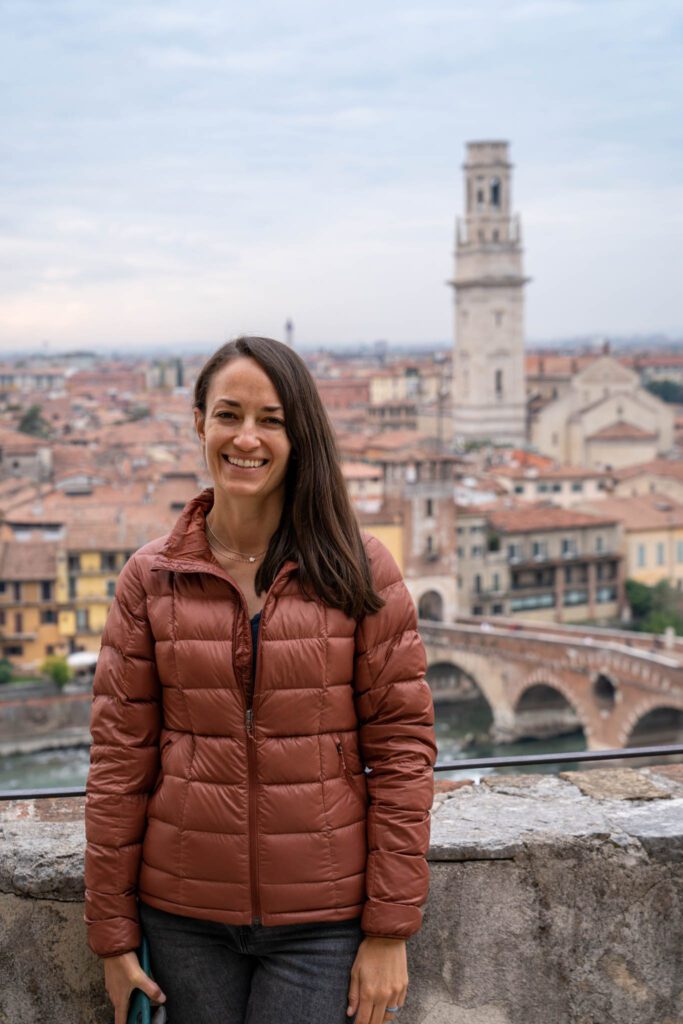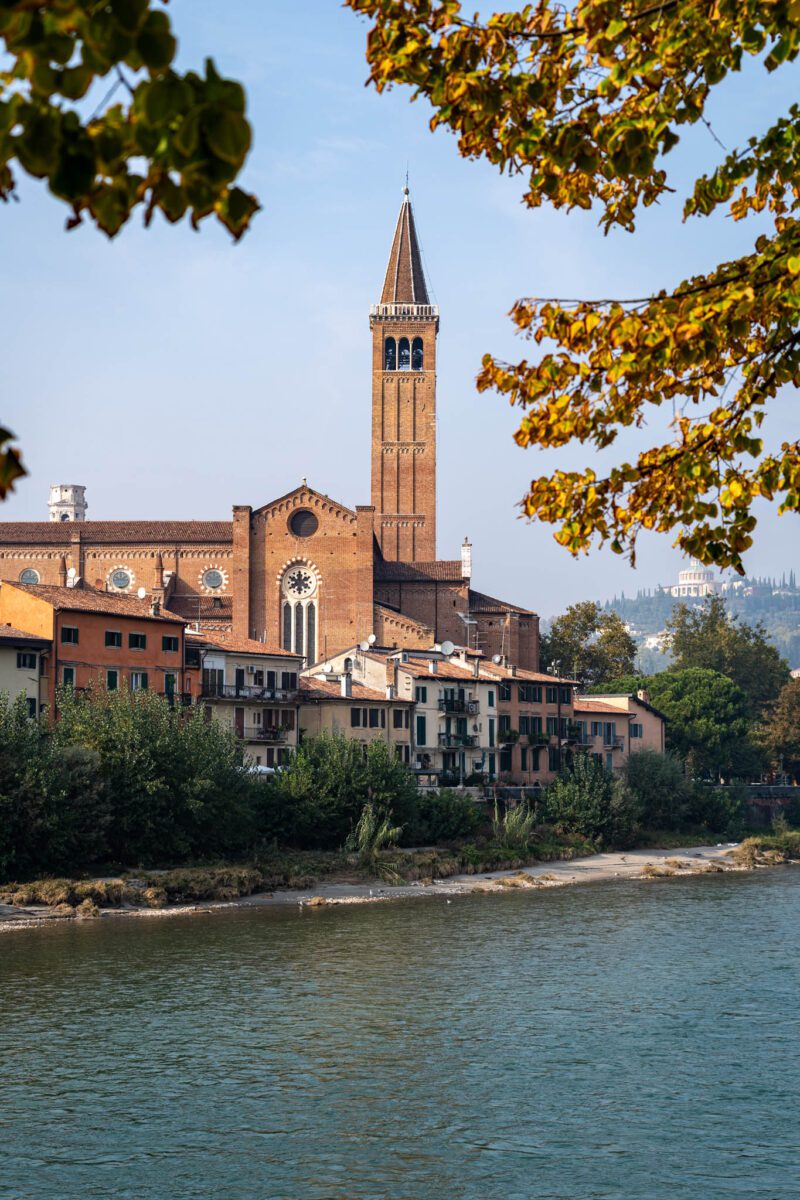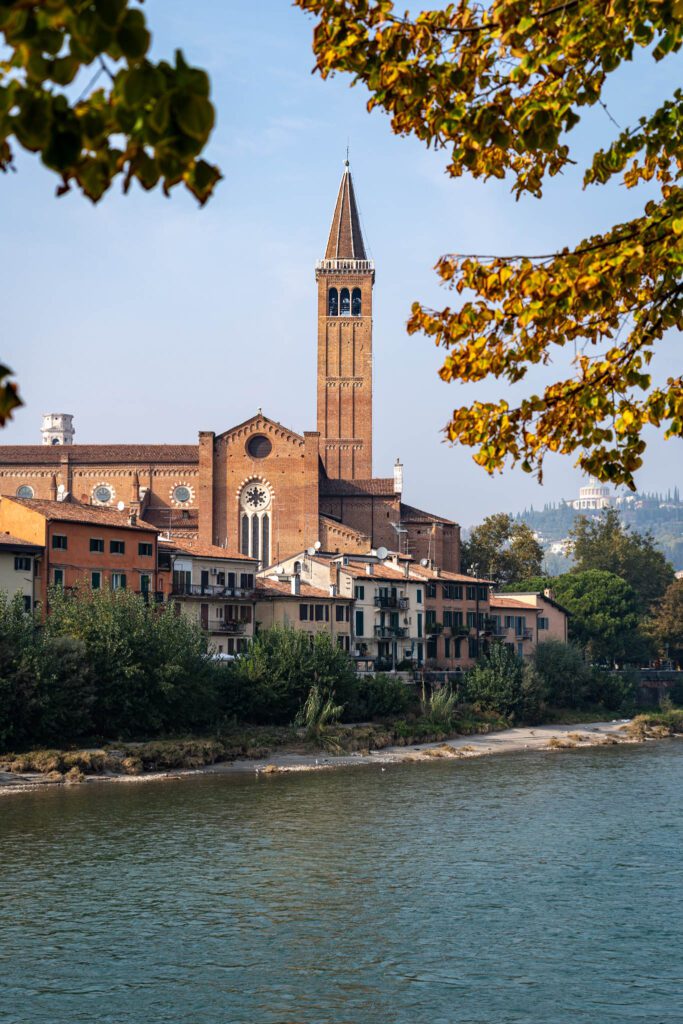 Disclaimer: Some of the links in this post, like hotel links, are affiliate links, meaning at no additional cost to you, we make a little bit of money if you click through and book. That being said, we would never recommend something to you that we don't stand behind 100%.
The Verona Card: Worth it or Nah?
Usually, city cards for tourists are designed in a way that doesn't necessarily pay out unless you're literally planning on spending your entire itinerary hopping from museum to museum (or other sights) covered by the pass.
Spoiler alert: that's not really how we like to travel. We'd prefer to leave some space for exploring, relaxing, and plenty of coffee and wine.
However, the Verona Card is actually a great deal. Here are the details:
You can get either a 24 Hour Card (20 Euros) or a 48 Hour Card (25 Euros) that cover a range of attractions in Verona (the main sites are included), discounts on other attractions as well as things to do in Verona, like an opera at the Arena, and free use of public transportation for the duration of the life of the card you buy.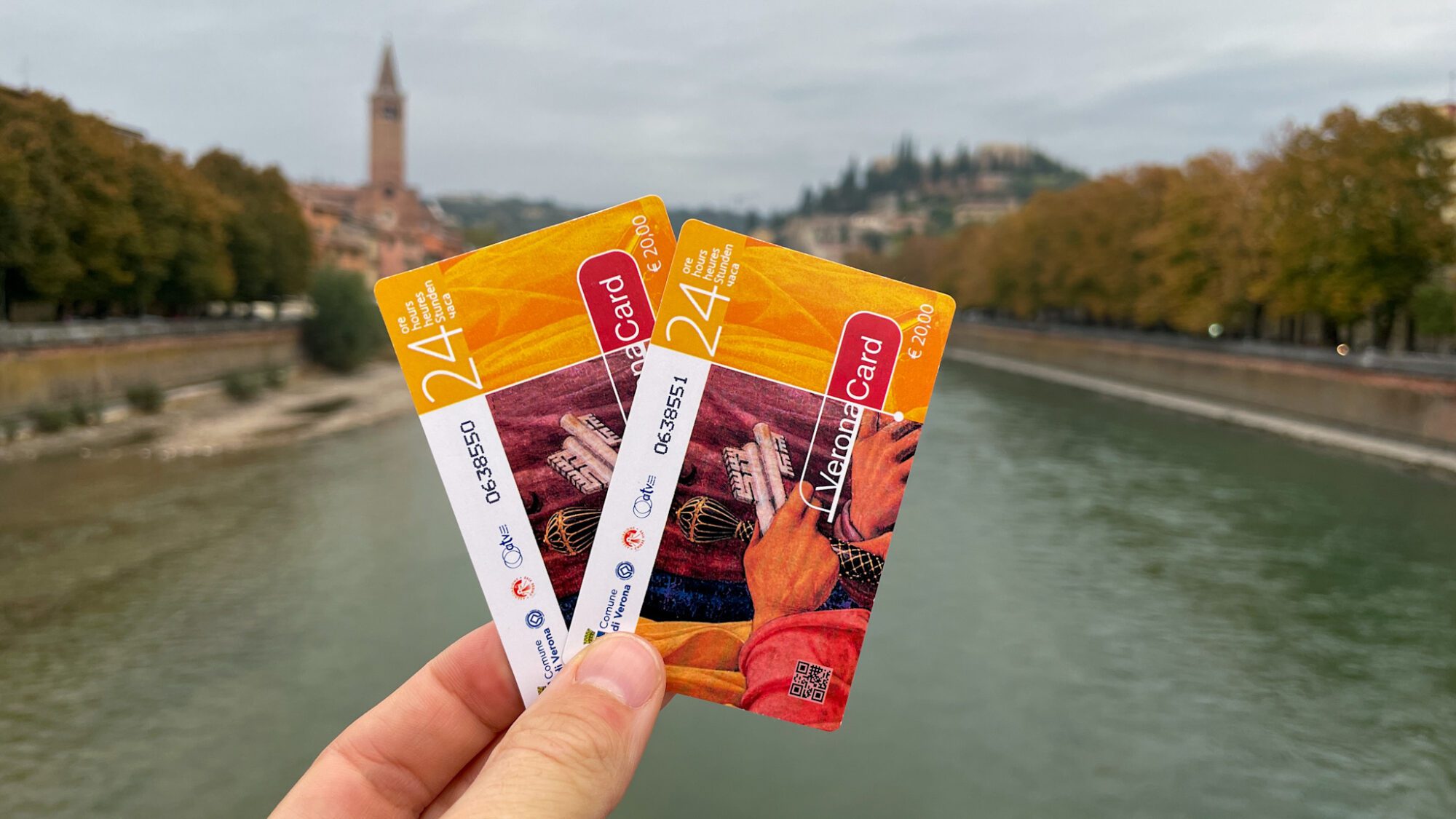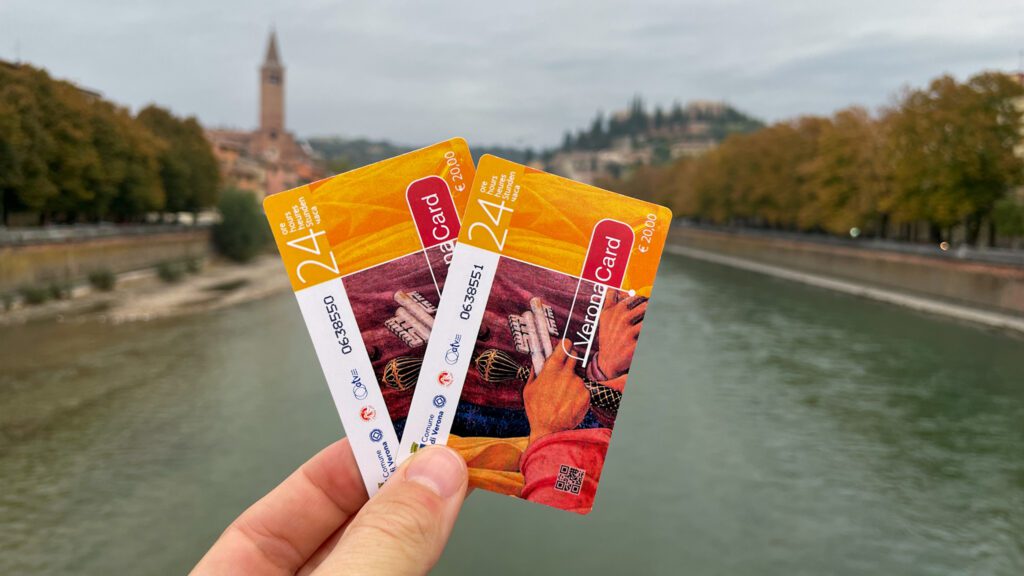 It covers the Roman Arena, all four churches in Verona's Center, the Torre dei Lamberti , the Museo degli Affreschi, and the Roman Amphitheater and Museum. Plus the very, very underwhelming Casa di Giulietta (which you should definitely skip – more on that later).
"But Matt," you say, "we probably won't visit all of those places with just one day in Verona, right? So is the card really worth it?"
In the Verona itinerary below, you'll find the Arena (10 Euros), two of the churches (8 Euros), and the Roman Amphitheatre and Museum (7 Euros). Which adds up to 25 Euros if you were to pay for them all separately. Plus, if you have more than a day, you'll likely tackle more attractions, and you only need it to cover 5 Euros of entrance fees to pay off on that second day too.
Plus, free public transportation, which will be useful for getting to and from the train station.
But that's another benefit of the card that Alysha and I were discussing over a glass of Veneto wine on our last night in Verona. Usually, when we're paying for attractions individually, we do a fairly rigorous cost-benefit analysis to decide whether it's worth doing or not. Which means we usually end up skipping some of the more obscure attractions (usually, churches) because it's just not worth the extra 5 Euros.
With the Verona Card, it was more of a "well, it's basically free, so let's stop by and check it out." There was no pressure to enjoy everything and read every single sign in each museum because, you know, we paid good money for this. It was a nice, refreshing feeling, and honestly a little freeing.
If you have 2 days in Verona, the card becomes even more valuable, we think. It's an extra 5 Euros, which most likely pays off if you visit just one more attraction in town using the card.
You can buy the card in advance here, and then the amount of time starts from first validation (either the first time you ride the bus with it, or the first attraction you visit). Or, pick it up at most of the main attractions, like the Arena or Torre (though that means you'll have to buy bus tickets to get from the train station, which are 1.30 Euros each).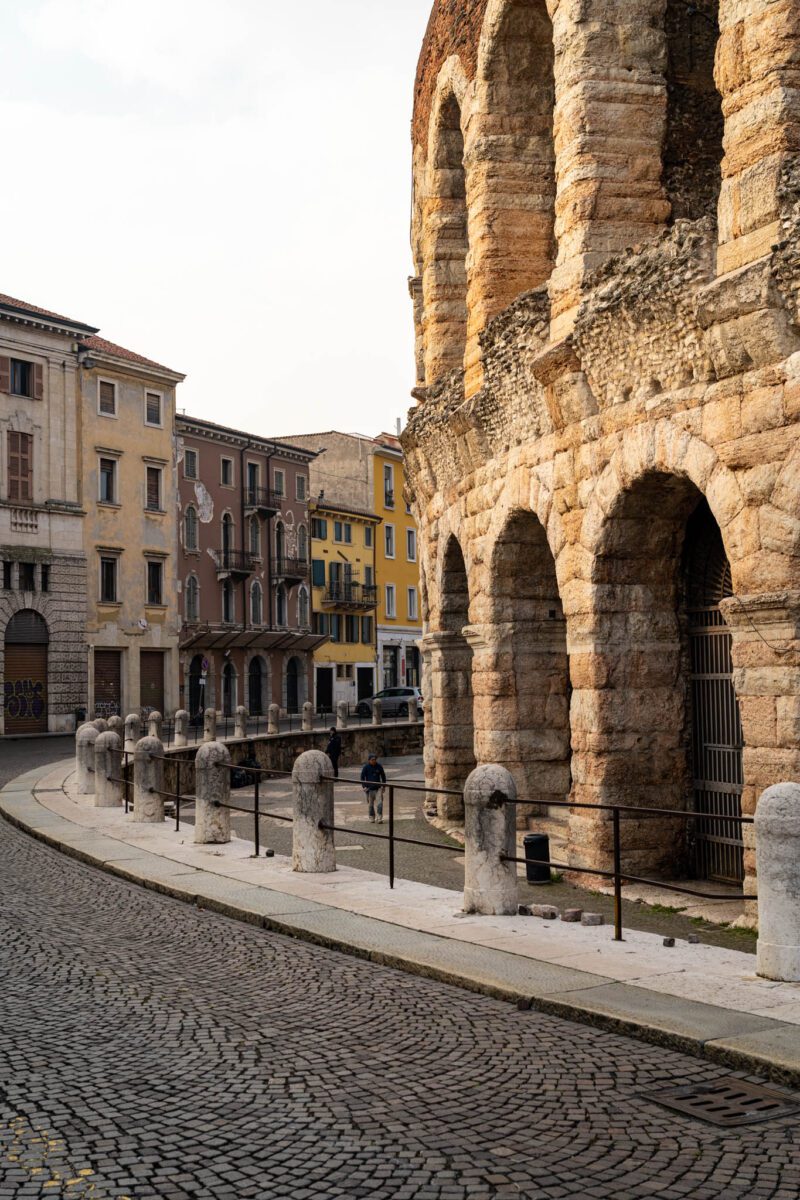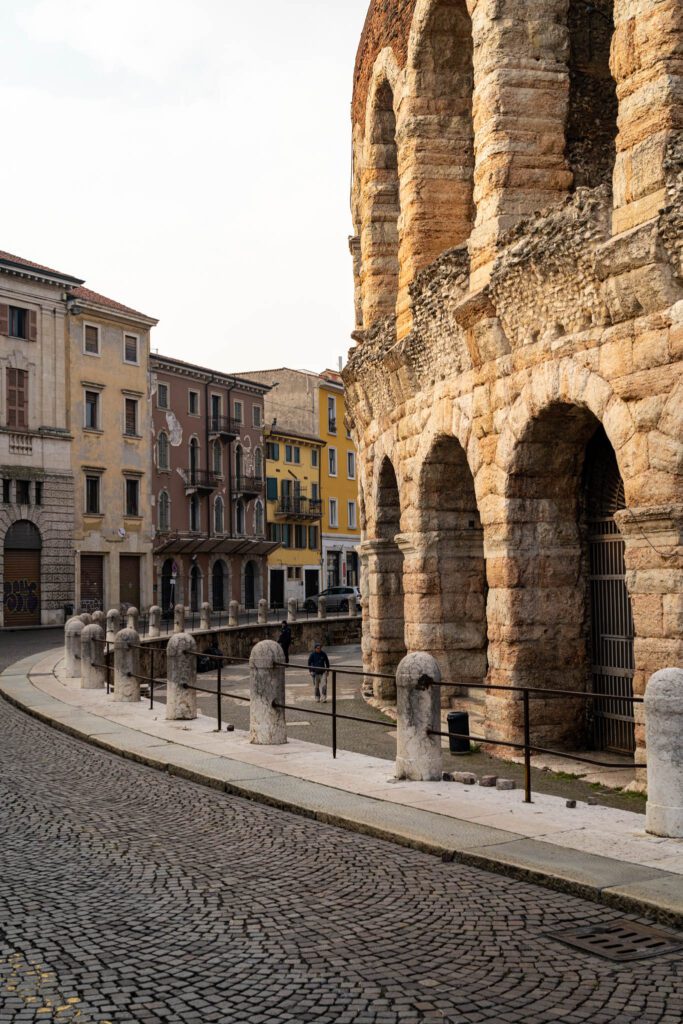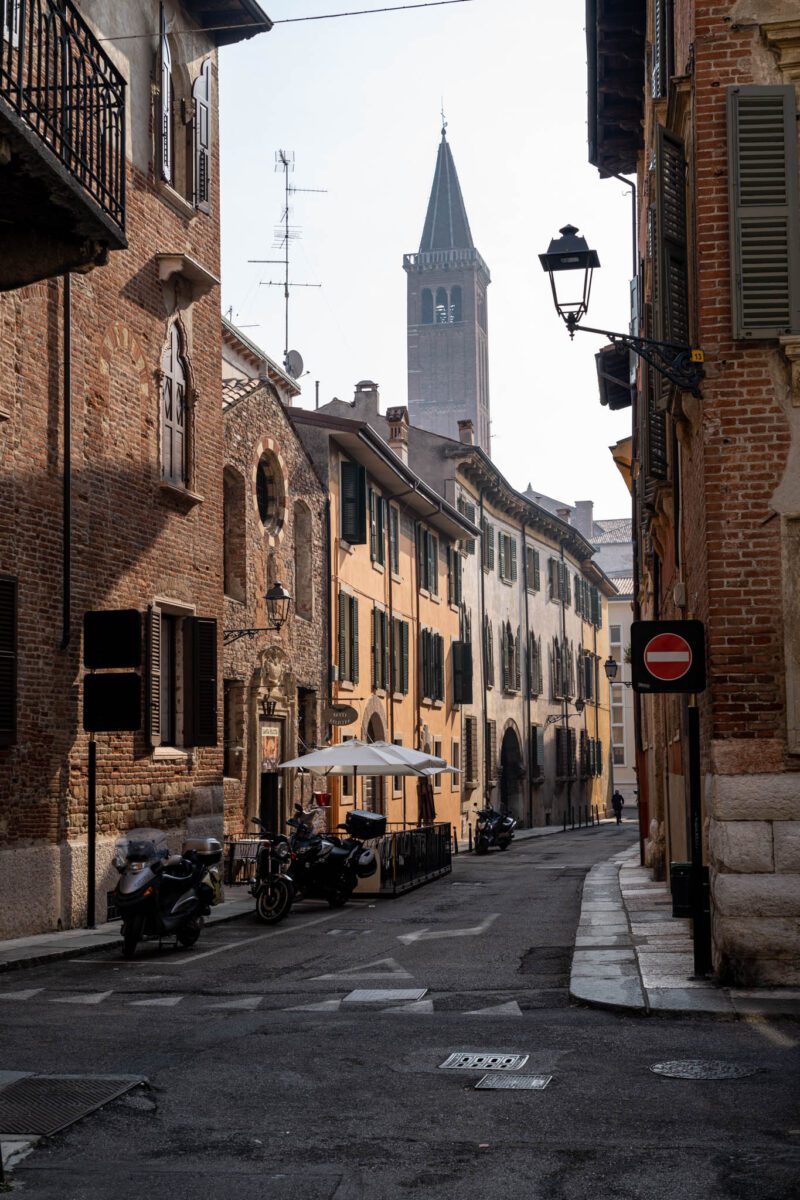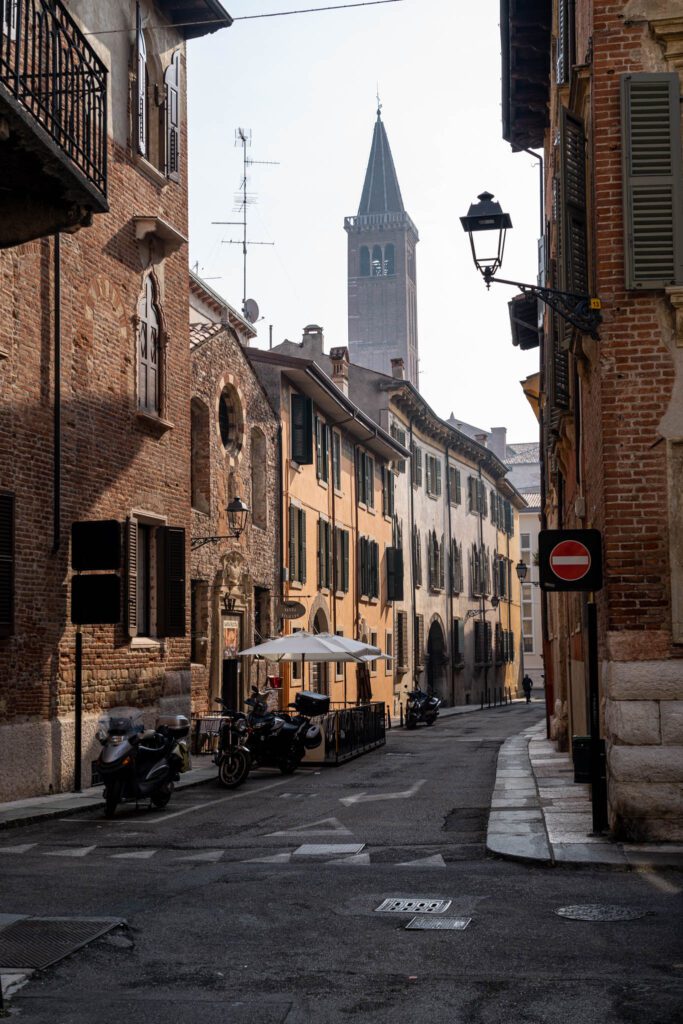 One Day in Verona: A Complete Guide to What to Do in Verona in a Day
Now that we've got that out of the way, let's talk about the best things to do in Verona in one day. Because we had the Verona Card, we actually did a lot more of the traditional tourist attractions in Verona than we do in most cities.
Sometimes we'd poke our heads in, look around a bit, and decide "nah, not worth our time." Other times, like the Roman Amphitheater and Museum or Museo degli Affreschi, we stayed for longer than expected because we enjoyed it more than we thought we would.
First, we'll lay out the things we think you shouldn't miss, so you at least have that if you're short on time and don't feel like reading the entire itinerary below. Then we'll get into how to organize them into a perfect Verona itinerary if you only have a day.
The Best Things to Do in Verona: What You Shouldn't Miss
Here are the four things that we think you shouldn't miss if you only have 24 hours in Verona. Below, you'll find our take on how to organize them into an itinerary.
The Verona Arena: One of the largest Roman theaters in Italy, it's used for outdoor concerts during the summer. The signage could be better, but there's always something special about waking into an amphitheater like this one. Don't miss it when you visit Verona.


Two Churches: There are four main churches in Verona, and the two we'd choose to visit again would be the Cattedrale di Santa Maria Matricolare (the one with the big white bell tower) and the Basilica di Santa Anastasia. More on why we like those two best in the guide below.


Roman Theater Archaeological Museum: This was definitely a "eh, maybe we should stop by and see if we like it?" that turned into an hour-long visit that we really enjoyed. The museum in particular has some really cool artifacts that are millennia old. Plus, amazing views of Verona from the outdoor portion of the museum!


Castel San Pietro: The castle on the hill (cue the Ed Sheeran song) has the best views of the city, and was particularly spectacular at night. It's a climb up a long flight of stairs to get there, but it's worth the effort.
Of course, that's not all you should do in Verona. There are two picturesque bridges, some great wines to try that you won't often find outside of the region, and plenty of good food to be had. We have those suggestions below, too.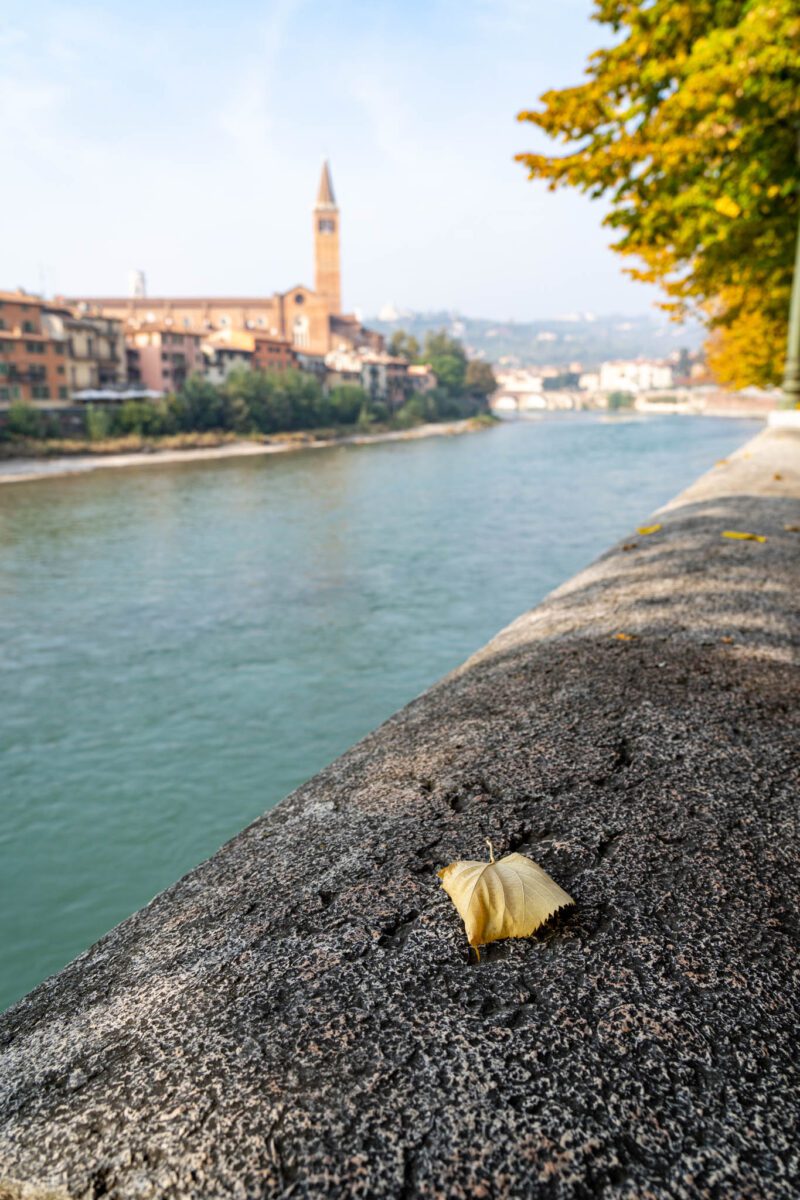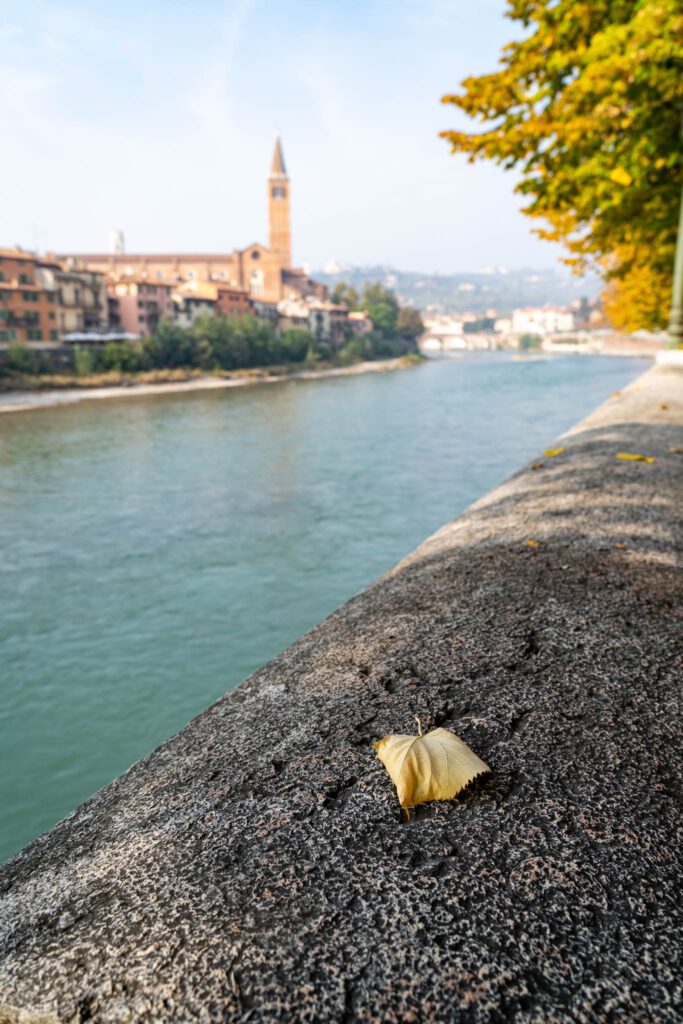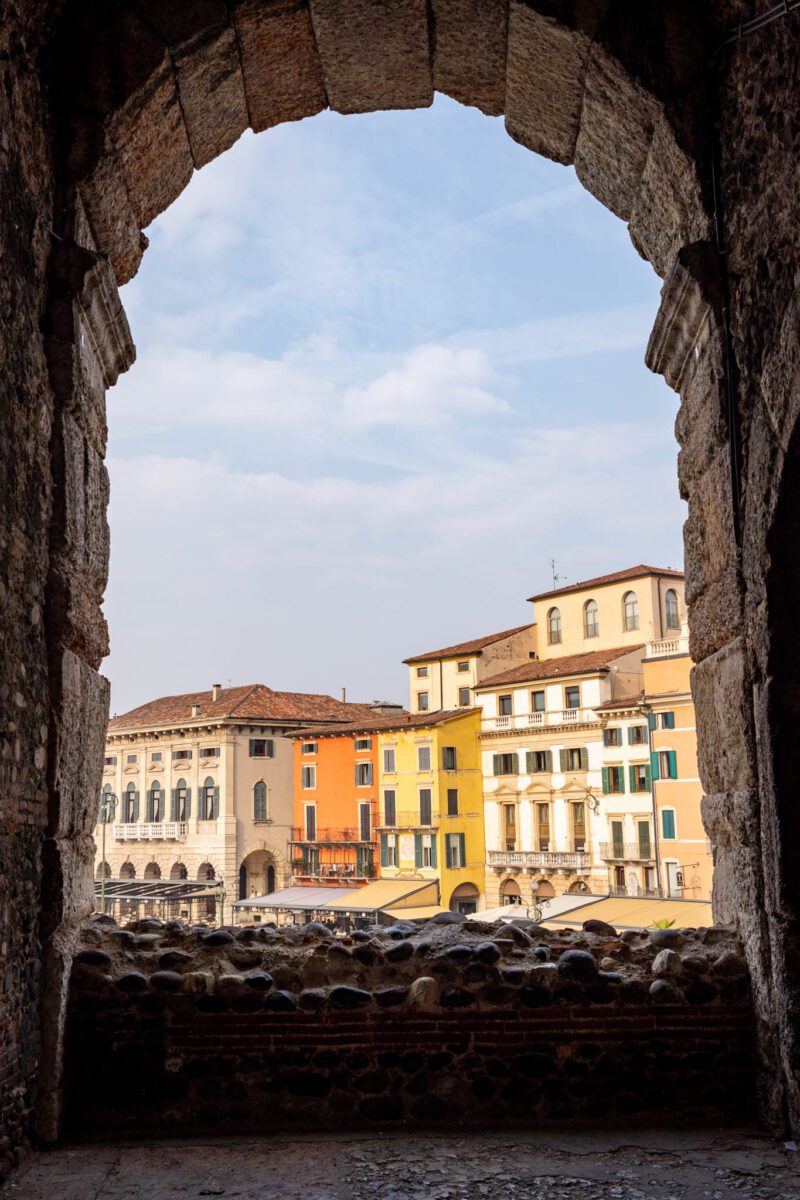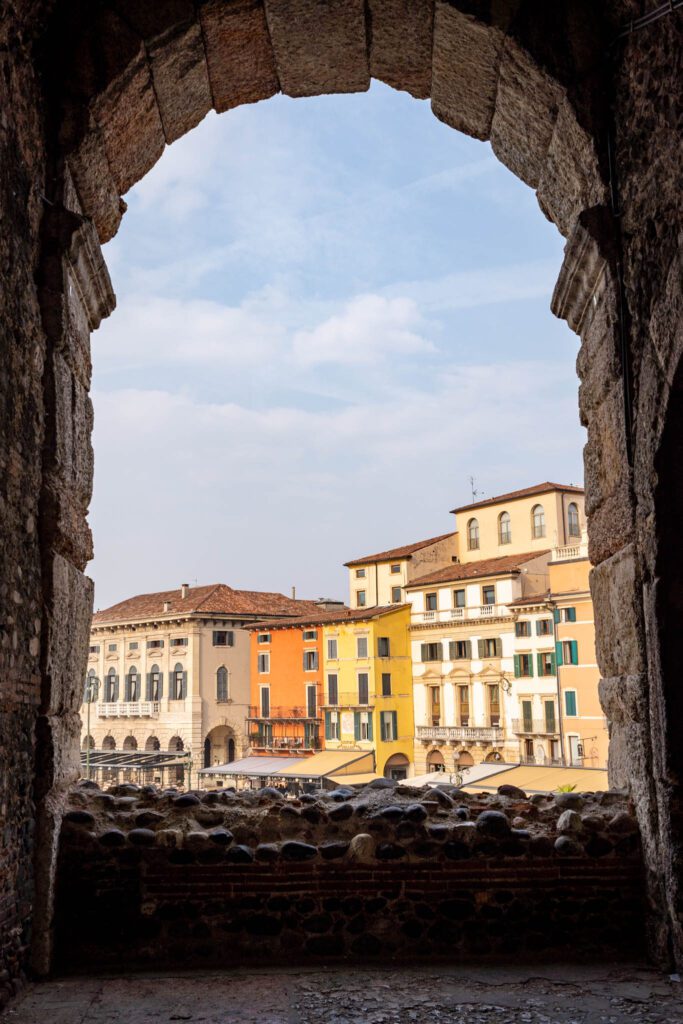 Before we get into how to organize your time, a word on the worst attraction in Verona, the Casa di Giulietta.
Casa di Giulietta: SKIP IT
The Casa di Giulietta is a great example of something we would ordinarily decide to skip because, well, it's basically a made up place designed to appeal to tourists.
There's a balcony that emulates the ones from the various movies and productions of Shakespeare's famous play (which we learned, he at least partially plagiarized… or got some serious inspiration, anyway) where you can take pictures to post on Instagram, and then there's a small museum on the inside.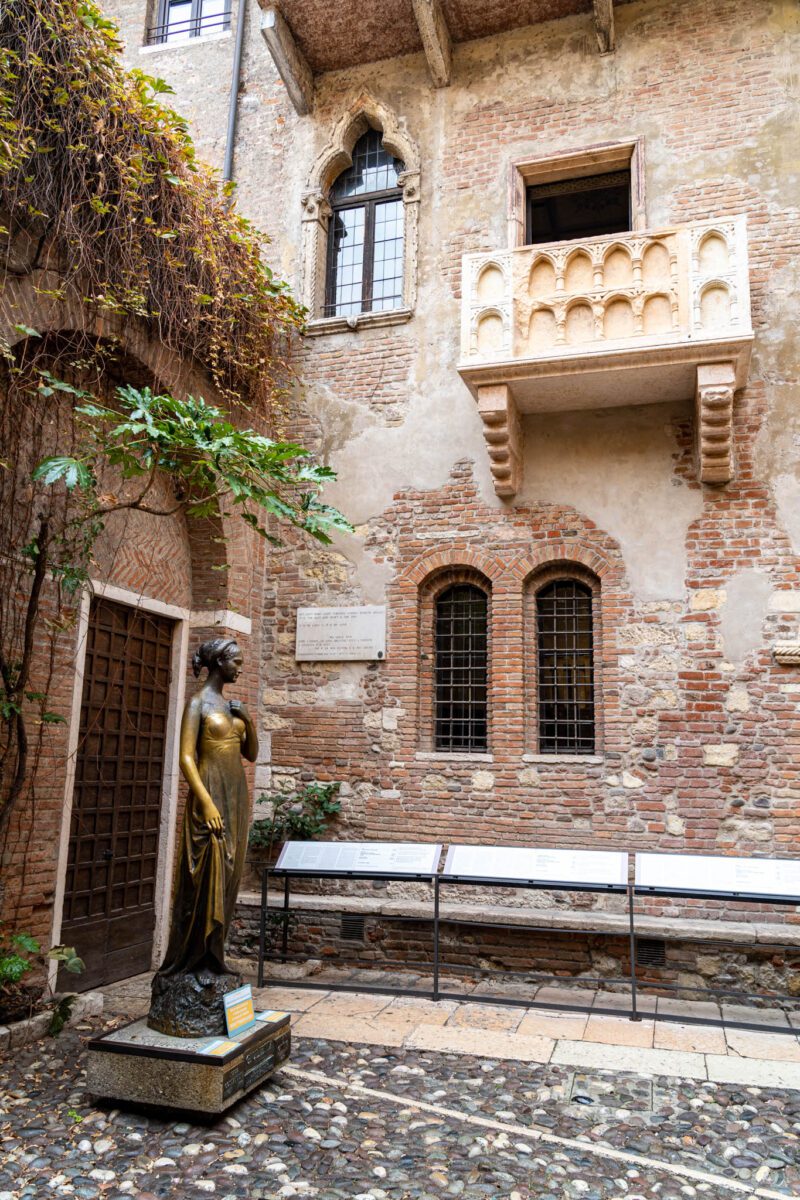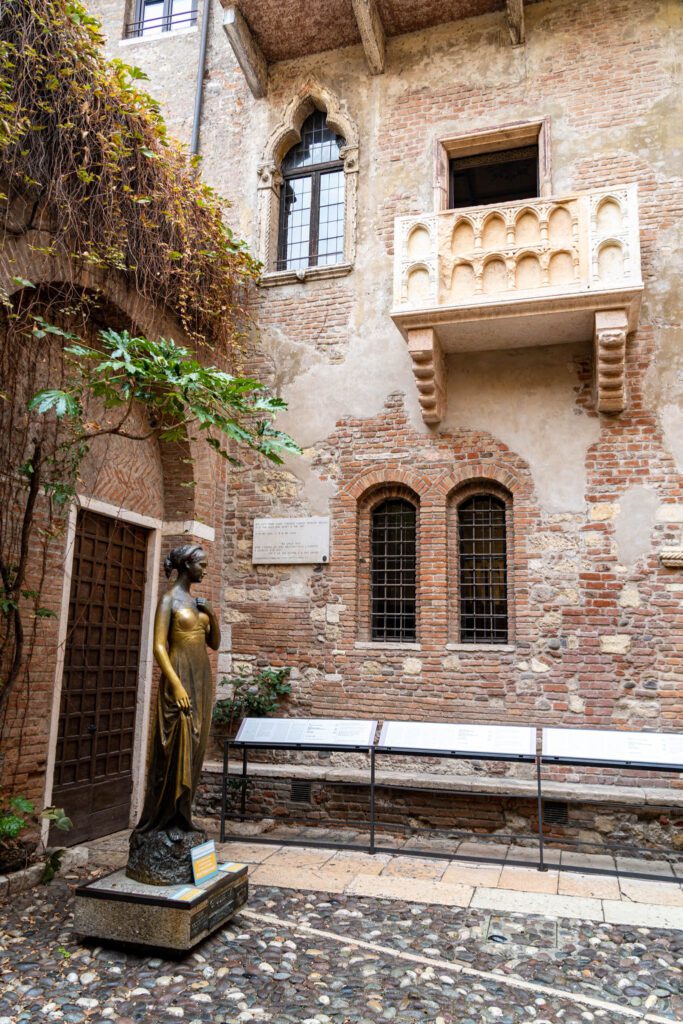 Again, it's important to remember that this is not actually Juliet's house, which is a fictional place (arguably inspired by historical events, but mostly made up). It's a place that Verona created to appeal to tourists with the rising popularity of Romeo and Juliet – which takes place in Verona – in the 19th Century.
Inside, you'll find the absolute worst museum we've ever seen. Truly, I mean it. There's a couple of paintings, a few costumes that were used in one of the movies of the play, a bed that was built for filming said movie, and that's about it.
Skip it. Take our advice, we wasted the 15 minutes of our lives so you don't have to.
A Perfect Day in Verona: Planning Your Verona Itinerary
Verona is a relatively compact city, which makes it ideal for exploring in a day. You can walk between every destination in the itinerary below, with the exception of getting to and from the train station or airport (which we've also covered below).
We're assuming that you have a full day in Verona, but also recognize that sometimes it's a situation where you arrive in the afternoon, spend the afternoon, evening, and next morning, and then catch a train to your next destination.
That's why we've broken it up into morning and afternoon/evening, so you can copy and paste based on your specific timing.
We're also going to assume that you have the Verona Card, because we highly recommend it if you plan on hitting the attractions below.
A Morning in Verona: Coffee and the Verona Arena
Over the course of the morning, start your day with some Italian coffee, then take on the massive Arena di Verona before hitting one of the more underrated museums in the city.
Ponte Pietra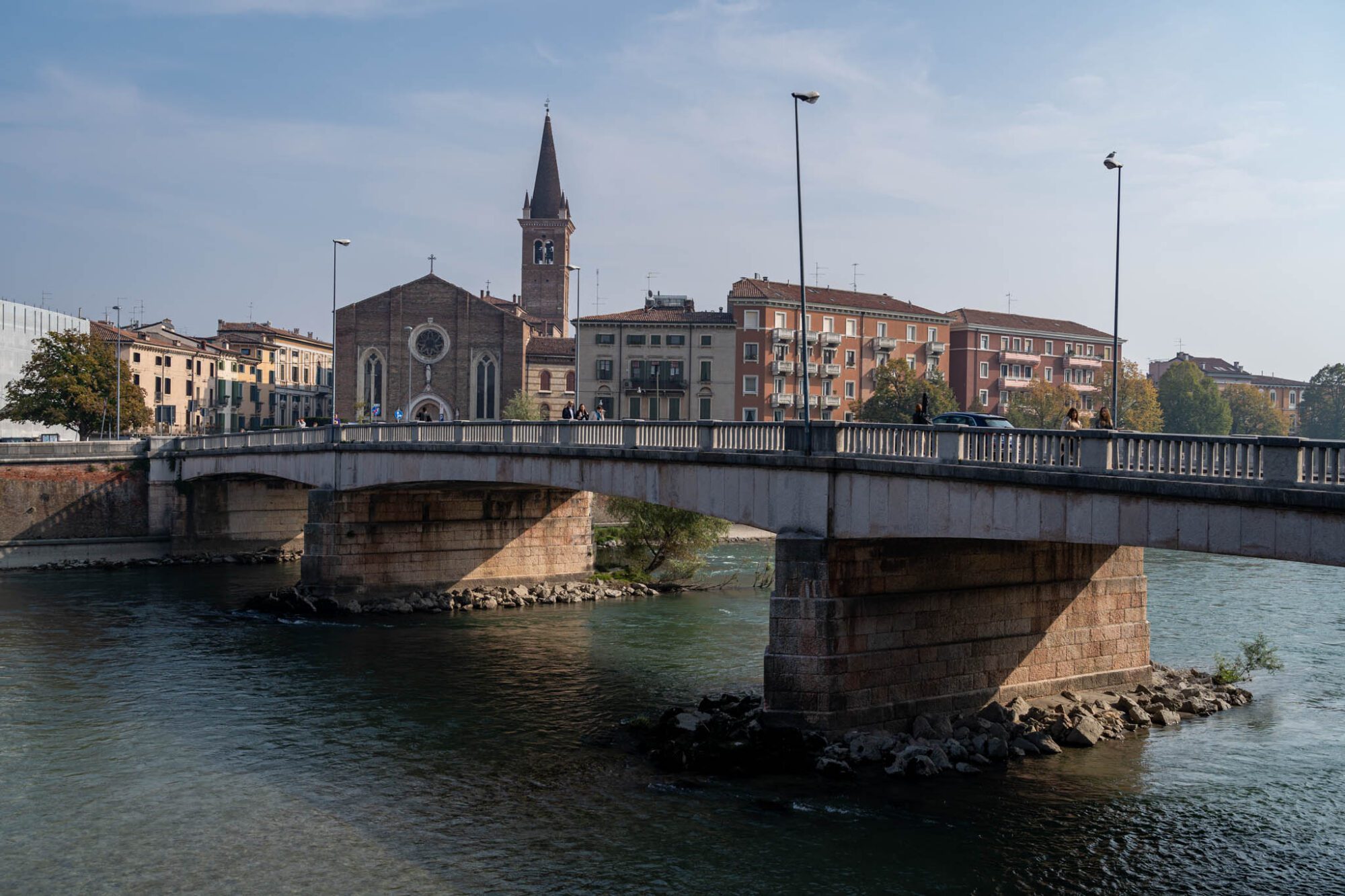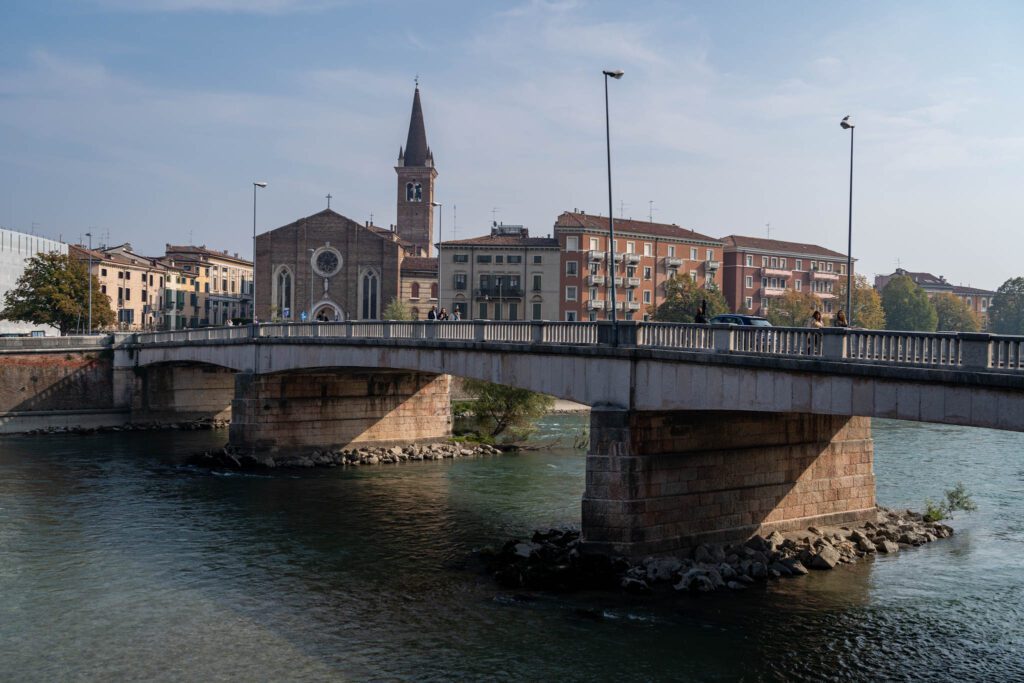 One of two cool bridges you'll encounter, Ponte Pietra is a bridge on the eastern side of the center of Verona crossing the Adige River. You'll basically start and end your day in Verona here, making a big loop that includes most of the best things to do in Verona along the way.
This bridge was completed around 100 BCE, but has been destroyed and rebuilt a couple of times. Most recently when German troops blew up the bridge to thwart the Allied advance as they retreated from the city in World War 2.
This was one of the places the host of our apartment had starred on her map of Verona as one of the most beautiful sites in the city, and it's easy to see why when you first see the arches of the bridge, with the towers of Verona in the background.
Coffee, Italian Style
Coffee in Italy is very different from anything I'm used to. There's no specialty coffee to speak of, and there's actually no Starbucks in Verona (which I appreciate).
Now, you can absolutely walk into just about any café and get decent coffee. But it might be different than you're used to. One thing I really enjoy about coffee culture in Italy is the routine of going to the same café, getting a shot of espresso and a pastry at the bar, catching up with friends and the barista for a minute or two, and then going about your day.
Order "un caffe, per favore" for a single shot of espresso, which you'll receive about 42 seconds after you order it (for some reason, it's ready to go way faster in Italy). Drink it at the bar with a cornetto (a typical breakfast pastry), or grab a cappuccino and linger at a table. If you want something approximating filter coffee, which basically doesn't exist in most of Italy, get an Americano.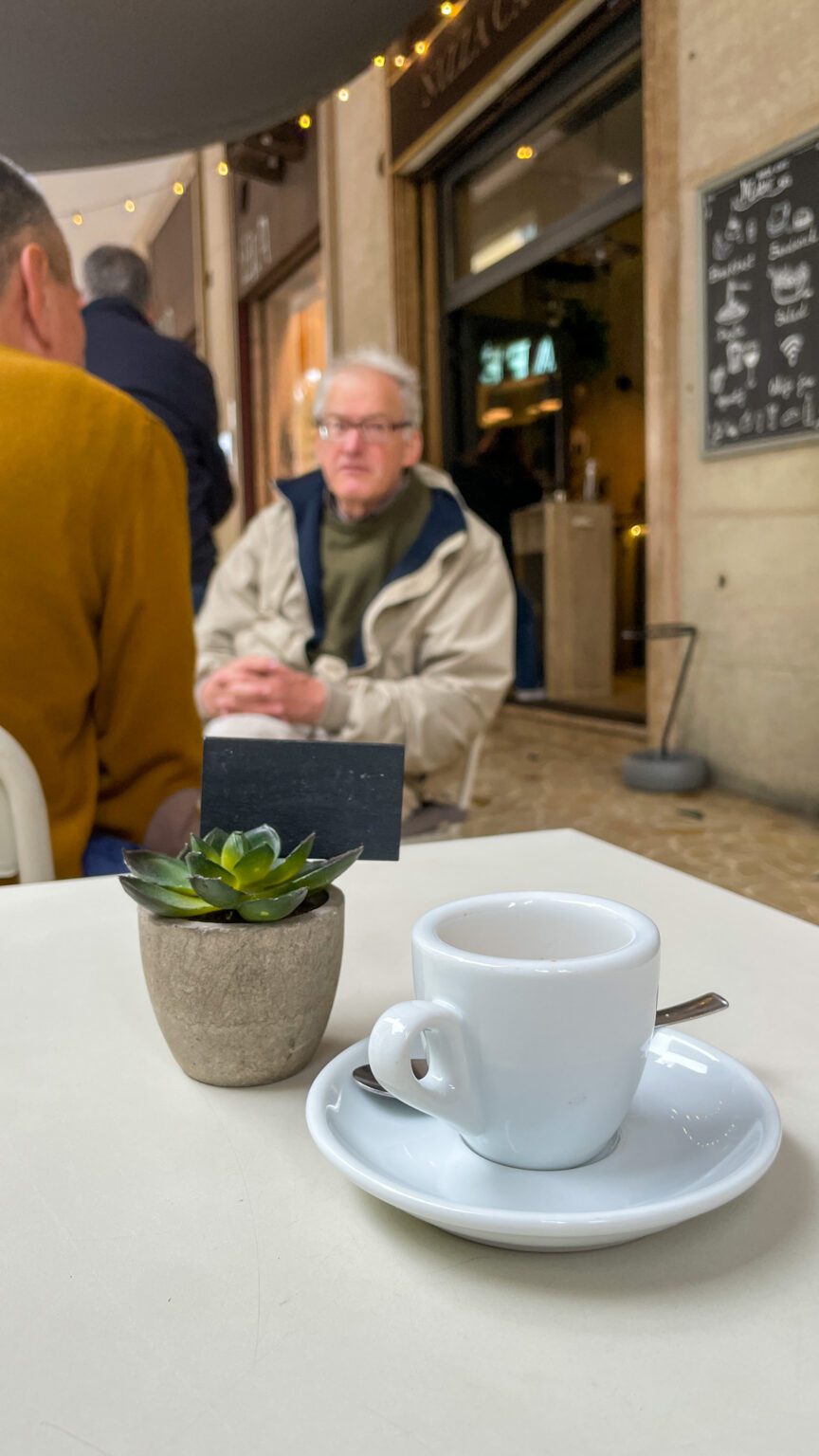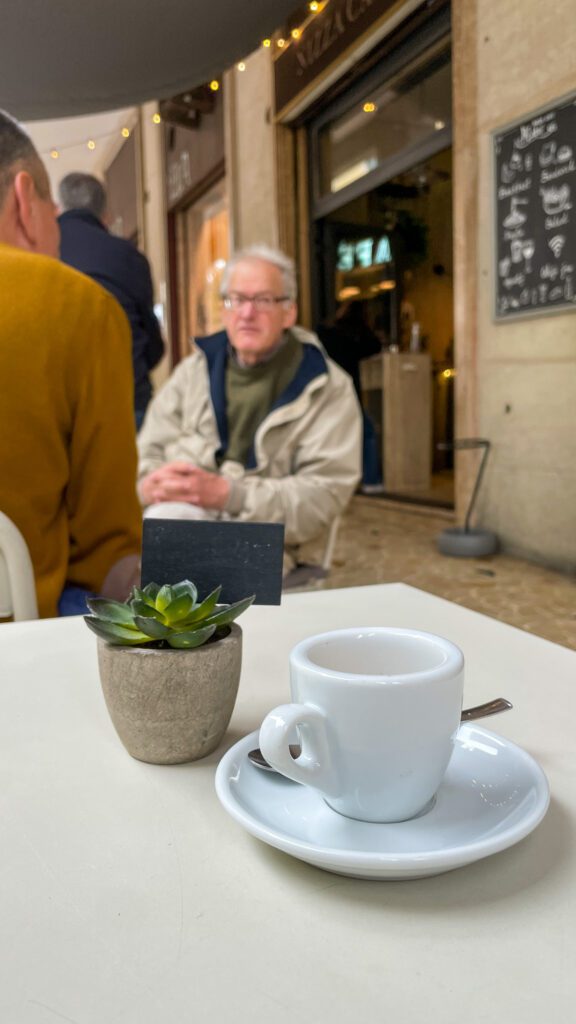 My favorite café in Verona was Nizza Cafe, which is near the river on the west side of the center at Ponte Nuovo (here it is on Google Maps). They serve coffee from local Verona roaster Garage Coffee Bros, one of the best coffee roasters in Italy. We went twice over the course of our trip to Verona.
Once you're caffeinated and ready to go, time to start your day in Verona!
Piazza delle Erbe
Take a quick detour from the bridge or cafe to Piazza delle Erbe, which is one of the main squares in Verona and was the center of the city when it was a part of the Roman Empire.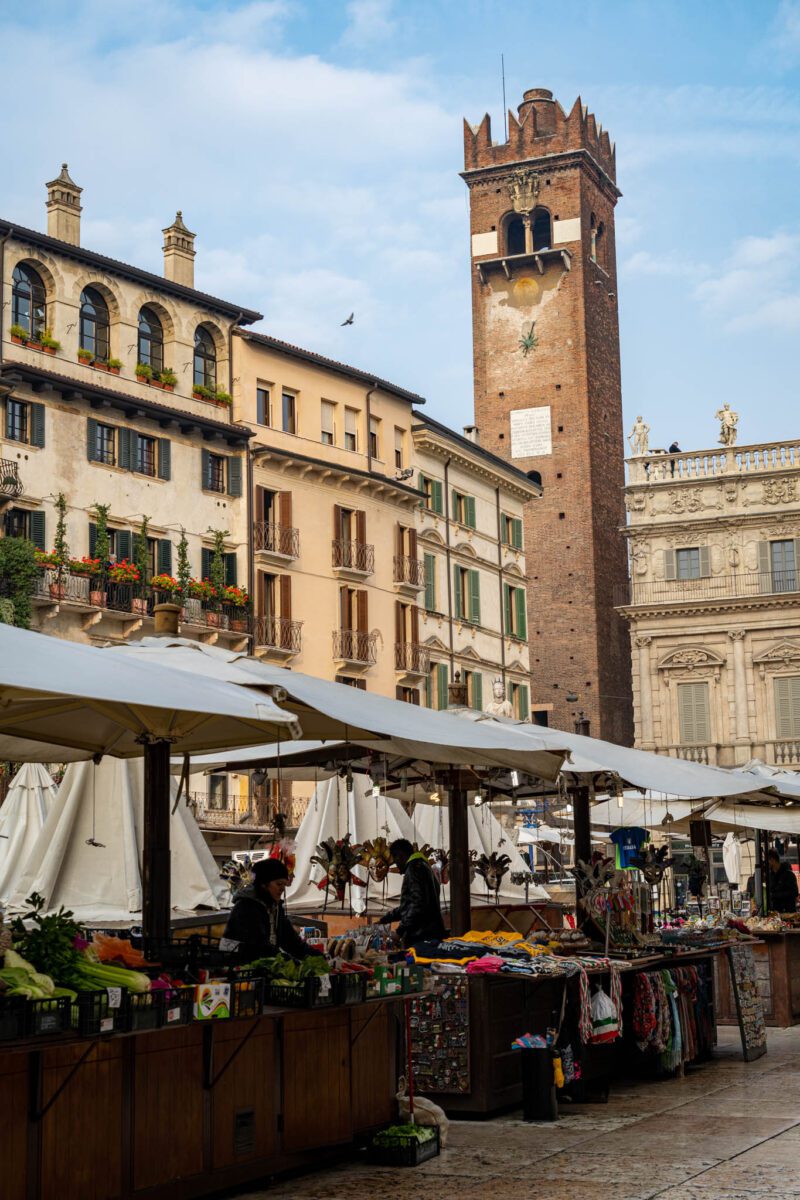 On your way, pass the Arche Scaligere, an interesting set of tombs added onto the church next door by one of Verona's noble families, the Scaligers, and Piazza dei Signori, which has a couple of cool arches and a statue of Dante, the father of the modern-day Italian language.
There's a whale bone hanging from the arch as you enter Piazza delle Erbe that has baffled historians and nobody can figure out the exact reason it's there.
Piazza delle Erbe is a market square, and if you're there in the morning, you're likely to see the vendors setting up shop, preparing for a day of tourists.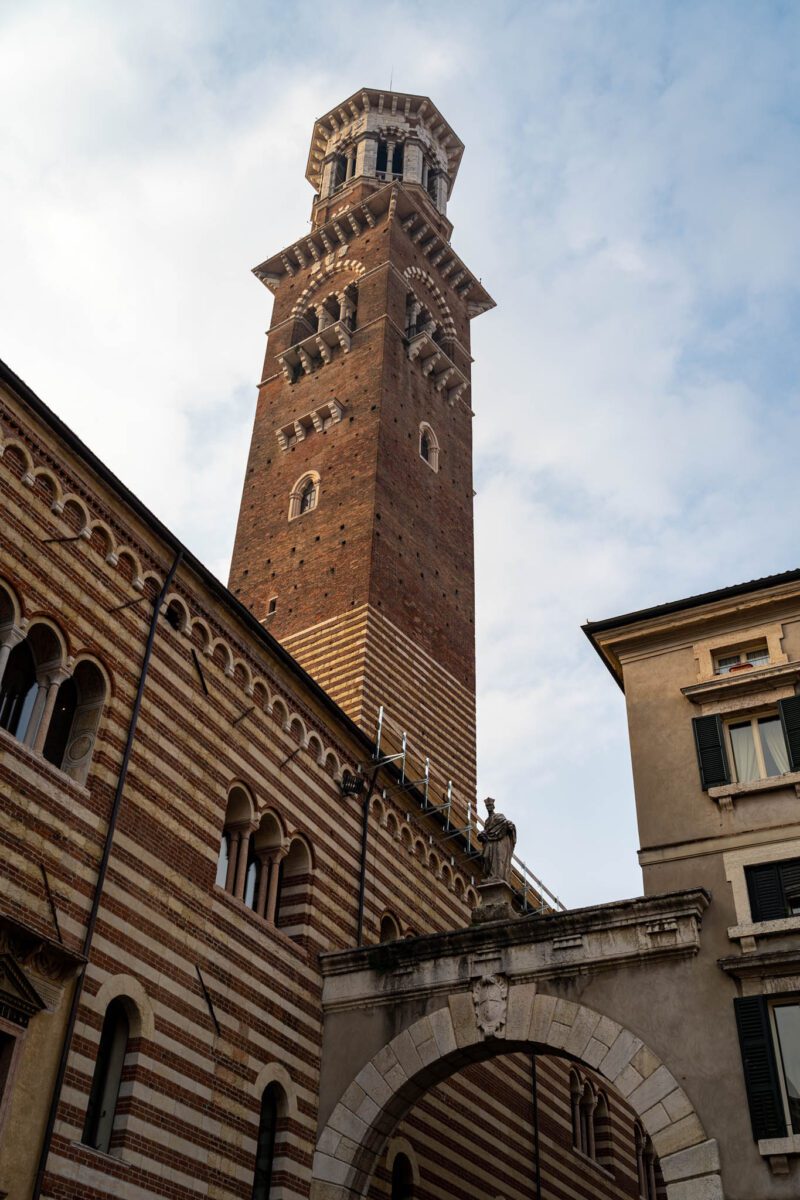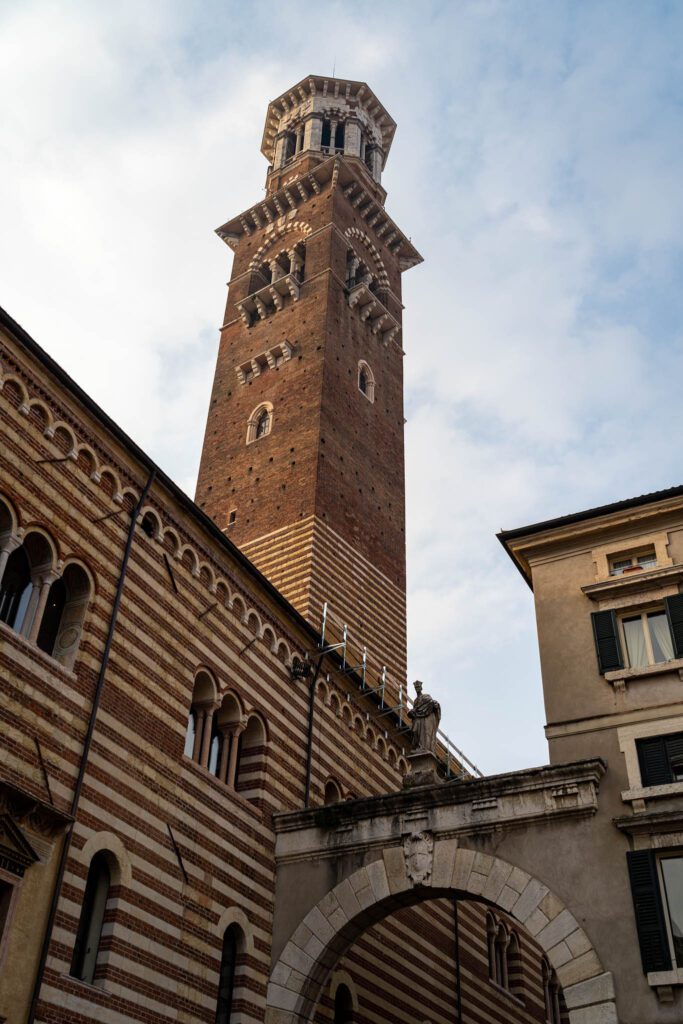 The Torre dei Lamberti towers over the square, and you can climb to the top for an impressive view of Verona, but we recommend saving that for if you have more time – we have an equally impressive (and cheaper) view for you later in the day.
The Arena di Verona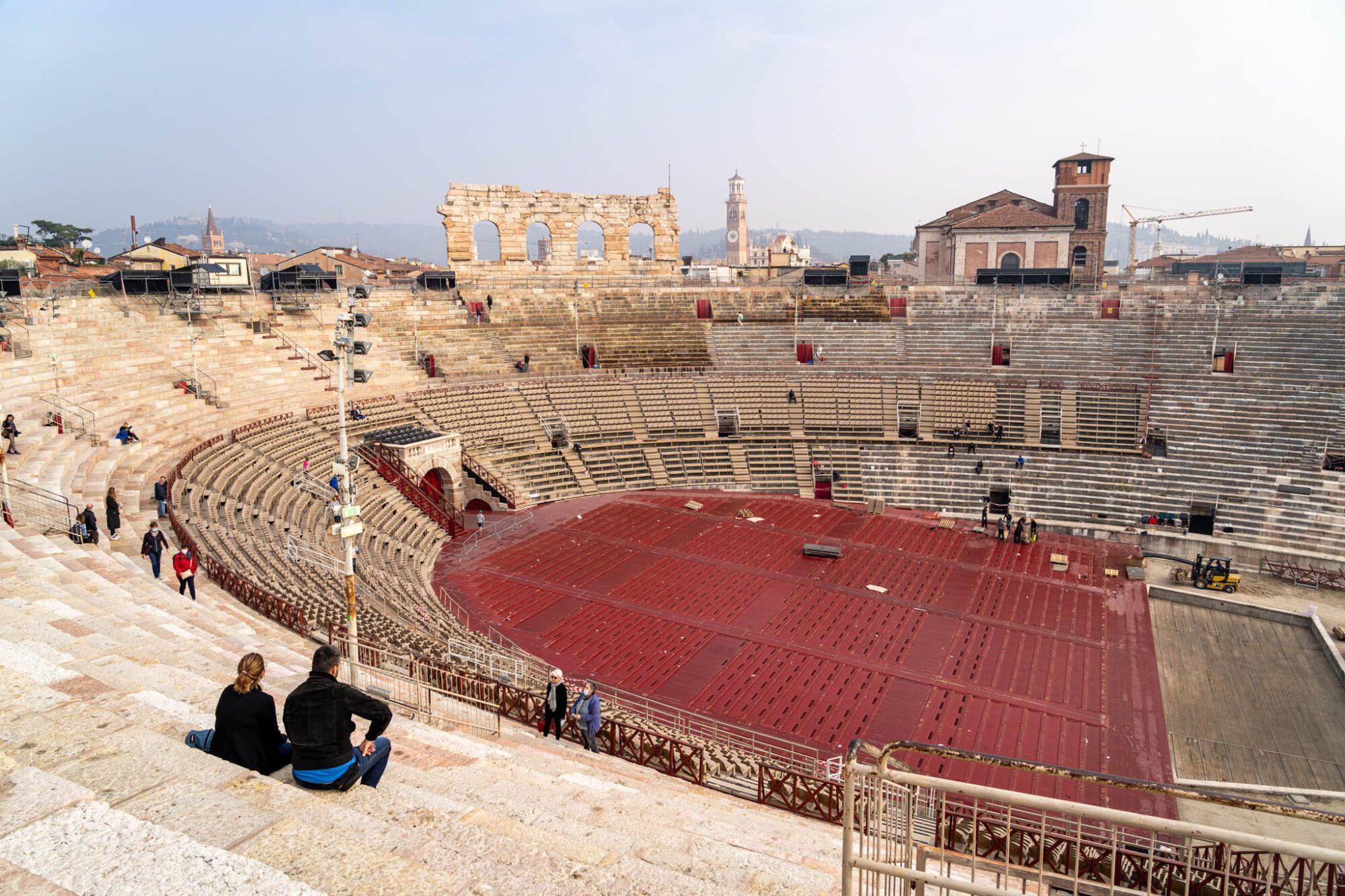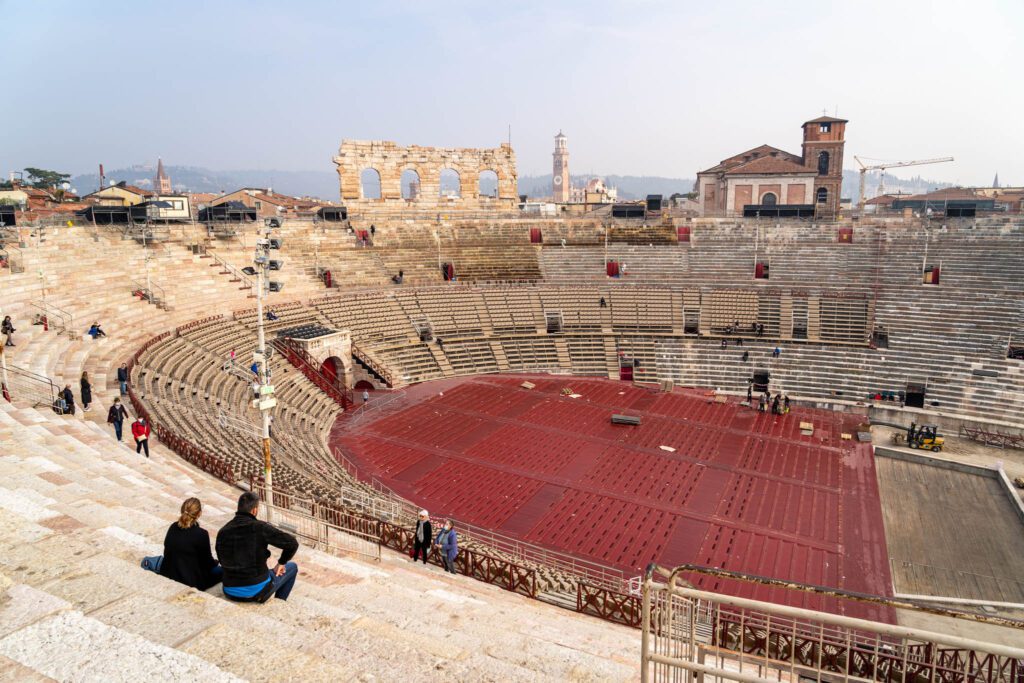 The Arena di Verona is one of the biggest arenas in Italy, after the Colosseum and the arena in Capua (though it is worth noting that there are bigger arenas in other countries that were part of the Roman empire).
Before researching for our trip to Verona, we had no idea there was a Roman amphitheater in the city. It doesn't get as much fanfare as, say, the Colosseum, but it's unique in its own way. In the summer in Verona, it becomes a venue for the Opera Festival in Verona, and open air performances take place in the massive arena.
We were there in mid-October, and they were breaking down the seating in the arena, which involved lots of forklifts and clanging around and really affected the ambiance. But it's still an architectural marvel, and has all sorts of history as an opera venue over the years.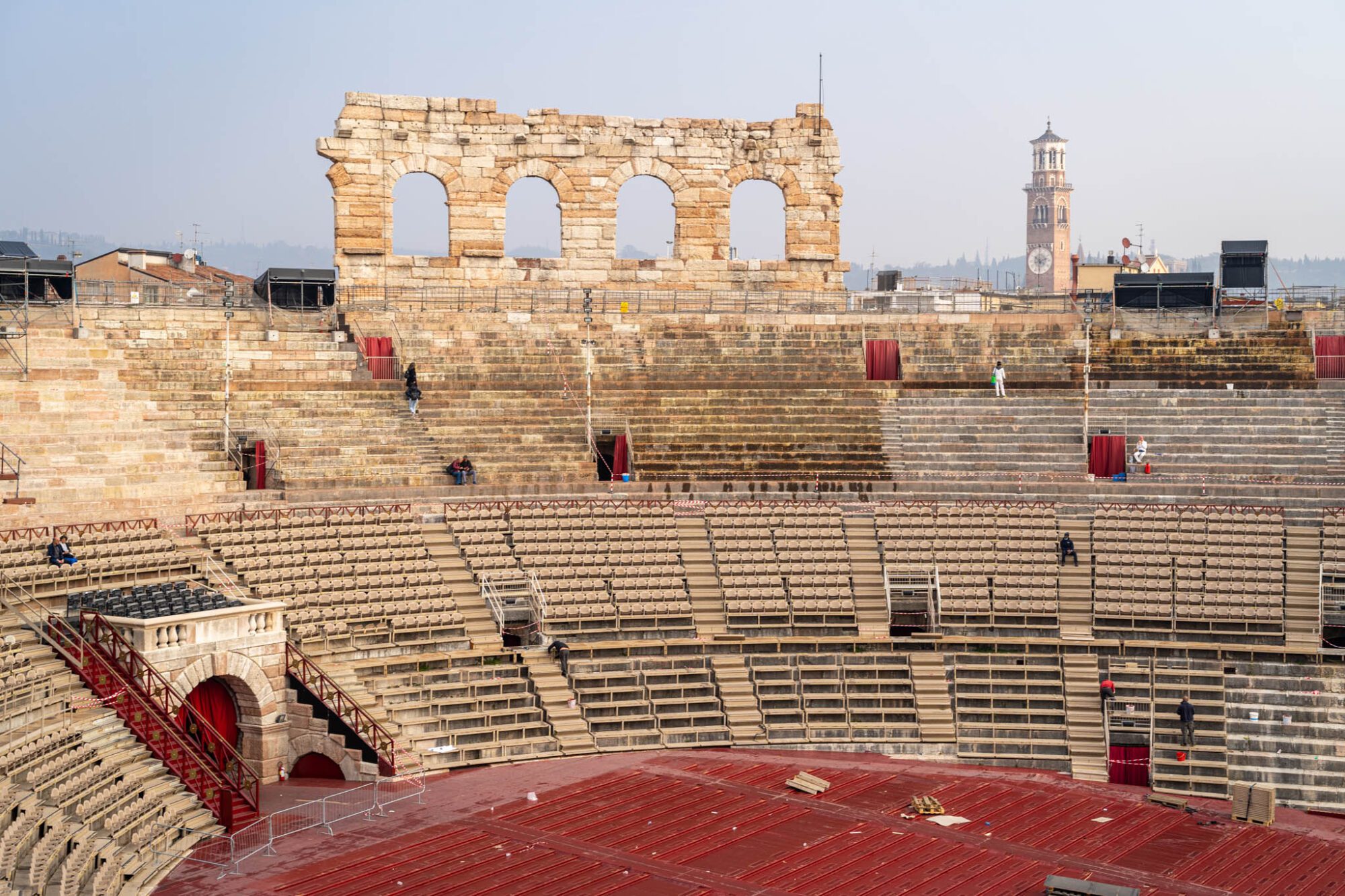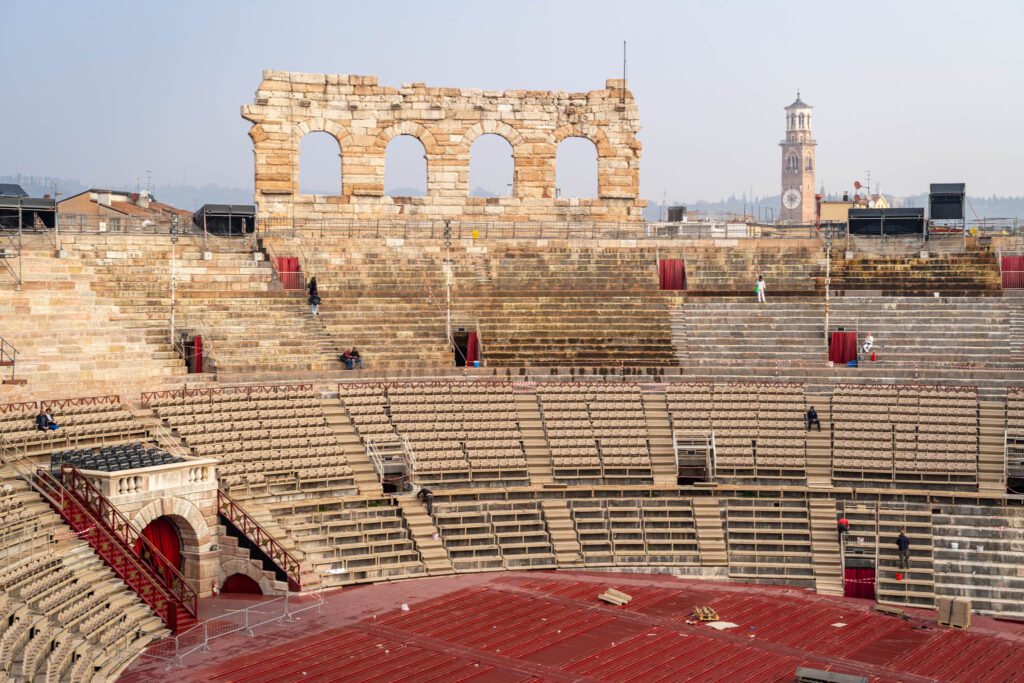 There's some informative signage on the ground level, but we found the historical context provided to be lacking, which was a little disappointing.
Outside the arena is Piazza Bra, which is bustling with people at all hours and is one of the most touristy spots in the city. Definitely plan on eating and drinking elsewhere, or risk getting mediocre food and a big bill.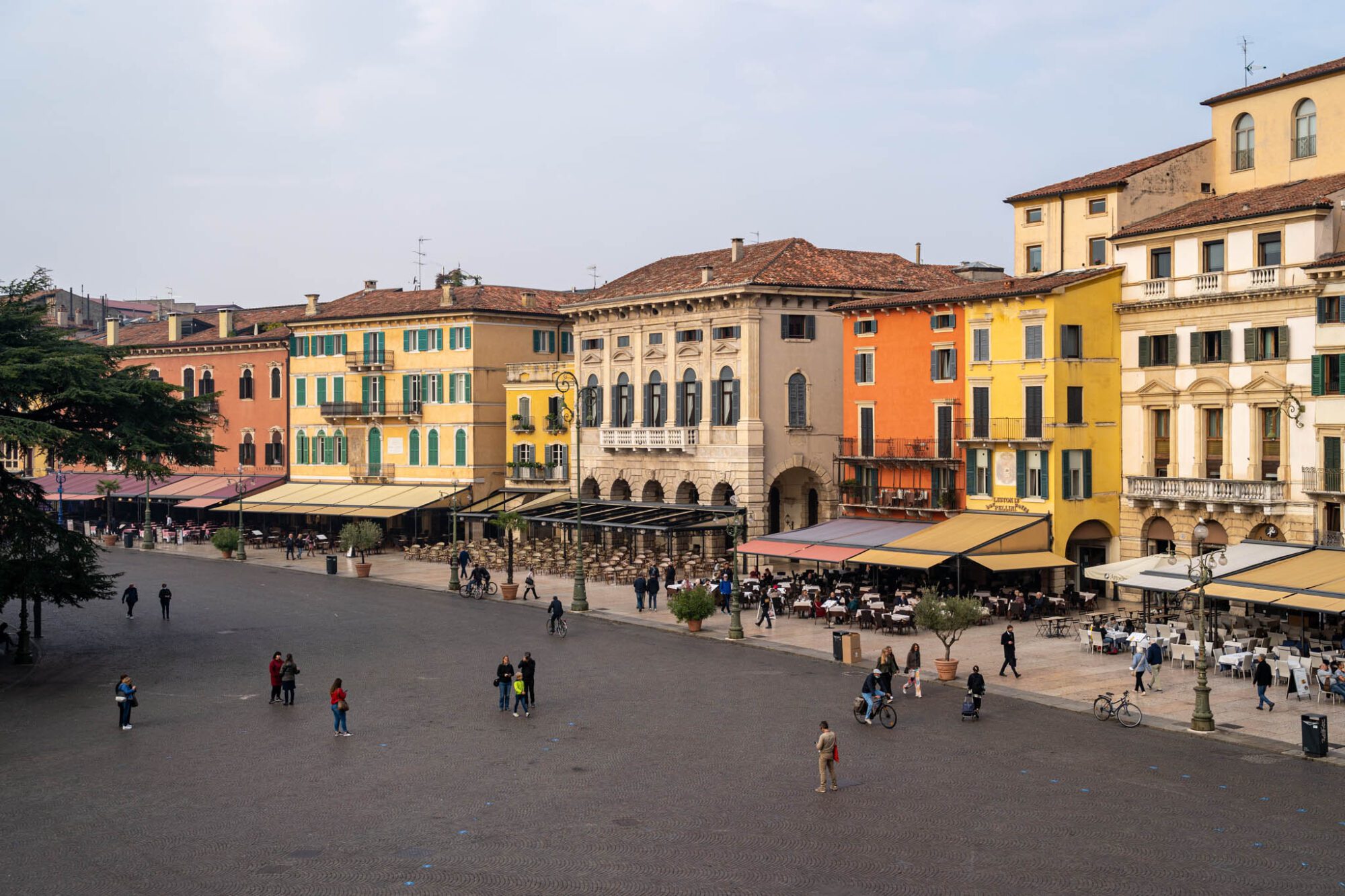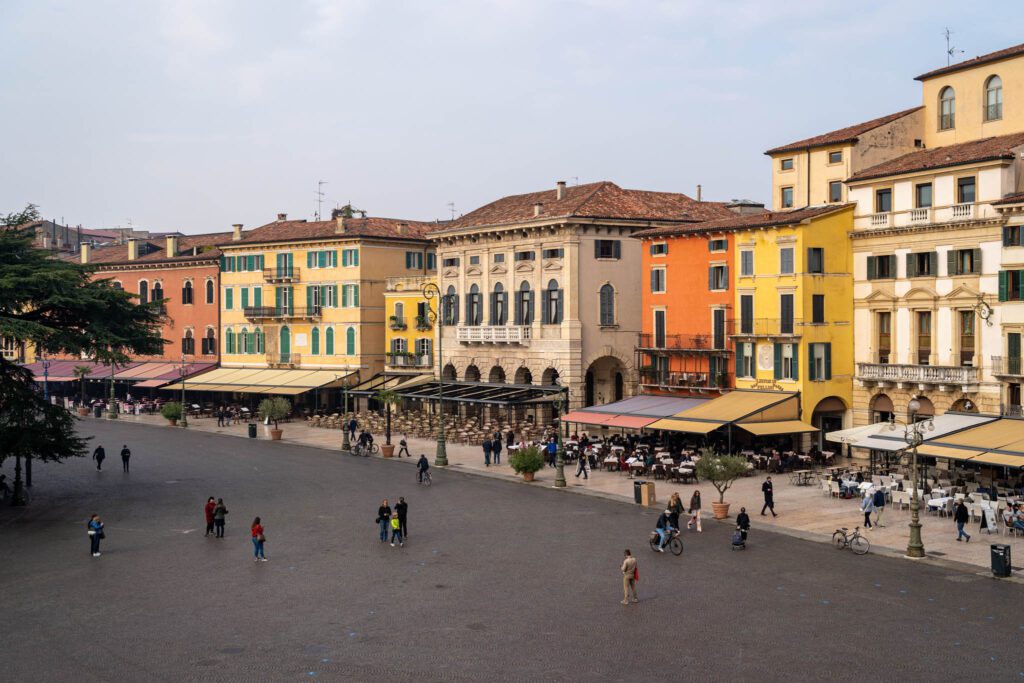 Practical Information: Tickets without the Verona Card cost 10 Euros (7.50 Euros reduced for 18-25 EU residents). Buy tickets on arrival at the ticket office at the entrance.
Afternoon: Churches, the Best View in Verona, and Veneto Wine
In the afternoon, check out Verona's two best churches before doing a scenic walk along the Adige River, ending with one of the best views in town.
Go Inside Verona's Two Best Churches
There are four big churches in Verona – all are included with the Verona Card – but we think you shouldn't spend all of your time running from church to church, so we've picked the two that we think you should focus on.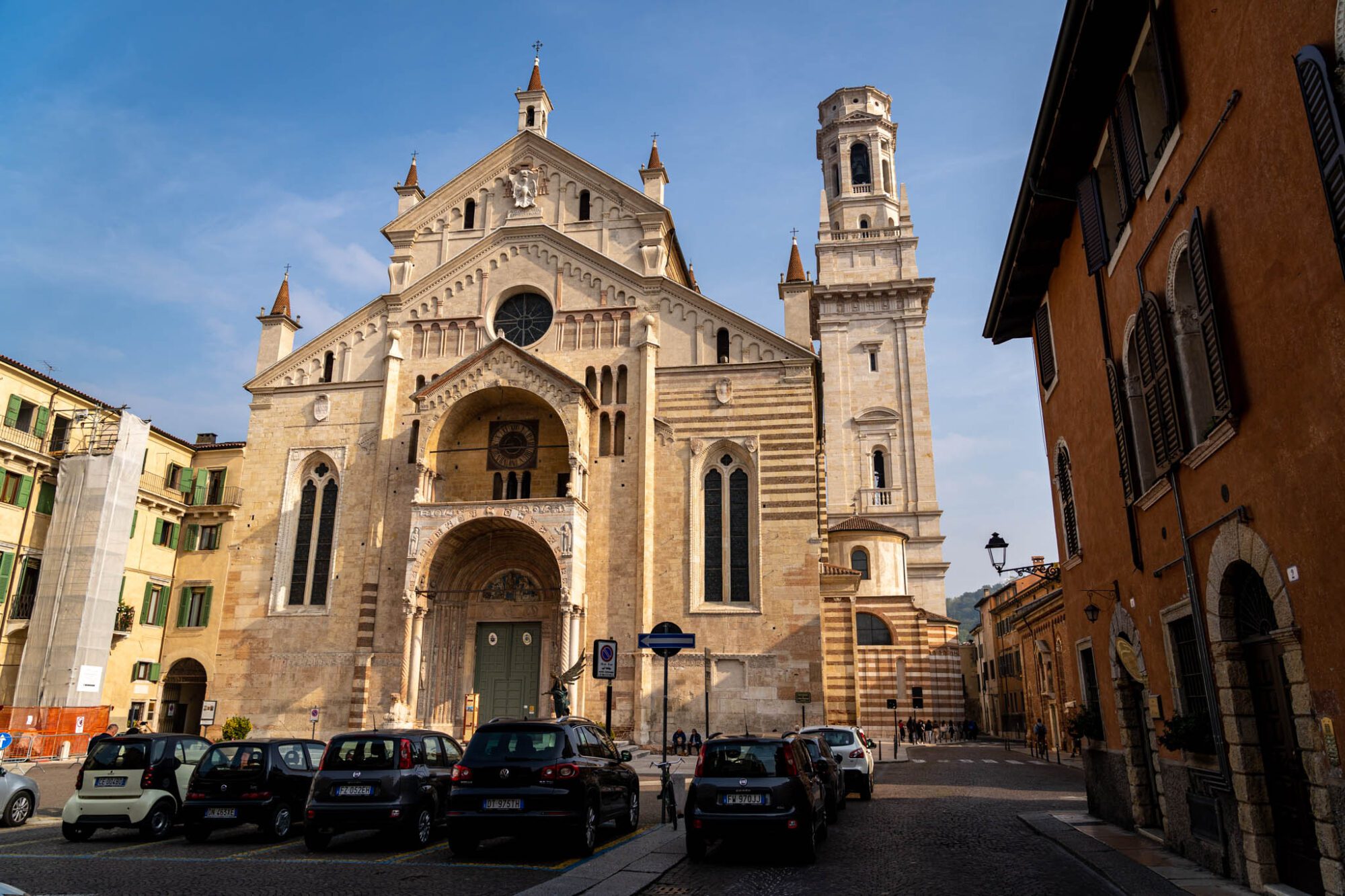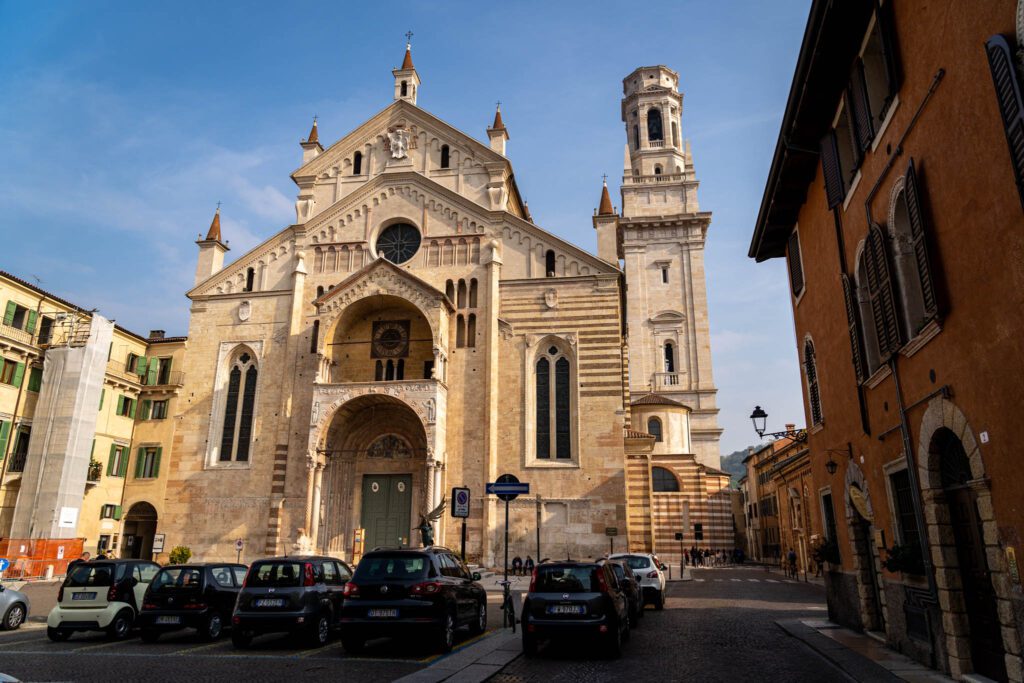 The first is Cattedrale di Santa Maria Matricolare – also known as the Verona Cathedral. It's the big one with the white belltower at the northern end of the historical center. While the interior is impressive, as most massive churches in Italian cities are, what makes this church unique is the archaeological area, where you can see the original footprint of the first church built on the site in the 4th Century, and the expansion that happened shortly thereafter.
The original churches were destroyed in an earthquake in the 1100's, which is when construction began on this larger version.
The second church, a short distance to the south, is the Basilica di Santa Anastasia. This one is on this itinerary for two reasons. First, it's the biggest church in Verona, and the facade is an excellent example of Italian Gothic style (we also heard it called Southern Gothic). Second, the artwork inside is pretty incredible, from the paintings lining the sides, to the 24 terracotta panels in the Pelligrini Chapel depicting the life of Jesus.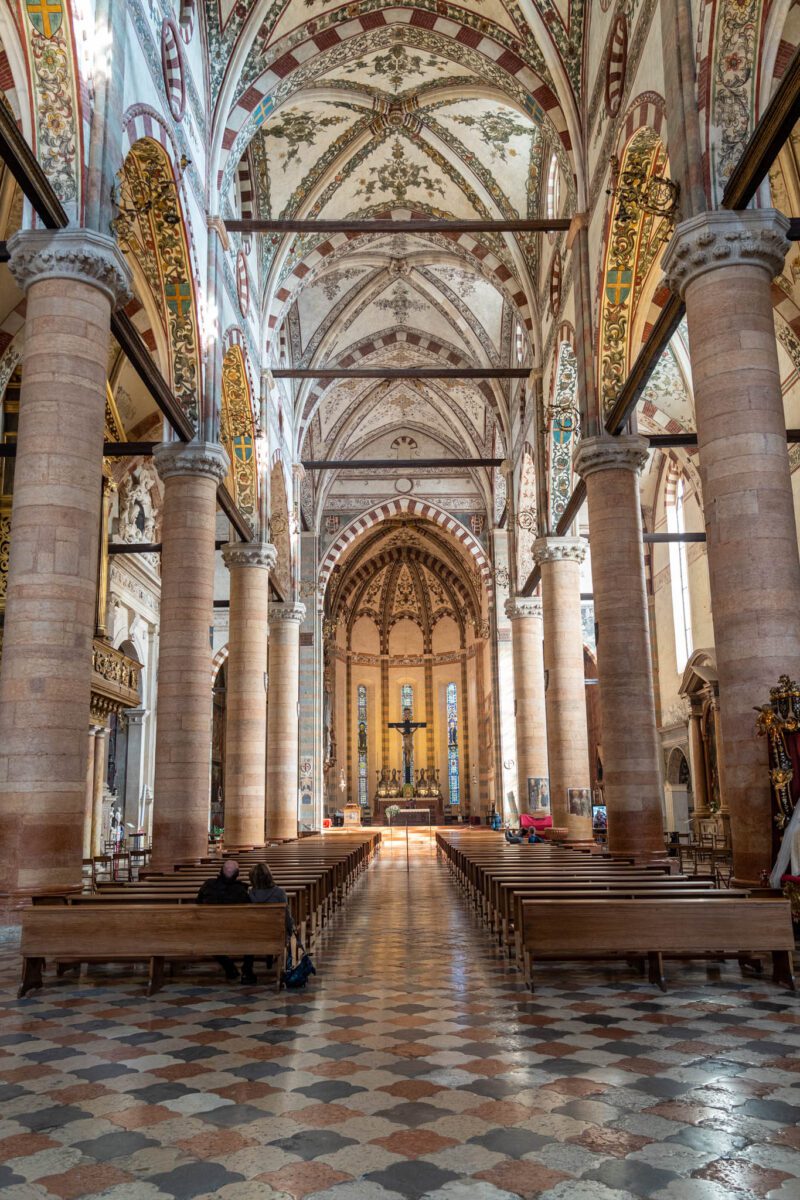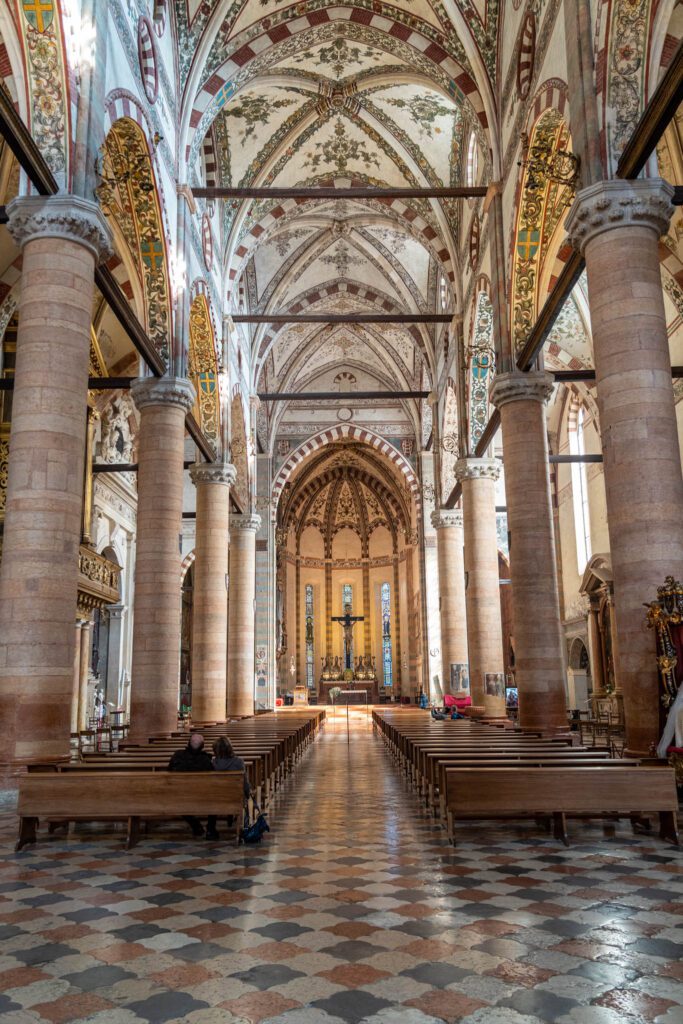 Important Travel Tip: Both churches have a free audio guide that you can access with a QR code, so bring headphones along with you so you can take advantage!
The Castelvecchio Bridge and Walk Along the Adige River
The Castelvecchio Bridge is the second of Verona's cool bridges, and is worth walking over and admiring. Built out of red bricks, it was built in the 13th Century as an alternate route away from the castle, and was actually the longest bridge in the world (at least, out of those that were recorded) at the time of construction.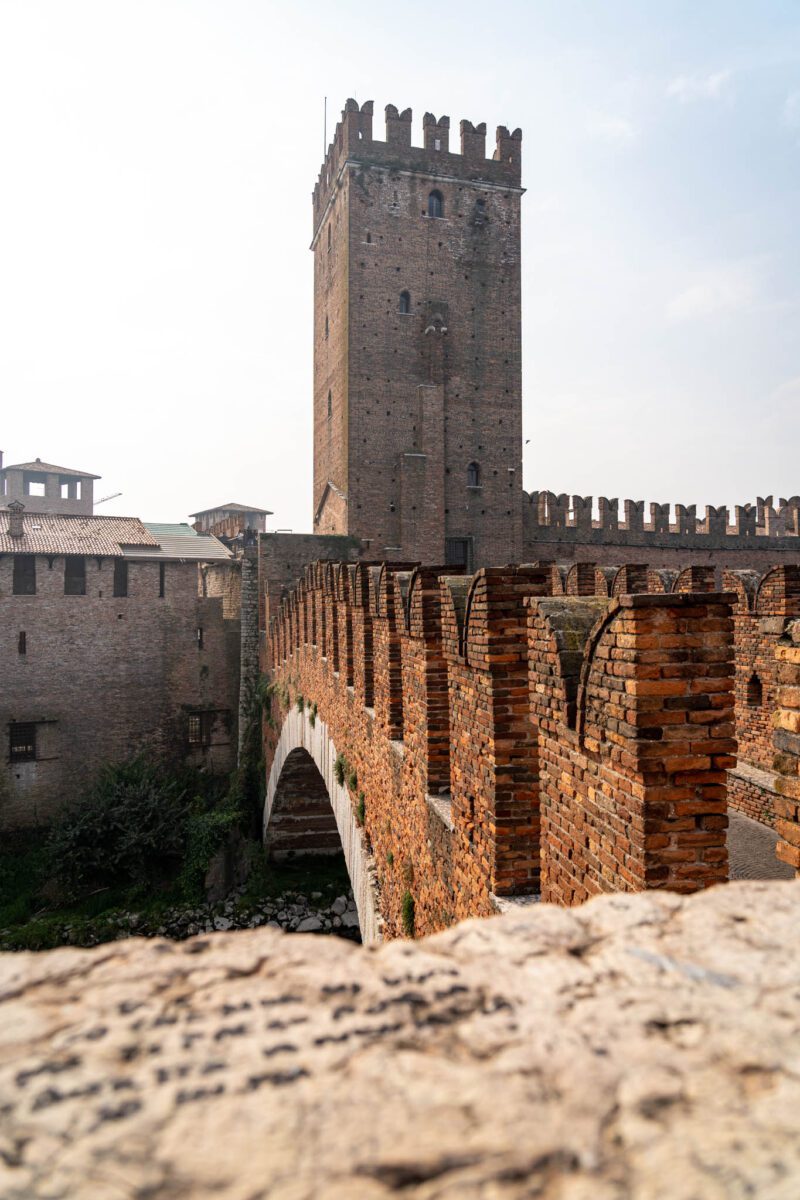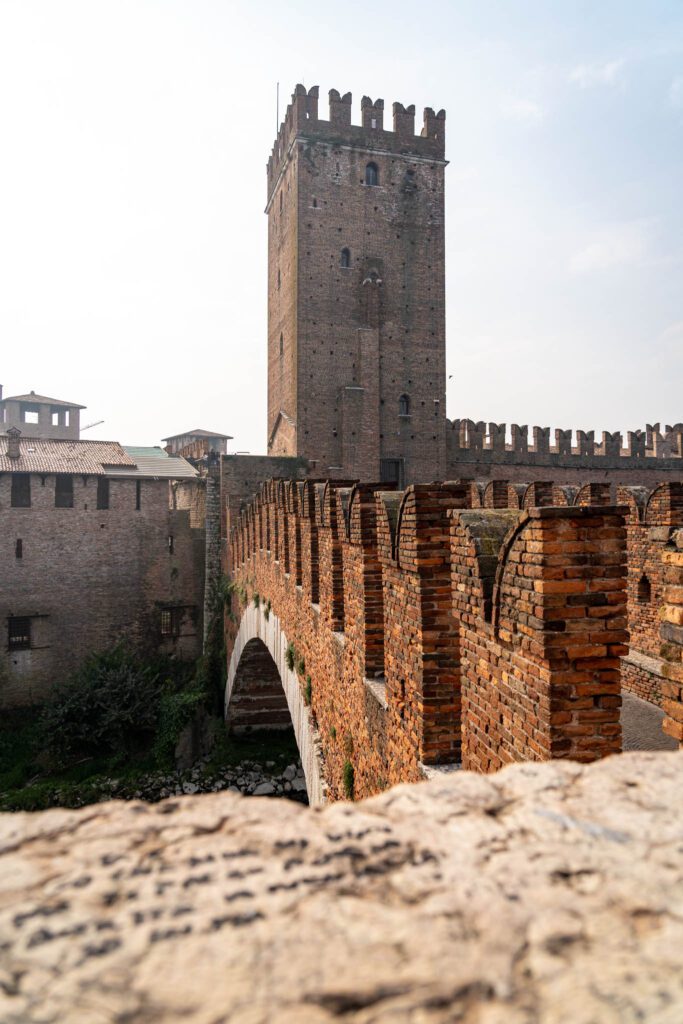 Once again, it was destroyed by German troops on the retreat at the end of World War 2, but reconstruction was completed by 1951.
Walk from Verona over the bridge heading north, then turn right and follow the river to your next stop. It's a lovely walk, with the Castel San Pietro and the Parrocchia di San Giorgio in Braida immediately in front of you, and the center of Verona across the river to your right.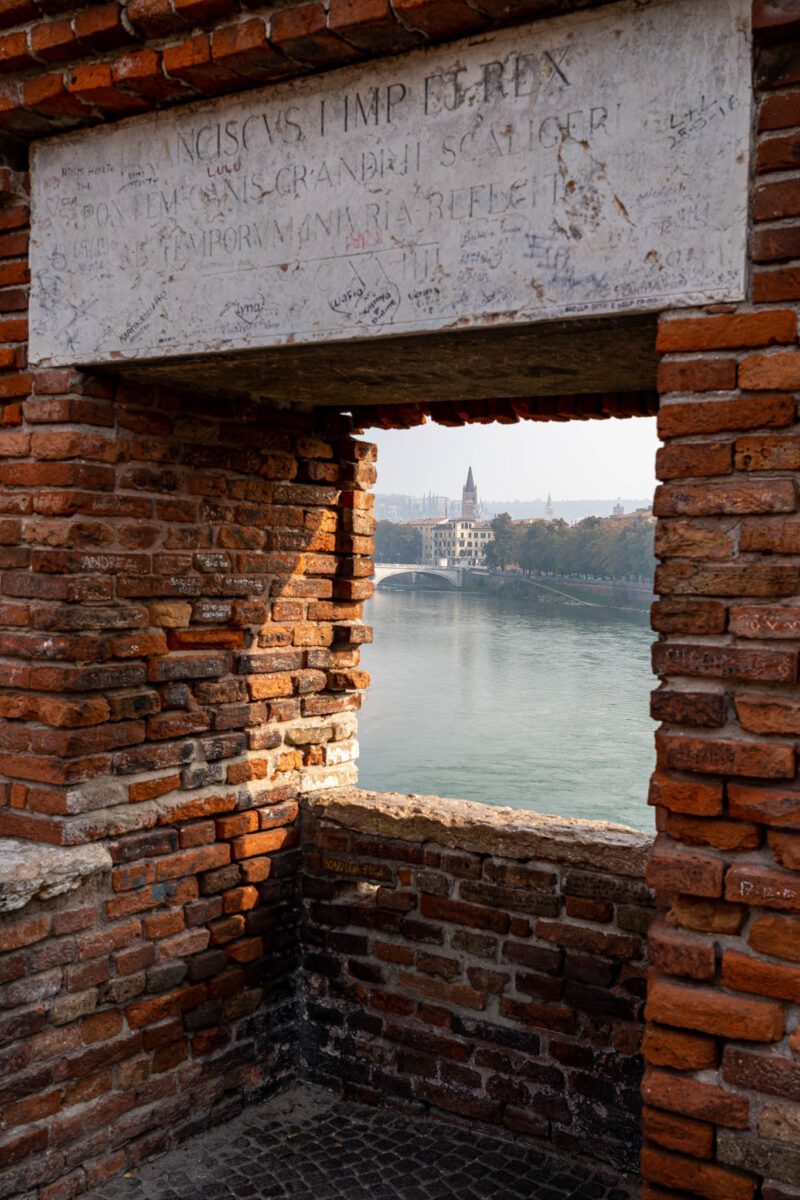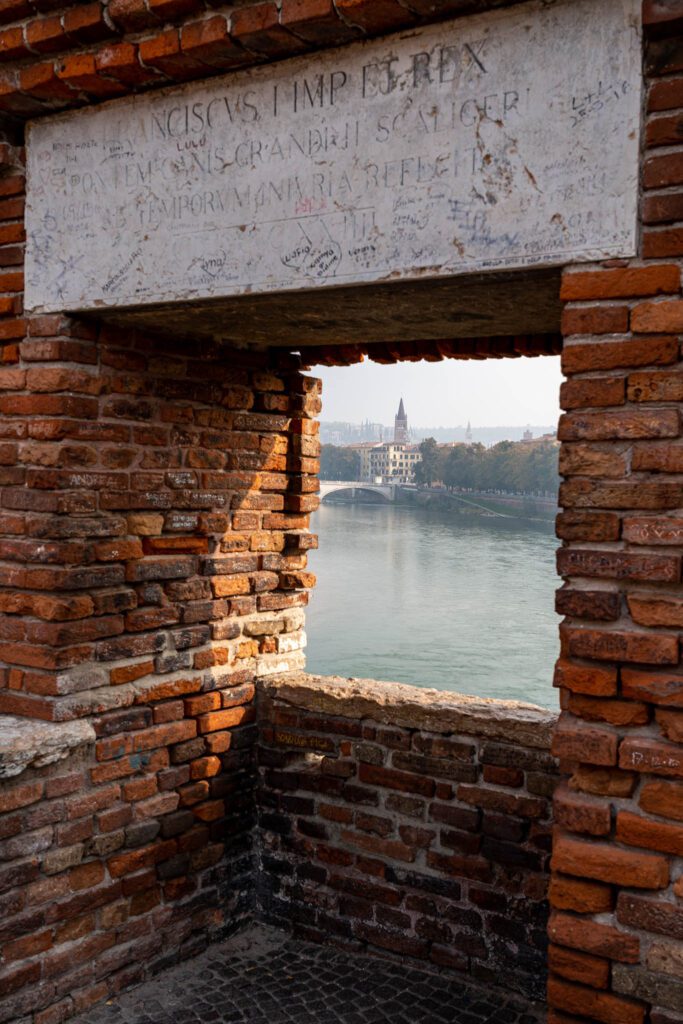 We actually check out the nearby museum – Museo di Castelvecchio – which has a cool collection of Veronese art that is very vibrant and cartoonish (I don't mean that in a bad way – I mean it more as an antonym to realism, the art style) when compared to some of the Renaissance art in places like Florence, and some excellent views from the top of the castle walls.
However, with only a day in Verona, we'd save it for next time. If you have 2 days in Verona, like we did, this would be one of the first things we'd add. More on what else to add below.
The Roman Theater Archaeological Museum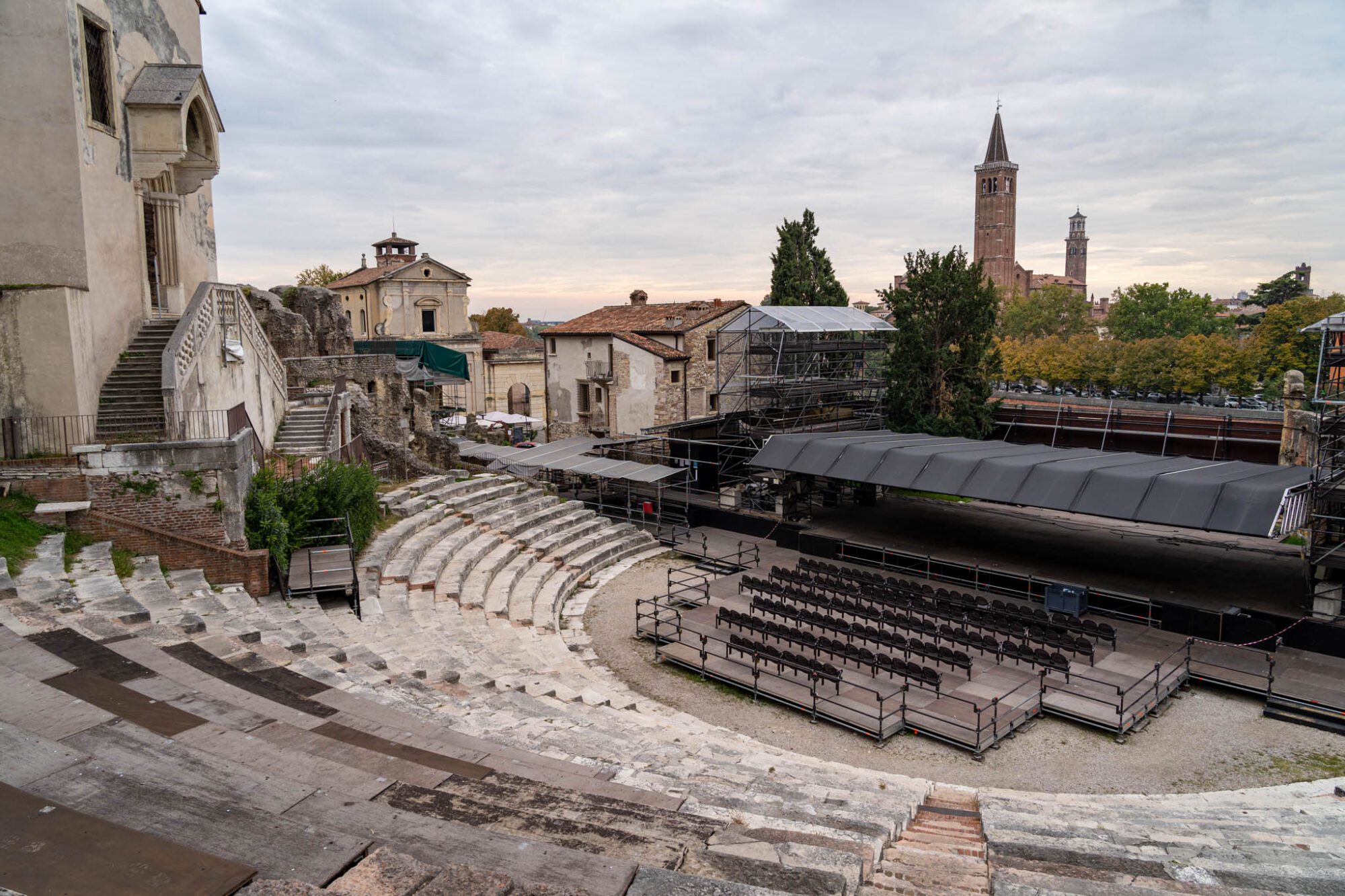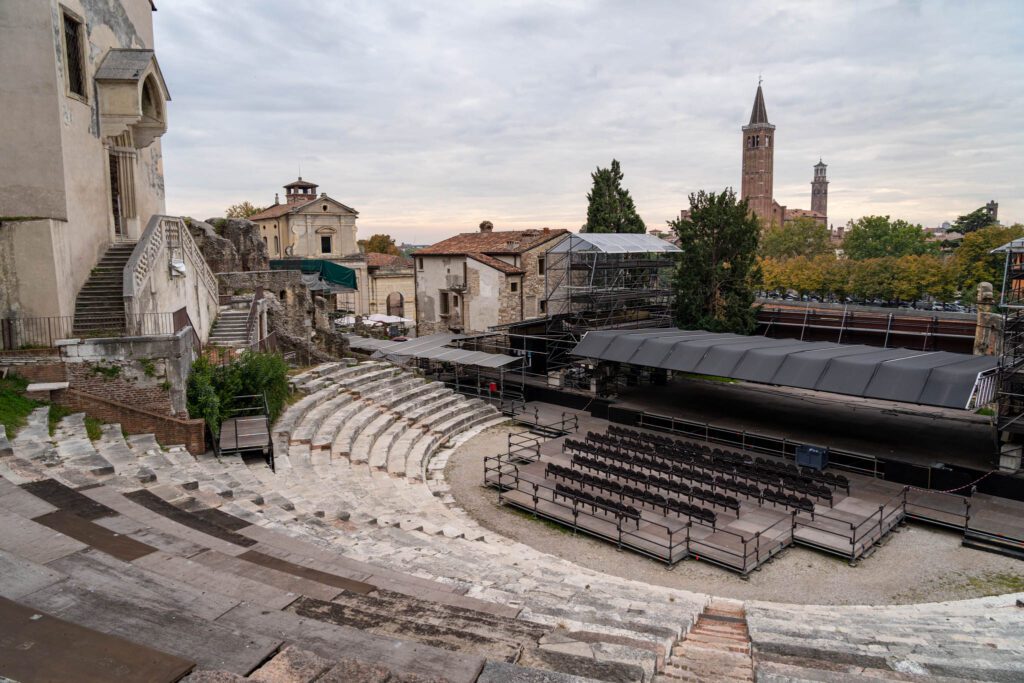 The Roman Theater, not to be confused with the Arena (yes, it's confusing), was an unexpected delight. The Amphitheatre itself was fine – we were jaded having come to Verona from Sicily, land of the spectacular amphitheaters – but we'd recommend it if you haven't seen a semi-circle theater yet.
The highlight for us, though, was the museum above the theater. It was one of the places where we said "let's just pop in and see if we're into it" and ended up staying for an hour marveling at the detail on the marble statues, or the huge tombstones in the courtyard.
How many people today have the patience to polish a bronze statue for FIVE YEARS before it's ready to be unveiled? I'd argue not many, and I certainly don't.
There are some great views of the city from the outdoor portion of the museum too, which are worth seeing. Though you'll get similar (I'd argue better) views from the ascent to the castle, which is your next stop.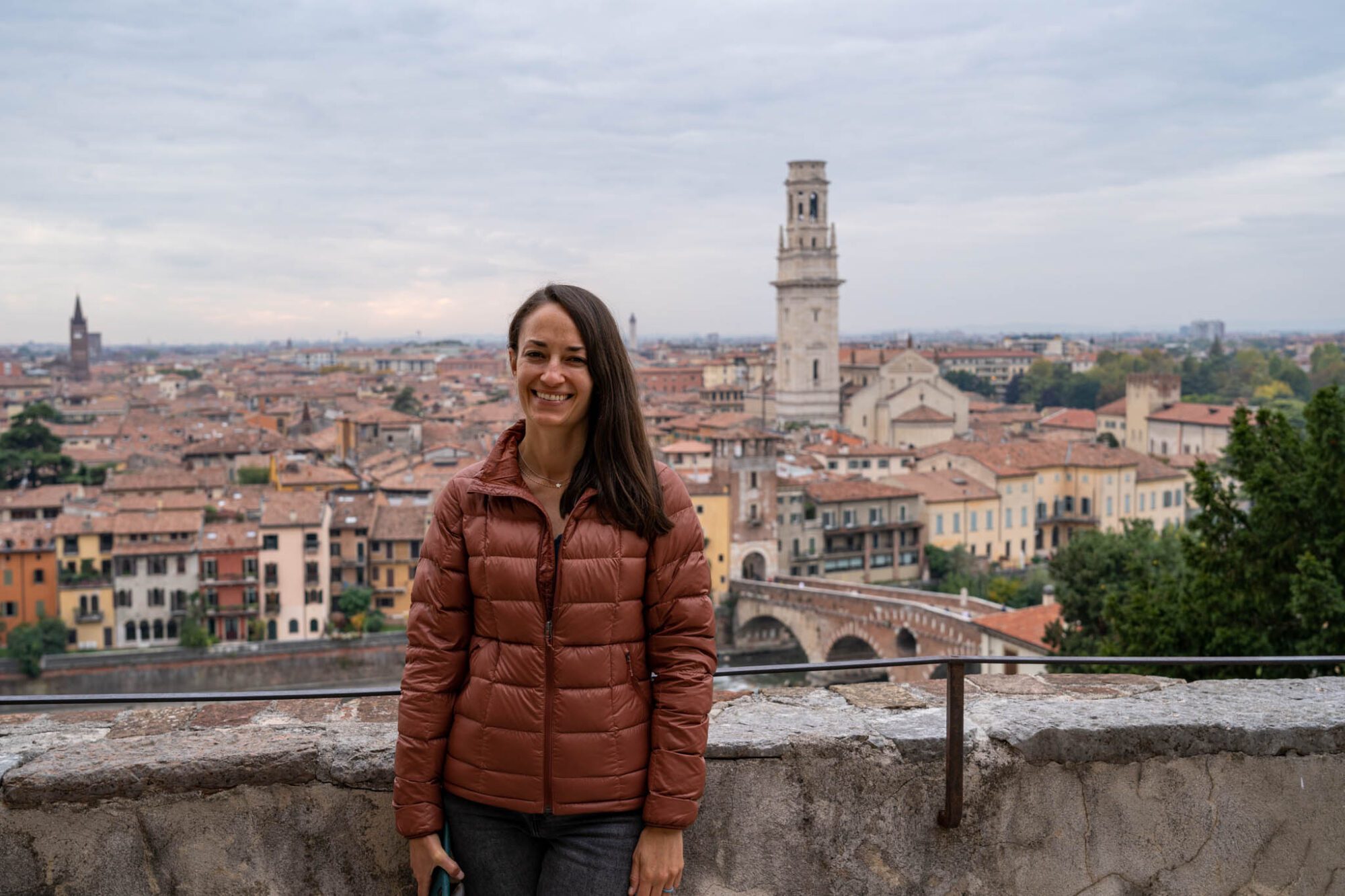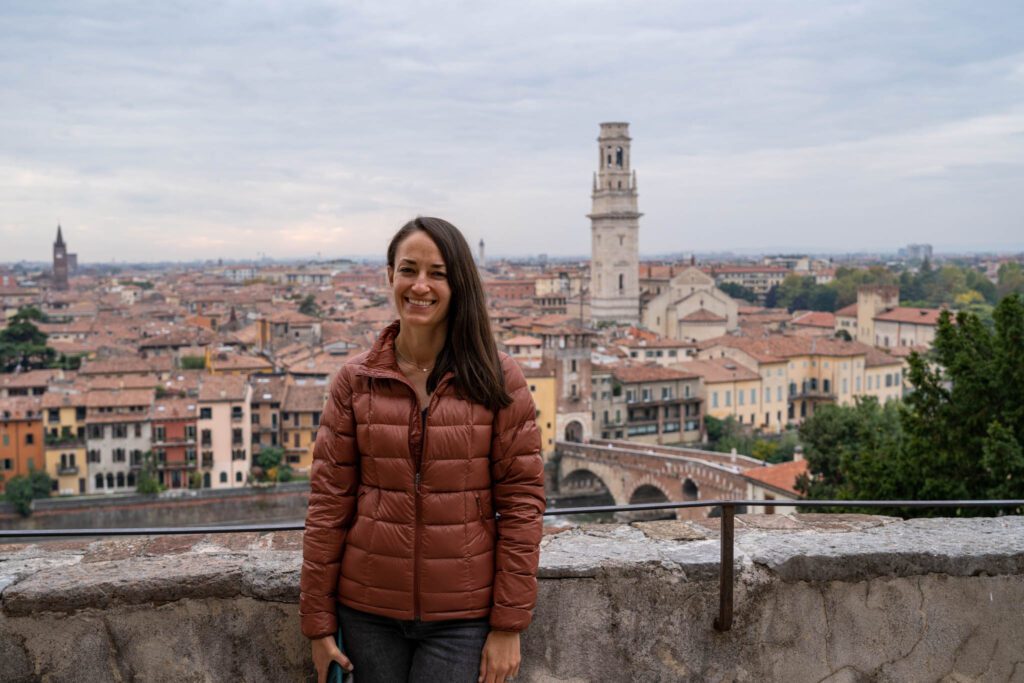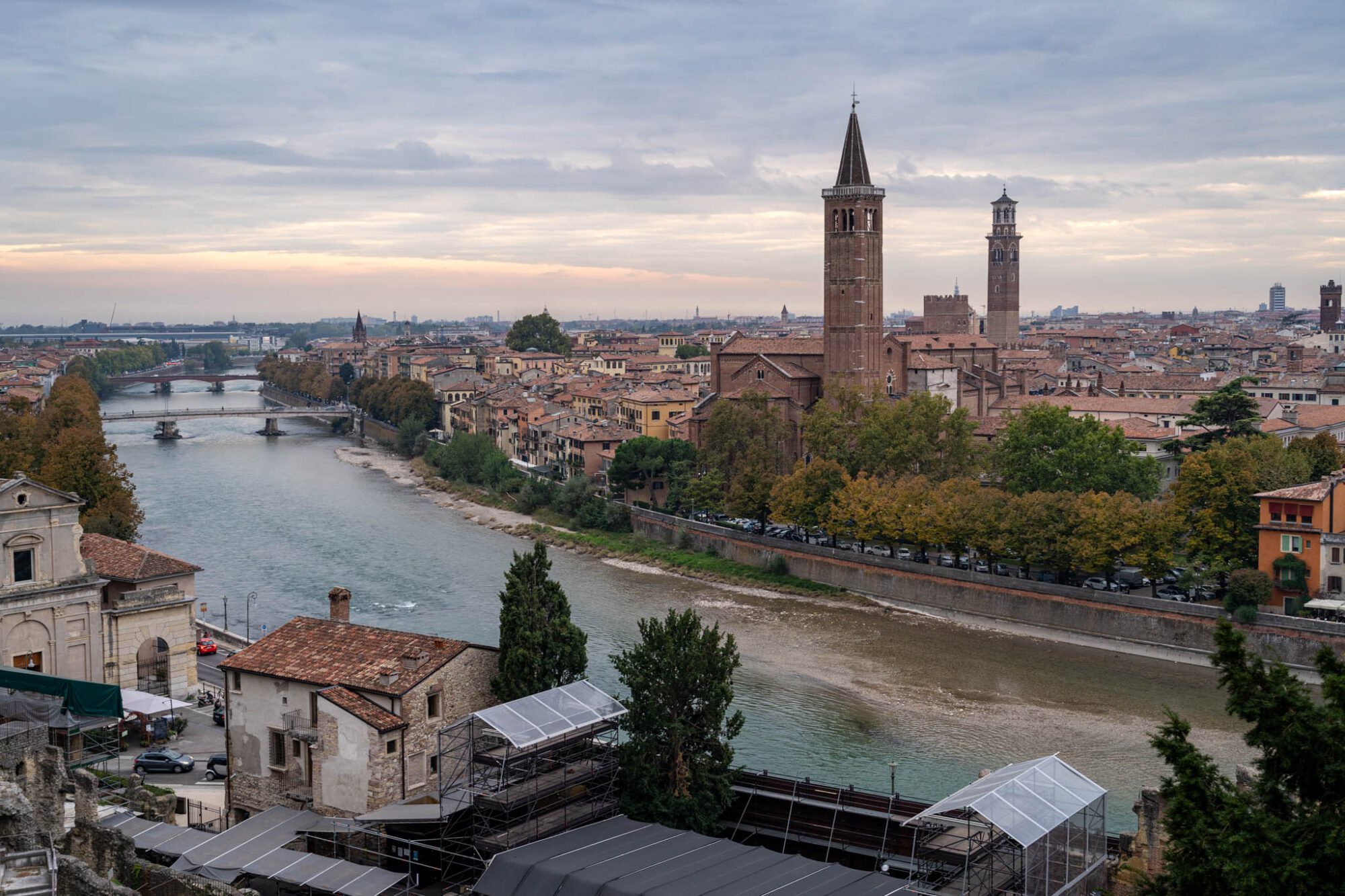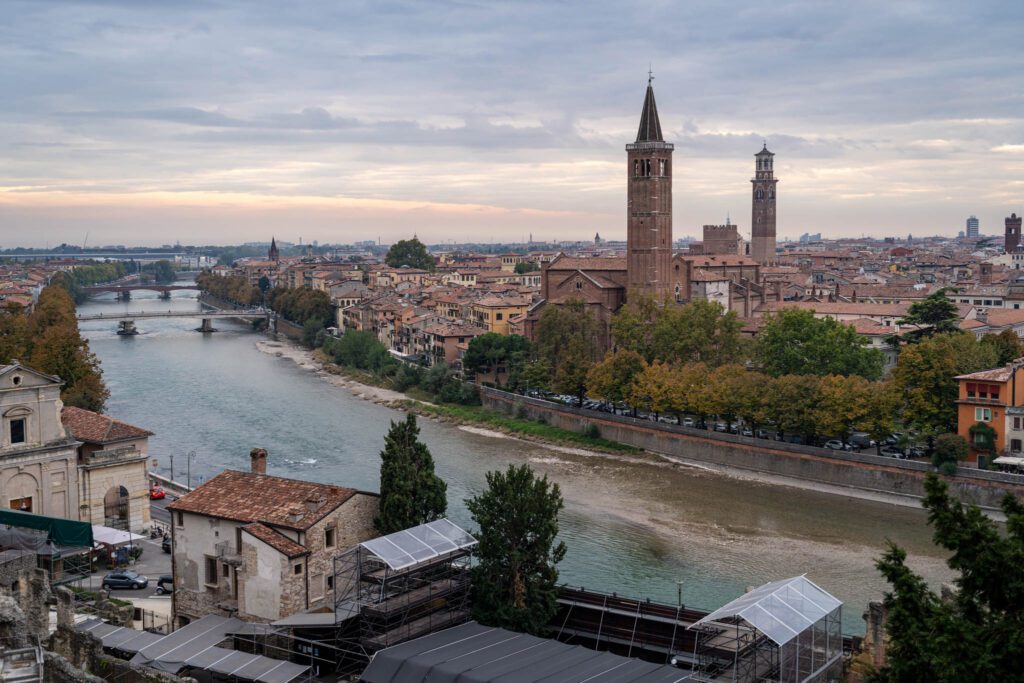 Practical Information: Cost is 4.50 Euros per person without the Verona Card (reduced is 3 Euros). Open Tuesday to Sunday from 10am to 6pm, closed on Mondays. More information here.
The Best View in Verona from Castel San Pietro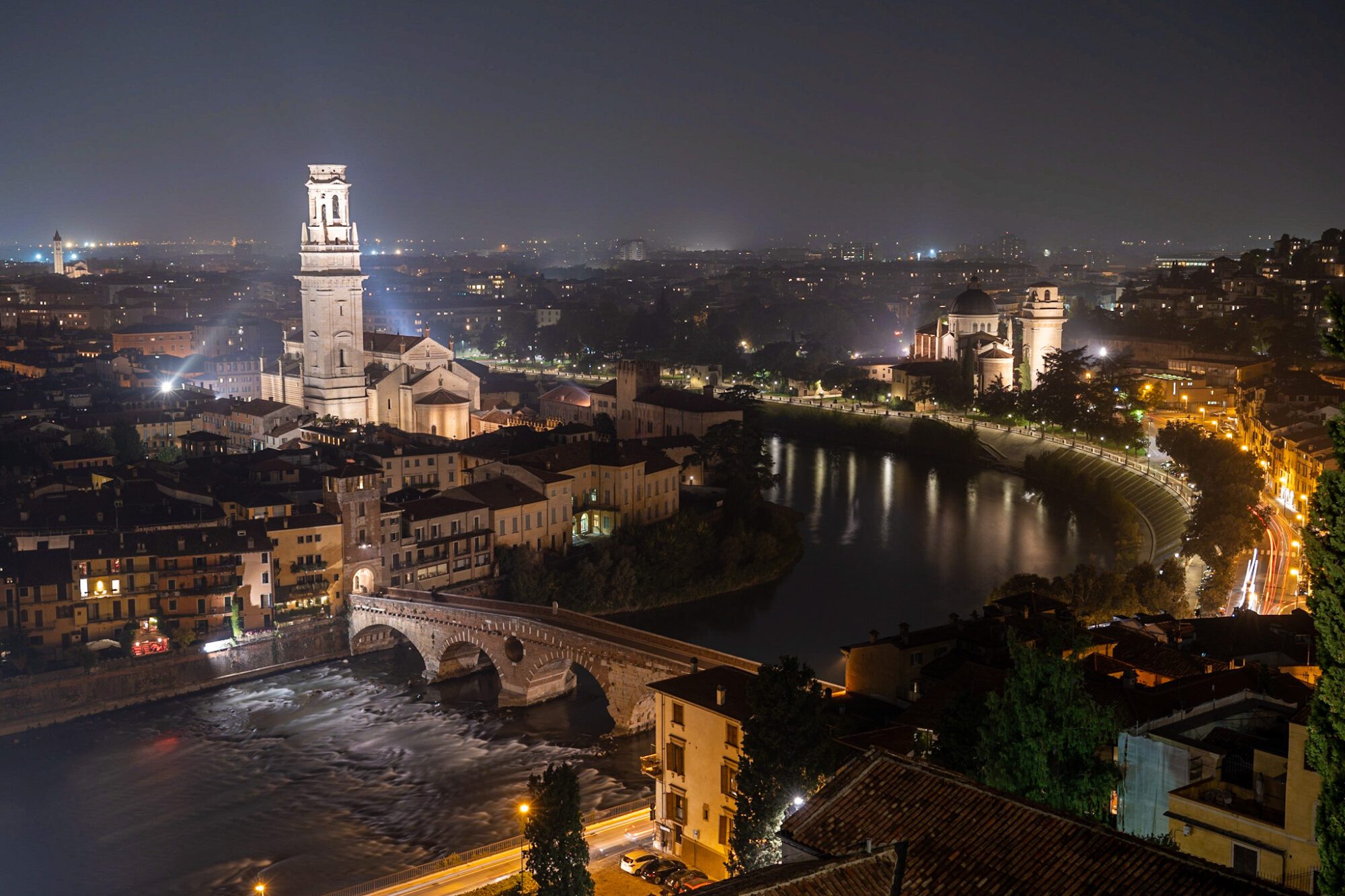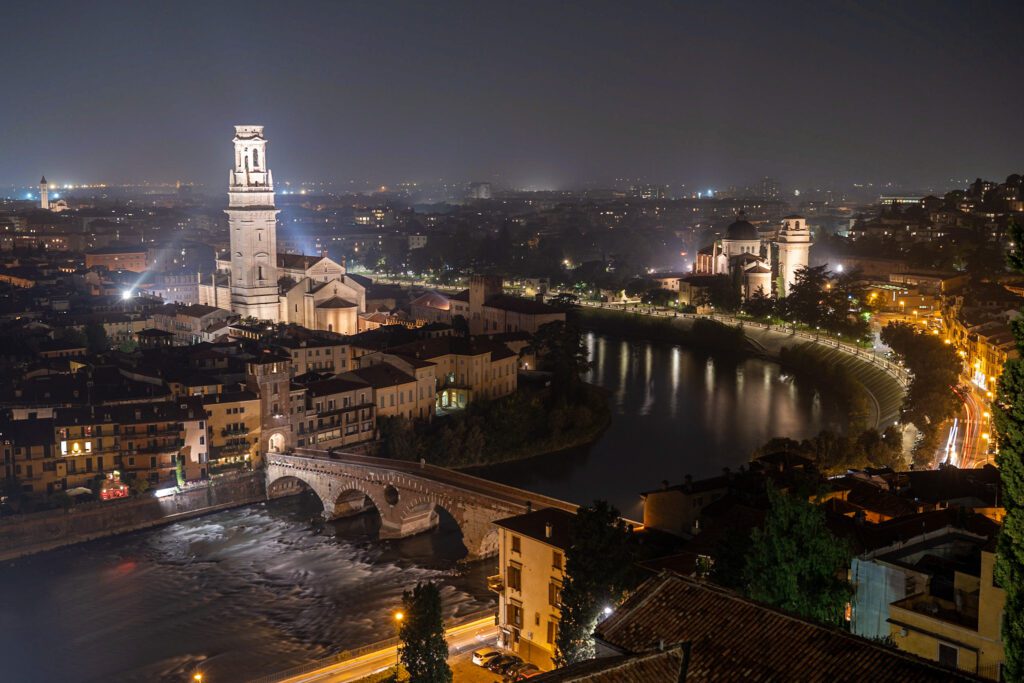 The host at our apartment gave us a crash course in what to do in Verona when we checked in, and number one on her list was going up to Castel San Pietro at sunset or at night. It was a short walk from our apartment on the east side of the Adige River, so it was our first stop in town.
There are two ways to get up there. First is the funicular, which costs 2 Euros per person each way and closes at 8:45 pm.
The second, more popular way (and the way we did it) is to walk up the long set of stairs. It's a climb for sure, but there are some incredible views of the city across the river as you go, ending with the grandest views of all from the top, where you'll find everyone from students to older couples sitting on the benches or the wall admiring the city below.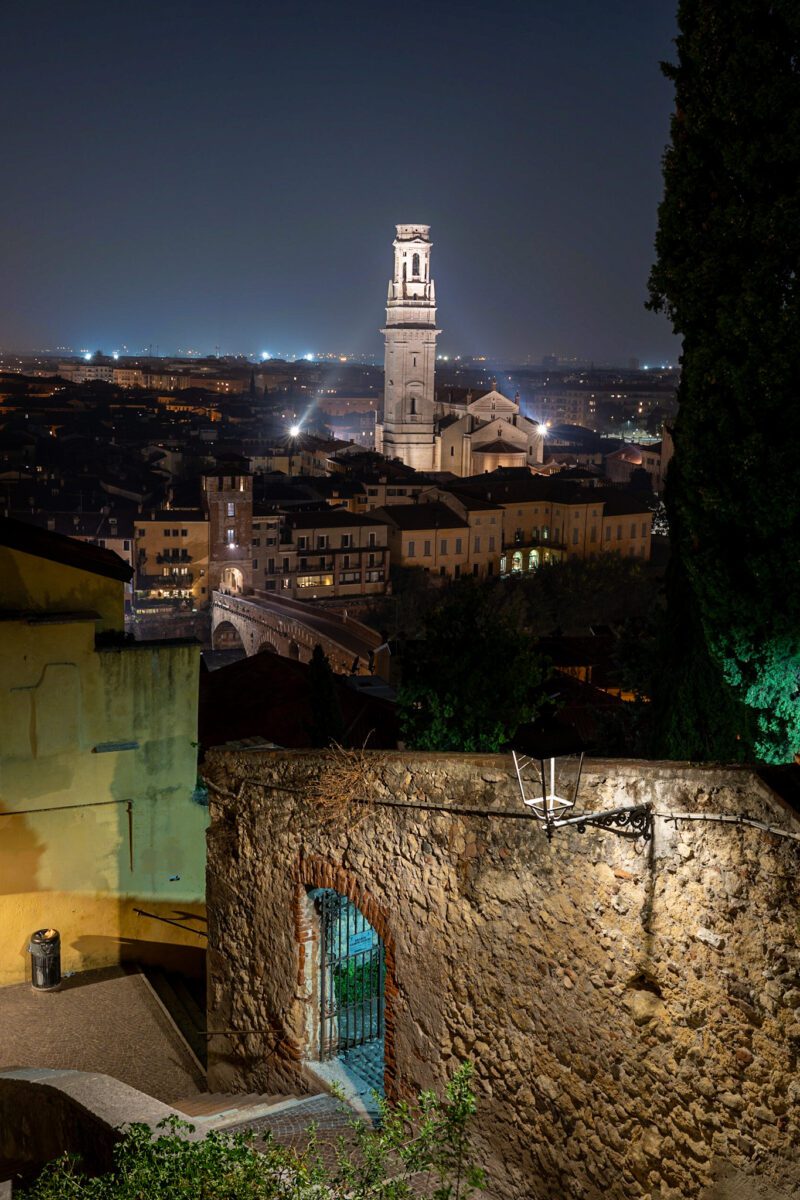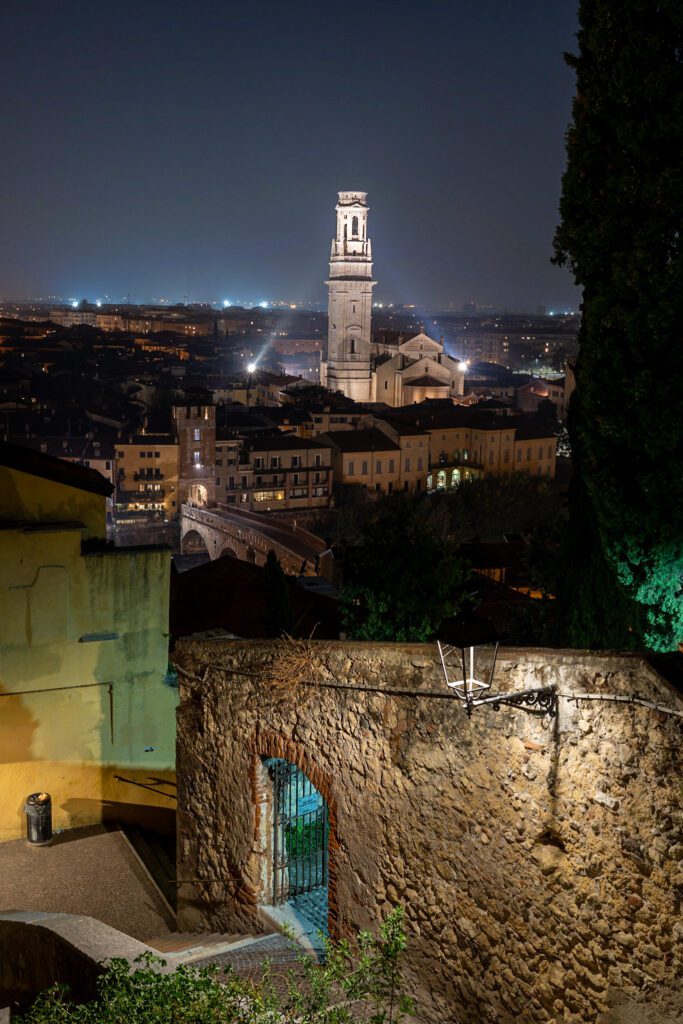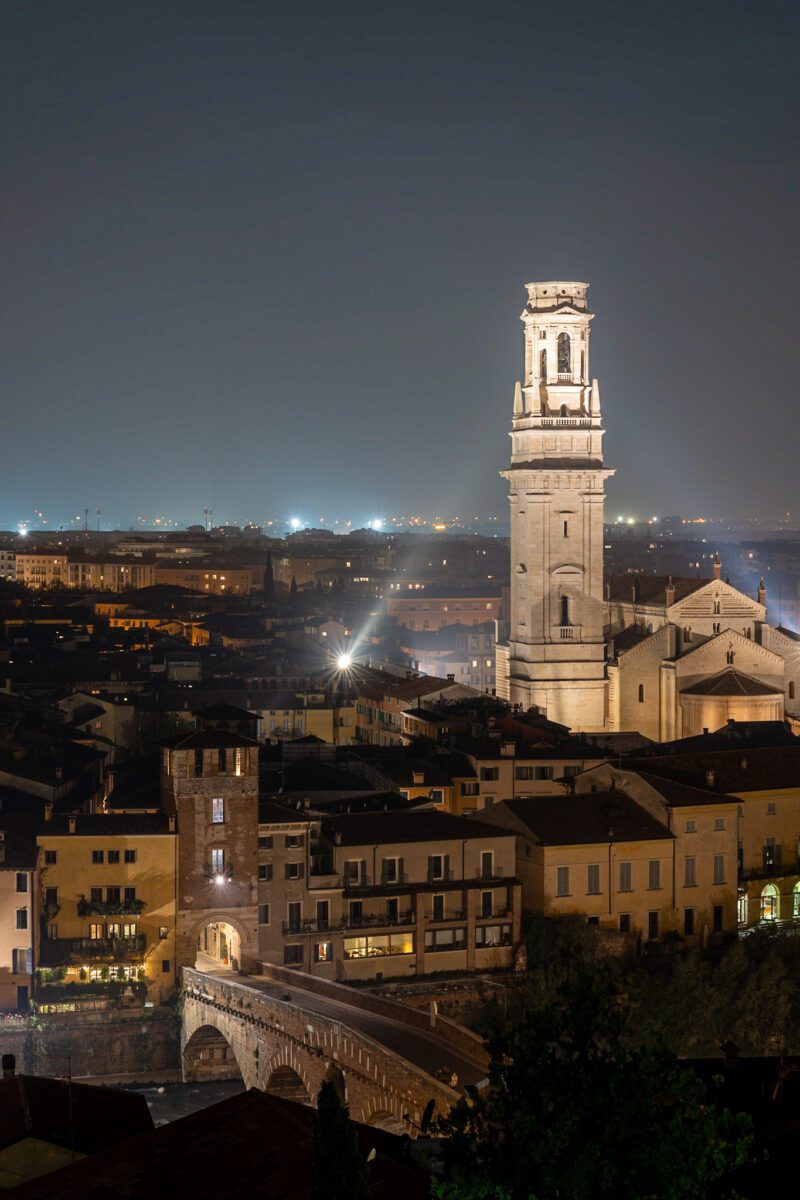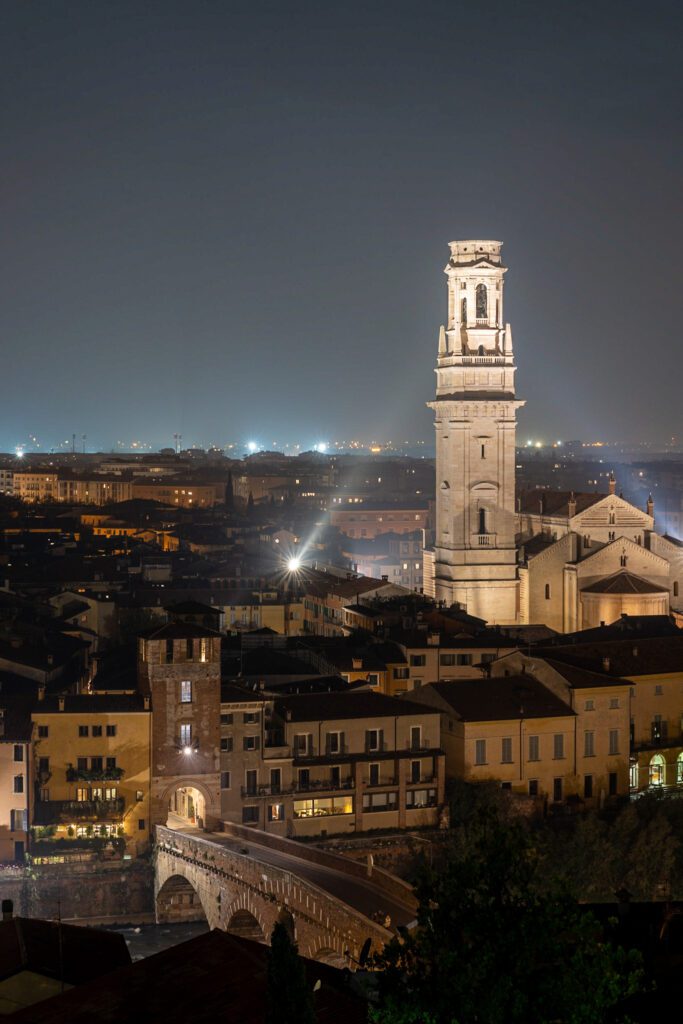 You don't actually need to go into the castle – only if you have more than one day – the reason you're here is the amazing views.
To get down, simply head back the way you came. If you're unable to do the walk up the stairs, we'd suggest taking the funicular up and walking down so that you don't miss those views along the way.
Trying Veneto Wine
Little did we know, Verona is near a wine region called Veneto, which means delicious and cheap wine is right at your fingertips.
It's not as famous as more well known regions like Tuscany, but that's also a little bit of a positive because it means the wine is generally going to be cheaper than in places like Florence. You can get some amazing glasses of wine for about 3 Euros, sometimes even cheaper.
The grape varietals are a little different than we've seen elsewhere, so we set out to find a place where we could try some local wines made with grapes we'd never really heard of (we're not exactly knowledgeable about wine).
We discovered Osteria ai Portegheti through Along Dusty Roads, who are one of our favorite travel blog couples for their great photography, strong point of view on travel, and their practical recommendations for traveling around Italy (and other places). Their voice also comes through their writing loud and clear, which is something I strive for. Definitely go check them out!
Anyway, Osteria ai Portegheti has a whiteboard with a list of local wines to choose from. It was across the river from the center right at Ponte Nuovo (a bridge), which means it was a hop, skip, and a jump away from our apartment in Verona.
I walked in and mistakenly said "buongiorno" at about 7:30pm, which the off-duty bartender/sommelier jokingly gave me a hard time for, and we proceeded to try four different Veneto wines – all whites, because white wine is delicious – and we came away with our favorites. The staff was very helpful in choosing wines (sweet vs. dry, structure vs. light, etc.) which I appreciated.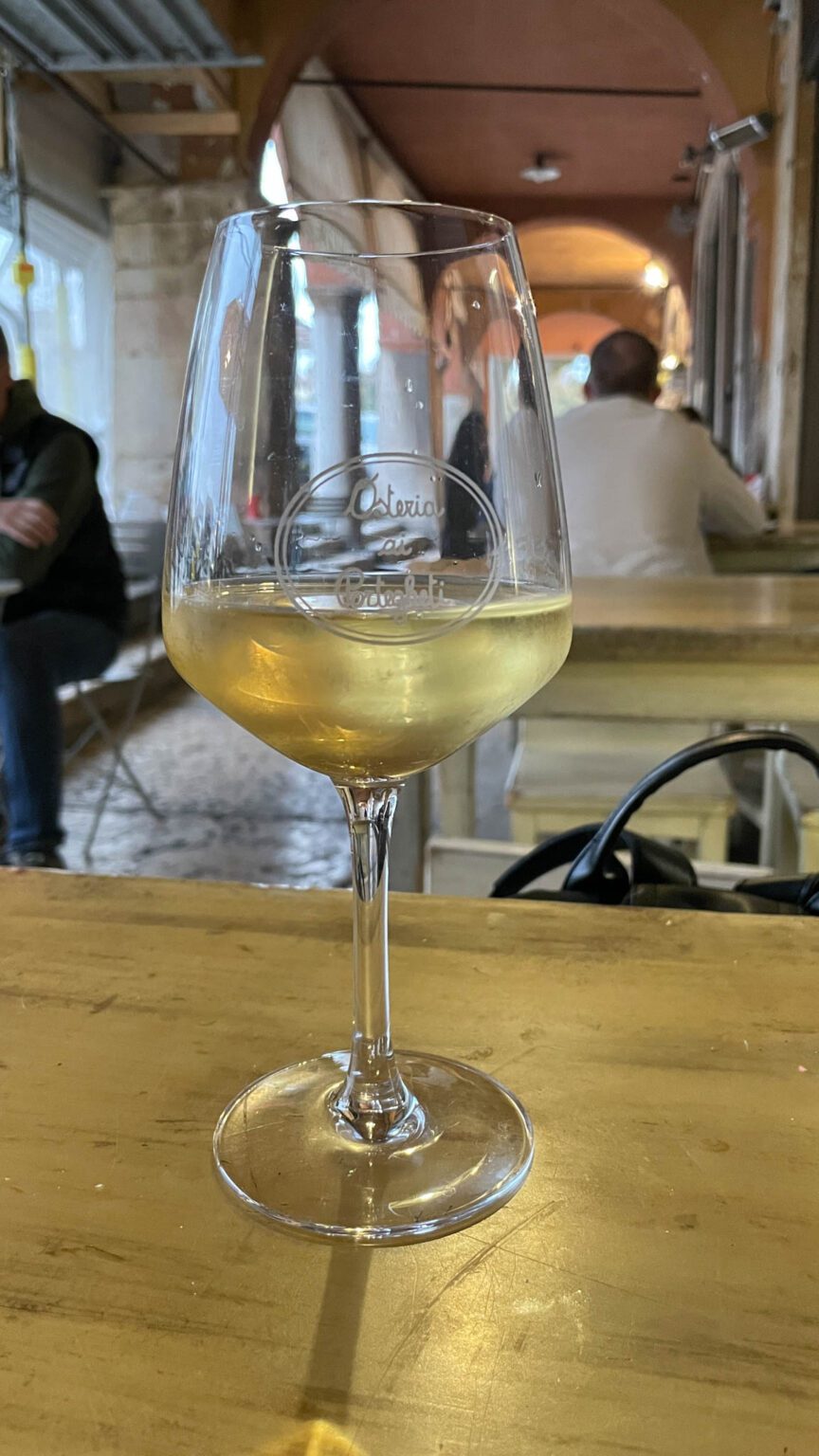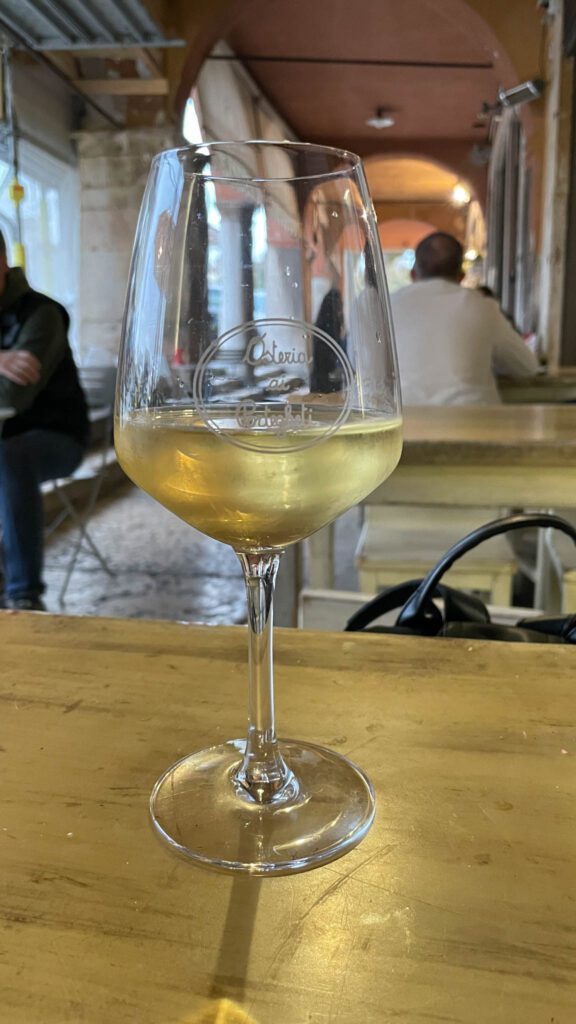 Your tastes obviously may vary, so here's a guide to Veneto wines that we read and used to inform our choices. Our favorites were the Durello, which was sparkling, and the Custoza, which was dry and acidic (almost to the point of being sour, which we actually liked).
More Time in Verona? Here's What to Add if You Have 2 Days in Verona
If you have 2 days in Verona, we'd mainly focus on spreading out the activities in the itinerary above, though there are a few extra things that we did that we'd suggest adding. Bonus: All of these attractions are also included in the Verona Card.
Museo Castelvecchio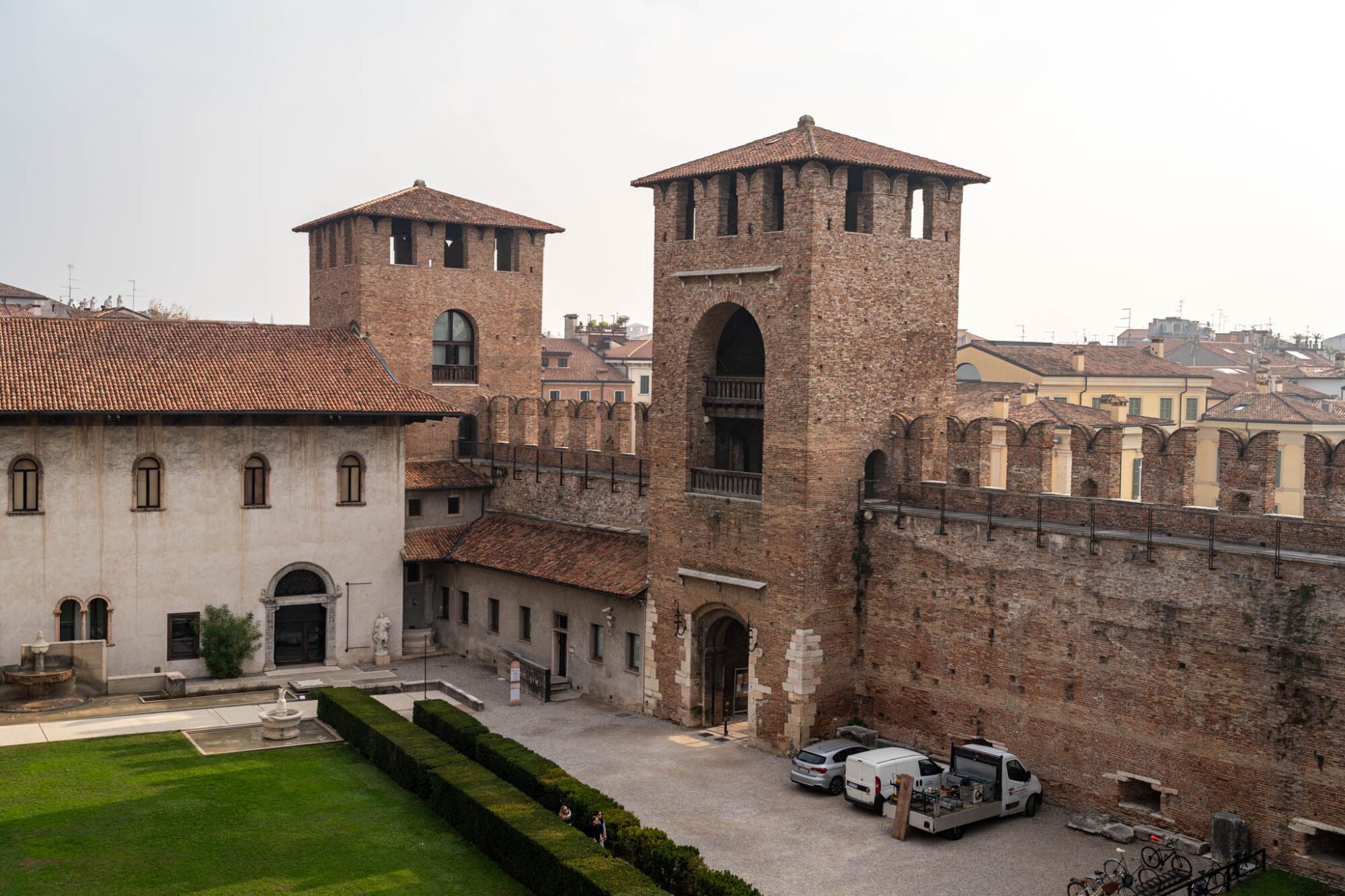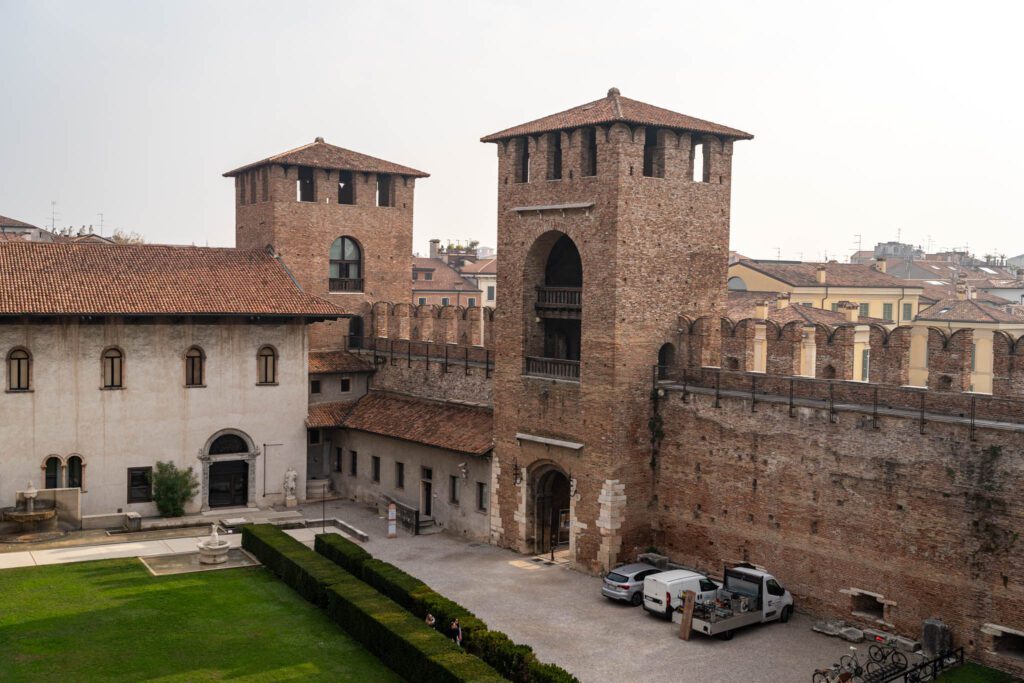 The first is Museo Castelvecchio, which has two things going for it.
First, a great collection of Veronese art, which is much more lively, vibrant, and colorful than some Renaissance art that you'll see in places like Florence. It's much less realistic, and much more fun (for lack of a better word).
Second, the views from the castle walls are great, particularly from the backside along the river, where you'll get a nice view of the bridge from above.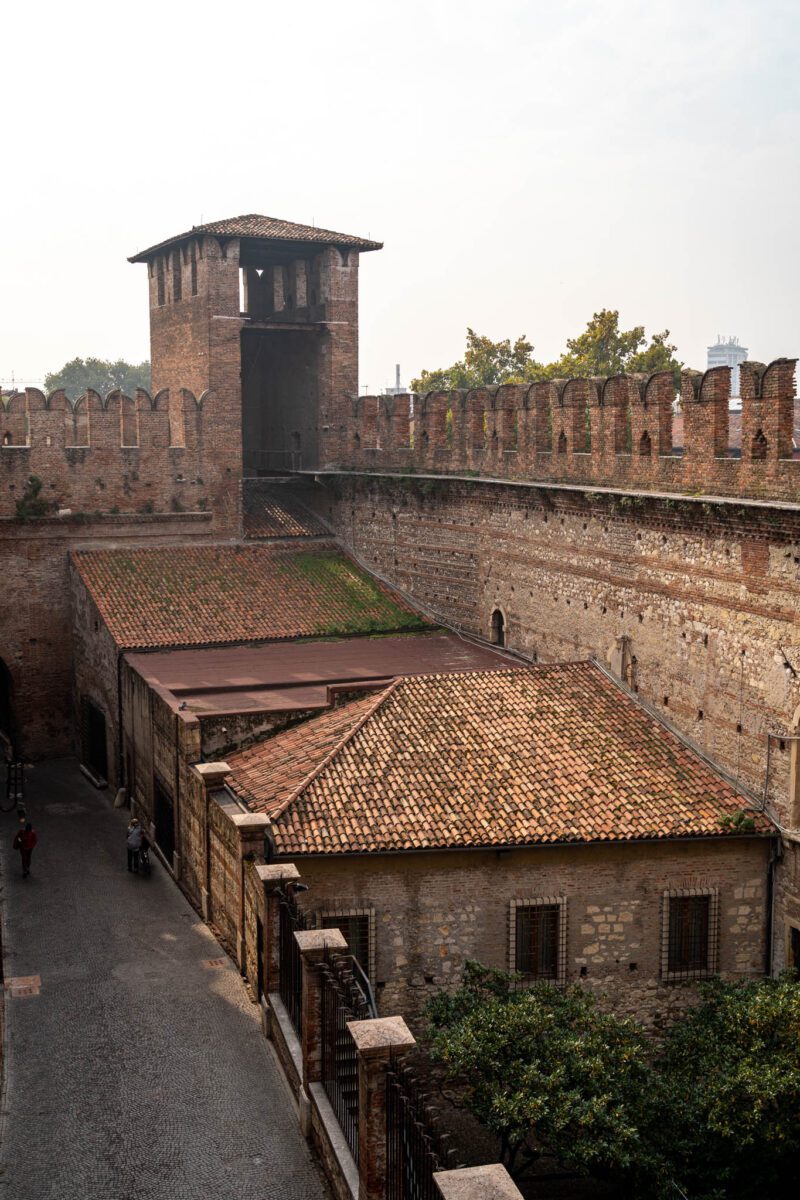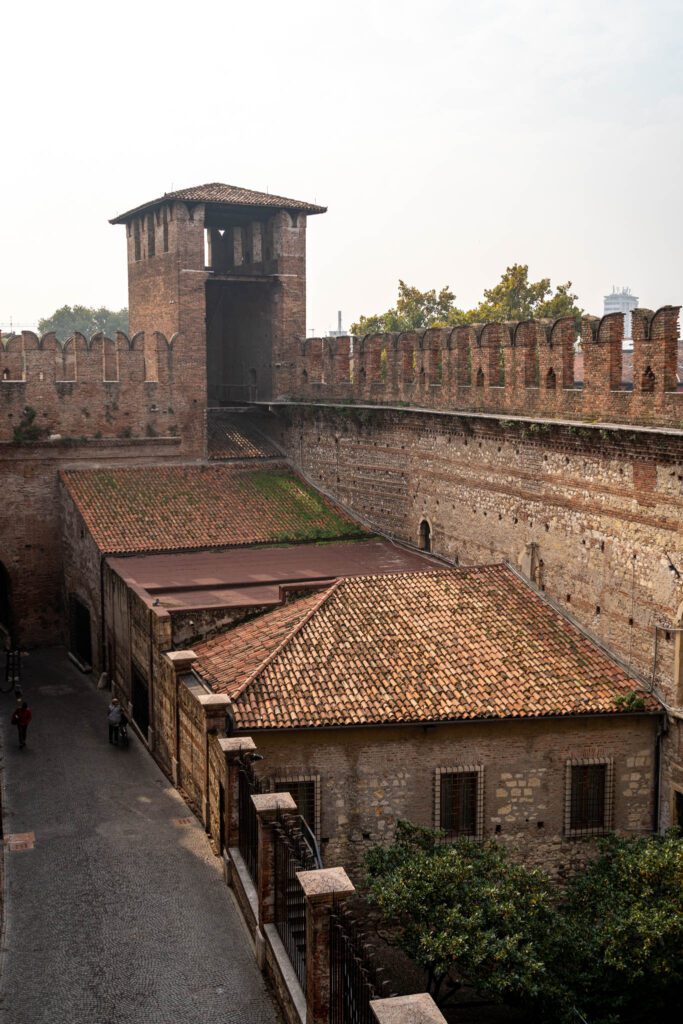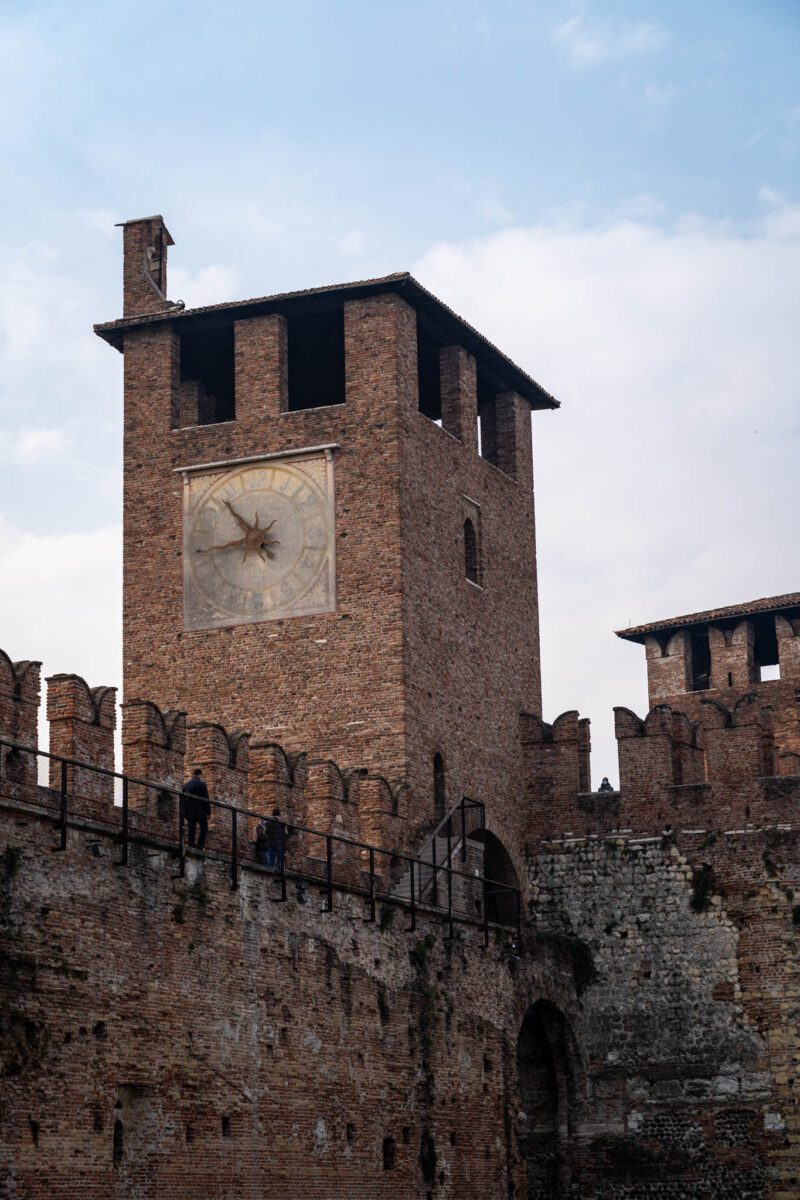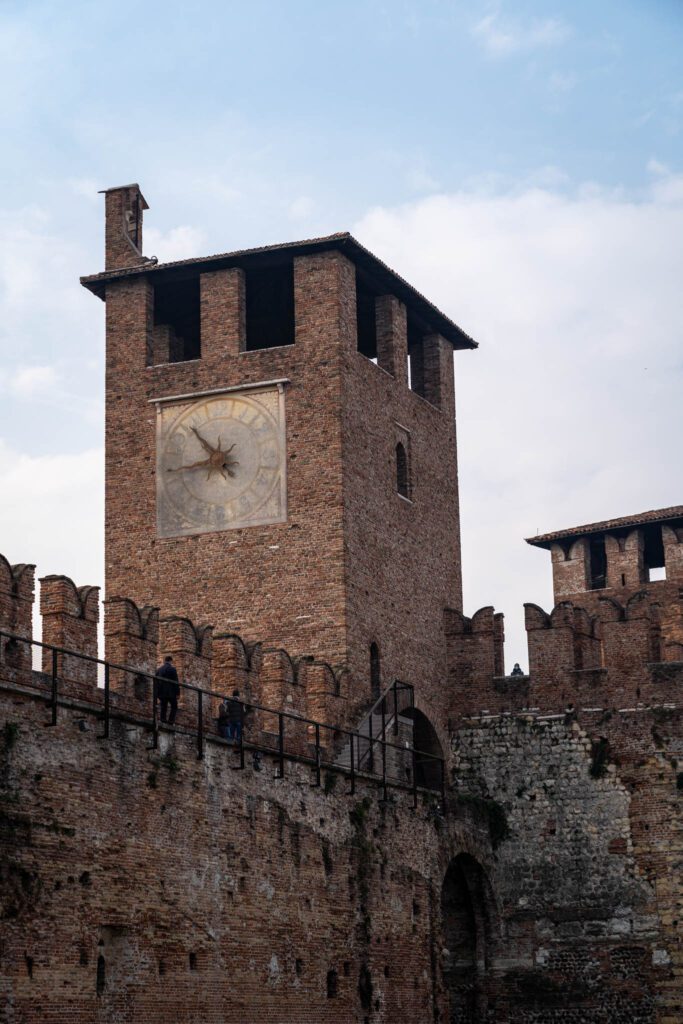 More information here.
The Museo Degli Affreschi
A pleasant surprise for us! It's in the same place as the Tomba di Giulietta (Juliet's Tomb, another underwhelming spot), but the museum piece is full of pretty incredible well-preserved frescoes.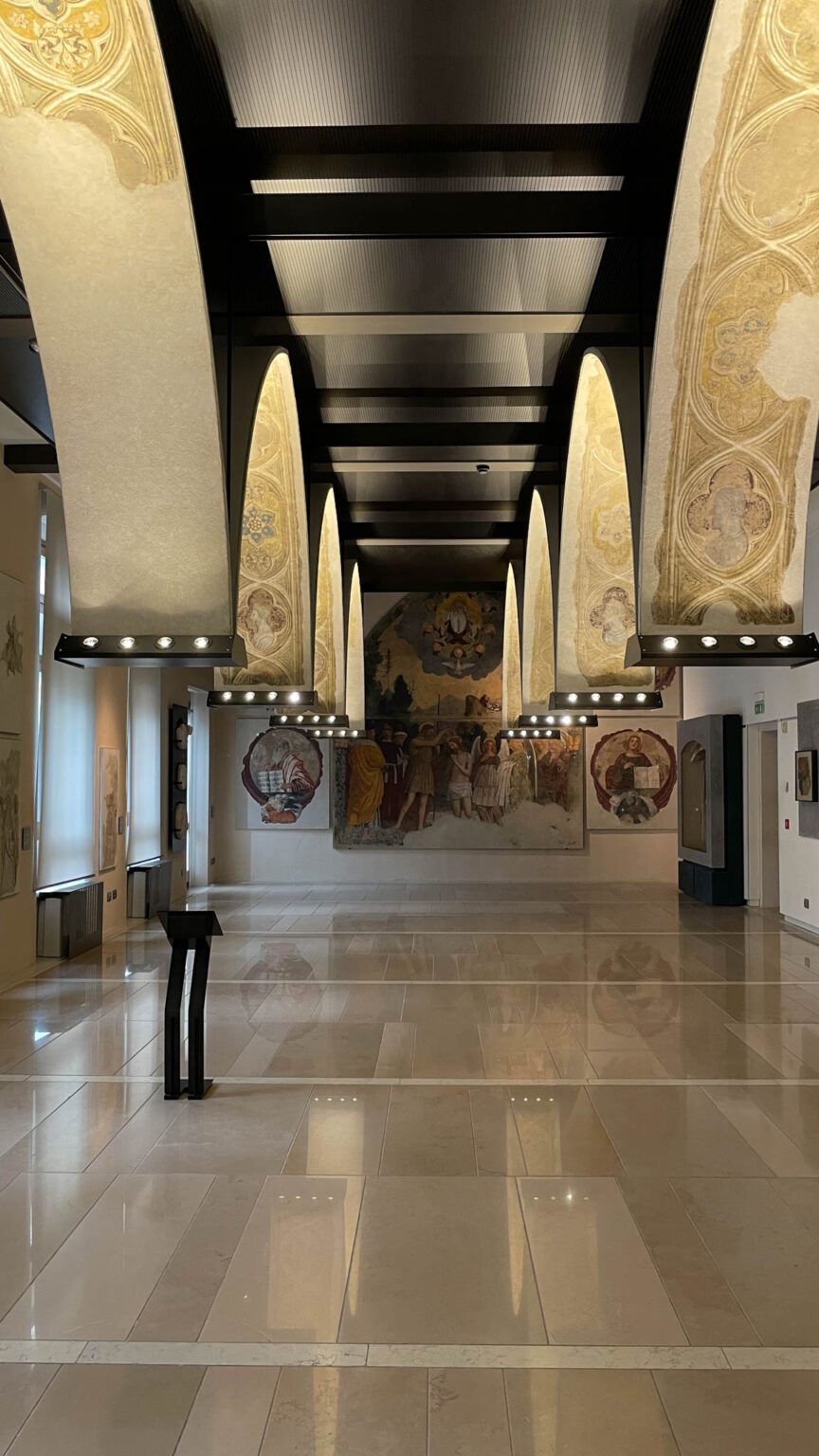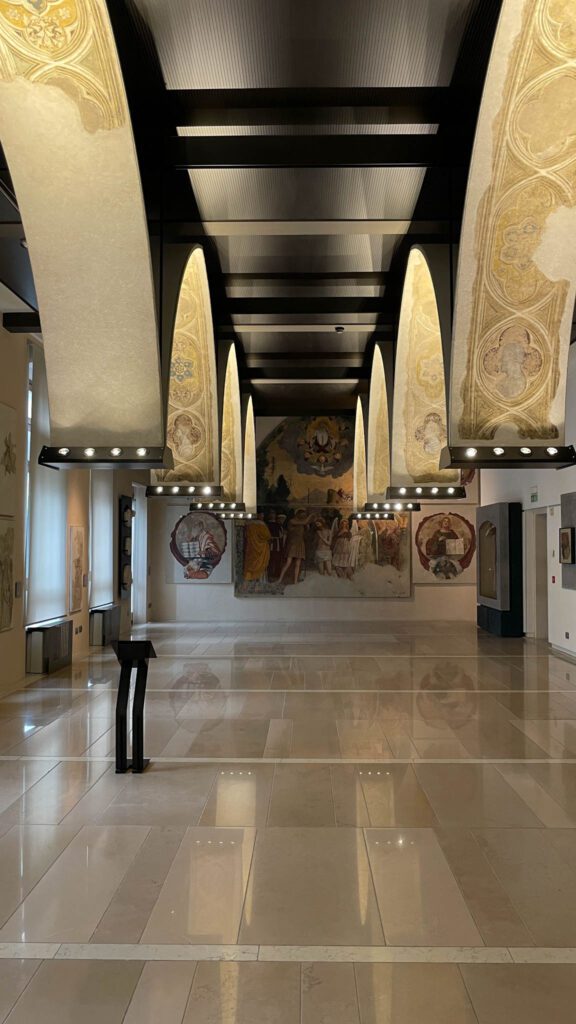 Including one that includes the papal tiara, which was what Alysha was calling the crown-ish hat that the pope wears without knowing that it is, in fact, called the papal tiara.
More information here.
The Torre dei Lamberti
Great views of Verona from the top of the tower, but we think it doesn't quite make the cut if you have limited time. With a second day, we'd add it. Go early so that you don't get stuck in a long line of tour bus tourists on a day trip to Verona.
More information here.
Where to Stay in Verona
Like we've said a couple of times now, Verona's a pretty small city, so anywhere you stay is going to be plenty convenient for exploring.
We stayed in an amazing apartment – Letters to Juliet – across the river from the center of Verona in the city's oldest neighborhood called Veronetta.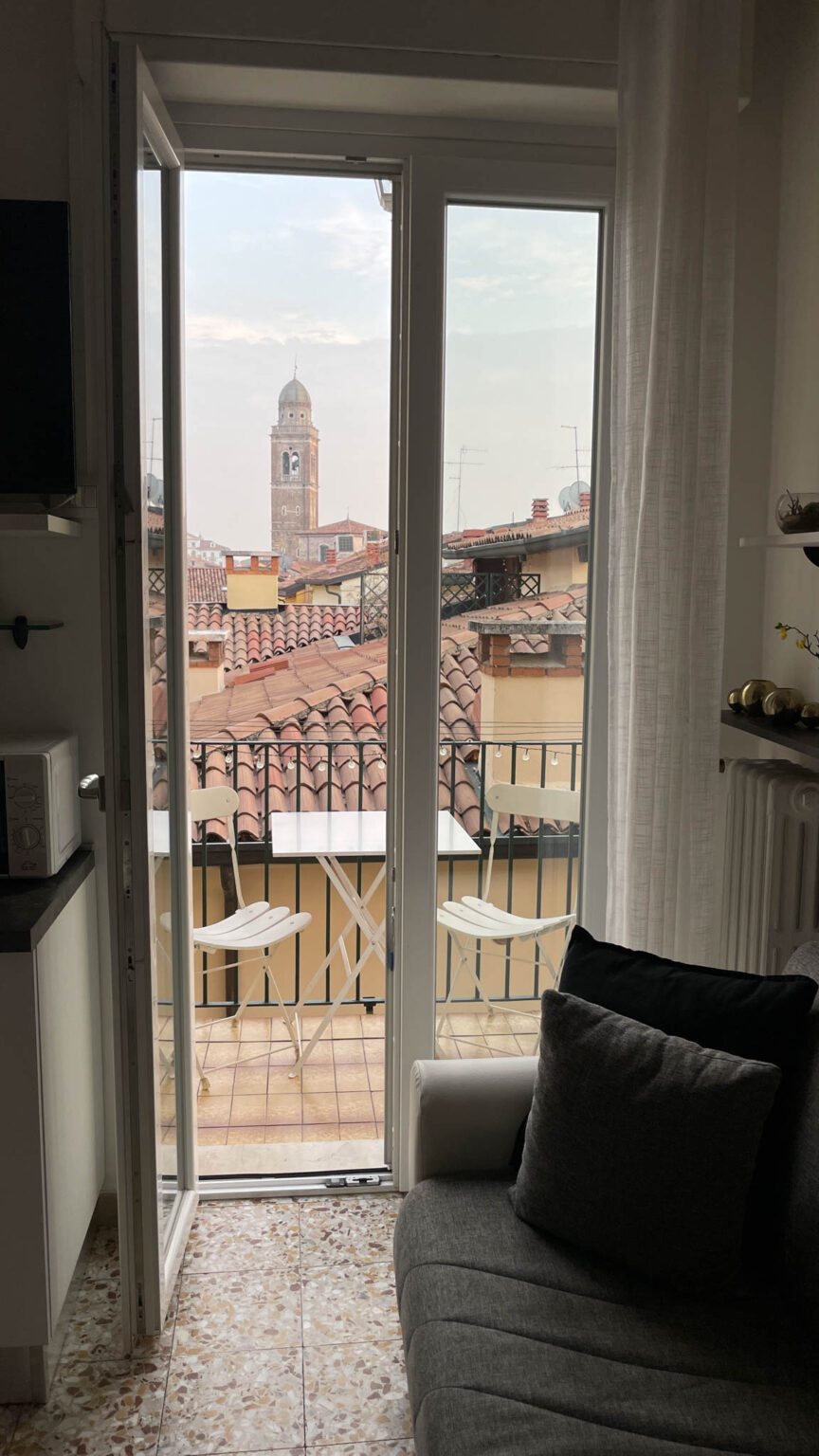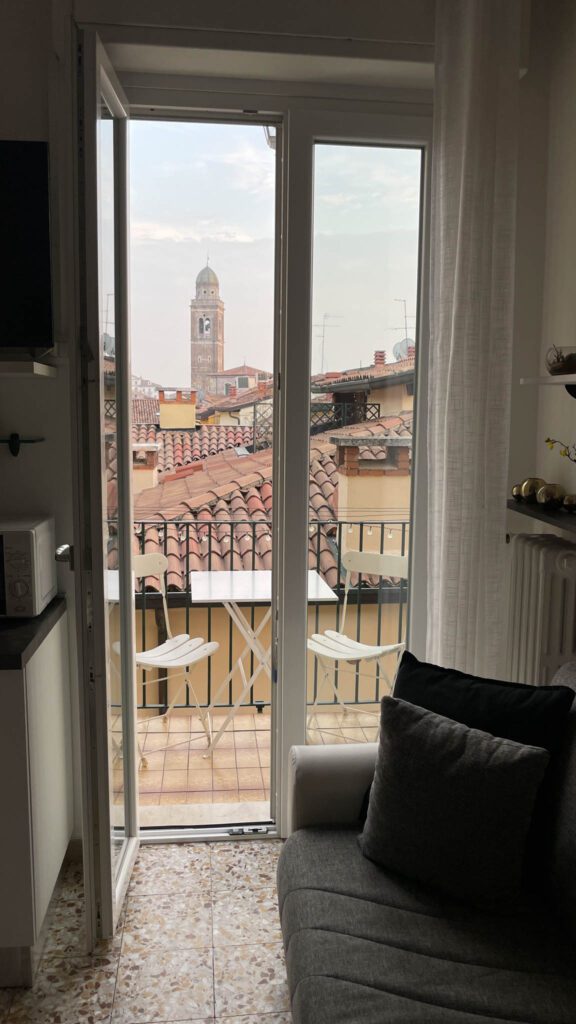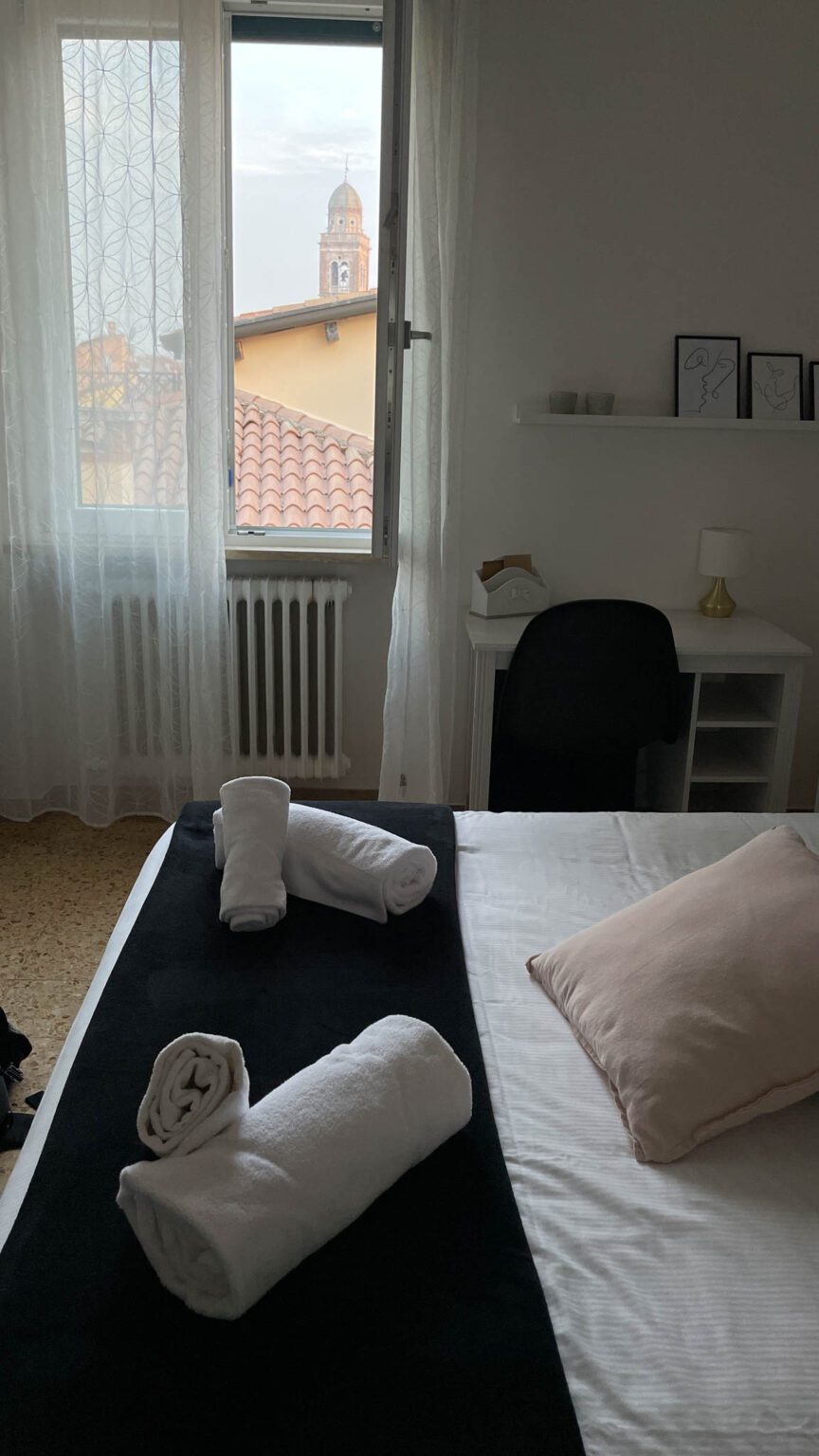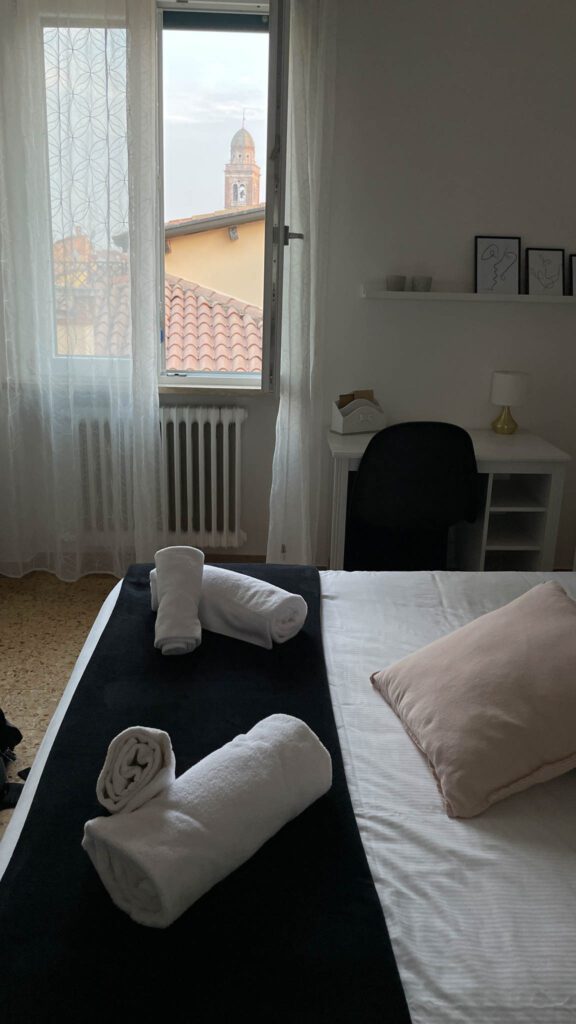 The apartment has enough room to accommodate groups from two to six (with a king bed and two separate rooms with twin beds), a full kitchen, a washer AND a dryer, and a magnificent view from the balcony and other windows in the apartment. We loved it, and highly recommend it.
And this is the view from the balcony.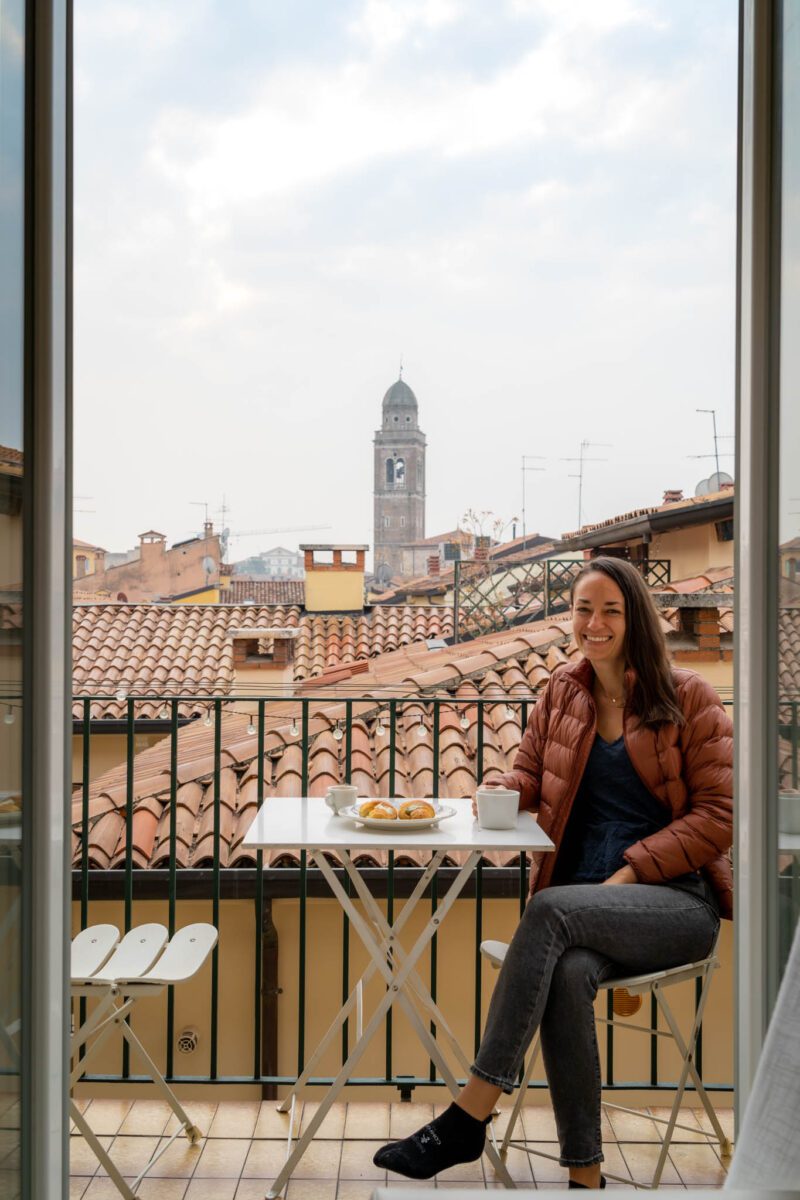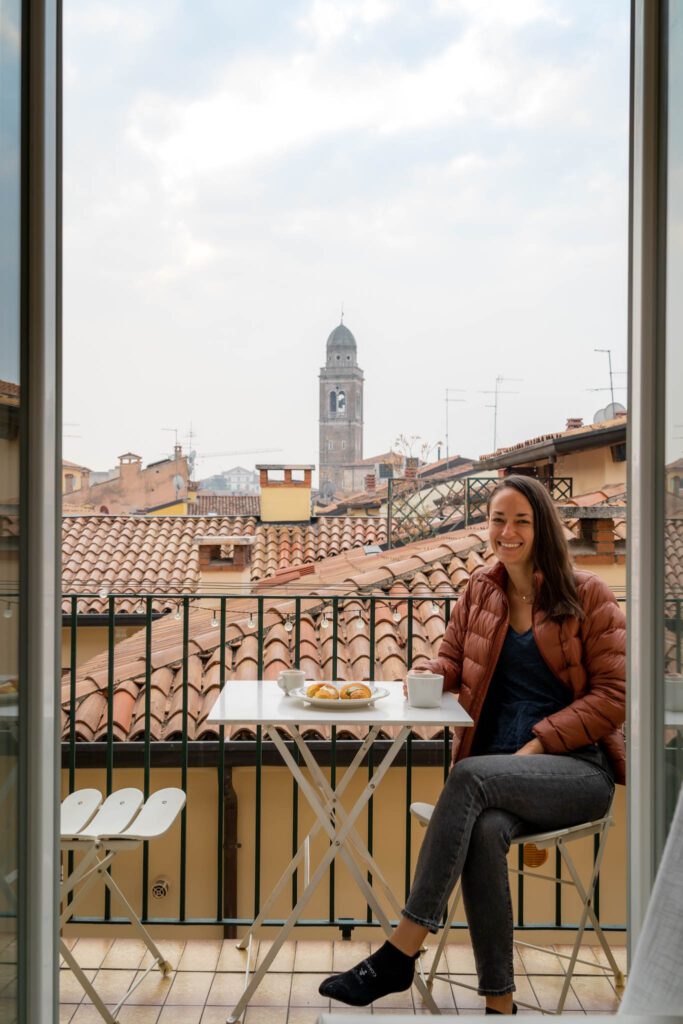 Click here to check prices, read reviews, and see availability for Letters to Juliet.
If you want to stay in the historical center, we'd highly recommend staying either in the northern half of the area, which is far, far less packed to the gills with tourists at all times than the southern part closer to the Arena. It's quieter and much more romantic, we think, after we did a couple of early morning and evening strolls.
Getting Around Verona
Verona is a very walkable city, and the best way to explore it is to use your own two feet. It's a series of picturesque alleys with fantastic views around every corner of one of the many towers in Verona. It's lit by romantic lantern-feeling streetlights in the evening, and we enjoyed strolling the streets before and after the day trippers on big tour buses showed up (usually before 10:00 am or so, and after 7:00 pm).
We actually don't think you'll need to use the bus other than getting to and from the train station or airport. Here's how to do both of those things.
Getting from the Train Station to the City Center
Keep in mind, there are two train stations in Verona: Porta Nuovo (the main train station south of the center) and Porta Vescovo (east of the center).
Getting from the main train station – Porta Nuova – to the city center is a breeze. As you exit the train station, there's a bus station. You can either buy tickets at the kiosks on the platform (they accept cards or cash), or choose to validate your Verona Card and start the clock on your access to Verona. Multiple buses, including the 11, 12, 13, 30, and 73, all go through the center of Verona.
For 1.30 Euros a person (good for 90 minutes), you'll be in the center of Verona in 15 minutes or so once you're on a bus.
You can also take a taxi from the train station to the center if you have a lot of luggage, but we'd recommend the easy bus ride for most people.
Getting to the center from Verona's other train station – Porta Vescovo – is less easy. The best way to do it is to walk a bit north to the bus stop at similarly-named Porta Vescovo (here on Google Maps), where you can take one of many buses to the center (again, it's the 11, 12, 13, 30, and the 110). It's a 10 minute walk from the station to the bus stop.
Getting from the Airport to the City Center
The Verona Airlink is an easy way to get from Verona's airport to the main train station – Porta Nuova. You want Line 199 from the airport. Here is the timetable. It costs 6 Euros, and takes about 15 minutes.
From the train station, simply follow the instructions above on getting from there to the city center! You can use the same ticket as the Airlink – it is valid for 75 minutes and includes other buses in Verona's transit system.
---
Heading to Italy?
We've been to Italy multiple times – obviously we love it – including more than a month on our last trip!
If you enjoyed this guide and found it helpful, you definitely won't want to miss our detailed guide to planning an amazing 10 Day Italy itinerary, which covers Rome, Florence, and Venice and is perfect for a first trip.
We also have a guide to spending two weeks in Italy, which combines those three main cities with a few lesser known cities (Bologna and Verona), or a guide to spending one week in Italy, which has six different ways to spend 7 days.
Here are some of our other Italy guides to help you plan an incredible Italian adventure.
Rome:
Florence:
Venice & Milan:
Cinque Terre:
Sicily:
Need to Eat Gluten Free in Italy?
If you're traveling and need to eat gluten free like me, Matt (I have Celiac Disease, which is why I started this site in the first place), then you'll want to check out our gluten free guide to Italy, along with our city guides for Rome, Florence, and Milan to help you find the best gluten free pastries, pizzas, and more.