2 Days in Amsterdam: A Perfect Weekend in Amsterdam
So, you're taking a weekend trip to Amsterdam? Consider me jealous. Amsterdam is one of the most vibrant cities in Europe. The first time you visit the capital of the Netherlands, you'll fall head over heels in love with it, just like I did. There's nothing better than wandering the canals, day or night, and feeling the pulsing energy that Amsterdam is filled with. From the stunning 17th-century canal ring district and outstanding museums, to a vibrant nightlife scene and an excellent selection of restaurants, your 2 days in Amsterdam will be packed with nothing but delight.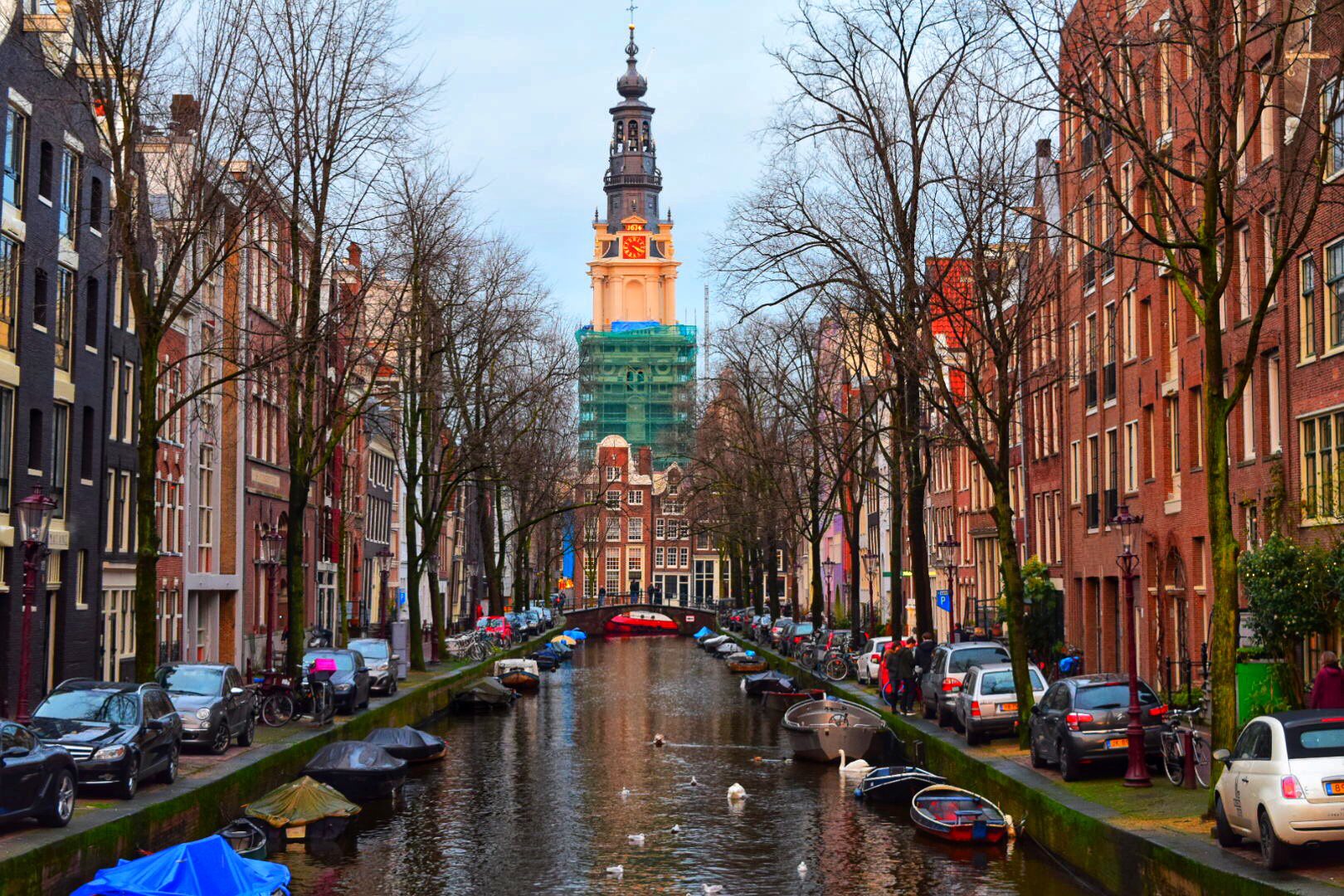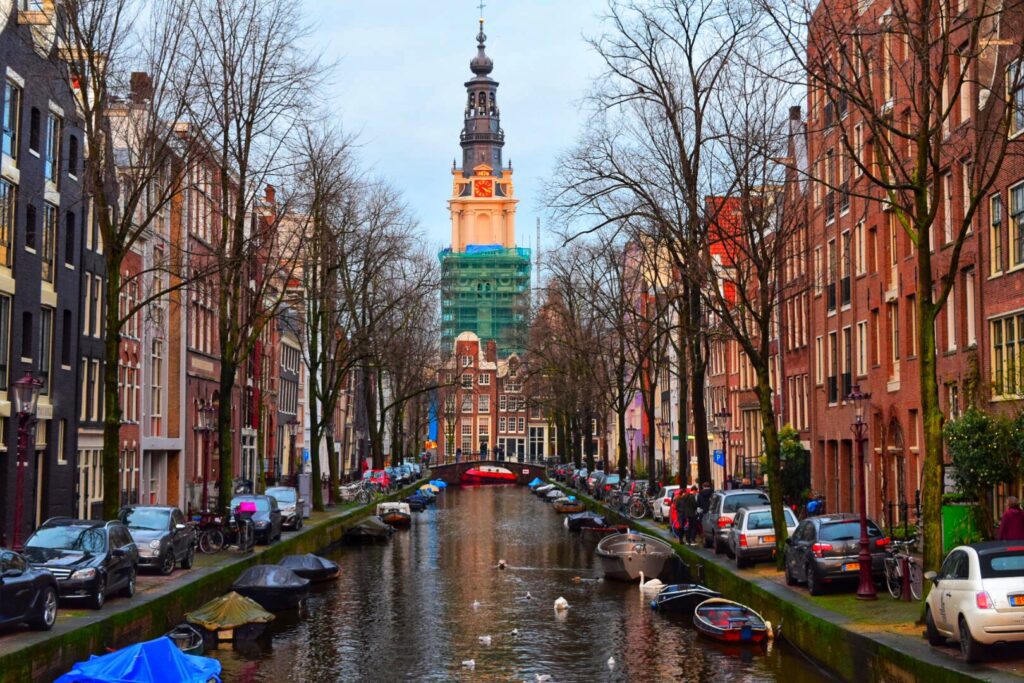 On your trip, you'll find the city full of eventful history, astonishing architecture, and an incredible cultural landscape. Once a tiny fishing village, Amsterdam has grown into a bustling culture, art, and business hub over the centuries. Two days is not nearly enough to see everything in Amsterdam. In fact, trying to fit everything you could possibly see in Amsterdam into two days is a fool's errand.
But a weekend in Amsterdam is the perfect amount of time to explore and see what makes Amsterdam special, and leave you hungry for the next time you get to wander its gorgeous canals.
I'd recommend slowing down and picking the attractions you are REALLY interested in and focusing on those so that you have plenty of time to walk and wander those picturesque canals.
This 2 day Amsterdam itinerary has you seeing many of the major attractions, but saves time in between for getting off the beaten path and exploring on foot.
RELATED: Traveling to Amsterdam and have Celiac Disease? Here's my Gluten Free Amsterdam Travel Guide for Celiacs.
You won't want to miss my guide to where to stay in Amsterdam to find the perfect place to stay for your style and budget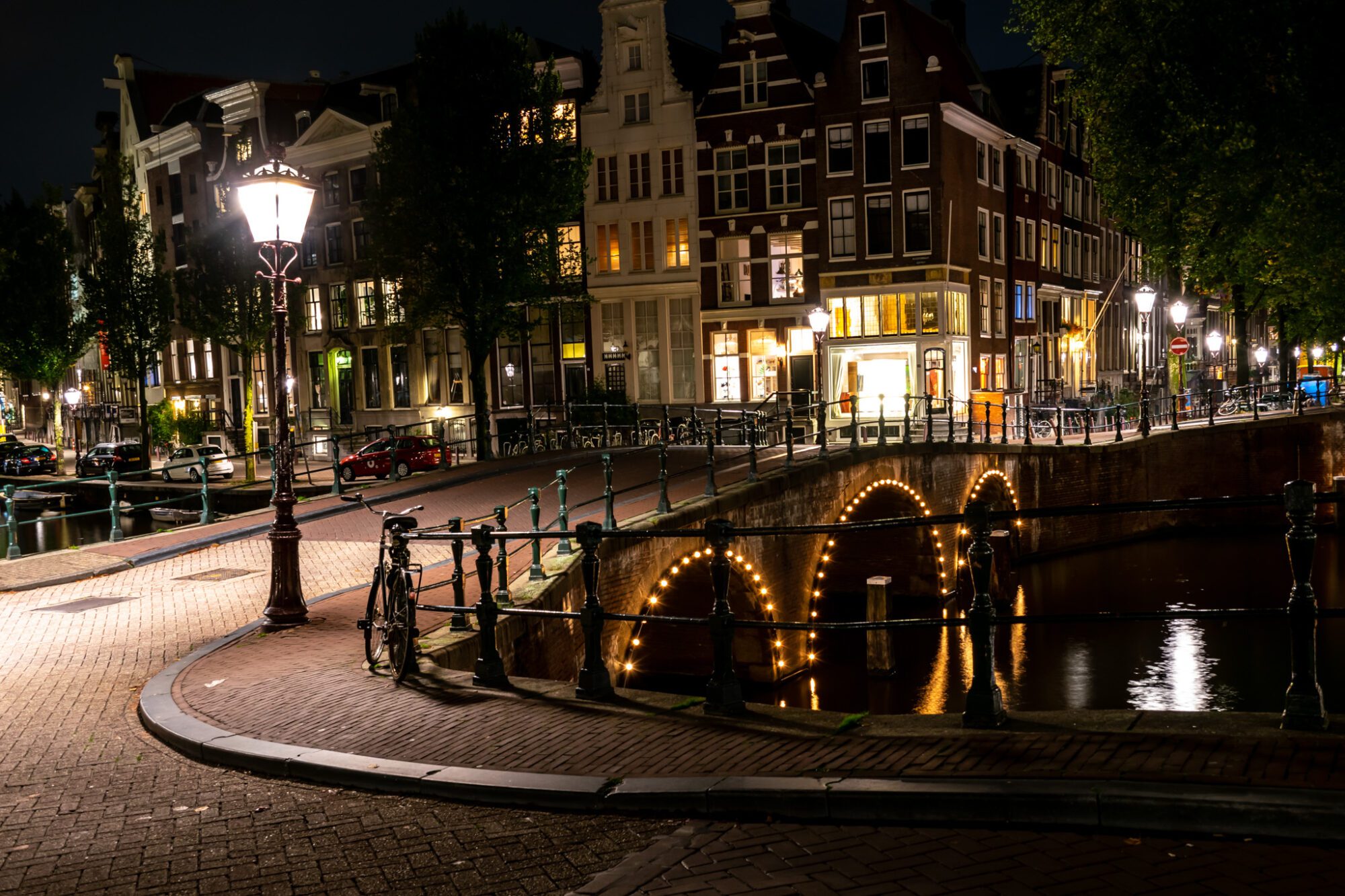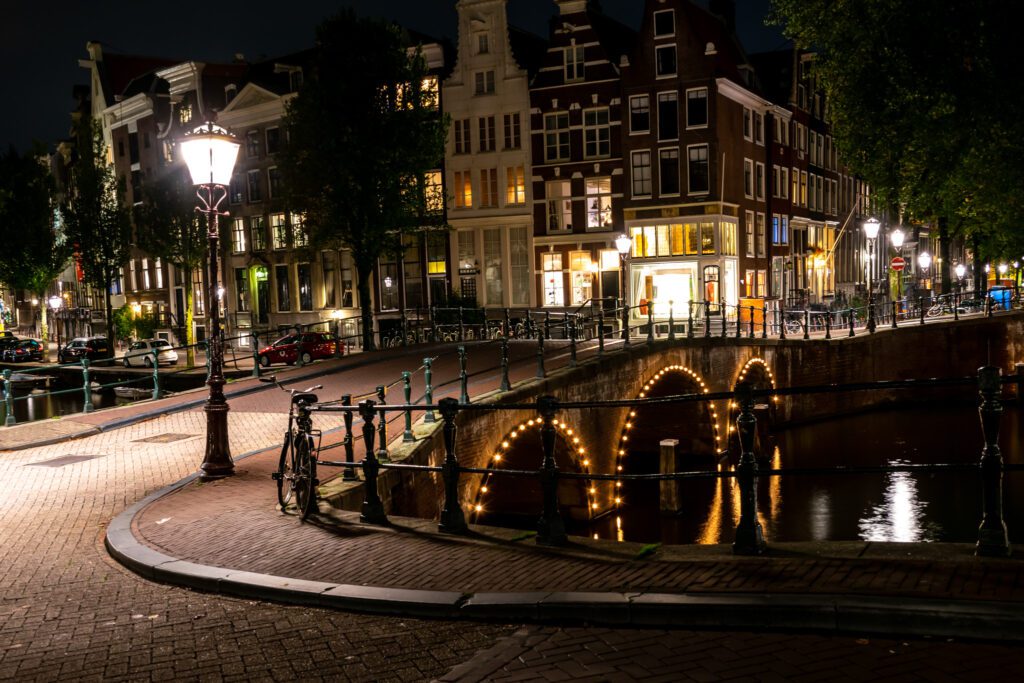 Disclaimer: Some of the links below are affiliate links, which means that if you click on one and purchase something, I make a small portion of the sale at no additional cost to you. It goes without saying that I would never recommend something I wouldn't use or do myself.
2 Days in Amsterdam: Plan the Perfect Weekend in Amsterdam
I wrote this guide to help you plan your Amsterdam 2 day itinerary and make sure you don't miss the best experiences. Here are the top things to do, see, and eat in Amsterdam.
Amsterdam is packed with attractions. Rather than over-stuffing your 2 days in Amsterdam with as many 'to-dos' and 'to-sees' as possible, I'd suggest doing less and focusing on the most important experiences. For example, do you really need to go to that fourth museum, or would your time be better spent exploring one of Amsterdam's best neighborhoods on foot?
Pssst – it's 100% the latter. And this is coming from someone who has definitely played the "how many museums can I do in 24 hours" game before. Trust me, you don't want to do it.
You'll find that the real magic of Amsterdam is the in-between moments, where you wander down a deserted alley or stroll alongside a picturesque canal and have time to appreciate the sheer beauty of the city.
Day One: Jordaan and the Red Light District
If you want to get to know the real character of the city, get lost in the labyrinth of its side streets. Let's kick off your Amsterdam weekend with a nice and easy self-guided walking tour of one of its most famous neighborhoods.
But first, coffee.
Morning: Exploring Jordaan
If you ask me, a good start to the day always includes a good cup of coffee. Start your day at Screaming Beans Coffee Roasters (Runstraat 6, 1016 GK Amsterdam, Netherlands) with a perfectly pulled shot of espresso or a frothy, creamy latte before you begin your Amsterdam adventure.
Breakfast at Pancakes Amsterdam
You're going to be walking A LOT, so you'll need plenty of energy to explore every nook and cranny of Amsterdam. To fuel up, start your day with some insanely tasty gluten free Dutch pancakes at Pancakes Amsterdam.
They have four locations throughout the city, but as you're in Jordaan, you'll find one close to the Anne Frank House the most convenient. Choose from over a dozen Dutch and American pancakes made from fresh ingredients from local farms.
They also serve lactose free and vegan pancakes, so make sure you let the staff know about your allergies and food preferences. The place isn't 100% gluten-free but they take preventive measures to avoid cross contamination. You can read about them here.
Take a Walking Tour
I almost always recommend starting your trip with a walking tour to get your bearings and to get some tips from your local guide. Below, you'll find a rough self-guided walking tour, but if you want to get deeper into the colorful history of Jordaan with an experienced and knowledgeable guide, here are some guided walking tours to consider.
Self-Guided Walking Tour of Jordaan
If you're more into self-guided walking tours, here's how to explore Jordaan and uncover its hidden gems.
This distinct neighborhood near central Amsterdam is famous for its architecture, arts, food, and a unique atmosphere.
Walk around and explore the streets of the most photogenic neighborhood in Amsterdam surrounded by centuries-old canals. Book a guided Jordaan walking tour or roam the district's labyrinth of streets on your own, it's really up to you.
Here are some highlights:
Grab some world-famous apple pie at Winkel 43 (it is DEFINITELY NOT GLUTEN FREE, for those of you who might care).


Reypenaer Proeflokaal: My favorite cheese shop in Amsterdam. It's packaged in a way that means you can even bring it back home with you!


Stop by Marqt, an upscale grocery store that has tons of gluten free options.


Window shopping on Berensluis (Scotch & Soda is my favorite) or Reestrat


Tales and Spirits: My favorite cocktail bar in the city with a speakeasy vibe and FANTASTIC drinks.


Proeflokaal Arendsnest: Grab a seat at the wood-paneled bar and choose from a huge selection of Belgian beers. Or, if you're like me and can't have gluten, grab a cider (they have a few to choose from).


Hang out with the locals at Cafe de Tuin. Whether it's 10am or 10pm, you'll find this cozy cafe packed with locals. We stumbled upon it one night after a drink at Tales and Spirits, and had a glass of wine outside on the street. It was lovely.
The Nine Streets
During your exploration, you'll probably wander east towards the city center into some cute alleyways full of little boutique shops, making for some of the best window shopping in the city.
Known among locals as 'The Nine Streets' (De Negen Straatjes), this quaint neighborhood is known for its lovely narrow streets, beautiful houses, charming bridges, great restaurants, and indie boutiques.
Spend some time exploring the nine alleyways and surrounding canals before your next move.
The Anne Frank Museum
The Anne Frank House is a unique museum that holds the impressive collection of 15,000 documents and artifacts. Learn the poignant and heartbreaking story of the Secret Annex, Anne Frank, her family, and other people who hid there for more than two years during World War II.
The Anne Frank House tickets can only be purchased online and are valid only for a specific time slot. Keep in mind that this is one of the most visited sites in Amsterdam, so the tickets sell out very fast.
You'll want to book several months in advance if you want to visit the museum. The first time I went to Amsterdam, I didn't book in time and had to skip it.
Don't make the same mistake – book your tickets three months in advance.
Details for Visiting the Anne Frank House: The admission fees range from € 0.50 (ages 0-9), and € 5,50 (ages 10-17) to € 10,50 (adults), including € 0.50 booking fee. The Anne Frank House is open from 1 April to 1 November daily from 9 am to 10 pm and 1 November to 1 April from 9 am to 7 pm. The museum is closed on 9 October for Yom Kippur.
If you miss the museum, I'd highly recommend a walking tour focused on Anne Frank to hear her story and get a feeling for what Jordaan was like in World War 2.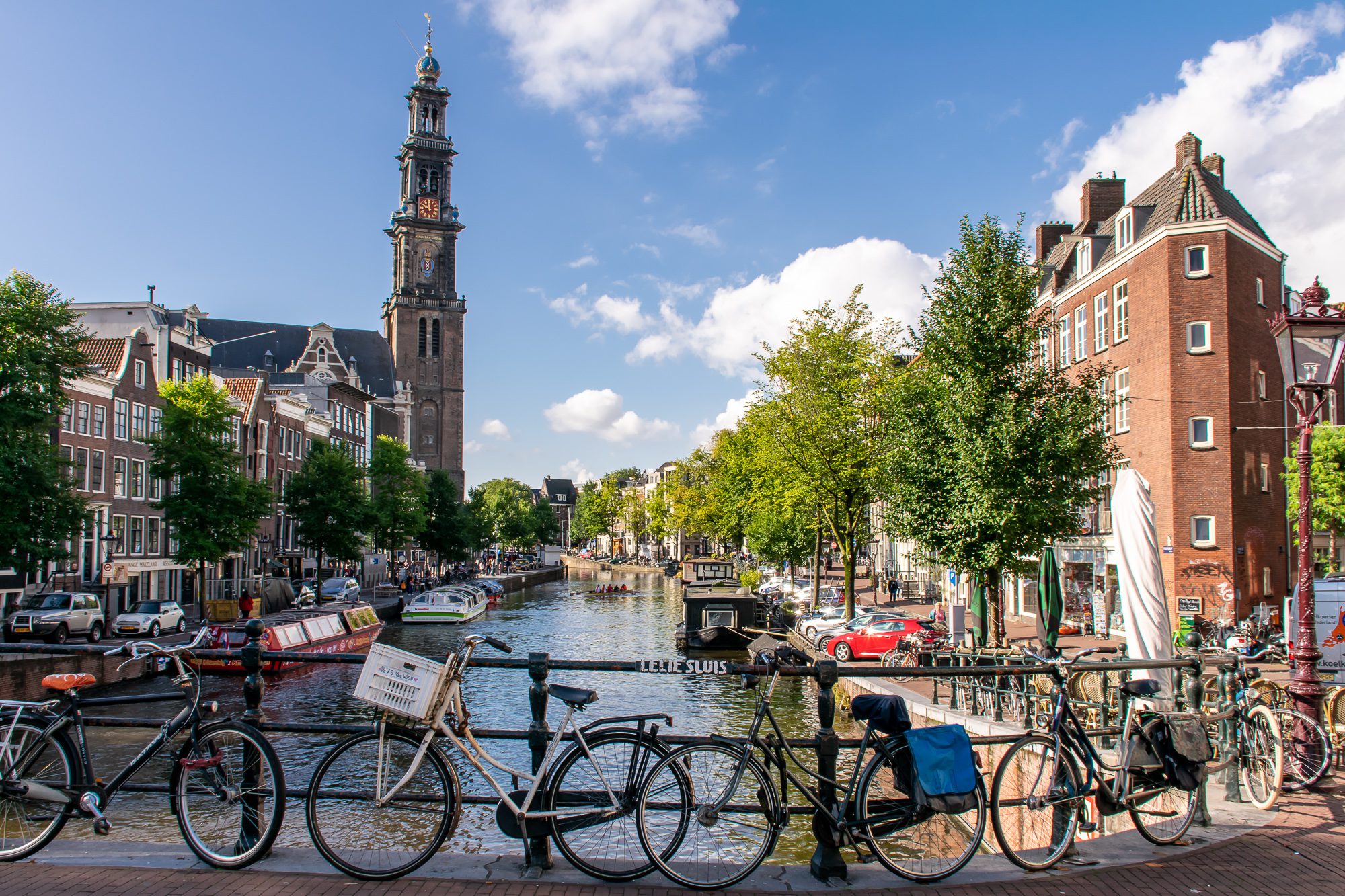 Lunch at Foodhallen
For lunch, check out Foodhallen. It's a, you guessed it, food hall with tons of different vendors in a cool space. They have great gluten-free options, like Fento, and you'll find some of the best coffee in Amsterdam next door at Lot Sixty One Coffee.
Next, move on to the world-famous Red Light District.
Afternoon: The Red-Light District
DO I HEAR SOME LUDACRIS' PLAYING IN THE BACKGROUND?
Definitely make sure to include De Wallen, normally known as the Red-Light District, into your 2 day Amsterdam itinerary.
We in the Red Light District
If you're interested to learn more about Amsterdam's history, coffee shops (in Amsterdam, "coffee shops" are actually for smoking cannabis, and cafes are for coffee. It's a little confusing), and legal prostitution, a guided red-light district walking tour is the best way to explore this aspect of the city.
We did this on our last trip, and it was one of the best experiences of our 2 days in Amsterdam.
With around 400 red-light and blue-light windows, a great number of coffeeshops and bars, De Wallen street is a hub of partying in the city.
The district gets crowded with people each night and carries on well into the morning. If you're looking to experience a coffee shop while you're in Amsterdam, this is the place to do it. Amsterdam's cannabis coffeeshops are not allowed to advertise, but you will easily spot them by a green and white license sticker in the window.
Wynand Fockink
One thing you can't miss in the Red Light District is tasting some craft made liqueurs at 340 years old Wynand Fockink Distillery. I had read about this place before my first trip to Amsterdam, and it blew me away.
You'll find a HUGE variety of liqueurs, both fruit forward and herb blends, and genevers available to try. The helpful and cheerful staff behind the bar will help you figure out what you might be interested in, and pour it for you. Grab a bottle and take it home with you – they make great gifts for friends or family back home.
Evening: The Canal Cruise
Probably the best way to end a day one of your Amsterdam weekend is to board a romantic evening cruise that glides under a few of the 1,000 beautiful bridges in the city.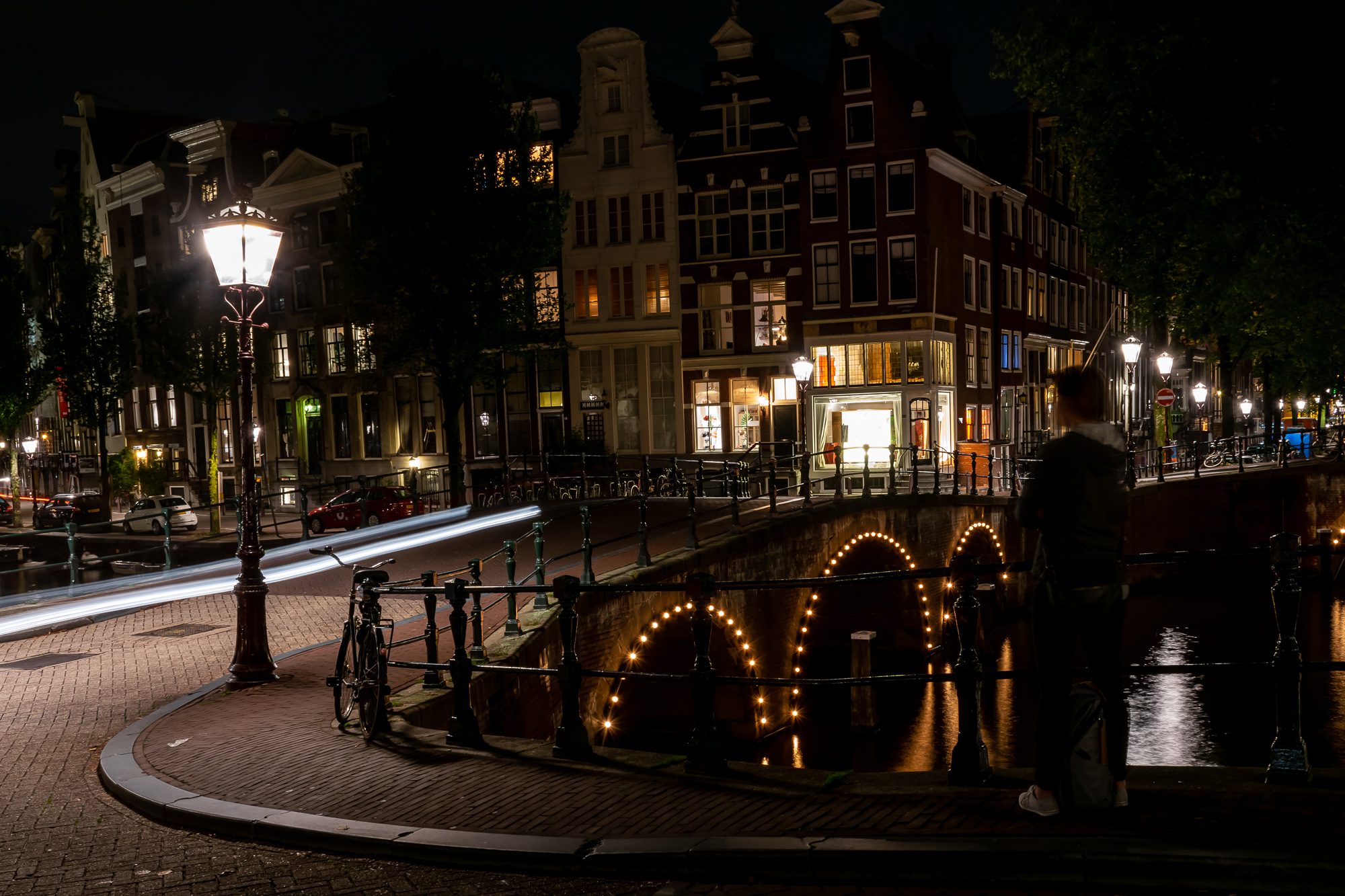 Explore the unique spectacle that is Amsterdam's canals from the best vantage point: on the water. It's certainly a different perspective, and it's one that is worth getting during your 2 days in Amsterdam.
Did you know that the canal loops in the medieval old town of Amsterdam are a UNESCO World Heritage site? An evening canal cruise is a perfect way to get a sense of the Dutch Golden Age when the city's art, architecture, and trade were thriving.
Here's another canal cruise option that leaves from the Anne Frank House.
The evening canal cruises usually take 1 to 1.5 hours, and provide a unique perspective of Amsterdam's architecture and scenery.
Wrap up the first of 2 days in Amsterdam by taking in the view of the city bathing in glittering lights of its streets and shimmering waters of 17th-century canals.
Dinner and Drinks
Head to De Italiaan for a relaxing Italian dinner on one of Amsterdam's prettiest terraces. Try their gluten-free pizza (the best in the city!).
After dinner, you're going to want a drink. For amazing cocktails, check out the Tales and Spirits (Lijnbaanssteeg 5-7, 1012 TE Amsterdam, Netherlands). Or if you're craving a beer, stroll to Proeflokaal Arendsnest (Herengracht 90, 1015 BS Amsterdam, Netherlands). They serve over 100 beers with a focus on local and Belgian beers, and have a few ciders in bottles.
Day Two: Museums and Vondelpark
Kick off your second day with an of espresso at Black Gold Coffee and Vinyl shop, away from the tourist crowds.
Morning: The Best Museums in Amsterdam
Armed with the jolt of energy that comes from that shot of espresso (or three), explore the Museum Quarter of Amsterdam. It's home to the city's most visited museums like the Rijksmuseum, Van Gogh Museum, and modern art Stedelijk Museum.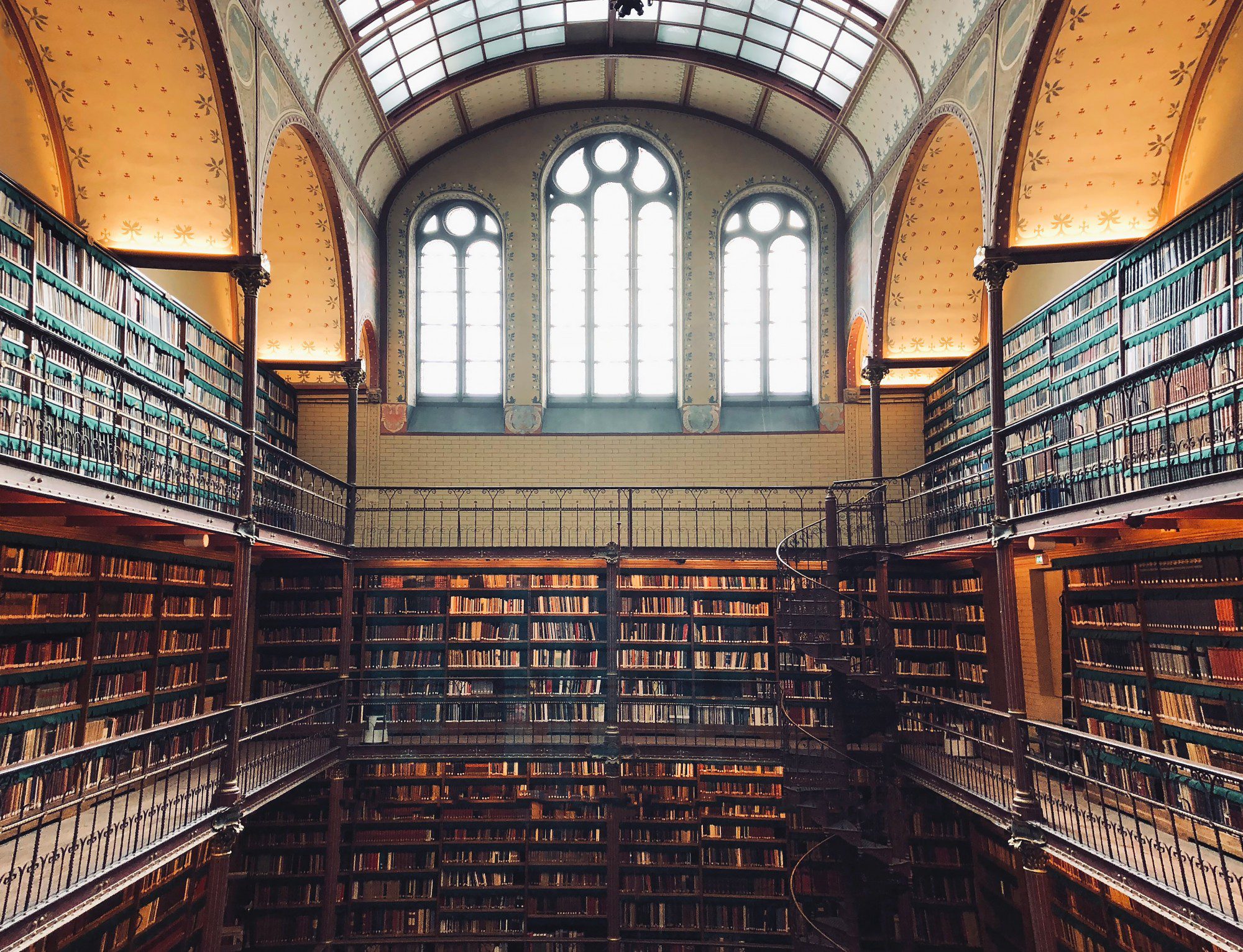 I recommend AT MOST visiting two of them with 2 days in Amsterdam. I would do the Rijksmuseum for sure, and add on the Van Gogh museum only if you're a fan of his art. Each museum deserves at least 2-3 hours of time dedicated to it, and that would mean you're spending your entire second day in these two museums. See both (and skip the lines) with this 5.5 hour highly rated guided tour of the Van Gogh Museum and Rijksmuseum.
Don't forget to take a selfie with a famous I Amsterdam sign that can be found right outside the Rijksmuseum.
The Rijksmuseum
If you're going to visit one museum (which is usually the number of museums I have patience for), this is the one. You're going to want to avoid the ticket line, which can get pretty gnarly, so buy your skip-the-line tickets in advance.
The Rijksmuseum is one of Amsterdam's most popular museums where you'll find a huge collection of illustrious art by Rembrandt, Van Gogh, Vermeer, Frans Hals, and many more artists.
The Rijksmuseum first opened in 1800. However, it was situated in the Hague until 1885, when it was transferred to its current building. The Rijksmuseum collection contains more than a million pieces of paintings, sculptures, and historical artifacts.
If you're looking for a guided tour of the Rijksmuseum, which I'd recommend (if not, definitely get the audio guide), here is a guided small group tour of the Rijksmuseum that will bring history to life with an expert guide walking you through the highlights of the museum.
Van Gogh Museum
The famous Van Gogh Museum holds the world's largest collection of pieces by Vincent Van Gogh. The permanent collection includes 500 drawings, the famous artist's collection of Japanese prints and over 750 letters.
The tickets can be purchased here and they cost € 21. It's a timed entry, so you'll need to plan in advance when you want to be there. Get the audio guide for some added color.
If you're looking for a guided tour of the Van Gogh Museum to hear more about his background, his life, and both caused his work to change over time, this is the tour I would book.
The entrance is free for kids and teens under the age of 18. The museum is open from 9 am to 9 pm on Friday and 9 am to 6 pm for the rest of the week.
Afternoon: Explore Vondelpark & De Pijp
If there's one thing you have to do on a weekend in Amsterdam in the summer, it's exploring the vast green space in the middle of the city – the Vondelpark.
Rent a bike and discover Amsterdam at your pace. Bike to Vondelpark, the city's most popular park and spend the afternoon relaxing by its ponds and rose gardens.
You'll find people from all walks of life relaxing, walking, cycling, and enjoying the urban green space smack dab in the middle of Amsterdam.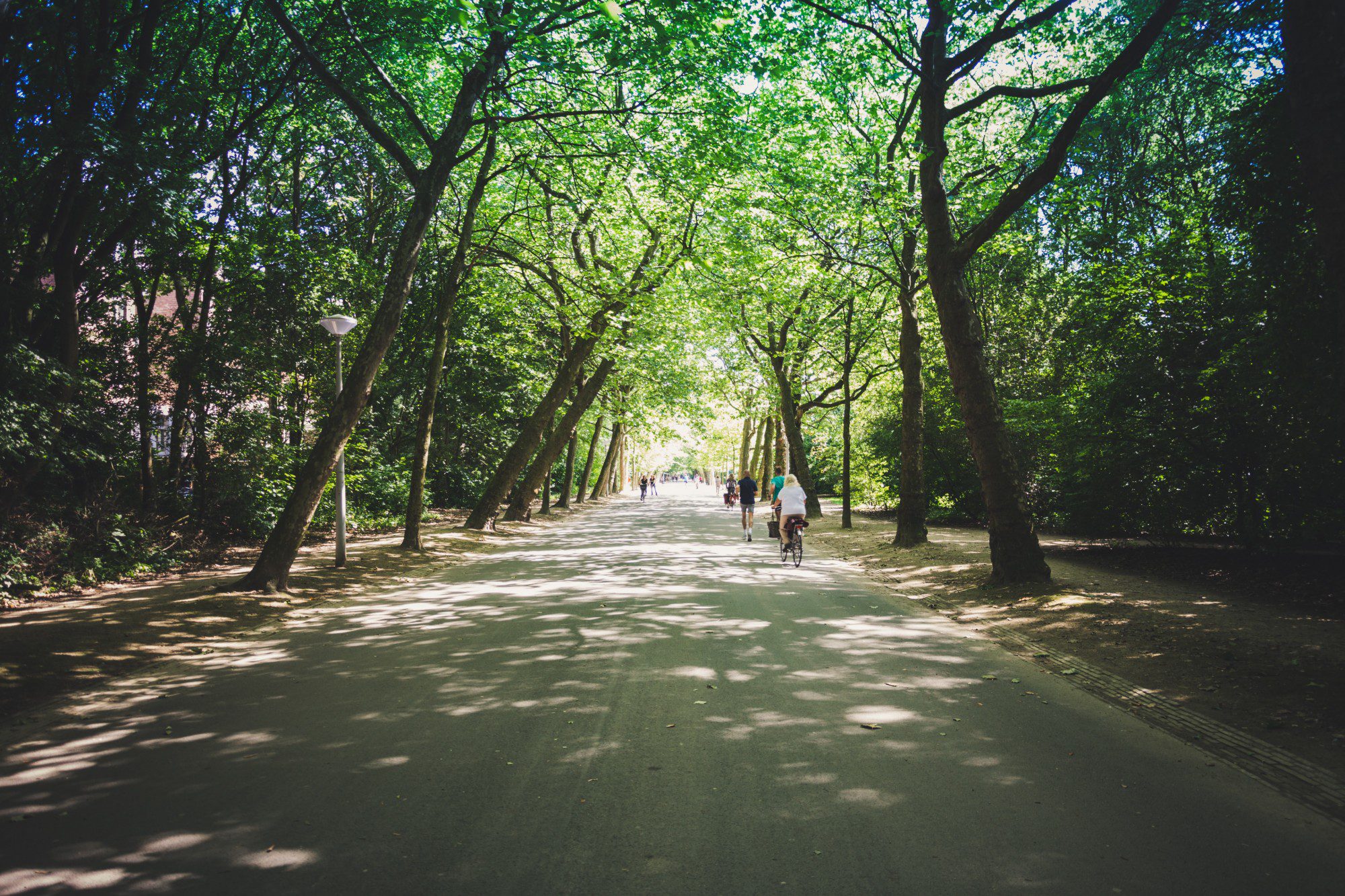 De Pijp
Before your 2 days in Amsterdam end, make sure to visit the bohemian district of De Pijp. Wander through narrow streets lined with restaurants, pubs, and cafés. Or have a picnic at Sarphatipark, and enjoy its serene atmosphere while resting surrounded by beautifully landscaped gardens and ponds.
Albert Cuyp Market
Head to the Albert Cuyp Market, the largest and the most famous outdoor market in the Netherlands. The market is open six days a week (closed Sunday) and closes at 5pm.
If you are a foodie, Albert Cuyp Market should definitely be on your 2 day Amsterdam itinerary. You'll find almost anything you can think of, from traditional Dutch waffles, fresh fish, and vegetables, to shoes. Don't miss the stroopwafels that are made fresh for you (NOT GLUTEN FREE – but there are pre-made gluten free stroopwafels at the market).
If you're looking for a different dining experience in Amsterdam, check out Puri Mas. They serve gluten free Indonesian food and use gluten free ingredients in almost all the dishes they prepare (they use tamari soy sauce). My strong recommendation would be to try their rice table, but you could also pick something from their à la carte menu.
Finally, have a glass or two of natural wine at Glou Glou to wrap up your Amsterdam weekend in style.
Where to Stay in Amsterdam
I have a whole guide on the best places to stay in Amsterdam, but if you don't have time to read that detailed guide, here is the tl;dr (too long; didn't read).
The three best neighborhoods to stay in are:
Jordaan – My overall favorite place to stay in Amsterdam. Super central, full of great restaurants and cafes, and more.
De Pijp – The place to stay in Amsterdam for hip foodies. Don't miss the Albert Cuyp Market.
Oud Zuid – The best place to stay for families, peace, and quiet. Right on Vondelpark too, which is a must-see.
Here are the best places to stay for a weekend in Amsterdam
Hotel Mercier: Spectacular boutique hotel in Jordaan, smack dab in the middle of everything you need during your stay in Amsterdam.
Het Kabinet: Hip, well located bed and breakfast in De Pijp. A few blocks from the tram to connect you to the entire city.
Spectacular Loft – Central and Quiet: Beautiful 1BR apartment just off of Vondelpark. I've stayed in the area before, and it's a super quick tram ride into Central Amsterdam, there's an Albert Heijn nearby, and it's cheaper than staying in the trendier neighborhoods. Here's another option in the same building.
Got More Time in Amsterdam?
Here are three things I would do with extra time in Amsterdam.
Head to Brouwerij 't IJ, a famous brewery in Amsterdam in a picturesque location next to a windmill. You can do a tour of the brewery, or just grab a beer and relax in the sun.
If you're a soccer fan, check out Johan Cruijff Arena and do a 75 minute tour.
Take a half day trip to the countryside to see the Netherlands' iconic windmills and taste some local cheese. Or, do it by bike instead – when in Amsterdam, do as the Dutch do.
How to Get Around in Amsterdam
Amsterdam has a robust and efficient public transportation network featuring buses, trams, and trains that will get you from point A to point B quickly. Since you only have two days in Amsterdam, you'll appreciate the speed. Not only that, it's a pleasant ride. If only we had that here in the US.
You can buy a day pass that's good for anywhere from 24 hours to 7 days, or you can buy a one hour pass. Both are available from the bus or tram operator. Heads up, as of 2018 you have to pay with card – no cash! You can also buy tickets for public transportation in advance here.
Amsterdam is also super walkable, and it's always a pleasant walk when you're surrounded by canals, flowers and bikes. As much as possible, I'd try to walk between destinations.
Last, but certainly not least, you could rent a bike and use Amsterdam's extensive network of bike paths. When in Rome Amsterdam, right?
How to Get from Amsterdam to the Airport (and Vice Versa)
From the airport, Amsterdam Airport Schiphol, you can catch a quick bus or train into the city center in about 30 minutes. It will cost you around 10 Euros. You can find more information here.
What is the Best Time to Visit Amsterdam?
I think Spring and Fall are the best times to visit Amsterdam. Summer might be the best weather, but you also get hordes of tourists making for a pretty unpleasant experience. I've been in September, and it was absolutely lovely. Warm. Sunny. Not too crowded.
In winter, it'll be grey, but it will also be relatively empty. If you can handle the grey and occasional rain and snow, you'll find some great flight and hotel deals in the winter months.
---
Amsterdam is one of my favorite cities in Europe. There's nothing quite like strolling along the canals, tasting Dutch cheese, and enjoying some centuries-old liqueurs in the Red Light District.
I could honestly explore Amsterdam forever and never get bored. The diversity of things to do, see, drink, and of course, eat, is astounding.
Heading to Europe? Here are some other posts you might like
Don't miss my guide to 4 days in San Francisco (from a local's perspective). I've been in San Francisco for five years now, and have explored nearly every corner of the city.
Share this post on Pinterest!