Gluten Free Barcelona: A Complete Travel Guide for Celiacs
Wondering where to eat gluten free in Barcelona? In this guide – written by two gluten free foodies who spent a week eating their way through the Catalonian capital – we're going to give you our take on the best gluten free restaurants and bakeries in Barcelona.
Barcelona is a lovely city, and its prominence in the minds of tourists from all over the world means it's no surprise that there is plenty of gluten free food to be found. That being said, I'm not sure I was completely prepared for the sheer number of safe gluten free restaurants in Barcelona. From tapas, to fish and chips, to many, many different gluten free bakeries, there are a bunch of great gluten free options in Barcelona..
In the guide below, we'll start with some tips for traveling to Barcelona as a Celiac (or someone who avoids gluten for a different reason) followed by a detailed guide to the city's best gluten free spots.
We'll divide them up into three groups – dedicated gluten free restaurants, dedicated gluten free bakeries, and restaurants that aren't 100% gluten free, but have been accredited by the local Celiac association.
Sound good to you? Let's get into the best gluten free eats in Barcelona.
PS: if Barcelona is a part of a broader Spain itinerary, don't miss our guide to gluten free Madrid, which has the best gluten free restaurants and bakeries in Spain's capital.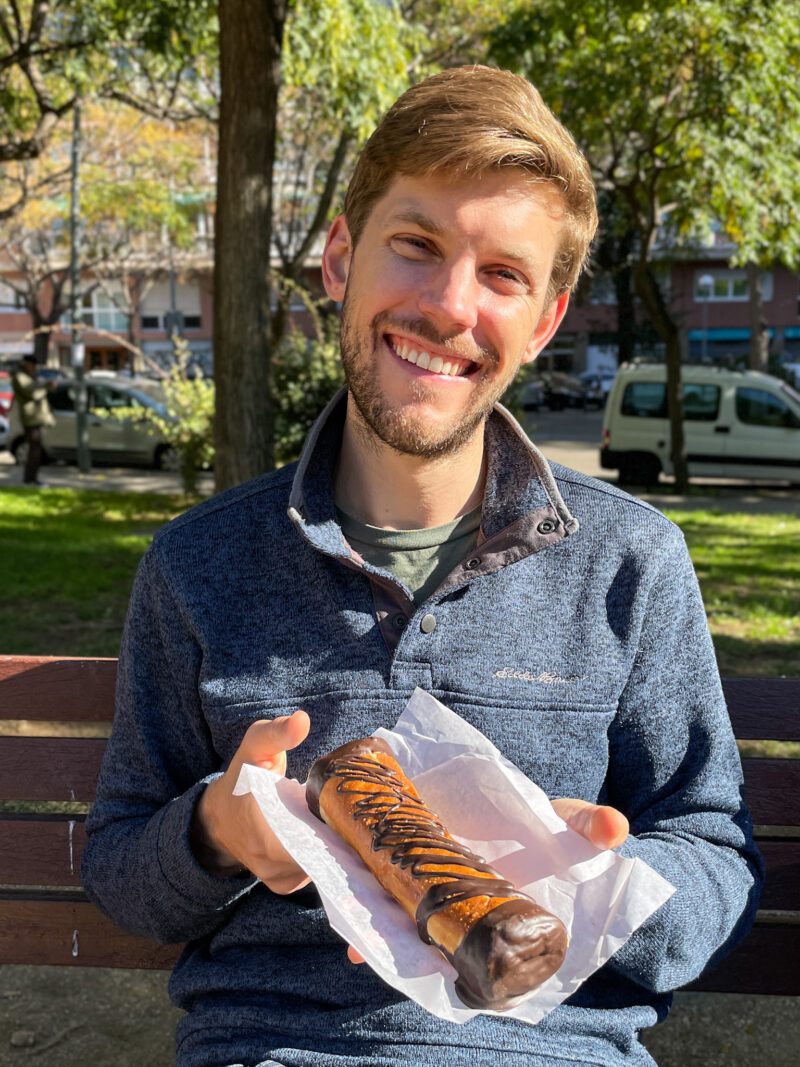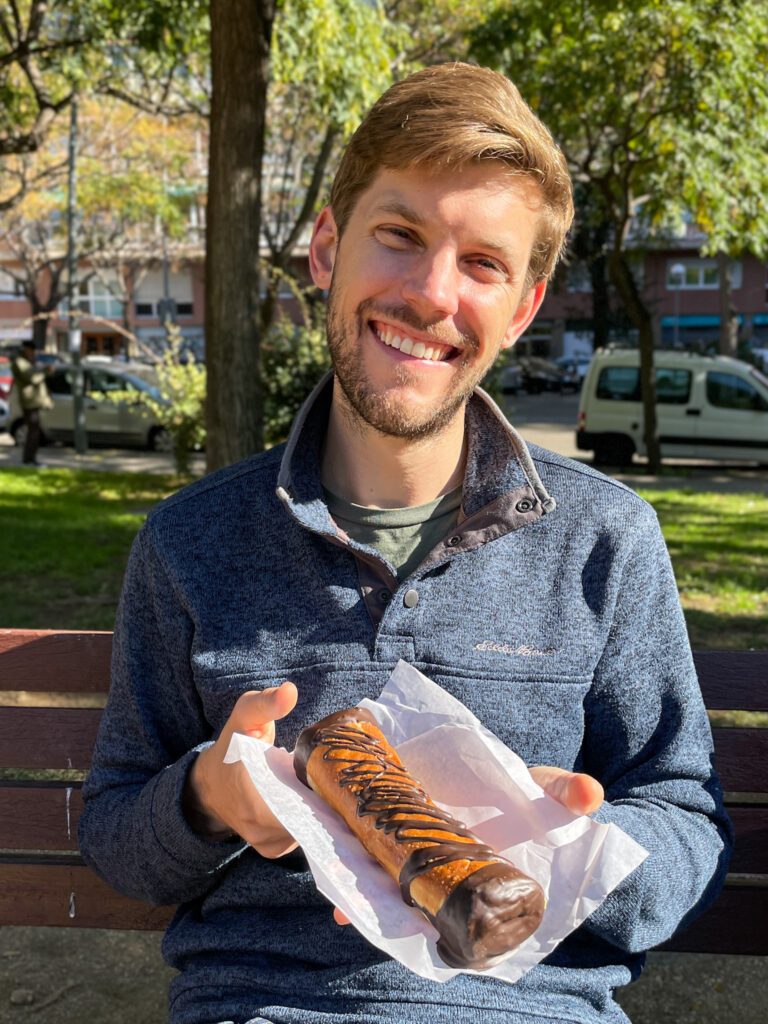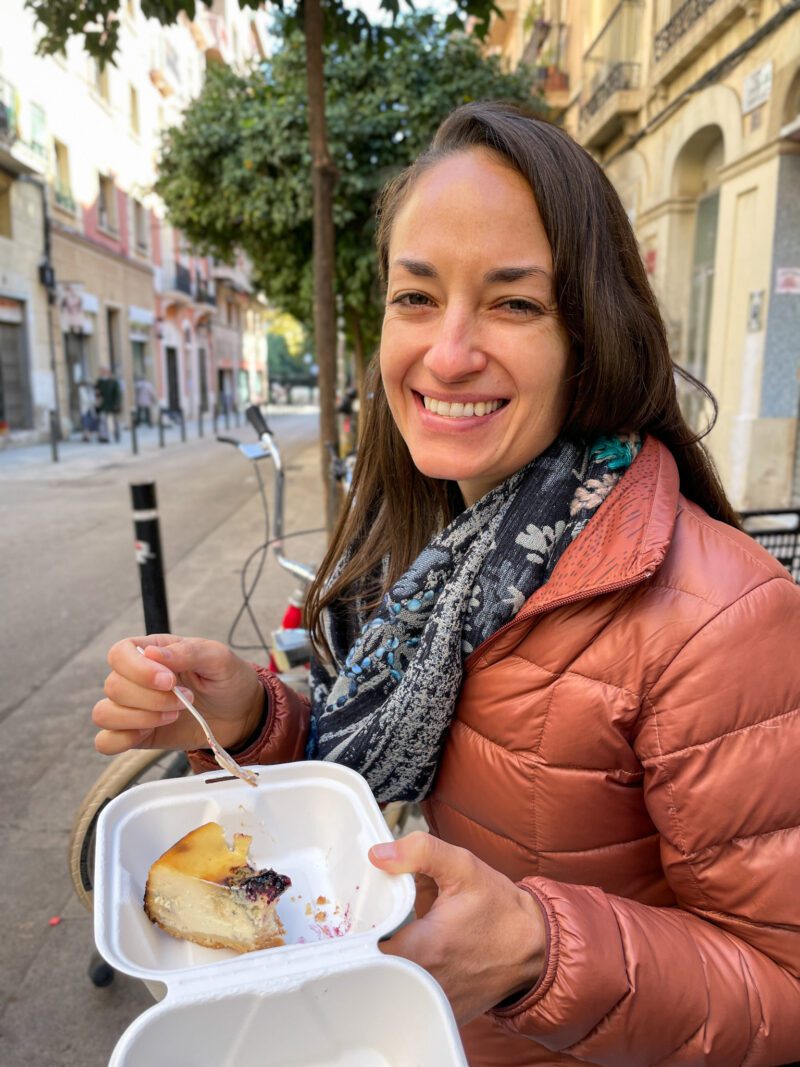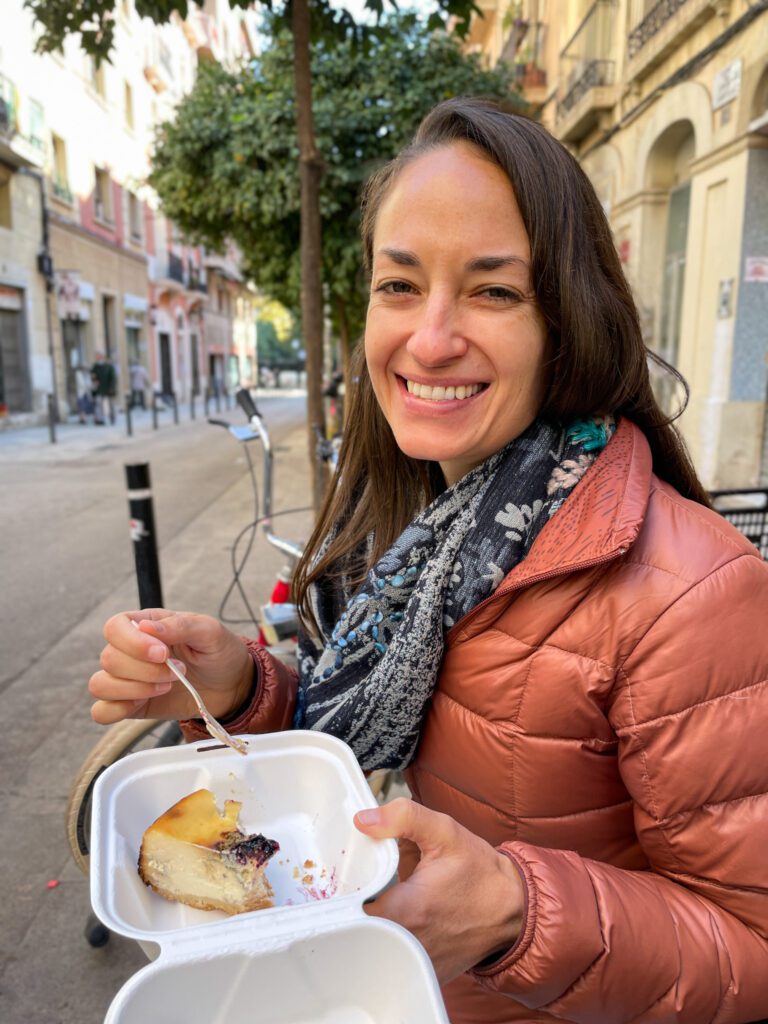 Disclaimer: Some of the links in this post, like hotel links, are affiliate links, meaning at no additional cost to you, we make a little bit of money if you click through and book. That being said, we would never recommend something to you that we don't stand behind 100%.
Tips for Eating Gluten Free in Barcelona
After a week spent eating our way through Barcelona (gluten free, of course), we have a few things that we think you should know before arriving.
Don't Drink the Beer, Even if it Says "Gluten Free": Similar to Italy and the rest of the EU, gluten free beer means something completely different in Spain than it does in the US and Canada. In the US and Canada, beer cannot be called "gluten free" if it has been made with barley (or wheat or rye). Period. End of story. It must be labeled "gluten reduced" or "crafted to remove gluten." In Spain, every last "gluten free" beer we came across was actually gluten reduced. They make it like normal beer, but add an enzyme during the brewing process that breaks down the gluten particles. But, notably, it does not completely remove them (some might say it's kind of like cheating the test). There is still at least some level of gluten in these beers, which is why I definitely don't recommend drinking them if you have Celiac Disease.
The Celiac Association of Catalonia is Great: Also similar to Italy, there's a very useful resource for Celiacs in Catalonia. The Associació de Celíacs de Catalunya works with restaurants in Catalonia to ensure that they have processes in place that allow them to serve Celiacs a safe gluten free meal, and they have a map of accredited restaurants online (and a useful app, too!). Look for this symbol on the window of restaurants you're considering.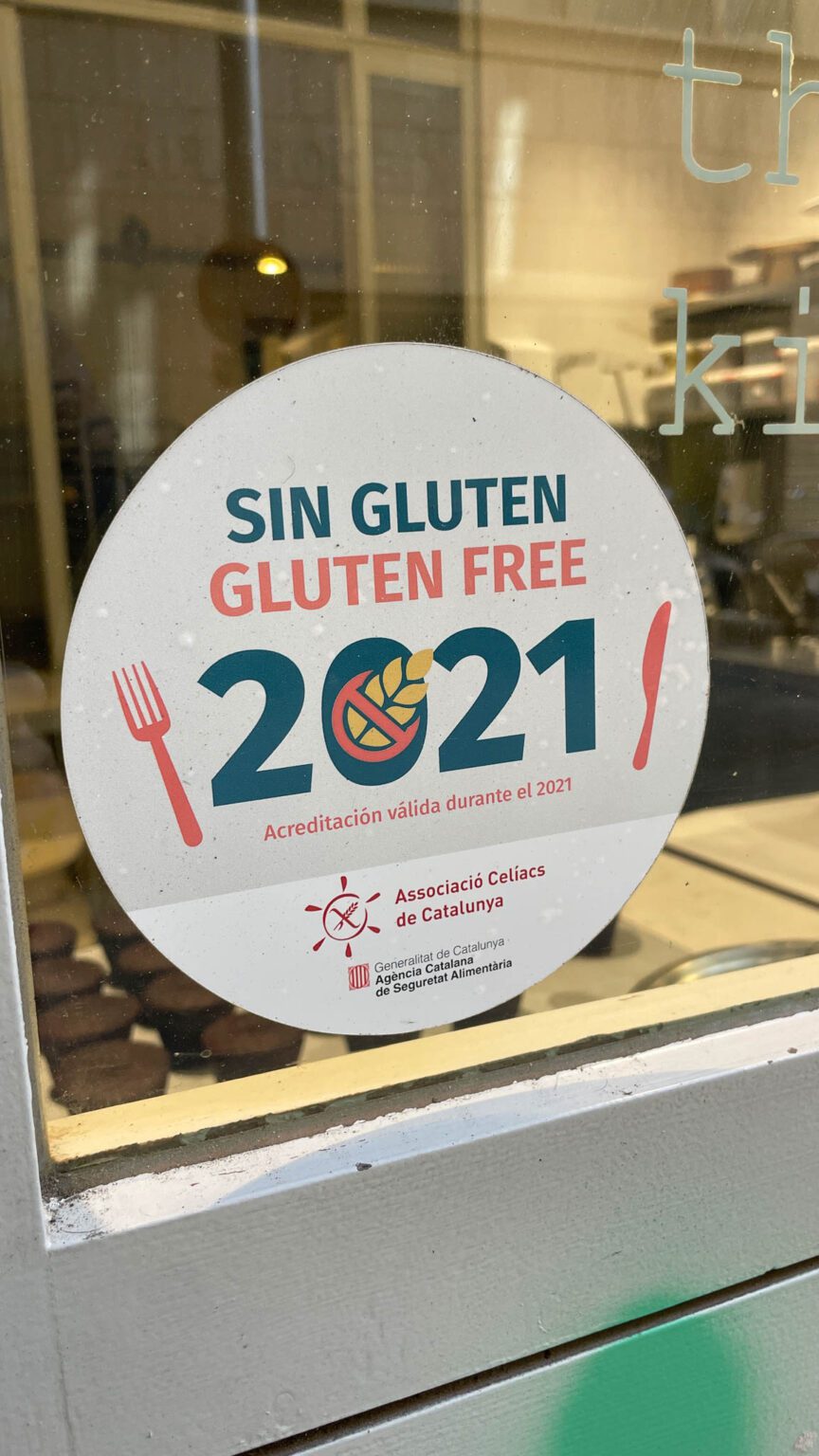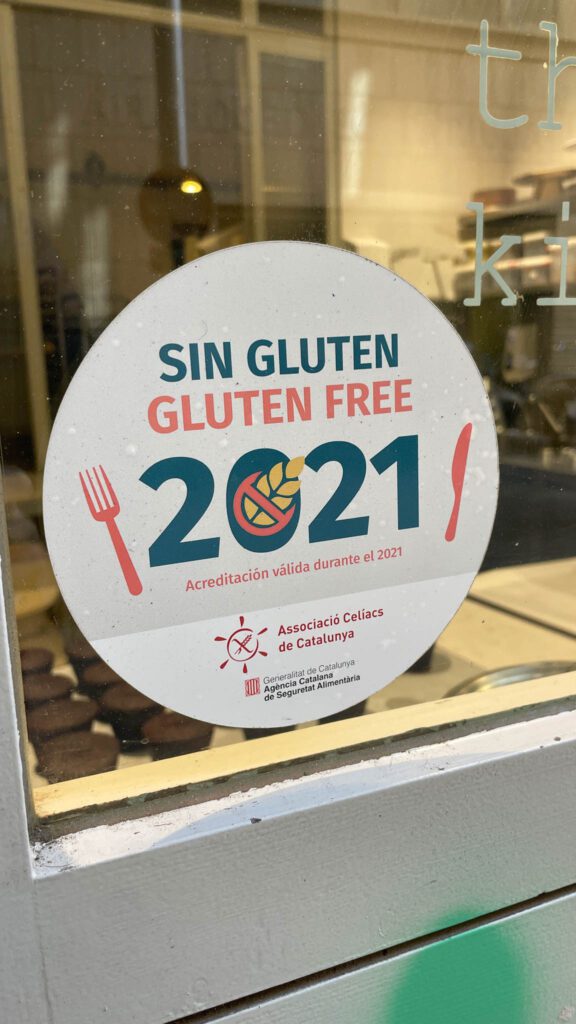 Some Chains Have Only a Single Location That is Gluten Free: There are a couple of places below that have multiple locations around Barcelona, but only one or two of them are entirely gluten free / safe to eat at. I did my best to clearly note this in the individual section for each restaurant, but it's good to mention this again because it's something we haven't encountered all that often before.
Kitchens at Traditional Tapas Restaurants are Small: The kitchens at most small, authentic tapas restaurants are tiny, and they handle a lot of bread (though not a whole lot of other gluten-containing ingredients, really). That means very few places have dedicated kitchen space and/or fryers. If you feel good about your Catalan and/or Spanish, you can ask them to make your food in a separate area and do some extra cleaning, but it's going to be risky. Or, you can invest $9 in a gluten free restaurant card from Jodi over at Legal Nomads as a way to bridge the potential communication gap. I personally brought this card in multiple languages on our three month European adventure, and highly recommend them as a tool to make gluten free travel less stressful. Stick to either 100% gluten free places, or places that are certified by the Celiac Association of Catalonia.
Gluten Free Barcelona: The Best Gluten Free Restaurants and Bakeries in Barcelona
Now, onto the specific gluten free restaurants and gluten free bakeries we'd recommend in Barcelona. We didn't quite get to every single place on this list, though we made it to all but a couple over the course of our week in the Catalonian capital.
Putting my cards on the table here, I think that if you have Celiac Disease and are visiting Barcelona, you should focus on eating at either places that are dedicated gluten free (there are plenty!), OR places that are accredited by the Associació de Celíacs de Catalunya. Seriously, check out their interactive map of Barcelona!
So, in the guide to Barcelona's gluten free establishments below, you'll find it organized by dedicated gluten free restaurants, dedicated gluten free bakeries, and accredited gluten free restaurants. If it's not one of those three categories, it's not on this list.
Is that a perfect way to organize this list? Probably not – there are almost certainly places in Barcelona that can serve you a safe gluten free meal that don't fall into one of those categories. But we think it's the cleanest, easiest way to think about navigating Barcelona gluten free, which is why we've chosen to organize it this way.
Dedicated Gluten Free Restaurants in Barcelona
Here are the dedicated gluten free restaurants that you'll find in Barcelona.
There are three – Messie Sin Gluten, the Fish and Chips Shop Gluten Free, and Flax and Kale – that have either one or two locations that are safe for Celiacs while the rest are not (and sometimes don't even have ANY gluten free options. For those places, I have clearly noted the address of the safe location, and it's very important that you double check that you are at that location.
Messié Sin Gluten
We arrived in Barcelona from Italy after gorging ourselves on gluten free pizza and pasta for over a month, so we weren't in a hurry to get to Messié Sin Gluten, which is a group of three restaurants, two of which are 100% gluten free and safe for Celiacs (see the addresses below).
On our last night staying in Gràcia, our favorite place to stay in Barcelona, we decided to mosey on over to Messié Sin Gluten and see how their pizza measured up to the ones we had in Italy.
Here's the main takeaway: the crust is more similar to the crusts we've had in the United States, which tend to be more thin and crispy, than it was to the ones we had in Italy, which tended to be more thick and bubbly (for lack of a better word). That's not necessarily a bad thing at all, just a slightly different style.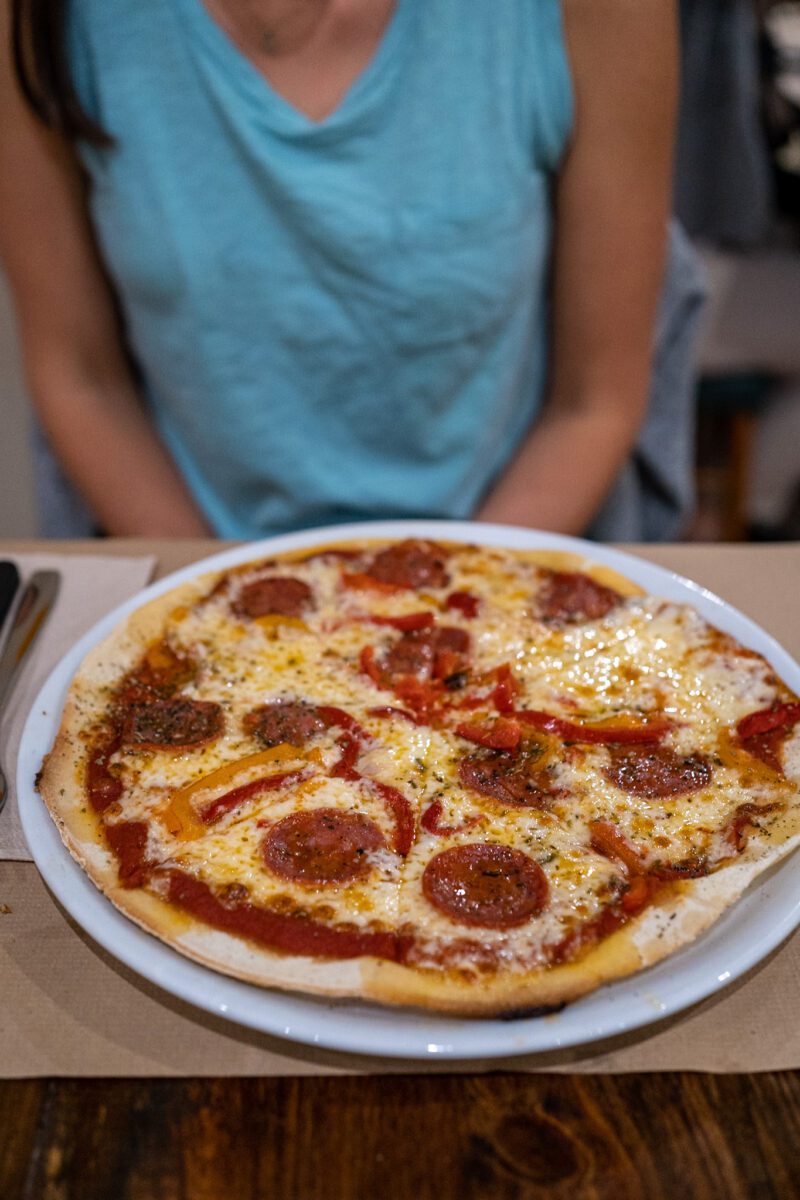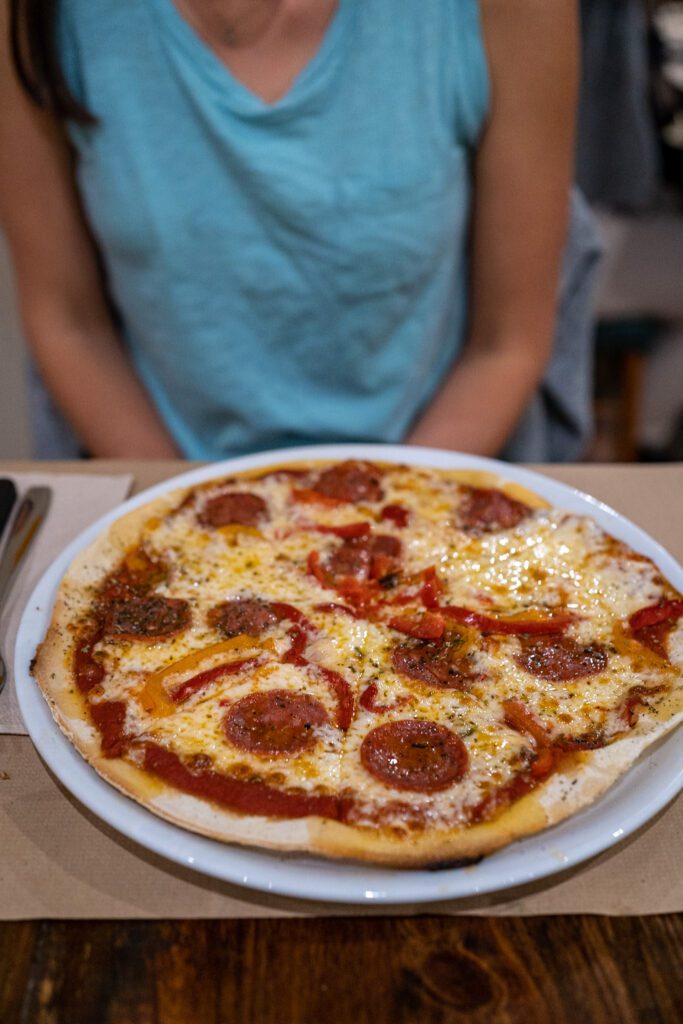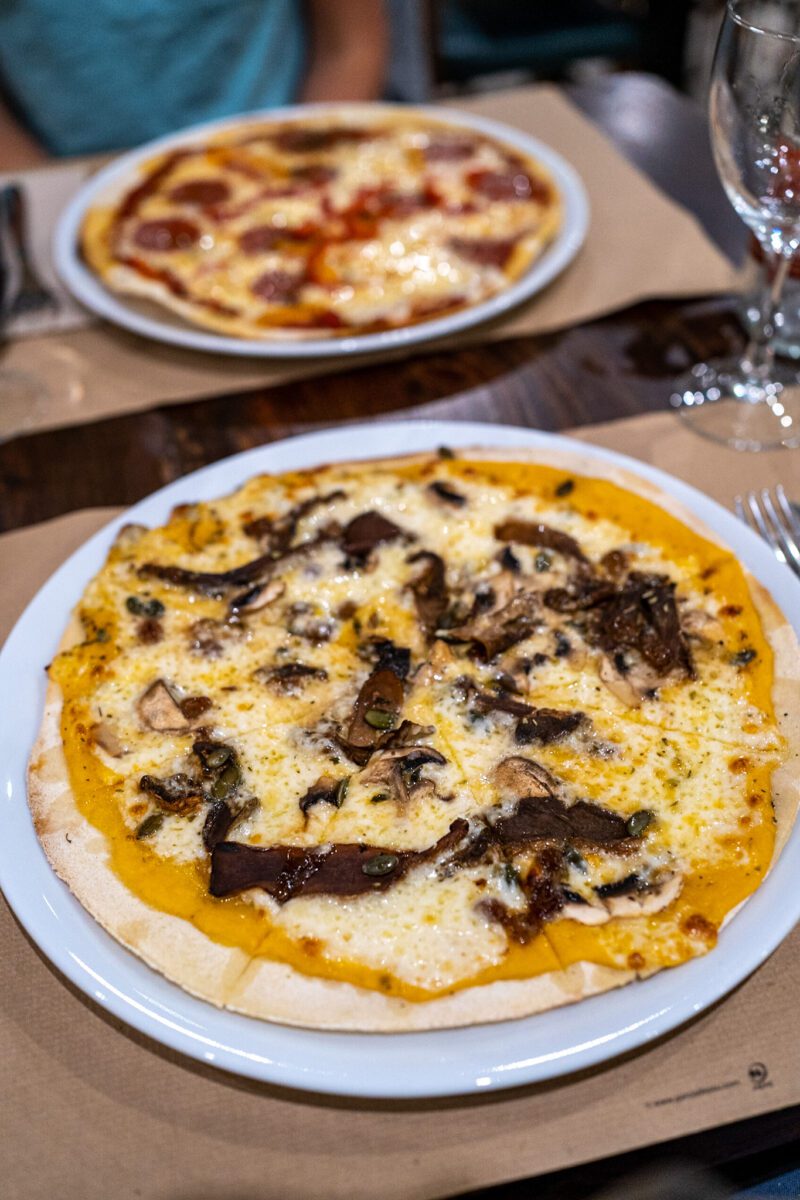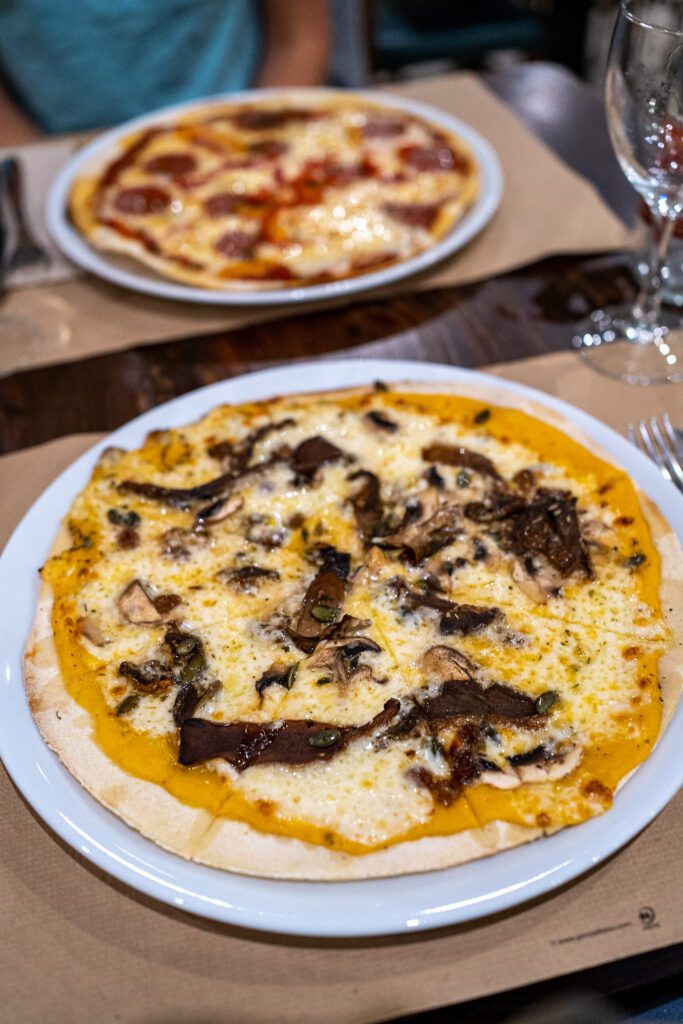 The thing that stood out, however, was the toppings, which were phenomenal and plentiful. In Italy, we found that the toppings were almost universally a little bit sparse. Not so here! We had a Halloween pizza with a pumpkin base and mushrooms, and it was topped with a ton of mushrooms!
Overall, we were pleasantly surprised, and would definitely recommend it. Don't drink the beer, though, even if it's labeled gluten free (see the section above on why I say that).
Gluten Free Locations:
Fish and Chips Shop Gluten Free (ONE LOCATION ONLY)
This is a chain with several restaurants in Barcelona, and only one of them is gluten free. Though it is 100% gluten free, which is great because it means you can get Celiac-safe fish and chips, which is not an everyday occurrence, at least where we're from.
We ended up here twice, which should tell you all you need to know about our thoughts on the food.
The first time – our first night in Barcelona when we were craving some good old fashioned fried food – we ordered the standard fish and chips, which were pretty great. However, I think the co-MVPs of the meal would have to be the coleslaw, which was outstanding, and the mango chutney, which is the perfect dipping sauce for fries (or chips, outside of the US).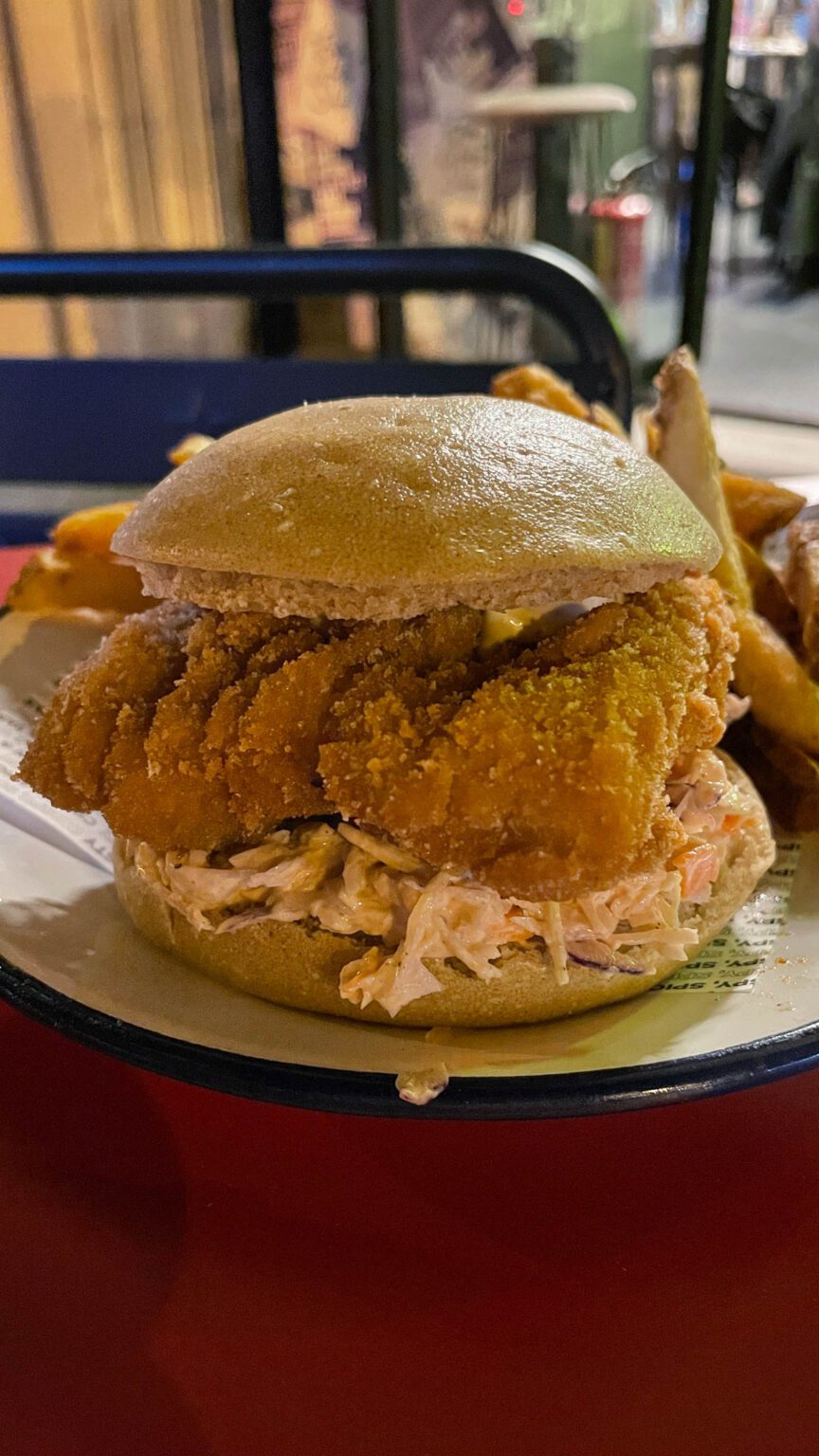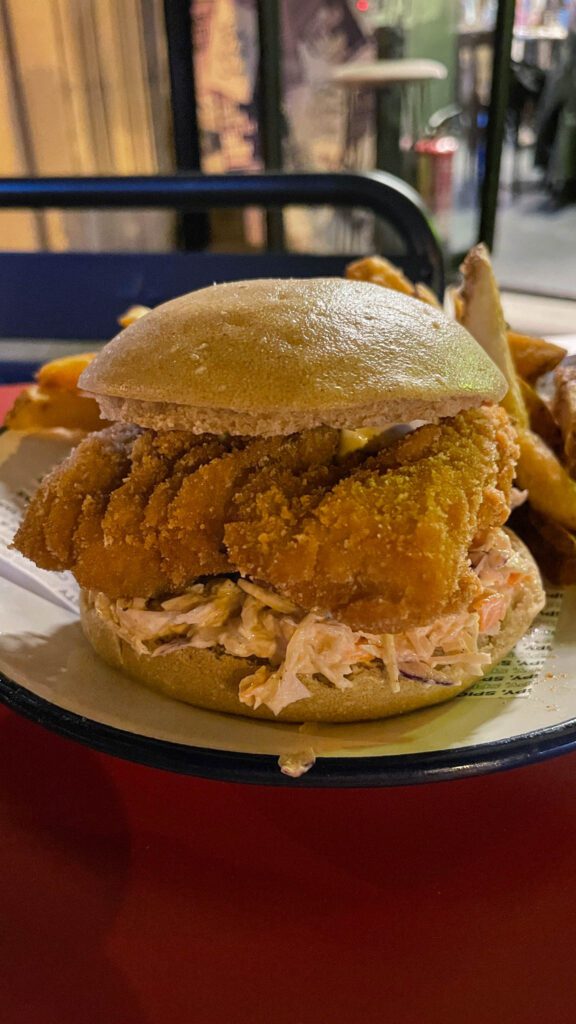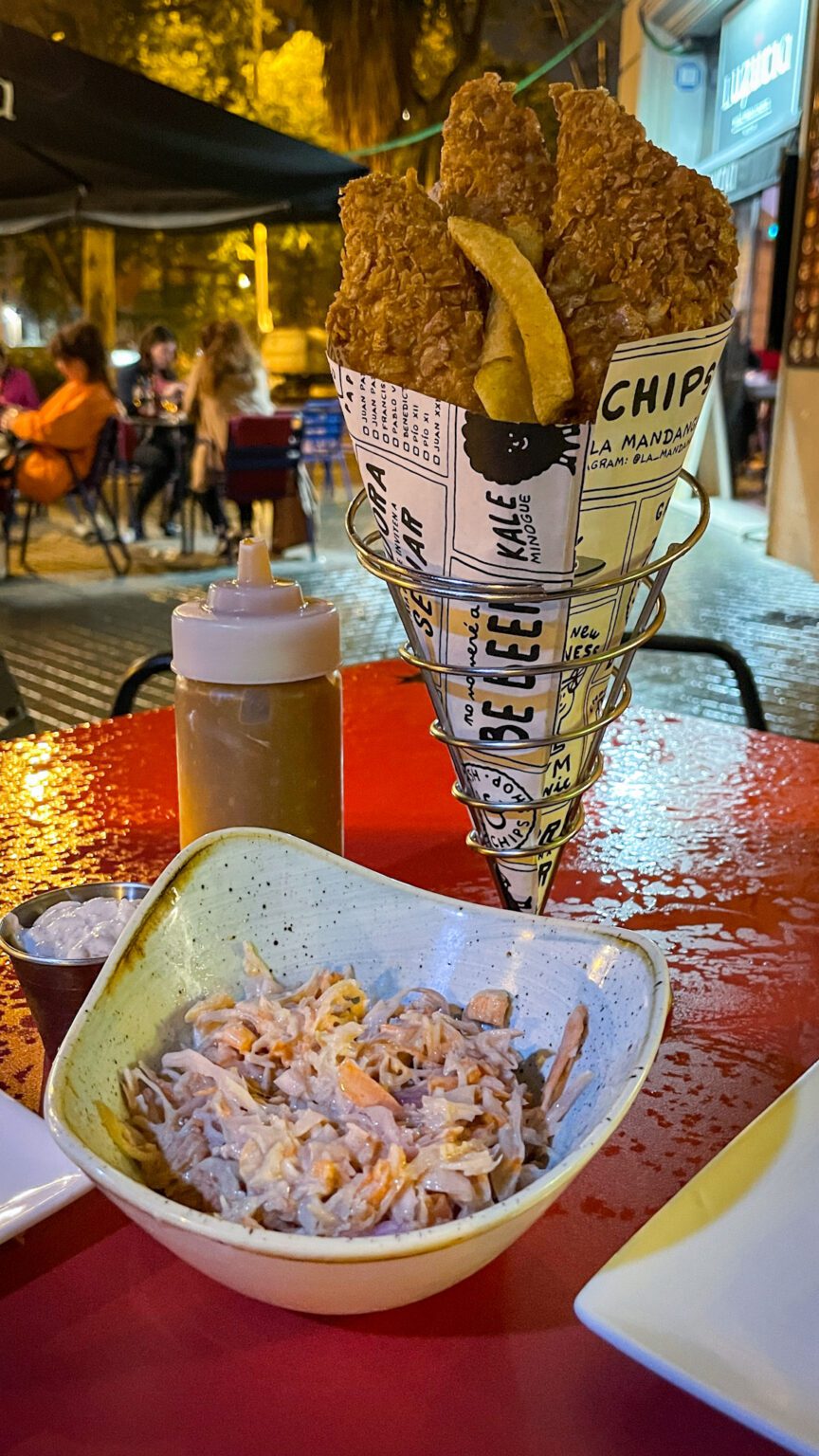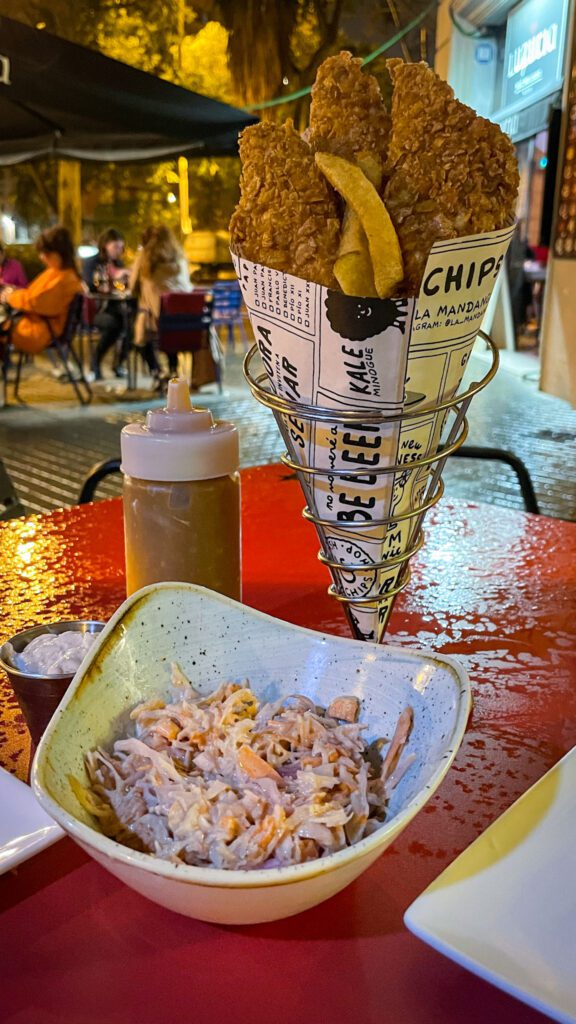 As we were eating, we noticed them bringing out a fried fish burger to the people sitting behind us, and we turned to each other and said "that looks good!" But we were too full already, so we decided a return trip was in order.
So a few nights later, we ended up returning specifically for the burger, which lived up to expectations and comes with the slaw on a gluten free bun. I was unimpressed with the calamari, but that's because it just wasn't as good as the burger or the fish and chips.
They also have natural wine on the menu to wash down your fish and chips, and a couple of gluten free desserts to choose from.
Gluten Free Location:
Gula Sana
Gula Sana is very much a breakfast / brunch spot with a brunch-y menu with things like eggs benedicts and toasts, and they are also a 100% gluten free bakery with lots of cake and pastry options.
Everything is gluten free, so you can order the benedicts, the toasts, the pancakes, and anything else your heart desires without having to worry about cross-contamination.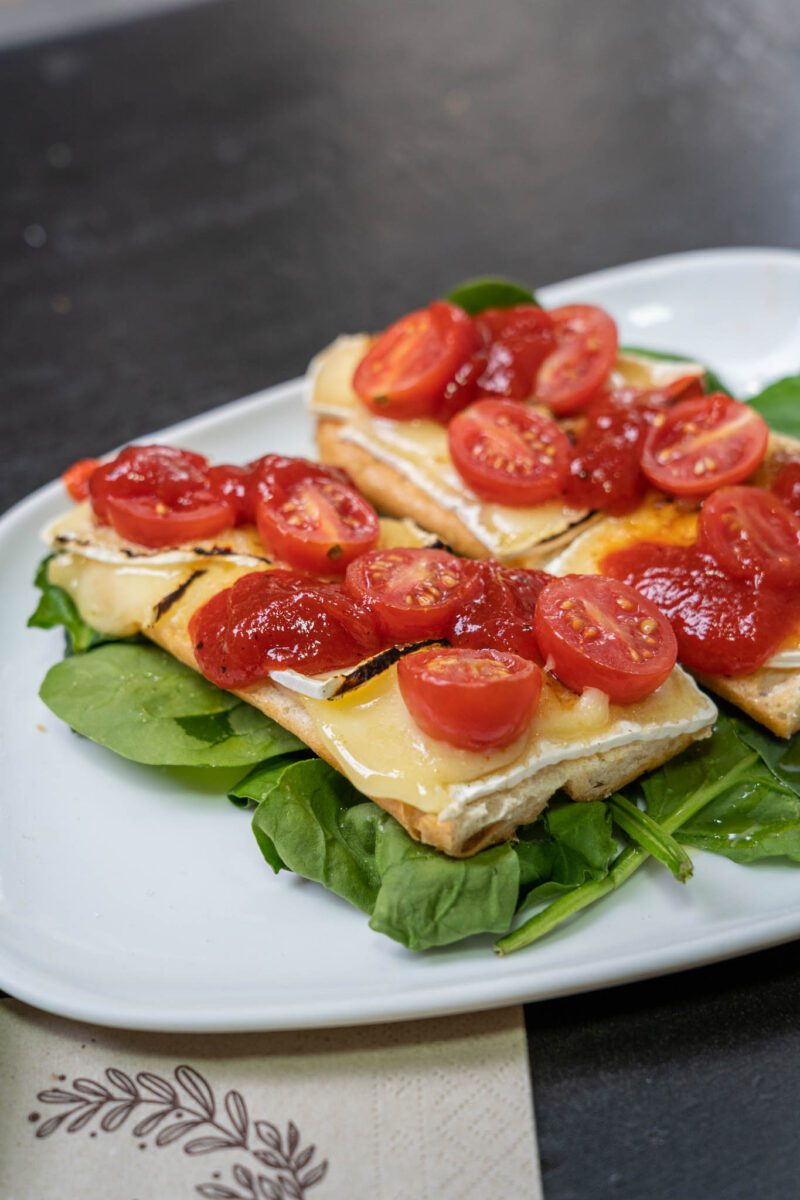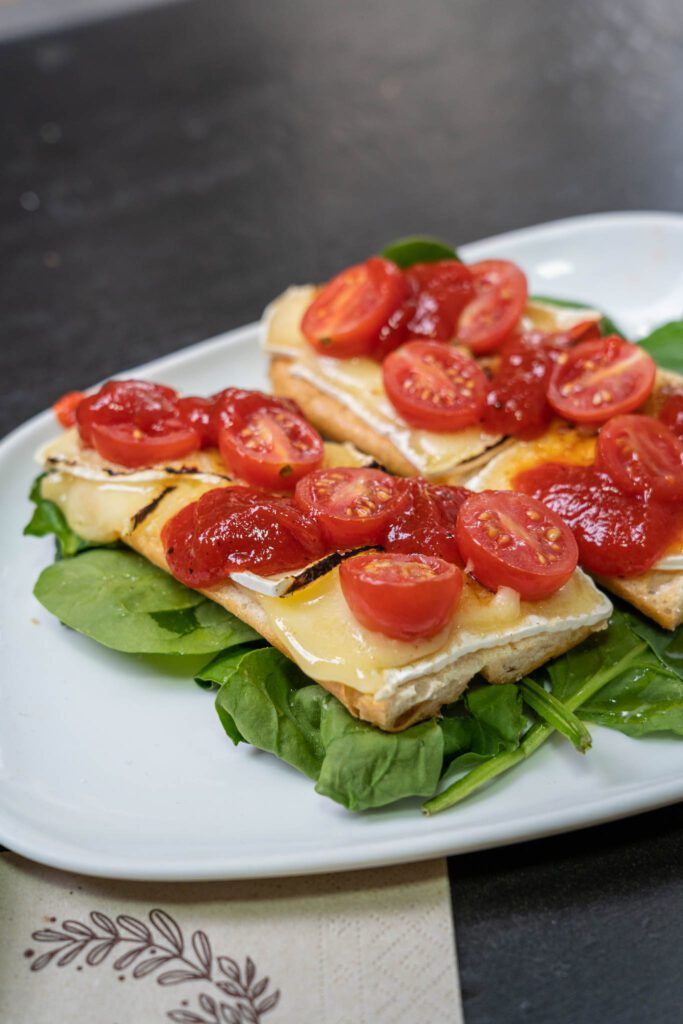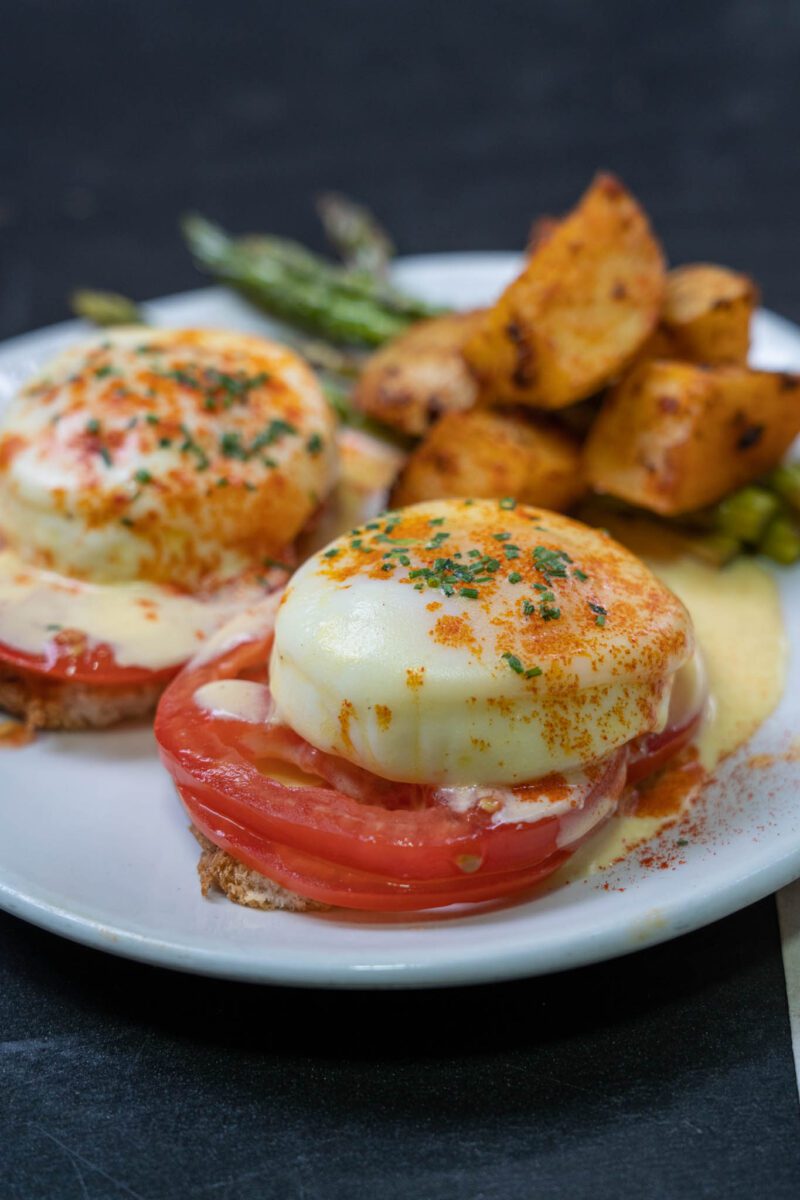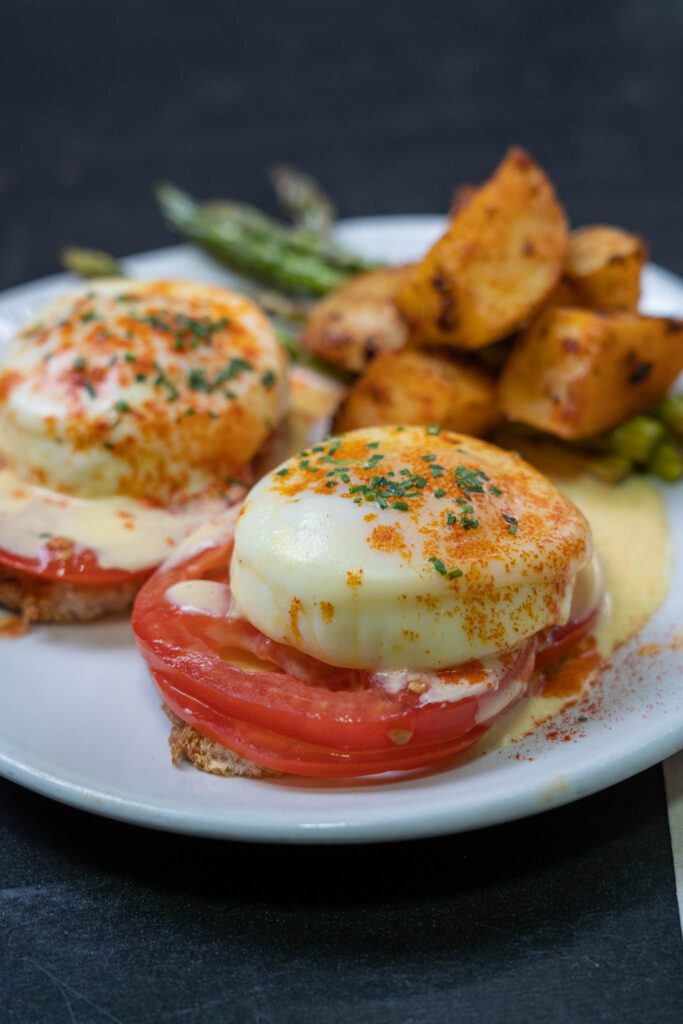 We highly recommend the brie toast – which comes with a delicious red pepper jelly – and the carrot cake, which was the best thing we ate at Gula Sana.
They have a wide range of gluten free baked goods and desserts (or, in our case, breakfast items) like cookies, savory empanadas, tarts, and cakes (we were having trouble choosing between the carrot cake and double chocolate cake).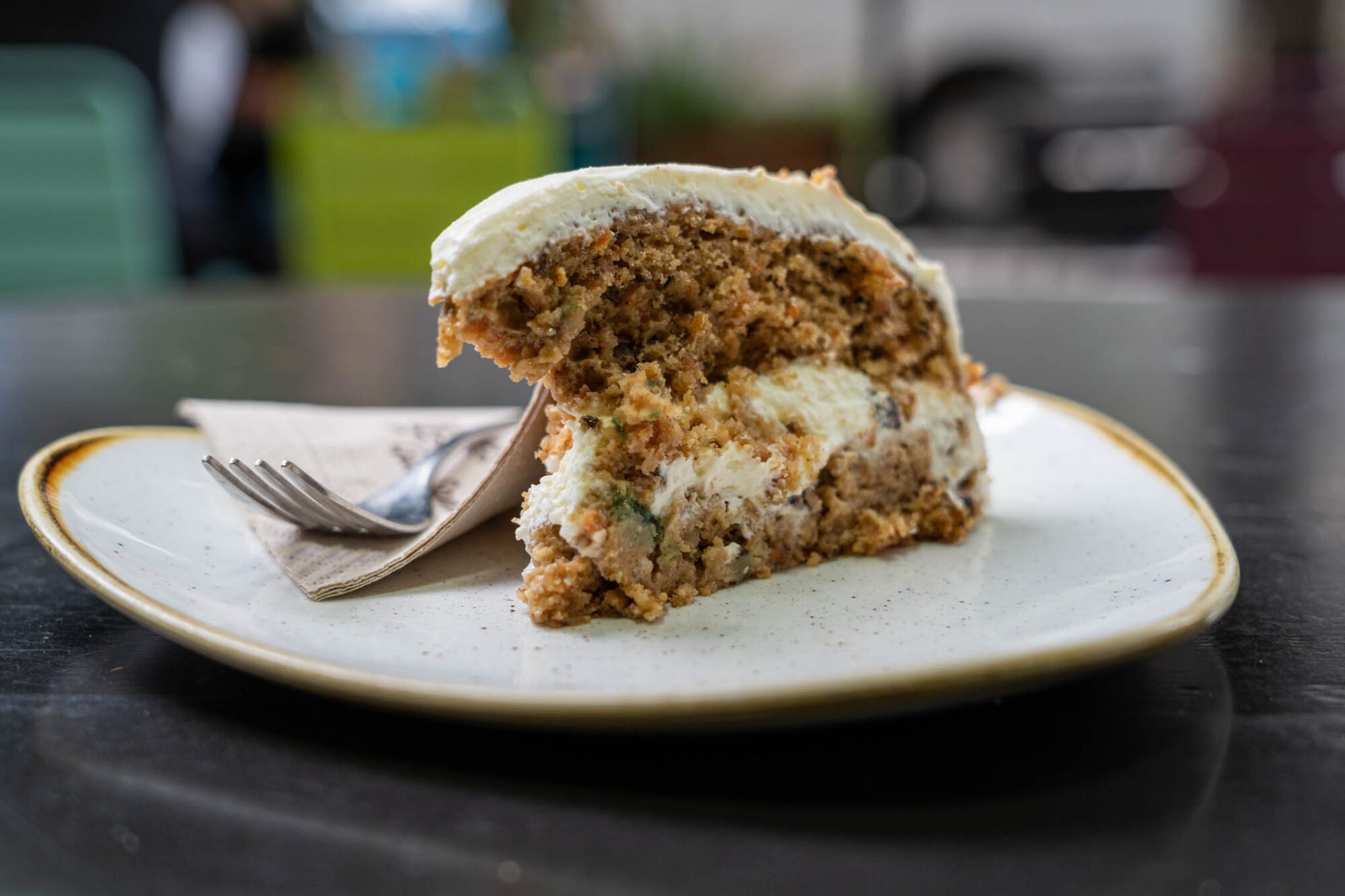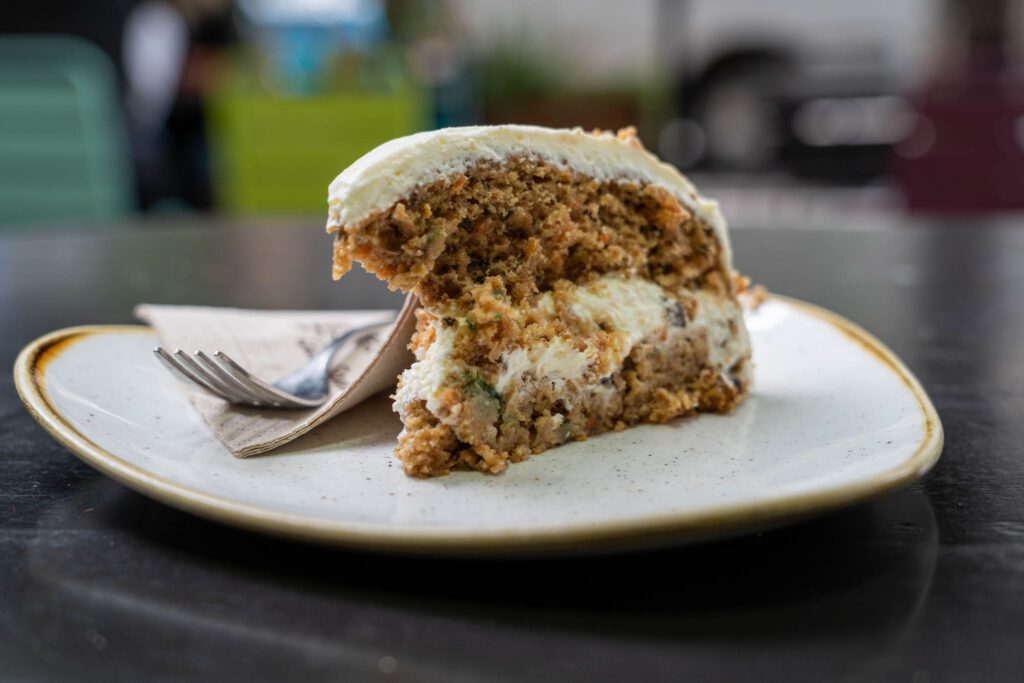 One note: Some of the staff doesn't speak English, and I had stupidly forgotten the word for piece, leaving me stumbling over my (broken) Spanish words trying to communicate that I only wanted a slice. When I went for the tried-and-true "hablas Ingles?" the server simply said "no." Which is 100% my fault – and I eventually got the message across – but it is something you should know if you don't speak Spanish.
My F*cking Restaurant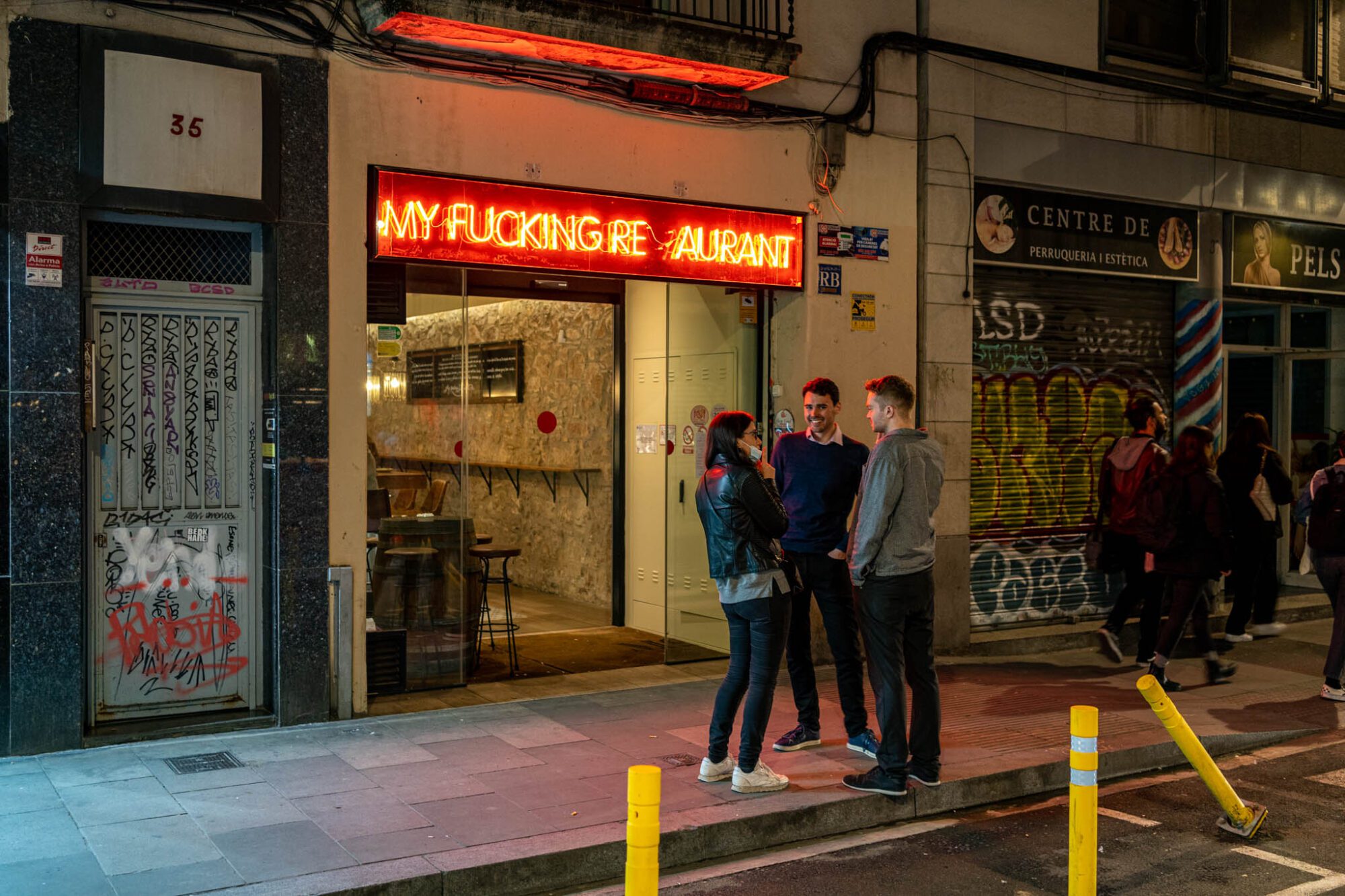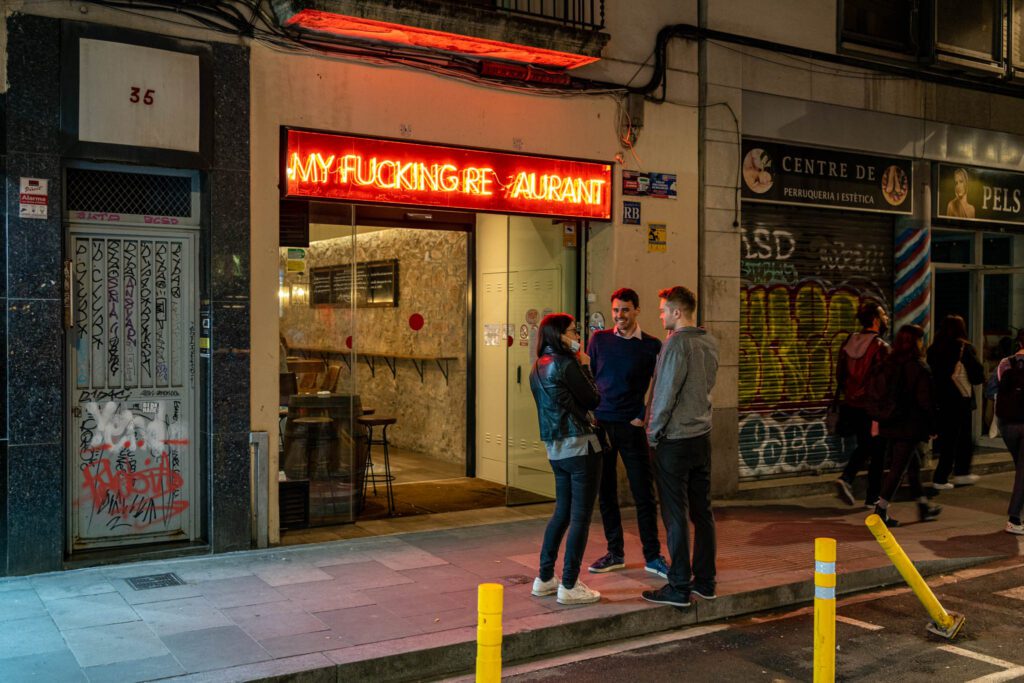 My F*cking Restaurant was pretty easily the nicest meal we had in Barcelona, and probably all of Spain and Italy. As soon as we entered the restaurant, we were met with the friendly smile of Donny (spelling?), who sat us at a table and gave us a rundown of the menu and the concept behind the restaurant.
By the time we walked out of the restaurant, I was in awe of Donny's (again, is that how you spell it?) charm, charisma, and ability to connect with us over our shared love of travel. He had dreams of visiting the West Coast of the US, and we told him that he had to go to Portland, one of our favorite cities in the world.
We weren't quite sure if this place was 100% gluten free or not, since they rotate the menu often and have had gluten-y items on the menu in the past. However, it sounds like everything will be gluten free going forward. Still definitely ask and double check with your server when you arrive.
The service was fantastic from the time we sat down until the time we left, which is not something you always get in Europe based on our experience.
Anyway, you might be wondering why the restaurant has a vulgar name. To be honest, I'm not sure. But my hypothesis is that they like to break the rules – for example, their version of patatas bravas has a twist that breaks all the rules that you should definitely ask about – and try new and different things.
They have a set menu, which involves somewhere between 9 and 13 tapas to share, and you can also order a la carte. The menu rotates almost constantly, which means this next part where we tell you what we ate and liked so you have an idea of what to order is likely to be outdated by the time this post goes live, but oh well!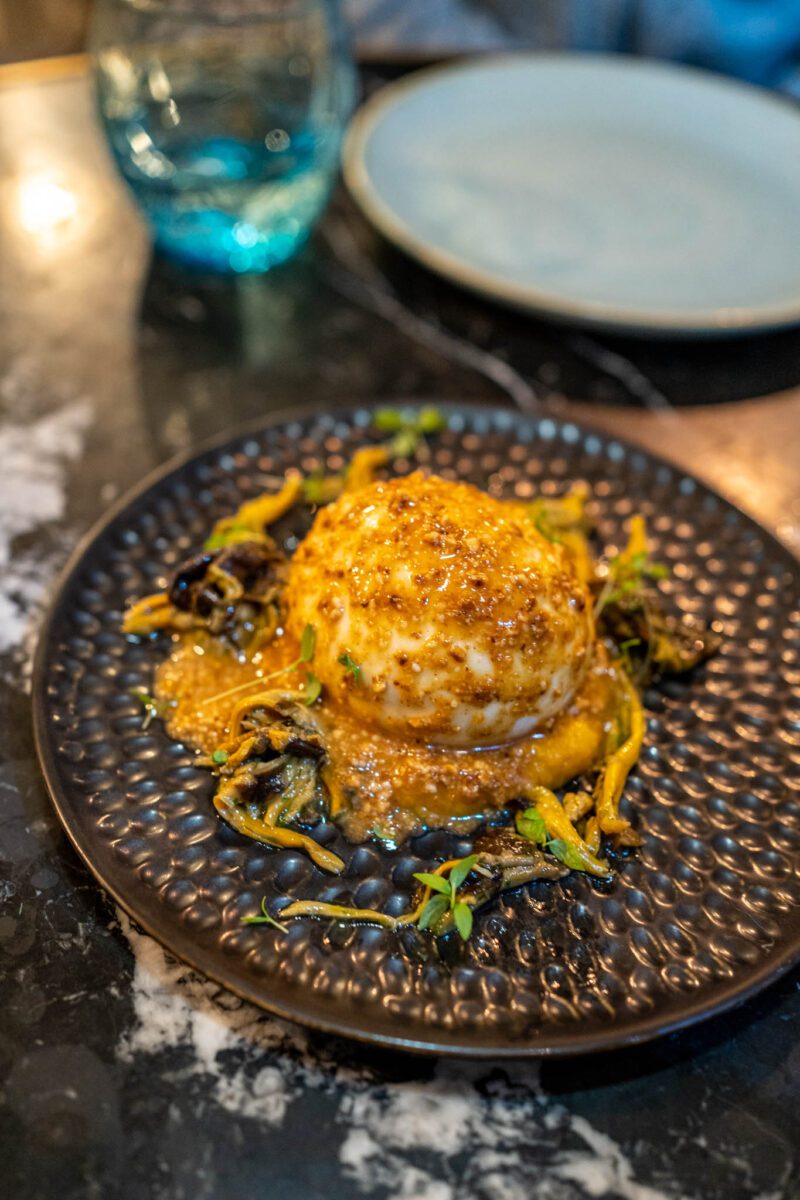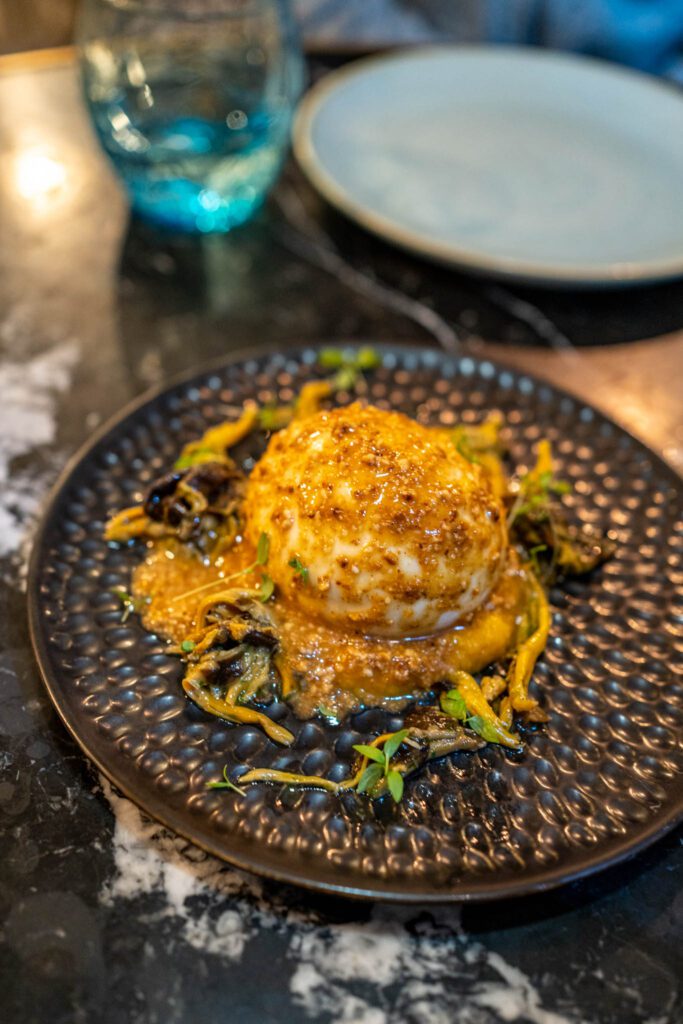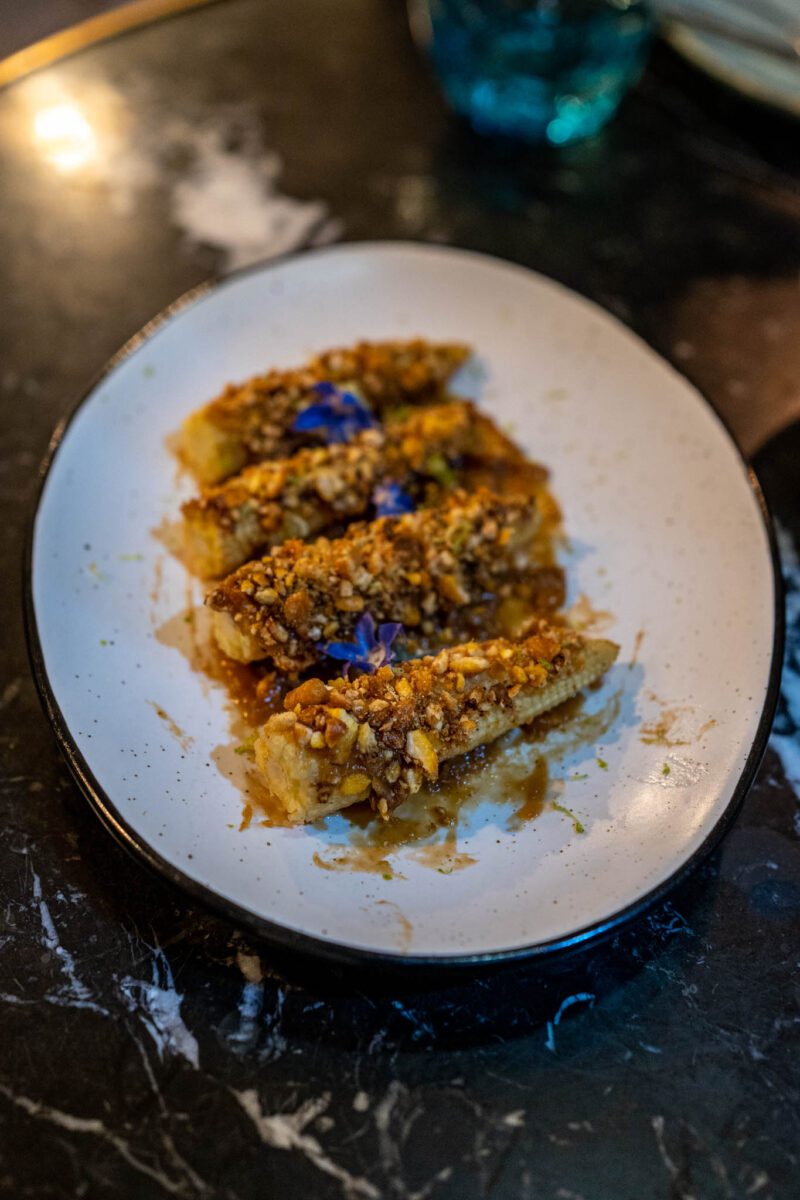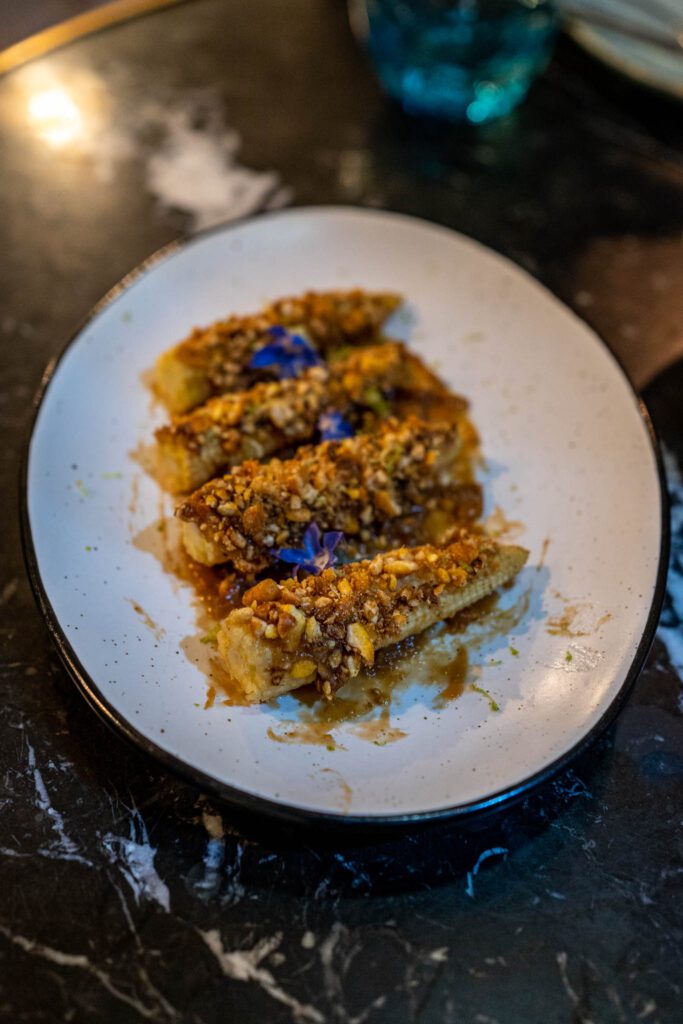 Here's what we tried and liked the most:
The burrata with pickled mushrooms and pumpkin puree was the star of the show. I could've eaten several plates of it if given the chance.
The mini corn cobs were a delight to eat thanks to the contrasting textures of the corn cobs and crust of crunchy corn pieces and the slight sweetness that came with the honey.
The gorgonzola risotto with pralines was also great, and different from any other risotto we had in Europe.
Flax and Kale (Passage)
What a pleasant surprise Flax and Kale was! A note at the top – only one Flax and Kale location (this one) is 100% gluten free and certified by the Celiac Association of Catalonia.
They're a very hip restaurant, featuring a "flexitarian" menu that, at least in our experiences in Europe, we've discovered tends to be secret code for "expensive, small portions, and okay food." But that's not the case at Flax and Kale. At the end of any trip we take, we usually sit with a drink and talk through our favorite experiences and foods. The Malaysian Curry from Flax and Kale ended up near the top of our list in Barcelona (and the truffle pizza wasn't half bad either).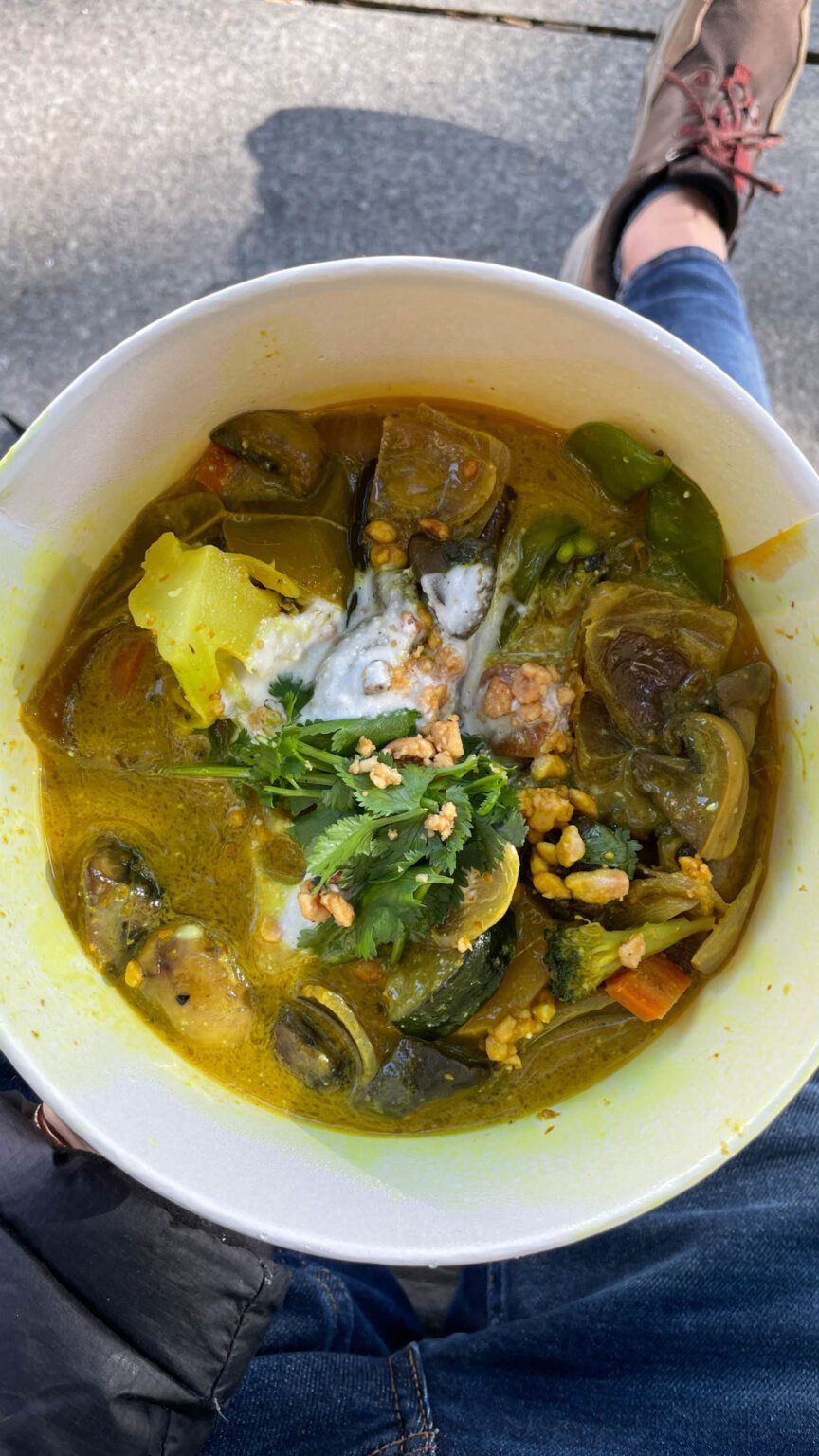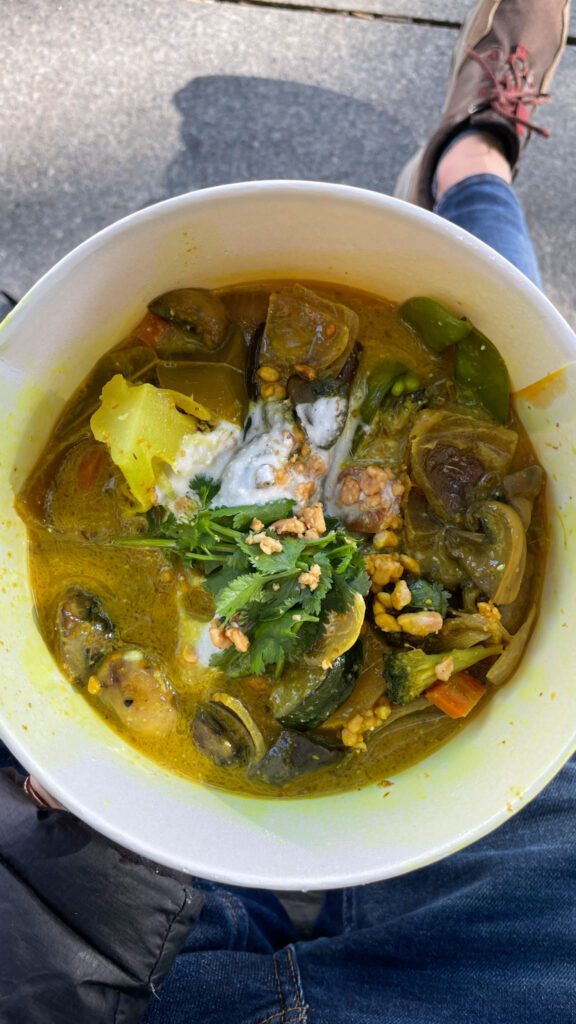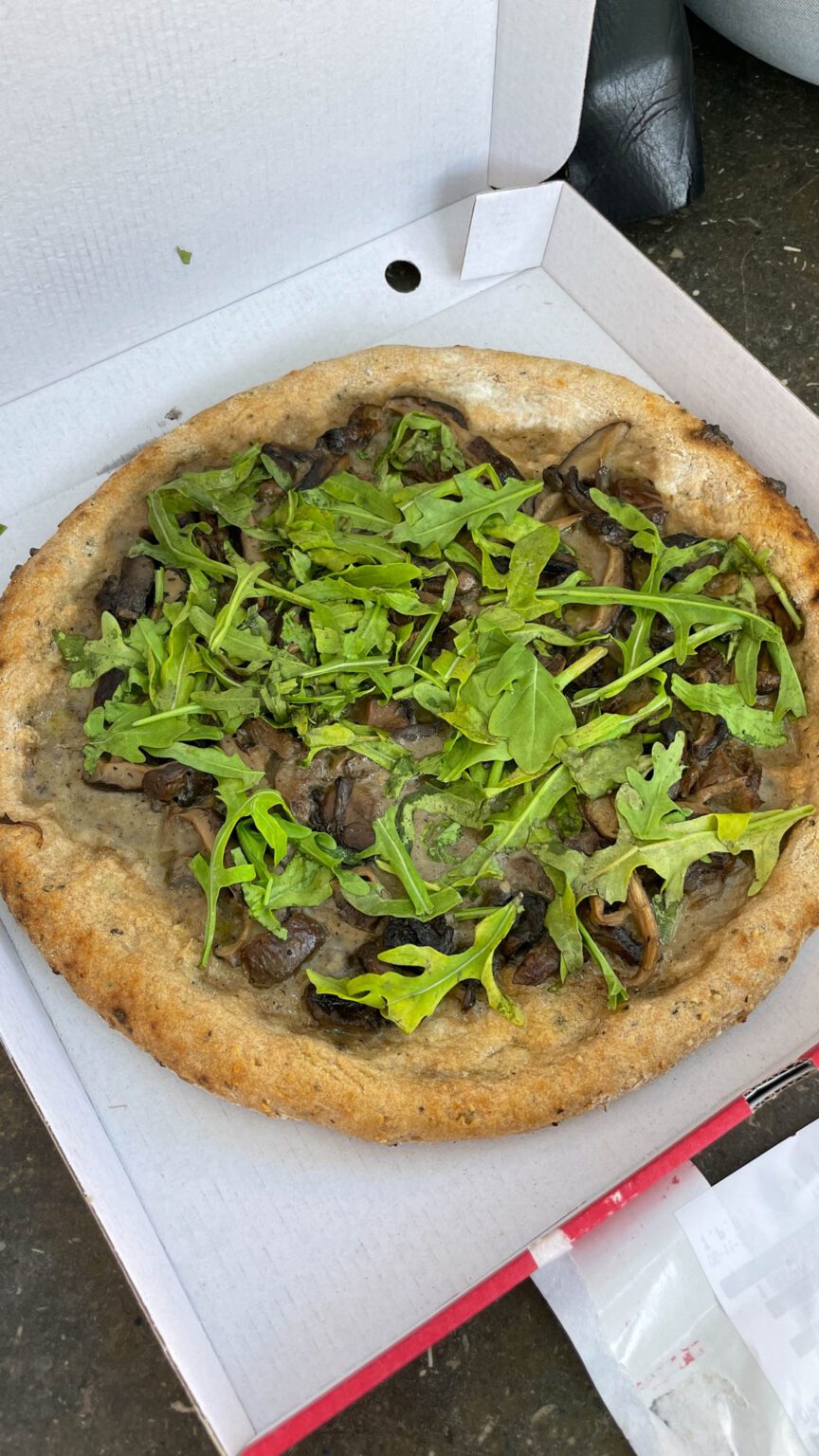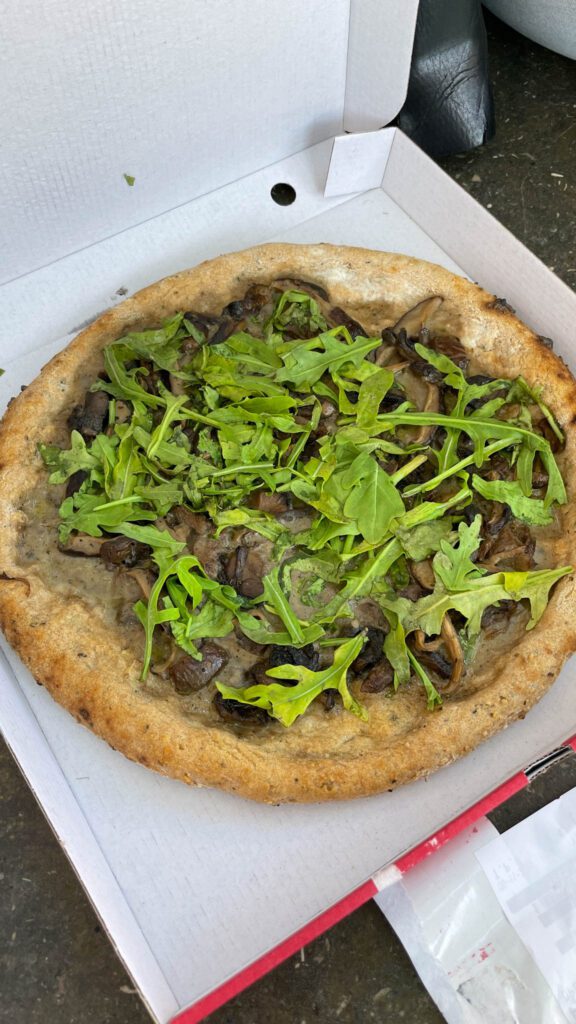 The menu is eclectic, with influences coming in from every corner of the world from Malaysia to Mexico.
This location is in El Born, and we got it to go and took it to the Barcelona Cathedral, where you'll find some of the best people watching in the city. Plus, some very talented street performers.
We also tried the BBQ Pork Bao, which was good, but fell apart immediately, which was likely because we got it to go rather than dining in.
Manioca
I only discovered this place because of the map on the Celiac Association of Catalonia's website. We love tapioca crepes, and when I saw the word "manioca" I went "YES!" It's just east of Parc Ciutadella, about 15 minutes northeast of the Barceloneta area.
Manioca is a Brazilian restaurant that is 100% gluten free and serves a wide variety of Brazilian specialties with a slight Spanish twist. We started with the pan de queso (pao de queijo, in Brazil), which are little chewy balls of tapioca and cheese, and are one of our favorite things to eat and make at home.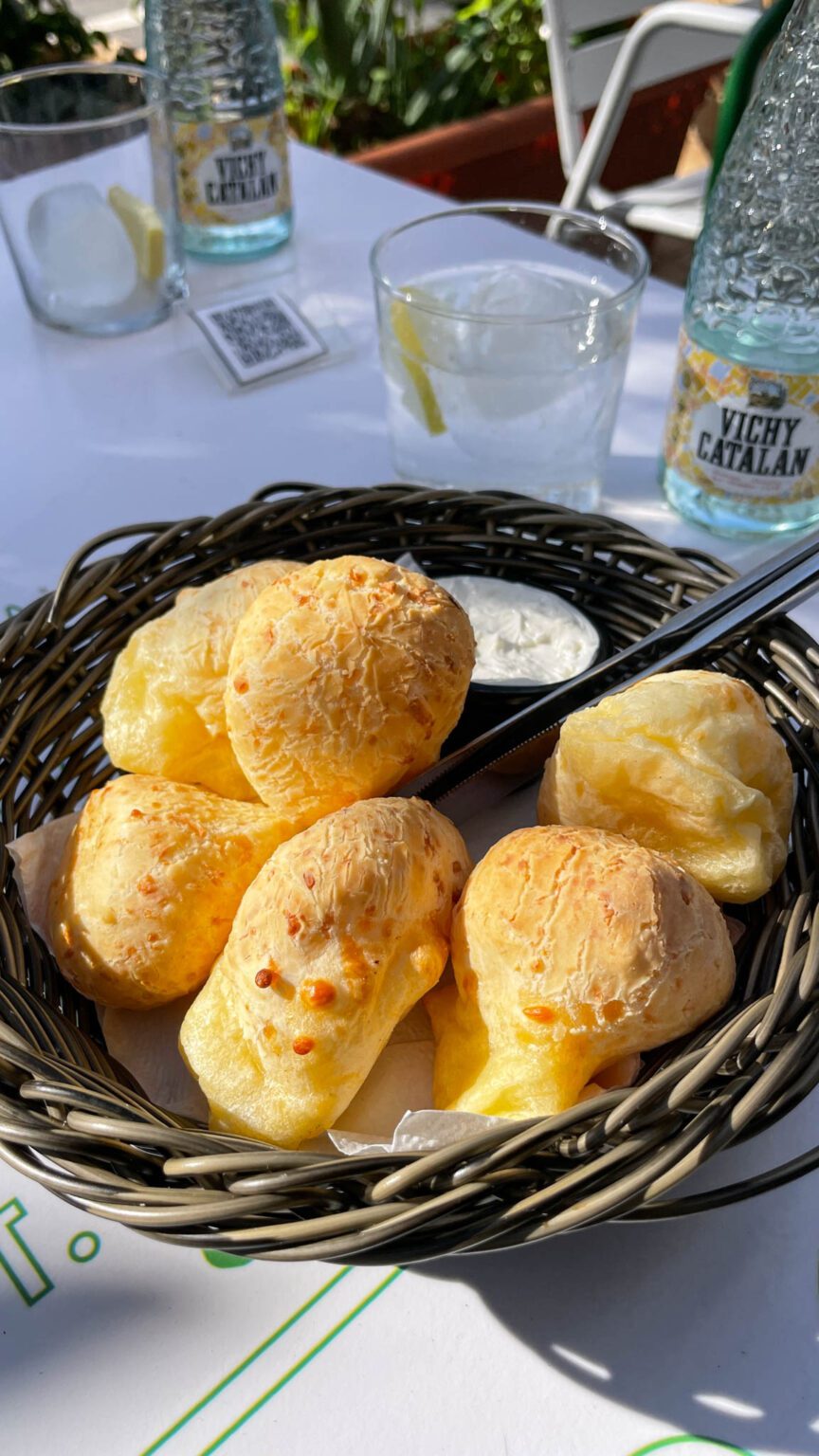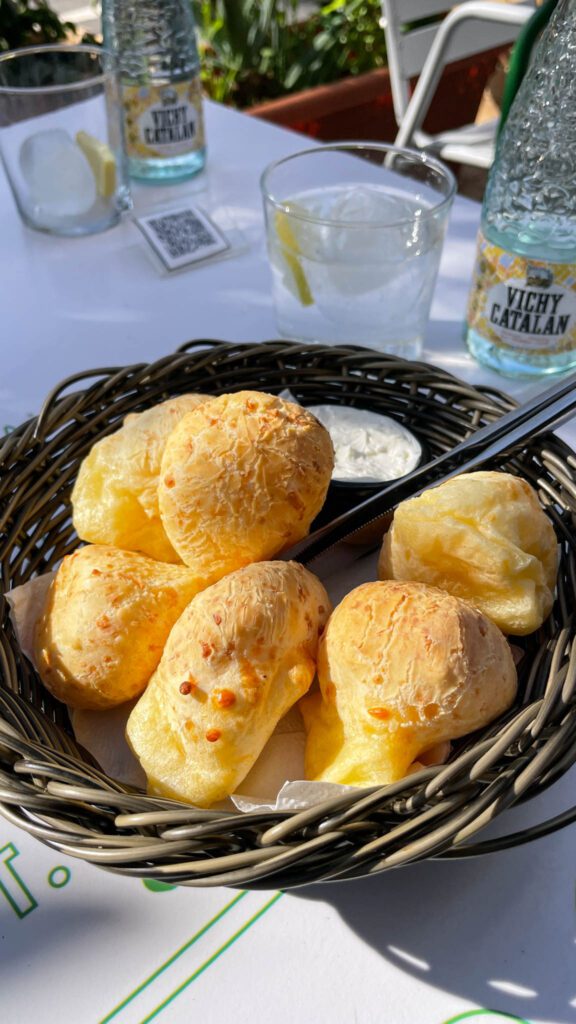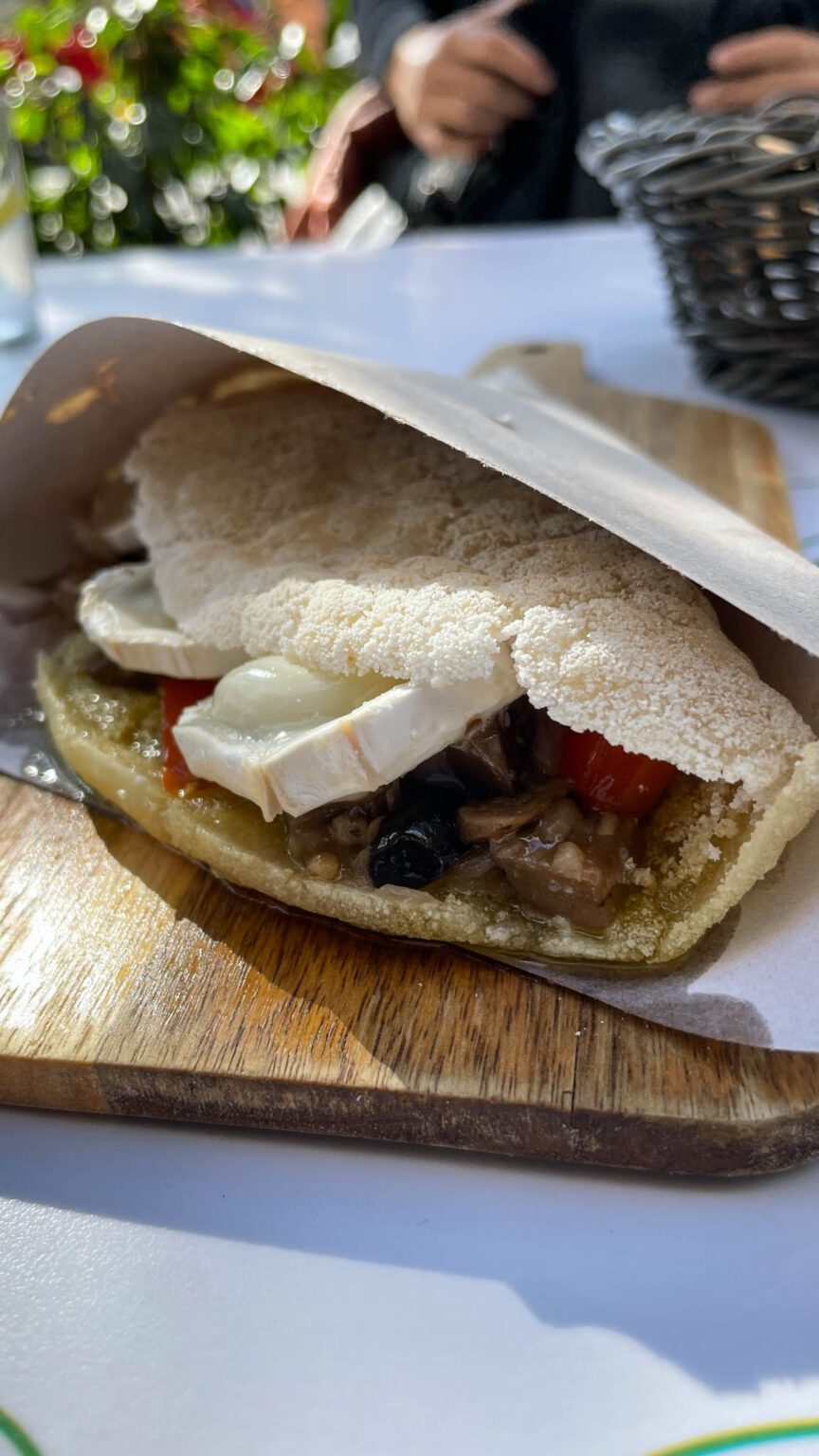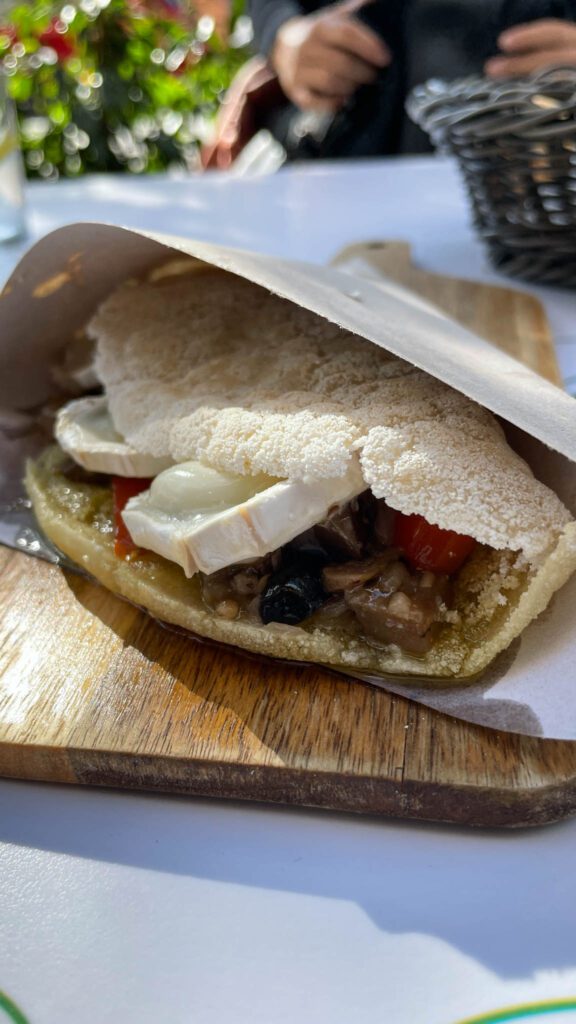 We each had a tapioca crepe – I had the jamon serrano and Alysha had the goat cheese and eggplant caponata – and both were solid, though hers was the clear winner, I think.
Plan C
While it is 100% gluten free, we were generally pretty unimpressed with Plan C, a tapas / burger / taco / everything restaurant in Barcelona. They have a combination of tapas on the one hand, then the second page of the menu is a smorgasbord of different internationally-inspired offerings like yakisoba, tacos, and kebabs.
We went for tapas, and had the croquettes, Spanish omelette, and pan con tomate. Nothing was particularly special, or particularly tasty. Perhaps it's what we ordered, but we went in expecting to order more food, and after the first round decided that was enough and went elsewhere.
Perhaps we ordered the wrong things and your experience will be different – if that's the case, let us know below in the comments!
M2 Gluten Free
We didn't actually make it to M2 Gluten Free, but the menu is 100% gluten free and features all sorts of things from burgers, to pizza, to pan con tomate. It's just east of Gràcia, towards the more lowkey neighborhood of Les Corts.
Dedicated Gluten Free Bakeries in Barcelona
There are a bunch of gluten free bakeries in Barcelona, and we ran all around the city to make it to five of them that are the most accessible from the center of Barcelona.
To be honest, all of them are good, and have different strengths, which was a VERY pleasant surprise. We'll go through all of them below, but know that you really can't go wrong and if you only have a couple of days in the city, you should decide based on which is most convenient or which fits what you're in the mood for (e.g. pastries, bread, cakes, etc).
Jansana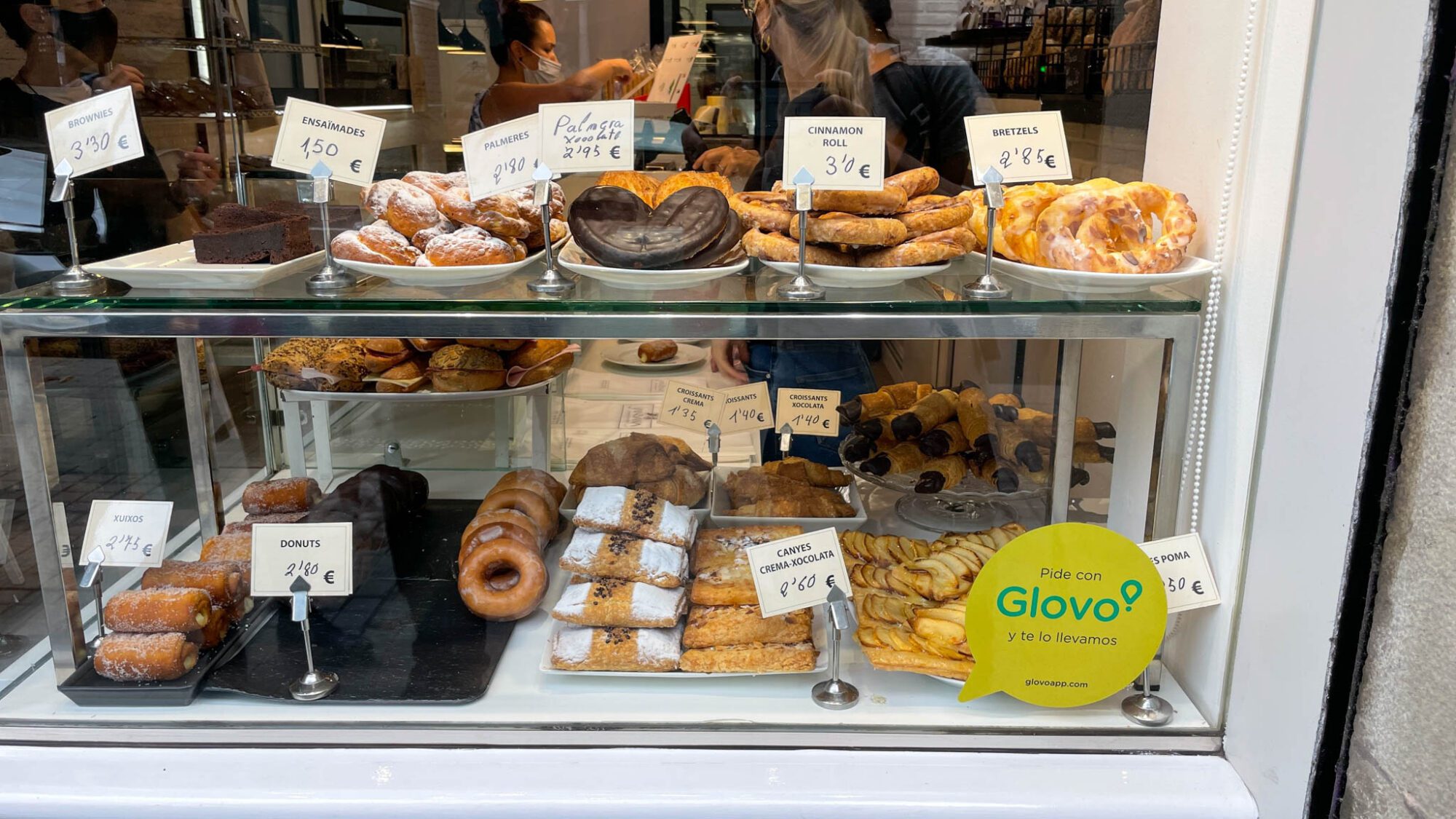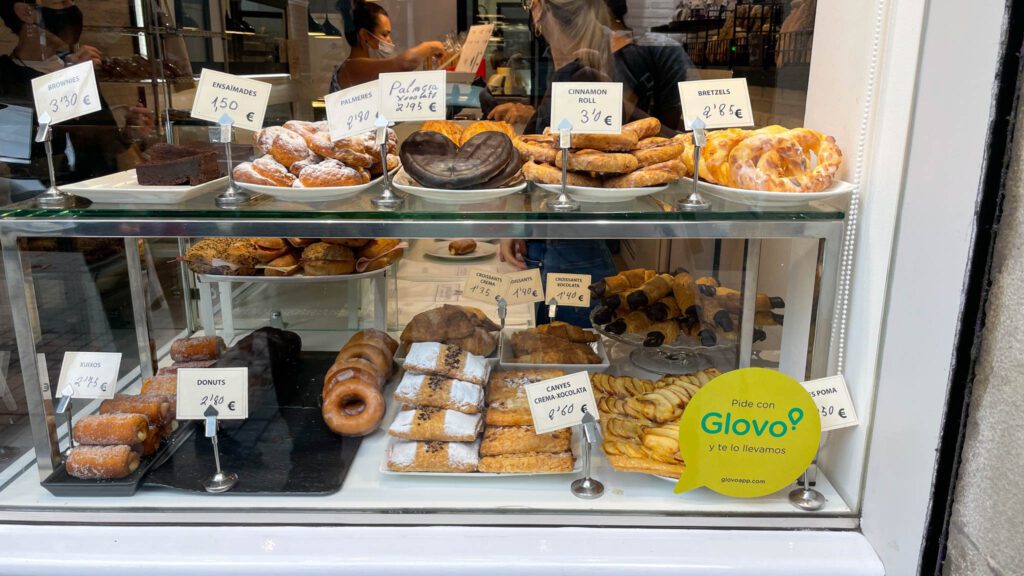 Jansana was a few blocks away from our apartment for the first half of our latest trip to Barcelona, and we went on our first full day in the city. It's on the border between l'Eixample and Gràcia, just off of Passeig de Gràcia.
If it tells you anything, I made a special trip on our last morning in Barcelona across the city to restock on their pastries, and ended up picking up a loaf of bread that we used for sandwiches over the next few days.
Jansana opened way back in 2015, making them one of the first gluten free bakeries in Catalonia. It's also worth noting that they have their own production facility, and strictly manage ingredients and production to make sure that everything is safe for Celiacs.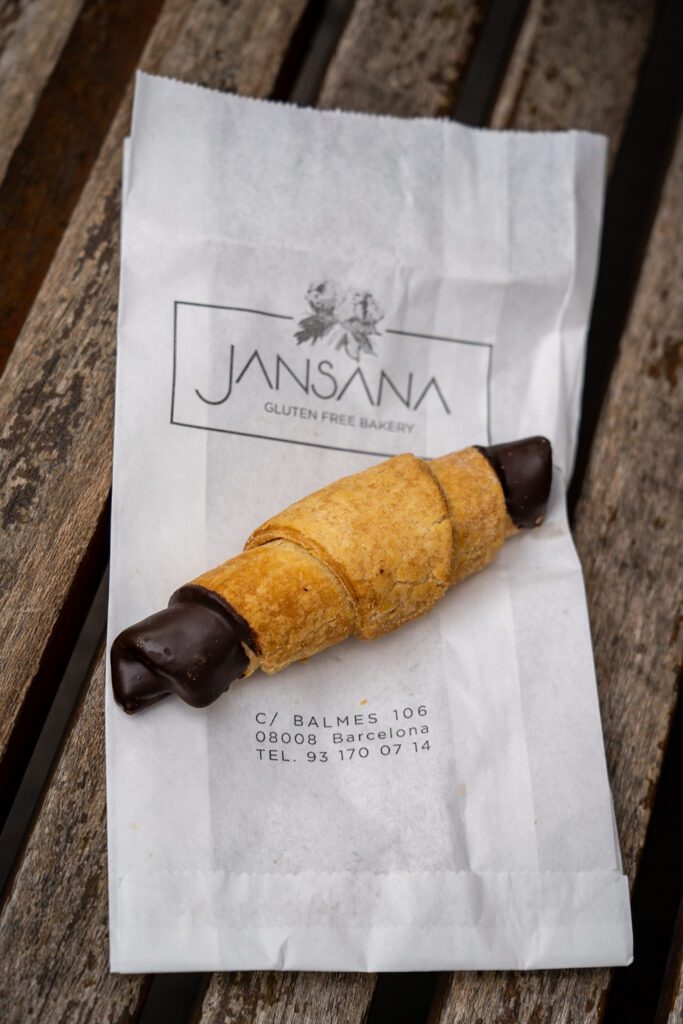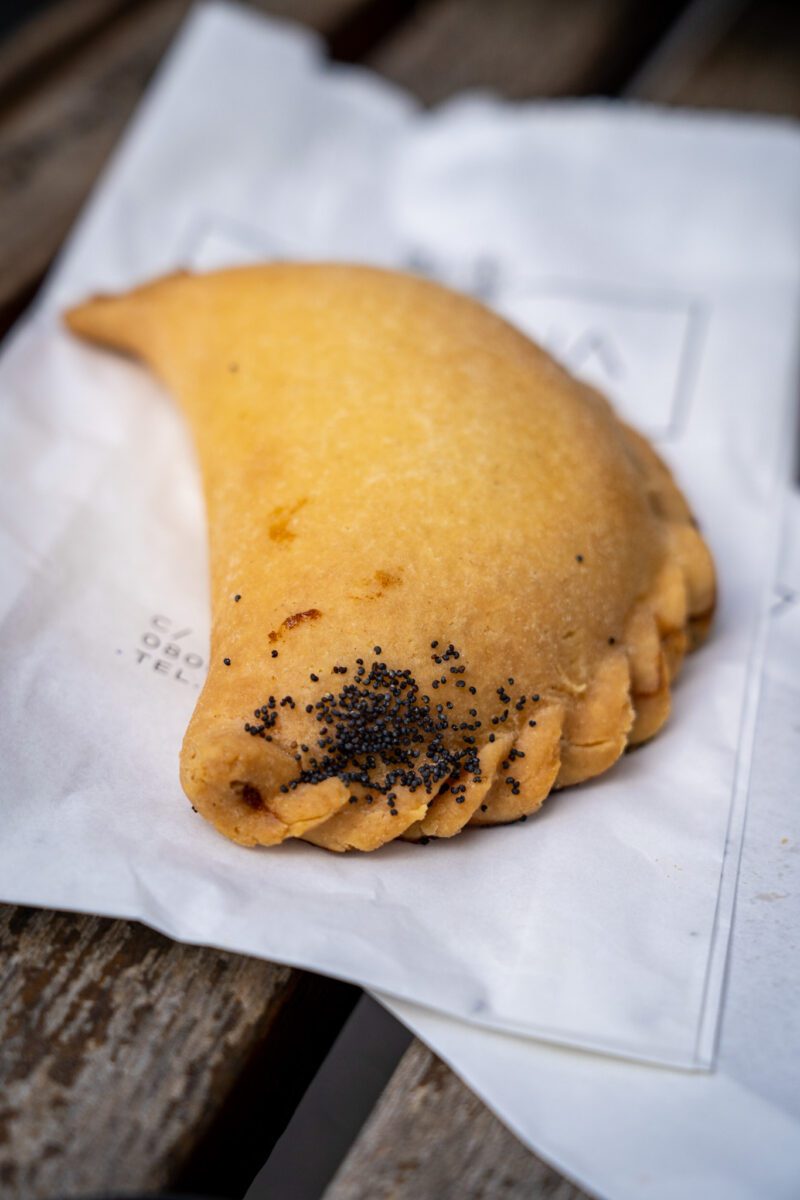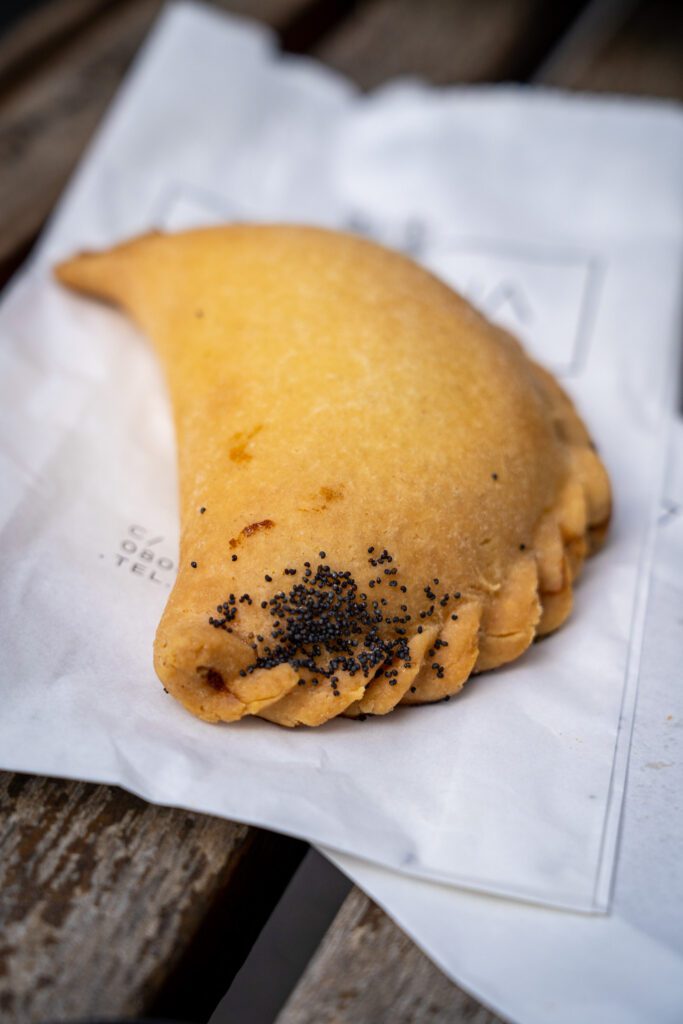 They have a mix of sweet and savory pastries and amazing bread loaves, including sliced sandwich bread and more French-style loaves and baguette-ish loaves.
We recommend: The Caña xocolata (you can also get it filled with cream instead), the savory croissants (we had one with ham and cheese that was delish), and the empanadas (blue cheese and walnuts – yes please!).
Also, you should probably try a xuixo, which is a traditional Catalan pastry (from Girona!) that is fried and filled with crema catalana (though we also saw them filled with chocolate on our day trip to Girona).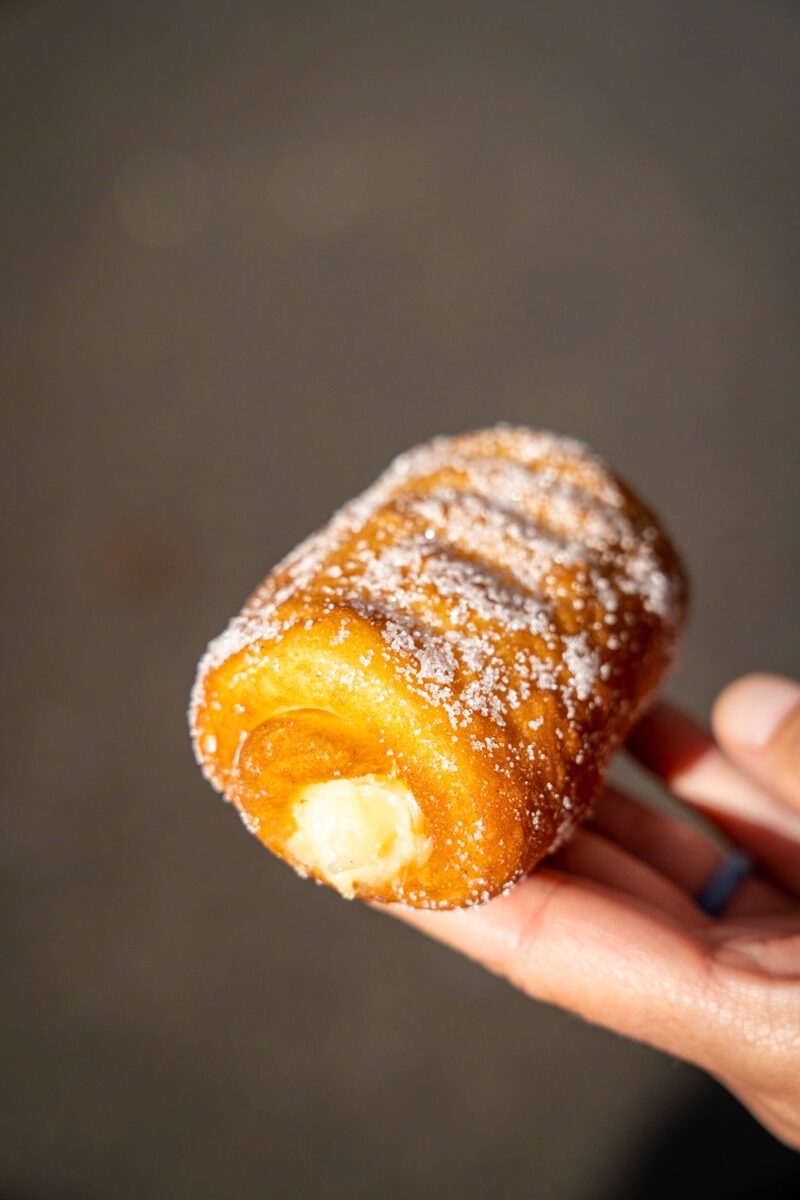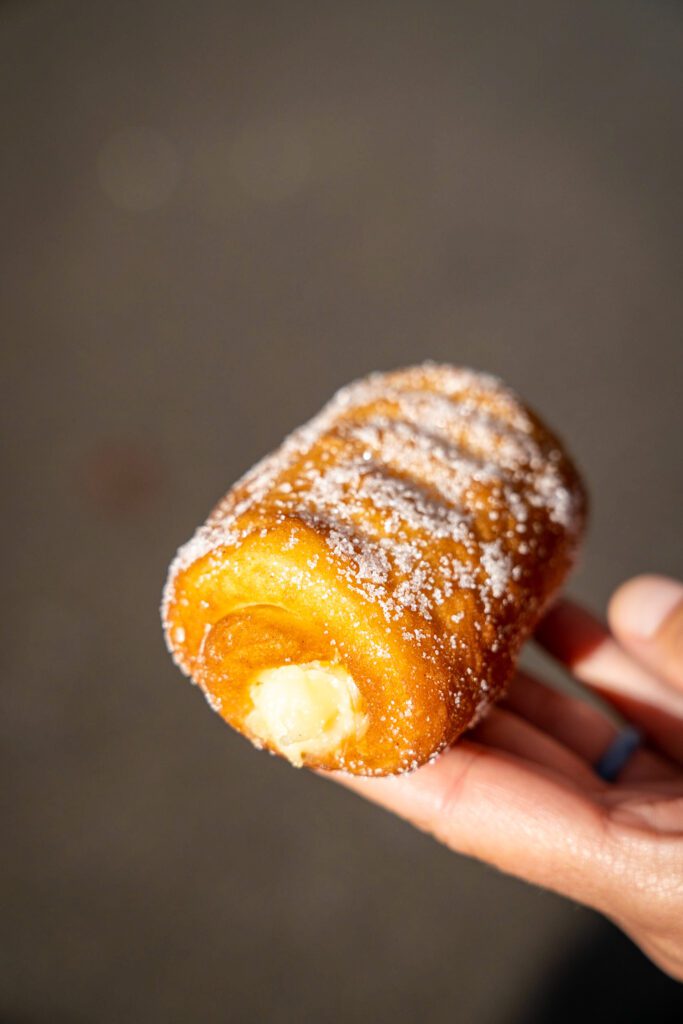 This is the only place I saw a gluten free version, so get it if they have it!
You can see a list of their current offerings here.
Pasticelía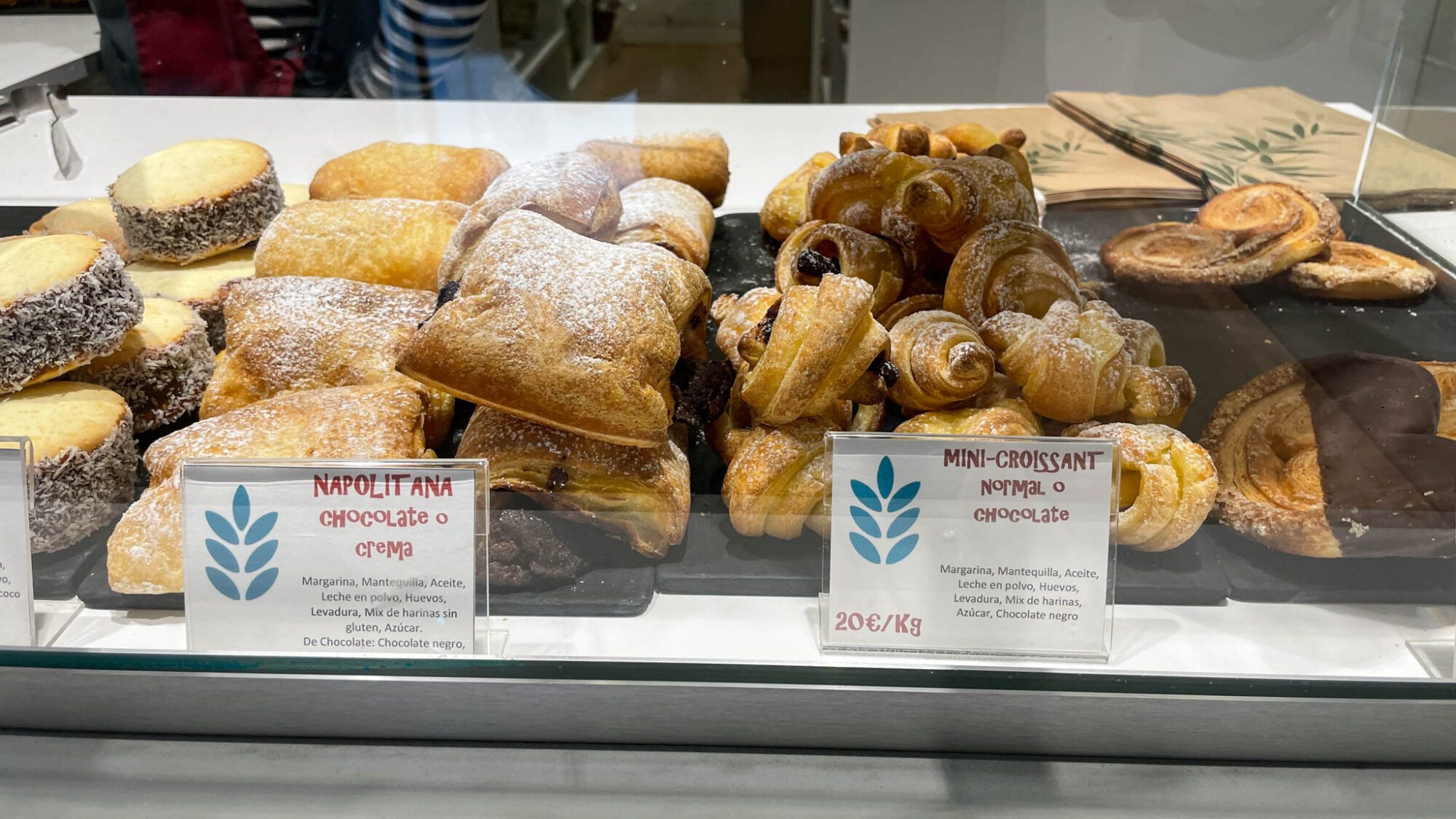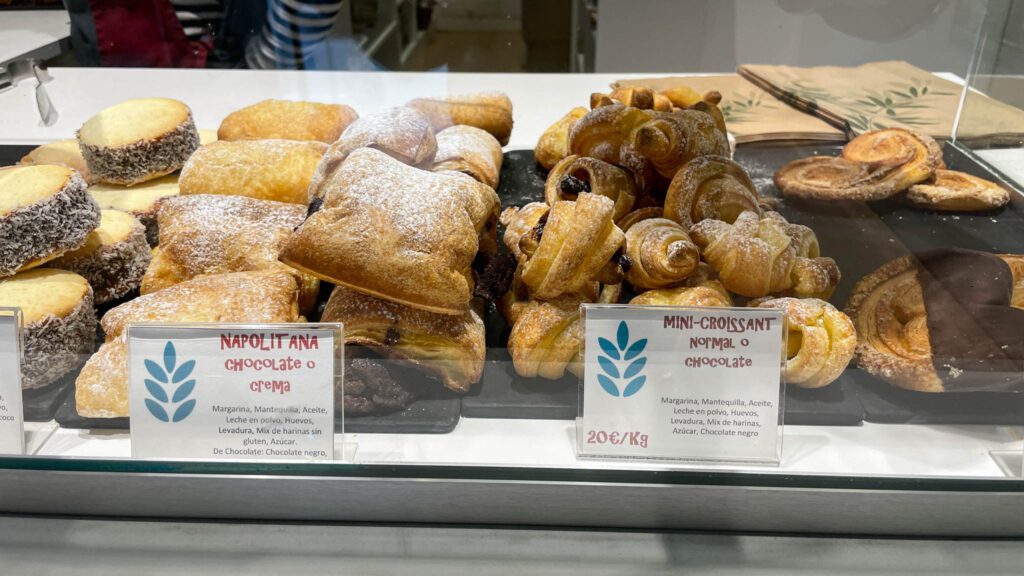 Another 100% gluten free bakery (certified by the Associació de Celíacs de Catalunya), located mere blocks from Jansana (the one above), which makes them a great one-two punch for Celiacs looking for amazing baked goods.
To be honest, we had a hard time deciding which one we enjoyed more. Both were fantastic, and are a worthy addition to any adventure towards Gràcia.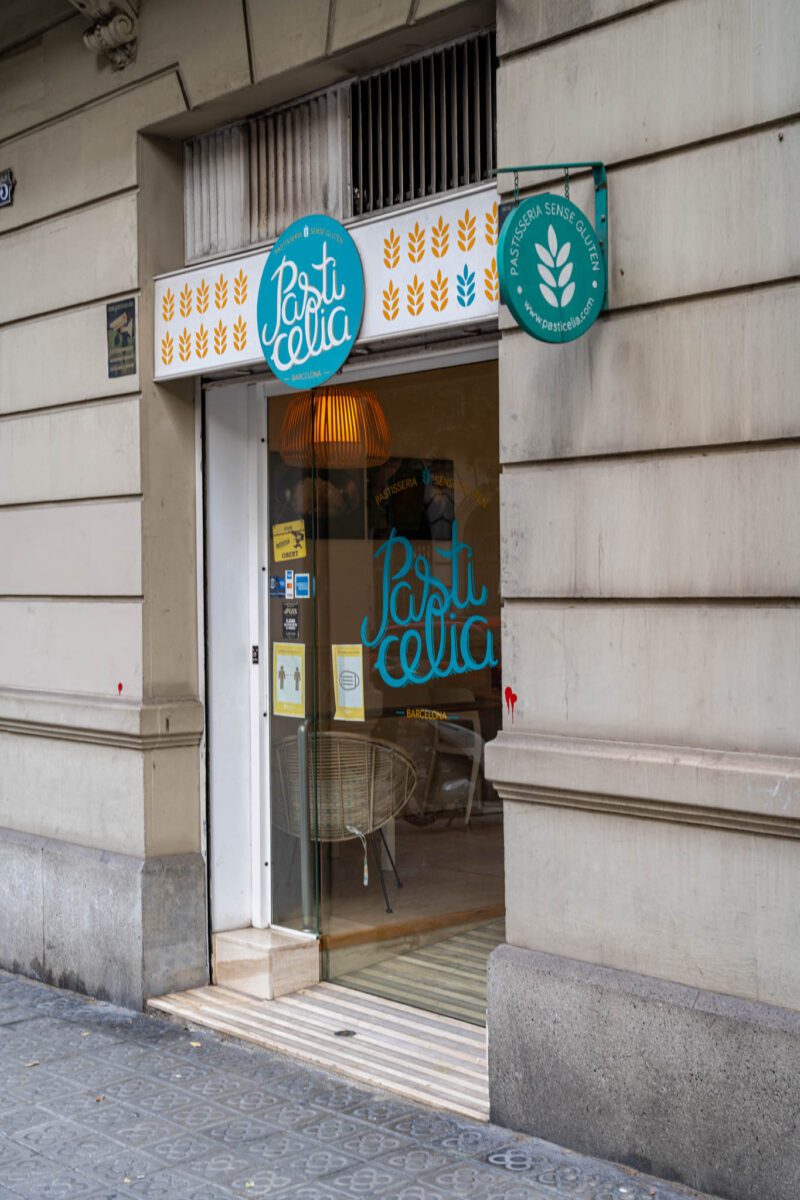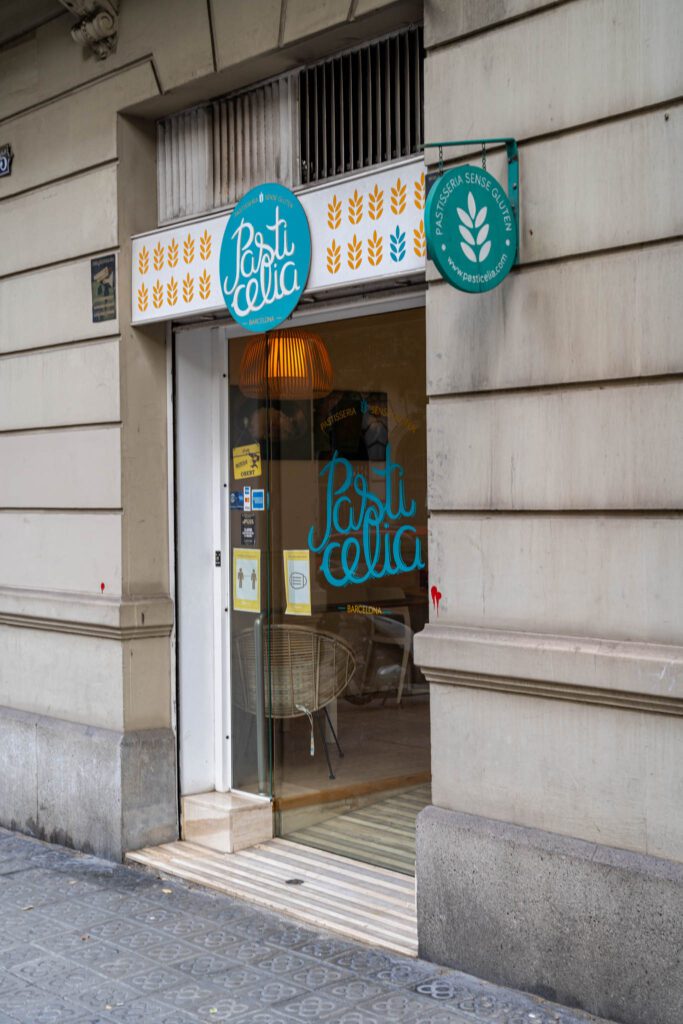 The story behind Pasticelía is fun, and is very similar to a bunch of the stories we've heard behind our favorite gluten free products around the world. Two women who met in kindergarten and came in and out of each other's lives over the course of the following few decades decided to start a gluten free bakery.
For one of them, it was out of a desire to make better gluten free products for their Celiac children, and after the financial crisis crippled the companies they previously had worked for, they entered into a (delicious) partnership.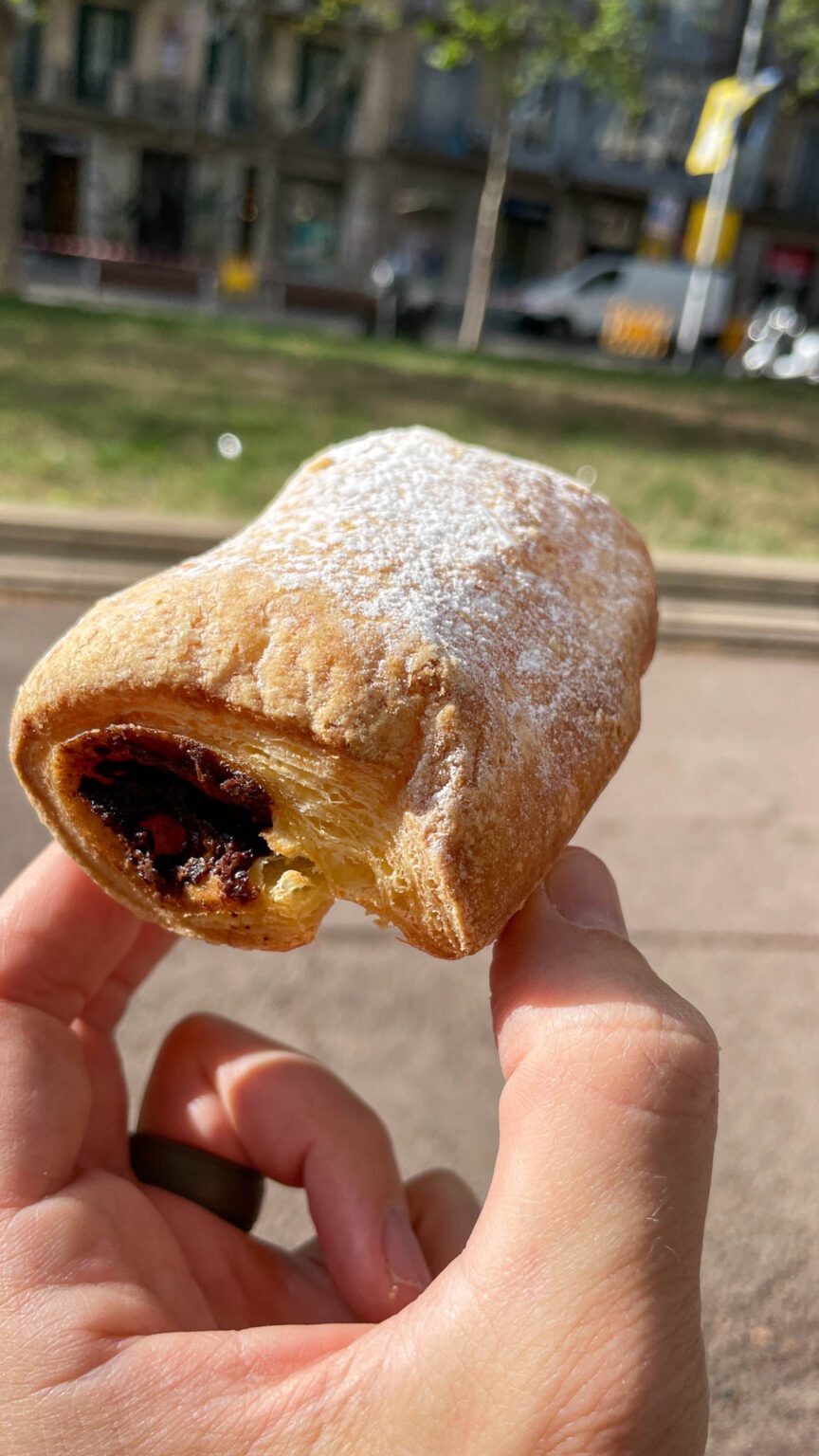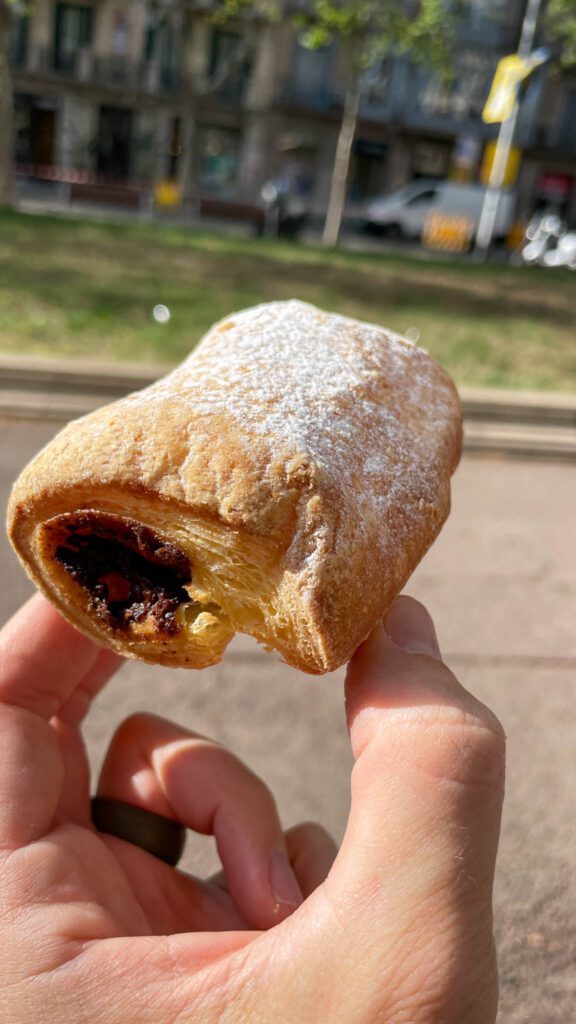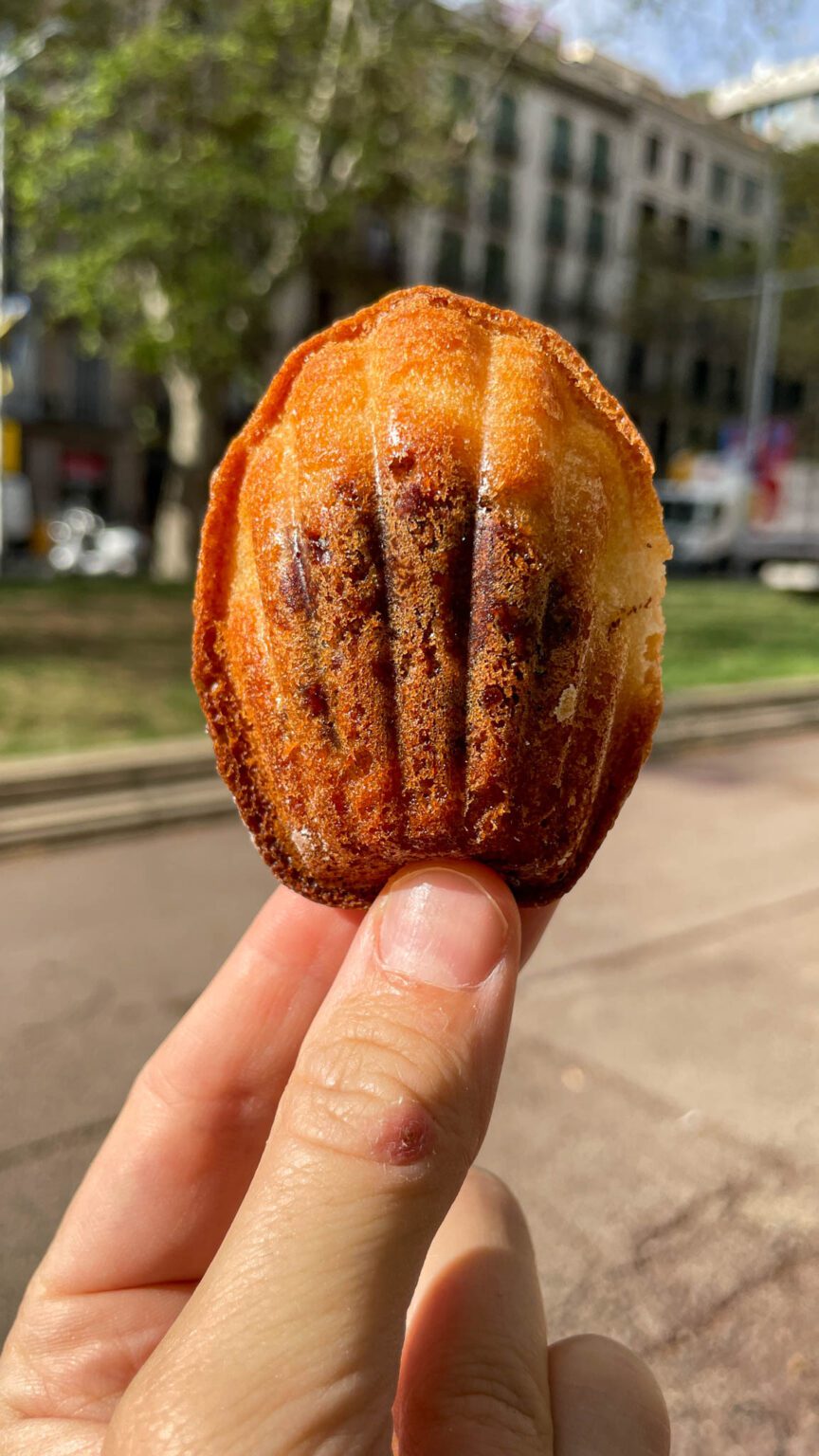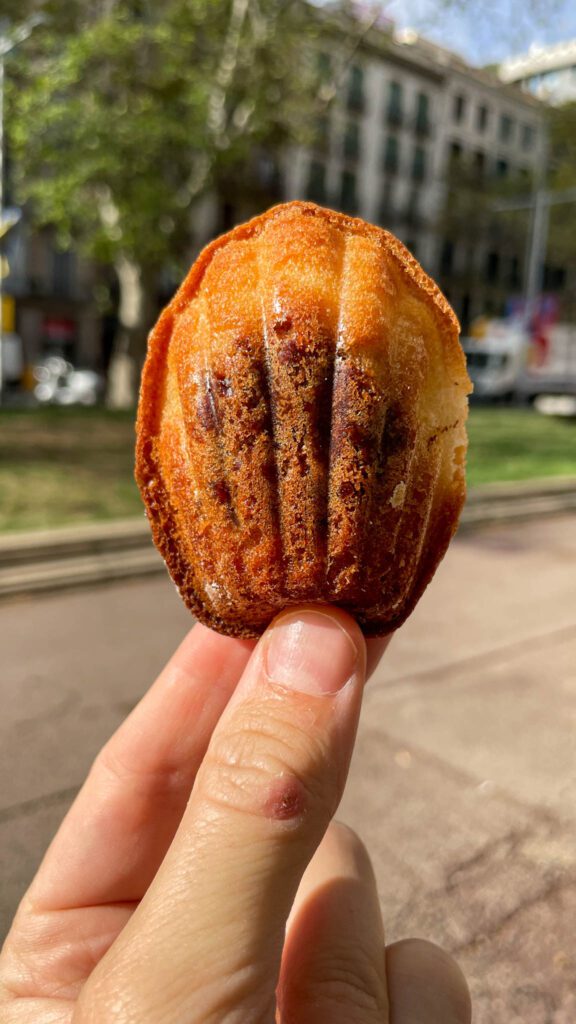 We thought their croissant and napolitana (with chocolate, duh) were outstanding – super buttery and flaky, just like a croissant should be (though we do want to make it clear that there's still going to be a texture difference because, you know, gluten). We also got a madeleine, but realized after eating it that we have no idea what a regular madeleine is supposed to taste like because we can't remember the last time we had one.
CHOK (ONE LOCATION ONLY)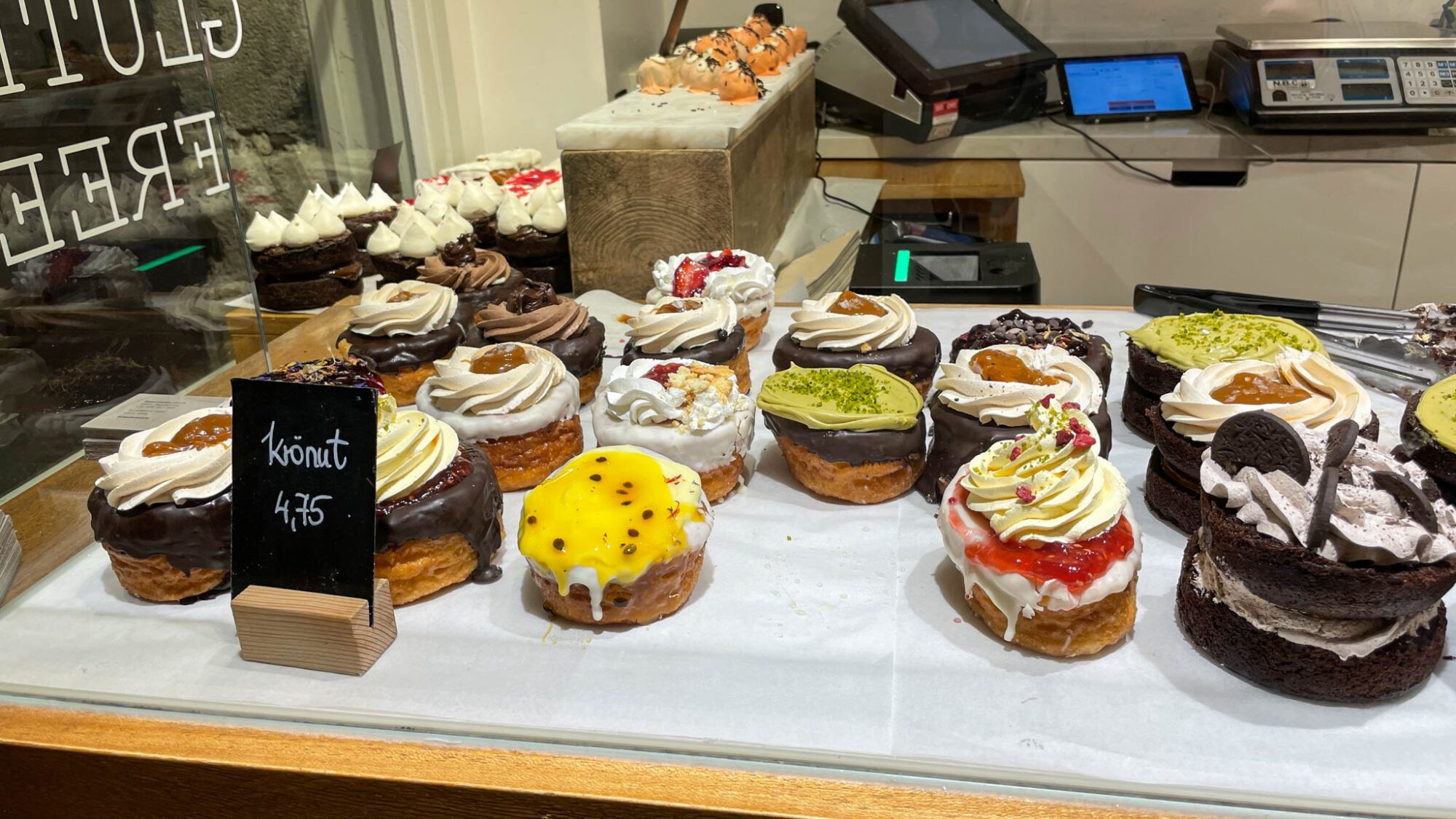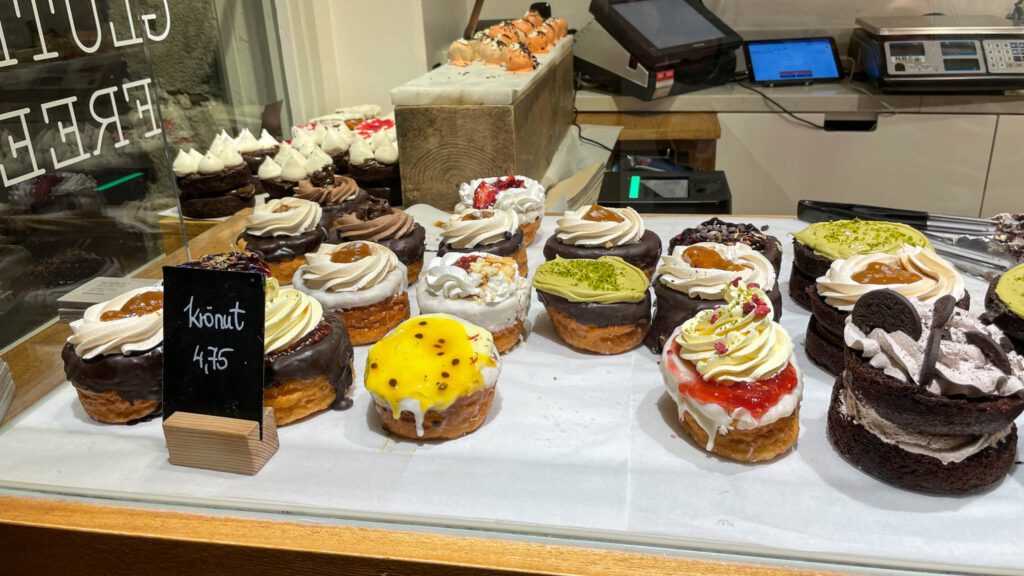 A note up front: only one of their locations is gluten free! It's a dedicated kitchen, and it's certified by the Celiac Association of Catalonia.
They make a couple of things – towering cakes, cookies, and the highlight, kronuts. Which are basically a big donut covered in either vanilla or chocolate icing, and then topped with a variety of toppings. They're gorgeous, and we'd recommend trying one chocolate and one vanilla with some sort of fruity topping (they had a passionfruit kronut when we were there!).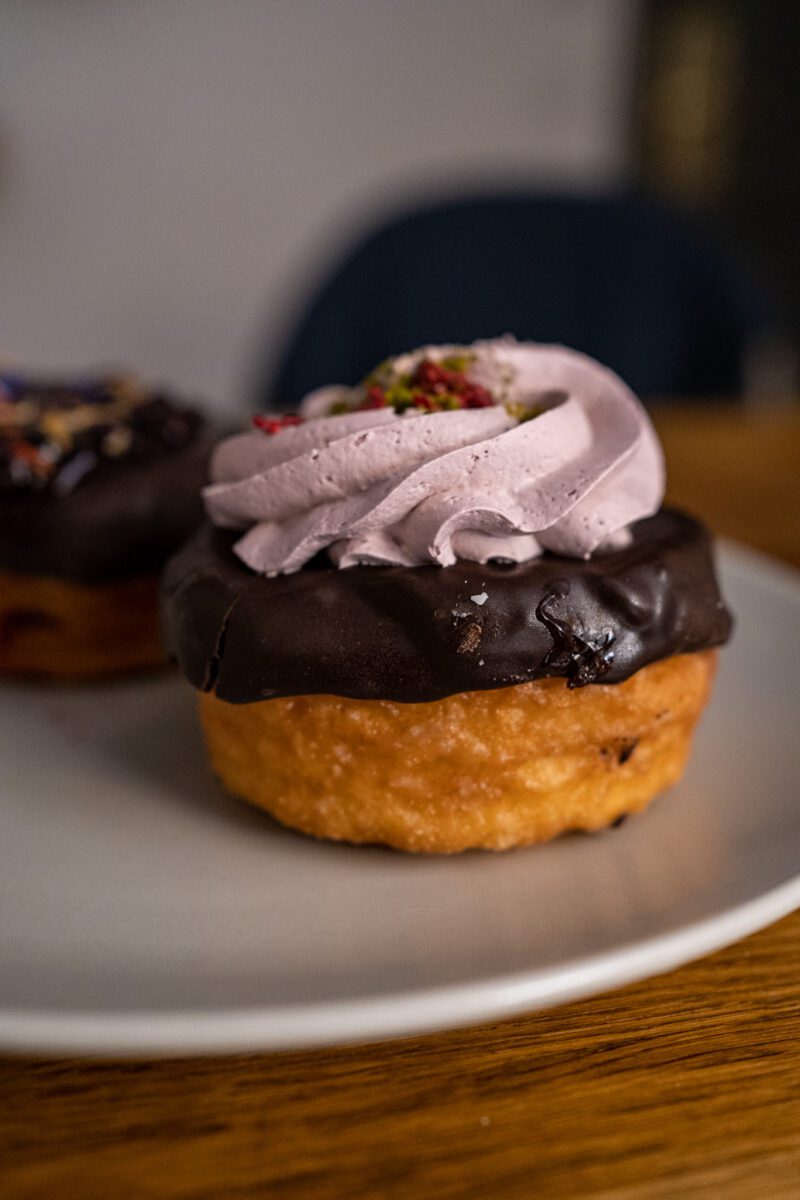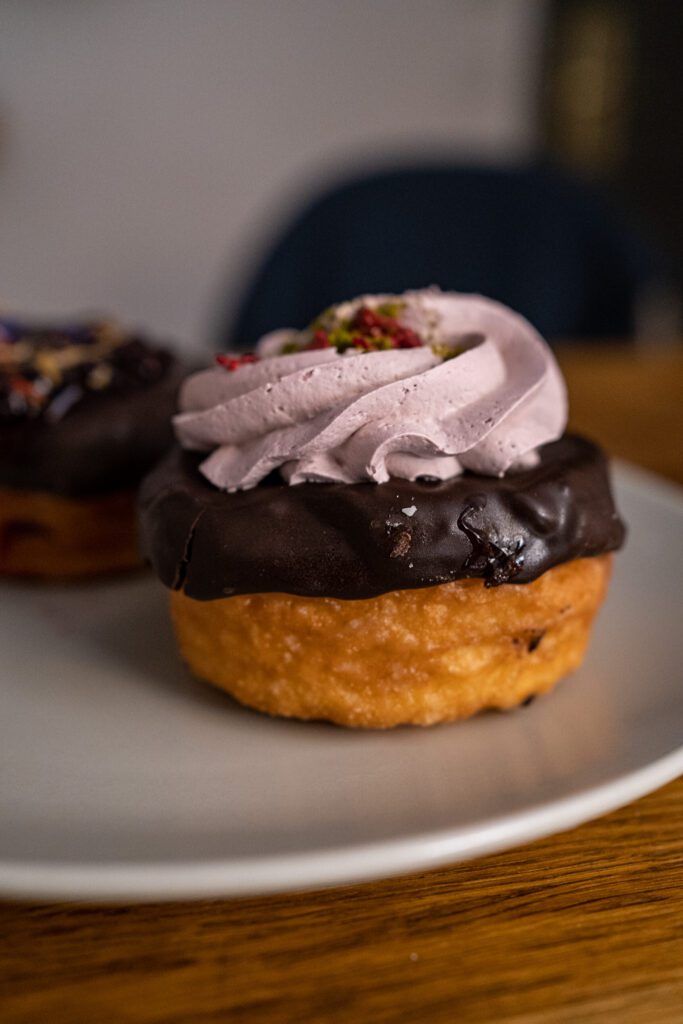 We also snagged a red velvet cake cookie, which was also fantastic.
Gluten Free Location:
Casa Lupita
Casa Lupita is a little bit out of the way, but if you're willing to take a short metro ride out of the center of Barcelona and into a neighborhood called Clot that has far, far more locals out and about, we can assure you it's worth the trip.
They just turned a year old at the time of writing, though they've been experimenting with gluten free baking for much longer than that.
We tried a couple of things from Casa Lupita, and all of them were pretty outstanding. Let's go in chronological order, shall we?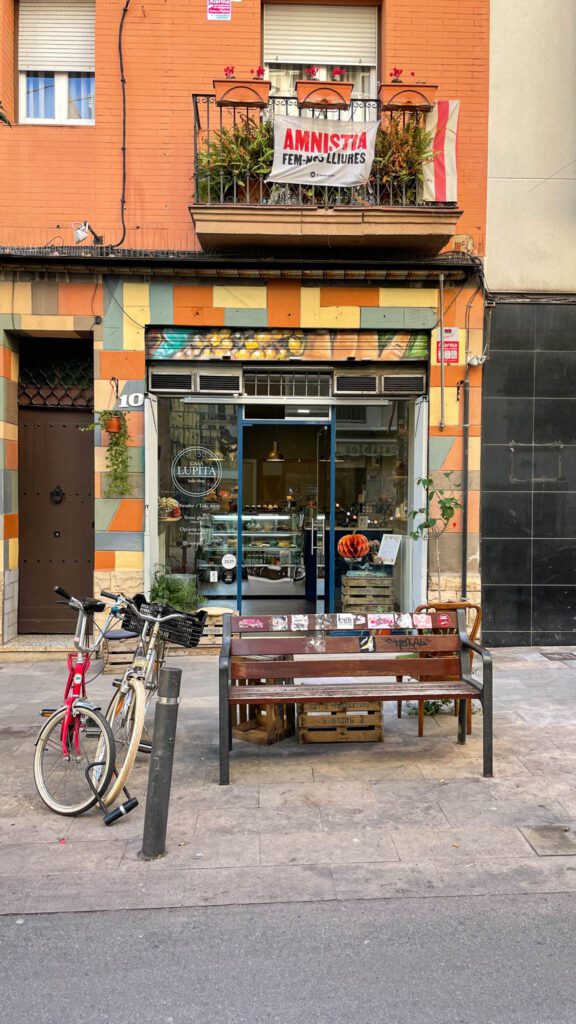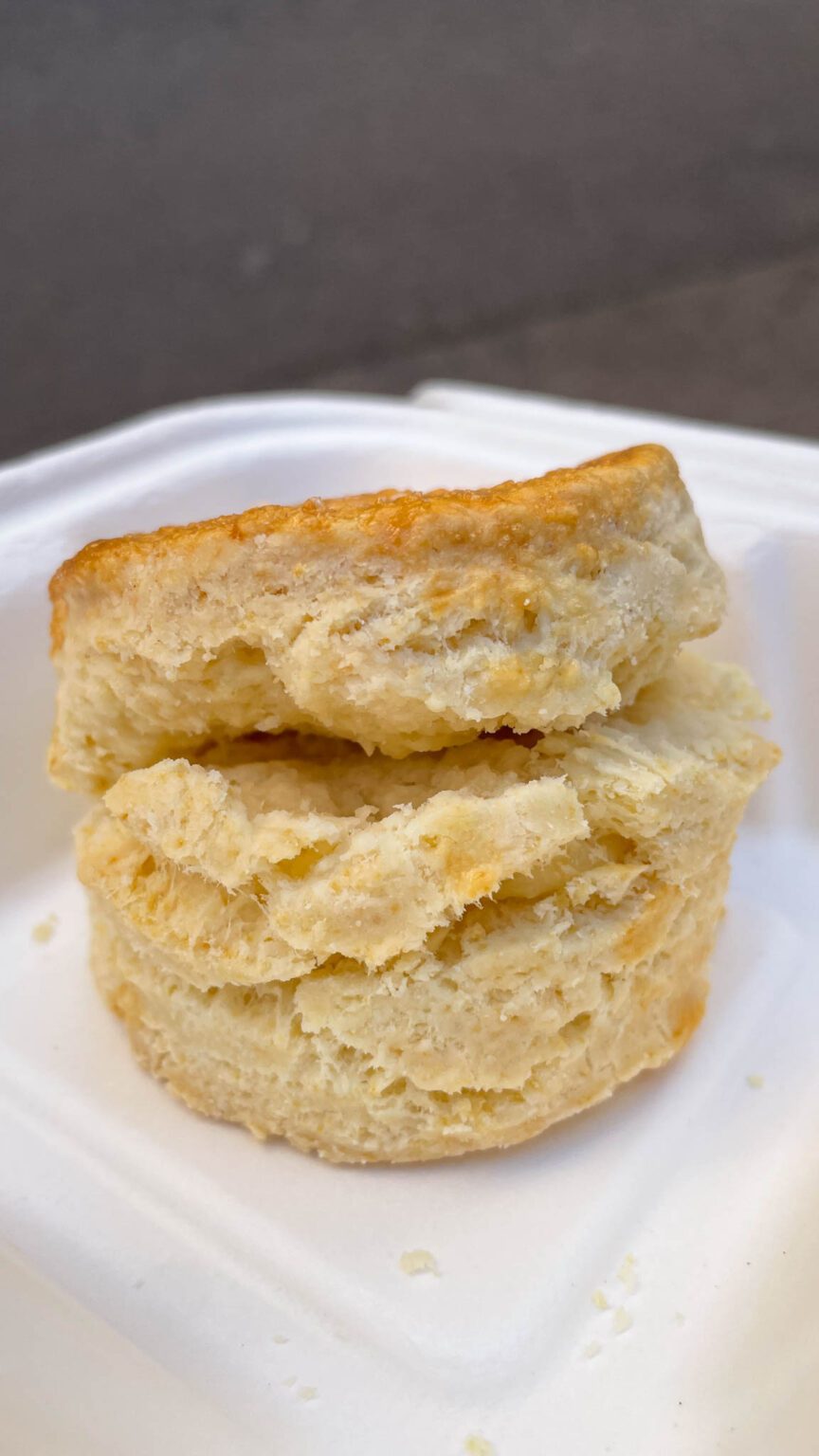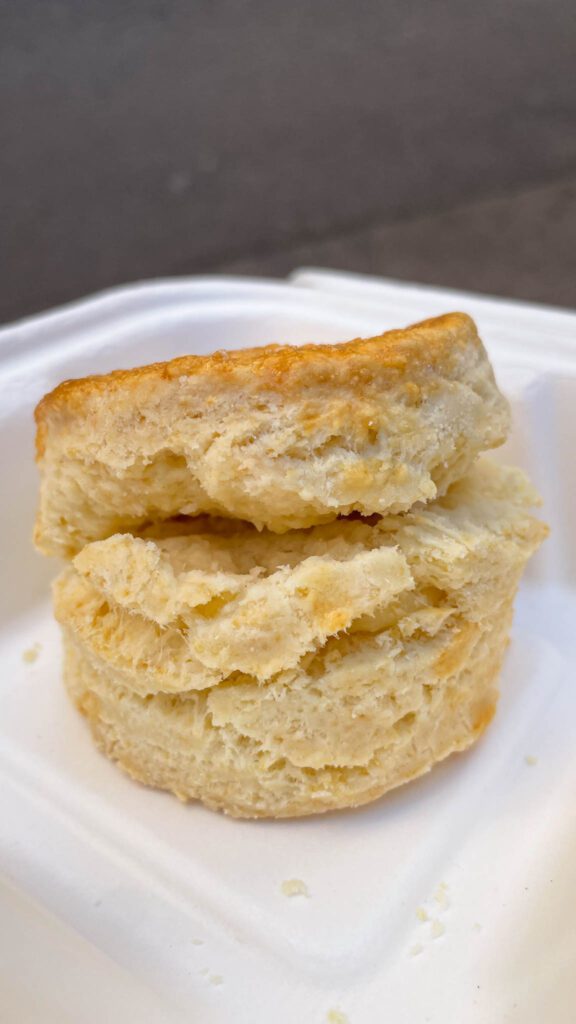 First, the savory item – a biscuit (American-style) filled with cheese. It was buttery, flaky, and everything a biscuit should be!
Next, the bleu cheese cheesecake. Which, to be honest, was way better than we expected once we realized it had bleu cheese in it (we missed that part when the lovely woman behind the counter – one of the owners – explained it in Spanish).
Last, but certainly not least, a berry apple tart that was really good, but not as unique as some of their other offerings and I probably would get something different if I had a do-over.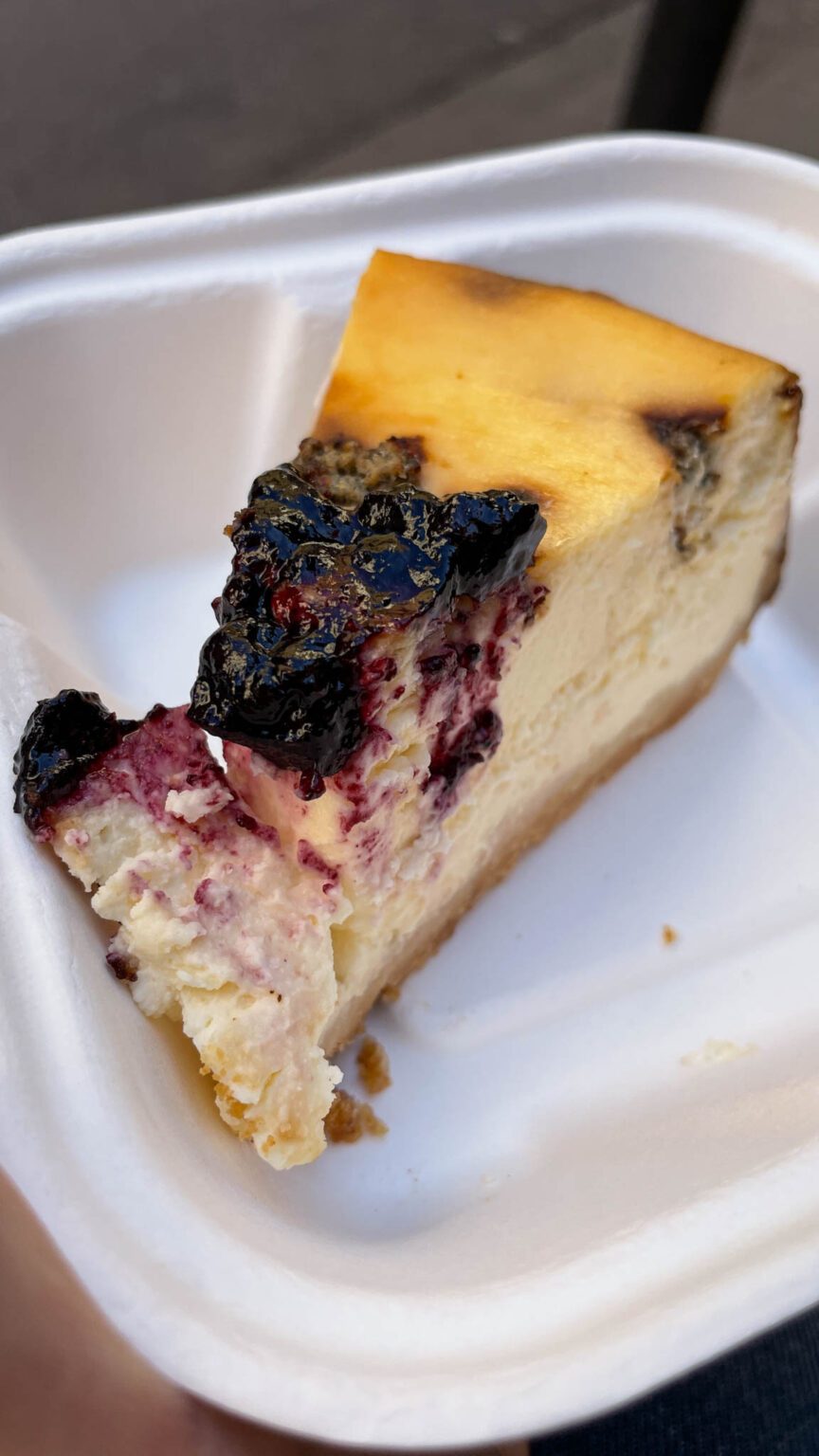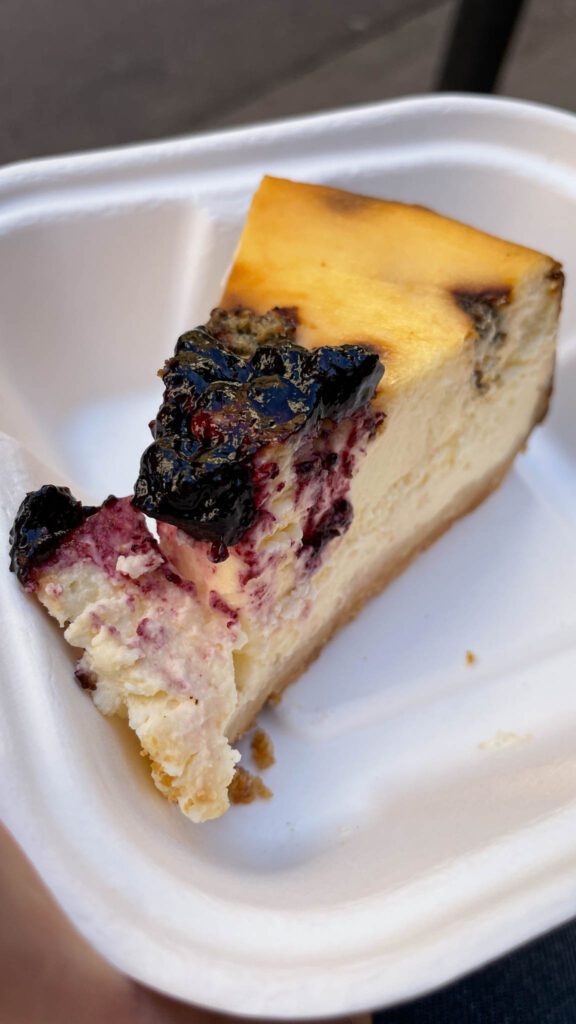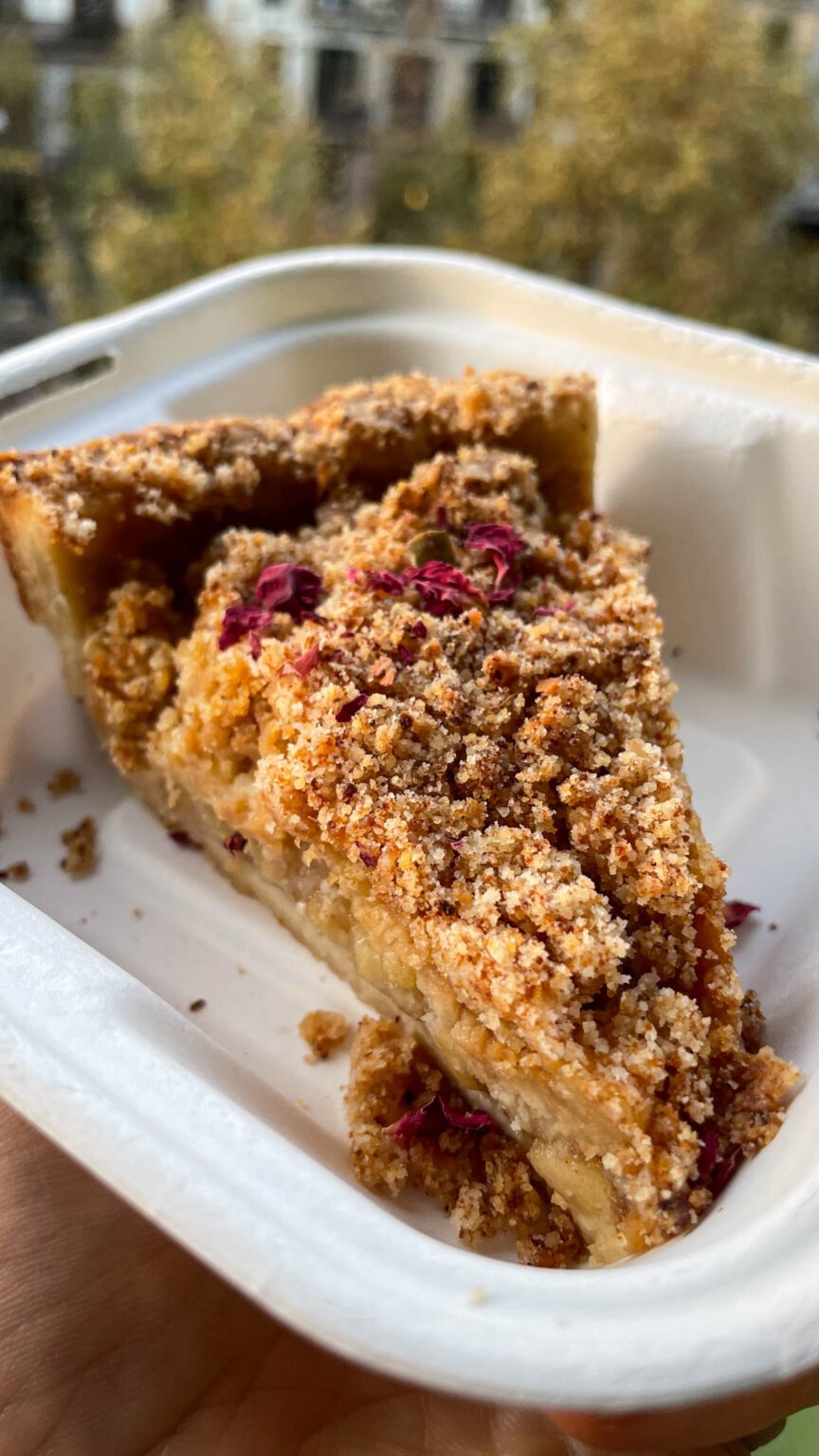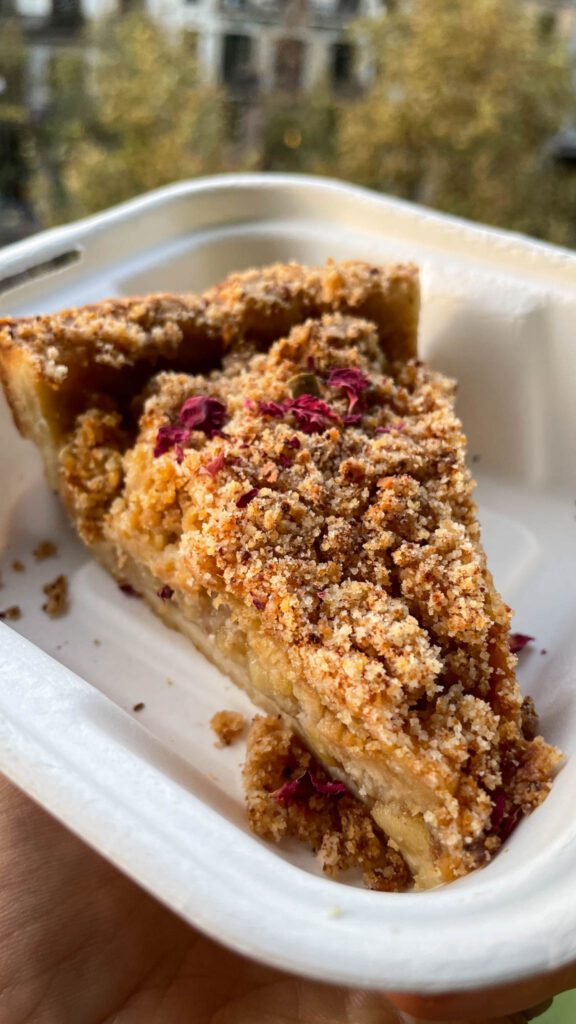 We were eyeing the carrot cake too, but felt like three slices of cake before 11:00 am might have been just a wee bit aggressive. But two? Two is fine. Right? Right?
The point is, they have all sorts of gluten free goodies – brownies, cookies, cupcakes, biscuits – but the star of the show here is really the cakes. And they're as good as any gluten free cake I can remember having, so spend fifteen minutes on the metro to get yourself out there!
They are also accredited by the Celiac Association of Catalonia, and have plenty of vegan options.
Celiadictos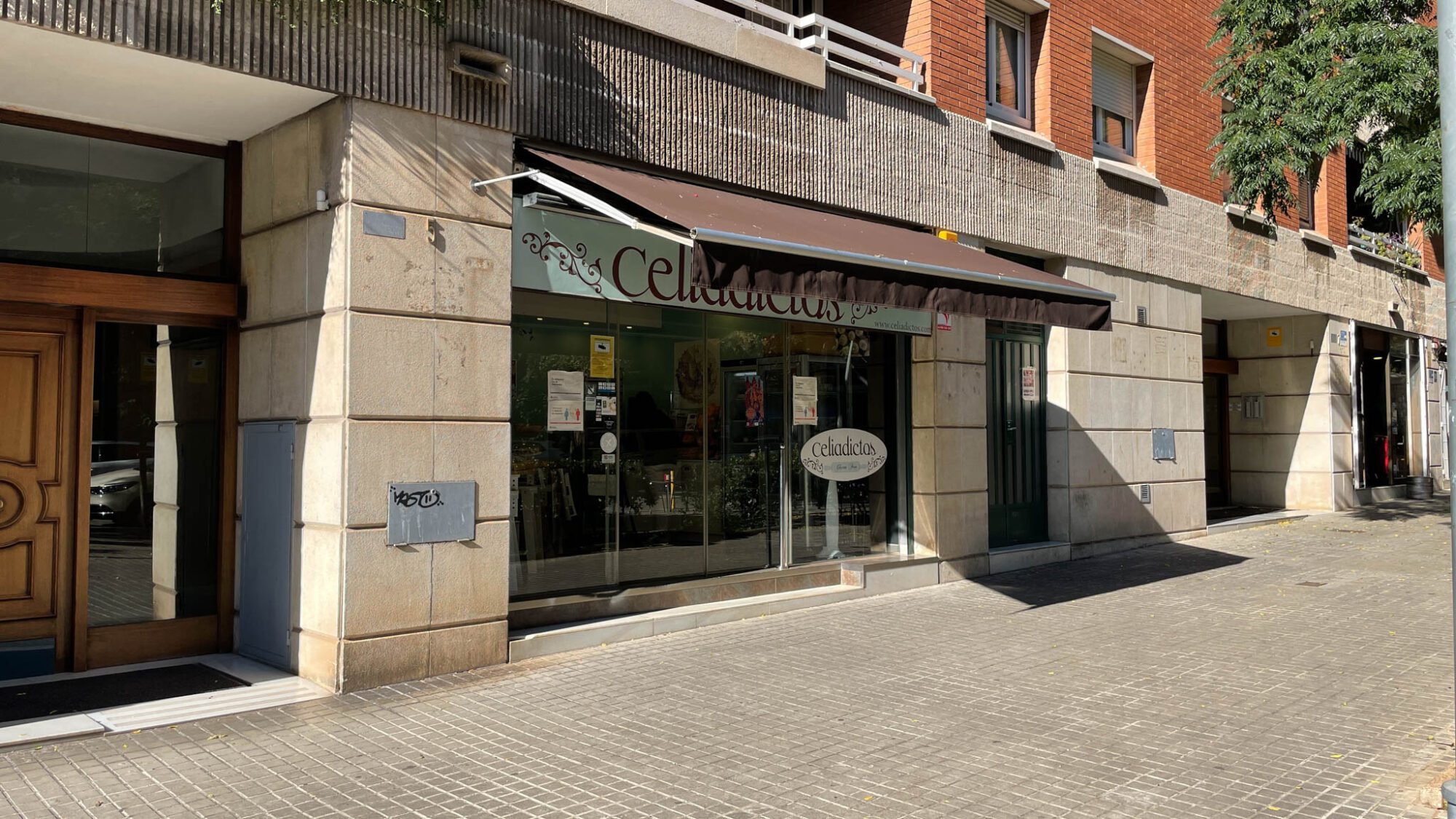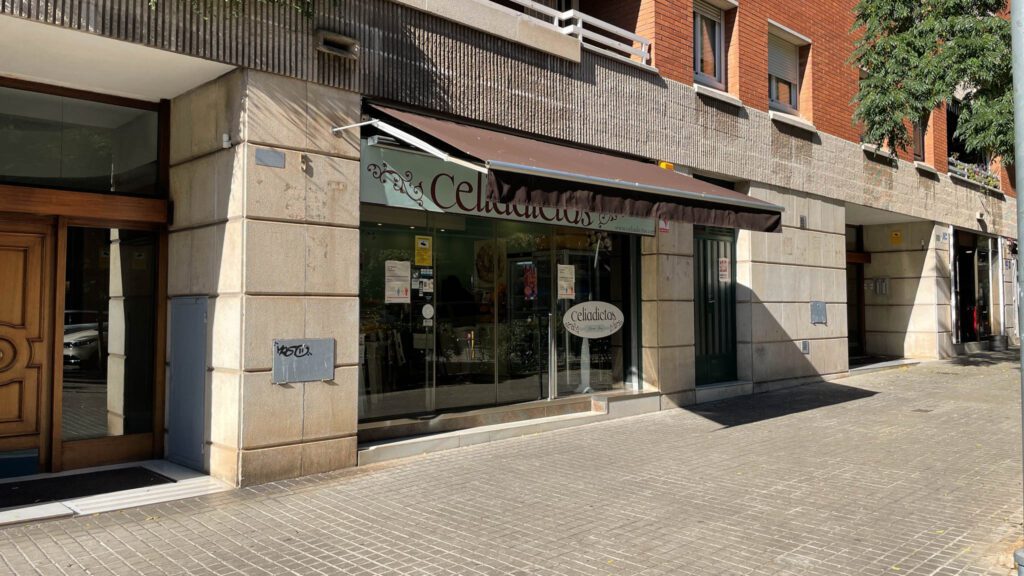 Unfortunately, Celiadictos is probably too far for about 95% of people who have just a few days in Barcelona to make it to, but if you have more time I'd encourage a visit out to the west of the city center!
They're a bakery, a pastry shop, and a cake shop all in one! We got a couple of pastries – one sweet, one savory – and a baguette-adjacent loaf of bread for later. The pastries had the best texture out of any pastry we had in Barcelona – light, fluffy, and flaky – and the bread was a nice treat on the train ride the next day, served with plenty of Spanish cheese.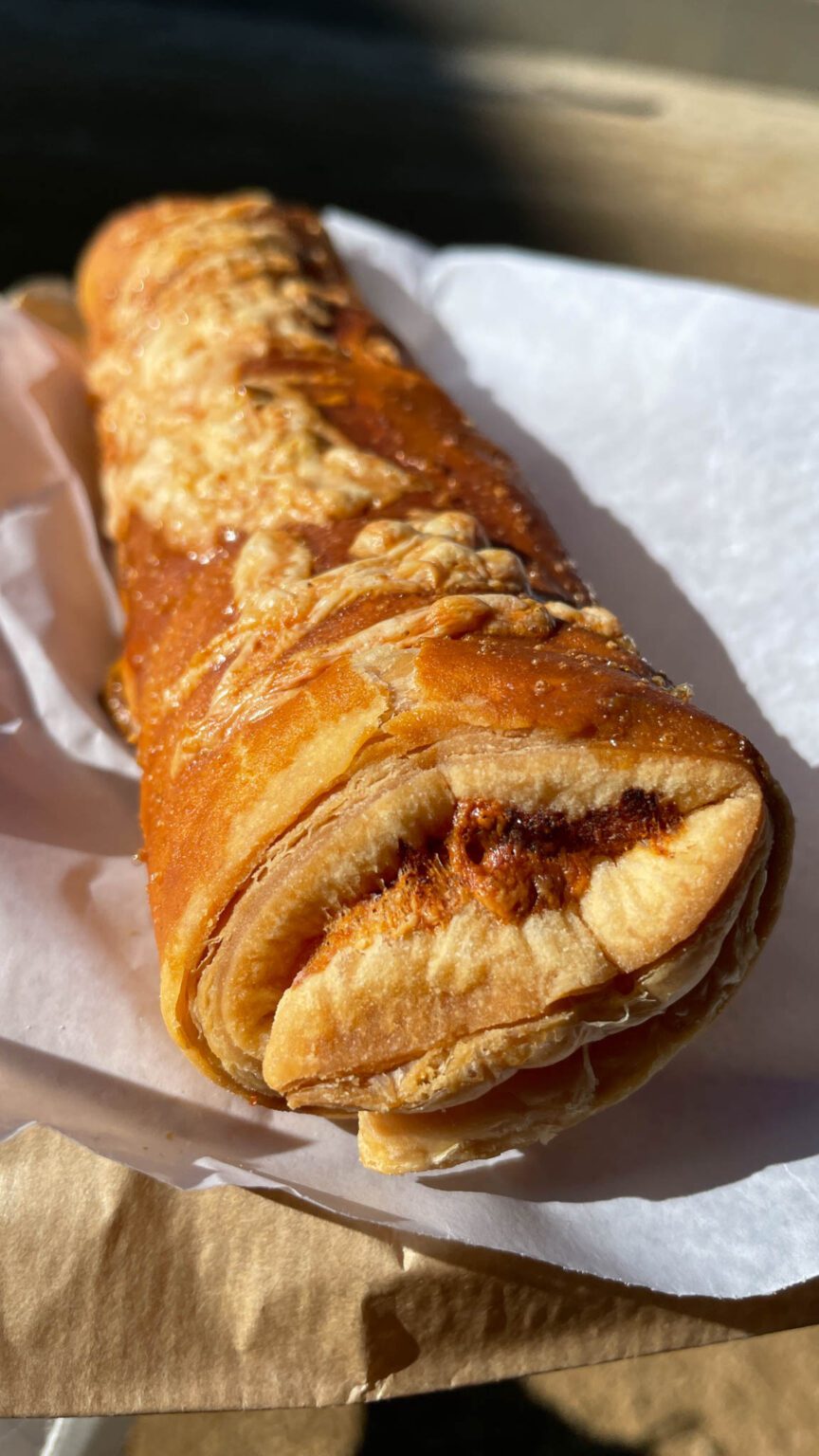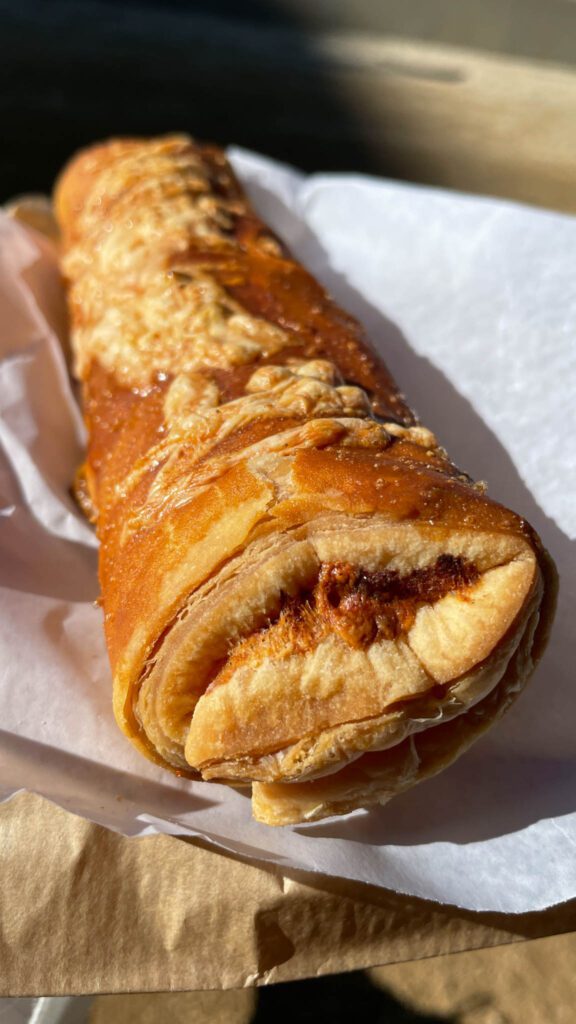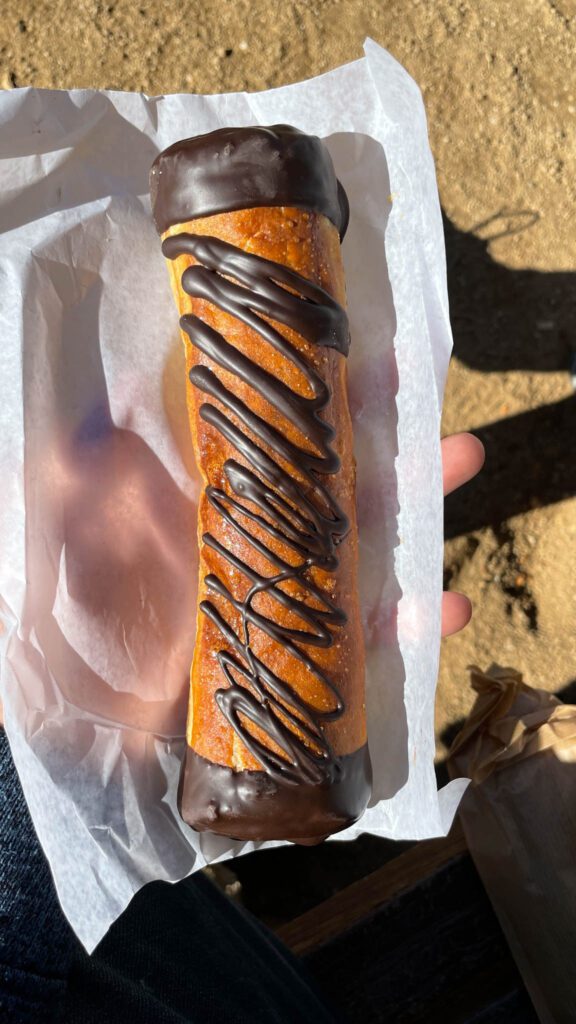 They're really good about making sure that every ingredient that comes through the door of the bakery is safe for Celiacs, and are also accredited by the Celiac Association of Catalonia.
More Gluten Free Travel Guides for Europe
Planning a trip to Europe, but need to eat gluten free? We've spent a fair amount of time in Europe over the past few years, and have written a bunch of in-depth travel guides to the best gluten free restaurants and bakeries in many of our favorite European cities.
ACC Accredited Restaurants in Barcelona
Here are three restaurants that are not 100% gluten free, but are accredited by the local Celiac Association and have procedures in place to minimize cross-contact with gluten.
Your experience may vary, of course, because it comes down to communicating your needs to the staff and them following the protocols they have in place to prevent cross-contact.
If you're worried about not being able to communicate, spend the $9 on a Spanish gluten free restaurant card, and you won't have to stress about pulling up "I have Celiac Disease, is this gluten free" on Google Translate with a limited internet connection.
En Ville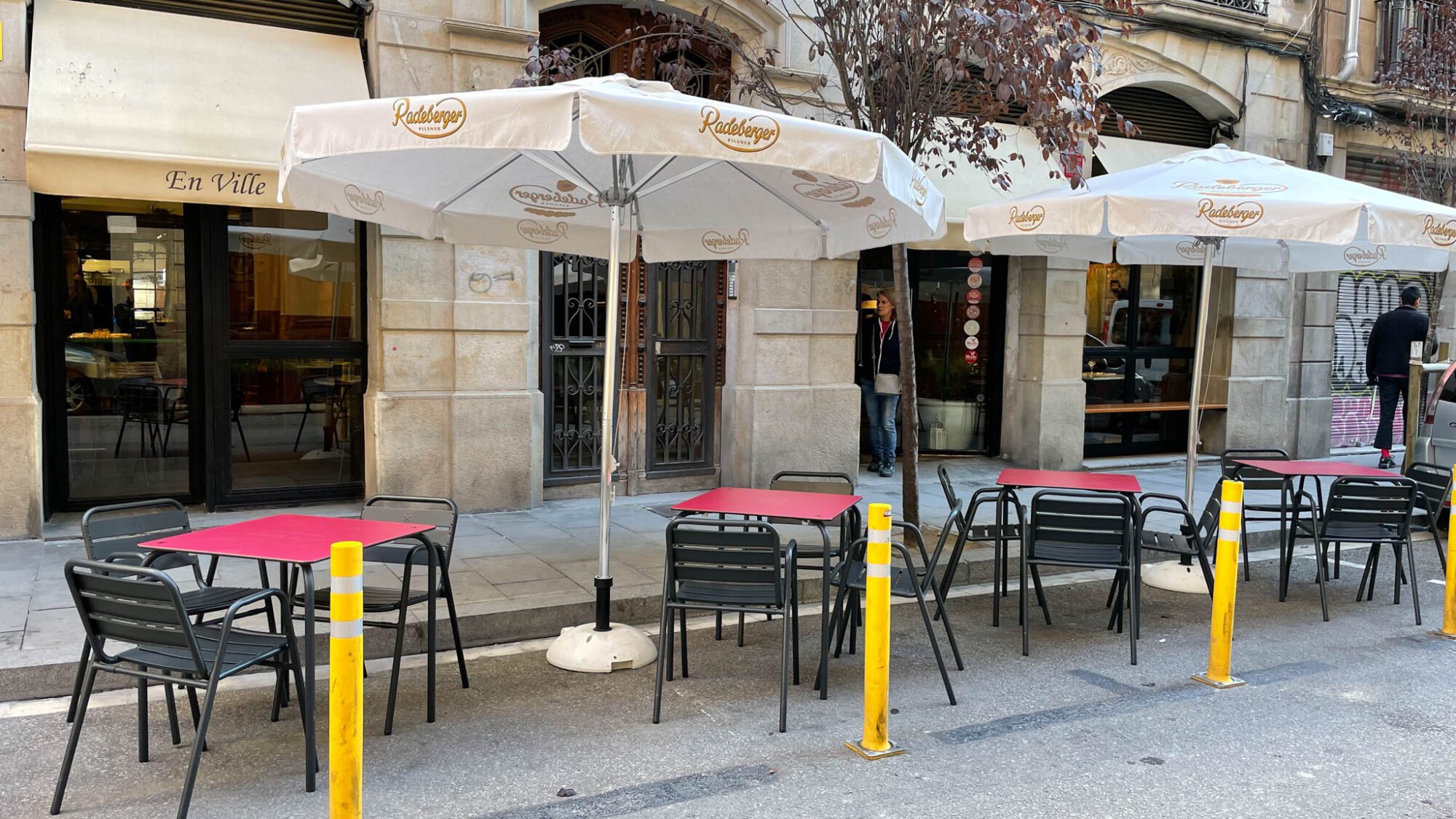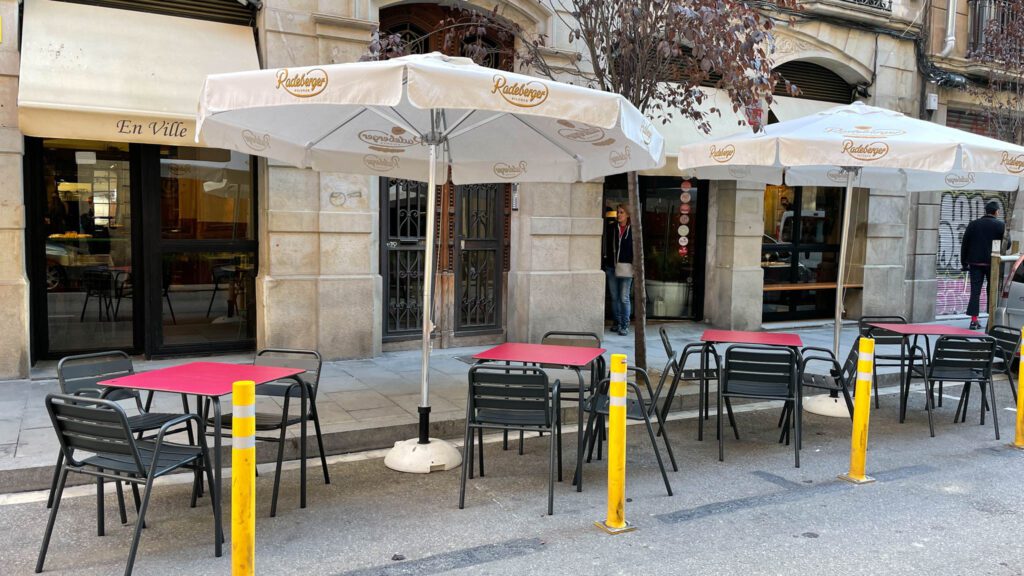 En Ville is a little fancier than most of the other places featured in this guide, but it's probably the best place to get more traditional Spanish food made safely gluten free in Barcelona. It's in El Raval, the up-and-coming hipster-y neighborhood to the west of Las Ramblas.
They have been certified by the ACC since 2014, and the entirety of the actual menu is gluten free EXCEPT for the fact that they serve regular bread. Which feels like something they should probably just change.
One thing that bothered me is that they claim to be "100% gluten free" on their website, which is clearly not the case based on the fact that they serve, you know, regular bread. So, really, it's like 99% gluten free. Which, don't get me wrong, is still good and better than 99% of restaurants, but it's not 100%.
They have a range of Spanish specialties, from tapas like croquettes, patatas bravas, and various cured meats, to main dishes like paella and duck confit. Plus, of course, a pretty large selection of gluten free desserts (you should order the crema catalana).
One thing you should know – at the time of writing, the only lunch menu is a set menu. When we showed up, we were hoping to order a la carte, and realized that it was not possible, so we left without eating. At dinner, you can order a la carte. Not at lunch.
Conesa Entrepans
Conesa Entrepans was actually at the top of our list of restaurants in Barcelona, which is a little surprising considering it's a sandwich shop in a super touristy location. We split a couple of sandwiches and an order of the bravas and took them over to a quiet plaza nearby to enjoy in peace.
However, despite being a tiny shop with a small kitchen, they clearly have a separate gluten free preparation area in the back corner of the kitchen, and use separate tongs and equipment to prepare the gluten free sandwiches. How did this happen? Great question.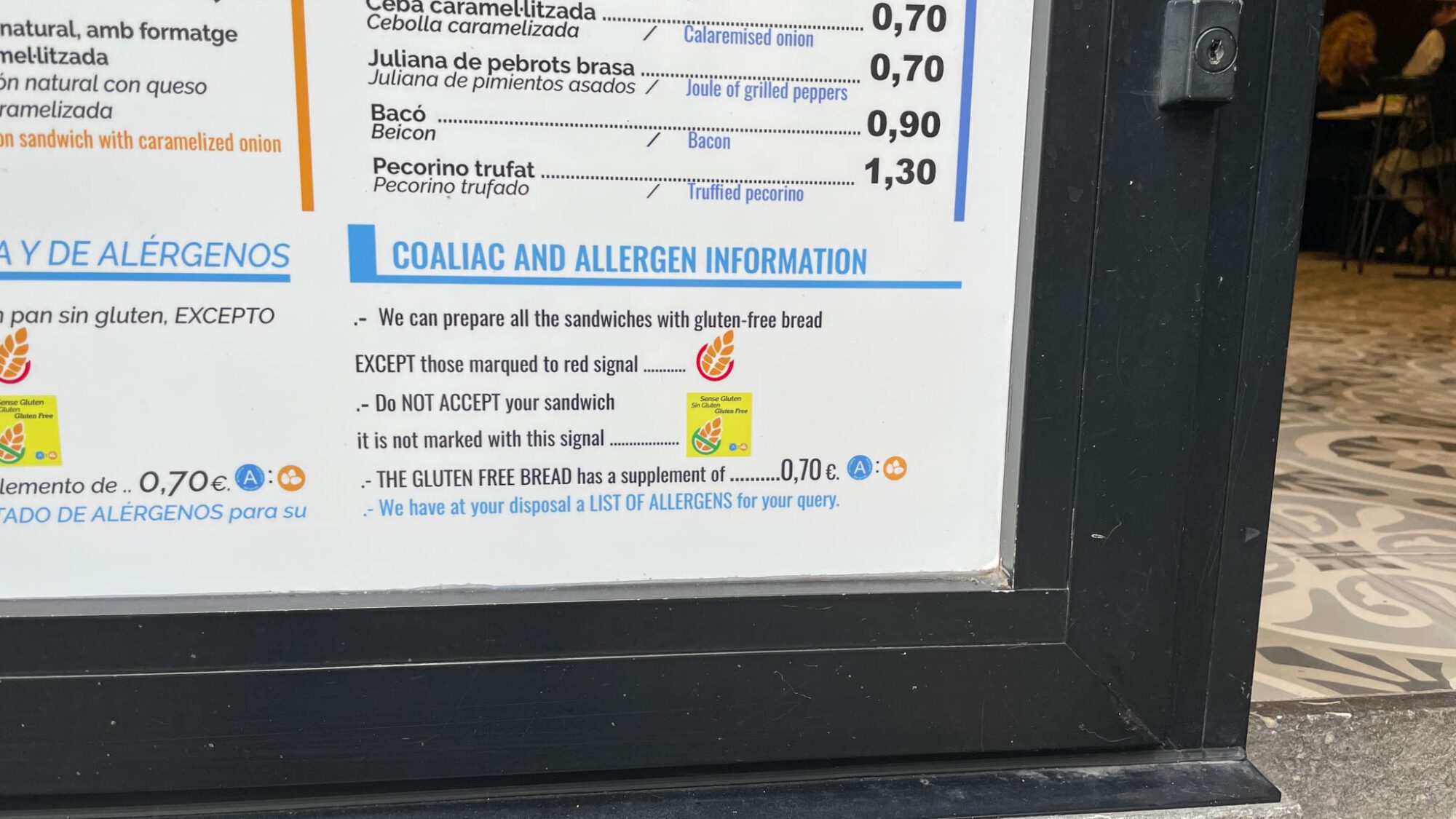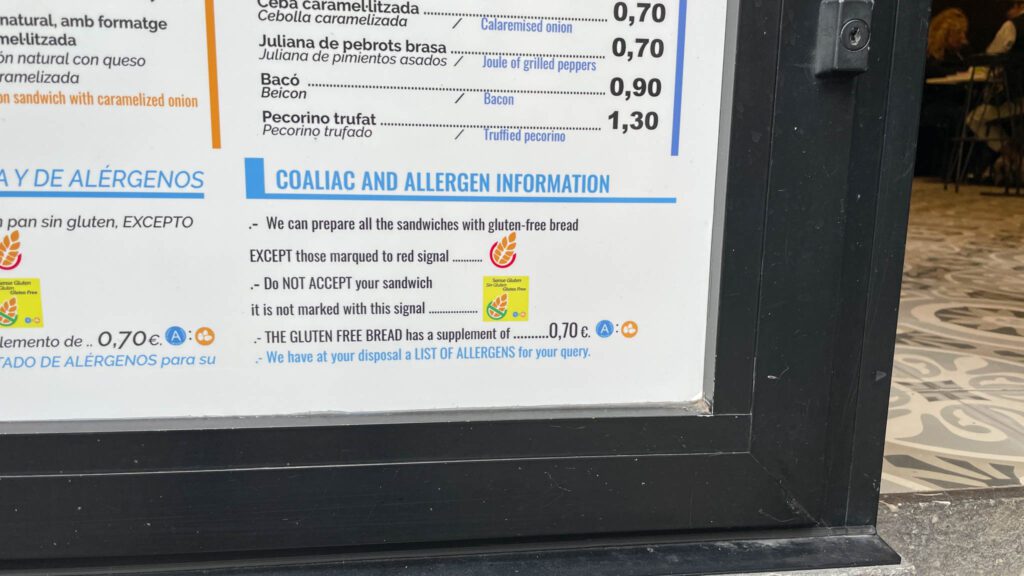 On their website, they have a page dedicated to their gluten free offerings. On it, the owner talks about how he noticed one day that there was one guy in the kitchen that never ate the sandwiches. So he asked him why, and ended up deep in the rabbit hole that is navigating life with Celiac Disease. Over the course of years and years, they eventually were able to develop a product that was both safe for Celiacs, and tasted good.
As someone who has worked for a company that made products that I could not eat, I appreciated the owner's care and empathy.
The most important thing to know about eating here is that your sandwich will come out with a handy gluten free sticker. It looks like this.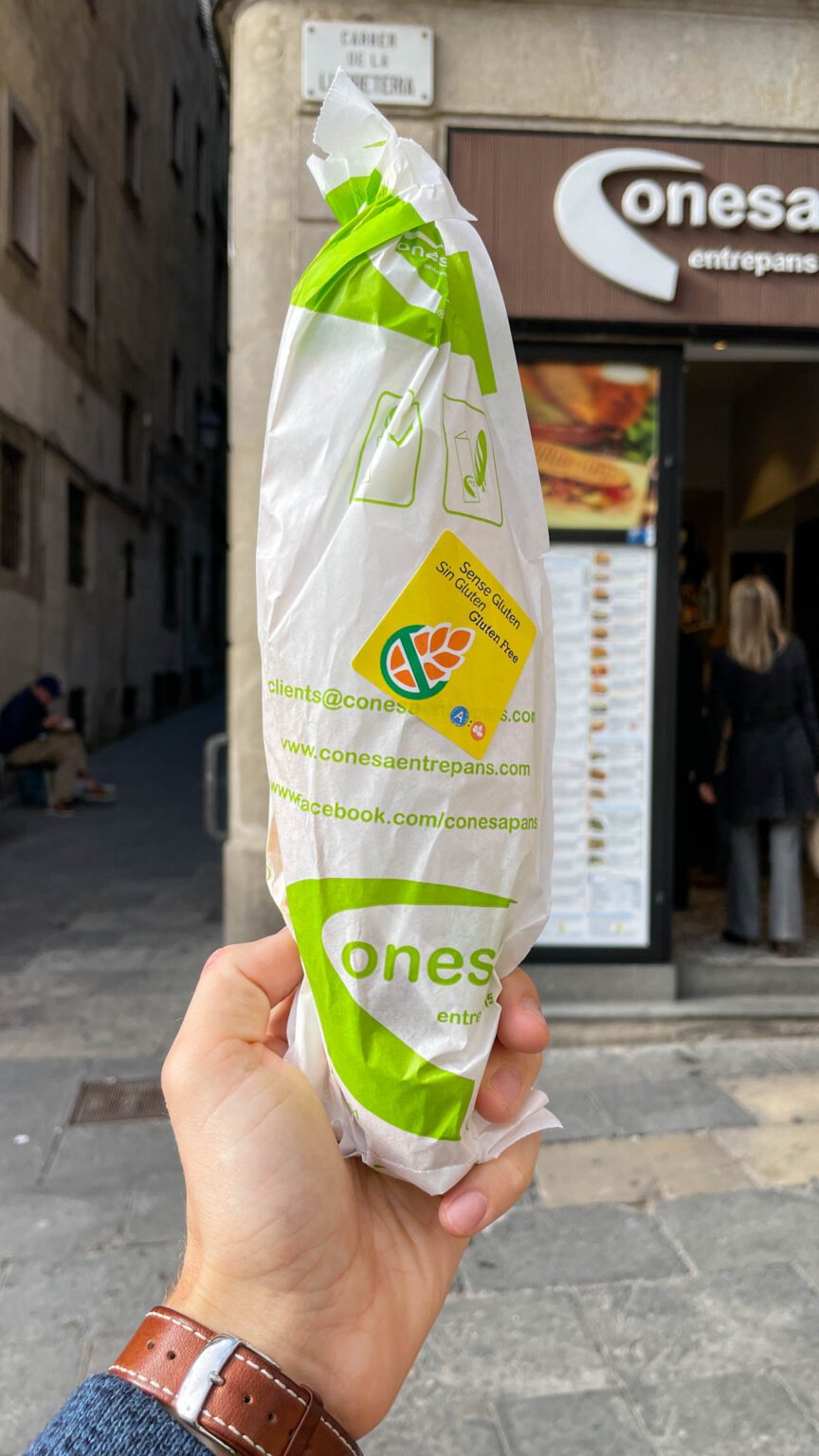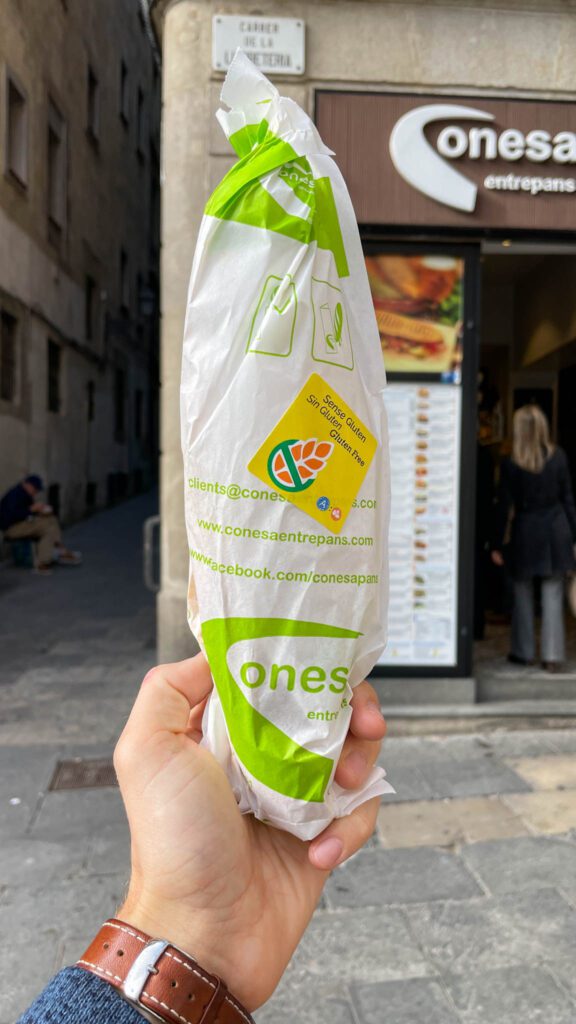 As their menu warns, if it does not have this sticker on it, you should take it back and double and triple check with the staff. The sticker is meant to prevent mistakes, so make sure your sandwich has one! Most of the menu is available gluten free, with a few exceptions (that are marked on the menu).
We really enjoyed this place, and it makes for a nice, affordable gluten free lunch in the Gothic Quarter, perfect for a break from exploring Barcelona. I'd recommend going outside of peak times, when it's (slightly) less hectic and easier to communicate. Though we went at lunchtime, when it was busy, and didn't have an issue.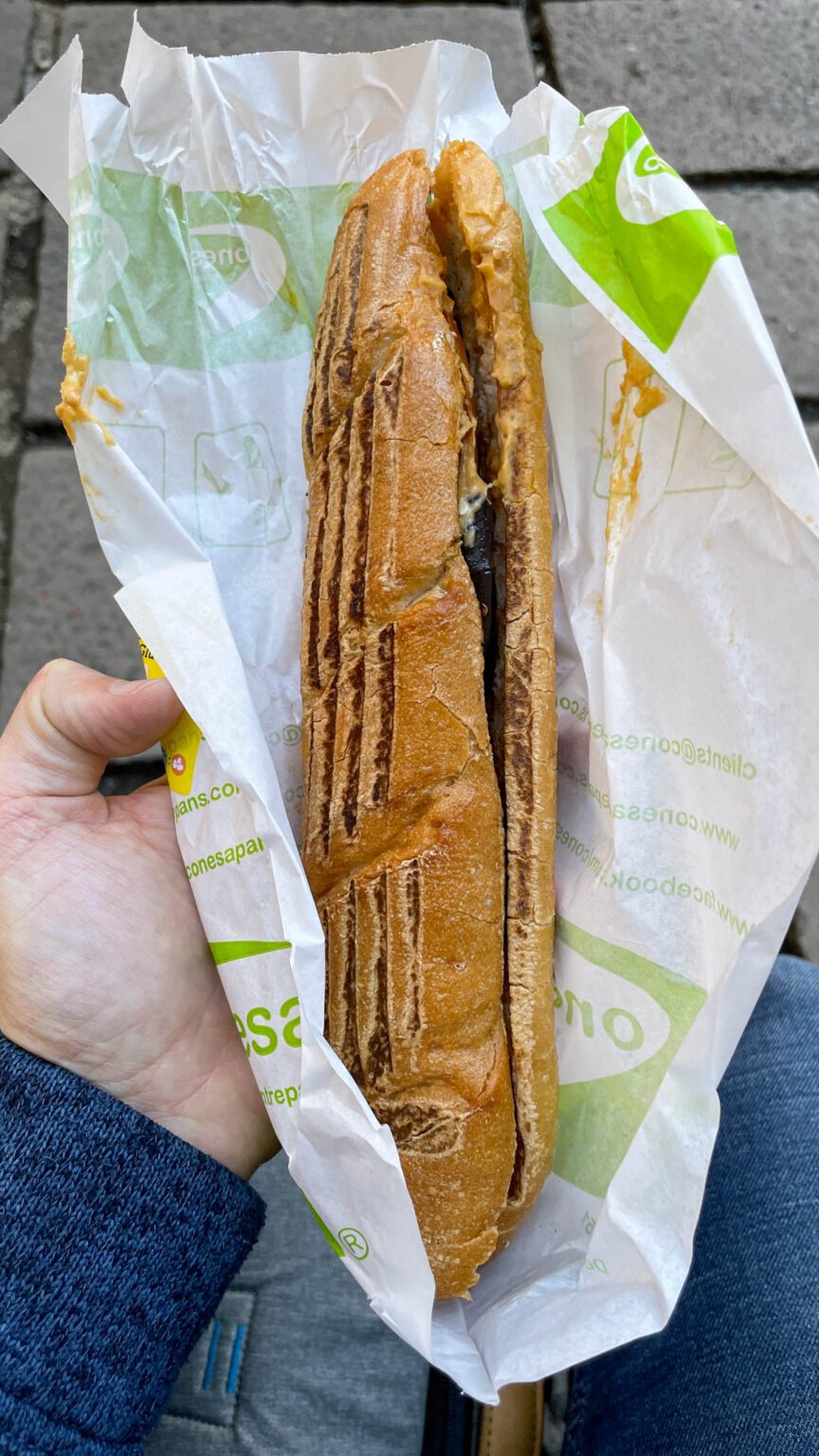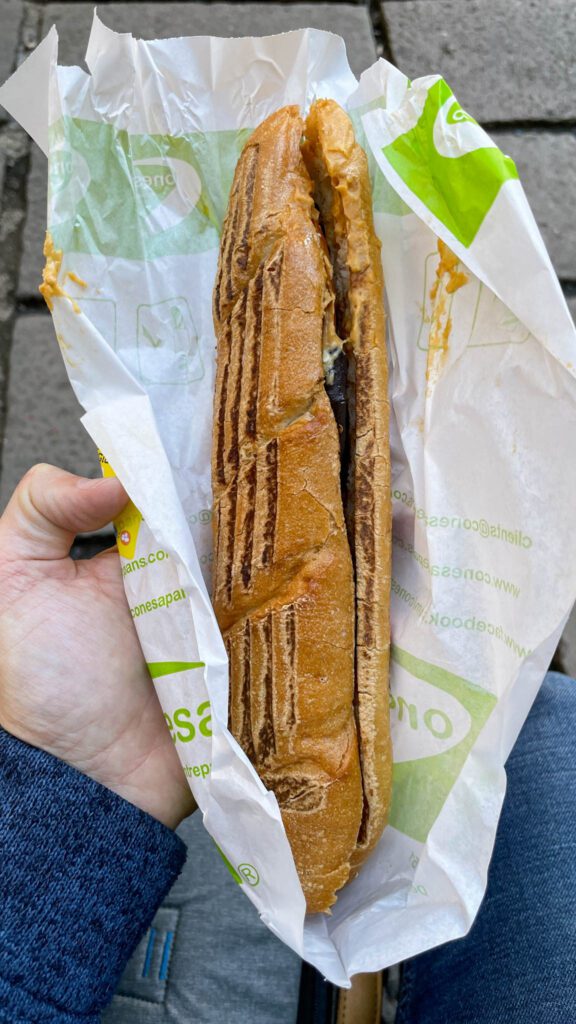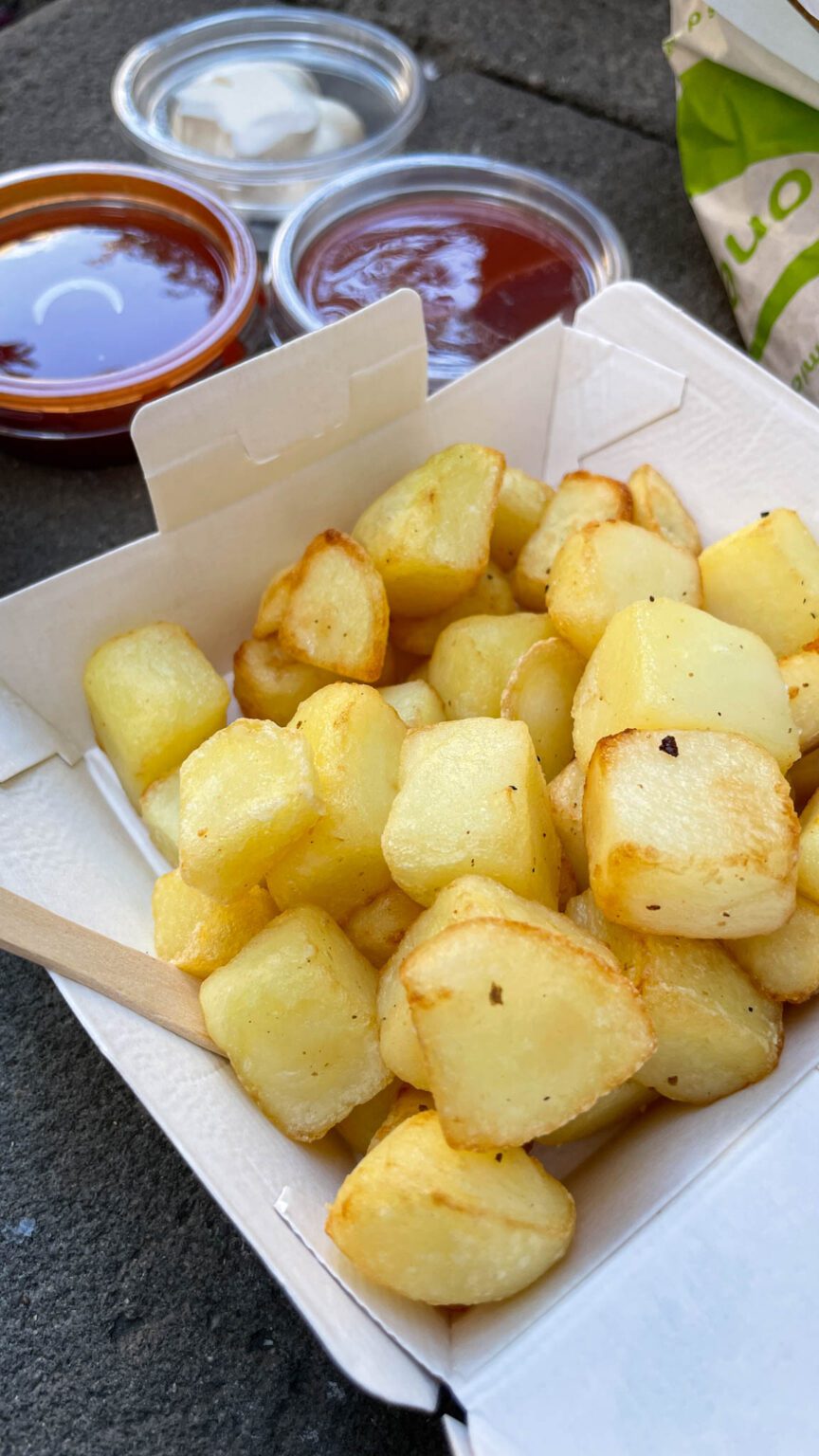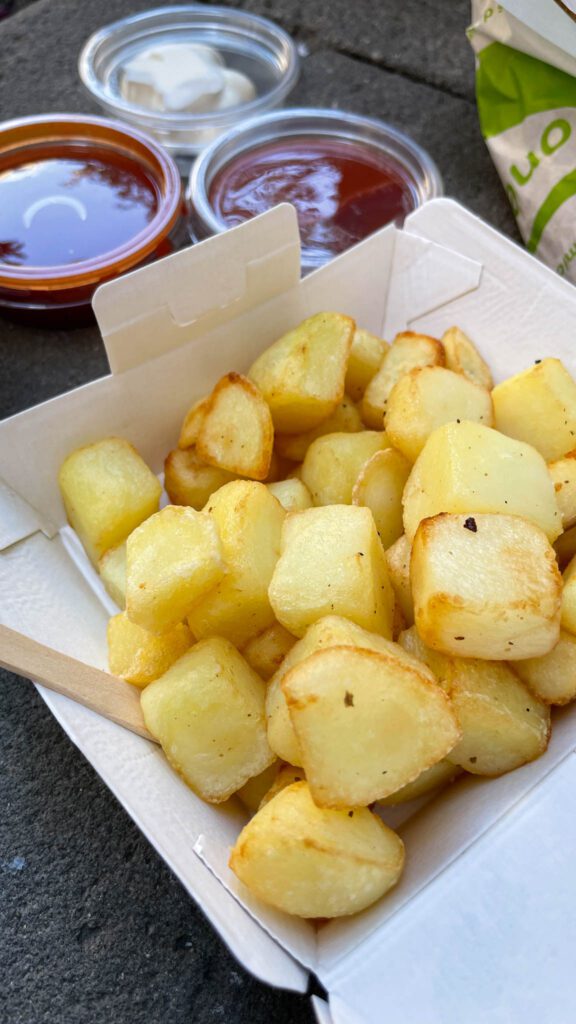 There is an upcharge for gluten free sandwiches, but I think the upcharge makes sense given the care and separate equipment they've invested in to prevent cross-contact with gluten in their small kitchen.
Thai Barcelona
Thai food is usually a good bet for gluten free food when traveling, particularly curries. In Barcelona, you'll want to head straight to Thai Barcelona if you want a break from tapas and Catalonian cuisine. We didn't personally make it here, but had heard and read good things, which is why it's on this list.
They are accredited by the ACC, and have a clearly marked menu that shows which dishes are naturally gluten free, and which dishes can be modified to be gluten free. Personally, I'd stick to the former – the naturally gluten free dishes – to avoid mix ups in the kitchen, but that's my point of view and risk tolerance, which may be different from yours.
Their pad thai (along with some of their other noodle and rice dishes) are available gluten free (they do need to be modified, though), as are all of the curries on their menu. We usually stick to curries, with the occasional noodle dish thrown in. Oh, and papaya salad, which is one of our favorite things to eat on planet earth.
They have a set menu option, or you can order a la carte. It's right in the heart of L'Eixample, a block off of Passeig de Gràcia.
Invest in a Gluten Free Restaurant Card
There are a bunch of free cards available out there, but the biggest problem is that exactly zero of them mention cross-contamination AT ALL. Which is kind of a problem, given that cross-contamination is like 90% of the battle.
Lucky for us, Jodi over at Legal Nomads has created a set of gluten free restaurant cards – including one in Spanish and one in Catalan – to help Celiacs travel stress-free and get safe food in the face of a language barrier. And they include a (detailed) mention of cross-contamination in the local language, translated by a local Celiac!
I personally have used these cards in Germany, Latin America, and Spain, and highly recommend them. It's well worth the $9 to have a backup plan if your grasp of the language can't quite communicate what you need.
Just click on the images below to see them for yourself.
Do You Need a Spanish or a Catalan Card?
Let's briefly touch on Spanish vs. Catalan.
Barcelona is the capital of Catalonia, a region of Spain that you may have heard about in the past decade or so because of their desire to be independent from the rest of Spain. You can read more about it here and here if you're interested, but the important thing you need to know is that there are two widely spoken languages in Barcelona – Catalan (which sounds like a cross between Spanish and French, we think) and Spanish.
In Barcelona, everyone speaks Spanish, and most people speak at least some Catalan. Once you get out into Catalonia outside of Barcelona – like in Girona, for example – you'll start to encounter A LOT more Catalan.
For that reason, if you're just exploring Barcelona, we'd recommend a Spanish gluten free restaurant card over a Catalan card. That should be plenty sufficient for communicating in Barcelona if you speak neither language. If you're planning on getting a little deeper into Catalonia, then consider one in Catalan.
Gluten Free Groceries in Barcelona
Almost every single main grocery store in Spain has some sort of gluten free section, usually in a whole separate section. The exception would be small convenience stores, which aren't usually a great place to find gluten free bread, pasta, etc.
Things are well-labeled, and you'll want to look for "sin gluten" on packaged foods (in some cases in restaurants, it'll be "sense gluten" which is the Catalan version). In the EU (and therefore, Spain), this means that the product must have less than 20 ppm of gluten, which is similar to labeling laws in the United States and Canada (among other places).
El Corte Inglés, Carrefour Express, and Mercadona were our favorites in Barcelona, and they have a nice selection of gluten free items in a dedicated section at most of their locations in the city (Mercadona has their gluten free items mixed in with regular items, though).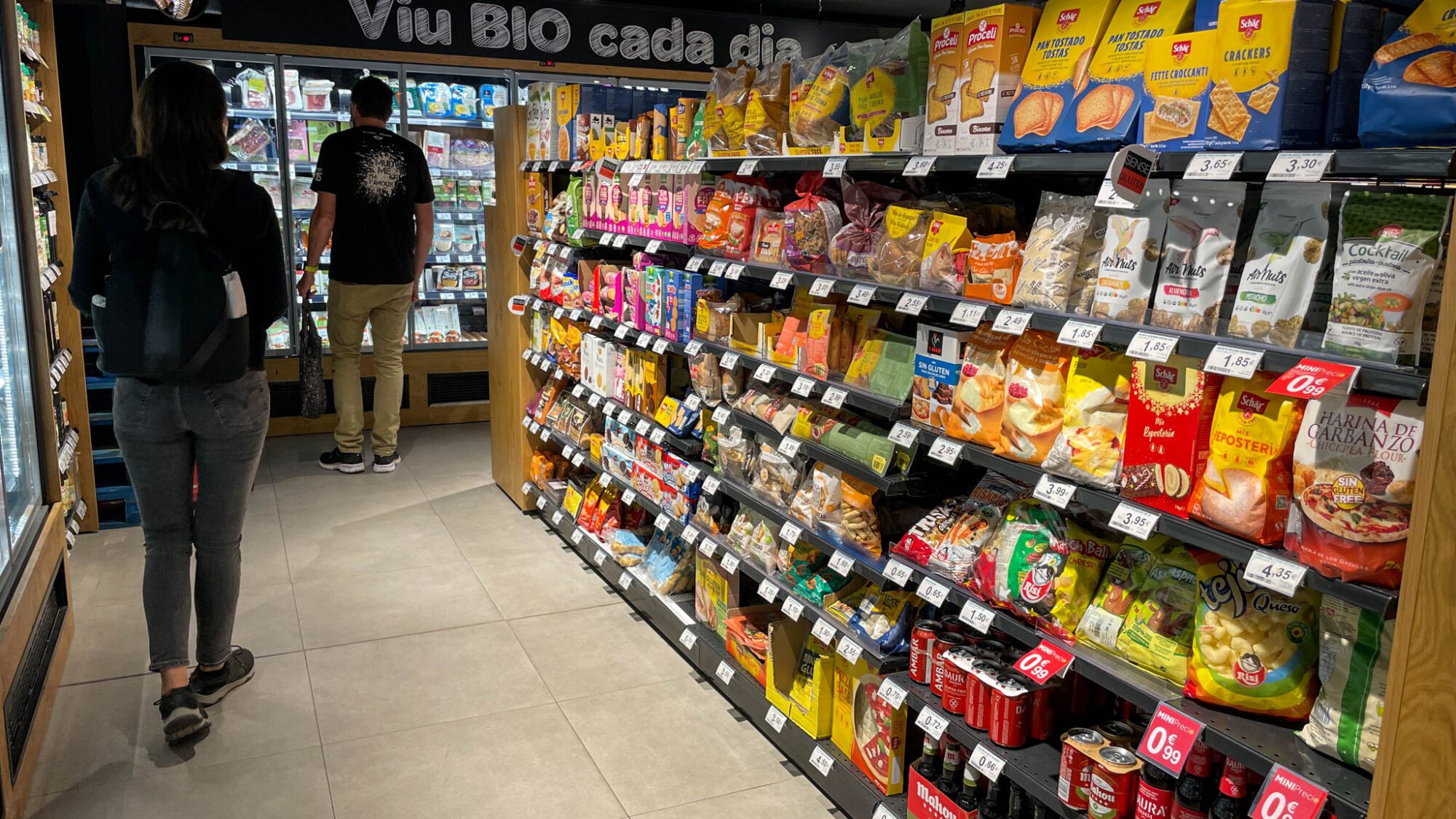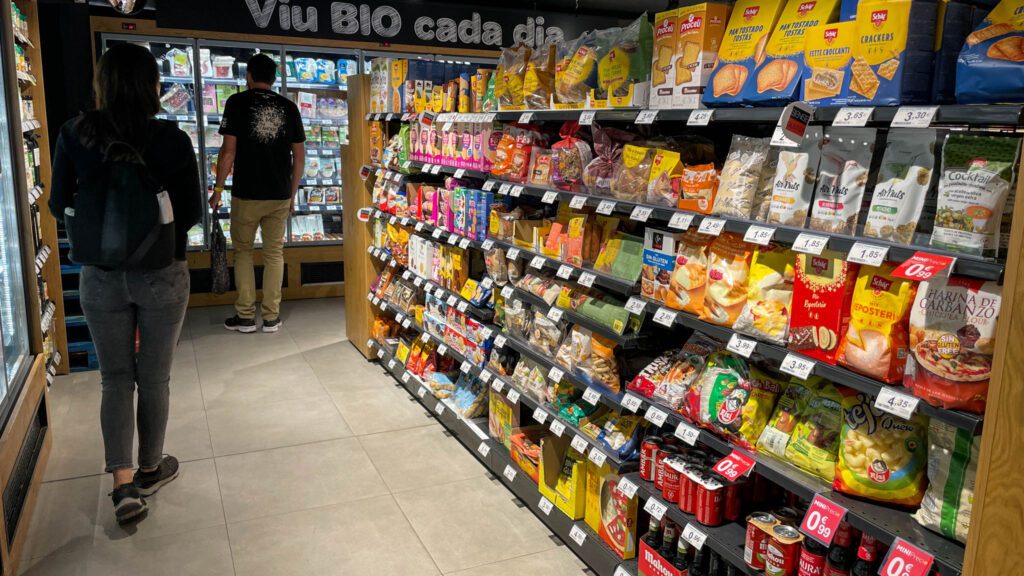 In terms of brands, we gravitated towards Rummo Pasta (the best gluten free pasta we ate in Europe, hands down), Schar breads and crackers, and Barilla pasta sauces and pesto. Though you'll find all sorts of different brands – domestic and international – at most of the supermarkets listed above.
There are also a couple of dedicated gluten free grocery stores in Barcelona, which means that every product in the store is gluten free. There are a couple of which are well-located for travelers in central locations.
Celiacs & Co has two locations, the most convenient is in our favorite neighborhood in the city, Gràcia. There, you'll find a selection of all sorts of gluten free products – pasta, bread, crackers, and more. They also have some freshly made products from local bakeries, though the selection is a little hit or miss based on our experience stopping by in the afternoon.
---
Let Us Help You Plan Your Amazing Trip to Spain!
We've got plenty of other detailed guides for our favorite places in Spain – from Barcelona, to Madrid and Andalusia – that we wrote to help you plan an incredible trip.
P.S.: If the link isn't there, it means we're still working on it and the guide will be up shortly. It takes a lot of time and effort to put together these detailed guides! Bear with us.
Exactly How to Take an Amazing Day Trip to Girona From Barcelona
Taking A Day Trip to Toledo From Madrid: A Complete Guide