How to plan an Amazing Canadian Rockies Road Trip Itinerary
The Canadian Rockies are a magical place with impossibly beautiful natural landscapes, and plenty of opportunities for spotting wildlife. However planning a trip can be a little overwhelming. There is so much to see and do it is hard to decide exactly what to prioritize. But don't worry, that is where this 10 day Canadian Rockies road trip itinerary comes in. I have put together a comprehensive guide on exactly where you should go and how long you should go there for. There are ideas of what you should do in each area as well as some great places to stay.
This itinerary is almost exactly what we did on our first trip to the Canadian Rockies, with a few adjustments based on the lessons we learned. I love hiking, so you'll see plenty of hikes featured. We did about 50 miles of hiking over the course of our 10 day trip.
Read More: What to Pack for a Day Hike: 6 Hiking Essentials For a Perfect Day Hike.
Using this Banff and Jasper itinerary as a guide, you'll be able to fit in all the best sights and things to do in the Canadian Rockies, and more importantly, you will have the time of your life exploring one of the most beautiful places in the world,
You will want to fly in and out of Calgary airport, but you won't spend much time in Calgary itself – there is way too much to explore in the Canadian Rockies. You have ten days of breath-taking scenery, wildlife spotting, hiking, and adventure ahead of you.
This Banff and Jasper Itinerary is packed full of incredible things to do and see, so pack some comfortable, ideally waterproof, shoes and get ready for a truly amazing trip.
Disclaimer: Some of the links in this post are affiliate links, meaning at no additional cost to you, I make a little bit of money if you click through and book. That being said, I would never recommend something to you that I don't stand behind 100%.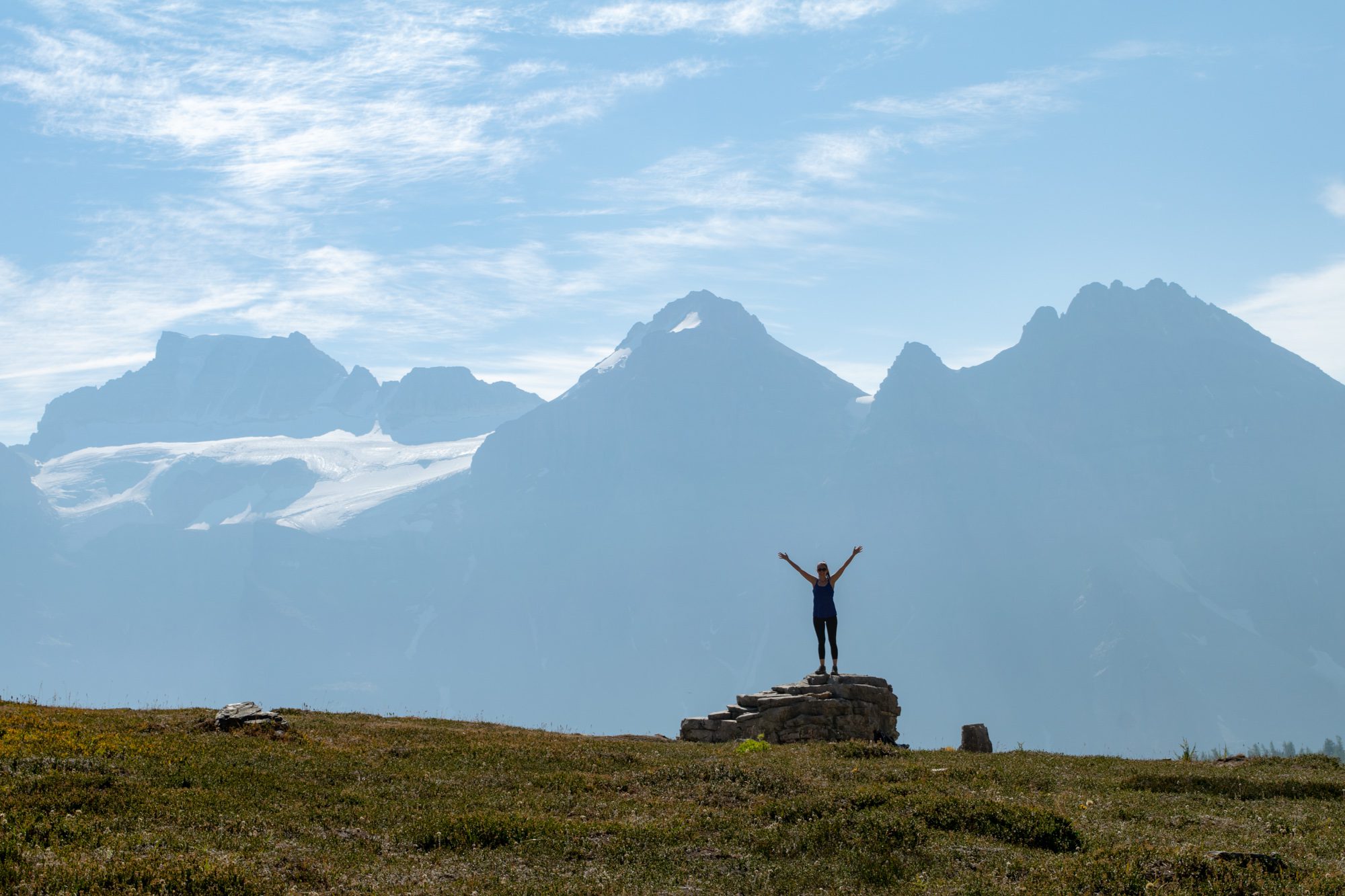 Overview: A Perfect 10 Day Canadian Rockies Itinerary
Don't have time to read through the complete day by day breakdown with suggested activities? No problem! Just read this summary of where you'll be each day and you can work out the finer details later.
Day 1: Fly into Calgary Airport and drive to Banff
Day 2: Town of Banff
Day 3: Town of Banff
Day 4: Drive Icefields Parkway to Jasper
Day 5: Jasper
Day 6: Jasper
Day 7: Drive Icefields Parkway back to Lake Louise
Day 8: Lake Louise
Day 9: Lake Louise
Day 10: Drive to Calgary Airport
Note that this Banff and Jasper itinerary has you spending 4 full days in Banff, split between two days in the town of Banff, and two days in the Lake Louise area on either side of the trip up the Icefields Parkway to Jasper.
Why split it up, you ask? Because Lake Louise is ~45 minutes away from the town of Banff, making it harder to get there nice and early to get a parking spot and beat the crowds to the beautiful views at Moraine Lake and Lake Louise. By staying in the area, you'll be able to roll out of bed and be lakeside in half an hour flat, at most.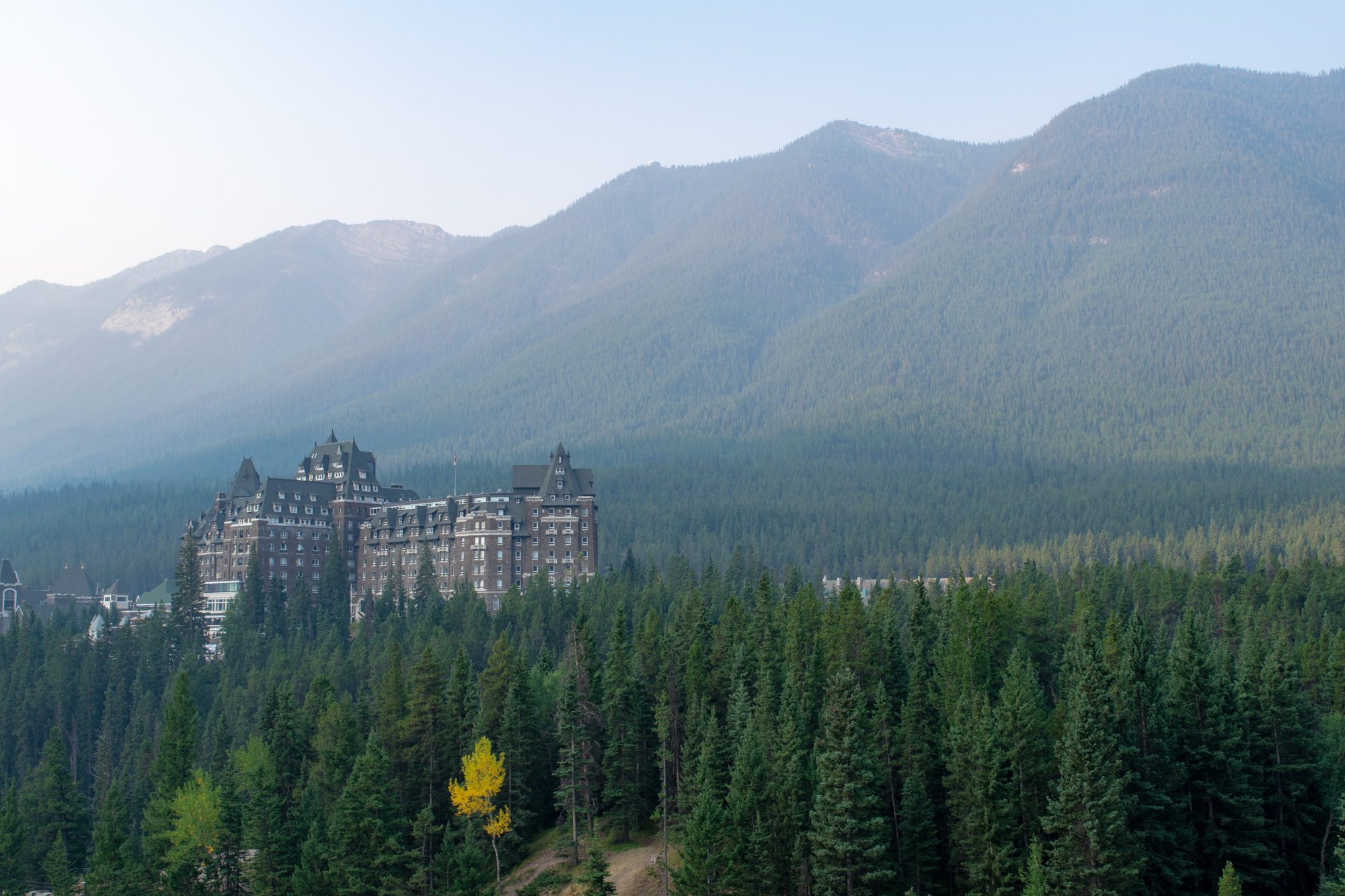 Travel Tips For Your Canadian Rockies Road Trip Itinerary
Before we get to the full Canadian Rockies Road Trip Itinerary, here are some things you'll need to know before your trip.
What is the Best Time to Visit Banff and Jasper?
For the purposes of this Canadian Rockies Itinerary, I'm talking about mainly late spring through fall. That is when the hiking trails are open, there's a very small chance of snow (which can make driving complicated), and you'll be able to take in the full beauty of the Canadian Rockies.
In the summer, it gets packed. I'd recommend a late spring trip – late May and early June – or a trip in the early fall after Labor Day, which is what we did. Either way, you'll have beautiful weather (although it snowed the day we left…), and less crowds to deal with.
If you have to do a summer trip, make sure to book your places to stay well in advance – six months or so – and be prepared to deal with sometimes unbearable crowds. Get up early to beat them to whatever destination you've got planned that day. You won't regret it.
You can absolutely travel to Banff and Jasper in the winter, but I have never done it. It's a phenomenal destination for avid skiers and snowboarders. If you're visiting in the winter, be prepared to drive in the snow. You'll want to be prepared with chains, particularly for the drive in from Calgary and the Icefields Parkway. Obviously, your itinerary is going to look a lot different than this one since you won't be able to hike, but Banff and Jasper are still stunningly gorgeous in the winter. Make sure to pack warm, because it will be freezing.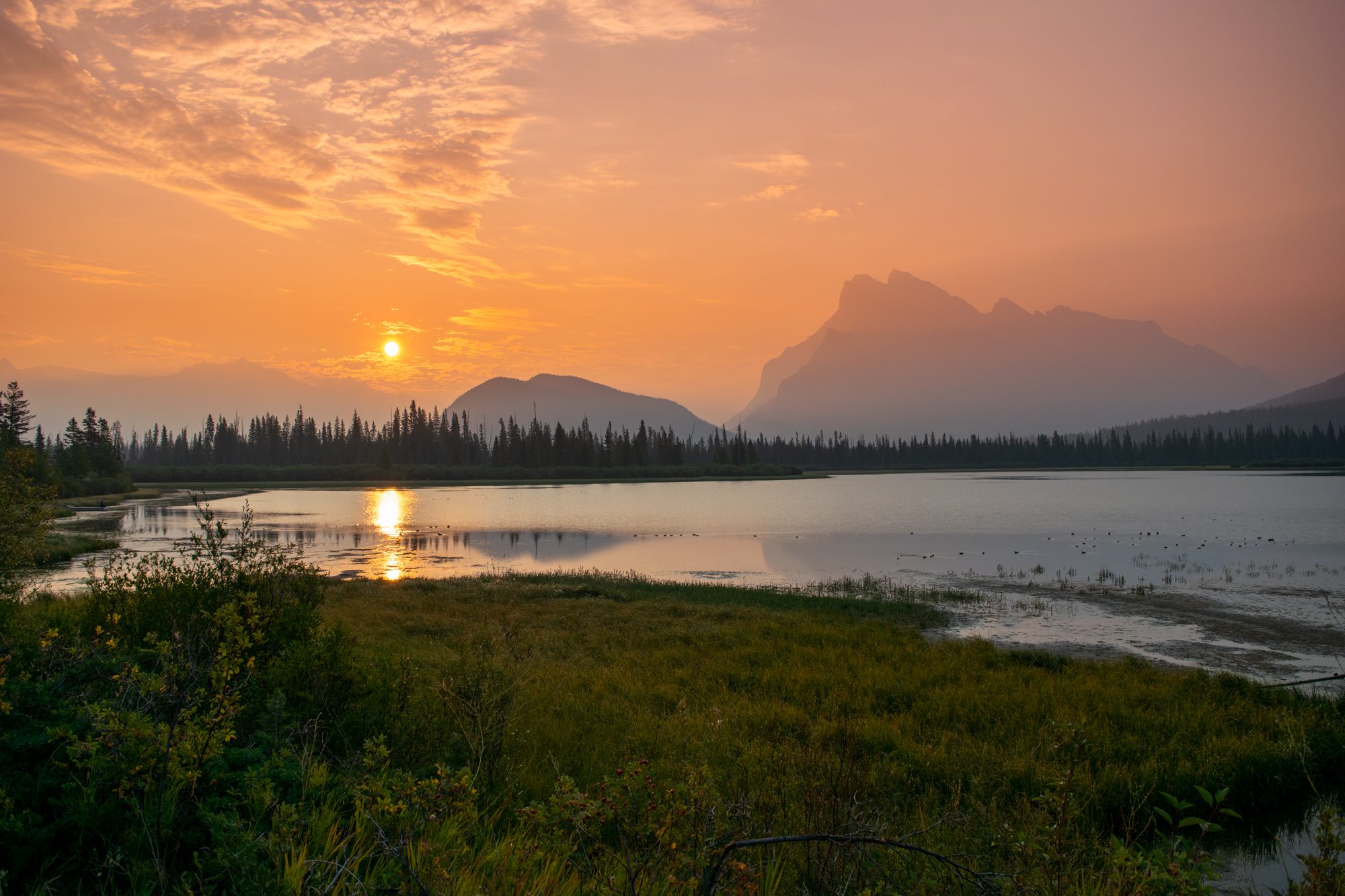 Getting Around Banff and Jasper: Rent a Car in Calgary
Considering that this is a road trip itinerary, it's probably pretty clear that you're going to want to rent a car to truly see the best of the Canadian Rockies.
The best way to do it if you're flying into Calgary is to rent a car at the airport, which is exactly what we did. It was nearly seamless – we landed, headed over to Enterprise, and picked up our car without issue.
Pro-tip (wish we'd done this!): You could also rent a car from one of the other Enterprise locations in Calgary, which will be significantly cheaper for a small inconvenience. It's a short taxi ride, and for a 10 day rental from Enterprise in September, you'll pay CAD$440 for the airport pickup, and just $200 for a pickup at a different location. The trade off is the slight inconvenience, but it's probably worth it for the huge savings.
Now that you've got a car, you're ready to go! Just make sure to check the road reports to make sure there's no unexpected closures, and you're off!
I use RentalCars.com to rent cars around the world because they allow you to compare prices and reviews across all the available companies at locations worldwide. PLUS, you can see reviews of the location you'll be picking up your car from, which I know from experience varies wildly. Click here to start your search for your rental car.
Other Travel Tips You Need to Know
Check Your Passport. There is nothing worse than being turned away at the airport because of a passport issue. Two or three months before your trip, check your passport will be valid at for at least six months from your date of travel. Also check entrance requirements based on the passport you hold. Some nationalities require visas or 6 months validity on their passport from the date they return from their trip. Ten minutes checking can save you a lot of grief!
Book In Advance. Due to the peak season being so short it means that availability can close really quickly. Where possible book six months or more in advance to get the best availability and pricing. Leaving it too late means you'll have to compromise or cut things out.
Buy An Annual Discovery Pass. In Canada you're required to have a park pass for all of the national parks you stop in, even if you just stop at a lookout to take pictures. The park passes are CAD$9.80 per adult per day. You will need a pass every day on this 10 day Canadian Rocky road trip itinerary so it is worth getting an Annual Discovery Pass. It will cover all the national parks and the Icefields Parkway, and costs CAD$69.19 per adult. As it is valid for a whole year it will more than cover this trip and be handy if you plan on coming back to Canada later in the year. If you're a family traveling in the same car, look at the family/group pass, which is CAD$139.40, so it's worth it for groups of more than two people.
Get Up Early! For two reasons. First, you'll beat the crowds, and in some cases, get a parking spot. If you're going to places like Lake Louise or Moraine Lake, the parking lot will be full by 9am, at the latest. You'll want to get up early and get your day started to beat those crowds and enjoy the natural beauty surrounding you without 117,000 people around you trying to take the perfect selfie. Second, wildlife are most active in the morning. We went for a drive around Lake Minnewanka at sunrise, and saw an elk and four bighorn sheep along the way. In Jasper, we got up early and headed to Lake Maligne for sunrise, where we almost stumbled upon a mama moose and her baby. GET UP EARLY. You won't regret it (maybe).
Get Travel Insurance. This is a must no matter where you are traveling. Travel insurance covers you just in case something goes wrong. For a relatively small cost, it can cover you for unexpected medical expenses, flight delays or cancellations, lost luggage or other belongings, and more.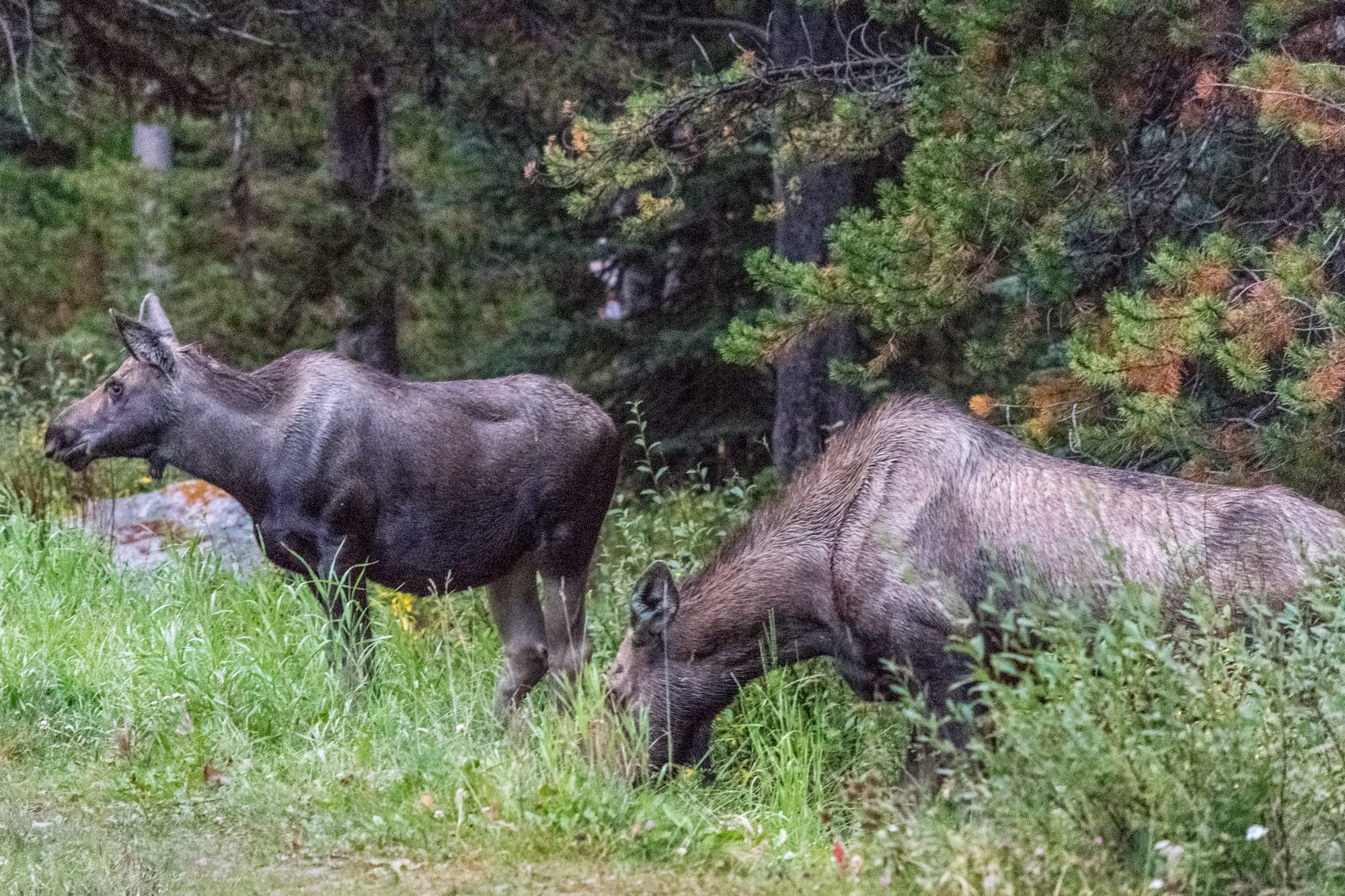 What to Pack for a Canadian Rockies Road Trip
Here are some things you're going to want for your trip.
Hiking Gear You'll Need:
A comfortable daypack for hiking: It should be between 20-30L in capacity to hold all of your snacks, an extra jacket, plenty of water, camera gear, and whatever else you bring hiking. Both Alysha (my wife) and I love Osprey Packs, and would recommend the men's Osprey Stratos 24 (they also have a 34L version which is perfect if you have a DSLR camera like I do) and the women's Tempest 20, which is Alysha's daypack of choice.
Sturdy and comfortable hiking boots: Spoiler alert – I love hiking, and we hiked over 50 miles over our ten day trip. You're going to want to make sure your footwear is prepared. I love my Keen Targhee boots, which are waterproof, durable, and made by an amazing company. Women's version here. For a low top hiking shoe, look at the Salomon X-Ultra 3, which are also waterproof and durable with a lower profile.
A good rain jacket: Weather can be unpredictable, even in summer. It rained more than once, and you'll want to be prepared. The Patagonia Torrentshell is my pick, and it comes in a men's version and a women's version.
Trekking poles: I didn't know I needed hiking poles until I used them, and all of a sudden the knee pain after a downhill hike went away. Now they're always in my bag. Can't carry them on though – you'll have to check them. Black Diamond trekking poles are the best around, and are what I use now.
The Detailed 10 Day Canadian Rockies Road Trip Itinerary
Here is the full 10 day Canadian Rockies itinerary. You'll find the best places to stay, where to eat and drink, the best things to do in each place, and a mini daily itinerary for each spot.
Day 1: Fly Into Calgary Airport And Drive To Banff or Canmore
Drive time: 1.5 – 2 hours.
The drive from Calgary to Banff is a short one but full of changing scenery. There are mountains, fields, and prairies. There are no stops along the way that I'd really recommend – we drove straight through.
Should You Stay in Banff or Canmore?
We struggled with this question when planning our Canadian Rockies Road Trip. We, of course, would love to have stayed in Banff. It's a charming place, with a lovely downtown area with tons of places to eat, drink, and shop. What's not to love?
In a few words, the prices. It's expensive, and places book up anywhere from six months to a year in advance.
That being said, it is truly an amazing place to stay, and you'll find a few recommendations below if that's the route you want to go.
Wherever you stay, make sure you can get free parking.
Staying in Canmore
We actually stayed in nearby Canmore, which is a 15 minute drive from the town of Banff, and is something that I would wholeheartedly recommend.
My recommendation for you is to stay in Canmore.
You'll be outside of the town of Banff, sure, but Canmore is a place worth exploring in its own right, with awesome hiking and a thriving food and drink scene. Plus, you'll find that prices are much more reasonable.
Airbnbs in Canmore: We stayed at this Airbnb in Canmore, which has everything you need for a perfect stay in Banff, including a small kitchenette if you want to cook your own meals.
There are tons of amazing Airbnb options in town, though most are condos that are at a hotel or resort. There is bound to be one perfect for your style and budget. Like this one for a group of 4.
Click here to find the perfect Airbnb for your stay in Canmore.
Perfect for couples. If you want a hotel in downtown Canmore, look at the Lamphouse Hotel. It's clean, comfortable, and stylish, and you can choose your room type based on your needs. They have everything from double rooms to multi-bedroom apartments.
Perfect for families. If you need more space and want to have your own apartment, look at Basecamp Resorts. You'll find modern studios, along with one-to-five bedroom apartments, all with comfortable beds and full kitchens. Perfect for families who need a little more space than a hotel room might give you.
On a budget? If you're looking for the most affordable stay in town, it's the Canmore Downtown Hostel. Choose from dorms or private rooms with private bathrooms, and you'll have access to typical hostel amenities like a shared kitchen and laundry facilities.
Click here to check prices, reviews, and availability for places to stay in Canmore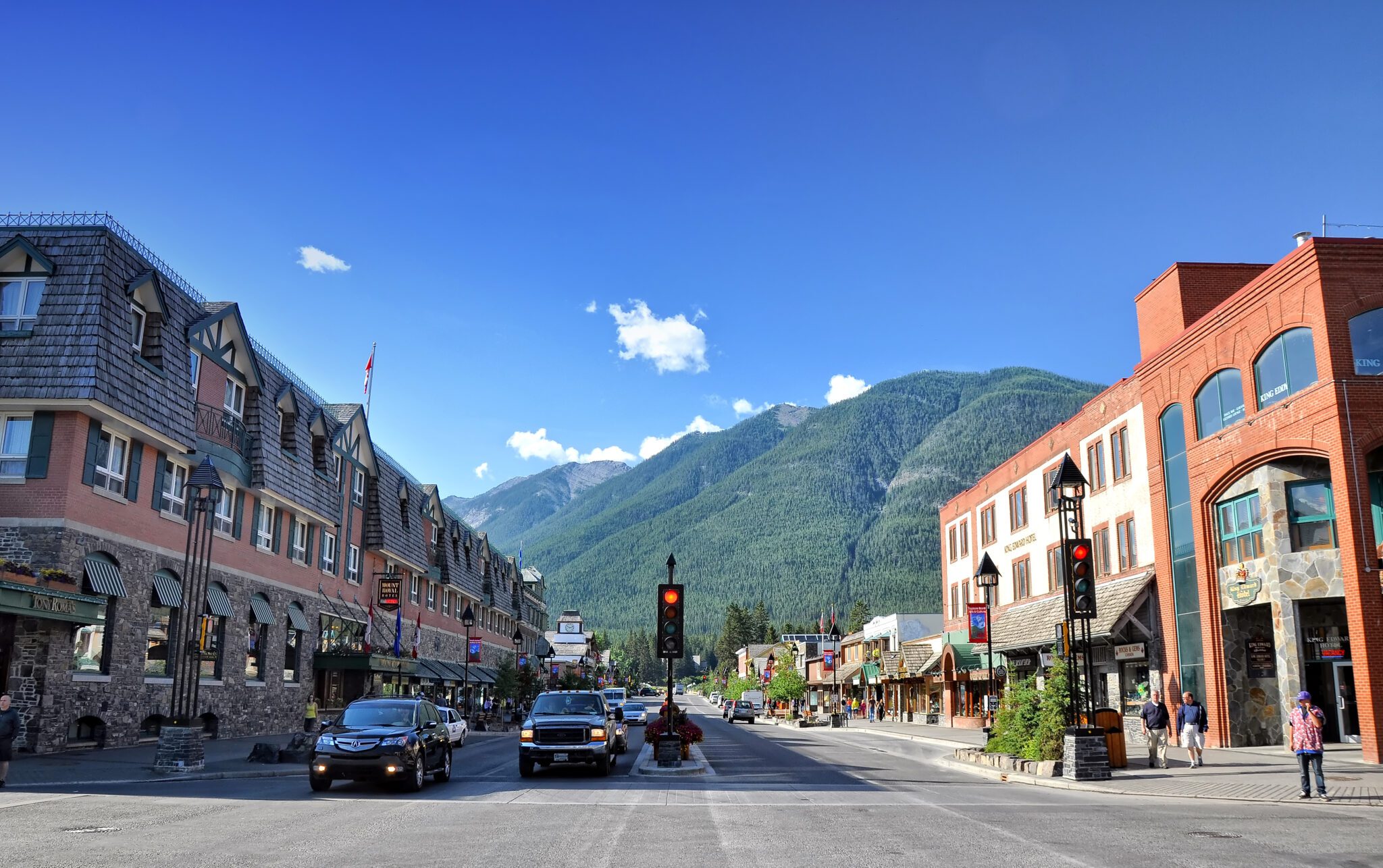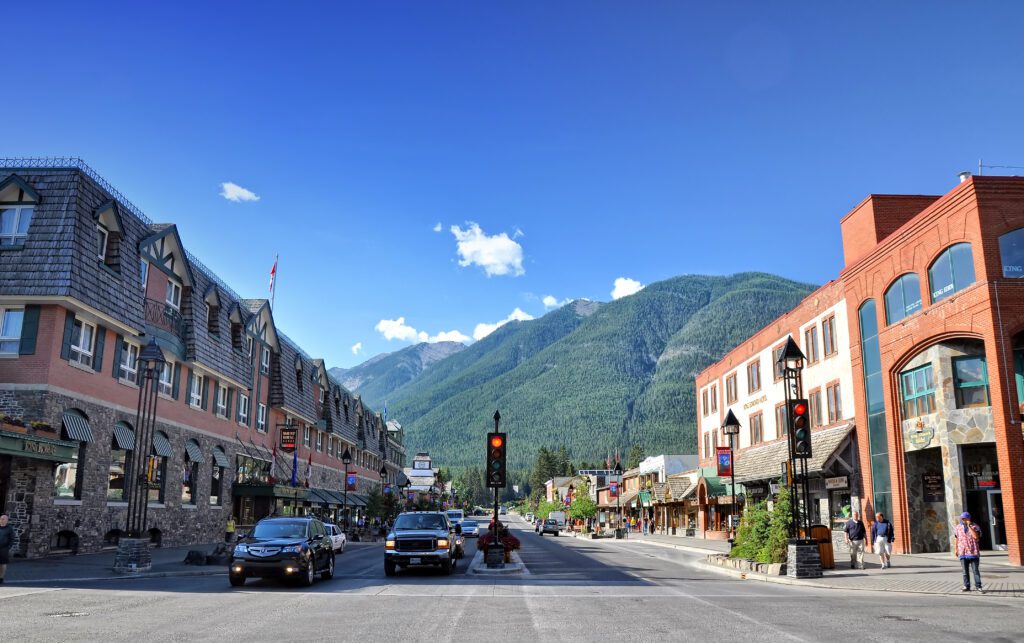 Staying in the Town of Banff
If you are set on staying in Banff, I totally get it. The central location, being able to walk to some of Banff's best food and drinks, and the buzzing energy of the tourist-filled streets is worth the price of admission for some people.
Best Airbnbs in Banff. As you can imagine, there are tons of Airbnb choices in the town of Banff itself. You can find everything from a cabin loft guest suite, to newly renovated deluxe condos.
Click here to find the perfect Airbnb in Banff.
Best Hotels in Banff: Look at the highly rated Moose Hotel and Juniper Hotel for reasonably priced hotels in the town of Banff, which can be hard to come by. The Moose Hotel is right in the center of Banff town and is a stylish lodge with 174 rooms. They have accessible rooms and offer one or two bedroom suites for families. Their facilities include rooftop hot pools, a gym, and an onsite Italian restaurant.
On a Budget? Stay at the Banff International Hostel, though it's dorms only. They have 4-8 bed dorms, with some that are female-only. You'll have access to the kitchen, and the nice outdoor area to lounge after a day of hiking.
Click here to check prices, reviews, and availability for places to stay in Banff
Days 2 & 3: Exploring Around the Town of Banff
Banff was Canada's first National Park, and it is an important stop on any Canadian Rockies itinerary. Spend the day exploring the hot springs, the marshlands, and wildlife watching. In winter it becomes a veritable winter wonderland, a haven for snowboarders, skiers, and tubers. In summer hiking, biking, and rock climbing are the main draws.
This part of your trip is going to focus on the town of Banff and the surrounding area. After you head up to Jasper, you'll stay in Lake Louise to explore that part of Banff National Park.
What To Do In Banff & Canmore
Hike Your Heart Out
Banff is truly one of the best hiking destinations in the world, with stunning views of the Canadian Rockies around every bend in the trail.
You can find hikes that range from easy and flat, to steep and exhausting. Some of the hikes can be challenging, with lots of elevation gain and switchbacks galore, but the views are so worth it! You'll definitely want to read my post about the best hikes in Banff.
Since you only have two days in Banff and there is plenty to explore, I would recommend either Sulphur Mountain or Johnston Canyon and the Inkpots as they are close to the town of Banff.
Sulphur Mountain is an extremely challenging hike – it basically heads straight up the whole time – but the views over Bow Valley and Banff town are so worth the climb! See?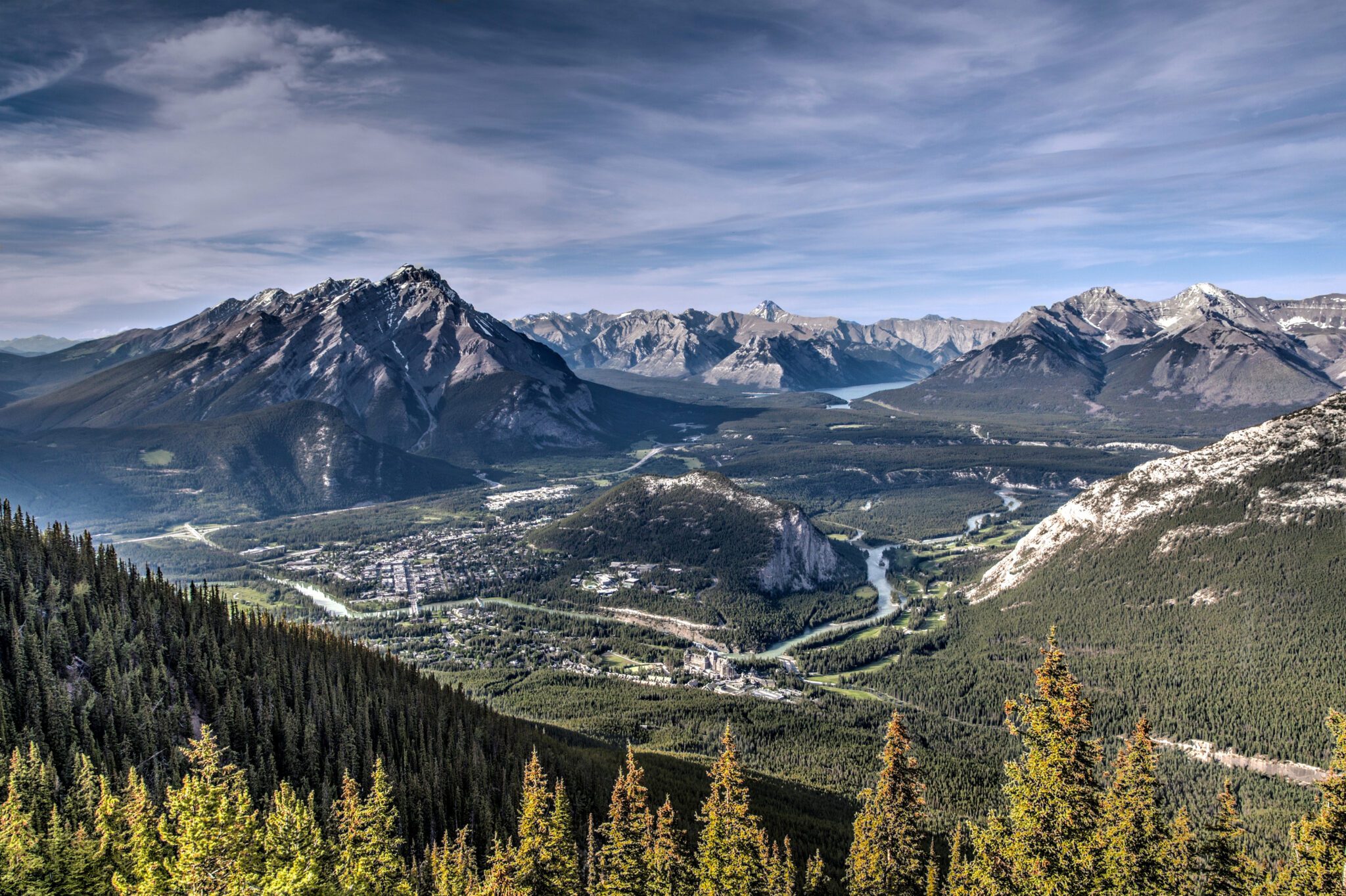 The Inkpots via Johnston Canyon are a 7 mile hike with about 2,000 feet of elevation gain, which culminates in the most stunning deep blue and light green pools of water. It is like something straight out of a watercolor painting.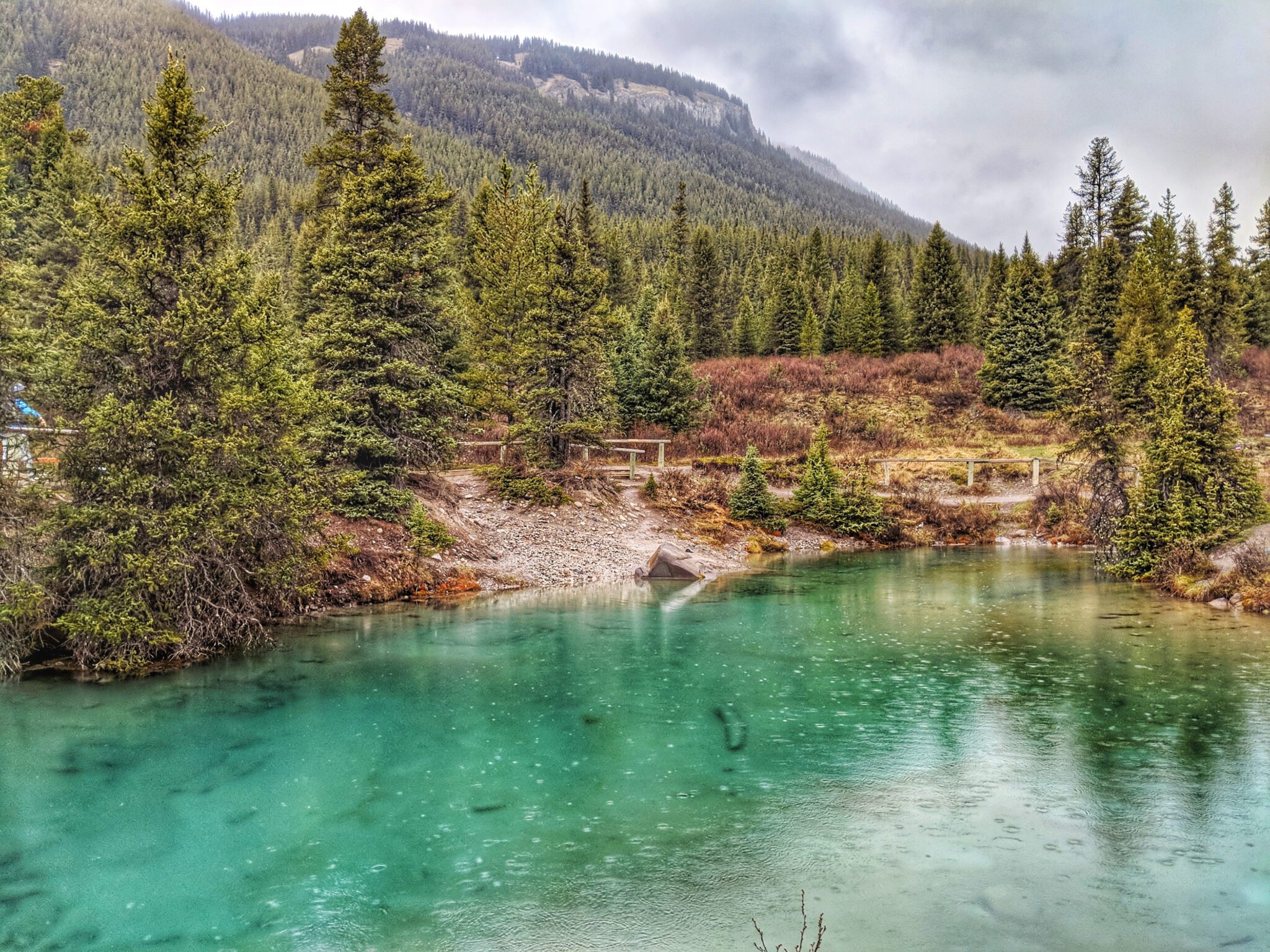 Take a DIY wildlife safari
Drive out to Lake Minnewanka and do the Lake Minnewanka scenic loop where you will drive past Two Jack Lake, Johnson Lake, Bankhead, which is a ghost town, and of course Lake Minnewanka.
In the spring to the fall, you can find plenty of wildlife, especially if you drive the loop in the early morning or the evening. When we drove it we saw tons of elk and bighorn sheep, but other people have also seen coyotes and bears.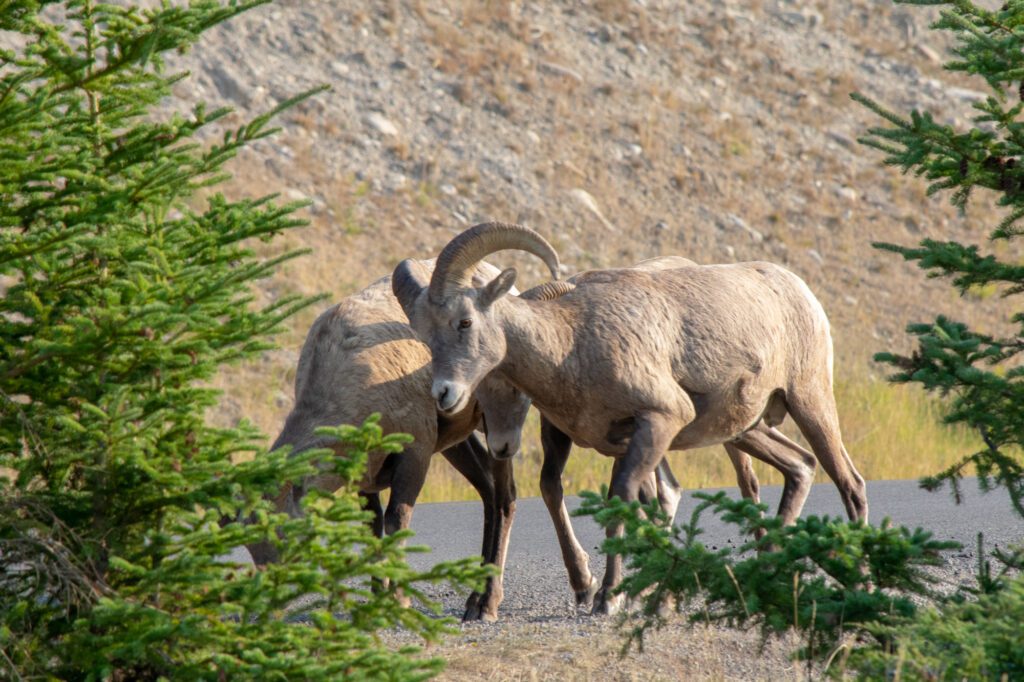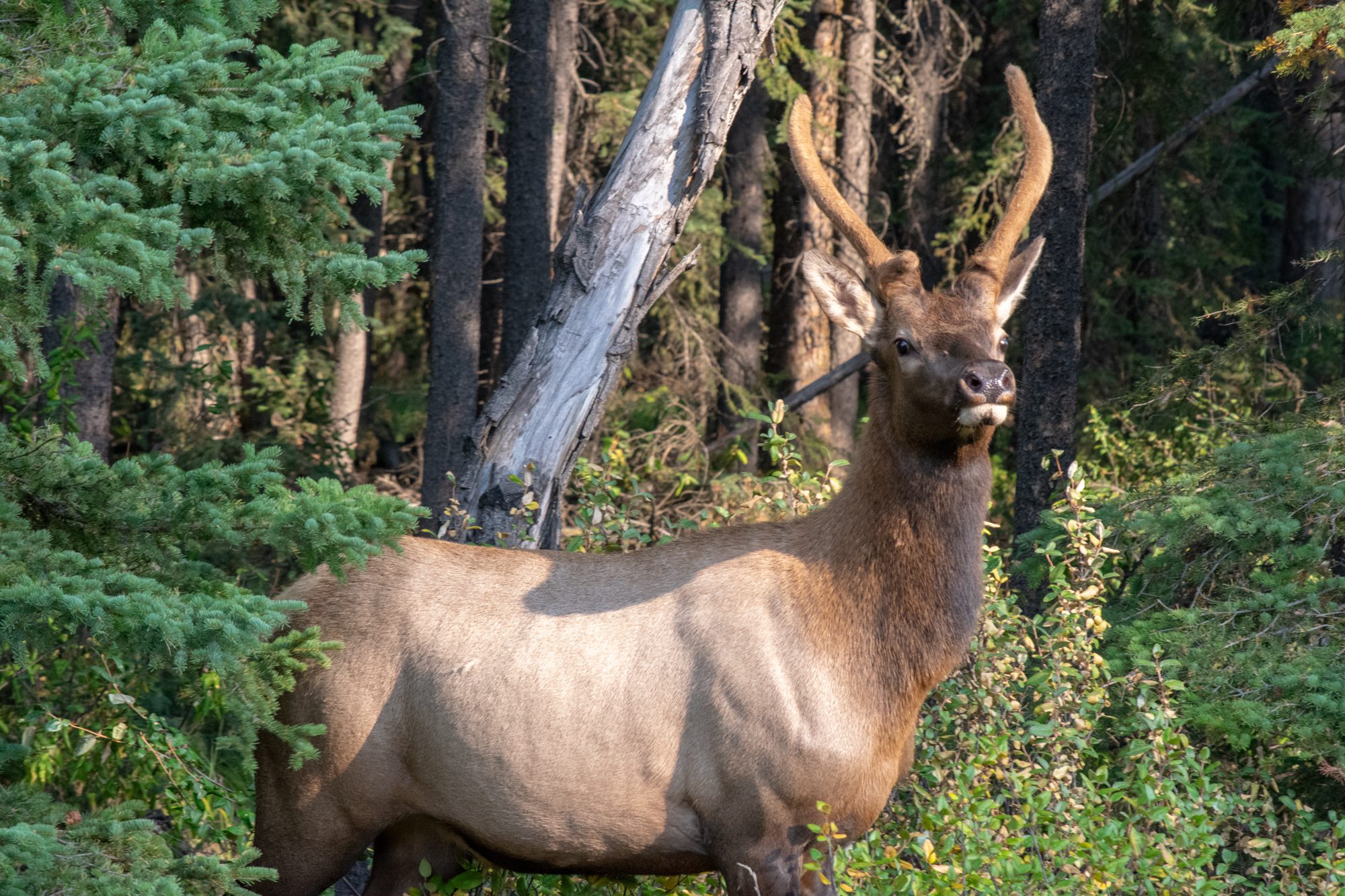 Explore the Town of Banff
The picturesque town of Banff is a fun place to explore. It has plenty of restaurants and bars, as well as sporting supply shops. Due to Banff's long history, many of the buildings are historic and have a charming old time resort town feel to them.
Where to Eat and Drink in Banff:
Explore Canmore
Like I said before, Canmore is worth exploring in its own right. We had two of the best meals on the entire trip to Banff and Jasper in Canmore, at Communitea (so good we went back twice!) and Wild Orchid Bistro, a 100% gluten free sushi restaurant.
Ride the Banff Gondola
Whether it is summer or winter, the Banff Gondola is a cool thing to do. Offering amazing views over the national park and a beautiful outdoor viewing platform, spend your time marveling at the spectacular scenery.
It takes you along the same route as the Sulphur Mountain Hike, but you won'y have to trudge miles uphill. One interesting way to do it is to take the gondola one way, and hike the other. You could hike up and gondola down for a solid workout, or take the gondola uphill and hike back down if hiking straight uphill doesn't sound like your jam.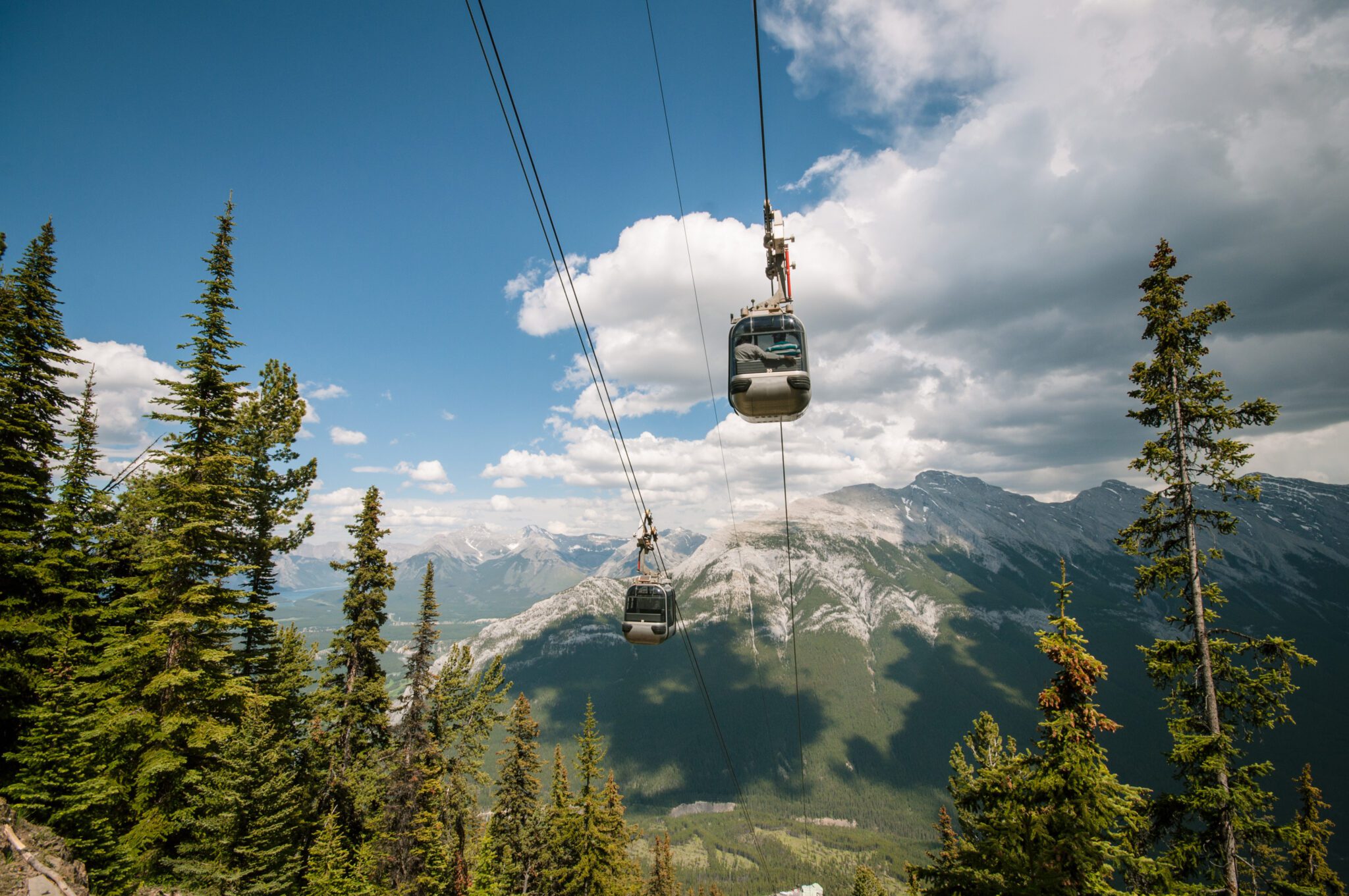 Cycle from Banff to Canmore.
The Banff Legacy Trail runs alongside the road from Banff to Canmore, weaving through the spectacular scenery. The ride will take about 3 hours round trip, and offers views of mountains, lakes, and perhaps even some wildlife spotting.
Learn about Banff at the Cave and Basin Hot Springs Museum.
This informative activity will teach you all about the hot springs, Banff, and the railways. Located in Sulphur Mountain you can enjoy this experience as part of a guided tour or wander around yourself.
A Perfect Itinerary for 2 Days in Banff
Day 1: The Best of Banff
Wake up early – I mean EARLY – and head over to Vermillion Lakes for sunrise. Not only is it a beautiful spot to catch the sunrise, with Mt. Rundle visible across the lake, but it's a good spot for wildlife viewing, especially early in the morning. Keep an eye out for elk and moose, although the latter is rare.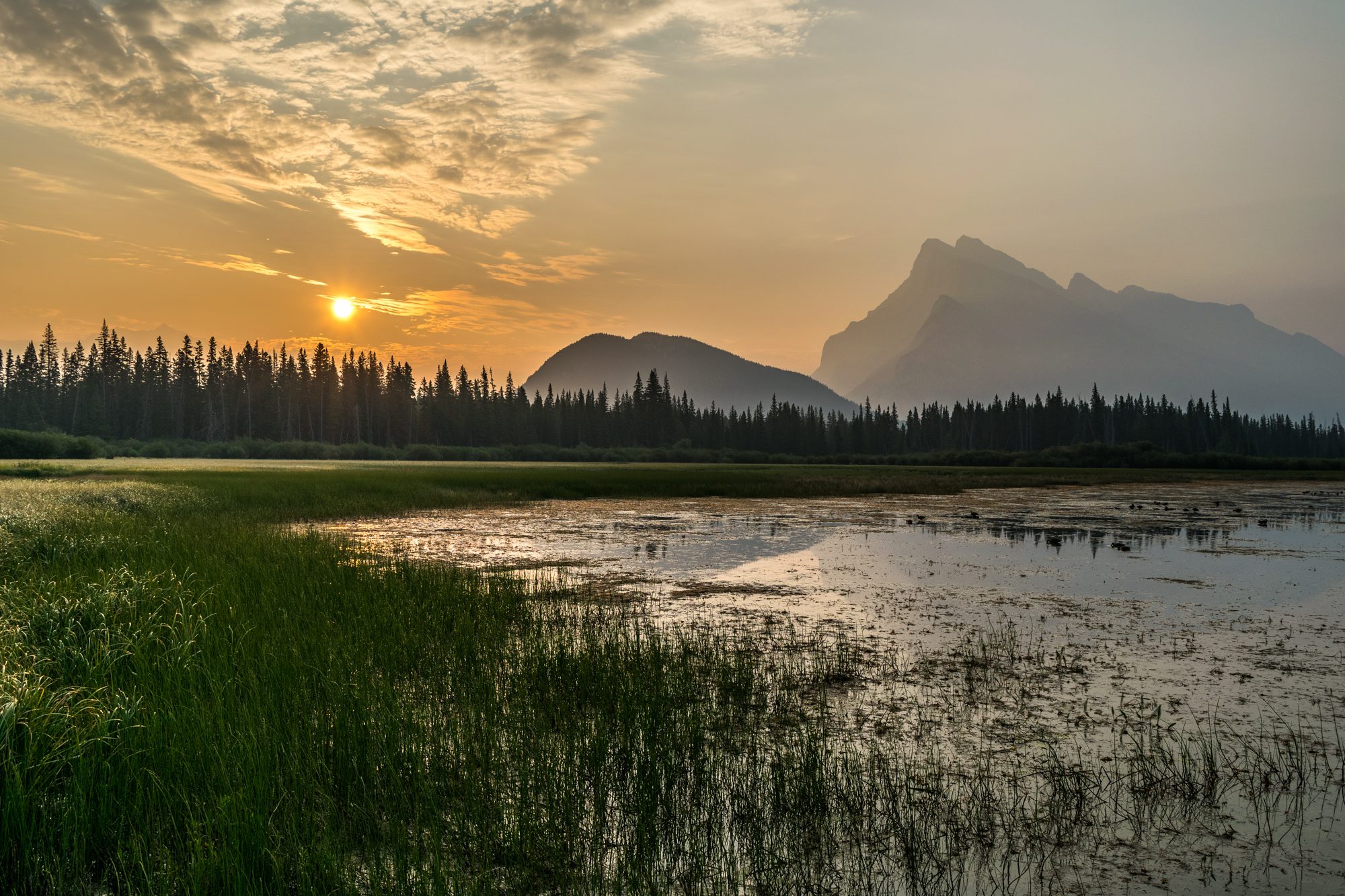 Next, head up to Johnston Canyon to do one of the best hikes in the area to the inkpots – a series of blue-green pools that are straight out of a watercolor painting. It's a 7-mile hike roundtrip, but there's a short version that takes you into the canyon itself, which is worth the drive even if you opt out of the longer hike.
If you opt out, consider heading over to Sunshine Meadows and riding the gondola up to check out the Continental Divide. There are several great hikes around the area, some of which are short and easy with great views as a reward.
Head back into town to explore Banff's main strip, poking into the countless shops lining the streets. Grab a coffee at Good Earth Coffee Co at the north end of the main drag, or some tea at Banff Tea Company – the cream of Earl Grey is a local specialty, and is amazing. We picked up a few bags to bring home.
Walk over to Bow Falls viewpoint, which is a short, mostly flat stroll out of town that is worth a look.
For a late lunch or early dinner, head to Park Distillery and enjoy a cocktail with one of their house-made spirits, and a menu of pub classics with plant-based and gluten free options.
Day 2: Lake Minnewanka, Surprise Corner, and Sulphur Mountain
Get another early start – I MEAN EARLY – and drive the Lake Minnewanka loop to do some wildlife spotting. We were lucky enough to see a couple of elk and several bighorn sheep when we did it.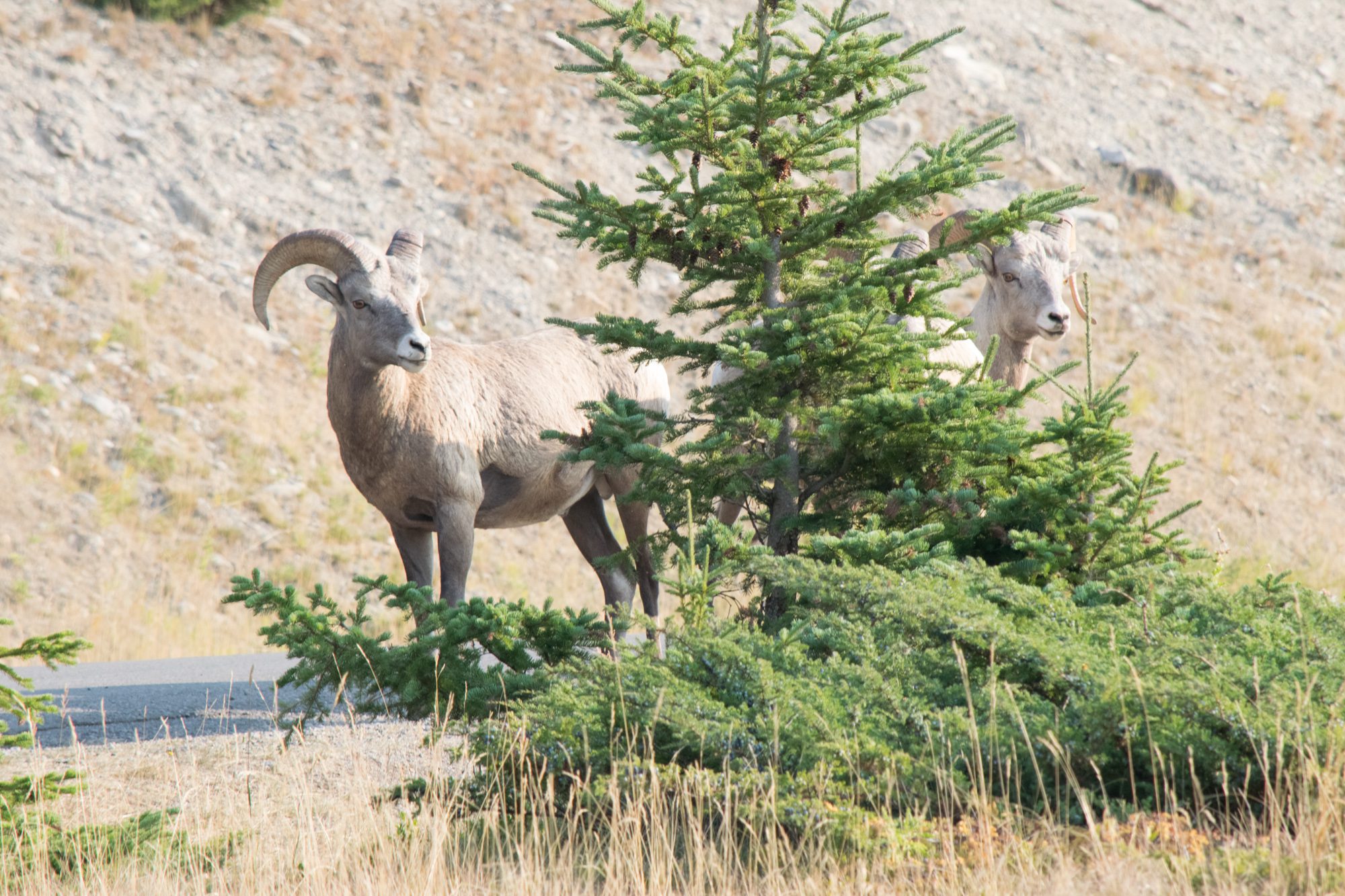 Next, after your sunrise adventure, head back to Canmore (I'm assuming that's where you're staying) and head over to Communitea for breakfast. They have all sorts of bowls and wraps, with gluten free and vegan options galore. The best coffee in town is at Eclipse Coffee Roasters – grab a latte and take some time to relax and let the caffeine hit before you get back on the road.
Next, hop in the car and hit the road, heading to Surprise Corner for an incredible view of the river and the Fairmont Hotel, before heading to your final destination – Sulphur Mountain (here's the trailhead). Hike or take the Banff Gondola up to the top for sweeping views over the town of Banff and beyond, and then descend and head back into town.
Afterwards, grab lunch in Banff and head back to your place to relax for a few hours – after all, you were up at sunrise. Get changed and head out for happy our and dinner.
For the afternoon, explore Canmore. There are tons of great shops along 8 and 9 streets, and from there you can do a short walk along the river on the Larch Island Walking Path. Don't miss the Scoopin' Moose to get your ice cream fix. The Grizzly Paw is a great spot to get a pre-dinner drink if you're in the mood for happy hour.
For dinner, head to Wild Orchid Bistro – a 100% gluten free Asian-inspired restaurant with sushi, Asian tapas, and most importantly, gluten free beer and cider.
Day 4: Drive Icefields Parkway To Jasper
Drive time: 4-5 hours with stops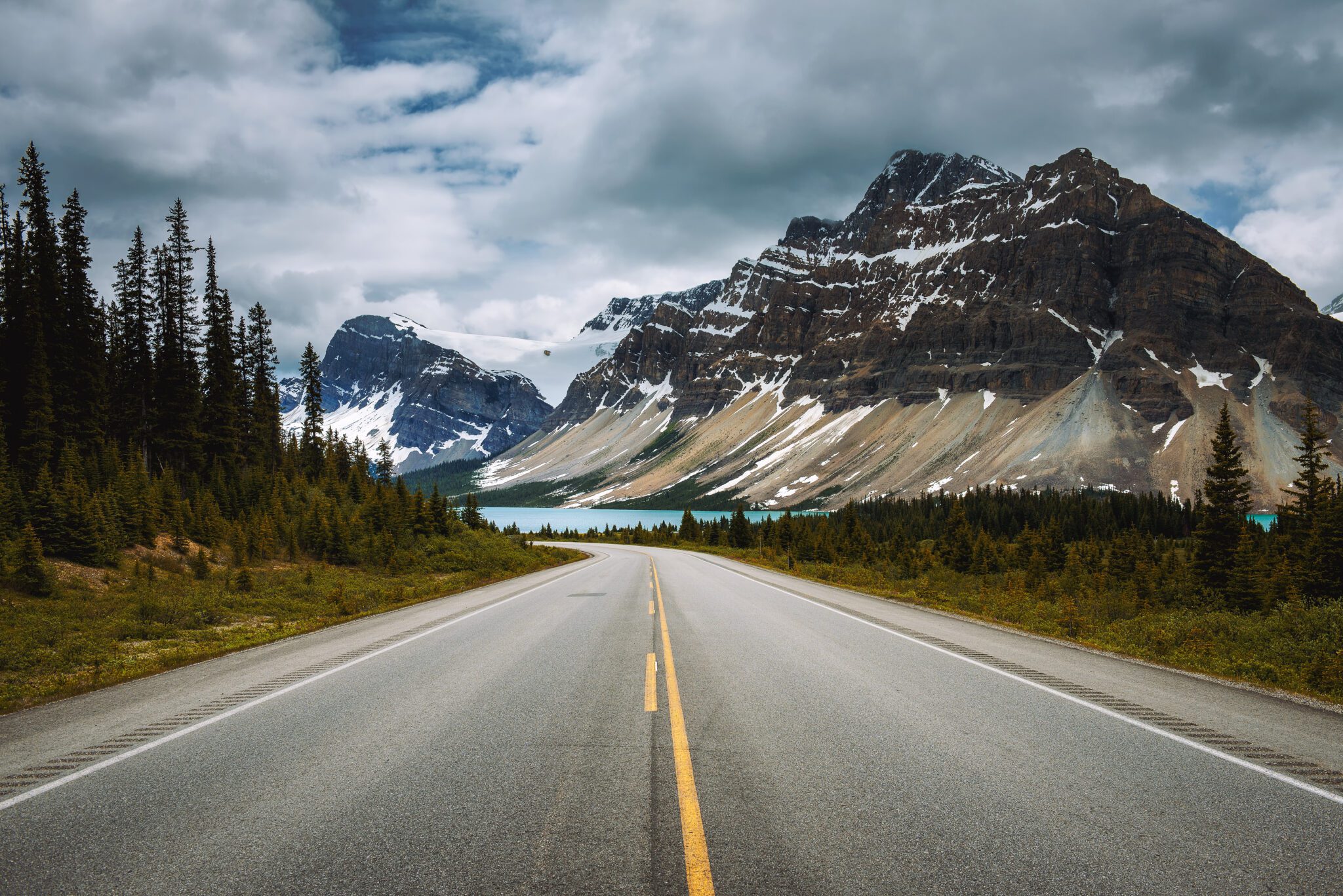 I know, your time in Banff feels like it's over far too quickly, but it's time to move on to your next stop on this Banff and Jasper itinerary. Jasper is your next destination, so there is plenty to look forward to.
The road between Banff and Jasper is called the Icefields Parkway and it is an amazing drive! It is a long one, though, so I'd plan on spending most of the day on the road.
This area is home to 100 glaciers, and some of the most beautiful scenery in Canada lurks just off the main road. There are plenty of great places to stop along the route to stretch your legs and allow Canada to steal your heart some more. Here are some of my favorites (and here's a map with all the spots plotted out).
Bow Lake: A beautiful aquamarine lake located in the mountains about 30 minutes from Lake Louise. The waters are so still that the surrounding mountains are reflected in the water. It is quietest in the morning or early evening so I'd recommend keeping this in mind to try and beat the crowds.
Peyto Lake Viewpoint: Peyto Lake viewpoint is one of the most iconic views of the Canadian Rockies. It can get really busy here, so again make sure you arrive either early morning or late evening to avoid the crowds. At the moment this viewpoint is closed for construction but it will open in spring 2021.
Parker Ridge Viewpoint. Offering a great chance to stretch your legs, the Parker Ridge trail is a 5km hike (that's one way) leads to a viewpoint offering amazing vistas over the mountainous region and Saskatchewan Glacier.
Glacier Walk at Athabasca Glacier. A popular stop on the Icefields Parkway, you can take a walk on the glacier between May and October. The knowledgeable guides will tell you all about glaciers, their path through the Rockies, and how they affect the ecosystem. Here's a top-rated glacier walk that you can book in advance (otherwise you might spend a few hours waiting for a tour at the Columbia Icefields Discovery Center).
Athabasca Falls. Fed by the Columbia Icefields, Athabasca Falls is the most powerful waterfall in the Canadian Rockies. There are plenty of walkways and viewing platforms from which to see and photograph the falls.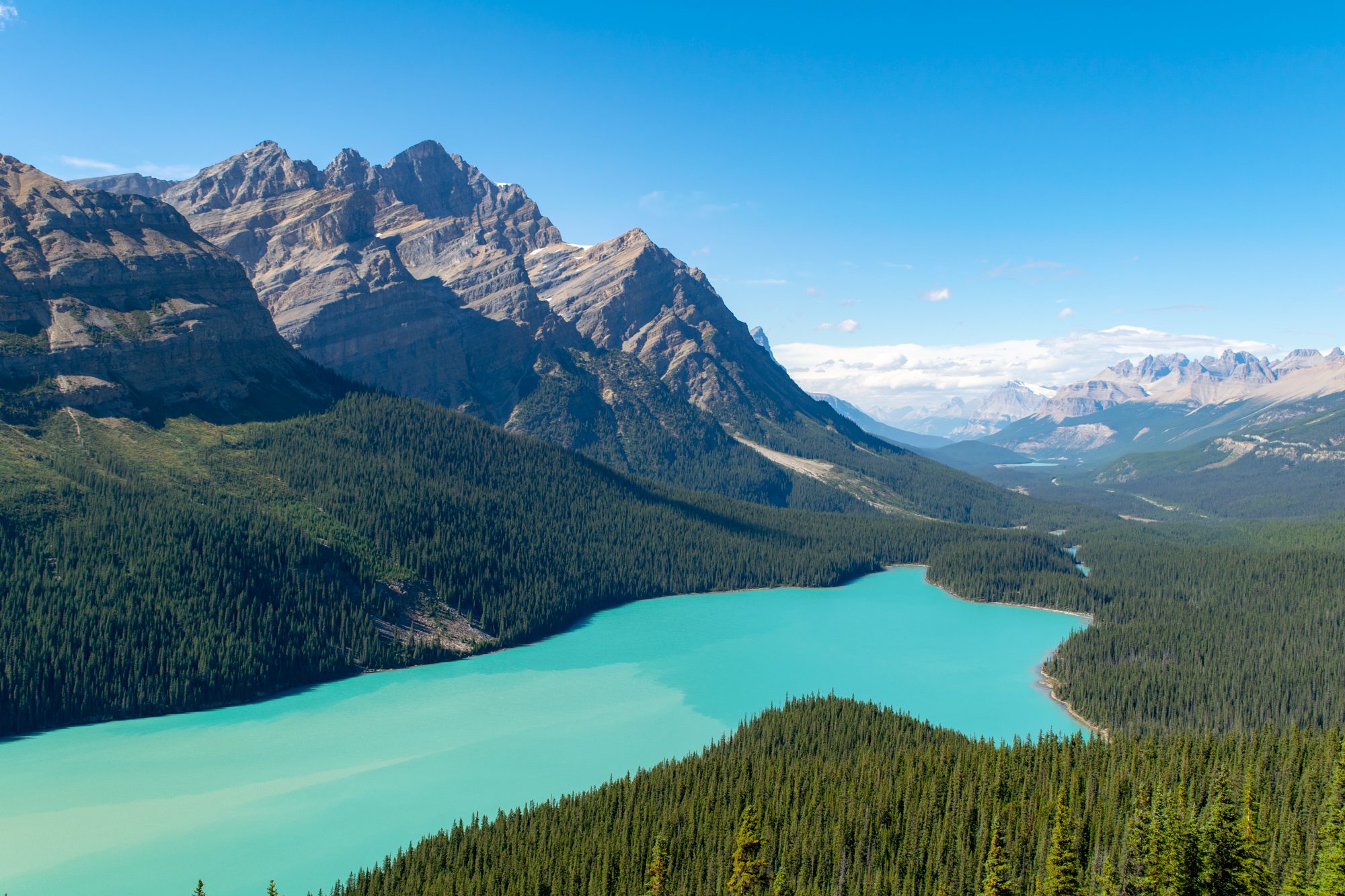 Day 5 & 6: Jasper National Park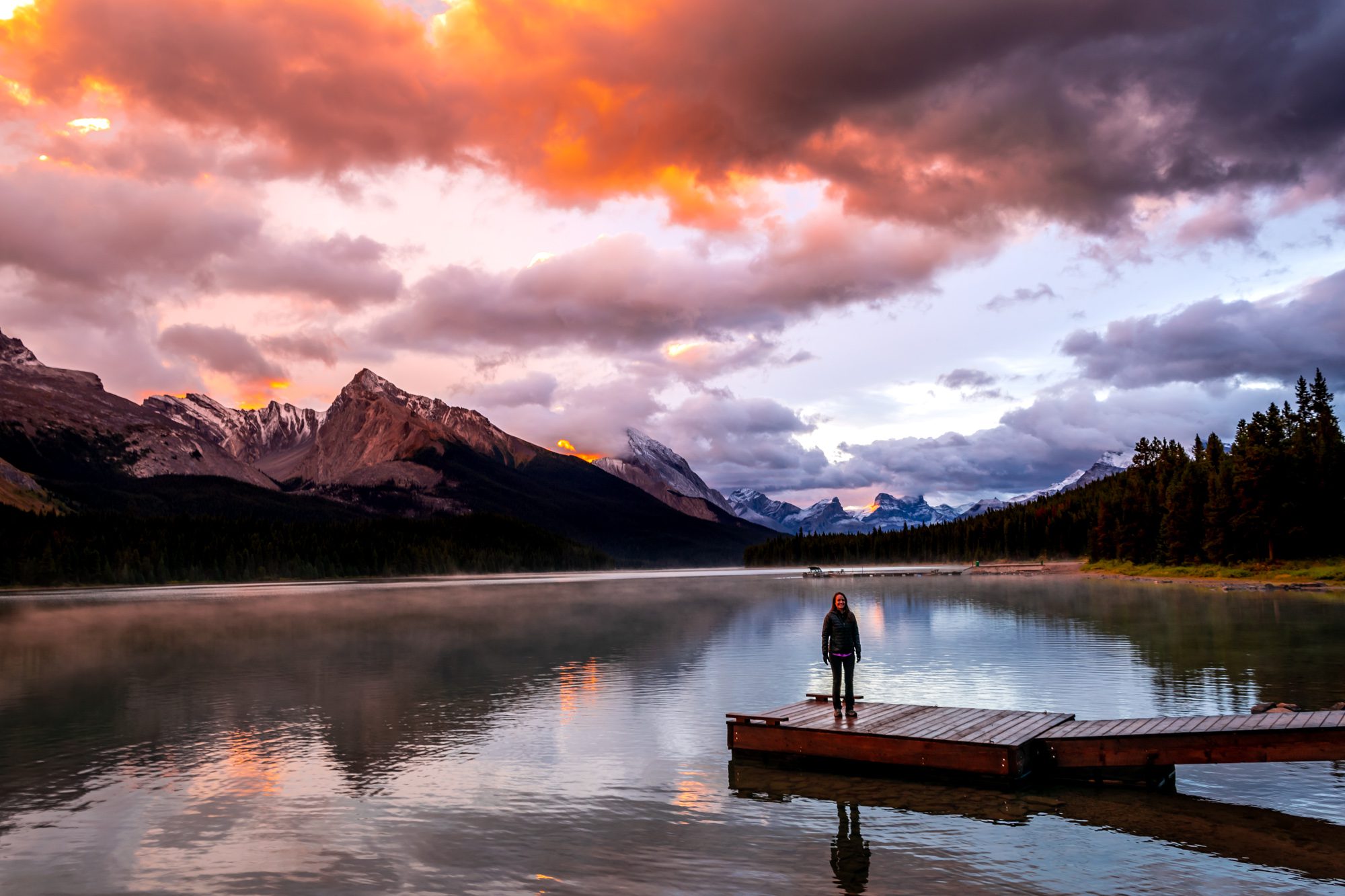 Jasper is a charming little historical town in the middle of a UNESCO World Heritage National Park.
Despite being a major stop in everyone's Canadian Rockies itinerary, Jasper has managed to keep its sense of community and this 5,000 person town is welcoming to everyone.
I really liked Jasper National Park, and with more time, I'd spend it here. There is a ton to see and do, and two days is really not nearly enough.
Where To Stay In Jasper National Park
On a Budget: HI Jasper Hostel
A perfect place to stay for travelers that will be out all day exploring all that Jasper has to offer. The HI Jasper Hostel offers 4 bed dorms, private rooms, and private 4 bed dorms. There is a large communal kitchen and dining area where you can swap stories with other travelers, and there is a chill out lounge with a pool table.
Mid-Range: Pyramid Lake Resort
Located just outside town at Pyramid Lake, this is the perfect place to base yourself if you're looking for a quiet, comfortable place to stay with access to a private beach and the ability to walk to Pyramid Island. It's only about ten minutes into Jasper, so it's not like you'll be in the middle of nowhere.
Airbnb in Jasper:
Moon Suite Airbnb (2BR): This is a spacious lower level suite with a private entrance located in Jasper town. It has two bedrooms, one bathroom, and a fully equipped kitchen. There is also a shelf of board games to play in the evening. Everything you need to explore the surrounding area.
Roche Bonhomme Rustic Suite (2BR)
What To Do In Jasper National Park
Explore the national park on horseback. There are 1200km of trails that run throughout Jasper National Park and horseback riding is a great way to explore them, especially if traveling with kids. There are plenty of companies that offer horseback riding in Jasper National Park for a range of different riding abilities.
Take the Jasper SkyTram. It is a 7 minute journey to the top of the highest SkyTram in Canada, but the views that you will see will blow you away. The guides, which they call flight attendants, will point out points of interest and allow you to ask any questions you may have. Once at the upper platform you will be rewarded by panoramic views of the mountains, lakes, and rivers of the Canadian Rockies.
Hike one of the many trails. Jasper is full of hiking trails, 1,200 km of them in fact! The Edith Cavell Meadows Hike is one of my favorites in Jasper. It is an 8.5km circuit where you will pass gorgeous lakes, flower-dotted meadows, and a glacier. My other top hikes are the multi-day Skyline Trail, which is an overnight backpacking trip that you'll need to set aside more time to complete, and the full day Bald Hills Trail that starts from Maligne Lake. There are countless other hiking trails in Jasper, but those are my three top picks.
Relax at Pyramid Lake. Connected to Jasper by road, Pyramid Lake has a multitude of biking and hiking trails. It's a stunning lake that was left behind when a glacier retreated. There is a really nice beach to relax on and you can take the walkway to Pyramid Island which has a spot set up especially for picnics. If activity is more of your thing then the lake is perfect for canoeing or kayaking and fishing.
Interesting tours in Jasper: Here are three tours in Jasper that are highly rated and offer a little something for everyone, from wildlife to adventure.
A Perfect Itinerary for 2 Days in Jasper
Day 1: The Best of Jasper
Spend your first morning in Jasper at Pyramid Lake, where you might catch some wildlife hanging out along the shoreline. Walk out to Pyramid Island and marvel at the beauty of the lake and surrounding mountains.
Grab a bite of breakfast, either at home or on your way out of town, so you're not hangry before your next stop. Be sure to pack some snacks for the trail too!
Next, head up to Edith Cavell Meadows and complete the 8.5 km circuit. The trailhead is about 45 minutes outside of the town of Jasper, so you'll want to set aside about five hours total for this adventure. You'll meander through picturesque meadows, see a glacier, and be treated to views of the surrounding rocky peaks.
Head back to where you're staying to relax and get cleaned up before dinner. When you're ready, head to the Downstream Lounge for dinner, where you'll find plenty of gluten free and vegetarian options on the menu.
Day 2: Maligne Lake and the Bald Hills Trail
Today, head to Maligne Lake at sunrise, which is a great place to spot wildlife, like moose! We showed up at sunrise and were treated to a pair of moose at the parking lot for the Bald Hills Trail.
Day 7: Drive Along the Icefields Parkway Back To Lake Louise
Drive time: 3-4 hours
Back on the Icefields Parkway to head to our final, stunning stop on the Banff and Jasper itinerary. Refer to the list above for some scenic detours along the way to break up the drive and stretch your legs. After all, a traveling day doesn't have to be spent solely in the car.
Day 8 & 9: Lake Louise And Moraine Lake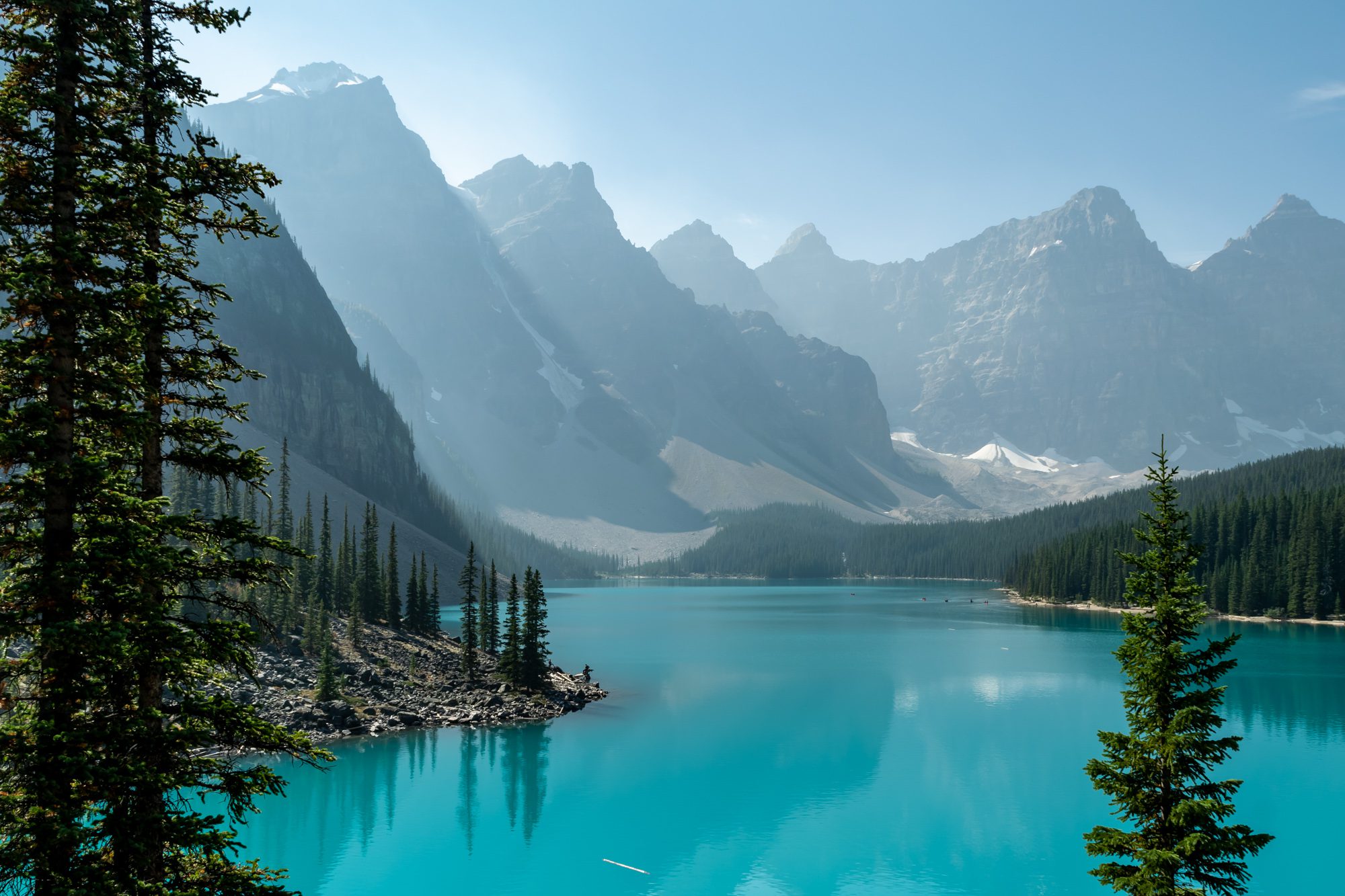 Lake Louise is known all around the world for its beautiful turquoise lakes, hiking and skiing, and the Victoria Glacier. In a Canadian Rockies road trip itinerary full of breath-taking scenery, this is the most famous and for good reason too! This is your final stop and offers plenty of relaxation if you want it, or many hiking and biking opportunities if you want to get out and explore.
This two days was one of the highlights of our Banff and Jasper itinerary. There's a bunch of amazing hikes to do, and some of the most iconic views in all of Canada are found in this relatively small area.
Where To Stay In Lake Louise
Top Pick: During our time in Lake Louise, we stayed at the Paradise Lodge and Bungalows, which are just under a mile away from Lake Louise, and are a FANTASTIC home base for exploring Moraine Lake, Lake Louise, and more. You can choose from either freestanding rustic cabins, or more modern suites in the lodge. It's a great place to stay, and the perfect place to close out your 10 day Canadian Rockies Road Trip itinerary.
Click here to check prices, reviews, and availability
Budget: HI Lake Louise Alpine Center.
This HI Hostel is located in the middle of the town of Lake Louise, just a 10 minute drive from the lake itself. It has a mix of private and dorm rooms depending on your preference. Facilities include a large kitchen, dining area, chill out room, and even a playroom for kids.
Mid-Range: Lake Louise Inn.
The Lake Louise Inn is a great option for people wanting a reasonably priced hotel that isn't too far from the Lake. It is located right in the center of town near Lake Louise – which is a ten minute drive to the actual lake -and offers a range of different room types including two bedroom suites with kitchens. They offer bike rental in the warmer months so you can cycle out to Lake Louise or explore the other trails in the area.
Splurge: The Fairmont Chateau Lake Louise.
If you are ever going to splurge for an incredible hotel stay on this trip, this is where I recommend doing it. The Fairmont Chateau Lake Louise is iconic with its palace-like exterior, it is also the only hotel built on the edge of the lake. Even if you don't end up staying here make sure you come for afternoon tea overlooking the turquoise lake.
What To Do In Lake Louise
Explore Moraine Lake. This is one of the most popular sights around Lake Louise. With its turquoise waters and rugged mountain surroundings, Moraine Lake is an awe inspiring place. Drive here early in the morning – that means before sunrise – to beat the crowds so you can enjoy the view of the lake in relative peace. Then, while its still early, head out on one of the great hikes in the area. I recommend Sentinel Pass, more on that in a second.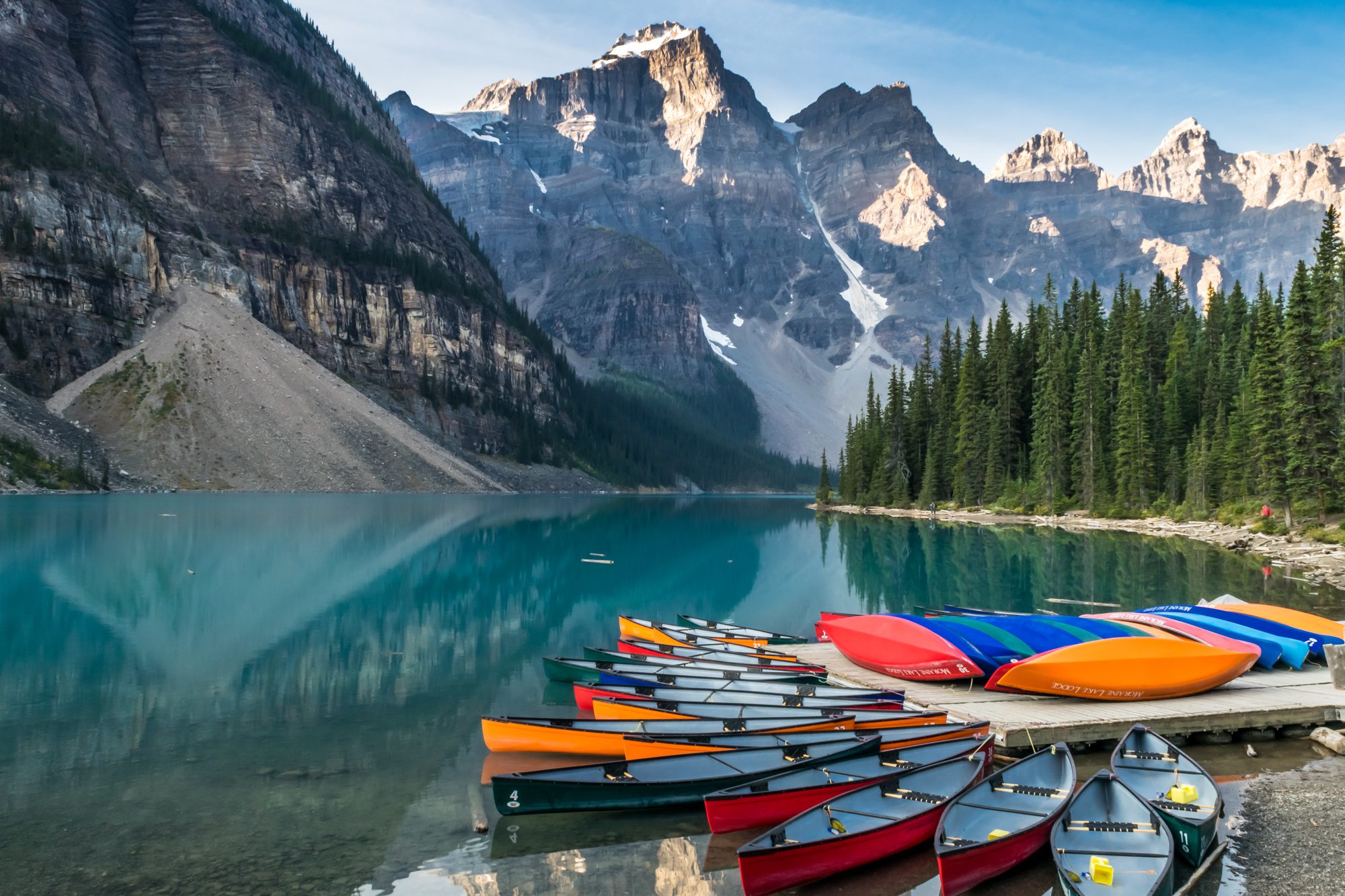 Visit a backcountry tea house. Along some of the best hiking trails in these areas, you'll find a couple of little backcountry tea houses which are situated at the middle of hikes to offer adventurers a well earned rest. Stop at one of them to eat or drink and enjoy the views. Make sure you bring cash with you because they don't accept cards. There is one on the Plain of the Six Glaciers hike – the Plain of the Six Glaciers Teahouse – and there is one on the Big Beehive hike – the Lake Agnes Teahouse. There is a hike that connects both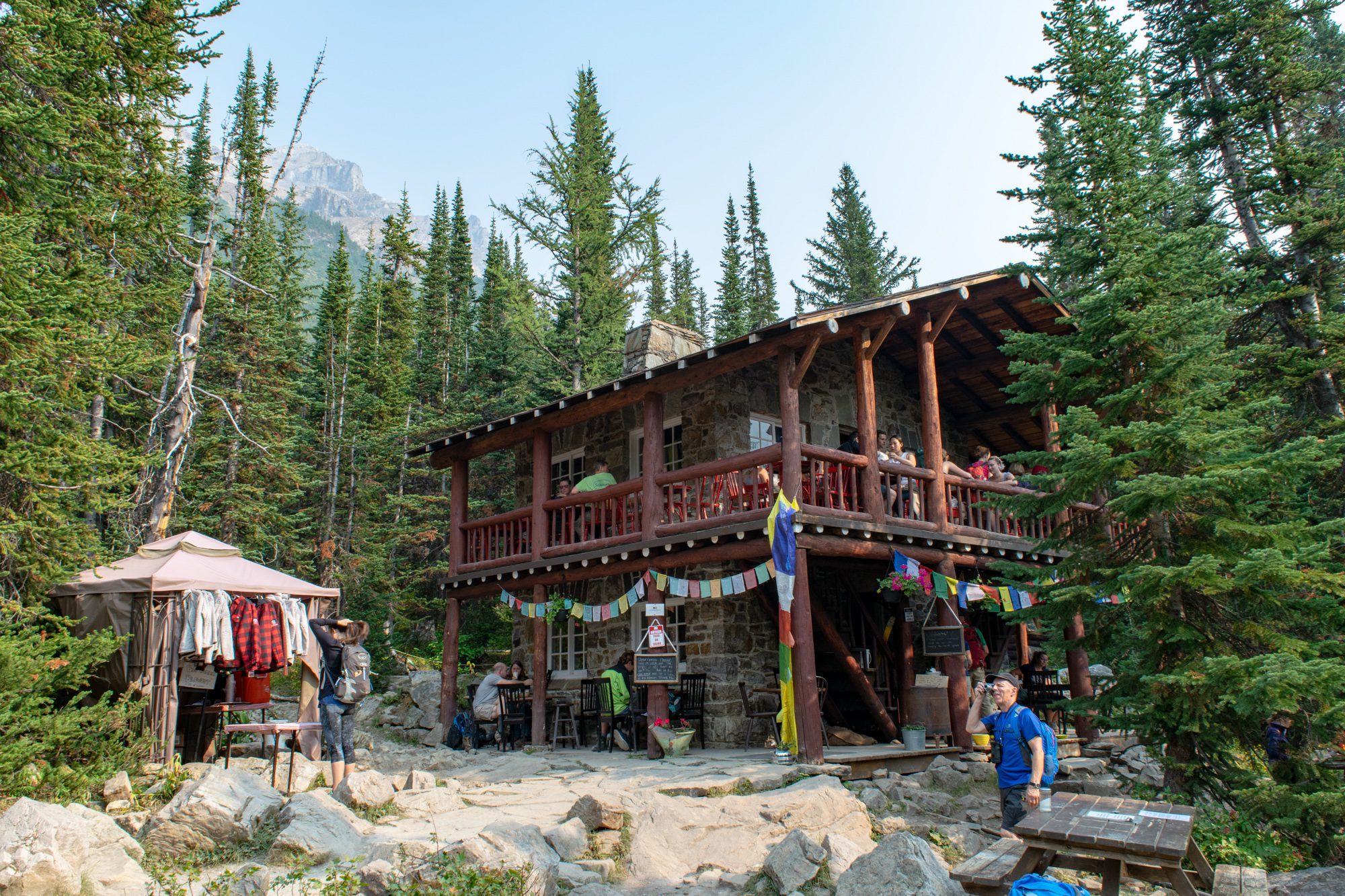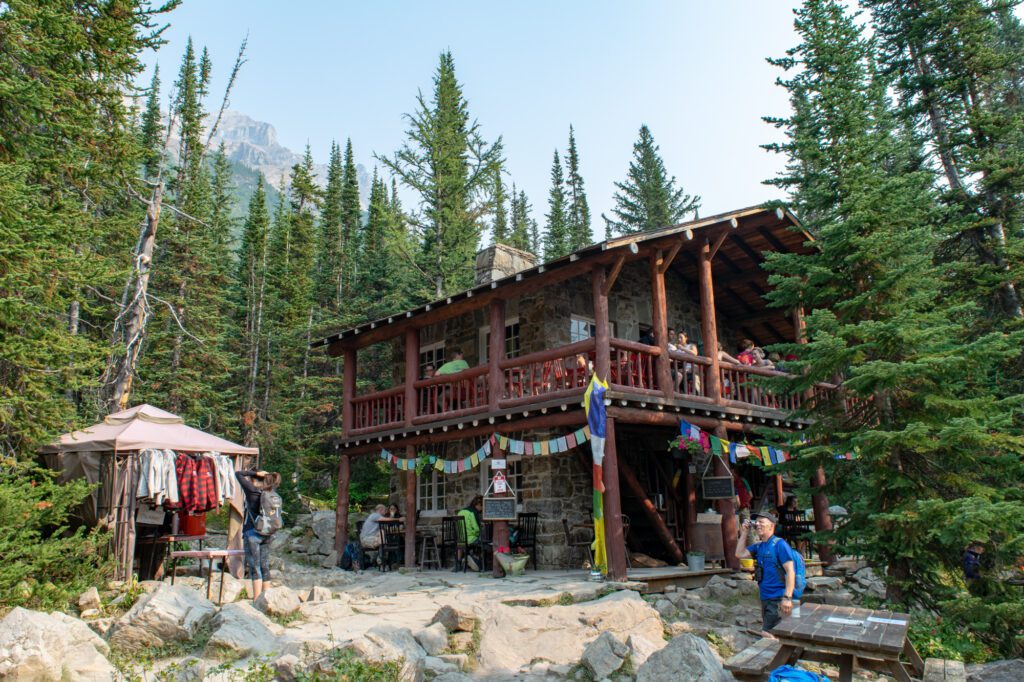 Hike to Sentinel Pass. This is one of the hikes that starts at Moraine Lake and it is one of my favorite hikes of this entire Canadian Rockies itinerary. It is a grueling 10 mile hike but oh so worth it for the impressive views at the top! Bring a windproof jacket no matter what time of year you travel as it can get windy up at the top.
Explore Yoho National Park. Yoho National Park is an underrated national park which is often dwarfed by the fame of Banff, Jasper, and Lake Louise. If you are able to add an extra day on this Banff and Jasper itinerary, it is well worth the visit. Go and see the Takakawa Falls by hiking the stunning Iceline trail. It is a popular trail on weekends so I would recommend going on a weekday if possible. Emerald Lake is also a must-see if you are in this part of Canada. It is the largest lake in British Columbia.
2 Days in Lake Louise: A Perfect Itinerary
Day 1: Sunrise at Moraine Lake + Sentinel Pass
This might be the highlight of the trip for you, so I guess we saved the best for last.
Set your alarm for 1 hour before sunrise, and pack a breakfast, lunch, and snack the night before so you're ready to roll out of bed and hit the road.
Wake up, grab your stuff, put on a few layers, make a cup of coffee to go, and head to Moraine Lake to watch one of the most spectacular sunrises you're ever going to see. The parking lot is small, so it might already be full when you get there. There's parking along the road, but that fills up quickly too.
Head to the top of the rockpile, with everyone else there for sunrise, and sip your coffee and soak in the views.
After sunrise, drop your unnecessary stuff at your car and embark on my favorite hike in Banff – Sentinel Pass via Larch Valley. It's a 10 mile hike with plenty of climbing, so you'll want to have plenty of food and water before you set off. Climb through the larches, emerge into a valley surrounded by rocky peaks, and make the final ascent up to Sentinel Pass, where you'll be rewarded with this incredible view.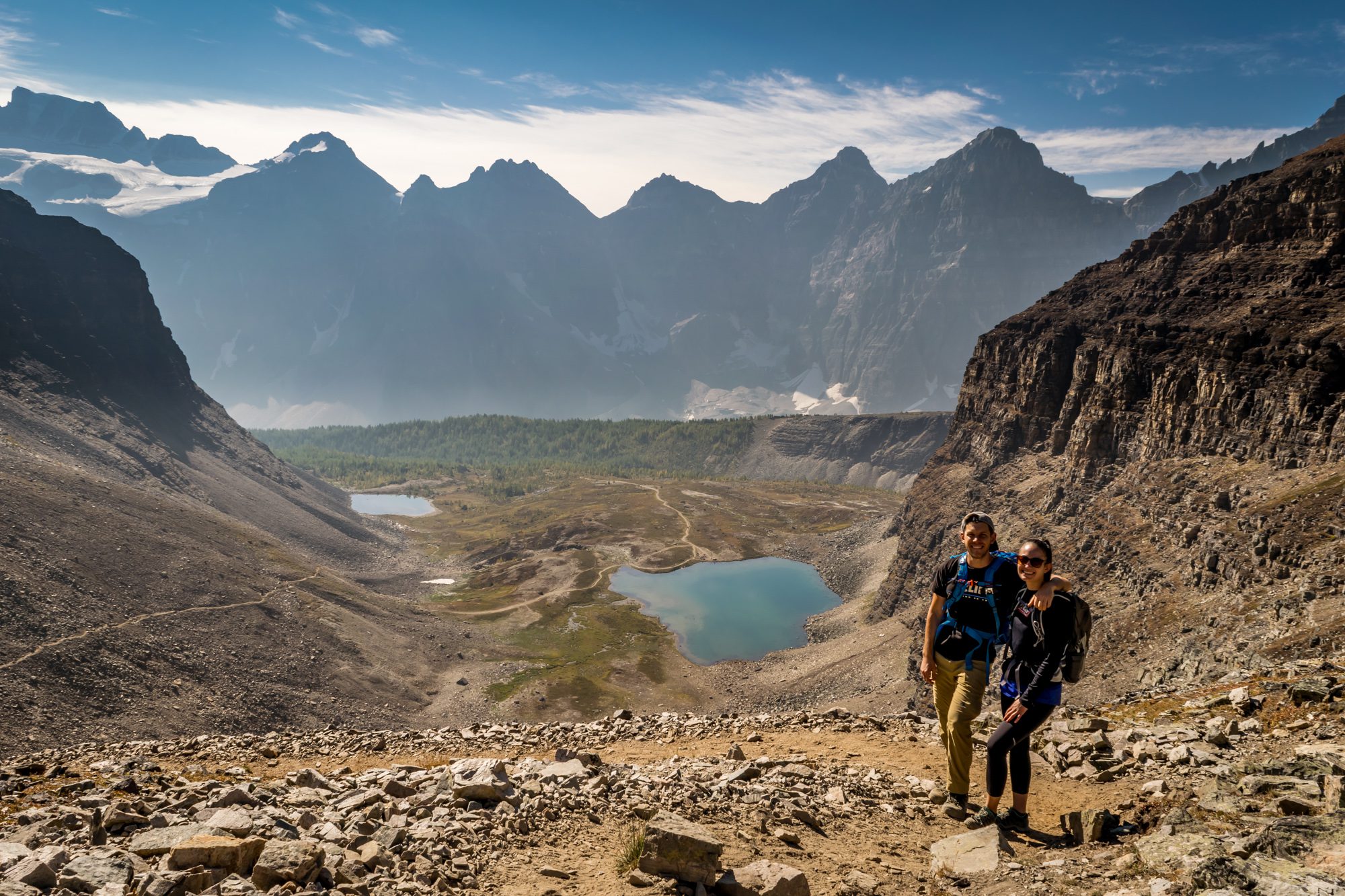 Those two activities are going to take most of the day, so head back to your place and relax – you've got another big day ahead of you tomorrow.
For dinner, you can head to the Fairmont to Alpine Social for a nice meal – more relaxed than some of the other restaurants in the hotel – with a few gluten free options. Or, head to the market in Lake Louise Village and grab supplies to cook a meal for yourself. There aren't too many restaurant options out here – most are connected to a hotel.
Day 2: Sunrise at Lake Louise + Plain of the Six Glaciers
Again, wake up an hour before sunrise and head out to Lake Louise with all of your stuff for a spectacular sunrise. Because of the way the sun comes up, you'll witness the mountains across the lake seemingly on fire, taking on a reddish-pink glow as the sun hits them.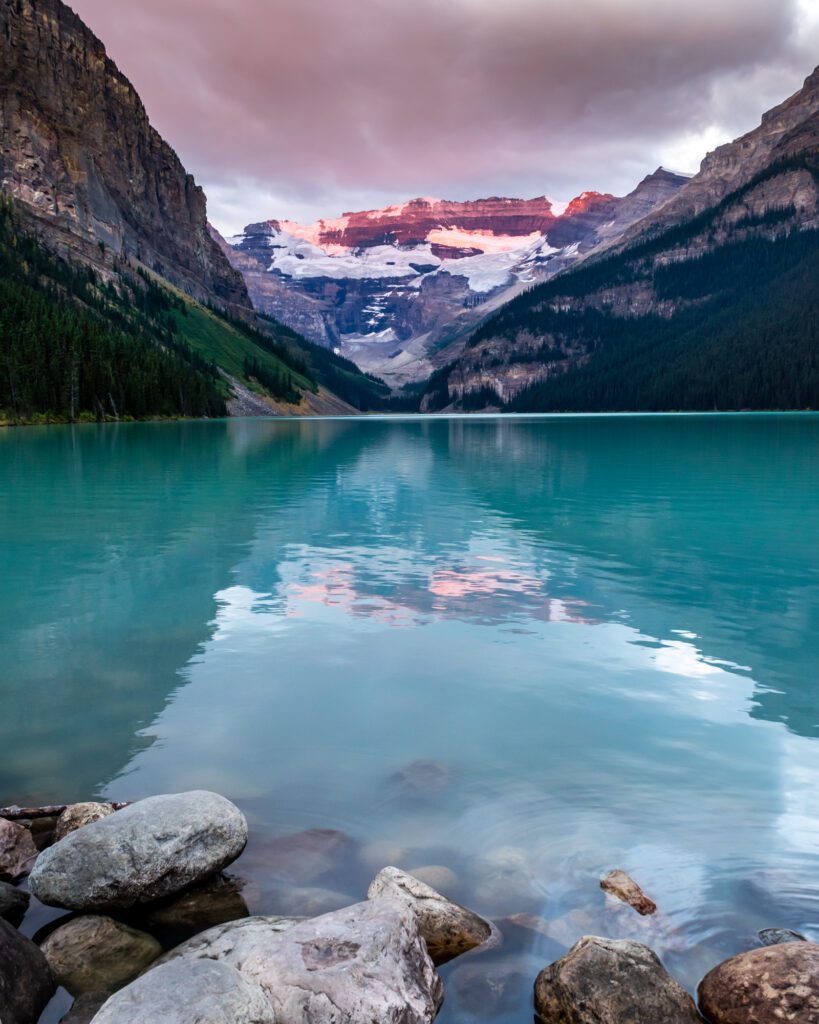 For your hike-of-the-day, you have a choice. Both leave from the shore of Lake Louise, and both involve a backcountry teahouse, so you really can't go wrong.
Either head out to the Plain of the Six Glaciers, which takes you to a truly spectacular view of a valley at the base of glaciers that will give you a sense of the massive scale we're talking about here. Along the way, stop at the Plain of the Six glaciers teahouse for a cream of earl grey before continuing. It's a fairly flat 9 mile hike, so not for the faaint of heart.
Or you could head uphill to the Big Beehive Trail, a hike that results in spectacular views over Lake Louise, the Fairmont Chateau, and the valley beyond. And, you guessed it, a backcountry teahouse – this time the Lake Agnes Teahouse. This one is only 6 miles, but it has more climbing.
Close out your trip with dinner at the Baker Creek Bistro, a lovely little rustic dining room that did a remarkable job dealing with Celiac Disease. It was the most expensive meal we ate on the trip, but the service was phenomenal, and the food was great. Highly recommend it.
Day 10: Drive To Calgary Airport
Drive time: 2 hours and 5 minutes.
Unfortunately it is time to leave. You have a 2 hour drive ahead of you to reminisce on the fond memories you have of your Canadian Rockies road trip and start planning your next trip back to Canada.
Canada is such an amazing and varied country, perfect for lovers of the outdoors. I hope you love it as much as I do!
Fell head-over-heels in love with Canada? Me too! Don't miss my other Canada Travel Guides:
Hungry (I usually am) for more travel inspiration, guides, and tips?
First, connect with me on Instagram to follow along on my yearlong worldwide adventure.
Next, check out my favorite travel resources to travel cheaper, faster, and better.
Finally, head over to read my latest posts to stoke your sense of wanderlust.