9 Incredible Coffee Shops in Vancouver (for Coffee Nerds)
It's no secret that the Pacific Northwest is home to some of the best coffee in the world. After all, how else are you supposed to drag yourself out of bed on a dreary February morning if not for the promise of a blast of caffeine straight to your bloodstream?
After a brief hiatus from visiting Vancouver for a few years, we booked a trip to the city in the dead of winter and I began my quest to find the best coffee in Vancouver.
Now, I know the coffee scenes in Portland and Seattle fairly well, having lived in both cities, and I figured that Vancouver would be a lot of the same given the geographic proximity.
Oh, how wrong I was.
Compared to Seattle and Portland, Vancouver is miles (kilometers) ahead in terms of the progressiveness of the coffee scene. While Portland and Seattle are just beginning to dabble in the world of lighter roasts and micro lots, Vancouver is all-in on specialty coffee, with too many microroasters doing fun and interesting things with coffee to count.
As we drove home to Portland, I mused that there was only one place in Portland – Proud Mary – that would place anywhere in the top 5 (maybe even 10) of the places we went to in Vancouver. Which was a real wake up call, because I had always thought of our local coffee scene as pretty good.
All this to say that If you're into coffee and looking for the best coffee shops in Vancouver, B.C., you're in the right place.
Of course, just like most cities on the West Coast, there are quite literally hundreds of coffee shops that can serve you a good cup of coffee, so trying to whittle it down to the top 10 or so is kind of a fool's errand. Especially given the subjectiveness of the word "best."
However, that's what we're here for, so I'm going to do my best (see what I did there?)!
In this guide to the best coffee in Vancouver, I'm going to take you through the coffee shops that stood out to me for one reason or another – usually because of an experience that you won't find elsewhere or a unique approach to coffee – and explain why I think they deserve a place on my list.
By the end, I'm hoping you'll have discovered at least one or two new spots to add to your list, and that you'll visit those places and have a mind-blowing cup of coffee and a pleasant experience chatting with the barista.
Sound good to you? Let's get into it.
P.S.: Although some of these places offer fantastic food, I have Celiac Disease and can't eat 99% of it because…gluten. As a result, this guide is all about the coffee.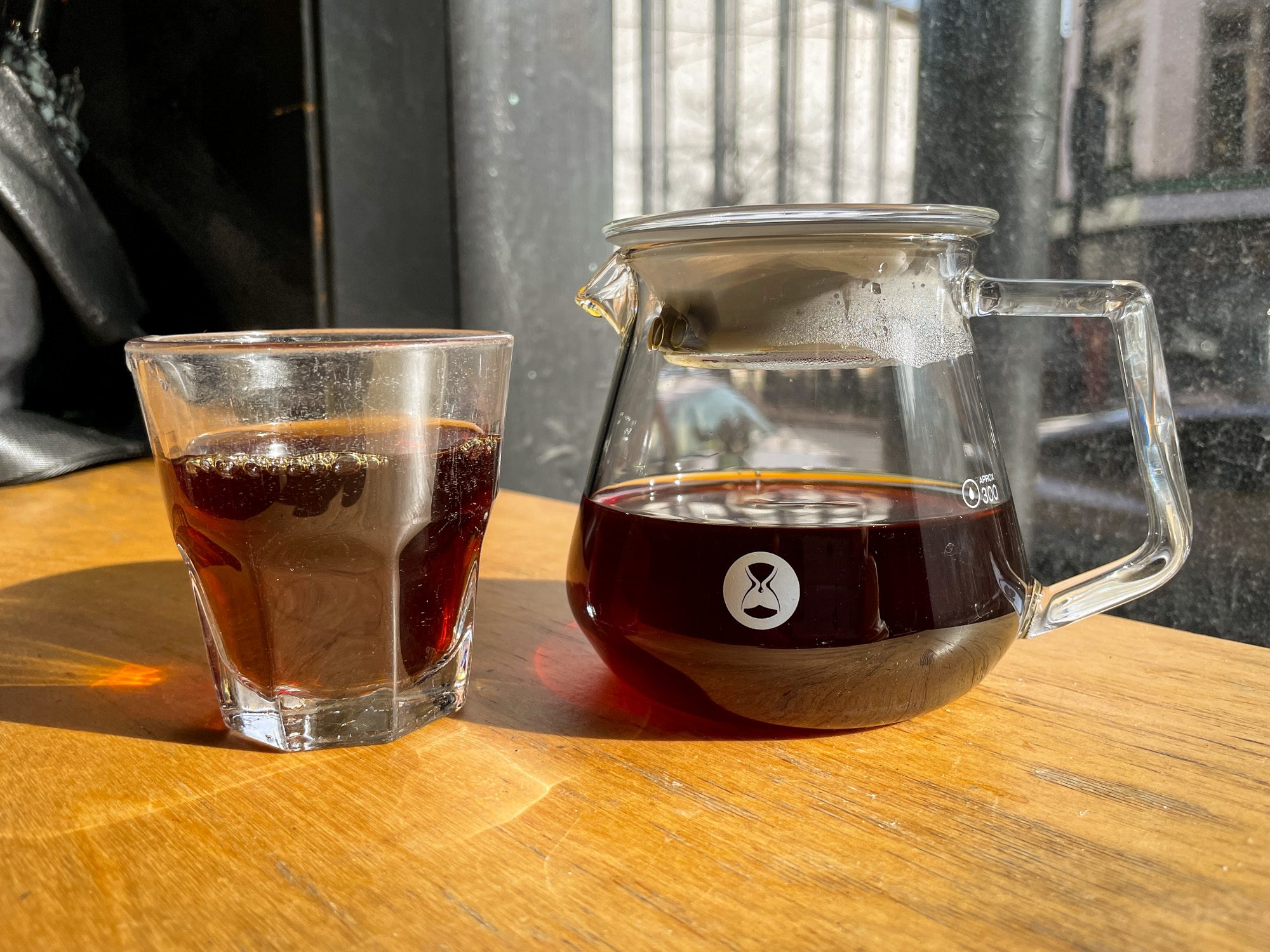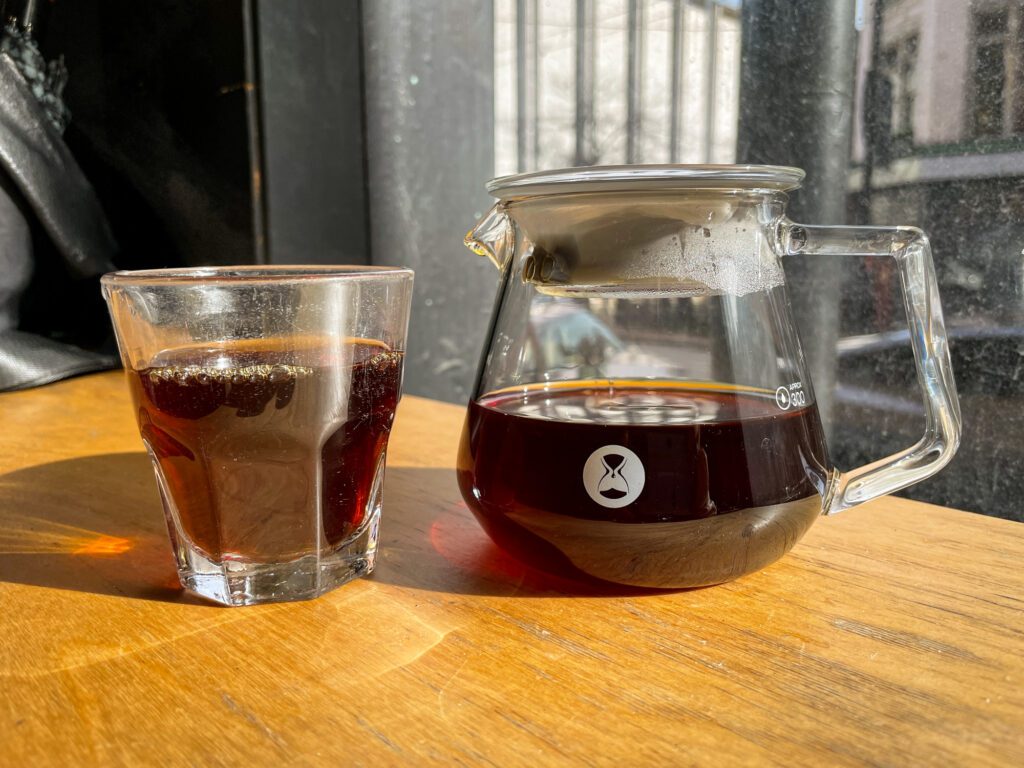 Disclaimer: Some of the links in this post, like hotel links, are affiliate links, meaning at no additional cost to you, we make a little bit of money if you click through and book. That being said, we would never recommend something to you that we don't stand behind 100%.
The Best Coffee in Vancouver: 9 Amazing Specialty Coffee Shops in Vancouver, B.C.
It's worth repeating that my "best" coffee shop is going to look different from your "best" coffee shop, because that moniker is incredibly subjective (just like coffee).
You might like your espresso dark and roasty, while I like mine bright and fruity. Or maybe you can't do coffee without milk, while I'm all about the black filter coffee.
And the truth is, there are hundreds of places in Vancouver that will serve you a great cup of coffee, whatever your preferences are.
However, I think there's some value in giving you a list of the coffee shops in Vancouver that stood out to me for one reason or another – either because they have a unique approach to coffee, they have some cool different ways to drink coffee, or I was just blown away by the coffee they served me.
Or, they offer a coffee experience that you can't replicate on your own. Which is my favorite kind of coffee experience.
I'm not a coffee expert by any means – I'm a full on amateur home brewer who gets made fun of for being a little snobby when it comes to coffee (I like fruity, juicy coffee rather than the stuff that's been roasted within an inch of its life, sue me) and has a morning ritual that involves about ten minutes of meticulously brewing a cup of coffee with a V60.
So, as you read my long monologues on why such and such coffee shop stood out to me, just remember that this list is not the end-all, be-all, but is just one nerd's opinion on where to find some fun and interesting coffee in Vancouver, B.C.
One note: I absolutely adore Luna Coffee Roasters, who are a roaster operating out of Vancouver who do not have their own cafe.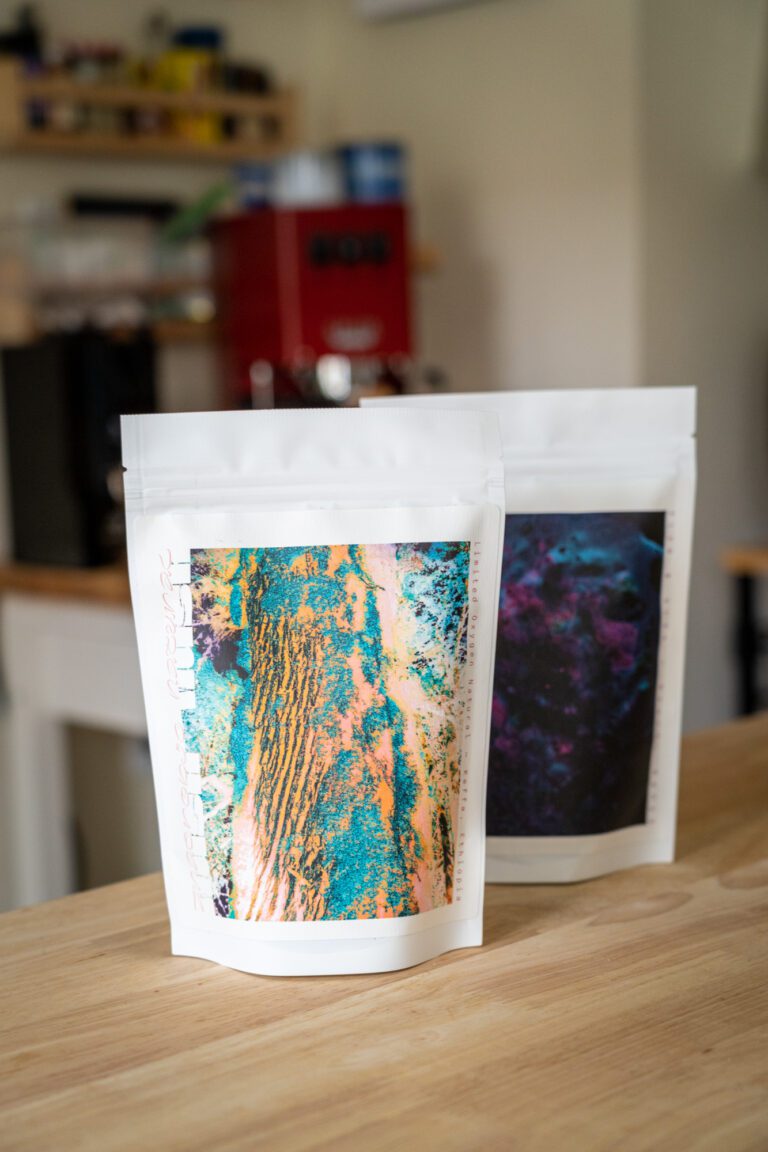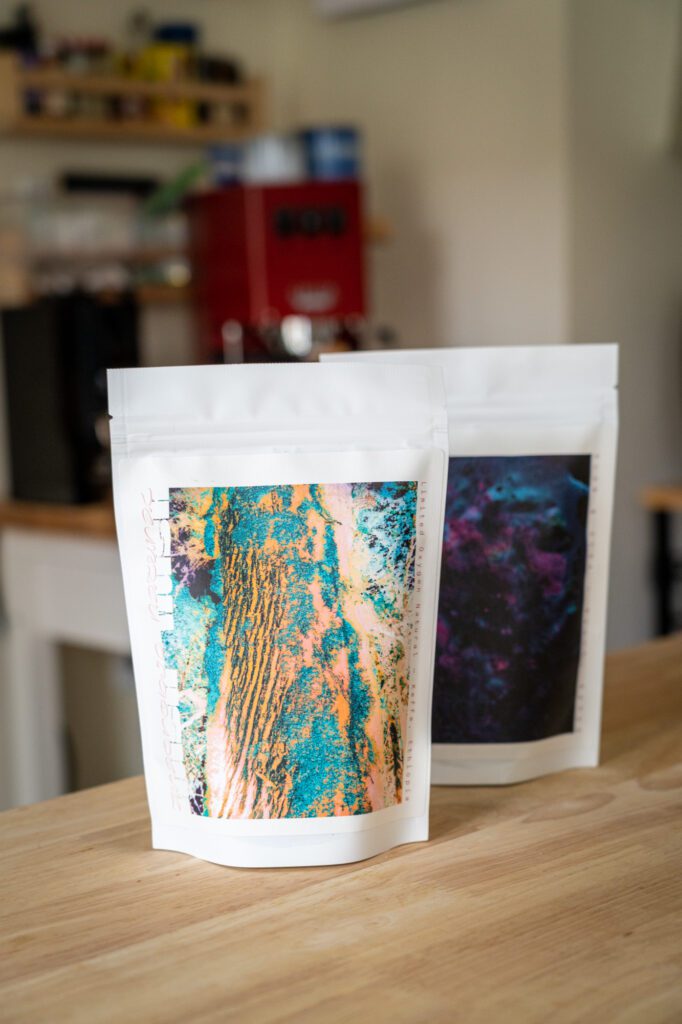 You can find their coffees at various shops around Vancouver (they were at Revolver when I was there), or order direct from their site. They're super friendly people, and they roast some truly exquisite coffee.
Revolver Coffee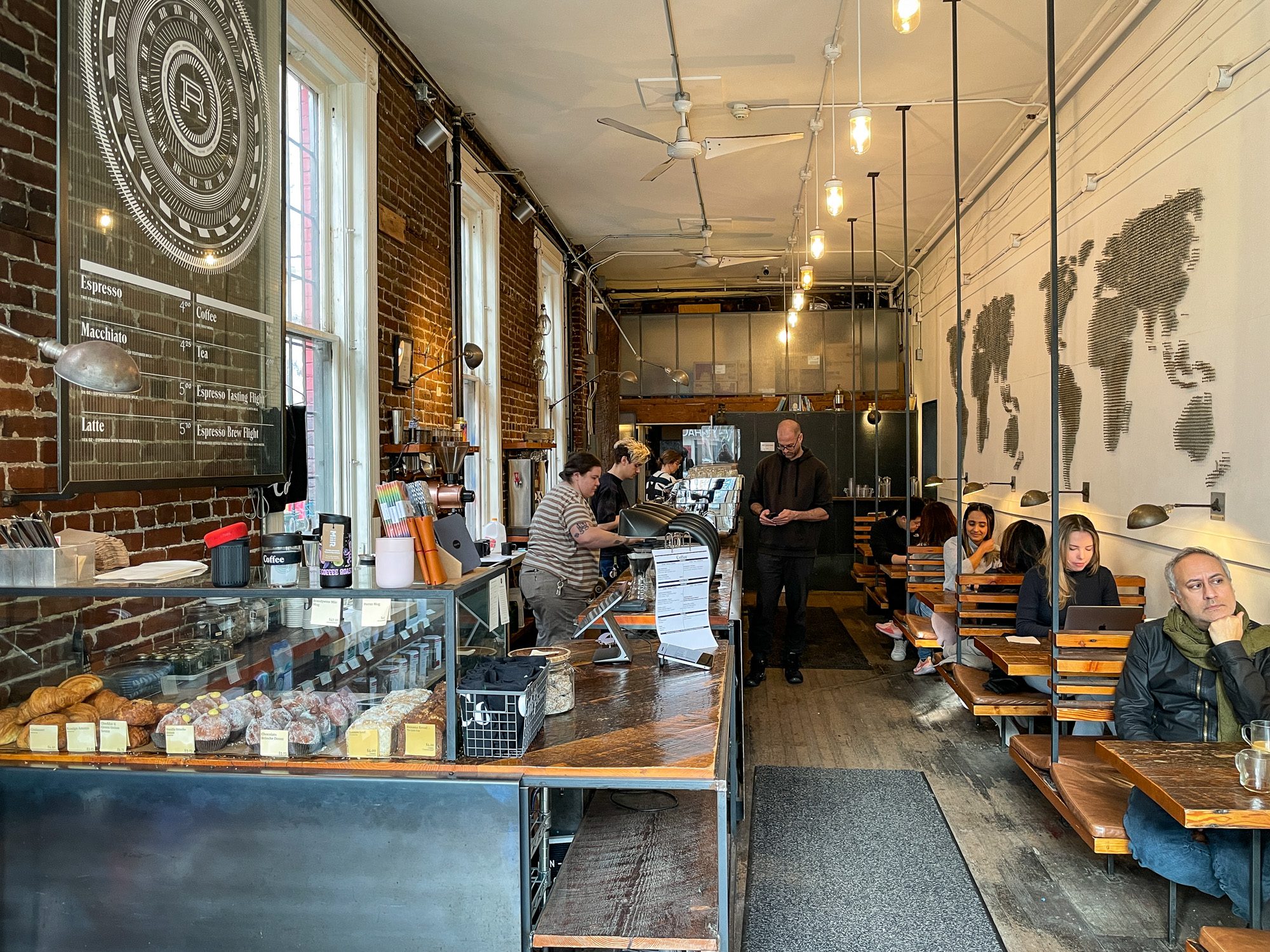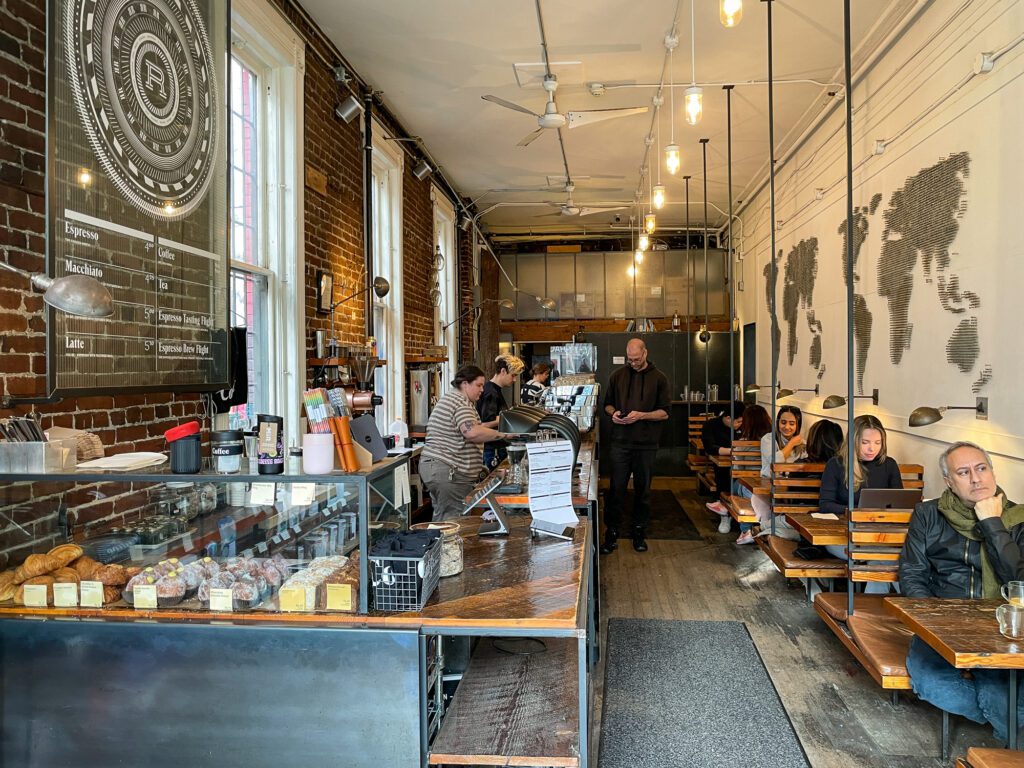 My first trip to Revolver Coffee, which was five or so years ago at the time of writing, was a formative moment in my coffee journey that has taken me from Keurig-lover to home espresso enthusiast. It was the first time that I can remember being served a pour over coffee in a separate carafe with a tasting glass, which is now pretty standard for specialty coffee shops.
They're what I like to call a coffee curator (other people usually say "multi-roaster"), which means that they don't roast coffee on their own. Instead, they have a robust coffee program that brings in coffees from all over the world to sell in their shop.
Over the course of this guide, you'll no doubt learn that this is, by far, my favorite type of coffee shop.
I would say that my expectations for Revolver were high going in this last time. I'm now more, shall we say, discerning about my coffee, and I wasn't quite sure if it would live up to those expectations.
I opened the door to the shop in hip Gastown and stepped into the narrow space, which puts you within a couple of feet of some of the best baristas in Vancouver no matter where you put yourself.
When I walked back out of that door, caffeinated with two bags of coffee in hand to take home, I was completely satisfied. It exceeded my high expectations for a few reasons.
First, the coffee here is phenomenal, and you have a ton of choices. I was already vibrating with the amount of caffeine I'd had that morning, so I had to stop myself from ordering three drinks. They have a couple of coffees available as espresso, a rotating selection of 3-5 pour over options, and even coffee flights.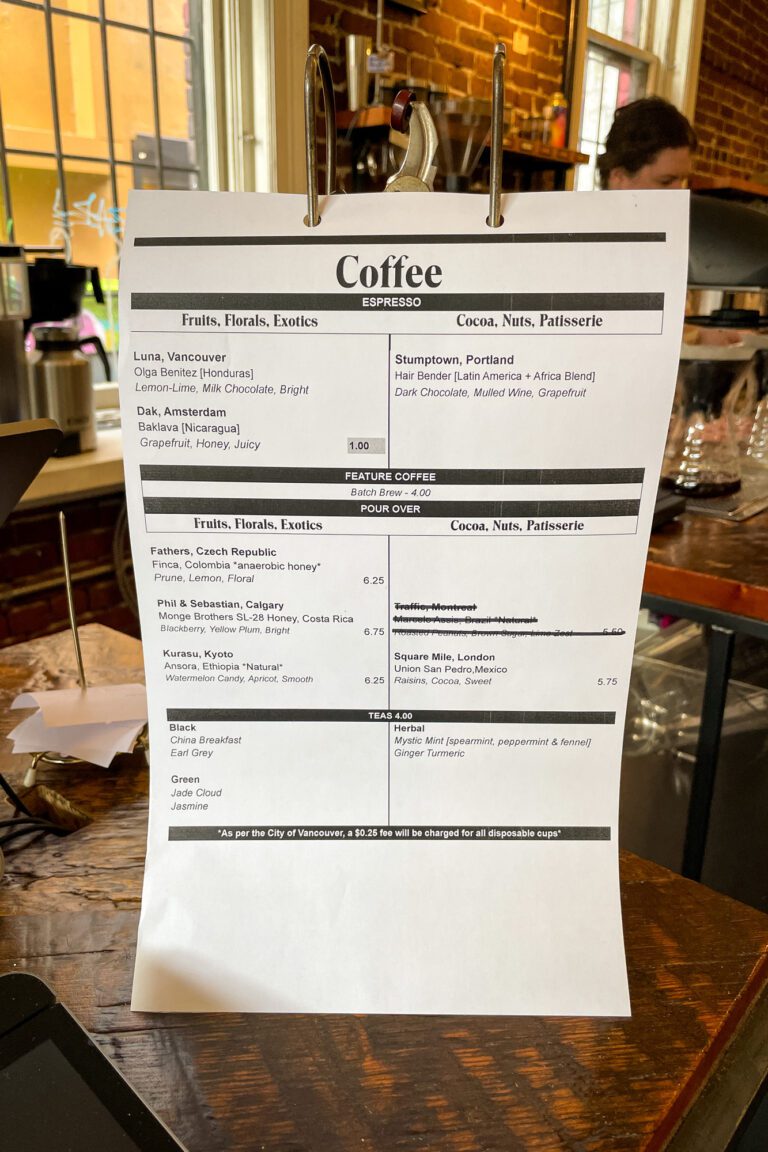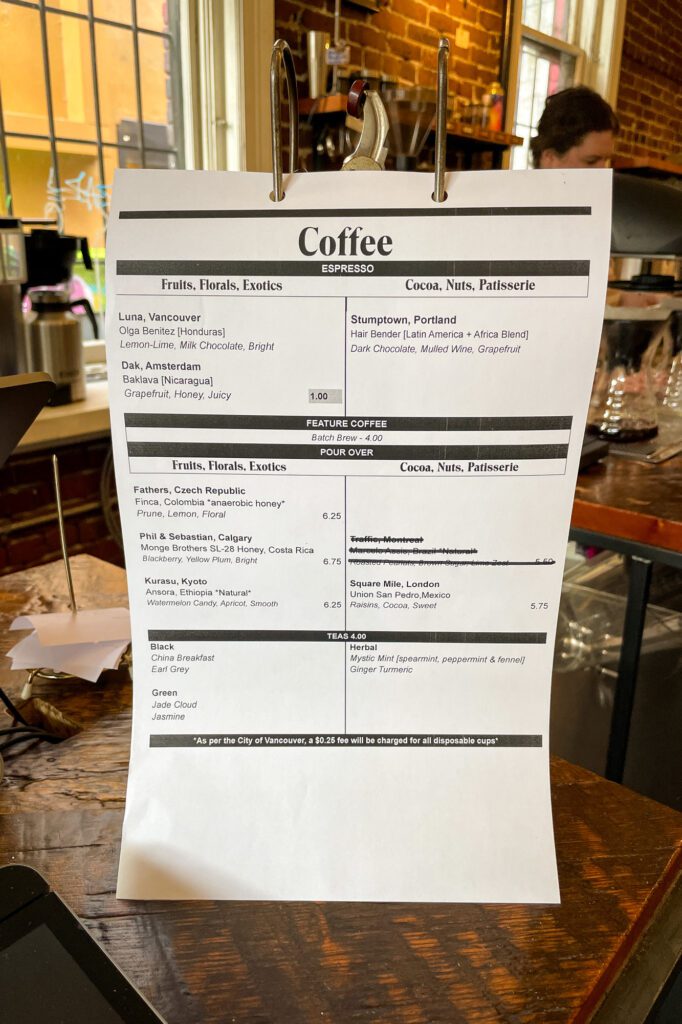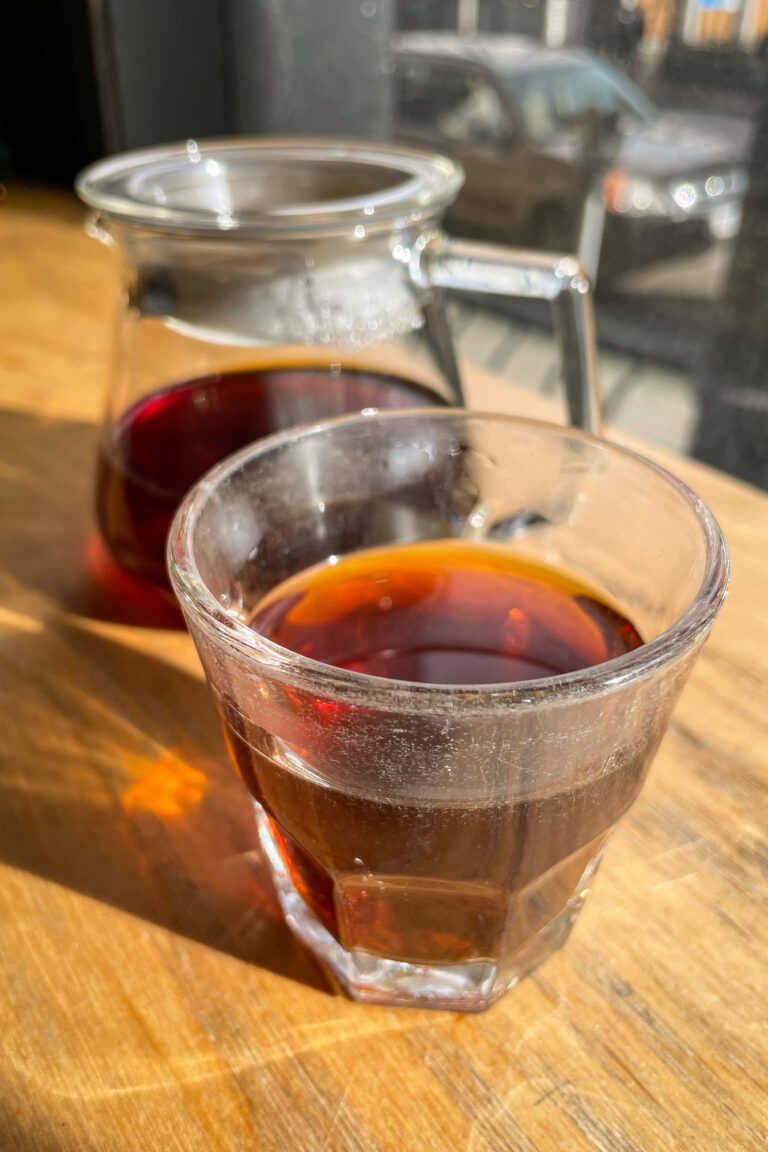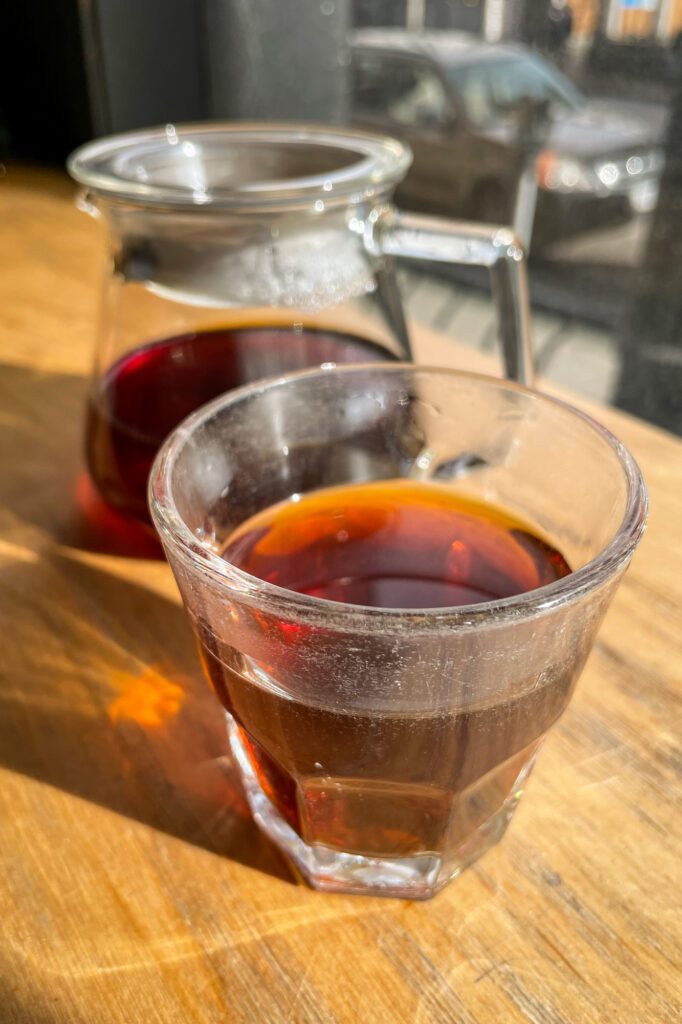 The coffee flights come in two varieties, and they both focus on espresso. First, you can get one espresso served three ways (as a shot, with milk, and with water). Second is two coffees served as espresso and with milk to compare between the two coffees in the same format.
Second, I love the coffee selection in terms of bags of beans from around the world. When you walk into Revolver, you're greeted with a wall, twelve feet wide from floor to ceiling, of different coffee beans from various roasters around the world.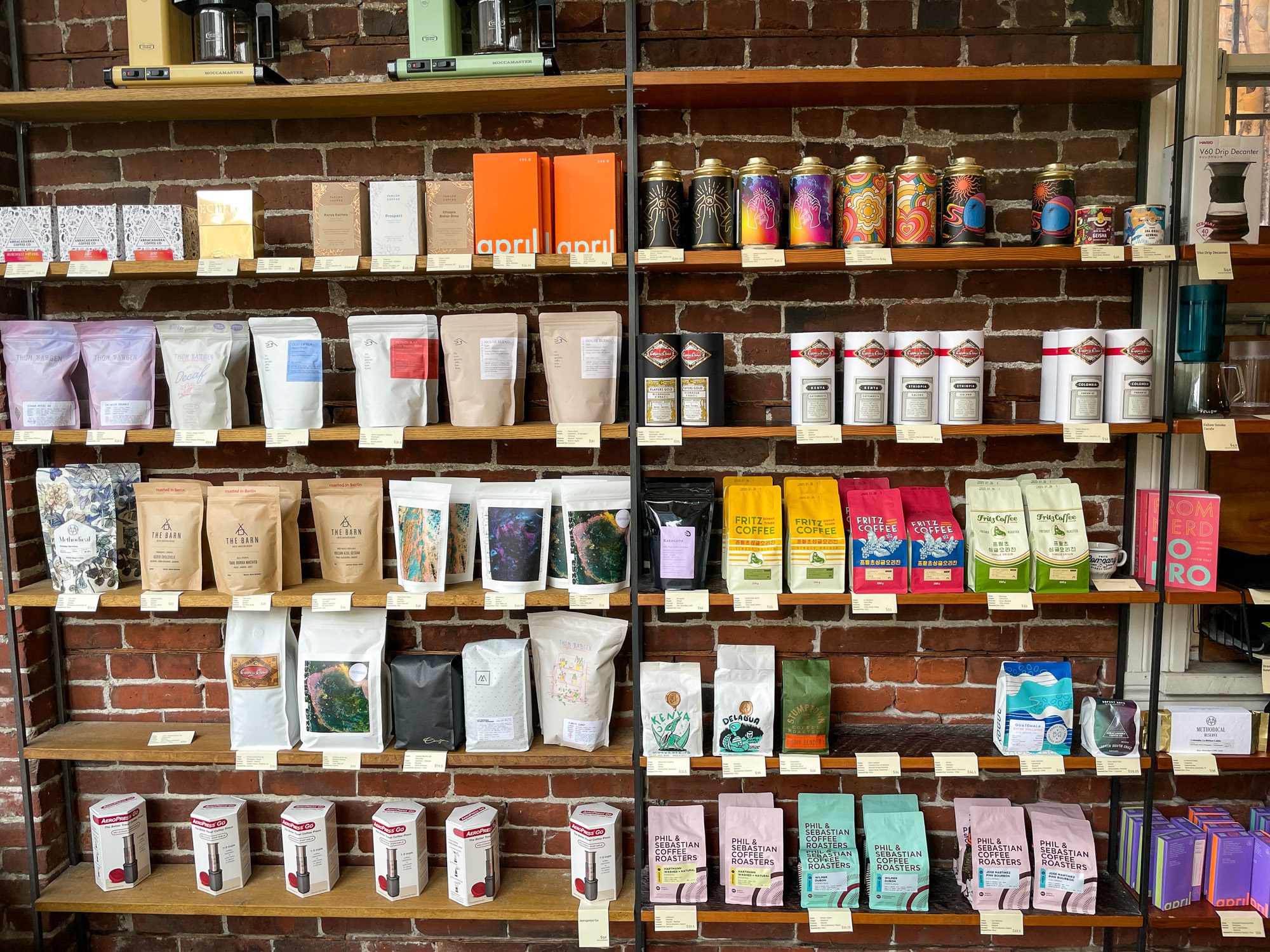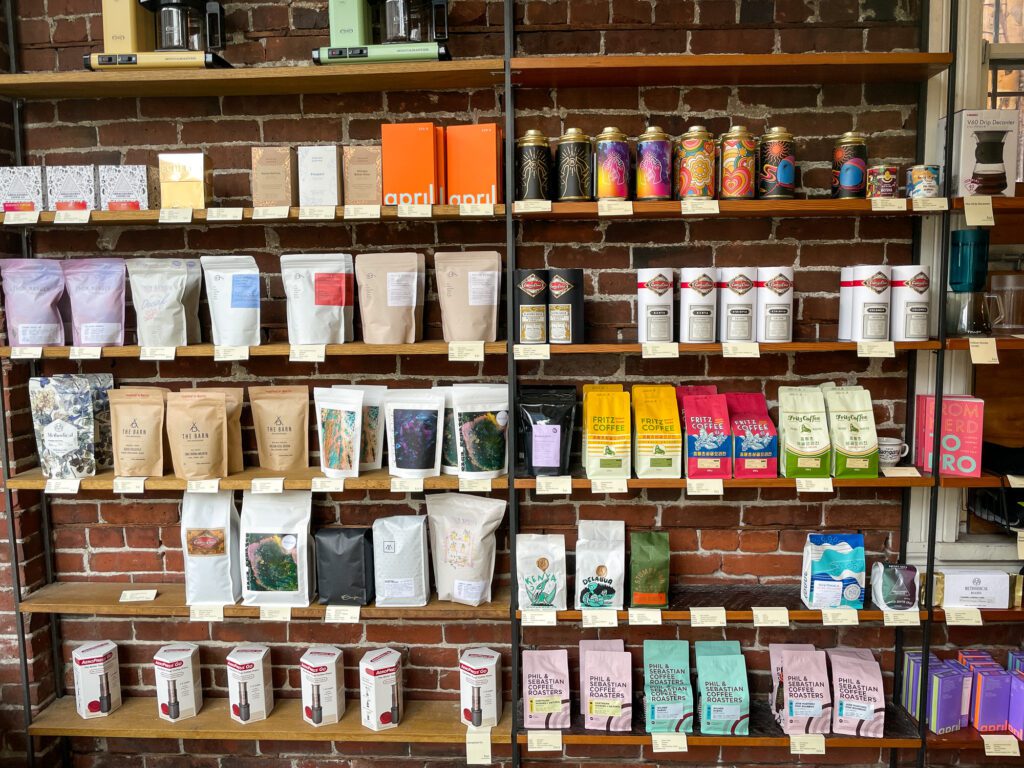 We're talking about everything from the best roasters in Canada, to roasters from Japan, Norway, Germany, and just about every other corner of the coffee roasting world. It's impressive.
I asked one of the barista for recommendations for a wild, fun coffee, and walked away with two – both from Alberta – a natural process Ethiopian coffee roasted by Rogue Wave out of Edmonton, and a Colombian coffee with tasting notes of pineapple and kiwi roasted by Phil and Sebastian out of Calgary (two Canadian roasters, hooray!).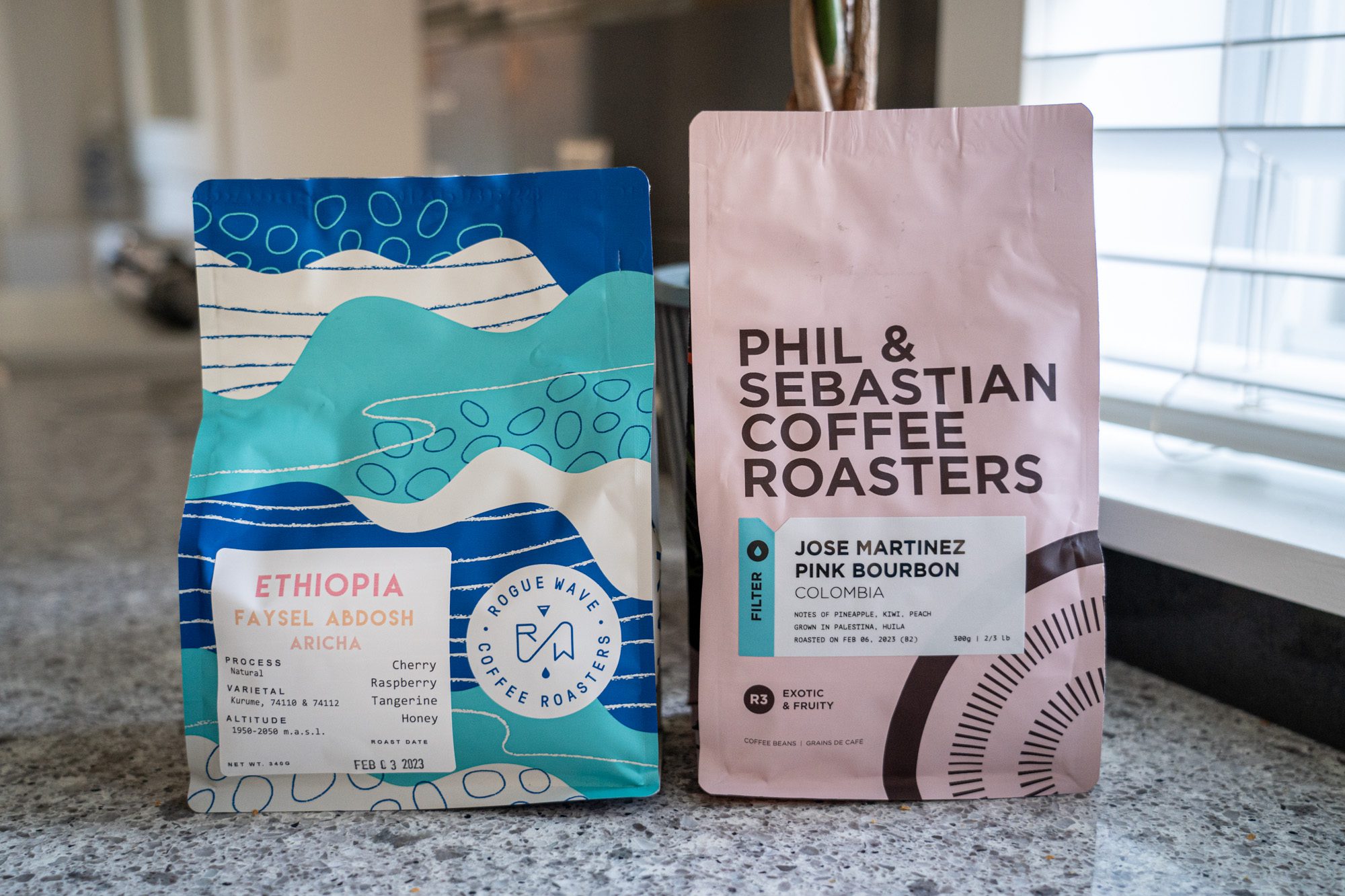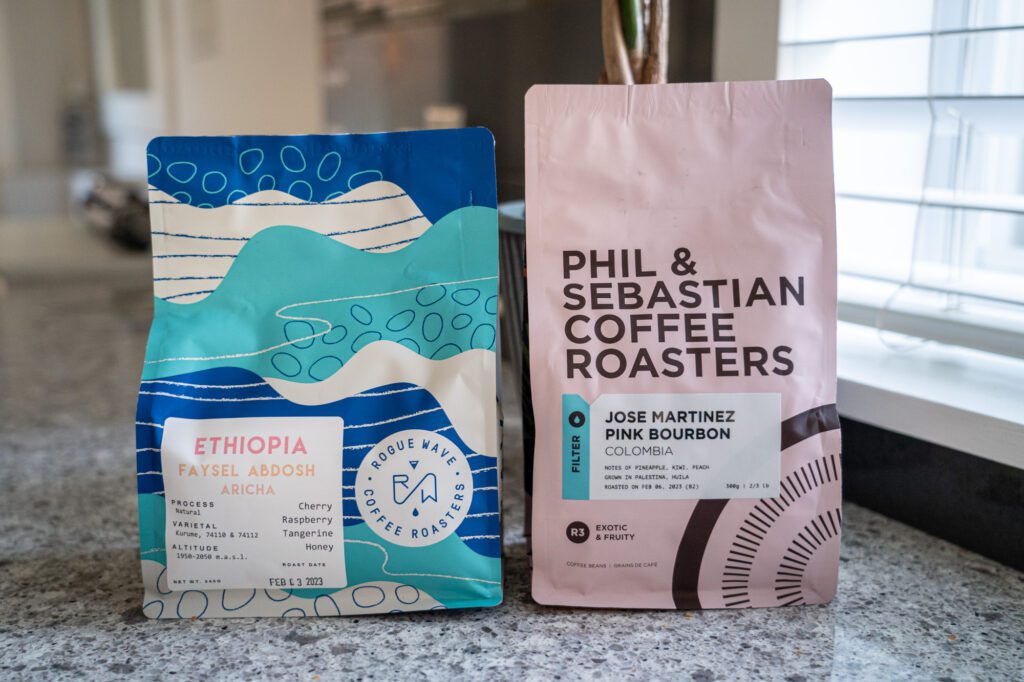 If you're looking for an excellent selection of fun coffees from around the world available to try here, and buy to take home, I'd head to Revolver.
Location: 325 Cambie St, Vancouver, BC (Gastown)
Website: https://revolvercoffee.ca/
Instagram: @revolvercoffee
Prototype Coffee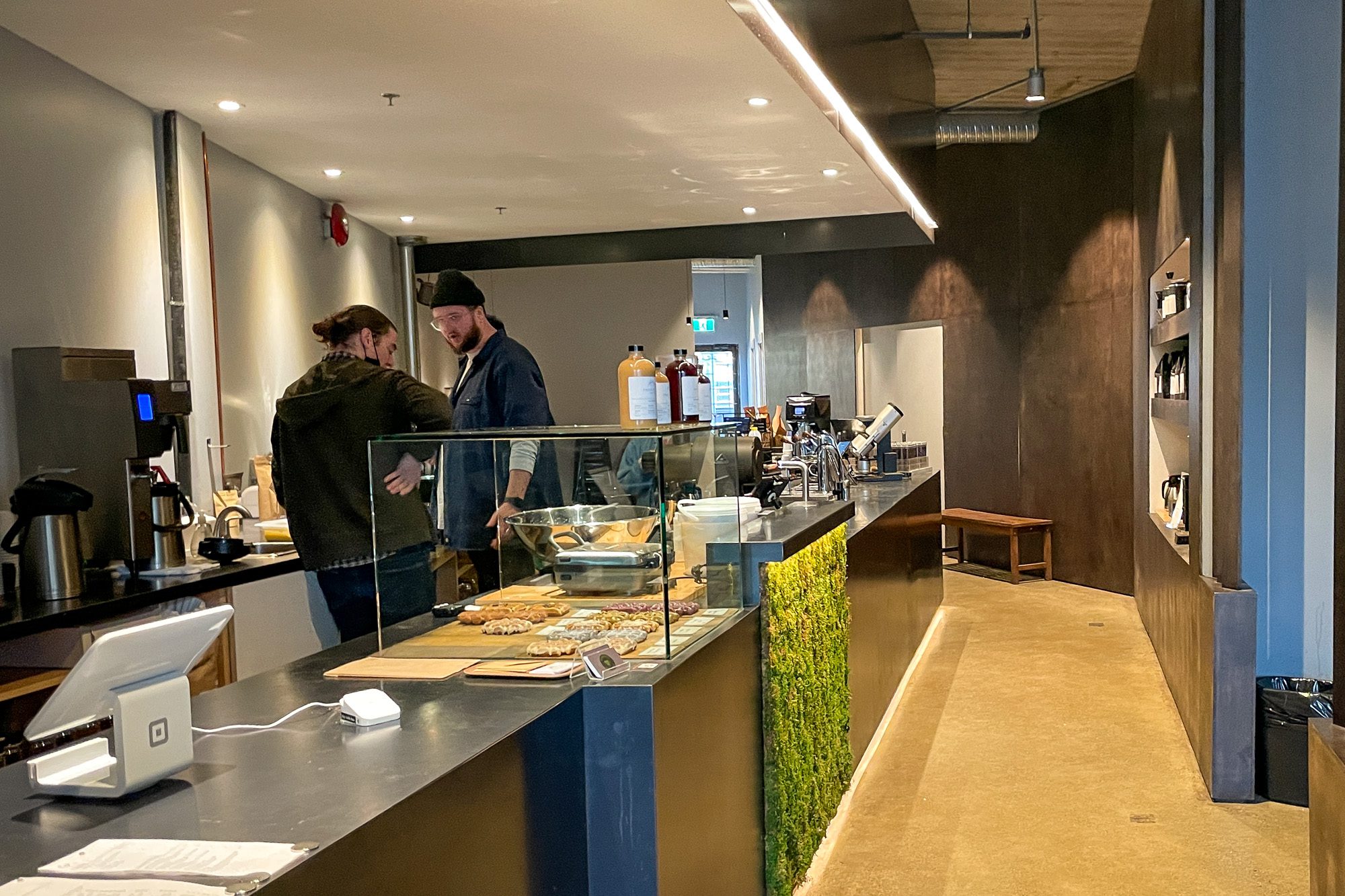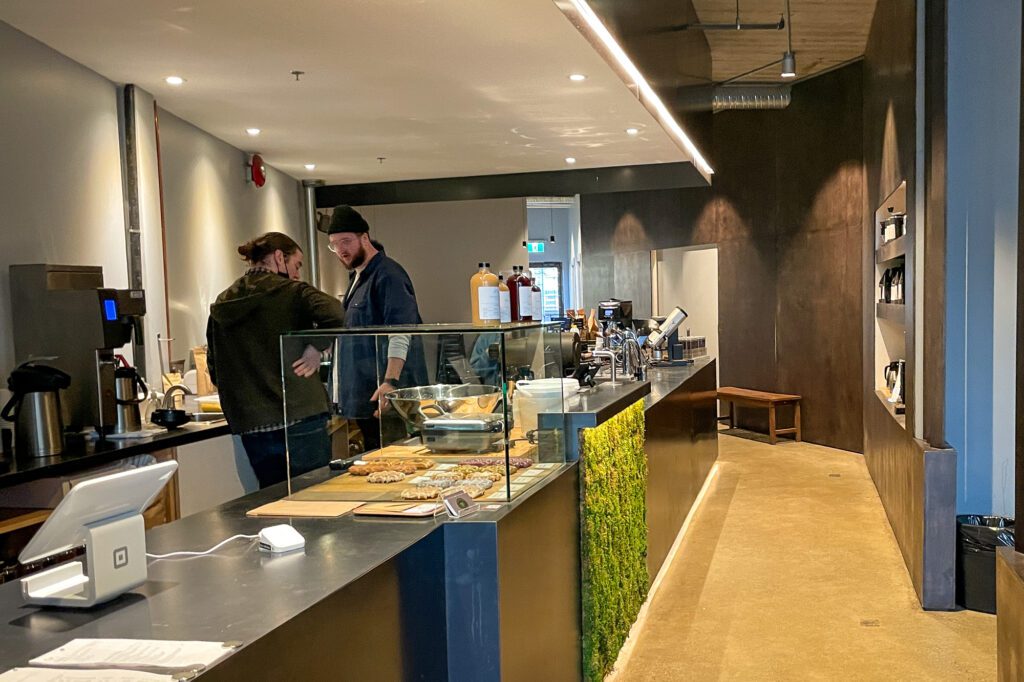 In the grand scheme of coffee roasters in Vancouver, I liked the approach at Prototype the most. So much so that I went back for seconds after a great first experience to try the two coffees that the barista recommended to me on my first visit.
I love that they call their cafe a tasting room, which, when you see their menu, is an accurate description of what they've got going on. We'll get to that in a second.
First, let's talk about the location. It's on E Hastings St., but past the stretch that is a little sketchy. It's a somewhat industrial area, and I almost walked right past the entrance, which is tucked away under a staircase for the building it's in.
When you enter, you'll see a long hallway-esque space, with the coffee bar on the left.
They brew espresso with a deconstructed espresso machine and a grinder that I legitimately thought was a microscope, and they brew their filter coffee with a Gina, which is a cross between a V60 and an immersion brewer like the Clever or Hario Switch.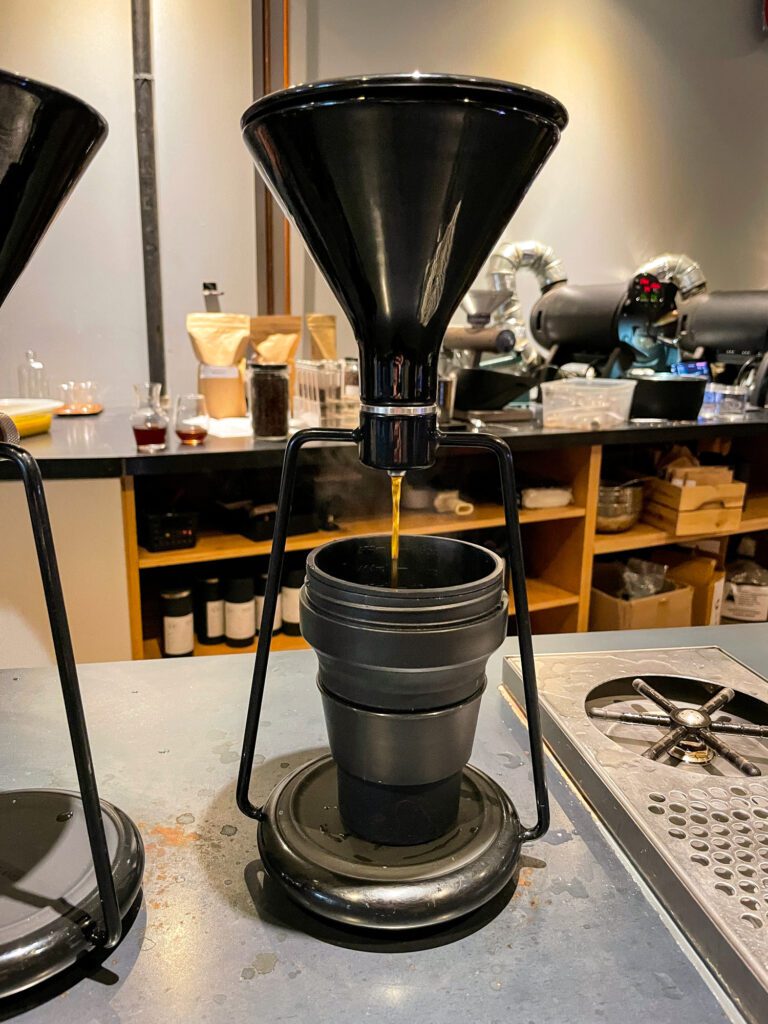 I had never seen this particular brewer before, but it seems like a fun brewer that blends the best of both styles. It's also beautiful, though it takes up a lot of space, so it's probably better suited for cafe life versus home brewing.
As you're looking at their brewing setup, your eyes will also surely be drawn to the four Aillio countertop roasters, which is something I have never, ever seen before in a cafe.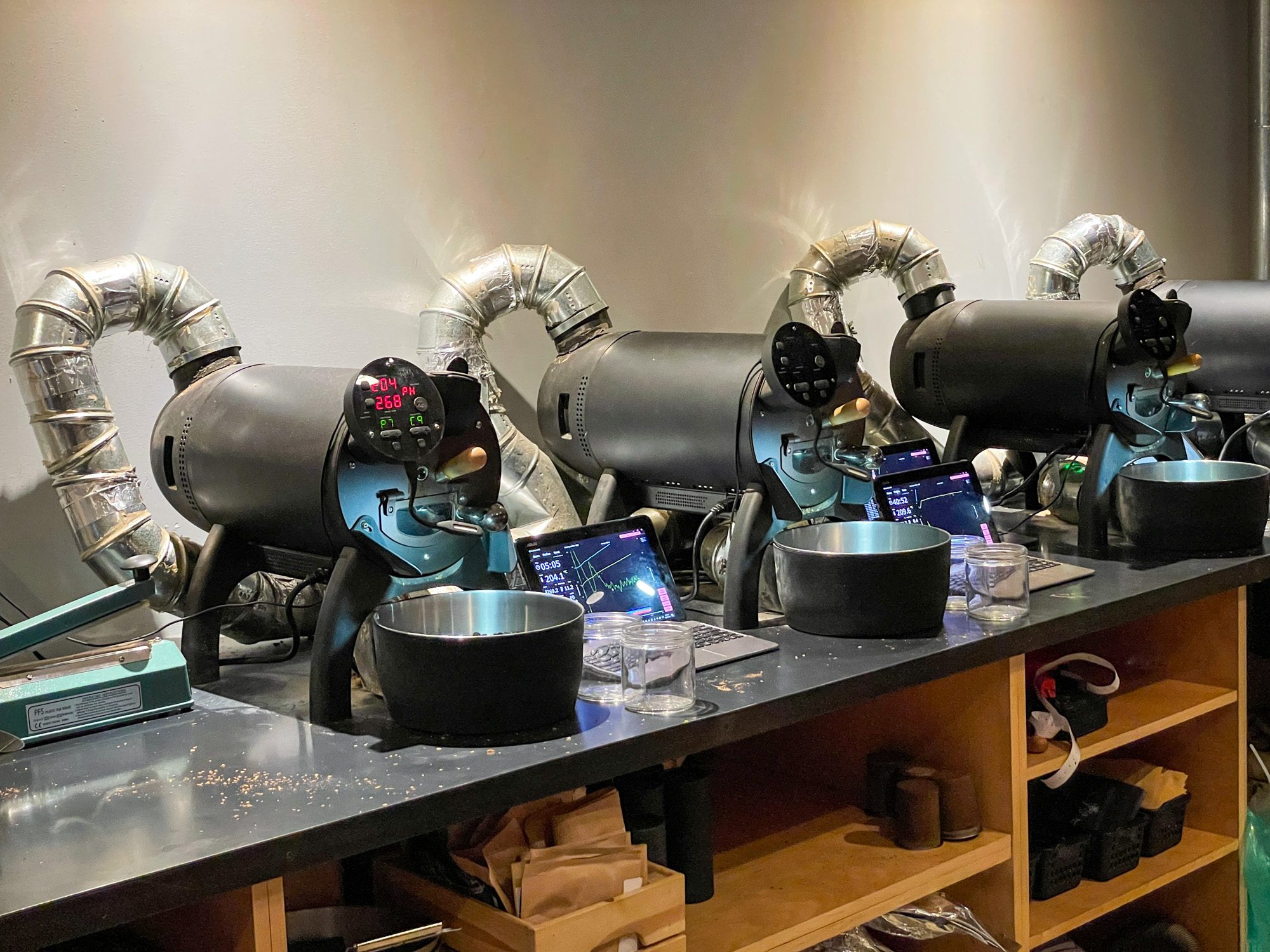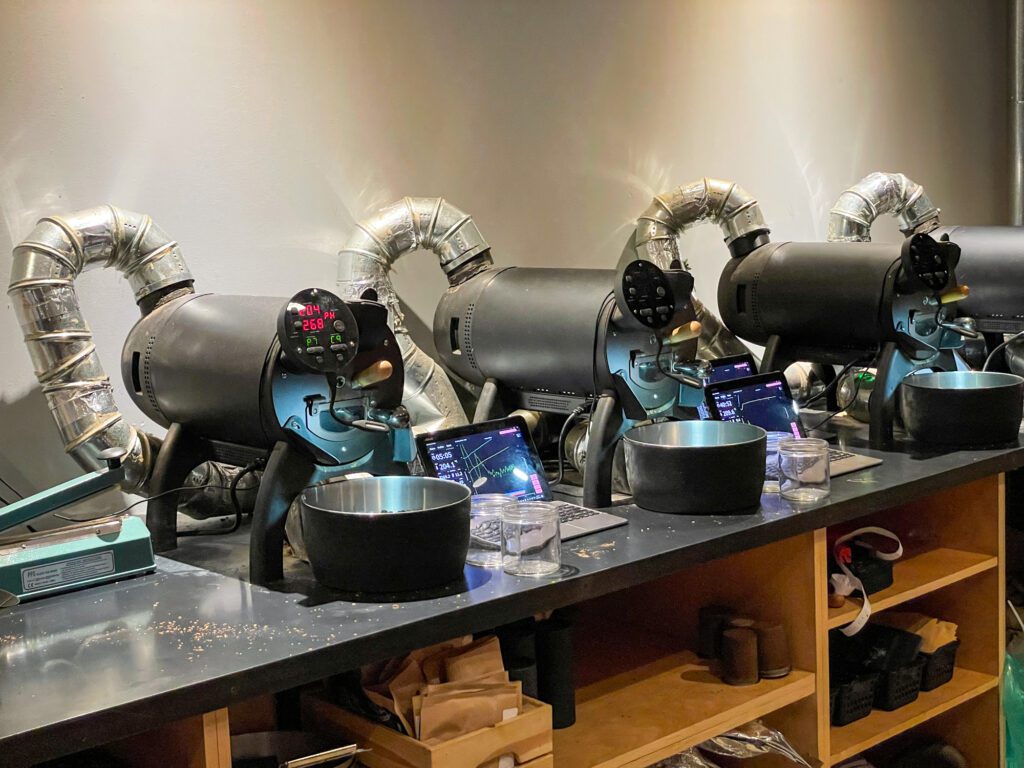 Usually, if it's a "roasting HQ" or something like that, you'll see a big drum roaster somewhere in the space. But in this case, there are four mini roasters going, which I assume is how they are able to roast in small batches and have over a dozen coffees (23 coffees when I was there!) available on the menu.
I love the fact that they're maximizing their space by trying different, more efficient tools (in terms of space at least) than most other coffee shops I've ever been to.
Several of these tools, including the Gina brewer and the odd looking grinder (from Weber Workshops), are things I've never seen before.
That's all fun, but the real question here is how was the coffee? And that, my friend, brings us back to the fact that I went back at 8:00 am before driving back home to Portland to get seconds, driving across the city (and out of the way) to get there.
The coffee was fantastic. The Gina brewer brews a cup that is balanced in terms of acidity and sweetness, but also in terms of body.
On my first trip, I was already fairly caffeinated, so I tried one filter coffee, a Colombian coffee with a 360 hour anaerobic fermentation that was a roller coaster in terms of flavors (though it made me realize that I really only ever want a single cup of anaerobic coffees, not a whole bag).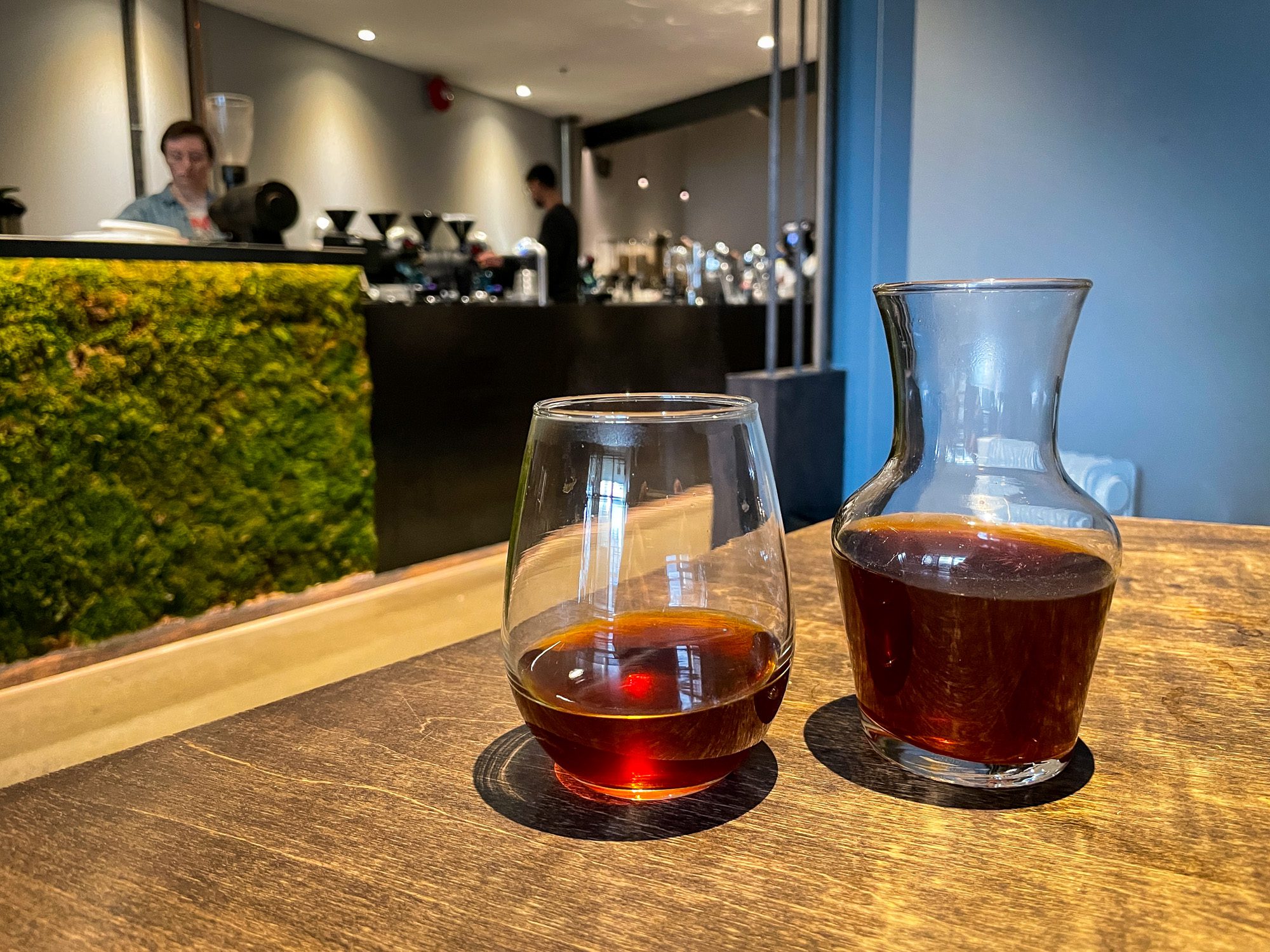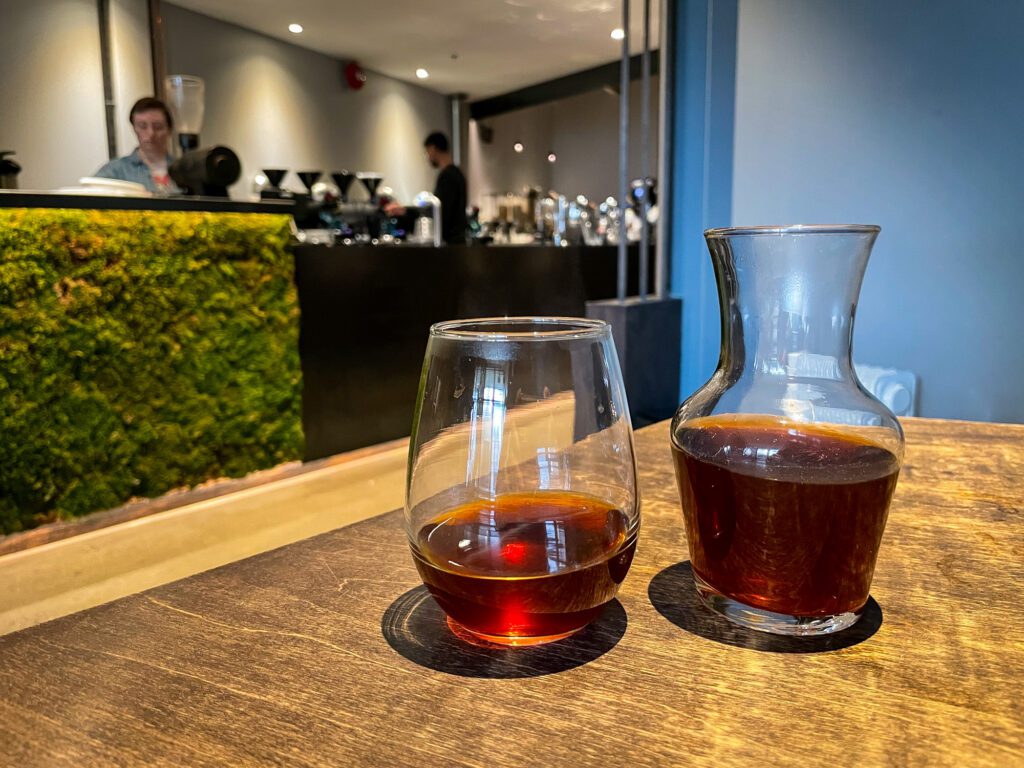 œIt was wild and exciting, and was exactly what I was hoping it would be.
As I was leaving, I was chatting with the barista, who recommended the Colombian gesha they had, saying it was the best coffee they'd had in a while. Plus, if I was into the ferment-y flavors, I should really try a coffee from Mexico that they had on espresso.
Which is exactly what I did the next morning. Both were excellent.
If you're a coffee nerd looking to try a wide variety of coffees, including some really special small lot, experimental offerings, it's well worth the detour.
Location: 883 E Hastings St, Vancouver (Downtown Eastside)
Website: https://www.prototypecoffee.ca/
Instagram: @prototypecoffee.ca
Nemesis Coffee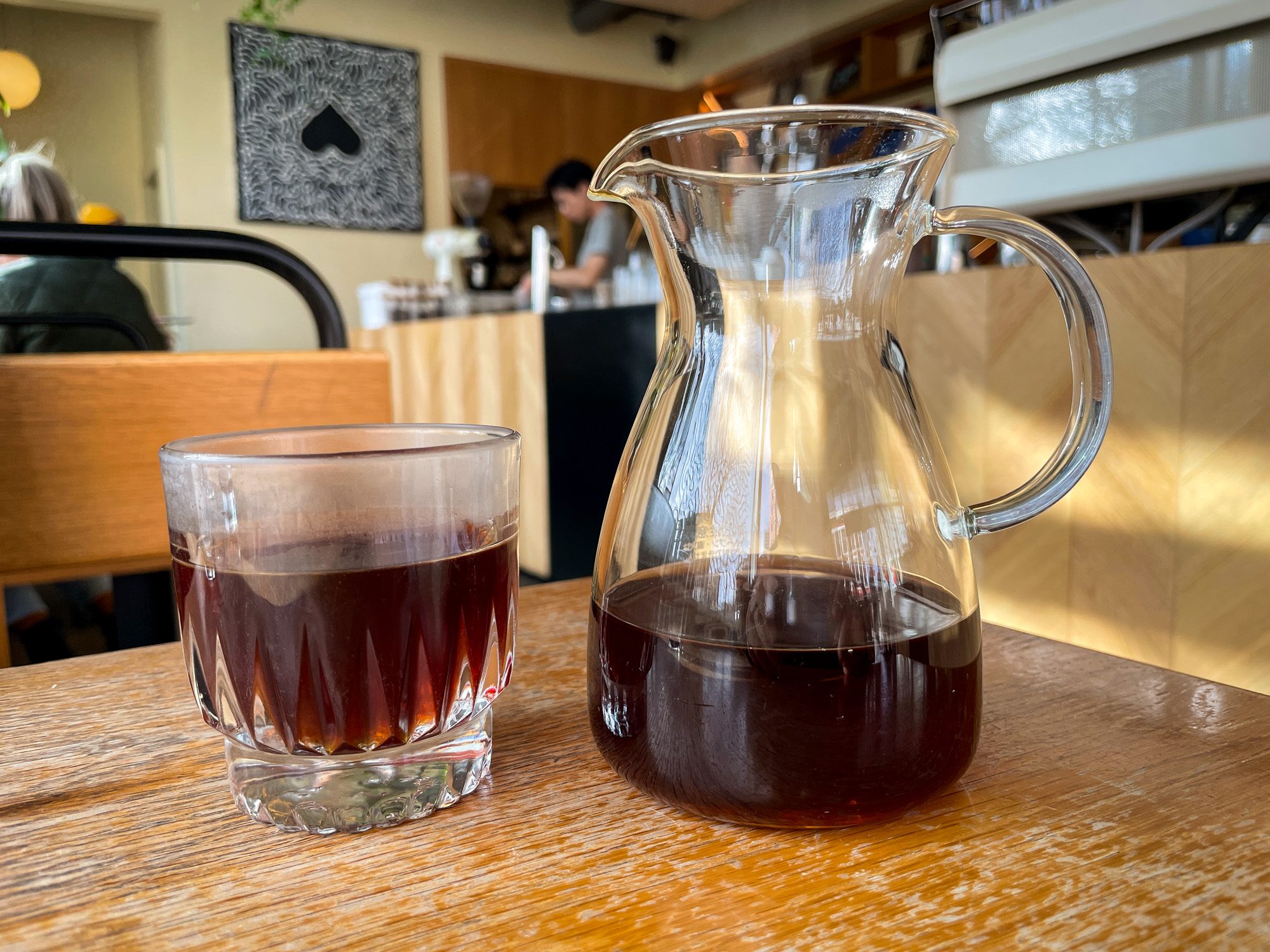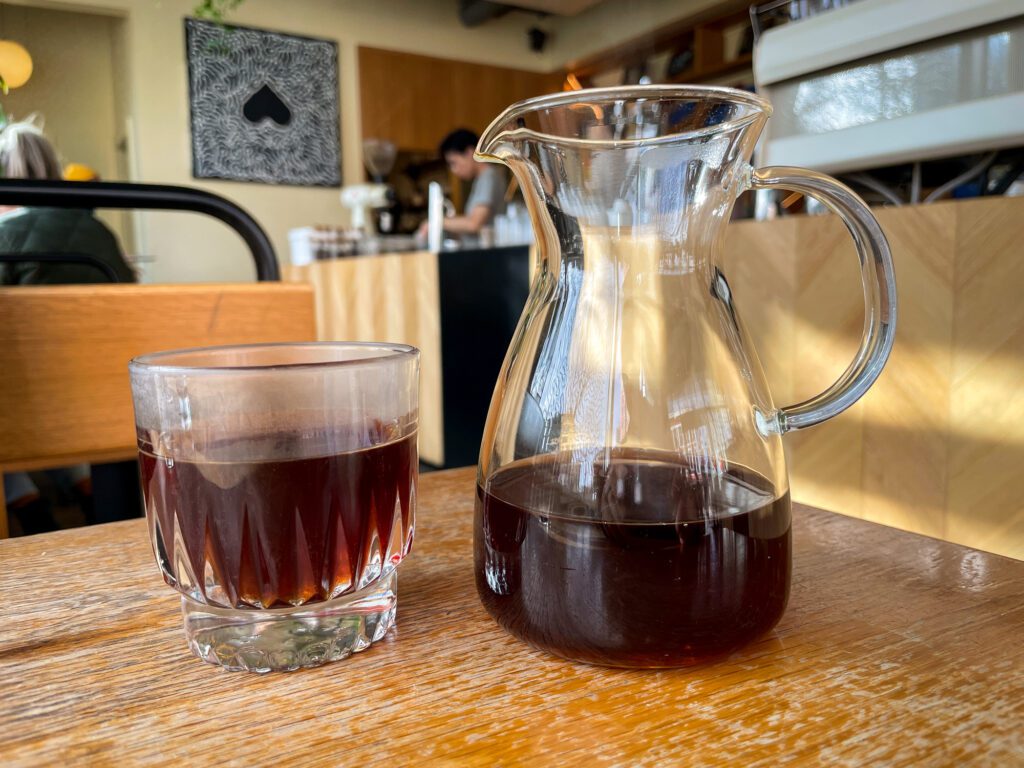 I am enamored by Nemesis Coffee. Everything from the design of their cafes, to the upside down heart logo and color blocked packaging, to the coffee itself, is beautiful.
They have a few locations in Vancouver – one in North Vancouver, one on Great Northern Way (their newest and most gorgeous), and the original in Gastown, which is where we found ourselves on a sunny Tuesday morning.
We entered the cafe from the street, and immediately my eye was drawn to the left hand side, which features floor-to-ceiling windows and hanging plants (very hip), along with light wood tones that are used throughout the space.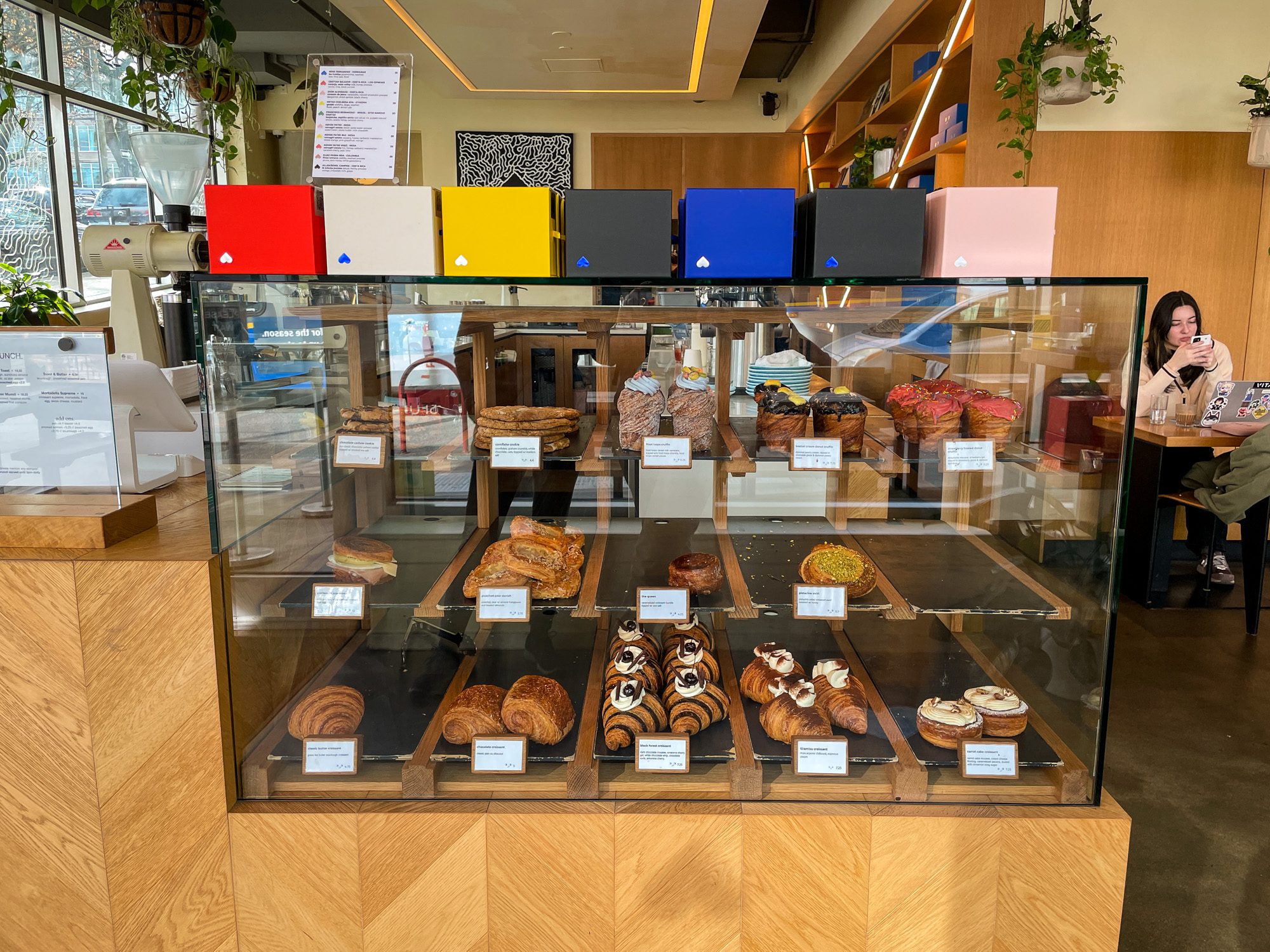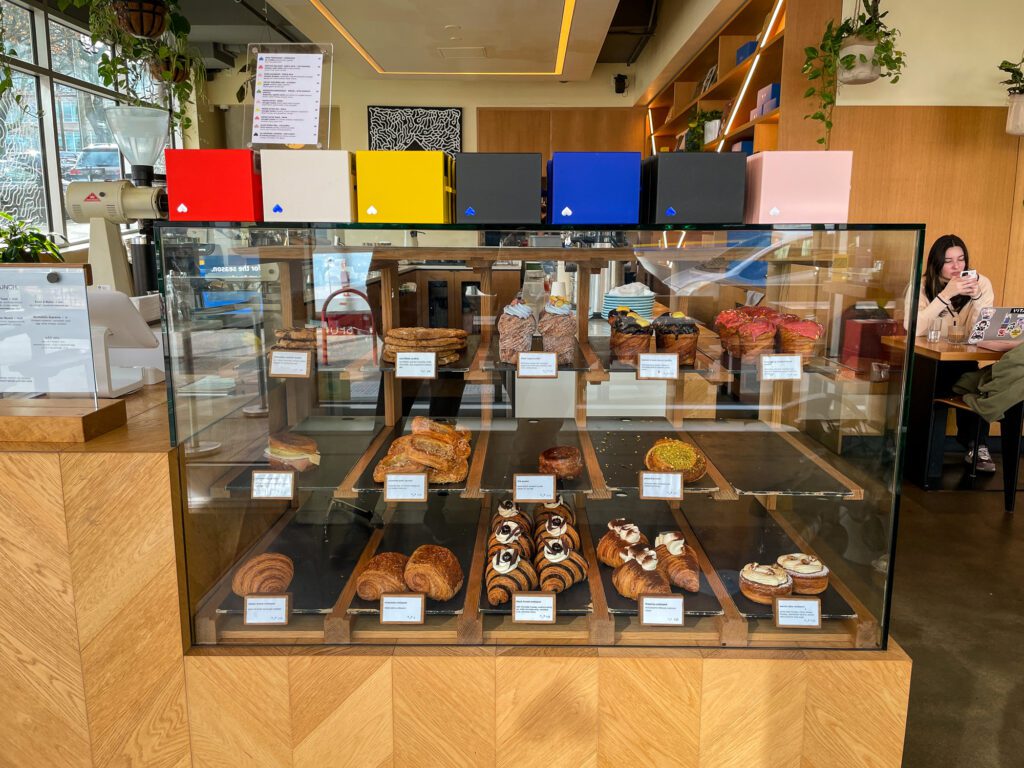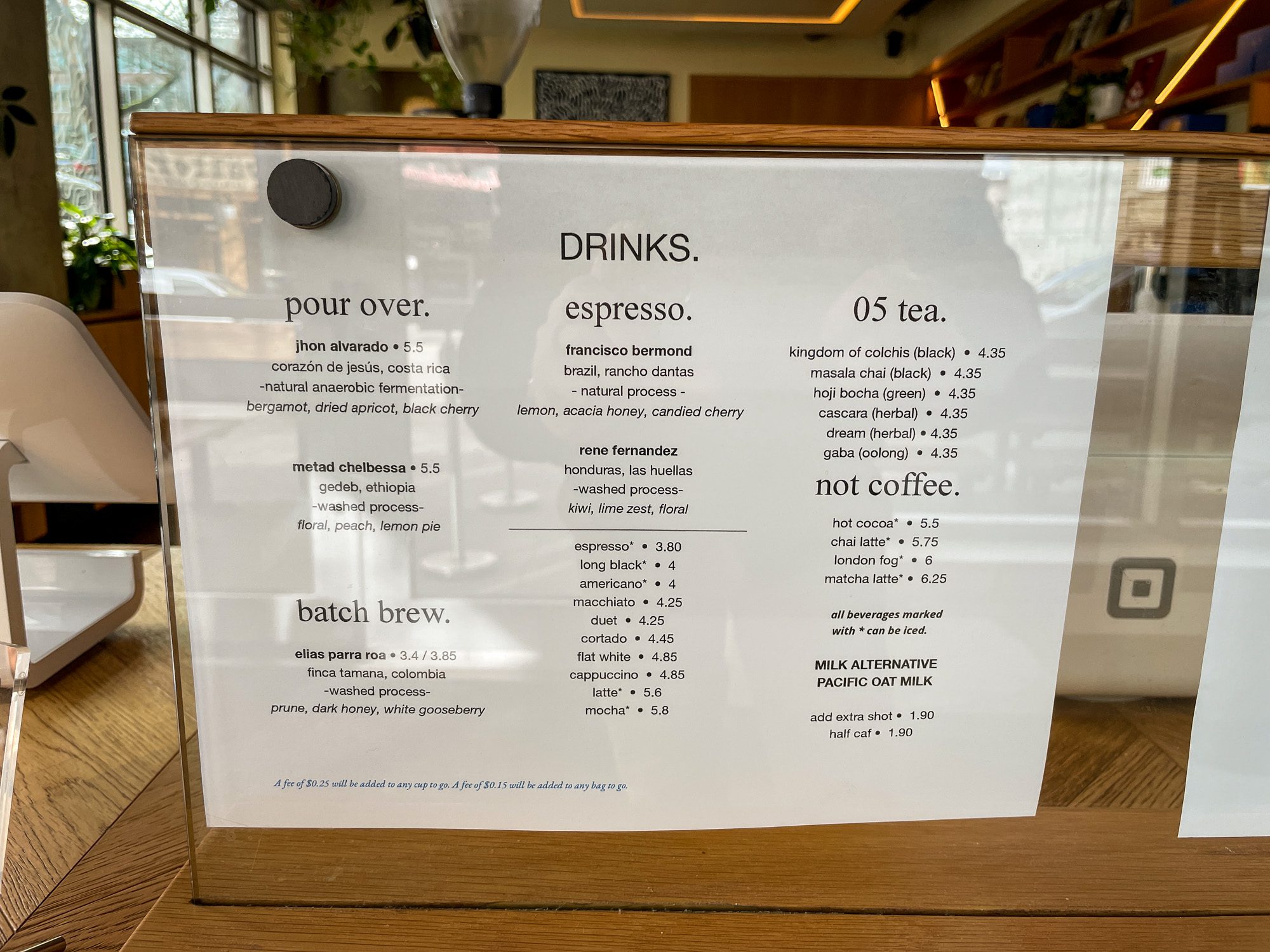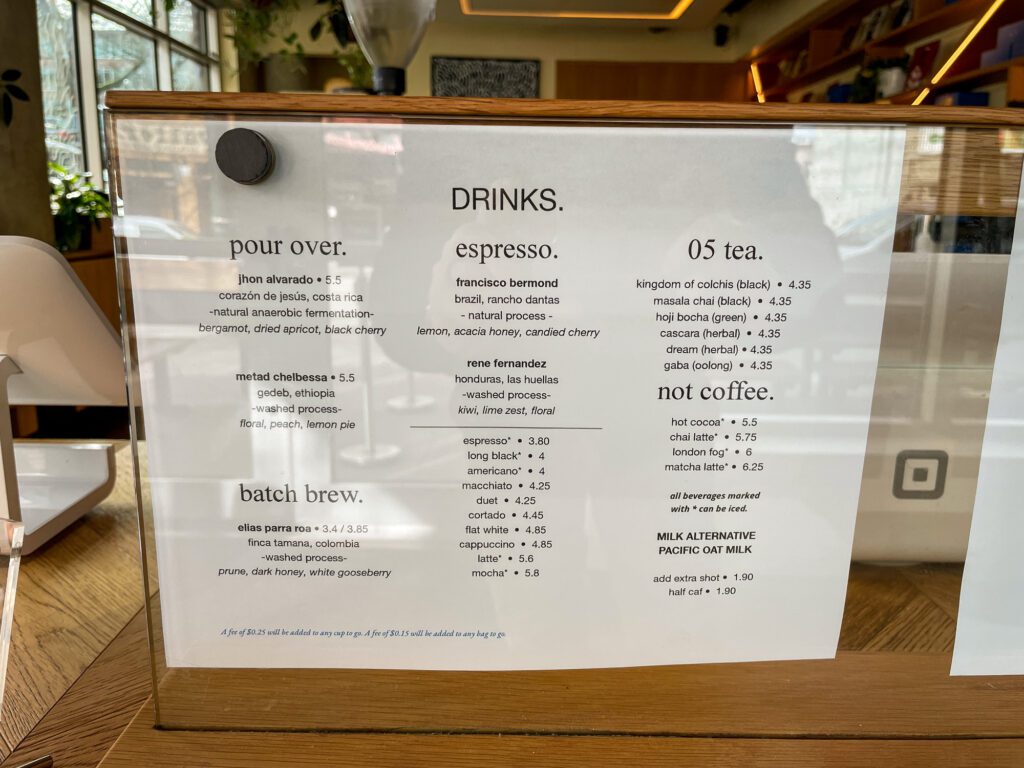 The second thing my eye was drawn to is their coffee packaging, which is all bold colors and looks pretty spectacular when it's stacked together with all of their different offerings.
As I was researching before our trip, I found A LOT of praise for Nemesis, especially over the past few years when it seems like their business has exploded. The result was high expectations, and I'm happy to say they more than lived up to them.
They had a couple of filter coffee options and a couple of espresso options, including a decaf coffee from India with watermelon as a tasting note (sadly, I didn't get to try it on either of my two trips to Nemesis).
On that first trip, I went with a Costa Rican coffee that was juicy AF. I watched the barista brew it with a Kalita Wave (I think), and later noticed they were experimenting with an Origami Dripper, which is a fun brewer!
On my second trip, which was to their location at the Polygon in North Vancouver, I spent a little more time interacting with the staff. I ordered their two espressos to try side-by-side – a coffee from Honduras and a natural process coffee from Brazil.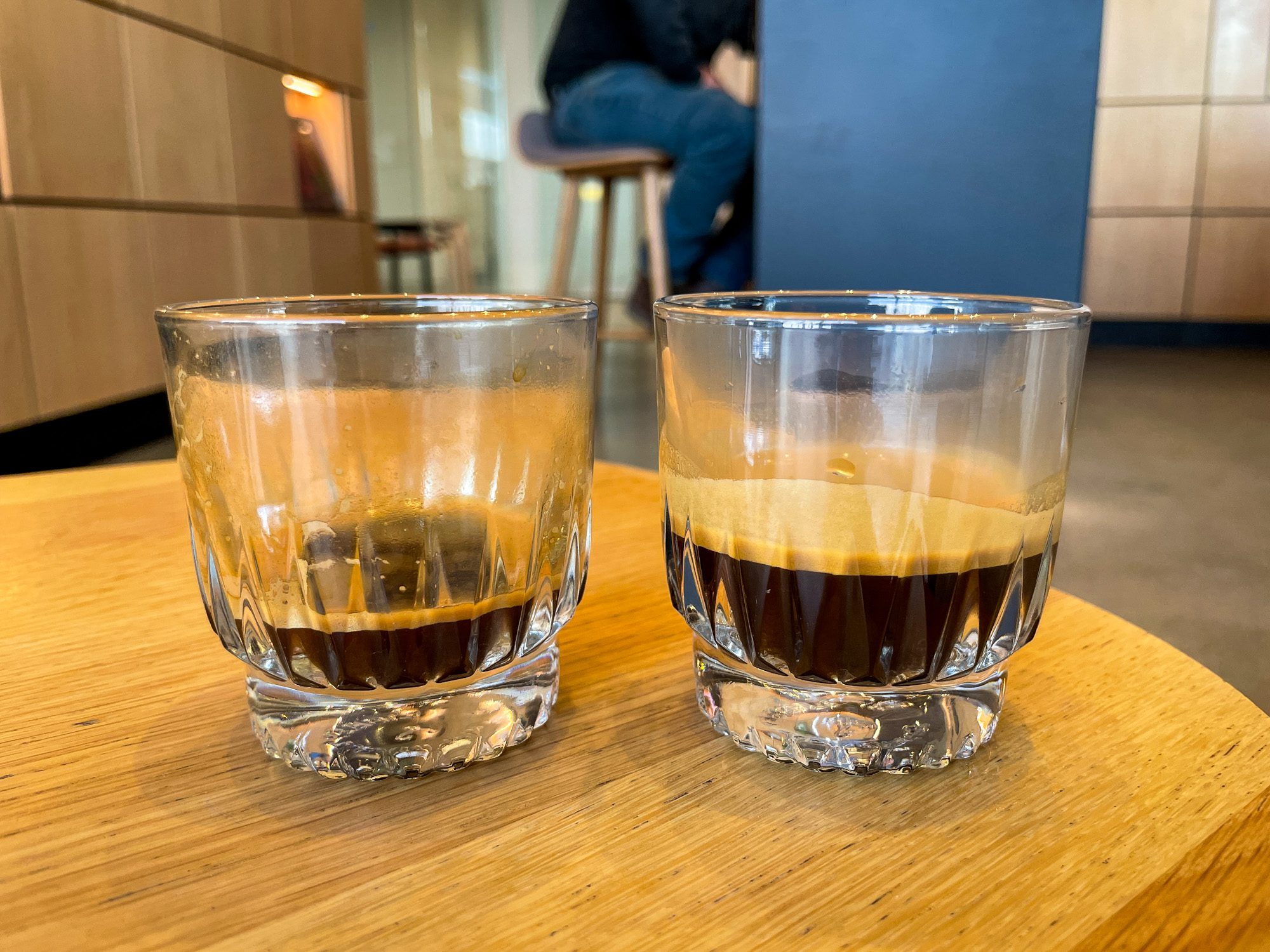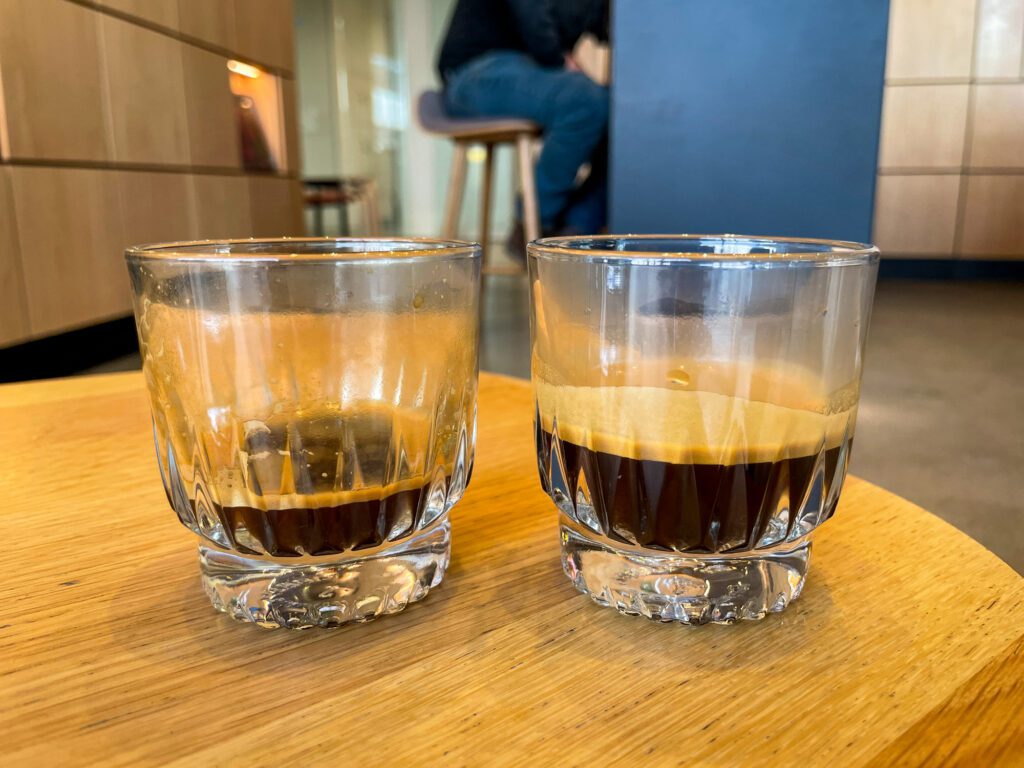 The Brazil came out first, and I took a sip. It was juicy and full-bodied, and in the middle of that sip, the other coffee came out.
The barista brought it over and must have understood what I was doing, because as I went to take a sip of that second coffee, he stopped me and said I needed water first (he was right), which he ran and grabbed.
We then had a short conversation about espresso ratios and he gave me some insight into how they dial in their new espresso beans (which he had just done that morning).
They keep a shorter ratio for that Brazilian coffee to highlight the fruitiness and body, and use a longer ratio to bring out the brightness and acidity of the coffee from Honduras.
On the counter, there was a whiteboard with ratios and brew times for each of the espressos they were currently brewing, which tells me that they're serious about their coffee.
Locations:
302 W Hastings St, Vancouver, BC (Gastown)
555 Great Northern Way, Vancouver, BC (GNW)
101 Carrie Cates Ct, North Vancouver, BC (Polygon)
Website: https://www.nemesis.coffee/
Instagram: @nemesis.coffee
Pallet Coffee Roasters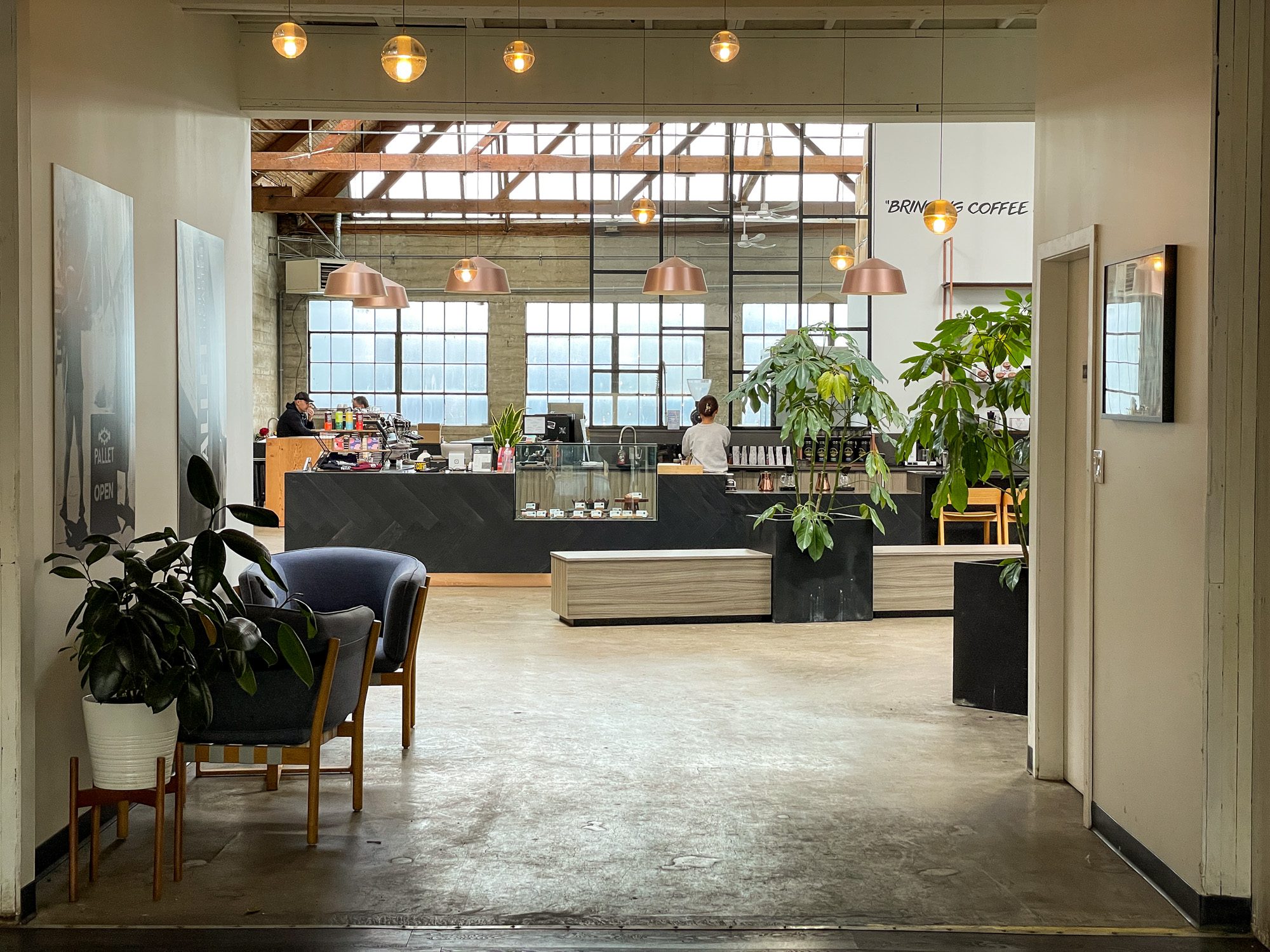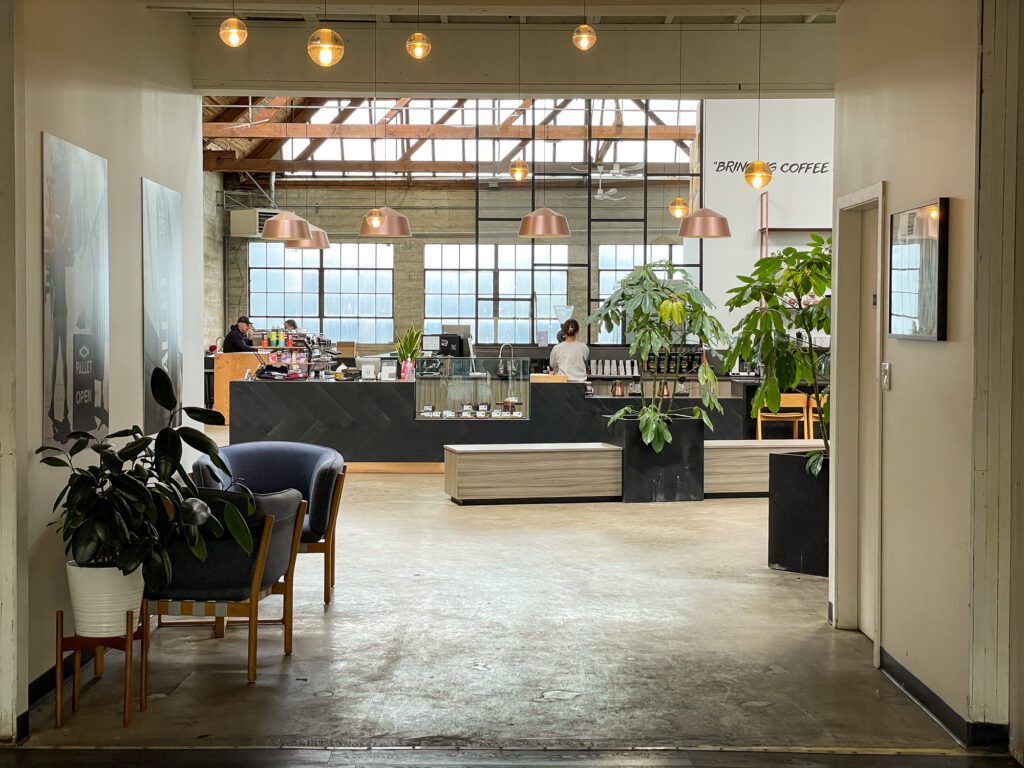 Pallet Coffee Roasters has multiple locations around Vancouver, but if it makes sense for you, you should definitely go to their HQ and Roastery up on Alexander St. in Railtown, just a few blocks east of Gastown.
It's a beautiful space – an old steel foundry built in 1923 that they converted into part espresso bar and cafe, part roastery, and part training facility (there's a separate coffee bar in the back corner that, when I asked what it was for, the barista said it was for training sessions with new baristas).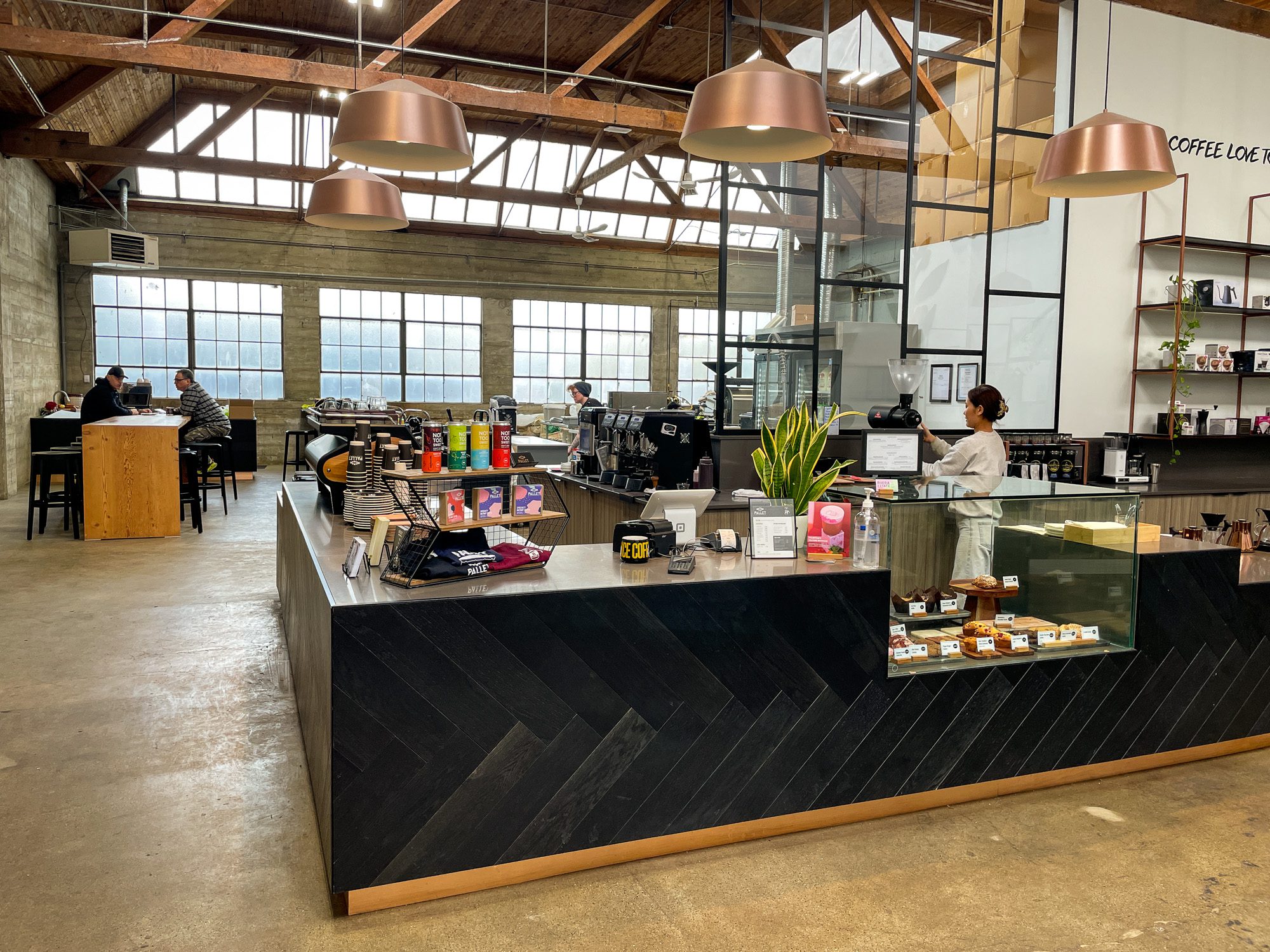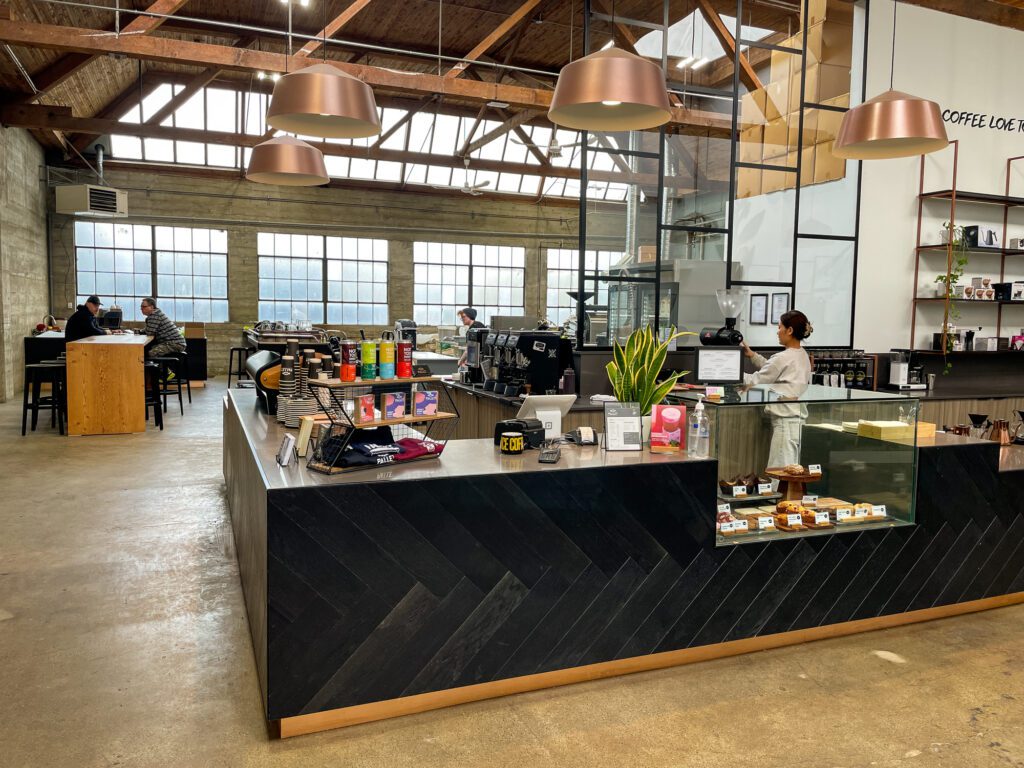 It's a lovely space with some seating – not a ton – and lots of natural light thanks to the big skylights in the ceiling and windows along the back wall.
The second I looked at the menu, I recognized the El Vergel estate in Colombia, and immediately knew I wanted the anaerobic coffee from them.
They're doing some fun things in terms of fermentation and experimentation, and basically every time I see a coffee from them, I'm down to try it. Specifically if it has the "Guava Banana" notation on it, which this one did. In my experience, those coffees tend to be wild and exciting.
At this point, I was the only person in line for coffee. Usually, I try to avoid ordering a filter coffee that takes 3-4 minutes to make when it's busy, and I felt good about the timing here.
Unfortunately, the second I ordered it, a mini-rush began and 5-6 people came in over the next several minutes.
I admire the efficiency and calmness of both baristas, who worked together to make sure people were getting their coffee (including me) and getting to order, often running between stations. Clearly, they've done this a few times before, and I see why that training station is so important.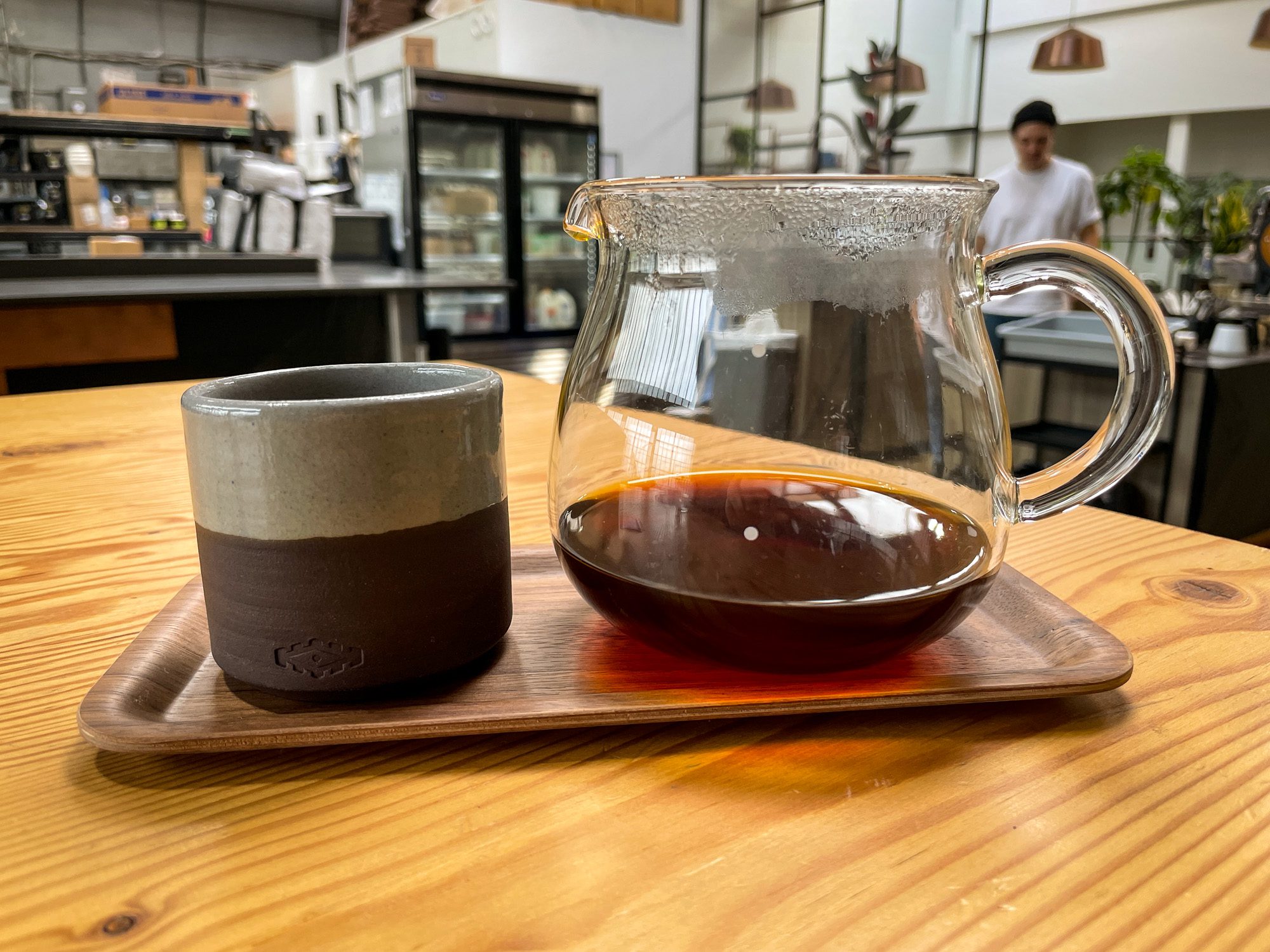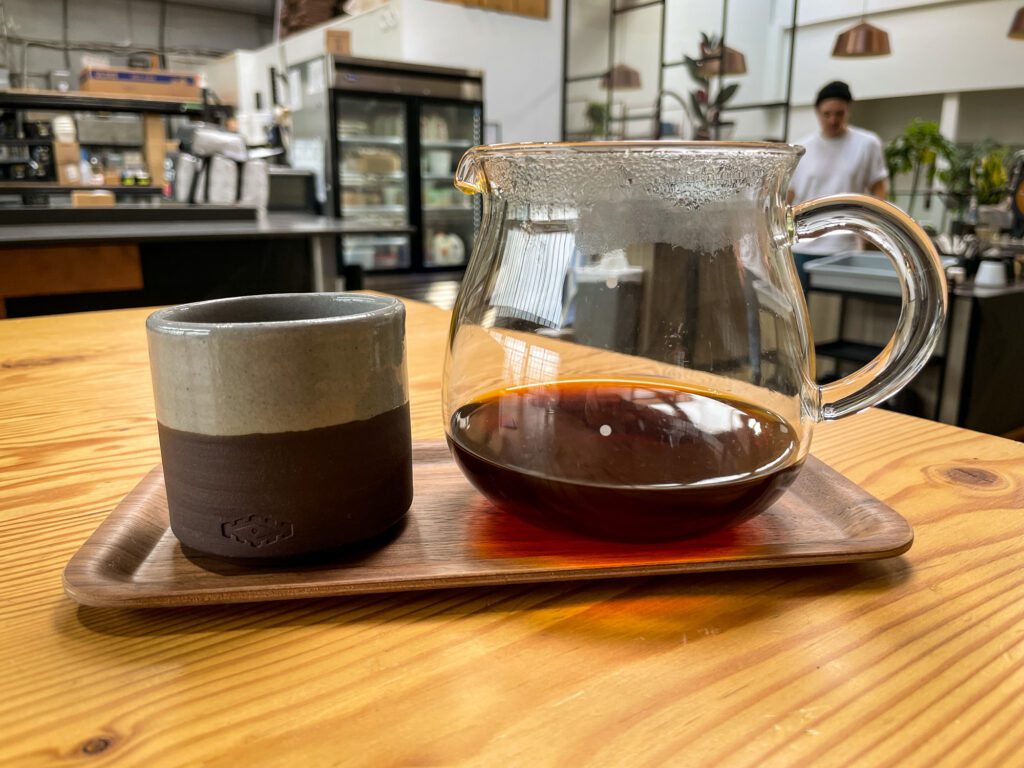 The coffee was good – rich and fruity, with a definite funk from the anaerobic fermentation. Like I said above, I'm not sure I'd buy a bag of it, but it was definitely worth trying once!
Pallet also has locations in Kitsilano and Downtown Vancouver, among other places around town. It's a mini empire at this point.
Locations:
395 Alexander Street, Vancouver, BC (HQ & Roastery)
323 Semlin Drive, Vancouver, BC
1398 Kingsway, Vancouver, BC
2002 West Broadway, Vancouver, BC
3820 Oak Street, Vancouver, BC
980 Howe Street, Vancouver, BC
848 West Hastings Street, Vancouver, BC
Website: https://palletcoffeeroasters.com/
Instagram: @palletcoffee
Propaganda Coffee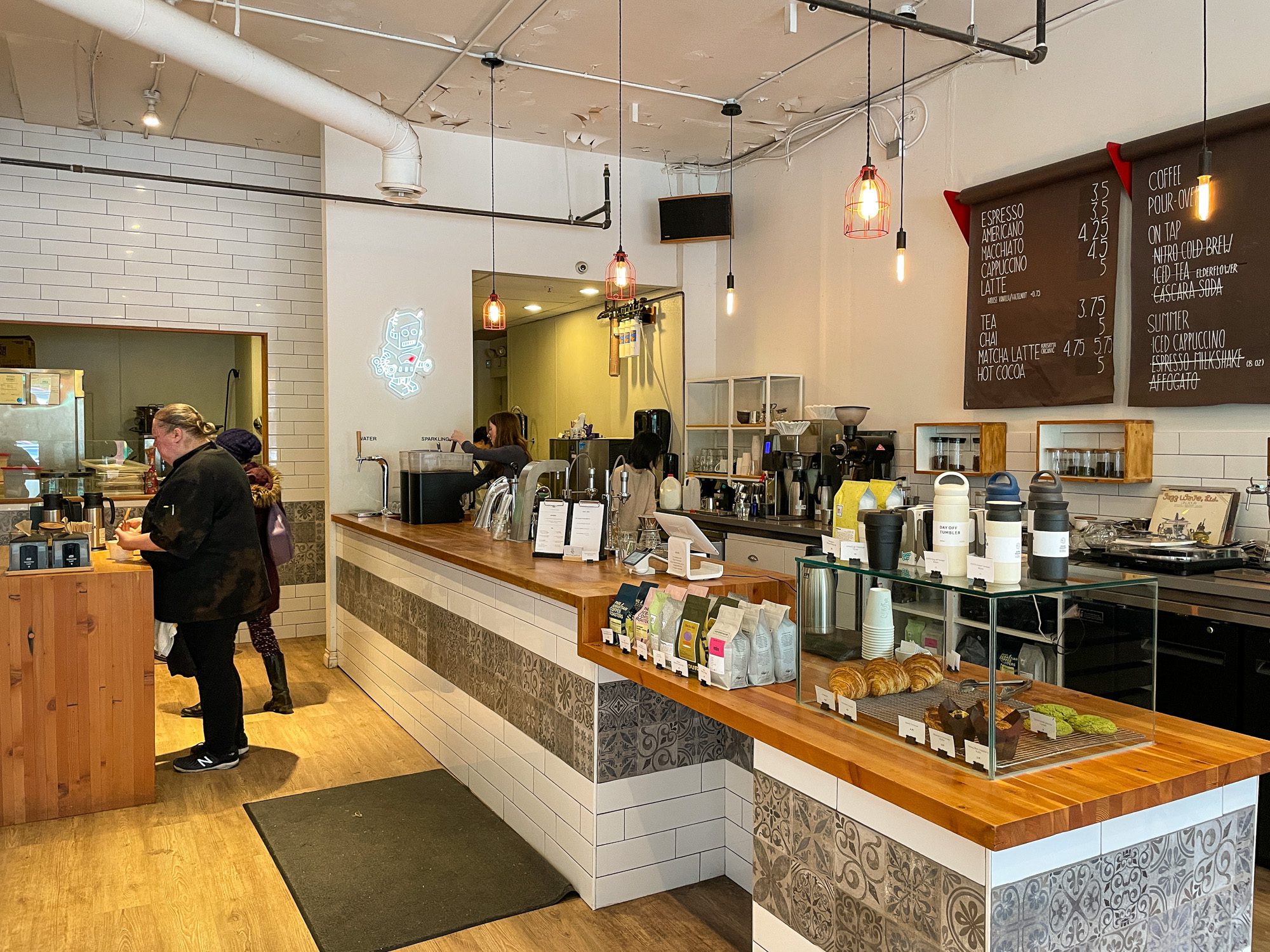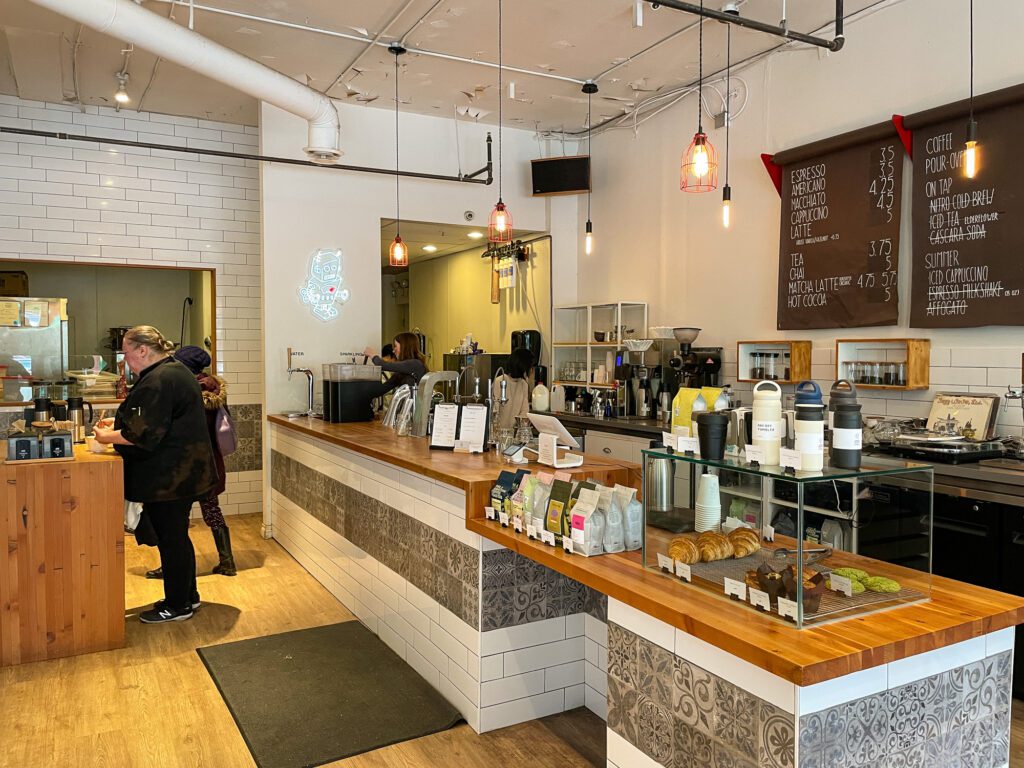 Propaganda Coffee is in an older building in Chinatown, just east of the downtown core of Vancouver (and just a short walk east from Gastown).
This was a recommendation from a barista at a different spot, who spent an hour with me talking about the coffee scene in Vancouver and called out Propaganda as their favorite shop in town.
Their specific recommendation was to go find Monogram Roasters, one of their favorite coffee roasters in Canada.
So, we made the journey over to Chinatown. And I did exactly what that barista told me – try Monogram.
I waltzed up to the bar and told the barista that I was here on a recommendation from another place, and I was told to try Monogram. Lucky for me, they had it available both as a filter coffee, and as espresso (they had 2-3 different coffees available for both).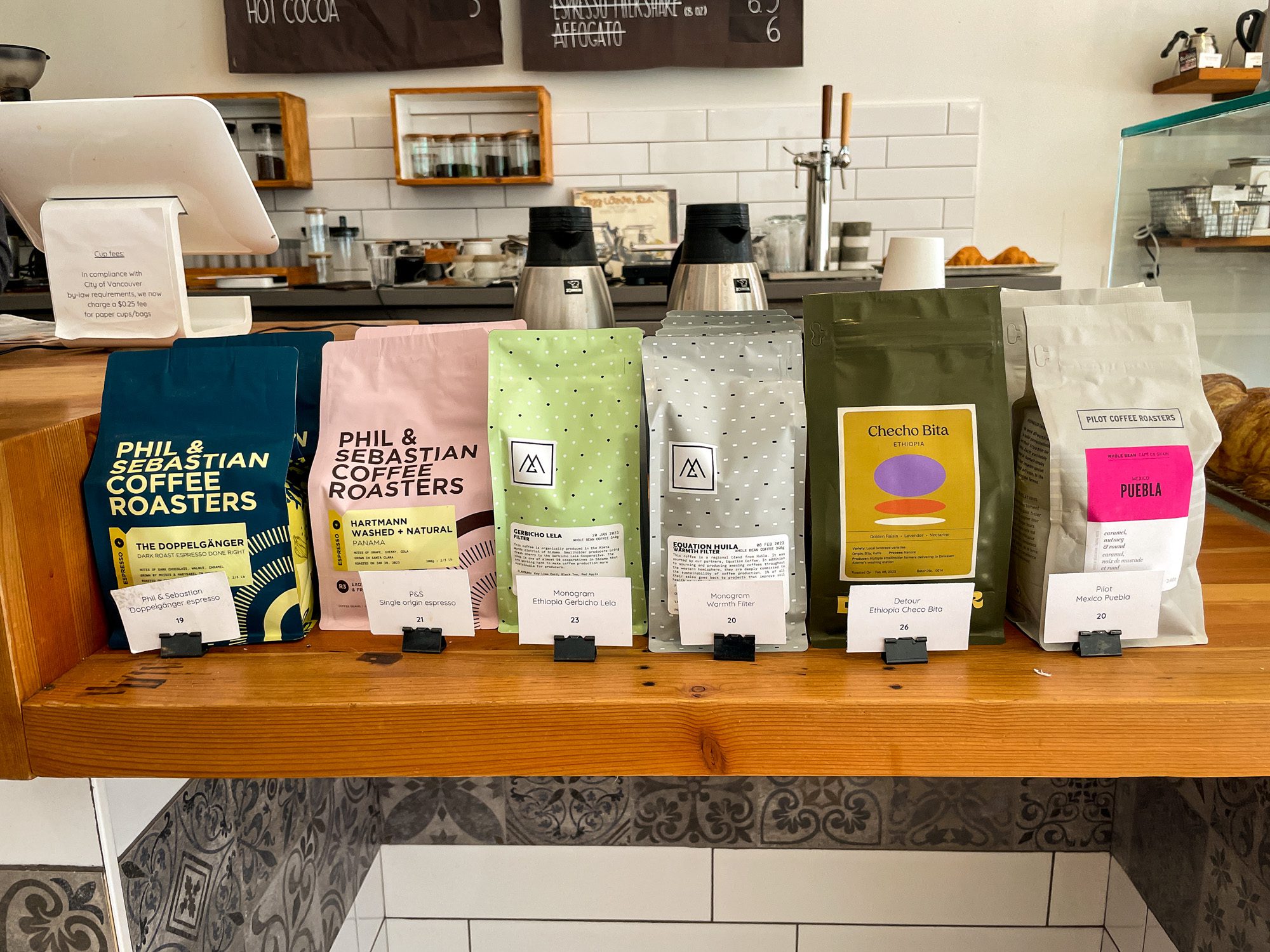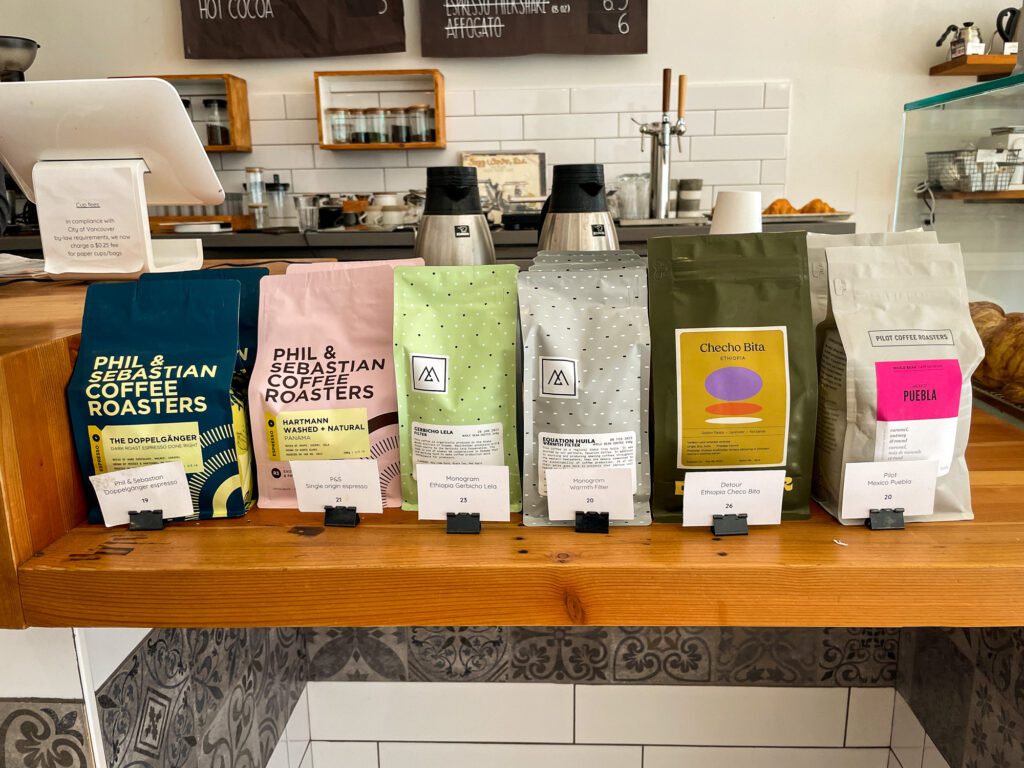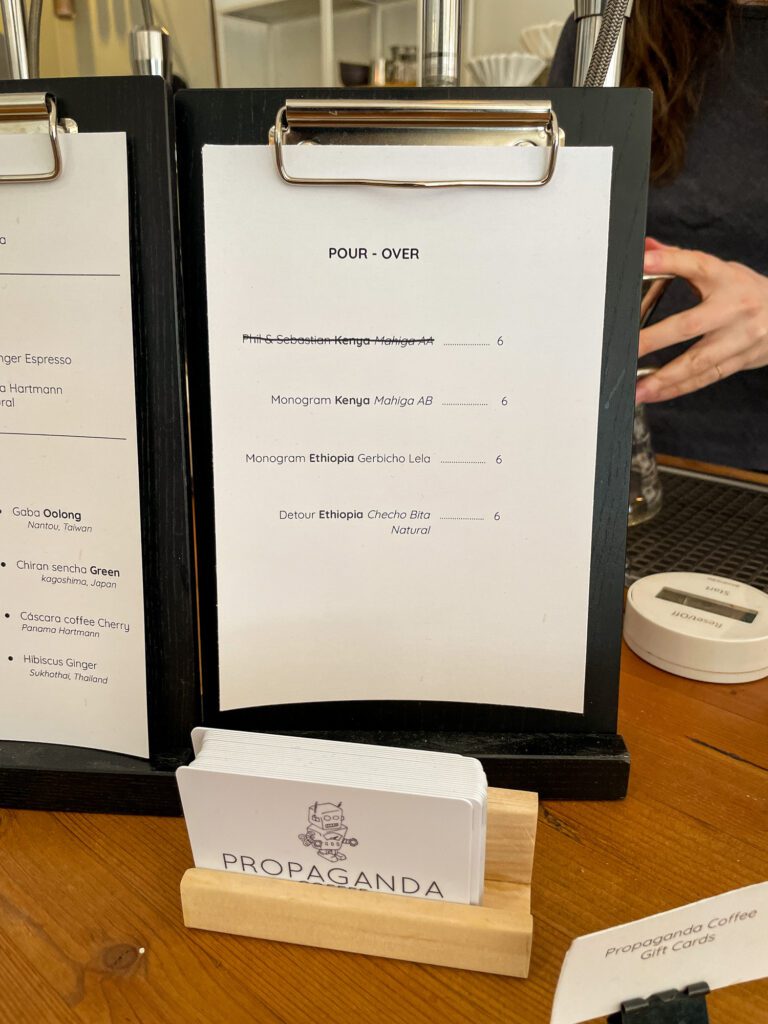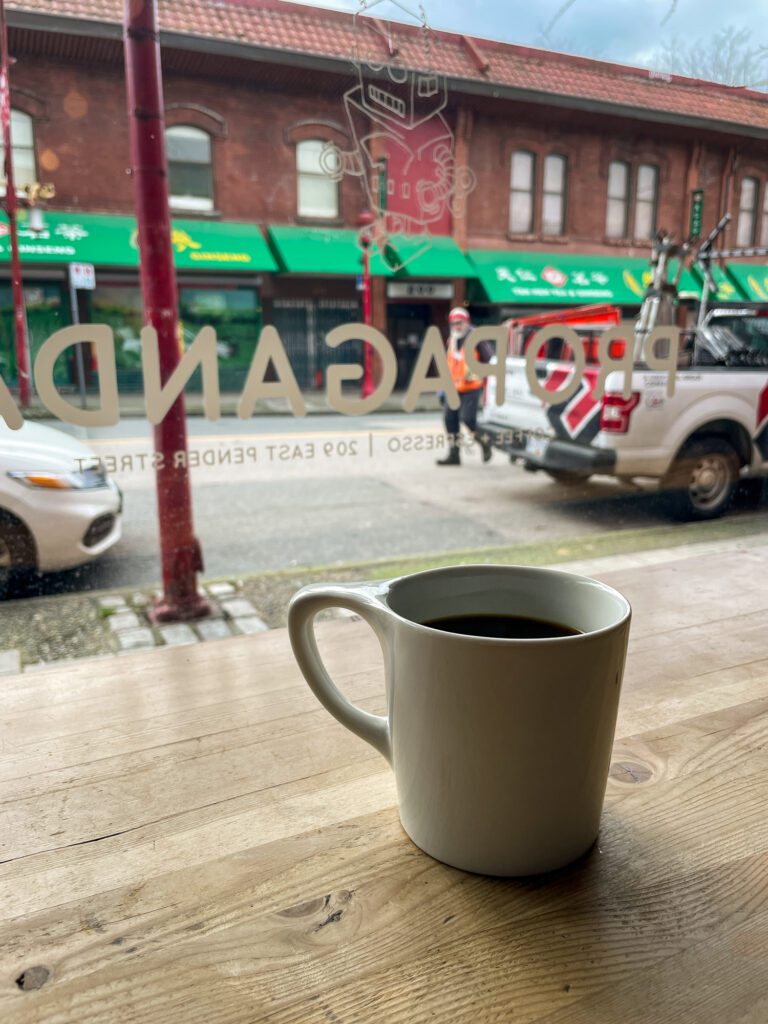 I went for a filter coffee, and asked if he had a recommendation between the Ethiopian or Kenyan coffee.
The next thing that came out of the barista's mouth told me I was in good hands: he asked me if I liked Kenyan coffees. Kenyan coffees are polarizing. They're often high in acidity, which is my jam but I imagine most people aren't as into them.
I said I loved Kenyan coffees, and he said "great, they're really good right now" (or something to that effect).
Alysha had found a seat at the window, so I went and joined her and watched the barista brew the coffee with a Kalita Wave (that they covered during the drawdown to keep heat in, which I found interesting), and a few minutes later the coffee was served in a diner mug.
The coffee was great – a punch of both acidity and that bright red fruitiness (think blackberry or raspberry) that you often get with Kenyan coffees.
Overall, a great place to grab coffee if you find yourself over in Chinatown, and worth the detour if you're wanting to try some fun Canadian coffee roasters, which they rotate through over time.
Locations: 209 E. Pender street, Vancouver, BC (Chinatown)
Website: https://www.propagandacoffee.ca/
Instagram: @propagandacoffee
Modus Coffee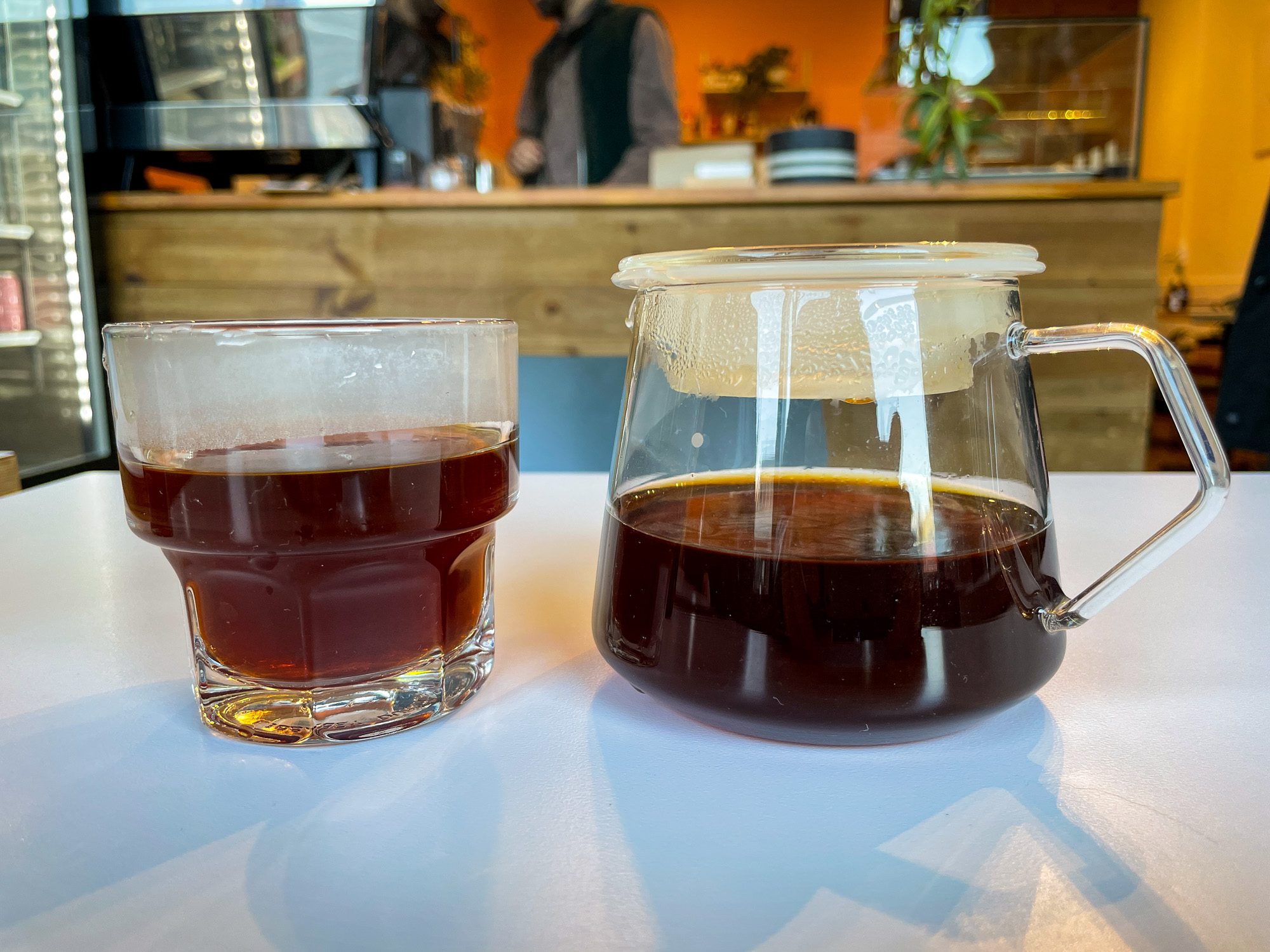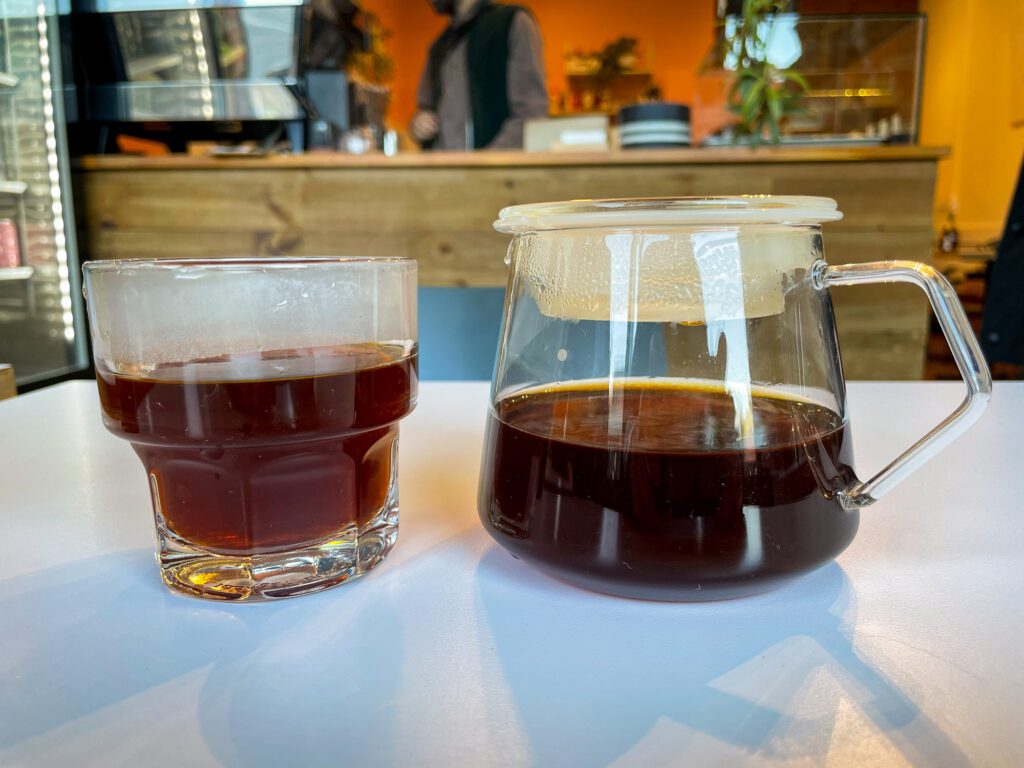 The first thing I read on their website as I was compiling my list of places to go was "no blends or dark roasts here," and I was head-over-heels in love.
Modus is a micro-roastery in Vancouver, with a cozy cafe on W Broadway in Mt. Pleasant with pink walls and a warm, inviting atmosphere. They opened the current location after two years of searching and a crowdfunding campaign.
I like the way that they've developed their own way of thinking about coffee's different flavor profiles. They have a group of six different flavor profiles, and they rotate through different coffees under each profile throughout the year.
They range from "the Coast," which is big and forgiving, to "the Opus," which is exotic and complex.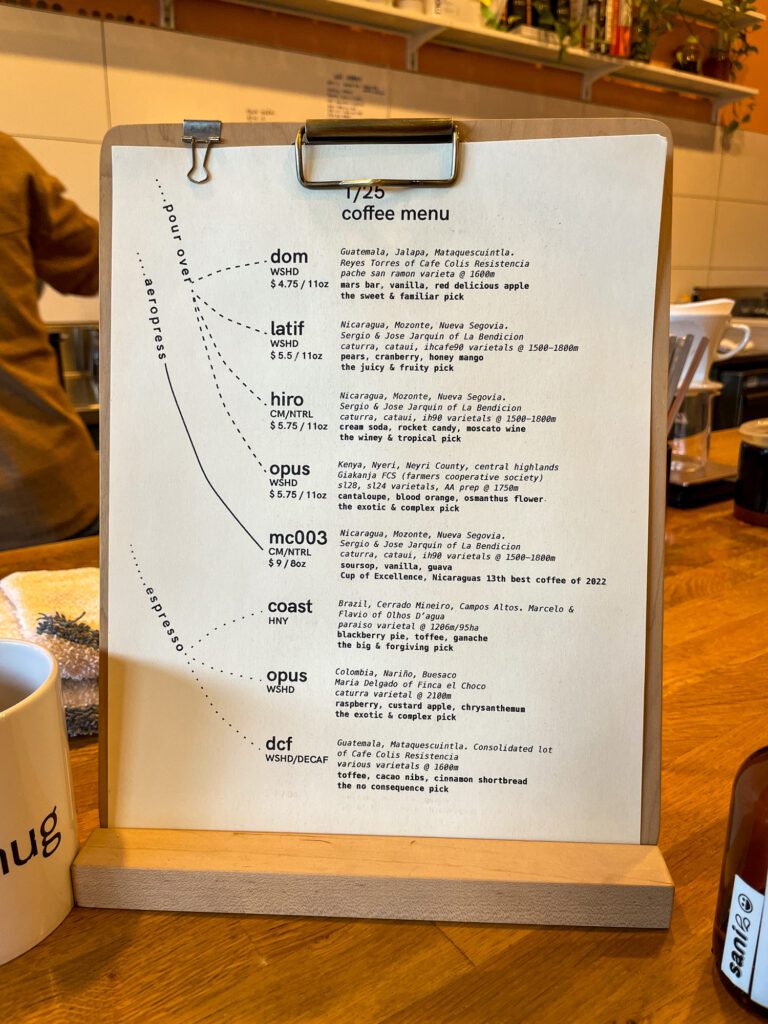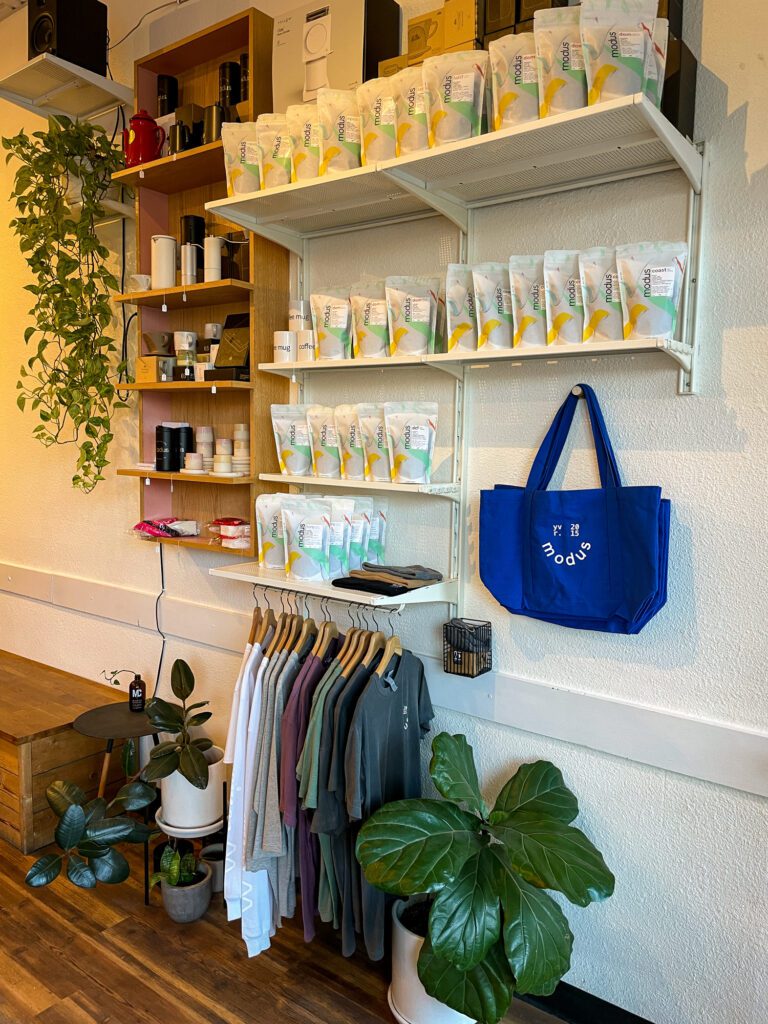 When I was there, they had a few options available for pour over at the cafe, and I went with the Kenyan coffee, which fell under the "Opus" category.
Promising notes of cantaloupe and blood orange, it was an excellent example of a light roast that was more balanced than many Kenyan coffees out there, which all tend to gravitate towards more raspberry and blackberry (on my palate, at least). This coffee was much sweeter, resulting in a more balanced cup.
Still plenty of sparkly acidity, but it also had a little something else going on.
I really enjoyed Modus – both the coffee, the space, and the seemingly robust events calendar they have going on. I'm not an expert in Vancouver's geography, but their location on a busy, multi-lane road seems like it probably doesn't get a whole lot of foot traffic.
Still, worth the detour if you want to try some coffees from one of Vancouver's best and brightest microroasters.
Location: 112 W Broadway, Vancouver, BC (Mt Pleasant)
Website: https://www.moduscoffee.com/
Instagram: @moduscoffee
Timbertrain Coffee Roasters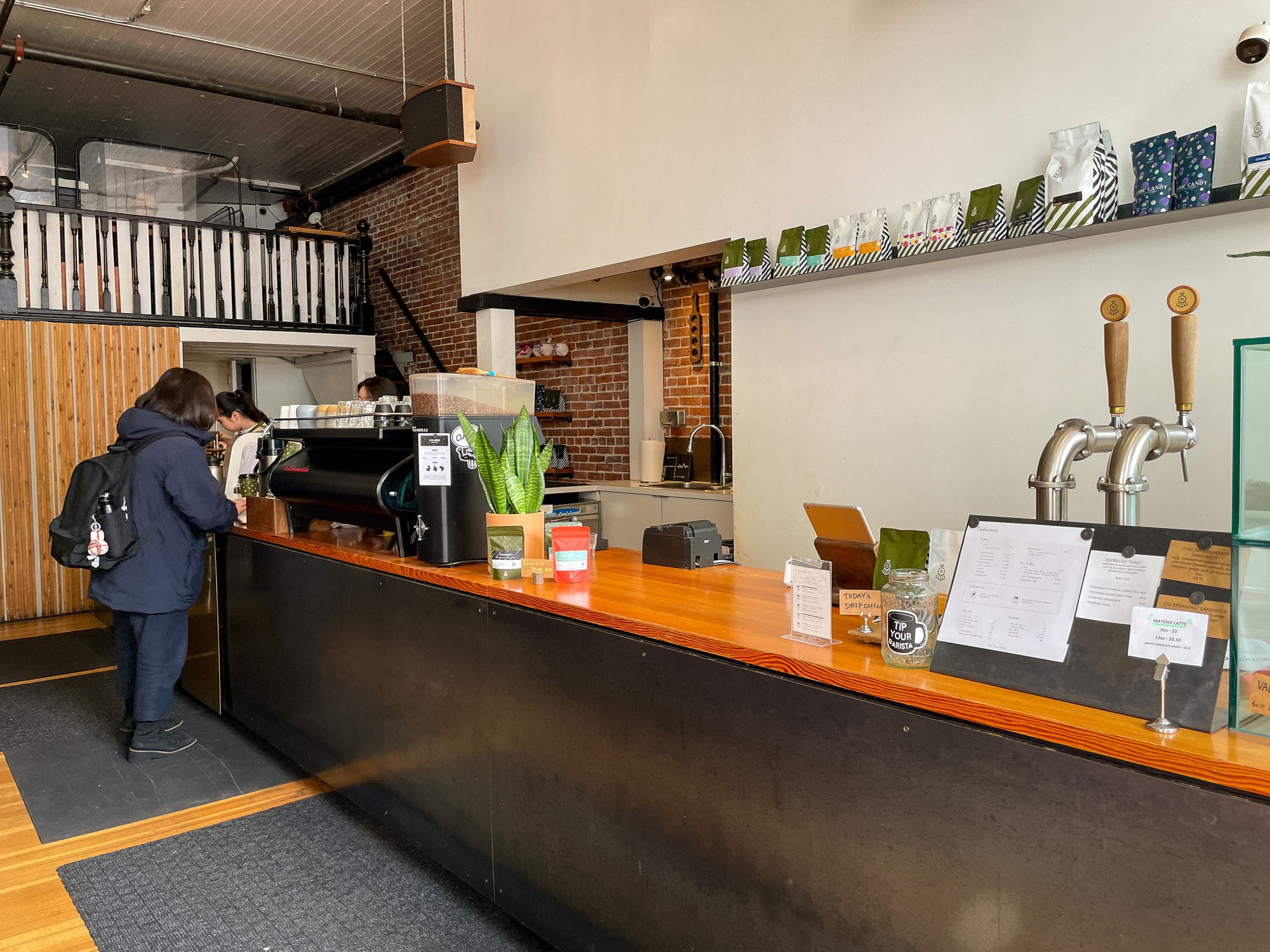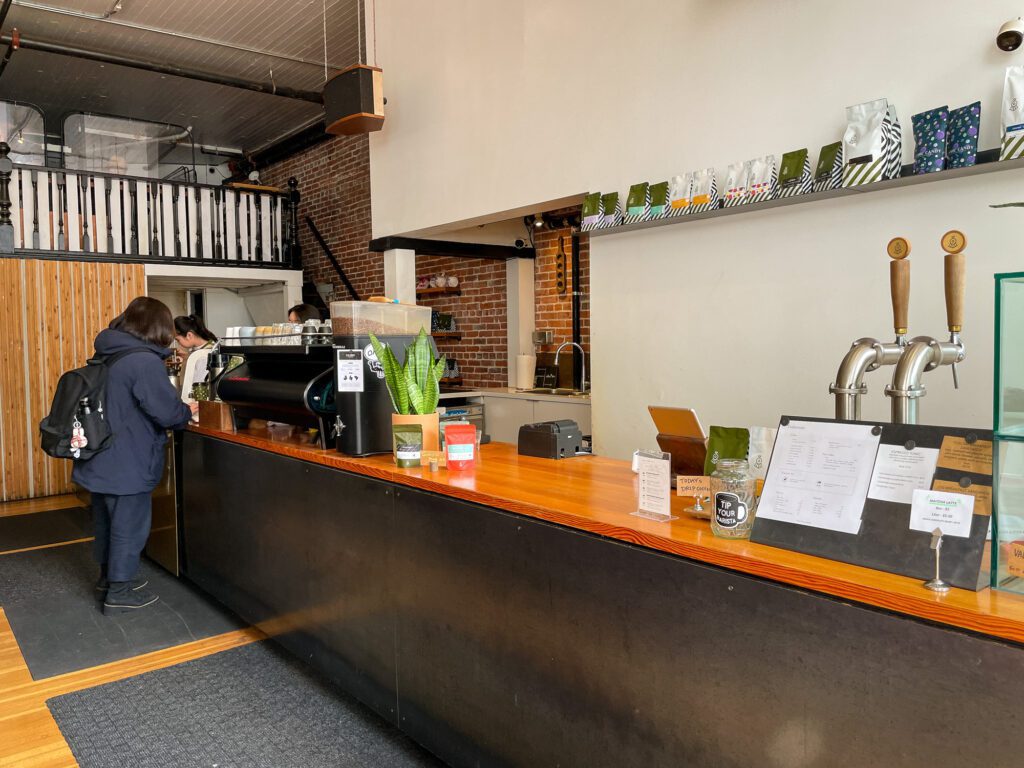 Timbertrain Coffee is in Gastown, around the corner from Revolver and a block or two from Nemesis, and I think that's part of the reason why they're not higher on this list.
I do love the space they're in. It feels very spacious (despite being narrow and relatively small) thanks to the high ceilings and big windows, and the train carriage seating along the wall across from the bar is a fun touch.
They have a classification system for their coffees that breaks them into three categories: classic, curious, and wild. It reminds me of the way Proud Mary here in Portland talks about their coffees.
There were two wild coffees available as pour over, and I went with a coffee from Colombia from their separate pour over menu. They also had a couple of coffees available as espresso, and a batch brew drip coffee too.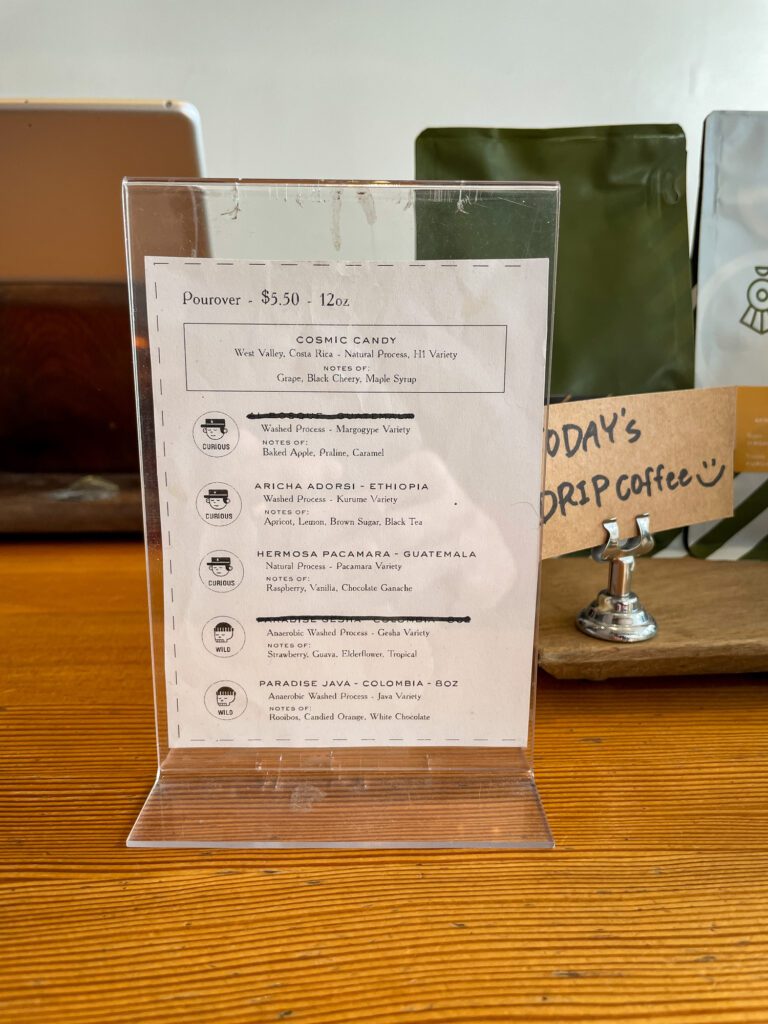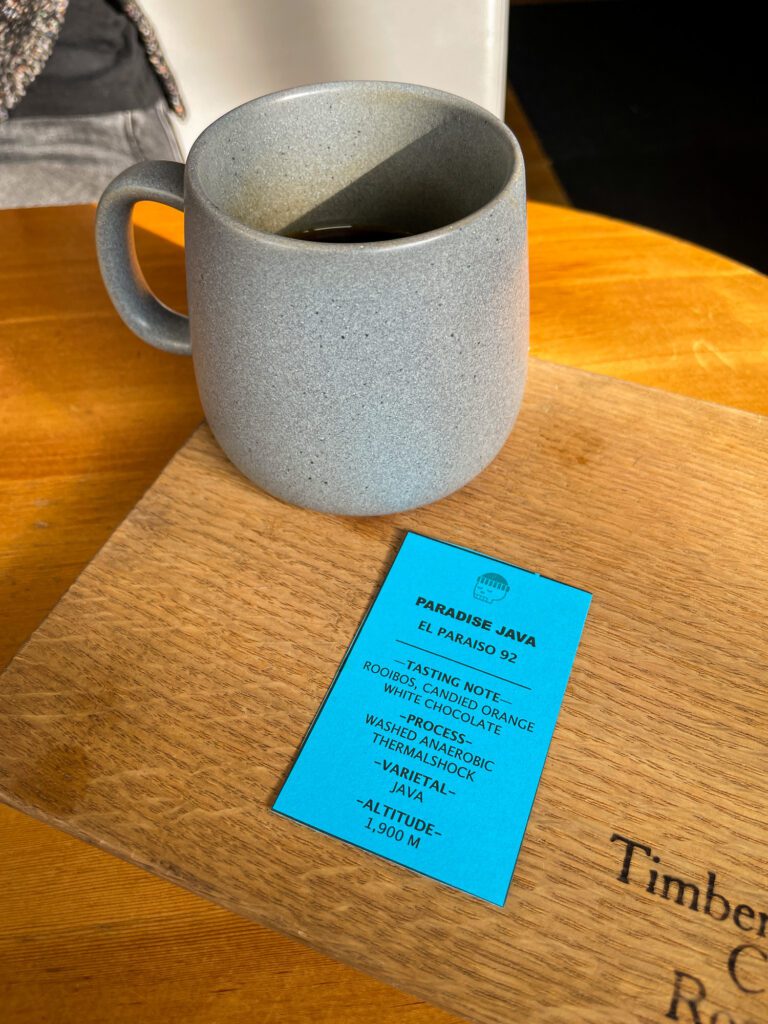 The barista headed to the back end of the bar, and brewed it with a Kalita Wave. The coffee was fine – I think they needed to do some dialing in to bring out the brightness a little more – and the serving tray was gorgeous.
They also have a location called the "depot" in East Vancouver, and another new location ("the outpost") in Port Moody.
Location:
311 W Cordova St., Vancouver, BC (Gastown)
551 McLean Dr., Vancouver, BC (Grandview – Woodlands)
3001 St Johns St., Port Moody, BC (Port Moody)
Website: https://timbertraincoffeeroasters.com/
Instagram: @timbertrain
Sunny M Specialty Coffee
Sunny M is a coffee shop down in Richmond, a city just south of Vancouver (it feels like a suburb, but it's also the fourth biggest city in British Columbia). If you're looking for a rotating selection of some of the best roasters in the world, this is a great spot for you (as long as you can get down there).
The first thing to know is that it's essentially in a strip mall in Richmond. We drove into the parking lot, parked, and as soon as I walked in the door I knew I was in the right place.
Why? Because lining the walls of the shop was a graveyard of old coffee bags featuring the likes of Manhattan Roasters (from the Netherlands), Gardelli Coffee Roasters (from Italy), and other famous roasters from around the world.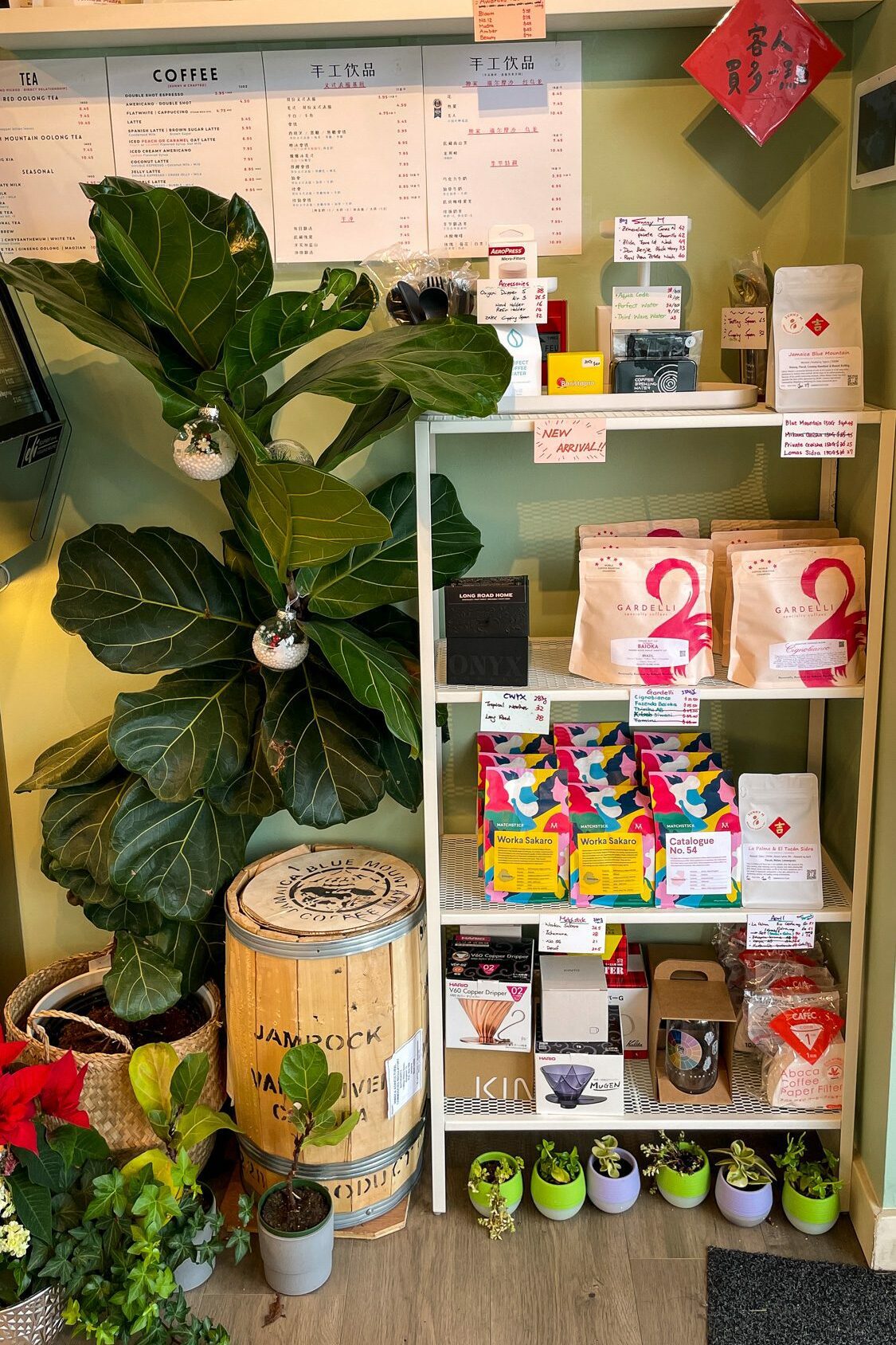 This is a multi-roaster cafe… ish (more on that in a second), and when we visited they had coffees from Onyx (the USA), Gardelli (Italy), and Hatch (Canada) available to try.
I saw a coffee from India roasted by Hatch, which is not something I've really ever tried, so that's the one I went with after the friendly barista (and owner) presented me with a few options.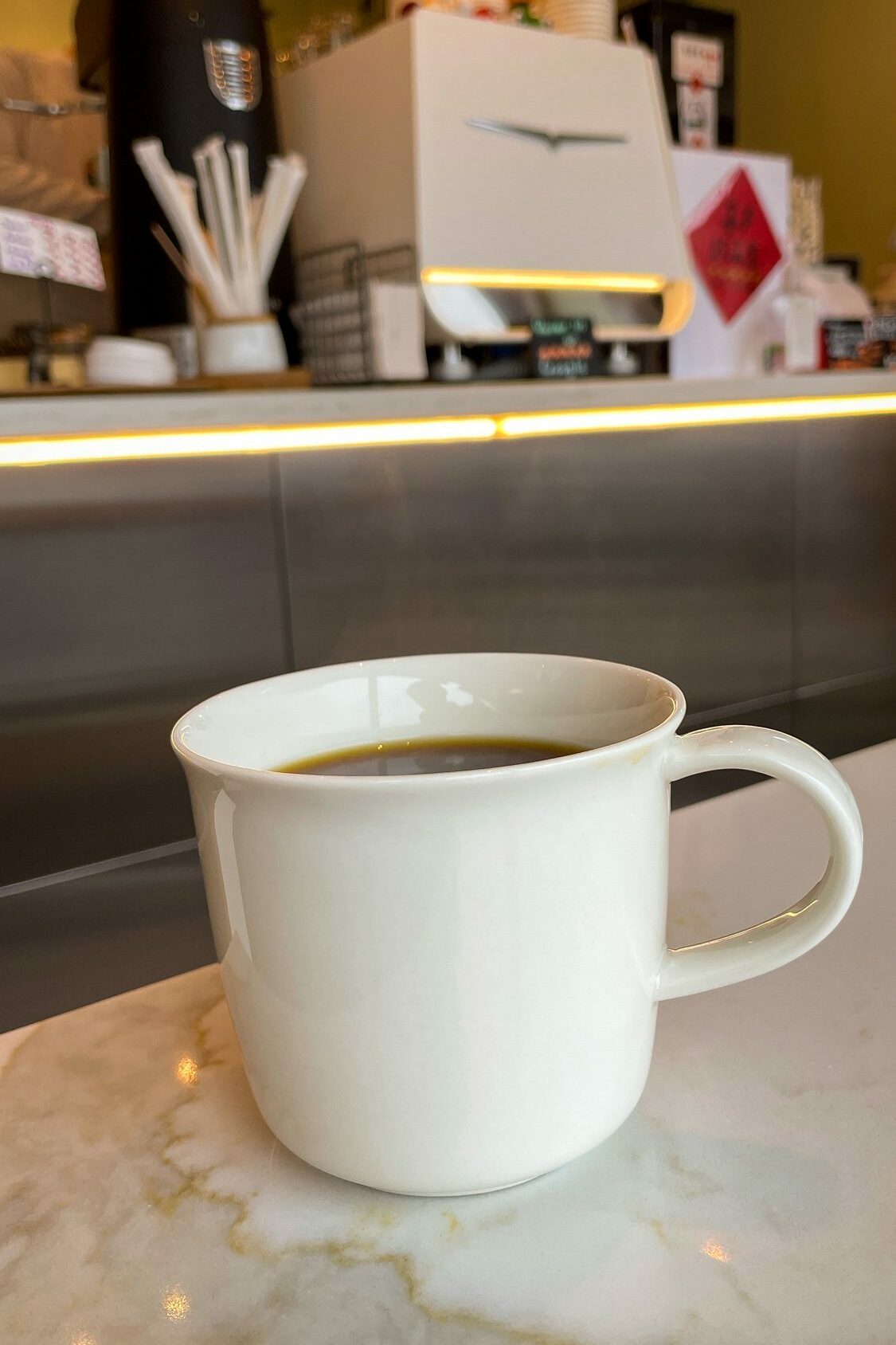 I say that they're multi-roaster-ish because, when we were there, they had a little mini coffee roaster going on one of the three tables inside the small cafe.
There were some coffees on the shelf that were roasted by Sunny M, so they're clearly experimenting with small batch roasting. However, the majority of the coffee here is roasted by others, which is where the "ish" comes from.
It's down near the airport, so it's a good stop for coffee if you're driving from Seattle / the USA into Vancouver, or if you land in Vancouver and are picking up a rental car.
Location: Empire Centre, #1345 4540 No.3 Road, Richmond
Website: https://www.sunnymspecialty.com/
Instagram: @sunnymspecialty
Oidé Coffee
So, Oidé is the only place on this list that I haven't been to myself yet. Mostly because of a scheduling error on my part – they were in the process of a soft launch at a brand new location when we were in town, and I totally forgot that they were only open Thursday to Sunday at that particular time.
After doing other stuff on Sunday, the day we arrived, I realized this on Monday morning, and Alysha says I was grumpy for the rest of the morning (which is probably true).
I'm really excited about making it here when we're back this summer. They're a small multi-roaster cafe on the eastern end of town on Clark Drive (sort of near Prototype, but even further east), and they bring in coffees from all over the world (including some from Vancouver, like Luna, and other parts of Canada).
They had been operating out of a different space throughout 2022, and were in the process of moving into their new space in early 2023. Looking forward to making it here next time we're in Vancouver, but wanted to include it for you, dear readers.
Location: 550 Clark Dr, Vancouver, BC
Instagram: @oidecoffee
The Best Vancouver Coffee Shops, Mapped
---