The 14 Best Hikes in Olympic National Park: A Complete Guide
I love the Olympic Peninsula. At the western edge of Washington State, temperate rainforests and mountain peaks meet sandy beaches, forming one of the most diverse areas on the West Coast, if not the entire country. The claim to fame for this part of Washington State is Olympic National Park. The park is one-of-a-kind.
Believe it or not, I grew up in Seattle and NEVER ONCE made it to Olympic National Park until I was 30. You'll get to see emerald-green rainforests, expansive beaches, towering mountains, and plenty of lakes, rivers, waterfalls, and wildlife of all kinds. You may even come across signs of Bigfoot if you're lucky (I'm a believer).
In this guide to the best hikes in Olympic National Park, you'll discover hikes that take you into the dense rainforest, across the sandy Pacific Coast beaches, and up into the mountains that form the backbone of the Peninsula.
So, let's get right into it! Here's what you should know about this extraordinary natural wonder and how you can enjoy it to its fullest.
Make sure to read our Olympic National Park itinerary to help plan an unforgettable trip that will have you exploring the rugged mountains, serene lakes, and sandy beaches of this incredible gem in the Pacific Northwest.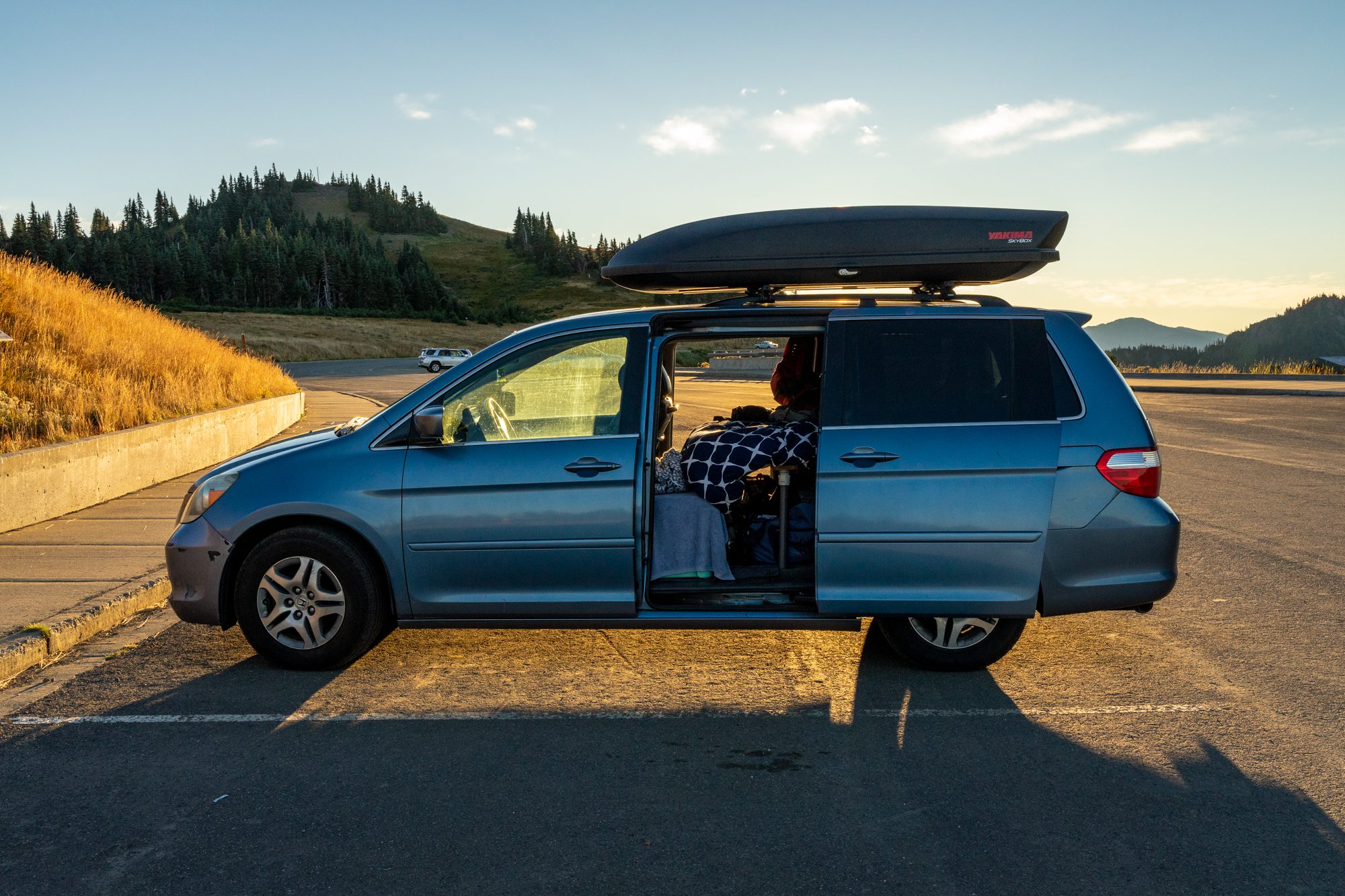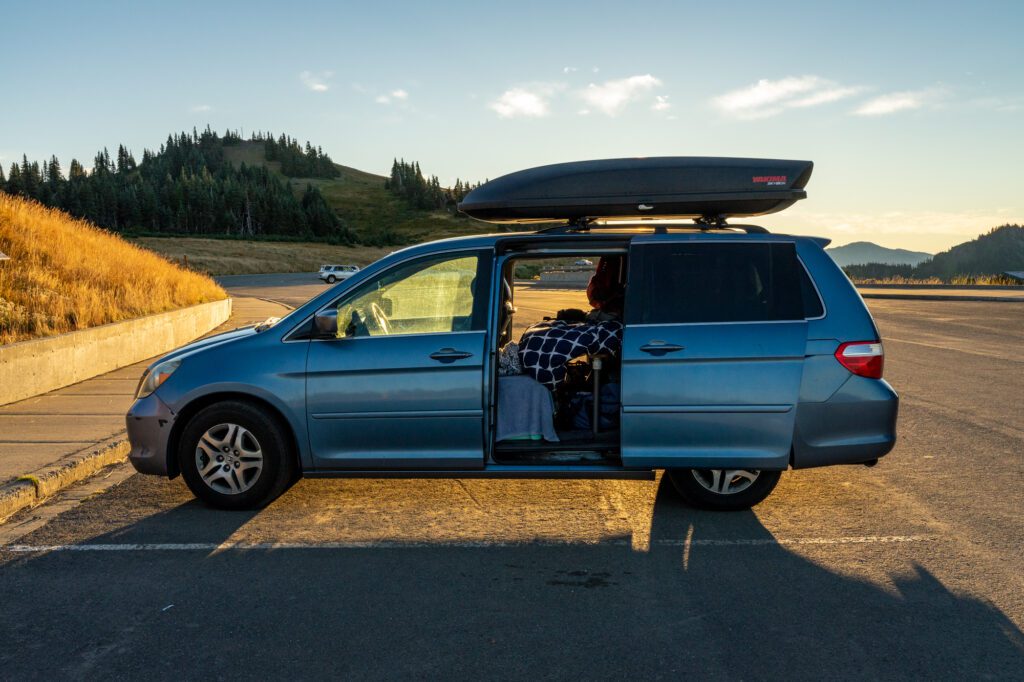 Disclaimer: Some of the links below are affiliate links, which means that if you click on one and purchase something, I make a small portion of the sale at no additional cost to you. It goes without saying that I would never recommend something I wouldn't use or do myself.
The Best Hikes in Olympic National Park
I'm now going to dive into what you're really here for. I have found each one of these hikes on the Olympic Peninsula to be well worth the trip out from Seattle.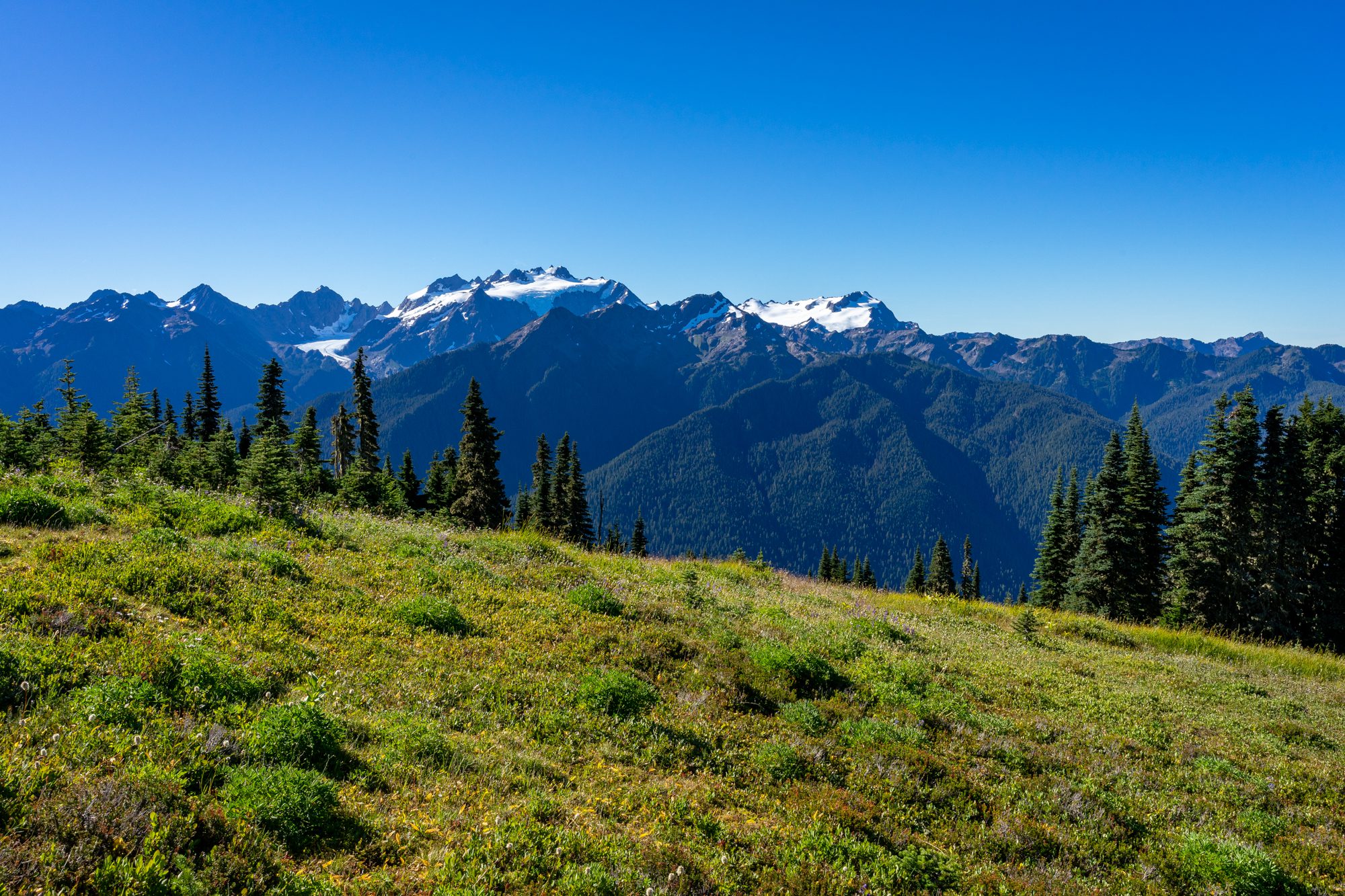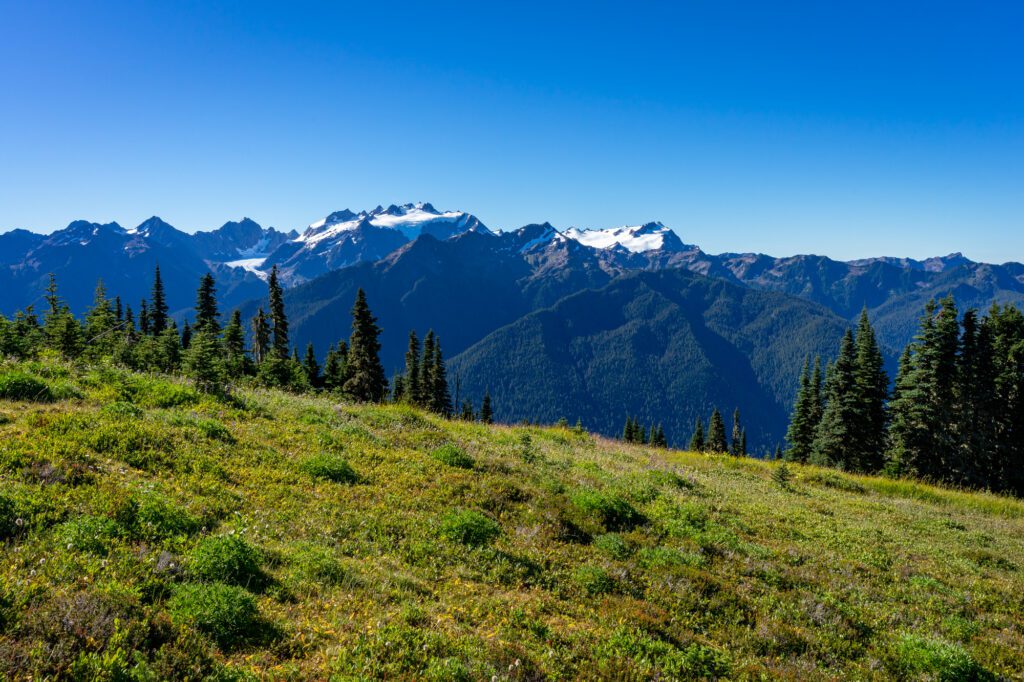 Hiking Near Hurricane Ridge
These hikes are in the Hurricane Ridge area, which is in the alpine region of the park.
Hurricane Hill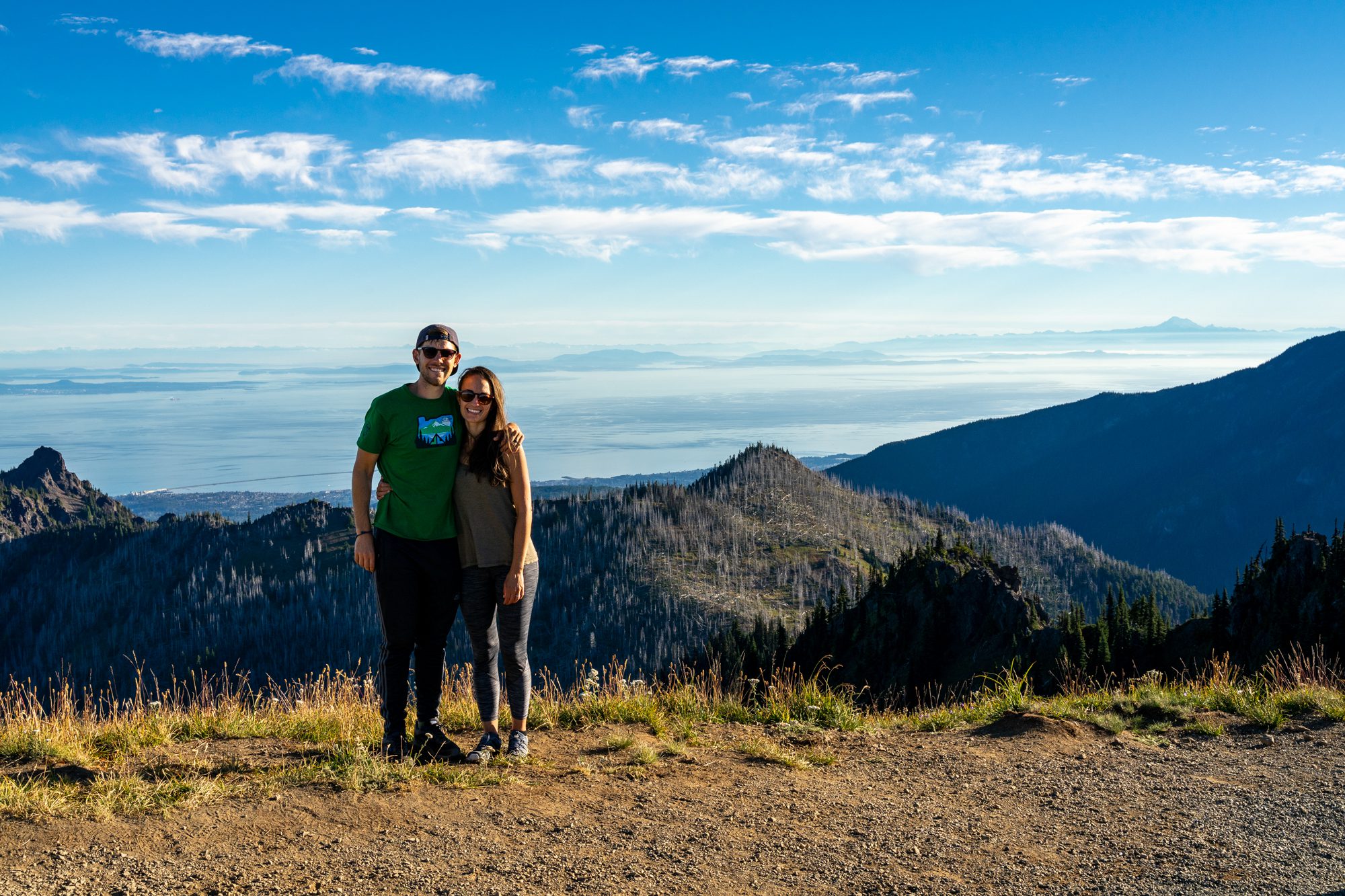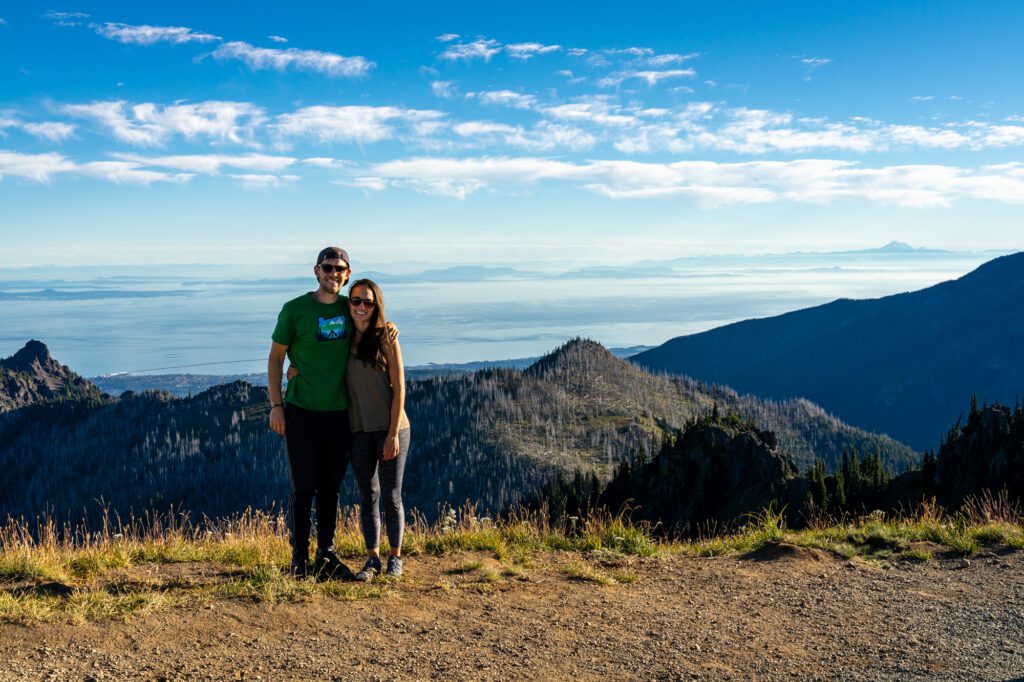 Length: 3.2 miles / 5.1 km
Elevation gain: 650 ft / 198 m
Hike style: Out and Back
Difficulty: Medium
Trailhead Location
This is one of the best bang-for-your-buck hikes in the whole Pacific Northwest. You will follow a wide trail offering expansive views out onto majestic mountains. Open pine forests and short shrubs will greet you for most of the hike.
Eventually, you'll reach a traverse that is moderately graded, but easy enough for whole families given how wide the trail is. You'll navigate a few relatively easy switchbacks before reaching the summit.
Take in the breathtaking views that include everything from the snow-covered peak of Mount Baker, to Victoria, BC, and the Strait of Juan de Fuca. It's a gorgeous hike, and the effort is relatively moderate.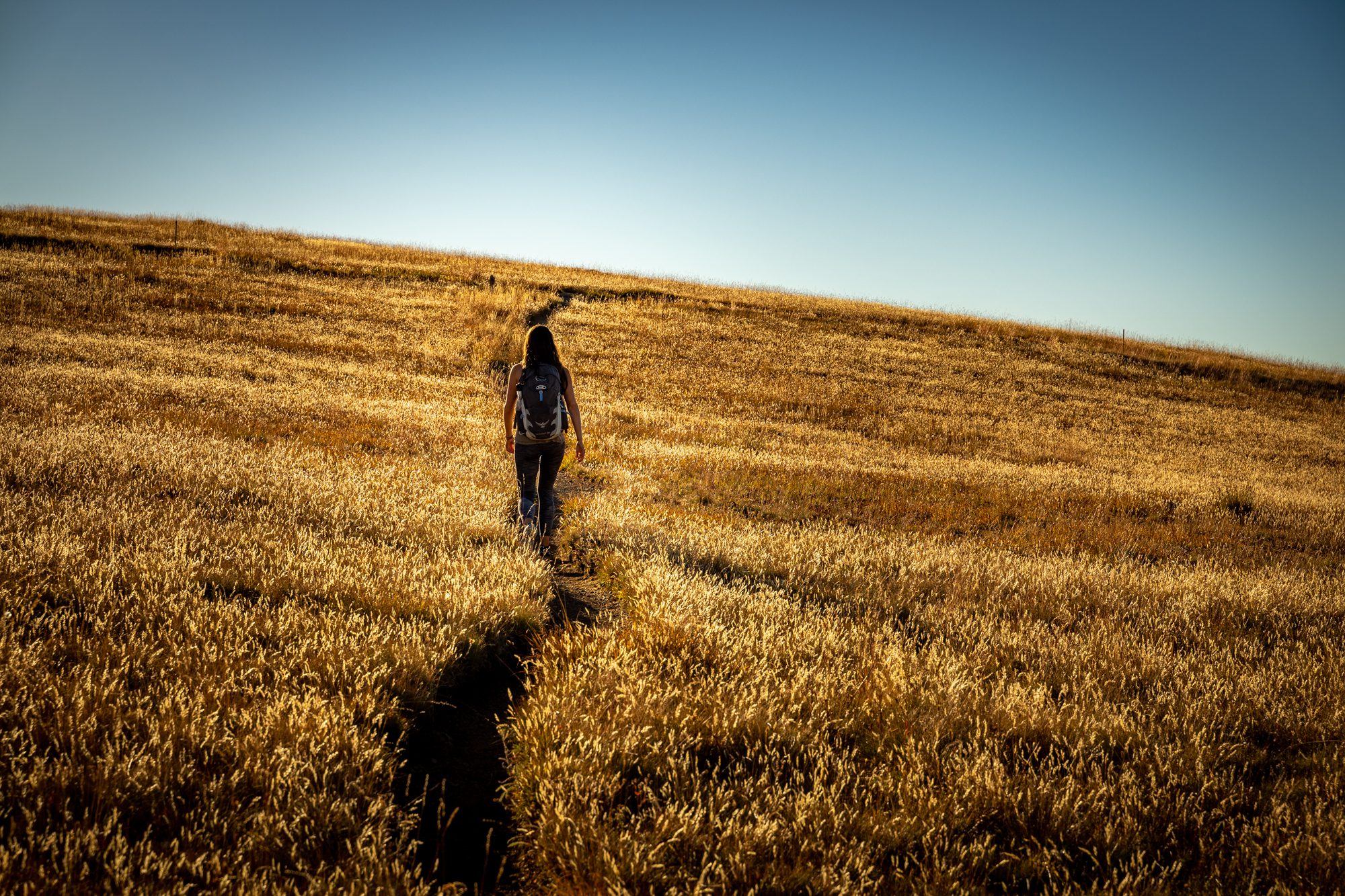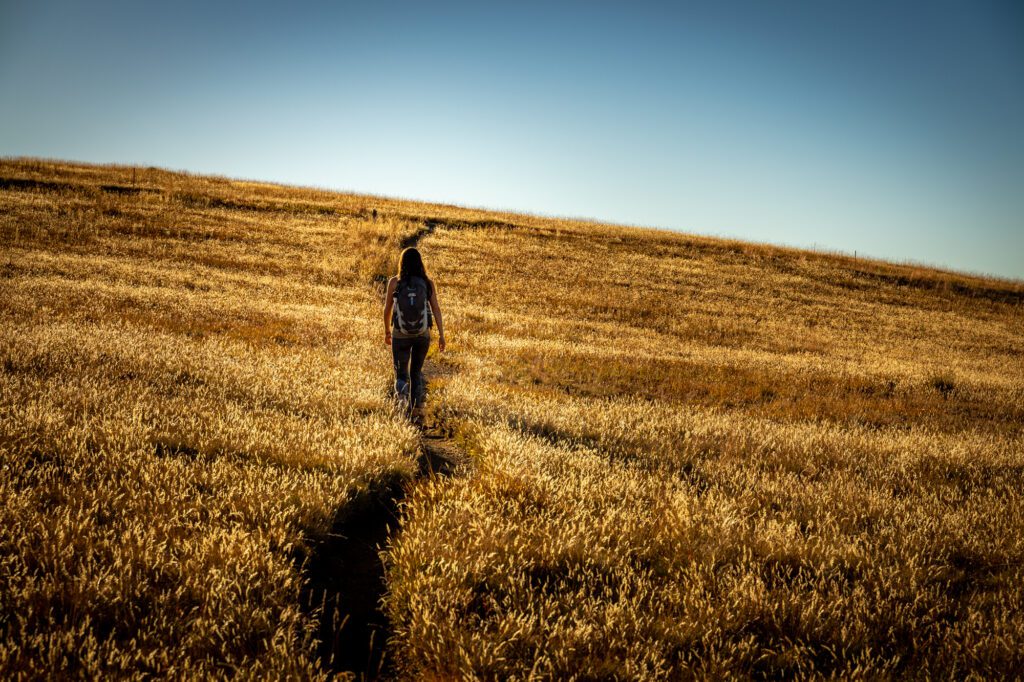 Sunrise Ridge & Mt. Angeles
Length: 6.3 miles / 10.1 km
Elevation gain: 1,254 ft / 382 m
Hike style: Out and Back
Difficulty: Hard
Trailhead Location
Your hike will begin at the Hurricane Ridge Visitors Center. From there, you will walk along the paved High Ridge Nature Trail, passing beautiful wildflowers. Eventually, you'll reach a ridge with views of the Puget Sound and Olympic mountains. As you continue along the ridge, you'll notice the trail getting much steeper, and you'll eventually arrive at the start of the climb to the summit of Mt Angeles, which is an adventure.
It's an unmarked class 3 scramble, and if that sounds intimidating to you, head up to the end of the marked trail, take in the views, and head back the way you came. If it sounds exhilarating to you, make sure you have the proper equipment – ideally climbing equipment – the end of this hike is no joke.
Klahhane Ridge to Lake Angeles
Length: 12.4 miles / 20 km
Elevation gain: 2,350 ft / 747 m
Hike style: Loop
Difficulty: Hard
Trailhead Location
There are two parts to this hike, which is long but well worth it for the views of the Olympic Mountains and surrounding wilderness at the vista points throughout.
The first part of the trail takes you to Klahhane Ridge, followed by visiting the alpine lake called Lake Angeles. It's going to turn into a narrow trail, which can be challenging during the winter. You will have a steep ascent, followed by switchbacks taking you through sub-alpine forests. Gorgeous wildflowers adorn the ground throughout the summer, and you're likely to see all sorts of wildlife along the trail, such as mountain goats, marmots, black bears, and deer.
After turning onto the Lake Angeles trail, you'll be walking through dense hemlock second-growth forest. Your prize awaits you around six miles in. The 20-acre emerald lake even has an island in the center!
Hikes Near Lake Crescent
The next few hikes I'm going to describe can be found near Lake Crescent. These trails are not too far from Port Angeles, which make them some of the more accessible hikes in the park if you're coming from Seattle.
Mt. Storm King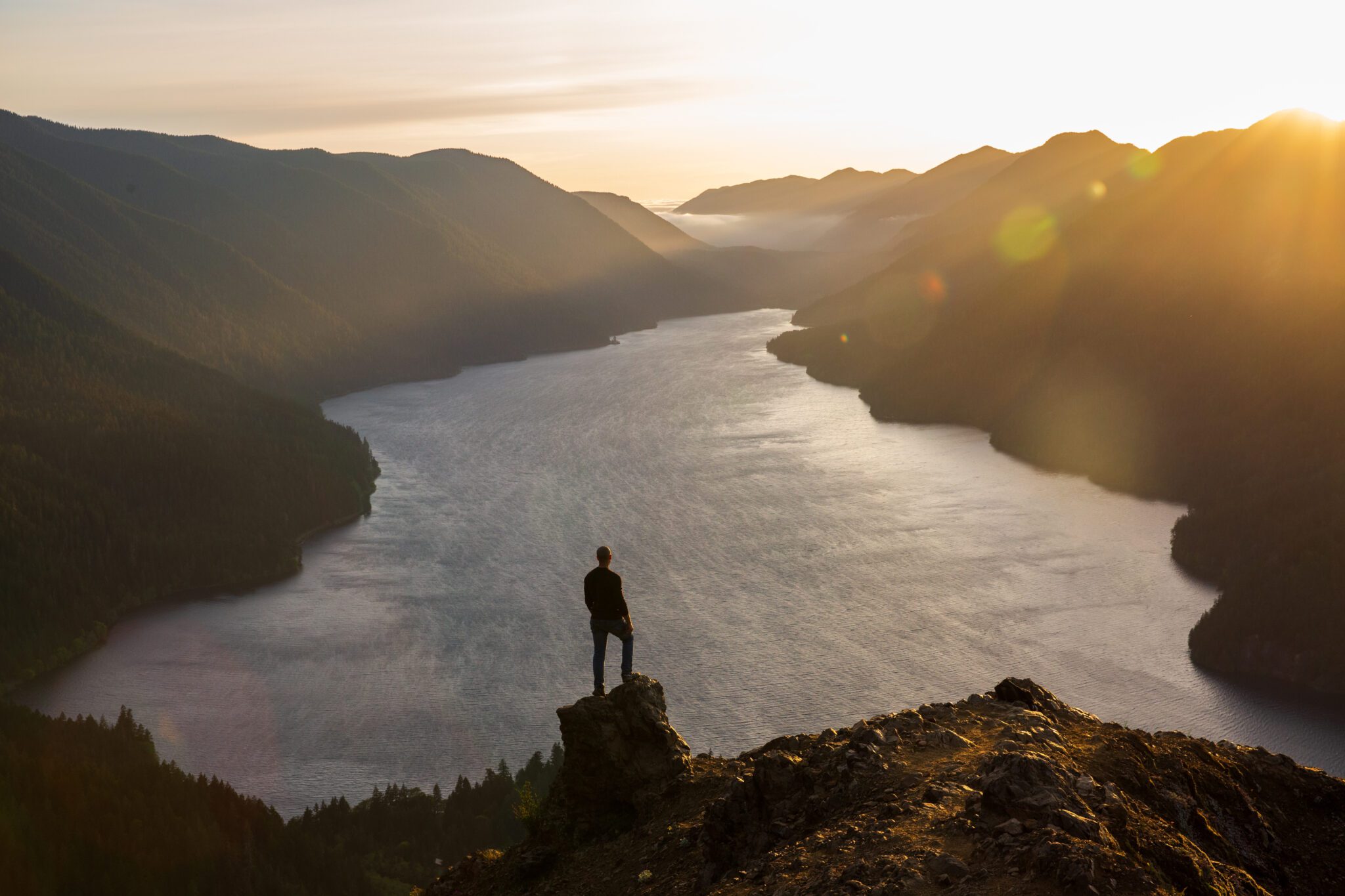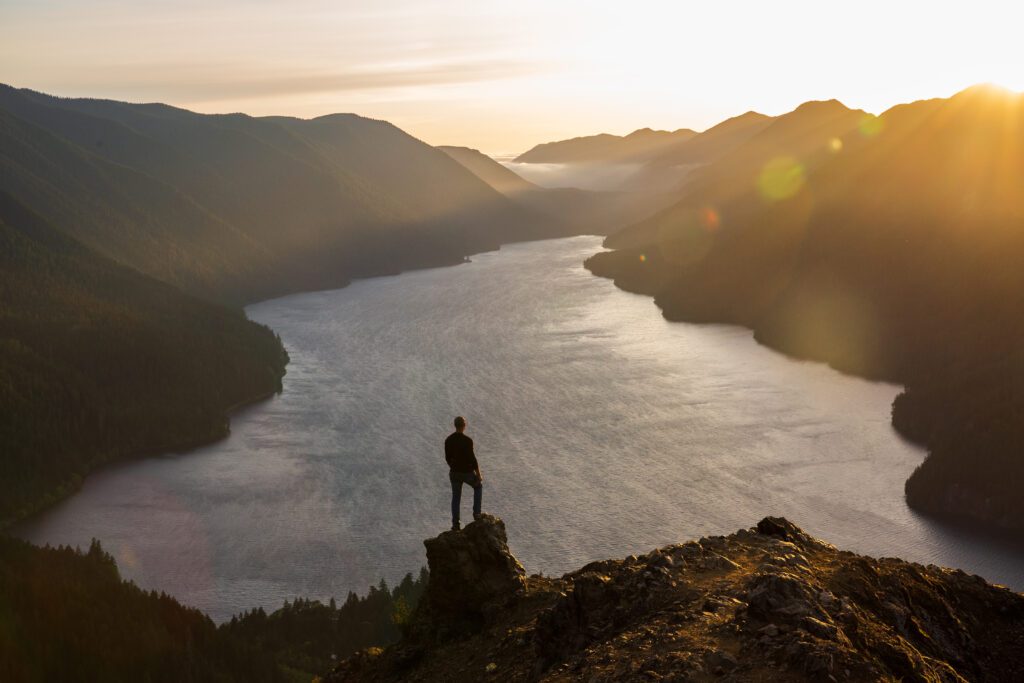 Length: 4 miles / 6.4 km
Elevation gain: 2,065 ft / 629 m
Hike style: Out and Back
Difficulty: Hard
Trailhead Location
This hiking trail is challenging but worth it to get a million-dollar view at the end. Start off at the Storm King Ranger Station. Then, you'll pass under Highway 101, and it will seem like an easy trail. However, don't let that fool you. Soon enough, you'll be climbing upwards.
You'll pass through changing forests, with plenty of spots to take in the view and (catch your breath). As you start to get closer to the summit, you're going to have to channel your inner climber. There's going to rope helping you on your way up the step sections of trail that lead you to the summit. Heights aren't my thing at all, so I hear your concerns. I'd probably skip this trail immediately after a rainy day or if it's actively raining.
If you muster up the courage to climb up, you will be awarded with glorious views over Lake Crescent and beyond.
Marymere Falls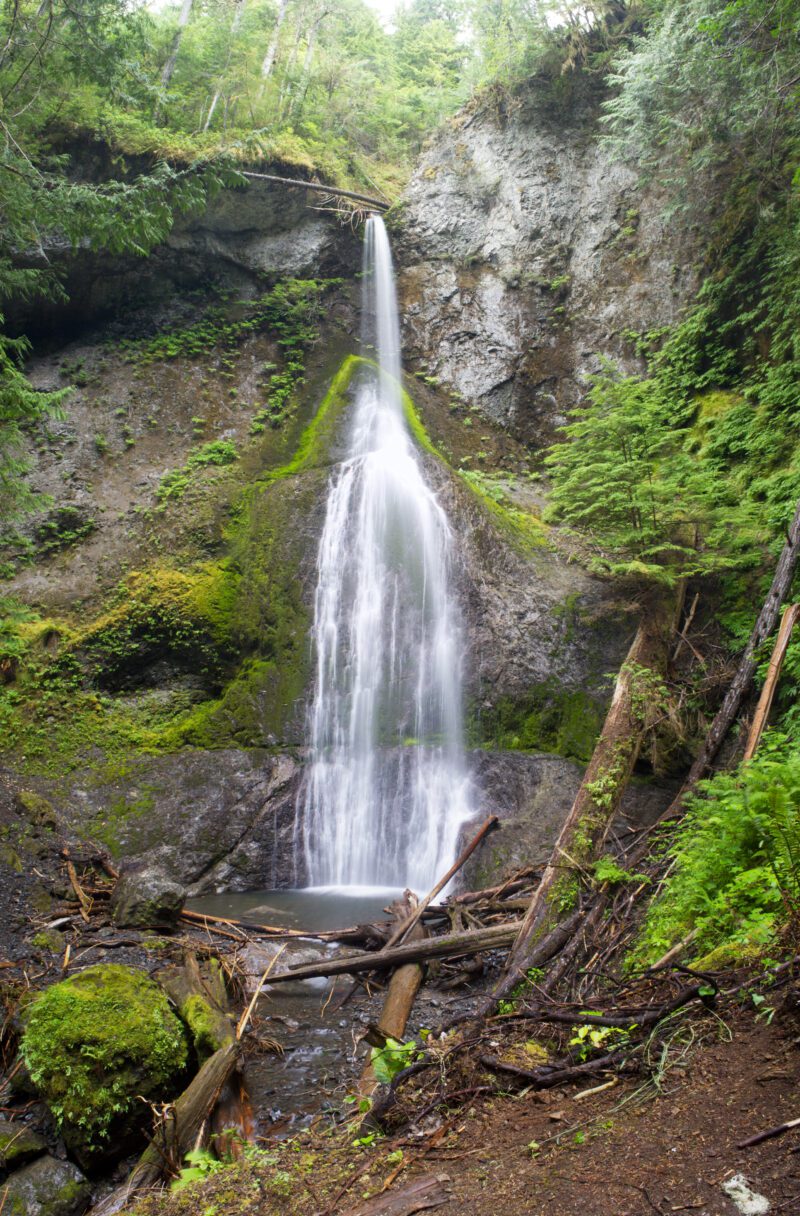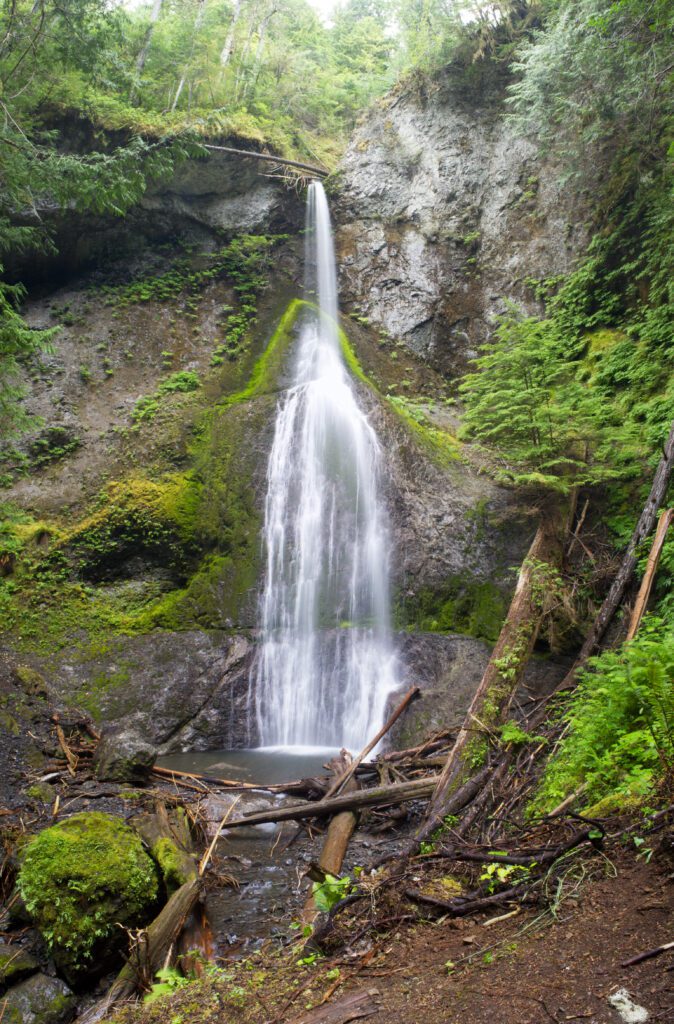 Length: 1.8 miles / 2.9 km
Elevation gain: 500 ft / 152 m
Hike style: Out and Back
Difficulty: Easy
Trailhead Location
Not too far from Lake Crescent are the spectacular Marymere Falls. It's an easy trail that starts out at the Storm King Ranger Station. You will begin your hike walking through towering old-growth forest, following a stream surrounded by all sorts of Jurrasic-Park-looking ferns and mosses (watch out for velociraptors – they're smarter than you think).
You will ascend slightly up a ravine until you reach the 90-foot waterfall. You can take in this stunning waterfall and take some Instagram-worthy photos.
Sol Duc Falls
Length: 1.6 miles / 2.57 km
Elevation gain: 200 ft / 61 m
Hike style: Out and Back
Difficulty: Easy
Trailhead Location
This is a very easy and relaxing hiking trail that's enjoyable for people of all ages. We did it as the opening salvo to backpacking the spectacular High Divide trail, which starts from the same parking lot.
You start off on a wide and well-maintained trail, surrounded by a dense rainforest canopy. Not too far into the forest, you will come face-to-face with Sol Duc Falls. There are four separate waterfalls here cascading nearly 50 feet down into a canyon below. You'll have several viewpoints to look at the waterfalls from, so remember to bring your camera!
Here's a picture I took!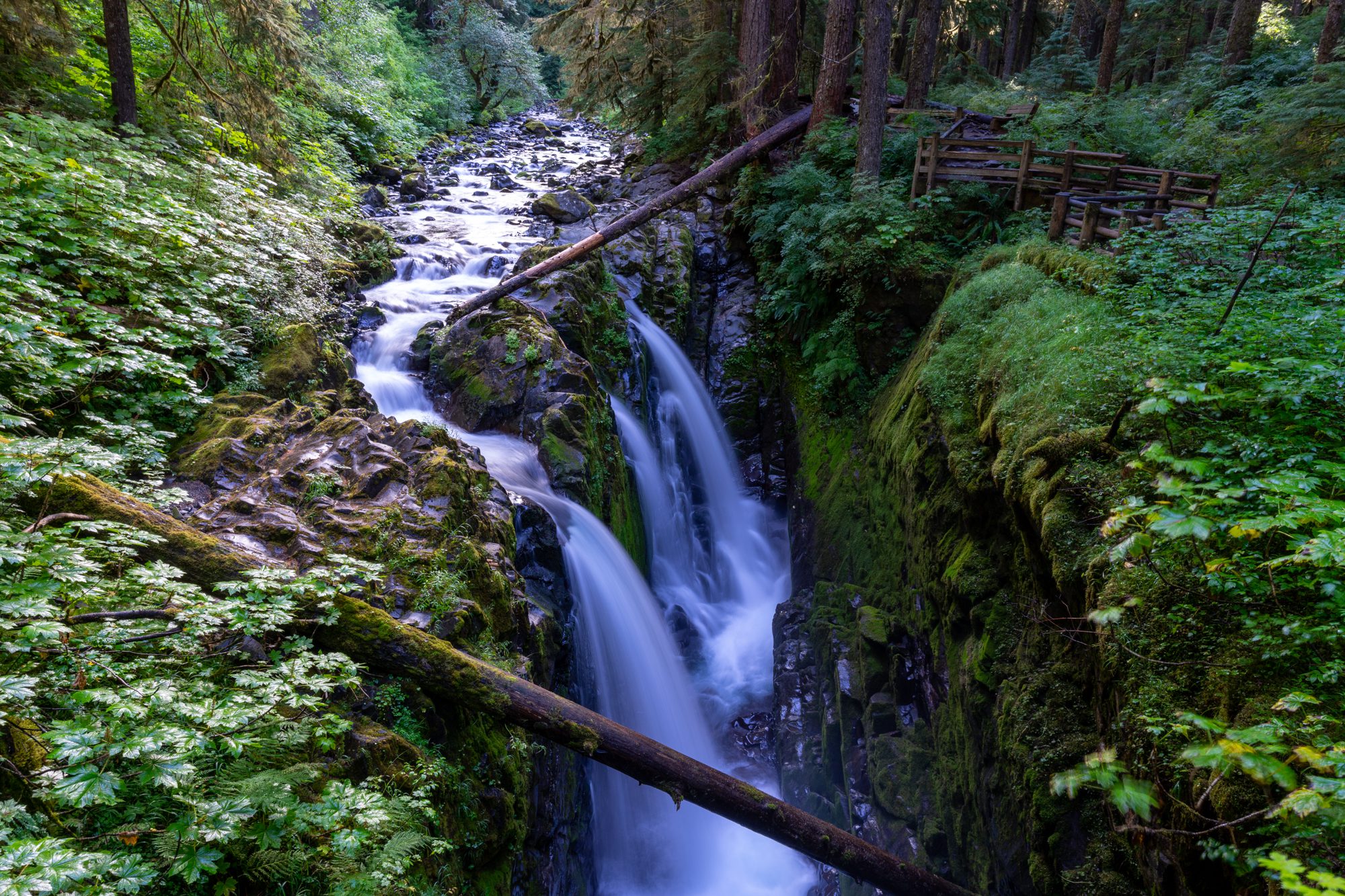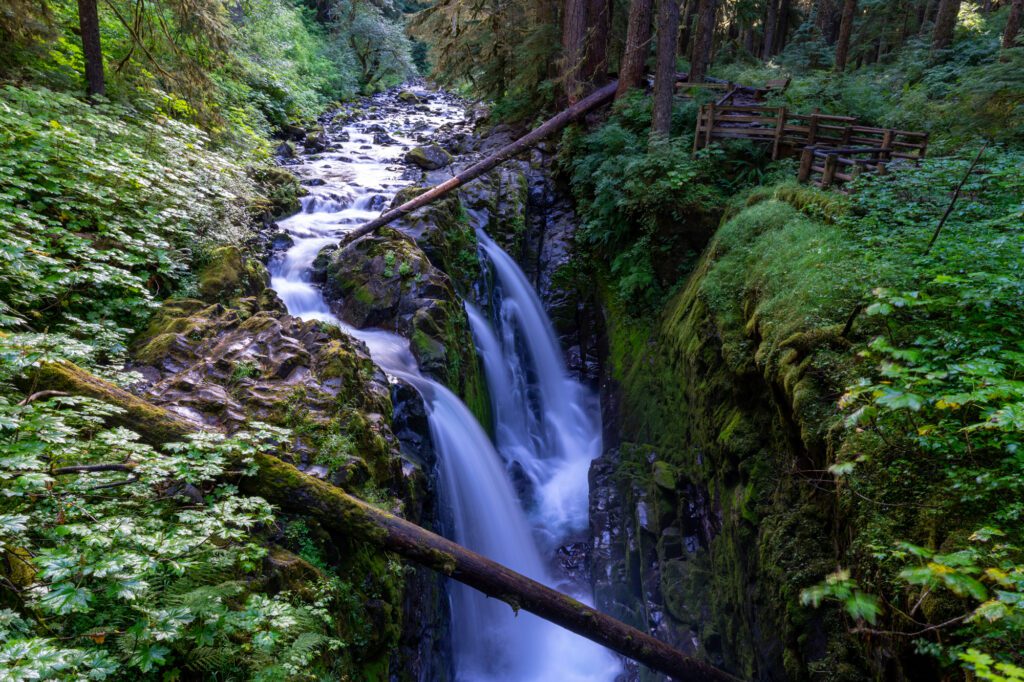 Hikes on the Pacific Coast
I'm going to shift gears to the Coast now. Sea stacks, beaches, and the sea are all able to be enjoyed from easy hiking trails with little to no elevation gain.
Hole in the Wall Along Rialto Beach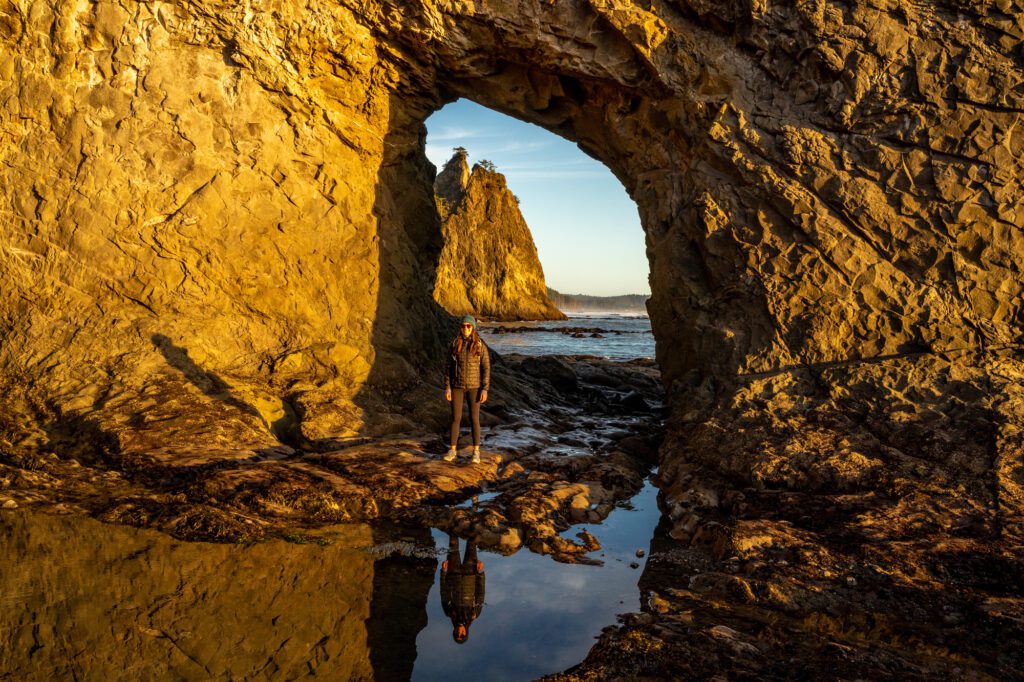 Length: 4 miles / 6.4 km
Elevation gain: None
Hike style: Out and Back
Difficulty: Easy
Trailhead Location
This is one of our favorite hikes in the park, and is a perfect hike to do around sunset.
Your hike will start at the parking area for Rialto Beach. From there, it's a lazy beach walk to Hole in the Wall itself.
As you walk down the beach, you can view the sea stacks like James and Little James, among other smaller ones. You will probably come across interestingly-shaped driftwood, as well as see or hear sea lions and maybe even some whales in the ocean. Make sure to look up too – we saw two Bald Eagles in the trees towering over the beach!
At a certain point, you'll be crossing Ellen Creek, and things may get a little wet, so if you want to reduce that possibility, make sure to come during low tide.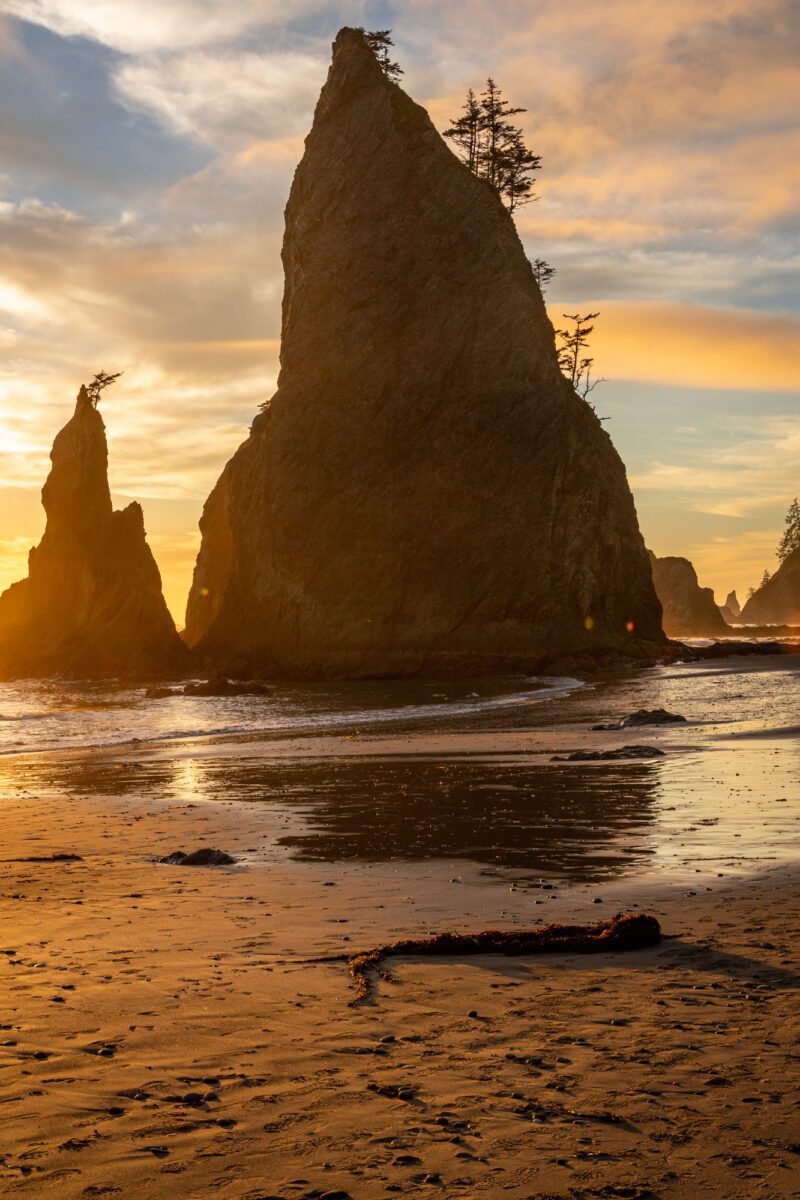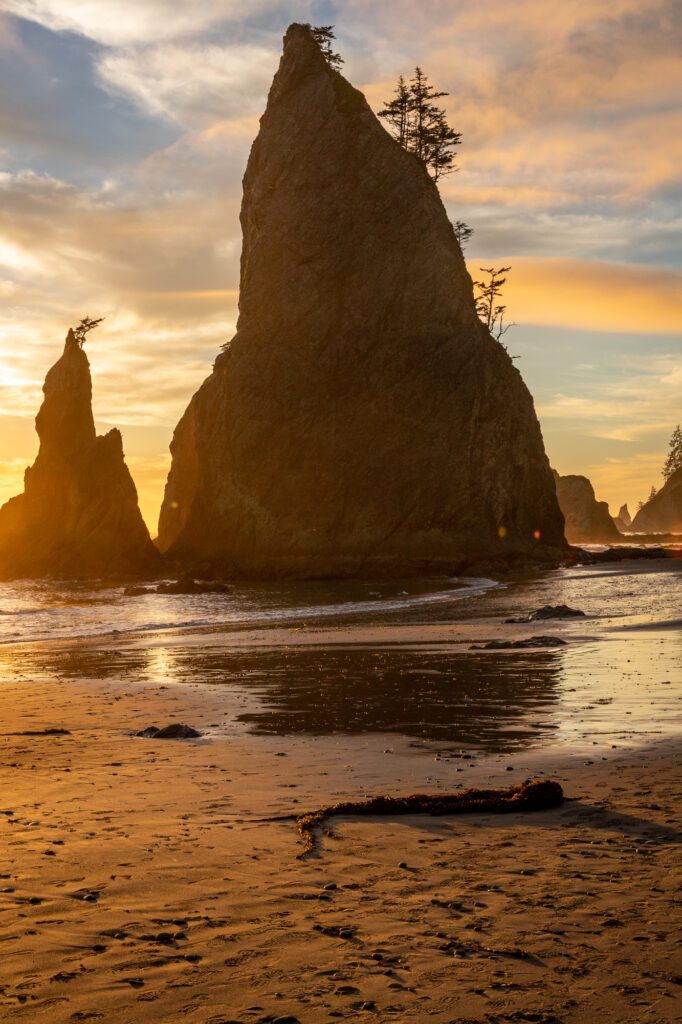 Hole in the Wall is exactly what it sounds like. Over time, the surf has eroded a hole out of one of the sea stacks on the beach, making for an interesting rock formation with tide pools on either side of the opening. Take some pictures, explore the tide pools, and head back the way you came.
Second Beach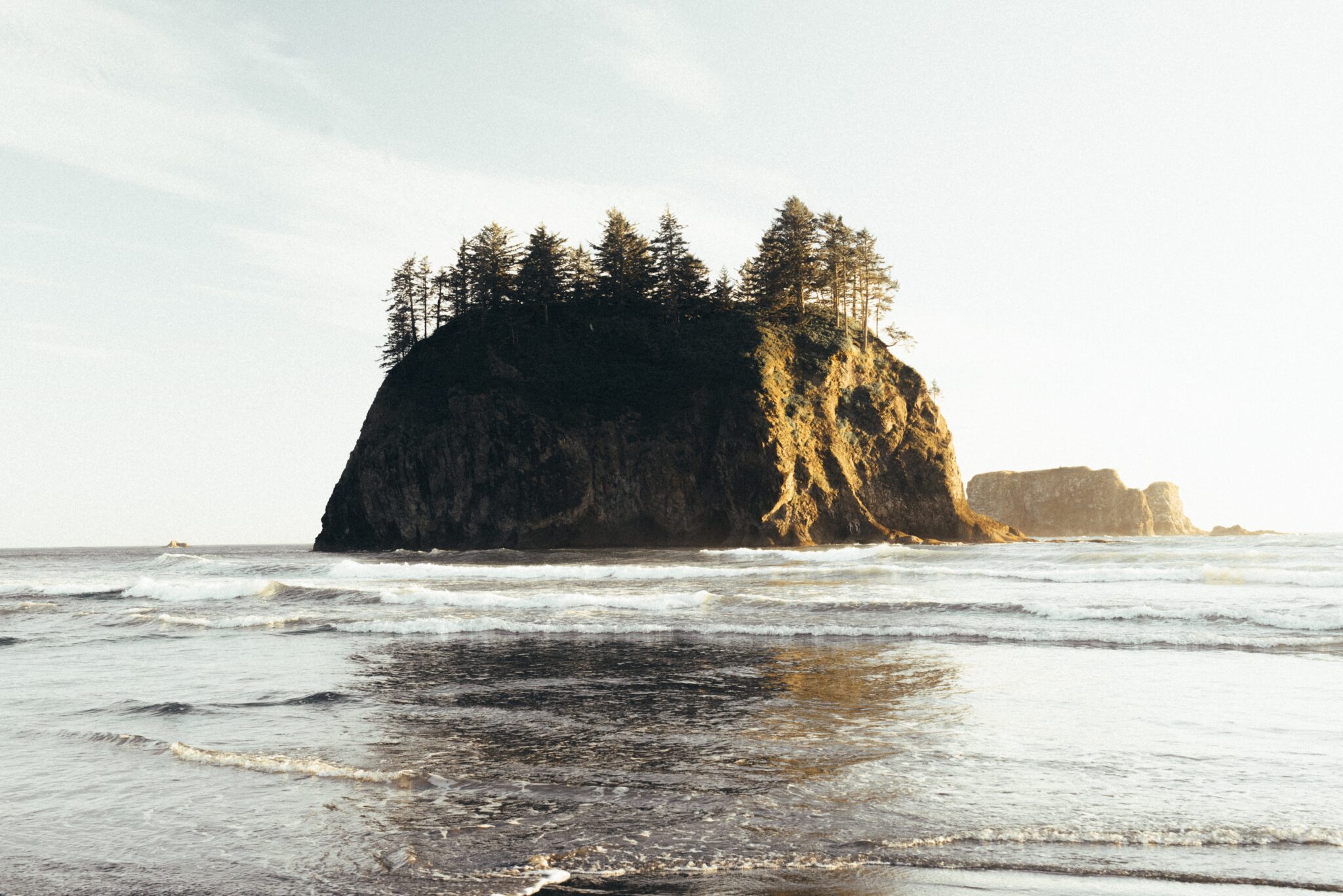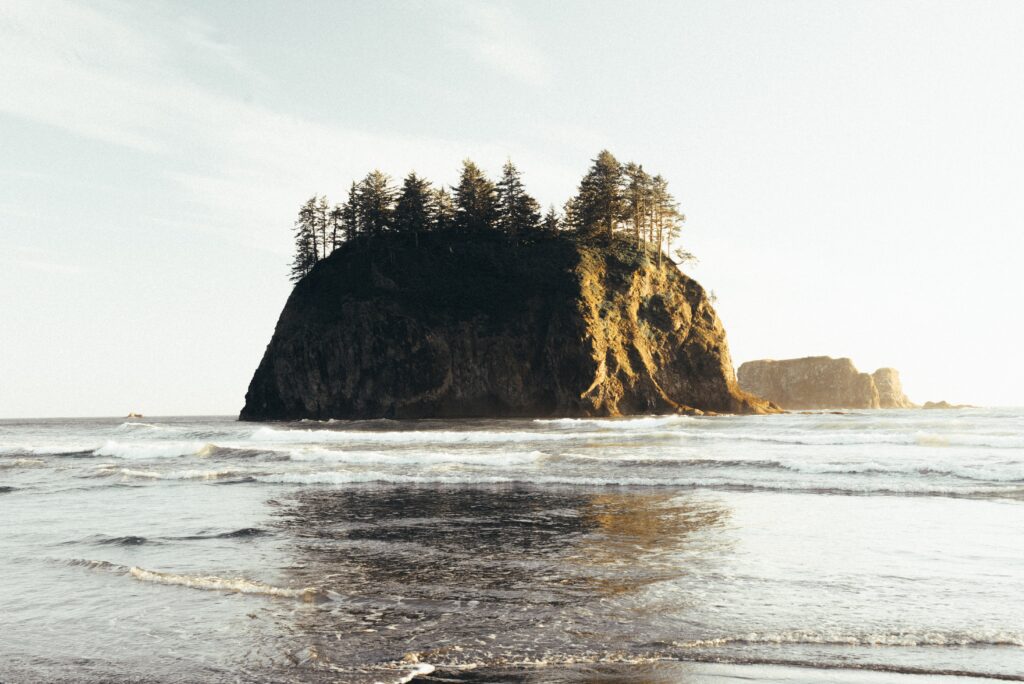 Length: 4 miles / 6.4 km
Elevation gain: 310 ft / 94 m
Hike style: Out and Back
Difficulty: Easy
Trailhead Location
Second beach is just to the South of Rialto Beach. From the parking lot near the town of La Push, go downhill toward a hurricane fence. You will pass by a moss-covered kiosk with trees growing out of it, making it an excellent visual marker. Then, cross a small creek before climbing for a little bit until you see puddles and bogs amid towering trees.
You will descend slightly until you reach a staircase, and you'll switch back a couple of times until you reach the beach. This is where you will be welcomed by impressive sea stacks coming out of the ocean. Enjoy the views because this is peak coastal Pacific Northwest right here.
Shi Shi Beach to Point of Arches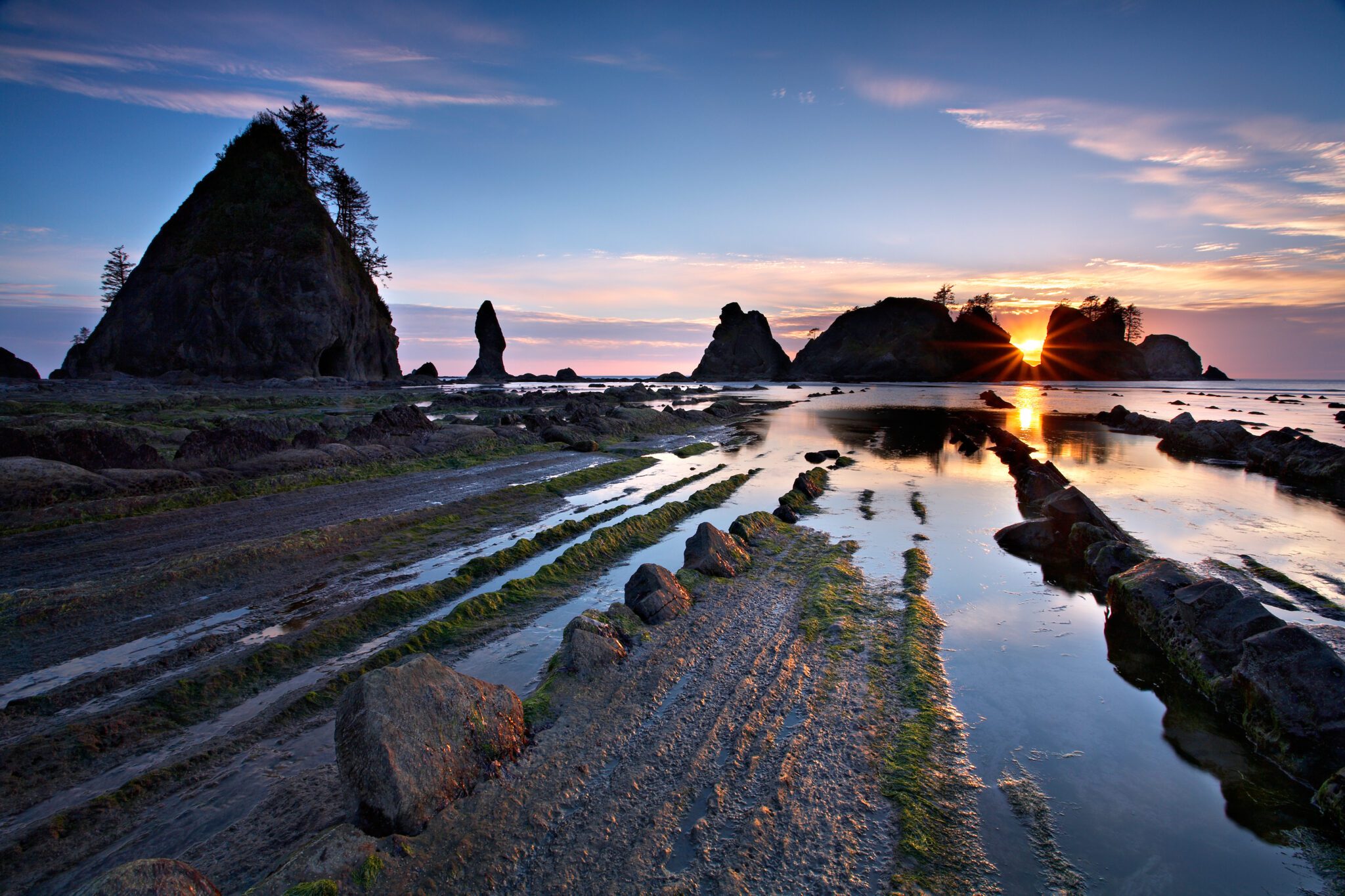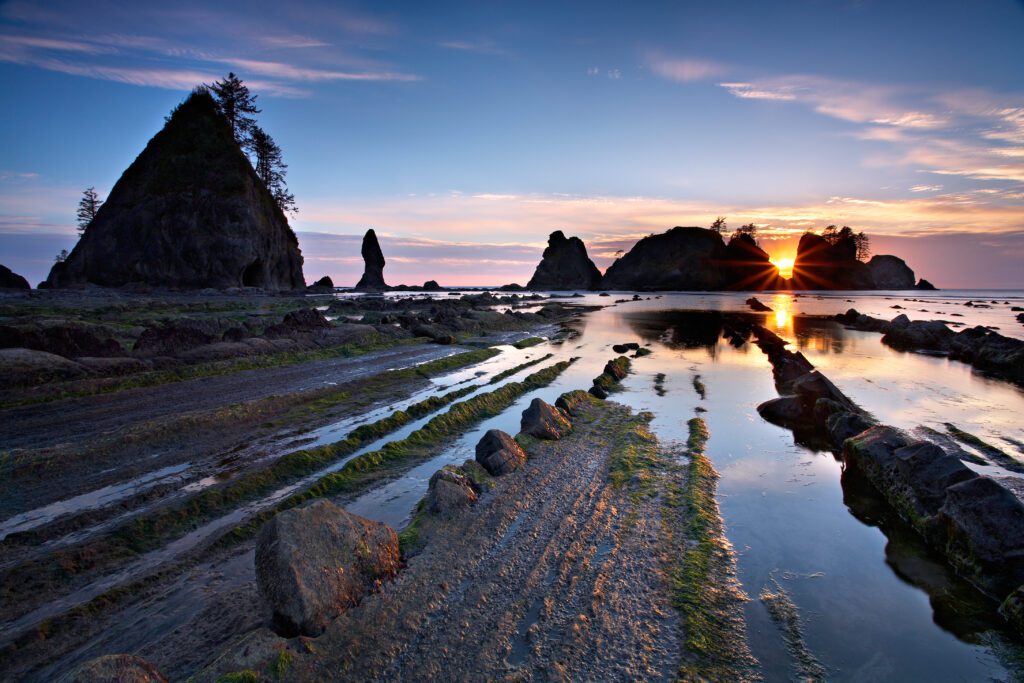 Length: 8 miles / 12.9 km
Elevation gain: 200 ft / 61 m
Hike style: Out and Back
Difficulty: Easy
Trailhead Location
Important Note: This hike takes you through the Makah Reservation. Make sure to respect the tribe and stick to the trails. You're going to need a recreation permit in order to do this hike, which you can get from here (it was $10 at the time of writing). Display it in the windshield of your car at the parking lot.
This hike is spectacular! You'll walk along Shi Shi Beach for miles and miles, and be rewarded with some of the best sea stacks on the Pacific Coast at the end.
Along the trail, which starts just north of Shi Shi Beach, you will have Sitka spruce trees keeping you company while you cross a number of bridges and boardwalks. However, don't get too comfortable because these will end, and a muddy and wet trail will begin. Soon enough, you'll get to get down to the sandy beach and see crashing waves and soaring birds. You may even spot an eagle!
Keep walking along the beach until you get to Point of Arches, which is about two miles from where you drop down onto the beach. You will see sea stacks galore here while you walk through small tidal pools.
Hikes in the Hoh Rainforest
I saved my favorite for last. It's the Hoh Rainforest, which is one of the most unique places to visit in Washington State. Located in the western part of the Olympic Peninsula, this temperate rainforest has some of the best hiking in Olympic National Park. Here are my favorite hikes taking you into this enchanting rainforest.
Hall of Mosses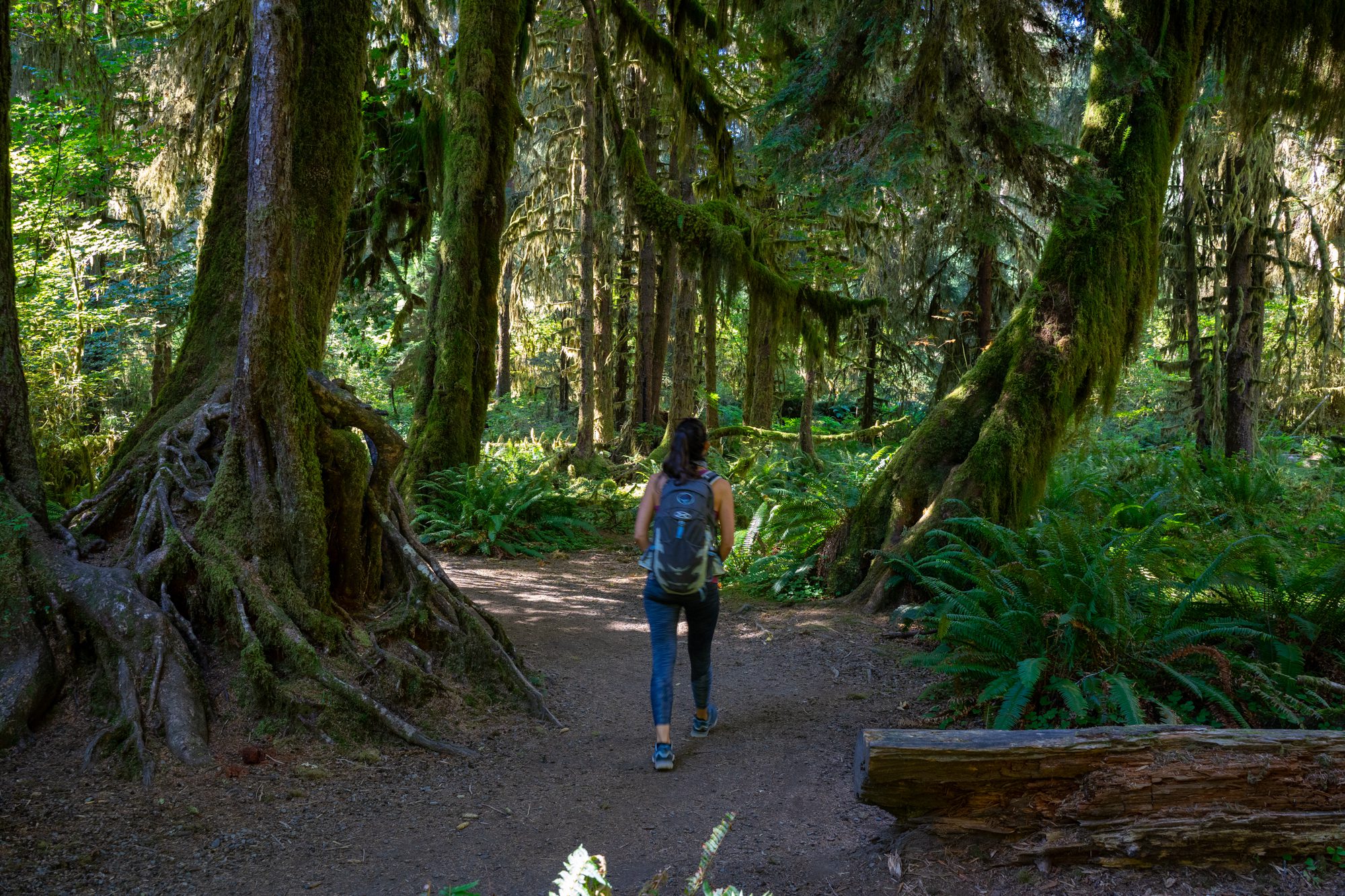 Length: 0.8 miles / 1.29 km
Elevation gain: 100 ft / 30 m
Hike style: Loop
Difficulty: Easy
Trailhead Location
If you only have time for one rainforest hike, do this one. This is a quick hike that anyone can do. You'll have signage visible along the way along the well-maintained trail that will help you learn about the temperate rainforests along this stretch of coastline, which is home to some of the most breathtaking temperate rainforest in the country.
You will probably notice some wildlife along this trail, from elk to banana slugs, particularly if you do it early in the morning or late afternoon. The best time to do it is early morning, when the light is soft and rays of sun peek through the dense rainforest canopy.
Spruce Nature Trail
Length: 1.2 miles / 1.93 km
Elevation gain: None
Hike style: Loop
Difficulty: Easy
Trailhead Location
This easy trail will take you from the Hoh Rainforest Visitor Center through the captivating Hoh Rainforest. It's a great way to experience the rainforest for the first time, and is perfect if you have kids, since it is an easy and relaxing walk. Combine this with the Hall of Mosses, which leaves from the same parking lot, for a relaxing exploration of temperate Pacific Coast rainforests.
Hoh River Trail to Five Mile Island
Length: 10.6 miles / 17.1 km
Elevation gain: 300 ft / 91 m
Hike style: Out and Back
Difficulty: Easy
Trailhead Location
If you're looking for a longer hike through the Hoh Rainforest, then you're in luck. This trail is an epic 10 miles of magic. You'll hike past massive trees, different colored moss, and plenty of wildlife like the resident Roosevelt elk. You'll even catch glimpses of the Olympic Range towering over the wide river valley.
This trail is out-and-back, so if 10 miles seems too aggressive for you, just turn around whenever you're feeling ready. It's an easy hike with minimal elevation gain, so it's good for beginner hikers and families who want a little bit more than the other two short nature trails.
Quinault Rainforest Hikes
I'm rounding out this section on rainforest hikes with the ones that can be found in the Quinault area of the park. If you want to still see the lush rainforest but want to have fewer people around, these two are great options.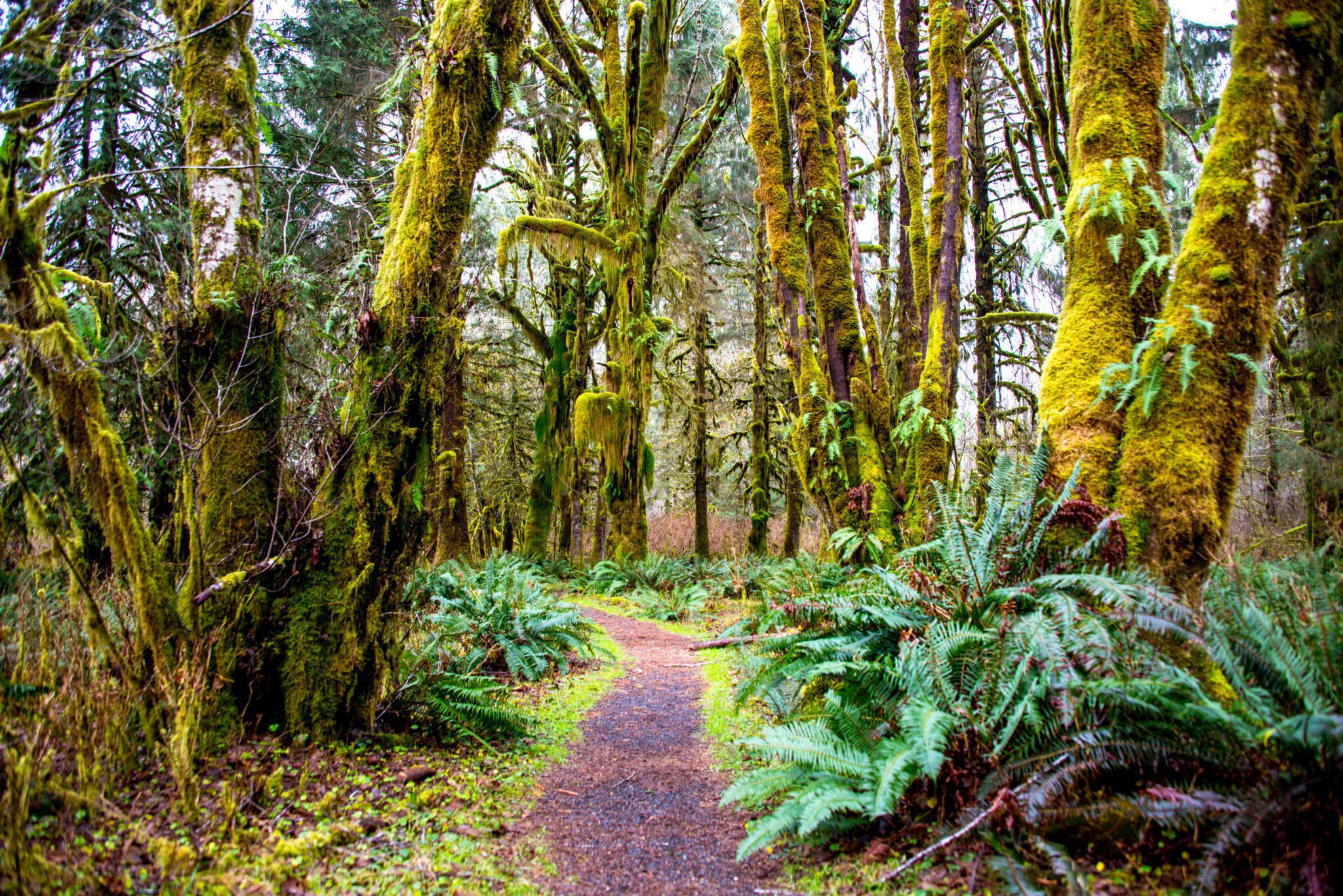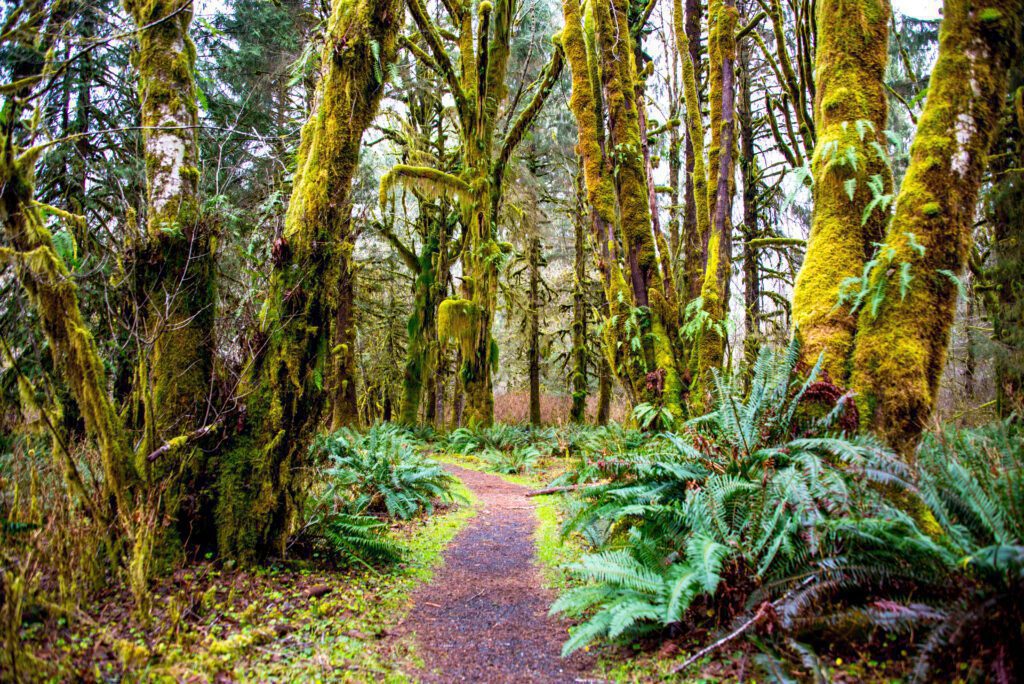 Quinault Loop Trail
Length: 0.5 miles / 0.8 km
Elevation gain: none to speak of
Hike style: Loop
Difficulty: Easy
Trailhead Location
This short hiking trail through an old-growth rainforest starts at the parking area and takes you on a short journey through the Quinault Rainforest. Marvel at the moist moss-covered trees and learn about the ecosystem through the interpretive signs along the trail. You'll even get to see a small waterfall if you take a short detour off the trail.
Pete's Creek Trail to Colonel Bob's Peak
Length: 8.2 miles / 13.2 km
Elevation gain: 3,500 ft / 1,067 m
Hike style: Out and Back
Difficulty: Hard
Trailhead Location
Note: This hike starts at a pullout after an 8 mile gravel forest road, which is relatively well maintained.
If you're looking for a road less traveled than some of the other hikes in Olympic National Park, this is the trail for you. This challenging and highly rewarding hike is a little easier when you take the route on the south side.
This trail will lead you to rugged peaks that tower over the Quinault River Valley below. You will be hiking up steeply for just over four miles. You will be in a temperate rainforest, full of Sitka Spruce and Douglas Fir, so be prepared for rain! This area gets north of 140 inches of it a year.
This also means there's plenty of moss and ferns to greet you, along with wildflowers and berry bushes in the summer.
Eventually, you'll intersect with Colonel Bob Trail. Stay to the right to get to the summit.
Where Is Olympic National Park?
Olympic National Park is located on the Olympic Peninsula in northwest Washington State – just to the West of Seattle beyond the massive Kitsap Peninsula.
There are basically four types of biomes here:
Coastal
Alpine
Rainforest
Dry
There's so much variation in elevation, terrain, and climate that you can get a whole lot of different hikes in at this park year-round.
How to Get There?
There really aren't many cities nearby the park. Port Angeles is the biggest one, located on the Northern part of the Olympic Peninsula.
To get to the part of Olympic National Park that is near Port Angeles from Seattle, it's going to take you around three hours.
Since there's a whole lot of water separating Seattle from the park, you'll either be crossing bridges or taking the ferry.
Both options will get you there in around three hours – the ferry is more expensive and 15-30 minutes faster, depending on traffic, but driving around is cheaper.
Regions of the Park
There are four regions within the park that you should know about.
Hurricane Ridge – This is a mountainous region of the park that is very easily accessible, given it is just 17 miles south of Port Angeles. You can reach the park's alpine zone by going here.


The Coast – The coast is an expansive region of the park that features beaches, towering cliffs, and million-dollar views. Here are a few beaches worth mentioning:

La Push Beaches – Rialto, First, Second, and Third Beach all have spectacular sunsets and views onto the sea stacks with cliffs towering out of the water.
Ruby Beach – This beach is located where the mighty Hoh River meets the Pacific Ocean. You have the opportunity to see starfish, crabs, and sea stacks here.
Kalaloch Beach – This is a popular beach south of Forks on the way down to the Quinault Rainforest that is sandy and enormous. It's a great place for bird watching.



Hoh Rainforest – This is the lush rainforest region of the park that is teeming with sphagnum moss, wildlife, old-growth Sitka spruce, and loads of ferns. This is one of the largest rainforests in the United States. When I say rainforest, I don't mean the tropical rainforest that you'll find in other parts of the world, like the Amazon. Here, you'll find temperate rainforests.


Lake Quinault – This region in the southwestern area of the park is known for its crown jewel Lake Quinault, which is located within the majestic Quinault Rainforest.
When to Visit Olympic National Park
Olympic National Park is a beautiful and breathtaking park to visit at any time of the year. However, depending on what time of the year it is, you may want to prepare accordingly and have certain activities in mind over others.
Here's what the weather is like during all four seasons of the year.
Spring – Weather is a bit unpredictable in the spring, but in general you'll find mild temperatures, which get warmer as you get closer to summertime, and lots of rain. Campgrounds start to open as summer nears, and some of the higher elevation trails are going to be closed due to snow, which is a theme you'll find across the Pacific Northwest.


Summer – This is easily the best time to go hiking in the park. It's the most popular season as well, so hiking trails may be more crowded than at other times of the year. The temperature will stay either mild or warm, staying somewhere between 46 F and 74 F. You'll get the most sun (and the least rain) during the summer.


Autumn – The temperature will drop, ranging from 47 F to 68 F in most places, while the rain will increase. It's still possible to hike during autumn, and you will see less people than during the spring and summer. We went in early September, and the weather was warm and dry, making post-Labor Day a great time to visit.


Winter – This is when it will rain and snow the most in the park. If you're looking to beat the crowds, winter is the best time. Plus, a snow dusting really makes the landscape spectacular. However, it's going to be frigid. Temperatures will stay between 33 F and 50 F in most of the low-lying areas like the Hoh Rainforest, while dipping below freezing in the higher elevation regions, like Hurricane Ridge.
Seasonal Road Closures
For the most part, most roads in the park stay open year-round.
It's common these days to see wildfires raging in the Pacific Northwest, and Olympic National Park is not immune to them. This is especially true in the Eastern region of the park. Expect roads to be closed for safety reasons occasionally. Some roads in the alpine region may be closed to all traffic except those with snow tires and chains.
Some of the coastal beaches may be closed, so it's best to check the road conditions before your trip.
---
Olympic National Park is an extraordinary place to visit. I absolutely love the diversity of biomes and regions in this part of the Pacific Northwest.
You now have a number of incredible hikes to choose from, so pick one that calls out to you and get out there and start hiking in Olympic National Park! 
Planning a Trip to Olympic National Park?
You won't want to miss our detailed guides to visiting the Olympic Peninsula that are all based on our own personal experience exploring the park.