How to Plan an Incredible 7 Day Tuscany Itinerary
Want to plan an incredible trip to Tuscany, but not sure where to start, what to include, or how much time you need? In this guide, we're going to cover exactly how to spend 7 days in Tuscany.
Tuscany is an incredible – albeit very popular – slice of Italy. Within its borders, which stretch almost coast to coast in Central Italy, you'll find world-class wine (several of Italy's most prestigious reds come from Tuscany), picturesque landscapes (that are surprisingly diverse), amazing food, and countless charming hilltop towns with commanding views over said landscapes.
Before my (Matt here!) last trip to Italy, I had never explored much of Tuscany outside of Florence. While Florence is great, especially if you're into history and art, the real magic of Tuscany happens out in the countryside.
If it's your first time in Tuscany, you should plan on balancing your trip between the hustle and bustle of cities like Florence and Siena, and the slower life found in the Val d'Orcia and Volterra.
In this guide, we're going to cover everything you need to know to plan an incredible Tuscany road trip (spoiler: you're probably going to want to rent a car). We'll start with some important logistics to help you structure your itinerary, then dive into the best things to do and see in Tuscany based on our experience.
The intention here is to give you the information you need to plan your own Tuscany itinerary.
Keep in mind that we're assuming you have one week in Tuscany in the main itinerary. If you have more or less time than that, we've got a section below the main itinerary with suggestions on what to do with more and less time (3-5 days, or 10+ days).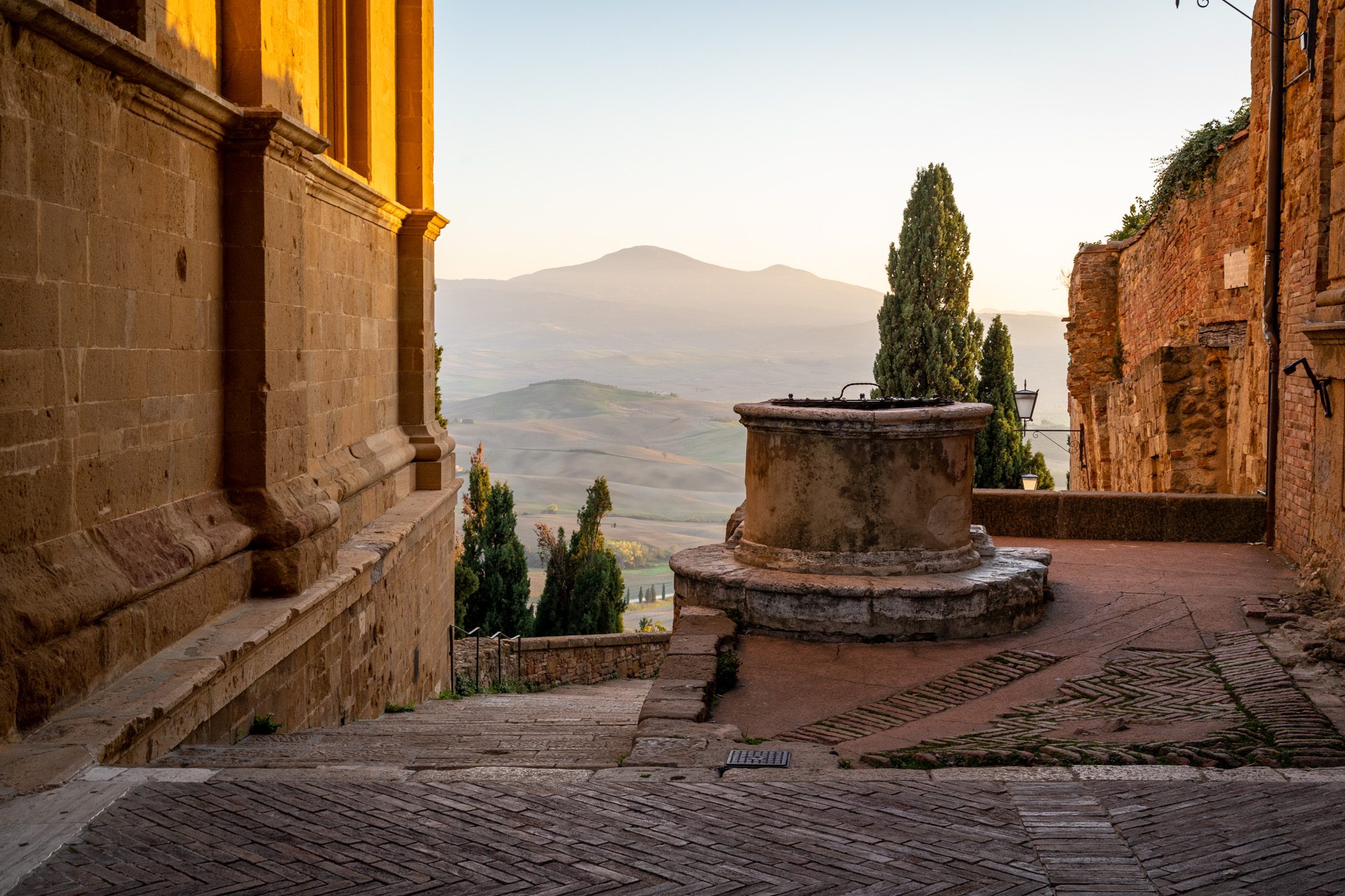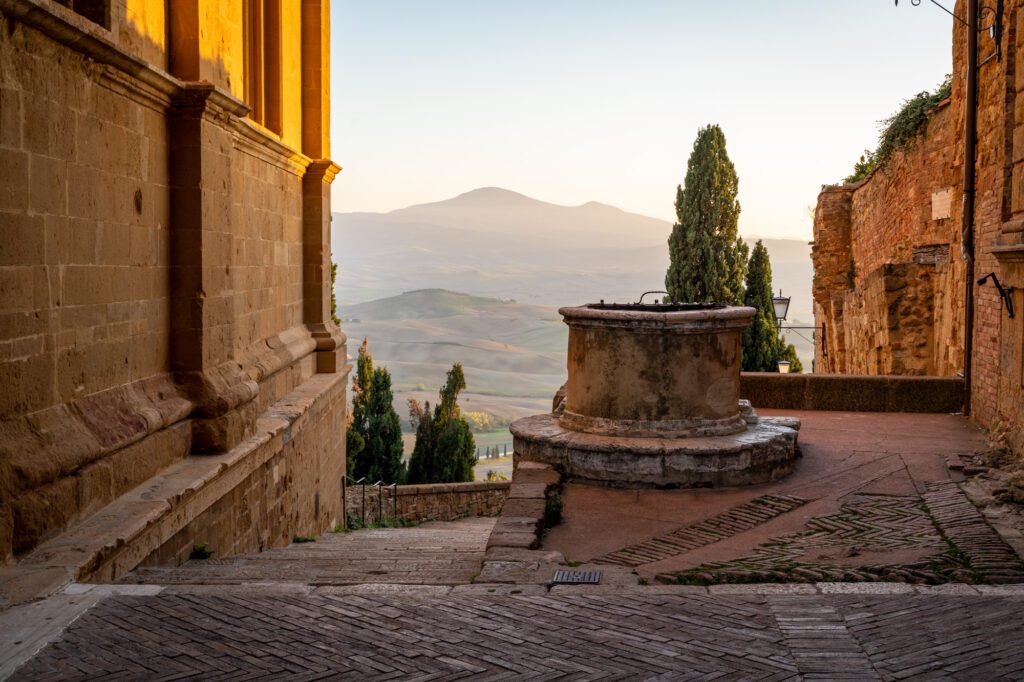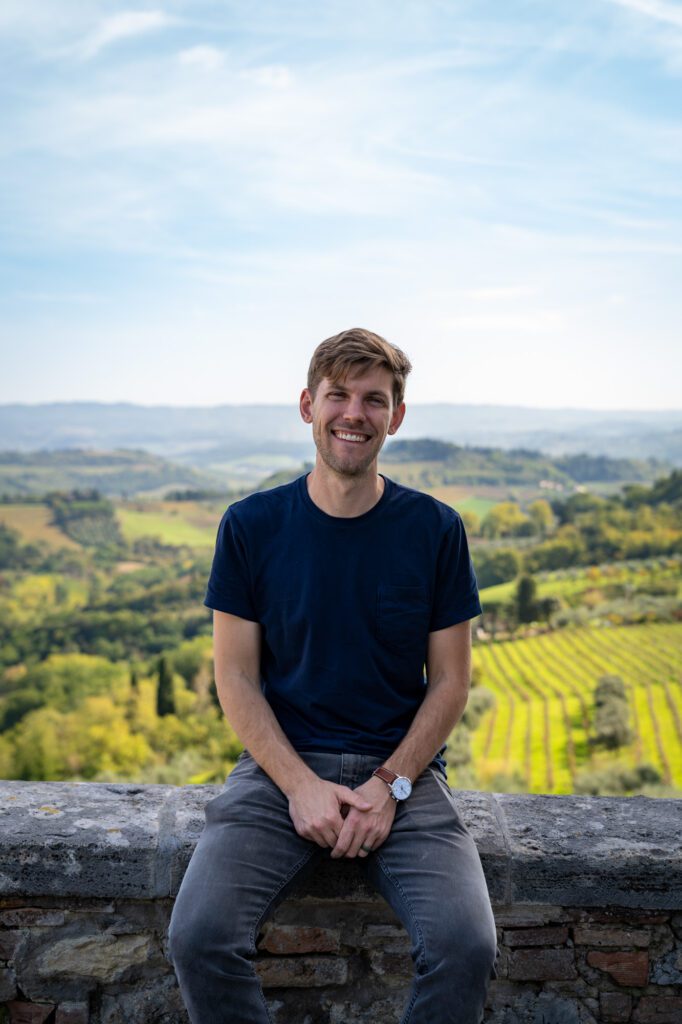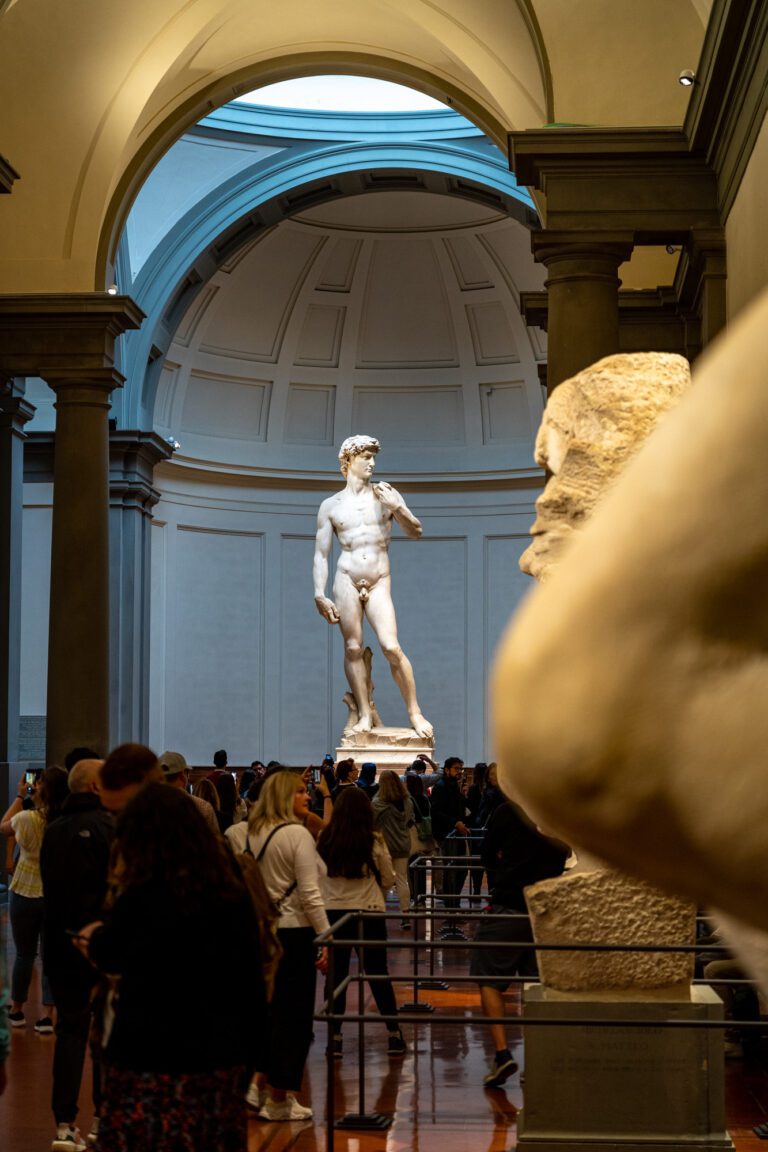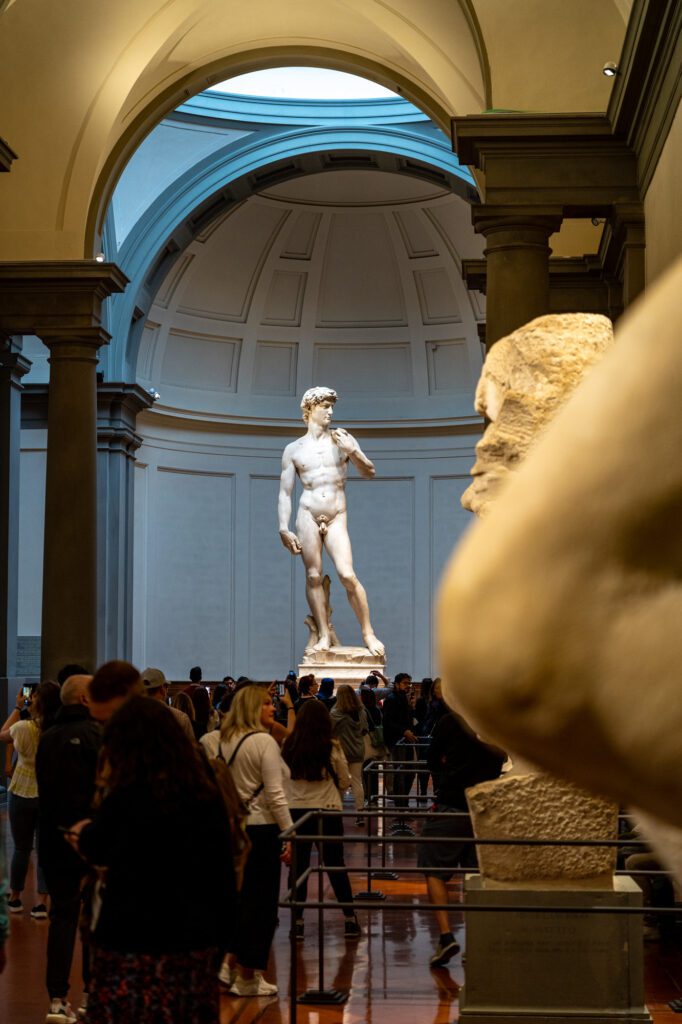 Disclaimer: Some of the links in this post, like hotel links, are affiliate links, meaning at no additional cost to you, we make a little bit of money if you click through and book. That being said, we would never recommend something to you that we don't stand behind 100%.
A Quick Tuscany Geography Overview
Before we get into the meat of the Tuscany itinerary, it makes sense to take a second to talk about the geography of Italy's most famous region.
Tuscany is in central Italy and is a land of olive trees as far as the eye can see, rolling hills, winding roads, and cypress trees.
The capital of Tuscany is Florence, which is well worth a couple of days exploring (our recommendation would be to do it at the end of your trip), but cities like Pisa and Siena are also within Tuscany's boundaries.
In order to talk about what to focus your time on when you visit Tuscany, we're going to break up the region into four distinct areas. This is just our way of breaking things down into more digestible pieces, it's not an official designation or anything like that.
Here are those four regions:
Florence & Around (including Chianti)
Siena & Around
Southern Tuscany & The Val d'Orcia (Pienza and Montepulciano)
San Gimignano and Volterra
Now, there are other places in Tuscany – like Pisa and Lucca up north, and the Tuscan coast out to the west – but if you have limited time and you're looking for the quintessential Tuscan countryside, these are the four areas we think you want to focus on if you have 10 days or less (which is going to be most people reading this).
With that brief and incomplete overview out of the way, let's get into the information you'll need to actually plan your Tuscany road trip.
Do You Need a Car for This Tuscany Itinerary?
While we're big fans of train travel in Italy, Tuscany is one of the places (along with Sicily) where you really need a car to fully experience it.
You'll need to rent a car, and we'd strongly recommend you avoid having a car for your time in Florence (if you decide to include the biggest city in Tuscany in your itinerary). Parking in Florence will be expensive and unnecessary – you really don't need a car.
To pull this off, we'd put Florence at the end of your Tuscany itinerary.
You'll want to rent a car from the airport when you arrive and head straight down to Siena, and then drop it off on the day you ARRIVE back in Florence (day 6, if you follow our itinerary below).
Then take the bus from the Florence Airport into the city, and spend a couple of days exploring before you head home!
That way, you don't have to deal with traffic or parking in Florence, which can be a nightmare.
Here are a few things to know about renting a car in Italy (keep in mind that we're American).
You Need an International Drivers License if You're Coming From the US
You can get them at AAA in the US. While they might not ask you for it at the rental car counter, the police will ask you for it if you get into an accident or get pulled over. Best not to risk it.
Know Your Toll Roads
Toll roads in Italy – called Autostrade – are essentially equivalent to Interstates here in the United States.
They have anywhere from two to four lanes, high speed limits, and are more or less a straight shot between destinations. You can only enter and exit them at fixed points, but there are gas stations and casual restaurants at rest stops along the way.
Unlike here in the US, you have to pay to use the highways, which are toll roads.
You do this by either renting a transponder from your car rental company, or by stopping at one of the entrance stations and getting a ticket, which you pay when you exit the toll road. You can almost always pay with a credit card these days (in our experience, anyway).
Here's a guide to help you understand toll roads in Italy.
What If You Don't Want to Drive in Tuscany?
Look, we totally understand the hesitance to drive in a foreign country. Especially in a country like Italy, which doesn't exactly have a reputation for having friendly, patient drivers.
If you don't want to drive in Italy (or can't drive in Italy), you can still make this itinerary work using a combination of public transportation and guided tours.
You'll want to base yourself in Florence and Siena – which are connected by train and bus, so they're relatively easy to get between – and use them as a home base to do day trips out into the wider Tuscan countryside.
Unfortunately, that means you're going to be paying more for guided tours to the Val d'Orcia and San Gimignano, and you'll have less flexibility to explore at your own pace without a car.
Where to Start and End Your Tuscany Road Trip
Without a doubt, the best place to start and end this road trip is going to be Florence. There are three main reasons why we think that's the case.
First, if you're flying in from outside of Italy, Florence is your best bet in terms of finding flights. You'll want to fly into Florence Airport (FLR), NOT PISA INTERNATIONAL AIRPORT, which as you might expect, is actually in Pisa (about 45 minutes west of Florence).
Second, you'll have the best selection of rental cars in Florence.
Third, Florence is the closest major city (with a solid airport) to the main regions of Tuscany we touched on above. It'll take about an hour and 15 minutes to get from Florence to Siena, your first stop on this Tuscany itinerary.
Another airport to look at – and this is actually the airport we flew into – is Bologna Guglielmo Marconi Airport (BLQ). It's about 45 minutes north of Florence (which means 2 hours to Siena), but it's a good alternative and you might be able to find slightly cheaper rental cars and flights.
Plus, we adore Bologna, and it's worth a day or two of your time (here's our guide to spending one day in Bologna).
Plan on doing a big loop through Tuscany, and returning your car to (and flying out of, if applicable) the same airport you came in to.
Is One Week in Tuscany Enough Time?
While you could technically do Tuscany in a couple of days, you're not going to have much time to experience the dolce vita that makes this part of Italy special if you do it that way.
We think you need at least one week in Tuscany to do all four of the regions of Tuscany we mentioned above.
That will give you enough time to get beyond the surface level in each place. That's why we chose to write this guide for 7 days in Tuscany. 
A good example of why this is important is Siena. Siena is a madhouse during the day when buses full of tourists get dropped off to wander through Piazza del Campo and the Duomo.
However, when those tour buses leave, Siena transforms into a much more serene destination – the narrow alleys go from packed wall-to-wall with people to being nearly deserted.
If you only have a couple of days in Tuscany, you won't have the time to experience Siena either in the early morning or evening, when it's a completely different – and much more pleasant – place.
What should you do if you only have 3-5 days or so? Pick one or two of the regions above, and focus on those rather than trying to do it all.
We have suggestions on how to plan a shorter itinerary below the main itinerary, which includes day-by-day Tuscany itinerary options for 3 and 5 days.
More time? Great! We also have suggestions on what to do with your extra time in a section below the main itinerary.
Where to Stay for Your Tuscany Road Trip
When it comes to where to stay, there are essentially three approaches you could take: stay in one place for your entire trip, and use it as a base for exploring the entire region, stay in a different place each night, or a find a home base in each micro-region and stay there for a couple of nights each.
As you might imagine, we like the last approach, which is a hybrid that gives you the benefits of staying in each of the parts of Tuscany that you're visiting (which cuts down on drive time) and not having to move around every single night.
If you follow our itinerary below as written, you'll stay in Florence, Siena, and the Val d'Orcia for 2-3 nights each. 
By the way, we have an entire guide dedicated to helping you find the perfect place to stay in Tuscany. If you want more detail, head over and read that.
Hotels in the City Center vs. Agriturismos?
The next decision you'll need to make is what kind of stay you're looking for. Do you want to stay right in the middle of all the action in a hotel right in the city center, or would you rather have a tranquil stay in the Tuscan countryside?
Our (strong) bias is the latter – we stayed exclusively at Agriturismos in Tuscany, and loved every second of it.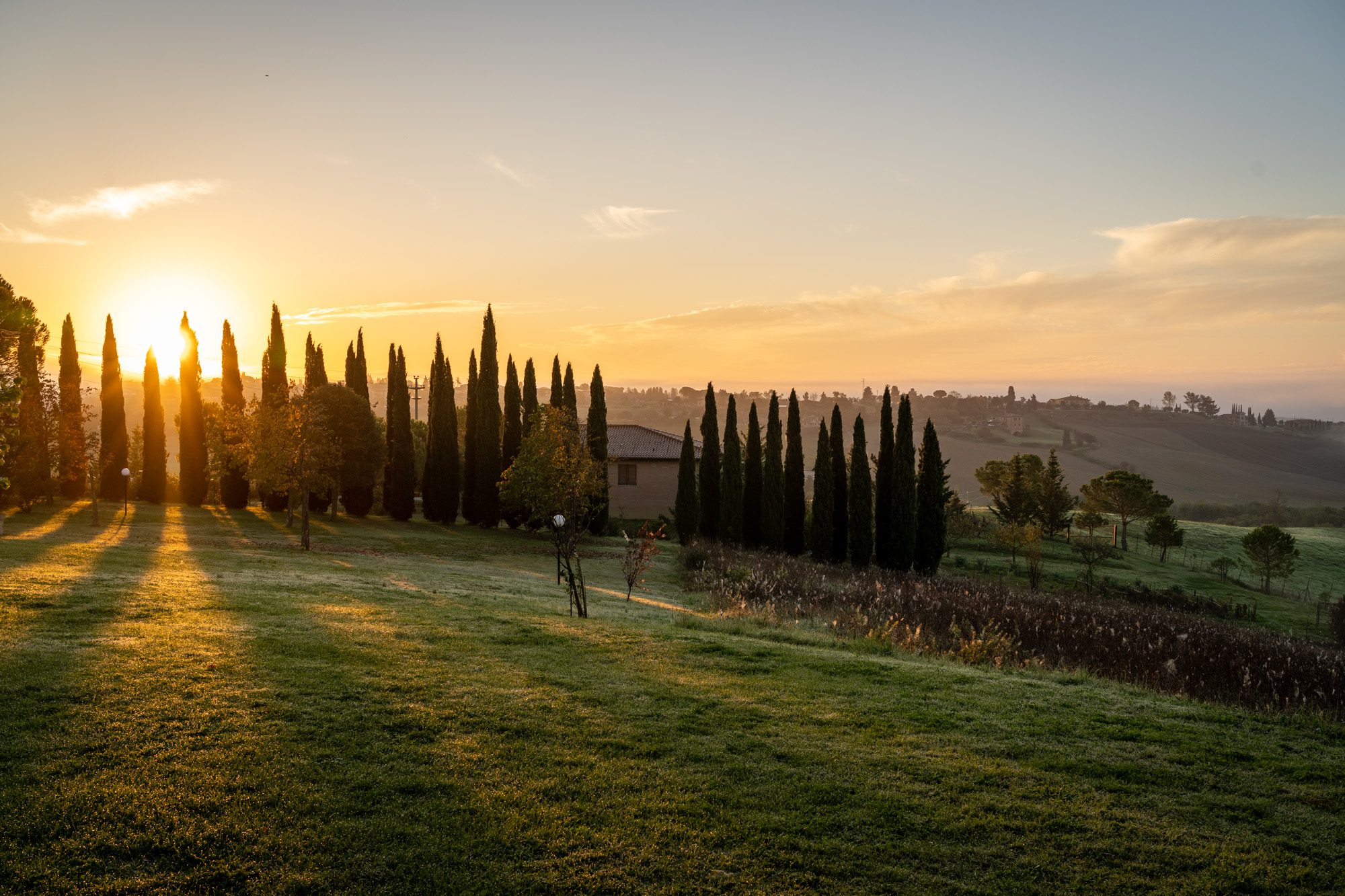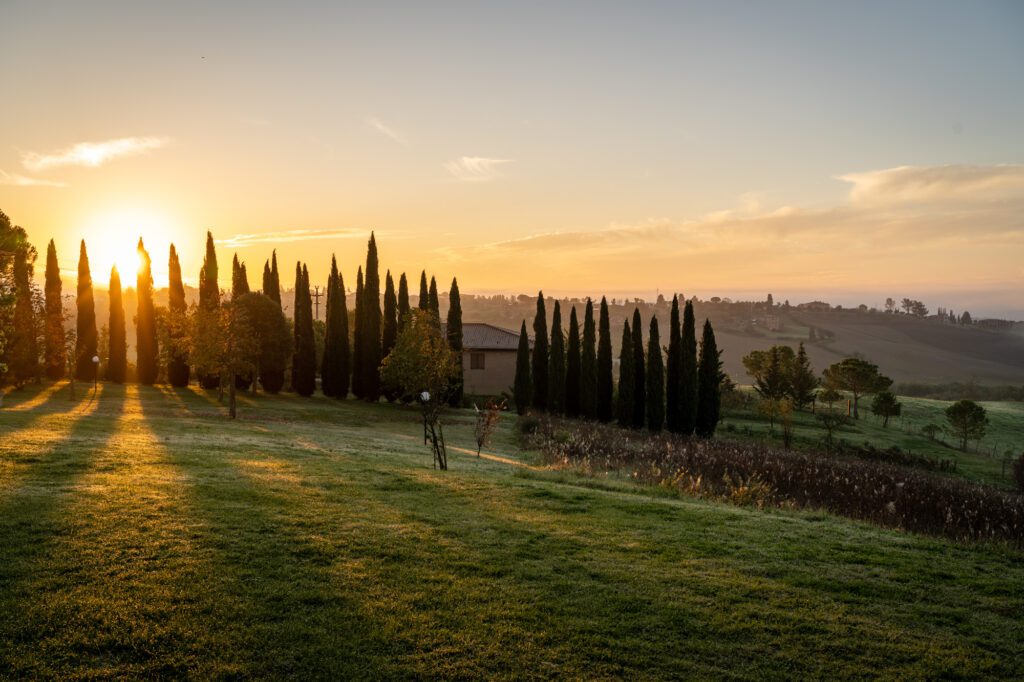 You won't have to worry about (or pay for) overnight parking, you'll have a little more space (if you're lucky, a patio with some nice views), and you'll be awash in the warm glow of the dolce vita as you sip your morning coffee on the outdoor patio with a view of Cypress Trees and hilltop towns.
The upside of staying in the center of a city is, obviously, convenience. However, parking and navigating ZTL (the car-free zones in the city center of most of Tuscany's towns and cities) make staying in a city with a car less appealing, at least in our estimation.
Our recommendation would be to spend your two nights in Florence in the city center (you won't have a car at this point, so parking isn't as much of an issue), and stay in the countryside around Siena and in the Val d'Orcia.
Where to Stay in Florence, Siena, and the Val d'Orcia
Let's quickly cover some of our specific recommendations on where to stay based on our own experience and research.
In Siena, we stayed at Il Palazzetto just outside of town for a few nights and loved enjoying our coffee in the morning with a view of Tuscany from our front porch.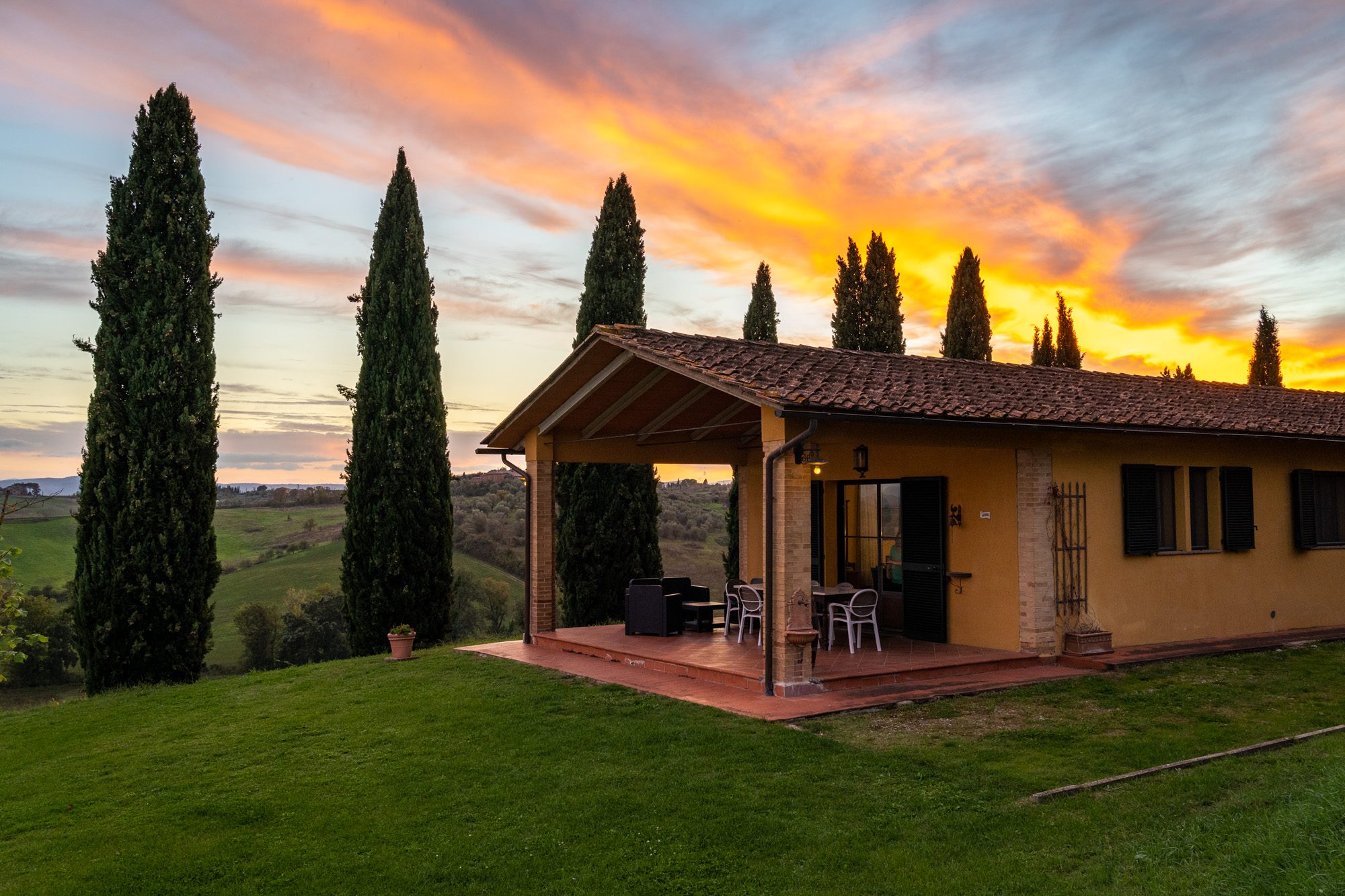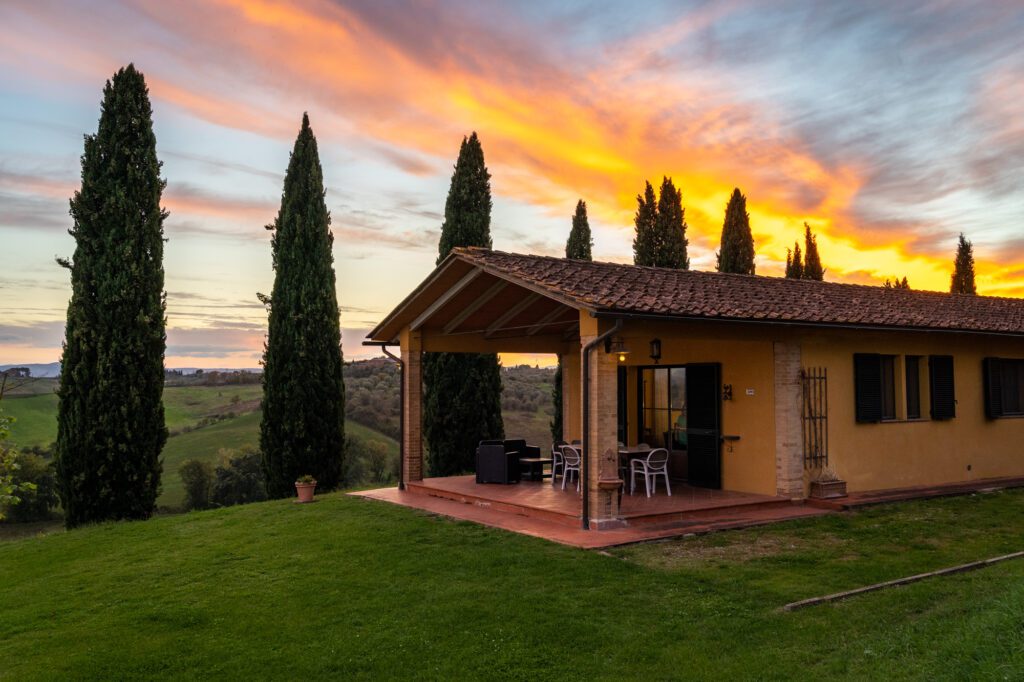 It's a farmhouse in the countryside surrounded by olive trees, rolling hills, and Cypress trees, and they have a few beautiful rooms and apartments on the property. Very friendly staff, and helpful recommendations for what to do, see, and eat in Siena.
In the Val d'Orcia, we stayed at Agriturismo Il Casalino, a cute little farmhouse in the valley below Pienza with a spectacular view of Pienza up on the hill. Very friendly owner, and the location is truly excellent. Cypress trees and rolling hills as far as the eye can see!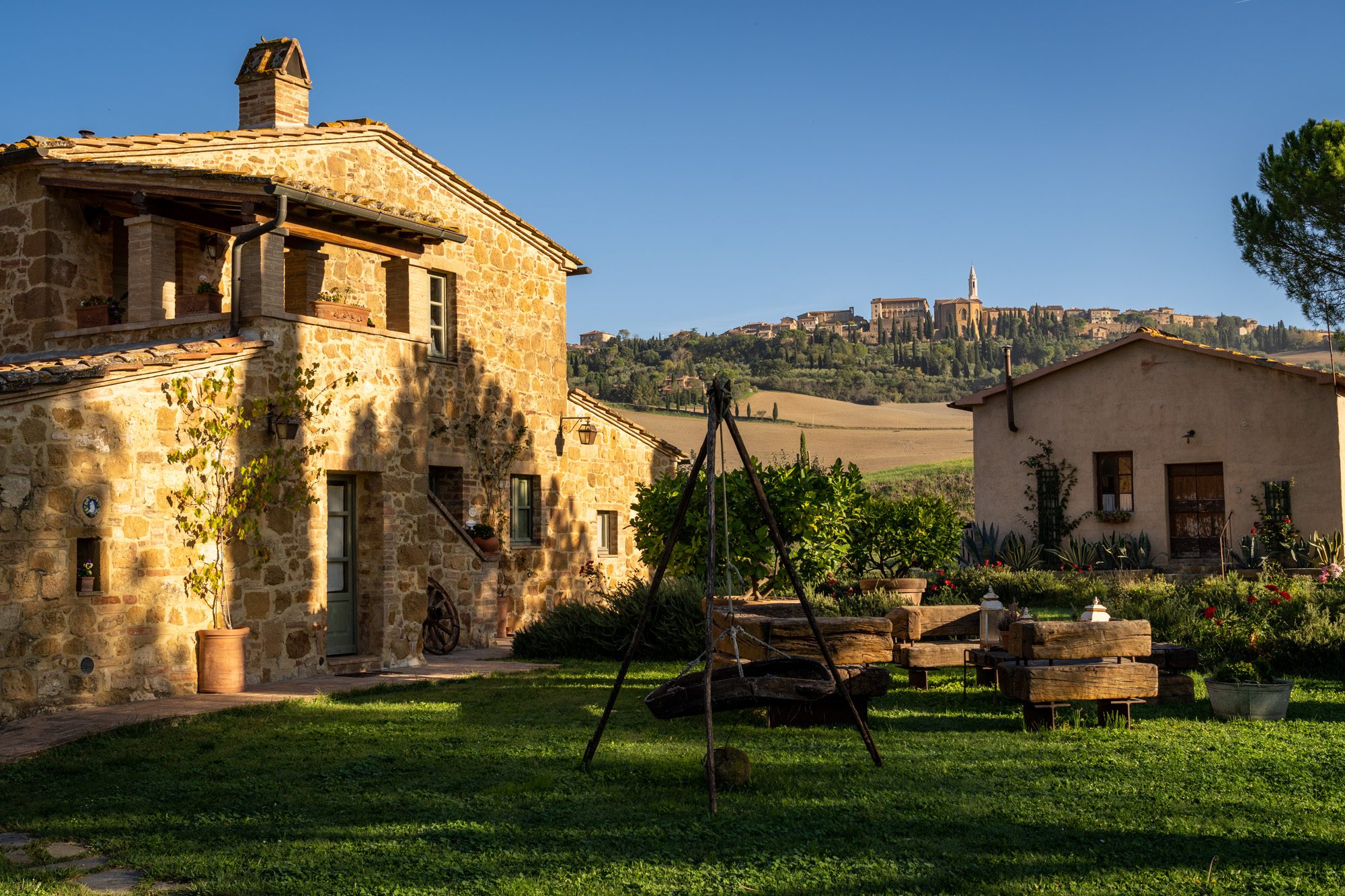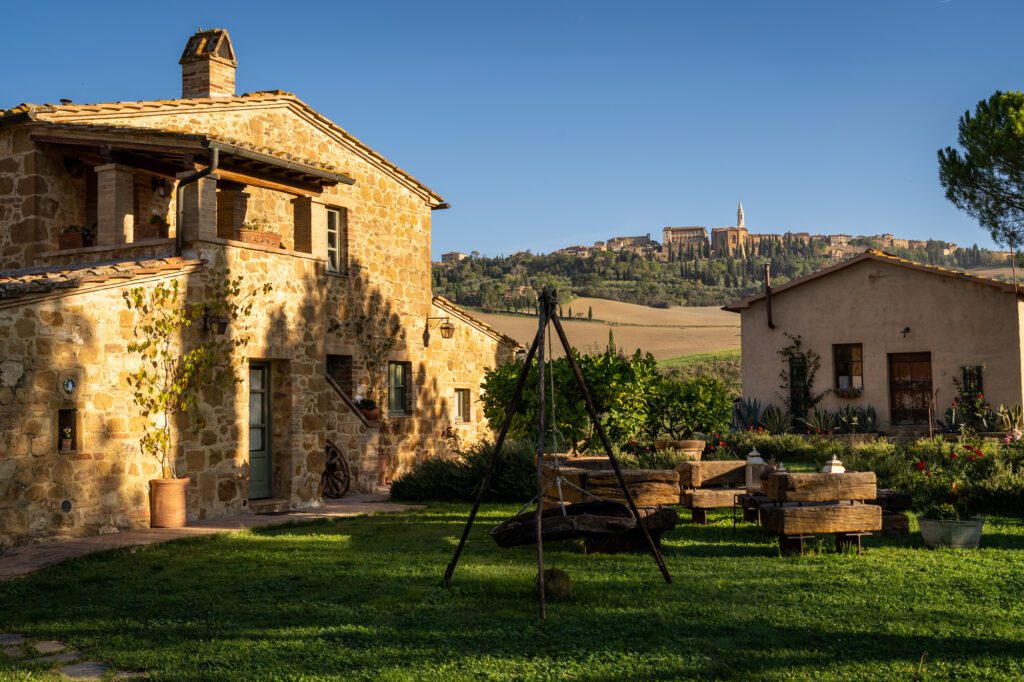 In Florence, you're going to want to stay in the city center. We've stayed at Pietrapiana Boutique Apartments, which are in a great central location about ten minutes from the Duomo di Firenze. They're compact, but they have a little more space to spread out and relax.
Here's our guide to where to stay in Florence for more detail.
7 Days in Tuscany: How to Plan an Amazing Tuscany Road Trip Itinerary
With a week in Tuscany, we'd strongly recommend limiting your trip to Florence, Siena, the Val d'Orcia, and San Gimignano (plus a side trip to Volterra) to avoid driving for hours a day and, most importantly, missing out on the slow life that makes this part of Italy special.
We've structured this itinerary as a loop that begins and ends in Florence, like we mentioned above.
Now, let's get into the itinerary itself! Here's a day-by-day itinerary, and a map to visualize what it looks like.
Day 1: Siena
Day 2: Siena
Day 3: Val d'Orcia
Day 4: Val d'Orcia
Day 5: San Gimignano and Volterra (end in Florence)
Day 6: Florence
Day 7: Florence
Now that you've got a good overview of the geography and logistics, let's get into exactly how to spend one week in Tuscany!
Days 1 & 2: Siena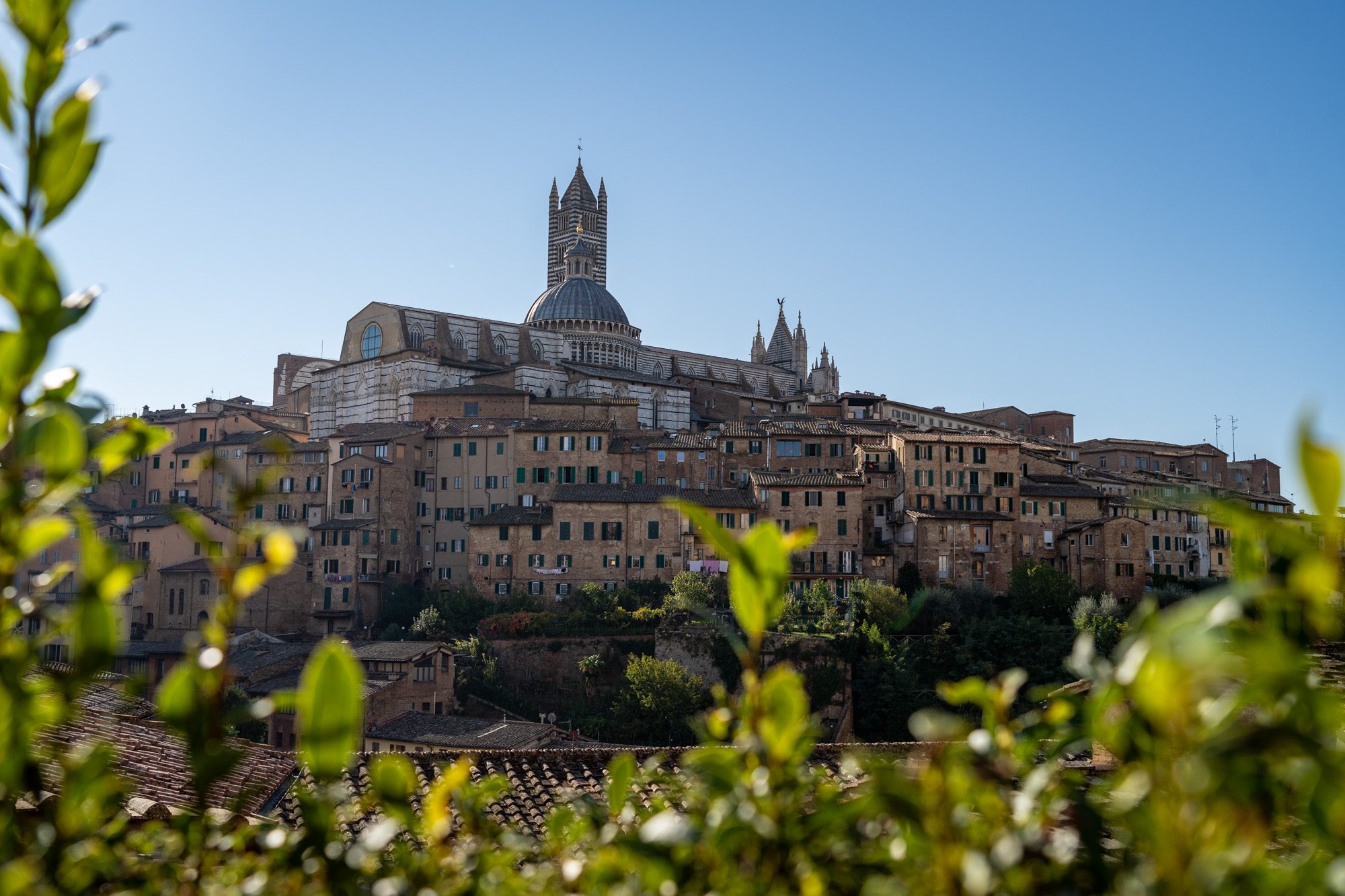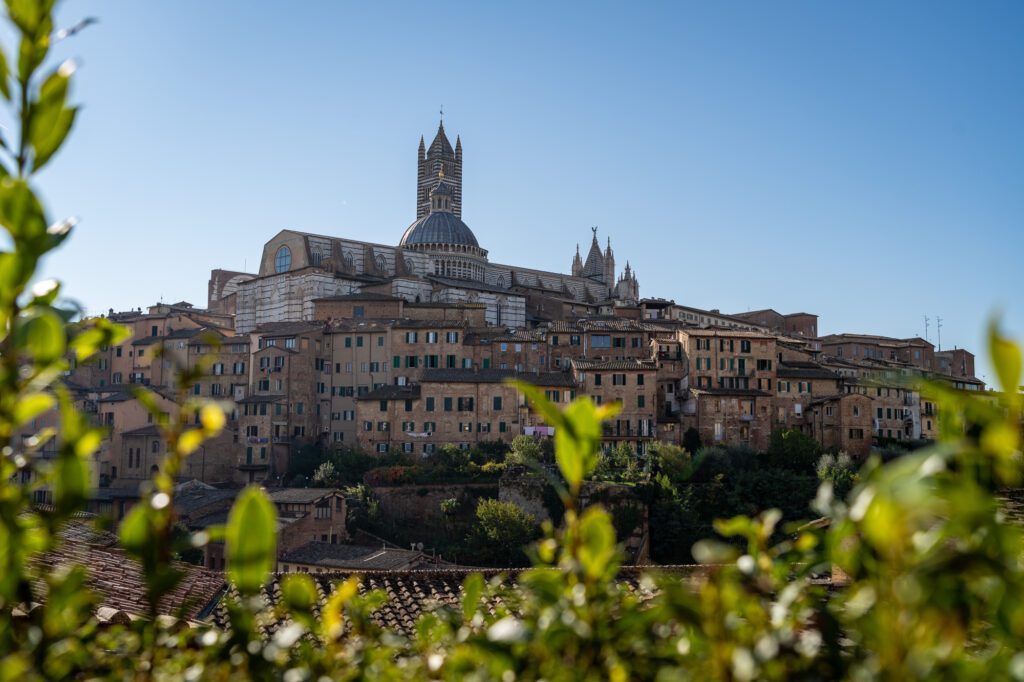 Drive Time and Distance from Florence to Siena: 1 hour 15 minutes / 78 km
On your first day, pick up your car and head straight to Siena. Chances are, you're either taking the train to Florence, or you're flying into the airport in Florence.
Either way, skip Florence for now (you'll be back!) and head straight down to Siena, which will take you about 90 minutes, depending on traffic.
There's really no place to soak up Tuscany's medieval charm quite like the hilltop city of Siena, one of the best preserved medieval villages in all of Italy.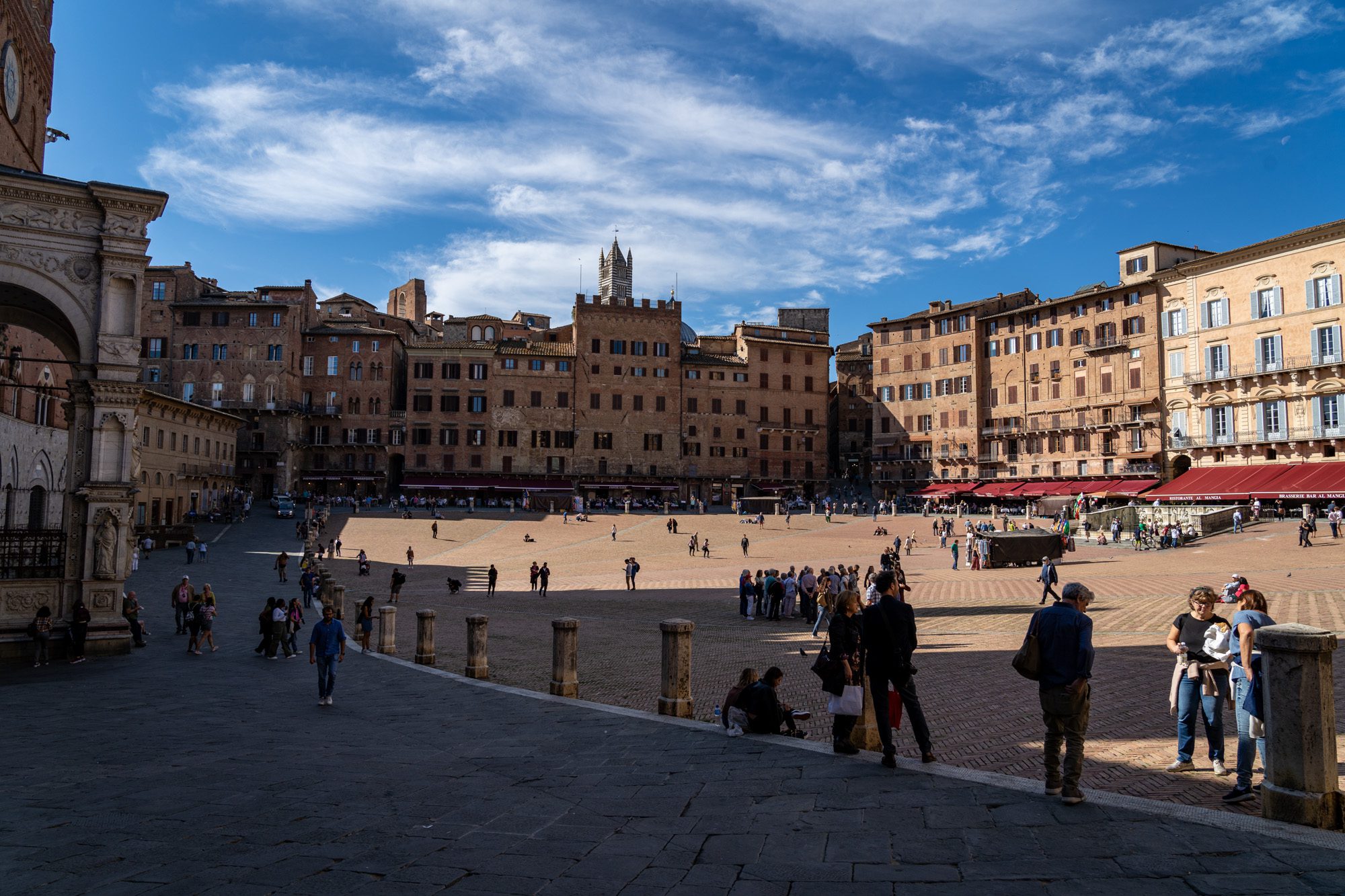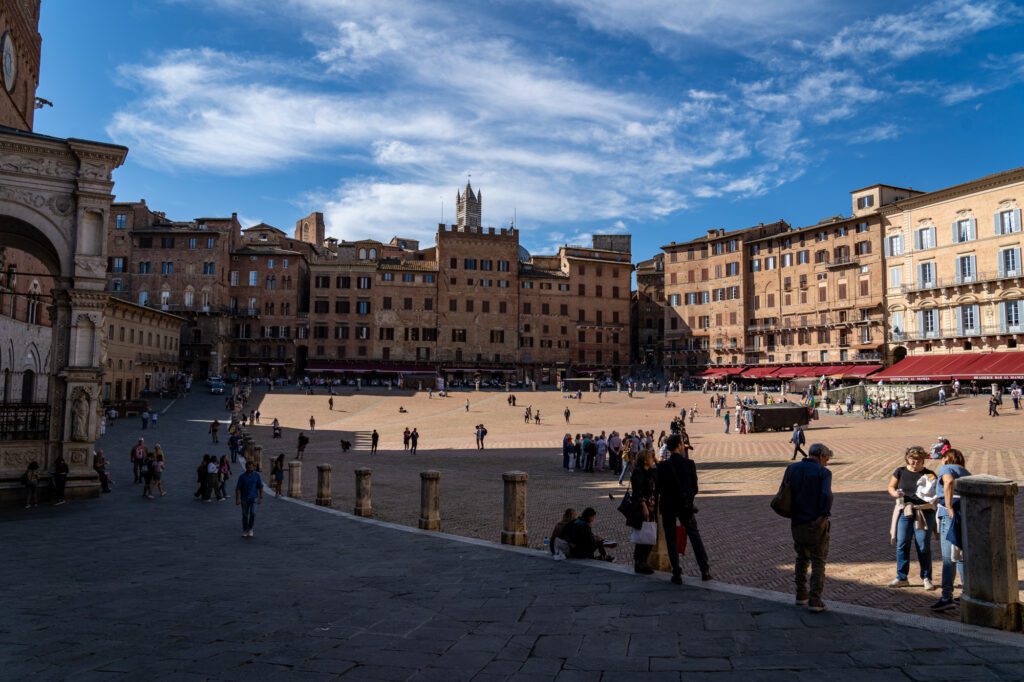 The striking city is characterized by its red clay brick houses, grand Gothic churches and palaces, and soaring medieval towers. It's home to some of the finest art and architecture in the country thanks to its great wealth and power during the 13th and 14th centuries.
Siena is also famous for its historic Palio horse race, which takes place on July 2nd and August 16th each year. The event has been taking place in the city since the 15th century and features 10 riders from different districts racing bareback around central Piazza del Campo.
This is one of the most exciting – albeit extremely busy and expensive – times to visit.
Things to Do in Siena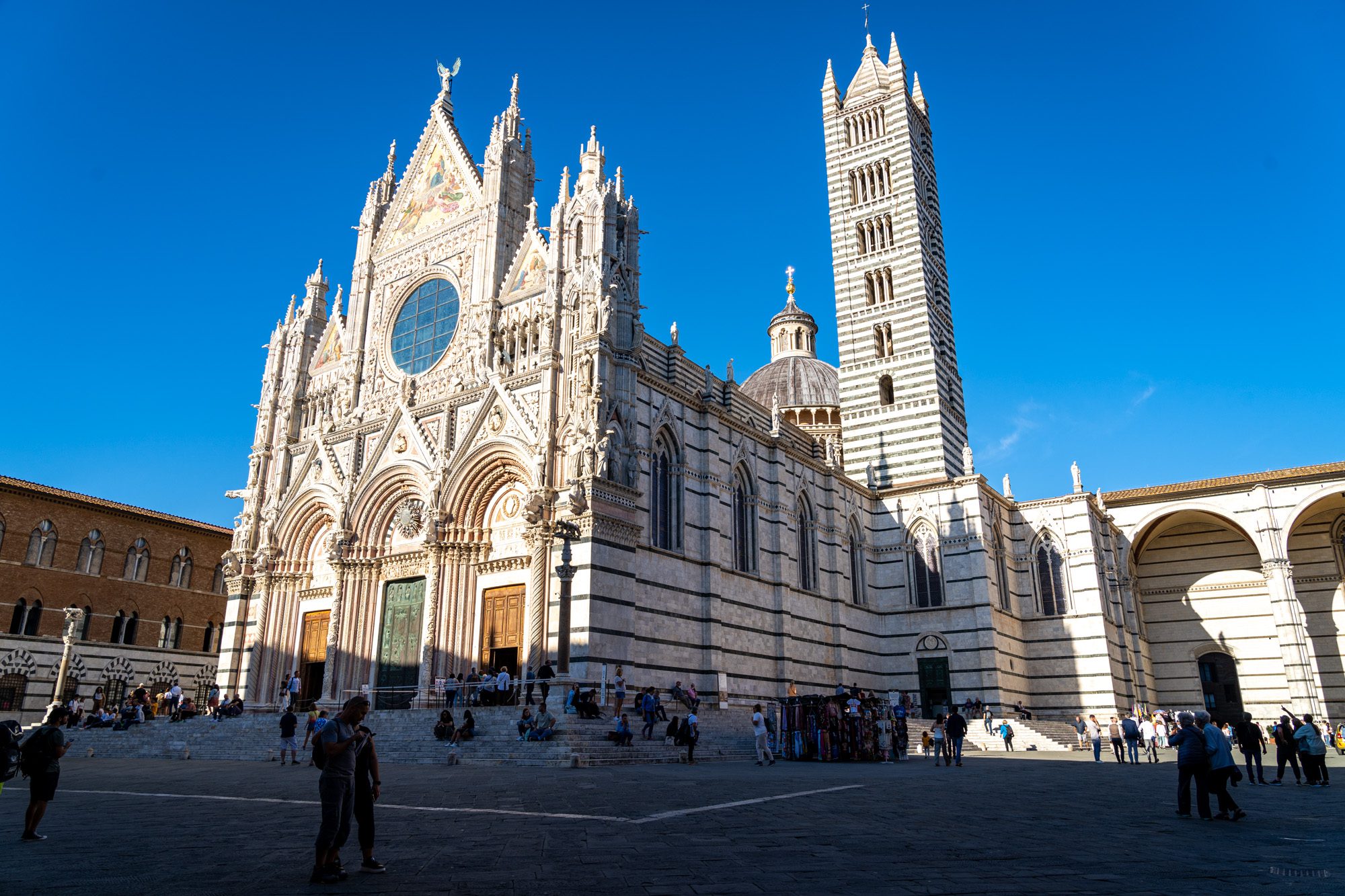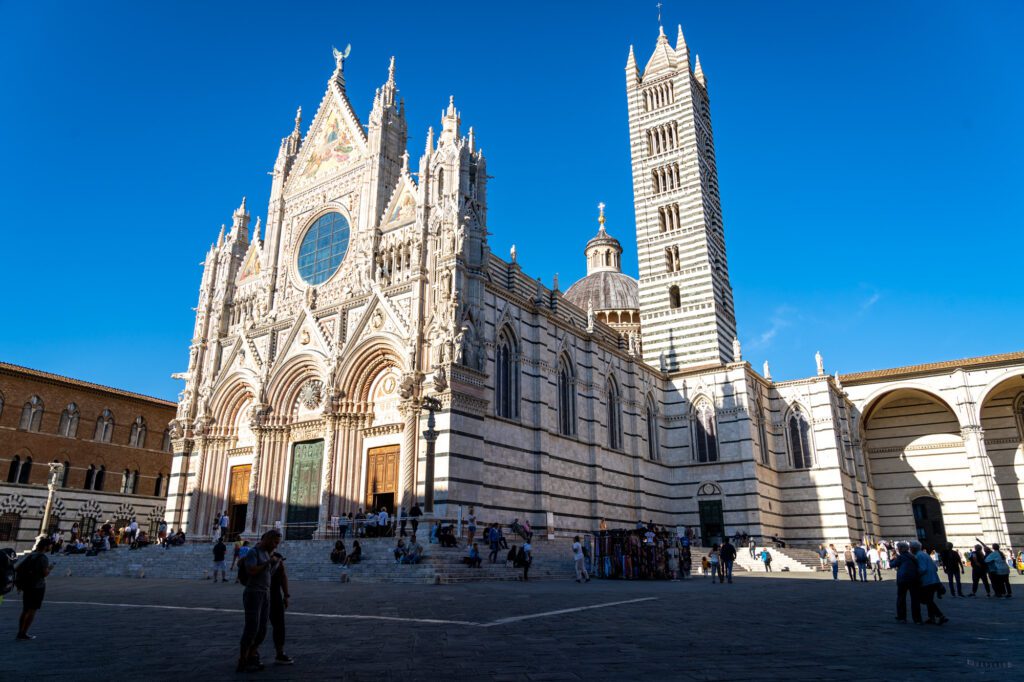 Siena's distinctive medieval architecture and unique charm have earned the city the recognition of UNESCO World Heritage Site. And it is now one of the most popular destinations in Tuscany.
This does, however, mean that it gets pretty busy all throughout the year, with crowds that rival even the bigger cities of Florence and Pisa.
There's one implication of Siena's popularity that you should consider.
Many people visit Siena on a day trip from Florence, which means it's at its busiest in the middle of the day.
To see the city at its most peaceful, head out early in the morning or late in the evening and enjoy having space to yourself. This is why we've recommended spending two days in Siena.
A Walking Tour of Siena. We did this walking tour on our first day and it was an excellent introduction to the history and culture of Siena. It even included a visit to the cathedral, which is a fascinating place to explore with a knowledgeable local guide who can point things out that you wouldn't otherwise notice (though, it does not include a ticket to the viewpoint of the cathedral – more on that in a second).
Piazza Del Campo. Siena's impressive main square is surrounded by stunning Medieval palaces and historic buildings. Today, it's a hub of social life in the city and a great place to take a stroll or stop for a drink on the terrace of one of the charming cafes.
The Duomo di Siena (and the view from Facciatone). Siena's 13th-century cathedral is one of the finest Gothic churches in all of Italy, with an intricate marble façade and lavishly decorated interiors. The colorful stained-glass window and amazing mosaic floors were particular highlights for us. Plus the Panorama dal Facciatone – located at the top of the incomplete expansion of the church in the now museum – offers breathtaking views over the historic city. The extra cost (you have to buy a special ticket) to get up to the viewpoint is well worth it, we think.
Days 3 & 4: The Val d'Orcia (Montalcino, Montepulciano, & Pienza)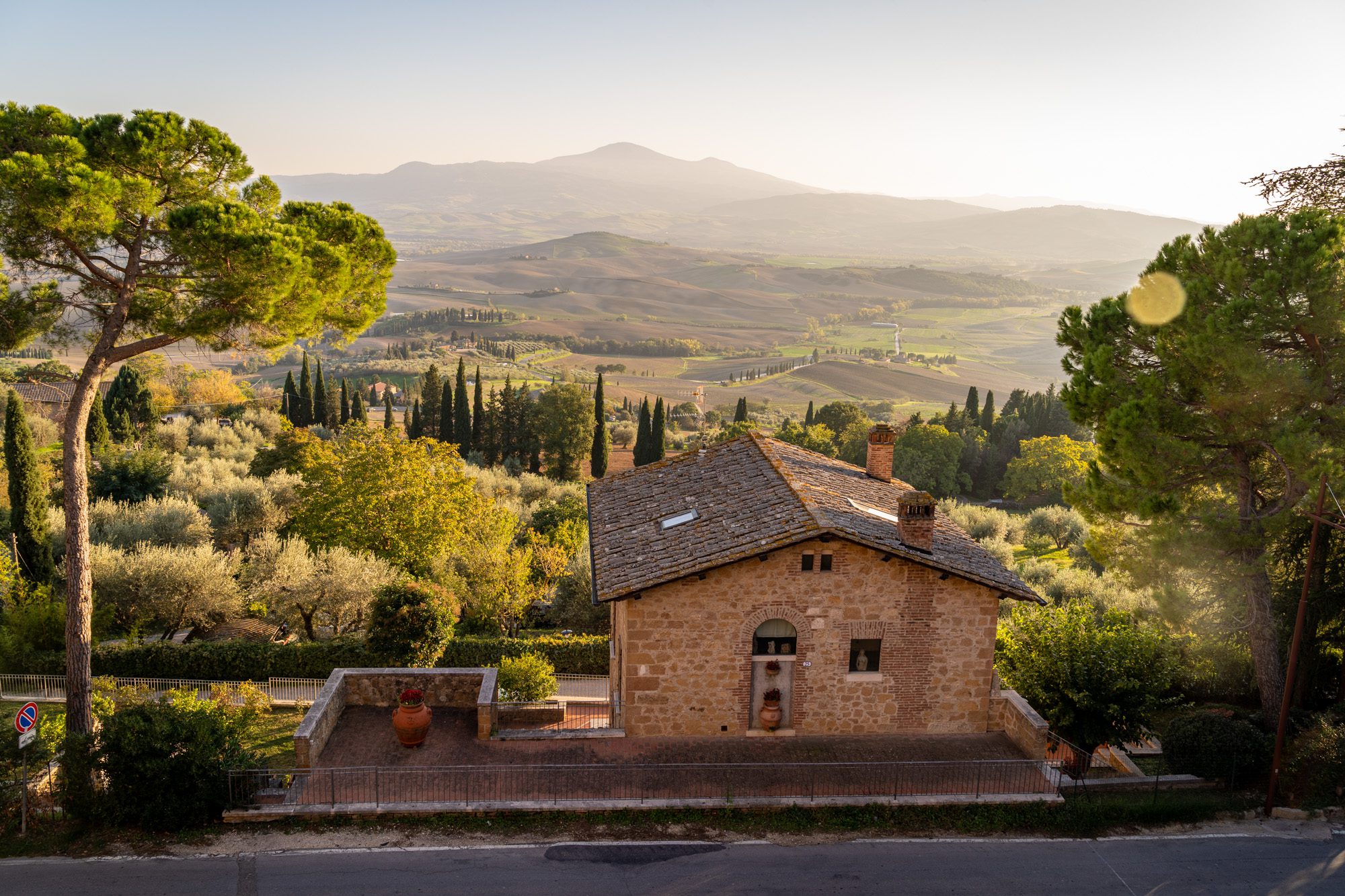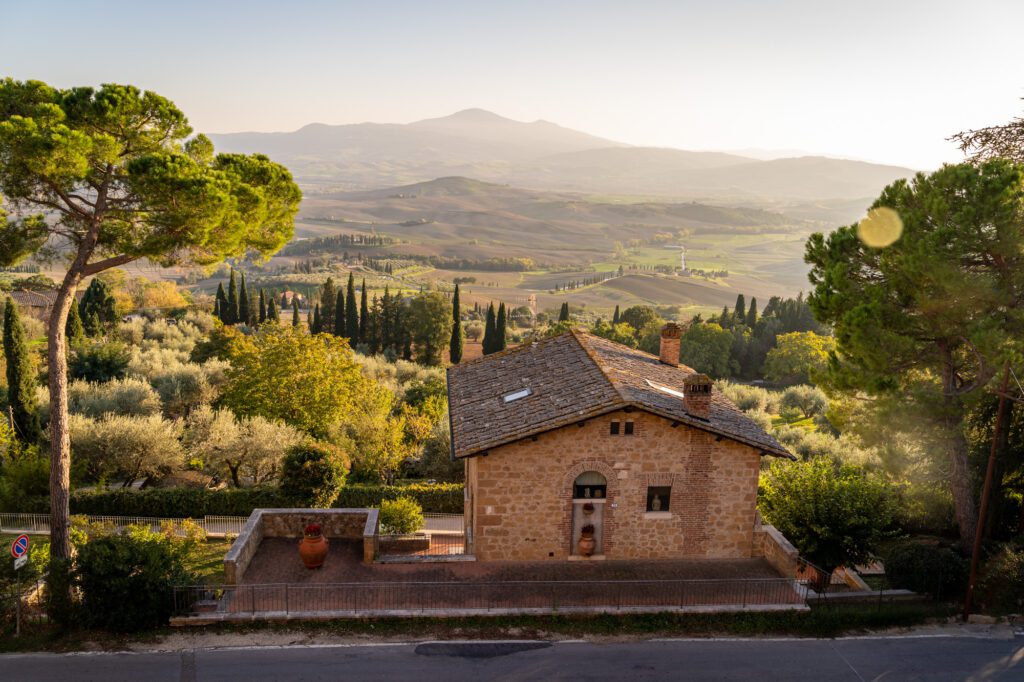 Drive Time and Distance from Siena to Val d'Orcia: 1 hour 15 minutes / 55 km
Next, it's time to journey through the beautiful Val d'Orcia in southern Tuscany. This is one of our absolute favorite parts of the region.
If you're like us, the things you associate with Tuscany from popular culture are rolling hills, cypress trees, and red wines. Which, spoiler alert, is exactly what you're going to find in Tuscany (along with some other gems).
The journey from Siena to the Val d'Orcia can take anywhere between 1 hour and 1 hour 15 minutes, depending on the route and traffic.
The Val d'Orcia is quintessential Tuscany, with rolling green hills (at least in the spring and early summer before they turn brown) dotted with cypress trees, vineyards, historic farmhouses, and picturesque hilltop towns.
The valley's gorgeous landscapes and unmatched beauty inspired many Renaissance painters during the 15th and 16th centuries.
Two days is a good amount of time to spend on a little road trip around the Val d'Orcia. We'd suggest focusing your visit on three main towns; Montepulciano, Montalcino, and Pienza.
Things to Do in the Val d'Orcia
Pienza is situated in the middle of the two other towns. We'd recommend starting at Montepulciano or Montalcino on your first day and moving east or west with Pienza as the second stop to minimize travel time.
There are also tons of great places to stay in and around Pienza (for what it's worth, we chose Agriturismo Il Casalino and loved it) so it makes a good base in the region.
The other thing to know is that each of the towns are fairly small, so you'll only need a couple of hours to explore the town itself. You can spend the rest of your time enjoying a long leisurely lunch, sipping local wine with a view, and driving the winding roads through the countryside.
Montepulciano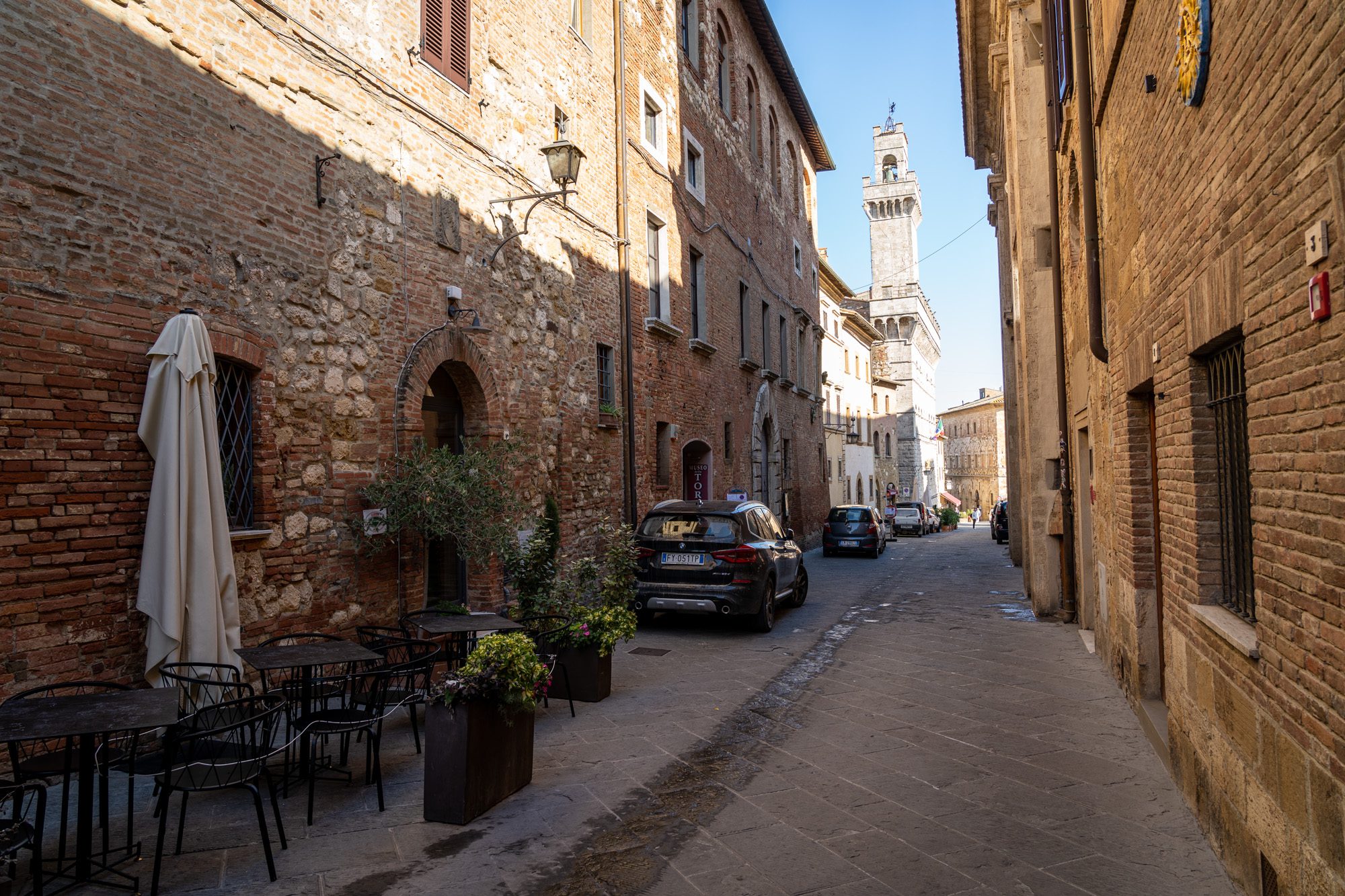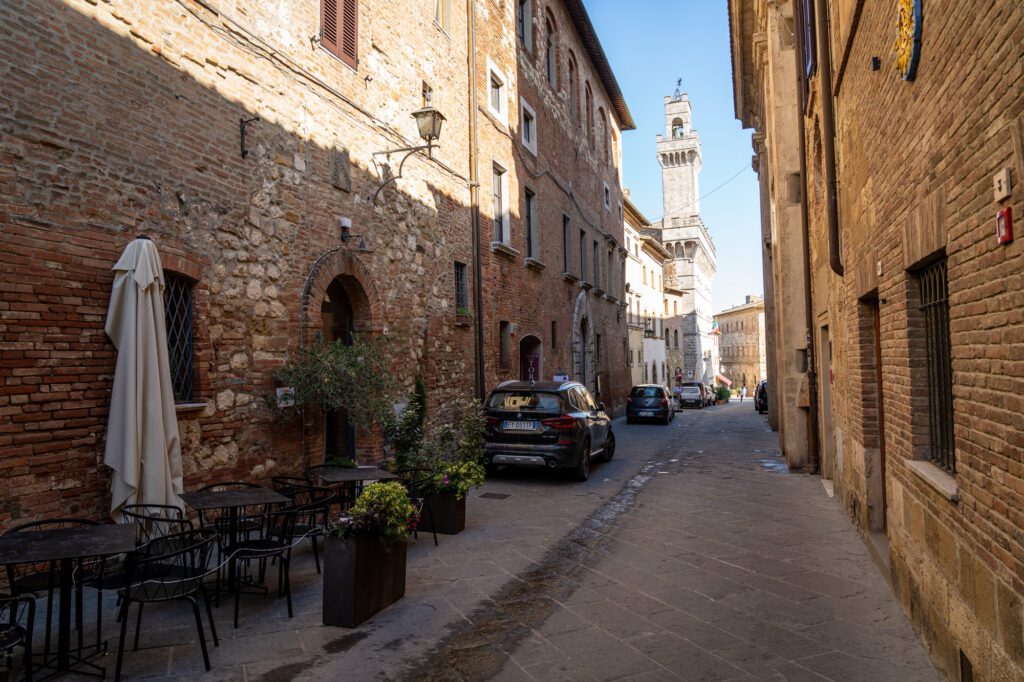 This quaint little town sits on the edge of a volcanic rock cliff face with sweeping views over the surrounding valley.
Make sure to go wine tasting at De' Ricci (Vino Nobile is the local red wine), climb the tower of Comune di Montepulciano for excellent views of the valley sprawling out to the west, and take a stroll along the winding Via di Gracciano nel Corso, the main street in town.
Montalcino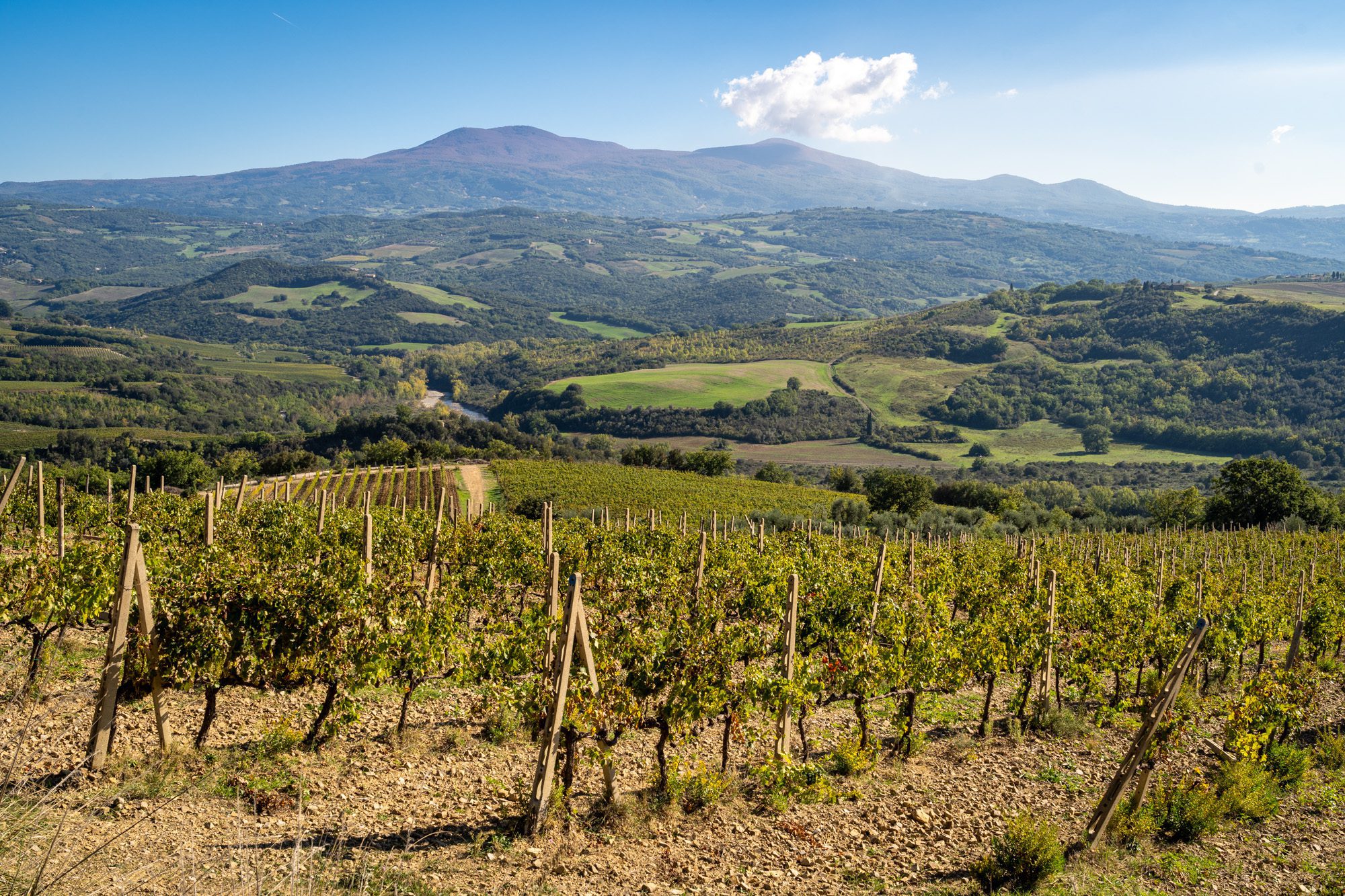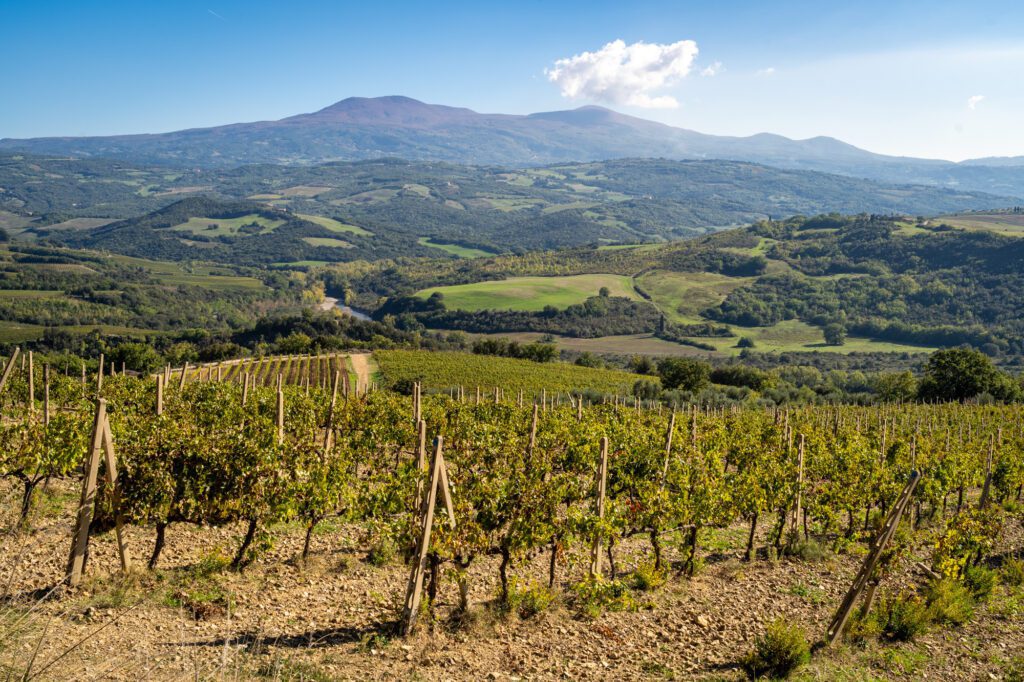 Sitting in the heart of Tuscany's famous Brunello wine region, Montalcino is a must-visit for red wine lovers.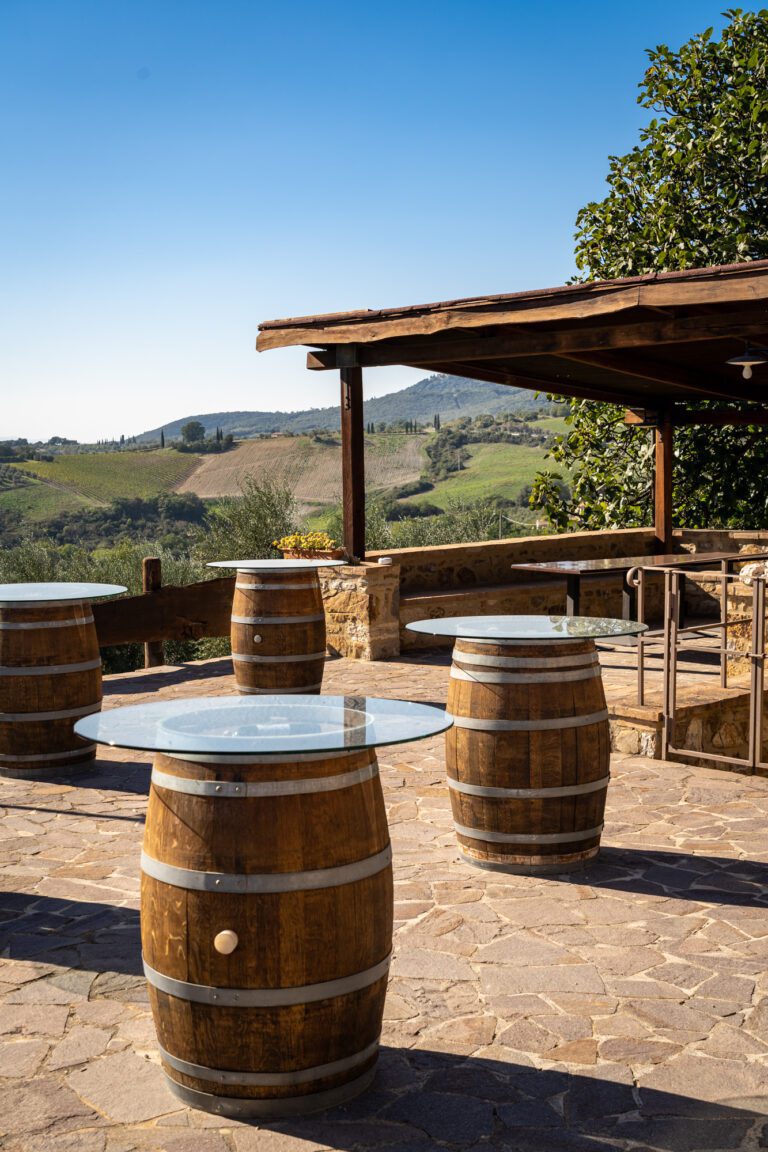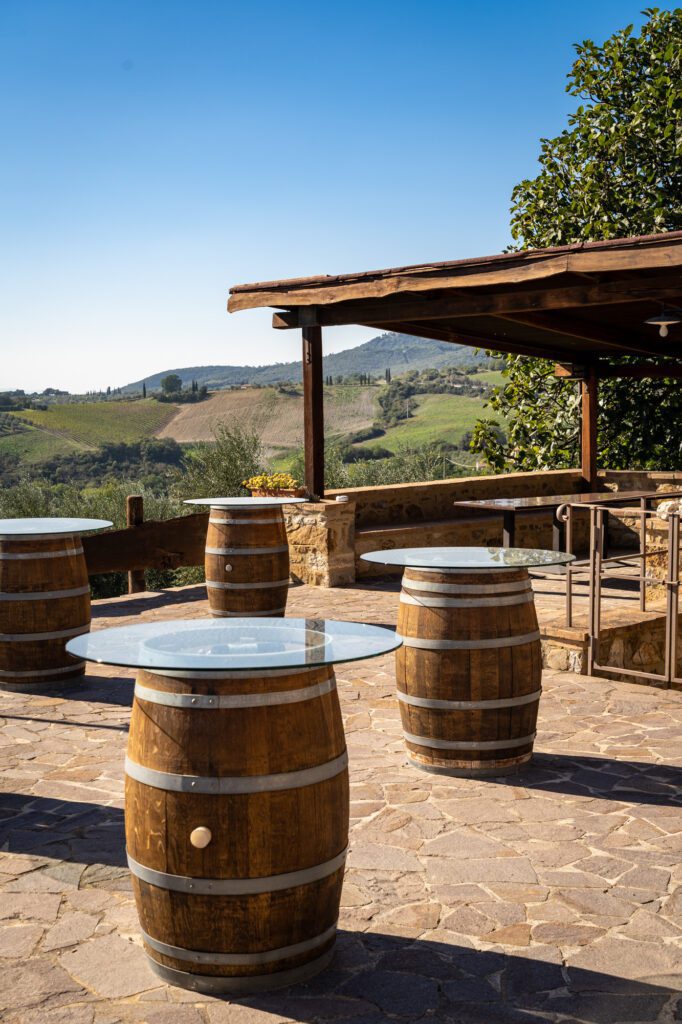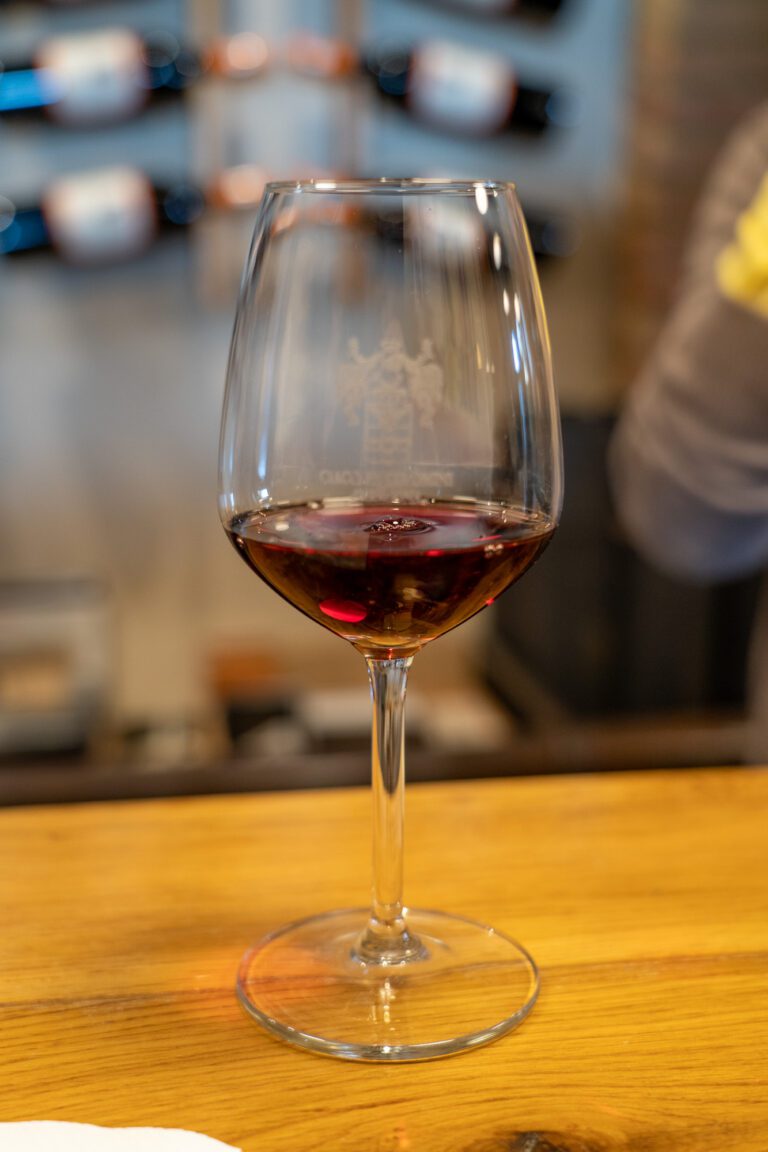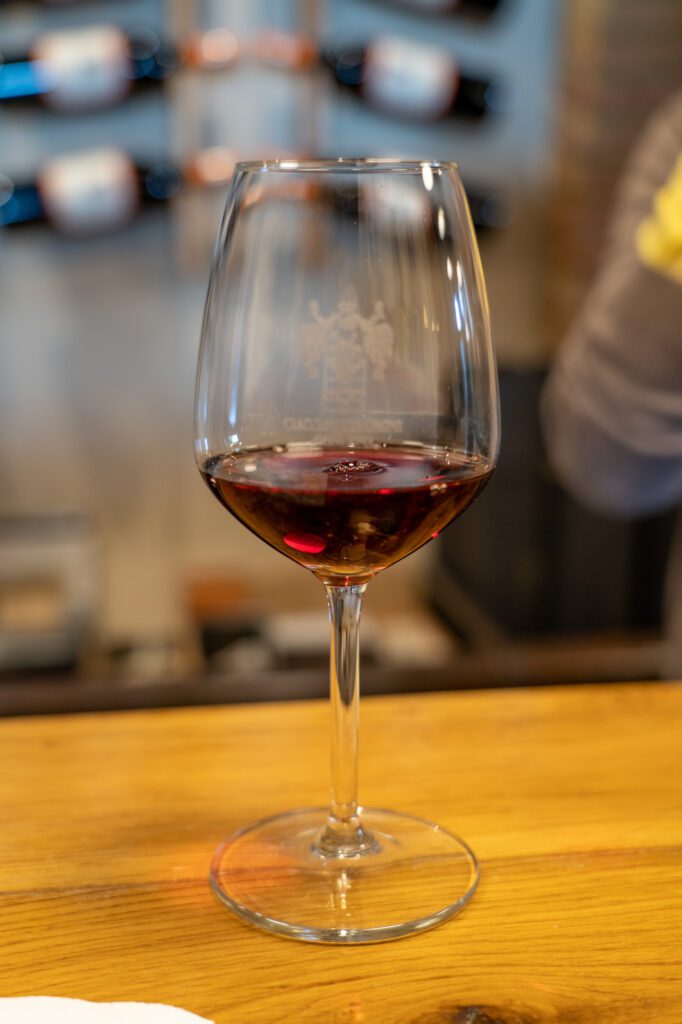 You can sample local Brunello wine at Ciacci Piccolomini D'Aragona (or any of the other wineries south of Montalcino) where we got a crash course in Brunello, which is largely made with the same grape varietals as Chianti, but is processed differently.
You should also take the time to walk the historic walls of Fortezza di Montalcino, the town's medieval fortress, and visit the Romanesque monastery Abbazia di Sant'Antimo (which is conveniently right next to the winery we recommended above, which makes it an easy stop).
Pienza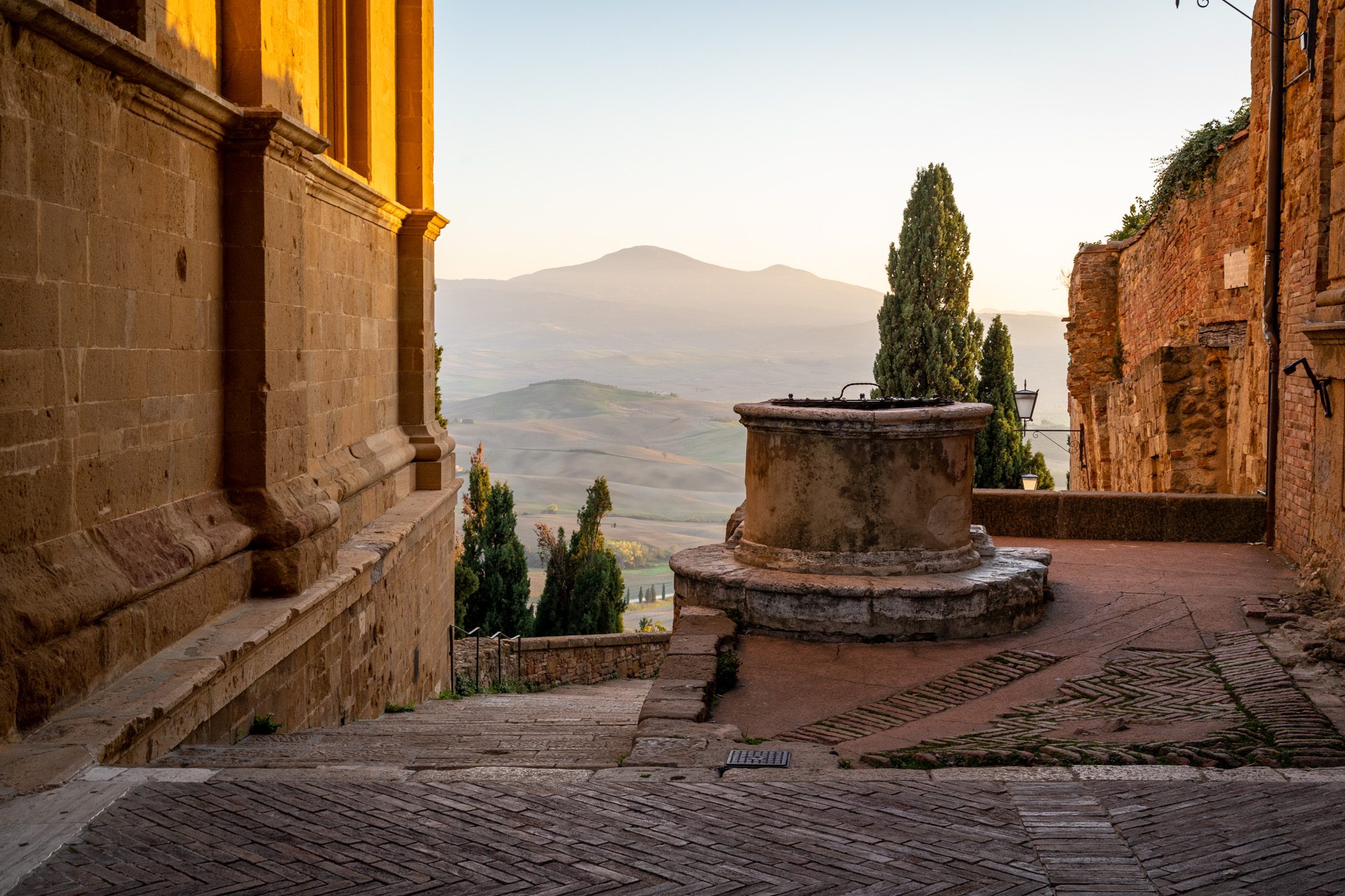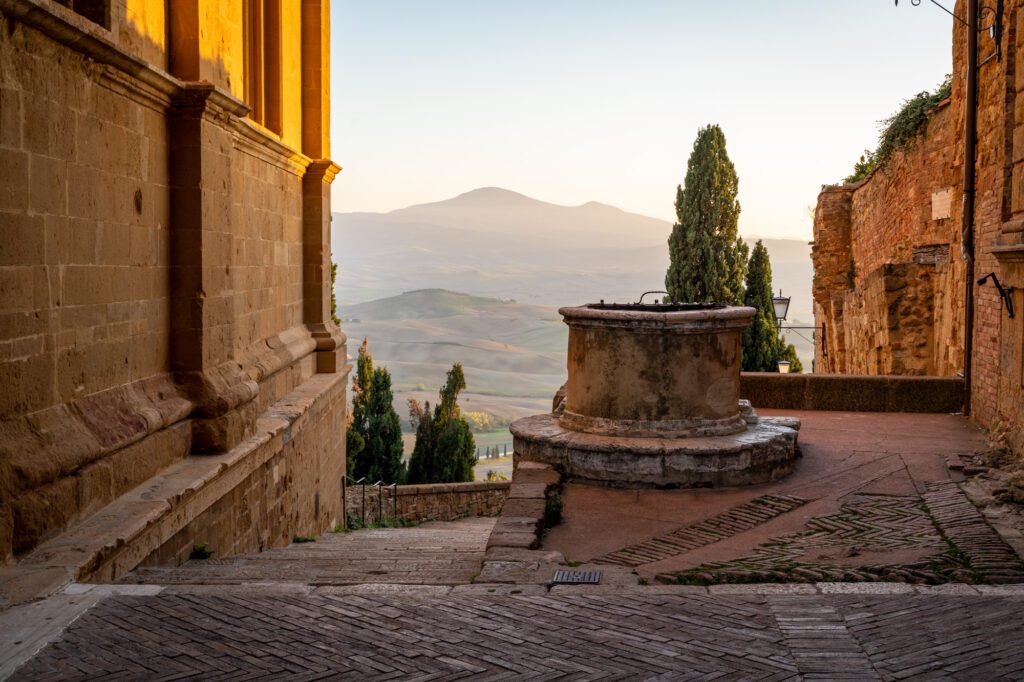 A romantic Renaissance town with spectacular panoramic views over the surrounding countryside. This viewpoint was our favorite.
The town is also famous for its local Pecorino di Pienza cheese, which you can try at La Taverna del Pecorino (if you can find it, get it baked with honey on top – pecorino con miele).
And don't miss coffee with a view at the lovely Bar il Casello.
Day 5: San Gimignano, Volterra, & Drive to Florence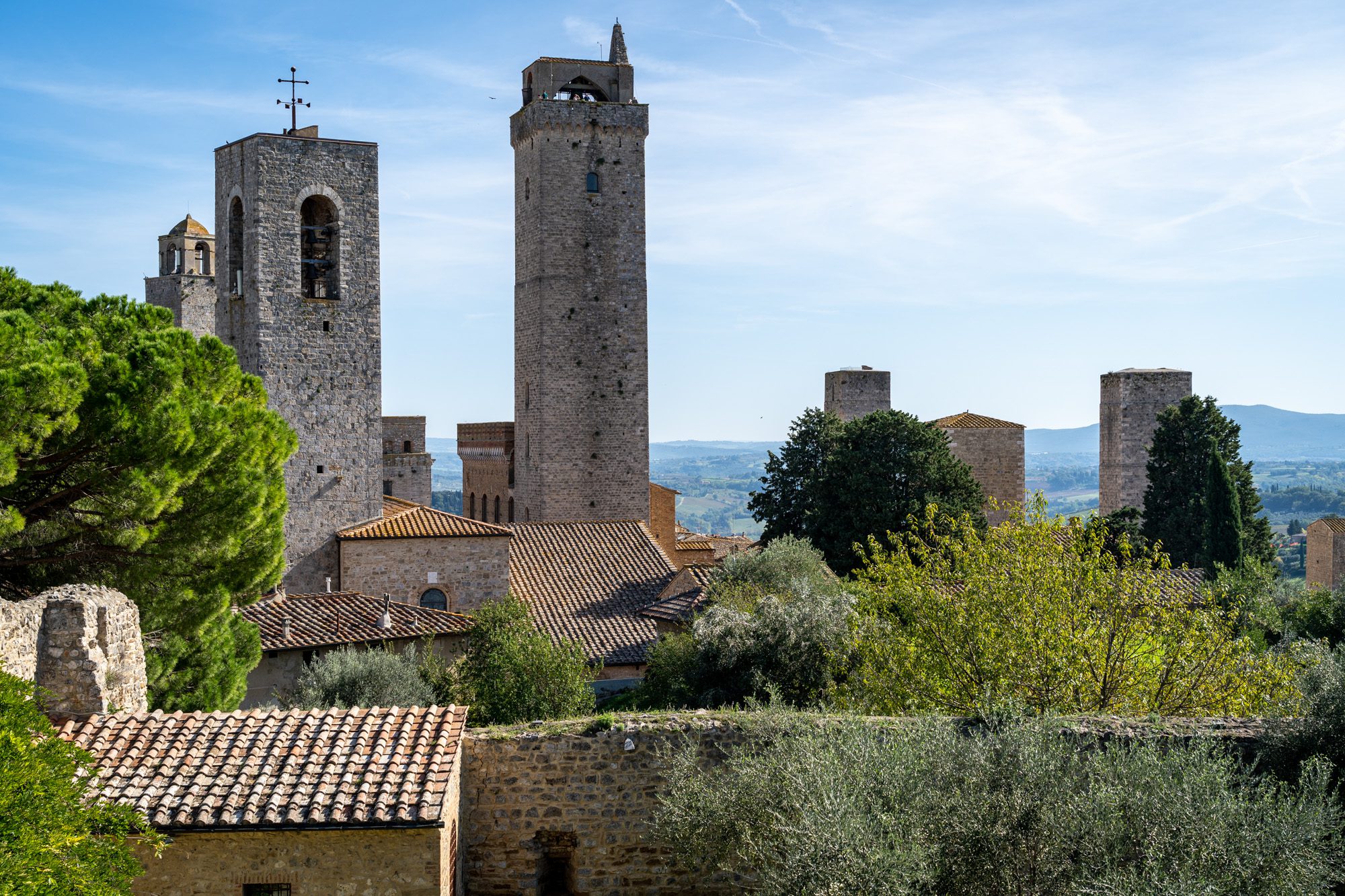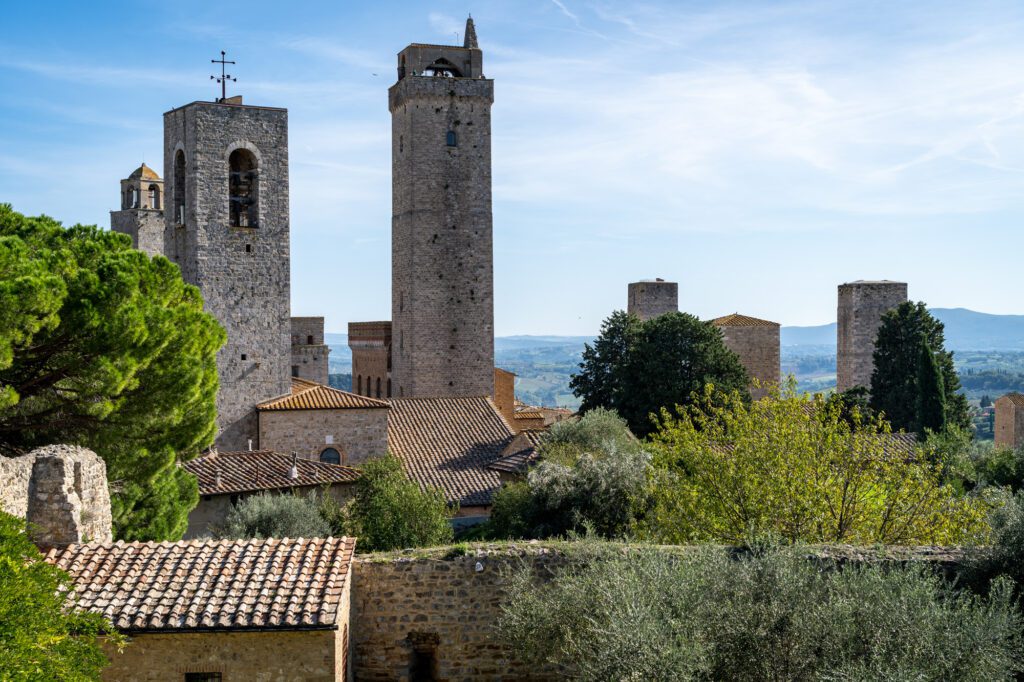 Drive Time and Distance from Val d'Orcia to San Gimignano: 1 hour 45 minutes / 95 km
On day five, you'll want to gradually make your way back from the Val d'Orcia towards Florence, taking a slight detour to visit the towns of San Gimignano and Volterra along the way.
Both towns sit on the western end of Tuscany towards the sea. They are located around 30km from each other and can take anywhere between 40 minutes to 1 hour to drive between. So be sure to factor this into your day if you do want to visit both.
San Gimignano is a lovely medieval town and another of Tuscany's UNESCO World Heritage sites. The small town once had over 70 soaring medieval towers making up its skyline, gaining it the unique title of the "Manhattan of the Middle Ages".
Today only a handful of these towers remain, but the town is still known as Italy's "City of Towers".
Nearby Volterra is slightly less well-known than its famous neighbor (unless you're a Twilight fan, in which case you probably know it).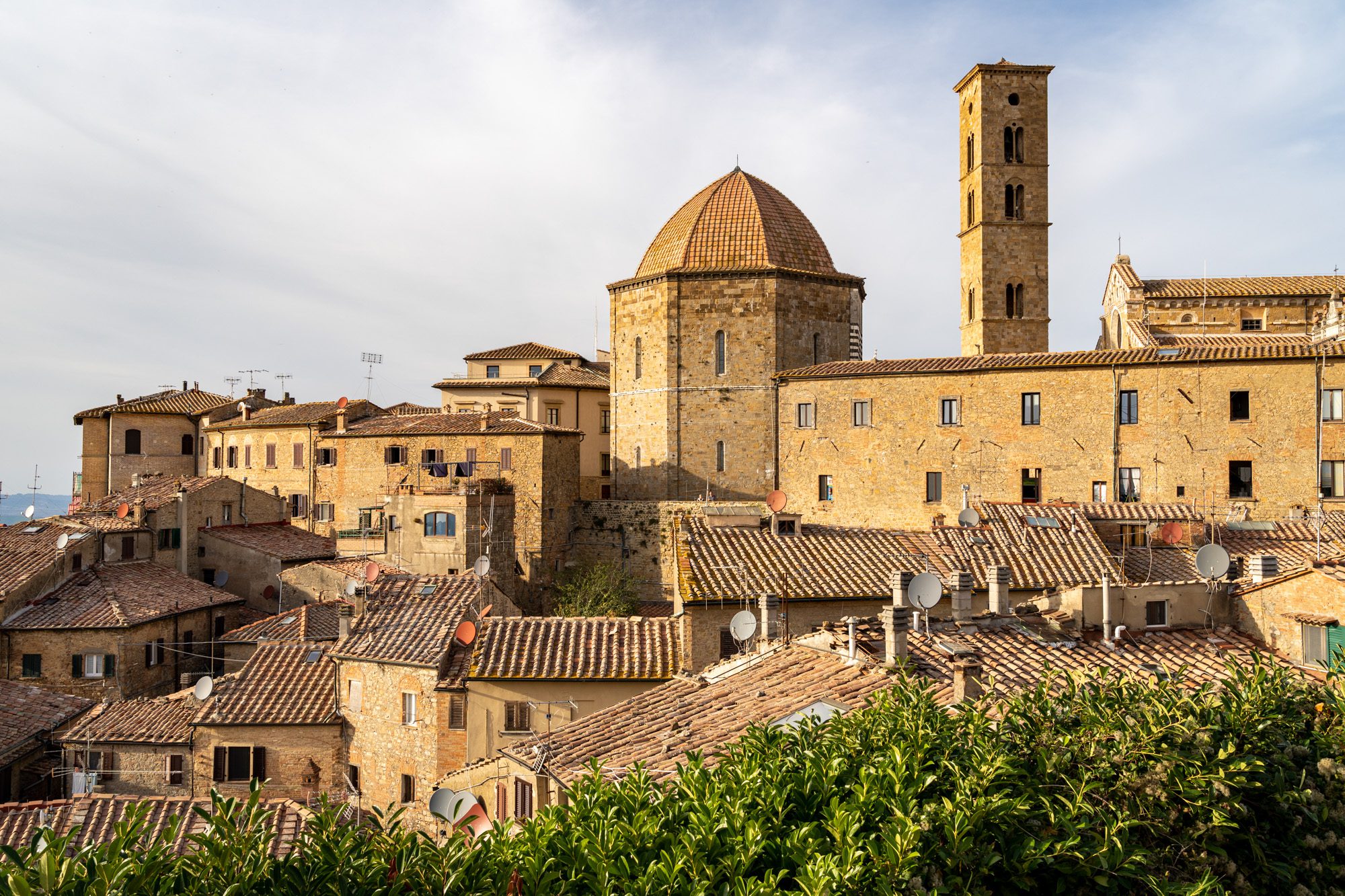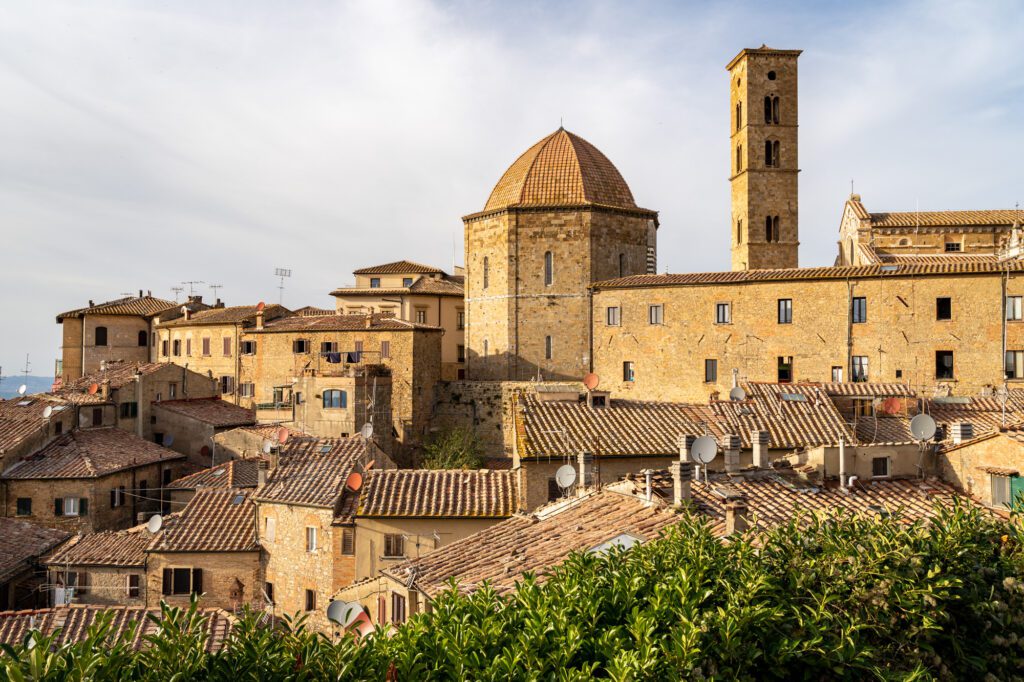 The less popular walled hilltop town is still a great place to explore and is worth the drive, with several important historic and archeological sites including a world-class Etruscan museum and a couple of Roman archaeological sites.
You'll also find considerably smaller crowds than San Gimignano, so it's a good place to escape the chaos for a couple of hours.
Things to Do in San Gimignano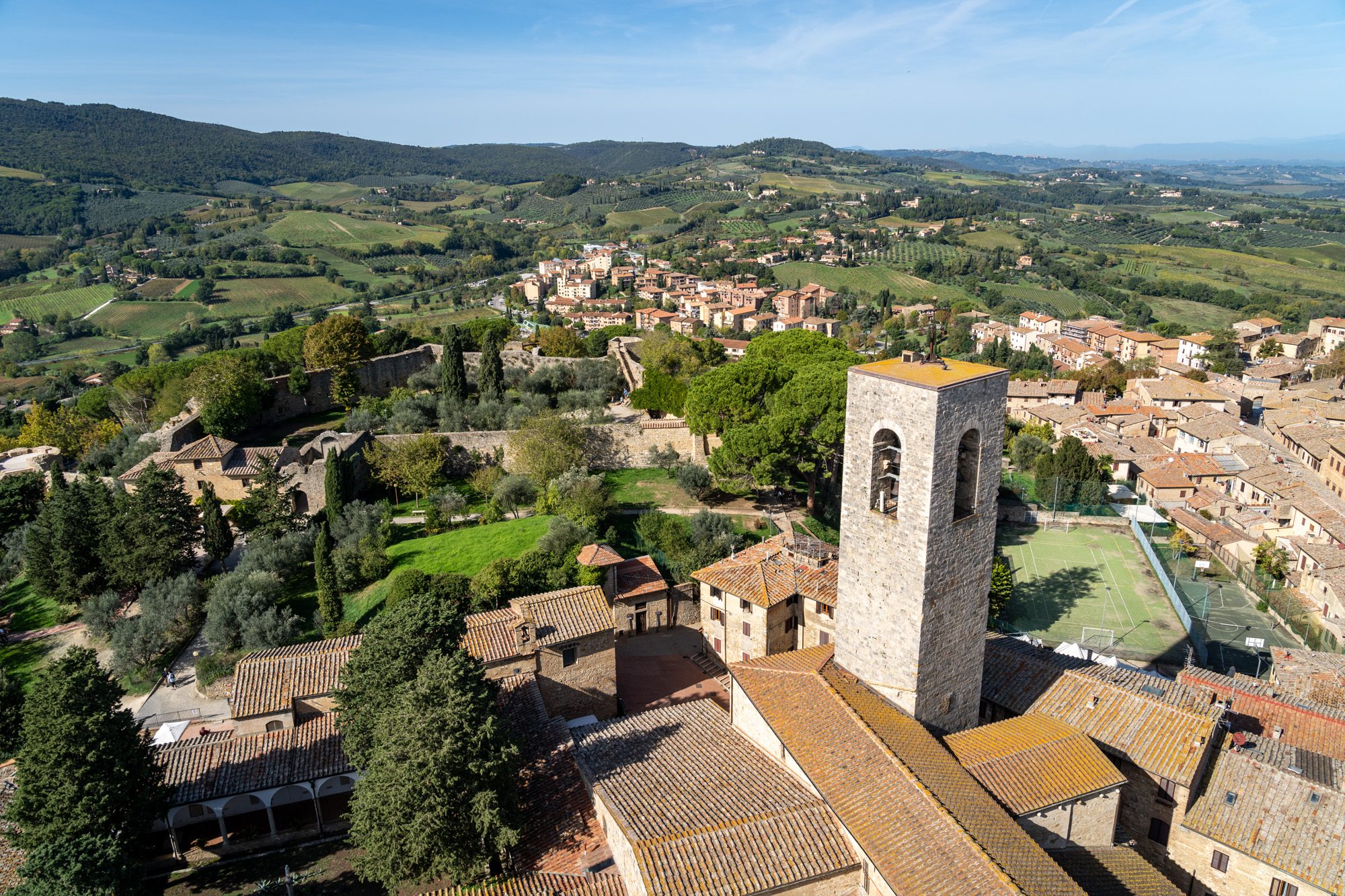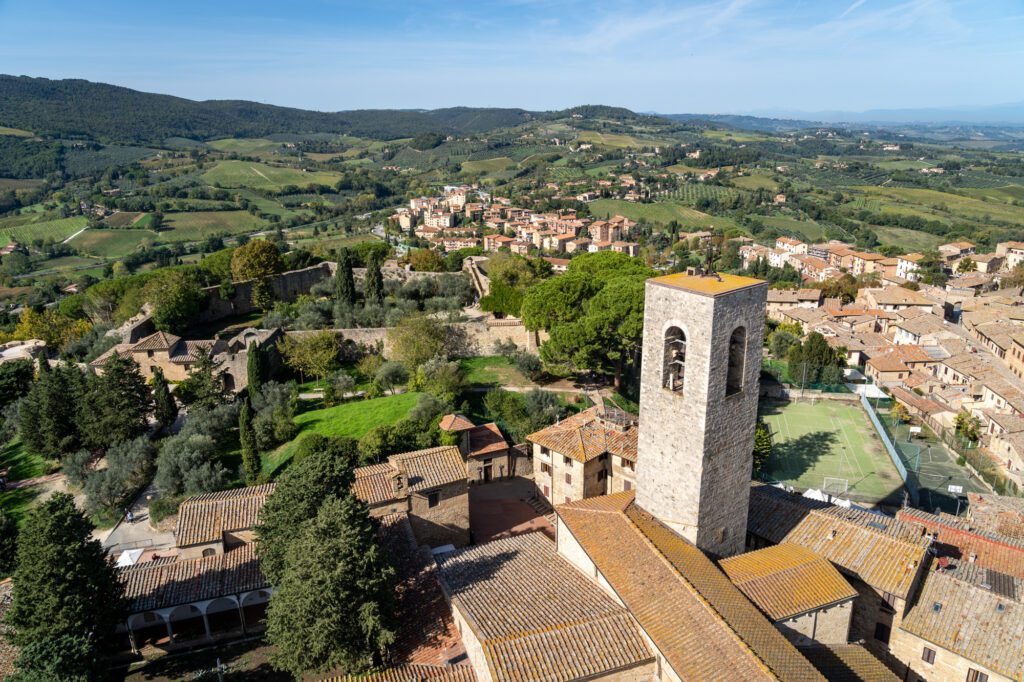 San Gimignano is a relatively compact town, and it is one of the most popular places to visit in Tuscany.
Wandering the narrow streets, you'll likely find yourself packed wall-to-wall with other visitors if you're here in the summer between 11:00 am and 5:00 pm (especially on a weekend).
However, it's easy to see why so many visitors flock here – the towers of San Gimignano are an iconic piece of Tuscany's landscape.
Eating in San Gimignano. San Gimignano is a lovely spot to make the most of Tuscany's world-class cuisine. Enjoy lunch on the terrace at Le Vecchie Mura for great food and even better views. And don't forget to grab some tasty gelato from Gelateria Dondoli (they also have gelato making classes).
Drink Vernaccia Di San Gimignano. Produced in the vineyards surrounding the town, Vernaccia is Tuscany's most famous white wine. You can sample Vernaccia in most restaurants and bars around town, or head to the Vernaccia di San Gimignano Wine Experience to learn more.
Climb the Torre Grossa. The bell tower of the Palazzo Communale (town hall) is the tallest remaining tower in San Gimignano, sitting at 177 feet. You can climb 218 steps to reach the tower's summit and enjoy beautiful views over the town. And while you're there, spend 15 minutes admiring the artwork in the attached Palazzo Comunale – there's not much but it's definitely worth a quick visit.
Parco della Rocca. This lovely hilltop park is the highest point in San Gimignano and is home to the ruins of a medieval fortress. Today it's a great place to take a walk or stop for a relaxing picnic with amazing views over the town (the best view is from here).
Things to Do in Volterra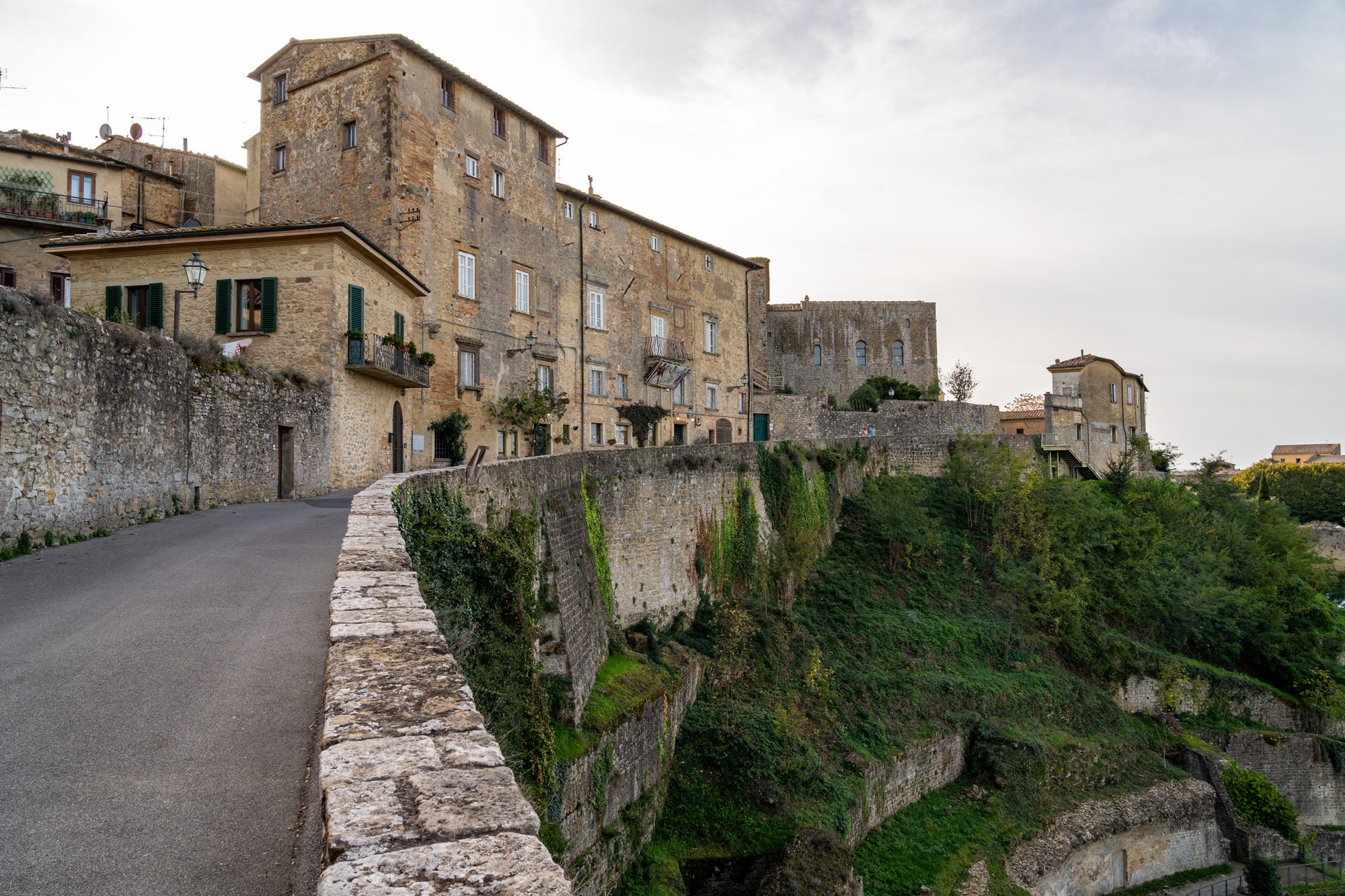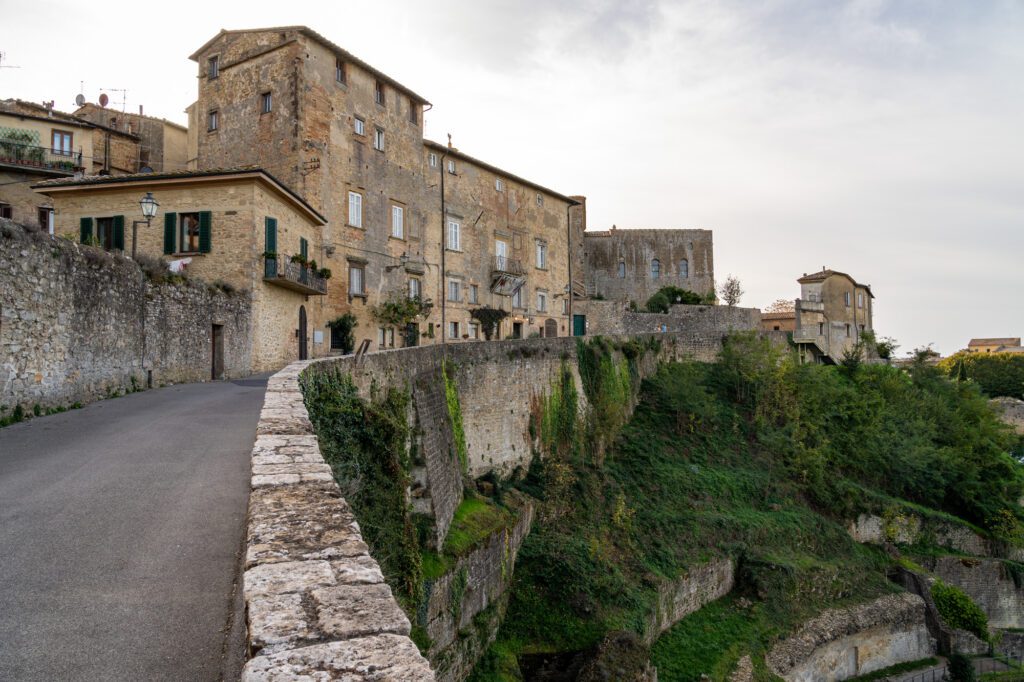 Volterra is also a small town at the top of a rocky outcropping (are you seeing the pattern here yet?) with great views out over Tuscany (and even out to the sea, on a clear day).
There's not a whole lot to do in town, and we found it to be pretty sleepy on a random weekday afternoon in mid-October.
However, it's gorgeous and is an important piece of history on the Italian Peninsula. It's worth visiting for the walking tour and Etruscan Museum alone.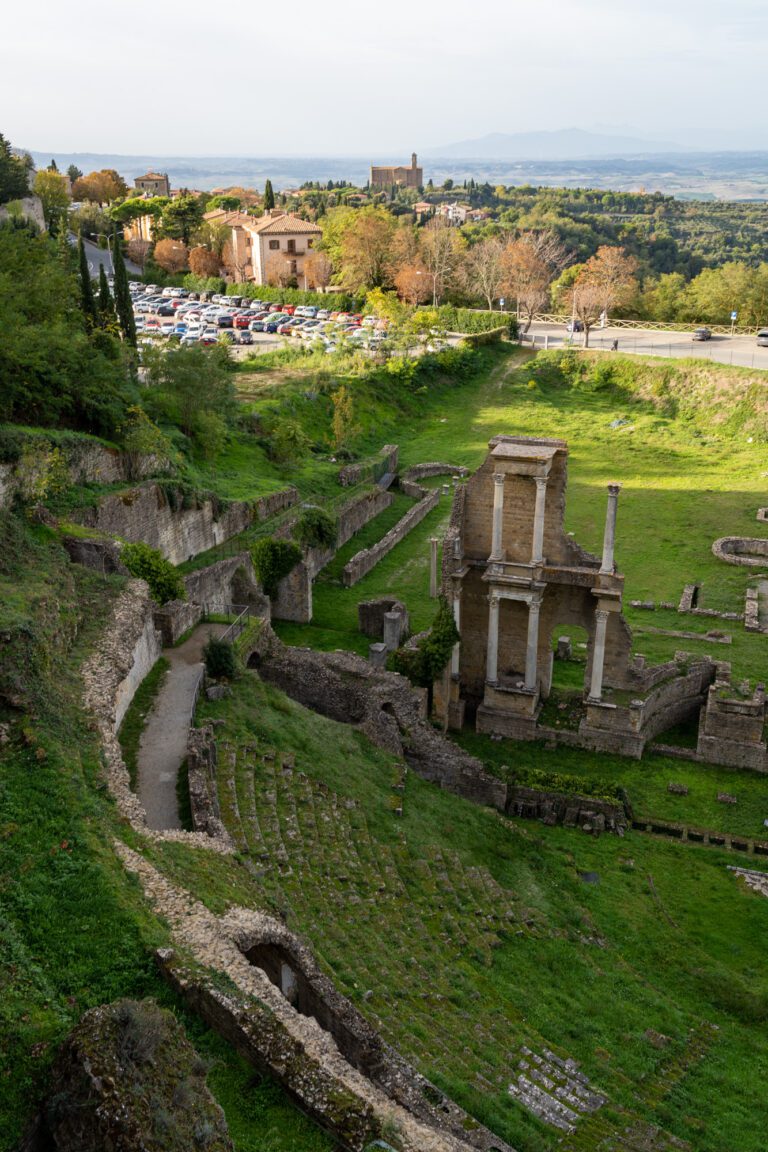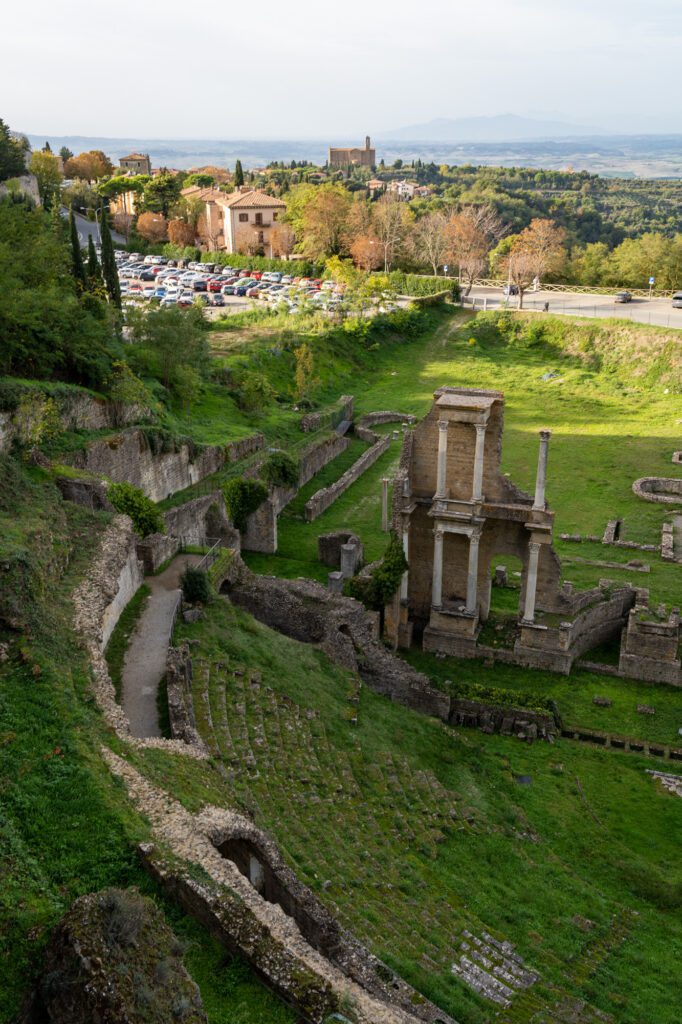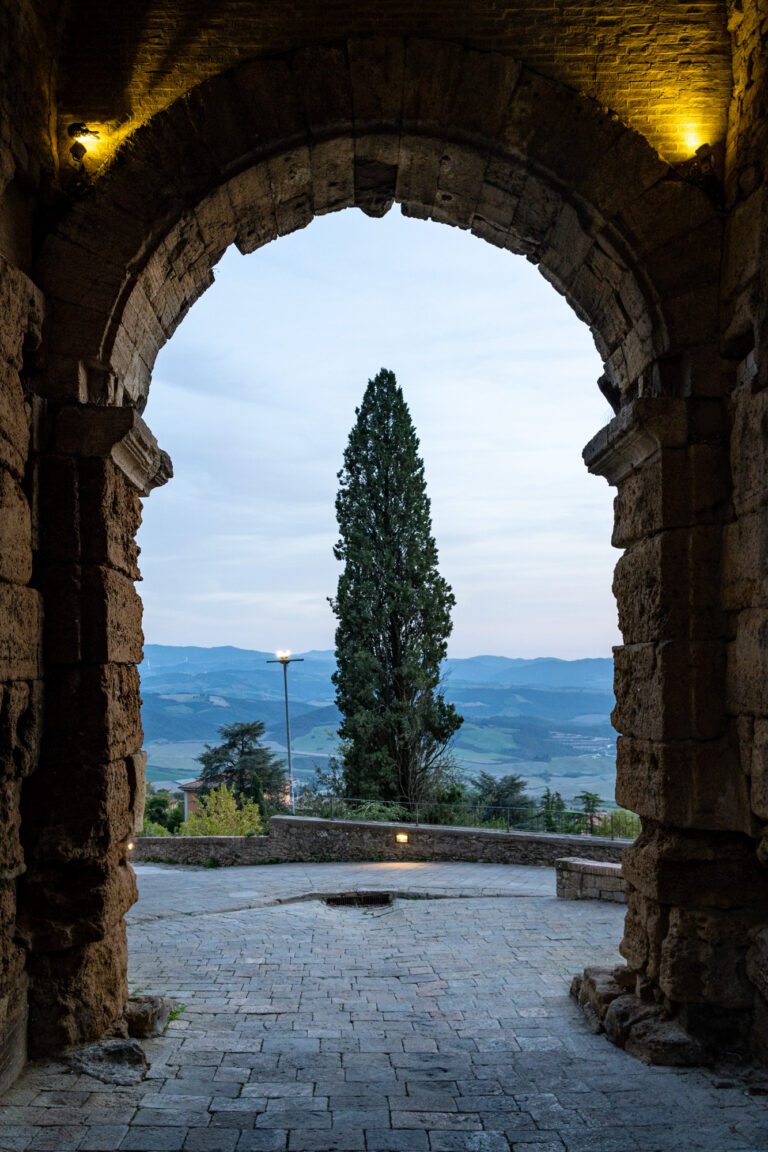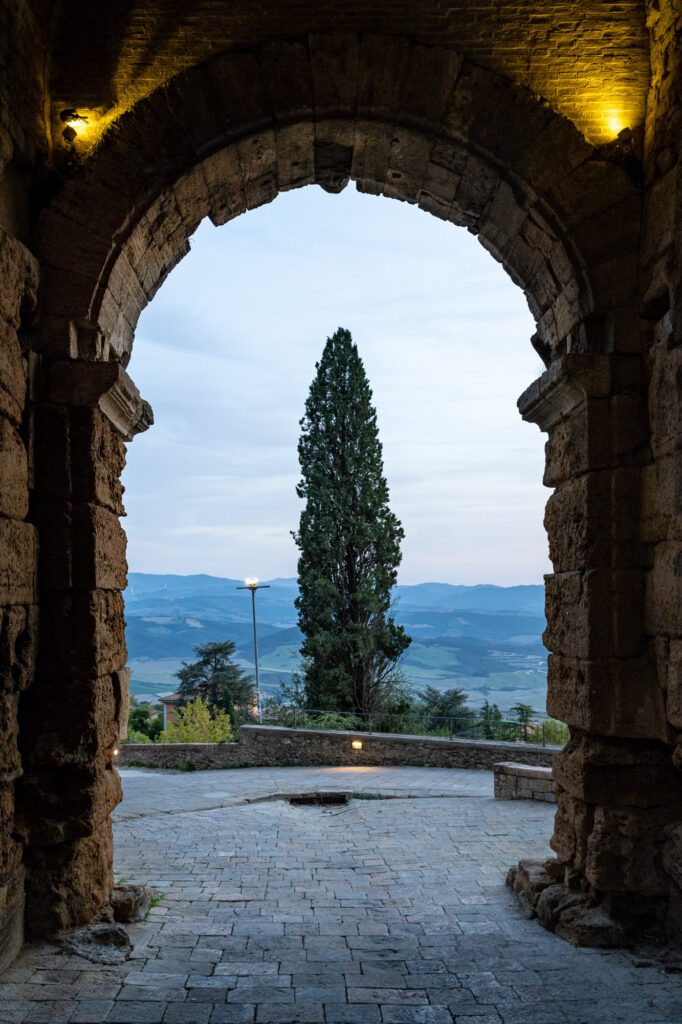 An afternoon in Volterra is well worth the drive from San Gimignano, we think. You only need about a half a day to see the highlights. Here are some of our favorite things to do in Volterra.
The Etruscan Museum. Volterra has been home to many different inhabitants over the years (it has been consistently inhabited since the 8th Century B.C.), including the Etruscans, who left their mark on the city. The Etruscan Museum in town is well worth a couple of hours of your time – it has one of the most extensive collections of Etruscan artifacts in the world.
Walking Tour. This twilight walking tour of Volterra (NOT THAT TWILIGHT) was one of our favorite experiences in all of Tuscany. It covered the history of the city in just one hour. The time of the tour varies each day, and it is well worth the small donation (only cash) to hear about Volterra's history from a local, including the feat of saving the main gate into town from destruction during World War 2.
Roman Ruins. One of the other fascinating elements at play here is related to another of the town's inhabitants over the millenia, the Romans. There are several sites around town where excavations have uncovered extensive Roman ruins, and the best example is the Roman Theater on the northern side of town (here is the best view). There is another, more recently uncovered Roman amphitheater further north outside of town, which was uncovered in the 2000's (which is the most recent archaeological discovery I personally had ever heard of).
Days 6 & 7: Florence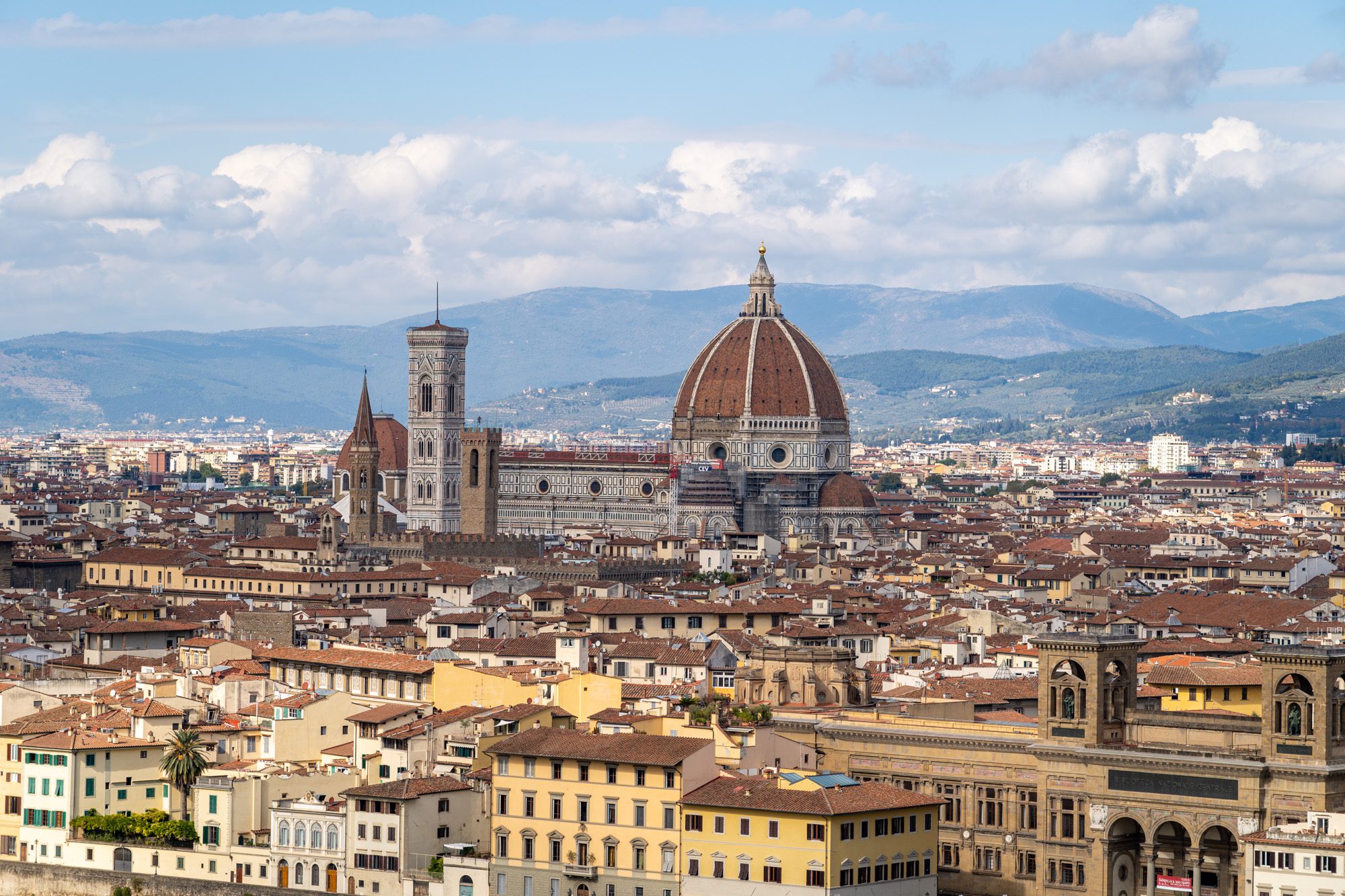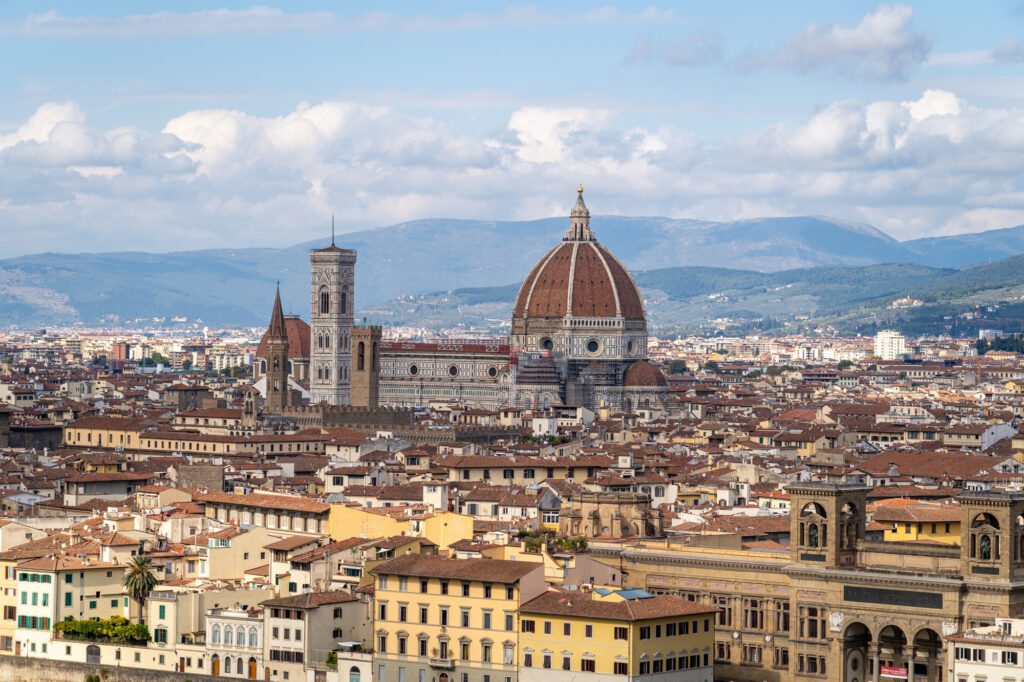 Drive Time and Distance from Volterra to Florence: 1 hour 30 minutes / 85 km
Finally, spend the last two days of your Tuscany road trip exploring the regional capital and one of Italy's most famous cities, Florence.
The city was one of the richest and most powerful in all of Europe (if not the world) during the 15th century, explaining its unmatched elegance and grandeur today.
Known as the 'Birthplace of Renaissance', Florence is a hub of world-class art and architecture.
Its two impressive art galleries are home to more masterpieces than you can possibly fathom, while the city itself is one giant open-air museum, with exquisite churches and grand Renaissance palaces on every corner.
It's difficult not to fall in love with Florence, despite the huge tourist crowds that descend on the Italian city all year round.
Things to Do in Florence
Florence may be relatively small as far as Italian cities go, but it certainly still packs a good punch when it comes to things to see and do.
Two days is just about enough time to experience the city's top sites and visit the two main galleries.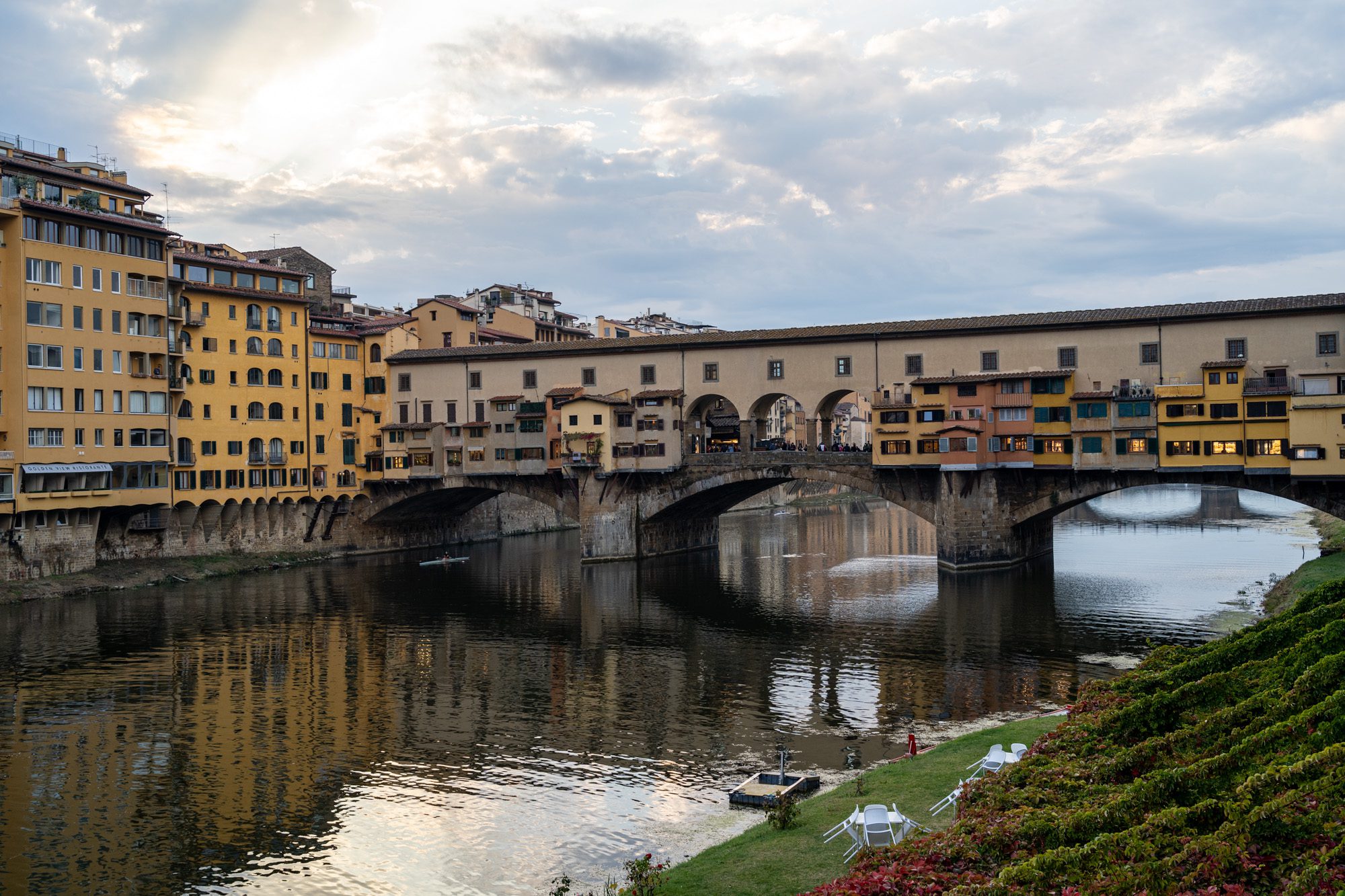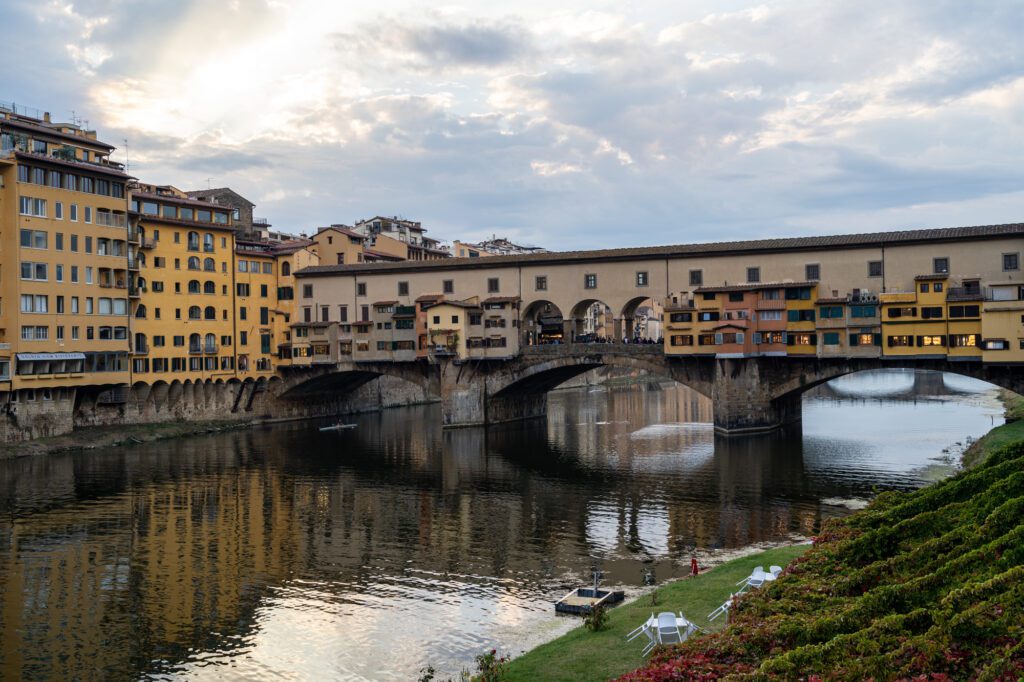 However, try to avoid visiting the Uffizi Gallery and Galleria dell'Accademia on the same day. Even for the biggest art lover, it's simply too much information to digest all at once.
Piazza del Duomo & Climbing the Dome. Sitting at the heart of the city, Piazza del Duomo is home to many of Florence's most important landmarks, including the 13th-century Cathedral and its famous dome, the Baptistery, and Giotto's Bell Tower. With only two days, we'd prioritize Brunelleschi's Dome. By climbing 463 steps to the top of the iconic dome, you can admire the striking frescoes up close and experience amazing views over the church's beautiful interior. Try to do it first thing in the morning for the fewest people, and book in advance here.
The Uffizi Gallery. This world-class gallery has a whopping 101 rooms that hold an unparalleled collection of Renaissance and European art. Many of the artworks were assembled by the powerful Medici family between the 15th-18th centuries. We'd highly recommend visiting on a guided tour to add context and richness to your visit – it can be a little overwhelming otherwise. We did this tour and absolutely loved our experience!
The Galleria dell'Accademia and the David. Florence's second major gallery is best known for one particular piece, Michaelangelo's Statue of David, which is one of the most famous sculptures in the world. It's worth visiting the gallery on a guided tour (this is the one I did on my latest visit to Florence with my mom, who had never seen David in person before) to learn more about the famous statue and other artworks in the gallery.
Explore Oltrarno. Just across Ponte Vecchio, which crosses over the Arno River that runs through Florence's historic center, is one of our favorite parts of the city, Oltrarno. The neighborhood is full of charming little piazzas, traditional restaurants, and cozy bars. It's a great place for a peaceful stroll or an afternoon aperitif. Check out Le Volpi e l'Uva for the best Italian wine selection, and Gelateria Della Passera for Alysha's favorite gelato in Florence.
Eating and Drinking in Florence. Tuscany is a region that's known for its fantastic cuisine, and you can sample the best of it in its capital city of Florence. Start your mornings with coffee from Coffee Mantra, indulge in delicious pizza from award-winning Ciro and Sons, and don't miss the Pappardelle al Cinghiale (pasta and wild boar ragu) at Da Garibardi. The city also has two food markets, Centrale and Sant'Ambrogio, which are must-visits for foodies.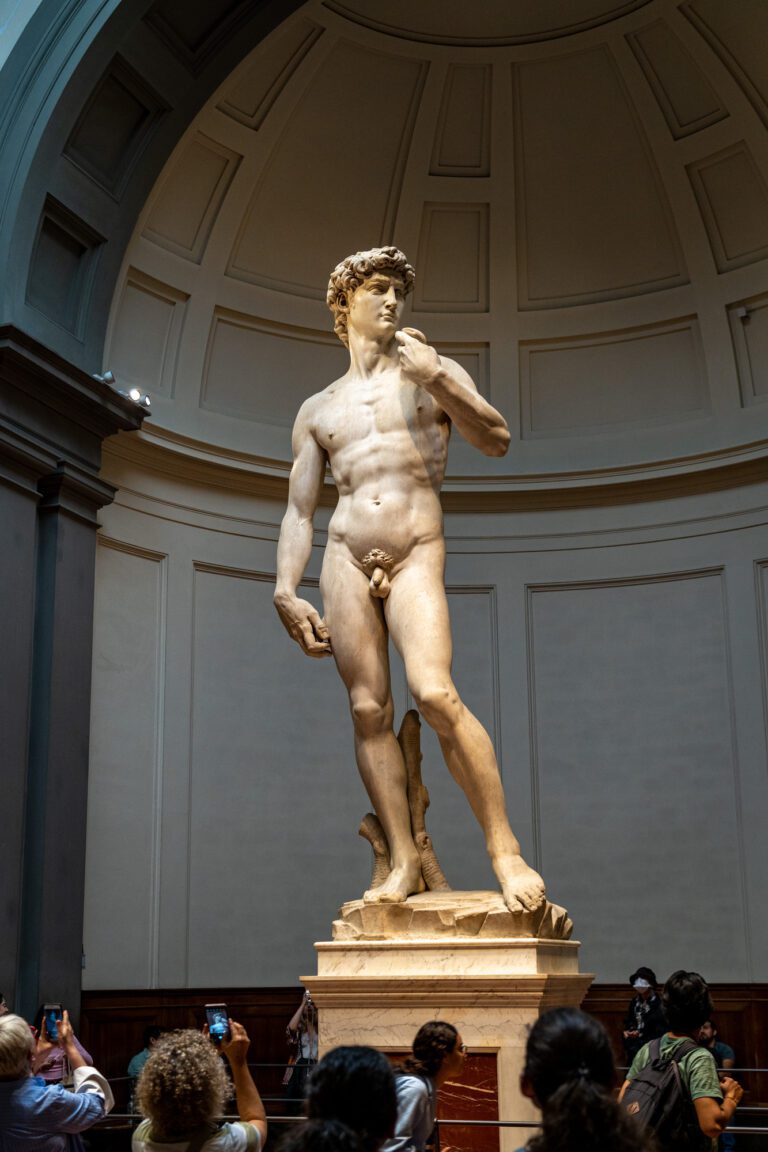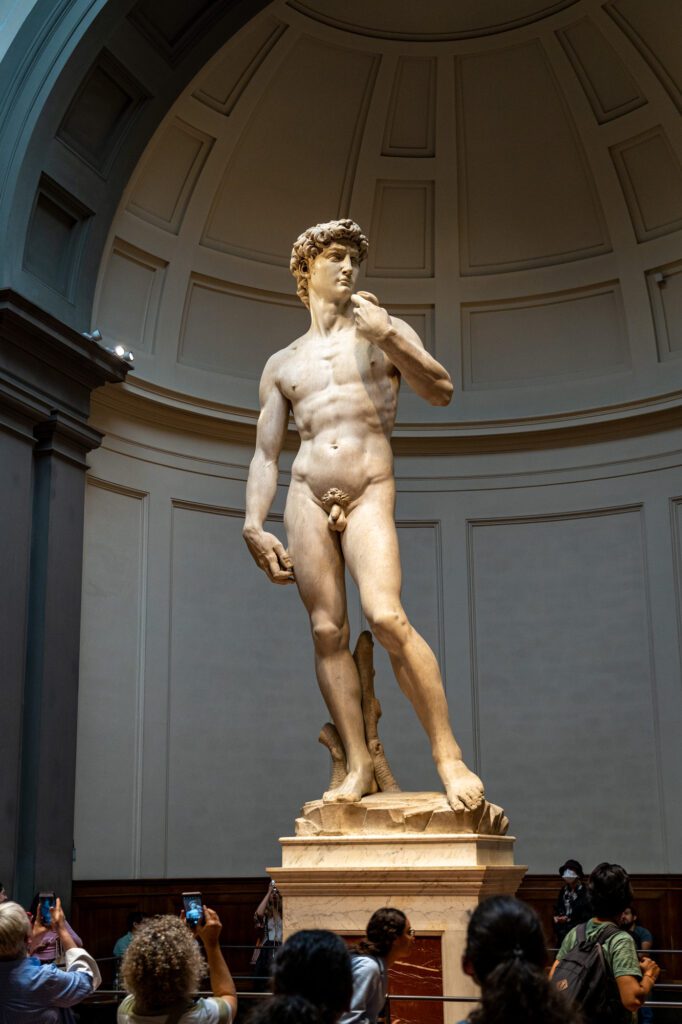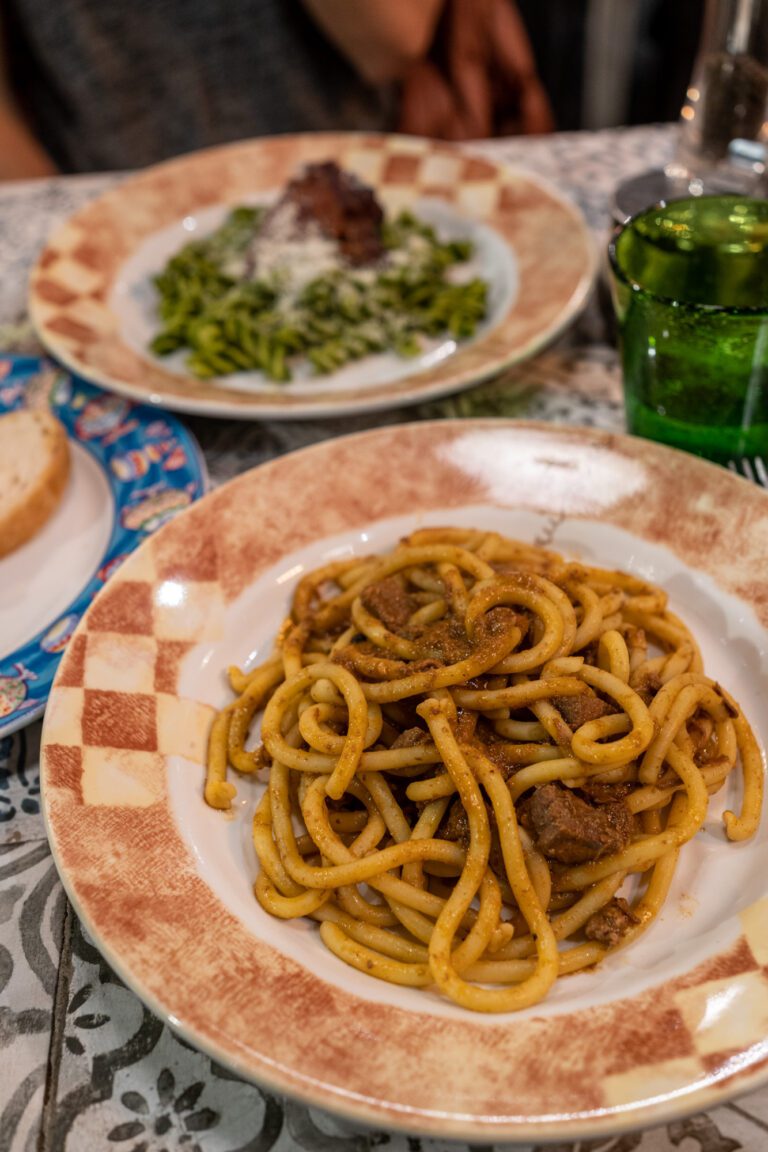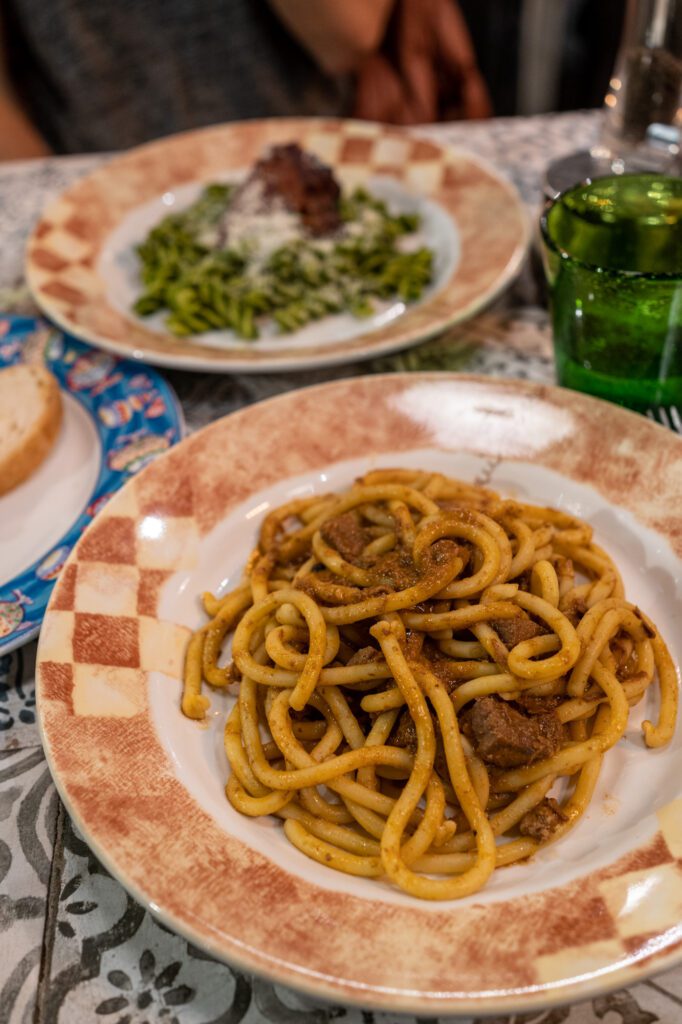 More Than a Week in Tuscany? Here's What We'd Add to Your Itinerary
There are two places that we really liked that you're missing if you follow the Tuscany itinerary above as written. They are Chianti and Lucca, which are west of the majority of this itinerary.
With a few extra days, we'd spend a day or two in each place. Both areas can easily be covered in a day for each, but two gives you the opportunity to do things at a more leisurely pace. You can absolutely do Chianti as a half day trip, either from Siena or Florence.
You'll notice that we haven't included Pisa here, which is in the same vicinity as Lucca. We MUCH prefer Lucca to Pisa, both because it's a more interesting city in general, and because it sees a fraction of the tourists that Pisa does.
If you absolutely must see the leaning tower of Pisa, then we'd add it as a day trip from Lucca (but we wouldn't stay the night in Pisa, if you can avoid it).
Lucca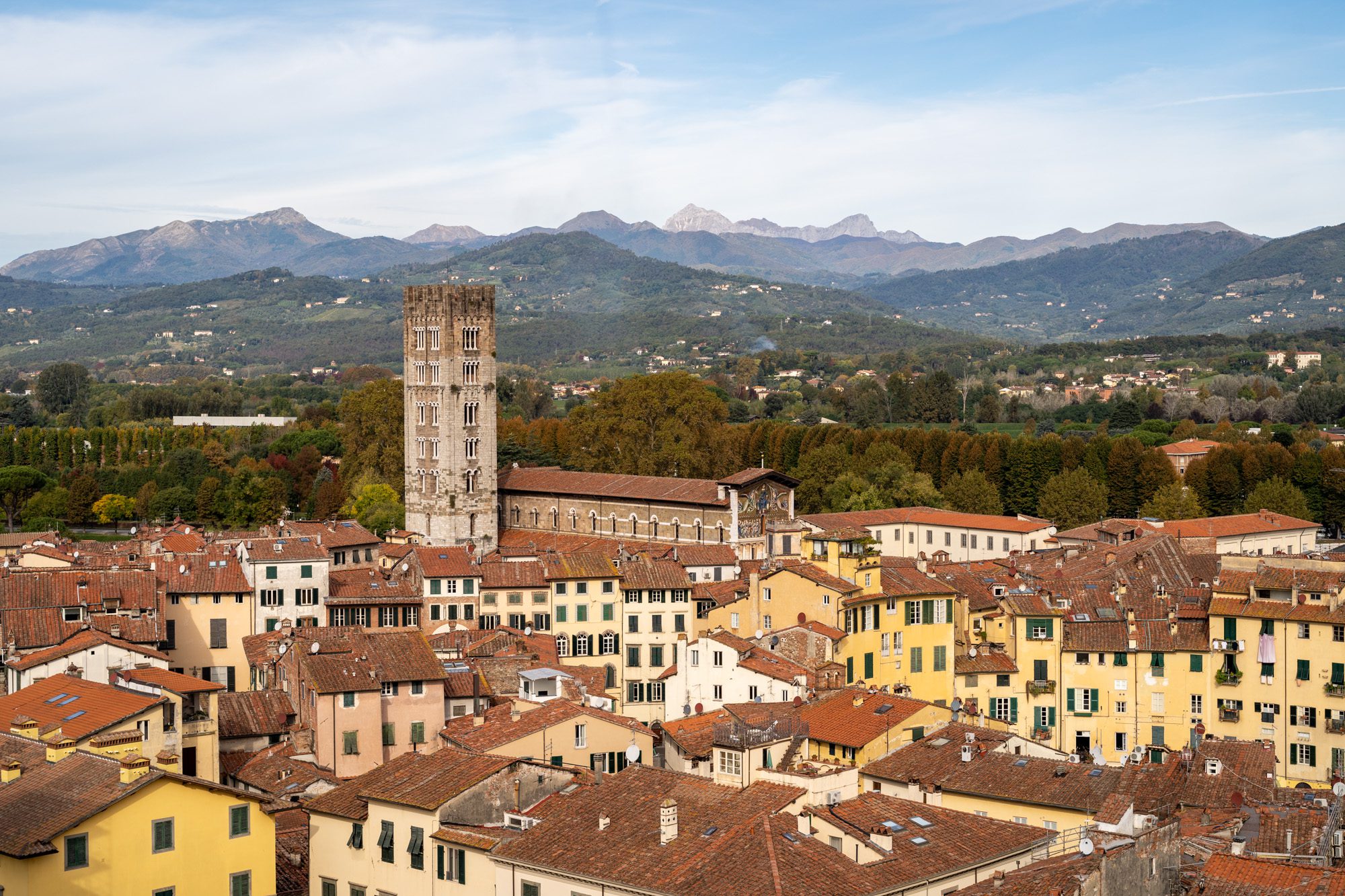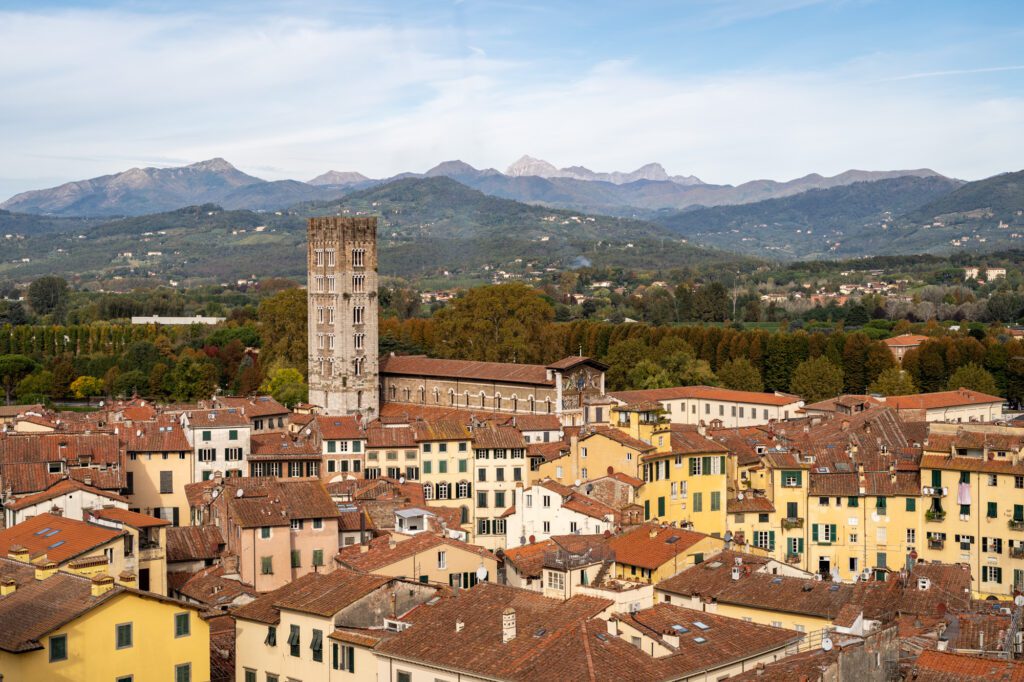 Lucca is one of our favorite discoveries from our six week Italy trip in 2021, and the highlight here is the intact city walls that date back to the Renaissance. You can circumnavigate the city by walking along the walls, which is absolutely something you should plan on doing.
The city is in a narrow valley, surrounded by mountains on the south and north sides. One thing you should absolutely do in Lucca is climb one of the many towers in the center of town.
We climbed the Torre Guinigi, and the view from the top with the towers and churches of Lucca and the surrounding mountainous landscape was sublime.
Another thing not to miss is Piazza dell'Anfiteatro, which is a piazza built on the site of a former Roman amphitheater. The piazza keeps the same oval shape today, though the restaurants on it leave a bit to be desired.
Chianti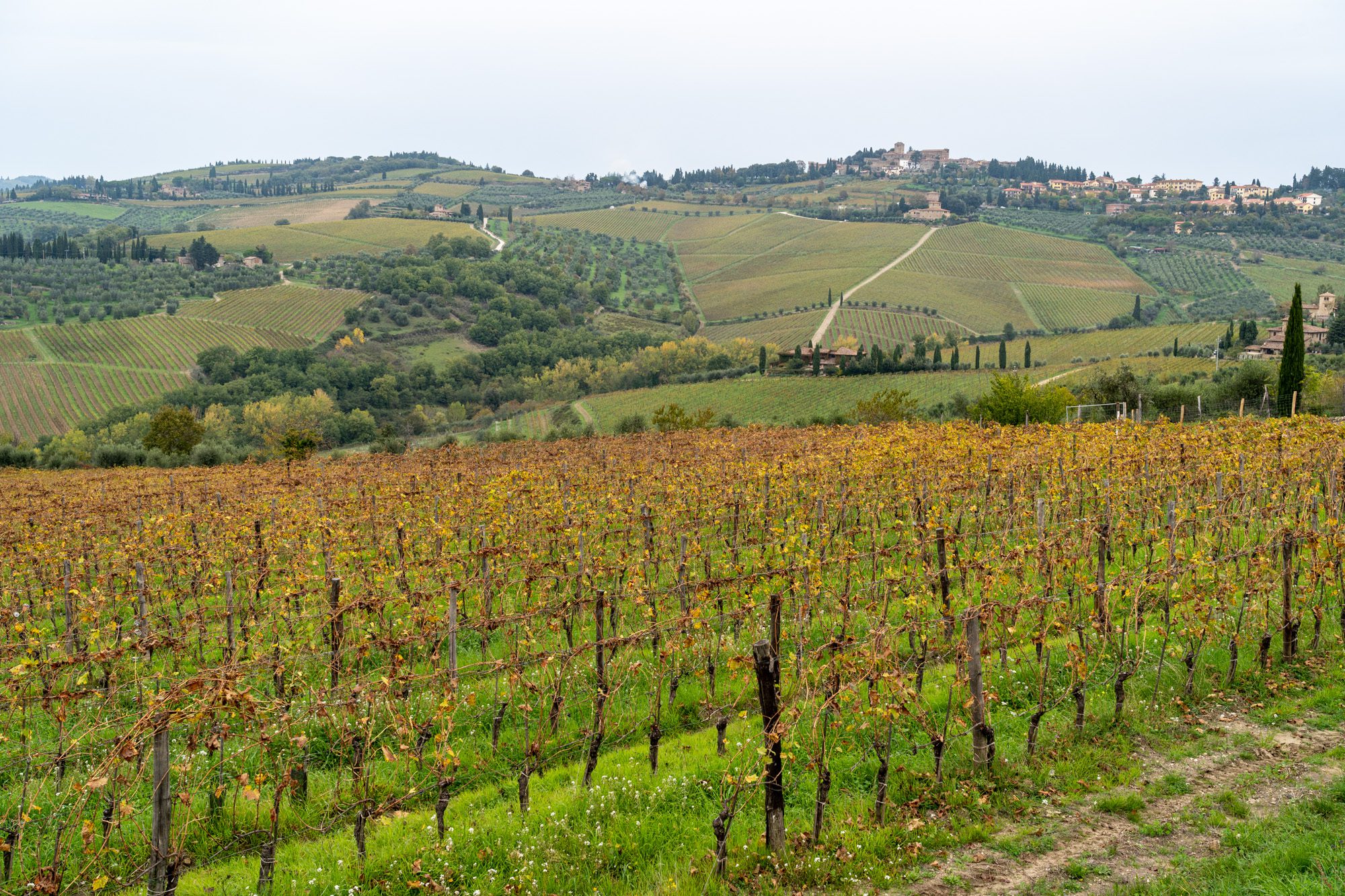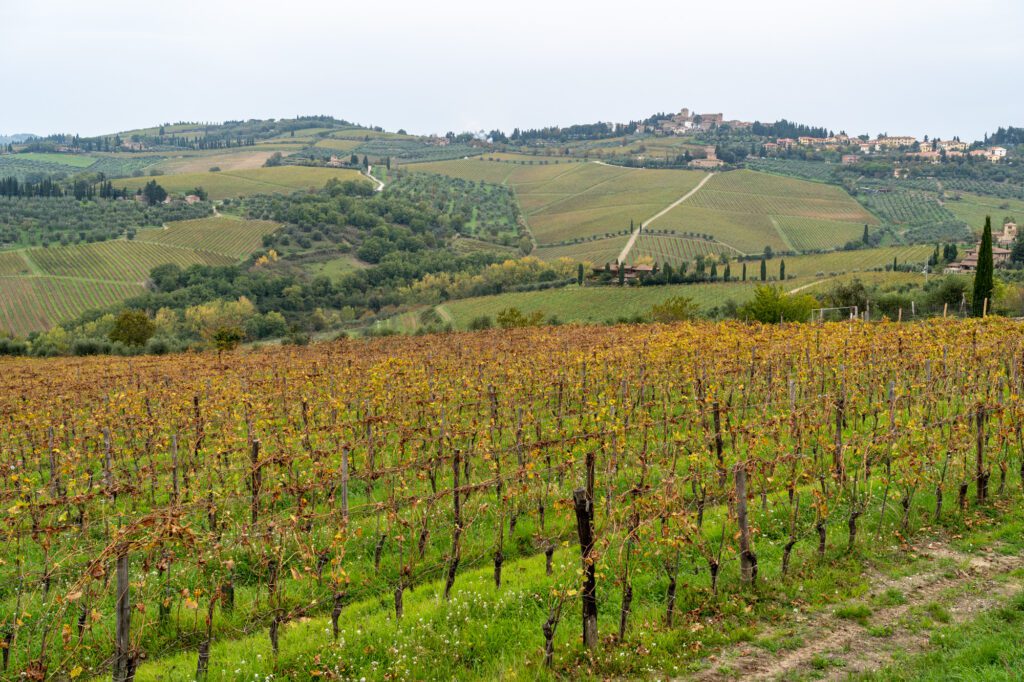 Chianti is a wine region just south of the city of Florence that is known for its red wines, specifically the Chianti Classico, which is one of the main wine exports of Tuscany.
Similar to other Italian D.O.C.G. wines like Prosecco and Brunello, Chianti Classico is a red wine that is made in a specific way with primarily Sangiovese grapes from the Chianti region.
It is one of the most famous wines that comes out of Italy. If you don't like red wine, I have some bad news for you – Tuscany is all about the red wines (except for vernaccia, which is a white wine that comes from San Gimignano!).
As you might imagine, Chianti is all about the wine tasting. Now, on the itinerary above, you've covered a few different famous red wines from Tuscany like Brunello and Rosso di Montepulciano, and Chianti is somewhere in between the two in terms of prestige and price.
The best way to experience the wines of Chianti is on a wine tour. In terms of guided tours, you have two options. You can either choose a tour that goes deep on a single winery, usually including a cellar tour and detailed tasting (but you'll have to make your way out to the winery), or a tour that takes you around to multiple wineries.
Since you have a car, we'd recommend the first option, which gives you a deeper, more intimate experience. We did this wine tour of a tiny organic winery in Chianti and absolutely loved it.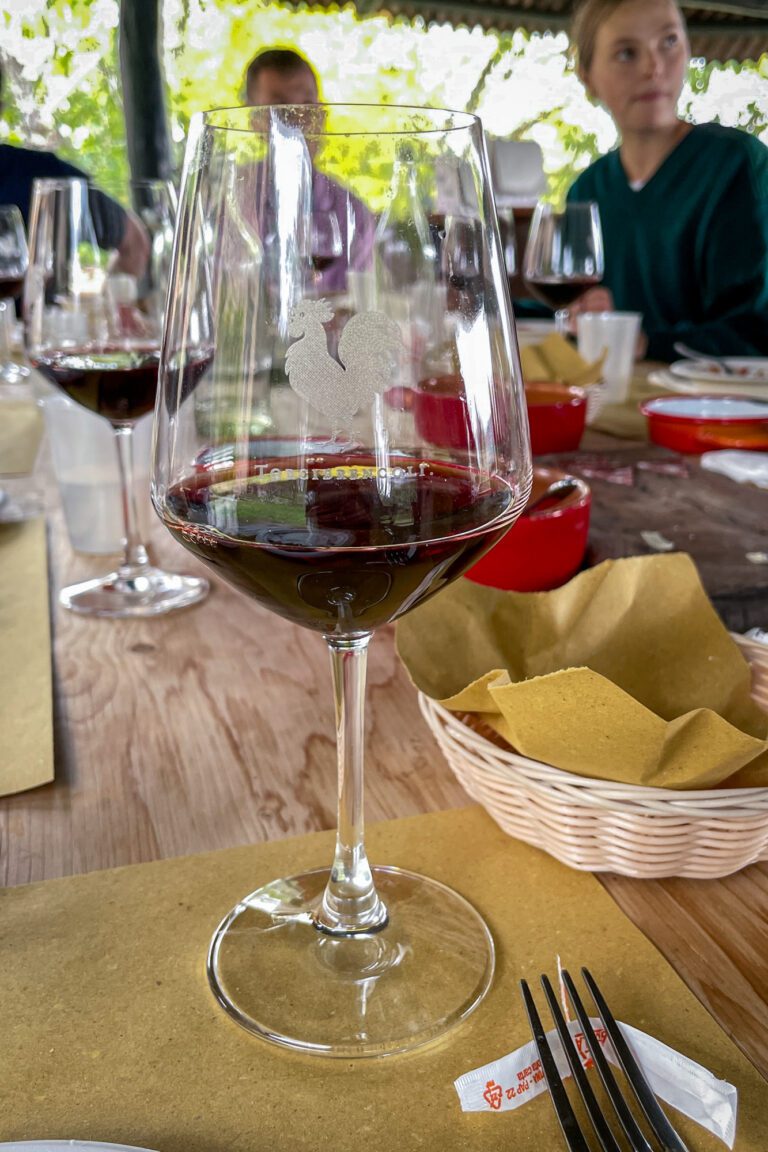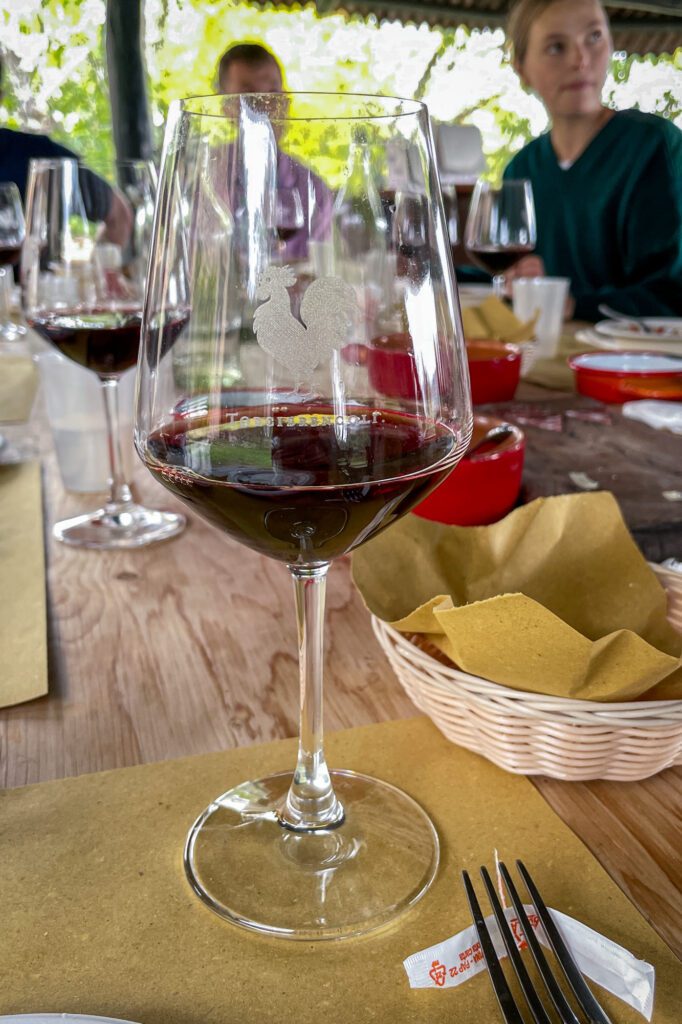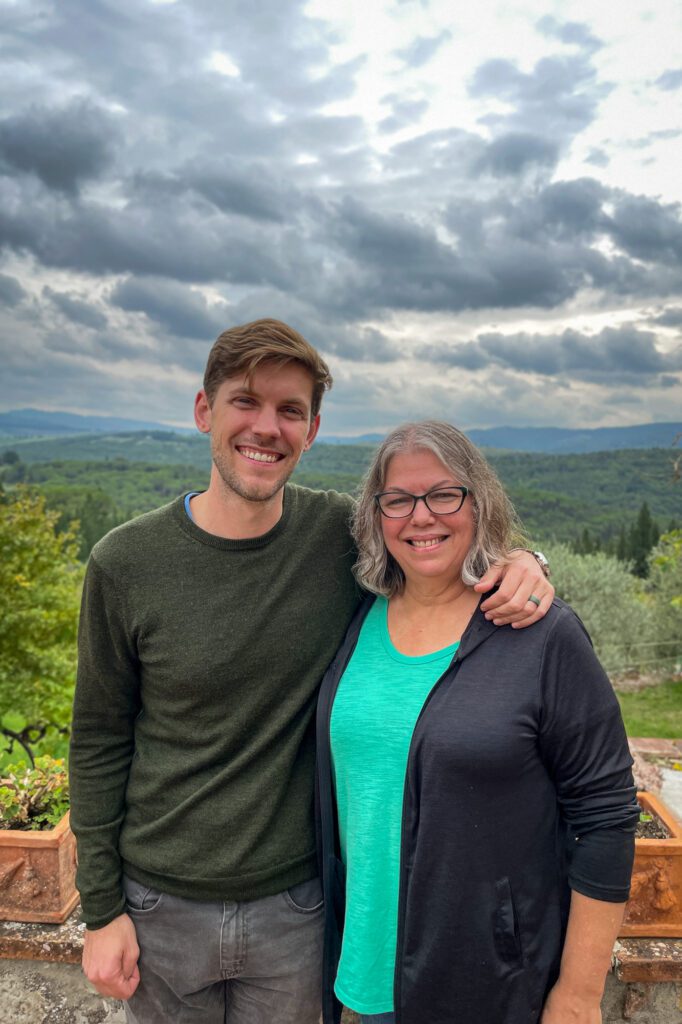 If you have the time, we'd also recommend a stop at the lovely town of Badia a Passignano, a charming little town in the heart of Chianti.
Pro tip: If you're buying Chianti Classico at home or somewhere else in Italy, make sure it says "Chianti Classico" (versus just "Chianti", which we learned can be made elsewhere in Tuscany) and has a rooster logo somewhere on the bottle, which is how you know it's legit.
Planning a Shorter Tuscany Road Trip Itinerary (3-5 Days)
If you have fewer than 7 days in Tuscany, our recommendation would be to focus your time on specific regions within Tuscany (see the geography overview above for how we'd break it up) rather than trying to see it all.
The first thing to consider is whether or not you want to include Florence in your itinerary. You might have already been there, or you might be more interested in the charming hilltop towns in the south of Tuscany.
If you want to include Florence in your itinerary AND you have limited time, we'd recommend basing yourself in Florence, and doing a day trip to Siena, Lucca, or Chianti from there. In this scenario, we'd strongly recommend that you don't rent a car!
We actually have a 3 day Florence itinerary for you to basically steal, which includes a day trip on the third day out into broader Tuscany.
If you have three days and you don't want to include Florence, then we'd focus on one region (and we'd make it either Siena or the Val d'Orcia).
If you have five days or so, focus on two regions – Siena and the Val d'Orcia.
You could also structure your own itinerary based on your particular interests by using the information in the main itinerary above!
5 Days in Tuscany: Siena and the Val d'Orcia
These two regions are quintessential Tuscany, at least for us. Tuscany is famous for many things, but somewhere near the top of the list has to be cypress trees and hilltop towns perched atop rolling hills as far as the eye can see.
That's what you'll find between Siena and the Val d'Orcia. If you only have five days, we'd split it between these two regions and completely skip Florence and San Gimignano.
Here's what that itinerary looks like:
Day 1: Drive to Siena
Day 2: Siena + Monteriggioni
Day 3: Val d'Orcia (Montalcino)
Day 4: Val d'Orcia (Pienza & Montepulciano)
Day 5: Val d'Orcia & Drive to Florence
3 Days in Tuscany: Siena & Around
Siena is a great city, and like we mentioned above is probably the best example of a charming hill town in Tuscany. It's a bigger city than the vast majority of the other smaller towns on this itinerary, and it's just beautiful vista after beautiful vista around every corner.
If you have three days in Tuscany, Siena makes for a great home base because it's central to both San Gimignano and the Val d'Orcia, which makes a day trip more feasible.
One idea for a shorter itinerary like this that is based in Siena would be to hop on a day trip from Siena to reach either San Gimignano or the Val d'Orcia.
The tradeoff of seeing one of those places is that it gives you less time to explore Siena (you really only need about a day and a half, we think).
Day 1: Arrive in Siena
Day 2: Day Trip from Siena
Day 3: Siena + Drive to Florence
In terms of the day trips, we'd definitely recommend going with the company behind the walking tour we did in Siena, which we enjoyed. They have a small group tour to the Val d'Orcia (Montepulciano and Pienza) and one that goes west to San Gimignano and Volterra.
3 Days in Tuscany: The Val d'Orcia
As we have already covered multiple times, we love the Val d'Orcia.
The only issue with the Val d'Orcia is that it's a little far from Florence, which means you're going to spend a lot of time in the car between the two (roughly 90 minutes each way) for just a couple of days spent there.
Still, we think it's worth it. This is by far our favorite part of Tuscany.
Day 1: Drive to the Val d'Orcia + Montalcino
Day 2: Pienza & Montepulciano)
Day 3: Morning Scenic Drive + Drive Back
---
Heading to Italy?
We've been to Italy multiple times – obviously we love it – including more than a month on our last trip!
If you enjoyed this guide and found it helpful, you definitely won't want to miss our detailed guide to planning an amazing 10 Day Italy itinerary, which covers Rome, Florence, and Venice and is perfect for a first trip.
We also have a guide to spending two weeks in Italy, which combines those three main cities with a few lesser known cities (Bologna and Verona), or a guide to spending one week in Italy, which has six different ways to spend 7 days.
Here are some of our other Italy guides to help you plan an incredible Italian adventure.
Rome:
Florence:
Venice & Milan:
Cinque Terre:
Sicily:
Need to Eat Gluten Free in Italy?
If you're traveling and need to eat gluten free like me, Matt (I have Celiac Disease, which is why I started this site in the first place), then you'll want to check out our gluten free guide to Italy, along with our city guides for Rome, Florence, and Milan to help you find the best gluten free pastries, pizzas, and more.