3 Days in NYC: How to Spend a Weekend in New York City
New York City is amazing. Full stop. The food. The energy. The arts and culture scene. All of it. We're very much city people, and New York checks all the boxes in terms of what we love about cities. There's so much to do and see in NYC that we're pretty certain you could spend the better part of a decade trying to see it all, and still end up with things on your list that remain unchecked.
However, you don't have a decade, do you? You've only got something like a weekend in New York City, so you're going to have to be strategic if you want to see the best that the city has to offer in a few days.
Which is where we come in.
We're not NYC locals by any means, but we've spent a full week in New York City on two separate occasions over the past few years, and have a pretty good perspective on how to explore the city as a tourist. We've done most of the major attractions, and have some (sometimes strong) opinions on what's worthwhile – and arguably more importantly, what's not – that we think will be helpful as you plan your New York City itinerary.
In this (admittedly very long) guide to spending a weekend in NYC, we're going to take you through exactly how we'd spend 3 days in New York City.
It's all based on our own personal experience, and we've done our best to create an NYC itinerary that we'd actually want to follow ourselves. Sprinkled in, you'll find some museums, some Broadway, and a lot of walking (and eating). Plus, some hidden gems – like the New York Public Library – that we discovered mostly by accident and think are definitely worth your valuable time.
Along the way, we'll also help you answer some of the less exciting – but equally important – questions like where you should stay, what airport to fly into, and how to get around.
Sound good? Grab a cup of coffee (or tequila) and buckle in – this one's a long one – as we dive deep into how to plan an amazing 3 day NYC itinerary.
PS: Planning a trip to NYC? We've got some other super detailed travel guides you might find useful. Read our guide to where to stay in NYC for a detailed breakdown of the best areas to stay for your trip to help you choose the perfect one. And our guide to the best gluten free restaurants and bakeries in NYC if you're a gluten free foodie, like us.
Disclaimer: Some of the links in this post, like hotel links, are affiliate links, meaning at no additional cost to you, we make a little bit of money if you click through and book. That being said, we would never recommend something to you that we don't stand behind 100%.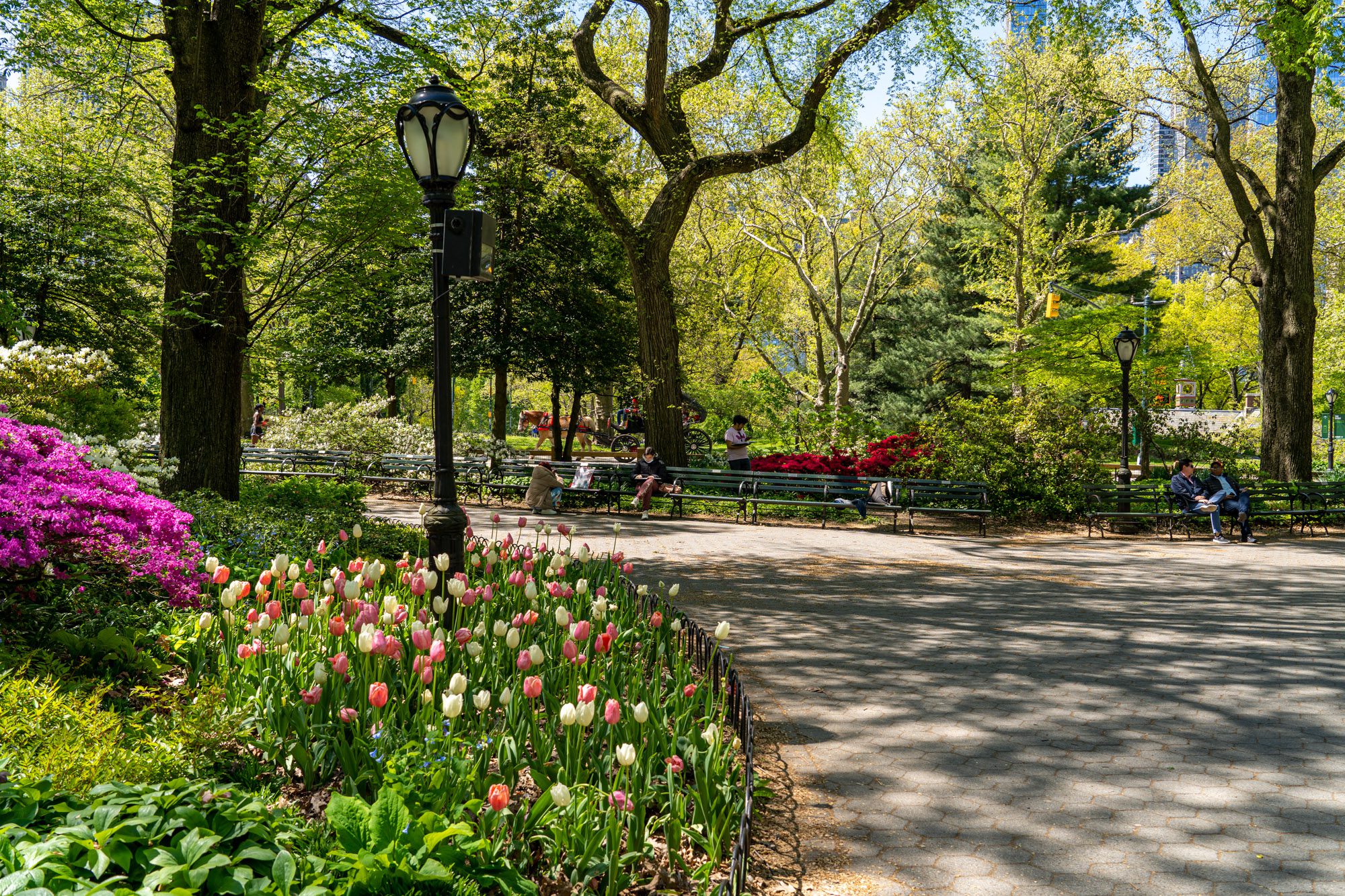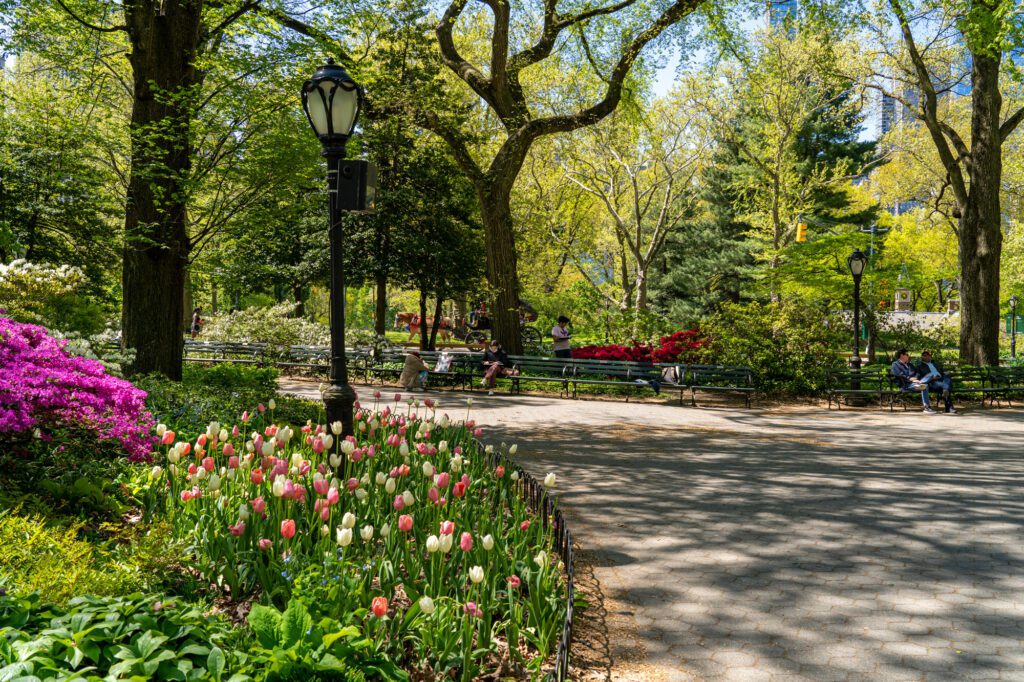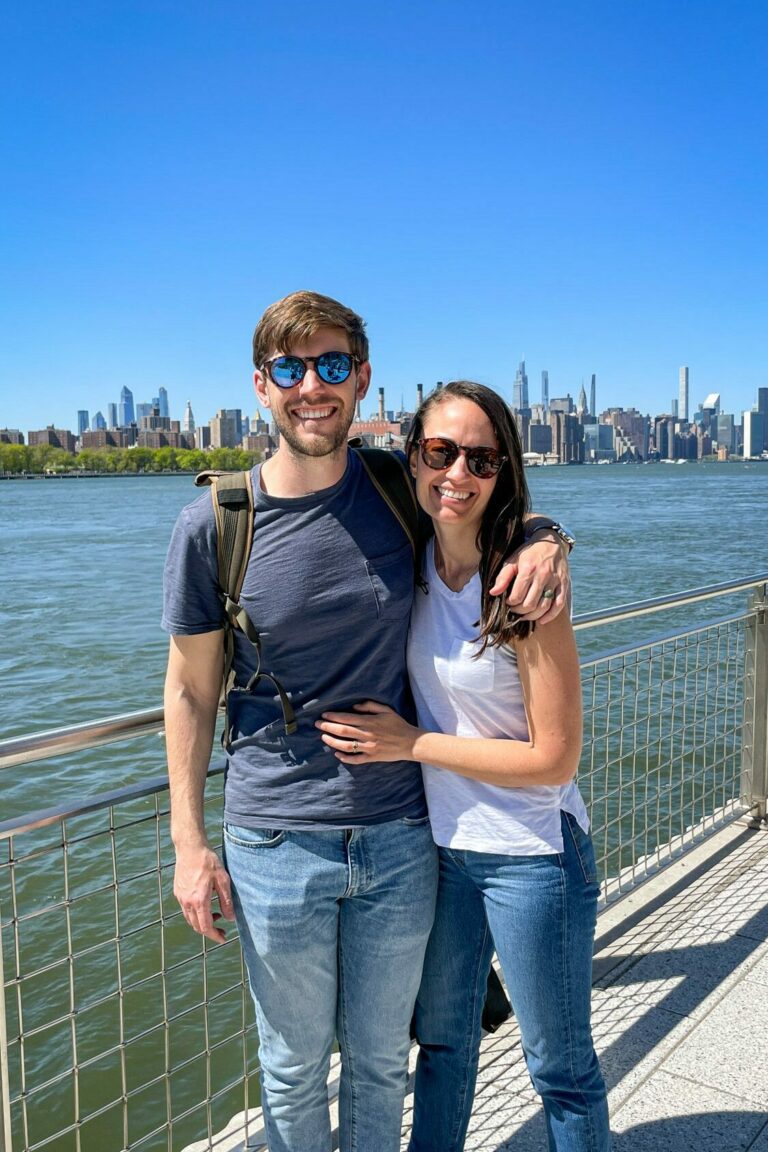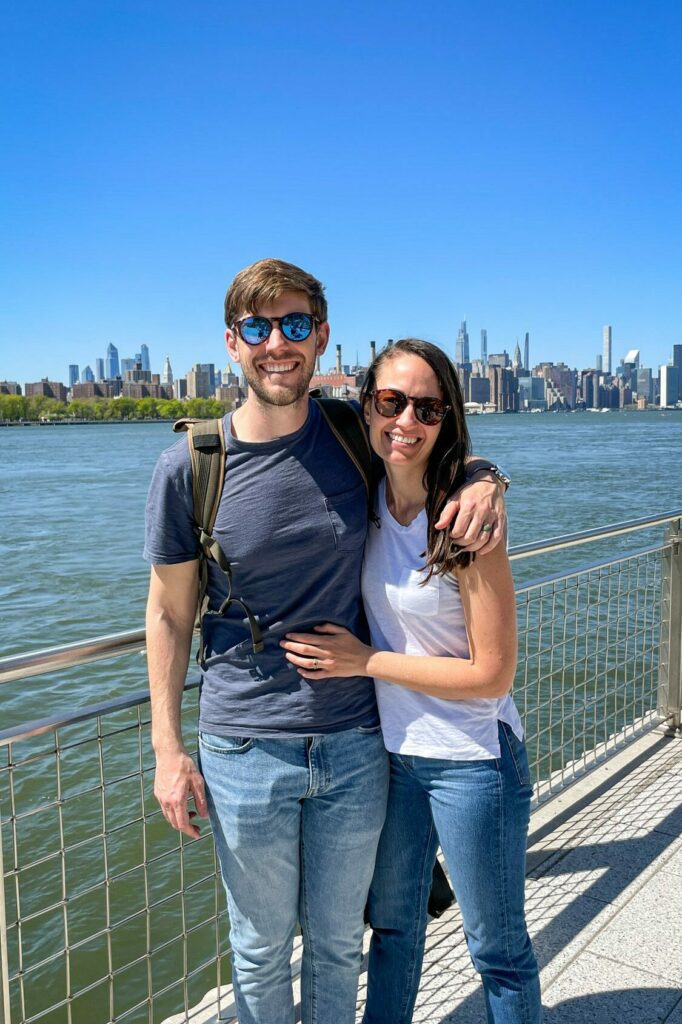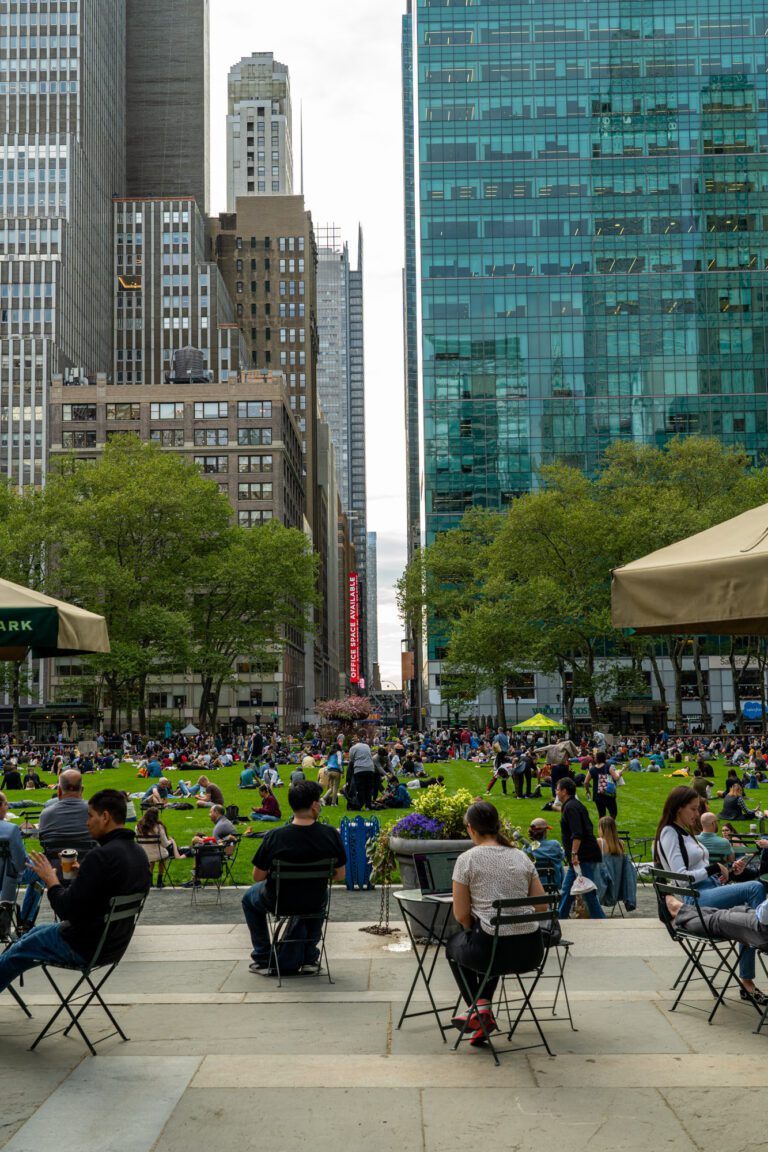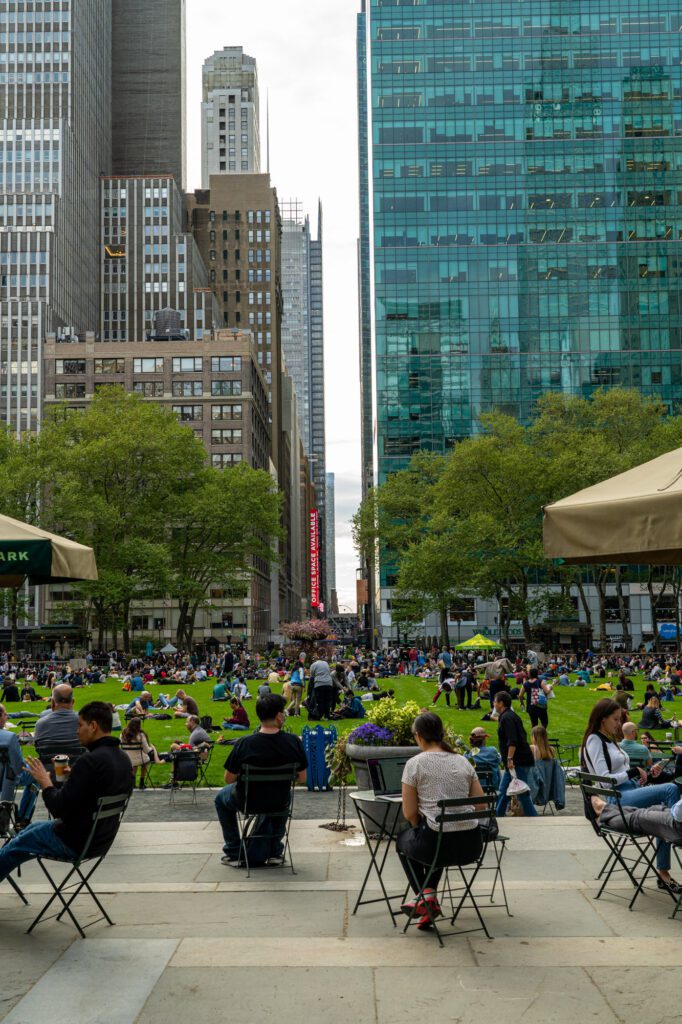 Is 3 Days in New York City Enough?
Is 3 days in literally any major city enough time to see it all? No, definitely not. Especially in a city as big, diverse, and interesting as New York.
But there is a but.
But, we totally understand that you probably have limited vacation time, and are using the weekend to make the most of it. You could absolutely spend a week, a month, a year in New York City, but the reality is that you don't have that kind of time.
3 days in New York City gives you a decent amount of time to explore Manhattan, and spend a half day or so over in Brooklyn. You won't be able to visit every museum and eat every delicious meal that the city has to offer, but you can get a taste of it, with plenty to see next time.
If you want to add a day trip over to Governors Island, spend more time in Brooklyn, or see some of the other museums or Broadway shows, add another day for each of those things.
If you've only got two days, plan on spending both days in Manhattan (which means not going over to Brooklyn), one day in Midtown / Central Park, and one day in Lower Manhattan.
The main New York City itinerary below is written for 3 days, but in a section below we have guides on how to spend one, two, and more than three days in New York to help you organize your trip if you have more or less time in the city.
Where to Stay for a Long Weekend in New York City
New York City is massive, so where you choose to stay is going to have a huge impact on what your weekend is like.
To avoid spending your entire trip in transit, we'd strongly encourage you to stay in Manhattan. Some people like the idea of staying in Brooklyn somewhere, but it's really inconvenient if you're going to be spending most of your time doing the main tourist attractions in New York City. Which is what this itinerary is written for.
If it's your second or third trip and you're less interested in things like Central Park, the museums, and Broadway, and you're more interested in eating and drinking your way through Brooklyn, that's when you should consider staying in Brooklyn.
Now, where should you stay in Manhattan? We've got three options for you, and we've actually personally stayed in all of them, which gives us a unique ability to evaluate the pros and cons of each.
If you want more detail, you definitely should read our massive detailed guide to where to stay in New York City, which has a deep dive on each of these three neighborhoods with pros and cons, neighborhood highlights, and some cool places to stay.
Here's the short version.
Our overall recommendation based on our own experience is the Flatiron District / NoMad. It's on the southern end of Midtown Manhattan, which means you're right in the center of all the action. But it's far enough removed from the hecticness around Times Square that you'll have a little more peace and quiet (if such a thing is even possible in NYC). Greenwich Village, the East Village, Chelsea, and Midtown are all within walking distance, and everything else is a short Subway ride away. We've stayed at (and liked) the Ace Hotel and the Freehand. While nothing is particularly affordable in NYC, the Freehand is one of the better values in the city.


The best place to stay for first timers who want to be as central as possible is going to be Midtown Manhattan. This area is just north of NoMad (the area we recommended above) and is walkable to Times Square, Rockefeller Center, Broadway, and Central Park. It's more crowded and packed with people at all hours, but it's hard to beat the convenience. We LOVE CitizenM Hotels, who have a Times Square location. We've stayed in three of their hotels – Boston, Seattle, and London – over the past four months at the time of writing, and every single time we walk away impressed with the modern, streamlined experience from check-in (where you get to select your room, essentially) to check out. Matt also stayed at the Arlo Midtown on his last (solo) trip to NYC, and it's a stylish option in a nice location with a cool rooftop bar.


The last option we'd recommend is Chelsea or Greenwich Village, which are adjacent neighborhoods in southwestern Manhattan. While not as central as the two options above, Greenwich Village in particular (and Chelsea, to a lesser extent) is the place to be for foodies. The whole area around Washington Square Park, the centerpiece to the area, is a lovely place to spend an evening, and it's full of the brownstones you see in series like Friends and Seinfeld. If you're on a budget, look at the Leo House in the heart of Chelsea. If you're not, stay at the Moxy Chelsea or the Walker Hotel, the latter of which is a few blocks off of Washington Square Park.
Flying to New York City: Which Airport to Choose?
This is a hotly debated topic among New Yorkers, and the several people who I asked all basically said the same thing; "it depends."
There are three main airports that serve New York City. 
John F. Kennedy International Airport (JFK)
The main airport is John F Kennedy International (JFK), which is a fair distance east of the city center. It does have the best selection of flights, both domestic and international, but it's a TREK to get to.
It took me 75 minutes to get from Midtown to the airport in a Lyft on a previous trip, and the Subway takes a full 90 minutes or so.
Here's a guide to getting from JFK to Manhattan by public transit, which costs just $10.75 (AirTrain + Subway fare) and is BY FAR the cheapest option.
For a slightly more comfortable ride, take the LIRR from Penn Station to Jamaica Station and transfer to the Airtrain, which is $15.75 (off-peak) and closer to $20 for peak travel times.
For what it's worth, I did the LIRR → AirTrain on my last trip, and it was seamless and easy to navigate. 
LaGuardia Airport (LGA)
Closer in, just northeast of the city center in Queens, is LaGuardia Airport (LGA). There's a fair selection of domestic flights going in and out of LaGuardia, particularly on American and Delta, but not as good as JFK.
Plus, the public transit links are a bit tougher because you have to use both a bus (the Q70 is a pretty easy connection though) and the Subway (more on how to do that here), so a cab or rideshare is probably going to be your best bet. Plan on $70 and 45-60 minutes to complete that journey.
Newark Liberty International Airport (EWR)
On the other side of Manhattan in New Jersey is Newark Liberty International Airport (EWR).
This is a hub for United, and to quote Alysha who flew out of Newark for our trip, "this airport is a sh*tshow." We'd avoid Newark if you can, but if you're flying United (why would you do that?) then you might end up here.
Here's a guide to getting to and from Newark via public transportation.
There are a couple of options, but none are particularly easy – they all involve at least one transfer. A cab or Lyft, while expensive ($50-80, give or take), is the fastest way to get into Midtown. I just looked, and with morning traffic at 9:30am on a Monday, it's only about 40 minutes.
So, Which Airport Should You Fly Into (if You Have a Choice)?
The question is, which should you choose? Of course, this totally depends on a bunch of different factors, but here's our take based on personal experience and talking with friends who live (or have lived) in NYC.
If you're staying in Manhattan (you probably are), then it makes the most sense to choose either LaGuardia or Newark. While neither are directly connected to the Subway system, they both are closer to Manhattan than JFK, which means a shorter cab / Lyft journey to your hotel. However, public transportation is a little tougher from both airports.
If you're staying in Brooklyn, OR you want to take the Subway to the airport, then you'll want to choose JFK. JFK also has the best flight selection, especially for international routes, so if you're coming from outside of the US, this is probably where you'll land.
Or, if you're like us, just choose the airport that gets you the cheapest (direct) flight and deal with how to get into the city later.
3 Days in NYC: A Complete Itinerary for a Long Weekend in New York City
Because there is SO MUCH to do and see in New York City, just about everyone is going to have a different take on the best way to spend your time.
Our version includes a couple of museums – but not spending all of your time inside a museum – and a lot of exploring on foot. Walking is our favorite way to see a city, and NYC is flat and walkable. Aside from the fact that it's massive, which means you'll need to use the Subway or ferries at some points.
What you won't find in the meat of this guide is detailed food recommendations UNLESS they are an easy stop along the route. Instead, we've compiled a list of our top NYC eats in a separate section at the bottom of this post.
P.S.: Matt has Celiac Disease, which means he needs to eat strictly gluten free (hence the name of our website). We have a huge guide to the best gluten free restaurants in NYC if you're in the same boat, but still want the best bagels, pastries, and tacos in the city!
Day 1: Times Square, Midtown Manhattan, and Central Park
On your first day in New York City, we'd spend your time getting acquainted with Midtown Manhattan, which in many ways is the beating heart of the city. At least for tourists, anyway.
Start in Times Square and make your way in a circle, getting one of the best views in NYC, exploring the two best parks in the city, and seeing the best church in the city. Then, spend the afternoon at one of the city's best museums and take a self-guided walking tour of Central Park before dinner and drinks in Midtown.
Times Square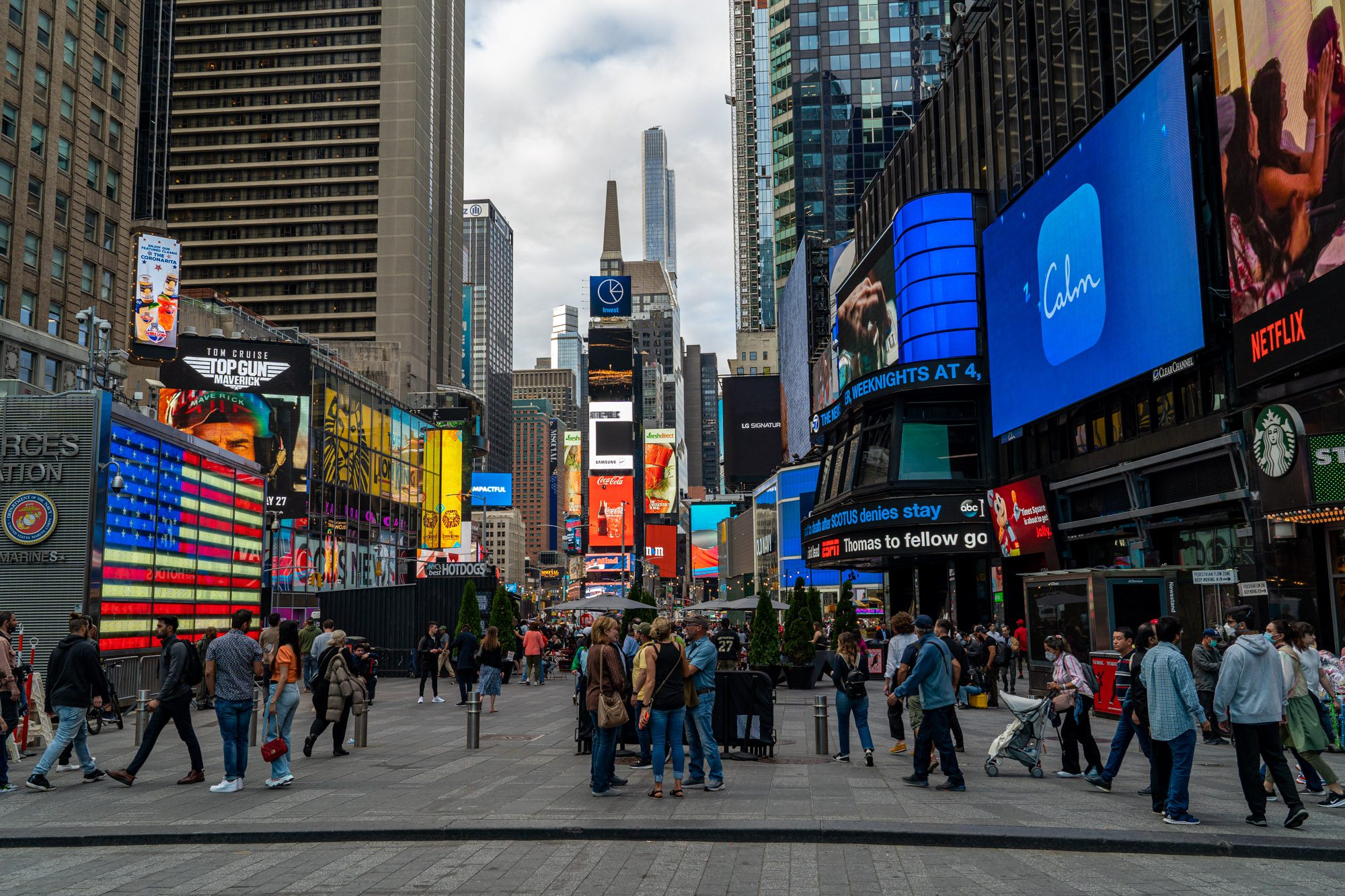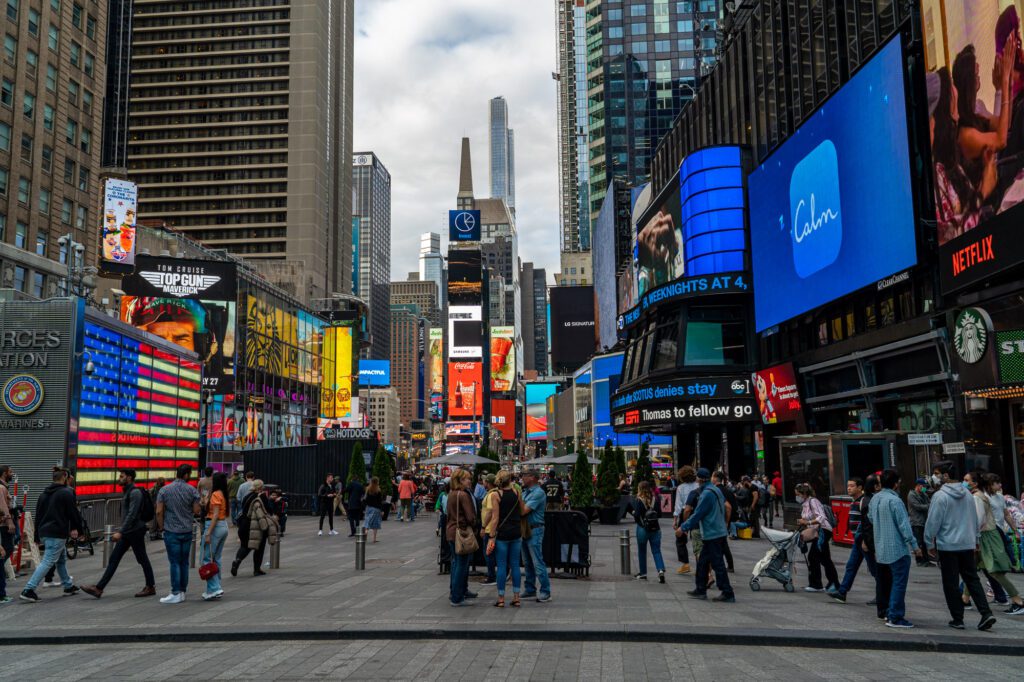 Look, Times Square is A LOT. We've been there early in the morning, late afternoon around sunset, and after the sun goes down when the bright lights really blaze.
If you're looking for the whole experience – the street performers, the characters trying to get you to take a picture with them (spoiler: you have to pay them afterwards!), and the throngs of people, then by all means come later in the day.
If you want to check out Times Square without all of those less pleasant (in our opinion, anyway) elements, come early in the morning. There will still be people around – it's arguably the biggest tourist attraction in the country – but it is a lot less hectic and chaotic.
There's really not much else to say about Times Square. It's worth seeing once, but it's probably not worth lingering. One thing we will say is that just about every restaurant in and around Times Square is not worth your time.
With one exception – Los Tacos No.1 – which also has a location in Chelsea Market. At both locations, the lines are almost always at least 20-30 minutes long. The wait is supposedly worth it, but they have both flour and corn tortillas, which means we don't get to eat here (because Matt has Celiac Disease and a few crumbs of gluten is bad news barnacles for his body).
NY Public Library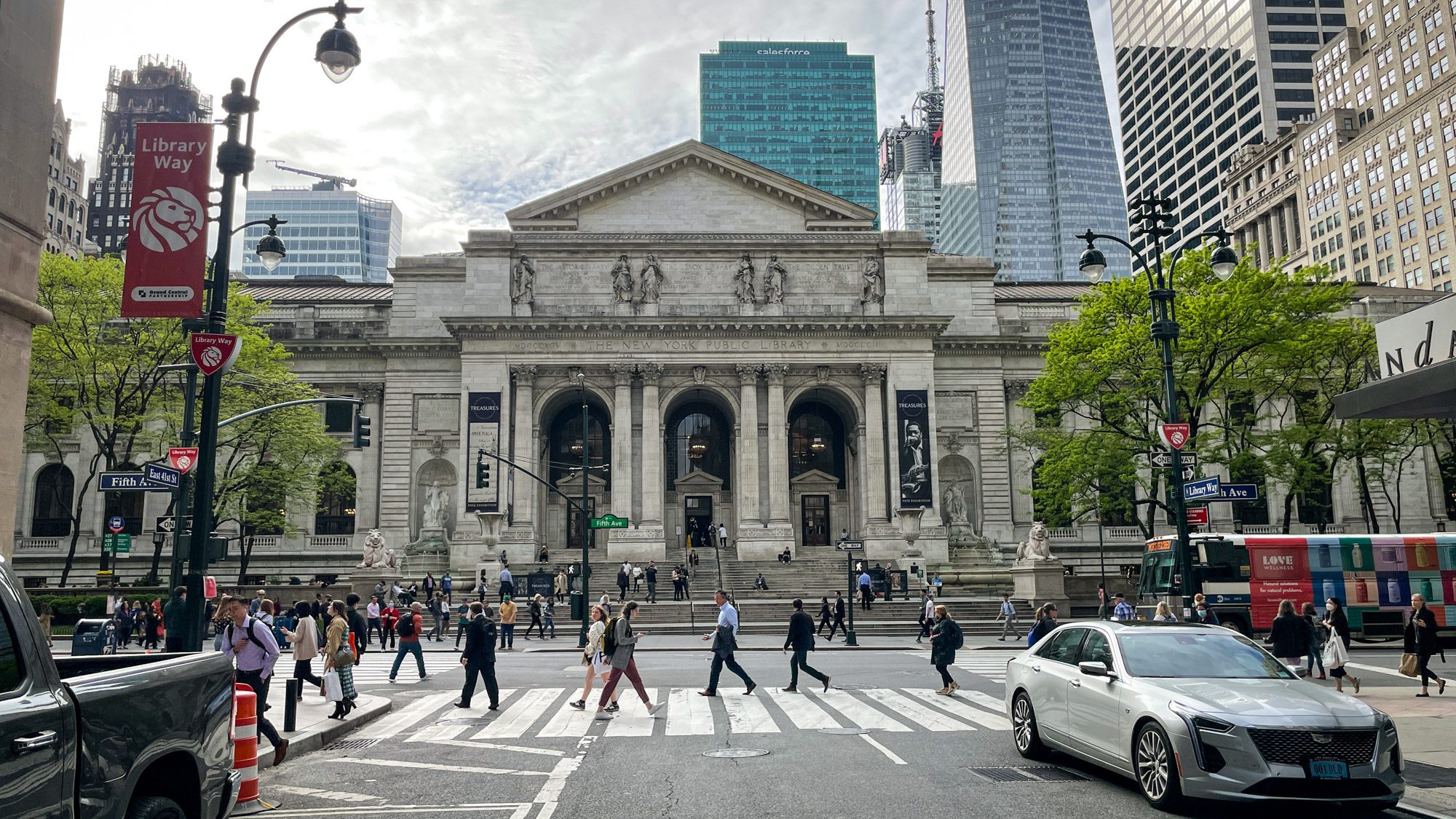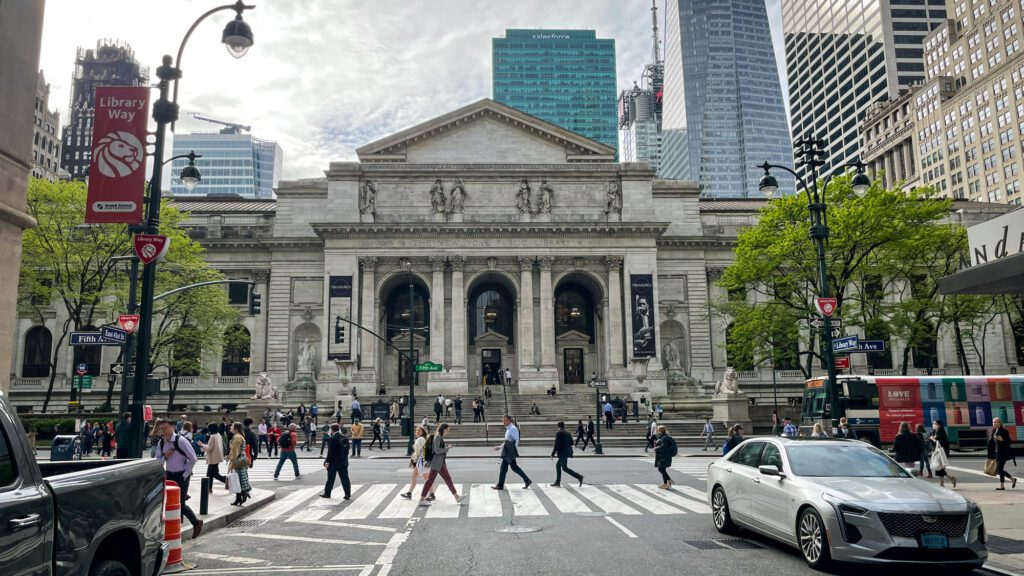 The New York Public Library, which is right at Bryant Park, was a surprisingly great stop on our last trip to New York. The building – the Stephen A. Schwarzman Building – is iconic, and is the flagship location of the NYPL system. It was built over a century ago, and opened to the public in 1911 after a couple of decades of construction.
It's free to enter, though at the moment you do need to make a timed entry reservation to get into the Polonsky Exhibition (more on that in a second). You can make them onsite – they have a couple of stations to register – but they might sell out at peak times and in the summer.
There are a couple of things to do and see here. The first is the Polonsky Exhibition which is a collection of items spanning from a handwritten copy of the Constitution by Thomas Jefferson, to the actual stuffed animals that inspired Winnie the Pooh. There's a really cool free audio guide that you can access online with your smartphone, so make sure to bring headphones to take advantage!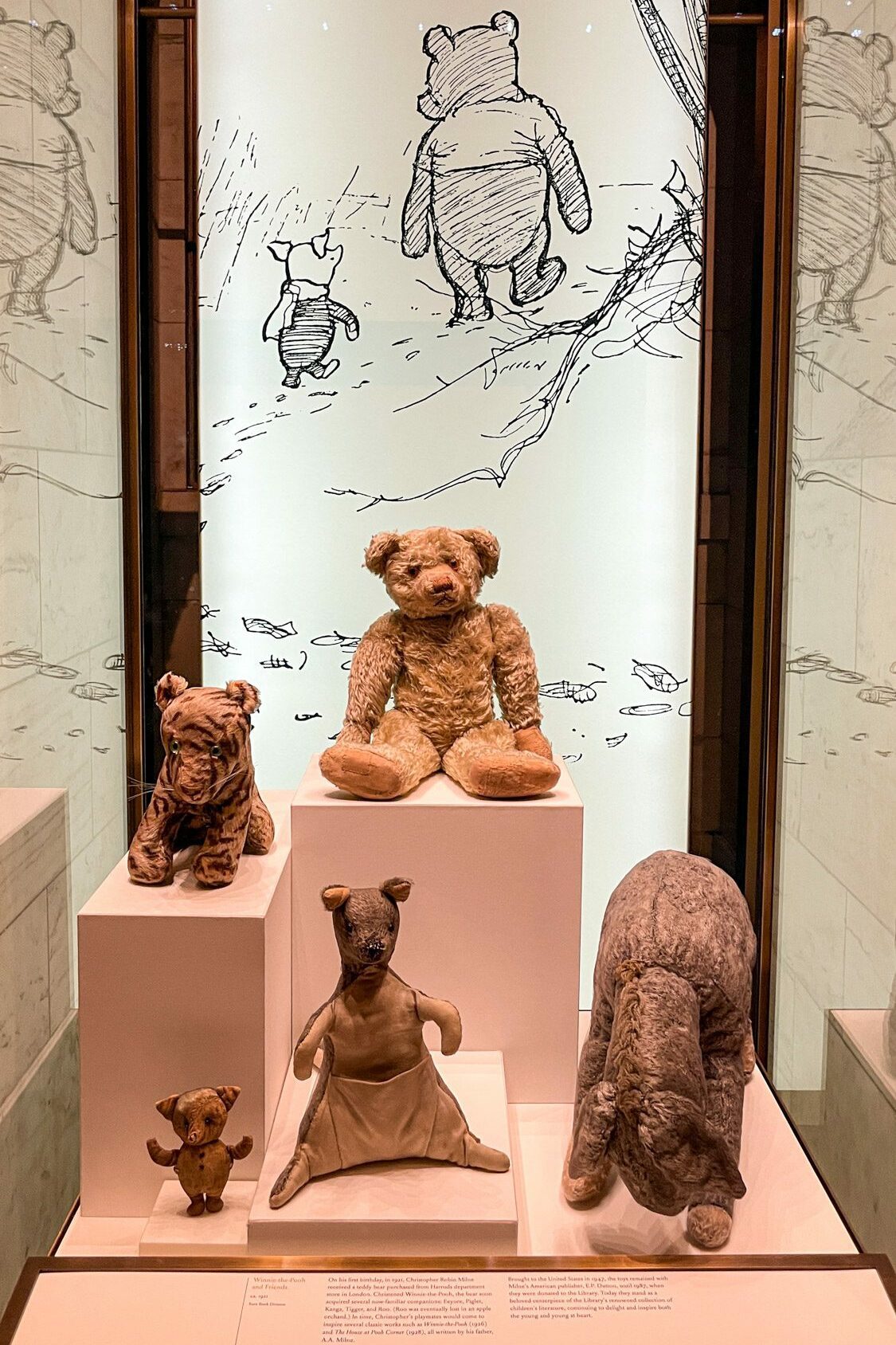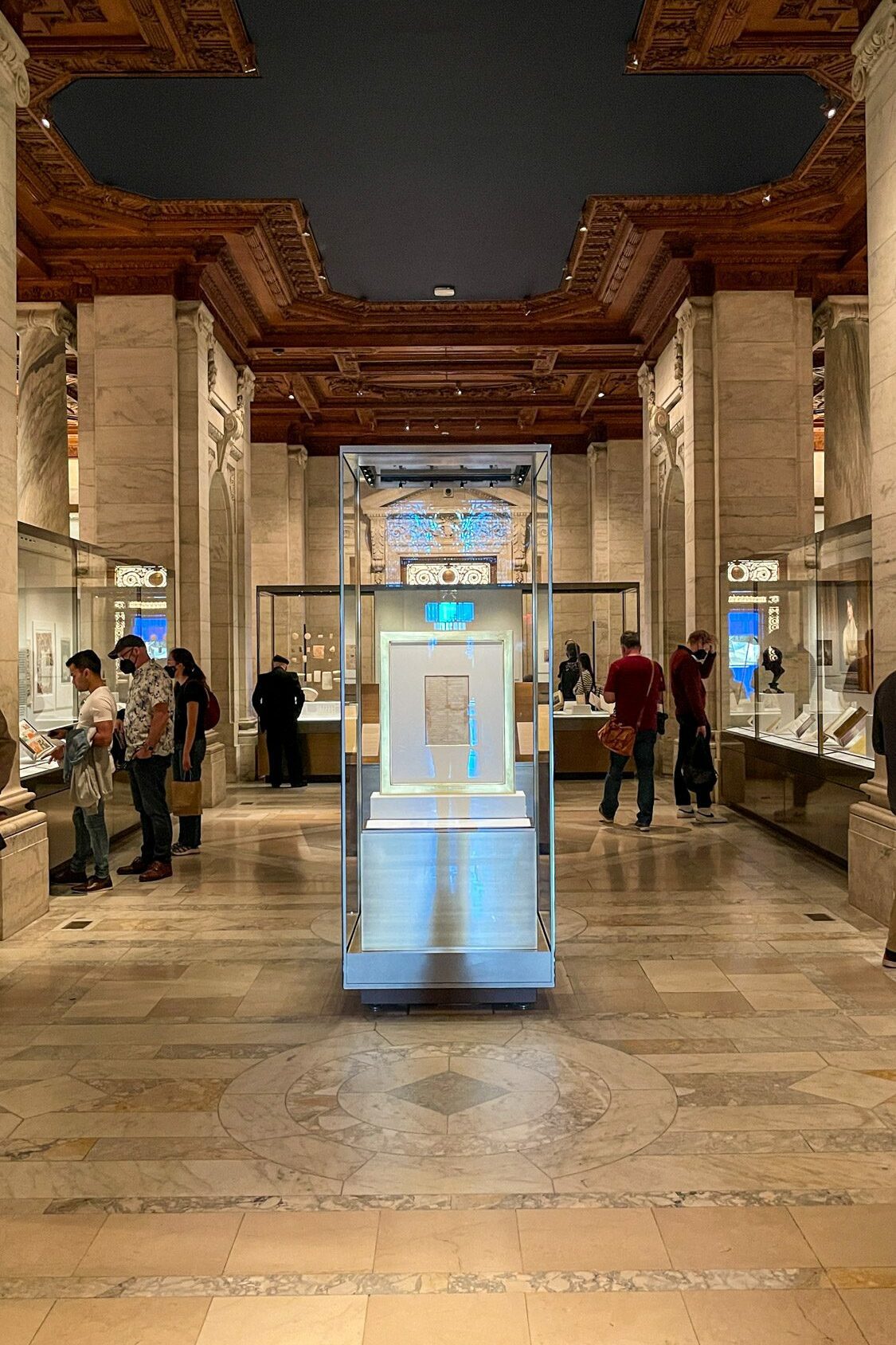 The second thing to do here is a docent-led tour of the building. They're currently offered at 11:00 am and 2:00 pm Monday through Saturday (that may change so double check the website) and last an hour. You can make reservations here, and tours are limited to the first 15 people who sign up.
There's also a shorter version of the tour that takes you just to the impressive Rose Reading Room.
Bryant Park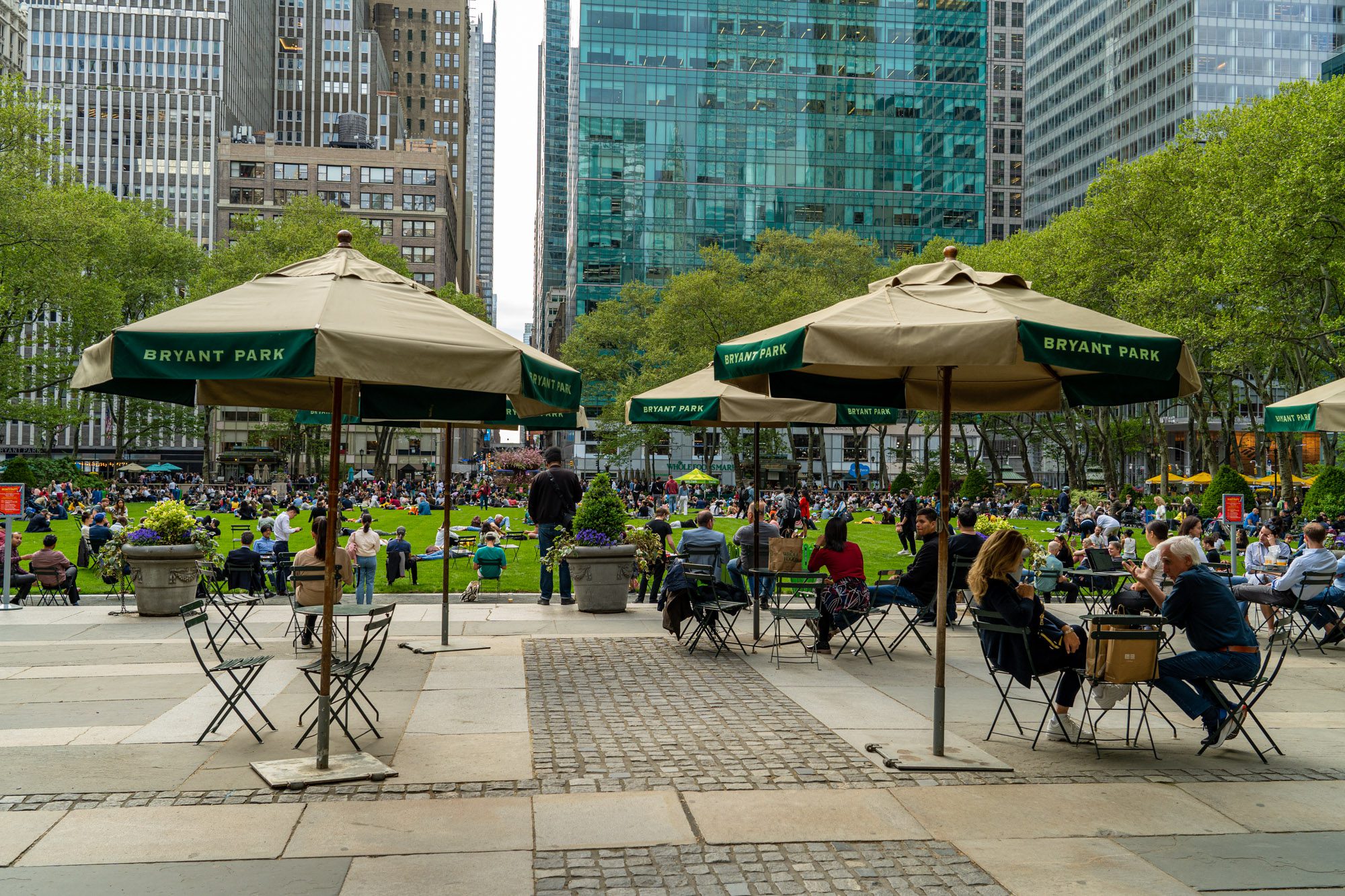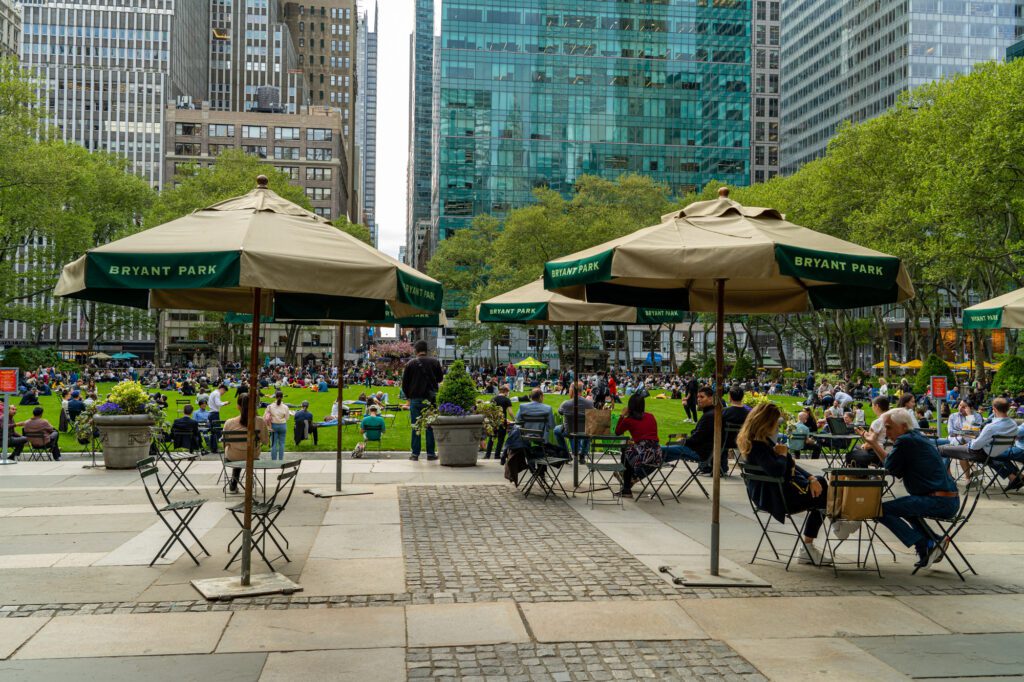 Just outside the library is Bryant Park, a green oasis in the heart of the city's densest area.
If you've got more time and it's a nice day, they have a reading room, some board games – chess and Connect4, for example – to rent, ping pong, petanque, and more. It's an exceedingly pleasant place to spend a couple of hours in the sun.
On a random Thursday when we were in town, there was a big group of people gathered near the fountain at the opposite end of the park from the library. There was a huge dance party going on! It was super fun, and something that feels uniquely "New York." So much energy!
One of the cooler parts about Bryant Park is their events schedule. From petanque tournaments on summer Fridays, to opera and dance performances, they have a continuous calendar of art and cultural events in the summer. You can find the calendar here – we think it's worth it to return later in the day if there's an event you're into.
A coffee note: If you're in need of a little caffeine boost, head over to Culture Espresso, a few blocks south of Bryant Park at W 38th Street and 6th Avenue. When I was there last, they used Heart Coffee from Portland, which I was surprised to see so far from home!
Rockefeller Center & the Top of the Rock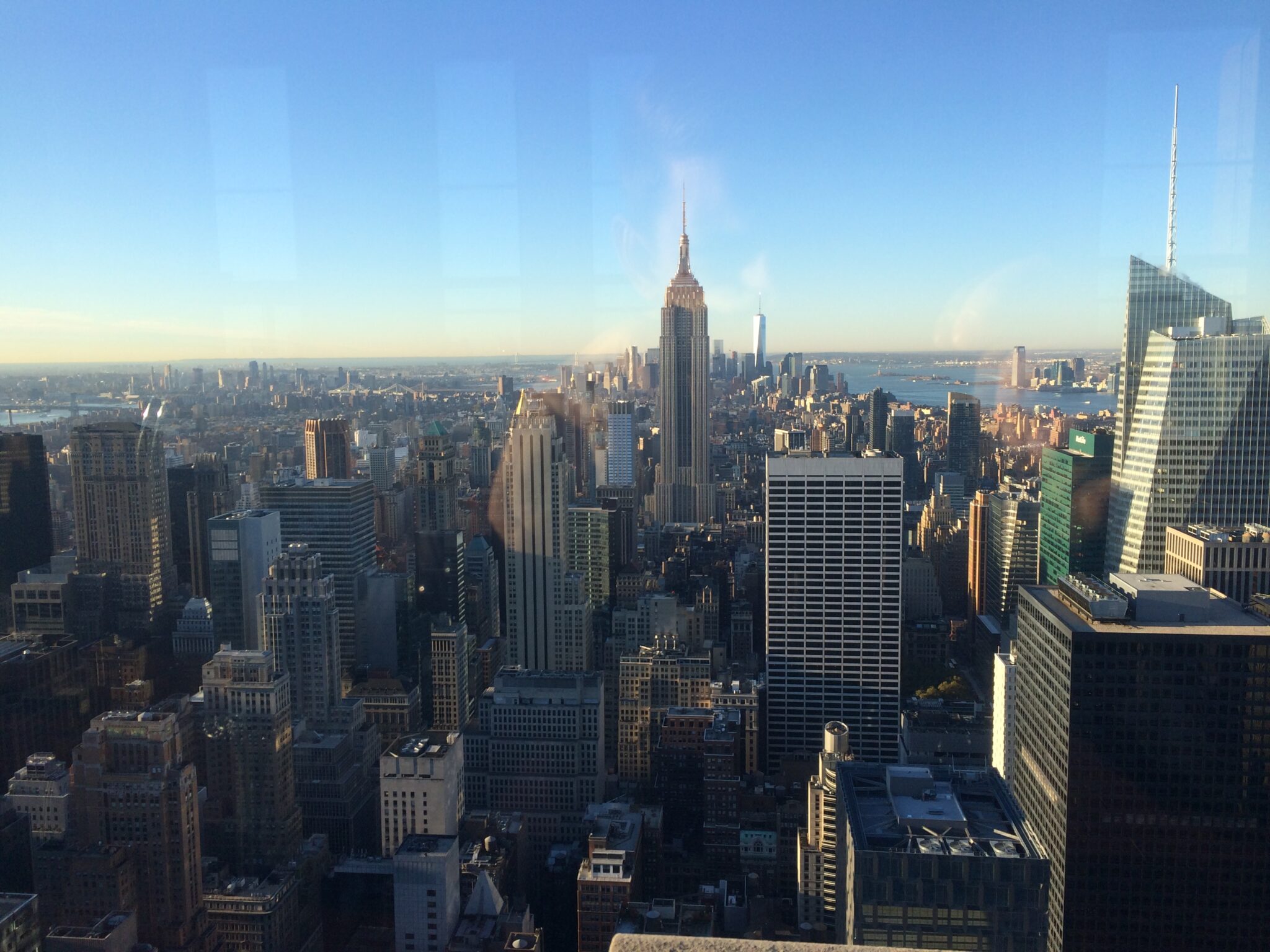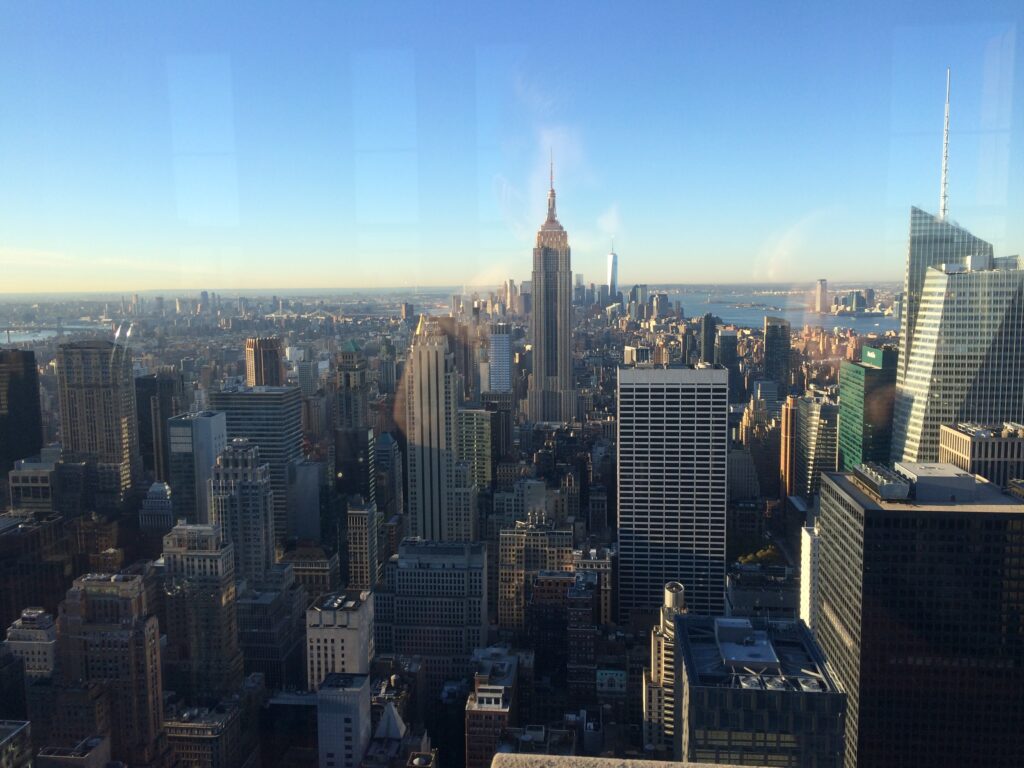 A lot of people want to go to the top of the Empire State Building, which is understandable I suppose, given its standing in the pantheon of tourist attractions in the United States. However, we've found that the top deck of the Empire State Building suffers a similar problem to other viewing platforms on top of major tourist attractions, like the Eiffel Tower in Paris or the Space Needle in Seattle.
It's missing a key element of the NYC skyline… the Empire State Building.
Instead, head over to the Top of the Rock Observation Deck, the viewing platform on top of Rockefeller Center, for a jaw-dropping view of New York City, including the Empire State Building and Central Park. It's pricey, but it's the best view of the city for us.
More information, including costs, hours, and reservations, can be found here.
St. Patrick's Cathedral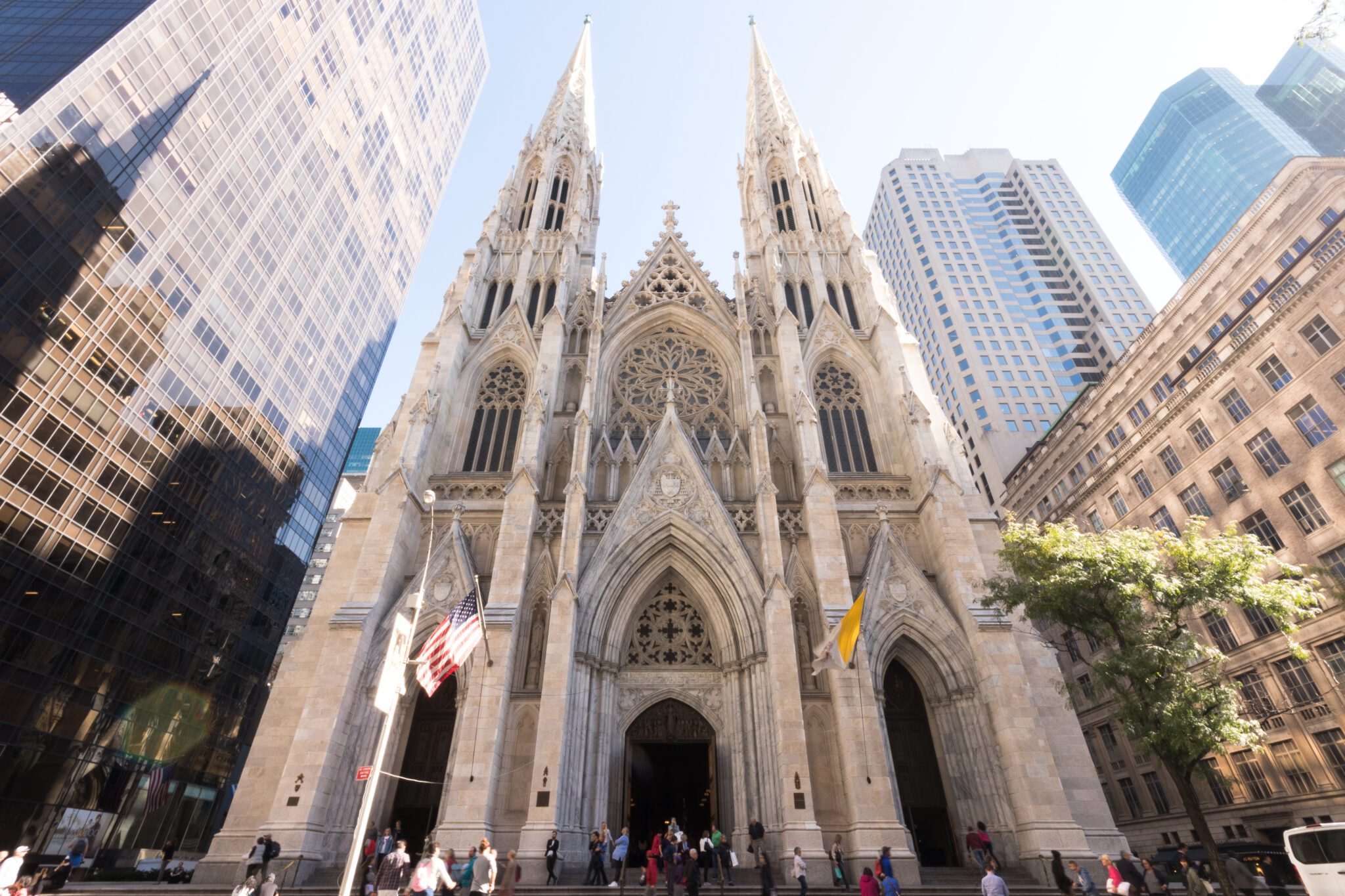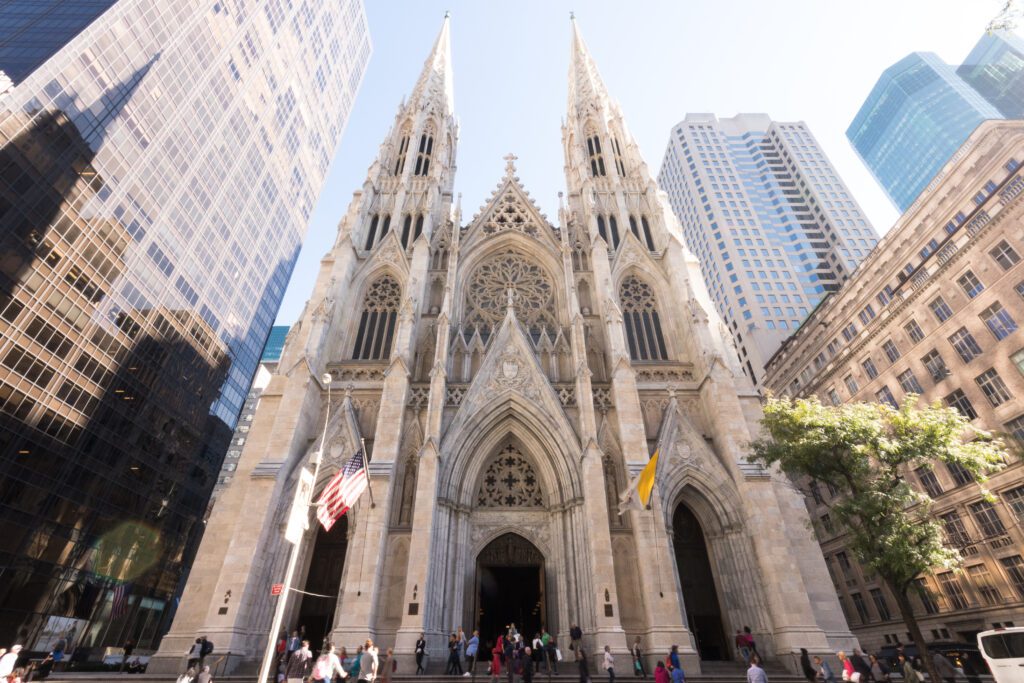 New York City isn't really known for its churches in the way that Paris or Rome are, mainly because it's historically a more protestant city, which means less ostentatious churches. It's not all that surprising that the preeminent Catholic church in the city is also the most impressive.
St. Patrick's Cathedral is basically right across the street from Rockefeller Center.
Built in the mid 19th Century, St. Patrick's Cathedral is an impressive structure. The contrast between the Gothic Revival style and the modern structures surrounding it is quite something.
There's a tour, but it's $20 for a self-guided audio tour. You can decide whether you think that's worth it, but I can tell you that we don't think it is. We'd pay for a live guided tour, though.
Choose Your Own (Museum) Adventure
We've done three of the major museums in NYC, and while all of them were excellent, we also don't think it's worth spending your entire New York City itinerary indoors at a museum.
Plus, unlike London where many of the museums are free, these museums aren't particularly cheap.
Instead, we'd pick one and go deep on that museum, which will take you the better part of an afternoon. We'd set aside two to four hours, depending on how deep you want to go.
The three museums we're talking about are the Metropolitan Museum of Art, the Natural History Museum, and MOMA (the Museum of Modern Art).
Here's our take on which museum you should choose. All three offer a very different experience, and it really depends on what you're looking for.
If you want to see a sprawling collection of art, architecture, and culture from around the world, choose the Met. The Met is like the Louvre in Paris – it has just about everything. And it's a little overwhelming. The craziest part of this collection is the fact that only a relatively small percentage of the collection is actually on display. The rest is tucked away in storage. Tickets are $25 for adults, and we'd recommend buying them online in advance to skip the line at the museum ticketing desk. Closed Wednesdays. More information on planning your visit here.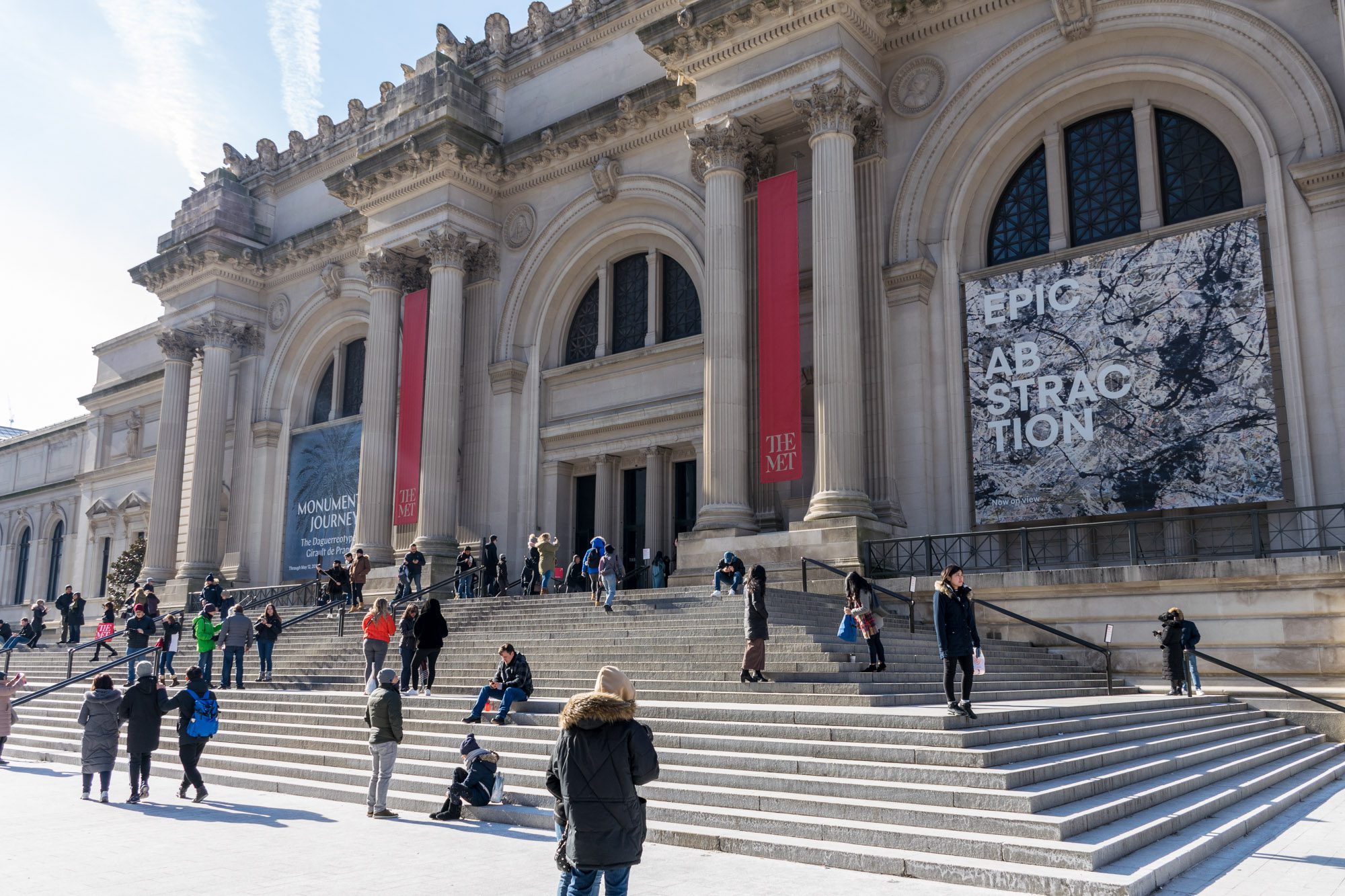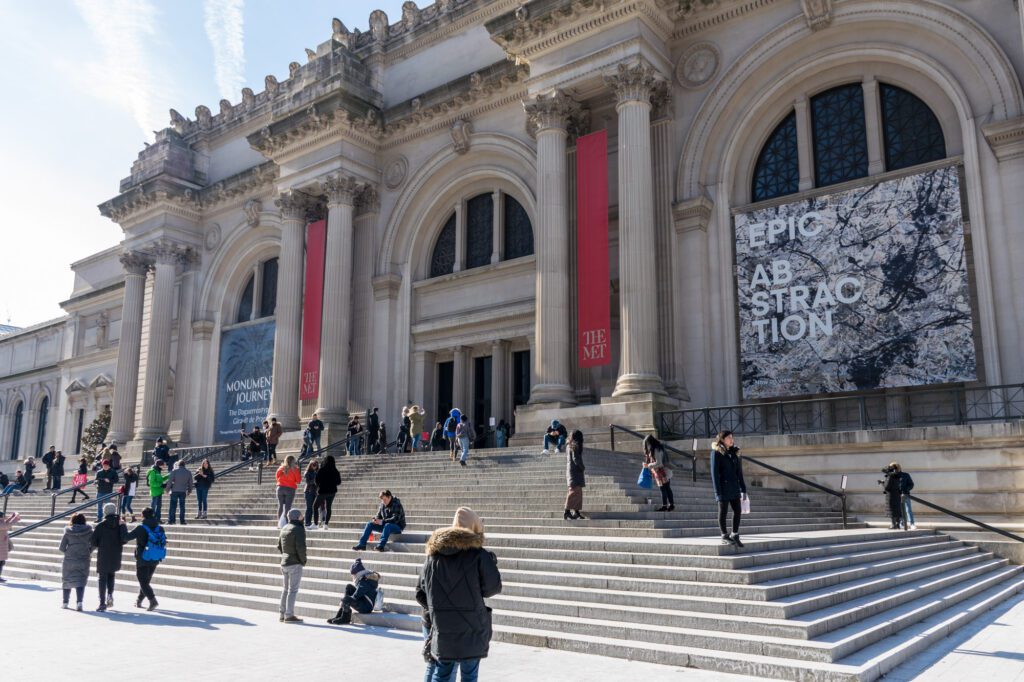 If you want to see a more focused (sort of) collection of art from the 19th, 20th, and 21st Centuries, head to MOMA. The highlights of this collection, at least in our opinion, are Van Gogh's Starry Night, Monet's Water Lilies, and a lot of the colorful abstract art on the top floor. Definitely start with the fifth floor while you're fresh, which was our favorite and is where you'll find all three of those pieces, and make your way down through the rest of the collection. Tickets are $25 for adults, and we'd recommend buying them online in advance to skip the line at the museum ticketing desk. Closed Wednesdays. More information on planning your visit here.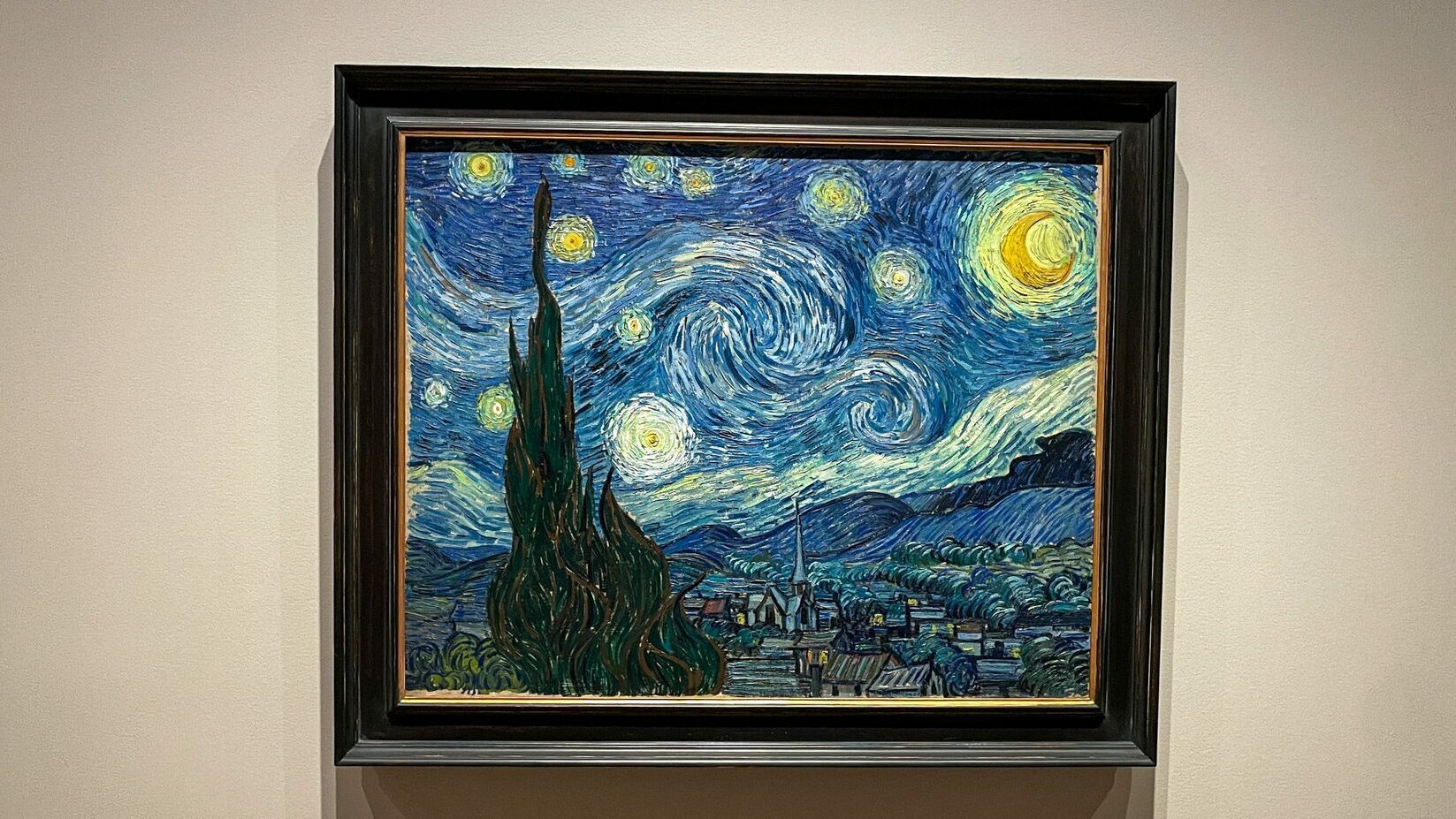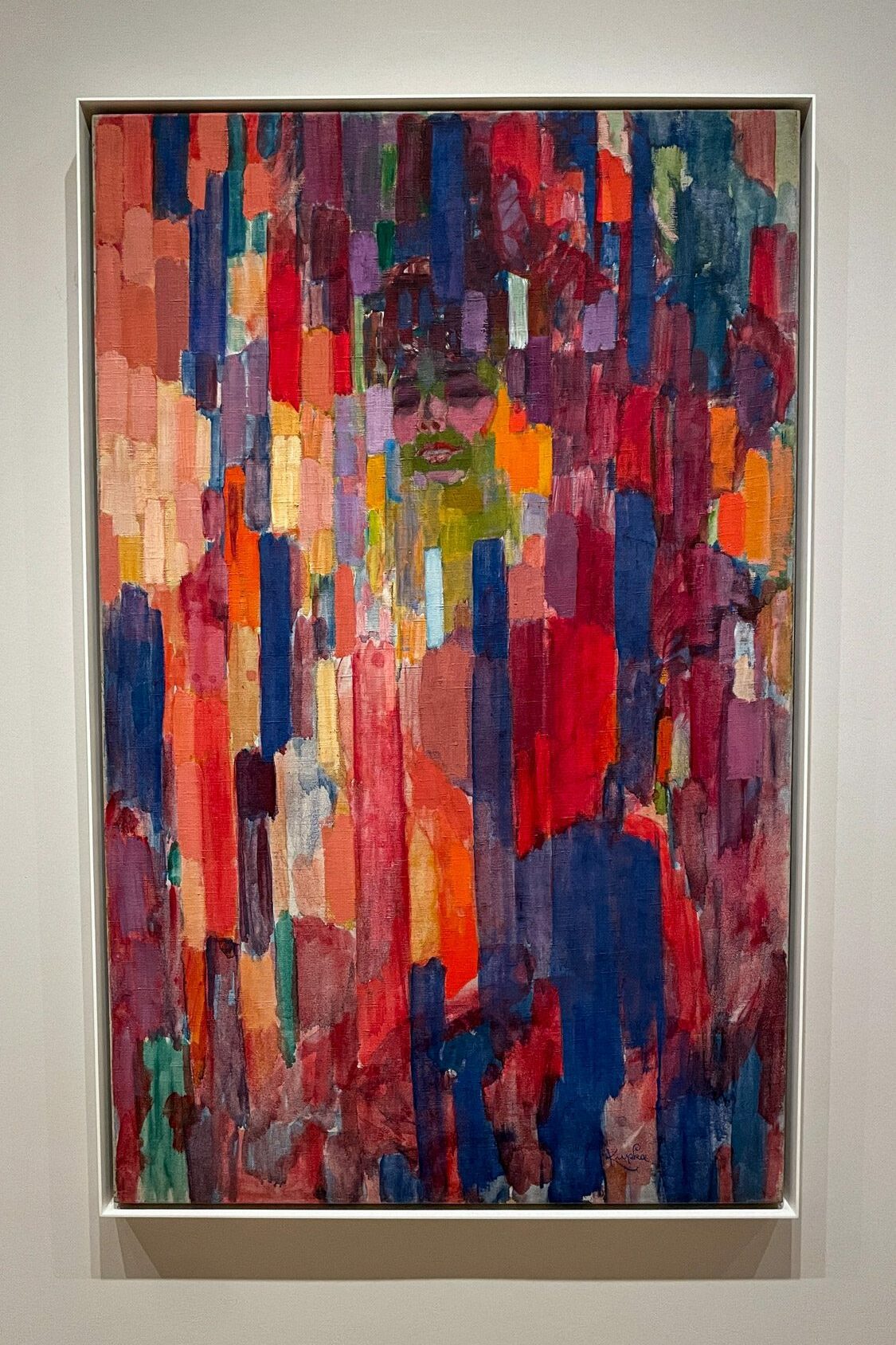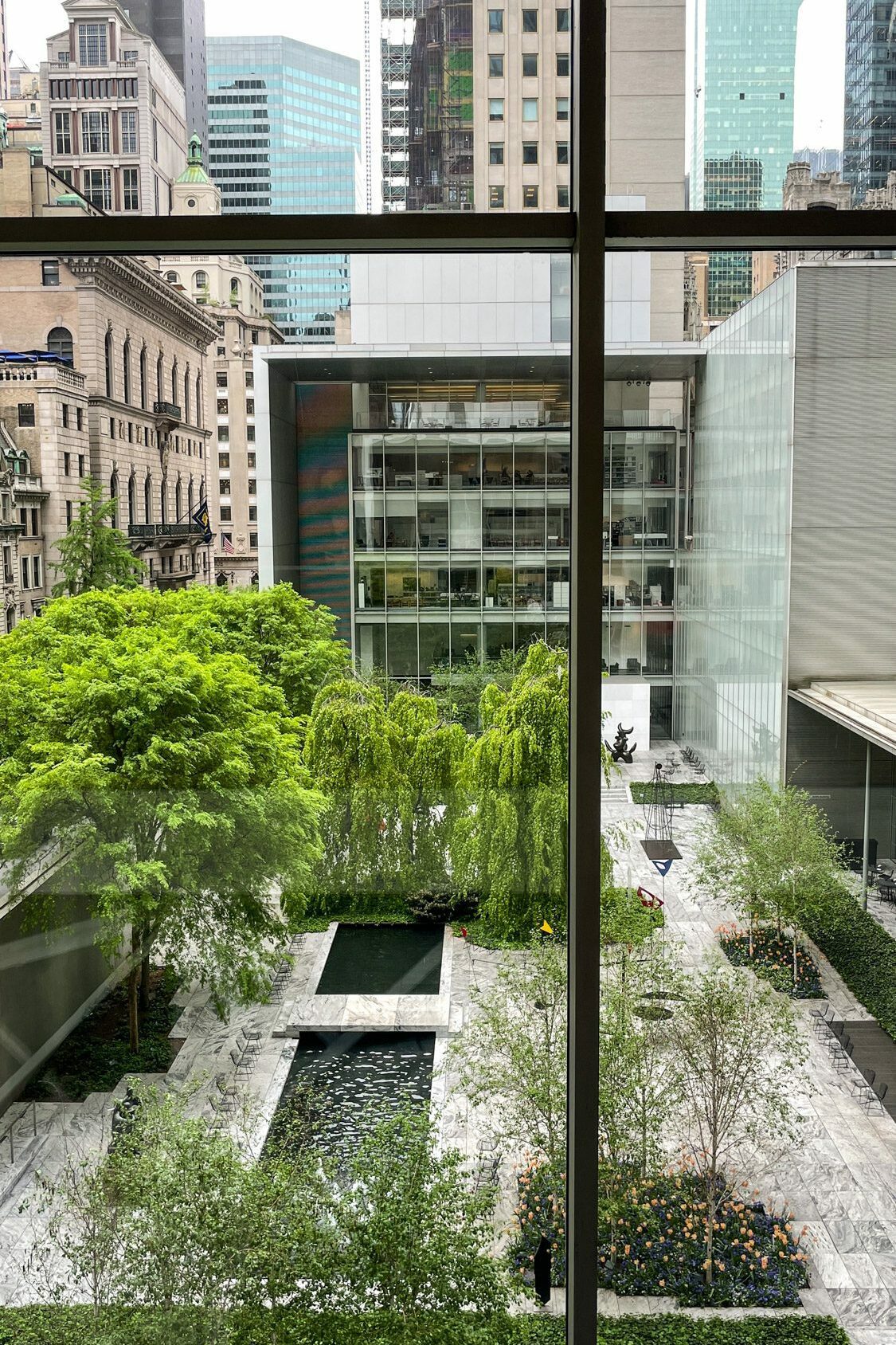 If you're more into nature, impressive animal skeletons (like a T-Rex!), or you have kids, then we'd opt for the American Museum of Natural History, which is across Central Park from the Met. They have a bunch of cool permanent collections and a rotating group of special exhibits that cost extra. The highlights of the permanent collections for us include the blue whale skeleton, a gigantic T-rex, and Lucy, the most intact early hominid skeleton we've found. Tickets are $23 for adults, and you need to buy them online in advance. They're open Wednesday to Sunday. More information on planning your visit here.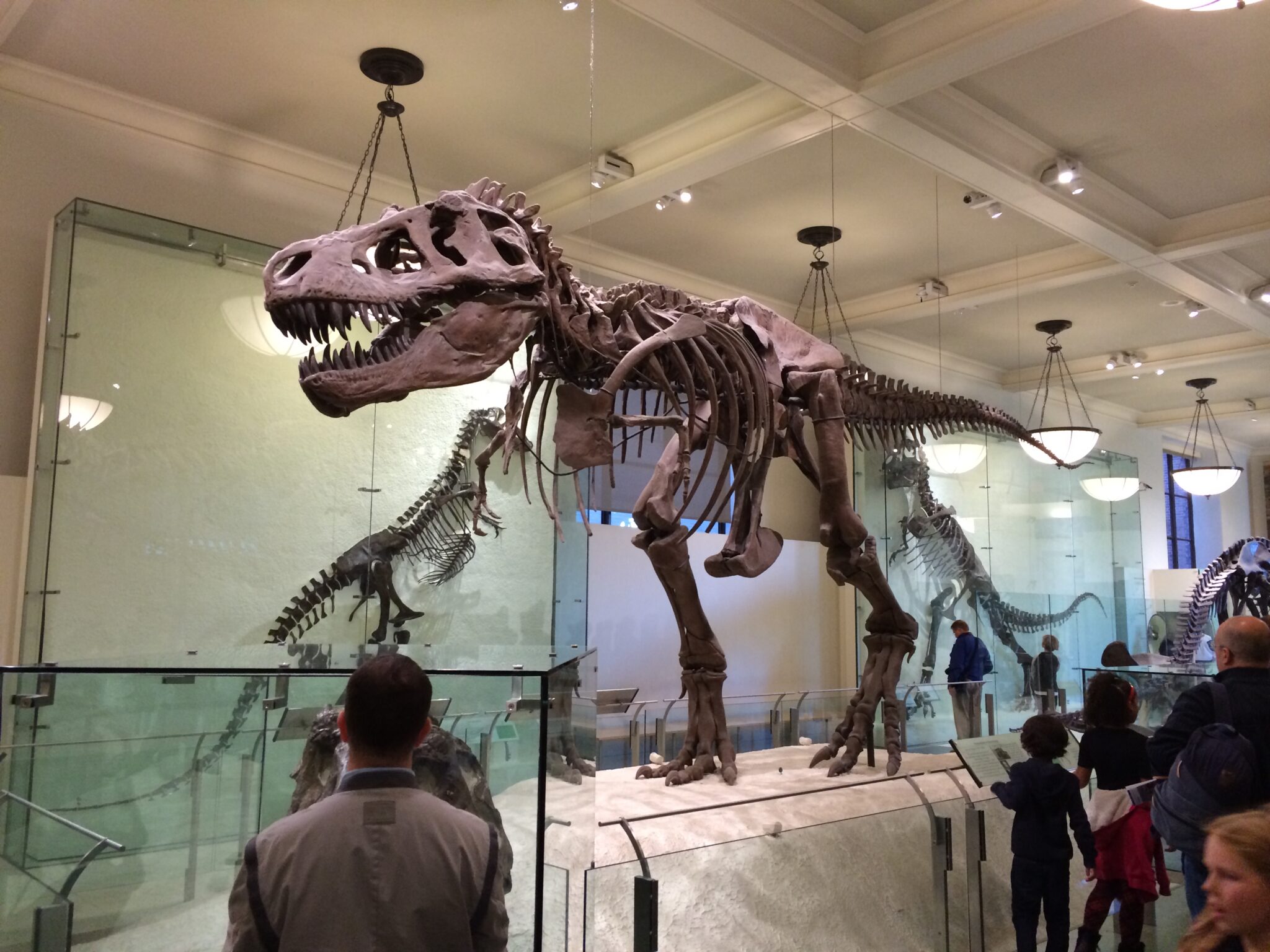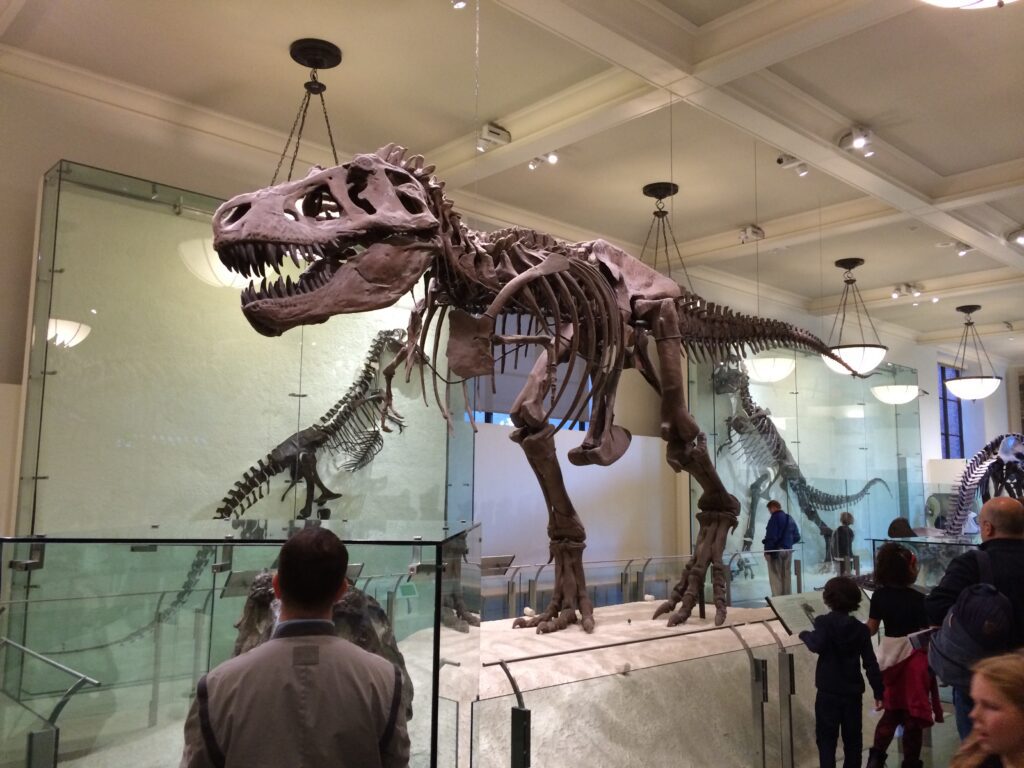 Central Park
Spend the rest of your afternoon in Central Park, which is the biggest park in the country.
What's that? It's not? Oh right, Golden Gate Park – which we used to live two blocks from in San Francisco – is actually significantly bigger. Central Park isn't even the biggest park in New York City! Pelham Park in the Bronx and the Greenbelt in Staten Island are significantly bigger. Both are more than double the size.
Still, Central Park is amazing considering the location right in the center of the most densely populated pieces of land in the world. The fact that it's not overrun by dog poop and trash (or, development) is a testament to the work that the Central Park Conservancy has put in over the centuries.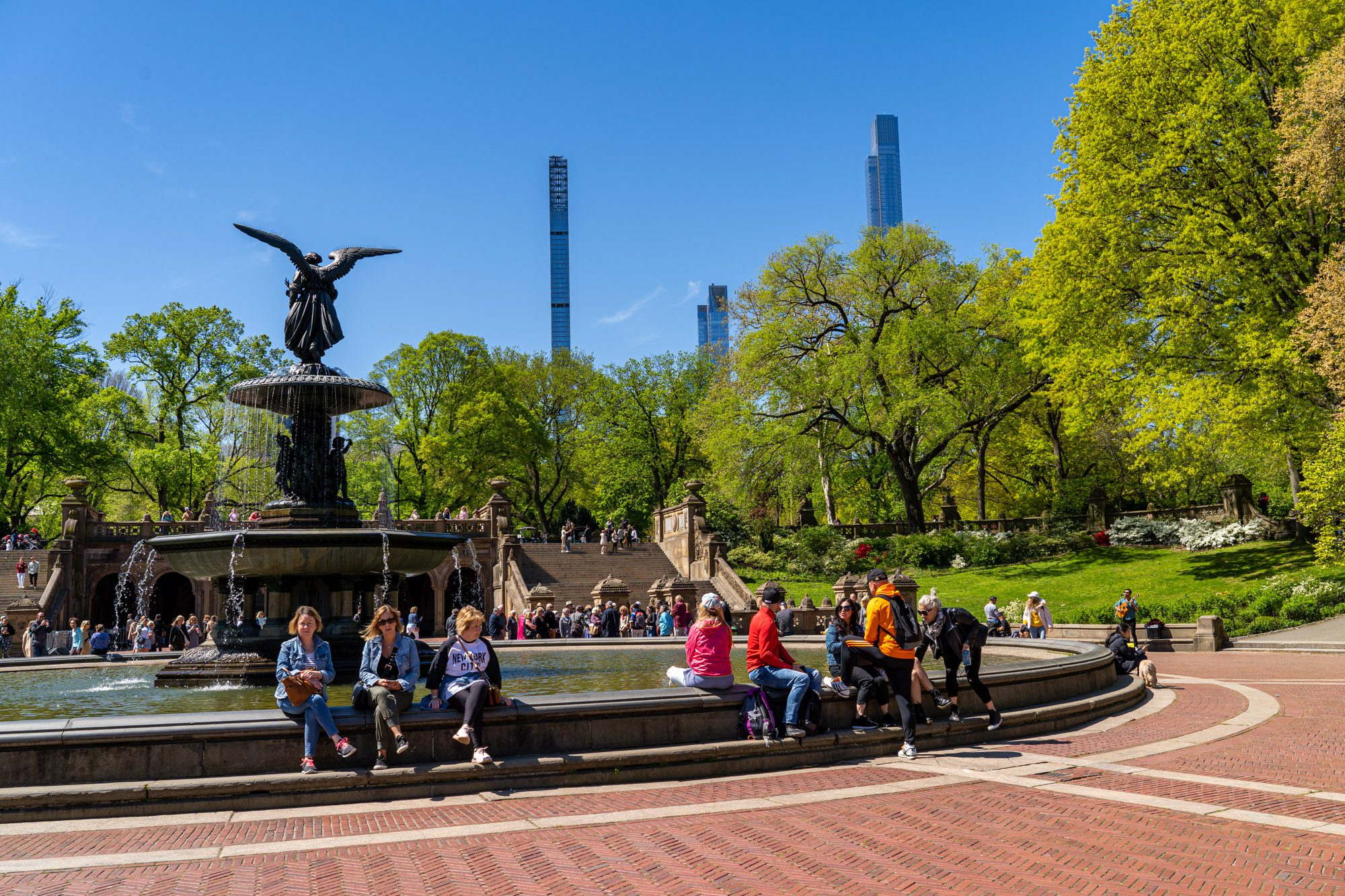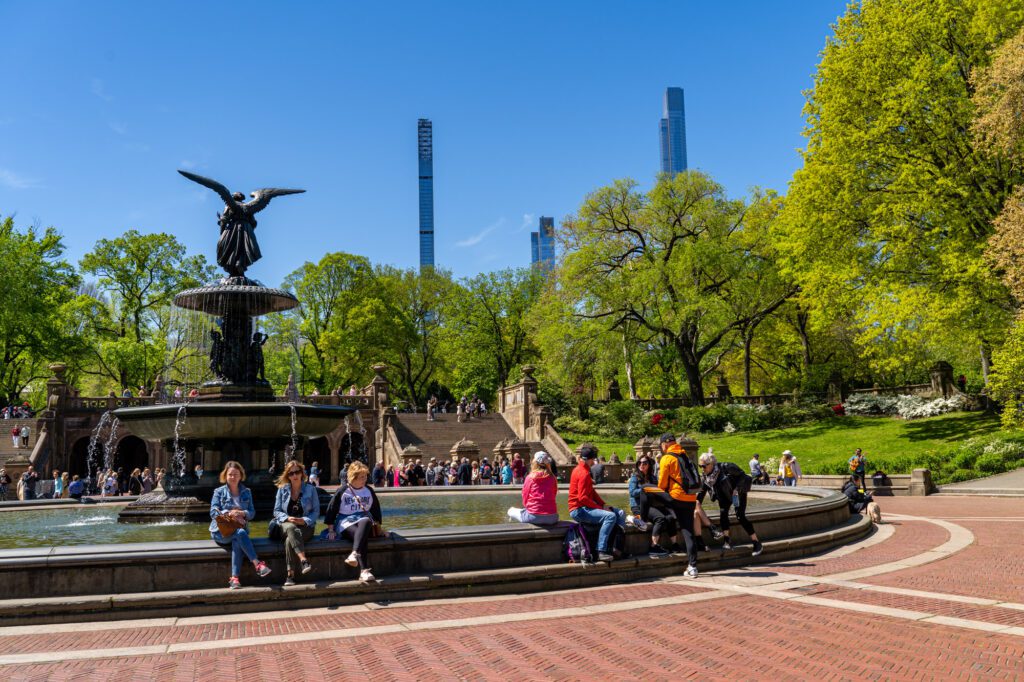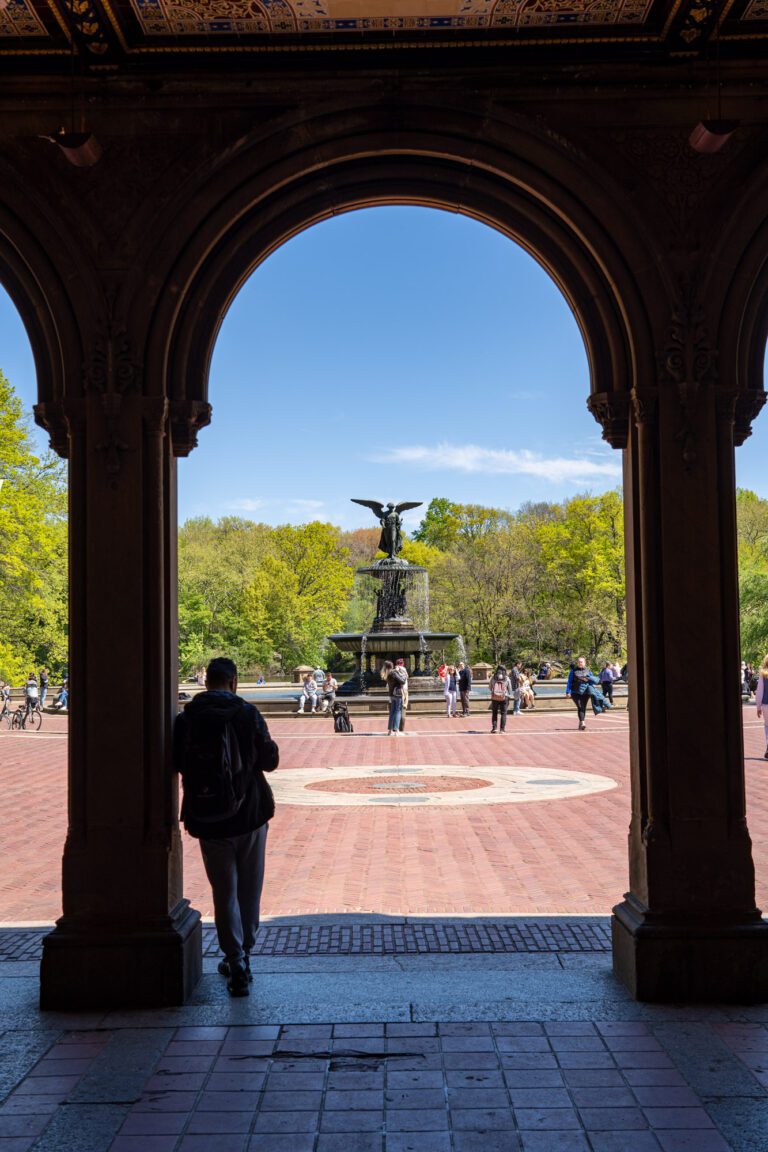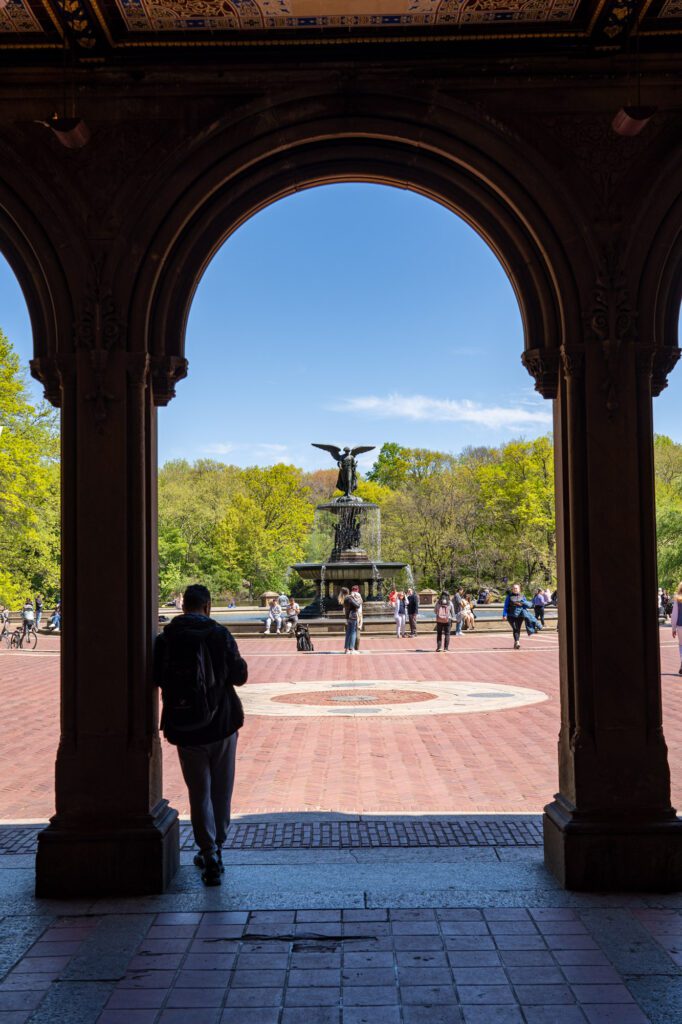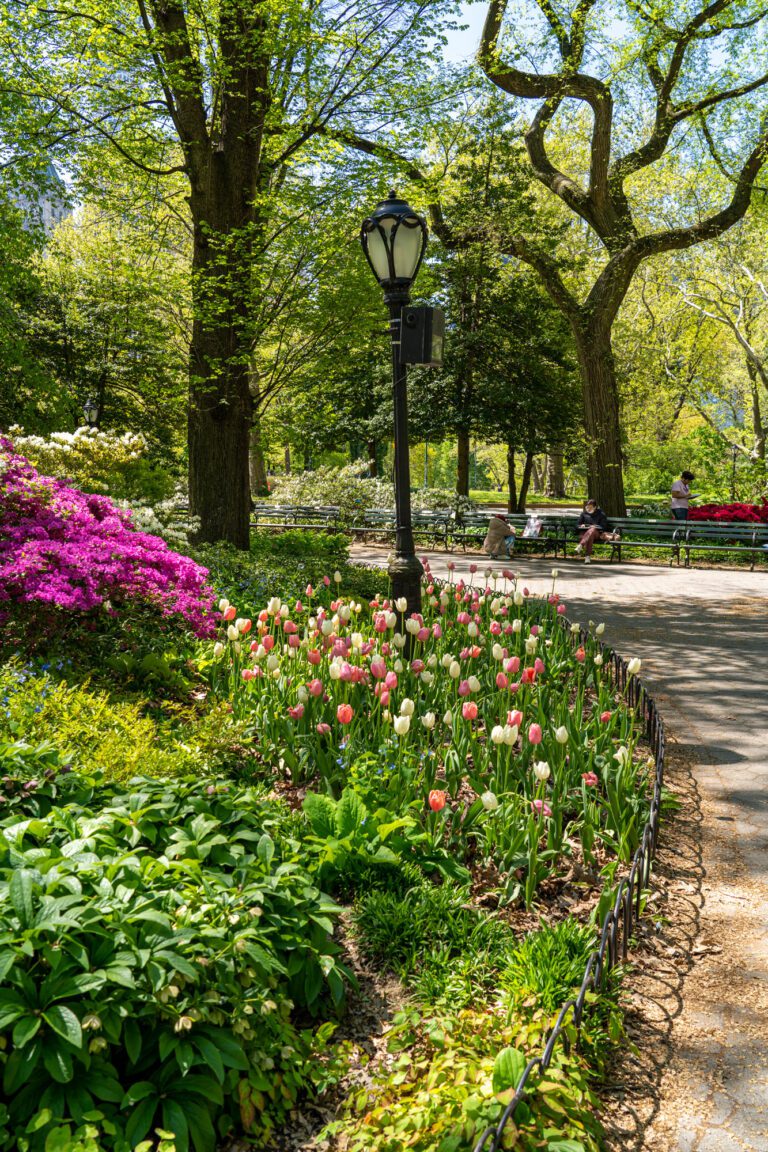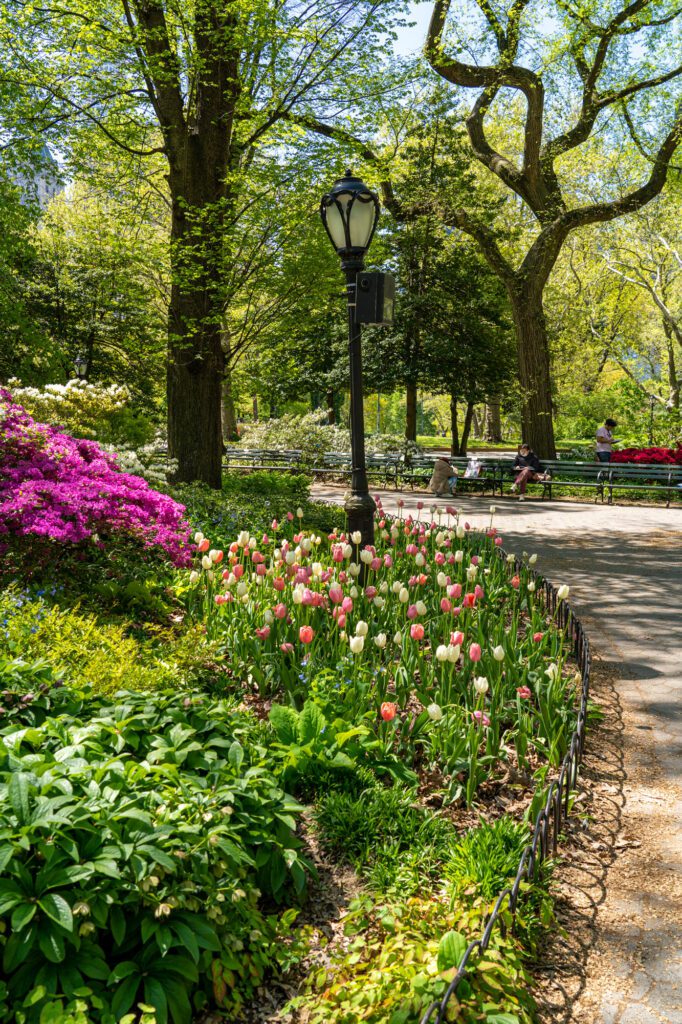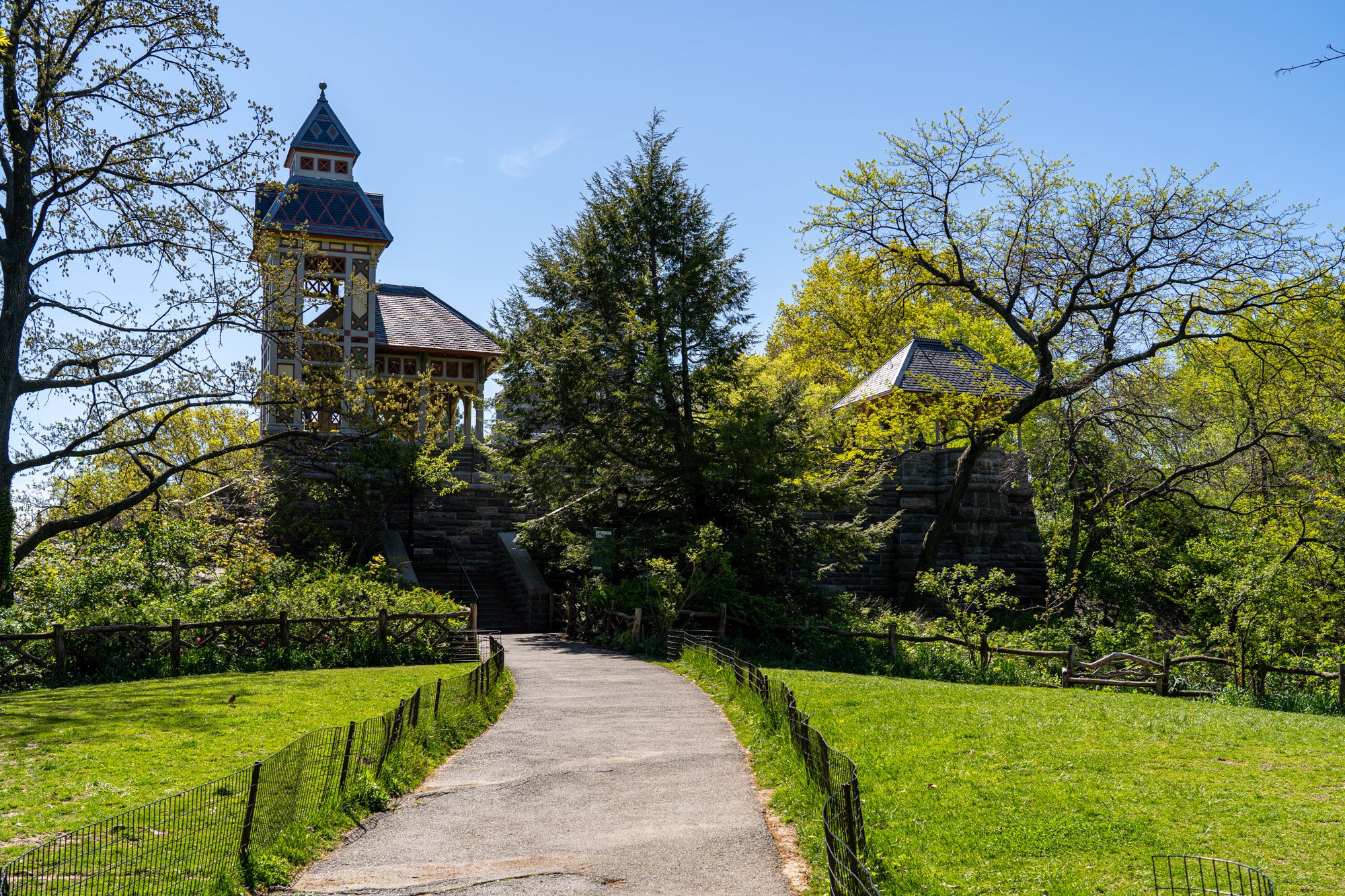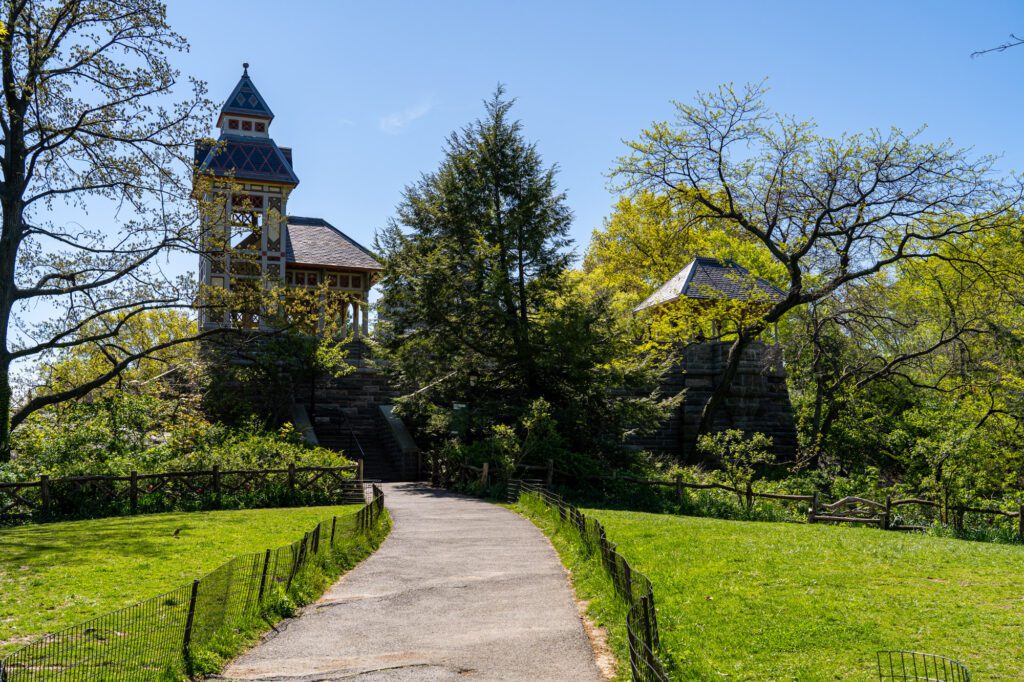 Central Park is absolutely massive, and you probably are not going to be able to see every single one of the 800+ acres in one afternoon.
With that in mind, we'd focus your time on the southern end of the park. Start at "The Pond" in the southeastern corner, and make a loop up to "The Lake" and Bow Bridge (stop at Belvedere Castle before looping back), before heading back past Bethesda Terrace and walking along the Mall to Columbus Circle.
We know that's a lot – here's a Google Map route of that walk. It's about 2.5 miles, and will take about two hours, with stops.
There's a cool audio guide with QR codes around the park where you can learn about the history as you walk.
Day 2: Lower Manhattan and Brooklyn
On your second day in New York City, start with Lower Manhattan, which is the gateway to the Statue of Liberty and Ellis Island, before hopping on the ferry over to Brooklyn for the afternoon and evening.
The Charging Bull, The New York Stock Exchange, and Coffee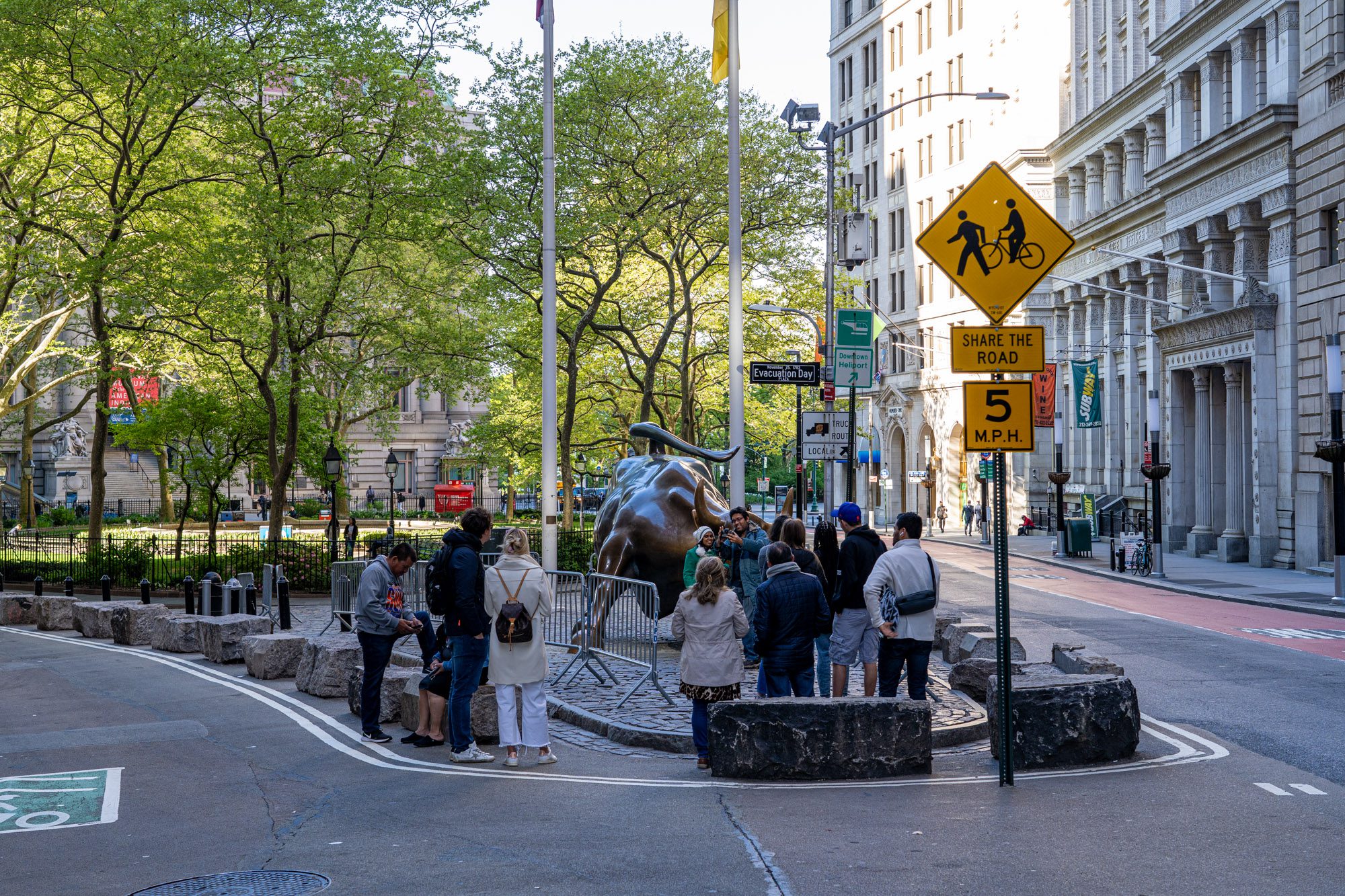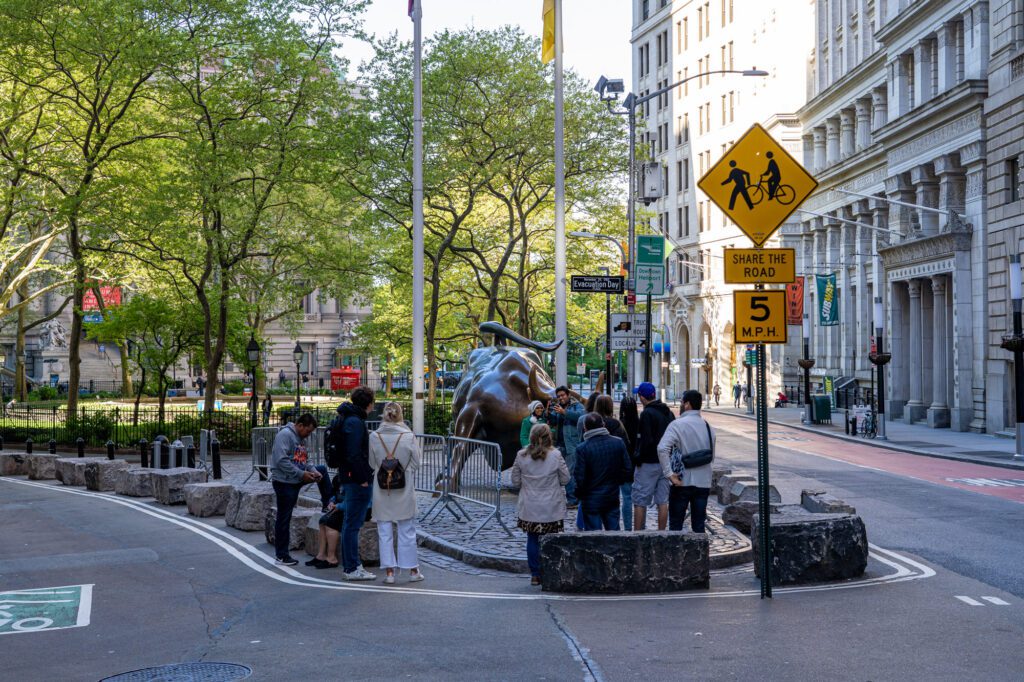 Start your day by making your way to Lower Manhattan. For most people, unless you're staying there, that means hopping on the Subway. If you're coming from Midtown, you can take the 1 to South Ferry or the 2 or 3 to Wall Street.
First, coffee. Black Fox Coffee in Lower Manhattan was one of my favorite spots for coffee in the entire city, and it's a perfect place to start your day. They rotate through different roasters from all over the world (including Square Mile from London and Coffee Collective from Denmark when I was there), and have single origin coffee options, espresso drinks, and inventive specialty drinks like a sesame chai that Alysha really enjoyed.
Next, head west on Wall Street towards the New York Stock Exchange, which isn't really particularly special, but is worth stopping by to see what company is doing an IPO that day, with their banners draped over the front of the building and their PR people milling about taking thousands of photos.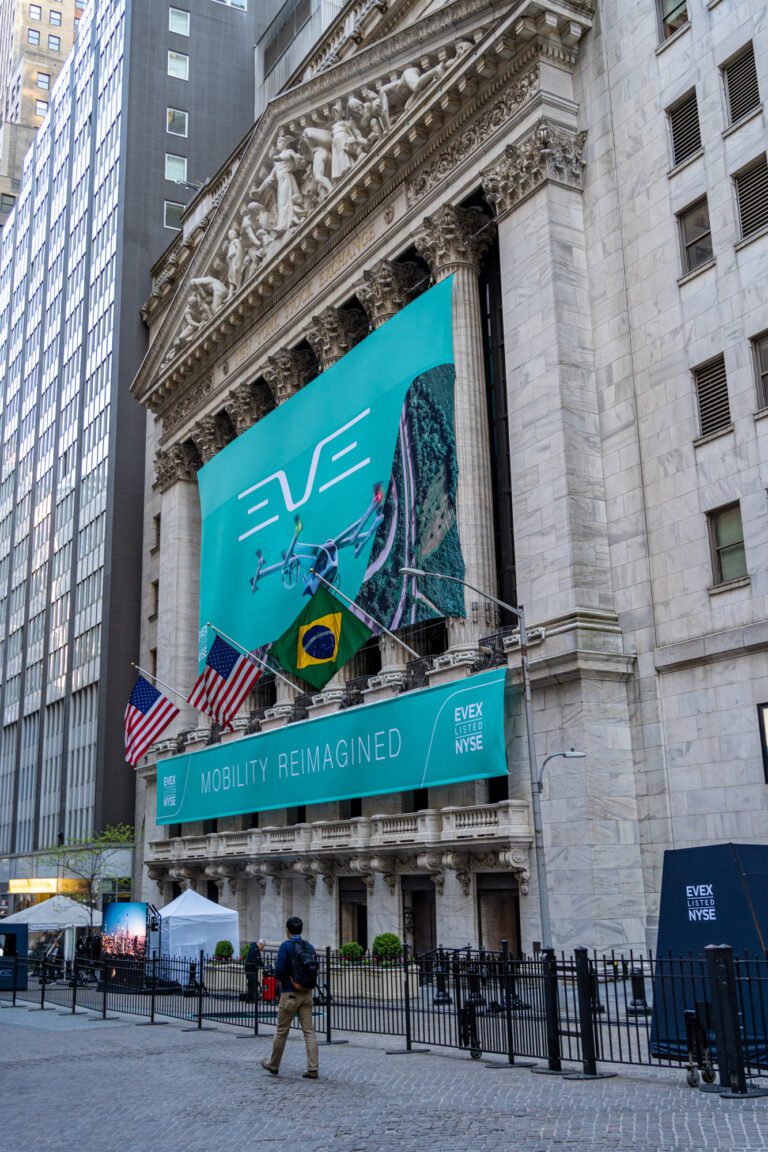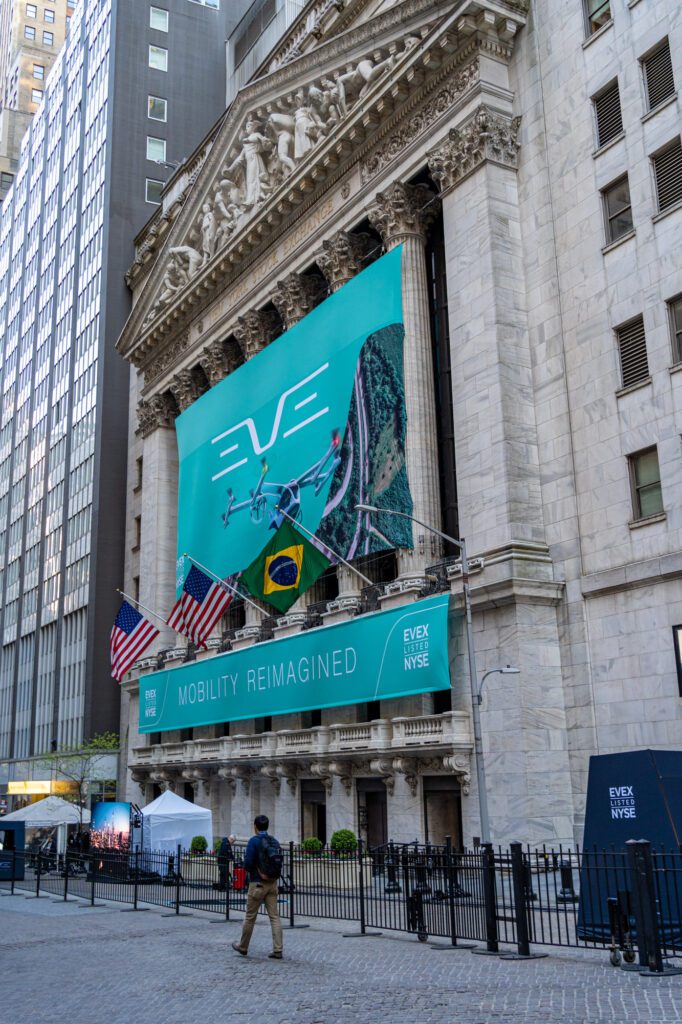 From there, continue along Wall Street until it ends at Trinity Church. Alexander Hamilton is buried here in the graveyard outside the church.
It's an Episcopal church, which essentially means it's an Anglican church – the church that the Royal Family in Great Britain started to, uh, "get in on the cash grab" according to a historian we met in London – but in the United States (or various other places in the world). 
The Anglican movement is an offshoot of Protestantism, but – and stop me if you've heard this before – the British didn't want to be beholden to people on the European mainland, so they decided to set out on their own.
Why not just be an Anglican church, you ask? Well, because after the American Revolution, it wasn't exactly cool in America to be required to swear allegiance to the crown. Which is what the Anglican church has to do because the Royal Family are seen as holy.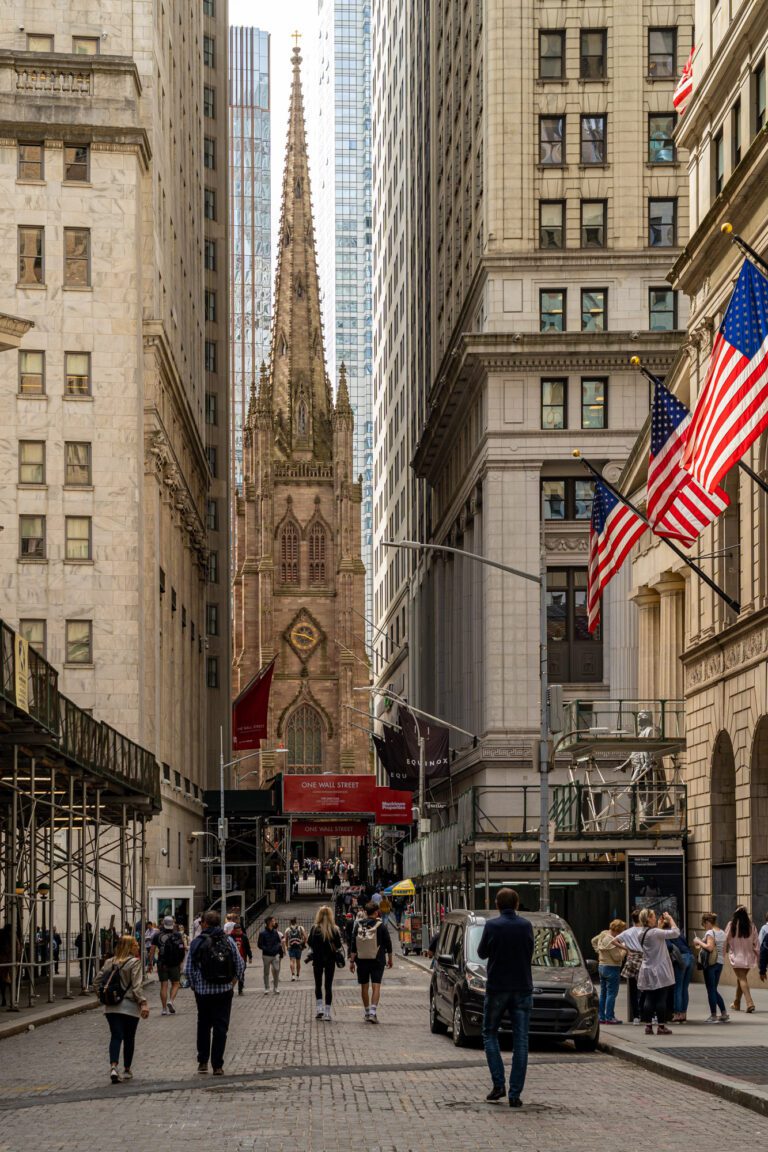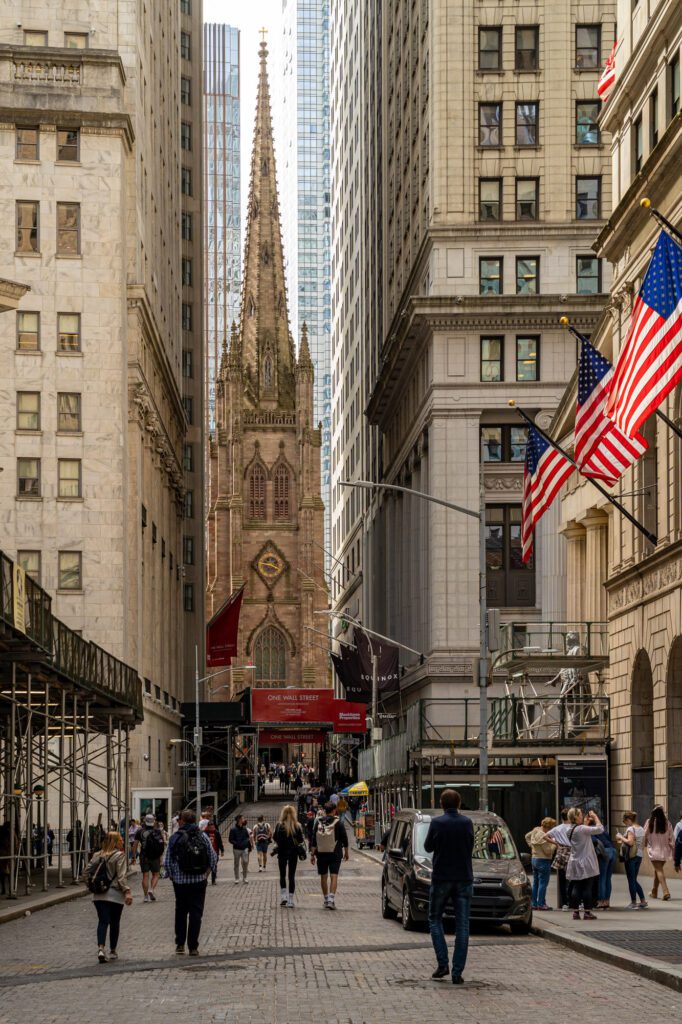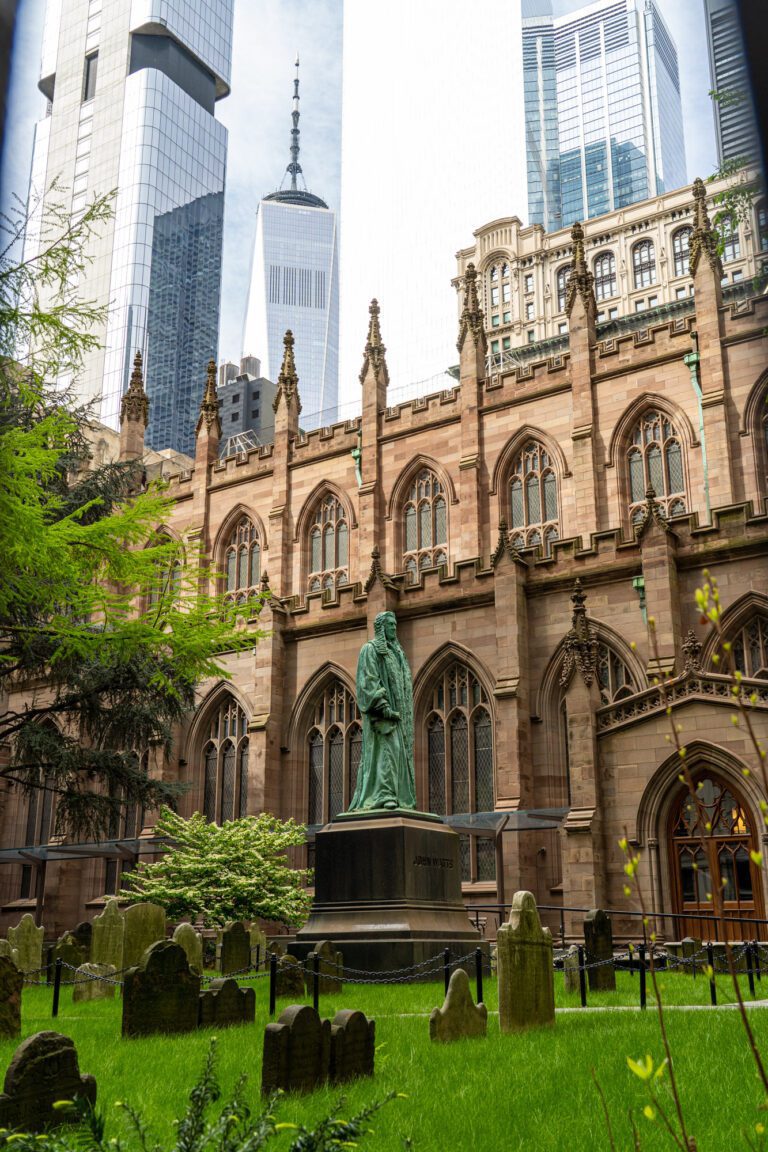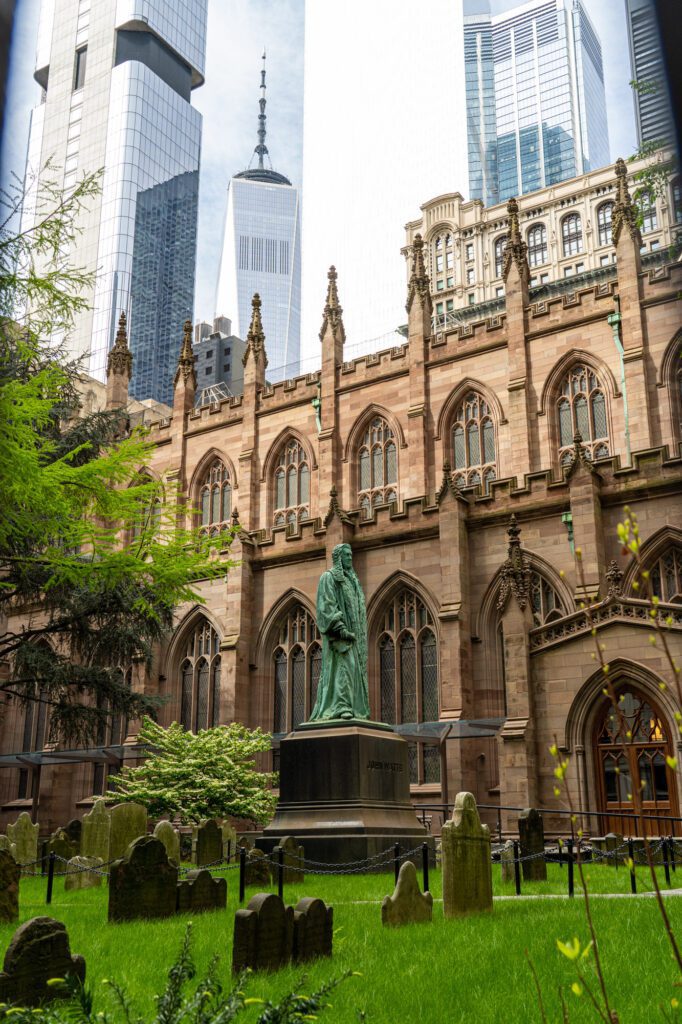 Anyway, at the time of our visit we're pretty sure you couldn't actually go in, but it's worth walking around the southeast corner of the church, where you can see the graveyard and the resting place of Alexander Hamilton.
From there, it's a short two blocks down to the final stop of this mini walking tour of Lower Manhattan, which is the bronze Charging Bull statue.
If you don't get here early, you'll likely have to wait in line to see it (there were lines starting at about 9:30 or 10:00 am when we were there). It's a symbol of financial prosperity (a "bull market" is a good thing), and is basically the symbol of Wall Street for tourists. 
In our opinion, the cooler thing to see here is the park right behind the bull, which is Bowling Green, the oldest public park in NYC. The fence around the park is original from the 18th Century!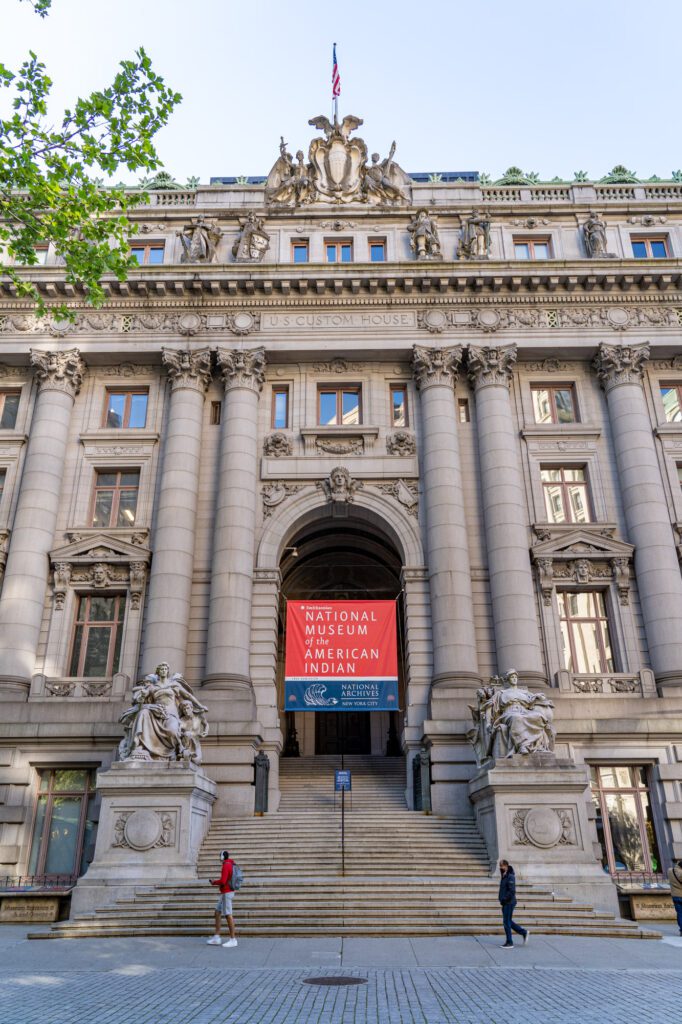 If you're interested, the building at the south end of the park is cool – the Alexander Hamilton U.S. Custom House – and it houses the National Museum of the American Indian, which is free to visit and worth poking your head into for both an education on the history of American Indians, and the building itself.
Battery Park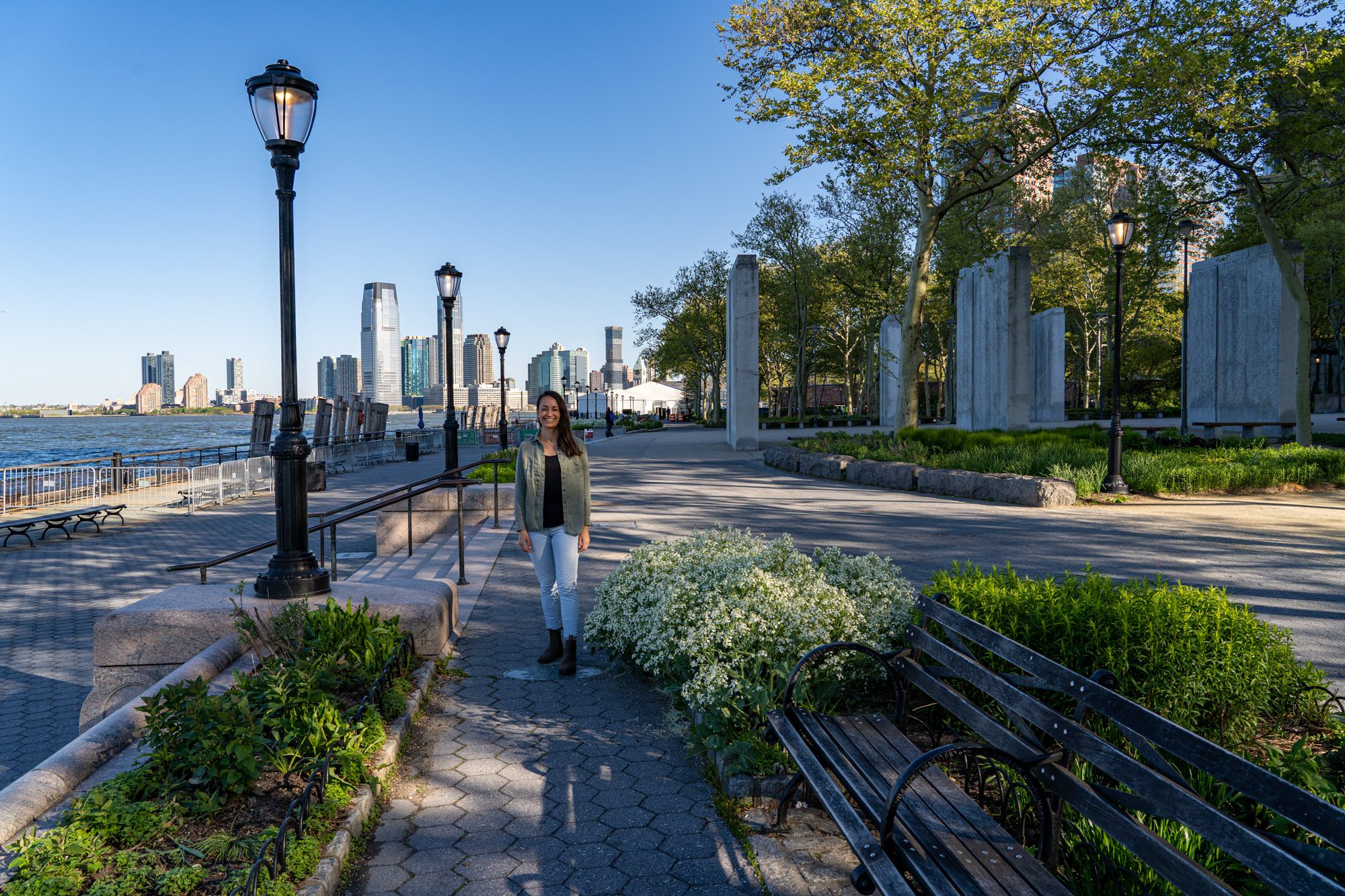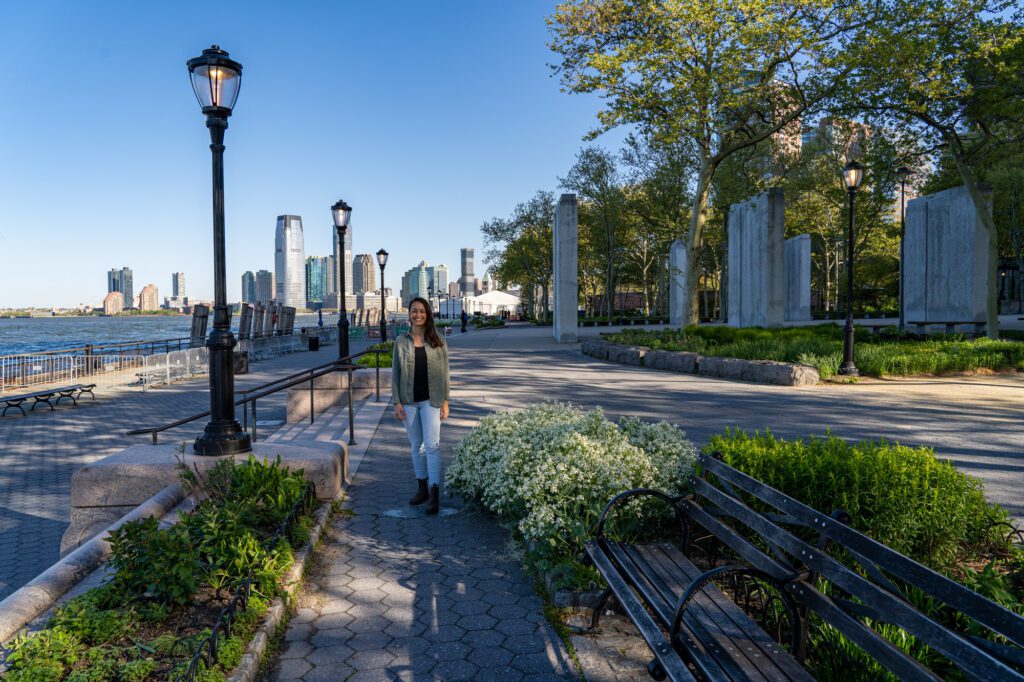 From there, it's a quick walk over to Battery Park, which is a cool park at the southern tip of Lower Manhattan.
To be honest, the main function of Battery Park is to house multiple ferry terminals – you can get the Staten Island Ferry, the ferry out to Ellis Island and the Statue of Liberty (we'll get there in the next section), and the ferry to Governors Island.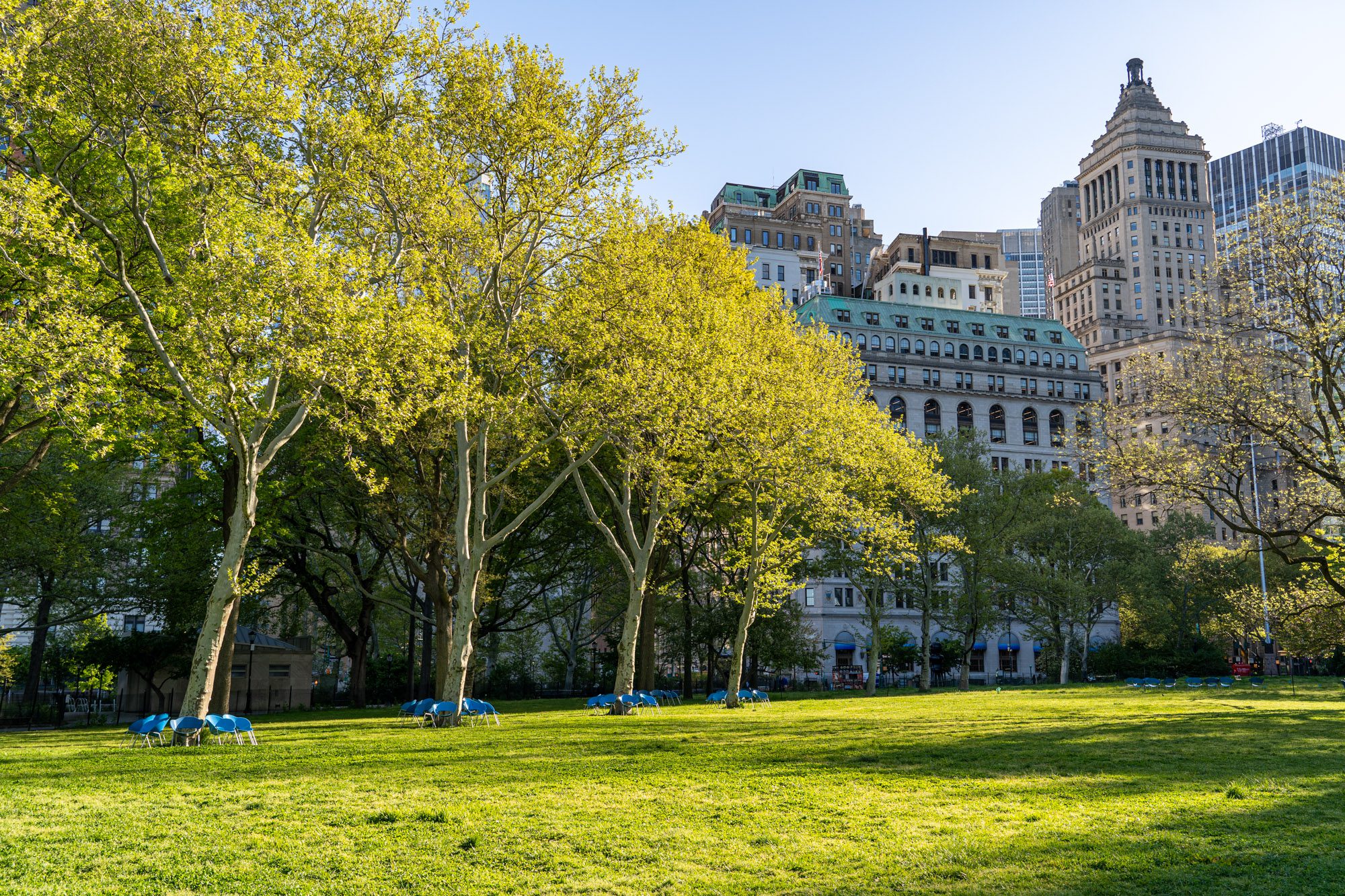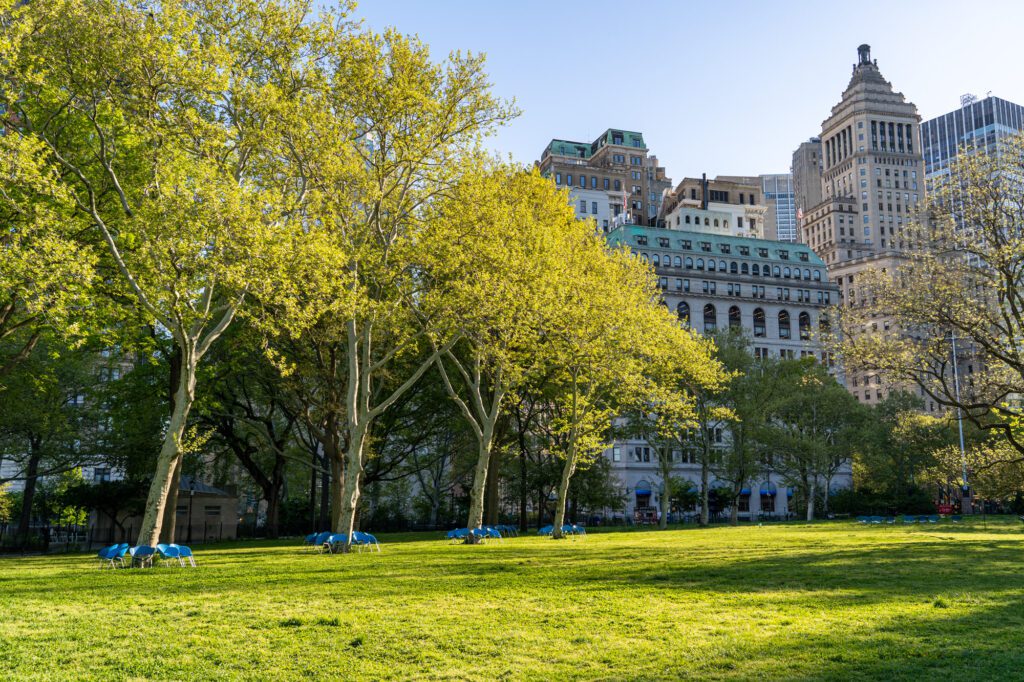 However, there is a view of the Statue of Liberty from the very southern end of the park, though it's a distant one.
If you have the time, it's worth coming back here around sunset, when you can get a nice shot of the Statue of Liberty off in the distance with the orange-pink clouds above. It was a very enjoyable way to close out a day of exploring NYC. 
The main reason you're here is because, as we mentioned above, it's the jumping off point for heading out to Ellis Island and Liberty Island.
Ellis Island and the Statue of Liberty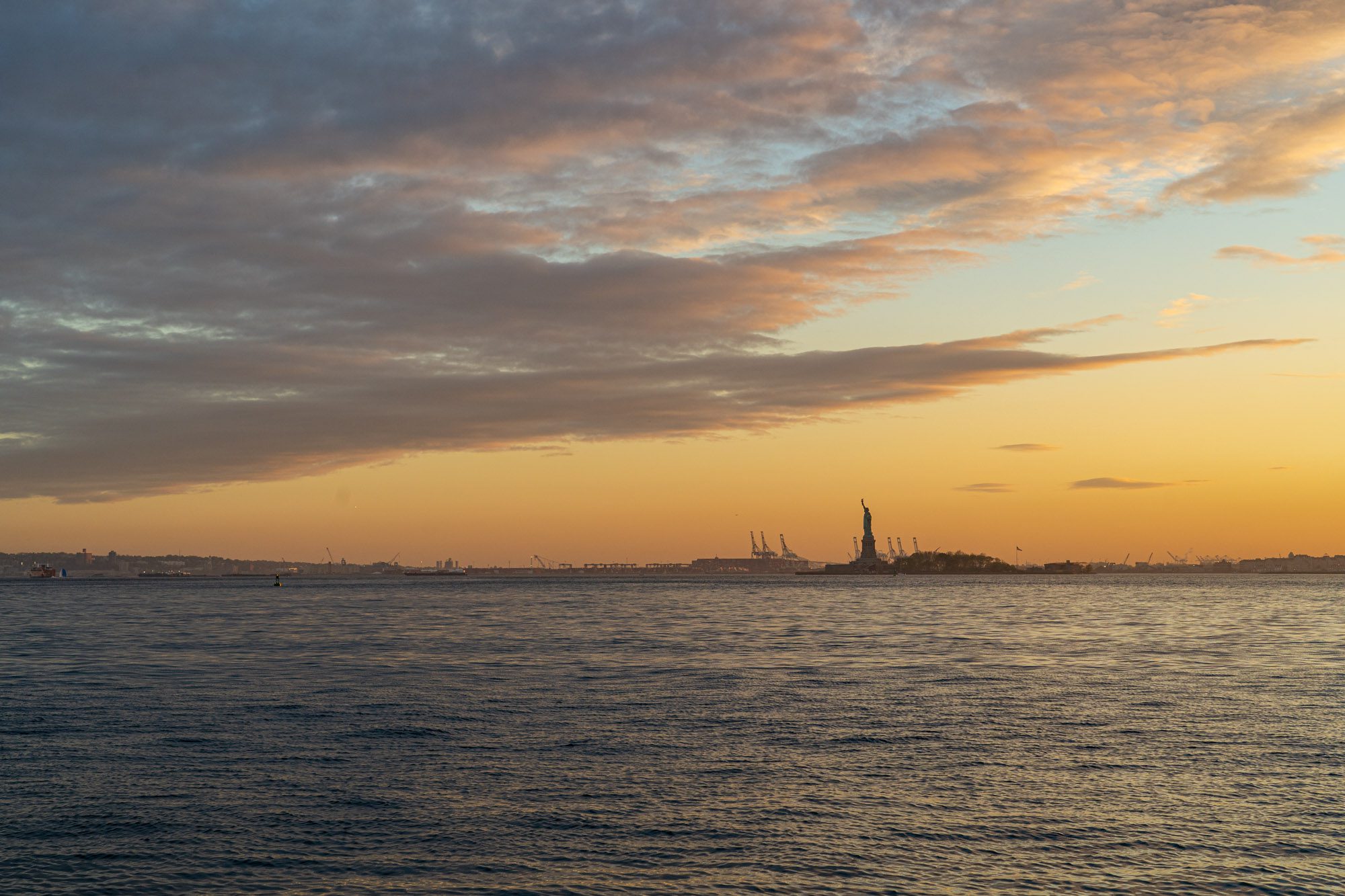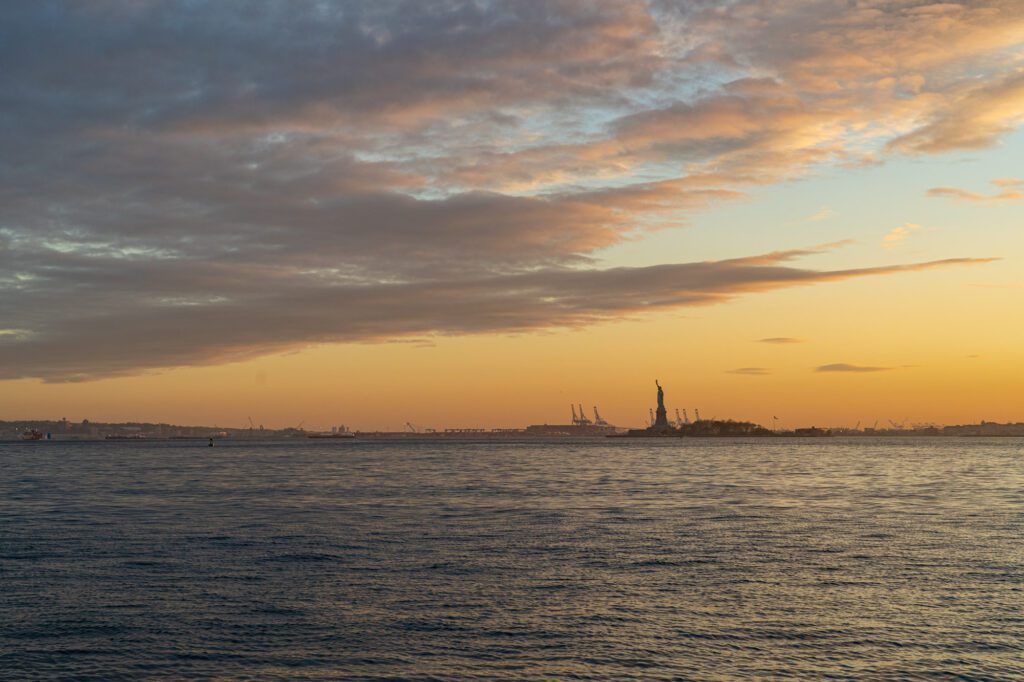 Did you know that there are actually two islands that make up the Statue of Liberty complex? Until very, very recently, I thought that Ellis Island WAS the island that the Statue of Liberty was one. But I was mistaken! Instead, the Statue of Liberty is just southwest on Liberty Island.
You learn something new everyday, I guess.
Both islands are symbols of the promise of the American Dream. The famous saying engraved on the Statue of Liberty reads "Give me your tired, your poor, Your huddled masses yearning to breathe free." We welcomed millions of immigrants – including countless refugees – with open arms, offering the promise of a better life full of opportunity.
Of course once they settled, the reality of the United States, which is decidedly not as rosy as the ideals it was built on, became apparent.
Ironically, the history of Ellis Island actually reflects that dichotomy – it became a detention center in the early 1900's as nativism and isolationism took hold in the country.
Following that rocky period, several laws were passed to limit the number of immigrants coming into the country after decades of an open door policy with basically zero paperwork. 
Then, shortly before closing forever in 1954, it was used to detain immigrants who had ties to facist and communist regimes around the world.
Given the current discourse in our politics, it seems like some of our countrymen may have forgotten that America, at its core, has always been a nation of immigrants. There is no better reminder of that than Ellis Island and the Statue of Liberty.
Both of our families immigrated to the United States through Ellis Island (ironically, both of our families had people coming from Sicily – are we secretly related?), and followed the same route as 12 million other Americans between 1892 and the 1950's.
The islands are only accessible by ferry, and the ferries leave from Battery Park at the southern tip of Manhattan, making stops at both islands.
If you want to go to the National Immigration Museum and the Family History Center (where you can search arrival records to potentially see your family's name), then you want Ellis Island. If you want to check out the Statue of Liberty up close and personal (and visit the accompanying museum), you want Liberty Island.
If you want to do both, you totally can but it will take somewhere between two and four hours, depending on how quickly you move. Given limited time, we'd focus on Liberty Island unless you're making a specific trip to search out your family's history coming through Ellis Island.
All of the various museums and attractions are included in your ferry ticket price, so you don't need to buy individual tickets for each attraction.
There are self-guided audio guides available for all of the major attractions.
The 9/11 Memorial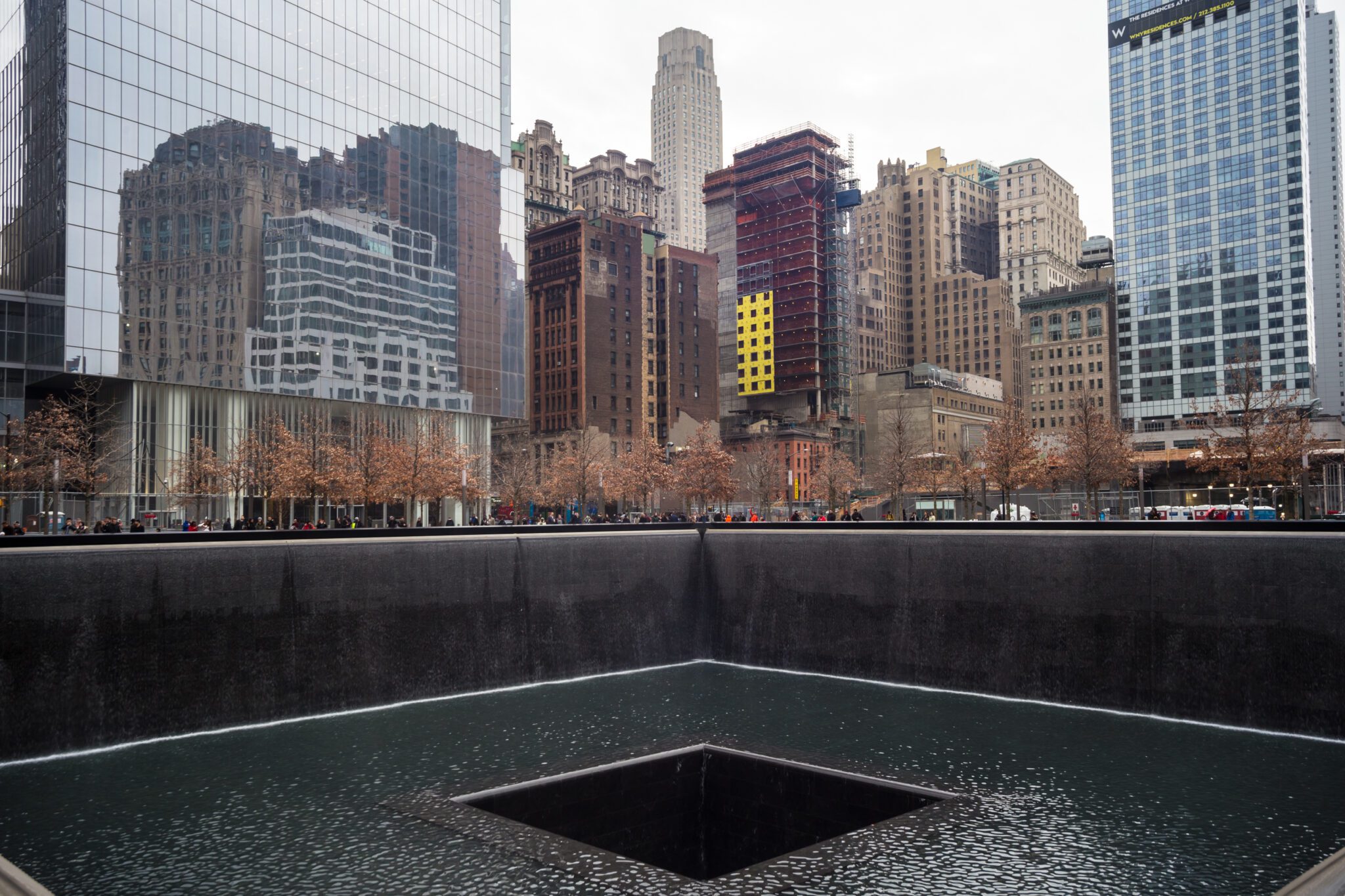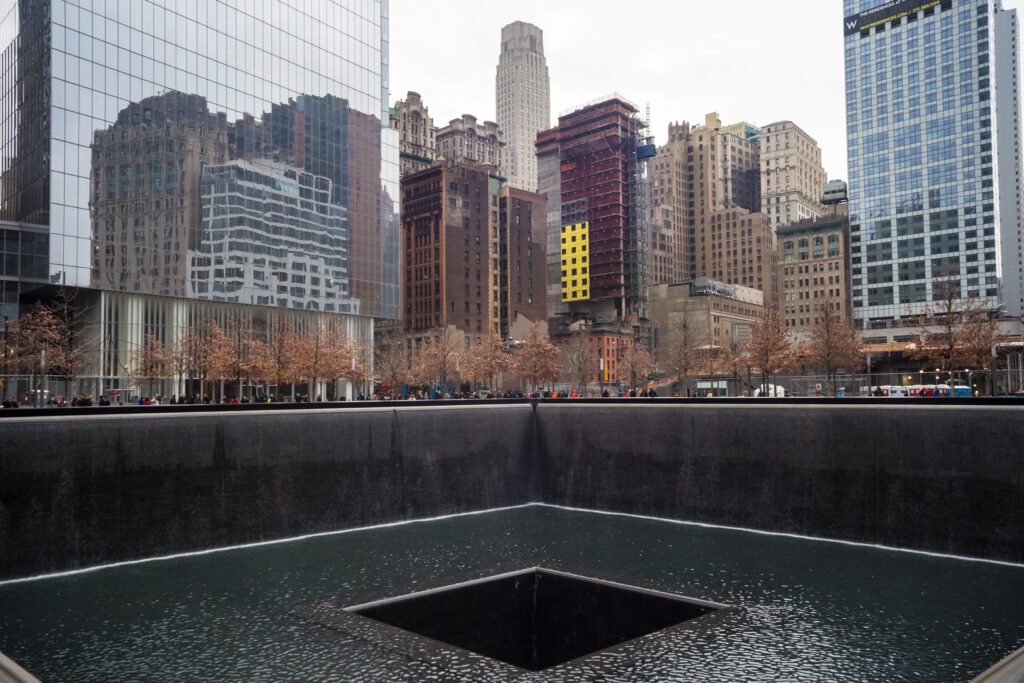 The 9/11 Memorial, which is on the site of the original World Trade Center, is a museum and monument dedicated to the victims of September 11th, 2001, an important day in American history.
I don't know where you were on September 11th, but I distinctly remember EXACTLY where I was.
I grew up in Washington State in the Seattle area, so we were three hours behind in terms of time of day. So the attack on the World Trade Center interrupted my morning before school cartoon routine (Pokemon, for those of you wondering). 
Then, I headed off to 6th grade, and we spent the entire day alternating between watching the news and talking about what had happened. As a sixth grader, I didn't really appreciate what was going on, but I've since realized that it was a pivotal moment in modern American history.
There are two parts to this experience – the Museum and the Memorial. The memorial, which has two reflecting pools with black squares in the center, stands on the site of the original twin towers. The museum is a multimedia experience that tells the story of 9/11.
If you're really interested in going deep, I'd recommend checking out their tours. That's how we would've chosen to experience the museum (though as we talk about below, we tried to get free tickets, failed, and ended up skipping it this time).
Tickets are relatively expensive, but if you happen to be in town on a Monday, then you can visit for free. You'll need to get on at 7:00 am (on the dot) on Monday morning, go to this page, and try to snag a few of the small number of same day free tickets that are available. We were unsuccessful, so we actually ended up skipping the museum.
Oculus Center
Right across the street from the 9/11 Museum and Memorial is the Oculus Center, which is a giant white structure that's supposed to look something like two hands releasing a dove. I say "supposed to" because it's so big that it's hard to get a perspective that actually allows you to visualize that.
It was built following the September 11th attacks to function as part transport hub, part commercial center. Today, there are a bunch of Subway lines that run through it and it's the Lower Manhattan station for PATH (a high-speed rail network connecting New Jersey and New York City).
It's worth stepping inside the ground floor in mid-morning, when there is a ton of natural light pouring through the windows lining the high ceilings. There's also a few high-end shops like Moleskine and an Apple Store here.
Really, we'd visit just for the architecture. One tip we got after we had been here – try to come midday if you can. Since it's a transportation hub, it's very, very busy during commute hours (8:00-10:00am, 3:00-6:00pm, ish).
Ferry to Brooklyn Bridge Park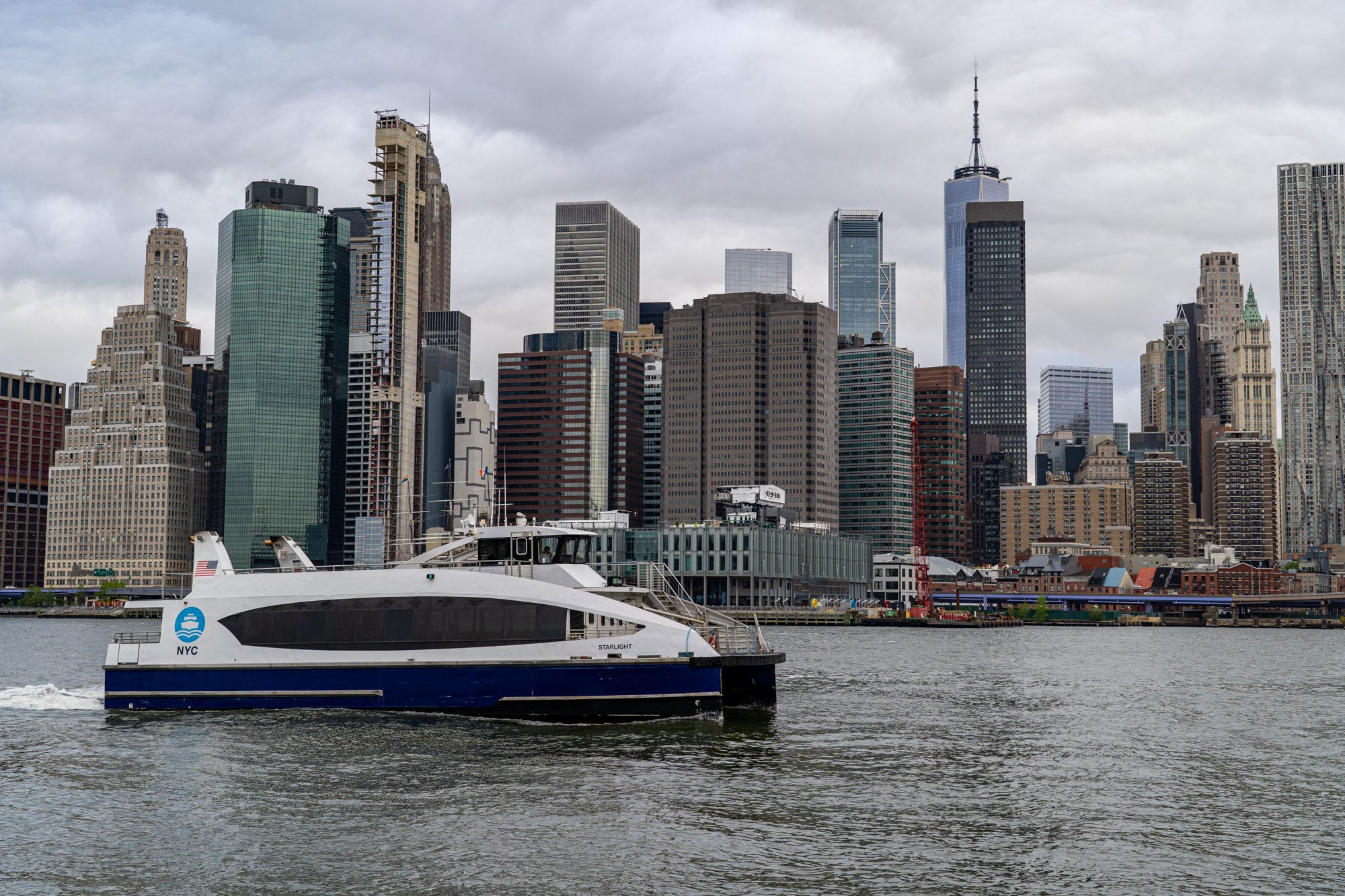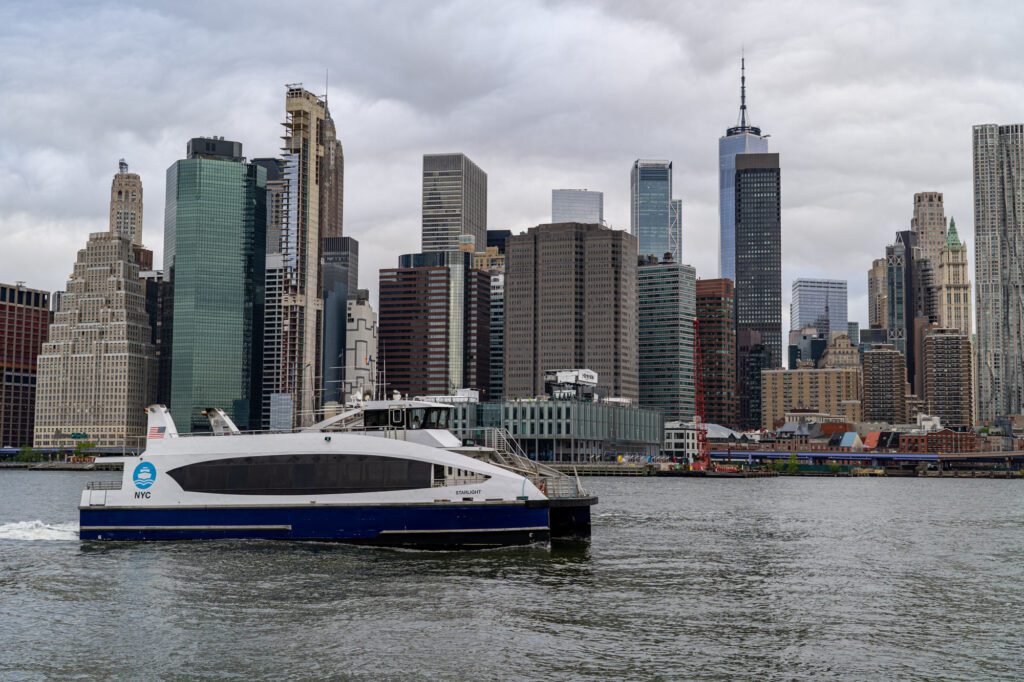 From there, head over to the eastern end of Lower Manhattan to Pier 11 (here on Google Maps), which is where you can catch the East River Ferry to head over to Brooklyn.
The ferry is, by far, the best way to get over to Brooklyn from Manhattan in our opinion. It's nicer than the Subway, the views are better than the Subway, and you can sit outside on the deck on a nice day.
Plus, it takes you directly to where you need to go to continue this itinerary!
Basically, the ferry costs $2.75 a ride ($1.00 more if you bring a bike), you buy tickets in advance before boarding either through the app or at the ticketing machines onsite, and it moves FAST once you're on the water.
For this particular route, you want the South Brooklyn ferry heading north towards Corlears Hook. Your stop is DUMBO. You can also take the East River Ferry towards Hunter's Point South, which takes you to the same stop (DUMBO). See both routes and a map of the ferry system here.
Walk a Loop through Brooklyn Bridge Park and Brooklyn Heights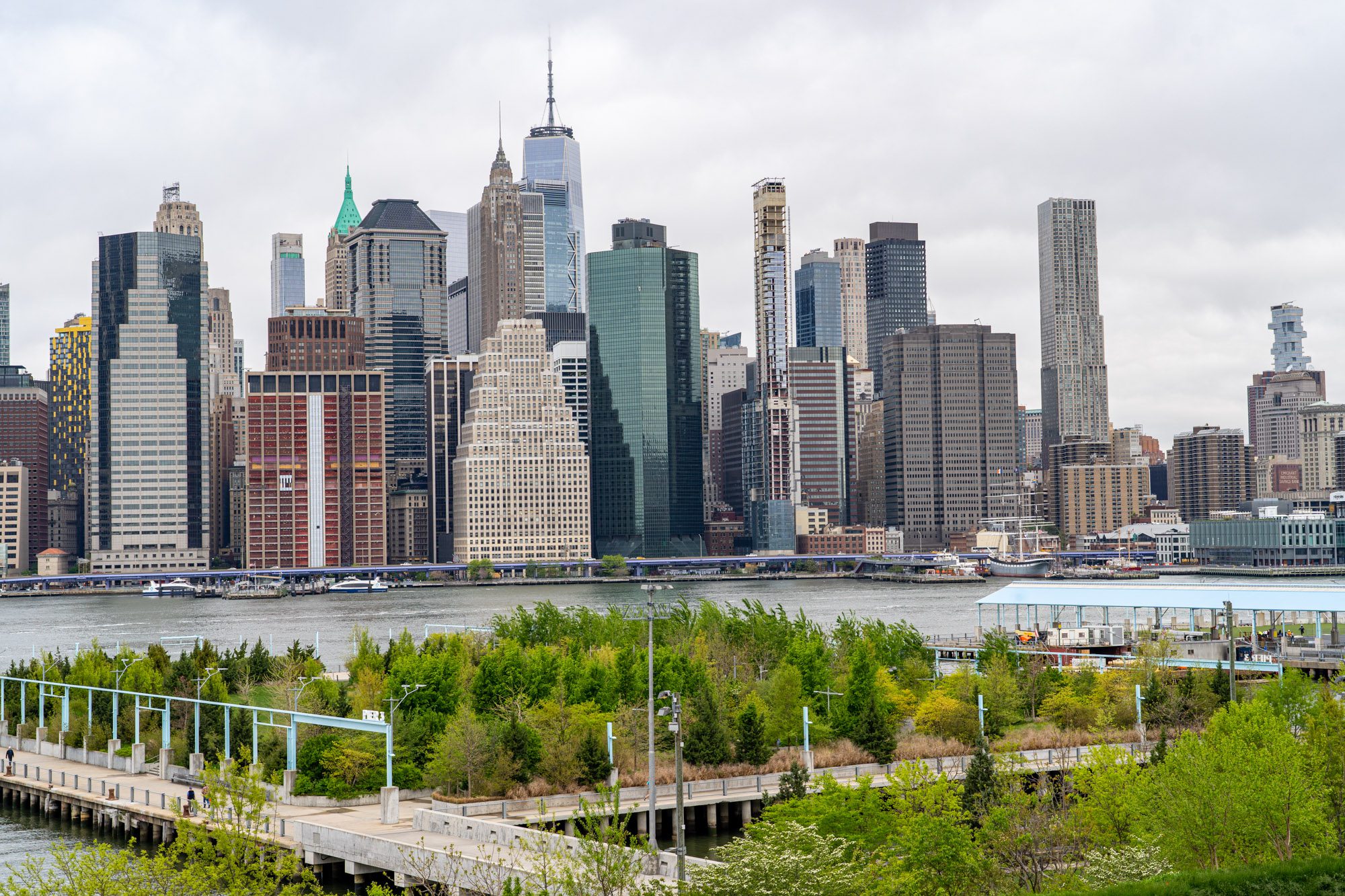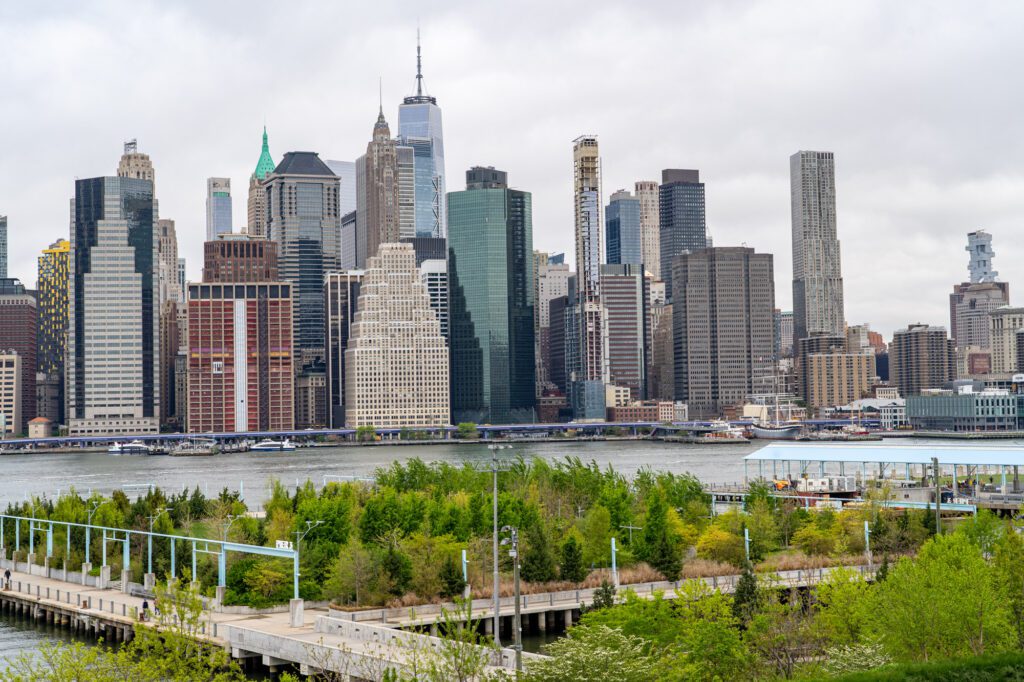 From the ferry terminal, you're going to make two loops.
One will take you south along the waterfront, then up the hill and back through Brooklyn Heights, where you'll have some excellent views of Manhattan first from the water level, and then from up a few stories higher.
The other will take you from the ferry terminal to the east, stopping at the famous DUMBO photo spot of the Manhattan Bridge and making your way through the heart of DUMBO.
First, make your way south along the waterfront to Pier 6. This walk takes you along the waterfront of the East River, which is pretty much just amazing views of Manhattan from start to finish. In particular we enjoyed the views at the beginning of the walk, particularly from Old Pier 1.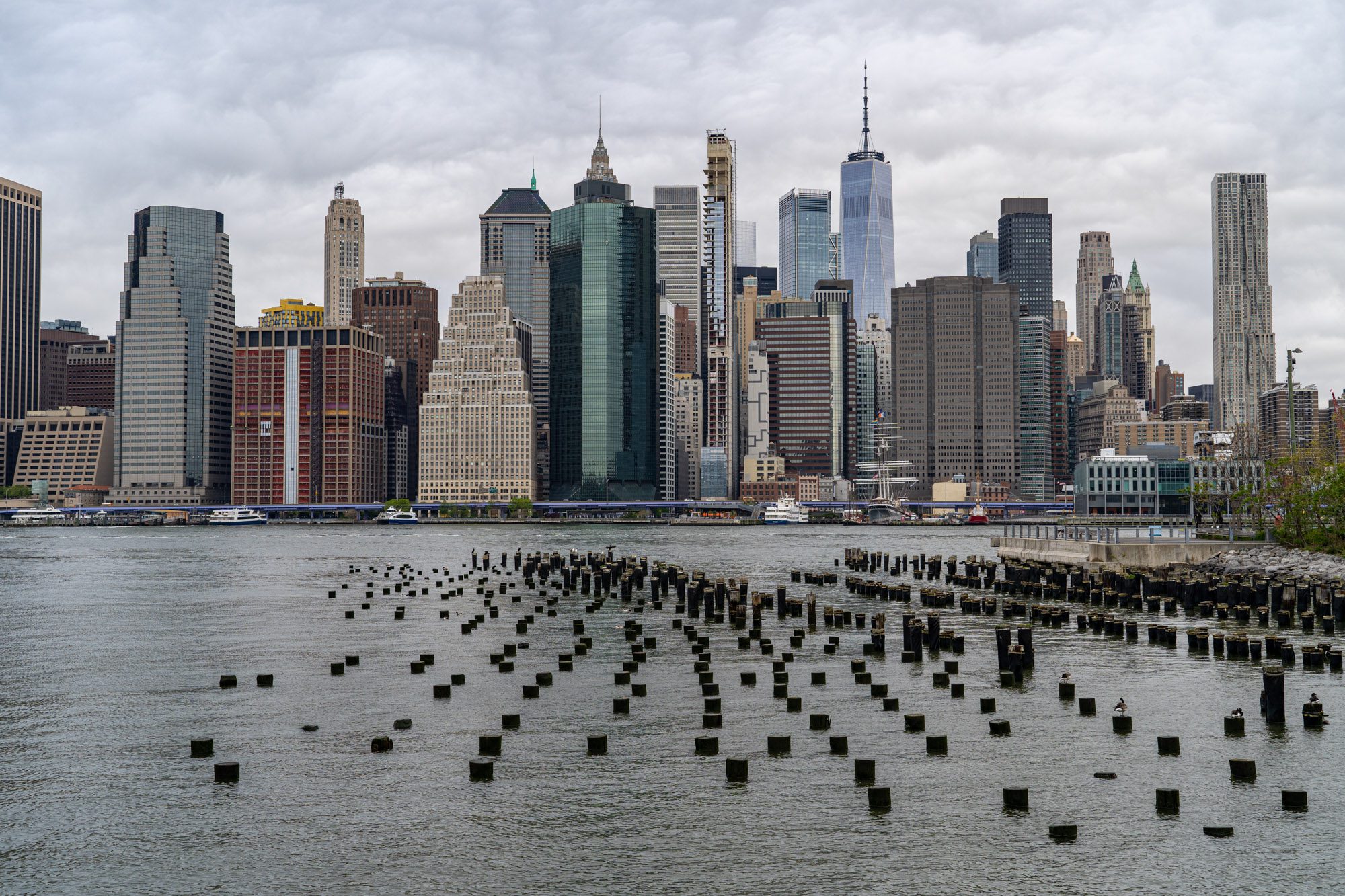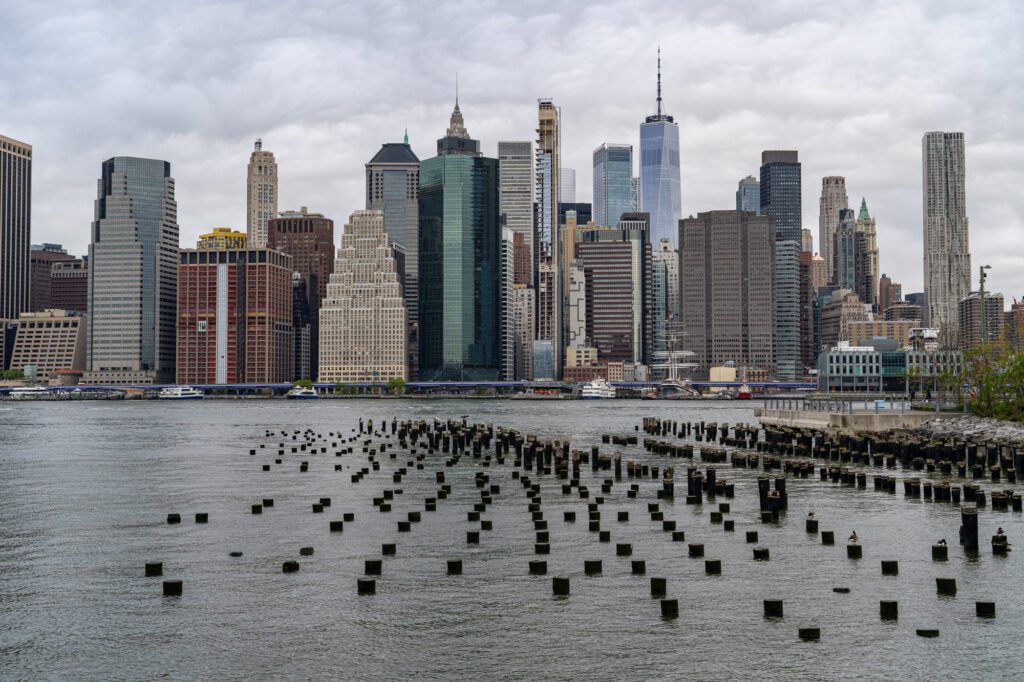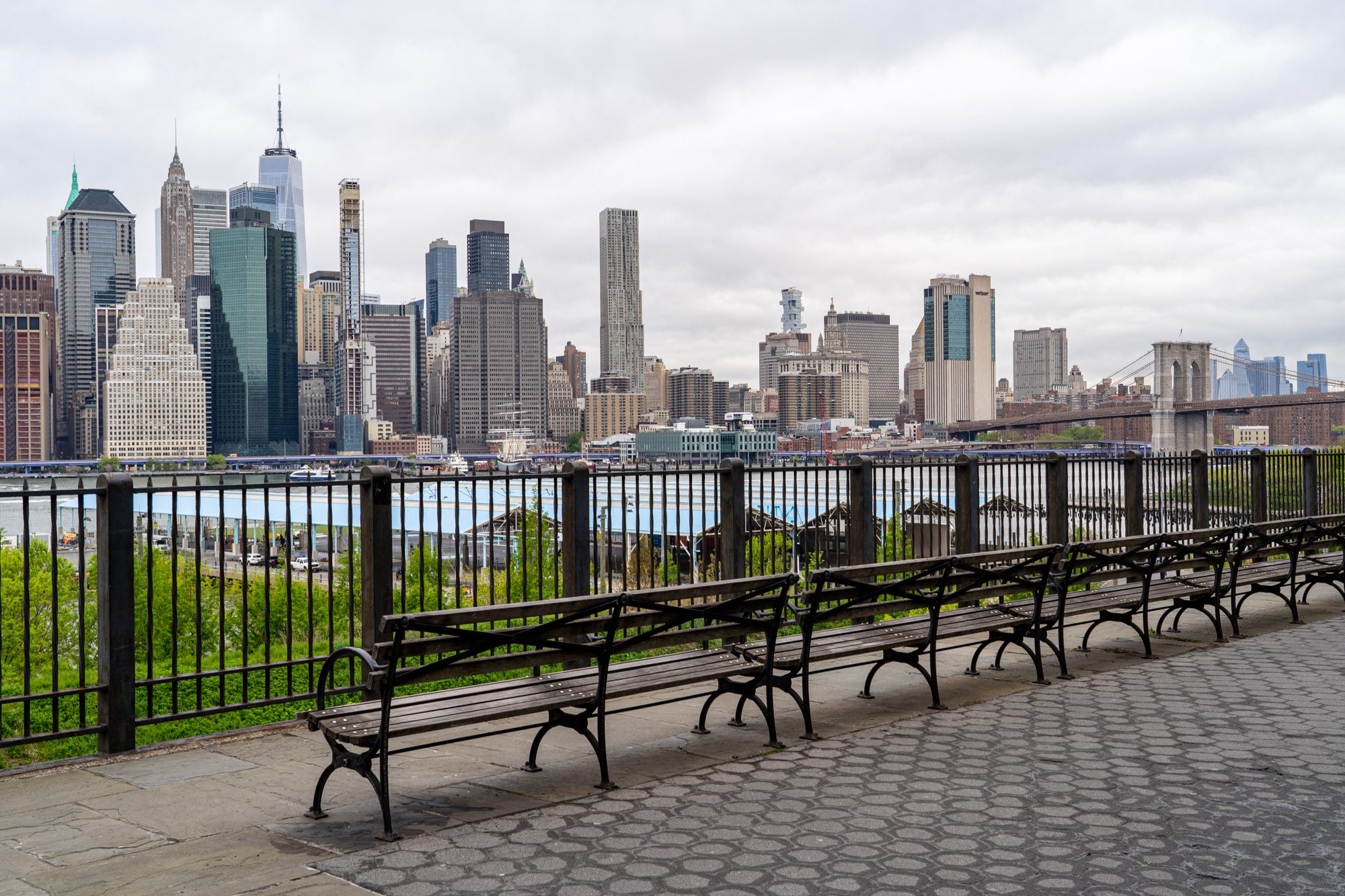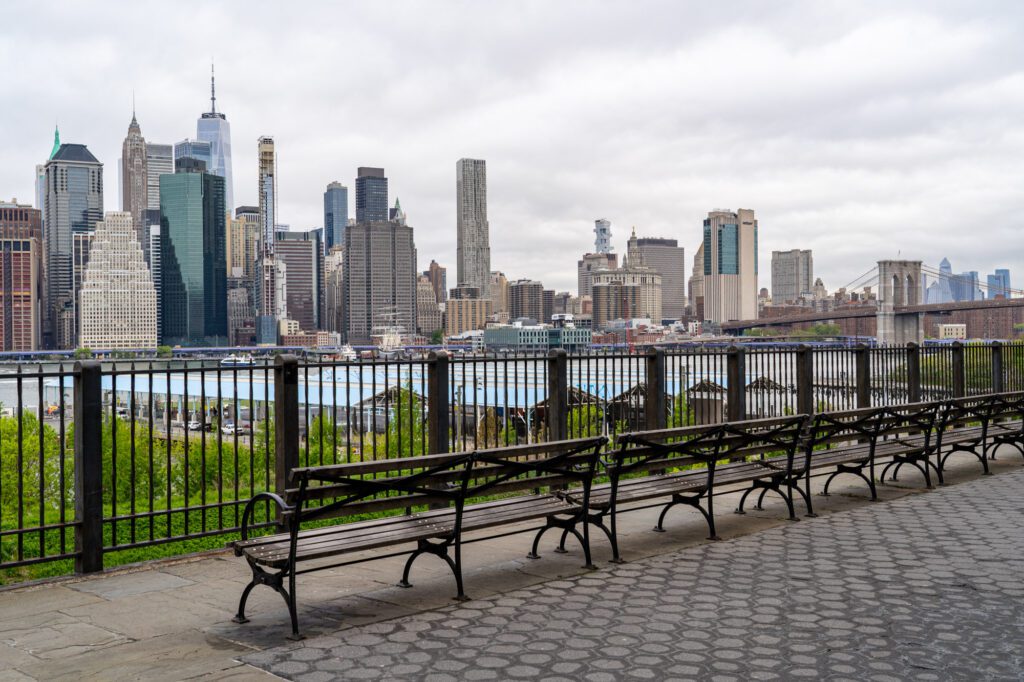 This part of the walk is a good illustration of the way that the city has used formerly industrial areas and transformed them into green spaces along the waterfront. There's another good example of this tomorrow, where you'll stop at Little Island on the other side of Manhattan.
From there, head up into Brooklyn along Atlantic Avenue, hang a left on Clinton Street, and another left on Montague Street, which takes you down to Brooklyn Heights Promenade, which you can follow back to the DUMBO Ferry (the start of your next walk).
Here's a map of the route. All-in, it's going to take you about an hour (not including stops) and is a 2.7 mile walk.
DUMBO Walk #2 (Jane's Carousel and the Insta-Famous Photo)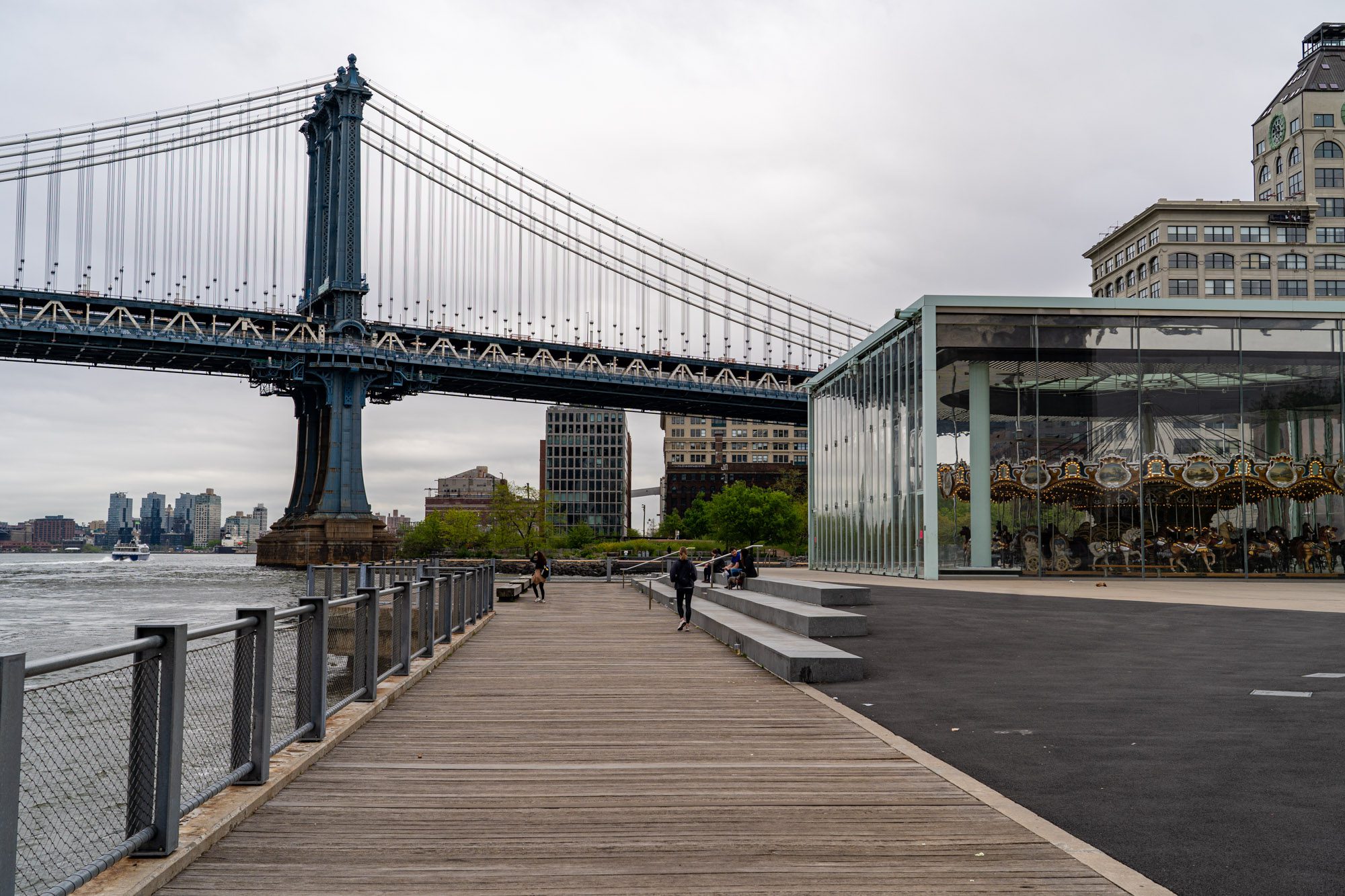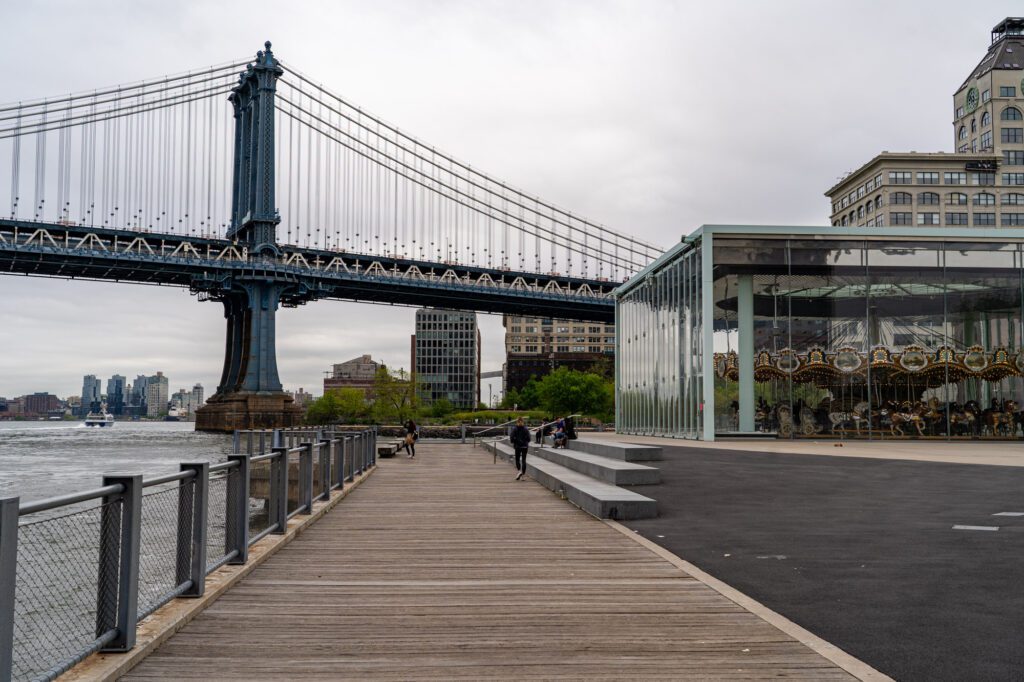 The other side of this figure eight loop is less about the Manhattan views, though it still certainly has some of those, but more about the food and drinks (sometimes with a view).
Start out heading east along the waterfront, where you'll hit Jane's Carousel almost immediately, and continue all the way out to John Street Park (stop by Pebble Beach right after the carousel for good Manhattan views).
Then, loop back through Dumbo, stopping at the spot where you can get that famous photo of the Manhattan Bridge with brick buildings on either side and a picturesque cobblestone street in the foreground.
It's here on Google Maps, and it's likely to be swarming with people trying to get the perfect picture (spoiler: to get that, you have to come before 7:00 am…which I did).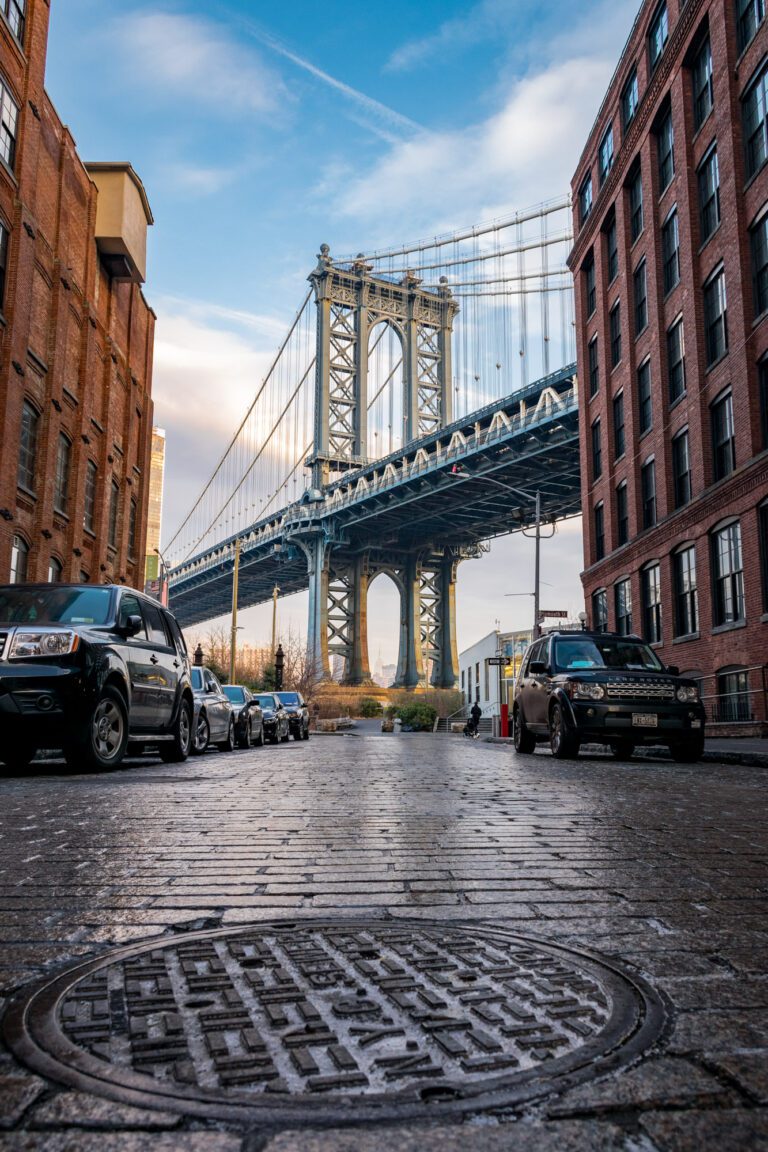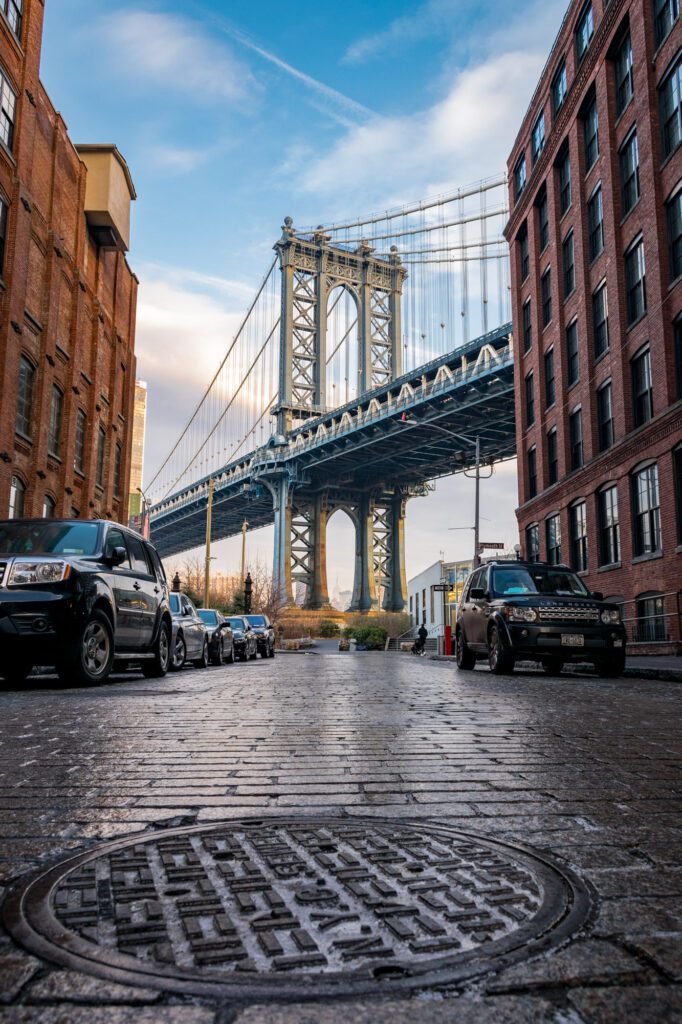 Here's a map of the route, although this one is definitely more dependent on what you're craving. If you're up for beer, head to Evil Twins Brewing. For beer on a cool rooftop, head to Randolph (summer and fall only). For wine, head to Olympia. If you're up for ice cream, head to Oddfellows. This whole area is full of cool places to eat and drink.
Here's a rough map of what this walk might look like, starting at the ferry terminal and looping back through the heart of DUMBO.
Time Out Market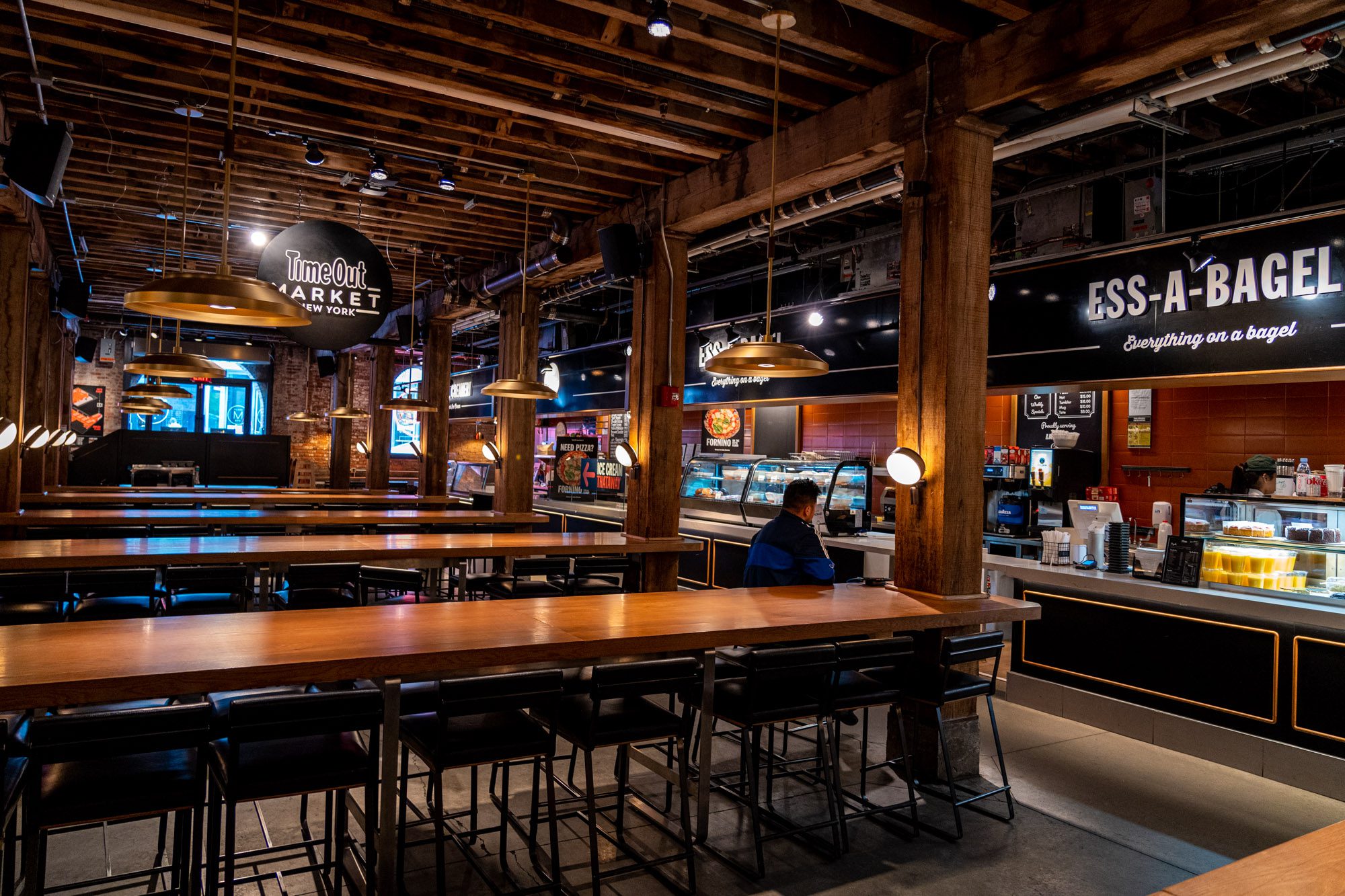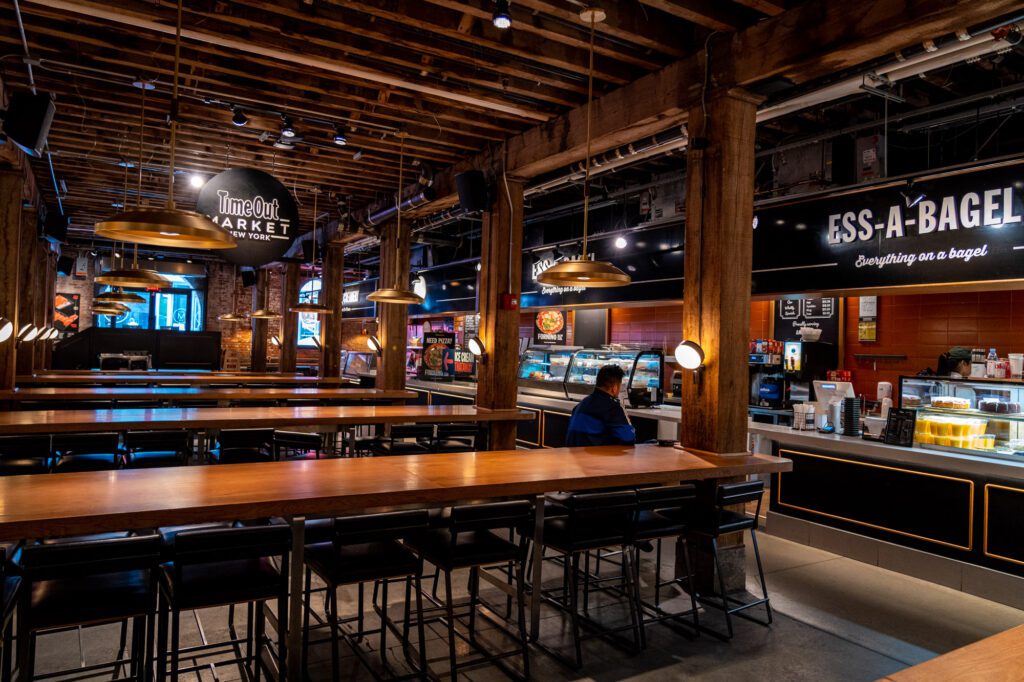 End your walk in DUMBO at the Time Out Market, which is a multi-level food hall with a rooftop bar and an endless selection of places to eat and drink. The first iteration of Time Out Market that we experienced was in Lisbon, and this one is even more impressive, with more vendors and a cool rooftop bar.
P.S.: If you're confused why an online travel media company has a food hall, you're not alone. We had the same confused thought before our trip to Portugal when we were reading about the Time Out Market in Lisbon. You can read about how it came to be here.
If you're here in the morning (or early afternoon), stop by Ess-A-Bagel, which was recommended to us by our friends, who are bagel aficionados (definitely not gluten free though, so only good for Alysha).
If you're up for a drink with a view, head up to the fifth floor to their rooftop (ish) bar. Love Local Beers sells a bunch of local beers that you can take to enjoy out on the terrace (or at home).
Dinner and Drinks in Brooklyn
If you're up for staying in Brooklyn for a bit more time, there's some good food and drinks to be had over on this side of the river.
One of our favorite restaurants in NYC – Claro – is over in Brooklyn. It's inspired by Oaxaca, where the head chef spent a bunch of time, and their back patio is an amazing place to have a cocktail and try their food.
It's expensive, and it's a tasting menu. Make a reservation early, and order the strawberry aguachile and the chocolate mole cake for dessert.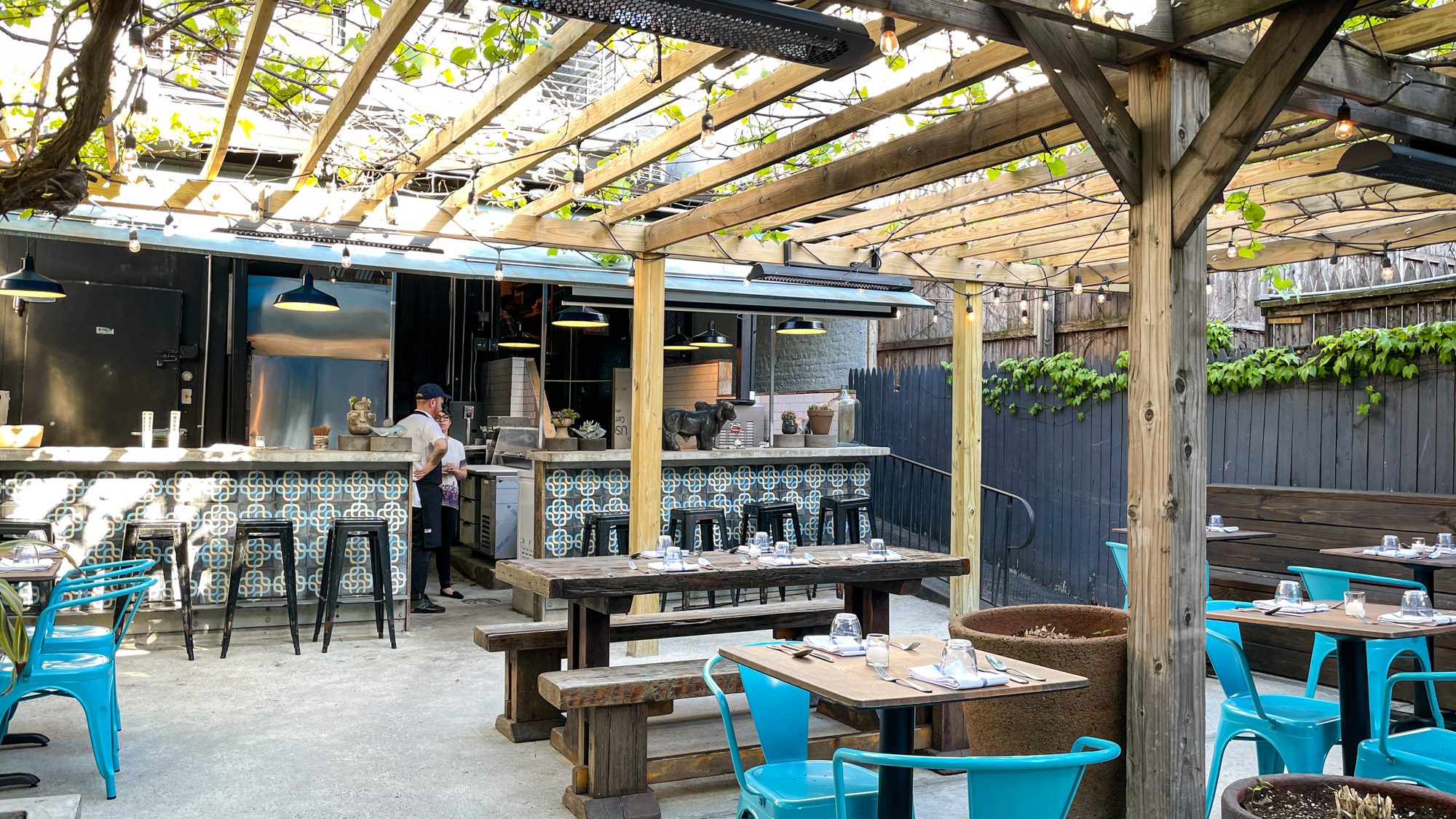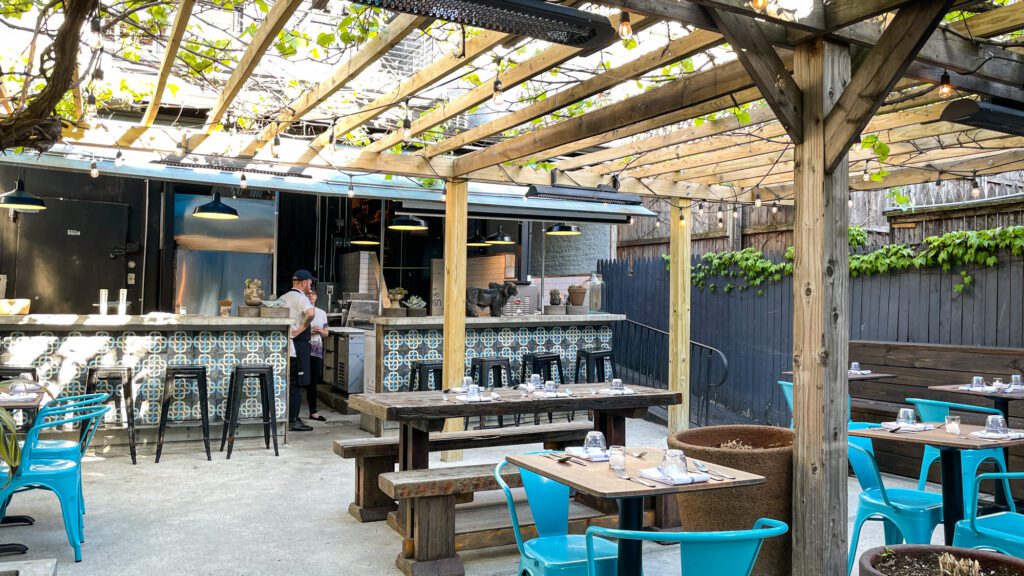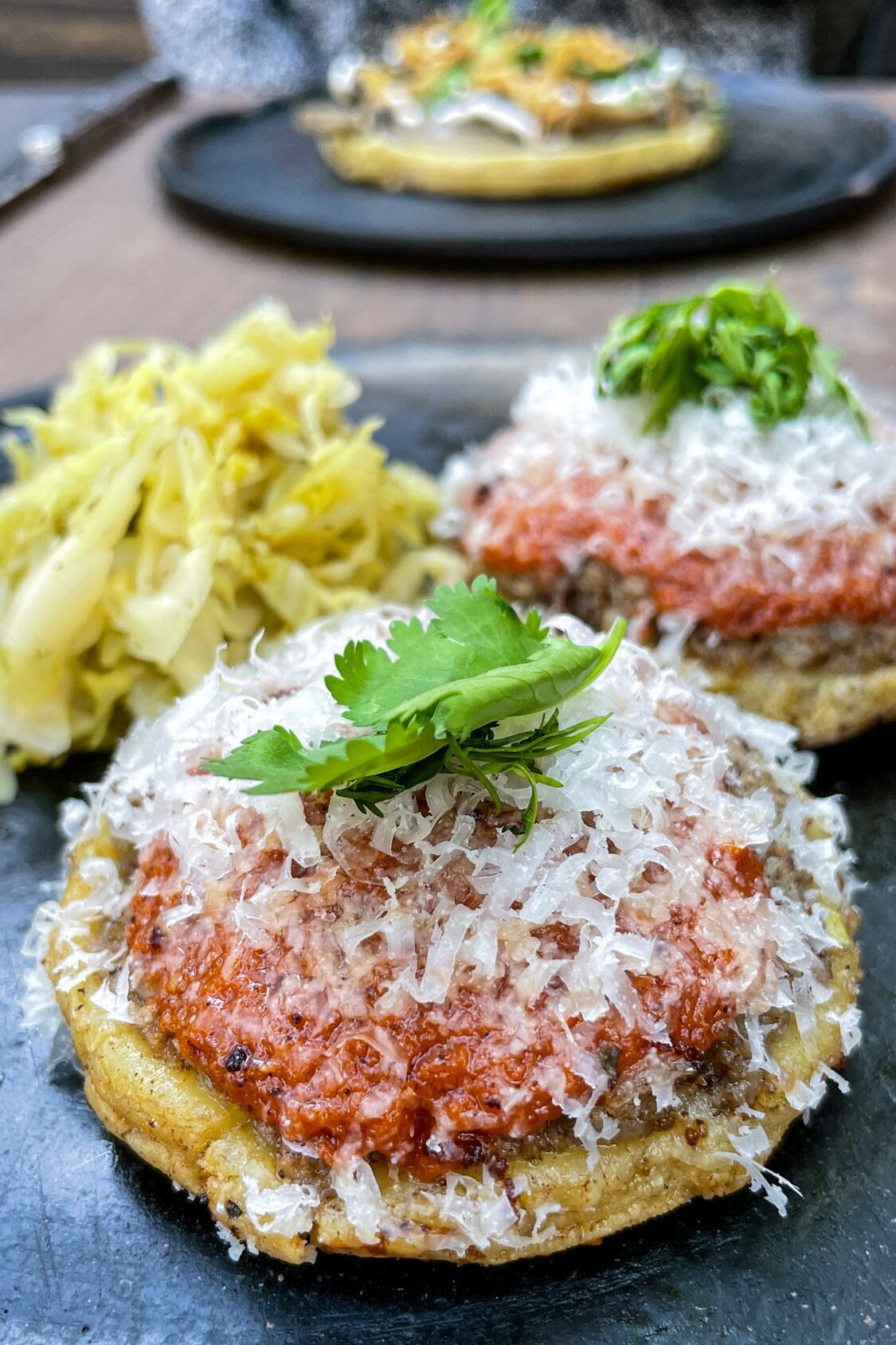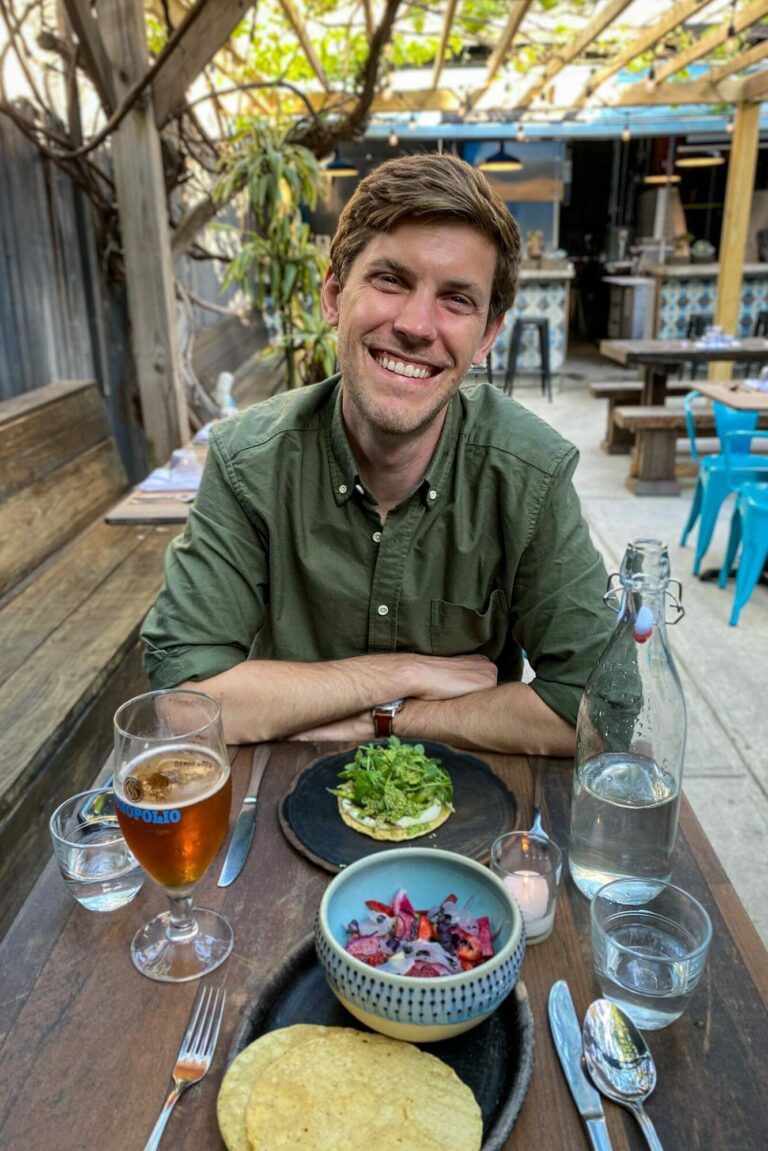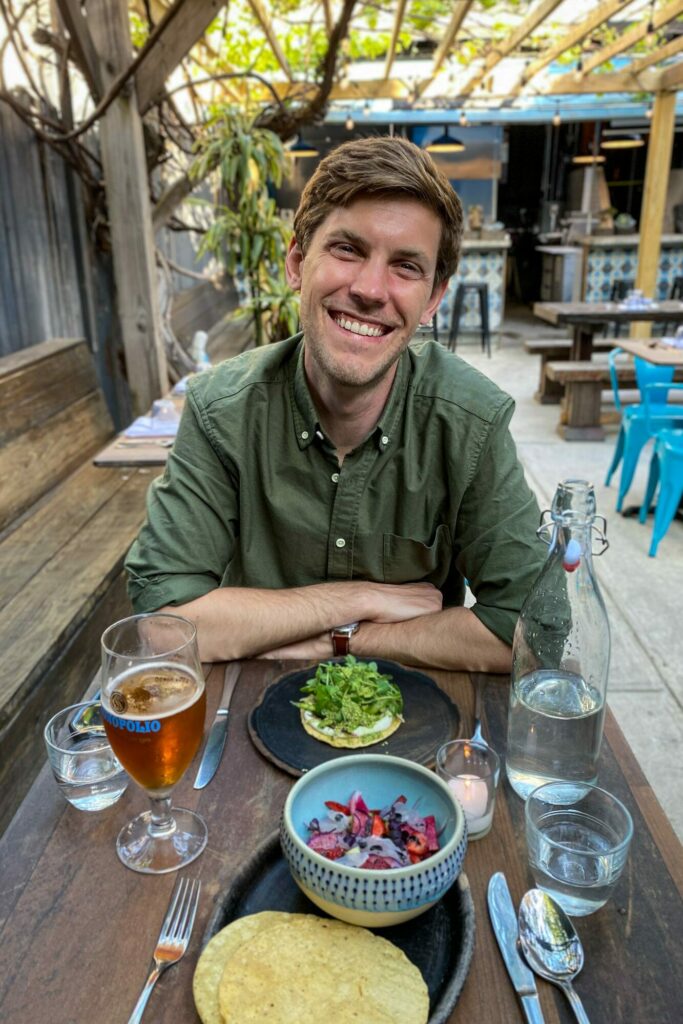 If you're looking for a more budget-friendly (but equally delicious) option for Mexican food, head to For All Things Good in Bed Stuy. Honestly, it was a close second to Claro in terms of our favorite food we ate in NYC.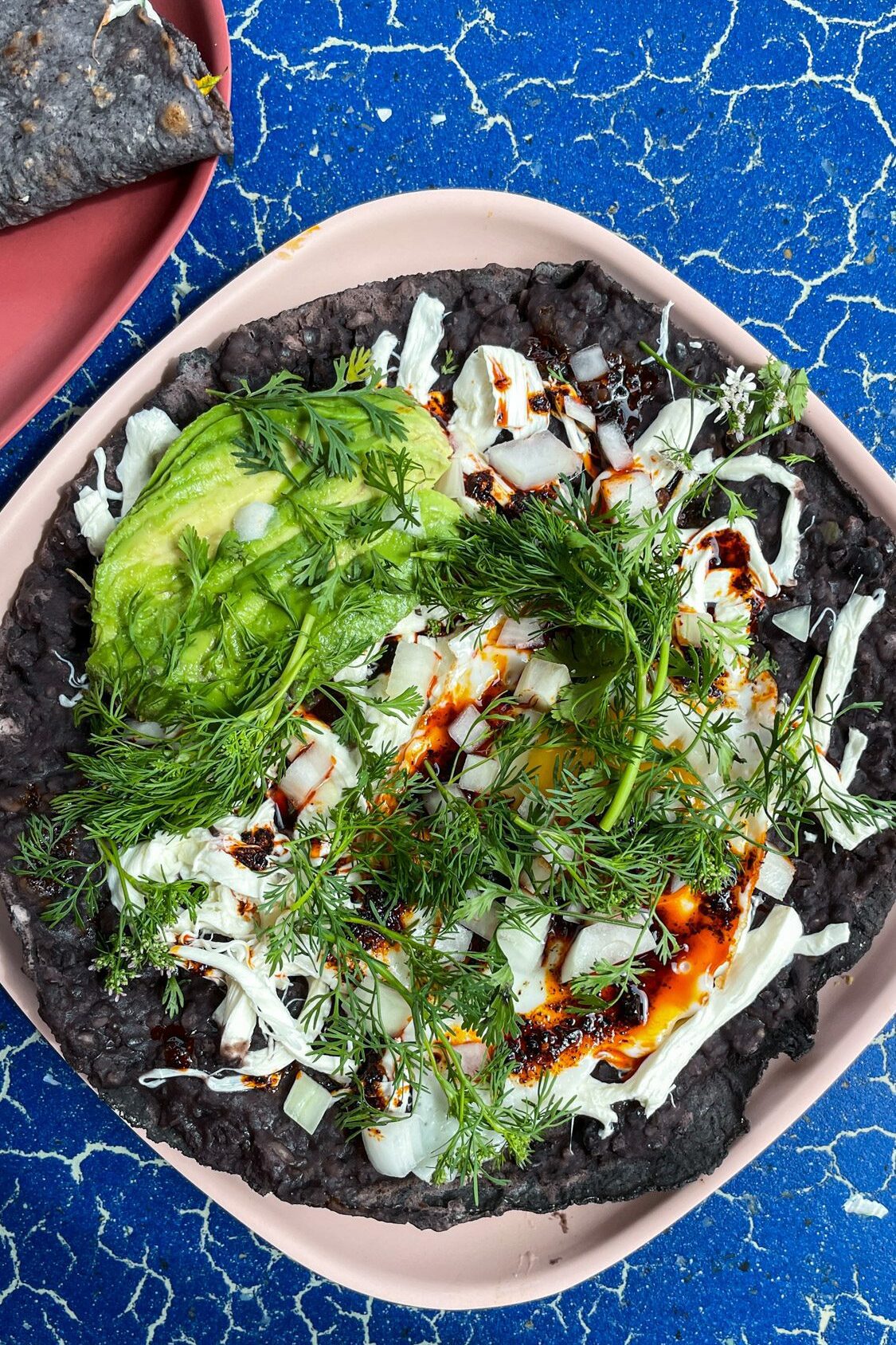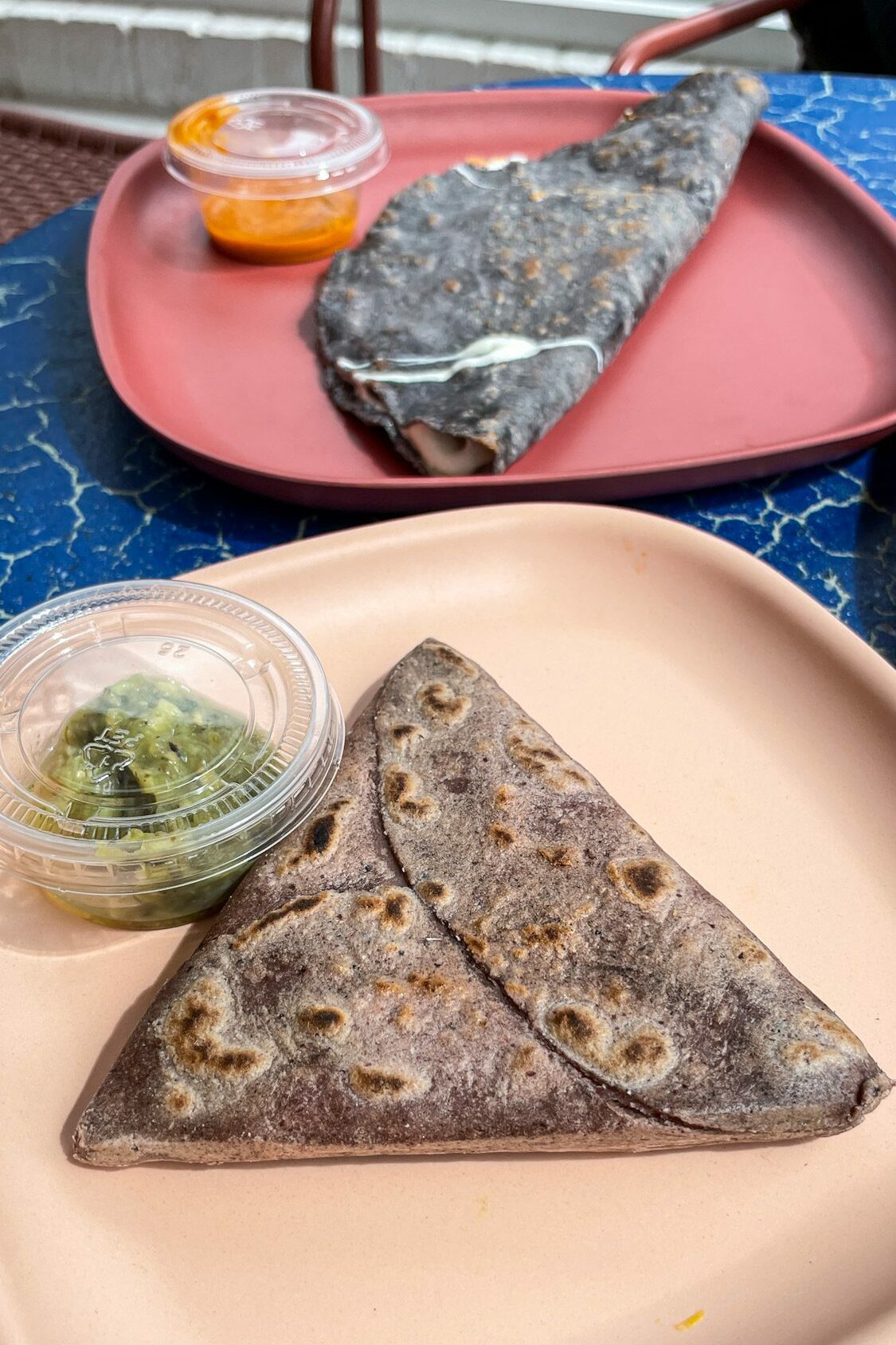 For a drink, head to Cardiff Giant, who has a nice back patio full of greenery, and beer, wine, and cider exclusively from NY State, which I enjoyed learning from the bartender about.
If cocktails and pinball sound like a good time, Glorietta Baldy is the spot for you.
Day 3: Chelsea, Greenwich Village, and a Show
On your third day in New York City, explore the western end of Manhattan, starting in Chelsea with a walk on the High Line, heading south into Greenwich Village, and ending back in Midtown to catch a show, which is a must-do in NYC if you've never seen a Broadway (or off-Broadway show before).
The High Line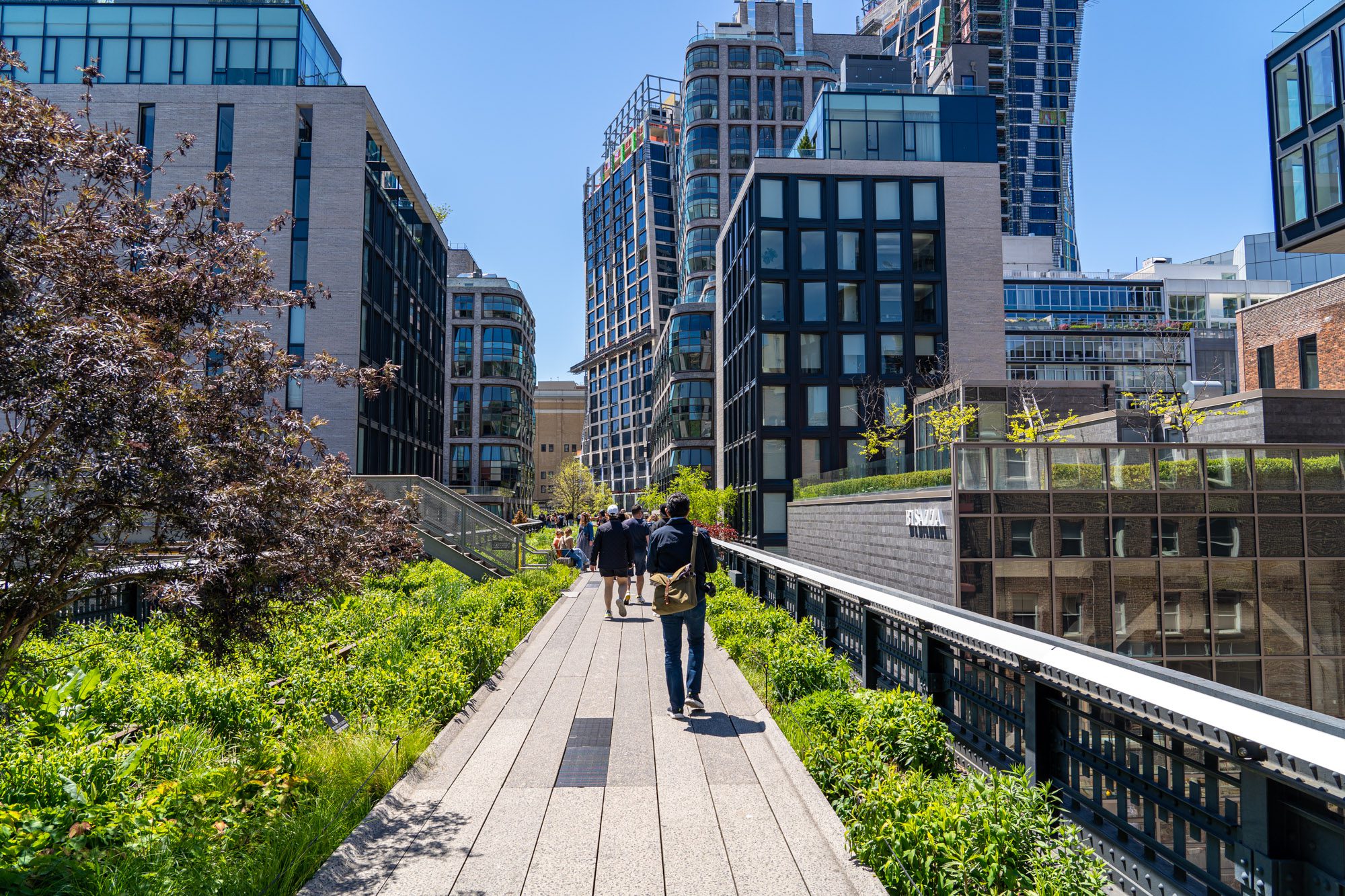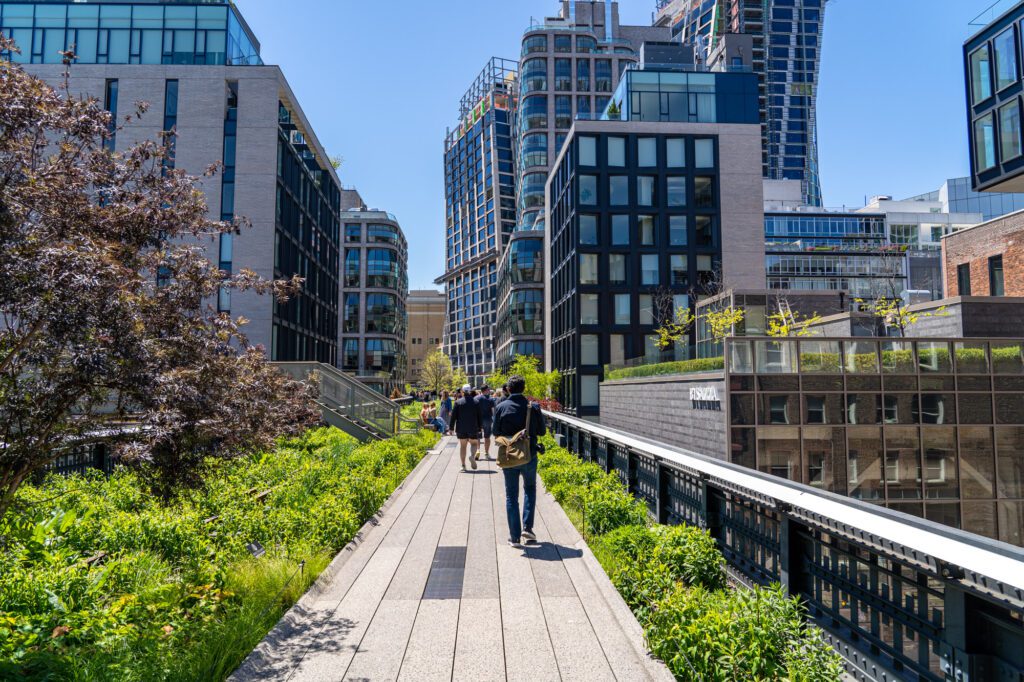 Start your last day in New York City with a walk along the High Line, a former railroad that has been transformed into a nice elevated greenspace that goes from the southern end of Hell's Kitchen to the southern end of Chelsea.
As cities get more and more dense, we're going to have to find more ways to create green spaces in a neverending concrete jungle. The High Line is a cool example of thinking (slightly) outside the box and turning an unused space – in this case, a railroad – into a public green space.
It only stretches about a mile, from the entrance at W 30th Street on the north end down to Gansevoort Street on the south end (just south of W 12th Street). We'd recommend that you walk the whole thing, starting here.
Don't miss Vessel, a cool industrial structure that consists of more than 150 interconnected staircases with some cool city views. It's right near the entrance to the High Line (here on Google Maps).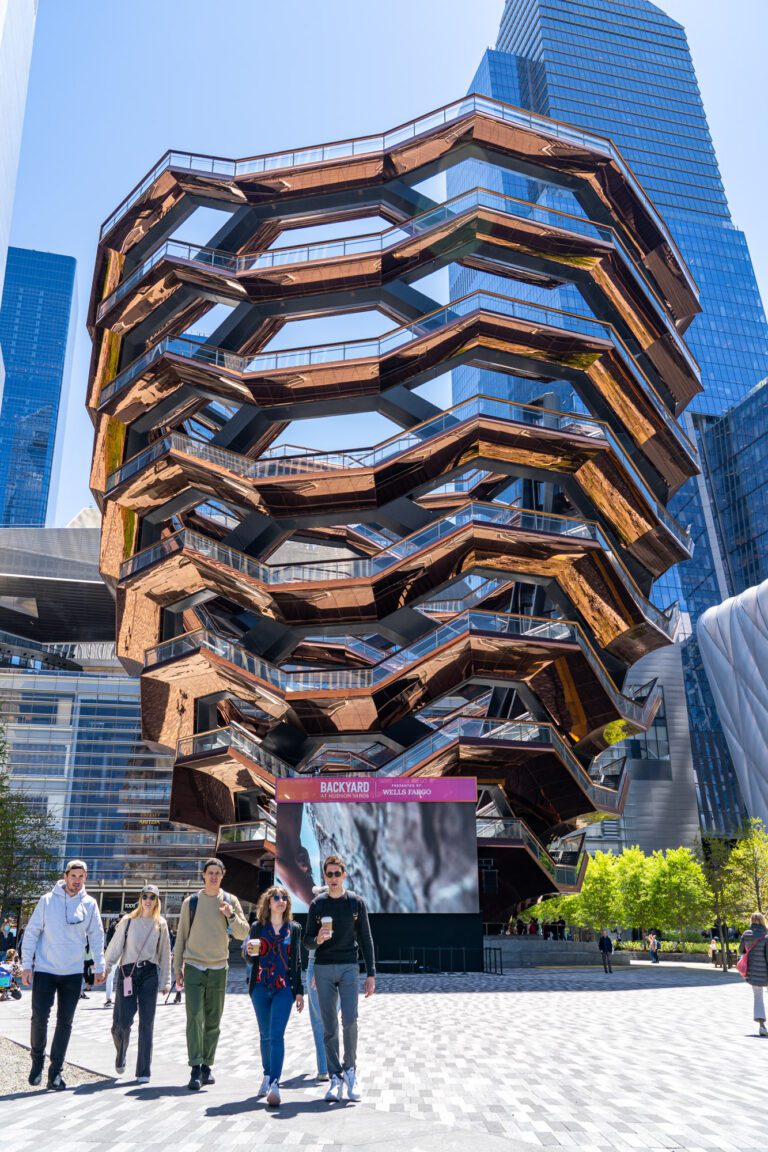 Along the way, you'll see some unique architecture, the coolest parking garage in existence (the cars are stacked vertically), and plenty of flowers and greenery that feels out of place in industrial Chelsea.
On Tuesday, Wednesday, and Saturday, there are free docent-led tours of the High Line that take you through the history of the park, including its beginnings as a railroad through its transformation over the past few decades.
Tours begin at the Gansevoort Street entrance (here on Google Maps), and last about 90 minutes. The timing of tours varies by season and you can see the times here. 
I wish we had realized that these tours were available before Wednesday afternoon, because this is something we definitely would have been interested in.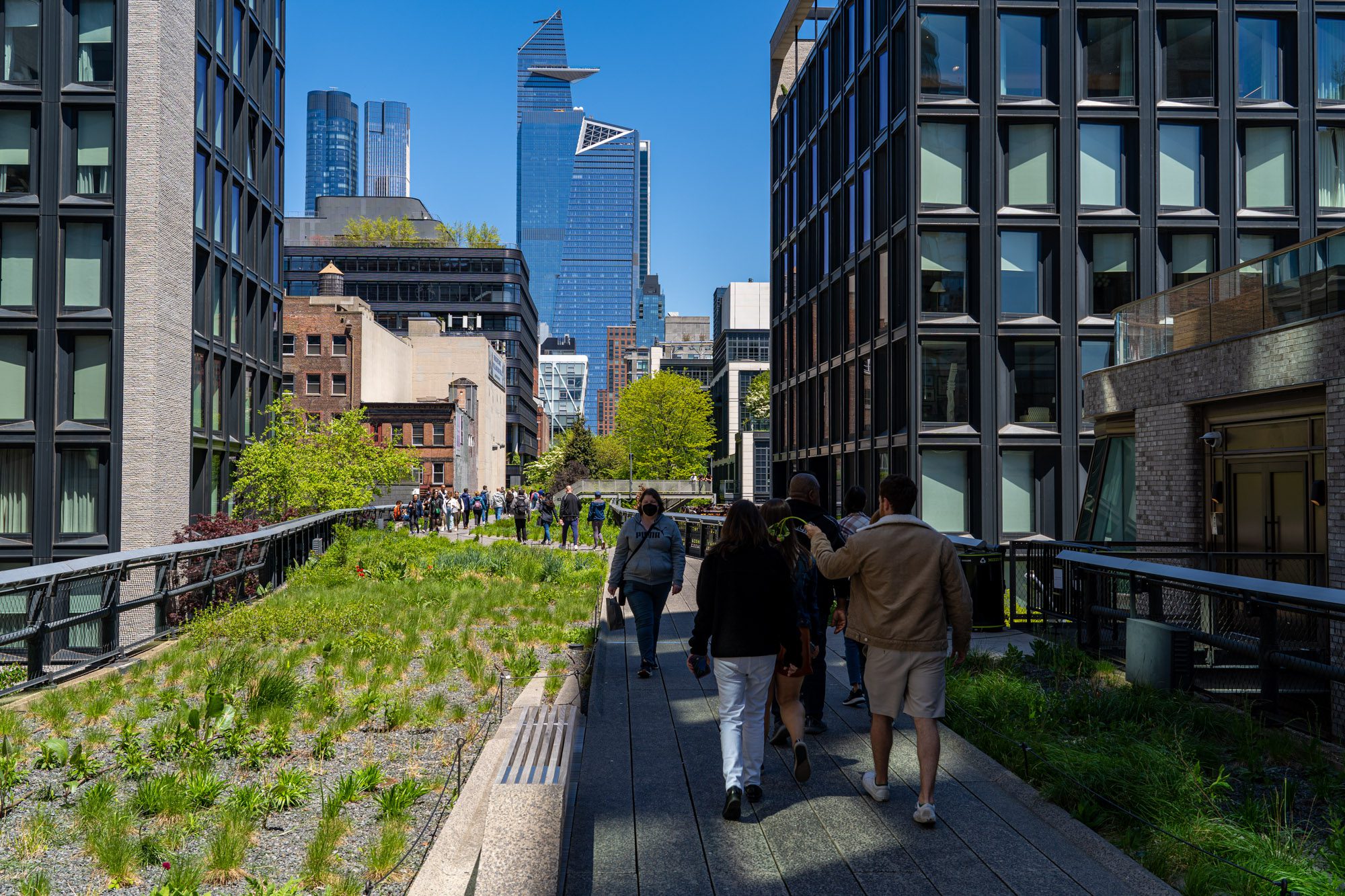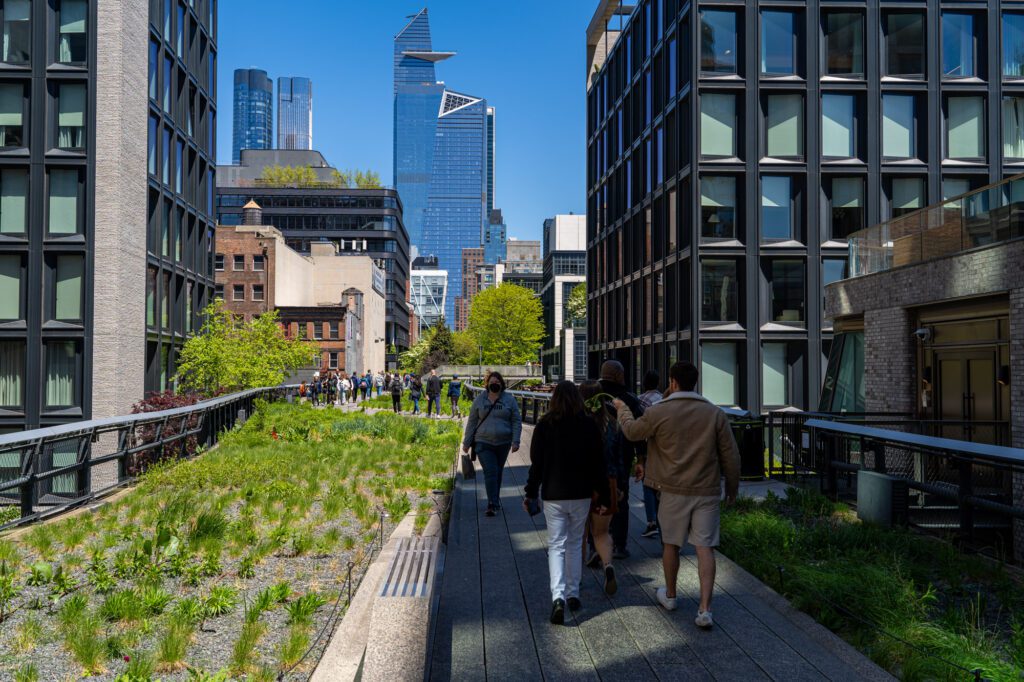 The High Line has become so popular that in the summer – through the end of September – you actually need to make reservations for peak times (12:00 pm – 6:00 pm) on the weekend and holiday Mondays (Memorial Day, July 4th Weekend, Labor Day). More information on making reservations here.
Little Island
Speaking of repurposed industrial spaces, Little Island is another great example of a rundown industrial space in the city that has been transformed into an accessible green space.
In this case, it's Pier 54 on the Hudson River that is now a multi-tier outdoor space. It's one of the newest public parks in NYC, opening in March of 2021. 
Really, the entire section of the Hudson River is full of nice green spaces, which is another cool way to create a little break from the concrete jungle that is Midtown Manhattan.
Again, during peak hours you'll need to make a timed entry reservation to access Little Island. The dates are May 12 through September 19th, and you'll need a reservation from 12:00 pm to close on Thursday through Sunday (and holidays).
They have free events almost every day in the summer, in addition to bigger ticketed events. Seeing a show or performance in the little amphitheater on the river would be a fun night out!
If you're interested in the history and construction, there's a 40 minute audio tour that's completely free!
After you exit the High Line at its southern end, you'll head out to the river and walk a little ways north to get there. When you're done here, cross back over the road towards Midtown and you'll basically be at Chelsea Market, your next stop.
Chelsea Market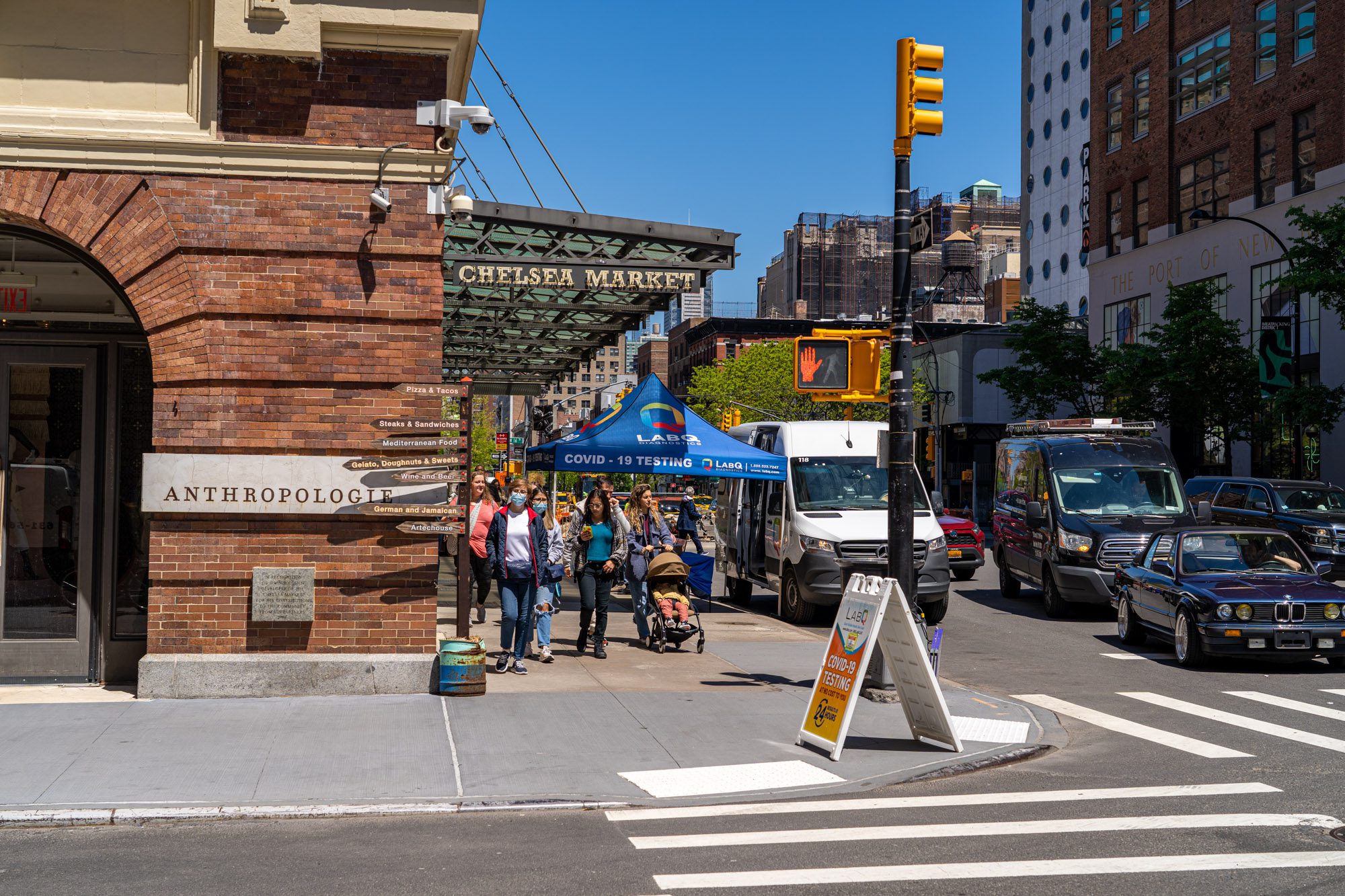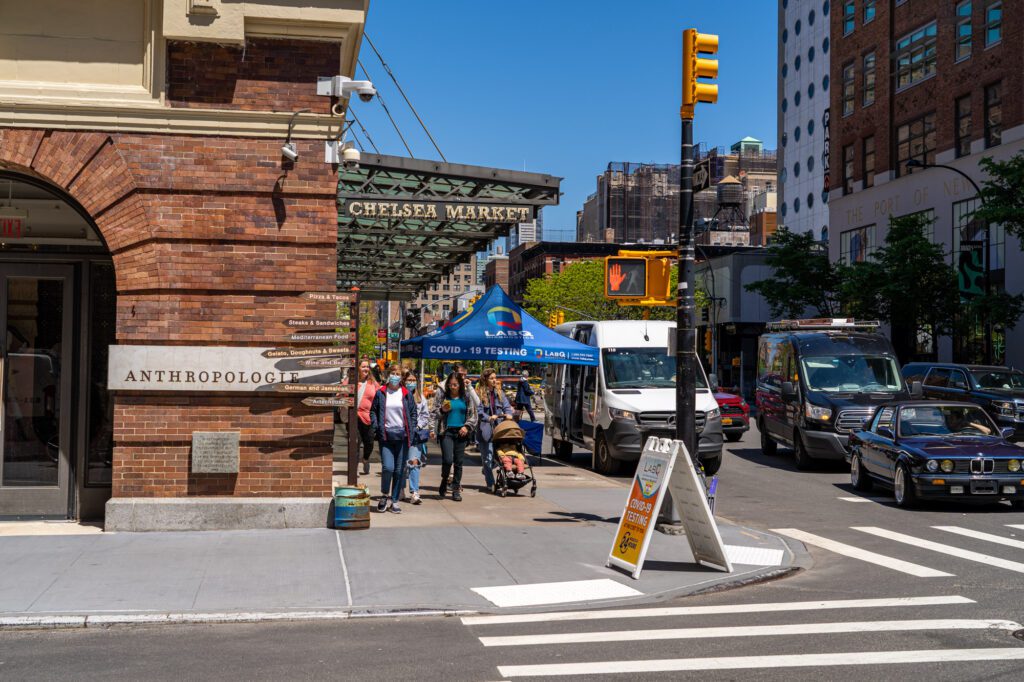 Chelsea Market is a collection of mostly food stalls, with some shopping (even a flea market – Thursday to Monday: 11:00am – 7:00pm) mixed in. It's a great stop for an early lunch / late breakfast before you continue south to Greenwich Village.
Some of the food highlights here are Friedman's, which is a brunchy restaurant with tons of gluten free options (including fried chicken and waffles) that you would never know are gluten free, Los Tacos no. 1 (which we mentioned above in Times Square) with authentic tacos and a huge line at most hours, Doughnuttery for innovatively flavored donut holes (it reminds us of Pip's in Portland, Oregon), and plenty more.
This is also a good bathroom stop if you've had to go for a while.
A block or so east of Chelsea Market is one of our favorite coffee shops in NYC, Terremoto, which is a little hole in the wall serving some of the best coffee in the city.
I love places where you can choose what beans you want to try, either for filter coffee or espresso, and this place checks that box with a few different coffees available at any given time. 
Greenwich Village & Washington Square Park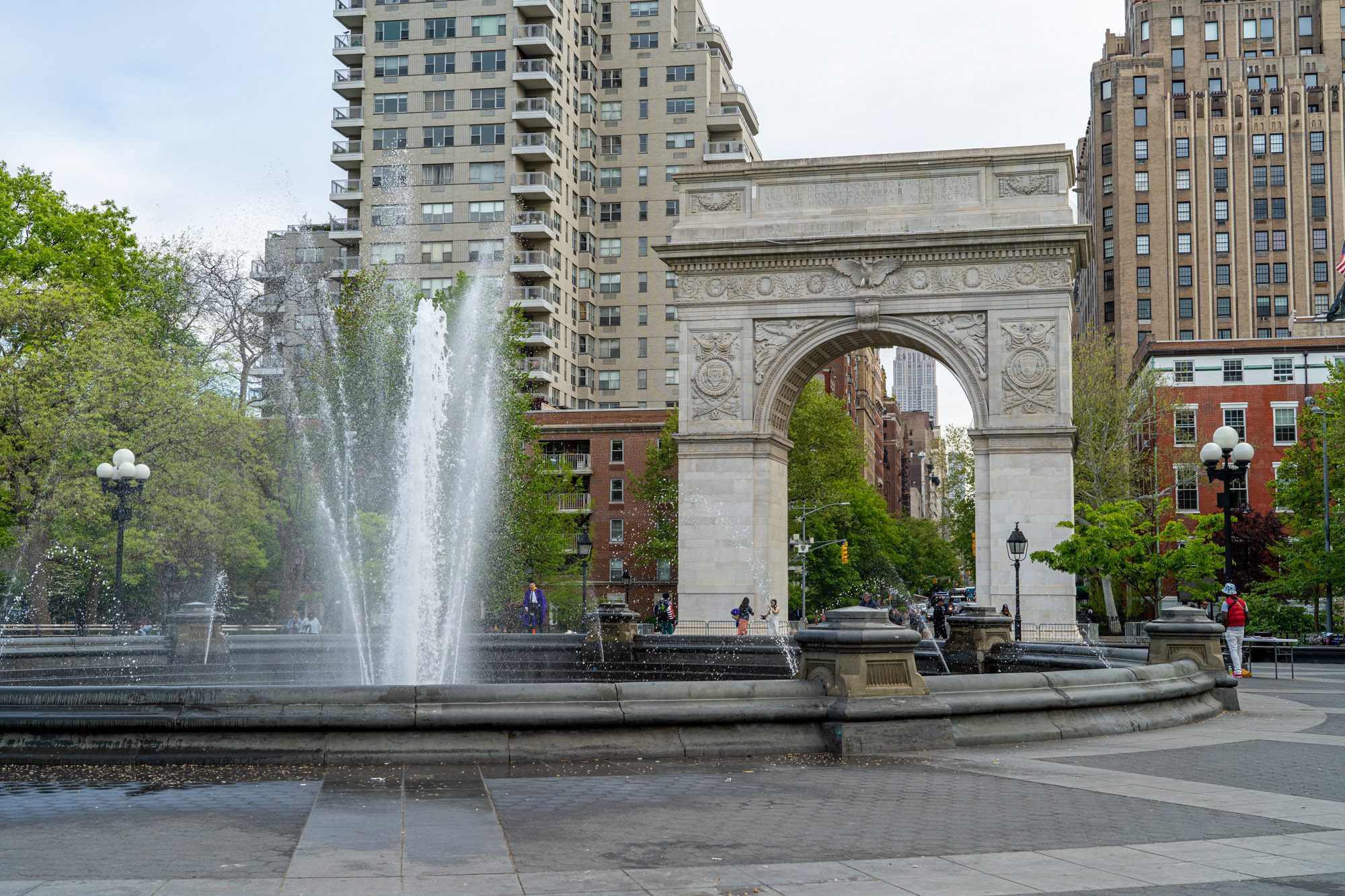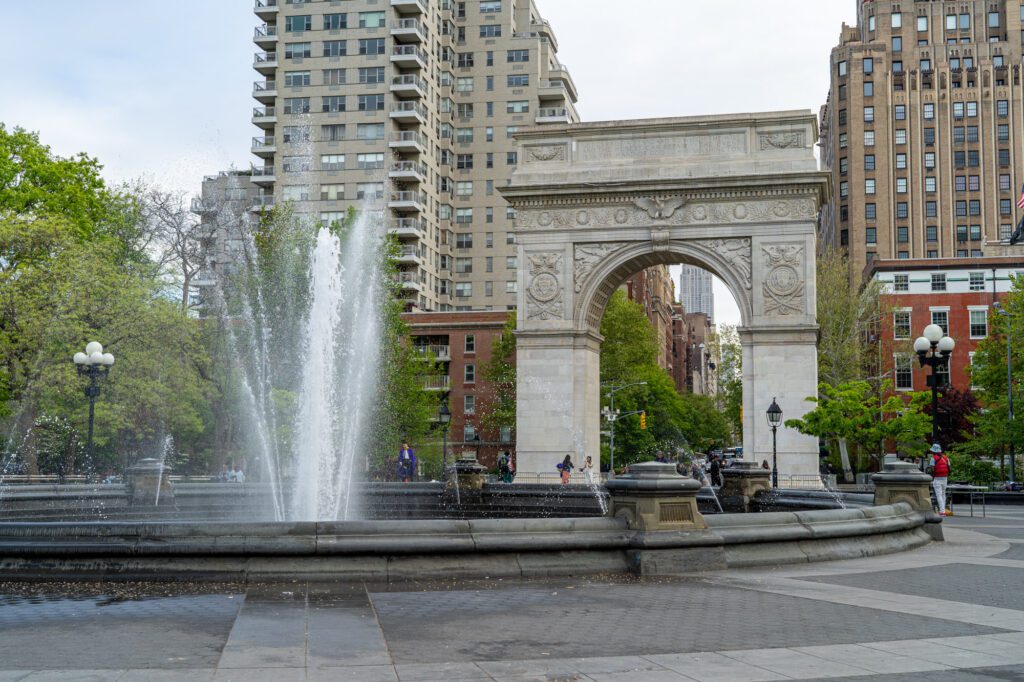 From Chelsea Market (or Terremoto Coffee), hop onto Greenwich Avenue and follow it south towards Greenwich Village and Washington Square Park.
Along the way you'll start to see the architecture change, moving slowly (and sometimes abruptly) from old industrial buildings now housing art galleries to historic brownstones that you've seen in any show or movie featuring NYC.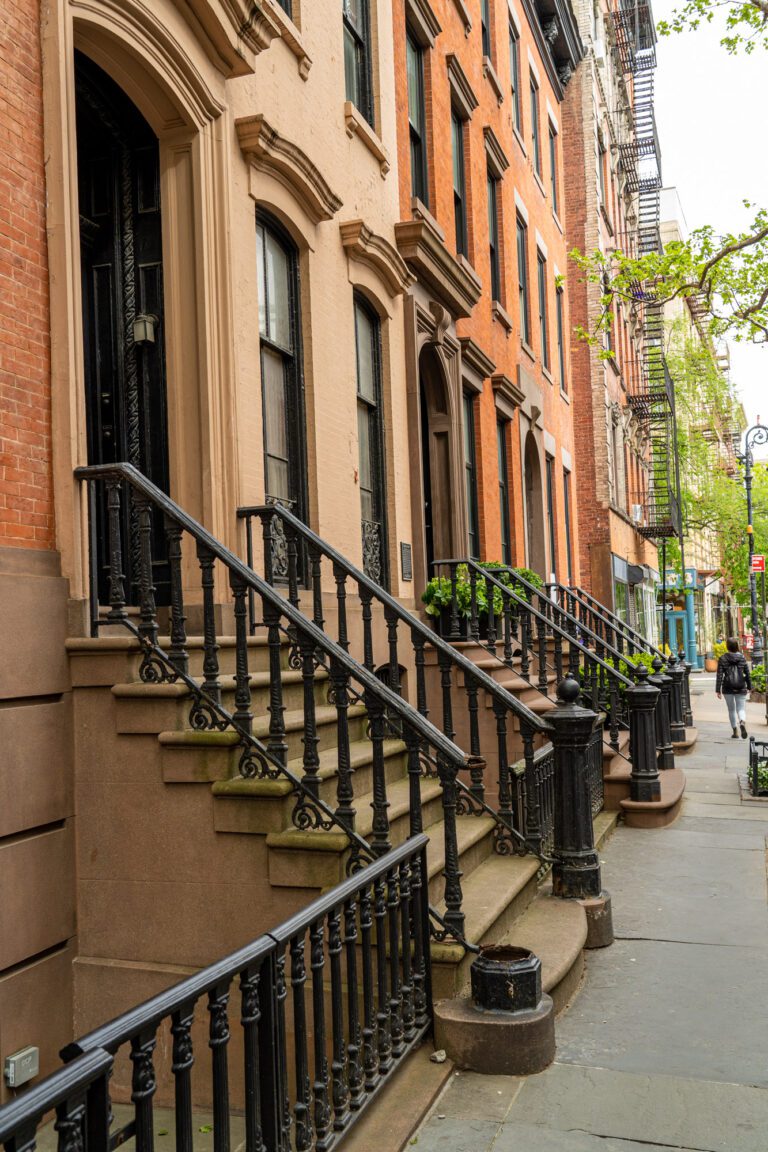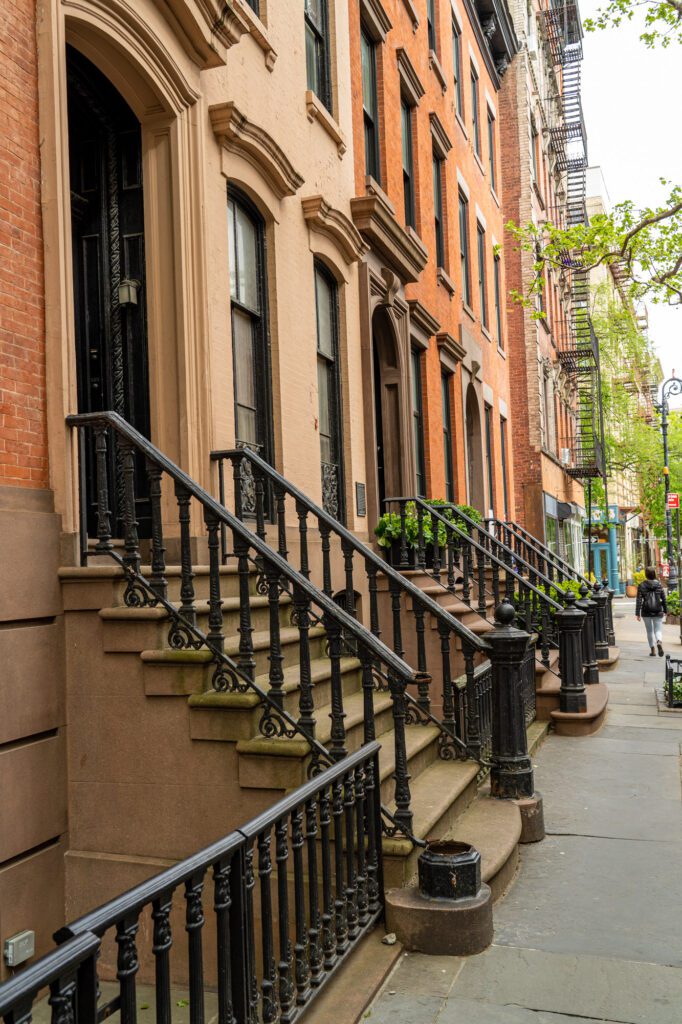 Greenwich Avenue itself is lined with bars, restaurants, and shops. It's the kind of commercial strip in a residential area (as residential as it could possibly be in the heart of NYC, anyway) that we really enjoy.
The apartment building featured in Friends as the building where Rachel, Monica, Chandler, and Joey (and Phoebe, for a bit) lived is here.
Make your way to Washington Square Park, which is the centerpiece of the neighborhood. On the other side of the park, you'll find the main NYU campus, which gives this area a distinctly young feeling, and means it's full of great bars and restaurants. It's worth coming back here in the evening for dinner and drinks if you're not seeing a show in the evening.
If you're looking for lunch, we LOVED Nami Nori, a sushi joint serving temaki, which means a handroll, but an individual portion instead of a roll cut into 6-8 pieces.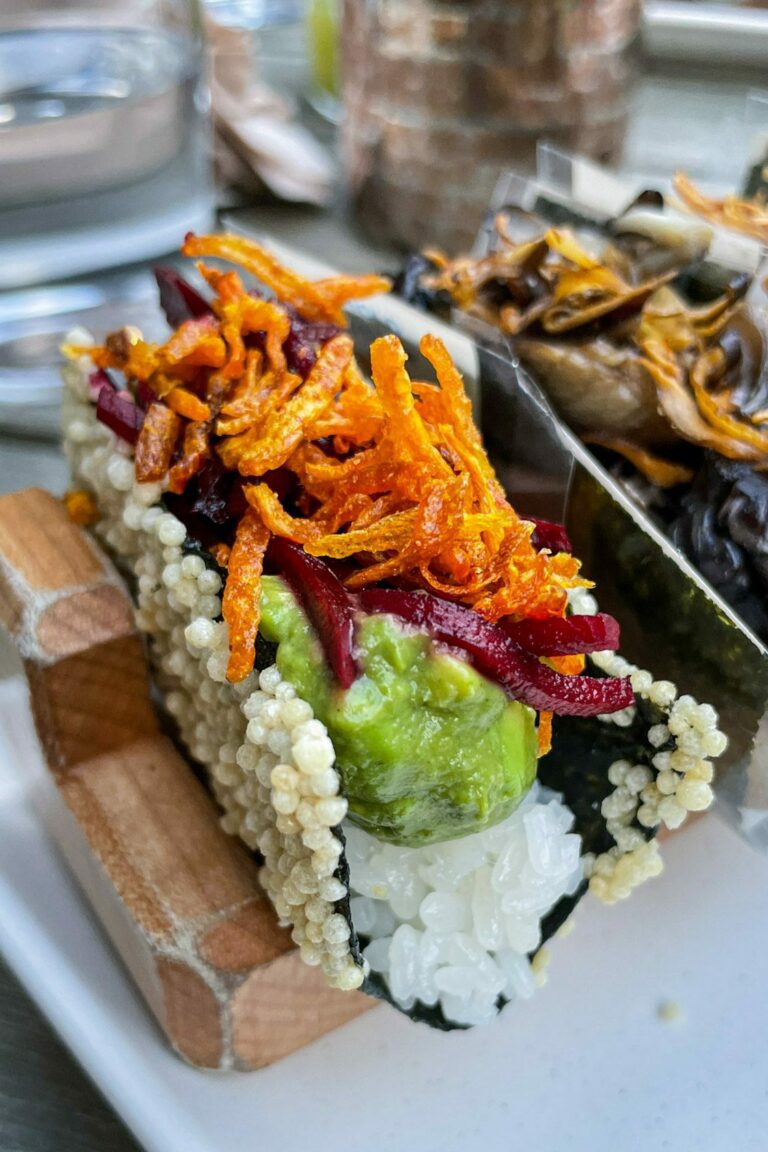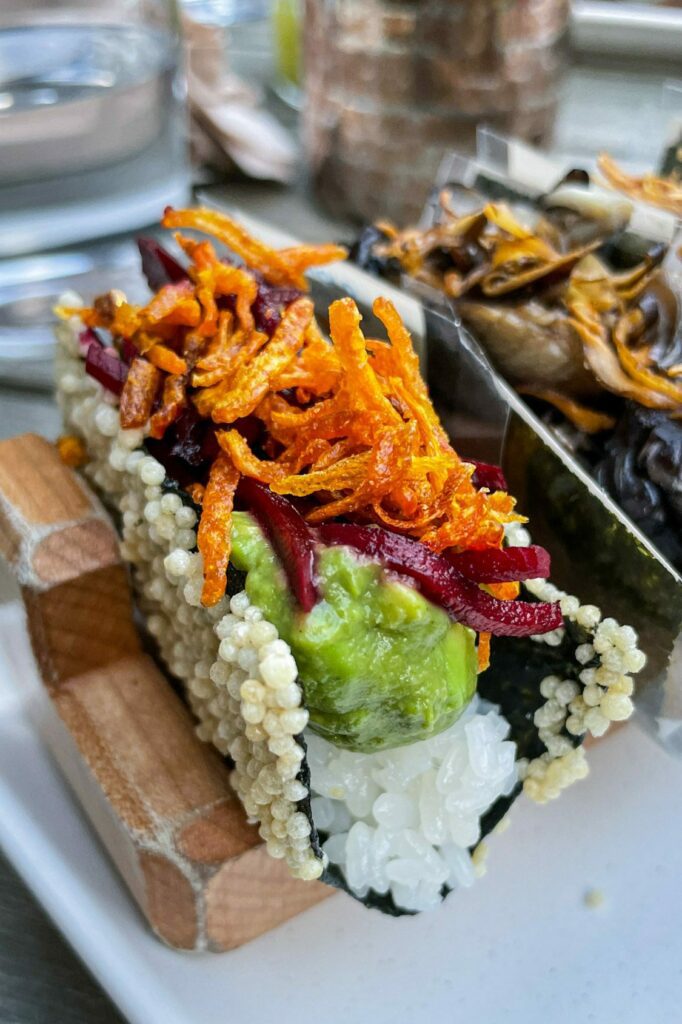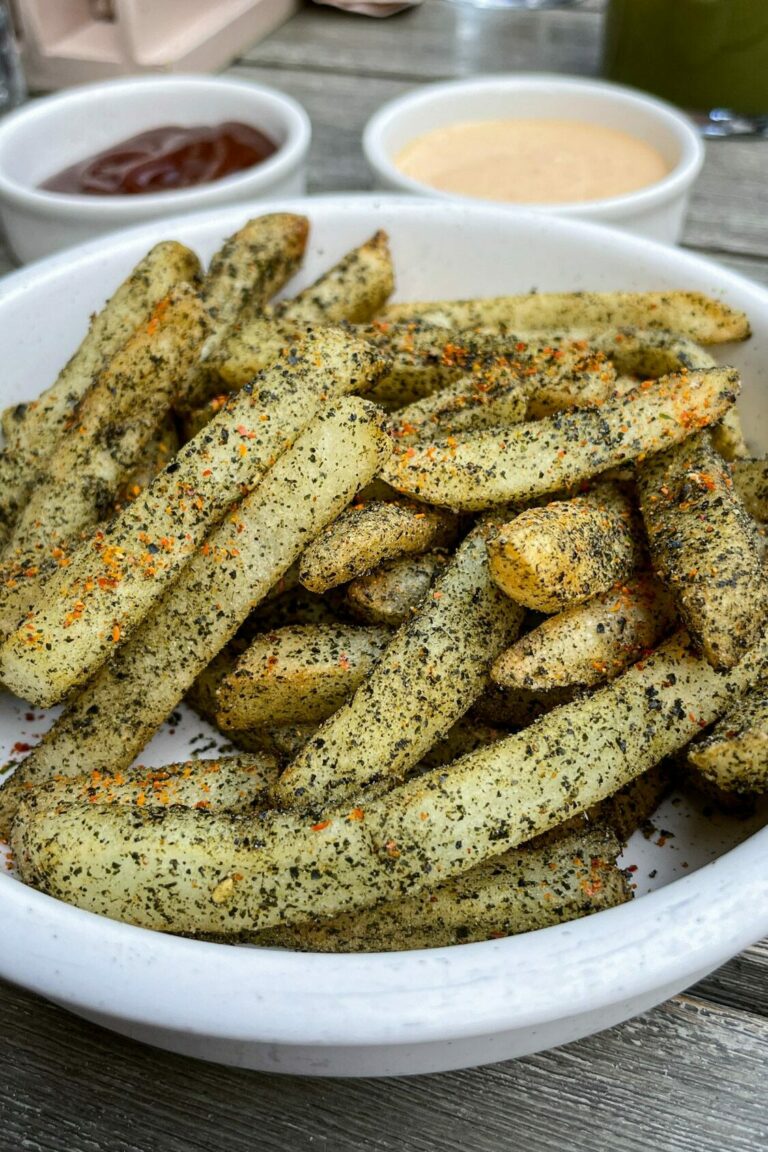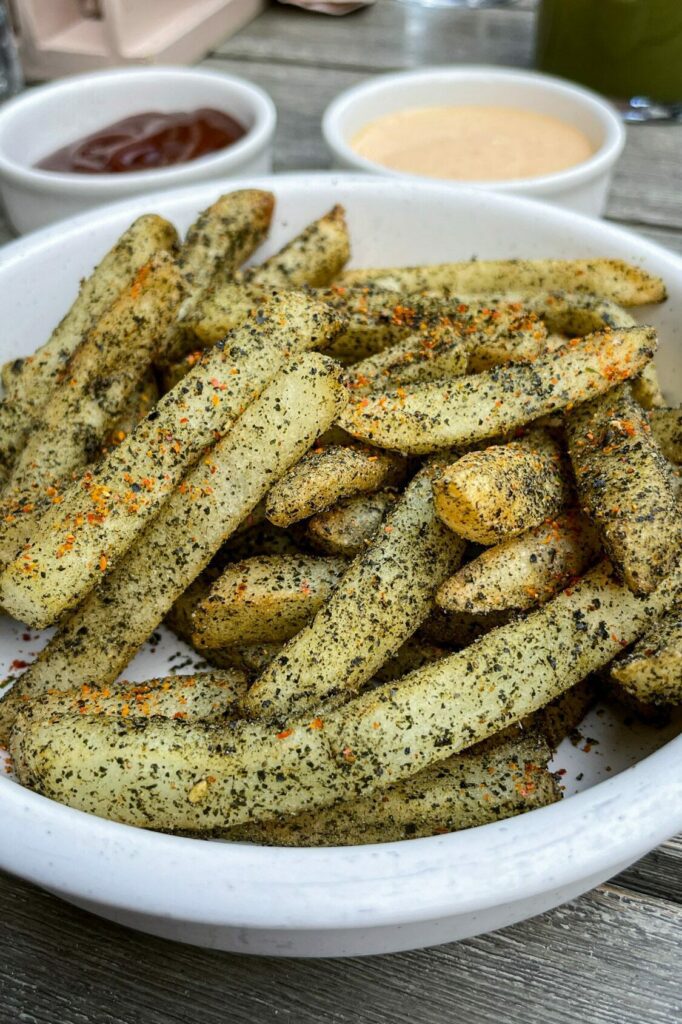 The original location of Magnolia Bakery is also here on Bleecker Street, and while it's not gluten free (not even close), I brought back a collection of cupcakes for Alysha on my first ever trip to NYC (along with some bagels from nearby Bagels on the Square).
Catch a Show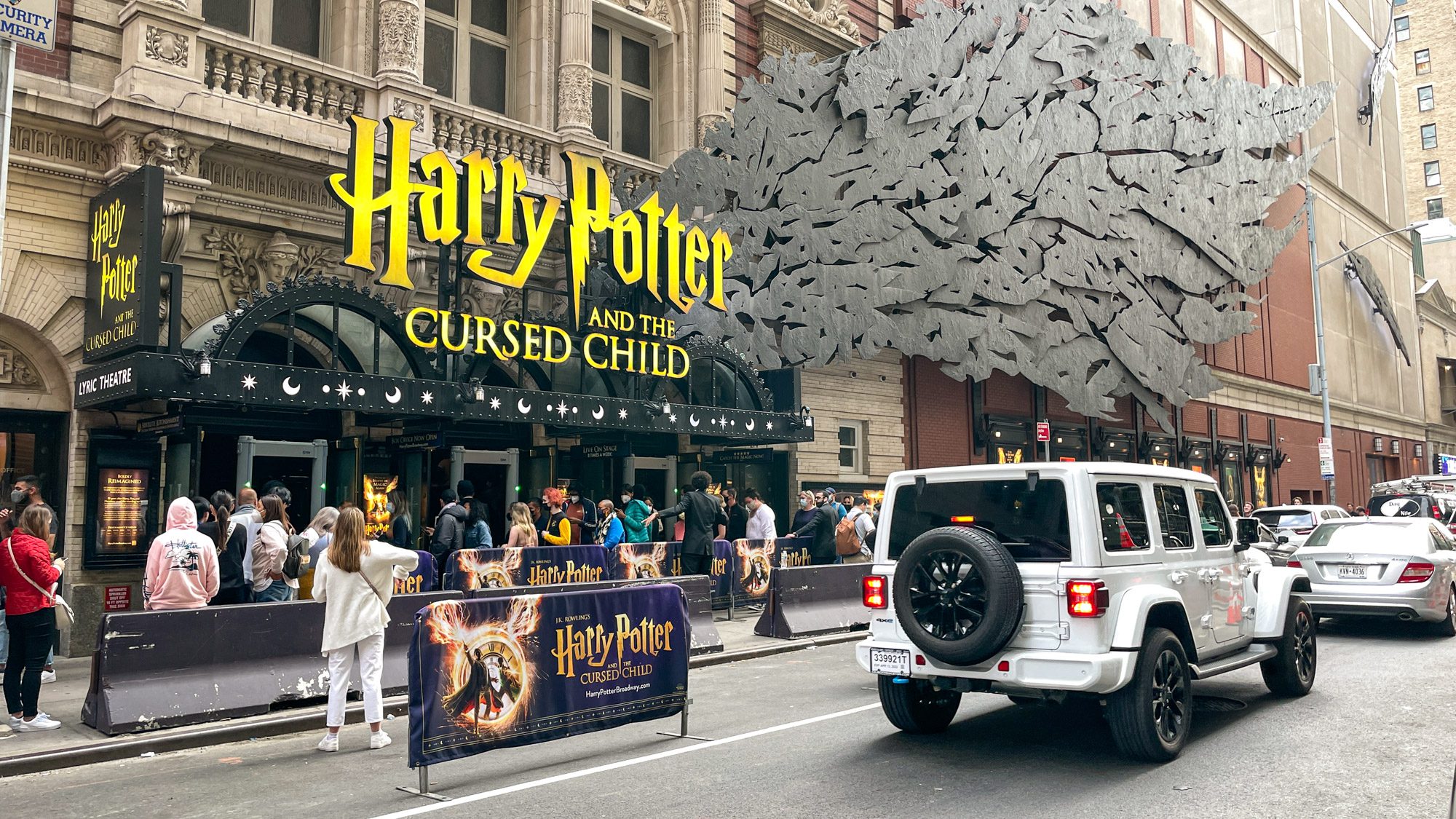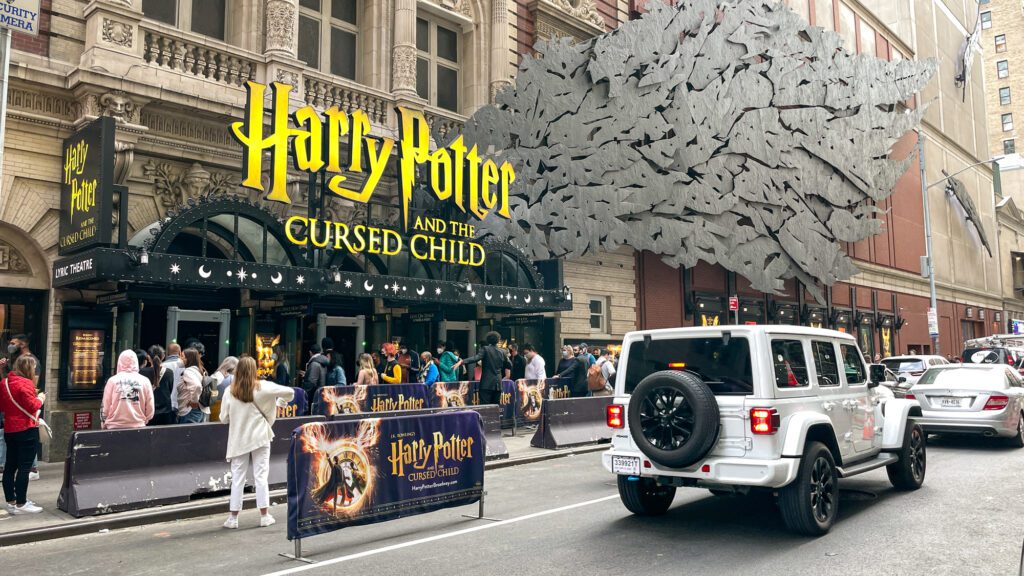 Round out your time in NYC by experiencing the diverse and impressive theater scene that is only really available in a few select cities around the world, including New York and London.
Now, you're going to have to do some advance preparation if you want to see one of the most famous productions in the world, like Hamilton or Harry Potter and the Cursed Child. You'll need to buy tickets well in advance, and you'll need to be willing to pay for them.
However, if you're up for seeing something a little less prestigious, then there are actually a surprising number of ways to experience it more affordably. Broadway for Broke People is a great resource if you're looking to figure out how to get tickets on the cheap.
The best way for most people to get cheap tickets if you don't have time to apply for lotteries and run around to box offices is to head to the TKTS booth in Times Square, where you can get tickets for most of the major performances happening in NYC at somewhere between 20% and 50% off.
See a full list of their offerings here, but you should know that not all shows have availability for every day. Go early for the best selection, and right before show time for the best prices. 
Broadway Roulette is another fun way to do it, but you won't be able to select a specific show – instead, they give you a list of shows (from which you can cross off a few if you really don't want to see them or already have seen them), you pay $49-$59, and they give you tickets for one of them. No returns or refunds, so this is an option only if you don't really care which show you're going to see.
For what it's worth we've seen the following shows (not in NYC) and recommend them for different reasons:
The Lion King: We've seen this together multiple times, and it's always a pleasure. The costumes, songs, and story are top notch, and there's a reason that it has been running for several decades at this point. We'd see it again, too, if that's any sort of endorsement for you.


Harry Potter and the Cursed Child: Hot take – the story is HOT GARBAGE if you're a fan of the Harry Potter series (Matt has read the books more than 10 times at this point). But the stagecraft and magic is insanely cool and had us wondering "how the heck did they do that" through pretty much the entire show. It's LONG too, so it's really a full day affair (or split into two evenings) and might not make the most sense if you only have three days in NYC.


The Book of Mormon: Hilarious and raunchy, this is not a show for families with kids. Or people offended by jokes about Mormonism, colonialism, religion in general, and a wide variety of other topics. It's a musical from the creators of South Park, so if you're not a fan of the "a little too close to home" humor from that show, then we'd skip this.


Hamilton: We were lucky enough to win the lottery to see Hamilton in San Francisco (Alysha would like me to clarify that SHE won the $10 ticket lottery, and I was just her date), and it's an amazing spectacle. The lottery meant that we got to sit in the second row, and the energy (and spit) coming from the stage was contagious. The writing and performances are incredible, and we'd highly recommend it if you can snag tickets.
What to Do with Less Time in New York City
Have less than a long weekend in NYC? Here's how we'd spend one or two days in New York City.
One Day in New York City
If you've only got a day in New York City, you're going to have to pick and choose what you really want to focus on.
To us, the main highlights are going to be Midtown Manhattan, Central Park, and Battery Park / Ellis Island / the Statue of Liberty.
If you're into art and want to fit in one of NYC's world-class museums, you're probably going to have to sacrifice heading out to the Statue of Liberty to fit in one of the museums – the Met (Metropolitan Museum of Art) or MOMA (the Museum of Modern Art) – which each take at least two or three hours. You're also going to have to make the hard choice between the two of those, because you can't fit both in.
So, assuming no museums, start your day in Lower Manhattan at Black Fox Coffee, and follow that section of the itinerary above to Wall Street, the New York Stock Exchange, Trinity Church, and the Charging Bull Sculpture.
Continue on to Battery Park, and catch the ferry out to Ellis Island and the Statue of Liberty. Pick one of the islands to explore – Ellis Island is the immigration museum where you can check the records for family names, Liberty Island is the Statue of Liberty.
Back on the mainland, catch the Subway up to Midtown Manhattan. Follow Day 1 of the itinerary above as written, cutting out the museum stop. You'll have to move fast, and by the end you'll be exhausted, but it'll be worth it if you've only got a day!
2 Days in New York City
With 2 days, you've got a little more time, and you'll probably be able to see most of the highlights.
Cut Brooklyn (unfortunately) and spend one day in Midtown, and the other day in Lower Manhattan and Chelsea / Greenwich Village.
That means you'd follow day 1 of the NYC itinerary above as written, and then combine the morning of day 2 (Lower Manhattan) and the morning of day 3 (the High Line, Chelsea, and Greenwich Village).
If you want to fit in a show, it probably makes the most sense on the evening of day 1.
Eating and Drinking in New York City
Rather than try to shoehorn our favorite restaurants into the itinerary above, we decided to just have a separate section for them here (though, when it makes sense, you'll also find them in the main itinerary).
Here are our favorite restaurants, bakeries, bars, and more in NYC, in no particular order.
Restaurants / Food Spots in New York That We Love
Cosme: I love Cosme, chef Enrique Olvera's (of Pujol fame) outpost in the Flatiron District. I've been twice, and both times it was a stellar experience. It has a Michelin star, and the service, ambiance, and food are impeccable. Get the duck carnitas, which are enough to feed a small army, and DO NOT MISS the corn husk meringue, which might have been the best thing we ate on our entire trip.
Beecher's Cheese: Hey, look, a company from Seattle (Filson also has a location not too far away – we're taking over!). I love Beecher's Flagship cheese – my mom almost always has a chunk of it waiting for me when I visit her house – and they do a mean mac n cheese here (though I can't partake, because gluten). Bedford Cheese Shop is another good spot nearby, if you're looking for a wider selection of cheese.
Los Tacos No. 1: As we mentioned above, we didn't actually get to eat here because they serve gluten in multiple forms. But it was recommended by a couple of New Yorkers we know who didn't think about that aspect. They also have a location in Chelsea Market, but if you're in Times Square and you're hungry, don't be afraid to brave the fast-moving line for their tacos.
Nami Nori: We loved this sushi spot in Greenwich Village that serves temaki, which are basically single-serve handrolls that are kind of like tacos. Definitely get the furikake fries with tonkatsu ketchup, and the green curry shrimp roll, which was BY FAR our favorite. Sit at the bar for the best experience, where you get to watch them crafting your rolls individually.
Claro: We've been twice, and love this place. The back garden is where you should reserve if you're coming in the summer. It's now exclusively a tasting menu, and the most interesting things on the menu for us were the strawberry aguachile (it's spicy!), though everything we ate was fantastic. Plus, it's entirely gluten free!
For All Things Good: While we love Claro and Cosme, two Michelin-starred Mexican restaurants in New York City, this might have been our favorite Mexican food of the trip. They use SUPER fresh masa, and the first thing we noticed is HOW MUCH BETTER tortillas, memelas, and tlayudas are when the masa is fresh. They had just started their dinner service when we were there, and we opted to stop by for brunch. Don't miss the tlayudas (basically, a pizza with a masa base, beans, cheese, and other toppings) and tetelas (triangle-shaped stuffed masa).
Modern Bread and Bagel: This is for my gluten free fam. If you're gluten free, I want you to think really hard about the last time you had a good gluten free bagel. For most of us, the answer is "never," and Modern Bread and Bagel is the antidote to bagels that are just bread with a hole in the middle. It's so good, we went THREE times in a week. Seriously. It's good. And their Jewish-inspired pastries like rugelach are also pretty spectacular, too. It's a must stop for gluten free folks in NYC.
Coffee Shops in New York That We Loved
Devoción: We have actually been to their cafe in Bogotá, Colombia, and I didn't even know they had shops in NYC until we walked by the one in Williamsburg. The beans come straight from Colombia (within 10 days of roasting), and they have a BEAUTIFUL space filled with lots of plants and natural light.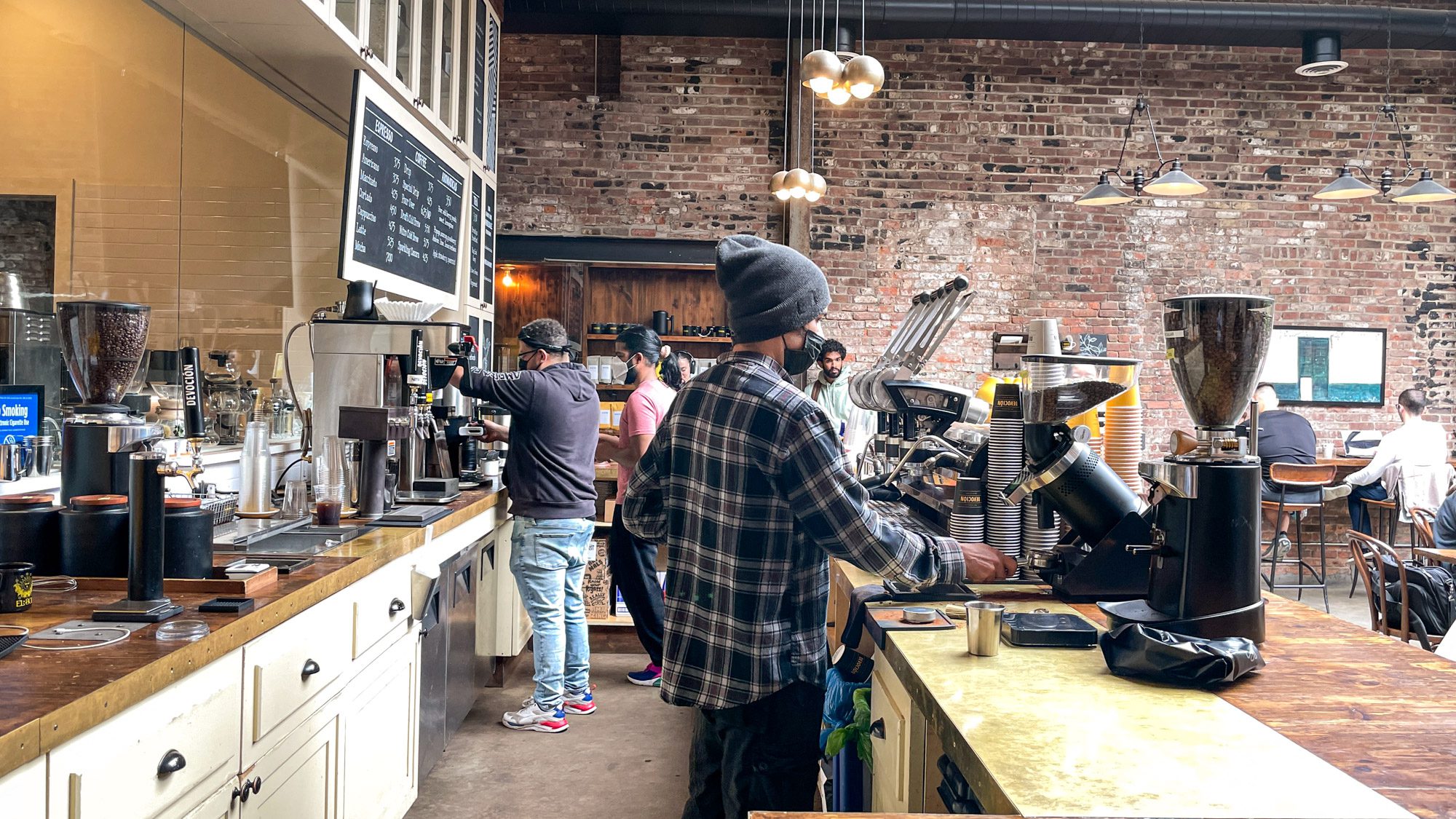 La Cabra: First, this import from Denmark serves some spectacular coffees. I first discovered La Cabra at i/o Cafe, one of my favorite coffee shops in Paris, and I've never actually seen them outside of Europe. But they have a flagship in NYC! Great coffee, including special and interesting pour over options and perfectly pulled espresso. Second, they make all of their pastries in-house – which you can see happening through the big windows behind the pastry case. It's cool to see them take the same intentional approach that they take to coffee and apply it to pastries. Even the ceramics are gorgeous!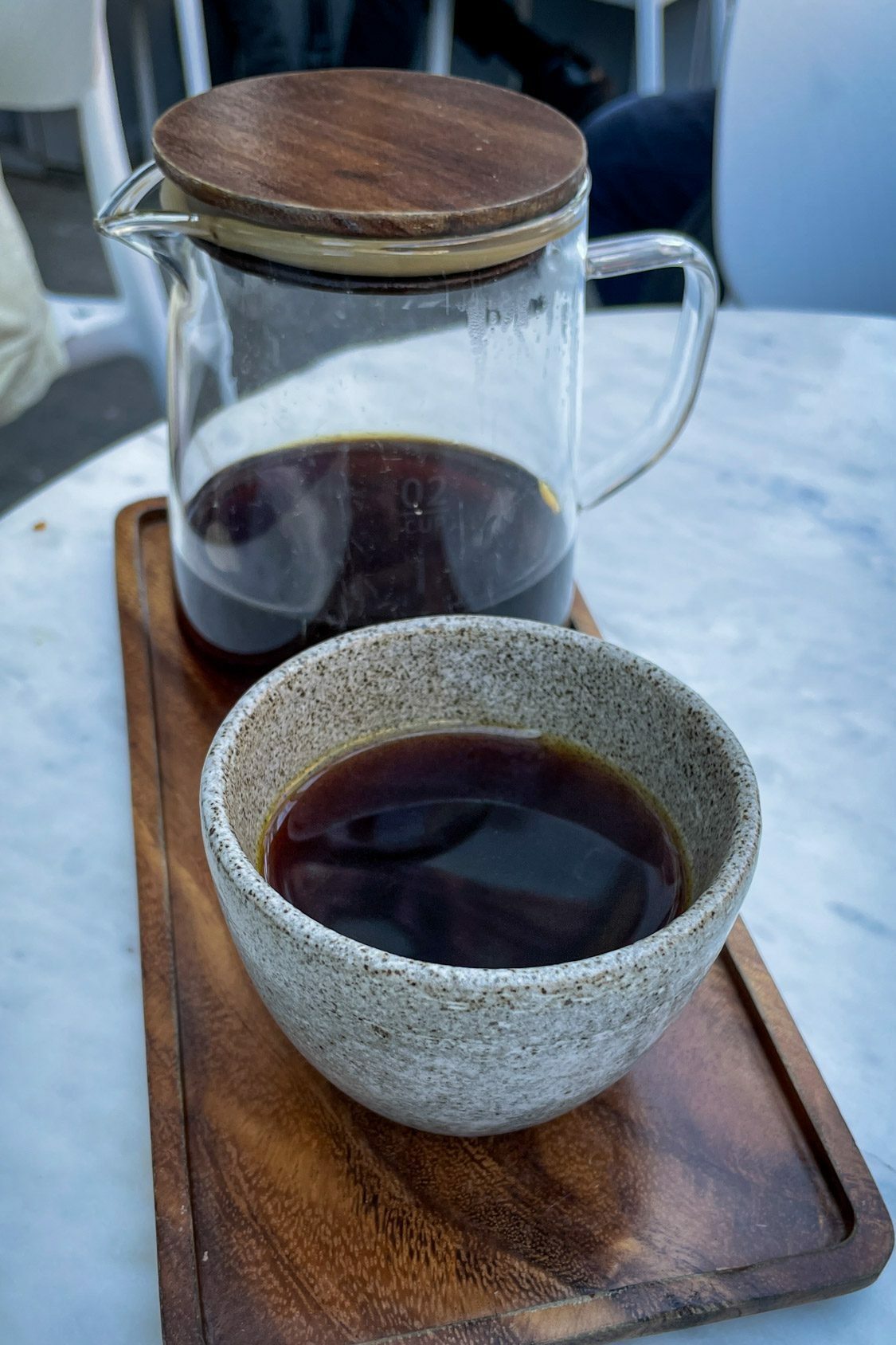 Terremoto Coffee: If you're into places where you can choose what coffee beans you're served in your drink, this place is for you. They serve Unity Coffee, and have a couple of beans available for filter coffee and espresso, along with a couple of special beans that you won't find elsewhere (for a slight upcharge). It's a tiny spot a block away from Chelsea Market, and it's a good stop for coffee lovers in the neighborhood.
Cool Bars in NYC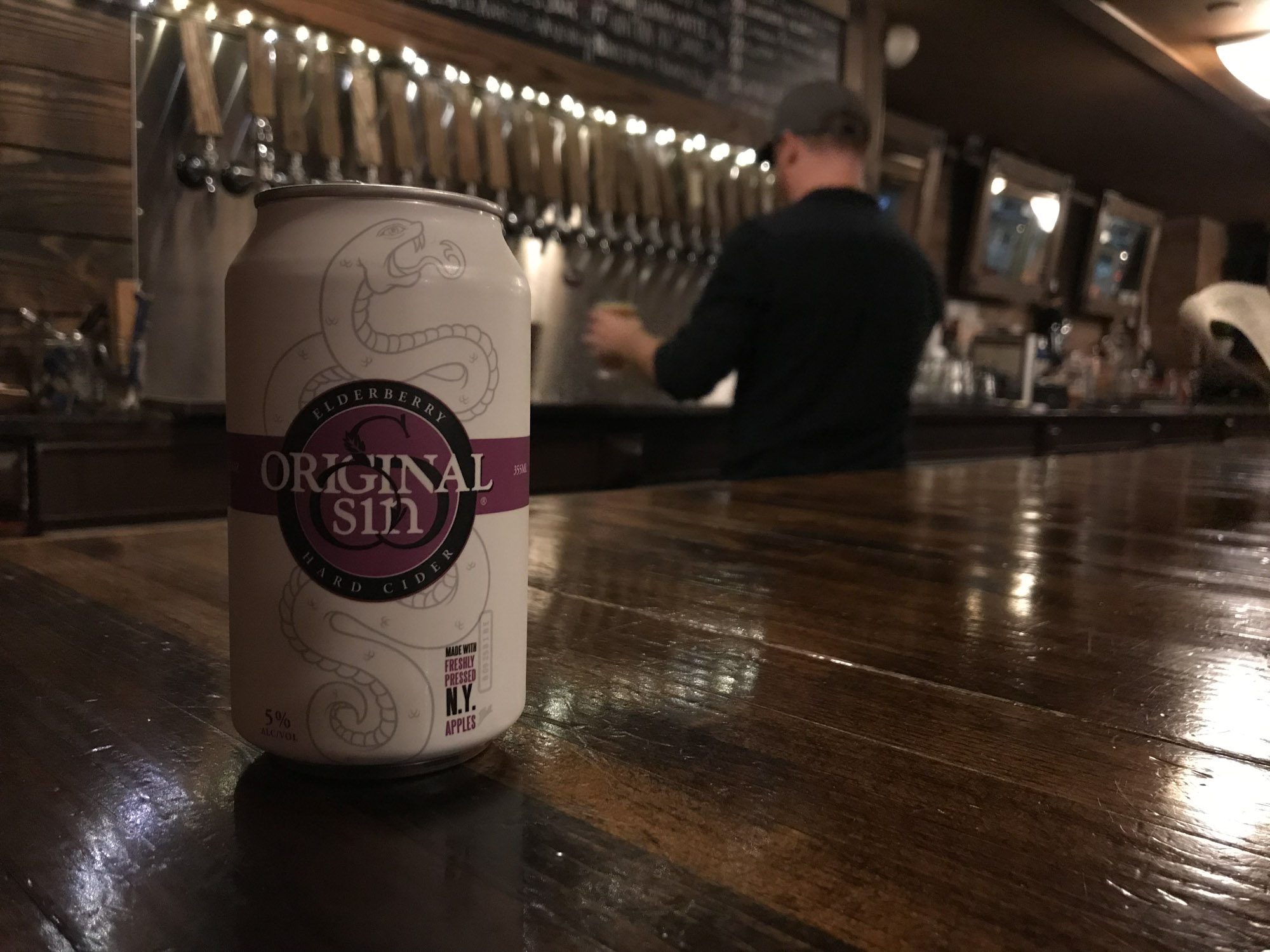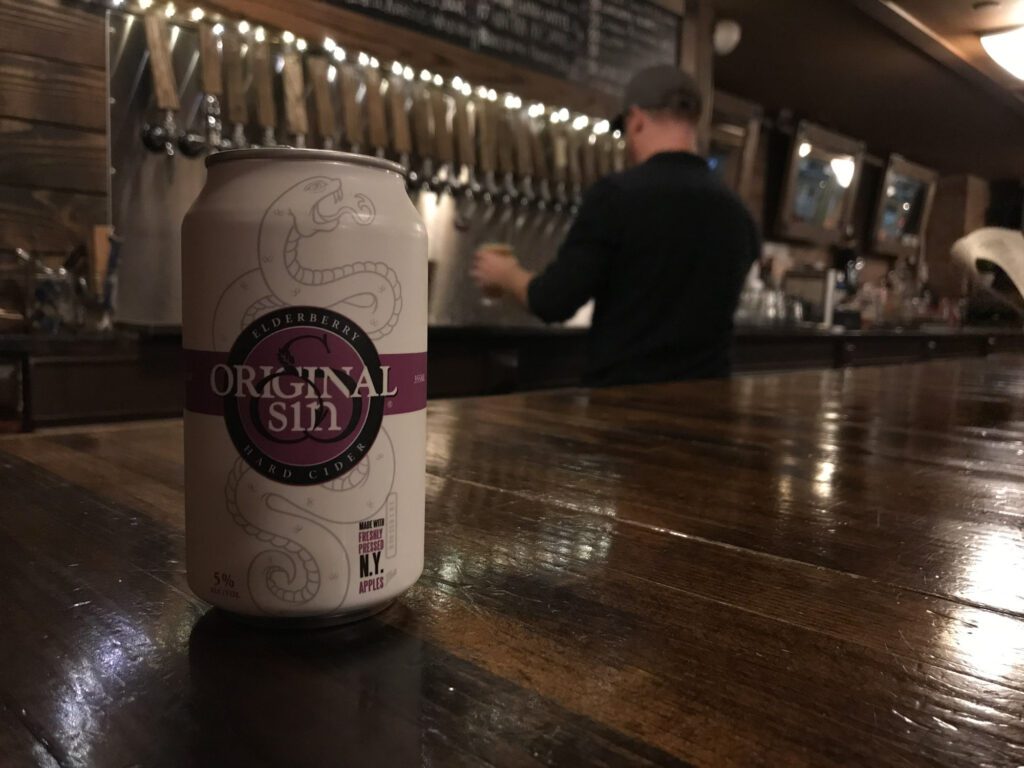 Tanner Smiths: A lovely cocktail bar in Midtown that was the first bar we ever went to in the city. We also discovered Stormalong Cider here, which has become one of our favorite hard cider brands.
Cardiff Giant: If a bar that serves EXCLUSIVELY beer, wine, and cider from New York state sounds like a good time, this is the place for you. Plus, the back garden is an excellent place to spend a sunny afternoon procrastinating on all the stuff you're supposed to be getting done.
Arts and Crafts Beer Parlor: We went here on our first trip to NYC, and spent a solid 15 minutes on our last trip trying to remember the name of this place and find it on Google Maps. Found it! Great beer and cider selection (including gluten free beer from Glutenberg) in a cozy basement bar (with outdoor seating now).
Beer Culture: Another one for the beer lovers! Usually, when you think about bars and restaurants within five blocks of a major tourist attraction, you should probably run the other way. This is an exception, and they have a truly impressive selection of craft beer (and cider) on tap and even more in cans and bottles. See their current draft / bottle list here.
Getting Around New York City
Similar to cities like London and Paris, while New York City is technically walkable because it's flat, it's the kind of place where you look at a map, say "oh that's totally walkable" only to realize that it's a 72 minute walk.
We're all for walking, and think it's the best way to see a city, but sometimes it's just not practical. Chances are, you're going to need to use the Subway or other forms of transportation to get around while you're in town, especially if you only have a limited amount of time.
In general, if you're going less than a mile, walk. It'll take less time (not to mention money) than heading to the nearest Subway station and waiting for a train. If you're traveling more than a mile, hop on the Subway.
And, to be honest, we'd highly recommend the Subway. Generally, it's fast, reliable, and easy to use (with a few caveats). We know that New Yorkers love to complain about it, and that there have been a few tragic incidents recently that have gotten a disproportionate amount of news coverage, but it's generally safe, efficient, and easy to use.
Our number one tip would be to utilize the ferry as often as humanly possible.
It's easily the best way to get around certain parts of the city – especially from Manhattan to Brooklyn – and it's faster and more scenic than the Subway. The ferry was a great tip from our friend Erin over at Gluten Free Globetrotter, a NYC local.
There are river cruises that you could pay $50 for… or you could just hop on the ferry for $2.75 a person and ride it from the southern tip of Manhattan at Wall Street up to the northern end.
Riding the Subway in NYC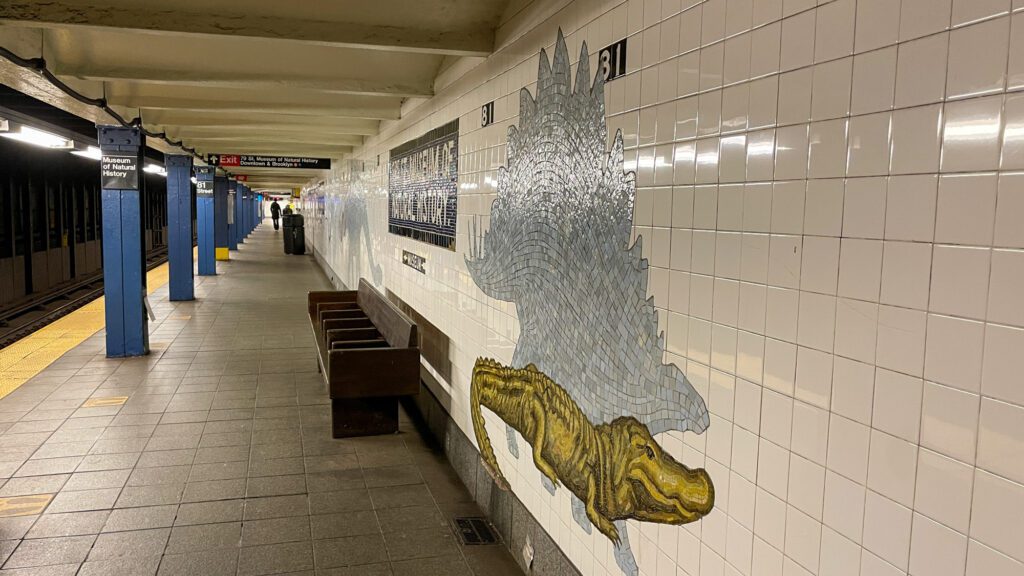 Lots of New Yorkers like to complain about the Subway, but at the end of the day, the Subway in NYC is probably the best example of public transportation in the entire country.
Sure, it can be crowded, the trains sometimes break down, and occasionally you'll see signs of the ongoing homelessness and mental health / addiction crises that are happening in NYC (and every other city in the country).
But all things considered, it's the easiest and most efficient way to get around NYC.
Riding the Subway in NYC has become so much easier over the course of the past few years with the introduction of OMNY, a new contactless payment system. Before, you needed to buy a MetroCard (which we did on our latest trip because we didn't realize the benefits of OMNY) at one of the machines in a Subway station, which have long lines and aren't particularly easy to navigate.
The MetroCards are notoriously hard for visitors to swipe correctly (New Yorkers will hate you as you swipe it seventeen times at different speeds and angles), and as we learned on our last trip, if you bend them even a little, they'll just decide to stop working altogether. And the attendants at the booths will NOT replace it for you.
At this point, we can confidently say that you should just use your credit card / Apple or Google Wallet to ride the Subway. It's $2.75 a ride, and there's a fare cap at 12 rides ($33) in a week, which means that anything over and above that is free! That's just 4 rides per day over your 3 days in NYC, which isn't hard to do.
Make sure to use the EXACT SAME payment option if you're using OMNY – either a physical card (that you can tap to pay elsewhere) or an Apple Wallet / Google Wallet.
They even introduced a $33 weekly fare cap recently, which means that after 12 rides in a week (Sunday to Monday), you get the rest of the rides in that week for free. The only reason you'd buy a MetroCard prior to that introduction was to buy one of the unlimited weekly passes, but they've made those essentially obsolete.
Again, it bears repeating that to take advantage of that $33 cap, YOU MUST PAY WITH THE SAME EXACT PAYMENT METHOD.
For reference, here's a full map of the Subway system.
The Ferry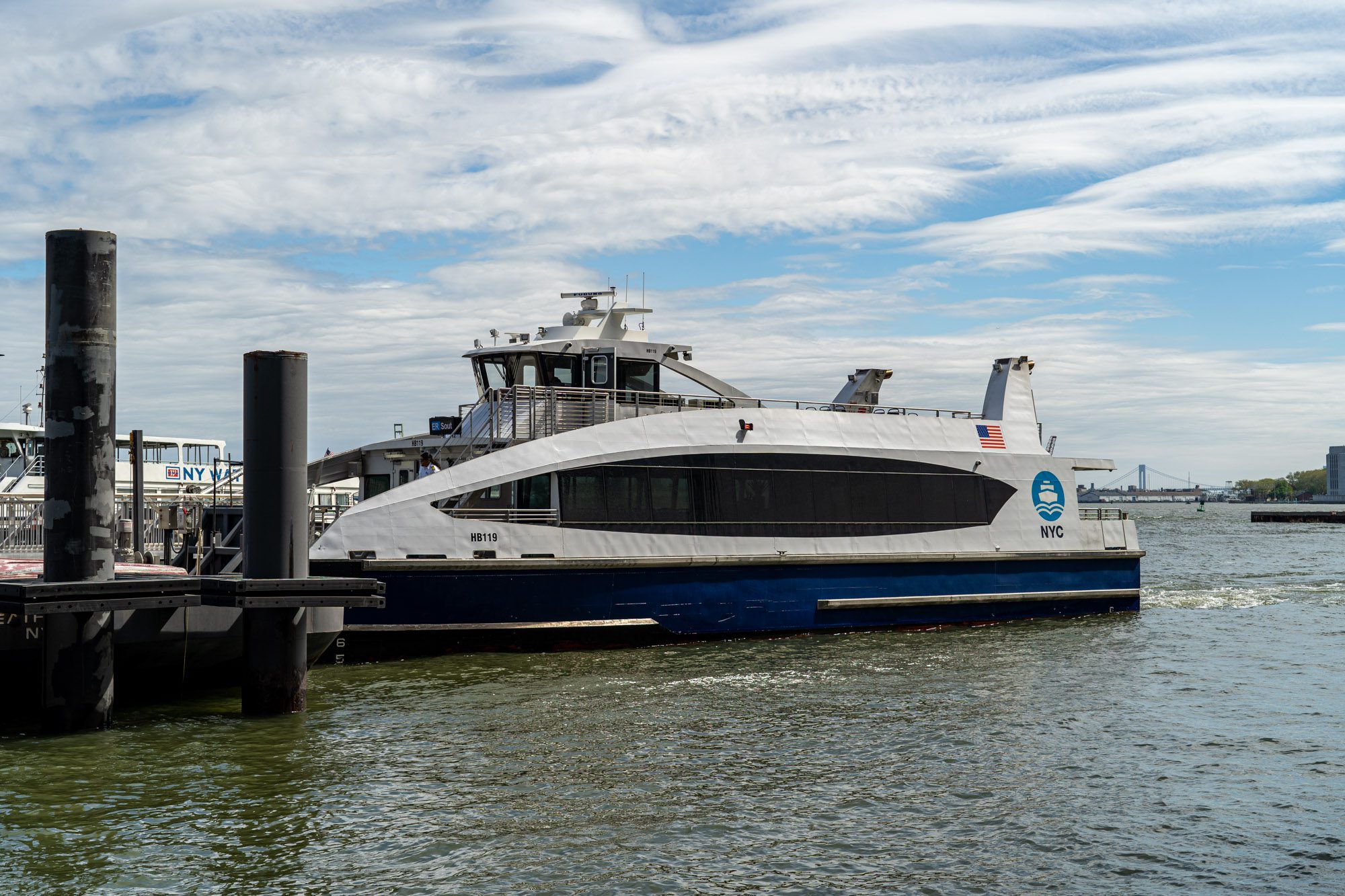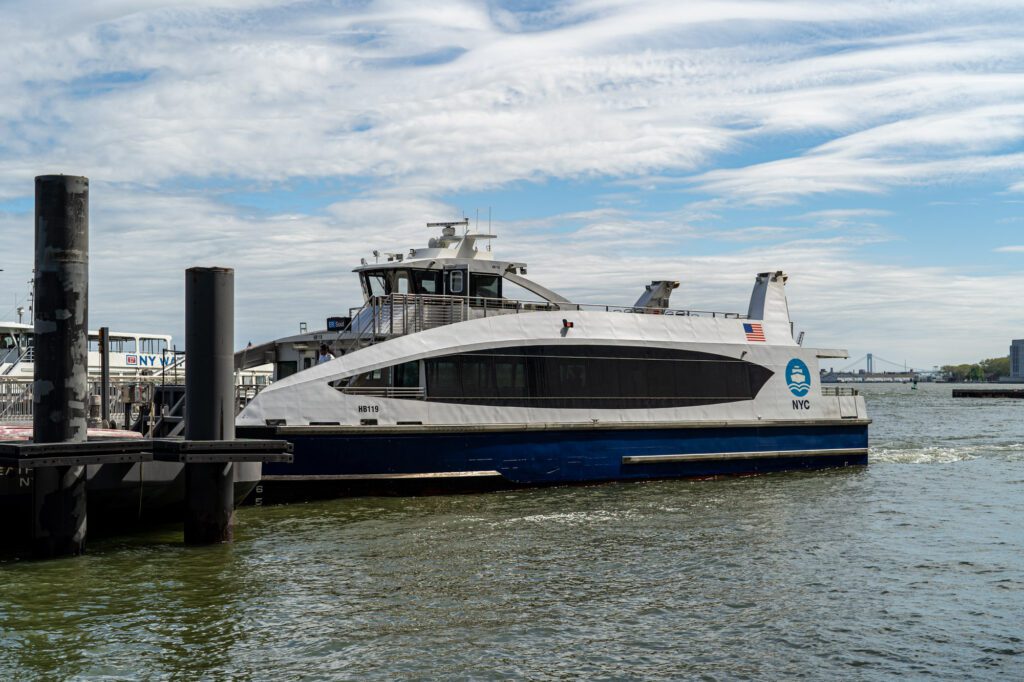 Like we said above, the ferry system is a great way to get around New York City, particularly along the East River that runs between Manhattan and Brooklyn. If you're trying to get from Manhattan (Midtown or Lower Manhattan) to Dumbo or Williamsburg, we'd recommend taking the scenic ferry route.
You can see a map of the full system here.
Basically, the ferry costs $2.75 a ride ($1.00 more if you bring a bike), you buy tickets in advance before boarding either through the app or at the ticketing machines onsite, and it moves FAST once you're on the water.
It's only really useful for getting between Manhattan and Brooklyn, although you could theoretically also take it from Lower Manhattan to Midtown. The stations just aren't in convenient locations for that, so you'll be better off on the Subway.
---
More Northeast USA Travel Guides
If you like this guide, you won't want to miss our other travel guides for the northeast!
New York City
Boston
A Weekend in Boston: A Perfect 2 Day Boston Itinerary
Philadelphia