4 Days in London: Complete London Itinerary for First Timers
When we booked a last minute trip to London, we weren't entirely sure what to expect. We had both been to London before, though not for a few years, and we decided two weeks would be a comfortable amount of time to explore the city, and maybe take a day trip or two to explore other parts of the United Kingdom.
Turns out, we never left the city and STILL ended up having things within the city that we didn't get to.
London is huge, and there's a ton to do and see. The hardest part about planning a trip to London is choosing between attractions. If you've only got 4 days in London, you definitely don't have time to make it to every museum, church, and market in London.
But that's where we come in.
In this guide, which is based on our recent experience staying in London for two weeks, we're going to give you our take on what you should prioritize in London. Along with what you shouldn't.
Our favorite parts about London were the diverse range of food stalls at the innumerable food markets around the city, the city's great green spaces, and the amount of history that exists in London (most of which we didn't really know about, because to us, London history starts in the 16th Century according to what we learned in school).
In this guide to planning your trip to London, we're going to help you make the most of your time.
We've put together a comprehensive 4 day London itinerary below, but we also have thoughts on what to do with less time (one, two, or three days) if you have a shorter trip. If you do have a shorter trip, you can still use the details in the main itinerary for the sections you're actually going to use.
Sound good to you? Let's get into planning your trip to London.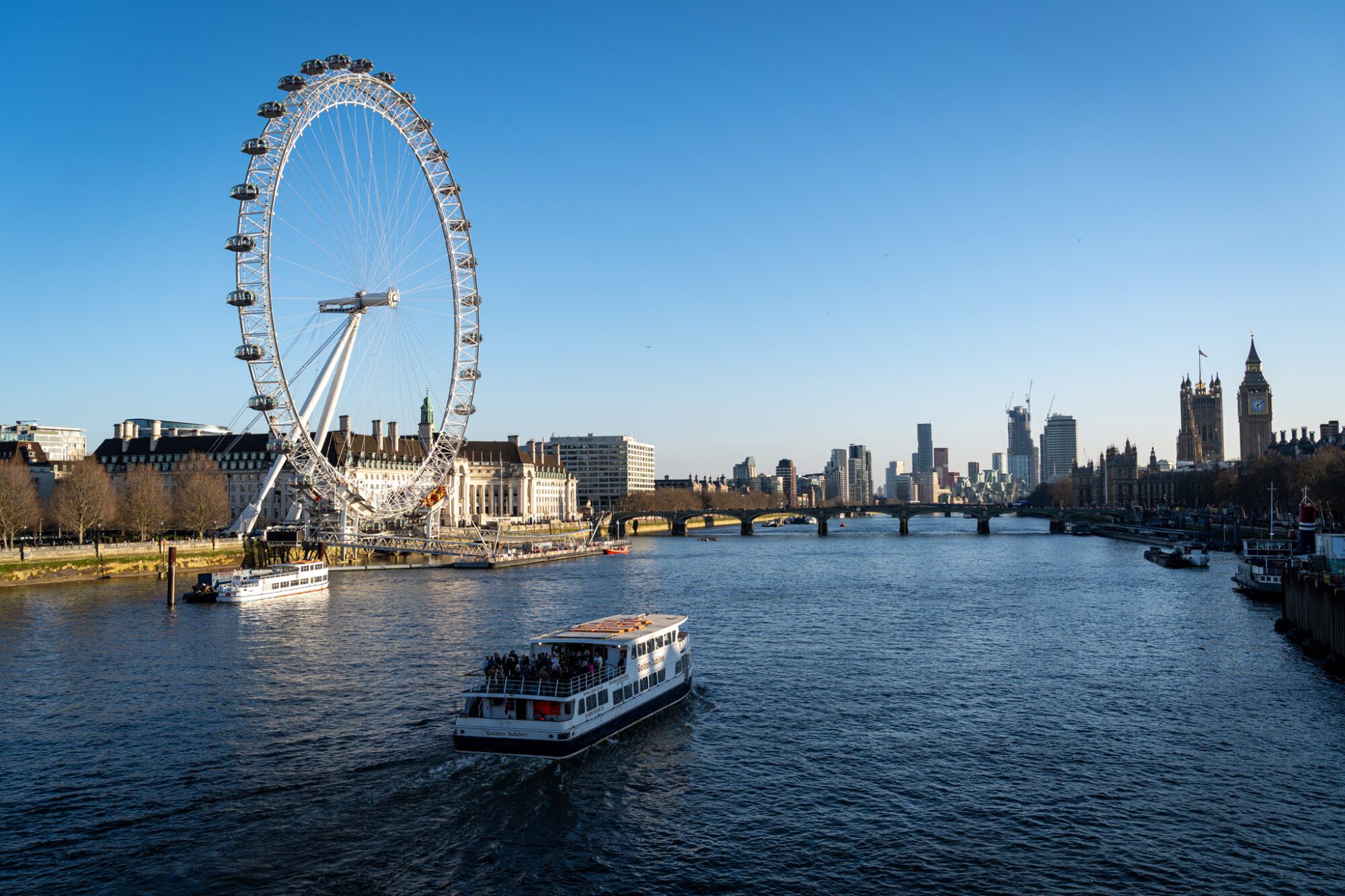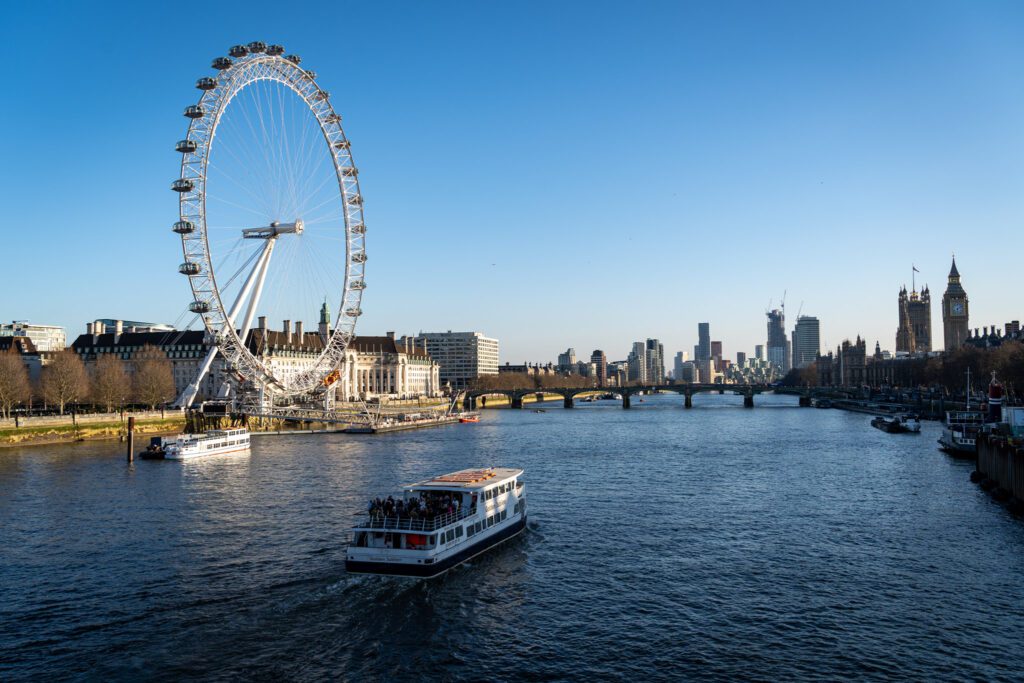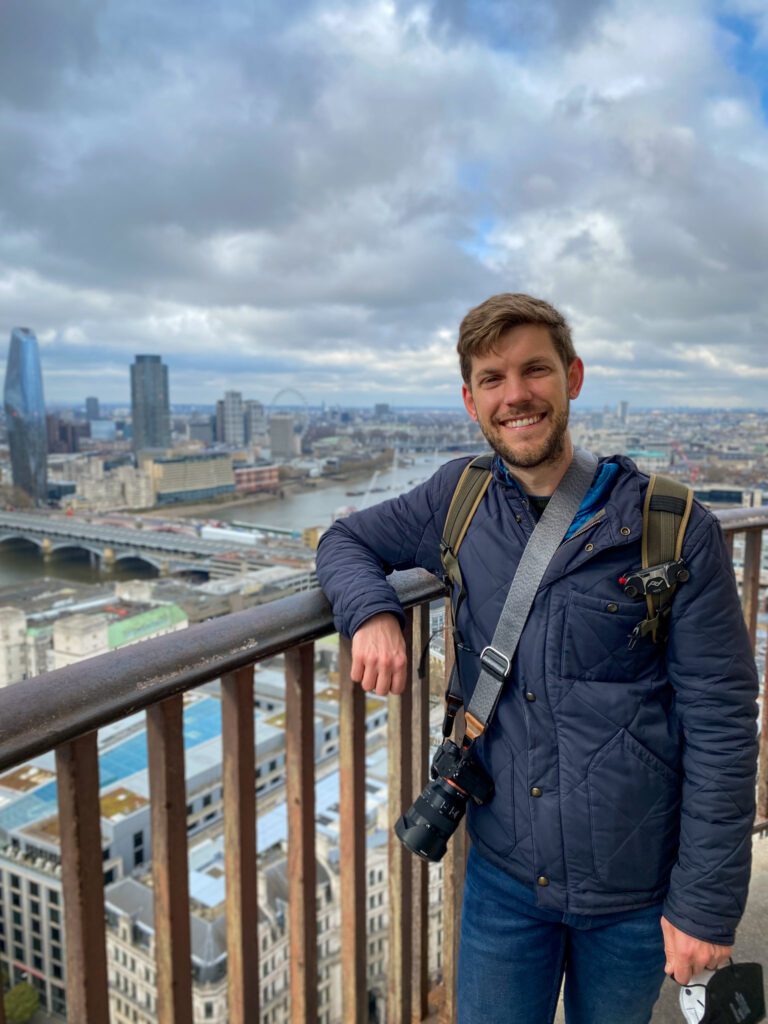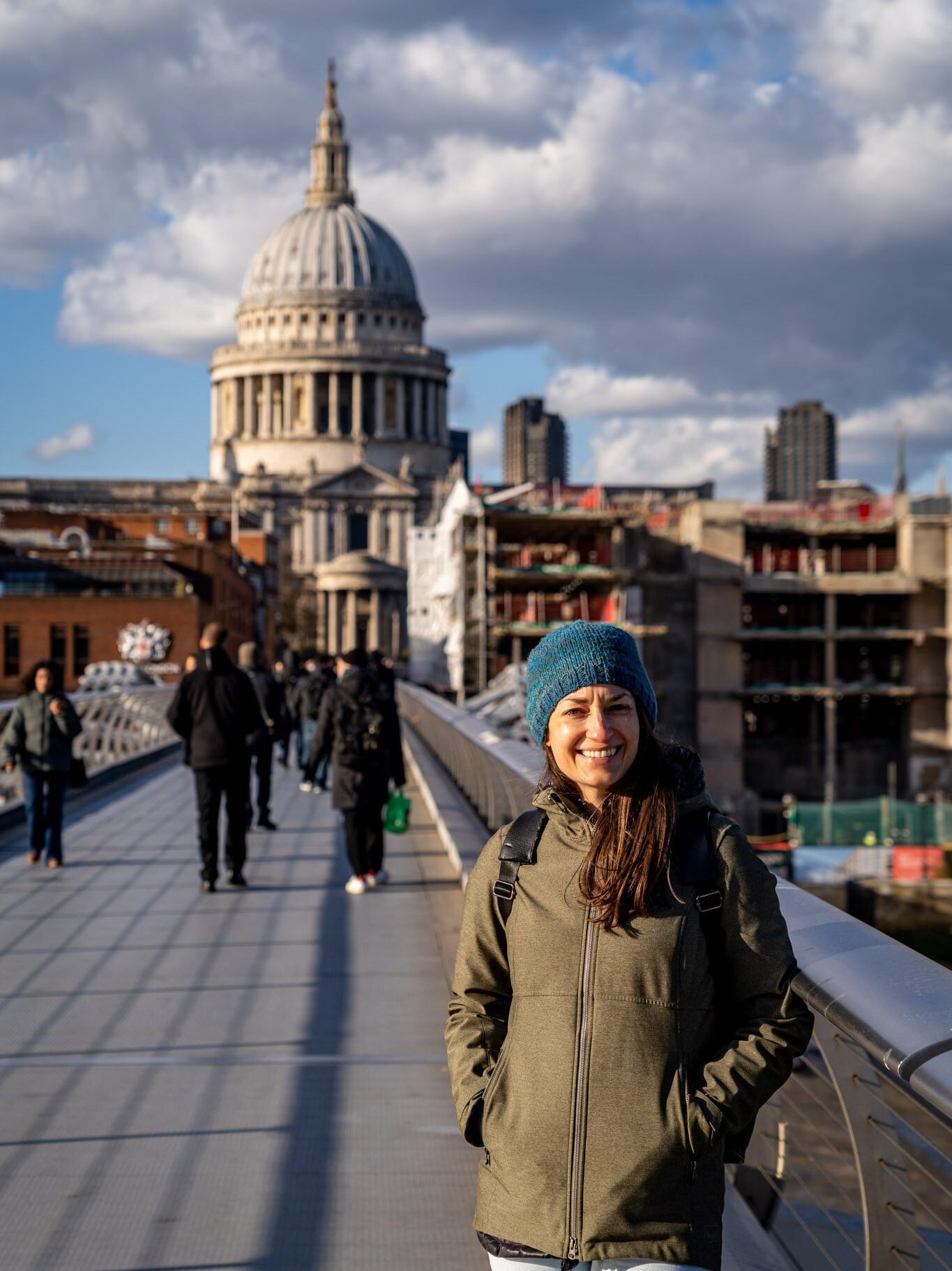 Disclaimer: Some of the links in this post, like hotel links, are affiliate links, meaning at no additional cost to you, we make a little bit of money if you click through and book. That being said, we would never recommend something to you that we don't stand behind 100%.
Where to Stay in London
One of the major themes you're going to find in this itinerary is that London is massive, and you're definitely going to want to be strategic about organizing your time to avoid running back and forth across the city.
This also applies to where to stay. We'd recommend staying somewhere relatively central if you've either got a short trip (four days or less) or it's your first time in London.
We have an entire, super detailed guide dedicated to deciding where to stay in London, but here is the short version.
If you're looking for a central location and great food and drinks, stay in Southbank. This is our top pick for basically everyone.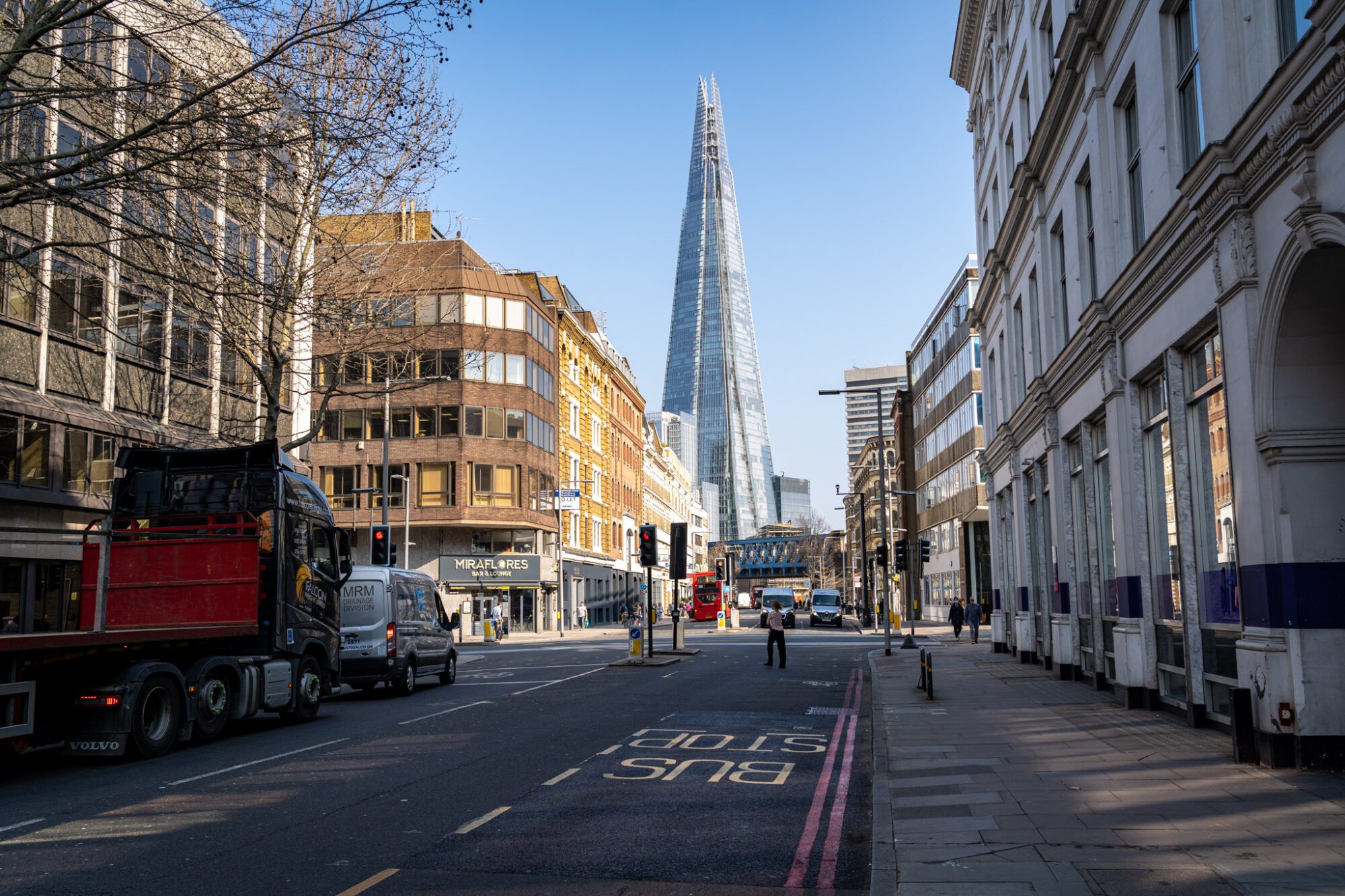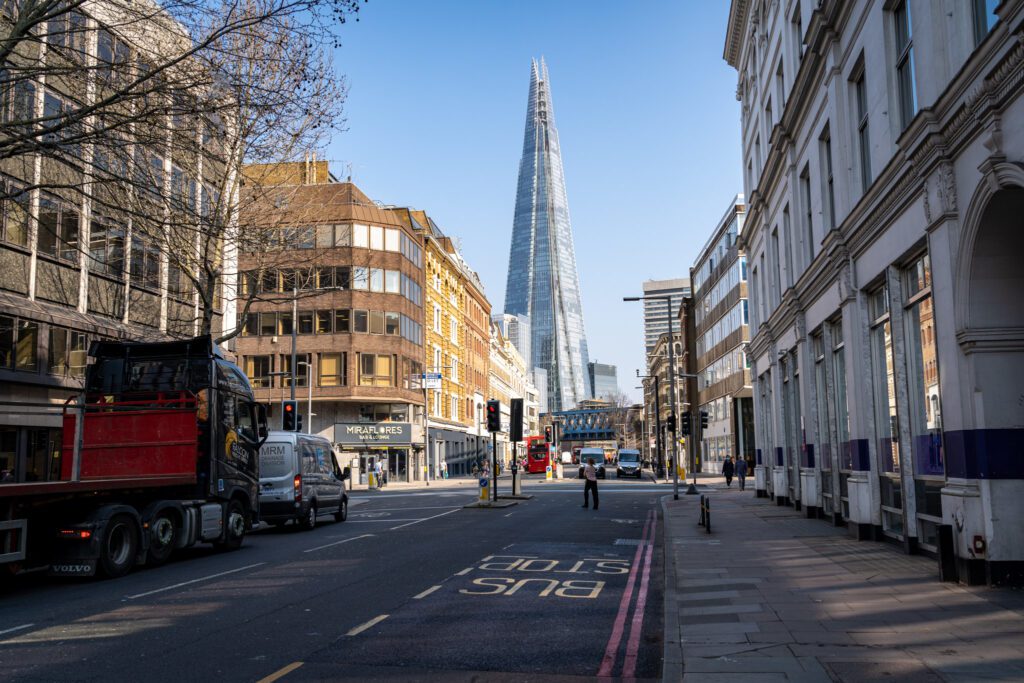 We spent our first four days in London here, and it was a great location both for exploring the rest of Central London, and for eating and drinking in its own right (psst – skip the restaurants along the river). This is an upscale part of town with modern high rises and fancy office buildings.
We stayed at the CitizenM Bankside, which is our favorite hotel chain in the world and this location was their first in London.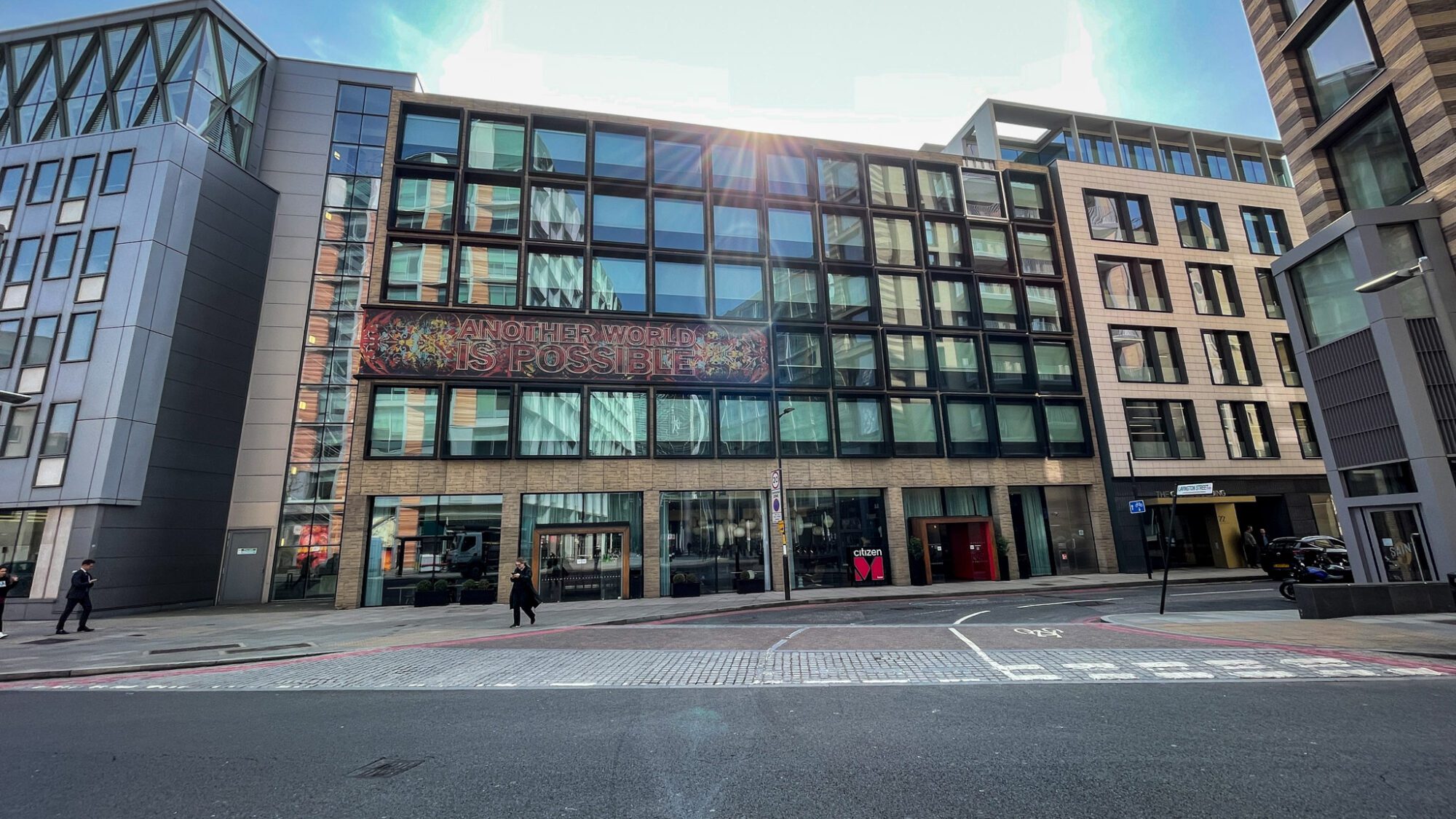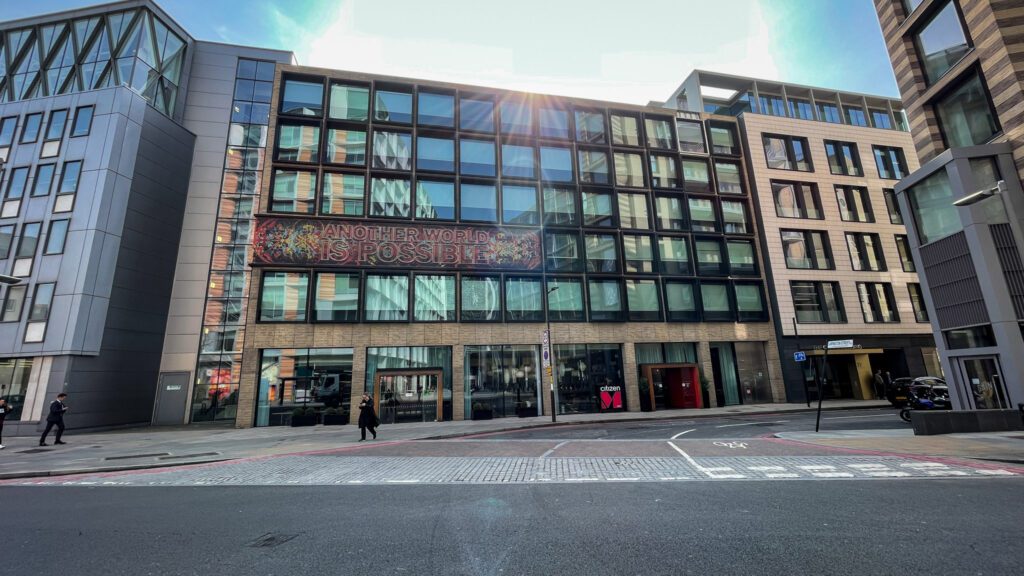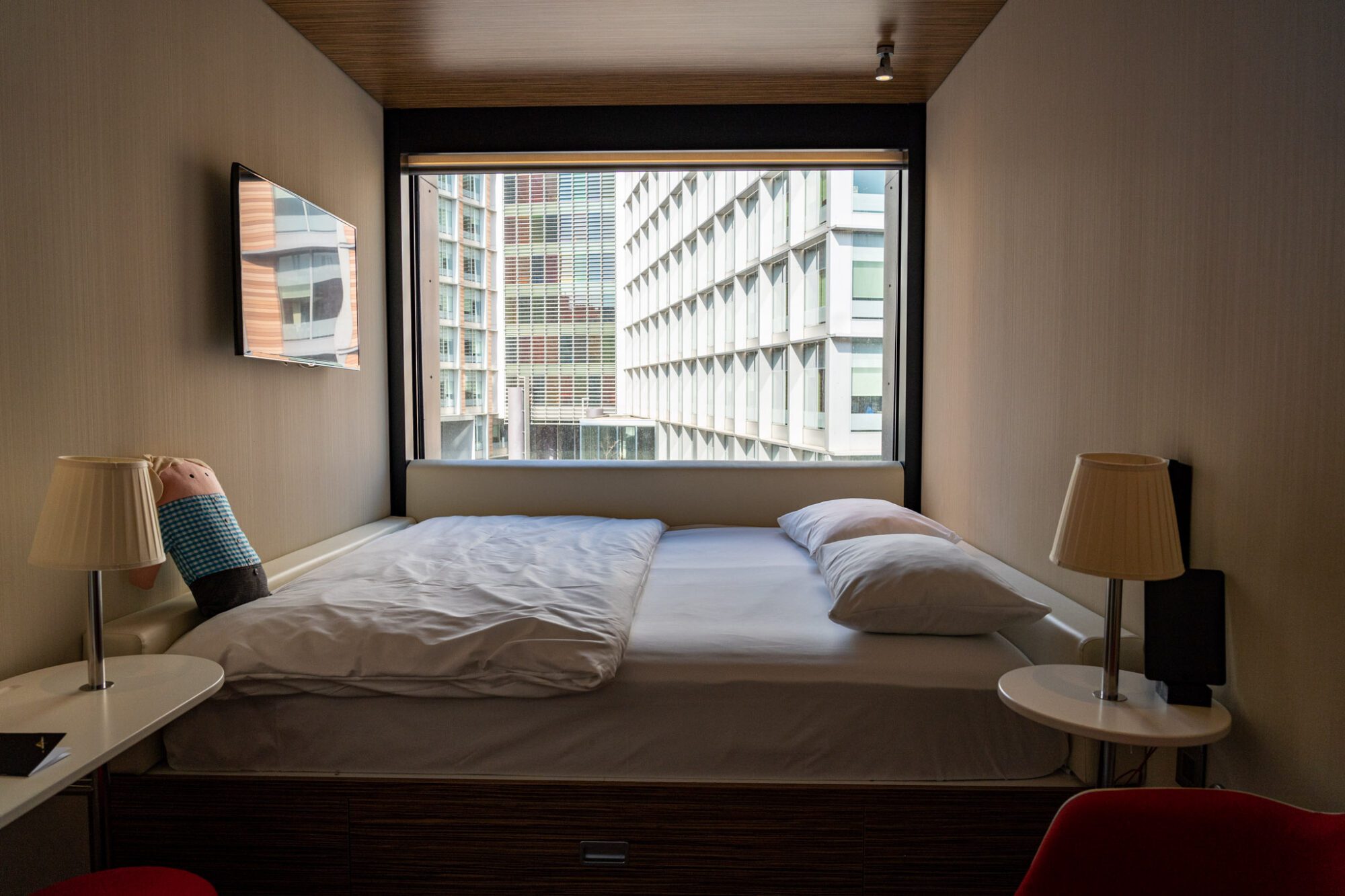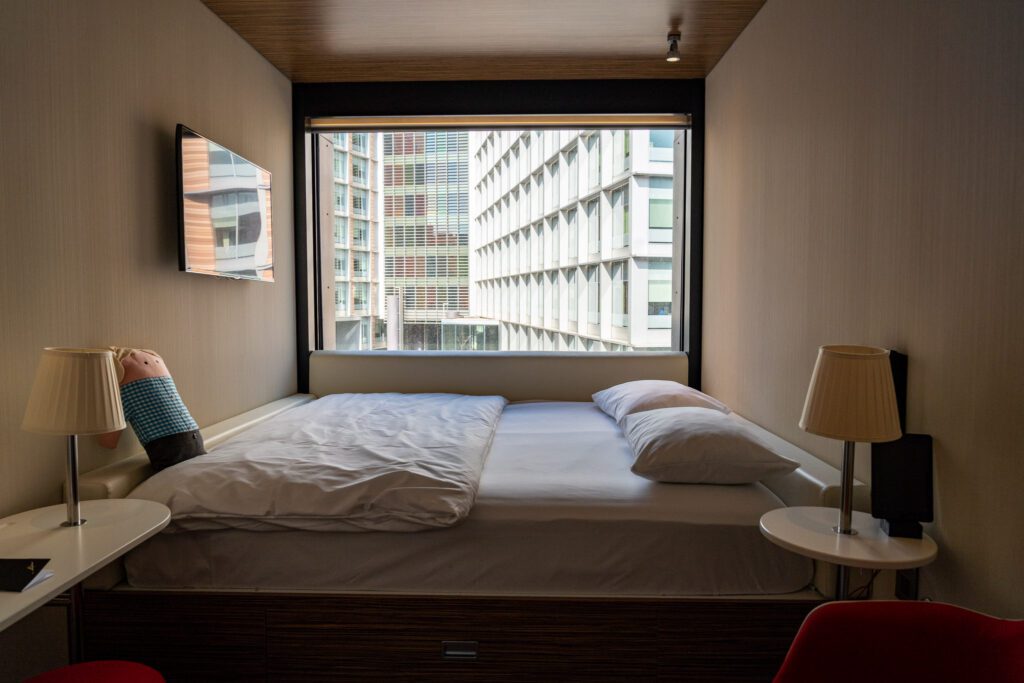 There are two splurge-worthy hotels in the area – the Hoxton and Sea Containers – the latter of which has dazzling views from some of the rooms right above the banks of the Thames.
If you want to stay in the middle of all the action, stay in Covent Garden. It's touristy, sure, but the central location and great public transportation connections will make getting around London a breeze. Plus, it's full of great bars, restaurants, coffee shops, and shopping.
If you're looking for something more offbeat and hip, look north east to Shoreditch, which is a place that made us feel very old and uncool. Lots of vintage stores, hipster coffee shops, nightlife, and great street art in this gentrifying (gentrified?) area. There's another CitizenM location here, which is where we were set to stay before we decided to stay up in Camden instead.
Tips For Visiting London (Especially for First Timers)
Here are some tips and tricks for planning your first visit to London that are probably most helpful for first timers.
As Americans, traveling to London is noticeably different than traveling to other places in Europe, like Italy or Portugal, due to the absence of a language barrier. It feels much more similar to home, even though it's really not. There are certainly cultural and practical differences that you'll want to know going in.
Here are a few things that we've learned about London to keep in mind as you're planning your trip.
Early Mornings are Best for the Main Sights
For sights like St. Paul's Cathedral, the Tower of London, and Westminster Abbey, try to get there when they open. Especially on a Sunday.
Alysha went on a solo trip to the Tower of London (Matt has been multiple times before) and was surprised at how empty it was on a Sunday morning! We had the same experience on a Thursday morning at St. Paul's Cathedral.
In the summer, it will still be busy in the morning, but not as busy as midday or later in the afternoon. 
London is Massive
We LOVE walking around cities, and think it's the best way to experience a city. But if we're being honest, it's nearly impossible to walk around London – it's just too big!
The good news is that the public transportation network in London is excellent. You can use the buses and the tube (the Underground) to zip around the city. 
Public Transportation is Both Expensive and 100% Worth it
A lot of people balk at the £6 per ride cost of riding the Tube in London, but if you dig a little deeper, you'll find that it's definitely worth it.
The alternative to public transportation is taking a taxi or rideshare, which is more expensive.
And, though you're only in London for four days, a weeklong unlimited transit pass is just £38.70, which means it's £10 a day for unlimited access (plus £5 for an Oyster card – more on this in the section on getting around below the main itinerary). 
The Museums are Mostly Free!
Unlike most other cities, where you'll have to shell out a lot of money to visit the museums, the main museums in London are free.
In high season, it's best to make a reservation for a timed entry in advance to make sure you can get in.
We love this aspect of London, because it makes it so that you can poke your head in, see if you're really interested in something, and then decide to opt out if it's not for you without the "we just spent £30 on this, I guess we have to stick it out" guilt. 
They Drive on the Other Side of the Road
We, of course, knew this going in, but that didn't stop us from nearly getting run over on our first few days in London.
Luckily, in the center of London, there are helpful "look left / right" signs on the ground at crosswalks, which saved our lives multiple times.
When in doubt, look both ways. Three times. 
More London Travel Guides to Help You Plan Your Trip
4 Days in London: A Complete 4 Day London Itinerary
Now that we've covered some of the logistics and other things that are good to know before your trip, let's get into exactly how we'd spend 4 days in London.
There's a lot to do and see in London. You're not going to be able to see it all with just four days (even with two weeks, we had to scrap a couple of day trips because we felt like the city deserved more of our time).
Our goal with this itinerary is to help you decide what to do in London, and to give you a mix of the traditional tourist sights – the museums, Westminster Abbey, Buckingham Palace, etc. – and some of the less visited places that don't make it on every tourist's radar, but we found to be worth the time and effort.
There are a few things that you WON'T find in this itinerary, and we wanted to get them out there up front. 
The British Museum: We actually did go here, and left within 30 minutes or so. For two reasons. First, it's not well thought out, and it's kind of all over the place. We didn't know where to start, so we started with the Egyptian artifacts, which leads me to the second reason. Second, this is all stolen stuff. Imagine this for a second: you walk into a museum in Egypt and find the remains of the British Royal Family on display for the world to see. Do we think that would go over well? We don't, and the cultural voyeurism felt a little strange to us. At the end of the day, it really just seems like they threw everything they could find into the museum and said "look how cool this stuff is." It feels more egregious than places like the Louvre, for some reason.


Climbing Tower Bridge: We were flabbergasted when we saw a line stretching from the middle of tower bridge back towards the north bank. It was a line to climb to the top of Tower Bridge, which at one point was a legitimate pedestrian way to cross when the drawbridge was up, but now really seems like a transparent cash grab. Also, we think the best views are of the bridge, not from it. Skip it!


Kings Cross and Platform 9 ¾: Look, I'm a Harry Potter fan. I've read the books 8+ times all the way through, and they were an important piece of my childhood because I was the same age as the characters as they grew up. However, I can say with 100% certainty that the whole Platform 9 ¾ thing is extremely underwhelming. There's a long line, a "professional" photographer who tries to sell you pictures, and it's really not worth the journey up there.


The National Gallery: There are a lot of museums in London, and the truth is you're just not going to be able to make it to all of them AND do some of the other cool stuff like food markets and scenic walks. This is the one that gets cut, in our opinion. It's similar to other art museums around the world, and doesn't feel super unique to London. Although the same could be said of the Natural History Museum, so choose the one that looks most interesting to you, I suppose.


The London Eye: We blinked, and apparently we missed the part where every city all of a sudden has to have a Ferris wheel. This is one of the originals, but we still think it's expensive and overrated for what it is (Matt has done it twice, and if he had to do his first trip over again, he'd skip it and opt for the free rooftops in Central London instead). 
Day 1: The City of London & Shoreditch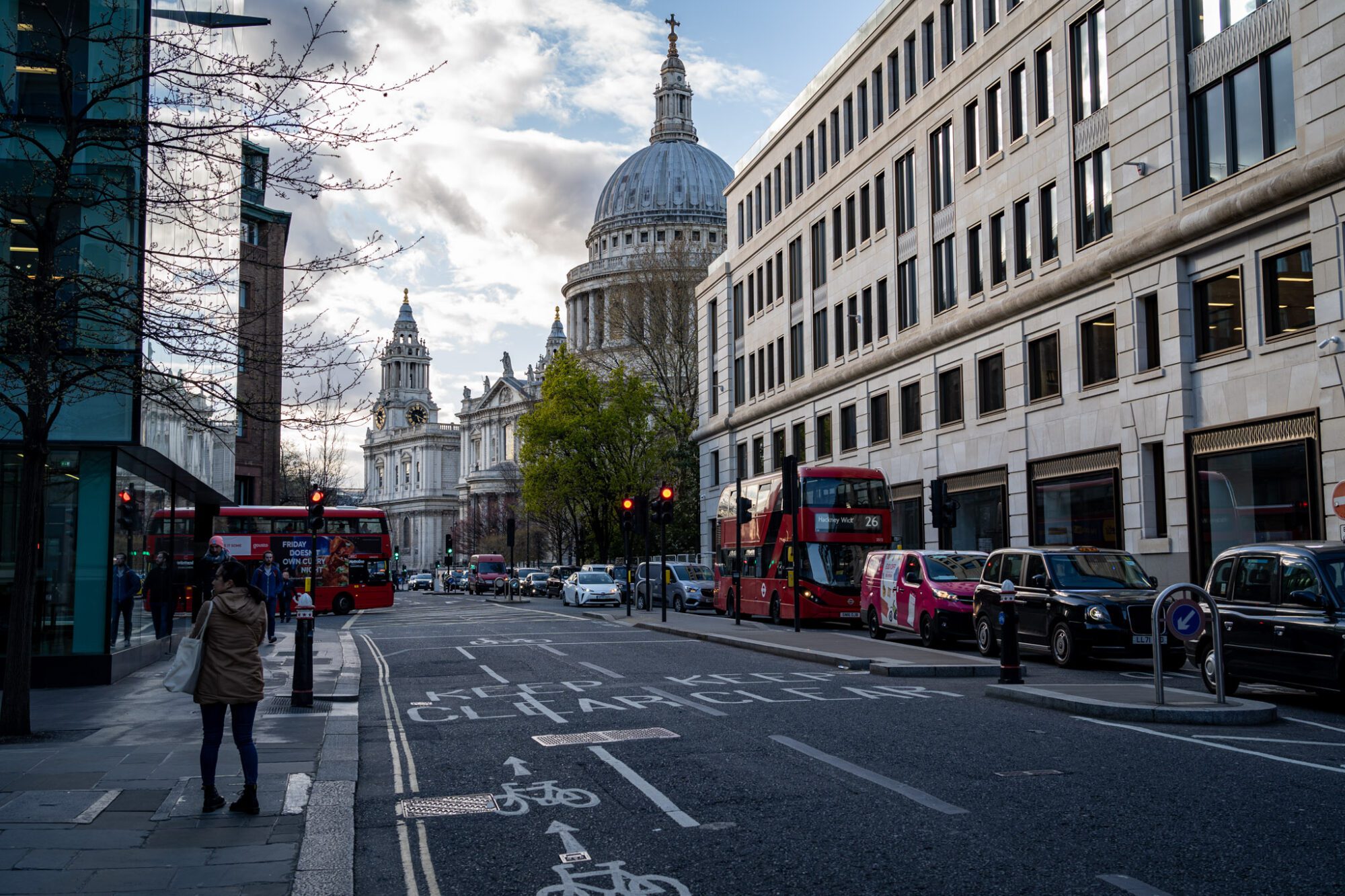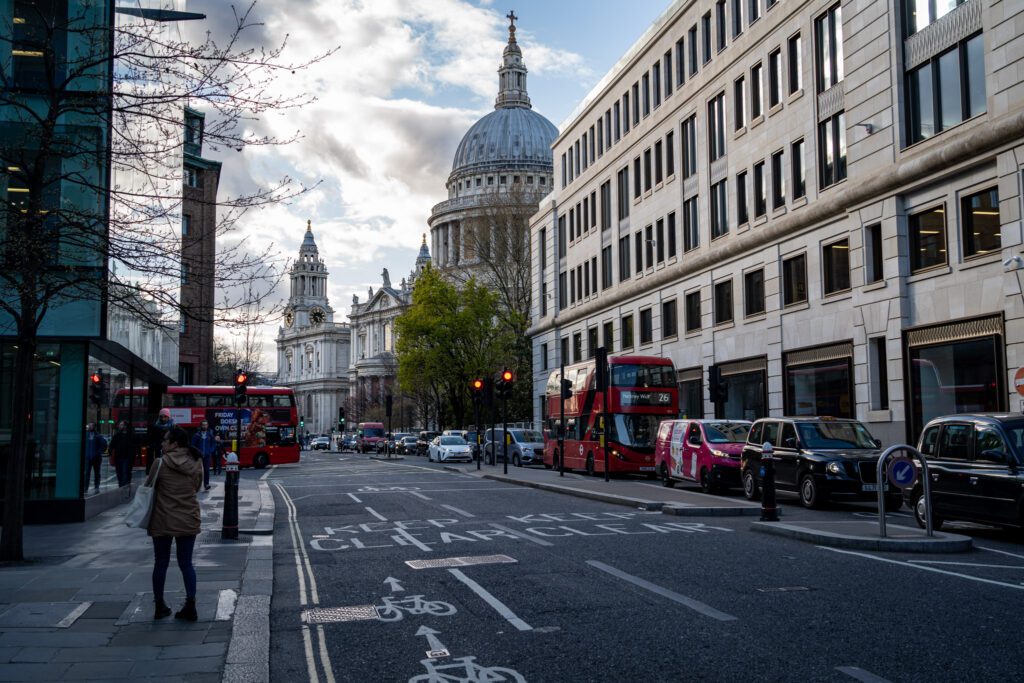 On the first day of your trip to London, start in the oldest part of the city (which, as we'll cover below, actually feels like the newest part) to gain an understanding of where the city started, and how it got to where it is today.
Along the way, you'll learn about the origins of London. Most historians think London's history starts with the Roman settlement, but there were certainly people here before that.
You'll visit St. Paul's Cathedral, the Museum of London, and take a walk through the "old town" before spending your afternoon and evening in the part of London that is definitely not the old town – Shoreditch (which is the hip spot to be with great bars and restaurants of all kinds).
Important itinerary note: Old Spitalfields Market and the Upmarket are best on the weekends, which means you should do your best to have this day fall on a weekend. In particular, this would make an excellent Sunday itinerary.
St. Paul's Cathedral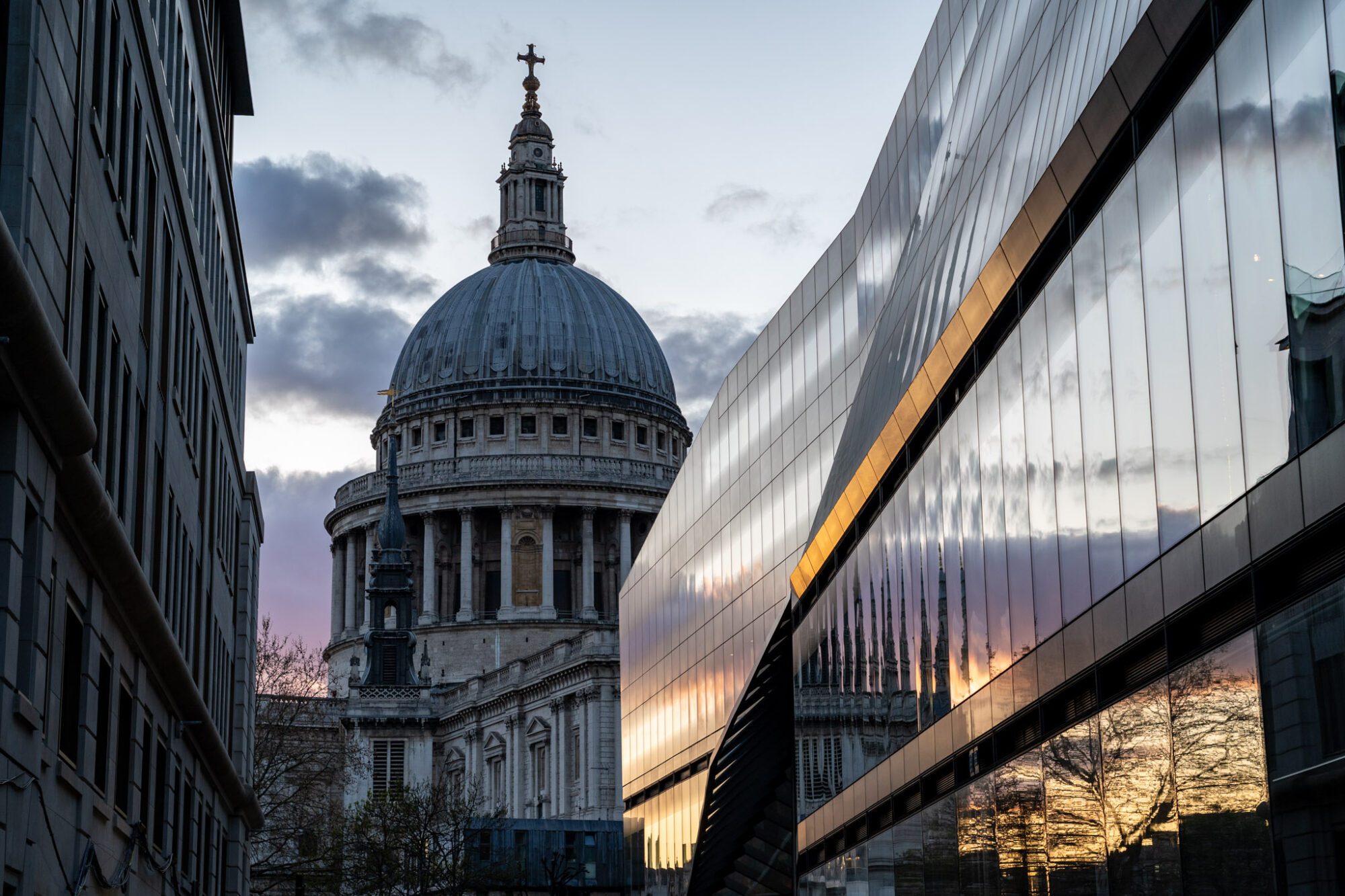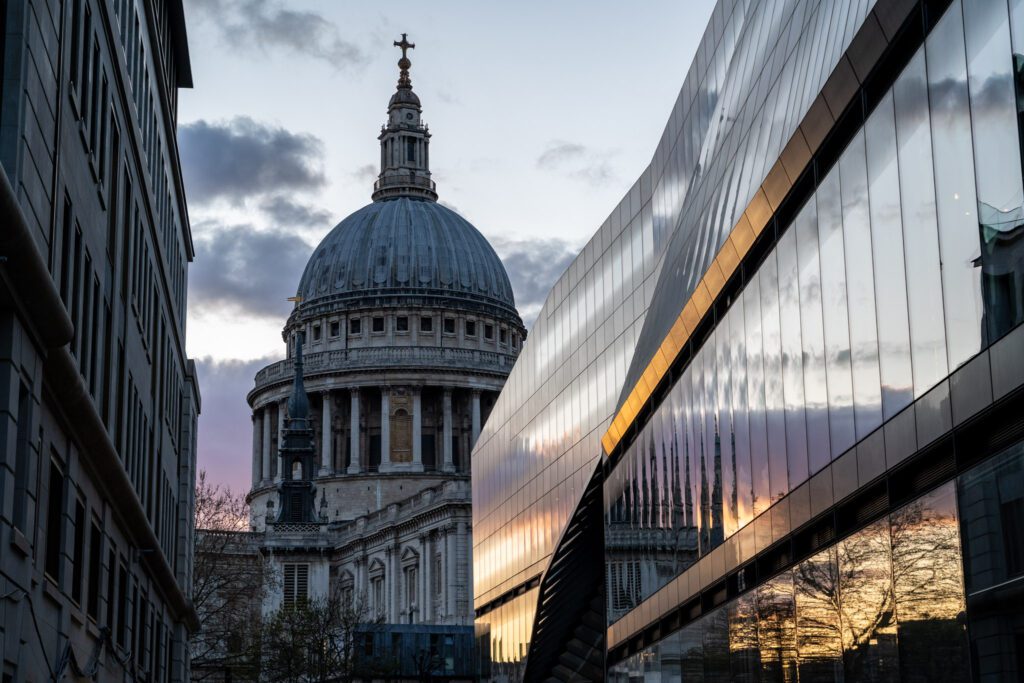 St. Paul's Cathedral is one of the more interesting aspects of London's history, and the archaeologist who led our excellent walking tour (we'd highly recommend it if you're interested in the history of London – here it is) remarked that it's probably the single most important building in all of London when it comes to the city's history.
Why, you ask? A couple of reasons.
There are two times in London's history that the city has essentially been leveled. The first was in the late 17th Century, when a fire started at a bakery on "Pudding Lane" (yes, that's actually the name of the street where all the bakeries were) and ended up burning down something like two thirds of the City of London.
In both cases, St. Paul's Cathedral played an important role in the city's healing and coping with the disasters.
It was built after the fire as a sort of "feather in the cap" of the government at the time. We learned on the walking tour that it was very much a political symbol more than a religious one, one that said "we're rebuilding London, and we're doing it right."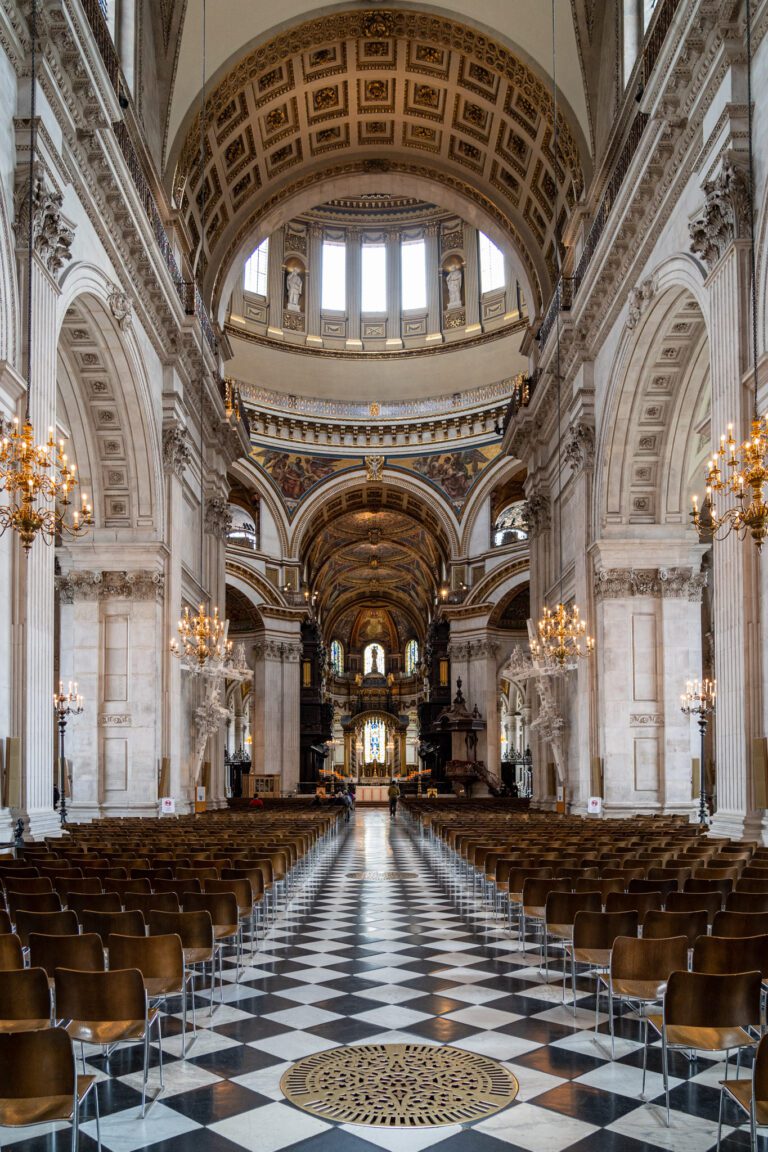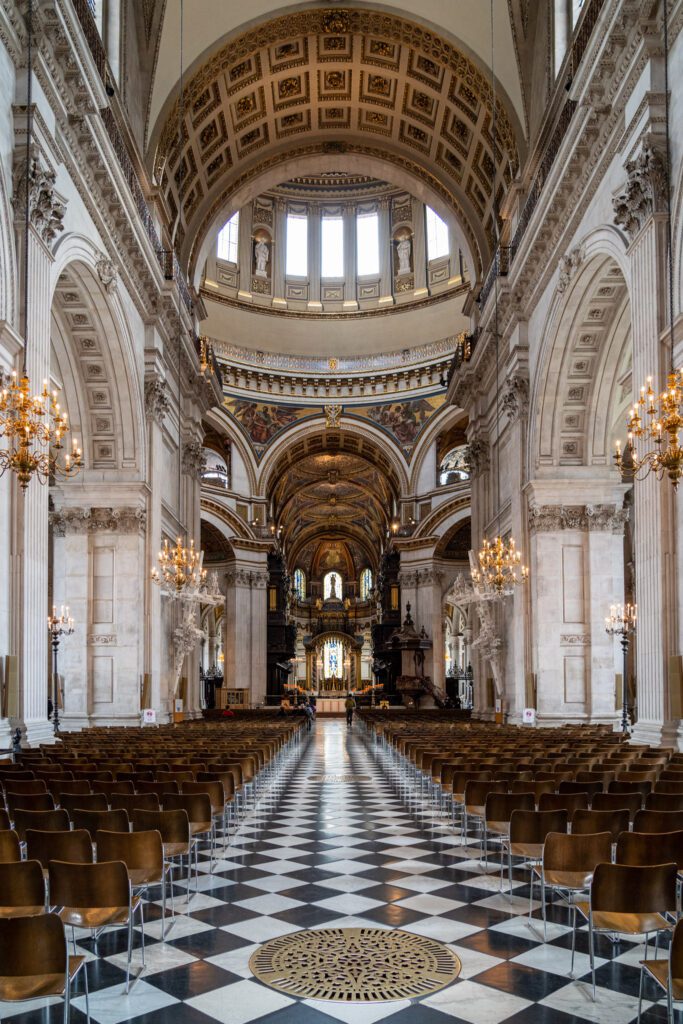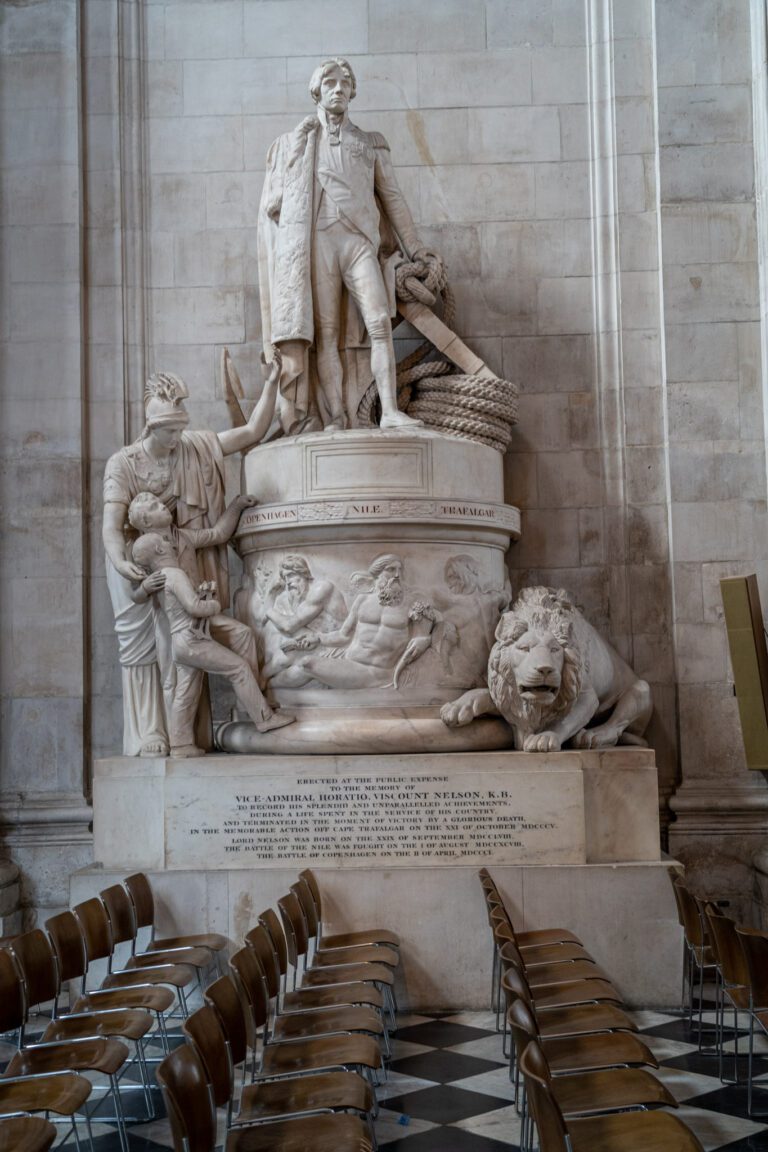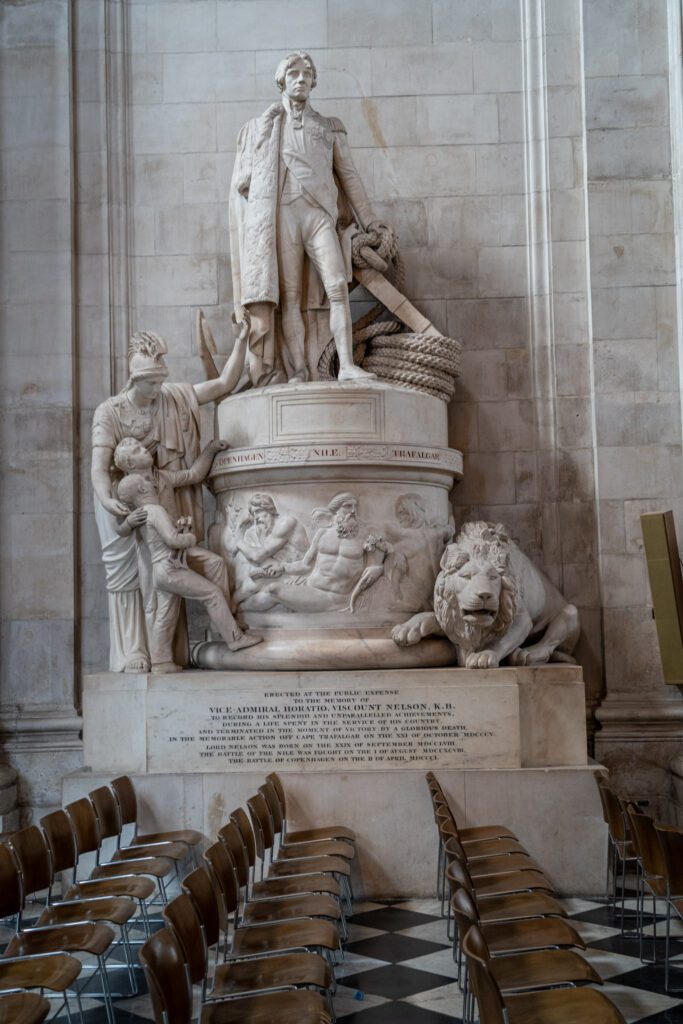 Then, during the Blitz in World War 2 when a huge portion of Central London was reduced to rubble, the dome of St. Paul's stood strong, serving as an important symbol of the resilience of the city in the face of adversity.
The truth is that German bombers could recognize the dome from above, and did their best to avoid it (though I'm not quite sure how possible that really was given the technology at the time).
We'd recommend heading up to the dome of St. Paul's, and being the first ones up there if you can swing it. The dome access starts at 9:30 am, and it's a long climb up a variety of different staircases to reach the top.
There are three levels on the way up – the Whispering Gallery (the interior of the dome), the Stone Gallery (the exterior of the base of the dome), and the Golden Gallery (at the tippy top of the dome).
It's definitely worth stopping at all three, and definitely go all the way to the top, where the views are outstanding!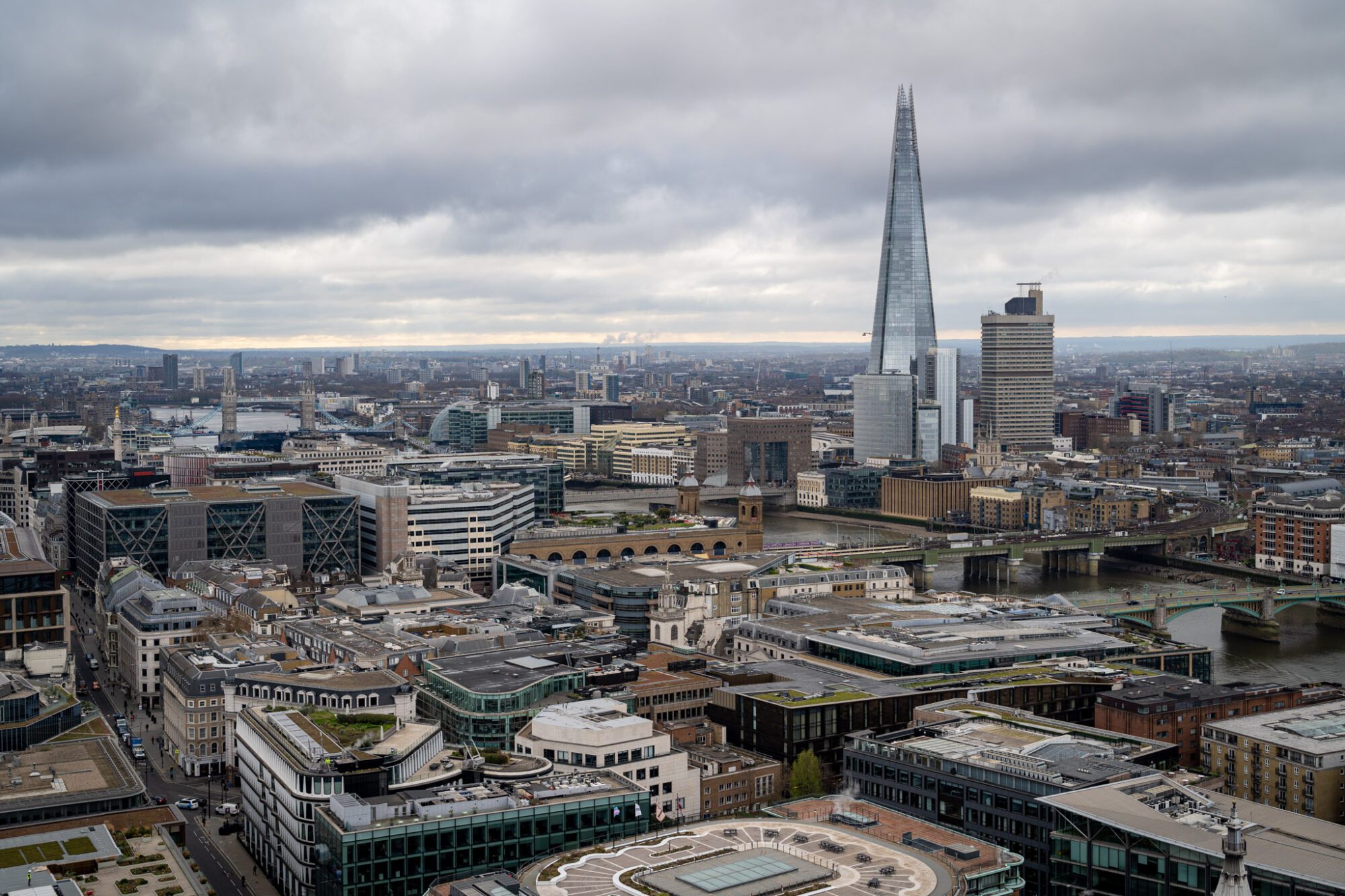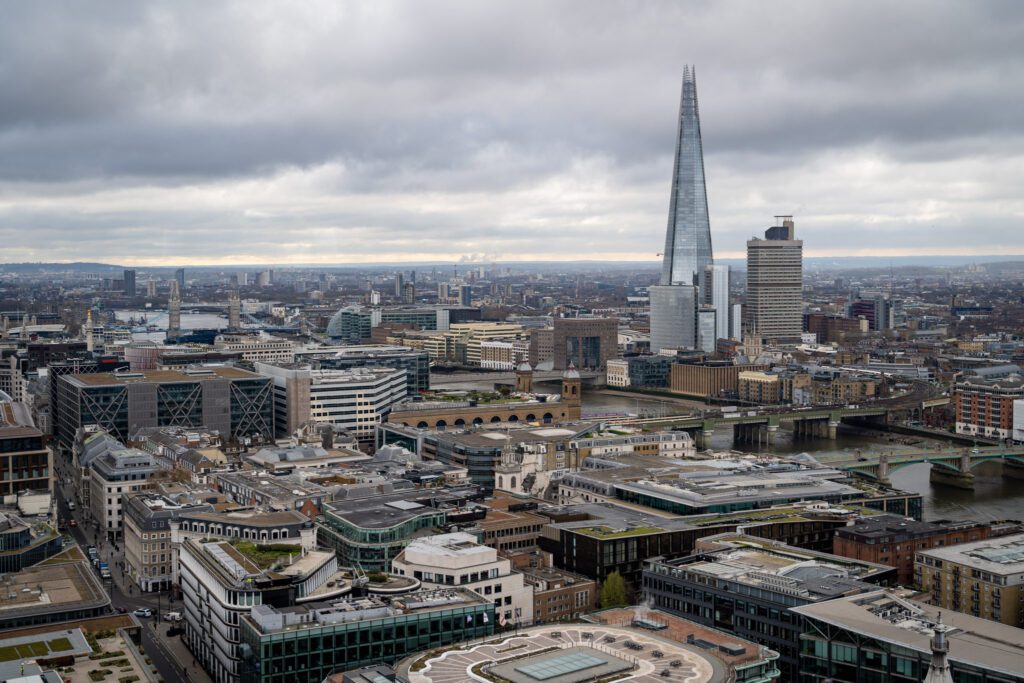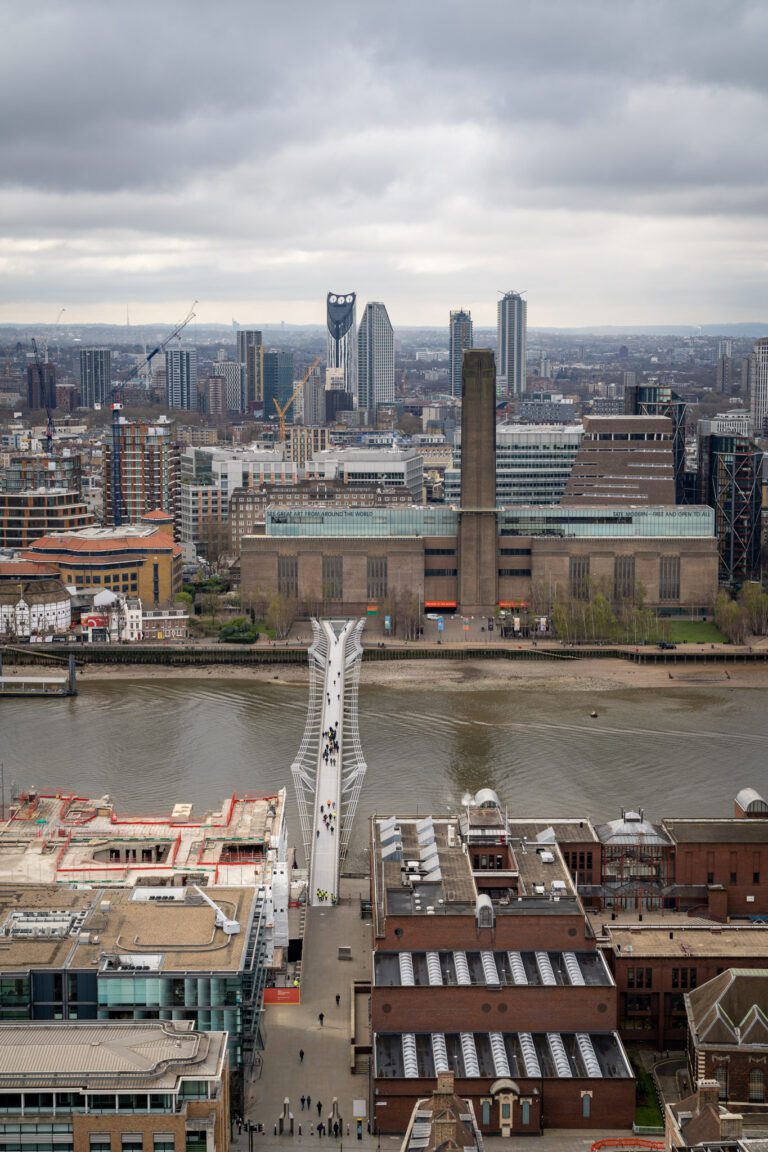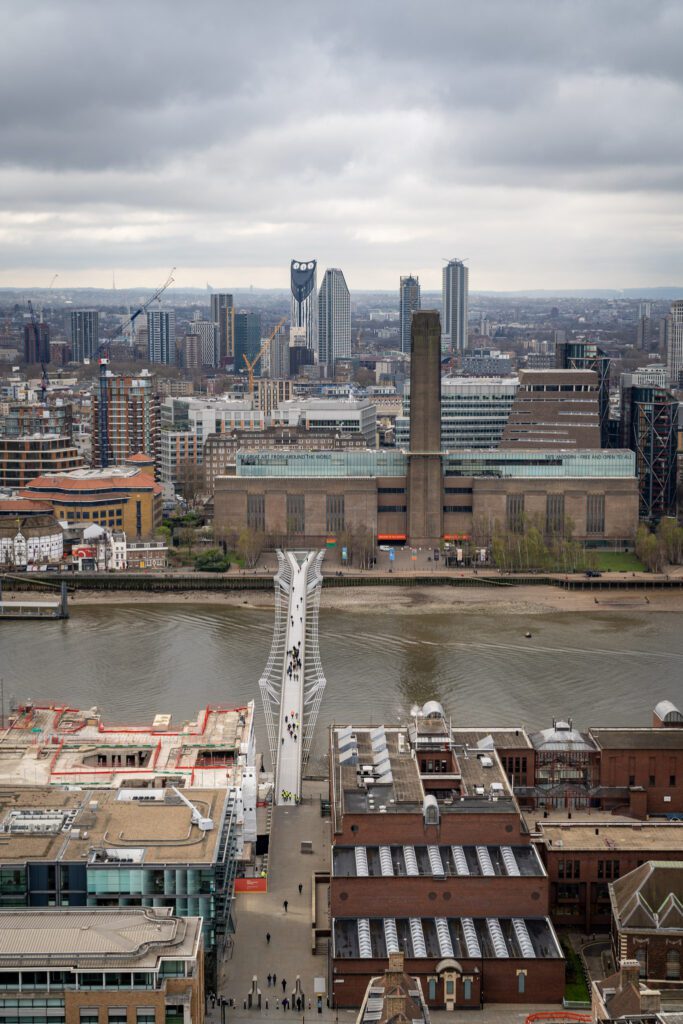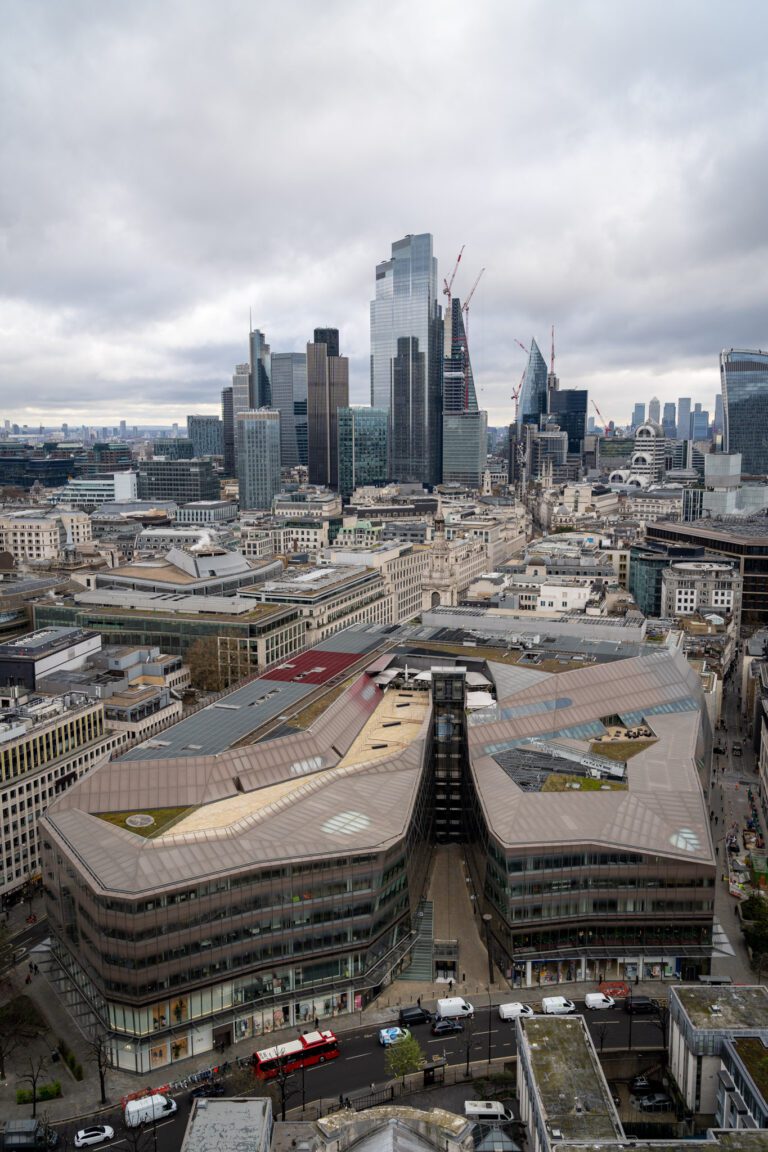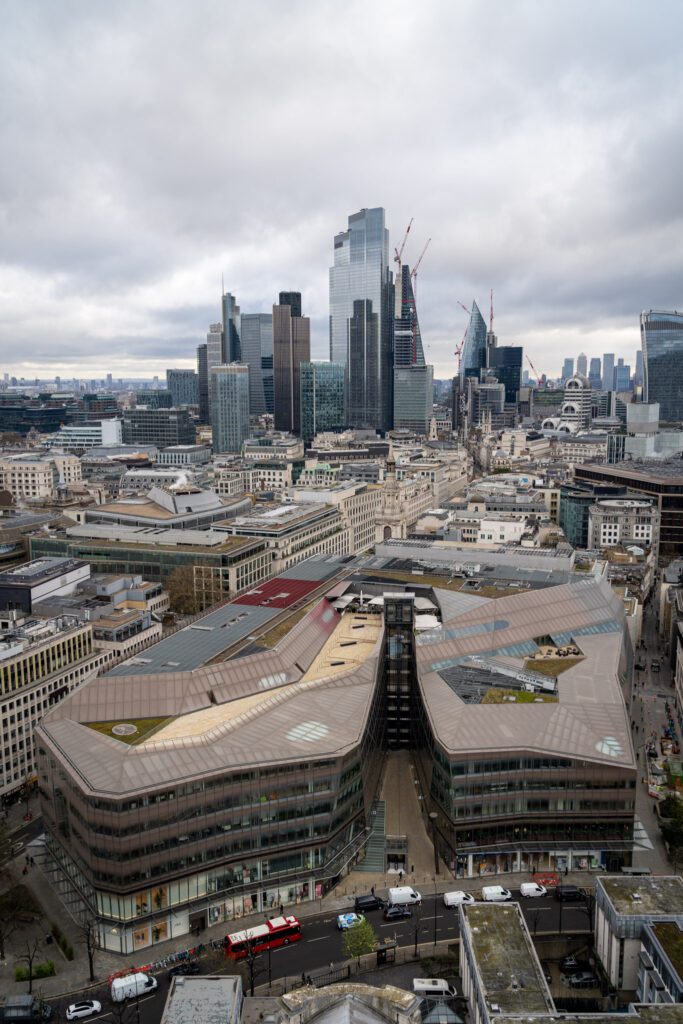 Make sure to visit the crypt, where two important figures in British history are buried. You'll find the Duke of Wellington (famous for leading British forces in the defeat of Napoleon at Waterloo) and Lord Admiral Nelson (also famous for outwitting Napoleon, among other things), among others.
Entry is a little pricey, but we think it's worth the money. To save money, you can book tickets online in advance for a slight discount, which saves you a few pounds a person.
More information on hours, costs, and more here. Monday to Saturday only, closed on Sundays for service.
One New Change's Rooftop Terrace
After you've done the cathedral itself, head up the sixth floor free rooftop terrace of One New Change, a fancy shopping center across the street, for one of the best views of the dome in all of London.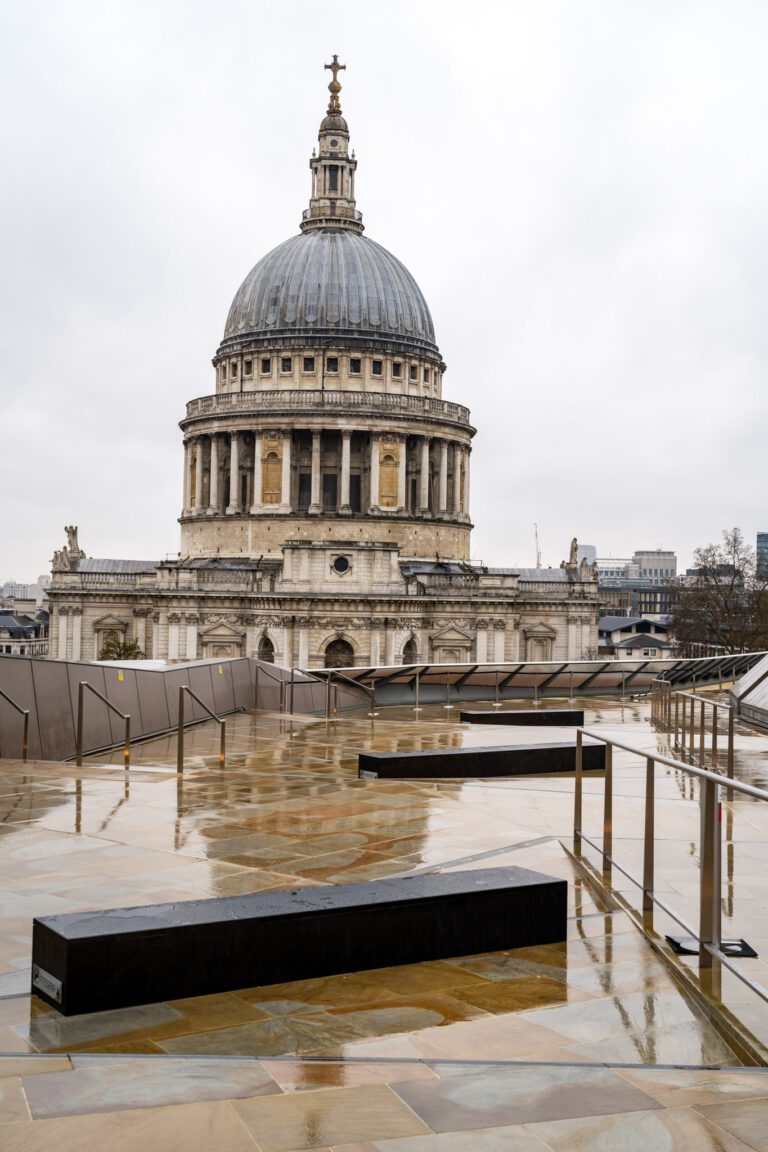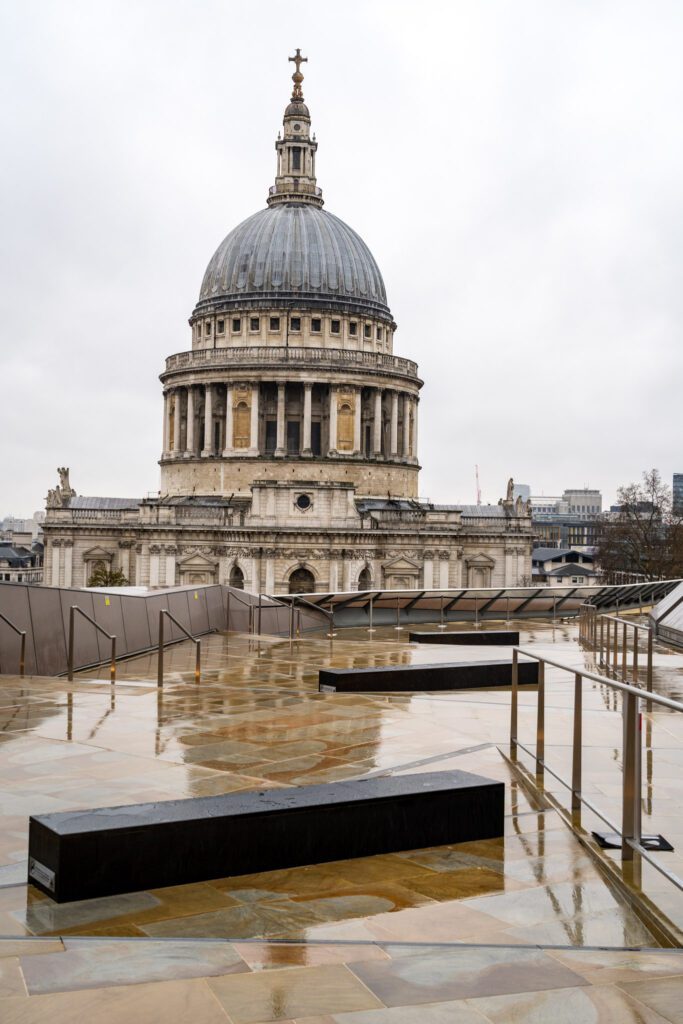 It's completely free, and it's open from 6:00 am to midnight every day. You take the elevator from the middle of the building up to the terrace, and from there you have an unobstructed view of the dome of St. Paul's.
You can find information on the terrace, including opening hours, here.
The Museum of London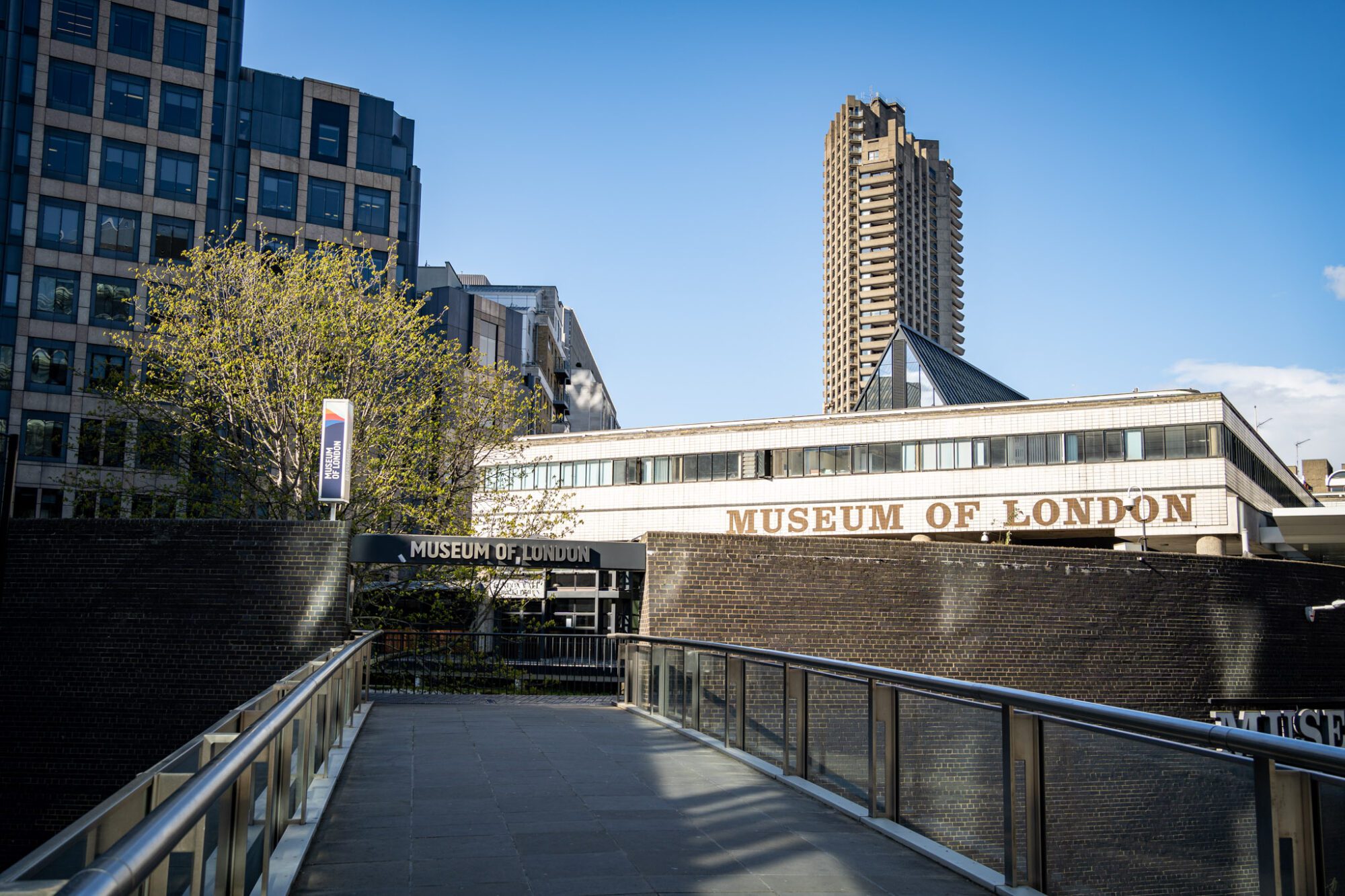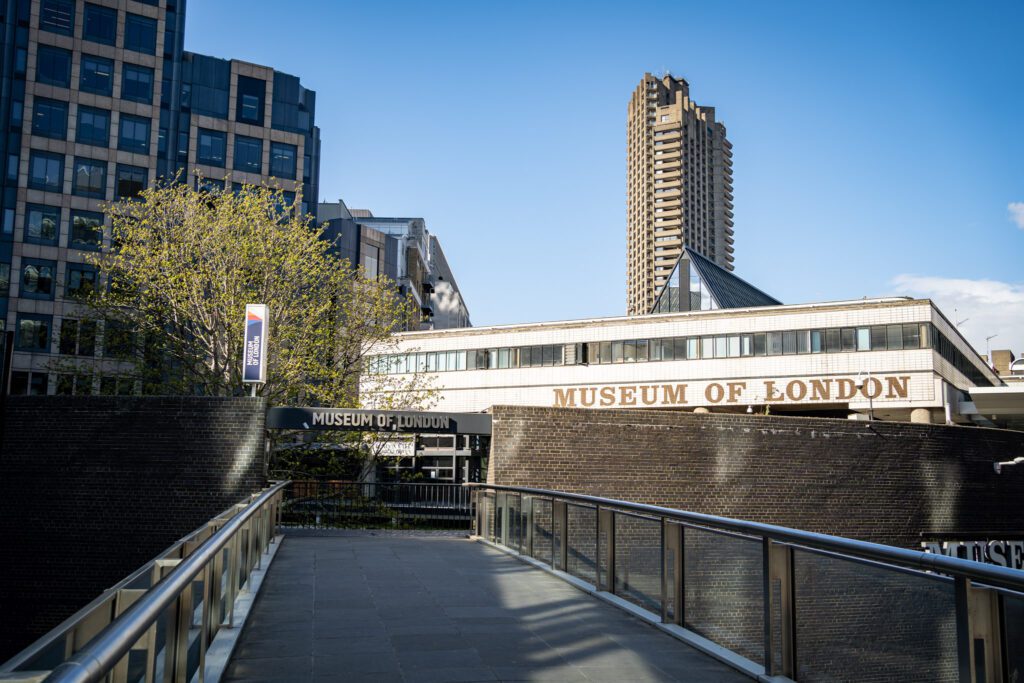 Head directly north from the cathedral up to the excellent – and free – Museum of London.
It's worth taking an hour (or two, if you're really into it) to peruse the museum, which covers the history of the city from prehistoric times to modern times in chronological order, weaving a story about the history of London and how it came to be the city it is today.
We enjoyed this museum, and we learned a lot about British history and the history of the city that we definitely had never thought about before. I'll give you two examples.
First is the fact that, for large swaths of its history, London was under the control of outsiders. As Americans, we never really think of the British as being colonized and oppressed, but that is certainly how they spent the bulk of history before the medieval periods. First it's the Romans, then they leave and the Saxons move in, then it's the Normans.
Second is the fact that London, the cosmopolitan city that we know and love today, was shaped by two disasters (which we already touched on above) – the fire in the 17th Century that burned the majority of the city – which at the time, was mostly wood – to the ground, and the Blitz during World War 2.
Without those two events, the modernization of London would have been much more difficult, and Central London would likely look very, very different from how it does today. 
We enjoyed the museum, and think it's a nice short way to get an understanding of the history of the city before diving into what it is today.
An Afternoon and Evening in Shoreditch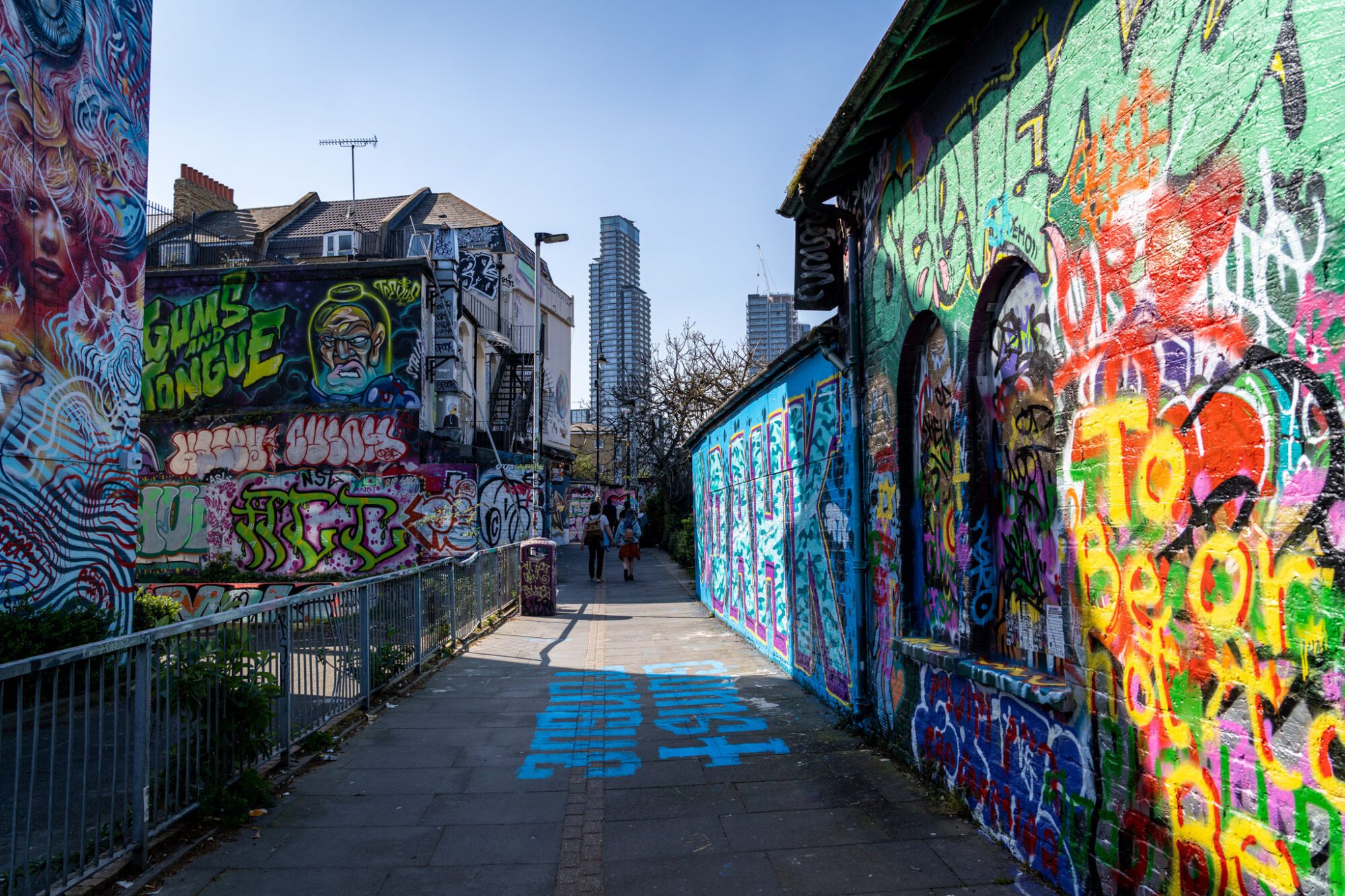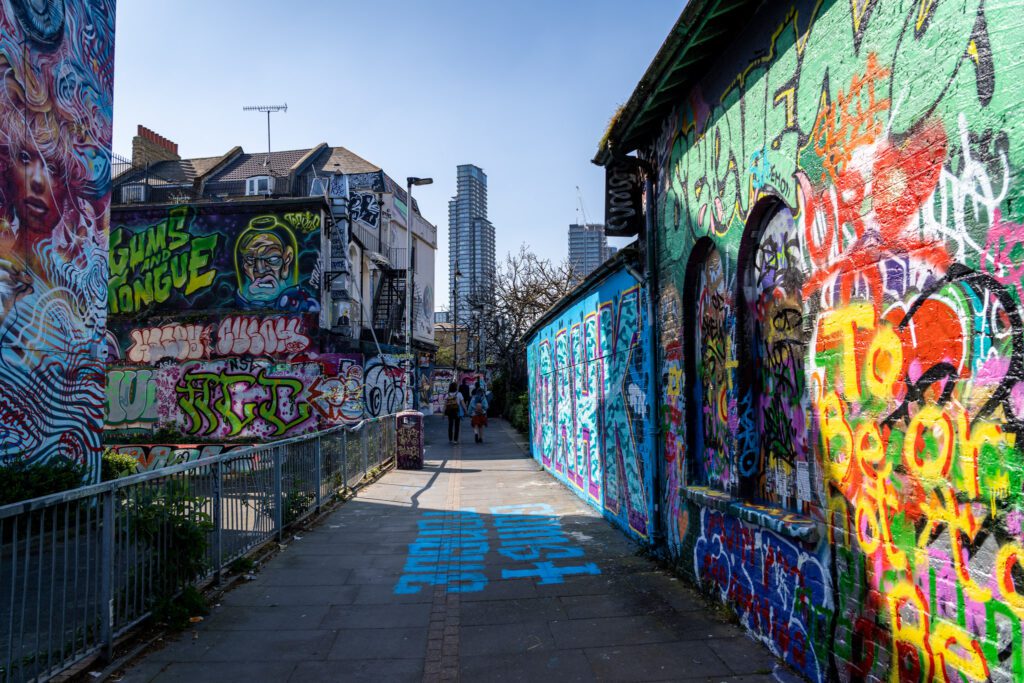 We're not sure we've ever seen a higher concentration of vintage stores than we saw in Shoreditch. And that tells you a lot about this hip neighborhood in northeast London and the transformation it has undergone in the past decade or so.
At one point, Shoreditch was completely separate from the city of London, but over the years the borders of London have continually expanded, swallowing up former suburbs on its way to becoming the city it has become today.
Even the origin story of Shoreditch is a little counterculture. It became famous because in the 16th Century, some politicians got the idea that banning playhouses (and theaters) in London sounded like a good idea. You know, to remain chaste and godly and all that. Imagine what they'd think if they saw London today!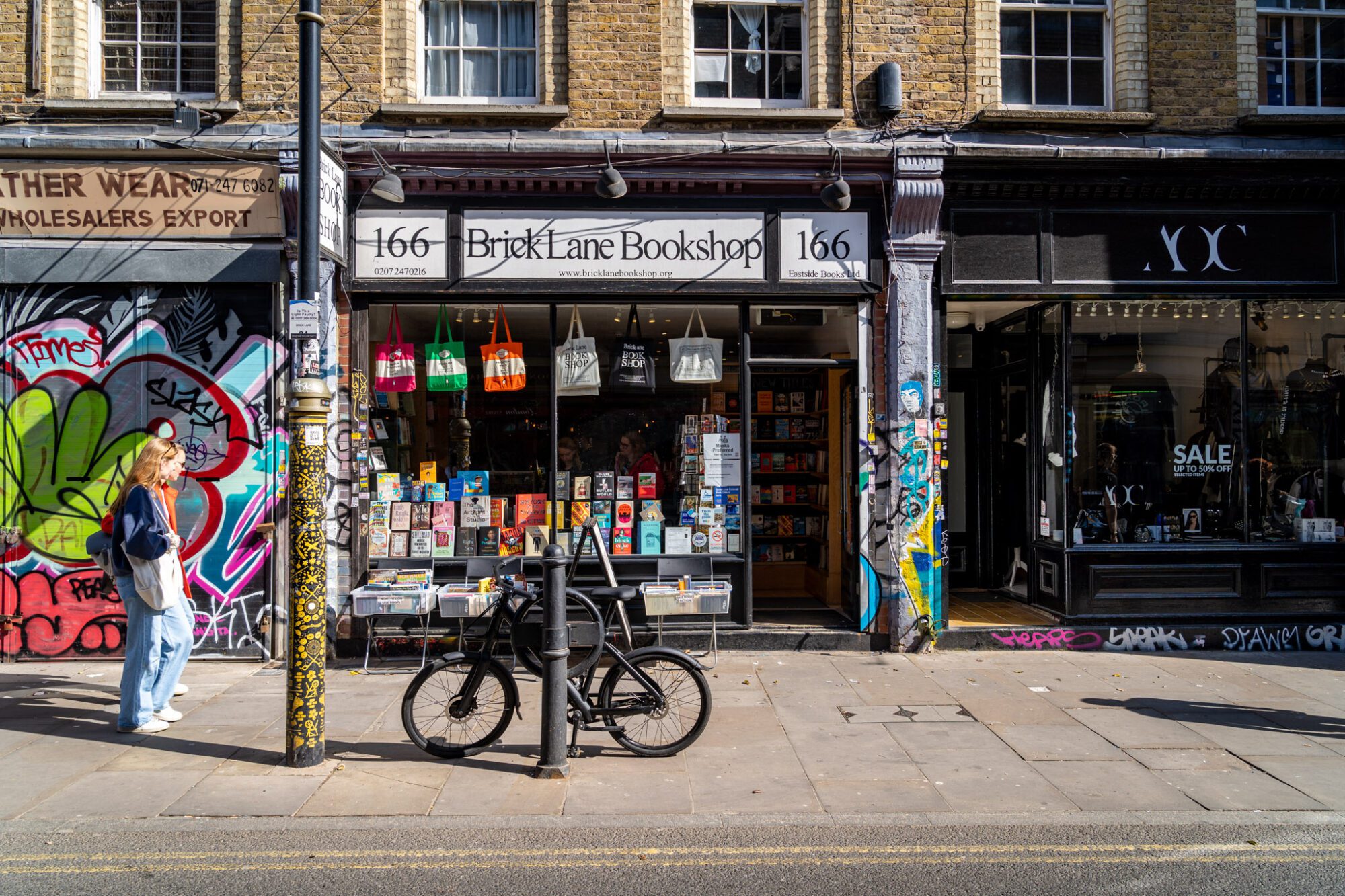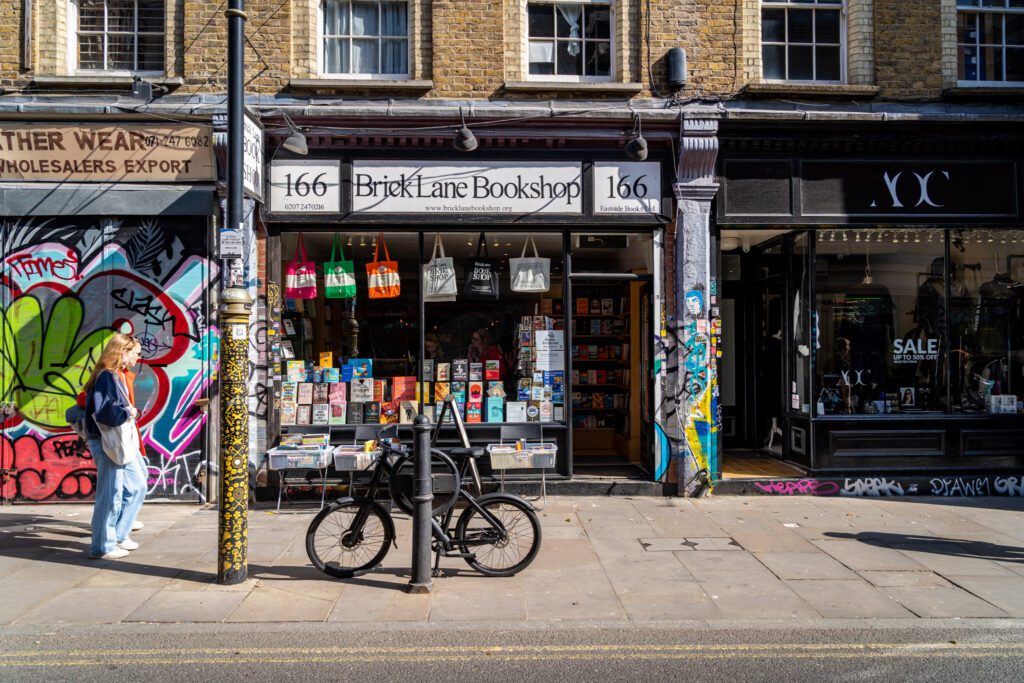 So, in order to meet the demand that certainly hadn't evaporated despite the ban, new theaters were built in places like Shoreditch and Southwark, which at the time were outside of the city limits, and thus its jurisdiction. In the 19th and early 20th Centuries, it was a legitimate rival to the West End as the center of London's arts scene.
After the second world war, during which large swaths of the neighborhood were demolished – including a lot of housing – the reconstruction process took a little longer than other parts of London.
Since then, the story of Shoreditch is similar to many other highly gentrified areas in major cities around the world.
First the artists moved in, creating a demand for businesses that those artists liked, and finally ending with astronomical housing prices that drove out many of the original residents (and those artists, too) and brought in a more wealthy contingent, who in turn brought a different set of businesses to cater to their different needs. 
On your way from the City of London to Shoreditch, there are a bunch of stops worth making, but we're going to give you a few to start.
Start with a rooftop drink in the roof garden at the Culpeper, make your way to Old Spitalfields Market to wander the stalls with art, food, and drinks (weekends only), and then head over to Brick Lane, stopping by the Upmarket if this happens to fall on a weekend, and follow Brick Lane north into Shoreditch.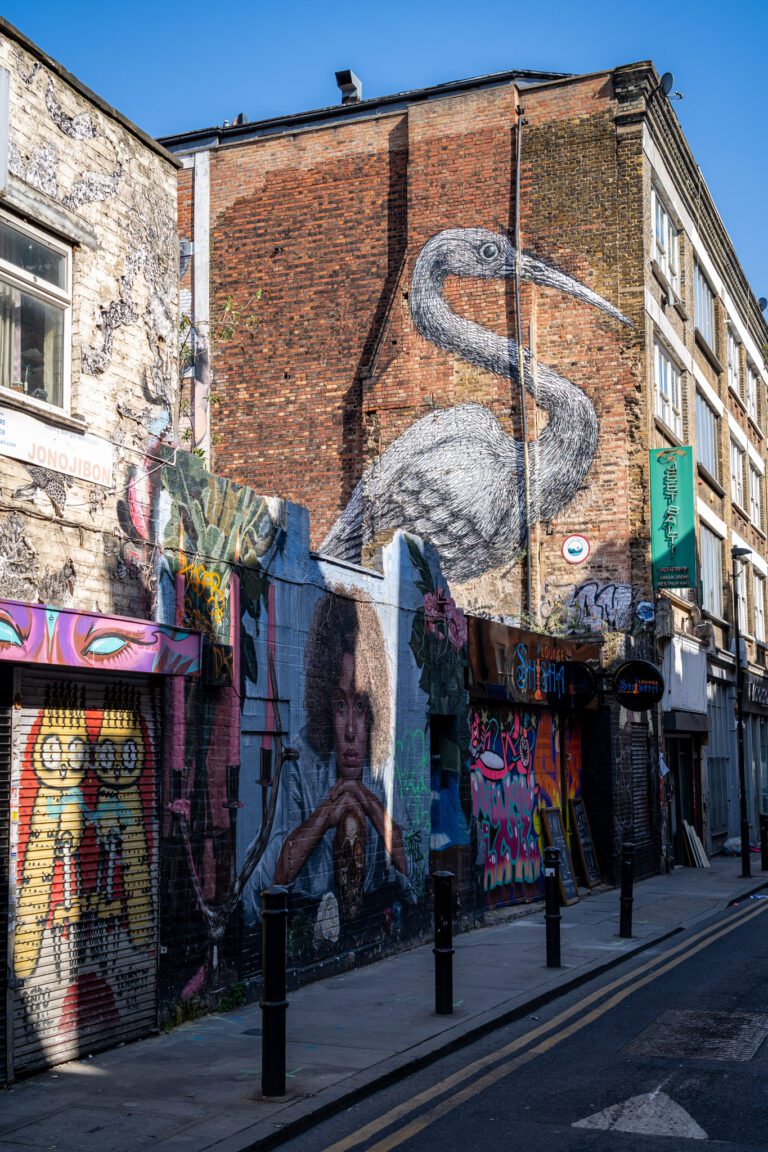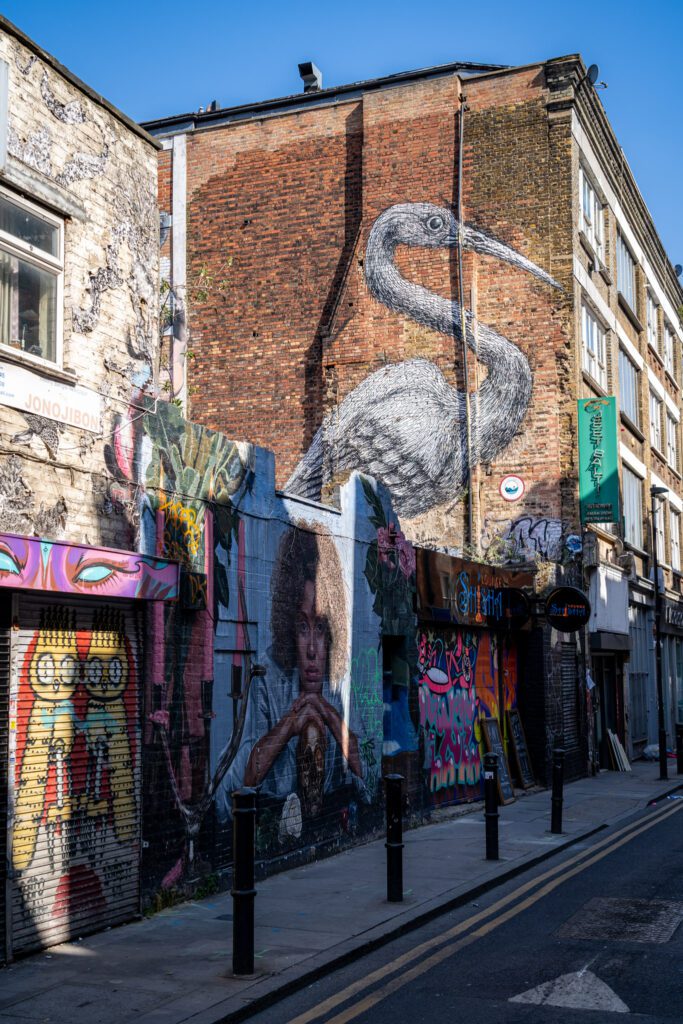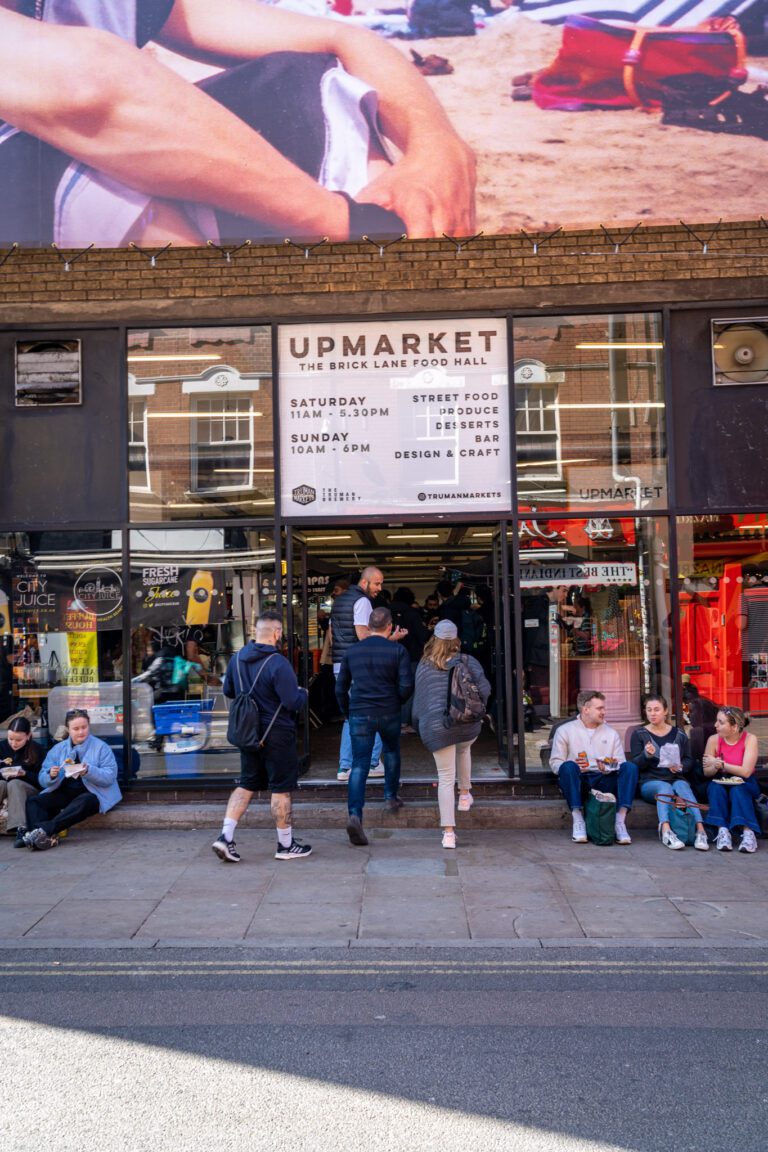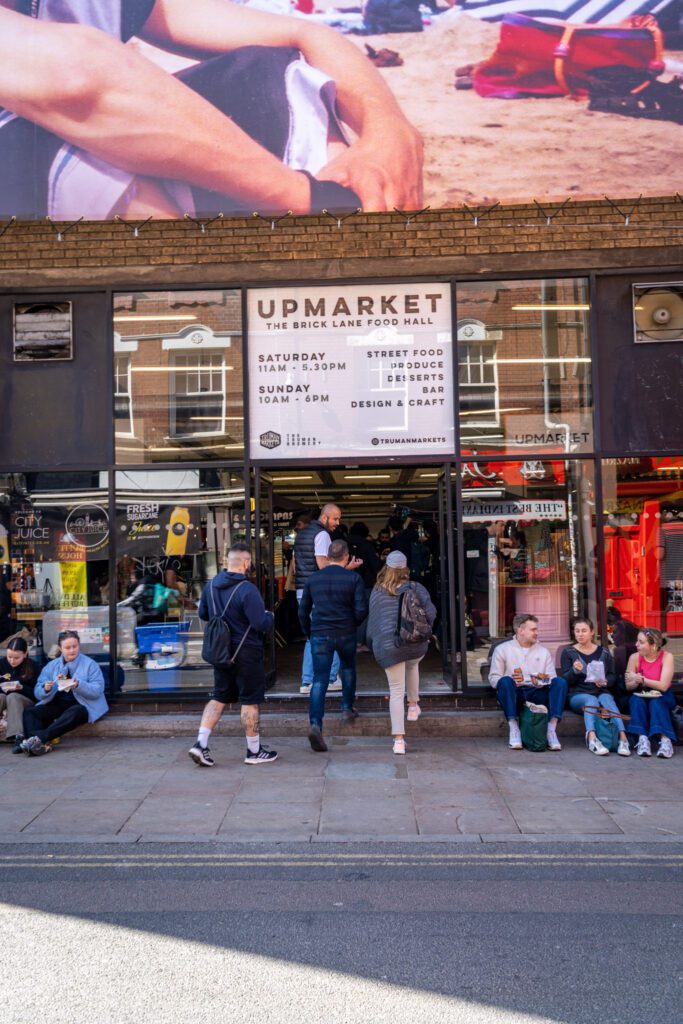 Dinner at Dishoom – From Bombay With Love
Multiple people have recommended Dishoom to me, although we didn't actually eat there ourselves because I wasn't confident they could serve me a totally gluten free meal. My older brother and a friend both said it was among their favorite meals in London, which is why it gets a spot in this guide.
This upscale Indian restaurant's combination of home-style cooking, retro surroundings and awesome cocktails make for a venue that's almost always busy, with a palpable air of excitement. Their mini-franchise is rapidly becoming a phenomenon, with multiple locations around London including one in Shoreditch.
You'll definitely want to make a reservation in advance – when we stopped by to order a chai for take away on a Monday morning, they were turning people away because they didn't have enough tables.
Bar Hopping in Shoreditch and Hoxton
Shoreditch and Hoxton party until the early hours of the morning pretty much every night, so you'll have no problem finding some of the best bars, clubs and raves the city has to offer.
So where to start?
We'll give you a few places to get you started, but if we were you, we'd head to local-run "Design My Night" to get the scoop on the best nightlife spots. Because we're not really the right people to give you night life advice, with a 9:00 pm bedtime and all that.
Day 2: Westminster, the West End, and a Museum
On your second day in London, start your day in the city of Westminster, make your way to Covent Garden, and head through Hyde Park to check out a museum (there are two choices here, which we've outlined below).
Westminster is a relatively small patch of London, but contains a higher concentration of London's famous spots than anywhere else in the city, so we'd try to beat the crowds and head out early.
Westminster Bridge & Big Ben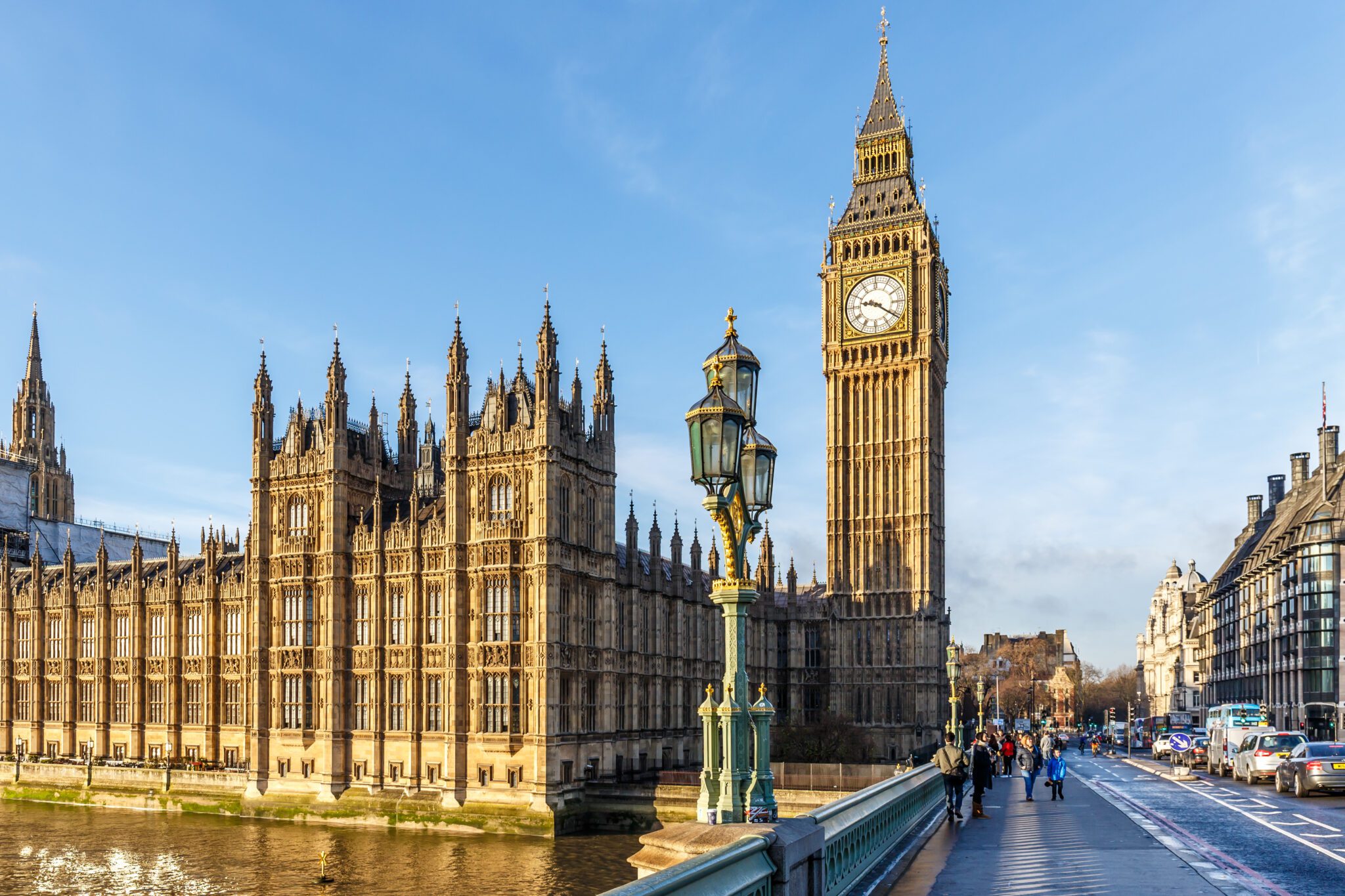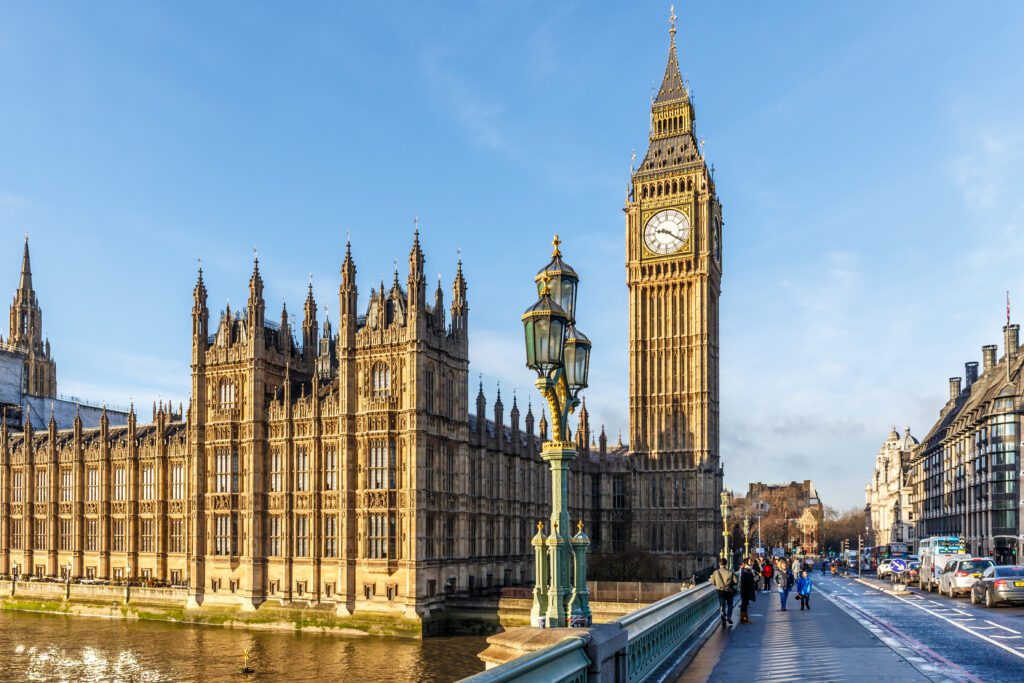 The first stop of the day should be the eastern end of Westminster Bridge, across the river from Big Ben. You might be tempted to go straight to Westminster station, but we think the walk over the bridge is well worth it because of the excellent view of Big Ben you get as you cross the bridge.
The world famous tower, officially known as the "Elizabeth Tower", houses the giant bell affectionately known as "Big Ben", whose unmistakable chime has sounded across the city for over 150 years. That's right, Big Ben refers to the bell, not the tower itself.
To hear the bell going off, you'll want to be on the bridge about 10 minutes before the turn of the hour (so, 8:50 am to hear the 9:00 am bells).
Either side of the bridge works fine, but the better view is going to be from the southern end of the bridge.
As of the time of writing, Big Ben has been under construction for several years, and there's likely to be some scaffolding up around it. It's still a great view, though.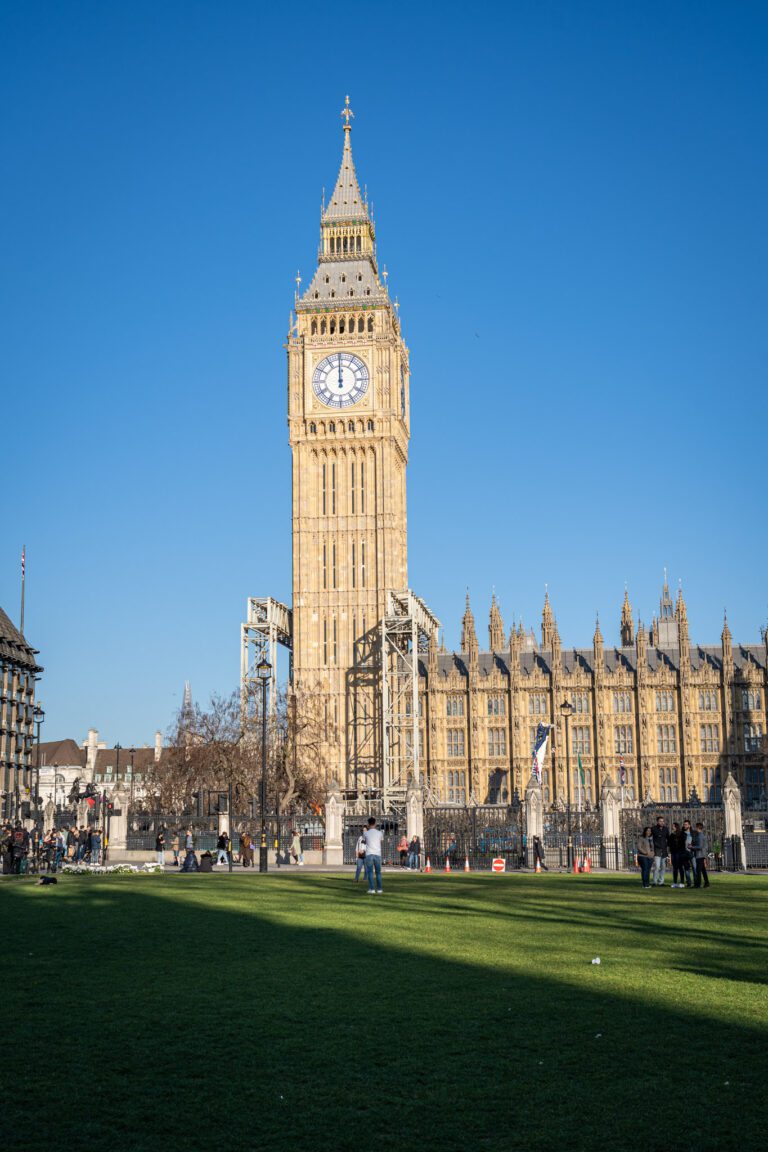 At the other side of the bridge, you'll find yourself adjacent to the Houses of Parliament. You can actually visit the Houses of Parliament and take a guided tour that allows you to access parts of the complex you wouldn't ordinarily be able to.
If that sounds interesting to you, you can find more information here (it's a 90 minute tour, and it's fairly pricey).
Westminster Abbey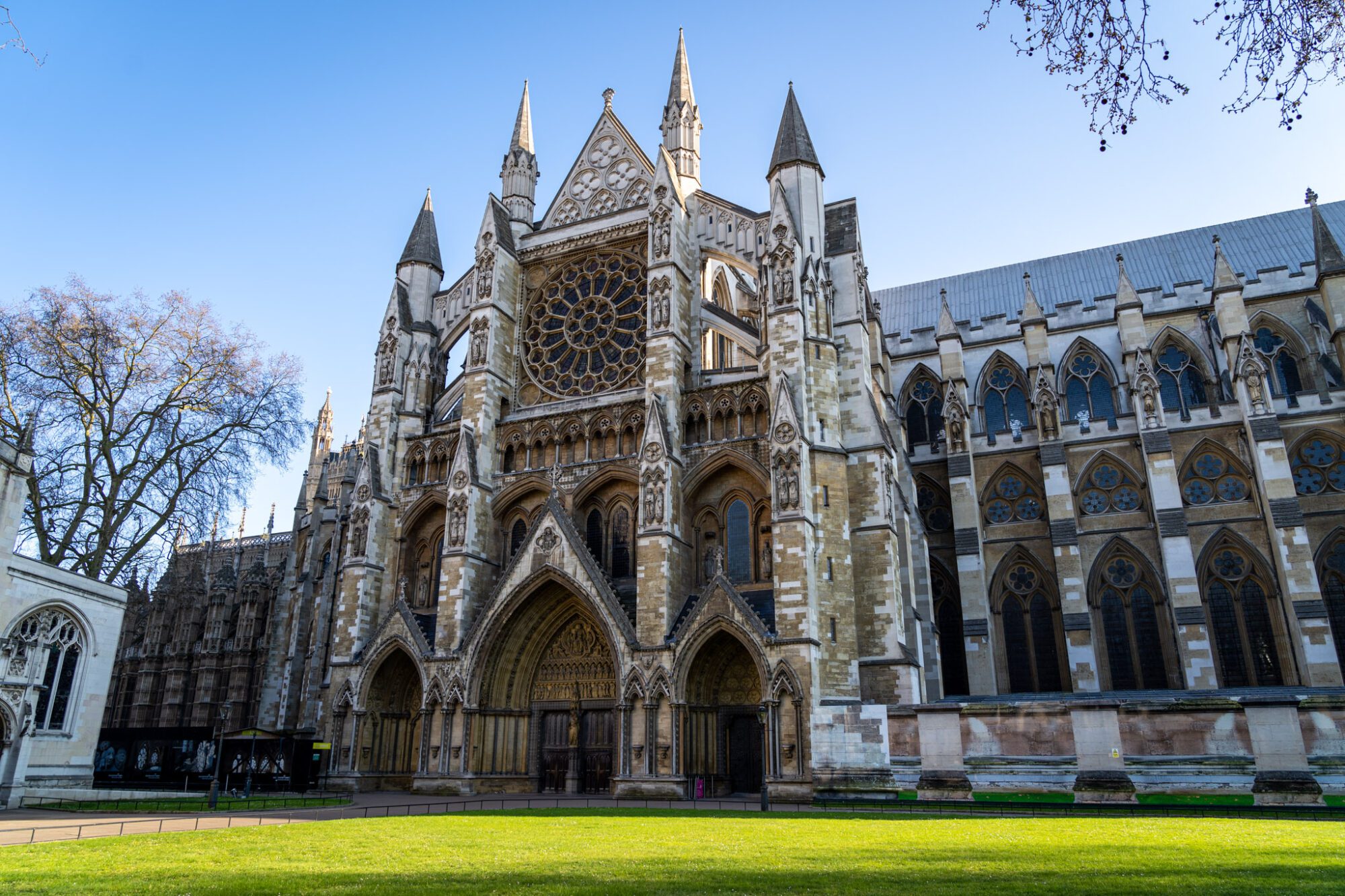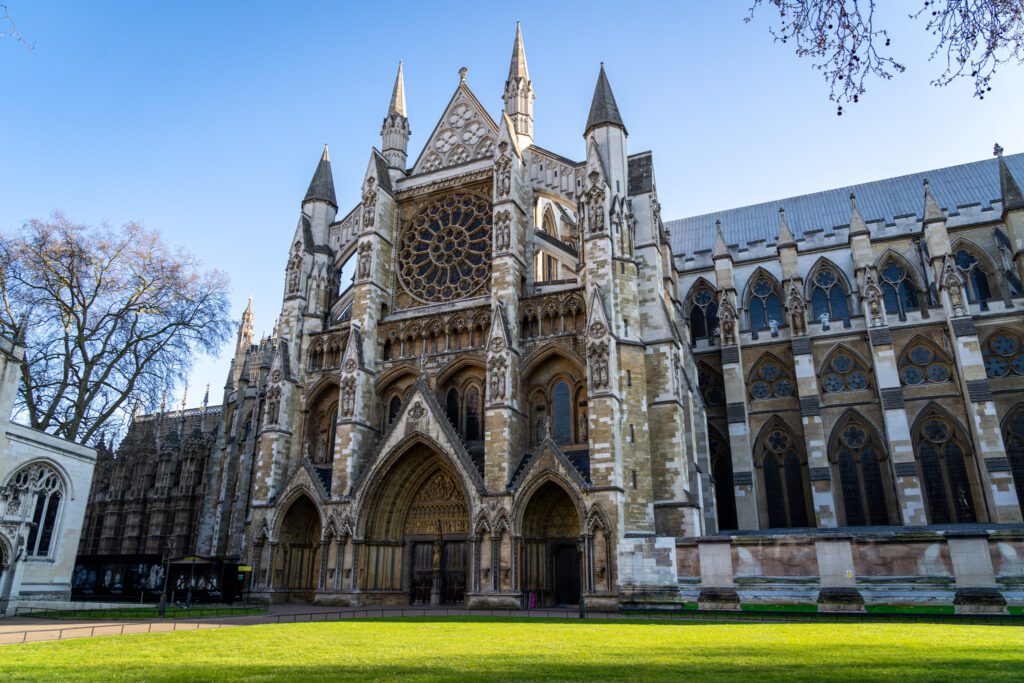 Walk across the square in front of parliament – make sure to walk by the statues of famous Brits like Winston Churchill and Gandhi – on your way over to Westminster Abbey, which is your first stop of the morning.
This is a gigantic Gothic Cathedral that was built in the 13th Century by Henry III as both a monument to Edward the Confessor, and as a final resting place for his own body.
The history from there is kind of fascinating, mostly because of the intermingling of the monarchy and church over the course of centuries.
On a walking tour, the history professor leading the tour (we did this walking tour and really enjoyed it) said that, essentially, the church was very, very rich, and the monarchy said something to the effect of "yeah, we want in on that." Which I'm sure is painting with broad strokes and missing a lot of historical nuance.
But on the other hand, yeah, that checks out.
Essentially, in the mid 15th Century, Henry VIII (yes, that one, the one that enjoyed beheading his wives) got mad at the Catholic Church for not signing off on his divorce. So, naturally, he seized all assets owned by the church and took control of them for himself. Often, selling off pieces of them to fund his various adventures around Europe.
From there, the royal family and the church became intertwined. Divine right and all that jazz.
Today, it's the site of royal weddings, coronation ceremonies, and burials, but it's mostly a tourist attraction.
More than 3,000 Brits are buried in Westminster Abbey – the most famous being many of the royals of the last few centuries, and people like Sir Isaac Newton and Charles Darwin. Make sure to look down as you walk around the interior – it seems like every step you take inside of the Abbey, you're walking onto a new burial site with the name and dates of their life/death.
The Abbey opens at 9:30 am (9:00 am on Saturdays, closed on Sundays), which is pretty early, and we'd recommend trying to be one of the first people in the door. To do that, we'd buy online tickets in advance, which go on sale two months in advance.
Buckingham Palace (and the Changing of the Guard)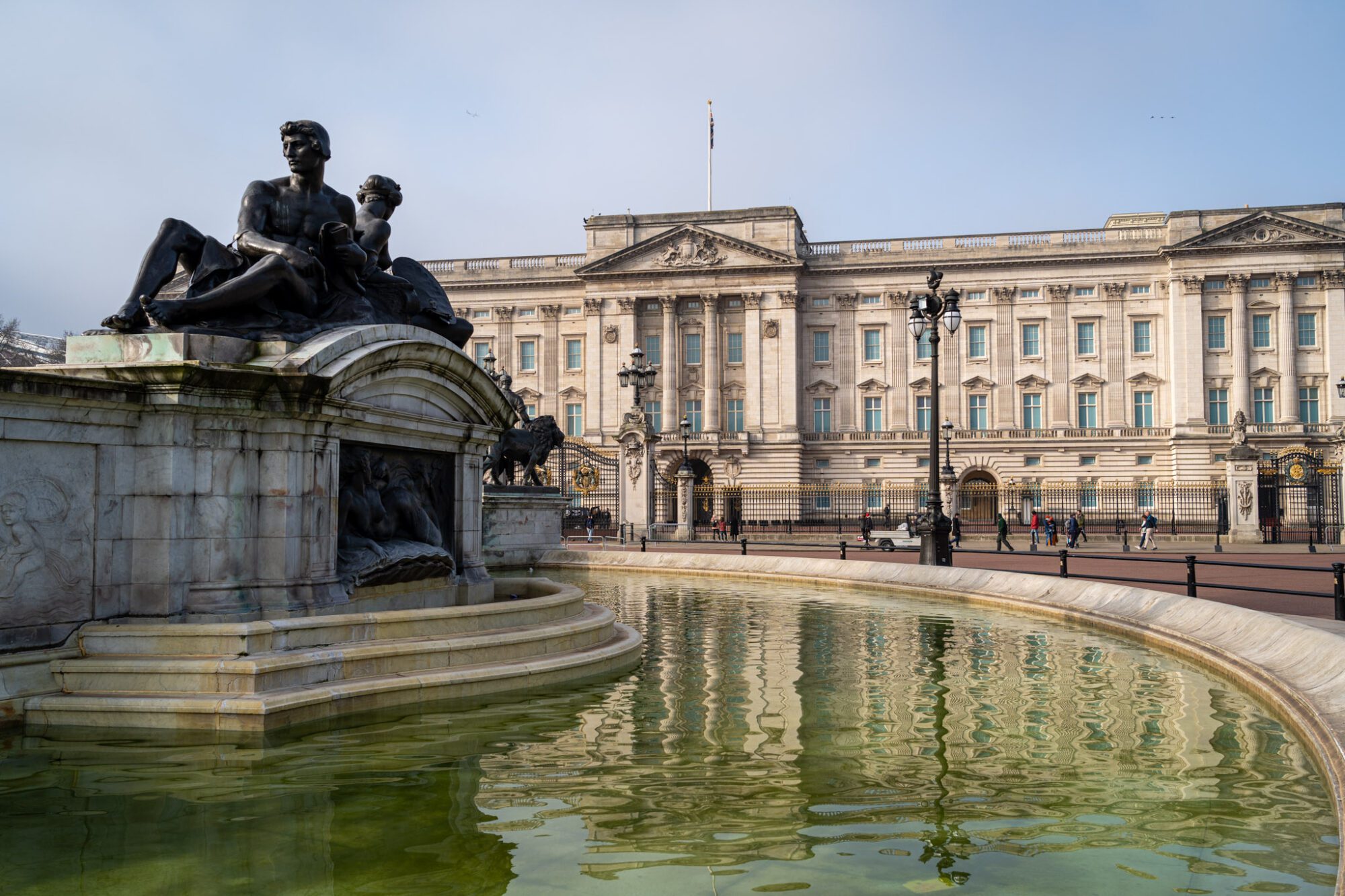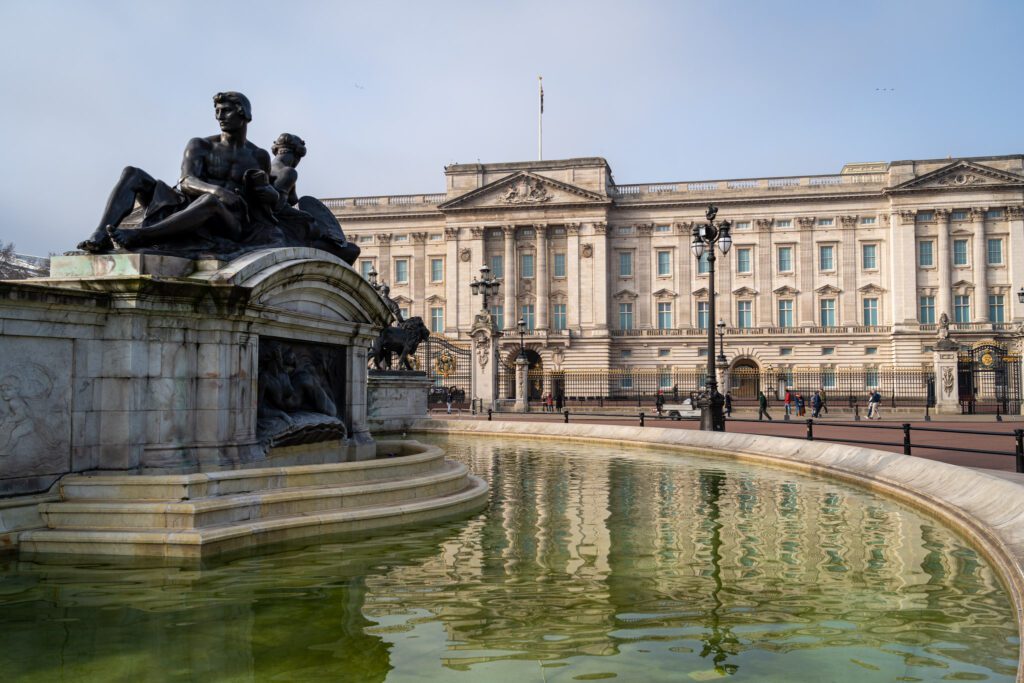 From Westminster Abbey, it's a nice walk through St. James's Park to get to Buckingham Palace, which is where the queen supposedly lives (but spends almost zero time there these days, according to multiple people we talked to).
If you're into coffee and you're craving some caffeine, we'd recommend a slight detour out to Formative Coffee, which is a short walk from both Westminster Abbey and St. James's Park. It makes the list of our favorite coffee shops in London for a reason.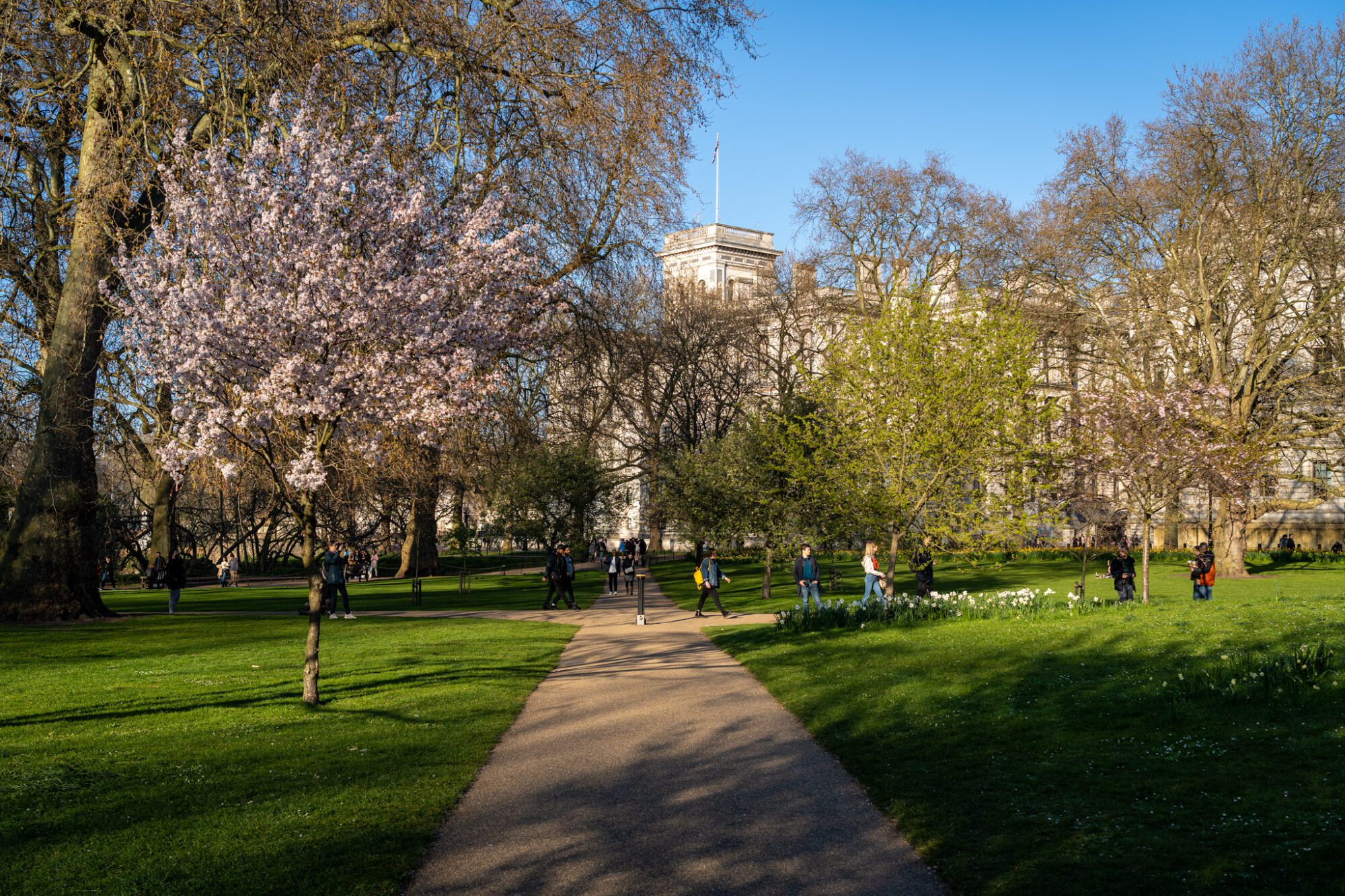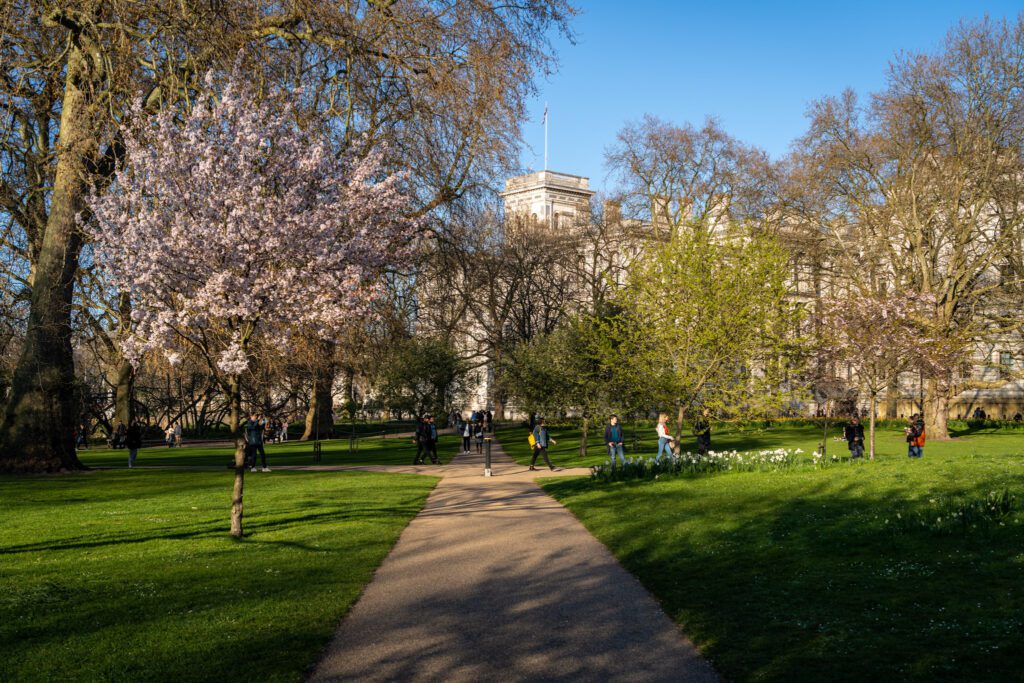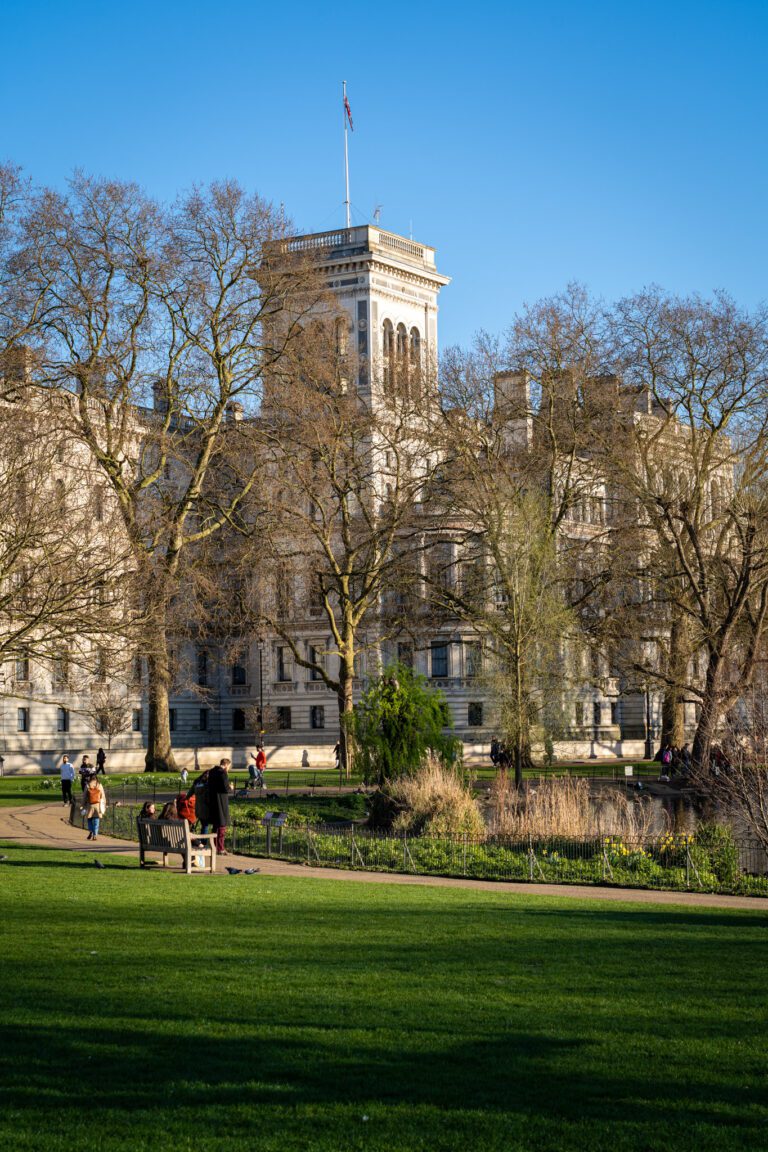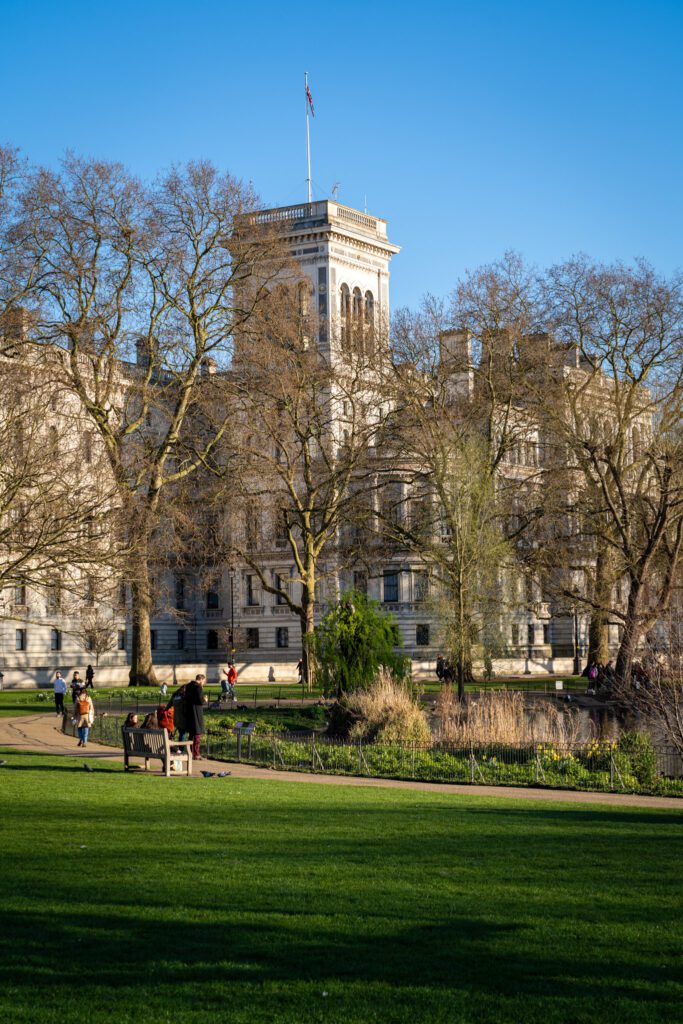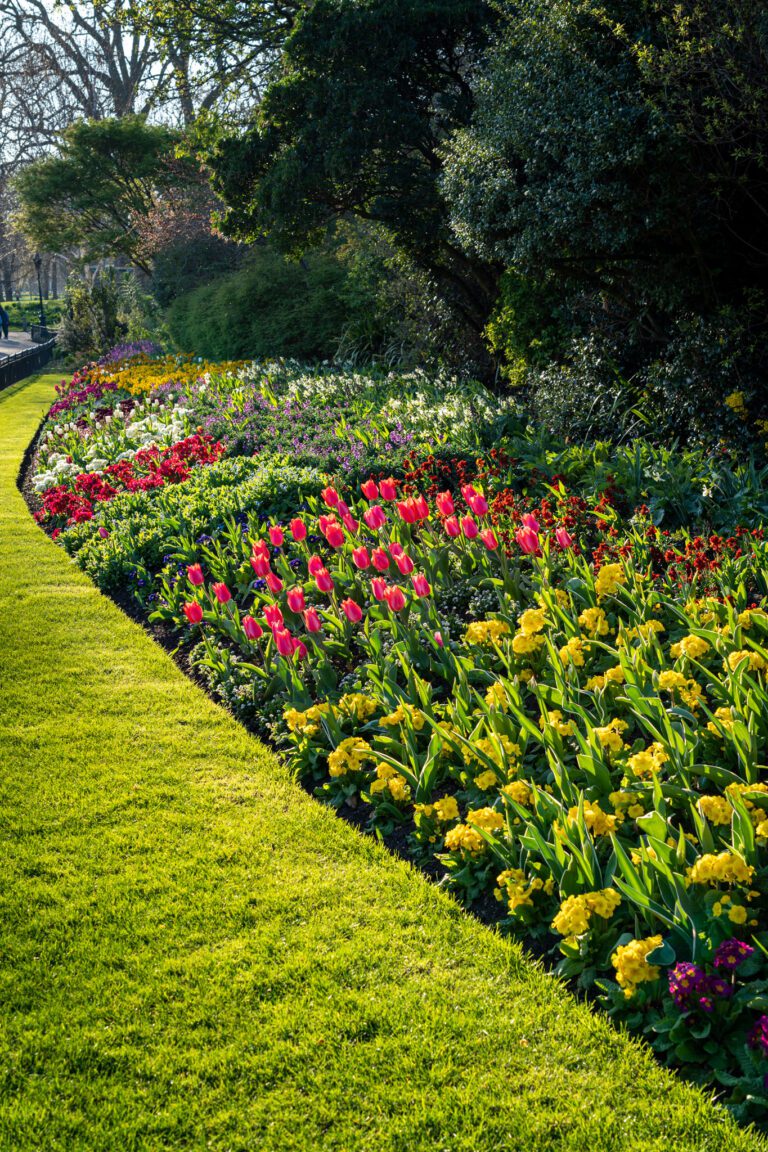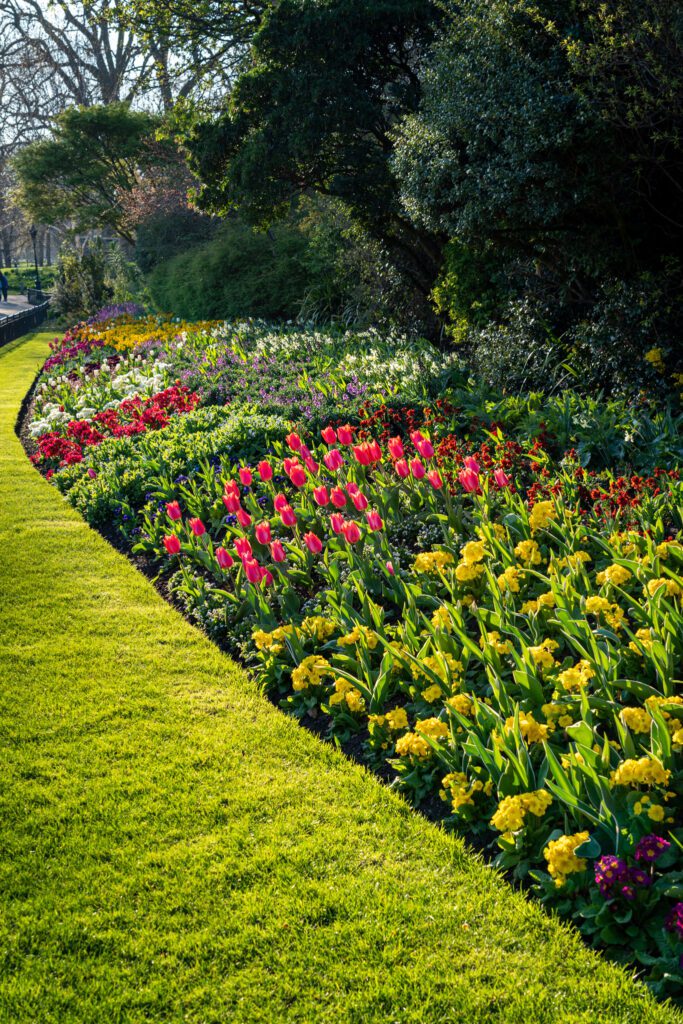 Side note: What the heck is going on with that "s's" at the end of "St. James's Park"? Yes, that's the correct spelling. We had to quadruple check.
This is also where the most "touristy" activity on this entire itinerary happens – the Changing of the Guard. That being said, it's quite the spectacle (we can't believe this still happens, to be completely honest) and it's worth seeing once, as long as you're prepared for the crowds and have the flexibility to show up a little early at a specific time on a specific day.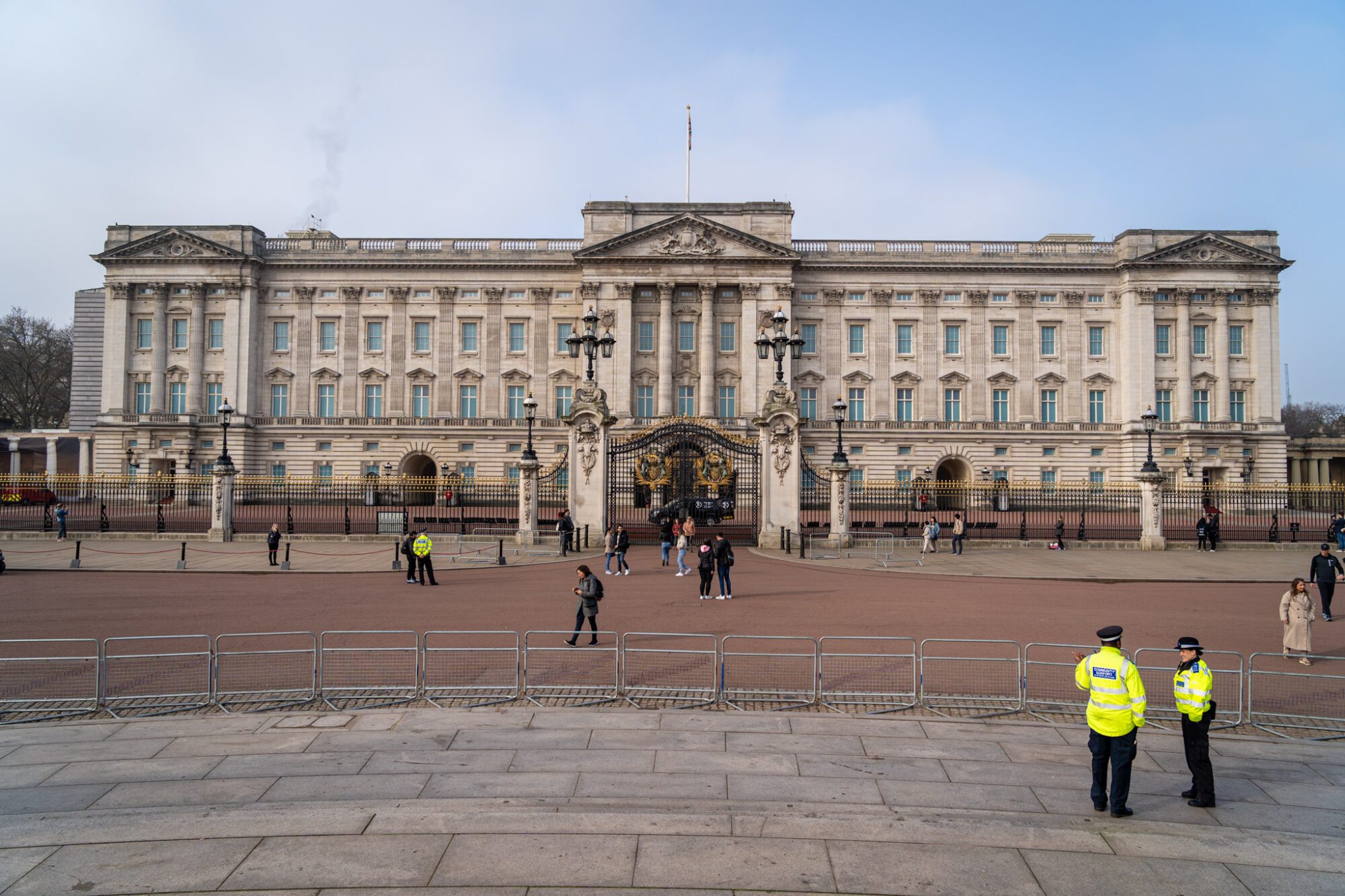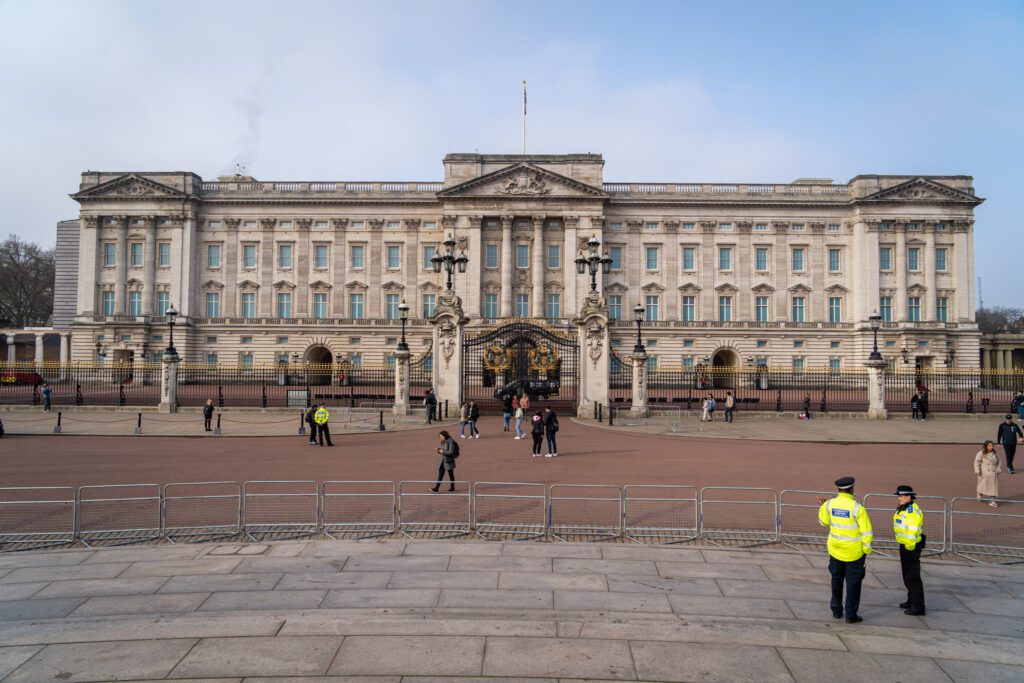 You'll need to pay close attention to the official schedule for this one, as the ceremony schedule varies by the season. You'll also need to plan your day to arrive here by at least 10:45 am, and probably a lot earlier if you want to get a good view, especially in high-summer.
Trafalgar Square and the West End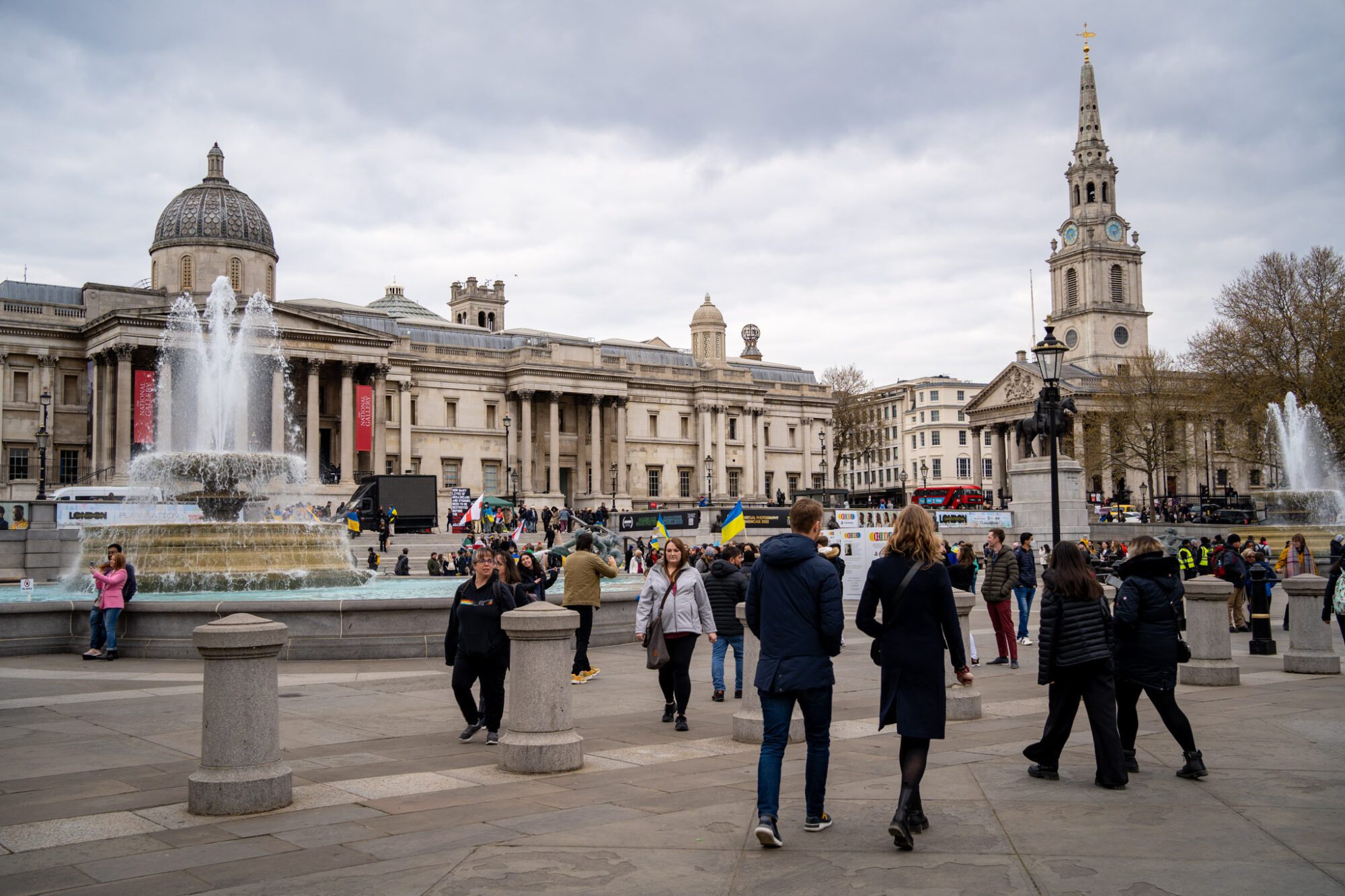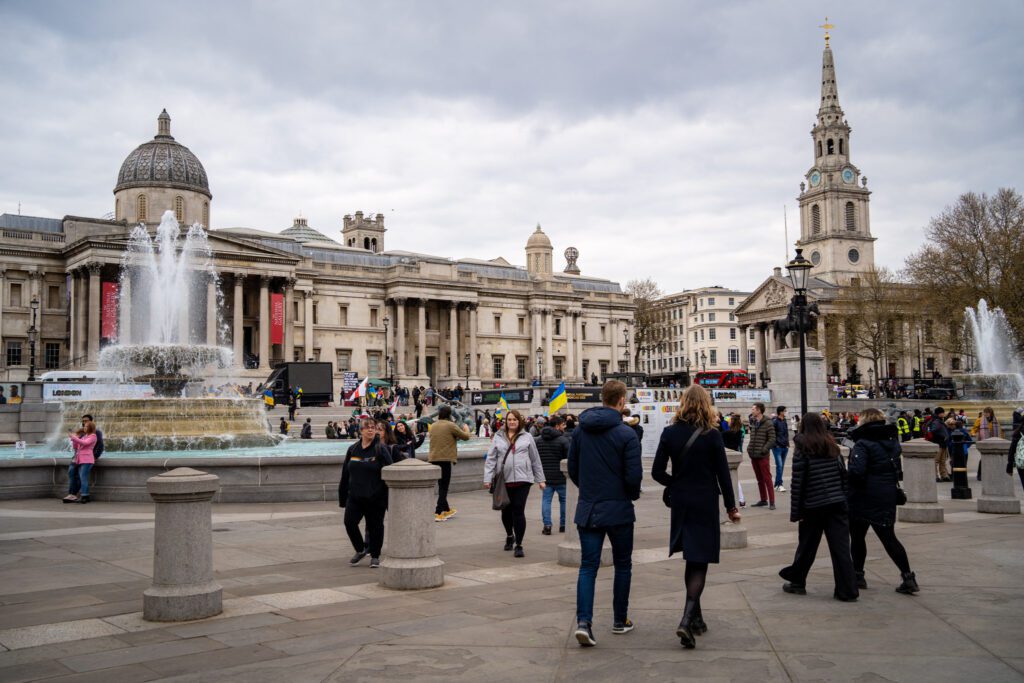 At some point during their London visit, virtually everyone ends up at Trafalgar Square. Probably because it's right in the middle of all the action.
To get there from the palace, just walk straight out "the Mall" and you'll land at the southern end of the square after you walk under the Admiralty Arch. 
The square is home to Nelson's Column, dedicated to the beloved naval hero of the same name who outwitted Napoleon multiple times, Trafalgar Square has been a huge draw for tourists, locals, and flocks of pigeons since Victorian times.
There's also an excellent view back towards Big Ben from the south end of the square. And lots of lions. What is it about lions that makes every single king or queen go "what animal do I want to be? Yeah, a lion, that's the one!" Why not switch it up and get creative every once in a while and be a warthog or a water buffalo or something?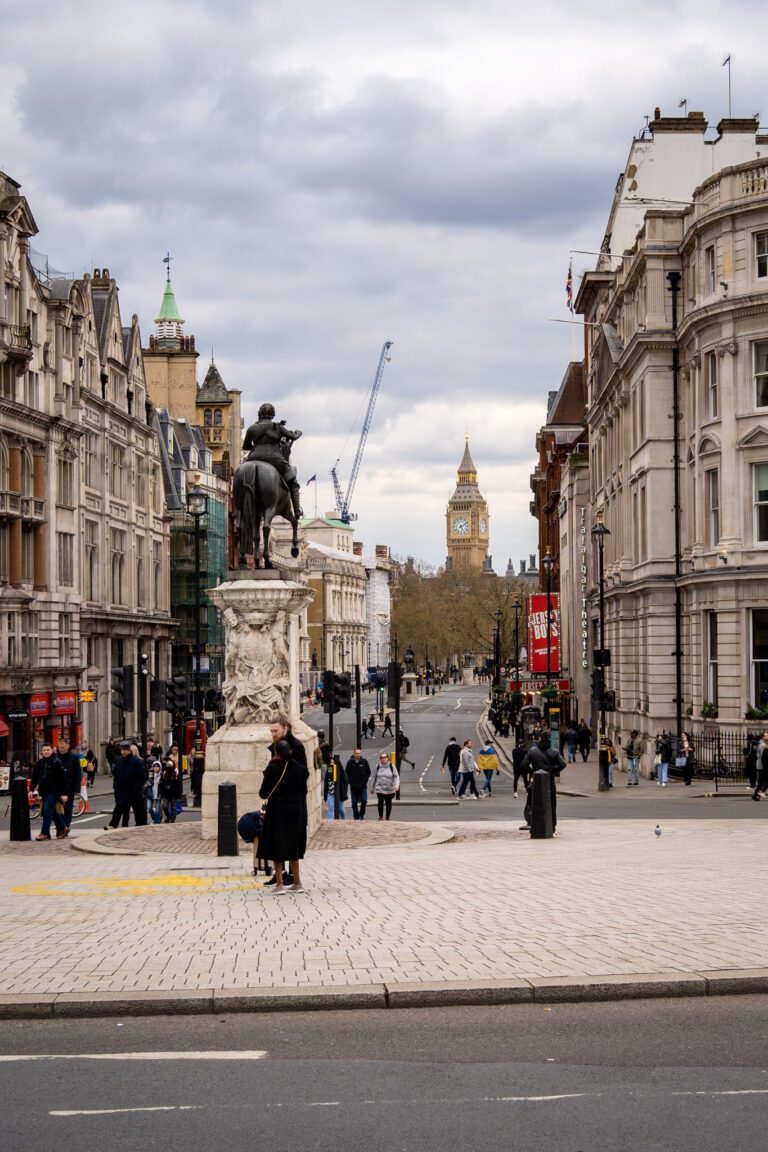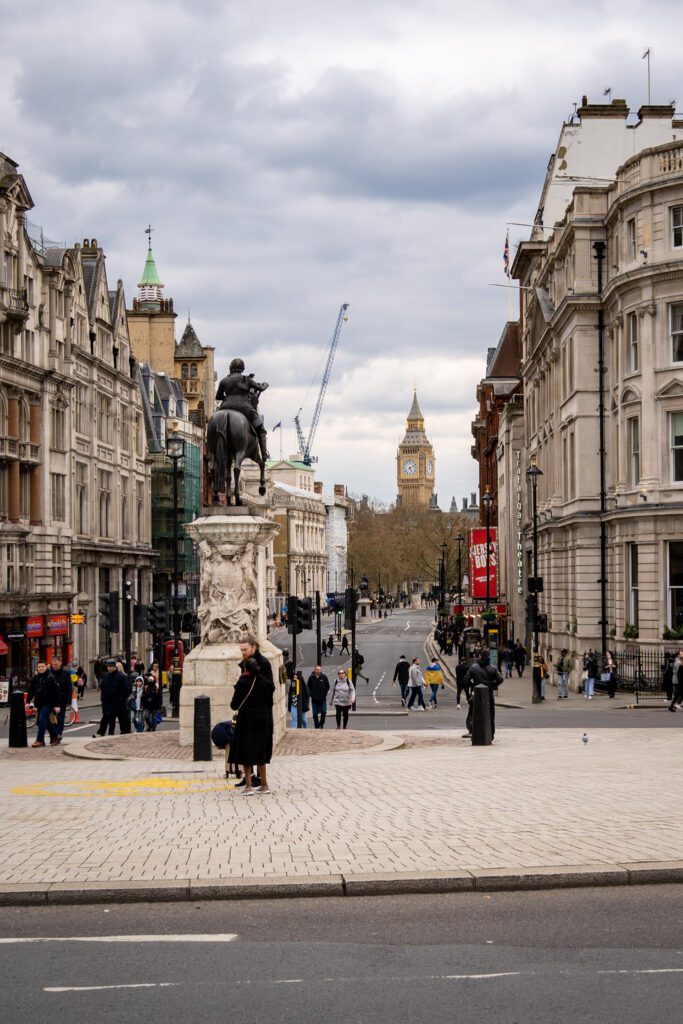 While we didn't include it on this particular itinerary (because we've done it before, and think it's not the most interesting attraction in London), art lovers should absolutely take the time to visit the National Portrait Gallery.
Trafalgar Square's pigeons are shockingly tame. It's easy to coax them into landing on you for a photo opportunity, but you'll get a hefty fine if you feed them! I'm reliably informed by locals that in years past, the square was home to thousands of the creatures (we call them "sky rats," but I once said that to a woman whose father raised pigeons and apparently that was very offensive), probably due to the many vendors selling bags of bird feed to passing tourists. DO NOT FEED THE WILD ANIMALS.
Seven Dials Market for Lunch (& Covent Garden)
Another food market! Hooray!
Seriously though, our favorite part of London was all the incredible food markets, which is pretty evident in our construction of this itinerary. There's basically a different food market every single day!
Today, it's the Seven Dials Market, a food hall housed in a former warehouse in Covent Garden. We were confused by the banana logo that we saw all over the building, and it turns out this warehouse was primarily used to store bananas back in the day, hence the logo. And cucumbers, too!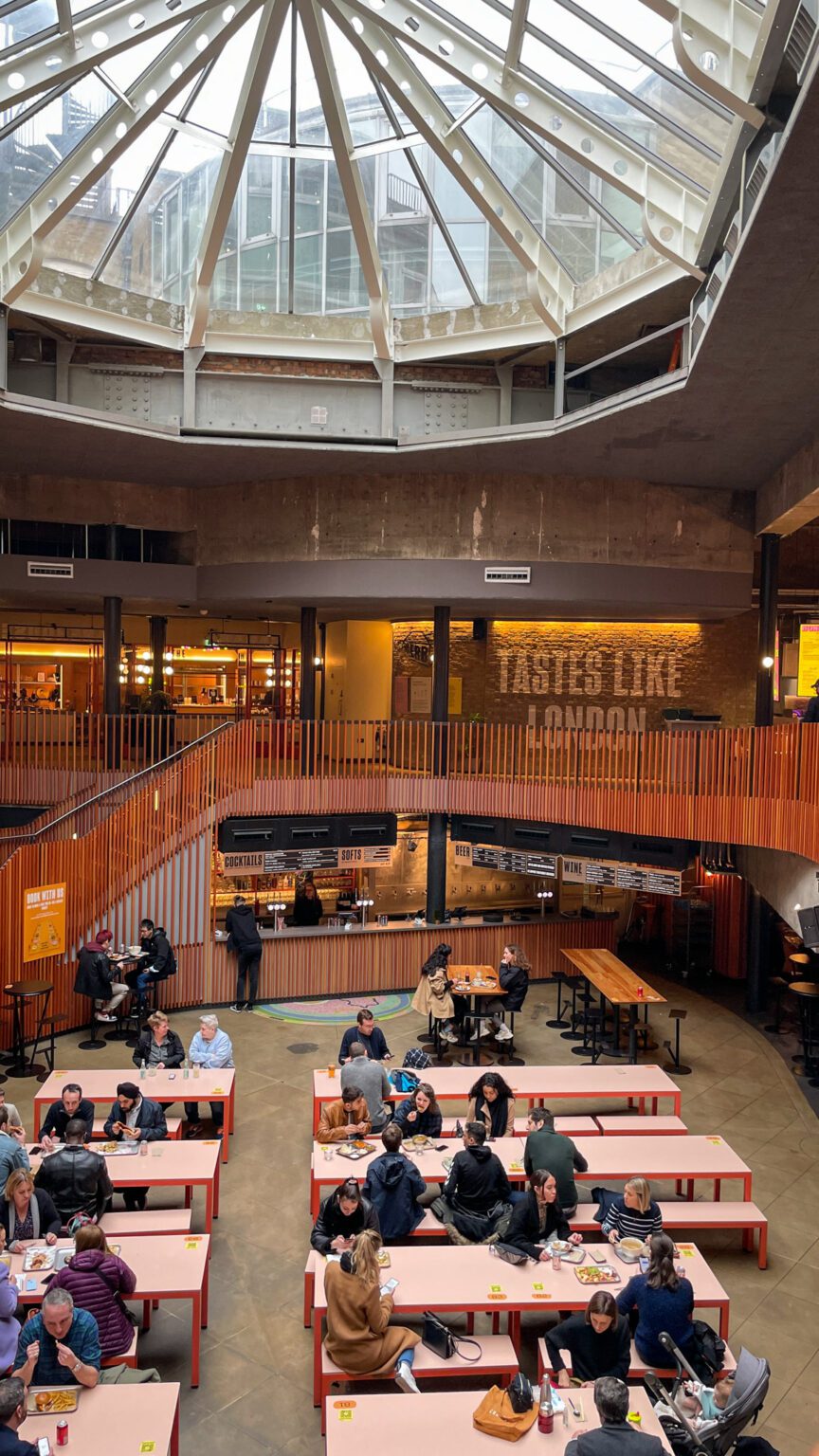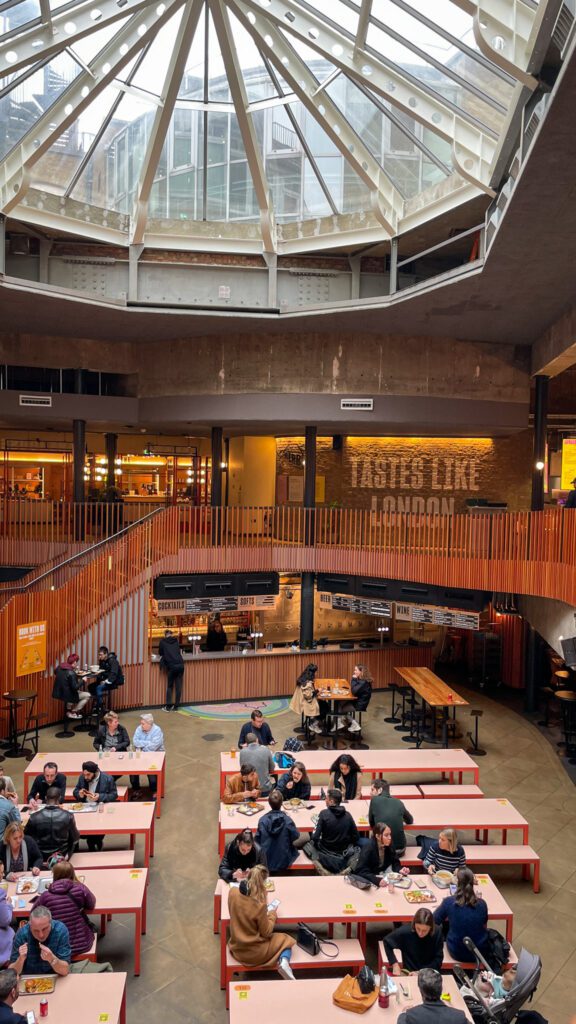 There are a ton of good food options here, and we have two recommendations.
First is El Pollote on the ground floor, which has excellent (and gluten free!) guava-glazed chicken wings and sandwiches (the latter is not gluten free). Second is Chai Guys, which is some of the best chai that Alysha had in London (she LOVES chai, and these guys / gals do it right!). Get the kadak, which is a sweeter, creamier version.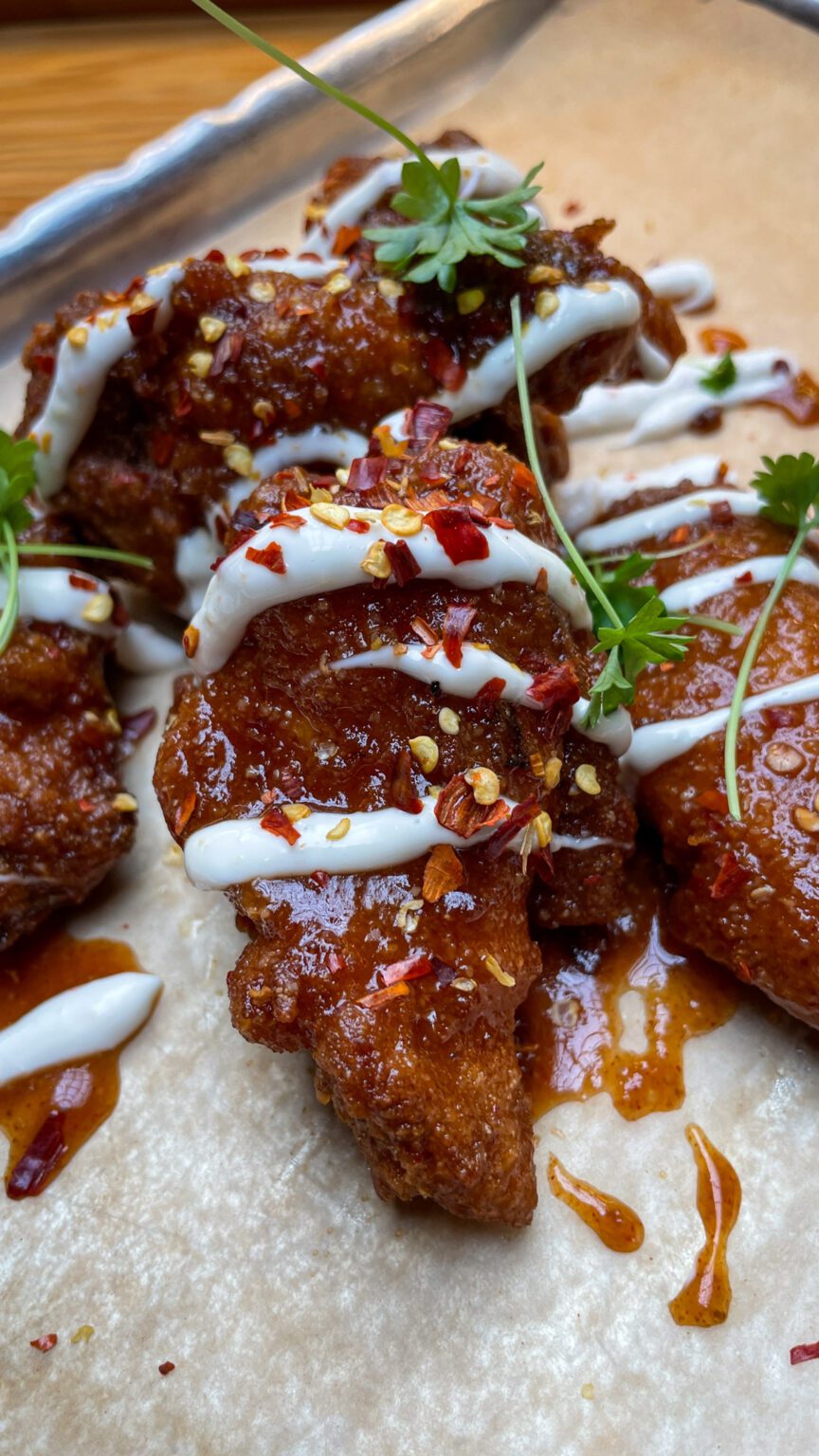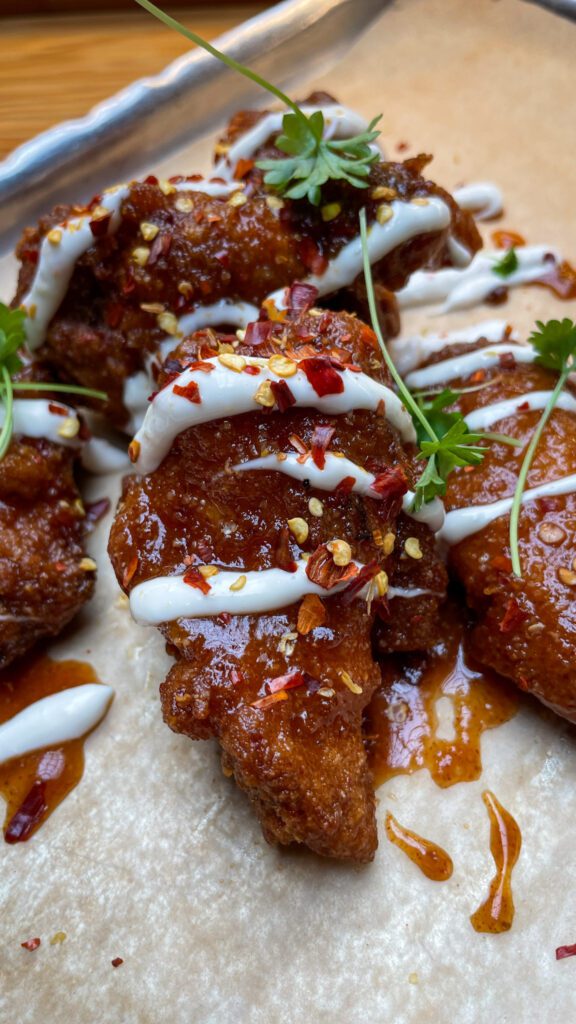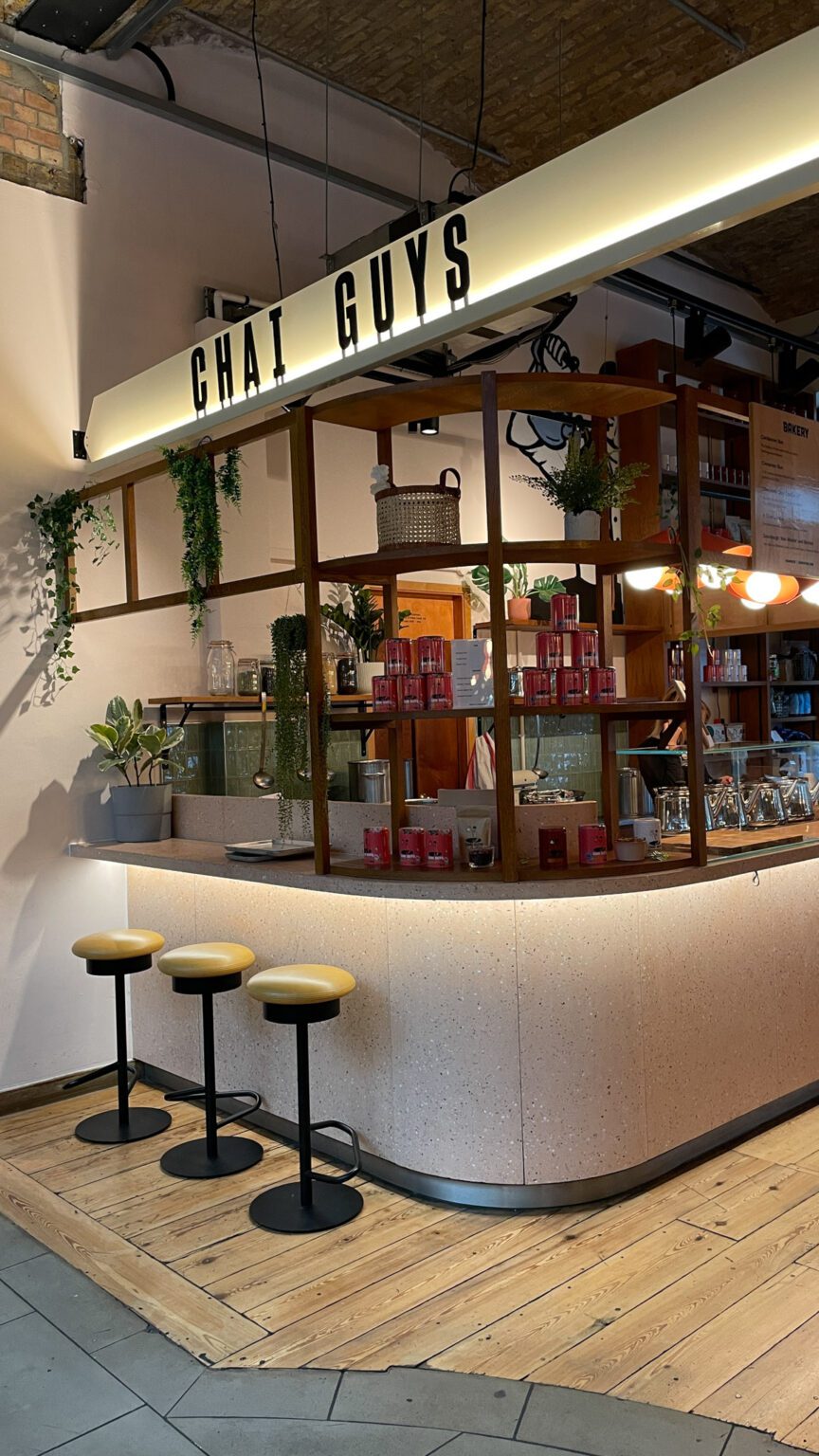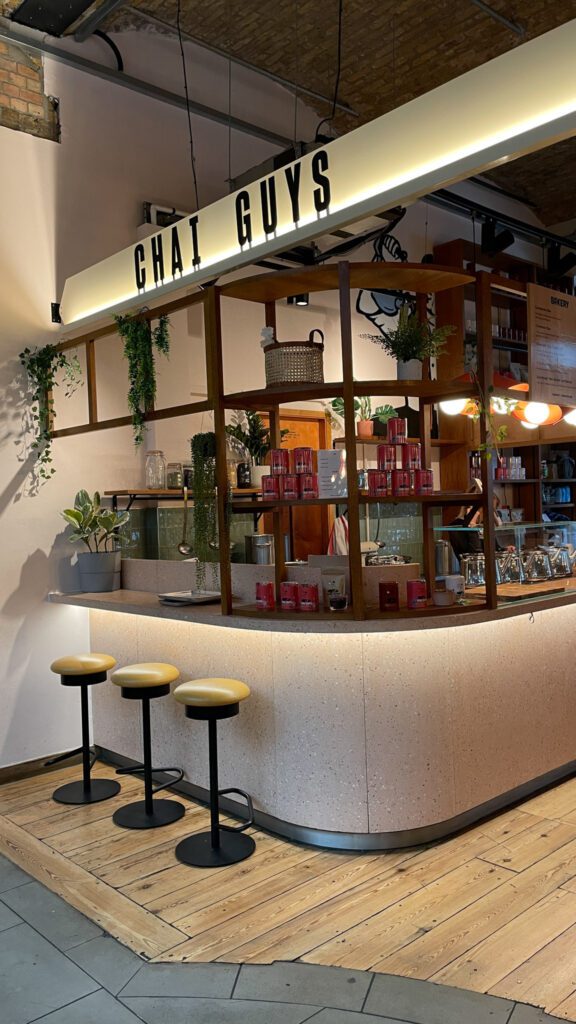 The area around the market is also worth exploring. Historic and elegant Covent Garden, situated in London's West End, is probably our favorite part of central London.
There's enough to do in Covent Garden to last an entire day, with attractions such as the London Transport Museum, The Royal Opera House, The London Film Museum and many more, but you've got a lot to see, so we'd say that you should get some food, do some wandering around the Seven Dials and Neal's Yard areas, and move on.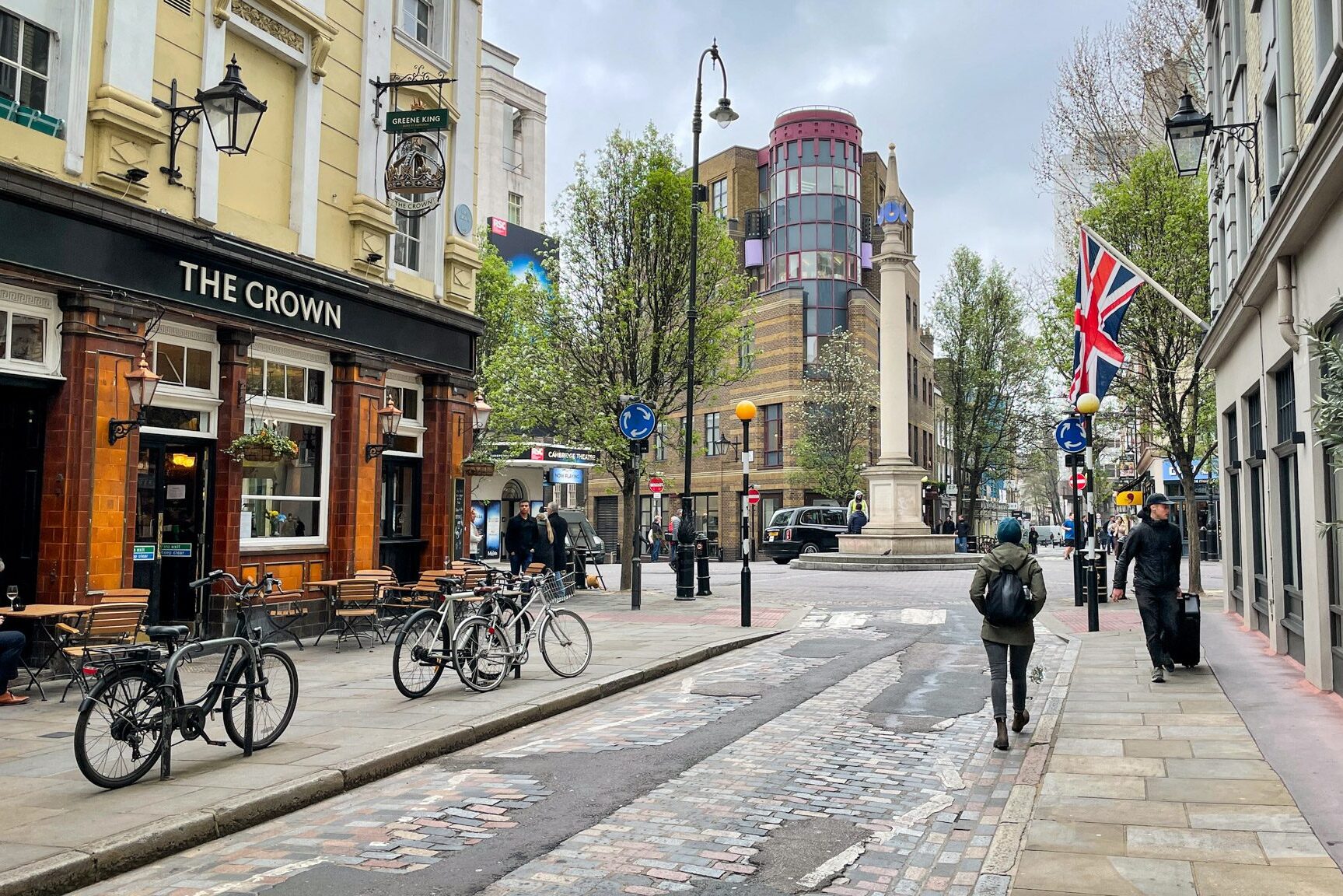 There's some good shopping, some great coffee (Monmouth, in particular), and we enjoyed Neal's Yard Dairy, where we picked out a couple of English cheeses to enjoy later with some excellent fig jam.
Hyde Park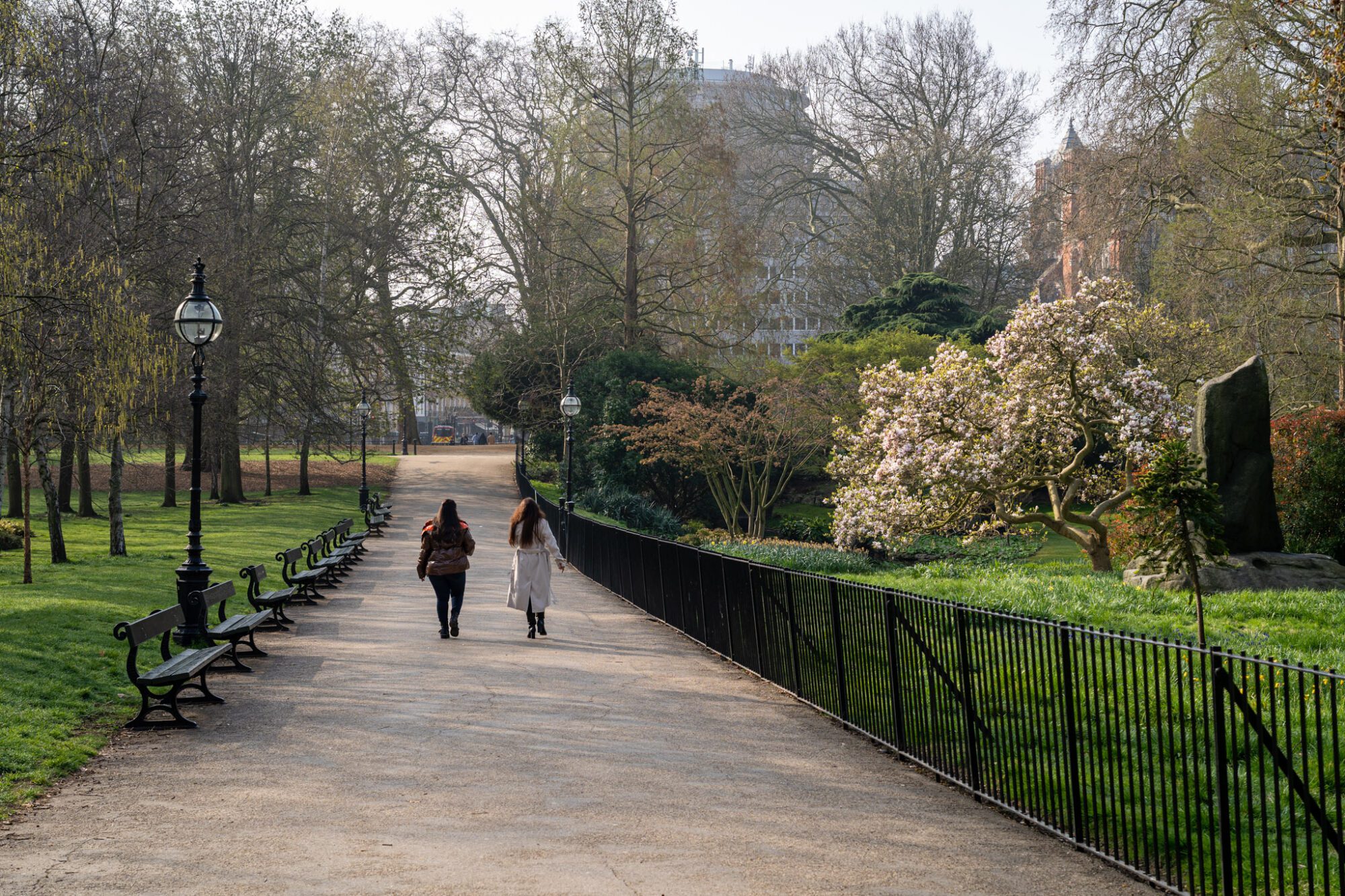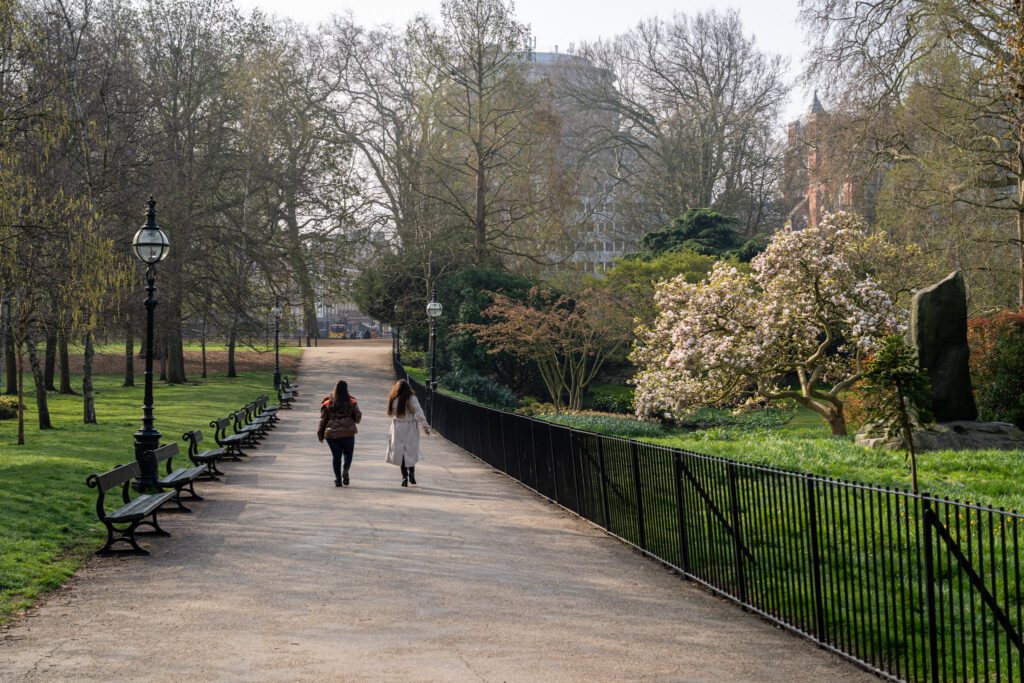 Next, make your way towards the southeastern corner of Hyde Park.
To get there, you can either walk down Oxford Street through Soho, which is similar to Times Square in New York or the Champs-Élysées in Paris, or you can hop on the Tube (Piccadilly Line) and get off at Hyde Park Corner station, which is at the southeastern corner of the park.
We'd recommend starting at that corner of the park because you get to see the Wellington Arch, which commemorates the Duke of Wellington's defeat of Napoleon.
Side note: everybody has a victory arch – the Arc de Triomphe in Paris, the Brandenburg Gate in Berlin, the many victory arches in Rome around the Forum, everybody gets an arch!
Then, as you enter the park, you're immediately confronted with the rose garden, which is cool (although it won't be blooming in the winter and fall).
Spend some time wandering through the park, checking out the Serpentine (that's the lake) and the Serpentine Waterfall (here on Google Maps), a particularly pretty section of greenery.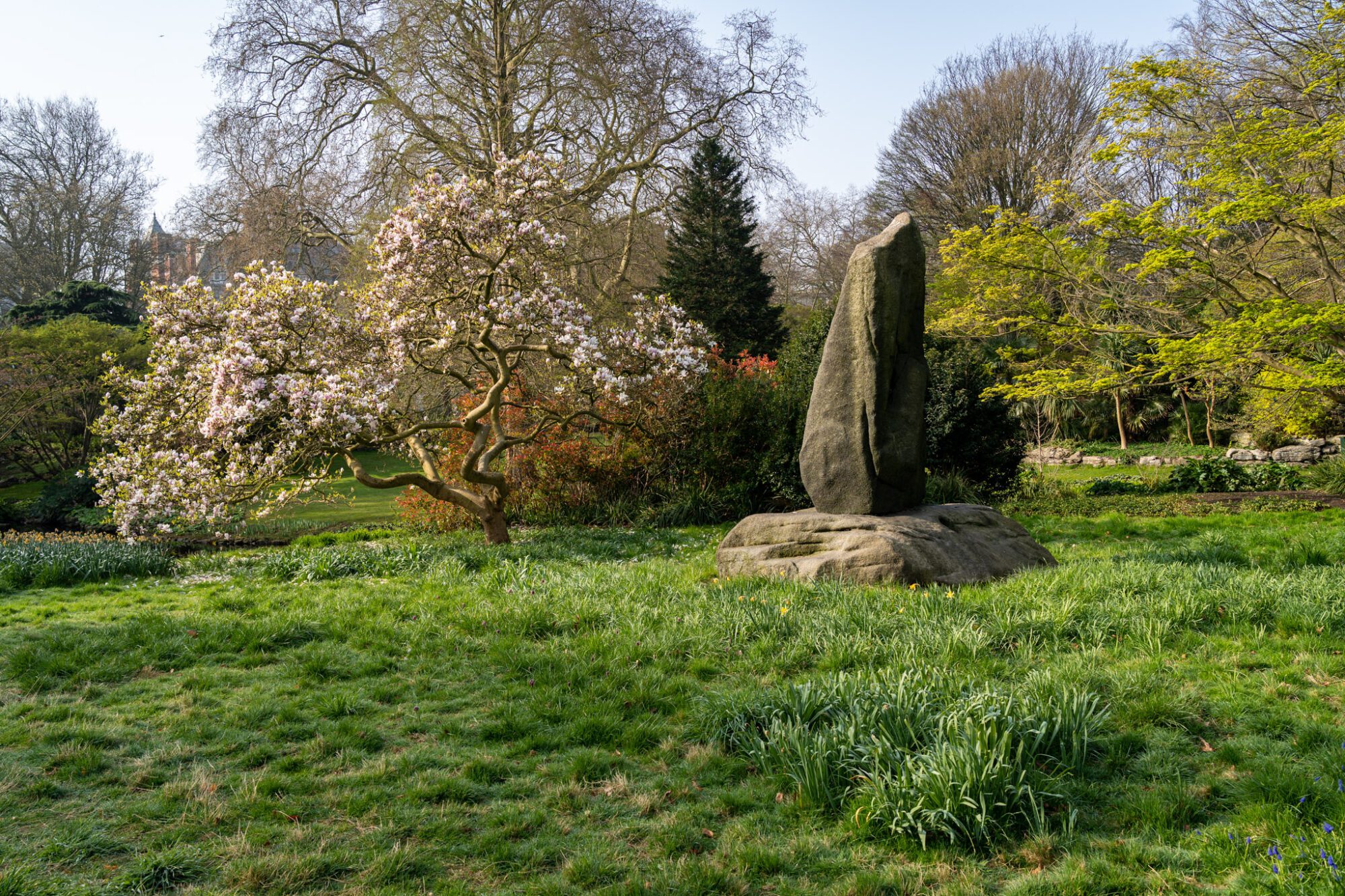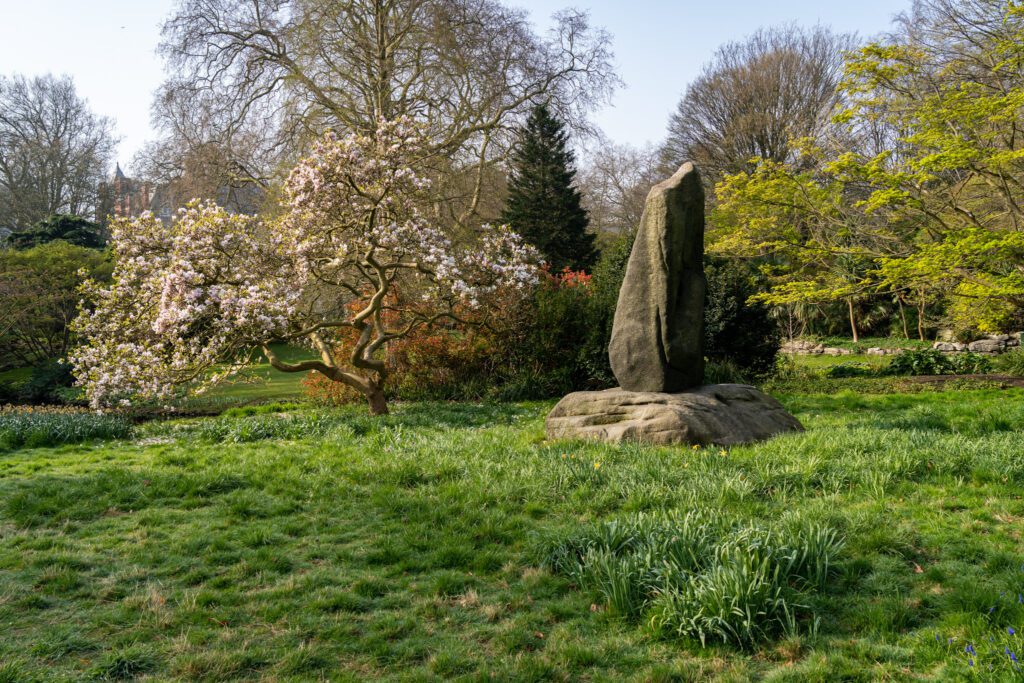 You'll want to make your way to the southern edge of the park – here on Google Maps – which will put you a few blocks from the best museum complex in London (in our opinion, anyway) for a little afternoon education.
Choose Your Own Adventure, Museum Edition
Now, we're not huge museum people. We'd much rather spend our time wandering various neighborhoods, checking out some nice green spaces, and eating. Mostly eating, if we're being completely honest.
However, we do think that museums are an important part of an itinerary for any big city. We just wouldn't spend your entire time inside of a museum.
There are two good museums here that appeal to different interests and audiences – the Natural History Museum, and the Victoria Albert Museum.
Entry to both is free (although they ask for a donation), so the level of commitment is minimal. If you don't enjoy it or find it interesting, you can leave! Alternatively, you could visit both and pick and choose what collections you want to look at to get a taste of both, rather than going deep on one or the other.
We chose the Natural History Museum because, well, we like nature? Also because they had a temporary exhibition featuring the winners of an annual wildlife photography contest, which was excellent (though, PRO TIP: temporary exhibitions aren't free!).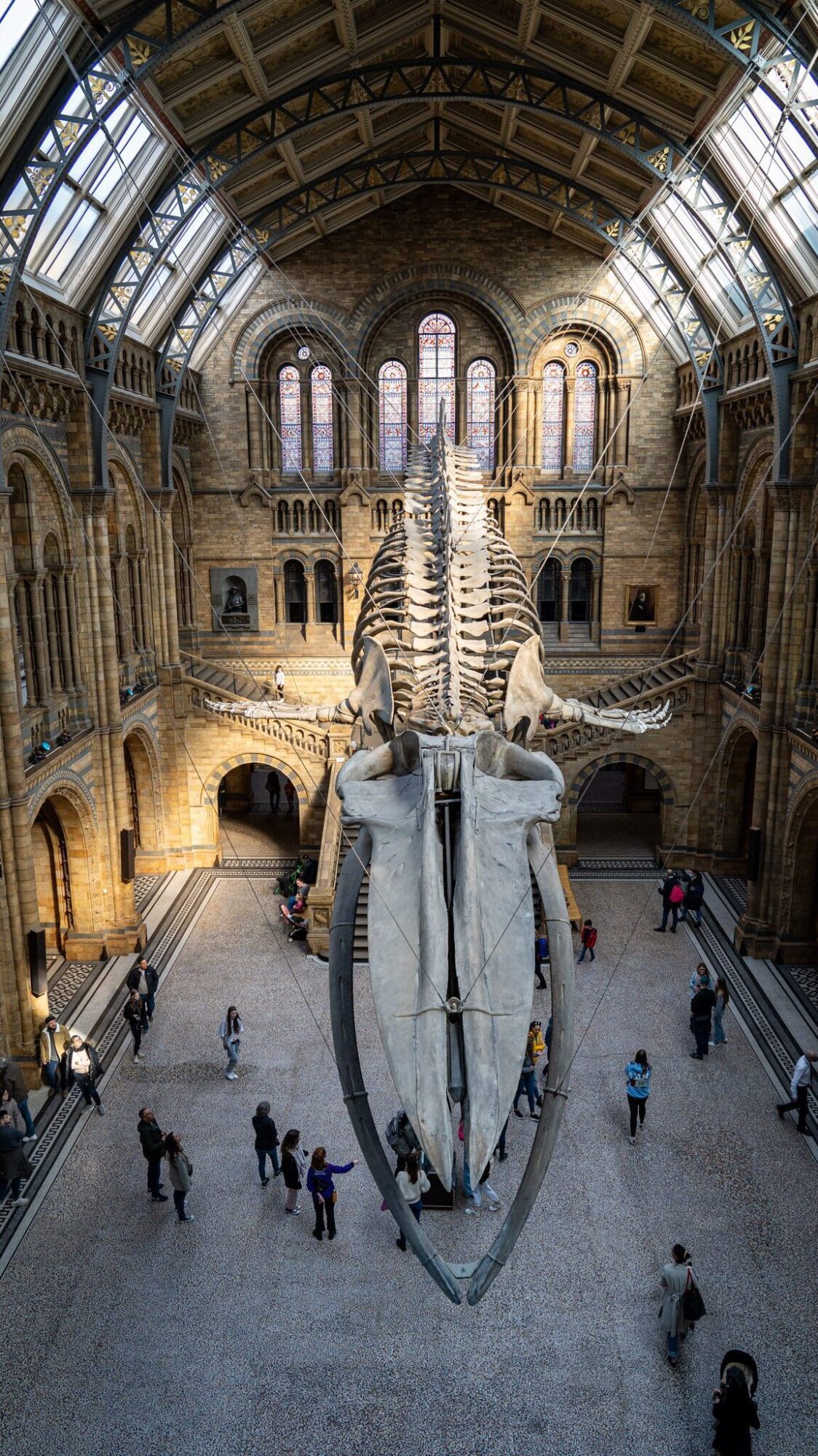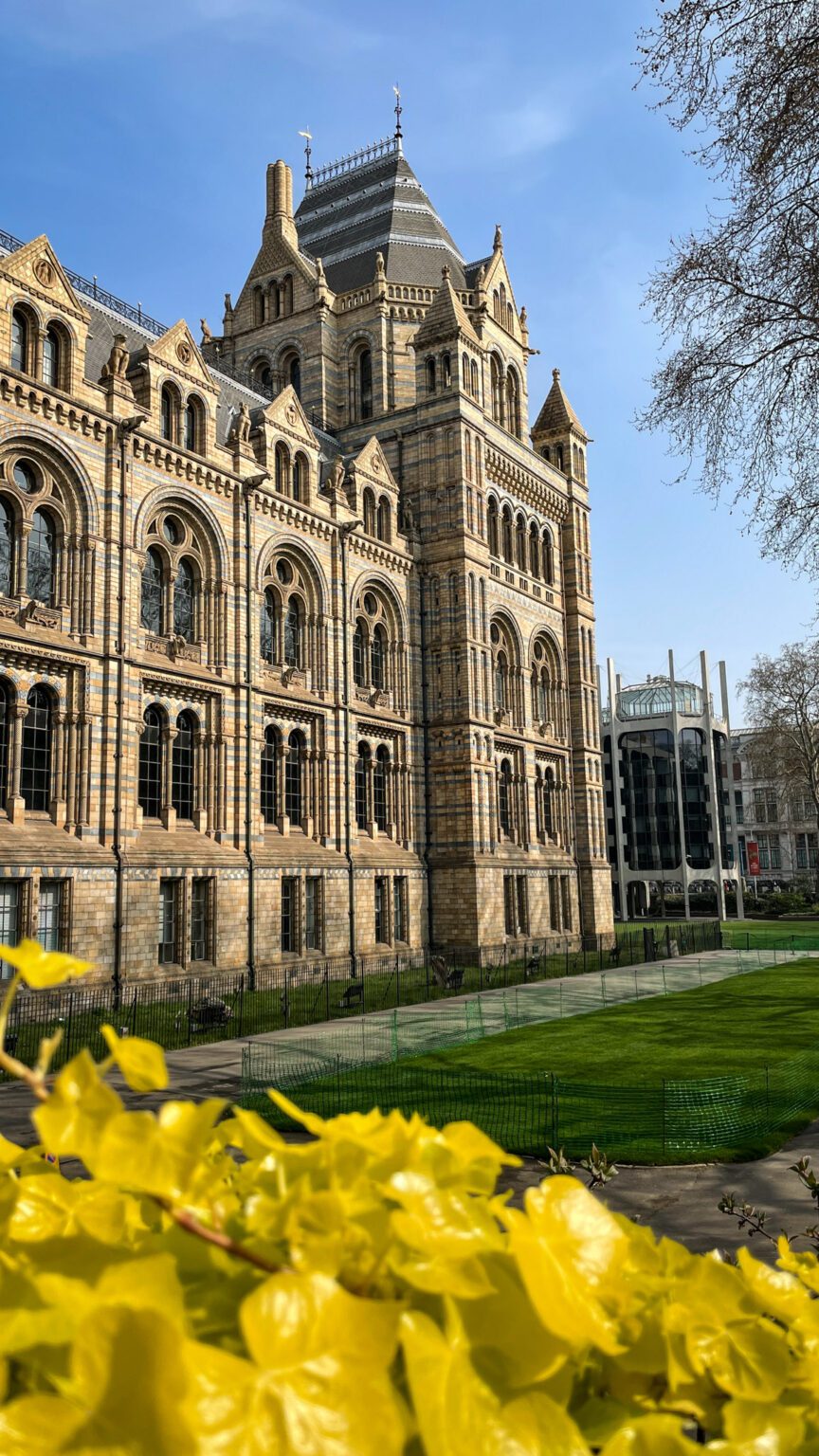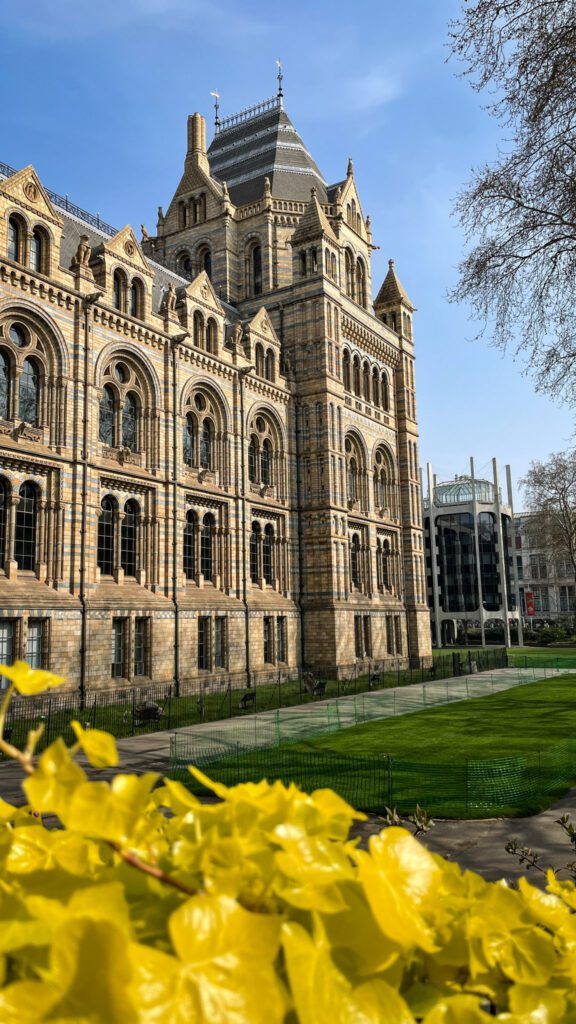 You could pretty easily spend an entire day inside this museum, but we wouldn't recommend it. Instead, pick a few different sections that sound interesting.
Oh, and be prepared for kids. LOTS of kids. Although, we were told there are less kids on weekday afternoons, which is part of the reason we slotted it in here.
The second is the Victoria Albert Museum, which is more focused on design – think fashion, interior design, and other more practical applications of art (as opposed to something like a portrait or a painting). It's an eclectic collection, and is a unique museum that might give you a little more insight into British history and culture than the Natural History Museum might.
Dinner at Ceru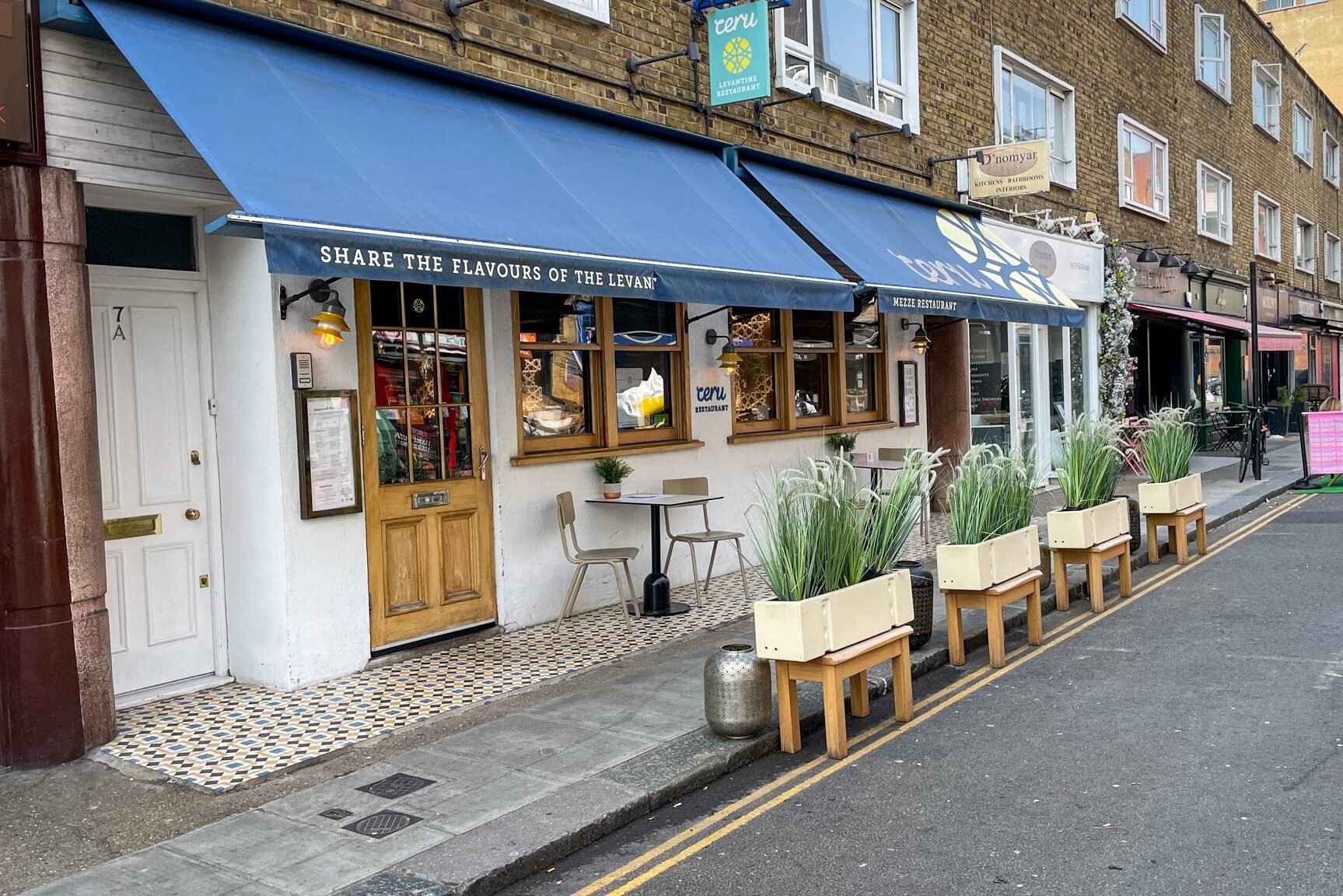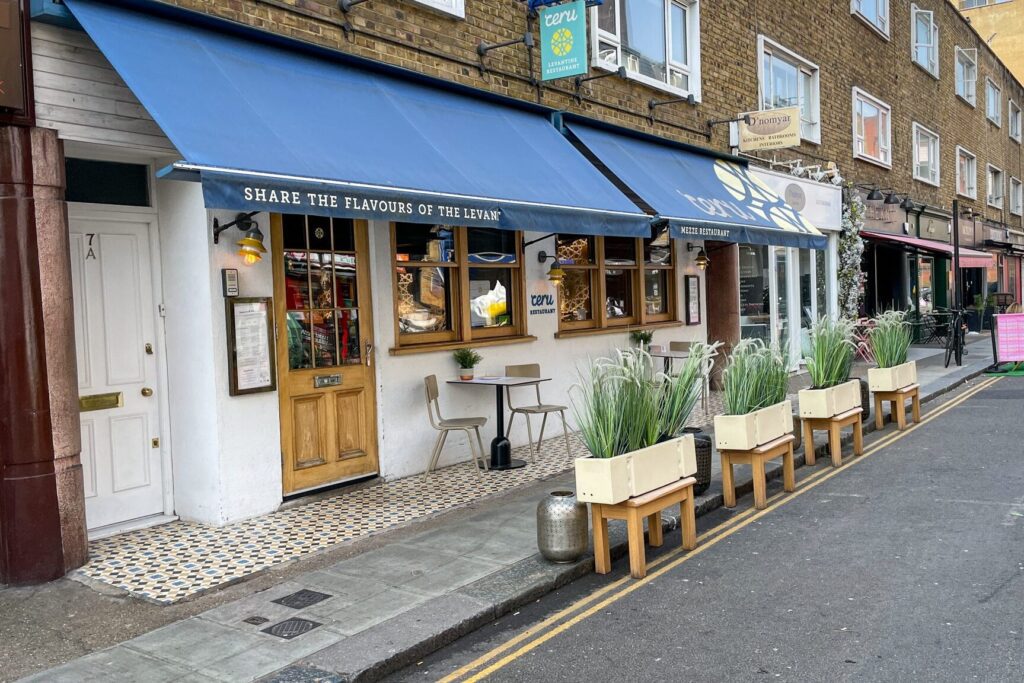 Ceru, which has a location in South Kensington near the museums, was definitely at the top of our list of our favorite meals we ate in London.
They do tapas – which really just means you're going to be ordering a bunch of small plates to share with the table – but in a style that features flavors that come from a region called Levant, which includes places like Turkey, Lebanon, Syria, and Israel.
"Levant" was a new word to me, and I'd recommend a read through the Wikipedia page for a brief history lesson.
The food is excellent, and it's a fun dining experience with some really unique wines coming from places like Greece, Lebanon, and other countries you don't ordinarily associate with wine production.
Of all the things we ordered, the best thing we ate was the side of roasted parsnips, which is kind of funny.
You'll also want to try their excellent dips – the hamara, which is made with red peppers and pomegranate molasses, was our favorite of the three – and you can't go wrong with fried halloumi (which is a squeaky cheese similar to paneer).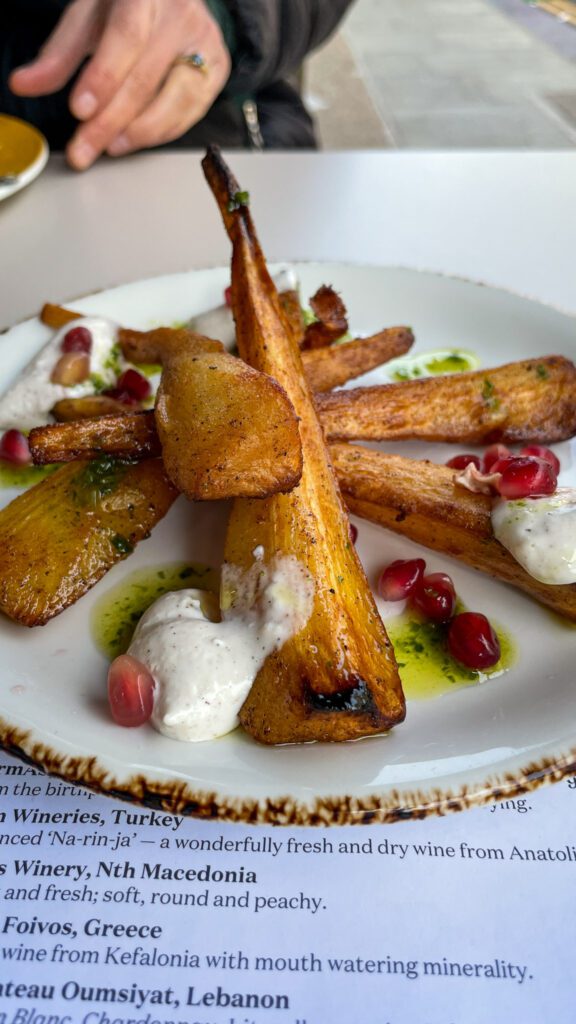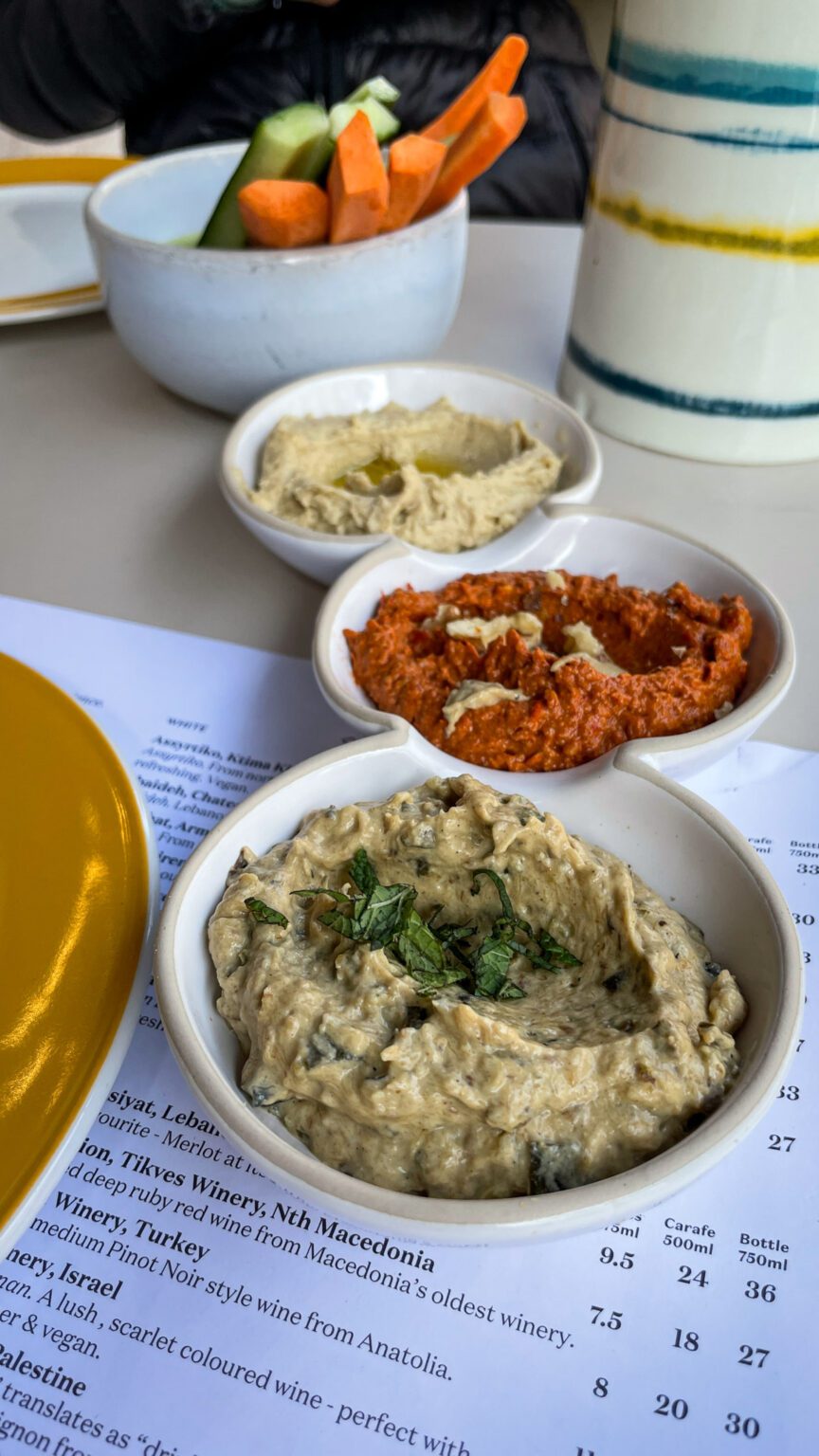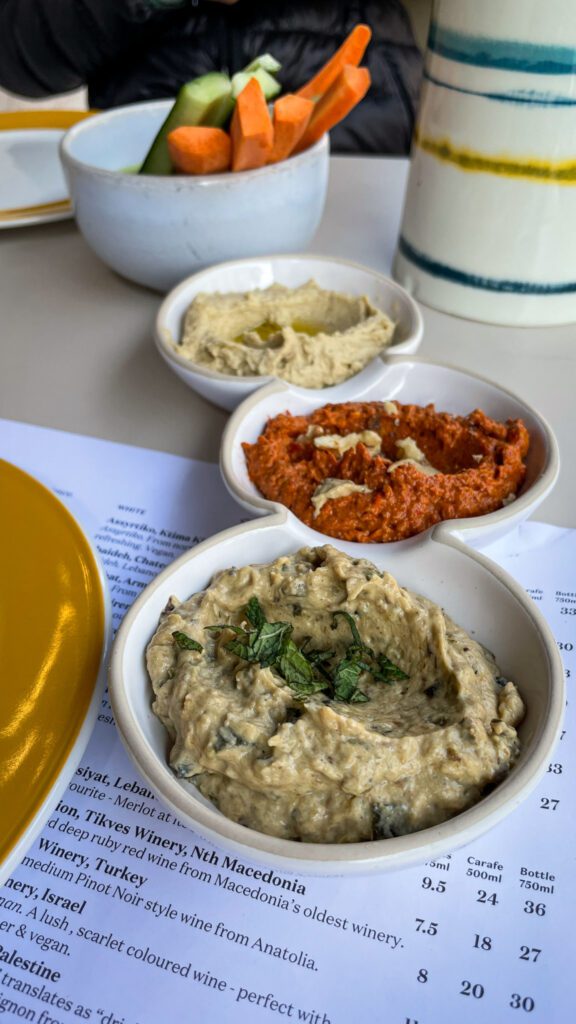 By the time we were done, the plates in front of us had practically been licked clean.
Day 3: Walking Southbank & the Tower of London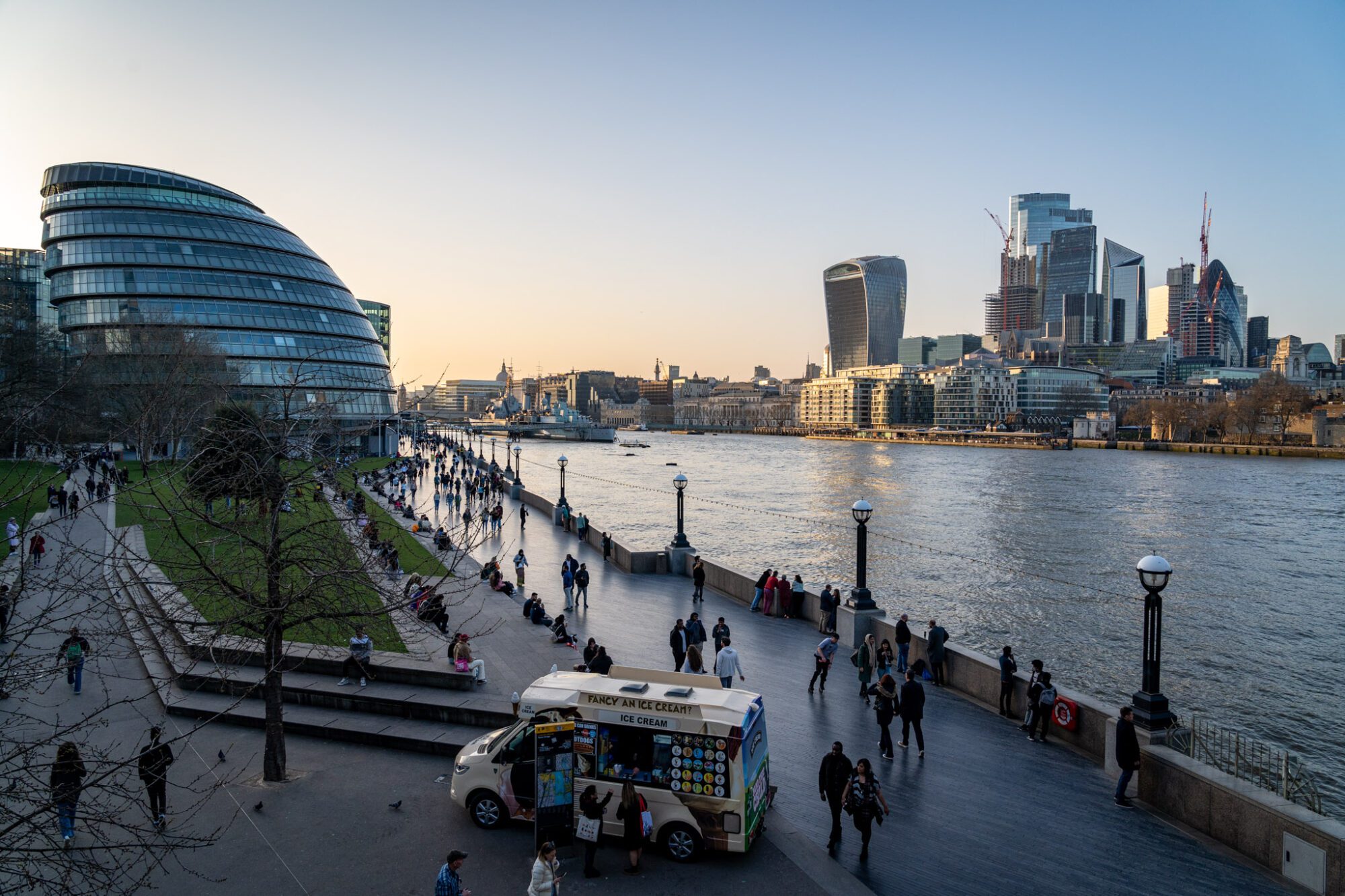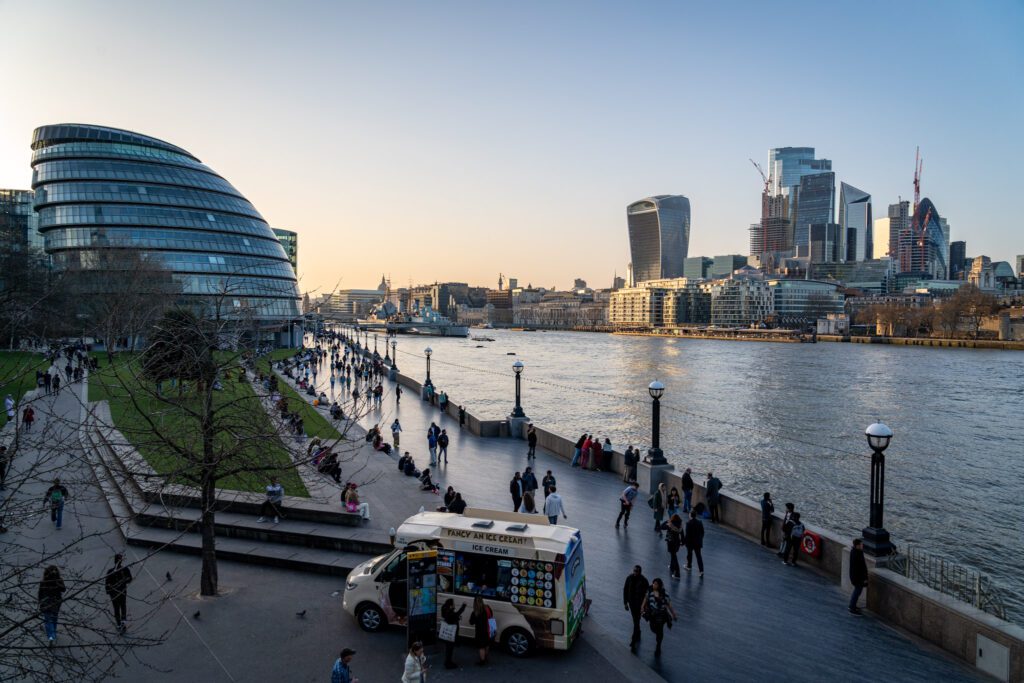 On your third day, start off bright and early at the Tower of London, then make your way across the Tower Bridge to start a walk along the south bank of the Thames down to Westminster Bridge, with plenty of stops along the way (including a stop at Borough Market for lunch).
Important itinerary note: Since Borough Market is closed Sundays, we'd make sure this day lands on any day but Sunday.
The Tower of London
We'd highly, highly recommend visiting the Tower of London first thing in the morning.
It's a popular tourist attraction, and we were totally expecting it to be crowded early on a weekend morning when we showed up. But, somehow, when the doors opened, it was miraculously empty, save for a few other groups.
Get there at opening time if you can. You'll have the place largely to yourself.
The Tower of London sits at the southeastern corner of the town of Londinium, which was established by the Romans. The tower as we know it today was built in the 11th Century by William the Conqueror as a fortress, and has served a wide variety of purposes since its construction, including as a royal palace and, probably most famously, as a notorious prison.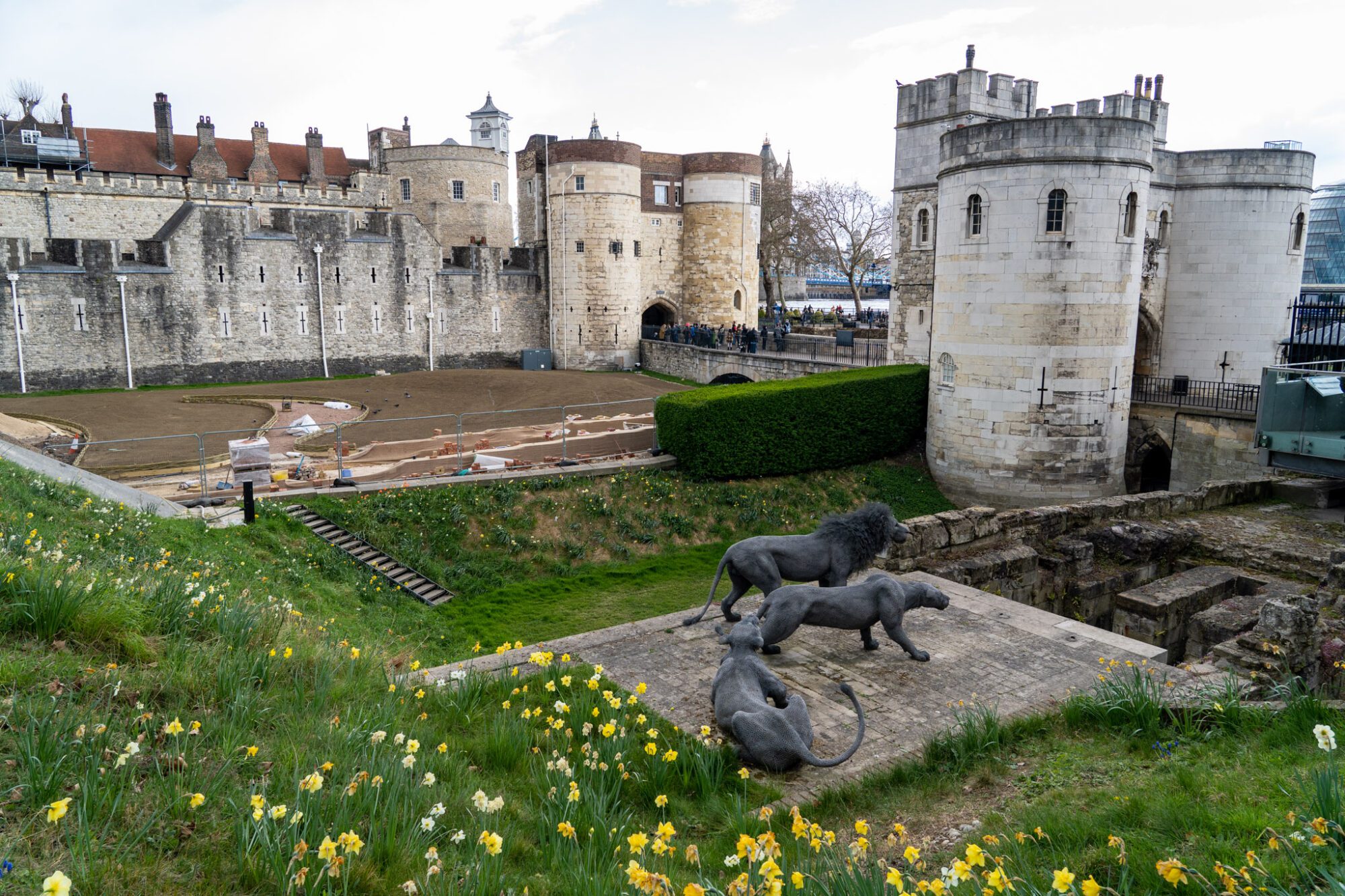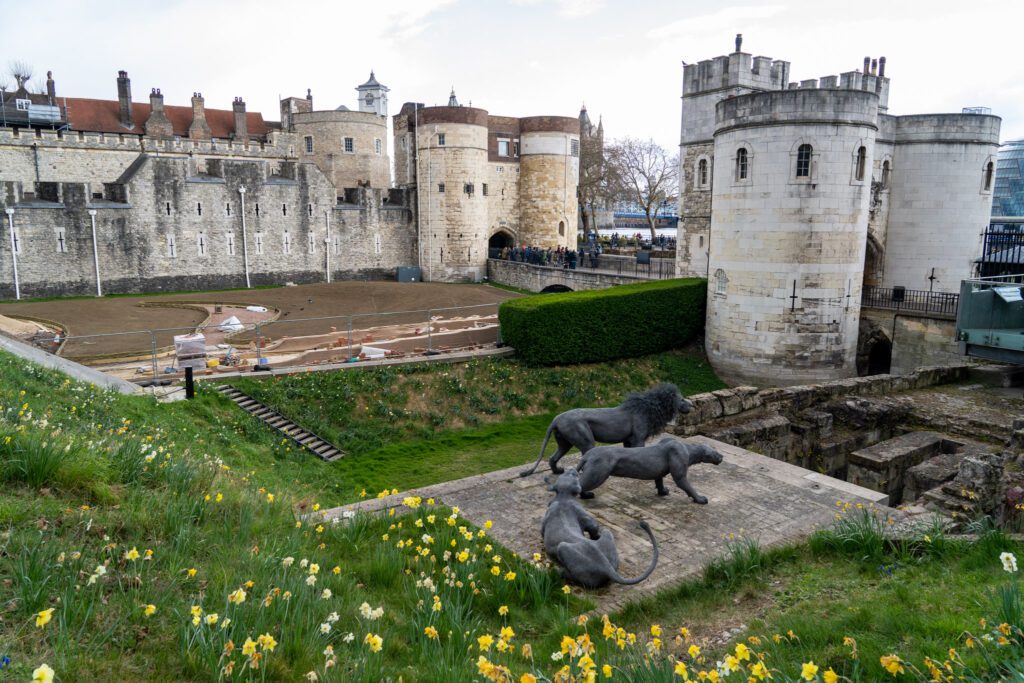 When you really get into it, the history of the Tower of London is pretty dark. There were so many people executed and tortured here that there are more than three different areas that are marked as places of execution in and around the tower.
Mostly, it was political opponents who were executed for trumped up crimes to get them out of the picture. Multiple members of the royal family have also died within the walls of the Tower, including Henry VI and a pair of princes who disappeared (and were later confirmed to have been buried in the tower).
Since its construction, it has been constantly added to and expanded. Today, the main attractions you're going to focus on are the Crown Jewels, the ramparts, and the White Tower – the big castle-looking structure in the middle of the complex.
We'd highly recommend joining one of the Yeoman Warder tours, which happen every 30 minutes and are included in the price of entry.
More information, including prices and current hours, is available here.
Tower Bridge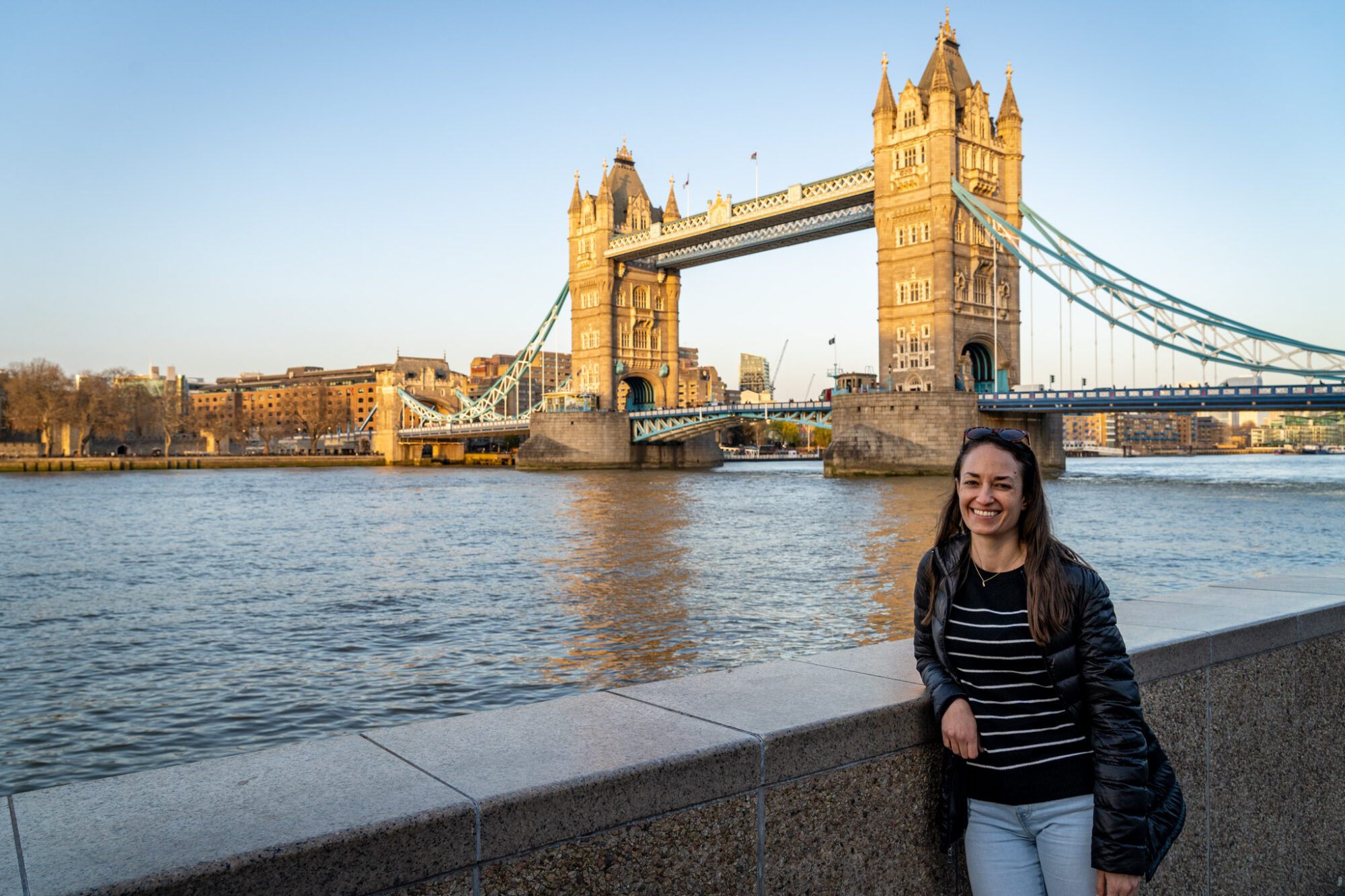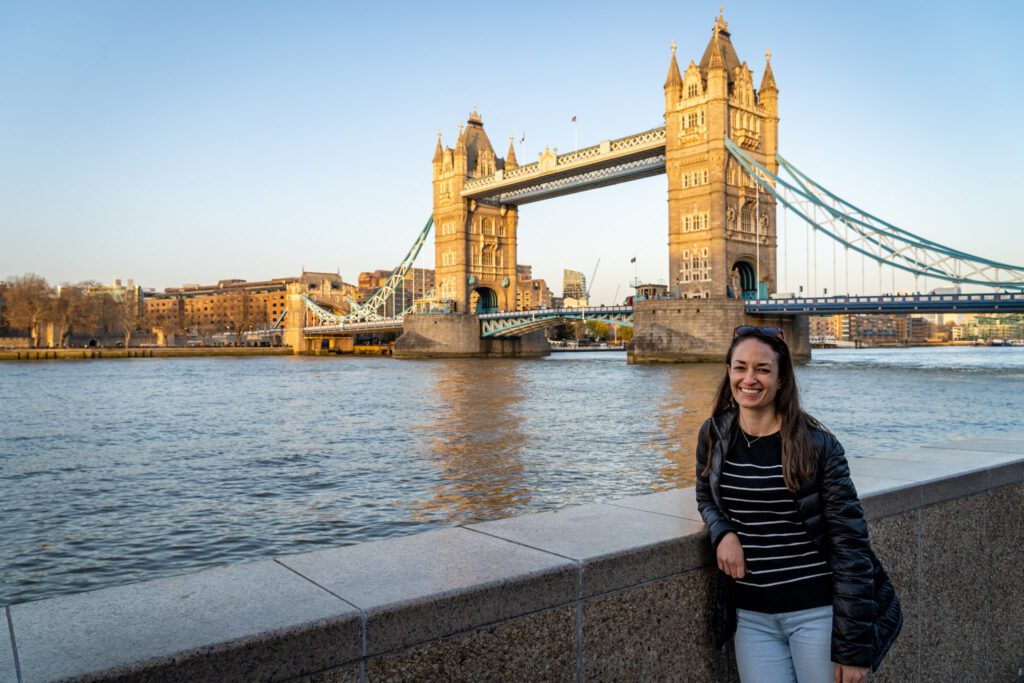 To get to your next destination – the south bank of the Thames – you'll need to cross the river. You have two options here, and both have their advantages.
We'd recommend crossing over Tower Bridge, which was built in the late 19th Century and is probably the most iconic of London's bridges. The Twin Towers, connected by a walkway (we'll get to that in a second), is one of the main elements of architecture that people think of when they think of London.
Although, as the archaeologist who led our excellent walking tour of London pointed out, most people think it's the London Bridge.
We would NOT recommend going up to the top of the bridge, which used to be a legitimate mode of transportation for pedestrians to cross when the drawbridge was up to let boats through, but has shamelessly been turned into a tourist attraction.
The alternative is crossing London Bridge, which is west of the Tower of London. The advantage? A picture perfect view of Tower Bridge. The downside? The bridge is kind of boring in terms of architecture.
Plus, one of the best views of the City of London's skyline is from the river level just west of Tower Bridge on the south bank.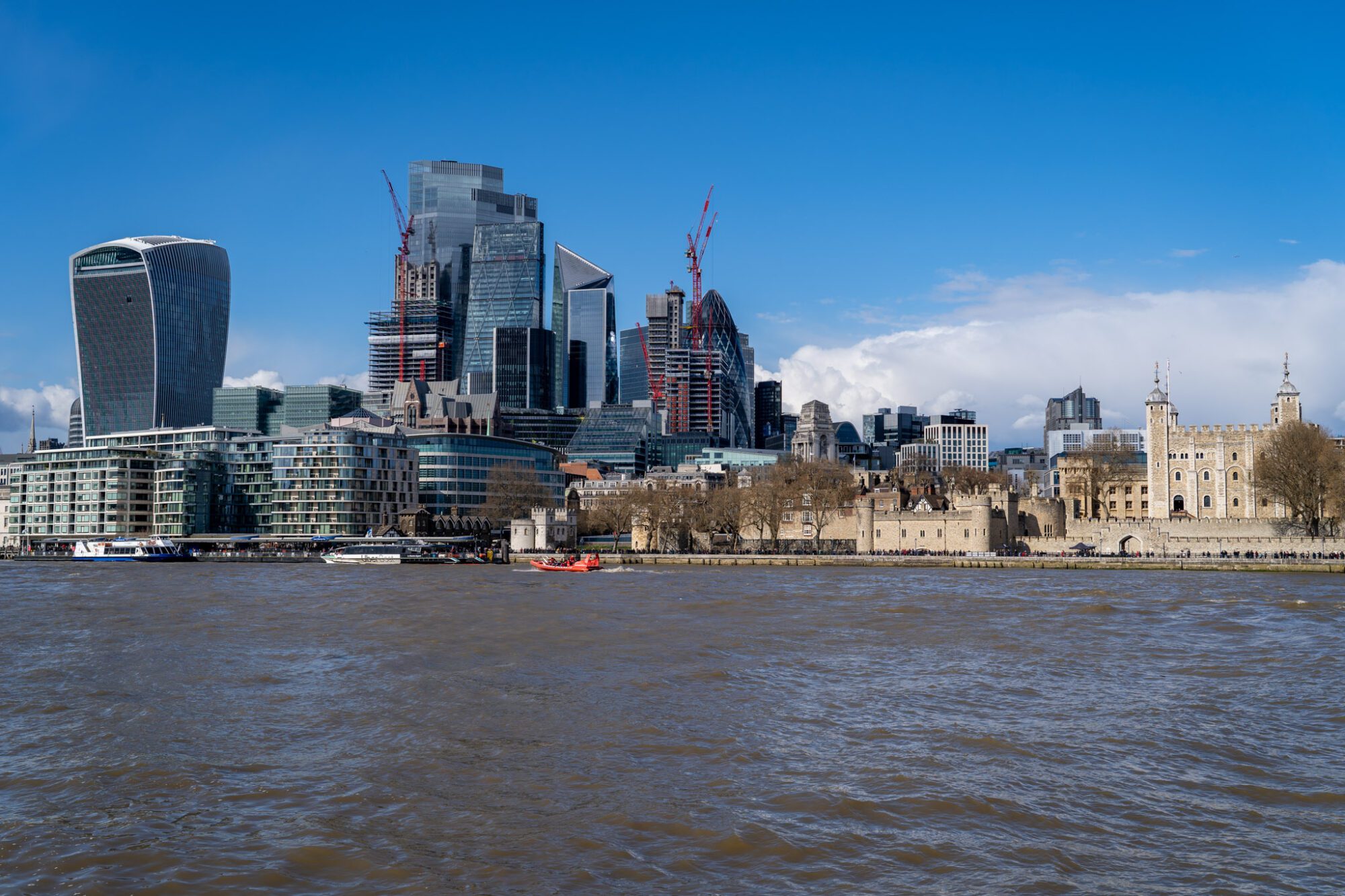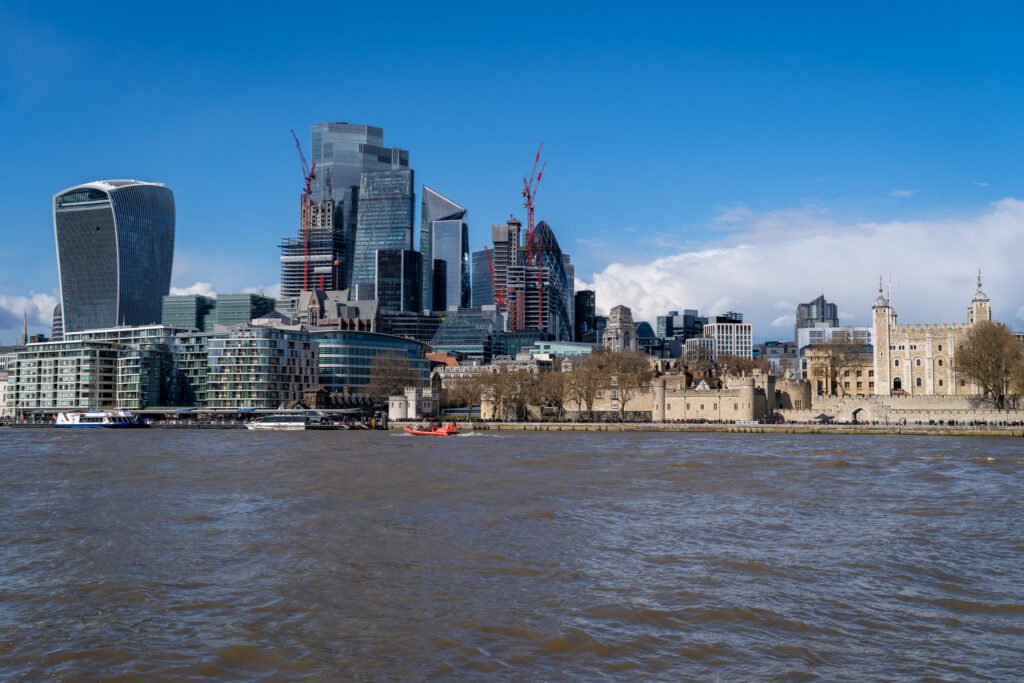 Here, you get a great view of the bridge, and also a nice view of the Tower of London and City of London across the river.
Borough Market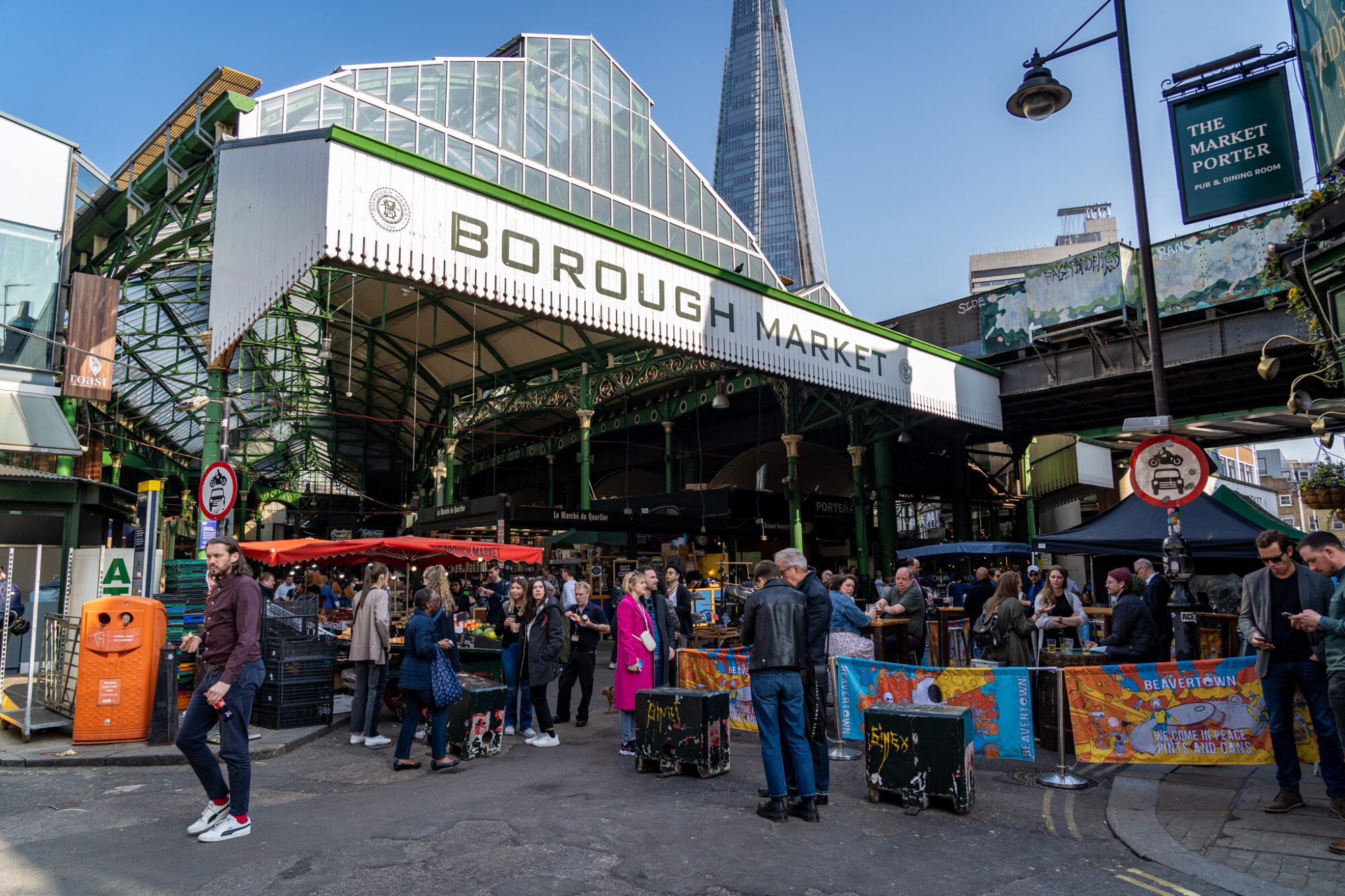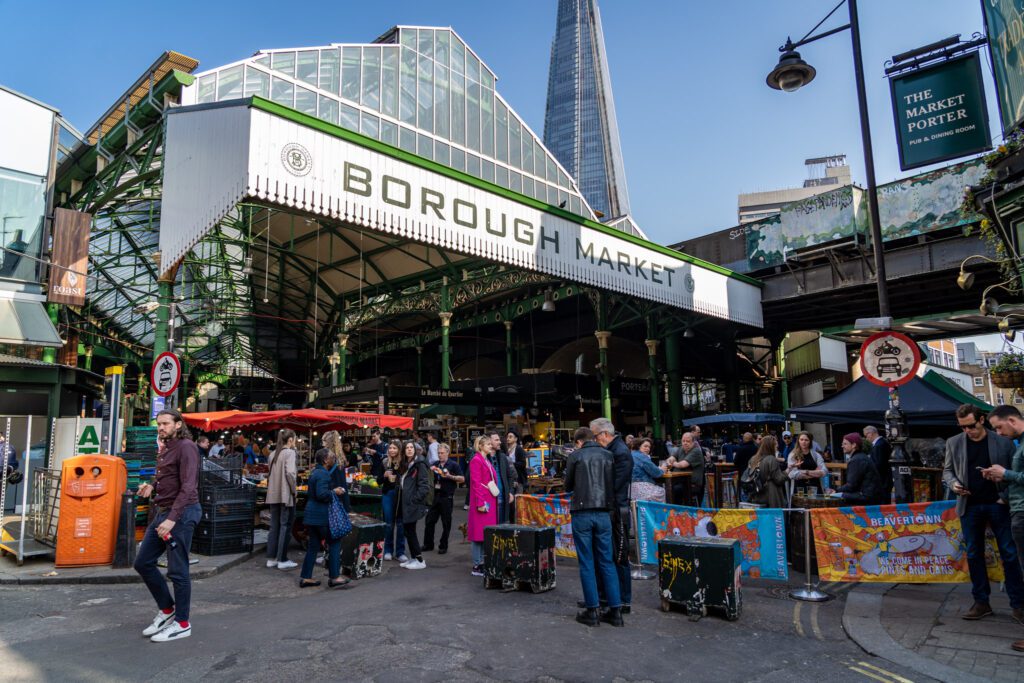 Borough Market, dating back (almost unbelievably) to before the 12th Century, is one of the largest and oldest markets in the city.
Despite being crowded and very touristy, Borough Market is one of our favorite places in the city, full stop. There are a couple of sections of the market, not to mention the countless bars and restaurants lining the streets around the market.
You should know that Borough Market is VERY MUCH a lunch destination – it closes in the late afternoon. And it's closed all day on Sunday, so make sure this falls on any other day of the week.
Essentially, the market is split into two main sections: the ready-to-eat food section (which is where you should eat lunch), and the gourmet food items section. The latter features stands selling everything from English cheese, to tea, to all things Italian, and just about everything else a foodie could dream of.
If you're looking for coffee, Monmouth Coffee is excellent, and has a location right outside the western edge of the market (here on Google Maps).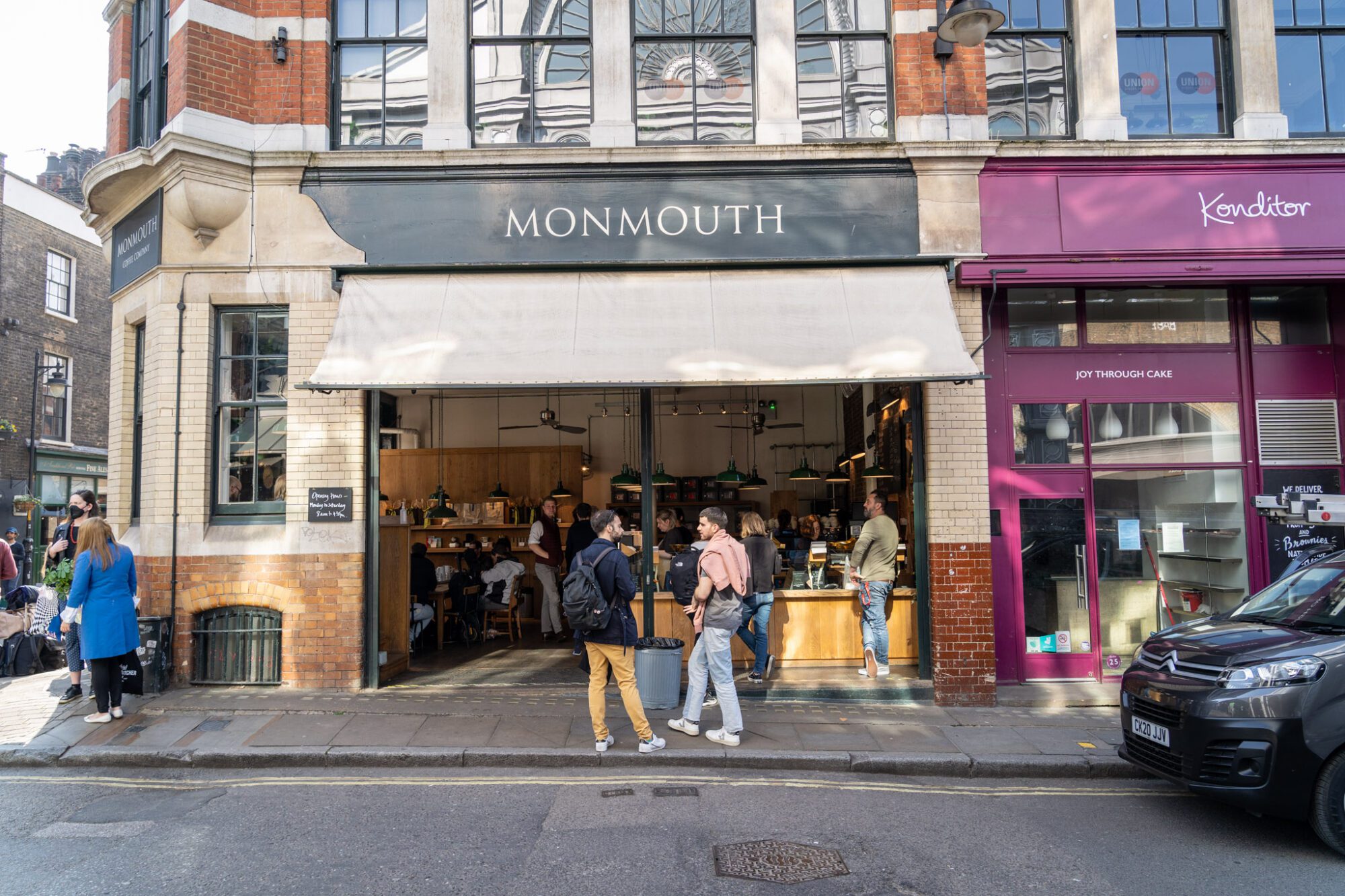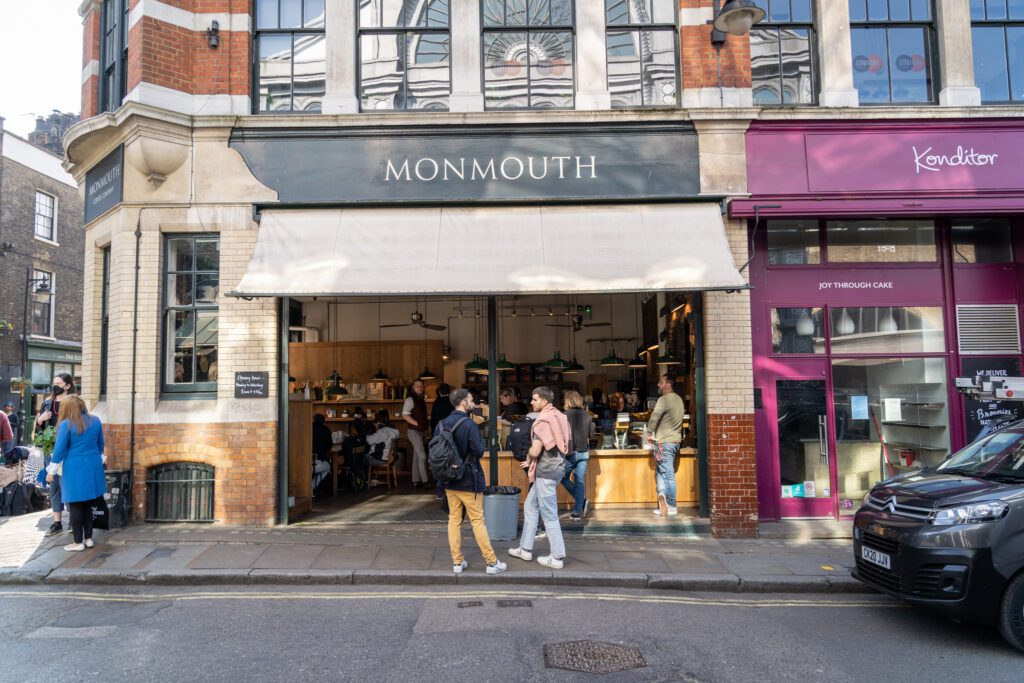 Take some time to wander through that section of the market and, when you're ready for food, head over to the section with all the food stalls for lunch.
We found ourselves here not once, not twice, but three different times over the course of our time in London. Here are the places we fell in love with, in no particular order. 
The Black Pig: Amazing pork sandwiches that Alysha demanded to return to on our last day in London. The line here can be nuts. Get the Honey Truffle Parmesan, which is made with slow roasted pork shoulder, honey-truffle mayo, slaw, and aged parmesan. YUM. DEFINITELY NOT GLUTEN FREE.


Horn OK Please: Vegetarian Indian street food, including dosas and amazing chai. Matt ate here three times, and would do it again in a heartbeat. Gluten free and vegan options.


Tacos Padre: We've had some pretty mediocre tacos around the world, but I would put Tacos Padre somewhere near the top of the list of the best tacos I've ever had outside of California and Mexico. The lamb barbacoa and the cochinita (a pork slow cooked with achiote) were outstanding.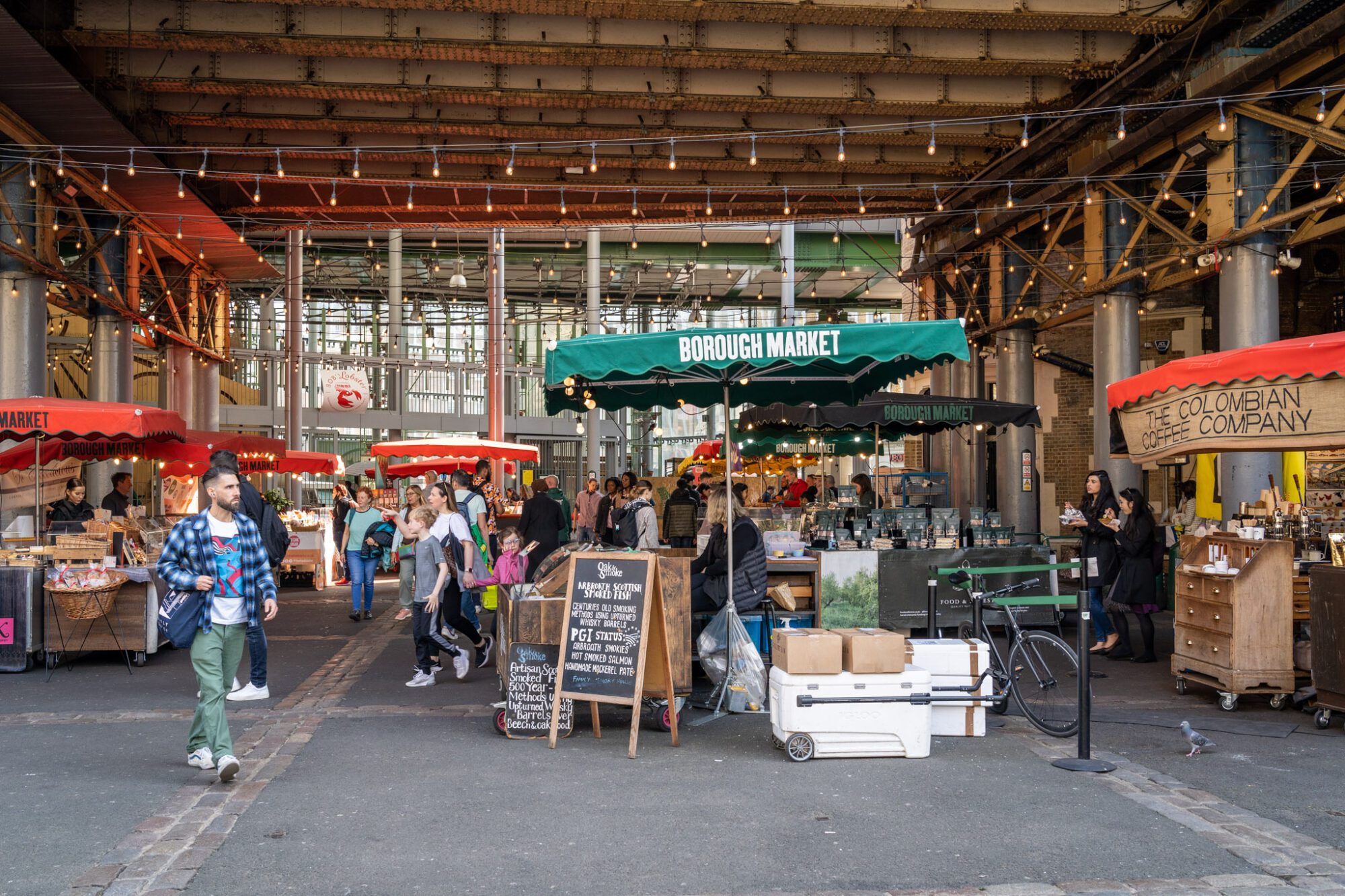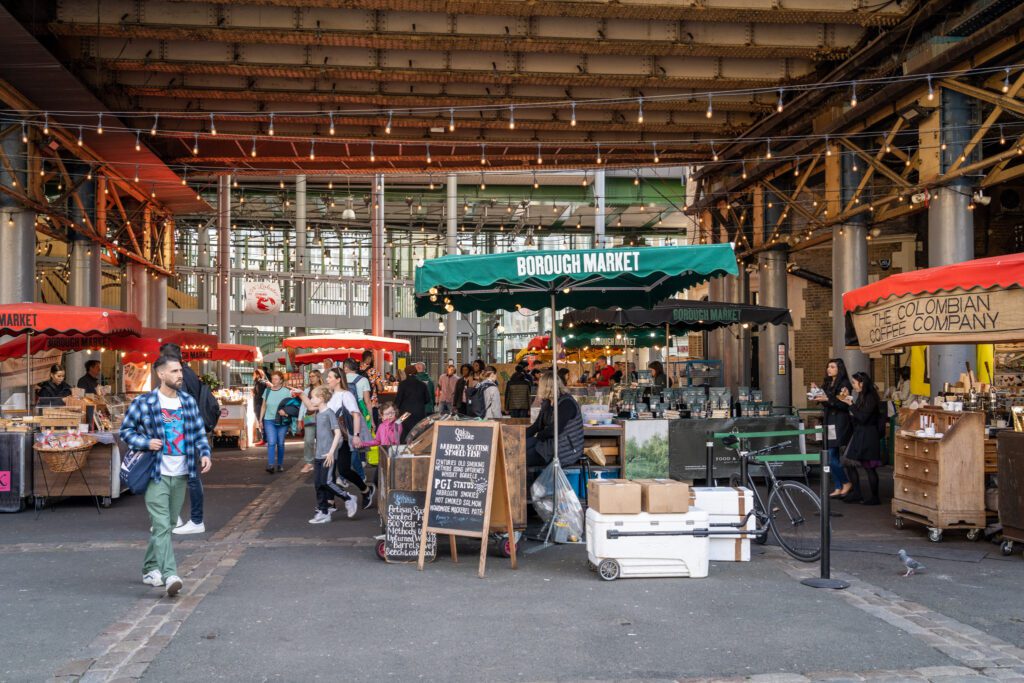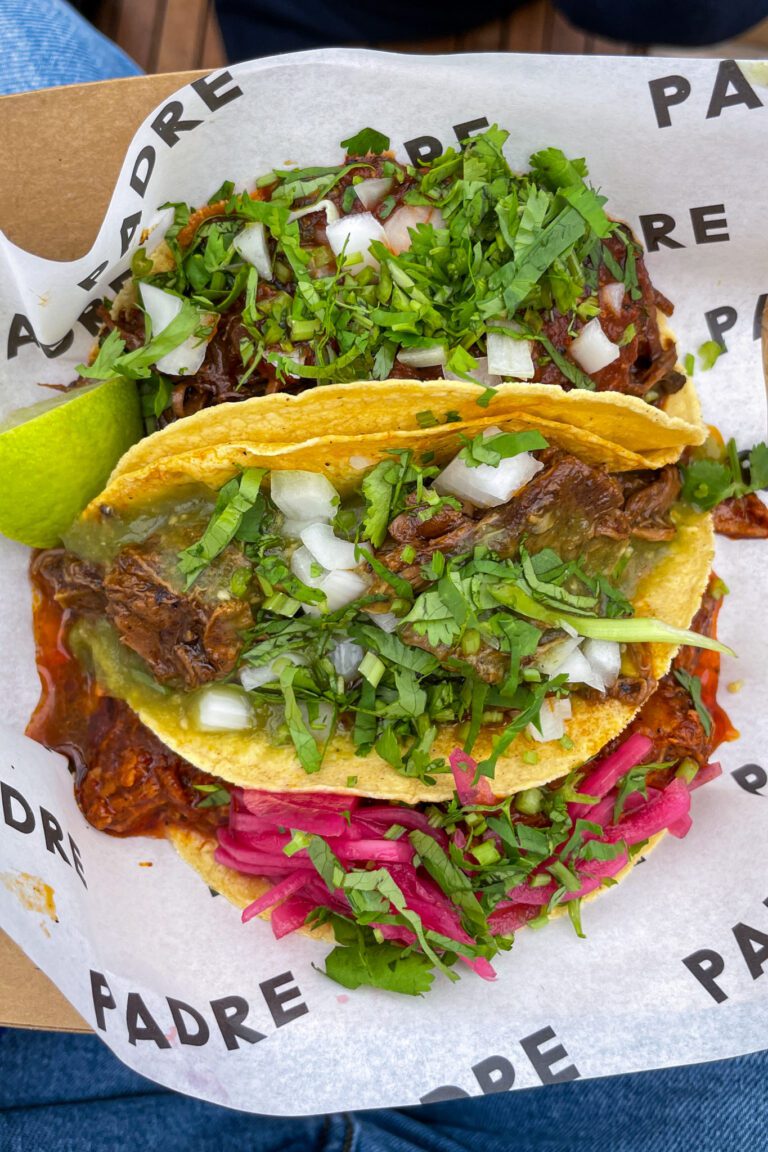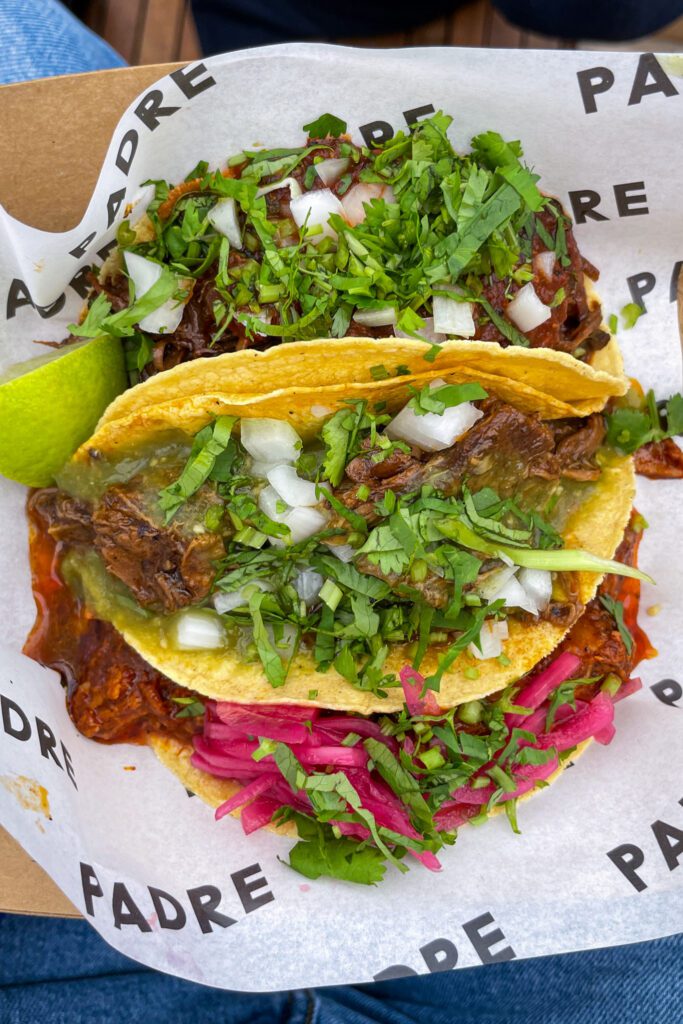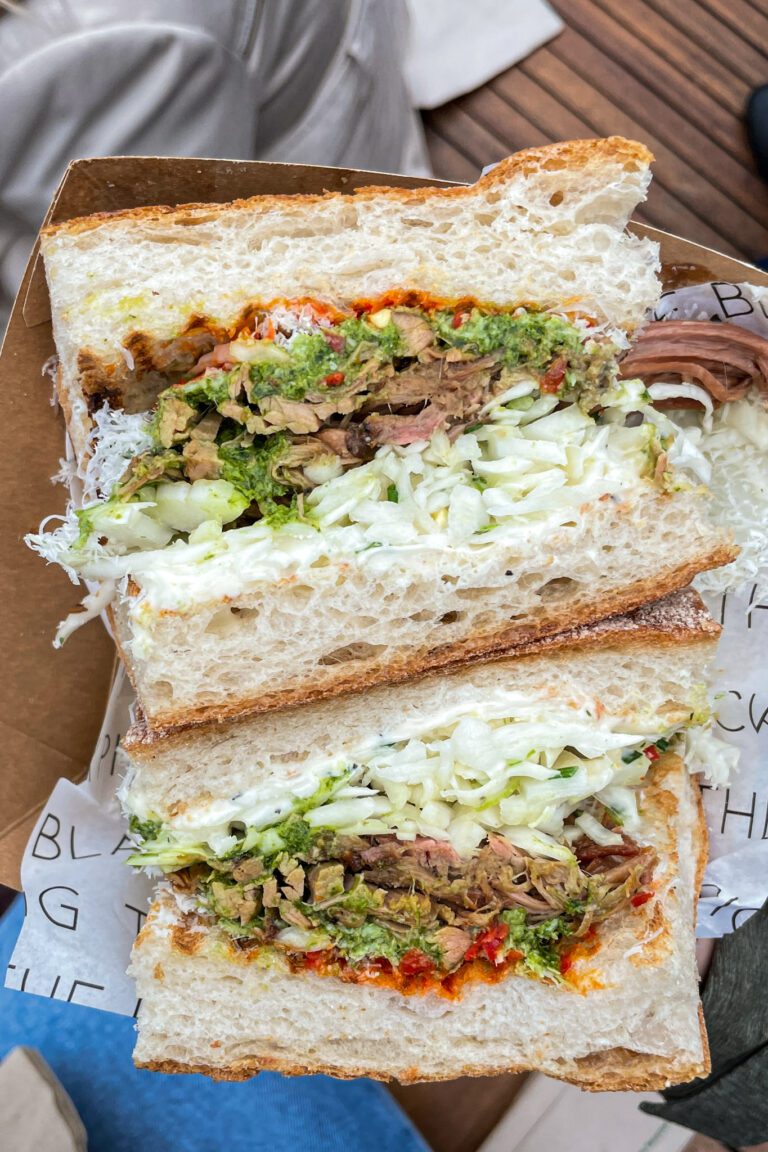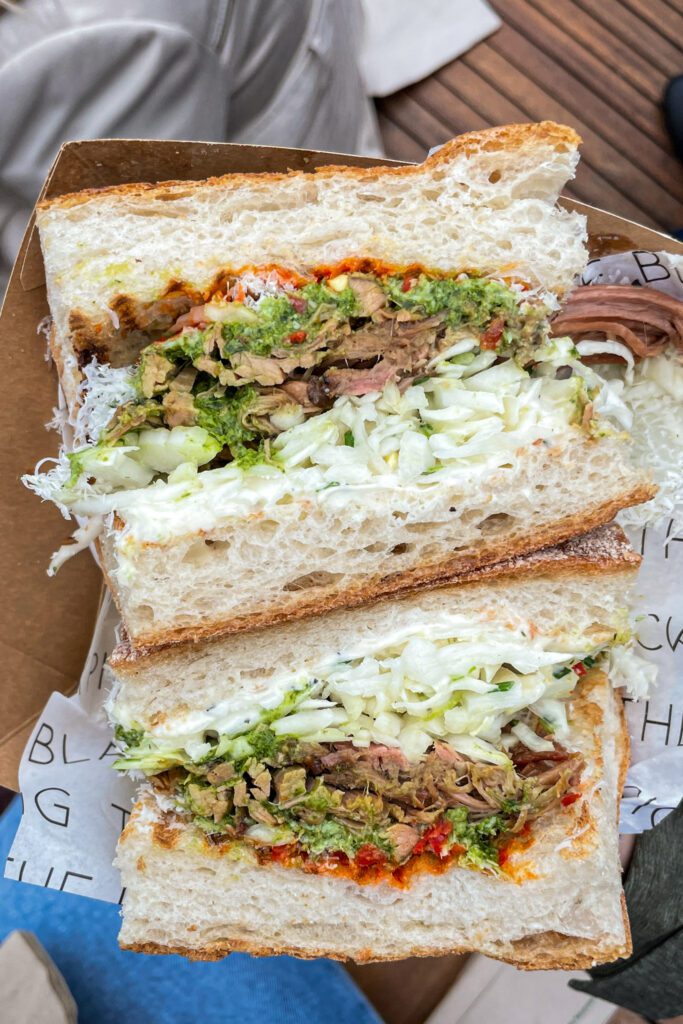 After lunch, there's one more stop that we highly recommend at Borough Market – the Cider House.
They have a great selection of hard ciders, both on tap and in bottles, to try.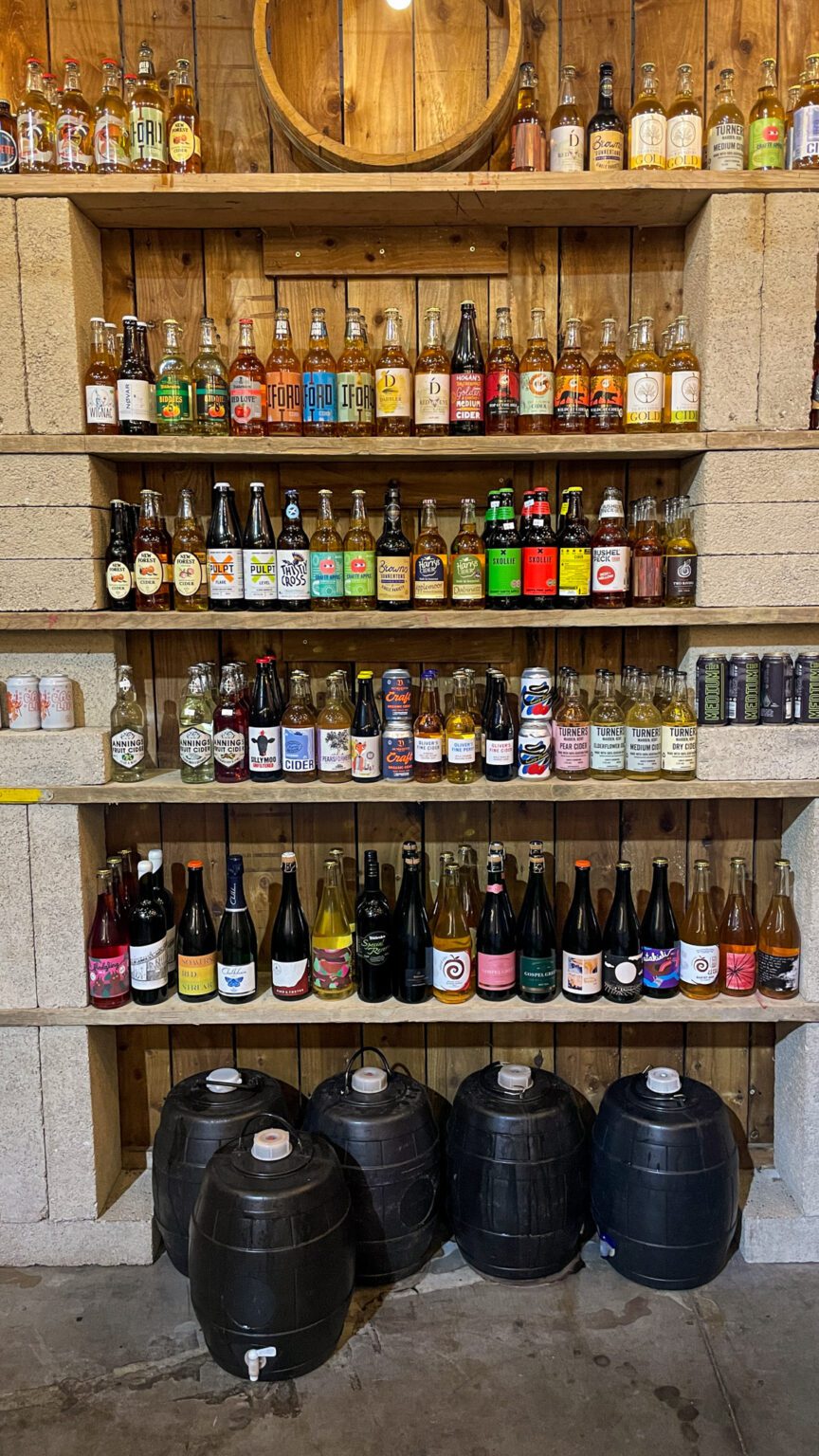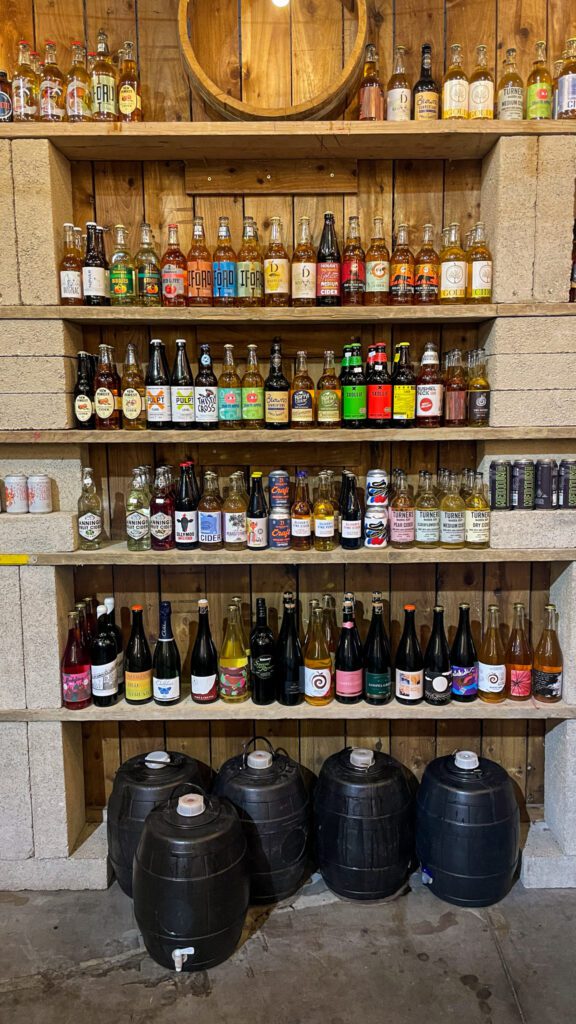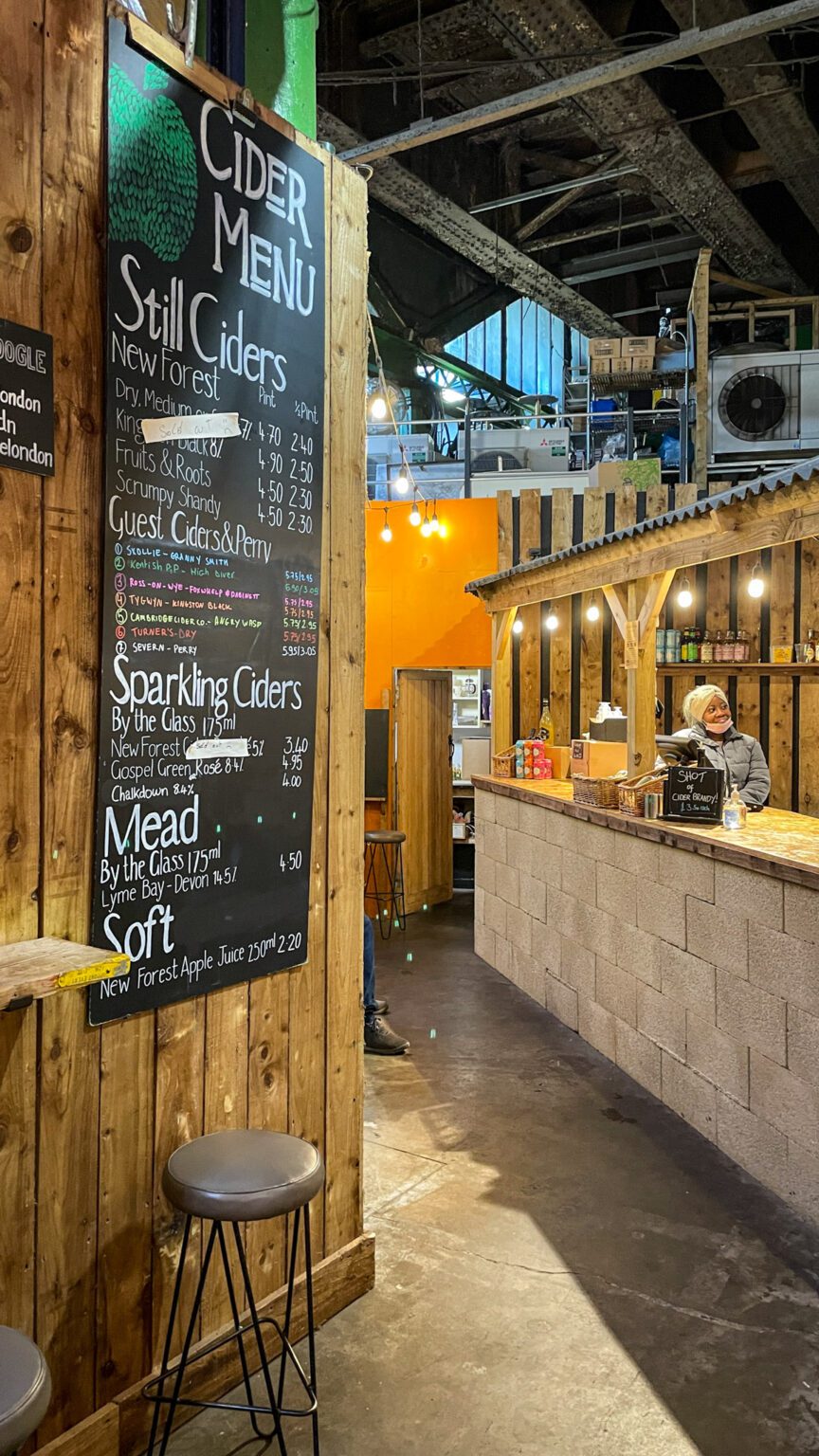 Most are from English cider producers, but we also found offerings here from New Zealand, France, and South Africa. The friendly staff will help you figure out what kind of cider to try based on your tastes.
A Walk Along the South Bank of the Thames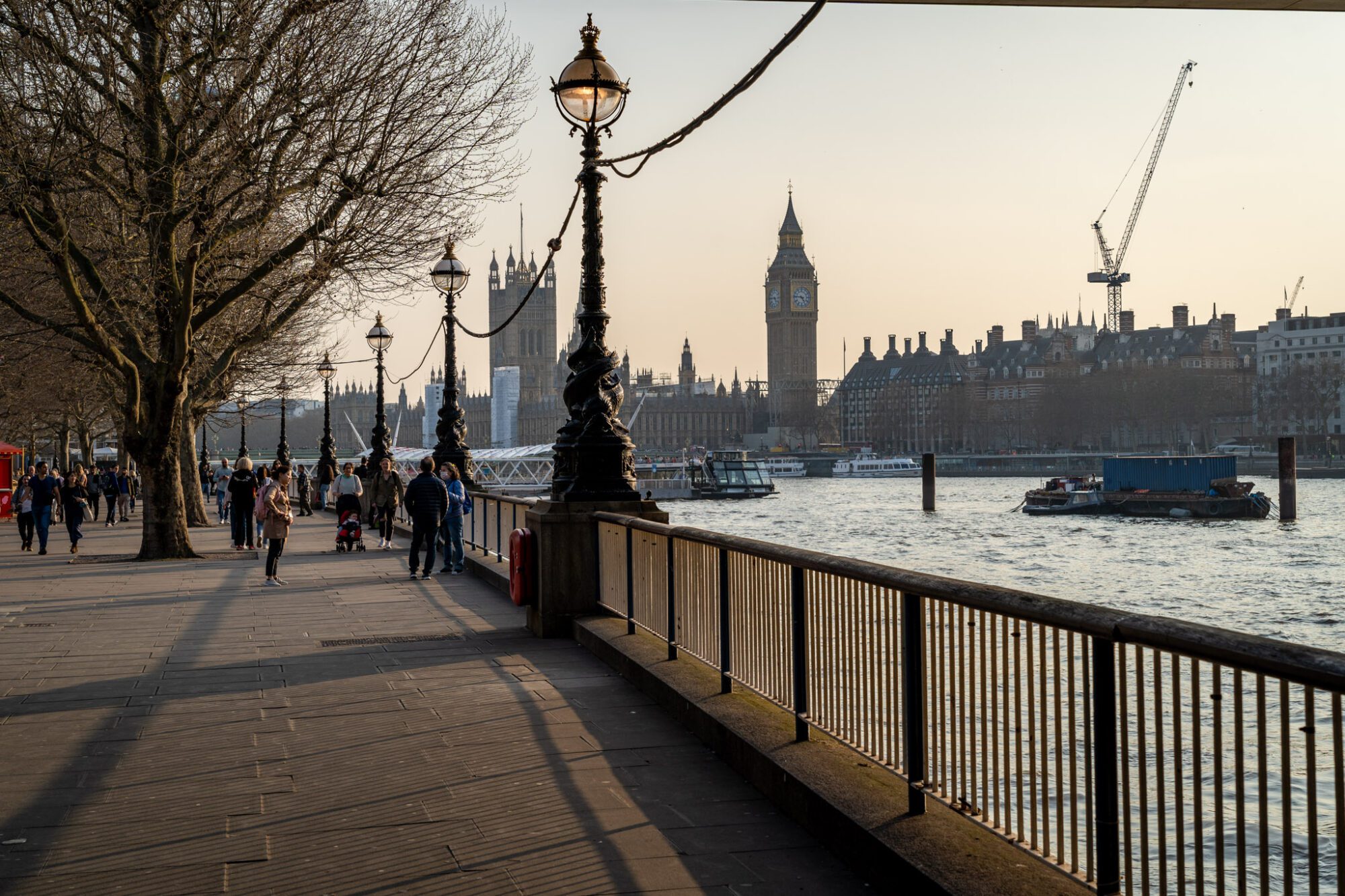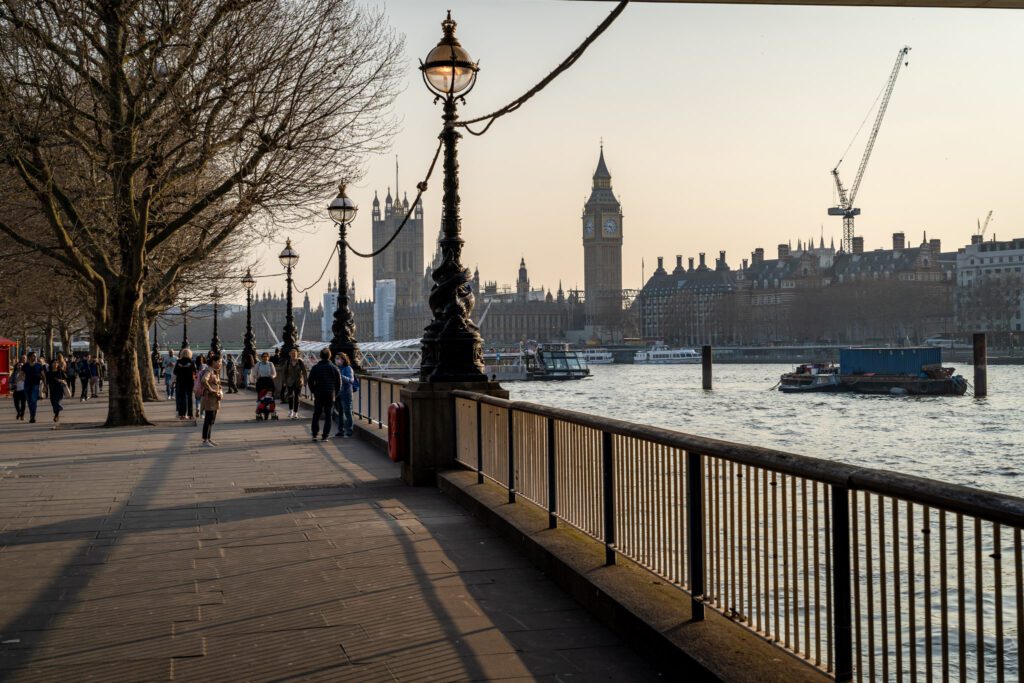 From Borough Market, make your way all the way down the river to Westminster Bridge, which should take you the better part of a few hours, including stops for a museum, a drink, a bookshop, a snack, and whatever else piques your interest along the way.
Shakespeare's Globe Theatre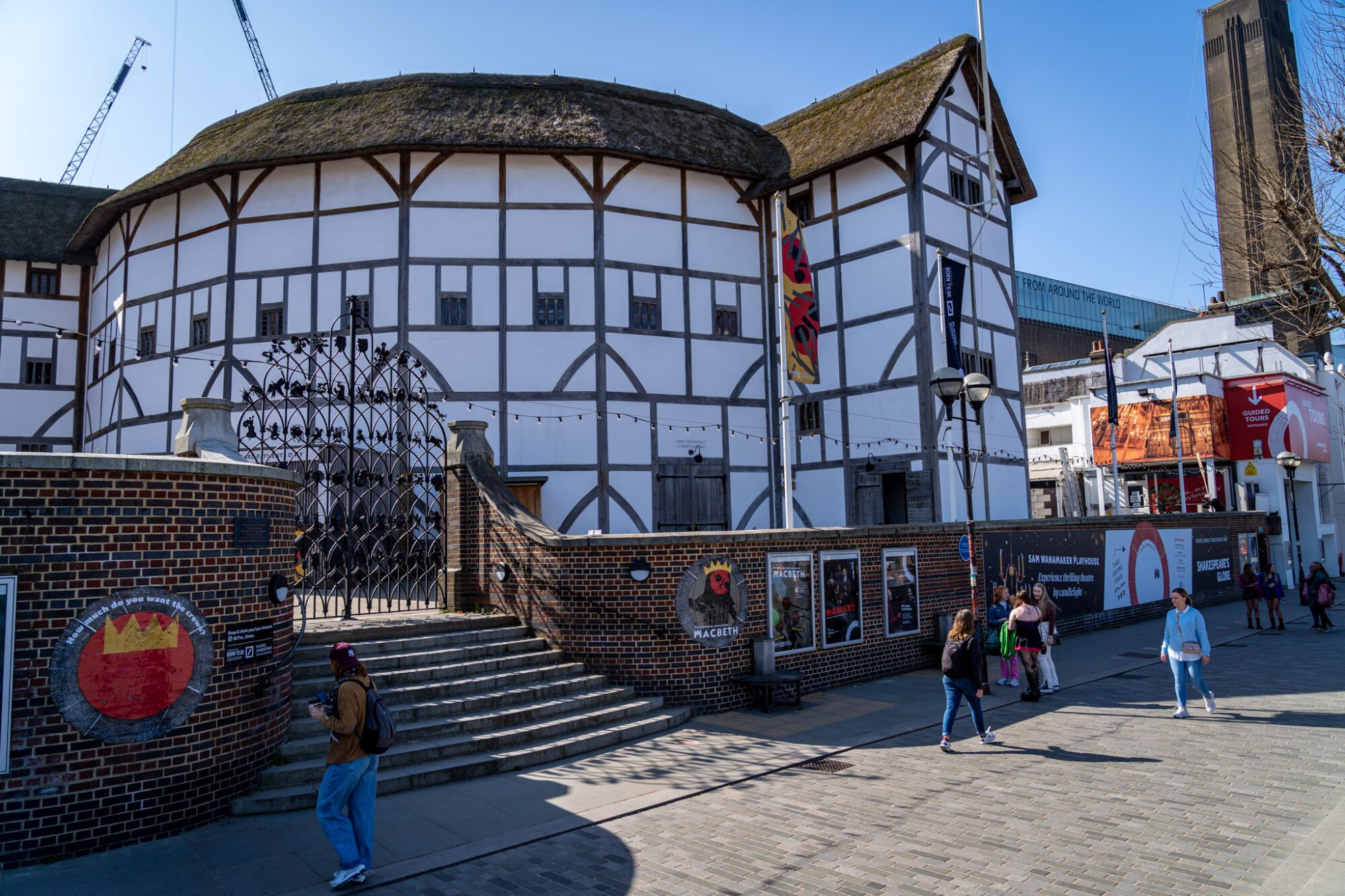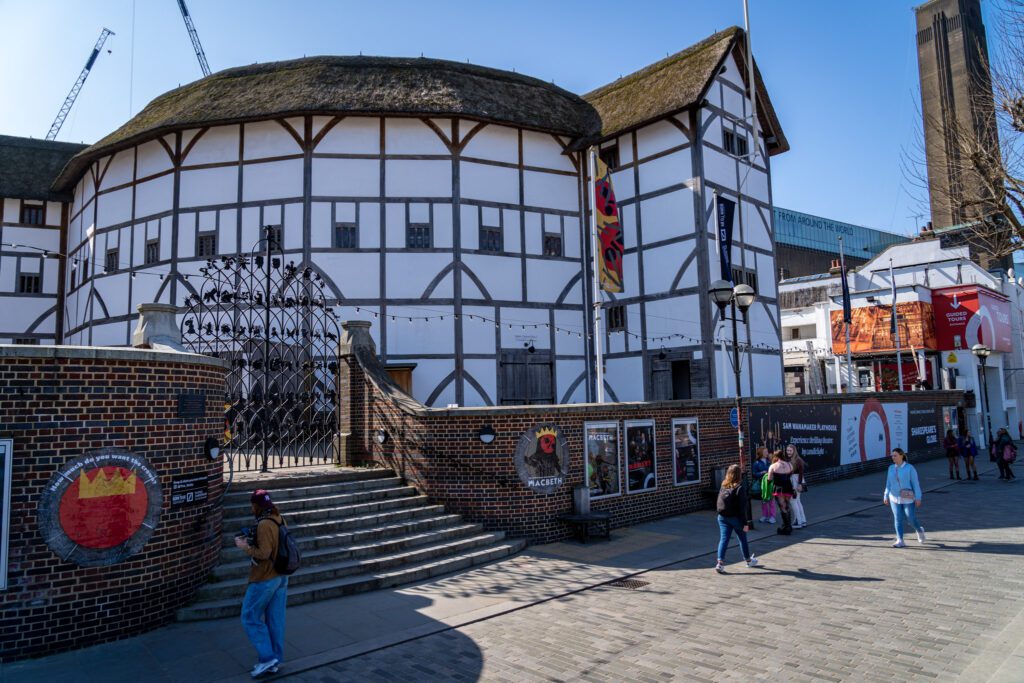 For over 500 years, England has been a powerhouse in the world of theater, thanks in no small part to William Shakespeare.
A visit to The Globe, a stunning recreation built close to the original Elizabethan theater, gives you the chance to travel back in time and experience a performance in the playhouse that premiered some of the Bard's best loved works.
Even if you're not a fan of the theater, The Globe is absolutely worth a visit. The circular outdoor venue hosts productions between April and September, with some of the UK's most talented actors performing modern (and traditional) interpretations of Shakespeare's works in an unbelievably atmospheric setting.
If you do want to catch a show, check the schedule here and find a place to fit it in on your itinerary.
The Tate Modern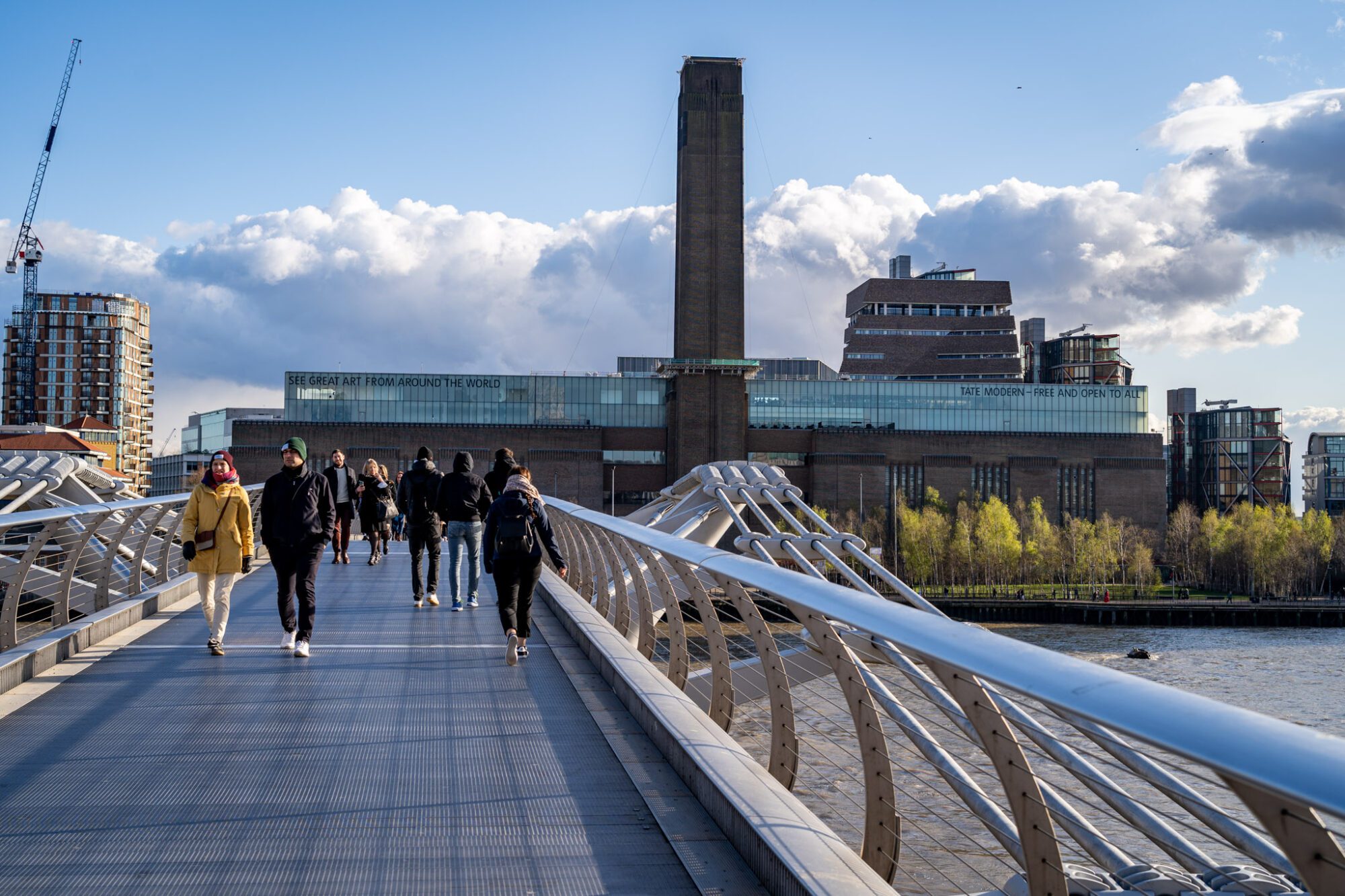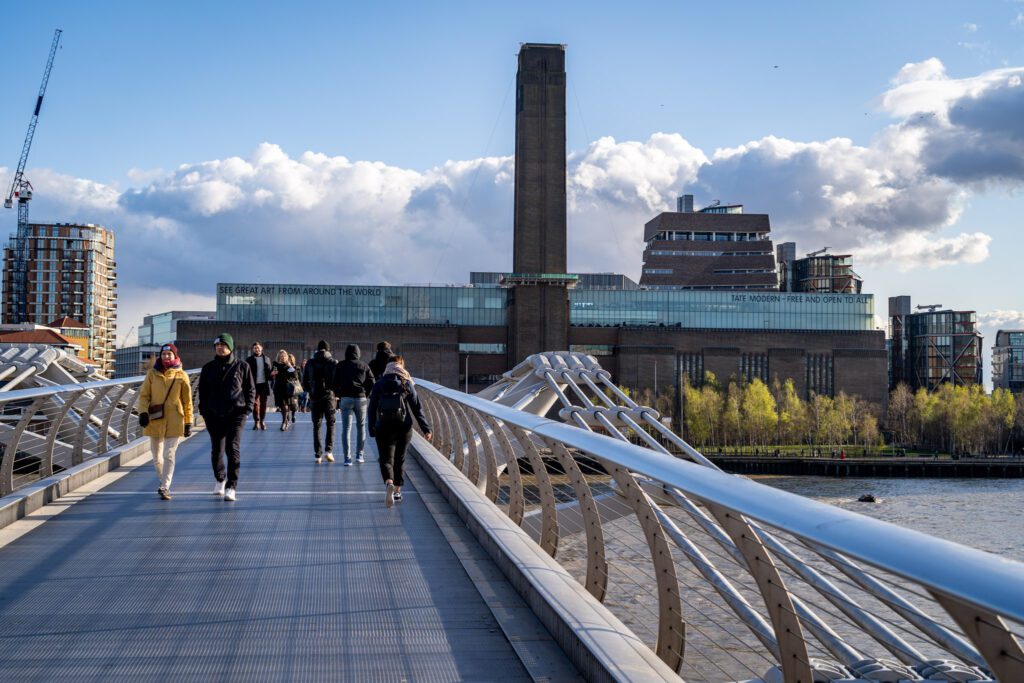 Located at the former Bankside Power Station, the Tate Modern is well worth a visit as you wander along the waterfront. The Tate Modern is England's national gallery dedicated exclusively to modern art.
The permanent collections are completely free of charge to view, and include an impressive selection of art from the likes of Picasso, Rothko and Monet.
On the 10th floor of the Tate's Blavatnik Building is an open terrace with fantastic views across the city to St. Paul's and Canary Wharf.
Millennium Bridge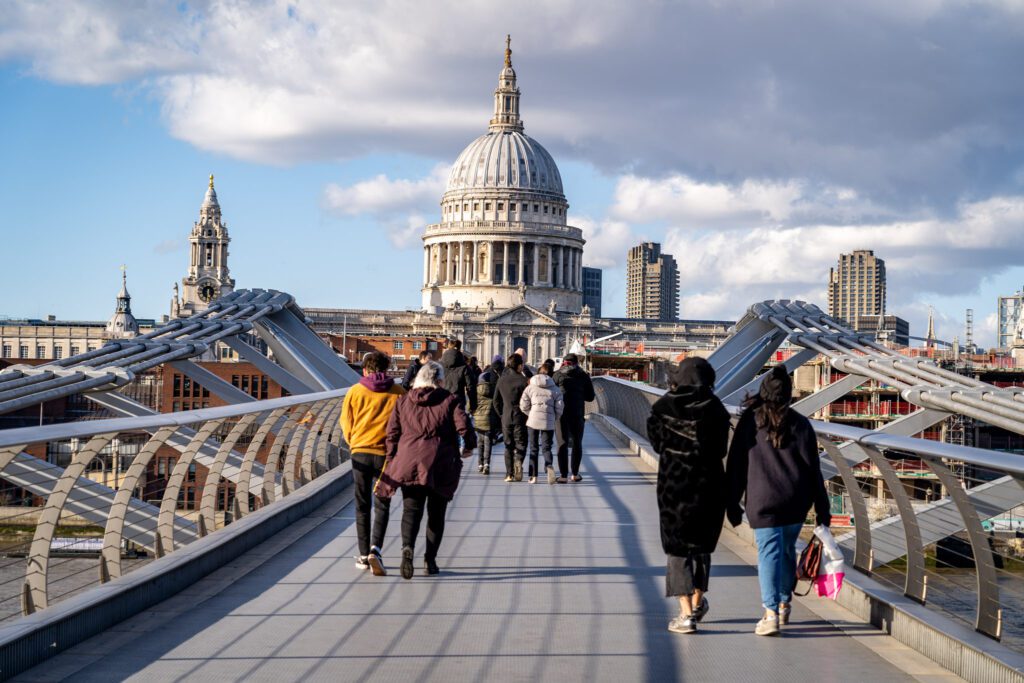 Just outside the Tate, this bridge is in this guide for one reason: the excellent view across the river to St. Paul's Cathedral. It's one of the best views in London, and is worth a slight detour to catch it. It's here on Google Maps.
Here are a few other stops along the river bank.
Beer Hawk: If you like craft beer and want to sample a selection of the best beers that London has to offer, this is the place to go here. They have a bunch of beers on tap, and even more in bottles.
Foyles Bookshop: This is one of the best bookstores in London, and they have a location on the ground floor of Southbank Centre, right before you get to Jubilee Bridge (if you're heading southwest).
Southbank Centre Food Market: This was a happy accident. It's Friday-Sunday only, so skip it if this day happens to be a weekday. We walked by it on a walk down the river and discovered Pabellon, our favorite arepa place in London. Arepas are basically a sandwich made between two corn patties that comes from Venezuela. Seriously, go here. It was so good we went back three times. There are plenty of other food stalls here, and there's also a nice outdoor courtyard with food and shopping called "Gabriel's Wharf" a little ways back (here on Google Maps) that is worth poking your head into.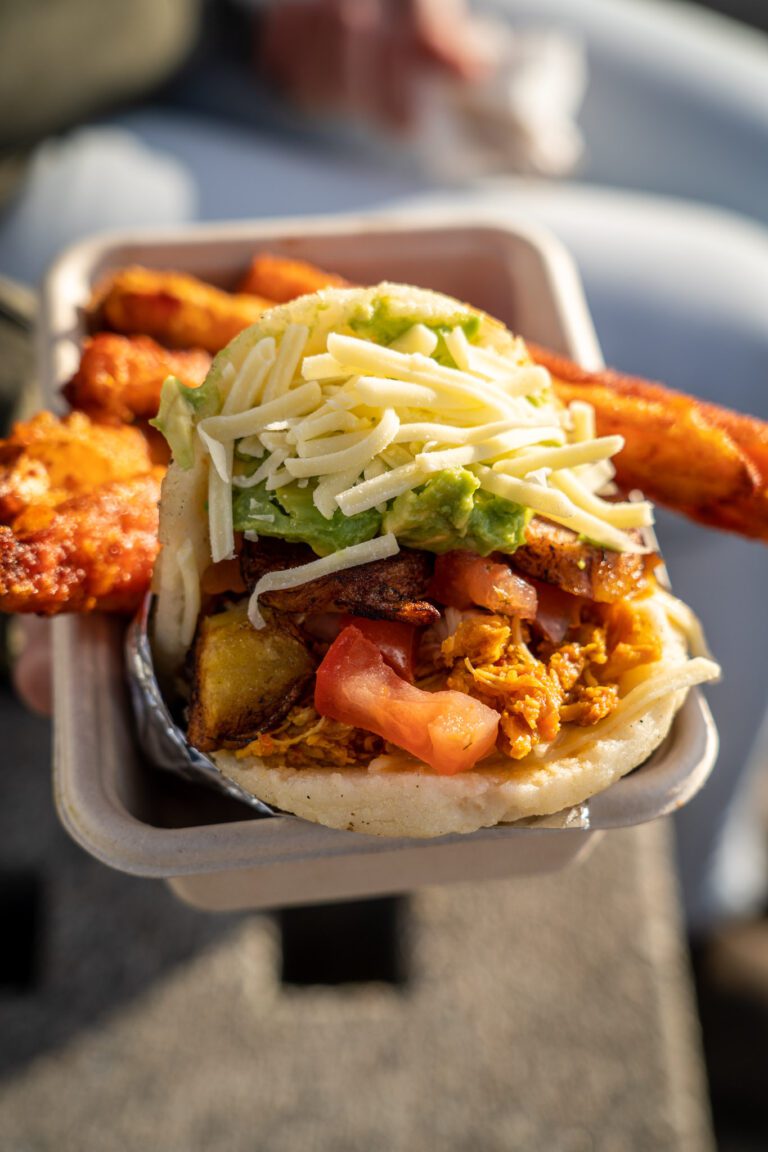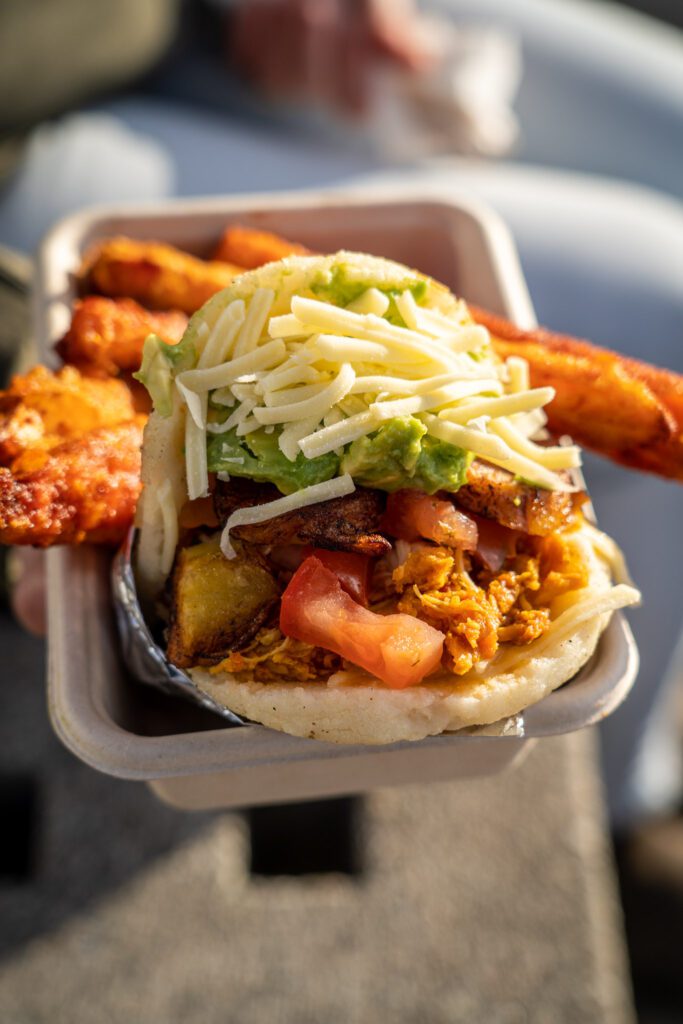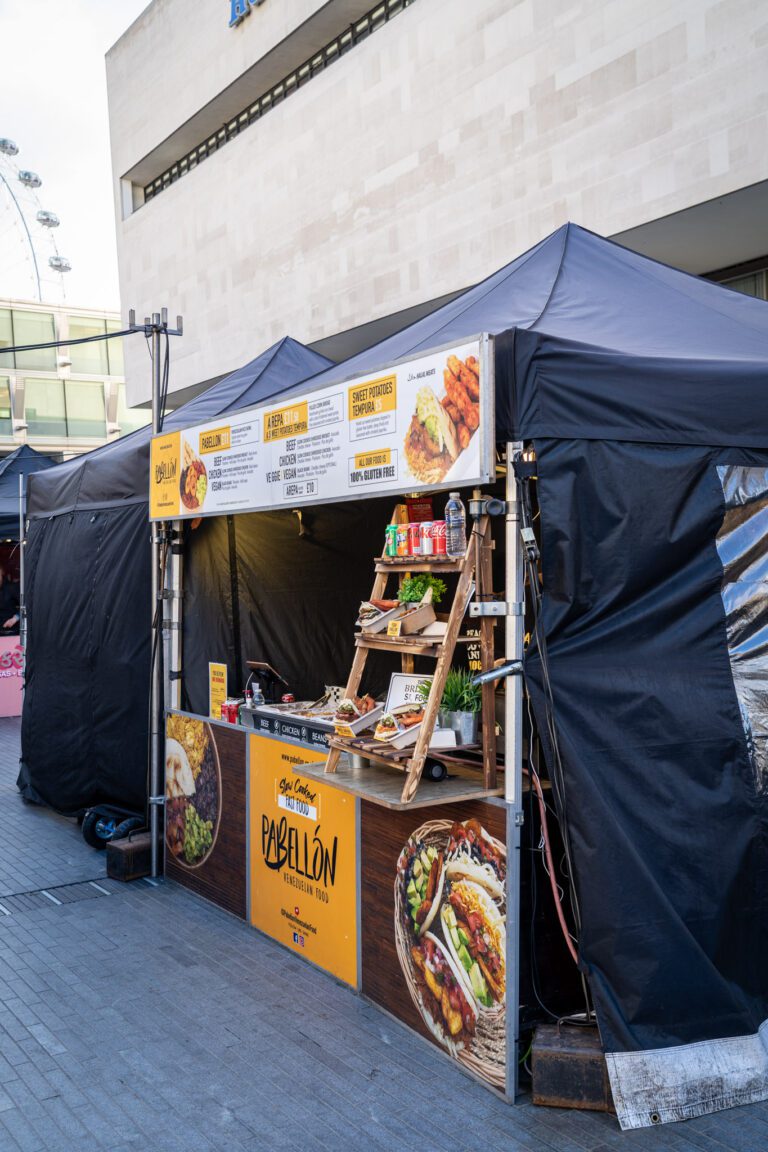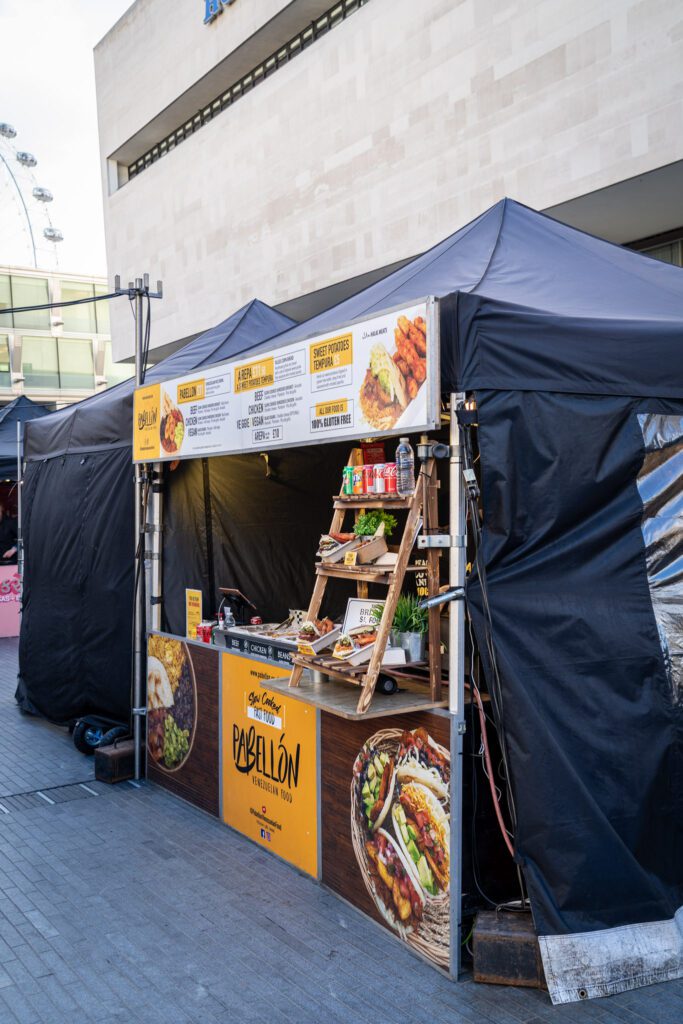 The London Eye: The London Eye is a little overrated, if we're being honest. We've done it before, but opted out on our latest trip. It's a little expensive, the lines are long, and the view from the Tate Modern viewing platform – which is free – is a little better. If you have kids, this is a fun experience. If not, we'd probably skip it and spend time elsewhere.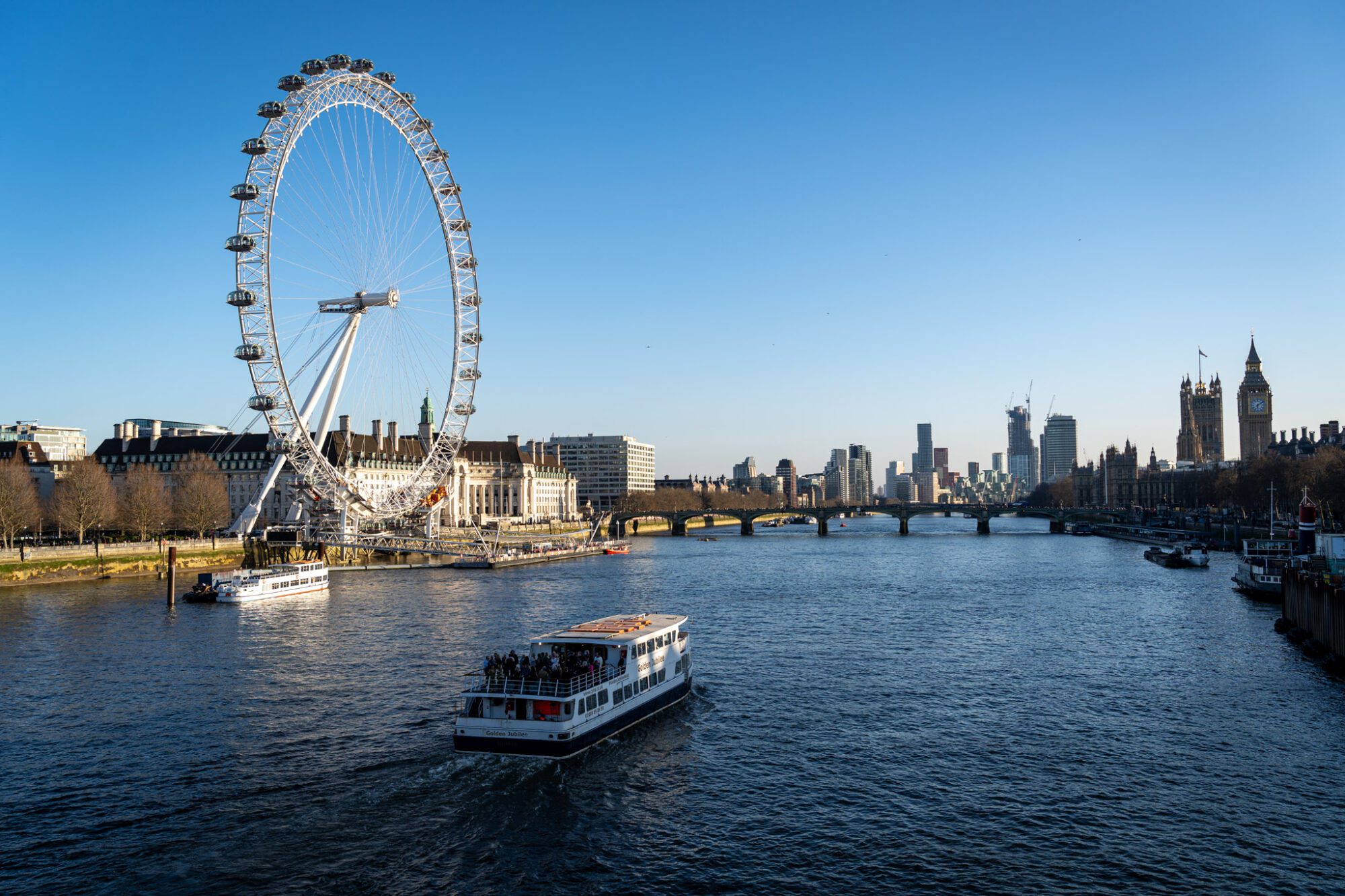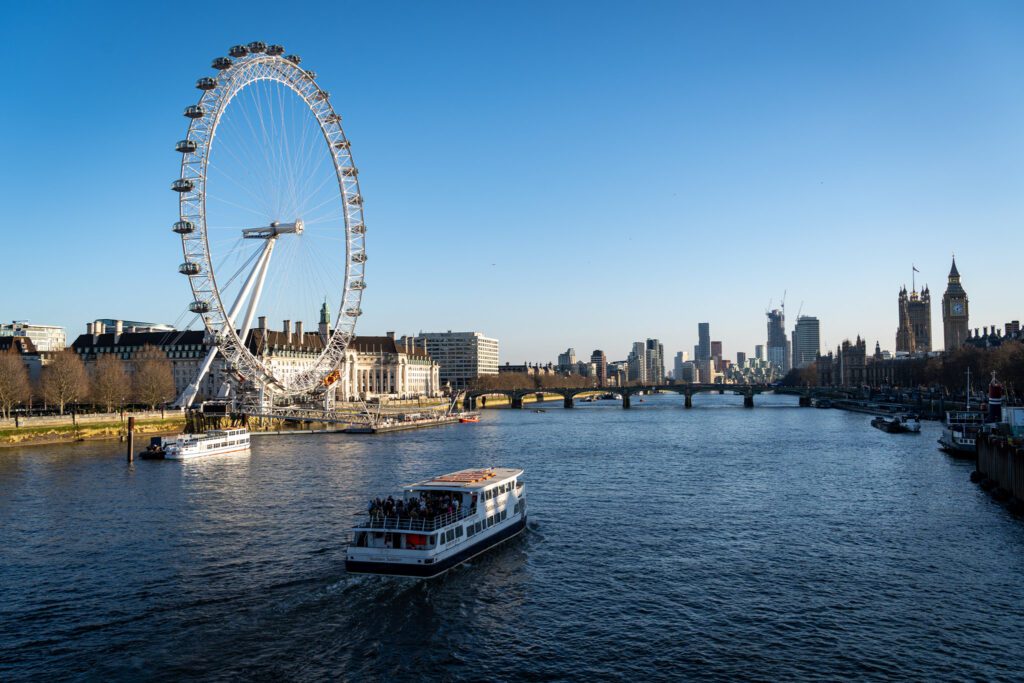 Once you're at London Eye, you're essentially at Westminster Bridge. You've already seen that if you followed the first day!
Dinner and Drinks at Mercato Metropolitano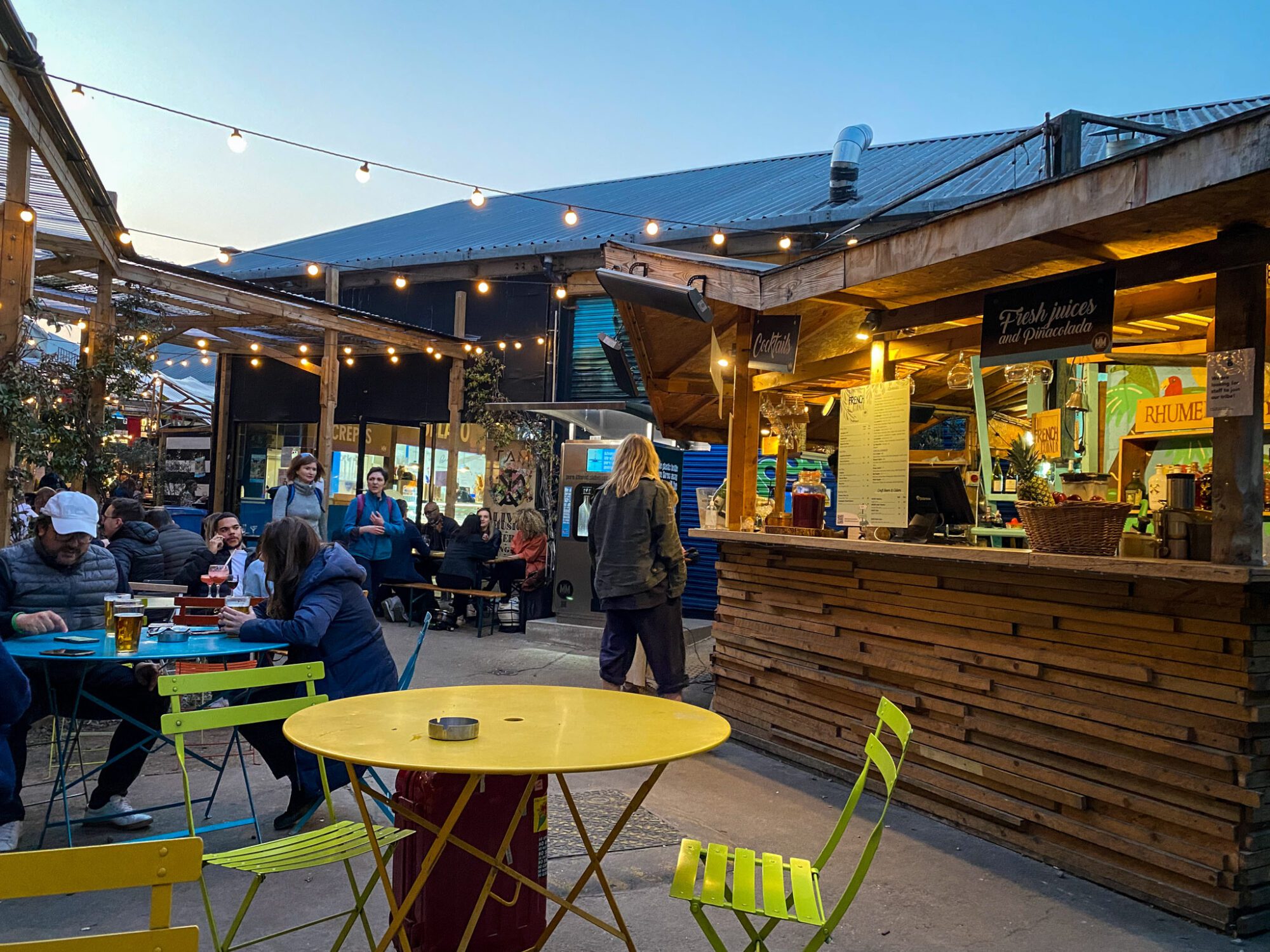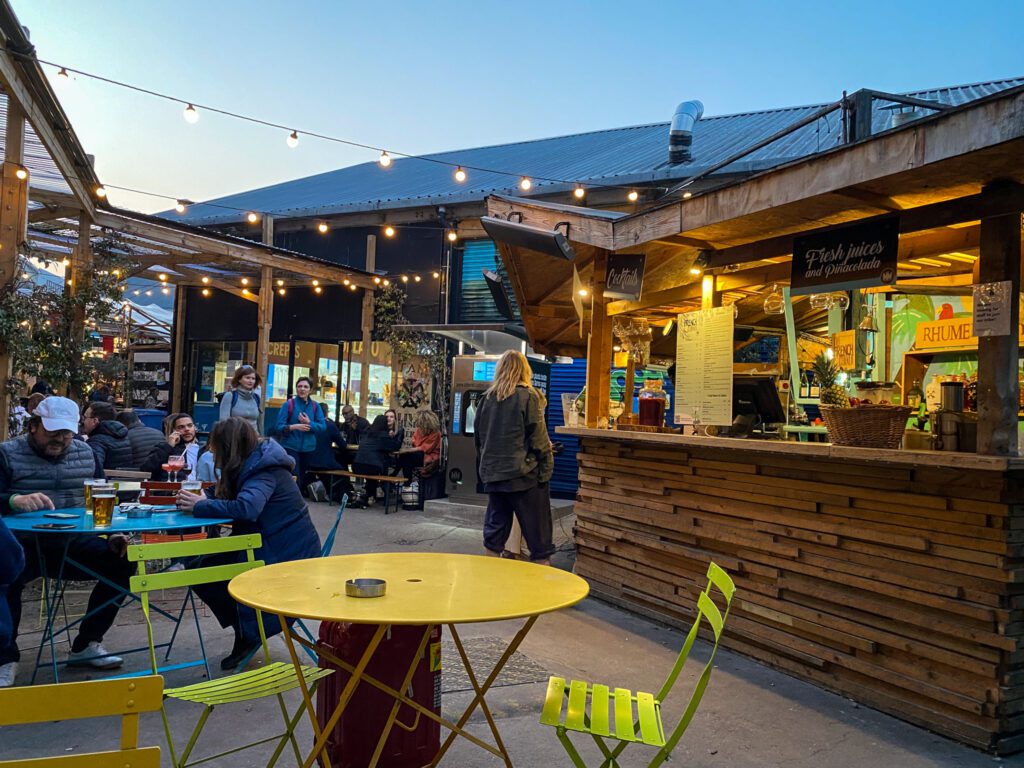 To close out your day, head south of the river to another of our favorite discoveries in London, Mercato Metropolitano. This place is fantastic, and is essentially a big food hall with indoor and outdoor seating (in an atmospheric garden) and a huge variety of different food stalls… all attached to a beer garden!
From Sicilian arancini and granita (two of our favorite discoveries on our Sicily road trip) to Venezuelan arepas, there are options for basically everyone here, which makes it a good option for groups.
It's a very, very popular spot – it was packed full to the brim on a Thursday night when we were there – and there are a bunch of different options to grab a drink. We'd recommend getting there a little early to snag a table, and hanging out and soaking up the atmosphere until you're ready for dinner.
Day 4: A Foray into North London (Camden & Notting Hill)
On your last day, venture out of Central London and head north (it's really only 20 minutes or so, nothing too crazy) out to Notting Hill. From there, make your way along the Regent's Canal to Little Venice, and finally stroll into Camden, with a stop for the view at Primrose Hill on the way.
Notting Hill and Portobello Road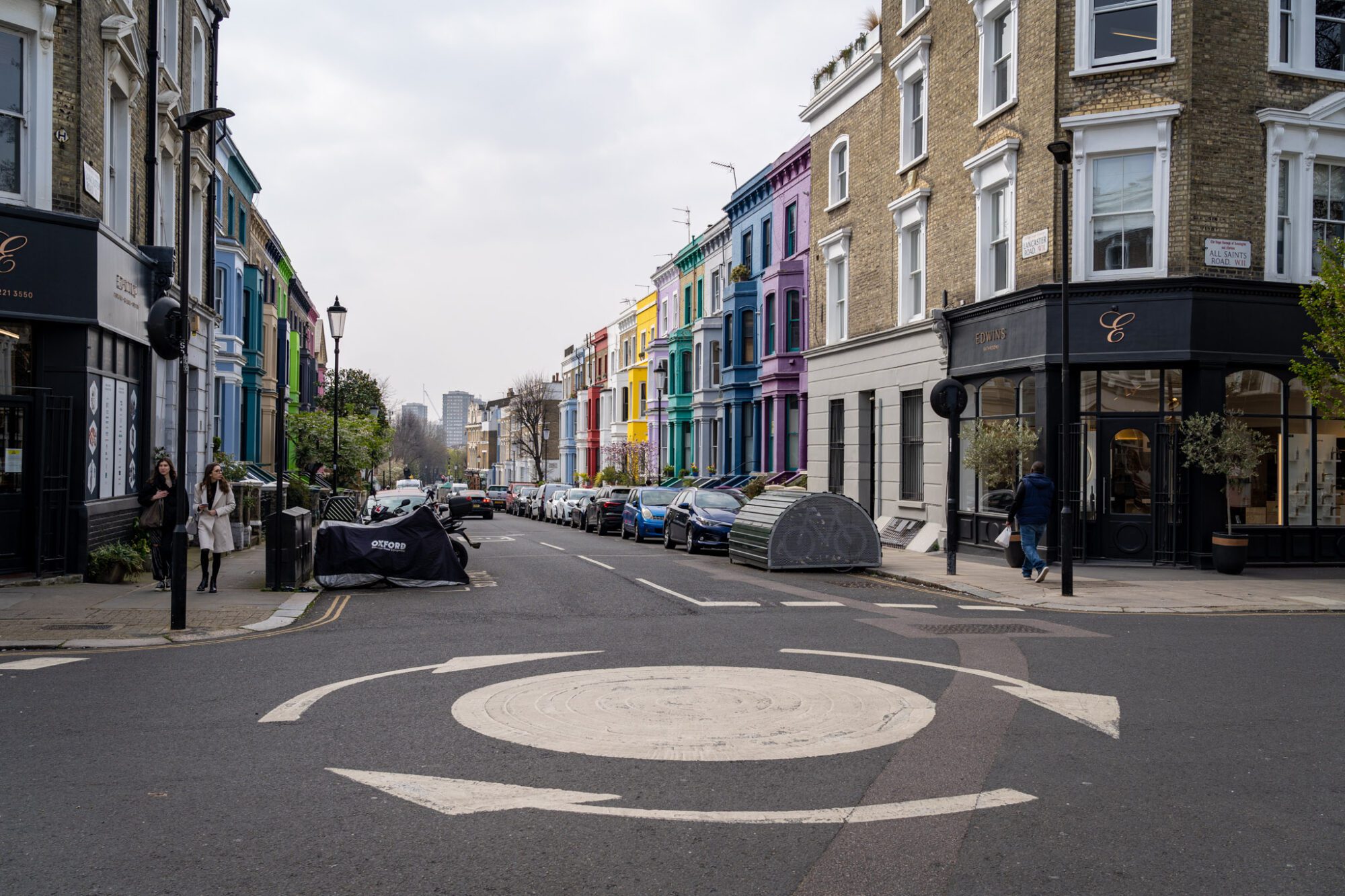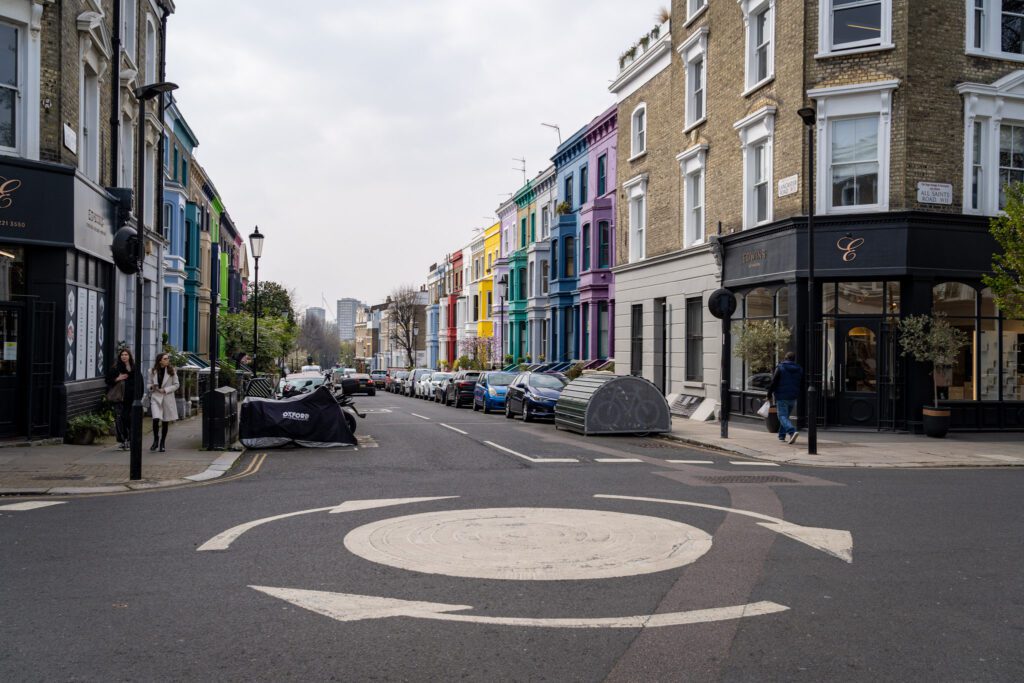 Start your morning in Notting Hill at Notting Hill Gate station, which is serviced by the Central District, and Circle tube lines.
From there, embark on a self-guided walking tour of one of London's most charming neighborhoods, made famous by the movie of the same name.
You'll essentially follow Portobello Road all the way through the neighborhood from south to north, which will take you to both highlights here – the Portobello Road Market, and the colorful houses at the other end of the neighborhood.
The Portobello Road Market is best on Saturdays, when the streets are packed with vendors. But it's worth a stroll on other days of the week too, particularly Fridays. It's part food market, part antique market, and part everything else market.
At the northern end, leave Portobello Road and head to the two most photogenic parts of the neighborhood, where you'll find those colorful homes that have made this area Instagram famous in recent years.
Both areas are literally a block away from each other – Saint Lukes Mews is a colorful back alley, and Lancaster Road is where you'll find the multi-colored houses (which remind us of the famous Victorians in San Francisco!).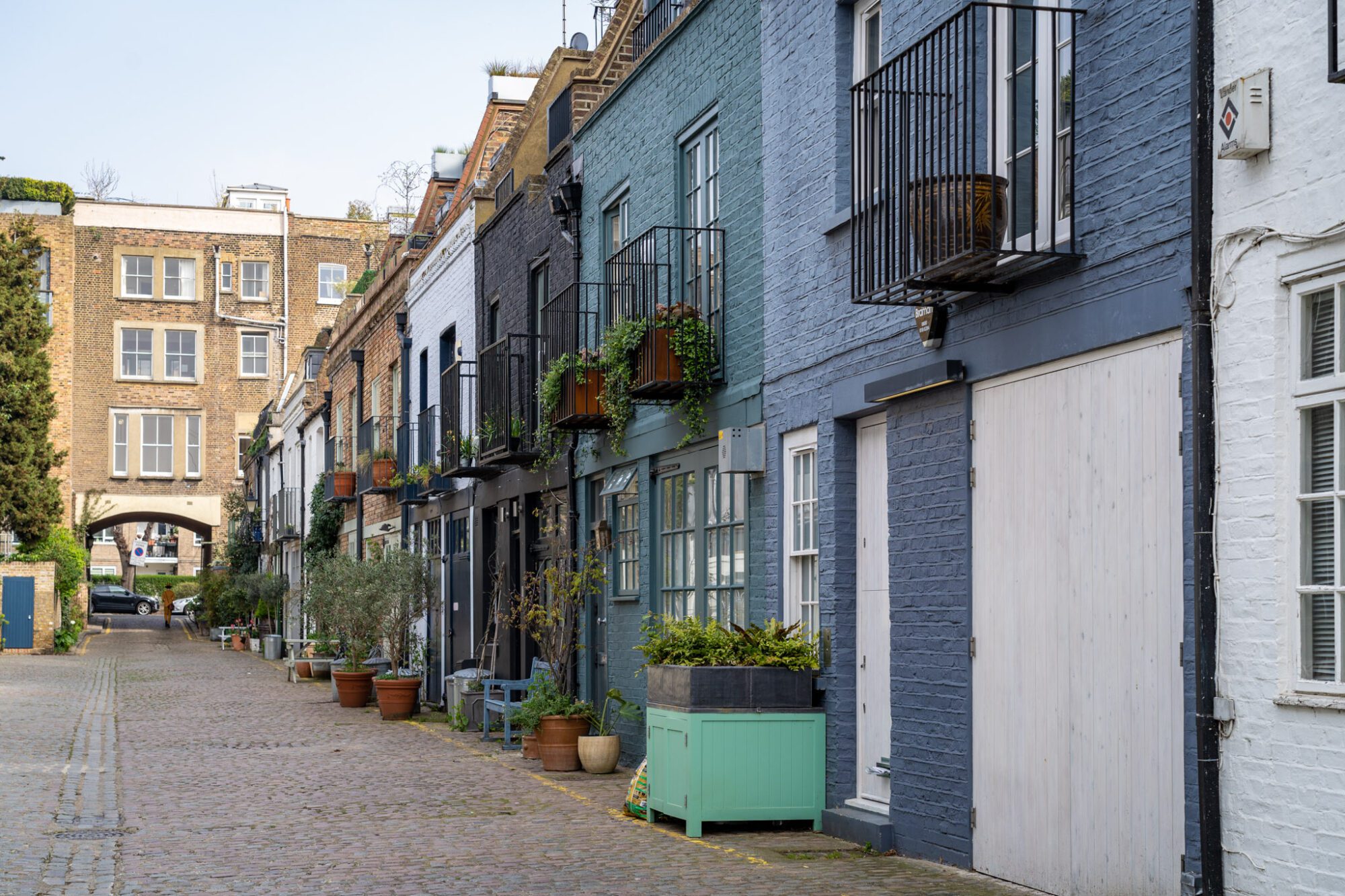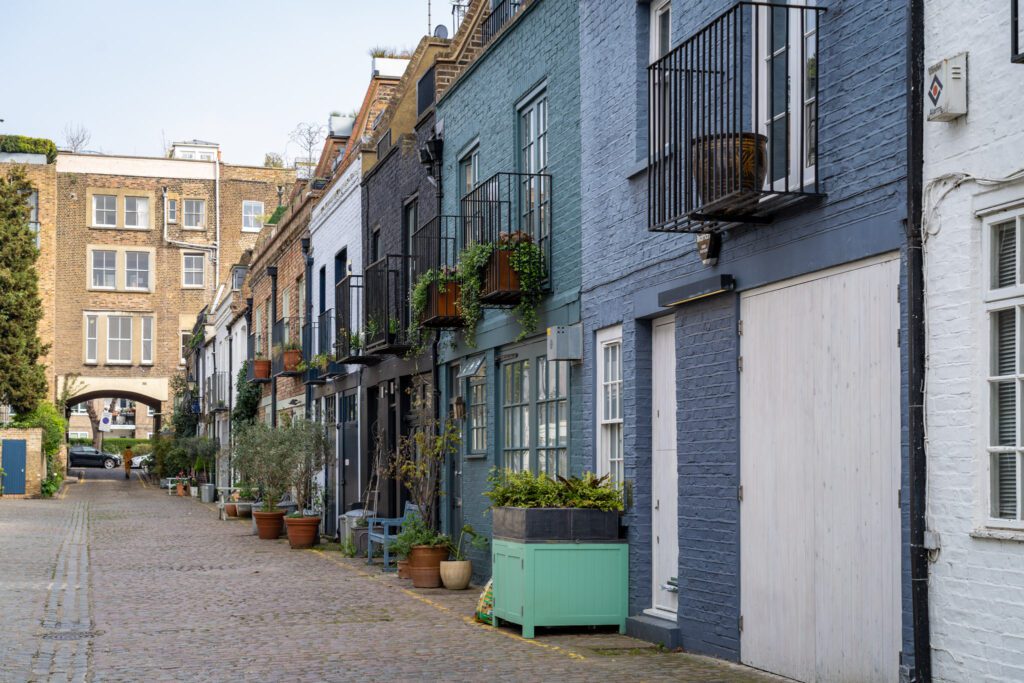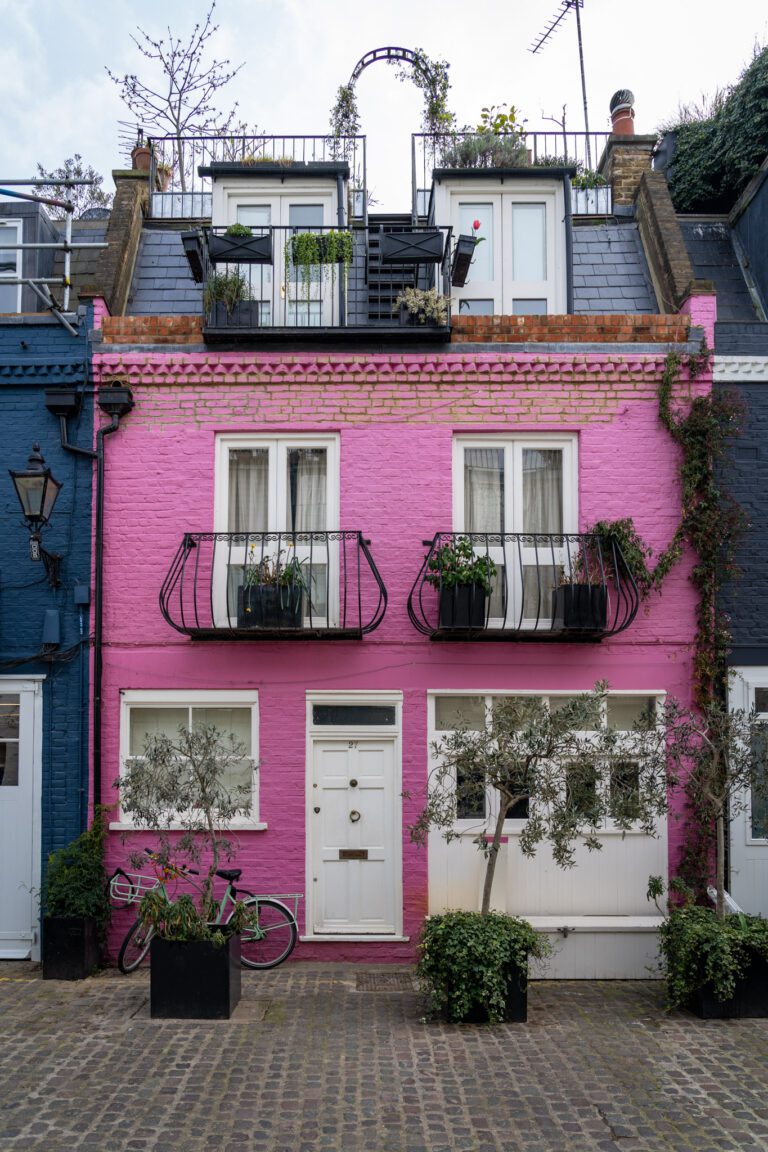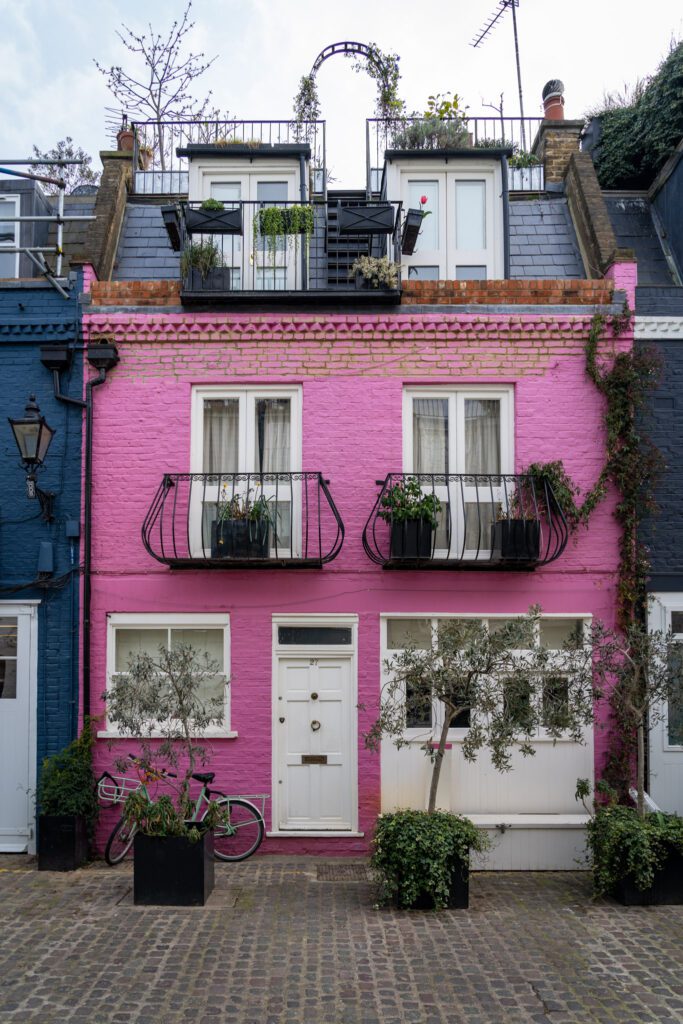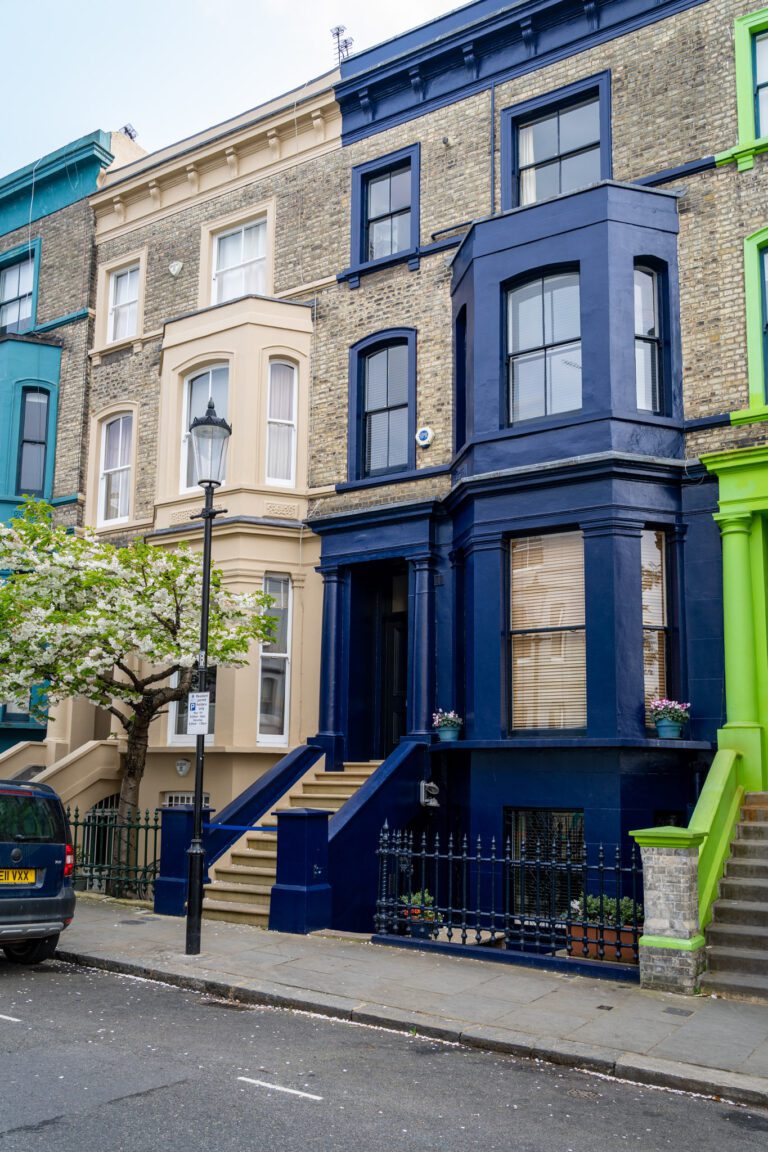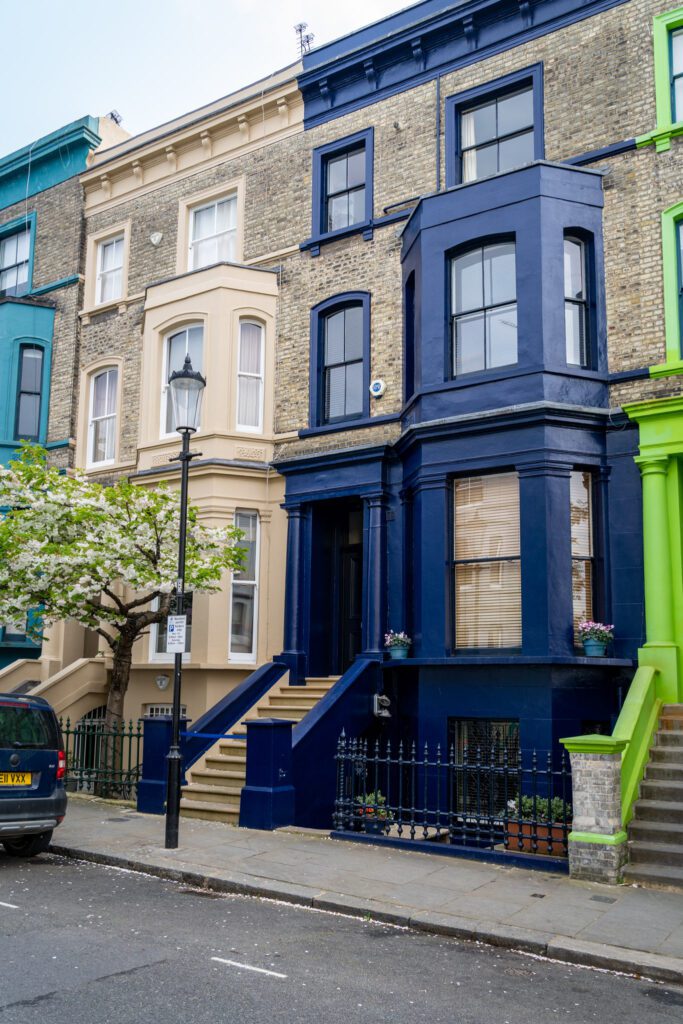 A Walk Along Regent's Canal
This next section is optional, and is best for people who are up for a nice walk. It's sometimes scenic, sometimes a little boring. If that doesn't sound like something you're interested in, take the Tube to Camden and skip this section.
We actually walked all the way from Notting Hill to Camden along Regent's Canal, which took a couple of hours and led us through Little Venice, which is easily the most picturesque piece of the walk.
Here's a map of the route. Near the end, you'll be walking across the canal from the London Zoo in Regents Park, and you can see the giraffes, warthogs, and African wild dogs from the path.
Camden Market (and Camden Town)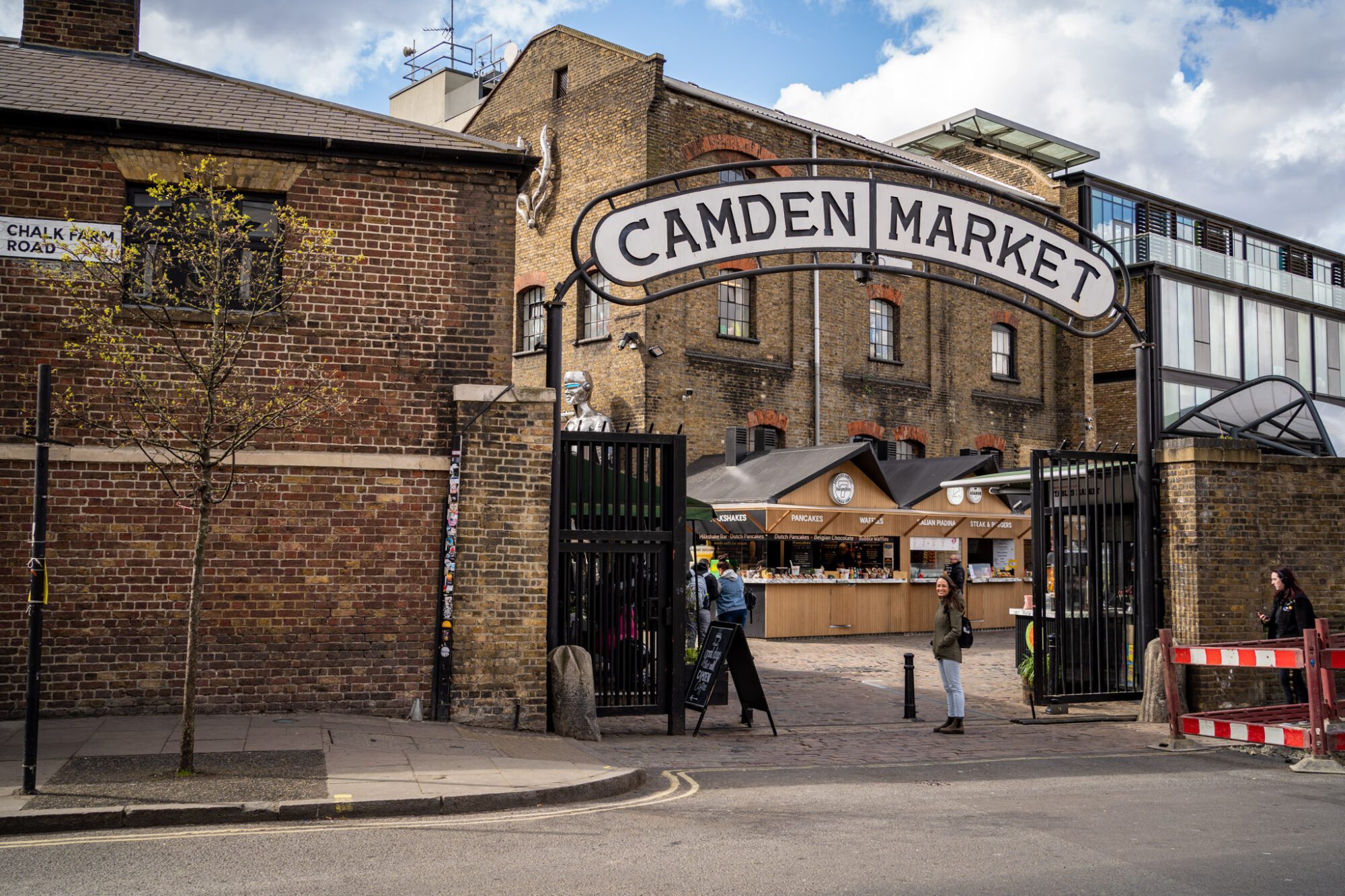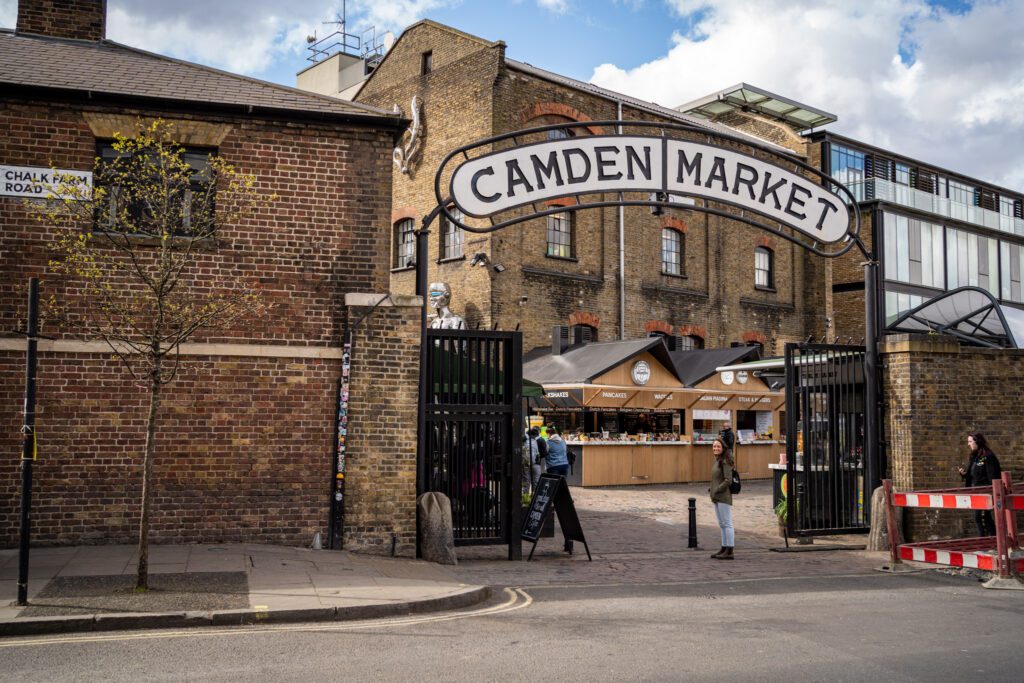 Camden is a fascinating area, and we spent a third of our trip staying here to soak it all up.
Punk music was essentially born in this part of London, and that part of the neighborhood's character is still very much front and center, with a variety of eclectic shops blasting heavy metal music lining Camden High Street.
However, the highlight here is London's most-visited food market, Camden Market.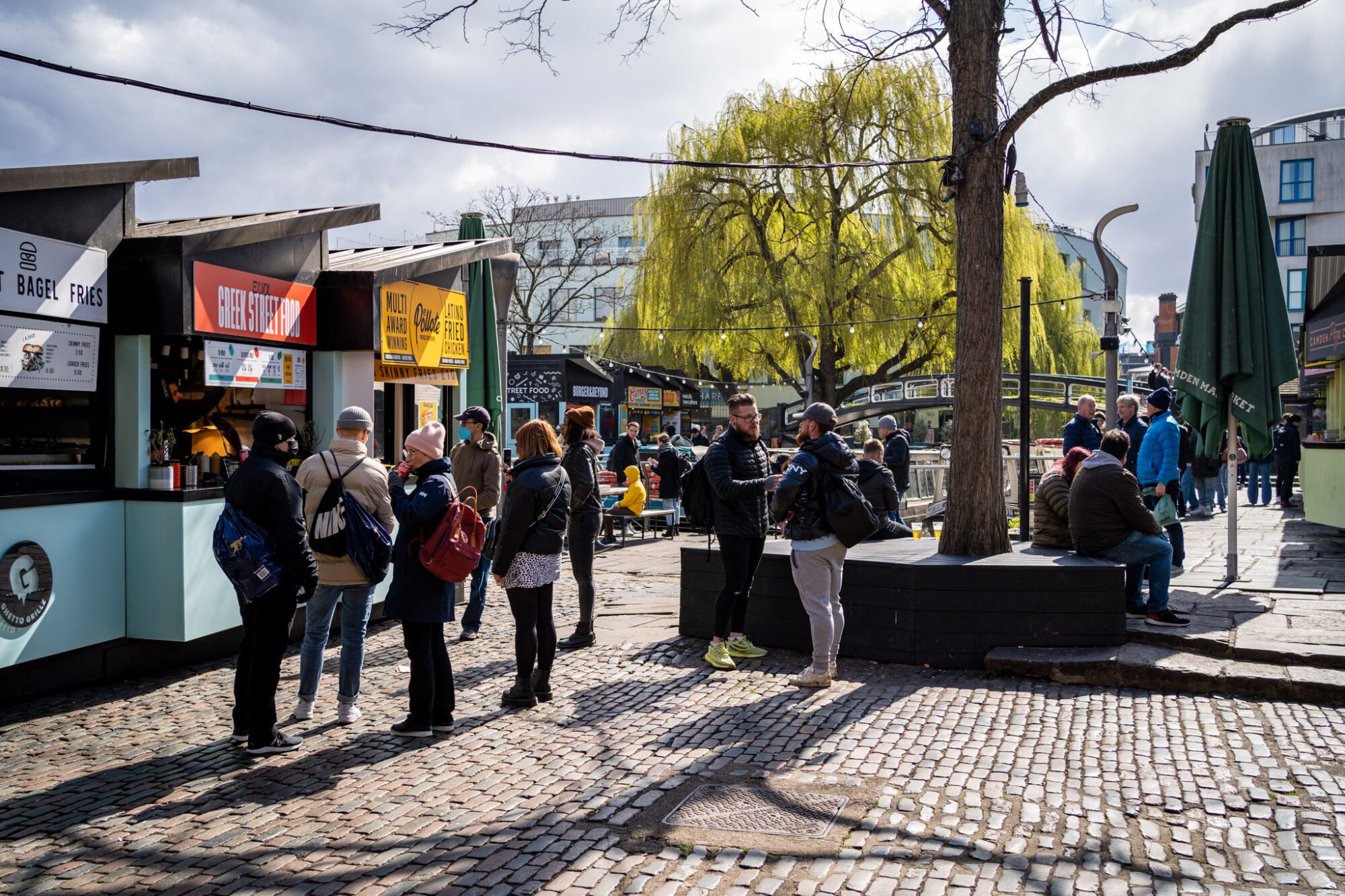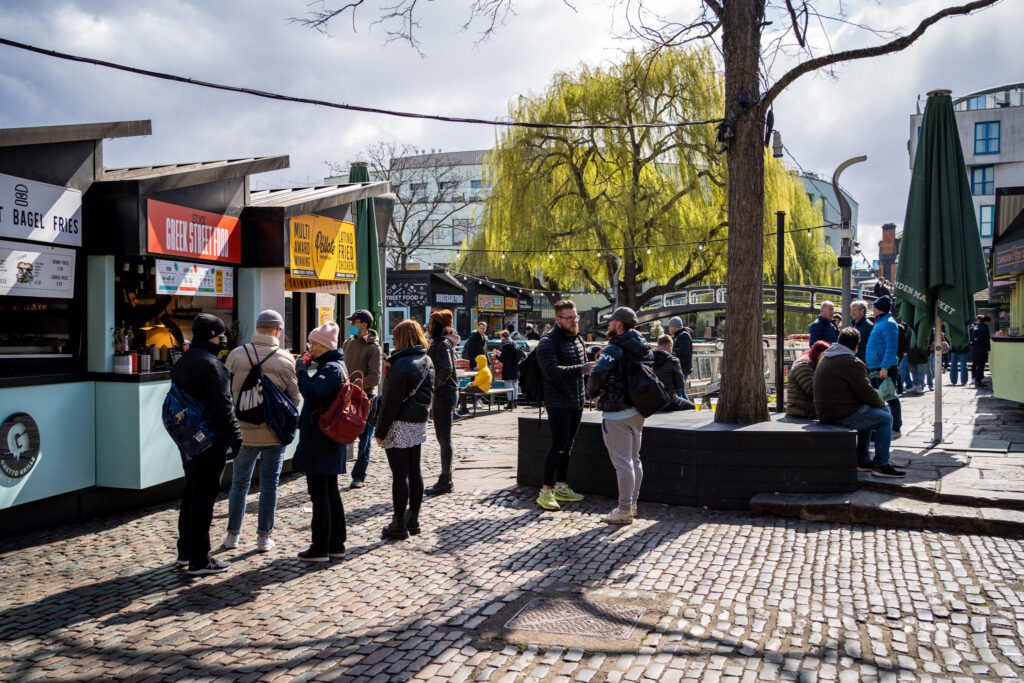 Situated right on Regent's Canal, Camden Market is a sprawling complex of shops, food stalls, and more permanent restaurants. There are several sections of the market, but the best part is on the north side of the Canal (here on Google Maps).
The market is overwhelming, with all sorts of smells and sounds attacking your senses, but it's well worth wandering a bit to take in everything it has to offer, from Indonesian curries to heavy metal-inspired t-shirts. It feels like it just keeps going and going, and the scale of the market is pretty staggering.
Here are a few of our highlights that, unsurprisingly, heavily focus on food.
Maize Blaze: A contemporary take on Colombian food (we spent six weeks in Colombia, and absolutely LOVED it), they have a limited menu available at the stall here that has bowls with various toppings. If you are looking for things like arepas and fried plantains with a sweet chili sauce, you can find them at their kitchen just a few blocks away (you'll have to order online for pickup).


Arepazo / Arepa Venezuelan Kitchen: To be honest, I don't know what the name of this stand is. But I do know that it's the place to get arepas at Camden Market. The pabellon, a pulled beef, was some of the best we had in London, and the vibes at the stand with the blasting music and dancing chef were awesome.


Kolkati: Not gluten free, but Alysha saw it at Broadway Market (another market worth visiting) and decided she had to have it. So she finally got it here at Camden Market. They make kati rolls, which are a street food staple of Kolkata that consists of fillings (either meat and accouterments or paneer) wrapped in bread.


Pamban Chai & Coffee House: If you like chai (like Alysha does), you shouldn't miss this place. Their rose chai was Alysha's favorite chai in London, and we drank A LOT of chai while we were in town. You can get a flight to try multiple of their chai offerings!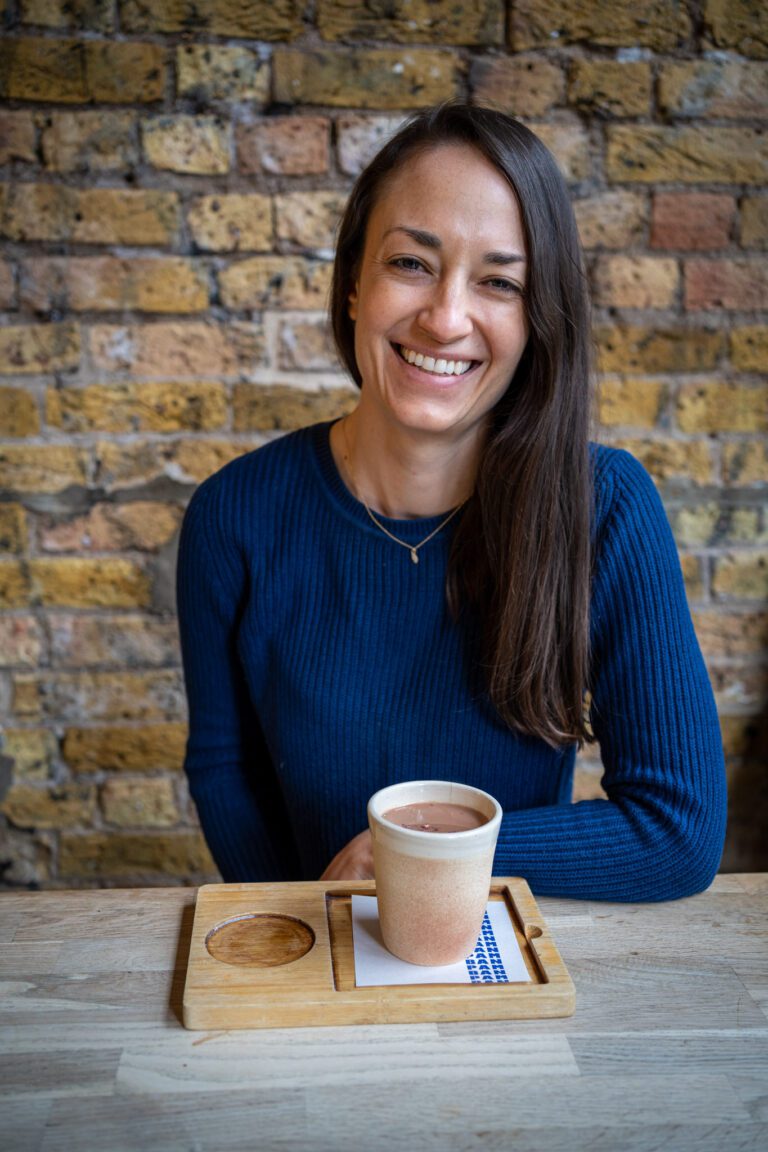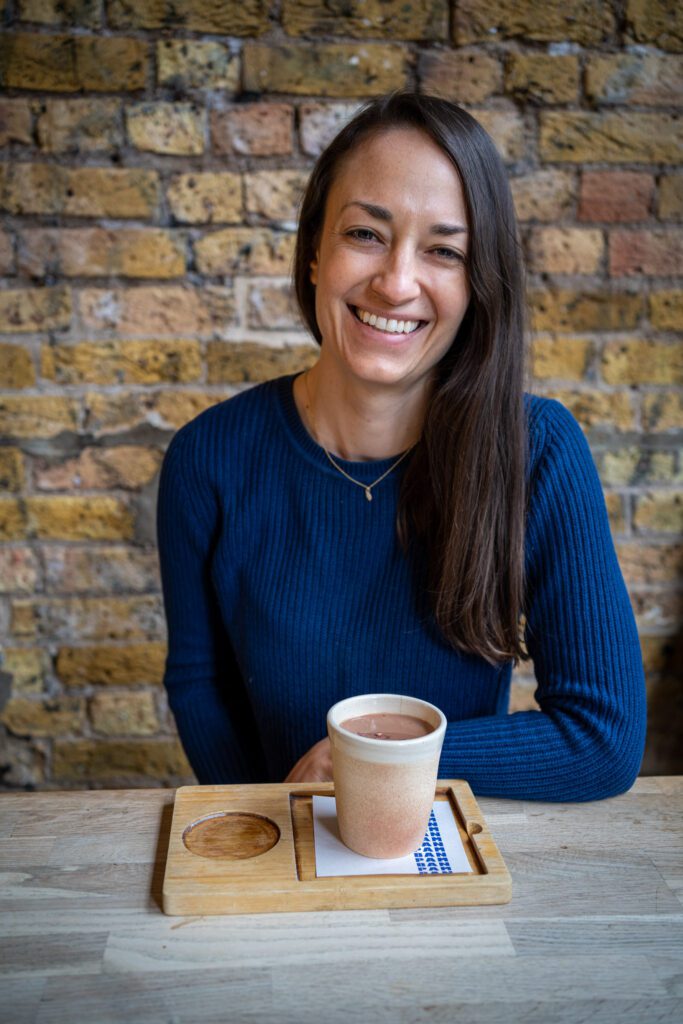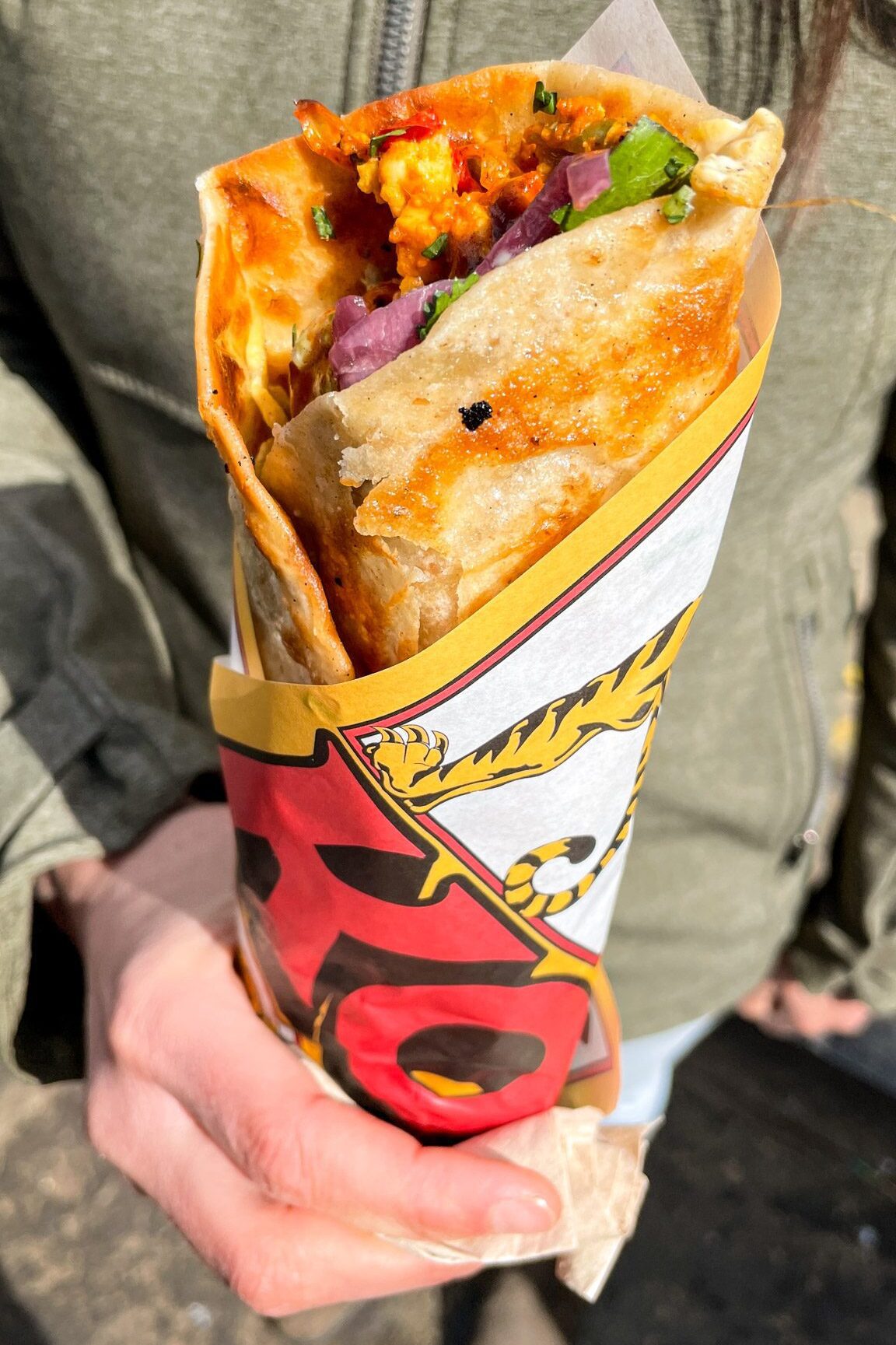 Chalk Farm Road
After lunch, you'll undoubtedly start to notice Camden getting busier. While it's tempting to spend the day drinking at the Ice Wharf, overlooking the lock, drag yourself out of busy Camden Town and wander down Chalk Farm Road towards the station of the same name.
Along the way, (see here for directions) you'll see lots of cool street art and pass the famous Roundhouse (the famous punk concert venue), shortly after which you'll need to turn left along Regent's Park Road and across the bridge that takes you over the railway tracks.
Continuing up Regent's Park Road takes you to another world. This pretty part of London has some lovely little shops and cafes, and is a favorite haunt for local (and international) celebrities, many of whom live close by.
Primrose Hill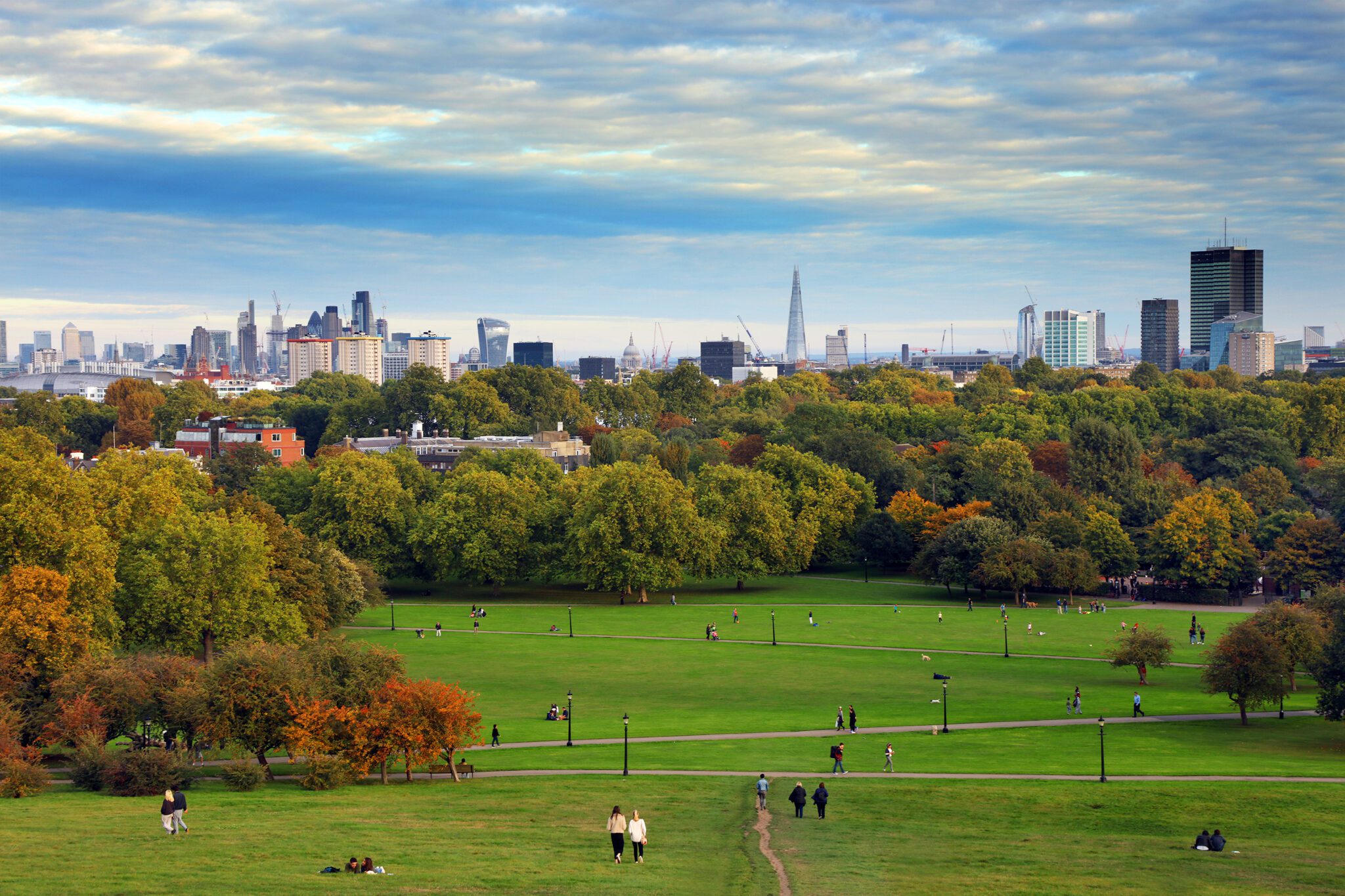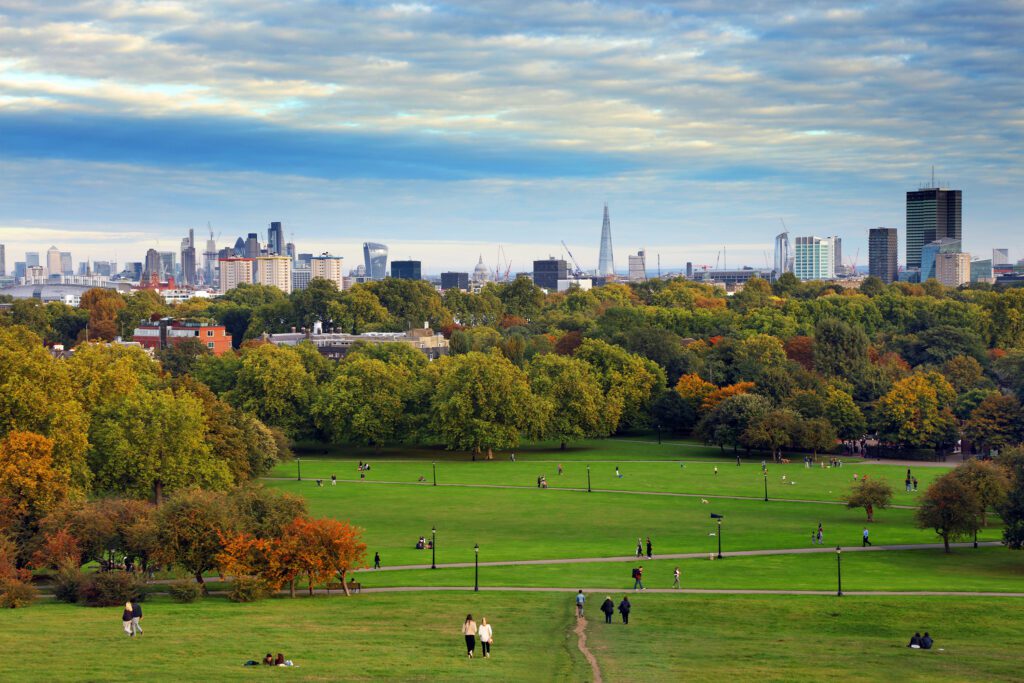 As you head further up the street, you'll find two of the once commonplace bright red British phone boxes, and after a classic photo opportunity, you'll see that you've reached the entrance to Primrose Hill park.
Primrose Hill is a wonderful place to spend a sunny couple of hours. You won't find many tourists in this part of London, just lots of locals lounging in the sun or taking in the amazing vistas from this perfect vantage point, where you're able to see nearly every famous building in the city.
After Primrose Hill, you'll be well into the afternoon of your last day in London. For the evening, we'd recommend grabbing dinner and drinks in a place that you've already visited, but wanted to spend more time.
Catch a Show!
We'd also recommend using this evening to catch a show, either at the Globe Theatre if you want a unique experience, or somewhere in the West End if you're looking to see one of the more famous contemporary shows.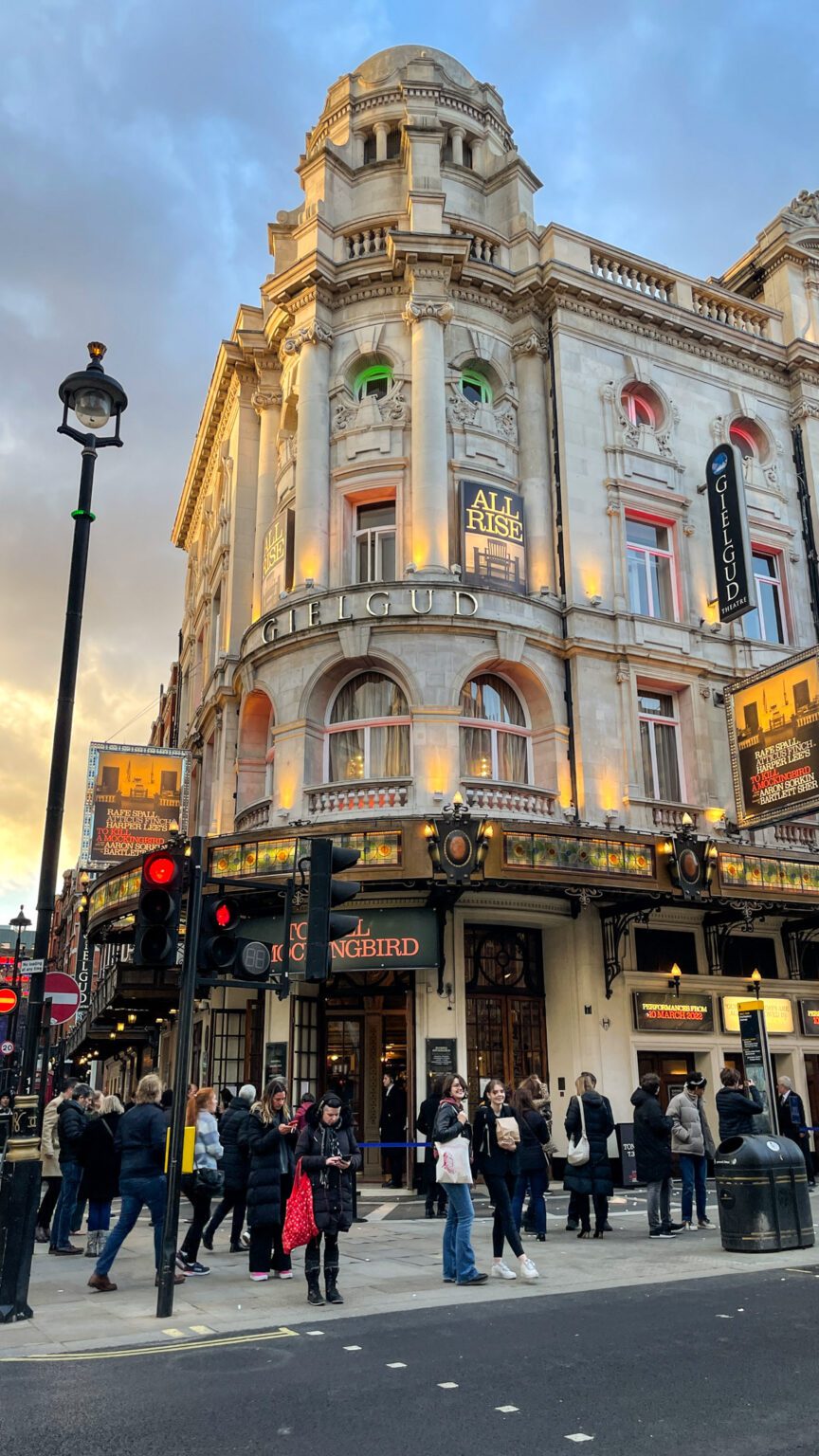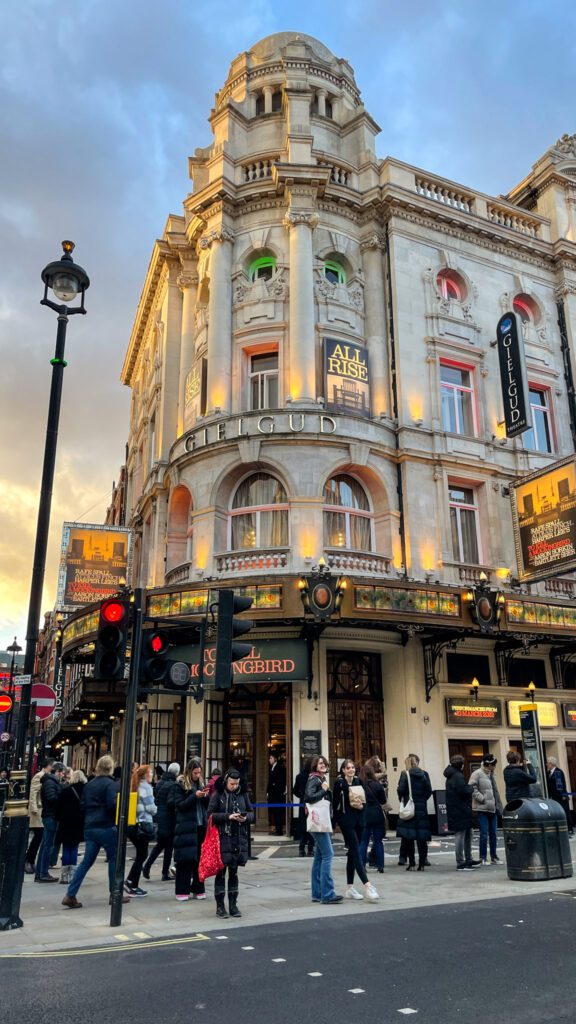 We've seen Hamilton, Book of Mormon, and Lion King, and Harry Potter and the Cursed Child, and we'd recommend all of them (although Book of Mormon probably isn't for kids or people who are easily offended).
Check out what shows are happening in London while you're in town here.
What to Do with Less Time in London
We had almost two full weeks in London, but we realize most people aren't blessed with that much time to explore. Or even able to spend four days.
Here's how we'd spend less time in London, from one to three days. You can use these overviews to get an idea of the plan, and then use the detailed sections in the itinerary above to go deeper on the places you end up including.
London in a Day
With just a day in London, you're really going to have to pick and choose what you do and see, because a day is not nearly enough time.
But, we're here to give you our best take on how to spend your time, so let's talk about what a perfect day in London looks like, at least for us.
Immediately, we think you should skip the museums. The Natural History Museum and Victoria and Albert Museum are both cool, but they're pretty far away from the rest of Central London.
The other thing you're going to have to miss is the Changing of the Guard. First of all, it doesn't happen every single day year-round, so there's a chance that it's not even happening on the day you're in London. Second, having that specific time in mind makes it hard to plan the rest of the day.
Instead, focus on exploring the area around the Thames. Start your day at Buckingham Palace, the Queen's part time residence (we were told by multiple people that she's hardly ever there these days). Make your way to Westminster Abbey from there, and admire Big Ben before walking over the Westminster Bridge.
From there, make your way along the south bank of the Thames, following the walk in the main itinerary above.
Stop at Borough Market for lunch, then make your way across either London Bridge (better views, specifically of Tower Bridge and the Tower of London), or Tower Bridge (worse views, but a cool experience) and head to the Tower of London.
Finally, make your way on a walk through the city of London, and end at St. Paul's Cathedral.
2 Days in London
With 2 days in London, you'll need to do some swapping around of activities, but you can use the first three days of the itinerary above as a baseline.
Here's how we'd do it.
On the first day, combine the morning of day 1 (St. Paul's, the London Museum, and the City of London) and the morning of day 2 (Big Ben, Westminster Abbey, and Buckingham Palace). Start with the Westminster stuff to make sure to get to the Abbey early, and end with St. Paul's. Head to Shoreditch for dinner and drinks.
On the second day, follow day 3 as written above. If you want to catch a show while you're in town do it on your second evening.
3 Days in London
With 3 days in London, we'd follow the itinerary above as written, and skip day 4 altogether. While it's a bummer to miss out on Camden Market, you're making it to Borough Market, so you've got a taste of London's food markets.
If you want to catch a show, you can add it to any of the evenings pretty easily. 
Specific Days of the Week to Keep in Mind for Your Trip
One of the things we realized as we sat down to outline this guide is that a lot of the things to do depend on what days of the week you're in town. This is particularly relevant for some of the food markets.
For example, Borough Market is amazing on Saturday, closed on Sunday, and pretty good on weekdays. But only at lunchtime!
On the other hand, Broadway Market up north is really a Saturday destination, when the streets are packed with vendors selling all kinds of delicious food.
Here are some considerations for days of the week to keep in mind as you're planning your trip (there's more detail on what exactly these places are and what they offer in the detailed 4 day London itinerary above). 
Borough Market: Lunch only, Monday to Saturday.
Broadway Market: Definitely go on Saturday for lunch.
Camden Market: Mostly a lunch spot, and you should also go on Saturday if you can.
Spitalfields Market: Weekends are best here, when the entire interior is lined with stalls selling food, arts and crafts, and other fun stuff to peruse.
Portobello Road Market: The market in Notting Hill is, again, best on Saturdays, when the majority of vendors are set up.
Columbia Road Flower Market: Sundays only!
The Sunday Upmarket: The vintage/food market on Brick Lane is a weekends only destination, both Saturday and Sunday.
"WOW" you say, "that's a LOT of weekend only markets – which ones do you like best?"
We purposefully made sure our 12 days included two weekends, because the food market culture in London stuck out to us as something that was super unique.
If we had to choose, we'd opt for the Broadway Market, which feels much more like a neighborhood farmers market than any other market we visited (and we went twice!), and the Spitalfields Market and Upmarket, which are a few blocks away from each other.
You should also definitely visit Camden Market and Borough Market, but the day of the week matters less for those (though they're both lunchtime destinations, rather than evening destinations).
When to Visit London
London is a city of seasons, though those seasons might look a little different than the seasons you're used to.
Matt has now been to London multiple times in the spring, and it's a little bit of a toss up in terms of the weather. On this last trip, we were in London for two weeks. At the beginning, it was summer weather, and Londoners came out in full force on the first sunny weekend after a dreary winter. We're talking tank tops and sundresses all over the place.
A few days later, it was snowing. Literally.
So if you're coming in the spring, be prepared for unpredictable weather – you might be warm, cold, or wet, or all three in one day! Layers are going to be your friend, and a rain jacket is essential.
In the summer – which means about June through August – the weather is warm, the skies are clear (mostly), and summer festivals are in full swing. It's easily the busiest time of year, so you'll be paying more for accommodations, and you'll want to book things like museum entries as early as possible.
Fall is similar to spring, but it's a little bit more predictable. It's going to be cool – think 50's and 60's on most days – and it will rain a few days here and there, but it's a lovely time to be in London.
Winter is gray and dreary, and the days are very, very short. However, London around Christmas is supposed to be magical, and the city lights up with Christmas lights, with markets set up all around the city. It's going to be relatively cheap, aside from December, when prices are surprisingly high.
Getting Around London (Using Public Transit)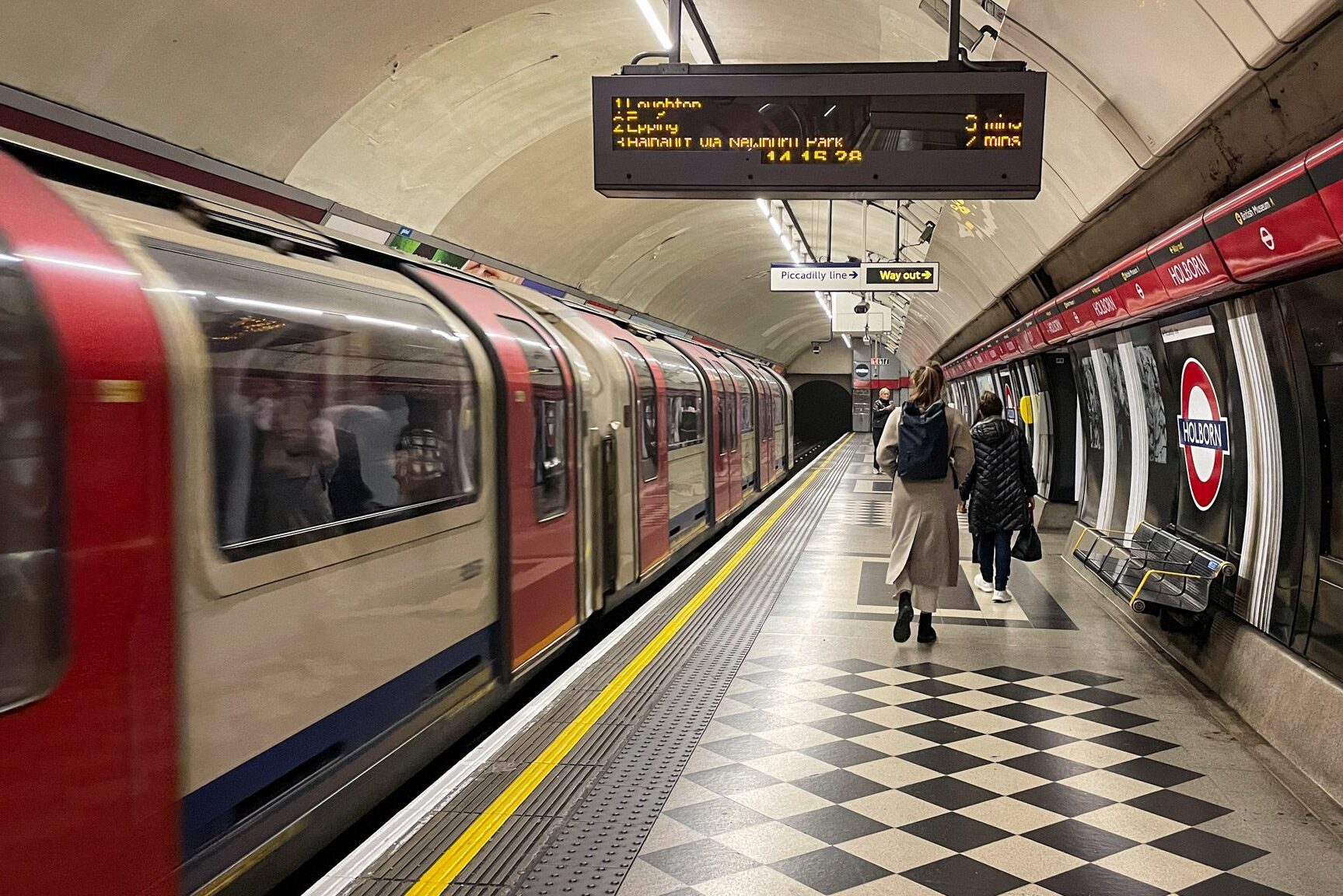 We didn't quite understand just how massive London is until we had spent some time moving around it. I mean, sure, we knew it was a huge city with 10 million people, but I don't think we quite understood just how long it takes to get from one end of the city to the other.
For that reason (p.s., the answer can be well over an hour, depending on where you're headed), we highly recommend investing in an unlimited public transportation card while you're in London, which is called a Travelcard and is something you can buy at the machines at most Tube stations.
The Travelcard gives you unlimited access to the Underground and buses in London. Both are efficient, relatively clean (coming from the US), and will get you from point A to point B far faster than your own two feet. You'll need to choose the duration based on your trip – one day, two days, a week. More information here.
Since you'll likely only need zones 1-2 for most of the sights in Central London, we'd recommend purchasing your Travelcard separately from your trip from the airport (more on that in a second). The airport is outside of that range, and it would increase the price of your pass substantially.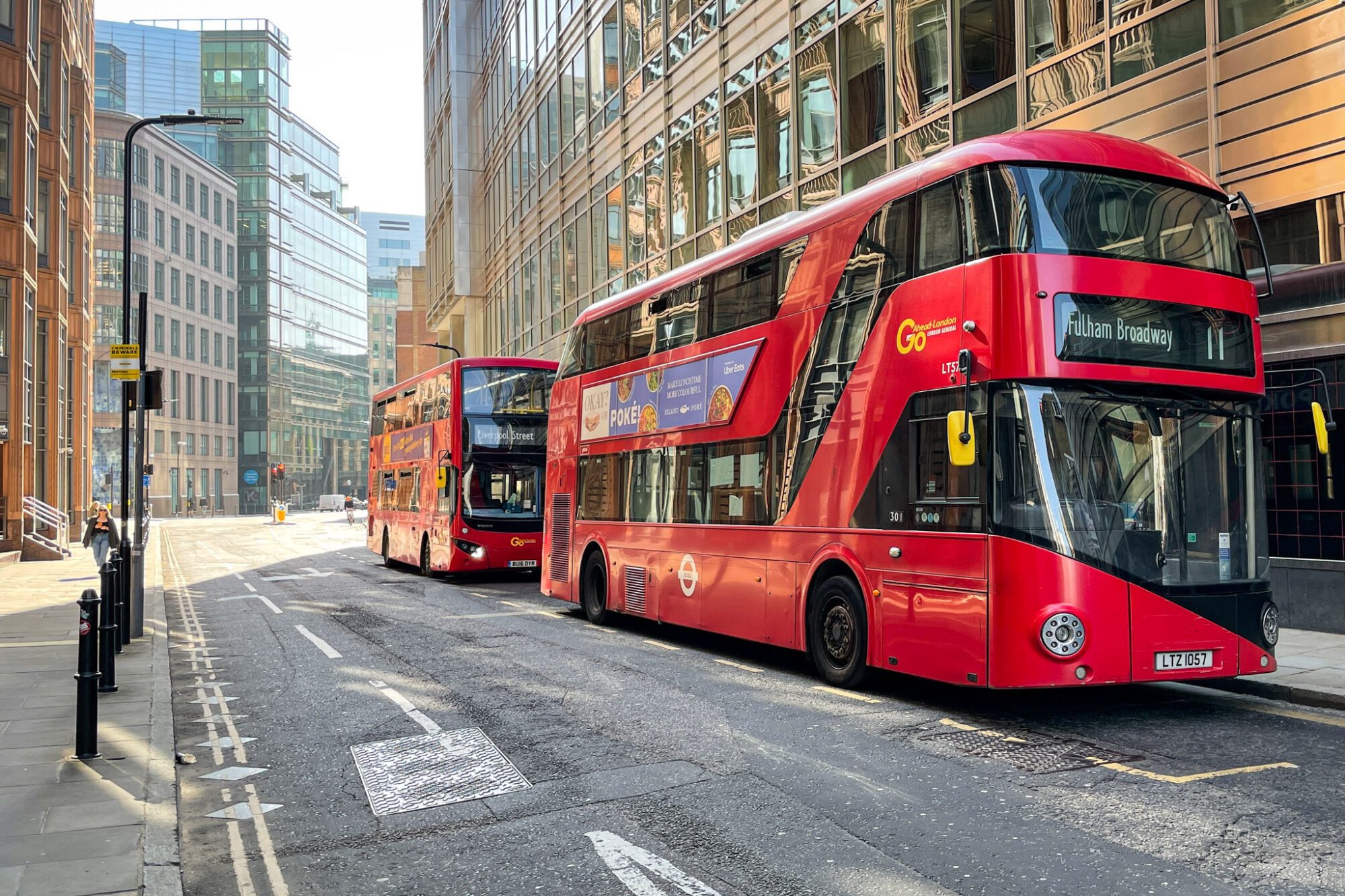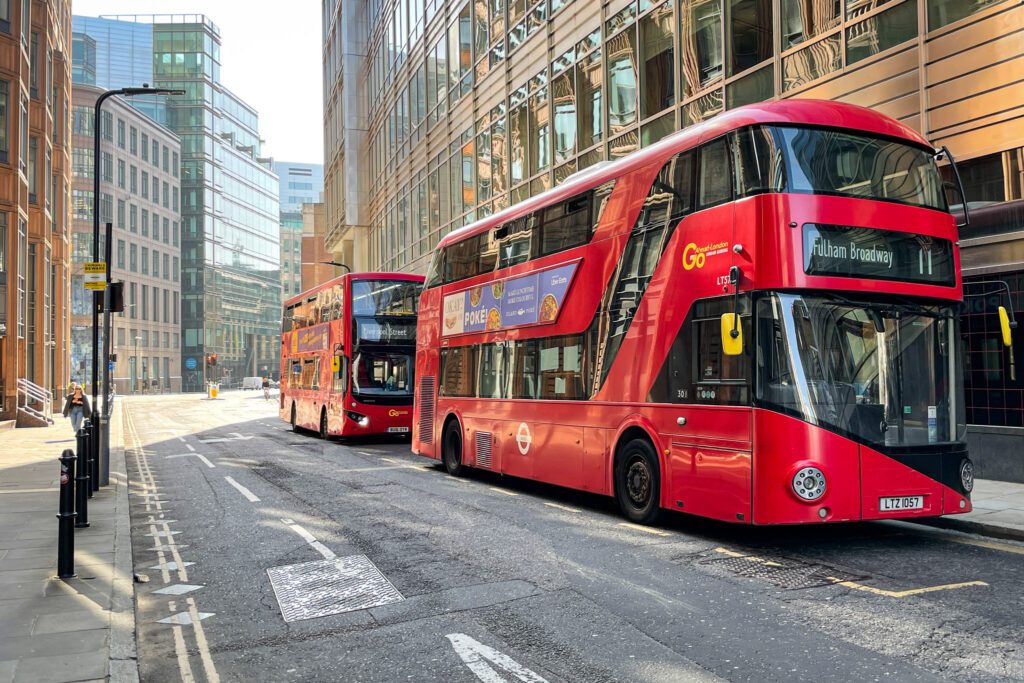 An alternative would be to pay £5 for an Oyster Card, which you can top up as you go. Again, you'd buy both the card and add any value at Tube Stations. You can use this to tap on and off the tube and buses (you don't actually tap off when you ride the bus in London, just to be clear).
Top Travel Tip: Search for "TFL" (Transport for London) on the Apple or Google Play store for an app with a wealth of maps, timetables and transport information.
Getting Around by Electric Bike
Electric bike rentals have exploded in popularity across London over the last decade.
The largest bike rental company in London is Santander Cycles, though locals refer to them as "Boris Bikes", after their introduction by then-mayor and now Prime Minister Boris Johnson, way back in 2010.
The bikes have been rented over ninety-three million times since their introduction, and cost £2 per 30-minute ride, with drop-off and pick-up points all across the city.
Getting Around on Foot
Unlike San Francisco, the last place we lived full time, London is fairly flat, which makes it easy to get around on foot. In fact, you'll notice that a lot of the itinerary above involves walking from place to place, which is a very pleasant way to explore the city.
However, we also mentioned that London is huge, which means you're going to want to supplement your walking with public transportation if you've got limited time and want to fit in as much as possible.
Getting to the City from London Heathrow
As far as getting into the city from the airport, you have a few different options, and which you end up choosing is going to depend on your budget and how much time you have.
We'll go from fastest (and most expensive) to slowest (and most affordable).
First is the Heathrow Express, which is a train that runs between Paddington Station and Heathrow in 15-20 minutes flat with no other stops. The downside is that it's VERY expensive if you book it at the last minute, and it doesn't quite get you into the areas of London you're probably staying in, so it will require a transfer.
If you're able to book more than 90 days in advance, you can get tickets for as little as £5.50 each way, which is a steal of a deal, and will cost about the same as the longer Tube option, taking about ¼ as long.
The second option, which is expensive and likely takes about an hour, door to door, is taking a taxi. You can either pre-book a car hire to pick you up and drop you at your hotel, or grab one of London's charming black taxi cabs from the stand at arrivals. Fares are standardized – sort of – and depend on the time of day and day of the week. You can find a general guide here on the government website with approximate fares based on when/where you're going.
Last is taking the Underground all the way from Heathrow, which is what we ended up doing. It costs right around £6, and takes about an hour to go from the airport to Central London on the Piccadilly Line. Depending on where you're staying, you might need to make a transfer, which is relatively straightforward. Buy tickets at the machines at the airport just before you leave the concourse and enter the Underground station.
Taking the Tube (another name for the Underground) during rush hour with luggage will likely be a nightmare, so take that into consideration if you're arriving between 8:00 am – 10:00 am or 4:00 pm – 6:00 pm.
Getting to London
When it comes to figuring out how to get yourself to London, you'll find that the city is extremely well connected. The city is a major travel hub for Europe, the United States and countless other destinations around the world.
Flying into London
Here's a brief rundown of the major airports surrounding the city. There are three of them, and the main airport with the widest array of flights (and ways to get into the city) is London Heathrow (LHR).
London Heathrow (LHR)
Heathrow is by far the busiest airport in the UK. That means it's probably the airport you're most likely to be arriving at, especially if you're flying in from the United States.
Heathrow is the closest of the large London airports to the city center, so it's definitely the best place to land if you have the choice.
London Gatwick (LGW)
Gatwick Airport is located 28 miles to the south of London. The airport is smaller than Heathrow, and mainly connects to destinations across Europe. If you're planning on arriving on a budget flight (Easyjet, WizzAir, Ryanair) there's a good chance you'll come into Gatwick.
Don't be put off by Gatwick's location. It's extremely easy (and fast) to reach the center of London using the Gatwick Express direct train service. The trains run every 15 minutes between the airport's South Terminal and London's Victoria Station daily from 5:00 am until 12.30 am. The nonstop journey takes around 30 minutes.
London Stansted (STN)
London Stansted is situated to the north of the city, and it takes around 50 minutes to arrive at central London's Liverpool Street Station by express train.
Stansted, like Gatwick, is predominantly used by budget operators like Ryanair. Stanstead is a busy airport, but many of the flights cater to Eastern European destinations, so it may be of limited use for many of you.
Taking the Eurostar into London
Eurostar is a high-speed train service that links the UK to continental Europe. Trains travel through the Channel Tunnel, across the English countryside of Kent, before arriving in London's King's Cross St. Pancras Station.
So What's the Appeal?
Well, for one, it's very efficient. Paris to London takes around 2.5 hours, and you'll arrive (and depart) from the heart of the city center at each end of your journey.
It's also possible to travel from Brussels, Amsterdam and even further out, meaning you could visit London by train as part of a longer European trip. Besides, there's something romantic about traveling by train, and it's something we wish we could do more of at home in the United States.
---