The Best Coffee in London: 11 Great London Coffee Shops
The London coffee scene, like many major cities in Europe, has undergone an incredible transformation over the past decade or so. Along with cities like Paris (PS: make sure to read my Paris coffee guide), it has gone from a coffee desert, where specialty coffee was non-existent and single origin beans were nearly impossible to find, to one of the most exciting coffee cities in the world.
If you're into coffee and looking for the best coffee shops in London, you're in the right place. Of course, there are quite literally hundreds (thousands?) of places in London that will serve you a good cup of coffee, so trying to whittle it down to the top 10 or so is kind of a fool's errand. Especially given the subjectiveness of the word "best."
In this guide, I'm going to take you through the coffee shops that stood out to me for one reason or another – usually because of an experience that you won't find elsewhere or a unique approach to coffee – and explain why I think they deserve a place on my list.
At the end, you'll find "the best of the rest" – other London coffee shops that I visited and was happy with, but that didn't really offer anything particularly unique other than a great cup of coffee.
Sound good? Time to get caffeinated!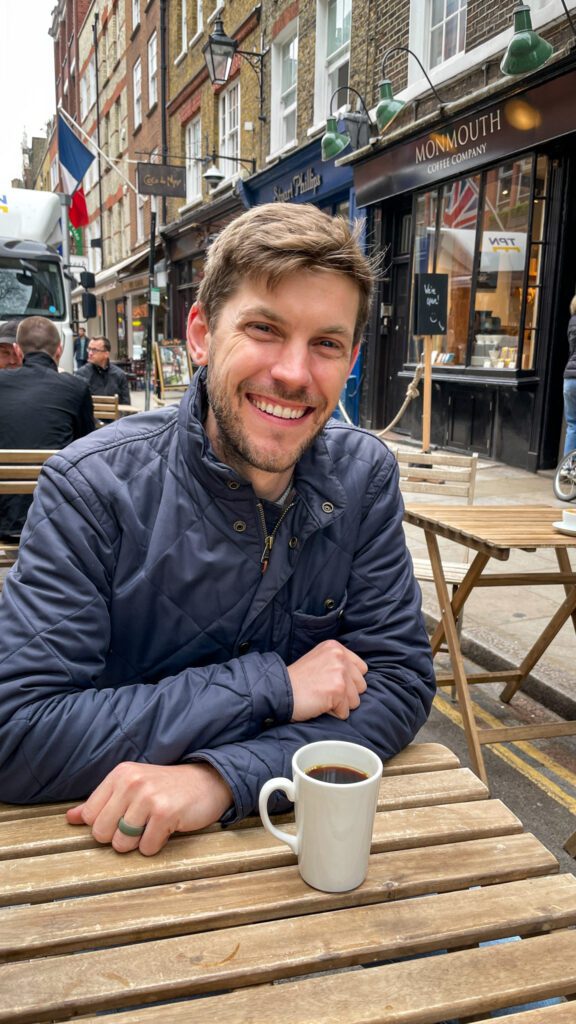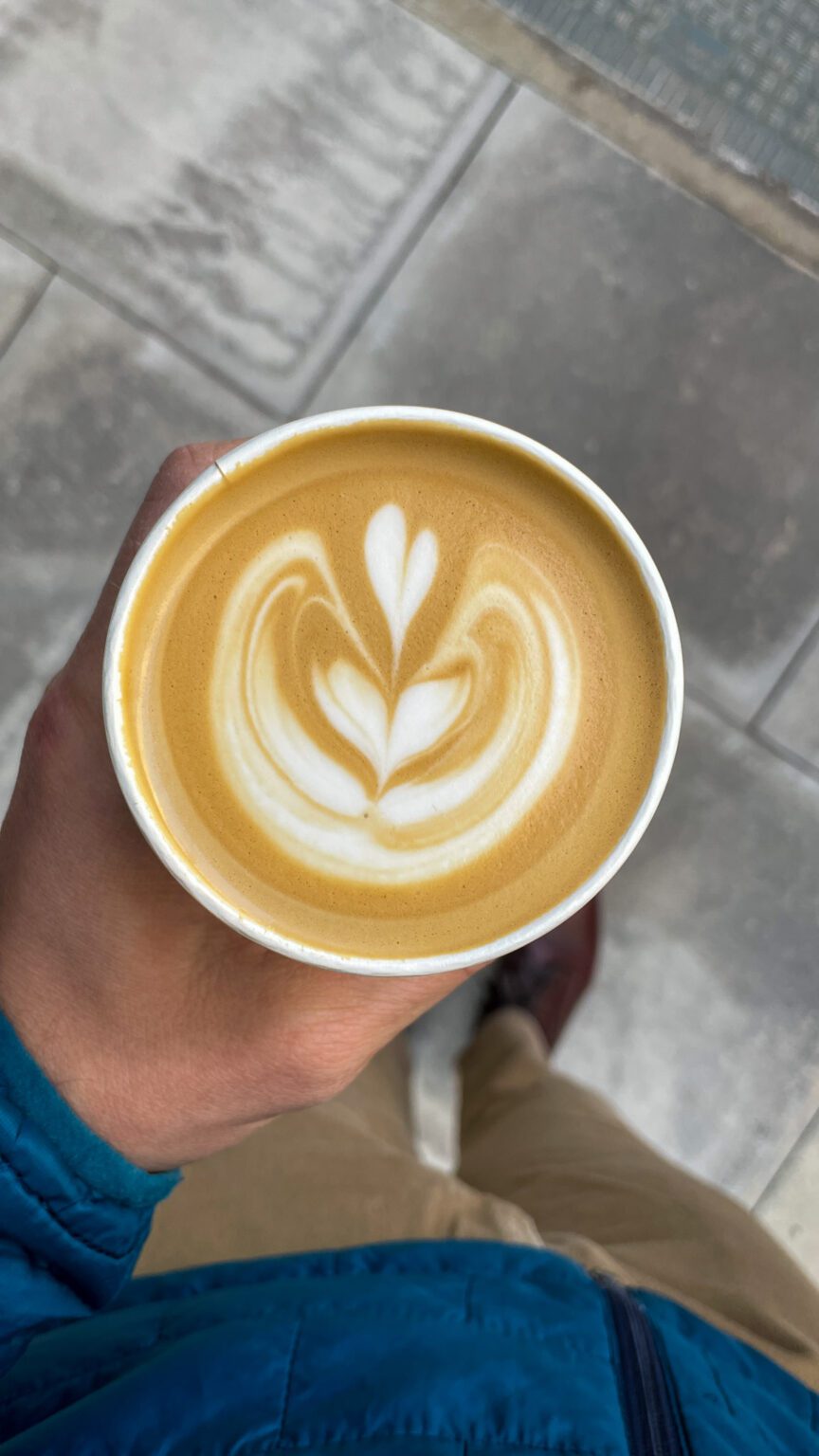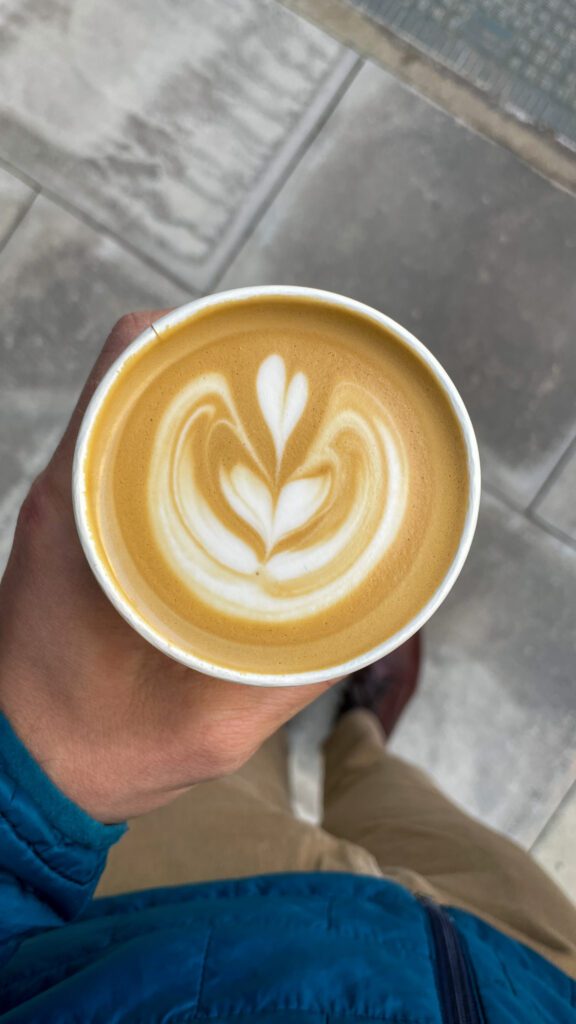 Disclaimer: Some of the links in this post, like hotel links, are affiliate links, meaning at no additional cost to you, we make a little bit of money if you click through and book. That being said, we would never recommend something to you that we don't stand behind 100%.
The Best Coffee Shops in London: A Specialty Coffee Lover's Guide
Look, I totally understand that my "best" coffee shop is going to look different from your "best" coffee shop, because that moniker is incredibly subjective (just like coffee). You might like your espresso dark and roasty, while I like mine bright and fruity. Or maybe you can't do coffee without milk, while I'm all about the black filter coffee.
And the truth is, there are quite literally hundreds of places in London that will serve you a great cup of coffee, whatever your preferences are.
However, I think there's some value in giving you a list of the coffee shops in London that stood out to me for one reason or another – either because they have a unique approach to coffee, they have some cool different ways to drink coffee, or I was just blown away by the coffee they served me. Or, they offer a coffee experience that you can't replicate on your own.
I'm not a coffee expert by any means – I'm a full on amateur home brewer who gets made fun of for being a little snobby when it comes to coffee (I like fruity, juicy coffee rather than the stuff that's been roasted within an inch of its life, sue me) and has a morning ritual that involves about ten minutes of meticulously brewing a cup of coffee with a V60.
If you're heading to London and are looking for some interesting coffee shops to add to your list, this is the place for you.
Rosslyn Coffee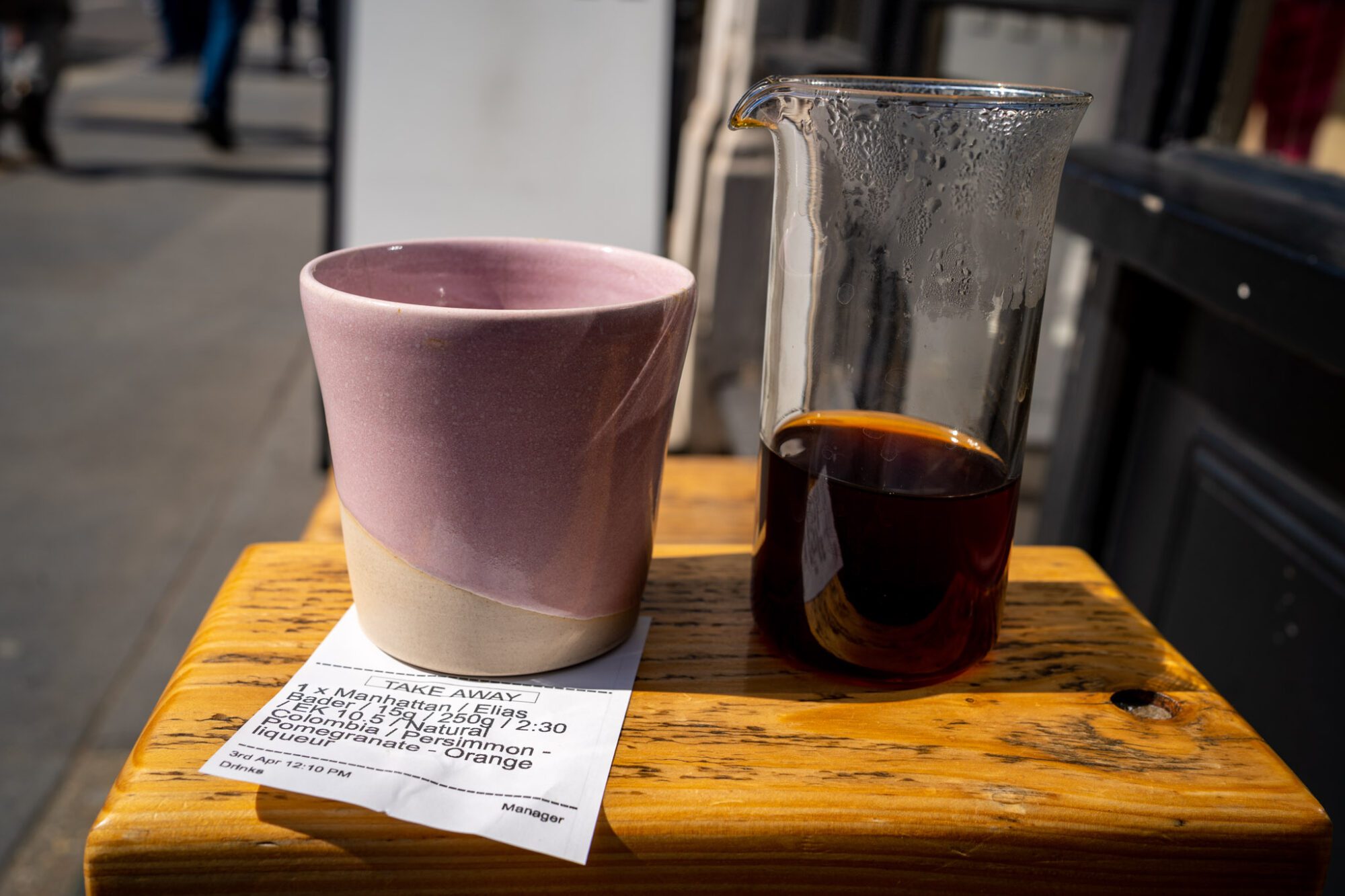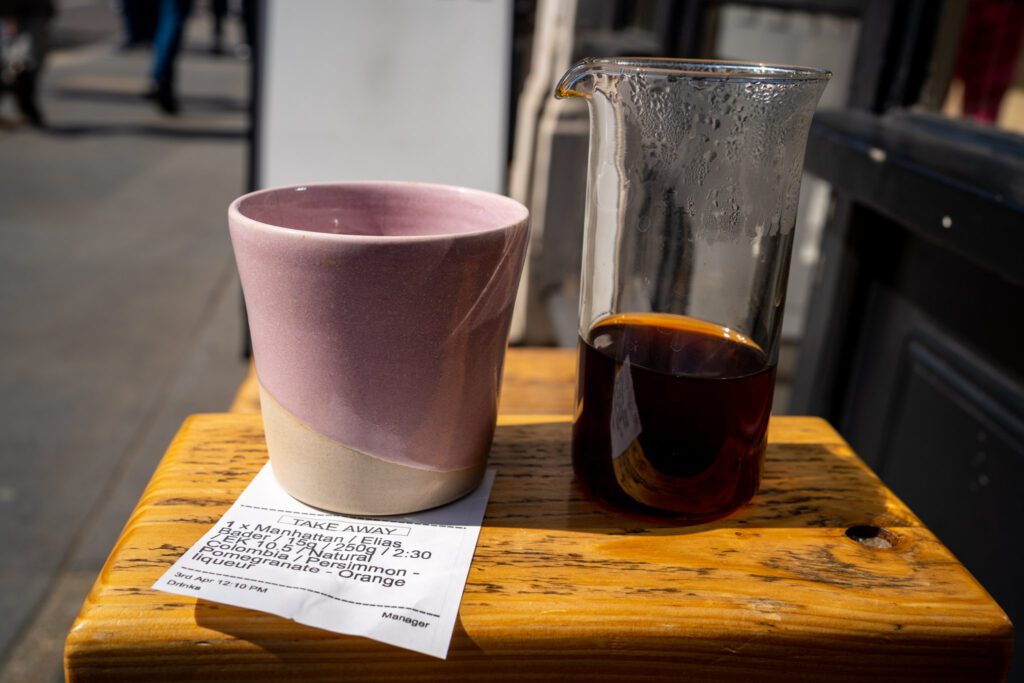 The reason Rosslyn is on this list is that I really enjoyed their approach to coffee. They strike a nice balance between being super approachable for people who aren't really that into coffee, and being super nerdy for people who want all the details behind the cup of coffee they're drinking.
For their base coffees, rather than having a bunch of different blends and single origin offerings and being paralyzed by the choices, they have three standard coffees that are specially roasted (and the packaging is color-coded) for various purposes.
They have one coffee – in a white bag – designed to be used in milk drinks. They have one designed for espresso (or a long black) in a black package. And they have one specifically for filter in a gray bag.
They are all single-origin coffees that rotate every so often, but you won't find the details right there on the front of the package. They do that to simplify the process and really focus and dial in the coffees they are serving.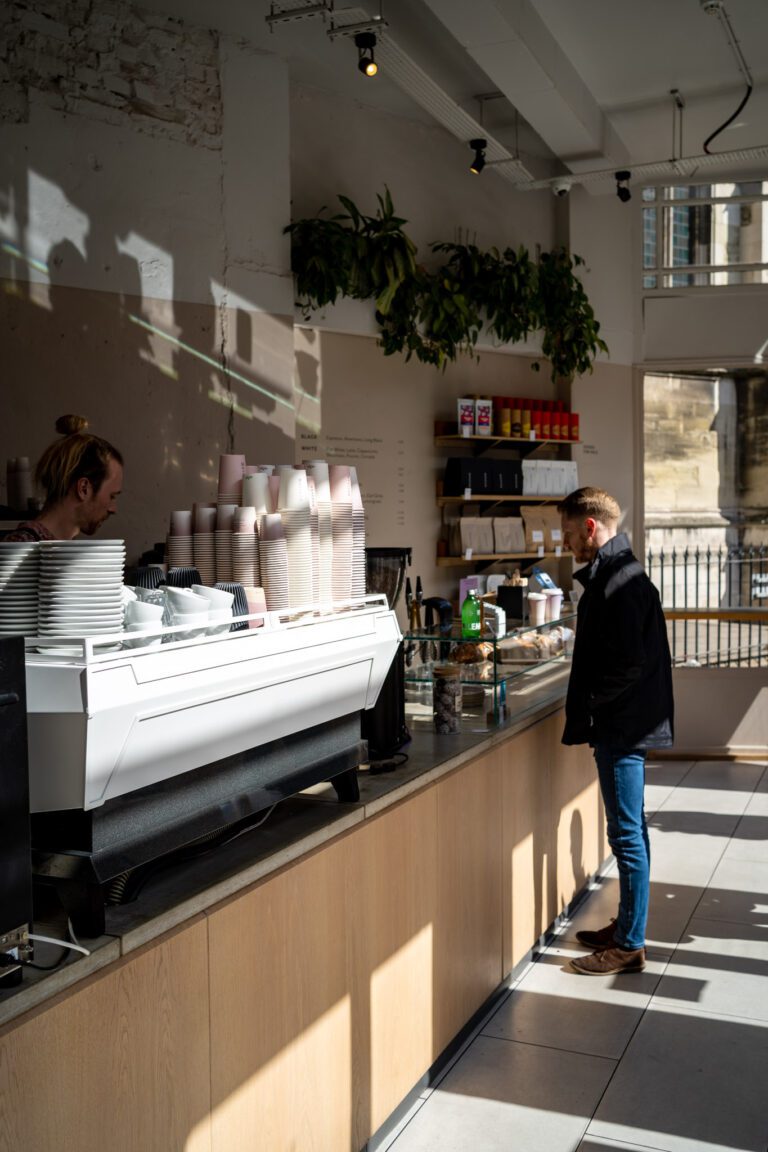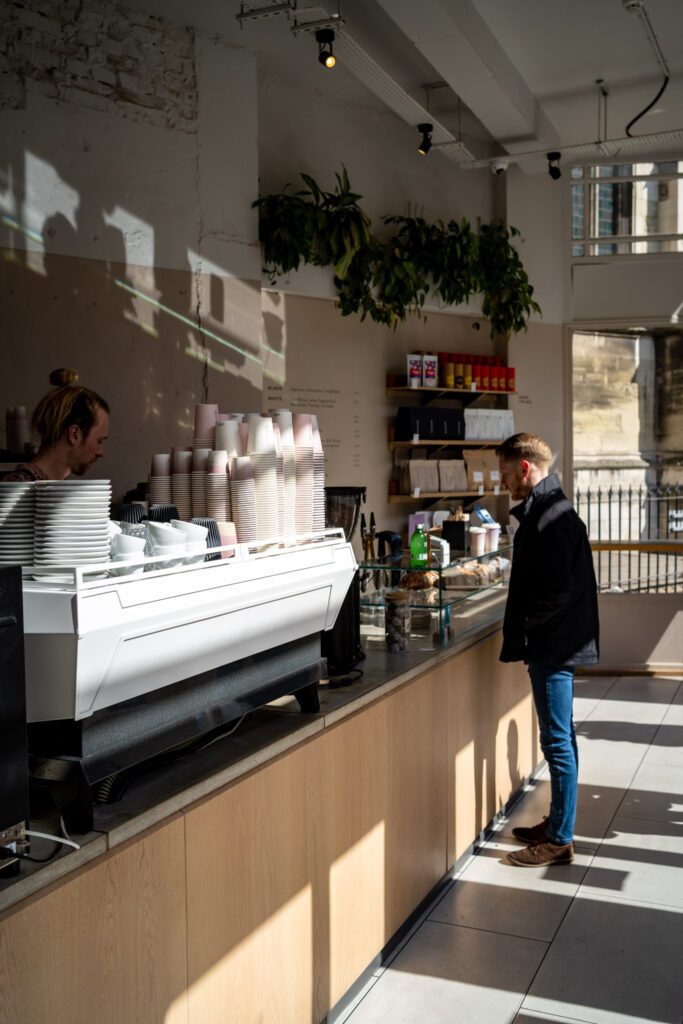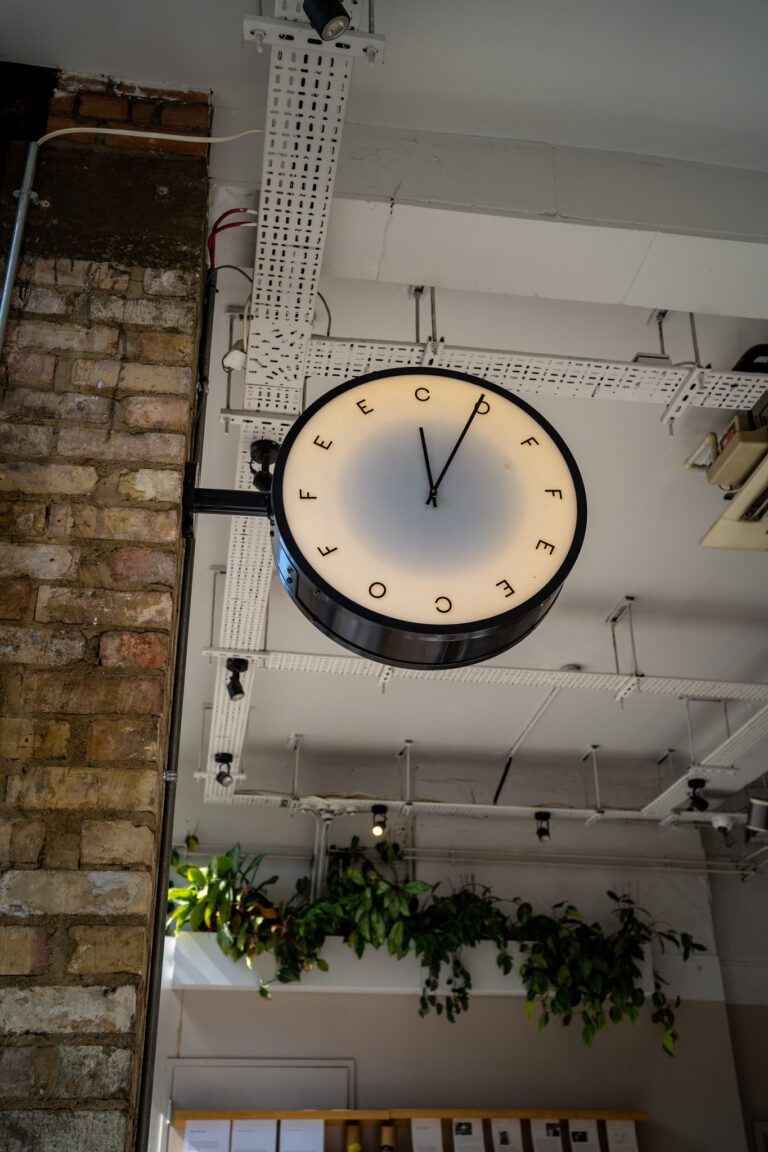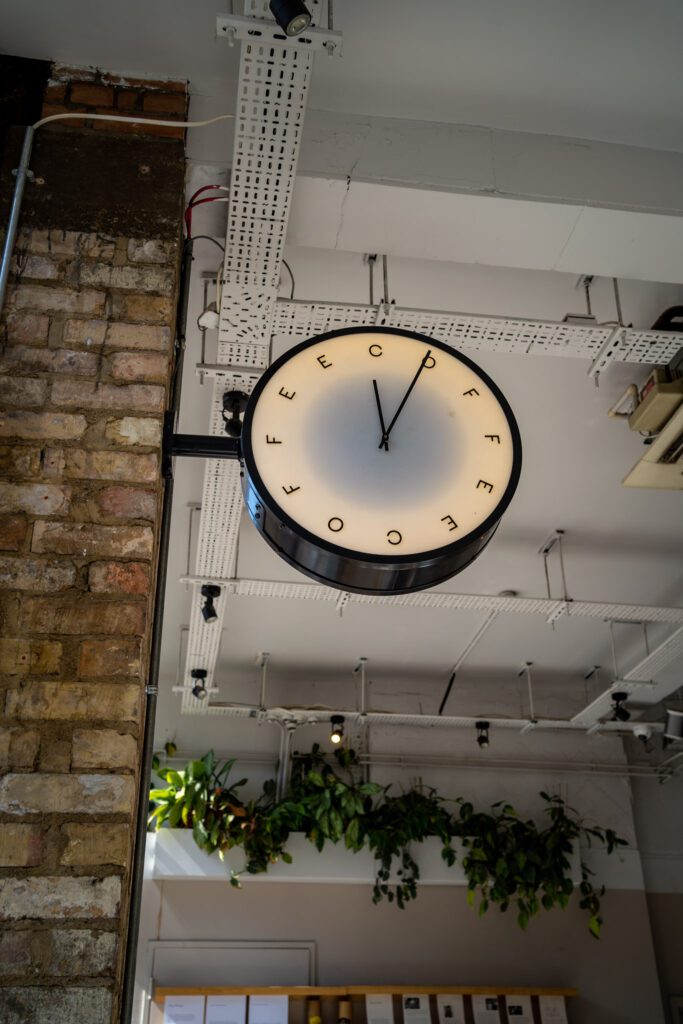 Of course, for coffee nerds like me, they also have a guest filter coffee available that rotates weekly or monthly (depending on how fast they go through it), and a selection of very special "off menu" coffees that I noticed in a freezer behind the counter. Those can be prepared using a Kalita Wave if you're looking for an extra special coffee.
I, being a little bit of a nerd when it comes to coffee (and a lot of things, really), was 100% in for one of the "off-menu" coffees, which you can access by scanning a QR code.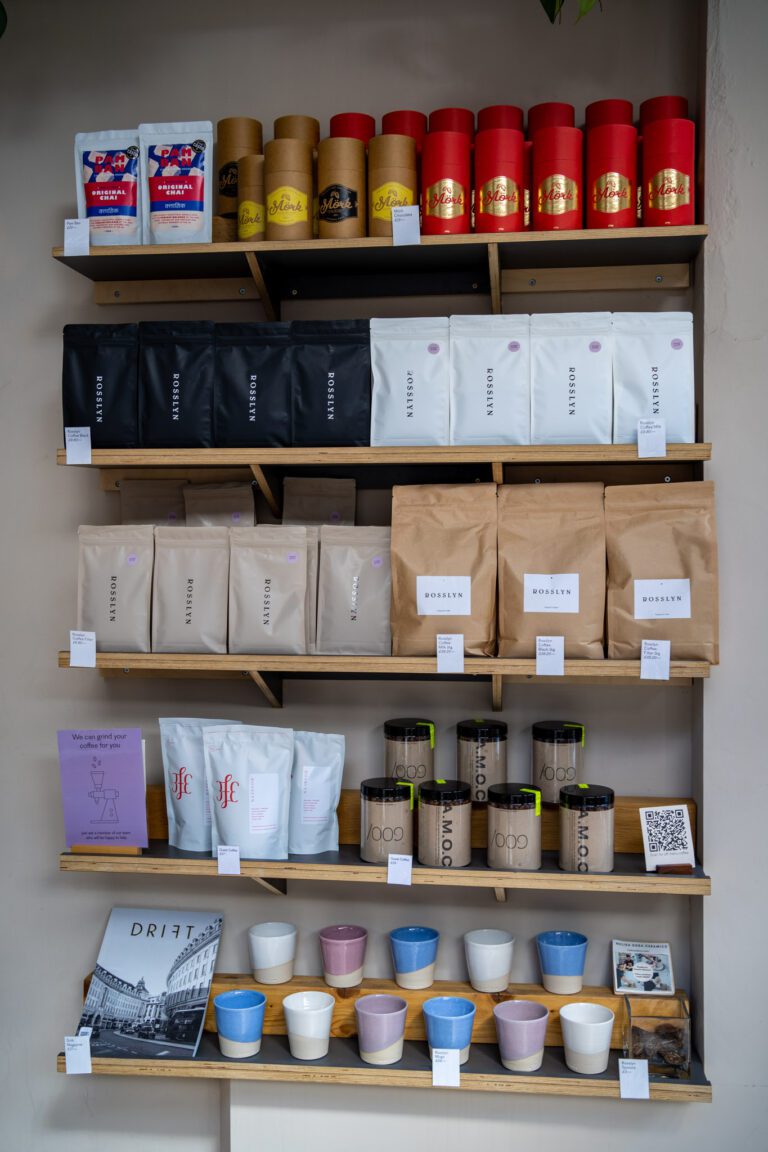 There, you'll find a very special selection of 8-12 coffees from various roasters around the world. They're more expensive – £6-£15 a cup – but they're extra special, and perfect for people who want an extra special coffee experience.
They had a nice variety of roasters, including Substance (my favorite coffee shop in Paris) and Manhattan, along with several I'd never seen before. I chose a natural Colombian coffee roasted by Manhattan, and watched the barista take it out of the freezer, grind it, and get it ready for the pour over machine they have to take over.
Then, when it's served to you, it comes with a slip of paper with the tasting notes and preparation method (the ratio of water to coffee and brew time).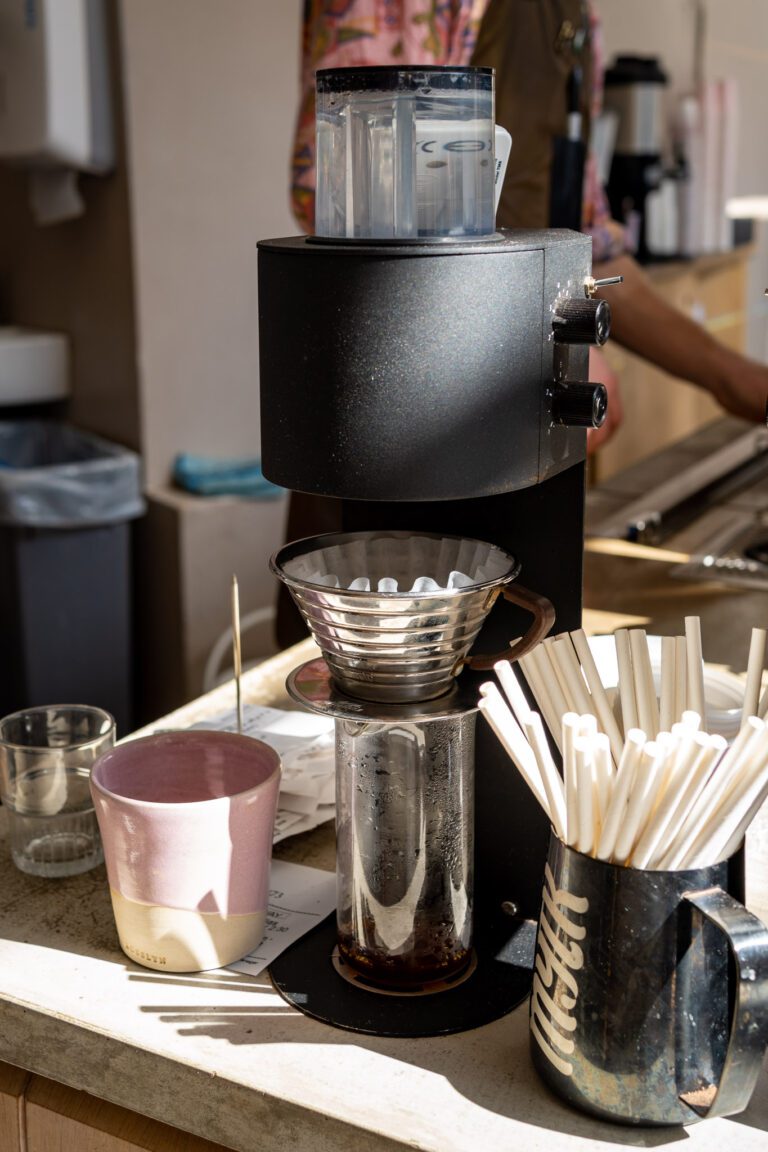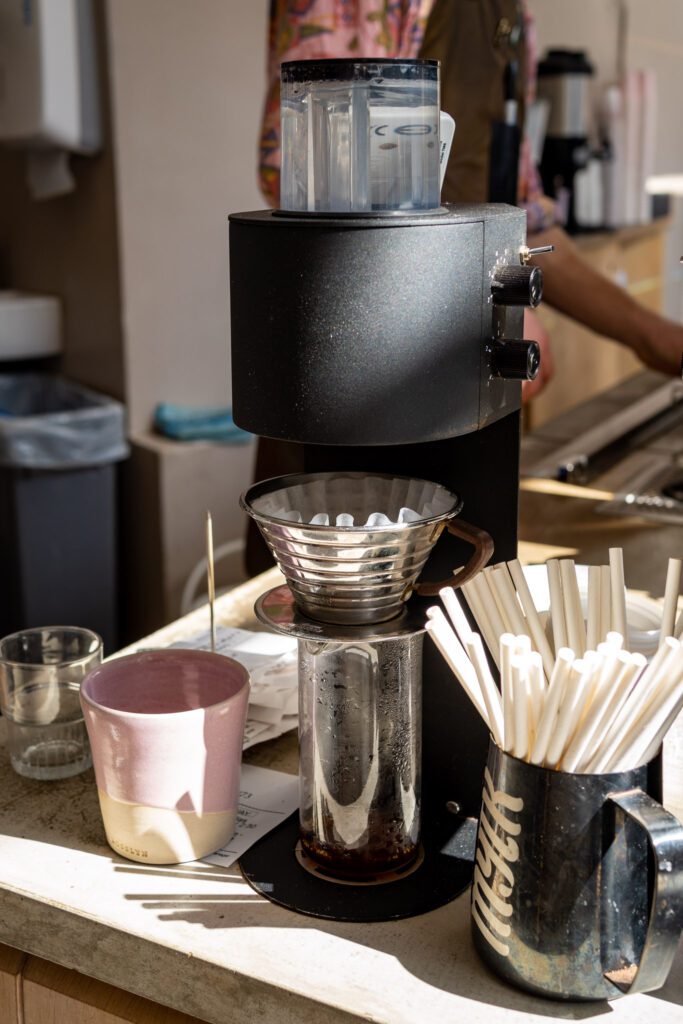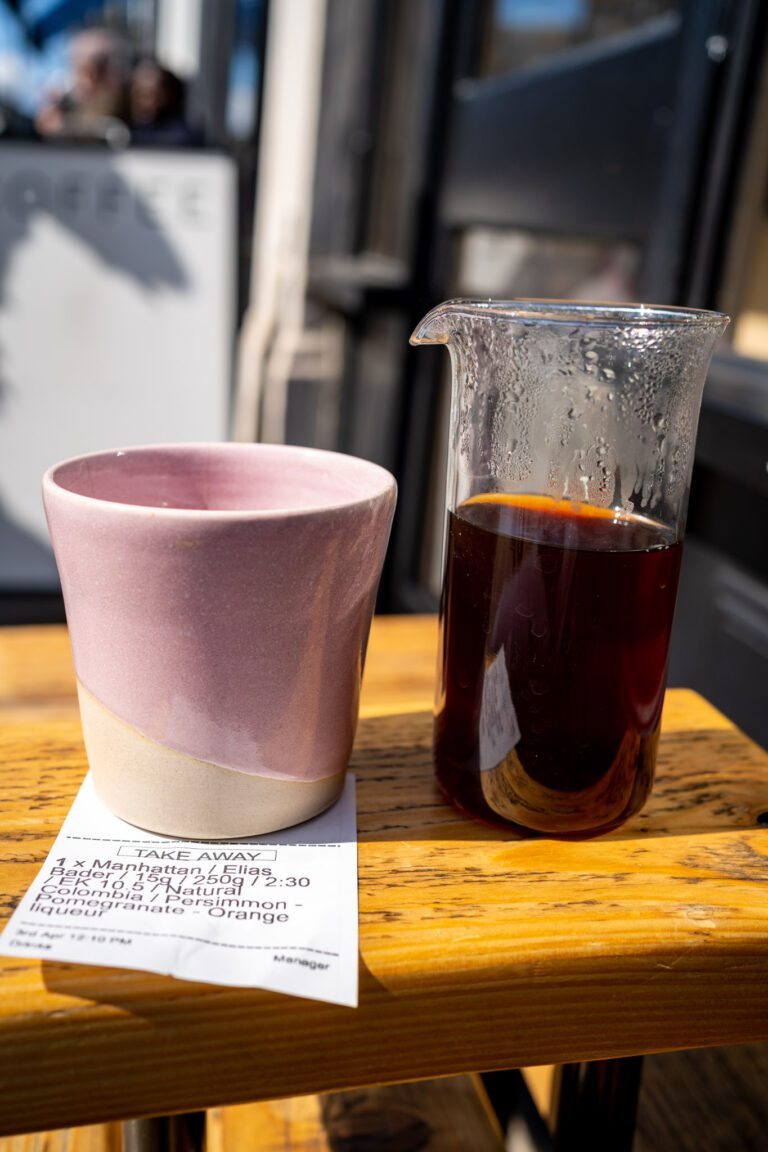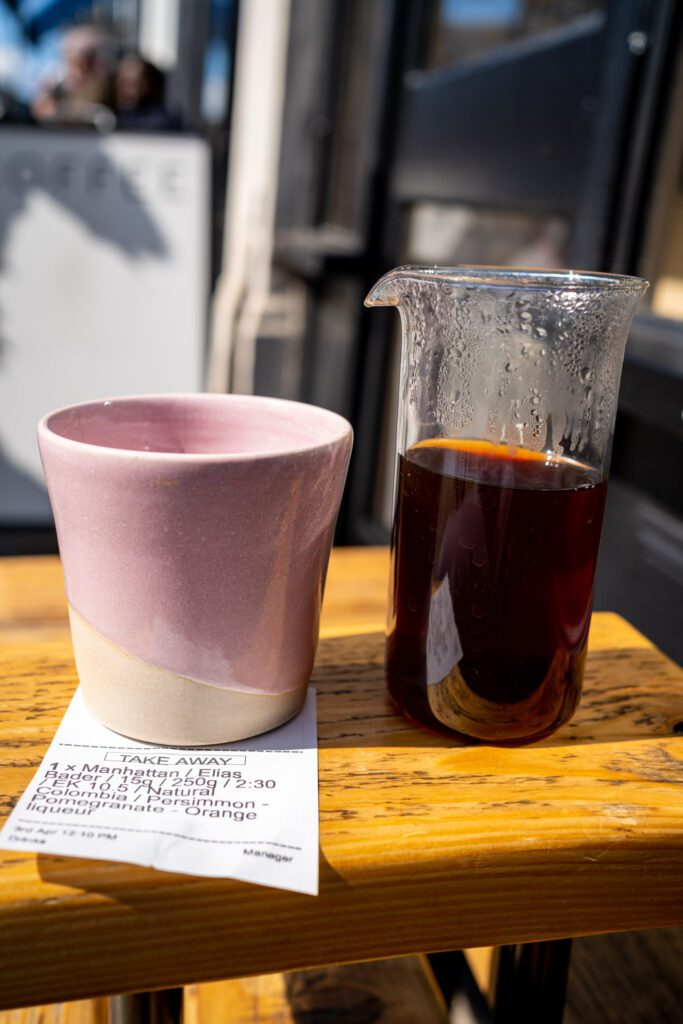 The coffee was juicy, a little tart, and bright – all things I love in a cup of coffee. Would I pay £9 for it on a regular basis? Nope. Do I think it's worth it to try an extra special cup of coffee that you likely would never get to try otherwise? Definitely.
Rosslyn has three locations in the City of London, all within about ten minutes or so of each other. The one on Queen Victoria Street was quite literally across the street from one of the places we stayed in London, and it was pretty constantly busy on both the weekdays, when it was full of workers taking a coffee break, or on the weekend when it was mostly tourists.
I had a lovely flat white here to kick off a Saturday morning heading up to Broadway Market near London Fields, and it was in the top few flat whites I drank while I was in London. Perfectly frothed milk with a creamy, silky mouthfeel, and a nicely pulled shot of espresso that cut through the milk to give the right amount of coffee flavor.
Rosslyn was started by an Australian from Melbourne (still one of my favorite coffee cities in the world) and an Irishman from Kilkenny. The name Rosslyn comes from Scottish Gaelic, where it translates roughly to "pink waterfall." As soon as you step foot in their shops, you'll see that theme carried through aspects of the design.
If you find yourself in the City of London (that's the part near the Tower of London with all the skyscrapers and modern buildings), it's definitely worth a slight detour to stop by.
Origin Coffee
Origin Coffee have three locations in London – one in Shoreditch, one in Southwark, and one at the British Library near King's Cross Station. They're actually a transplant from Cornwall (which, for those of us not from the UK, is in southwest England – I had to look it up), and have multiple locations there too, if you find yourself in that part of the world.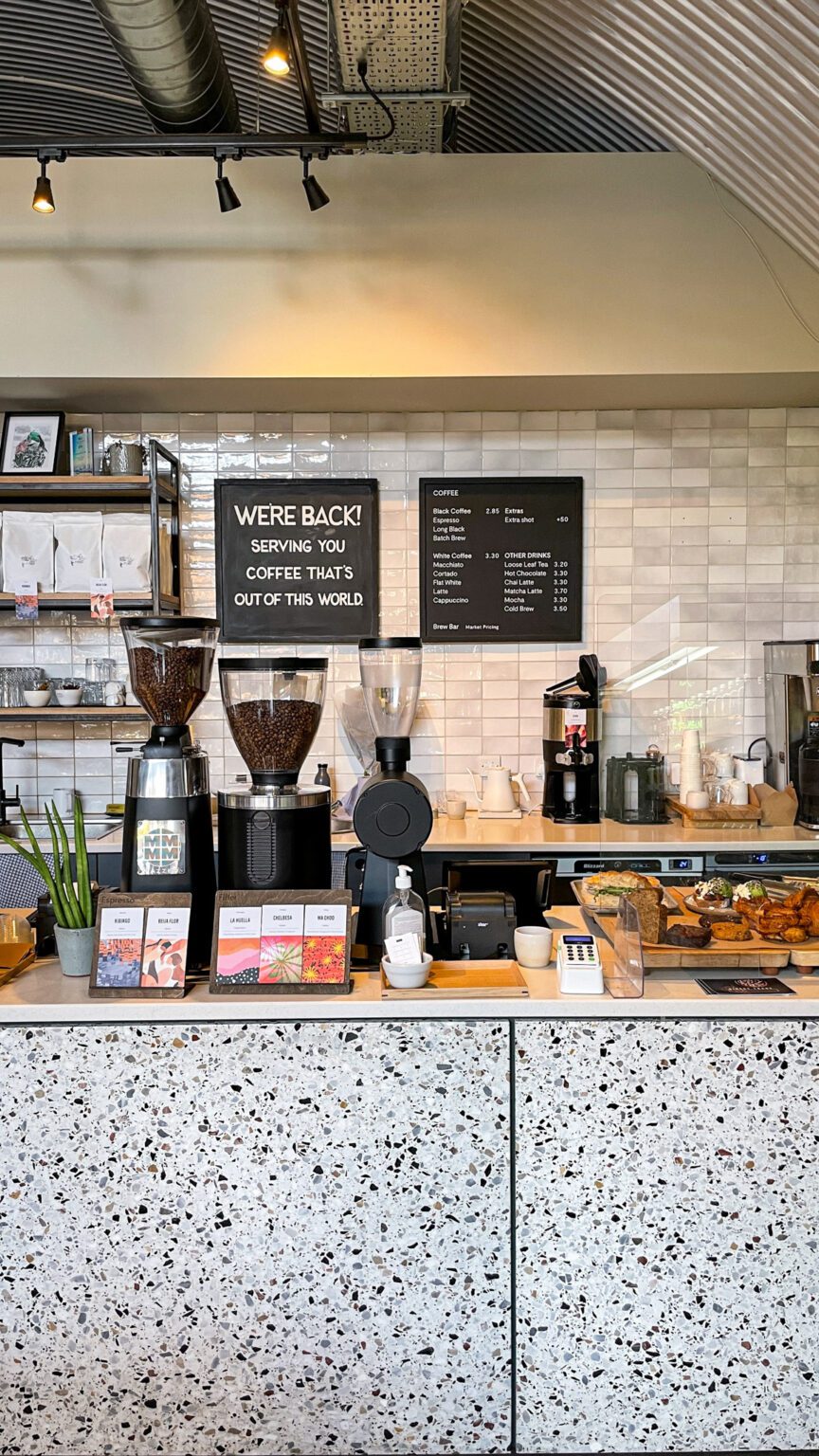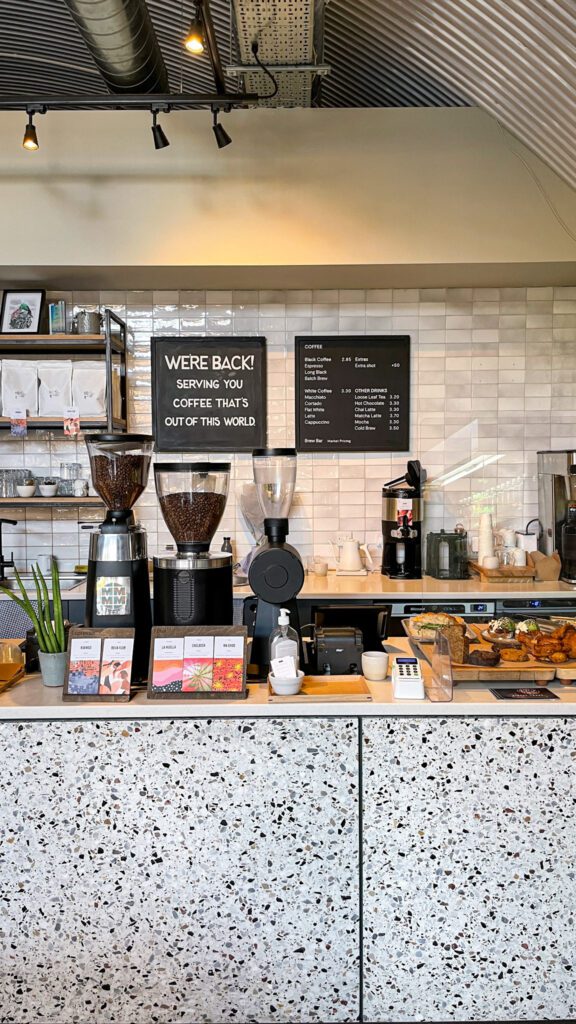 We were here on a weekday afternoon for a quick pick-me-up as we continued exploring London, and I stepped inside to order a coffee while Alysha grabbed a spot on the bench outside.
When I returned, she turned to me and whispered "this feels like a conversation you need to be a part of," gesturing towards the two very friendly Irish gentleman who, we later found out, had just landed in London from Dublin and were debating whether the coffee they were drinking was an 8.0 or an 8.2, which is something my two brothers and I have done for our home city, Seattle (you can read our slightly scientific breakdown of Seattle's coffee shops, if you're interested).
We chatted for a bit, sipping our coffee and letting that sweet caffeine hit build up, talking about our favorite coffee experiences around the world (they love Unfiltered, a coffee bar in Dublin, while I mentioned Substance Cafe in Paris, which tops the list of my favorite coffee shops in Paris).
It turns out, they had a very similar list of coffee shops to hit while they were in town for a couple of days, and I wished them luck on their coffee explorations.
The batch brew I had the pleasure of drinking was a natural coffee from Ethiopia, but it was less strawberries and blueberries, and more pineapple and citrus than I expected. It was super fresh – she had to brew a new batch right as I was ordering it – which solves my biggest pain point of batch brew coffees at most coffee shops.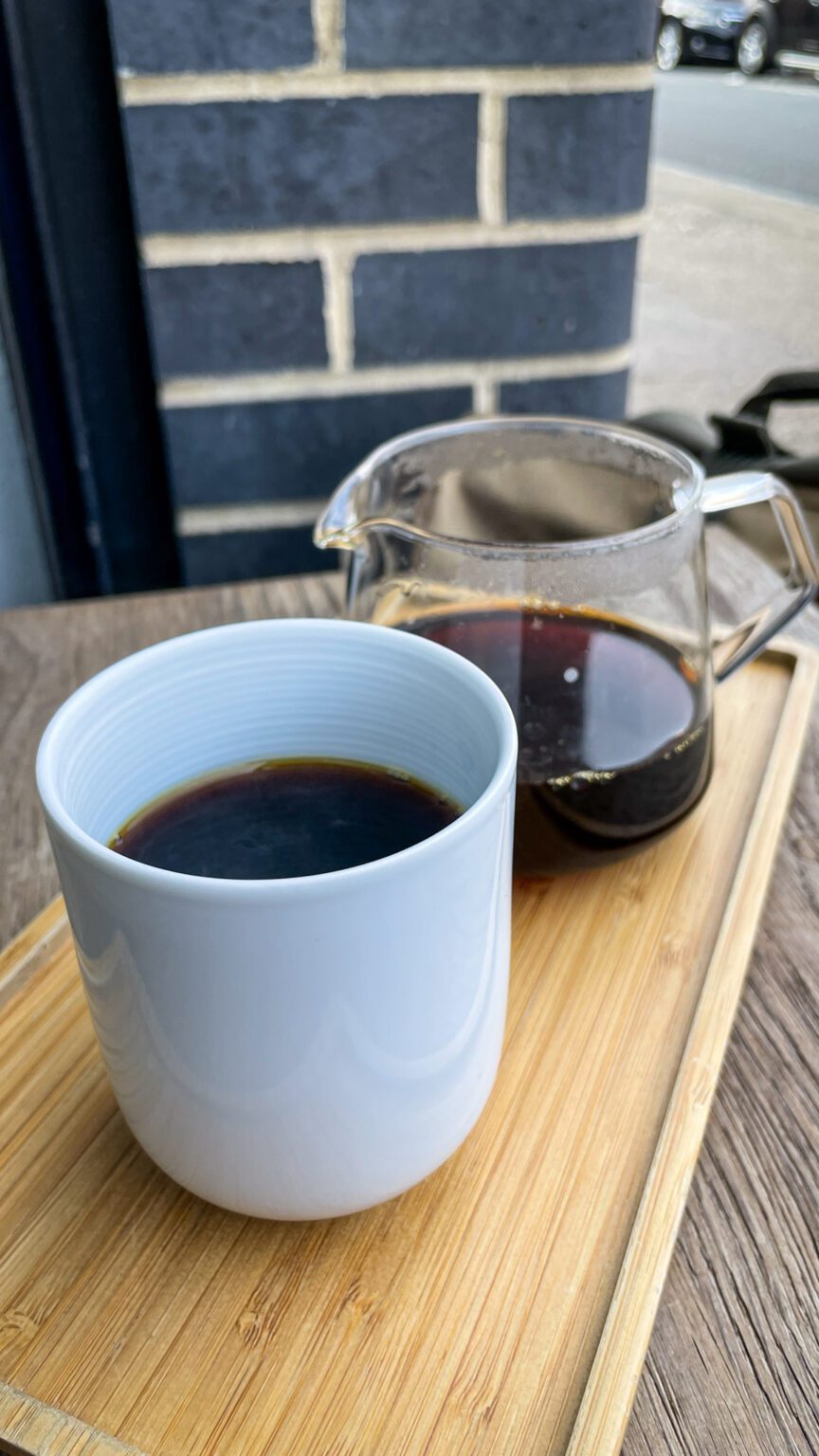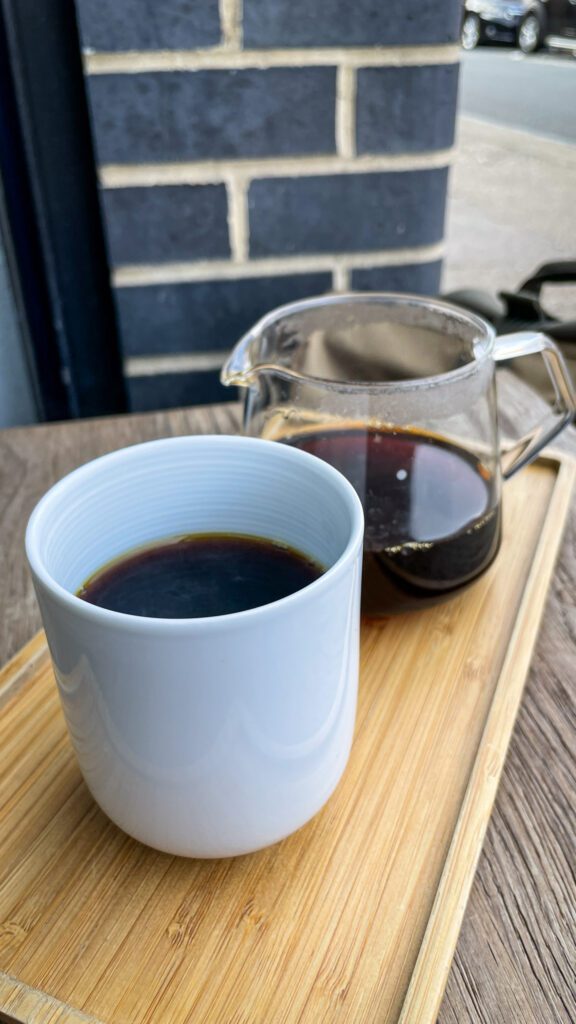 The Southwark location was close to our hotel (the CitizenM Bankside, if you're curious), so we stopped by on another afternoon for a quick shot of espresso.
I enjoy that you can choose which coffee you'd like from a few different filter and espresso options (though I have to note that the barista seemed bewildered when I asked if I could try the Burundi, which was one of the two espresso options they had listed). It was a natural coffee, and all the fruitiness I had hoped and dreamed for came through as the shot went down.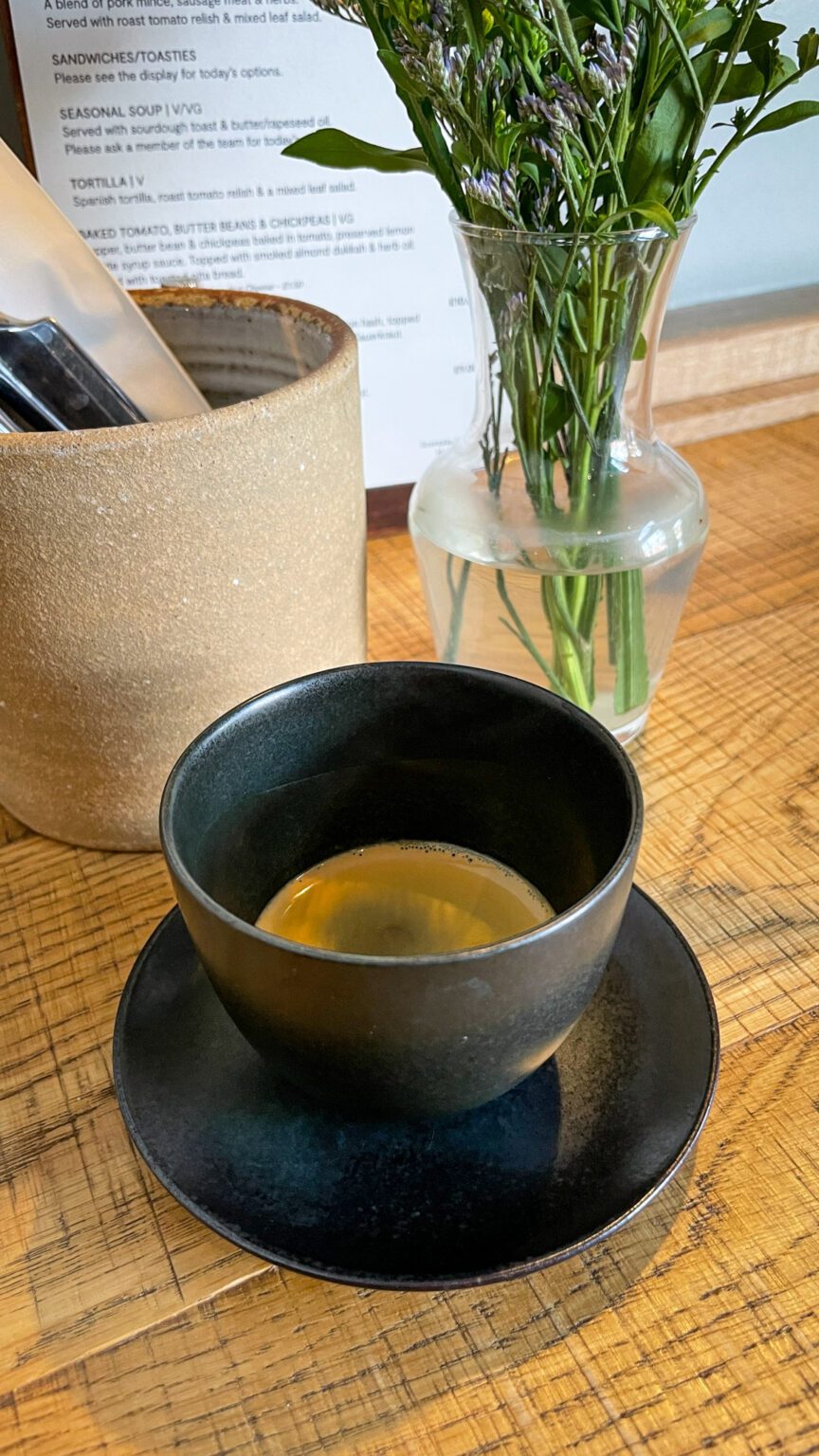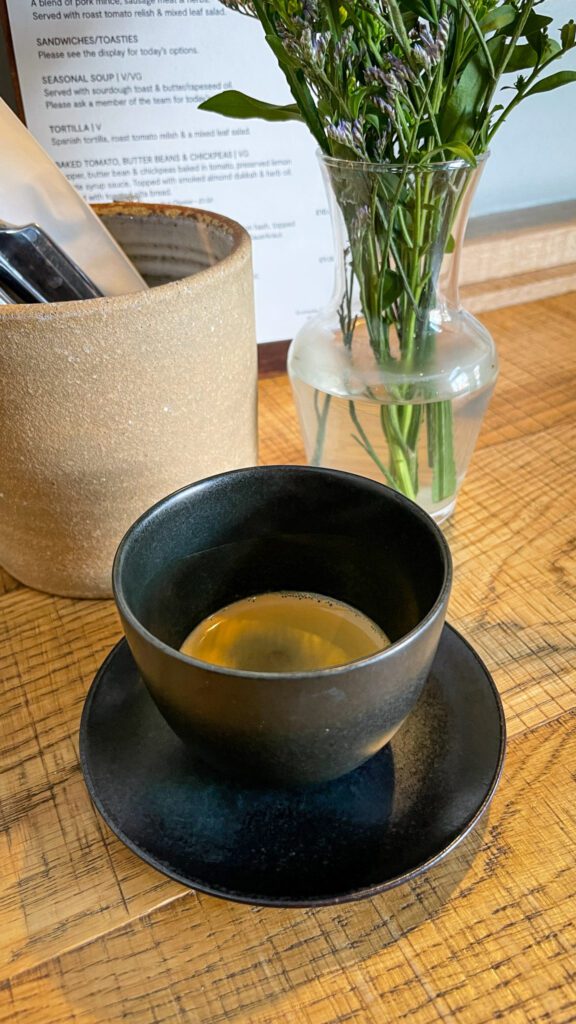 The more places that give you the choice between coffees, the better, at least in my book. Especially when they have a balance between a more traditional option (the alternative to the Burundi coffee was a coffee from Brazil, with more of the chocolate-y tasting notes you'd expect from that particular part of the world).
Oh yeah, and if that wasn't enough, they're a certified B-Corp (which I know, from previous experience, is not easy at all), operate on a "3 bottom line model" (which, again, from experience in my previous work life, is also not easy), and have a who's who of award-winning coffee professionals as part of the company.
They publish all sorts of amazingly transparent reports, like their environmental report and their coffee transparency report, which dives into exactly what they're paying farmers for their coffees.
Basically, not only are they serving up amazing coffee in London, they're going about it in the right way for their people, the planet, and everyone involved in the supply chain that gets the coffee from a little seed allll the way into your cup.
Formative Coffee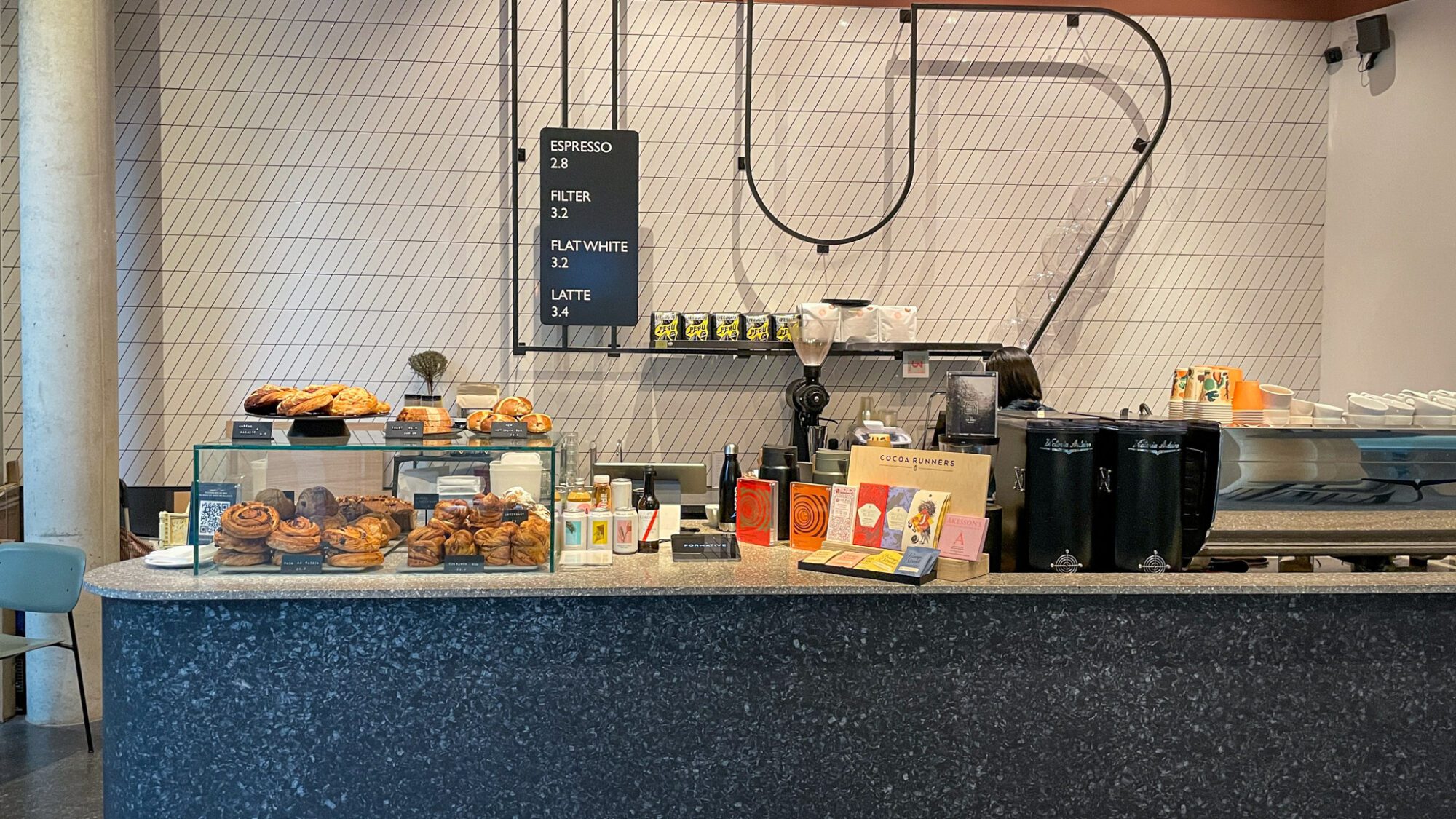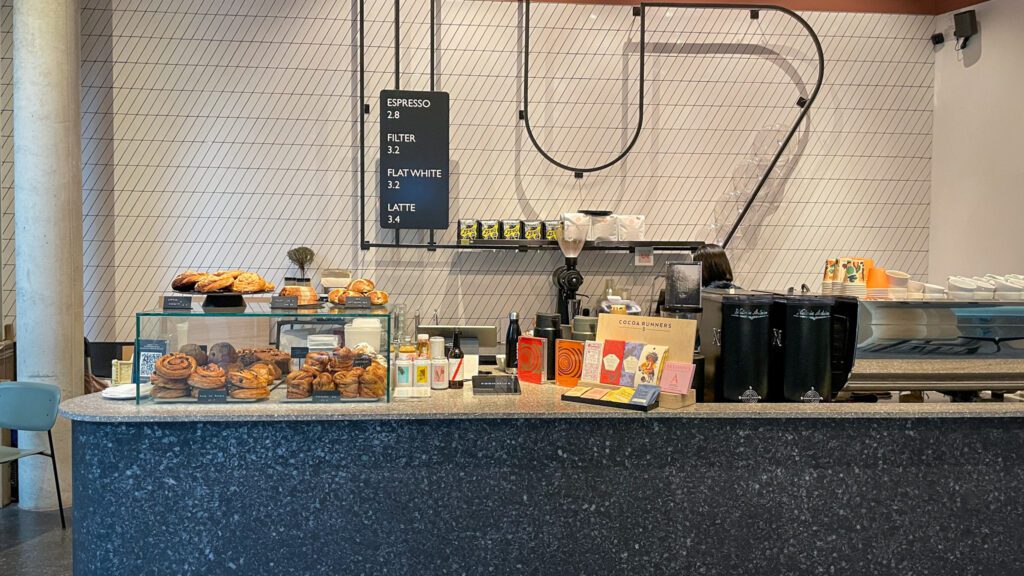 Located in a surprisingly modern and commercial part of Westminster, just a few blocks away from the famous Abbey of the same name, you'll find a coffee shop that is near the top of my list of my favorite coffee shops in London – Formative Coffee.
I think the way they approach coffee is kind of interesting.
On the one hand, they've dumbed down – and I mean that in the best way possible – the process of getting great coffee by offering just a couple of options on their menu (espresso, filter, flat white, latte), removing the confusion that I imagine happens when you're trying to figure out the difference between a macchiato, cortado, cappuccino, and flat white (to be honest, I can barely tell you the difference).
On the other hand, they give you a couple of choices when it comes to your filter coffees, which I always appreciate. And they bring in a wide variety of different roasters from around Europe, which is a major plus in my book.
It's an interesting – and very different, I might add – approach than you usually see, which is all the details you could possibly ever want, or none of them at all. It narrows the aperture, focusing on what kind of coffee experience you're looking for, while giving a little bit of wiggle room for personal preference (and for coffee geeks).
They're a coffee curator, which means they're bringing in coffees from all over Europe to feature in the shop. Which, to be clear (if you haven't figured this out already, then I'm not really sure what you've been reading), is my favorite kind of coffee shop. When I was there, they had Friedhats from Amsterdam, and Kawa from Paris – two of my absolute favorite roasters in Europe (though there are so many to choose from!).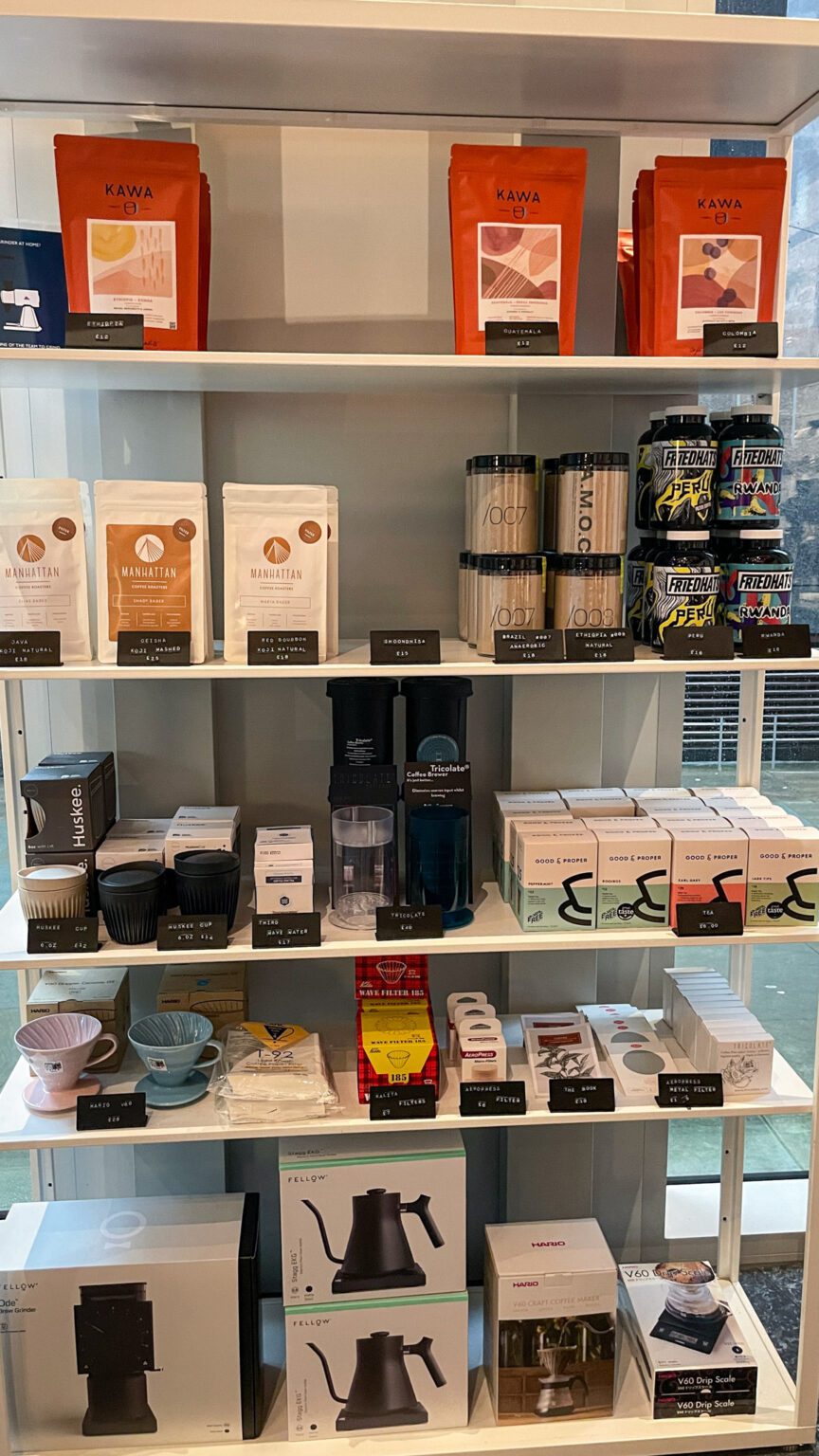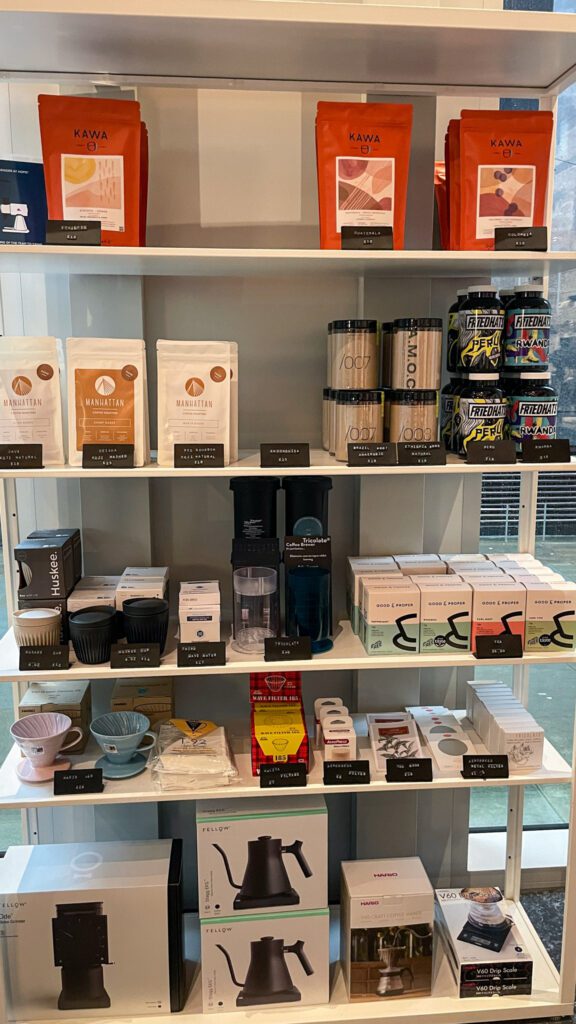 The particular cup of coffee I drank was a Colombian coffee from Red Bank Roasters in northern England. It was light and sweet, with a nice punch of acidity. On my second visit, I had the pleasure of trying an Ethiopian coffee roasted by Manhattan out of Rotterdam, which was so good that I ended up buying a bag of it to bring home.
If you're looking to buy an extra special bag of beans to take home, this would be my number one recommendation.
If you're looking for a great cup of coffee a few blocks from either Westminster Abbey or Buckingham Palace, this would also be my recommendation.
The only downside I can come up with is that they're closed on the weekend.
Paradox Coffee
We made our way up to Broadway Market twice over the course of our two weeks in London, and Paradox Coffee was the first stop we made on our initial journey north. It's in a cool little food cart pod (that's the American term) at the eastern end of London Fields, and it's a gorgeous little setup that they've got going on, full of all sorts of plants.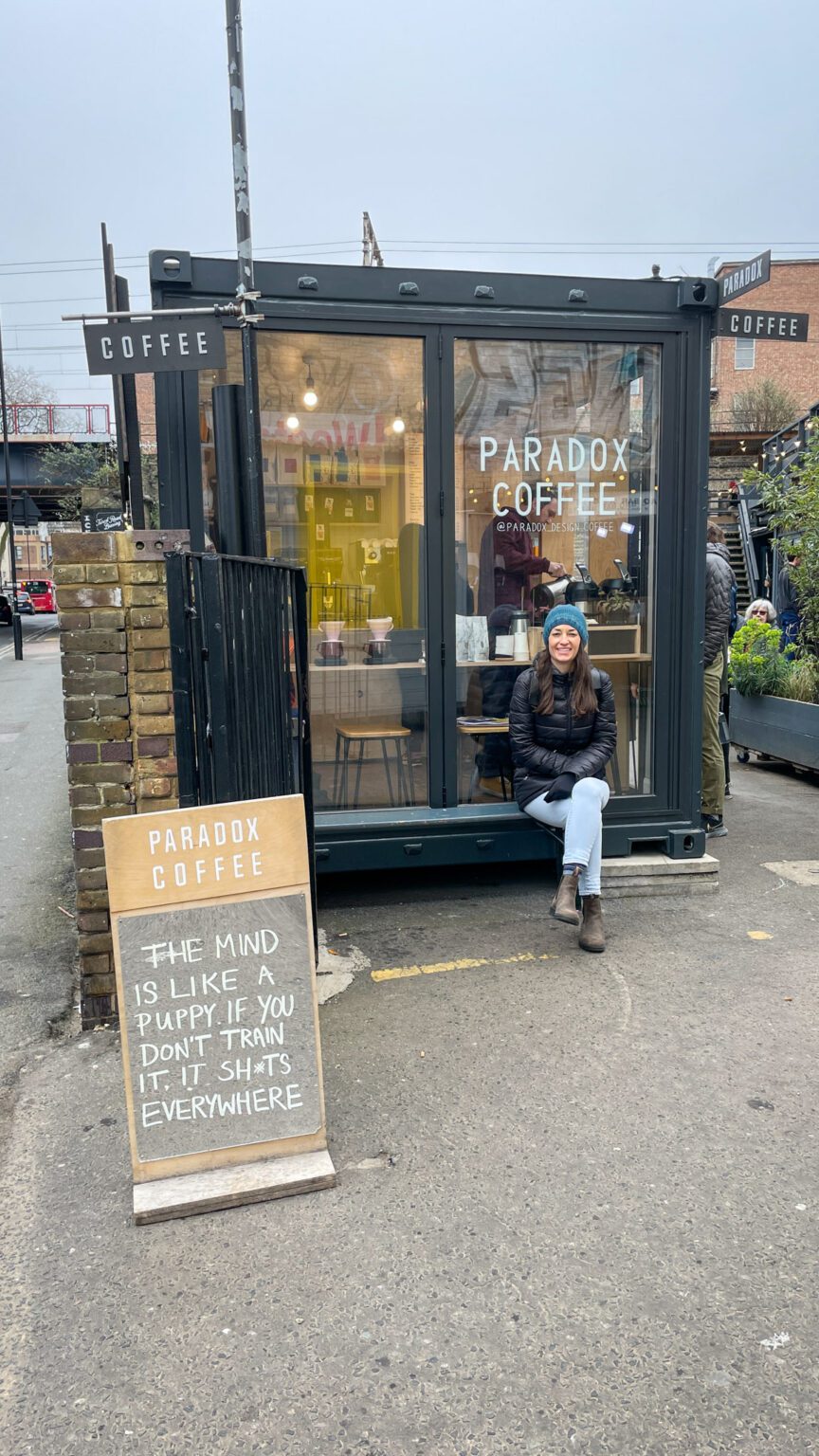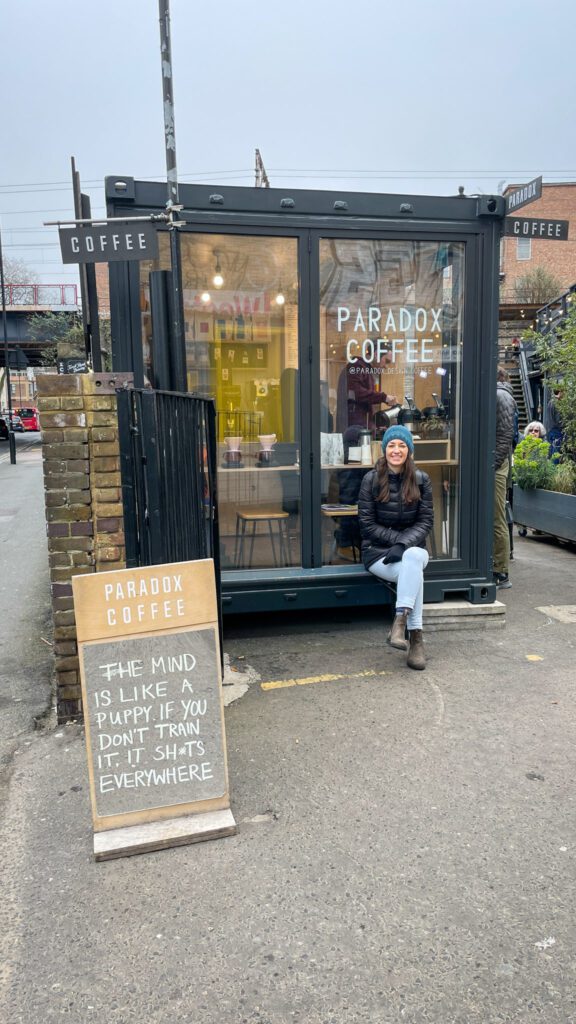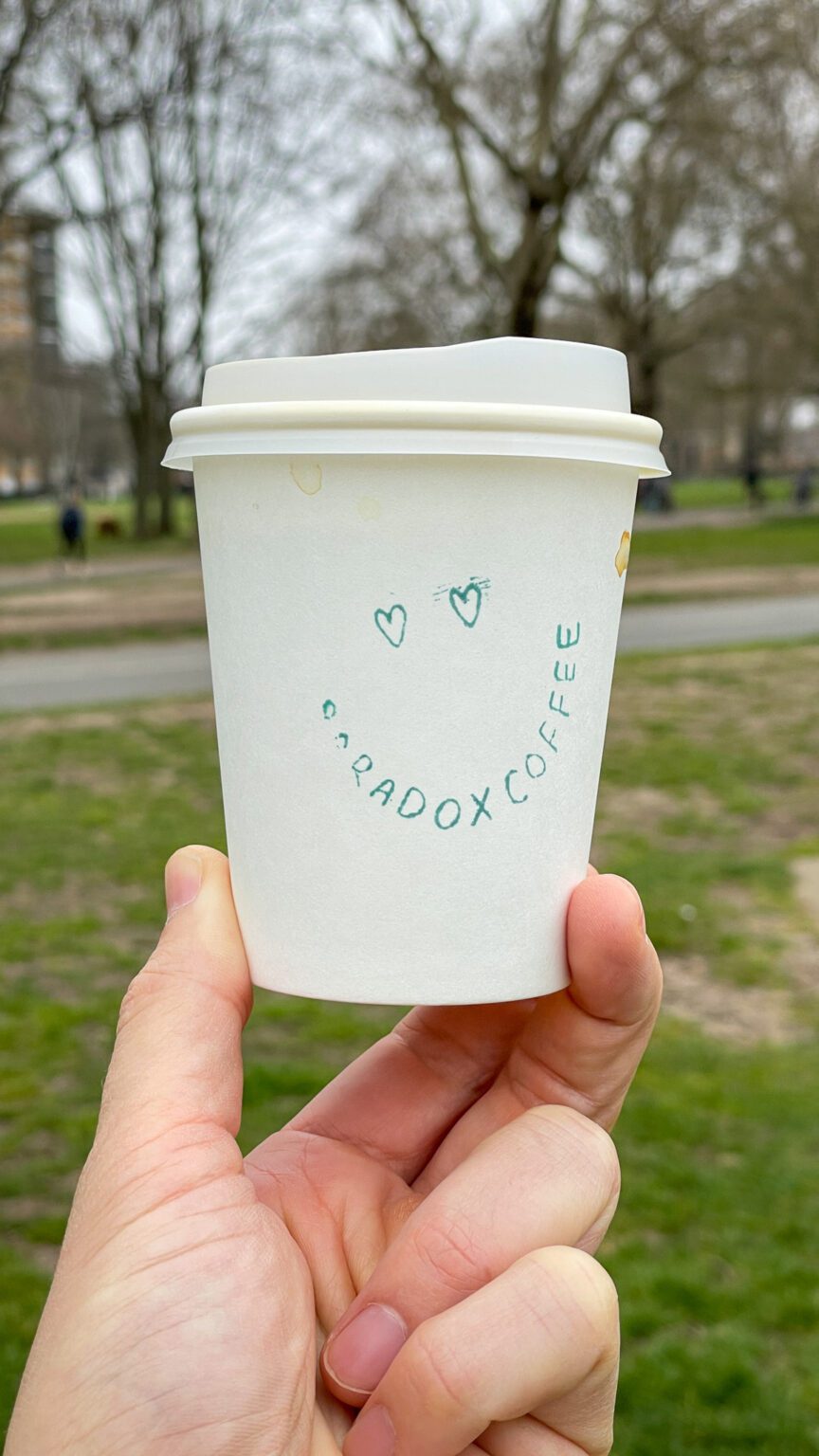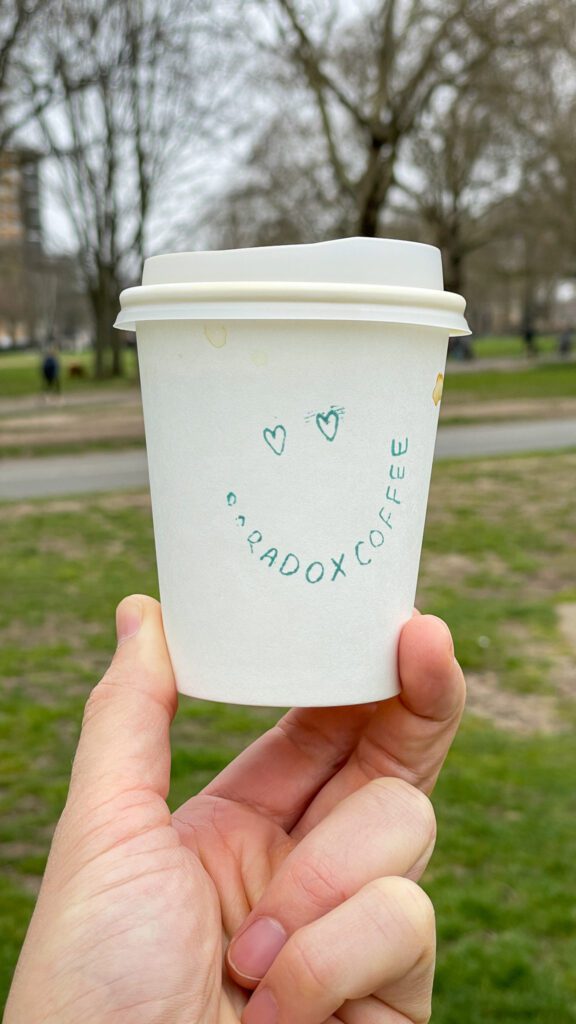 They're another coffee curator, which means they're bringing in coffees from all over the UK and Europe. They seem to have a particular love affair with Cairngorm from Edinburgh, though they also had coffees from Square Mile and Manhattan, among other roasters.
They have a couple of different offerings to choose from. Let's start with the espresso, for which they have a house espresso (from Kiss the Hippo, at the time of writing) and a guest espresso, that rotates nearly constantly.
On the filter side, they have a couple of batch brew options, and a hand brew option that is only available when they have the time.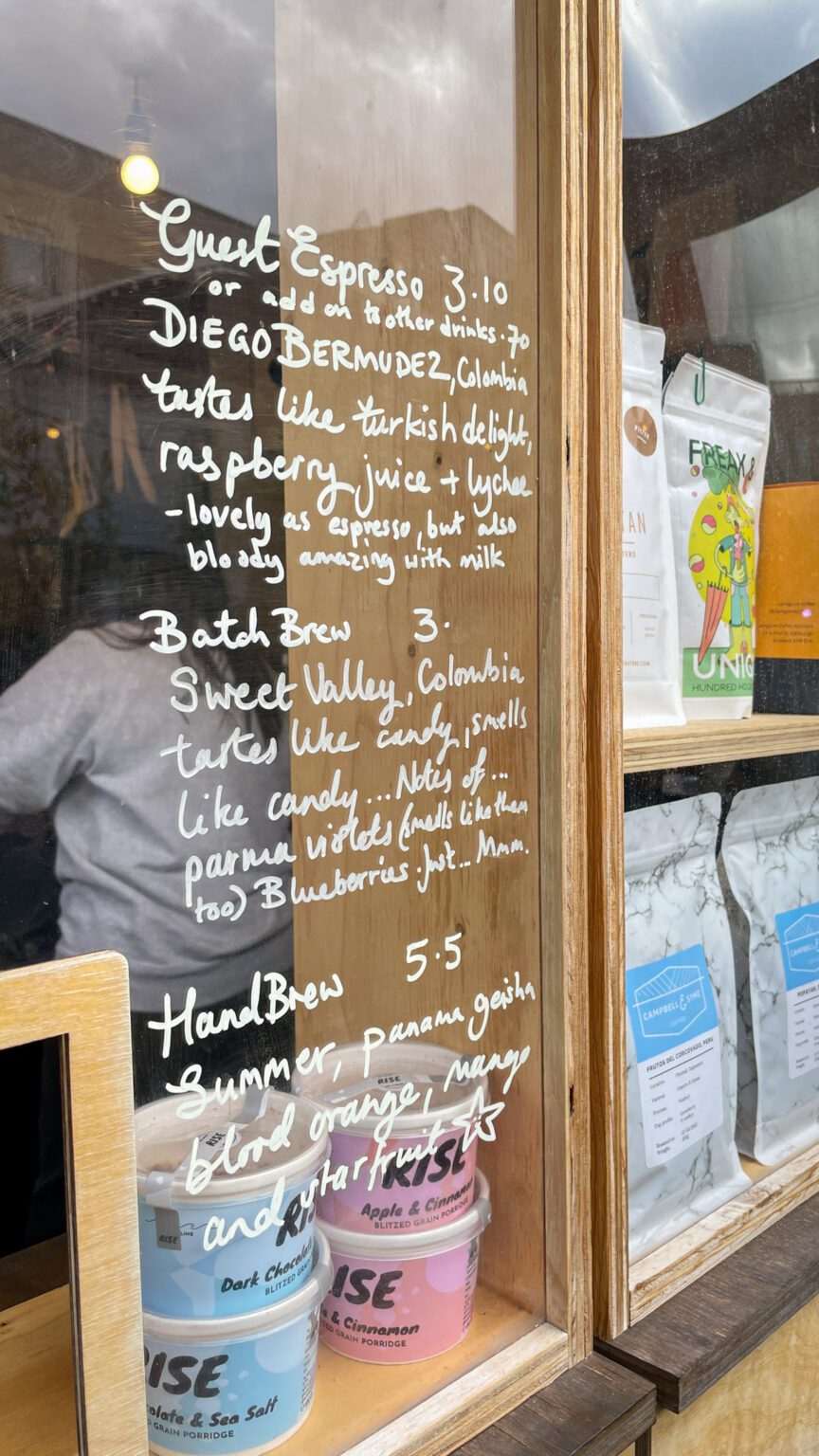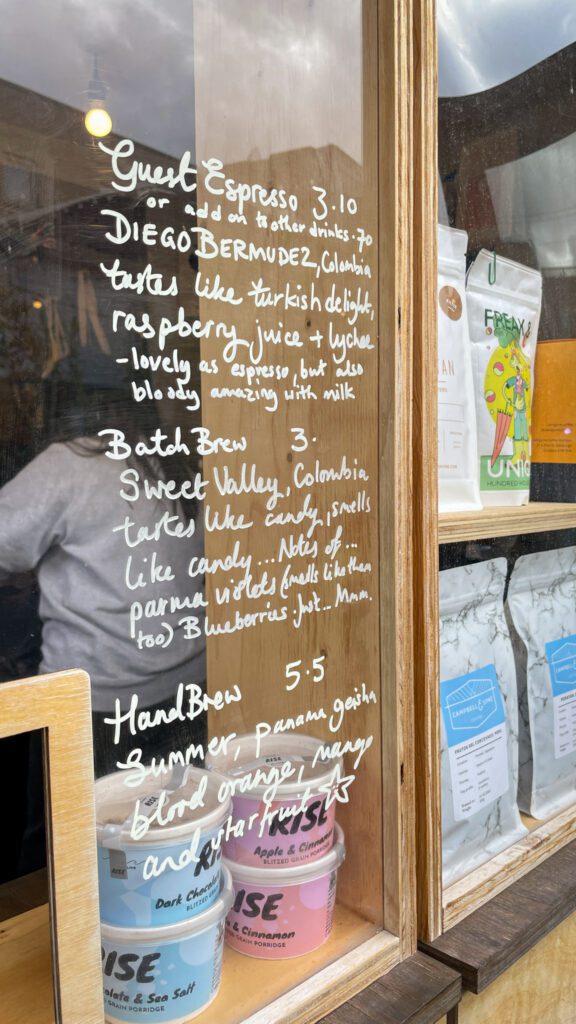 Ever the curious coffee drinker, I asked about the three filter coffee options, probing into what roasters they were from and what stood out to them, and the barista (who I believe is also one of the owners) started waxing poetic about the hand brew option from Ecuador (roasted by Sweven Coffee from Bristol), which has a spearmint tasting note (and, she assured me, legit tasted like Spearmint).
Sometimes I roll my eyes a little bit when it comes to crazy tasting notes – a lot of the time, they feel like a gimmick to sell bags of coffee (watermelon jolly rancher, for example).
Y'all, this coffee had an herbaceousness that was super unique, and I definitely can see where the spearmint came from. Which speaks to their knowledge of the particular coffees they select, AND their skill in brewing them to bring out those more delicate, elusive (at least for the amateur home brewer like me) flavors.
Over the course of our last few days in London, we decided we had to go back up to Broadway Market for the food, and Paradox made the list of stops we made.
Always up for a recommendation, I asked the baristas what the most unique and out there coffee they had for sale at the time was. I had my eye on a coffee from Manhattan, but the speed with which the barista pointed to a natural Colombian coffee roasted by Cairngorm made me change my mind immediately and buy that to bring home.
On that second visit, I also got a flat white that was perfection in a cup. Perfectly frothed milk with little separation between layers, and a great shot of (decaf) espresso.
Omotesando Koffee
Omotesando is a bit of a departure from the prototypical London coffee shop, which you'll notice almost immediately when you walk through the door.
Let's take a step back and talk about the company behind the coffee shop, which is on the northern border of Soho, a few blocks away from the Tottenham Court Road Tube station.
Omotesando started in Tokyo in the early 2010's, and has since expanded their coffee empire to include locations in Hong Kong, Singapore, Manila, and, of course, London.
The approach to coffee – and more accurately, service – is a breath of fresh air. In a city full of "get your coffee and go" offerings, I found the slower pace and more personal service here to be a nice refuge from the bustling city that sits right outside the shop's doors.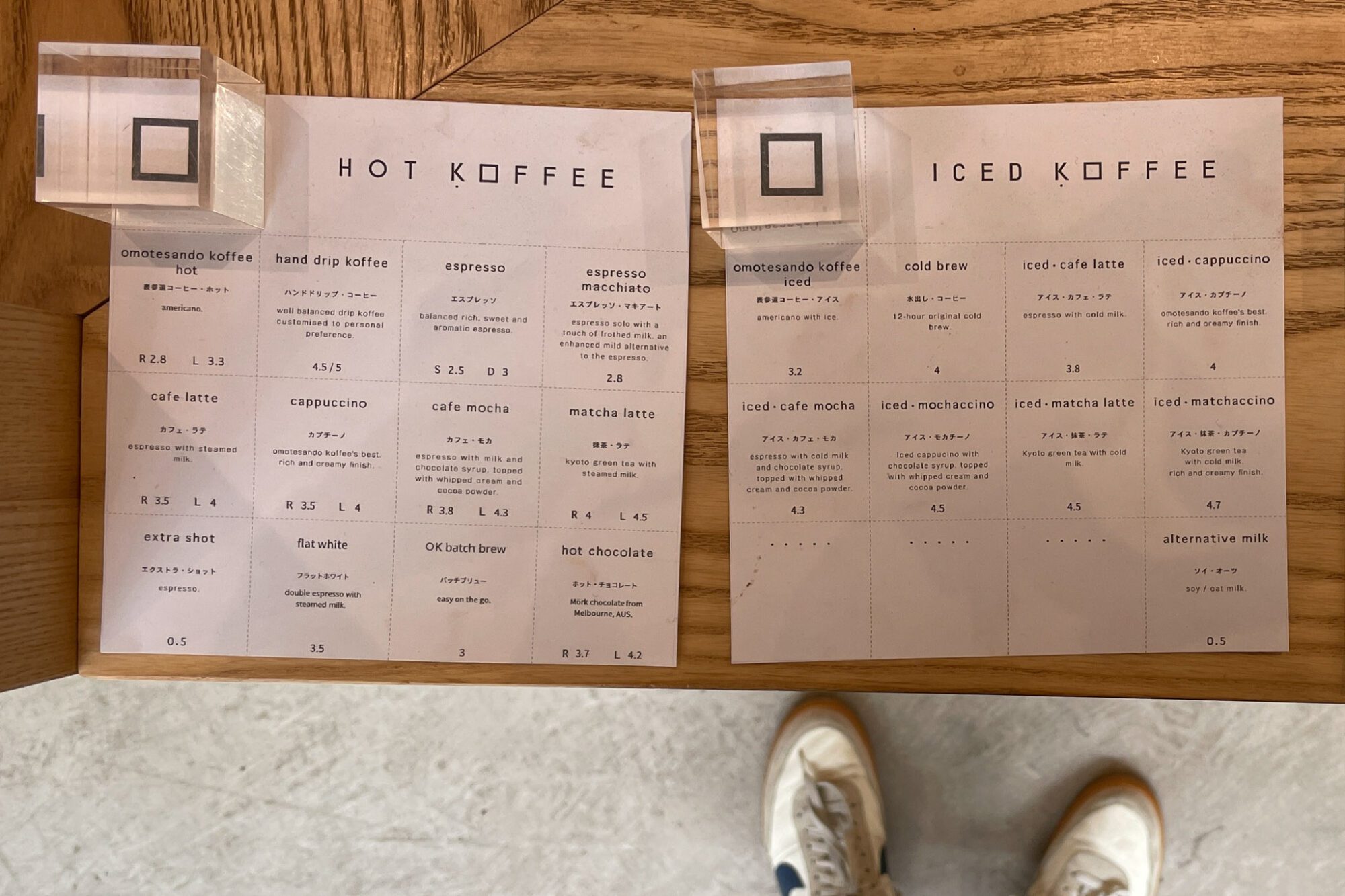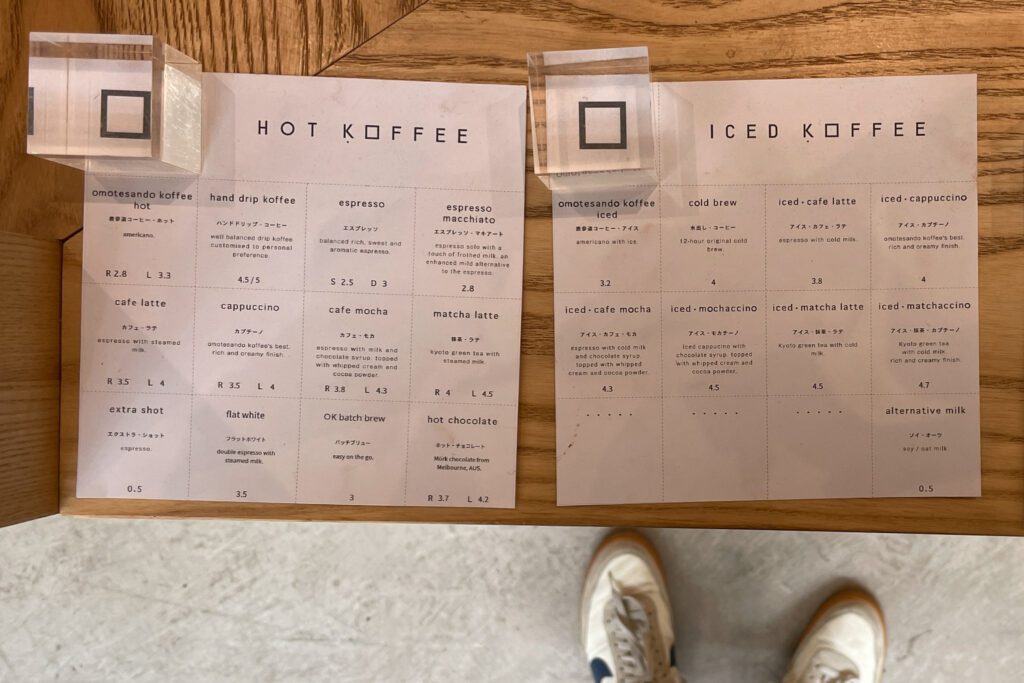 It was mid-morning on a weekday when I stopped by, so the place was relatively quiet and I walked up to the counter and was immediately greeted by a smiling barista. After some small talk, I expressed interest in a hand brewed filter coffee, and the barista brought me over to the right side of their little coffee bar and walked me through the choices.
Side note: at the time of writing, I'm still getting back into the whole "small talk" thing after years of no small talk, and often find myself bringing up the weather, which always makes me cringe just a little bit. However, in London, that seems to be a common topic of conversation (read: complaint), with nearly every Londoner we encountered bringing up the weather in some way over the course of our conversation, no matter the length or depth.
While their espresso blend is roasted by them, all filter coffees are from guest roasters, and when the barista mentioned a roaster from Japan, I immediately jumped at the opportunity to try a coffee (a gesha coffee, no less) that I would almost certainly never get to try otherwise.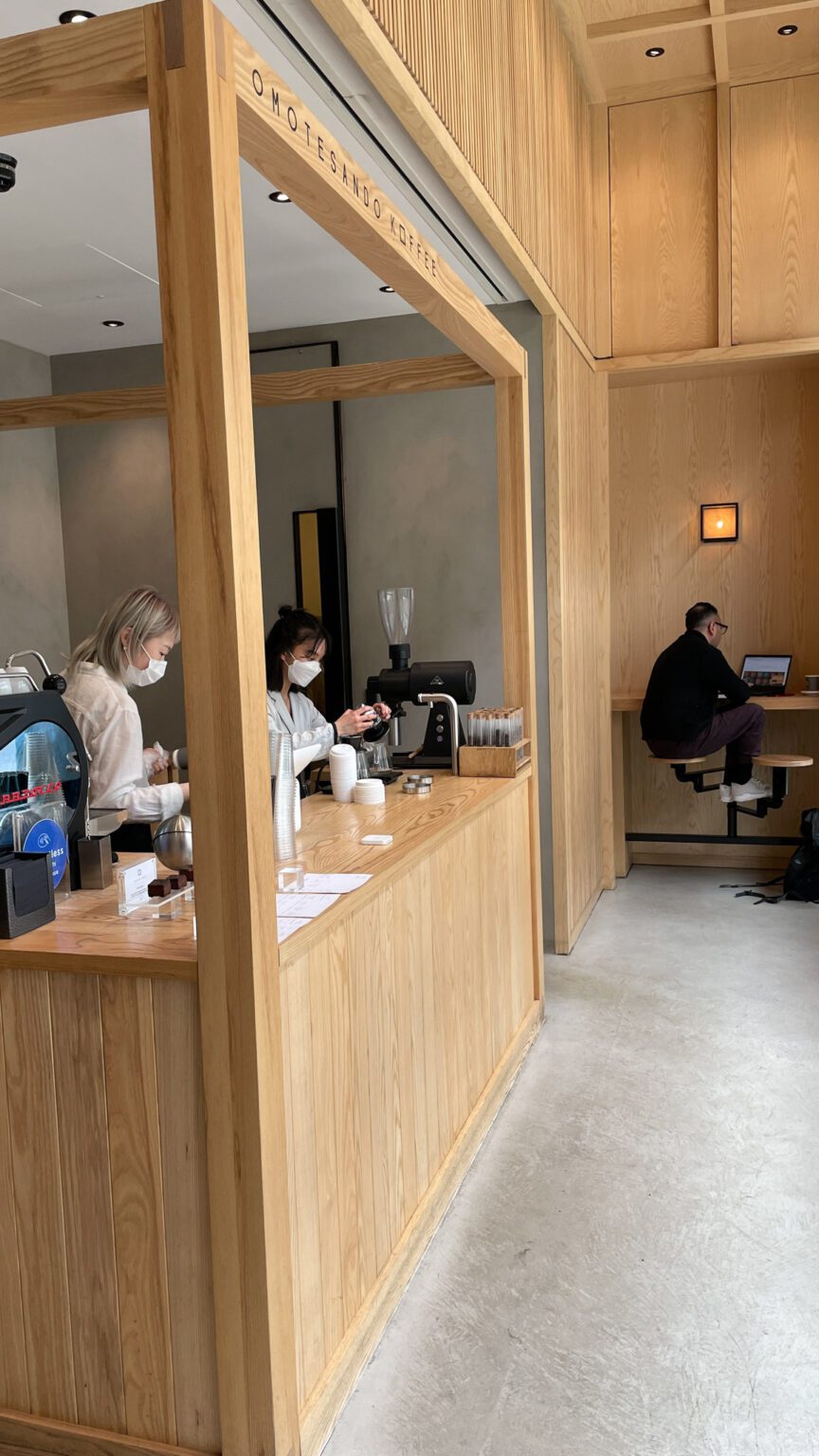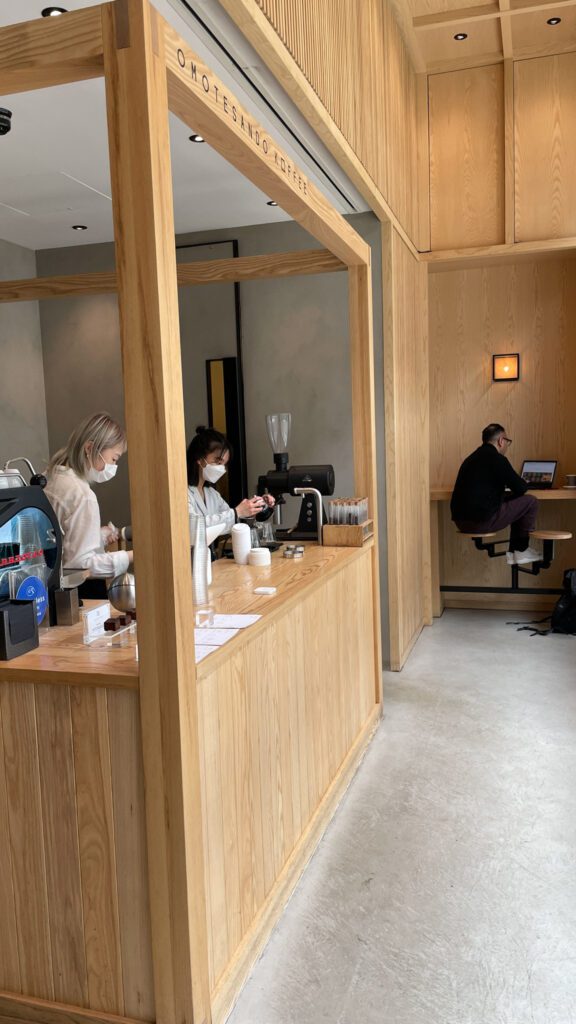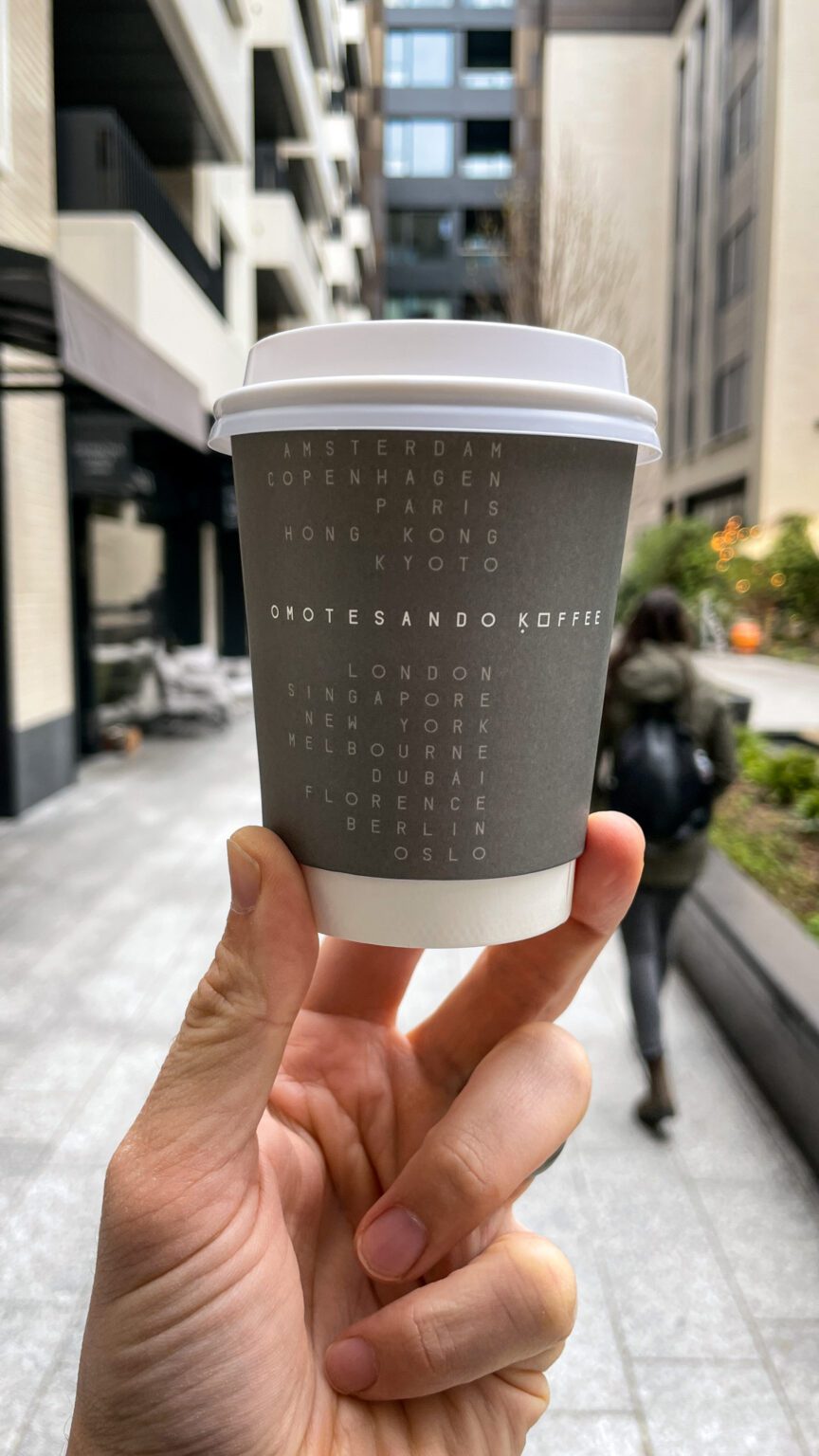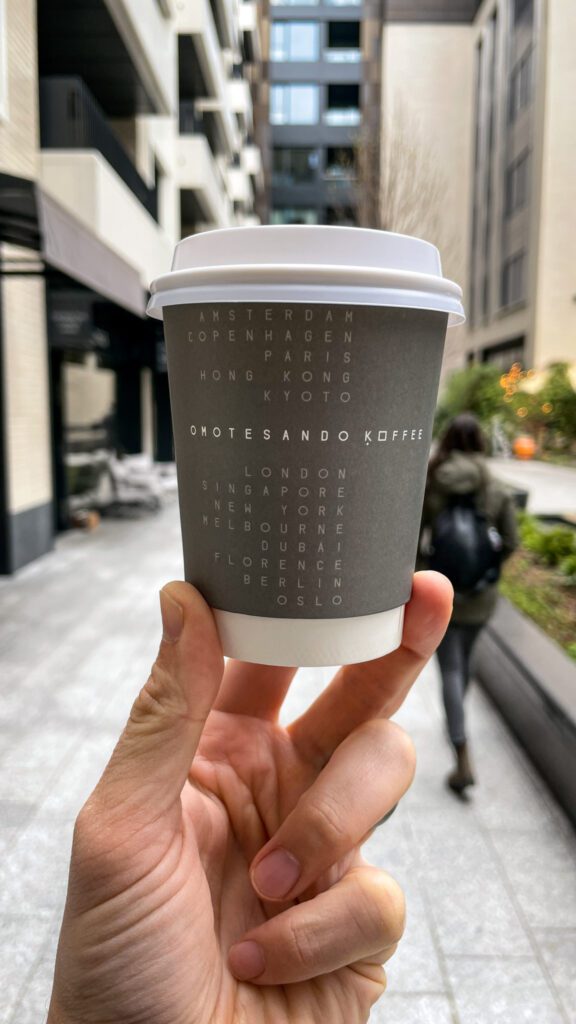 It was a Costa Rican gesha varietal roasted by Tokado Coffee, and she began the process of grinding the beans (which they keep in little tubes), heating the water, and brewing the coffee.
They had just gotten a Fellow Stagg Kettle, and the barista was still getting used to the lower flow rate. I have one, and Alysha can't stand using it for tea because it takes FOREVER to fill the cup. However, for pour over coffee, it's excellent.
As the coffee brewed, we talked about the coffee scenes in cities around the world – Seattle and Paris were my contributions – and eventually my coffee was ready, and off I went with a smile on my face and a pleasantly warm feeling about the short but sweet experience I had just had.
One thing that stood out to me is that, despite the fact that there was a person in line behind me, the barista took their time with my coffee, and engaged with me about coffee, rather than moving between brewing the coffee and helping the next customer in line.
Is it the most efficient way to serve coffee? Probably not. Was it a much more pleasant and endearing experience? Definitely yes.
In a city where you can basically get a good cup of coffee on every block, I really think that experiential part is important and what makes a place stand out from the crowd.
Prufrock Coffee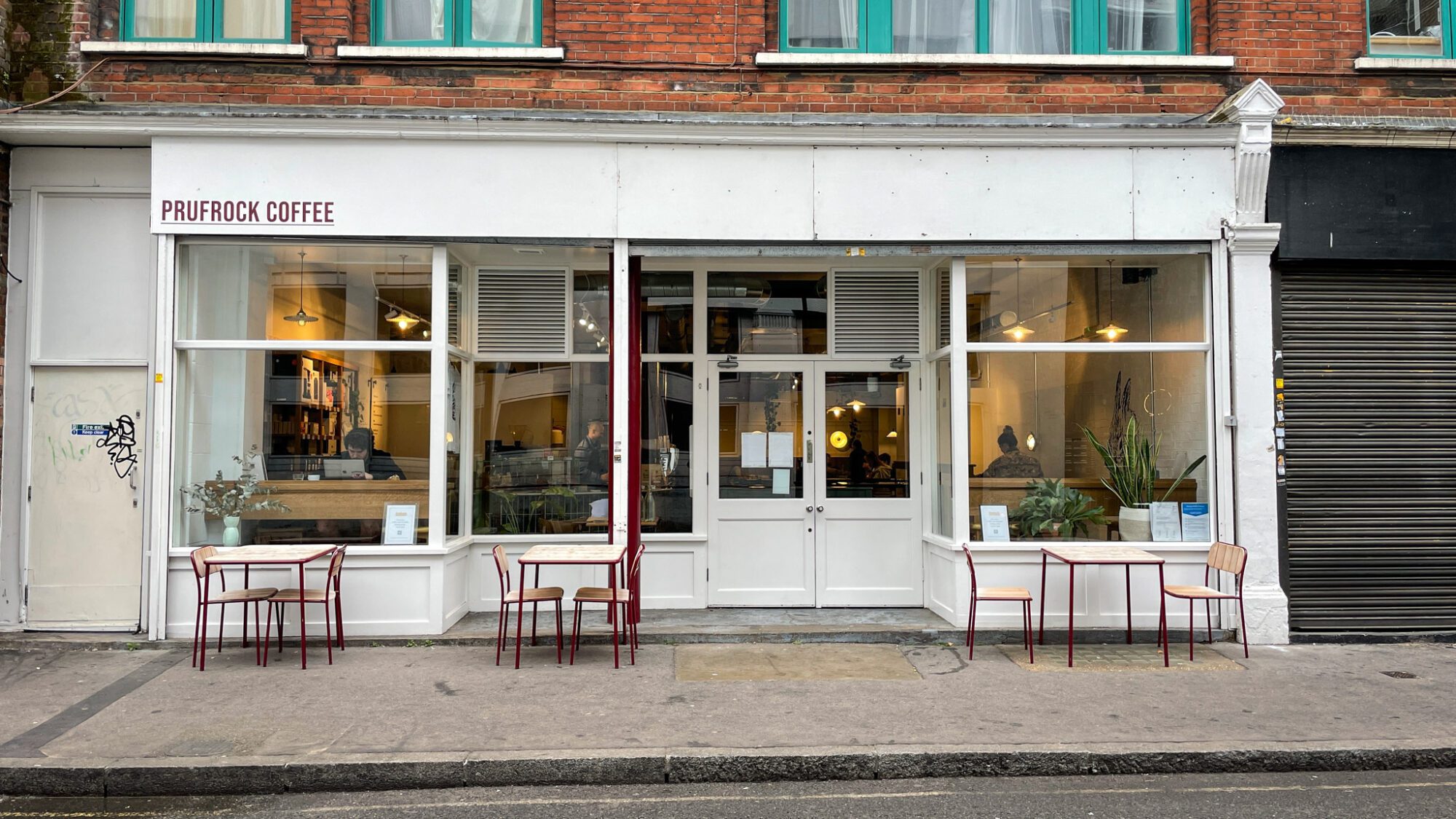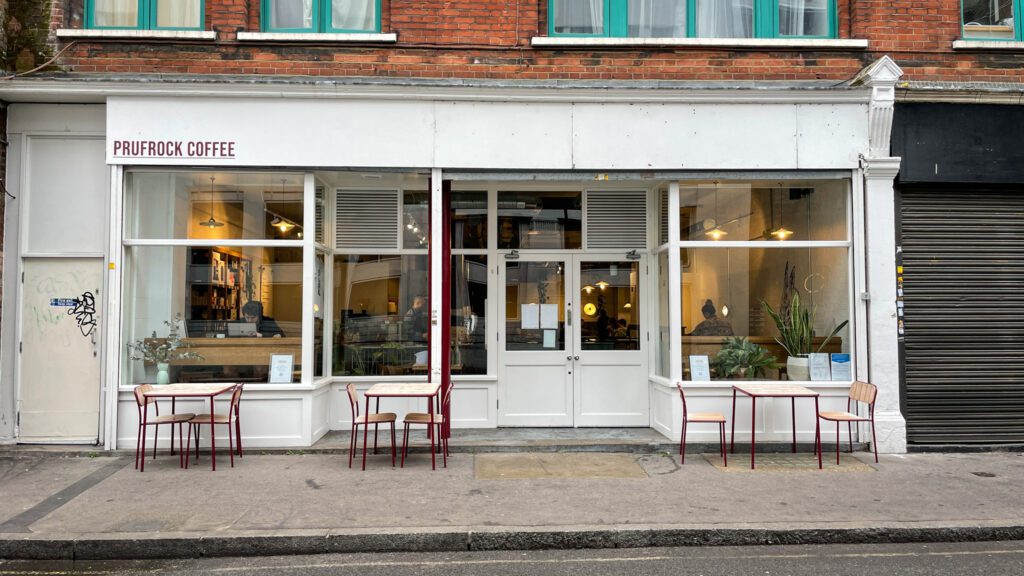 Prufrock Coffee is one of the OG's of specialty coffee in London – their shop in Farringdon near Leather Lane has been open since 2011. They're a coffee curator, which means they bring in coffees from a bunch of different roasters (which, if you haven't caught on by now, is my absolute favorite type of coffee shop!).
Though they always have some sort of variety of Square Mile Coffee on their shelves, they also had NOMAD (from Barcelona) and Koppi (from Denmark), which are two roasters I've come across over and over in my European coffee adventures, and they're both excellent. They rotate the roasters they have on hand, so you never know what gems you're going to find when you stop by!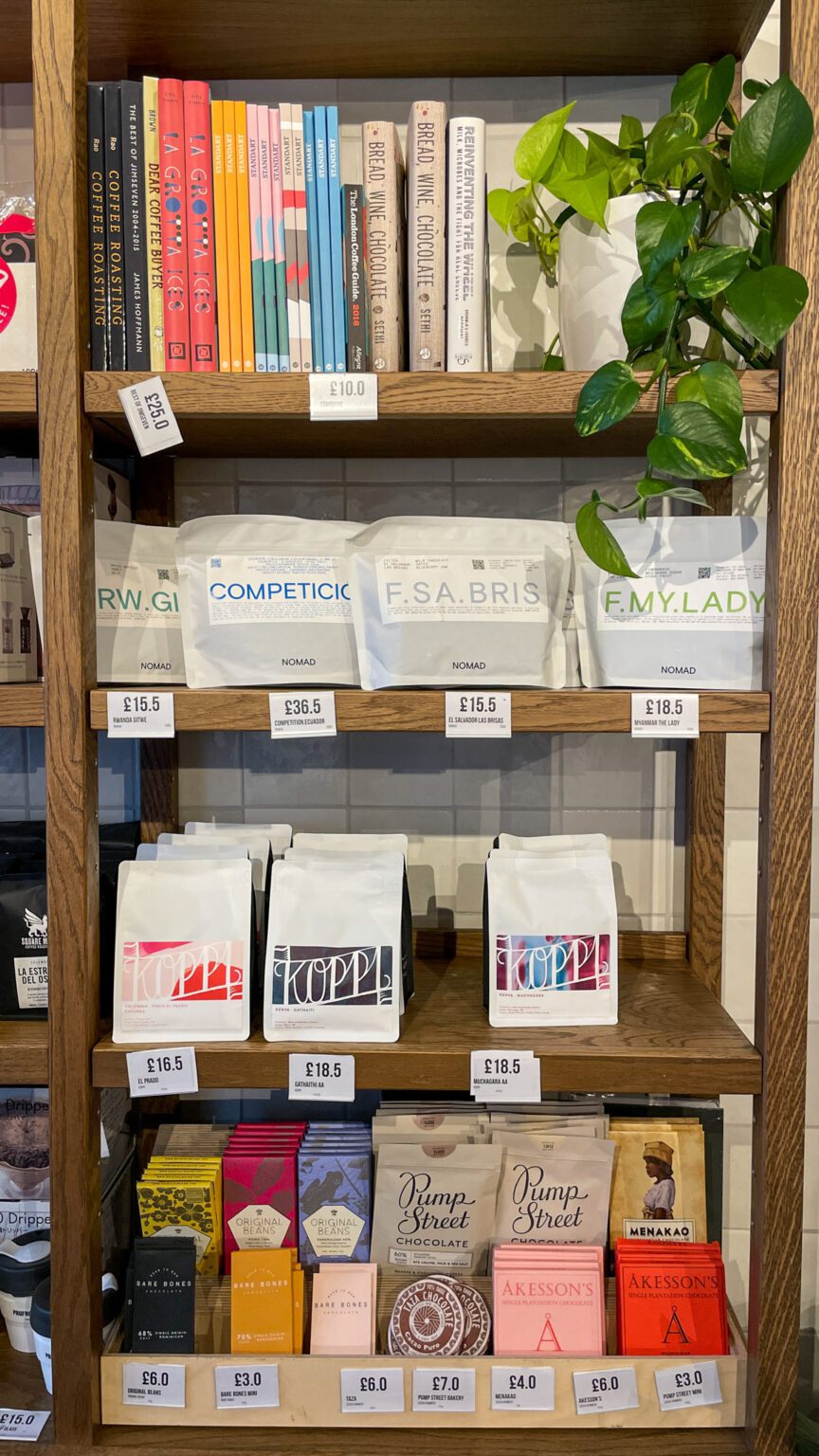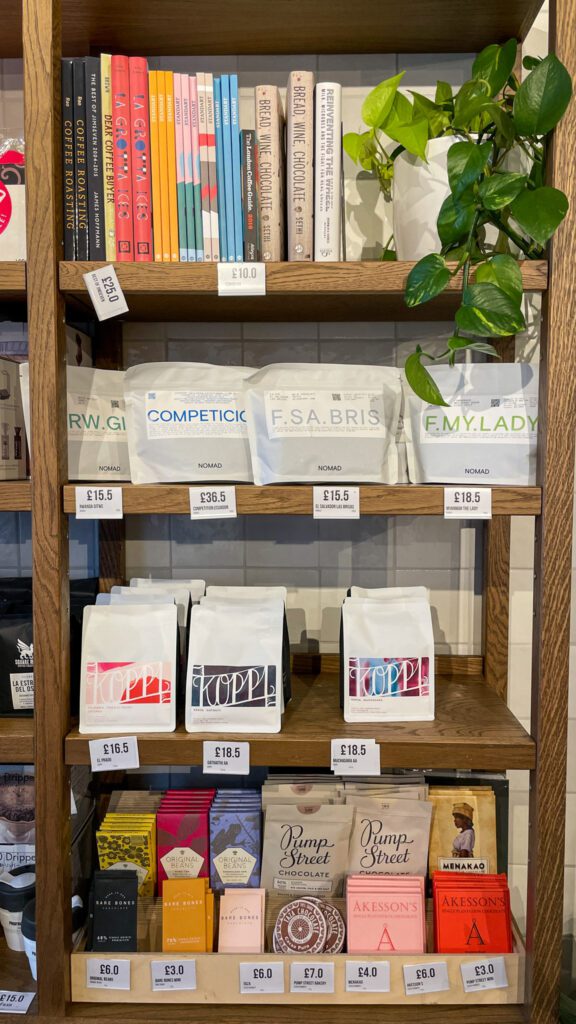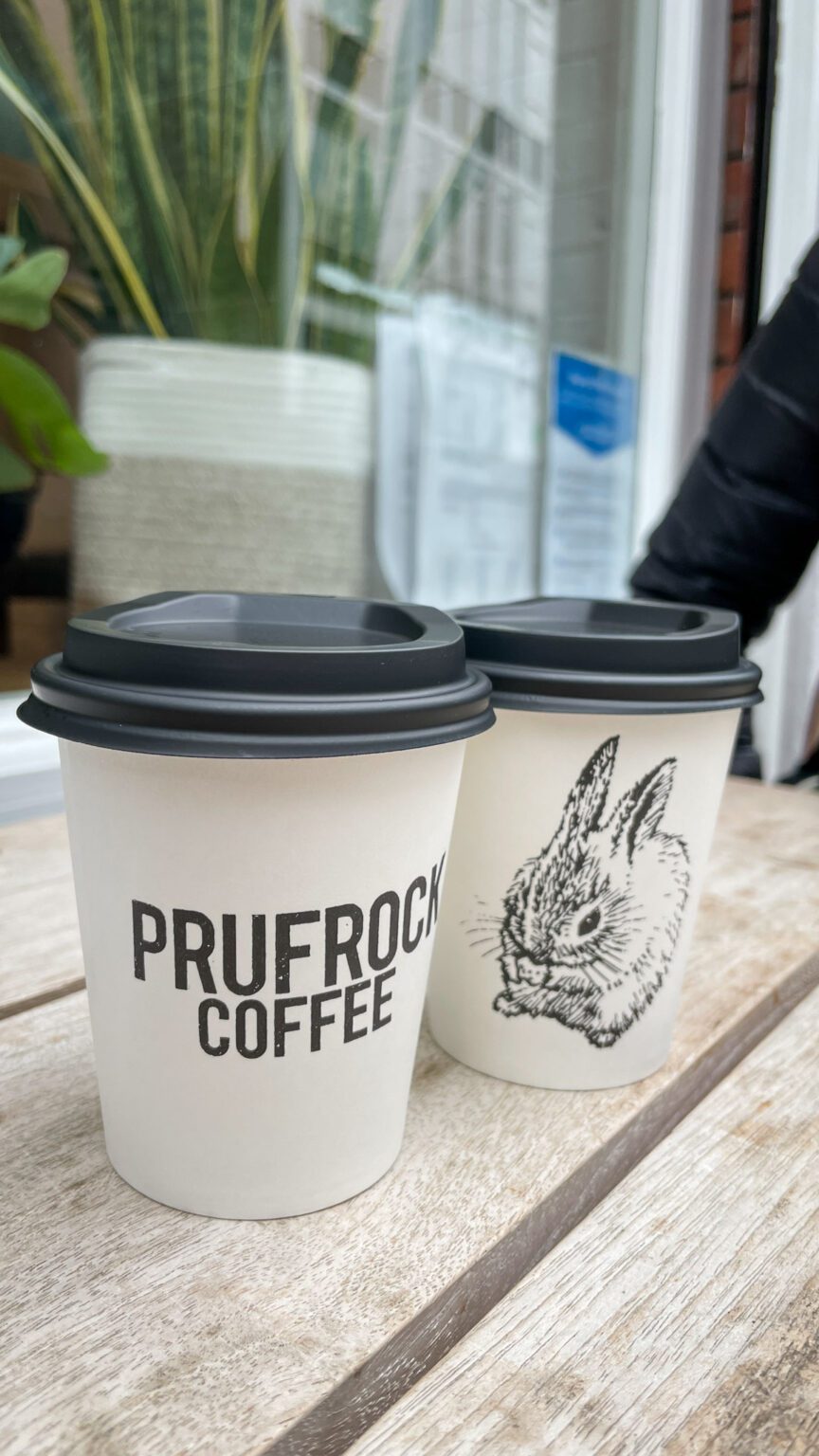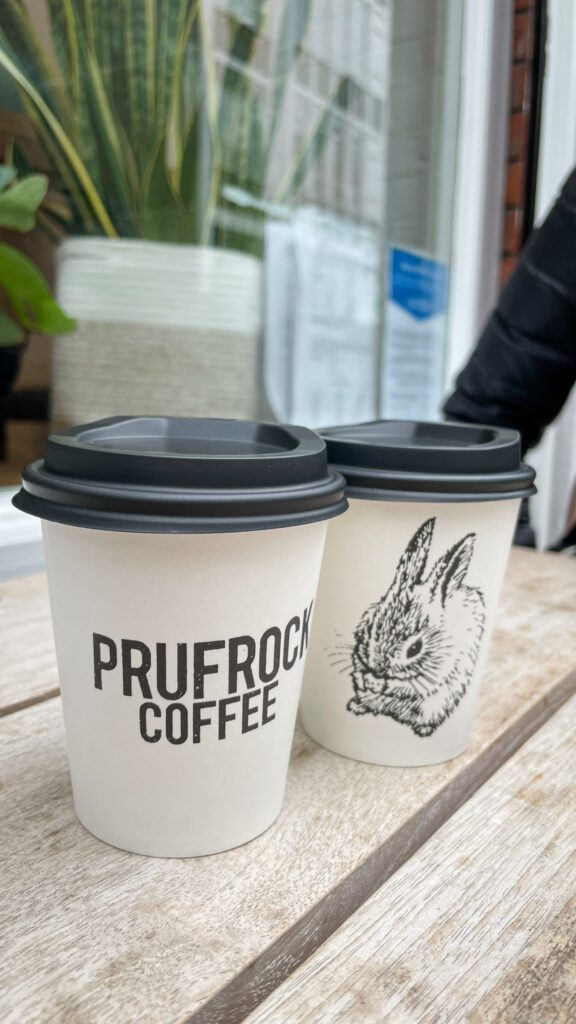 They also have Postcard Teas for the non-coffee-drinkers, which is Alysha's favorite, and is one of the coolest tea brands we've ever come across (they have a shop in Mayfair).
When we stopped by on a dreary spring morning, it was relatively quiet, and we grabbed a couple of drinks to enjoy at the tables outside. When you walk in, you'll come up to a big U-shaped coffee bar, behind which the baristas are (frantically, when we were there) working their magic.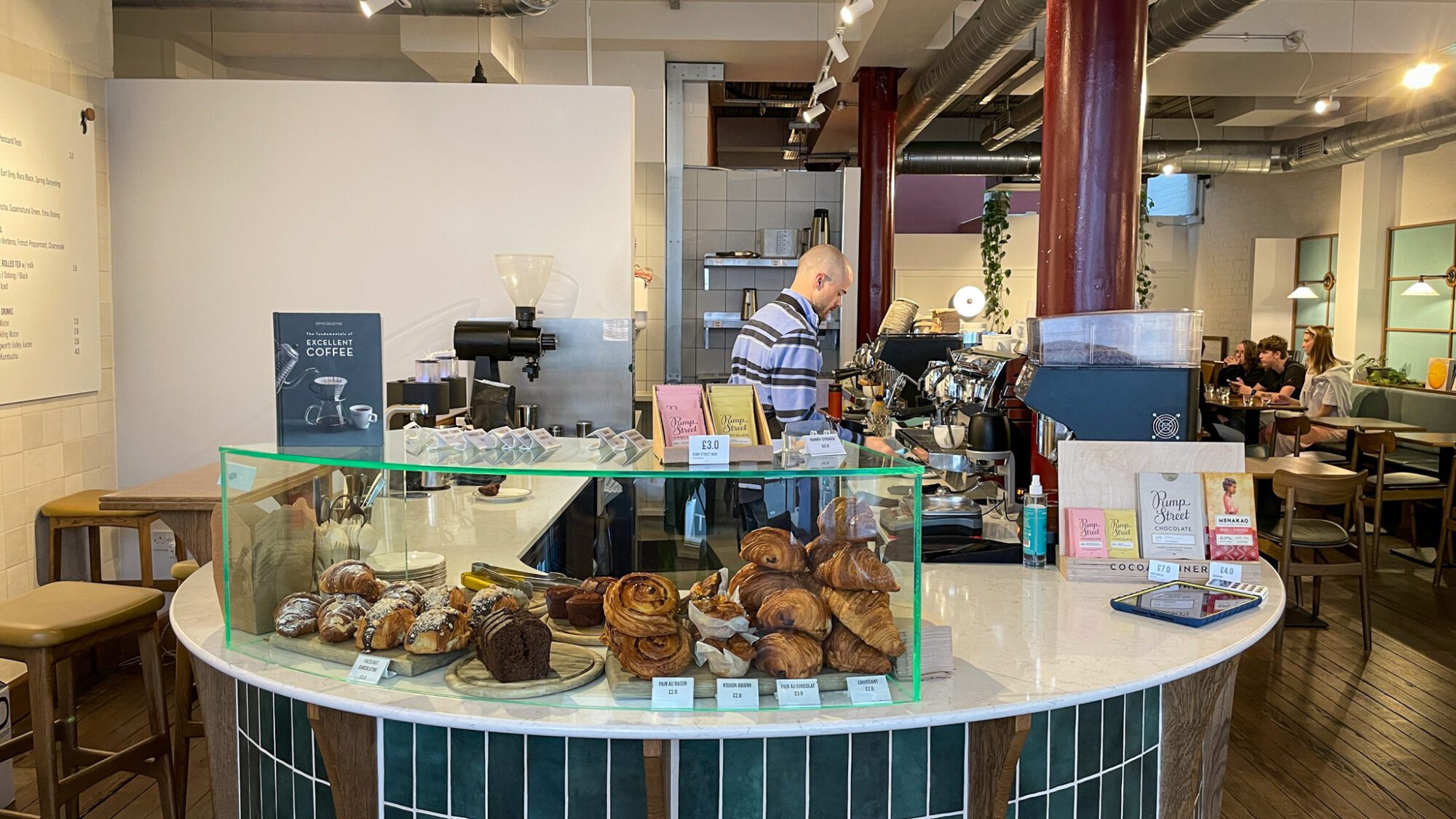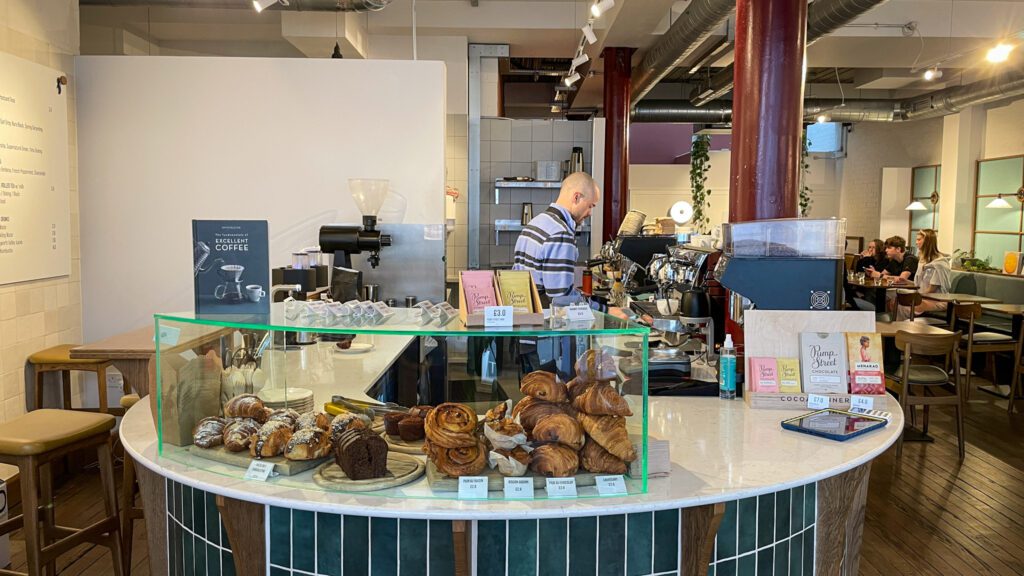 I decided on a filter coffee from Rwanda that was roasted by NOMAD, which was prepared using one of those fancy pour over robots (which I'm a little jealous of). Alysha went with a cup of tea from the aforementioned Postcard Tea.
As we sat there, we noticed that the food seemed to be the popular thing here, with a full brunch-forward menu focused on sandwiches (of all shapes, sizes, and configurations) and pastries. I, of course, have Celiac Disease, so no pastries for me!
One thing I will say is that, though they were busy, the person that helped us was not particularly helpful when it came to knowledge about the filter coffee options they had on hand. Same with the teas – Alysha was trying to figure out which tea she wanted, and got almost zero help or insight. It was a little busy (but not really – it was still early), and it was an odd experience.
Kiss the Hippo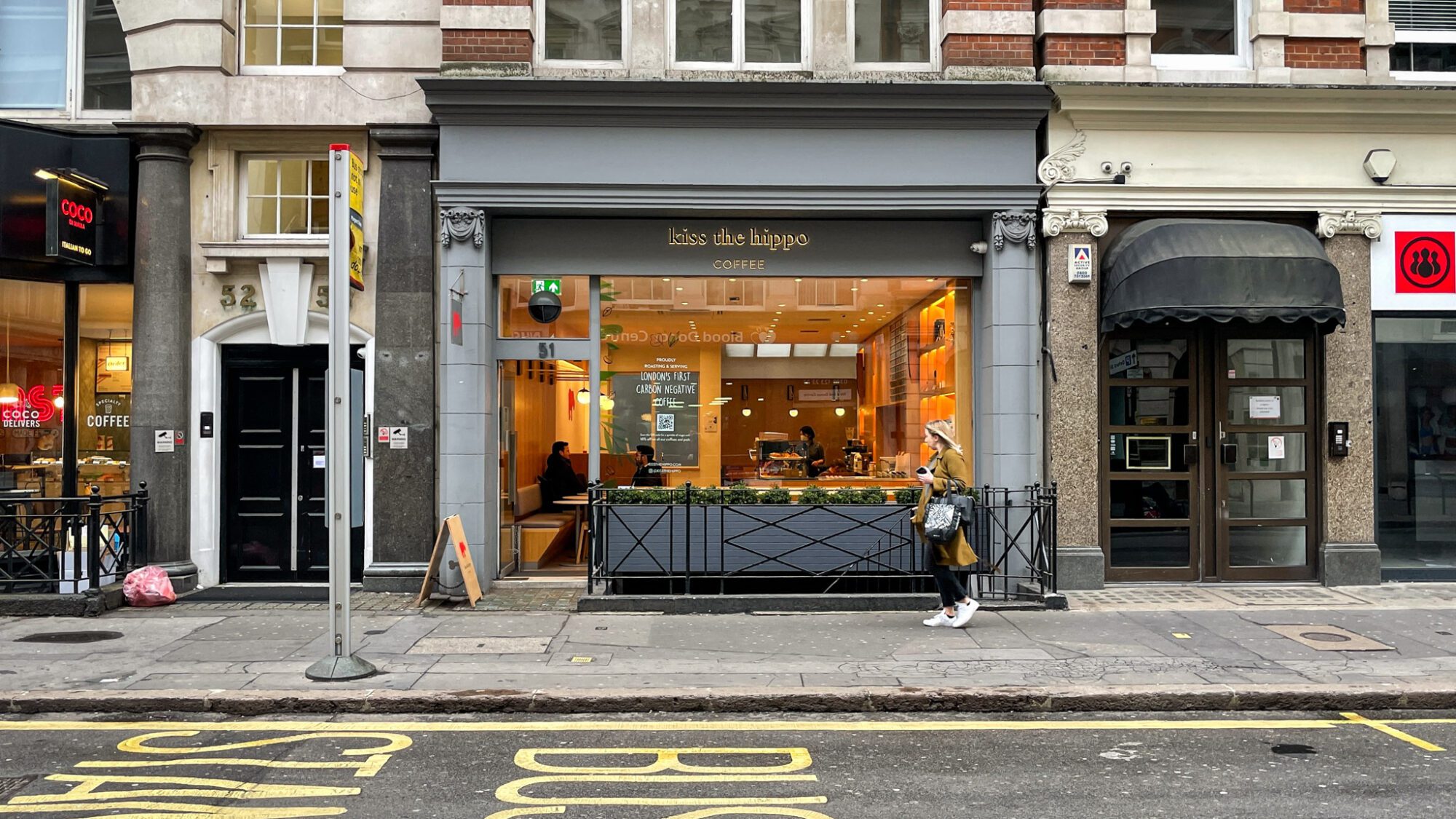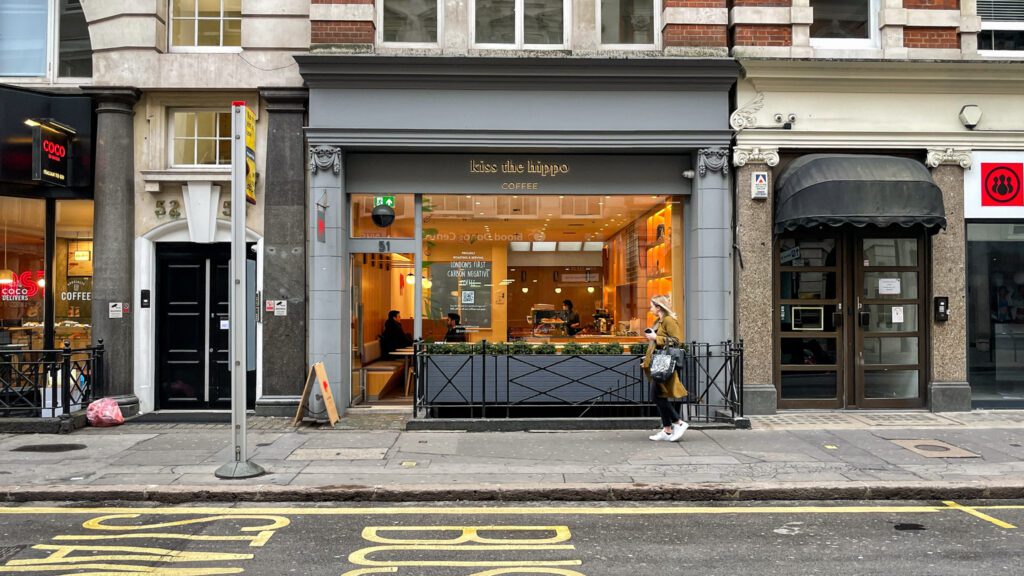 With a cafe in central Fitzrovia, Kiss the Hippo claims to be the first carbon-negative coffee shop in the country.
They opened their first location and roastery in Richmond – which is southwest of London, for you non-Londoners out there like me – in 2018, and they have expanded a bit since then with their London location coming in late 2019. I learned while writing this guide that they also have a location in Westminster at Sloane Square.
One thing I really like is the transparency they provide, which you'll see as we go through what they're bringing to the table below. Most of the aspects include links to their site where you can read more, if you're interested.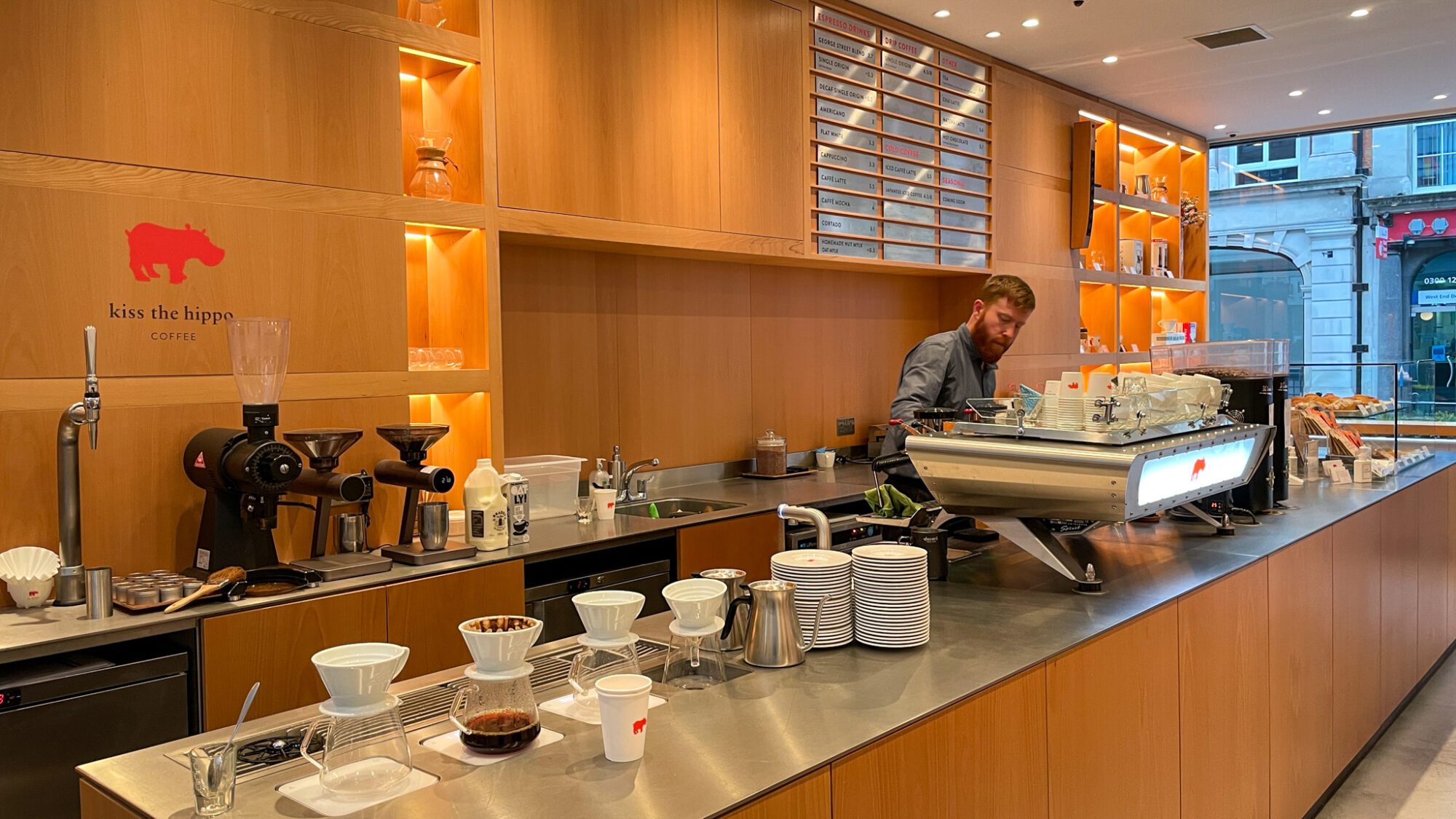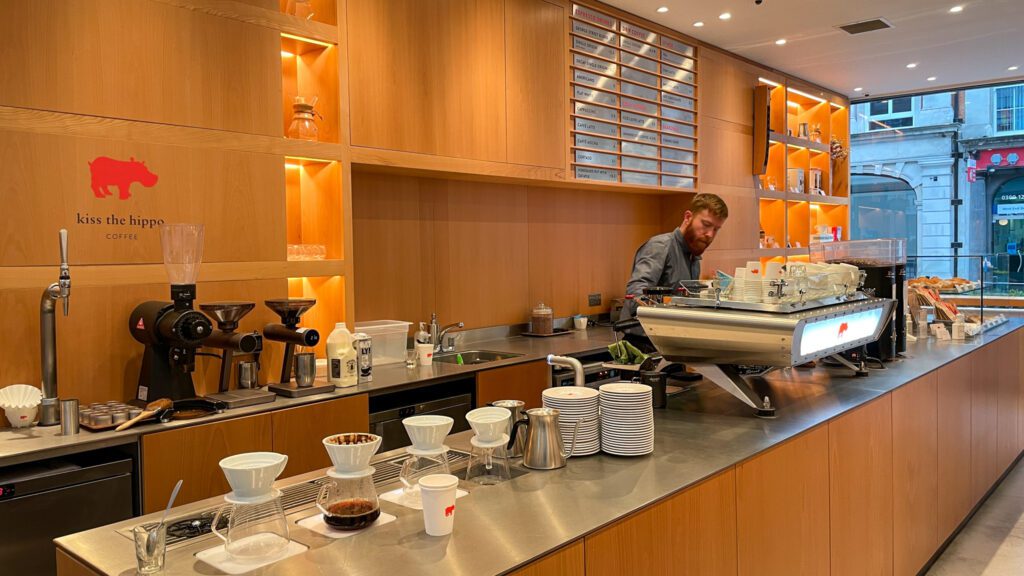 And they're more meaty and informative than a sentence that goes something like "we source our coffee sustainably," which I enjoy and appreciate the extra effort that goes into providing more depth.
I didn't really realize this at the time, but Kiss the Hippo is home to some of the most talented baristas in the country. For example, several of their baristas took home top honors at the 2019 UK Barista Championships, which you can read about here. They use that talent to run an SCA training facility that passes that knowledge and skill onto other baristas that come through.
Back to the "carbon negative" thing for a second – how exactly do they pull that off? I wondered the same thing. The answer is that they plant a bunch of trees by working with their partner, On a Mission, to plant trees all over the world. You can read about that part of their business model here.
But what about the coffee? Let's start with the sourcing, which is arguably where the cup of coffee you'll be drinking begins. They have direct relationships with farmers, which means they're paying double the "fair trade" price for the coffee they're buying to ensure they bring in the highest quality beans and supporting a more sustainable industry. You can read more about sourcing here.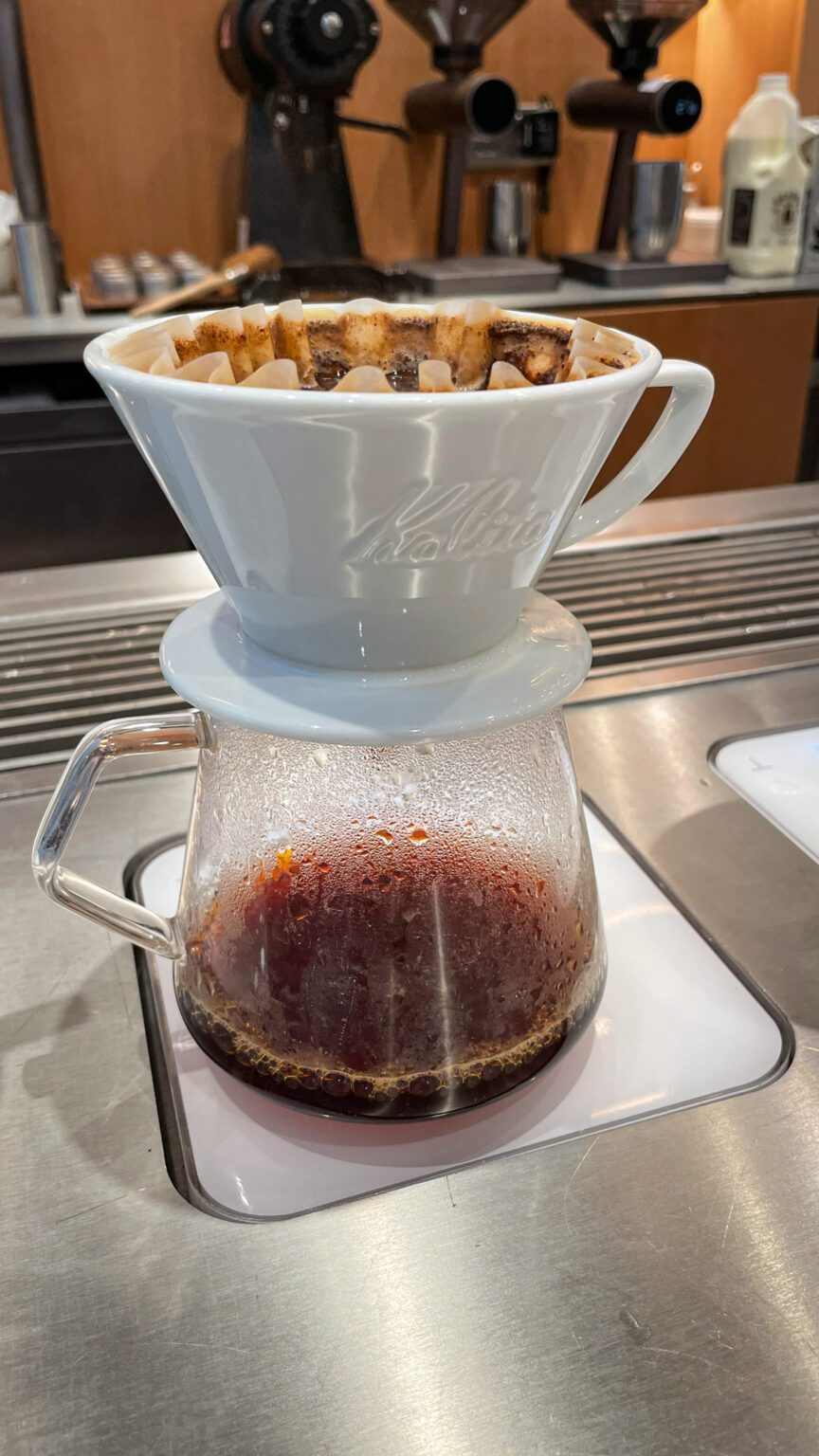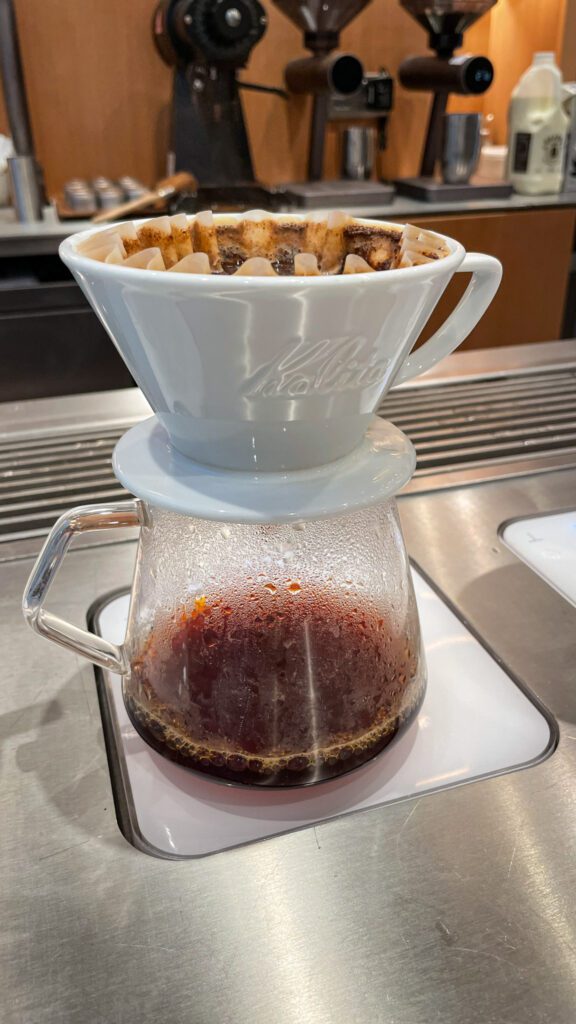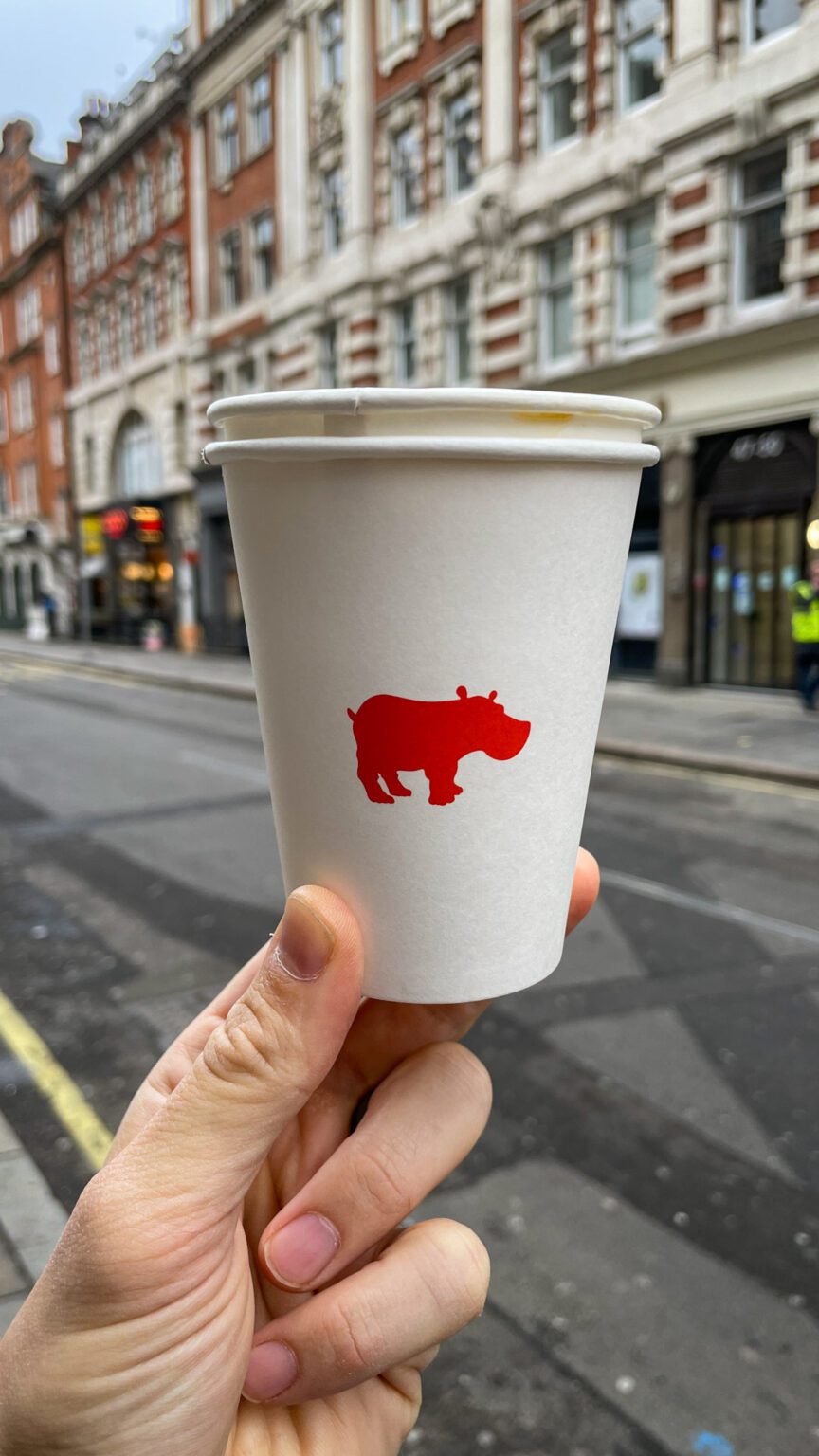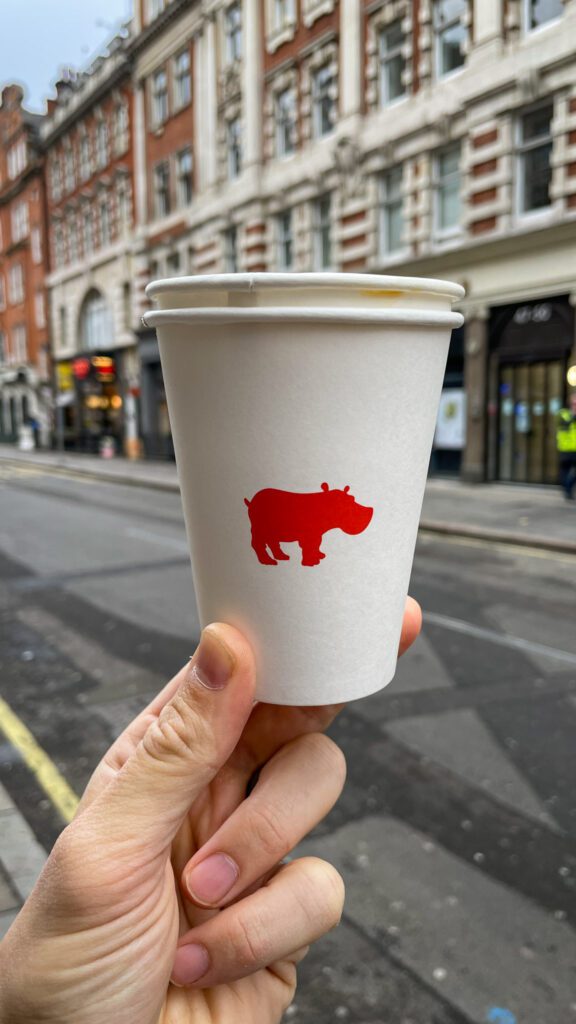 I got a filter coffee using beans from Kenya that was prepared using a ceramic Kalita Wave, and it was light-bodied, fruity, and a little bit tart, which is kind of what I've grown to expect out of coffees from Kenya. It was perfectly extracted, and it was a fantastic cup of coffee.
More London Travel Guides to Help You Plan Your Trip
Ozone Coffee Roasters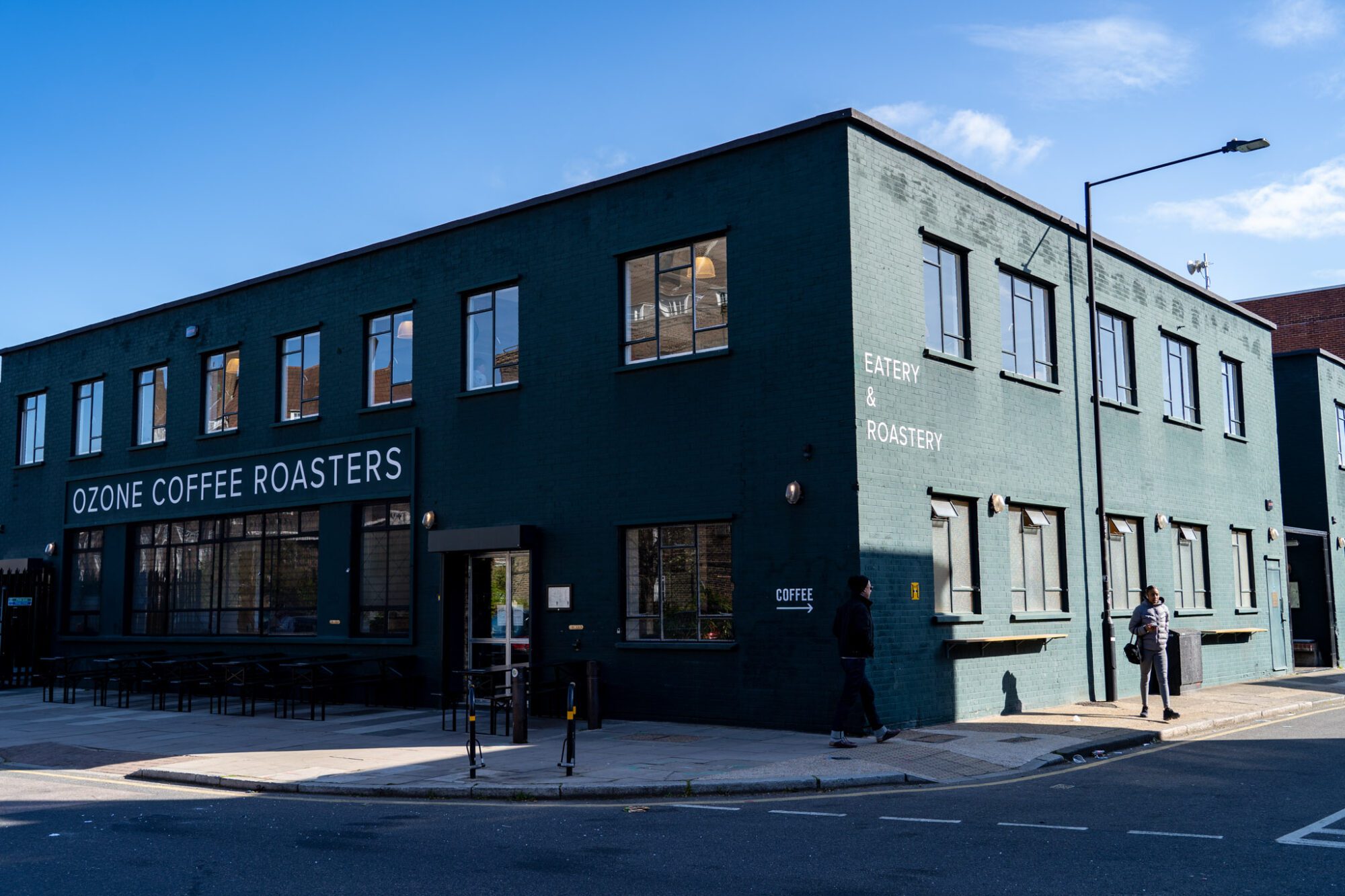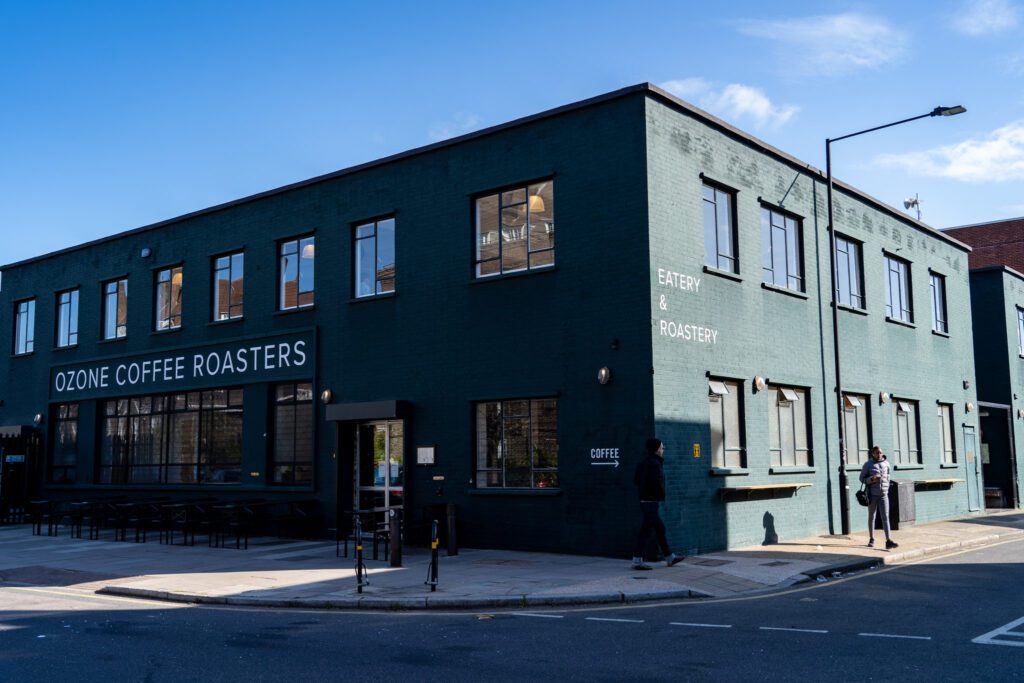 If you're on the lookout for specialty coffee in east London, I would point you towards Ozone, which has a few different locations including one in Shoreditch and one up near London Fields and Broadway Market.
We opted for the location near Broadway Market, and stopped by on a sunny Saturday morning to get caffeinated before eating our body weight in food from the stands at the market.
Immediately, I fell in love with the fact that they have multiple filter options and multiple preparation methods (at the Shoreditch location, anyway), including V60 and Aeropress. Plus, a couple of different batch brew coffees ready to go if you don't want to wait 10 minutes for a hand brewed cup.
They're a roaster, so whatever coffee you opt for, they're brewing it their own beans. At the time I was there, they had a Bolivian coffee that was processed in three different ways – natural, washed, and anaerobic – which I thought was kind of fun. I opted for the batch brew of the anaerobic, and it was about as fruit-forward and juicy as I was hoping for.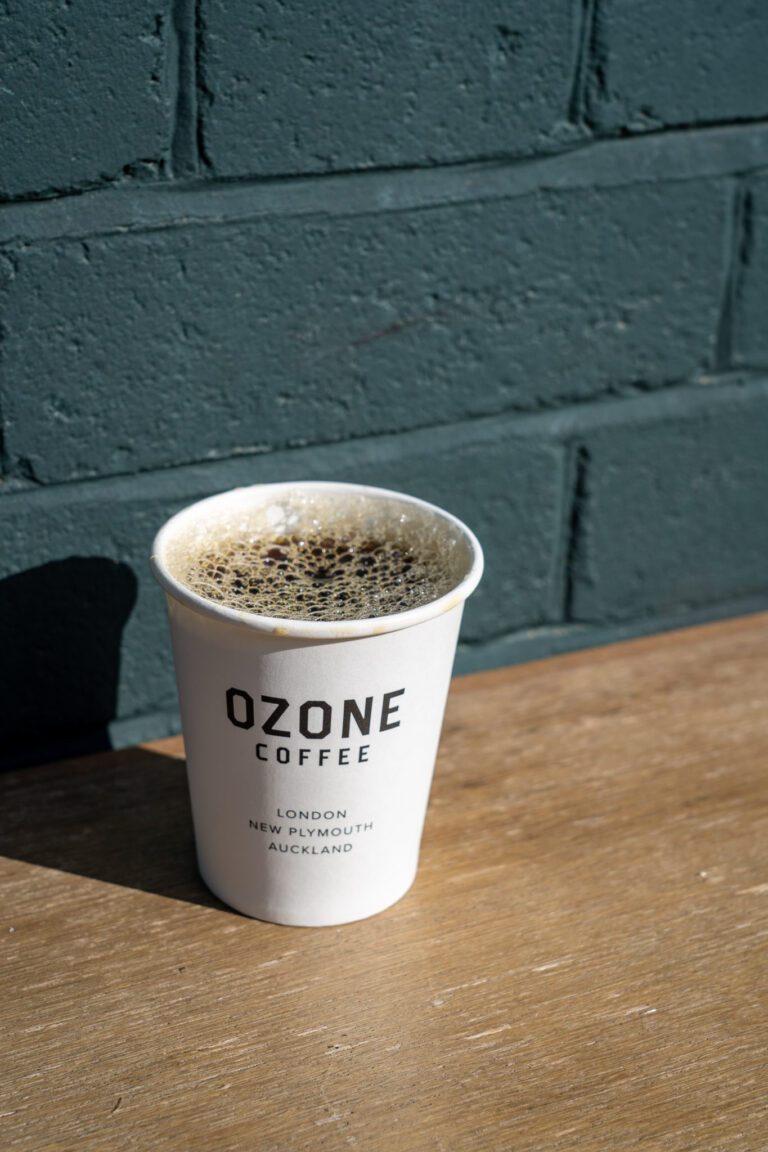 Aside from the coffee, they also have a robust food menu, and most people seemed to be here on a weekend morning for the brunch offerings. In the afternoon, you've also got cocktails, beer, and wine, which makes this a solid all day hangout.
Despite the fact that, usually, I find that places that try to do a bunch of different things (like, say, specialty coffee, brunch, and cocktails) tend to do all of them a little worse than places that really focus on one, I think Ozone actually bucks that trend and does a great job at the coffee part of the equation.
If you ever happen to find yourself down in New Zealand, they also have shops in Auckland and New Plymouth, which was a fun discovery!
Even More Great London Coffee Shops to Check Out
Like I mentioned above, there's way too much good coffee in London for me to write what is essentially a love letter to every single one.
So I focused on the London coffee shops that stood out to me for one reason or another. Maybe it was the friendly service combined with the amazing coffee, or maybe it was a unique approach to serving coffee.
The point is that there are literally hundreds of other coffee shops that can serve you a great cup of coffee in London. Here are some others that were either on my list, or that I went to and enjoyed.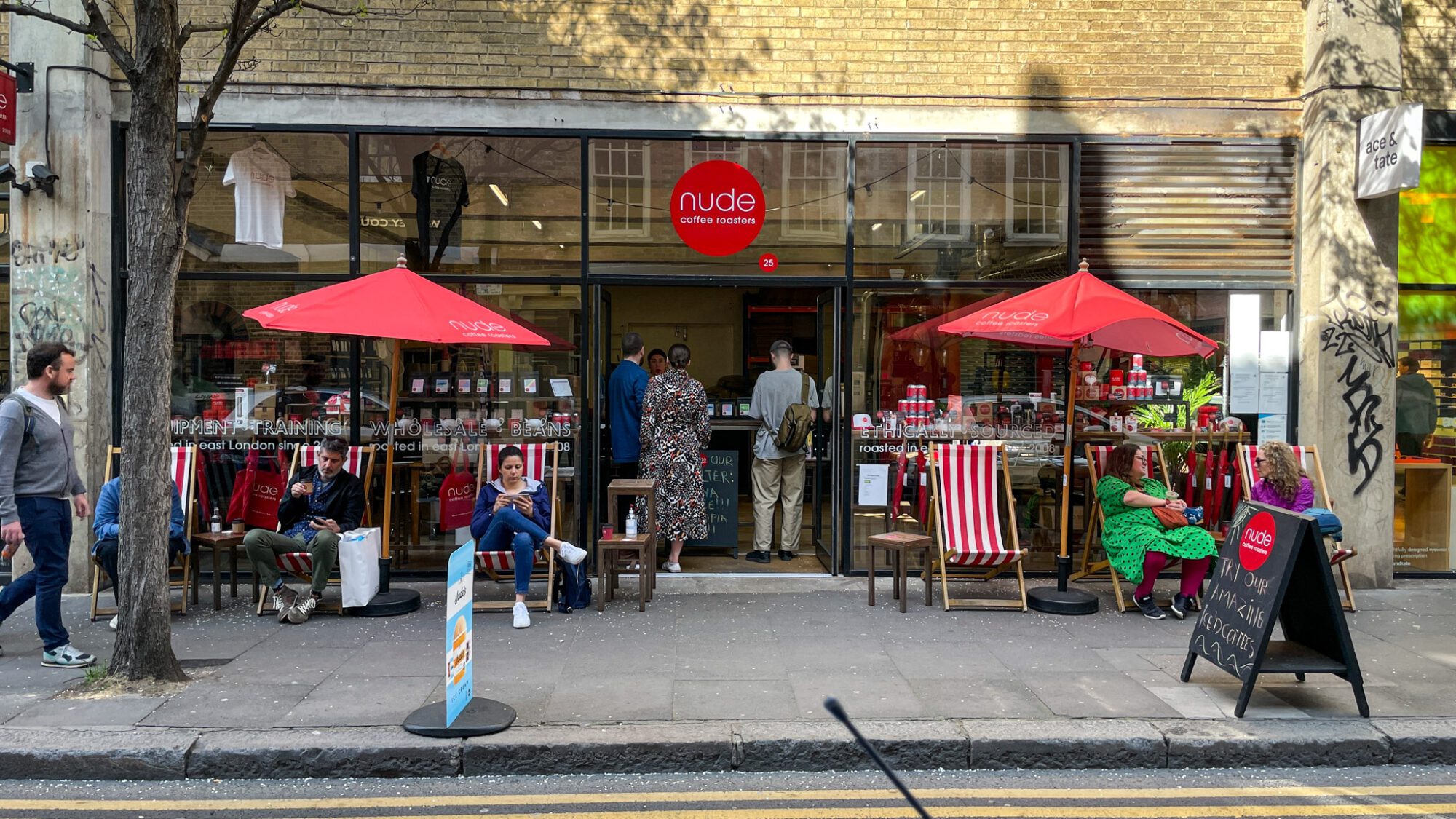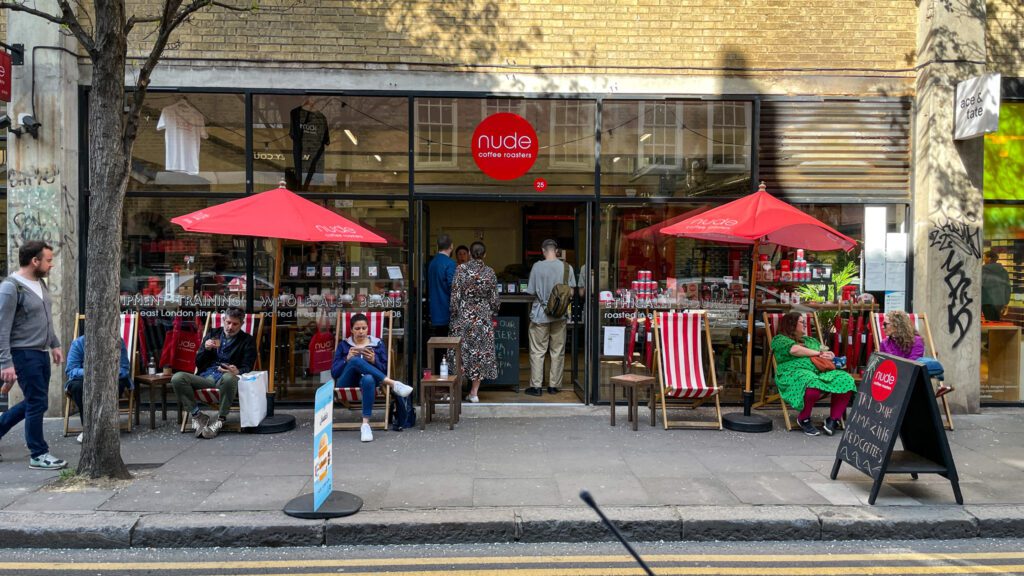 Nude Espresso: I enjoyed this spot, which have a location right next to the Upmarket on Brick Lane that we stopped by on a sunny Sunday afternoon. The staff were incredibly friendly, joking about the differences between UK and Australian coffee culture, and they let me try the drip coffee (a bright and fruity Ethiopian coffee) even though I had ordered an espresso.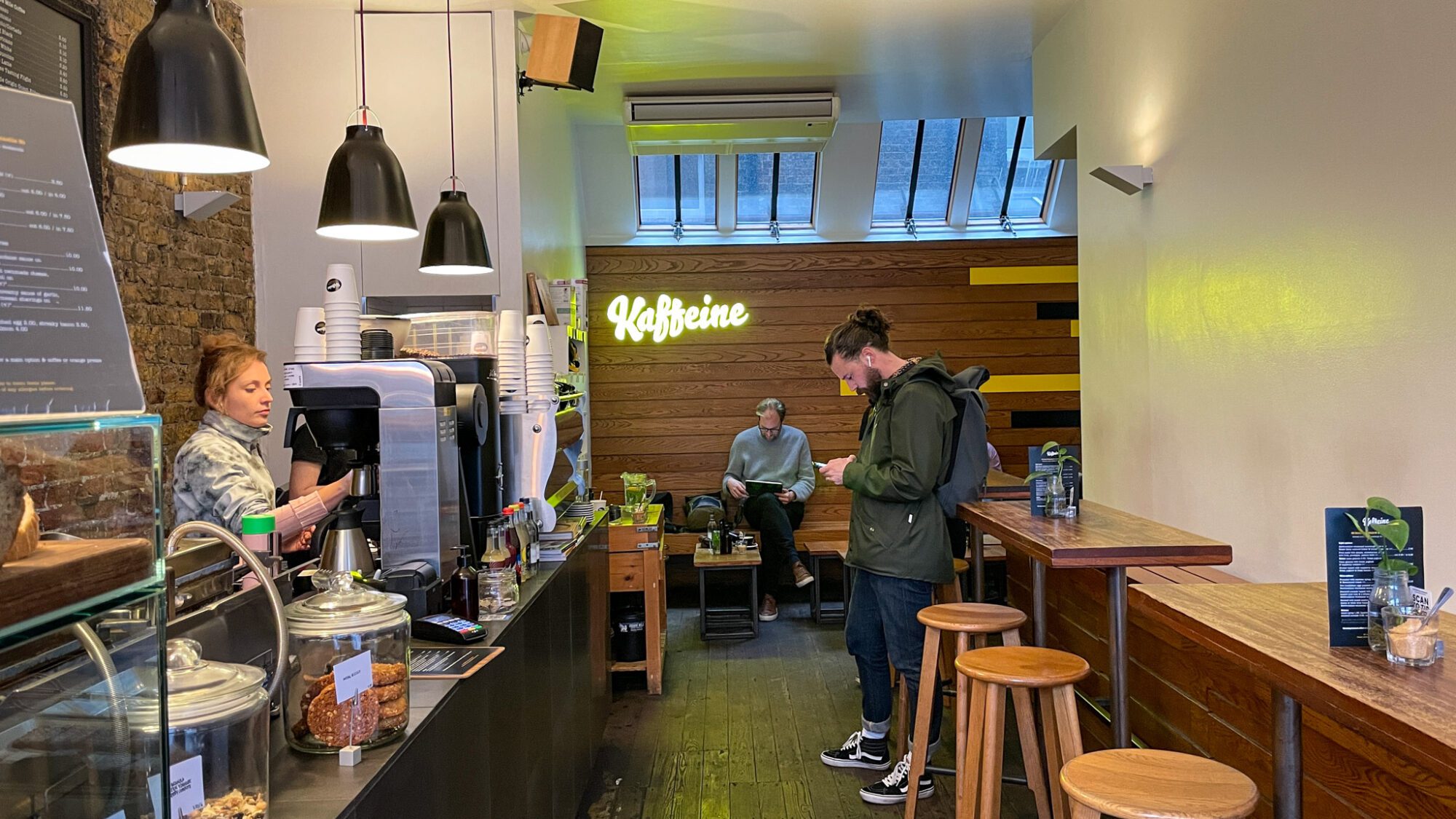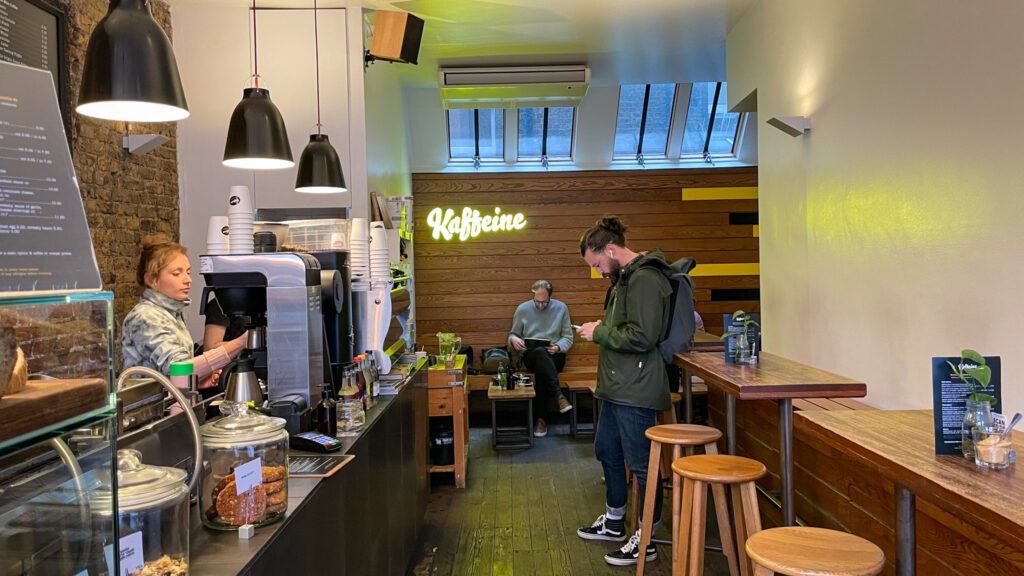 Kaffeine: Usually, I try to keep the places in these guides laser-focused on the places that have their eyes set on the coffee, rather than the brunch or other types of food. Mostly, that's because I have Celiac Disease and 99% of the time, I can't partake in the food anyway. This place is both an excellent place for coffee – particularly because you'll have the chance to try a guest espresso, which they constantly rotate to bring new and exciting coffees in. I got a juicy Kenyan coffee that was pulled pretty much perfectly.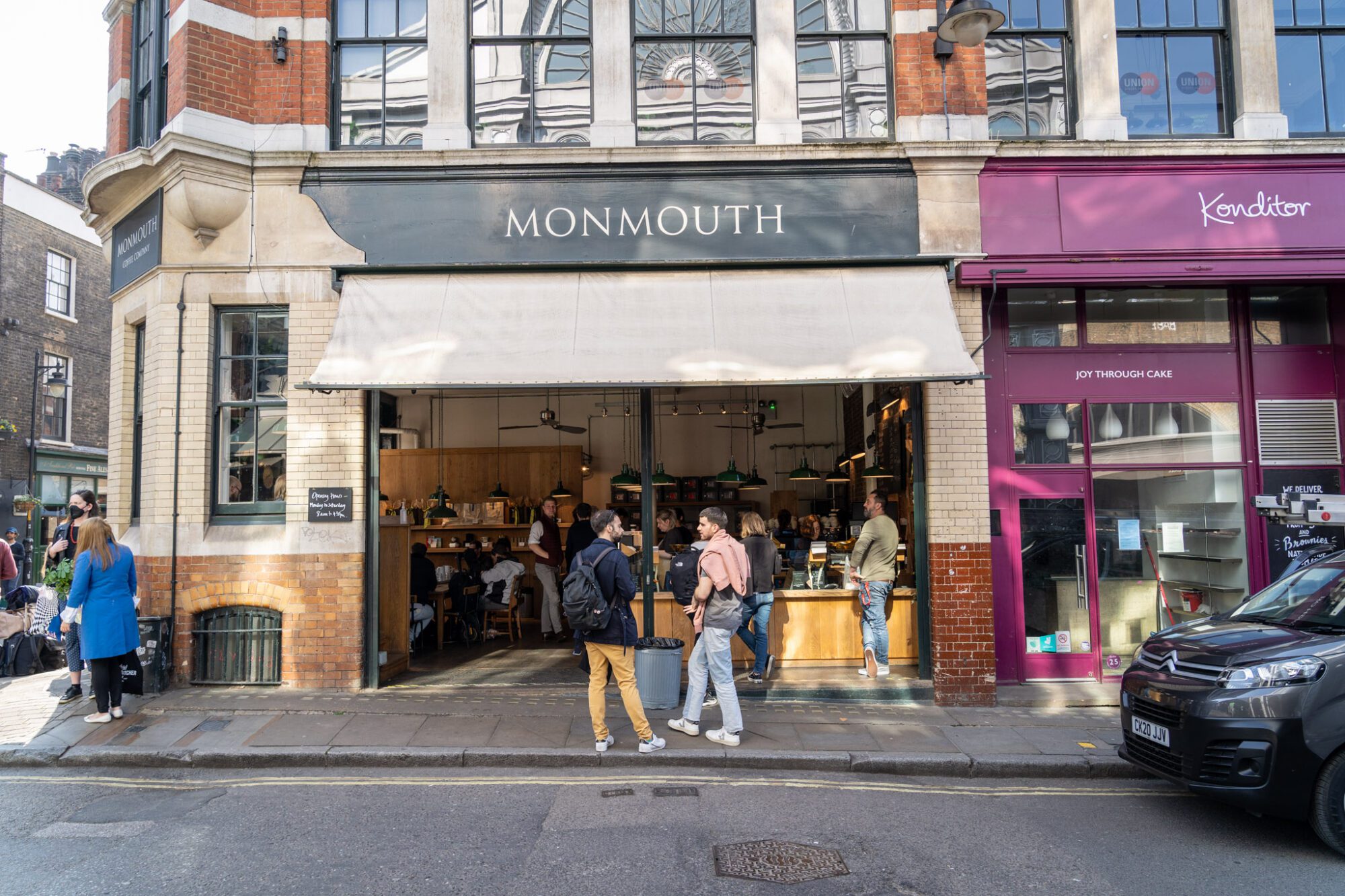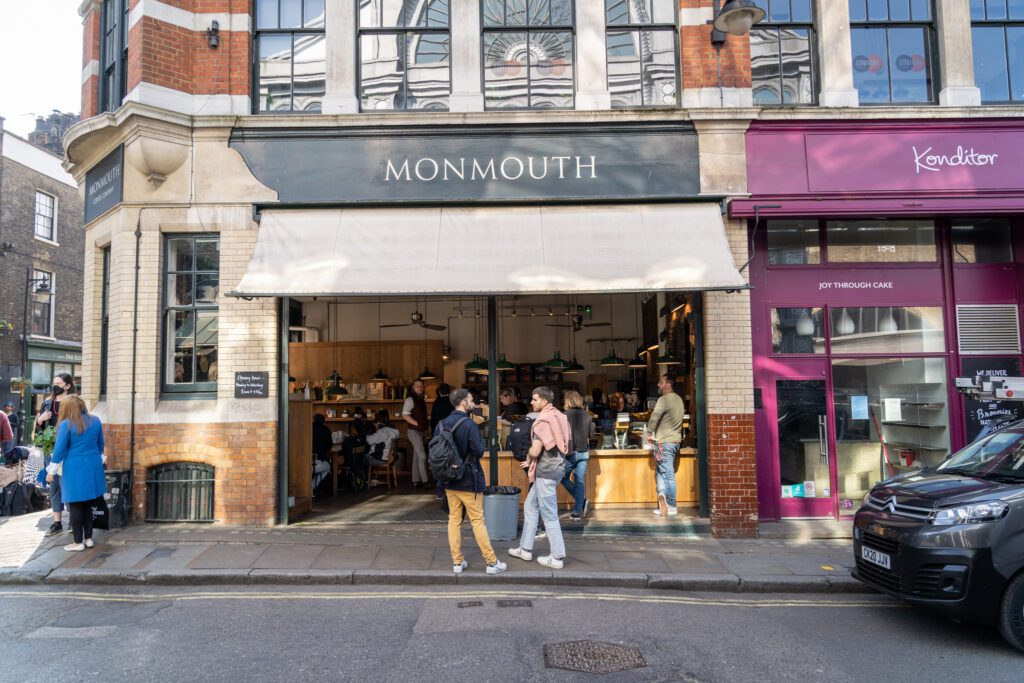 Monmouth Coffee: This is probably among the most important shops in the rise of London's coffee scene. They have a ton of different coffees available that you can buy in smaller-than-usual quantities, which is a fun way to get a bunch of different beans to try. Their filter coffee rotates every so often – when I was there, they had a nice raisin-y coffee from El Salvador. One thing I like about them is that they've completely gotten rid of disposable cups. You have two options for your drink – get it for "here," or borrow a reusable takeaway cup for £5 (which you get back when you return it). They have locations at Borough Market and in Covent Garden near Seven Dials Market.
---
Plan an Incredible European Adventure
Planning (or thinking about planning) a trip to Europe? We've got you covered! We've been to Europe many times, including a recent three month trip to Portugal, Paris, Italy, and Spain.
Here are our in-depth European travel guides to help you plan a trip full of learning, discovery, and unforgettable experiences.
LONDON: How to Plan your London Itinerary, Where to Stay in London, and the Best Coffee Shops in London
PARIS: A Perfect Paris Itinerary, Where to Stay in Paris, and the Best Coffee in Paris
ROME: A Complete Rome Itinerary, Where to Stay in Rome, and the Best Things to Do in Rome
AMSTERDAM: A Perfect 2 Day Amsterdam Itinerary and Exactly Where to Stay in Amsterdam
BARCELONA: A Complete Barcelona Itinerary and Where to Stay in Barcelona
MADRID: An Amazing 2 Day Madrid Itinerary and Where to Stay in Madrid
LISBON: A complete guide to 3 Days in Lisbon and Where to Stay in Lisbon
FLORENCE: The Best Things to Do in Florence, Where to Stay in Florence, and a Perfect 3 Day Florence Itinerary
SICILY: How to Plan an Amazing Sicily Road Trip and the Best Things to Do in Catania
SPAIN: A Complete 14 Day Spain Itinerary and a 2 Day Seville Itinerary
PORTUGAL: How to Plan an Amazing Portugal Itinerary and a guide to planning an Algarve Road Trip