Where to Stay in Paris: A Complete Guide
Paris was one of my first international travel experiences after I graduated from college and left the US for the first time in my life. I took French for years in school, and I was incredibly excited to put it to good use in Paris.
I distinctly remember the first time I spoke French to a Parisian (she was the cashier at a gluten free bakery) and she spoke back to me in French, rather than English (which was the norm, at that point). I was elated – I'd finally made it!
That elation continued for me throughout that first trip to Paris, which was full of walks along the Seine and museum-hopping, and immediately returned when I returned two years later.
That second trip was much less about hitting every museum, and much more about getting lost in the winding streets of Paris' neighborhoods (my friends who I was traveling with still gripe about the fact that we got "lost" so many times in Paris, to which I would say "is getting lost in Paris a bad thing?").
Fast forward almost a decade, and the ultra-romantic, cosmopolitan and a mecca for food, art, architecture has called me back once again, and I found myself planning a weeklong Parisian adventure that gave us plenty of time to immerse ourselves in the city.
And, surprisingly, despite a decade since the last time I spoke French, it came back by the third day and I was getting compliments on how well I spoke "for an American".
For those in the planning stages, the first question that usually comes to mind is where to stay in Paris.
We're here to use our experiences to help you answer that question, which depends a lot on your particular travel style, needs, and budget.
In the guide below, we're going to go through our picks for the best places to stay in Paris.
There are a nearly unlimited number of neighborhoods you could choose, but we're going to give you our favorite neighborhoods for tourists, along with the the pros and cons of each neighborhood, some neighborhood highlights that we personally enjoyed (and think you will too), and some hotel options that caught our eye to get your search started.
We hope this guide helps you find the perfect place to stay in Paris so that you can plan an unforgettable trip that has you dreaming about your return as soon as you leave.
Looking for a perfect 4 Day Paris Itinerary for First Timers? Check out our Guide to 4 Perfect Days in Paris.
Visiting Paris and need to eat gluten free? Check out our Complete Guide to Gluten Free Paris.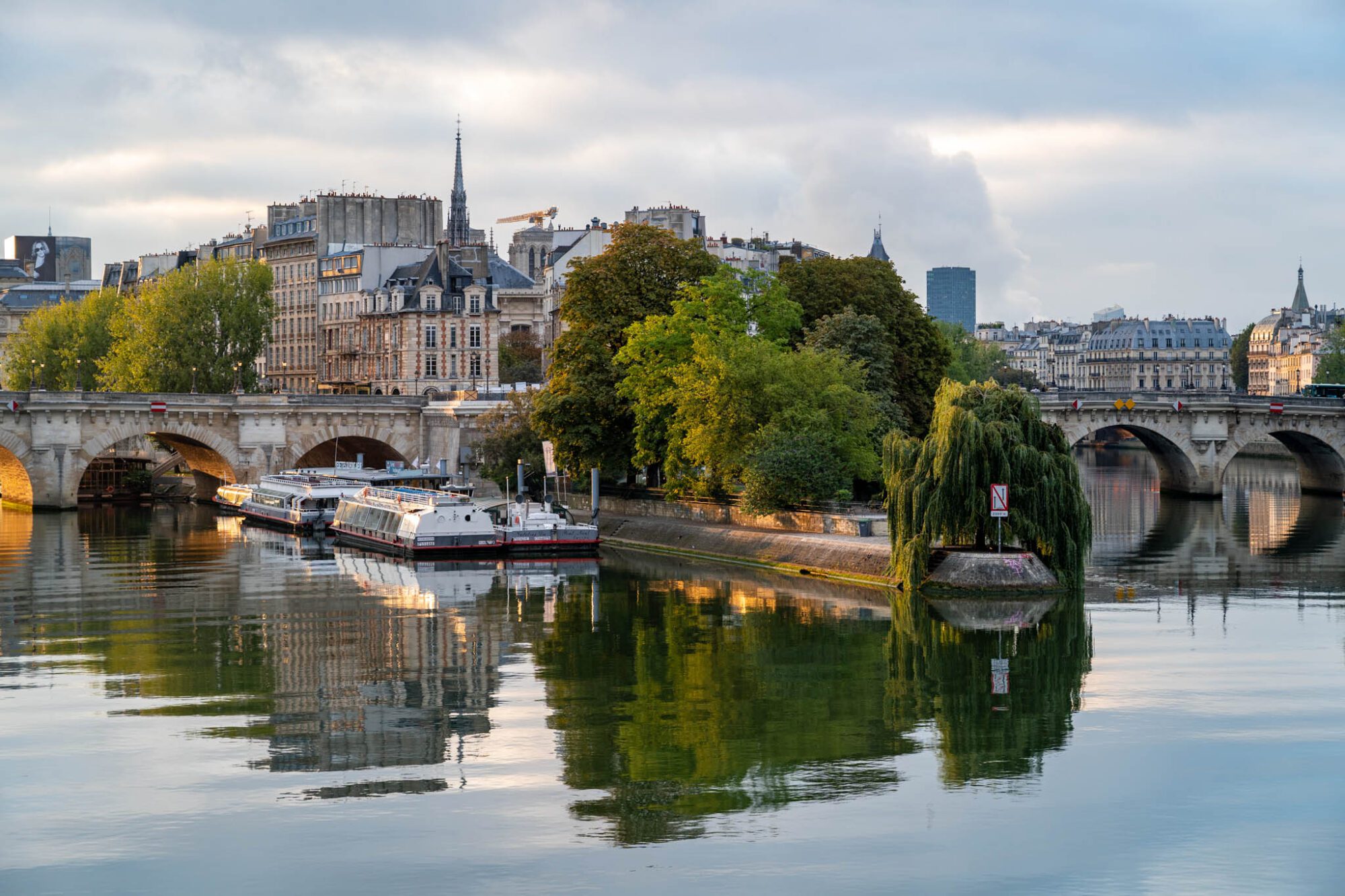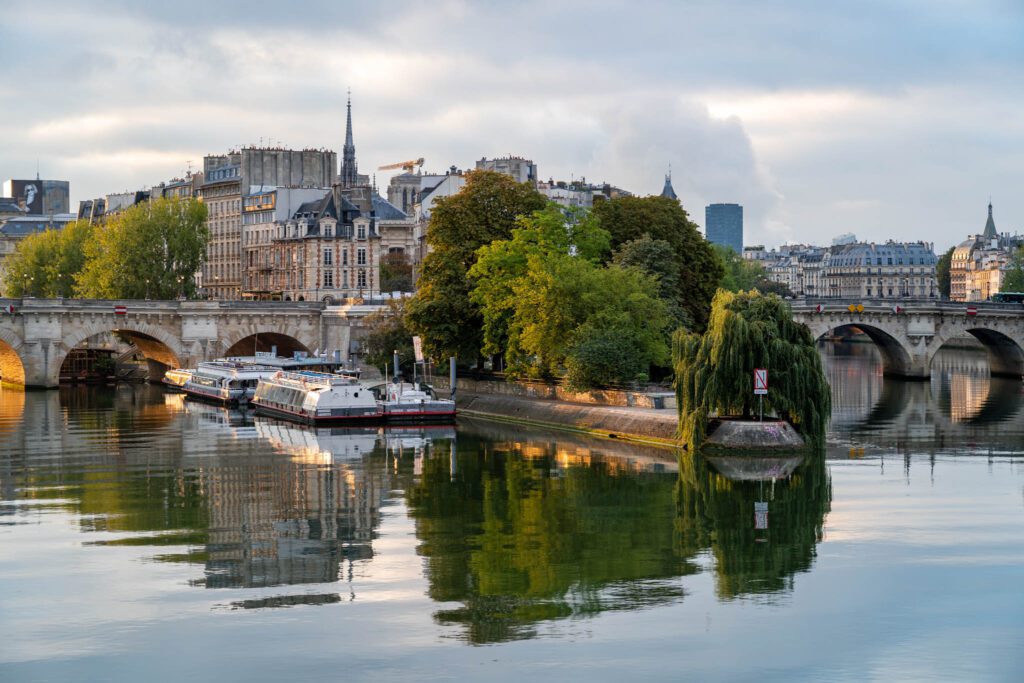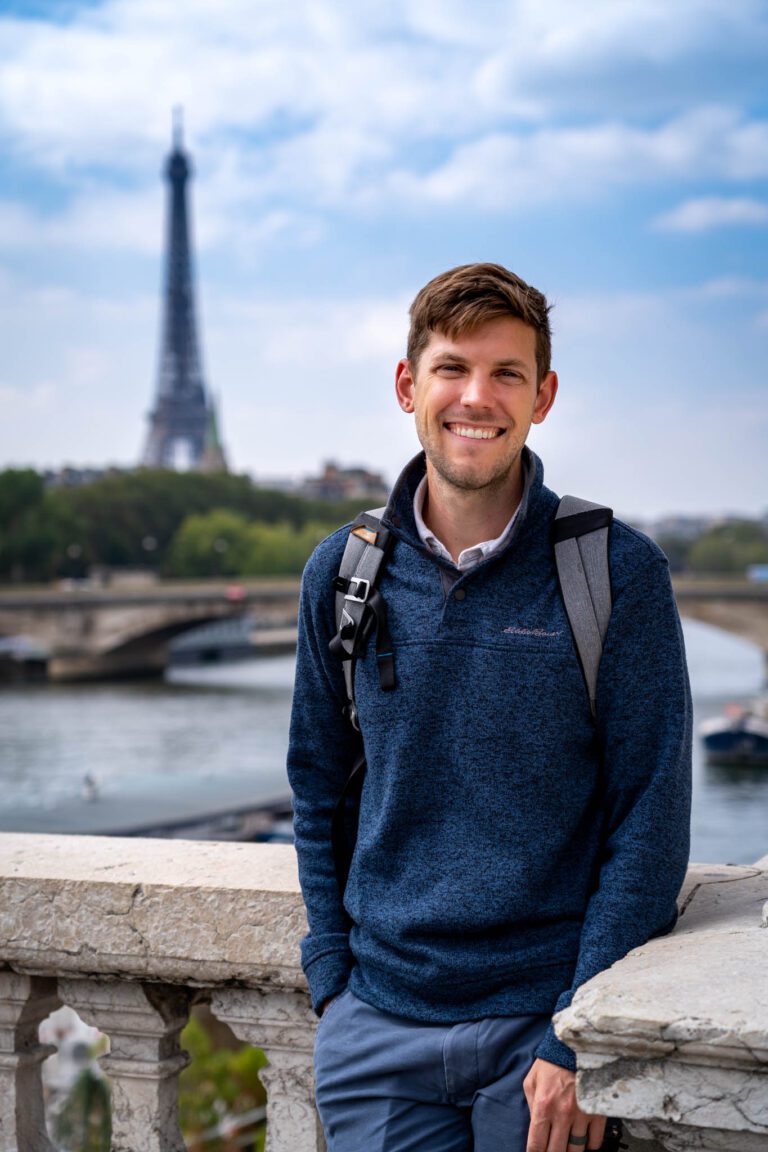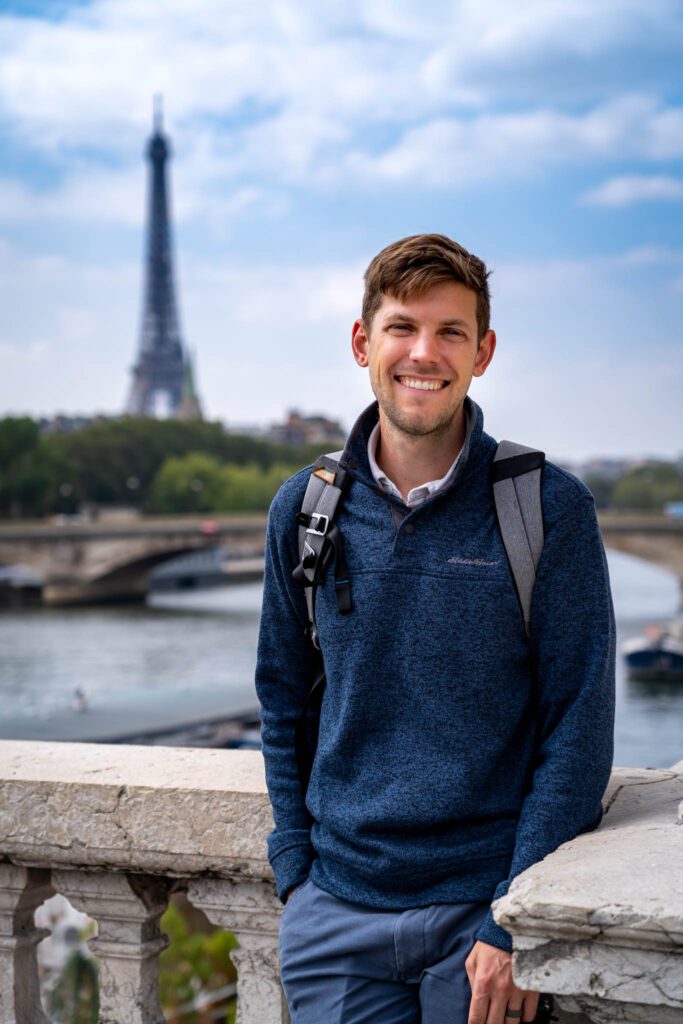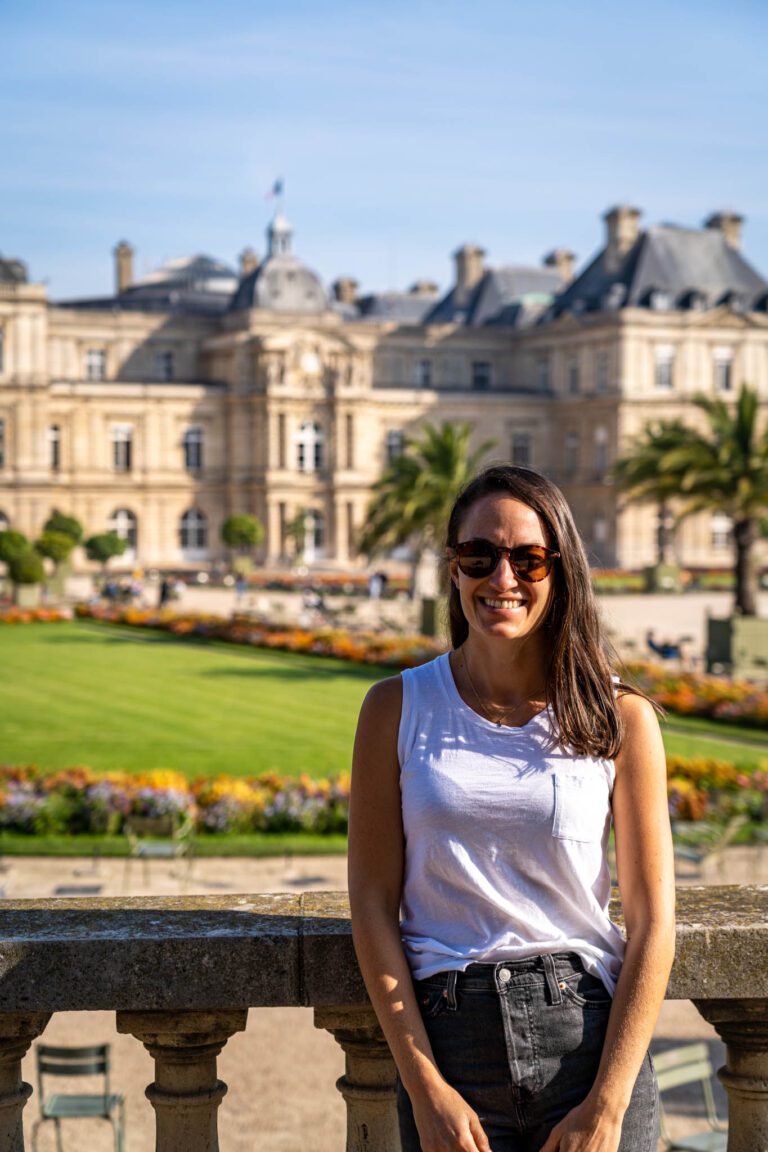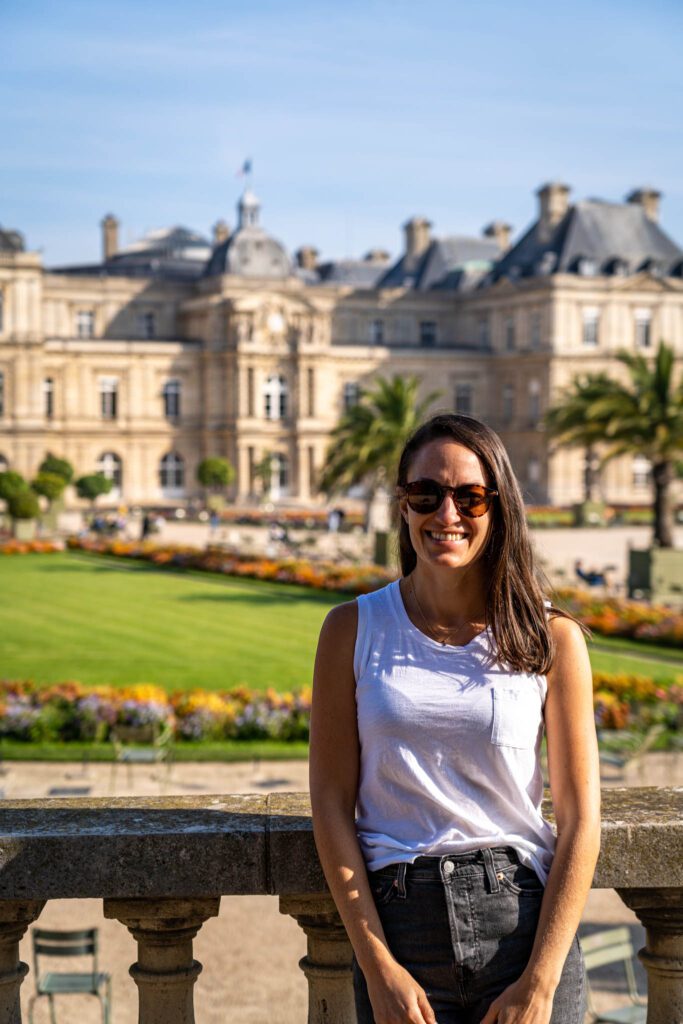 Disclaimer: Some of the links in this post, like hotel links, are affiliate links, meaning at no additional cost to you, we make a little bit of money if you click through and book. That being said, we would never recommend something to you that we don't stand behind 100%.
Where to Stay in Paris: A Complete Guide to the Best Places to Stay
Our philosophy when it comes to choosing a place to stay is to first choose the neighborhood, then move on to finding a great hotel, hostel, or apartment in that area.
The beauty of Paris, like most big cities, is that each neighborhood has a unique personality. The best neighborhood in Paris for you totally depends on what you're looking for.
The downside of that fact is that it can be REALLY confusing when it comes time to decide on where to stay.
With so many great neighborhood options, each with their own quirks and unique charm, which area should you choose?
Well, that's why we invested the time to put together this comprehensive guide – to take the confusion out of deciding where to stay, and help you find the perfect place to stay for your particular style and budget!
Don't have time to read the entire guide below? Here's a quick summary with some of our top picks.
Where We've Stayed in Paris
Our own personal experience might be a good place to start this guide.
For what it's worth, we spent a week in Paris on our latest trip in 2021 and we split our time between two different areas to get a feel for both.
First was the 9th Arrondissement, which is a budget-friendly, central location. We liked Hotel Joyce, which has free snacks and non-alcoholic beverages and is a great value given the location.
Second was the 2nd Arrondissement, which we fell head-over-heels in love with. Specifically, the areas called "Sentier" and "Montorgueil" at the northern end of the neighborhood. We stayed in an apartment-hotel called My Maison in Paris, and it was excellent. Perfect location, has a kitchen, and the apartment had everything we needed to use it as a home base for exploring the city.
On my first trip to Paris wayyyy back when (almost a decade ago!), we stayed near the Champs-Élysées in the 8th Arrondissement. While it doesn't make the list of my favorites these days because it's not the most authentically Parisian neighborhood and it's packed full of tourists, we could see the Arc de Triomphe from the balcony of our hotel, the Royal Hôtel. So that was a good introduction to Paris.
On my second trip to Paris with friends, we were on a tight budget, so we stayed in the 12th Arrondissement near Place de la Bastille, which I would still recommend for budget travelers (stay on the western end of the neighborhood which is way closer to the center), though I'd expand your search to Belleville (the 11th Arrondissement) and Canal St. Martin (the 10th Arrondissement) as well, both of which have some very affordable pockets and places to stay.
Now, onto a more in-depth analysis of different neighborhoods in Paris to help you find the perfect one for your style and budget.
The 7th Arrondissement: Stay At the Foot of the Eiffel Tower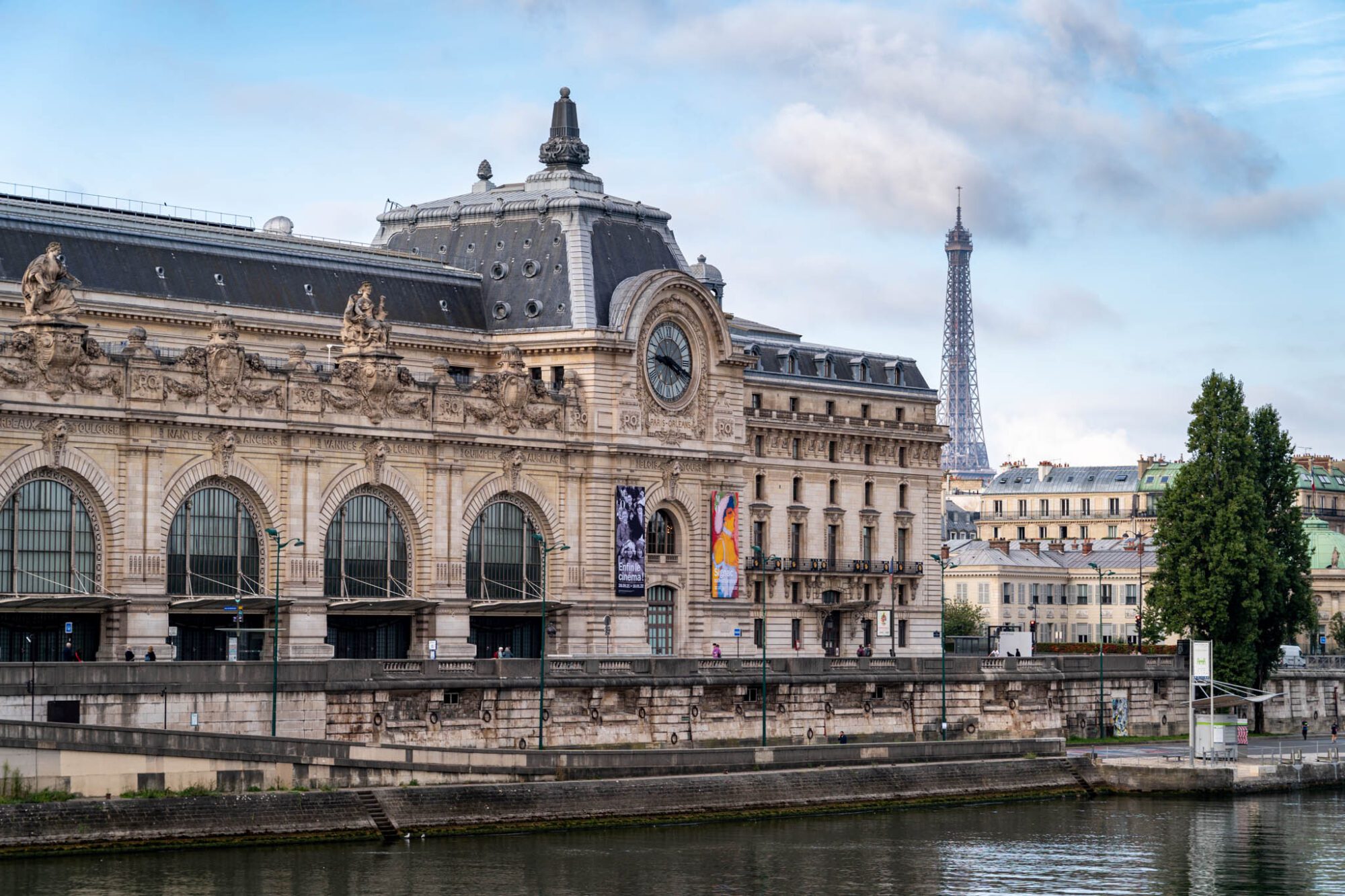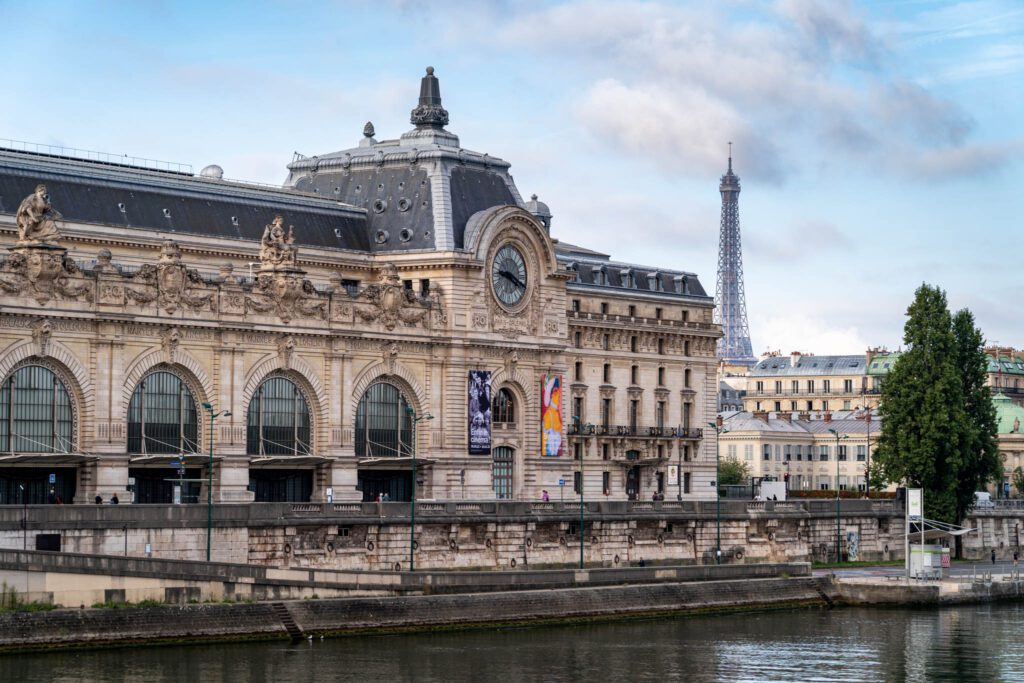 The 7th Arrondissement is quintessential Paris, at least to us. First of all, it's at the feet of the Eiffel Tower, which means as you're walking around the 7th, whether it's to the market or to catch the metro, you'll likely catch a glimpse of the Eiffel Tower peeking out to say hi.
But the Eiffel Tower isn't the only thing that we like about the 7th Arrondissement. Rue Cler, a charming, narrow street lined with shops selling all sorts of delicious food and drinks, is one of our favorite places to visit in Paris.
The wafting fumes of freshly baked croissants and croque madames will greet you several blocks before you reach the street itself, and you could spend hours stopping in to sample everything the vendors there have to offer.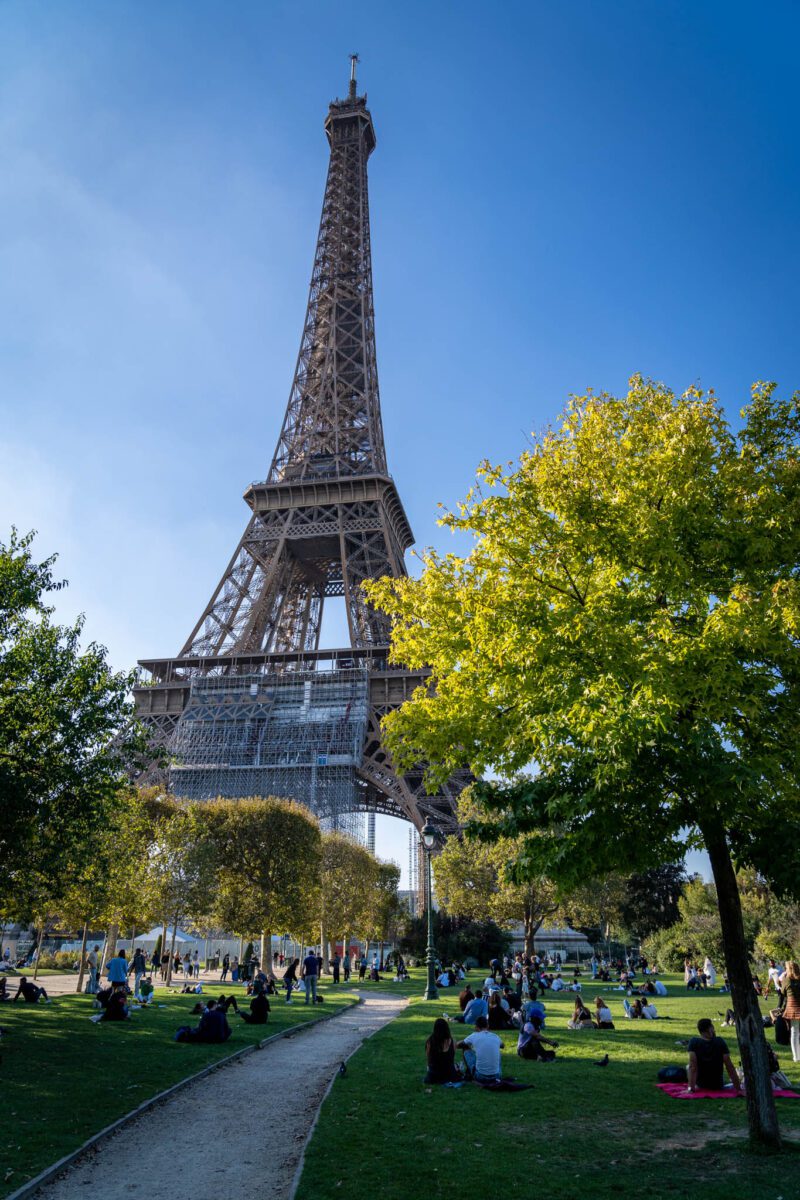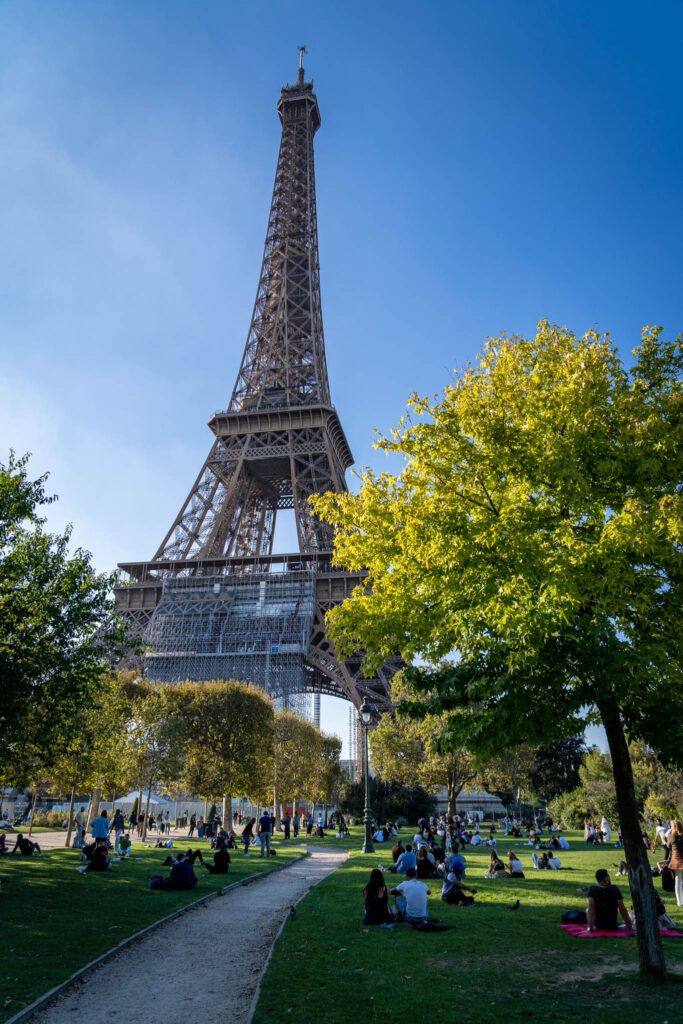 If that's not enough, the 7th is also right along the River Seine. There's something magical about walking along the Seine at twilight. Or at dawn. Or anytime in between, really.
We think that there's something special about staying at the foot of the Eiffel Tower, especially on your first trip to Paris (we'd stay elsewhere if you've been before, more on that below!).
Pros and Cons of Staying in the 7th Arrondissement
Pros:
Close to the Eiffel Tower, Champs Elysees, and the Seine. It's further away from places like Notre Dame and Canal St. Martin, but it's easy enough to hop on Paris' amazing metro, which will whisk you away to those further away spots.


Rue Cler is mere blocks away. We love wandering down Rue Cler, and think you will too. Even if you're not partaking in the wide array of food options, it's one of our favorite streets in Paris.


Lots of good food options, including gluten free spots. Tasca and La Sartoria are two great Italian restaurants, both with plenty of gluten free options if you're like me and can't eat gluten. The whole area between Invalides and Champs de Mars (the park below the Eiffel Tower) is full of amazing places to eat and drink.
Cons:
It can be pricey. Staying near any major tourist attraction comes with a price tag, and the Eiffel Tower is no different. Still, we think it's worth the extra 10-15% to be able to wake up early and enjoy a sunrise coffee at the Jardins du Trocadéro overlooking the Eiffel Tower (or a bottle of wine at dusk, take your pick!).


There will be a lot of tourists. It's near the most popular tourist attraction in the entire country of France, after all. This isn't necessarily a bad thing – you are a tourist, after all – but it's something to keep in mind. If you like "local vibes" (to be honest, we do), then you're going to be missing those if you stay here.
Highlights of the 7th Arrondissement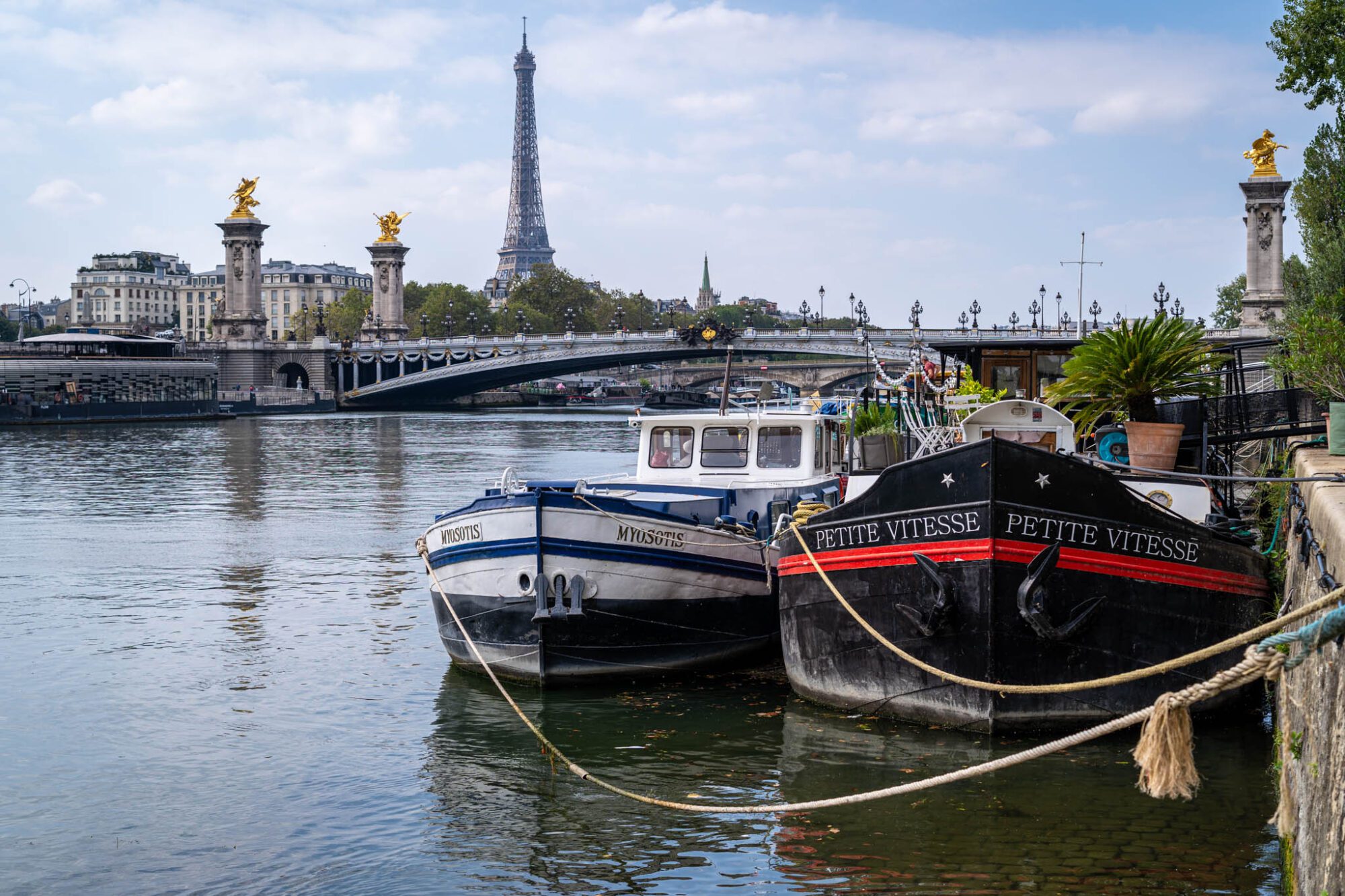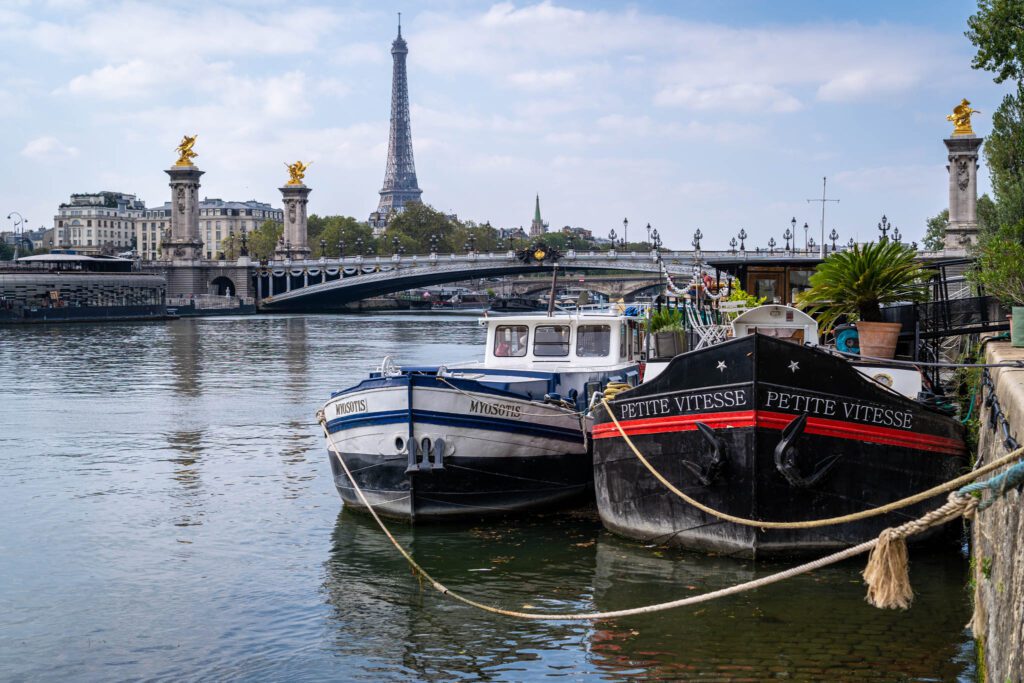 Here are a few of our favorite spots and discoveries in the 7th Arrondissement.
Let's quickly touch on the Eiffel Tower, which is not only the premier tourist attraction in the 7th, but also probably in all of Paris.
There are two things we think you should do at the Eiffel Tower that are completely FREE.
Picnic in the Champs de Mars. Grab some picnic supplies on Rue Cler (cheese, baguette, wine, etc) and head to the park at the foot of the Eiffel Tower, where you'll find a huge group of people enjoying the view on warm sunny days in Paris. There's some great people watching to be had here, including the people selling buckets of booze who have an intricate system designed to help them evade the police, who show up every once in a while. This is probably in the top 3 in terms of experiences in Paris.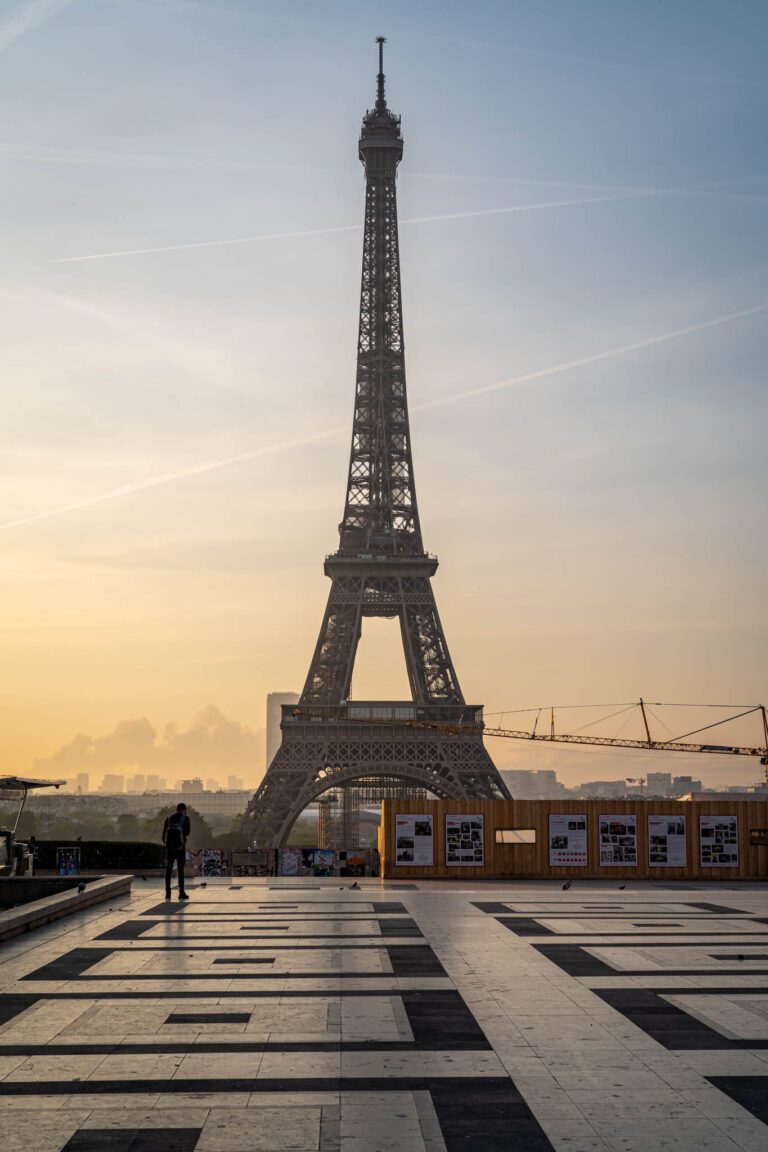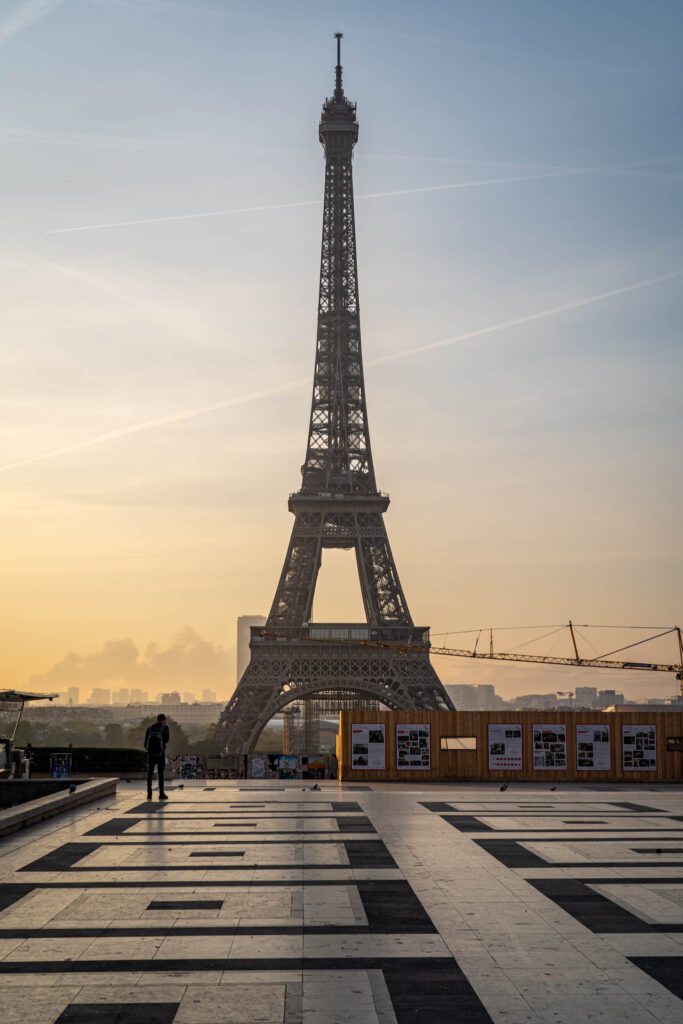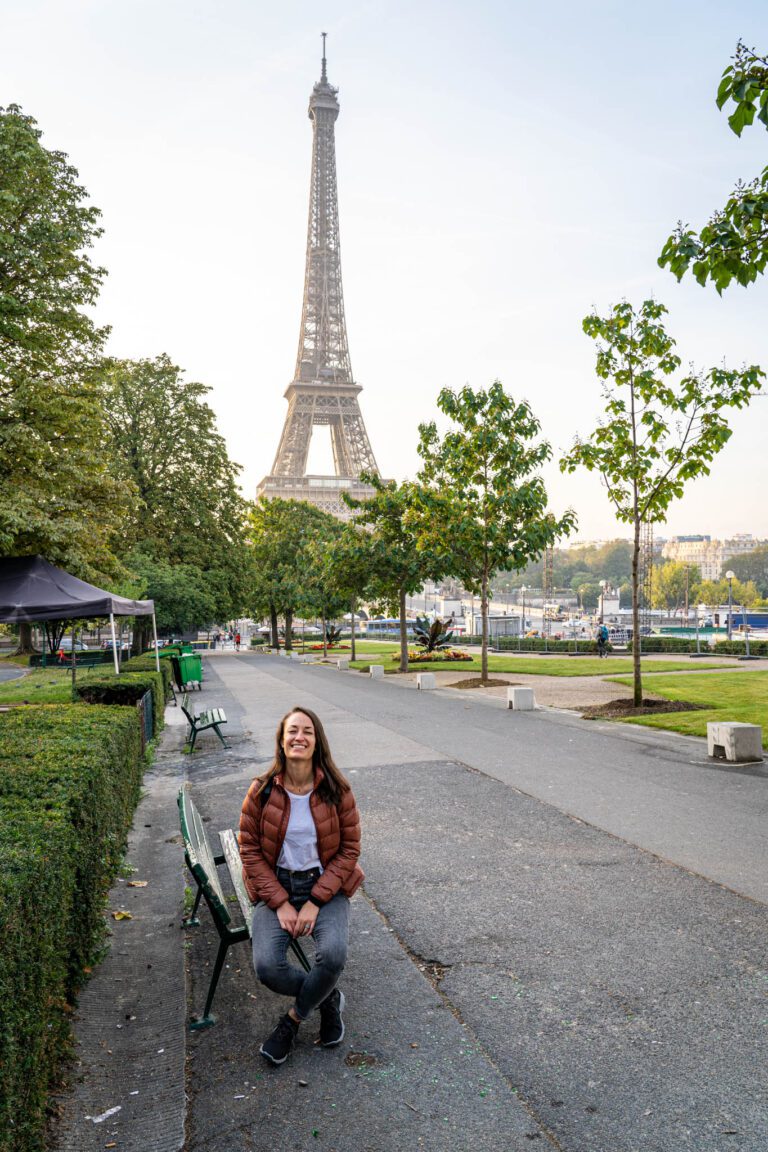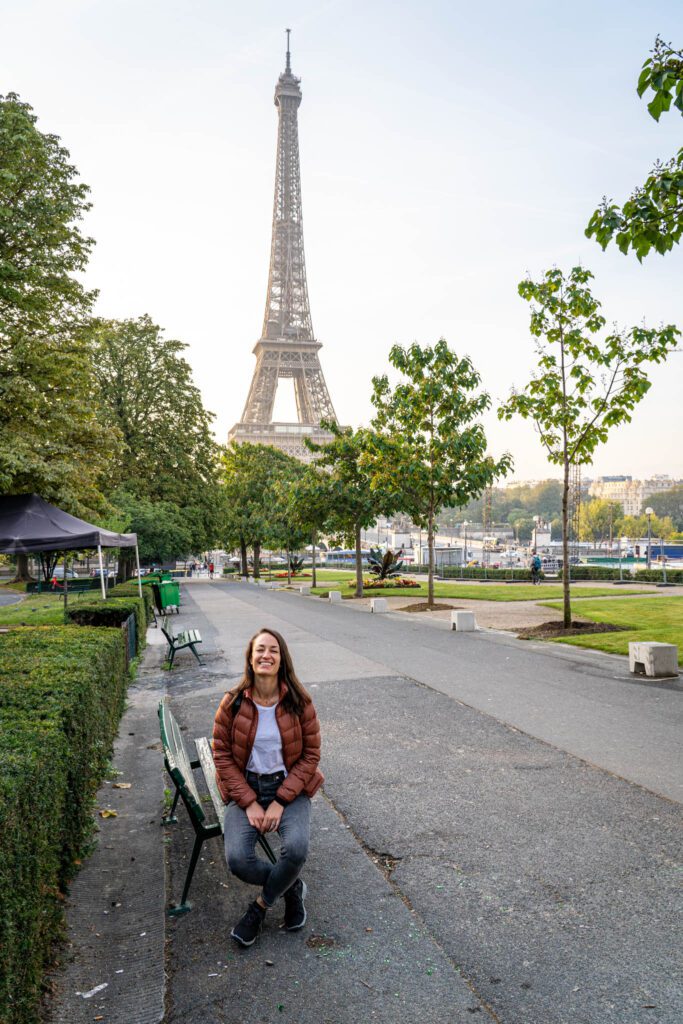 Aside from the Eiffel Tower, there are a couple of other worthwhile sights in the neighborhood.
Rue Cler: One of the best shopping streets in Paris if you're looking for food, either to eat now, or to take home as a souvenir. Is it touristy? Of course it is. It's roughly a half mile from the Eiffel Tower. Is it worth visiting? Also yes. It runs north-south, paralleling the Champs de Mars about two blocks over. Ice cream, macarons (at Ladurée), produce stands, chocolate shops, wine shops. The list goes on.
Musée d'Orsay: The place to go to learn about impressionism. Set on the river in a former train station, the building itself is beautiful. There's a cool view of the Seine and the city from the inside of the window on the second floor. This, along with the Louvre, are quintessential Paris museums, and are both worth a half day to fully explore. We'd highly, highly suggest a guided tour (like this one) to get the most out of your visit.
Les Invalides: The military museum in Paris that includes both Napoleon's tomb and a cool history of the French army. It's worth a stop if you're into military history, but probably doesn't make it onto most people's itinerary.
The Rodin Museum: As opposed to the Louvre, which is a vast collection featuring pieces from many, many incredible artists, the Rodin Museum zeroes in on one – Rodin. You know Rodin from his famous works like the Thinker and The Gate of Hell, and this museum is fantastic. It takes you on a chronological journey of Rodin's life and career, showing you the process through which he went from small pieces exploring the human body to the final product – the Gates of Hell – which is a culmination of all of those explorations (you can find most of the figures from previous works somewhere in the intricate design). After the Louvre, this is probably our favorite museum in Paris.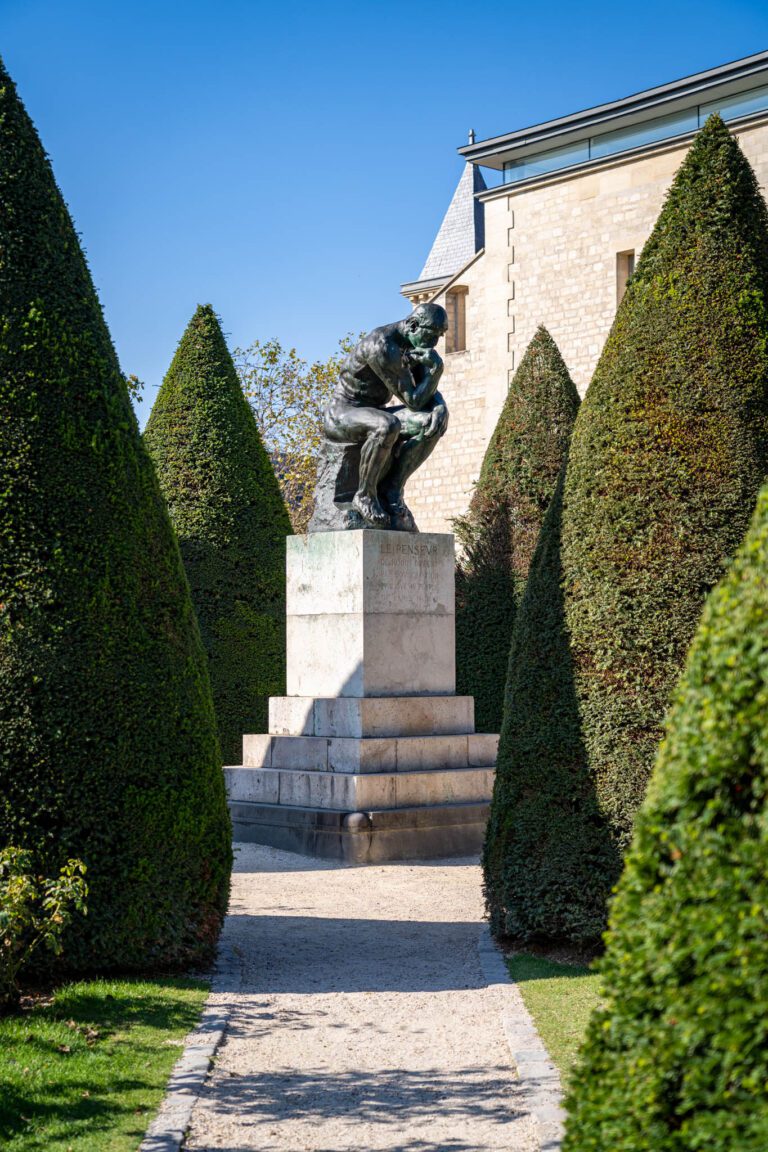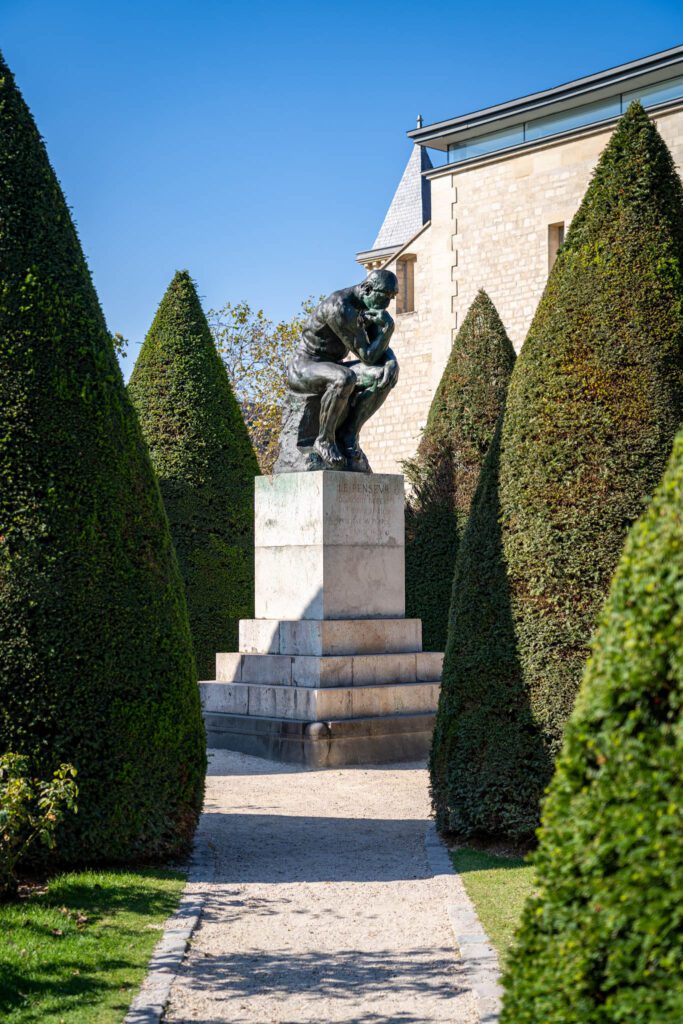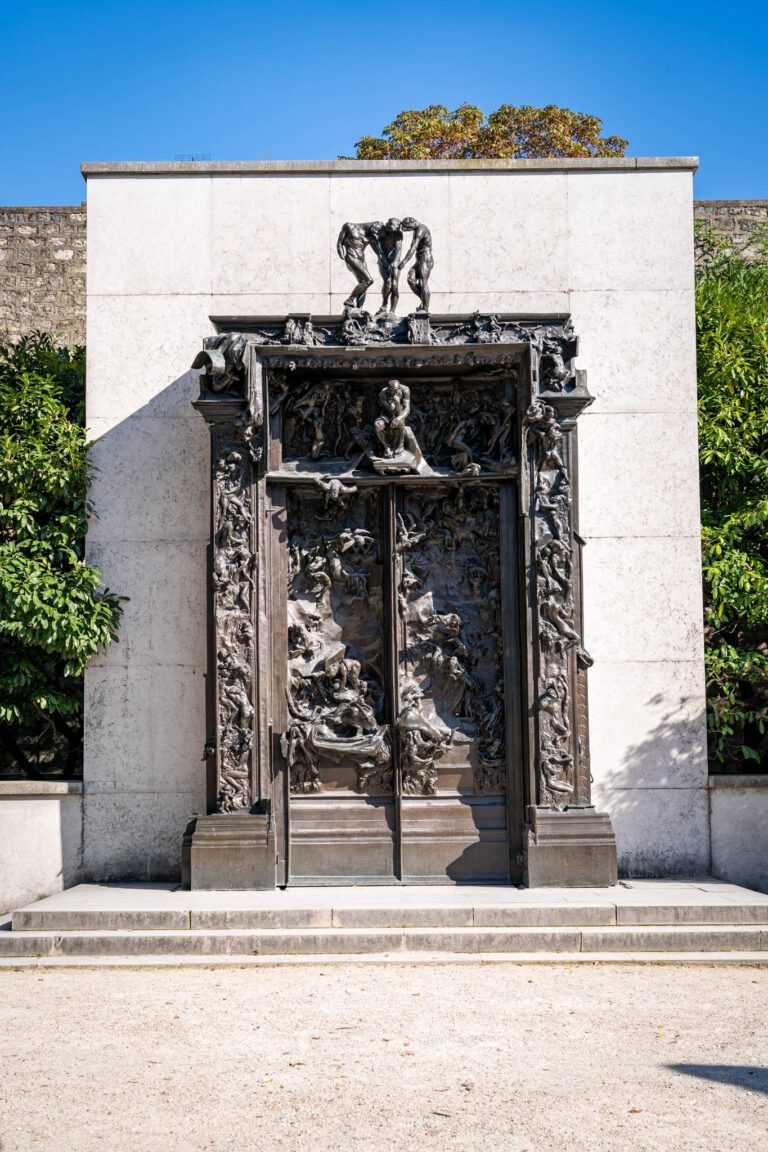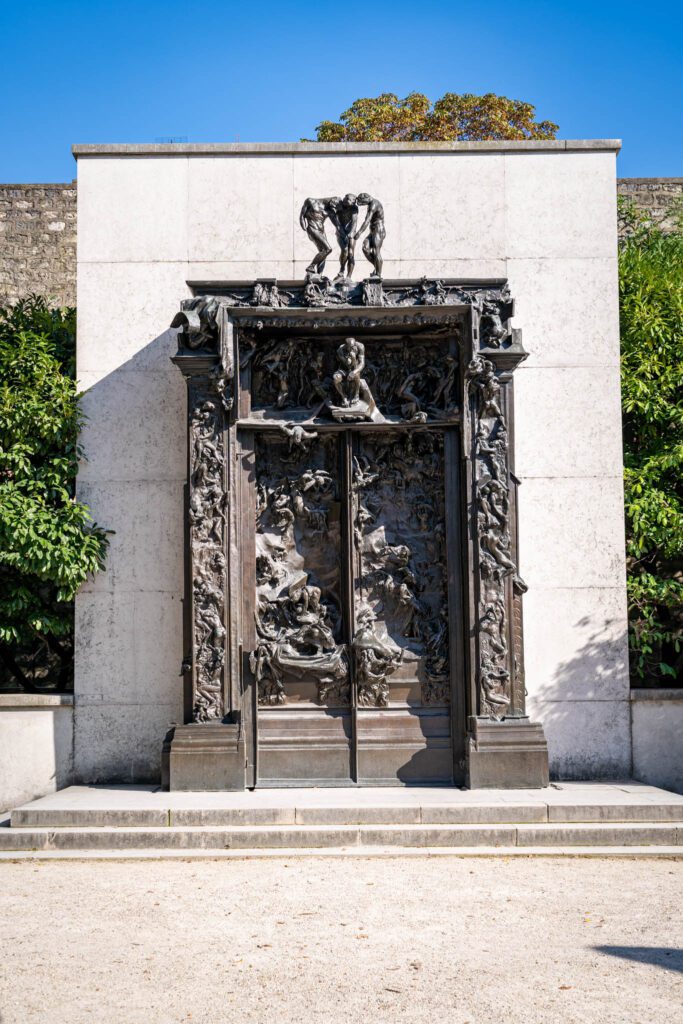 Places to Stay in the 7th Arrondissement
The 7th has a wide range of hotel options, which isn't particularly surprising given its location near the Eiffel Tower. From budget to bougie, here are four options that might be right for you.
Hôtel Duquesne Eiffel: A Great Value Near the Eiffel Tower
This charming, mid-range hotel is one block southeast of the Eiffel Tower. It'll take you under five minutes to go from your room to the Champs de Mars, where you'll be looking straight up at Paris' most famous landmark.
The hotel dates back to 1797, when it was built after an accident leveled this whole area. It became a hotel in the 20th Century, and it has been renovated twice in the past two decades. There are still touches of the original construction – like exposed wooden beams in the lounge – but it has been brought into the present day quite nicely.
This is another hotel that feels like it SHOULD be more expensive than it is. They have a nice lounge and bar area with a cozy fireplace, and rooms are clean and comfortable, with some adjoining rooms that would be perfect for families or groups traveling together.
Choose from:
Standard rooms, which have a single double bed and a courtyard view


Comfort rooms, which have a little bit more space and either a single double bed or two twin beds with a courtyard view


Superior rooms, some of which have Eiffel Tower views, which you should absolutely request if you're interested!


Premium rooms, which ALL have Eiffel Tower views, and sell out FAST (book these well in advance, if you can)
Again, rooms are surprisingly affordable. At least until you get to the Eiffel Tower views, and even then they're a solid value for what you're getting.
Rayz Eiffel: A Great Mid-Range Option (w/ Kitchenette)
This modern hotel is just one block from both Champs de Mars and Rue Cler, which might be the perfect place to stay in the 7th Arrondissement. It's a 3-star hotel with comfortable rooms decorated in dark monotone color palettes.
You're here for the Eiffel Tower right? Some of their rooms come with views of the tower from the balcony, though you're going to pay a little extra for it.
One of my pet peeves with hotels is not having a mini-fridge in the room. I have Celiac Disease, which means I often cook for myself when we're traveling, at least for some meals. The rooms here all are equipped with kitchenettes, with a fridge, coffee machine, and cooktop, so you can cook your own meals if you want (and save a bit of money while you're at it!).
There's also a rooftop terrace, which also has views of the Eiffel Tower and would be a fantastic place to either grab coffee before heading out to explore, or a pre-dinner drink in the afternoon or evening.
Hôtel de Lille: A Touch of Luxury
This hotel is on the eastern edge of the 7th, on the border with St. Germain (the 5th Arr.). It's a great location, which is actually closer to the Louvre and Notre Dame, but is a bit further from the Eiffel Tower.
This 4-star hotel is a significant upgrade from the options above, both in terms of style and luxurious touches, and also in terms of price.
It's a relatively small hotel, featuring just 15 rooms and suites. The rooms are going to be larger, and come with more amenities like breakfast in the historic cellar with vaulted ceilings, and an honesty bar in the lounge, plus safes, mini-bars, A/C, bathrobes, and more inside each room.
Hôtel Eiffel Kensington: A Budget-Friendly Option
This hotel suggestion comes from my older brother, who stayed here and liked it, especially for the price.
The location of Hôtel Eiffel Kensington is great – it's along the eastern edge of Champs de Mars, which is quite literally right under the Eiffel Tower.
Remember that the quality largely reflects the price here. There's not going to be a rooftop terrace with Eiffel Tower views, or plush bathrobes for you to lounge in. Rooms are clean, cozy, and relatively simple. But if you're planning to spend most of your time out and about exploring Paris, then this spot will do just fine.
Here's what my brother has to say about it:
"It's a 2 star hotel (basic accommodations) that is very close to the Eiffel tower, and also Rue Cler which is a great pedestrian street with restaurants, ice cream, and shopping. I could look sideways out of my window and see the Eiffel tower. Great coffee shop nearby as well, I went there nearly every day it was open (had a brew bar inside although most people came through for shopping). Relatively cheap hotel, no fridge in the room, tiny bathroom, but overall a great place to stay."
Sentier & Montorgueil: Our New Favorite Place to Stay in Paris (2nd Arr.)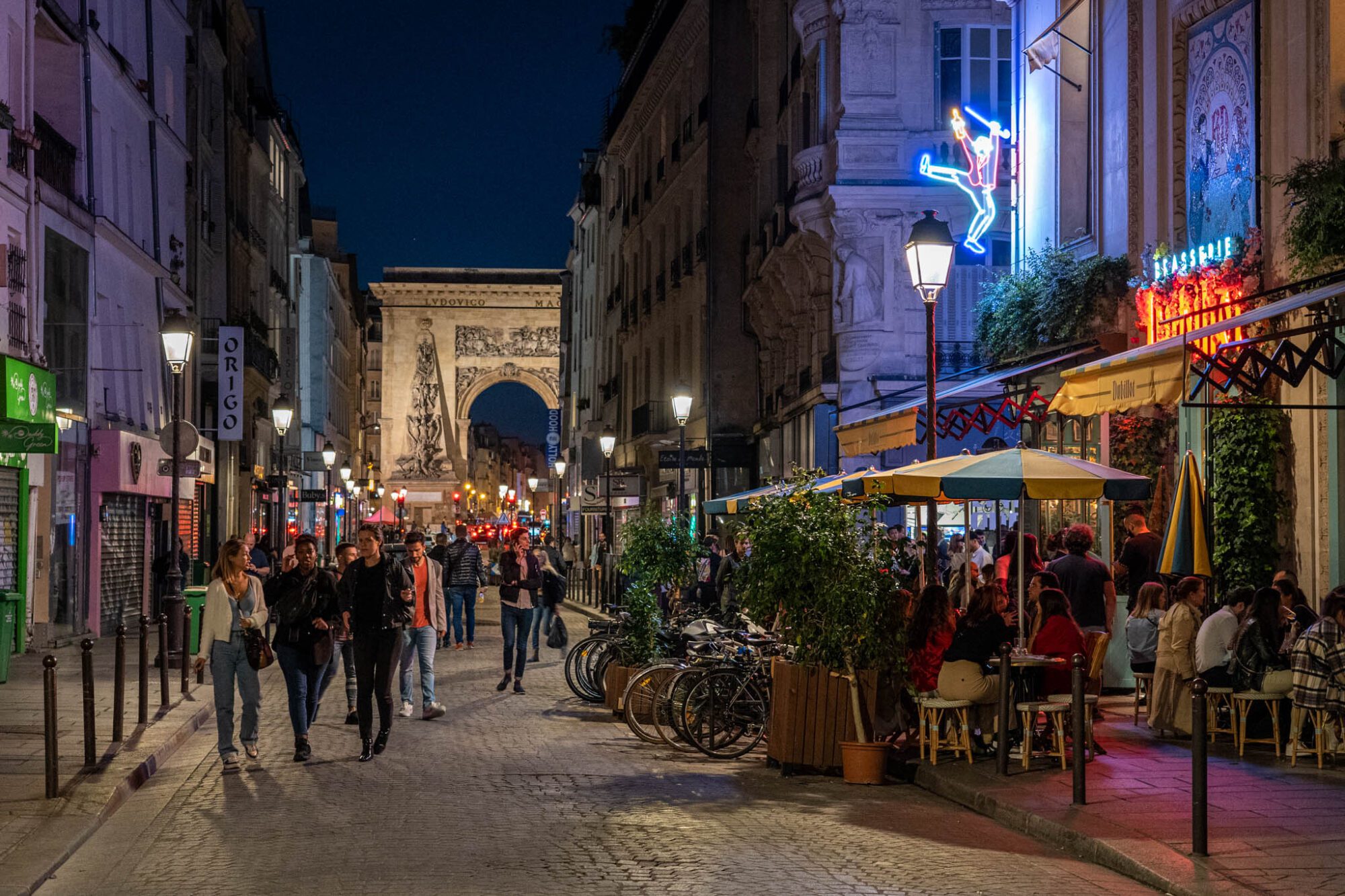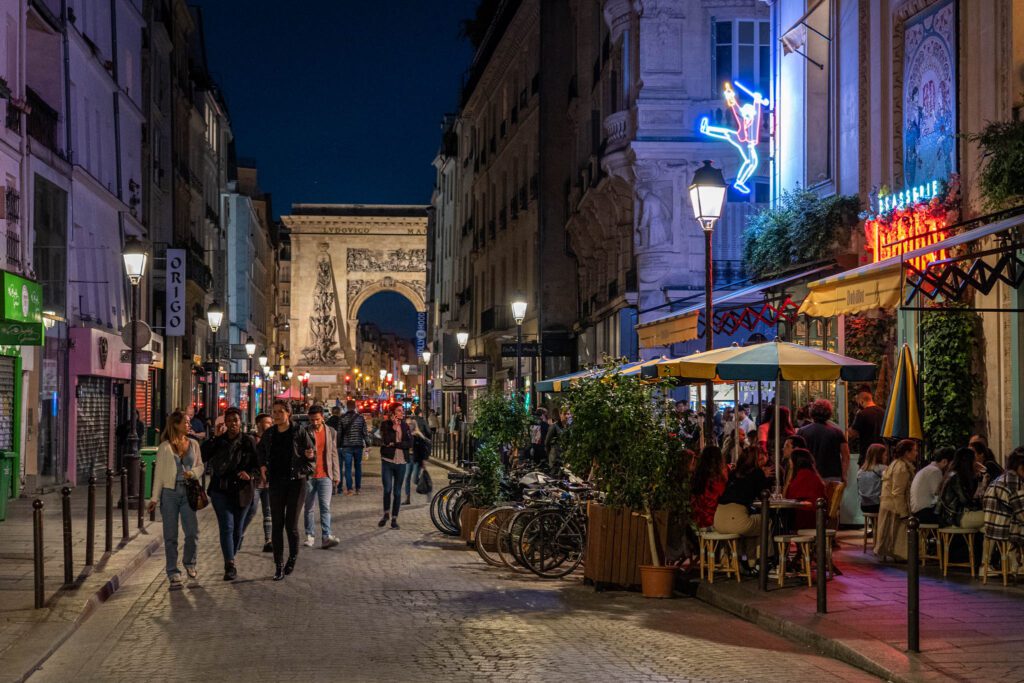 While the 1st Arrondissement (also called "Louvre") is a little too manicured and touristy for our tastes, we spent the better part of a week in the 2nd arrondissement on our last trip to Paris in 2021 (at My Maison Sentier, which we wholeheartedly recommend), and fell in love with it for a couple of different reasons.
First and foremost, you could pretty easily spend a couple of days exploring the neighborhood, which has a couple of great stretches including Rue de Montorgueil, a street that comes alive at night with a youthful, contagious energy.
Perhaps more importantly, we basically walked everywhere when we were using the area as a home base. Canal St. Martin? We walked. Le Marais and the Marche des Enfants Rouges? We walked. The Louvre? Walked. The list goes on.
The point is, this area is super central to basically everything you'll want to visit during your time in Paris, though it's not immediately adjacent to any one main attraction. And what you can't walk to, you'll be able to hop on the metro (there are two main lines that serve this part of the city and connect you elsewhere – 8 and 11) and be there in less than 20-25 minutes flat.
We specifically would recommend the area called "Sentier," which is a little corner of the 2nd that we stayed in and loved. Anywhere within a couple of blocks of Sentier or Rue Montergueil at the north eastern end of the neighborhood (which is the furthest from the Seine, but oddly the most central feeling thanks to its proximity to Le Marais and Canal St. Martin) will do just fine, though.
Pros and Cons of Staying in the 2nd Arrondissement
Pros:
It's central, walkable, and well connected thanks to two metro lines that will take you to the other parts of Paris that are a bit far to visit on foot (like the Eiffel Tower or Arc de Triomphe, for example).


It's packed with bars, restaurants, and coffee shops, including the place that tops our list of best coffee shops in Paris.
Cons:
It's a bit expensive, but not really any more so than other parts of central Paris.


It's loud and boisterous, which can be a downside if you're like us and you value your sleep when, on summer evenings, the party pours out in the streets and plazas.
Honestly, not too many cons that we can think of. It's not immediately adjacent to any one tourist attraction, but that's BARELY a con in our book.
Highlights of the 2nd Arrondissement
Oh so many! Here are some of our favorite spots in the 2nd.
Substance Café: If you like coffee even a little bit, this place will make you fall in love with it. Joachim, the owner and a decorated barista in France (he joked that he's known for coming in second in France's barista competitions), is about as passionate about coffee as anyone I've ever met (and as knowledgeable, too). This is not your usual café experience, where you briefly interact with the barista for a hot second when you place your order (maybe you even exchange a few sentences trying to decide which coffee you want to try as a pour over). There are no cups to go here – it's all served at the counter of the minimalist coffee bar. You can choose from the coffee of the day, made as an espresso (with or without milk) or a filter coffee prepared right in front of you with commentary on how it's being prepared (down to the grams of water per pour and water temperature, which us coffee nerds appreciate). It tops the list of best places to get coffee in Paris for a reason. It's an immersive, slow coffee experience in a city known for being vite vite vite (fast fast fast) all of the time.
Ma Cave Fleury: Two words for you: Champagne. Bar. This is the storefront of a historic champagne house where you can try a bunch of different kinds (and vintages) of champagne. If you like bubbles like us, this is a fun spot to learn about the process and try some different expressions of champagne.
Basically all of Rue Montergueil: It's worth walking down the bustling street that is Rue Montergueil at least once, preferably after dark when it really comes alive. Anything you could possibly want you can probably find here. Restaurants of all kinds (especially if you include all the little side streets that branch off). We like Kapunka for Thai and Grom for the best gelato around (both happen to be 100% gluten free, but you'd never know it). Chez Bouboule is a fun bar where you can play Petanque, a characteristically French game that, to the untrained eye, looks very similar to bocce (right down to the demographics who play, which is old men).
Places to Stay in the 2nd Arrondissement
Here are a couple of places to consider in the 2nd, including the place we stayed during our time in the neighborhood.
My Maison in Paris – Sentier: Great Apartments in the Heart of the 2nd (Where We Stayed)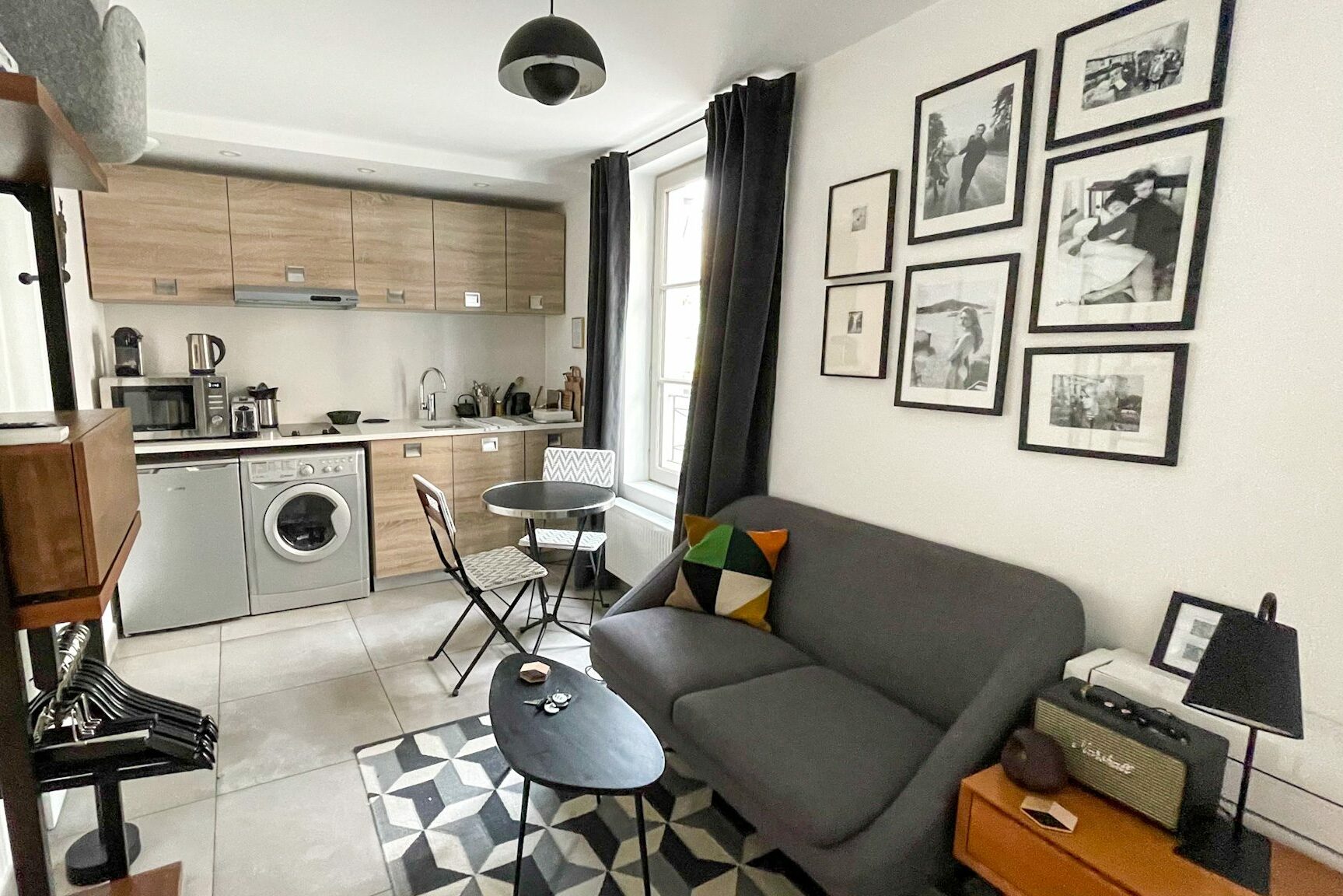 Tucked away on a little plaza between Rue de Montergueil and Rue St. Denis, this apartment hotel is a gem. We generally need a kitchen when we travel thanks to Matt having Celiac Disease, so we look for places that have a full kitchen (stovetop included) as an amenity.
Plus, the extra space that an apartment gives you versus a hotel room is nice when we spend a couple hours siesta-ing after mornings of sightseeing.
Anyway, the point is that My Maison in Paris Sentier has everything you'll need for a comfortable stay in Paris. They have studios, which is what we stayed in, along with larger apartments with more space, and each unit has a kitchen, washing machine, and a comfortable bed.
They arranged a contactless check-in with us in advance, and it was as smooth as can be. They were readily available for a question that came up.
The apartment was stocked with all the dishes we might need (mugs, espresso cups, plates, silverware), a Nespresso machine and some pods (if you want a quick cup of coffee in the morning before heading out), and even a dishwasher, which was a big surprise.
Plus, there's a printer so you can print boarding passes and other important things for your onward journey, which I can honestly say is a first in an apartment.
THE HOXTON: An Ultra Charming Boutique Hotel
First of all, it's worth noting that we're basically in love with Hoxton hotels. They're always warm and welcoming and unbelievably stylish. And the hotel bar is going to be a good time.
This charming boutique hotel sits at the border of the 9th Arrondissement and the 2nd, putting you even closer to all the sights while enjoying a quieter setting. This is an 18th Century residence that has been artfully transformed into one of the coolest hotels in Paris.
Vintage-inspired with a contemporary design and friendly vibe, aim to book a top-floor room for a spectacular view of Paris – there's even one with an Eiffel Tower view. We love Hoxton Hotels, and this one is on our list for next time we're in Paris.
Choose from a range of room options, from downright tiny ("the shoebox") to more spacious ("biggy"). The space is used well, so you won't feel cramped. Plus, won't you be out exploring Paris anyway?
Le Marais: Best Central Area to Stay (3rd & 4thArr.)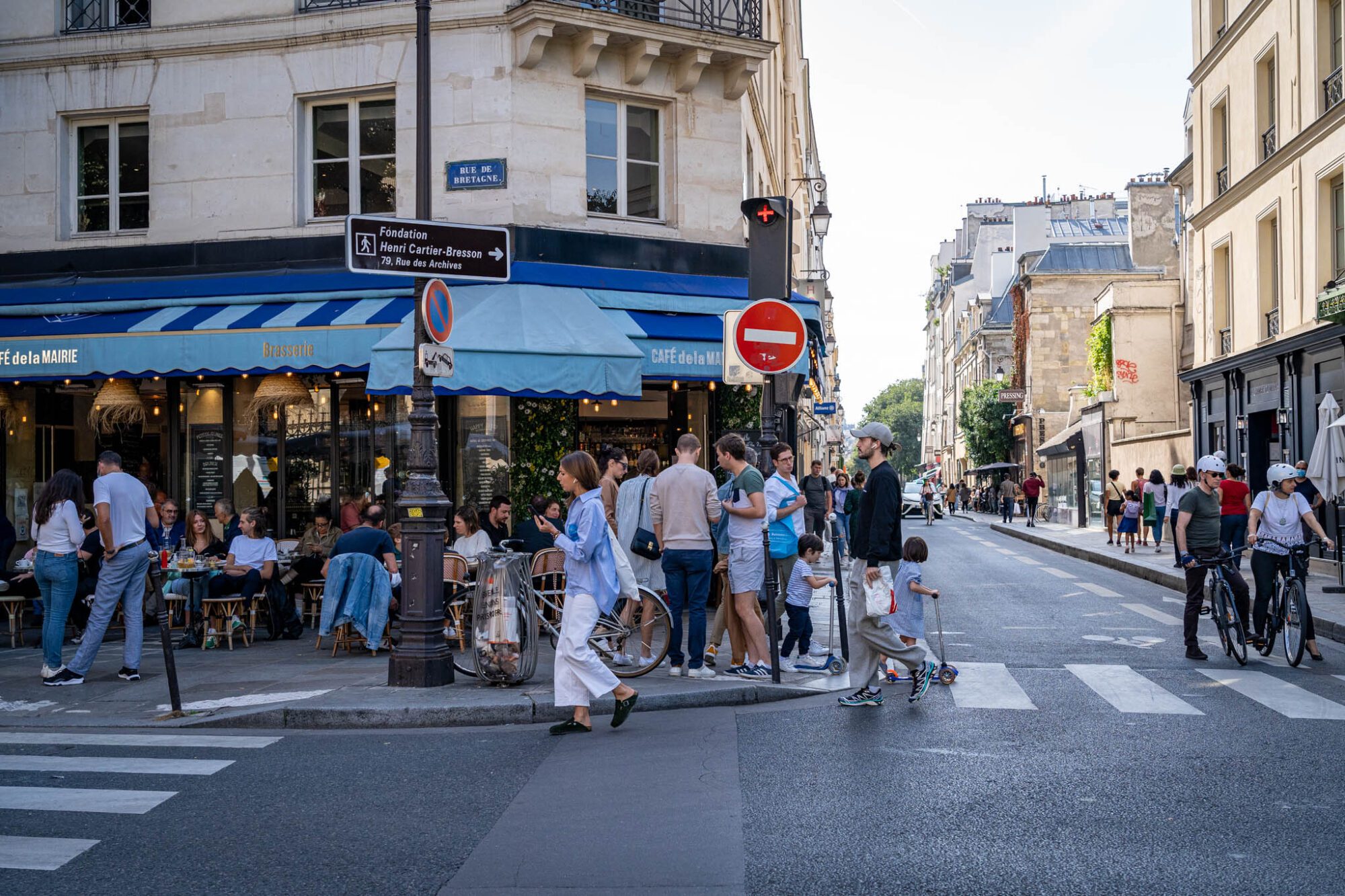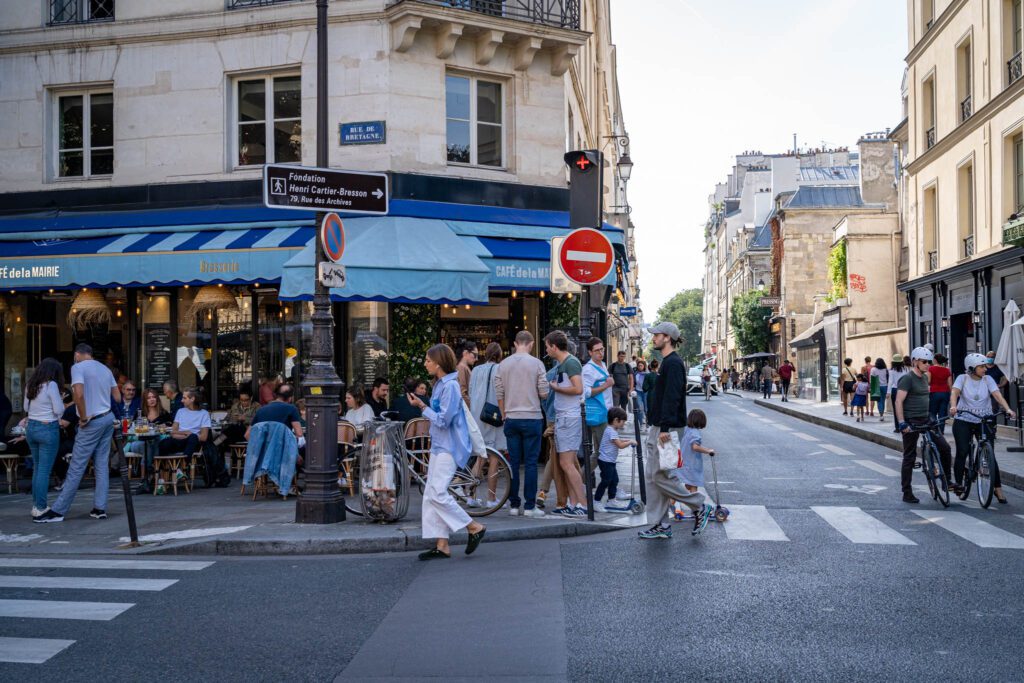 Incredibly atmospheric, hip Le Marais is quintessential Paris, tucked between the Louvre and Notre Dame. The most medieval area in the city, energy overflows in its narrow streets that are ideal for getting lost in and discovering all sorts of surprises, including grand historic mansions and palaces.
It's trendy, filled with young people who enjoy the many cafes, bakeries, bars, clubs, and restaurants. Book a place here and you'll be within walking distance of picturesque parks, museums, and many major sites like the Louvre, Notre-Dame and historic Place de la Bastille, making it one of the best areas to stay in Paris.
The bottom line is that for first-time visitors to Paris, Le Marais promises all the glamor and the ideal location that most travelers are seeking.
Plus, it's easy to get anywhere you want to go via the Metro from here with seven major stops around its perimeter. Between them is an excellent system of bus lines, making virtually all parts of the neighborhood and the city easily reachable.
Be aware that the southern end can be loud, well into early mornings hours, especially in the summertime when people often hang out in front of clubs and bars. The further north you are, the quieter it will be.
Pros and Cons of Staying in Le Marais
Pros:
Super Central. You'll be roughly equidistant to the Louvre and Notre Dame, and you'll be well connected to a bunch of different metro lines that can get you to other parts of the city quickly and efficiently.


Great food and nightlife. The narrow streets of Le Marais are packed with all sorts of bars and restaurants. You'll find some of the best coffee in Paris – Fragments and The Caféothèque of Paris – along with great bars (La Candelaria) and restaurants of all shapes, sizes, and foods. Plus, the best market in Paris – Le Marché des Enfants Rouges – is in the heart of the neighborhood. You could easily spend an entire trip JUST in le Marais.


It feels like what Paris looks like in your mind's eye. Or at least mine, anyway. Narrow streets lined with shops, bars, and restaurants. It's super romantic and charming.
Cons:
It can be pricey. It's conveniently located and in high demand, which means you're going to pay a little extra to stay here. If you're on a budget but still want to stay nearby, consider either Opéra (the 9th) or Canal St. Martin (the 10th), which are both nearby.


It can be loud. Depending on where exactly you stay, there could be loud music and people out and about until the early hours of the morning, but honestly, it's Paris. That's going to be true in a lot of places, so bring some earplugs and embrace the energy.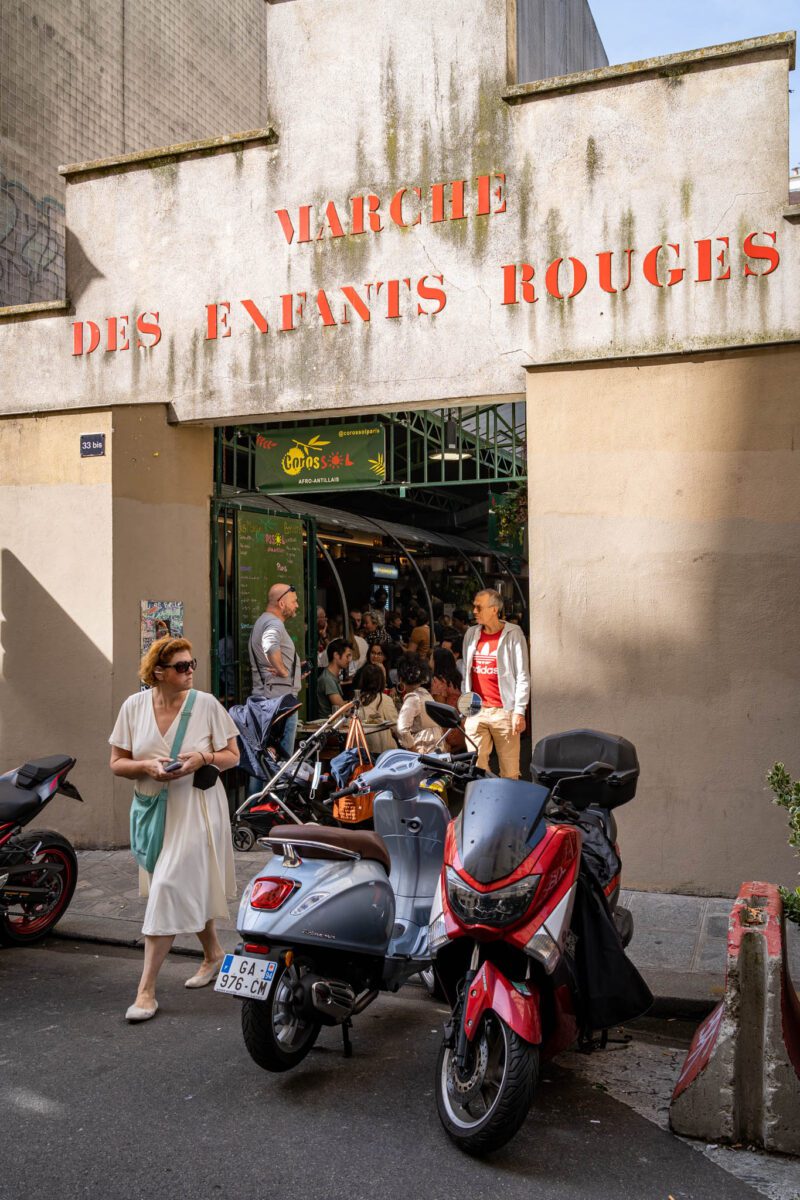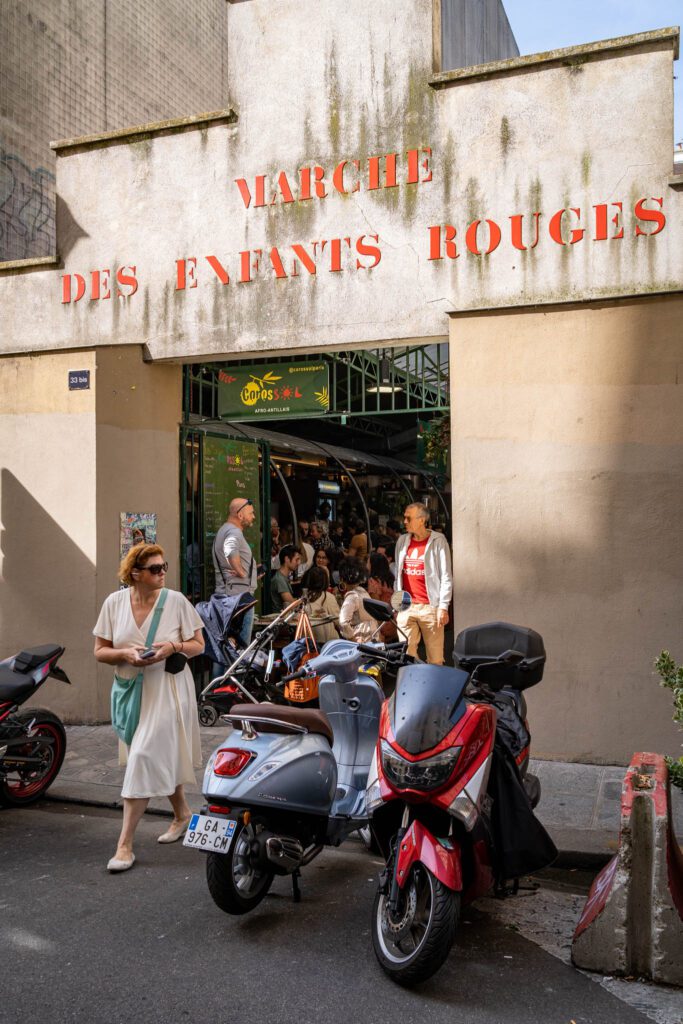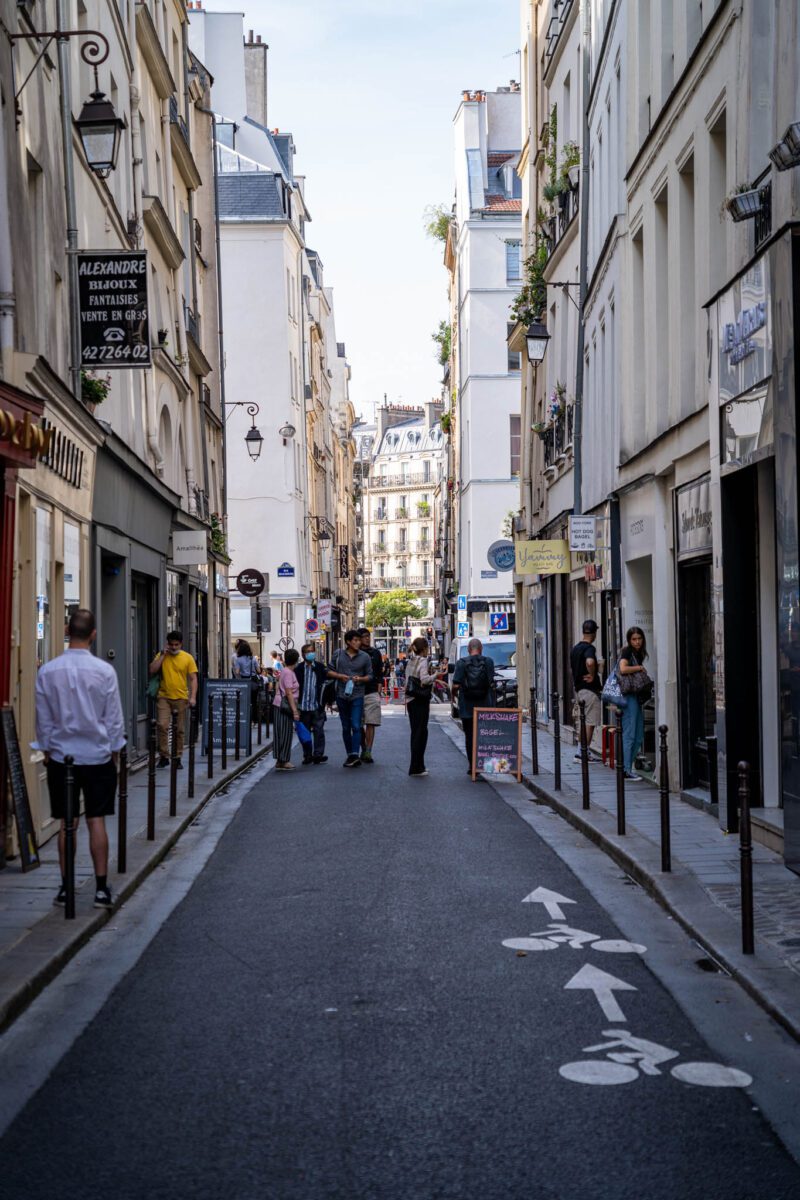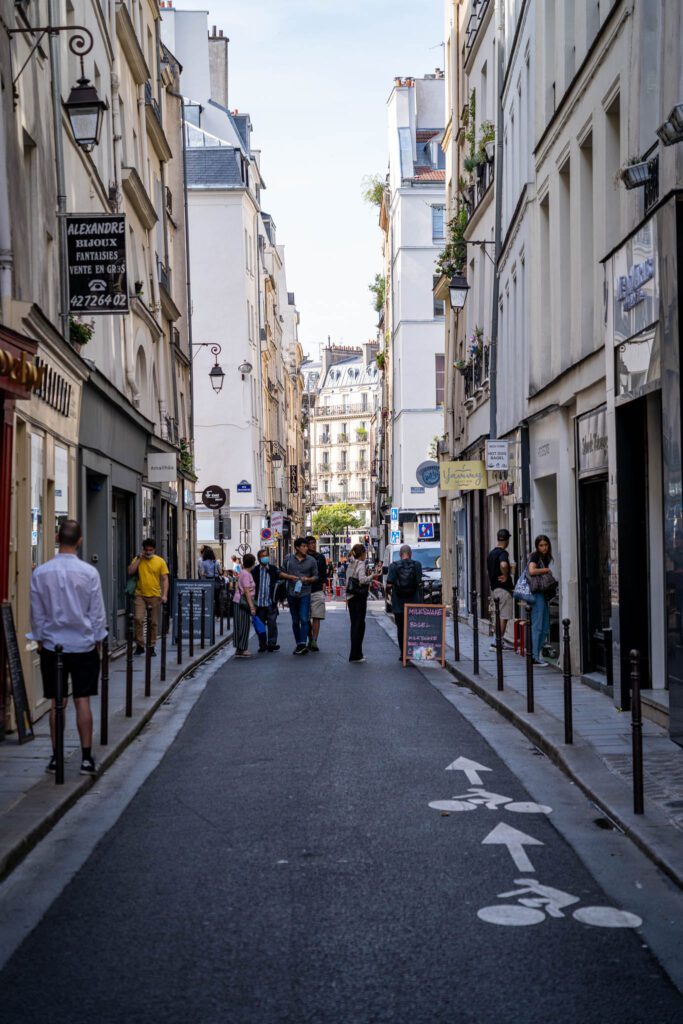 Highlights of Le Marais
Shopping enthusiasts will love Le Marais as it offers some of the best in the French capital. The two main shopping streets are Rue Vieille du Temple and Rue des Francs-Bourgeois which host tons of high-street flagships and luxury boutiques. The three-story Merci with its glass roof has become one of the top spots to shop in the city, featuring everything from vintage clothing to gifts and household items.
Le Marais is also home to some truly exceptional markets like the Marché des Enfants Rouges, the city's oldest covered market. Established in 1628 as the "petit marché du Marais," it sits just off busy Rue de Bretagne and offers an incredible selection of products, including the typical fresh produce bringing many locals to do their shopping.
Le Marais is home to a truly great food scene. Here, you'll be able to dine on unique foods sold at stands and restaurants representing countries from across the globe from traditional Japanese bentos and Moroccan couscous to traditional French crepes. Pick up a meal and enjoy it on a sunny terrace, or one that's covered when it's raining.
Best Places to Stay in Le Marais
In Le Marais, you'll find a nice range of hotels, from classy boutique hotels, to budget hotels. Not a whole lot of hostels here, as it's a more expensive neighborhood than some of the other ones below thanks to its great location.
HÔTEL DU HAUT MARAIS: Best Mid-Range HoteL
Hôtel Du Haut Marais is in the 3rd Arrondissement, which means it's super central and close to everything, which makes it a great option. If I were visiting Paris and wanting to stay in a hotel in Le Marais, this is where I'd stay. It's newly remodeled and tucked away on a cute street, which are two of my favorite things.
They have two types of rooms – singles, and suites.
In all of their rooms, you'll find modern vibes, nice coffee makers, and stunning bathrooms. Some even have a tub! Free Wifi too, which is always a plus.
In their suites, you'll get a kitchenette with a burner which can serve as a great fallback option to save time and stress when you're traveling gluten free.
This is the best value hotel in one of the best neighborhoods in Paris.
Les Tournelles: As Affordable As it gets in Le Marais
Located in the heart of Le Marais just a block from Place des Vosges, a tree-lined square with a colonnade and gorgeous stone buildings, Hotel Les Tournelles offers rooms that look out over Rue du Foin or Rue de Turenne.
All come with flat-screen TVs, air-conditioning and private bathrooms with upscale toiletries and rainfall showers. A delicious Parisian breakfast is included in room rates, served in the 17th-century cellar.
HÔTEL JULES & JIM: Super Stylish Boutique Hotel
Hôtel Jules & Jim is a modern hotel with two courtyards, and 23 rooms. Some will give you sweeping views over Paris' rooftops, while others overlook the courtyard.
There's no restaurant on site, but that won't matter – you're in one of the best food cities in Europe! Book the "Sous les Toits" room to be on the top floor with views across Paris from your balcony.
LE GÉNÉRAL HÔTEL: Artsy Boutique Hotel
This boutique hotel is technically in the 11th arrondissement just a 5-minute walk from all the action in Marais while providing a quiet setting close to many other top districts too, making it easy to explore all sorts of attractions.
It includes a fun, funky bar, while rooms have upscale amenities like iPod docks, Nespresso machines, flat-screen TVs and soundproofed windows to ensure a peaceful night's sleep. If you book a suite, you'll get a separate living area and a view of the Paris skyline.
Montmartre: The Most Romantic Neighborhood in Paris (18thArr.)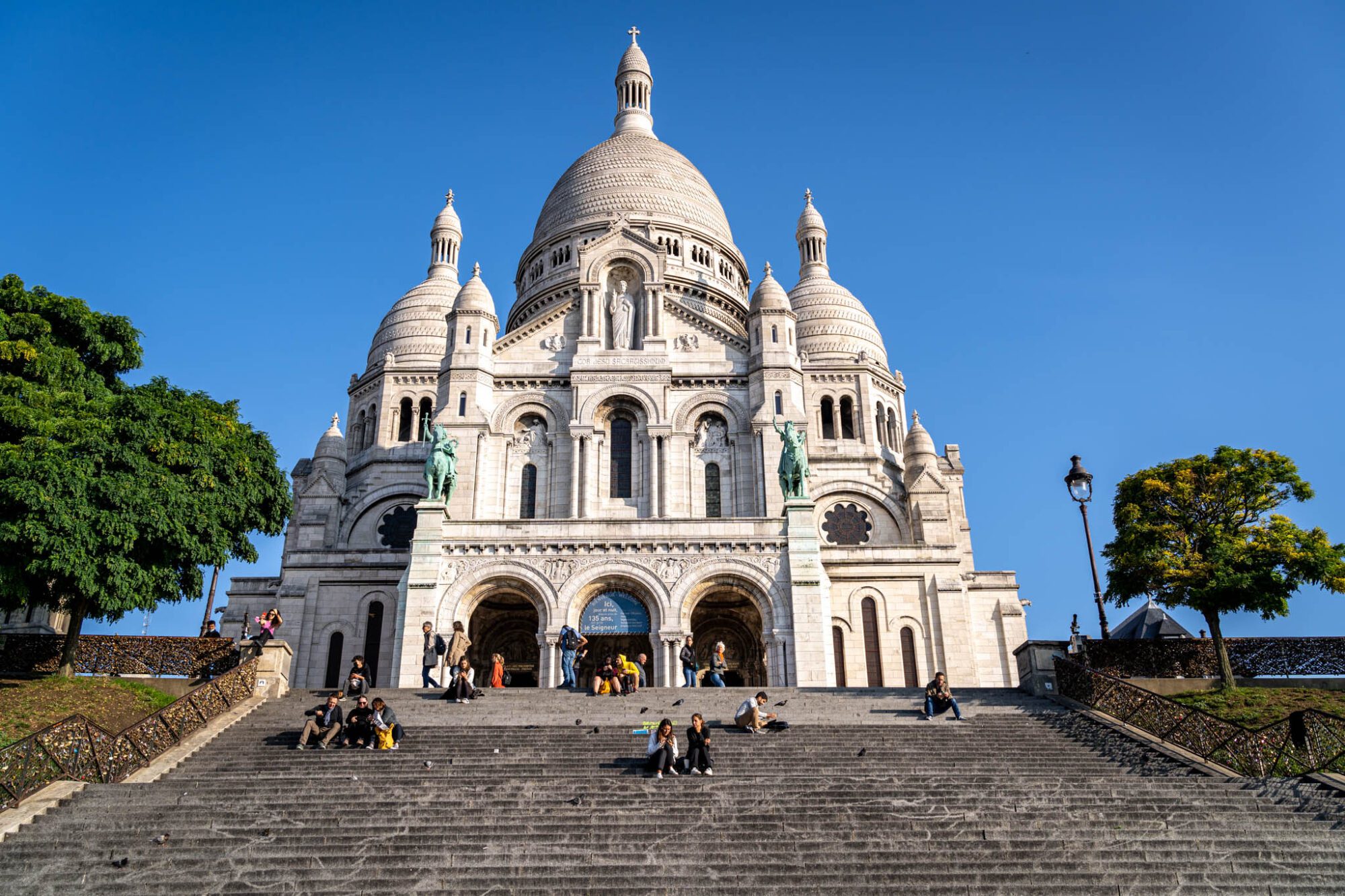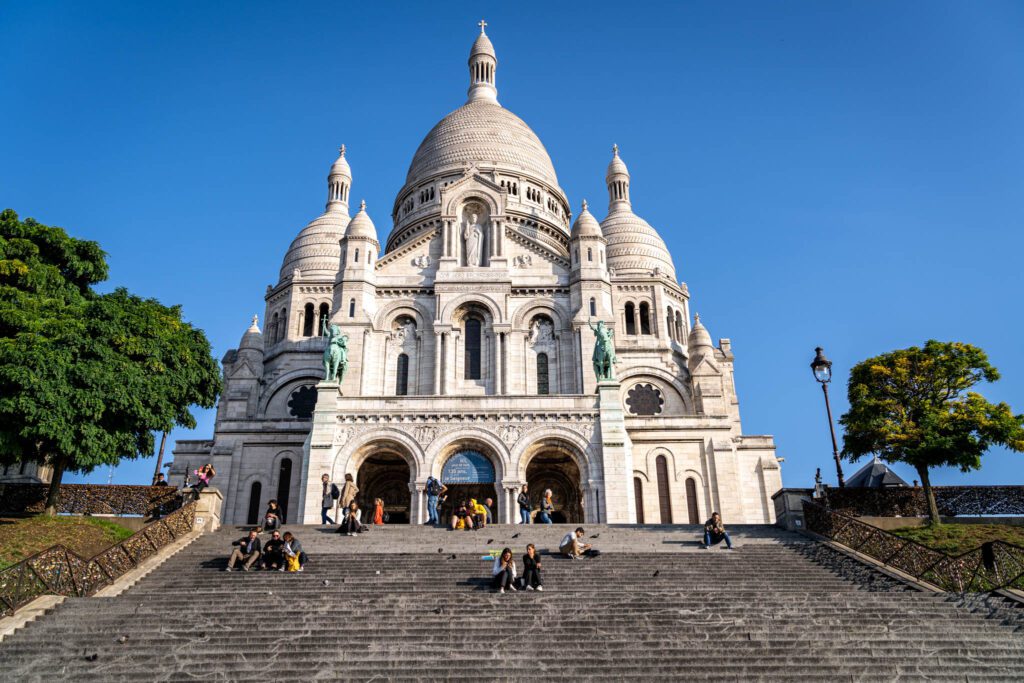 Montmartre is fairytale Paris. Located in the 18th arrondissement, for couples seeking romance and wondering where to stay for their trip to Paris, it's hard to beat, complete with cobblestone streets and some of the very best views of the entire city, particularly at sunset.
While it's a bit further out than the other best areas to stay in Paris on our list, it's well-connected via the Metro, close to Sacré Coeur which is one of the must-visit sights. High up on a hill, the neo-Byzantine basilica competes with Notre-Dame as the most magnificent church in the city, although savvy visitors will take their time to reach it, lingering in the narrow streets that serve as the artistic heart of Paris.
It came to life when creatives arrived in the late 19th-century, crowding into the cafes having been inspired by everyone from Picasso and Renoir to Degas.
Today, Montmartre still overflows with artists, including painters who will paint your portrait in Place du Tertre, while Musée de Montmartre features more than a century of the city's creative works. After exploring them, you can relax in the Renoir gardens where you'll enjoy views of a real vineyard, the only one the remains in Paris, created by the city in 1933.
As you make your way through the winding streets, you'll find it hidden behind the famous pink La Maison Rose about halfway up the hill. While it isn't open for public tours or tastings, at its northernmost border you can enjoy picturesque views over the rows of vines and rooftops of lower Montmartre beyond.
Further down the hill is Pigalle's former red-light district, which can easily be reached to catch a cabaret show in the birthplace of Moulin Rouge.
Pros and Cons of Staying in Montmartre
Pros:
All the Charm. Seriously. All of it. Cobblestone streets. A great cafe culture, with Parisians and tourists alike sitting on the patios that line the streets. Leafy greenery. All of the charm.


Sacré-Cœur. Our pick for the best church in Paris (sorry Notre Dame), Sacré-Cœur is perched on a hill, which means incredible views over the city, including the Eiffel Tower. Sunset here is a must-do!
Cons:
It's basically not walkable to anything. If you choose to stay here, plan on using the metro to go pretty much anywhere, which will add 15-20 minutes in each direction.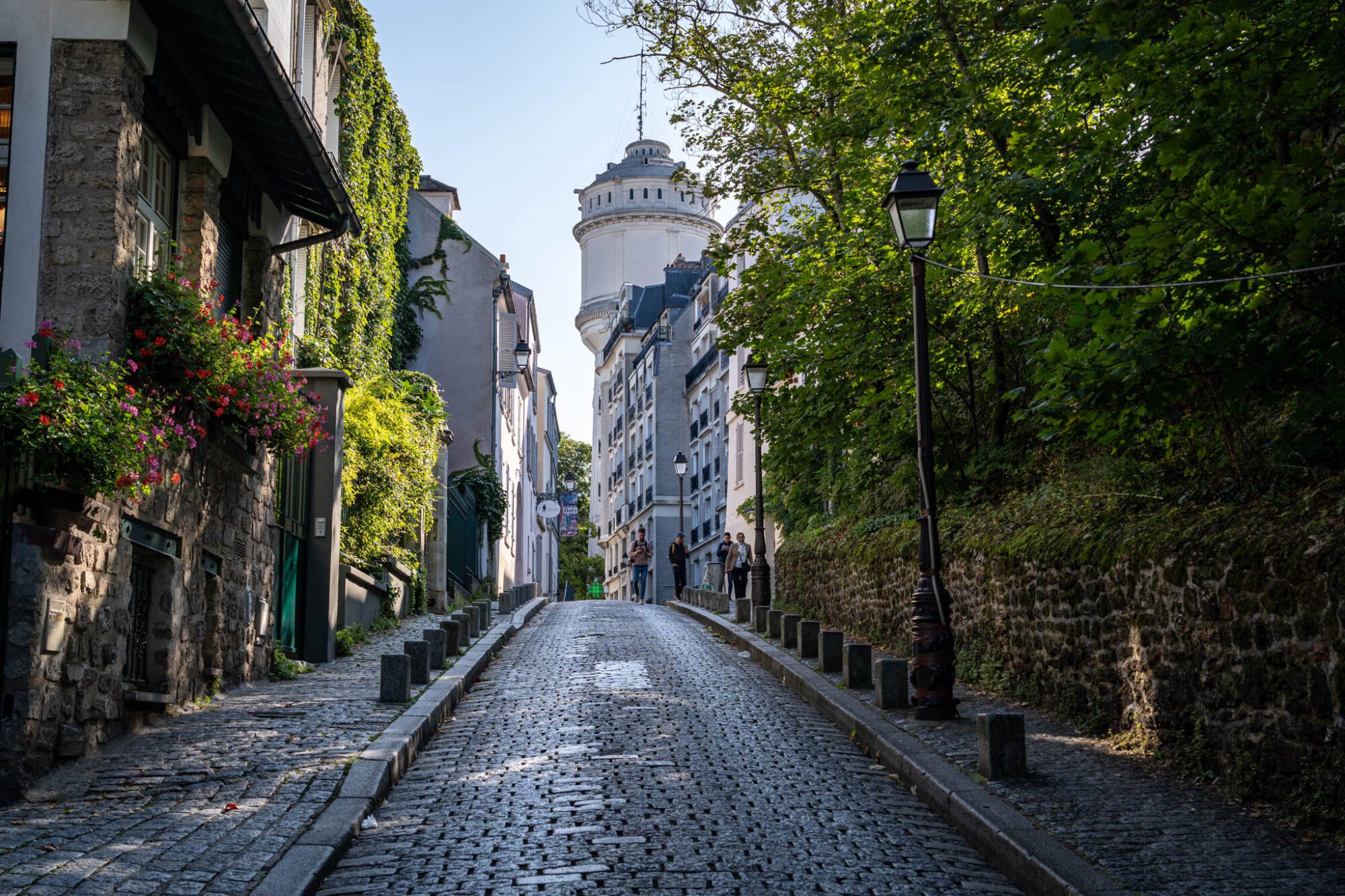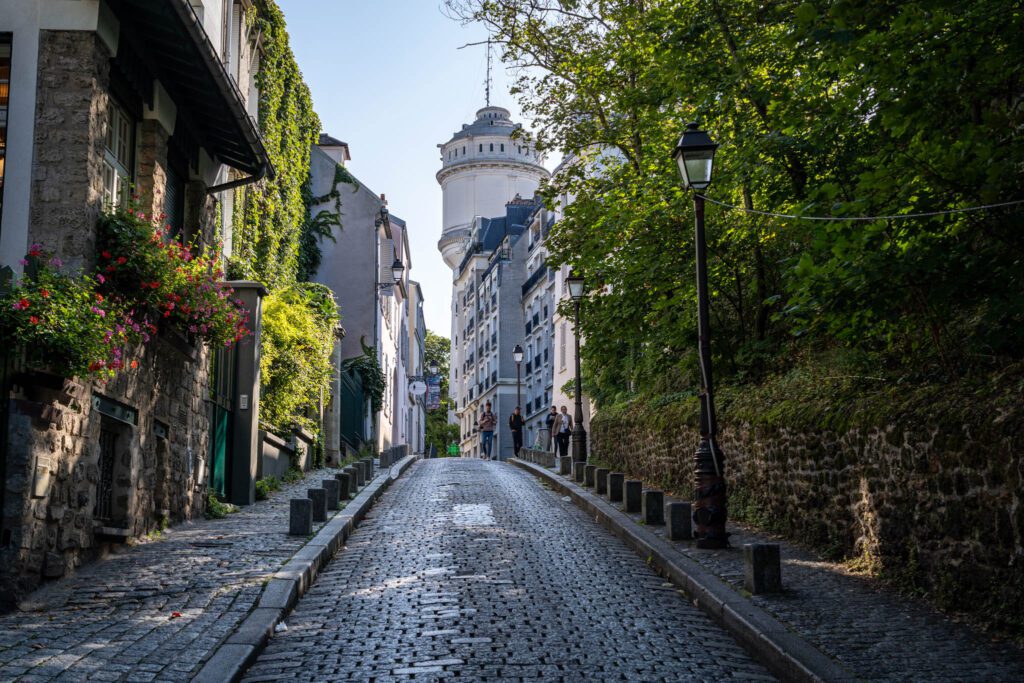 Montmartre Highlights
Montmartre is charming AF, and aside from just wandering and picking your jaw up off the floor as you admire all of the incredible views, here are some specific places we enjoy.
If you're interested, here's a guided tour of Montmartre we had on our list (but didn't quite make it to because of scheduling issues).
Sacré-Cœur: At the top of the hill is the white church on the hill – Sacré-Cœur – which boasts one of my favorite views in Paris. At the top, you'll have an up close and personal view of both Sacré-Cœur itself, and the view from the platform just below it, which looks back towards the Seine and the center of Paris. You can also climb the tower of Sacré-Cœur for even better views – it's 200+ steps, and like most church towers, they're narrow and claustrophobic.
A Food Tour: There's a lot of great food to be had in Montmartre, and the best way to explore both the food scene and get some historical and cultural context on the neighborhood is to eat your way through it with a local guide. Here's a highly rated guided food tour that we'd do if Matt could eat gluten, which is a pretty big problem for that kind of tour in Paris.
Beans on Fire: Great coffee on the southern end of the neighborhood. They roast their own beans, and have a cozy cafe here in Montmartre (with another over in the 11th Arrondissement).
Le Très Particulier: A sweet cocktail bar with a garden patio on the western end of the neighborhood. It's very stylish and trendy (and not cheap), but it's a cool experience and has very "Moulin Rouge" vibes thanks to low lighting and red velvet barstools.
Best Places to Stay in Montmartre
Montmartre is full of gems, and there are a couple of hotels worth considering, particularly if you're looking for a romantic getaway.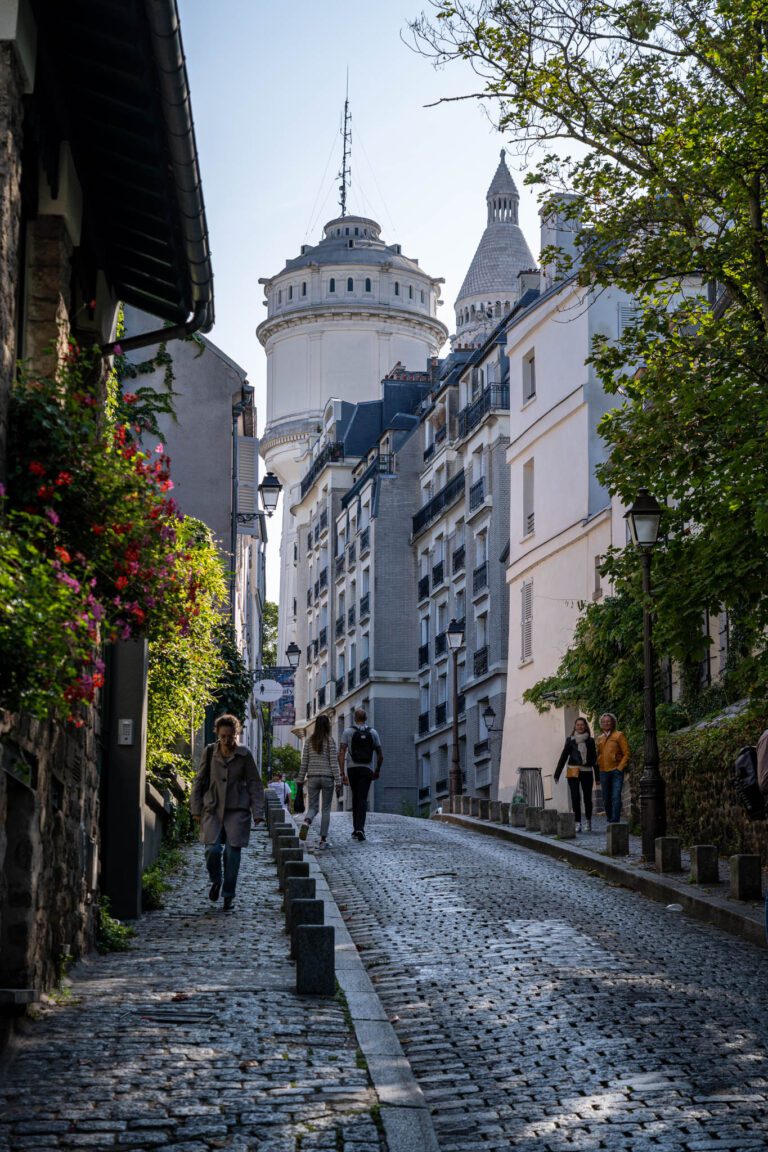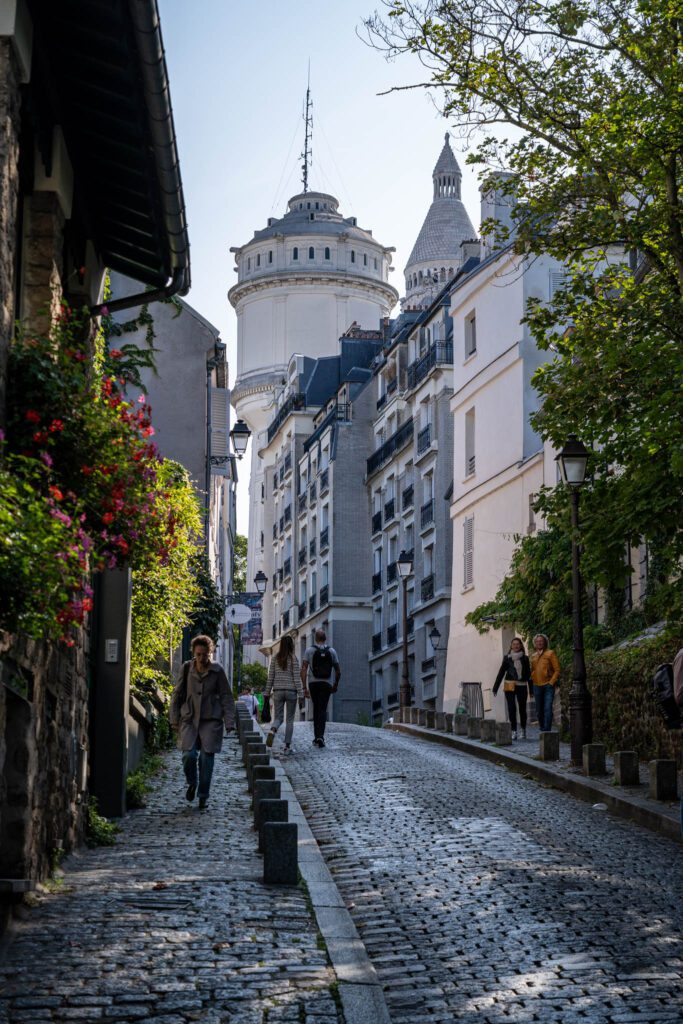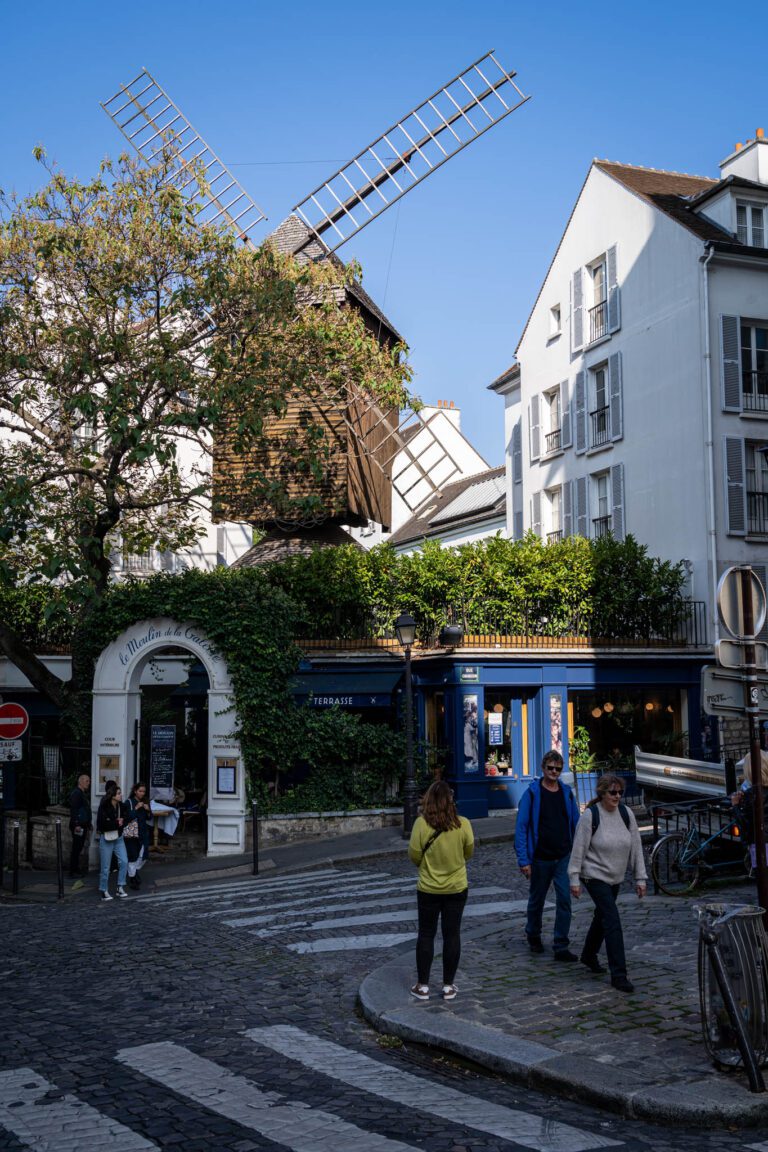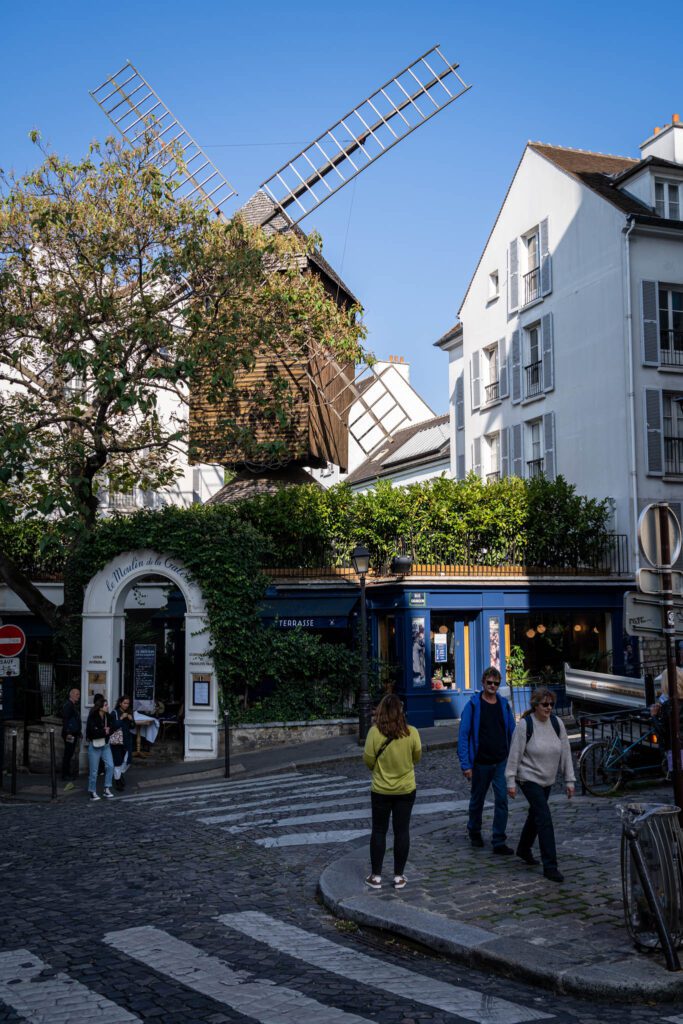 HOTEL DES ARTS: A Nice Mid-Range Hotel
Located on a narrow street off Rue des Abbesses, this family-run hotel has hosted many artists, sculptors, and some Moulin Rouge dancers, providing affordable rates in a great location with a welcoming atmosphere. While the rooms are small, they have joyful splashes of color, and some include distance views of the Eiffel Tower.
Terrass: A Lovely Boutique Hotel
A trendy boutique hotel, Terrass sits on the romantic hill of Montmartre, with rooms paying homage to the neighborhood's artistic history, inspired by artists' workspaces and dressing rooms.
It hosts a small spa with a sauna and massage room, a fitness center, and a popular rooftop restaurant. Some rooms have Eiffel Tower views, so be sure to ask for that if it's a special occasion!
MOM'ART HOTEL & SPA: Romantic hotel for couples
Mom'Art is the perfect spot for couples to settle in Montmartre. It's centrally located, mid-way between Sacré-Coeur and Le Moulin Rouge. The subway is just around the corner. You'll be able to get to any of the major tourist attractions within half an hour, no problem.
They have a fridge in each room, but you probably won't need it since you'll be out and about enjoying all the best gluten free eats in Paris.
Opéra and South Pigalle: The Best Place to Stay on a Budget (9th Arr.)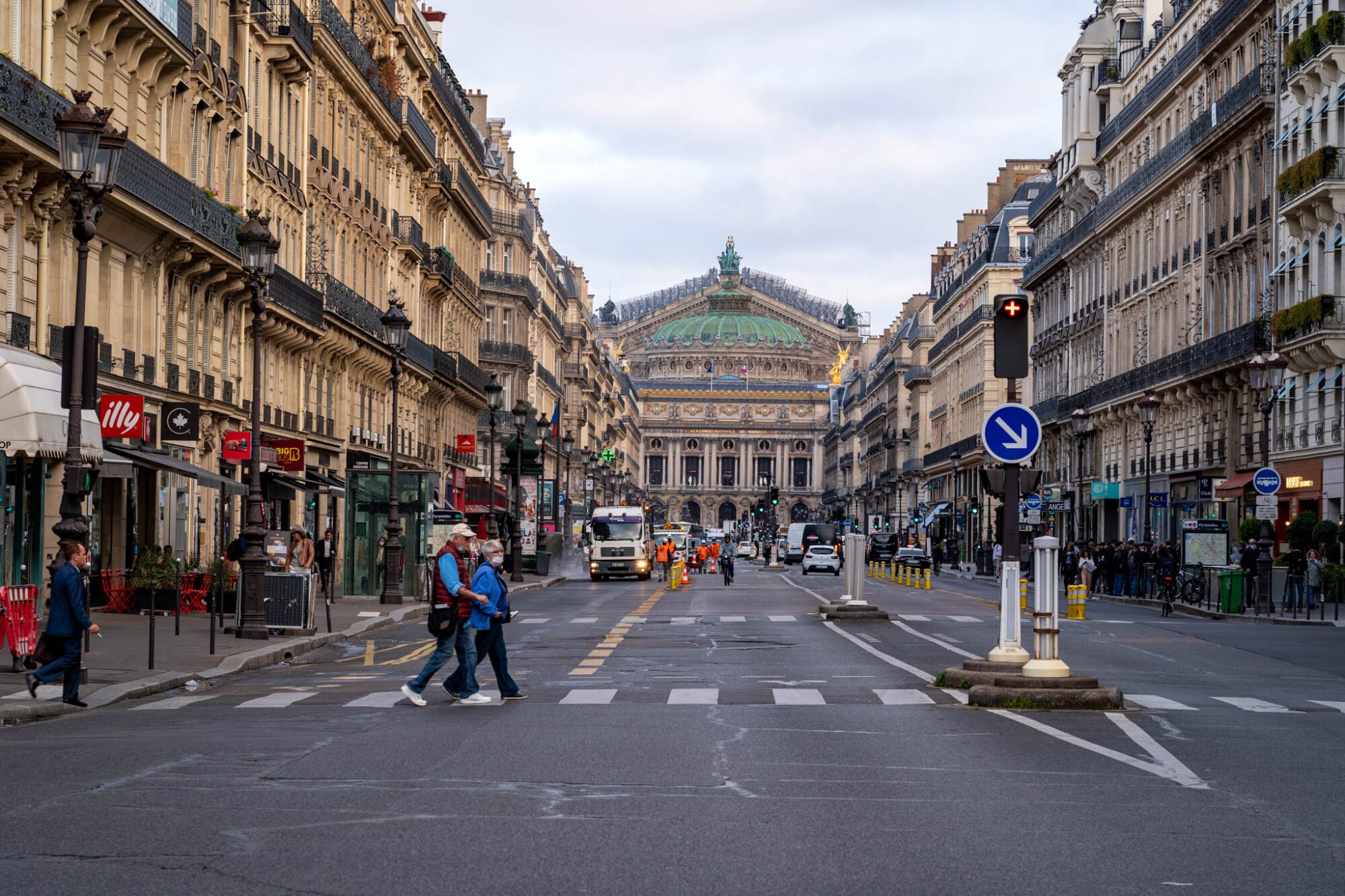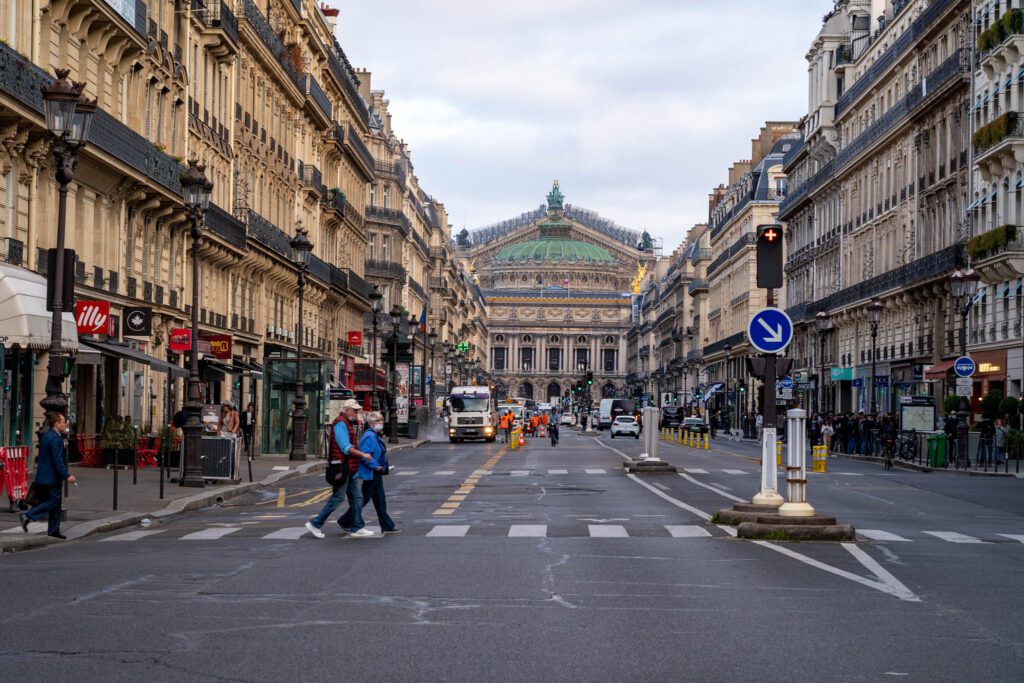 We love this area, and used it as a home base for our latest trip to Paris. The reason? It's packed full of great hotels at surprisingly affordable rates! Plus, it's central – walkable to the Arc de Triomphe, the Louvre, and Montmartre, and well connected via the metro to places that are a little further out.
Paris' Opéra district extends from the Opéra Garnier in the south to the foot of Montmartre in the north, providing a fantastic location that's well-connected to the rest of the city, especially ideal for those who plan to catch a show at the Opéra.
It's centrally located between the Louvre, Champs-Elysees and Montmartre, the former red-light district that was once filled with brothels and shady characters as a place to avoid. Today, it's home to lots of hip coffee shops and cocktail bars, including the acclaimed "Dirty Dick" cocktail bar and KB Coffee Roasters, widely regarded as the best place for coffee in Paris.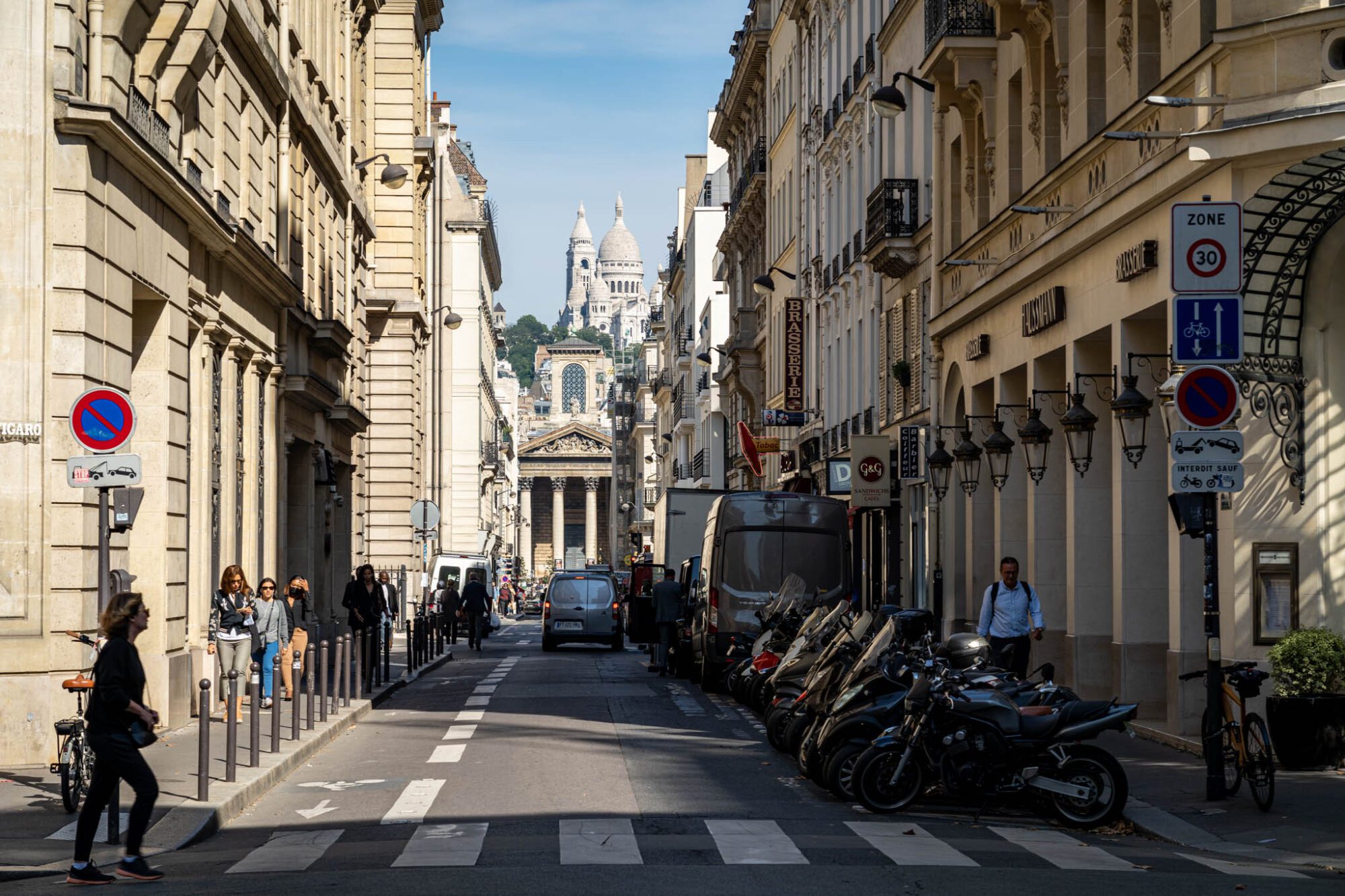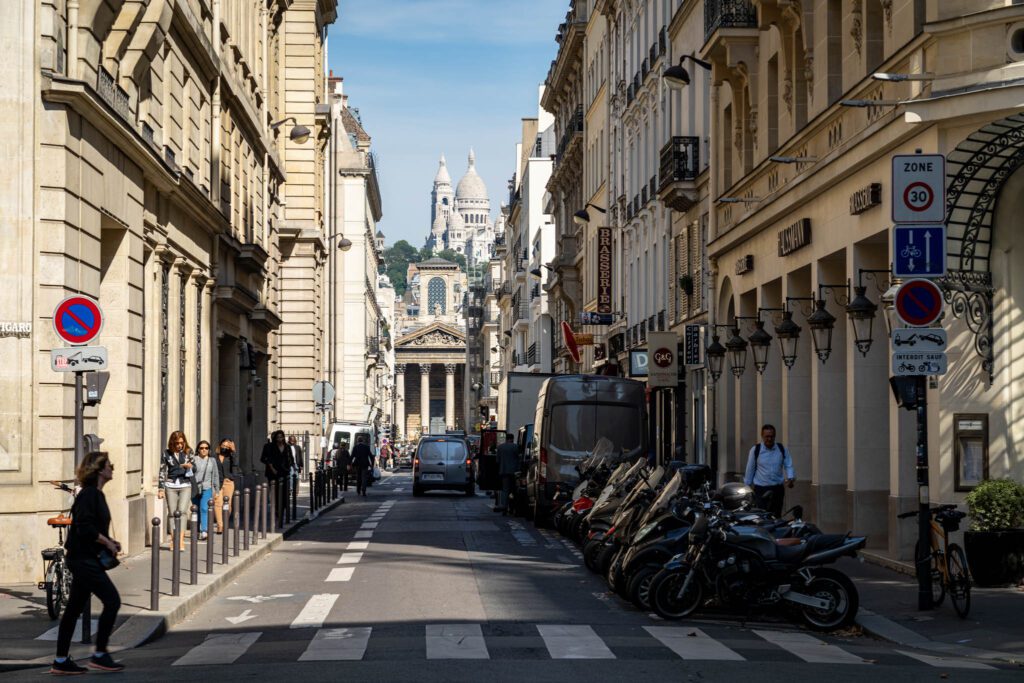 Pros and Cons of Staying in the 9th Arrondissement
Pros:
Relatively Affordable. It's still Paris – you're still going to be spending more than 100 Euros per night, give or take, but it's more affordable than more central neighborhoods like the 7th, Le Marais, and Saint Germain.


There are a bunch of great hotels. For some reason, all of our favorite hotel chains (Hoxton, Hotel Indigo, etc etc) all decided to use this area as their home base. And did we mention affordable?
Cons:
There's not a whole lot going on besides the Opera. If you use this as a home base, you'll be spending your time in other places, for the most part, and sleeping here. That's not necessarily a terrible thing, since you'll be saving money while you do it, but it's worth noting.


It's not as sparkling clean as other parts of Paris. This area is "up-and-coming" (like all hip areas), which means it's a bit more gritty than the more expensive parts of Paris. Be aware of your surroundings and avoid wandering down a dark alley alone at night and you'll be fine.
9th Arrondissement Highlights
The 9th Arrondissement isn't so much about the tourist attractions in the neighborhood (though there are a bunch in the areas adjacent, which is why it's a good location). Instead, it's full of bars, coffee shops, and restaurants, many of which make our lists of the best in Paris.
Here are some spots to start you out.
Soif, la Cave: A fantastic little natural wine bar in the 9th with a bunch of wines on tap and bottles on the wall to takeaway. They have an outdoor area that is full about 20 minutes after they open as well as a cozy interior. We hung out here for an hour or two in the evening, and the owner (?) was super friendly and happy to help us find wines that we enjoyed. She even gave us her favorite restaurant in Strasbourg and told us that should be our next stop in France (spoiler: planning a trip as we speak!).
KB CaféShop: A coffee shop that makes our list of the best coffee shops in Paris. We stopped here on our first morning in Paris, in desperate need of a caffeine boost and it did not disappoint. Single origin beans, espresso drinks, pour over filter coffee – all prepared by friendly, expert baristas. It's got a great outdoor patio too on a square with a carousel, which for whatever reason is very Parisian in my mind. Other great coffee options nearby include La Compagnie du Café and IBRIK.
Aji Dulce Restaurant Venezuelien: Yo, we're HUGE fans of Venezuelan-style arepas, which are basically a corn cake sandwich stuffed with things like fried sweet plantains, meats, beans, and cheese. Imagine our surprise when, on our way from our hotel over towards the Louvre, we stumbled upon a Venezuelan restaurant with a line out the door. Of course, we stopped for lunch and y'all, they were among the best arepas we've ever had (and all arepas were gluten free when we stopped by). Super friendly staff too, who complimented my French and stumbled through an entire conversation about arepas in French with me.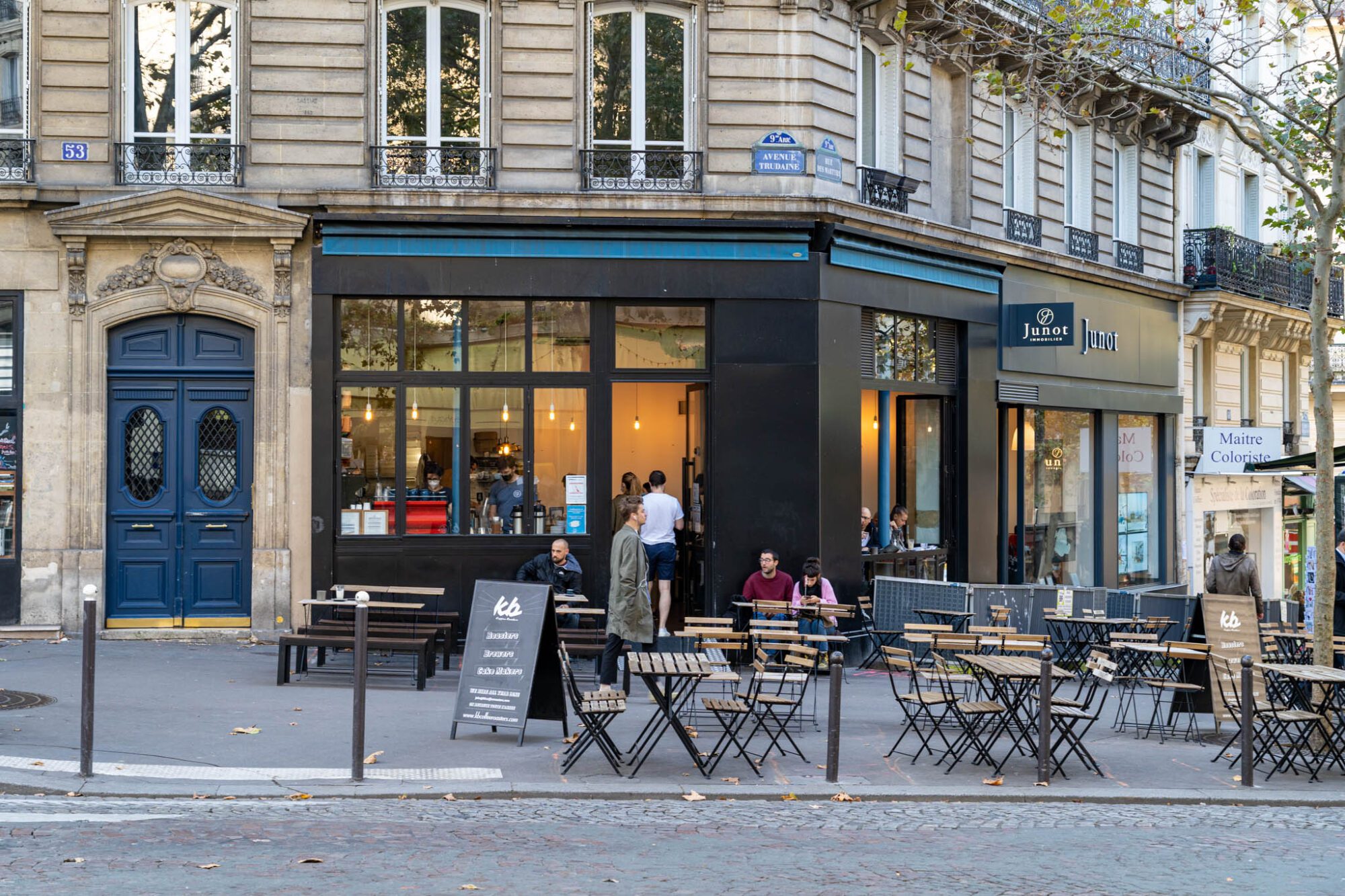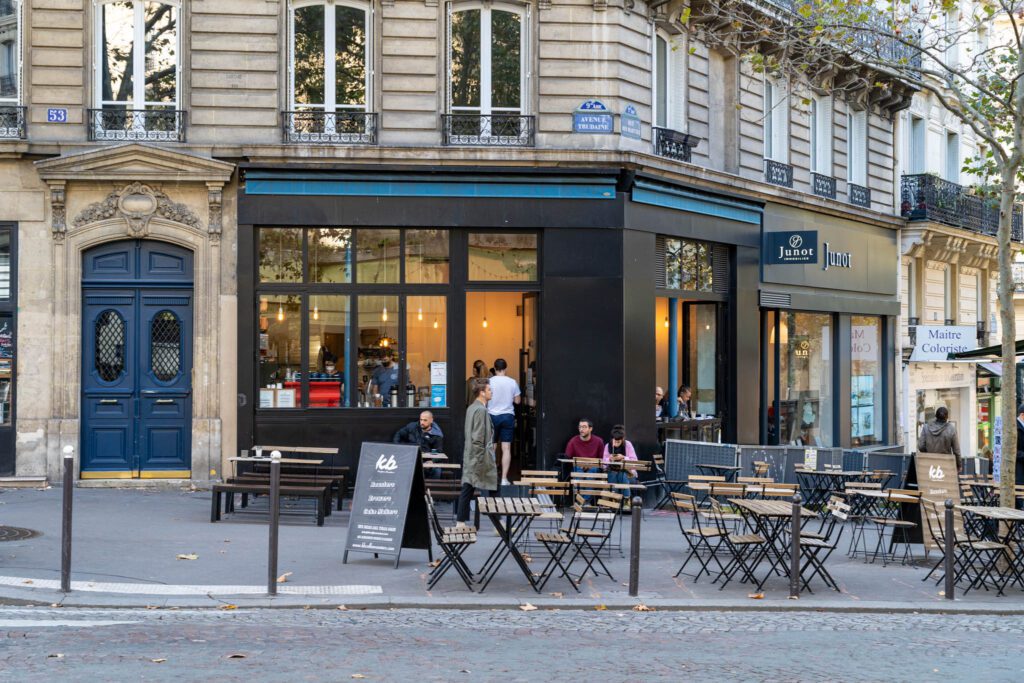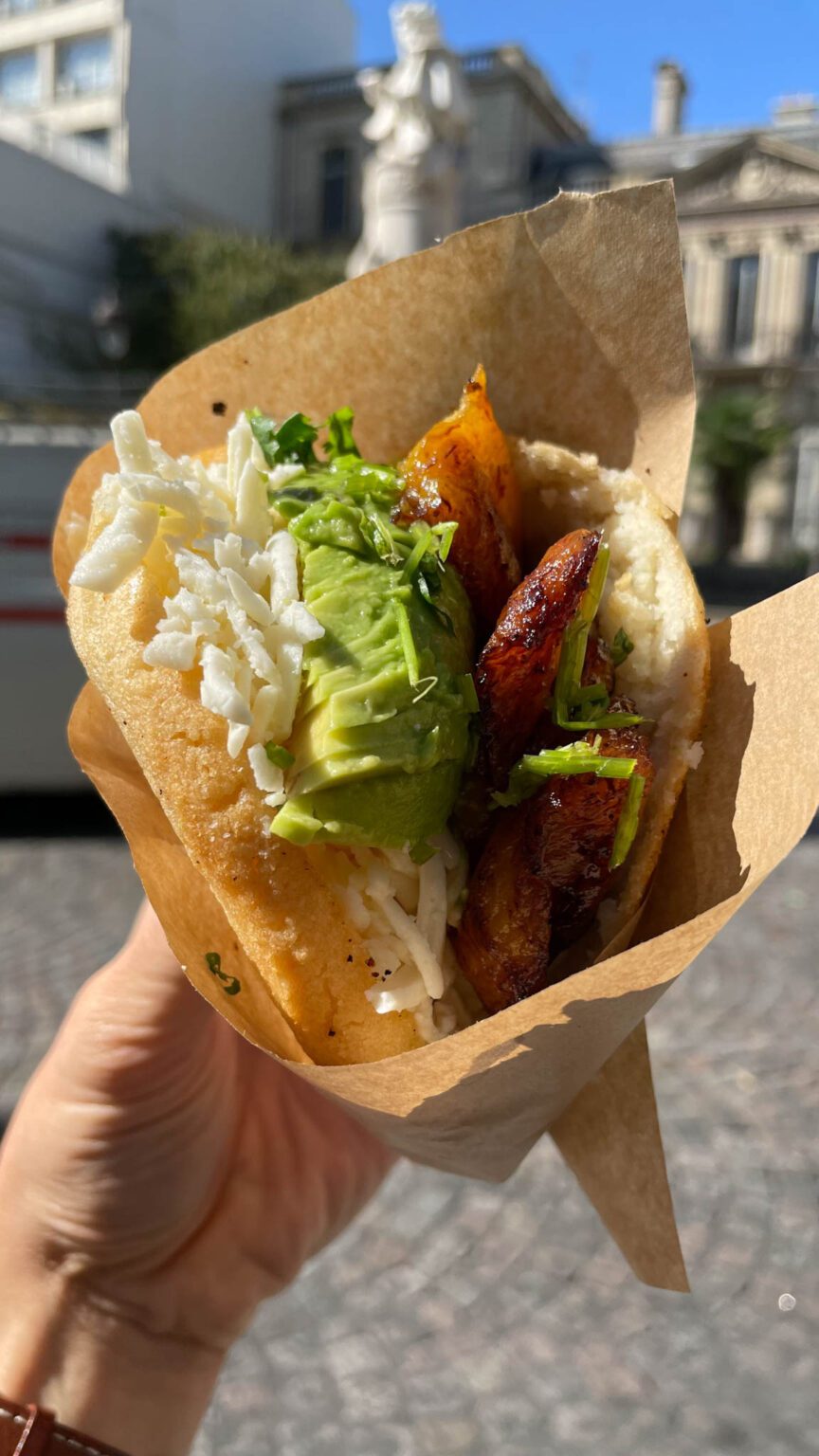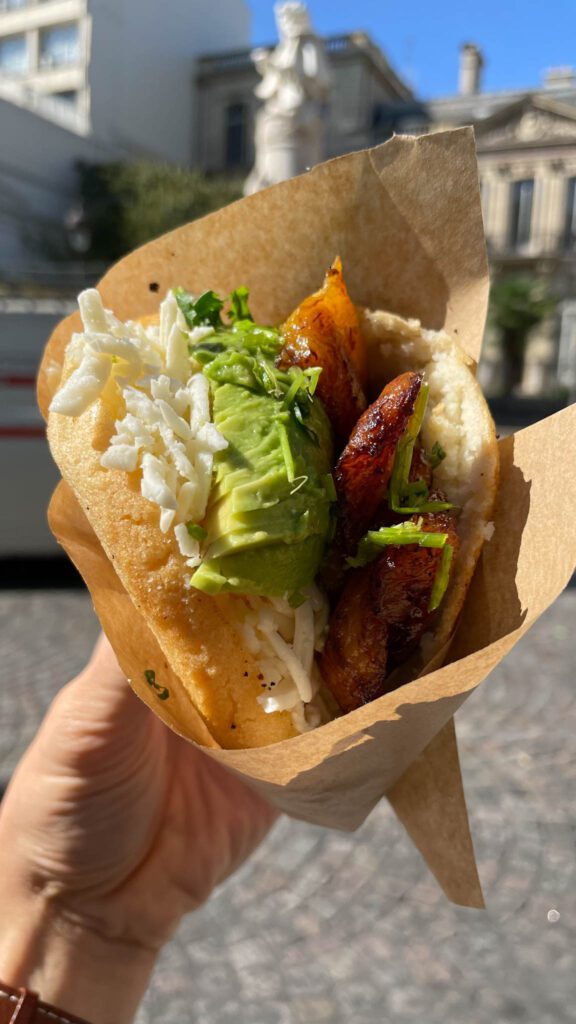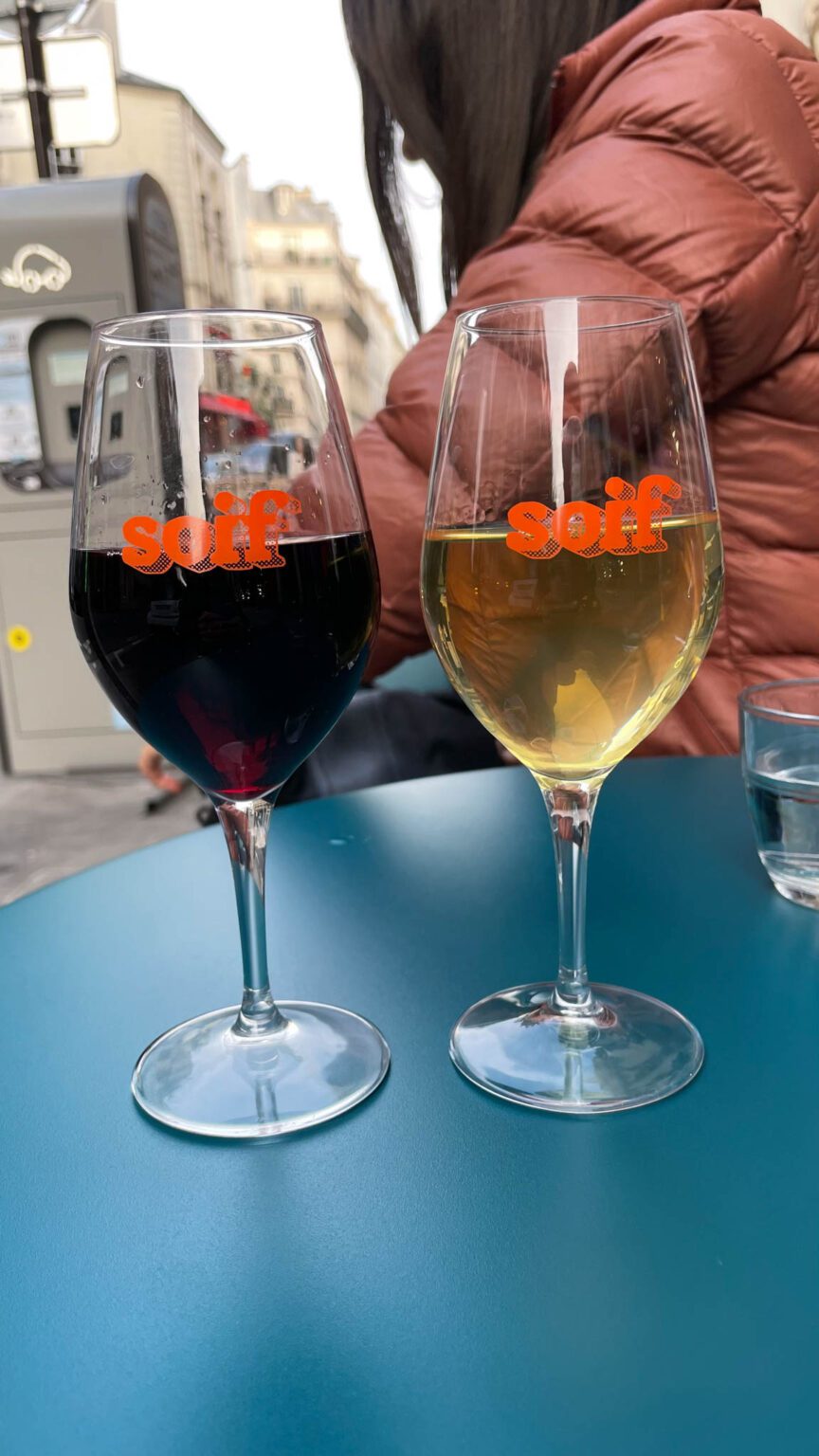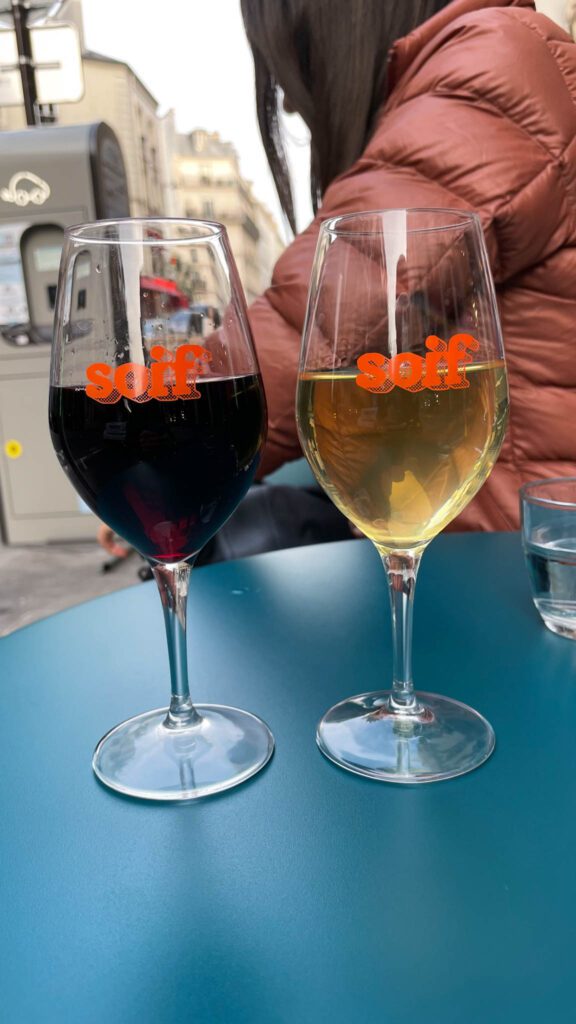 Best Places to Stay in the 9th Arrondissement
Here are some places to stay in this central and up-and-coming part of the city.
HOTEL JOYCE (+ WHERE WE STAYED): Incredible Value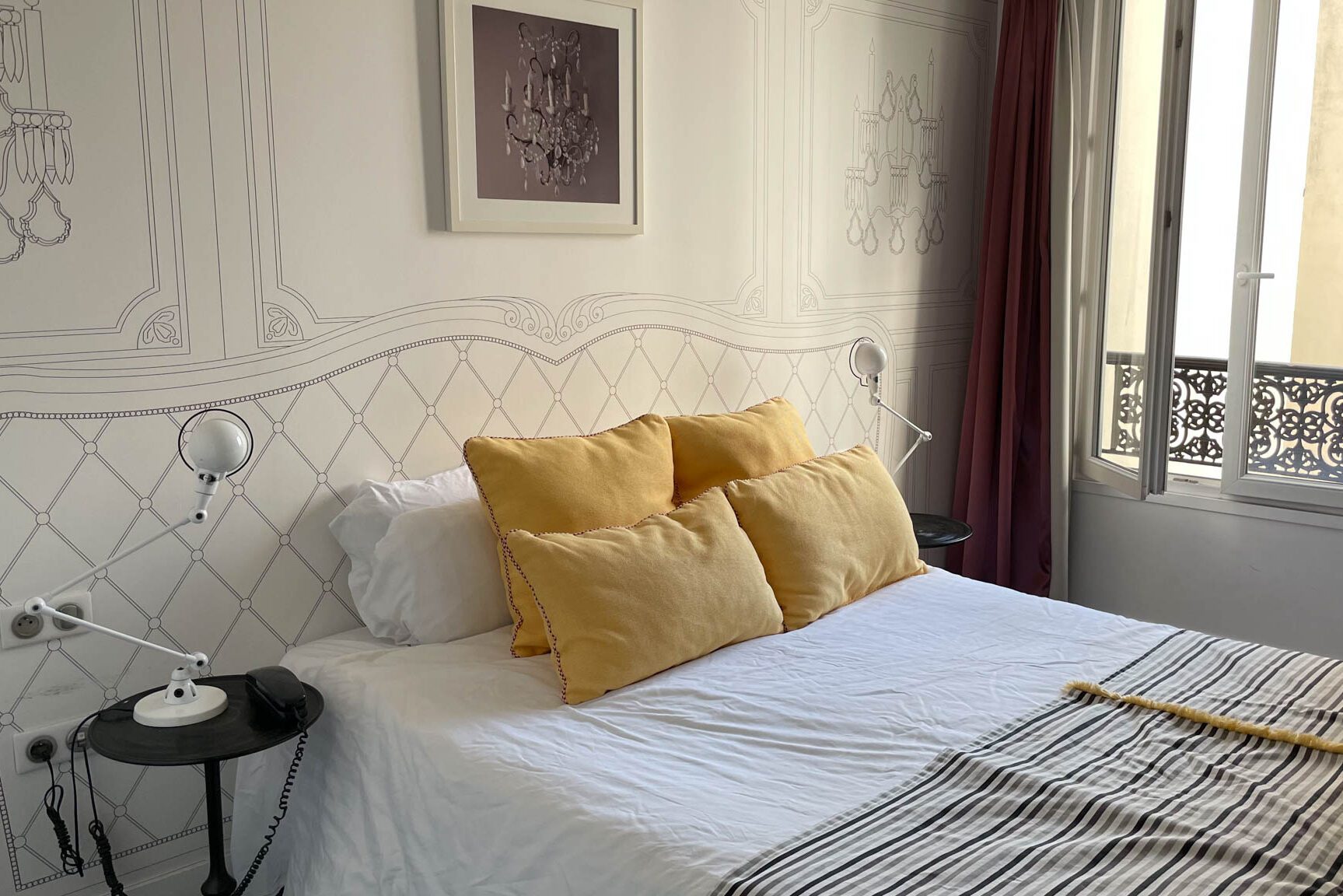 Another excellent option for those on a budget – which is no surprise considering they're from the same hotel group – Hotel Joyce is a value pick with upscale amenities that include rooms with iPhone docks and minibars that include free soft drinks.
They have a range of different room sizes that can accommodate both couples and groups, including their small but perfectly adequate standard rooms, and family rooms with adjoining rooms and separate bathrooms.
For what it's worth, we stayed here on our latest trip to Paris, and we enjoyed the central location, spacious room, and complimentary drinks and snacks (duh).
At breakfast time, you'll enjoy a range of pastries, including croissants and pain au chocolat. They also can cater for gluten free folks with advance notice.
In the afternoon and evening, the hotel also provides complimentary non-alcoholic beverages and light snacks.
Hotel Joke: Incredible Combo of value + style
You'll get outstanding value and lots of bright colors that make for a cheery feel even on the greyest of days at Hotel Joke.
Playful and modern, it's within walking distance to Montmartre, only three-minutes on foot to Moulin Rouge and the Metro. Rooms are cozy, clean and contemporary with minifridges stocked with free drinks.
You'll be able to choose from a pretty wide range of room types depending on your group. You have your standard rooms – either with a double bed, or two twin beds – for couples and pairs traveling together. Then, for groups and families, they have a couple of different options, including the family rooms, which are two rooms joined together around a common space, each with their own bathroom.
They have a robust breakfast buffet, including the ability to cater for people with a gluten intolerance with advance notice (psst! Here's my gluten free guide to Paris for people traveling who need to eat strictly gluten free).
HOTEL INDIGO: A Solid Mid-Range Hotel
We generally like Hotel Indigo, and think it's a pretty solid mid-range option in cities around the world. Enjoy a stay in a peaceful, pedestrian-only location at Hotel Indigo in Paris, with generously sized rooms that include loaner smartphones with free calls and roaming. There are other special extras too, like free coffee, tea, soda, juice, and waffle cookies.
The terrace seating on the vehicle-free street is ideal for sipping wine at happy hour and the property hosts a 24/7 fitness center too.
LE PIGALLE: Stylish & Romantic Boutique Hotel
We like Le Pigalle, and it's at the top of our list for our return trip to Paris. It's the perfect place for enjoying some of the city's top restaurants and nightlife, the hotel is within a short walk from hotspots like the Pink Mamma and Le Mansart.
Every room is unique, meticulously designed with the help of local artists and taking plenty of inspiration from Paris.
Rooms feel more like staying with a hip Parisian friend, with cool décor like a '70s drink cabinet along with modern amenities, including USB ports. Guests are even offered a pair of branded condoms, which is kind of funny.
HÔTEL ADÈLE & JULES: Boutique Hotel
Last but not least on our list of the cool places to stay in the 9th, Hôtel Adèle & Jules is made up of two identical properties. "Adele" and "Jules" sit just two doors apart, both offering a warm, welcoming feel with an emphasis on providing home-like comforts. It's tucked between the Louvre, Tuileries and Pigalle, providing an ideal base for exploring the Right Bank.
LE MATISSIA: Top-Rated Serviced Apartments
Perfect for families or groups of friends travelling, Le Matissia offers studio, one bedroom, and two bedroom apartments which can accommodate up to 6 people.
Each of the flats have fully equipped kitchens including Nespresso machines, daily cleaning, and a safe. Instead of key cards, rooms are accessed via a unique code so you can check in at any time.
Luxurious touches like rainfall showers and Rituals bath amenities make it a nice stay. Le Mattisia is in a prime location with Gare du Nord and Gare de l'Est only a few minutes walk away. It is a short metro ride into the center of Paris to visit all the attractions, or if you prefer to explore on foot it is a nice long stroll.
St. Germain & the Latin Quarter: Best of the Left Bank (5th and 6th)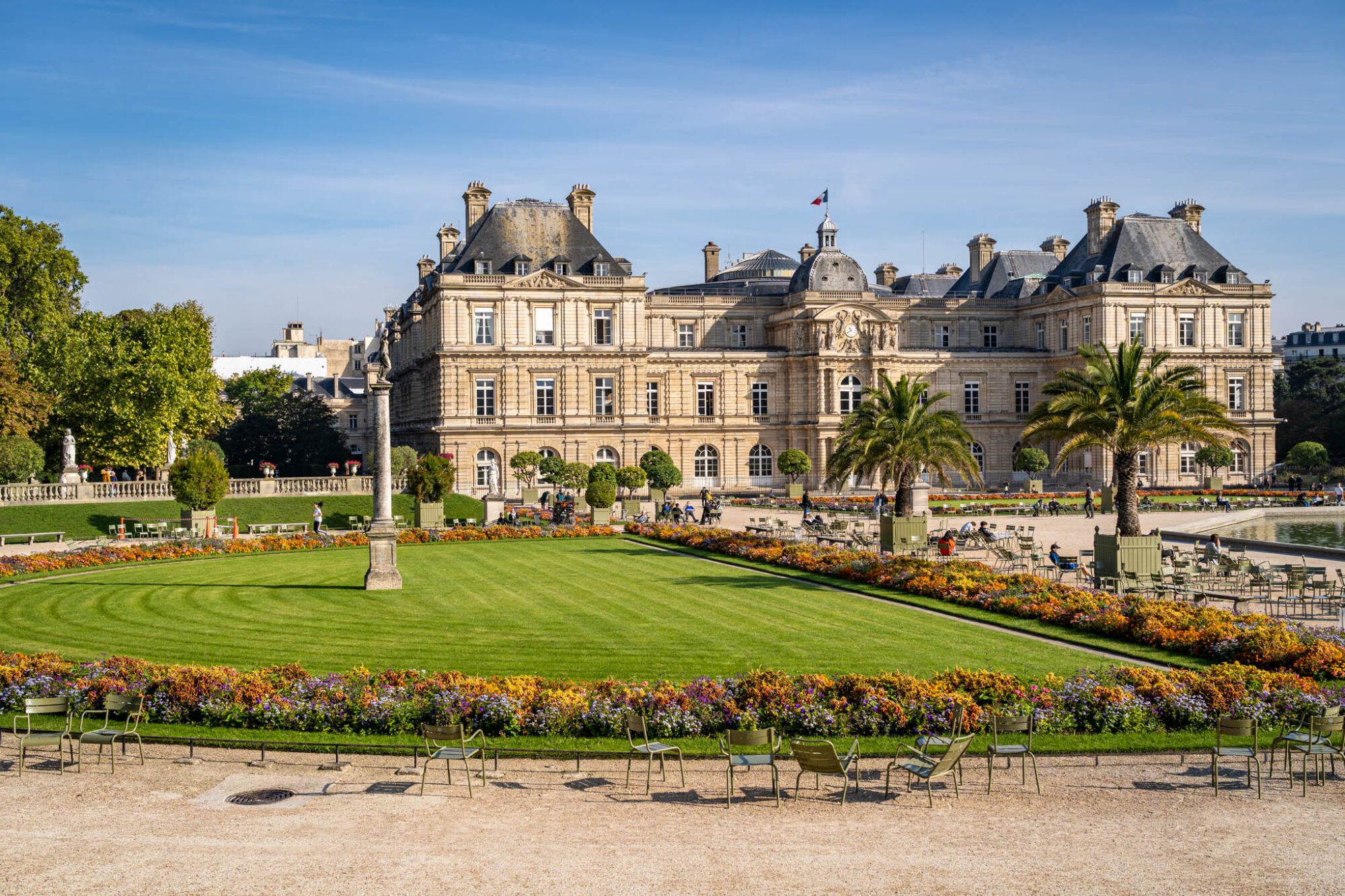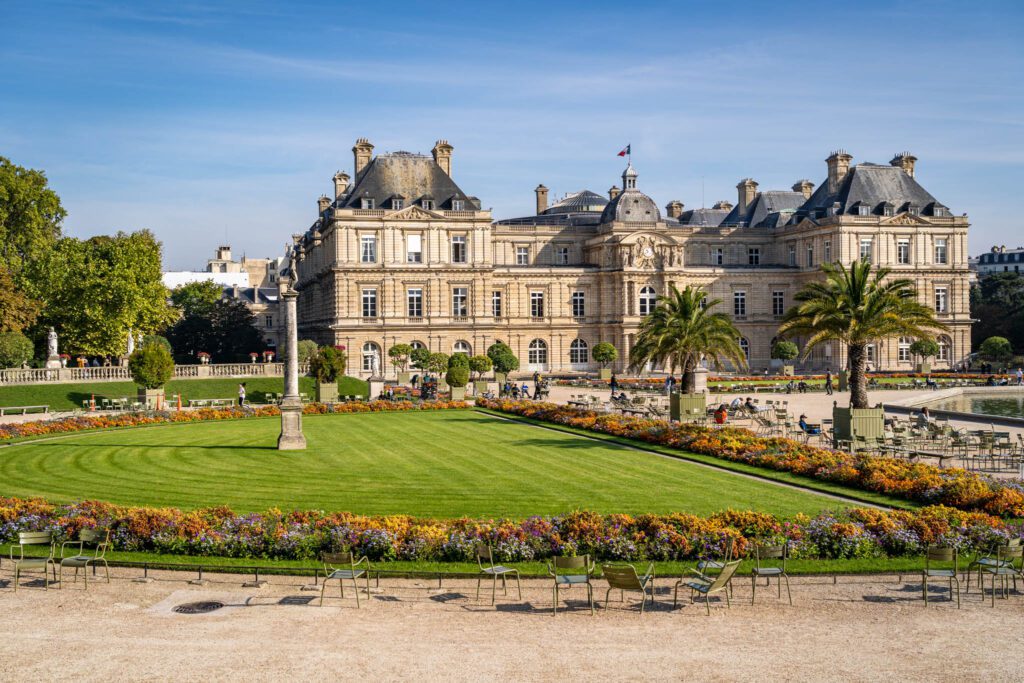 St. Germain offers a central location and a classic Parisian feel with its streets overflowing with history as the neighborhood where Ernest Hemingway liked to hang out in the cafes and Picasso painted his famous Guernica. Many famous artists and writers enjoyed drinking coffee along the river, although now they've moved on to other areas as it's become far too pricey.
It's one of the city's classiest districts, filled with illustrious museums, upscale galleries, designer brand stores, eclectic eateries and Paris' oldest church, the Abbey of Saint-Germain-des-Pres. The area is also ideal for practicing the art of flaneur (strolling).
St. Germain is definitely worth the splurge if you can manage it, putting you just a short walk from Musée d'Orsay, with its collection of impressionist art and the gorgeous Luxembourg Gardens, perfect for relaxing on a bench and enjoying some old-fashioned people watching.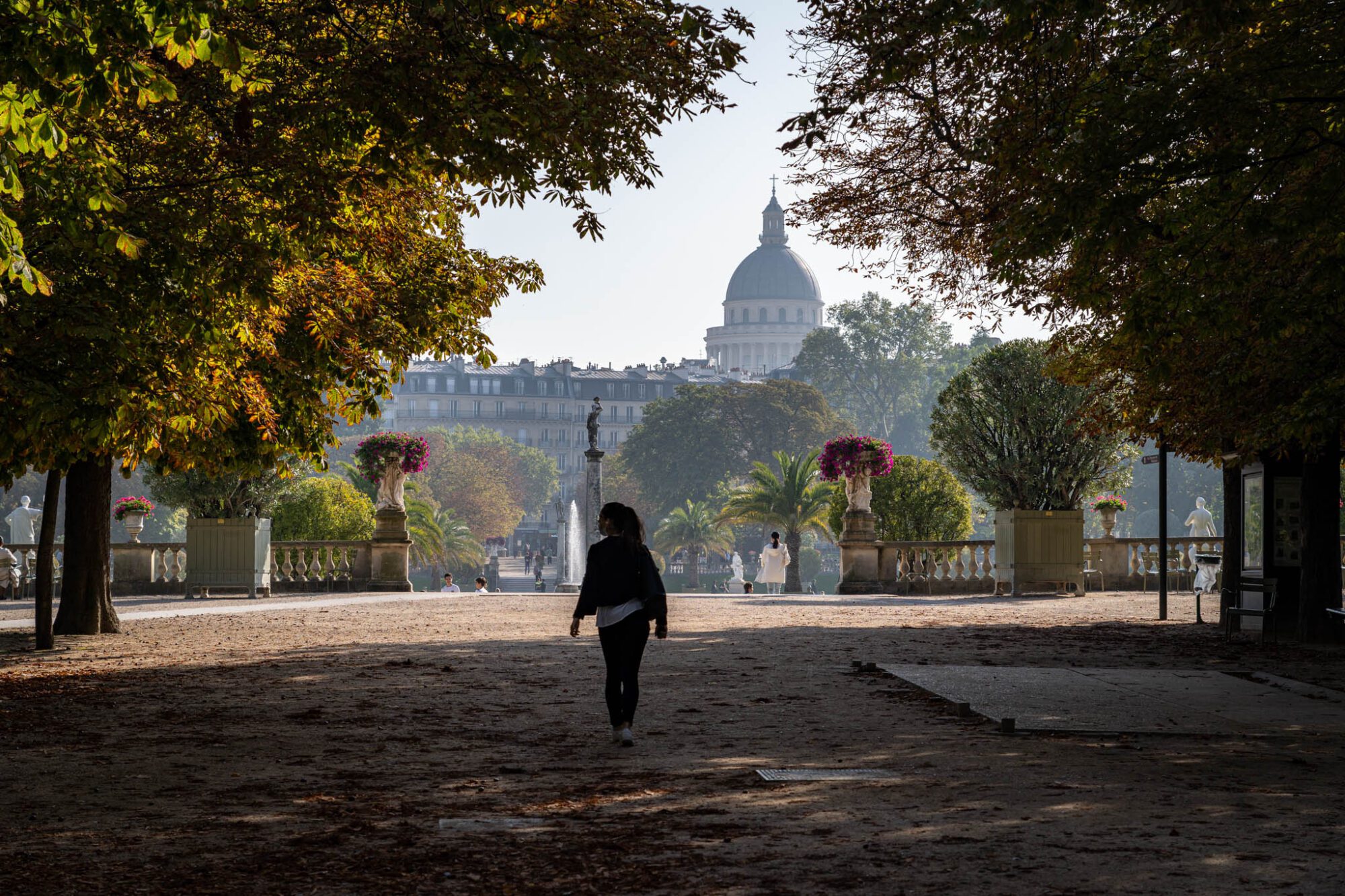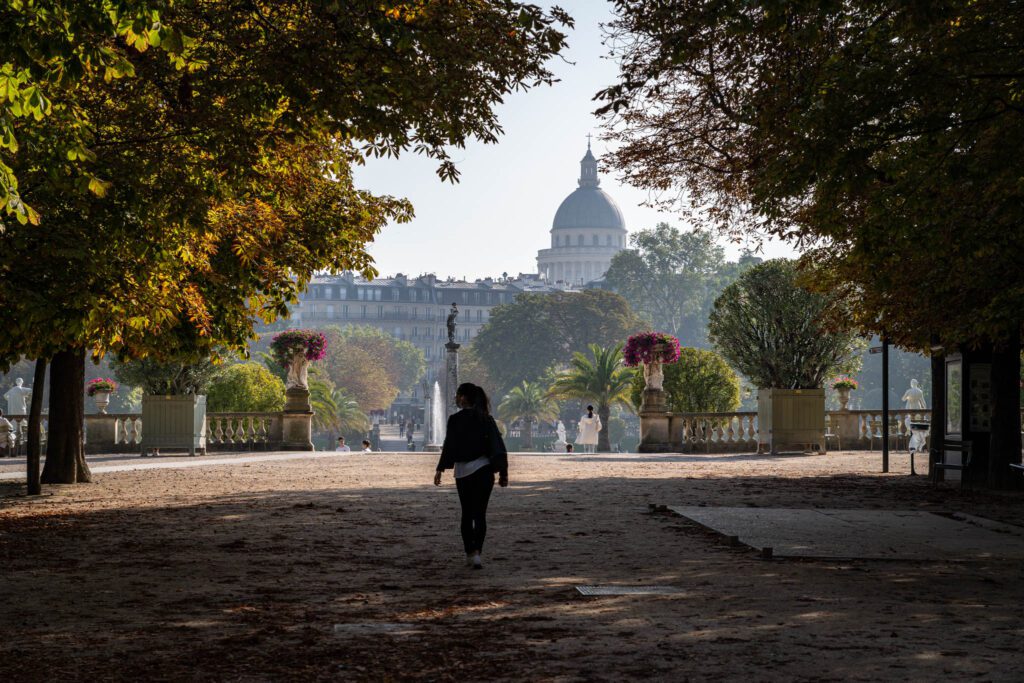 If it's not in your budget, consider the Latin Quarter, which also offers some enticing areas as a lively neighborhood primarily home to students, with La Sorbonne, the city's oldest university found here. It's centrally located in the fifth arrondissement on the left bank bordering the river, with Rue Mouffetard, a fabulous market street an ideal spot for sampling a wide range of tasty local eats.
History and architecture lovers will enjoy it here, with many significant structures depicting the true essence of ancient Rome, including a 1st-century AD Roman amphitheater and the ruins of a 3rd-century Gallo-Roman thermal bath.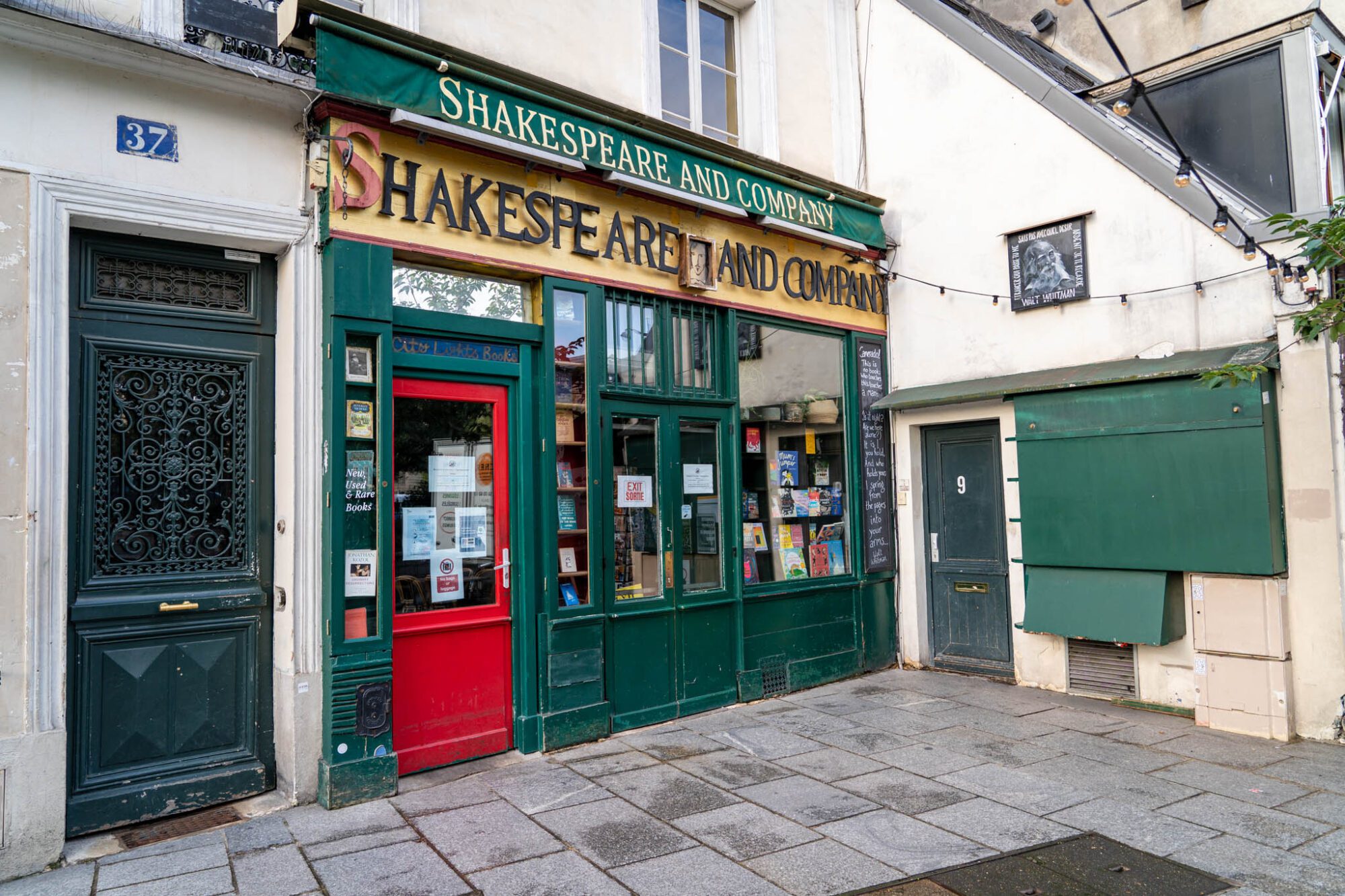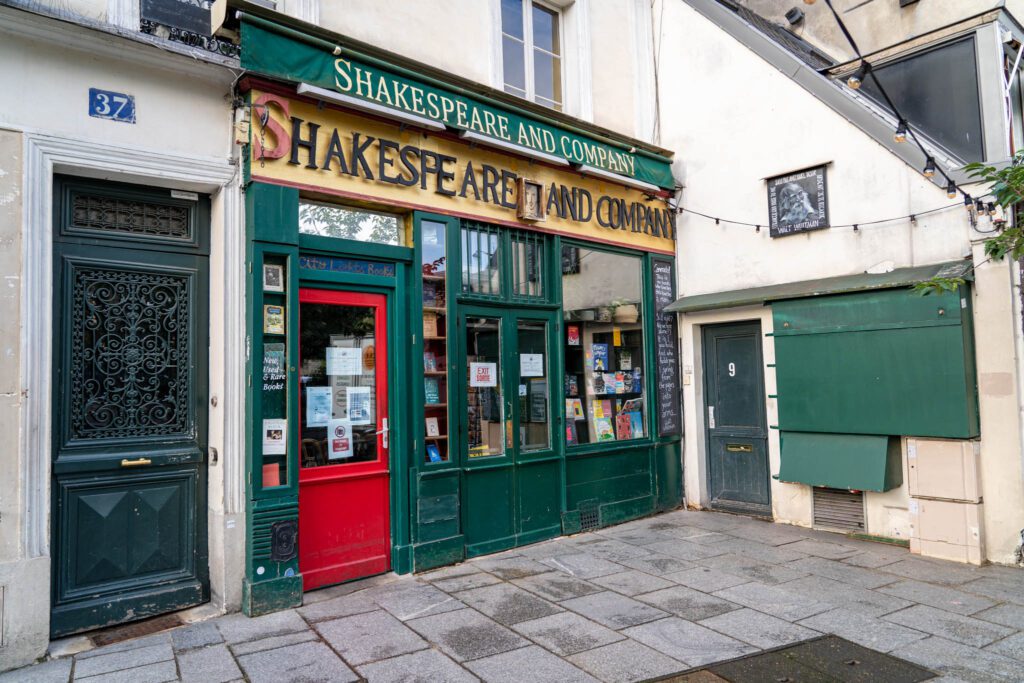 Best Places to Stay in the 5th and 6th Arr.
This part of the city is full of places to stay, so you definitely aren't going to be faced with too few choices if you want to stay on the Left Bank.
Great Value Hotel: French Theory
Set within an 18th-century stone building, this hip and unpretentious hotel is less than a five-minute walk from the Luxembourg Gardens. If you're looking for something unique, it includes an Audio Lounge where guests can relax on the comfy couches and listen to a wide range of vinyl albums, both contemporary and older tunes, via headphones.
Mid-Range Hotel: Hôtel des Academies et des Arts
This boutique, art-focused hotel offers a convenient Left Bank location at the edge of the 6th arrondissement with refined rooms showcasing views of a quiet street or courtyard, some of which include balconies. After a day exploring, you might want to take advantage of the small spa offering massages and beauty treatments.
Boutique Hotel: Relais Christine
An upscale boutique hotel on a quiet street in a walkable Left Bank location, Relais Christine is just a 10-minute walk from the Notre-Dame Cathedral. Set within a 16th-century mansion, rooms include flat-screen TVs, Bluetooth speakers, Nespresso machines and lavish marble bathrooms. It includes an atmospheric spa and fitness facilities that are housed inside its historic vaults.
Top-Rated Boutique Hotel: Hotel Le Littré
This boutique gem has been run by three generations of the same family and while the hotel is extremely modern and regularly updated, it still has that homey feel to it. The rooms are elegantly decorated in a soft color palette and each have a view. Spread over 8 floors the view options are of the courtyard, the street, and 5 of the rooms offer a terrace with Eiffel Tower view.
Hotel Le Littré offers a "winter garden" for guests to relax in. It is a glass enclosed terrace that is temperature controlled in the colder months and the French doors are opened in the warmer months to let in the breeze.
Canal St. Martin: Bohemian Neighborhood + Nightlife (10th Arr.)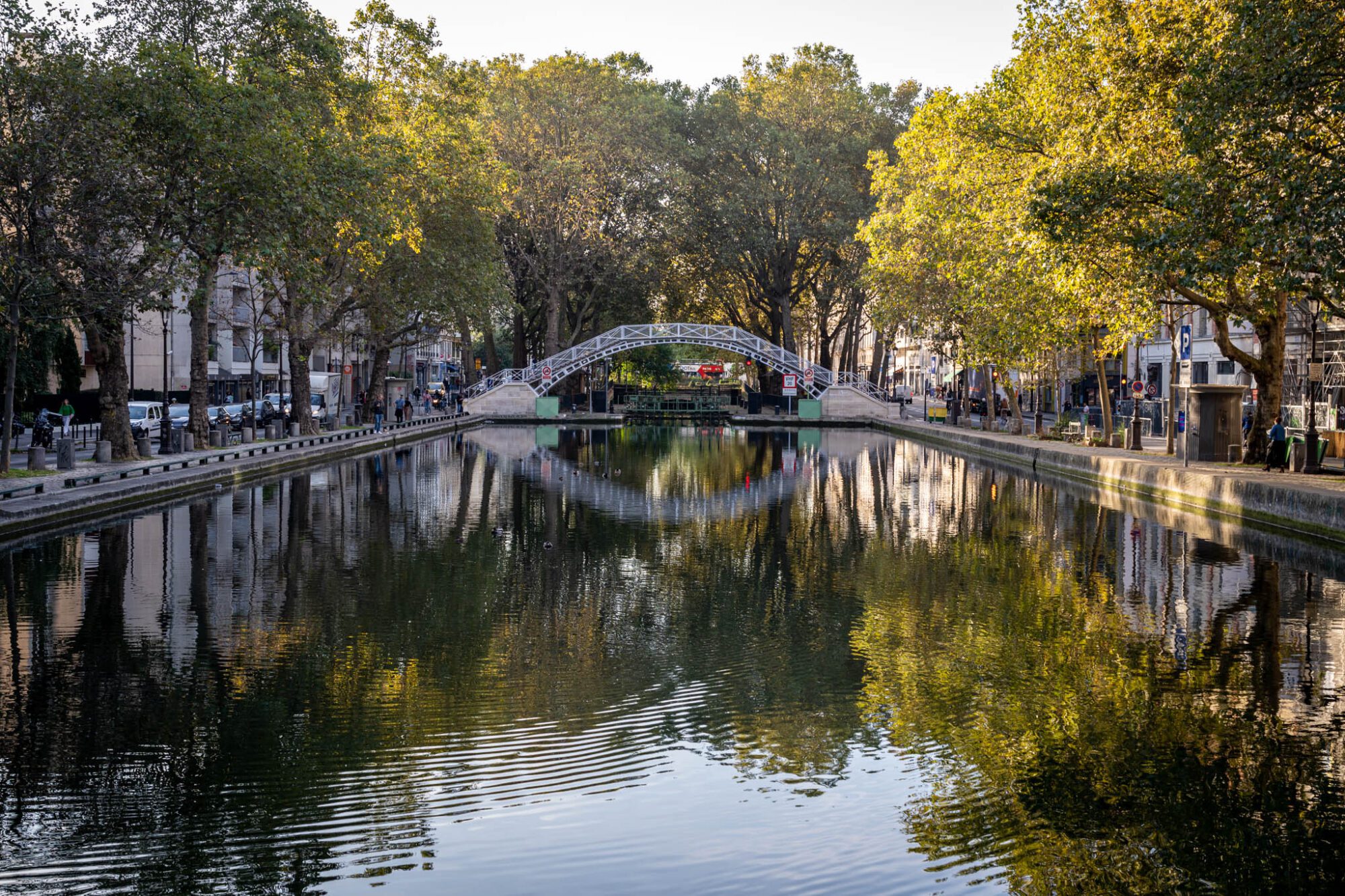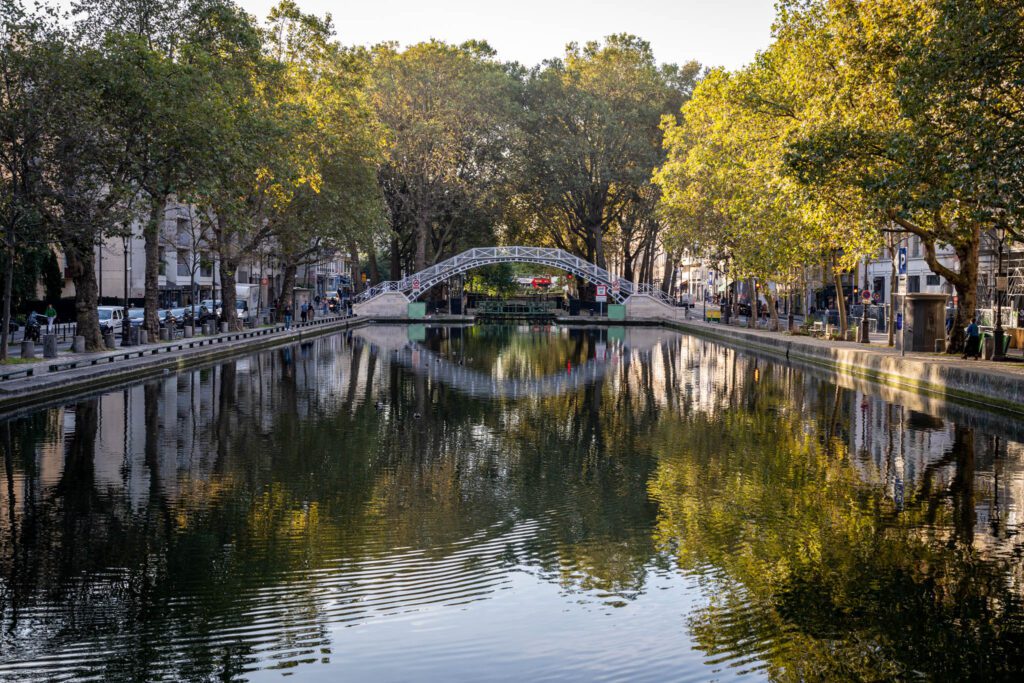 Canal St. Martin is a bohemian neighborhood in the 10th arrondissement that seems to have suddenly transformed from a hidden treasure to a trendy hotspot, a darling of hipsters in Paris. It's home to some of the top restaurants in the city, with a wealth of cafes, bars and intriguing shops lining the streets, making it one of our favorites when it comes to cool neighborhoods in Paris.
You can do everything from pick up fresh-baked bread for a picnic at canal-side to dining and people watching at the lively quayside spot with outdoor seating offered by Chez Prune.
If you've ever seen the classic French film "Amelie," you might recall Amelie skipping stones from an iron bridge overlooking the canal that links Canal de l'Ourcq to the River Seine. Just like her, Parisians enjoy relaxing along its tree-lined banks.
You'll frequently see picnickers along with fishermen, philosophers and poets – it's a place to see and be seen, particularly popular among the under-30 crowd.
While it may be filled with pedestrians and strollers, it manages to retain a wonderful sense of calm. This is the alternative destination to the Seine, the place where Parisians in the know come to hangout, and for visitors, it's the perfect place to get more of a sense of the "real" Paris.
Pros and Cons of Staying in Canal St. Martin
Pros:
It's charming. The canal itself is fun, and is something I wish more cities in the US had.


There are fewer tourists. Compared with, say, le Marais, this is a relatively quiet part of Paris. Fewer tourists, especially those who only have a day or two, make it up here, which means…


It's affordable (relatively). Paris is by no means a cheap place to visit, but of the central neighborhoods, the 10th and adjacent 11th are probably the best value in the city.
Cons:
It's further out. Perhaps not terribly surprising given the "affordable" point above, but this is not the most central neighborhood in Paris. It's going to take you 20-25 minutes or so to get to places like the Louvre, and more to get to the Eiffel Tower or Arc de Triomphe. If you have a short trip and you want to spend your time at those main tourist attractions, we'd try to stay closer if you can. That said, it's close to the République metro station, so you'll be able to use the metro to get around.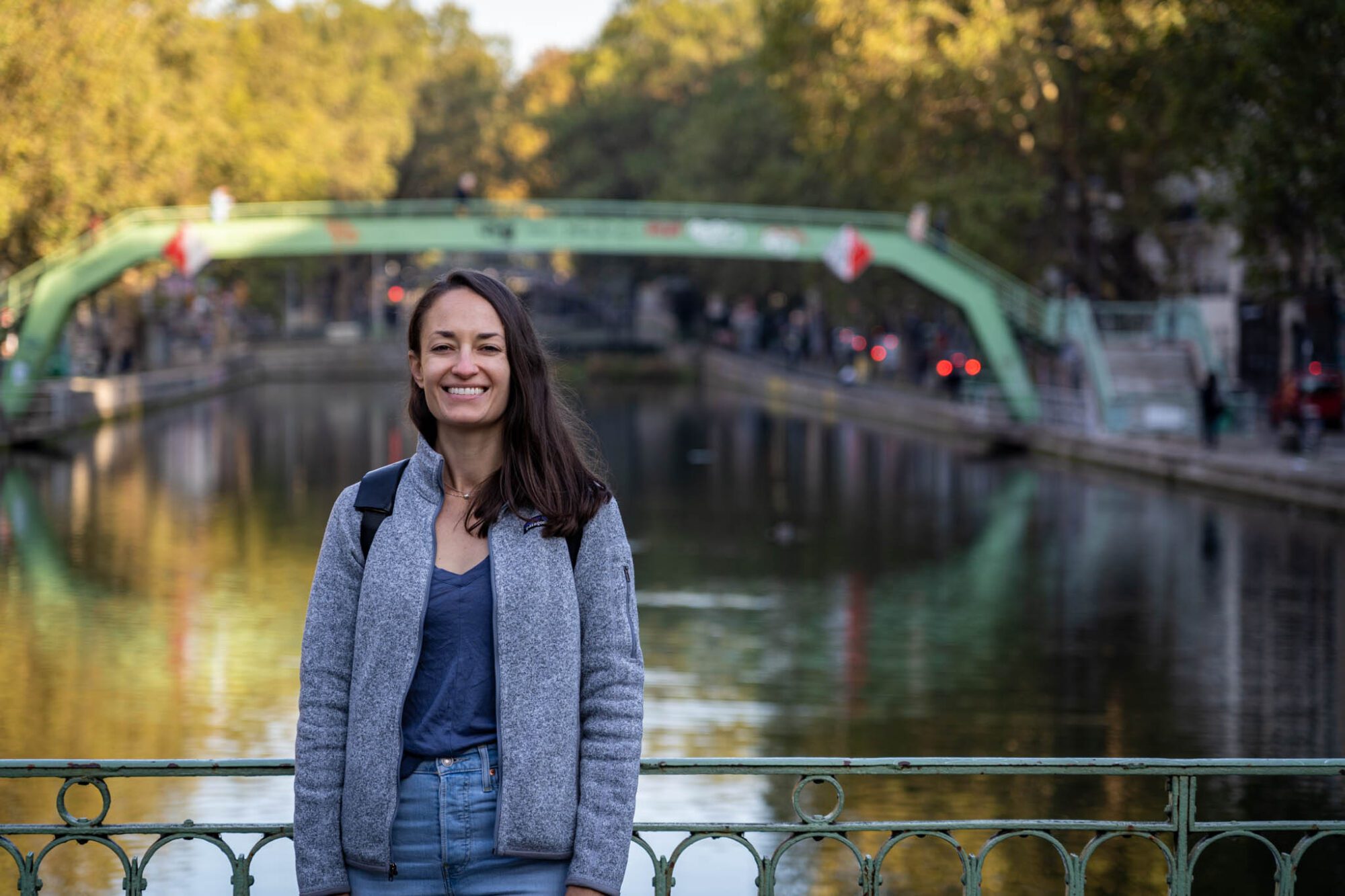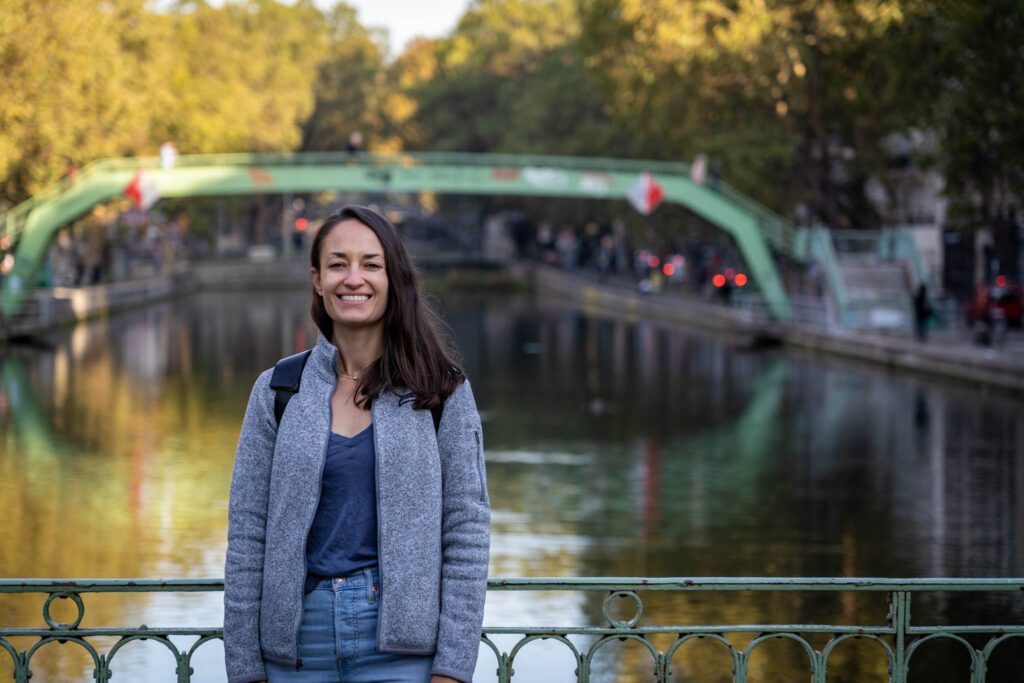 Canal St. Martin Highlights
Here are some of our favorite spots in the 10th Arrondissement.
La Cidrerie: We freakin' LOVE cider, and this is by far the best cider bar in Paris. Actually, I'd go as far to say that this is the best cider bar in Europe (that we've been to or come across, anyway). It's fantastic. We got to chat with the owner, who incredulously asked us "wait, so you just…travel and drink cider?" Which is about 58% true, if we had to put a number on it. He was very friendly, and also very knowledgeable about every single cider he has in his shop. It's right on the canal, and is a lovely place for a drink on a warm afternoon. Their selection is outstanding, split between a tap list that includes English, French, and even American (Stem Ciders from Denver was represented last time – one of our favorites!) and
Ten Belles Coffee: If we're saying that 58% is travel and drink cider, at least 6% of the remaining portion is "travel and drink coffee." This place is a tiny little sliver of a coffee shop on bustling Rue de la Grange aux Belles, and they serve up some great coffee. Plus, when you buy beans, you get a reusable tin (something that the security man at the airport was very confused about) rather than a bag that you have to throw away. It makes my guide of the best coffee shops in Paris (though there are so many at this point, it's hard to make it to them all!).
The Bridges: There are a bunch of picturesque bridges that cross from one side of the canal to the other, but our favorite is Passerelle Bichat (here on Google Maps), where you can stop and watch the way that boats get up and down the canal. We stood here for a bit watching them fill up one of the sides of the canal so that a boat could pass to the next level, and it's honestly fascinating.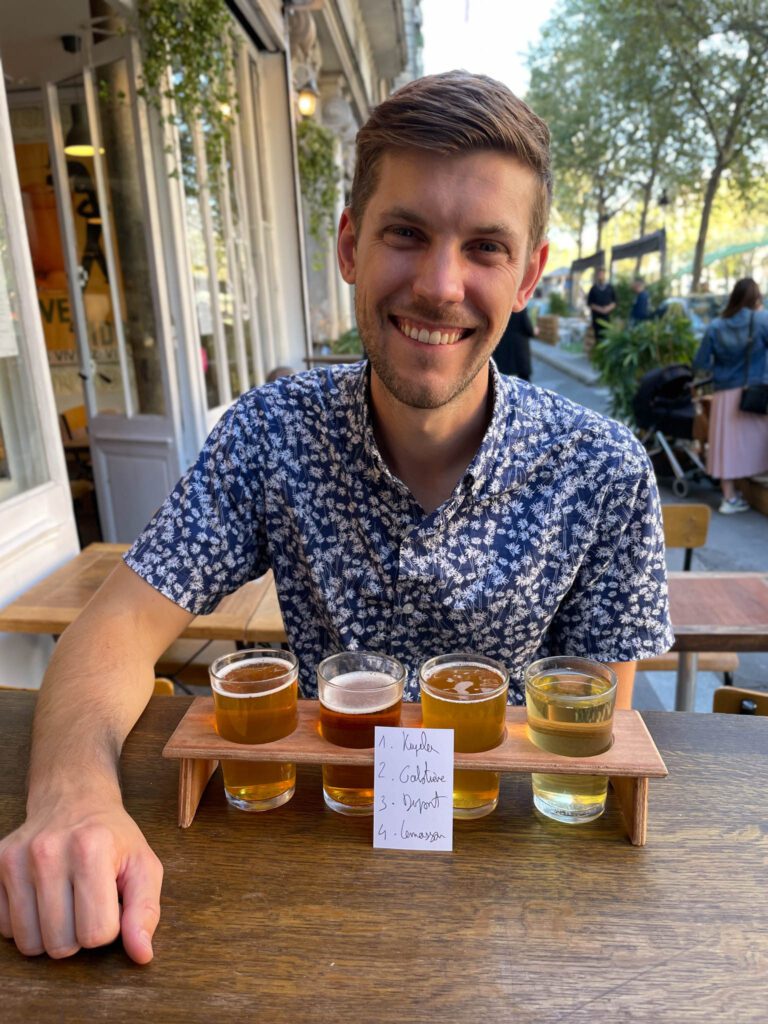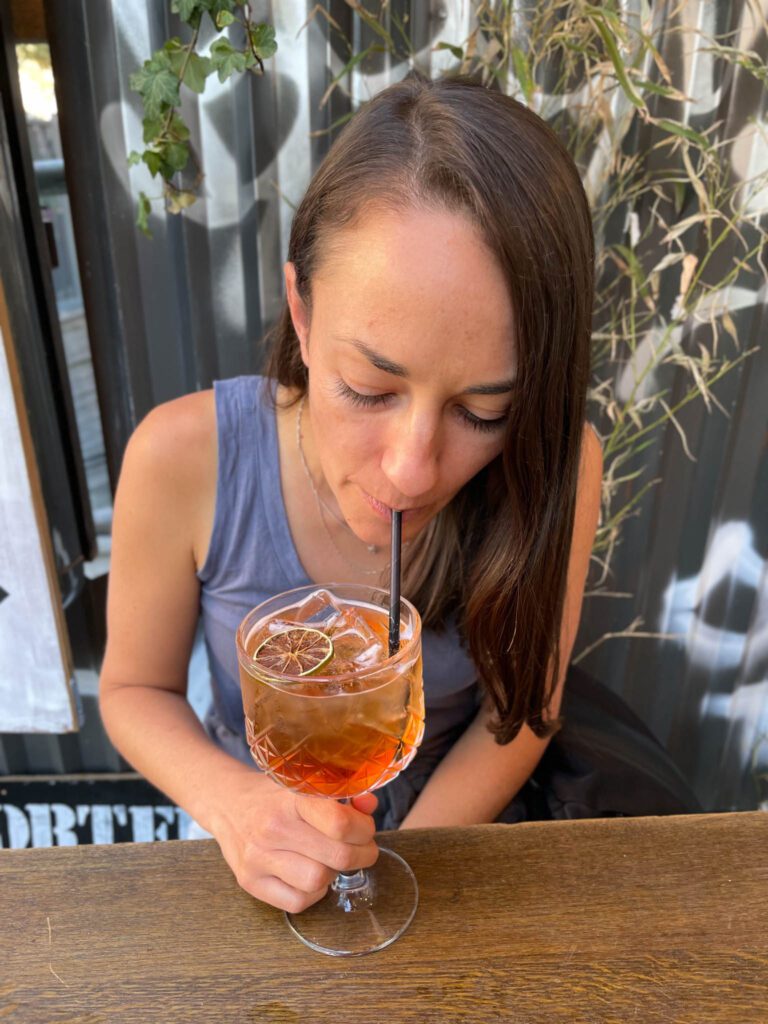 Vacation Rentals vs. Hotels in Paris
A word on vacation rentals before we get to the end of this guide.
We used to love staying in vacation rentals when we traveled, particularly if we're staying in a place for more than a couple of days. It's so nice to have your own space, access to a kitchen, and more.
However. Today, platforms like Airbnb are very different than they were even five years ago. It used to be a place for people to rent out extra spaces in their homes, like a basement apartment or a backyard bungalow. Now, it's more "real estate companies buying up entire buildings to transform into a mini-Airbnb empire."
For that reason, we are avoiding Airbnb (and other vacation rentals) in cities, particularly where there's an overtourism problem. And Paris is certainly on that list.
The biggest problem we see with Airbnb is twofold.
First, it takes valuable units that could be used for long term housing for locals and transforms them into short term rentals for tourists, which means you end up with popular neighborhoods that have more tourists than locals.
Second, the result of that is that locals, particularly those with lower incomes, get pushed out of the places they've called home for years, or even decades. We've seen it happen at home in San Francisco and Seattle, and it doesn't feel great.
We strongly, strongly recommend you choose a hotel while you're in Paris. We love the idea of Airbnb too, but we don't love the impact it is having on local communities.
Plus, hotels are catching up, with beautiful properties and lower prices. Paris is an amazing hotel city, and you'll have no problem finding a great hotel in Paris – trust us.
---
Paris is an amazing city, with vibrant neighborhoods that each have their own unique personality and qualities. Whether you're looking for a romantic getaway or want to experience the hustle and bustle of Paris, there's a neighborhood for you.
Read More on Paris:
Plan an Incredible European Adventure
Planning (or thinking about planning) a trip to Europe? We've got you covered! We've been to Europe many times, including a recent three month trip to Portugal, Paris, Italy, and Spain.
Here are our in-depth European travel guides to help you plan a trip full of learning, discovery, and unforgettable experiences.
LONDON: How to Plan your London Itinerary, Where to Stay in London, and the Best Coffee Shops in London
PARIS: A Perfect Paris Itinerary, Where to Stay in Paris, and the Best Coffee in Paris
ROME: A Complete Rome Itinerary, Where to Stay in Rome, and the Best Things to Do in Rome
AMSTERDAM: A Perfect 2 Day Amsterdam Itinerary and Exactly Where to Stay in Amsterdam
BARCELONA: A Complete Barcelona Itinerary and Where to Stay in Barcelona
MADRID: An Amazing 2 Day Madrid Itinerary and Where to Stay in Madrid
LISBON: A complete guide to 3 Days in Lisbon and Where to Stay in Lisbon
FLORENCE: The Best Things to Do in Florence, Where to Stay in Florence, and a Perfect 3 Day Florence Itinerary
SICILY: How to Plan an Amazing Sicily Road Trip and the Best Things to Do in Catania
SPAIN: A Complete 14 Day Spain Itinerary and a 2 Day Seville Itinerary
PORTUGAL: How to Plan an Amazing Portugal Itinerary and a guide to planning an Algarve Road Trip