The Best Coffee in Paris: 8 Amazing Paris Coffee Shops
Café culture is thriving in Paris, and has been for centuries. From intellectuals and authors packing the cafes in St. Germain in the 1800's, to seemingly every Parisian in the city flocking to cafes in the afternoon in present day, café culture is still alive and well in Paris. But that café culture has not necessarily always translated to great coffee. In fact, until recently, I would argue that it was far more about the "vibes" than the coffee itself.
In 2012 and 2014, on my first and second trips to Paris, I was underwhelmed by the coffee scene. It was all dark and bitter, which is tolerable, but not necessarily super enjoyable. I was also not particularly knowledgeable or interested in specialty coffee beyond the fact that it got me caffeinated, so I wasn't really scouring Paris for the best pour over coffee.
However, since then, my own coffee preferences have evolved, and the specialty coffee scene in Paris has blossomed into one that is consistently serving up some of the best coffee in the world, with beans from nearly every continent, and featuring roasters from places all across Europe.
In this guide, I'll give you my top picks for the best coffee shops in Paris if you're looking for expertly brewed coffee. This is not going to be a comprehensive guide to every single Paris coffee shop, because that would take a lifetime (and I only had a week on my latest venture to Paris).
It will, however, be a guide to coffee shops that I personally visited and tried coffee from, with my thoughts on what makes each one special, and a bit of background and context around who they are.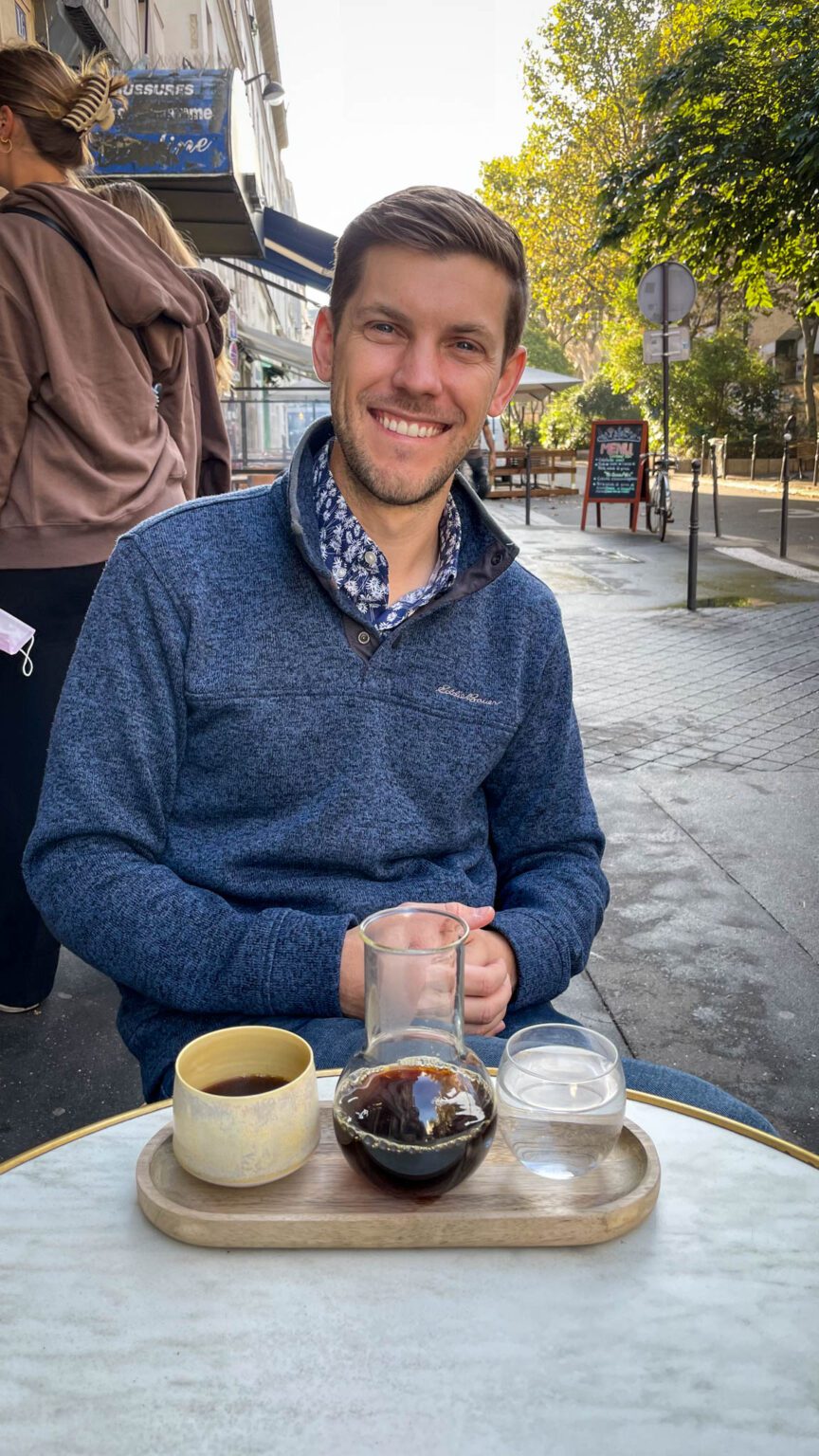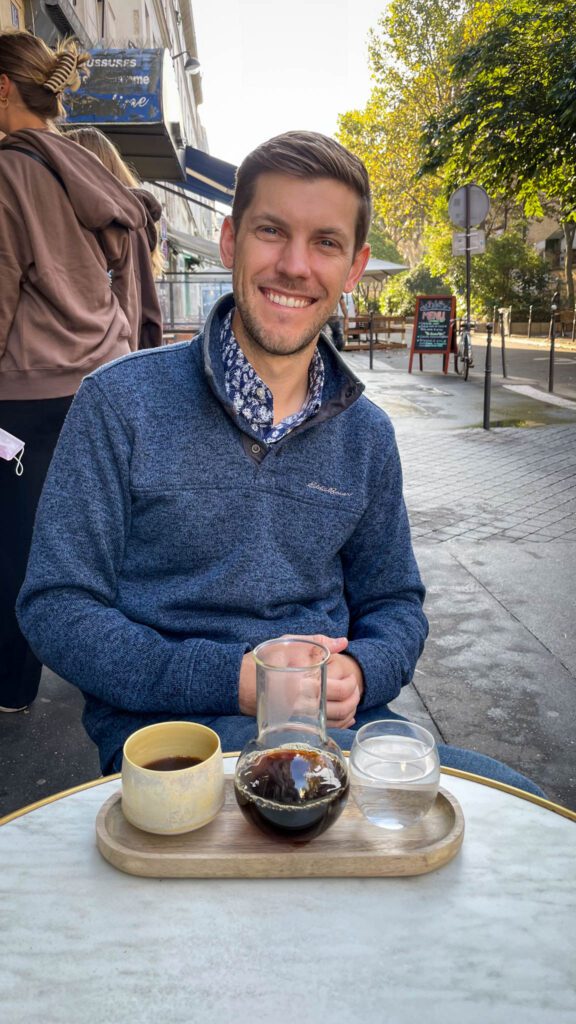 Disclaimer: Some of the links in this post, like hotel links, are affiliate links, meaning at no additional cost to you, we make a little bit of money if you click through and book. That being said, we would never recommend something to you that we don't stand behind 100%.
Where to Find the Best Coffee in Paris: 8 of my Favorite Coffee Shops in Paris
Before we jump into specific recommendations for coffee in Paris, let's talk briefly about the approach. I've done a coffee guide to Seattle, my hometown, where my two brothers and I went to 20+ coffee shops, tried a filter coffee and a cappuccino, gave each a rating, and tallied up those ratings to create a ranking of our favorite coffee in Seattle.
This is not that. Mostly because we didn't have enough time to do a comprehensive guide like that, which took several weeks.
In my other coffee guides, I have talked about my take on the three different types of coffee shops you'll find in cities around the world. They are:
Coffee Roasters: Pretty self explanatory – these are the places that roast their own beans in house, usually with a variety of origins and roasting styles (e.g. Colombia vs. Ethiopia, filter vs. espresso roast).


Coffee Monogamists: These are the coffee shops that are in an exclusive relationship with a single roaster. They don't roast the beans in-house, but get them from an outside roaster. Usually a local roaster, but not always.


Coffee Curators: These are my personal favorite type of coffee shop because they offer a wider, more diverse range of coffees to try in one place. They curate the best coffees that they can find from roasters around the city, region, and world, and brew them in their own shop. Over the years, I have gravitated to these shops because they usually offer what I'm looking for: a chance to try a truly special coffee brewed by an expert. Because I can order beans from around the world to my house, but having those beans brewed by an expert is the difference between a good and great coffee experience. In general – and this is a big generalization – I've found that my best coffee experiences are at this type of shop.
There is an additional kind of coffee shop that I'll touch on briefly because I've seen it popping up more and more over the past several years.
And that, my friends, is the Instagram-famous brunchy café.
Which is the technical term, I believe.
While the aesthetics are on point, the food menu is full of toasties, and the décor is perfect for your post on the 'gram, the coffee is usually decent, at best.
This list below will focus on where to find the best coffee in Paris, which means you aren't going to find that last kind of place – the Instagram one – here. You're going to find places that are focused on brewing the best possible cup of coffee across different mediums.
One odd thing I noticed in Paris is that, compared to other cities I've been to recently, there aren't that many roasters in Paris.
In Seattle or Portland, for example, most specialty coffee shops are also roasters (with a few exceptions). Not so in Paris!
I found more coffee curators, rotating through different coffees and roasters, than usual. Which I'm on board for because it's my favorite way to experience coffee and try new things, but thought it was unusual.
And, of course, it's worth noting that I couldn't possibly make it to every single coffee shop in Paris without overdosing on caffeine (which I certainly almost did at one point, when I turned to Alysha and said two words – "too much.").
At the bottom of my list below, there's a list of the places I wanted to make it to, but am saving for my next trip with a few words on what I think is interesting about them.
You should know that I'm mostly a filter coffee guy, and I feel most comfortable weighing in on tasting notes and brewing styles of filter coffee over espresso.
That's why most of the blurbs below focus on their filter coffee offerings rather than cappuccinos or espressos (I've also been doing my best to avoid milk due to an autoimmune condition, so black coffee it is!).
Now, let's get into it. Here are my favorite coffee shops in Paris, in order of my personal taste.
Substance Café
Listen, if you love coffee and for some reason you only have time to visit one coffee shop in Paris, this should be the one. In a city full of "vite, vite, vite," Substance is a welcome breath of fresh air that will leave any coffee lover walking away with an ear-to-ear grin. I know I did.
Before I talk about the coffee, I want to talk about coffee culture in Paris more broadly. Coffee culture and café culture in Paris are inextricably linked.
When I think about coffee in Paris from my previous experiences, it's much more about the vibe and the pastries / food than it is about the coffee itself. There's no denying that there is something pretty special about sitting at a café in the Marais enjoying a pastry and sipping on a latte, watching the world (and the interesting people inhabiting it) go by.
But I would argue that the thing that's pretty special is definitely not the coffee.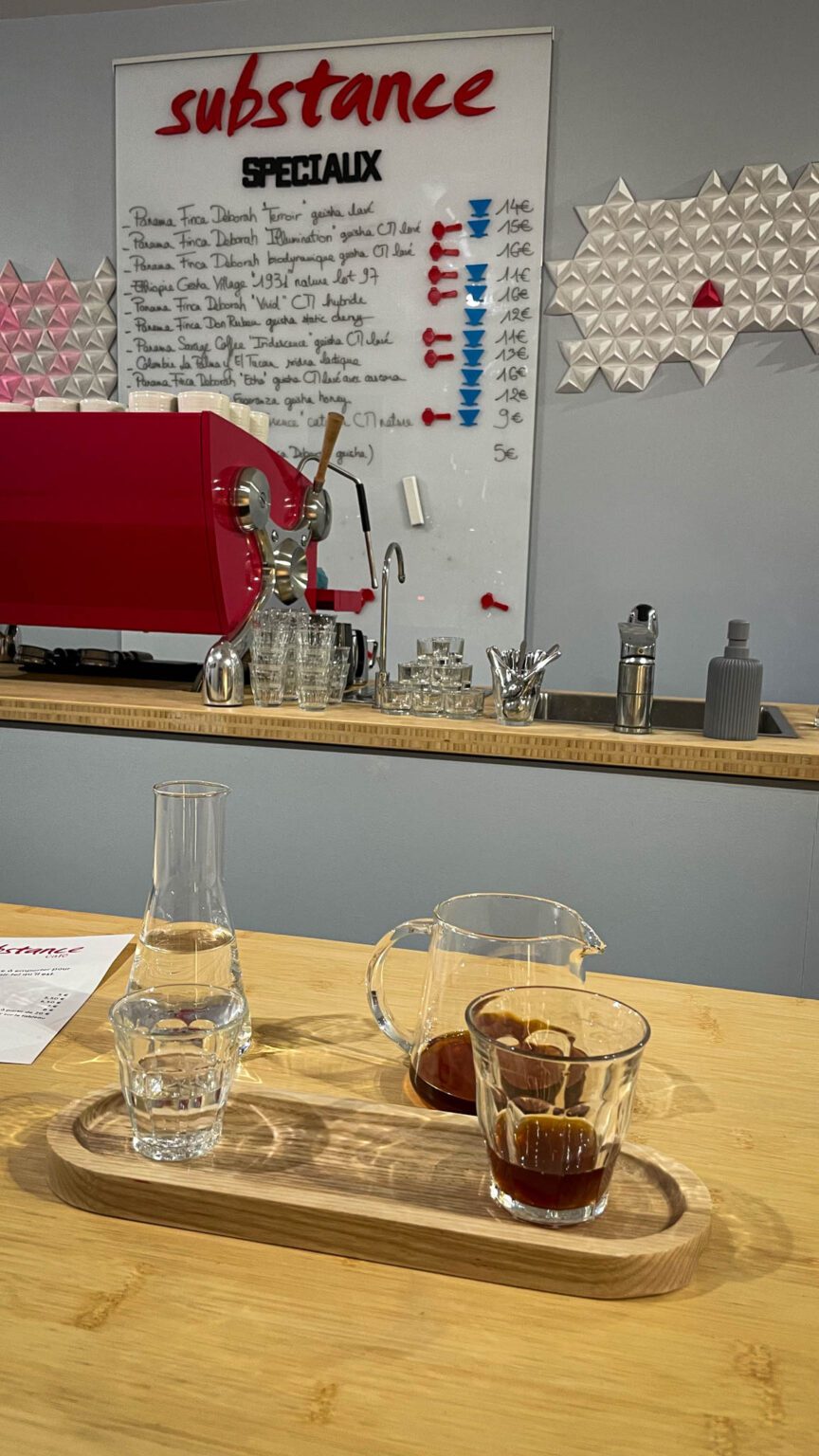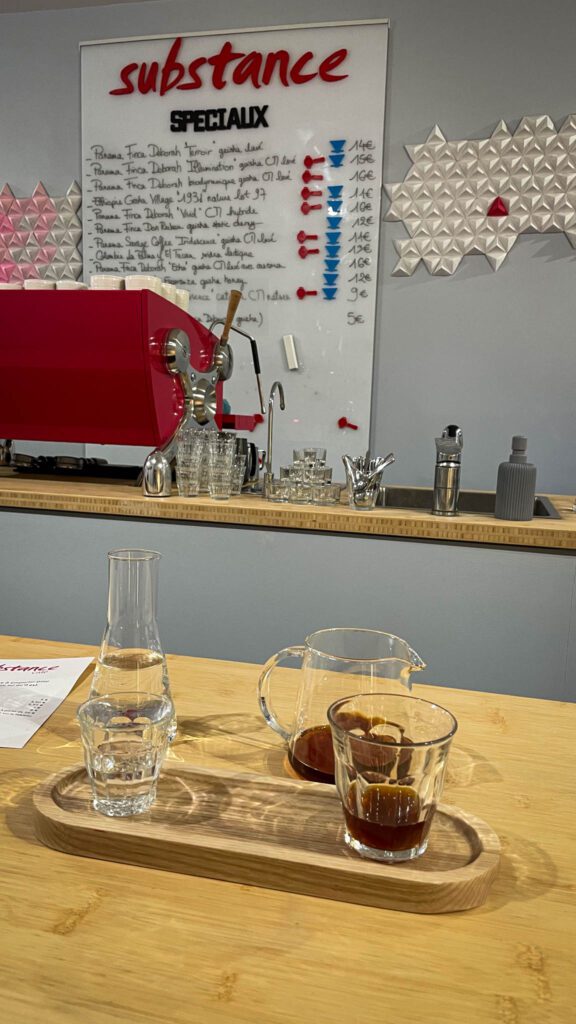 In fact, my first coffee experiences in Paris were actually not great by my standards today. Though I will say that at the time, I was not super into coffee, and thought that "the darker, the more bitter, the better" because real men drink dark roasted coffee that is burnt beyond the point where you only taste the roasty-toasty notes (which, I later learned, is 100% false).
Substance, on the other hand, is very much all about the coffee. So much so that they have a sign on the door (and their website) that says "no takeaway cups, no sugar, nor pastries, because we believe a good coffee deserves to be tasted while taking its time."
I would argue that it's more of a coffee experience, more similar to taking a class than it is to getting a cup of coffee at a normal café. It's also one of the best coffee experiences I've ever had.
The café is tucked away on an alley in the 2nd Arrondissement just off of Rue Montorgueil, and the small space is filled with a U-shaped coffee bar that wraps around a coffee bar with a couple of grinders and a Slayer Espresso machine.
Behind the bar is the man with the magic touch, Joachim, who is the owner, roaster, barista, and I'm sure many other things based on my brief conversation with him as I sat at the bar basking in the glory that is his coffee.
Joachim has competed in a bunch of different coffee competitions, both within France and internationally, and when I asked him about his medals that are displayed in the café, he told me a great story about his experiences in coffee competitions, and his realization that he doesn't want to make coffee for three judges once or twice a year. He wants to share those amazing coffee experiences with customers instead, whether or not they are newbies, experts, or somewhere in between.
Here's how it works. They essentially have two menus: the main menu, and the "special" menu. The main menu consists of a coffee of the day, which rotates based on what's available, made either as a filter coffee, an espresso, a macchiato, or a flat white.
On the day I was there, they were serving a natural Ethiopian coffee.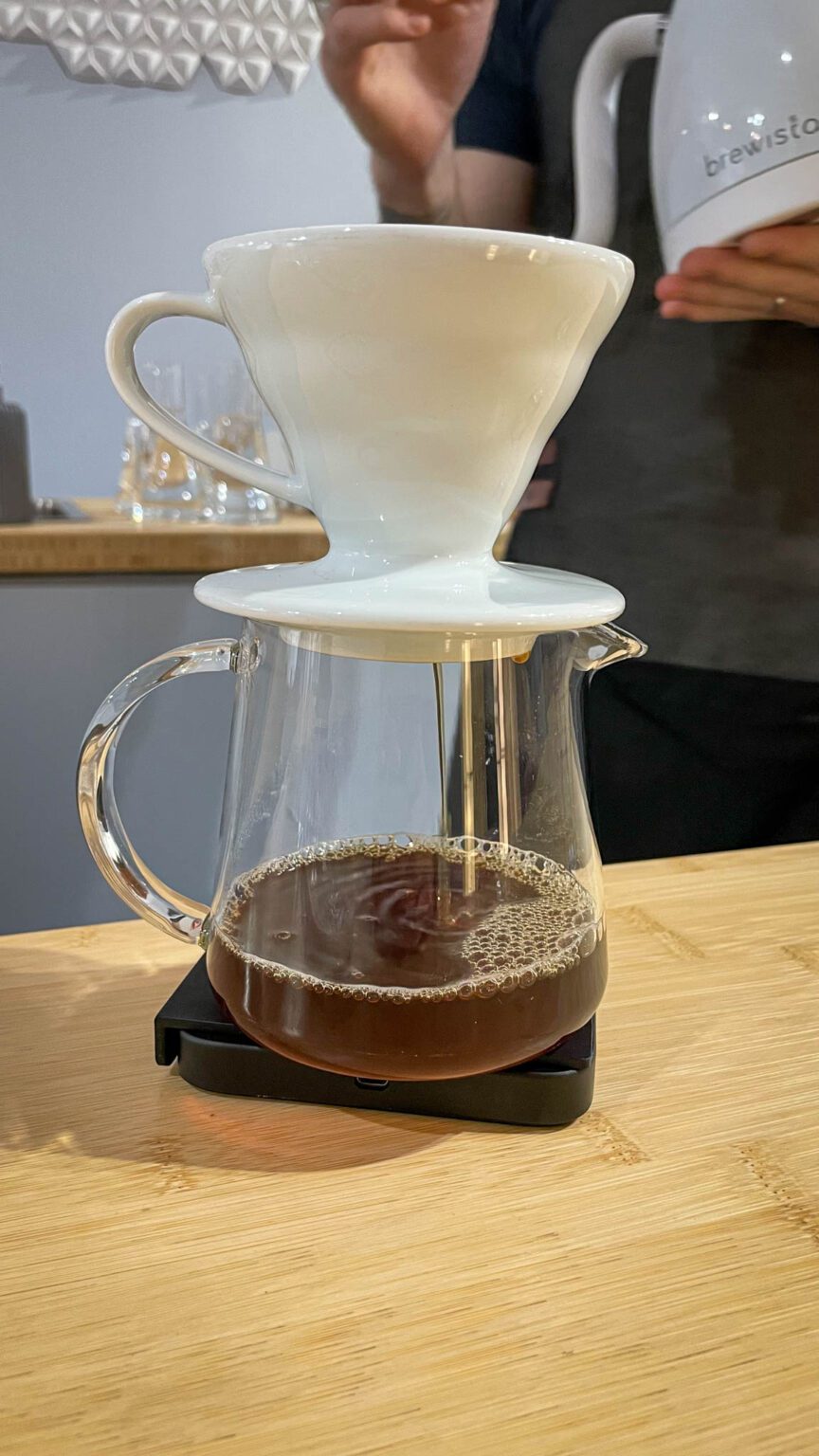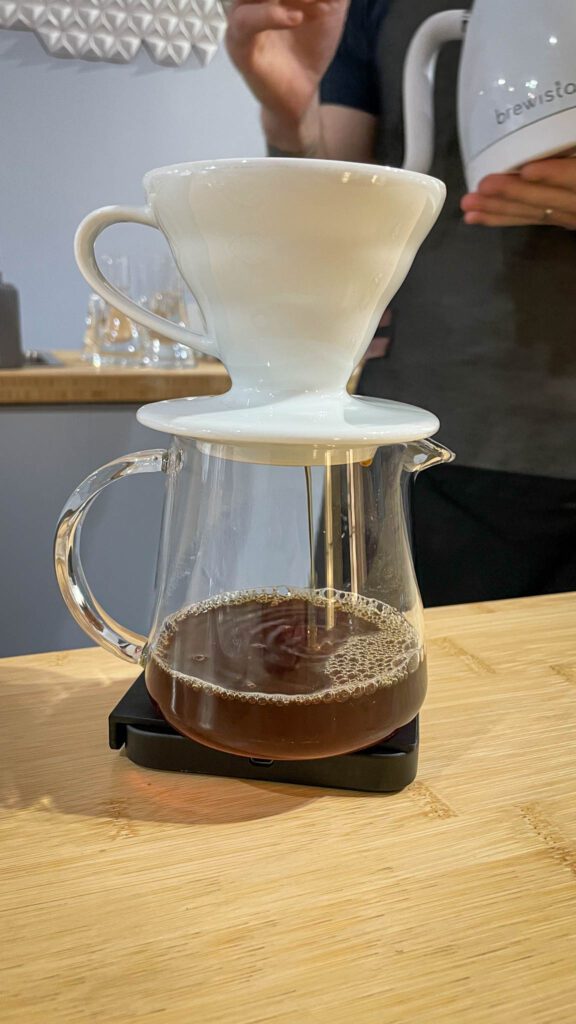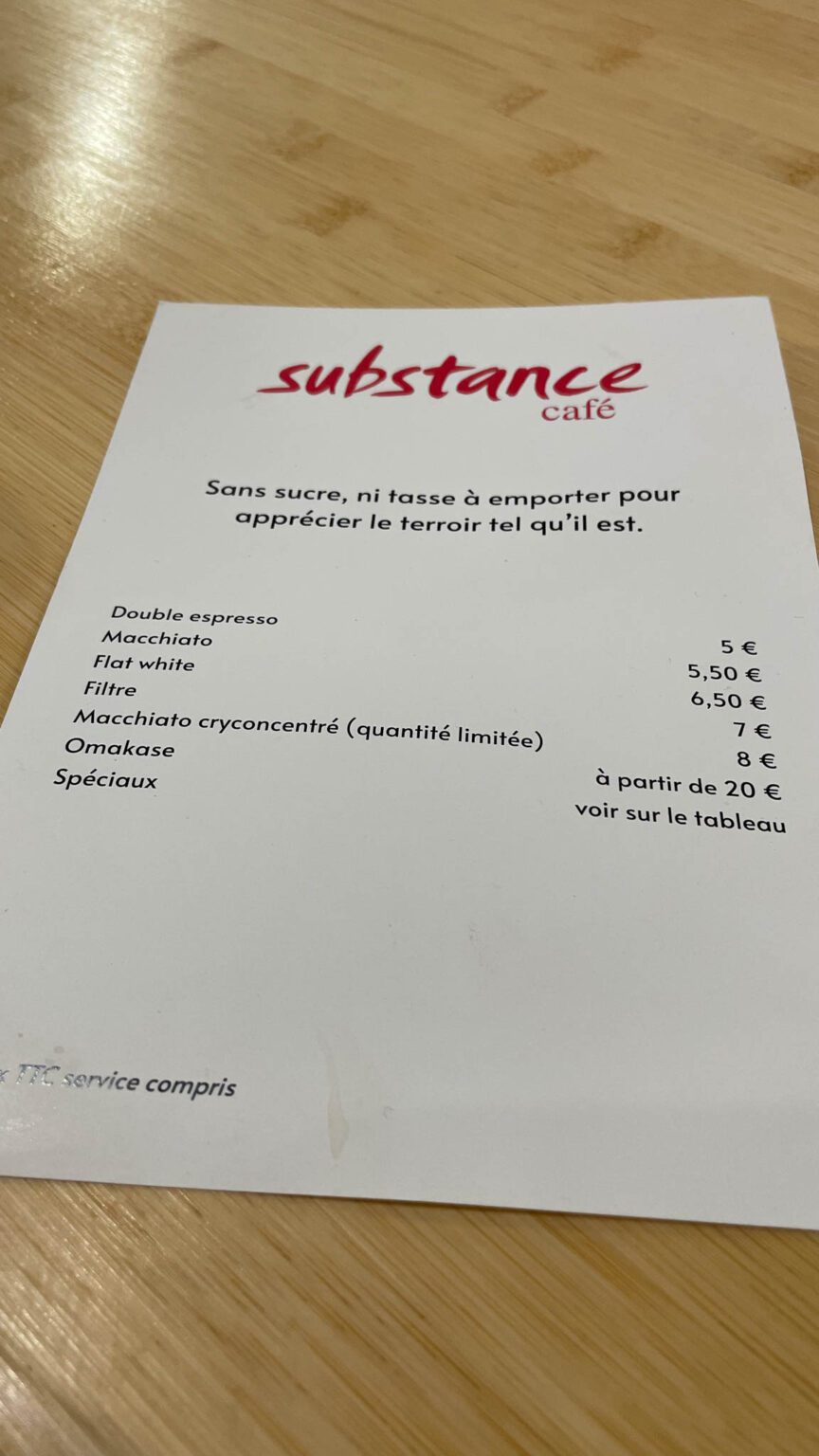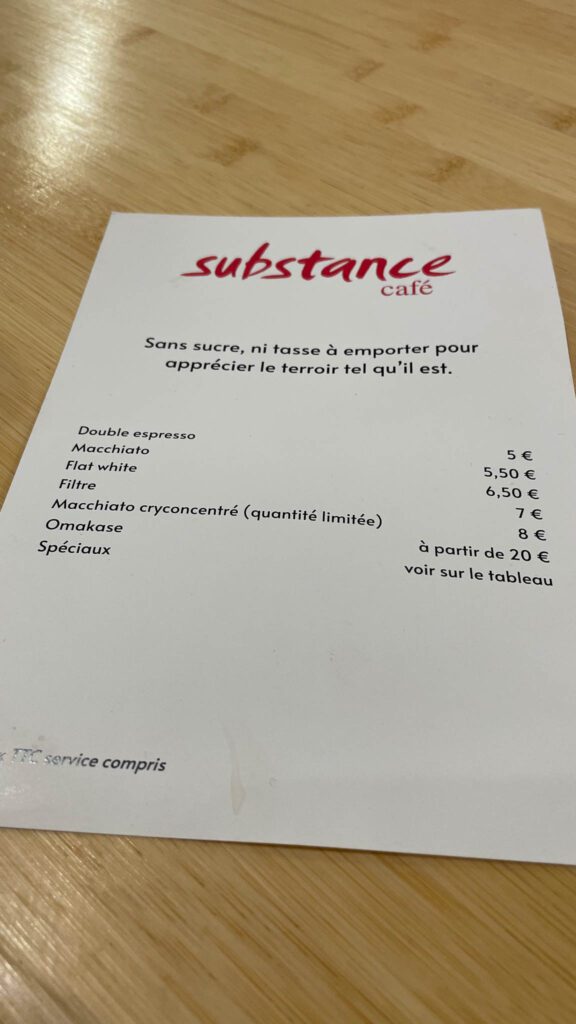 Then there's the "special" menu, which is the fun part. The special menu consists of a collection of small batch, rare coffees from around the world. This goes back to the idea of making amazing coffee for consumers rather than judges.
These beans are the kinds of coffees that are made in competitions, and that you won't usually find offered to consumers. They're often rare varietals, processes, etc. They cost a pretty penny (8 – 20 Euros, give or take a couple), but are one of the only places I've ever found where you can try a single cup of some of the best and rarest coffees in the world (and believe me, I've been to a lot of coffee shops around the world).
The best part about the whole experience was Joachim walking me through every step of the process, from the origin of the beans, which were a natural process Ethiopian coffee from a single farm. That's notable, because many coffees from Ethiopia are from co-ops, which are a collection of farms in close proximity.
This one, however, is from a single, specific farm, and Joachim knows the name of the farmer. He then ground the beans, brought over a kettle, a scale, and a V60, and walked me through making the cup of coffee from start to finish, including nerdy things like water temperature, what kind of water he uses, and exact infusion times and weights.
Anyway, enough with the love letter. If you want great coffee in Paris (and if you don't, I'm not quite sure why you've read this far) go to Substance and you won't be disappointed. You truly can taste Joachim's passion for coffee in each cup that he serves, and he's more than willing to get nerdy with you to talk about "static cherry" processing.
Télescope
Little did I know I was talking to the owner of Télescope, Nicolas, when I was asking in broken French which beans he currently had on hand were his favorite. Not until I later saw a picture of him and said to myself "oh, that's the guy that made my coffee."
He put up with my broken French (I took seven years of French in school, but haven't spoken it in almost eight years), and while he spoke back to me in English (which I view as a failure on my part), his passion for coffee was clear as soon as I started asking questions about the coffees he had available.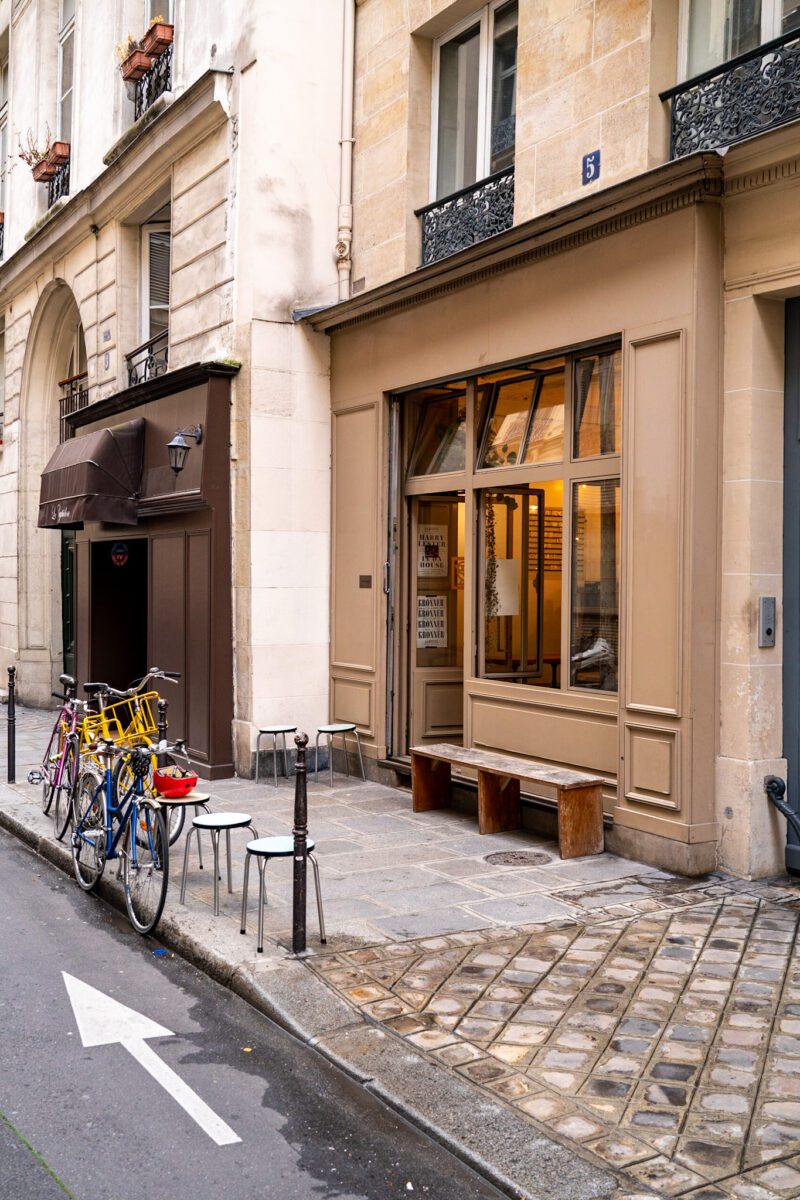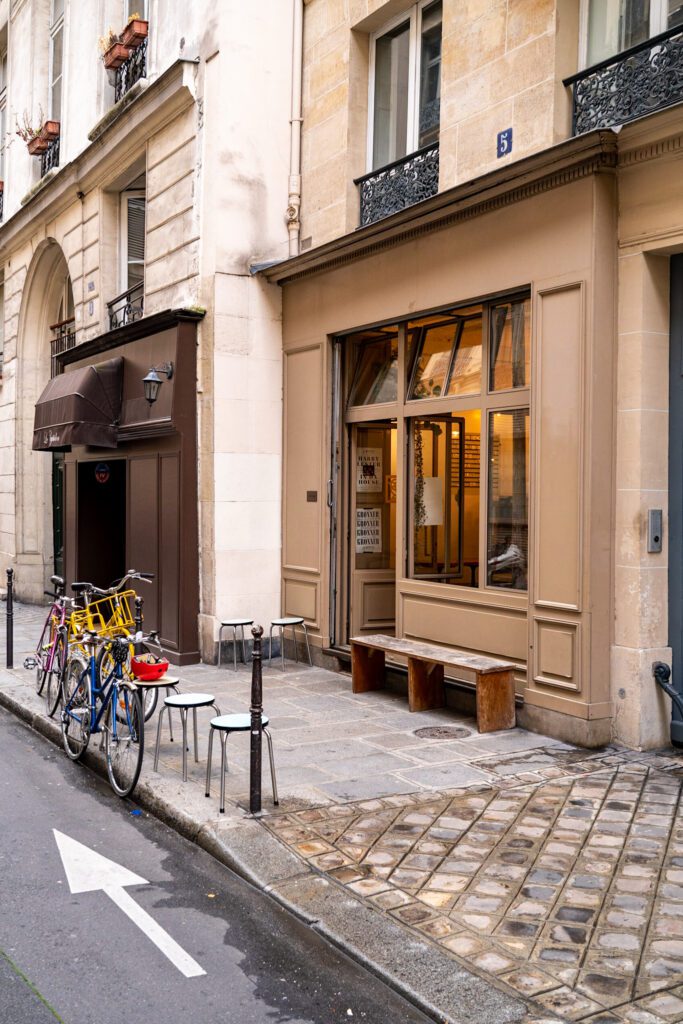 Télescope is a coffee curator, bringing in different roasters and coffees that Nicolas is excited about as he tries them.
Though it sounds like there are a couple of roasters that have been staples in his shop for a bit now. It's in an alleyway a few blocks north of the Louvre in the 1st Arrondissement, and they're open early enough that you'll be able to swing by before the first entry of the day into the museum.
He was clearly very fond of the Norwegian coffee roaster – Supreme Roastworks – and I found a natural process Honduran coffee that I was excited about, so he made it for me as an Aeropress.
Now, I normally don't view the Aeropress as a way to bring out the more delicate notes in a coffee, and I say that MOSTLY because I use one when I'm traveling, and have basically no idea how to use it. So the coffees that come out of it when I'm using it are strictly average, I would say.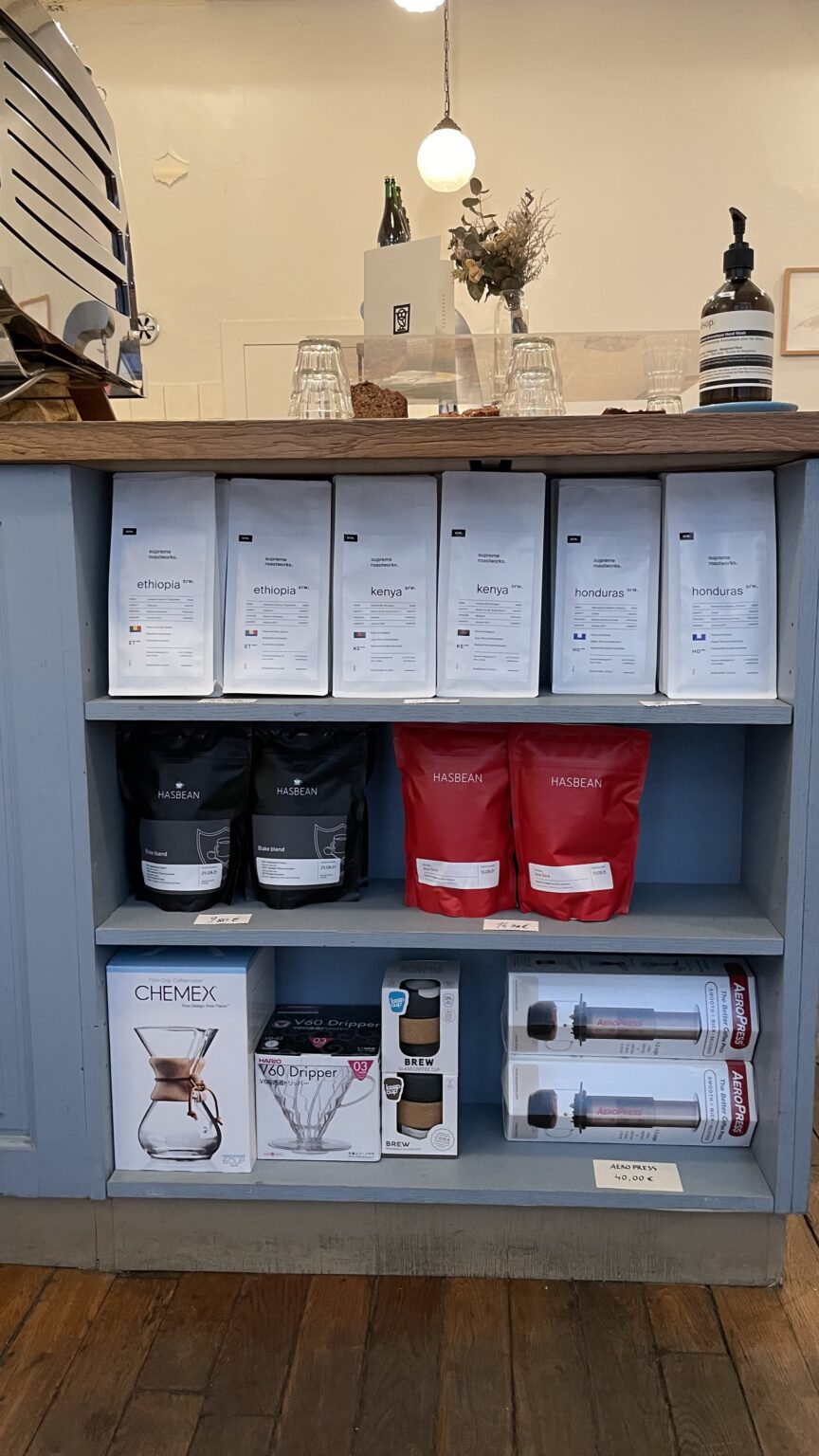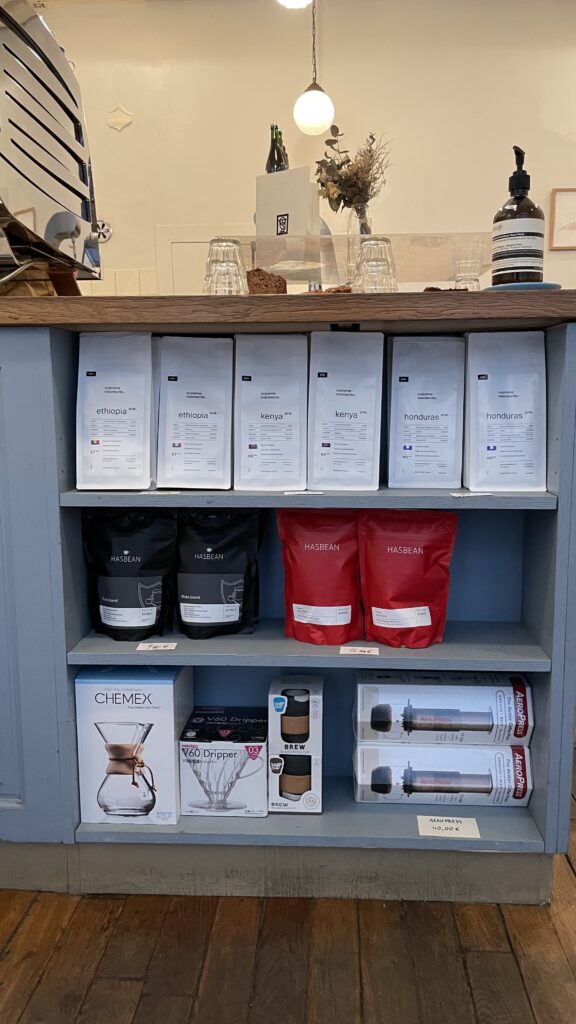 However, this coffee was like drinking a pineapple. Or maybe a mango? Something fruity, but not the classic "berry" fruity that I usually associate with a natural process coffee.
There was something both sweet and acidic about the coffee that Nicolas handed me, and I was giddy with excitement (I tried to go back to buy the beans the next day, but found out halfway there that they were closed for the weekend. Next time!).
In addition to the filter coffee options, you can find the usual espresso drinks (espresso, macchiato, flat white, etc.) though I thought it was interesting that they are all named with their French names, versus the Italian names I'm used to seeing.
I/O Cafe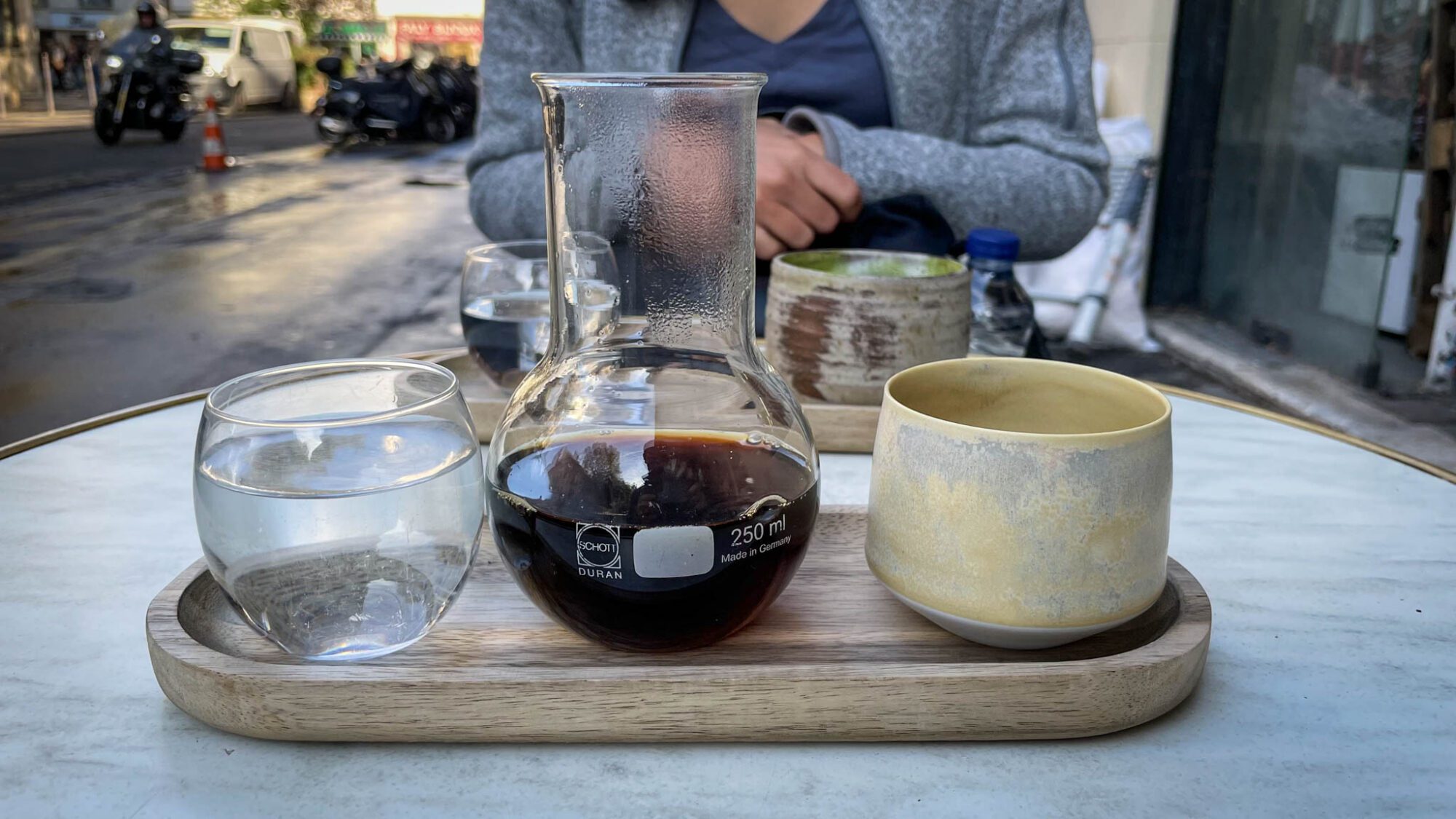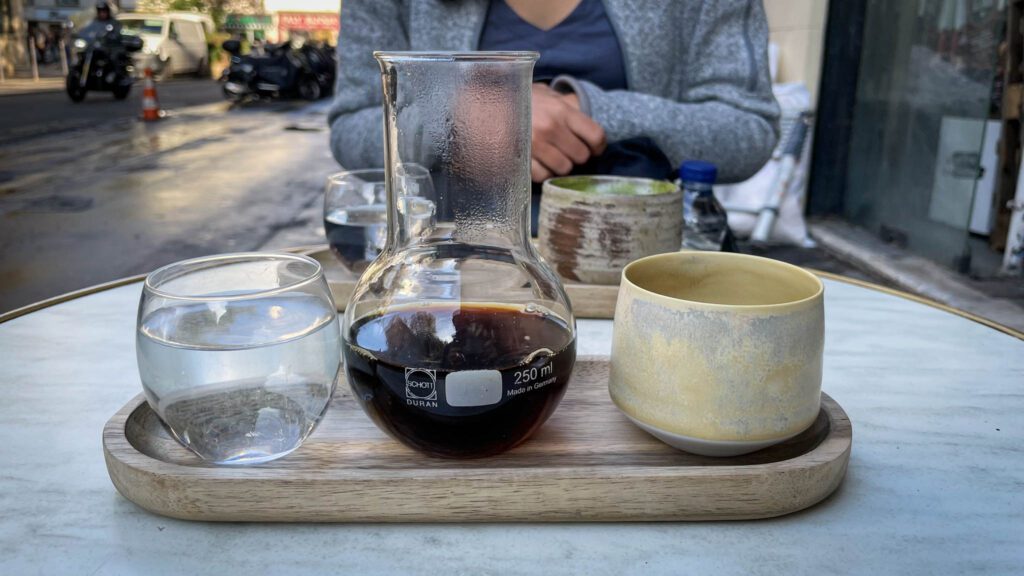 I/O Cafe is in Paris' 3rd Arrondissement near the Place de la République, and it was just a few blocks away from the apartment we used as a home base for Paris.
I almost walked by it without noticing it because it's such a small space, with barely enough room for the coffee equipment, baristas, and the small pastry selection to fit inside.
The reason it appears so highly on this list is because my favorite filter coffee of the trip came from them. It was a natural process (anaerobic, for the coffee nerds out there) Colombian Coffee roasted by Danish roaster La Cabra, and it was beautiful.
Side note, all of these amazing coffees from northern Europe are making me think I need to make a trip up there at some point.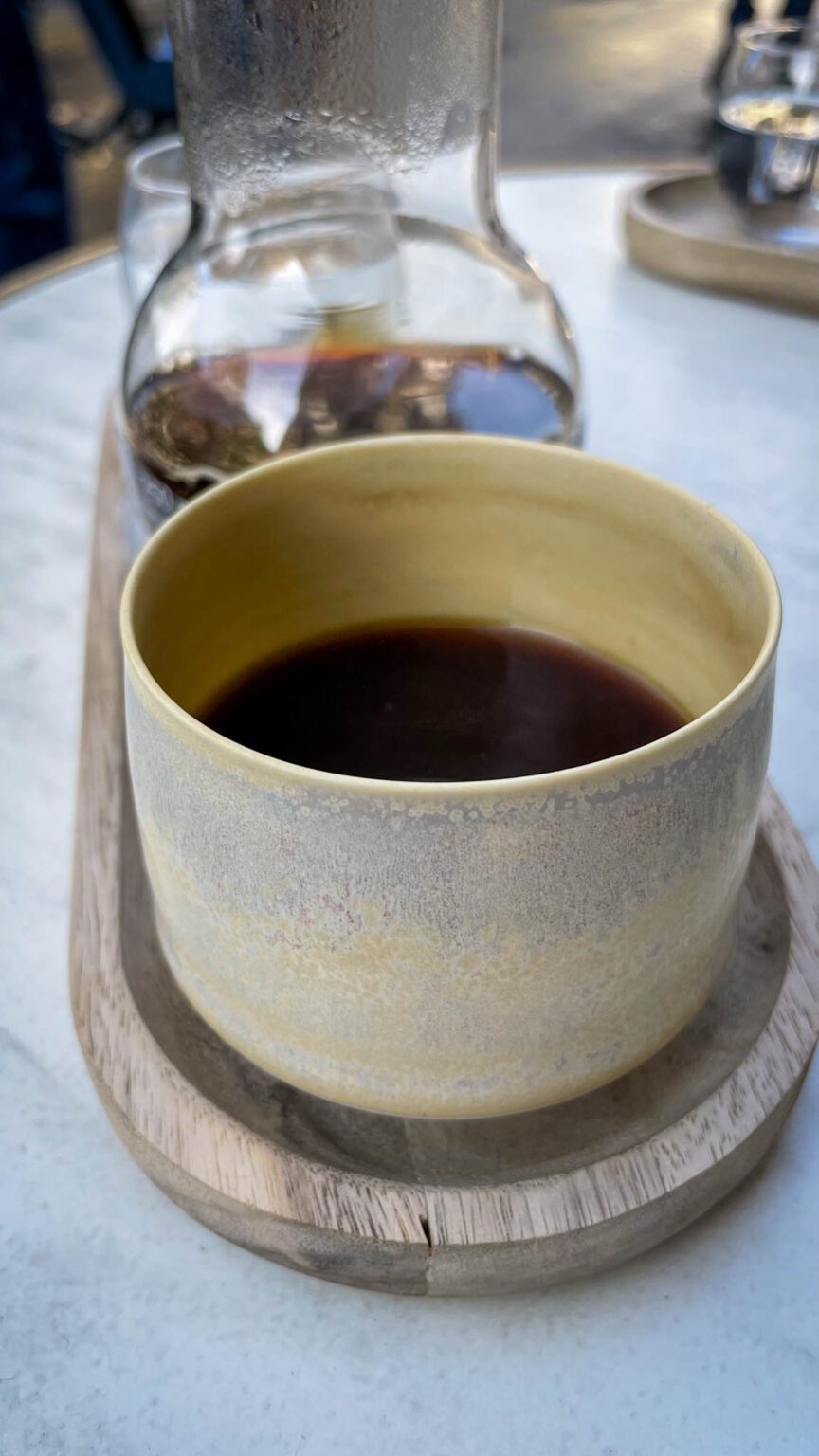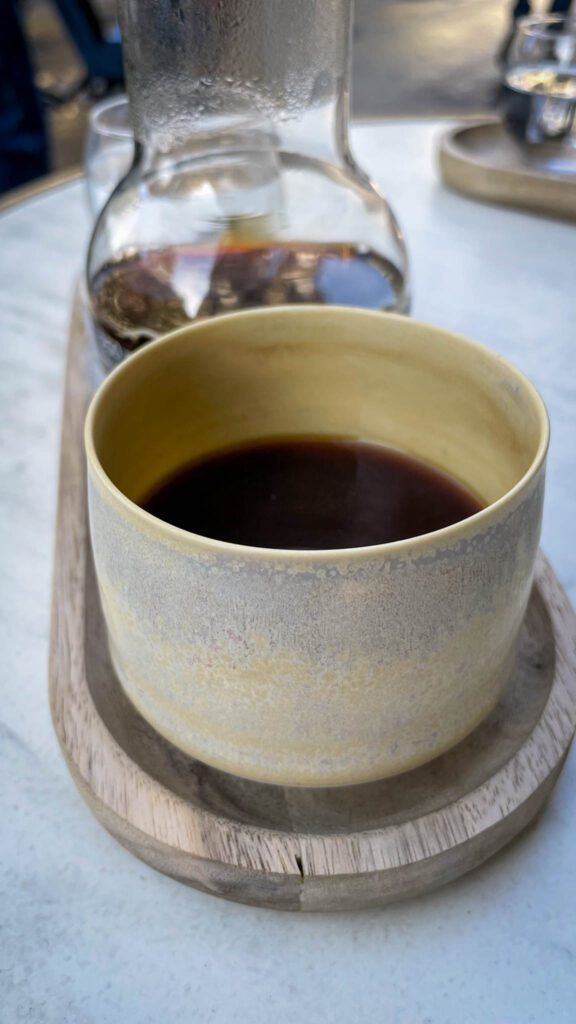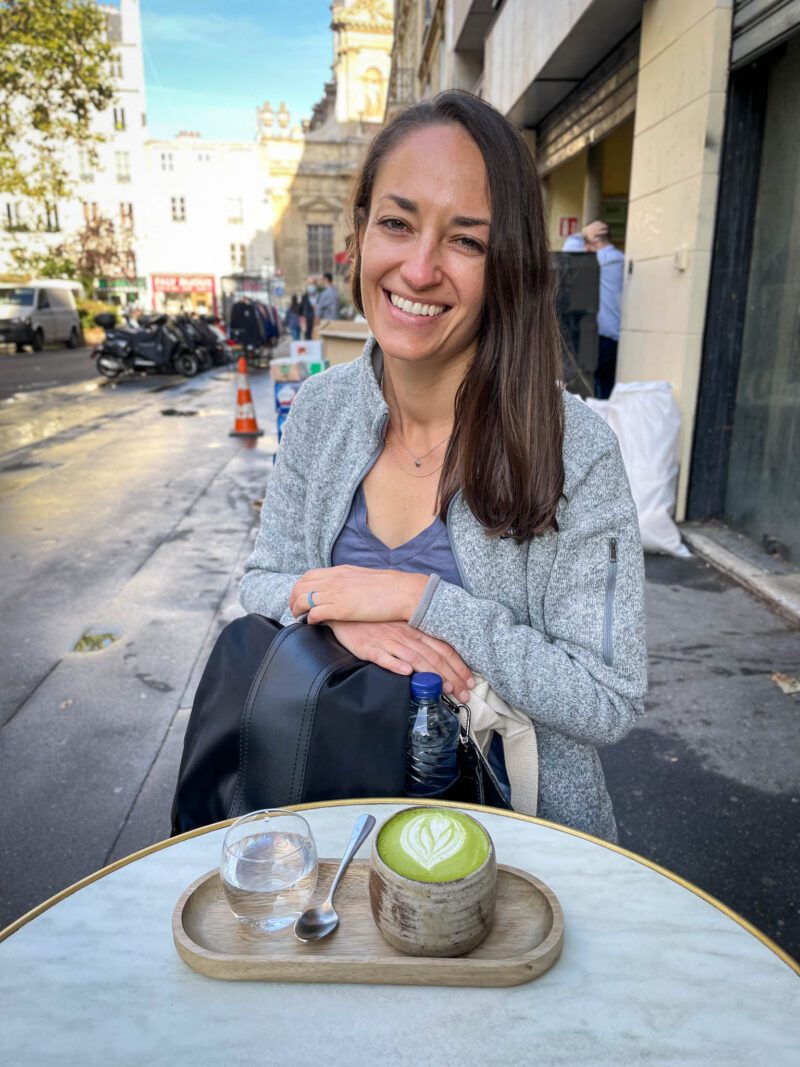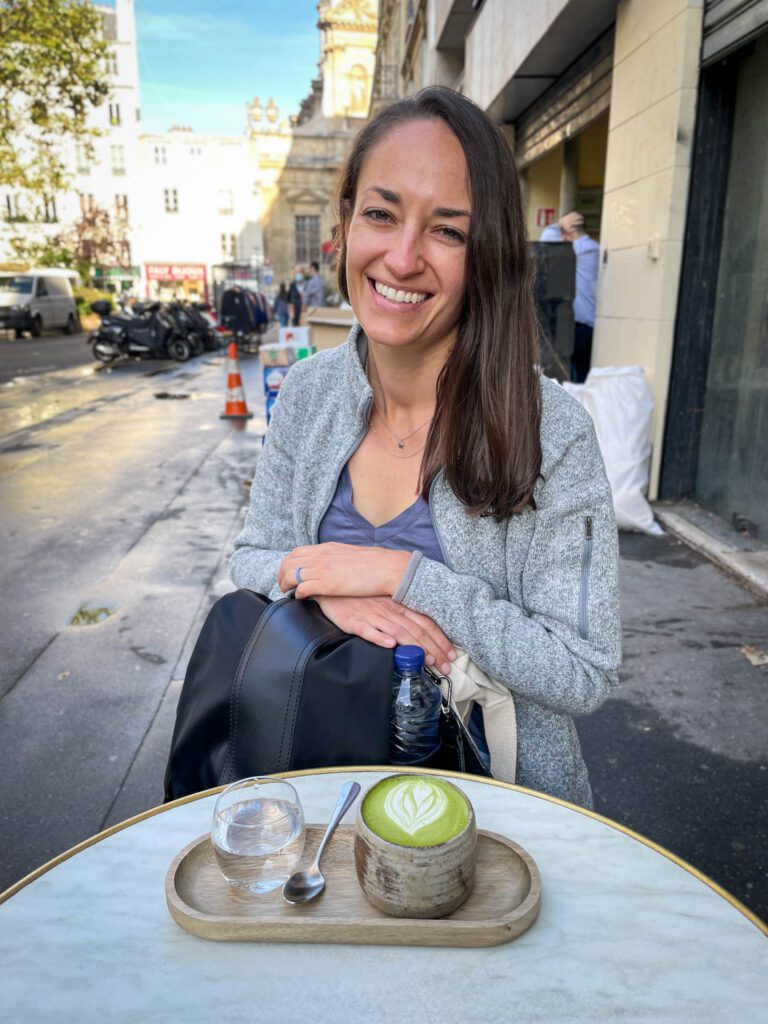 I was very interested in La Cabra, which I had never seen before (European coffee roasters are a whole new world – I'd say I'm pretty knowledgeable about US roasters, but haven't heard of 95% of European roasters) and got to talking with one of the friendly baristas about where I'm from, and the coffee scenes in San Francisco and Seattle respectively.
I was telling him about our plans to visit Italy – specifically Sicily – and he remarked that I probably wasn't going to get good coffee there in Italy. I pointed out that different doesn't necessarily mean bad, and that I would have said the same about the coffee scene in Paris seven years ago, and look where we are now!
Ten Belles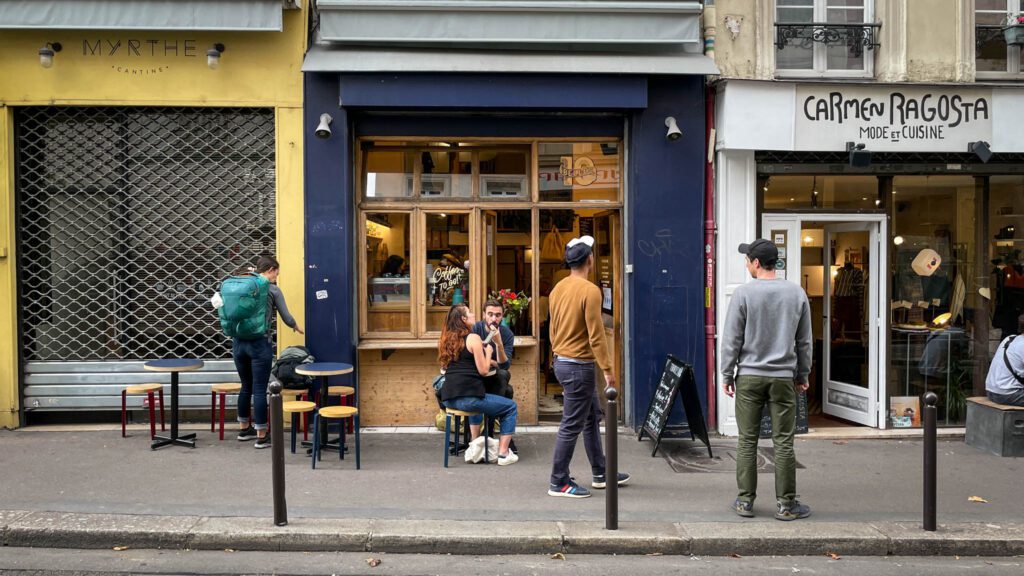 I almost didn't include Ten Belles (or even bother to stop by) because after doing some research, it seemed that it was more about the food and brunch aspect rather than the coffee. I'm all for food and brunch, and their sourdough bread does look delicious, but as someone with Celiac Disease, it's not going to be my cup of tea.
But as we were walking through Saint Germain towards the Jardin du Luxembourg, I realized we were a few short blocks away from their newer outpost in Paris' 6th, so I decided to stop by. And I'm glad I did.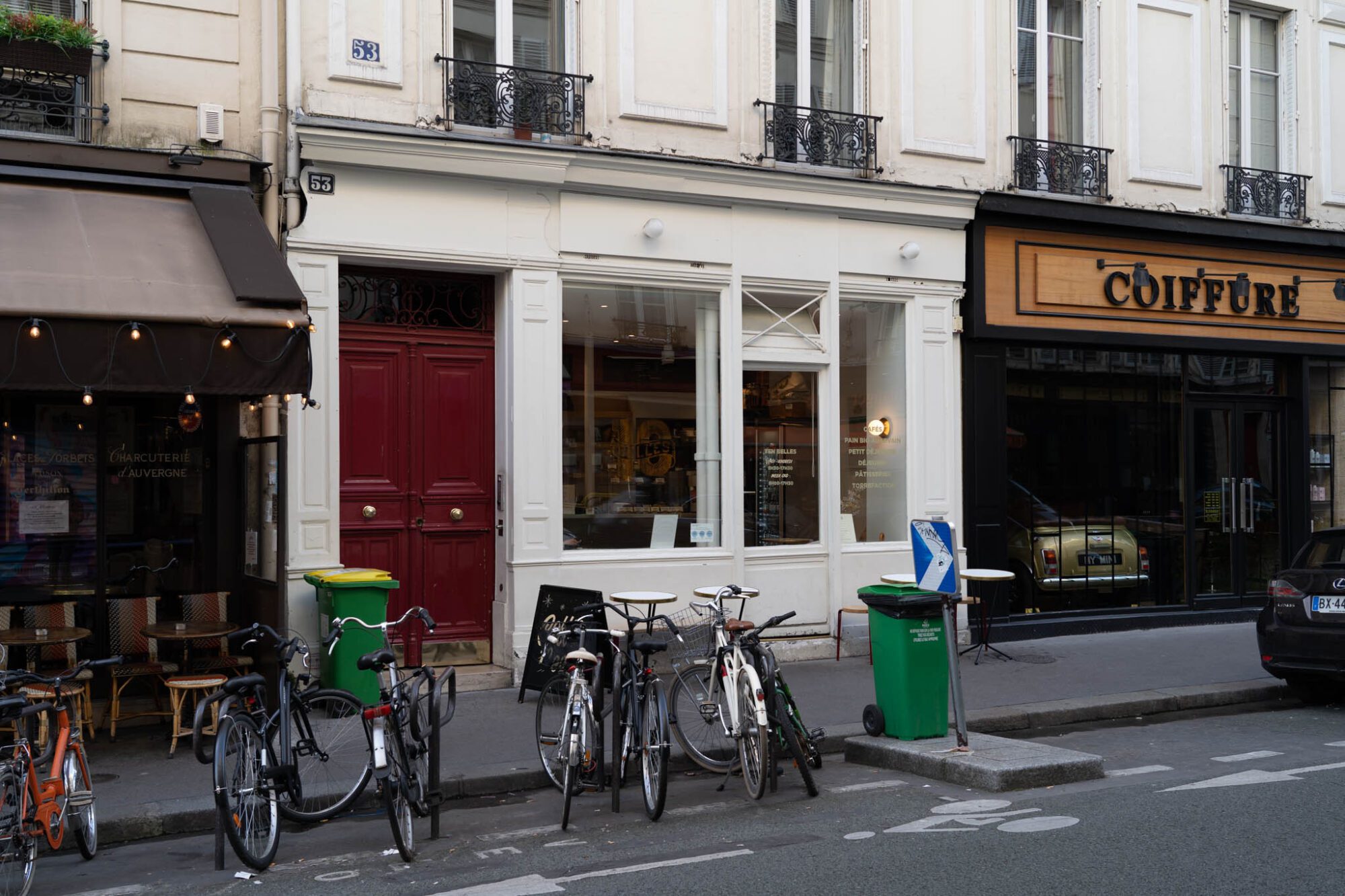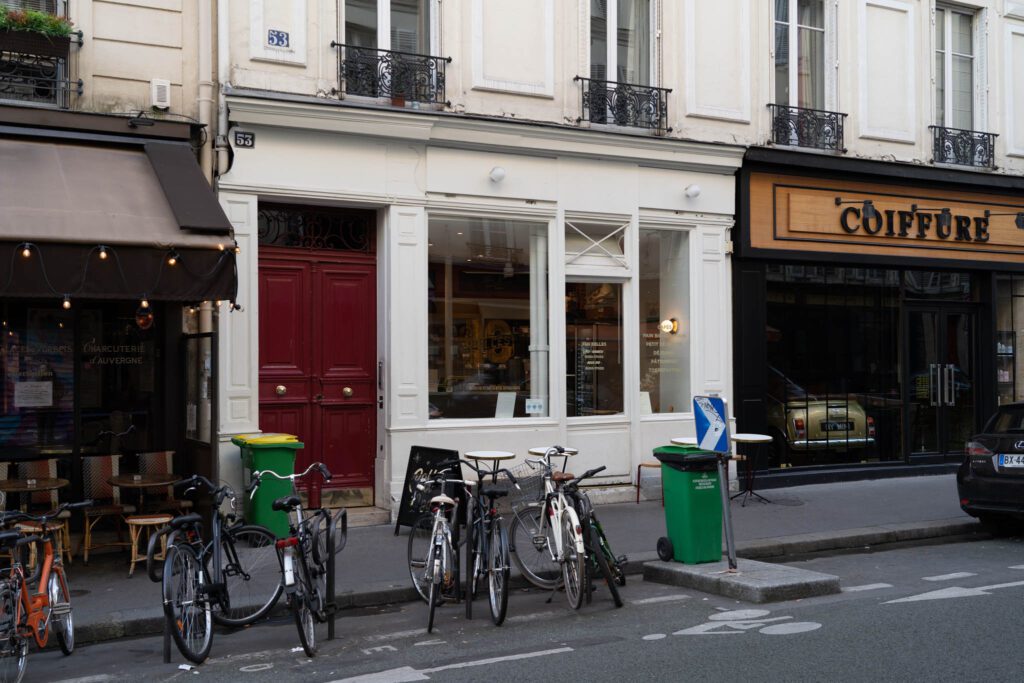 I got a batch brew filter coffee from Burundi, which the barista spoke about (quickly, so I really only understood every other word – welcome to Paris!). I was somewhat excited about the coffee itself, but batch brew coffee is usually capped in terms of taste, at least in my experience. So I lowered my expectations, took my to-go cup, and started walking down the street away from the cafe.
Then I took my first sip after letting the coffee cool off a bit and WHAM fruits hit my taste buds like a ton of bricks. Well, not really bricks. More like berries? Or peaches?
I was so impressed with Ten Belles that I made a return visit, this time to their cafe in the 10th along Canal St. Martin, to buy some beans to take with me on our journey to Italy, where I wasn't sure how the coffee was going to be.
One thing I like about them is that they give you your whole bean coffee in a little tin, rather than a bag. You pay a Euro for the tin, then can bring it back to use next time. Unfortunately, I was heading to the train station to go to the airport, so I likely won't be returning it any time soon. I got a gesha coffee from Malawi, which is bright and juicy when I make it in my Aeropress on the road without a scale, which can be touch and go.
Fringe Coffee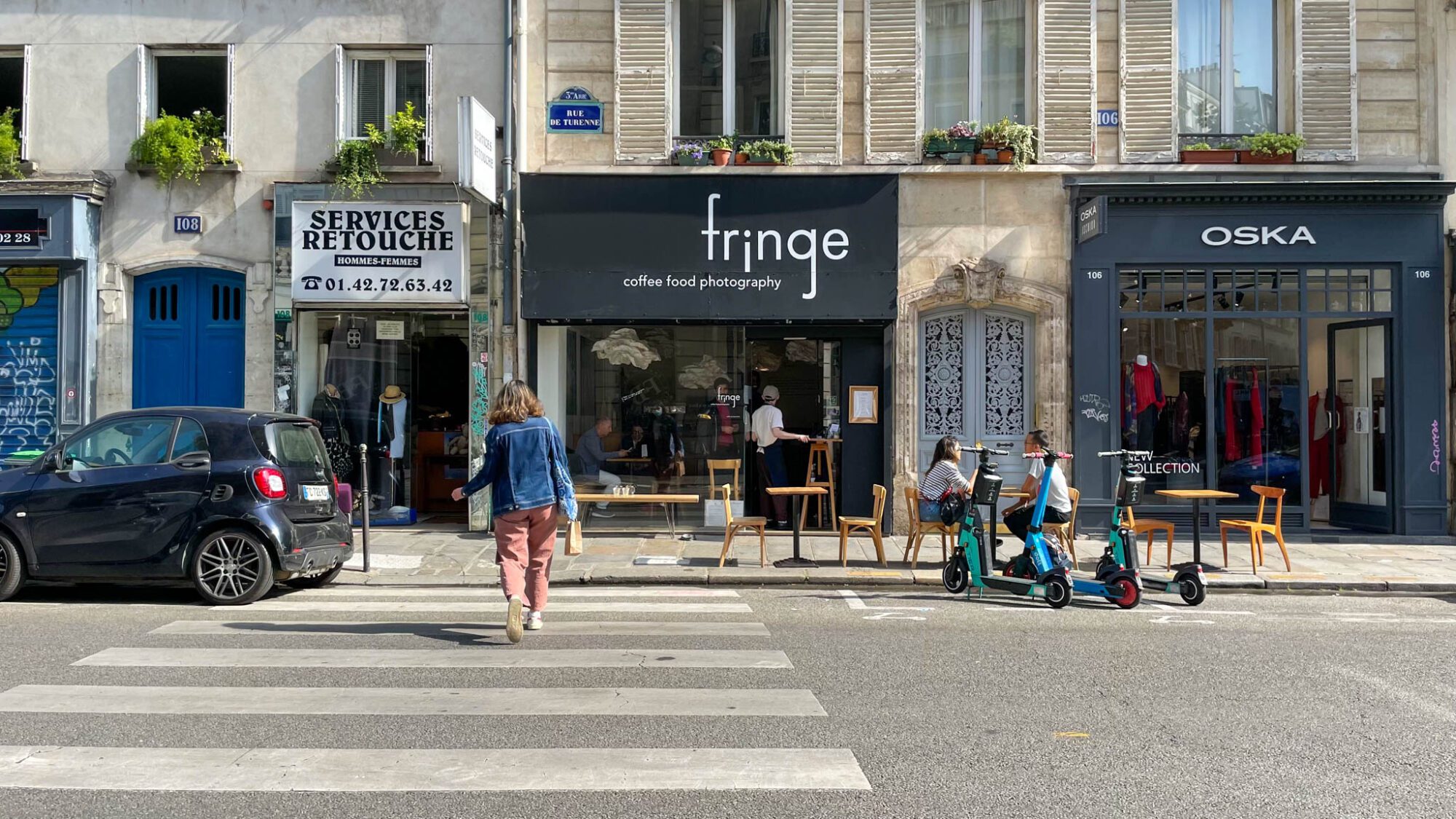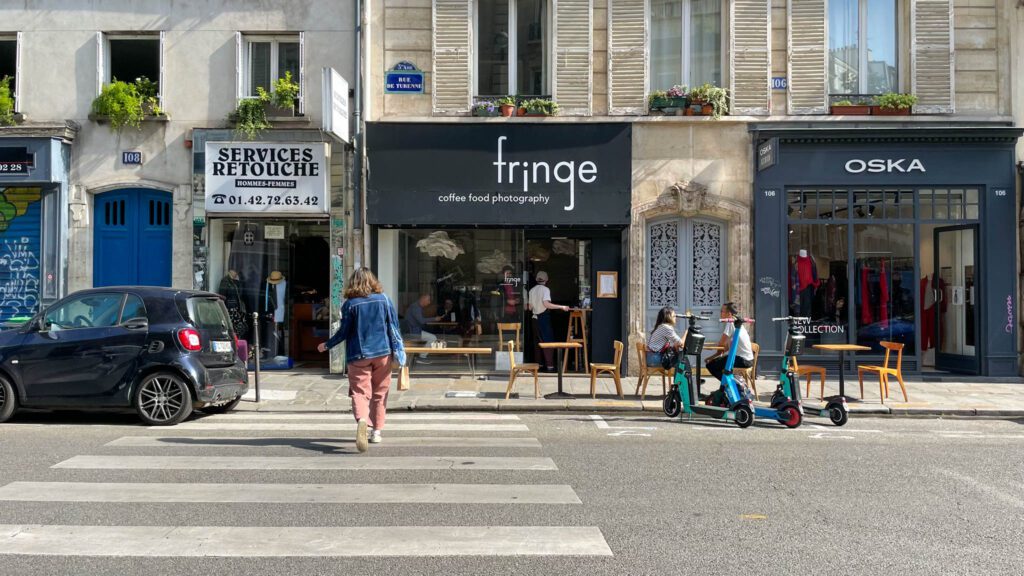 I really, really wish I had given Fringe Coffee more time than I did. We were pressed for time, needing to check out of our apartment in less than 30 minutes, so I ended up getting a filter coffee to go.
It was only when we were three or four blocks away that I took the first sip, which was delightful – delicate and fruity and all the things I like in a coffee – that I realized that I had neither asked what coffee I had gotten, nor had I asked how it was prepared.
I sent them a DM on Instagram (in broken French) asking them if they had any idea, but got no response, so here we are. I know the coffee was great, but that's about all I know about it (Update: I'm 95% certain it was a natural process Colombian coffee from Dutch roaster Friedhats, but I could be mistaken).
They're a coffee curator, which means they bring in beans from roasters around Europe that they love.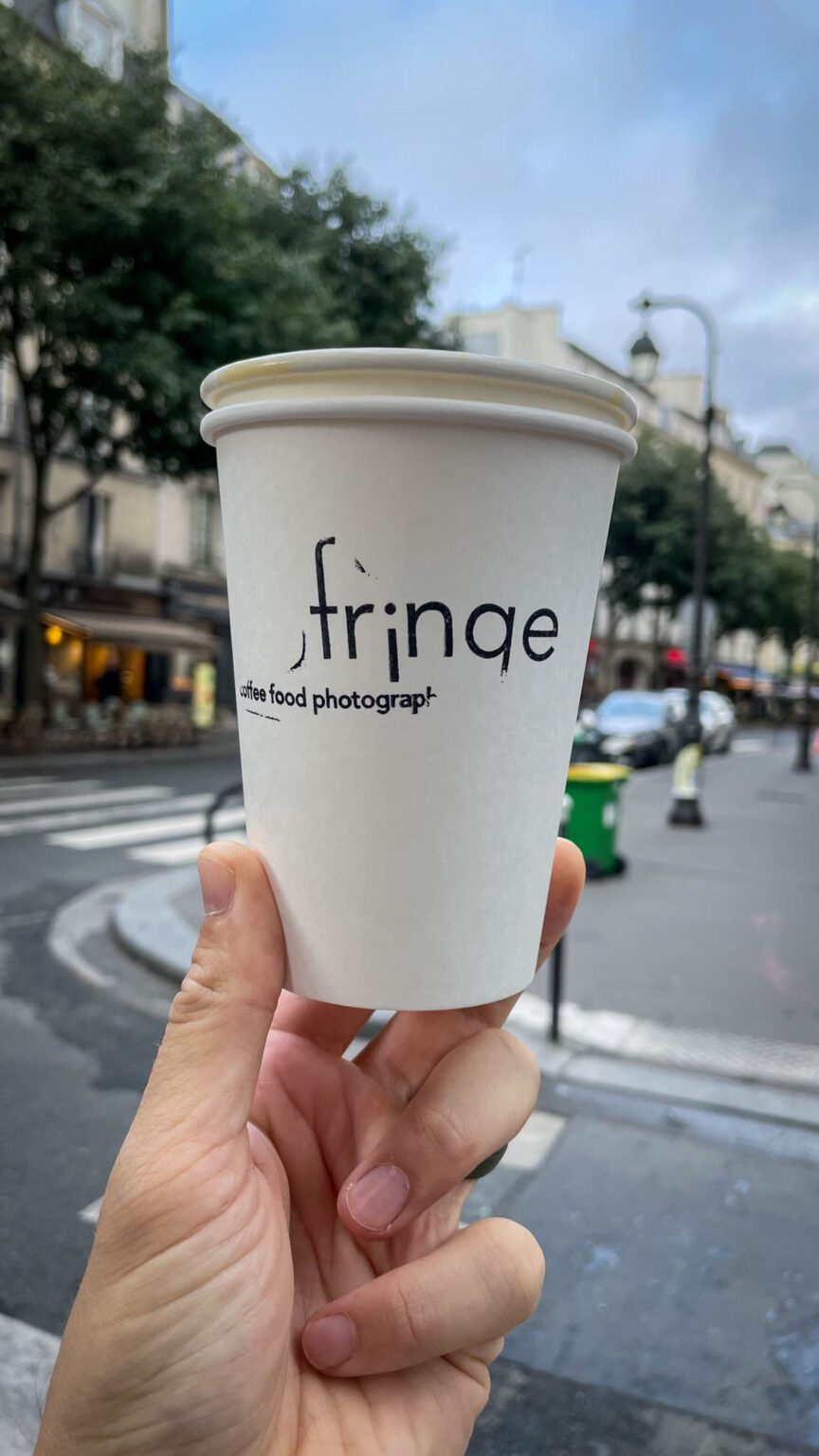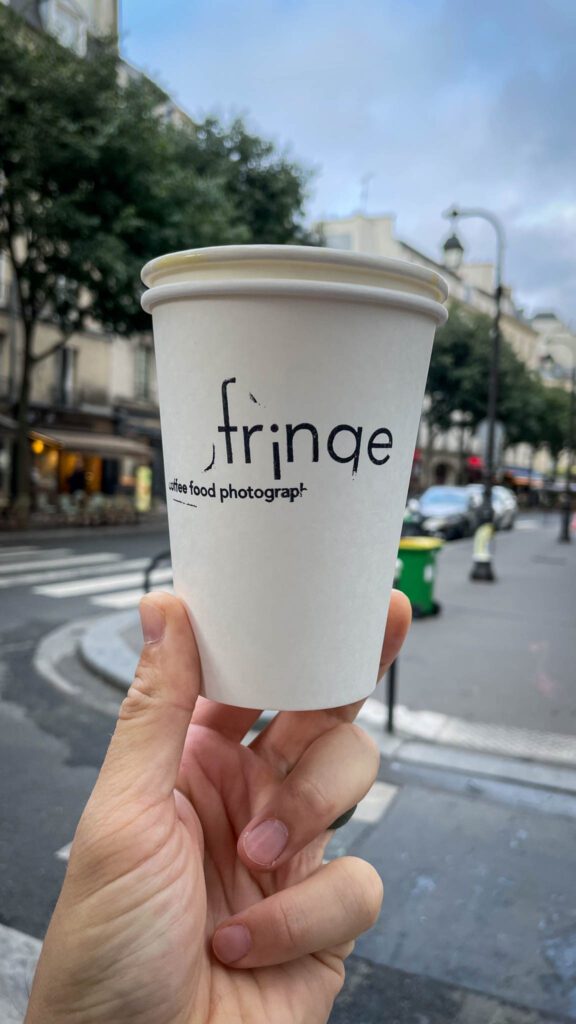 Fringe is located in the Marais, a few blocks away from the bustling area around the Marché des Enfants Rouges. The area is full of higher end shops, hip restaurants, and, as of a few years ago, excellent specialty coffee thanks to the arrival of Fringe.
The space is part coffee shop, part concept store, which is thanks to the owner's passion for photography. The walls are adorned with all sorts of different artist's photographs, and they rotate through different artists based on the owner's personal tastes.
One thing about Fringe that I wanted to mention is the pastries. I have Celiac Disease, which means gluten free only for me, but the smell of the pastries coming out of the small, open kitchen was wild. Both Alysha and I commented on it, watching longingly as the table in front of us dove into their selection of pastries while we waited.
KB Coffee Roasters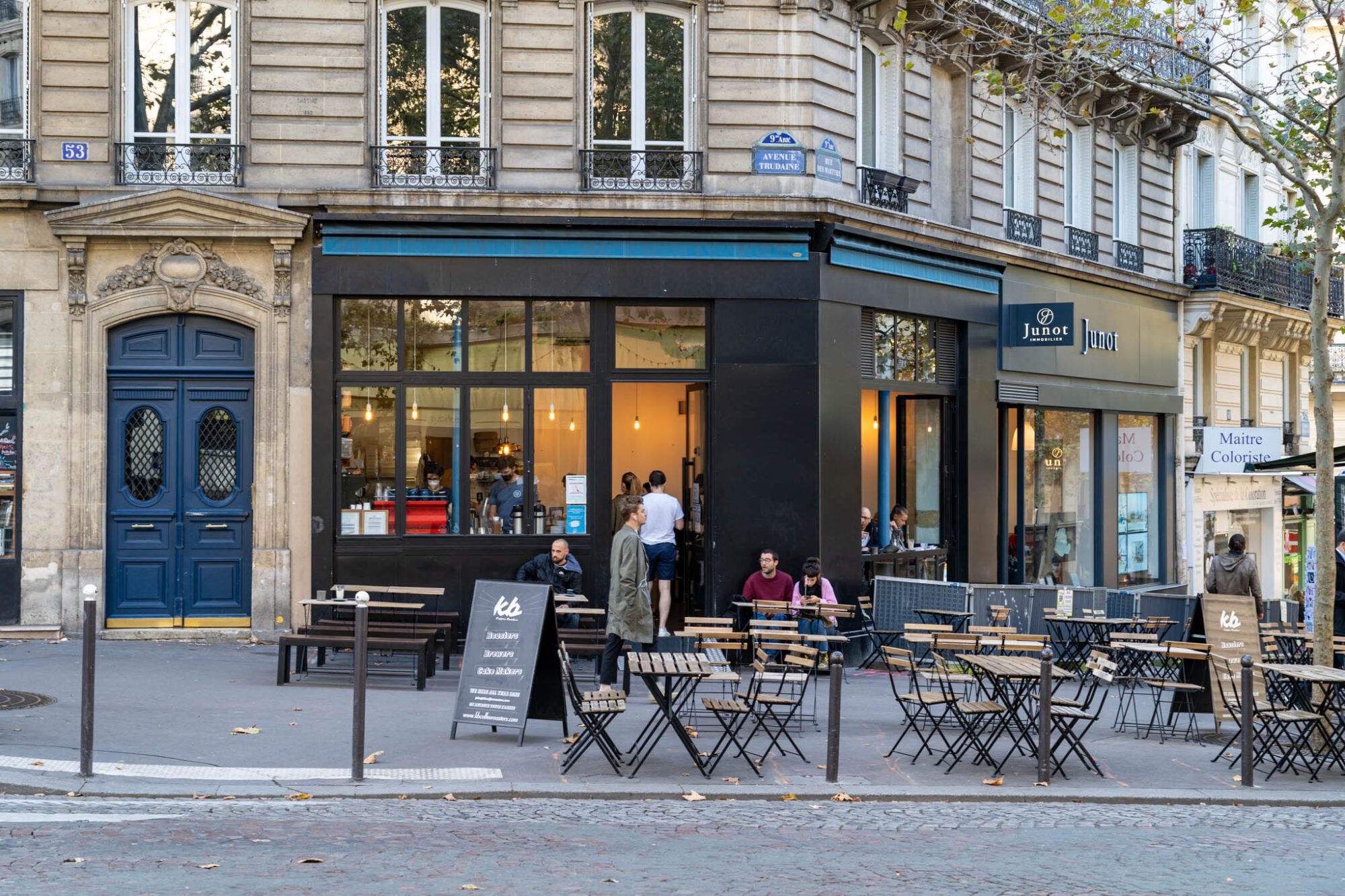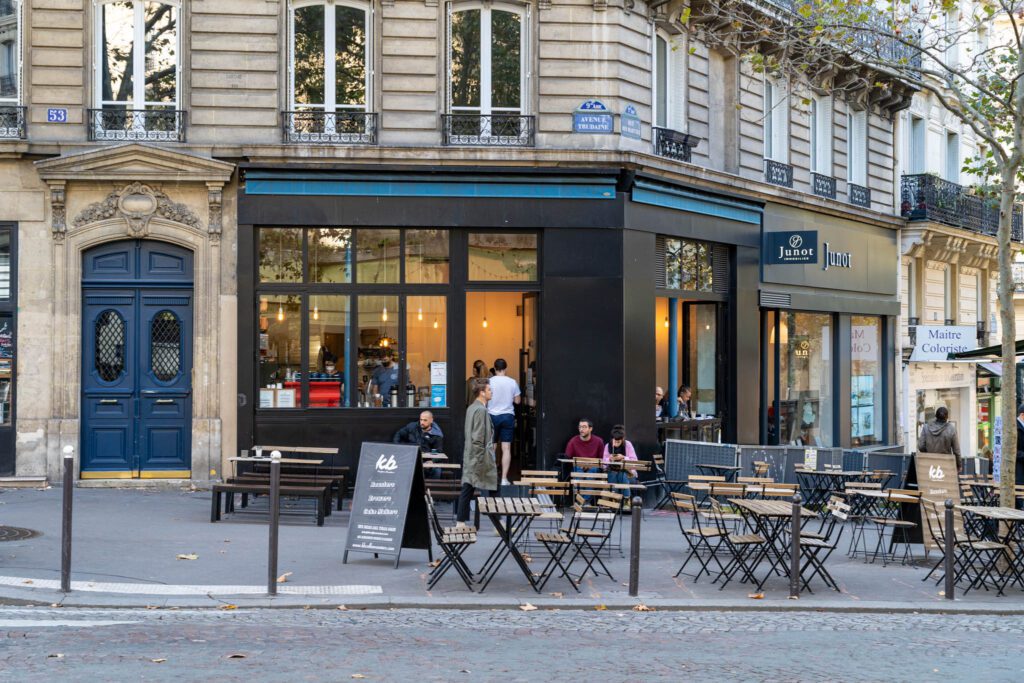 This was our first stop in Paris after arriving the previous night, and I think it's my favorite spot in Paris in terms of their space. Inside, it's high ceilings and wood accents, with plenty of seating.
The windows were wide open on the warm fall day we found ourselves there. The seating spills out into the square, which features a carousel. For some reason, random carousels are distinctly a Parisian thing in my mind.
KB is one of the O.G. shops in terms of specialty coffee in Paris, opening up a decade ago, bringing a slice of Australian coffee culture – which is fantastic – to Paris' 9th Arrondissement.
One thing I noticed throughout my tour de Paris coffee is the number of places with "no laptops" signs on the tables. KB clearly allows laptops, as the three or four people around us were tip-tapping away, sending emails following up after meetings about emails, or something like that.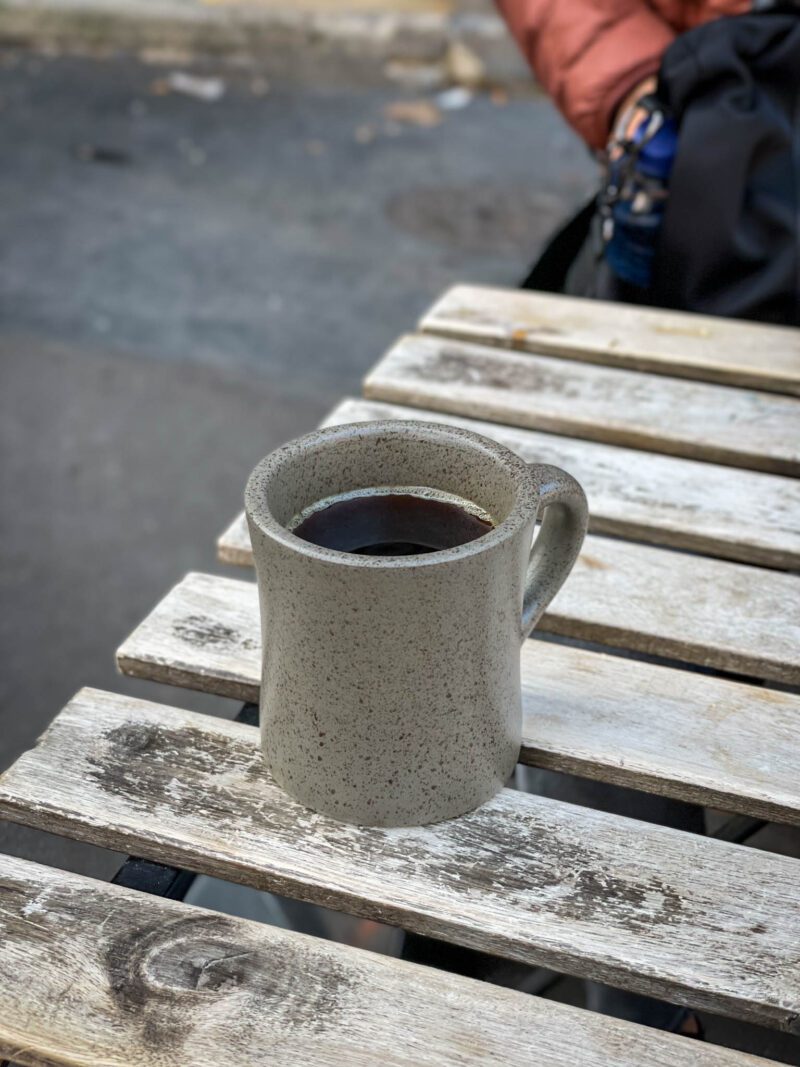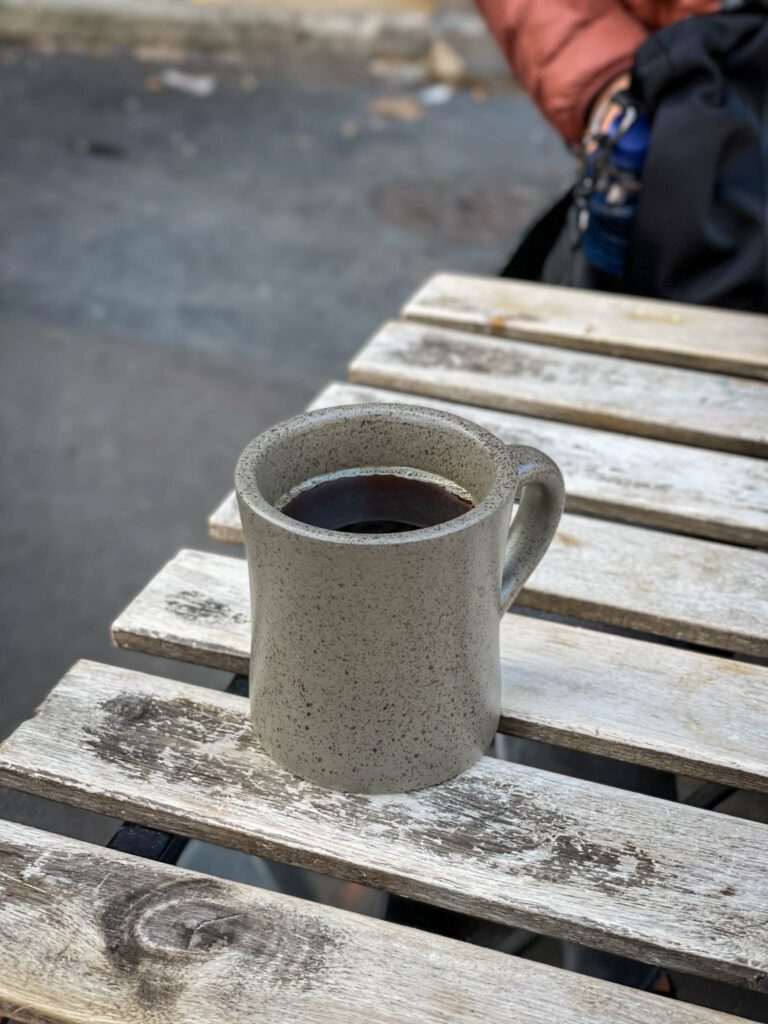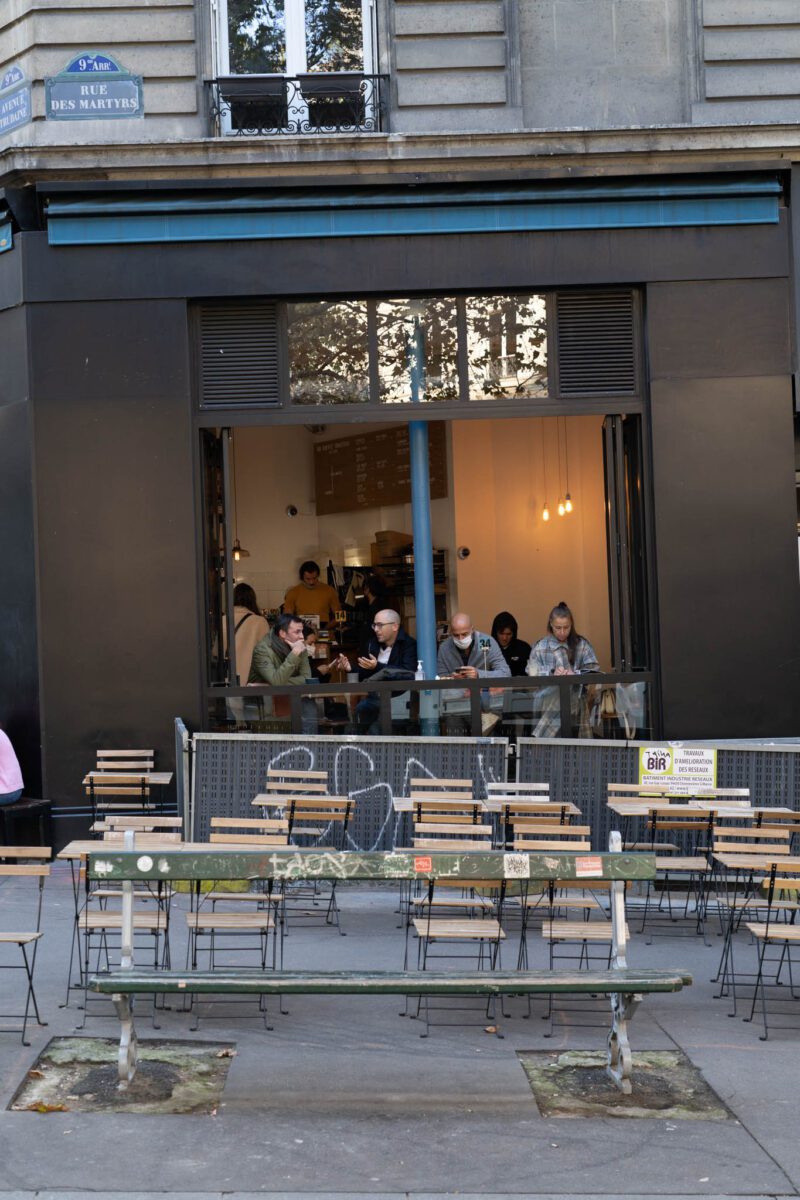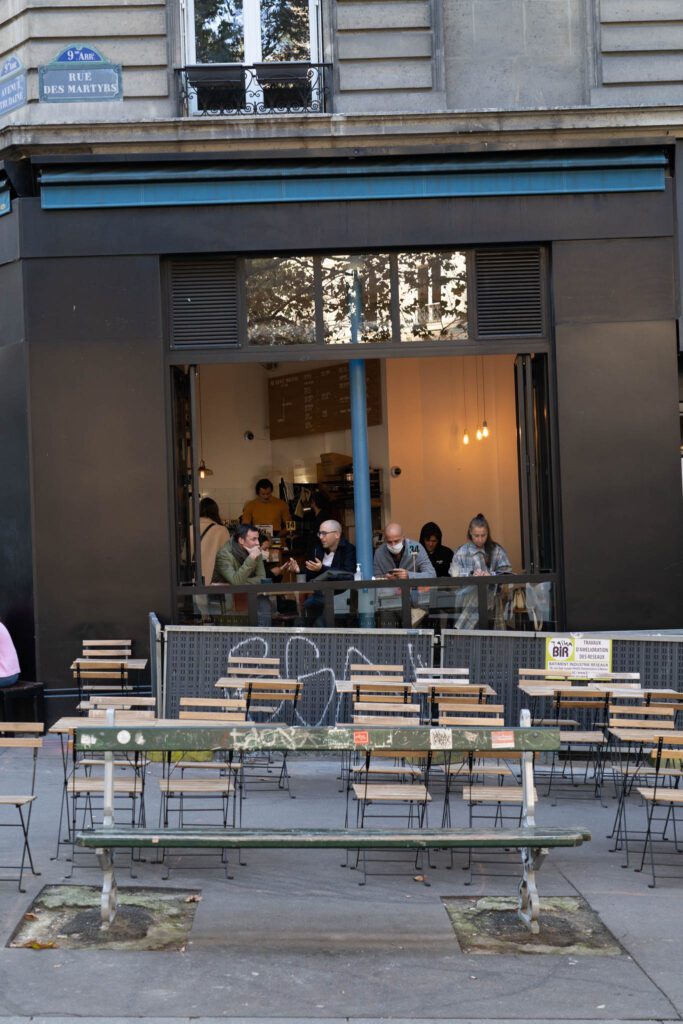 They're coffee roasters, so you won't find beans from across Europe here. Instead, you'll find beans roasted to perfection from a variety of origins. Plus, the fact that they're roasted in house means they're generally cheaper than the places that are importing beans.
If you're looking to buy some beans to take home with you and you don't want to pay 20 Euros or more for a bag, head to KB. They have a nice selection, too, including a delicious natural process coffee from Honduras (which, again, is not something I've ever seen before, oddly enough). Gorgeous mugs, too.
They also have a second location now near Bastille called Back in Black. I'd say that particular location is more focused on the food, though they still have a similar coffee menu as the original location.
Lomi Coffee Roasters
I heard about Lomi from my older brother, who likes to be referred to as "the elder coffee snob" and who is the one who introduced me to specialty coffee years ago in San Francisco. It's one of his favorite spots in Paris, so I knew it had to be on my list.
It's in a neighborhood that is a little off the beaten path in terms of tourists, with Gare du Nord to the east and Monrmartre to the west. It's a little neighborhood called Goutte d'Or, and the easiest way to get there is to take the ever efficient Paris Metro to either Marcadet – Poissonniers (Line 4 or Line 12), or Marx Dormoy (Line 12) from central Paris.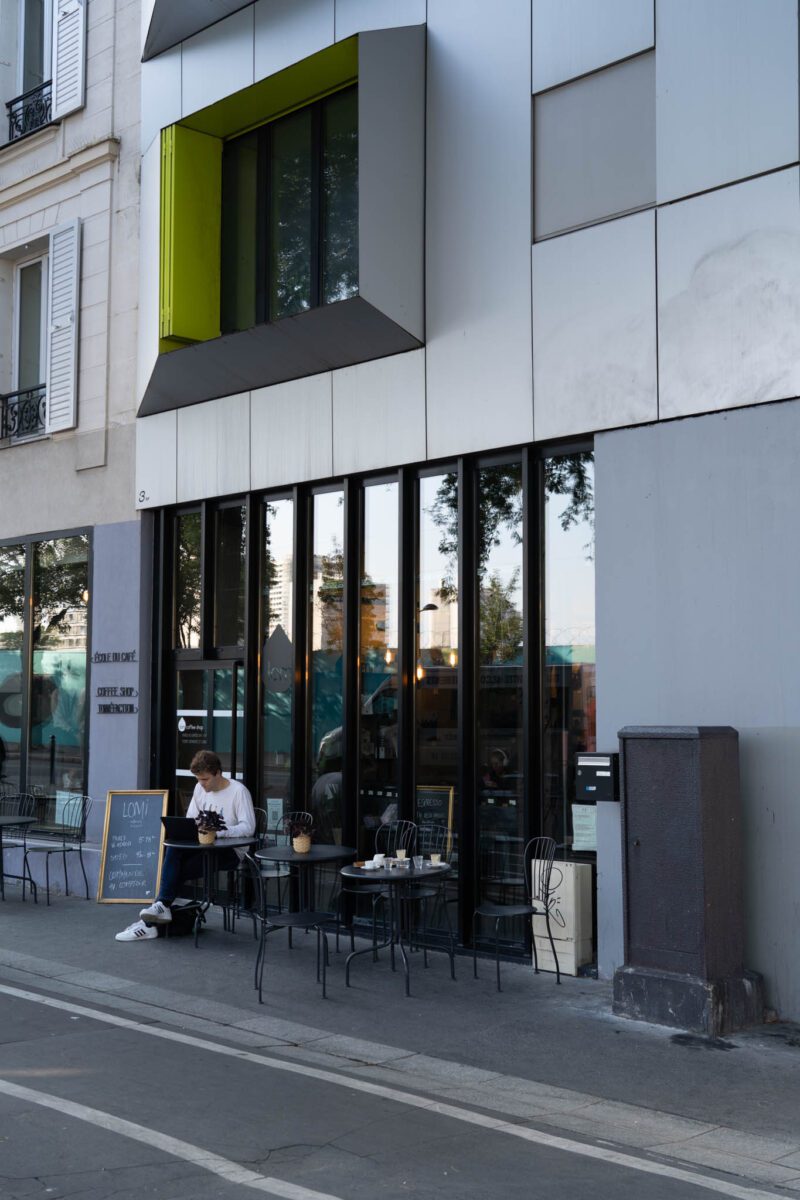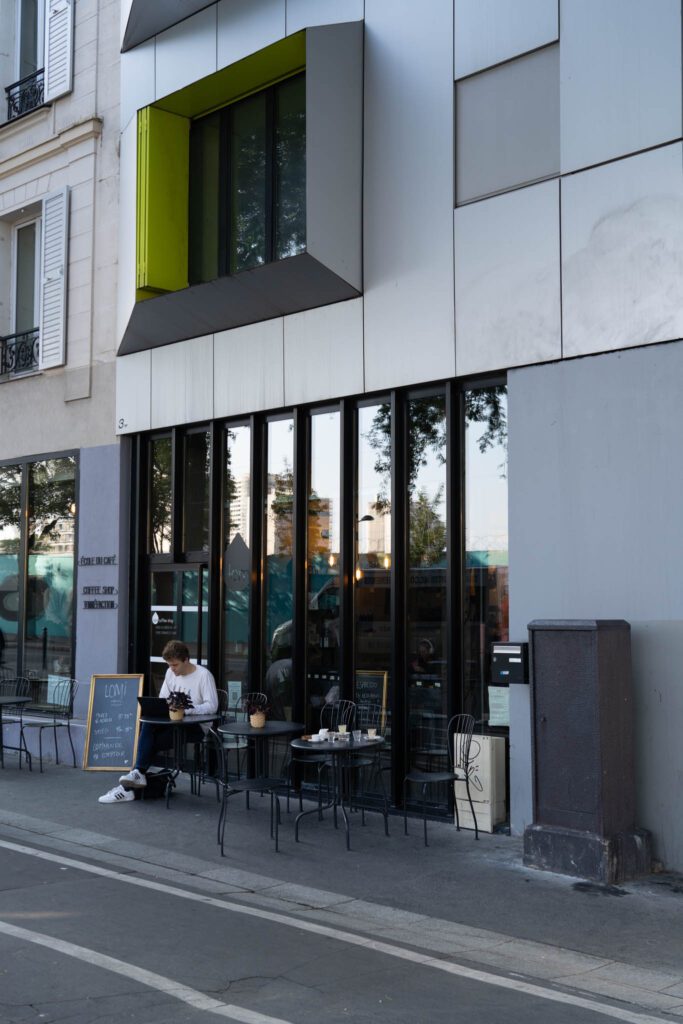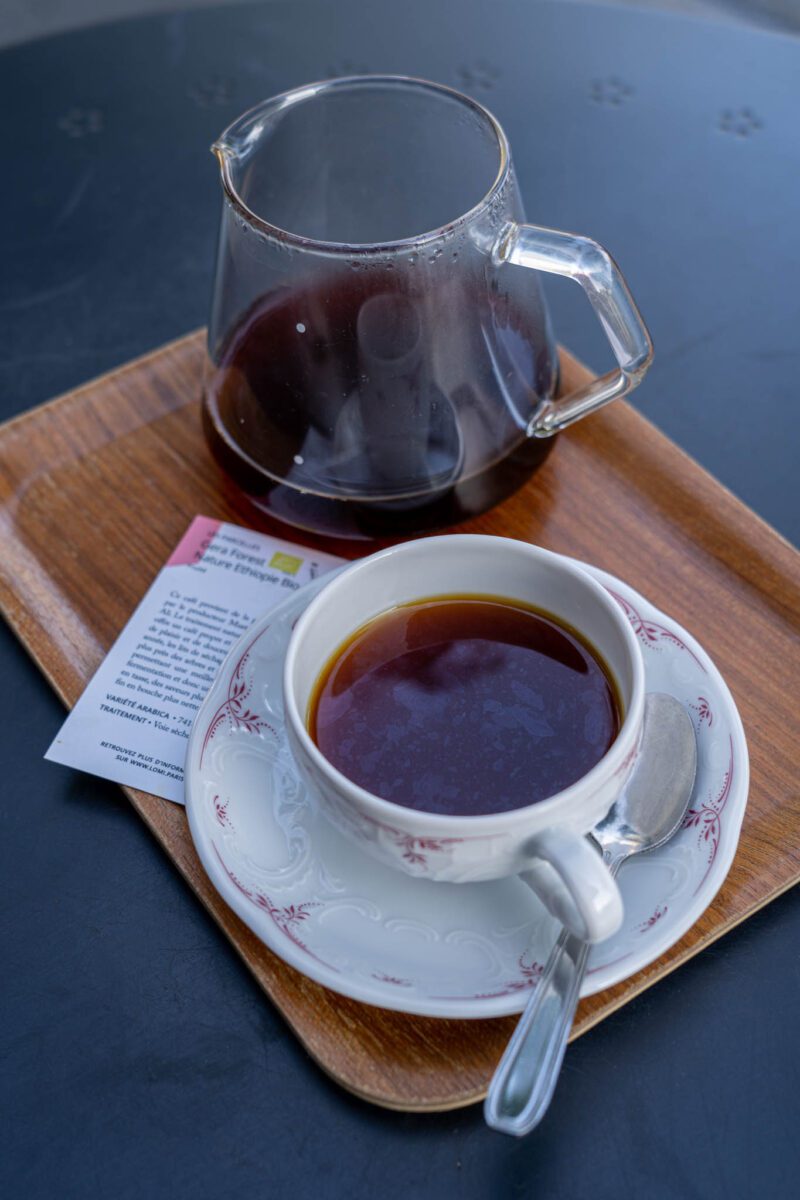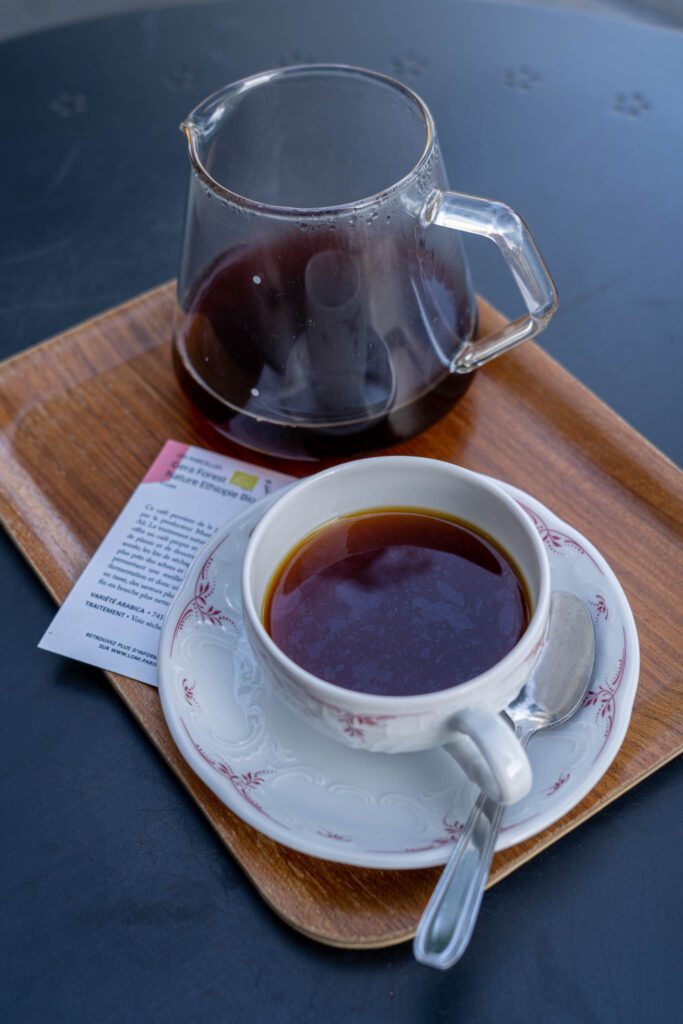 They're a coffee roaster, and had an impressive array of different origins, roast types, processing, and more. Their catalog was so broad I had a hard time figuring out what I wanted to try, so I decided to leave my fate in the hands of the barista, who probably knows better than I do.
In addition to being a roaster, they also have an adjacent coffee school ("the Lomi School") that is more for education purposes, where they offer various certifications for coffee professionals, and consumer-level coffee making classes.
They opened their location in 2012, and were at the forefront of introducing specialty coffee to Paris. Not surprisingly, an Australian named Paul Arnephy (from Melbourne, the best coffee city in the world no less) is behind Lomi, and he's still heavily involved in everything related to coffee at Lomi.
Lomi was fairly busy when we stopped in, and there was only a single barista holding down the fort (is there a French expression that means the same thing?).
Still, the barista was friendly and welcoming, and when I asked about my coffee choices for a filter, he first asked me light or dark, then asked what flavors I was looking for. I said fruity, so he pulled out a natural Ethiopian coffee and went to work. A few minutes later, the coffee was served!
I'll be honest, the coffee wasn't the best I had in Paris. Which is probably at least partially due to me ordering a filter coffee during a rush with one barista (I'm sorry, friend!). I would certainly go back, though, if that tells you anything, to try more.
Matamata Coffee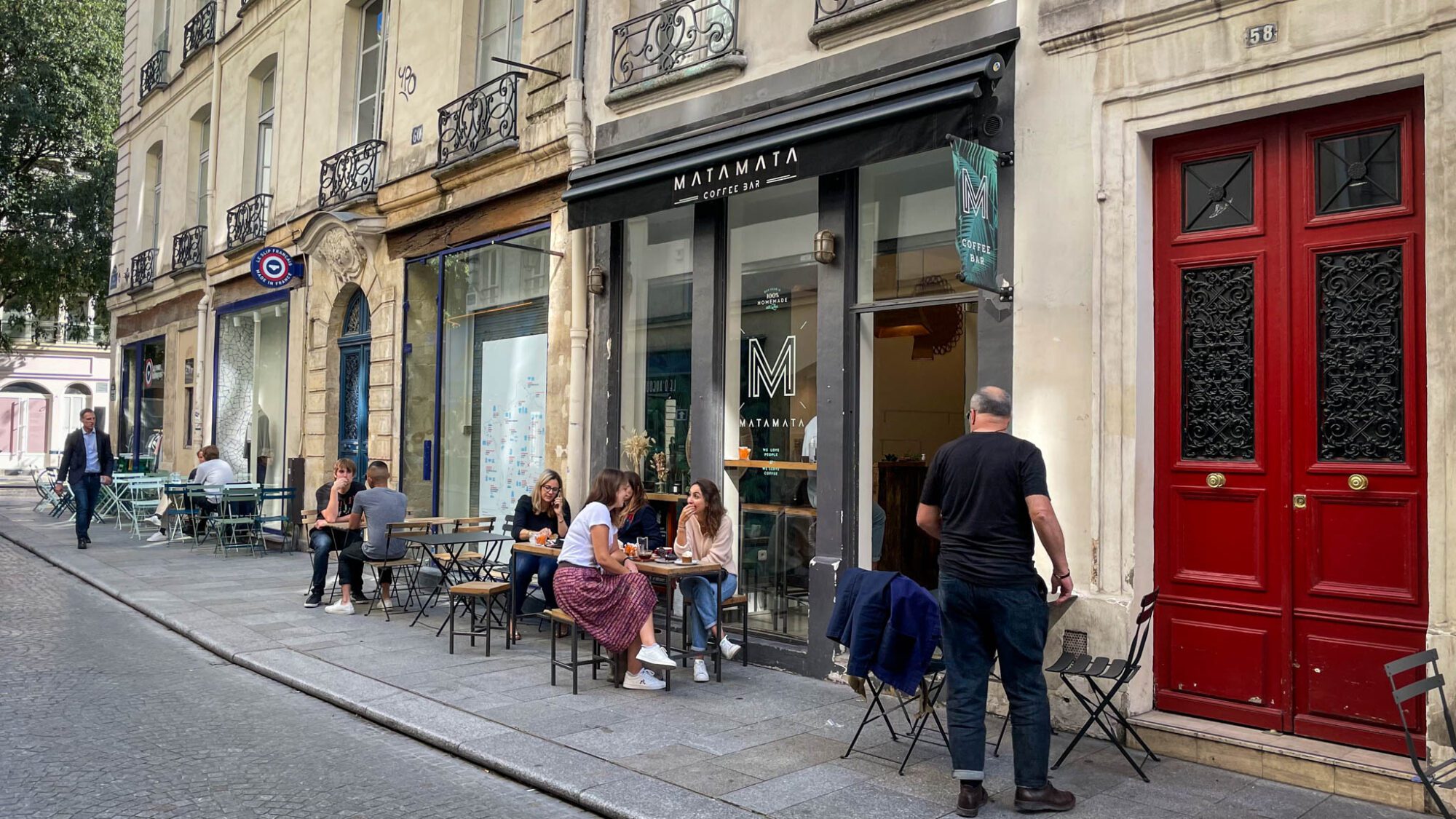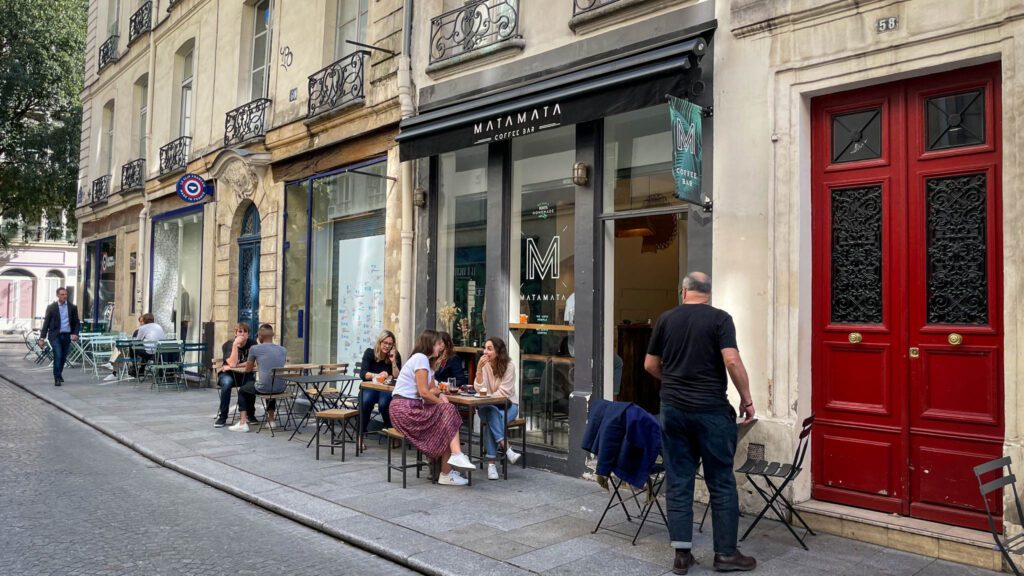 First of all, they had me at New Zealand (it's both a core part of their origin story, and one of our favorite places on earth). Second of all, I had a lovely chat with the friendly barista making my coffee – a natural process Colombian coffee – who was originally from Florida, but married a French woman et voilà! He now lives in Paris.
Matamata is another coffee shop that was nearby our apartment while we were in Paris, so one sunny afternoon I left Alysha in the midst of her siesta and went on a little excursion to seek out the coffee shop that I had heard over and over again as one of the "must visit" spots in Paris.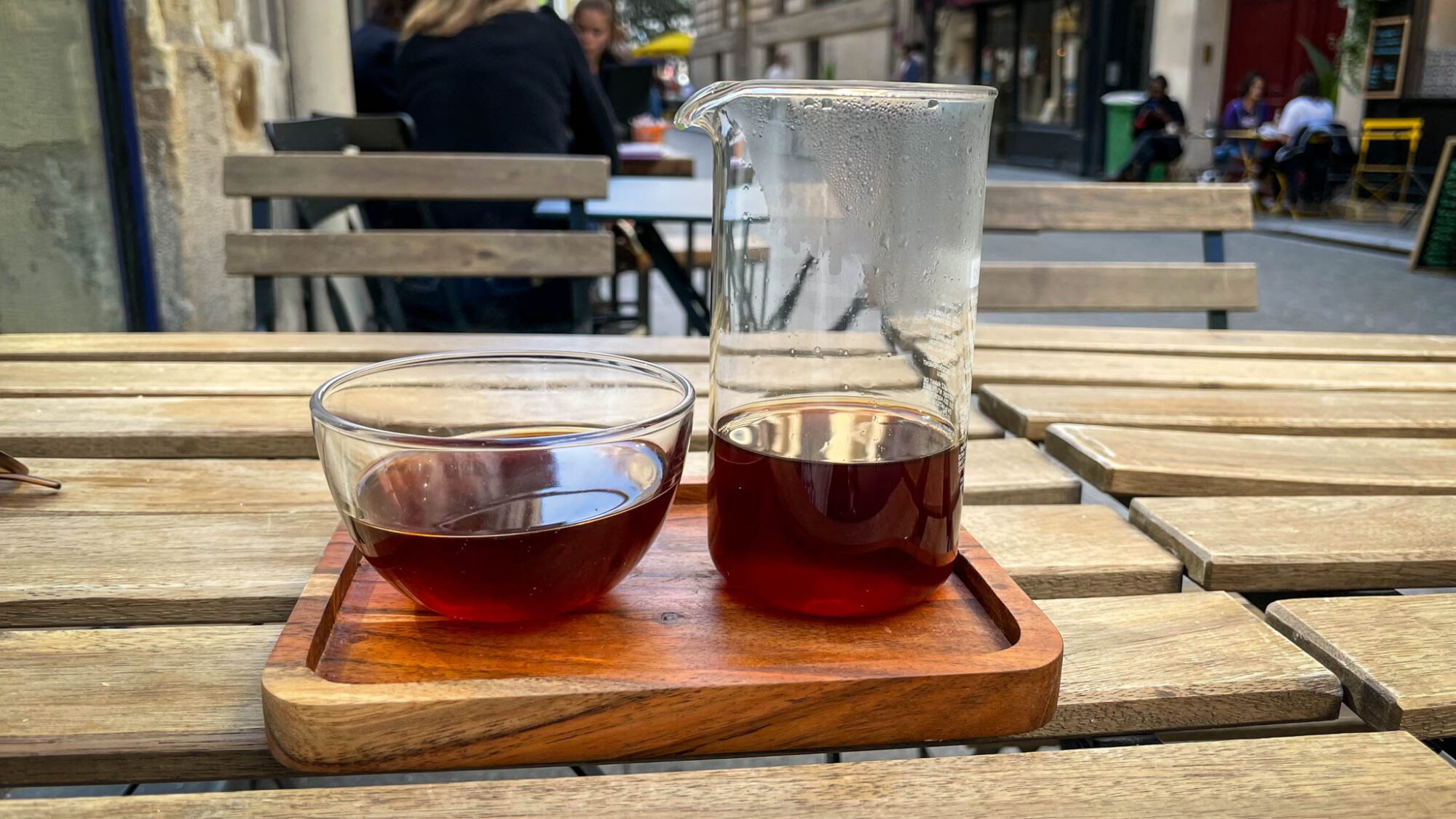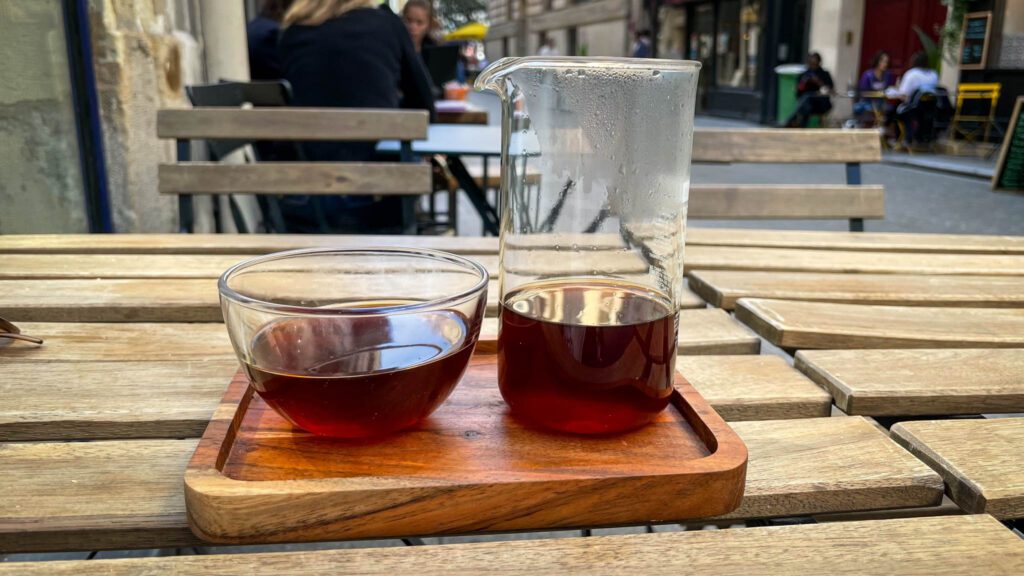 And what do you know? Australia comes up again! One of the three co-founders, Gérald, was inspired by Australia's coffee scene. The name comes from another of the co-founders, Leigh who is married to the third co-founder Gaël, who was born in Matamata, New Zealand. The cafe in the heart of Paris' Montorgueil District is a slice of home in Paris.
You can get a filter coffee made in three different ways – with a Kalita Wave (my personal favorite brewing device), an Aeropress, or a Chemex (my personal least favorite brewing device), along with all the usual espresso-based suspects.
When I was there, the coffee being offered was from Fève, a small coffee roaster out of Paris. I got a natural Colombian coffee on the recommendation of the barista, and I wasn't disappointed.
It wasn't the best coffee I had on my trip to Paris, but it was sweet, balanced, and I was happy to sit on the street outside the cafe and sip on it, watching the world go by.
Other Coffee Shops in Paris That Are on My List
Like I mentioned above, I couldn't possibly have made it to every single cafe in Paris over the course of a single week, so naturally there are a few that I had to save for next time. Here they are, along with a couple of words on why I'm excited about them.
Hexagone: Somehow, I managed to set out to write a coffee guide for Paris without trying the premier roaster in the city. Whoops. It's in the 14th, so it was a little out of the way for me, but it'll be my first stop next time!


Ibrik: I was excited about the special method of making coffee, inspired by the Ottomans, who cooked coffee in the sand (it looks like Turkish coffee, but I'm sure there are differences I'm not aware of). We walked by, and they appeared to be closed, potentially permanently.


Fragments: Closed when I was in town, this is one of the first coffee shops I had ever heard of in Paris. Unclear if / when they will reopen, but this is one of the OG specialty coffee spots in Paris.


Beans on Fire: I was too caffeinated by the time we made it to Montmartre one morning, so I ended up skipping this place. I also really like that they share their equipment with other roasters to make roasting coffee more accessible to more people.
---
That's all I've got for you in terms of coffee in Paris, but there's certainly more where that came from. If you're planning a trip to Paris, don't miss our Paris itinerary, and our guide to the best places to stay in Paris.
More Paris Travel Guides
Planning a trip to Paris? Matt, who speaks French "really well for an American" (as multiple French people have told him – it's his proudest achievement in life), loves Paris.
As you get into planning your trip, you might find some of these other detailed guides we've written about Paris helpful.