Seattle is a beautiful city, full of things to do, see, and eat no matter what you're into. I know, because I lived in the Seattle area for almost 20 years from elementary school to after college, and spent a large part of that time exploring all corners of the city. One of the best parts about Seattle is that no matter what you're looking for, you'll probably find it. And there's probably a passionate community that's into the same thing as you, whether it's craft beer or Magic the Gathering (or anything in between). It's also home to some of the best food, drinks, coffee, outdoor activities, and picturesque ferry rides in America. I wrote this detailed guide to 3 days in Seattle help you plan the perfect trip to my hometown.
In this guide to planning an amazing weekend in Seattle, you'll have time to visit the most well-known and interesting places in the city while still having enough time to wander and explore a little bit. But you're going to be craving more, so I guess you'll have to find your way back.
The city is going through a massive transformation right now with all of the jobs created by Amazon (they basically built an entire area of the city, which is crazy to me), and there is not nearly enough housing for that influx of people. The result is exploding rent prices and a corresponding uptick in homeless people on the streets of Seattle. It has made for some tensions in local government recently, as the city tries to figure out how to help as many people as it can.
On your trip, you will likely see signs of the homelessness crisis that Seattle is currently grappling with. And, to be frank, so are all of the other major cities on the West Coast. If you're not used to seeing homeless people on the street, please do your best to remember that they are people. Just like you. They aren't an eyesore, or something that is "ruining our city" – which is something I hear far too often from Seattleites. They are experiencing trauma brought on by a government – local and federal – that has completely and utterly failed them, and they are largely harmless. They are humans, which is something that far too many people need to be reminded of.
With that (somewhat sobering) note out of the way, let's get to planning your trip to Seattle!
Why am I the right person to craft a Seattle itinerary, you ask? Seattle holds a special place in my heart. Midway through 4th grade, my family moved from Northern California to Bellevue, and I spent the next 15+ years in the great Pacific Northwest, including time in the city. I've done everything on this list, and take countless visiting friends and family on some variation of this itinerary.
If you don't have a place to stay in Seattle, head over and read about the best places to stay in Seattle or the 11 coolest hotels in Seattle, and find the perfect home base for exploring Seattle.
Disclaimer: Some of the links in this post, like hotel links, are affiliate links, meaning at no additional cost to you, we make a little bit of money if you click through and book. That being said, we would never recommend something to you that I don't stand behind 100%.
Where to Stay in Seattle
Before we get to the itinerary, let's talk about where to stay for your trip to Seattle.
If you're only in Seattle for a long weekend, then we'd recommend you opt for one of the neighborhoods that is close to the Downtown Seattle core rather than some of the further out (but equally fun and exciting!) neighborhoods like Ballard and Fremont.
There are two neighborhoods we'd recommend for first-timers with 2-3 days: Belltown and Downtown Seattle. See below for some more specific recommendations to help you find the perfect place to stay.
There are also two hotels that I really like in South Lake Union, which is just north of Belltown and is where Amazon has started its global takeover (seriously, they own a ridiculous amount of real estate in this part of the city). It's relatively central and is a fun place to explore with plenty of restaurants and bars if you don't mind AMAZON being plastered all over every other building. The two hotels here are the CitizenM, which is a Dutch hotel chain that gives you everything you need (and nothing you don't) at a great price (plus, I like that all rooms are the same – no "superior" rooms with an extra ten square feet or any shenanigans like that), and the Moxy Hotel, which is a great blend of affordability and style.
Want to find the perfect place to stay in Seattle? We've got you covered. Read our in-depth guide on the best places to stay in Seattle.
Belltown: Central & Hip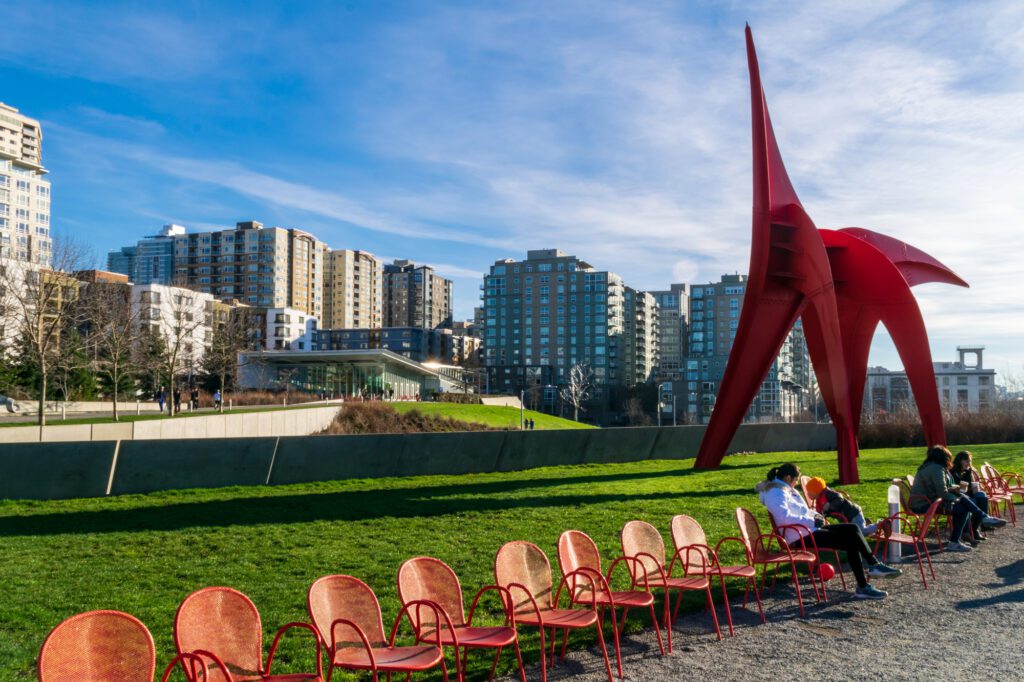 Walking distance to the Space Needle and Pike Place Market, Belltown is a great spot to use as your home base in Seattle. There's a ton of bars and restaurants in the area, and you'll basically be able to walk everywhere.
Recommended Hotels in Belltown: We have stayed at the Ace Hotel, which is a great option just north of Pike Place in the heart of Belltown (and the prices are surprisingly reasonable). Hotel Andra is another great option, and the restaurant on the ground floor, Lola, is one of our favorite gluten free restaurants in Seattle.
Downtown Seattle (Near Pike Place)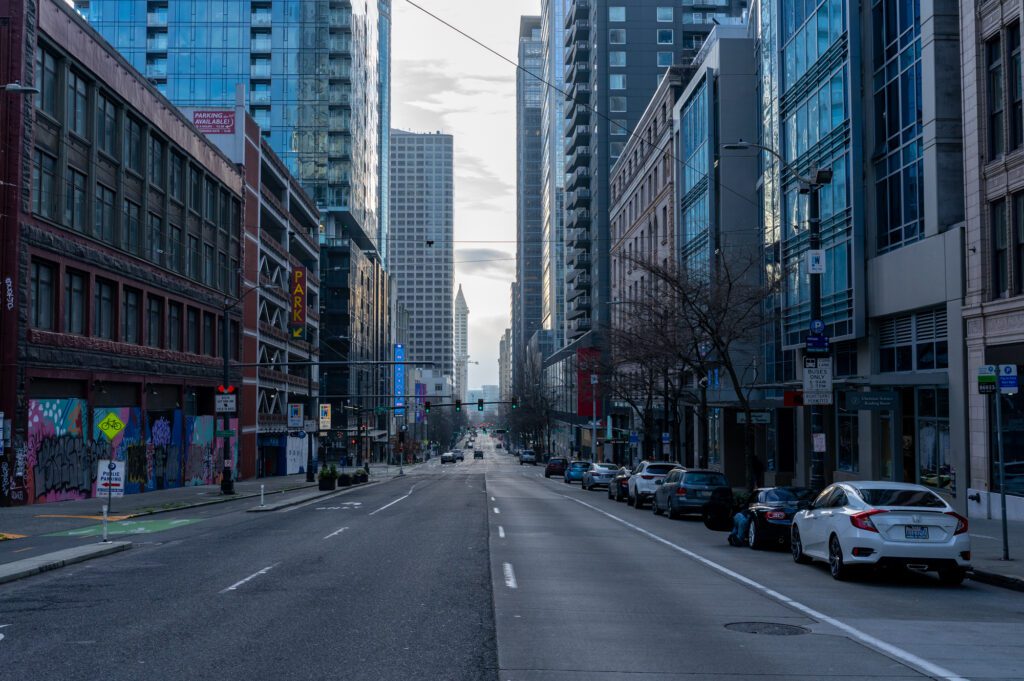 Downtown Seattle, unsurprisingly, is about as central as you can get. Specifically, we'd focus in on the area immediately around Pike Place Market, which will not only put you close to the most interesting "touristy" thing to do in Seattle, but will also put you adjacent to both Belltown and Pioneer Square, which are cool parts of town.
Recommended Hotels near Pike Place Market: There are two outstanding hotels near Pike Place that should be on your list. Inn at the Market is where my mom used to stay when she came to Seattle for business (before we moved), and it's quite literally half a block away from Pike Place Market. The State Hotel, which is also right there, is at the top of our list of the coolest hotels in Seattle.
Want to find the perfect Airbnb for your time in Seattle?
Click here to see my curated list of Seattle Airbnb options that I made for my own future trips.
3 Days in Seattle: The Perfect Seattle Itinerary for First-Timers
Here is how I spend a long weekend in Seattle when first-time visitors come to visit.
This itinerary is best for people who love to walk and want to see the best sights in Seattle in 3 days.
Off we go!
Day 1: Exploring Seattle Center, Queen Anne, and South Lake Union.
Seattle Center is in the heart of Downtown Seattle, where you'll find the Space Needle, the Pacific Science Center, and the best coffee in Seattle.
My favorite way to explore a city is on foot, and I highly recommend wandering two areas around the Space Needle – Queen Anne and South Lake Union (SLU). We'll get to some of the best things to do in this part of the city in a second.
But First, Coffee at Seattle Center
I suggest you start your day at La Marzocco Cafe for a much-needed caffeine boost. It's my favorite coffee shop in Seattle, and I take EVERYONE there.
La Marzocco is a showroom for the company that makes the espresso machines you see in most coffee shops around the world.
The location at Seattle Center is inside the KEXP space (a local Seattle radio station) just steps away from the Space Needle. They bring in a different roaster each month and offer everything from regular coffee drinks to signature coffee cocktails, all created by the roaster.
In other words, it's the perfect place to jumpstart your day.
First Timer? Check out The Space Needle
Now that we've got coffee out of the way, onto the meat of your first day in Seattle.
Your 3 day Seattle itinerary will start (after you've had your coffee, of course!) at the Seattle Center, at base of the Space Needle.
The Space Needle is world-famous and known for its futuristic appearance on Seattle's skyline. It's where the fireworks on New Year's Eve launch from, and it's an icon that you'll see all over the souvenir trinkets in Seattle.
To be completely honest, I'm not sure it's worth it to make the journey to the top of the Space Needle. It's expensive, and while the views are nice, you'll be missing one key element of the Seattle Skyline… the Space Needle!
Insider Tip: The best view of the Space Needle and Seattle's skyline is from Kerry Park, a short walk (straight uphill) from the Seattle Center.
I've only been up the Space Needle once. And it was on my first visit to Seattle.
Since then, including the 15+ years I lived in the Seattle area, I've been up exactly zero times. But that doesn't mean you shouldn't consider it on your Seattle itinerary. Just be aware that it's expensive, and there's not THAT much to do at the top.
From the outdoor observation deck you'll be able to see the entire city, Mount Rainier, Puget Sound, and the Olympic and Cascades mountain ranges. At least you'll see all that stuff on a clear day, which can sometimes be hard to come by in Seattle.
It's expensive to go up to the top, but it could be worth it for first-time visitors. I've only done it a handful of times over the years.
You could also head up just before sunset to get a view during the day, and then as night falls and Seattle lights up.
Exploring the Rest of Seattle Center
Even if you put the Space Needle aside, Seattle Center is full of fun and educational sites, so you'll have to pick and choose what you is right for you. You could literally spend the whole day here if you wanted to.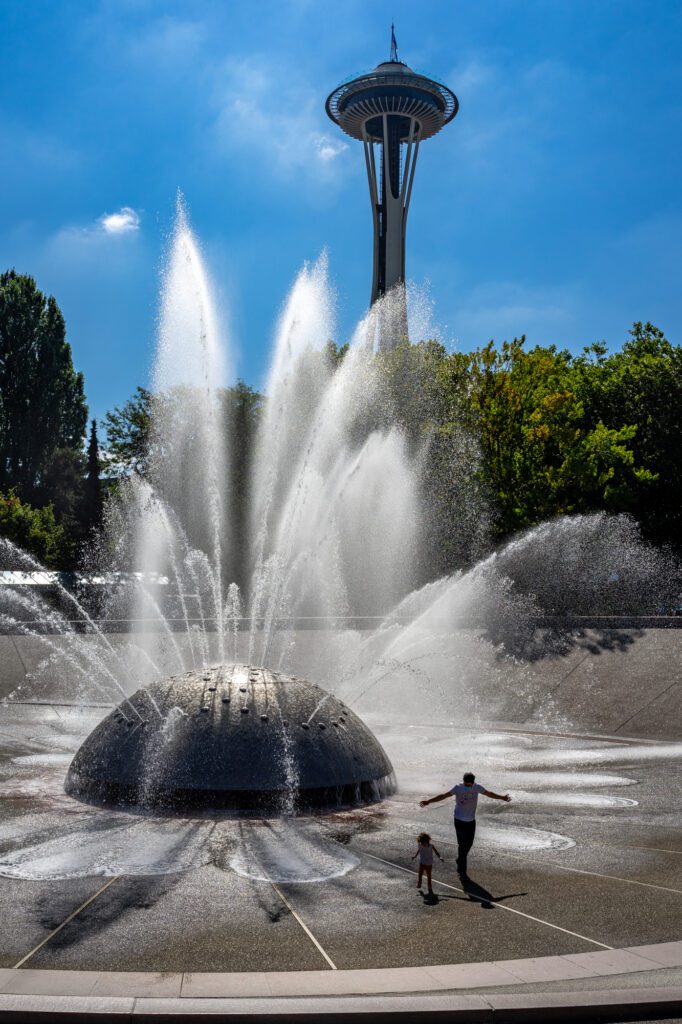 If you've got kids with you, you may want to visit the Seattle Children's Museum or the Pacific Science Center.
The Chihuly Gardens And Glass is a must-see for art lovers, or those just wanting stunning Instagram photos.
I would highly recommend you spend a few hours at the Museum of Pop Culture, which is excellent for those who love all things music and pop culture. Fun fact: that's where my high school prom was held.
Just a little out of the way, but worth the walk, is the Olympic Sculpture Park, along the Seattle waterfront.
Make sure you take the monorail to downtown Seattle if you're heading that way if you have kids. Otherwise, it's just a monorail, and probably not worth taking.
2 Fantastic Neighborhoods to Explore Near the Space Needle
After you finish up at the Seattle Center, I'd spend some time exploring the adjacent neighborhoods that I mentioned before – Queen Anne and South Lake Union.
Queen Anne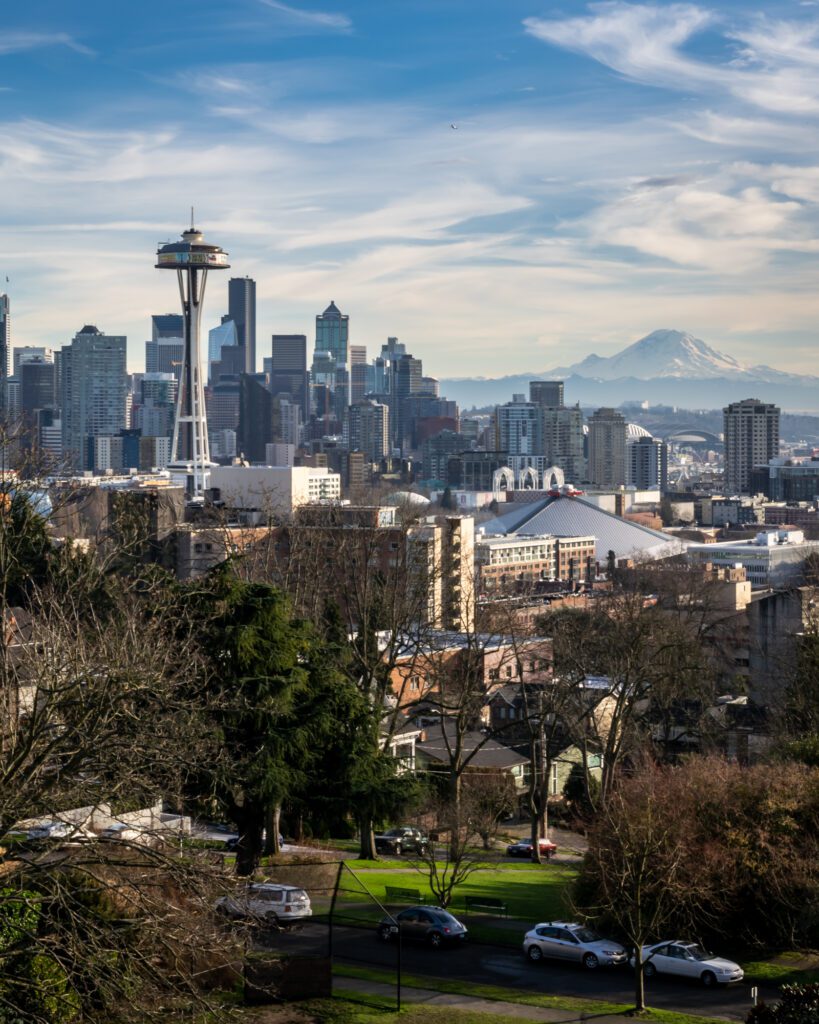 Queen Anne is north of the Space Needle, continuing up and over the hill, where it becomes a residential area full of young couples and families.
Here are some highlights of Queen Anne that you shouldn't miss:
South Lake Union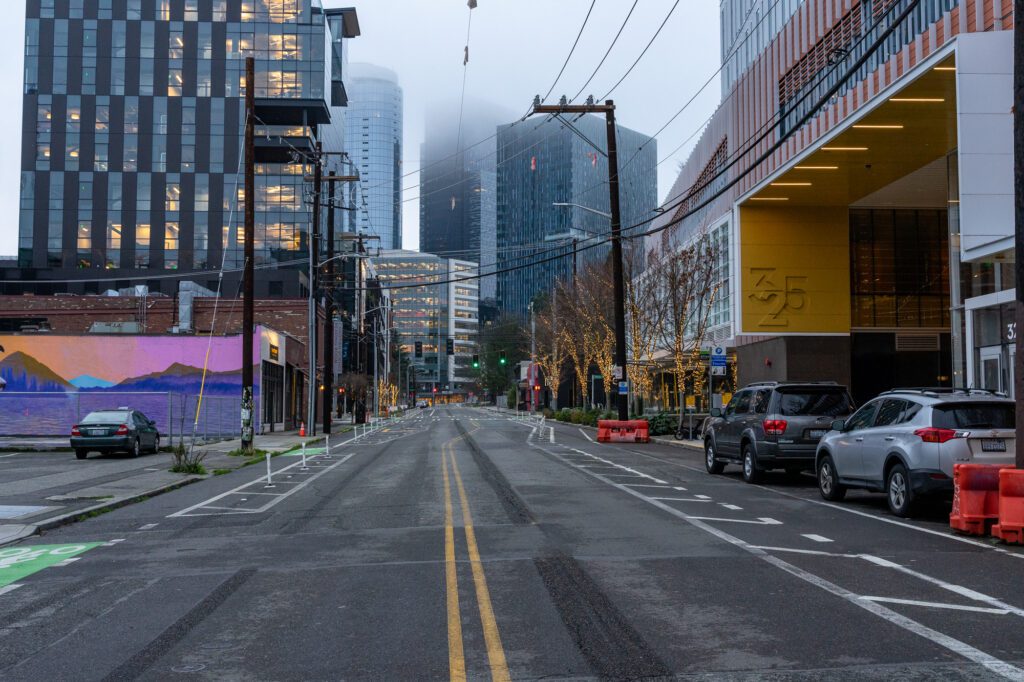 South Lake Union is to the east of the Space Needle, and is a part of the city that wasn't really somewhere you'd spend any time in Seattle. Then, Amazon happened, and now it's one of the nicest parts of the city after they built SO MANY skyscrapers.
South Lake Union is a prime example of gentrification and development in Seattle that has contributed to the massive homeless crisis. Instead of affordable housing, South Lake Union is full of luxury condos and industrial-chic lofts that are far from affordable. As a result, a squeeze on the housing supply in Seattle has led to skyrocketing housing prices that have forced many people to leave the city. It's worth remembering that consequence as you're enjoying Seattle.
With that said, the development has contributed to the emergence of some good food, drinks, and shopping in the area. Here's what to check out.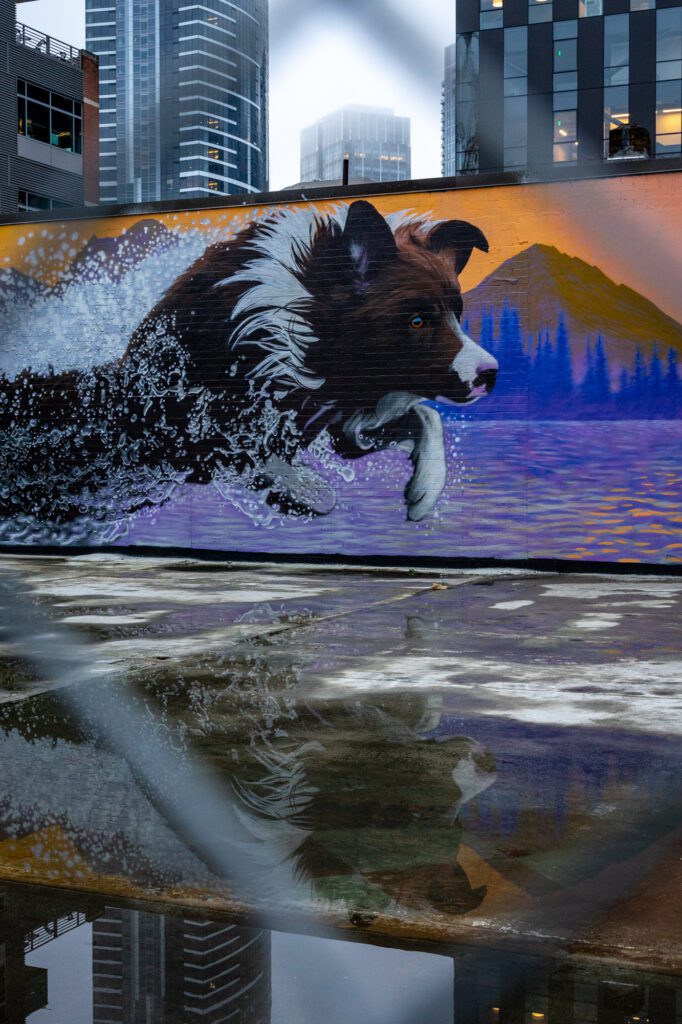 That's more than enough to pack your first day in Seattle. For dinner, I'd recommend grabbing pizza at Razzi's, a gluten free gem in Seattle, or Umi Sake House for some good sushi in Belltown. Or, head to
For drinks, head to Bathtub Gin Co, a speakeasy cocktail bar in Belltown.
Day 2: Downtown Seattle, Pike Place Market and Pioneer Square
Next on your agenda is Downtown Seattle. With another busy day ahead of you, you'll want to grab coffee before you set off.
On this day, you're definitely going to want to get up early and beat the crowds to Pike Place Market. It is MUCH more pleasant first thing in the morning than at noon, when the market is packed wall to wall.
But where to grab coffee?
Some people will send you to the first Starbucks at Pike Place Market. But what if I told you that was a lie? (psst it's a lie). It's not actually the first Starbucks, it's just a great marketing job.
For better coffee – some of the best coffee in Seattle, I'd say – and shorter lines, head to Anchorhead Coffee just down the street from Pike Place Market and let's get this party started!
If I were you, I would make sure to take a guided tour of Pike Place Market at some point during your time in Seattle to learn more about the history behind the famous Seattle landmark. Even better, a guided tour with a chef where you'll try 15+ foods from local producers at the market.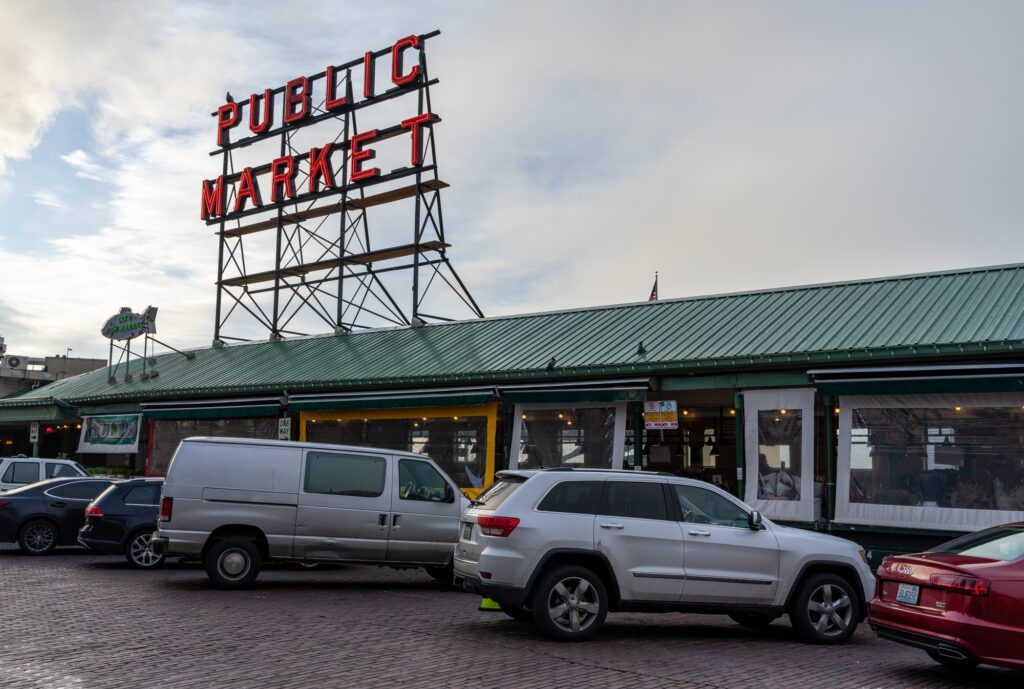 Wandering Pike Place Market
When you're in Seattle, you have to go to Pike Place Market.
At Pike Place, you'll find everything from the typical farmer's markets items to live music and handcrafted items. And yes, of course you'll find the flying fish. You should walk the market at least once, stopping to catch the fish throwing and examine all the beautiful flowers from various local vendors.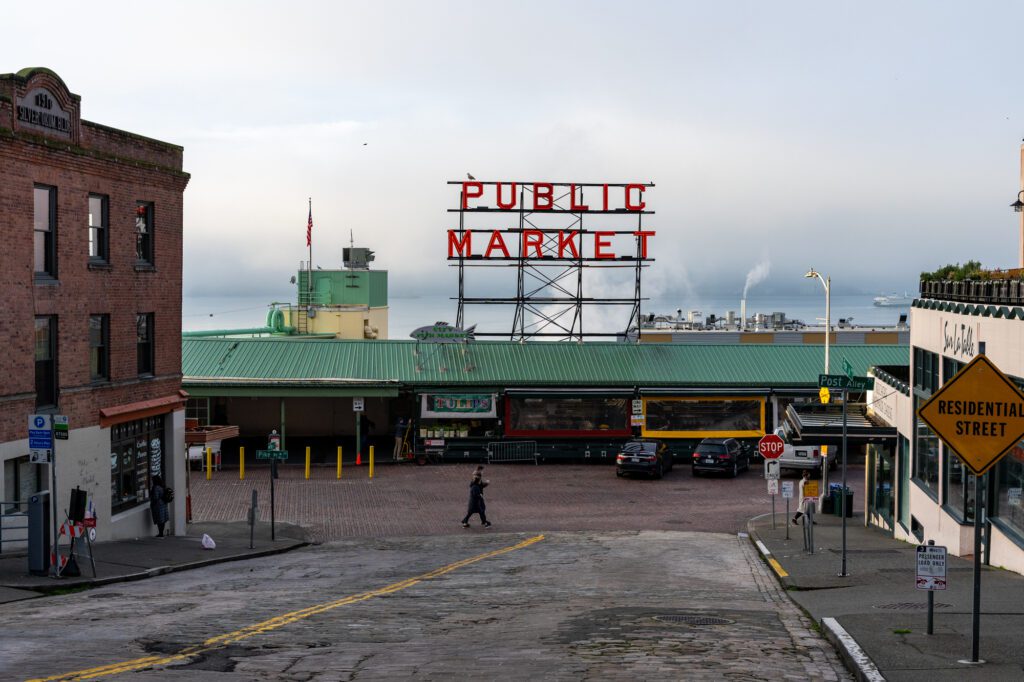 If you did not choose to take the guided tour of the market to learn about its history and taste some delicious food, which I highly recommend, here are the places you shouldn't miss.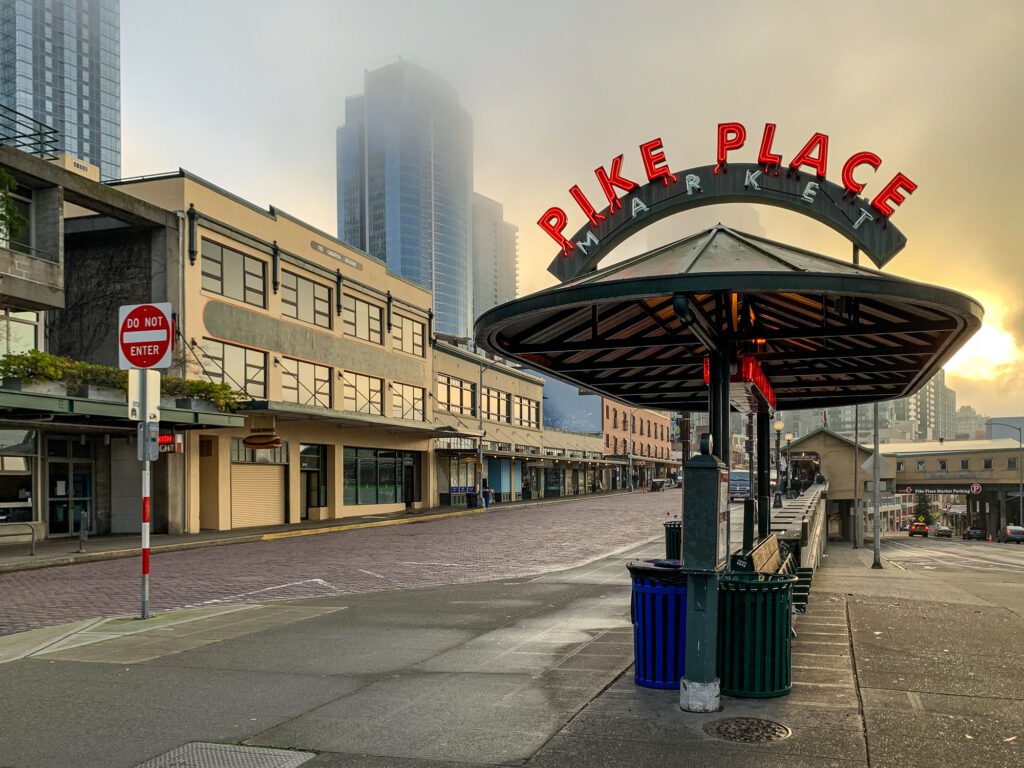 Once you've had your fill of the market, I'd recommend heading to Lola for brunch (if you're still hungry) for some fantastic Mediterranean food. It's a Tom Douglas restaurant, and it is one of my favorites in Seattle. You'll choose from a menu of kebabs (get the haloumi and fig – it might be my favorite food ever), dips (you can get them with fresh veggies instead of pita for my Celiac friends), and main courses.
They are really good with allergies, namely gluten, and even have gluten free beer on the menu alongside amazing cocktails. Highly recommend – we go here most times I'm back in Seattle. It's a few blocks from Pike Place up Virginia Street. Make reservations!
A Uniquely Seattle Experience in Pioneer Square
After you've had your fill of the Market, head towards Pioneer Square.
I highly recommend you stop at Pioneer Square to do the Underground Tour. It's a cool, unique experience that takes you down below the streets into the tunnel system under Seattle. Complete with funny stories from engaging tour guides.
While you're in Pioneer Square, here are some places to check out.
Coffee Lovers: On Fridays at 10am, Counter Culture Coffee does a Tasting at Ten in their Pioneer Square education center. I go with my two coffee-loving brothers every time I'm in town, and it's always a blast. The knowledgeable and friendly staff will teach you about coffee, Counter Culture's approach, and you'll get to try some amazing coffee! Sometimes it's a cupping, where you try a bunch of different coffees, sometimes it's one coffee prepared three ways, and sometimes it's experimental coffee cocktails. Either way, it's an amazing way to spend an hour on Friday mornings, and you'll walk out with a healthy caffeine buzz ready to hit the ground running.
The other coffee stops to make in the area are Cherry Street Coffee House (2 locations in the area) and Elm Coffee Roasters (next to Flatstick Pub, which is coming up on the list).
Chocolate Lovers: Intrigue Chocolate is a must stop if you love chocolate. And who doesn't love chocolate? Whoever they are, I don't trust them. Anyway, Intrigue makes amazing chocolate bars with out-of-this-world flavor combinations like Guajillo Chili, Hibiscus, Cassia Cinnamon, and Vanilla Bean and Lavender, Coffee, and Long Pepper. They also make hot chocolate mixes, which have become a favorite for both Alysha, my wife, and my family. We love the Lavender and the Cardamom hot chocolate. They're pricey, but they're handcrafted and make perfect gifts … for yourself.
Mini Golf for Adults: While you're in Pioneer Square, stop by Flatstick Pub for indoor mini golf. It's a full mini golf course alongside a bar, so you grab a drink and play a round. It's 21+, so leave the kids at home (or on a park bench, maybe?) It's a fun rainy day activity. Or sunny day. Or any day, really.
It's 5 o'clock somewhere, right? If you're craving a drink, my two favorite spots in Pioneer Square are Damn the Weather, which has amazing Happy Hour deals from 11am – 5pm every day on full bottles of wine and cider, and London Plane, a great wine bar that serves their "snacktime" menu from 3-6pm Monday – Saturday.
Dinner in SoDo
Now that you've spent most of the day exploring, you're probably going to be hungry. For dinner, you HAVE to head to Ghostfish Brewing Company in SoDo.
It's a 100% gluten free brewery. That means they don't use ANY gluten-containing grains in the process. And the kitchen is 100% gluten free. Fish & chips, burger and fries, and more.
Even if you're not eating gluten free, it's worth a stop to try their beer, which is highly regarded.
It's literally my first stop on any Seattle trip on the way from the airport. It's that good.
While you're in SoDo, see if you can catch a Mariner's baseball or Sounders soccer game at the stadiums nearby. If you're a soccer fan, the atmosphere at Sounder's games is one of the best in the USA, especially when they play their Pacific Northwest rivals the Portland Timbers.
Day 3: Exploring Ballard and Capitol Hill
On your last day in Seattle you'll explore some of Seattle's best neighborhoods, Capitol Hill and Ballard. They are two of my favorites, and they are pretty distinct in terms of what they're bringing to the table.
The Ballard Farmers Market
If your Seattle itinerary happens to include a Sunday, you'll definitely want to check out the Ballard Farmers Market. The Market is located on a picturesque cobblestone road and is open every Sunday, rain or shine.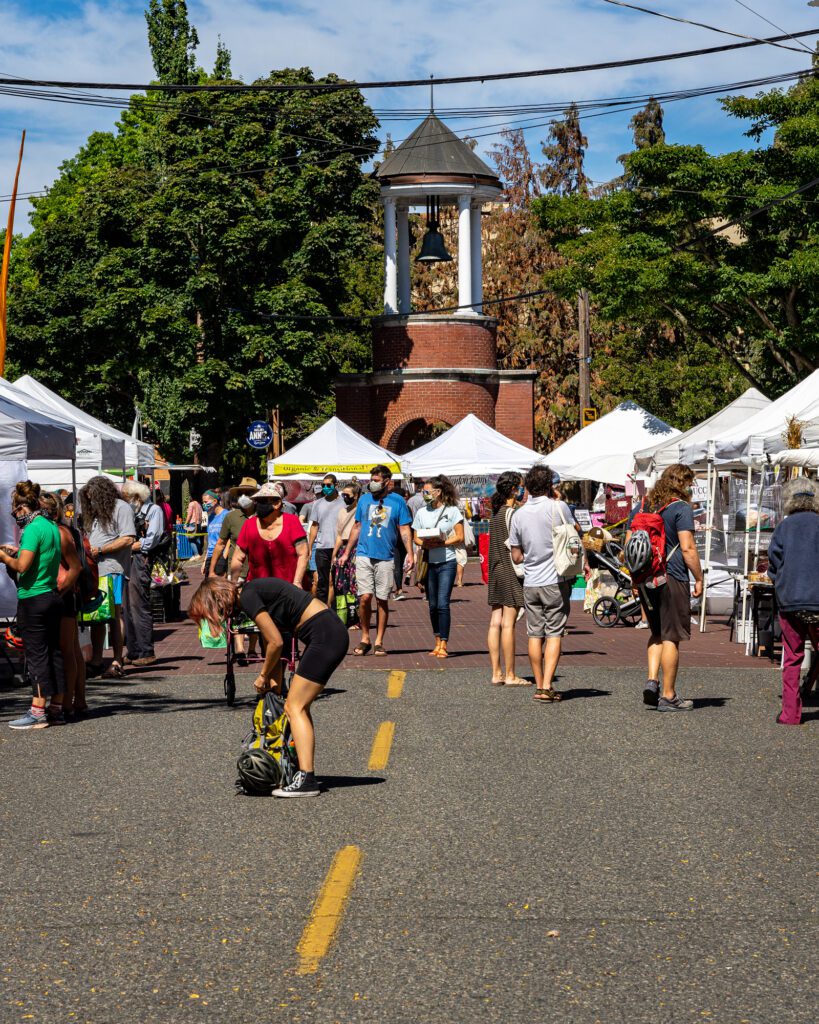 After Ballard, head back towards Downtown to visit Capitol Hill, the best neighborhood in Seattle for pretty much everything. There's so much to do here that I'll just name a few of my favorites! Which may or may not take literally all day.
Exploring Cap Hill
We saved the best for last! Cap Hill is our favorite area in Seattle, and has the best selection of bars, restaurants, shopping, and coffee shops that Seattle has to offer.
Start at Nuflours, a 100% gluten free bakery in Capitol Hill for breakfast (their quiche is to die for, along with their other baked goods), and walk down Broadway to E Pike St and turn right. Walk down to the Starbuck's Reserve Roastery, which you won't want to miss.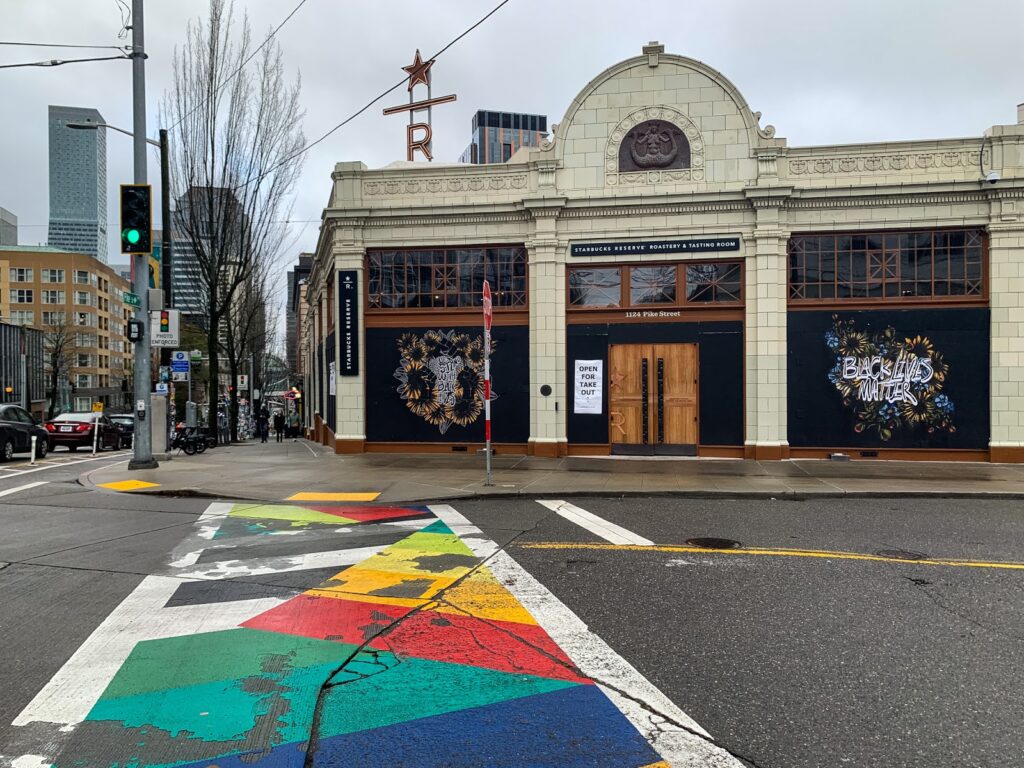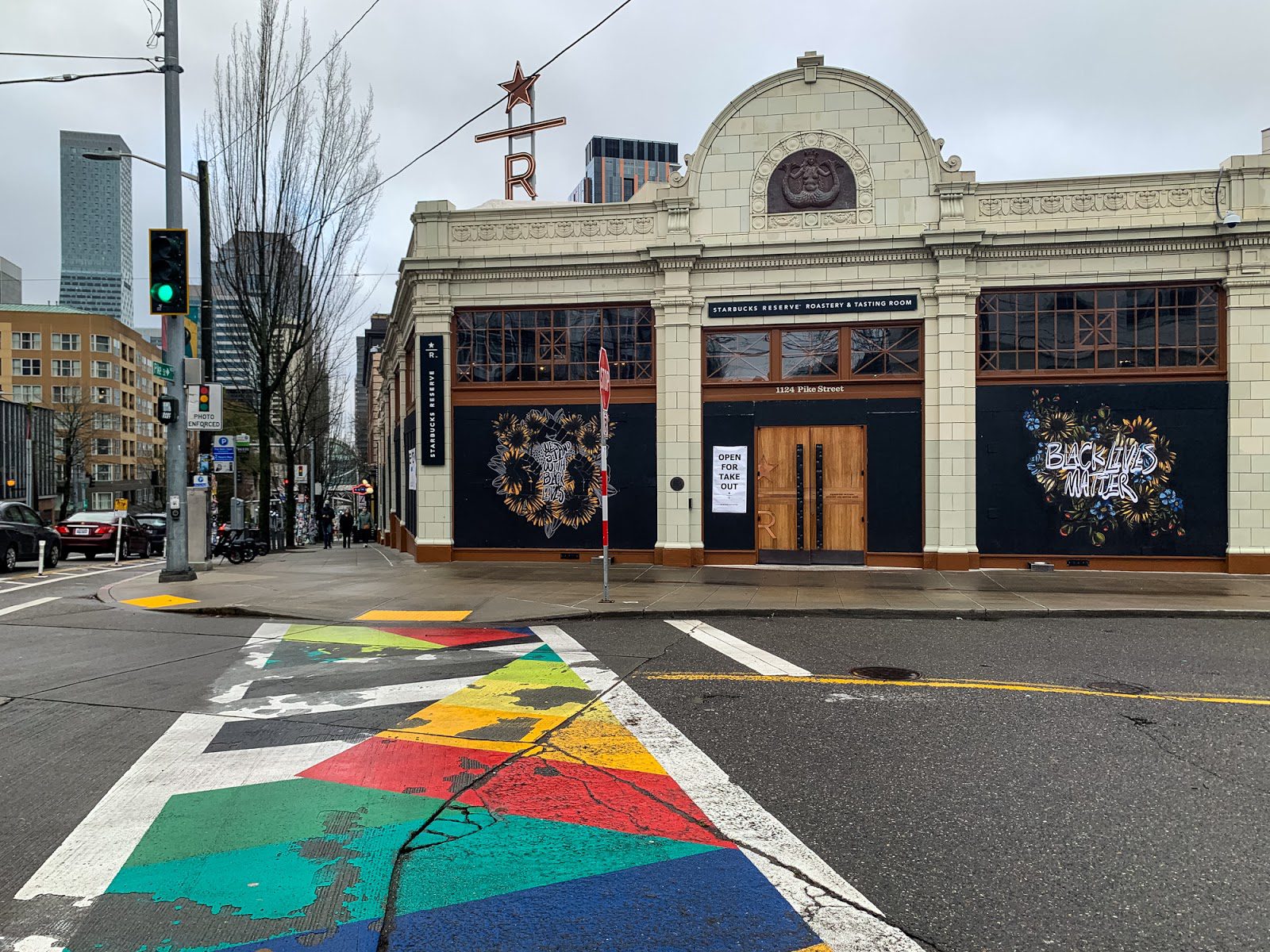 If you're a Starbucks lover you'll definitely want to visit the very first Starbucks Reserve Roastery for an immersive dive into all things Starbucks. Even if you don't like their coffee (guilty!) it's a really cool experience, especially for people from out of town, and is well worth a stop on your trip. It's a big, beautiful space with plenty of options – from traditional Starbucks drinks, to a cold brew bar and a pour over bar. Plus, all sorts of coffee gadgets and branded merchandise.
Now, time to backtrack a little bit. If you're looking for some of the best coffee in Seattle, head just up the street to Victrola Coffee Roasters.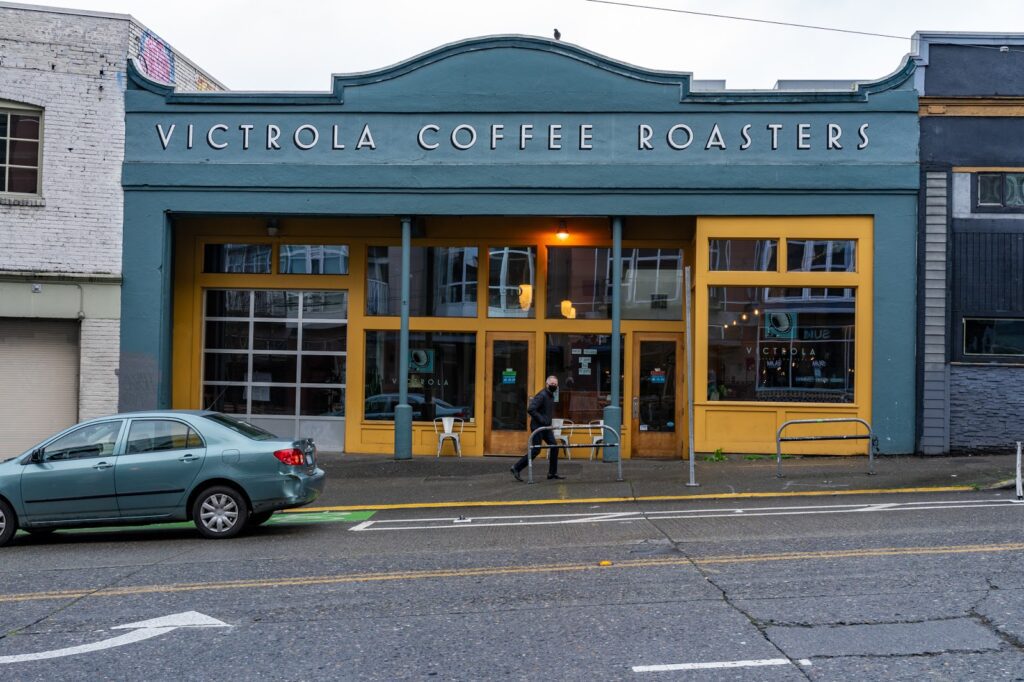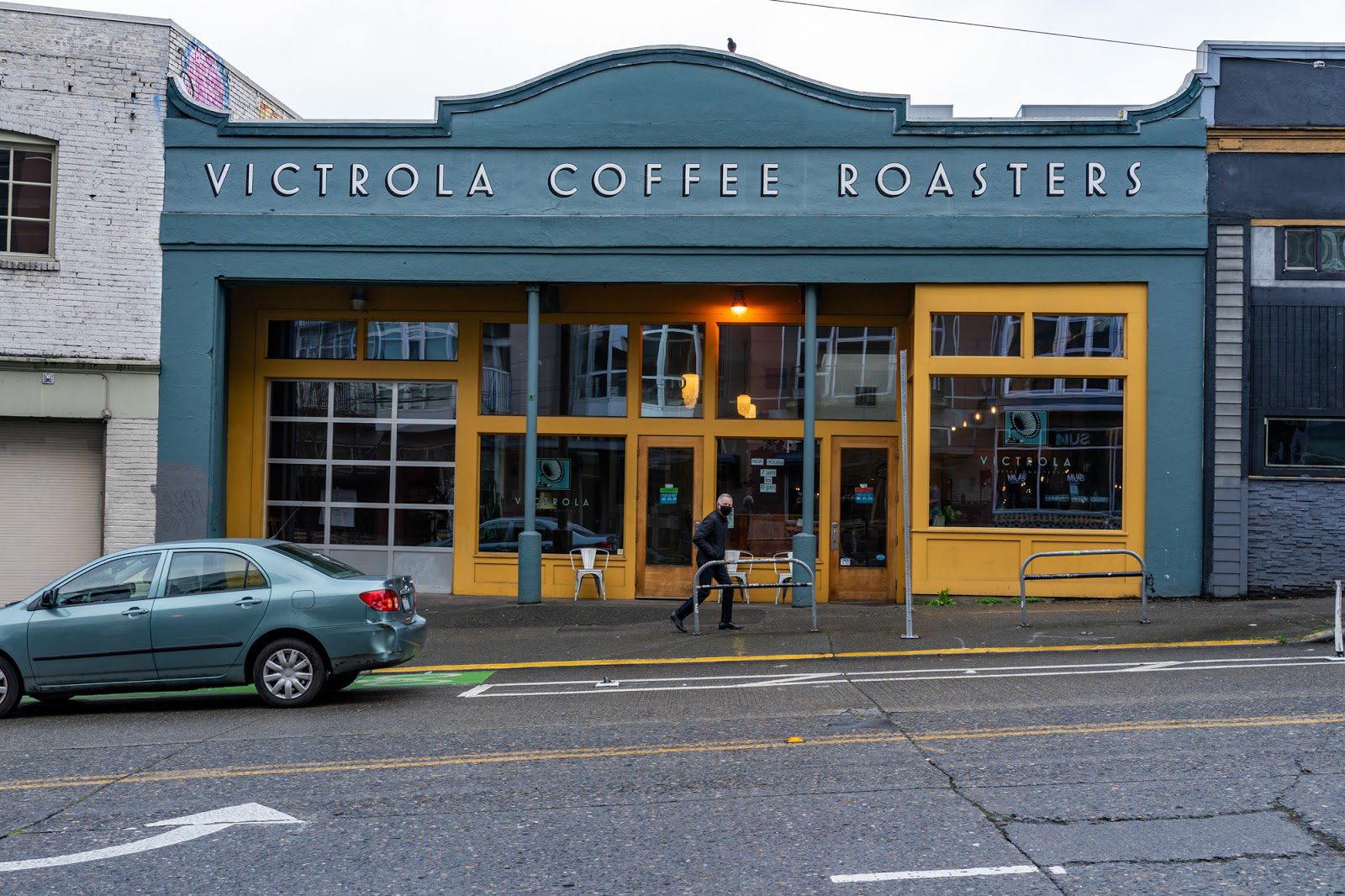 Then head over to The Elliot Bay Book Company, a multilevel bookstore, and maybe arrive just in time for a book signing or fun event. It's like Powell's in Portland, which might just be my favorite place on Earth, except it's in Seattle. It's a must-stop for book lovers.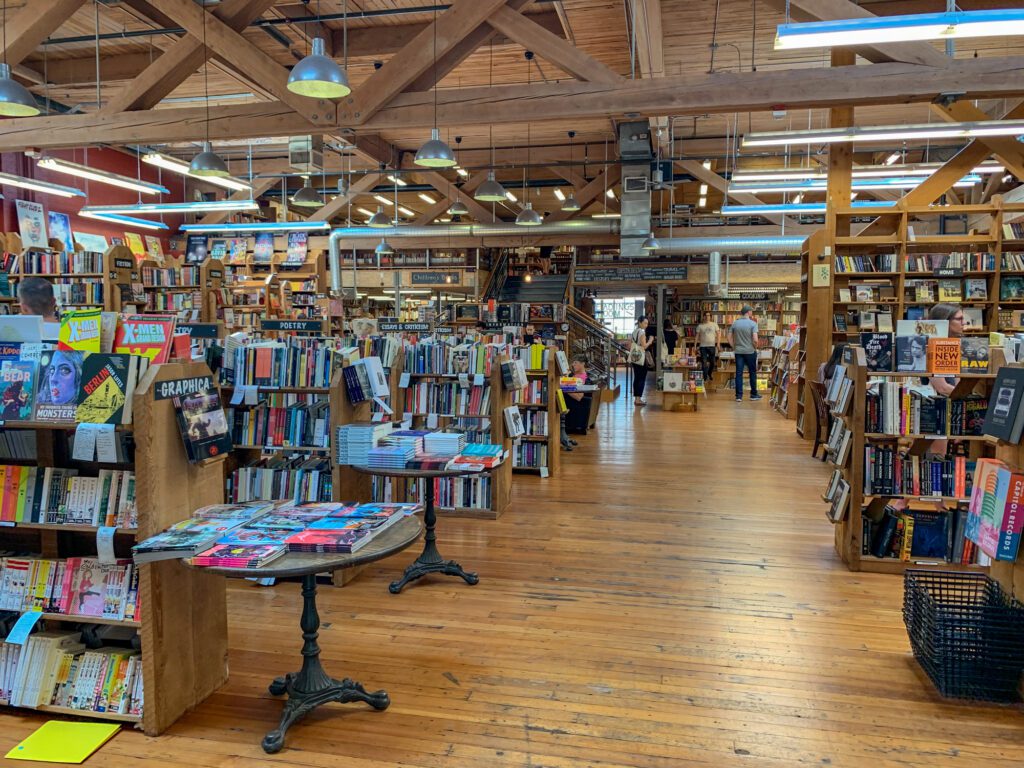 By now, you've probably worked up quite the appetite. Lucky for you, you've got plenty of options nearby. Plus two options for ice cream. But more on that in a second.
I'd highly recommend Capitol Cider, a 100% gluten free restaurant in the heart of Capitol Hill with a great menu for lunch, brunch, dinner, and everything in between. Plus, they've got an impressive array of cider, hence the name. They even have 100% gluten free fish & chips!
Not into that? Head to Oddfellows Cafe (not Celiac-friendly, unfortunately, although their menu is marked gluten free) next to Elliot Bay Books and get their trademark biscuits and gravy.
No matter what you choose to do in Capitol Hill, you have to grab some of Seattle's best ice cream. You've got two great choices in Capitol Hill.
First, Molly Moon's, a local chain that is allergy-conscious (if you ask nicely, they'll use a new scoop and scoop from a new tub) and has all sorts of rotating seasonal flavors. You might have already tried their ice cream if you followed my advice in Queen Anne – they now have locations all over the city, and are becoming an ice cream empire. But in a good way.
The second option, which is great for those of us who avoid gluten or dairy, is Frankie & Jo's, which is a 100% gluten free and plant-based ice cream spot. Why not both?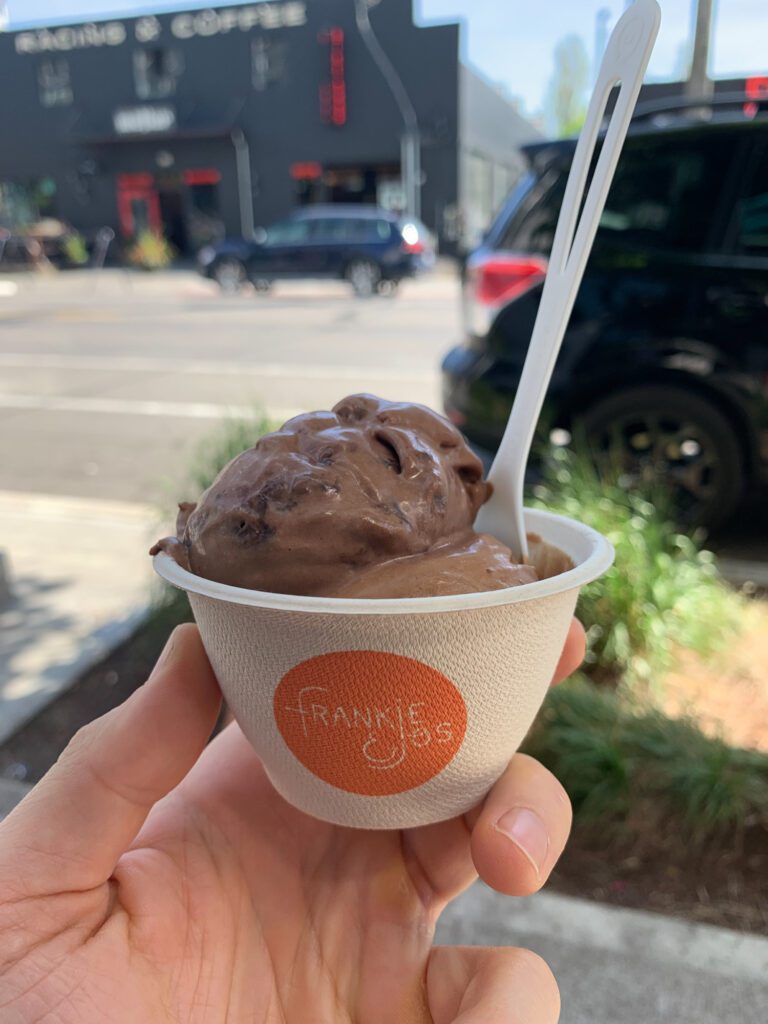 Trust me, you won't want to miss the ice cream. Even if it's raining.
For afternoon drinks, check out Sun Liquor Distillery's Sol Liquor Lounge. Creative cocktails in a trendy space with handcrafted spirits? That's so Seattle.
If You Find Yourself With More Time in Seattle
If you happen to have 4 days in Seattle or more, I like to use the extra day as a choose-your-own-adventure sort of day. If you find yourself with extra time in Seattle, check out my guide to the best day trips from Seattle.
Here are some options for you to close out your visit to Seattle.
If you'd like to see some of the natural surroundings near Seattle, you can't miss hiking to Snow Lake and Snoqualmie Falls. You'll have to rent a car and drive there, but I promise the stunning views are worth your time! Heads up – Snow Lake is open in the summer and early fall (July – Sept), otherwise you'll likely find some snow.
Or, you could head to Woodinville and do some wine tasting.
Got an extra day? Some of the best day trips from Seattle include Mt. Rainier, Olympic National Park, the North Cascades, and Finnriver Cidery.
The possibilities are nearly endless. That's one of the best parts about Seattle. Within a few hours of the city you'll find world class outdoor activities, world class food and drink, and more.
The Best Coffee Shops in Seattle
Seattle is the world capitol of coffee thanks to the global conglomerate with the Siren logo. I will say that I take out of town visitors to the Starbucks Reserve Roastery on Capitol Hill because it's a super cool space and experience, and they do some interesting things like cold brew cocktails. But for the best coffee, you should head a few steps up the street to Victrola.
Here are my favorite coffee shops in Seattle.
La Marzocco Cafe (Queen Anne / Space Needle): Located in the shadow of the Space Needle, this place is part La Marzocco (the really expensive espresso machines) showroom, and part coffee shop with rotating coffee roasters. If you love coffee, it's pretty much a must-stop. It also happens to be a beautiful open space.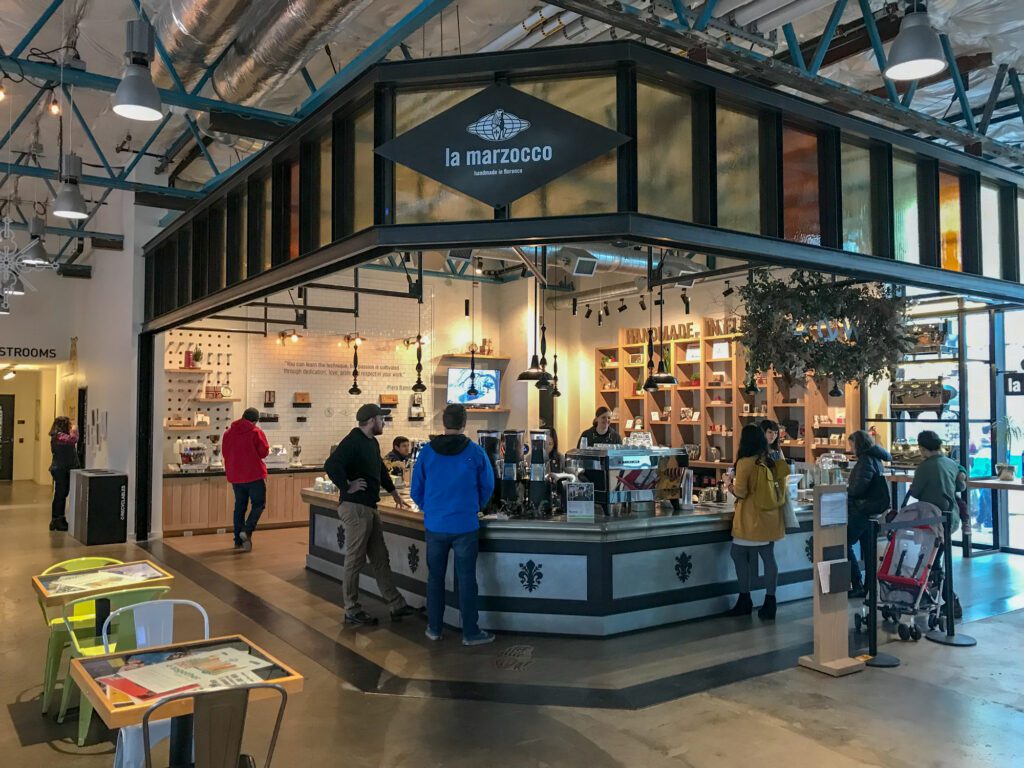 Victrola Coffee Roasters (Capitol Hill): This is my favorite coffee roaster in Seattle. They have a lovely shop in the heart of Capitol Hill, serving up the usual third wave coffee offerings from pour over to lattes with pretty art. Their holiday blend around Christmas is outstanding, as are most of their single origin roasts that they sell at the cafe.
Olympia Coffee Company (West Seattle): Hot on Victrola's heels for the title of "Matt's favorite Seattle coffee roaster" is Olympia Coffee, who is based in Olympia about 2 hours south of Seattle, but opened up this small, charming space a few years ago. Their natural Ethiopia coffee is fantastic, and they make all of their syrups in house and they are gluten free last time I checked. It's a few blocks away from Flying Apron's West Seattle location, so I suggest you do both in one trip to West Seattle.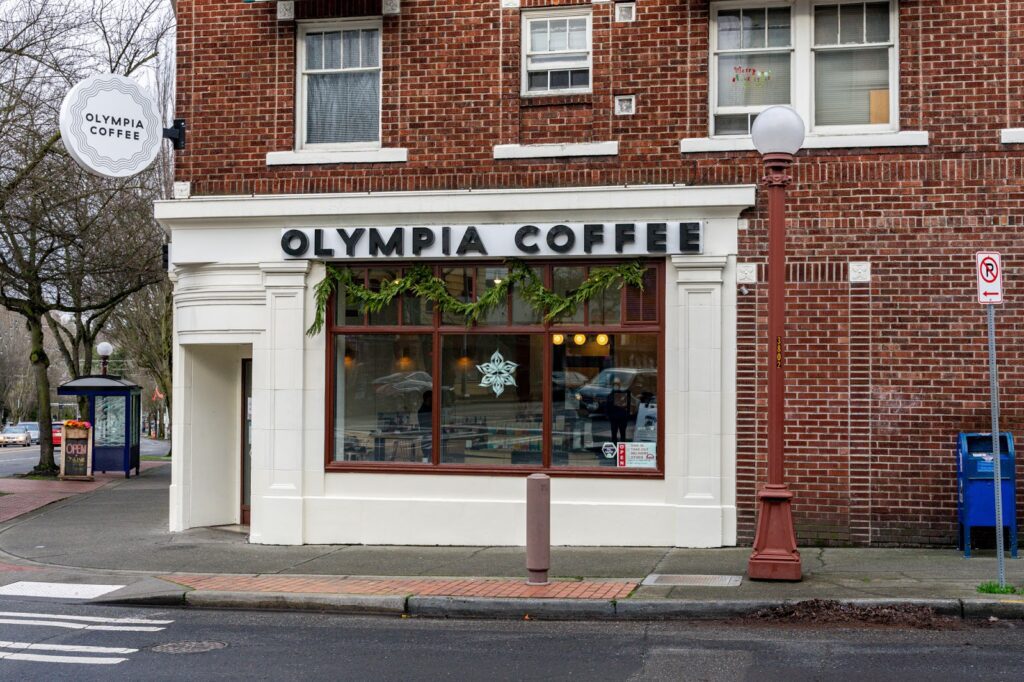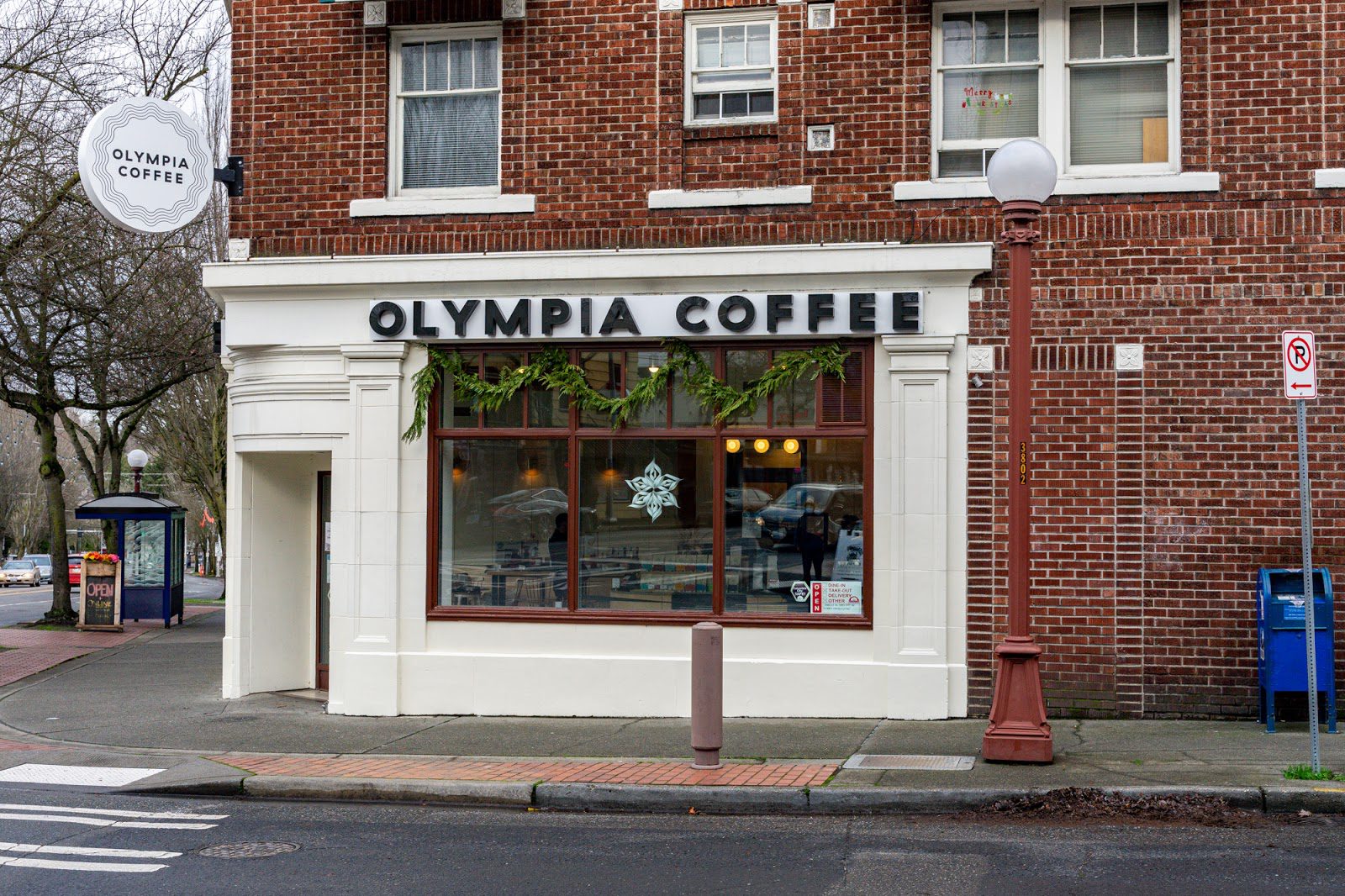 Milstead & Co (Fremont): If you're more in the mood for some flavored milk-based drinks (which may or may not be gluten free, I usually drink my coffee black) and some good cafe vibes, head to this space in Fremont. That being said, they rotate local roasters and offer things like Aeropress and V60 pour over, so there's something for everyone. I love going here because the space is so open and bright thanks to the floor-to-ceiling windows.
Espresso Vivace (Capitol Hill): This is the mecca of Seattle's coffee scene. Cool old-school vibes at their standing bar. Get the Cafe Nico – a double shot of espresso, vanilla, orange, and steamed half-and-half.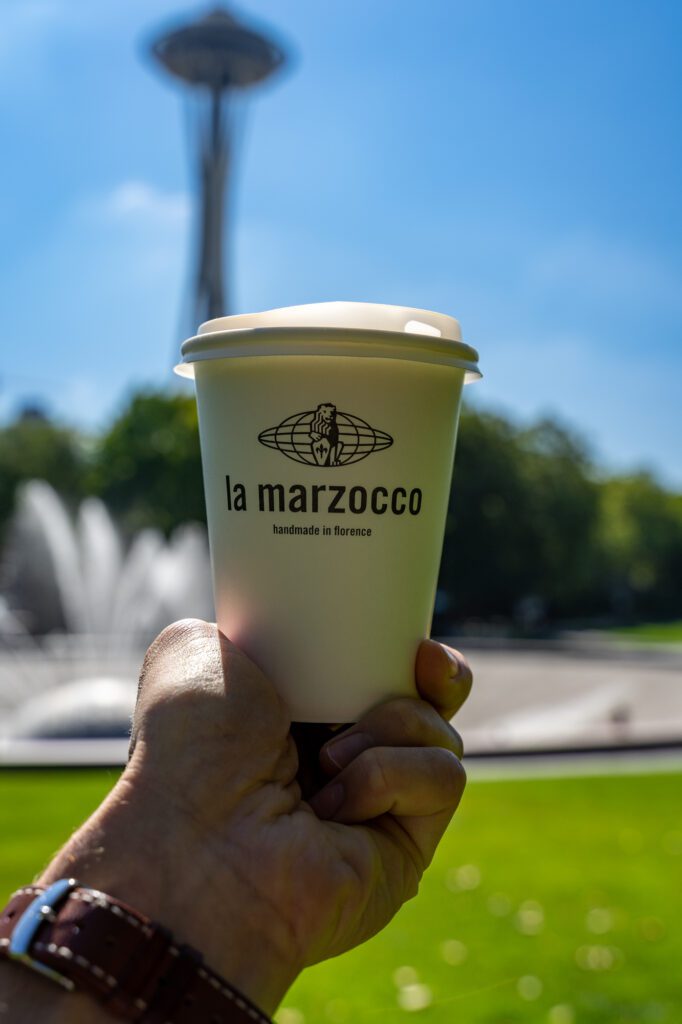 What to Pack for a Trip to Seattle
What you need to pack for Seattle largely depends on what time of year you're visiting.
In the summer, it's really no different than visiting other places in the country. It'll probably be in the 80's, sunny, and perfect for exploring both the city, and doing some of the best day trips from Seattle to explore the adventures that live just outside the city limits.
Between late September and June, the weather can be unpredictable. One weekend it might be clear, sunny, and in the 70's, and the next it will be grey, drizzly and in the 50's. It's hard to say, which is why you need to pack to be prepared for rain or shine so that you can make the most of your time in Seattle.
There are four essentials to pack for Seattle so that you're ready for the rain, and it won't stop you from exploring the city.
A Good Rain Jacket
It doesn't really rains that hard in Seattle. It's usually more like a light mist rather than a torrential downpour, which means a rain jacket is more than enough to keep you dry. I recommend the North Face Resolve as a solid affordable rain jacket that'll cost you less than $100, and keep you 100% dry. If you want a performance rain jacket that can stand up to the nastiest weather, look at the Black Diamond Stormline Stretch Rain Shell.
A Pair of Rain Boots
If you visit Seattle in the winter, you'll see everyone walking around in nearly identical Hunter rain boots. And there's a good reason – they do the job of keeping your feet dry perfectly. They have more fashion-forward options, like the refined Chelsea boot, which is what I prefer. Another good option that falls on the more outdoorsy side of the spectrum is the Blundstone 550, which is Alysha's go-to waterproof boot.
A Couple of Layers
Layers are the key to happiness in Seattle. The three layering pieces that I bring on every trip home are a warm, lightweight vest (men's / women's), a packable down jacket (I love my Patagonia Down Sweater – women's version here), and a quarter-zip fleece (men's / women's).
A Waterproof Bag
This is the final essential to bring on any trip to Seattle in the fall, winter, or spring so that you can make the most of your Seattle itinerary, rain or shine. Here's is a good waterproof backpack that I love and use every single day, at home and on the road. Here's a water-resistant tote and a water-resistant messenger bag, which would be good alternatives to a backpack.
For more on what to pack for a trip to Seattle, read my Seattle packing list. Planning a day hike near Seattle? You'll want to read my guide to what to pack for a day hike.
Getting Around During a Weekend In Seattle
Seattle isn't a huge city, but it is fairly spread out and hilly. While you can easily walk around the downtown area, if you want to explore other neighborhoods you will need to catch public transportation or a Lyft.
Getting to Seattle from the Airport
There are two main options for getting from SeaTac Airport, which is ~15 miles south of Seattle, to the city center. You can take the Lightrail from the airport to Downtown Seattle, Capitol Hill, and the University of Washington. And it's super easy. It's cheap, fast, and efficient, and the most affordable way to get to the city.
The other option is Lyft or Uber, which will be more expensive and, depending on traffic, could take a LONG time during rush hour.
Getting Around Once You're in Seattle
There are a few different forms of public transportation that you can use to get around including light rail, buses, ferries, and water taxis.
Even if you are in Seattle for a short amount of time it is worth purchasing an ORCA card, which is a travel card that money or passes can be loaded onto.
On days when you plan on taking a lot of public transportation it will be worth your while to purchase a regional day pass which will cost you $8 (plus the new Orca card fee of $5 if you haven't gotten yours yet). The pass covers unlimited trips on public buses, streetcars, trains, and water taxis for fares under $3.50. If you are taking a longer journey that costs over $3.50, which won't be an issue unless you're taking a Ferry or the Light Rail to the Airport, then the difference will be charged to your Orca card.
If you rent a car, you'll probably have to pay for either a) a parking garage or b) a parking ticket. Unless you're trying to take a day trip from Seattle, don't rent a car. If you need to go somewhere that's not on a convenient public transportation route, use Lyft.
When to Visit Seattle
It's probably no surprise to you that summer is the best time to visit the Pacific Northwest. You'll find blue skies and warm temperatures from July to September. June and October are also generally nice, but you might get a few days of grey skies in the shoulder months.
With summer comes higher prices. But I tell everyone that there's no better place to be than Seattle in summer. Long days. Warm weather. Crisp blue skies. Mountains on three sides.
In other words, paradise.
The spring, fall, and winter are grey. Really grey. But as long as you pack a rain jacket, you'll be fine. It rarely rains hard in Seattle, it's more of a consistent light mist.
3 Can't-Miss Tours in Seattle
After amazing experiences in Mexico City and Colombia, I am full on head-over-heels in love with Airbnb Experiences as a way to connect with passionate locals and learn about the city from their perspective.
Most of the tours I recommend below are highly rated from Airbnb, and I highly recommend it as a place to find interesting and different things to do around the world.
The Seattle Underground Tour: (Note: not an Airbnb experience, but still a great tour!) A unique experience in Pioneer Square, a historic part of the city, that takes you under the streets of Seattle to learn about the origins of the city. The tour guides are funny and knowledgeable, and it's a great experience for both kids and adults.
Food Tour of Pike Place Market: 2 hours. 15+ things to try. All led by a local chef. The perfect way to explore Pike Place Market, where you'll get some history and context alongside your delicious food. Otherwise, if you're like me, you'll probably wander through once (maybe twice) and head out without really diving into what makes Pike Place special.
Experience Glass Project: This unique experience has actually been on my list since mid-2019, but I haven't gotten to it yet (alongside a pottery class, and stand up paddleboarding on Lake Union). One of the unique parts about Seattle is the history of independent spirit – from grunge music, to record shops, and most recently craft breweries. It has been a haven for artists of all kinds for decades, and that's part of the reason why people are worried about rising rents. If artists can't afford to live in Seattle, won't that fundamentally change the look and feel of the city? Anyway, my point is that Seattle is one of the only places where you'll be able to do glassblowing in a local artist's studio. It's not something you'd ever be able to do on your own, so doing it with two local artists who will show you the ropes is the way to go. You'll get to make two or three pieces of glassware too!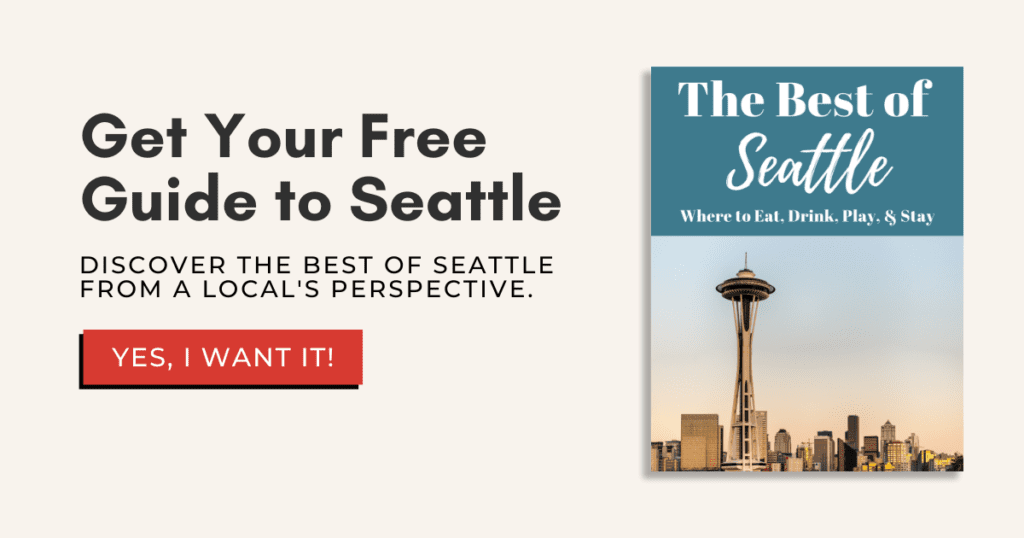 ---
I still consider Seattle home. And it's a great place to spend 3 days exploring. This 3 day Seattle itinerary is meant to guide you on your first trip to Seattle. Complete with what to do, where to explore, and what to eat and drink.
I'd love to hear how this guide helped you and what the highlights were for you.
Drop a comment below and let me know how your trip went and what spots you loved, were underwhelmed by, or you think I missed.
Heading to the Pacific Northwest? Here are some other posts you might like.