3 Days in Portland: How to Spend a Weekend in Portland, OR
In a city where "keep Portland weird" is the unofficial slogan and Portlandia is one of the main pop culture references associated with it, you'd expect some weirdness. But when you spend a long weekend in Portland, you'll realize that the "weirdness" is all a part of the charm.
This guide to spending 3 days in Portland will help you uncover the best things to do in Portland, Oregon, along with the best places to stay, eat, and drink. You'll find everything from donut crawls to a visit to the tallest waterfall in Oregon, and everything in between.
The snowy peak of Mt. Hood towers in the background over a city full of local artisans and entrepreneurs who have made Portland insanely easy to fall in love with. Walking along the Willamette River which flows through the center of the city, dividing downtown and the residential (but still cool!) areas to the east, you'll probably think to yourself "I could totally see myself living here."
The only problem is that so does everyone else.
We spent a month in Portland in early 2021 – which is definitely NOT the best time of year to visit Portland (more on the best time to visit below), but we wanted to see Portland at its drizzliest.
Because if you can't handle Portland at its worst (a constant state of gray and drizzly), then you don't deserve it at its best (16 hour days that are warm and sunny). We confirmed that we still love it, and that it's at the top of our list of places to settle down, whenever that may happen.
Portland is in a weird (see what I did there) state of flux – like an angsty teenager that is growing up as swarms of people flock to its effortless coolness, but doesn't really want to. Or kind of like Peter Pan, I guess. It's a fantastic city exactly because of those small local businesses and the surrounding culture of supporting them, and it would be a shame if it grew up too fast and lost that part of its personality.
In this detailed Portland itinerary, you're going to find our top recommendations for where to stay, play, eat, and drink, along with all the things you need to know to have a smooth and memorable weekend in Portland, Oregon.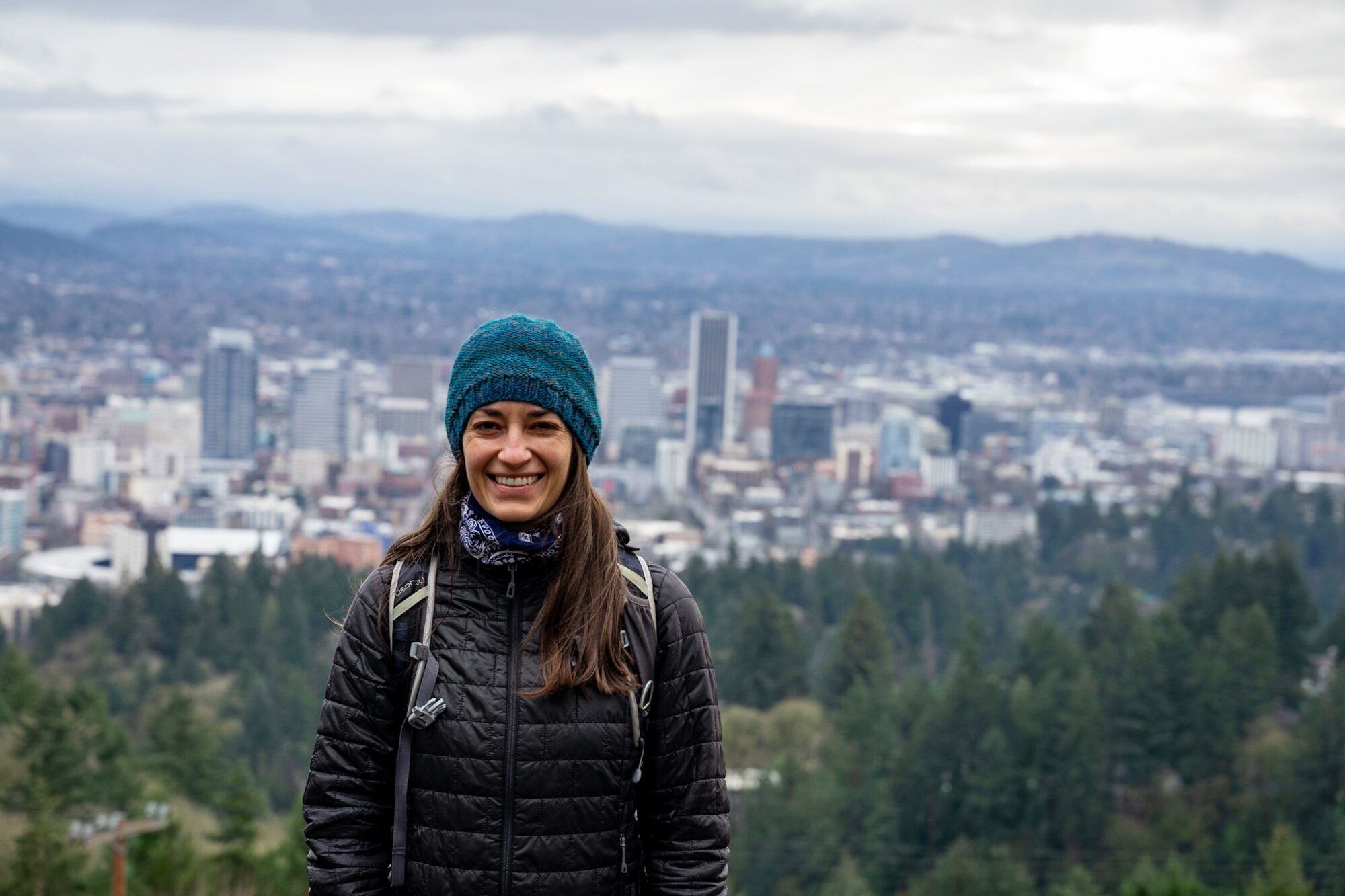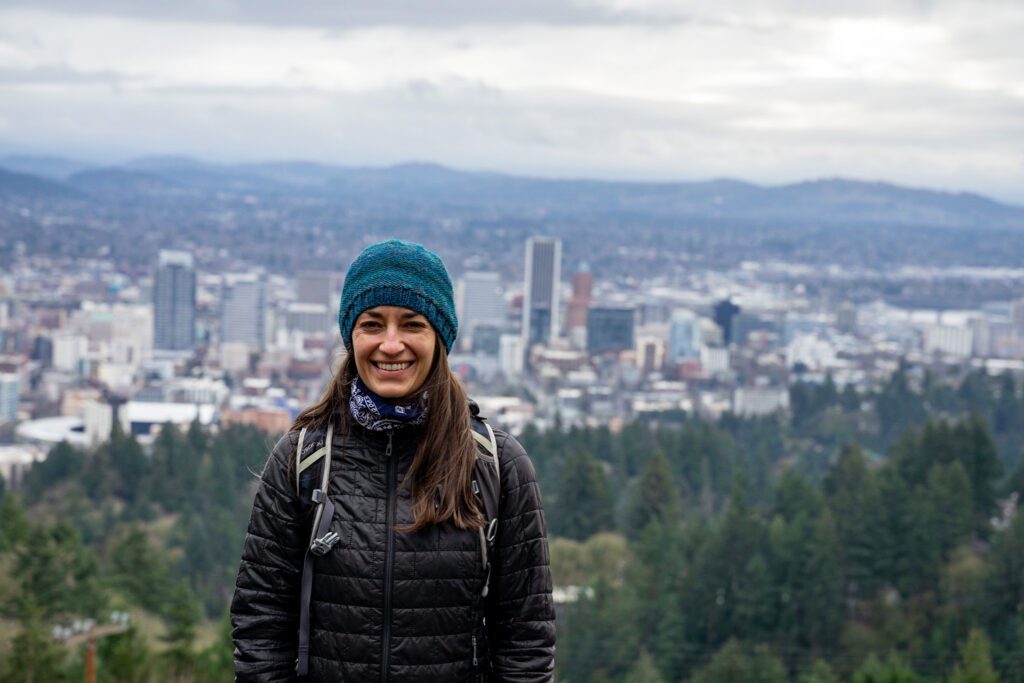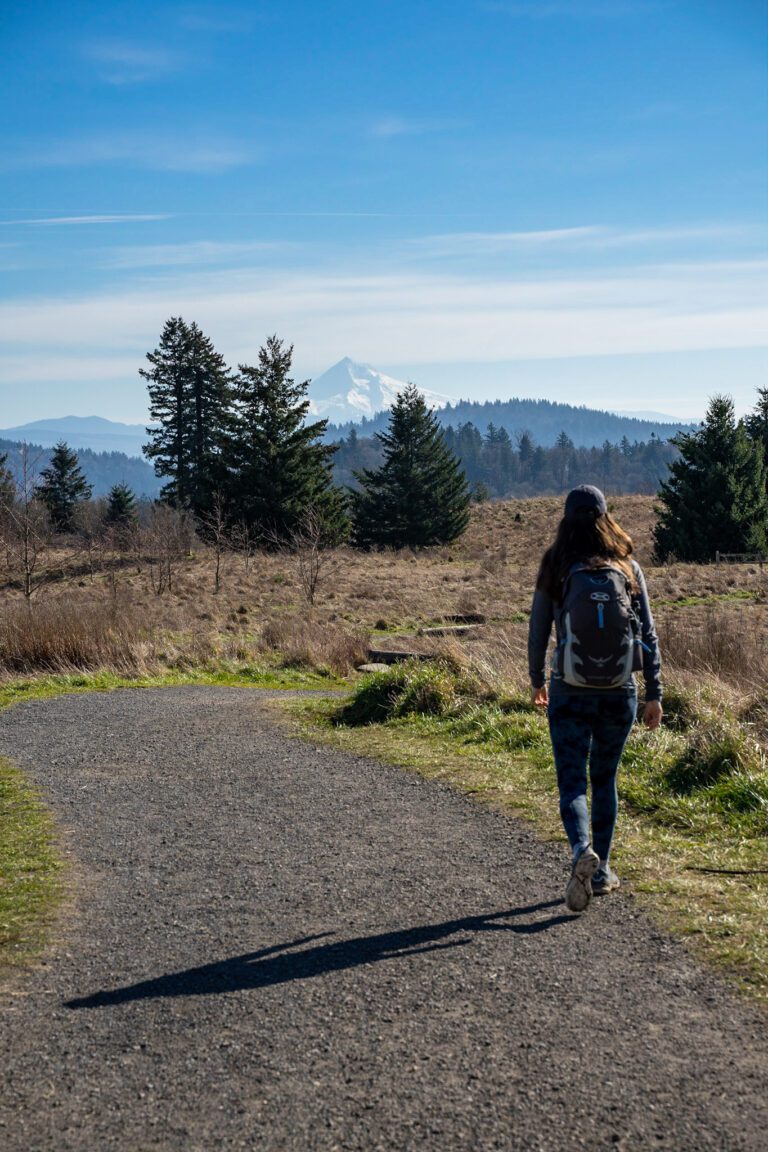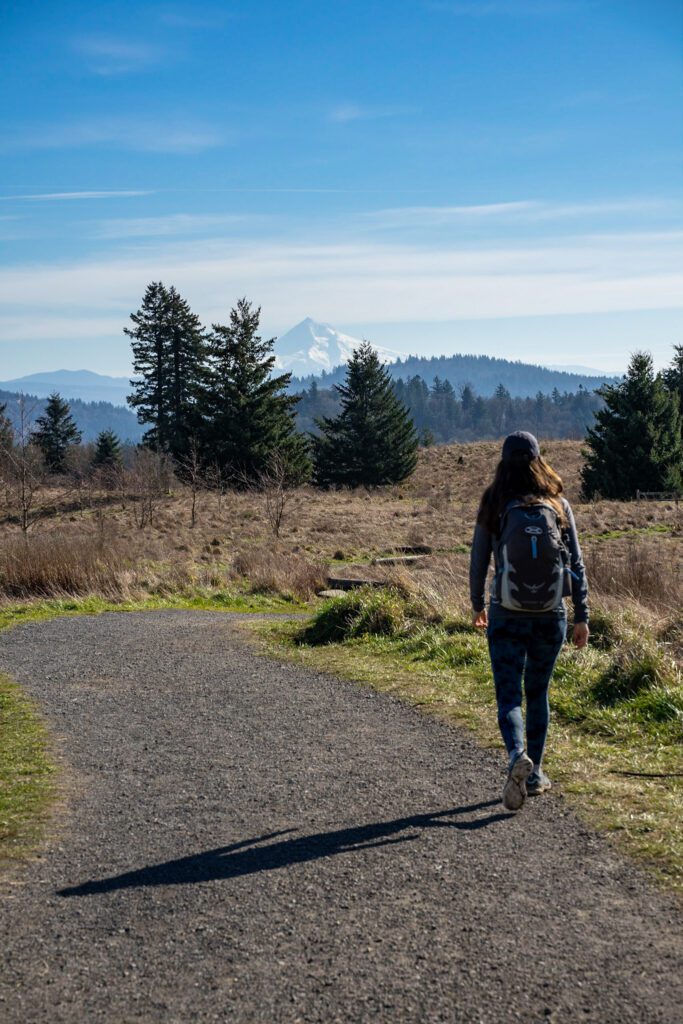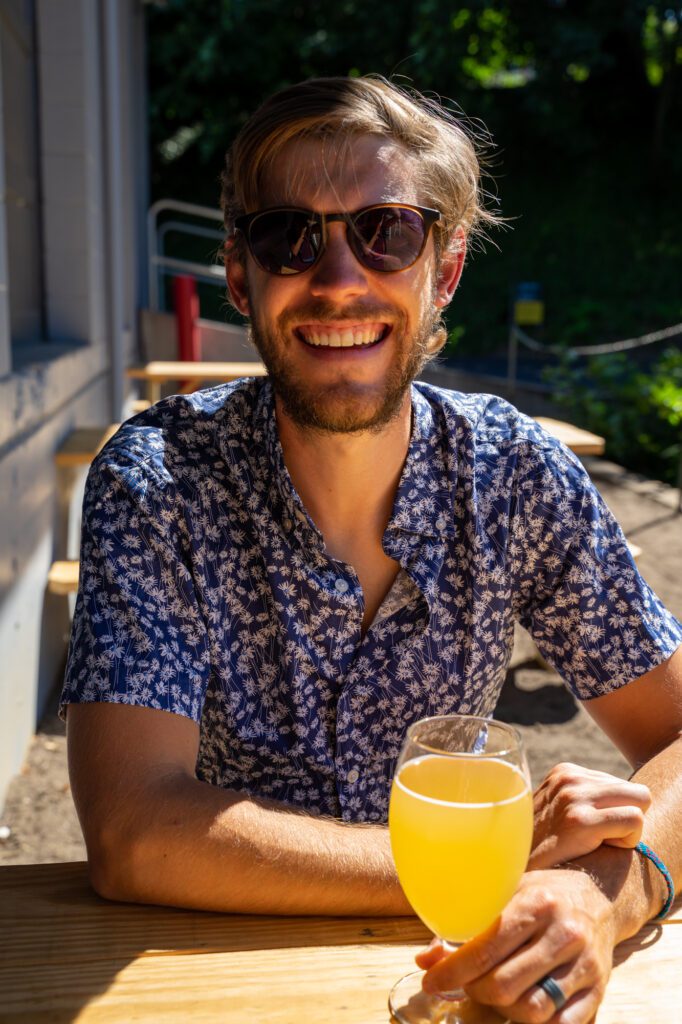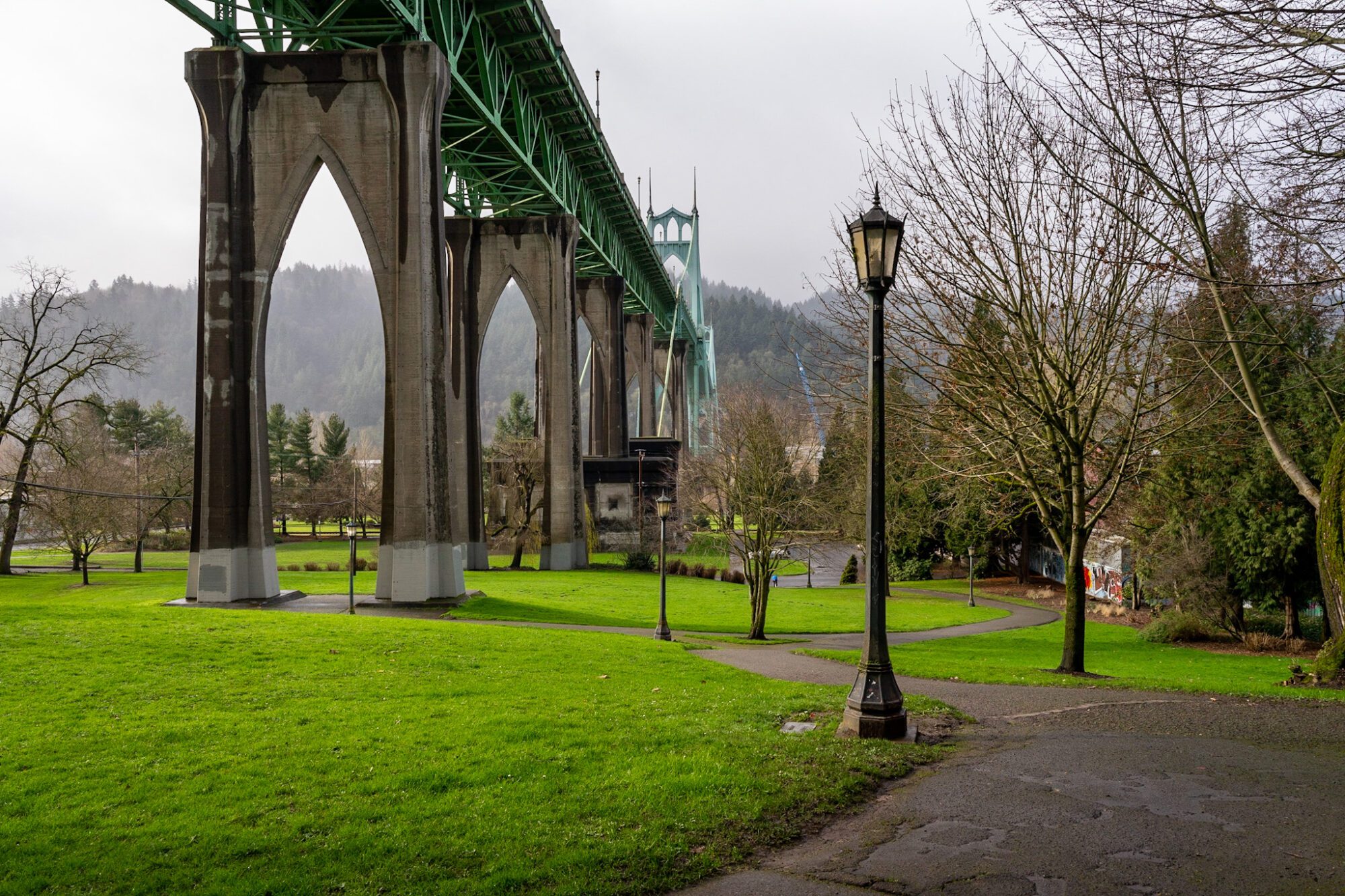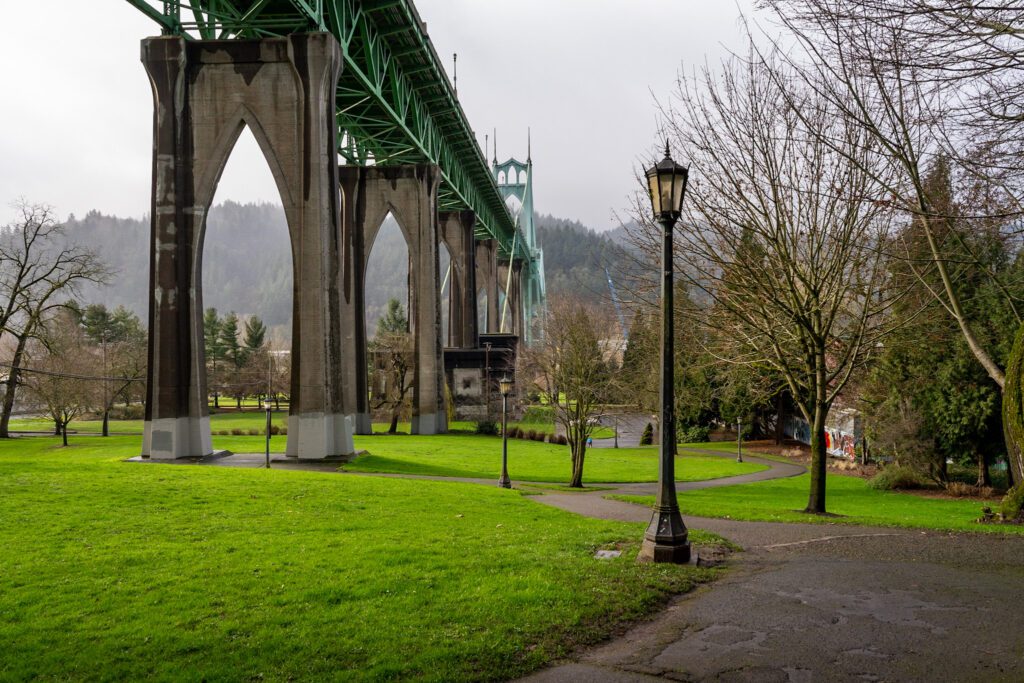 Disclaimer: Some of the links in this post, like hotel links, are affiliate links, meaning at no additional cost to you, we make a little bit of money if you click through and book. That being said, we would never recommend something to you that we don't stand behind 100%.
How Many Days Do You Need to Explore Portland?
Let's get this out of the way up front – there's no possible way that you're going to see everything there is to see in Portland in a weekend. Or even a full week. Or even a month!
We spent five weeks in Portland last winter – in addition to all the time we had previously spent in the city before that trip – and STILL didn't make it to every place on our list.
However, we do think that two days in Portland is enough to see the highlights in the city limits (with plenty to save for your return trip!).
With 3 days in Portland, you'll be able to see the highlights, plus get out of the city on a day trip to experience some of the amazing natural beauty within an hour or two of the city center.
Don't worry, we have recommendations for your itinerary, however many days you happen to have.
The detailed base itinerary you'll find below is written for a 3 day trip to Portland, but below that we have suggestions on how to spend less time – one or two days in Portland – and more time in and around the city.
Where to Stay in Portland
When you're thinking about where to stay in Portland, we'd divide the city right down the middle along the Willamette River. Either side is a good home base for exploring Portland in a weekend, but there are definitely positives and negatives for each.
East of the Willamette: Staying in Portland's Coolest Area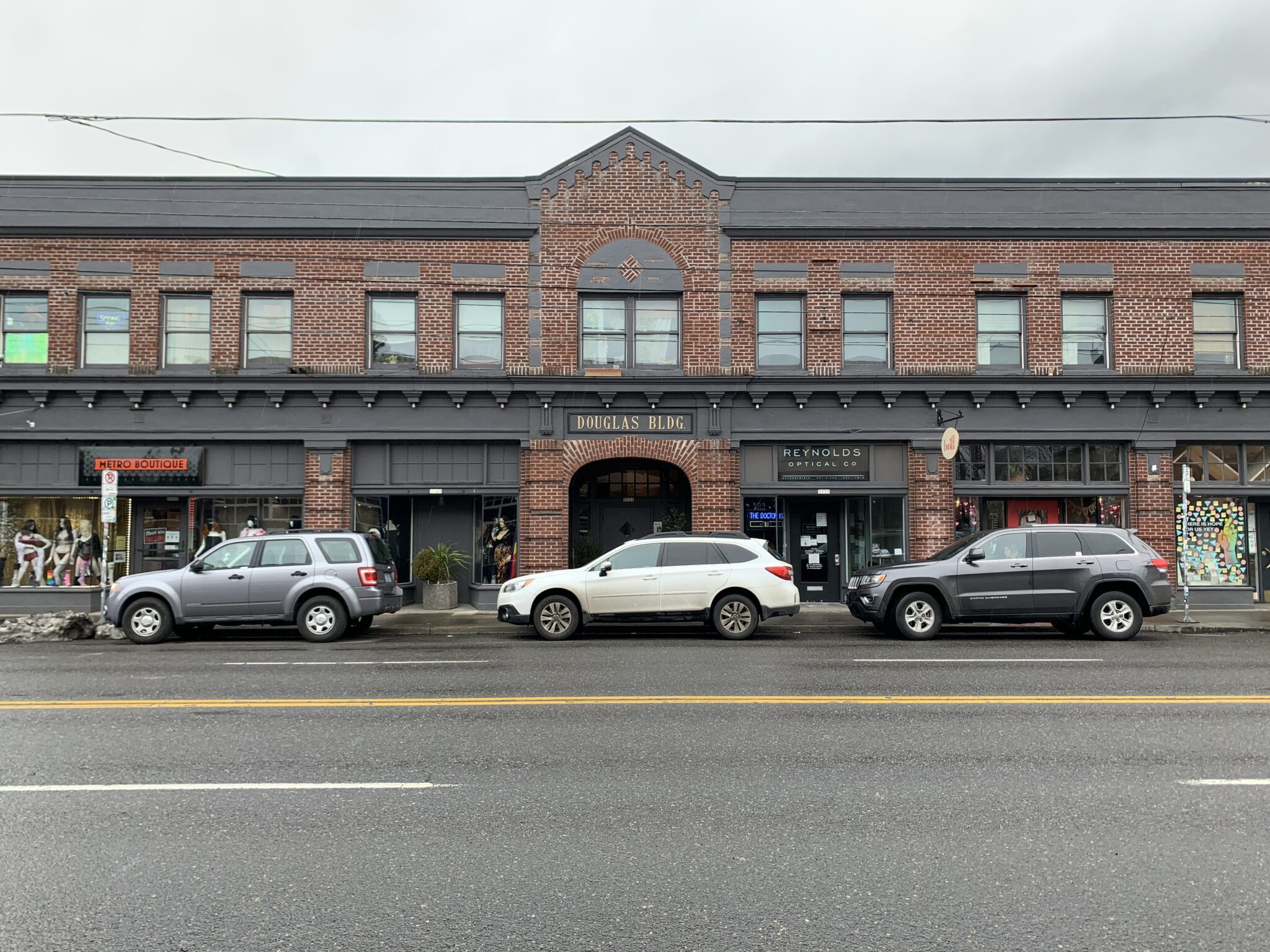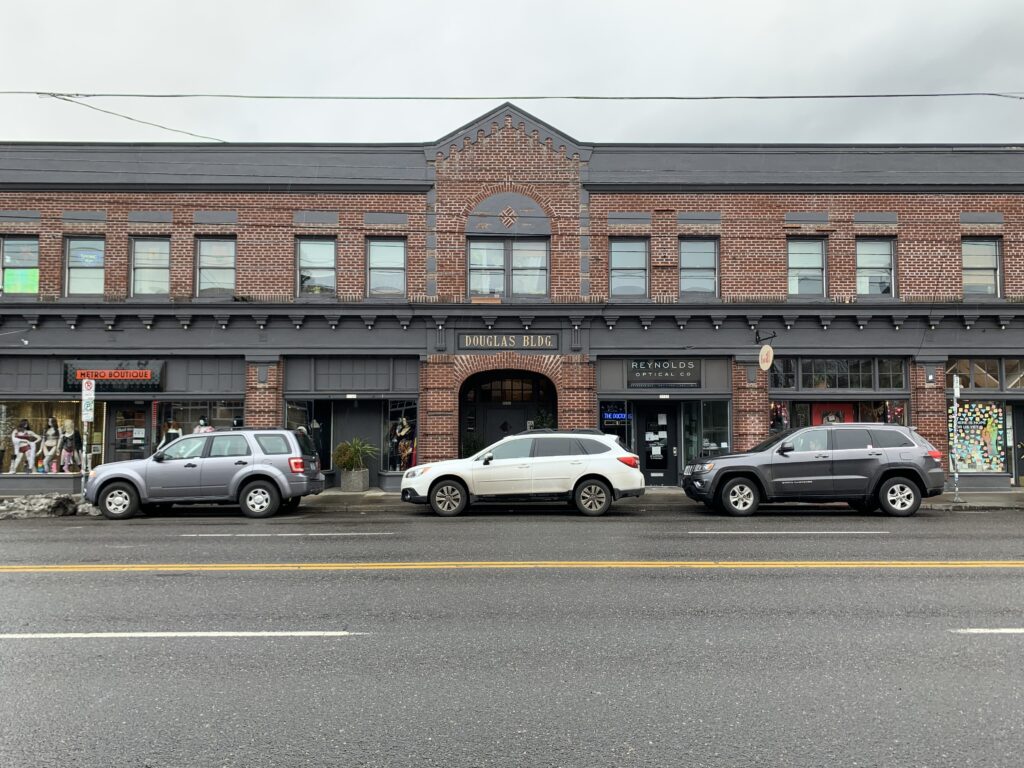 On the east side of the Willamette River, you'll find more laid back and residential parts of Southeast Portland.
But don't be fooled – some of Portland's best restaurants, bars, and shops are in this part of the city, which is why it's our favorite place to stay in Portland.
The Central Eastside, which is just across the river from downtown, is our top pick in terms of where to stay. You'll be within walking distance of breweries, restaurants, and parks, but also can get to the main tourist attractions on the other side of the river fairly easily.
In the Central Eastside, stay at either the KEX Portland, which is a cool hotel / hostel in a great location at a borderline unbelievable value, or the Jupiter NEXT, the cousin of Portland's famous Jupiter Hotel that is cool, stylish, and hip.
As you go further east, it gets super residential. In a good way, though, at least for us. The area between Hawthorne Street and Division Street in Southeast Portland is our favorite part of the city, and we'd highly recommend it if you're looking for something a little more laid back to match the vibe of Portland.
Sure, you'll be a little further out from downtown, but you'll be able to walk to two of the best stretches of food, drinks, and shopping that Portland has to offer.
We love this part of Portland so much we've made it our home based FOUR times in the past two years or so. Every time we've found an Airbnb based on our group size. Here are the places we've stayed that I would recommend.
Modern Hawthorne Guesthouse – Close to Everything (Loft Studio): Beautiful, light-filled modern loft a block away from Hawthorne, one of the best streets to explore in Portland. We loved our stay here, including summer evenings out on the patio.


Modern Alberta Arts Apartment (One Bedroom): We stayed here on our last trip, and LOVED the Alberta Arts District. It's a little further out from Downtown Portland, but there are so many incredible restaurants and things to do along Alberta Street. This apartment is a perfect base for exploring the area.


If you have a bigger group, we have also stayed at this Comfy Buckman Neighborhood Home, which has three bedrooms and is in a great spot to explore the area, and this Industrial Three Bedroom Apartment, which is a few blocks away
West of the Willamette River: Downtown Portland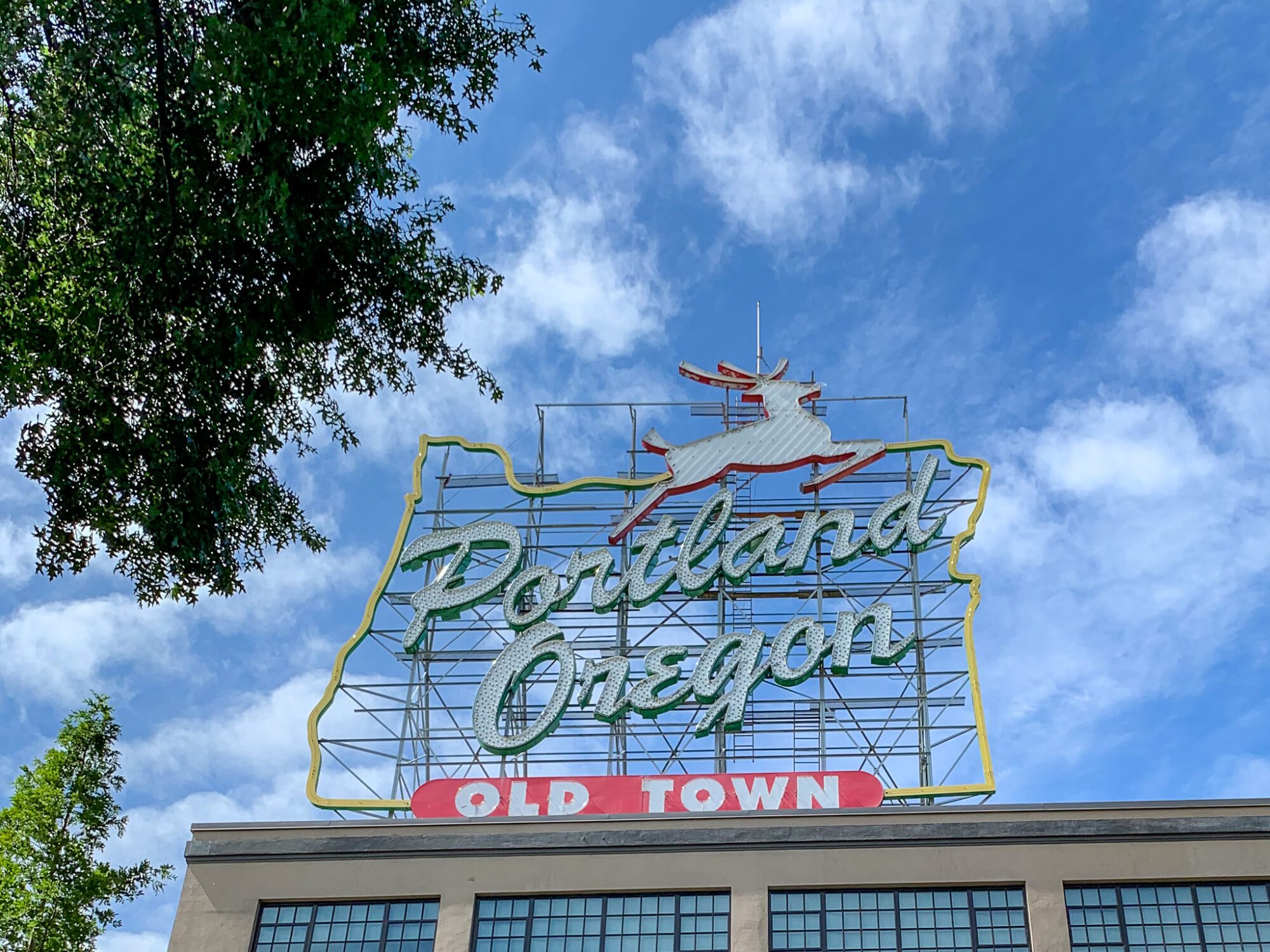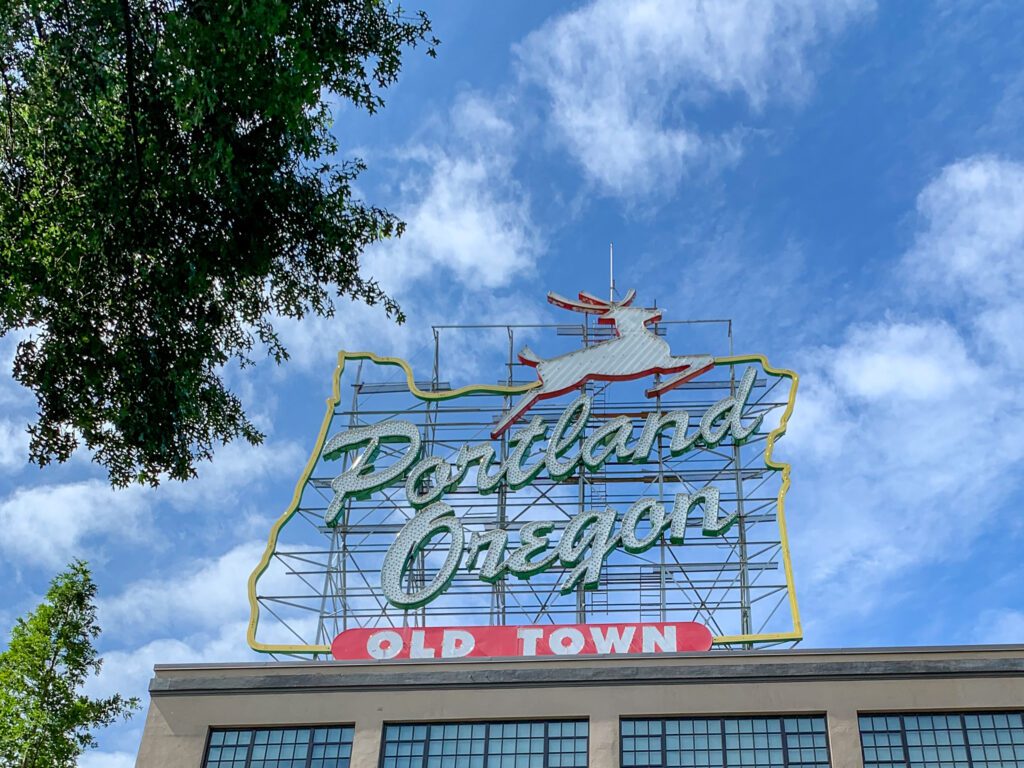 On the western side of the river, you've got all the hustle and bustle of Downtown Portland, along with the trendy areas between the Pearl District and Nob Hill, which are full of industrial-chic buildings, bougie fitness studios, and tons of bars, restaurants, and coffee shops.
If you want to stay in a hotel, you should stay in Downtown Portland. It has by far the best selection of places to stay in any part of the city.
It's also the most central area in Portland – many of Portland's best attractions like the International Rose Garden, Powell's Books, and the Saturday Market – are on this side of the river, which makes it a perfect home base for your weekend trip.
Here are a few places near Downtown Portland to take a look at.
The Ace Hotel: When in Portland, right? I have stayed in the Ace Hotel in both Seattle and New York City, and loved both of them. I haven't stayed at this location, but the Ace has developed a reputation for well designed comfortable hotels with a range of room types depending on your travel style and budget.


The Hoxton: Hoxton Hotels are some of our favorite places to stay around the world, and their new Portland outpost immediately made our list of the coolest hotels in Portland. They do a great job of taking the surrounding neighborhood and bringing in design elements that reflect the area. They have rooms ranging from downright tiny to relatively gigantic, and everything in between. It's right on Burnside, which will put you in a perfect location for exploring the best that Portland has to offer.


The Moxy Hotel Portland: One of the coolest hotels in Seattle now has a Portland location! The Moxy blends style and affordability in a way that most hotels aren't able to do, which usually makes them a great value. They do a good job maximizing the space in the rooms, so while the rooms aren't the biggest, they're packed with modern amenities and features you don't find in most bigger hotel rooms.


The Society Hotel: We've stayed here, and it's basically a cross between a hostel and a hipster boutique hotel. It's a few blocks outside of the main downtown area, but it's super walkable. It's also in an area that can be a little loud, full of bars and nightclubs. They've got dorm rooms in their hostel, an onsite coffee shop, and a range of beautifully-decorated hotel rooms from more affordable with a shared bathroom (but a super nice single-occupancy bathroom, not like seven stalls like I've seen at some hostels around the world), which is where we stayed, to King Suites.
How to Spend 3 Days in Portland: An Amazing Long Weekend in Portland, Oregon
For the purposes of this guide, let's assume you have three full days in Portland – which gives you enough time to explore Portland and the surrounding area.
Only have two days? We designed this itinerary so that you can use the first two days as written. Unfortunately, you'd miss the Columbia River Gorge, but that can be at the top of your list for your return trip to Oregon.
Day 1: Forest Park & Downtown Portland
Start your time in Portland off by exploring the western half of the city, focusing on Forest Park – one of the best green spaces in the country – and the downtown core.
Spend your morning on a hike through the forest up to a good view of the city, then eat and drink your way through downtown Portland in the afternoon.
A note on timing: The PSU Farmers Market and the Portland Saturday Market both take place on Saturdays, so make sure that this particular day falls on a weekend if you want to experience either of those things (why not both?).
A Morning Hike to Pittock Mansion and the Witch's Castle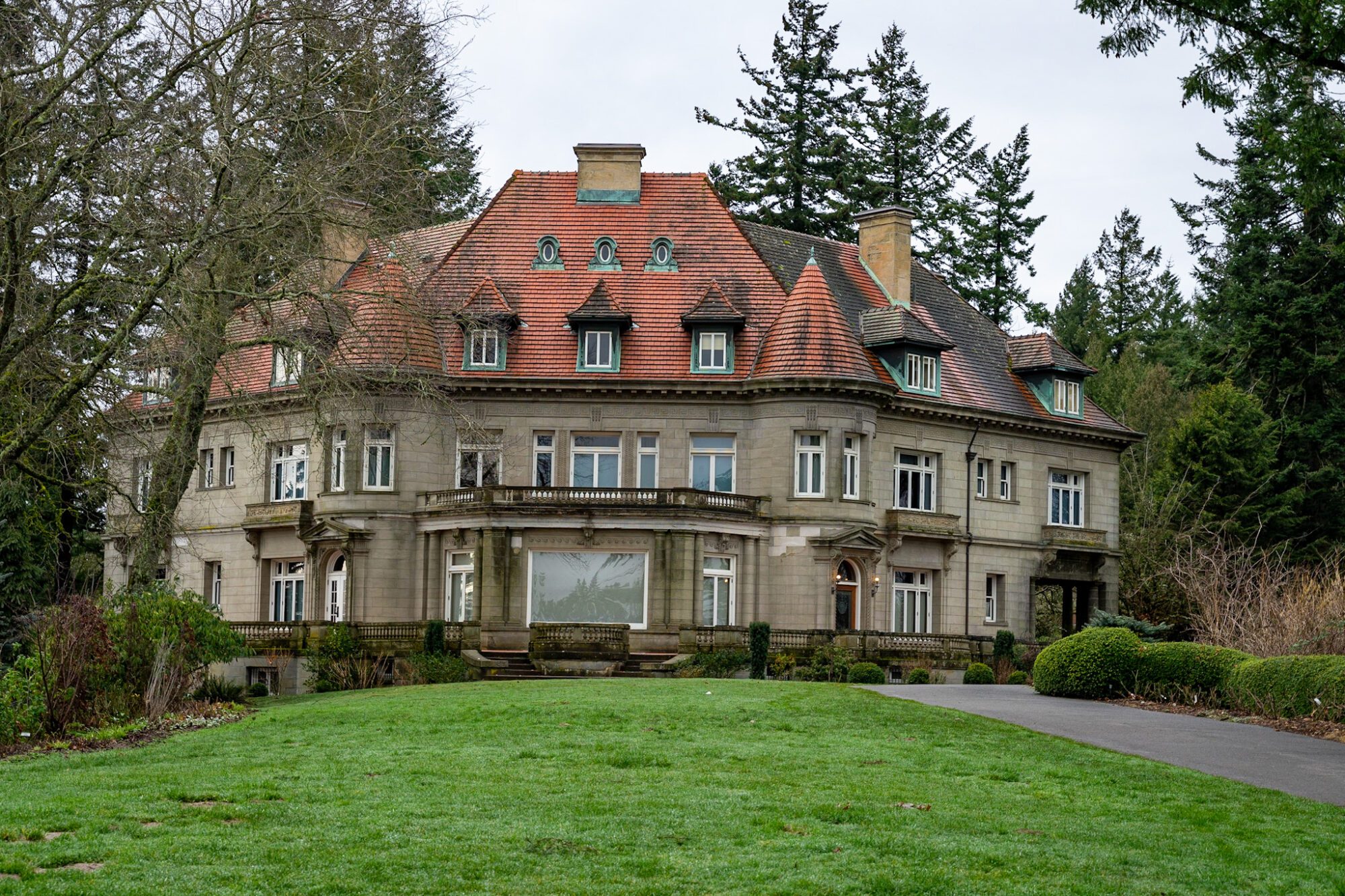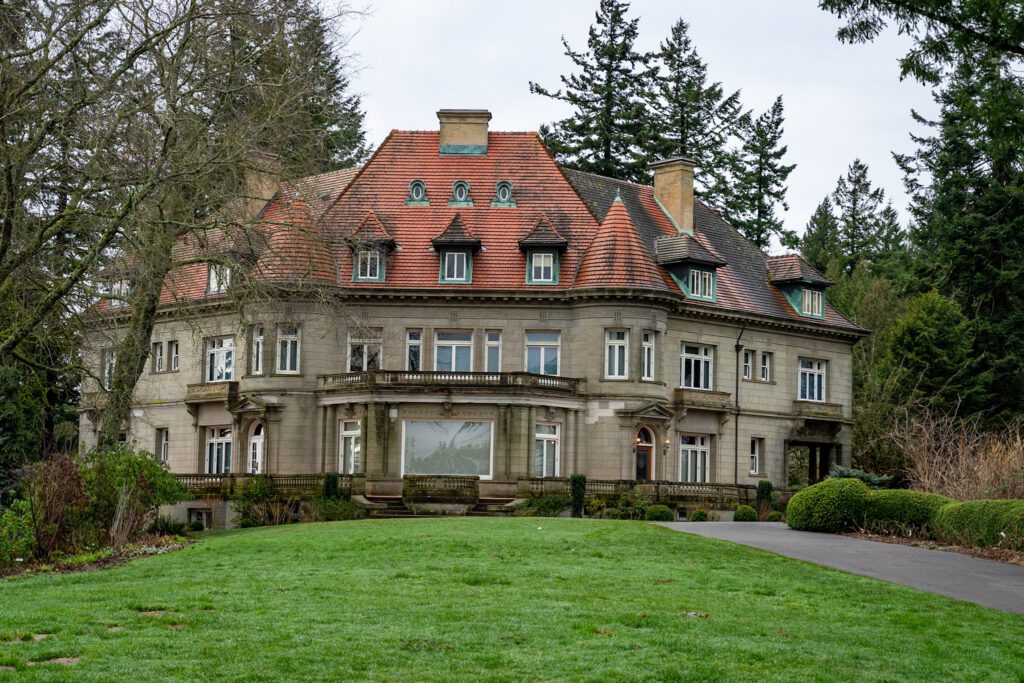 Start your trip off with a great urban hike that takes you through Forest Park, which sprawls over more than 5,000 acres on the western side of the city, up to Pittock Mansion. At the top, enjoy views of the Portland skyline with Mt. Hood in the background on a clear day.
You can find recent trail reports and more information on the hike here.
It's about 2.5 miles up to the Mansion with 900 feet of elevation gain, and we'd recommend doing it one-way, then continuing on to the east to some of the nearby sights – namely the International Rose Test Garden.
Start at the Lower Macleay Trailhead (here on Google Maps) and make your way up through the woods, following the creek.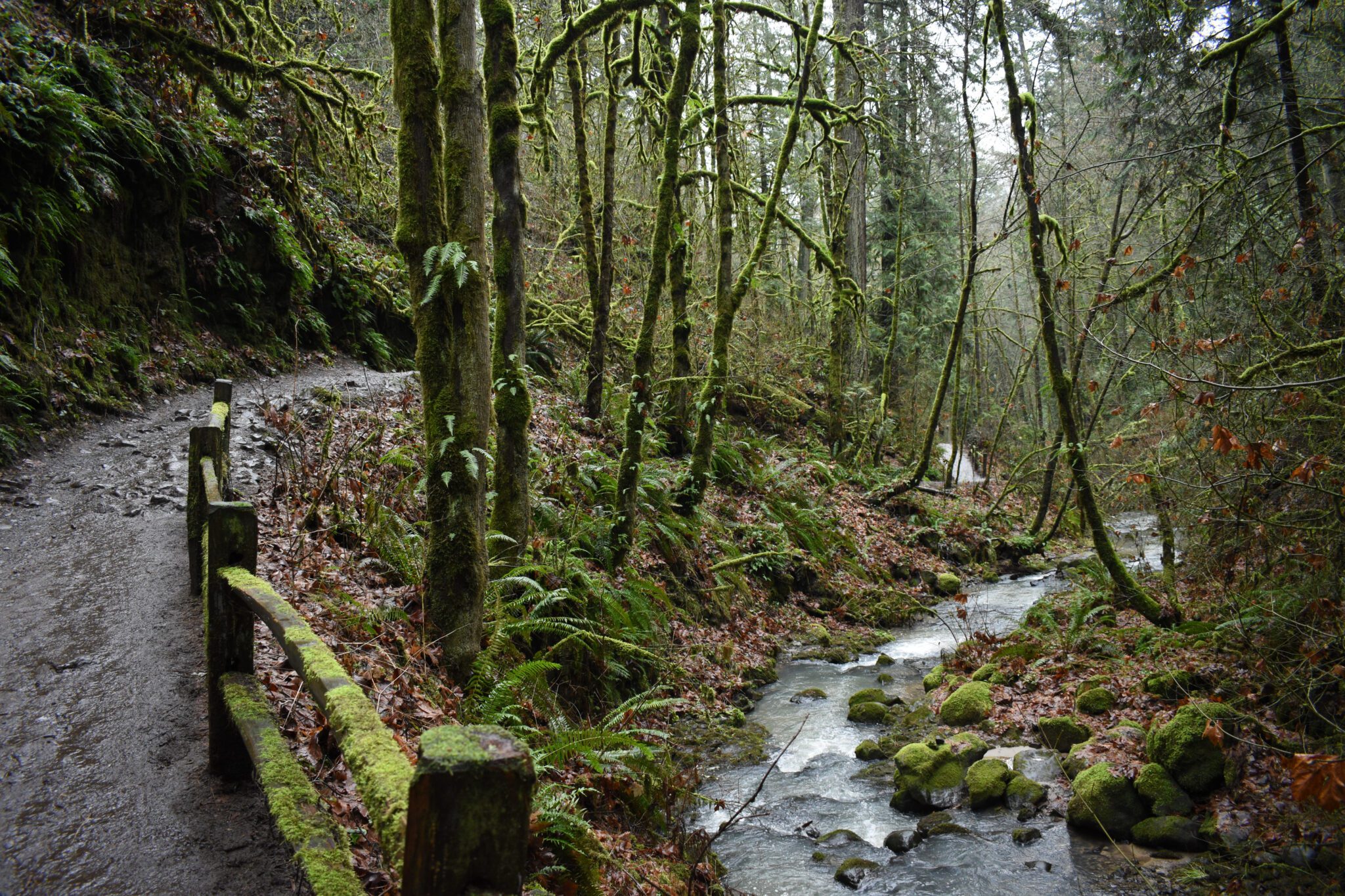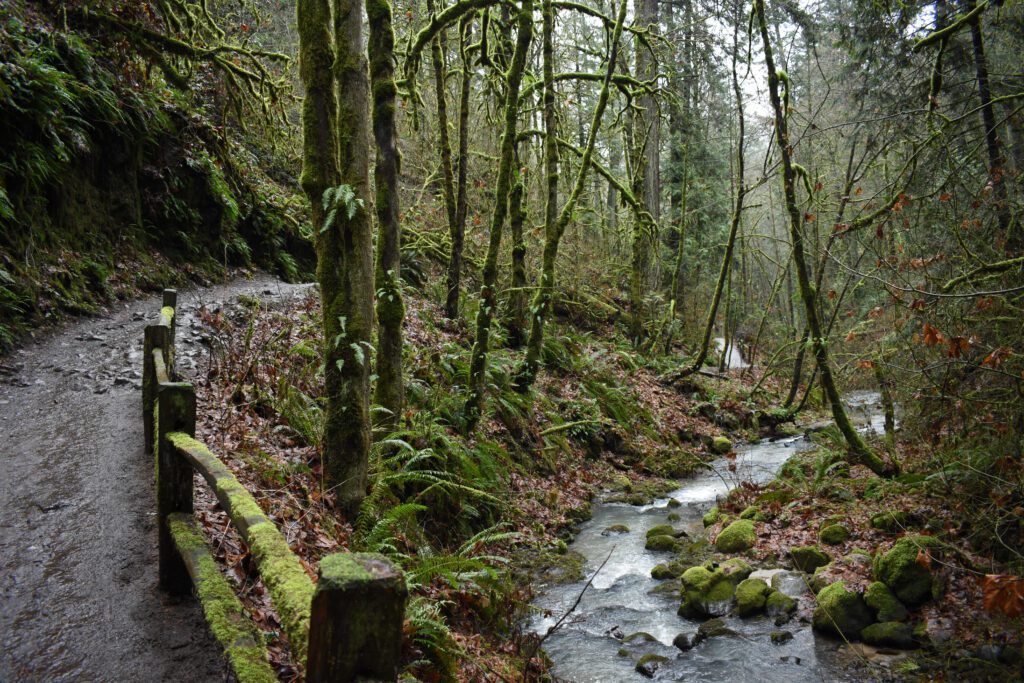 About a mile in, you'll come to the Witch's Castle, an old stone building without a roof that may or may not be haunted. It was originally built as a ranger station and restroom, but a storm in the 1960's destroyed it and made it inoperable, and the city hasn't put forward the funds to repair it. At this point, it's covered in graffiti and is Insta-famous, so plan on sharing it with a crowd unless you go early.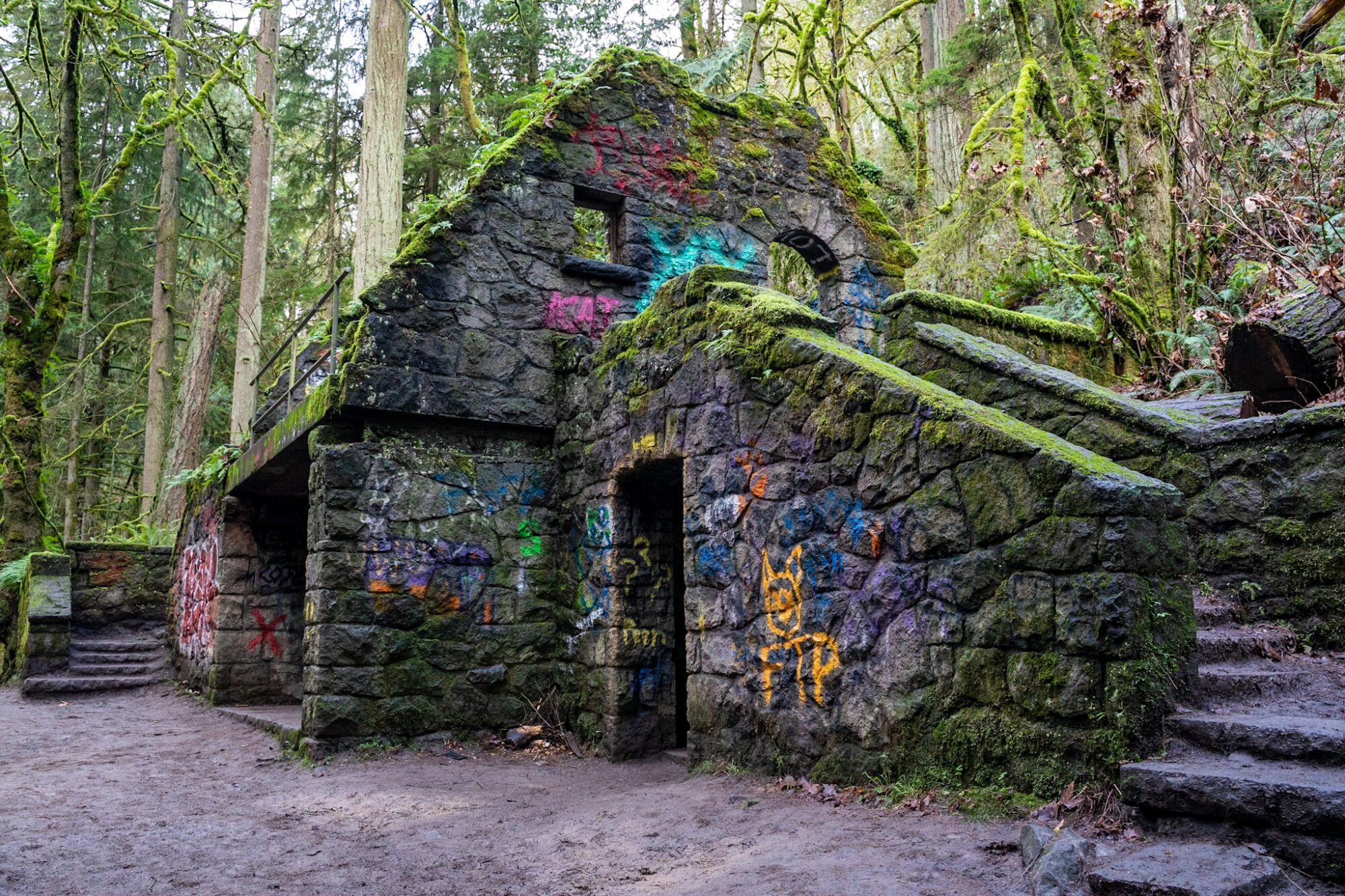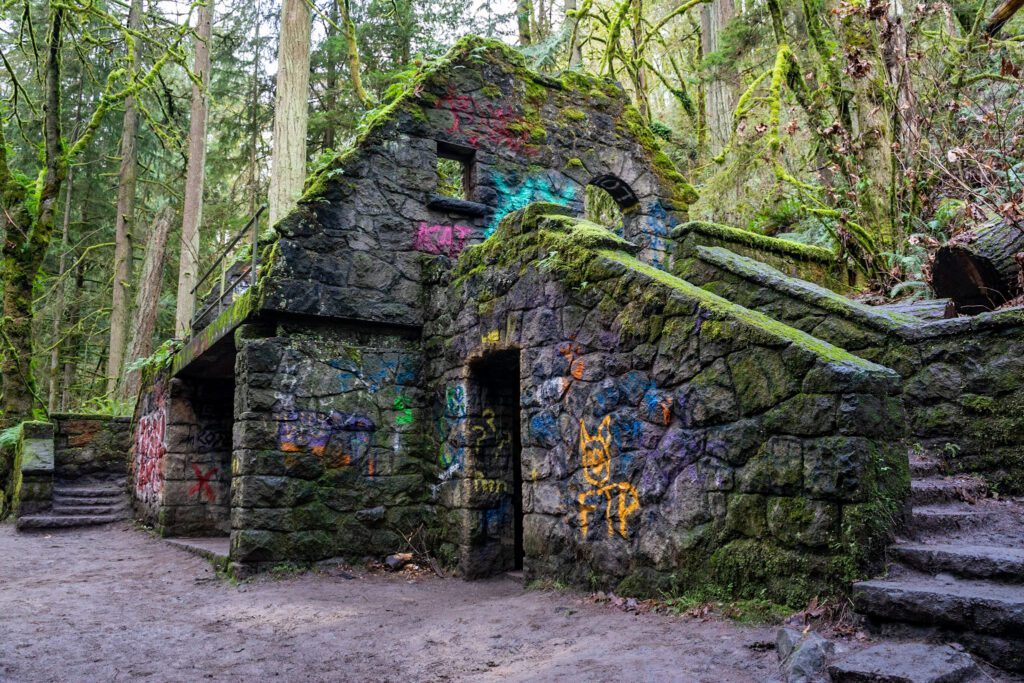 Continue on the trail, which starts to climb after you cross over the stream, and cross the road before starting the ascent in earnest.
You'll eventually reach the mansion, which was built in the early 1900's as a home for Henry Pittock, one of the original investors in Portland who helped shape the city into what it is today.
To shorten it, you can start from the Upper Macleay Trailhead (here on Google Maps), which means you miss the castle.
You can also drive up to Pittock Mansion, but you'll miss Forest Park and the Witch's Castle, which is why we recommend the hike.
The International Rose Test Garden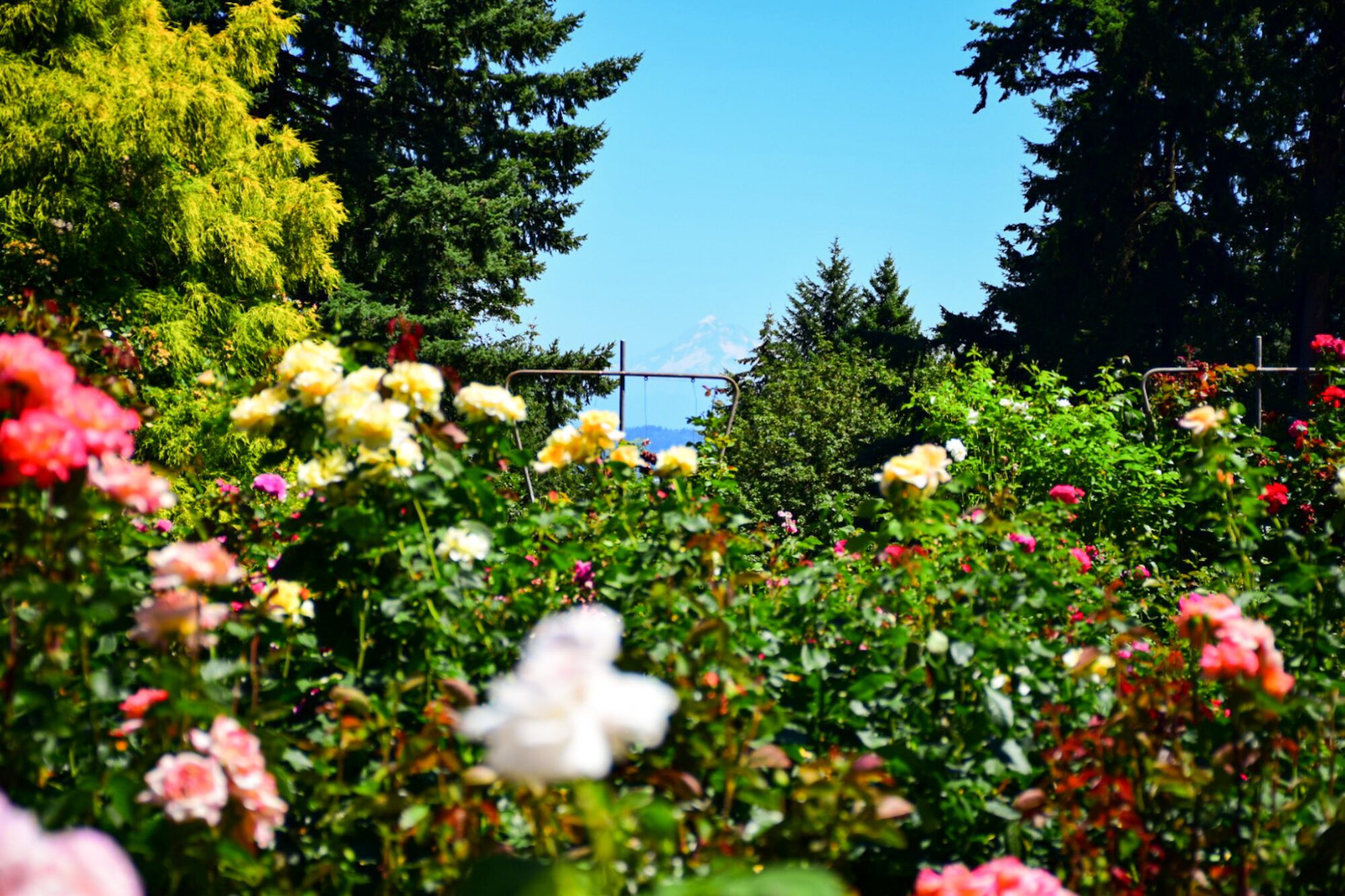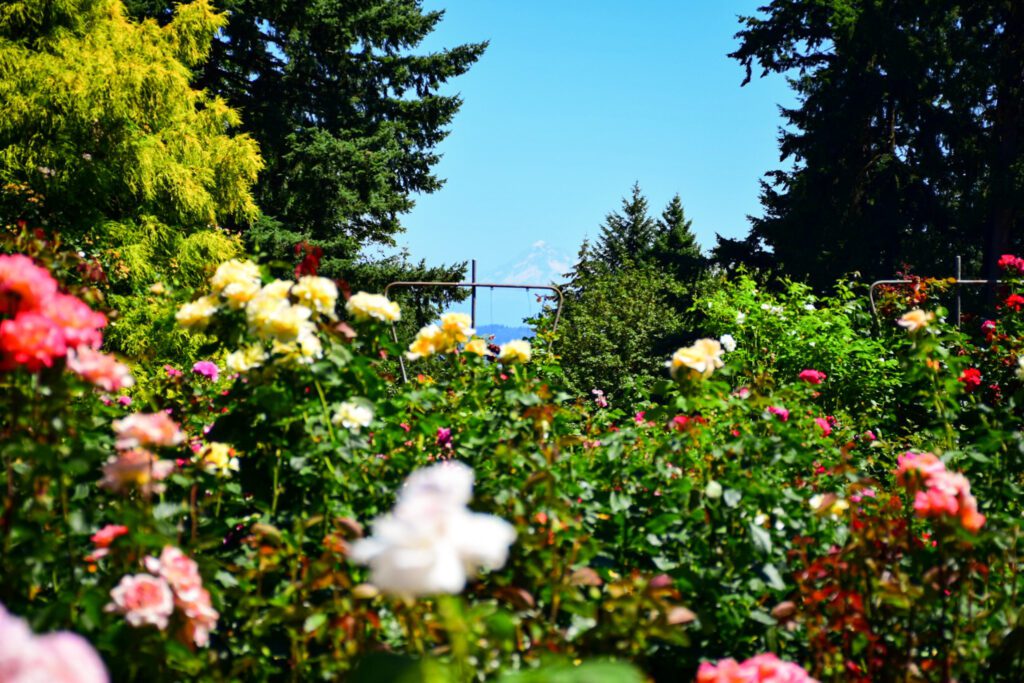 Take a stroll (or catch a Lyft) through Washington Park from Pittock Mansion to the International Rose Test Garden. With over 650 varieties of roses and over 10,000 rose bushes, this is a major draw for tourists visiting Portland.
The park is open all year round but the best months to view the roses are May through to September. Even if you can't visit during the peak season, the park offers fantastic views across the city so it is worth the climb.
Across the road is the Portland Japanese Garden, which is also worth a visit (more information here).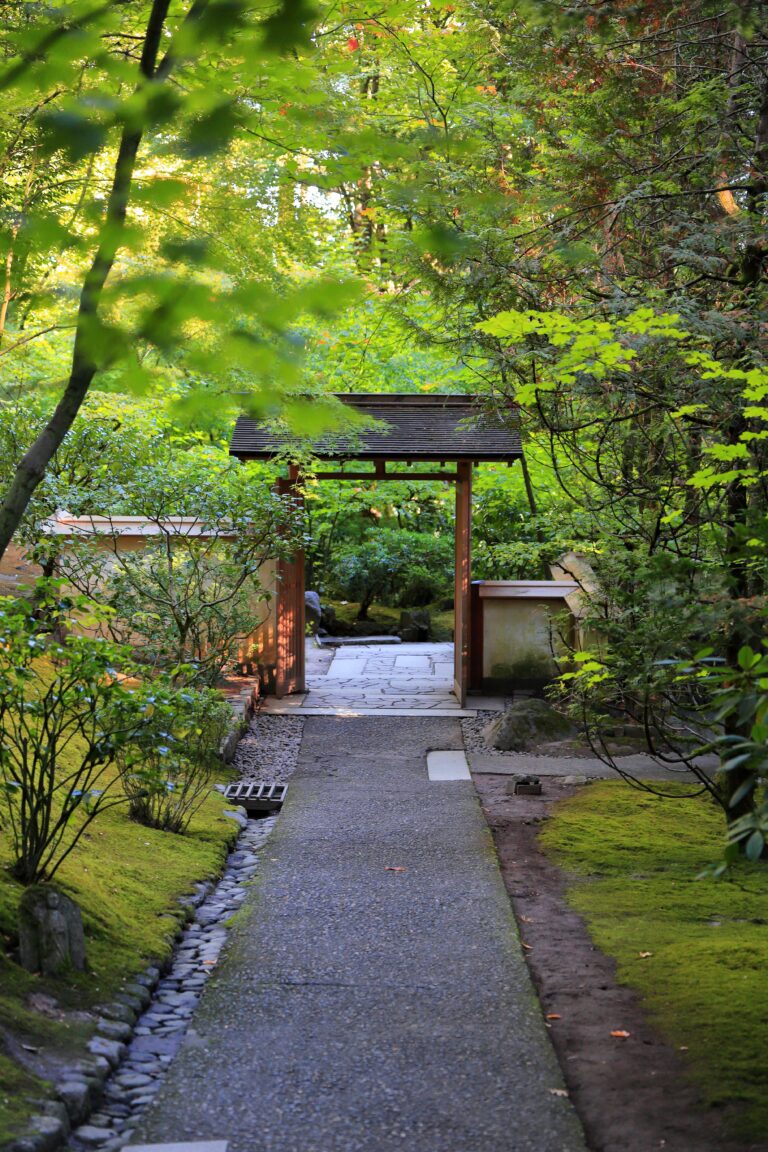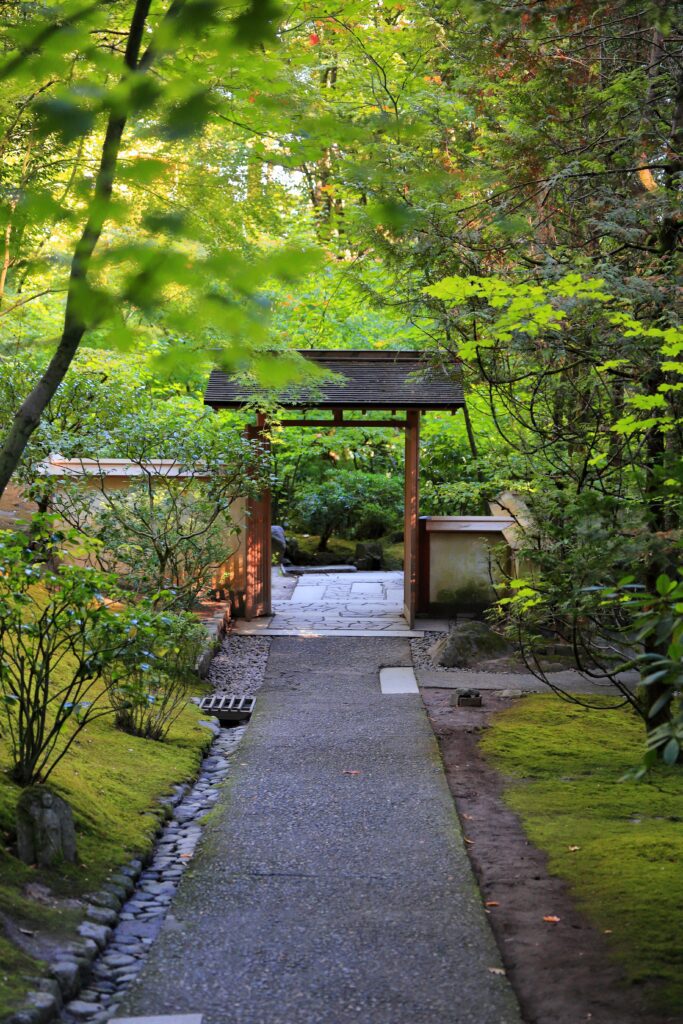 The PSU Farmers Market
Next, head to the Saturday PSU Farmers Market to experience the bounty of fresh produce and other farm-fresh goods that comes in from the area immediately around the city.
Home to over 200 stalls selling a mixture of farm-fresh produce, prepared food, baked goods, and drinks this huge market is a must see for foodies. Every time we're in town, we make a beeline for the market on Saturday mornings.
There are plenty of gluten free options available as well so it is worth spending the morning wandering through the stalls to see what is available.
Stop at Verde Cocina's booth for a completely gluten free Mexican brunch, or New Cascadia Traditional's outpost for gluten free bread, bagels, and pastries. Their cinnamon rolls are STRAIGHT FIRE.
Here are some of our other favorites at the Market:
Peruse the Shelves at Powell's City of Books
Powell's Books is the world's largest independent chain of bookstores – SUPPORT INDEPENDENT BOOKSTORES.
Portland is home to its flagship store, which is so big the store provides a map to help you browse. Offering a mixture of new, used, rare, and out of print books they boast over 80,000 visitors a day.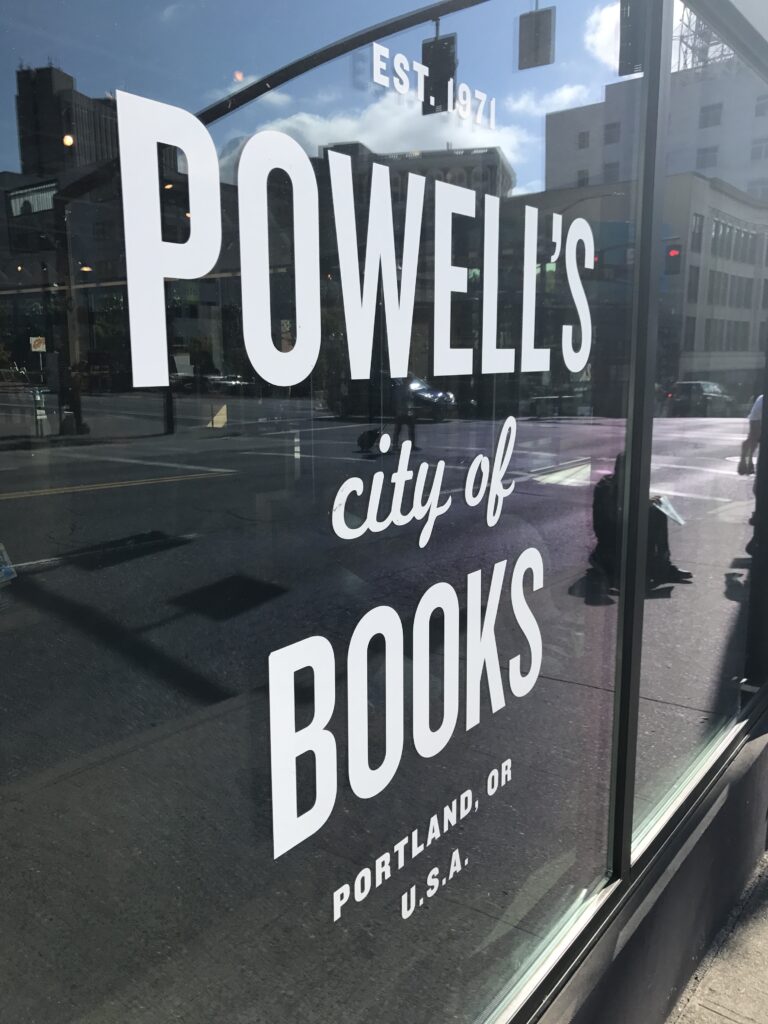 This is the perfect place to lose yourself for as short or as long as you'd like – we've spent hours meandering the shelves, discovering new books. I usually walk out of here with more books than I should. Just remember, you have to carry them!
Check their calendar to see if they will be holding any of their famous book events while you're in Portland. I could literally spend a whole day here, wandering the shelves and discovering new and interesting books to read.
Explore Downtown Portland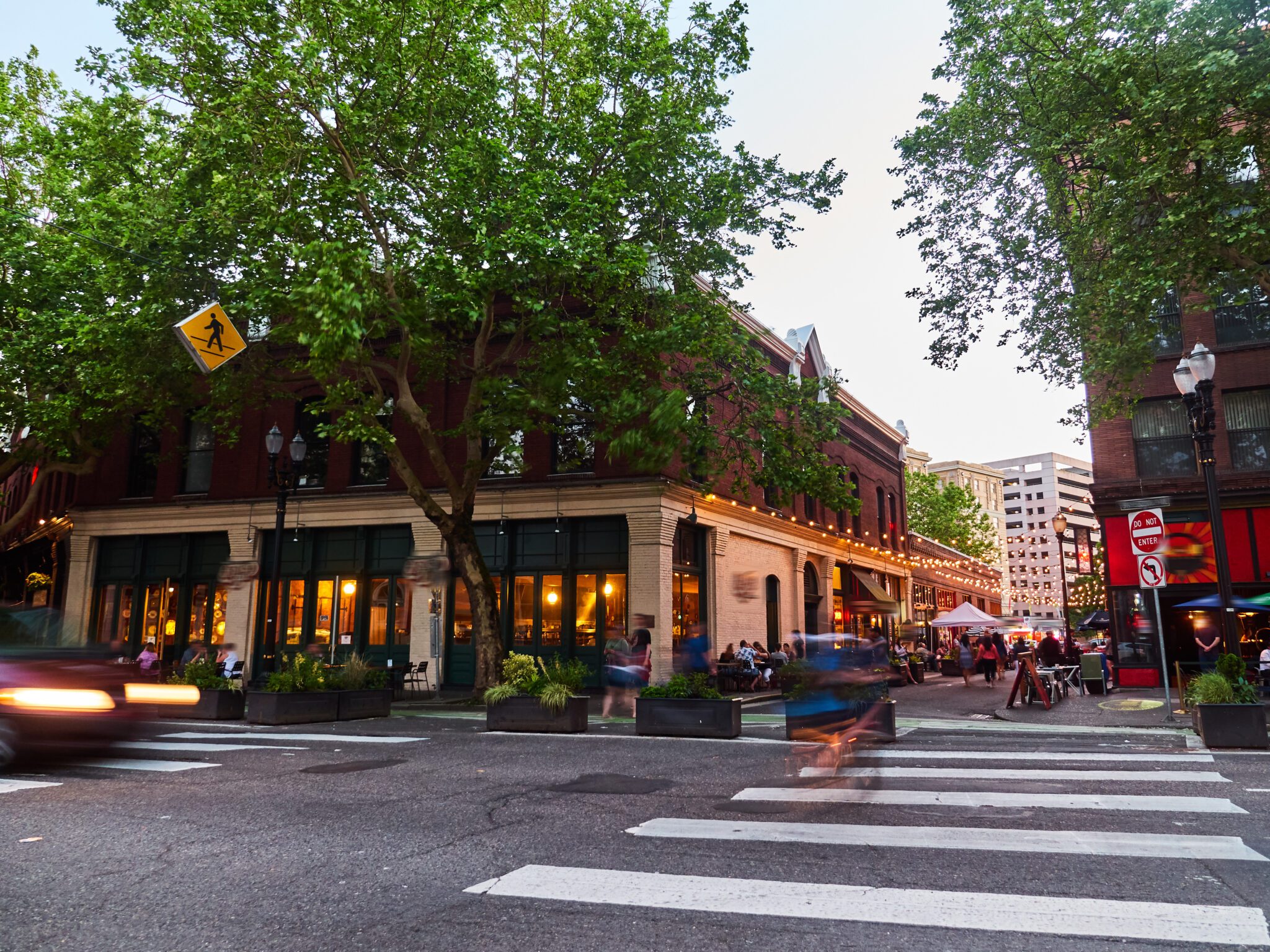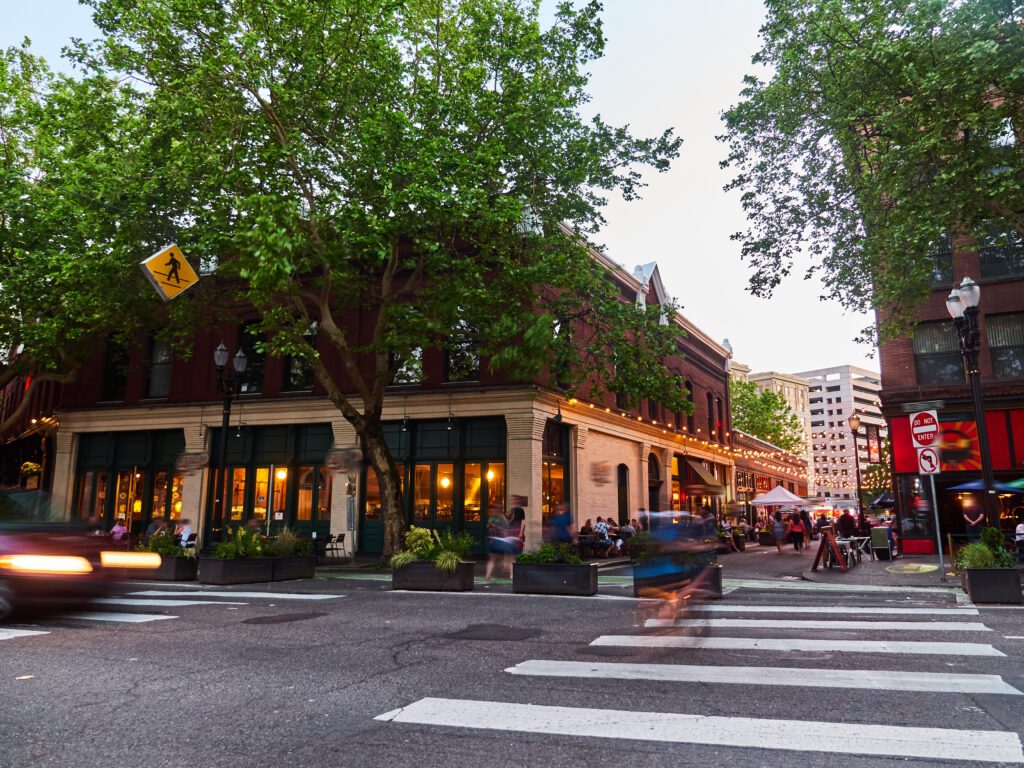 The streets of Downtown Portland are packed full of bars, restaurants, and even an eclectic collection of vintage shops selling everything from Hawaiian shirts to furniture.
Stop by MadeHere to shop for handcrafted gems made right in Portland, Oregon that is a fun spot to browse. Other places of note are the Danner Boots Flagship, who make amazing hiking boots, and Woonwinkel, a home goods store with drool-worthy, design-forward pieces.
There's some great coffee in the area too – head to the Portland original, Stumptown Coffee, in the lobby of the Ace Hotel, Heart Coffee's downtown outpost, or Courier Coffee, which is more a of a one-man-show kind of place that is best for coffee nerds like me.
Finally, head to the Portland Saturday Market, an amazing collection of booths from artists, small food and drink companies, and more artists located along the river. It's a great example of why Portland is special – artists and small businesses thriving on local support.
A stroll along the river at Tom Mccall Waterfront Park is a great way to see the city, and if you are coming from the PSU Farmers Market, that's the route we'd take.
If you're hungry, head to nearby Pine Street Market, where you'll find a Brooklyn-style food hall with tons of different vendors serving all sorts of food and drinks. My recommendation is Teote, which serves (gluten free) arepas, but there are plenty of choices here for all tastes and levels of hunger.
Day 2: Explore the East Side of the River
On your second day in Portland, head over to the east side of the Willamette, which is our favorite part of the city. Start with some coffee or tea before heading to Northeast Portland and exploring the Alberta Arts District and Mississippi Avenue, and then end your day in Southeast Portland on either Hawthorne or Division Street.
You'll need to either drive or take a Lyft between stops today – there's a little bit of travel time involved in getting between the different areas here (no more than 10-20 minutes, depending on traffic and the route).
Coffee & Tea in Southeast Portland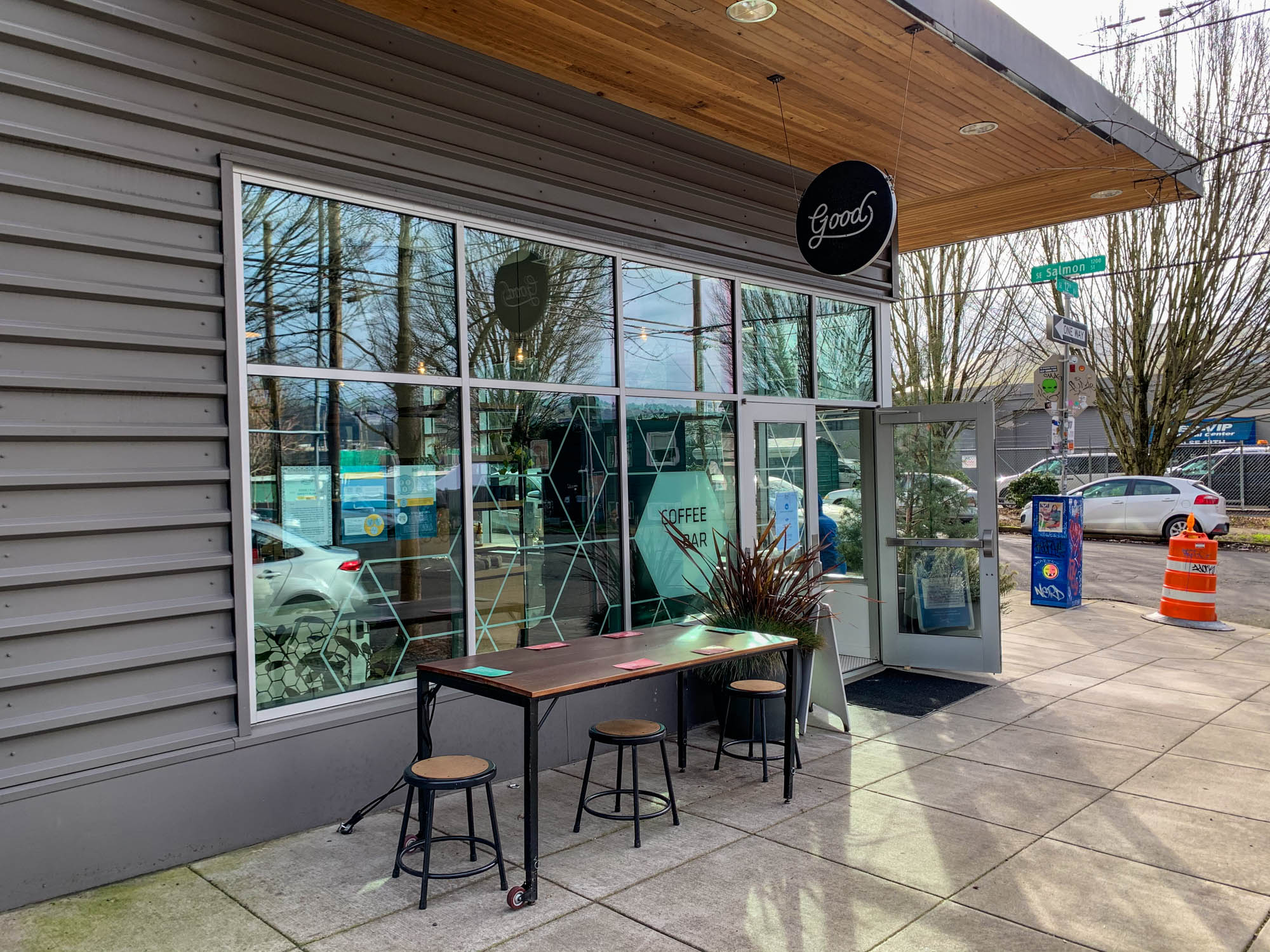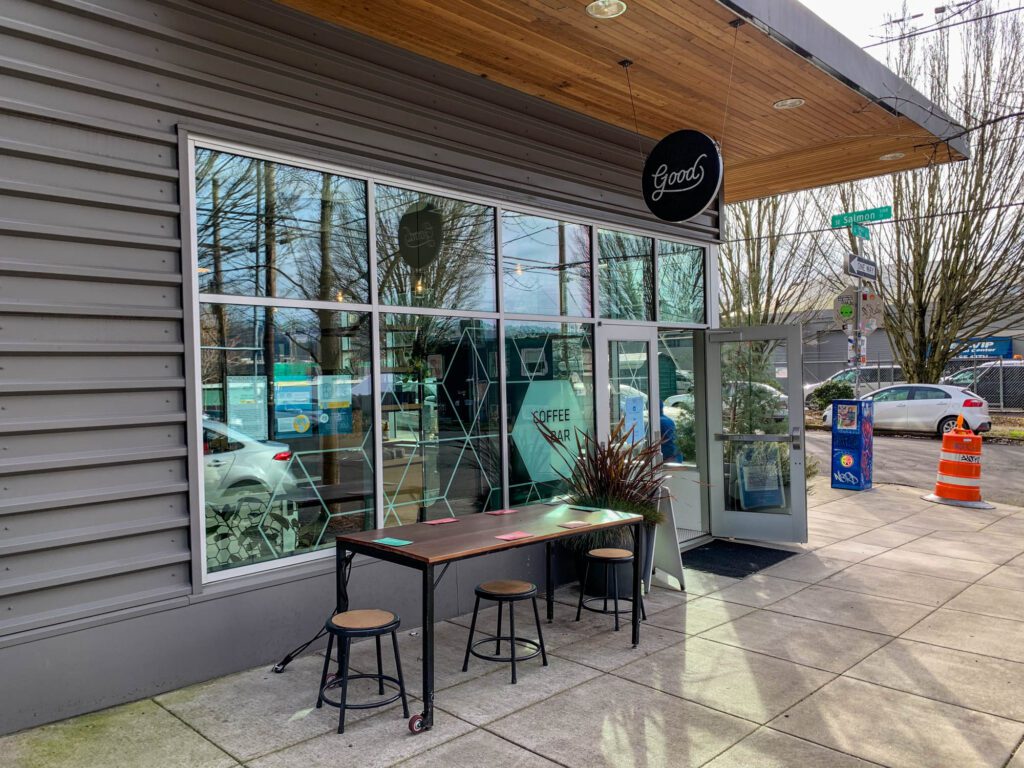 Portland is a mecca for hipster single origin coffee and fancy latte art, so you have to take some time to explore Portland's amazing coffee scene. Grab some of the city's best coffee to get your day started.
Coava Coffee is one of my favorites, and kick started my transformation to coffee snob. They have two locations on the Eastside, but I think you should go to their flagship on Grand Ave.


Push X Pull Coffee for their focus on wild natural-process, single origin coffees.


Good Coffee and Roseline Coffee are great choices for their consistency and seasonal lattes.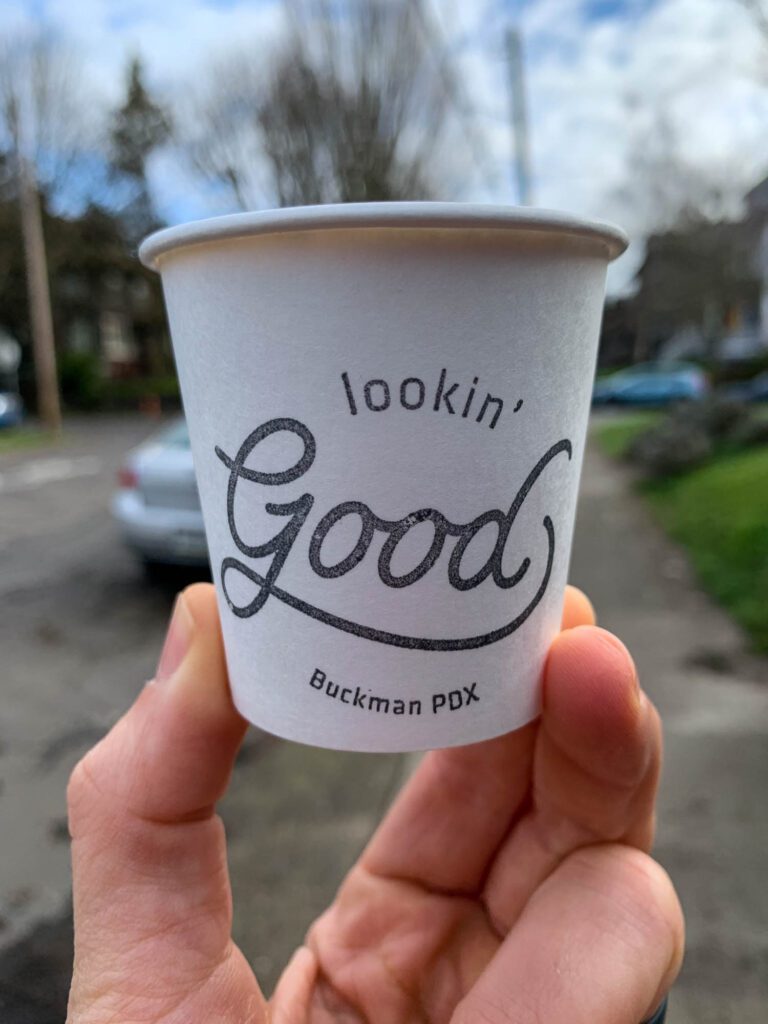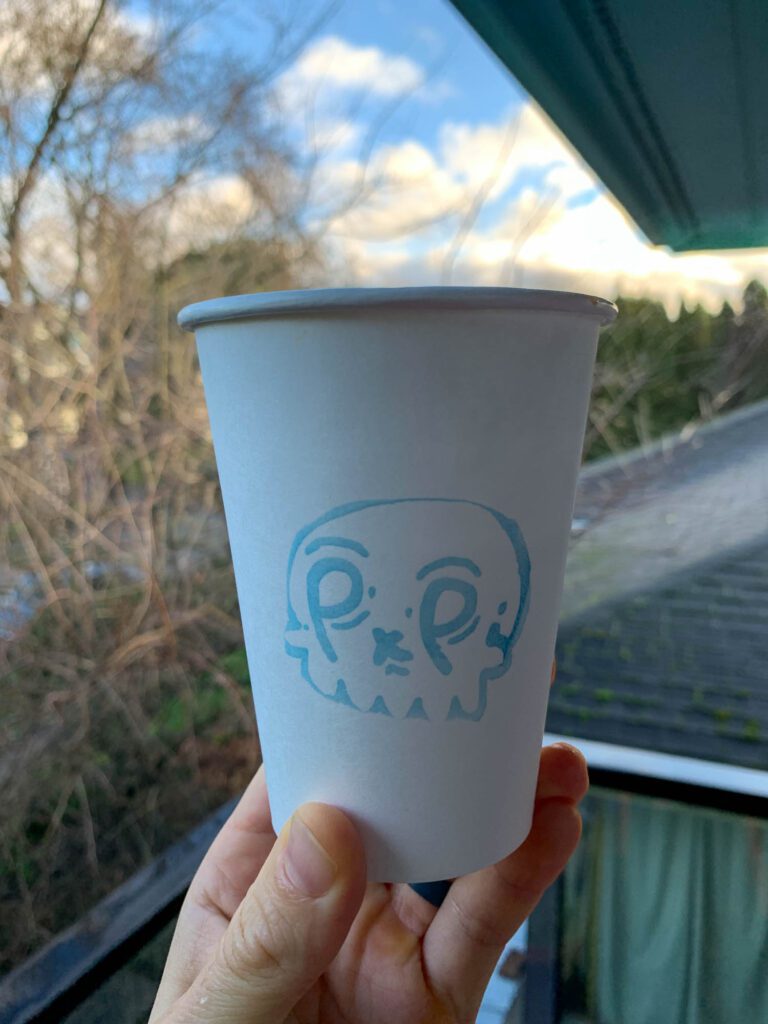 If you're more into tea, I'd suggest a visit to Smith Teamakers, whose flagship is in Southeast Portland and who have a selection of incredible teas brewed to order, and some inventive tea drinks that are closer to cocktails than anything else.
Breakfast at Pine State Biscuits
Pine State Biscuits is basically a must-eat in Portland (not for me, though, since they're definitely not gluten free). They make biscuit sandwiches that look incredible, and everyone I've ever talked to about them has ranted and raved about their biscuits.
They have two different locations that are relevant here. One on Division Street in Southeast Portland (here on Google Maps), one on Alberta Street (which is your next stop on this itinerary – here on Google Maps).
Choose one depending on your timing, and eat your heart out.
The Alberta Arts District
After you're caffeinated, head north to the Alberta Arts District and Northeast Portland.
The strip along Alberta Street is one of the most interesting parts of the city. Though it is absolutely worth acknowledging the gentrification that has happened here – pushing out black residents with rising housing costs, and bringing in boutiques, hip coffee shops, and young professionals.
If you're not up for biscuits, then the Tin Garden Shed Cafe is a good option for breakfast. It's right in the heart of Alberta Street.
Proud Mary Coffee, an Australian-based coffee brand, is one of the best coffee shops in Portland, as is Case Study Coffee, who has a nice outdoor patio.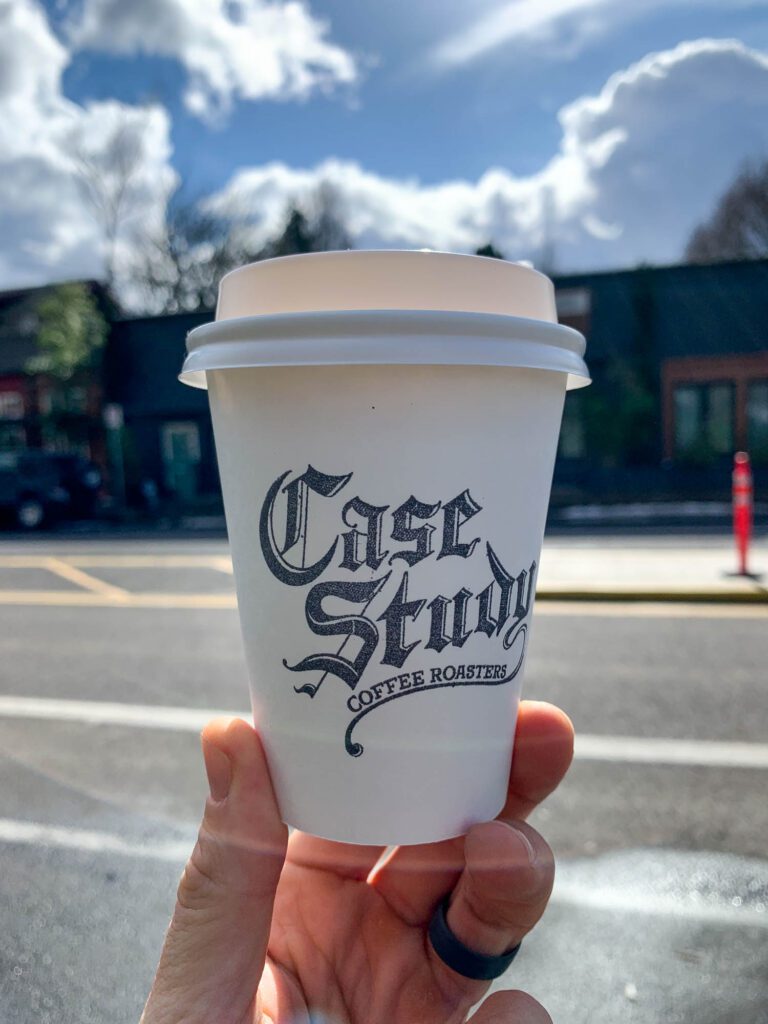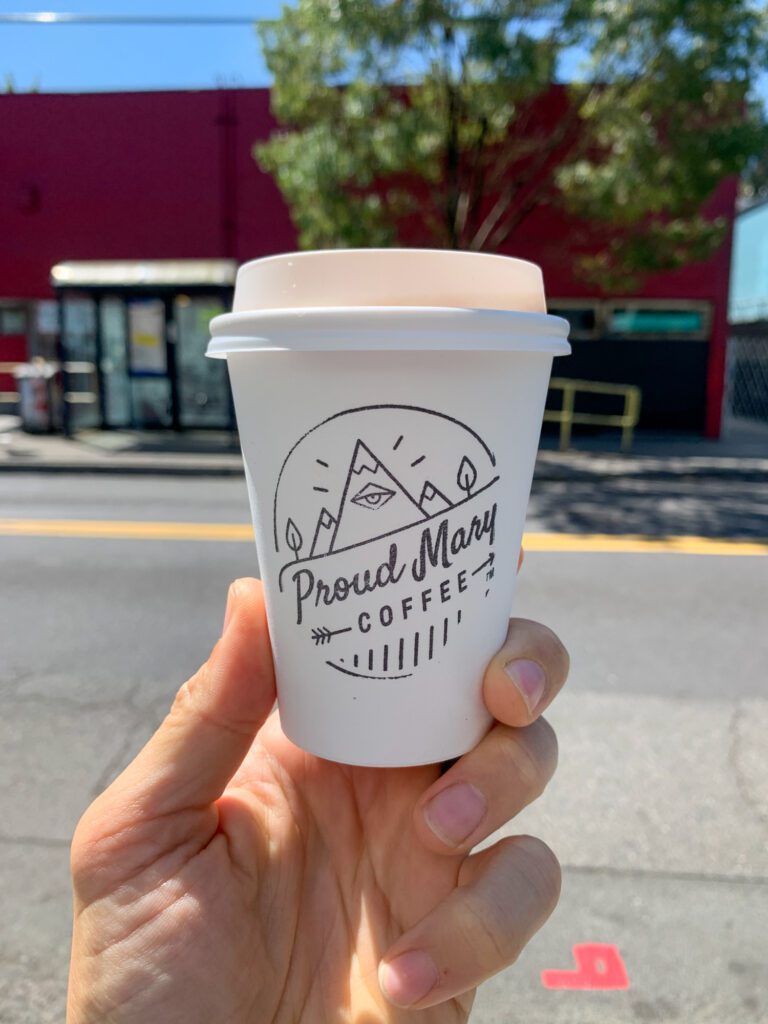 Spend some time wandering down this stretch full of interesting shops, stopping in ones that pique your interest, and make your way west to Mississippi Avenue.
Lunch at a Food Cart!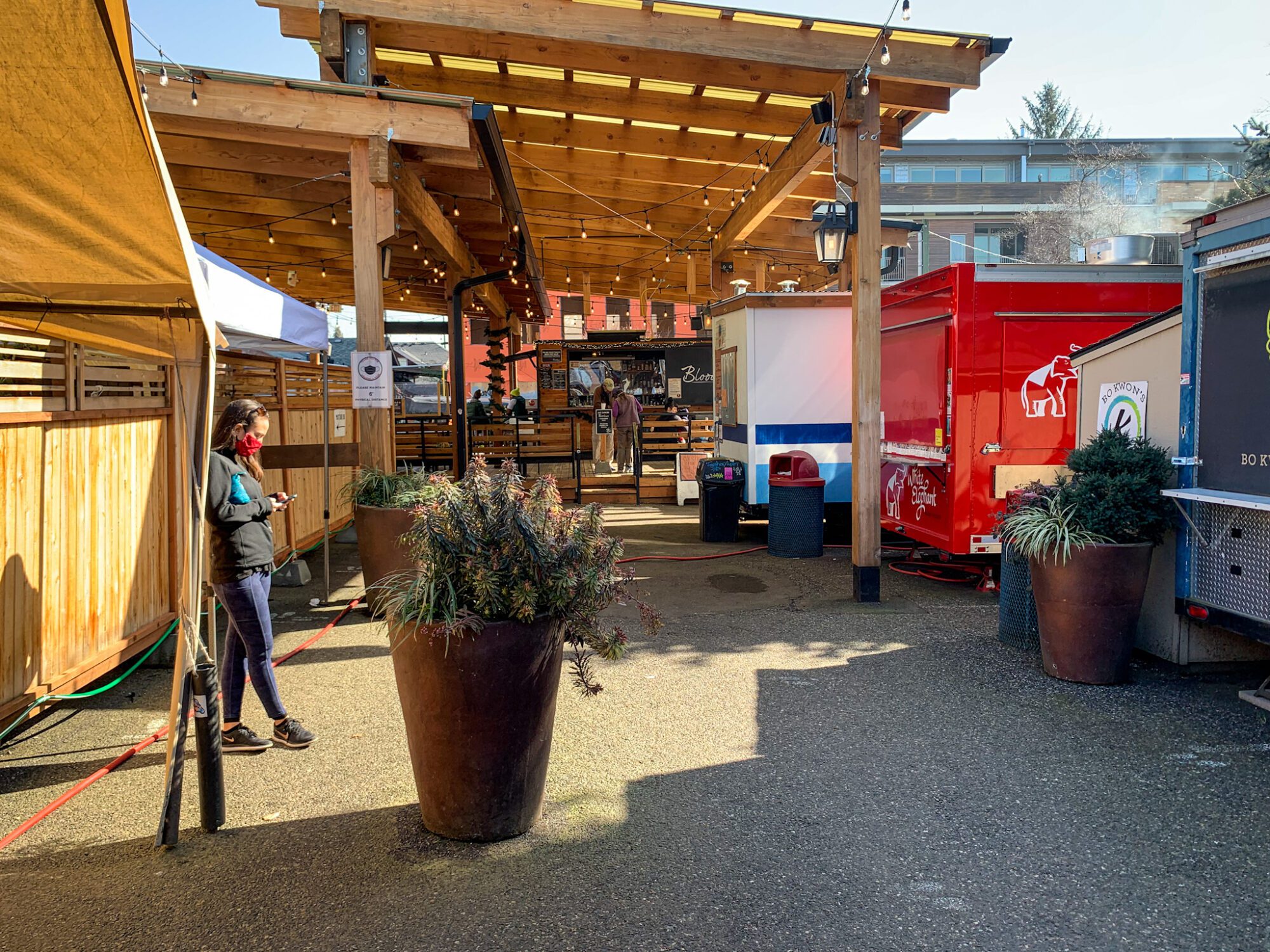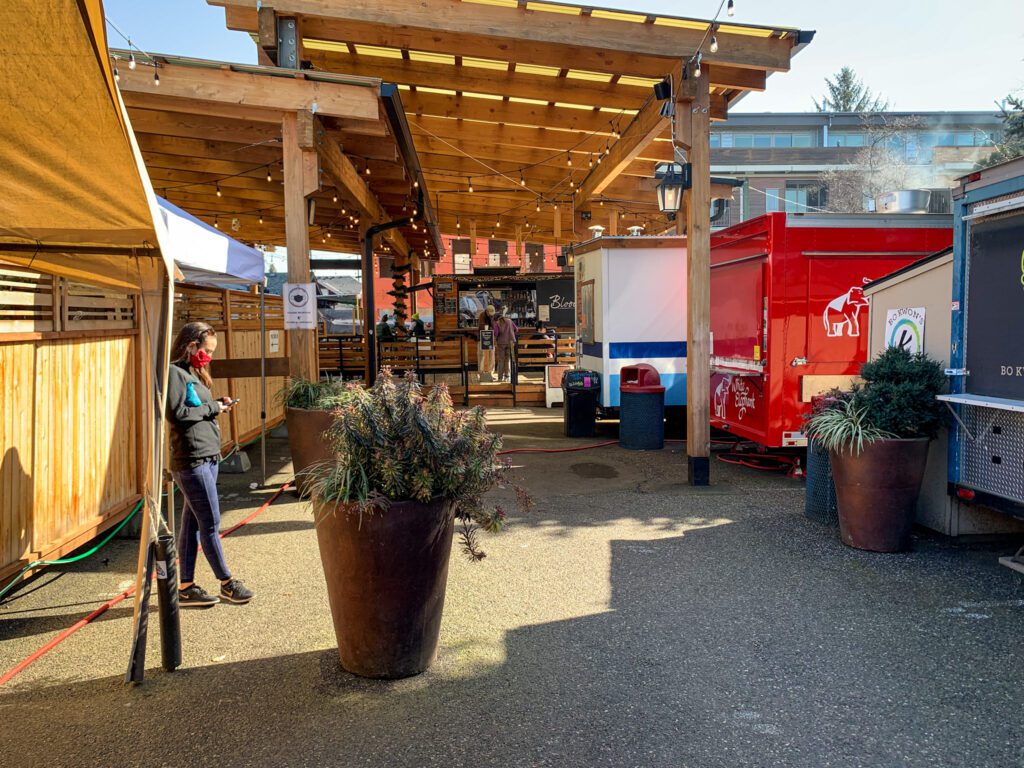 When you're in Portland, you HAVE to eat at a food cart! Head to Mississippi Avenue, specifically to Prost!, where you'll find a collection of some of the best food carts in Portland.
My favorite is DesiPDX, a fantastic food cart serving inventive Indian food that combines food from all regions of India. Definitely try the Cardamom Chai Chicken drumsticks, which are always the fan favorite among everyone I bring here.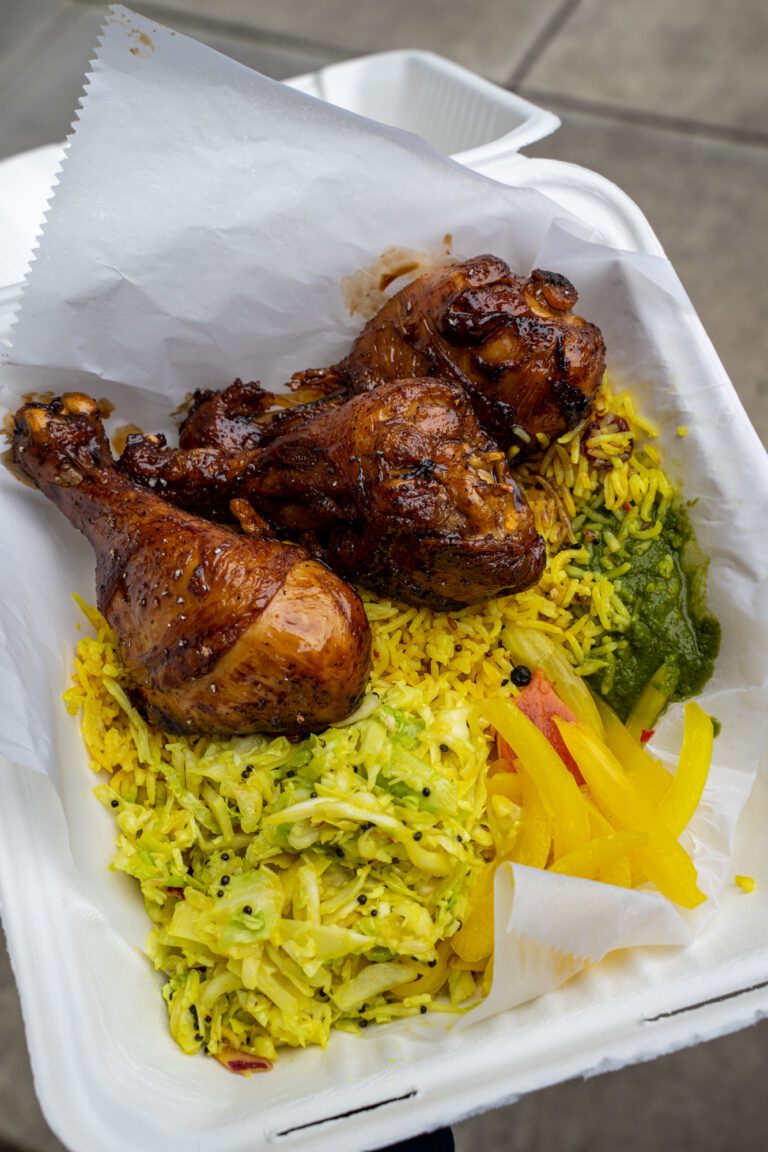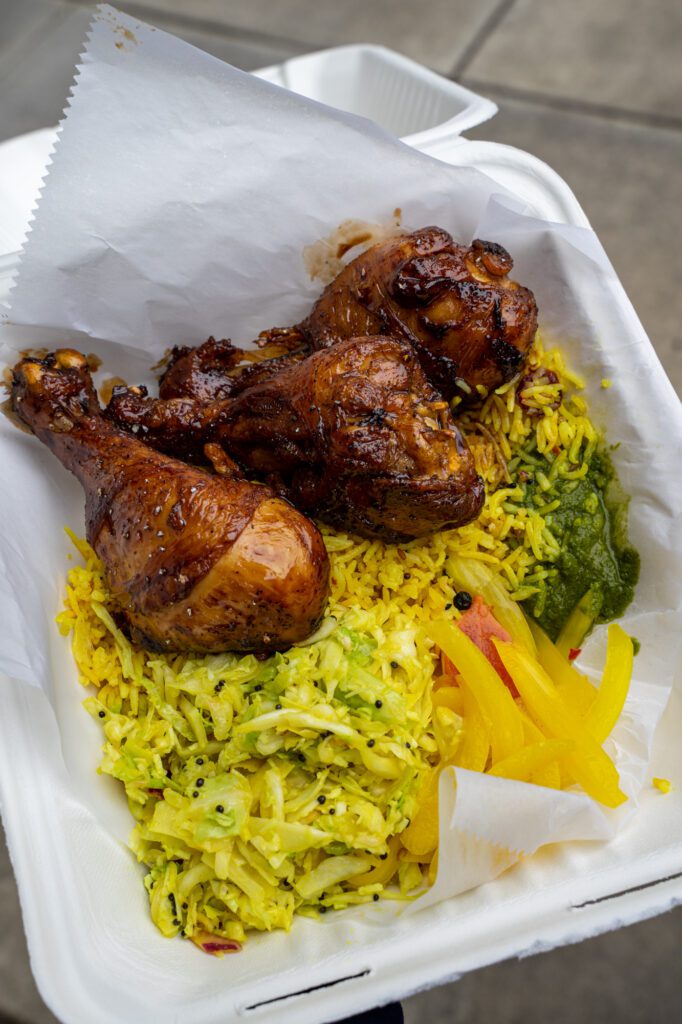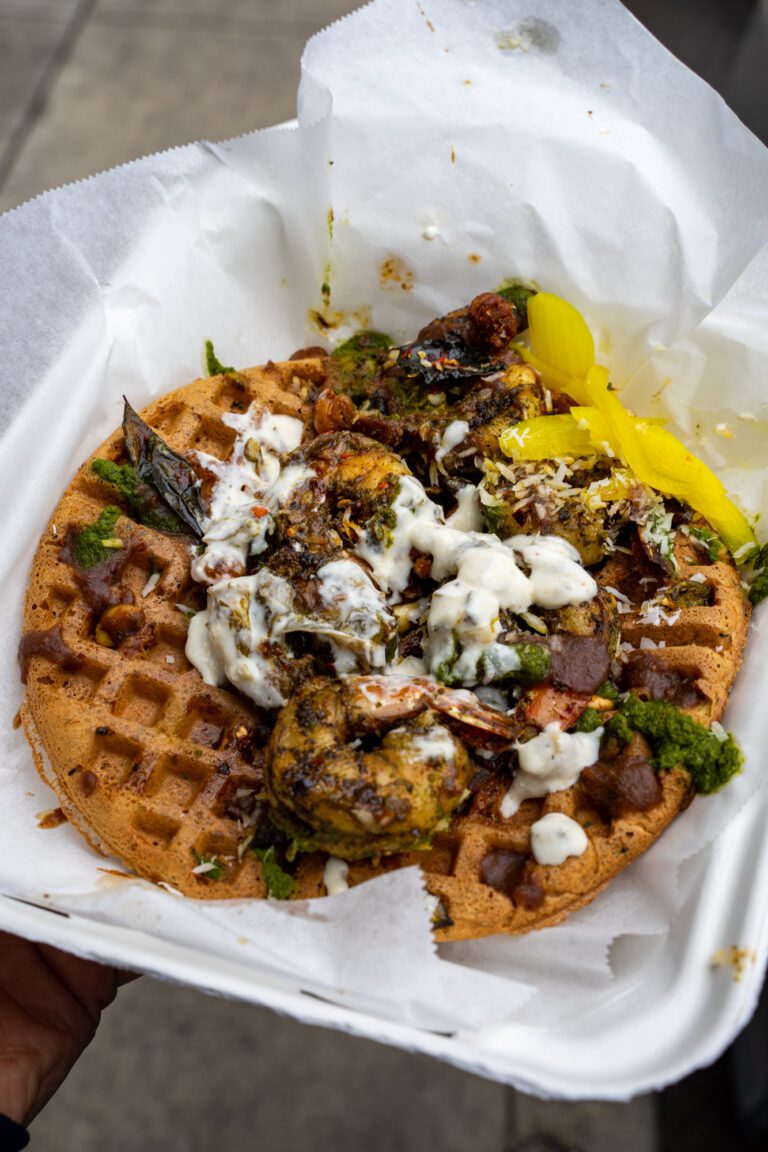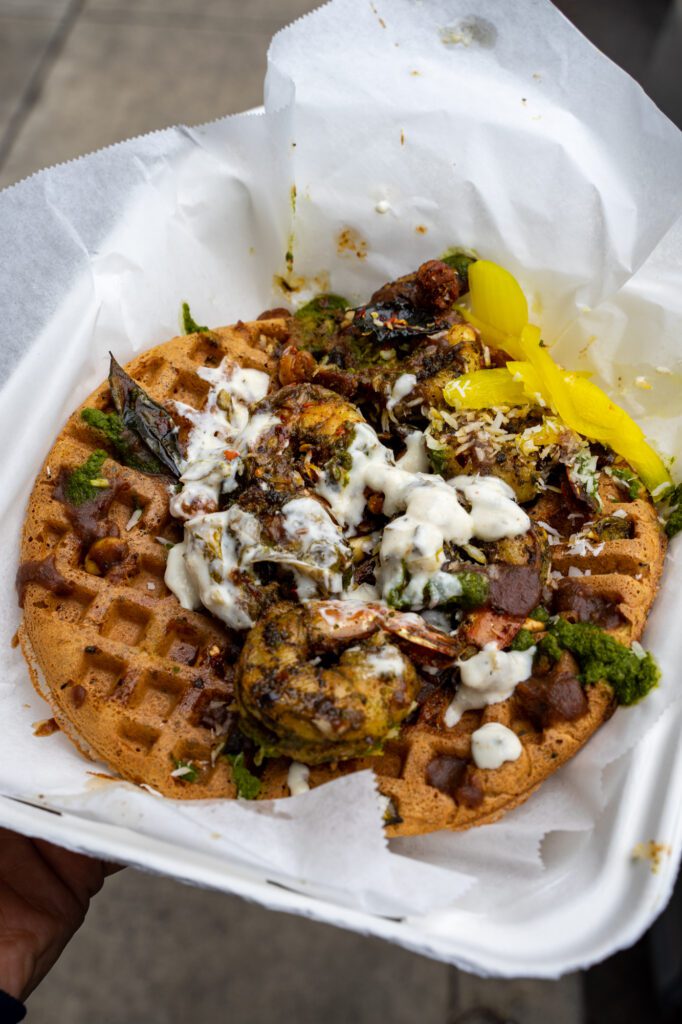 Matt's BBQ has had a long line every single time I've been here, so it must be good (it's definitely not gluten free, though).
Meander on Mississippi Avenue
After lunch it's time to head south on Mississippi Avenue and do some wandering. It's a fantastic area full of local businesses, small cafes, and quirky activities.
Take a leisurely walk south down Mississippi Avenue, leaving plenty of time to browse the windows of the boutiques and second hand stores that you pass. Make sure to stop by:
Hawthorne & Division: Our Favorite Part of Portland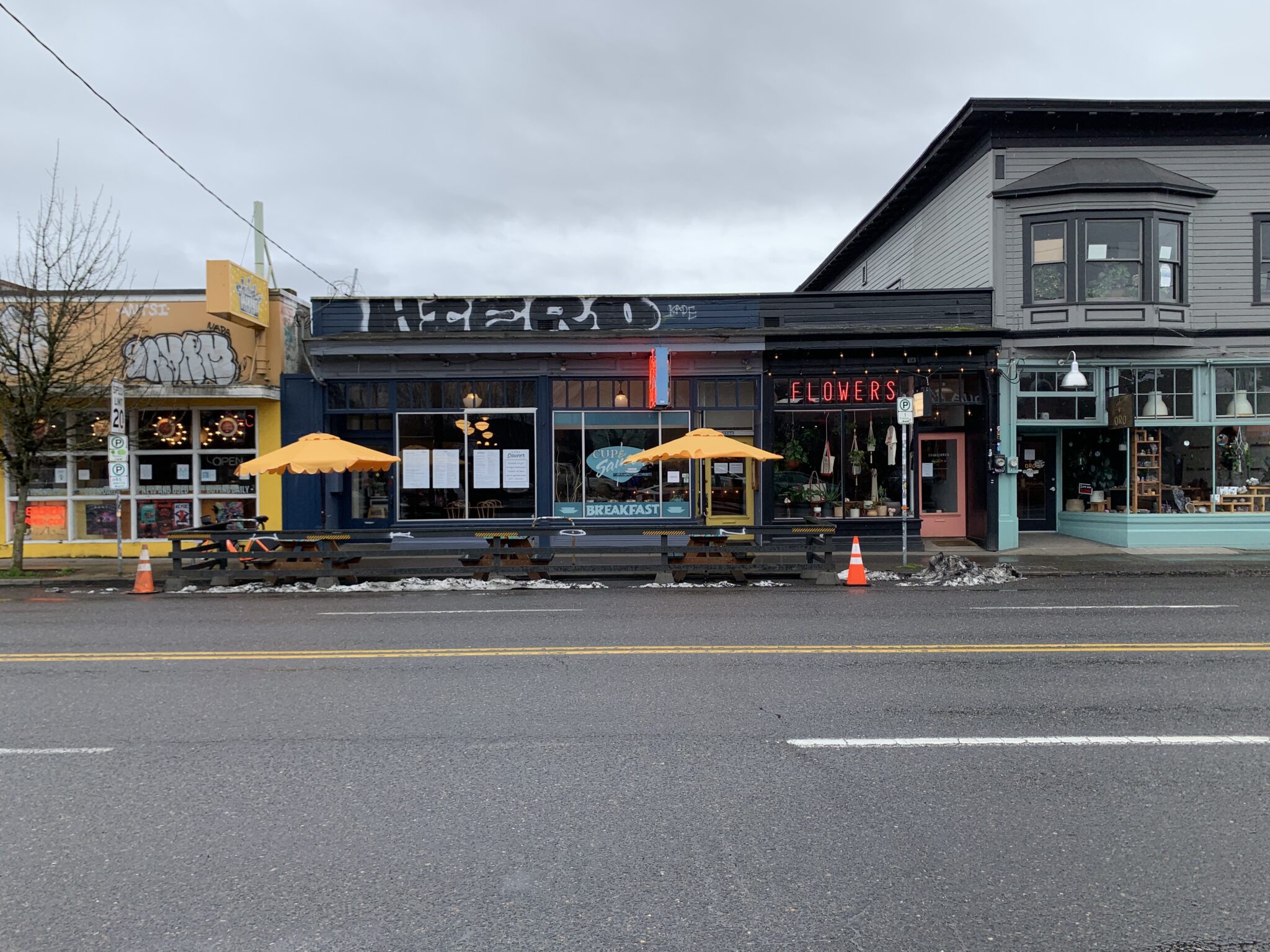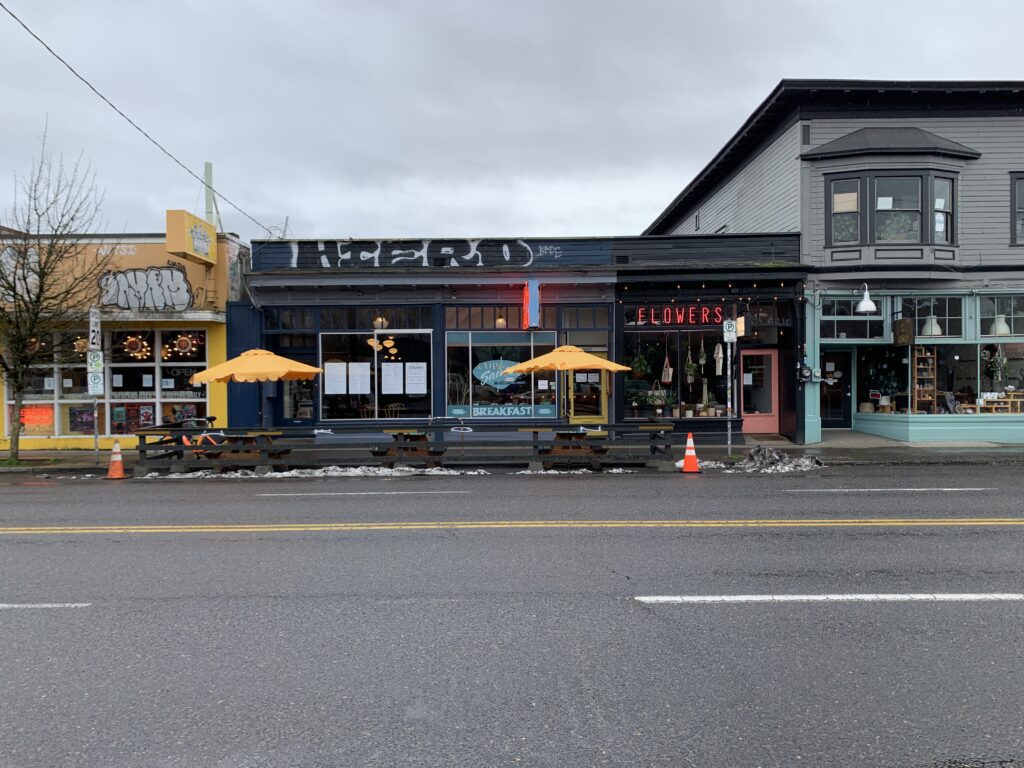 After you've spent your morning exploring up north, it's time to head to our favorite part of the city – the area between Hawthorne and Division Street in Southeast Portland. You'll need to drive or Lyft between the two – it's definitely not walkable.
The stretches along Hawthorne and Division (until about 30th) are the best part of the area, and we think you should focus your time here.
We'd suggest making a big loop, starting at the corner of 30th and Hawthorne and ending near Schilling Cider in the Central Eastside, which is a perfect place to grab a post-walk cider (or seven).
Here's a map.
Plan on grabbing dinner and drinks along the way.
Here are some of our favorite stops: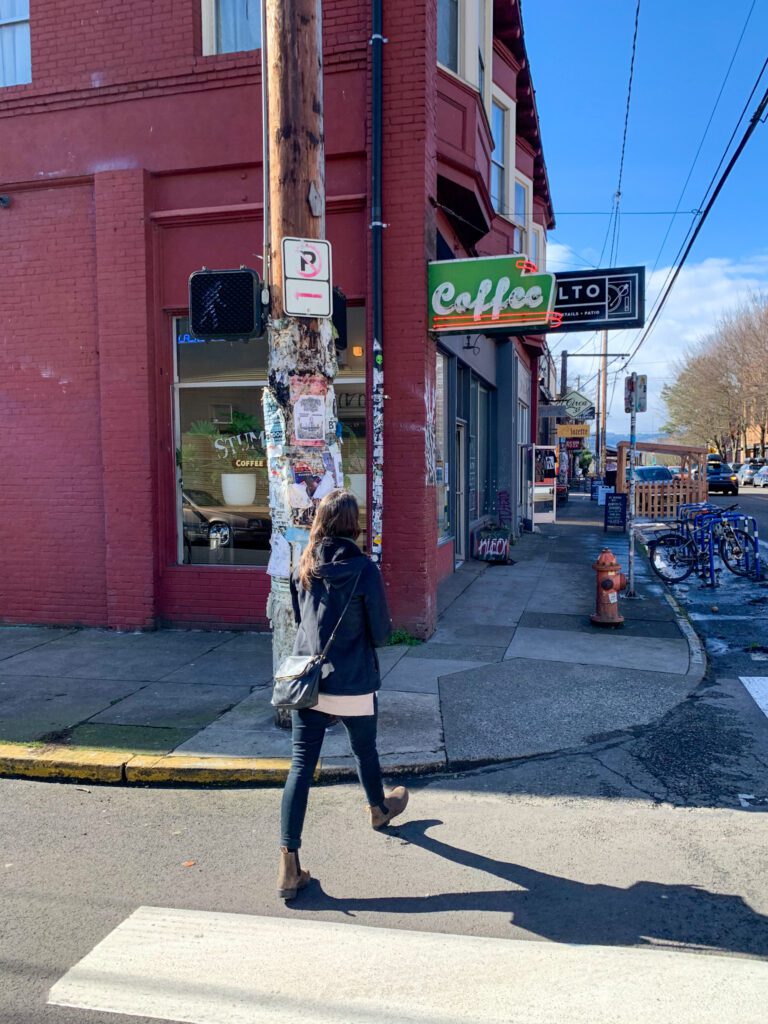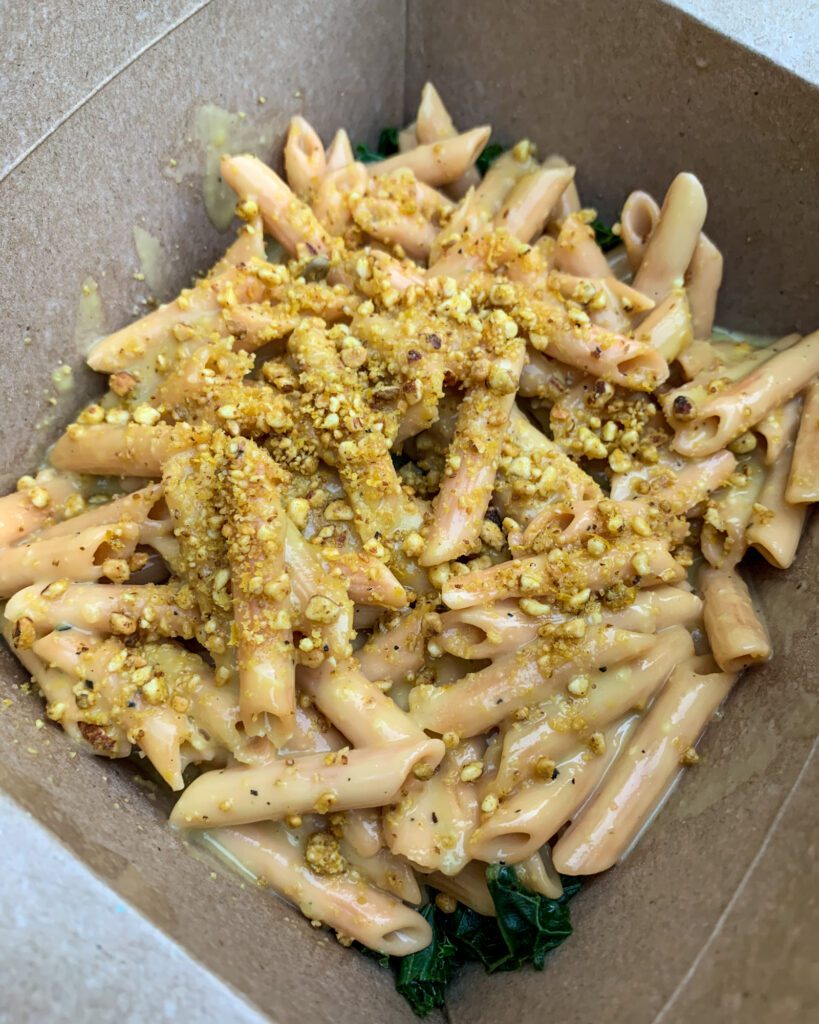 Day 3: Choose Your Own Adventure
On your third day in Portland, we'd recommend getting out of the city to explore some of Oregon's spectacular landscapes.
Within 90 minutes of Portland, you can get to the coast, the mountains, and the Columbia River Gorge, land of the nearly unlimited waterfalls.
Here are two options we like for your day trip – you can find more day trip suggestions in our guide to the best day trips from Portland.
Option 1: The Columbia River Gorge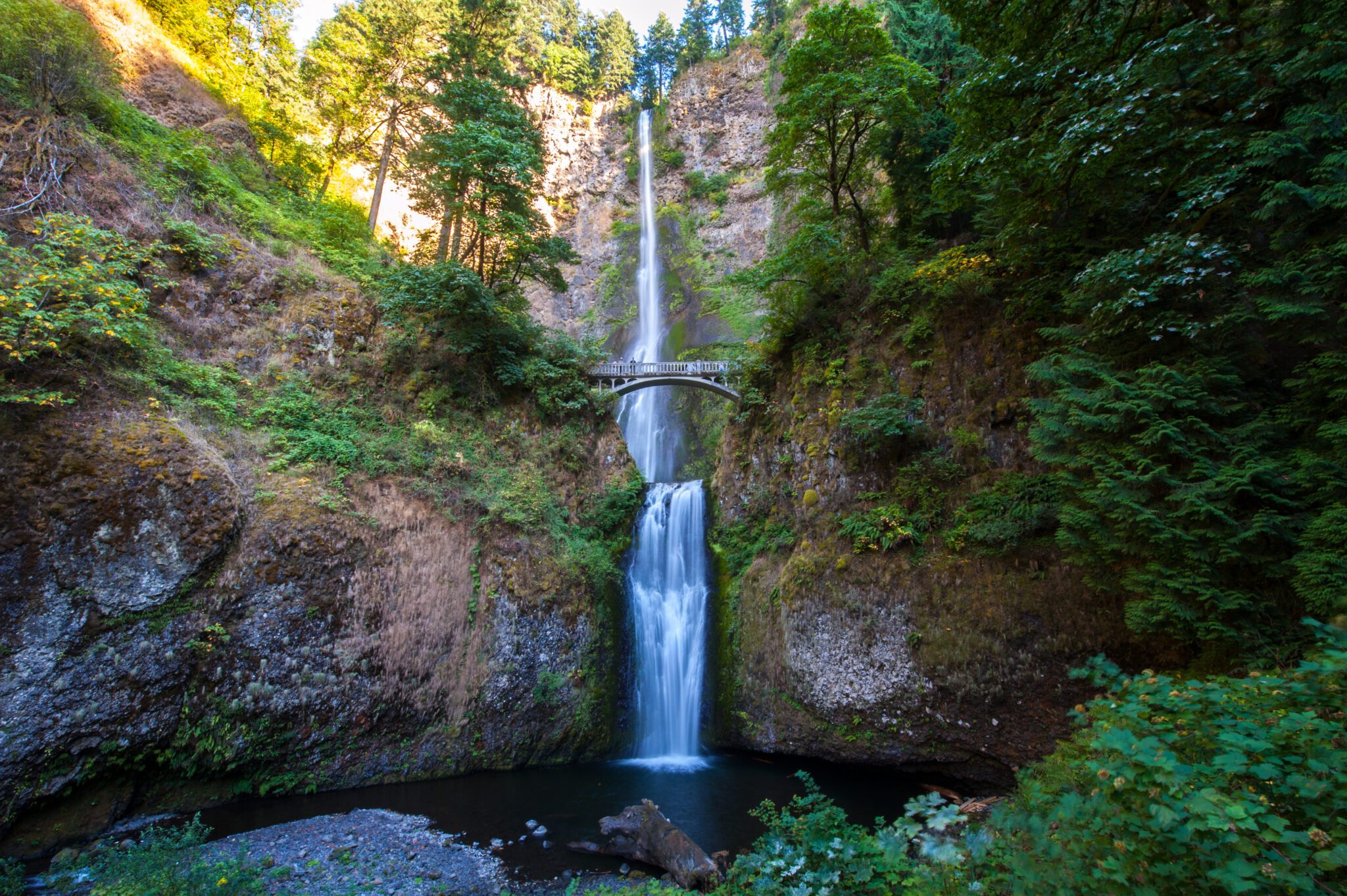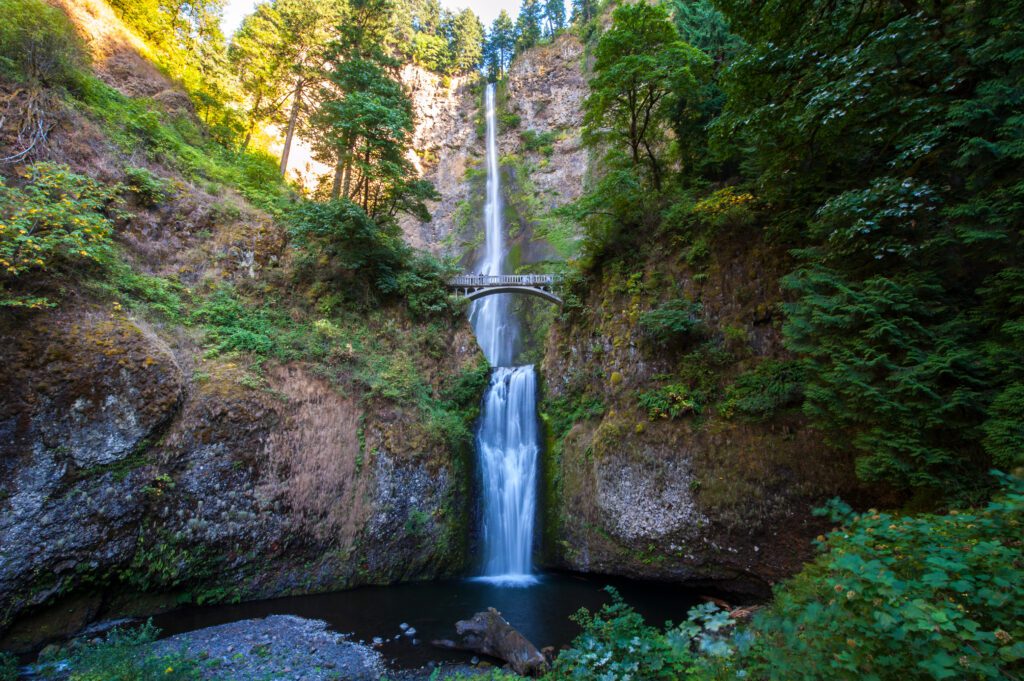 Multnomah Falls is pretty much a must-do at some point during your Portland itinerary.
This 611 foot waterfall is just 30 minutes outside of Portland. There are a few different viewpoints so you can get a good look at the falls, and the restaurant in the Multnomah Falls Lodge has fantastic views too. Unlike other falls on the west coast, this waterfall doesn't dry up over the course of the summer so can be seen year round.
It's spectacular, and there aren't very many places like it on the west coast.
To get there, you'll either need to rent a car, or take a guided tour.
If you have a car, I'd suggest driving yourself. Along the way, make sure to drive the Scenic Historic Columbia River Gorge Highway, which is the original path through the Gorge before I-84 was built. Along the way, stop for the spectacular views at the Women's Forum and the Vista House, along with the short two mile hike up and around Latourell Falls, another spectacular waterfall.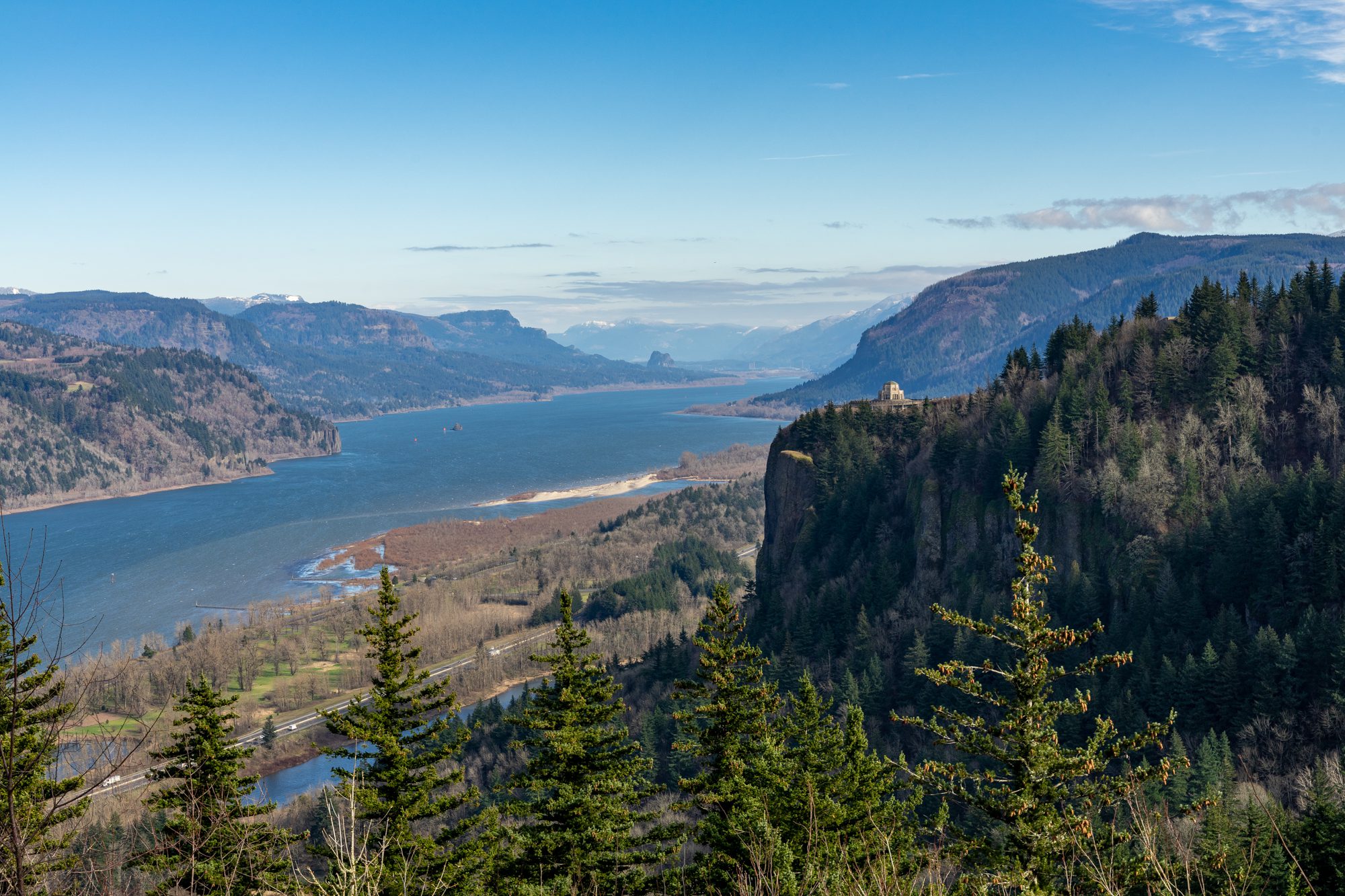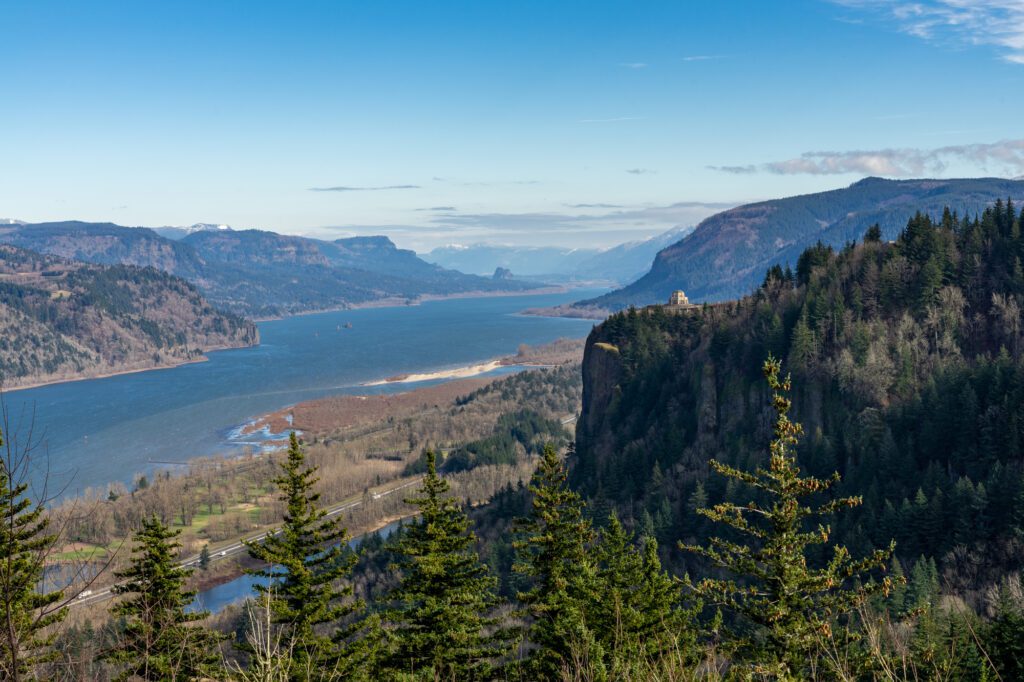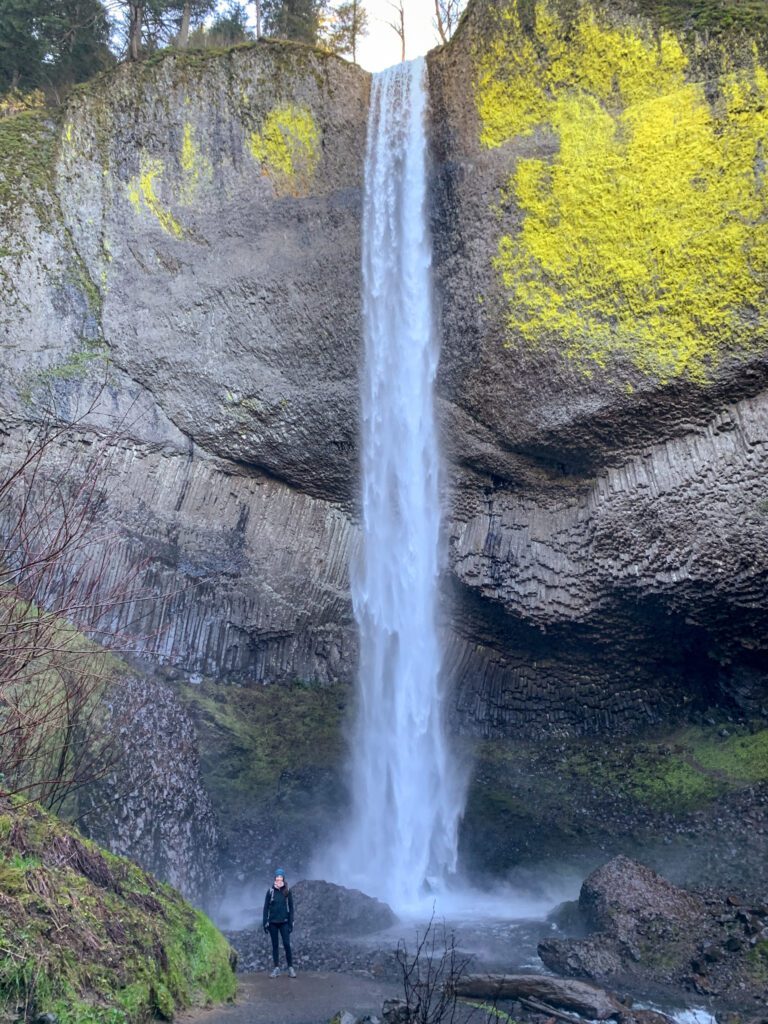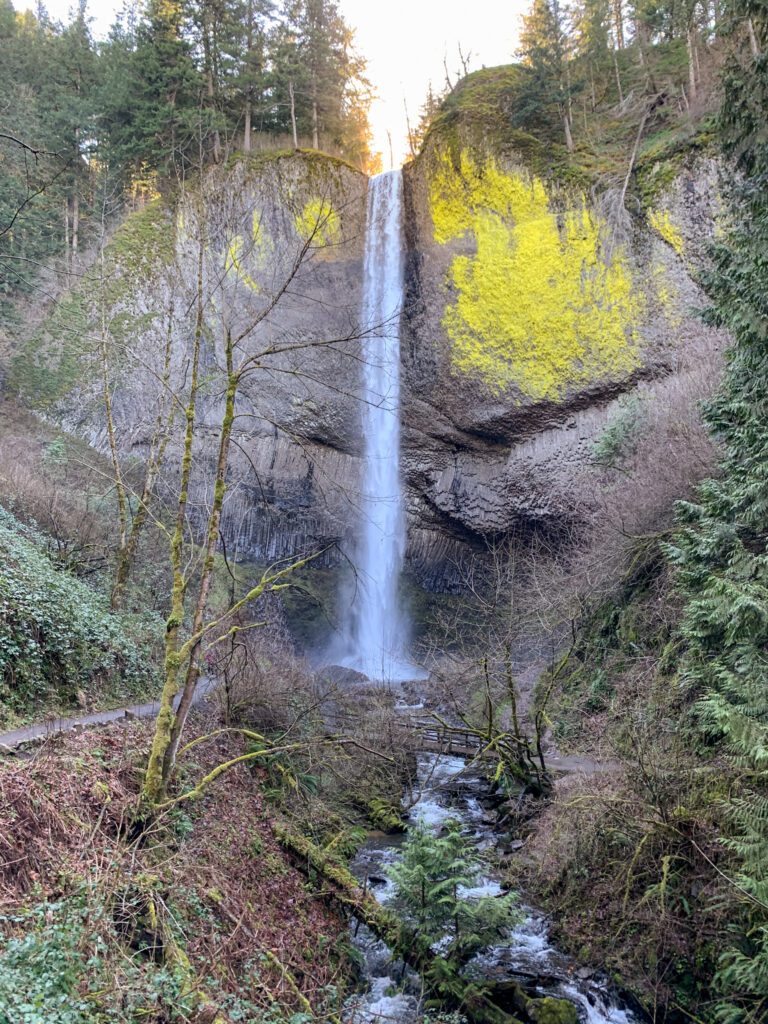 I'd recommend you get out there as early as possible, and this Multnomah Tour leaves from Downtown Portland at 8:00 am and takes about three hours round trip. What a lovely way to spend your last morning in Portland, and you'll be back in time for lunch!
Option 2: A Day on the Oregon Coast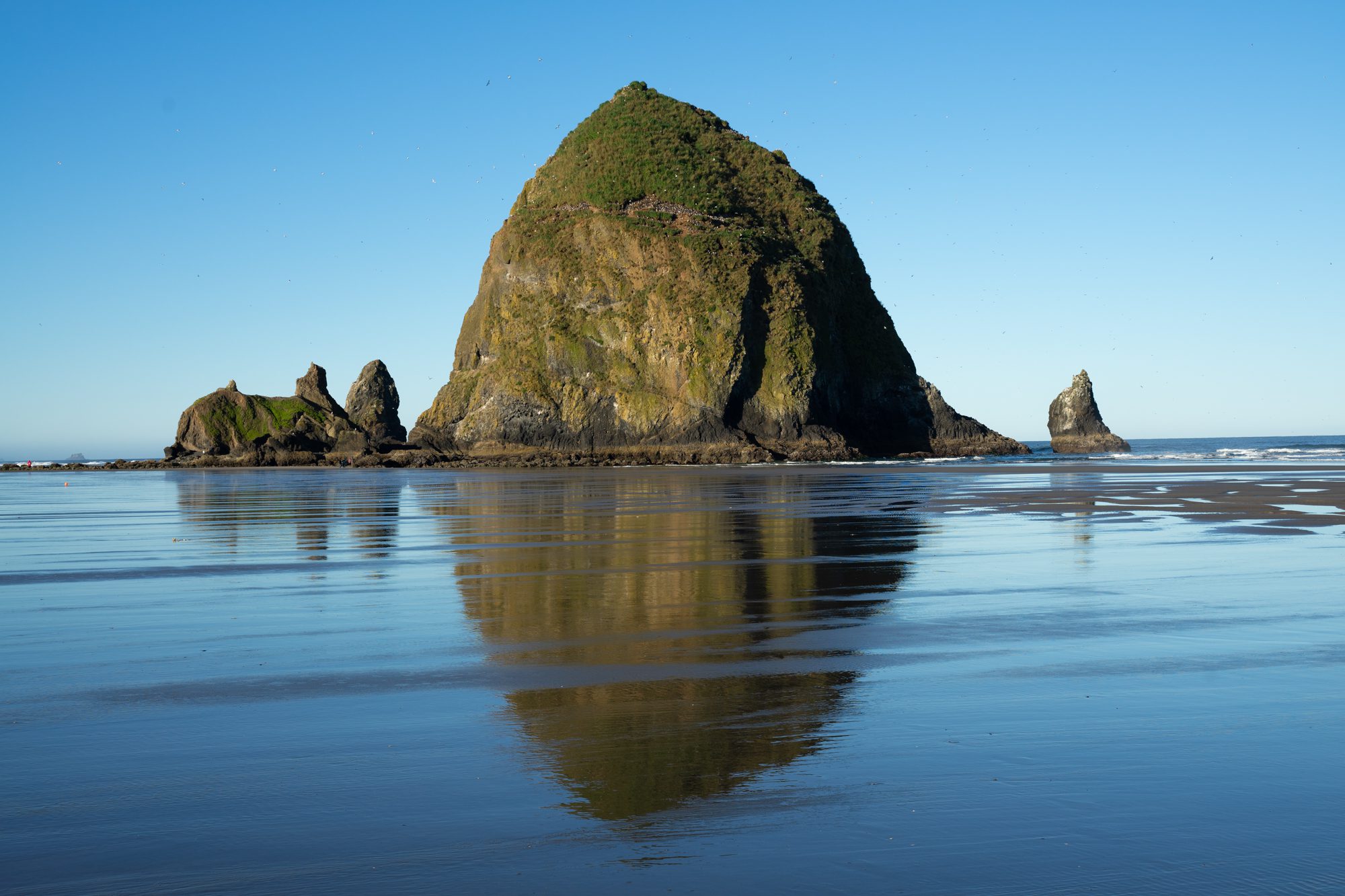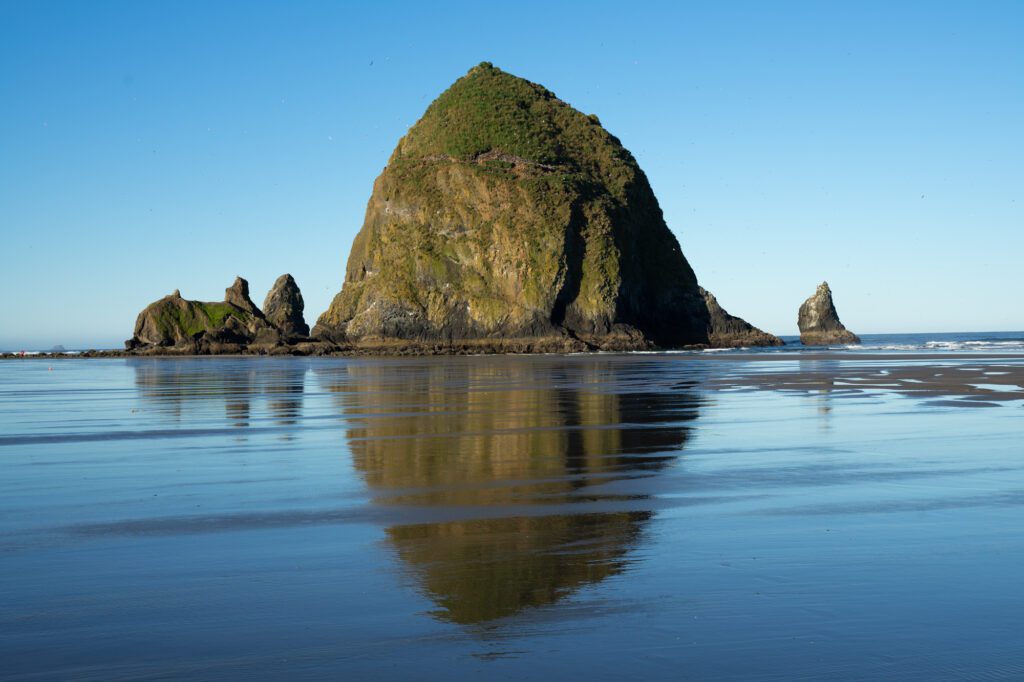 While we love the Columbia River Gorge, the Oregon Coast is just as gorgeous – though it's certainly further away.
Take a drive out to the Oregon Coast to visit beaches, small coves, and lighthouses. The drive to the coast will take about two hours and then you will have a multitude of hiking trails and beaches at your fingertips.
Cannon Beach – home to Haystack Rock (pictured above) – is really famous, but you shouldn't be afraid to branch out and explore other parts of the coast.
An ideal day trip might be starting in Cannon Beach, looping north past Seaside and Astoria on your trip back to Portland. Here's a map.
If you don't have a rental car, then you will need to take a guided tour of the Oregon Coast – like this one.
What to Do with More Than 3 Days in Portland
Here are some other things to do in Portland that we love.
Hike Mt. Tabor or Powell Butte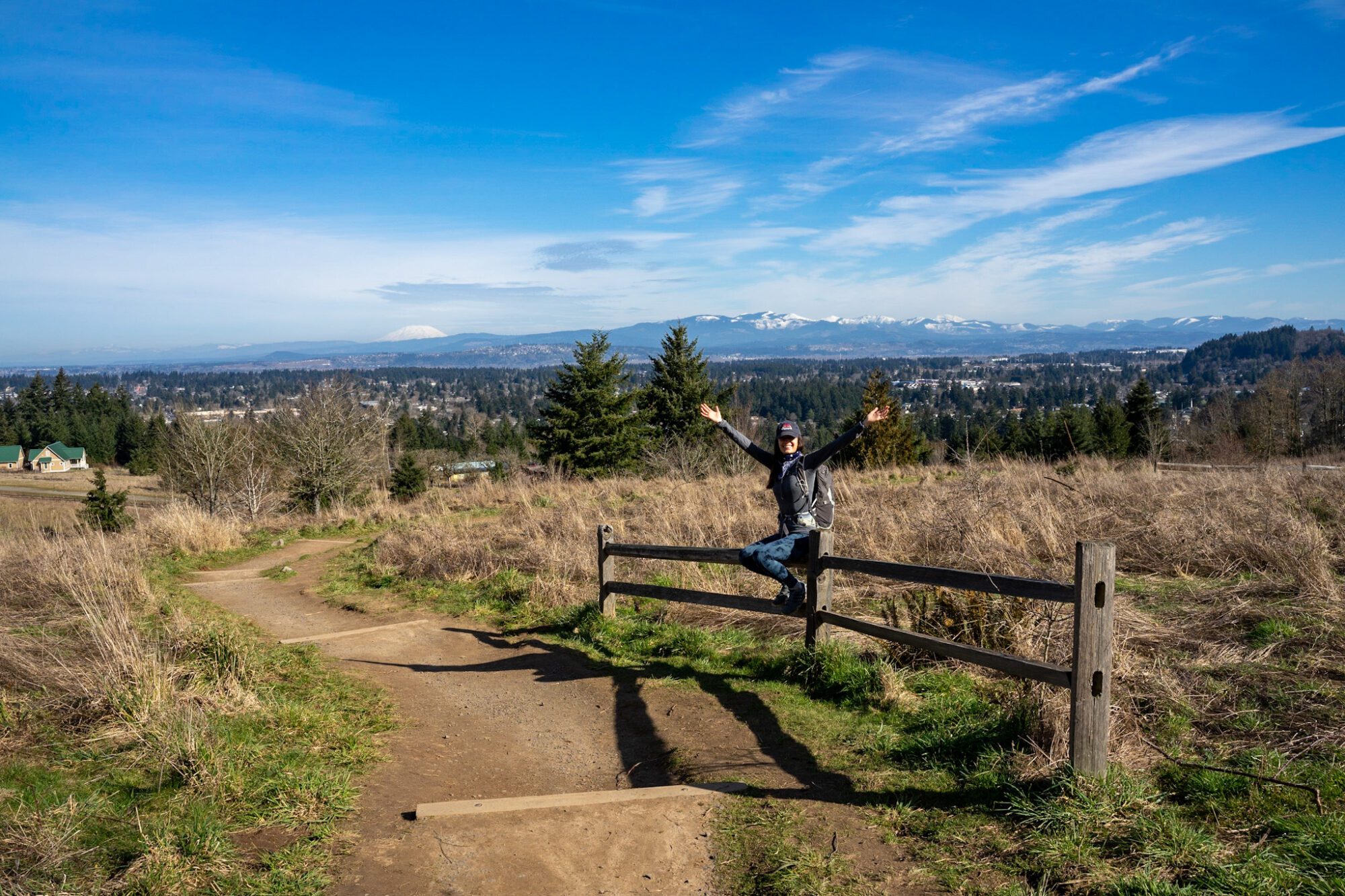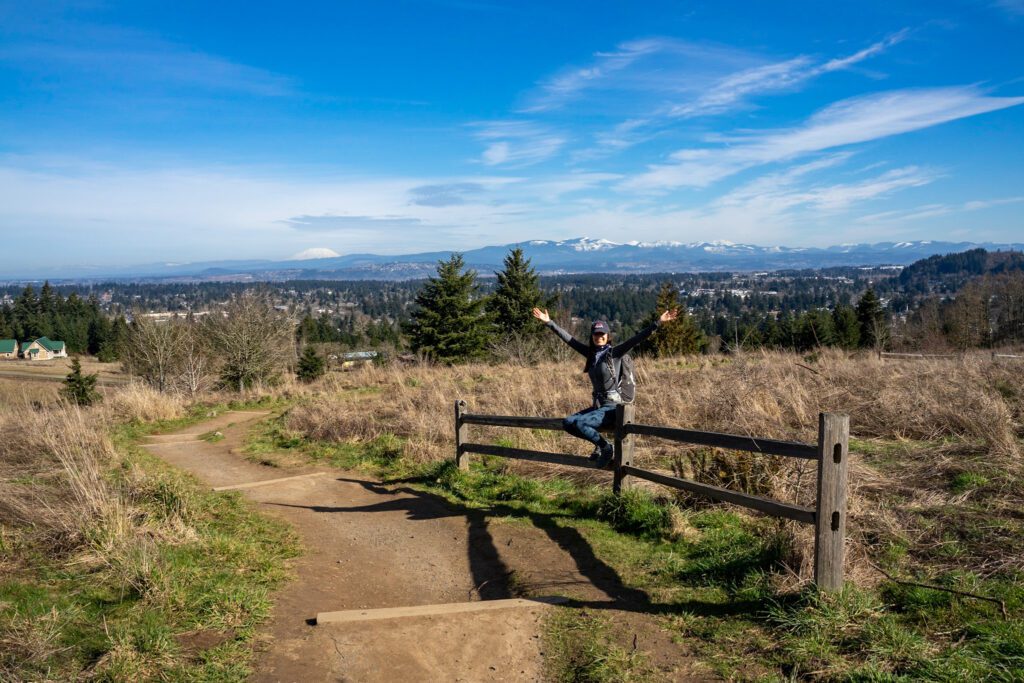 There are two great hikes east of the river that are worth doing. Neither is particularly difficult, and the payoff is worth the effort.
Mt. Tabor's "Blue Loop" is a relatively easy, mostly flat loop that takes you to some outstanding views of Downtown Portland. It's about five miles east of downtown. More trail information here.
Powell Butte is further out, about 11 miles east of downtown, but the view from the top on a clear day is spectacular. You'll be able to see Mt. Saint Helens, Mt. Hood, and Mt. Adams. The park is full of criss-crossing trails – we like the loop that takes you along the northern and western edges of the park, where it feels like you're deep in the forest.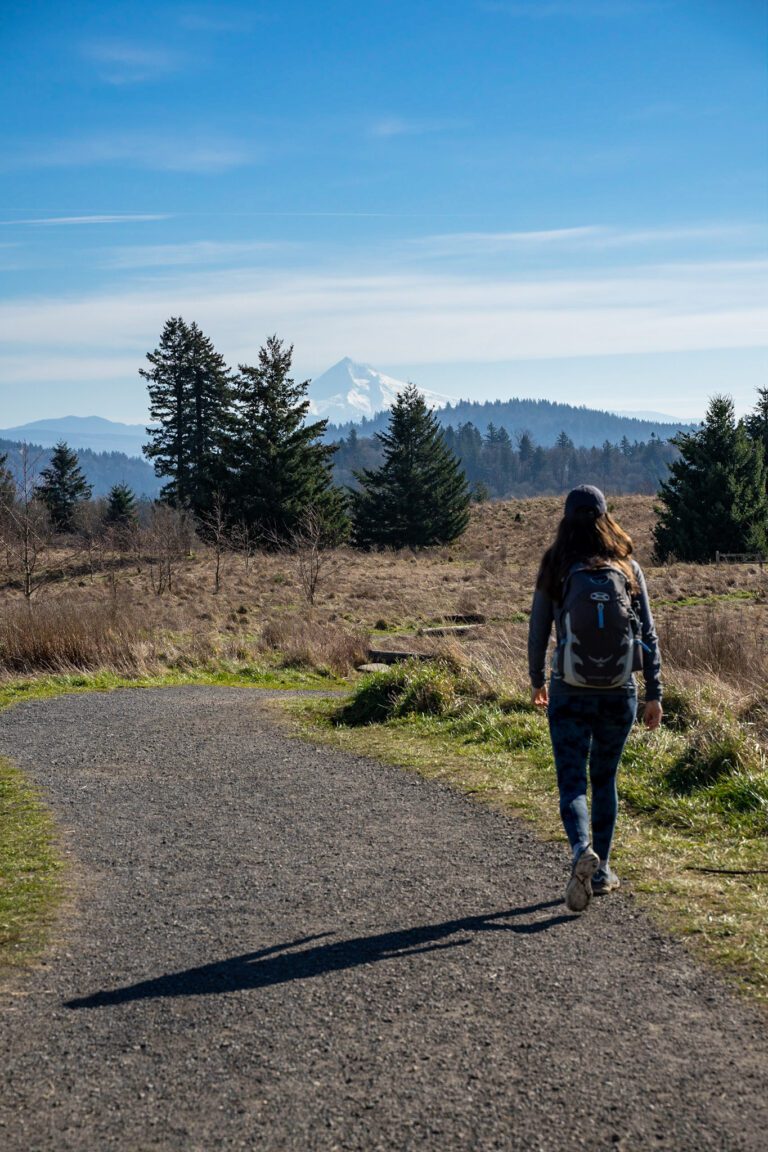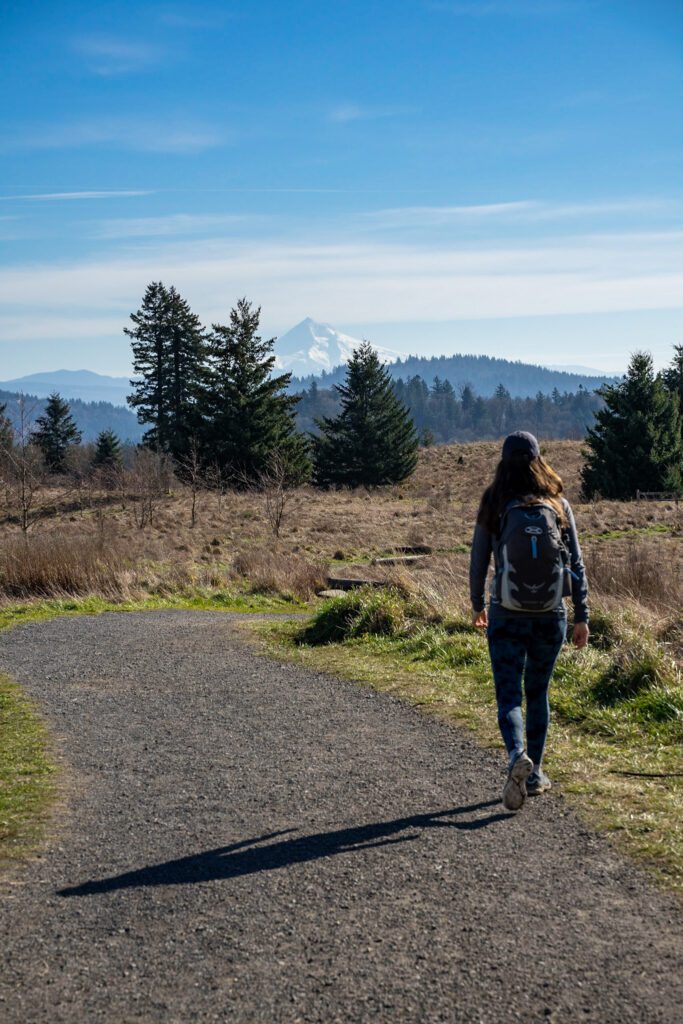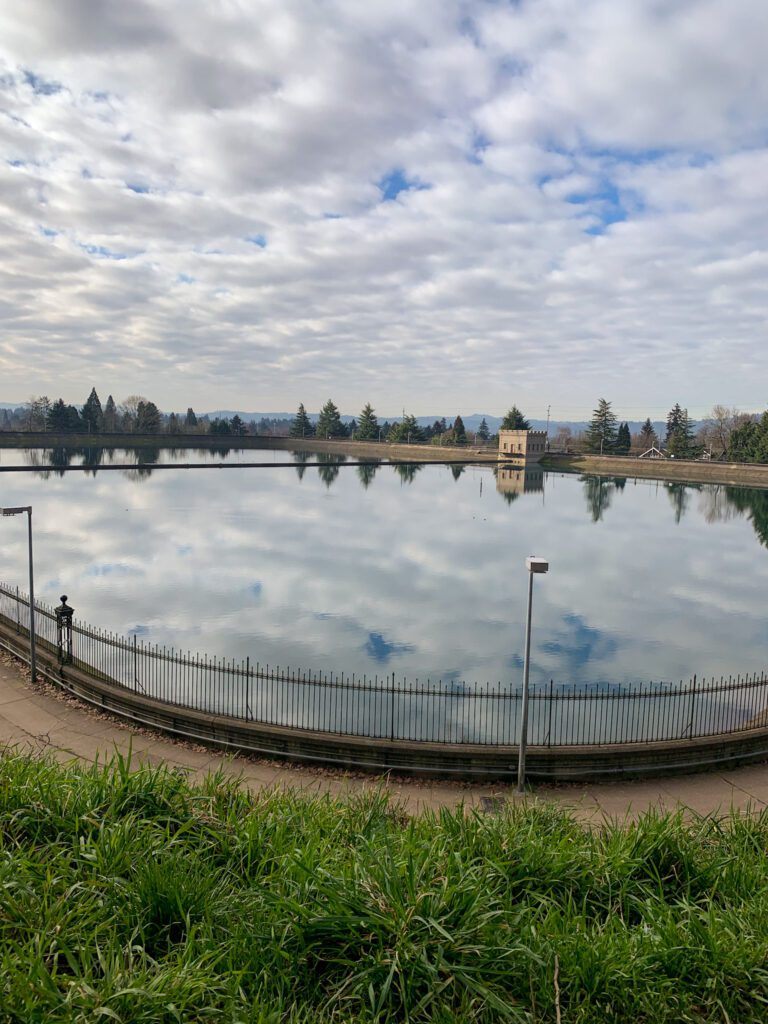 The Shanghai Tunnels
The basements of Portland are linked by a series of tunnels which led to the docks and allowed merchants to move their wares safely into the city away from traffic and out of the rain. However these tunnels were also often used for nefarious purposes too.
I won't tell you too much but it is worth a tour to visit the tunnels and hear their stories. Buy tickets here for $23 through Portland Walking Tours.
The Oregon Museum of Science and Industry
You can tour a decommissioned submarine at the Oregon Museum of Science and Industry! I don't usually like taking up time on a weekend trip by visiting a museum, however it is not everyday you get to walk around a submarine!
It is the USS Blueback that is on show, and its claim to fame is being the last non-nuclear submarine to join the US Navy. This is a fantastic 45-minute tour that explores how life was on a submarine, and you even get to see the fully functioning radio room.
Buy tickets through the Oregon Museum of Science and Industry here.
Catch a Portland Timbers Game
If you're a soccer fan like Matt, then you should definitely check to see if the Portland Timbers, Portland's MLS franchise, are playing when you're in town.
The atmosphere at a Timbers game is infectious, Portland fans are some of the most enthusiastic in the world.
The Timbers have a real life mascot called Timber Joe who cuts off a slab of tree trunk every time a goal is scored. He will parade around the field with the slab, letting fans touch it and then present it to the goal scorer after the match.
Regardless of the outcome of the game, fans will spill out into Portland's streets for food and drinks after the game. Buy tickets here.
Add Another Day Trip!
One of our favorite parts about Portland is the prime location between the coast and the mountains, which means a nearly unlimited number of amazing day trip opportunities from the city (you can see our favorites here).
Our top two suggestions after the Columbia River Gorge and the coast would be Silver Falls State Park, where you should definitely hike the Trail of Ten Falls (which is exactly what it sounds like), and Hood River, which is a picturesque town in the Columbia River Gorge.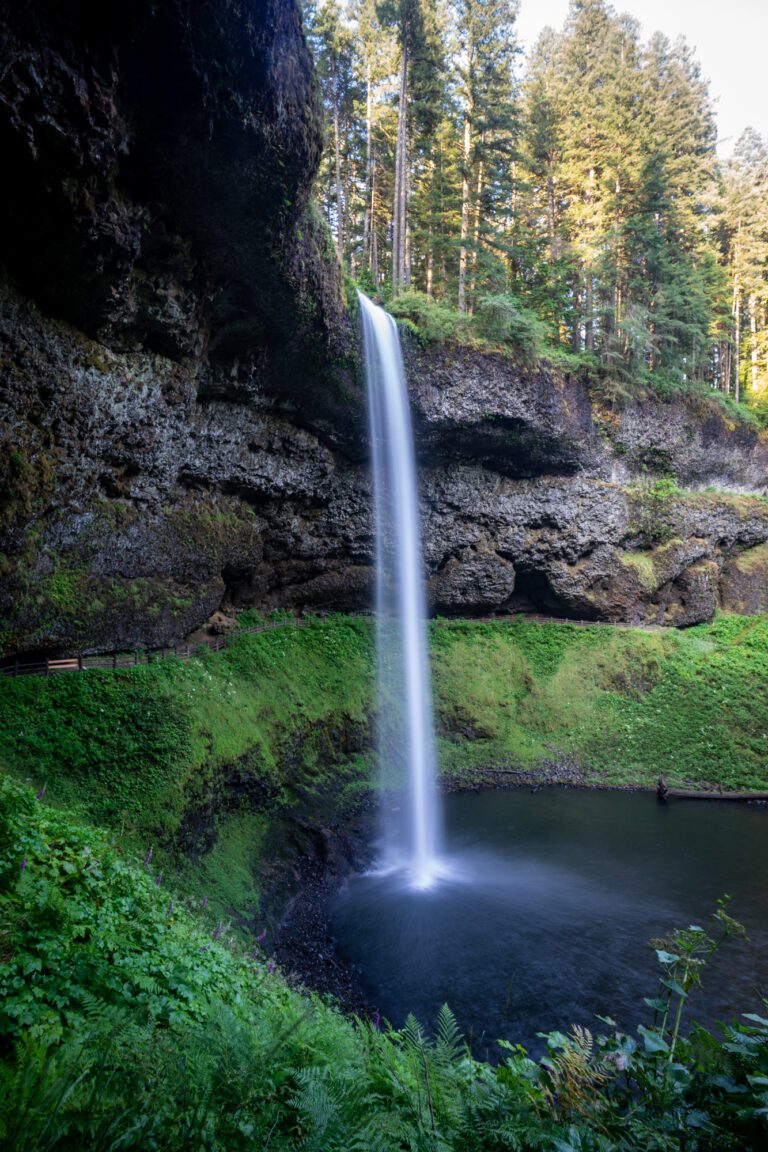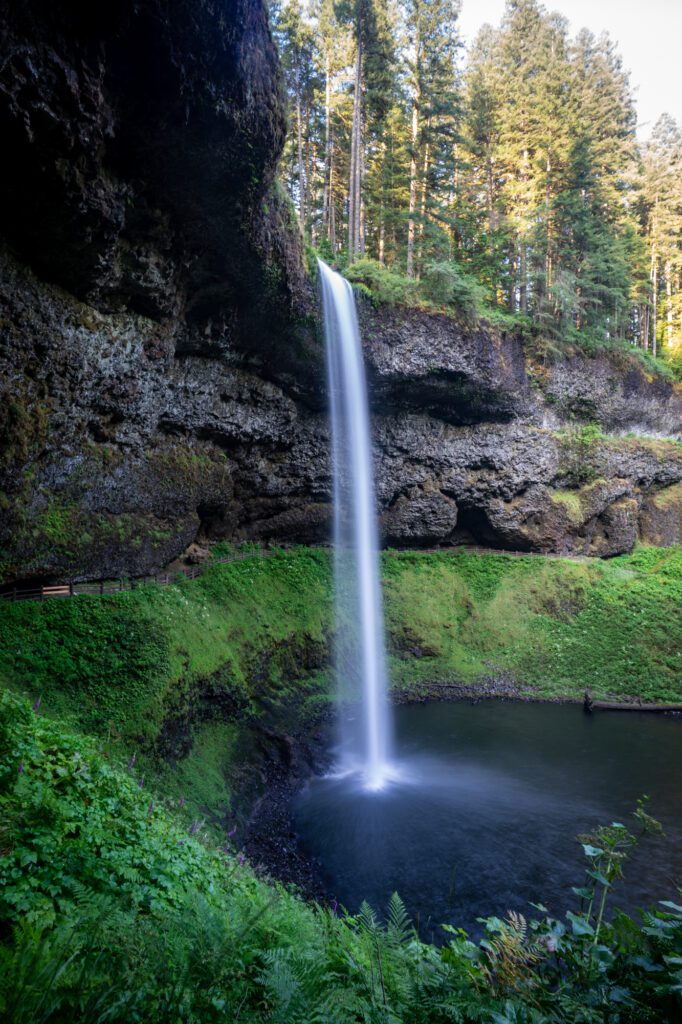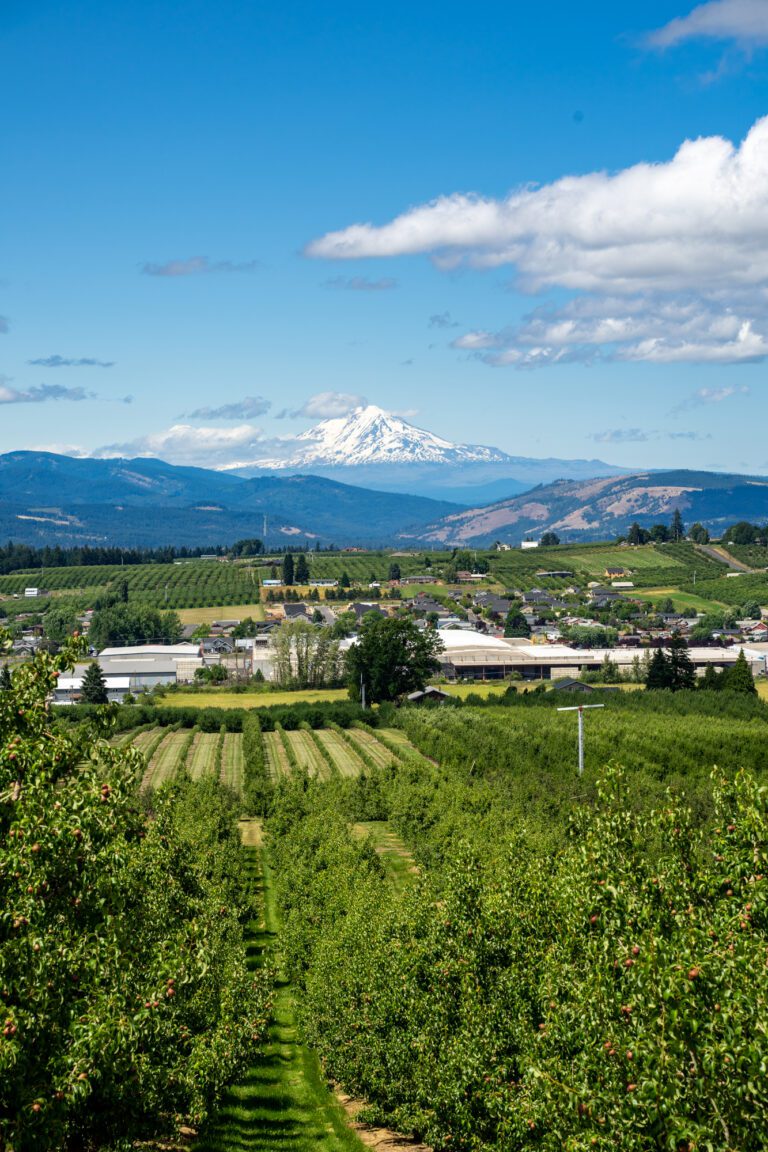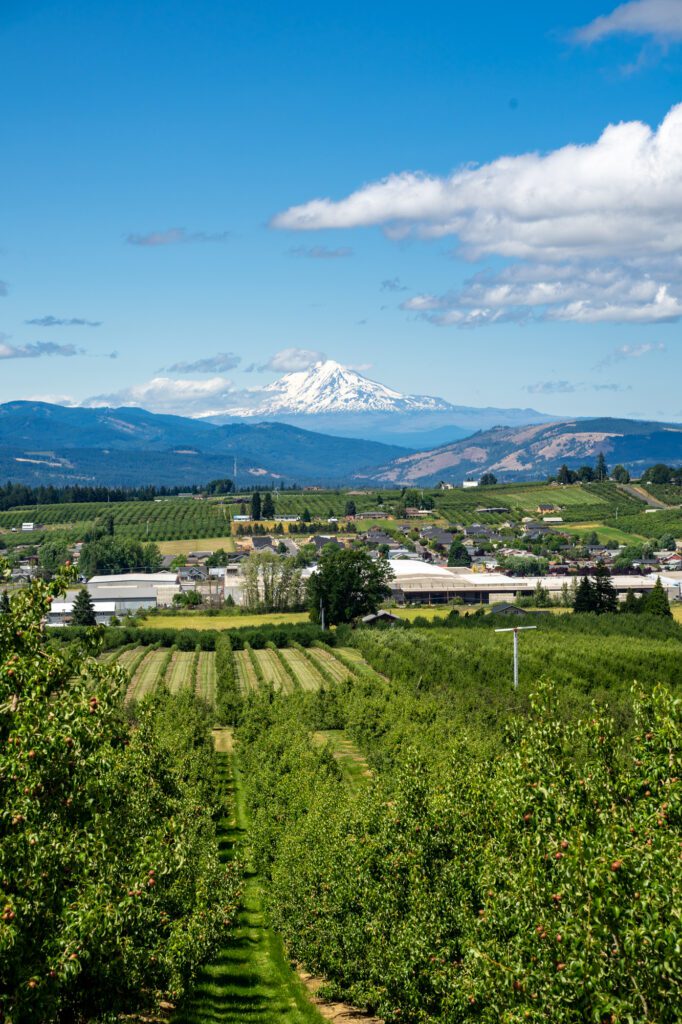 What to Do with Less Time in Portland
If you have less time in Portland, here's how we'd spend it.
Only Have Two Days in Portland?
This is an easy one! Follow the first two days of the itinerary above, basically as written.
What to Do with One Day in Portland
With just one day in Portland, we'd combine the morning and early afternoon of day 1 (Forest Park and Downtown Portland), and the evening of day 2 (Hawthorne and Division).
Get an early start and tackle the hike to Pittock Mansion, hit the International Rose Test Garden, and then get lunch in Downtown Portland and do some exploring (don't miss Powell's Books!).
In the afternoon, head over to the east side of the river for dinner and drinks on either Hawthorne or Division.
Where to Eat & Drink in Portland
One of the best things to do in Portland is… eat. And drink. Here are some spots that we love, and think you will too.
Portland is a great food city, from fast food, to food trucks, and some great mid-range restaurants. Some of the most innovative chefs in the United States call Portland home, and it's a perfect city for foodies to spend a weekend doing nothing but walking, eating, and drinking.
Which, to be clear, is our preferred travel method.
Note that Matt has Celiac Disease, which means he can't have even a crumb of gluten. Alysha can though, and she occasionally dips her toes in the gluten-filled waters. You know, for science.
Where to Eat in Portland
Portland is an amazing food city, especially for cheap eats. Whether it's food carts or fast casual, you can find a great meal for under $12-15 a person in every corner of the city.
To me, a good itinerary for Portland goes something like "walk – eat – walk – eat – eat some more."
Donuts
First thing's first, somehow Portland became famous for its donuts, and the conversation around the "best donuts in Portland" is fairly contentious. We think the best way to decide is to try them all – here are three spots that consistently rise to the top.
If you're really into donuts, then you should probably hop on the Underground Donut Tour, which takes you to five of the best stops for donuts in the city. Click here to check prices and availability for your trip dates.
Note: These aren't gluten free (NOT EVEN CLOSE), but if you are looking for some of the best gluten free donuts we've ever had, head to Petunia's Pies and Pastries on the weekends – they're 100% gluten free AND vegan.
Voodoo Doughnut is the Insta-famous spot and their location in Downtown Portland has a line around the corner most mornings. Come here for the novelty donuts, like donuts topped with Cap'n Crunch. However, the donuts certainly aren't the best that Portland has to offer (though it's a fun experience).
Blue Star Donuts, who are expanding outside of Portland to cities like Los Angeles now, is the pick for the actual best donuts in Portland according to Alysha, her mom, my mom, my brothers, and my friends who came to my bachelor party – but they're not cheap. They're "artisanal" so you'll need to budget $4-5 per donut. They have some fun flavors, like Blueberry Bourbon Basil and Mexican Hot Chocolate, so get a couple of different ones to try and split them with your group. "Get the apple fritter" says Alysha.
Pip's Original Donuts and Chai not only makes Alysha's favorite chai in Portland, but also makes fried donut holes that are fried fresh to order. They're a little further out, but it's worth the journey. Plan on waiting in line if you come on a weekend, but the warm donut holes will make it all worth it in the end.
Another good option is NOLA Doughnuts, a shop started by two Louisiana natives that have a location in the Pearl District. They're known for their La'ssants, which is, in their words, "our flakey, square take on a classic doughnut. Made with dough handcrafted over three days and then layered with locally sourced butter, our signature doughnut is a decadent, crave-able pastry with layers of richness." They also, of course, have a nice range of other, more traditional donuts.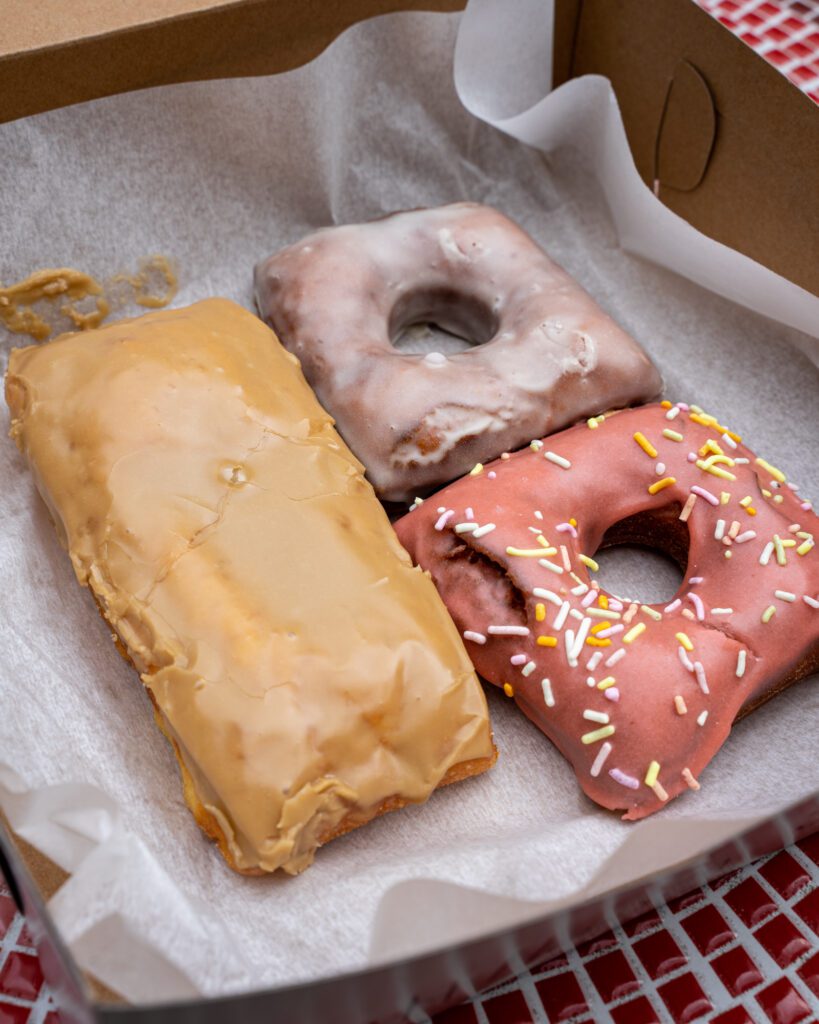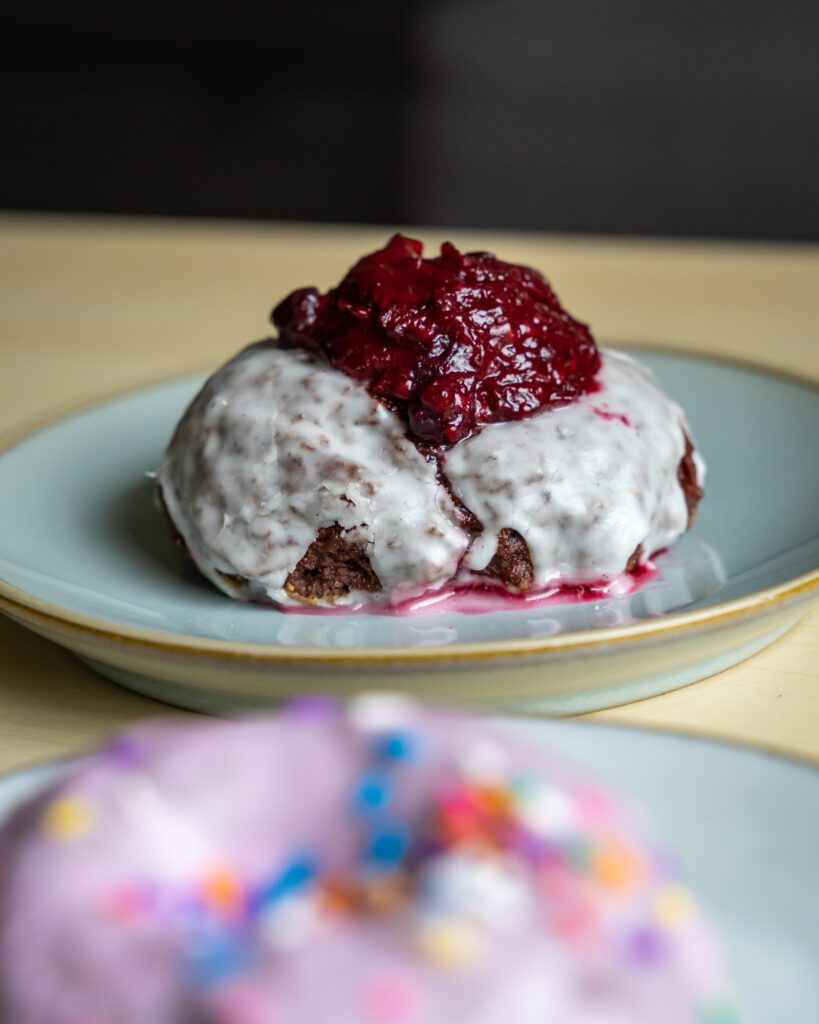 Tacos
You have three great options if you're in the mood for some tacos.
First is Taquería Los Puñales, which serves up tacos de guisados, which are made with meats that are stewed for hours for maximum flavor and tenderness. We fell in love with tacos de guisados first in Mexico City, then in Los Angeles. Good drinks, too – get the quesadilla and the barbacoa!
The second option is going to be Pollo Norte, which is one of our favorite gluten free restaurants in Portland. They make amazingly tender rotisserie chicken, and they serve it with corn tortillas, salsa, and sides like pinto beans and slaw. It's super affordable, too, and 100% gluten free.
Last, but certainly not least, is Tacovore PDX. They're a little further out of the way, located up in northwestern Portland, but it's worth the journey for huge tacos and good drinks in a lovely space. It's also 100% gluten free.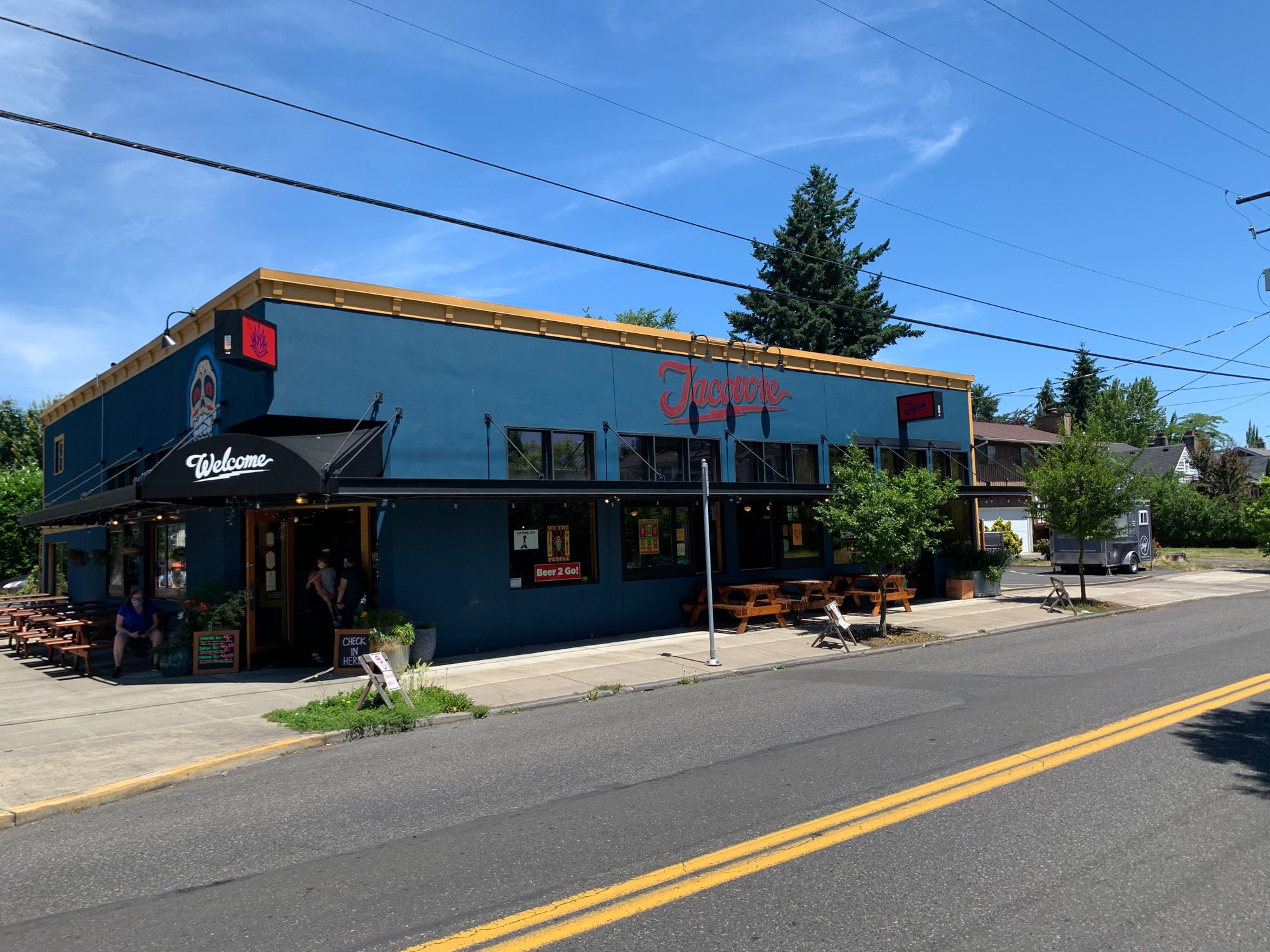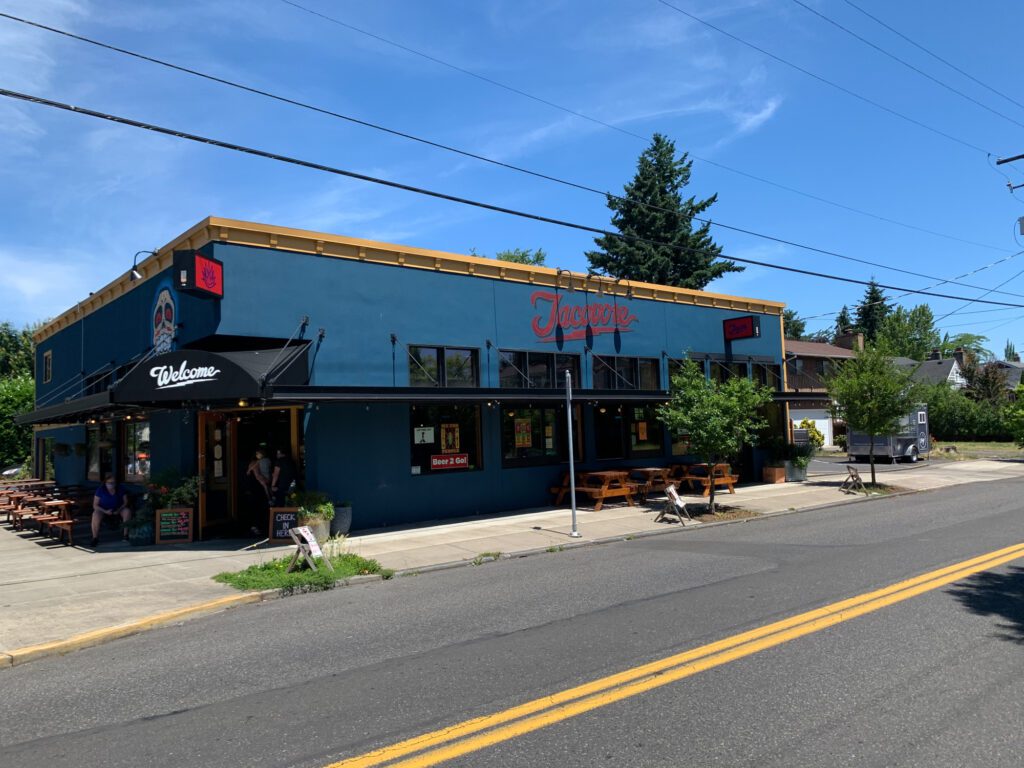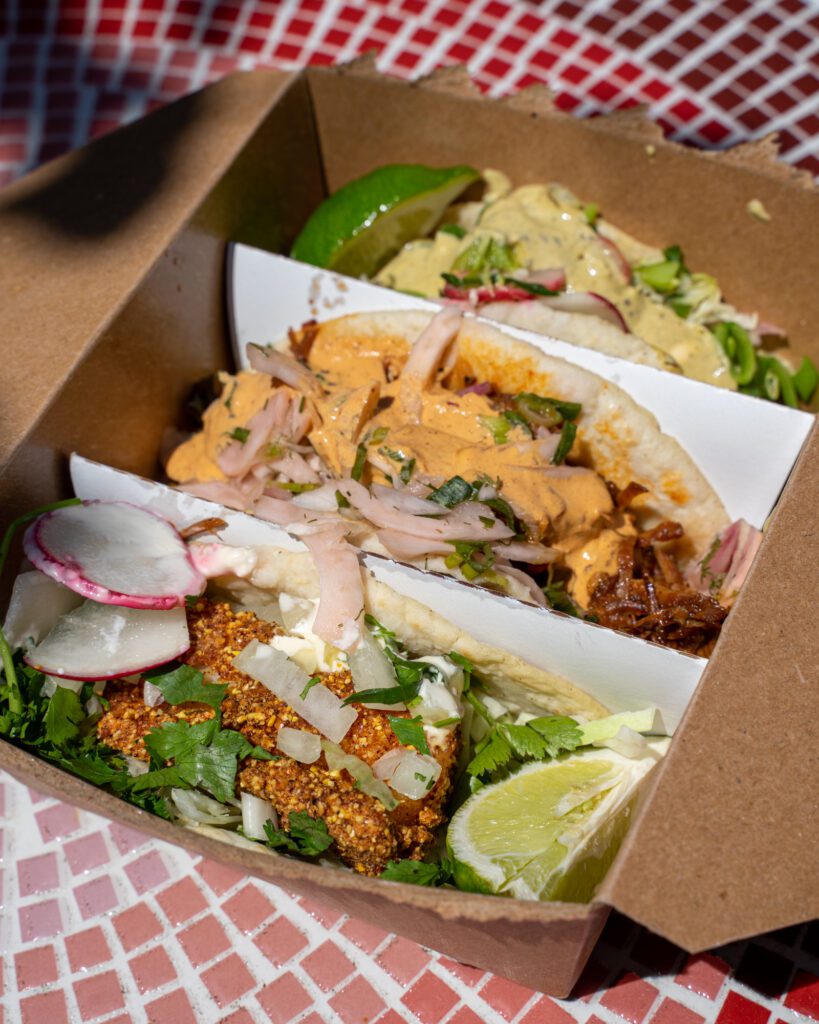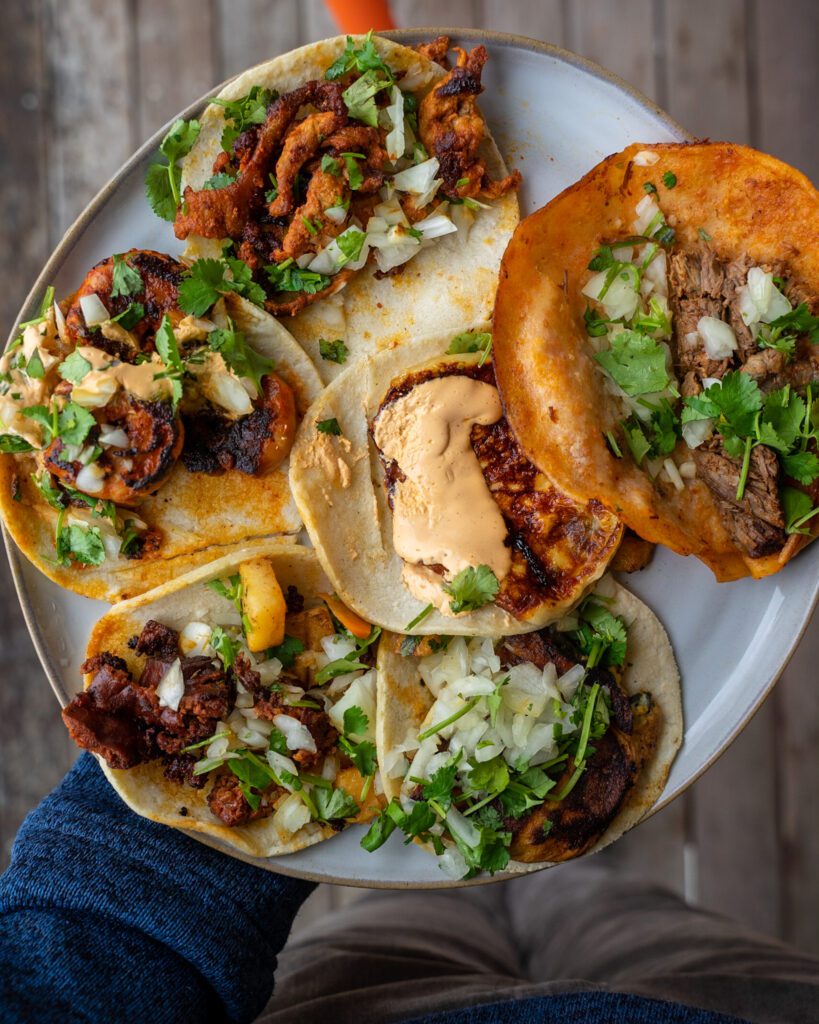 Venezuelan Arepas
For gluten free arepas and good cocktails, head to Teote House Cafe. They have a really nice patio upstairs, so grab an arepa, a cocktail, and relax around the fire pit. I'm a big fan of El Diablo – pork belly and pickled onions. If you're serving arepas, I'm probably in. They also have a location on Alberta Street.
If you find yourself on the eastern edge of the city, then head to La Arepa, a food truck serving great Venezuelan-style stuffed arepas.
Amazing Indian Food
If you're up for some amazing Indian food, head a few blocks west on Division to Bollywood Theater. The food is great – take your pick between Indian street food and traditional curries. It's really good, but they aren't suitable for people with Celiac Disease, unfortunately.
Ice Cream
We all scream for ice cream – especially Alysha. If the question to "do I want ice cream" is "YES," then Salt and Straw is the answer. The Portland classic has now expanded to cities around the country, but that doesn't mean the lines in Portland are any shorter. They've got seasonal flavors that rotate throughout the year, and a lineup of stellar staple flavors.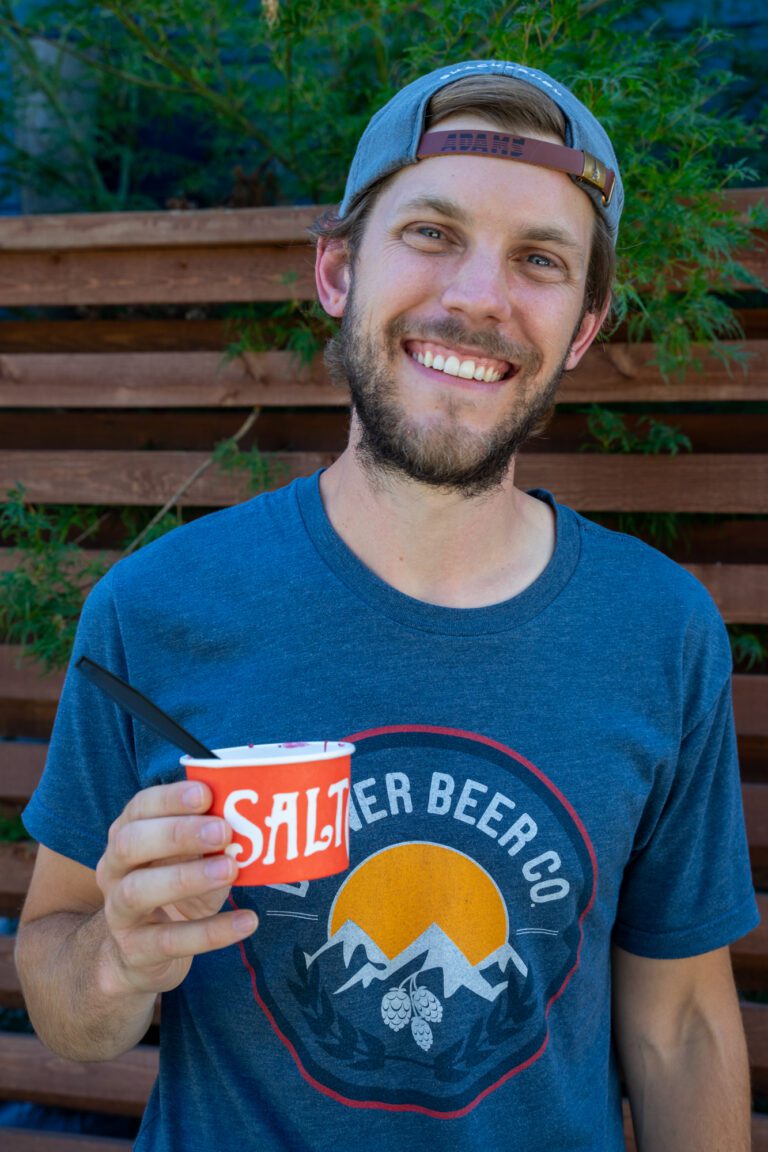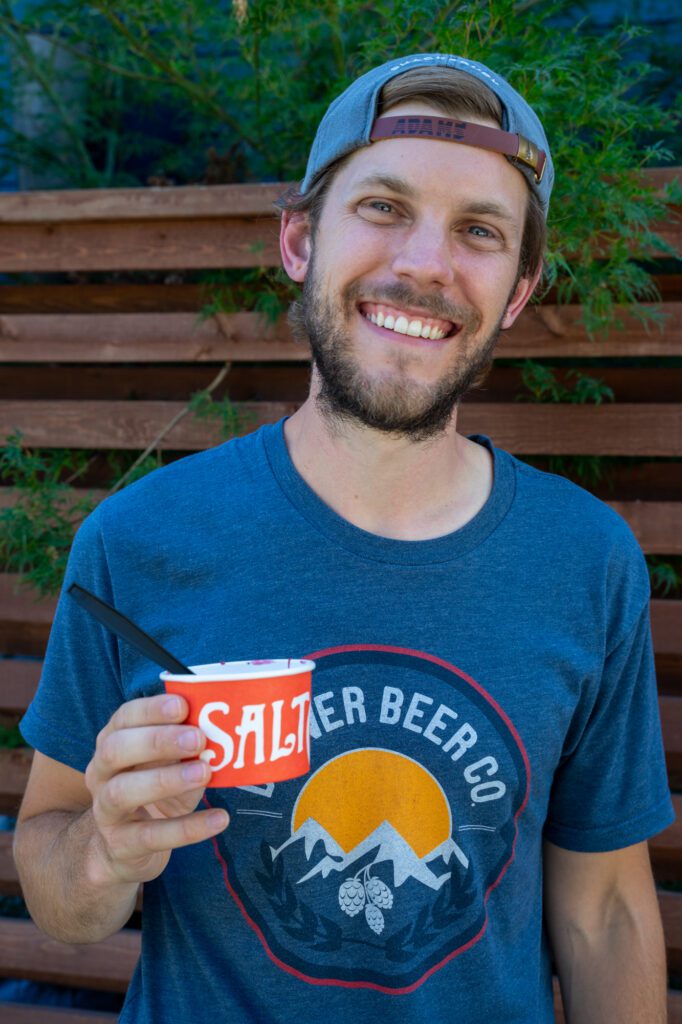 For 100% gluten free and plant based ice cream, it shouldn't surprise you that you've got two choices in Portland.
Little Chickpea in the Pearl District makes amazing chickpea-based ice cream, which is all gluten free – even the cones.
Kate's Ice Cream has a location on Sandy Blvd east of the river that is like a "speakeasy for ice cream" – it's in a little courtyard, and is only open on weekends, but it's fantastic. They remind me of Frankie and Jo's, one of my favorite gluten free spots in Seattle. They have a second location coming this spring to Mississippi Ave (Spring 2022, to be clear), which is super exciting!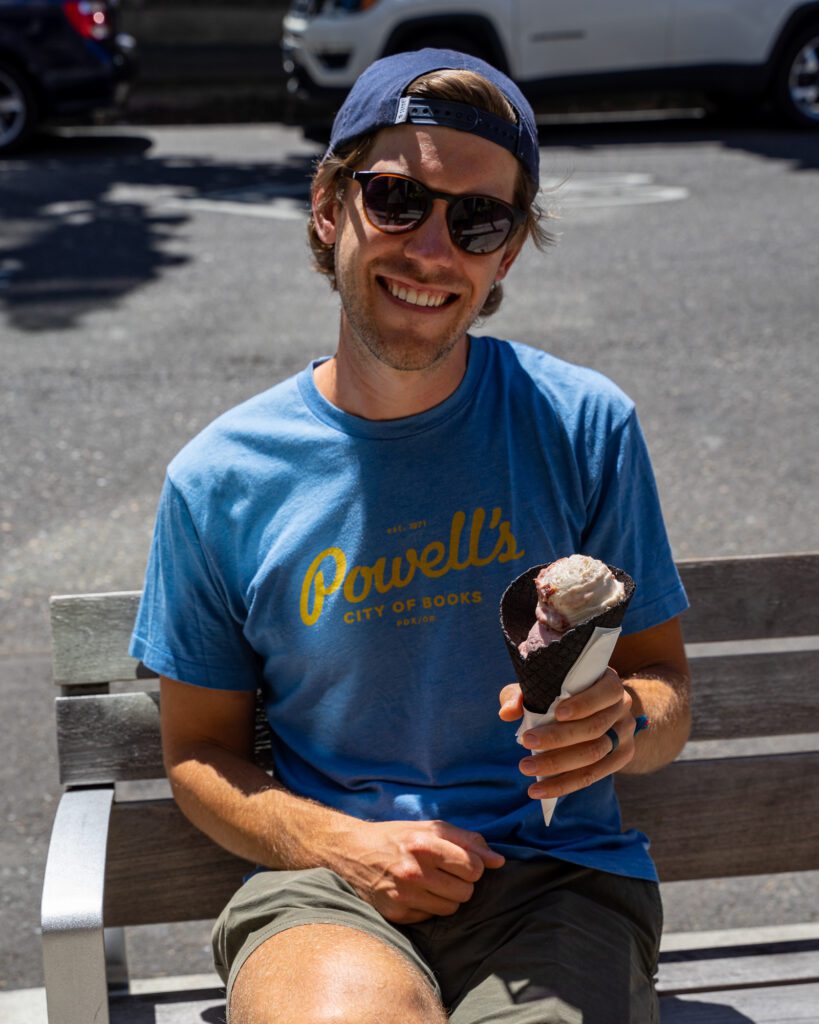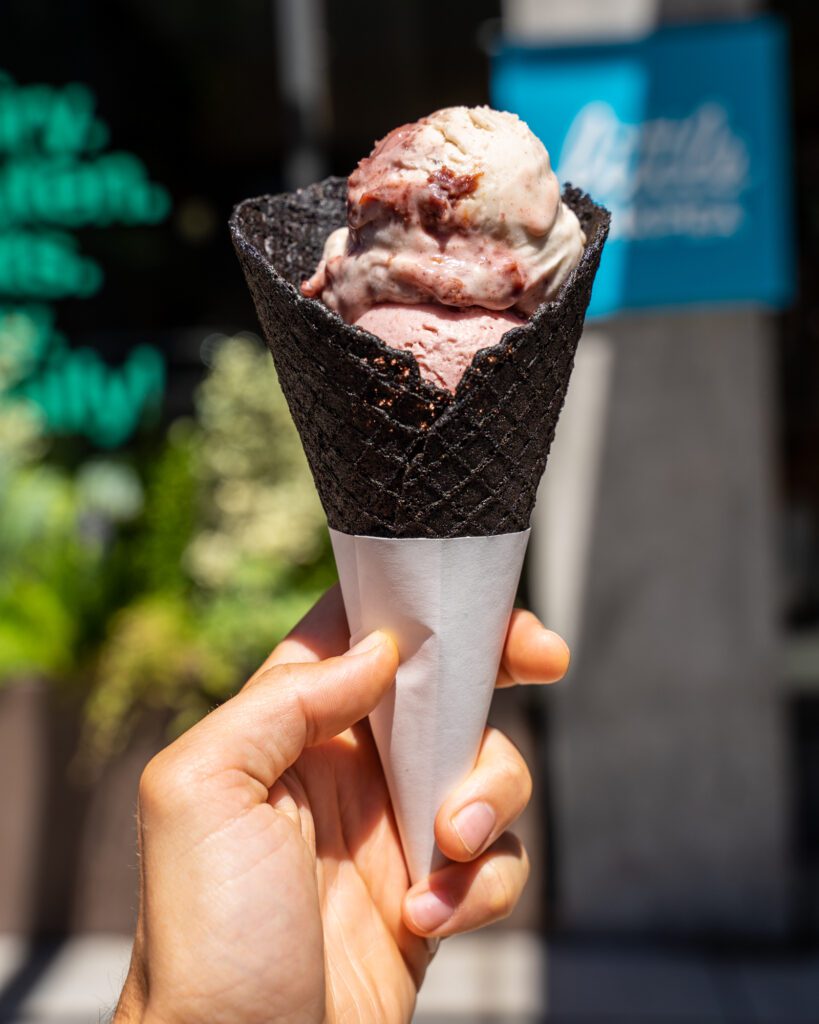 Food Carts
I think Portland has made food carts (or trucks) famous, particularly food cart pods, and now you see them in cities around the world from San Francisco to Budapest and everywhere in between.
In Portland, head to the Prost! Marketplace at N Mississippi and Skidmore for Matt's BBQ, Little Conejo (tacos), and, my personal favorite, DesiPDX, which serves up amazing 100% gluten free Indian food. DO NOT MISS THE CARDAMOM CHAI CHICKEN.
Other food cart locations include the Hawthorne Asylum, the 5th Avenue Pod, Cartopia, and Portland Mercado, the last of which focuses on Latin American flavors and serves as an incubator for local businesses.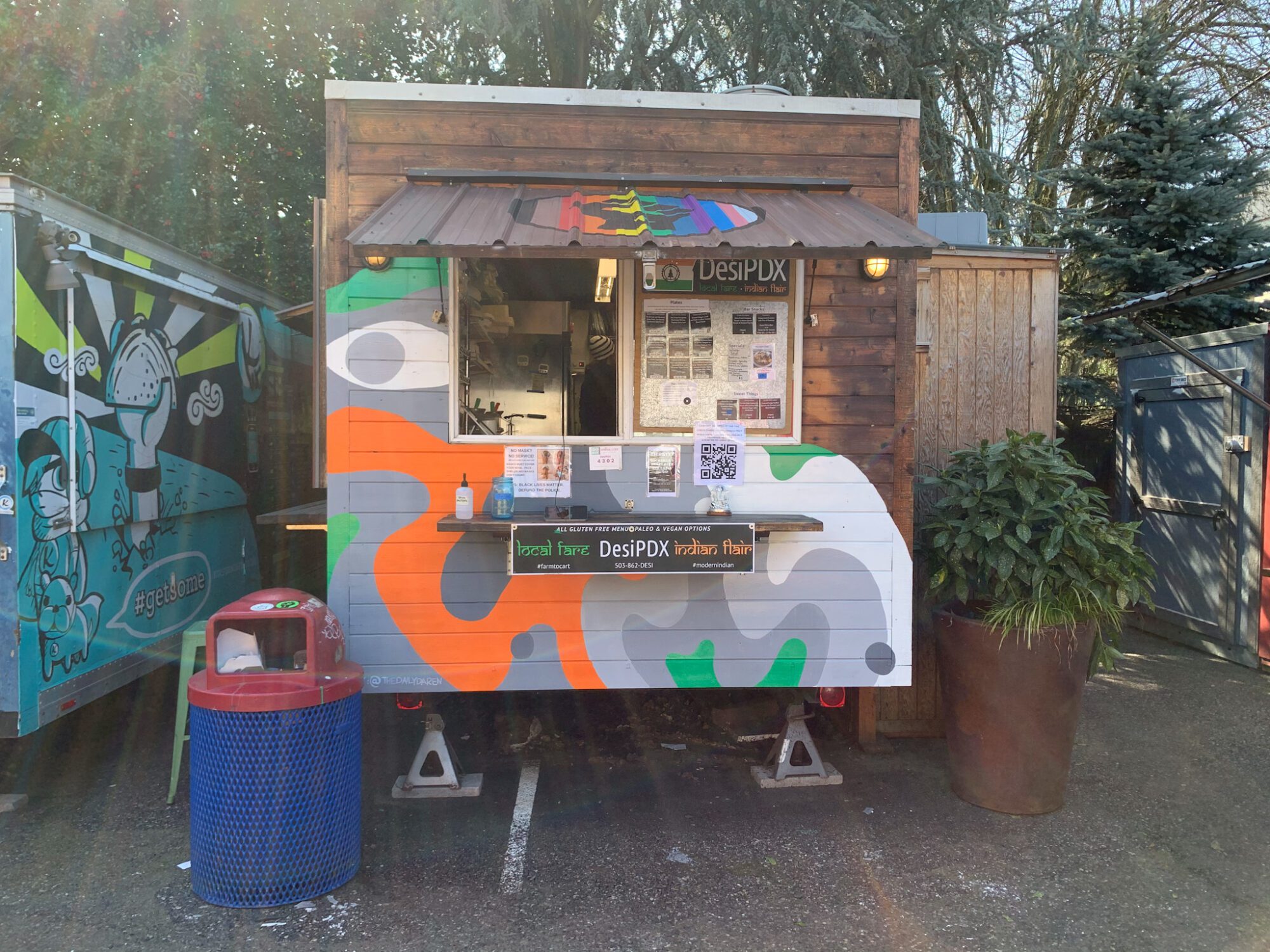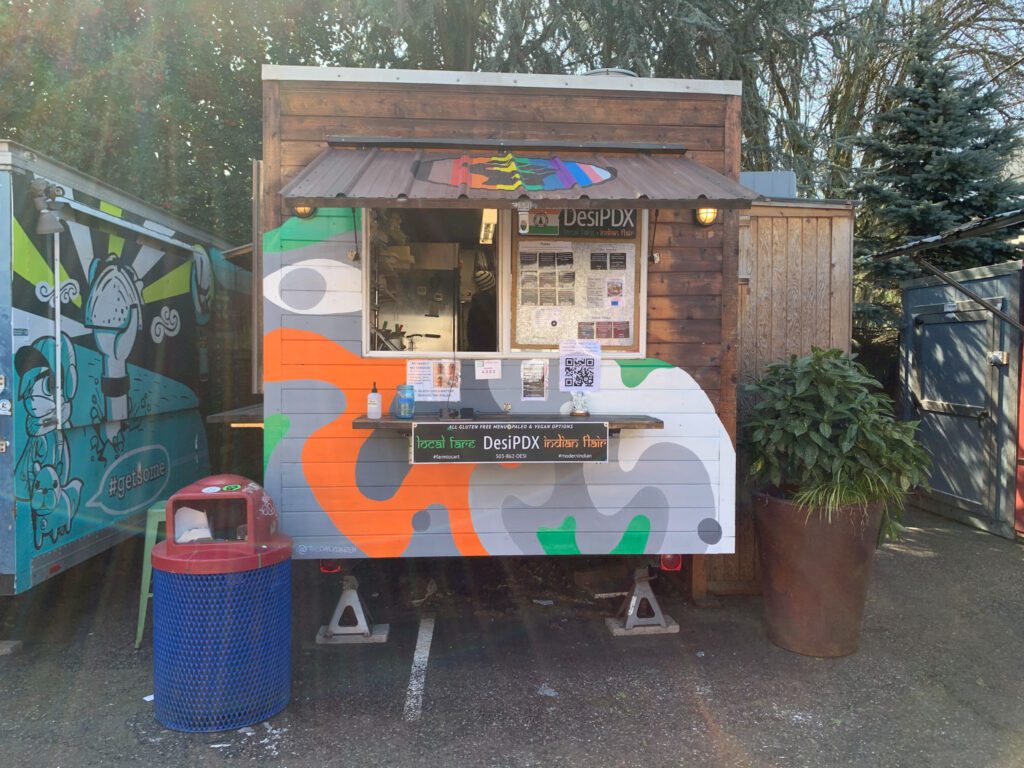 Where to Drink in Portland: Coffee, Tea, Beer, & Cider
You know what else Portland is good for? Coffee, tea (including kombucha), beer, and my personal favorite, cider.
Coffee in Portland
For some of the best coffee in Portland, look to Coava Coffee Roasters, my personal favorite for their single-origin Ethiopian coffee called "Kilenso" that lit a fire of curiosity around coffee that has made me a full blown coffee snob, according to Alysha.
Other great options include Heart Coffee Roasters, Water Avenue Coffee, and Case Study Coffee.
Tea in Portland
For the best tea in Portland, look at Tea Chai Té, who have locations all across the city, Smith Teamakers who have a fun tea experience and a stellar nitro chai, and Pip's Chai for their house-made inventive Chai tea lattes.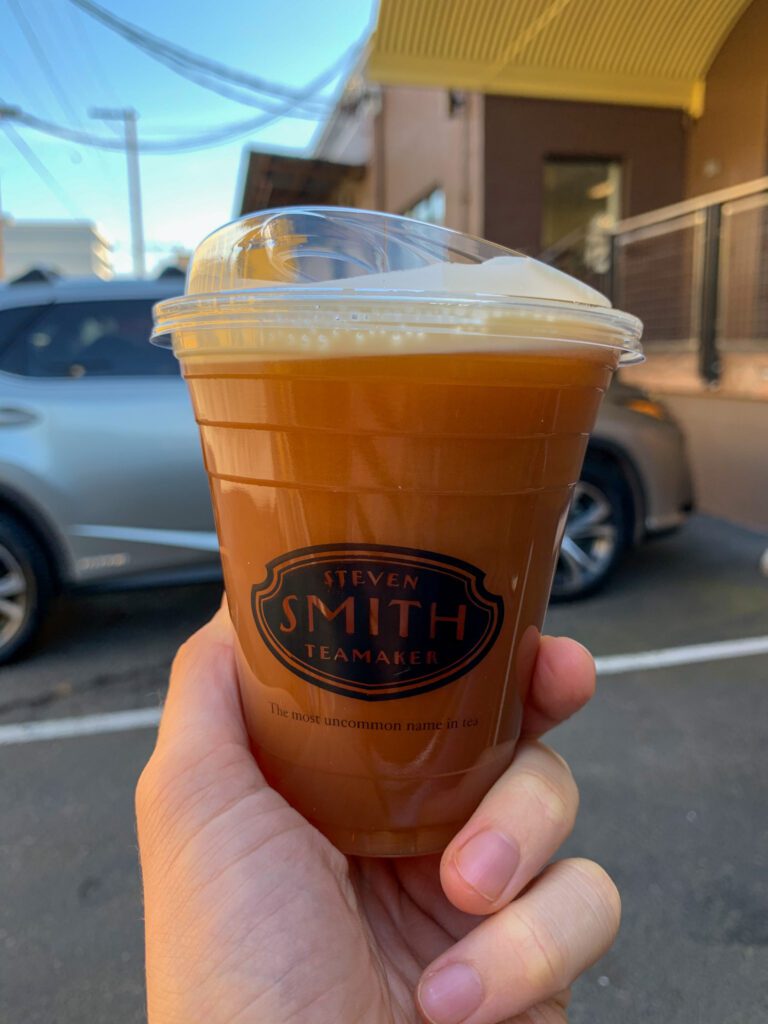 Beer in Portland
For beer in Portland, I'd head over to Beervana for their round up of the best breweries in Portland.
I have Celiac Disease and can't eat gluten, so beer isn't my thing. Except for gluten free beer, which you can find at Ground Breaker Brewing in Portland, one of the best dedicated gluten free breweries in the country.
I have a whole guide to finding gluten free beer in Portland.
Cider in Portland
If you're looking for the best cider in Portland, head to either Alter Ego Cider or Schilling Cider, which are two of our other favorites, and the patio at Schilling is a perfect spot to enjoy one of their 50+ ciders on tap on a warm summer day in Portland.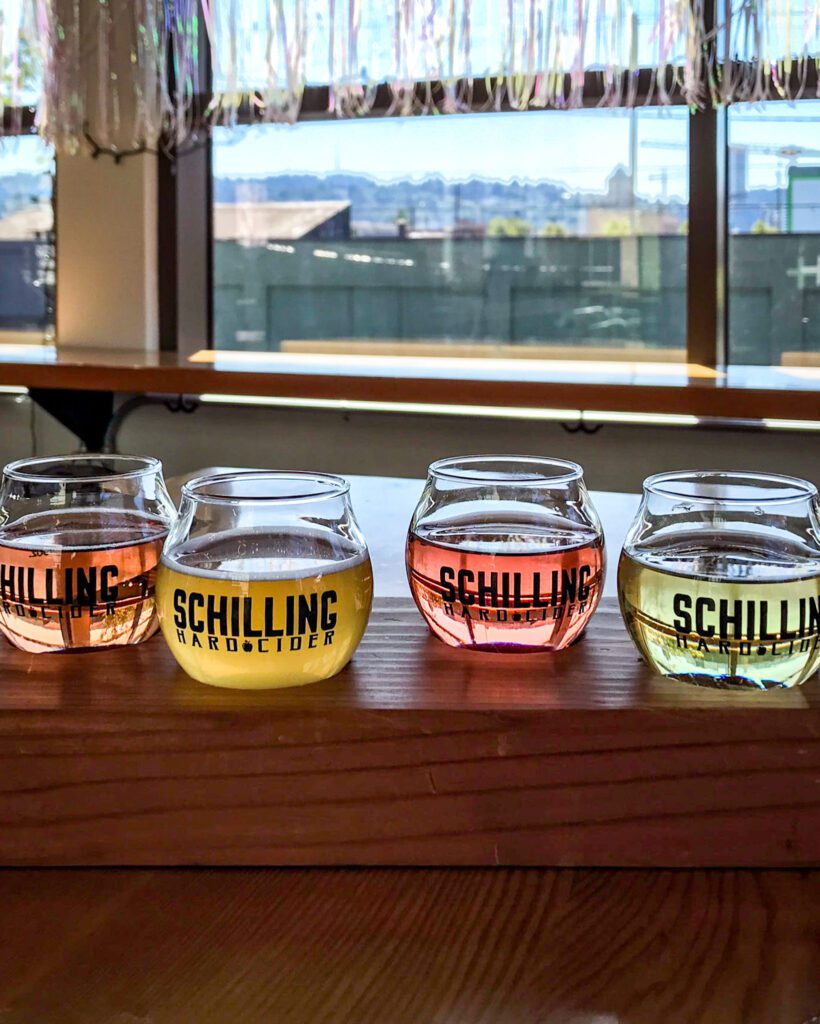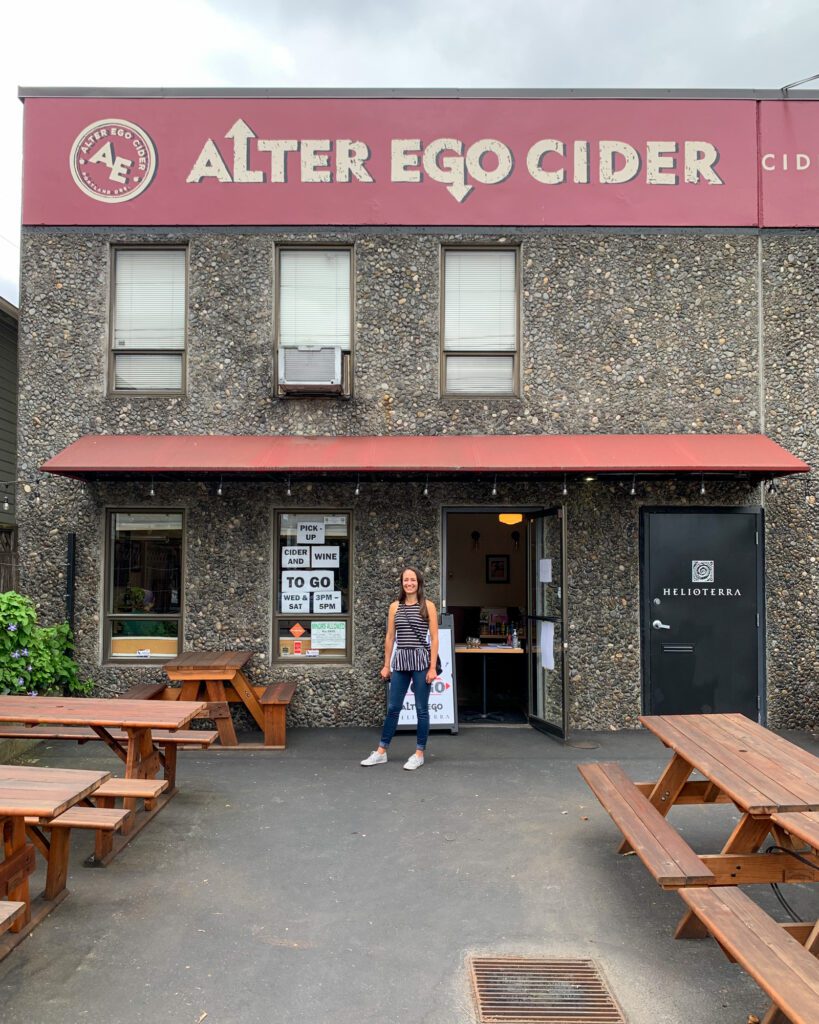 When to Visit Portland
If you've spent any significant amount of time at all in the Pacific Northwest, you probably know the deal here.
Summer is AMAZING. June to September is an incredible time to be in Portland, but you'll find higher prices because everyone wants to visit during that time frame.
In July and August, you'll be treated to blue skies, warm temperatures in the 80's and 90's and by far the least rain. This makes it an ideal time to visit Portland, walk a lot, eat and drink outside, and explore the outdoor activities around the city.
In May, June, and September, it's a little more touch and go in terms of weather, and prices will be somewhat lower. Temperatures will be a bit cooler, it rains more, and it might be gray and drizzly. There's no real way to know what you're going to find until your plane descends into PDX, Portland's airport. And even then, it might change day to day.
The rest of the year, October to April, expect gray, drizzly, and colder temperatures. Sometimes it gets cold in the winter and snows, but nothing like the Midwest or East Coast. Pack a rain jacket and warm layers, for sure.
We spent a month in Portland in February and March because Alysha – a born and bred Californian – wasn't sure she'd be able to survive a Pacific Northwest winter, which usually involves a lot of waterproof jackets and saying things like "well, if we don't do it in the rain, we'll never do it!" or something to that effect.
In the end, she didn't think it was that bad. Sure, it's gray and drizzly, but there were also amazing days with blue skies and clear views all the way out to Mount Hood.
Getting to Portland
If you're coming to Portland from out of town, the best option is to fly into Portland International Airport (PDX), which is consistently rated as one of the best airports in the country.
How to Get Around Portland
Portland has a great public transportation system. The whole city is covered by either buses, streetcars, or light rail. Tickets are affordable – $2.50 for 2.5 hours or $5 for a whole day and transferable across all three types of public transportation. The MAX light rail is an easy way to get around the city, and is pretty well-connected with five lines and tons of stops.
With tickets so cheap, and the roads of Portland notorious for bad traffic, take public transportation rather than driving when you can. Plus you won't have to worry about parking, which is always a plus.
If you need to get around by car, Lyft is a great choice, with plenty of drivers around at all hours.
Cycling is another good option for getting around Portland. The city has plenty of bike lanes to make it easy for cyclists to get around and if you don't have your own bike there are orange Biketown stations all over town where you can hire bikes for reasonable prices.
If you do want to go out of the city to check out the Columbia River Gorge or head to the Oregon Coast and Cannon Beach, you'll need to rent a car or take a guided tour.
Do You Need a Car in Portland?
To explore the city of Portland itself, a car really isn't necessary.
Where a car becomes useful is when you start talking about day trips from Portland, which are basically only accessible either by car, or by guided tour.
If you're staying in Downtown Portland and planning on spending your weekend in the main core of the city, then you don't need a car. In fact, I'd argue that a car might hurt more than help because you'll need to either pay for or worry about parking, which isn't particularly easy around Downtown Portland.
If, however, you want to get out of the city and explore some of the amazing natural beauty within a couple of hours of the city, then a car might be handy.
Getting to Portland from the Airport
To get to Downtown Portland from the airport, which is only about nine miles northeast, you're probably going to have to transfer at least once. It's around a 45 minute journey, but it costs $2.50. That's right, $2.50.
Here's the information for the MAX Red Line, which is what you need to take.
Find the entrance at the south end of the ticket lobby. Trains come every 15 minutes from around 5:00 am to 12:00 am.
If you're staying off of the MAX lines, you might have to grab a Lyft from the station to your accommodations. If you're staying somewhere outside of downtown and you have a group, you're probably better off taking a Lyft, which will cost you approximately $30 and take about 20 minutes.
---
More Oregon Travel Guides
If you like this guide, you won't want to miss our other Oregon travel guides!