Where to Find the Best Cider in Seattle
Wondering where to find hard cider in Seattle? We're two cider enthusiasts here to help you track down the best cider in Seattle. And believe us, there's a lot to choose from. Whether you're looking for a spot where you can try seventeen different ciders from the same producer, or craft a flight from 40+ different options, all color-coded from dry to sweet to help you find the right cider for your preferences, you're in the right place.
Cideries in Seattle
Here are four places to find cider in Seattle that actually make their own cider, rather than bringing it in from other places.
Schilling Cider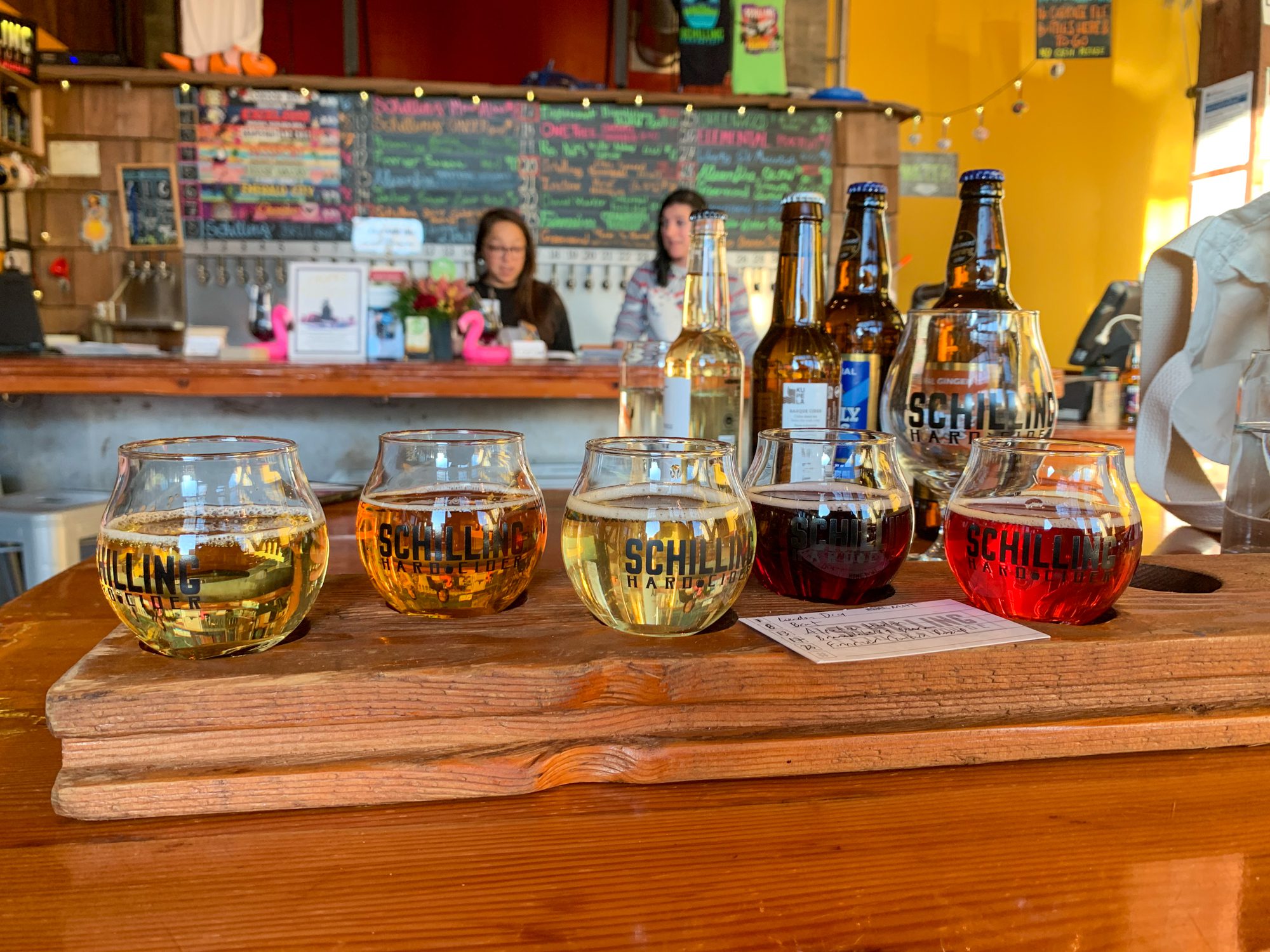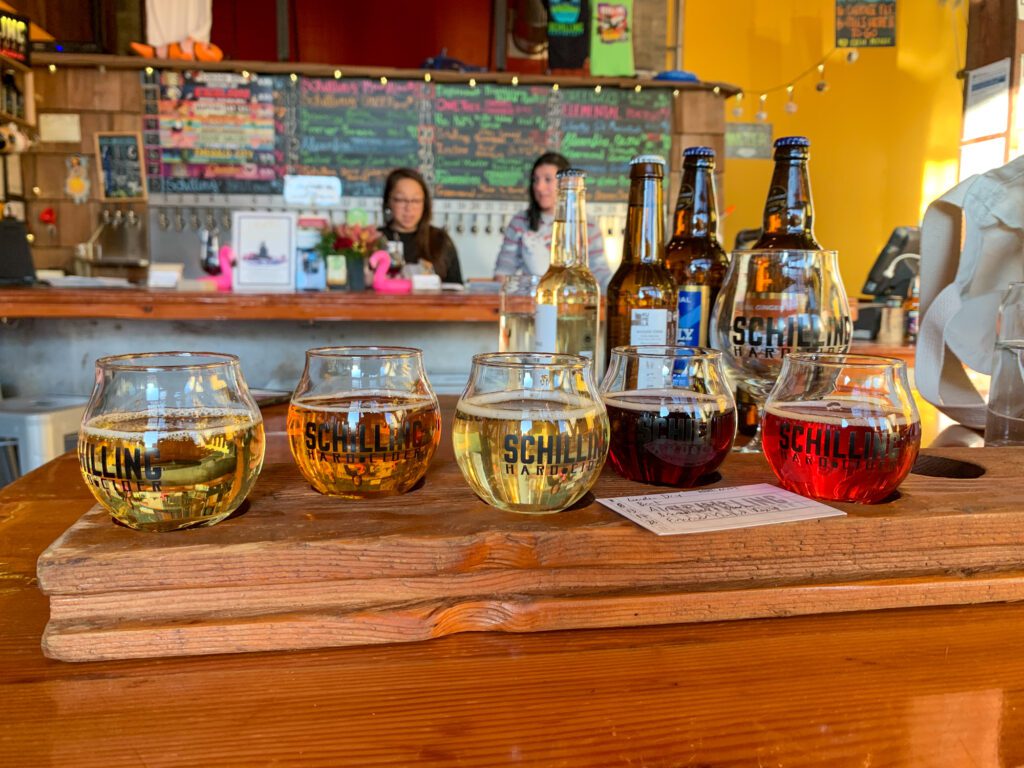 Okay, the first one on the list is an exception. Whoops. Schilling Cider House in Seattle's Fremont neighborhood is our favorite cider bar in Seattle, hands down.
I say that they're an exception because they both make their own cider, and bring it in from other places. They have a whopping 30-40 different ciders on tap, including their own, a wide range of local ciders from the Northwest, and occasionally some fun ciders from beyond the region.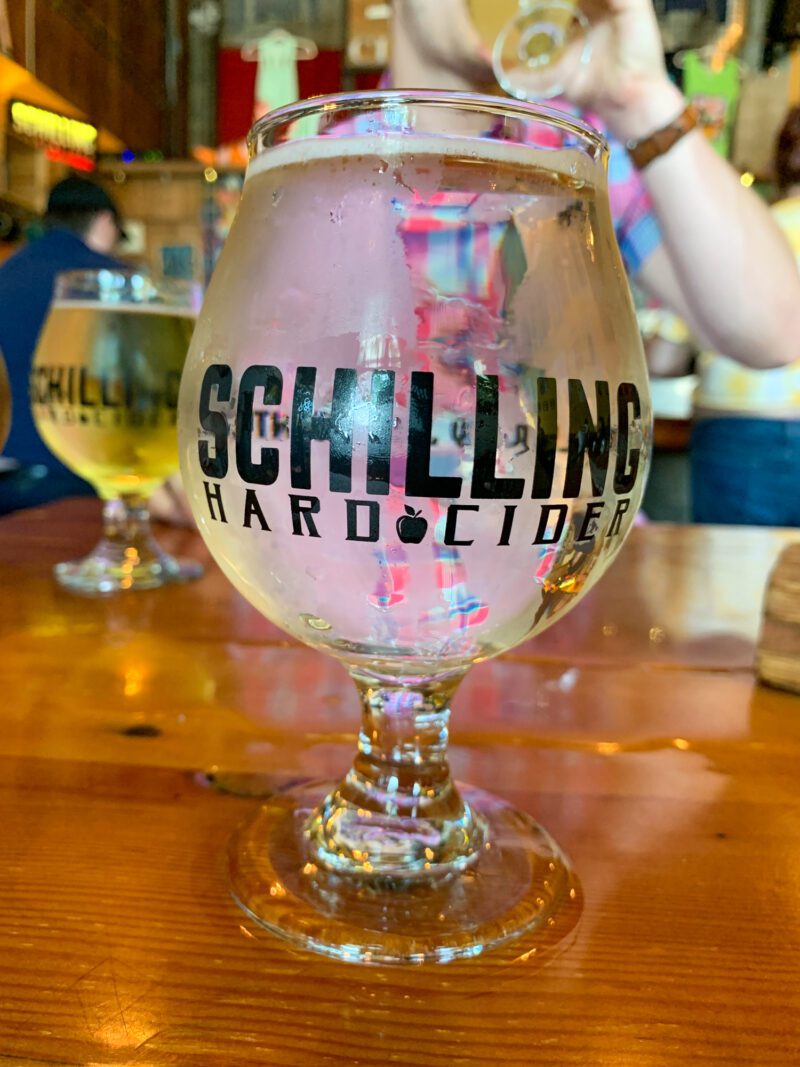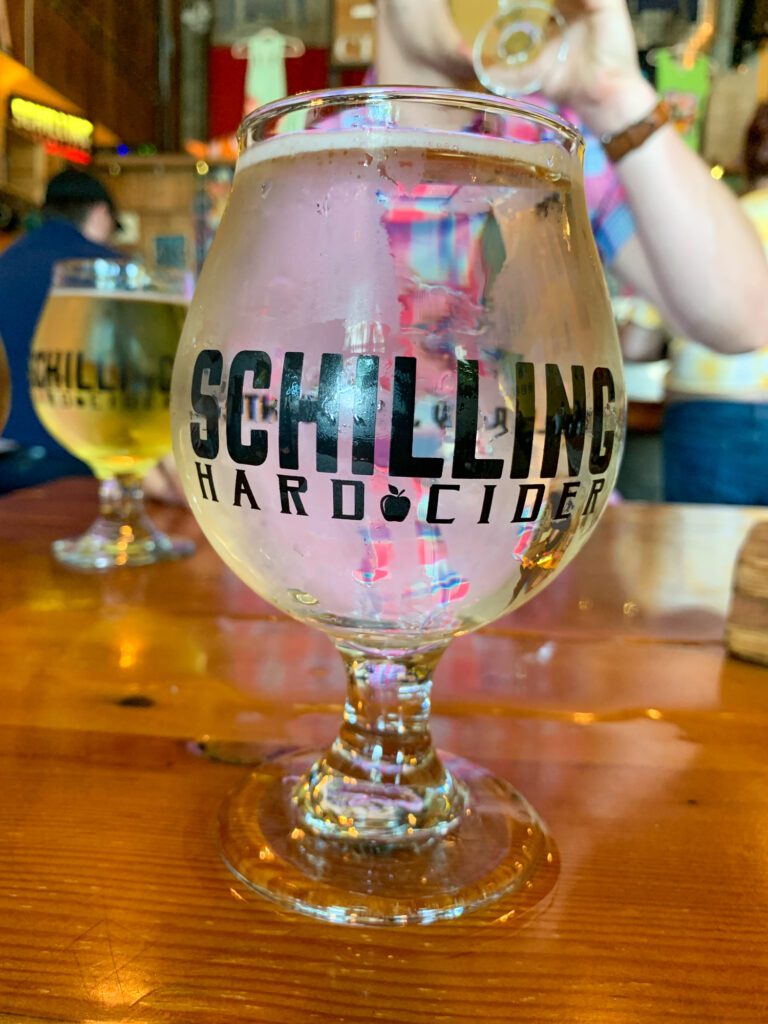 If that wasn't enough, they ALSO have a huge bottle selection with all sorts of fun and interesting ciders, again with a selection of Schilling Ciders (we love the Grapefruit and Chill and the London Dry) in cans and bottles, along with what might be the best cider-specific bottle shop in Seattle, featuring all sorts of ciders from the Pacific Northwest and beyond to take home with you.
The menu is helpfully color-coded from dry (blue) to green (sweet) to make sure you find the right cider for your tastes. But you should definitely get a flight of six to try a bunch while you play board games and enjoy conversation with your companions.
We bring almost every visitor to Seattle to Schilling whether they like cider or not, and they usually end up liking cider by the end of the night.
Address: 708 N 34th St, Seattle, WA 98103 (Fremont)
Seattle Cider
Seattle Cider makes approachable and drinkable ciders in cans that you can find pretty much everywhere in Seattle these days, but the real fun begins when you go to their industrial taproom in SoDo, where they share a space with Two Beers Brewing Co.
My fondest memory of Seattle Cider is when we visited around the holidays and I asked about a seasonal cider they had on tap. The bartender goes "oh yeah, we literally just stuck a Christmas tree in with the cider to see what happens." So I ordered it, because who doesn't want that, and it was truly like being slapped in the face with a Christmas tree, but much more pleasant. Although, I've never been slapped by a tree, so I guess I can't really say.
We really enjoy their Pineapple Agave, which is semi-dry and a delicious summer cider, and trying some of their more experimental ciders that they have on tap.
Address: 7800 1st Ave NW, Seattle, WA 98117 (Phinney Ridge)
Yonder Cider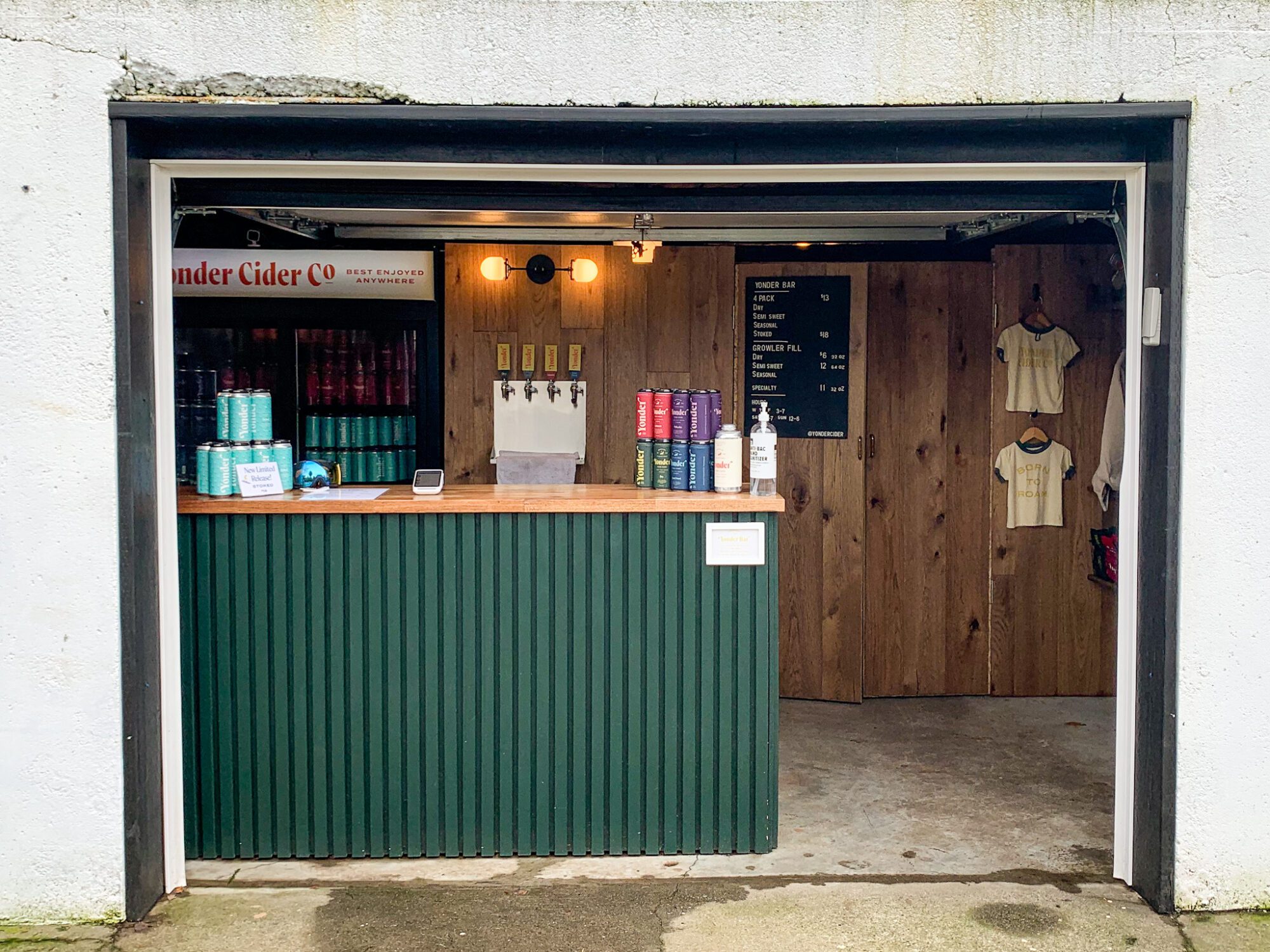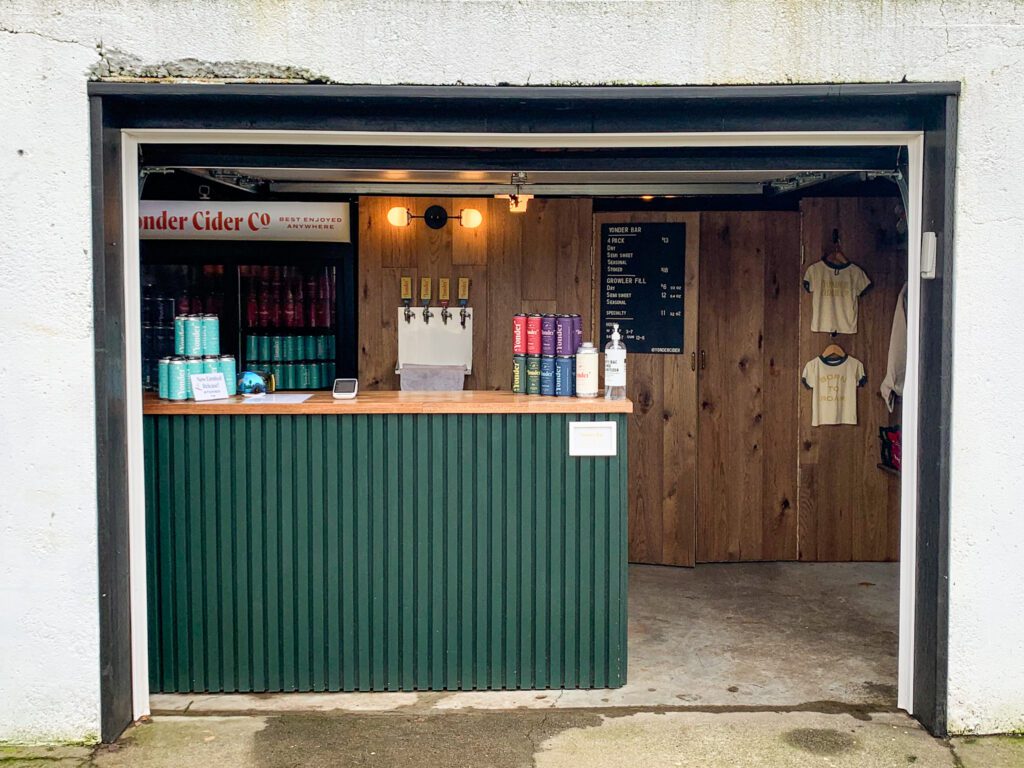 A newcomer! First of all, whoever did the branding for Yonder Cider deserves a gold medal (coming from a former brand marketer in the food & beverage space). We love it.
"Whether it's a hammock, a hike, or a hole-in-the-wall, Yonder is a place where you're welcome. Over Yonder, every possibility is just within reach — and something beautiful is just around the bend."
YES.
Yonder uses apples from the fertile Wenatchee valley, which is prime apple-growing territory in Washington State. I'd be willing to bet money that you probably have eaten an apple from there in the past year, even if you don't live in the Northwest.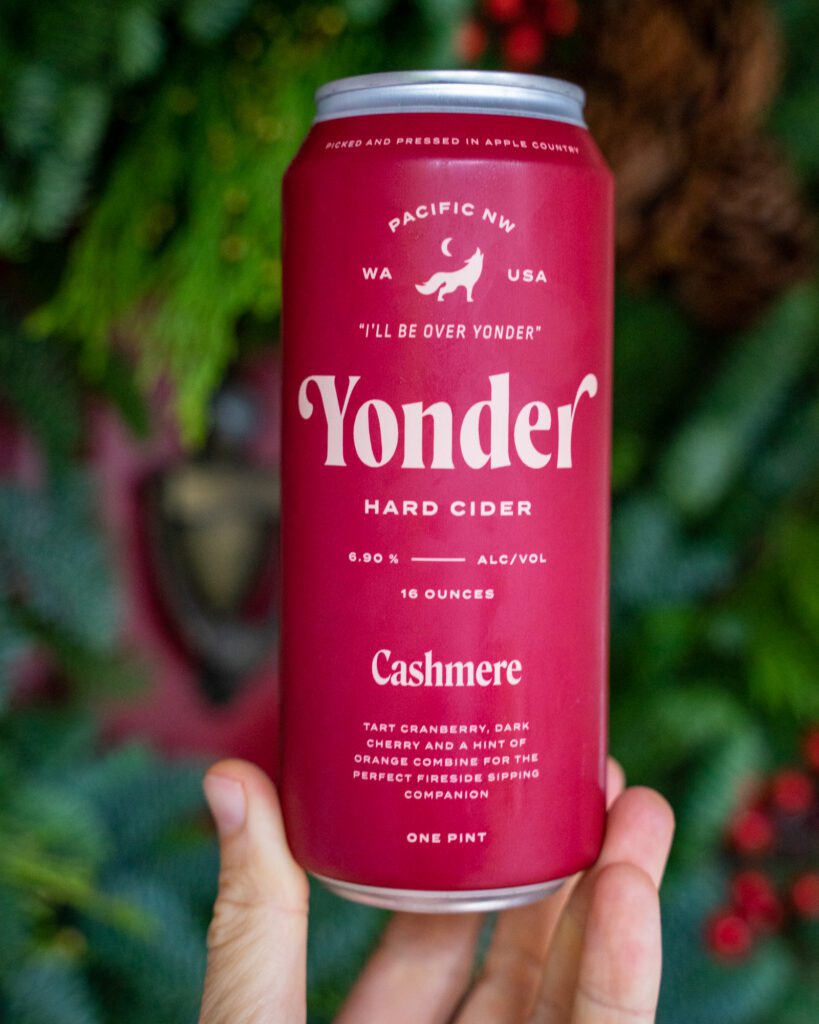 They use a blend of bittersweet and dessert apples to craft their ciders, and it comes through in the way that their "normal" ciders – the dry and the semi-sweet – are more complex than some of their competitors. Their seasonal ciders – the Palisades, made with blackberries and sage, and the Cashmere, made with cranberries and cherry – were the highlight for us. They were REALLY good.
The other thing that's cool about Yonder is their storefront, which is actually just a garage in Phinney Ridge just north of Seattle. Now, when I say "a garage," you might be thinking it's not ACTUALLY a garage. But no, it's a garage, and it's awesome. There, you can get crowlers of their ciders – usually including their flagships, a seasonal, and a special one. And you can buy merch, which as you can imagine is impeccably designed.
The specialty cider when I was there was a Roxbury Russet single varietal that was very tannin-y and bitter, but in a good way.
Address: 7800 1st Ave NW, Seattle, WA 98117 (Phinney Ridge)
Locust Cider
I have mixed feelings about Locust Cider, but they definitely deserve a spot on this list.
On the positive side, they have a ton of convenient locations, including one right at Pike Place Market, one in Ballard, and one on Alki Beach.
On the not-so-positive side, we just don't really like their cider because it's sweeter than we prefer. So it's kind of hard for us to write about without that piece coming through.
If you like ciders on the sweet side, you'll probably enjoy Locust. I will say that we enjoyed a couple of their summer seasonals – the Pineapple Smoked Pepper and the Rosemary Plum – even though they were a tad too sweet for us.
I will say that their taprooms are bright, fun, and the one in Ballard has pinball machines! It's a fun place to spend an afternoon, and they usually have a few interesting ciders on tap that you won't find anywhere else.
Cider Bars in Seattle
The spots below are bars in Seattle that have a good cider selection, though they don't make their own cider, and cider might not even be their primary focus.
Capitol Cider
In this case, cider is their primary focus. Capitol Cider has 20+ taps of cider at any given time, and also happens to be one of our favorite gluten free restaurants in Seattle. They were the first cider bar in Seattle that I can remember ever going to, and they've been a staple on our Seattle trips since I can remember. In fact, the first time I brought Alysha to Seattle, this was one of our first stops!
They have an upstairs area, which is more akin to a restaurant, and a downstairs bar with all sorts of board games and a distinctive "pub" feel.
The food is pretty good too, though it's on the expensive side because it's 100% gluten free.
Address: 818 E Pike St, Seattle, WA 98122 (Capitol Hill)
The Noble Fir
The Noble Fir is a light and airy bar in Ballard with a selection of local ciders, mostly in bottles in cans. This was the first place I ever tried the Finnriver Black Currant, which is one of my favorite ciders of all time to this day. It's a good spot to grab a drink if you find yourself in Ballard and are craving cider.
Address: 5316 Ballard Ave NW, Seattle, WA 98107 (Ballard)
Brouwer's Cafe
Dark and dingy, or dark and romantic? Which is it? I think romantic.
Brouwer's is a Belgian beer bar in Fremont, but they also happen to have a great cider selection. The first time I tried Sea Cider, which is a must-stop on any cider-lovers Vancouver Island itinerary, was here. They usually have a bunch of cider options in bottles from the likes of Finnriver, Alpenfire, and Sea Cider, along with one or two on tap.
Address: 400 N 35th St, Seattle, WA 98103 (Fremont)
Places to Buy Cider in Seattle
If you're looking to buy some cider in Seattle, either to enjoy at home or take home with you, here are three places to check out with an extensive selection of local ciders in bottles and cans.
Schilling Cider is a really good place for this too, which I already mentioned above.
Full Throttle Bottle Shop: A bottle shop in Georgetown with what I think is the best cider selection in Seattle, hands down. They had a bunch of new and interesting ciders that I hadn't seen elsewhere.
Chuck's Hop Shop: Primarily a beer shop, they also have a good selection of ciders (though nothing mind blowing). They have locations in both the Central District, just east of Cap Hill, and Greenwood.
The Beer Junction: A beer shop in West Seattle that also has a good cider selection. They usually have a couple on tap, along with a bunch of bottles and cans.
You can also find a solid selection of cider at higher end grocery stores like Metropolitan Market, PCC, and, of course, Total Wine & More. But we think you should totally support the small local bottle shops above!
---
That's all we've got for the best cider in Seattle!
Looking for more Seattle travel guides? We've got you covered.