The 9 Best Hikes in Banff National Park to Add to Your Bucket List Now
The Canadian Rockies are stunning. There's no other way to put it. Blue-green lakes. Rocky peaks. Cascading rivers and waterfalls. Banff has it all, and then some. Banff is a must-do for outdoor lovers. On our Canadian Rockies road trip, we did some of the best hikes in Banff National Park – logging over 50 miles over 10 days.
It's relatively easy to get to. You'll fly into Calgary, then drive 3 hours west into the Canadian Rockies. Plan on going between July and October for the best summer hiking conditions.
We even met some new friends, like elk and bighorn sheep!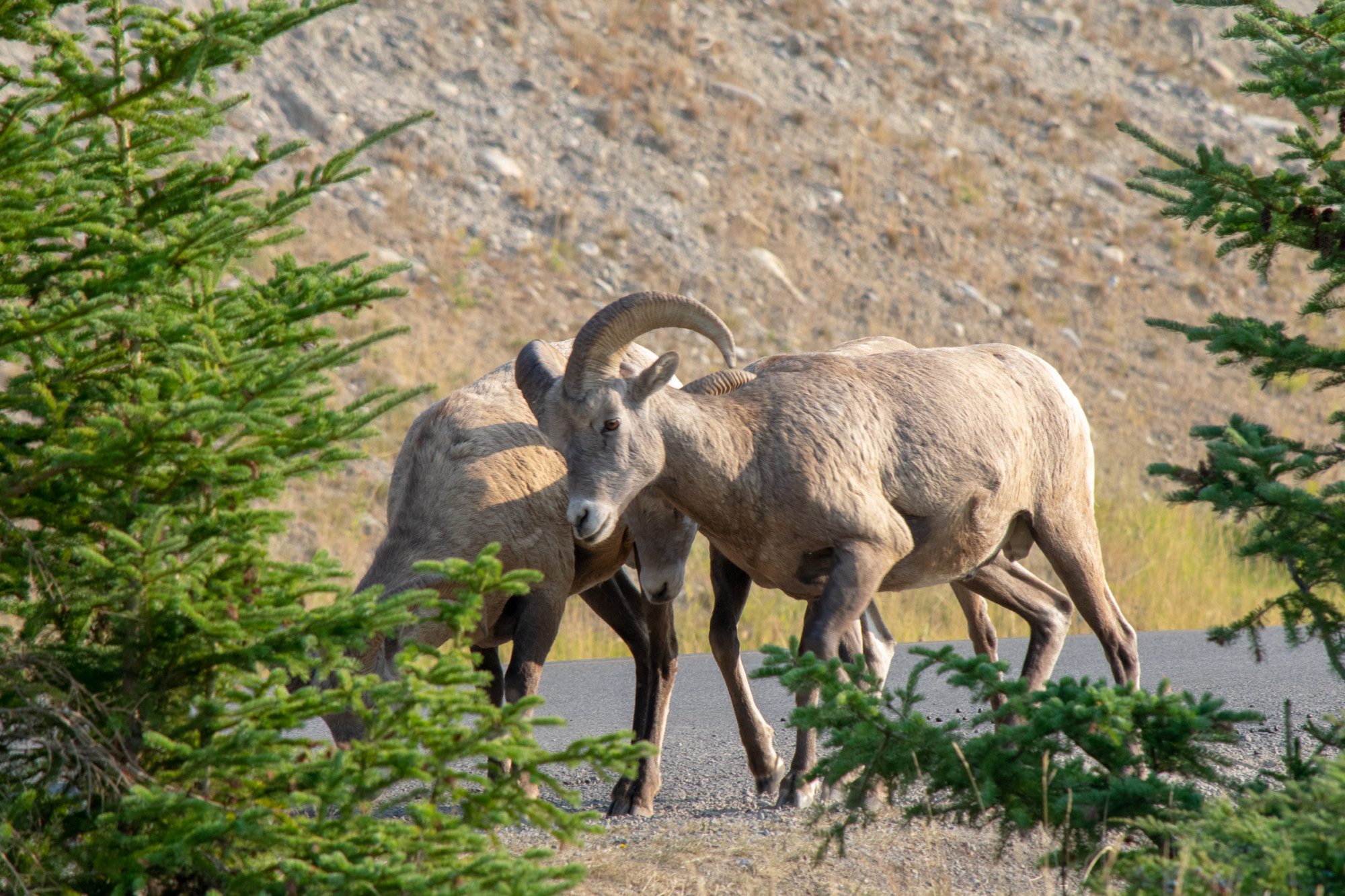 Banff should be at the top of every outdoor lovers list. I still dream about going back, and it will be on the list of stops on our 2020 North American road trip that we are planning.
Read More: What to Pack for a Day Hike: 6 Essentials to Have for Every Short Hike
Disclaimer: Some of the links in the free content below are affiliate links, meaning at no additional cost to you, I make a little bit of money if you click through and buy something. I appreciate your support!
Tips for Hiking in Banff National Park
Before we get into the specific hikes, let's cover the things you need to know about hiking in Banff before your trip.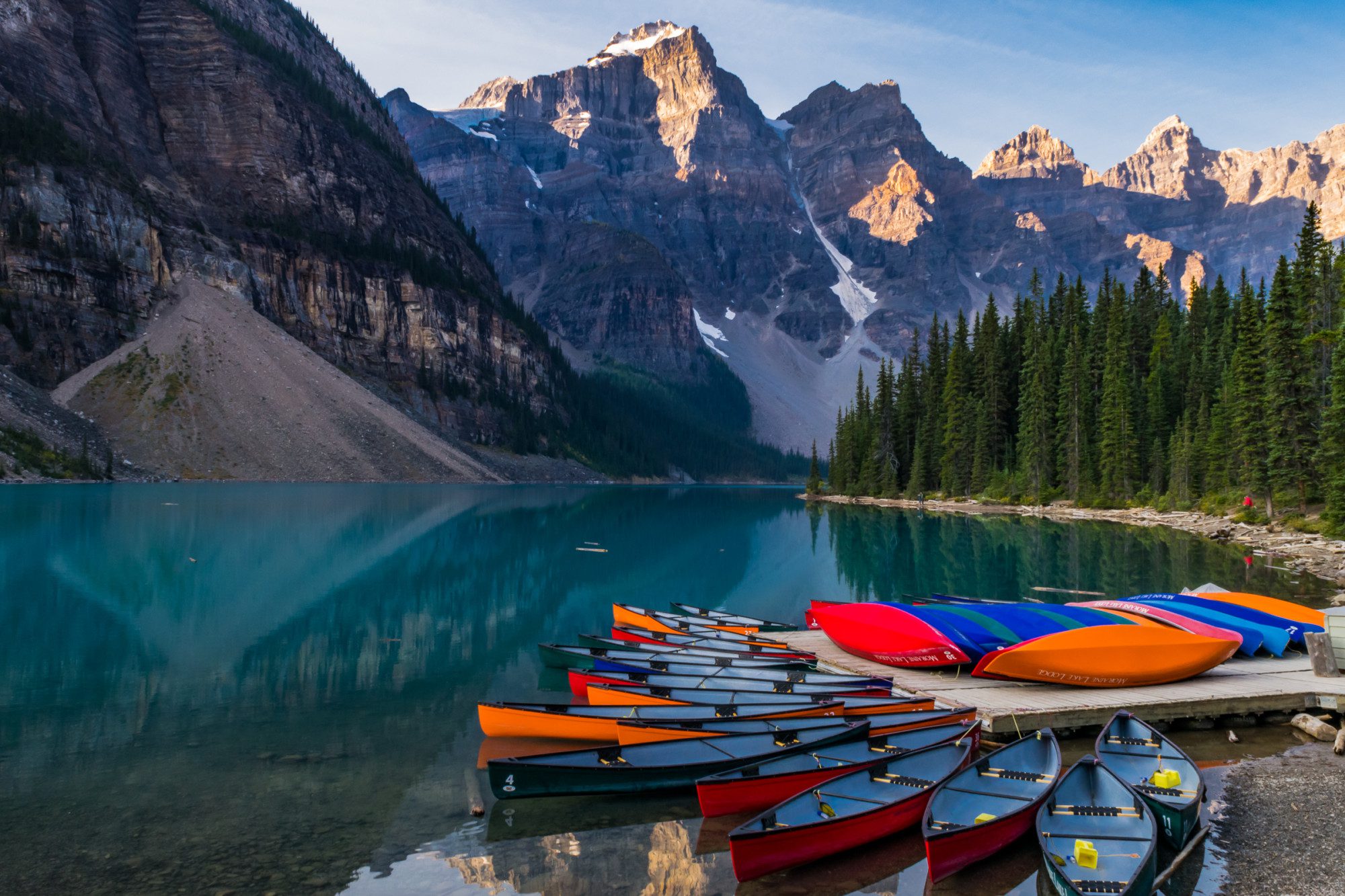 What is the Best Time to Visit Banff and Jasper for Hiking?
If you want the best hiking weather, then the answer is mid-summer. That is when the hiking trails are open, there's a very small chance of snow (which can make driving complicated), and you'll be able to take in the full beauty of the Canadian Rockies.
If you decide to do a summer trip, make sure to book your places to stay well in advance – six months or so – and be prepared to deal with sometimes unbearable crowds. Get up early to beat them to whatever destination you've got planned that day. You won't regret it.
Early June and September (post-Labor Day) are also great times to visit Banff, but you'll get more variable weather and you might see some snow at higher elevations that prevent you from doing all of the hikes on this list.
You can absolutely travel to Banff and Jasper in the winter, but I have never done it. It's a phenomenal destination for avid skiers and snowboarders. But it's not ideal if you're looking to do some serious hiking.
Top Tips for Hiking in Banff National Park
Absolutely do not miss the tea houses near Lake Louise. That's right. There's two of them. One at Lake Agnes, one on the Path of the Six Glaciers. Both hikes are covered on the list of the best hikes in Banff National Park below. Try to get to both of them! They were super fun. 
LAYERS ARE YOUR FRIEND. I ended up stripping layers on the uphill parts, and throwing them back on at the top. There was one point where we got to the top of a hike and it was so windy and cold that I could barely take my gloves off to use my camera for a picture.
For reasons I just mentioned, bring a pair of warm gloves.
Get an early start. The parking lots will be full by 9am. If you're going to Moraine Lake, get there by 7:30 or plan to walk a ways. Plus, the pictures are best at 7:30 anyway when you can get the reflection of the mountains in the calm water.
You'll probably want some bear spray, which you can find all over Banff. I'm still skeptical whether I would do more harm to the bear or myself if I ever got in a position to use it, but it's nice for peace of mind.
Get waterproof hiking shoes or boots. You'll thank me later.
Here are a few useful brochures that you should take a look at when you are planning your trip.
Getting Around Banff National Park
Where to Stay in Banff National Park
I have a full guide on where to stay in Banff National Park, but here is the short version.
There are essentially two places you'll want to use as a home base in Banff – Lake Louise, and the town of Banff itself.
I recommend you split your time in Banff to stay in both areas. They're an hour apart by car, which means you'll need to wake up EXTRA early if you want to hit the trail early. Instead, stay in Banff itself for a night or two, then do the same in Lake Louise. It'll put you in the perfect position for sunrise at Moraine Lake.
I am a huge fan of Airbnb when I travel because I like to have my own space and access to a kitchen that I can use to cook for myself and save some money.
In the town of Banff
There are tons of great Airbnb options in Banff, which will be super central and convenient, but they will be expensive for what you get. So I have an alternate recommendation for you.
We stayed in an Airbnb in Canmore, which is about fifteen minutes away from Banff, because it was cheaper than trying to find a place in Banff itself.
I would 100% recommend it. Not only is it super close to Banff, it actually has an amazing downtown area in its own right, and some amazing hikes just outside of town. Here is the exact Airbnb we stayed in on our trip.
In Lake Louise
Unfortunately, there are no Airbnbs near Lake Louise, but there are a bunch of hotels, resorts, and cabins.
We loved Paradise Lodge and Bungalows (we opted for a bungalow), and it was the perfect base for exploring both Lake Louise and Moraine Lake.
The 9 Best Hikes in Banff National Park
Now that we've got the logistics and essential tips out of the way, let's get to the best Banff day hikes.
There are a couple of different areas that these Banff hiking trails fall into, which is how I've organized them below.
Here's a useful Google Map with the 9 starting points mapped out. Note that two of the best hikes in Banff start at the Fairmont Lake Louise, which is why you only see 8 points on the map.
Best Hikes in the Lake Louise Area
Without a doubt, the best hikes in Banff National Park are in vicinity of Lake Louise. There are three in particular that have to make any list of best Banff day hikes.
Sentinel Pass via Larch Valley
6.8 miles, 2,500 feet of elevation gain
This hike starts from Moraine Lake, which means you need to get there as early as possible if you want any shot at getting a parking spot.
For reference, we got there at 7:30 and didn't get a spot in the lot. By the time we left, there were cars lined up for about a mile along the road.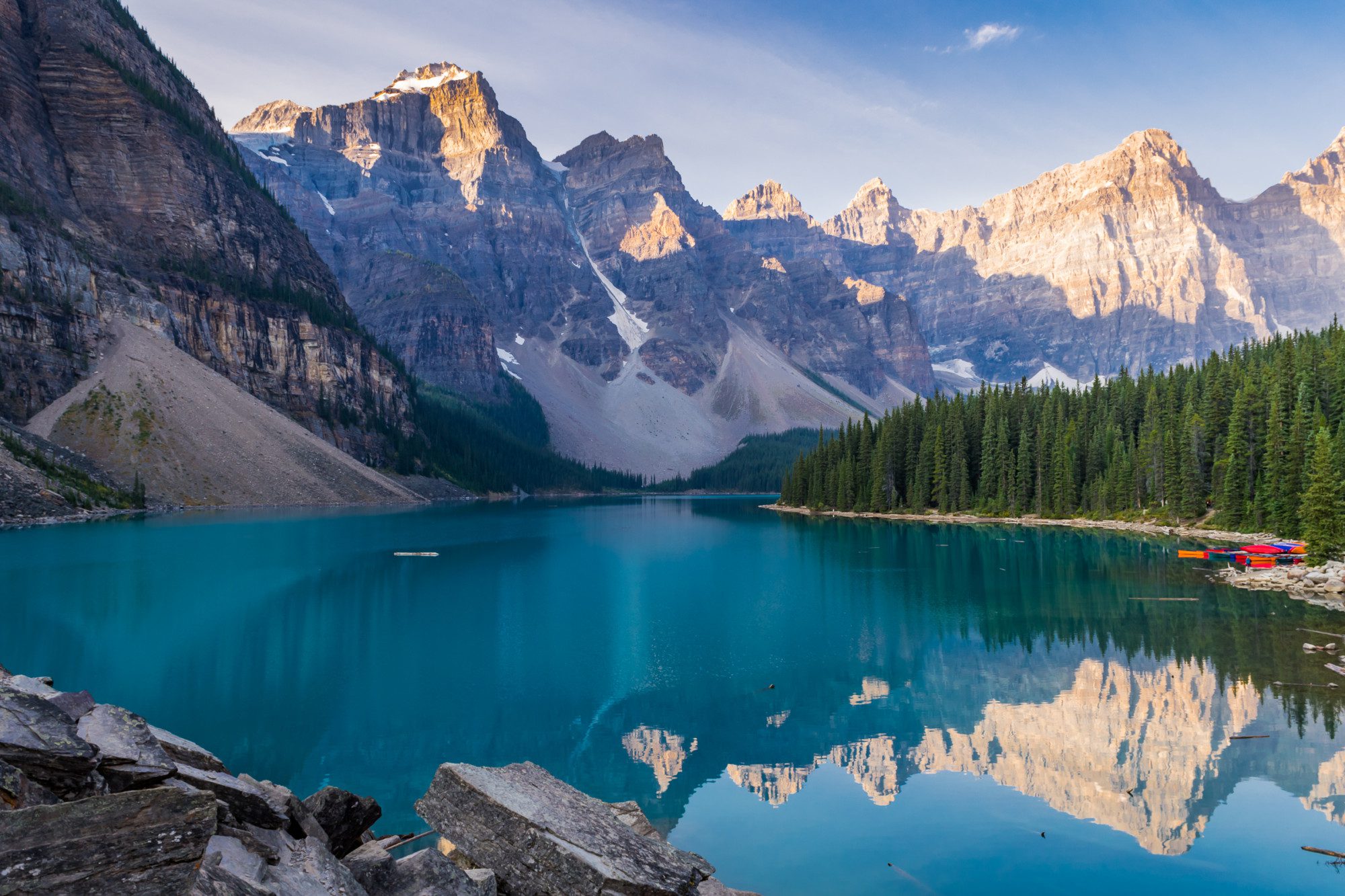 Trust me. Get there early. It'll be worth it.
This hike is the best hike in Banff National Park in my book.
You'll start with a series of grueling switchbacks, which is always a treat. But once you get past the first mile and a half, the hike opens up into the Larch Valley and you get panoramic views of the mountains around the lake.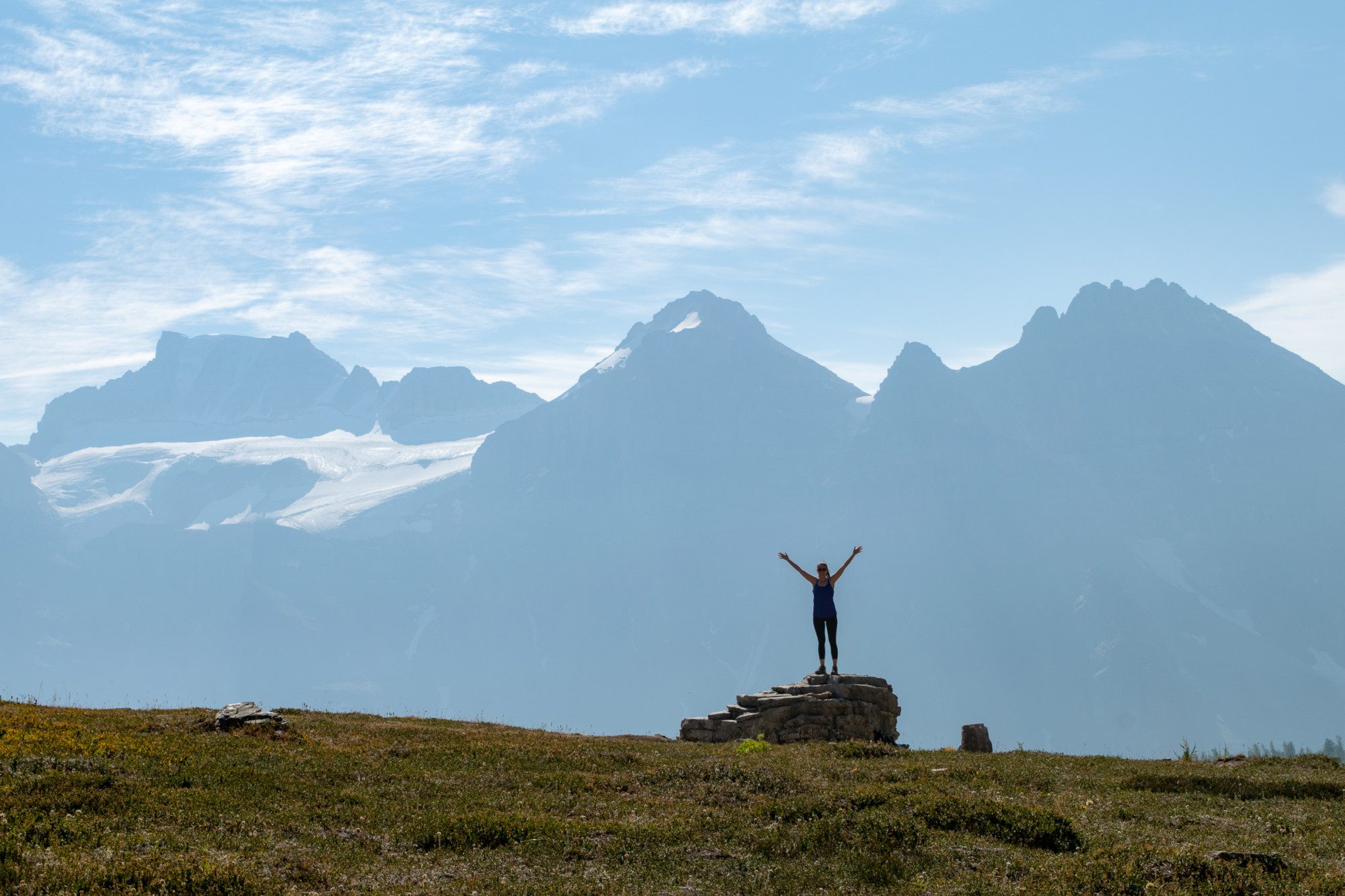 "Phew, glad the climb is over. That was tough!" I thought as we strolled through the meadows surrounded by cute little Marmots. There's even a beautiful little alpine lake that makes for some great pictures.
"Ah, right" as I saw the climb we were about the embark on to get to the saddle.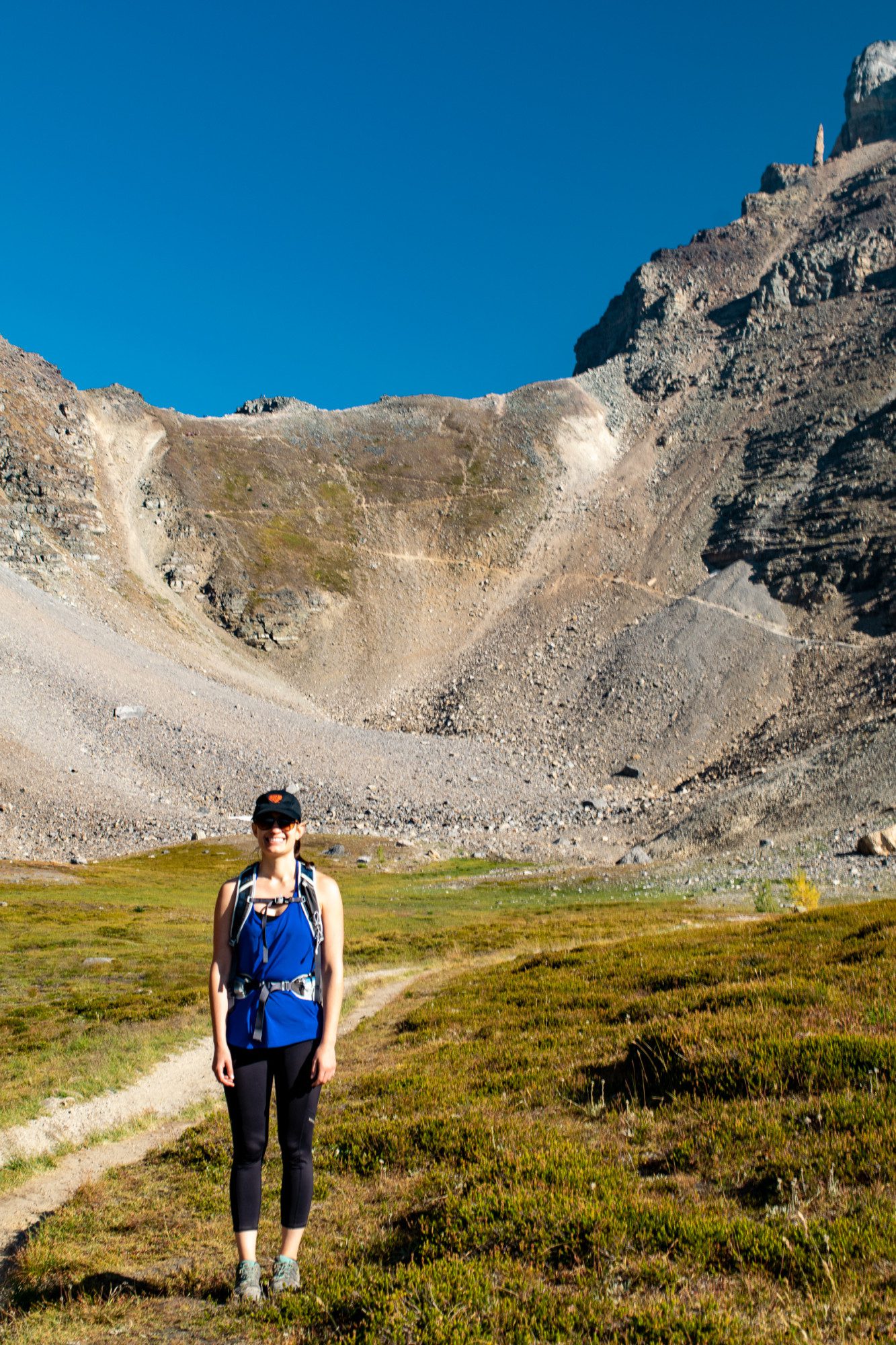 The climb to the saddle is well worth it. You'll get breathtaking views towards either side of the pass.
It is a tough hike. The climb to the pass is exposed and steep. You'll want to get there before the heat of the day.
However, I still remember the feeling of arriving at the top of the pass and doing a 360 degree spin to take in the views. Truly stunning.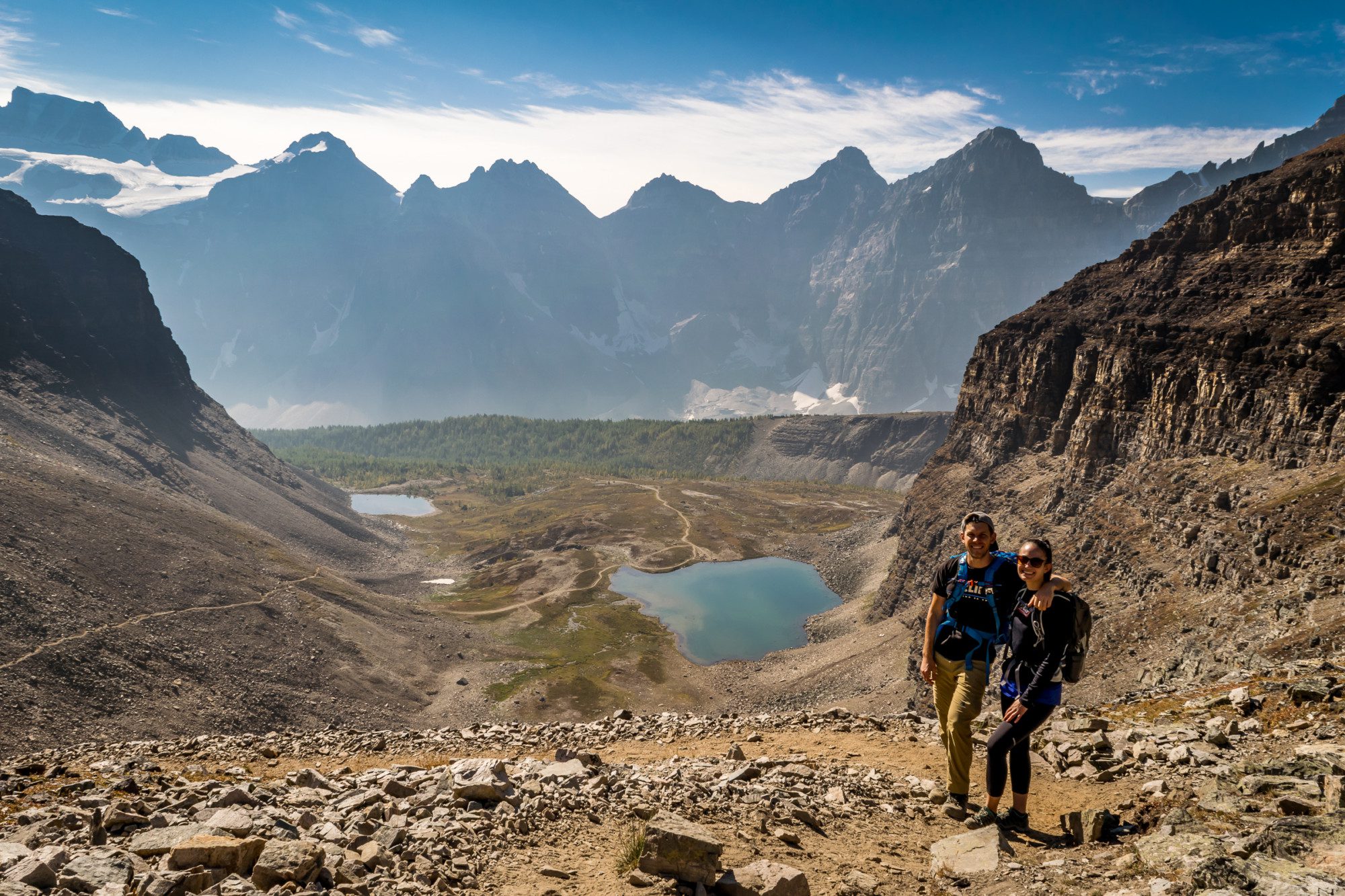 Plain of the Six Glaciers
8.6 miles, 1,950 feet of elevation gain, 1 tea house
What do these next two hikes have in common? Well, they leave from the same place. They both go uphill. But most importantly, they both feature a backcountry tea house along the way.
Get. To. Lake. Louise. EARLY. The parking lot will be full by 9am or so.
From the Fairmont, you'll wind along the north edge of the lake and follow the trail directly across the lake from the hotel.
From there, you'll wind up the rocky trail (seems like all the trails in the Rocky Mountains are rocky. Weird!) for a few miles until you get to the teahouse. Stop, grab a cup of tea, and relax before pushing to the end of the trail. Note: they accept Canadian cash only.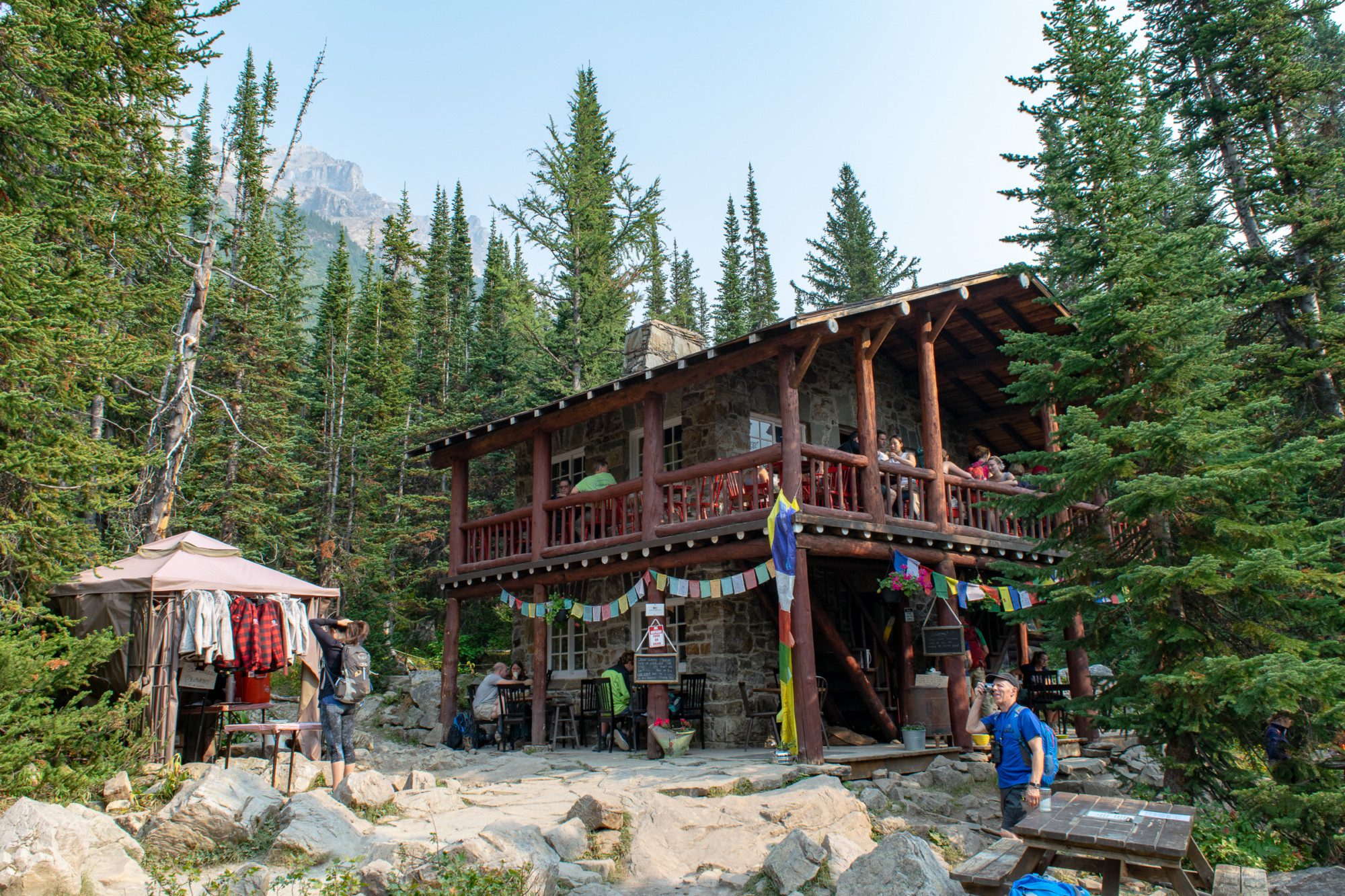 It's another half an hour to the end of the trail.
You'll soon find yourself in the middle of a valley of, you guessed it, six glaciers. If you're lucky, you might get to hear the glaciers cracking, which is a little bit scary if you REALLY think about it.
The views are impressive. Here's a picture featuring Alysha for scale. This view alone makes it one of the best Banff day hikes.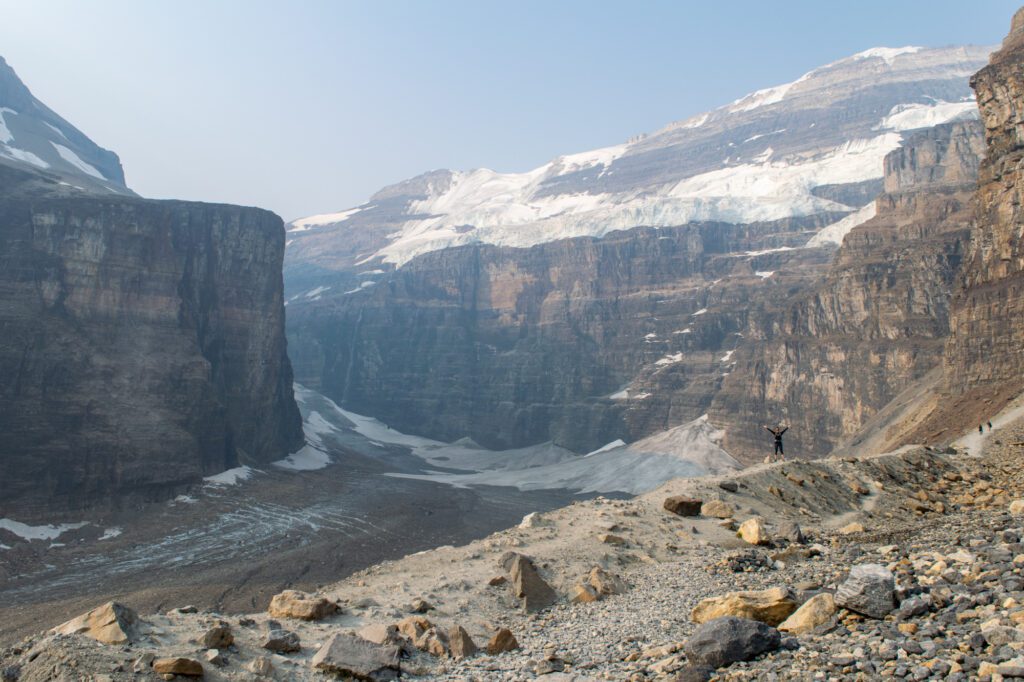 It's an easy stroll back down to the Fairmont that'll take you about an hour and a half, maybe two hours.
Big Beehive Trail
6.4 miles, 2,100 feet of elevation gain, 1 more tea house
Another backcountry tea house? Sign me up!
You can actually do both this hike and the Plain of the Six Glaciers hike as a loop. It's pretty long, but it could be worth it if you only have one day near Lake Louise.
Similar to the last hike, this one starts at the Fairmont where you will start a fairly steady uphill climb. It's challenging, but it's really not too bad.
You'll climb until you get to the tea house, where you should stop and relax for a second and grab a warm cup of tea.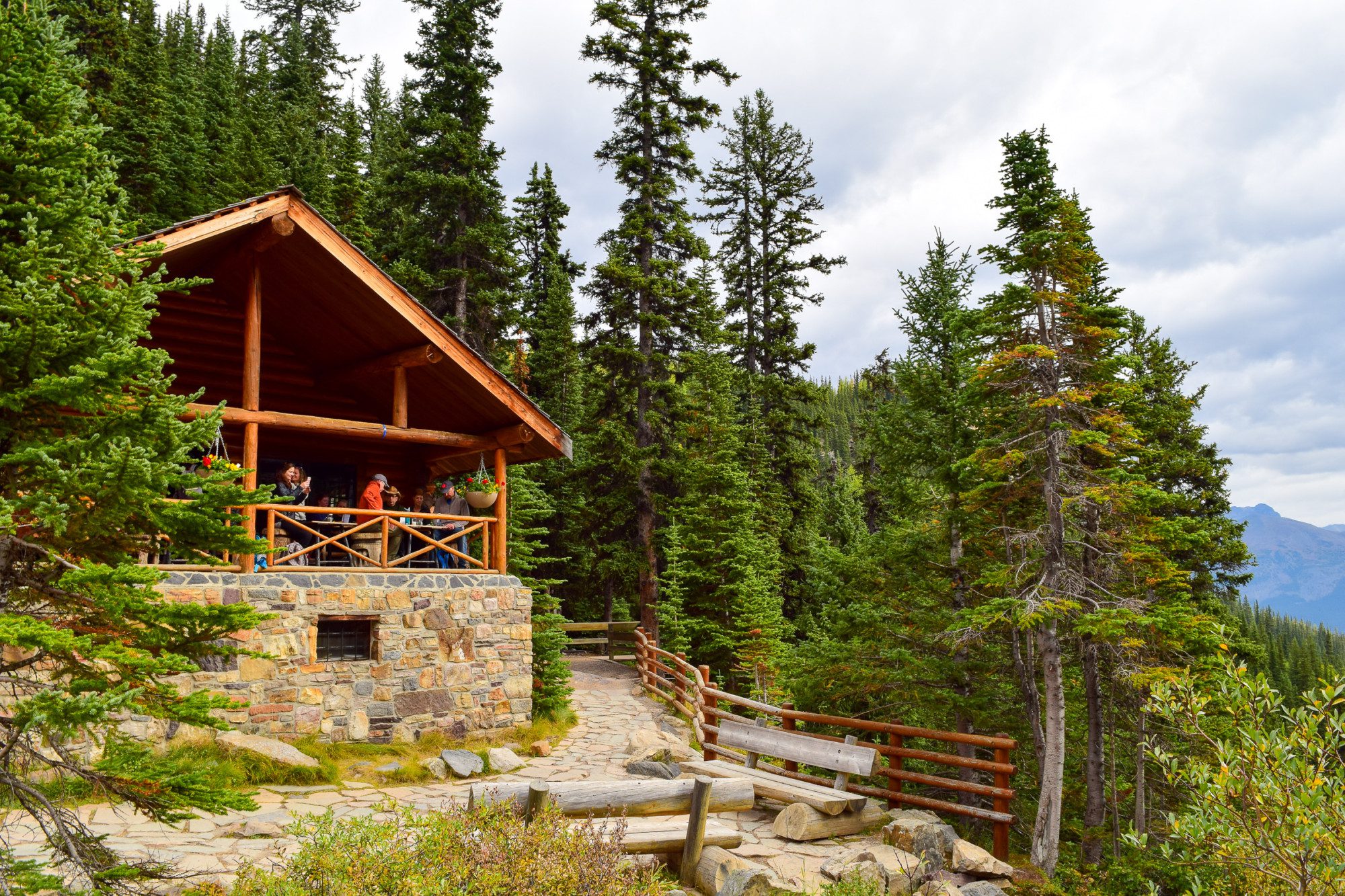 Then, again like the last hike, it's time for the final push up the "beehive" as they call it. It's about a mile, half of which is straight up hill, to get to the top of the Big Beehive, but it was 100% worth it.
At the top, you'll get views of Lake Louise and the Fairmont, along with the wider Bow Valley.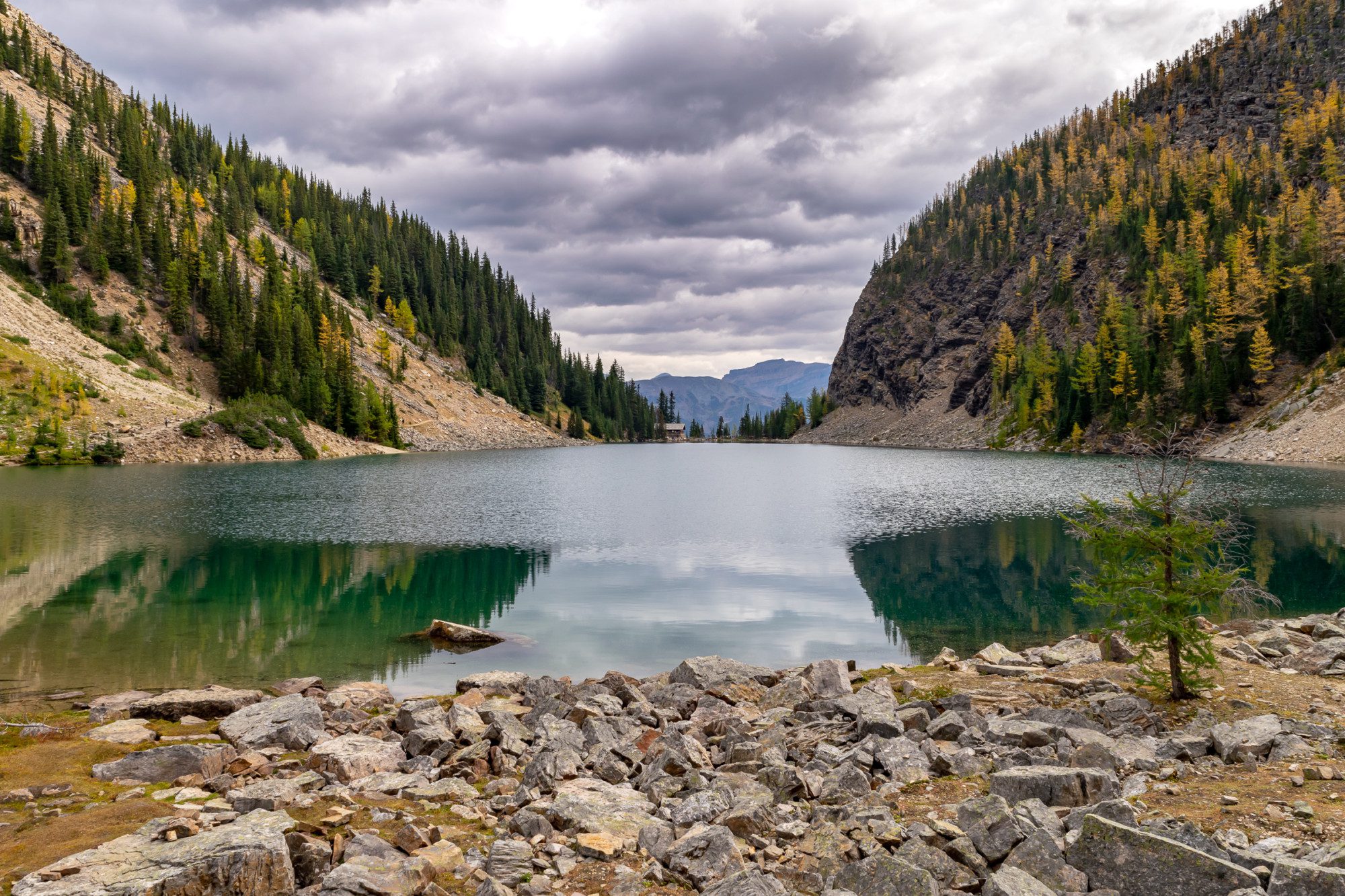 Best Hikes near the Banff City Center
All of these hikes are within 30 minutes drive of the town of Banff.
Sulphur Mountain
6.8 miles round trip, 2,440 feet of elevation gain
Straight up a mountain. That's what this hike is.
This is one of the best hikes in Banff, and it is just outside the city center unlike the other hikes on this list that require some driving.
This hike starts from the Upper Hot Springs parking lot and snakes its way up the mountain. Straight up. The switchbacks are relentless.
Luckily, there are plenty of places to stop and take a break before moving on.
When you get to the top, you'll get spectacular views of the Bow Valley and the town of Banff. It will be 100% worth the climb.

Depending on the time of year, you can catch the gondola back down for free. But it's an easy hike down anyway.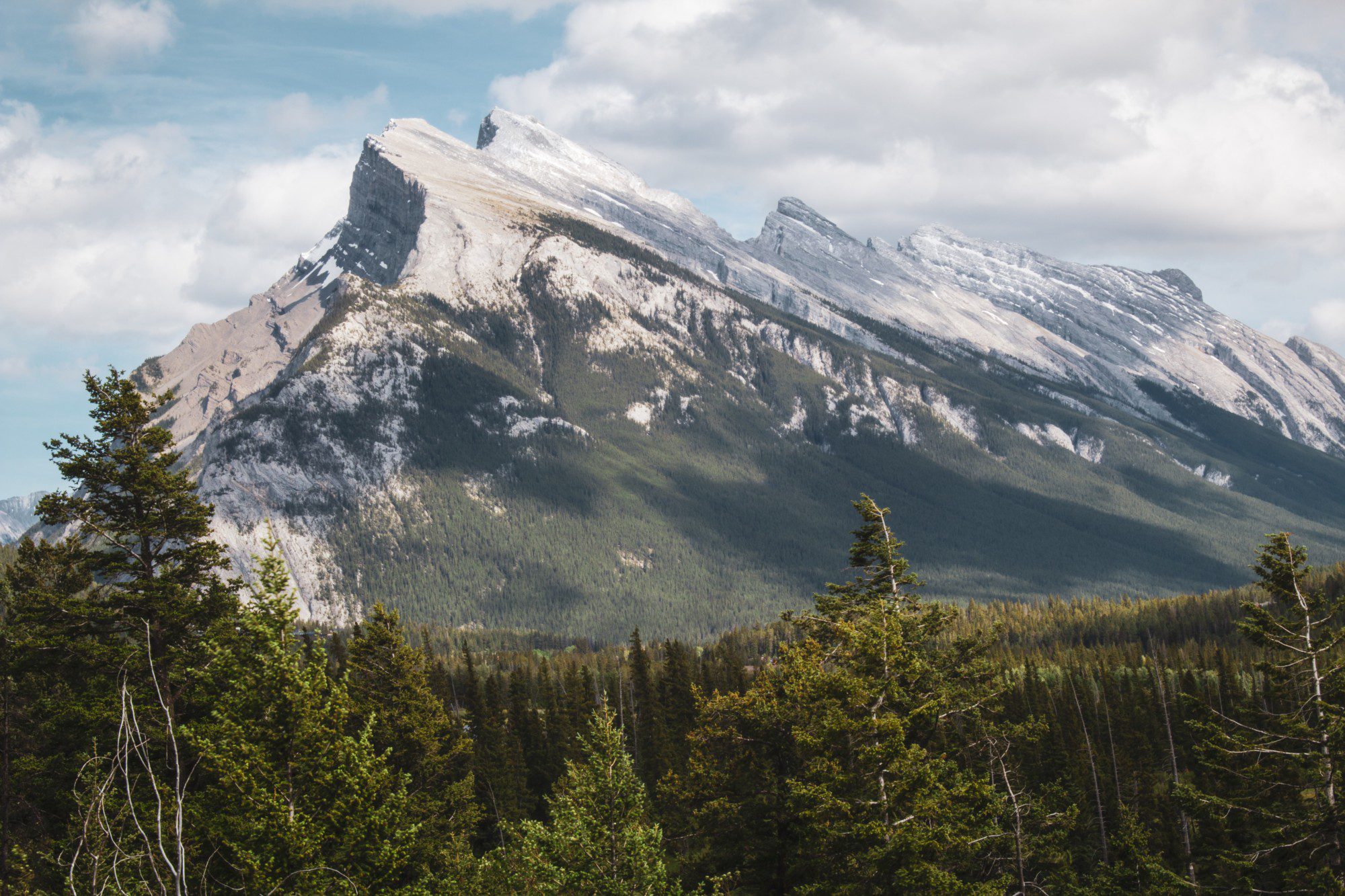 Johnston Canyon & the Inkpots
I'm going to lump two hikes together here. They both start from here. The second one is what I would add to the list of the best hikes in Banff National Park.
There is a hike through Johnston Canyon to the falls, which is a short jaunt along a paved path. It's a flat 1.5 mile trail out and back – perfect for kids.
Then, there's the hike through Johnston Canyon, past the falls, and onwards to the Ink Pots. This is the hike you should do. It's ~7 miles, with almost 2,000 feet of elevation gained.
It will take you through the canyon, past the falls with the throngs of people, and up into the land behind the falls where people will be few and far between.
The Ink Pots are at the end of the trail, and they are a sight to be seen with their water ranging from deep blue to bright green.
Sunshine Meadows
Various Distances between 1 and 12 miles
In 2017, there were some pretty serious forest fires nearby, so this area was closed while we were there.
It was a huge bummer, because I had read that Sunshine Meadows has some of the best hikes in the Banff area.
Here is the hiking map – we were planning on doing the hike to Rock Isle Lake.
Tunnel Mountain Trail
2.8 miles, 900 feet of elevation gain
If you're looking for a nice and easy stroll (ish) near the town center, this is your best bet.
Note: it's closed until July for elk calving.
To get to the panoramic views at the top, you'll traverse switchbacks from the trailhead to the viewpoint. They're not terribly steep, and the hike is relatively short.
It'll take you between 60-90 minutes, making it a perfect morning activity before getting on with the rest of your plans.
Hikes in Yoho National Park
Okay, I cheated a little. But there are two hikes in Yoho National Park that are well worth the slight detour from Banff National Park.
Yoho is an hour away from Banff, but it is worth the drive.
The Iceline Trail
10+ miles, 2,800 feet of elevation gain
If you want a bucket list hike, this is it.

That's why I feel like I need to add it to this list of the best hikes in Banff, even though it's TECHNICALLY not in Banff.
You won't be able to do this hike until mid-to-late July due to snow, so plan accordingly.
The hike starts from the parking lot for Takakkaw Falls (which is worth a detour). Though you'll save a bit of distance by parking on Yoho Valley Road near the Whiskey Jack Hostel.
You'll start out with switchbacks straight up the mountain. Between curses at me for sending you up the trail, be sure to look back for stunning views of the falls.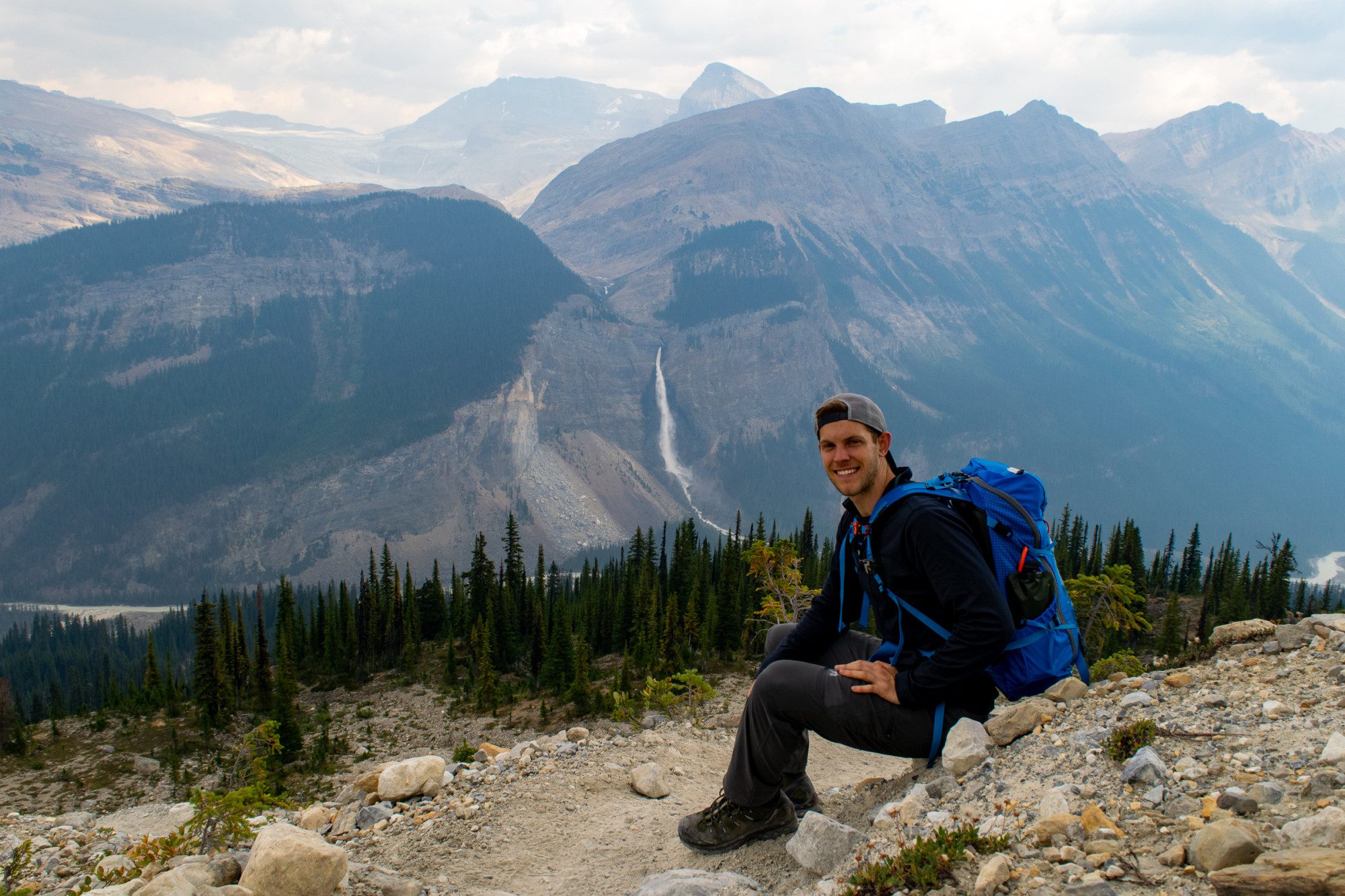 Once you get to the top of the switchbacks, you'll start a more gradual climb through rocky terrain. It levels out at the 3 mile mark, and you'll continue across the picturesque rocky terrain with a glacier on your left, and the valley on your right.
This is the best hike in Banff in my humble opinion. Alpine meadows. Glaciers. Stunning views. It's the best of the Canadian Rockies all in one LONG hike.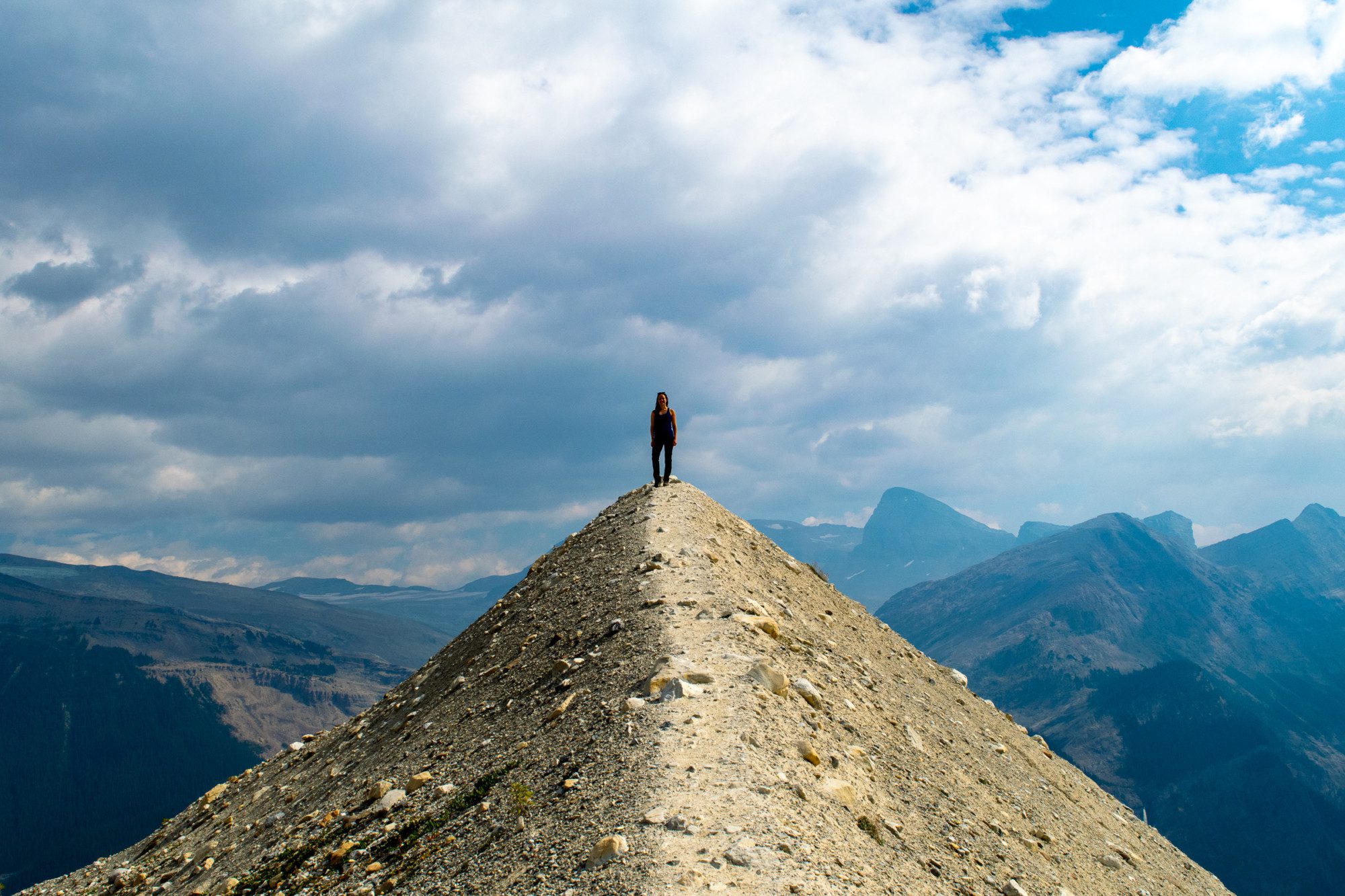 Emerald Lake Trail
6.7 miles, 1,200 feet of elevation gain
Emerald Lake is stunning by pretty much any standard.
The name must come from the color of the water. We got there at sunrise, and the water was a relatively normal color. As the sun rose and its beams hit the water, the lake transformed as the water transformed, turning a shade of bright green.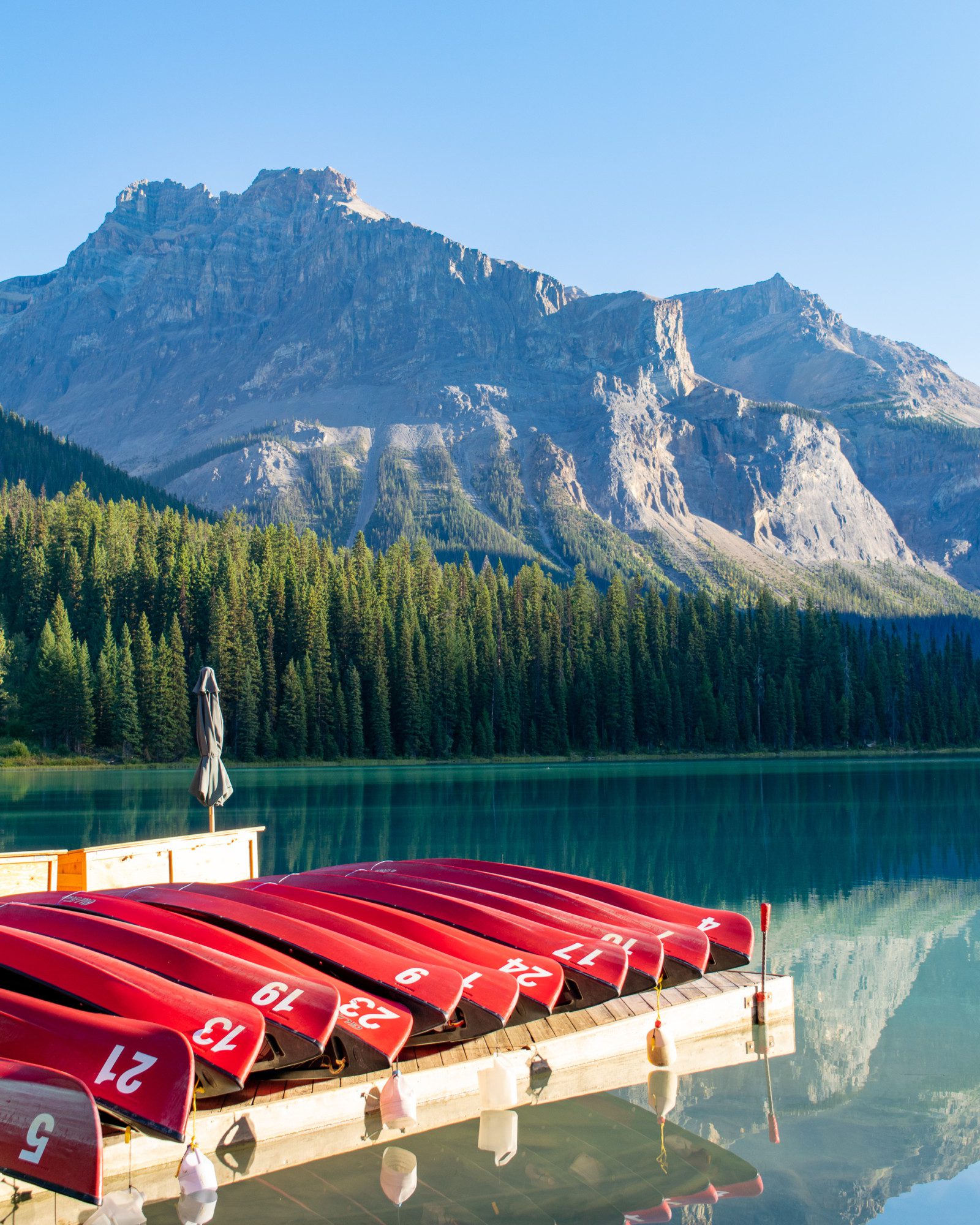 That alone makes this one of the best hikes in Banff, and is well worth the visit even if you skip the long version of the hike.
This relatively easy hike takes you around the east side of the lake along the shore.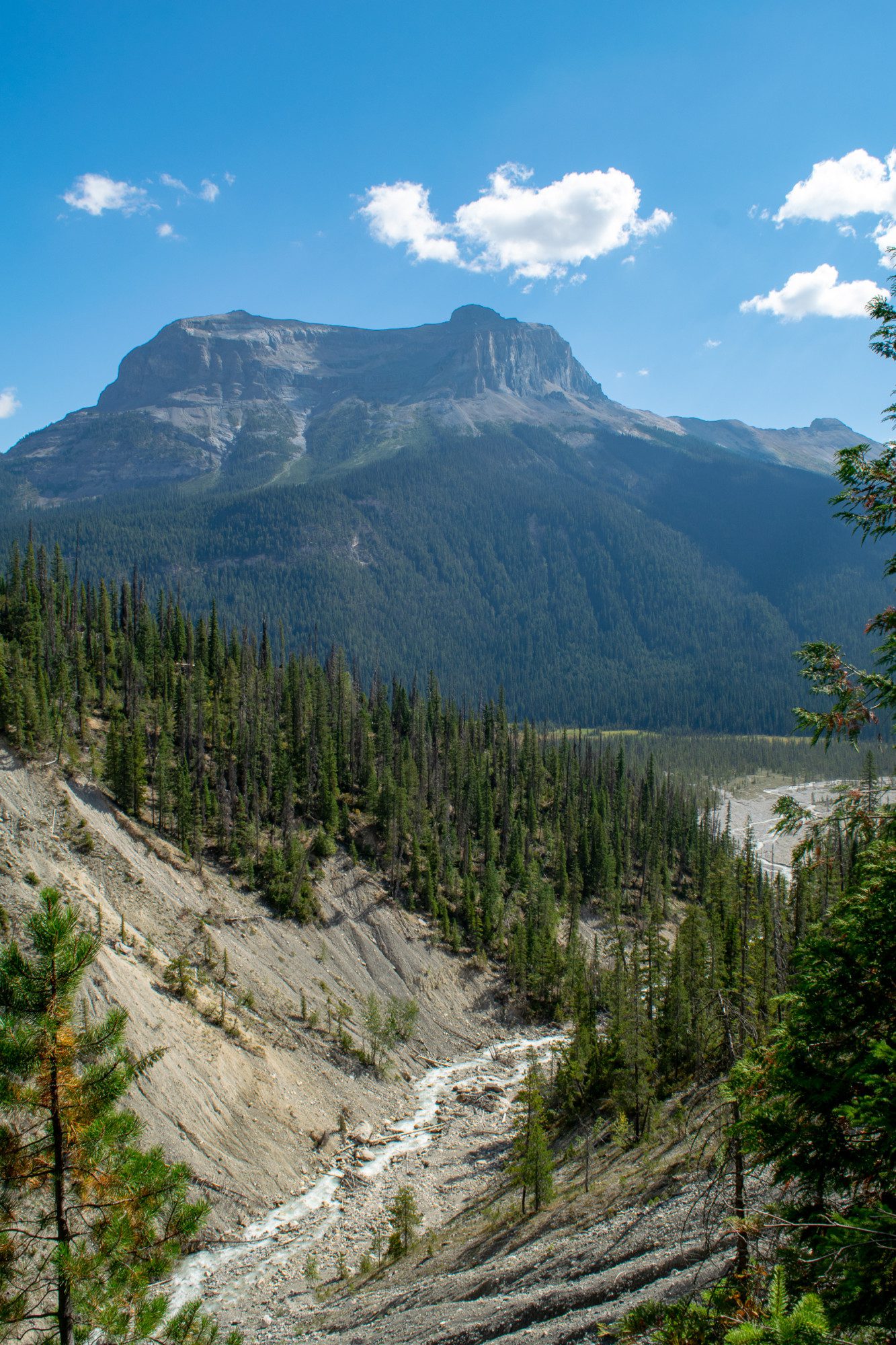 At the top, there's a great clearing along a creek where you can take a break and eat a quick snack and relax. We made friends with a friendly chipmunk. But he definitely was just friendly because we had food.
Once you get to the north side of the lake you'll hop on an offshoot trail that takes you up a canyon to the top of a valley, surrounded on three sides by gorgeous rocky mountains.
Get there early. The parking lot was full by 9am when we went. Plus, sunrise at the lake was amazing.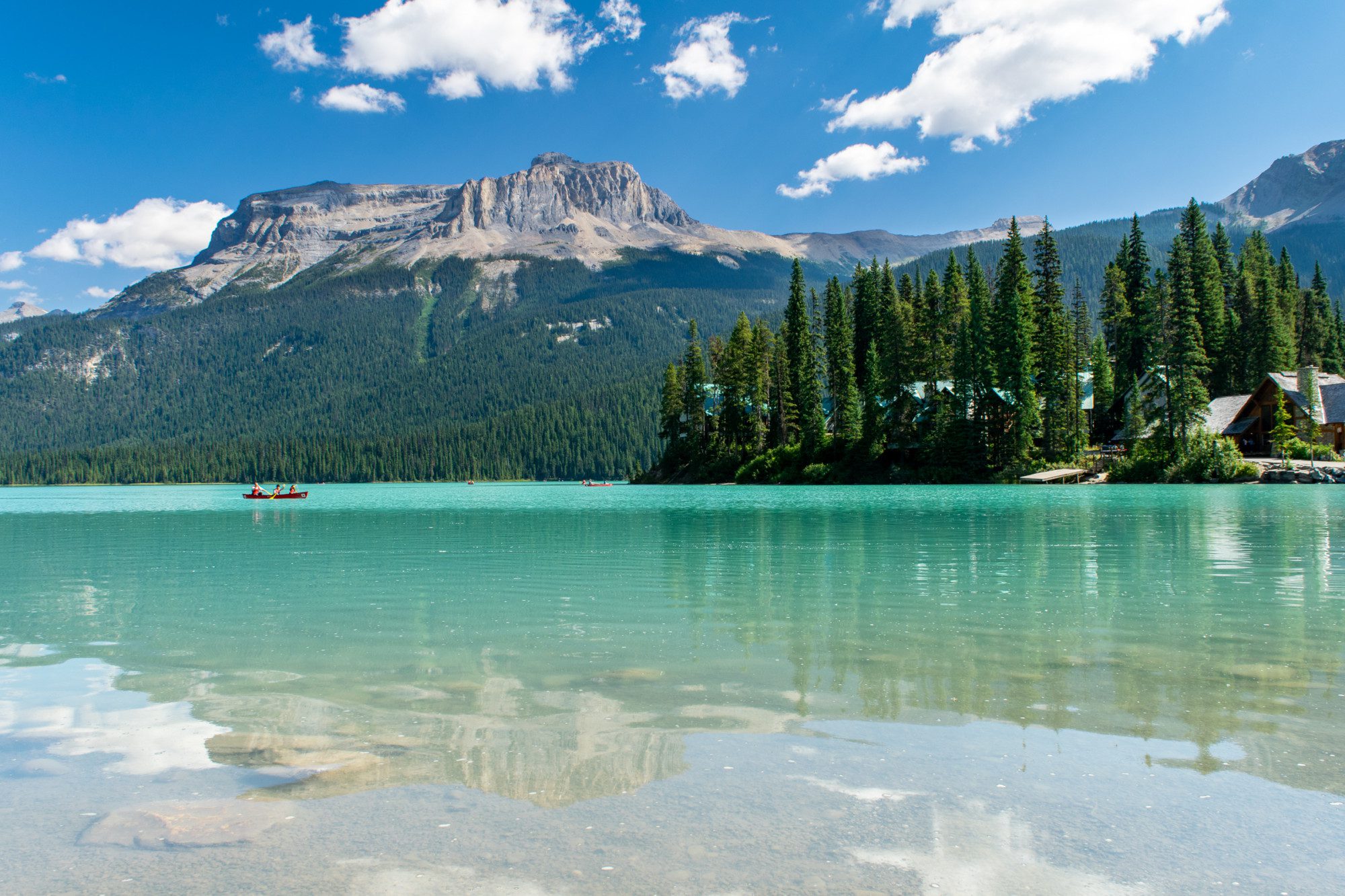 Essential Gear for Day Hikes in Banff
Hiking shoes/boots
If there is one single piece of gear that you need to make sure you have before heading on the best hikes in Banff National Park, it's a solid pair of hiking shoes or boots.

Depending on your personal preference, you might be more comfortable in low top shoes vs. big, bulky hiking boots.

If that's the case, I recommend the Salomon X Ultra 3 (women's version). Grab the men's version here.

If you're more of a boot person and want the extra level of ankle support and water protection, get the Keen Targhee.

I have a pair that have been with me on all sorts of hikes in New Zealand and the US and they have held up great. They're also waterproof – no more avoiding puddles by doing that thing where you try to walk across an unstable log and fall straight into the muddy water you were trying to avoid in the first place. Plus, Keen is a great company. Wins all around! Buy the men's version here.
Day Pack
Get yourself a good, comfortable day pack. Shoot for 20-30 liters. I'm a big fan of Osprey Packs, which come with a handy lifetime warranty. For men, I recommend the Stratos 24. For women, Alysha loves her Tempest 20 and brings it on all of our trips.
Water Bottles
Collapsible water bottles are a must for travelers, particularly hikers. Fill them, drink them, roll them up and pack them away. It's a game changer to not have to haul a big bulky water bottle around the world with you. I use Platypus soft bottles, and have had the same two water bottles that I travel with since going to Chile in 2015.
Good Socks
When you're hiking, your feet will get sore. Especially after long distances. The right hiking socks make a huge difference. I swear by Darn Tough hiking socks. Men's Version. Women's Version.
Hiking Poles
Most of the best hikes in Banff National Park come with lots of hiking up and downhill. Hiking poles are a relatively new discovery for me. My knees used to get super sore, especially after a long downhill stretch. But no more!

I bought a pair of REI hiking poles and haven't looked back since! Here's the men's version. And the women's version.

Note: you'll have to check these in your bag – you can't carry on trekking poles.
Trail Snacks
You're going to be doing a lot of hiking if you want to check out all of the best hikes in Banff, so you're going to need fuel.
The GFB (Gluten Free Bar).
Kind Bars.
Nuts.com.
Justin's nut butter packets.
Plantain Chips.

Make sure you have enough calories on the trail, especially if you're doing a slightly longer hike.
Sunscreen
Always. Wear. Sunscreen. Bring it with you on the trail and re-apply. Just do it. Your face will thank you later. I use Sun Bum SPF 50.
Sunglasses
I never thought polarized sunglasses made a difference. That is, until I got a pair of Sunskis. Now I never leave the house without them. I've worn them in Tanzania, New Zealand, and all around the US. Alysha even bought a pair after seeing how much I love mine.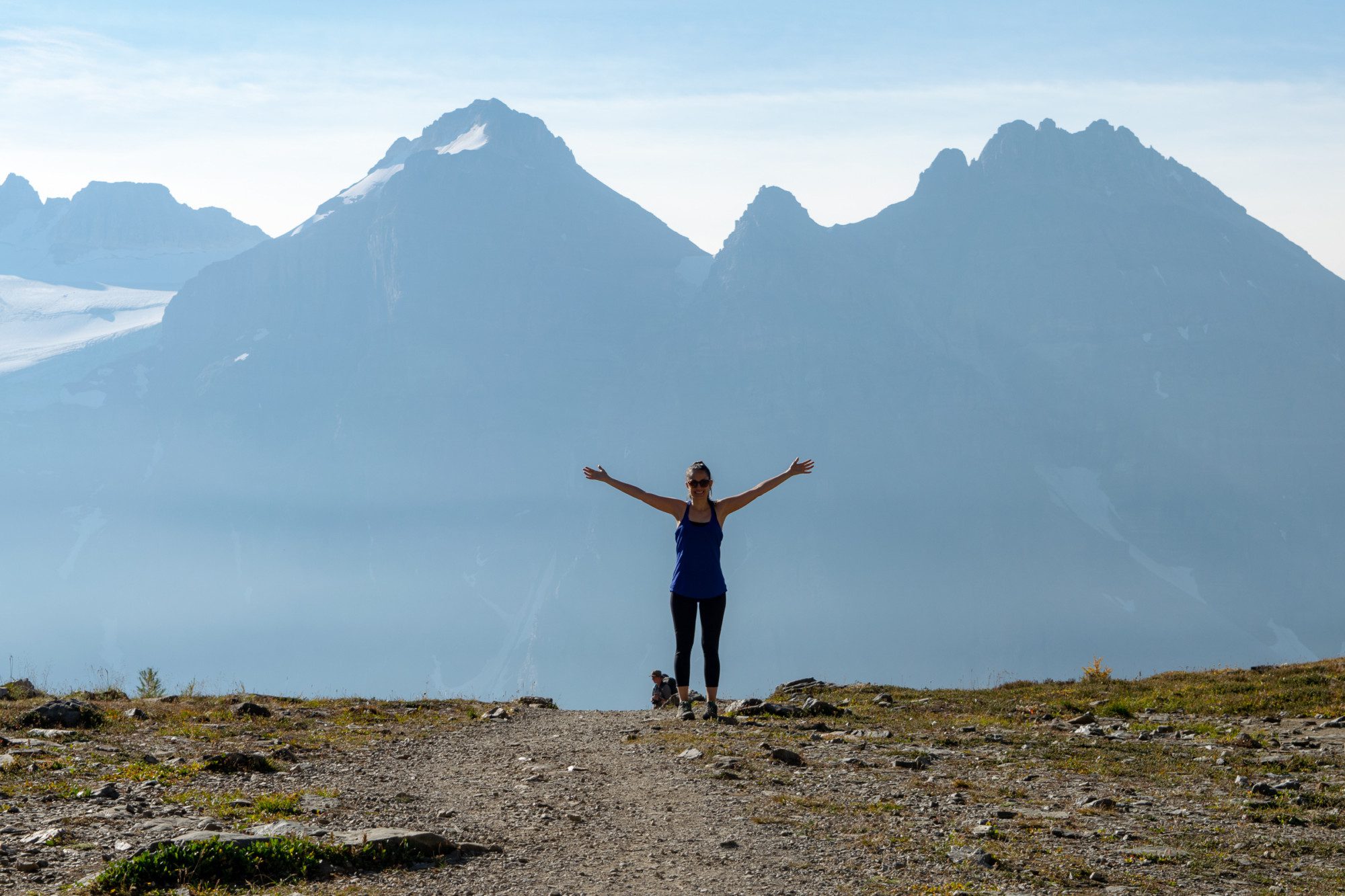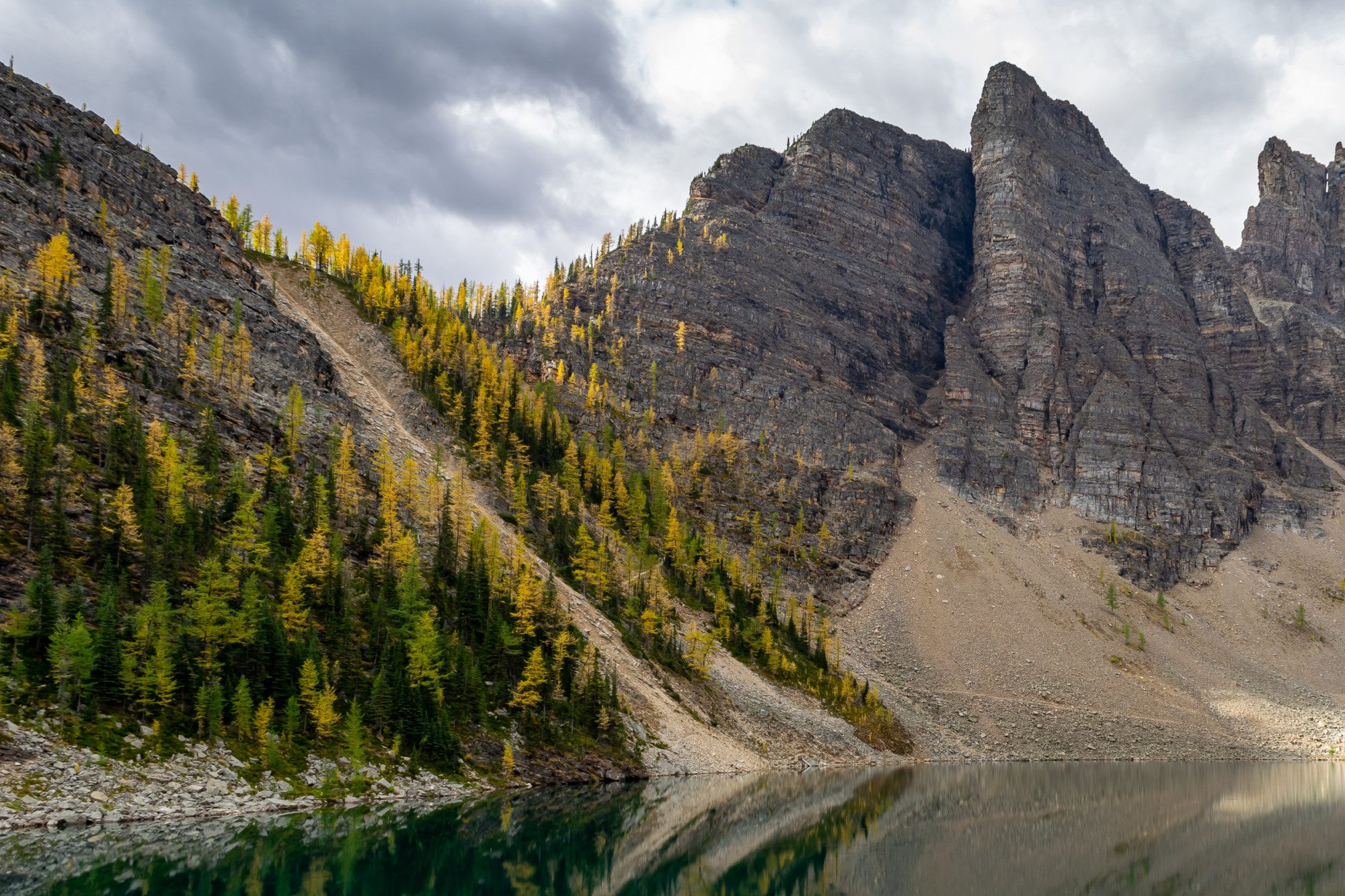 Final Thoughts: Best Hikes in Banff National Park
Banff was unforgettable. From the slower pace than I'm used to here in San Francisco, to the epic hikes and outdoor experiences, every second I spent in Banff made me want to go back as soon as possible.
Love the outdoors? You're going to love New Zealand, which is the most picturesque place I've been to date.
Read More on Outdoor and Adventure Travel:
Read More Canada Travel Guides: