Where to Stay In Banff for an Amazing Mountain Getaway
Banff is one of Canada's most iconic National Parks, if not THE most iconic. While it is a popular winter sports destination, in my opinion, summer is when Banff is at its best. The whole area is an outdoor lover's paradise, filled with countless hiking and cycling trails, some of the prettiest scenery you will ever see, like Insta-famous Moraine Lake, and some fantastic wildlife spotting opportunities. If you're like most people, you only have a short time in Banff, so the question of where to stay in Banff is an important one.
This practical guide will help you find the perfect place to stay for your style and budget.
We spent two weeks in Banff exploring, and both Alysha and I fell in love instantly. I am constantly blown away by the natural beauty of the area and how it has managed to preserve its scenery despite being a popular tourist destination.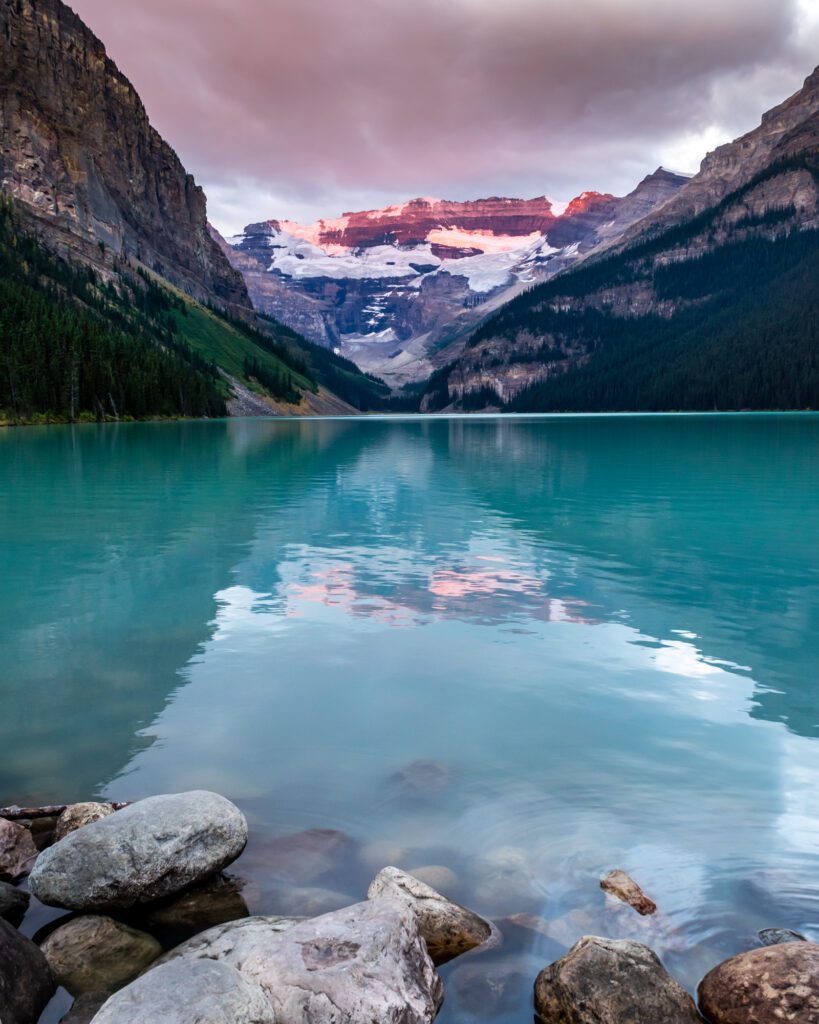 If you have time, you may even want to stay in two or more of these places. I would recommend staying in both Banff and Lake Louise if you have 3 or more days in the area.
The reason? Moraine Lake and Lake Louise are both incredible, particularly at sunrise before the crowds show up. To get there from the town of Banff, you'd need to drive over an hour, which means you're getting up SUPER early.
I'd recommend spending the first night or two in the town of Banff (or Canmore, more on that in a second), and the last night out at Lake Louise.
Splitting your time between the two areas will help you discover the best of both worlds.
I wrote this guide to help you uncover the best places to stay in Banff so that you can plan an absolutely perfect trip. It is based on my personal experience spending two weeks exploring the stunning scenery of Banff National Park and the rest of the Canadian Rockies.
Want to plan the perfect trip to the Canadian Rockies? Don't miss my other Banff & Jasper travel guides.
Disclaimer: Some of the accommodation links in this post are affiliate links, meaning at no additional cost to you, I make a little bit of money if you click through and book. That being said, I would never recommend something to you that I don't stand behind 100%.
Where to Stay in Banff National Park: A Complete Guide to the Best Places to Stay
In this guide, I'll introduce the 3 best places to stay in Banff depending on your style and budget, and give you specific accommodation recommendations based on either my experience, or extensive research on the best hotels and vacation rentals in Banff.
The Town of Banff: Most Central Location in Banff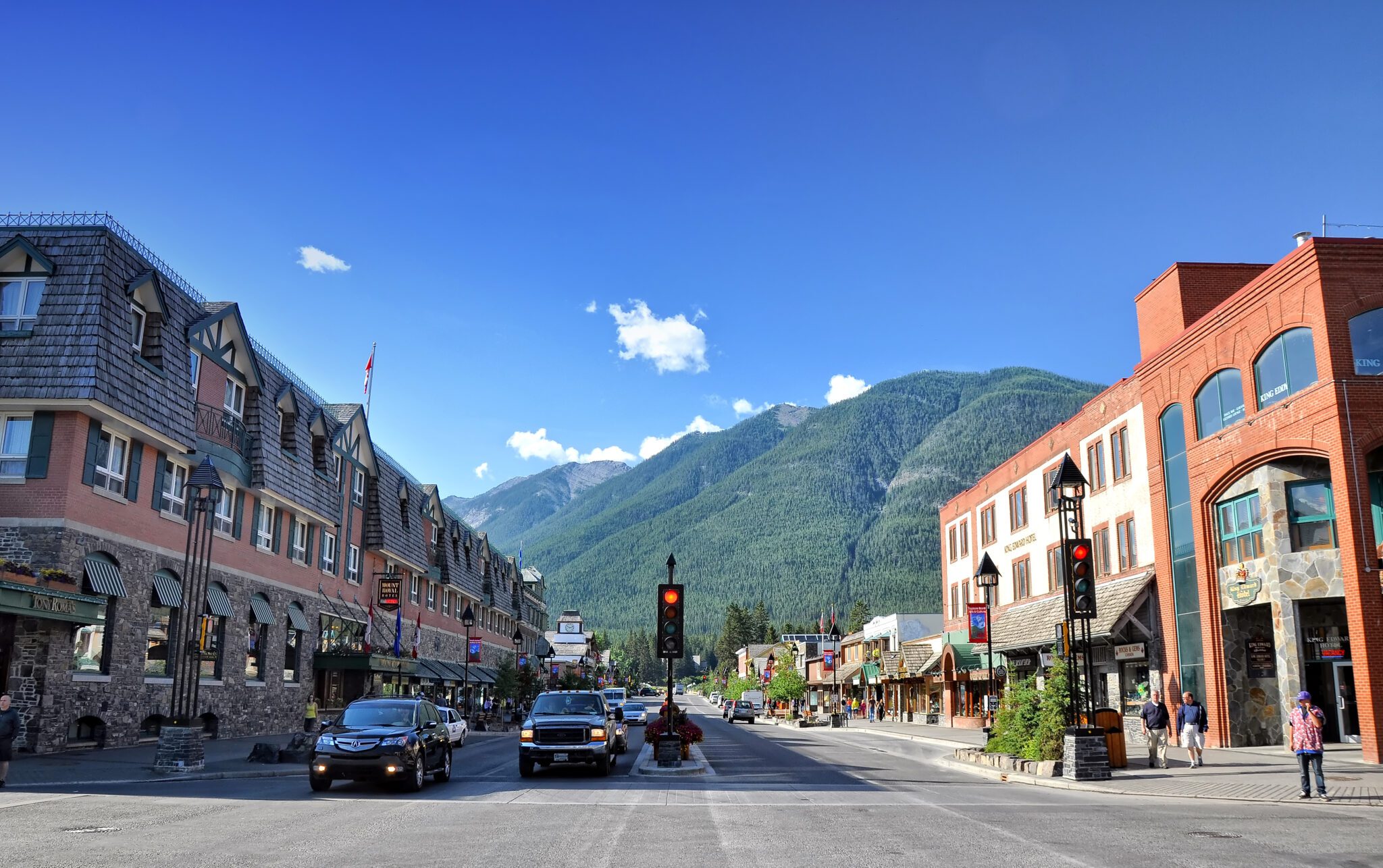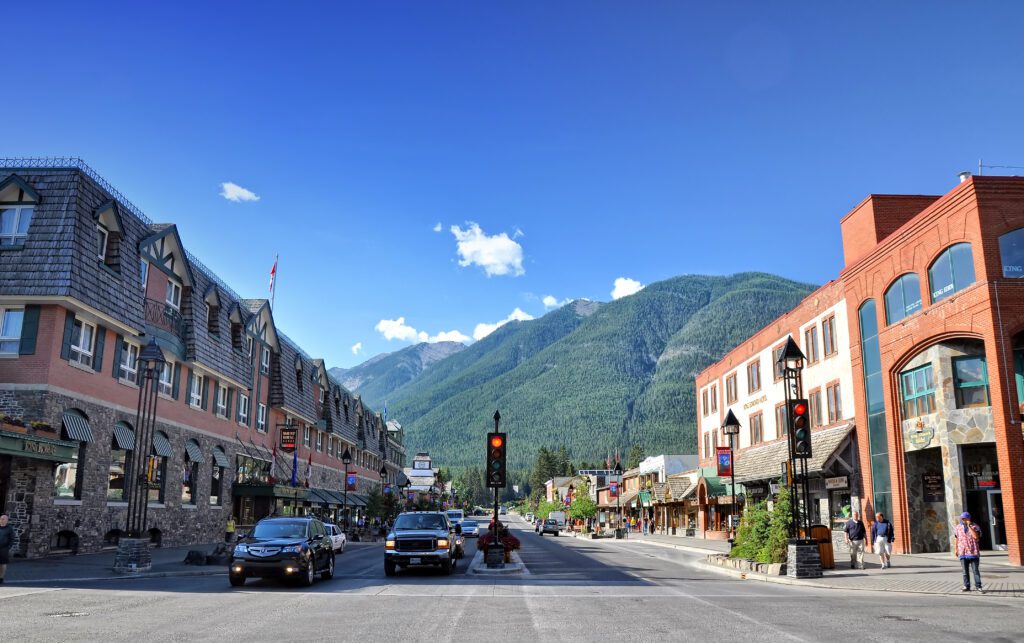 If you want to stay centrally, the town of Banff is where it's at.
The town of Banff itself is super lively with tons of bars and restaurants, and there are plenty of events in the evenings for you to enjoy. It's within easy walking distance of tons of hiking trails, wildlife spotting opportunities, and some fantastic microbreweries and bistros.
You'll find a bustling little town which is built around all sorts of outdoor activities that have made the Canadian Rockies famous.
Whether you're looking for spring and summer hiking and cycling, or winter sports, you'll find supply shops as well as transportation options and guided tours.
Things To Do In Banff Town
Hike ALL the trails: I wholeheartedly recommend renting a car for your trip to Banff so you can access the amazing hiking trails outside of town. I have two favorites: Sulphur Mountain, or Johnston Canyon and the Inkpots. Sulphur Mountain is a slightly challenging route that offers an amazing view over Bow Lake as a reward. Johnston Canyon and the Inkpots is a busy trail that is suitable for all abilities. It is a long hike, so allow half a day. The trail is full of waterfalls along the way, and ends up at the Inkpots, which are brightly-colored pools that look like something out of a watercolor painting.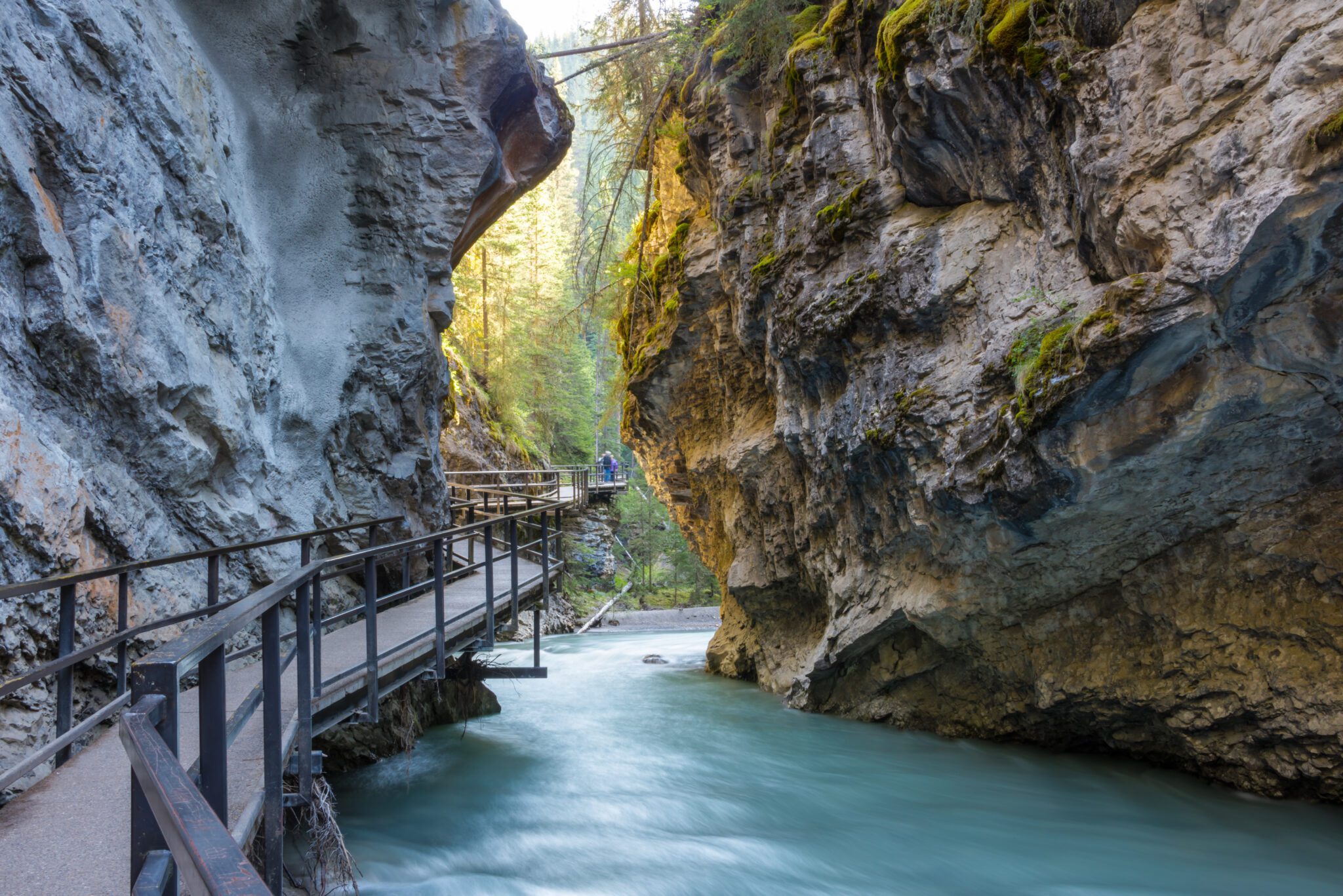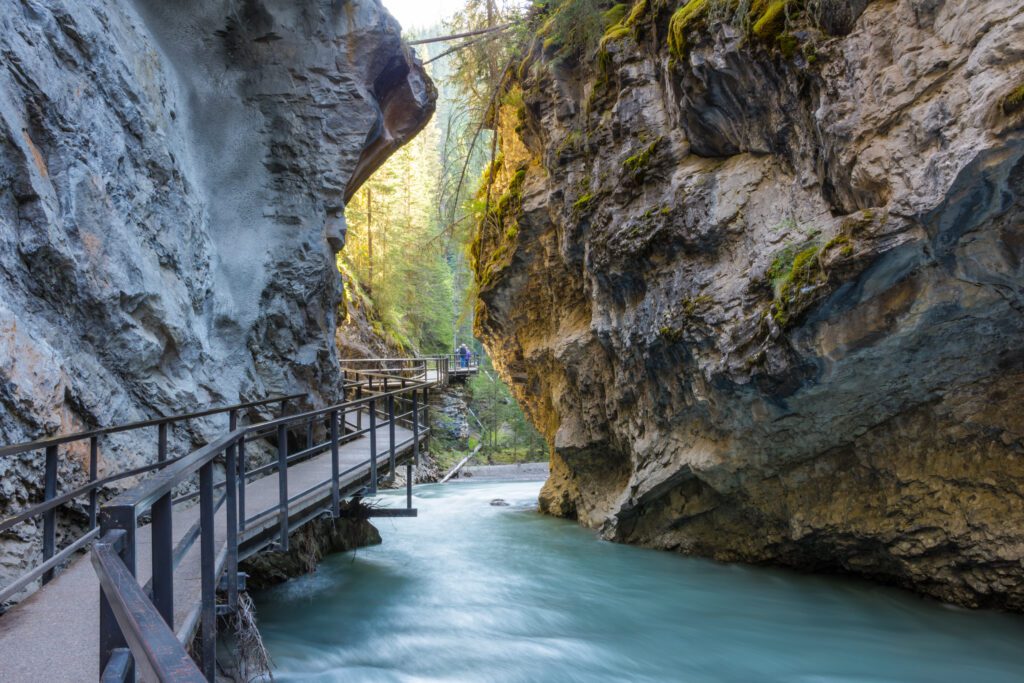 Explore Banff Avenue: Banff Avenue is the main street of Banff Town, and packed with restaurants, bars, and outdoor shops. There is even a museum where you can learn all about the national park if you're interested in Banff's history. The town of Banff has a number of microbreweries and distilleries where you can try the locally-crafted provisions. The most popular ones are Park Distillery where you can tour the distillery and see how their spirits are made, and Banff Brewing Co, a perfect post-hike stop.
Sunrise wildlife spotting at Vermilion Lakes: Wildlife-spotting is a popular activity in Banff, where you'll have the opportunity to see moose, elk, and grizzly bears (count me out on that last one) in their natural habitat! The best time to see them is at dusk or dawn when they are most active and before the hoards flock to the hiking trails. One of the places I recommend going to see wildlife is Vermilion Lakes which is just spectacular at sunrise or sunset.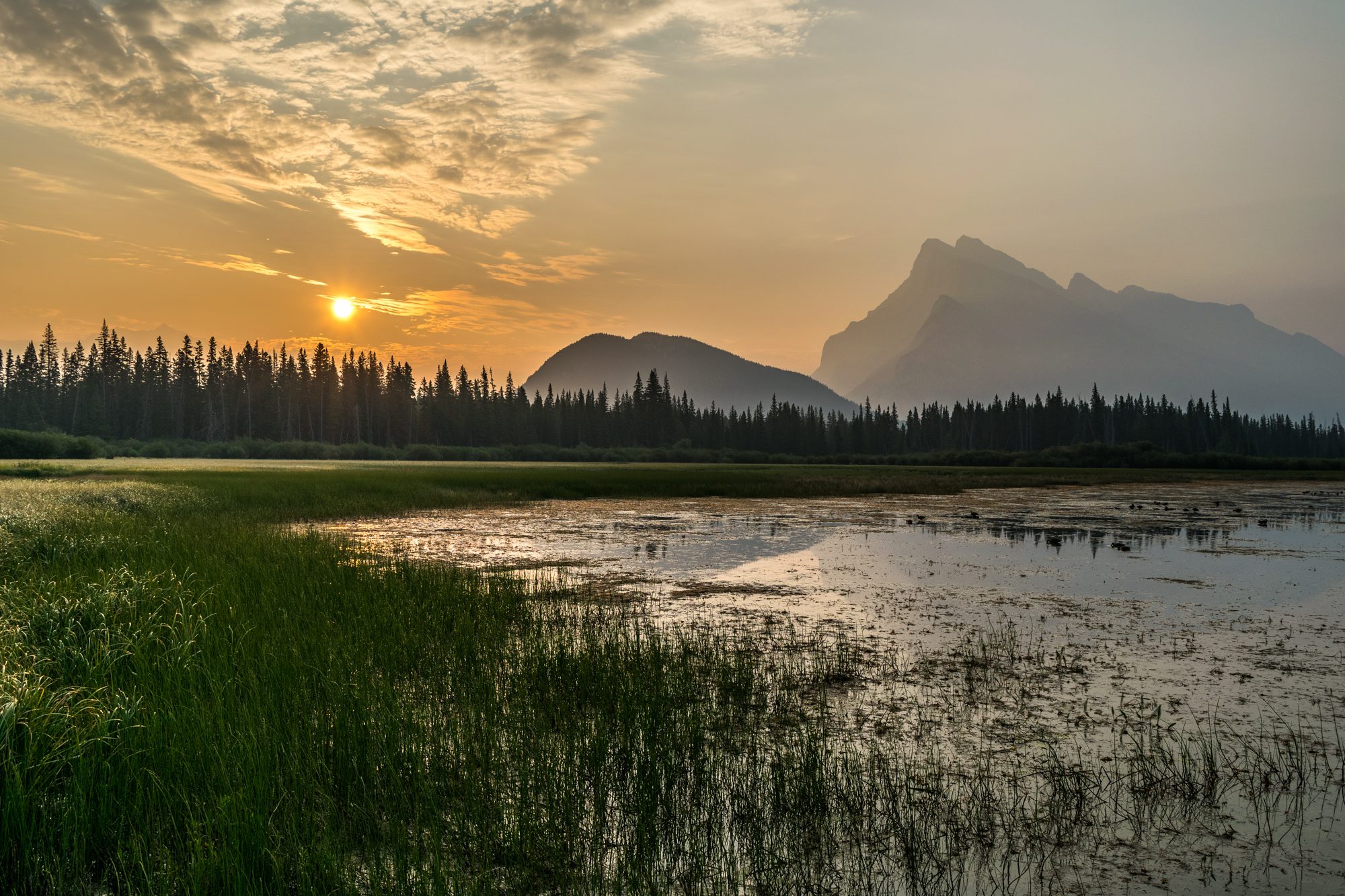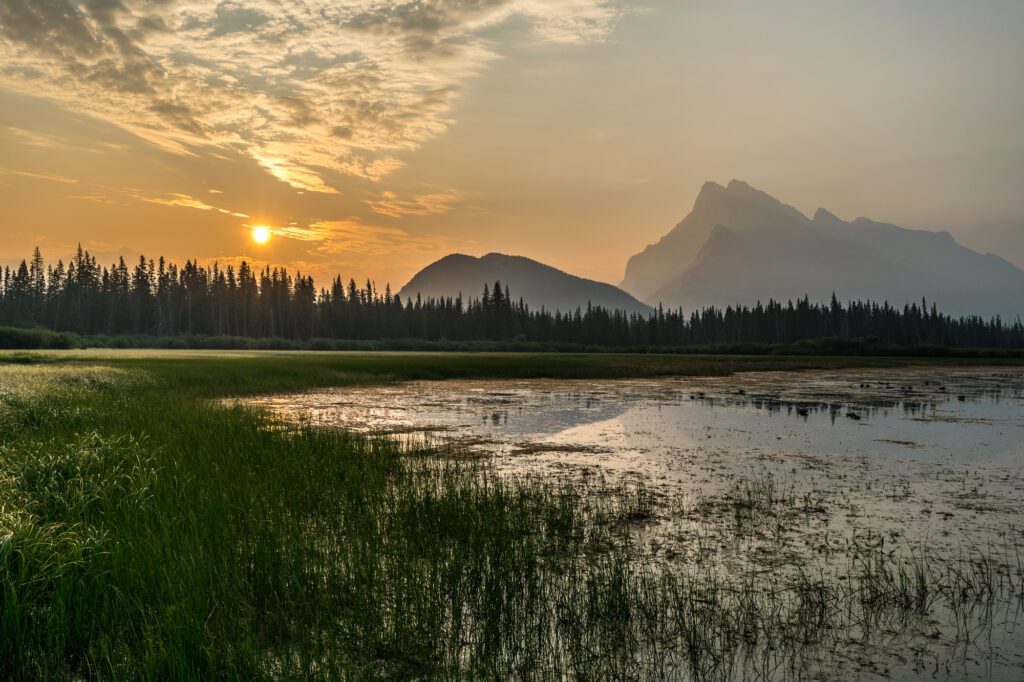 Visit the Cave and Basin National Historic Site to learn how it all started. While these hot springs are no longer operational, they are the reason Banff is what it is today. Today they are the site of a museum about the history of Banff National Park and the Banff railway. It is only a small museum that will take about an hour or so to visit, but it is packed full of interesting information and interactive exhibits.
Where To Stay In Downtown Banff
Here are some of my top recommendations for saying in Downtown Banff, which is the most central location for exploring Banff and the National Park in its entirety.
We should note that this area is generally expensive, and like you, we don't have the deep pockets to pay $500 a night for a hotel. So we've chosen some of the better value hotels in Banff to help you find a great place to stay with a reasonable budget.
Moose Hotel – Best Value Hotel on Banff Avenue
The Moose Hotel is the place to stay if you want to be central but not pay crazy money for the privilege. It is right on Banff Avenue, which means it's within walking distance of all the restaurants, bars, and cafes.
The rooms are clean and basic, where the hotel packs a punch are the amenities. There are two rooftop hot tubs, an indoor pool, and a spa. This is on top of a decent gym, complimentary indoor parking, and room service. It's definitely among the best hotels in Banff if you're looking for value.
Juniper Hotel – Best boutique hotel in Banff
The Juniper Hotel is a small hotel just outside of Banff Town, surrounded by mountains and woodland.
It is not uncommon to have wildlife sightings around the Juniper Hotel even though it is just a 25-minute walk from the center of Banff Town.
The hotel has 52 rooms and plenty of handy amenities, like bike rentals on site, an activity planning desk, and an outdoor hot tub.
It has a wide selection of rooms, including some that are large enough for a small family.
Banff Inn – Best Affordable Hotel in Central Banff
The Banff Inn is another affordable central hotel option in Banff. Like all the hotels in the area, this one has a rustic, lodge or ski chalet feel to it.
It is just a few minutes away from the shops and restaurants of Banff on foot, and has complimentary parking onsite if you drove.
The hotel features a large indoor pool and an outdoor hot tub if you need to rest your weary muscles after a day of hiking, biking, or kayaking.
Tunnel Mountain Resort – Best resort in the town of Banff
Tunnel Mountain Resort is the best small resort in the Banff area. It has 105 units, all equipped with kitchenettes so you can prepare picnics for your hike or save money cooking your own meals.
There are even two-bedroom condos, perfect for families or friends traveling together.
They offer some great services for guests, such as bike rental, gym, a kids playground, an onsite laundry, and an indoor pool and steam room. The hotel even gives guests complimentary Banff Roam bus passes.
Lake Louise Area: Where to Stay To Explore Moraine Lake and Lake Louise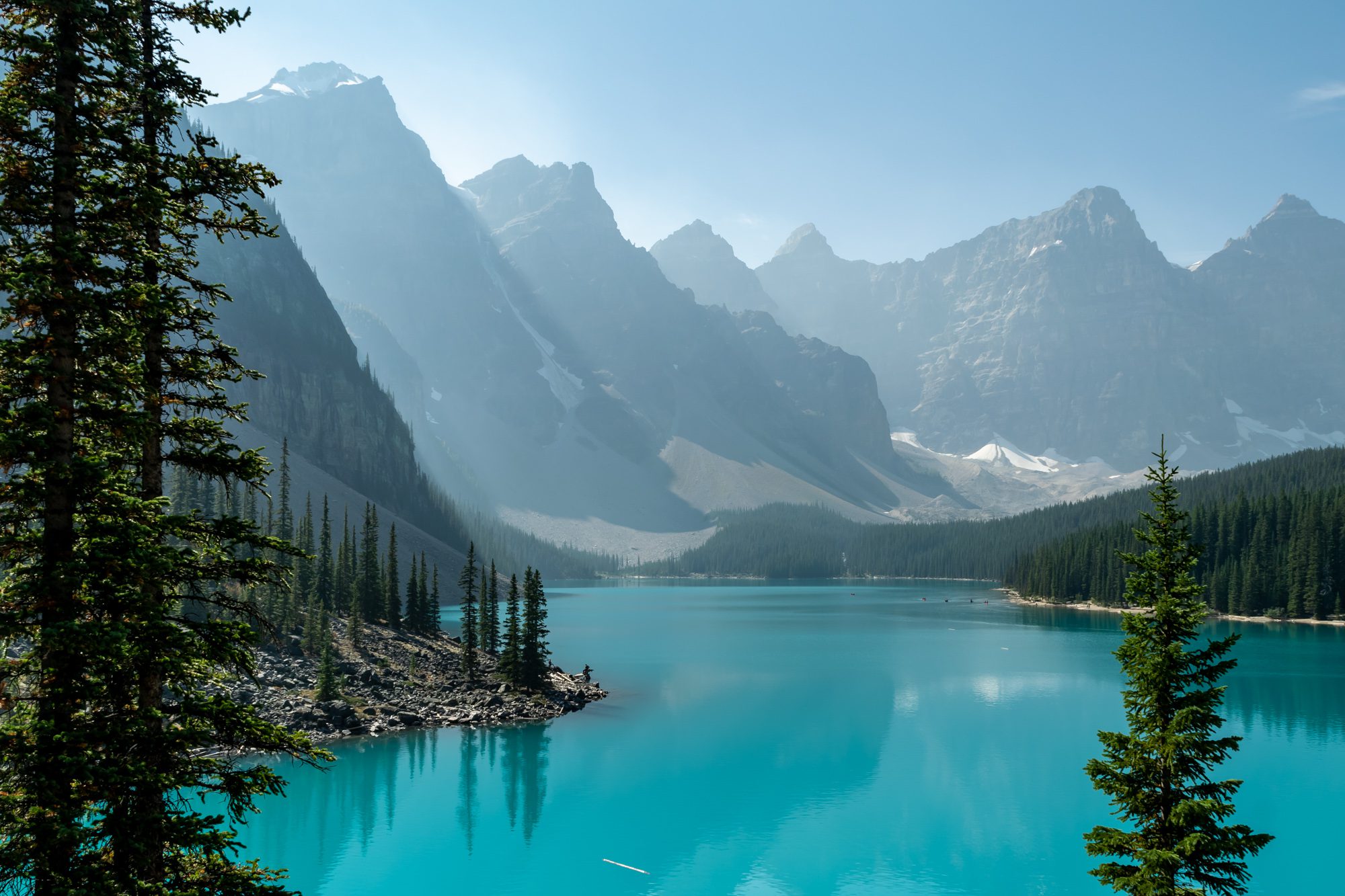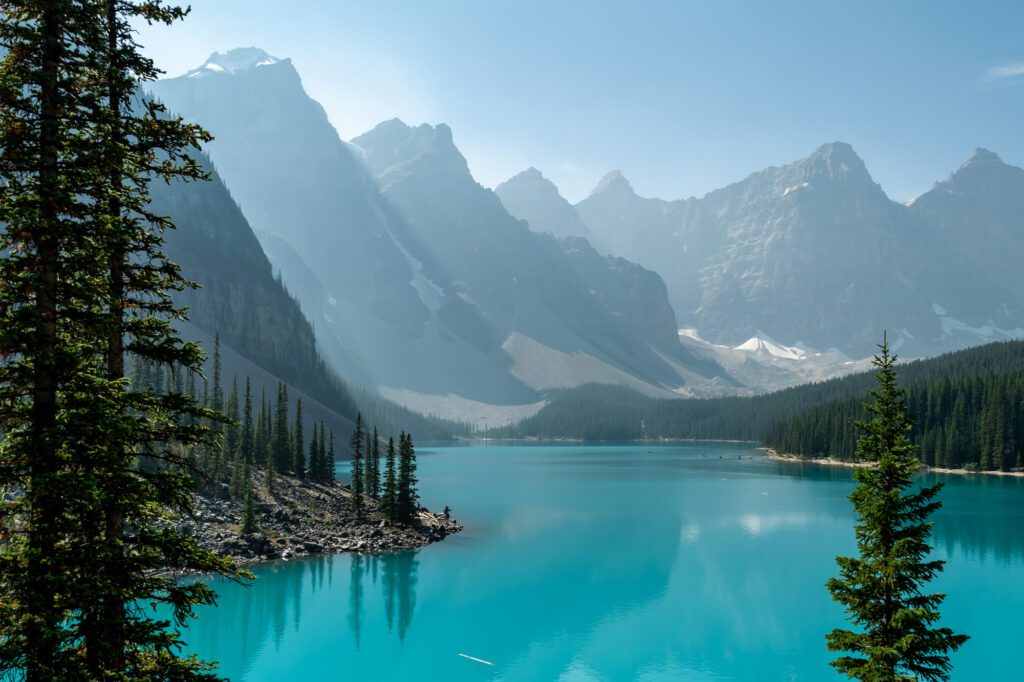 The best place to stay in Banff for some peace and quiet isn't actually the town of Banff, it's Lake Louise.
The area is postcard perfect with mountains and the famous Lake Louise dominating the landscape, a peaceful oasis for travelers seeking outdoor adventure. Most of the accommodation options are in Lake Louise Village, which is 4km away from Lake Louise. There are a handful of restaurants in Lake Louise Village but only one pub, so if you are looking for nightlife, then you would be better off staying in Banff.
The main reason for staying in the Lake Louise area is for the picturesque hiking trails and to have easy access to both Lake Louise and Moraine Lake, where parking lots are often full by 9am.
There is a good mixture of hikes for all skill levels, all of them offering viewpoints and an appreciation of the Canadian landscapes. For a relaxed stroll, my absolute favorite is path along the Lake Moraine shore, which offers views of Fay Glacier.
Things To Do Near Lake Louise
Explore Moraine Lake at sunrise: Moraine Lake is a must-see if you are in this area. The lake is glacier-fed, so the water is a beautiful turquoise color and surrounded by mountains. In times of peak grizzly bear activity, the lake's hiking trails can be closed, so it is important to stay up to date with Parks Canada's website. As it is a popular attraction, I recommend heading there at sunrise so you can enjoy this scenery in peace and quiet. My favorite hike is the Sentinel Pass which passes through gorgeous scenery and gives great views of the Ten Peaks and Paradise Valley.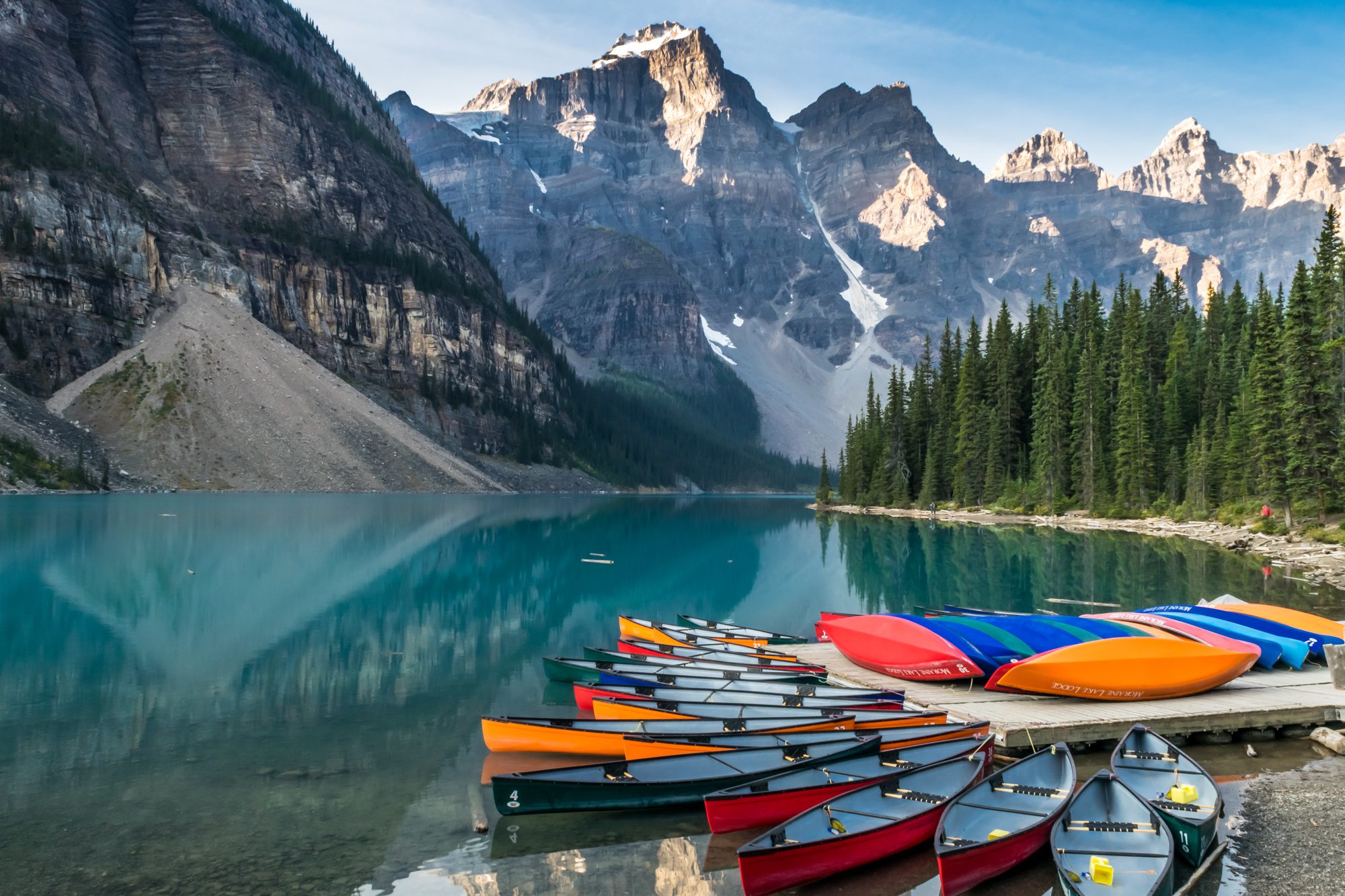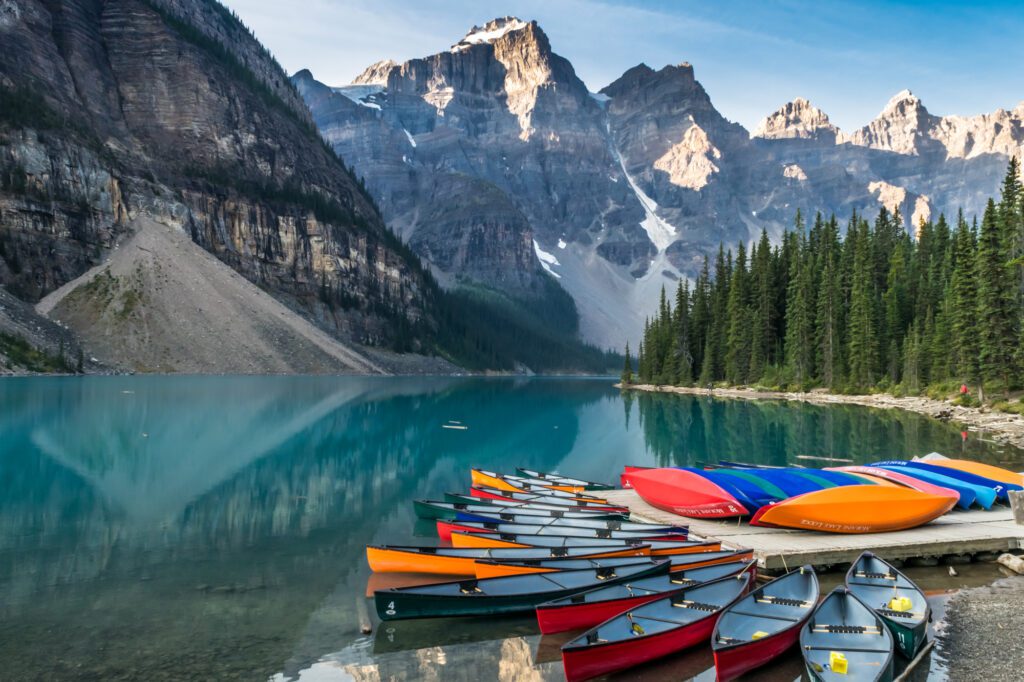 Hike to a backcountry tea house: The best thing about hiking in Canada is that some popular trails have little teahouses tucked away on the trails to offer a place to rest and grab a bite to eat. Here other hikers or the staff will be able to tell you about the conditions of the trail as you refresh yourself. Most of these teahouses are perched on lakes or overlooking mountains and valleys, so you have a view to enjoy as you rest. Lake Agnes Tea House or the Plain of the Six Glaciers Tea House are the most popular ones.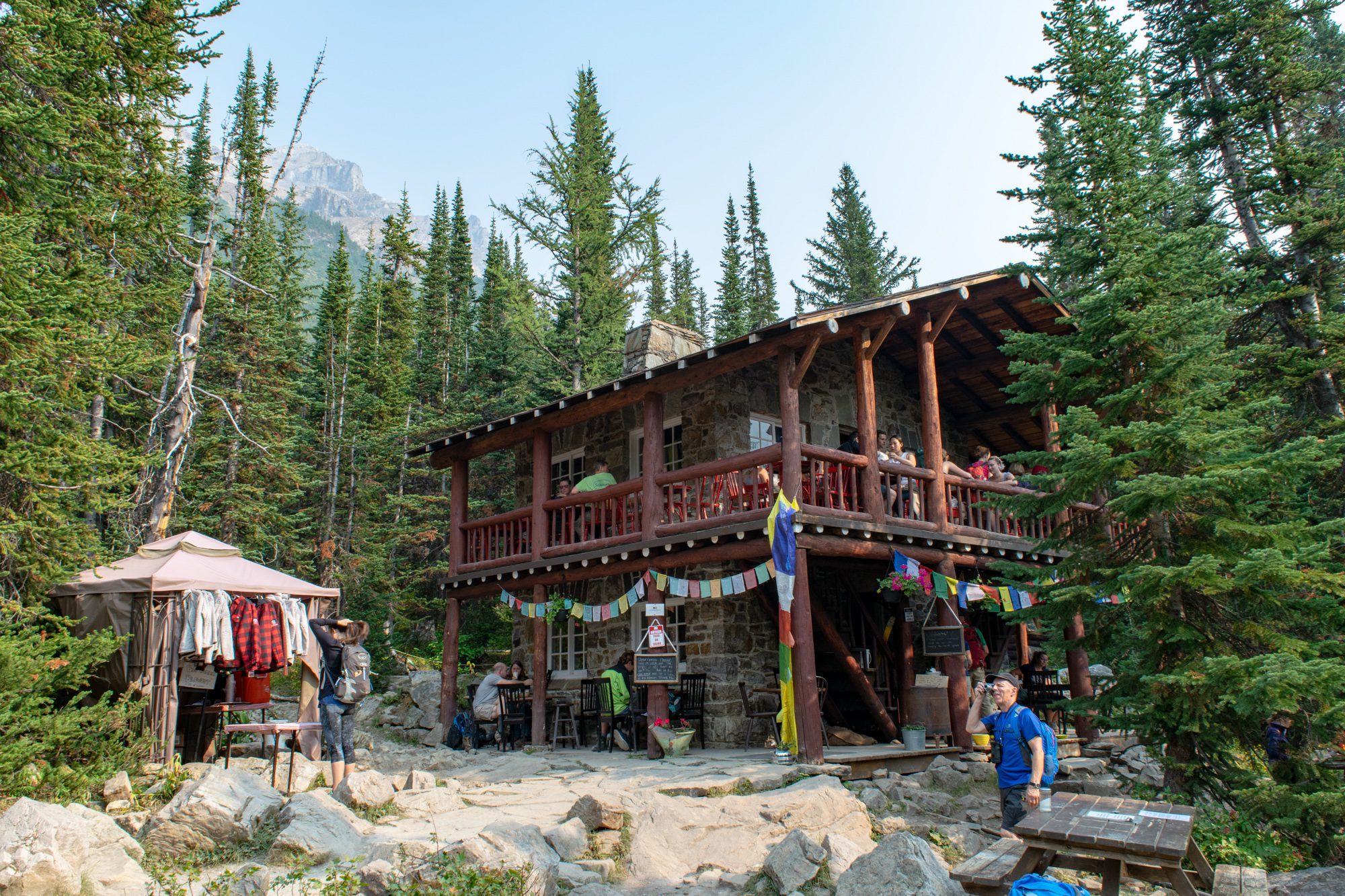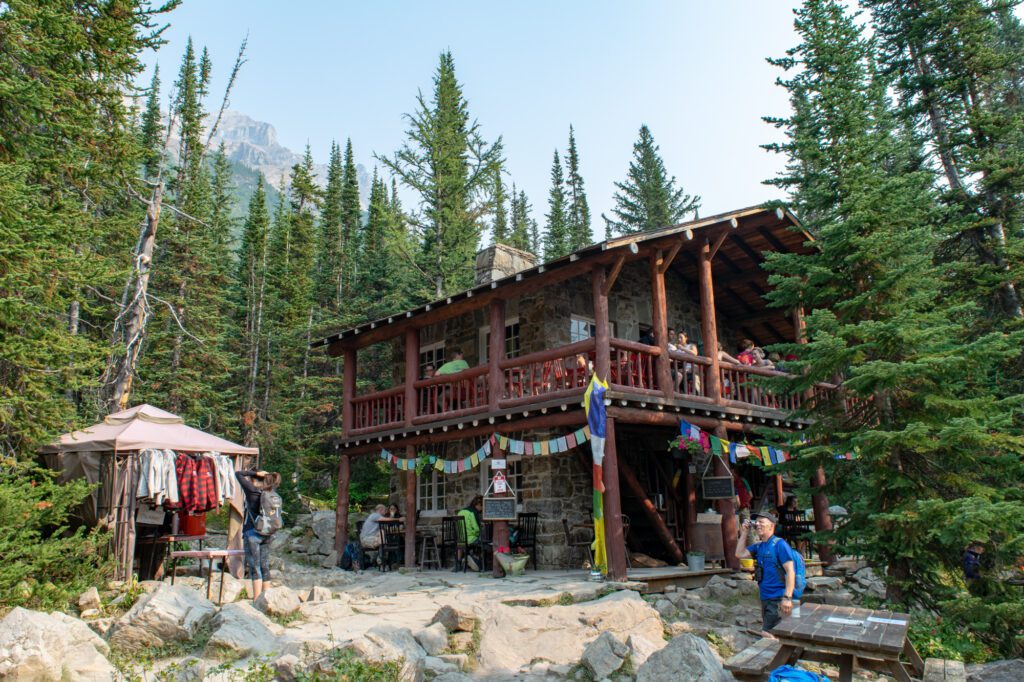 Afternoon tea at the Fairmont Lake Louise: The Fairmont Chateau Lake Louise is an iconic part of the Lake Louise scenery. Aptly called a "Chateau", this building looks like something out of a fairytale with its cream walls and light blue roof. While not everyone can afford to stay here, you can still experience the luxury of this hotel by enjoying a scrumptious afternoon tea in the dining room, which overlooks the lake. Make sure you make a reservation a few days in advance to try and nab a table by the window.
Explore a glacier at the Columbia Icefield Adventure: This is an amazing experience which allows you to walk out onto a glacier with knowledgeable guides. It is halfway between Lake Louise and Jasper, so if you are doing a longer itinerary, I would recommend doing the icefields on the way. However, it is only 1 hour and 45 minutes away from Lake Louise, so not too far for a day trip. As well as the glacier experience, there is a Skywalk where you can get amazing views of the valley below and the glaciers above. It is suspended out over the cliff, so not recommended for people who are afraid of heights.
Where To Stay In Lake Louise Area
Below are my top 3 recommendations for where to stay in Lake Louise. Unfortunately, there are no Airbnb options nearby, so hotels / cabins are your best bet in this area.
Paradise Lodge and Bungalows – Best overall place to stay
In my opinion, Paradise Lodge & Bungalows is the best overall place to stay in the Lake Louise area. In fact, we stayed there, and loved it! It is a family-owned and operated lodge which has kept its log cabin charm over the 50 years it has been operational.
It is only 1km from Lake Louise, so a lot closer than the majority of the accommodation options in this area. It is also super close to a lot of the popular hiking trails such as Lake Agnes.
Lake Louise Inn – Best value hotel near Lake Louise
The Lake Louise Inn is one of the best value accommodation options in Lake Louise Village. It has ten different room types, including one or two-bedroom suites to accommodate families traveling to the area. Some of the rooms even come with kitchenettes or jacuzzi tubs.
The amenities include board game rental, bike rental, access to the fitness center and indoor heated pool. There is also free onsite parking, laundry facilities, and a schedule of events during peak season.
Fairmont Chateau Lake Louise – Best Luxury hotel in Lake Louise
If you're looking for a splurge to get an amazing experience on your trip to Canada, then this is the place to do it.
The Fairmont Chateau Lake Louise is the only hotel actually on the shore of Lake Louise, and most of its rooms offer stunning lake views. The huge advantage of staying here, especially for photographers, is that you get to see the lake at many different times of the day.
Take the hotel's walking paths around the lake to get different vantage points. In terms of dining options, the hotel has five restaurants on site, but they tend to get busy as they are open to the public. The hotel offers priority to registered guests, but it is still worth making a reservation, especially for the famous afternoon tea.
Canmore: The Coolest Place to Stay to Explore Banff ( + Where We Stayed)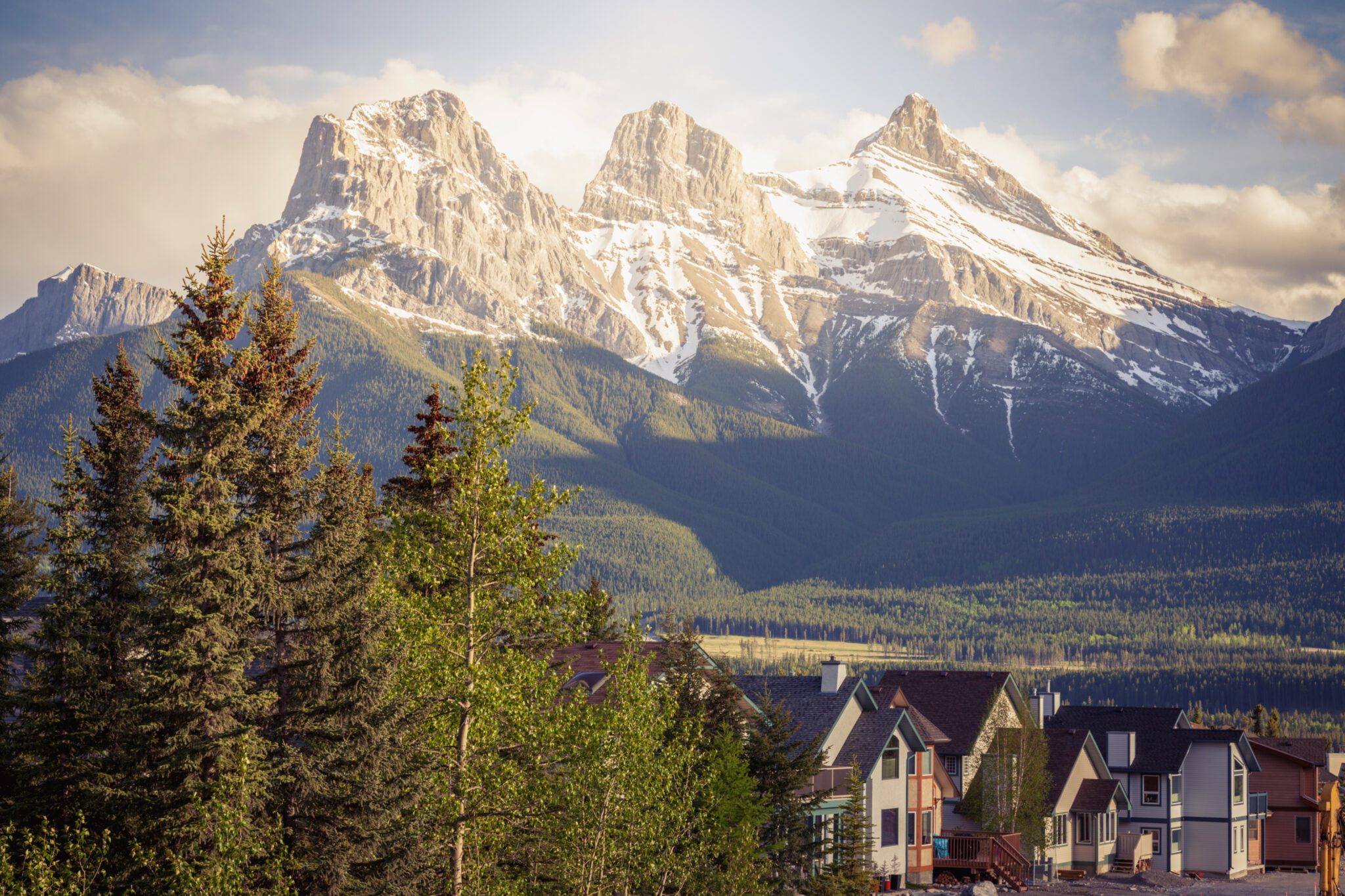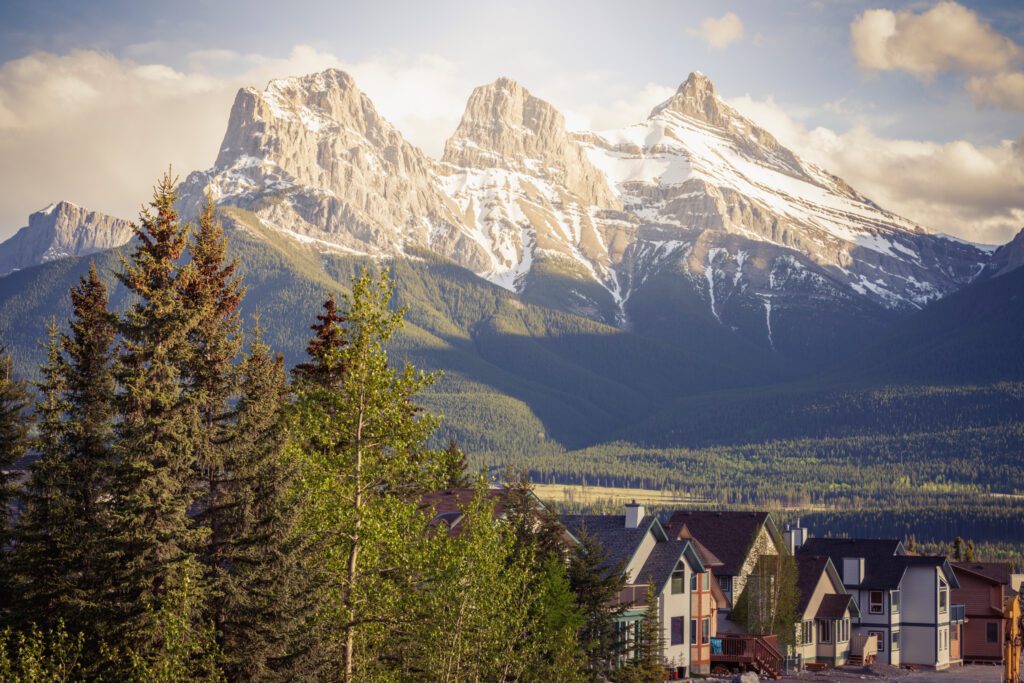 Canmore is a small former coal mining town on the edge of Banff National Park. While it is cheaper than Banff Town, in the peak season, it can get just as busy. Especially because there are more apartment-style accommodation options for families.
Being outside of the Banff National Park, you will not need a park pass to stay in Canmore. However, you will still need a park pass if you plan to visit the National Park.
The mountains surrounding Canmore have 70kms of trails which are used for skiing in winter but are fantastic for mountain biking in the summer. It is also a short distance from a number of great hiking trails and wildlife spotting areas.
Like Banff, Canmore is set up for the large number of tourists it gets, so there are plenty of amenities such as outdoor stores and boutiques.
There are a large number of restaurants, but unlike Banff, they tend to be more independent restaurants rather than chains.
We opted for staying in Canmore, rather than Banff, and I would recommend it 100%. I actually liked downtown Canmore more than I liked Banff Ave.
Things To Do In Canmore
Lake Minnewanka Loop at sunrise: This is a really popular loop near Canmore, so head there at sunrise for a quieter hike and more chances to spot wildlife. There can be restrictions on some of the trails during grizzly bear season, so be sure to check Parks Canada's website before you set out.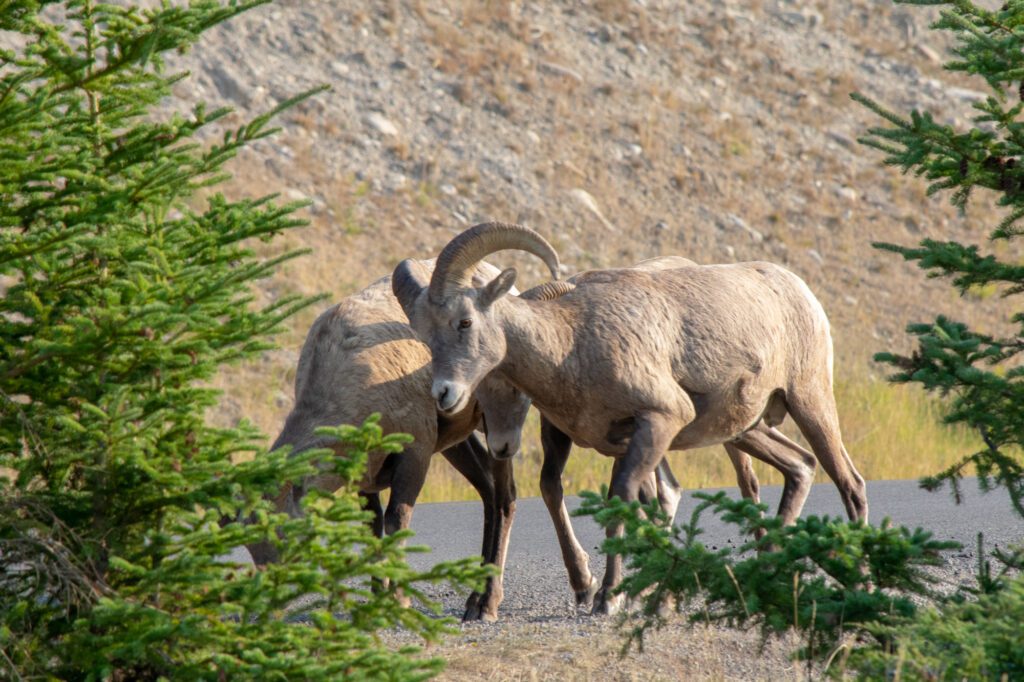 Explore downtown Canmore: One of the things I love about Canmore is that all of its restaurants, bars, and cafes are locally owned, unique establishments. It is fantastic to spend an afternoon exploring after you have exhausted yourself hiking or canoeing. My favorite breakfast place is Communitea which has an abundance of gluten-free, vegetarian, and vegan options. The Scoopin' Moose has amazing ice cream options for those hot summer days. When you're ready for a drink, then Canmore Brewing Company and the Grizzly Paw Taproom should be your first stops.
Check out the stalls at the Canmore Mountain Market: Every Thursday in summer this market is a hub of community activities where locals and tourists converge to enjoy live music and browse the stalls. You will find fresh produce and baked goods, jewelry, and artisanal goods.
Where To Stay In Canmore
Canmore is a super cool place to stay to explore Banff – you'll save a little bit of money, and have a much more authentic experience. Although it's still full of tourists, for sure. Just less so than Banff.
Lamphouse Hotel – Most Stylish Hotel for Couples
The Lamphouse Hotel is the newest hotel in Canmore, designed to give a rustic, country lodge feel with barn board walls and animal motifs throughout.
All the rooms are set up for comfort, with top of the range mattresses, Nespresso coffee machines, and Banff Mountain Soap Co bathroom amenities.
The hotel is located right in the heart of downtown Canmore and its numerous bars, restaurants and cafes.
Basecamp Resorts – Best Apartment Style Accommodation in Canmore
Whether you are a family, a group of friends, or a couple who just wants a little extra space, Basecamp Resorts is a fantastic accommodation option.
They have studios, one, two, and three-bedroom apartment options, and suites can also be joined to make a six-bedroom option for larger groups.
Each room has a fully equipped kitchen and dining tables to allow plenty of room for the family to sit down for dinner.
By far my favorite feature is the rooftop patio with a hot tub, perfect for stargazing.
Canmore Downtown Hostel – Best Budget Option in Canmore
This is a great option for guests who just want a place to lay their heads after a full day of hiking, biking, and kayaking.
The rooms are no-fuss but still designed to be visually pleasing with pops of color and well-maintained décor.
They have a handful of private rooms which can sleep up to three people and have an ensuite bathroom. All of the eight dorm rooms have four bunk beds, but four of them have ensuite bathrooms for a little extra privacy.
The hostel offers a large communal kitchen and living area as well as laundry facilities and luggage storage lockers so guests can maximize their time in Banff.
Summary: The Best Places to Stay in Banff
Best Areas to Stay to Explore Banff
Downtown Banff: Most central location for exploring Banff National Park
Lake Louise: Best place to stay in Banff to explore Lake Louise and Moraine Lake.
Canmore: The coolest place to stay in Banff (and where we stayed)
Best Hotels Near Banff
---
That's all I've got on choosing accommodations in Banff! Wherever you choose, you're going to fall in love with the Canadian Rockies and their stunning blue lakes, towering rocky peaks, and everything in between.
Don't miss my other Canada Travel Guides to help you plan the perfect trip.