3 Days in Banff: An Amazing Summertime Banff Itinerary
If rugged mountains and shimmering alpine lakes get your blood racing, you're going to love Banff, the crown jewel of Canada's most beautiful province, Alberta. Set on the banks of the Bow River in the heart of the Canadian Rockies, Banff is a delightful resort town that's well worth seeing, but Banff National Park absolutely ranks at the top of my list of one of the most beautiful places on earth.
This guide to 3 days in Banff will help you make the most of your trip, particularly if you love food and the outdoors, which are two of my favorite things on Earth.
In the cold months, Banff is well known as a winter sports center, and a ski trip is going to look pretty different from the 3 day Banff itinerary below. But if you're like me and are an avid hiker or are into mountain biking, then the summer is the time to go.
However busy the town of Banff becomes, and it can definitely get a little crowded at peak times in the height of summer, it is easy to find solitude in the vastness of the Rockies. To find the peacefulness you're looking for, head off to tackle one of the best hikes in Banff National Park, where you'll be immersed in the almost unbelievable beauty of the Canadian Rockies.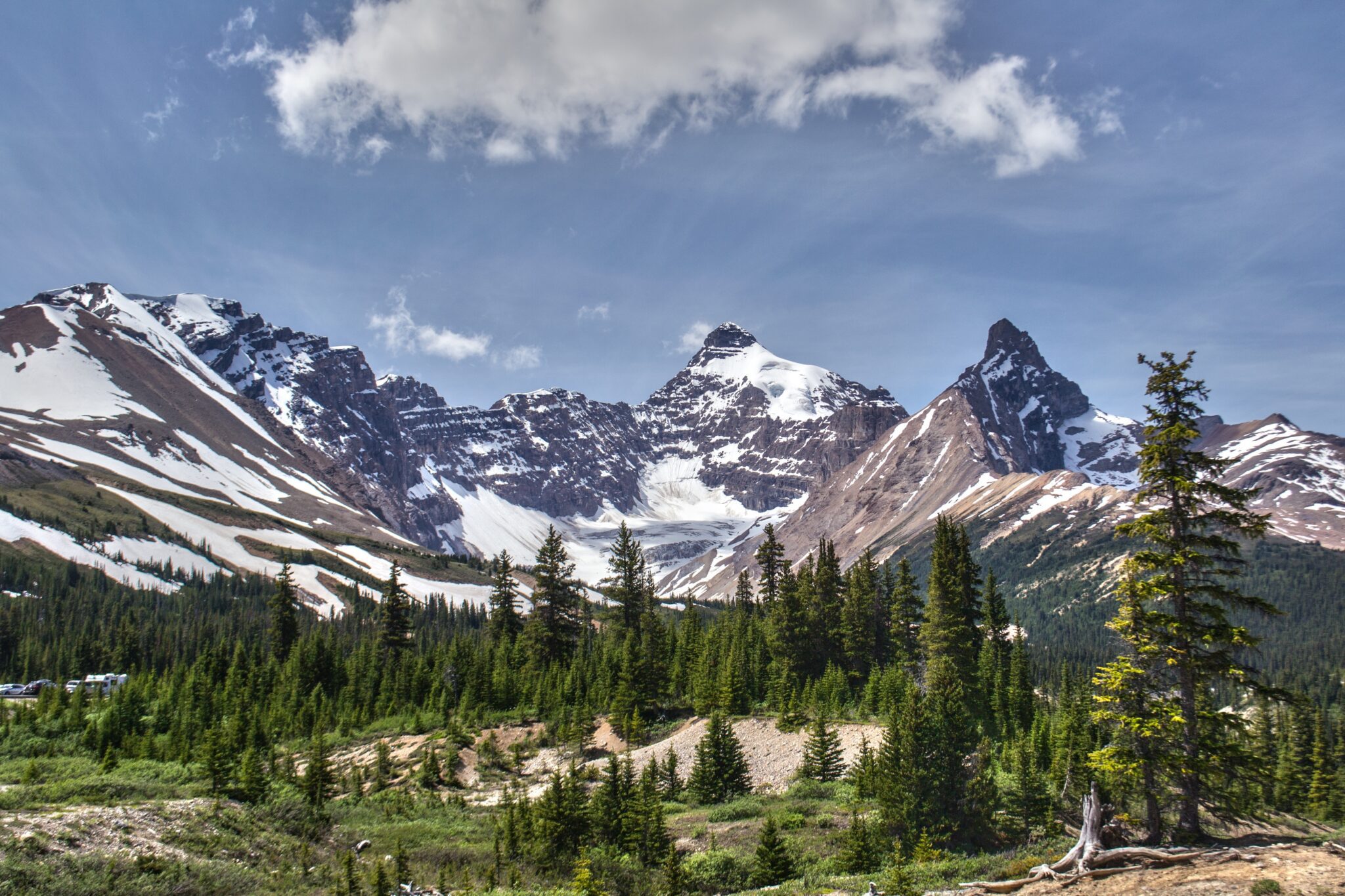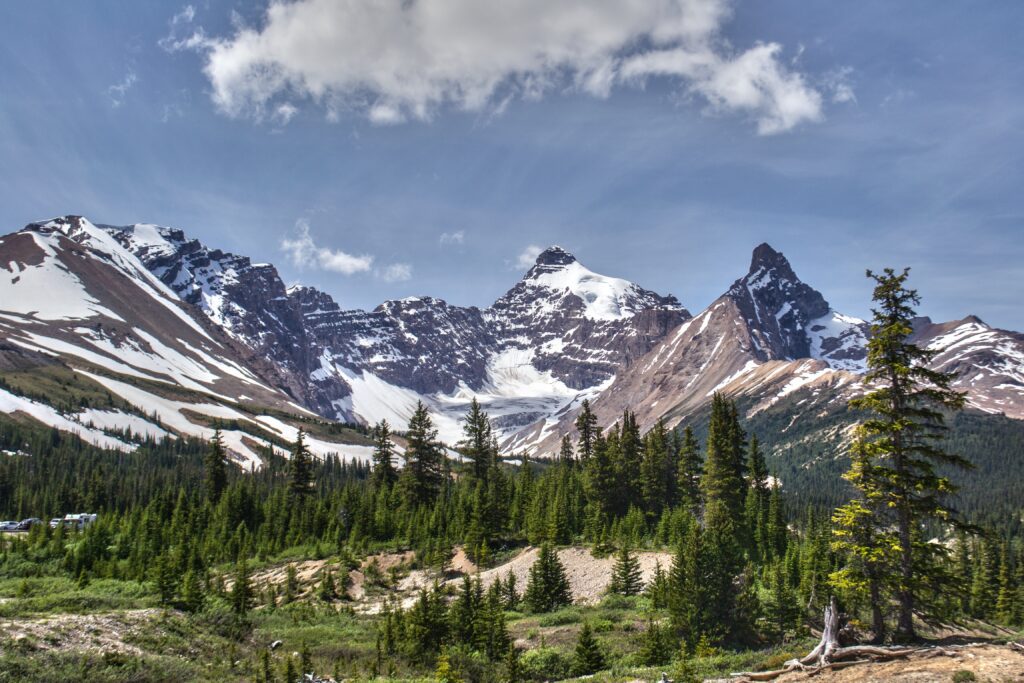 Disclaimer: Some of the links below are affiliate links, which means that if you click on one and purchase something, I make a small portion of the sale at no additional cost to you. It goes without saying that I would never recommend something I wouldn't use or do myself.
A Quick History + Geography Overview
The town's origins date back to 1883, and the discovery of natural hot springs by three railway workers during the construction of the Canadian Pacific Railway.
In 1885 the Canadian government set aside 10 square miles (26 sq km) around the springs as Canada's first national park and tourism in this part of the world began. The town was named after Banff in Aberdeenshire, Scotland, the birthplace of two of the railway company's directors.
Today, it has a population of around 8,000 people, but on a typical summer day, the visitor adjusted figure is something like 43,000. More than 4 million people visit Banff National Park every year, and most of them at make a stop in the town.
The park itself now covers 2,564 square miles (6,641 sq km) and is one of four that make up the Canadian Rocky Mountain Parks UNESCO World Heritage Site. The town of Banff, at an elevation of 4,537 feet (1,383 m) is the highest in Canada.
What is Best Time to Visit Banff for Hiking?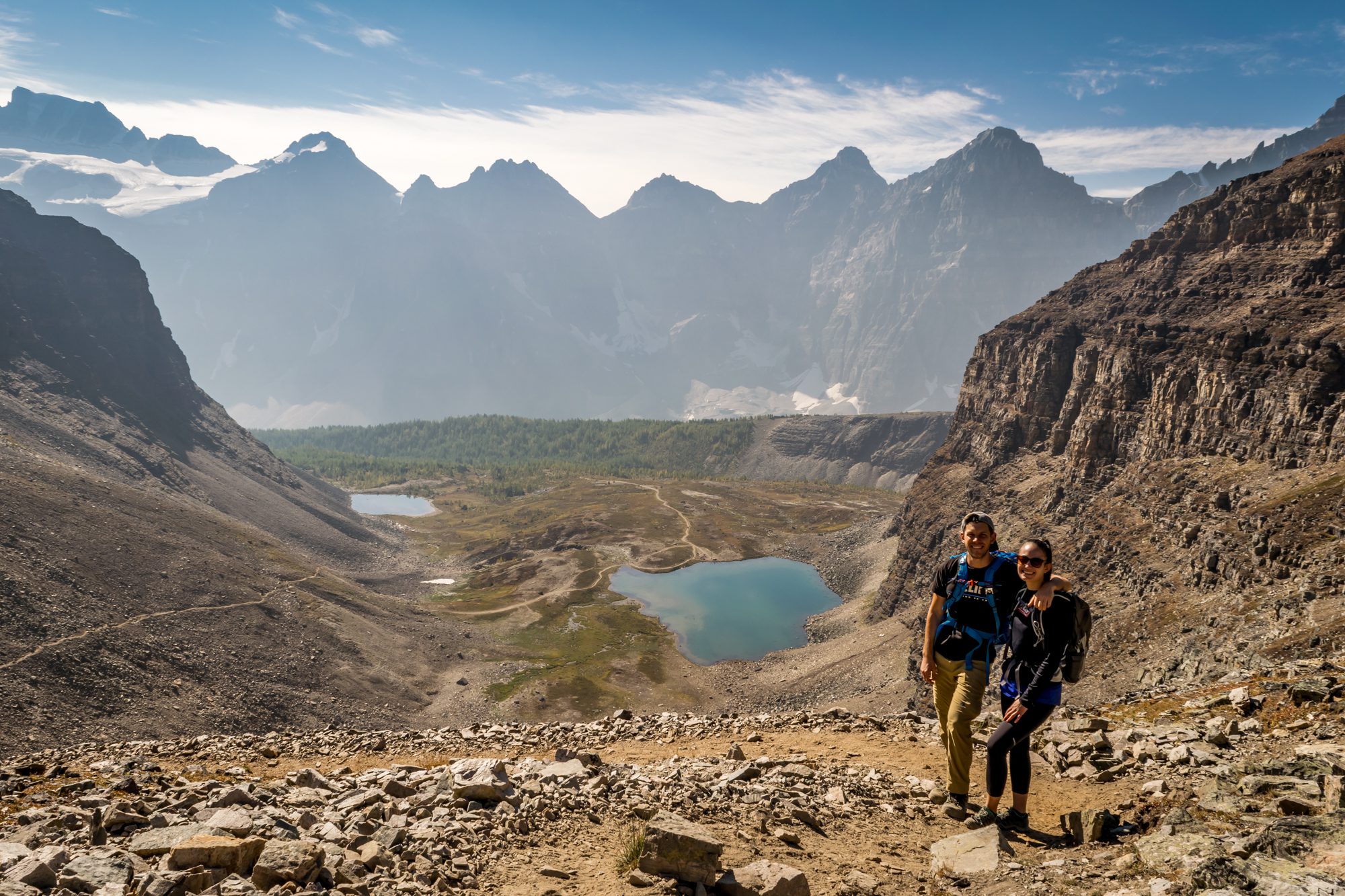 Unless you want snow, the best time to visit Banff is late June to mid-September. If hiking, mountain biking, and wildlife are your thing, then these months have the warmest, sunniest weather. Don't forget the altitude factor, there's often snow at Lake Louise in May.
Unfortunately, this is also the busiest and most expensive time to visit Banff. If you need to economize, then maybe plan to come in a shoulder season, say mid-September through mid-October or early June when hotel prices drop and there are fewer tourists.
We were in Banff in mid-September, and while it was still busy, it was not overwhelming in the way it is in July and August. Early fall also brings some nice color in the changing larches, and maybe even a dusting of snow.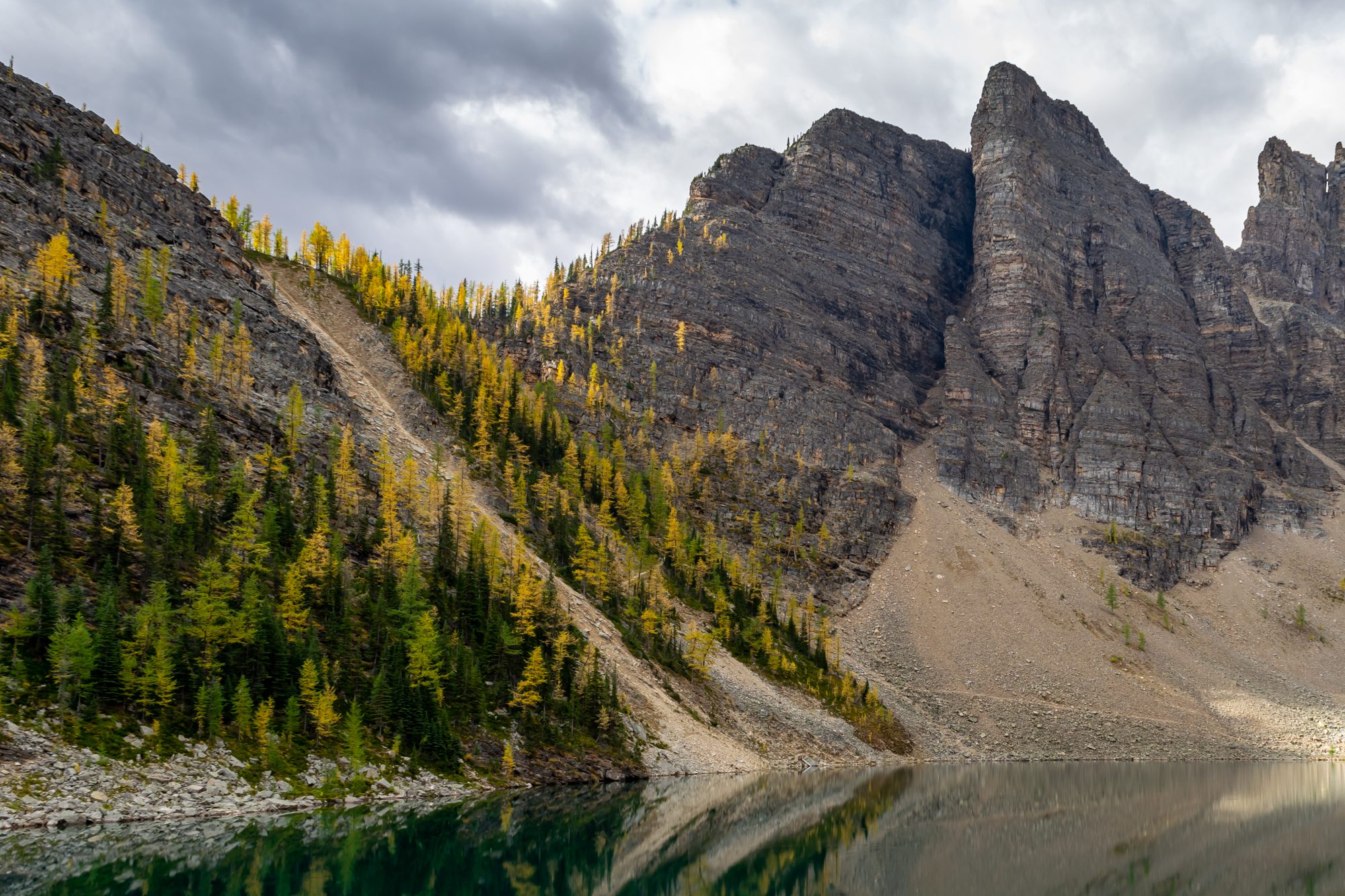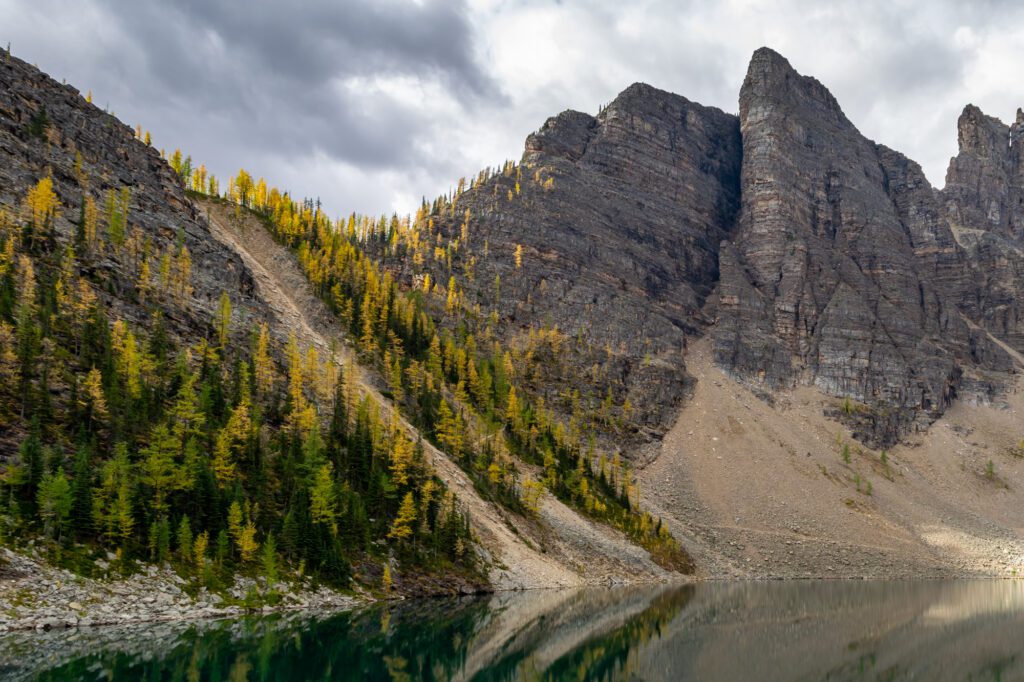 Where to Stay in Banff
If you're looking for a deep dive, you should head over to my complete guide on where to Stay in Banff. 
Given the distance between the town of Banff and Lake Louise, I'd recommend spending the first night in the town of Banff (or Canmore, more on that in a second), and the last two nights out at Lake Louise to put you in prime position to catch sunrise at Moraine Lake on the third day, which was a highlight for us.
Staying in Banff vs. Canmore
Let's talk about staying in Banff vs. nearby Canmore for a second. We stayed in Canmore (at this Airbnb) on our trip, and I would 100% recommend it. It's a real town where real life people live, unlike Banff which is built for tourists.
The result? A more affordable and charming place to stay. It's about a 15 minute drive into Banff, which makes it plenty close for what you'll be doing in town. Plus, there's some incredible hikes, places to eat (Communitea!), and more to do in Canmore itself.
If you're looking for a hotel in Canmore, look no further than the stylish Lamphouse Hotel.
Staying in Banff is going to be more expensive, but it'll put you RIGHT in the middle of the action. In Banff, two of the top-rated hotels are the Moose Hotel and the Juniper Hotel.
Staying In Lake Louise
When you make your way to Lake Louise, stay at the Paradise Lodge and Bungalows, which is where we stayed and is definitely the best combination of "niceness" and value.
Another solid option near Lake Louise is Baker Creek Mountain Resort, which we visited for dinner and looks SUPER nice. They have rustic cabins – perfect for a romantic getaway – with kitchenettes, and are only 15 minutes away from the action in Lake Louise.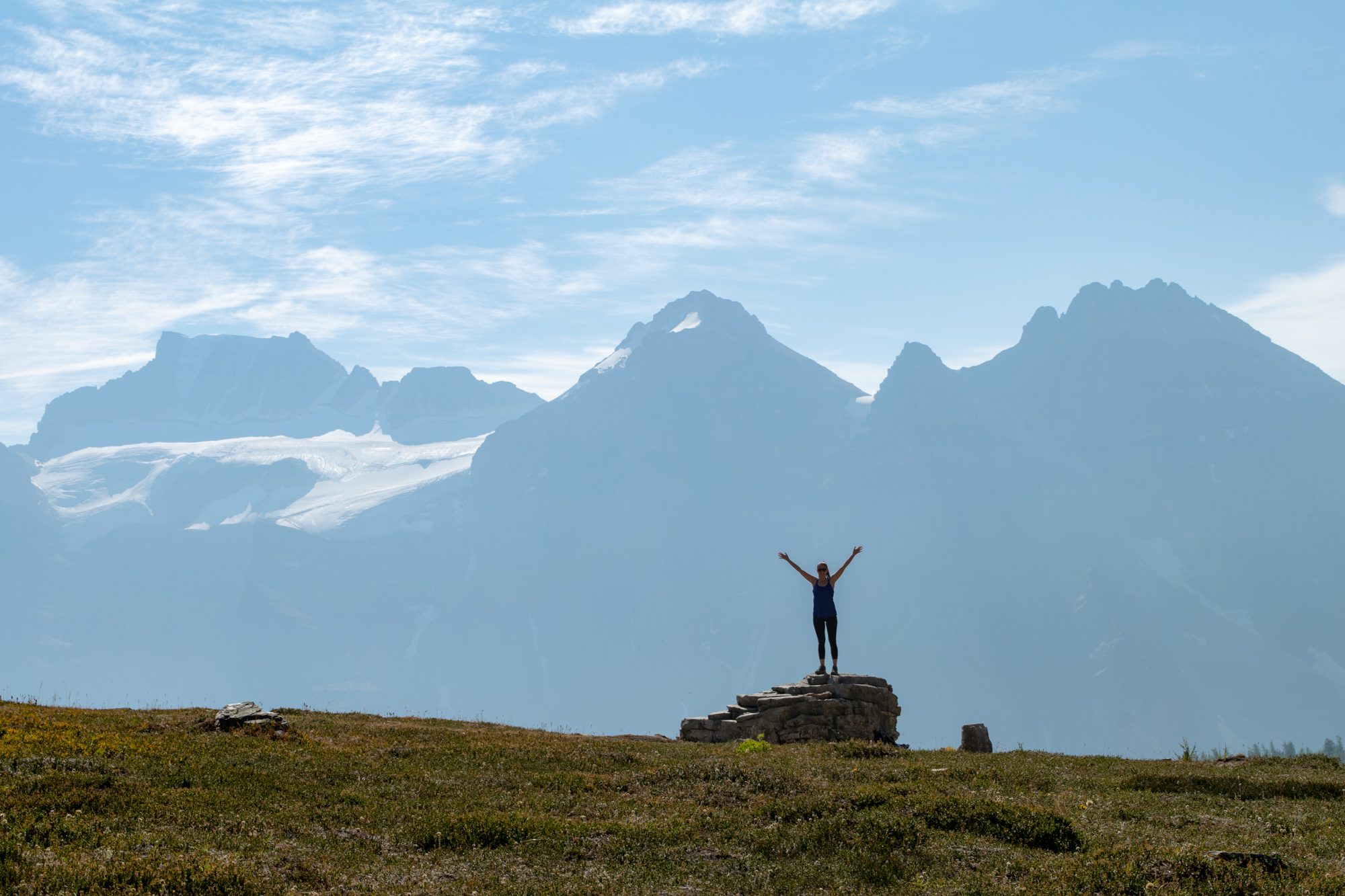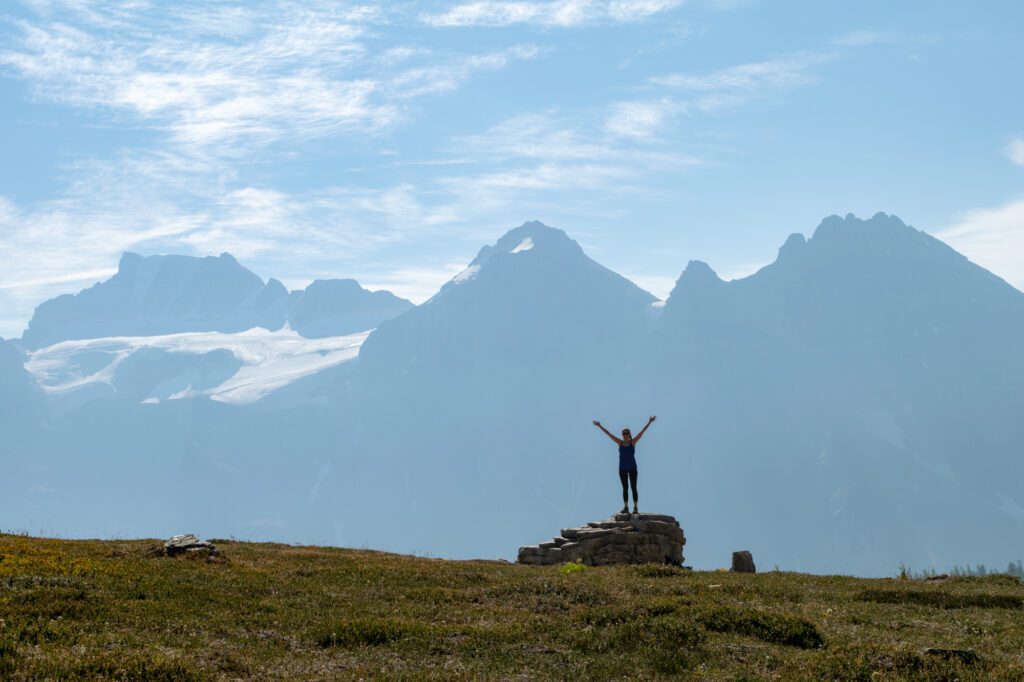 How to Get to Banff & Getting Around
Unless you're really fond of long road trips, flying, either to Calgary or Vancouver, is the way to go. From the airport, hire a car and drive up into the Rockies – it's the easiest way and offers spectacular views, especially if you're lucky enough to fly on a clear day.
Calgary International Airport is definitely the best option, as it's only about an hour and a half from Banff. On the other hand, the airport at Vancouver is a hefty nine-hour drive, but, hey, it's a pretty scenic route!
Alternatively, you could take the breathtaking two-day "Rocky Mountaineer" train trip from Vancouver. The scenery on this journey is spectacular. Train travel is an alternative to driving from Calgary, too, and a shuttle runs several times daily, as do buses.
You don't necessarily HAVE to rent a car to enjoy Banff, the local public transportation system is actually pretty good, and there are plenty of hotels right in the town itself.
To get from Calgary to Banff, use On It, a convenient bus service between downtown Calgary, Canmore, and Banff.
To get around town, use Roam Transit, the local bus system. To get to Lake Louise, there's a handy shuttle service, which means you won't have to deal with parking.
I'd still recommend renting a car, which gives you the flexibility of traveling on your own schedule. Fitting your plans to a bus timetable may not be the best solution, particularly if you're only going to be there for three days. Plus, it'll be tough to get to the further-out destinations and trailheads without a car.
Now that we're clear on when to visit Banff and how to get there, let's get to my version of an ideal three day Banff itinerary that will give you the full flavor of this magical place: the fabulous views, the invigorating hikes, and the wonderful food.
Be warned, you're going to have to get up early to beat the crowds.
A Complete Guide to Spending 3 Days in Banff
Now, onto the full Banff itinerary with all the information you'll need to plan a perfect trip.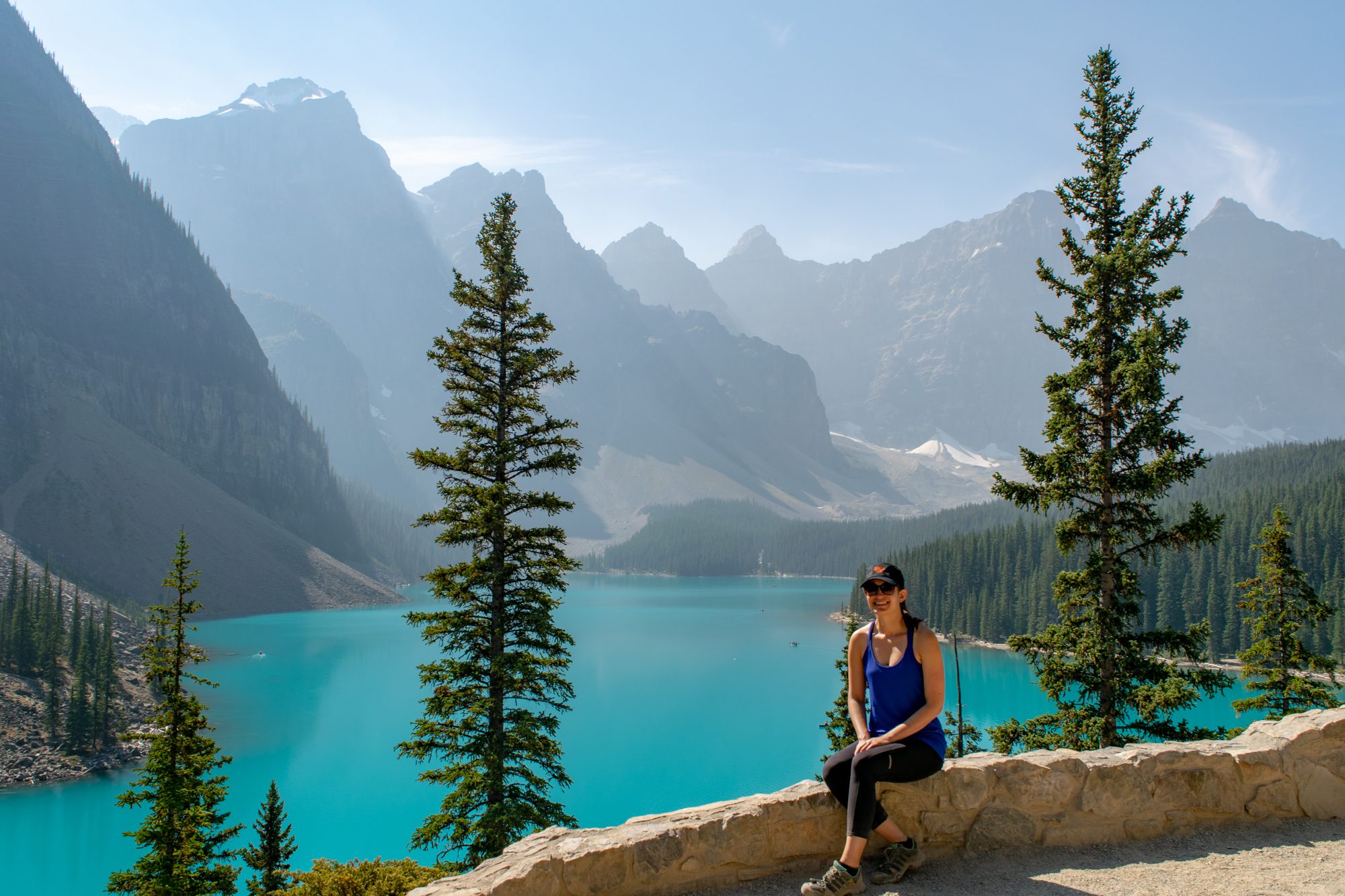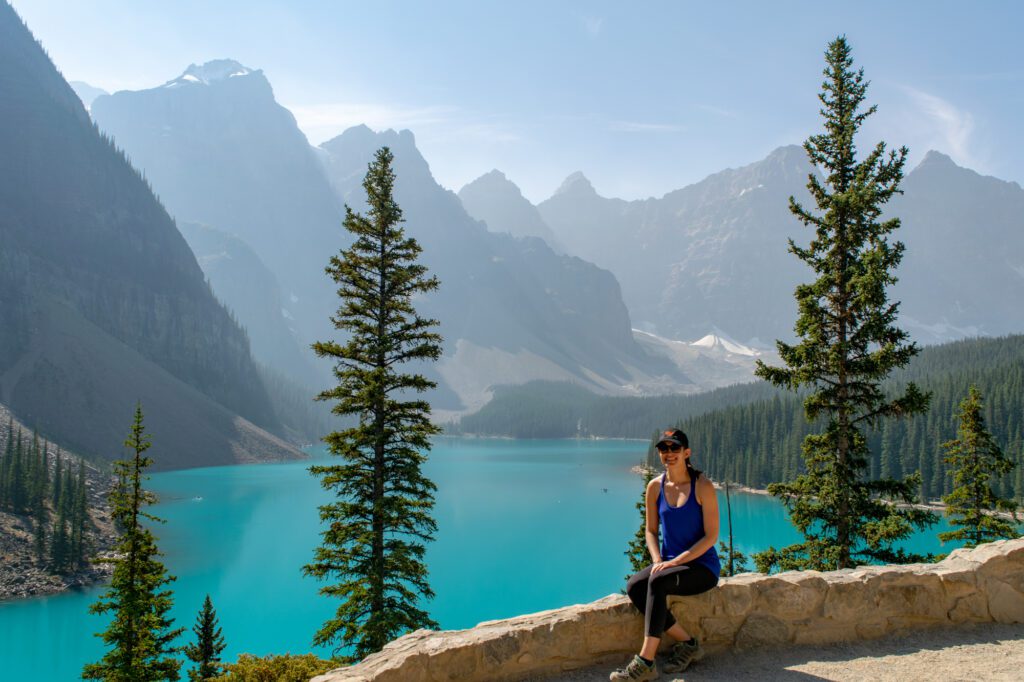 Day 1: Downtown Banff
Spend your first day exploring the town of Banff and the surrounding area. If you're looking to start your day with the best coffee in Banff, look at Whitebark Cafe or Little Wild Coffee.
Morning: Sunrise at Lake Minnewanka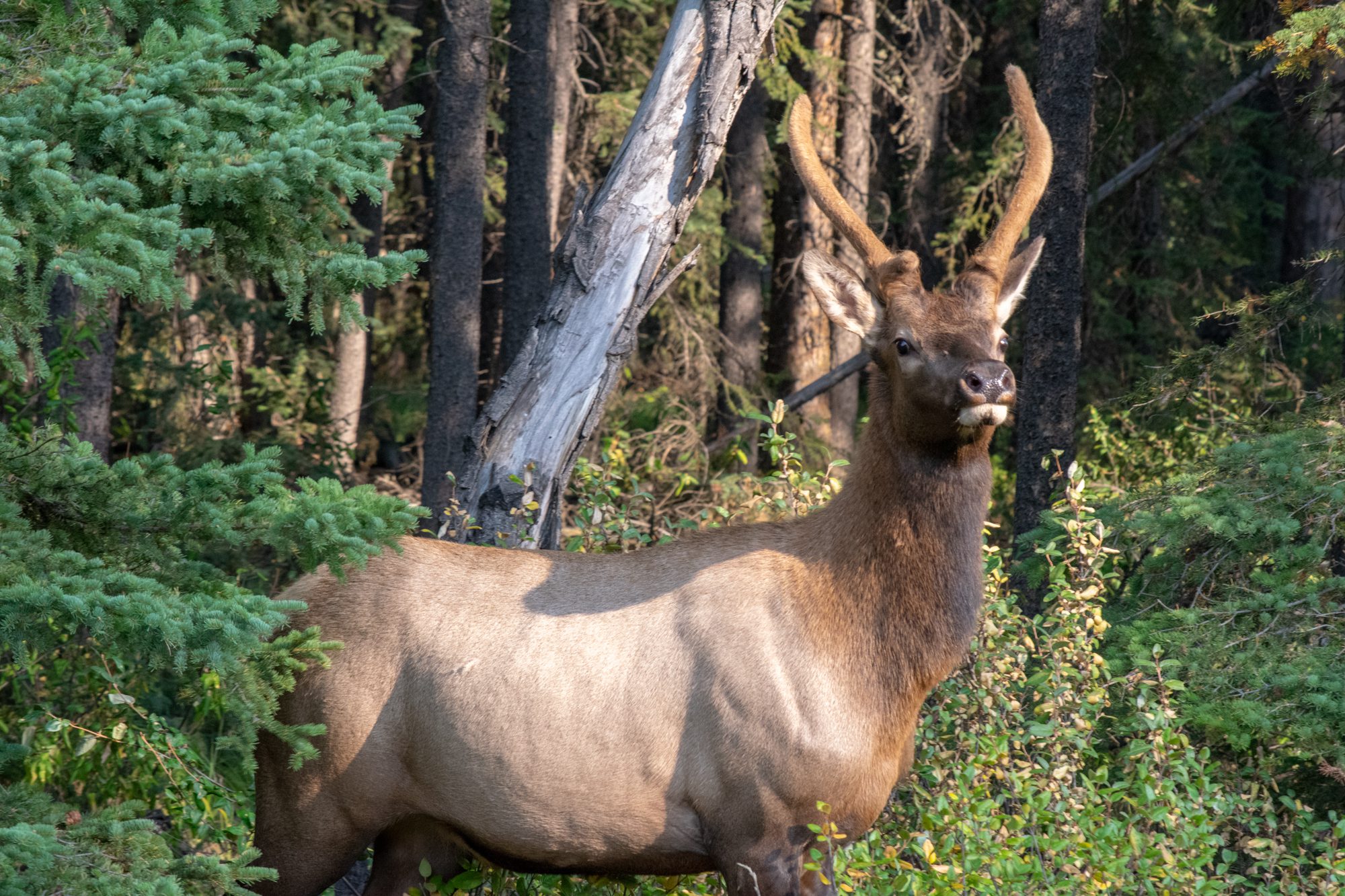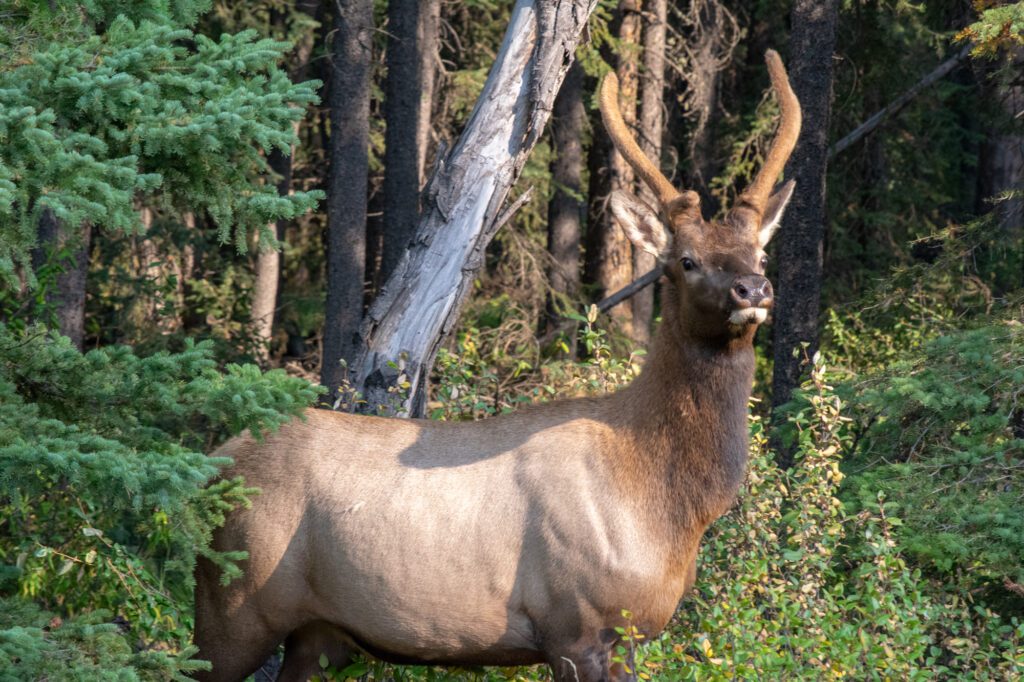 In July, sunrise is around 5:45 am. Is the early start worth it? You bet it is! Seeing the sunrise over the lake is a truly magical experience, and such an incredible way to start your day. I don't think it's actually possible to have a bad day after watching a spectacular sunrise.
Lake Minnewanka is only about four miles from Banff, so you don't have far to go. Then, take the 15-mile drive around the loop to get the most of the early morning scenery, and keep an eye out for wildlife! On our last trip, the elk and bighorn sheep were the standouts.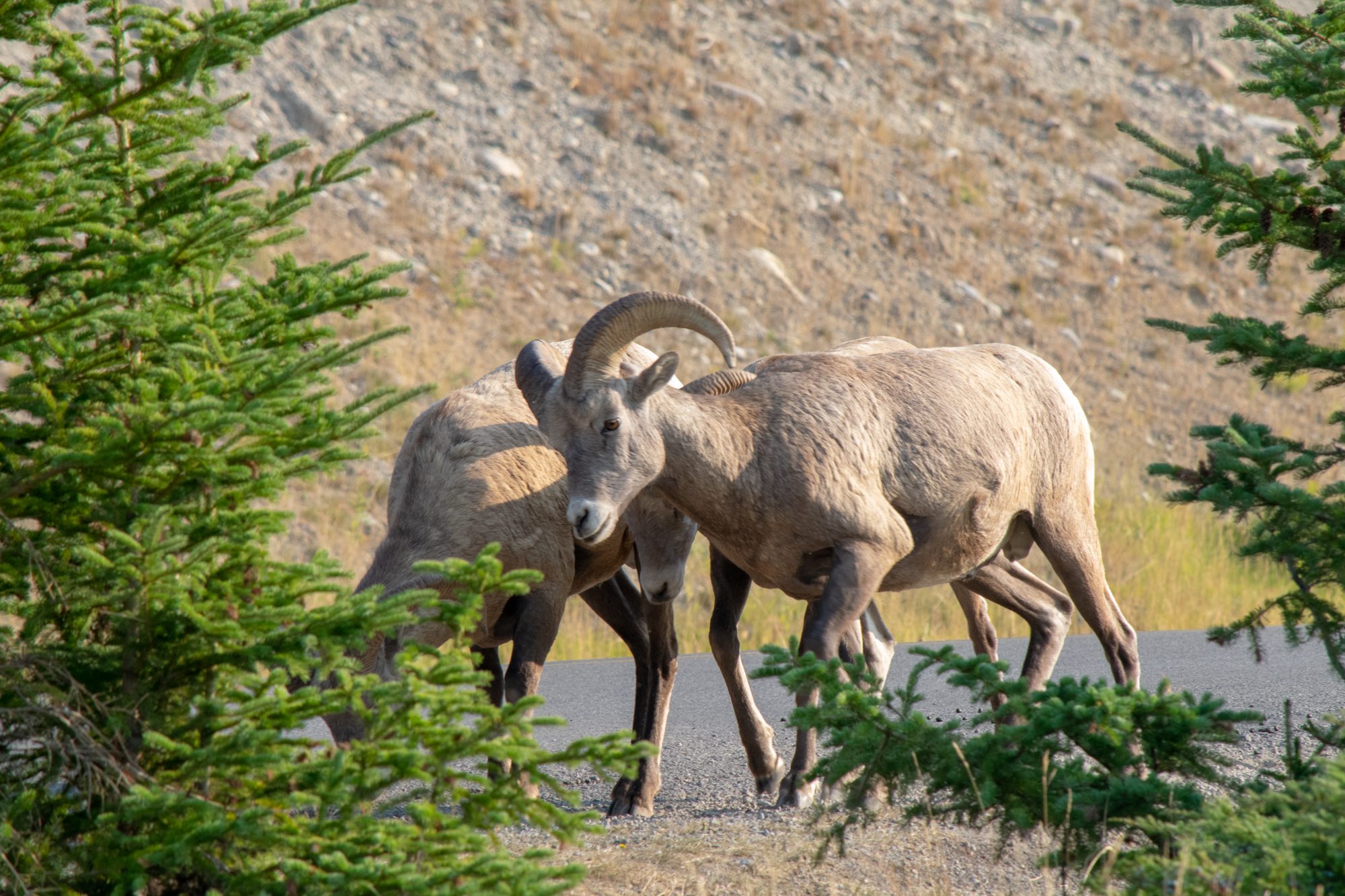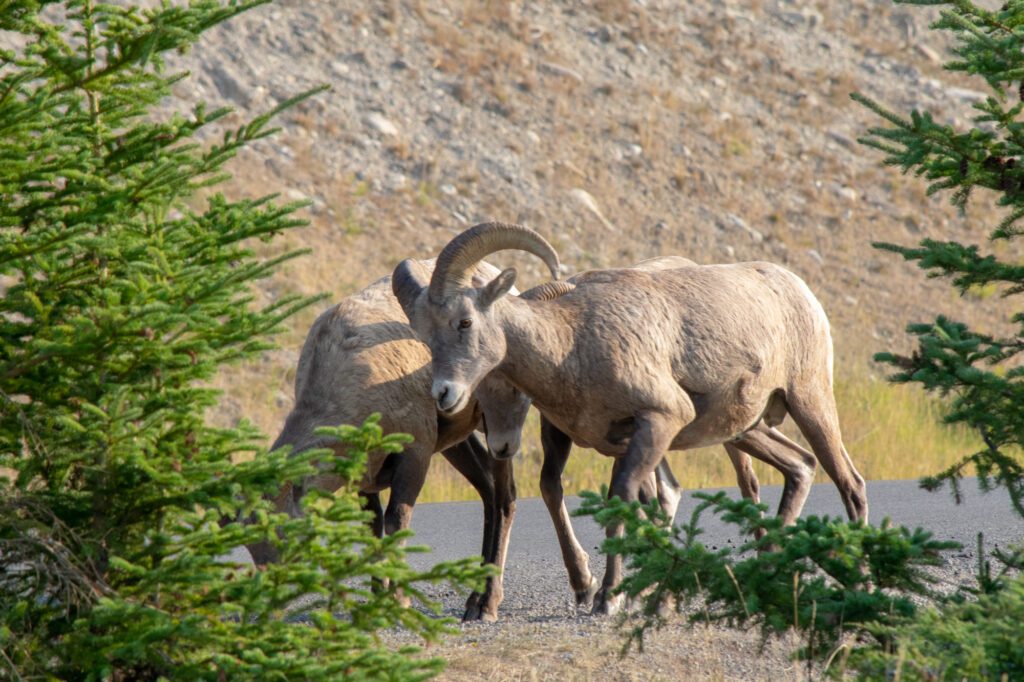 A 15-mile drive might not take very long, but I guarantee you'll want to get out and look at the scenery at least a few times. Be sure to experience the tranquility of Cascade Ponds and, of course, the majesty of Lake Minewanka itself. If possible, Two Jack Lake is even more breathtaking, and Johnson Lake is also a must-see. The views of the mountains, particularly the towering Mount Rundle, are truly spectacular.
Next Stop: Sulphur Mountain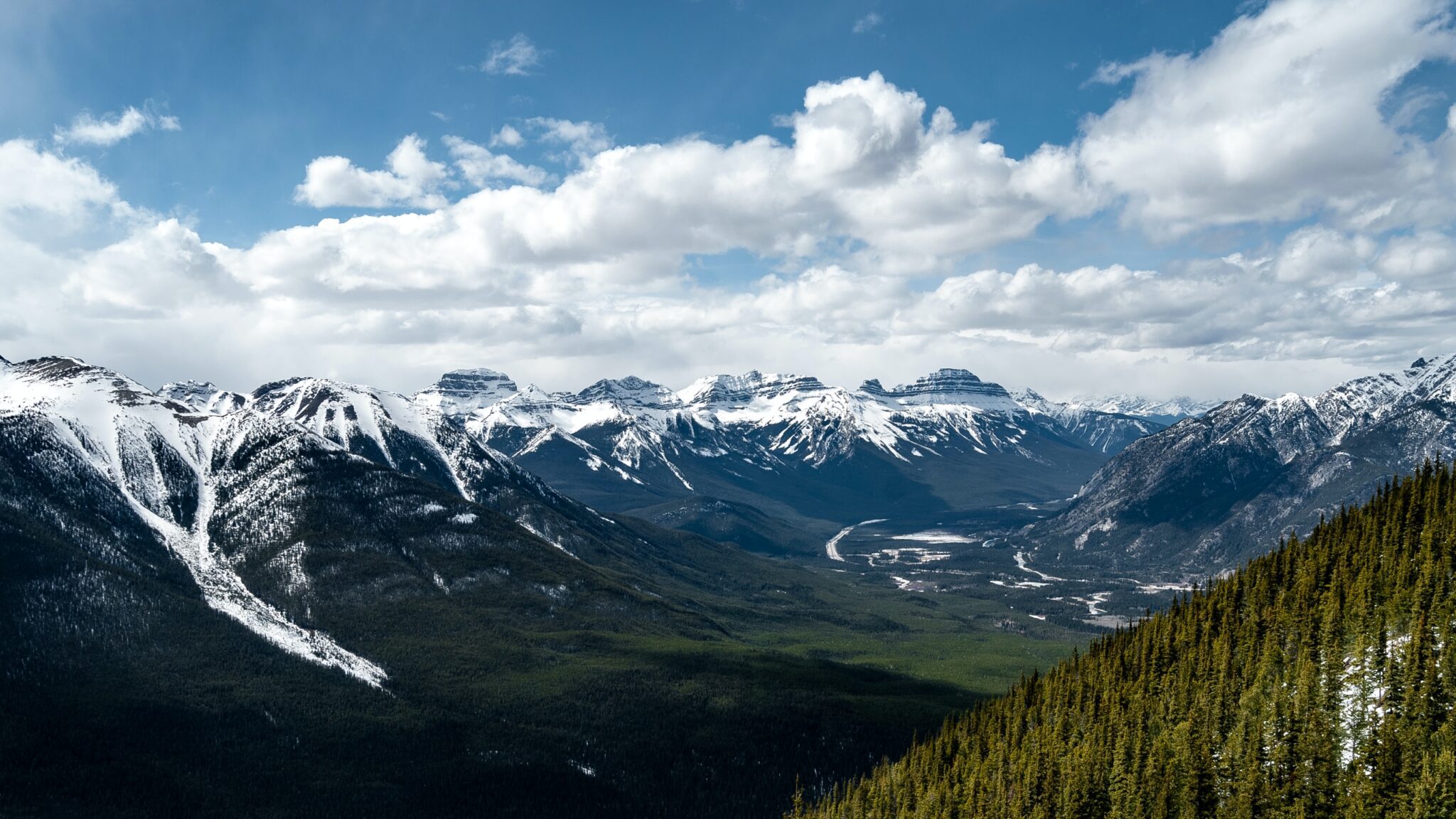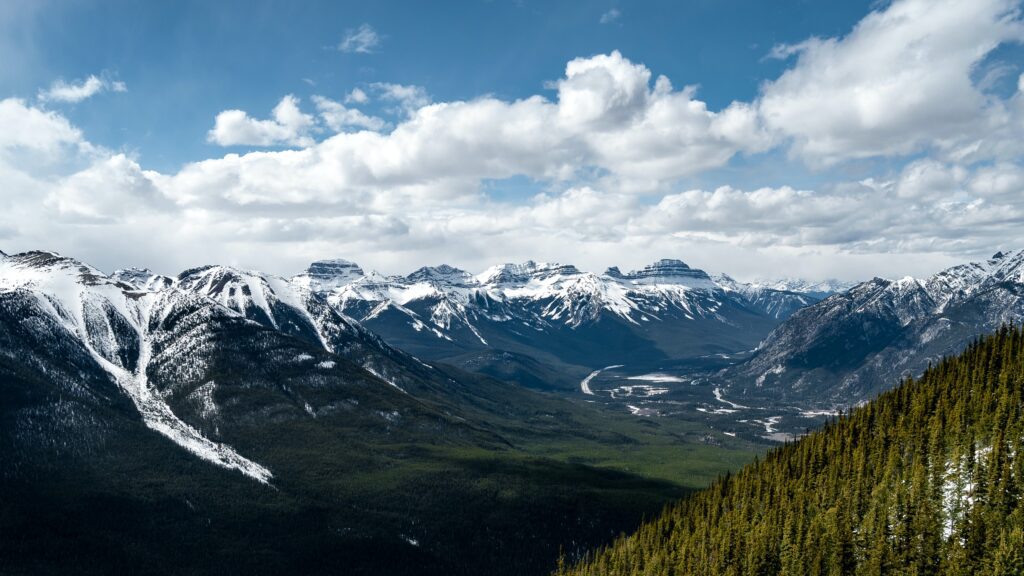 You'll be ready for some hiking after the Lake Minnewanka experience, and the climb to the top of Sulphur Mountain is a moderate hike, even though you reach a height of 7,500 feet above sea level.
The views of the Bow Valley are jaw-dropping, and you can continue on the half-mile boardwalk to Cosmic Ray Station and Sanson's Peak and take the eight-minute gondola ride down if your legs are getting a little tired. Or, take the gondola up and walk down if the hike seems too ambitious for you. Either way, being suspended over the Rockies is an experience you'll likely never forget.
Don't miss the hot springs near the parking lot for the gondola before you leave. You can also visit the Cave and Basin National Historic Site, where the original hot springs discovered by the railway workers are preserved, though you are no longer allowed to bathe.
I have a couple of suggestions for lunch.
Lunchtime in Banff
You're going to want to head back to Banff to eat, and you've got tons of options. I'd choose the Park Distillery for my midday meal. Whether you want a simple salad or something more substantial, they will be able to satisfy you in a room full of charm and offering great views. And they have an excellent veggie menu, amazing cocktails, and gluten free beer too!
Gluten free friends: When we were there and when I put my guide to Gluten Free Banff together, they had a clearly marked menu AND a dedicated gluten free fryer. Make sure to double check, as things change all the time.
If you have the chance, the distillery tour is another must. Using water that started life in the glaciers and locally grown grains, they make amazing vodka and gin plus other spirits and are right now experimenting with whiskey.
Afternoon: Coffee and a Stroll Along the River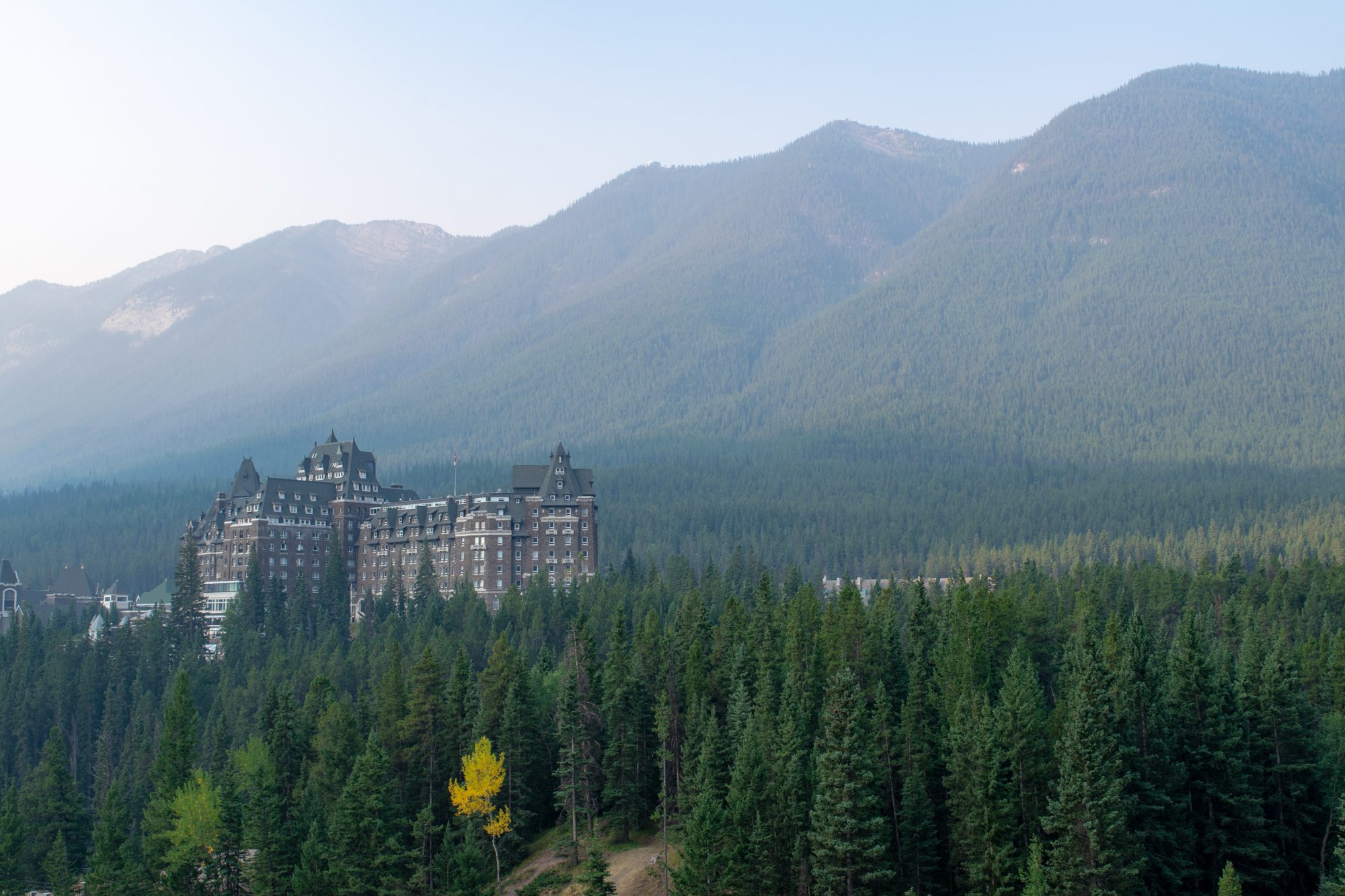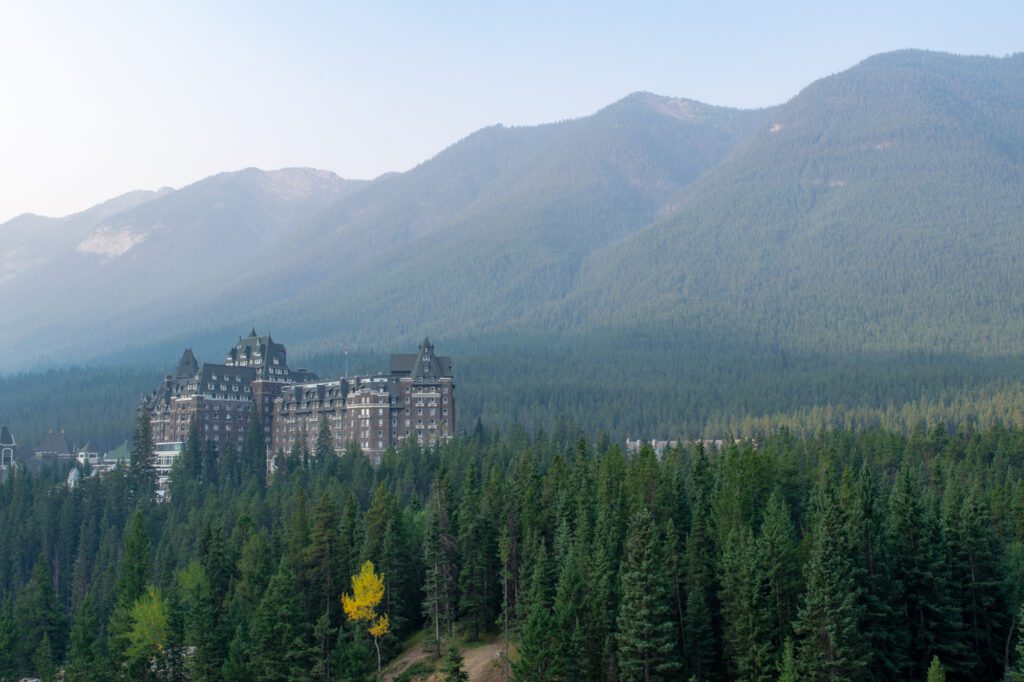 After the morning of exercise, grab a coffee to get ready for the afternoon itinerary.
Whitebark Cafe on Banff Avenue has the best coffee in Banff with a wide range of coffees and teas in bright, friendly surroundings.
They source their tea from the Banff Tea Company, as do most cafes and restaurants in the surrounding area, so if you're a tea fan head over. The company has more than 40 exclusive blends and is open every day. Definitely get the cream of Earl Grey, which is Alysha's favorite.
It's an easy, short walk from downtown Banff to the spectacular Bow Falls. The falls have often appeared in movies.
While you're there, head up the hill to check out the gorgeous Fairmont Banff Springs. It's a beautiful luxury hotel with 757 guest rooms and suites. It was opened in 1888, the vision of William Cornelius Van Horne, and is well worth a visit. You COULD stay there, but it might break your budget.
Surprise Corner is also worth a visit. It's across the river, so the easiest way to get there is to hop back in your car once you make it back to Banff and make a quick detour to the viewpoint.
If you like ice cream (doesn't everyone?), make your way to COWS Ice Cream on Banff Avenue for an unbelievable selection. They have literally something for everyone, so don't be surprised if it takes you 10 minutes to pick your flavors!
Evening: Time for Dinner
Here are my two choices for dinner on day 1 of this 3 day Banff itinerary.
Juniper Bistro is the complete deal. It offers modern Canadian cuisine made from sustainable, regional produce to the highest standards. It has won awards for its menus, service, and most romantic place to eat.
Eddie Burger & Bar is situated right in the middle of Banff and is a beef specialist using hormone-free, humanely-raised Alberta beef. For Celiacs like myself, they understand our requirements and offer a plant-based, vegan cheese, and a gluten-free bun to go with their famous burgers. HOWEVER, they DO NOT have a dedicated fryer, so avoid the fries due to cross-contamination.
Psst! If you're gluten free, check out my Gluten-Free Banff Restaurant Guide
Day 2: The Best of Banff
Okay, to make this work, you're gonna have to do a bit of organization today, but it's totally worth it.
You'll need to check out of your accommodation in Banff on the second morning and check into your place in Lake Louise that evening. That puts you in prime position for sunrise at Moraine Lake on the third morning, and you're not going to want to miss that!
Somewhere between sunrise and your morning hike, pack all of your stuff into the car to take with you on the way to Lake Louise.
Morning: Vermillion Lakes at Daybreak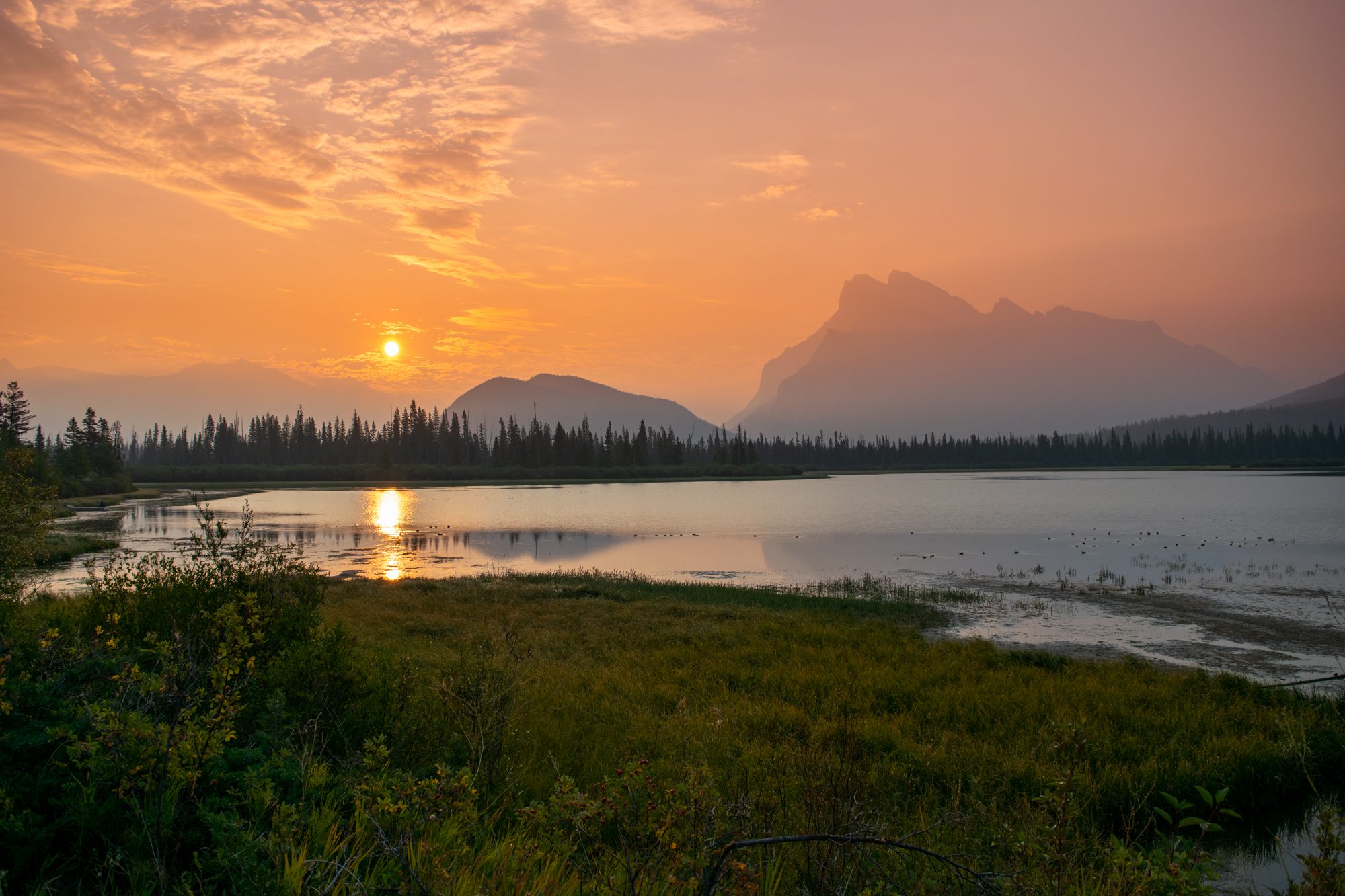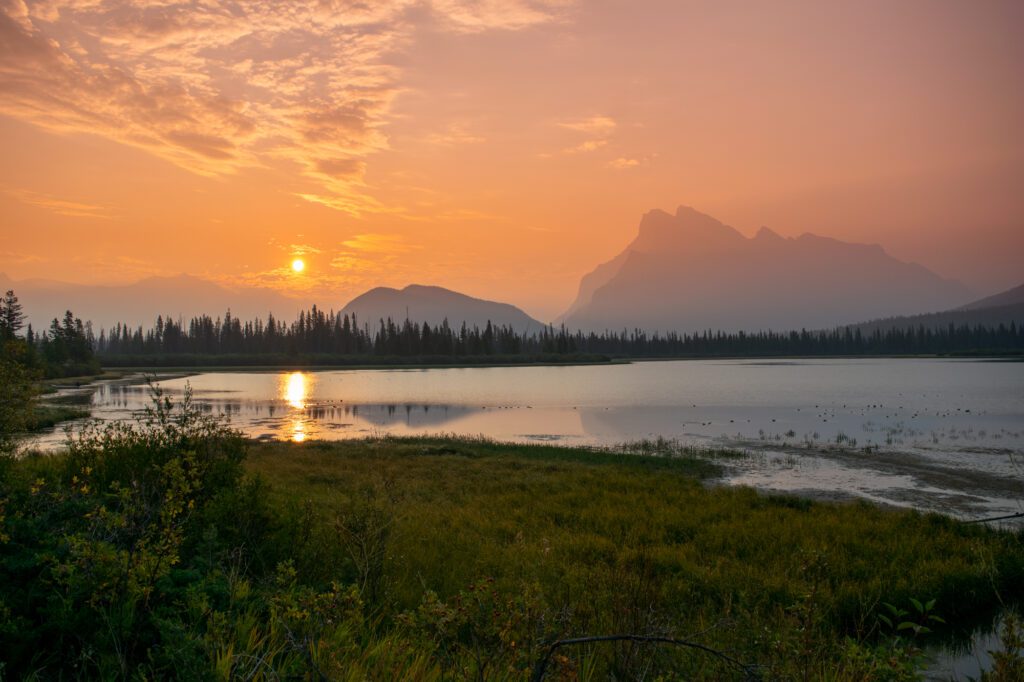 Another early start that's totally worth it is Vermillion Lakes. You are rewarded with superb views of Mount Rundle and Sulphur Mountain and an experience that will live with you forever. Vermillion Lake should definitely be part of your Banff National Park itinerary even if you can't make it at sunrise, but sunrise is gorgeous and gives you the best chance to see all sorts of wildlife – even moose! Put On Your Hiking Boots
Johnston Canyon is around 15 miles away, and you want to get there pretty early as the parking is limited, and the walk can get crowded because it's so popular. The trek from Johnston Canyon to the Ink Pots is a 7.2-mile round trip, and you won't want to miss either the waterfalls in the canyon or the collection of seven cold-water mineral springs called the Ink Pots.
Most people only walk as far as the Upper Falls, so the hike to the inkpots will be far less crowded.
Afternoon: Road Trip on the Icefields Parkway!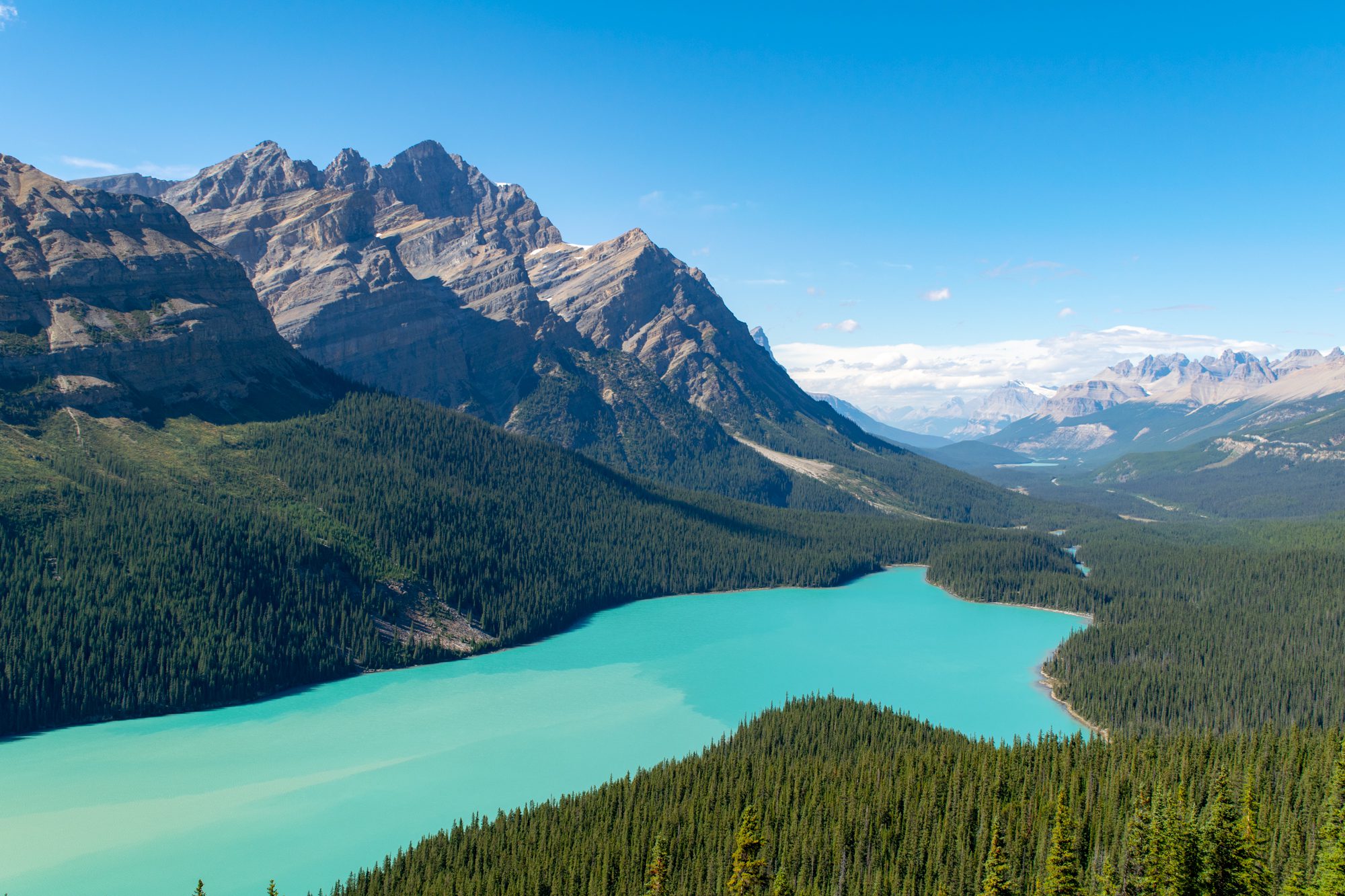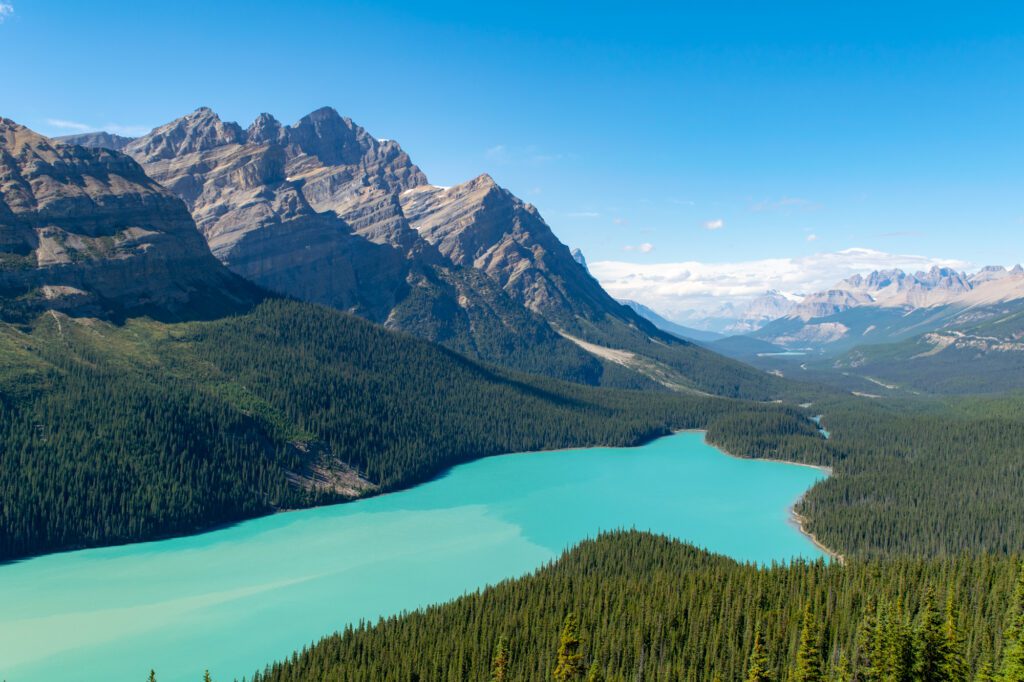 On the second afternoon, drive the Icefields Parkway to the Columbia Icefields Discovery Center.
This route is one of the most scenic, most beautiful drives on earth, period. It's 144 miles (232 km) of spectacular scenery with the Canadian Rockies looking their best. It is truly unforgettable, a life-affirming journey through stunning wilderness.
We did it twice – the first time, it was smoky from the nearby wildfires and we literally could not see the mountains as we carved our way through them. Then it rained, and on the way back we were blown away by all that we had missed the first time.
A few of the highlights:
Bow Lake: You'll love its aquamarine water reflecting Bow Summit.


Peyto Lake Viewpoint: Just a stunning view, and a great little hike if you have the time.


Parker Ridge Viewpoint: Arguably one of the best panoramas on the planet.


Glacier Walk at Athabasca Glacier: Get up close and personal with a glacier.


The Columbia Icefields Discovery Center: Find out all about glaciers, how they came to be formed, and how climate change is impacting them. You can also get a shuttle to the famed Glacier Skywalk and the unique viewing experience it offers – for those with a good head for heights only. You have been warned. You can also get lunch at the Discovery Center at the Glacier View Lodge.
Evening: Arriving at Lake Louise
From there you need to retrace your steps, check-in at Lake Louise, and relax.
The area surrounding Lake Louise is awe-inspiring and the color of the lake is unlike anything you've ever seen before in your life. At least it was for me.
For food, you could try the Whitehorn Bistro, Station Restaurant, the Fairview Dining Room, or one of the many other options nearby.
For gluten free folks, the Fairview Dining Room (and any option at the Fairmont, really) is your best bet for eating out – they know their stuff, but you'll pay a premium for it.
Day 3: Turquoise Lakes Galore
If you're into the outdoors and spectacular natural beauty, you're going to love the area around Lake Louise.
Morning: Sunrise at Moraine Lake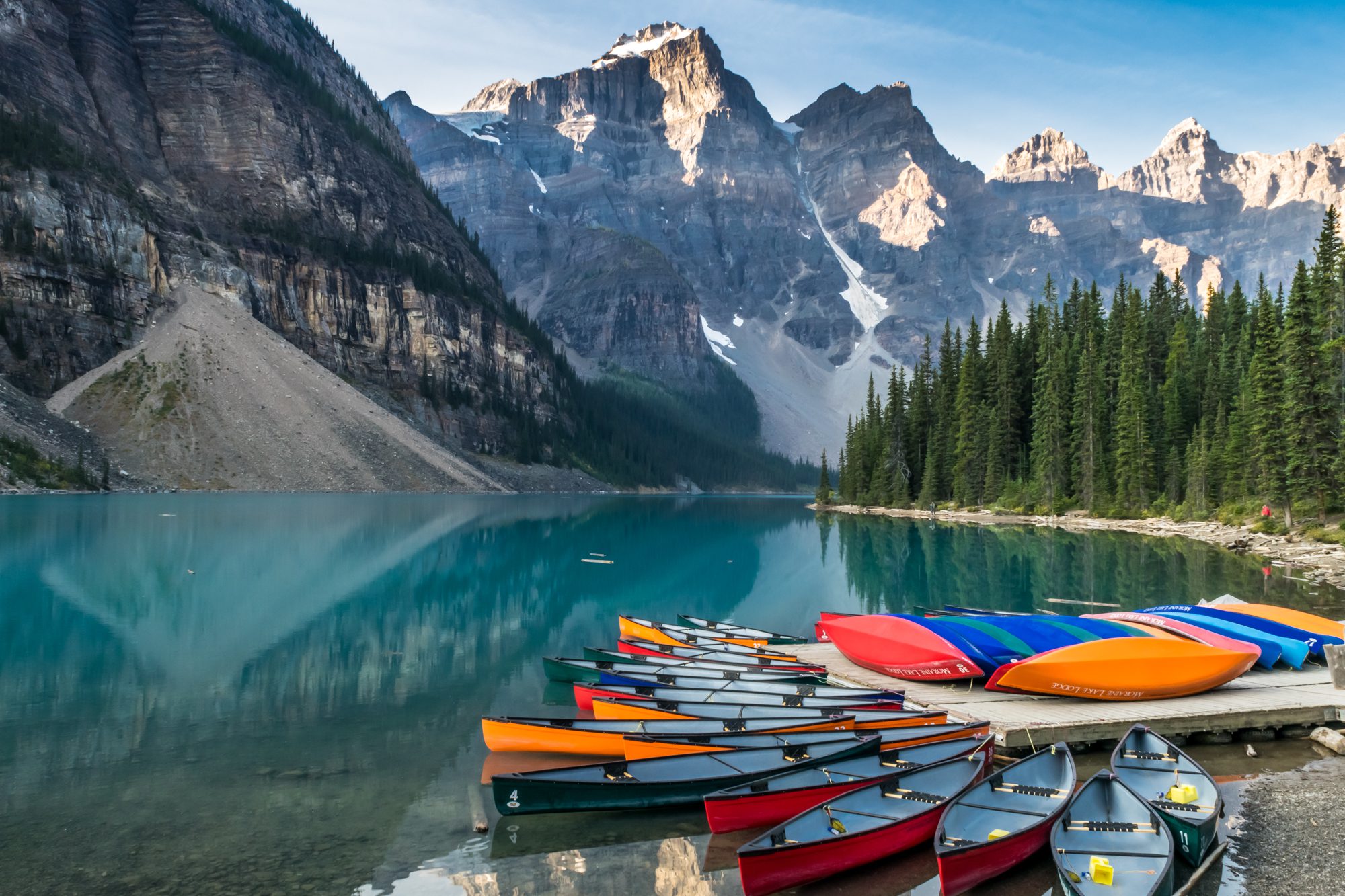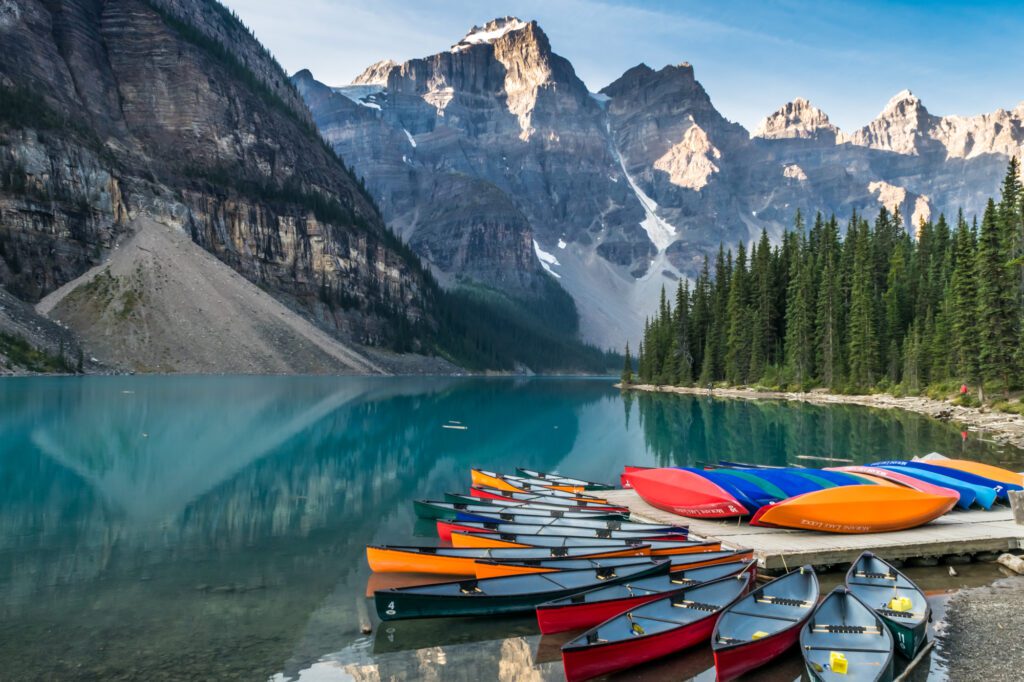 This is the reason for the relocation! You need to get in place early, at least 30 minutes before sunrise, and bring plenty of coffee!
It's about 10 miles from Lake Louise to Moraine Lake and you are in for another unforgettable experience. You may need to rest up when you get home, but it will have been the trip of a lifetime.
The best place to watch is from the rockpile at the northern end of the lake. Relax and watch the sun light up the mountains in front of you with a faint pink glow, and take in the perfect reflection in the calm waters.
A Tale of Two Teahouses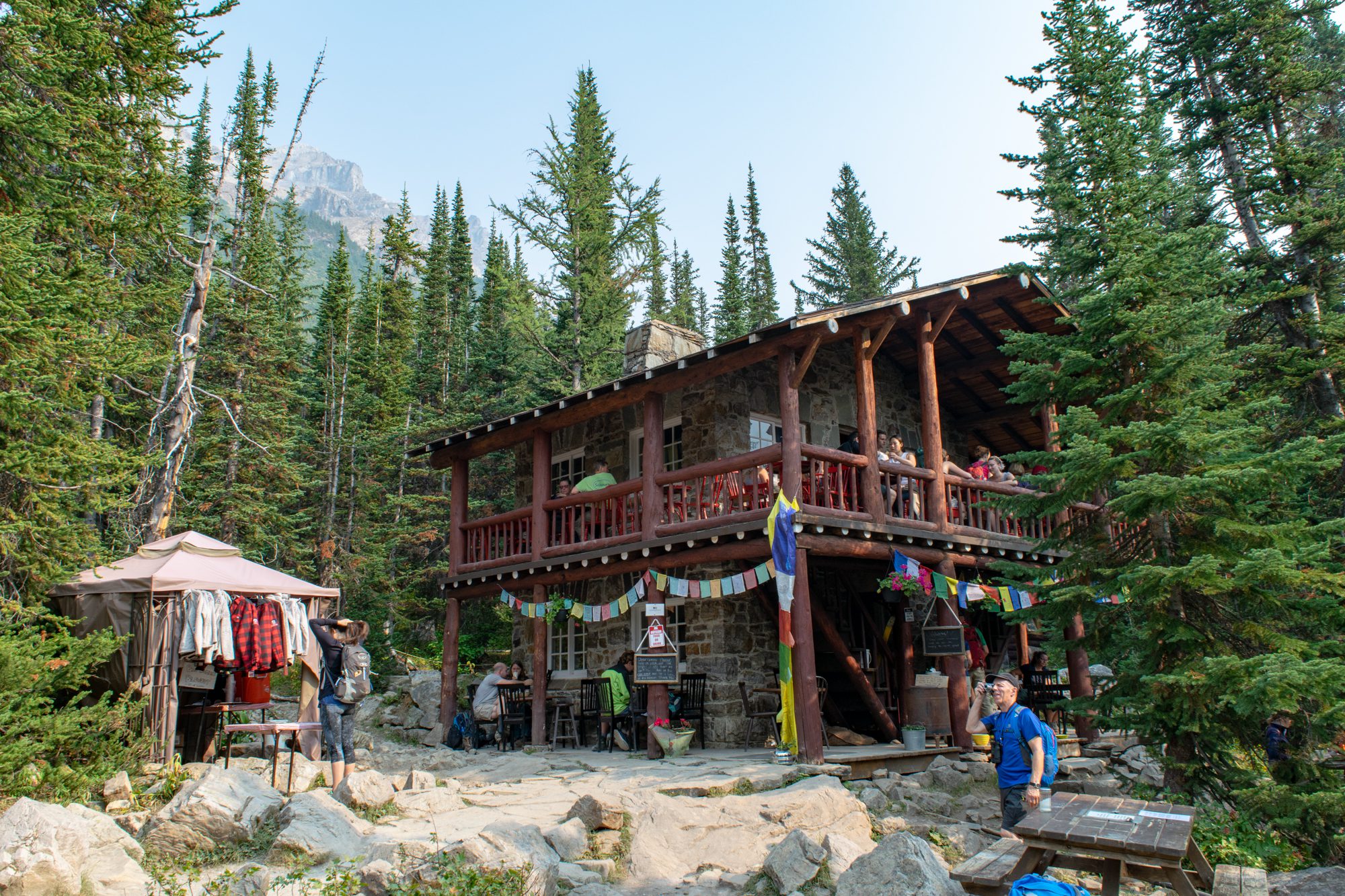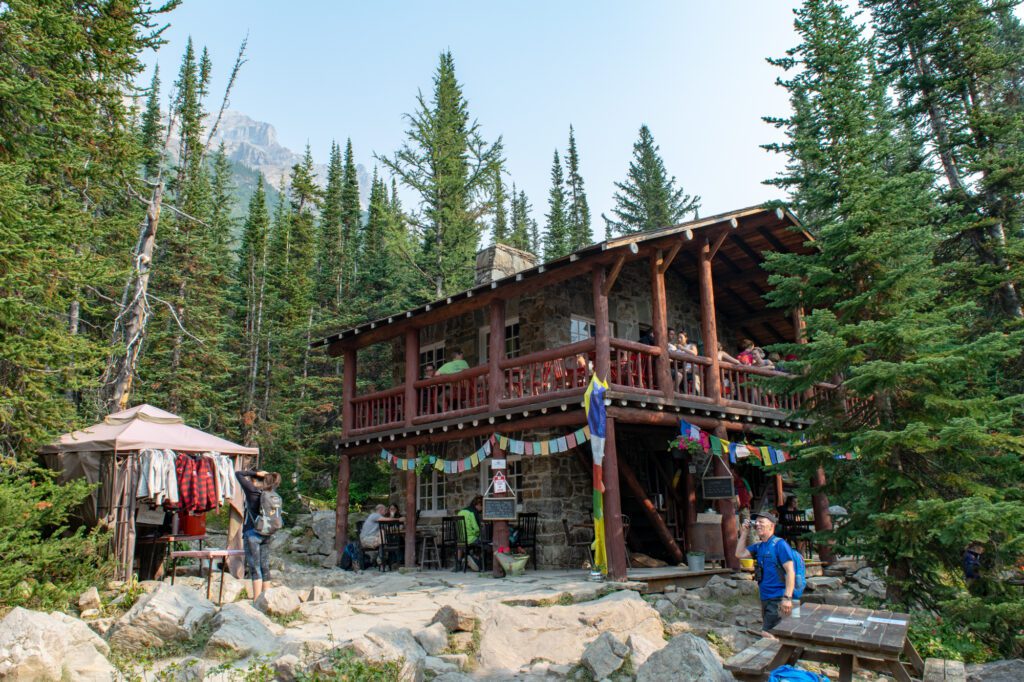 One of our favorite memories in Banff is the backcountry tea houses. There are two, and both are worth a visit. Basically, they are a small hut along a hiking trail with limited services that serve up tea and light snacks (no gluten free options, unfortunately). It's a unique experience that I've never had before.
The Plain of the Six Glaciers Teahouse is near the end of the 9 mile (round trip) hike to the Plain of the Six Glaciers, which is an incredible experience that helps give you a sense of scale of the surrounding area. The teahouse has been operated by the same family since 1959 and looks as special as the name suggests. You'll be able to get light lunches and… tea! Be warned, you'll need cash as there's no electricity and no cell phone signal either.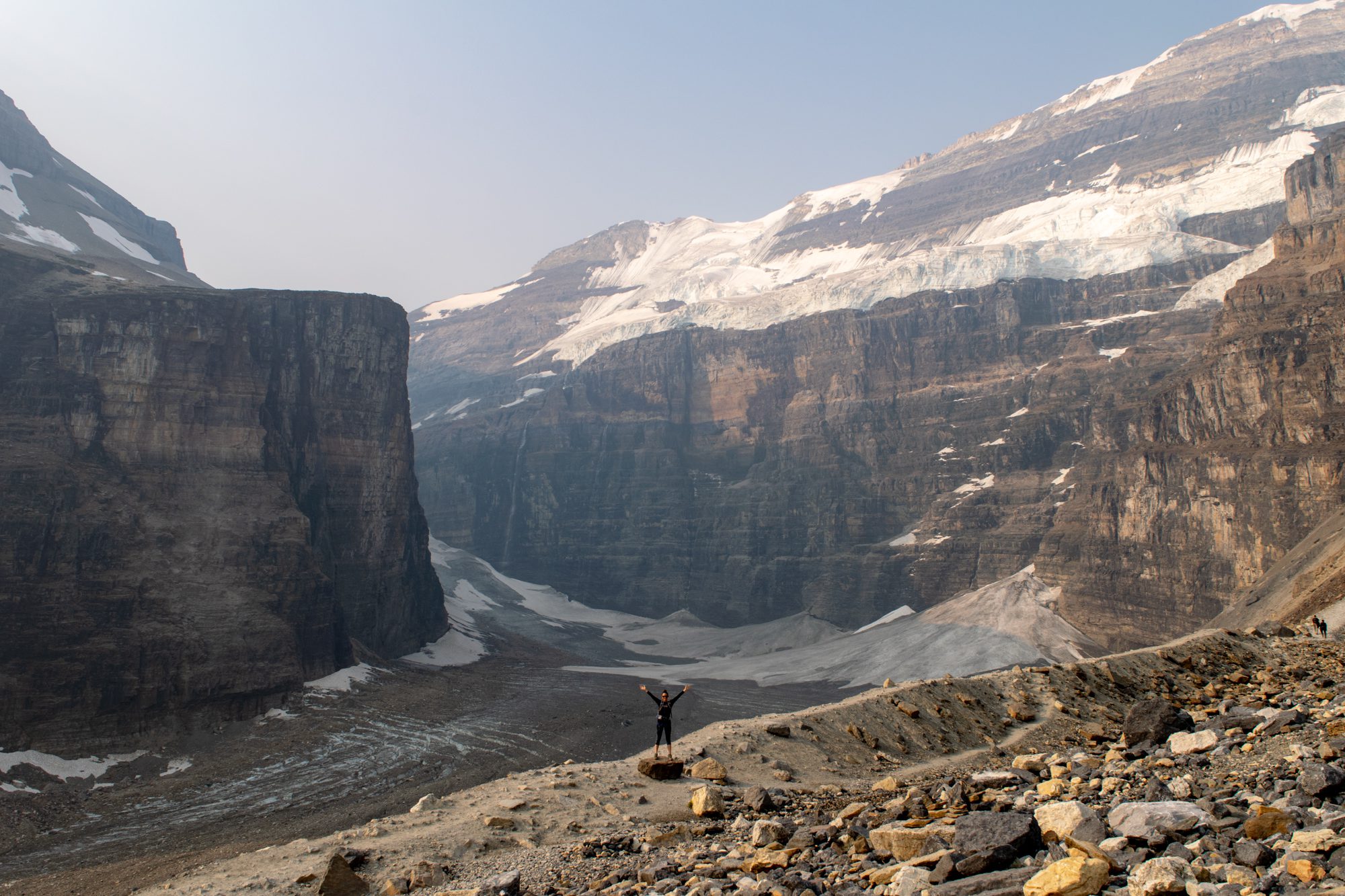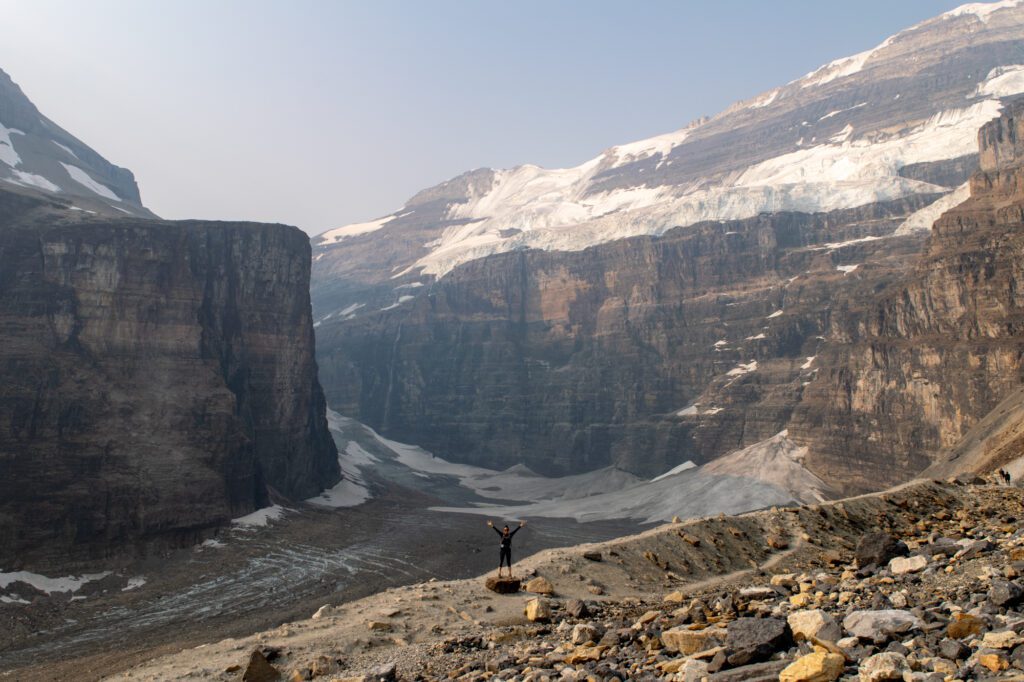 The alternative is Lake Agnes Tea House, which stands in a hanging valley above Lake Louise. It's about a 4.5 mile hike roundtrip. There has been a teahouse here since 1901. It is another family-run teahouse and boasts of 100 varieties of tea with which you can enjoy fresh, crusty bread and robust soup and sandwiches.
If you're into tea and want a once-in-a-lifetime experience, reserve a spot for afternoon tea at the Fairmont. A touch of old-world charm in the 21st century.
Evening: Sunset Over Lake Louise & Dinner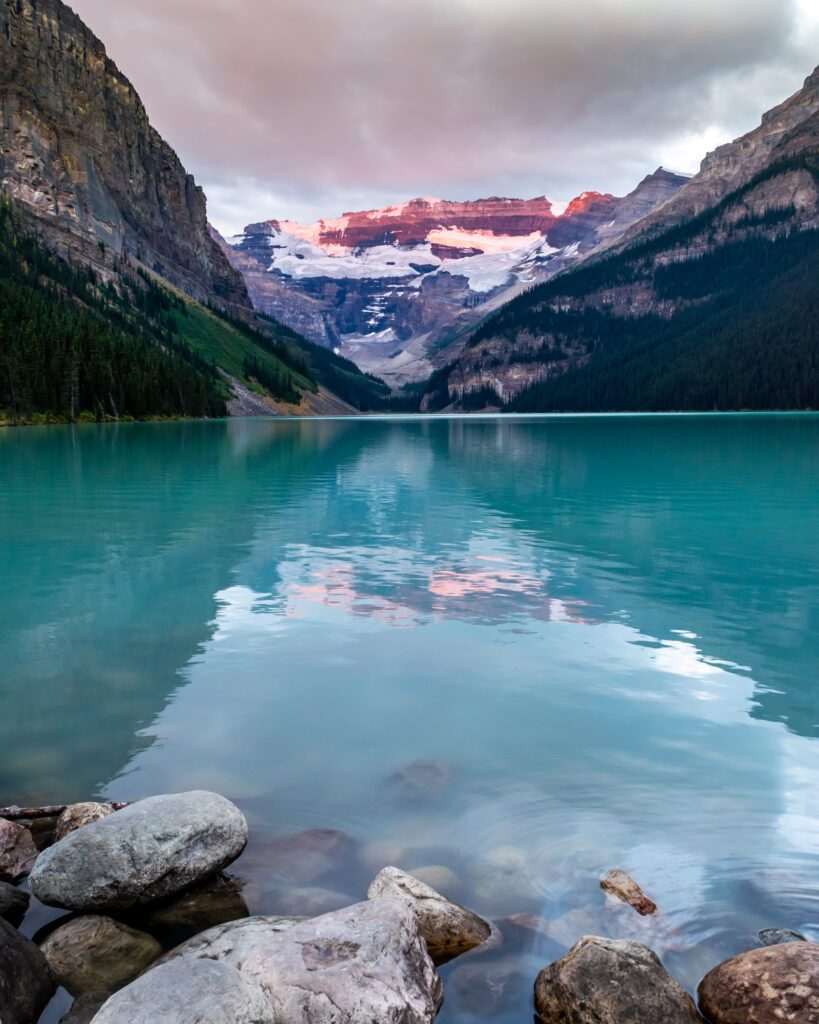 Head to the shores of Lake Louise at sunset with hundreds of your new closest friends, where you can watch the sun sliding down behind the mountains and experience that magic transition from daylight to nightfall.
There are two places for dinner that I'd recommend after the sun sets over Lake Louise.
Alpine Social is one of the restaurants and bars at the Fairmont and specializes in artisan, locally grown comfort food inspired by the mountains. It also enjoys a great selection of craft beer, the perfect place to relax after your three hectic days in the Rockies.
Baker Street Bistro is a little off the beaten path, but offers authentic Canadian cuisine in a rustic log cabin. The wild boar burgers and sockeye salmon on the menu are balanced by vegan options, so there is something for everyone.
Gluten Free Tip: Bake Street Bistro took great care of me in terms of helping me figure out what was safe for me, a Celiac, to eat. Make sure to ask plenty of questions, and ask for a manager to help you if needed.
Finally, it's time to rest. No early morning tomorrow, and you'll be able to go to bed knowing you've packed in everything possible for your 3 days in Banff!
Got More Than Time in Banff?
That's the end of this 3 day Banff itinerary. But if you can stretch your trip a little longer, then I have some other suggestion to help you get the most out of this fabulous area of Canada.
Do a side-trip to Yoho National Park. Northwest of Banff, there is plenty more of the Rockies to explore in Yoho. The Iceline Trail is a spectacular hike, and there are various options depending on how much time you have, or how fit you are! Emerald Lake is another incredibly beautiful lake of the Canadian Rockies and is exactly the color you'd expect. And there's a great hike around it, too.
If you're doing a Canadian Rockies itinerary that includes Jasper, then you should postpone the drive along the Icefields Parkway (which you'll drive on the way up to Jasper) until you head north and go visit the Sunshine Meadows Gondola instead. Epic vistas await you, and the trail walks in the area are superb.
Wrapping Up This Banff Itinerary (+ What to Read Next)
Banff and that whole Canadian Rockies area should be on everyone's bucket list. It is both sensationally beautiful and completely humbling. If you weren't wowed by our planet before your trip, you will be afterward.
Don't miss my Incredible Summertime 10-Day Canadian Rockies Road Trip Itinerary.
Also see my guide to the Best Hikes around Banff.
Heading to Banff? Don't miss our other Canadian Rockies travel guides.