The 13 Best Hikes in Oregon: Complete Oregon Hiking Guide
Looking for a detailed guide to the best hikes in Oregon? You're in the right place! In this guide to hiking in Oregon, we're going to cover our favorite Oregon hikes – all of which we have personally done and loved – along with all the logistics you'll need to know like parking permits, dog-friendly hiking trails in Oregon, and more.
We fell in love with the state of Oregon when, in mid-2020, we decided to try out living in our minivan – Homer the Honda Odyssey – and spent six weeks on an incredible Oregon road trip that took us all over the state, from the Oregon Coast, to Bend and Crater Lake National Park, and, of course, to Portland, one of our favorite cities in the country.
Over the course of that road trip, we were living our best lives – hiking 7-10 miles a day, spending all day outside, and eating meals cooked over a camp stove. That leaves out the parts where we spent all day in the van because it was raining, or when we had to evacuate our campsite at Crater Lake because there was a huge car fire a couple of sites over. But our point stands – Oregon is amazing.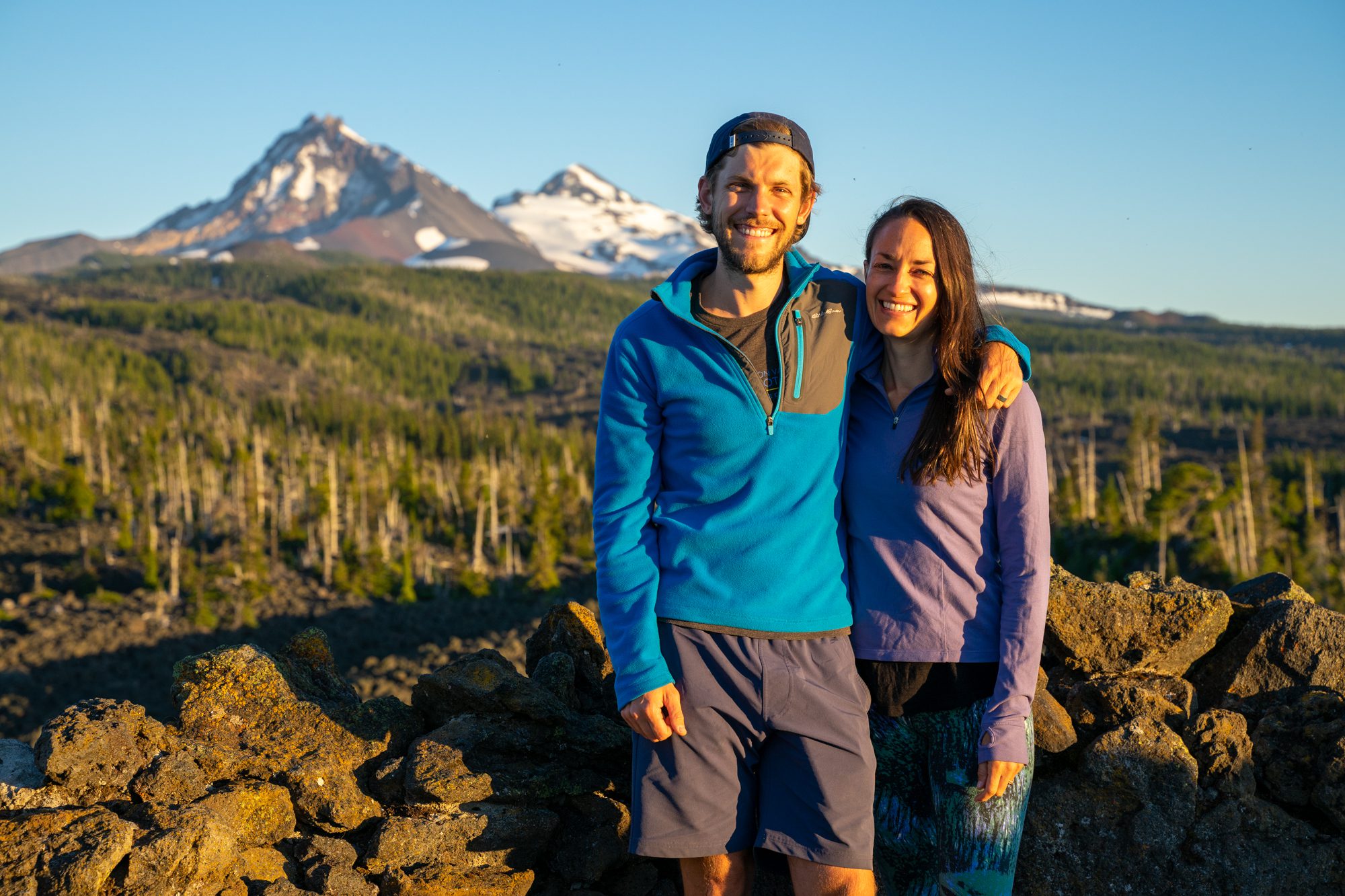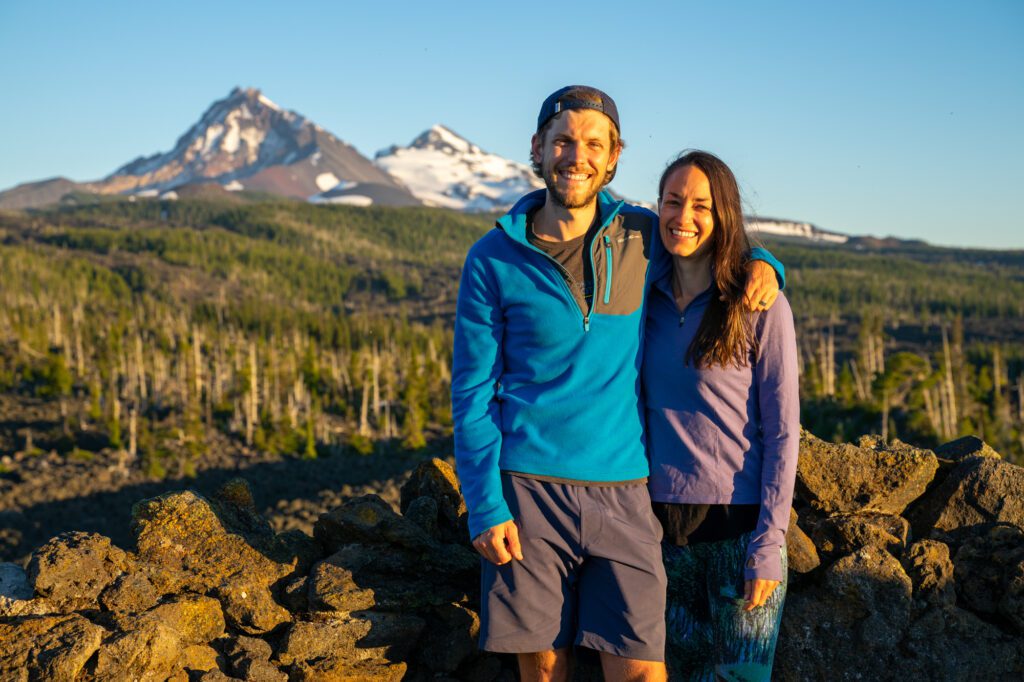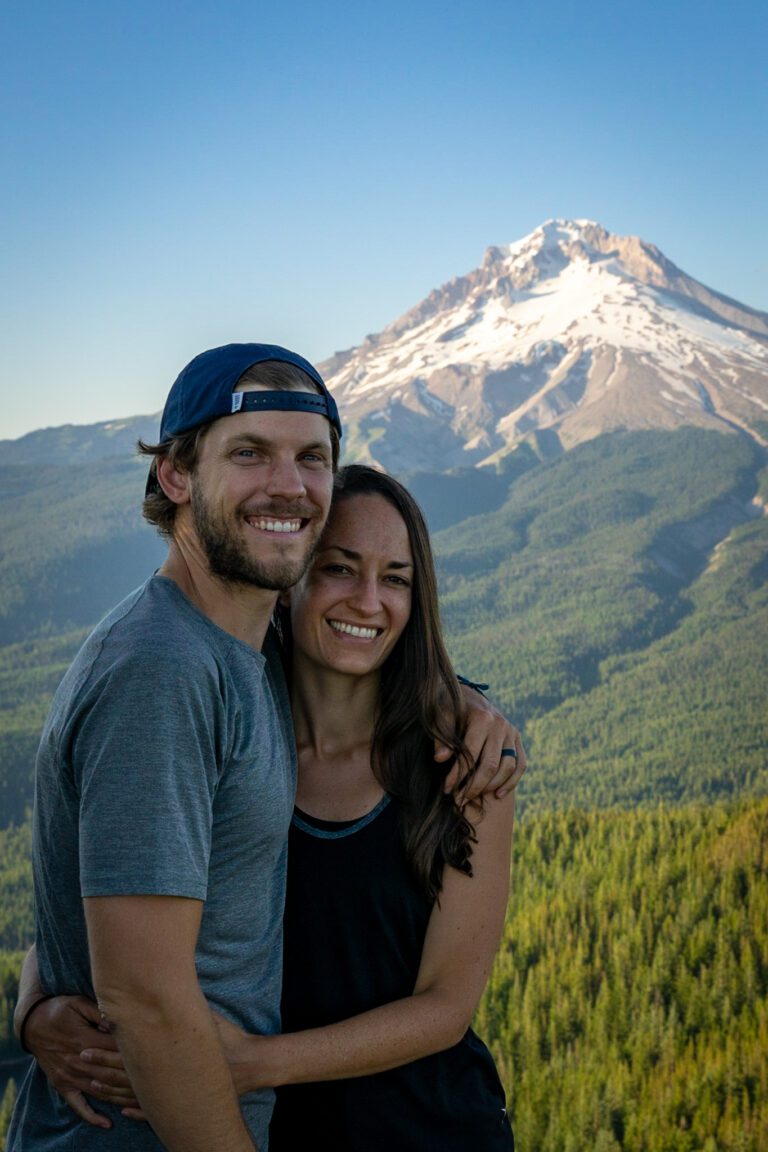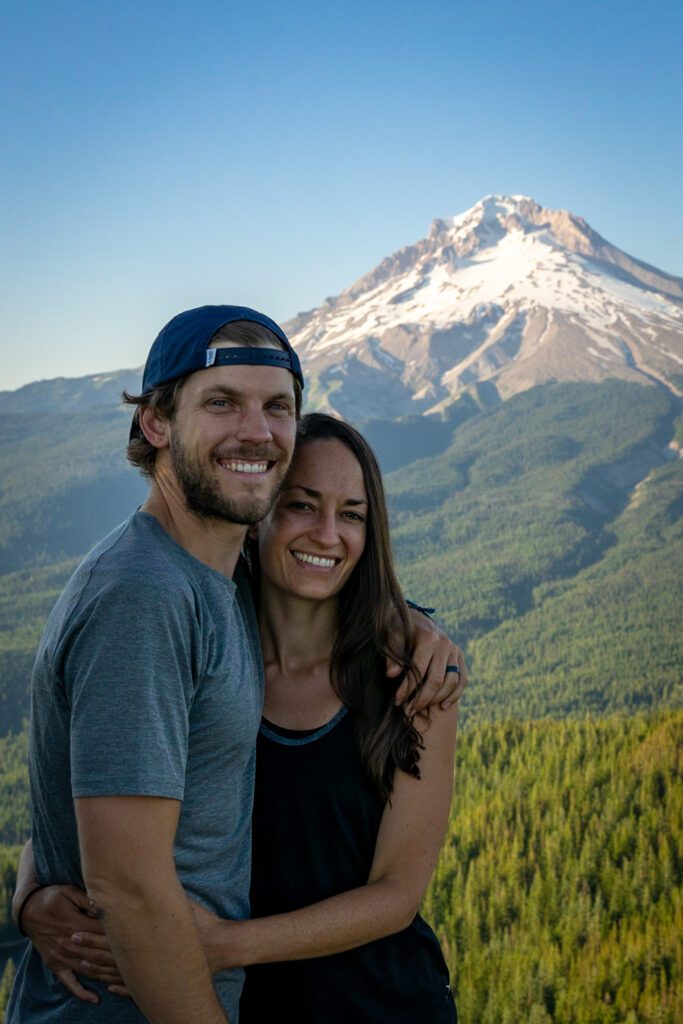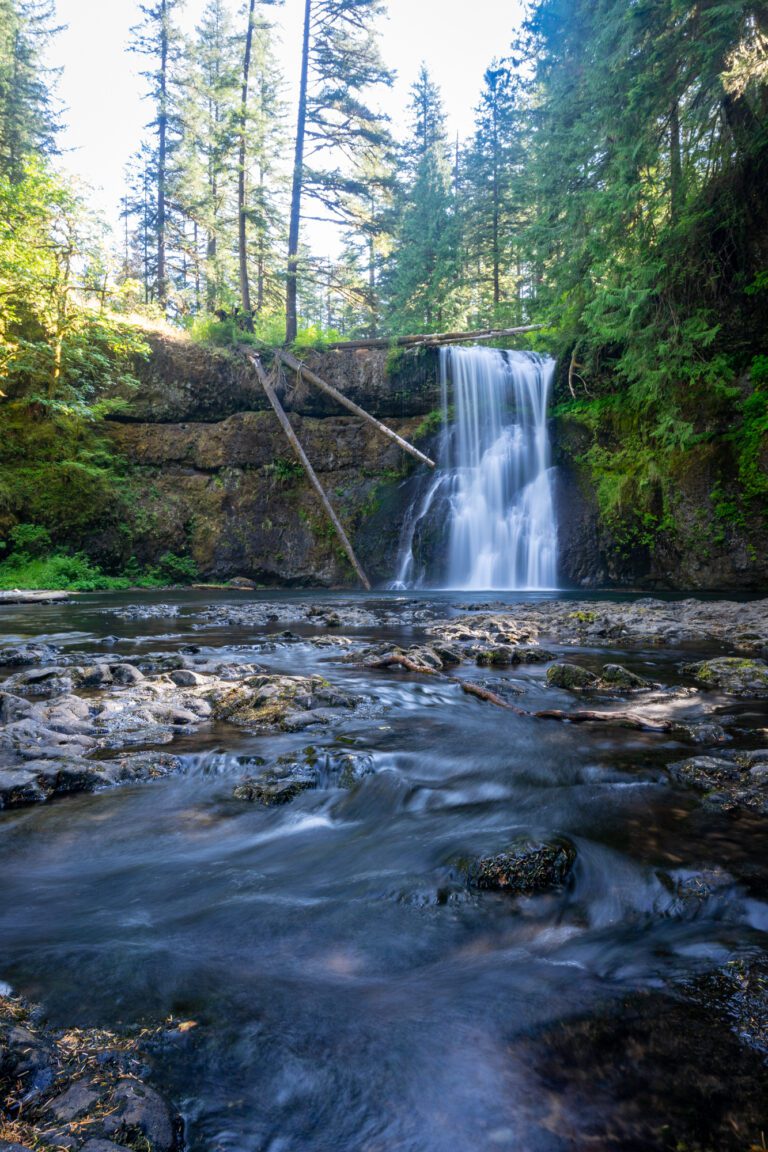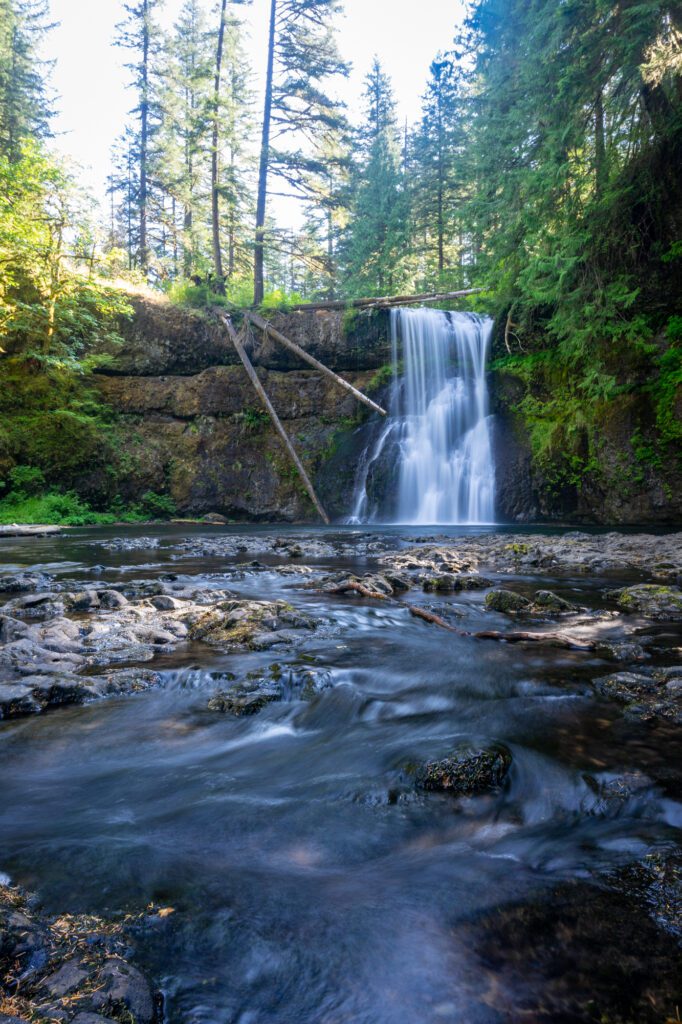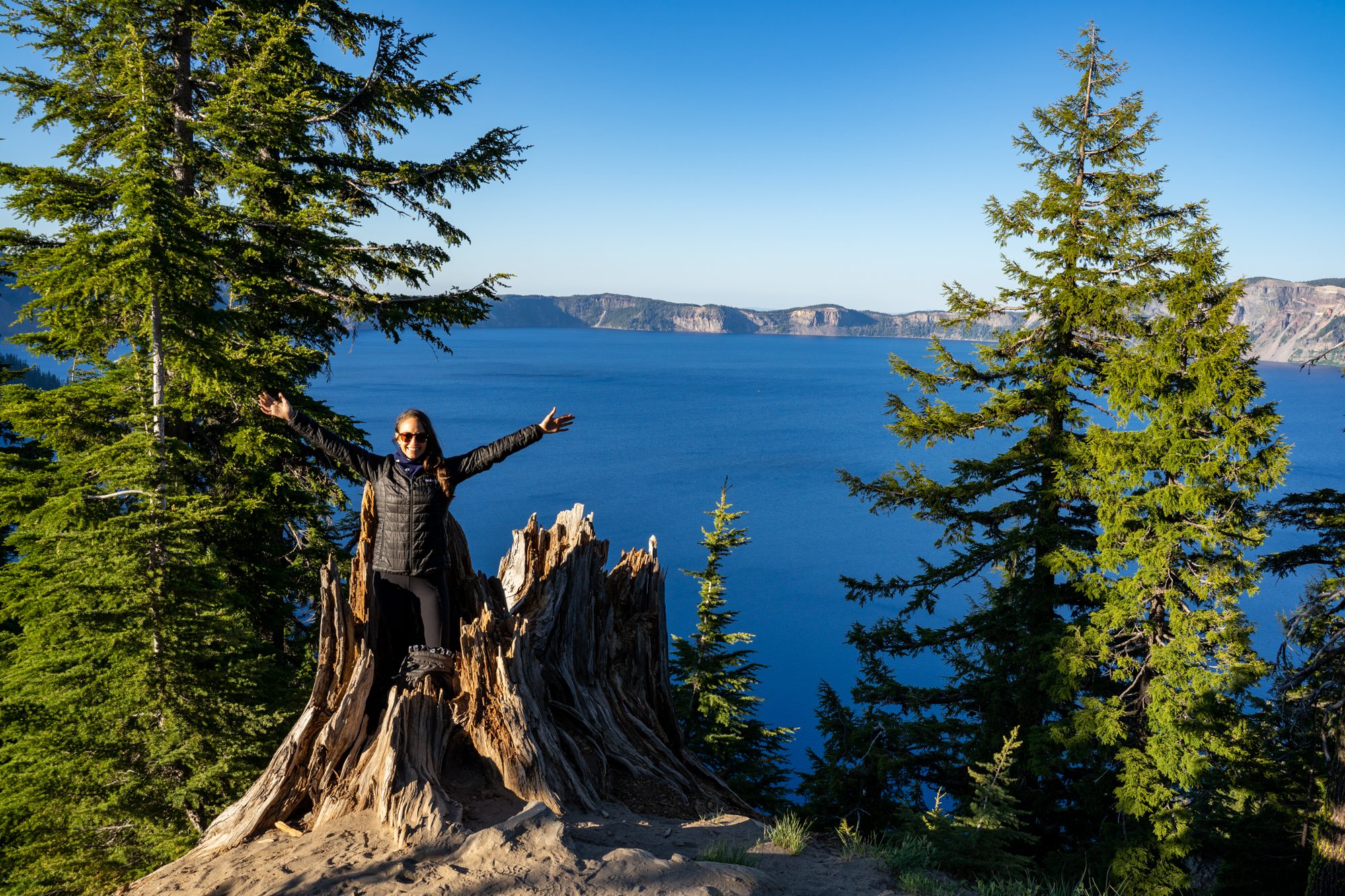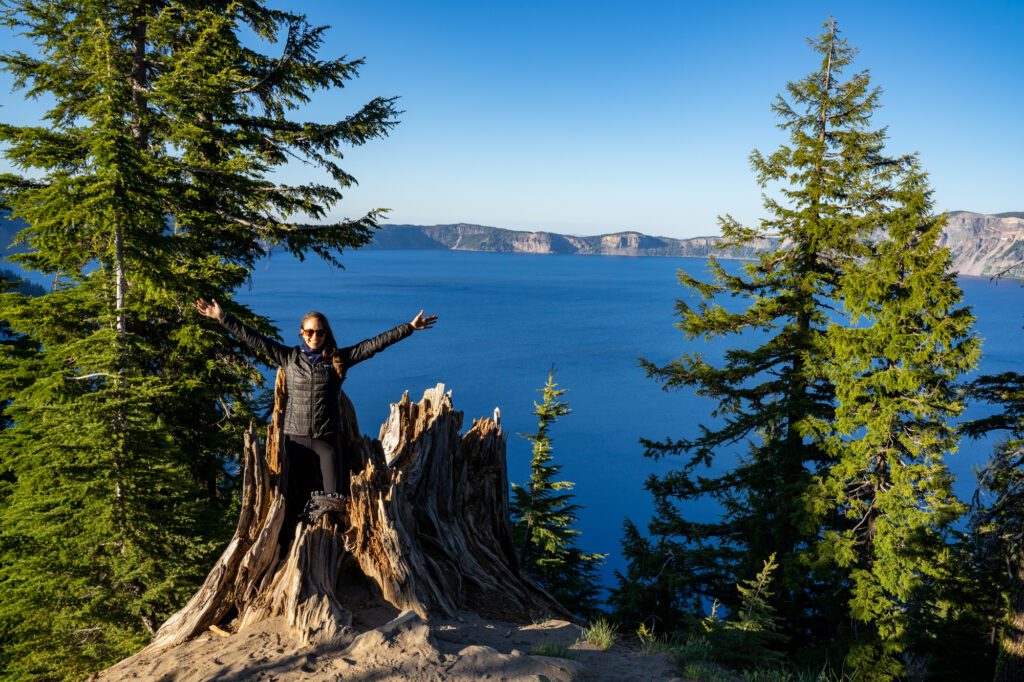 Disclaimer: Some of the links below are affiliate links, which means that if you click on one and purchase something, I make a small portion of the sale at no additional cost to you. It goes without saying that I would never recommend something I wouldn't use or do myself.
The Best Time to Go Hiking in Oregon
Like hiking in Washington, the answer to this question very much depends on where in Oregon you're planning on hiking. For the sake of simplicity, the best way to think about this is by splitting the state into mountains, valleys, and coast.
We recognize that splitting the state in that way completely leaves out a huge swath, particularly in eastern Oregon, but most of these hikes are in western and central Oregon, so that's where we're going to focus.
Hiking in the Mountains (Mostly the Cascades)
This section of the state includes places like Mount Hood, the Central Cascades around Bend, and Crater Lake National Park.
If you're planning on hiking in the mountains, which run down the center of Oregon and divide the cooler, wetter western side of the state and the hotter, drier eastern side, your best bet is going to be between late June and mid-October.
That's when you can expect trails to be snow-free (though, depending on where you are, you might still get snow in late June) and roads will be open and accessible.
Hiking around Portland and the Willamette Valley
This section of the state includes the areas around Portland, including the Columbia River Gorge, and the valleys in the central corridor along I-5 that stretch south to Ashland.
In the summer, you'll find long, warm days that are the perfect time to get outside. Hit the trail early, before the heat of the day, and spend the afternoon refueling. The downside to summer is that trails are PACKED. You'll need to be prepared to get up early and get out to the trailhead before 8:00 am on weekends to guarantee parking, and even then getting a parking spot can be tricky.
Fall and spring are great shoulder seasons, where the weather will be more unpredictable – mostly cooler and wetter – than the summer, but hiking is still pleasant.
Hiking in the center of the state, which is generally at lower elevations, is totally doable during the winter. We actually spent six weeks in Portland in the dead of winter, and we hiked all over the area around Portland (read our Portland hiking guide for more).
Is the winter ideal hiking weather? No, probably not. It's cold and wet. But if you're prepared with appropriate gear, then it's really no big deal. I always say that if you don't do things when it's raining in the Pacific Northwest, then you'll never get to do anything!
There are a bunch of great waterfall hikes in Oregon, and they're generally best in the winter and spring when the rain means they're roaring!
Hiking on the Oregon Coast
On the Oregon Coast, you can basically hike year round. It generally follows the same rules as hiking in the center of the state, but in the summer you're more likely to run into coastal fog, which makes fall and spring the best times to go hiking on the coast.
Passes and Permits for Hiking in Oregon
There are a couple of passes you'll want to know about if you're planning on tackling some of these Oregon hiking trails.
Oregon State Parks Pass ($30): If you're hiking in an Oregon State park, you'll need to display this pass to park (or pay on arrival – it costs $5 a day). Here's a list of the places where it's valid. Buy it online in advance here, or you can usually buy it on arrival.
Northwest Forest Pass ($30): This covers all national forest land in Oregon and Washington – there's a lot of it! Most of the hikes below require this pass. You can see where the Northwest Forest Pass is valid here. Buy it online at REI, and it's good for a year from the date you purchase it. Be warned that, while you technically can get a day use permit at trailheads where you put $5 in it and put the stub on your windshield, we had multiple instances of the day-use permits being unavailable, which had us running around to various stores to try and get an annual pass.
America the Beautiful Pass ($80): This pass covers all federal recreation lands in the country – including national parks, national forests, and national monuments. You will need to either have this pass or pay a $30 entrance fee for Crater Lake National Park. In general, it's worth it if you're planning on visiting three or more national parks in a year (which would cost you $90). Buy it in advance online at REI, or get it on arrival at the toll both at a national park.
In each trail guide below, we'll cover which pass you need so that you can be prepared before you hit the trailhead and realize "oh no, we don't have our pass and there's no day passes available!" We've been there, and it really puts a damper on the whole experience.
Tips for Hiking in Oregon
Here are a few things we think you should know before hitting the trails in Oregon.
Oregonians love hiking. Especially in the summer. Trails will be packed, especially the popular ones (let's be honest, almost every single trail below is in the "popular" category). Get to the trailhead before 9:00 am (8:00 am, if you can) to snag a parking spot and not have to worry about finding additional parking that may or may not be totally legal.
Most trails are dog-friendly. Coming from California, where dogs aren't allowed anywhere, this is a pleasant surprise. We'll call out whether or not a hike is dog-friendly in the mini trail guides below, but you should know that you definitely can't take dogs on the trails in Crater Lake.
Be prepared to be wet. Waterproof hiking boots (or shoes) are basically an essential, as is a solid waterproof rain jacket.
Leave no trace. It should go without saying, but we are constantly flabbergasted at the amount of human waste we find on hiking trails all over the western United States. Y'all, we gotta take care of the places we love exploring! If you carry it in, make sure to carry it out. And pick up after your dog! Read about leave no trace principles here.
Our List of the Best Hikes in Oregon: A Complete Oregon Hiking Guide
Now, onwards (and probably upwards) to the reason you've read this far – the list of our favorite hikes in Oregon.
Like we mentioned above, we've personally done all the hikes in this section of the guide, which means we have some specific tips and pointers for some of them. Like which direction to hike in, or how to get a parking spot.
If you have any questions, have a hike that you love and think should be on our list, or notice something that has changed, please drop us a comment below or shoot us an email!
The Trail of Ten Falls (Silver Falls State Park)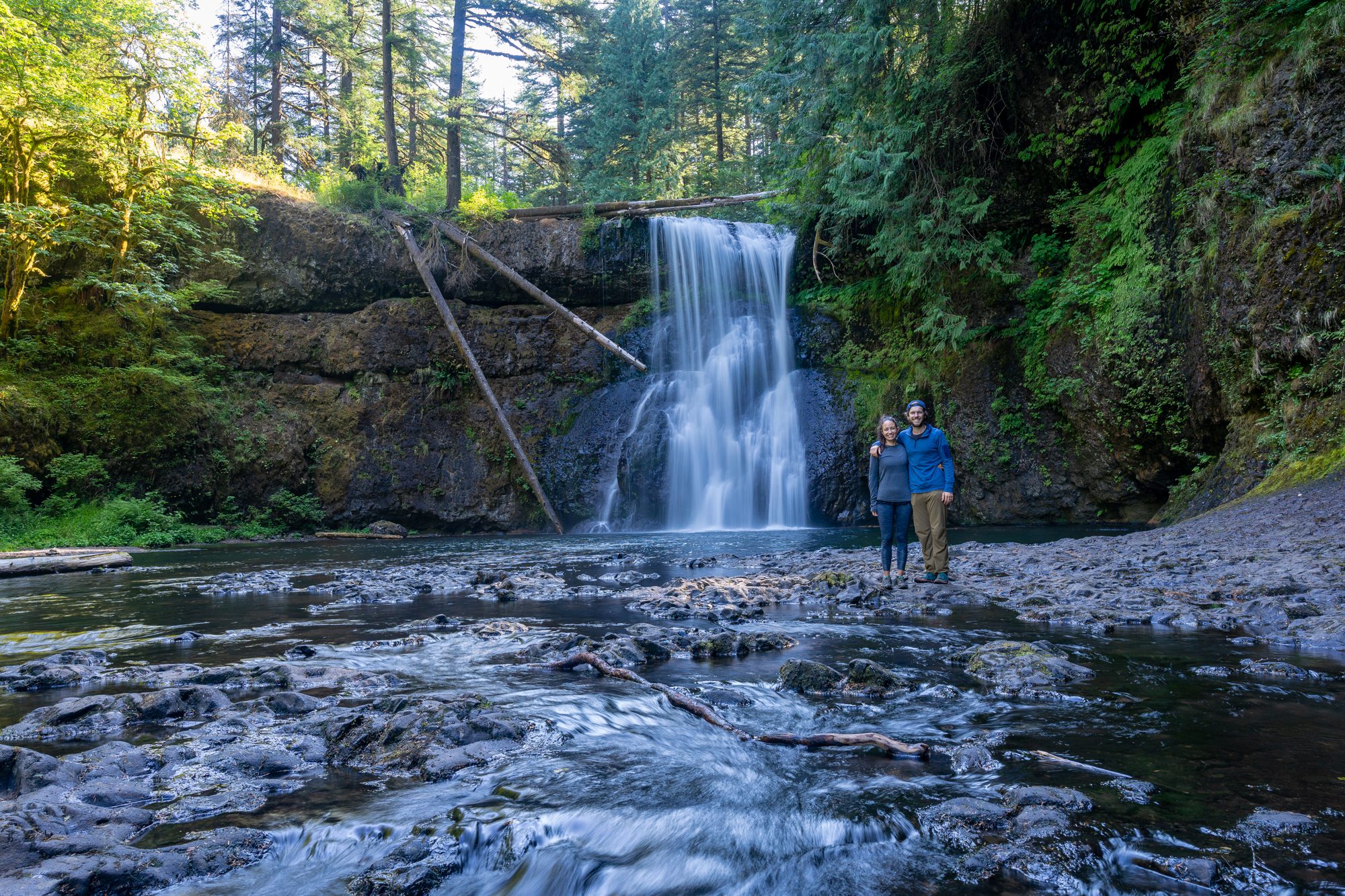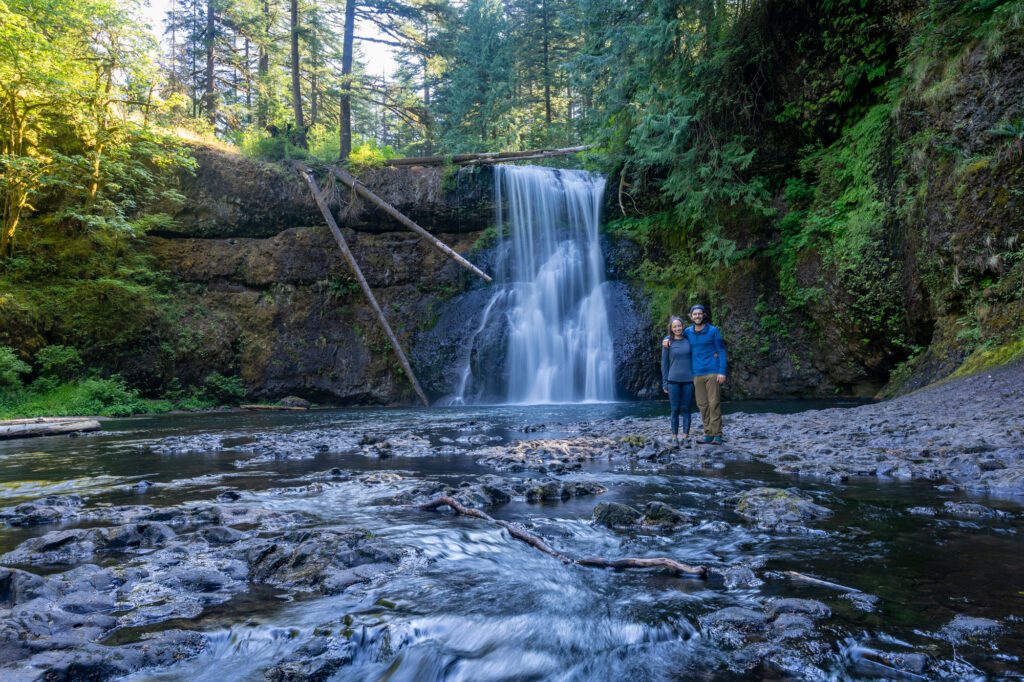 If you're looking for a waterfall hike in Oregon, a state known for its amazing waterfalls, this is the place to go. Silver Falls State Park is about an hour and a half south of Portland, near Salem.
This hike does a big loop, passing – you guessed it! – ten different waterfalls along the way. There's no point in this hike where you'll find significant elevation gain, so it's a pretty easy hike overall. Don't let the mileage scare you off.
Since it's a loop, there are a couple of different places you can pick up the hike, but the best is going to be the South Falls trailhead, where there's a big parking lot. Which, by the way, was completely full when we were there on a weekend morning in the summertime. So you'll want to get there early to get a spot.
Do it clockwise, starting from South Falls and heading downhill to Lower North Falls, where the trail starts a gradual uphill climb, ending at Upper North Falls. From there, it's a mostly flat walk back to the parking lot.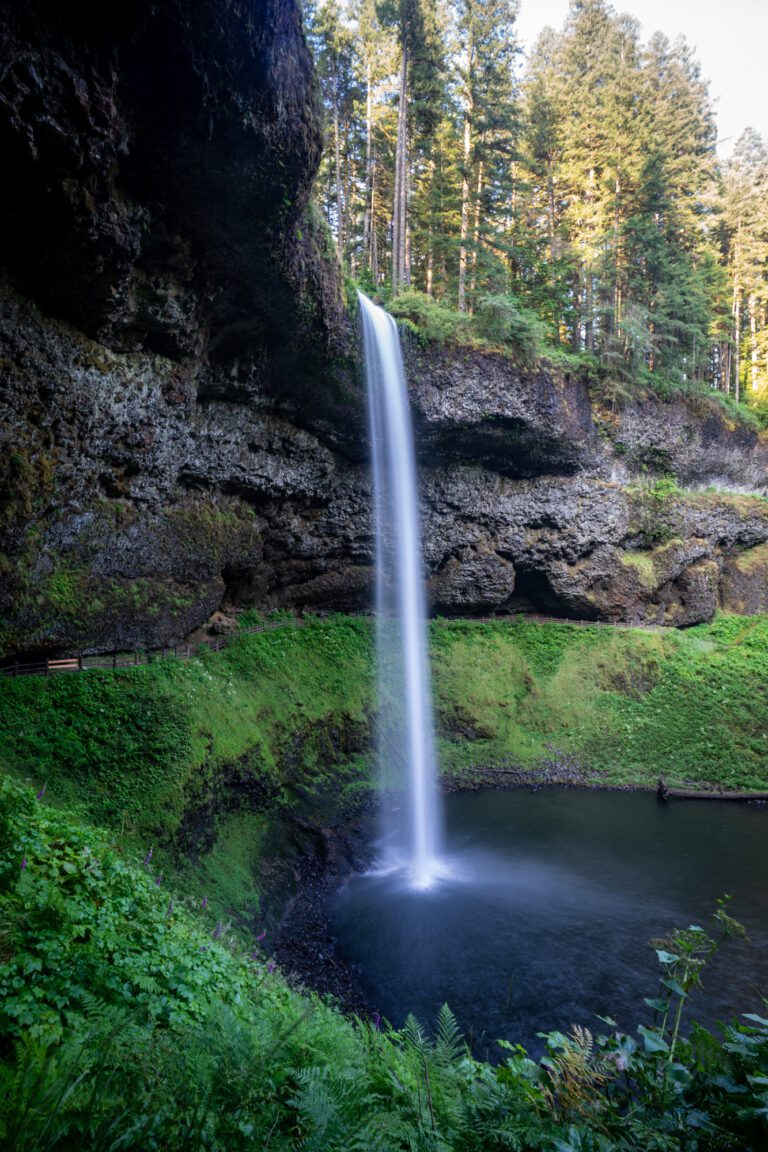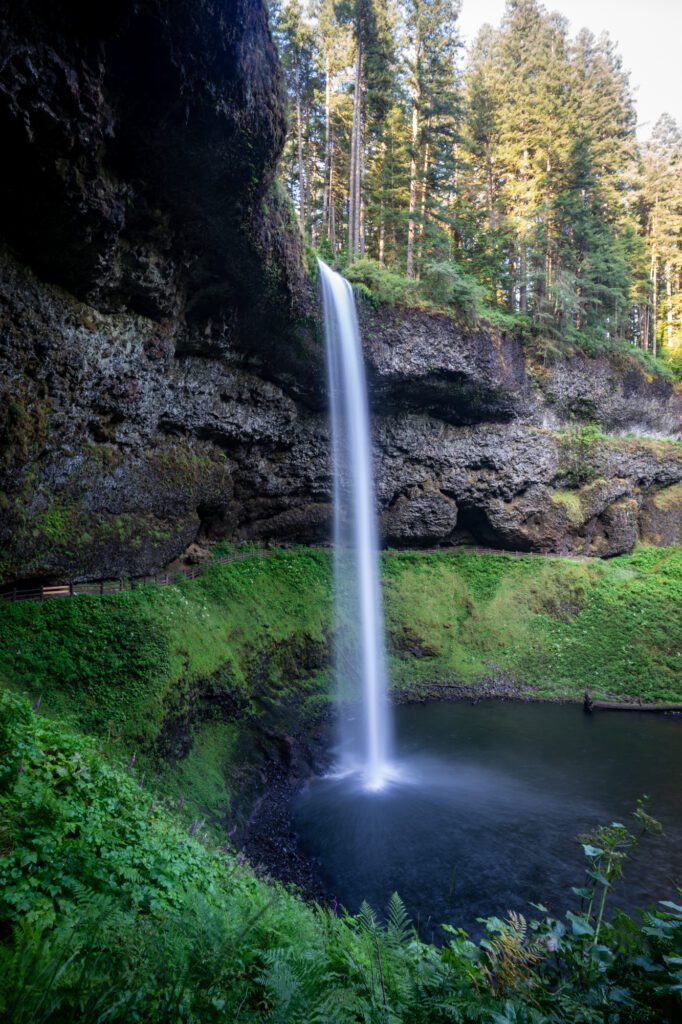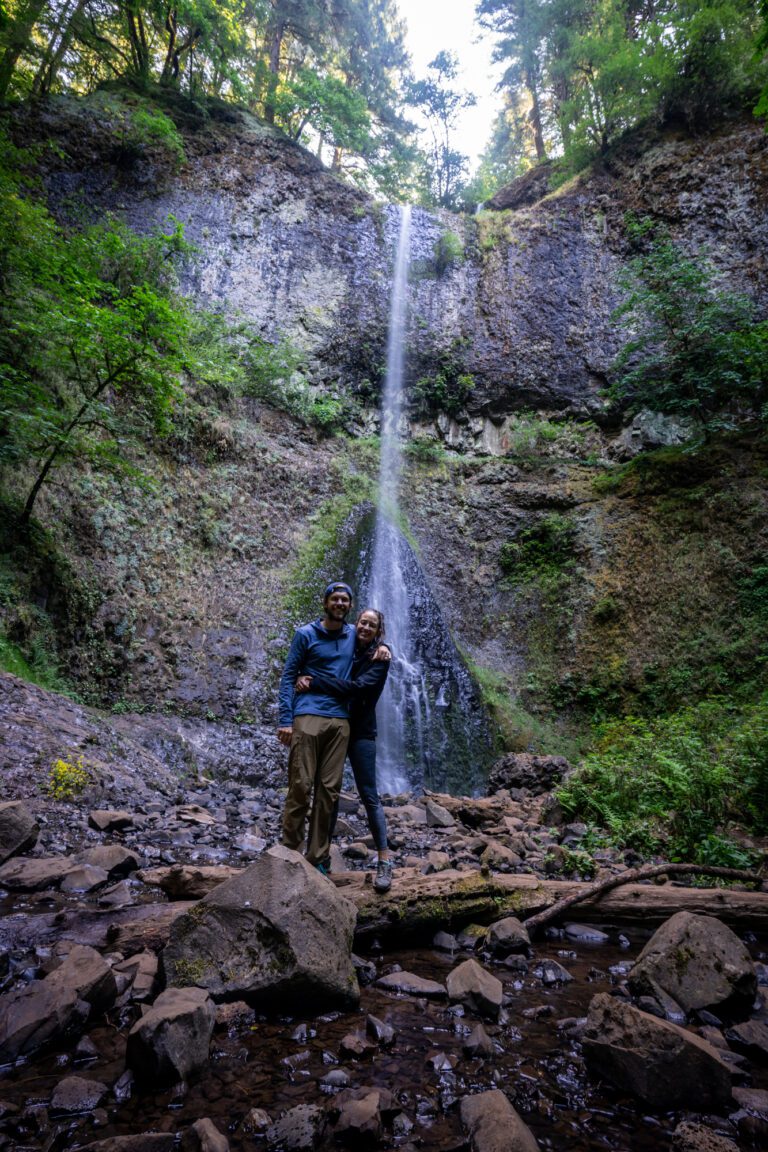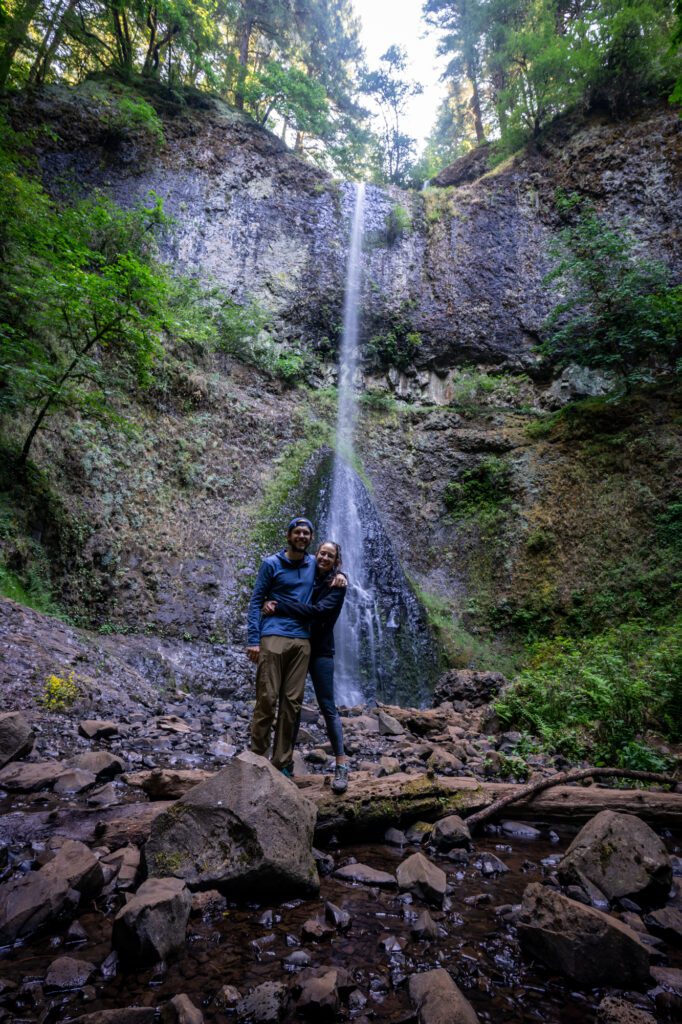 South Falls, standing at 177 feet, is the most impressive of them all in our opinion. It tumbles over the lip of a big bowl, which means you can actually walk behind the falls for a different – wetter – point of view.
North Falls (and Upper North Falls) and Double Falls are the other waterfalls that stood out to us.
Find more trail information and recent trail reports here.
McNeil Point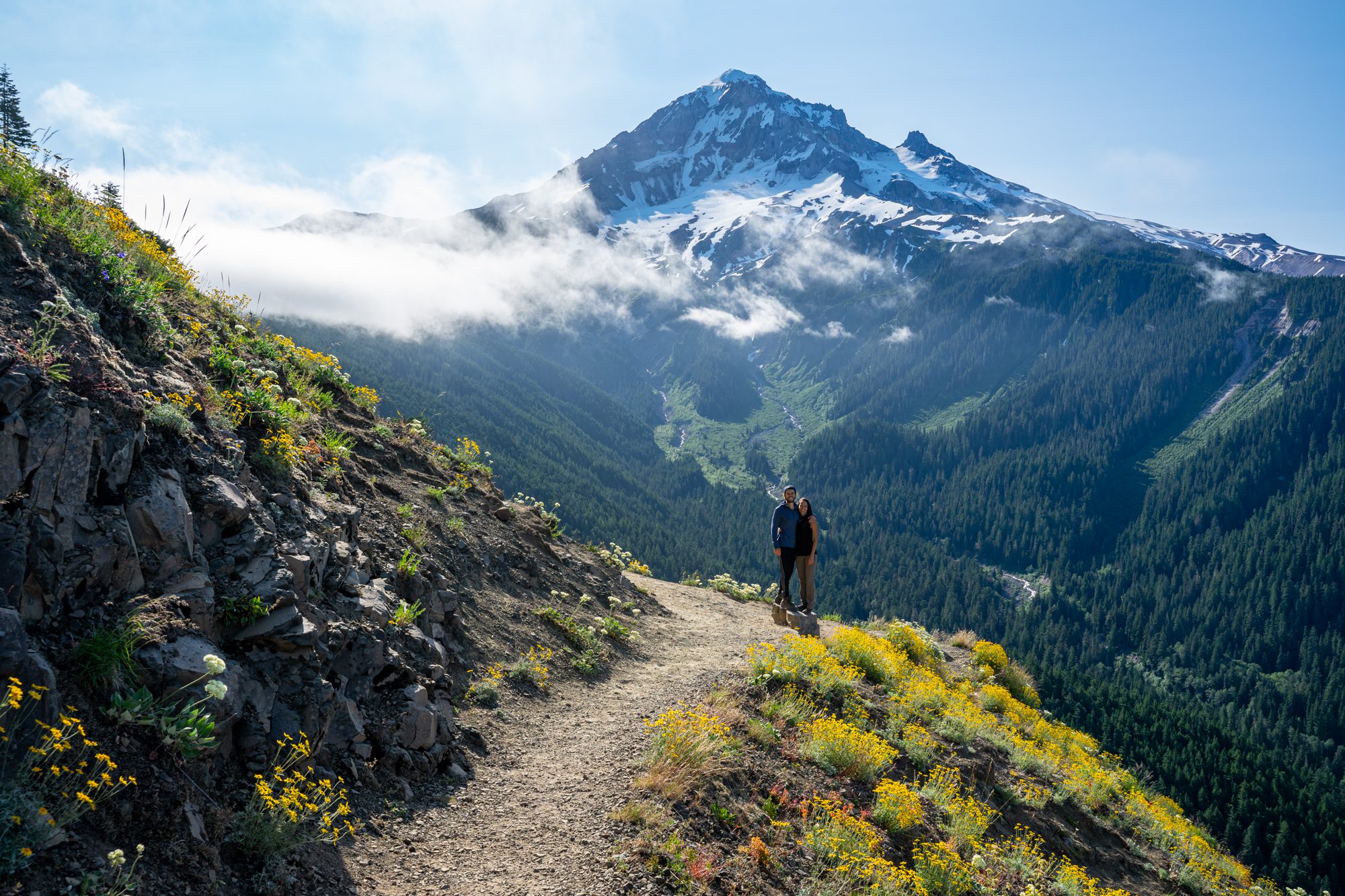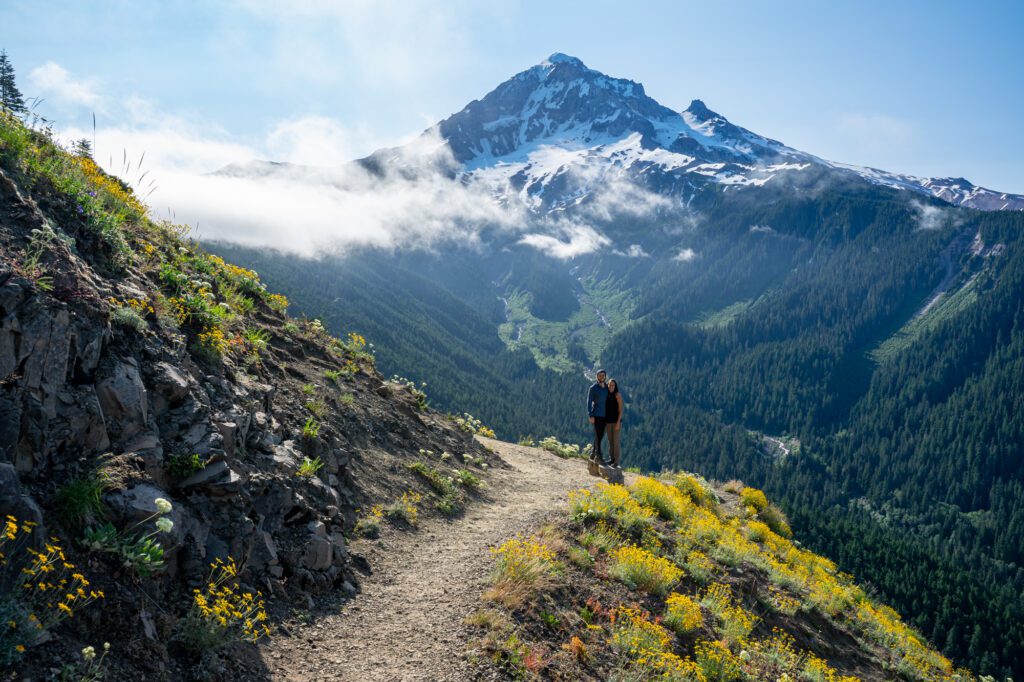 This might just be our top pick for the best hike in Oregon, but there are so many amazing hikes to choose from that it's hard to pick just one!
The views of Mount Hood from this trail are nothing short of spectacular, but you're going to have to work hard to earn them. When we hiked this trail, we were on our Oregon road trip, which had us hiking 7-10 miles almost every single day. We were in the best shape of our lives.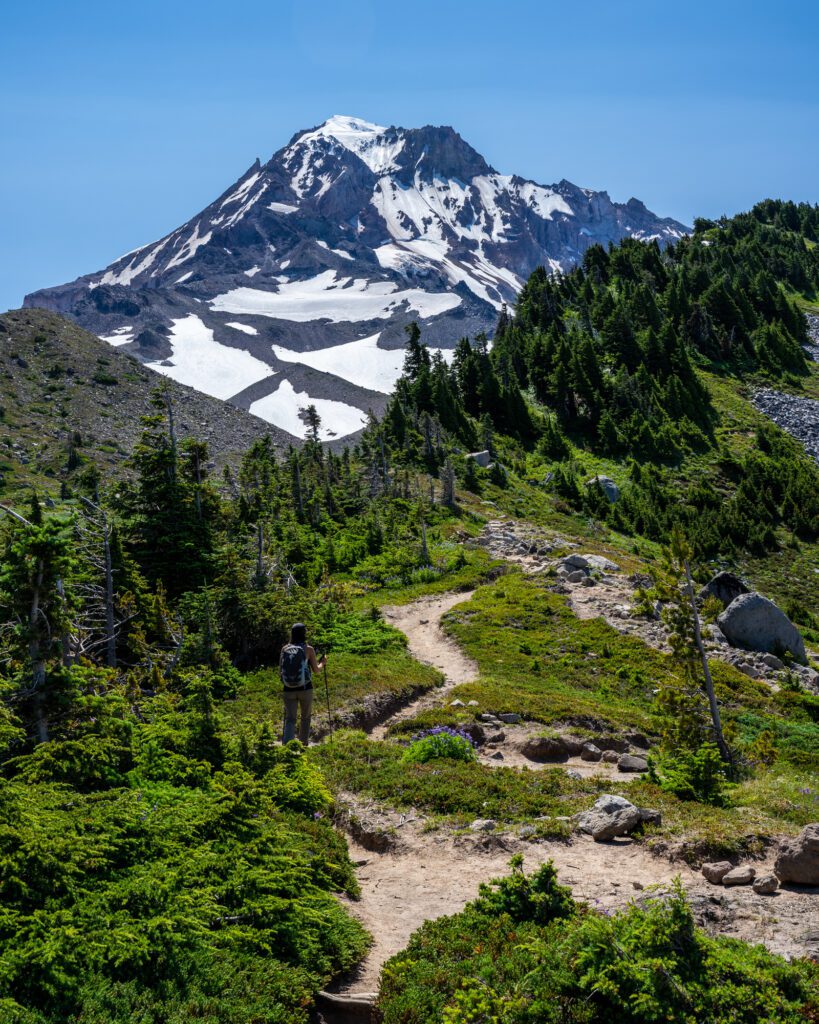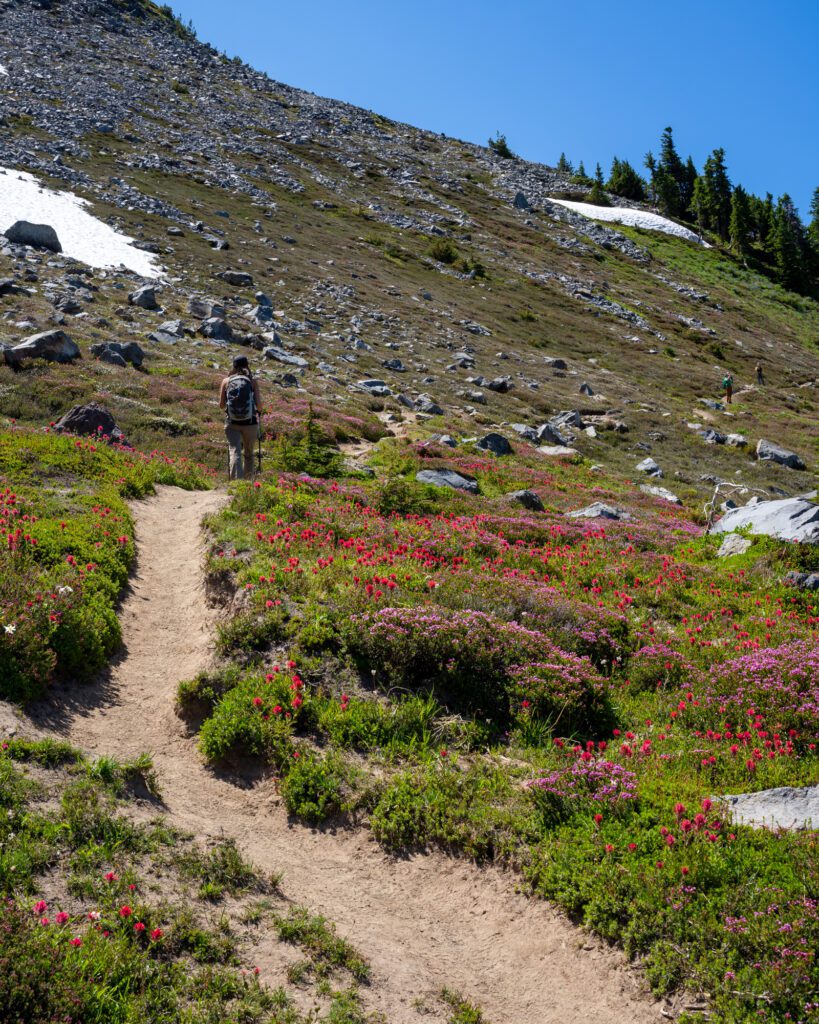 This trail kicked our butts and had us walking funny for several days afterwards. It's a strenuous hike. Don't underestimate it.
That being said, we'd do it again in a heartbeat. Especially when the wildflowers in the meadows at the top are in full bloom.
The trail is a lollipop – you'll climb up to a junction where you start a mini loop near the top. The views come fast and furious from beginning to end, starting with our favorite view of Mount Hood from Bald Mountain about a mile into the hike.
The trail climbs somewhat gradually (but for a long, long time) up to a junction – going right takes you up a trail that is more of a scramble than a hike, and going left takes you on a longer meander through meadows of wildflowers with views of Mount St. Helens and Mount Adams to the north on a clear day.
We'd go up the scramble (definitely don't go down that way) and down the meander, which will have you facing the great views and avoiding trying to scramble down the mountain.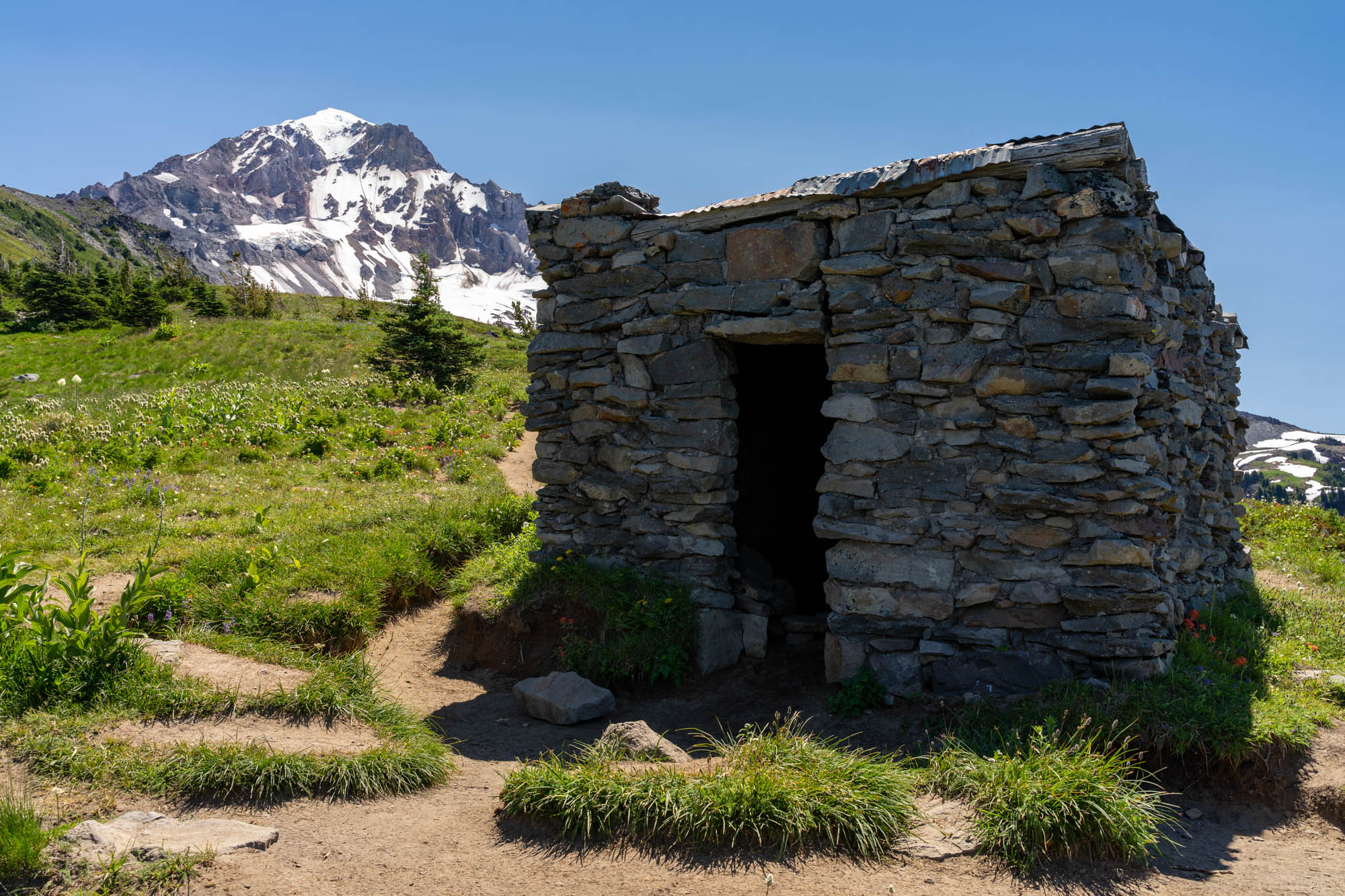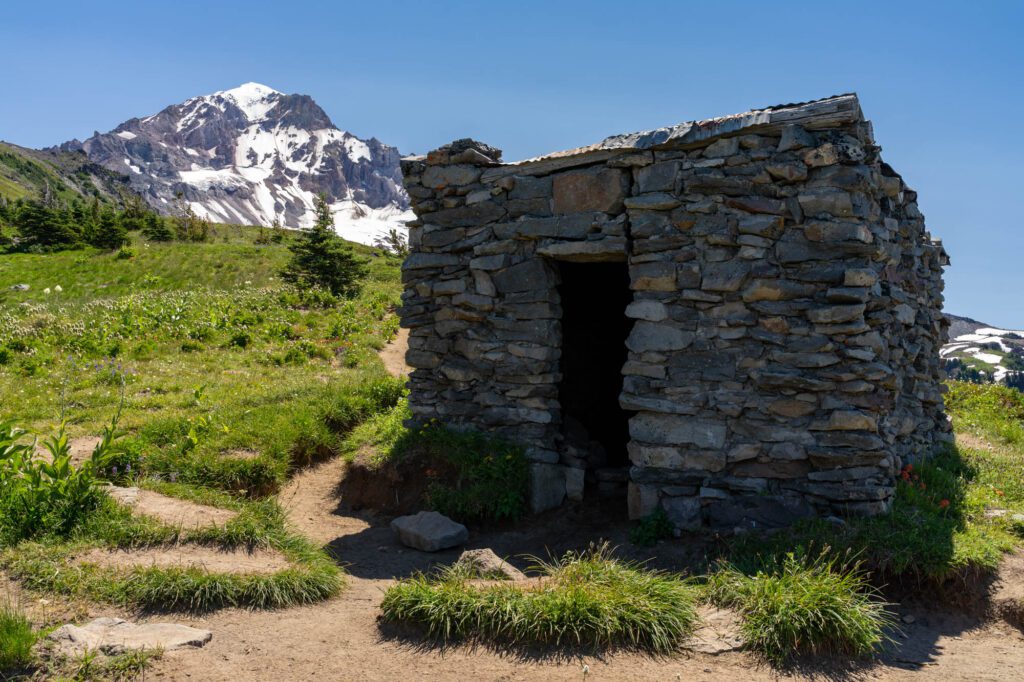 At the top, there's an old stone structure that was built by the Civilian Conservation Corps during the depression, the same group that built basically all of the infrastructure in places like Zion National Park. It's a nice refuge from the wind, which is sure to be howling.
Bring plenty of food and water on this hike.
Find more trail information and recent trail reports here.
There's a shorter, significantly easier version of this trail that starts lower, climbs up forested switchbacks bursting with rhododendrons in the spring, and ends at the best view of Hood at Bald Mountain. We did it both ways, and think McNeil Point is more spectacular, but less accessible because of its length and difficulty. More information: Bald Mountain via Lolo Pass
Tom, Dick, and Harry Mountain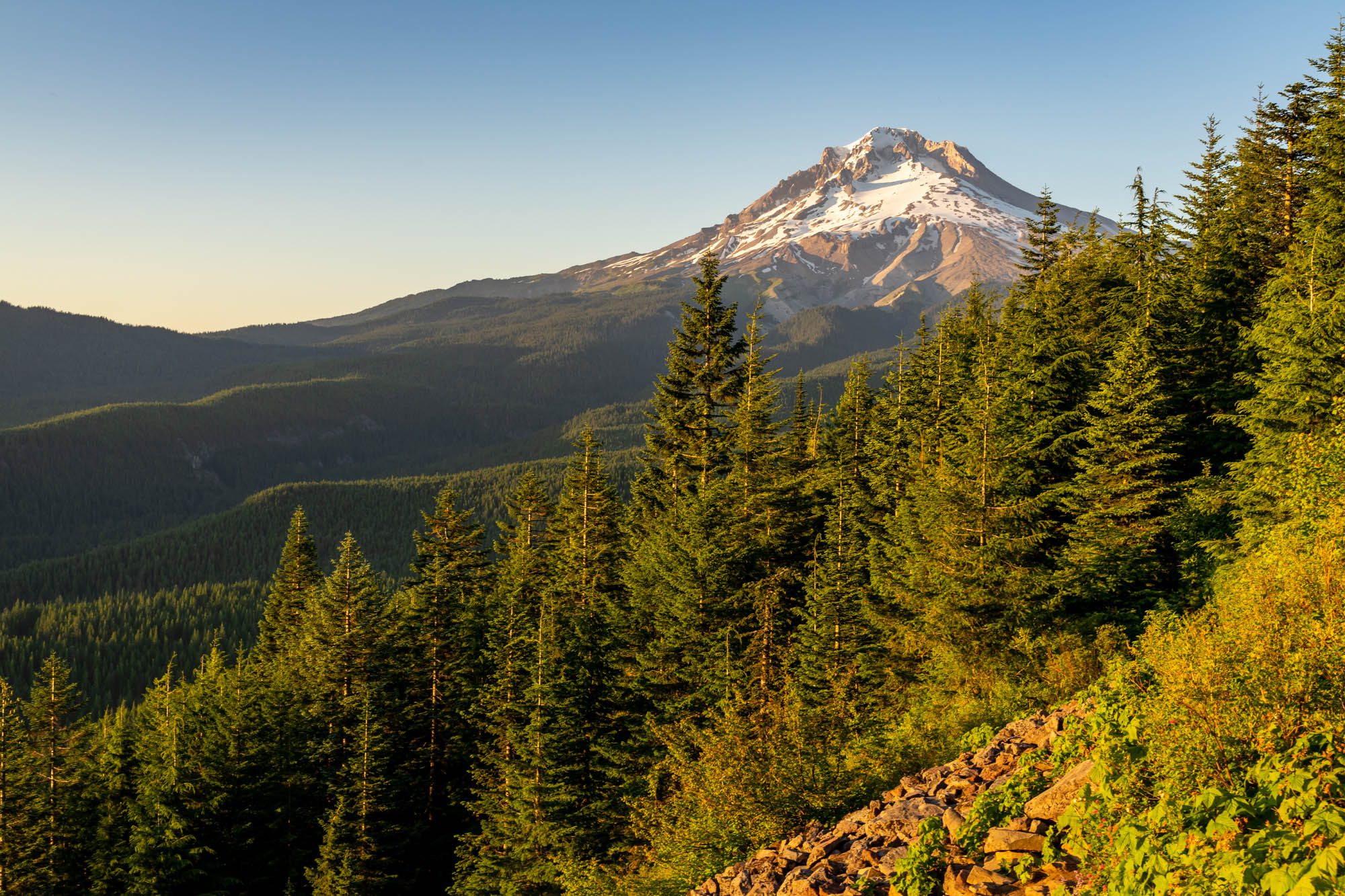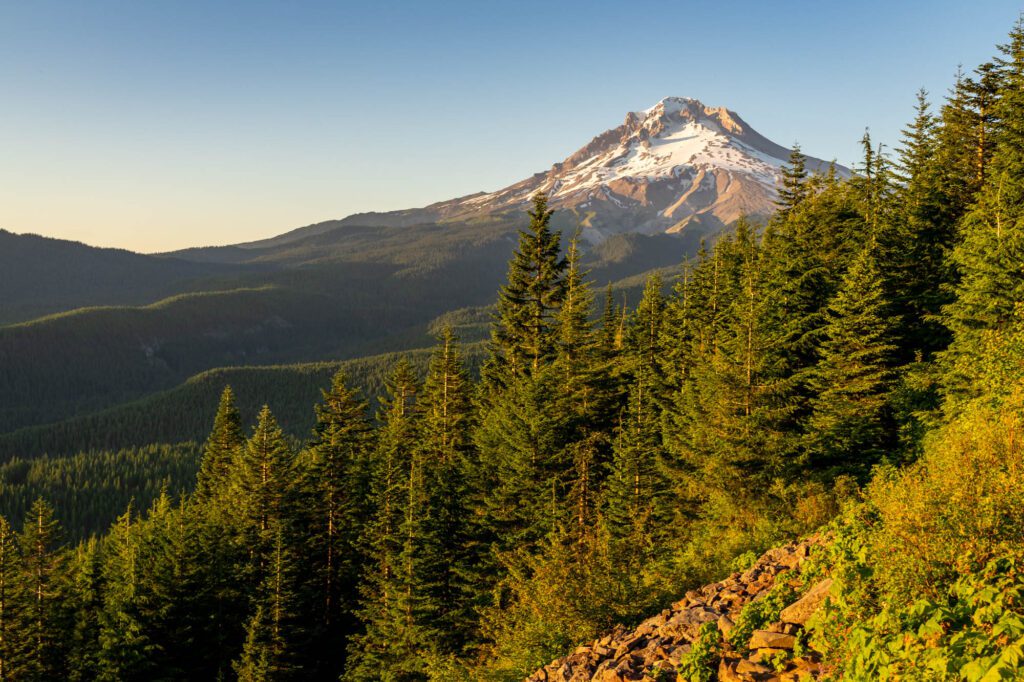 This trail shares a trailhead with the very popular Mirror Lake Trail right off of US-26, which means it's almost always full despite being a pretty large parking lot. Mirror Lake is a little meh – I've never seen more mosquitoes in my life – but the climb to the ridge above it is much, much better.
The hike up to Mirror Lake is fairly easy – you'll see all sorts of families with small kids doing it – and you cross a few footbridges along the way. The first portion of the path is paved and ADA accessible.
The climbing really starts to ramp up as you leave the lake and make your way up to the ridge, which sits 1,000 feet above it.
From Mirror Lake, it's a 2.5 mile hike up to the ridge, and then you can hike out across the ridge for an ever changing view of Mount Hood across the valley. On a clear day, you'll also be able to see some of the other peaks in the Cascade Range, like Adams and Jefferson.
At the top, there are some sections of trail that take you across boulder fields, which can be tough to navigate. Make sure you're prepared with sturdy footwear and a map (we use AllTrails for this).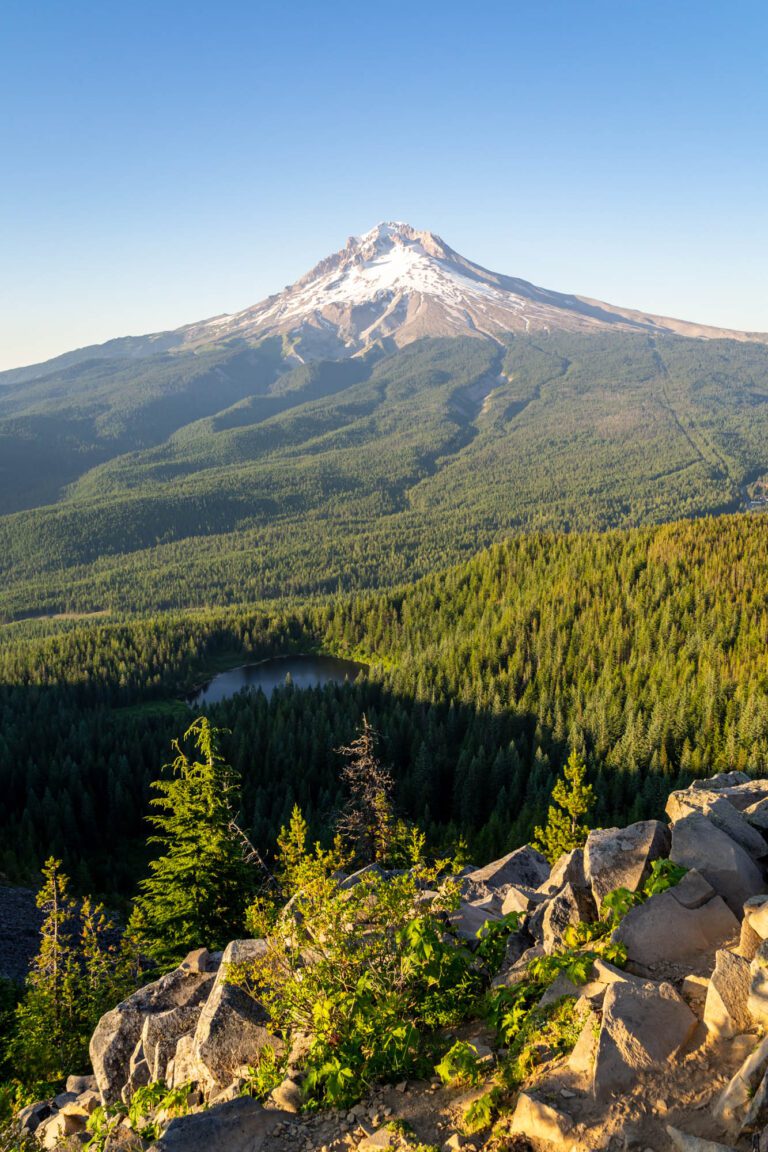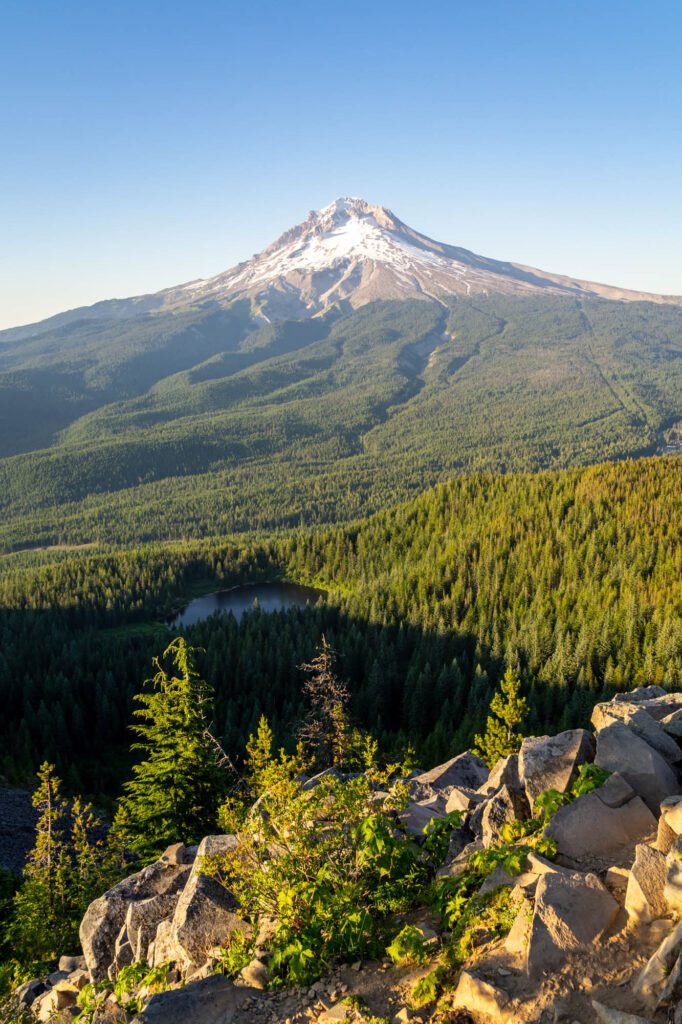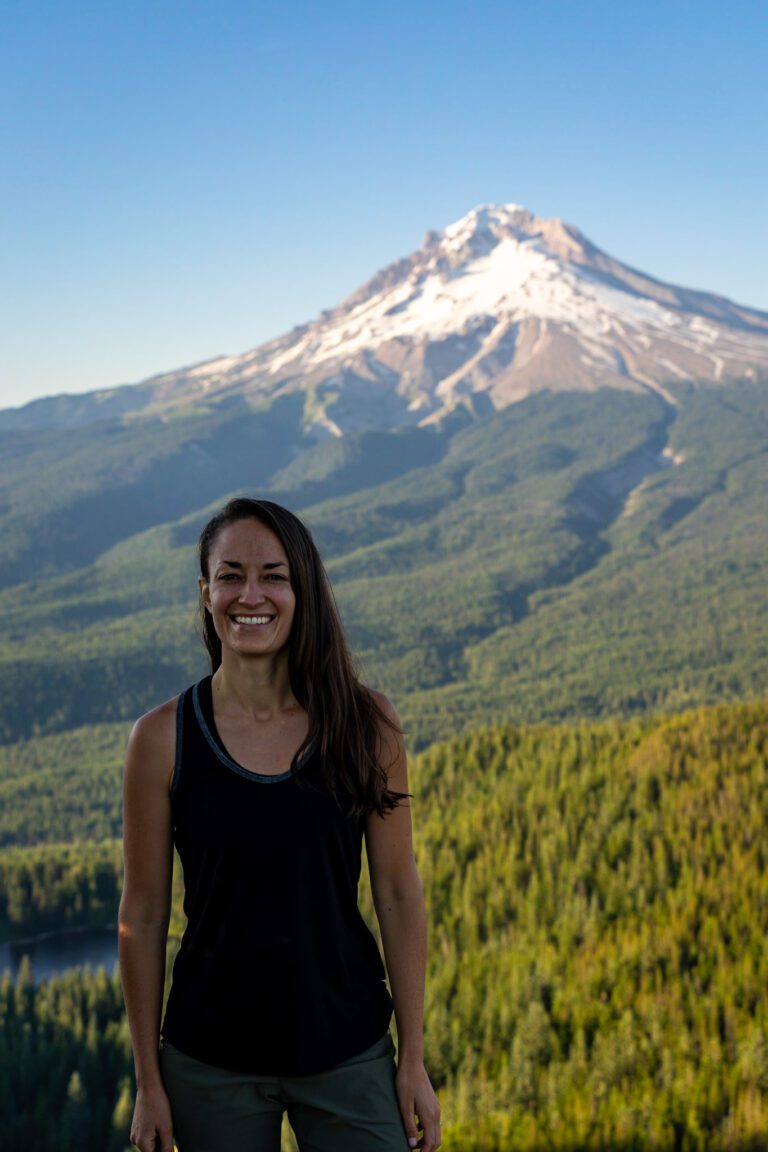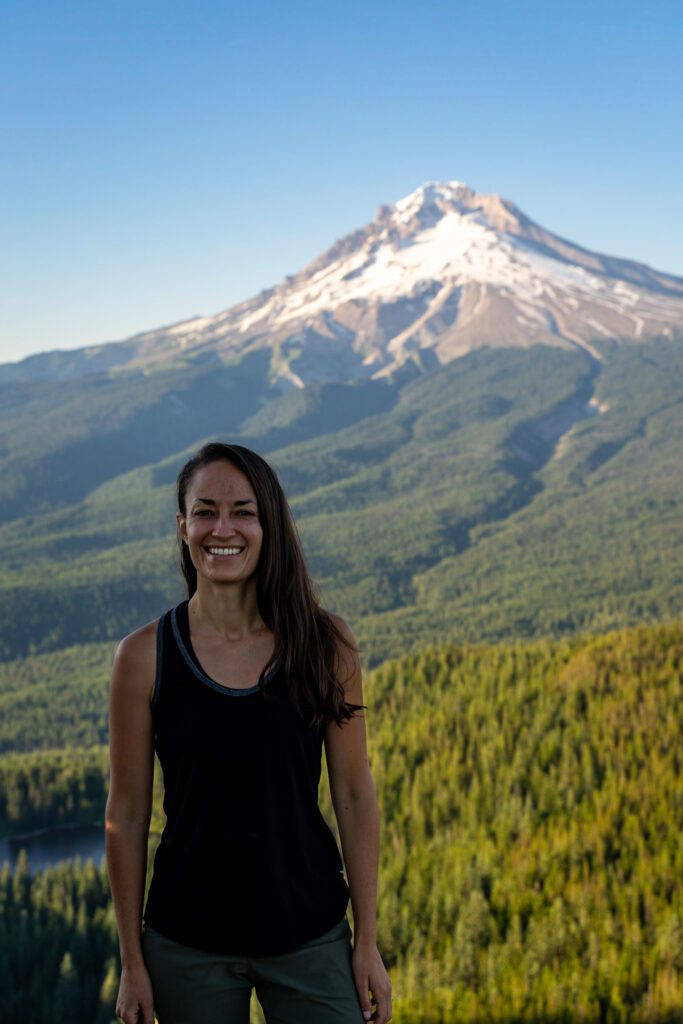 Find more trail information and recent trail reports here.
Ramona Falls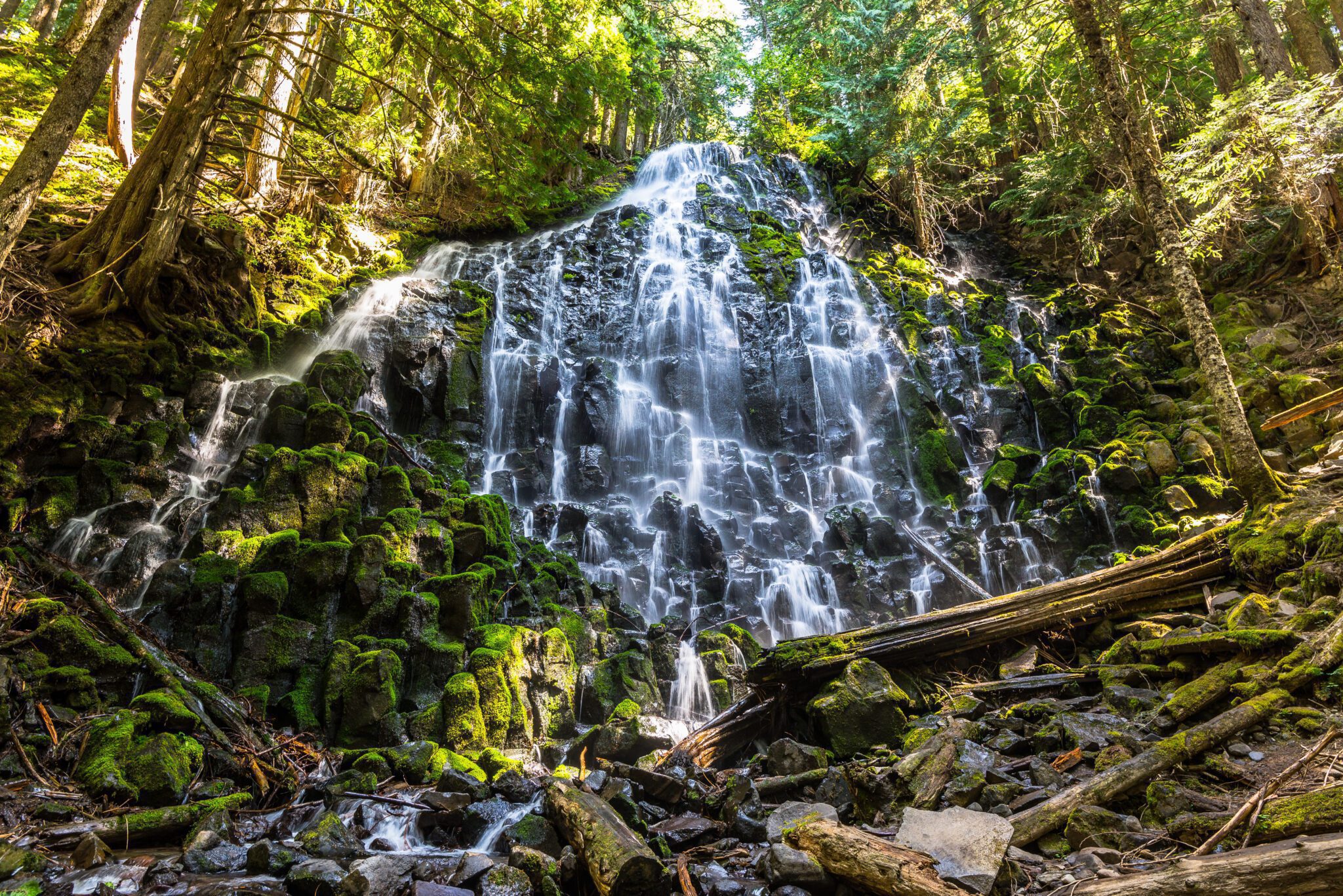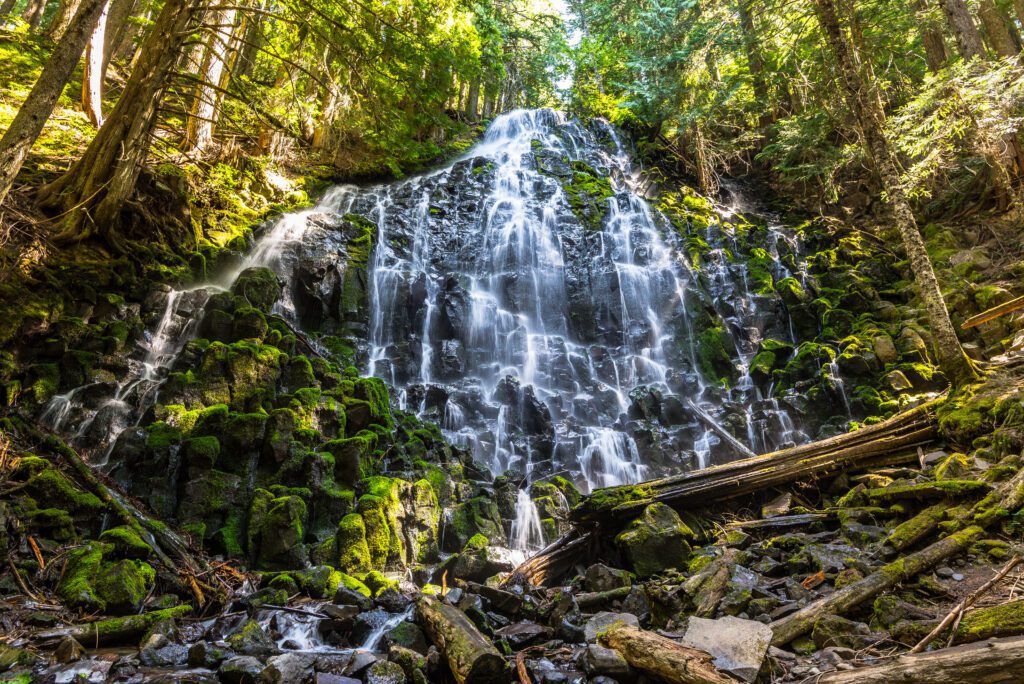 Another spectacular waterfall hike in Oregon. This one is near Mount Hood, and the hiking distance is enough to make it so that the majority of people don't make it out here.
However, we think you definitely should because the trail isn't particularly hard, and it's gorgeous once you cross the Sandy River.
Speaking of crossing the river, that's the most sketchy part of this hike. When we were there, the river was roaring and there was basically nowhere to cross. We ended up tightroping it over a downed log, which seemed to be the only way to get across.
We later learned that there is usually a seasonal bridge installed here by the Forest Service, but they no longer put it up as of 2021 (please let us know if this changes!). That means you're left to your own devices when it comes to crossing the river. Which can be dangerous when the river is high.
The trail is a lollipop, starting with a relatively boring walk out to the river, which is just over a mile. Once you find your way across the river, there's a fork in the trail – left takes you on the Pacific Crest Trail, right takes you along the river.
Both directions take you to Ramona Falls, and we don't really have a strong perspective which way is better or more scenic. We went clockwise, but I'm not sure it really matters.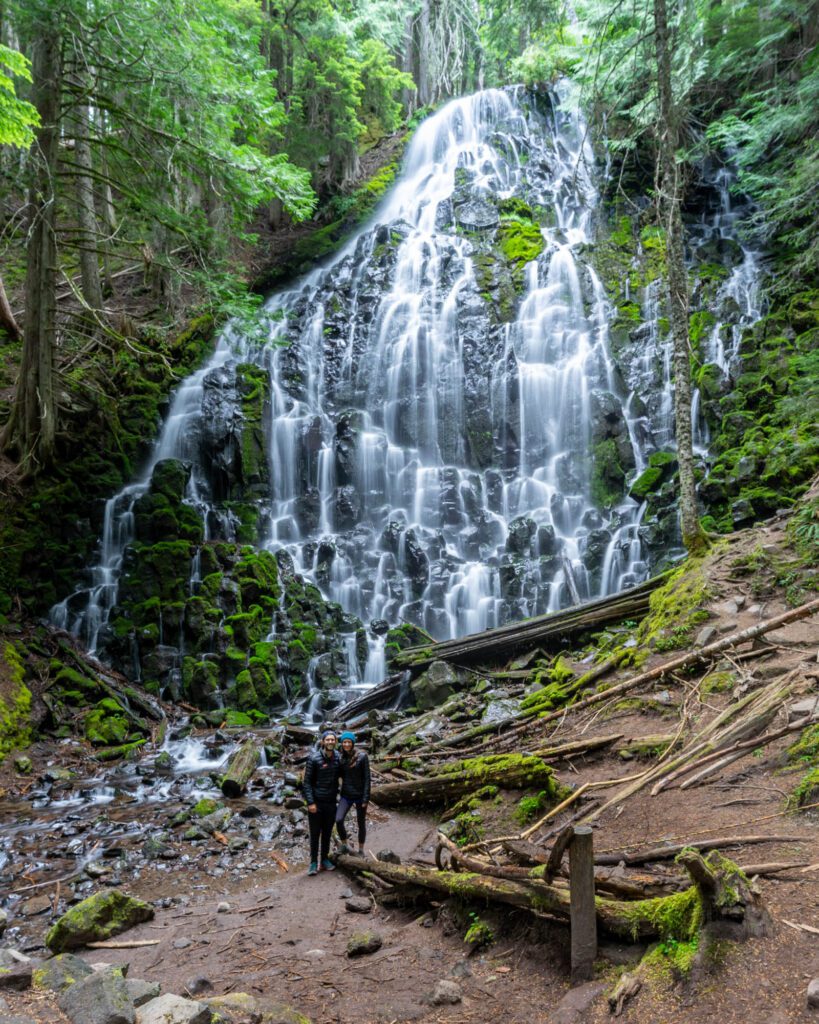 Ramona Falls is a towering waterfall that seems nearly as wide as it is tall (and it's 120 feet tall). Individual torrents of water cascade over the mossy green rocks, ending in a small creek at the foot of the falls.
Complete the loop, cross the river, and head back to your car once you've picked your jaw up off the trail.
Find more trail information and recent trail reports here.
Iron Mountain / Cone Peak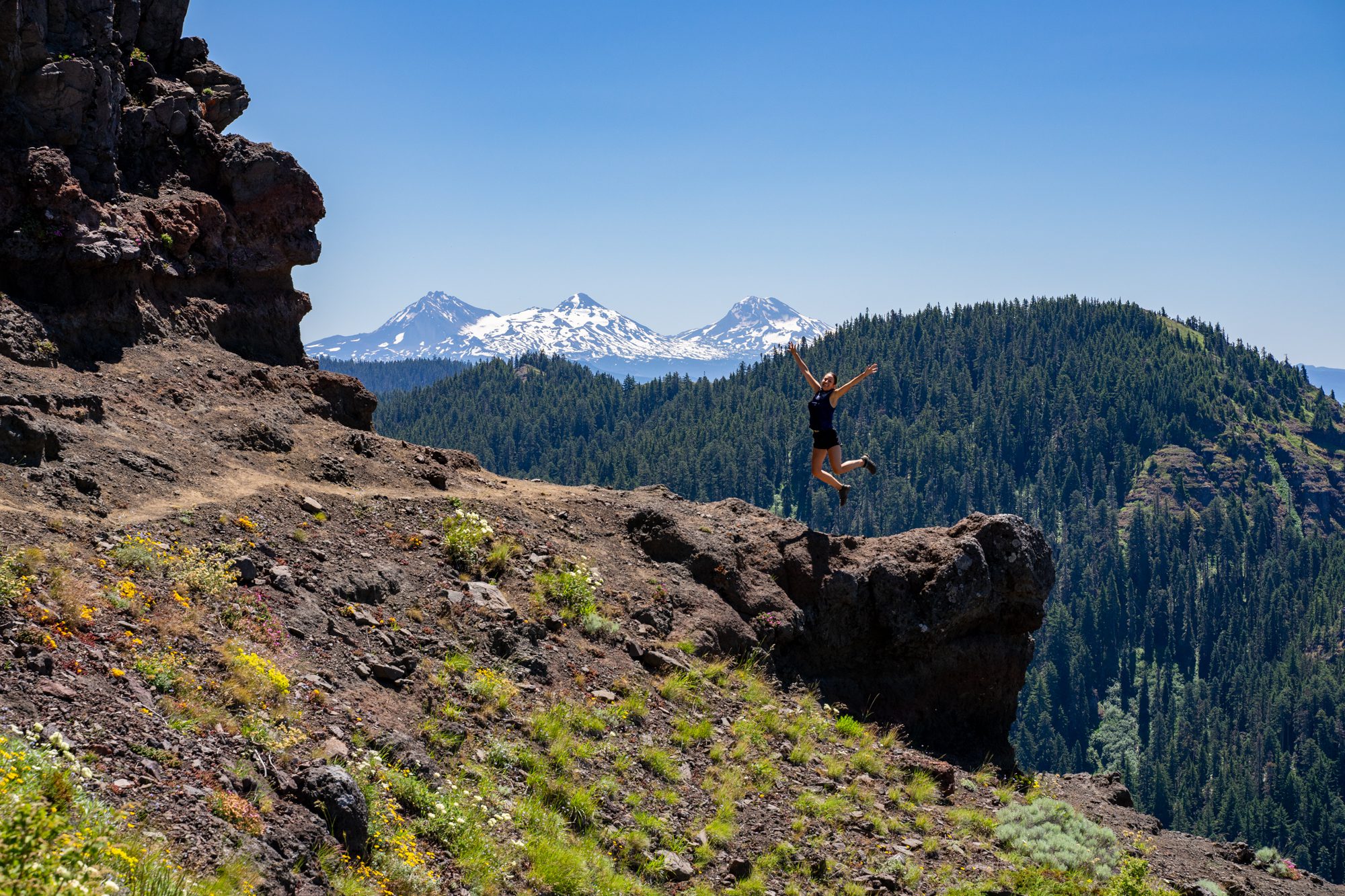 This one is a wildcard. It was very much a "well we're driving by, let's check it out" that turned into the most spectacular show of wildflowers that I think we've ever seen.
This hike is best in the late spring / early summer, when the landscape is covered in all sorts of different colors – reds, yellows, purples, whites, and more.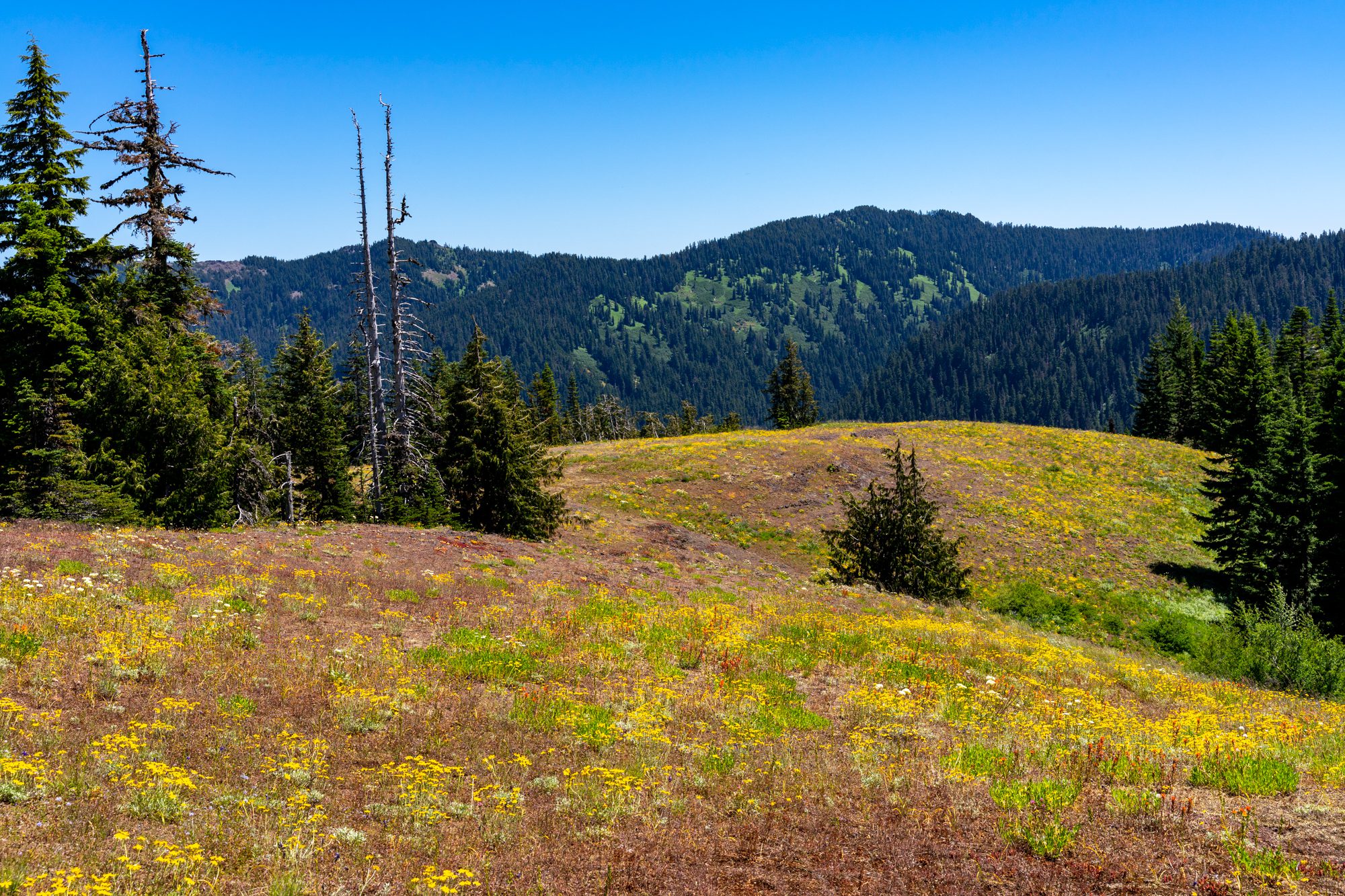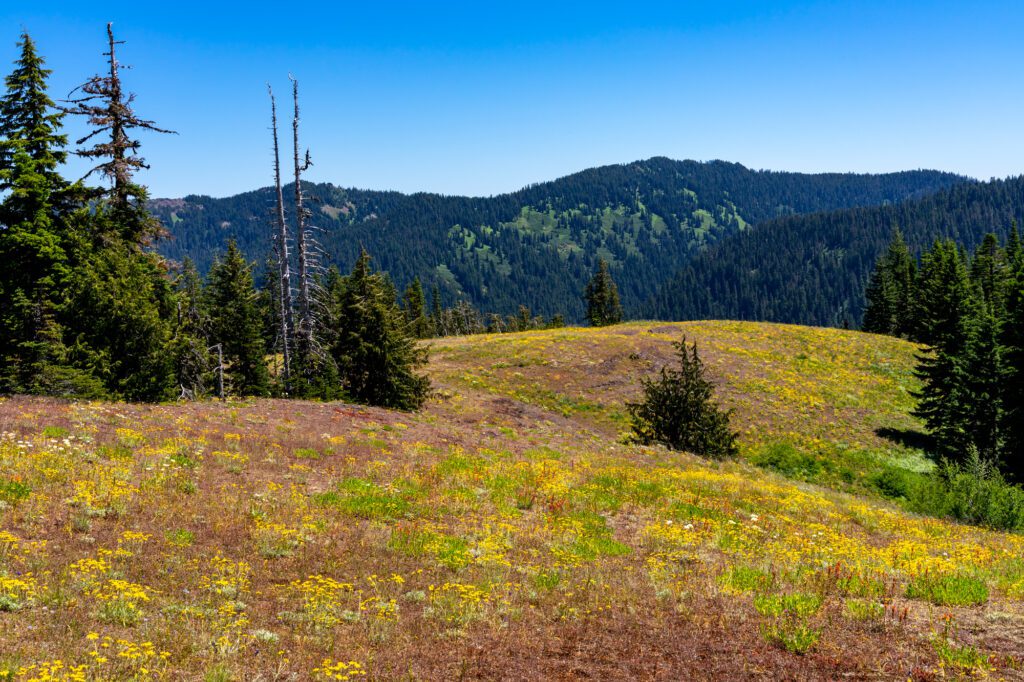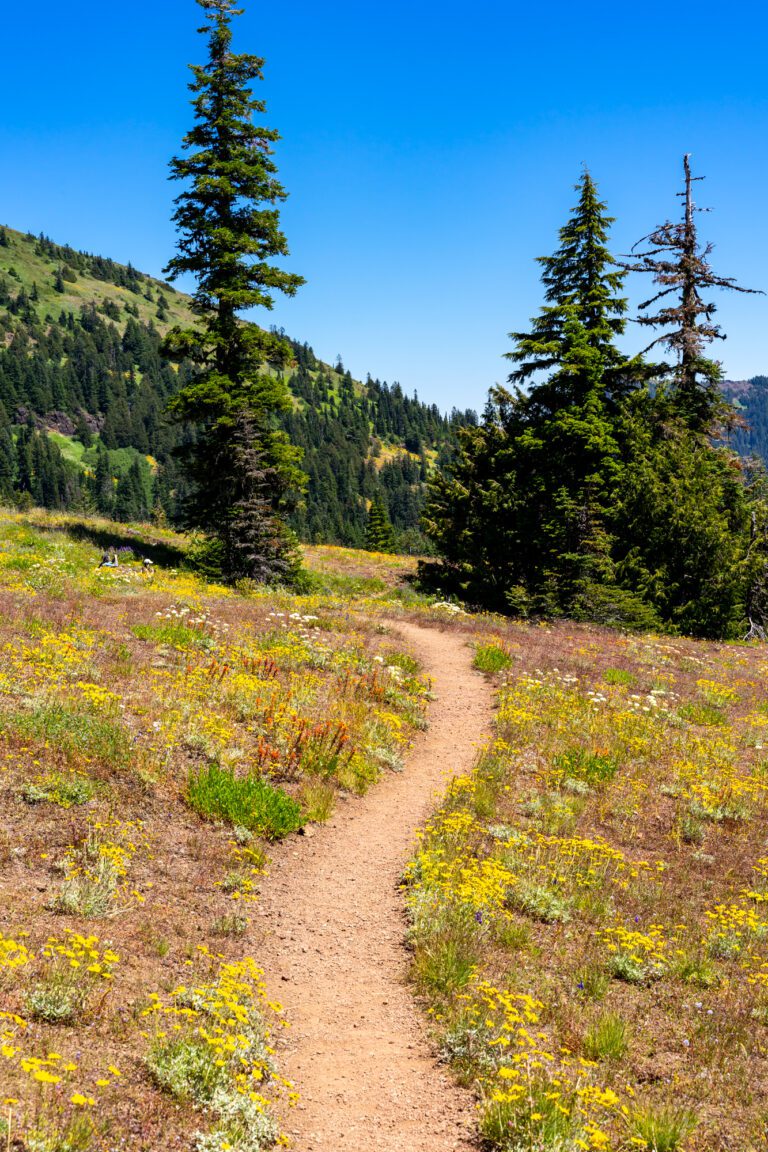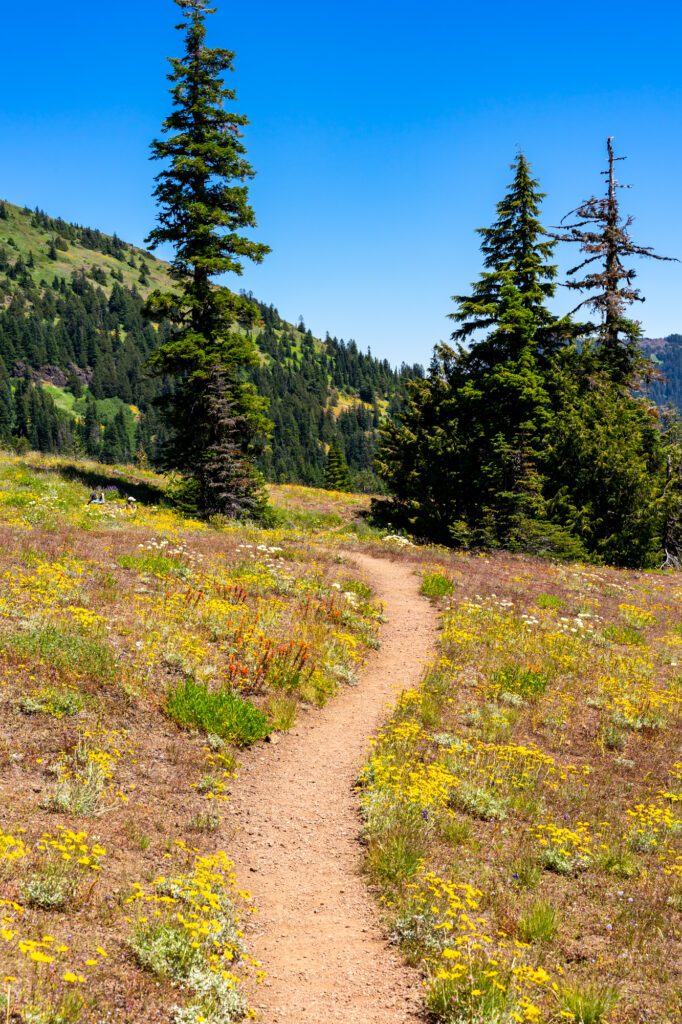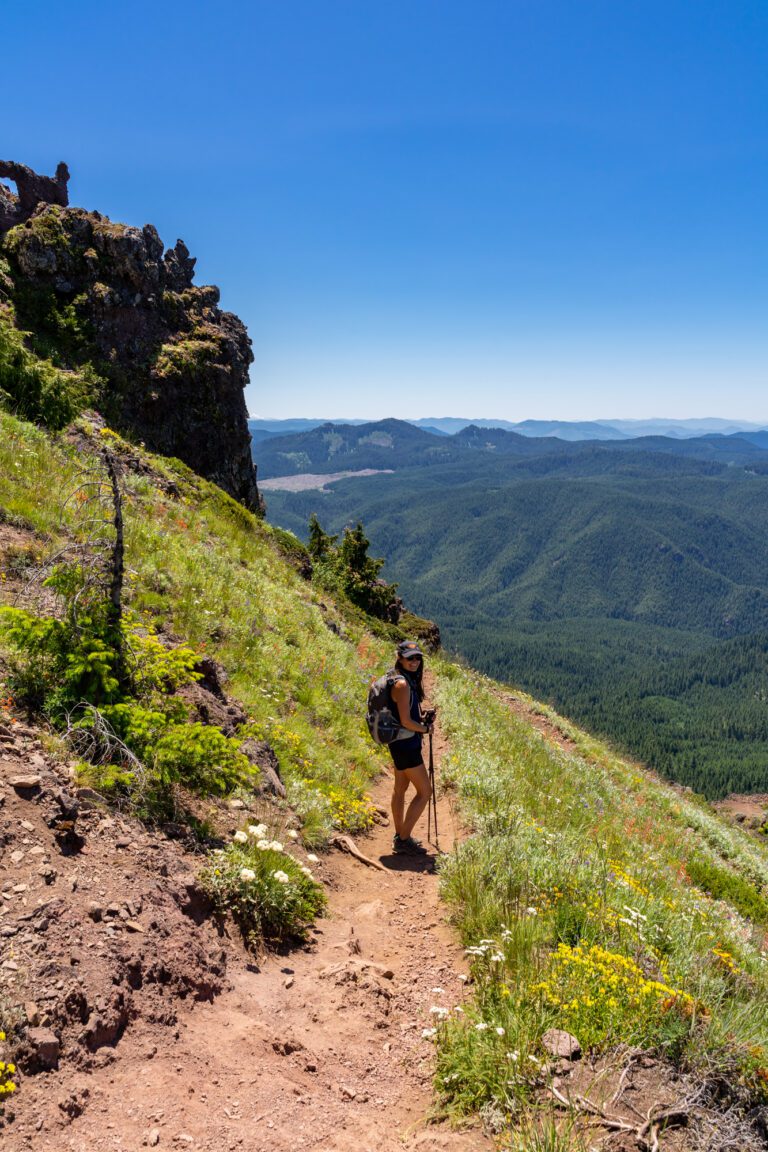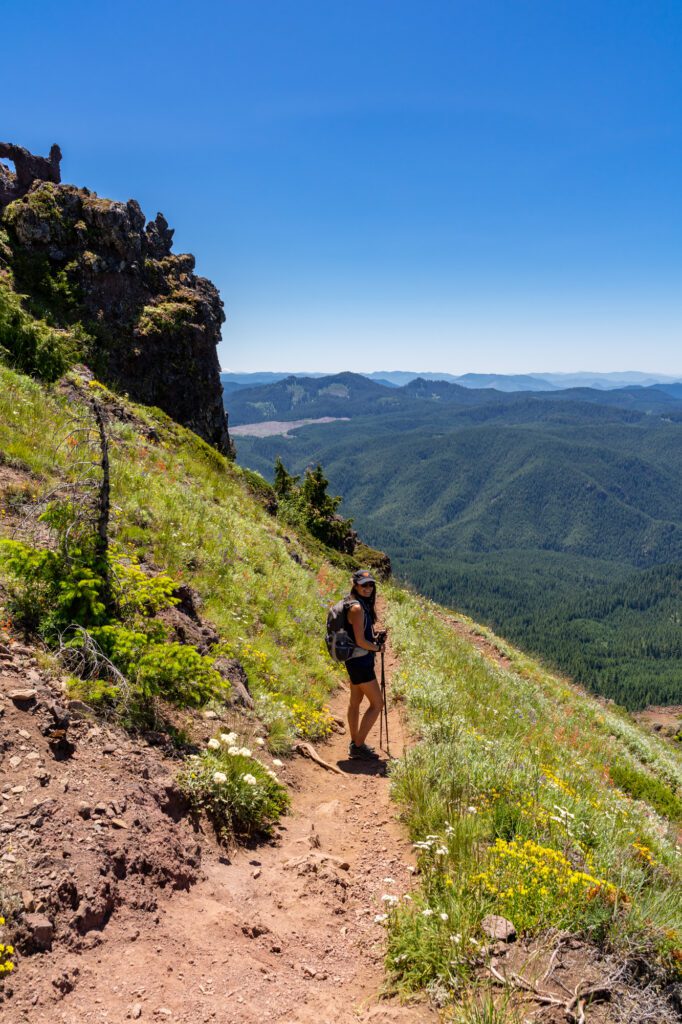 There are a couple of ways to do this hike. Most people should begin at the trailhead and tackle it clockwise, starting with the climb to Iron Mountain, where there's a 360-degree view of the surrounding Cascade Mountain Range with a helpful guide to the different peaks nearby.
From there, descend down to Cone Peak, which is more of a hill if you ask us, and descend the switchbacks back to the trailhead.
Doing it this way means getting the majority of the climbing out of the way early on, and gradually descending through the forested switchbacks at the end.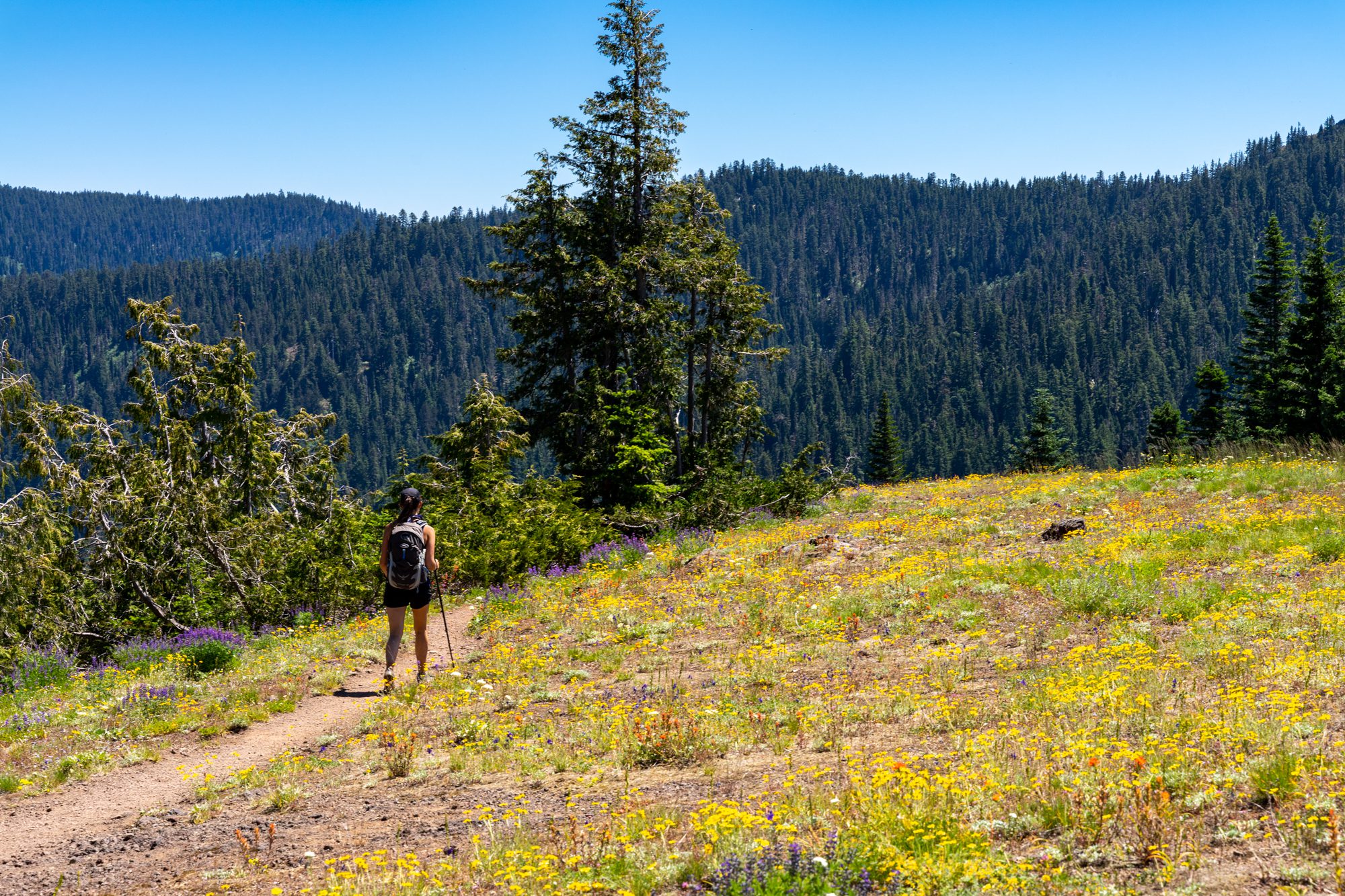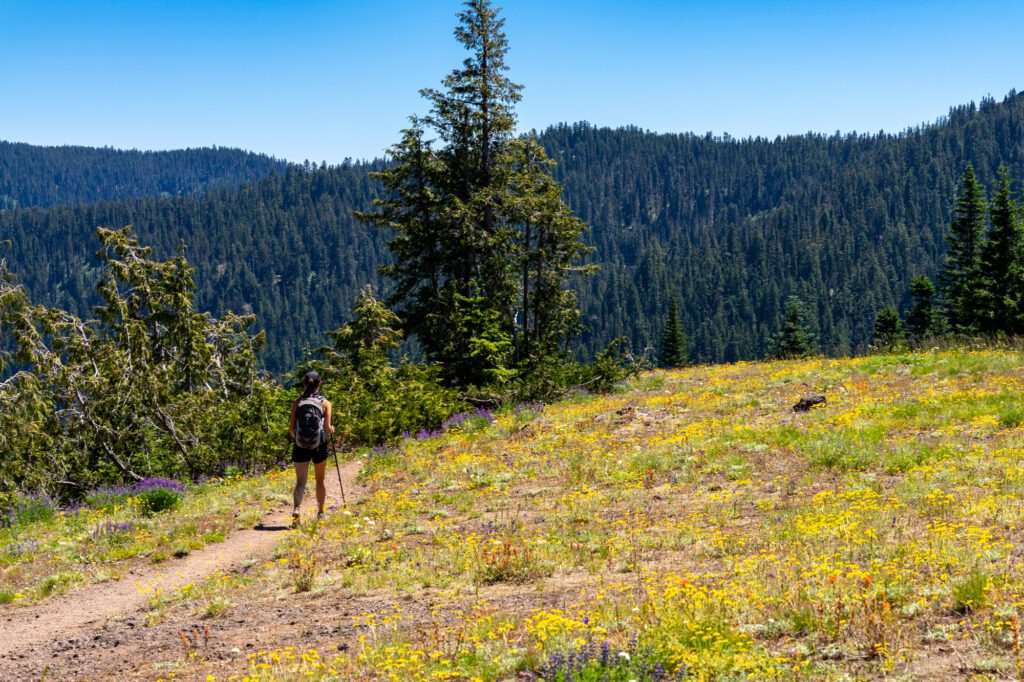 Did we mention the wildflowers? Cone Peak was blanketed in yellow flowers, and the switchbacks up to Iron Mountain were bursting with reds, yellows, and purples. Truly amazing, and we almost drove right past it and skipped it.
Find more trail information and recent trail reports here.
The Misery Ridge Trail (Smith Rock State Park)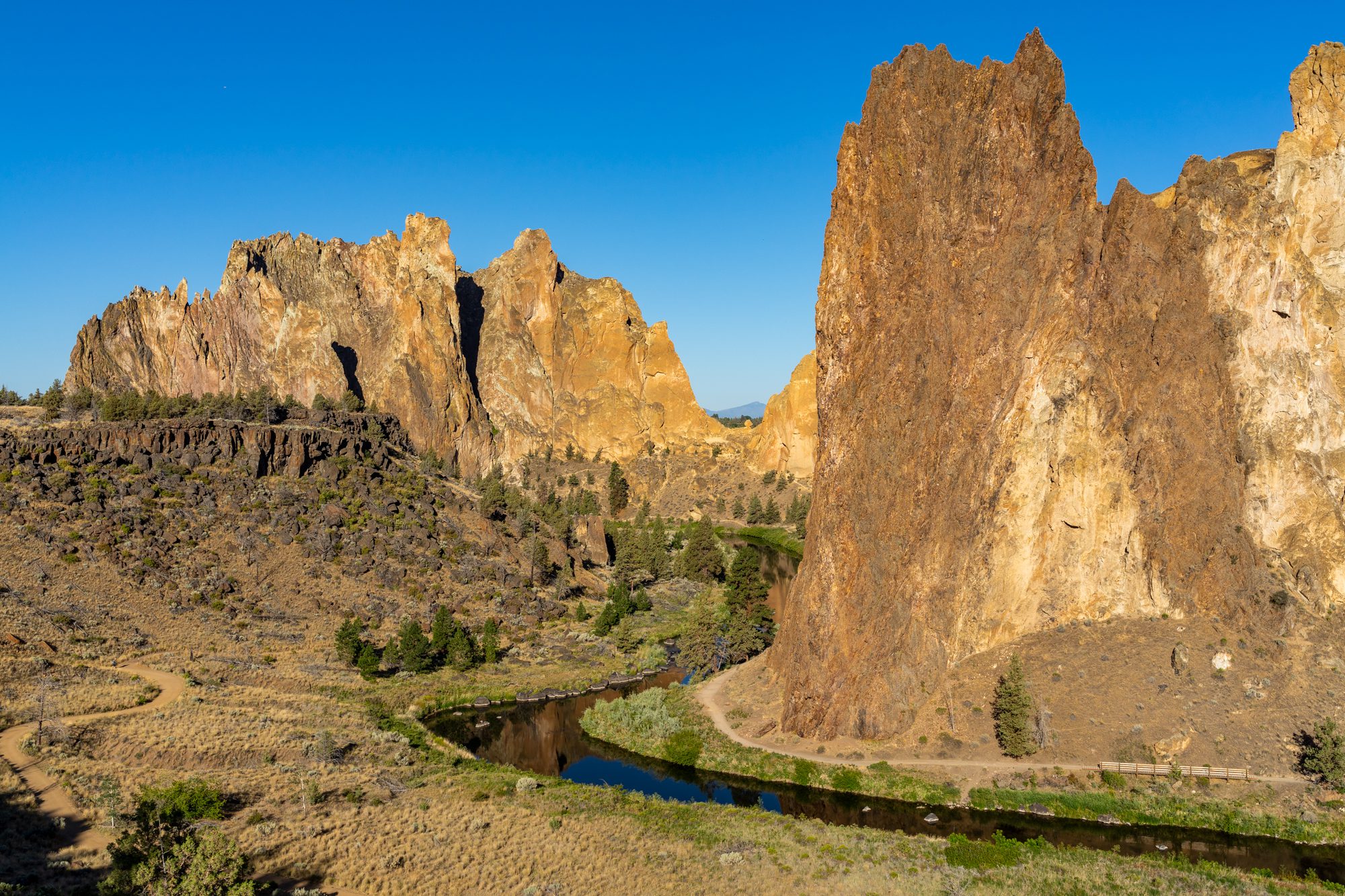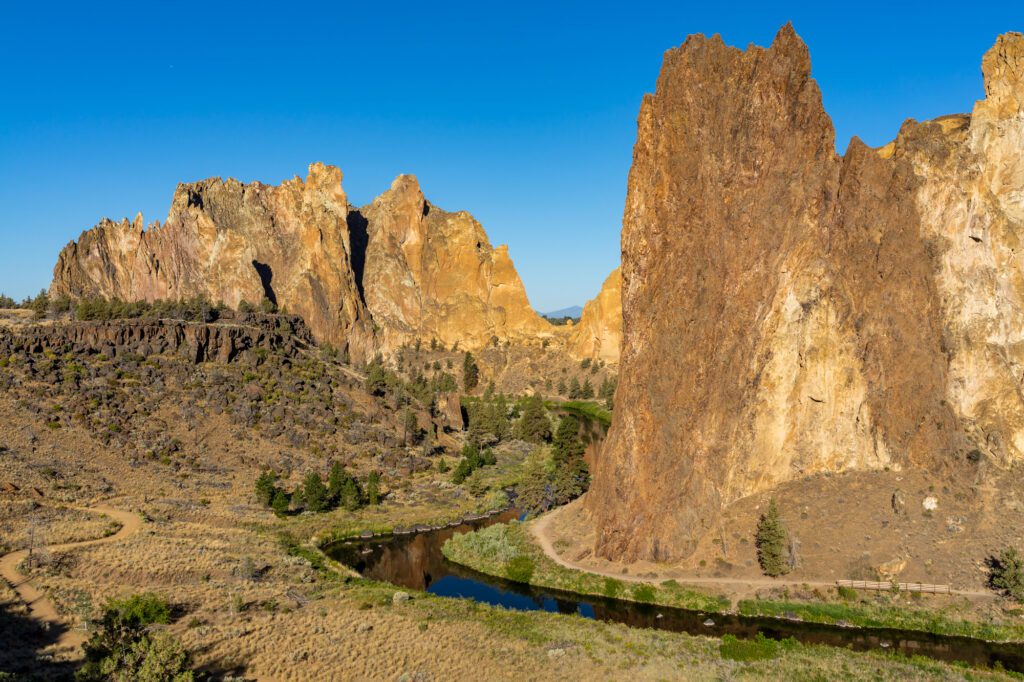 This hike is appropriately named, we think. The first section of trail, which climbs straight up a gully, ascending 700 feet in about a third of a mile, is no joke. We were huffing and puffing the entire way through.
The hike as a whole is a fantastic reminder that once you cross the Cascades into central and eastern Oregon, the landscape changes. Drastically. This is the high desert, and the rock formations in Smith Rock State Park are unlike anything you'd see in Western Oregon.
It feels more like Utah or Arizona than anything you think of when you think about the Pacific Northwest.
Once you're up on the ridge, though, the views are spectacular. The trail continues up and over the ridge, where you'll come face to face with Monkey Face, a huge destination for rock climbers in Oregon.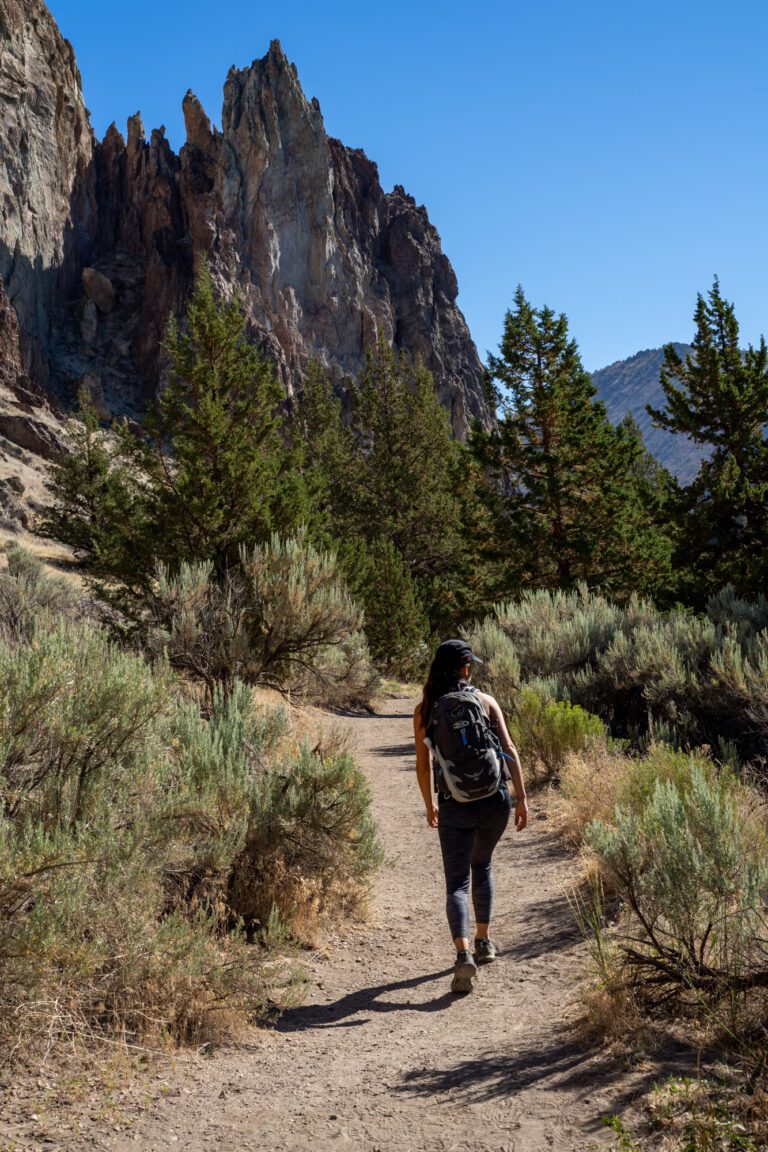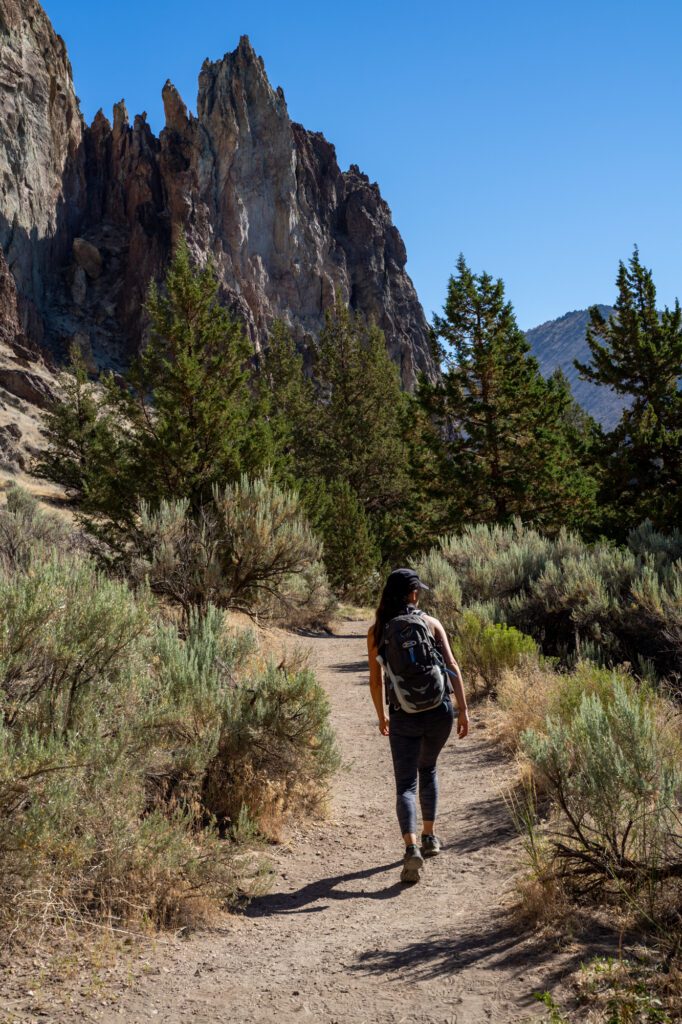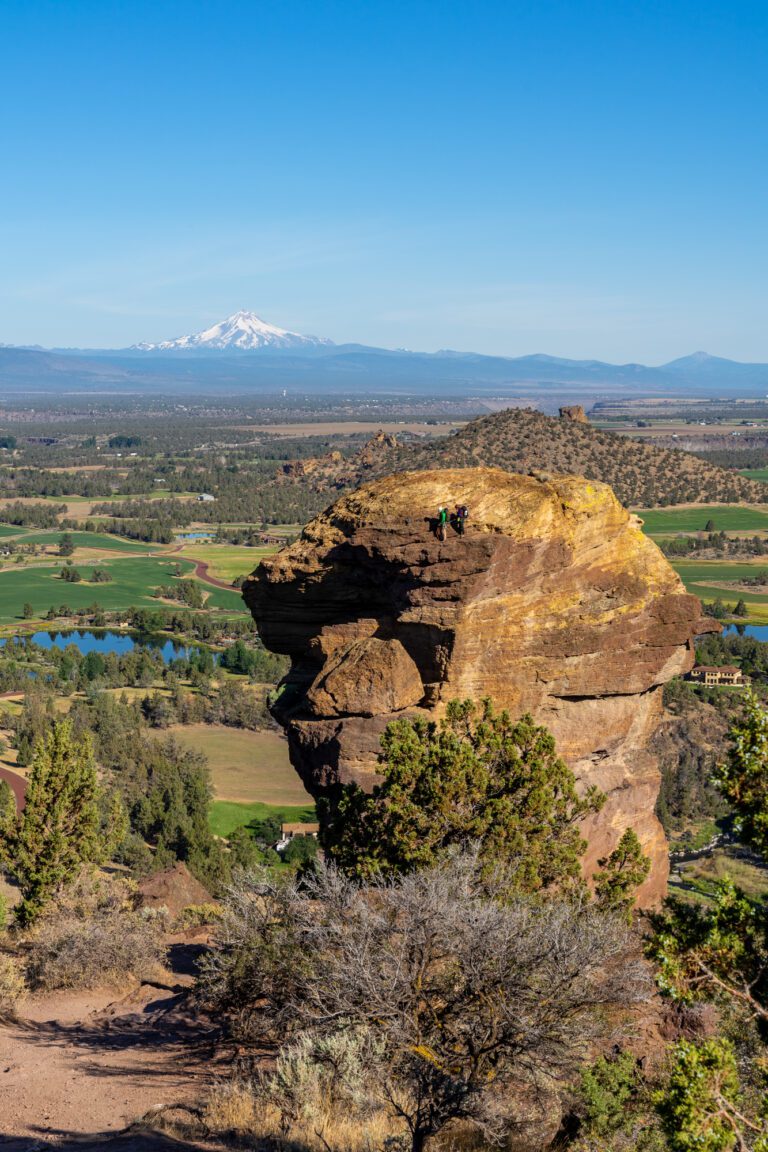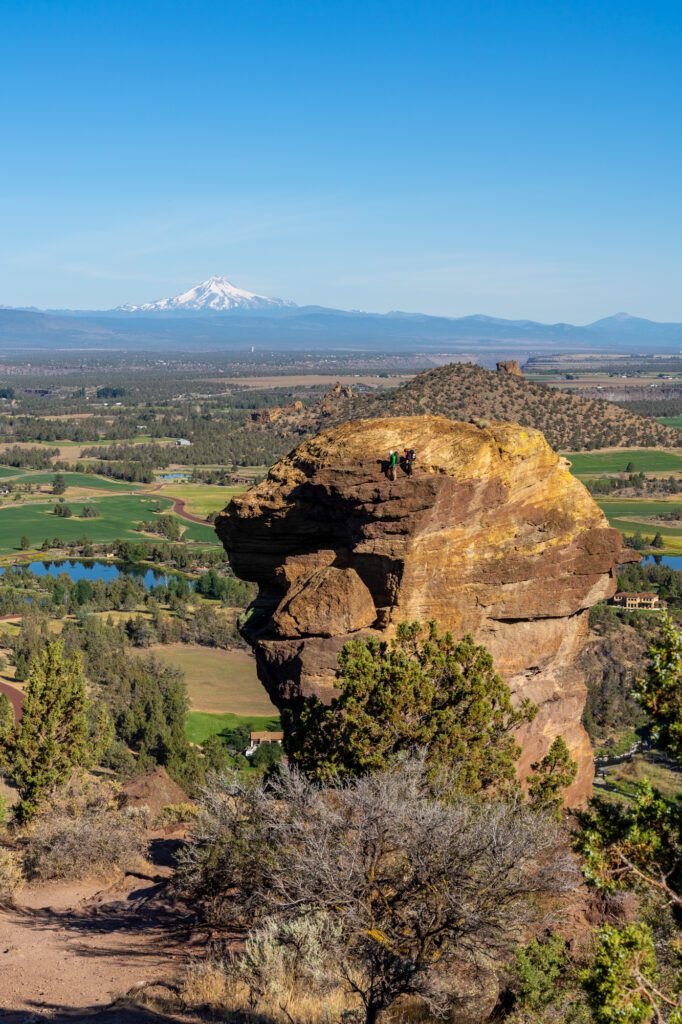 Monkey Face is also aptly named. It looks exactly like the profile of a monkey from a certain angle. You're likely to see climbers scaling the rock face. That's a no from me, Bob.
From the top, you'll then immediately descend a steep set of switchbacks to get back down to the river.
There are two different ways you could tackle this trail, and the junction happens once you've gone up the climb, over to Monkey Face, and descended back down to the river level. You'll come to a junction – left takes you back along the flat river trail, right takes you on a gentler climb along the Summit Trail, which is the one we'd recommend.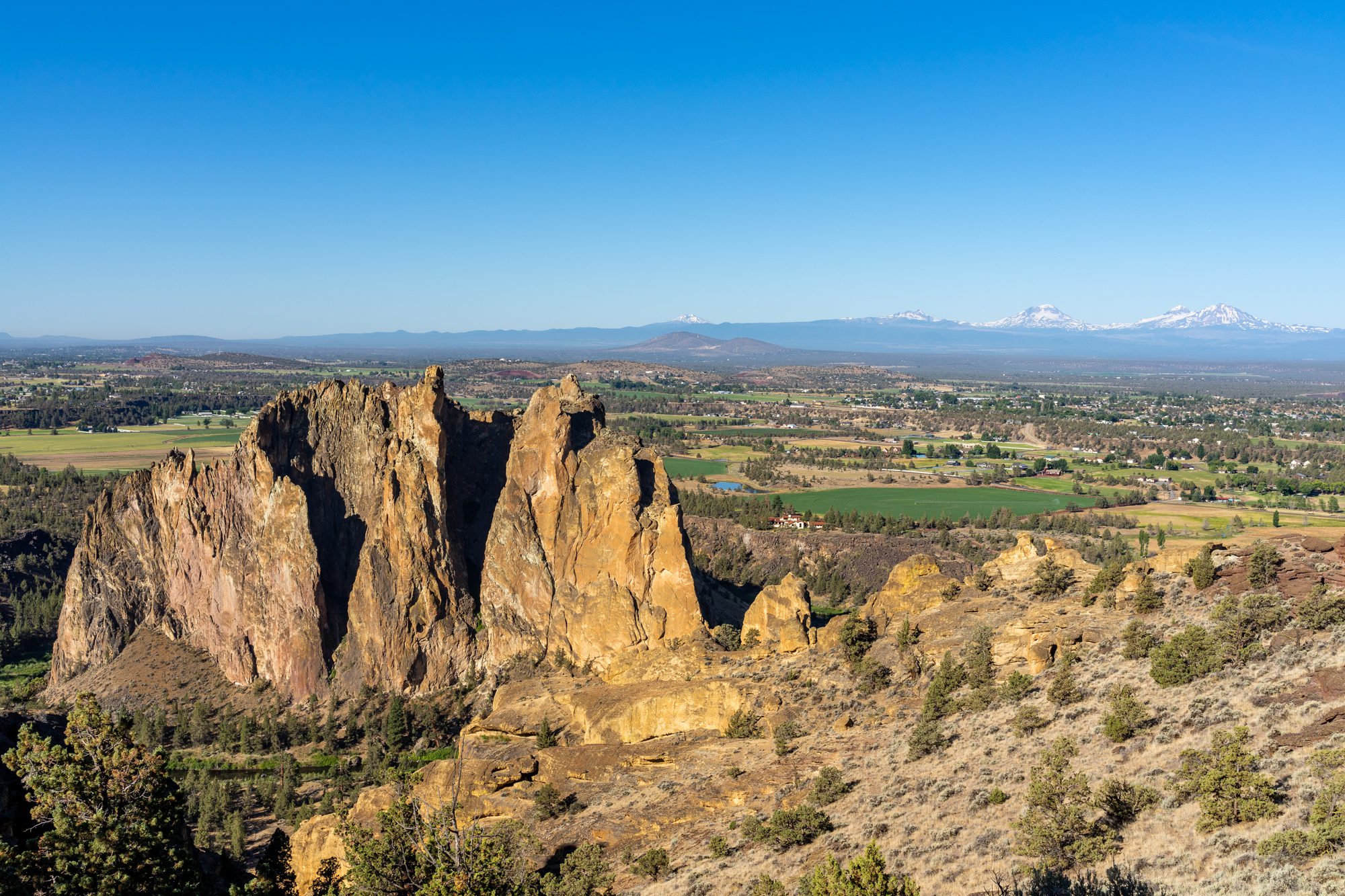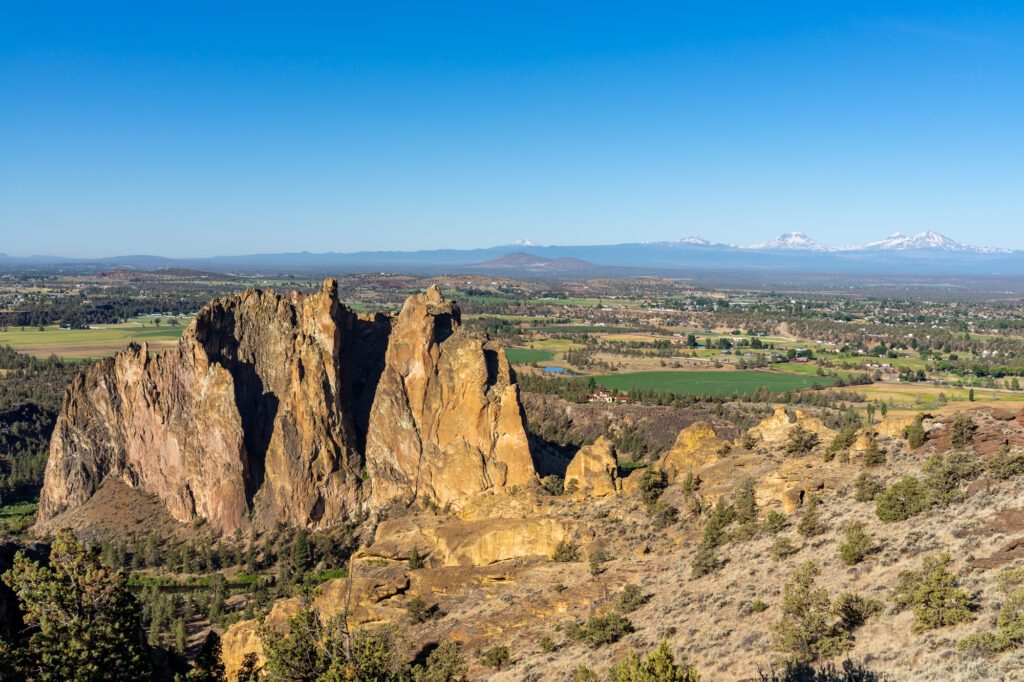 I've done it both ways, and the Summit Trail was full of great views, especially once you get up onto the ridge. I did it with about 20 hungover bachelor party attendees, so you'll probably be fine. Get an early start to beat the heat – especially in the summer – bring plenty of water and snacks, and watch out for rattlesnakes.
We saw one on our last time out there, and it was the first (and only) rattlesnake I've ever seen in person! Be aware of your hands and feet, and give them plenty of space.
Find more trail information and recent trail reports here.
The Green Lakes Trail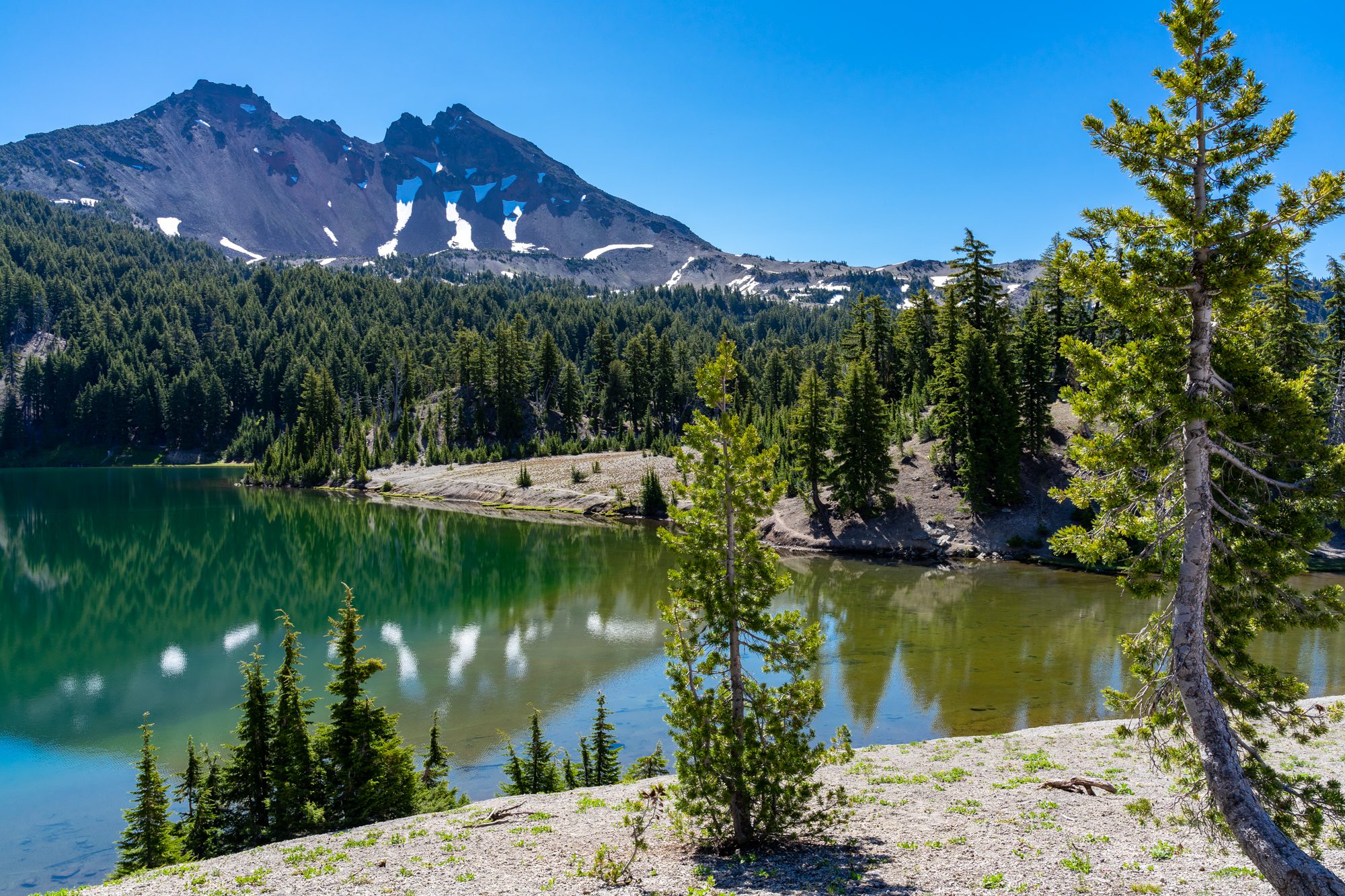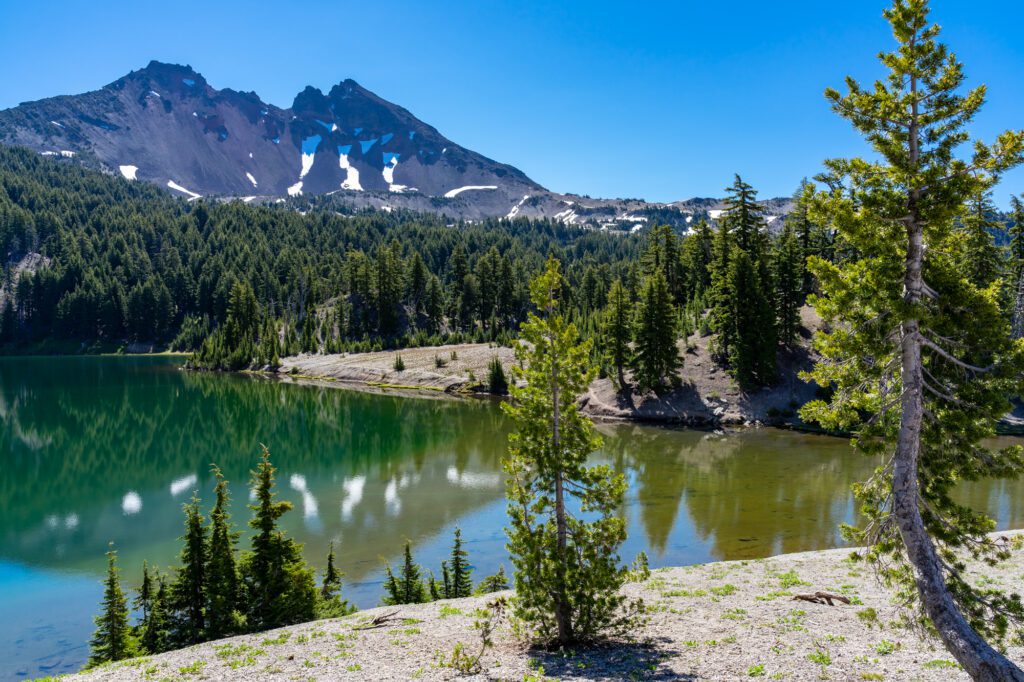 This hike is one of our favorite hikes near Bend, and while nine miles seems like a lot, it's not a particularly difficult hike.
If meandering through lush meadows alongside a rushing river (okay, technically it's a creek) before emerging into a jaw-dropping valley nestled between two rocky peaks – the South Sister and Broken Top – sounds like a good time, this is the trail for you.
Plus, it offers the best bang for your buck in Oregon in terms of the beauty to effort ratio. Despite the distance, Alysha and I agreed that this hike is actually pretty easy. There aren't any really steep portions. It's just a gentle climb all the way through. Don't let the 9 mile length scare you off!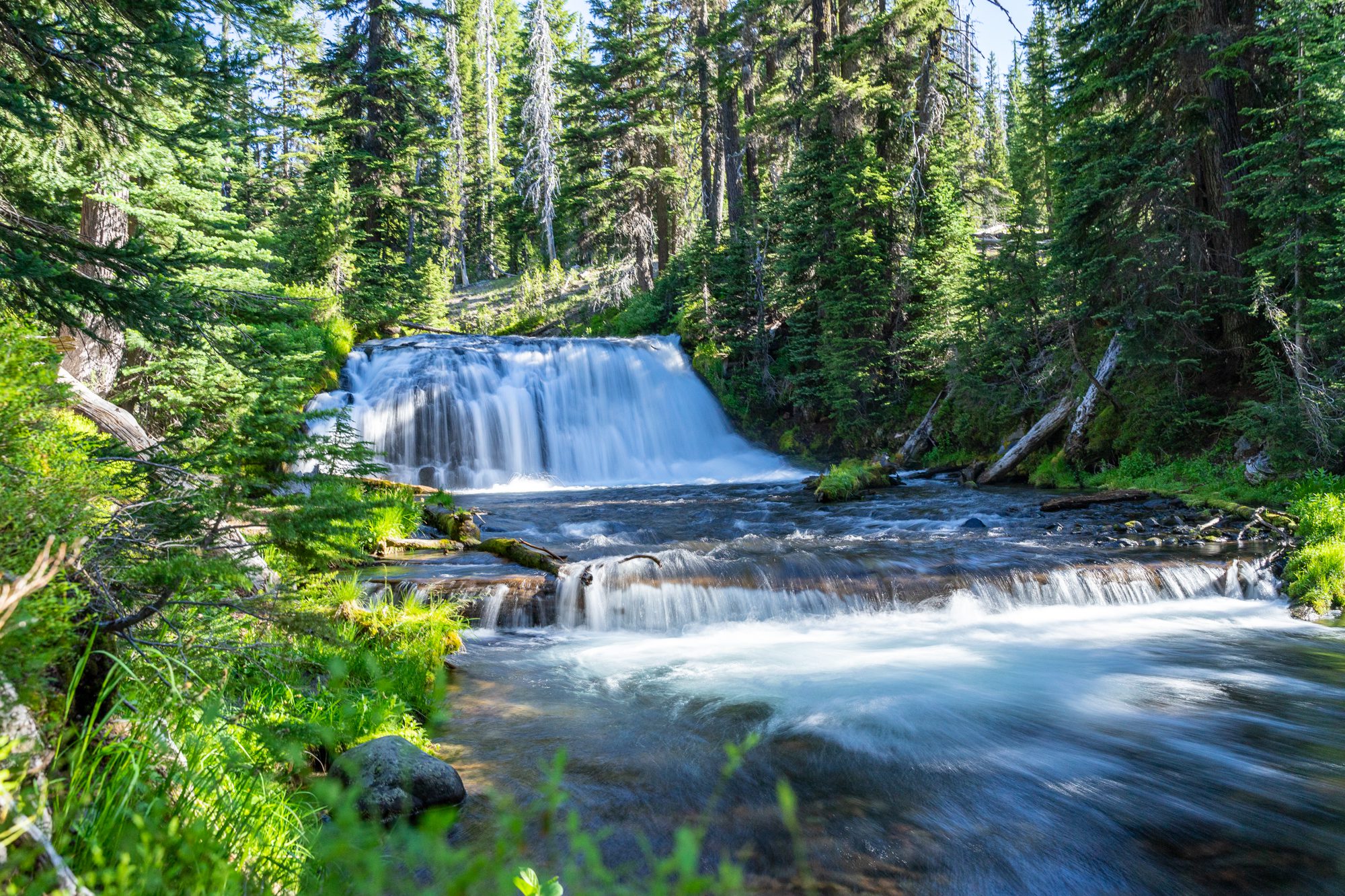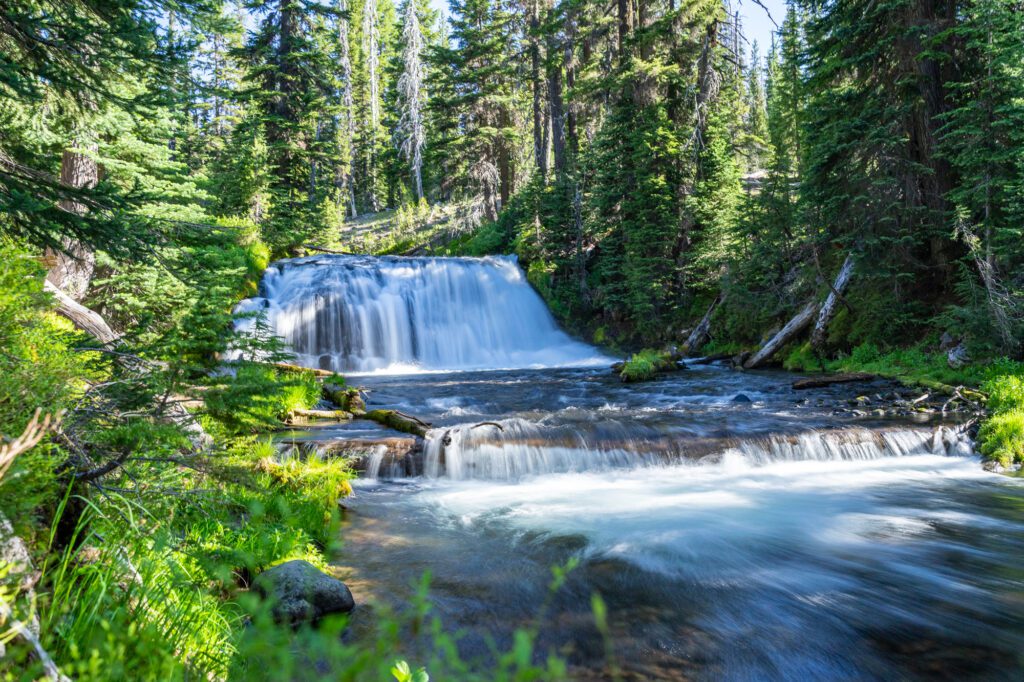 Basically, the entire trail follows Fall Creek, which means you'll be treated to the sounds of a babbling brook the entire way through. And waterfalls. Lots of waterfalls.
The sound of the creek only stops when you emerge into the meadows at the end of the hike, where you'll find yourself in between three pristine alpine lakes at the base of two of Oregon's most spectacular peaks.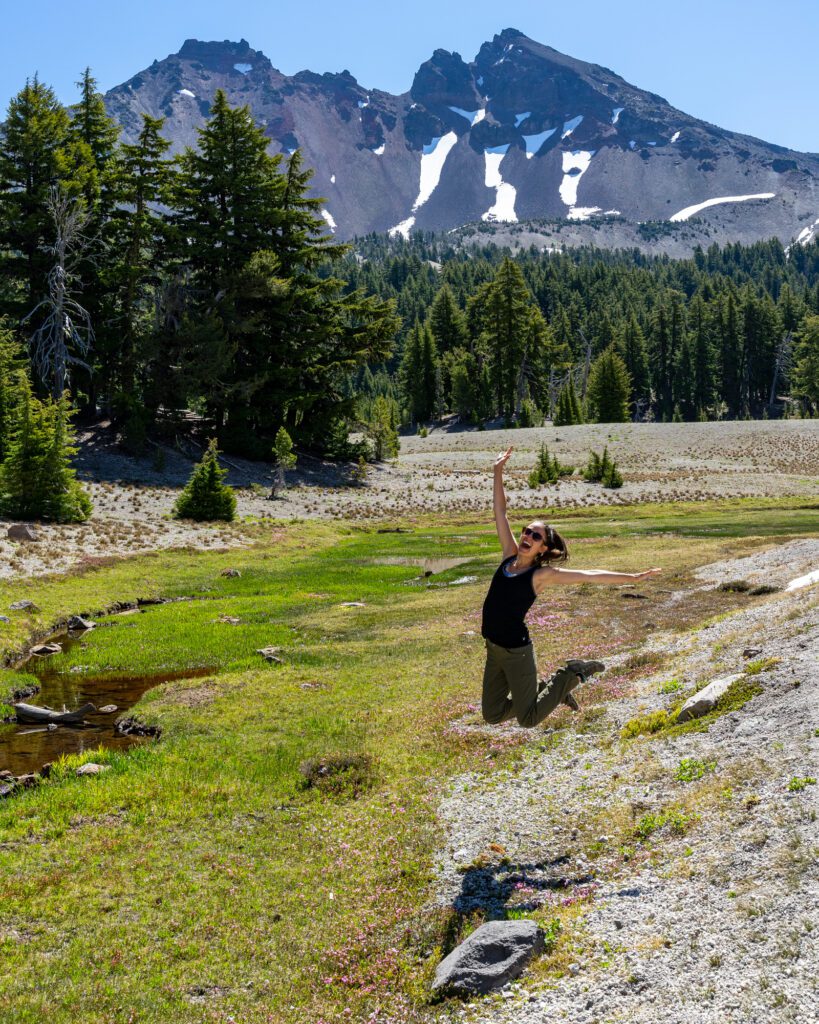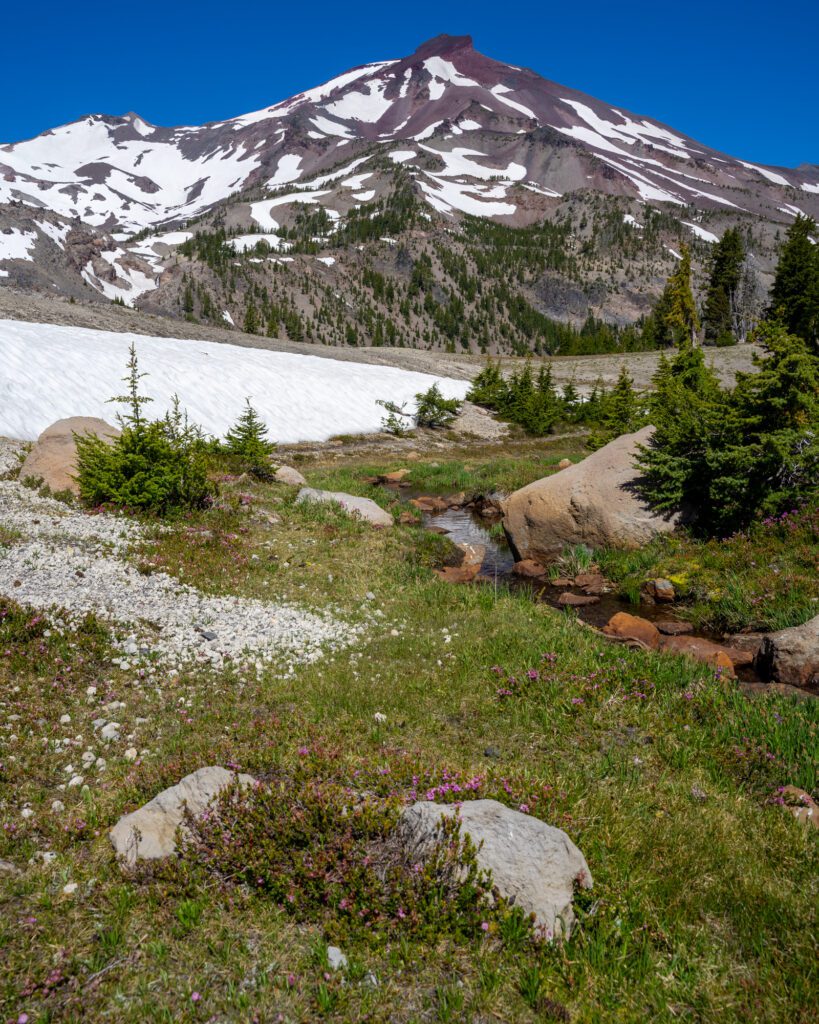 We arrived at 7:30 am on a weekday in July, and it was already fairly busy. I'd recommend either a weekday hike, or getting to the trailhead – which is a 45 minute drive from Bend – no later than 8:00 am on a weekend.
Find more trail information and recent trail reports here.
The Mount Scott Trail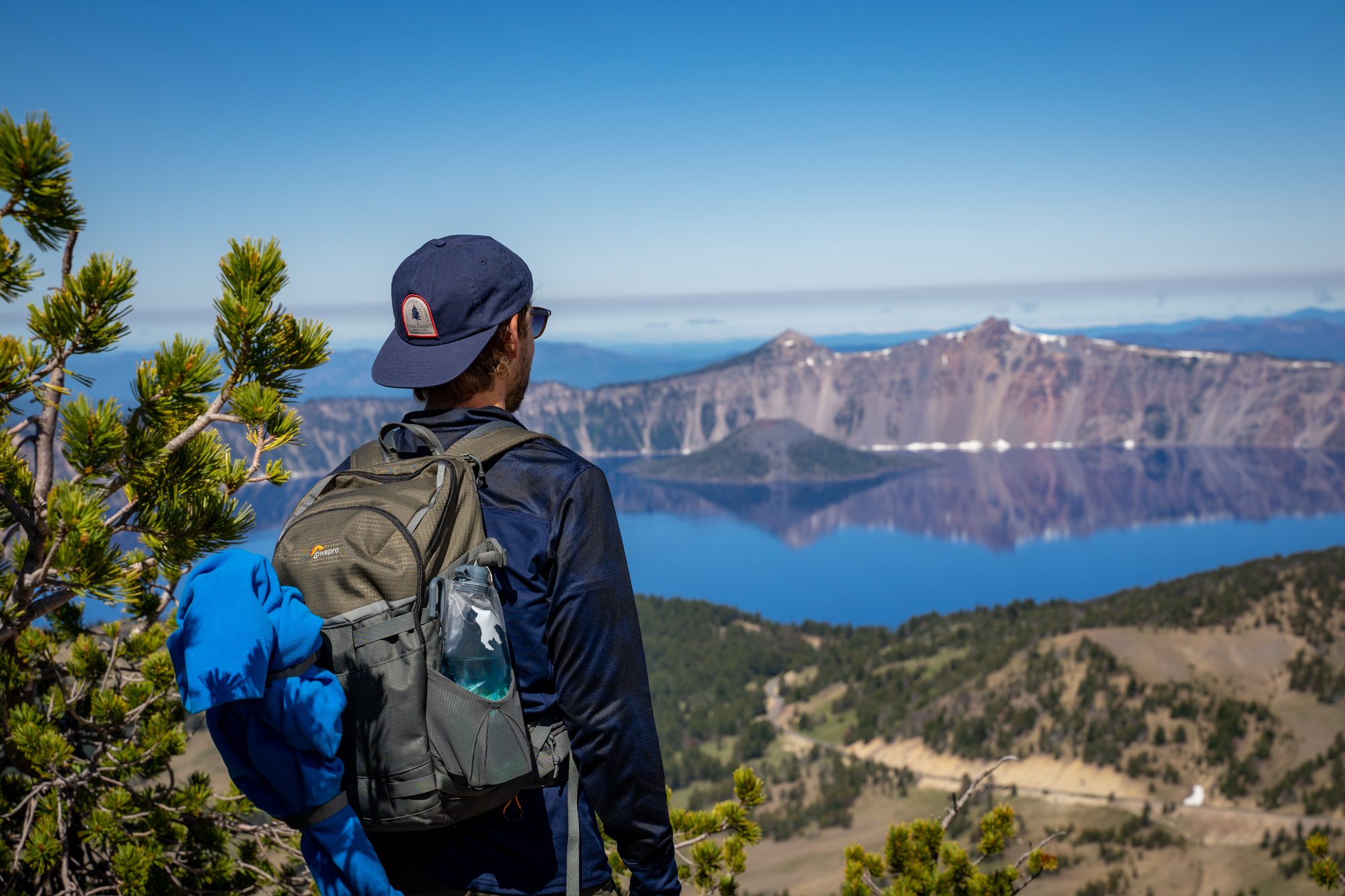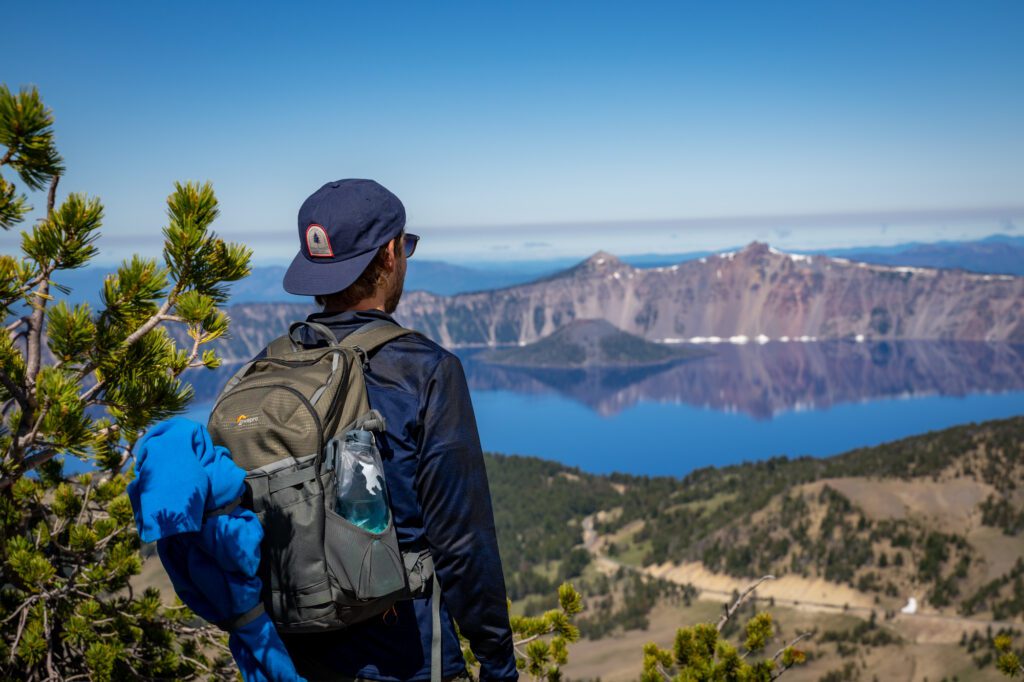 This hike takes you up to the highest point in Crater Lake National Park, on the eastern side of the lake, to an old fire lookout with great views over the lake and surrounding landscape, including Mt. Thielsen and Mt. McLoughlin in the distance.
It's a pretty steady climb from the trailhead up to the lookout. There are some switchbacks along the way, and the view of the deep blue water of Crater Lake seems to get better and better as you ascend. Just wait until you get to the top.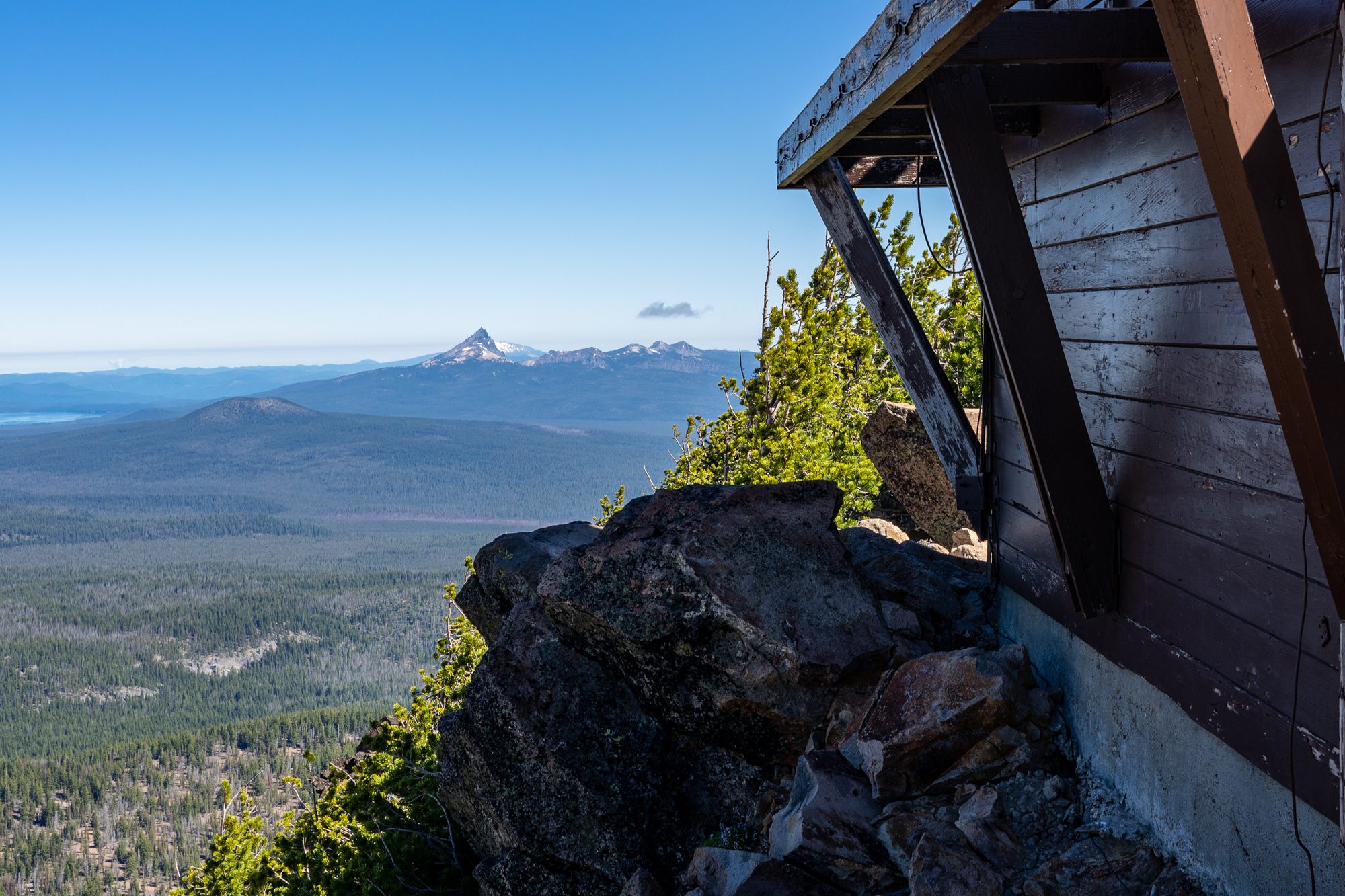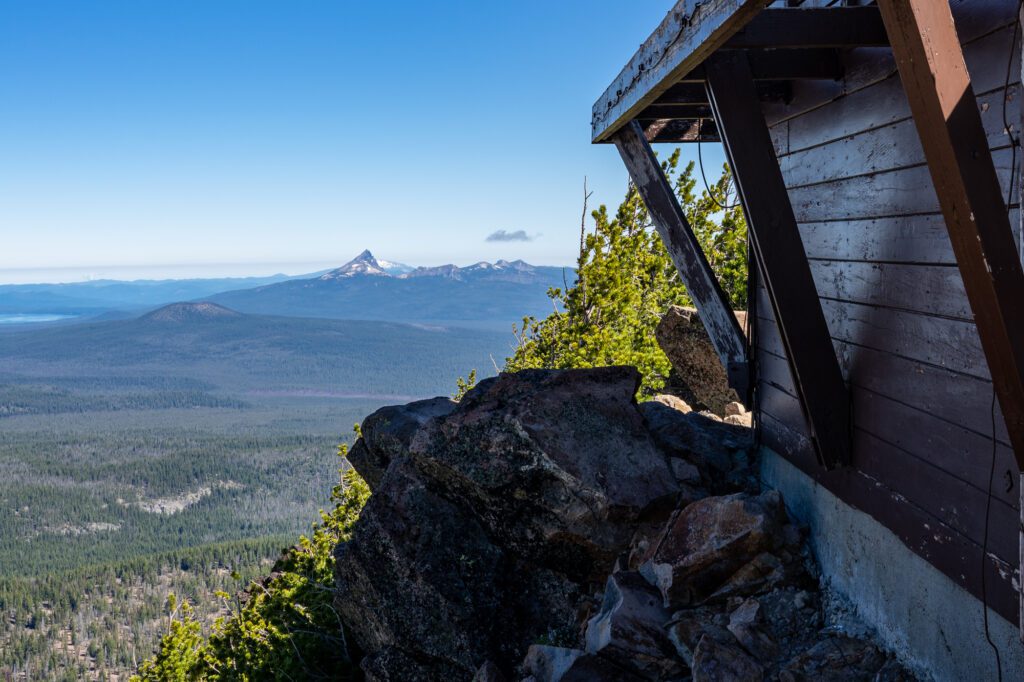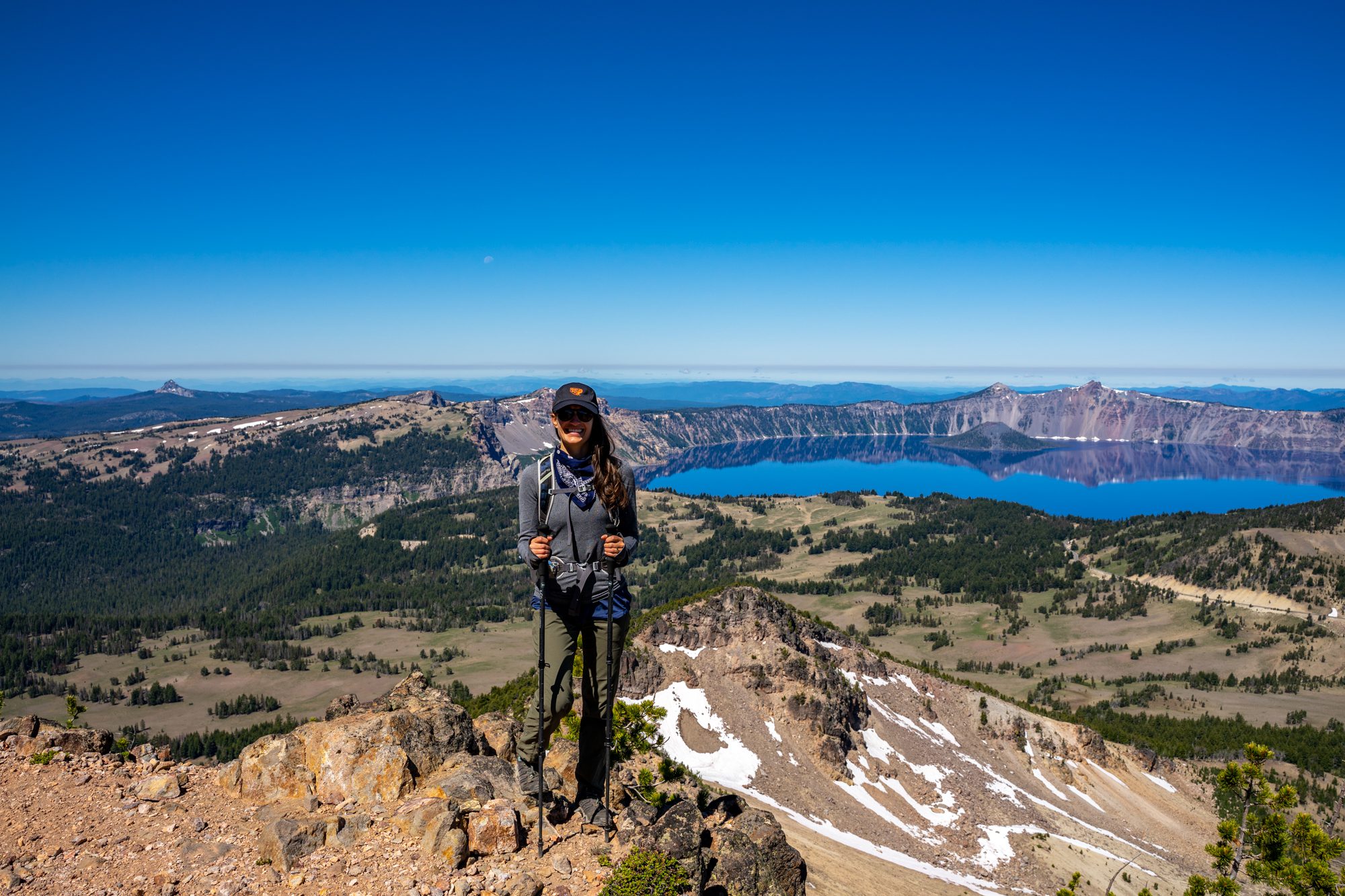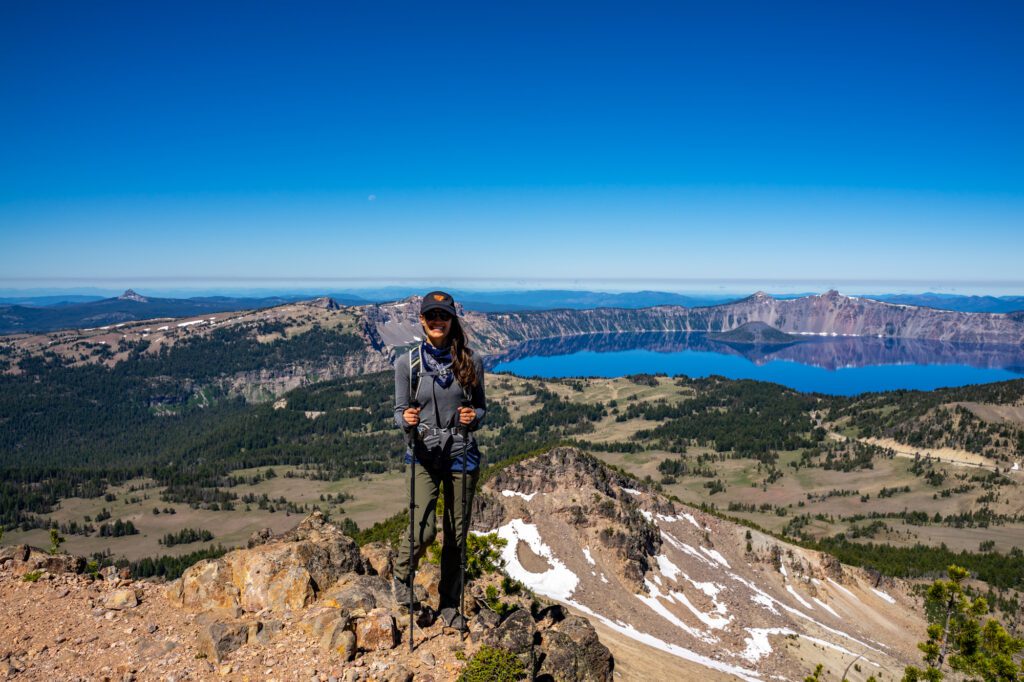 Note: The road on the eastern side of Crater Lake is closed in the winter, which means that you can't drive to the trailhead. You can still access the trailhead in the late spring / early summer by parking here, right outside the gate, and hiking to the trailhead. It adds a couple of miles in each direction, but it's along a paved road. We were there on the day the road opened for the season, but we actually did the hike the day before, when the road was still closed. Check road conditions here.
Find more trail information and recent trail reports here.
Cleetwood Cove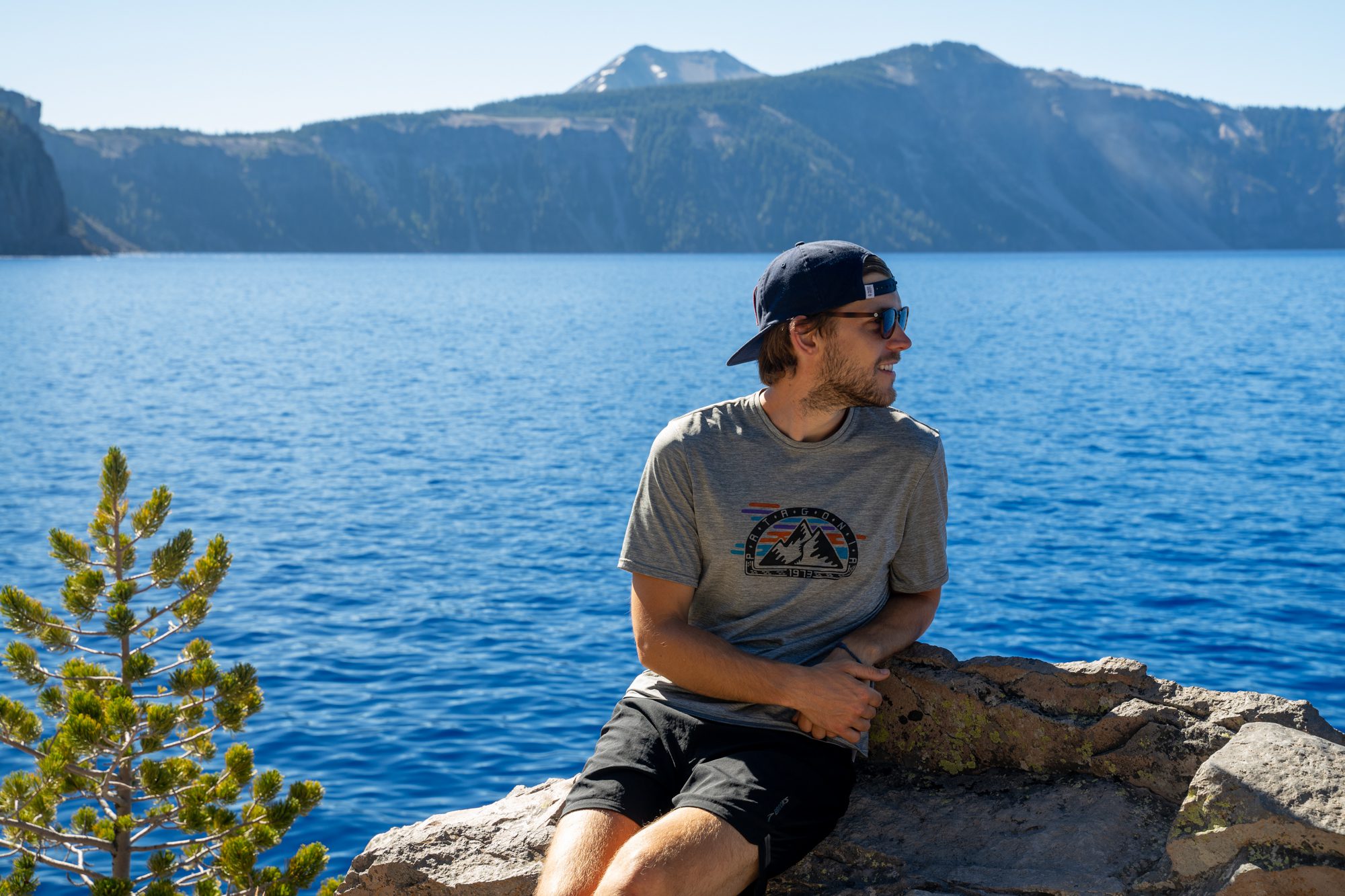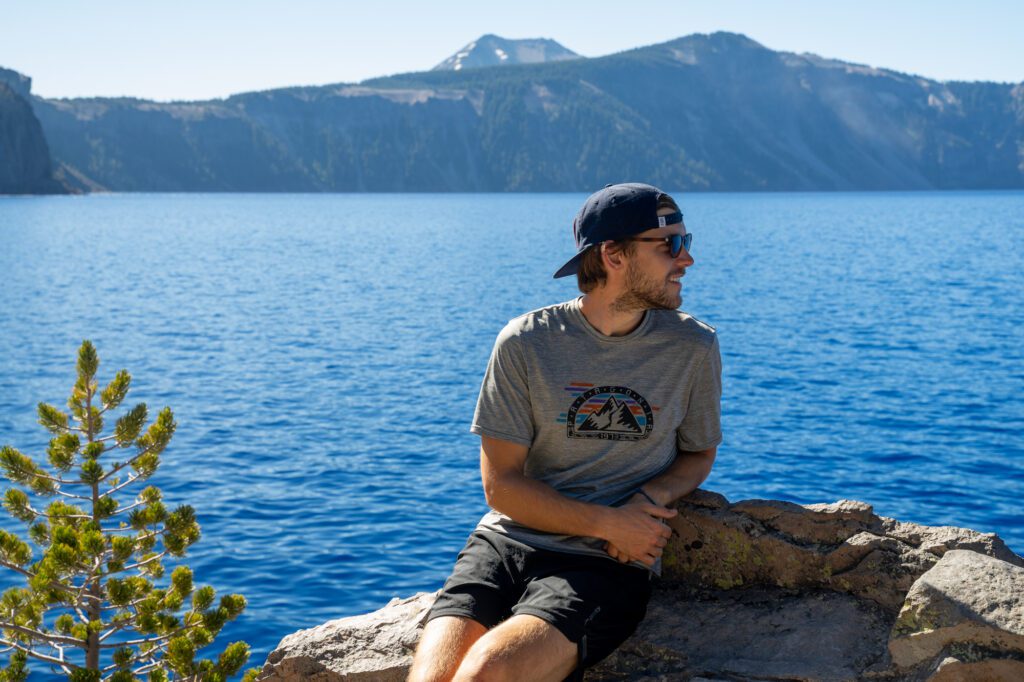 While we're on Crater Lake, let's talk about the trail that gets you to the lowest accessible point in Crater Lake National Park. The Cleetwood Cove trail takes you from the rim road right down to the water level. And, yes, you can jump in.
This is the only spot in the park (that we know of – let us know if that has changed or if we're mistaken!) where you can get to the water level.
To get there, though, you climb straight down an unforgiving set of switchbacks. Great, right? Downhill isn't too bad!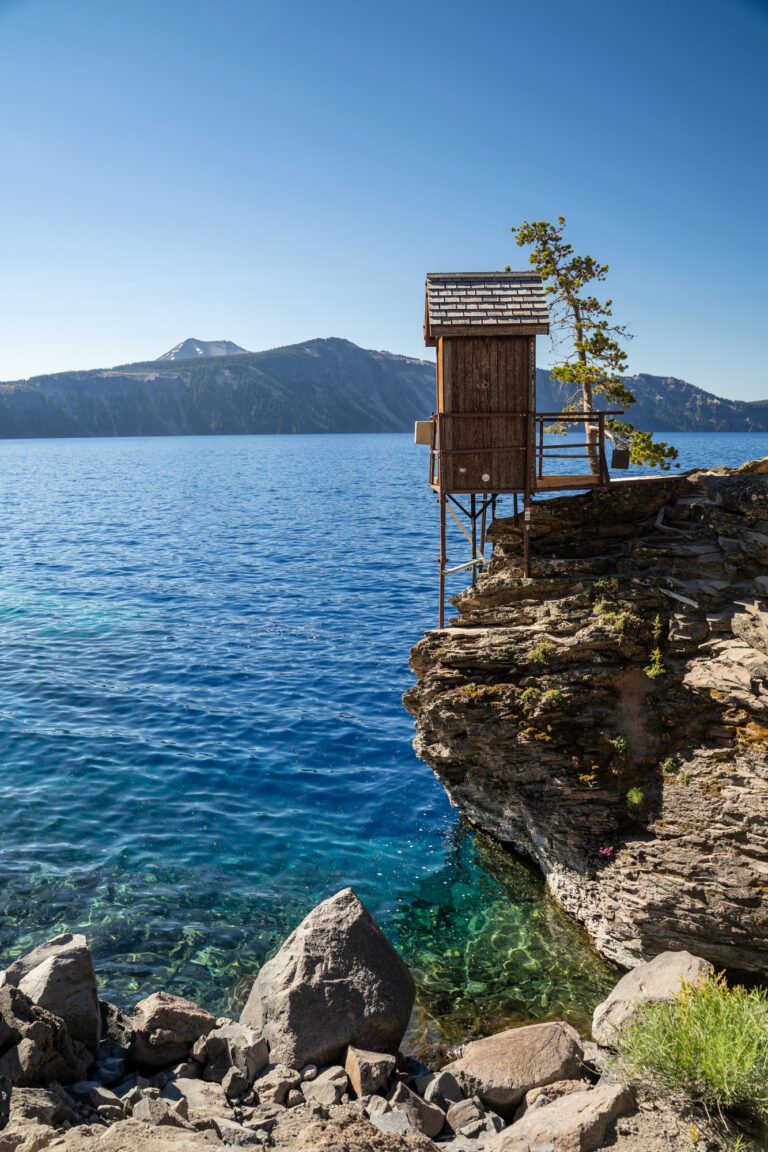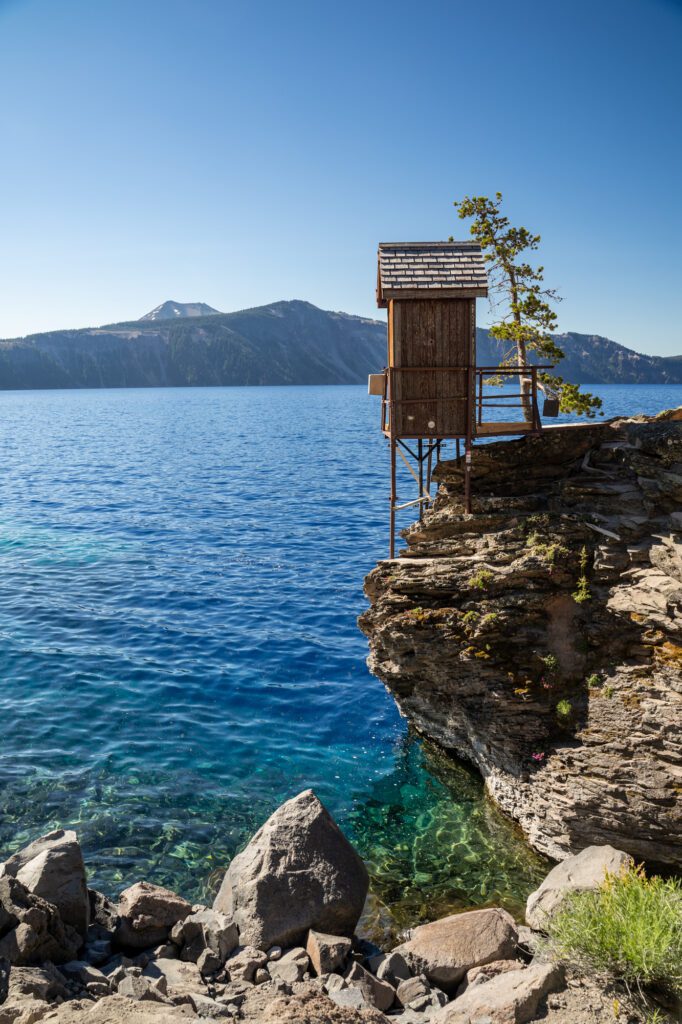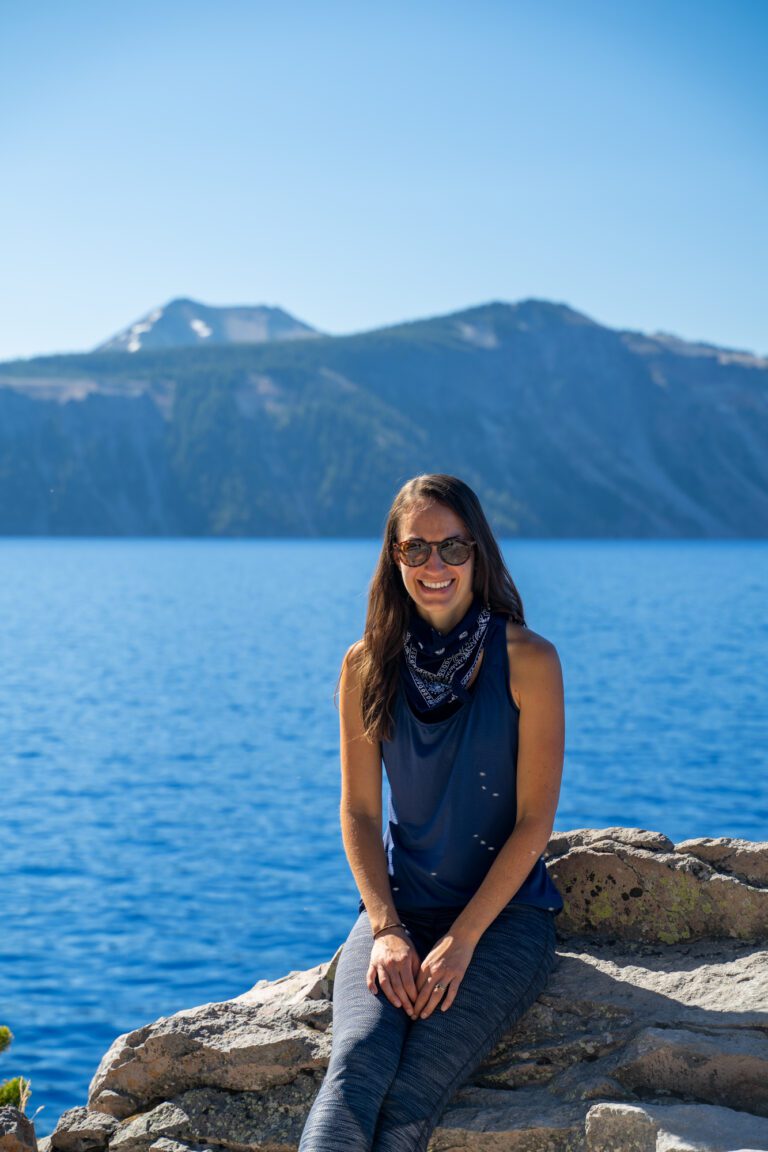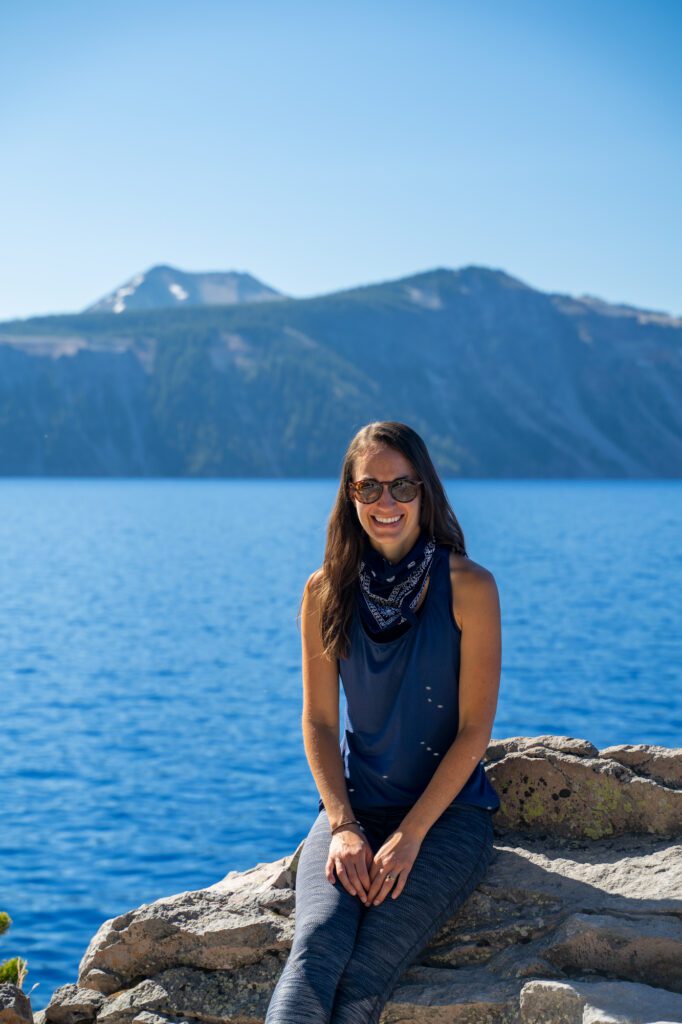 Except what goes down must come back up, and it's a tough climb on the way back up. And Crater Lake sits at around 6,000 feet of elevation, which makes it that much harder.
There's really not much else to say. It's a straightforward hike down to the water, where it's worth admiring the crystal clear (and freezing cold) water before making the ascent back to your car. Take your time and bring plenty of water.
Find more trail information and recent trail reports here.
Angel's Rest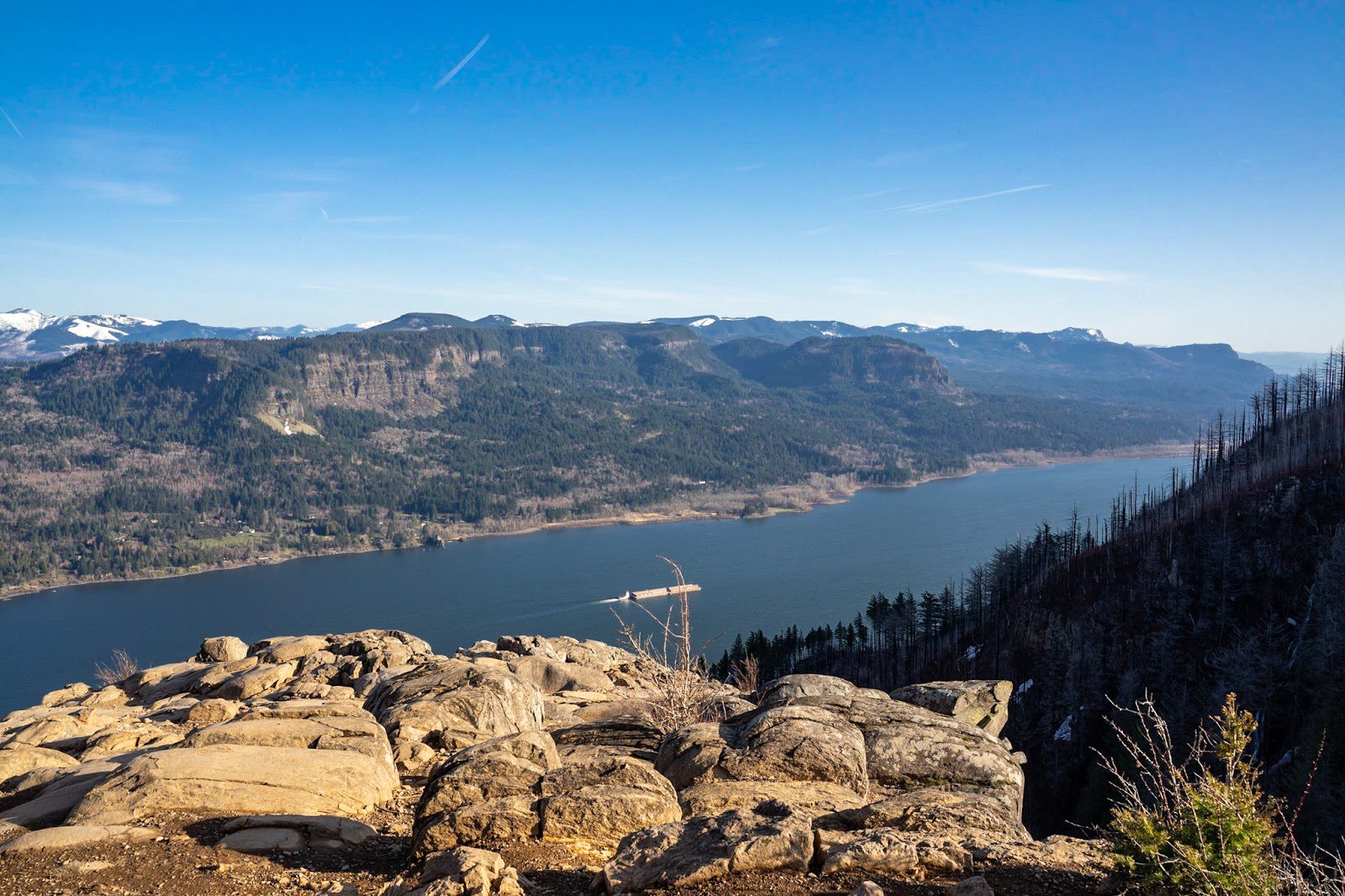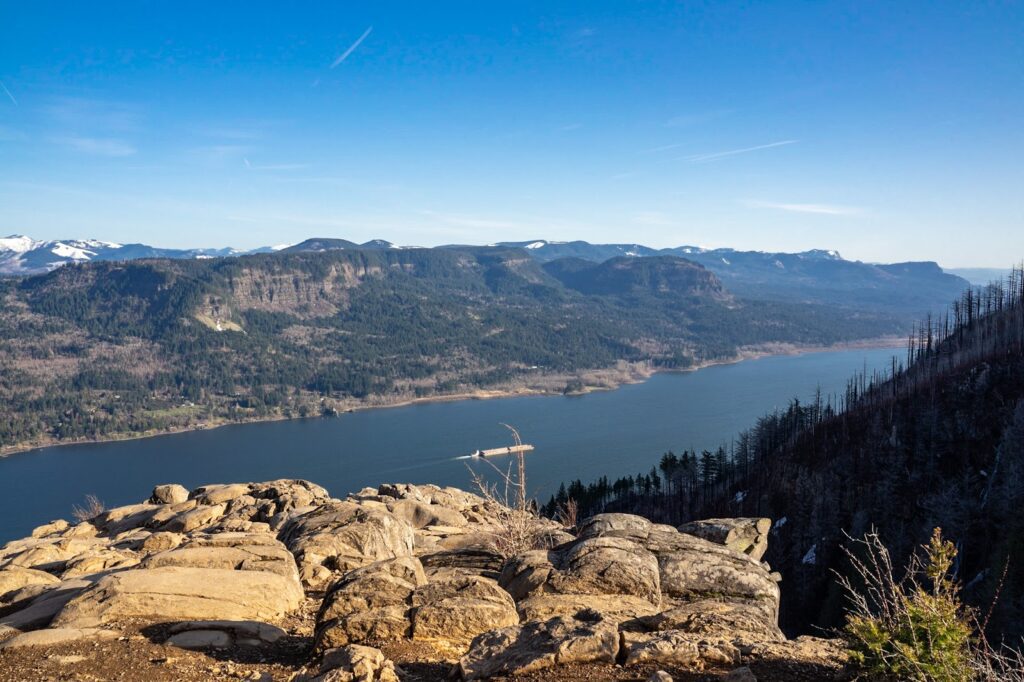 Of all the amazing hikes in the Columbia River Gorge, Angel's Rest is one of our favorites on the Oregon side.
The views of the Gorge from the top are great, but you're going to work for them with a steady, moderate climb from beginning to end. The good news? It's not a particularly long hike. The not-so-good news? It's a thigh-burner.
You start from the trailhead just past Bridal Veil Falls in the Gorge along I-84, which is a tiny parking lot and will be full by 9:00 am on most weekends between spring and fall. For the first mile and a half, you'll alternate between a series of switchbacks interspersed with steadier climbs. with a few points where you have a preview of the view of the Gorge you get from the top.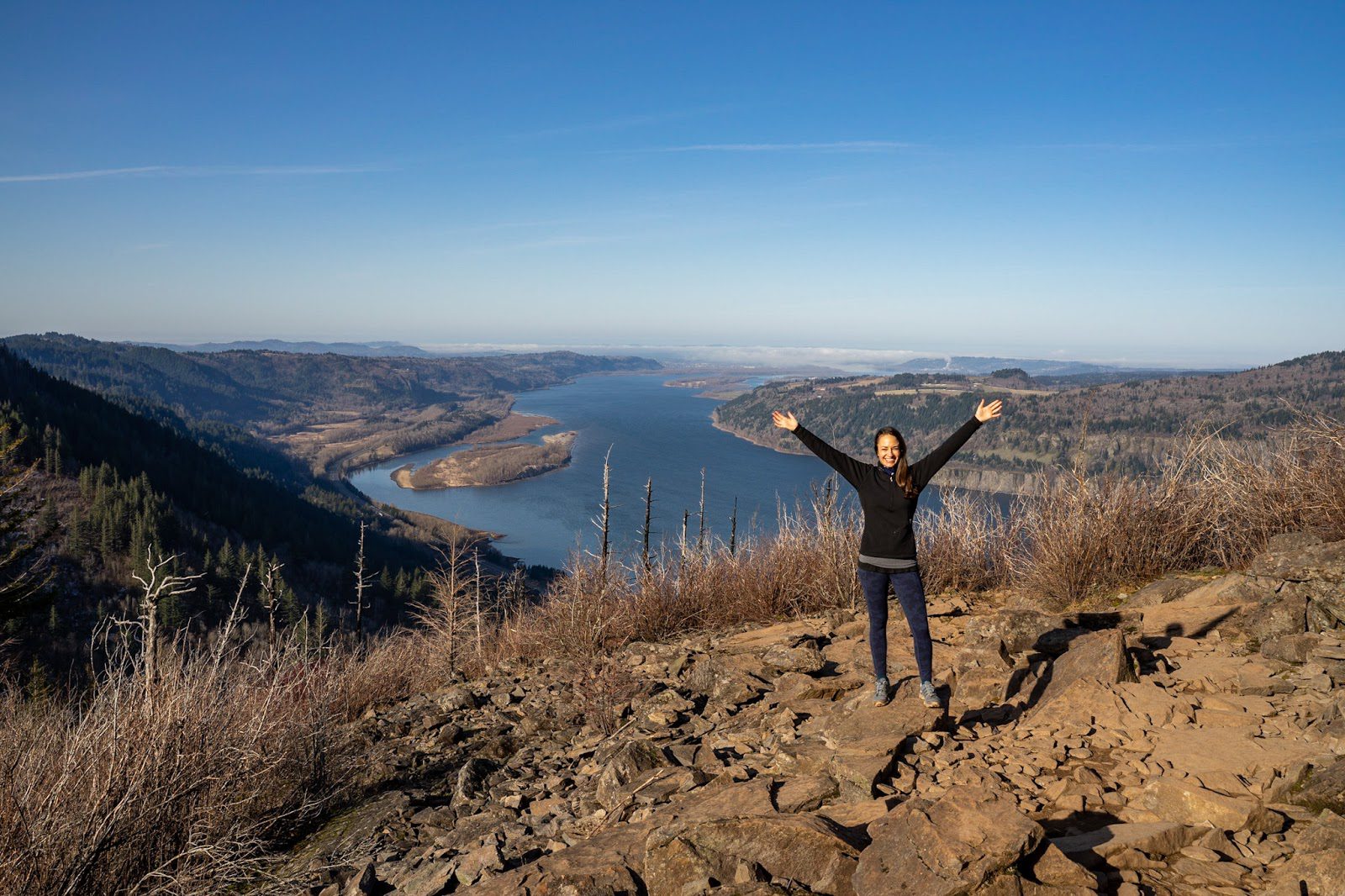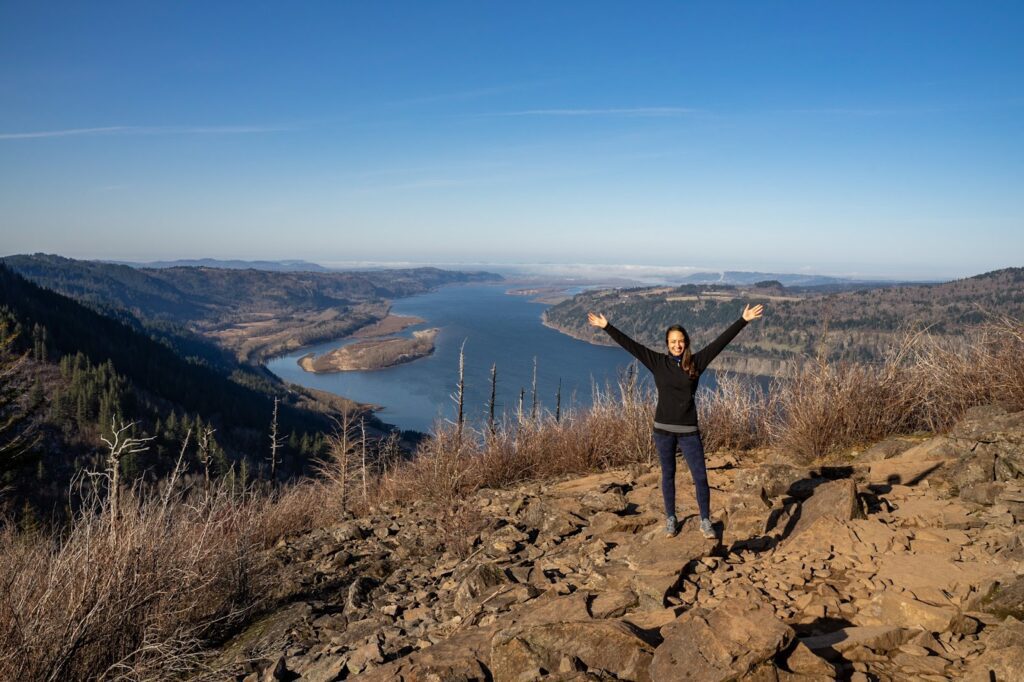 At 1.5 miles in, you'll hit some tight, steeper switchbacks, which signals the beginning of the final ascent. There are some rocky sections near the top of the hike where you'll essentially be walking on a tiny boulder field, but nothing too crazy.
From the top, you'll have a view of the entire gorge, all the way to the west towards Portland and the Pacific, and then out to the east, over to the Washington side and towards Hood River. It's a great view, and we think you'll agree that it's worth the effort to get there.
On the way there or back, make sure to drive along the historic Columbia River Highway – which runs parallel to I-84 – for some of the best views in the Gorge. Stop at the Portland Women's Forum State Scenic Viewpoint (here on Google Maps), the Vista House (here on Google Maps), and the short but beautiful Latourell Falls Trail.
Find more trail information and recent trail reports here.
God's Thumb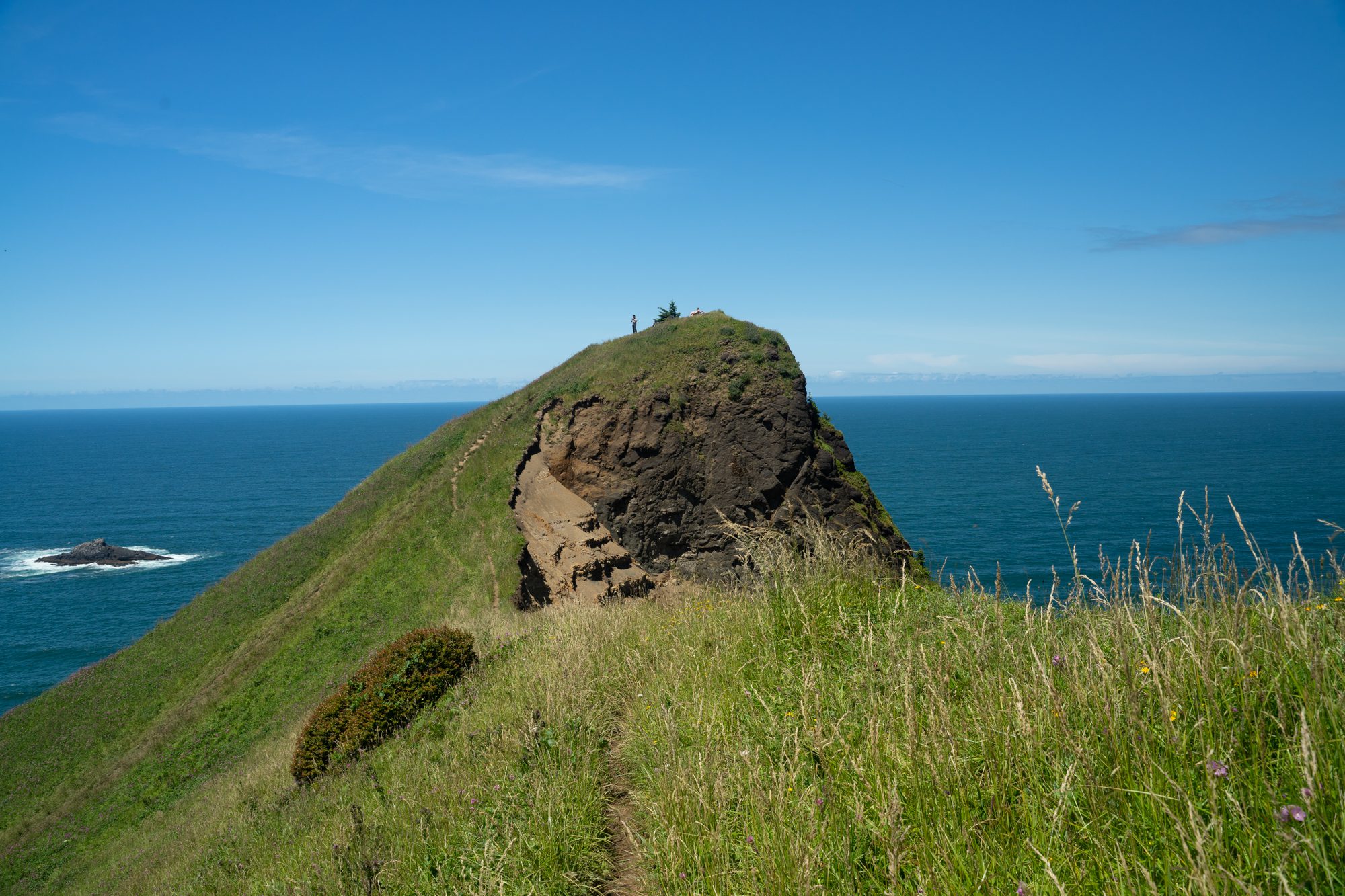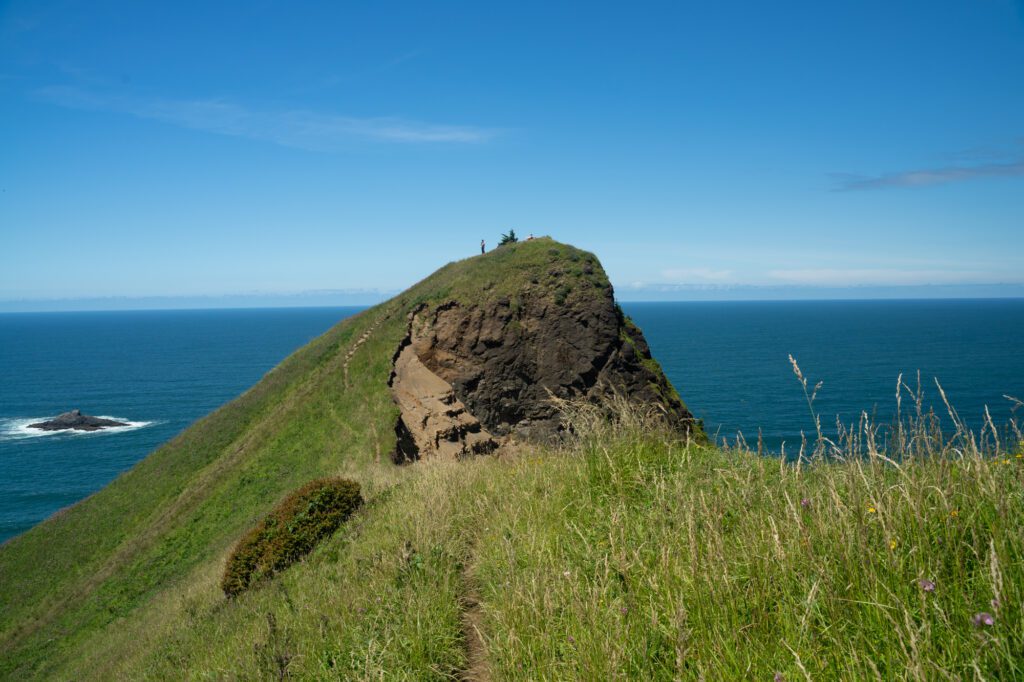 First of all, this hike gets very, very muddy when it rains. We saw a couple of people doing it in their brand new white Nikes, which was a shame. Those shoes will never be the same.
This hike is in Lincoln City, and takes you out to the coast where there's a little peninsula jutting out into the Pacific Ocean that has been named God's Thumb.
The hike out to God's Thumb is nice – it's a forested trail that passes by the Knoll first, a nice viewpoint out over the Oregon Coast, and then continues until you emerge onto the bluff over the ocean.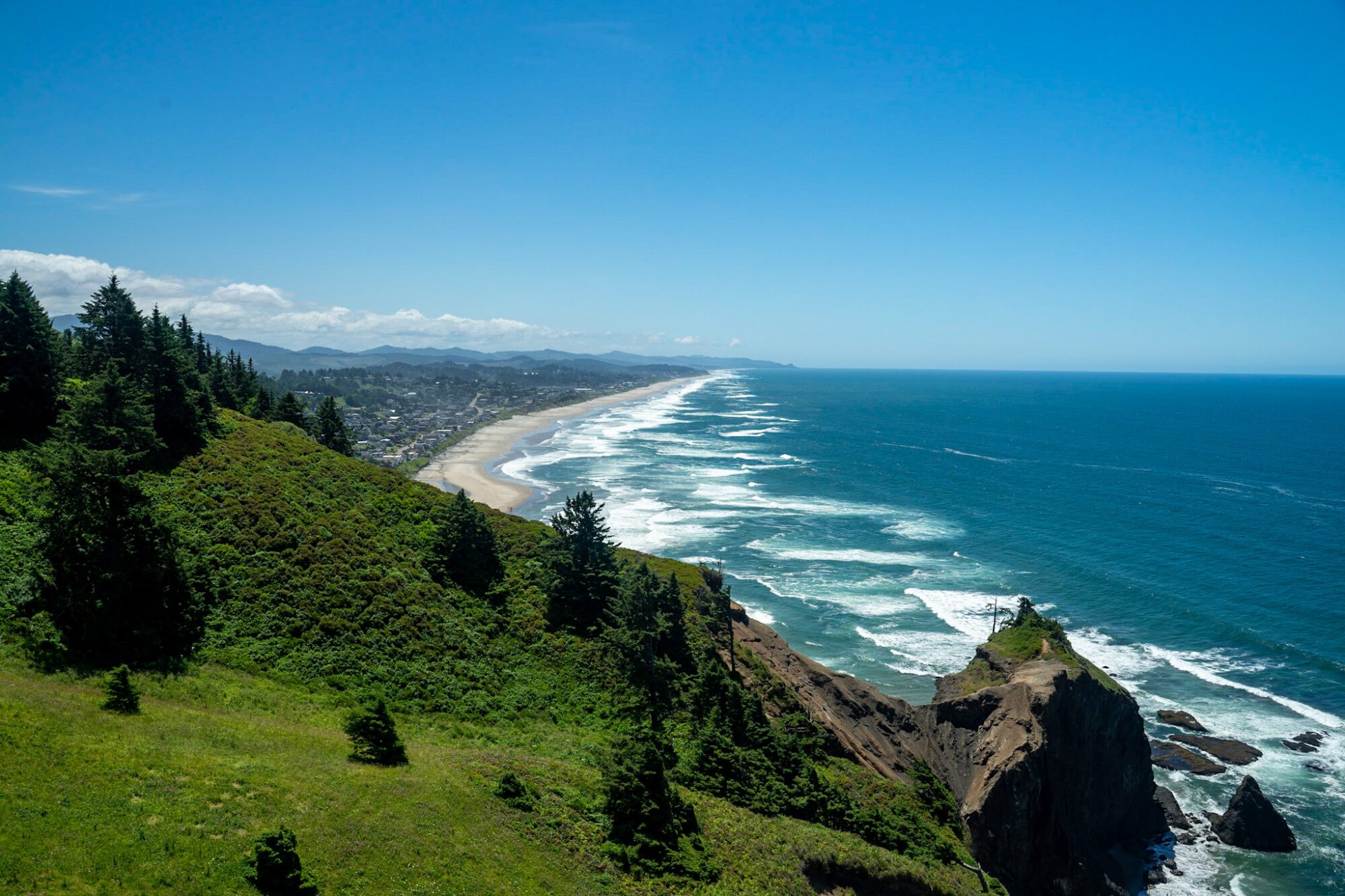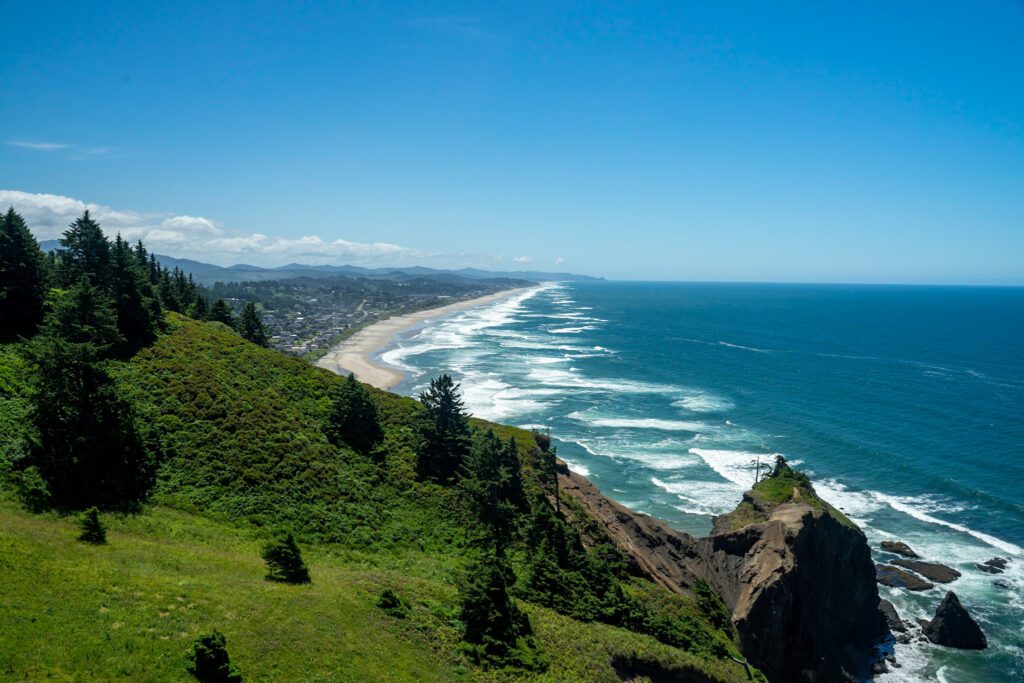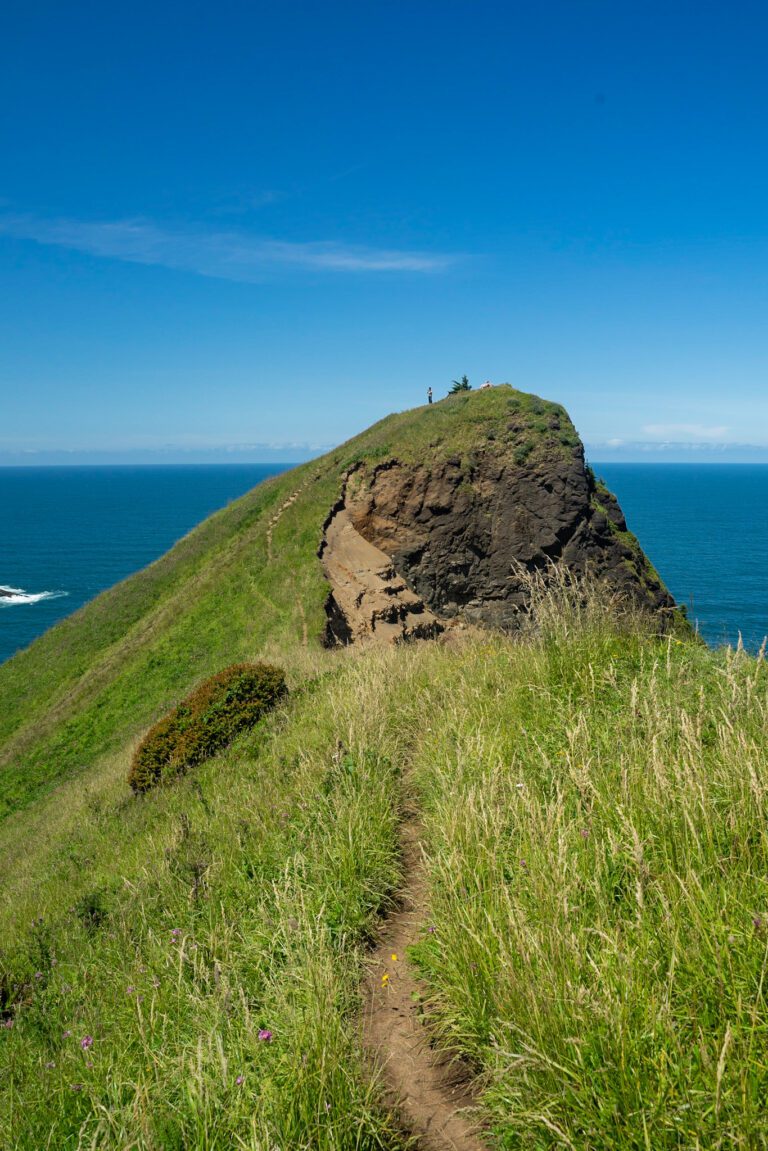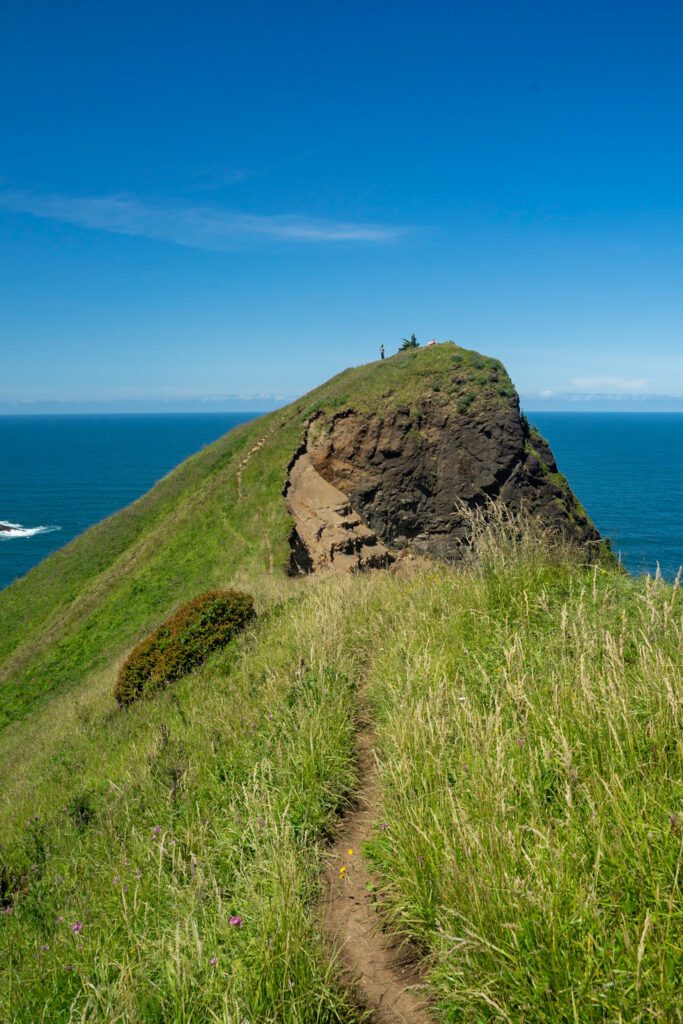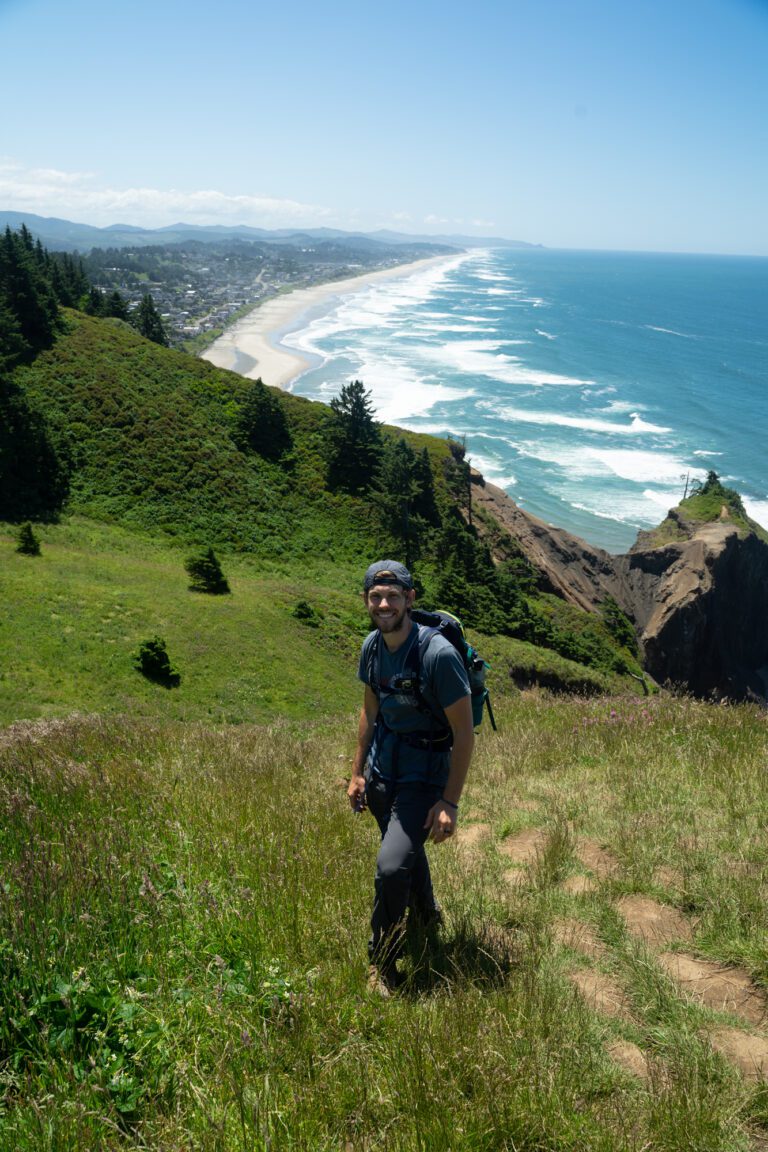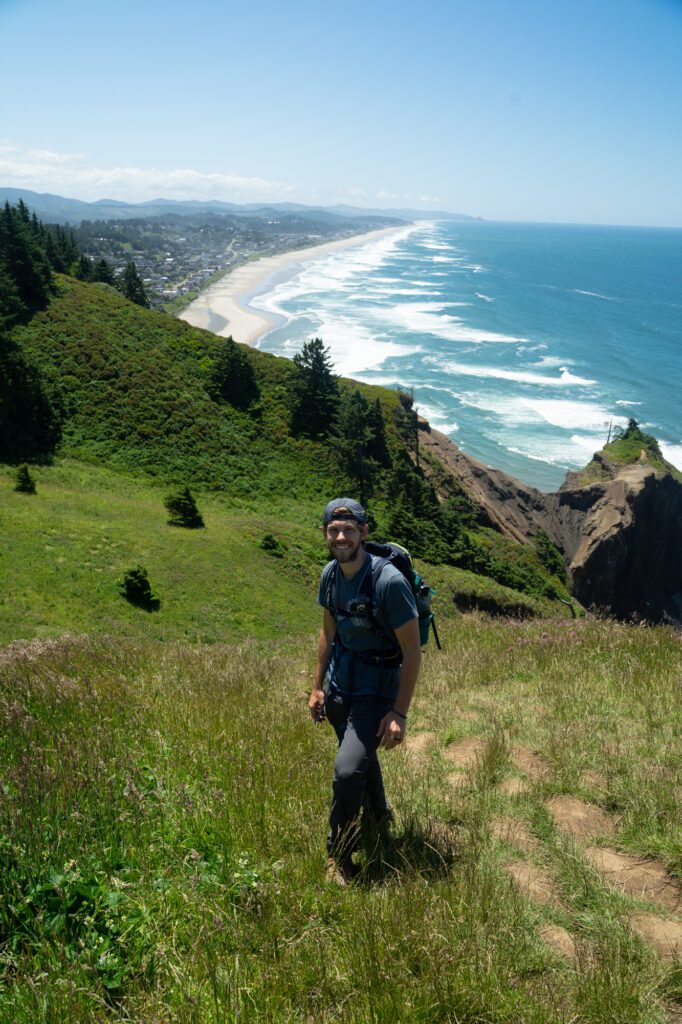 The final ascent to the top is steep and skinny, but it should be doable for most people. Stick to the well-worn trail, and take it slow. It will be windy at the top, so bring a windbreaker.
Note: When it's muddy, the trail up to the thumb at the end gets washed out, and it's very slippery. We'd avoid climbing up to the top if it's super muddy.
Find more trail information and recent trail reports here.
Dry Creek Falls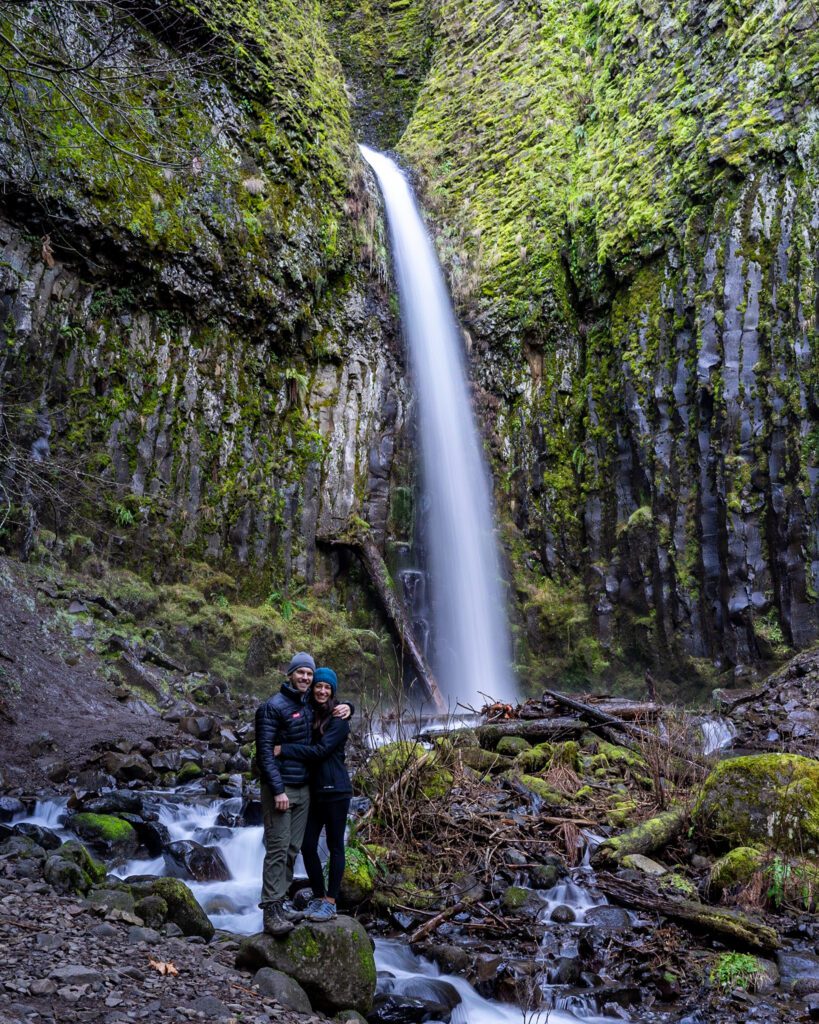 In an area full of great waterfalls – like the more famous Multnomah Falls, and the less famous but equally beautiful Latourell Falls – we decided to pick just one for this list.
Multnomah is amazing, of course, but the reason we excluded it is twofold. One, it's just too busy. Two, the best part of the hike (we think) is at the parking lot where you get that picture-perfect view of Multnomah.
We landed on Dry Creek Falls, which is a short and relatively easy hike through the woods along the Pacific Crest Trail to a 74 foot waterfall. We did it on a cold February morning, where the ground was a little bit hard and the wind was brisk, and we were two of six people on the trail.
The hike starts from the Bridge of the Gods trailhead in Cascade Locks, which is tiny, and meanders through a forest that was affected by the Eagle Creek fire in 2017, but is still beautiful.
It's a gentle uphill grade almost all the way to the falls, except for a short steep ascent right before the falls that you'll barely notice because you're so excited to get your first glimpse of the waterfall itself.
Dry Creek Falls tumbles off of a ridge 74 feet above the ground, and it's an impressive sight in the winter when the falls are stronger thanks to all the precipitation in the Pacific Northwest.
Find more trail information and recent trail reports here.
The Oregon Dunes: John Dellenback Trail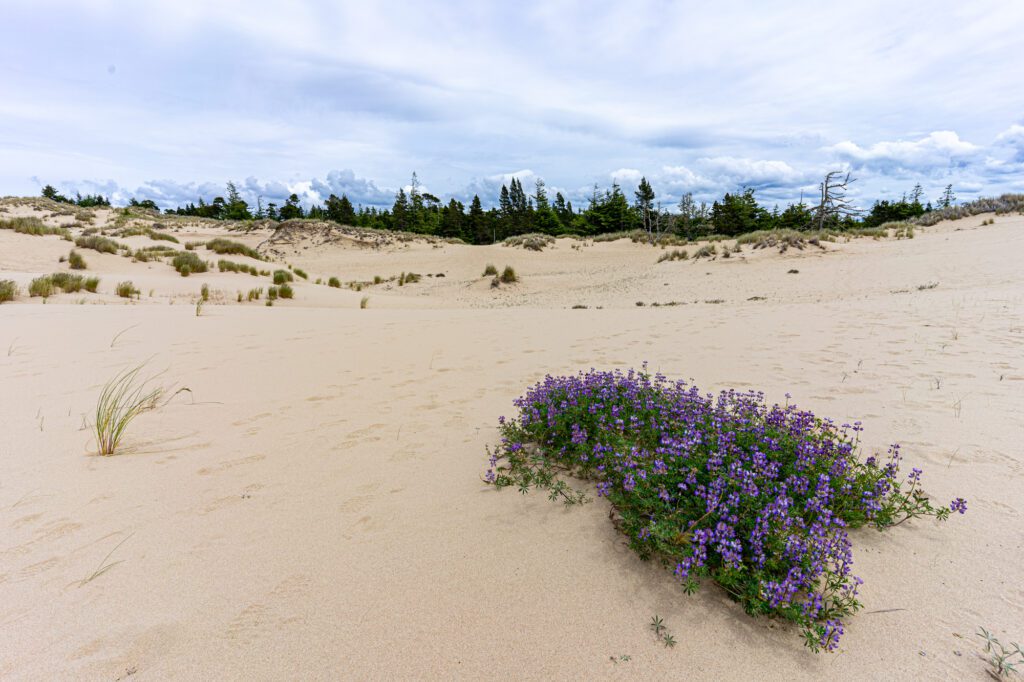 This unique hike on the Oregon Coast spans multiple different ecosystems, and ends at a wide sandy beach on the Pacific Ocean. The best part about that beach is that it's only accessible by hiking in, which means it's basically deserted.
The hike starts with an amble along a well-established sandy trail until you emerge onto a mini bluff, with the sprawling Oregon Dunes in front of you. The Dunes are amazing, and we were in awe of the patches of wildflowers and forest that were somehow alive and well in the middle of this sandy landscape.
Hiking on the dunes is a bit of a nightmare. It's slow-going, hard, and your shoes will be full of sand by the end of the hike. High-top hiking boots will be your friend here, otherwise you'll be in for a day of sandy shoes.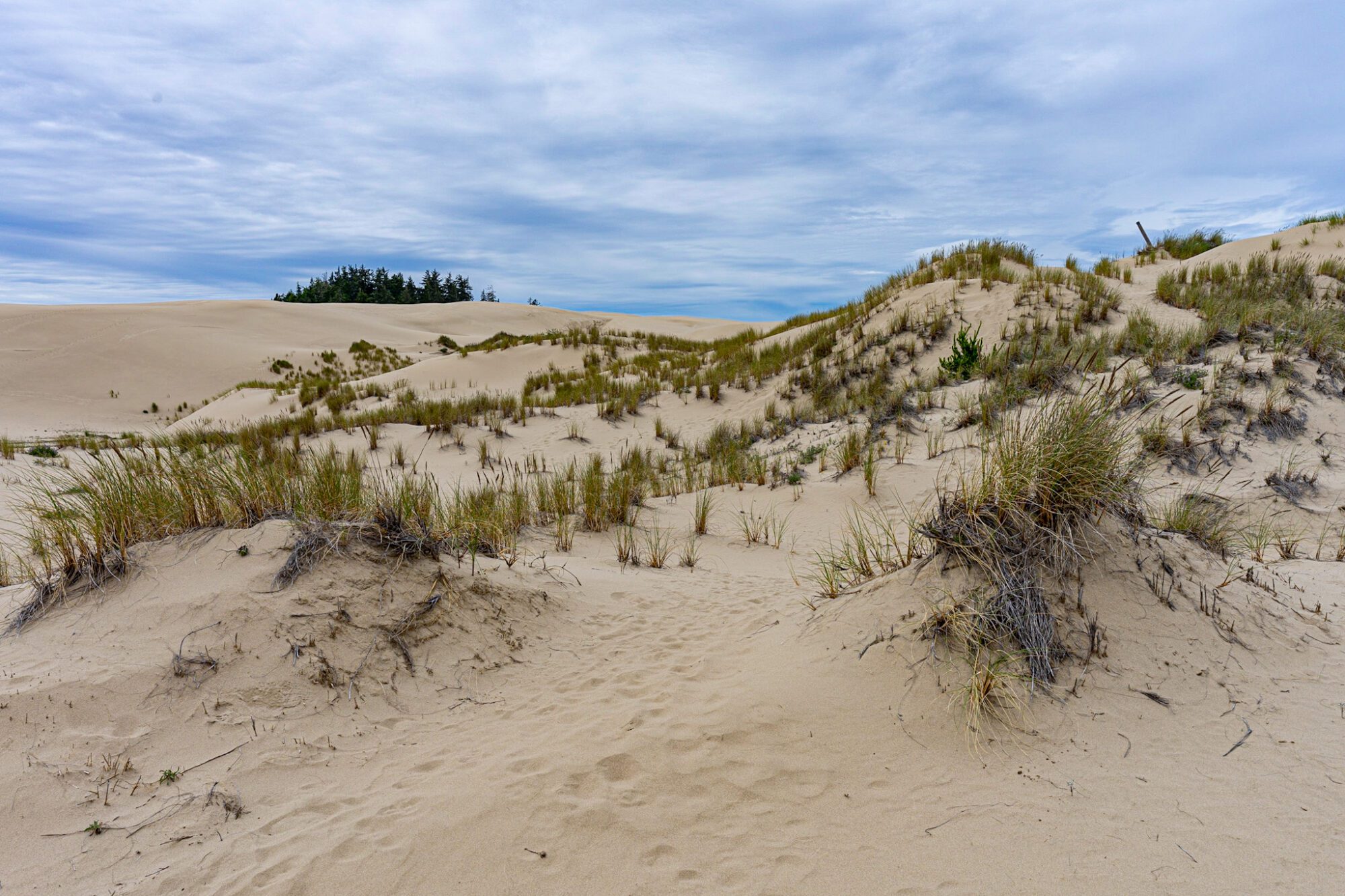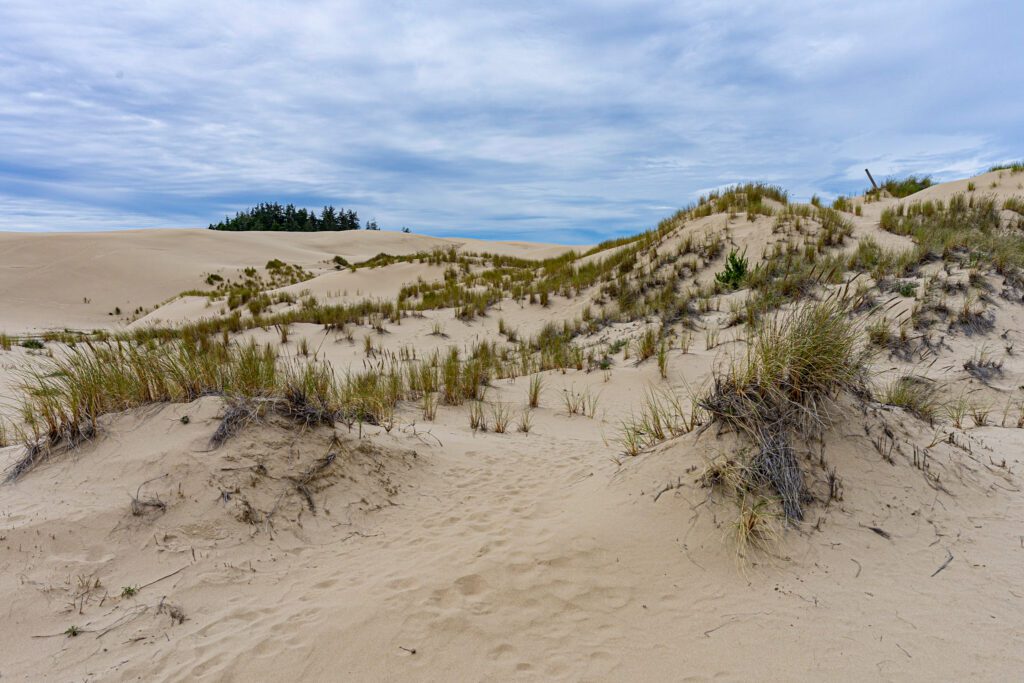 The trail traverses the dunes and when you reach the other side, you briefly enter a forested but still somehow sandy stretch that emerges onto a beautiful beach.
Note: You'll need a map here, because the trail markers in the dunes are hard to find, at best. We use AllTrails (specifically AllTrails Pro, which gives you the ability to download a trail map and show your own location). Find more trail information and recent trail reports here.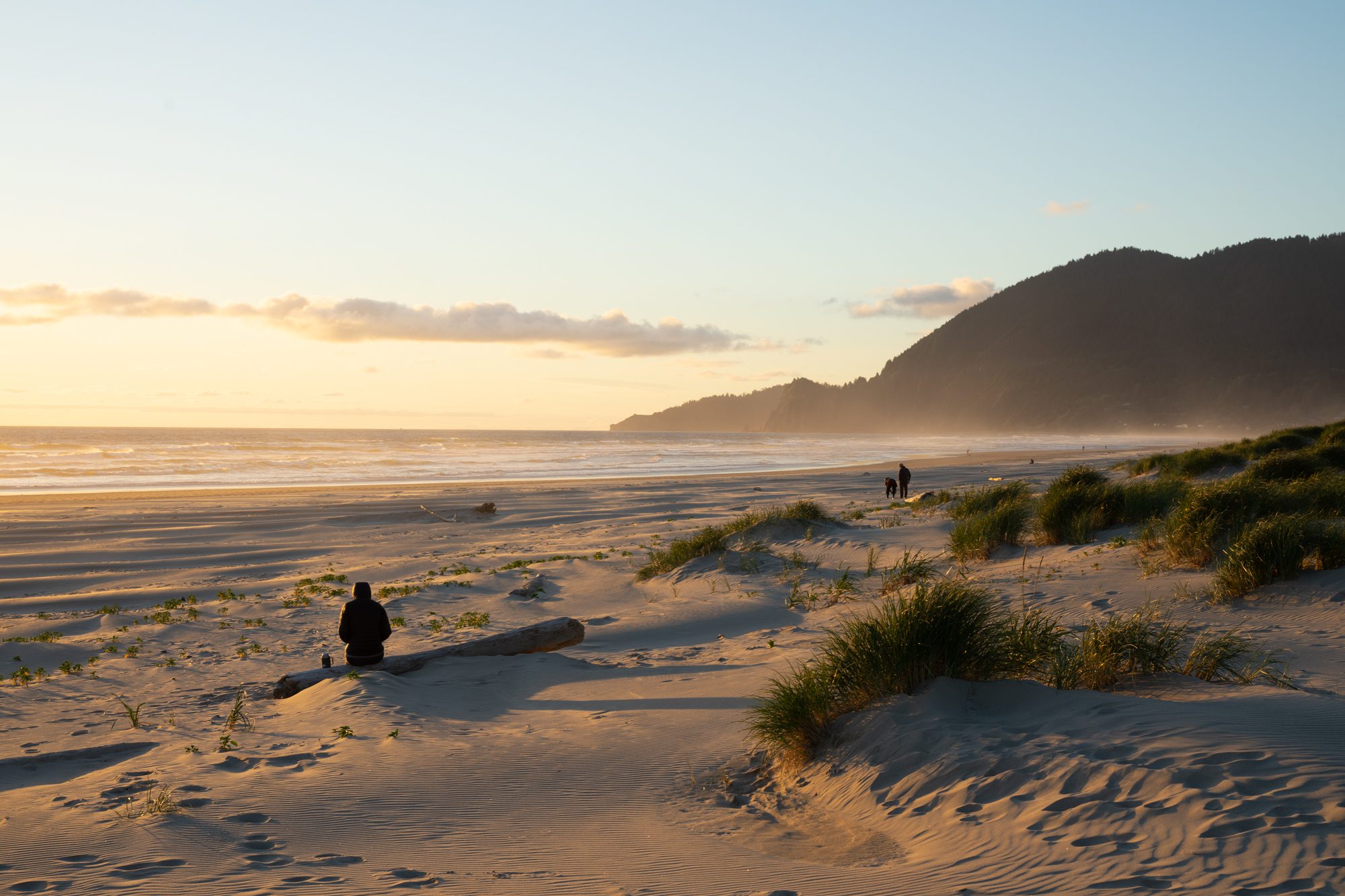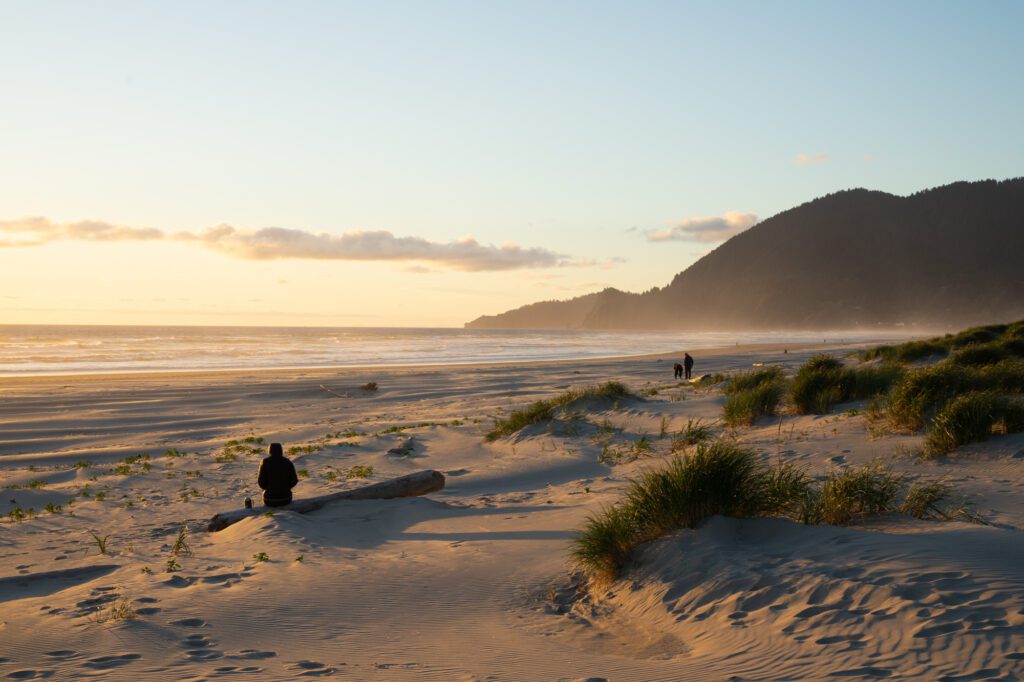 ---
More Oregon Travel Guides
If you like this guide, you won't want to miss our other Oregon travel guides!