The Best Day Trips From Portland, Oregon: A Complete Guide
Looking to plan a day trip from Portland, Oregon, but wondering where to go, what to do and see, and how to get there? Congratulations, you're in the right place! In this guide, we're going to give you our perspective on the best day trips from Portland, whether you're looking for a charming Oregon town to visit, want to see one of Oregon's incredible waterfalls (or ten of them), or want to go on a hike near Portland.
One of the things we love about the Pacific Northwest is the fact that there is so much to do and see even outside its cities. Portland is a fantastic city to explore in its own right. However, it also happens to be the gateway to a diverse group of other really cool spots – cities, hikes, and smaller towns – that we definitely recommend exploring on a day trip.
From snow-covered mountains to massive gorges to beautiful beaches, Oregon has it all. Every one of these day trips from Portland are within a couple hours by car, making them easy to do in a single day. From natural wonders like Cannon Beach and Mt. Hood, within a short driving distance from the city, to smaller towns like McMinnville and Eugene.
One quick pet peeve of ours – we firmly believe that a "day trip" means it has to be within about two hours of the city one way, which means you'd be spending four hours total in a car that day. Even that is a long day to us – anything more than that and you should make it a weekend trip from Portland. Oh, hey, what do you know?! We have a guide for that too! Here are our picks for the best weekend trips from Portland.
There's a ton of stuff to do within two hours of Portland, and this guide goes through our favorites, with a mini travel guide on what to do and see while you're there.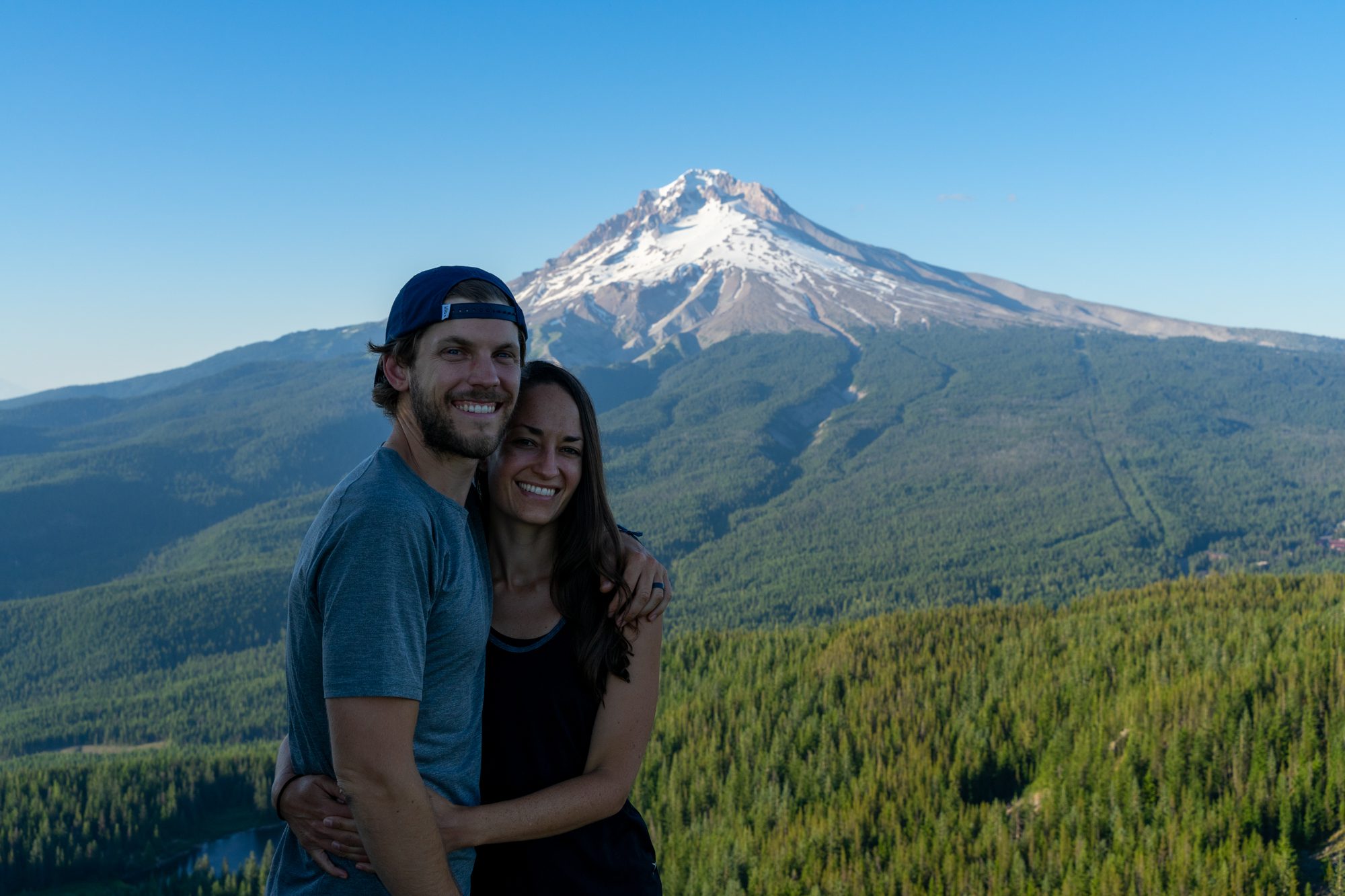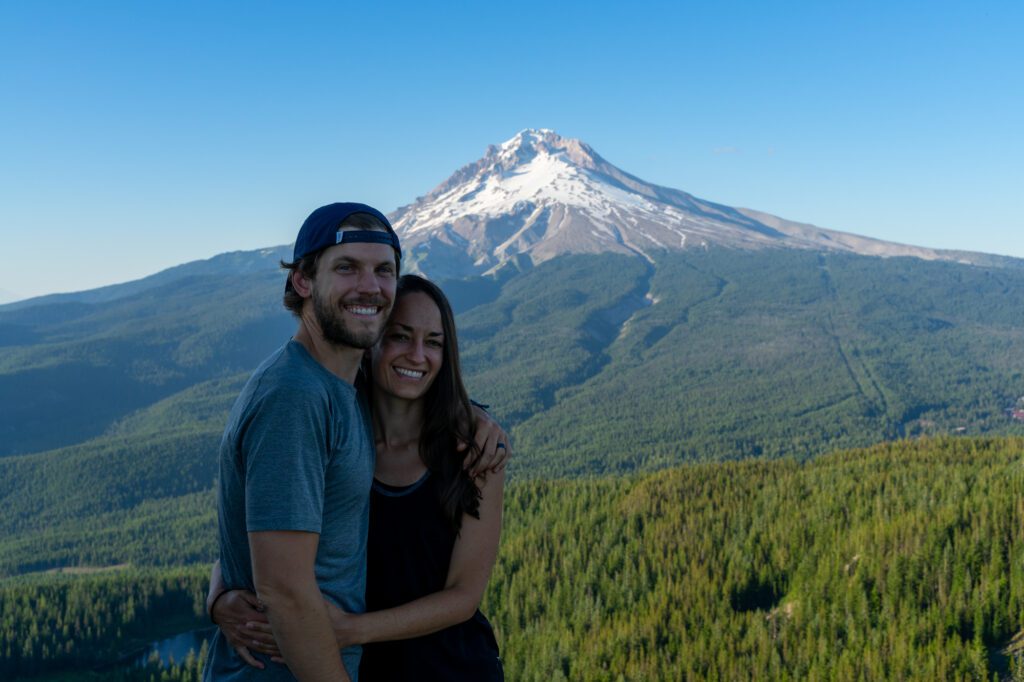 Disclaimer: Some of the links in this post, like hotel links, are affiliate links, meaning at no additional cost to you, we make a little bit of money if you click through and book. That being said, we would never recommend something to you that we don't stand behind 100%.
Our Top Picks for the Best Day Trips From Portland, OR
If you want to get out of the city and into nature for a day, you're in luck. Portland is right in the middle of some of the most beautiful Pacific Northwest landscapes that Oregon has to offer.
The Columbia River Gorge
Distance From Portland: 35 Miles / 40 Minutes
Getting there: to get to the Columbia River Gorge, you simply take I-84 east out of the city. A somewhat fun fact that I didn't know until now (but also kind of boring): I-84 continues all the way through the Gorge and into Idaho and even Utah.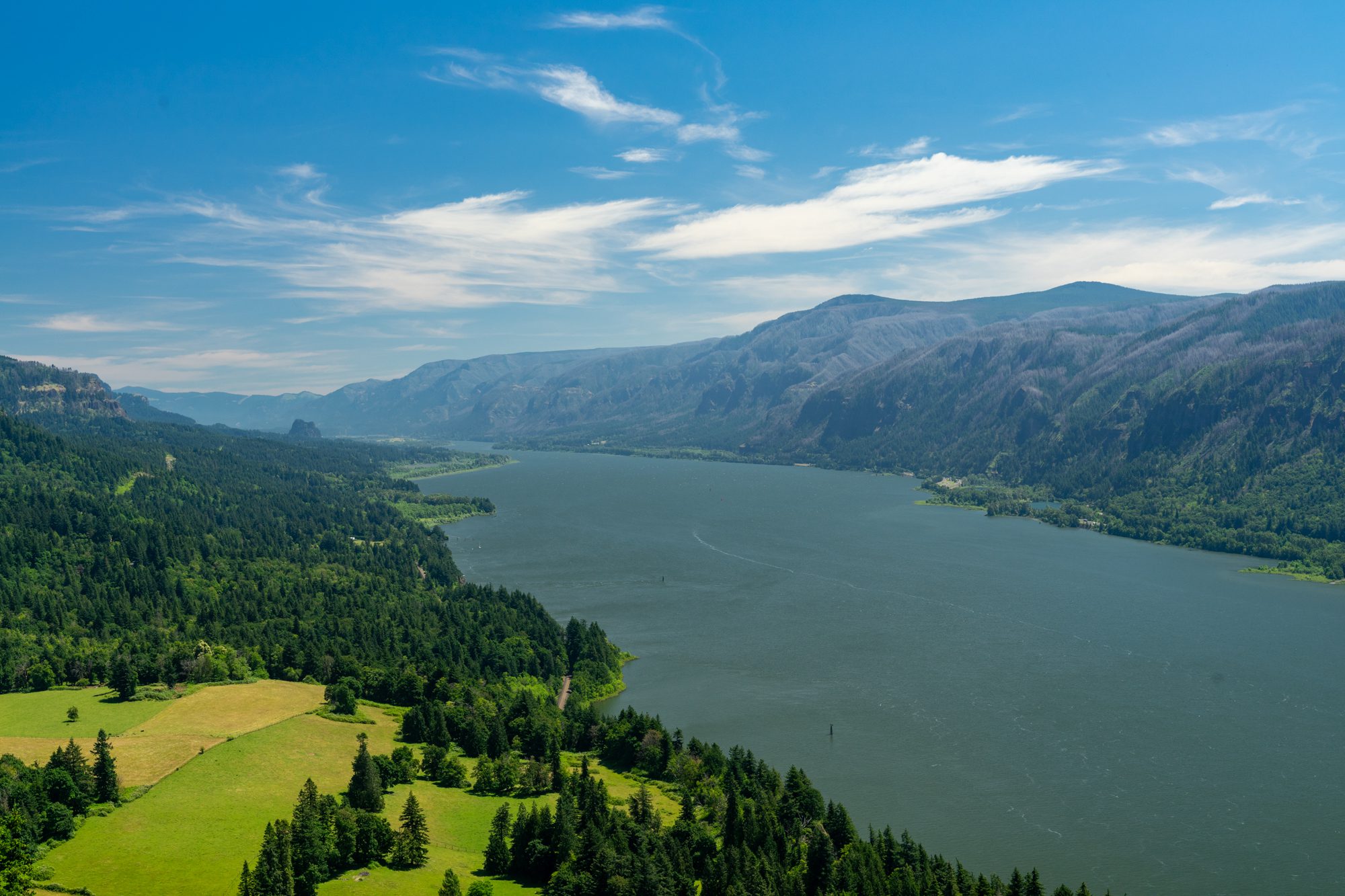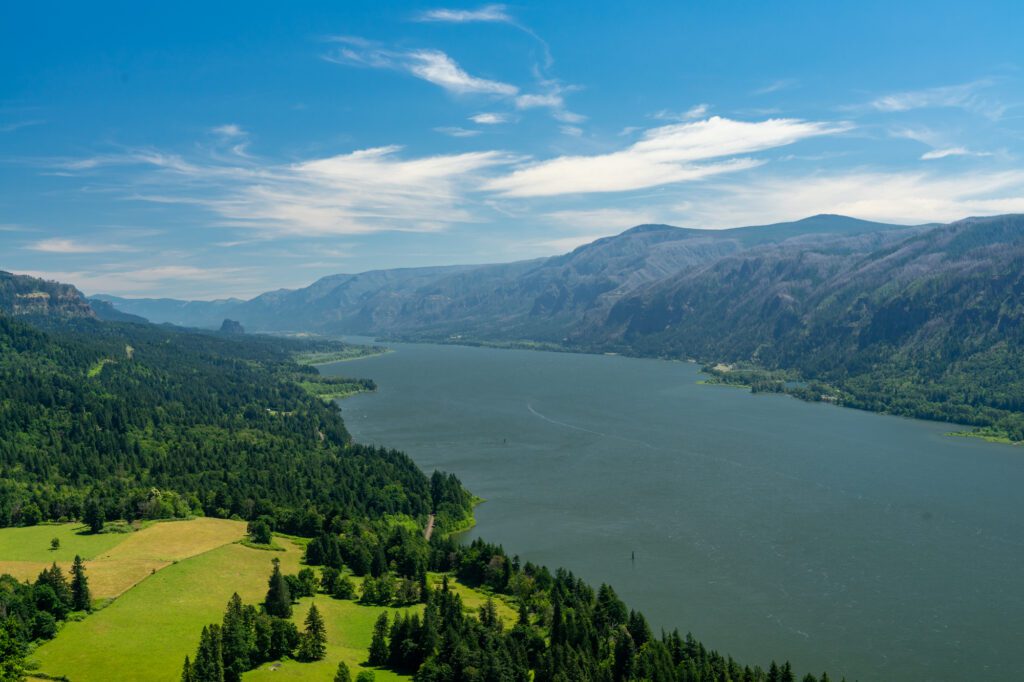 At just a little under an hour away, the Columbia River Gorge is a great, relatively short day trip to see an astonishing number of towering waterfalls. Which is kind of a must-do when you're in Portland, we think.
Drive Time / Distance from Portland
This depends on where you're going, to be completely honest.
The Columbia River Gorge runs all the way out past the Dalles, which is 80+ miles from Portland. Here are the main stops along the way, with their drive times/distances:
The crown jewel, at least in our opinion, is Multnomah Falls, which is just 40 minutes / 35 miles away.


Hood River, which you'll also find down below in the "towns" section, is 60 minutes / 65 miles away.


Rowena Crest, the furthest point we'd recommend going, is a little over an hour / 79 miles away.
The Columbia River Gorge marks the border between Oregon and Washington State. If you want to explore the Washington side of the Gorge, you can cross over the river at Cascade Locks or Hood River.
Things to Do and See
There are a few different activities to do in the Columbia River Gorge.
Start with a stop at Multnomah Falls (go early, it gets packed and there is very limited parking), do one of the great hikes in the Columbia River Gorge (you'll find our picks below), and continue on to Rowena Crest for one of the best viewpoints in the state. Then stop in Hood River for a late lunch and drinks before heading back into Portland.
Hikes in the Columbia River Gorge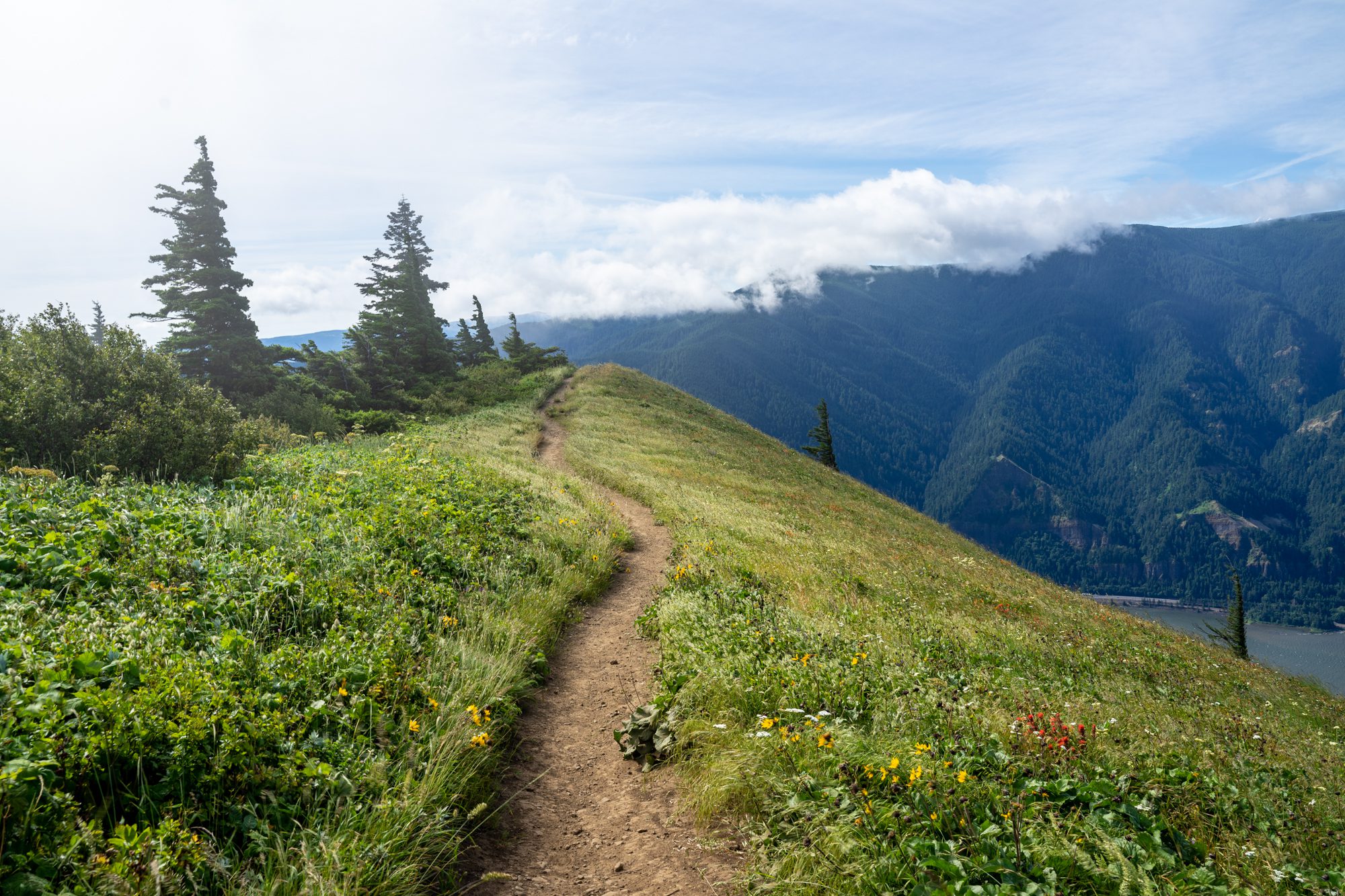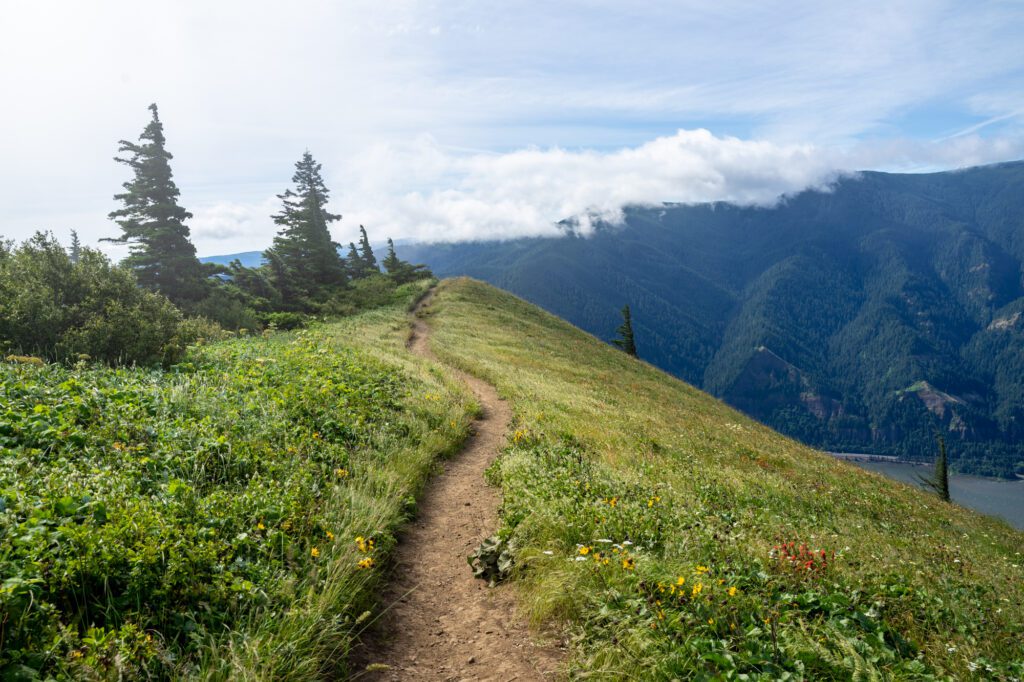 There are plenty of hiking opportunities here, both on the Oregon side and over on the Washington side. The best hikes in the Columbia River Gorge are:
Multnomah & Wahkeena Falls – This hike goes to the top of the impressively high Multnomah Falls, then meanders past some rapids and Wahkeena Creek. This trail gets packed in the spring, so get there early to beat the crowds.


Dog Mountain – This incredibly popular hike is easy to get to and provides incredible gorge views. There are tons of spring wildflowers that are well worth seeing if you can catch the blooms at the right time. In the summer, this hike requires a permit on the weekends in order to limit the people on the trail and protect the fragile wildflowers, which you can find here.


Beacon Rock – This distinctive feature in the Columbia River Gorge is an 849-foot remnant of a volcano's center. In fact, it is one of the highest monolithic natural structures on the entire continent. And you can hike to the top of it, but it's not an easy journey. It's on the Washington side of the Gorge.
See All the Waterfalls
The Columbia River Gorge is home to some of the most spectacular waterfalls in the Pacific Northwest. Here are the best ones to check out:
Multnomah Falls – Just a five-minute walk from where you will park, this is arguably the most impressive (and famous) waterfall in the Pacific Northwest.


Ponytail Falls – One the easiest to get to in the Gorge, given the falls are just half a mile from the parking area.


Bridal Veil Falls – At the end of a 1.4 mile (out and back) trail that is easy to navigate.


Latourell Falls – Closest to Portland and on an easy 2.4 mile loop.


Dry Creek Falls – A quick four mile hike (round trip) from the Bridge of the Gods trailhead takes you to a nice waterfall (pictured below) with far fewer people than just about any of the ones above.


Panther Creek Falls – On the north side of the Columbia River Gorge in Washington, and just a couple of minutes' walk to get to from where you park.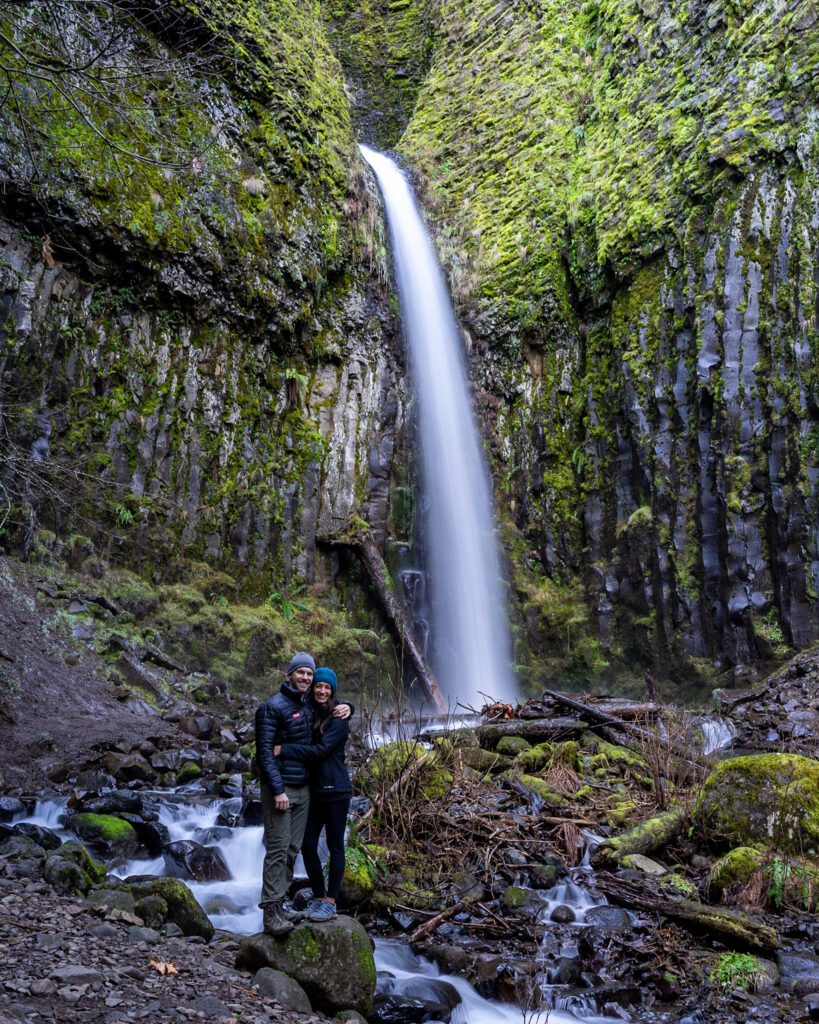 Drive to Scenic Rowena Crest
Rowena Crest is a roadside pullout that provides a breathtaking view of the entire Columbia River Gorge along with the picture-perfect curve in the road. Enjoy panoramic views that include the Columbia River, a majestic lake, and plenty of cliffs.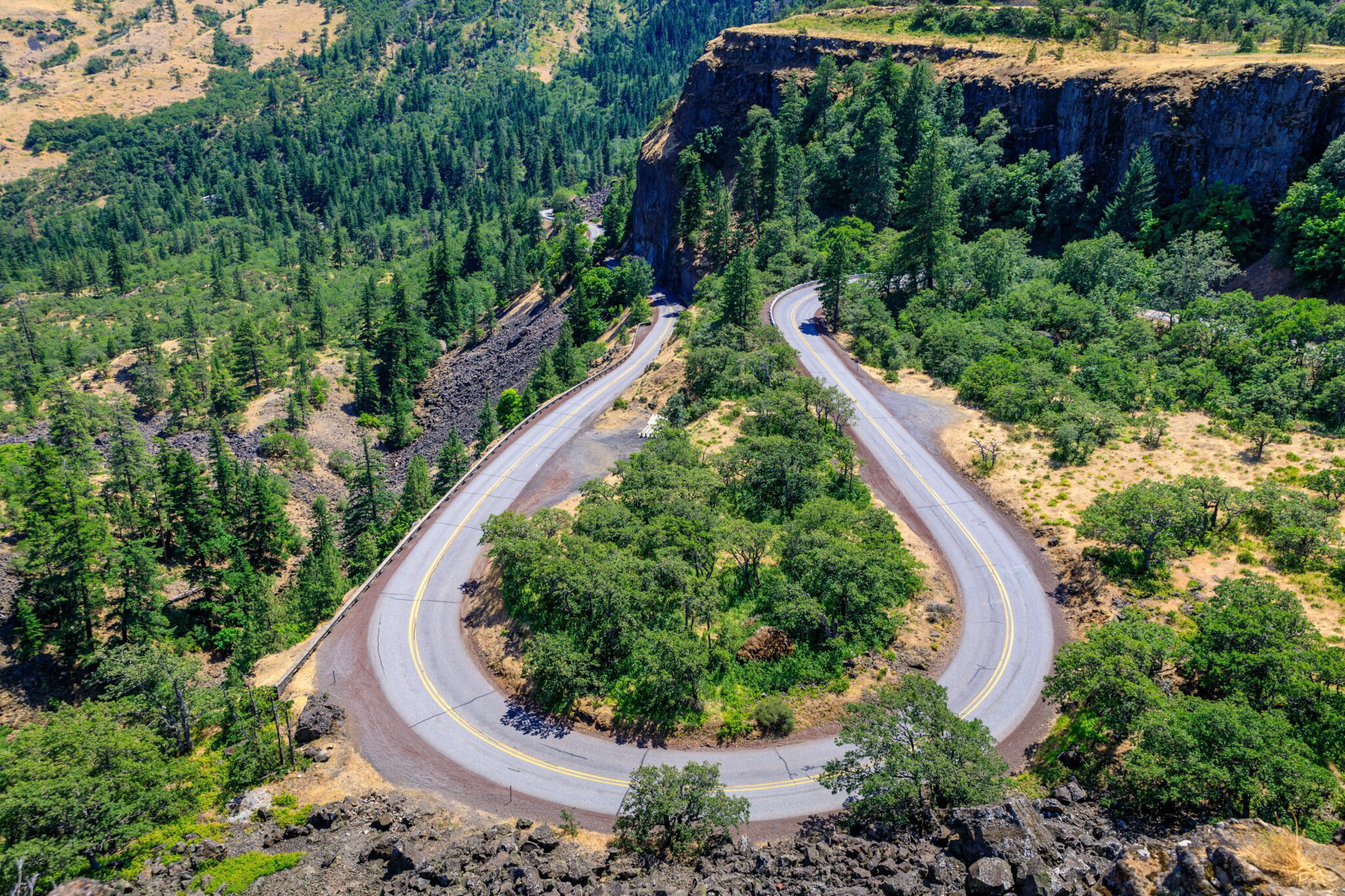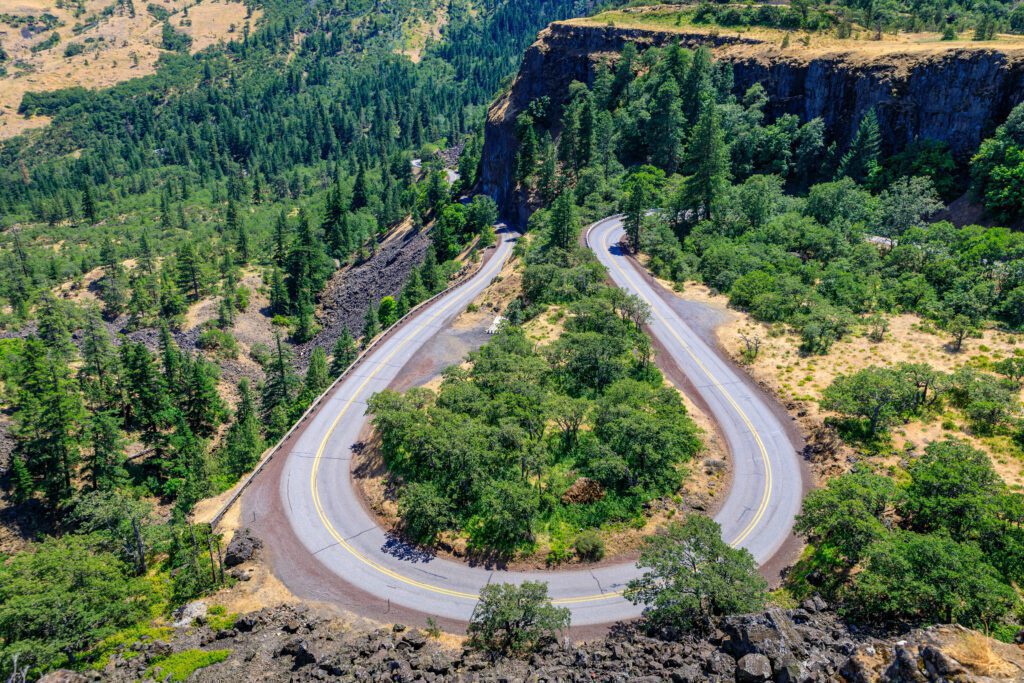 Cannon Beach
Distance from Portland: 80 Miles / 90 Minutes
Getting there: to get to Cannon Beach, you just take US 26 westbound until you come to US 101, which you'll take southbound until you reach this quiet beach town.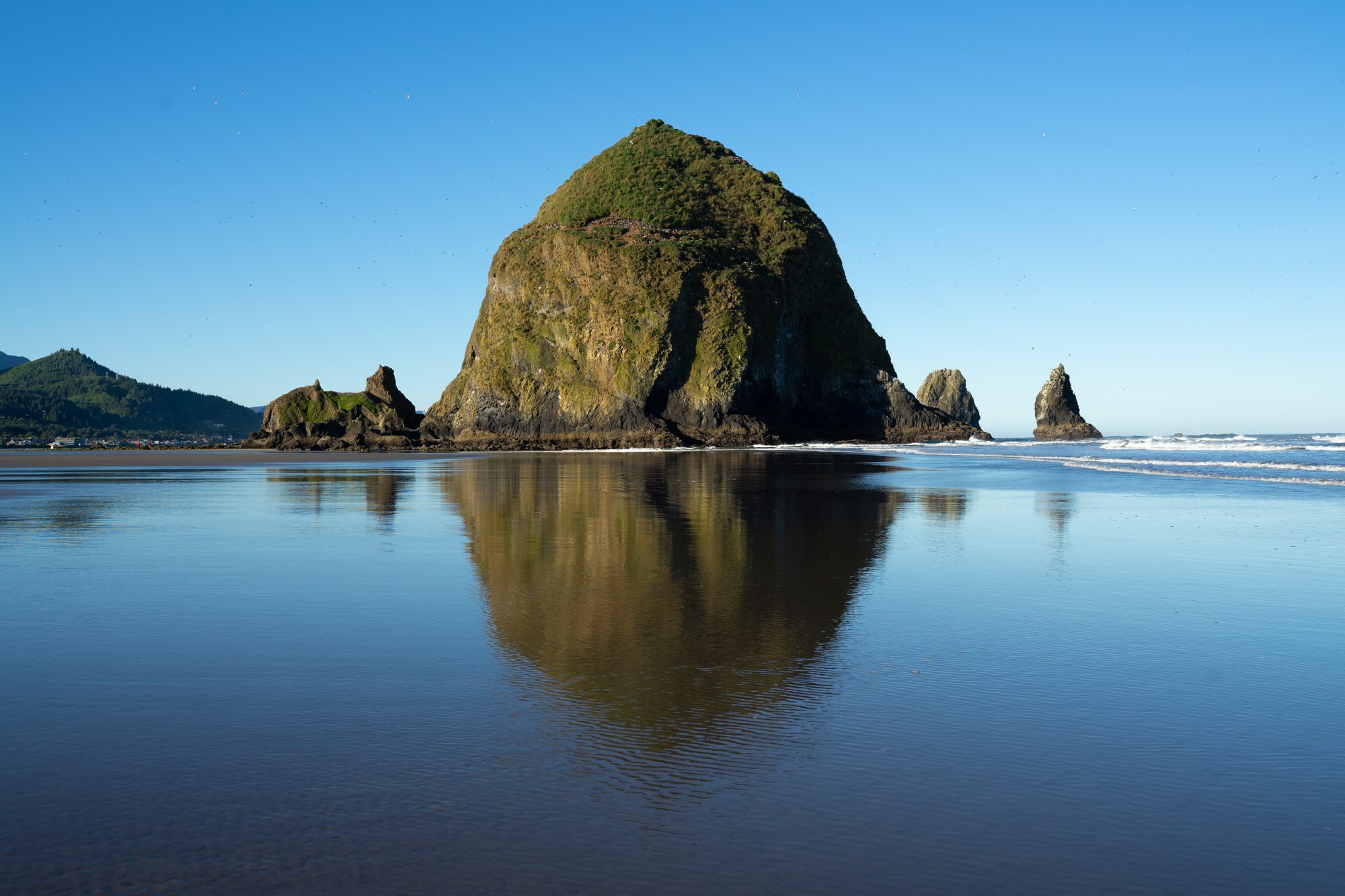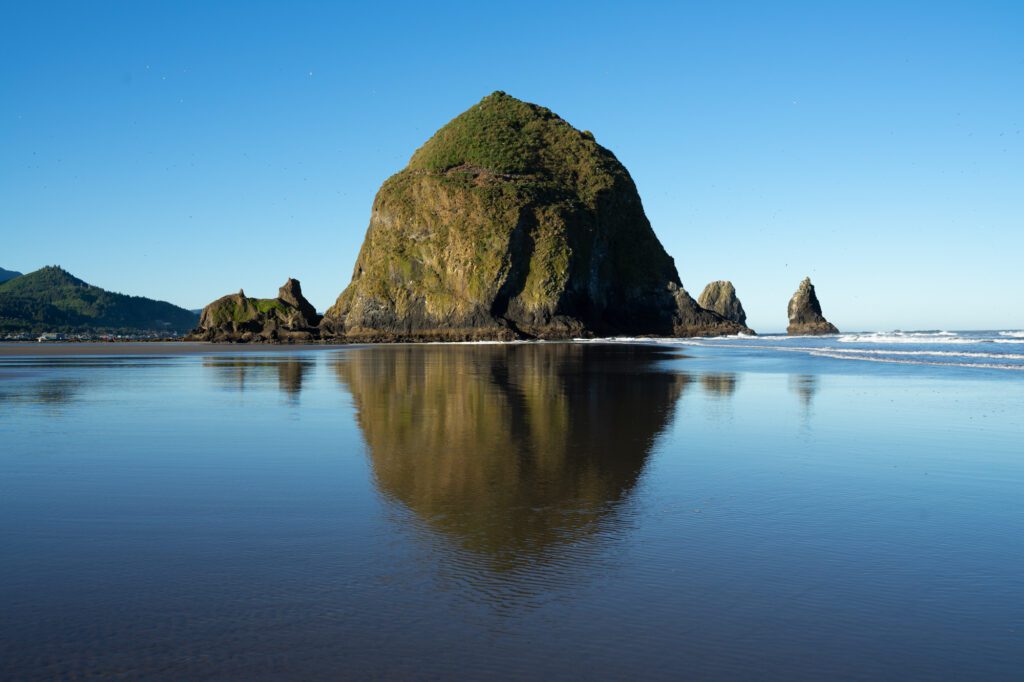 Cannon Beach is one of the top destinations on the Oregon Coast, featuring expansive sand beaches, unique rock formations, and really enjoyable hikes with spectacular views. It's the perfect choice for a day trip if you're craving the feeling (and smell) of the ocean breeze and the sounds of seagulls (don't feed the seagulls!).
You could combine this with Astoria, which you'll find below, to turn this into a great loop that takes you up to the northwest tip of Oregon, heads south down the coast to Cannon Beach, and then returns back to Portland from there.
Here's a map of what that loop would look like.
Things to Do and See
Cannon Beach is a small little beach town, but it gets tons of tourists flocking to Haystack Rock, which is certainly an impressive natral landmark.
But we think the best parts about Cannon Beach are actually just to the north and south of the town itself – Ecola State Park and the area around Arch Cape.
Ecola State Park
Ecola State Park is the place to go for exceptional hiking and amazing coastal views over the beach below. Hike the Clatsop Loop trail to see the breathtaking views of the ocean and beach.
Hug Point
Hug Point offers you a chance to take a stroll along the sandy beach to a peaceful cove with a quiet beach. There's some cool tide pooling to do, so make sure you show up at low tide if you can.
Haystack Rock
If you want to know where to go to see a stunning sunset, then look no further than Haystack Rock. You basically can't miss the massive sea stack towering out of the ocean while on the beach.
Fun fact, (and this one is actually fun) it's home to a colony of endangered tufted puffins. When we were there last, we saw two bald eagles harassing the puffins and stealing their eggs, which was simultaneously super cool and also super sad.
It's a bird-eat-bird world out there, I guess.
It's worth a stop at any time of day, but the soft, golden sunset light is definitely the best time to see it.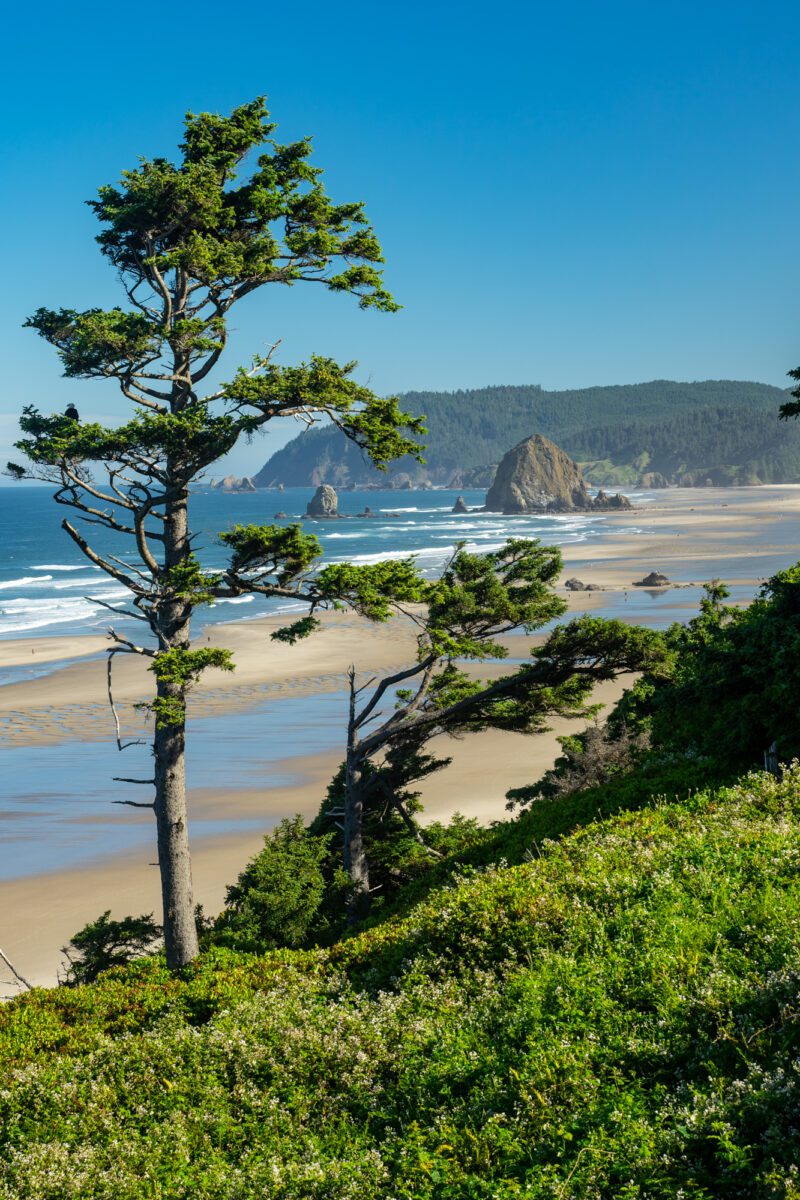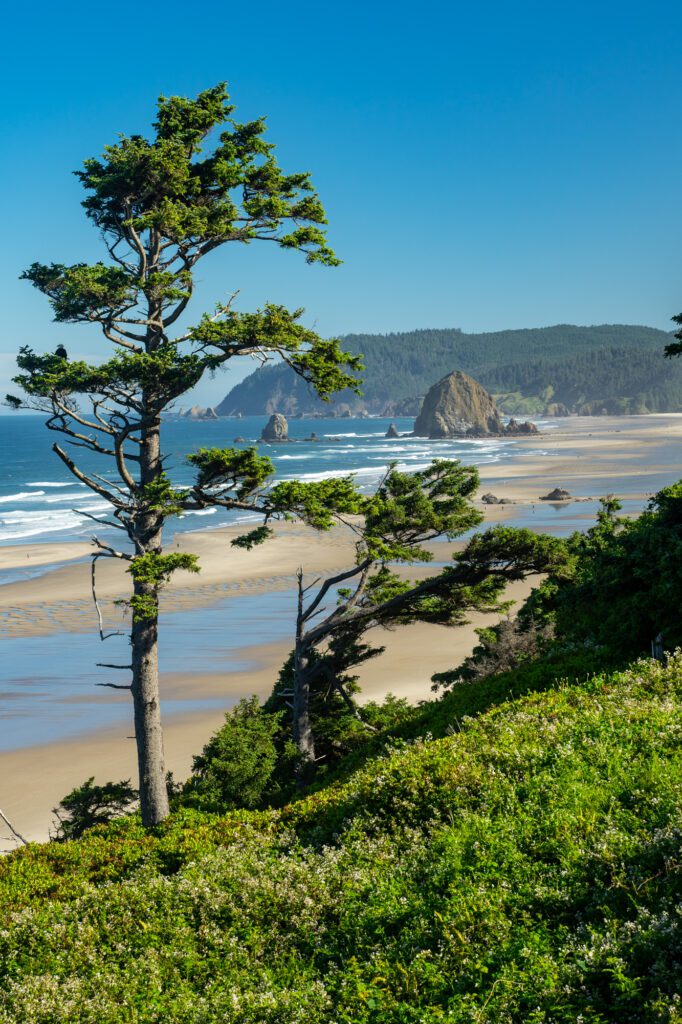 Hike to Cape Falcon in Oswald West State Park
While Ecola State Park is to the north of Cannon Beach, Oswald West is the same idea, just to the south instead.
This easy hike to Cape Falcon will offer you captivating views of coastal forests and expansive beaches.
A word of warning – wear shoes you don't mind getting a little dirty. We were there in late June, when it hadn't rained in the past few days, and the mud was pretty awful. I ended up ankle deep in wet mud after losing my balance trying to walk across a log. Oops.
On the way back, take the quick detour down to Short Sand Beach and take a second to take in the views. Lots of surfers and other water sports happening in this little cove.
If you're craving a little more of a workout, do the hike to Neahkahnie Mountain instead, which takes you up to a vista over the coast.
Mt. Hood – Government Camp
Distance from Portland: 60 Miles / 75 Minutes
Getting there: to get to Mt. Hood, you take I-84 eastbound until you come to US-26, which you'll take all the way until you get to the Government Camp. This is the most accessible side of the mountain for a day trip if you're coming from Portland.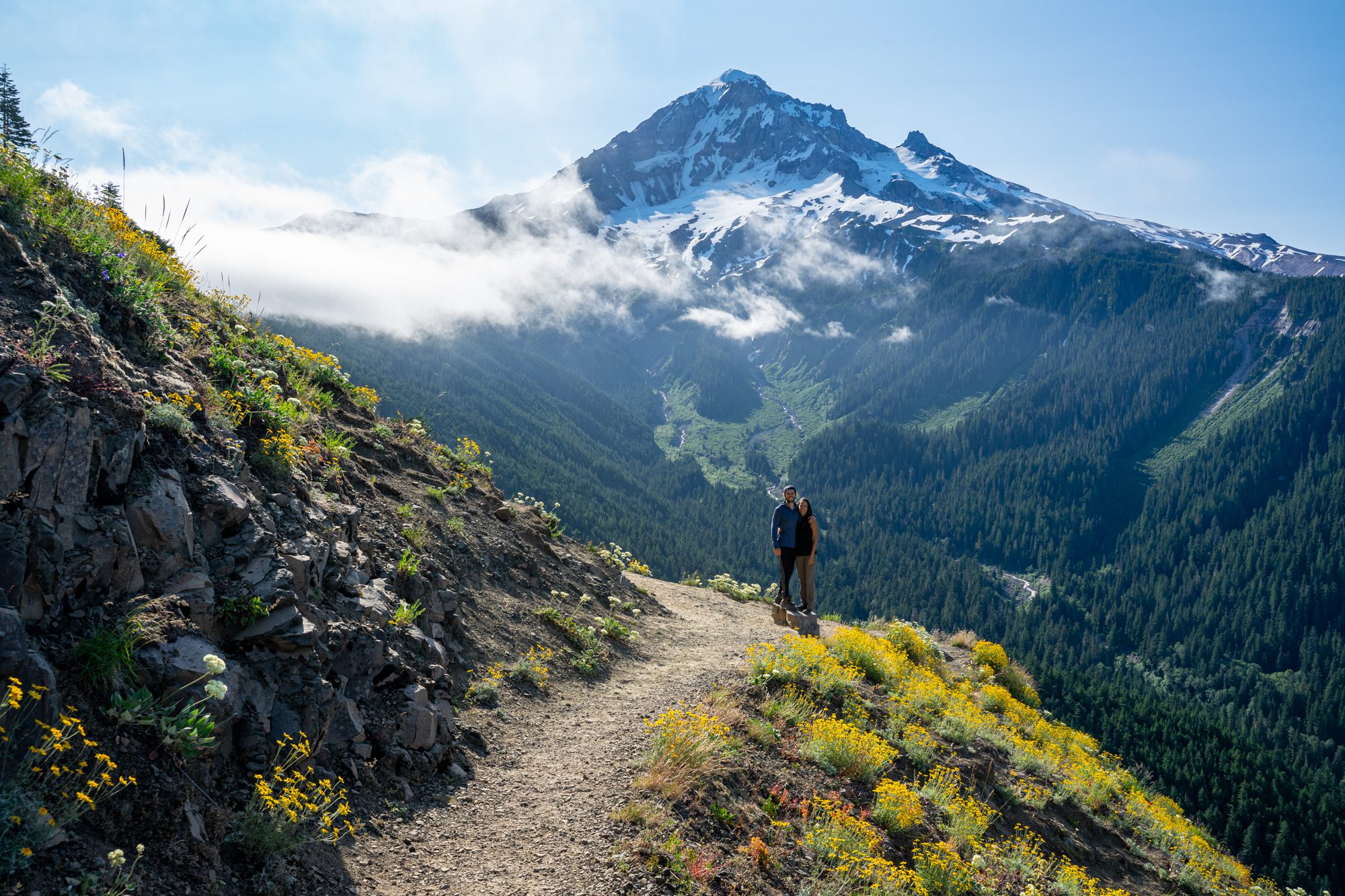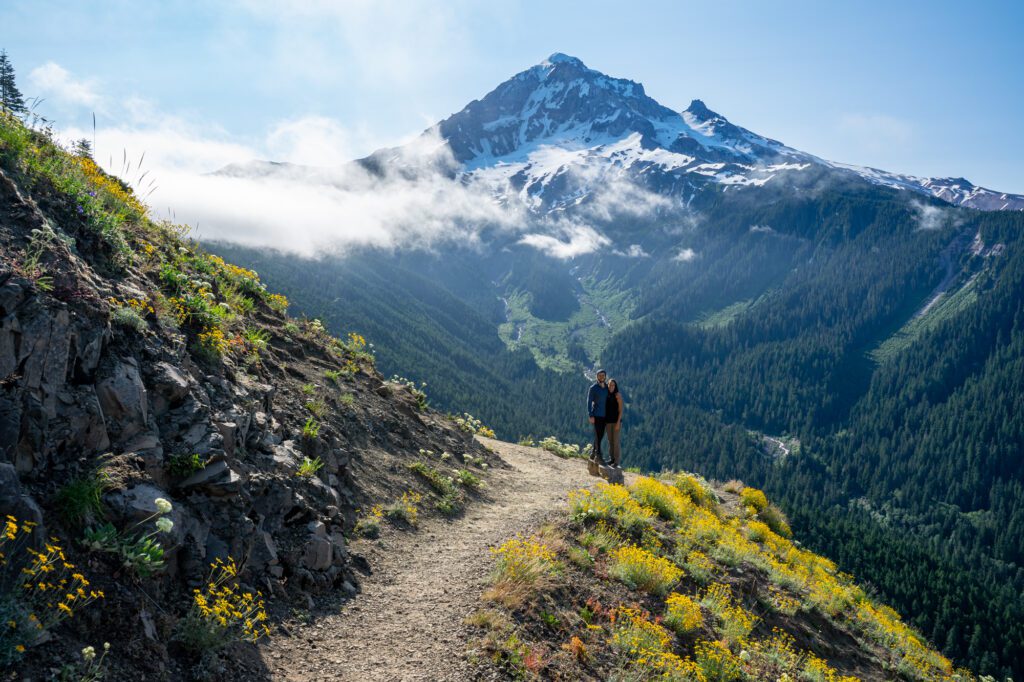 The Government Camp side of Mt. Hood, which is the closest to Portland, is a very popular destination, especially for people who want to visit the magnificent snow-capped peak of Mt. Hood. There are plenty of great hikes to enjoy, as well as some waterfalls and a lake.
We loved this area, and spent five nights camping at Trillium Lake, along with a couple of nights at Lost Lake, on the other side of Mt. Hood.
We saw people skiing near Timberline Lodge in late July! Which blew our minds.
Things to Do and See
There are several hikes you can enjoy and some other spectacular sights to see, like the stunning Ramona Falls and pristine Trillium Lake.
The Best Hikes in Mt. Hood
These are, by far, our favorite hikes in the Mt. Hood area.
Tom, Dick, and Harry Mountain – This 9 mile hike takes you on a picture-perfect scenic route to the top of Tom, Dick, and Harry Mountain. You'll be rewarded with amazing views of Mt. Hood from the top. If that sounds like a lot, you can cut this hike short and do the relatively easy 4 mile hike to Mirror Lake instead.
Zigzag Canyon via Timberline Trail – This is a 4.4 mile trail that climbs up into an alpine elevation of around 6,000 feet, where Mt. Hood towers above you throughout the entire journey. The end point is a canyon with pretty incredible views of Mt. Hood.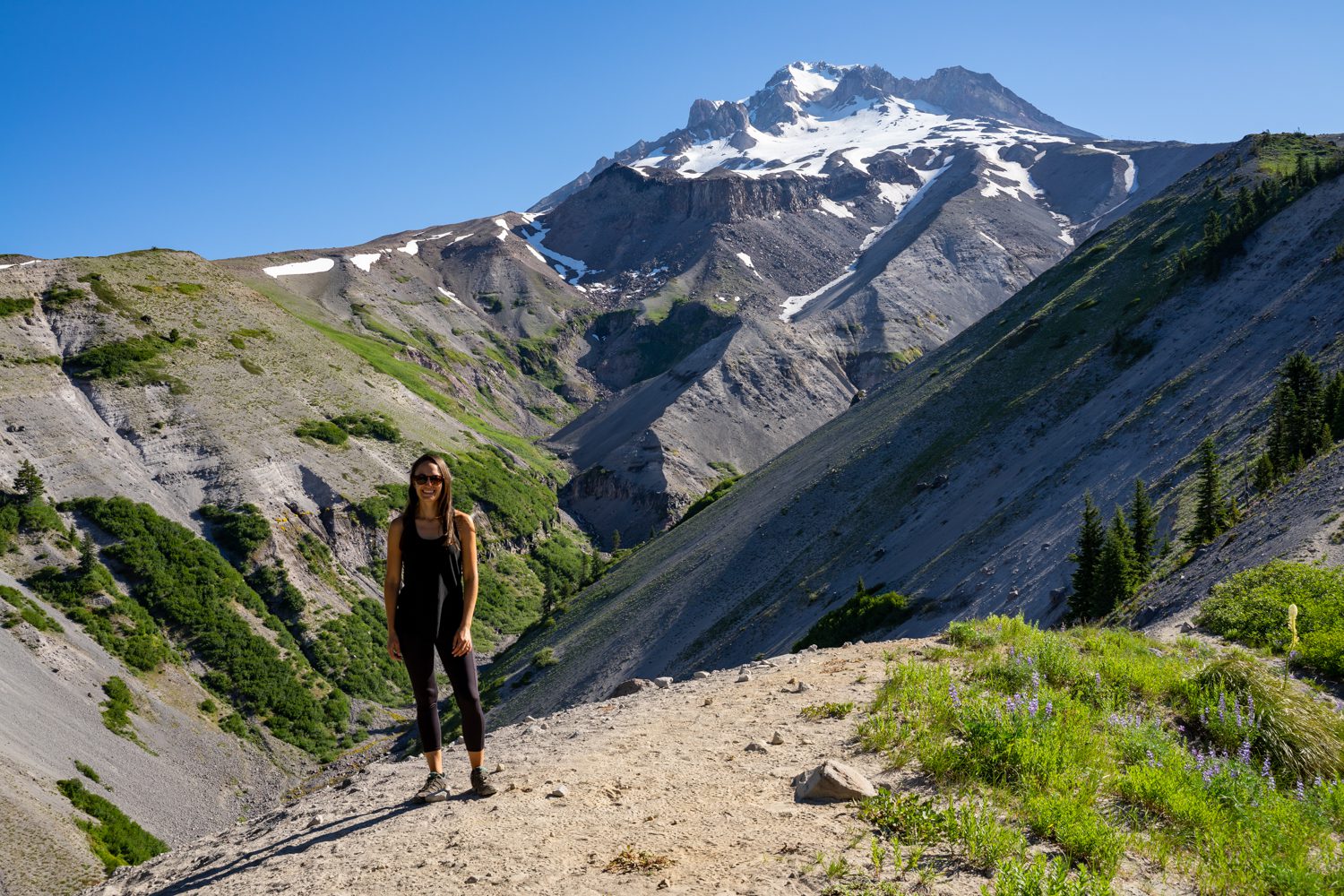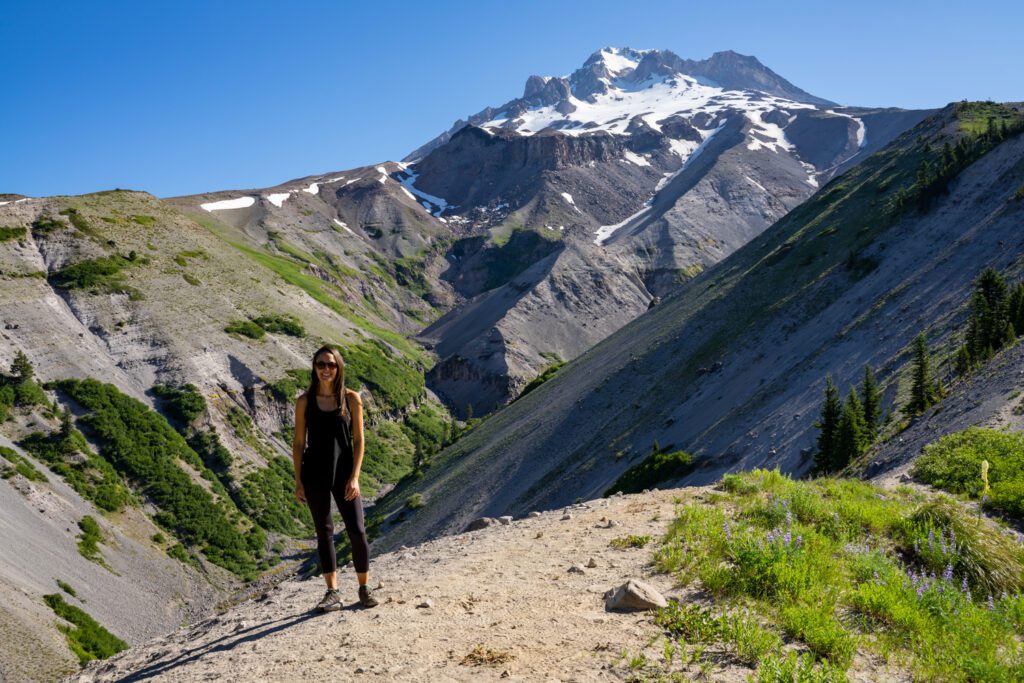 McNeil Point – This challenging 11 mile hike is brutal and kicked our butts, but it provides you with incredible views of alpine meadows and Mt Hood, along with St. Helens and Adams to the north. At the endpoint, you'll be so close to Mt Hood that you feel like you can reach out and touch it. It's truly spectacular. Just make sure to keep an eye on the trail signs and not add extra miles with a wrong turn like we did. It's hard enough as it is (but still so worth the climb!).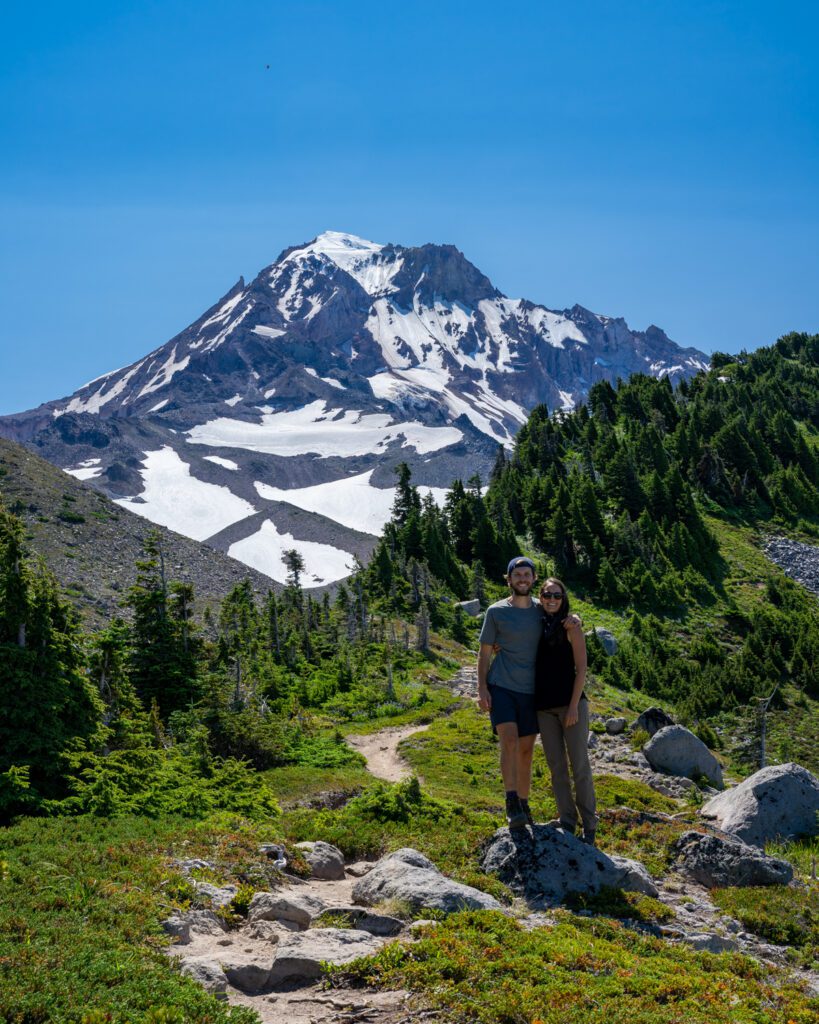 Ramona Falls – If you want to see a visually-stunning "glowing" effect emanating from dozens of cascading waterfalls, then this 7.1-mile loop hike to Ramona Falls is a MUST. It's flat, for the most part, and the only difficult part is crossing the river, which can be a little sketchy when the seasonal bridge isn't there.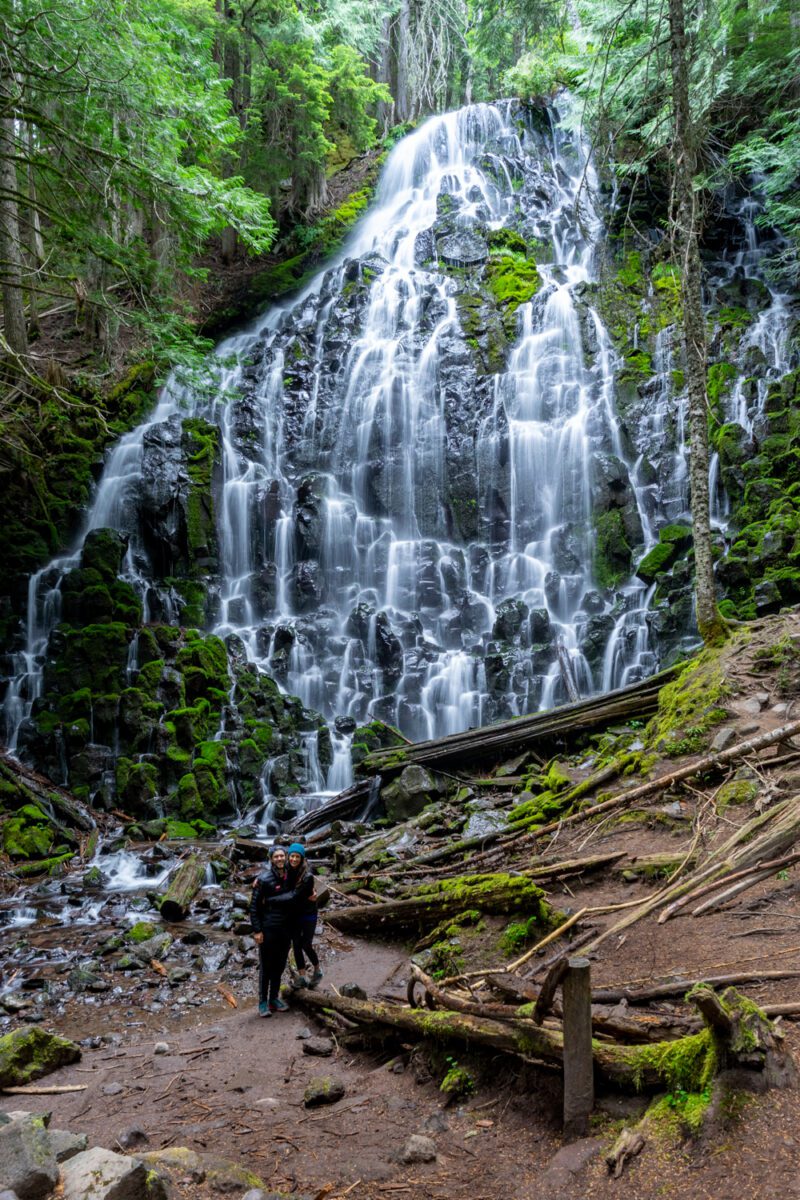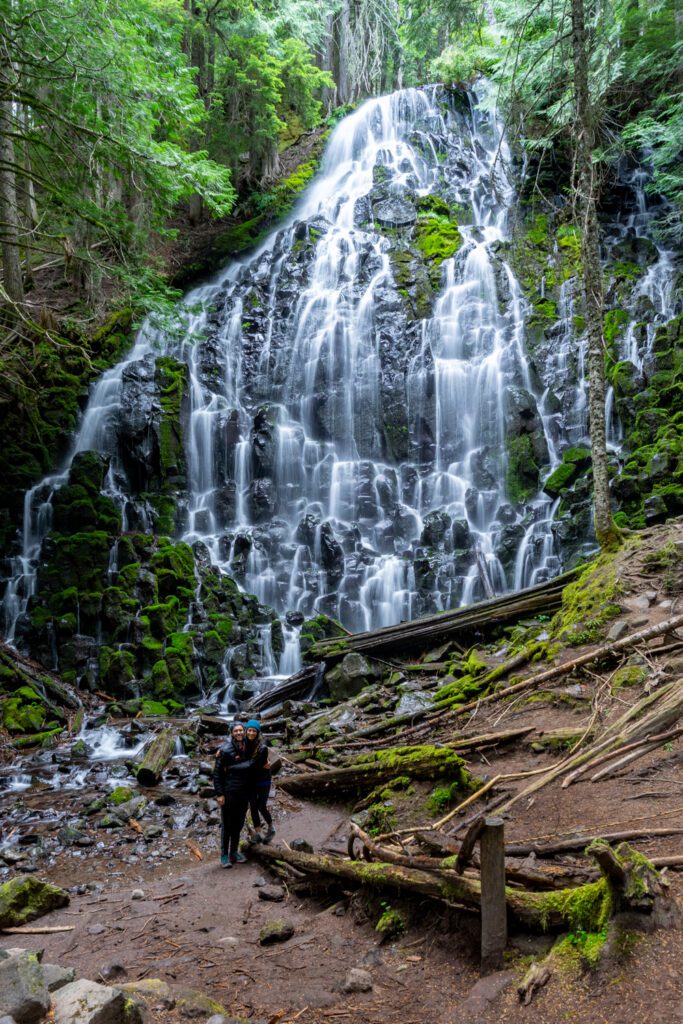 Trillium Lake – This gorgeous lake will look its best against the backdrop of Mt. Hood when it is either sunrise or sunset, when the wind is calm painting an extraordinary scene including a perfect reflection of the mountain. Midday won't be quite as peaceful, especially on a hot day when tons of families come to spend the day splashing around in the lake.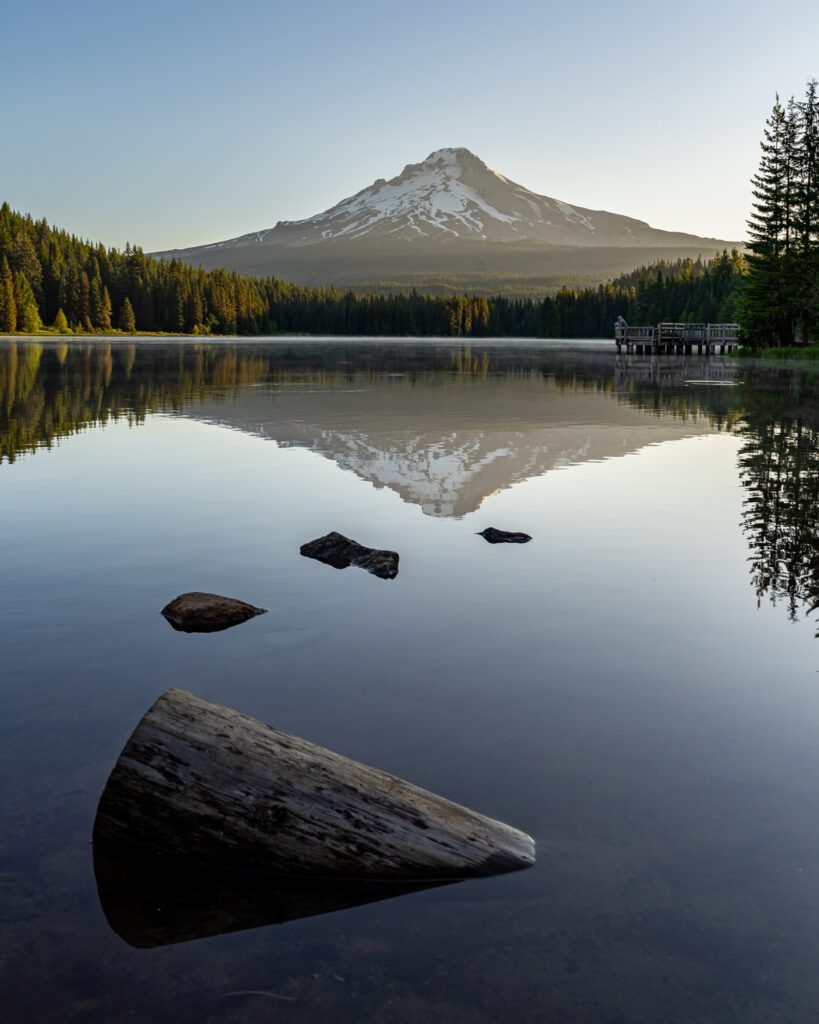 Silver Falls State Park
Distance from Portland: 50 Miles / 60 Minutes
Getting there: to get to Silver Falls State Park, you take I-5 southbound until you come to OR-213, taking it until OR-214, which will bring you to the park.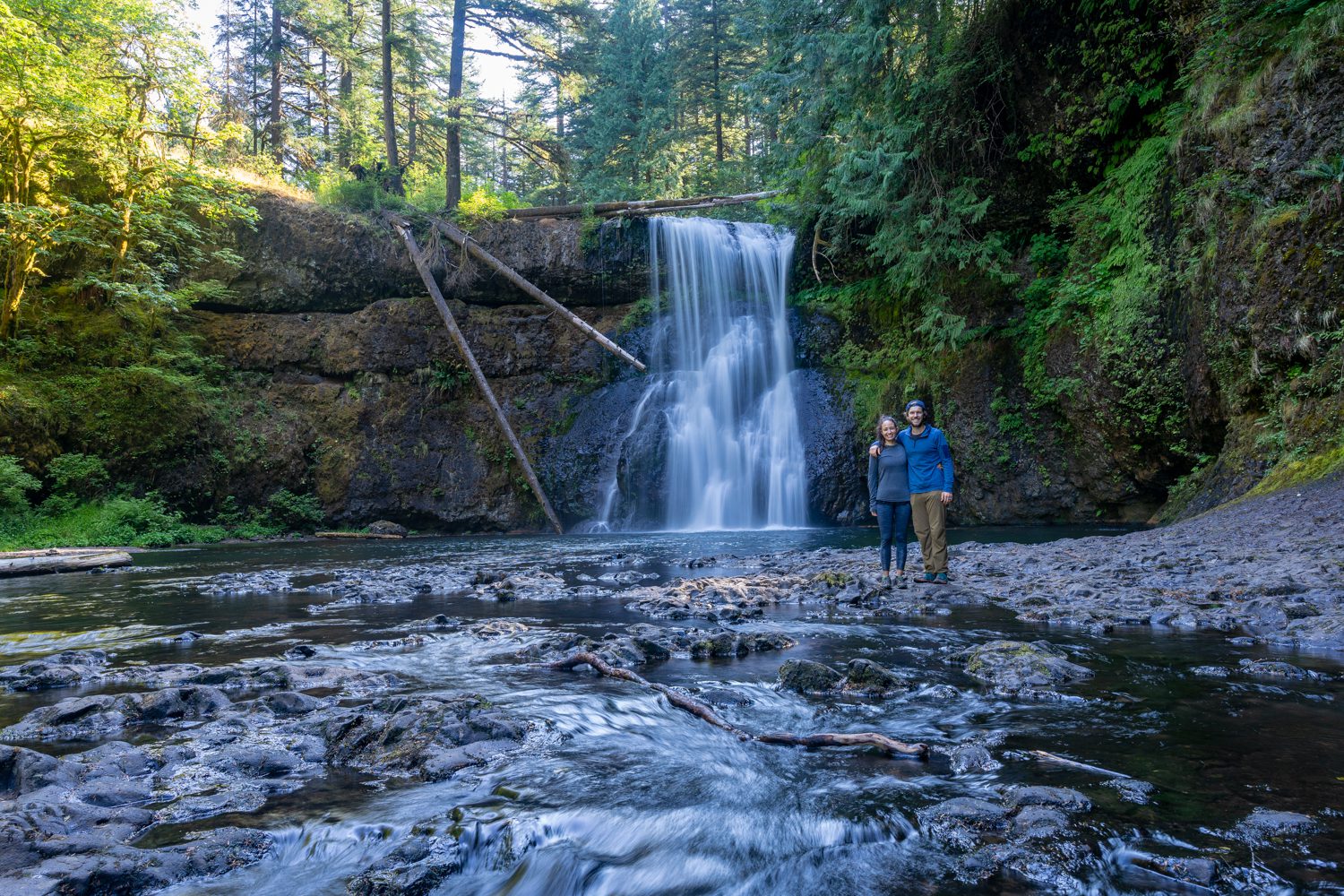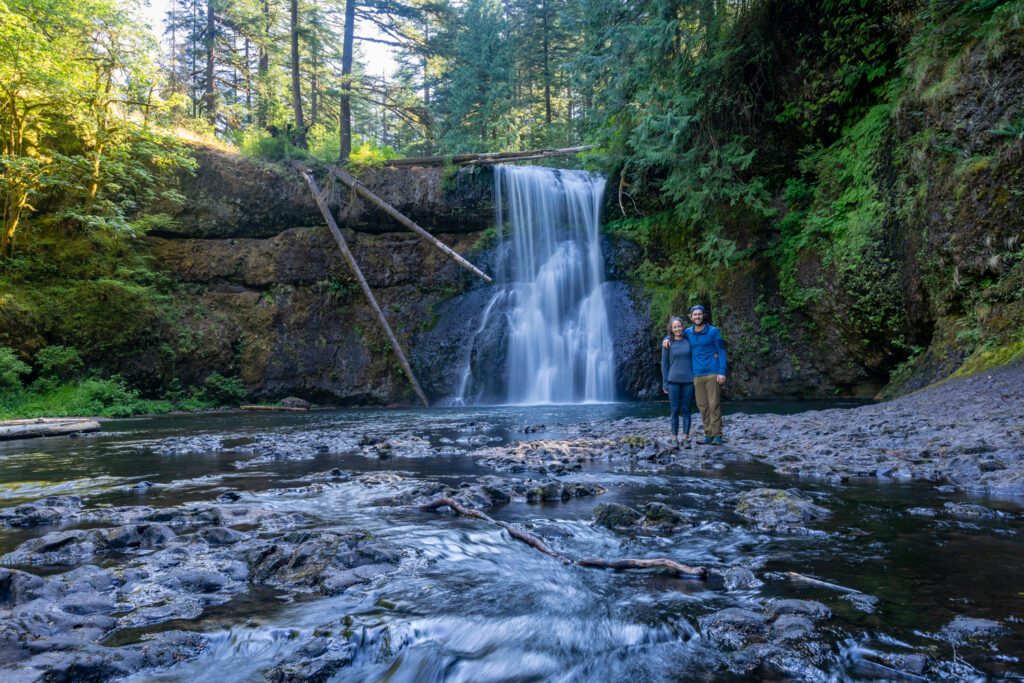 Silver Falls State Park is considered to be the "crown jewel" of all parks in Oregon. It's one of the few places where you can walk behind a massive waterfall!
The main reason to come here is the waterfalls, and the Trail of Ten Falls is basically a must-do.
On the way back from Silver Falls, it's worth taking a quick detour into Salem, the capital of Oregon, for 100% gluten free AND vegan donut holes at Bigwig Donuts, and spectacular coffee – espresso and coffee cocktails – at Archive Coffee.
Things to Do and See
The main reason to visit is to explore the Trail of Ten Falls and see a number of beautiful waterfalls. Hike the entire 8.7-mile loop to experience them all, or at the very least make sure to check out the 177-foot South Falls (which you can walk behind!).
More info on the hike here.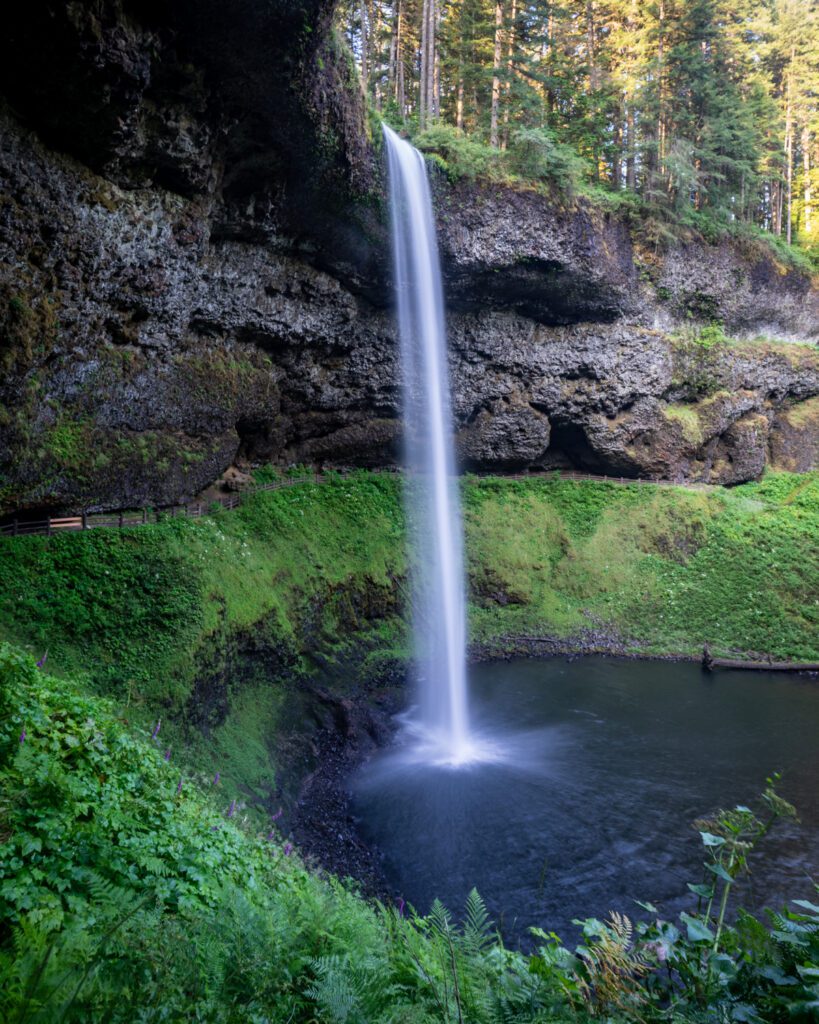 Mt. St. Helens
Distance from Portland: 110 Miles / 2 hours
Getting There: To get to Mt. St. Helens, you take I-5 northbound until you come to WA-504, which will take you all the way to the Johnston Ridge Observatory.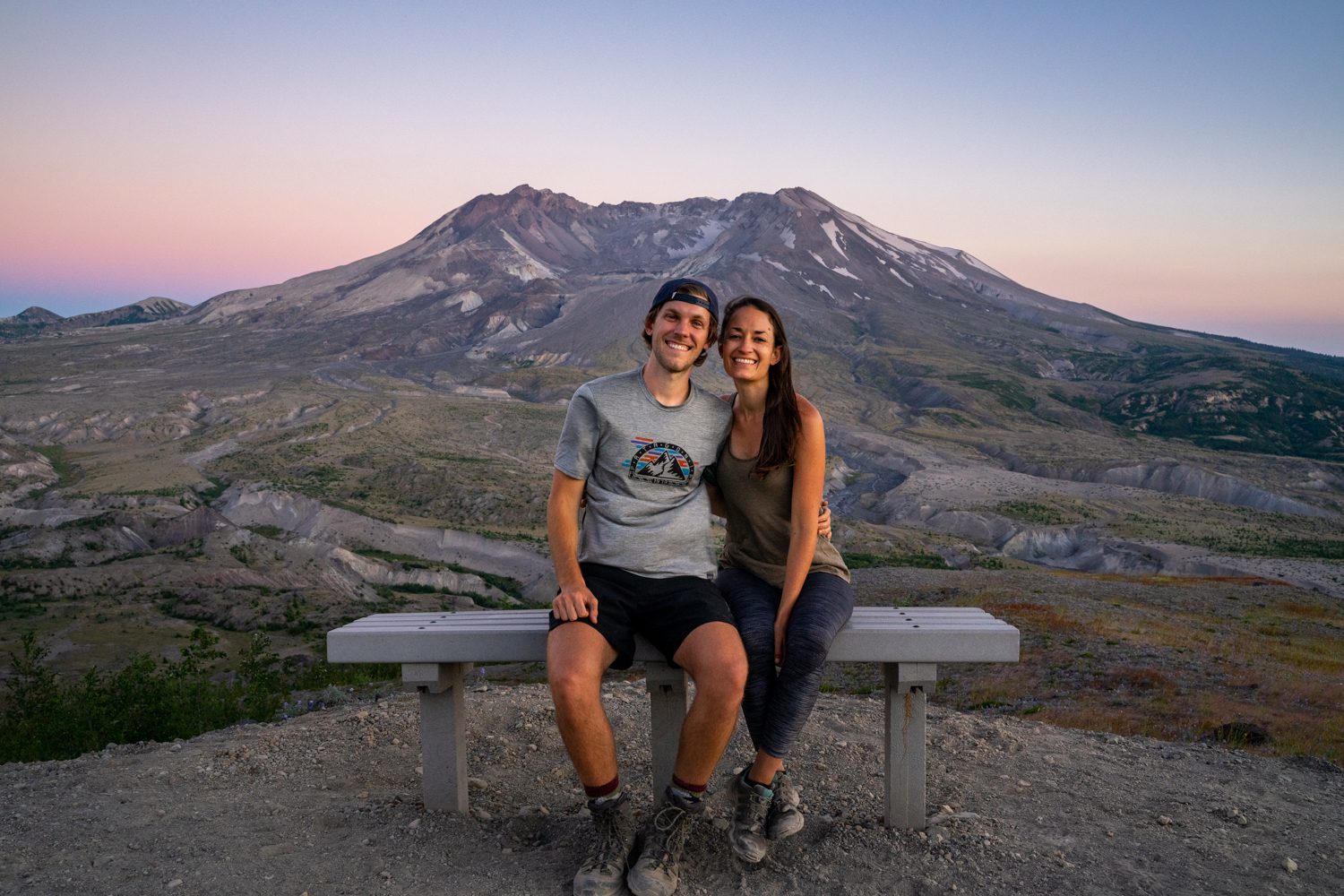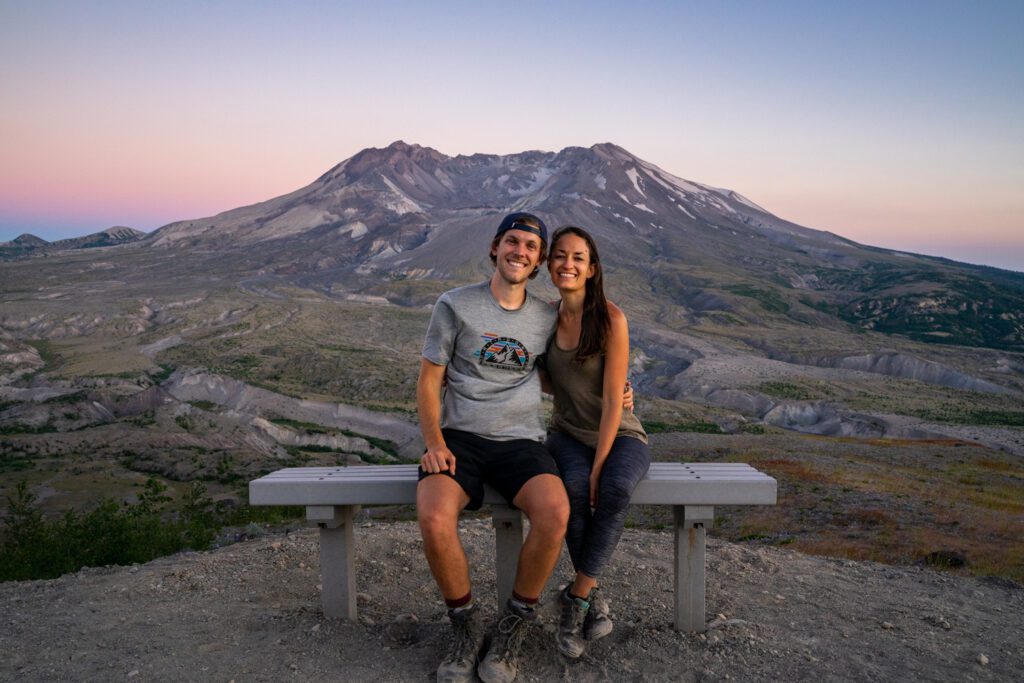 Located in Washington state, though it's actually closer to Portland than Seattle, Mt. St. Helens is an active volcano that dramatically blew its top in 1980. Today, it's a magnificent mountain to visit, with several fantastic hikes and a bunch of signage along the way helping you learn all about the eruption event that covered the entire Pacific Northwest in ash for days and days.
Somehow, despite growing up in Seattle, I never made it to Mt. St. Helens until recently, and we caught two incredible sunsets over the mountain from completely different vantage points.
If you're doing this as a day trip, you're going to want to focus on the west side of the mountain and Johnston Ridge.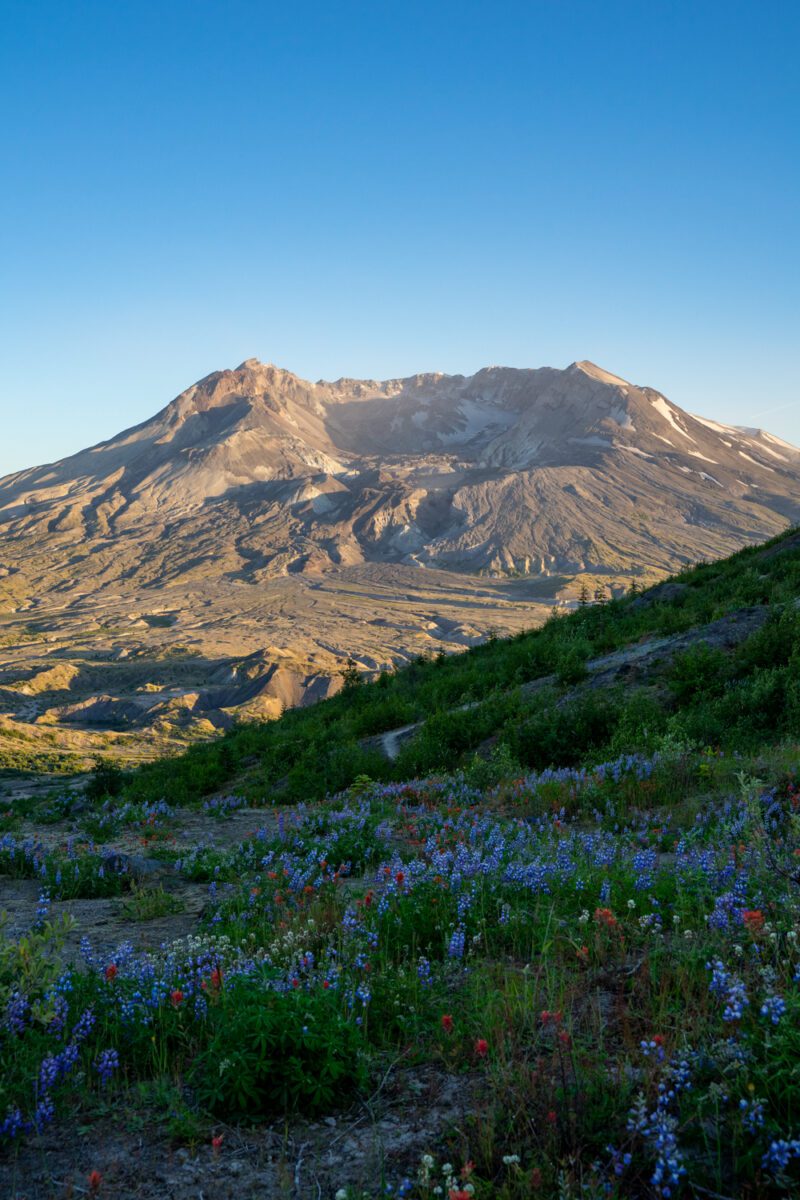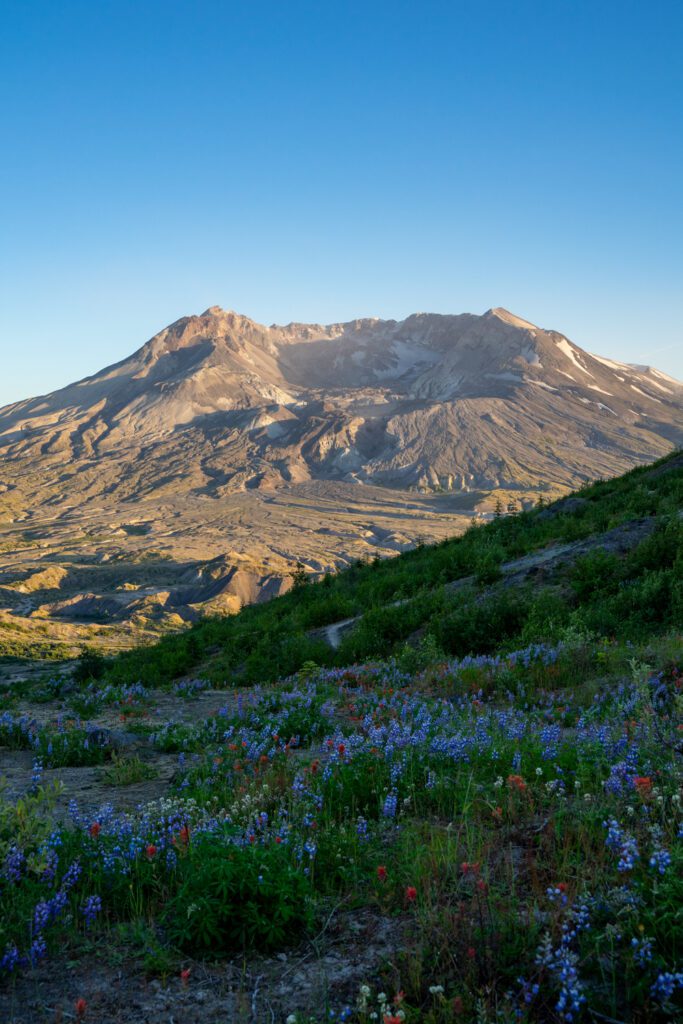 Things to Do and See
There are a few great hikes you can go on here – definitely spend some time checking out the Johnston Ridge Observatory while you're there. All sorts of history and science around the eruption that I truly never knew until we visited.
If you're coming from Portland, especially for a day trip, you will want to stick to the west side of Mt. St. Helens. That's where you will find most of the sights worth seeing.
Explore Around the Johnston Ridge Observatory
Exploring the area of the Johnston Ridge Observatory will provide you expansive and captivating views of Mt. St. Helens from inside the blast zone, showing you the aftermath of the massive eruption that occurred 40 years ago.
Hiking at Mt. St. Helens
There are three hikes we recommend around Mt. St. Helens. Harry's Ridge is, by far, the best of the bunch, but it's not easy.
Harry's Ridge – This 8.2-mile trail takes you across a ridge that has a number of switchbacks, and ends at a point with gorgeous views of Mt. St. Helens and Spirit Lake below, where you'll see all of the downed trees collected in the basin.

Hummocks Trail – A short 2.4-mile trail takes you by bizarre-looking hills that were created in the aftermath of the volcano's eruption, providing a surreal adventure and views of the mountain.

Coldwater Lake Trail – For a longer hike, this 7-mile trail that will offer you views of a lake that was formed after the eruption of Mt. St. Helens.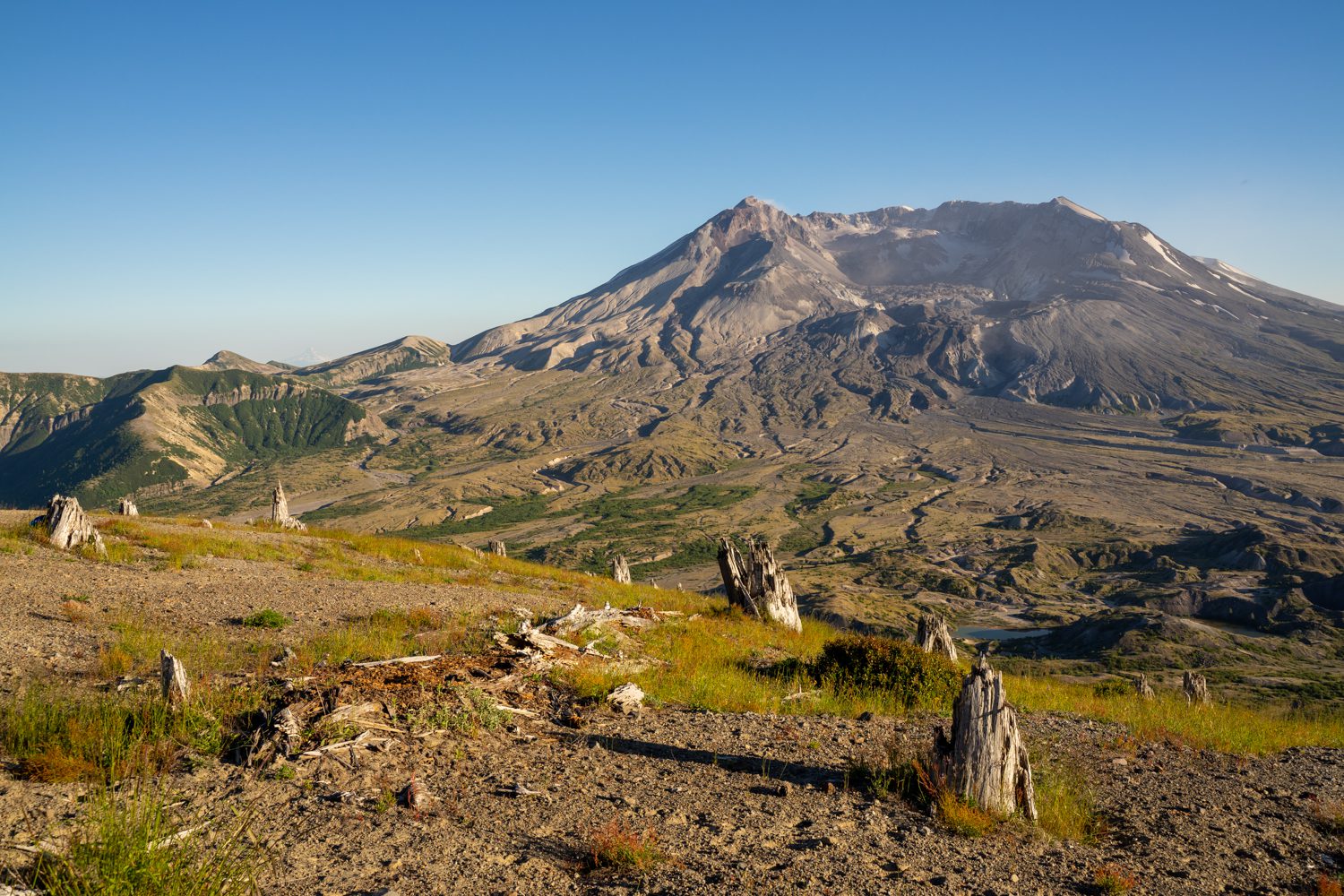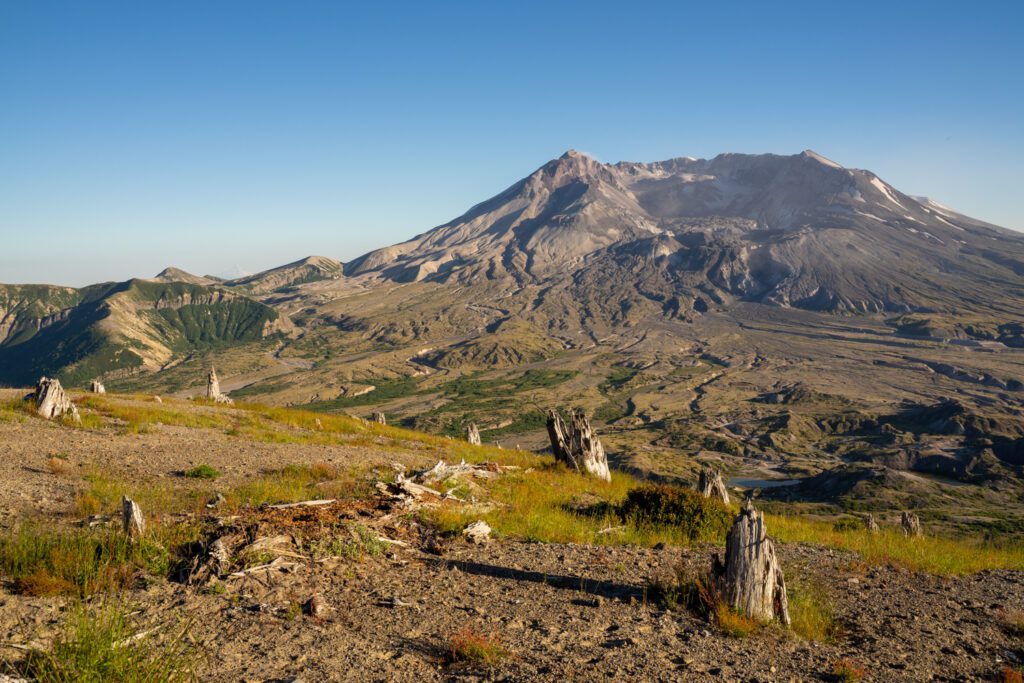 McMinnville & the Willamette Valley
Distance From Portland: 40 Miles / 55 Minutes
Getting there: To get to McMinnville and the Willamette Valley, you take I-5 southbound until you come to OR-99W, taking it until OR-233, which will bring you to the town of McMinnville and northern edge of the Willamette Valley.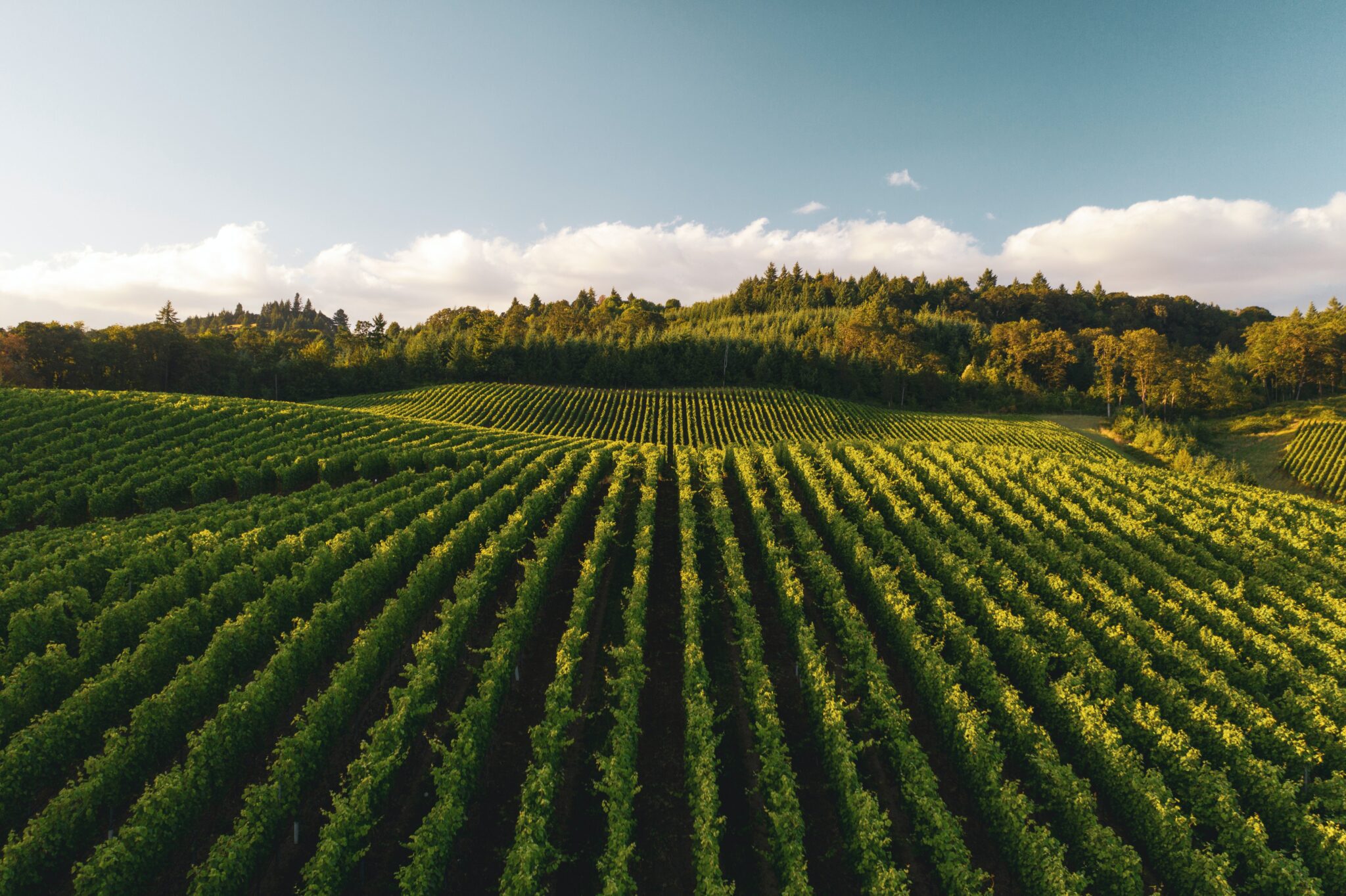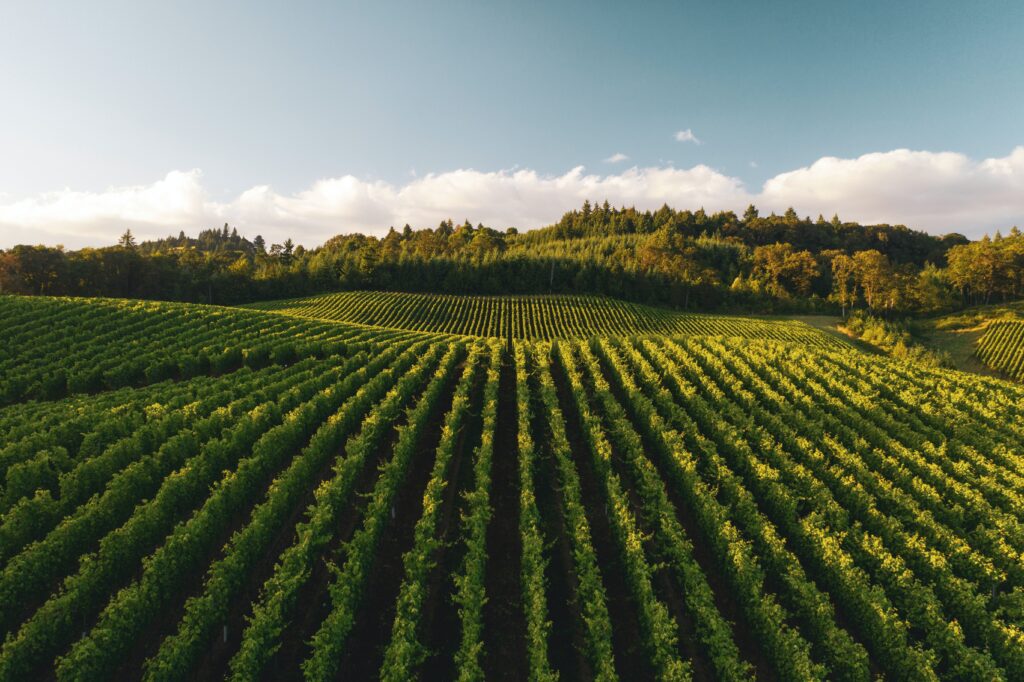 Did you know there's a wine region in Oregon? I did, but only because I went to college in Seattle and have Celiac Disease, so I drank my bodyweight in Trader Joe's wine every weekend.
McMinnville is the gateway to the Willamette Valley, the premier wine region in the Pacific Northwest. The Willamette River flows through this long, lush valley where there are some non-hiking attractions we are sure you will enjoy.
Things to Do and See in McMinnville
McMinnville itself is a charming small town with tons of locally-produced goods, like coffee and gluten free beer, and all sorts of boutiques. There are a few notable spots that you'll want to check out when you're in town.
Obviously, if you're here, you'll probably want to explore the Willamette Valley – you'll find our picks for where to go in the valley down below. This section is what to do in McMinnville itself.
Things to Do in the Willamette Valley
Yes, Oregon has a wine country like California, and it's well worth the trip from Portland.
The Willamette Valley has some of the mildest and best weather, as well as the most fertile soil, for growing grapes used for winemaking. It's best known for award-winning pinot noirs, thanks to the mild climate, though you'll also find white varietals.
Here are the wineries we recommend checking out in the Willamette Valley's wine country.
Johan Vineyards: Johan Vineyards is a certified biodynamic winery that takes biodynamic farming practices and incorporates them into winemaking. Using native yeast fermentation and minimal intervention in the process, their wines are very unique in their flavor profiles.
Left Coast Cellars: Left Coast Cellars is a family-owned winery that specializes in sustainable winemaking. They take a holistic approach to farming and make an effort to minimize their impact on the land they farm. Their wildlife restoration efforts are impressive.
Stoller Family Estate: Stoller Family Estate is a family-run business that transformed 400 acres into one of the largest vineyards in Oregon. They take great pride in the meticulous process they follow when growing the grapes and making the wine.
Eugene
Distance From Portland: 110 Miles / 100 Minutes
Getting there: To get to Eugene, you just take I-5 south until you reach the city.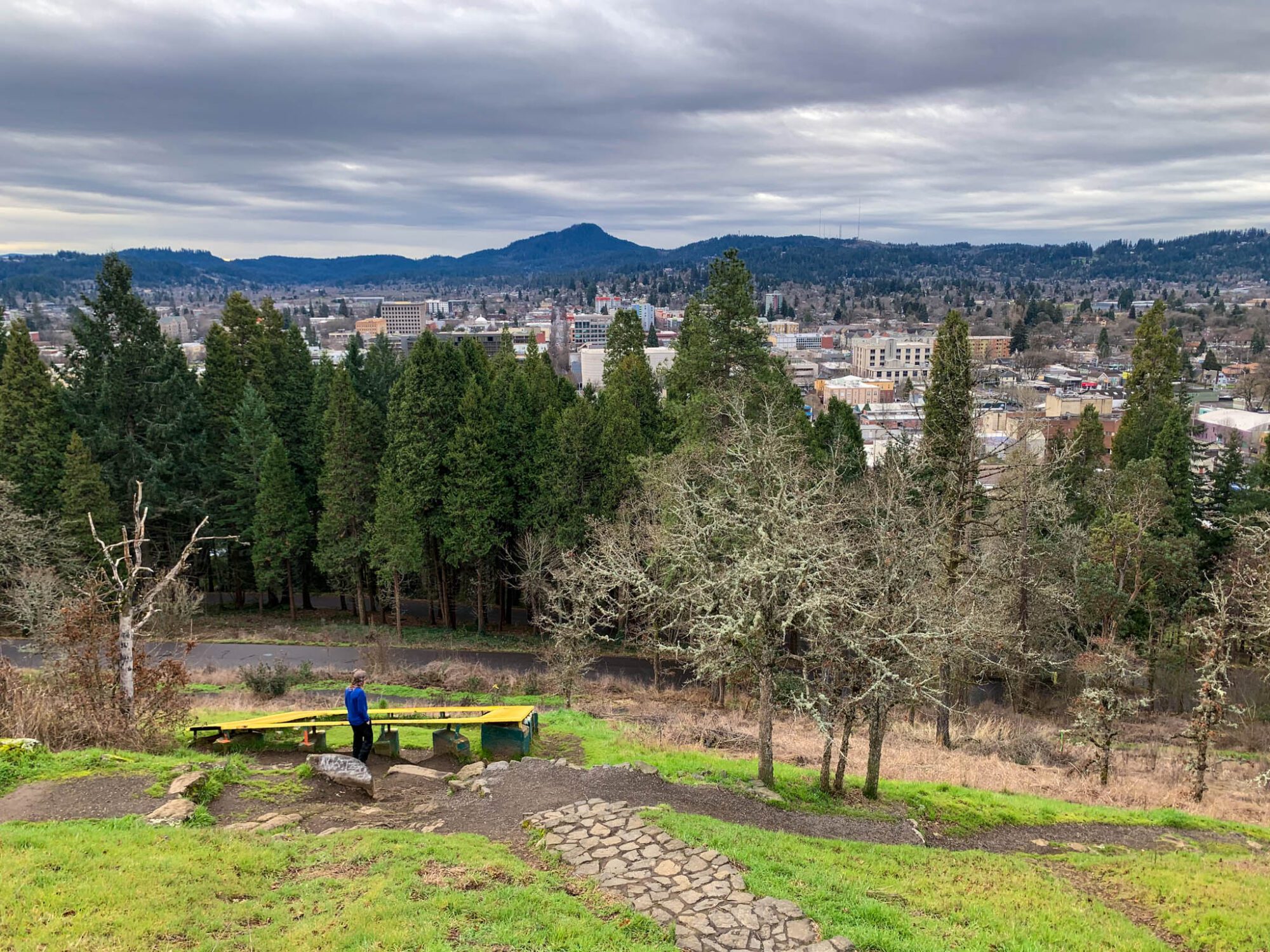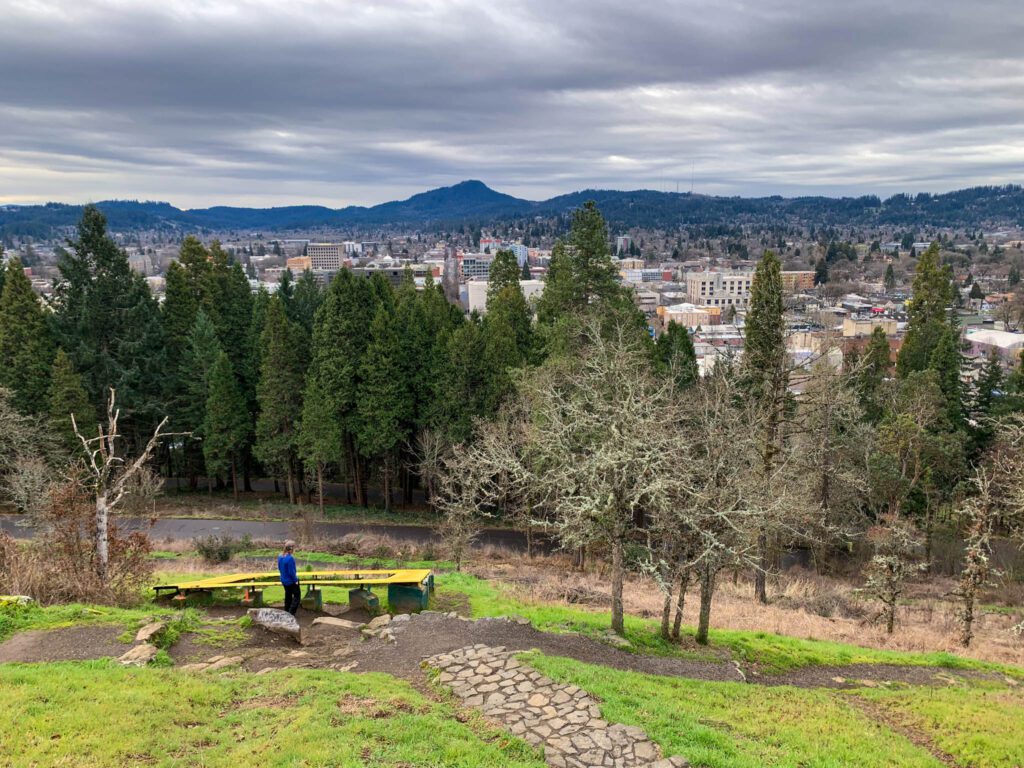 Eugene, a lively college town filled with creative types, is towards the southern end of the Willamette Valley. There are some fun things to do in this incredibly unique city, which is home to the University of Oregon and has a huge student population that creates a very "young" feeling city, for lack of a better word.
Probably don't go to Eugene on a day when the Oregon Ducks are playing (unless you're going to the game). It gets PACKED.
Things to Do and See
Downtown Eugene is full of cool places to check out.
For the best coffee in Eugene, head straight to Farmer's Union Coffee Roasters.
Explore the 5th Street Public Market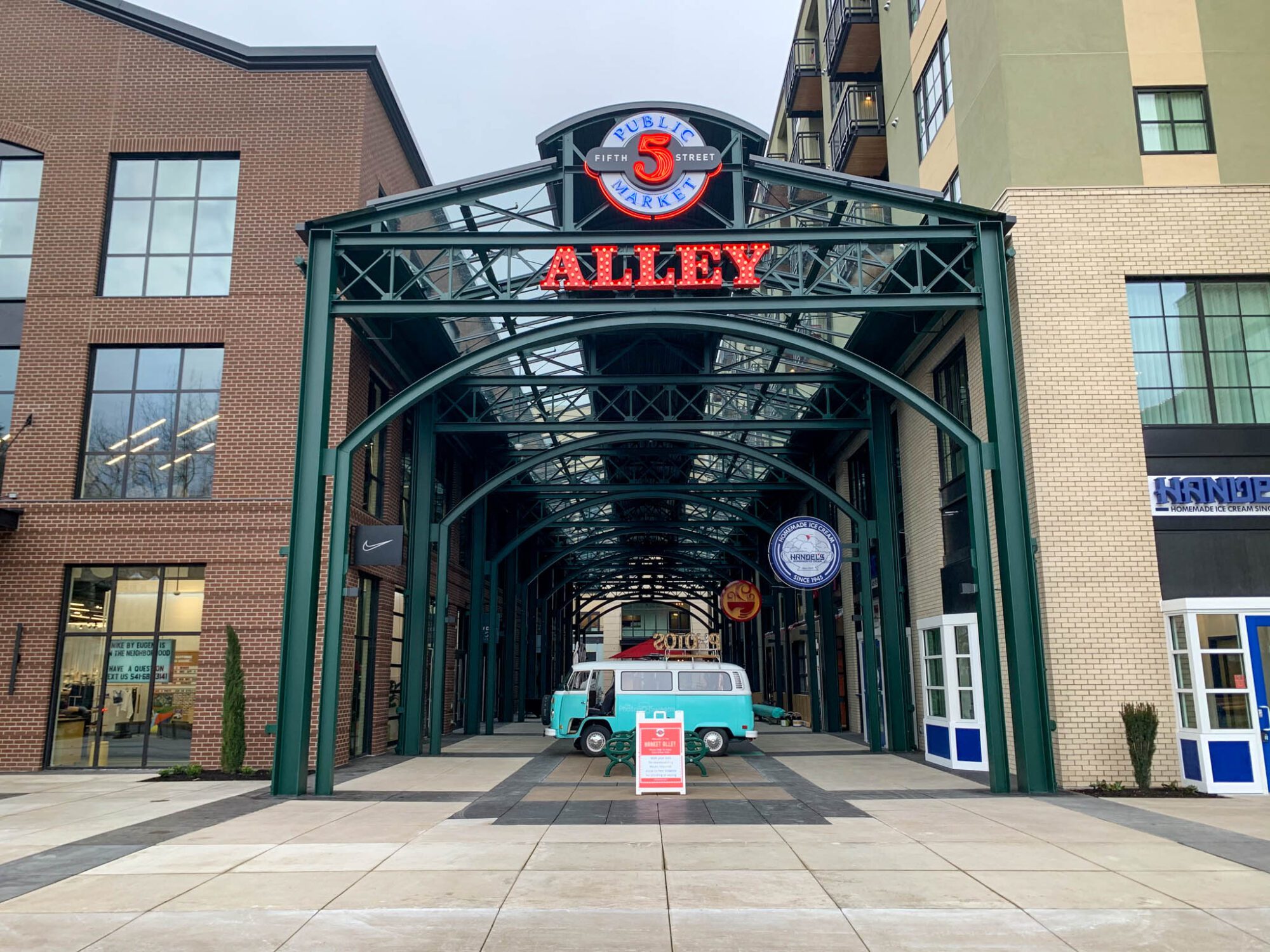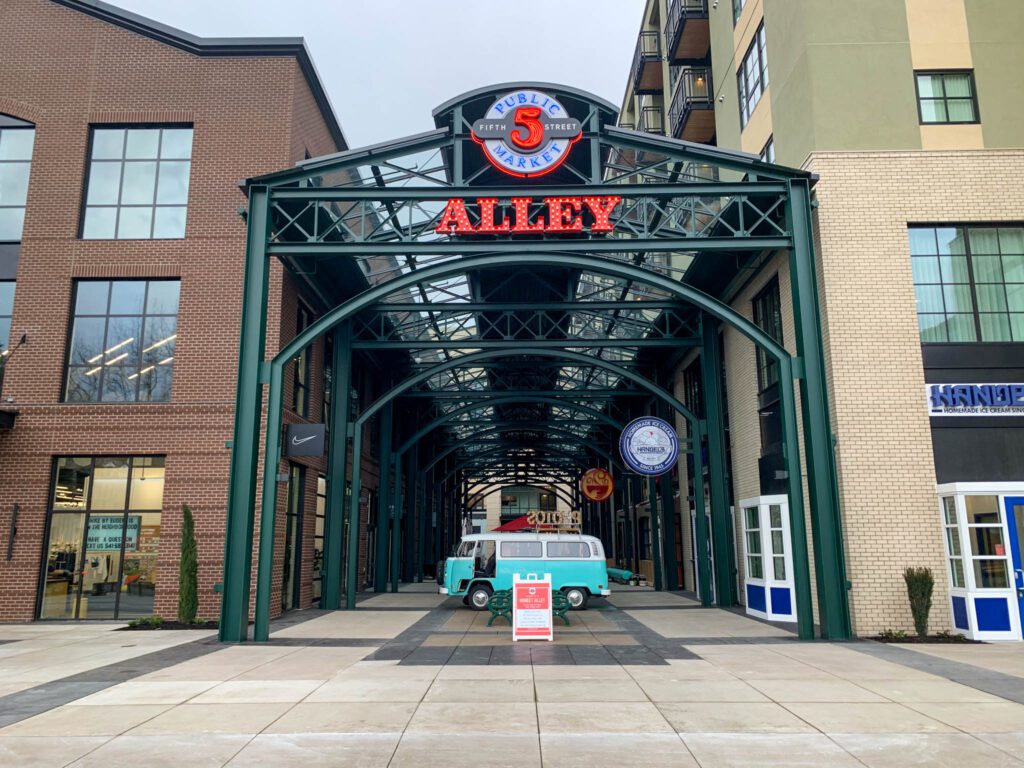 The 5th St. Public Market is a local favorite filled with interesting stores, as well as great restaurants, tasting rooms, and eateries.
Try Pacific Northwest Cider at its Finest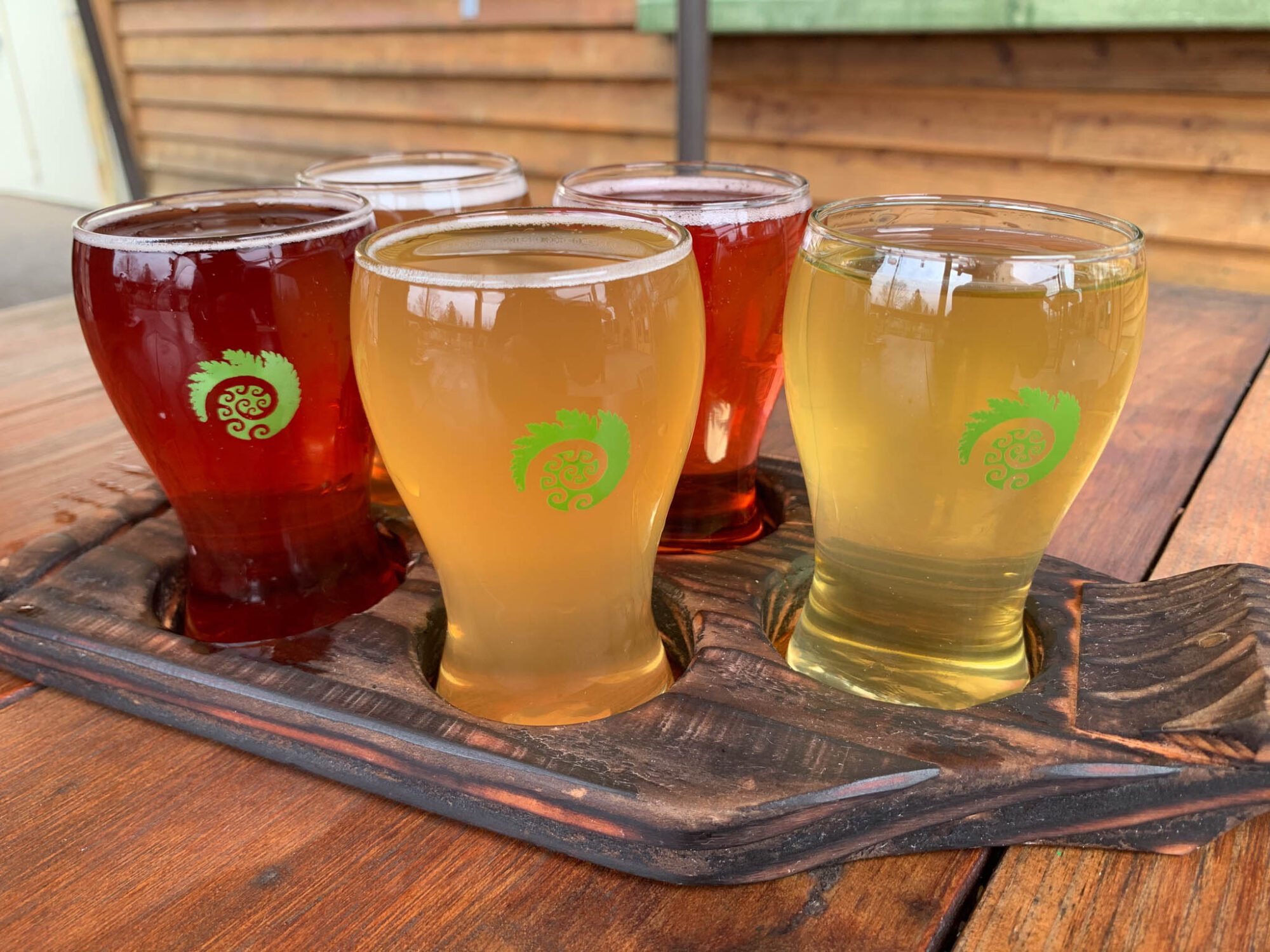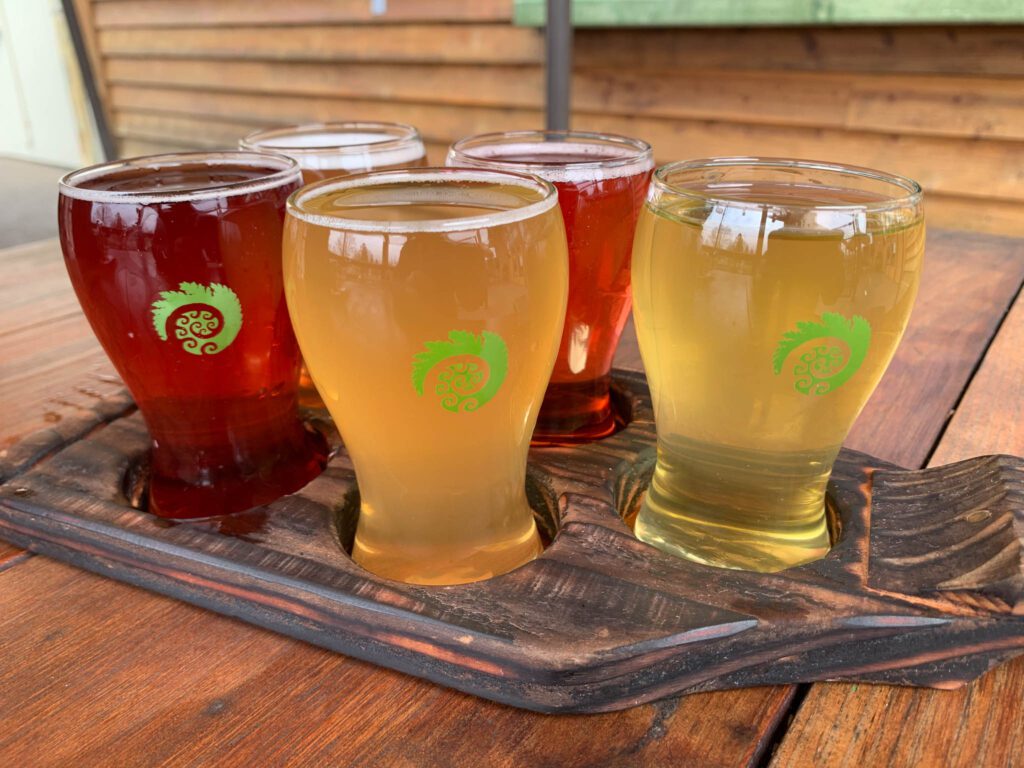 Drink some of the Pacific Northwest's best cider at Wildcraft Cider Works. All of the fruit used for their cider is either wild or biodynamically grown. They make really interesting – and really dry, which is what we prefer (versus sweet) – cider, using fruit combinations including pears and quince, among other things.
It's a cool place to spend an afternoon or evening too. They have a bunch of unique ciders on tap that you won't find in bottles elsewhere.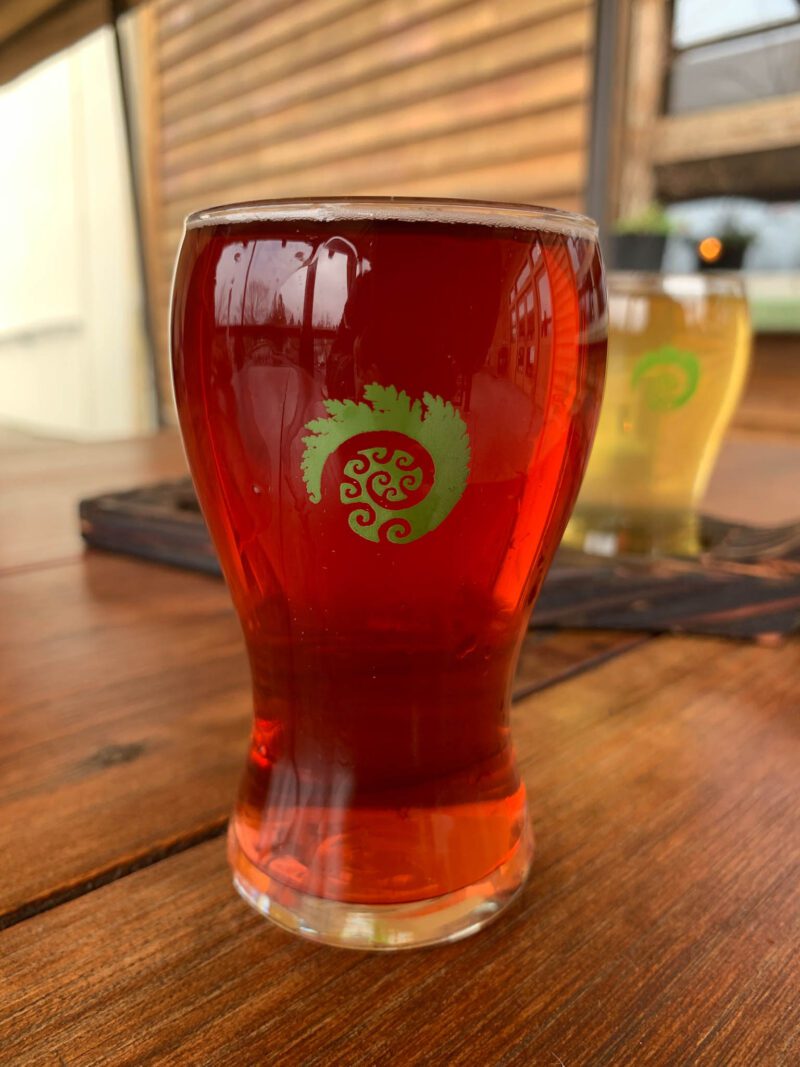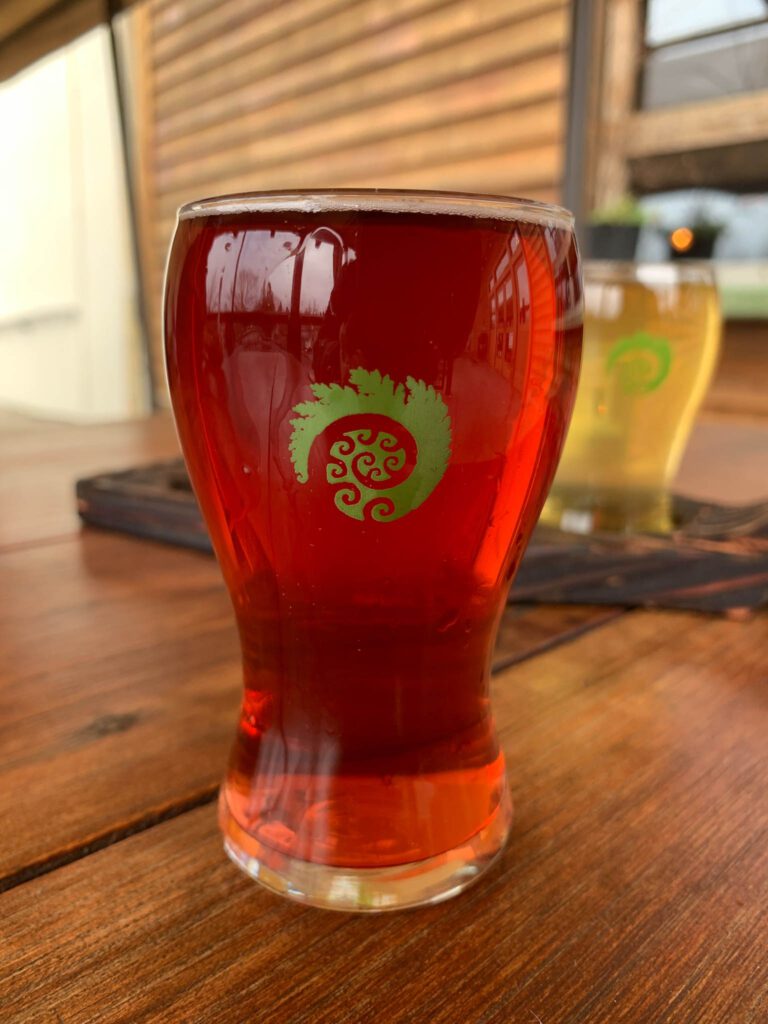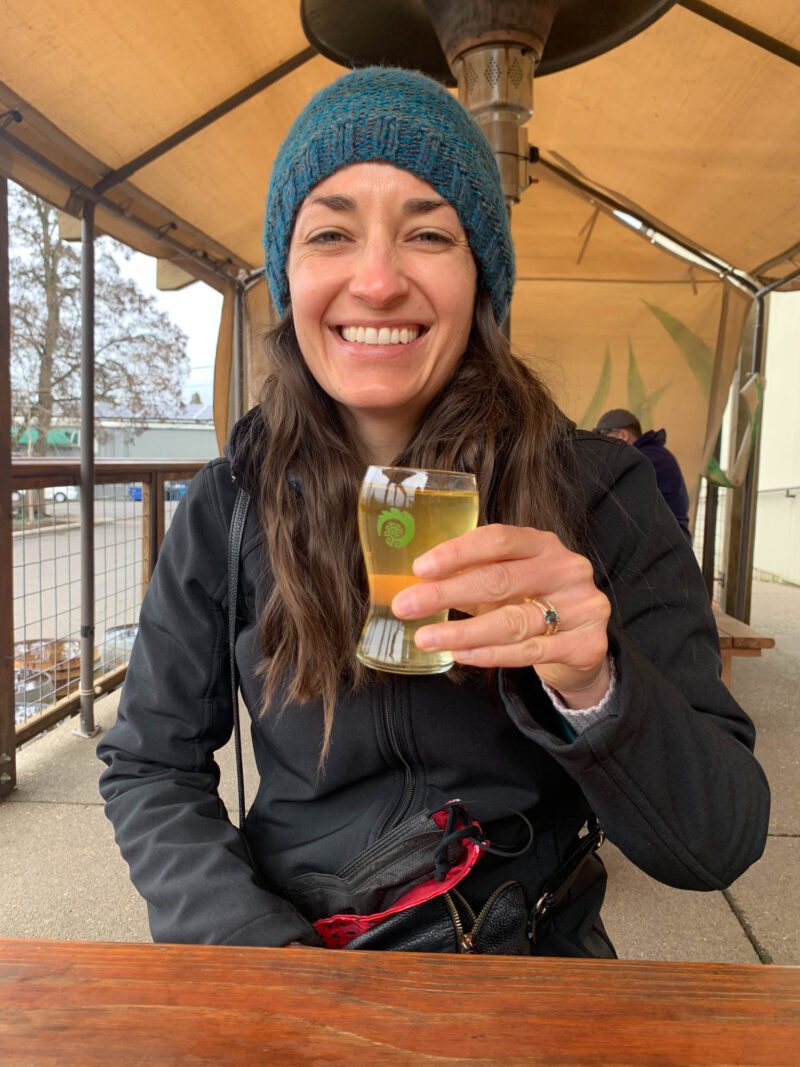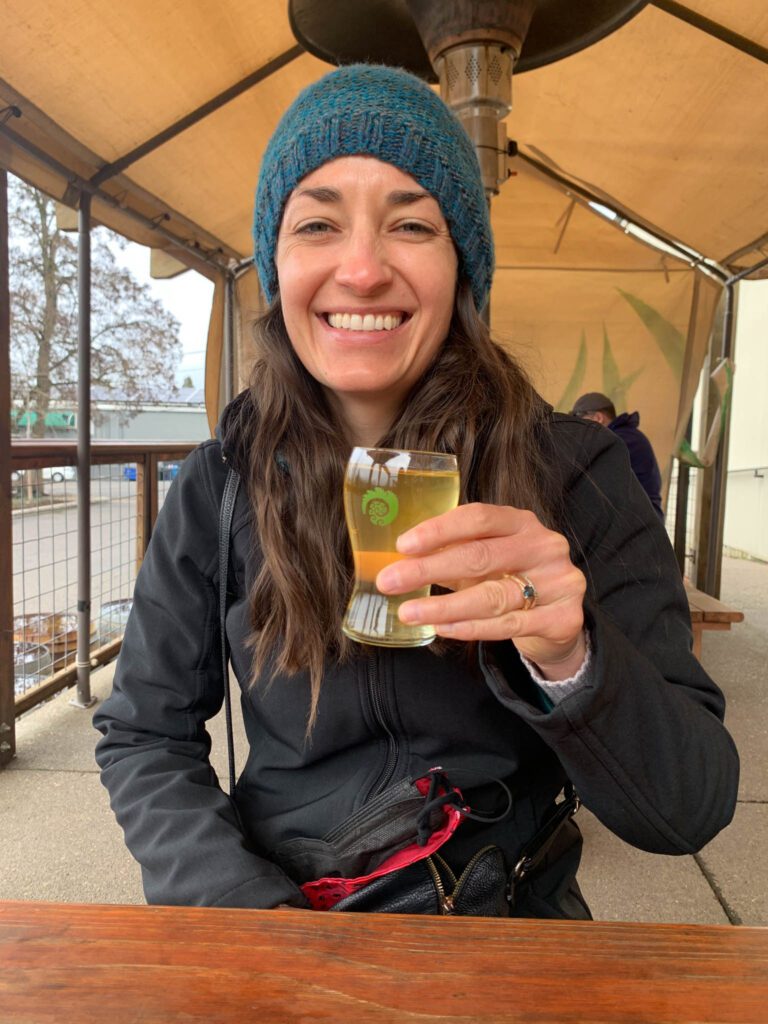 Catch the Saturday Market
Eugene's Saturday Market showcases the best in local and seasonal food and products. One of our favorite things to do in a new city is head to the Farmers Market, and this one does not disappoint. It's a mix of crafts and food.
Eat Brunch at Jazzy Ladies Cafe
Get your fill of 100% gluten-free goodness at Jazzy Ladies Cafe. Here, you'll not only get delicious food, but also enjoy a warm atmosphere and excellent jazz. If you don't order the chicken and waffles (or the Elvis Waffle – bacon, banana, and peanut butter), what are you even doing?
Hood River
Distance From Portland: 65 Miles / 75 Minutes
Getting there: To get there, you just take the I-84 eastbound until you get to Hood River.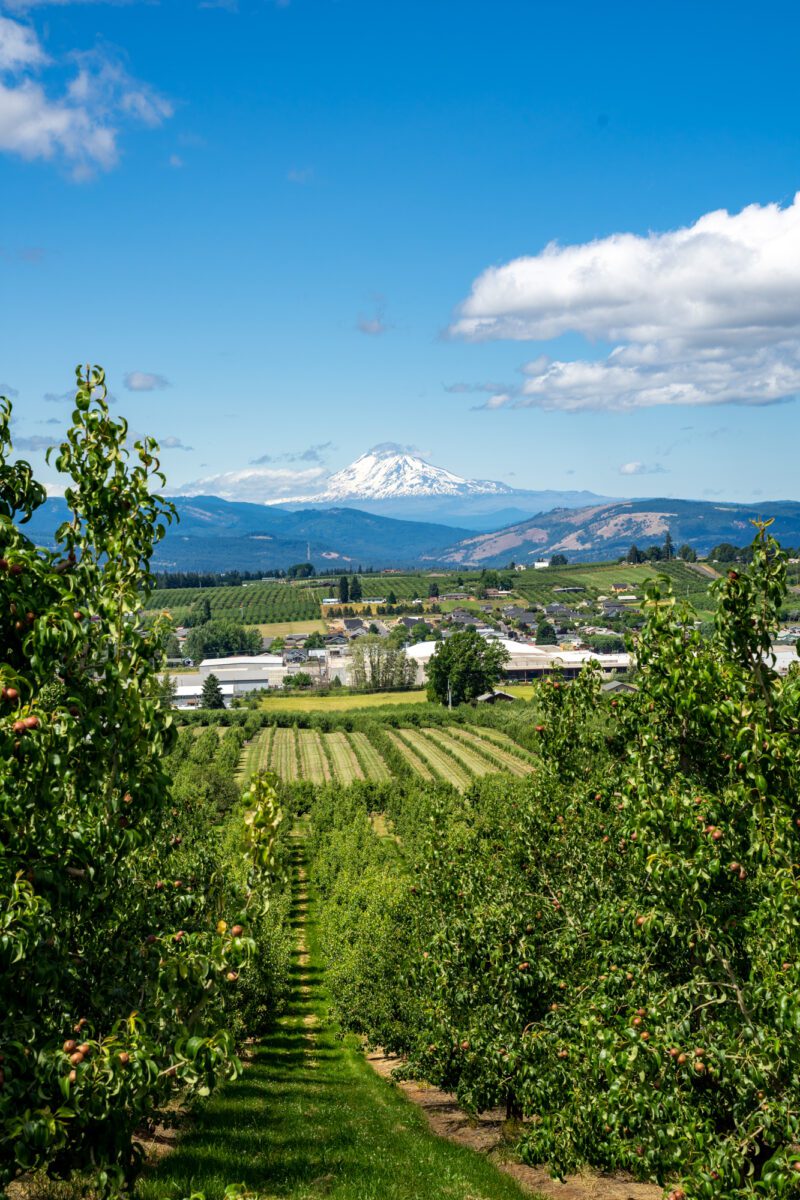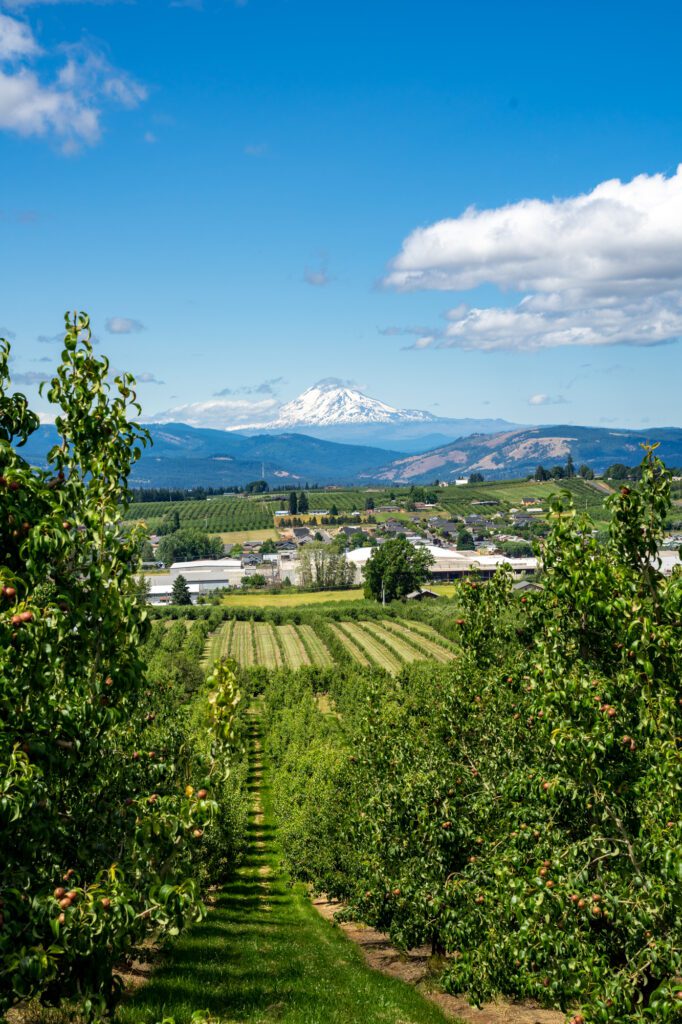 The town of Hood River, which you'll find at the intersection of the Columbia River and, you guessed it, the beautiful Hood River, is a popular destination for outdoor activities, wine tastings, delicious cider, and adventures galore. It's probably the quintessential Portland day trip, because it's so accessible and to get there, you drive straight through the Columbia River Gorge (two for one!).
As you drive into town on a sunny and windy day, you'll notice the hundreds of windsurfers out on the river. I don't think I've ever seen so many people engaged in water sports in one place before.
Hood River makes a great part of a day trip to the Columbia River Gorge, which I mentioned above. Start your morning with a waterfall hike to one of the many (seriously, so many) waterfalls in the Gorge along I-84, then grab lunch and a beer / cider in Hood River afterwards. And maybe do some wine tasting, just to round out a perfect day.
Here are our picks for what to do around Hood River.
Things to Do, Eat, and Drink
There are a number of things to do, see, eat, and drink in Hood River and nearby.
Drive the Fruit Loop
The Fruit Loop is a scenic drive through the lush Hood River Valley that will bring you to places where you can sample and get your hands on a variety of local wines, fruits, vegetables, flowers, ciders, and food. I was struck by the sheer number of apple trees as we drove through, and also by the views of Mt. St. Helens, Mt. Adams, and Mt. Hood throughout the valley on a clear day.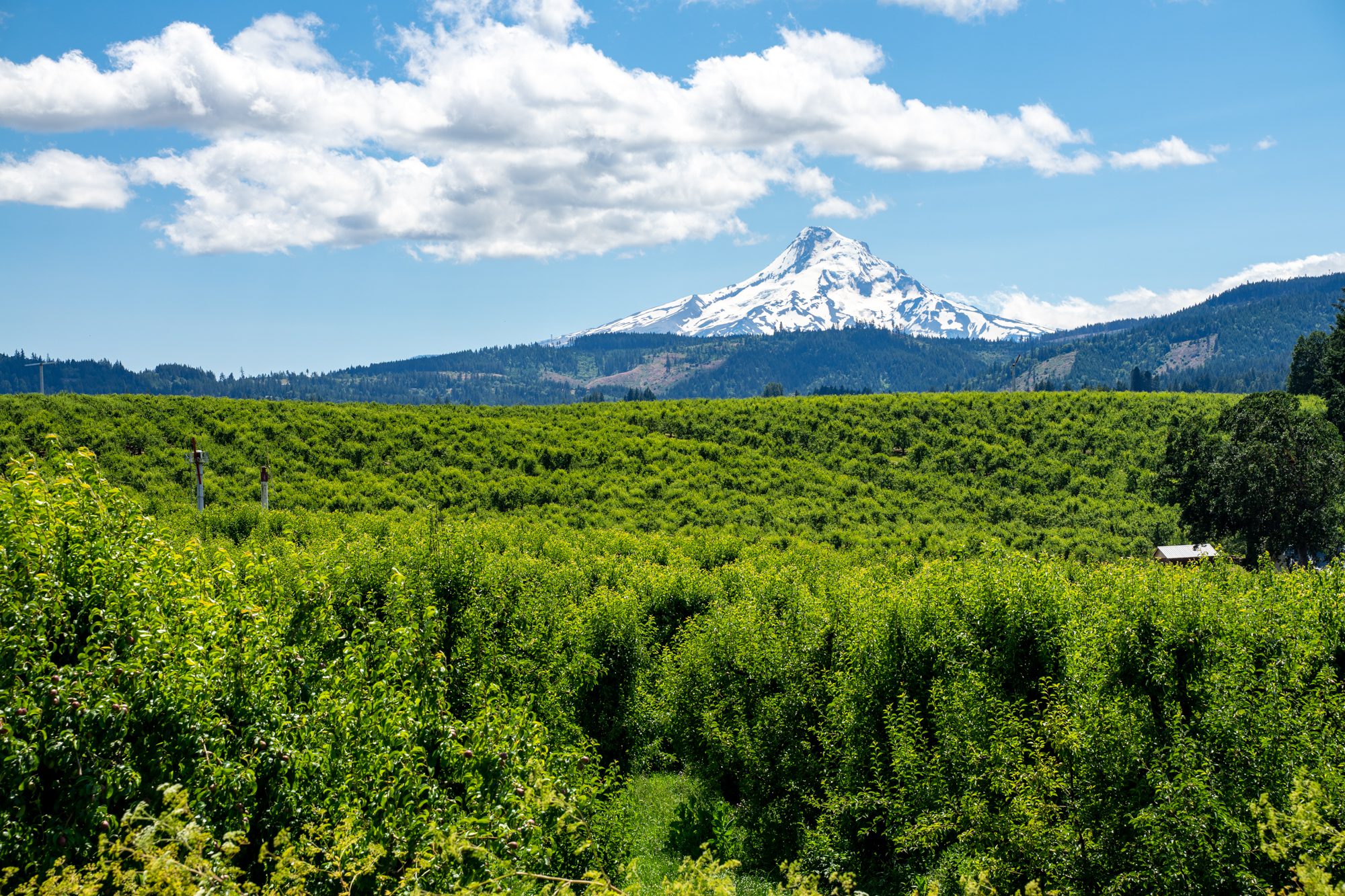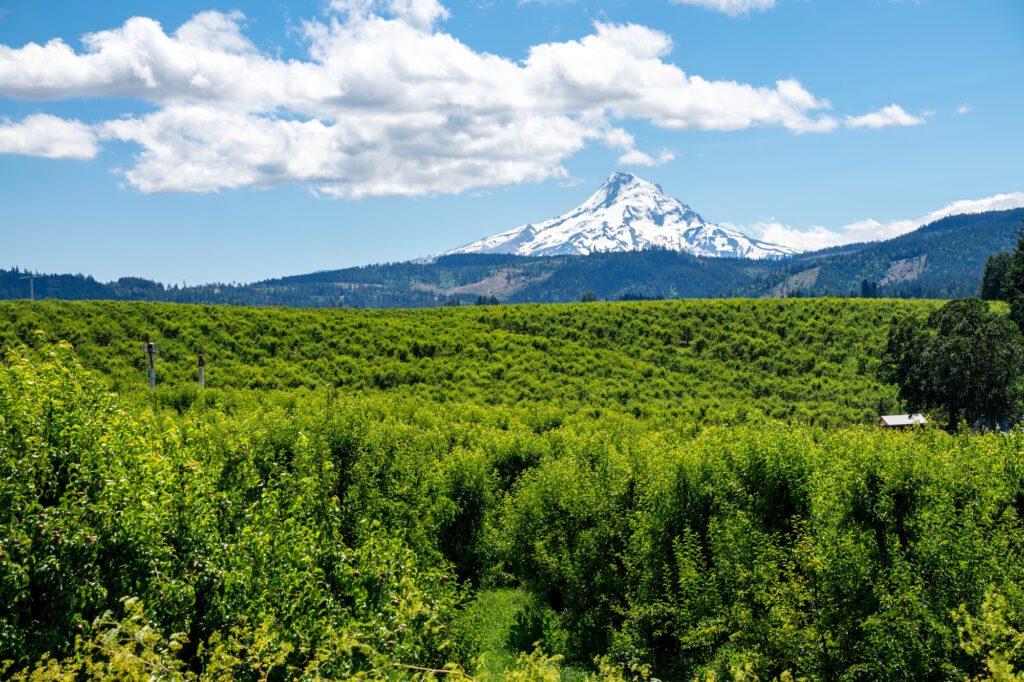 Here are our favorite places to visit while driving the Fruit Loop:
Draper Girls Country Farm is where you get to pick your own delicious fruit right from the orchards (depending what's in season). Or, you can shop their handmade jams and preserves, along with their fruit and hard cider.


Stave and Stone Vineyard has delicious local wines you can sample right next to Hood River Lavender. The grounds are beautiful, and are a perfect spot to bring a picnic lunch to, buy a bottle of wine, and relax on a warm summer afternoon.


Hood River Lavender has some absolutely breathtaking lavender fields you just have to see (and smell!). The season is relatively short, peaking for about two months in the summer, but you can still visit in other seasons to check it out.
Raft the White Salmon River
The White Salmon River provides some exhilarating whitewater rafting opportunities that will appeal to your inner adrenaline junkie. I used to work for a whitewater rafting company in the Pacific Northwest, and this was one of the most popular rivers in the late summer, when the water is roaring.
Wine Tasting at Cathedral Ridge Winery
Award-winning Oregon wines are waiting for you at Cathedral Ridge Winery, whose tasting room in Hood River is downright lovely, with plenty of room outside to spread out and relax on a warm sunny day. Unlike a lot of other wineries in the area, they specialize in bigger, bolder red varietals like Malbec and Syrah, though you'll also find the usual Pinot Noirs too.
Cider Tasting!
The Hood River Valley is full of apple orchards, which means that there is a ton of local cider to try.
There are a bunch of places near Hood River where you can grab some tasty hard cider and see what the resident apples have to offer with their unique flavor profiles. Here are our favorite places to sample cider.
If you're more into beer, which I sadly cannot drink, you should definitely go to pFriem Family Brewers, whose tasting room is a great place to refuel after a morning of exploring – they also have wine and cider for my gluten free friends.
Astoria
(Distance From Portland: 100 Miles/110 Minutes)
To get to Astoria, you can either take US-30 or US-26. Both will take you just under two hours to get there.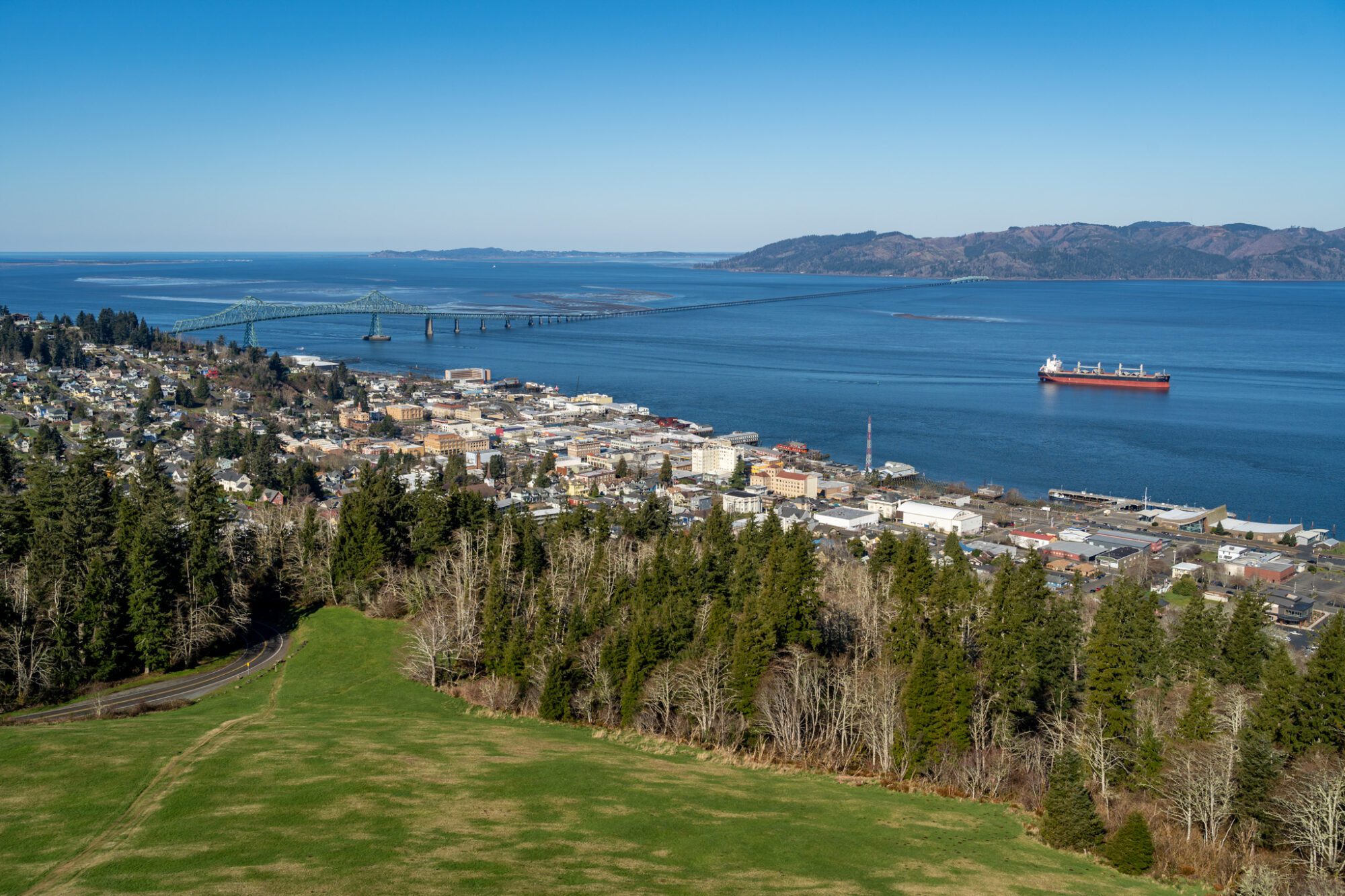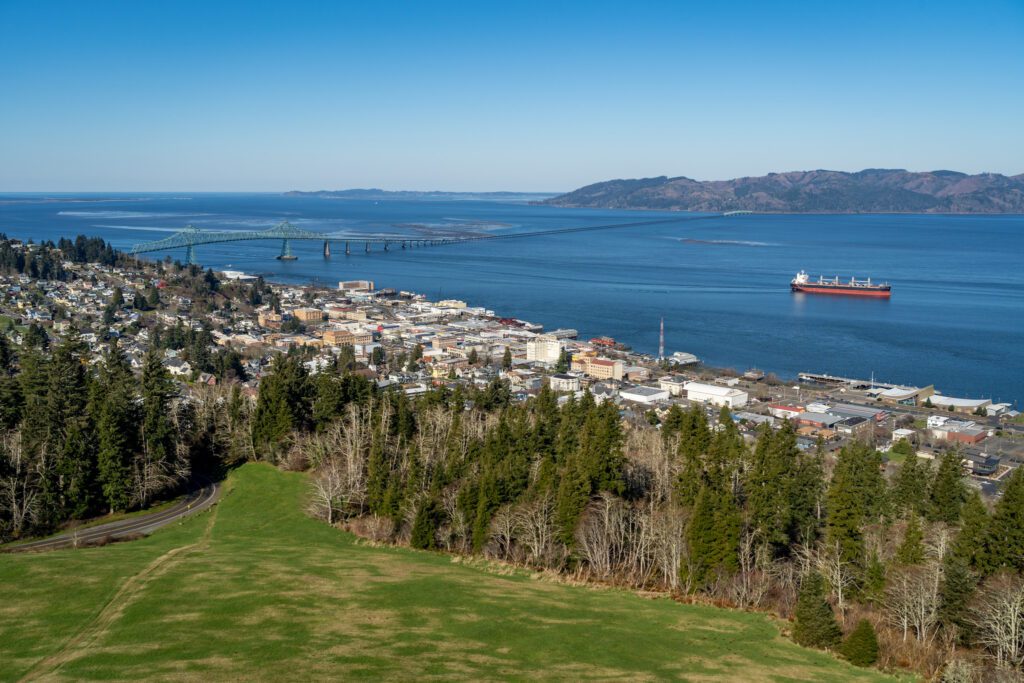 Astoria is a bit of a drive, but you won't regret the visit. Sitting on the banks of the Columbia River, just miles from the Pacific Ocean, its claim to fame is that it is the oldest city west of the Rocky Mountains.
You could combine this trip with Cannon Beach to turn this into a loop that starts in Astoria, heads south down the coast to Cannon Beach, and then returns back to Portland from there.
Things to Do and See
Here's what we recommend to do when you get there:
Visit Fort Stevens State Park
Fort Stevens State Park has a famous shipwreck called the Peter Iredale Shipwreck and is considered to be the easiest and oldest to get to in the world.
Drive Up to Washington to See Cape Disappointment
There's a breathtaking cape just across the Columbia River in Washington state regrettably called Cape Disappointment, because we promise you won't be disappointed with the views! The Astoria-Megler Bridge is fun to drive over too.
Lewis and Clark National Historical Park
To get your fill of history related to the famous Lewis and Clark explorer duo, head over to the Lewis and Clark National Historical Park.
Breweries on the Water
There are two excellent breweries located right on the water that you'll want to sample. Buoy Beer Co. has locally-made beer and pub grub (not gluten free), but they also have gluten free beer in cans for Celiacs! Fort George Brewing is known for their craft beer, but they also have cider and wine, if beer isn't your thing.
Both are in cool locations along the water in Astoria, and would be a great place to grab a flight and try some local beer.
Astoria Column
The Astoria Column is a giant column standing atop a grassy hill in Astoria that is dedicated to the first settlers to the area. It's a cool stop, especially to see the unique intricate artwork along the side of the column that depicts Oregon's development over the past few centuries. You can also climb to the top for pretty spectacular views of the Columbia River Gorge and Oregon Coast.
Hike Saddle Mountain
A visit to Astoria wouldn't be complete without hiking Saddle Mountain Natural Area, which is south of the city and makes for a great stop for hikers. It's a quick 2.5 mile climb, but that DOES NOT mean it's easy. It's essentially straight up, climbing 1,600 feet over that distance. But the views from the top are nothing short of spectacular. On clear days, you can see all the way to the coast.
---
In 2020, we spent six weeks on an epic Oregon road trip, living in our van and exploring the best that Oregon has to offer. and ladies and gentlemen, we are head-over-heels in love. There are so many things to do and see in Oregon, from charming small-ish towns like McMinnville and Eugene, to peaceful coastal retreats, and towering mountains. Living here basically means you'll never run out of options for day trips.
More Oregon Travel Guides
If you like this guide, you won't want to miss our other Oregon travel guides!