Best Weekend Getaways From Portland (Complete Guide)
Having grown up in the Pacific Northwest, I have been super lucky to grow up exploring Seattle and Portland. But since I relocated to California almost a decade ago, we've made a bunch of trips to the area that I used to call home. And in 2020, we set off on a four month US road trip where we spent over two months living in our van exploring the ins and outs of the Pacific Northwest. And we learned two important lessons.
First, we realized you don't have to travel halfway around the world to discover amazing new places.
And second, while we love Seattle and Portland, you'll find the real magic of the Pacific Northwest outside of the main cities.
Oregon has some amazing outdoor spaces and cool smaller towns (read about it all in our Oregon Road Trip Itinerary), and Portland is a perfect base for exploring it all. There are hot springs, hiking trails, beaches, and wineries all a short drive from Portland.
In this guide, you'll find six fantastic weekend getaways from Portland. For each, you'll find a mini travel guide, complete with the best places to play, eat and drink, and stay, so that you can plan an unforgettable weekend trip.
I grew up in the Pacific Northwest, before migrating to San Francisco just over five years ago. I still consider the PNW home – read my Pacific Northwest travel guides for the best of not only Portland, but also Seattle, Vancouver BC, and everything in-between.
Looking for a perfect getaway in Oregon? Check out our guide to the 19 Best Airbnbs in Oregon to find a cozy cabin in the mountains, or a coastal bungalow where you can sip your morning coffee and smell the ocean breeze.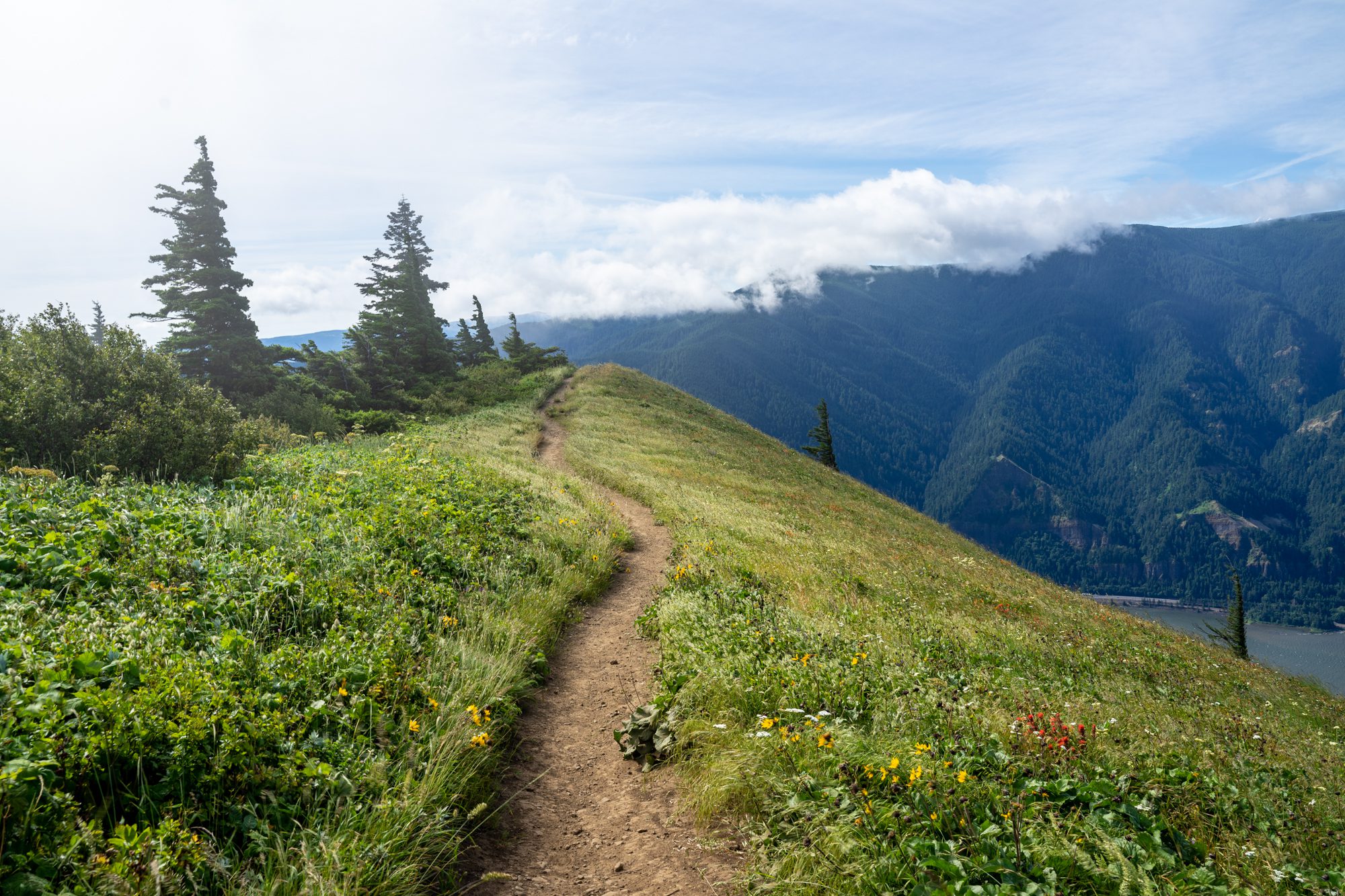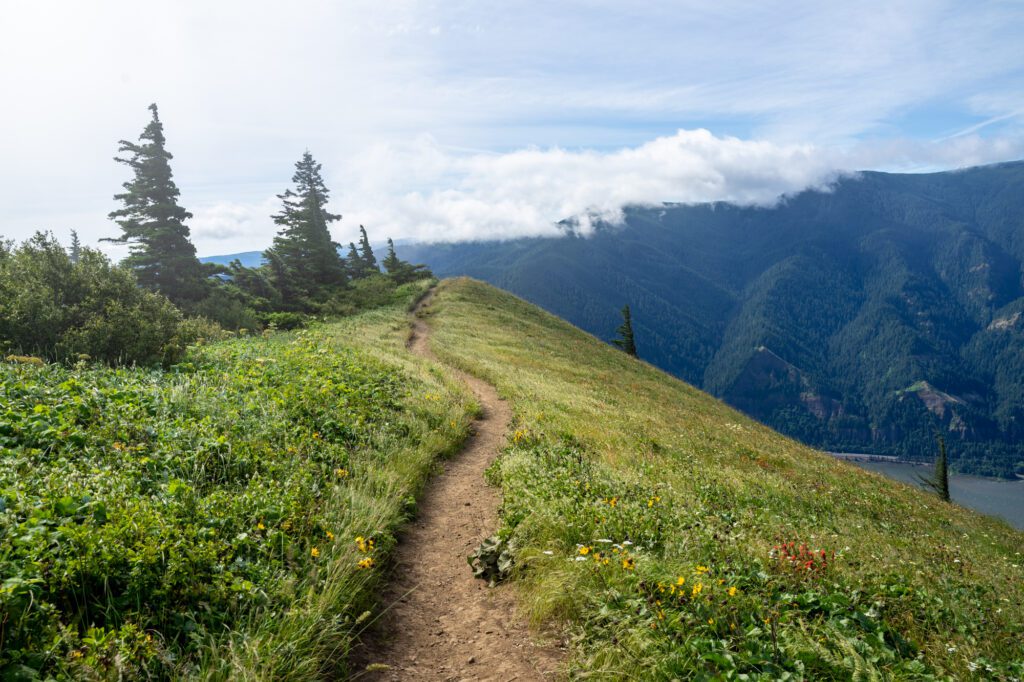 Portland is one of my favorite places in the country, and maybe even the world. Don't miss my other Portland travel guides for more on the best of Portland from a couple of pour-over-coffee-loving, cider-drinking, independent-book-store-supporting gluten free foodies.
Now let's get into the best weekend trips from Portland, Oregon.
6 Incredible Weekend Trips from Portland, Oregon
Here are six awesome getaways from Portland. Each of them gives you a different taste of the beauty of Oregon, from lush green vineyards and orchards, to the rugged Oregon Coast and rocky peaks.
Bend, Oregon – Gateway to Adventure
Drive time from Portland to Bend: 3-3.5 hours (165 miles)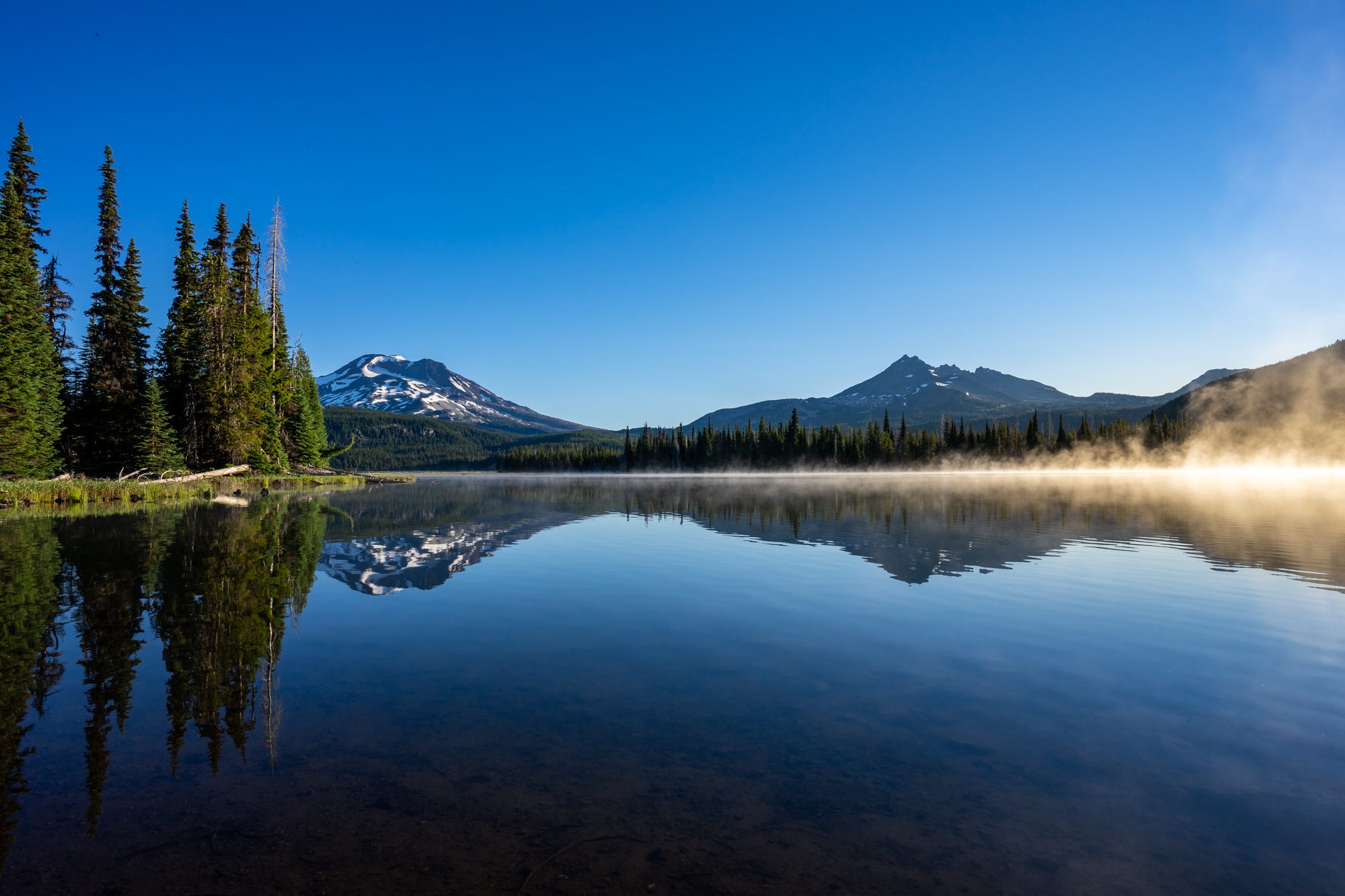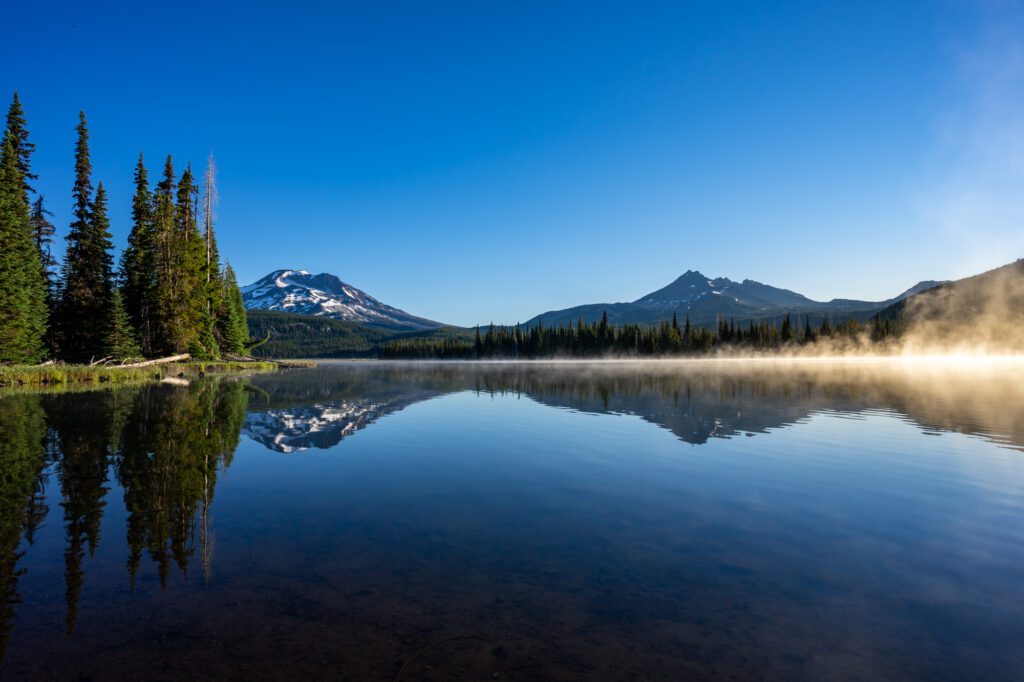 Listen, we loved Bend. You should go to Bend, because we think you'll love it too.
]It has everything we love in a city: A thriving food and drink scene, tons of amazing hikes just outside the city limits, and a super walkable downtown area. Whether you're into hiking, cycling, climbing, stand up paddle boarding, rafting, skiing, or just eating and drinking, Bend makes a perfect weekend getaway from Portland.
What to Do in Bend
The Deschutes River: Float it, walk it, raft it, swim it (remember the Bop It? Whoever invented that clearly hated parents). There are all sorts of options for experiencing the Deschutes, which flows right through downtown Bend. If you want to float the river, do it in the later summer when the water isn't frigid. Otherwise, hike along the river from the Old Mill District, or at Tumalo State Park.


Hiking Near Bend: There are incredible hiking trails on all sides of Bend. But mostly to the north and west. To the west is Deschutes National Forest, home of Mt. Bachelor, the best ski resort near Bend. In the summer, hike to Green Lakes, an easy 9 mile stroll to a picturesque lake tucked between the South Sister and Broken Top. Or to Tumalo Falls, a towering waterfall. To the north is Smith Rock State Park, which reminds you that Bend is, in fact, on the border of the high desert that you find in eastern Oregon, which is a completely different landscape, complete with rattlesnakes. Hike to Misery Ridge and check out Monkey Face, one of the best climbing destinations in Oregon. Interested in hiking in Bend? Here's a guide to the 12 best hikes in Bend.


Caving, Kayaking, and Canoeing in Bend: Wanderlust Tours has all sorts of amazing tours to help you explore Bend and the surrounding area. We wish we had been able to do their caving tour when we were there.


Go on a Brewery Tour: Deschutes Brewing has a great brewery tour that will take you behind the scenes of their growing beer making operation that was born in Bend. More on the best breweries to visit in Bend below.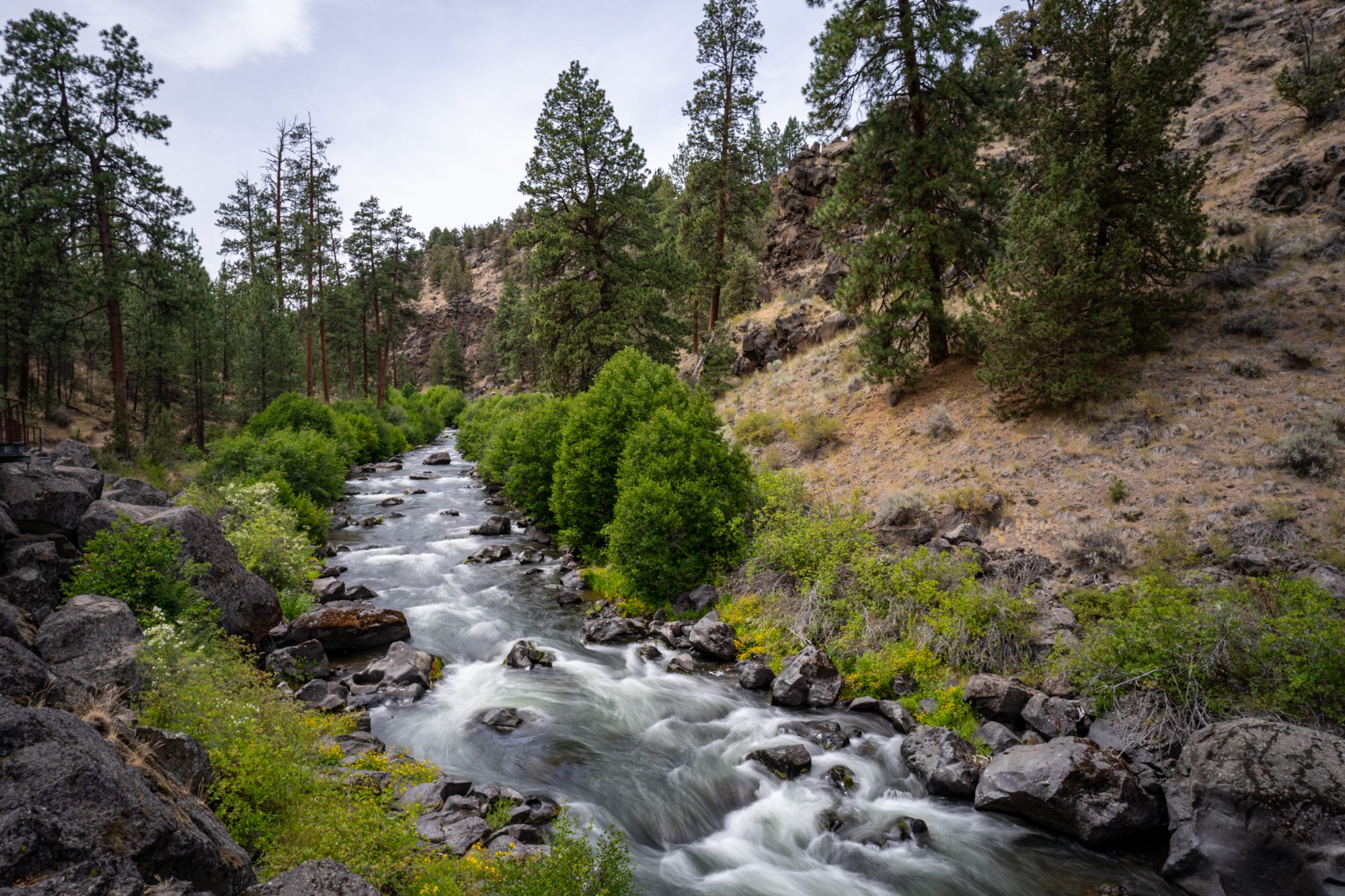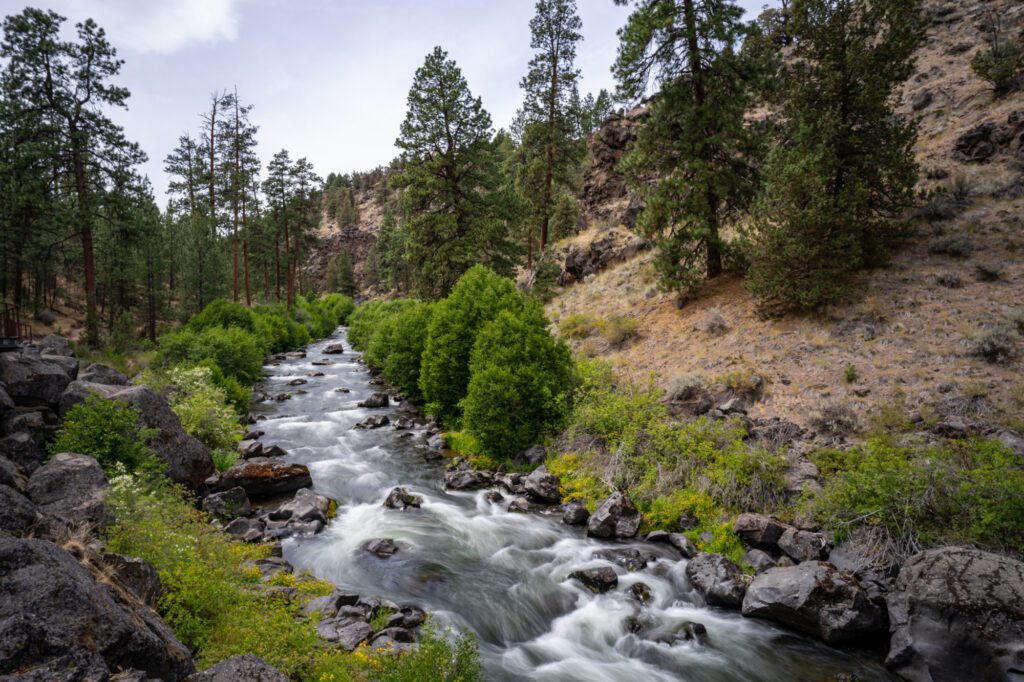 Where to Eat & Drink in Bend
Bend has a thriving food and drink scene, with microbreweries and food trucks all over the place.
Where to Eat
Fries a la Carte: Amazing food truck at the Lot, a collection of food trucks, serving mostly gluten free concoctions featuring french fries. We got the carne asada fries and they were delicious. Avoid gravy if you need to eat gluten free.


The Lemon Tree: Cool brunch spot right downtown near the riverfront. Be prepared to wait on a weekend.


Spork: Awesome fusion food (an odd mix of Asian and Latin American flavors) that originated in an airstream that was basically an early version of a food truck before they opened a restaurant. Everything from gluten free fried chicken to tacos, and a clearly labeled menu. I'd definitely get the fried chicken, and I was eyeing the peanut tomato curry.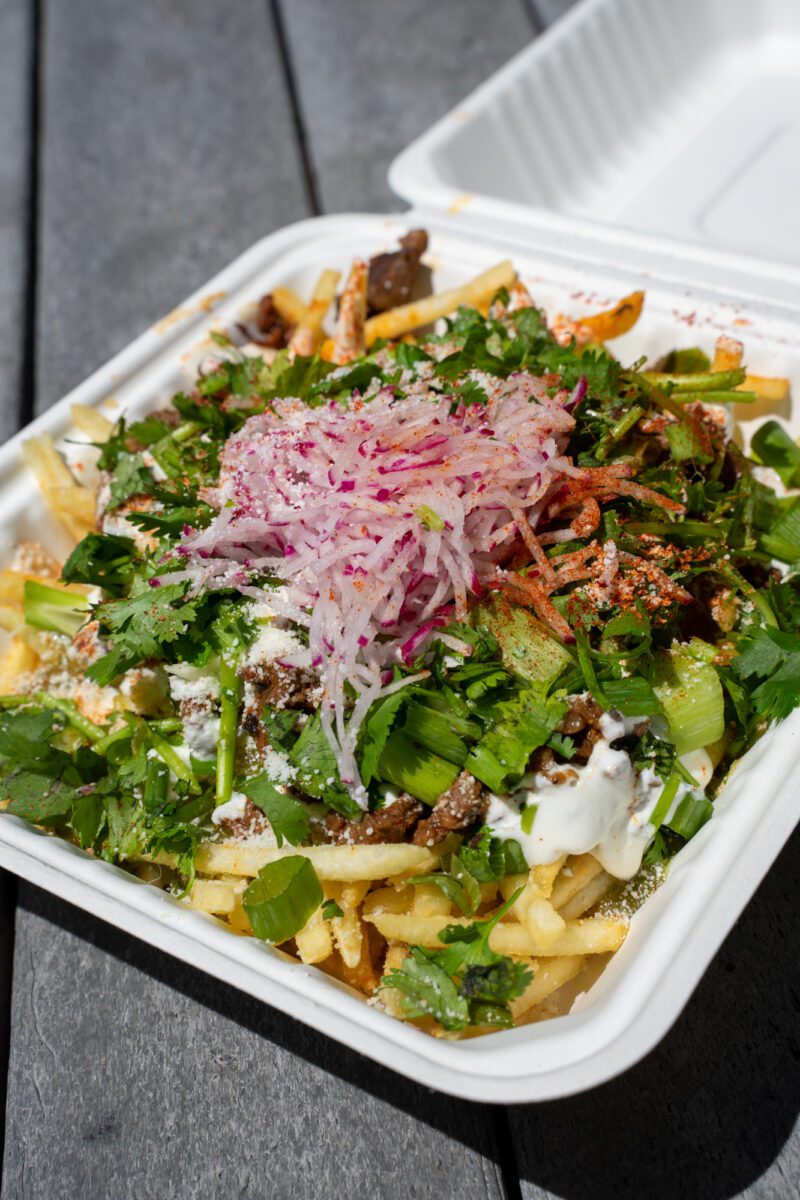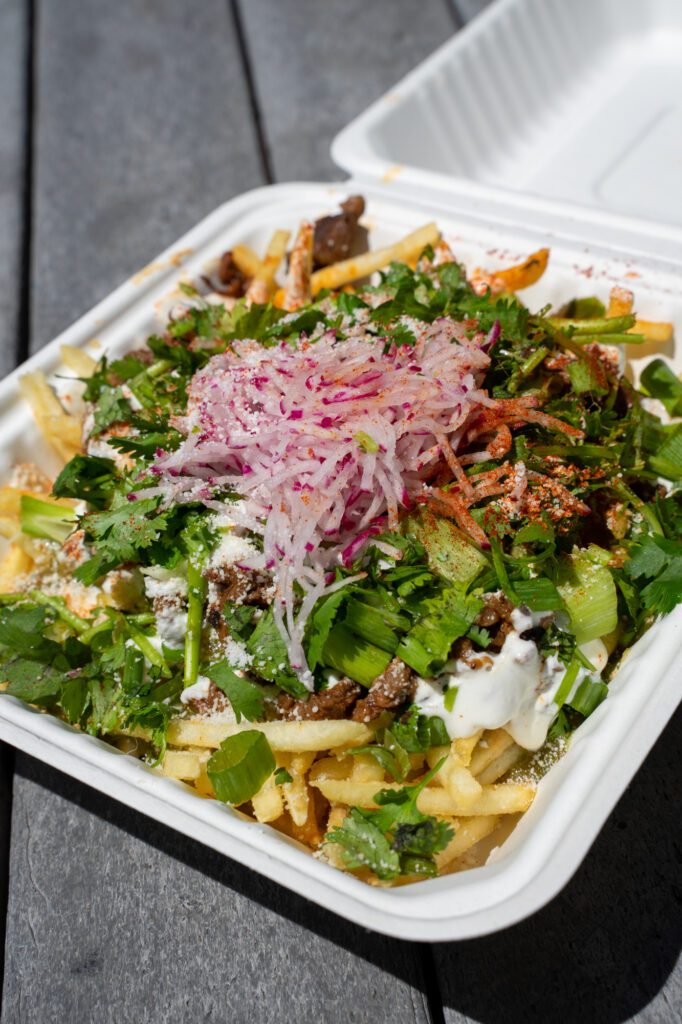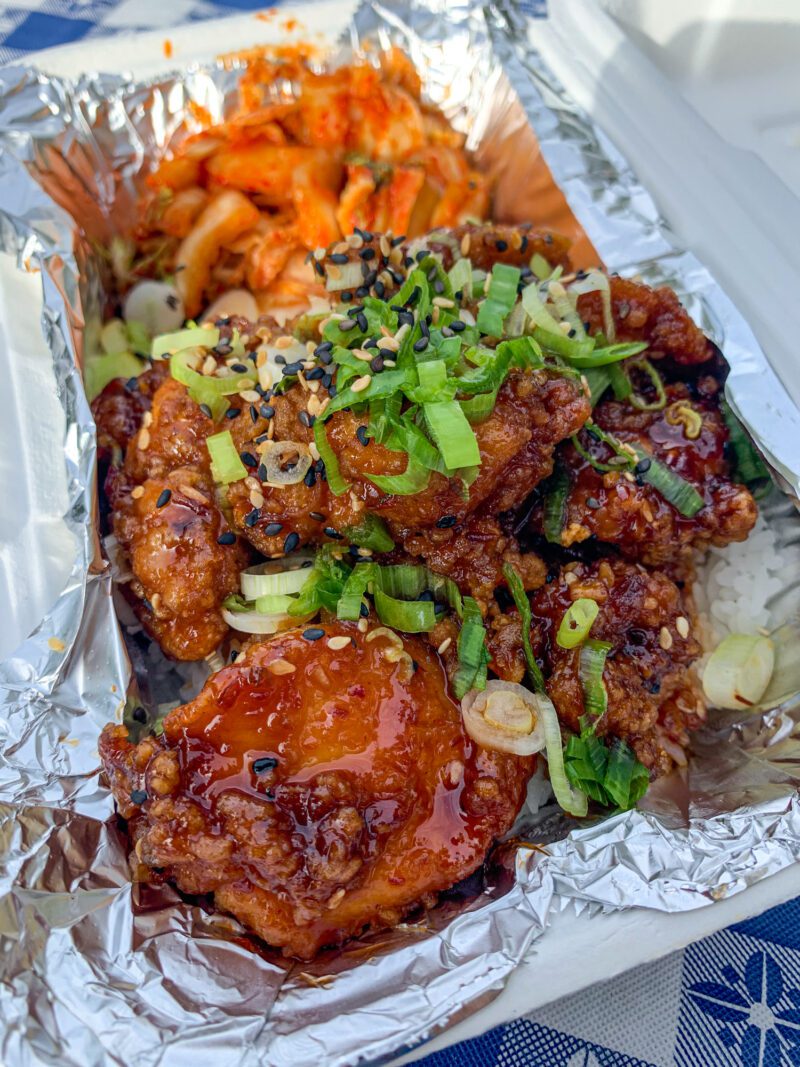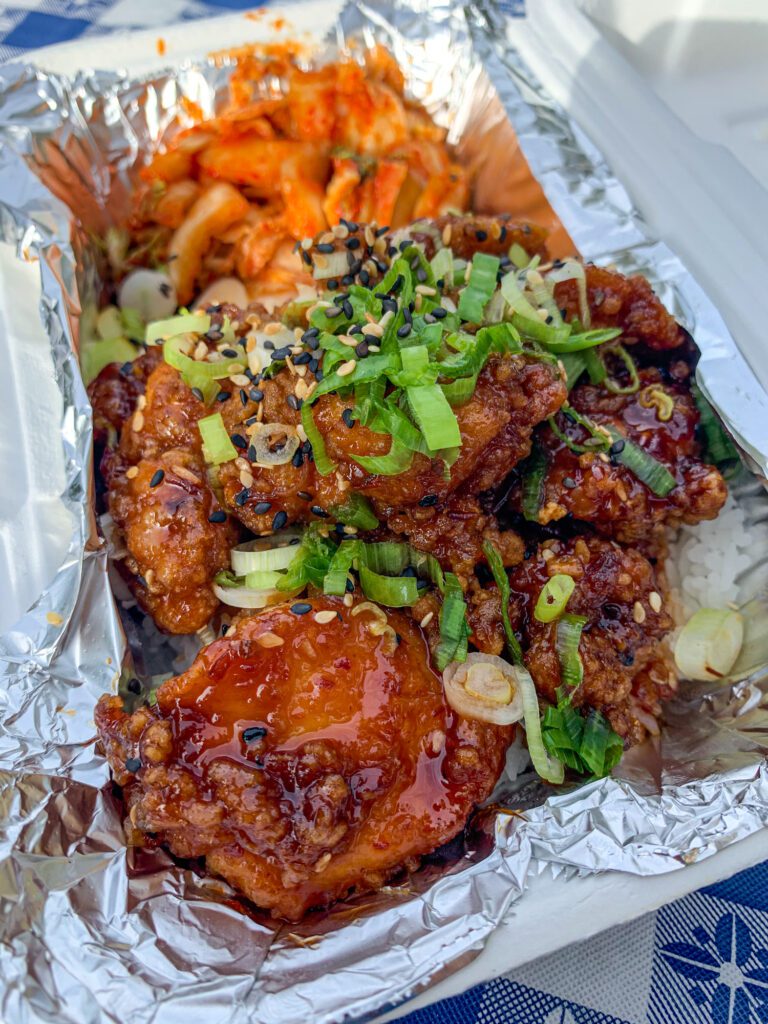 Where to Drink
This is where Bend really shines. Breweries, cideries, coffee shops – you name it, Bend probably has AT LEAST seventeen of them.
Here are the best of the bunch.
For coffee: I'm (Matt) a full-fledged coffee snob. Give me the fruitiest single origin pour over you've got. So a part of every single one of our trips includes seeking out the best coffee spots. Here were my favorites.
Lone Pine Coffee Roasters: This was our favorite spot. It's an open, warehouse style space right downtown with the roaster right there in the back. They have plenty of single-origin beans, prepared as filter coffee or espresso.
Thump Coffee: I actually noticed Thump in Denver on our last stop there, which surprised me because I thought it was a Bend company. Turns out, they're doing so well they expanded to Colorado!
Megaphone Coffee Company: Bright is the first word that comes to mind. Both the space, and the coffee. Good coffee, good people, good place to fuel up before a day of exploring Bend.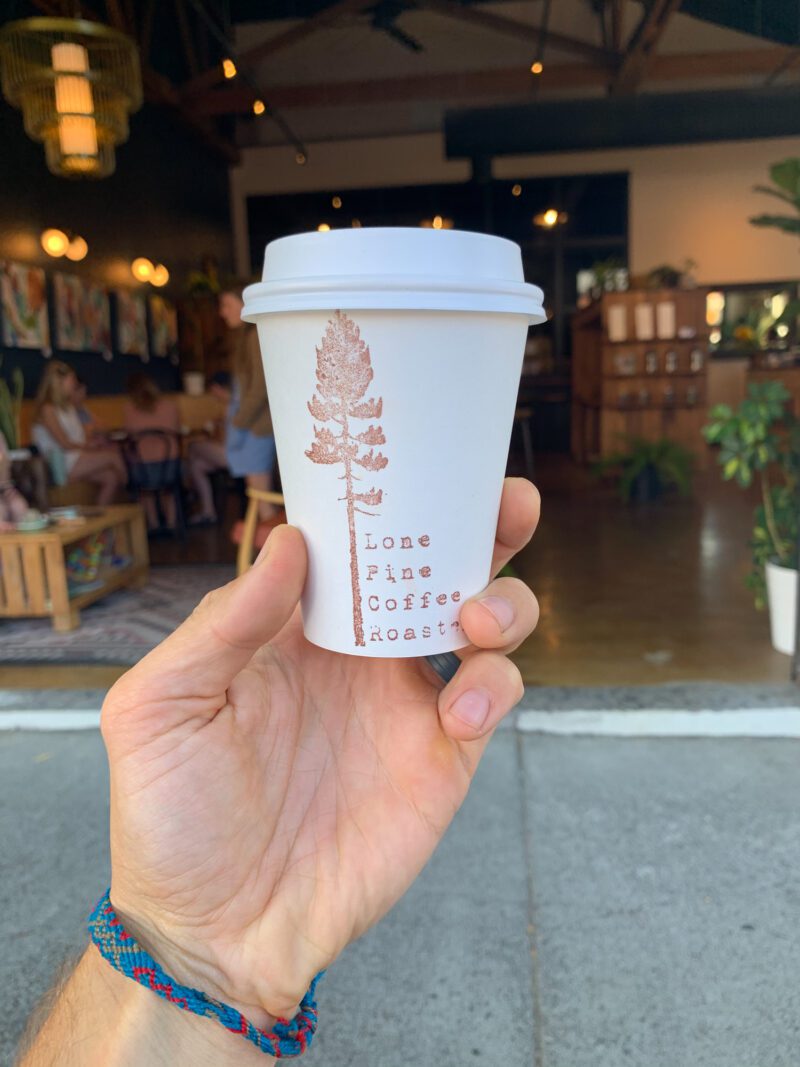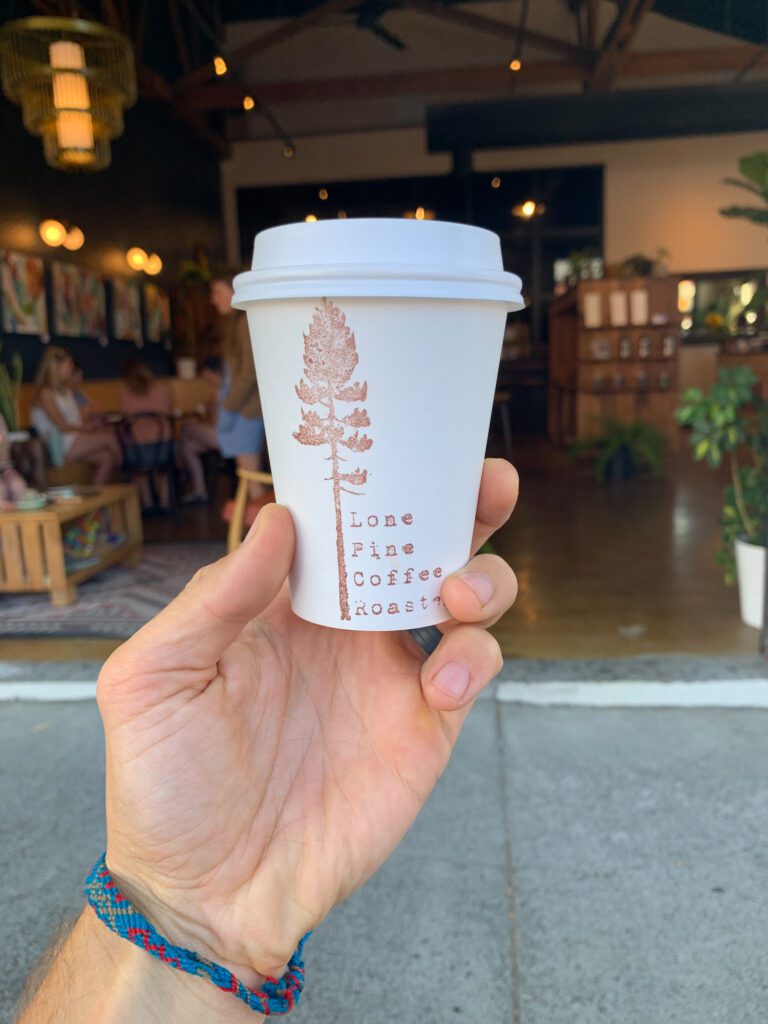 For Beer: As a couple of gluten free people, we don't do a whole lot of brewery hopping because there just aren't good places to find gluten free beer. But I actually have spent time brewery-hopping in Bend thanks to a bachelor party. My favorite breweries (for atmosphere and the space itself) were 10 Barrel Brewing, Crux Fermentation Project, which has a cool outdoor space, Bend Brewing Company, and Silver Moon for their trivia on Thursday nights.
For Cider: Unfortunately, we weren't huge fans of Avid Cider, which has a tasting room in Bend that is in a great location.The best cider in Bend, we think, is Tumalo Cider, which serves up all sorts of apple + fruit combinations that are on the dry end of the spectrum, which is what we prefer. Second is Bend Cider Co, which has a new tasting room just around the corner. They have interesting flavor combinations, like Mandarin Juniper and Acai Mint.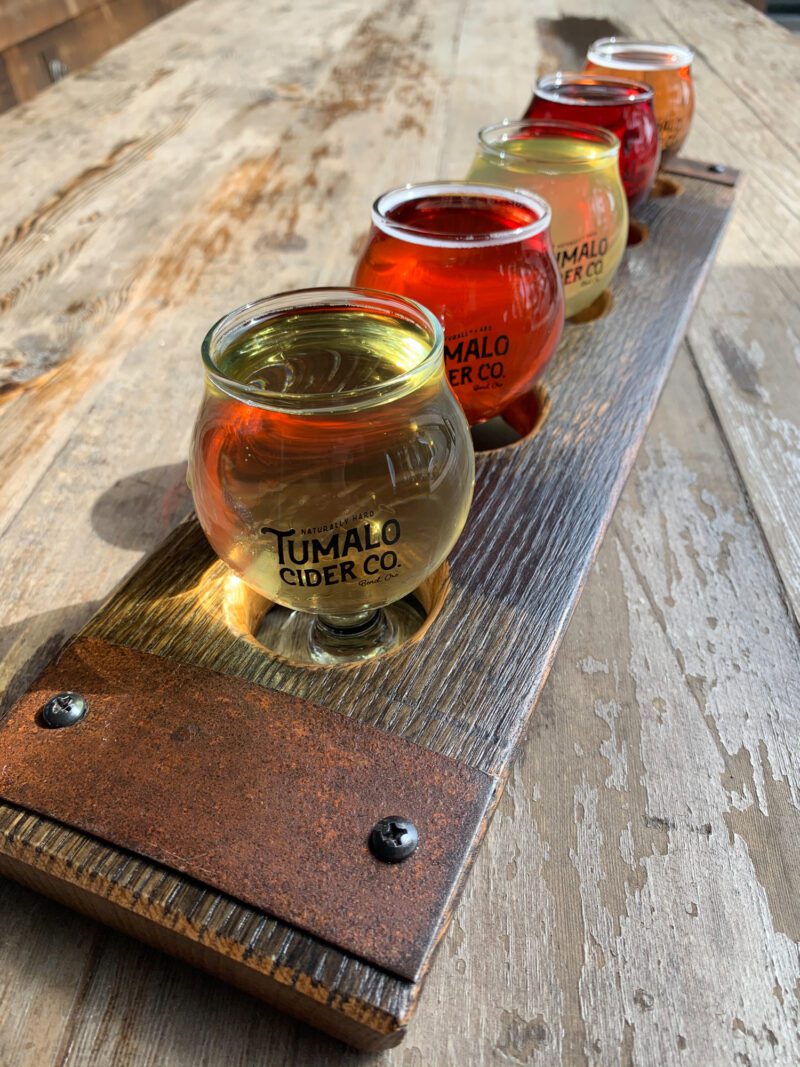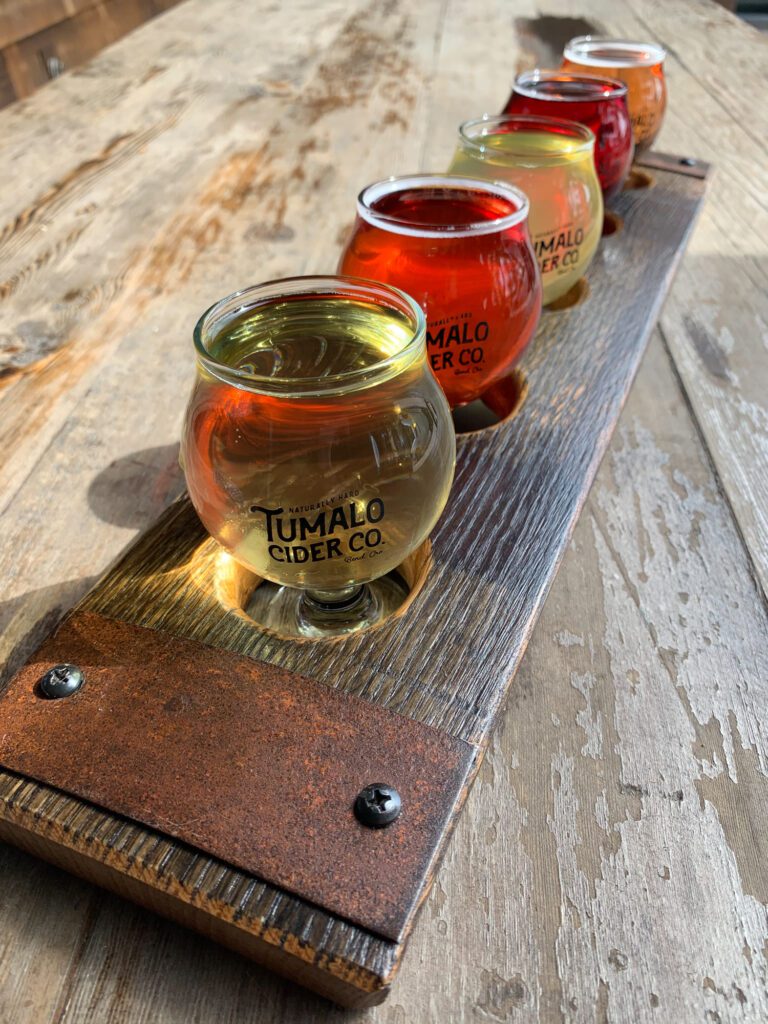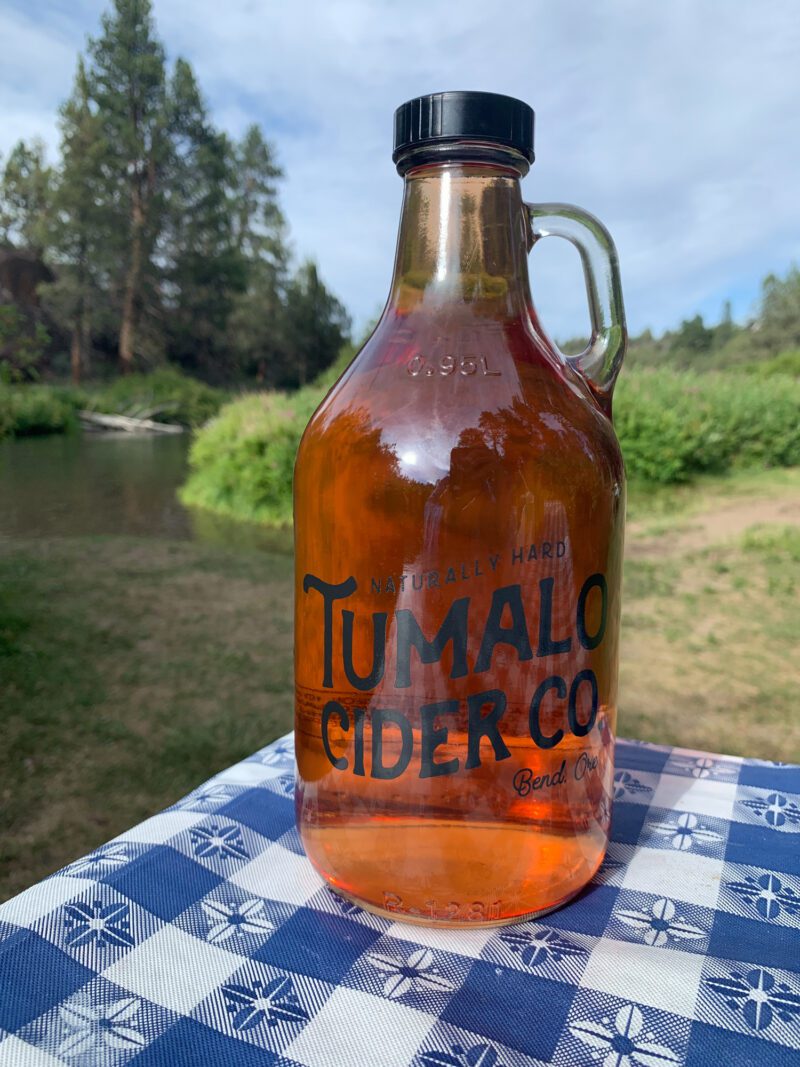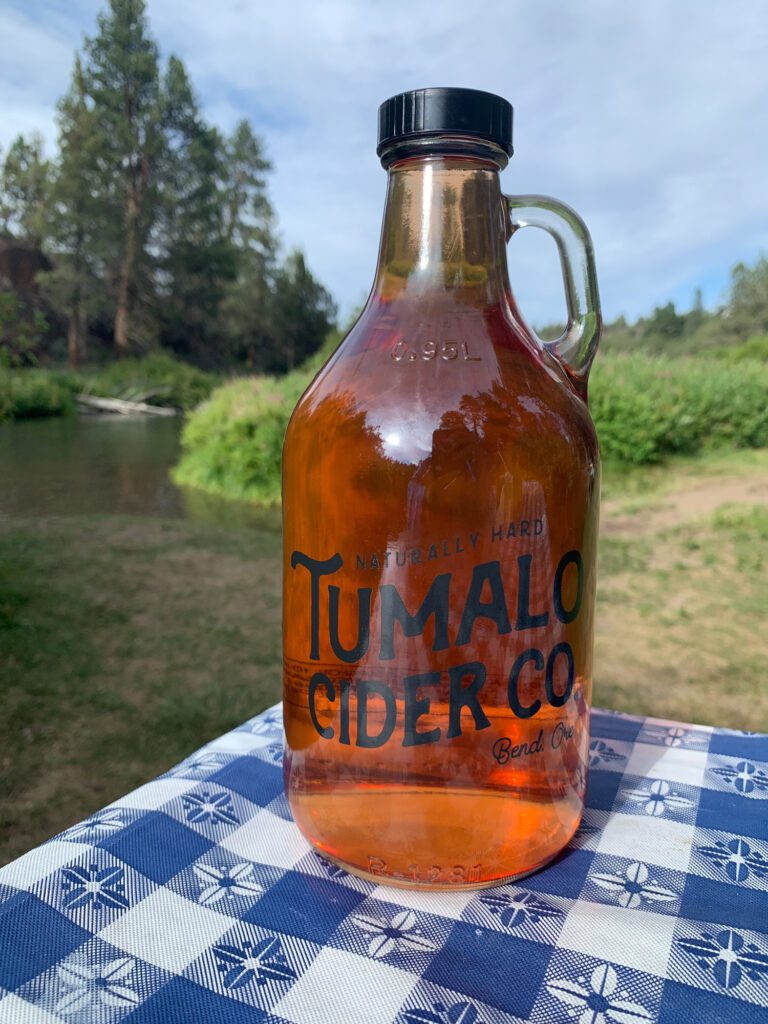 Where to Stay in Bend
Bend has some great places to stay whether you're looking for a super modern hotel, or a rustic cabin getaway.
As far as hotels in Bend go, the best of the bunch are going to be Loge Bend (our top pick), which is an adventure lodge on the outskirts of Bend to the west, which put you in the perfect position to explore Deschutes National Forest nearby, or the Oxford Hotel, which is right in the middle of the Old Mill District in a near-perfect location.
If you want to camp, stay at Tumalo State Park, which is what we did.
Hood River, Oregon and the Columbia River Gorge
How Far Is Hood River From Portland, Oregon? Hood River is 63 miles from Portland, about a 1 hour and 15 minute drive.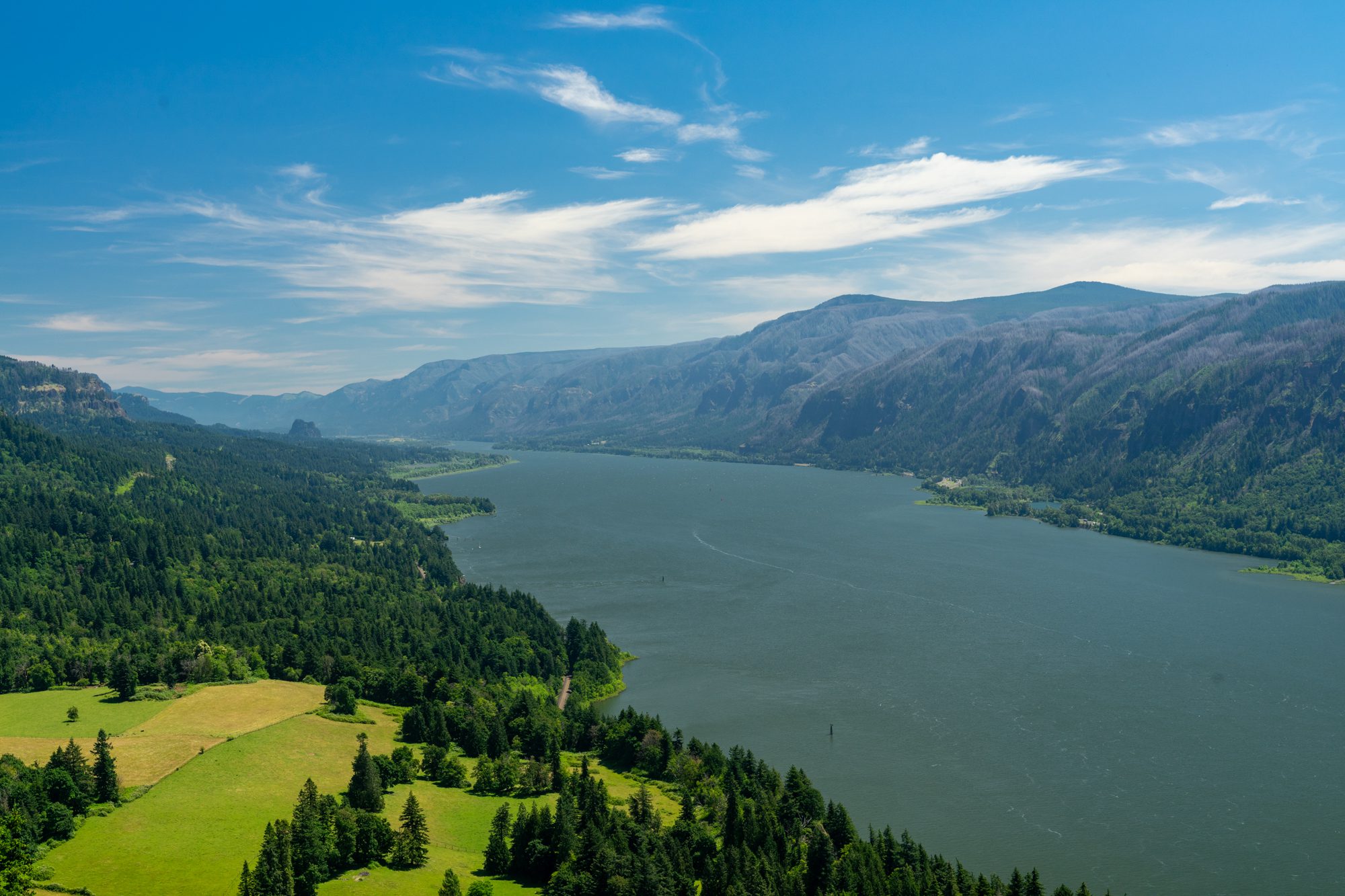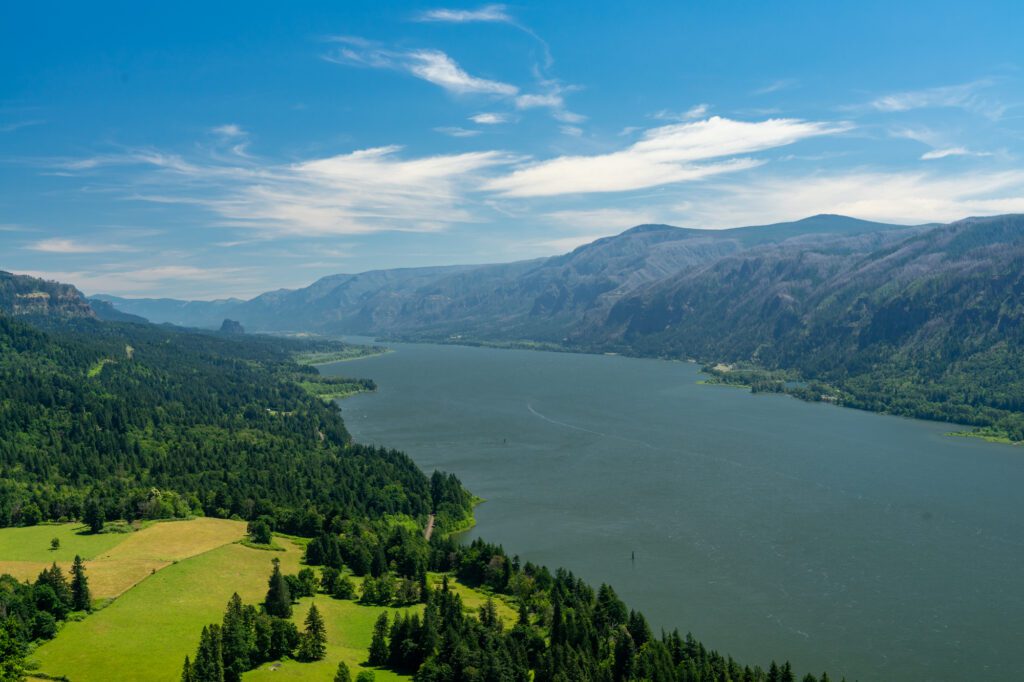 We loved Hood River and the Columbia River Gorge, which is a widely-known popular weekend getaway from Portland, and it's not hard to understand why. Kiteboarding and windsurfing enthusiasts from all over the state flock here for the perfect wind and water conditions. Cycling, hiking, and fly fishing are also really popular in the surrounding area, so it is a great choice if you enjoy the outdoors. The Hood River valley to the south is a lush green area, at least in the spring and early summer, and as you drive through you'll see the abundance of fruit – apples, pears, cherries, and more.
You could also do a day trip from Portland to Hood River if you don't have a whole weekend.
What To Do In Hood River, Oregon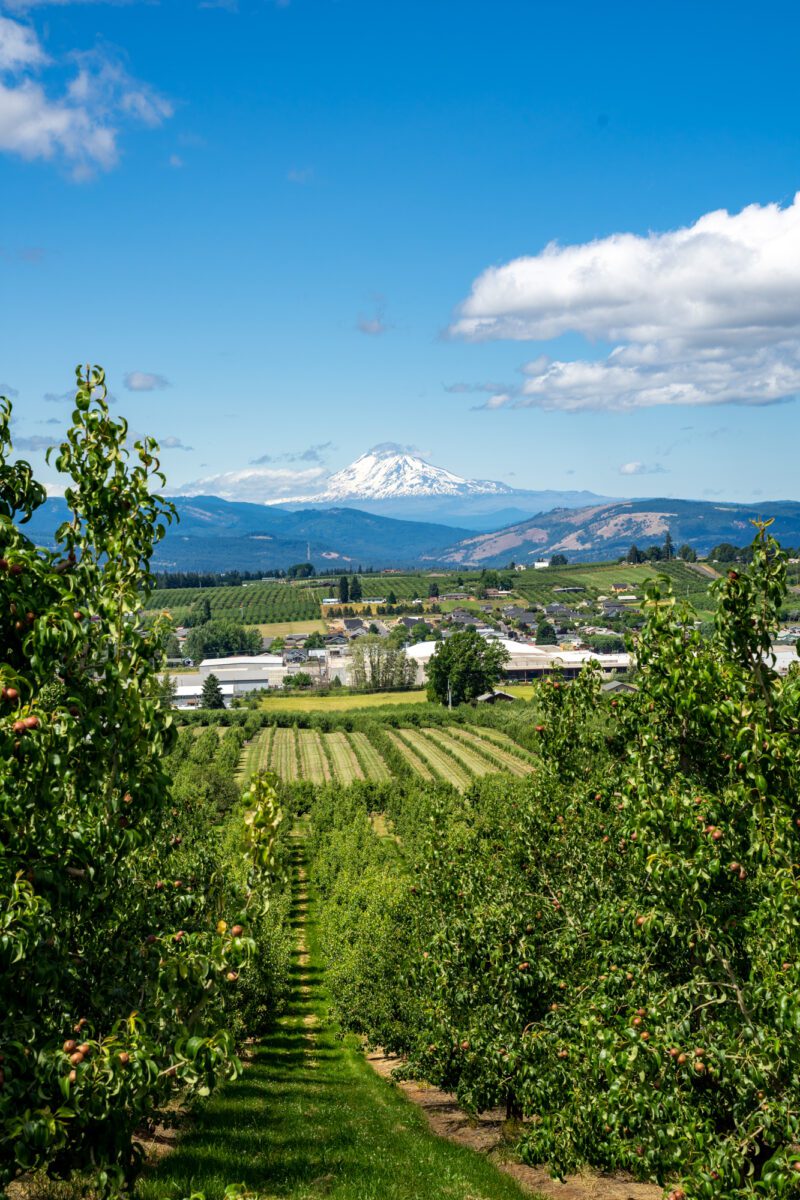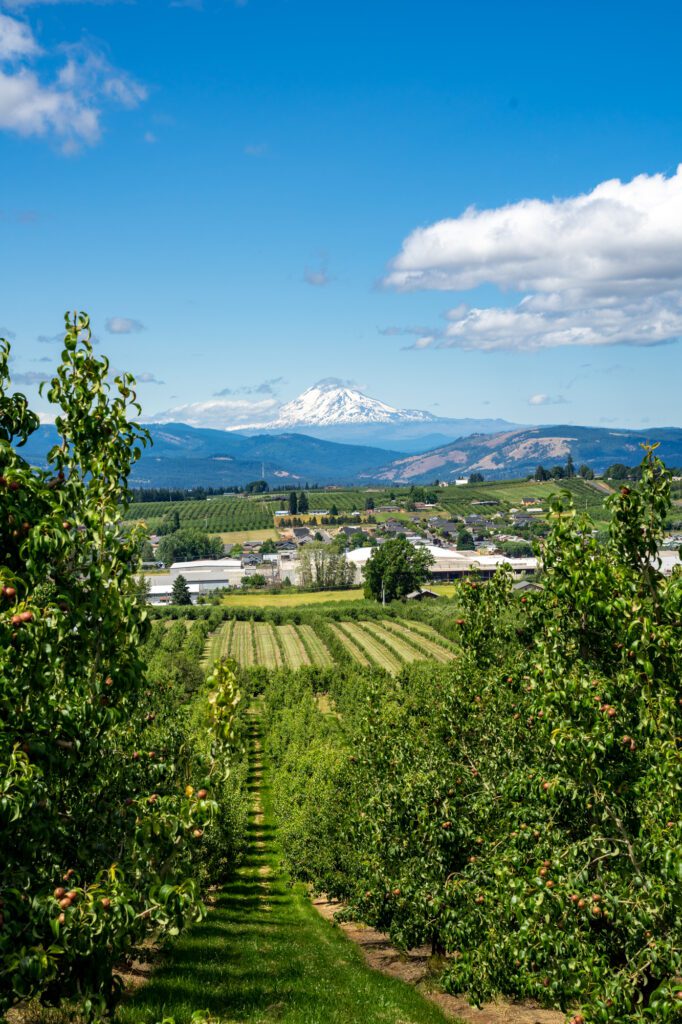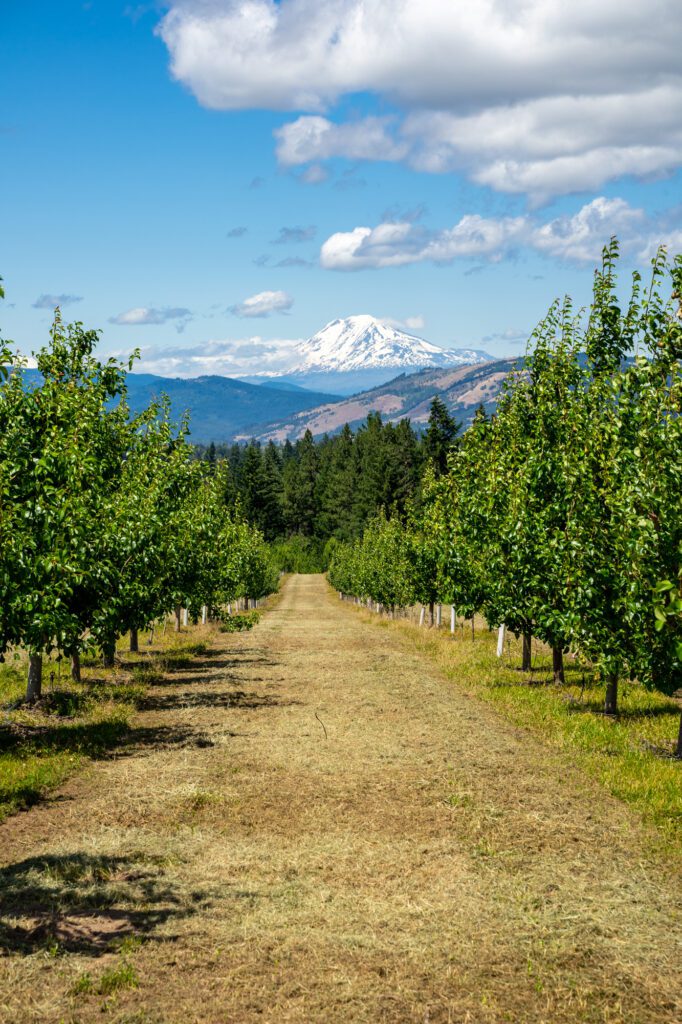 Where to Eat & Drink In Hood River
Celiac Note: Please note that these are not safe for Celiacs – except the ice cream spot. Sadly, there are no Celiac-safe restaurants in Hood River, so book a place with a kitchen!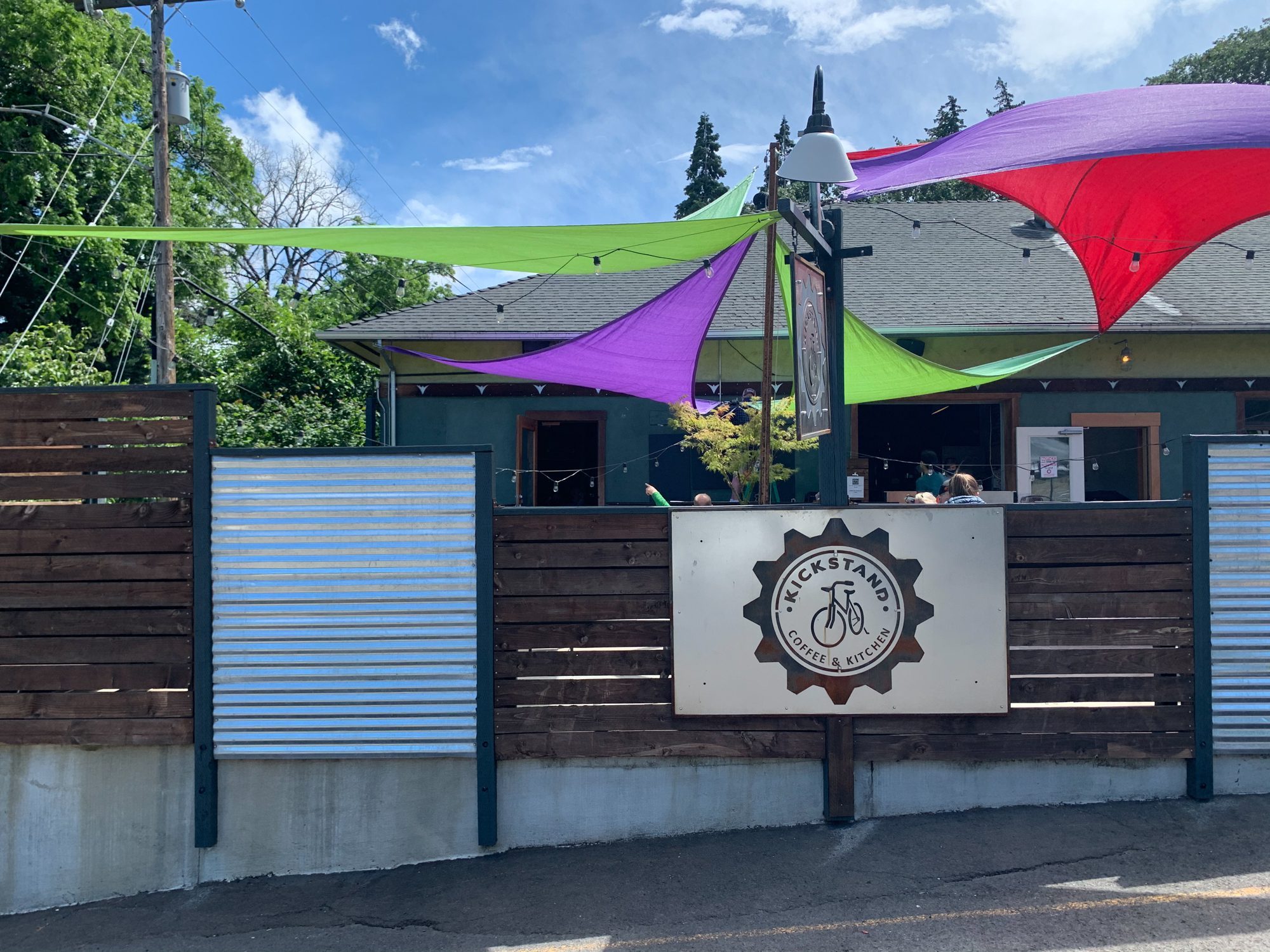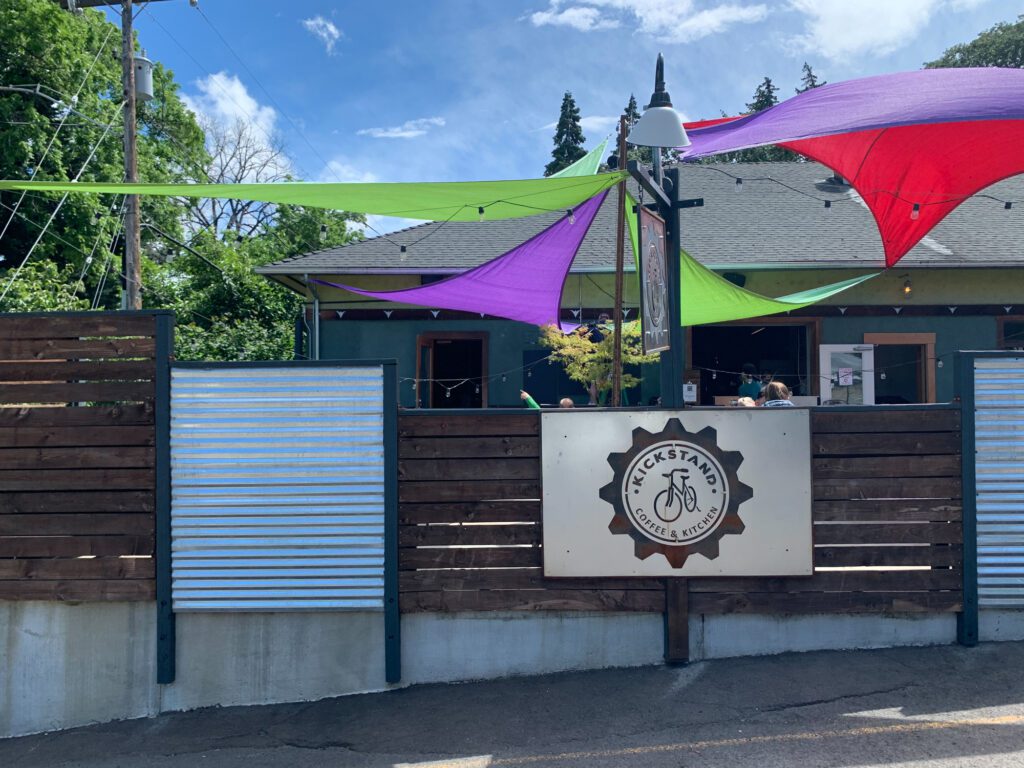 Where To Stay In Hood River, Oregon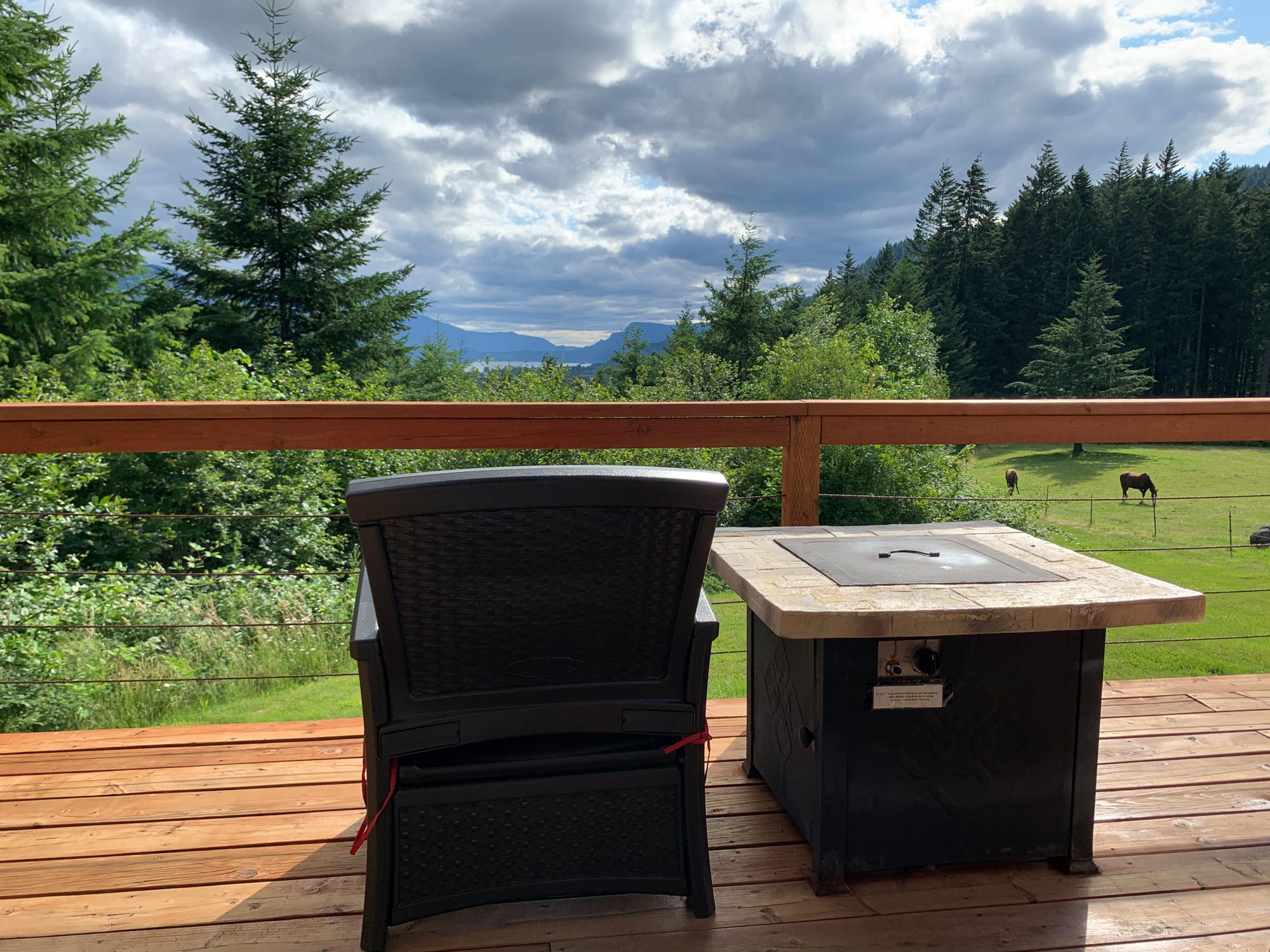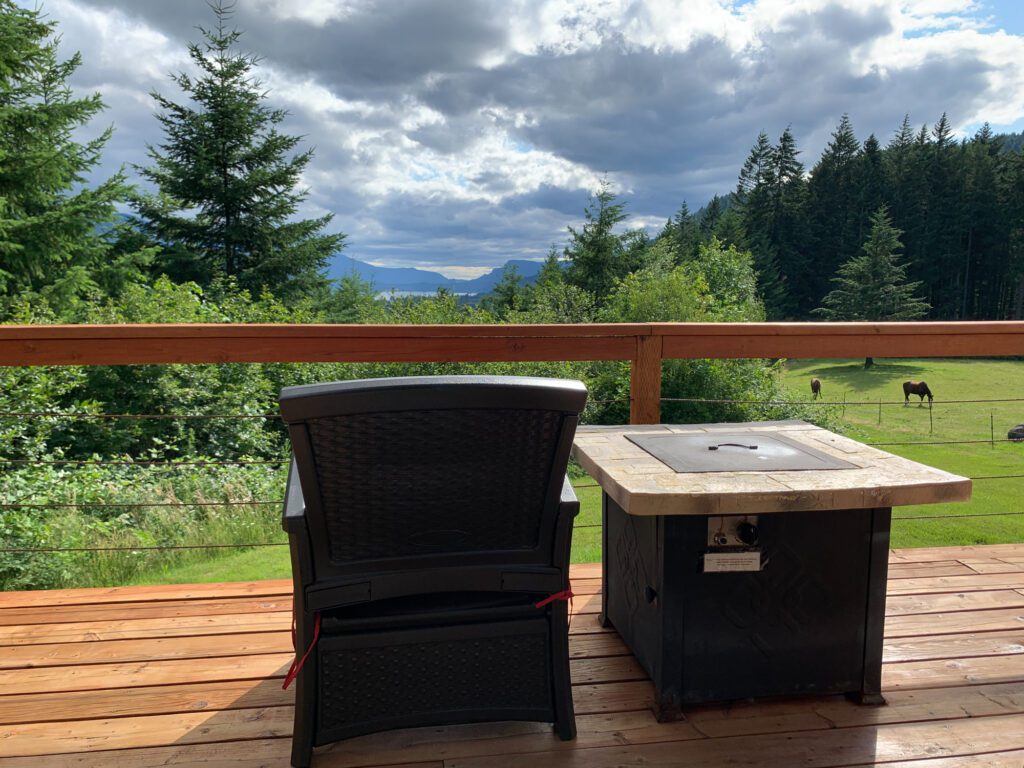 Gorgeous View, Secluded Tiny Cottage: We stayed at this incredible tiny home on the Washington side of the river for a couple of nights. It's about 15 minutes from Downtown Hood River, and we loved every second. It has everything you need, including a lovely porch where you can watch the sun setting over the Gorge. I highly, highly recommend it for a unique stay.
Downtown Loft in a Former Railroad Building: This Airbnb is right in the middle of Hood River along Oak Street, and is a super stylish home base for exploring the town for a weekend getaway. High ceilings and tons of natural light with two bedrooms and a full kitchen, so basically everything you'll need for an unforgettable weekend trip. Oh, I almost forgot. IT HAS A ROOFTOP PATIO WITH GORGE VIEWS.

The Society Hotel (in Bingen, WA): The Society Hotel is a boutique hotel chain whose sister hotel is one of the best places to stay in Portland. Comfortable, clean, and stylish, it's a recently renovated school house, and has all sorts of different room types from private rooms with shared bathrooms, to cozy two-bedroom cabins. It's a 15 minute drive from Hood River, which is close enough to pop downtown for a coffee or bite to eat, but far enough to be quieter, making it a perfect place to stay for a romantic couples getaway. Cabins have a kitchenette, if that's something you need, but the regular rooms do not.

Mt. Hood, Oregon: An Outdoor Lover's Paradise
Distance from Portland: Government Camp, the base for exploring Mt. Hood, is 60 miles from Portland, about a 1.5 hour drive.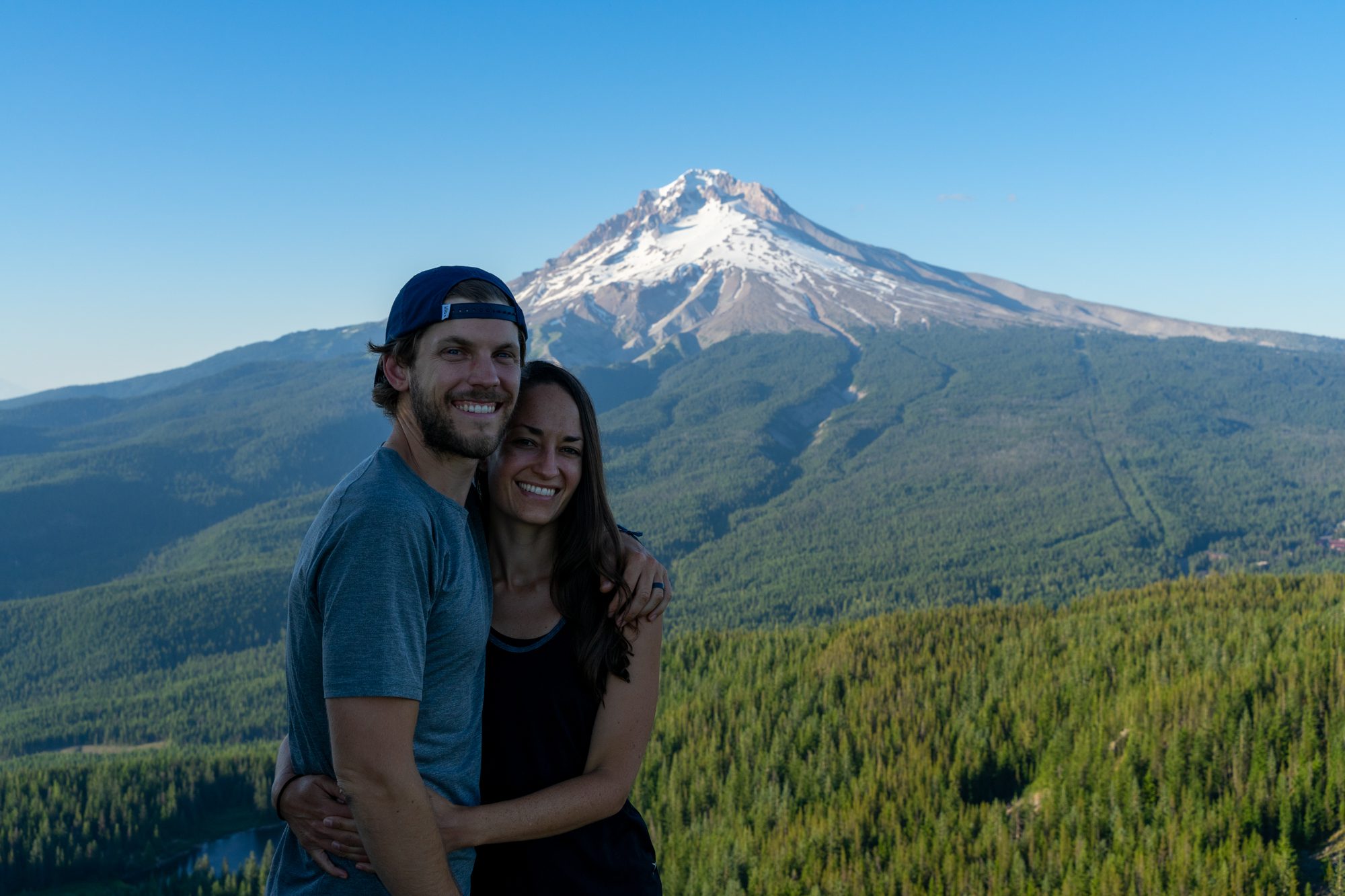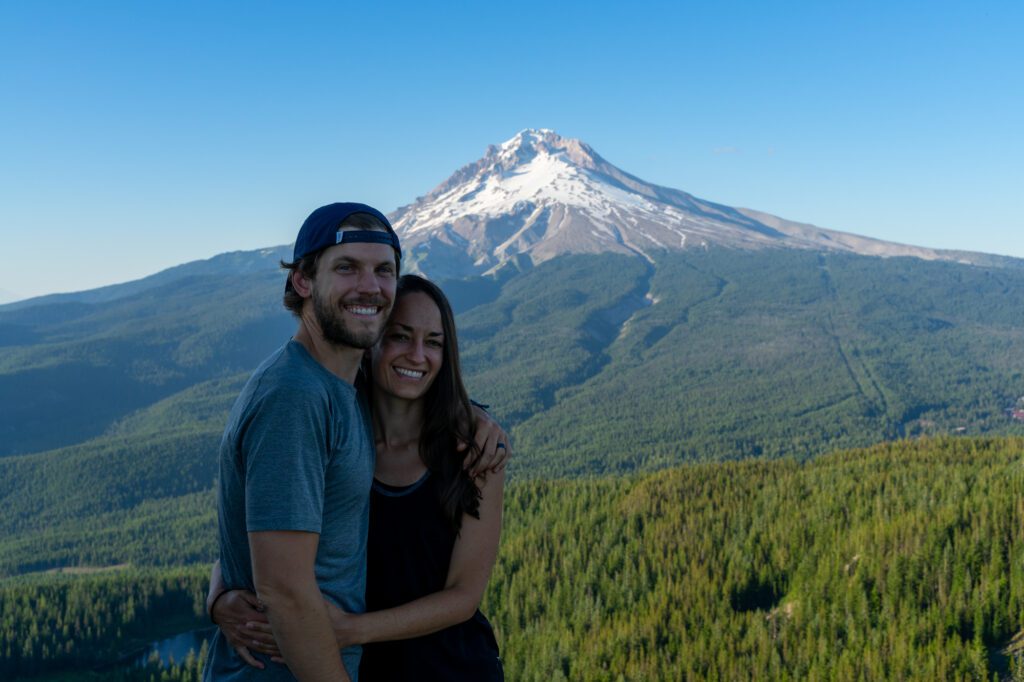 We loved Mt Hood. There is so much to do and see if you're all about exploring the outdoors like we were on our summer Oregon road trip. Whether you're visiting in the winter, when the snow-covered landscape is full of opportunity for skiing and snowshoeing, or in the summer when the snow melts and wildflowers and rhododendrons light up the alpine landscape, you'll find plenty to do for a weekend getaway from Portland.
Winter Sports – Mt. Hood has various options available for different skill levels. There is snowboarding, skiing, snowshoeing, and tubing. When we were there in July, we were stunned to see people skiing! Like, a lot of them. Here's a guide to skiing near Mt Hood.
Hiking in the Summer – Head to Mt. Hood National Forest for some amazing hiking trails once all that snow melts away and reveals views of Mt. Hood from every hiking trail in the vicinity.
What To Do In Mt. Hood
Trillium Lake: An stunning lake with a picture perfect reflection of Mt Hood. It's also a great place to camp and kayak. We camped at Trillium for three nights, and it was one of our favorite campsites on our entire Oregon road trip.


Mirror Lake: A short hike through the forest takes you to yet another amazing reflection of Mt. Hood at Mirror Lake. It's not long, and it's not too hard. If you're up for a 9 mile hike and some climbing, continue on to Tom, Dick and Harry Mountain for sweeping views across the valley to Mt. Hood.


Other great hikes at Mt. Hood that we really liked include McNeil Point (this one is HARD, but the views are crazy), the relatively easy hike to towering Ramona Falls, and the portion of the Timberline trail from the Timberline Lodge to ZigZag Canyon.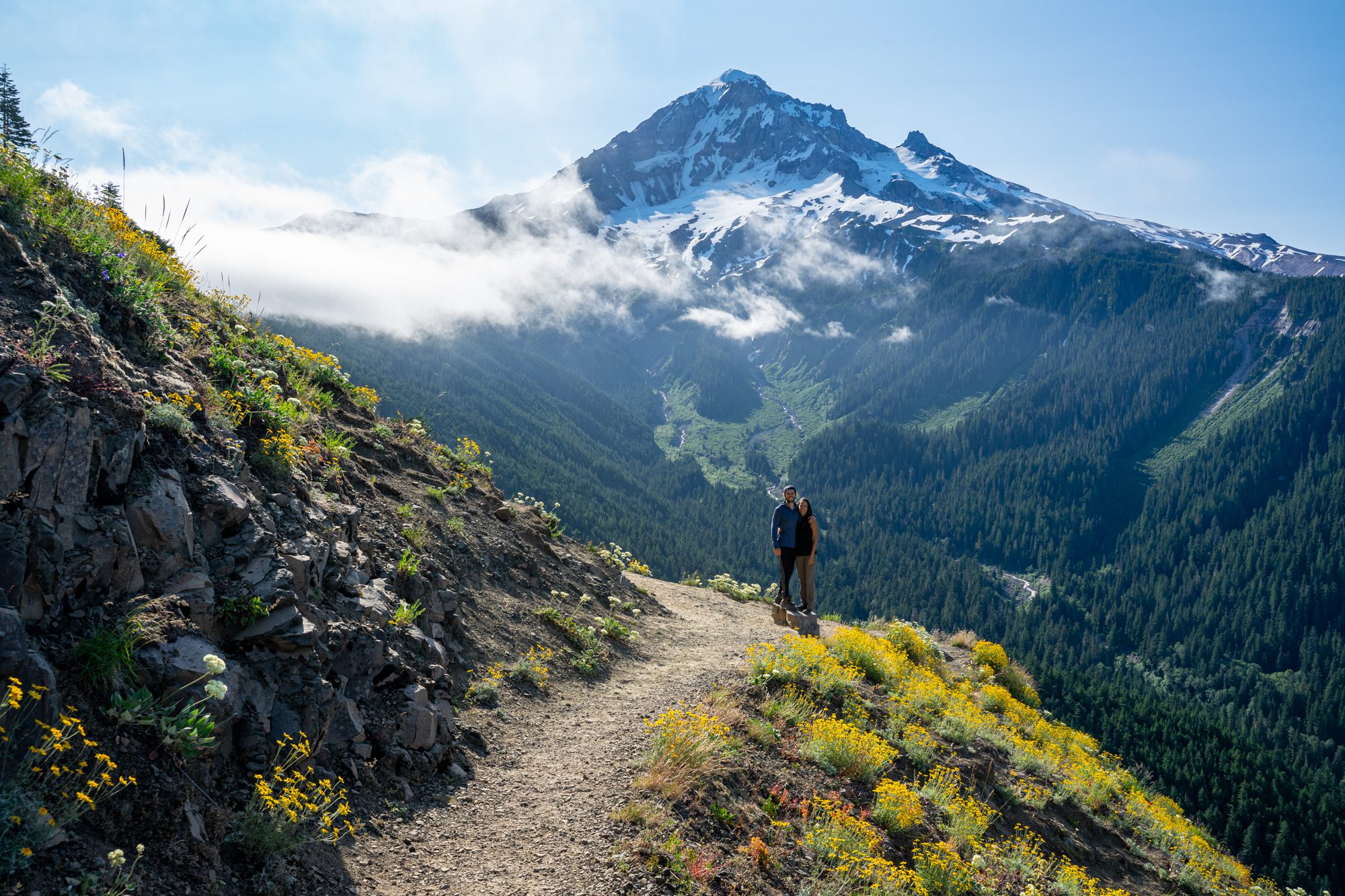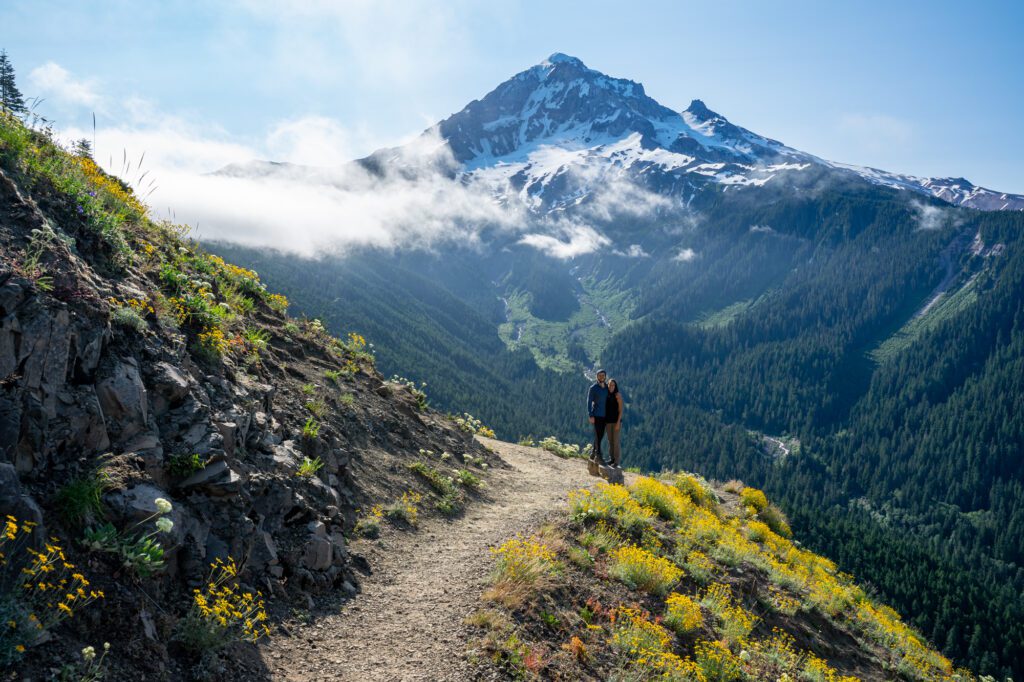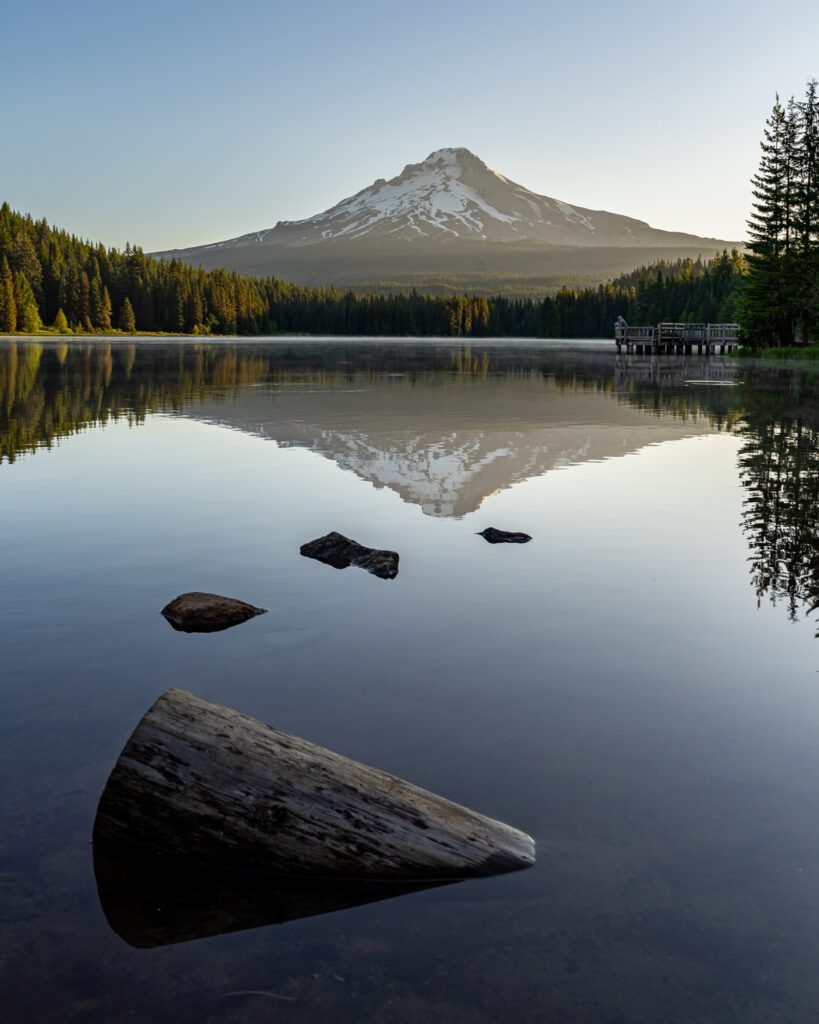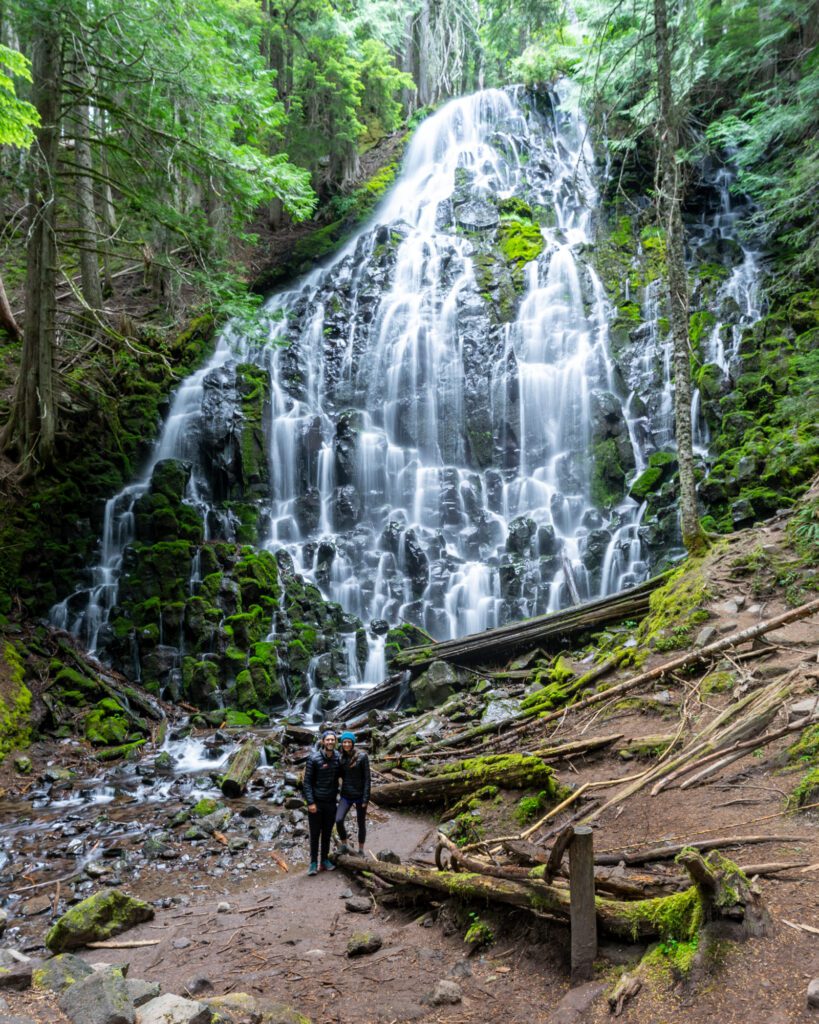 Where To Stay In Mt. Hood
The best place to base yourself near all the amazing things to do is the stretch between Government Camp or Rhododendron.
Rancho Relaxo (Airbnb): This beautiful A-frame cabin is the perfect weekend getaway destination for both couples looking for a stylish, romantic weekend away, and small groups of friends. Sleeping up to 4 with its two bedrooms, it's rustic on the outside, and features a stylish Scandinavian minimalism on the inside. There's no TV, but you won't need one with all the nature and outdoor activities to explore nearby. It's located in Rhododendron, which is a five minute drive from Mt. Hood Village.


Komorebi House (Airbnb): This modern space is inspired by the host's travels to Japan, and it merges Japanese design with classic Pacific Northwest style. It's a small, cozy spot, and they even have a hot tub! A comfortable bed will be waiting for you after a day on the Mountain, and the modern kitchen has everything you need to cook an amazing meal, with a market just a few blocks outside the front door.


Timberline Lodge: This iconic lodge has been declared a National Historic Landmark and is a popular hotel for its magnificent architecture. It has a heated outdoor pool that you can use year-round and cozy wooden interior complete with fireplaces. Book early – it gets booked up FAST year round. They have a few luxury condos with full kitchens, but they are pricey. Better to stay in an Airbnb if you need access to a kitchen.
The Northern Oregon Coast – Cannon Beach
How Far Is Oregon Coast From Portland, Oregon? Cannon Beach is 80 miles from Portland, about a 1 and half hour drive.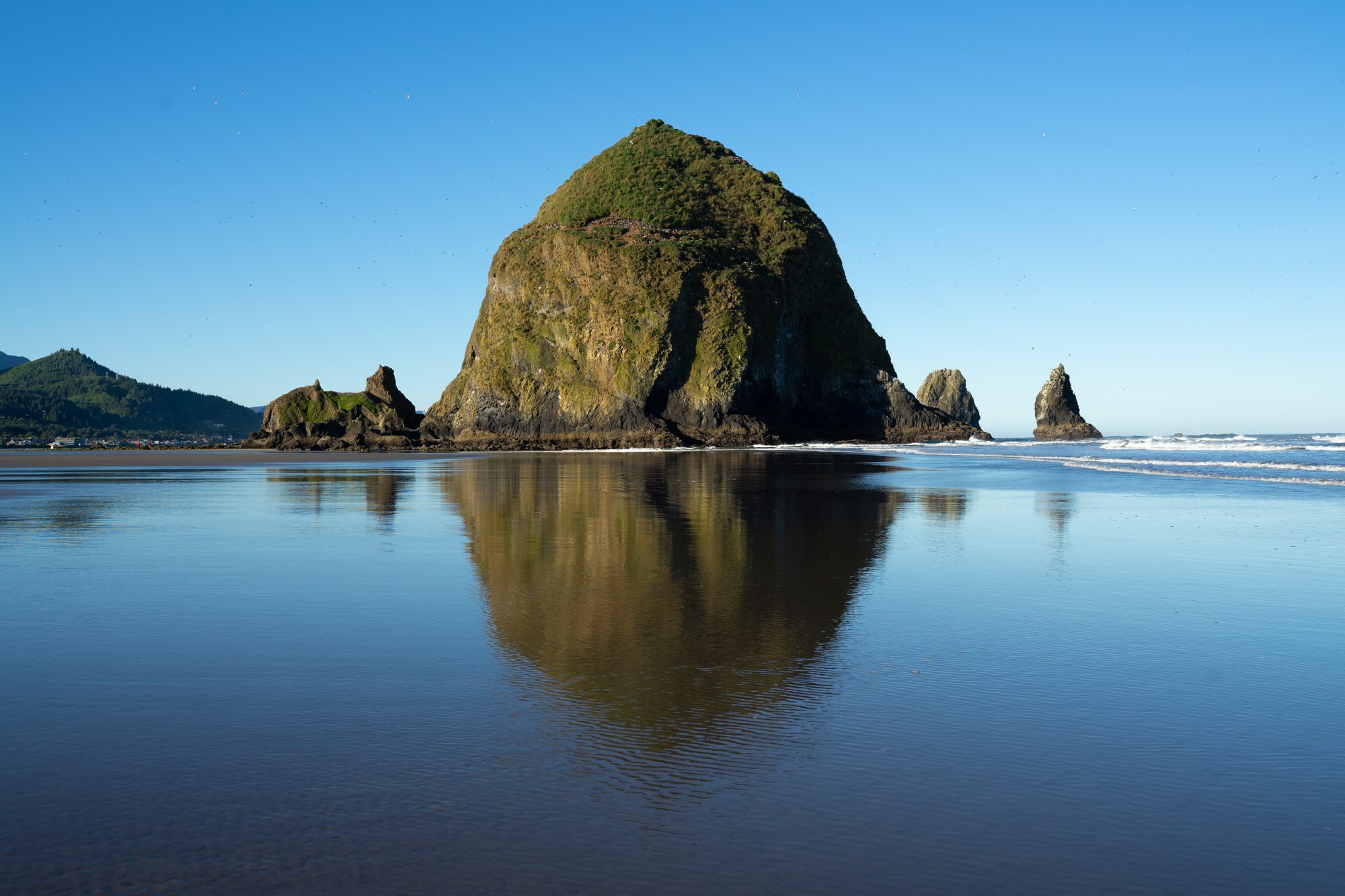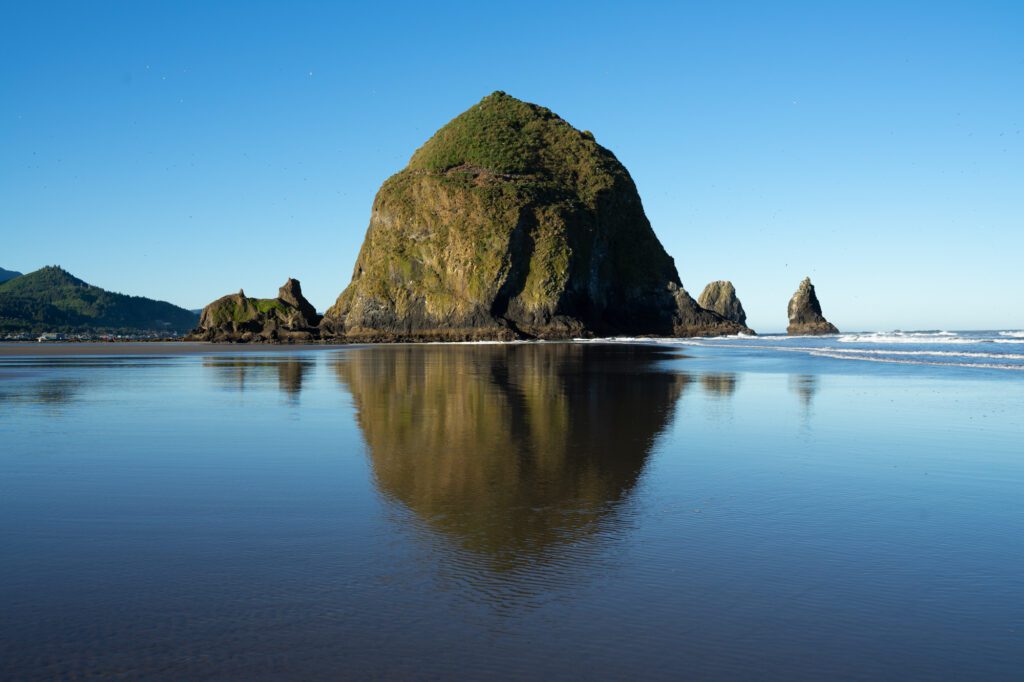 There are plenty of places along the Oregon Coast that would be perfect for a weekend trip from Portland. Of course, the sandy beaches are the obvious reason to travel here, as are the whale watching, hiking, and even looking for the endangered puffins on Haystack Rock.
There are a few towns along the coast that are worth visiting, but we think you should make your home base in Cannon Beach. It's a central base for exploring north, to Astoria and Seaside, and south, to Tillamook and Cape Kiwanda.
What To Do On The Northern Oregon Coast
Coastal Hiking! There are tons of good hikes between Cannon Beach and Cape Lookout. Ecola State Park is just north of Cannon Beach and gives you a great view over the beach itself. Just south of Cannon Beach is Cape Falcon, which is the muddies hike we've ever done, but takes you out to a point with nice views, and it's relatively easy. Further south is the hike out to the point on Cape Lookout, which was at the top of our list but was closed when we were there last.


Head to Cape Kiwanda and climb the dunes for a view over the beach, which will be full of surfers and fishermen (and women).


The best cheese and ice cream in Oregon at Tillamook Creamery. Anyone who grew up or lived in the Pacific Northwest knows all about their super creamy ice cream (not gluten free, sadly, but Alysha loved it!) and cheese. You can get cheese curds at the factory in Tillamook exclusively, which we had never had before and now are in love with. You can also tour the factory and see how the cheese is made, which is a cool experience for kids and adults alike.


Sunset at Haystack Rock. The crown jewel of Cannon Beach, Haystack Rock is a towering sea stack that you can walk right up to at low tide. At sunset, the sun will sink below the horizon behind it, silhouetting the sea stack against the fading orange sky. There's also a tufted puffin colony on the rock itself. We saw two bald eagles steal puffin eggs while we were there, which was super cool (and a little sad) to see.


The Seaside Aquarium is one of the best (and oldest) on the West Coast. This is THE place to see seals on the Oregon Coast, and you can even feed them!


Head to Astoria to see the famous shipwreck on the beach, the Peter Iredale, which is an easy half mile hike to get to, and Lewis and Clark National Historical Park, where the Lewis & Clark expedition spent a winter in the early 1800's before making the journey back east.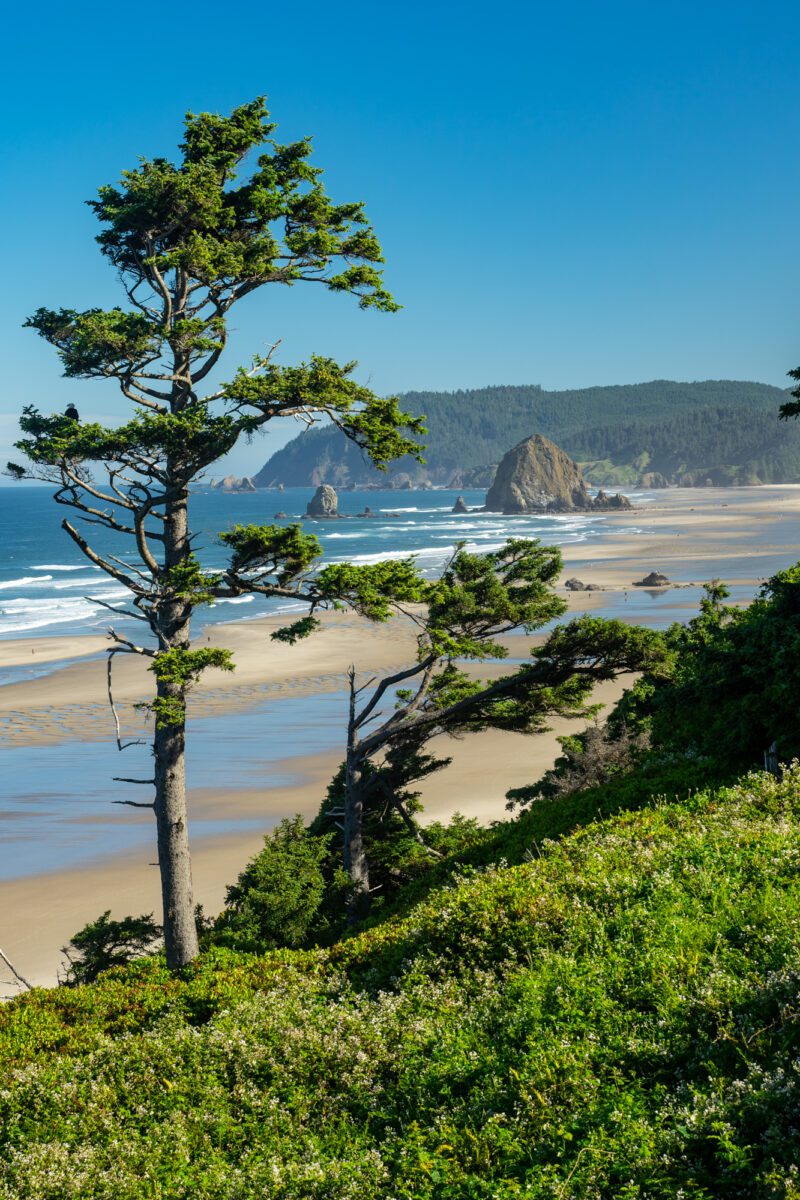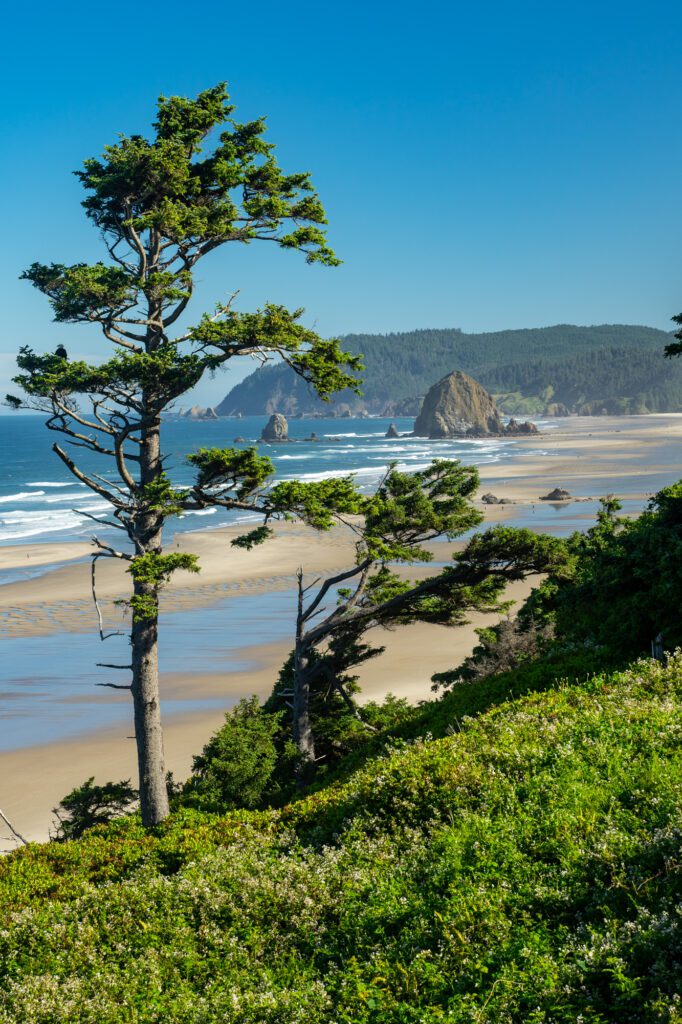 Where To Eat & Drink On The Oregon Coast
Up and down the Oregon Coast, you'll find tons of great seafood, bakeries, and cute coffee shops to stop in. Here were our favorites.
In Cannon Beach
Public Coast Brewing (Cannon Beach): Standard pub food and house-brewed beer. The food is perfect whether it's 80 and sunny, or 55 and drizzling. Celiac notes: they have dedicated gluten free fryers, gluten free cider, and the only things on the food menu that contain gluten are the burger buns, clam chowder, and salad roll.


Insomnia Coffee Company (Cannon Beach): Easily the best coffee in Cannon Beach. They use Dapper & Wise beans, which is one of my favorite coffee spots in Portland.
Between Tillamook & Cape Kiwanda
Tillamook Creamery (Tillamook): We already mentioned this place above, but it's worth repeating. GO HERE. For the ice cream, cheese, and factory tour.


Simulus Coffee & Bakery (Cape Kiwanda): Good coffee basically right on the beach. They have baked goods that are made in-house, but they aren't gluten free so we skipped them.
In Astoria
Frite & Scoop Astoria): French fries and ice cream? Sign me up! Fries are gluten free, and most of the ice cream is too.


Reveille Ciderworks (Astoria): Cool cidery in downtown Astoria with a taproom and patio (taproom is closed until May 2021, though).


Curry & CoCo Thai Eatery (Astoria): Good Thai food that would make a perfect lunch stop before you head to Cannon Beach.


There are two breweries in town – Buoy Beer Co and Fort George Brewing. Both are worth a stop for beer-lovers, and Buoy even has bottled gluten free beer and cider for my fellow gluten free folks!
Where To Stay On The Oregon Coast
Make your home base either in Cannon Beach itself, in nearby Arch Cape, or in the sleepier (and cheaper) oceanfront community of Manzanita. Arch Cape and Manzanita are more peaceful places to stay just 15-20 minutes south of the action with a nice sandy beach that is relatively quiet compared to Cannon Beach.
In Cannon Beach, you'll want to stay within walking distance of the beach, and there are tons of oceanfront hotels to choose from. Stay at either The Waves, Surfsand Resort, or the Cannon Beach Hotel.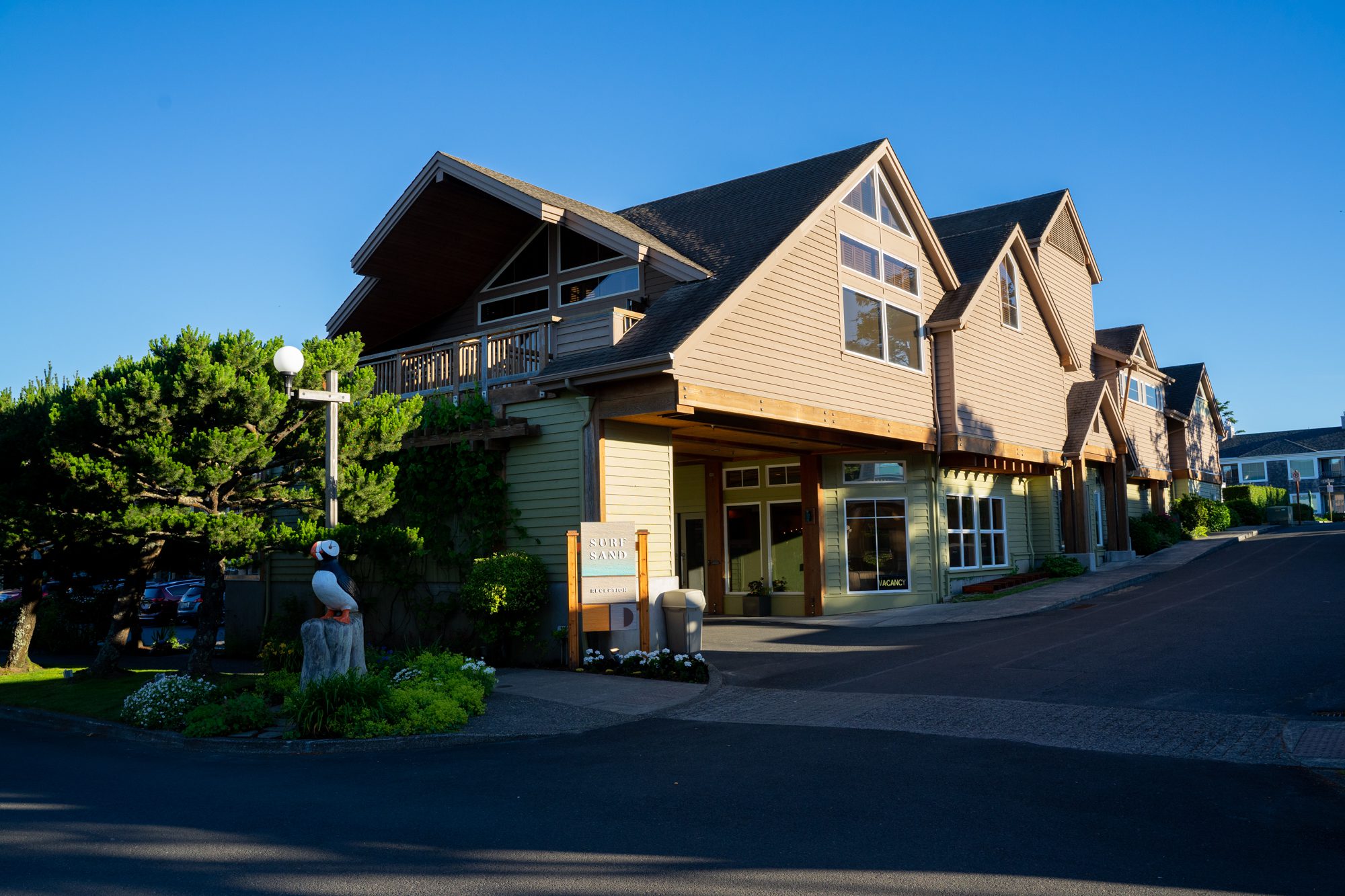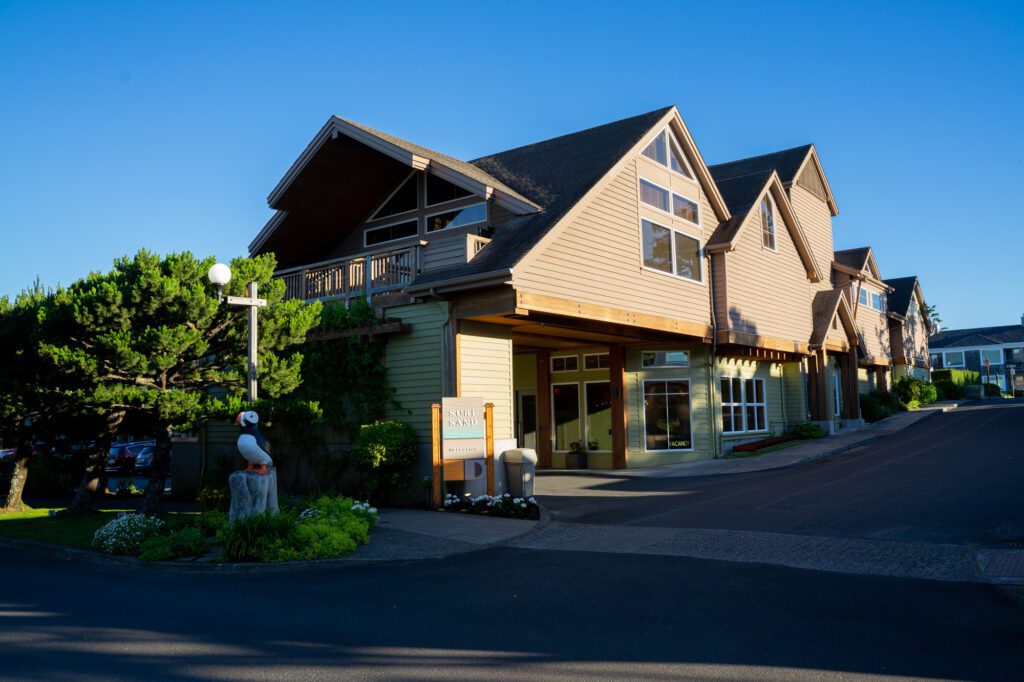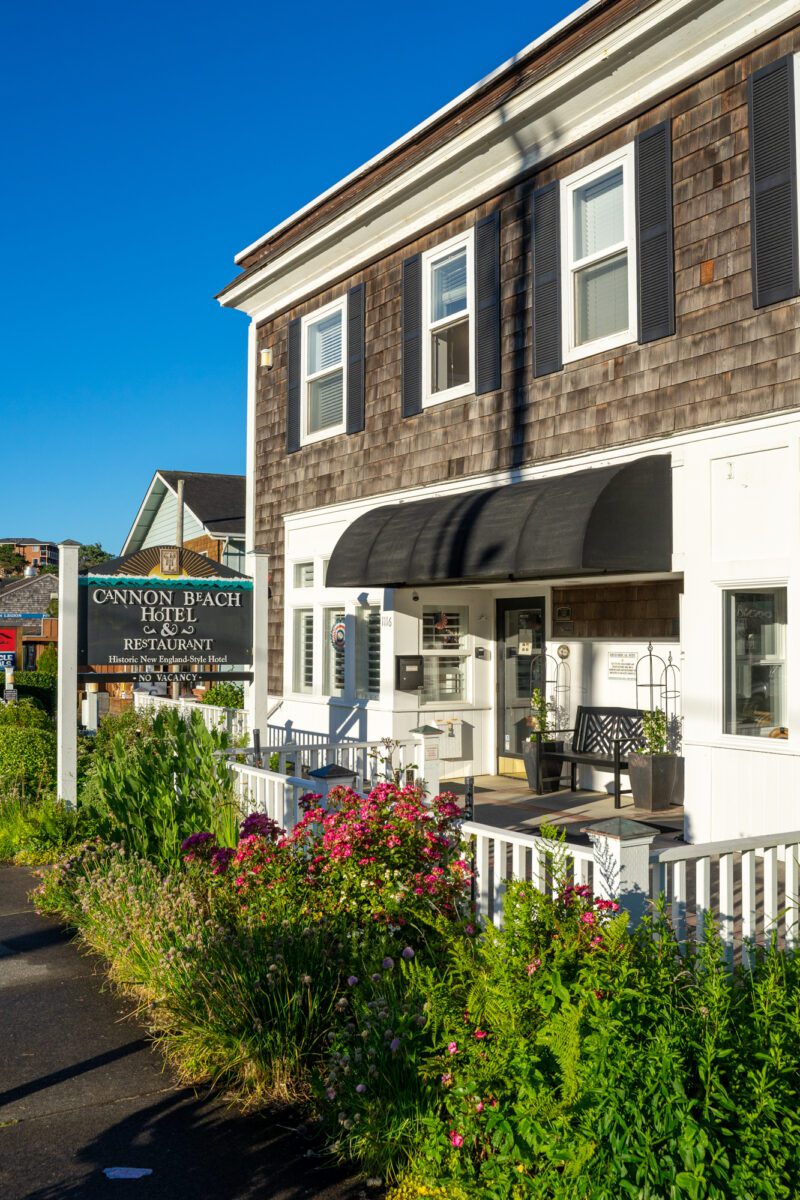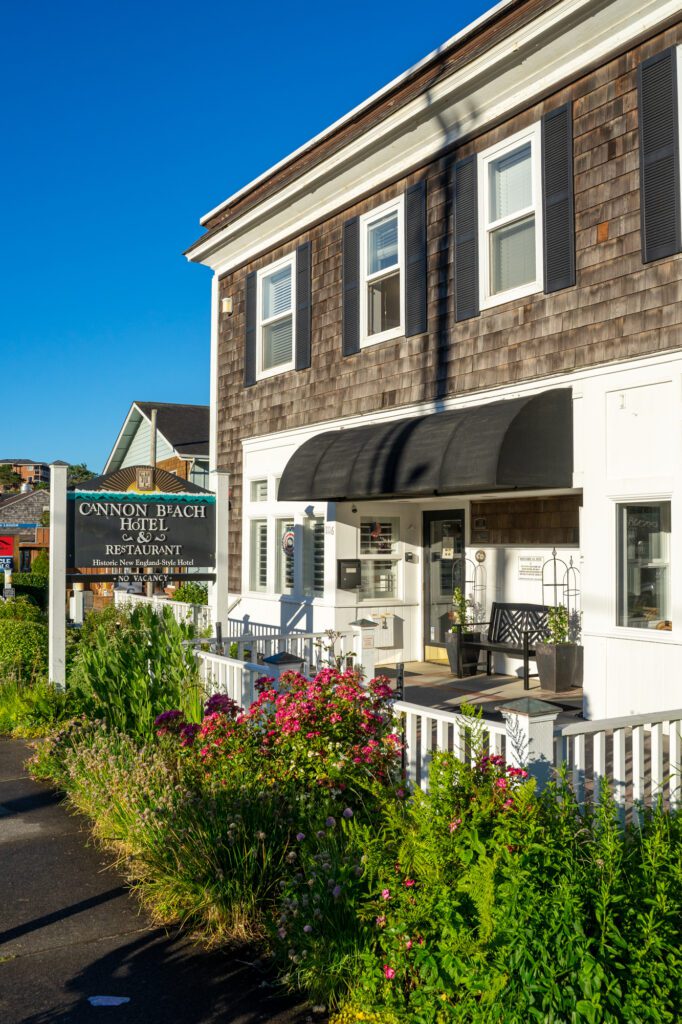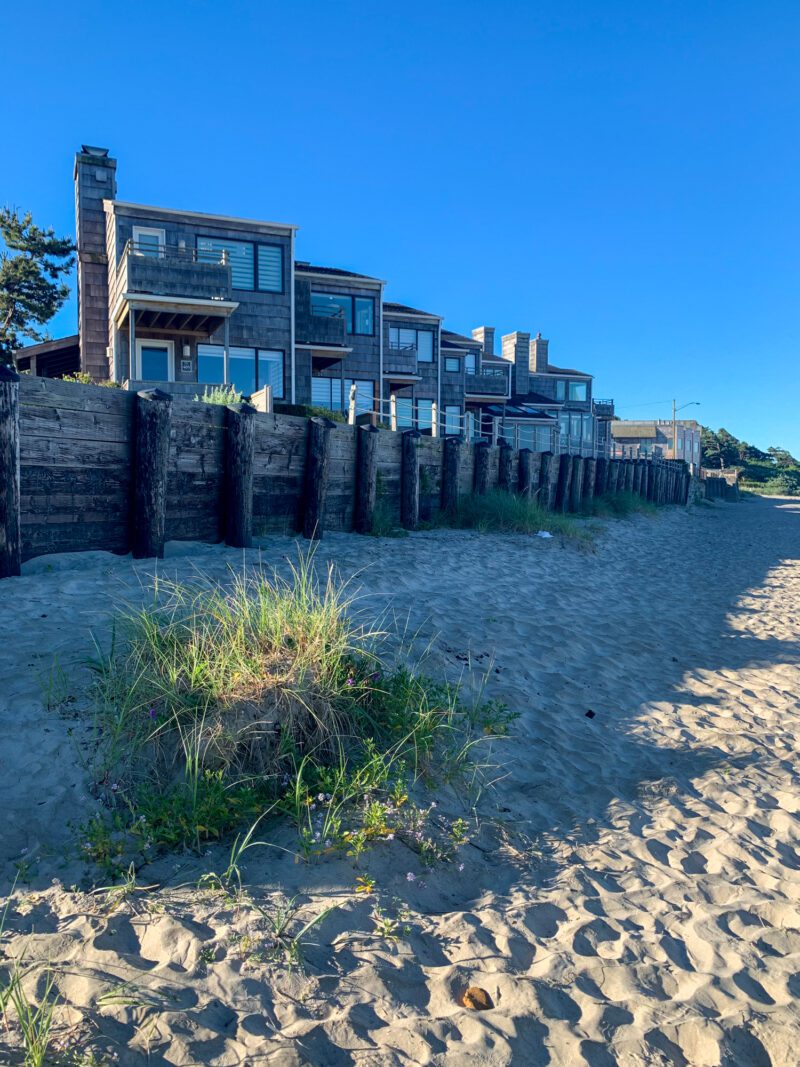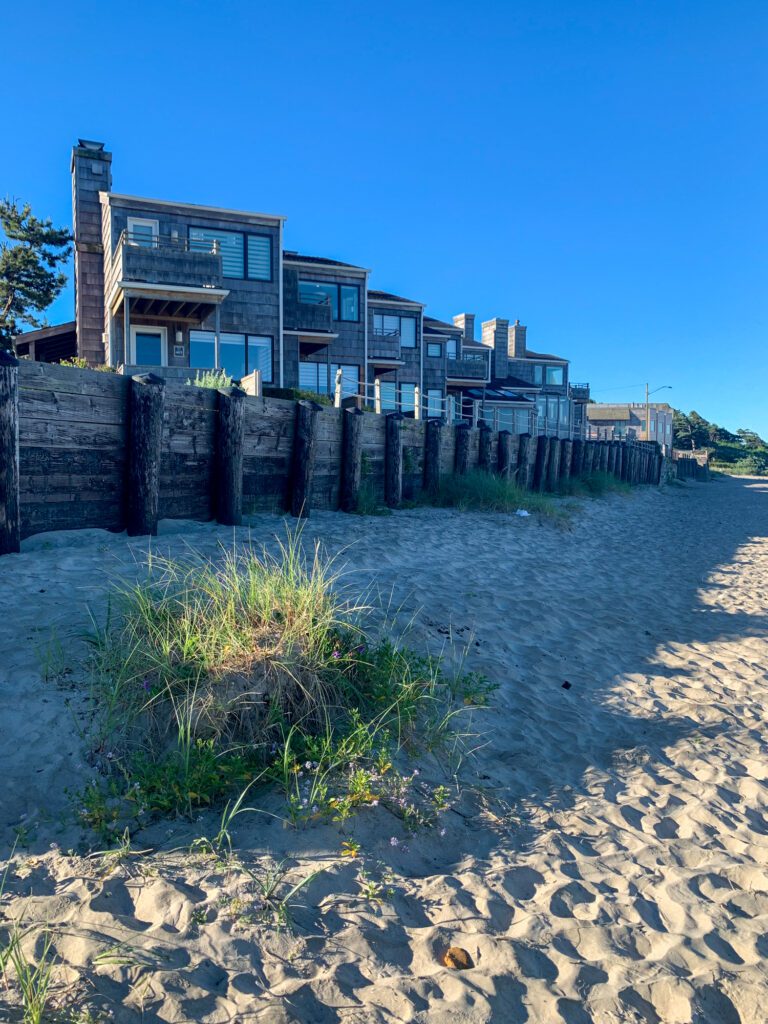 In Arch Cape and Manzanita, Airbnb is the way to go. Here are four places that caught my eye.
Arch Cape Loft – King Studio, Steps from the Beach (Studio): Bright and airy loft a few minutes away from the beach. Perfect for a romantic weekend getaway from Portland for couples. The hosts have bigger units with two bedrooms too, if you have a bigger group.


The Shell (2 bedrooms / 1 bathroom): Stylish and cozy, this place has beach access basically from the backyard. Plus, a full kitchen and washer and dryer.


Mountain Cabin at the Coast (3 bedrooms / 1 bathroom): A gorgeous A-frame cabin on the coast just a short walk from the beach? Sign me up! It has a full kitchen too.
McMinnville: A Weekend of Wine Tasting in the Willamette Valley
How Far Is McMinnville From Portland, Oregon? McMinnville is 37 miles southwest of Portland, about an hour to drive. Note that you'll need a car – there are no public transit connections from Portland that I know of.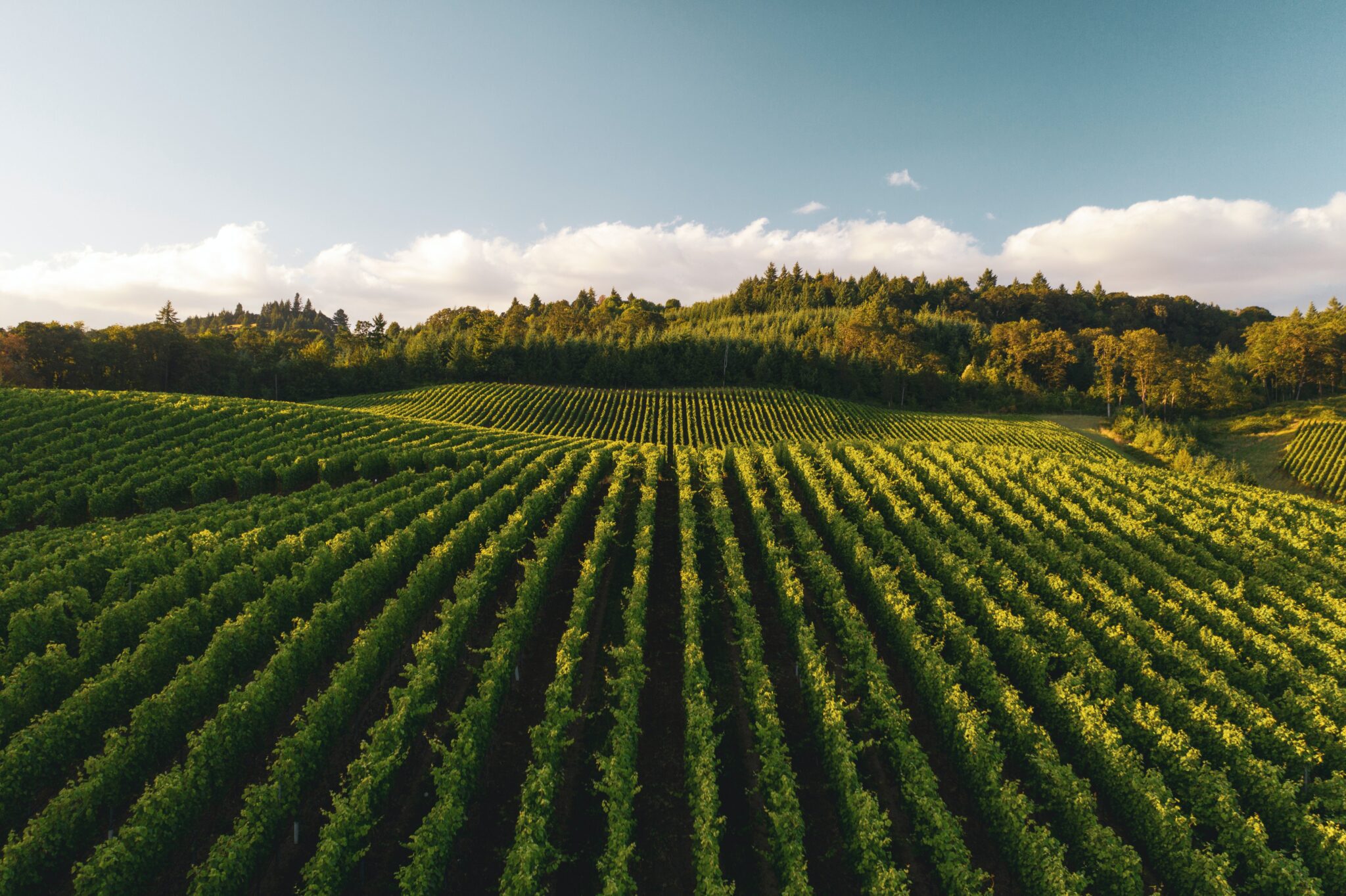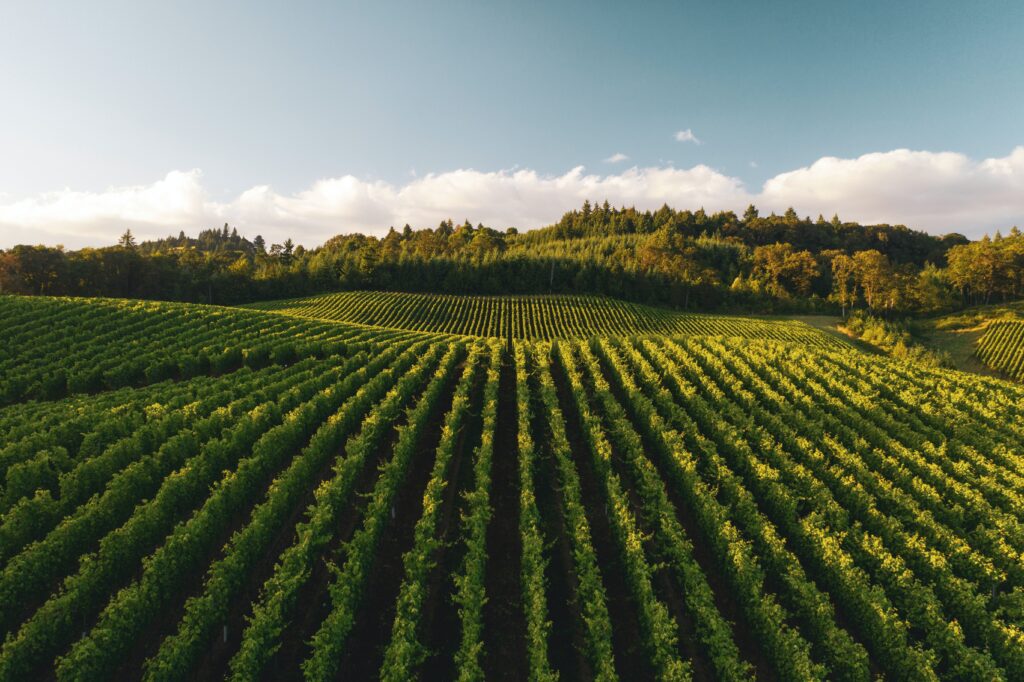 If you are thinking about planning a weekend getaway from Portland, the Willamette Valley needs to be at the top of your list. Two-thirds of Oregon's wine is produced here, and it is particularly well-known for its Pinot Noir. Even if wine isn't your thing, there are plenty of different activities to fill a weekend in these gorgeous surroundings.
The town of McMinnville itself is really nice. It has plenty of art galleries, cafes, restaurants, and outdoor spaces for hiking or nice easy strolls. There are also lots of options for exploring the nearby vineyards of the Willamette Valley, a highlight for wine lovers, either by cycling, guided tour, or even a hot air balloon. McMinnville is the perfect home base for exploring the Willamette Valley, which you'll find to the south.
What To Do In McMinnville and The Willamette Valley
You'll find that there is plenty to do in this cute little wine town – definitely more than enough to fill a weekend.
Wine Tasting in the Willamette Valley
What to do in the Willamette valley? In a word, wine!
The Willamette Valley produces two-thirds of Oregon's wine and is home to almost 600 wineries. The region is sixty miles of premium vineyards, and the climate is perfect for producing Pinot Noir, which means you won't find too many big bold Cabs, or oaky Chardonnays.
The Willamette Valley produces mostly pinot noir, but because the pinot noir grape is so sensitive to climate and temperature, wines from different parts of the Willamette Valley taste very different. Visit a few to compare and contrast – but make sure you have a designated driver or a ride home!
Six hundred wineries seems like a lot to visit during a weekend getaway from Portland, so here are a few recommendations in the Willamette Valley to help you plan your trip.
Johan Vineyards: Johan Vineyards is in the Van Duzer Corridor, and the cooler weather means that their wines have higher acidity and lower sugar levels. This vineyard has both Organic Certification and Biodynamic Certification.


Left Coast Cellars: Left Coast Cellars is a fantastic winery to visit while you're in the area. The 490-acre estate includes meadows and lakes as well as rows of vineyards as far as the eye can see. It is a lovely place to sit and enjoy wine. Do their $15 tasting (waived with $40 of wine purchased) or one of their more in-depth tasting experiences, some of which include tours of the grounds.


Stoller Family Estate: This is a second-generation family estate that includes three guest houses and 399 acres of vineyards. If you're into staying on an actual vineyard for your weekend trip from Portland (which I'd recommend – super unique experience!), this is a good place to do it. Otherwise, do a tasting with their friendly staff overlooking the vineyard.
Other things To Do
Shop on Third Street: There is nothing we enjoy more than browsing local shops, and Third Street is perfect for this. It is absolutely packed with boutiques and cafes selling all kinds of things. There are a bunch of historical buildings along the main strip, and you'll find tons of local events involving art and wine, so keep an eye out for what's going on while you're in town. Don't miss Third Street Books – the best independent bookstore in town. SUPPORT INDEPENDENT BOOKSTORES!


Exploring Wine Country! Even if you are not a fan of wine, you're still going to love driving through the beautiful vineyards of Willamette Valley. I'd recommend renting a bike and cycling through the vineyards, stopping at some of the tasting rooms along the way to, you know, quench your thirst. If you are looking for a really special experience, then take a hot air balloon over the Willamette Valley to see the scenery from another angle.
Where To Eat & Drink In McMinnville
While I'm sure you'll be doing plenty of sipping wine in the Willamette Valley, here are a few places to grab food and drinks in the town of McMinnville itself, including coffee to get you going in the morning.
Where To Stay In McMinnville
Atticus Hotel: The Atticus Hotel is a 36 room boutique hotel in McMinnville. If you're looking to stay in a hotel for your weekend getaway, this is it. It is designed for those who love a touch of modern luxury, and features works from all sorts of local craftspeople and artists. The hotel is well located for exploring the Willamette Valley, half a block off Third Street, and the warm and friendly hotel staff are willing to share plenty of tips on what to see and do and organize tours for you.


Half-Pint Farmhouse in Downtown McMinnville: This is a lovely Airbnb which is truly designed to look like a country cottage. It has such a homey feel with its wooden floors and cream furniture. The farm theme is carried throughout with cow print chairs and farm animal artwork all through the house. You'll find a full kitchen on the ground floor, including a washer and dryer, and the bedroom on the second floor.


Redwood Cottage In Oregon Wine Country: This is a charming little guest cottage, perfect for a romantic weekend getaway from Portland, with a private entrance and completely self-contained facilities. It is located one mile from Third Street and just a 15-minute walk from downtown McMinnville. It's a little further out, but that might be exactly what you're looking for.
Eugene, Oregon: Part Hippie Haven, Part College Town
How Far Is Eugene From Portland, Oregon? Eugene is 104 miles from Portland, about a two hour drive.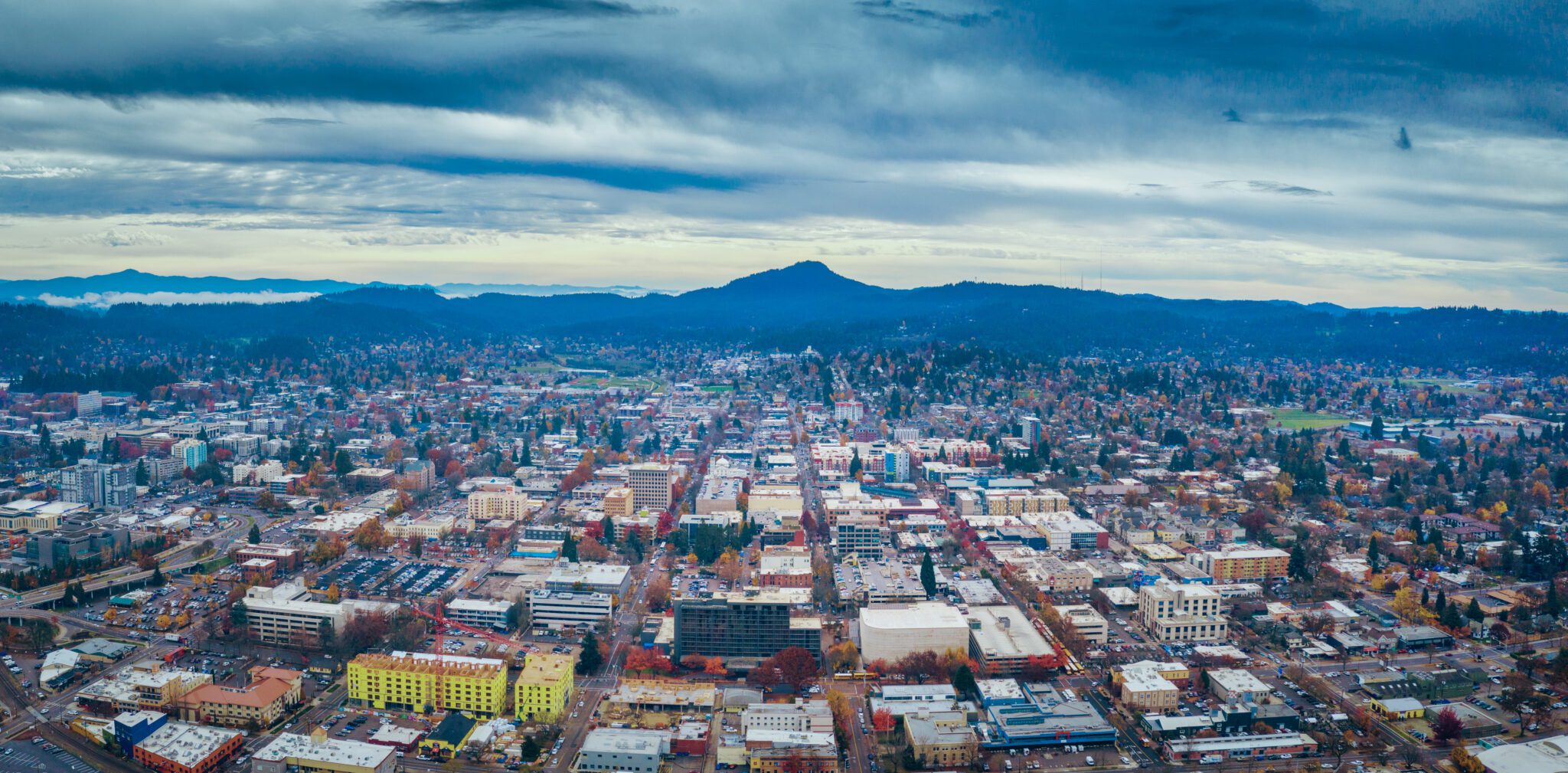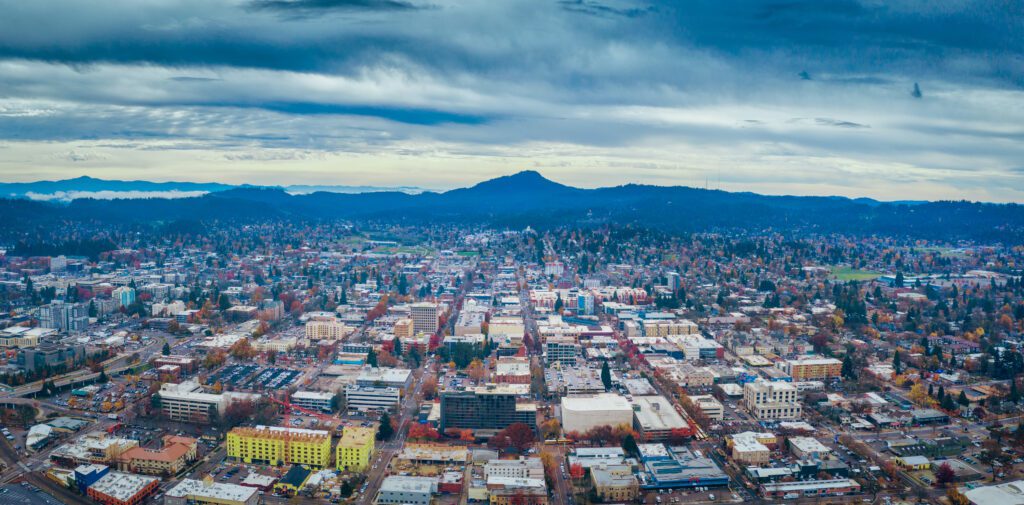 Eugene is a great option for a weekend getaway from Portland. It is a quirky small city with plenty to do.
It's also a college town, so you'll find a collection of young-feeling bars, restaurants, coffee shops, and more. In the area outside of Eugene to the east, there are hiking trails, street art, markets, and great bars and restaurants. It is also a really great base for exploring into the Willamette Valley and the South Oregon Coast.
What To Do In Eugene
Where To Eat & Drink In Eugene
Where To Stay In Eugene
Graduate Hotel: Located on 6th street, the Graduate is designed to reflect the city's cultural roots. A massive duck and a cabinet full of Nike shoes have pride of place in the hotel lobby. In the rooms, all the décor is locally made, and little features nod to the city like "Track Town" pillows, wooden paneling, spruce green headboards, and lamps depicting the goddess Nike.


Inn at the 5th: At the aforementioned 5th St. Public Market, you'll find the Inn at the 5th. It's one of the best places to stay in Eugene for the location alone. You can walk to pretty much everything in Downtown Eugene, including Autzen Stadium, home of the Oregon Ducks (as a Washington Husky, here's my obligatory BOOOO).
---
That's a wrap on the best weekend trips from Portland, Oregon to add to your calendar ASAP. It goes without saying that each of the spots on this list are well worth going back to again and again to explore more of what they have to offer.
But if you only have a weekend, it'll give you a good taste, and get you excited to go back and do some more exploring. At least, that's how we feel, anyway.
More Oregon Travel Guides
If you like this guide, you won't want to miss our other Oregon travel guides!