How to Plan a Day Trip to Bainbridge Island From Seattle
If you're looking for an incredible day trip from Seattle that is accessible – you don't necessarily need a car – and full of interesting things to do, see, eat, and drink, you're in the right place. A day trip to Bainbridge Island, which includes a short ferry ride across the Puget Sound, is undoubtedly one of the best day trips from Seattle.
In this guide, I'll give you everything you need to know for a memorable day trip to Bainbridge Island, including how to get there without a car, where to find the best coffee and brunch, and where to wander.
One of the most spectacular views of Seattle and the surrounding area comes from the ferry ride from Seattle to Bainbridge Island. Looking east from the ferry, you'll see the Seattle skyline. To the west, the Olympic mountains. And turn south on a clear day and you might just spot snow-capped Mount Rainier.
It's a dazzling ferry ride, and the town of Winslow, where the ferry lands, is full of hidden gems for foodies and shopping-lovers. It's something that you should try to make room for in your Seattle Itinerary.
If that sounds good to you, read on for everything you need to know to plan the perfect Bainbridge Island day trip!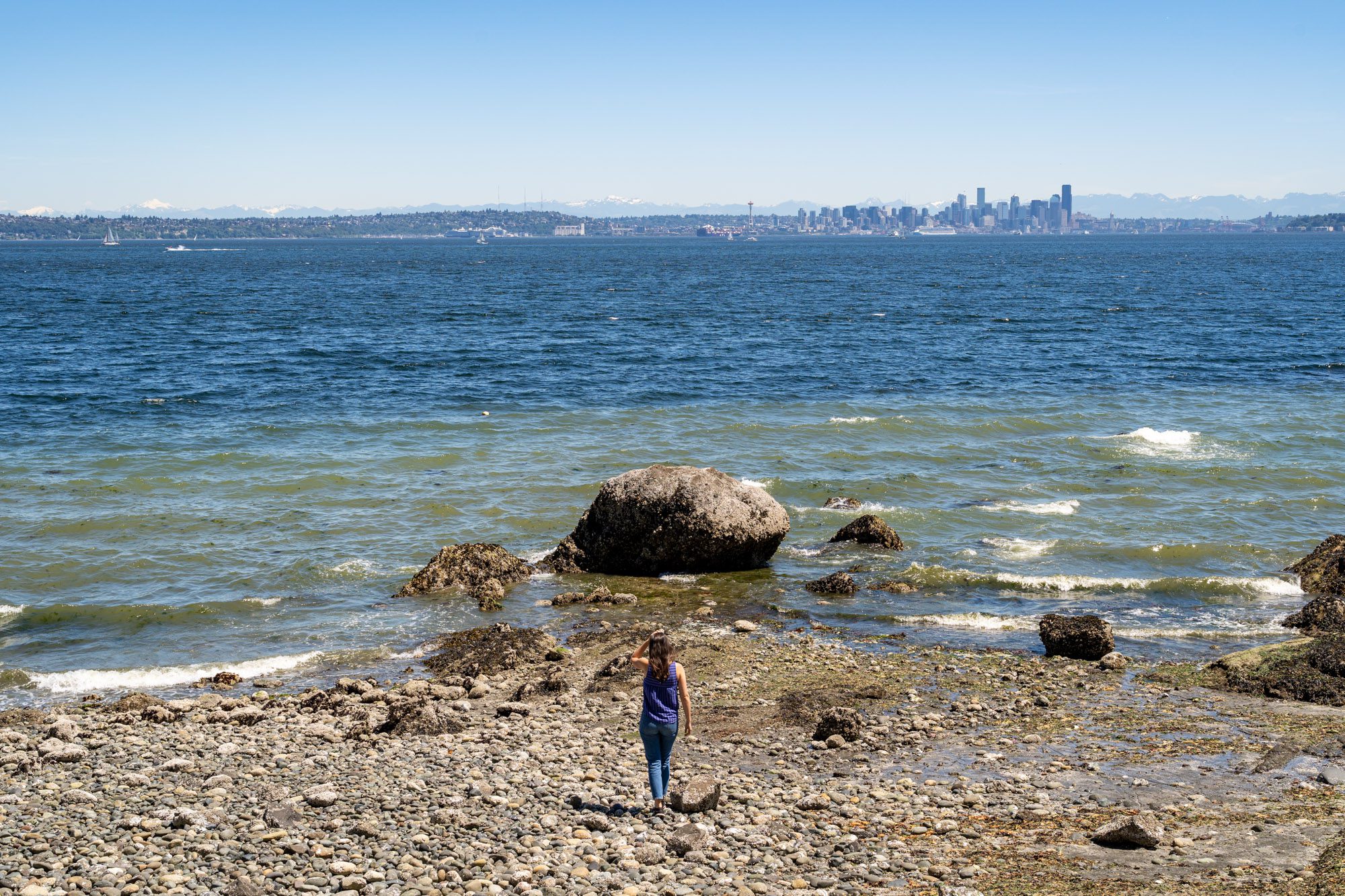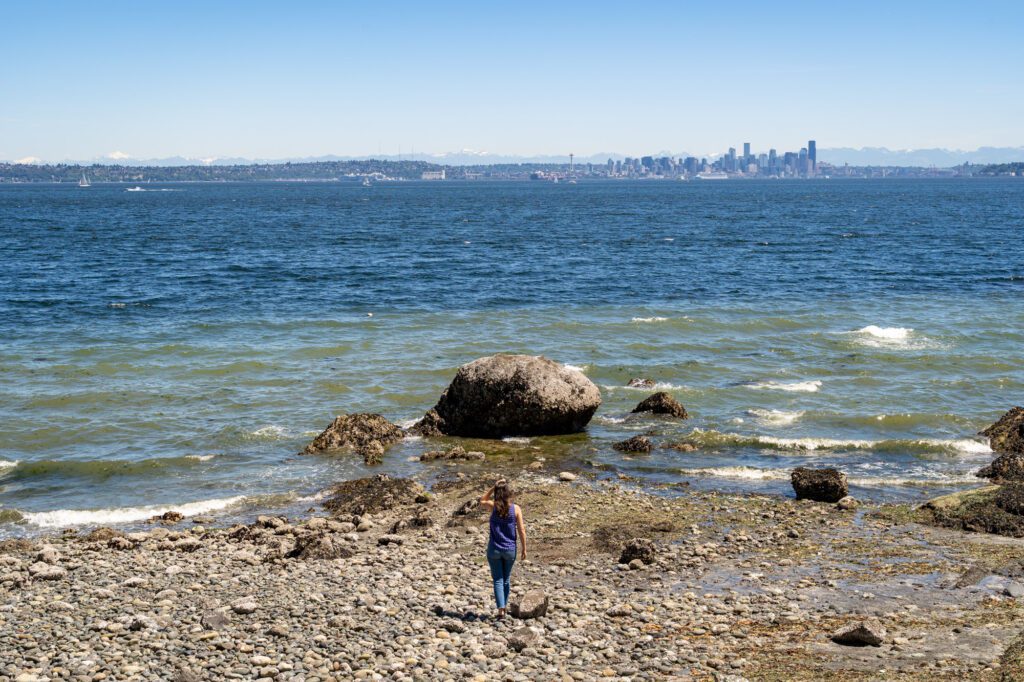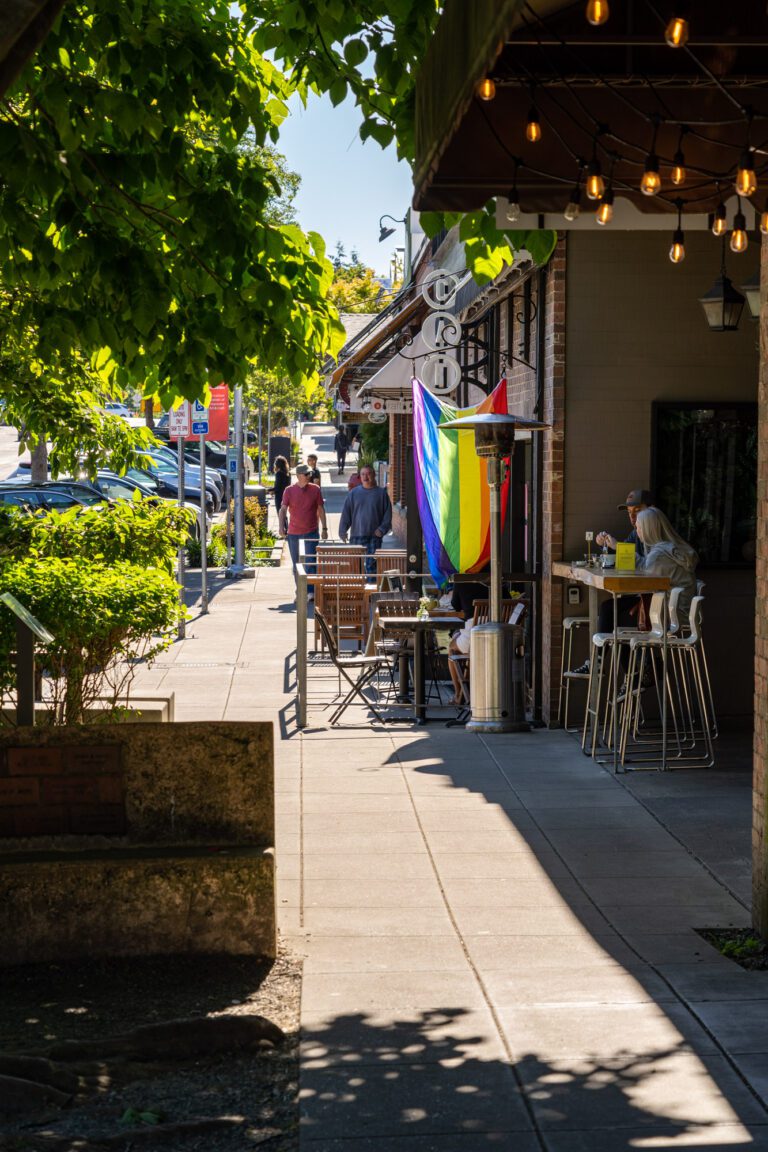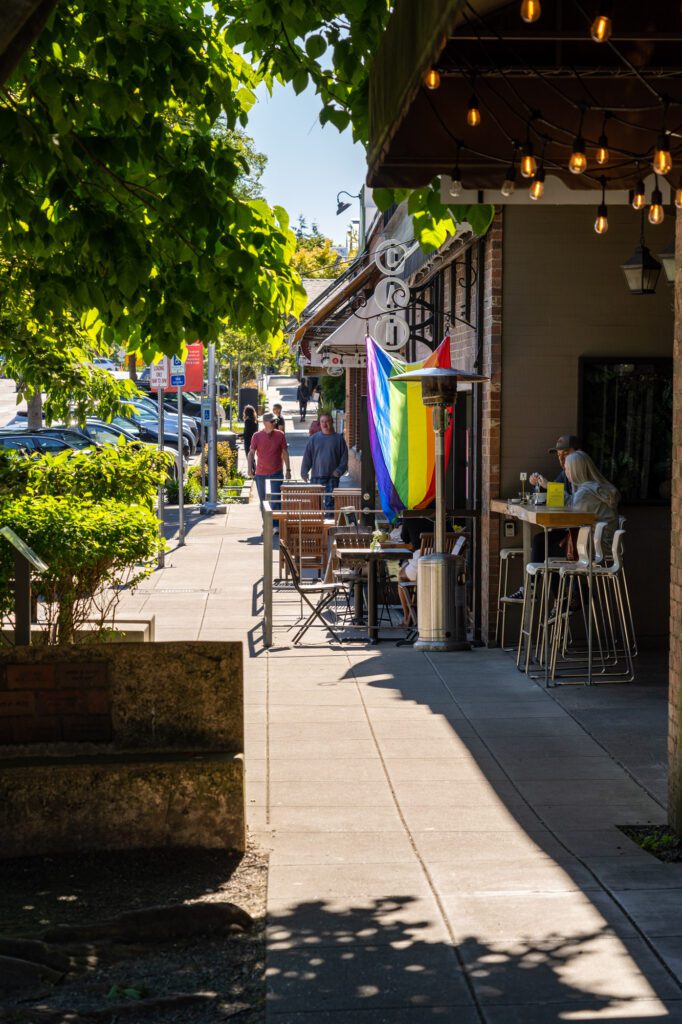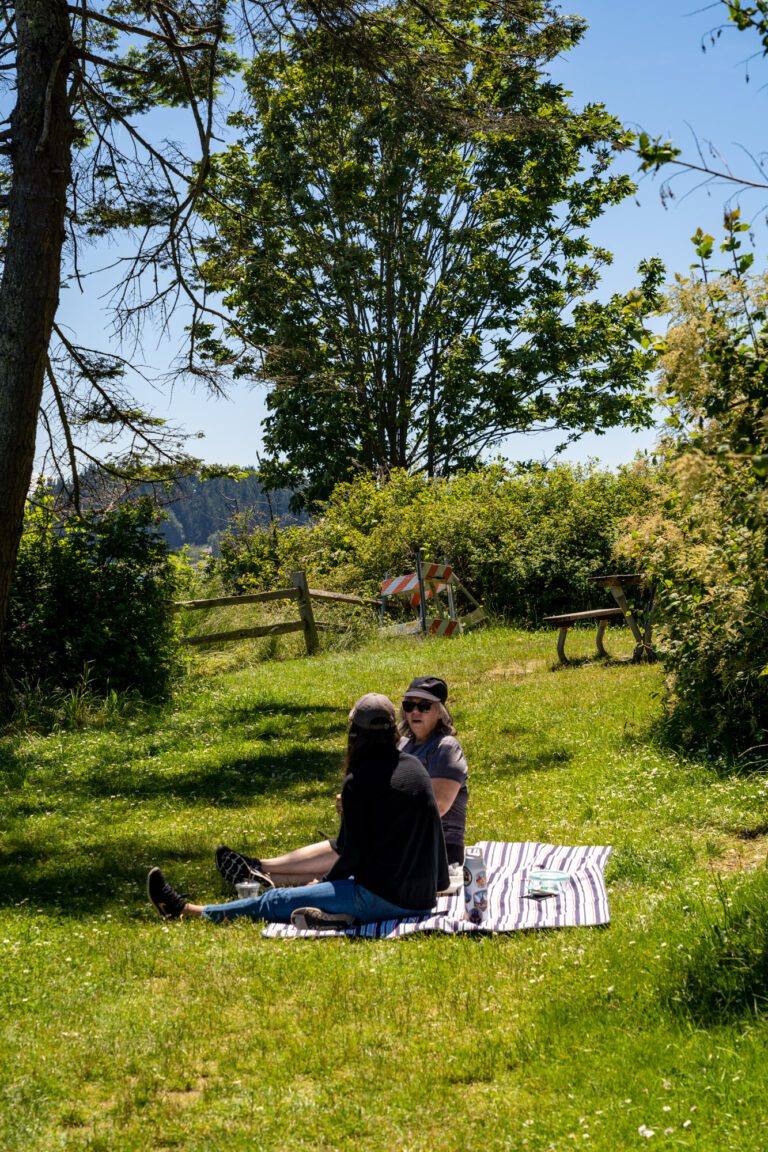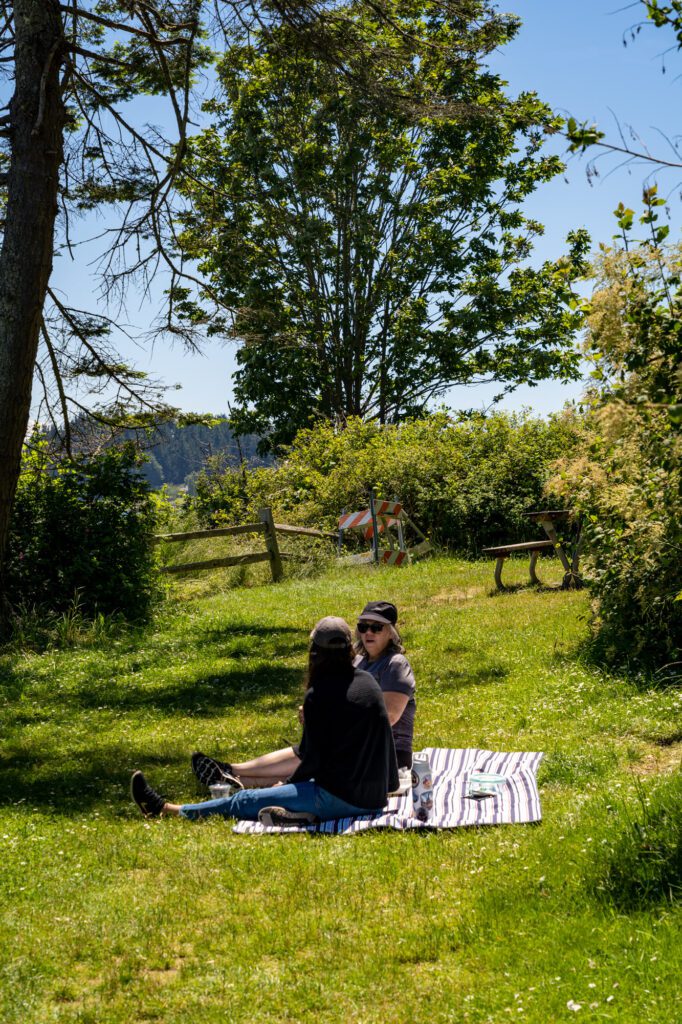 Disclaimer: Some of the links in this post, like hotel links, are affiliate links, meaning at no additional cost to you, we make a little bit of money if you click through and book. That being said, we would never recommend something to you that we don't stand behind 100%.
How to Plan the Perfect Bainbridge Island Day Trip from Seattle
First, some logistics for visiting Bainbridge Island from Seattle.
How to get to Bainbridge Island From Seattle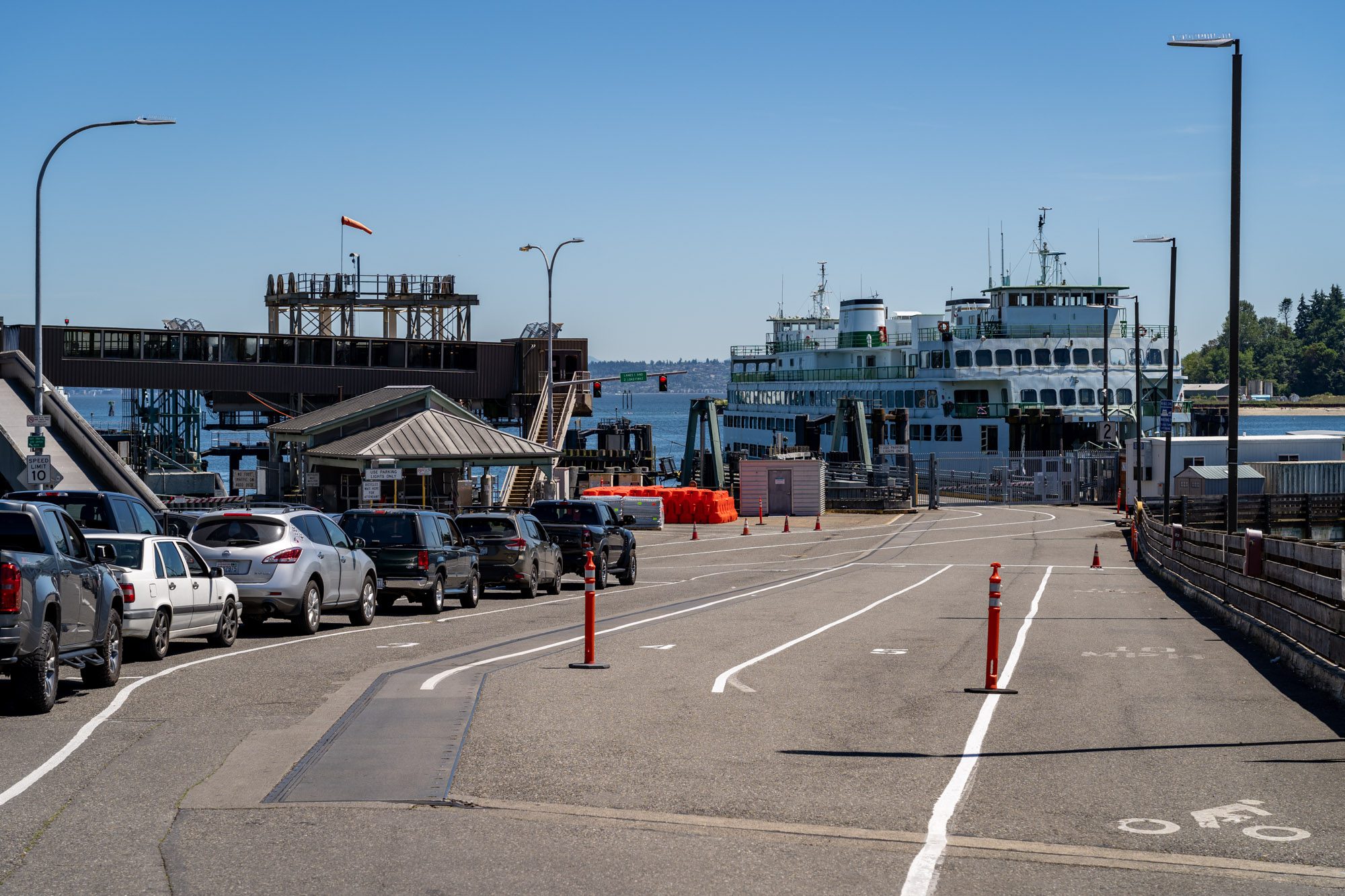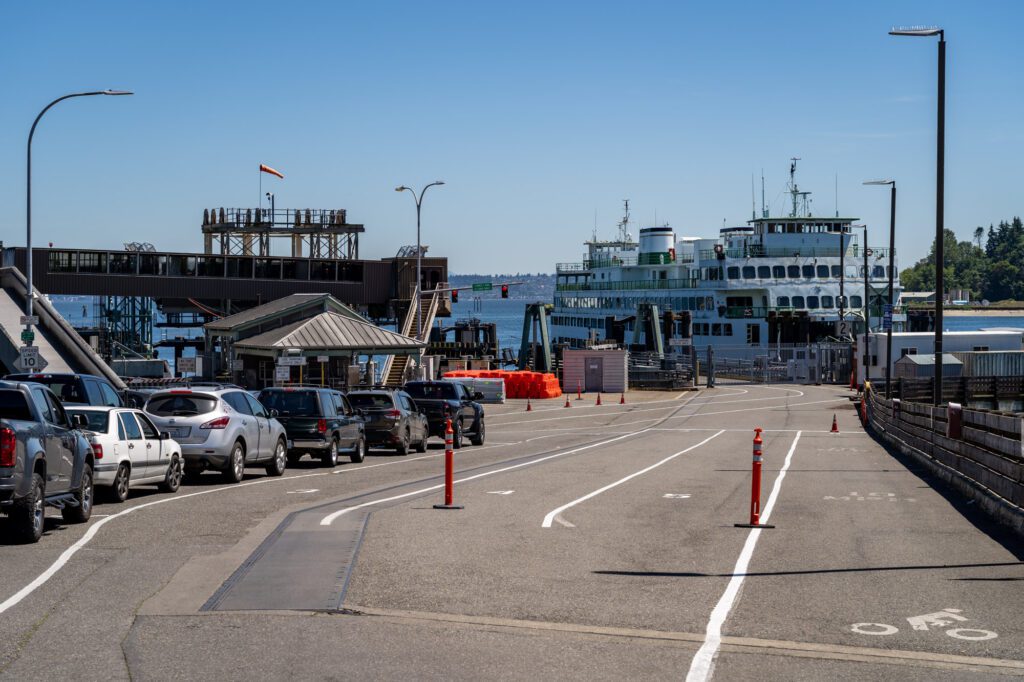 To get to Bainbridge Island from Seattle, you'll want to take the ferry operated by Washington State Ferries, from Downtown Seattle.
Specifically from the Seattle Ferry Terminal at Pier 52, which is several blocks south of Pike Place Market. Here it is on Google Maps.  
Yes, technically you can drive around and avoid the cost of the ferry. Given the cost of gas, and the two hours or so it'll take you to do that, we wouldn't recommend it.
Plus, the ferry ride is truly spectacular on a clear day, where you'll have amazing panoramic views of Mount Rainier to the south, the city to the east, Mount Baker to the north, and the Olympics due west.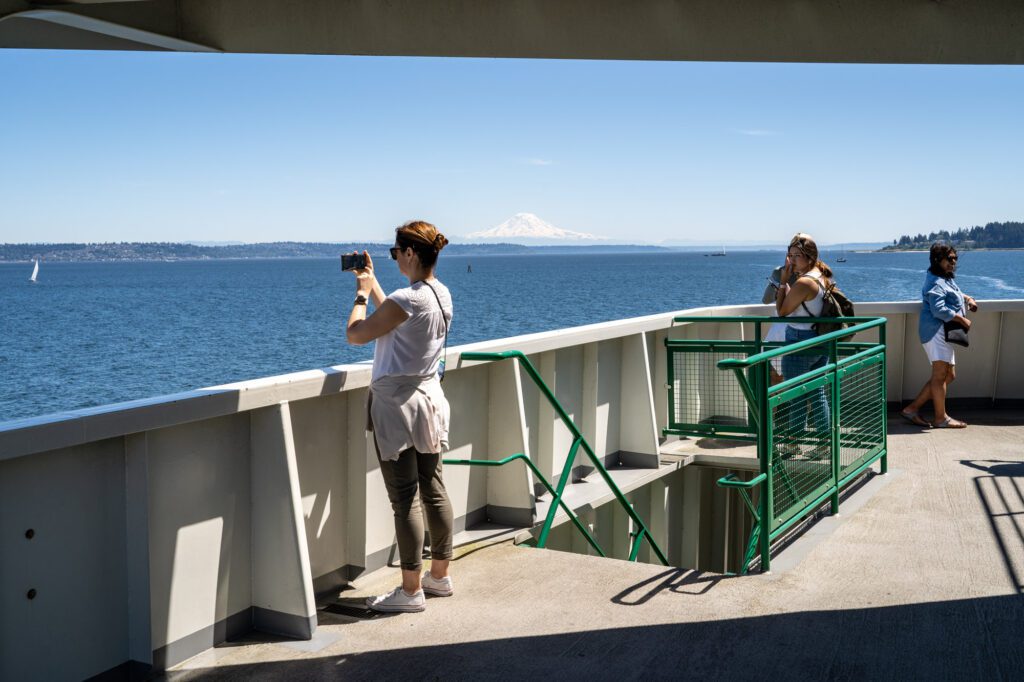 It's a lovely way to get out to Bainbridge.
How to Get to the Seattle Ferry Terminal
To get to the ferry terminal on foot from Downtown Seattle, walk to Pike Place Market, find the stairs or elevator down to the waterfront (pretend you're going to the Great Wheel), and walk south down Alaskan Way until you reach Pier 52.
If you're staying elsewhere, like Capitol Hill, Fremont or Ballard, you'll probably want to take a Lyft. 
When Does the Bainbridge Island Ferry Come?
The ferry runs roughly every 60-90 minutes as of mid-2022. You can find the most up to date ferry schedule here.
How Much Does the Bainbridge Island Ferry Cost?
The crossing will take you about 35 minutes, and without a car costs a whopping $9.25 per adult, and $4.60 for kids. So a Bainbridge Island day trip is a super affordable option in Seattle.
If you bring your car, it's going to cost you $16.40 (includes the driver), plus the walk on fare for everyone else in the car.
The fees are here if you want to take a look. 
If you are walking on, you'll be happy to know that you only have to pay the toll one way (on the ferry TO Bainbridge). If you have a car, you have to pay for the car both ways, but the extra passengers are free coming back to Seattle from Bainbridge.
For example, a full-day Bainbridge Island excursion for a family of four (two kids, two adults, one car) would cost $34.85 on the way there, and $16.40 on the way back for a total of $51.25.  
Make sure to spend part of the trip outside on the deck of the ferry to soak in the spectacular views.
Do you Need a Car to Explore Bainbridge Island?
Nope! The downtown area of Winslow, which is where the ferry drops you off, is super accessible on foot – it's a half mile from the ferry dock.
That being said, some of the best parts of Bainbridge Island are further out, like the breathtaking Bloedel Reserve, and having a car will make it easier to get to.
How to Get Around Bainbridge Island Without a Car
If you don't have a car, there are other transportation options for getting around Bainbridge Island, like renting a bike, shuttle services, and buses.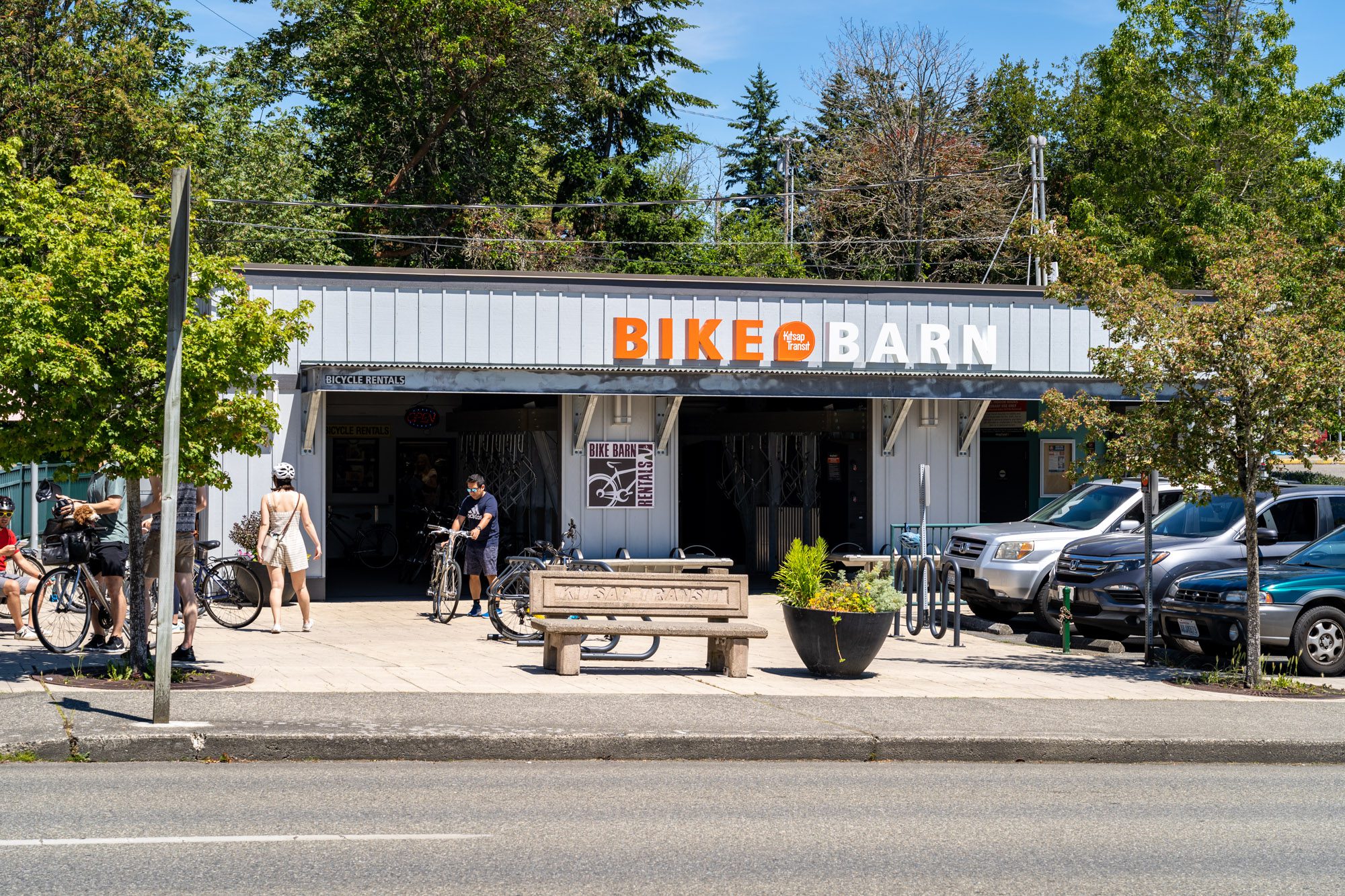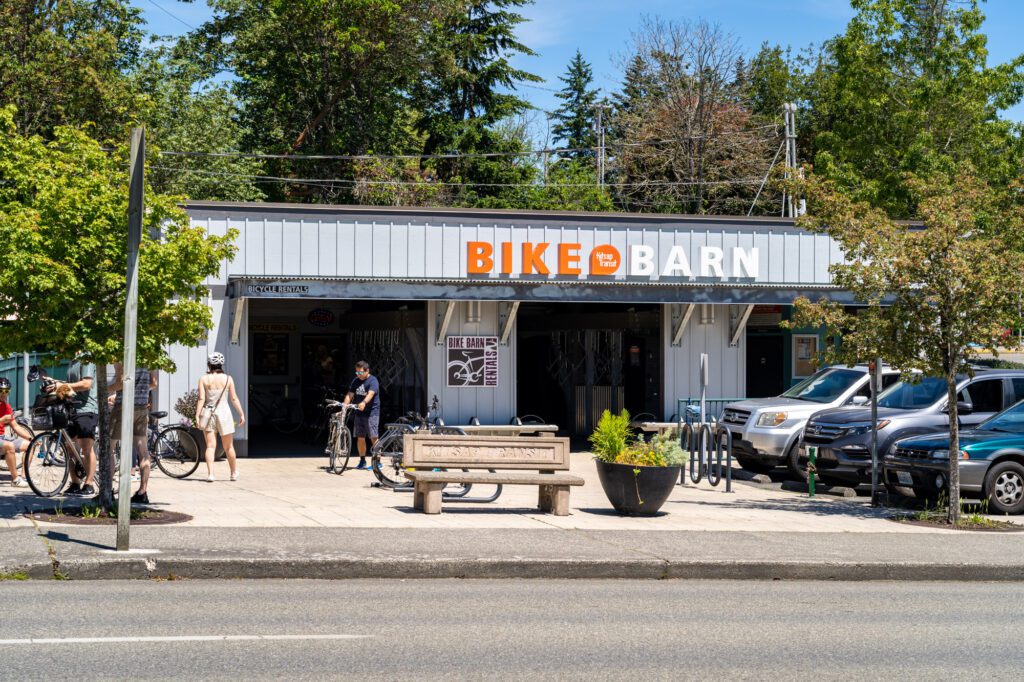 A Perfect Itinerary for a Day Trip to Bainbridge Island from Seattle
Here's the perfect way to spend a day on Bainbridge Island, whether you're local and looking to escape the city, or you're visiting and want a break from the city before getting back to the rest of your Seattle itinerary.
If you want to spend a full day, sunrise to sunset, I have some recommendations on what to do with more time, too. 
I'm going to assume you don't have a car.
If you do have a car, add either Bloedel Reserve or a loop to Rockaway Beach and Fort Ward Park to the itinerary, which are well worth seeing on a Bainbridge Island day trip.
I'd probably only do one or the other, but if you have the time and energy, both are great options for a stroll through the lush greenery that Bainbridge Island seems to have all over the place.
Keep in mind that the Bloedel Reserve is pricey, and you need to make timed entry reservations in advance.
We'd probably recommend the driving loop to Rockaway and Fort Ward State Park outside of the spring and early summer, when Bloedel is extra special.
9:00 am: Catch the Ferry to Bainbridge Island
Get up early and catch the 9:35 am ferry from the Seattle Ferry Terminal.
You'll want to make sure to get there a half an hour early (especially if you have a car), because they do fill up on busy weekends at prime time. 
When you board the ferry, whether by car or on foot, head straight up to the sun deck, which is the third floor on top of the ferry.
Head to the side of the ferry that's facing the city (preferably on the right side of the ferry if you're facing back towards Seattle) for the best views of the city and Mount Rainier.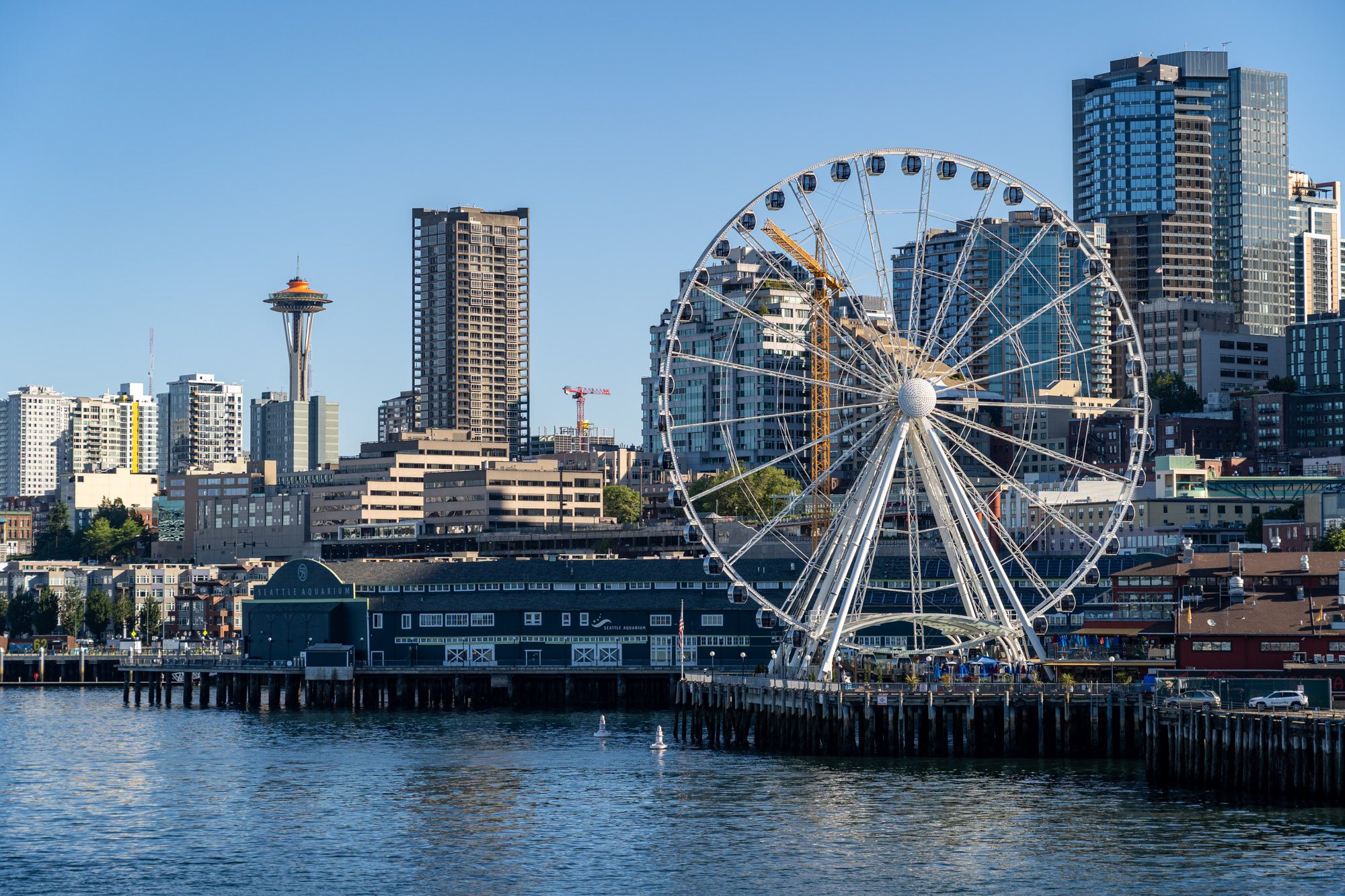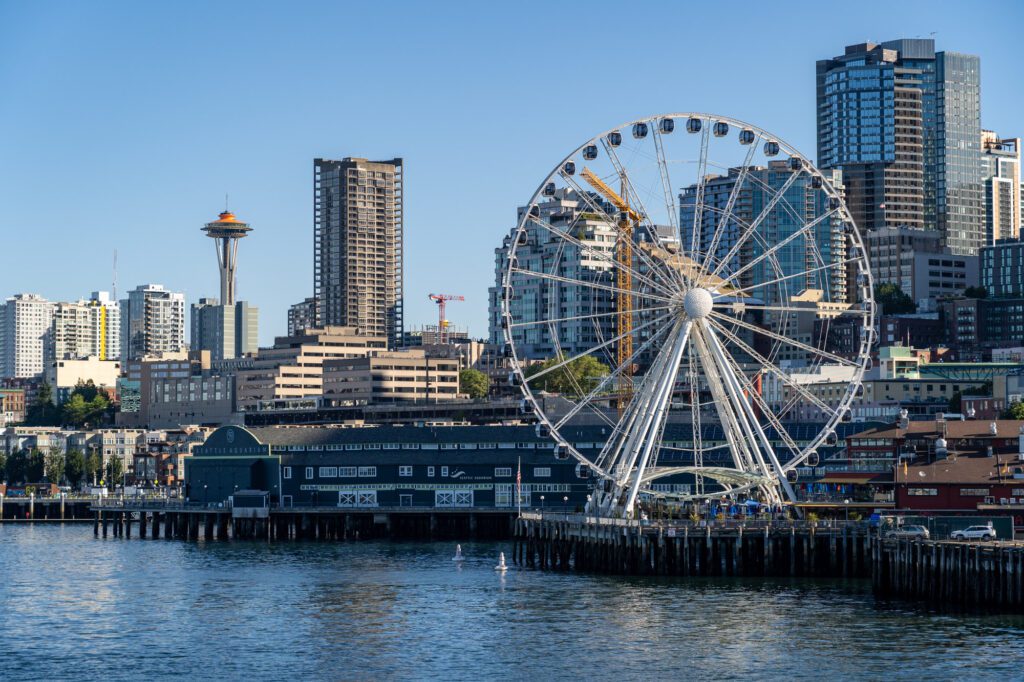 During the ferry ride, make your way to the front of the ferry facing Bainbridge for mind-blowing views of the snow-capped Olympics (at least outside of August and September) dead ahead, towering over Bainbridge Island.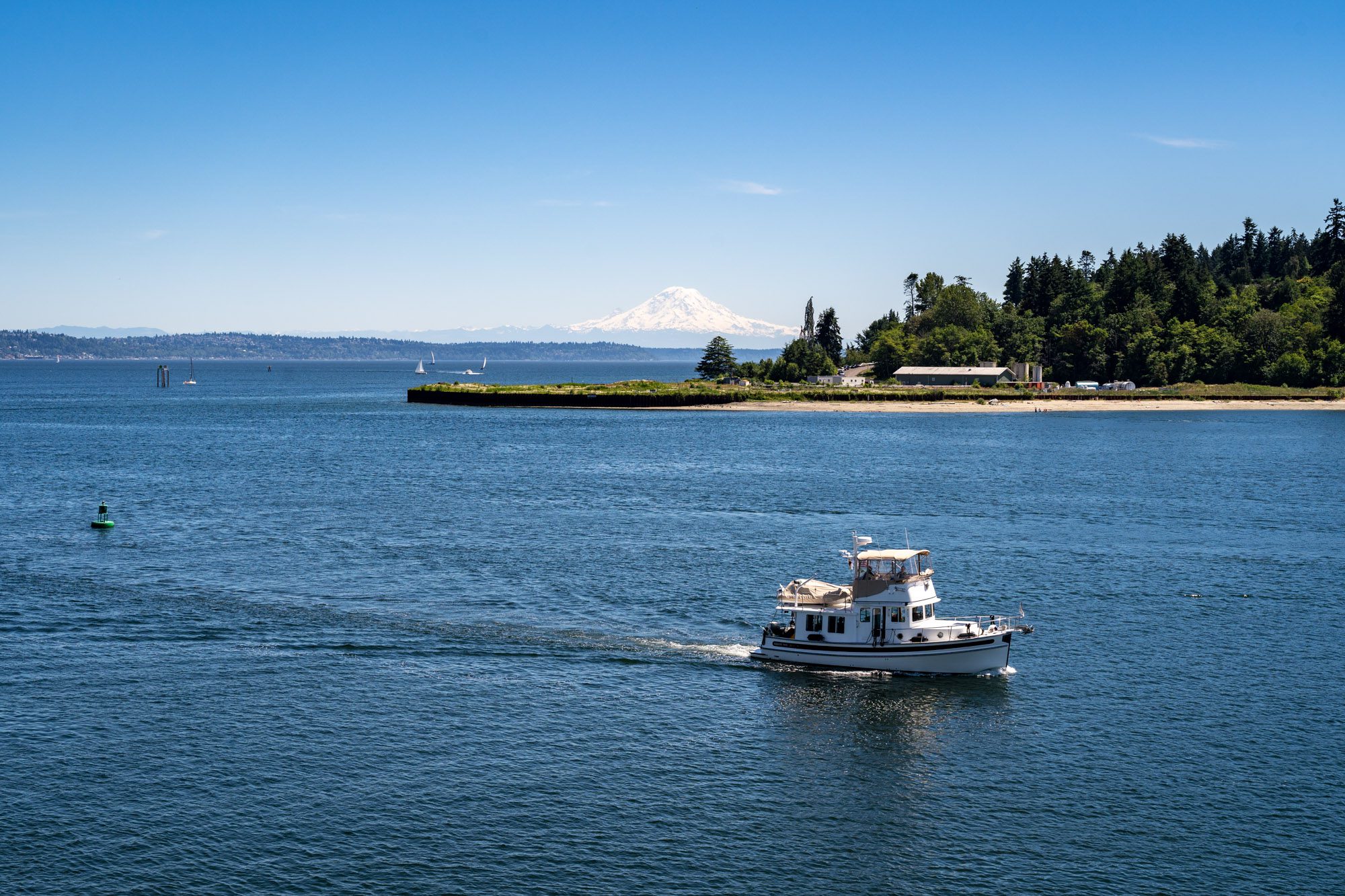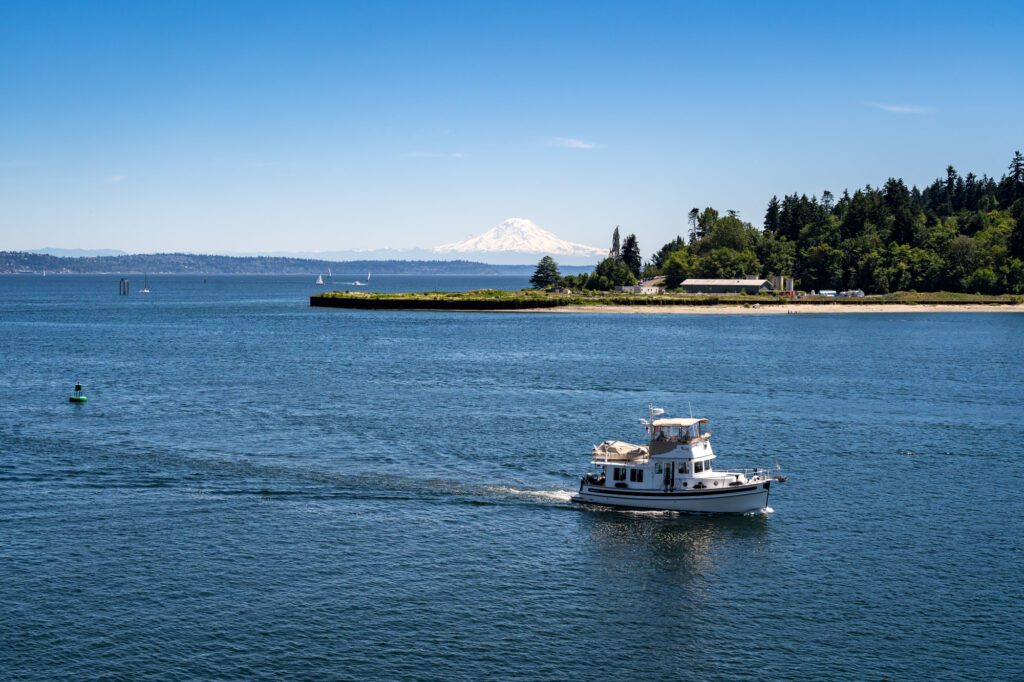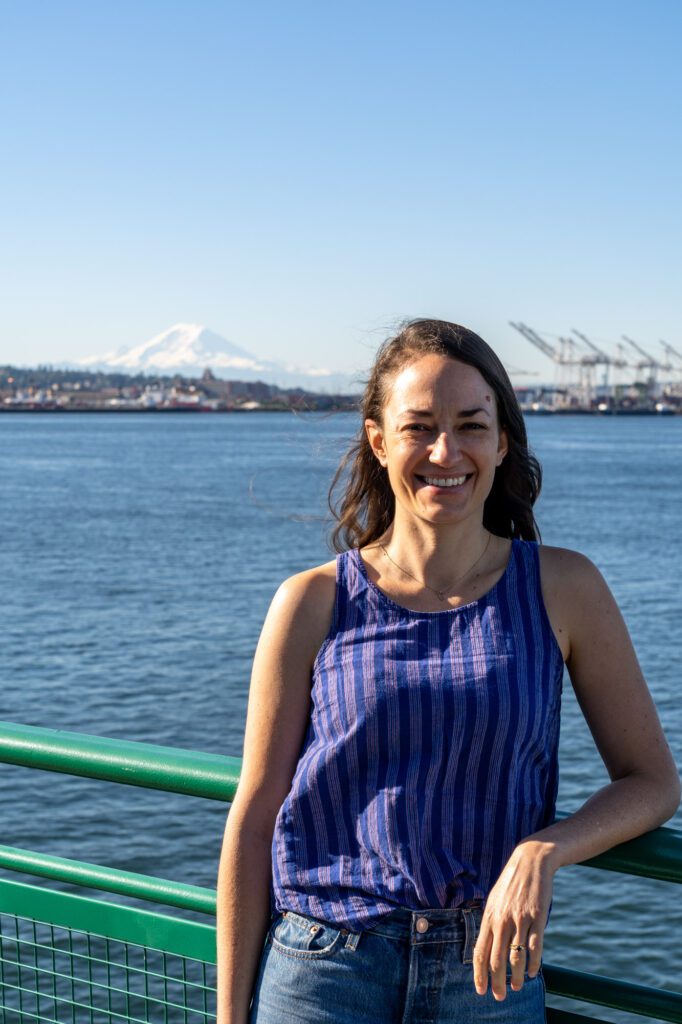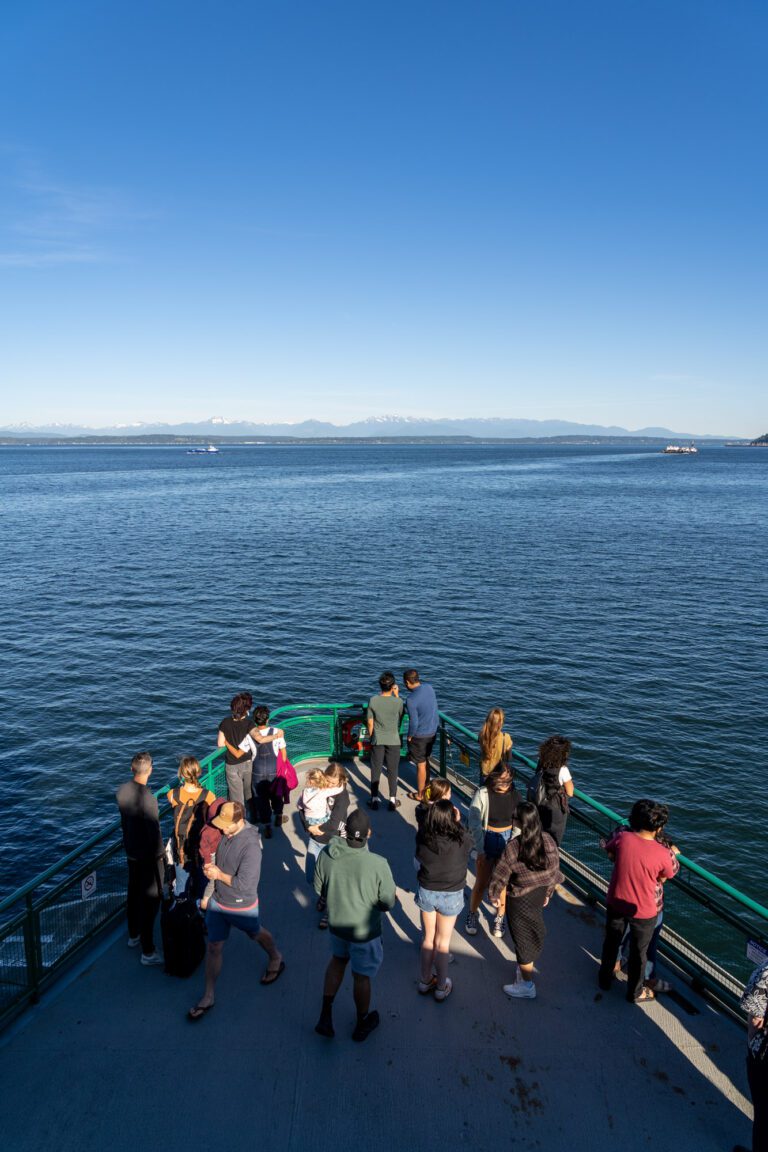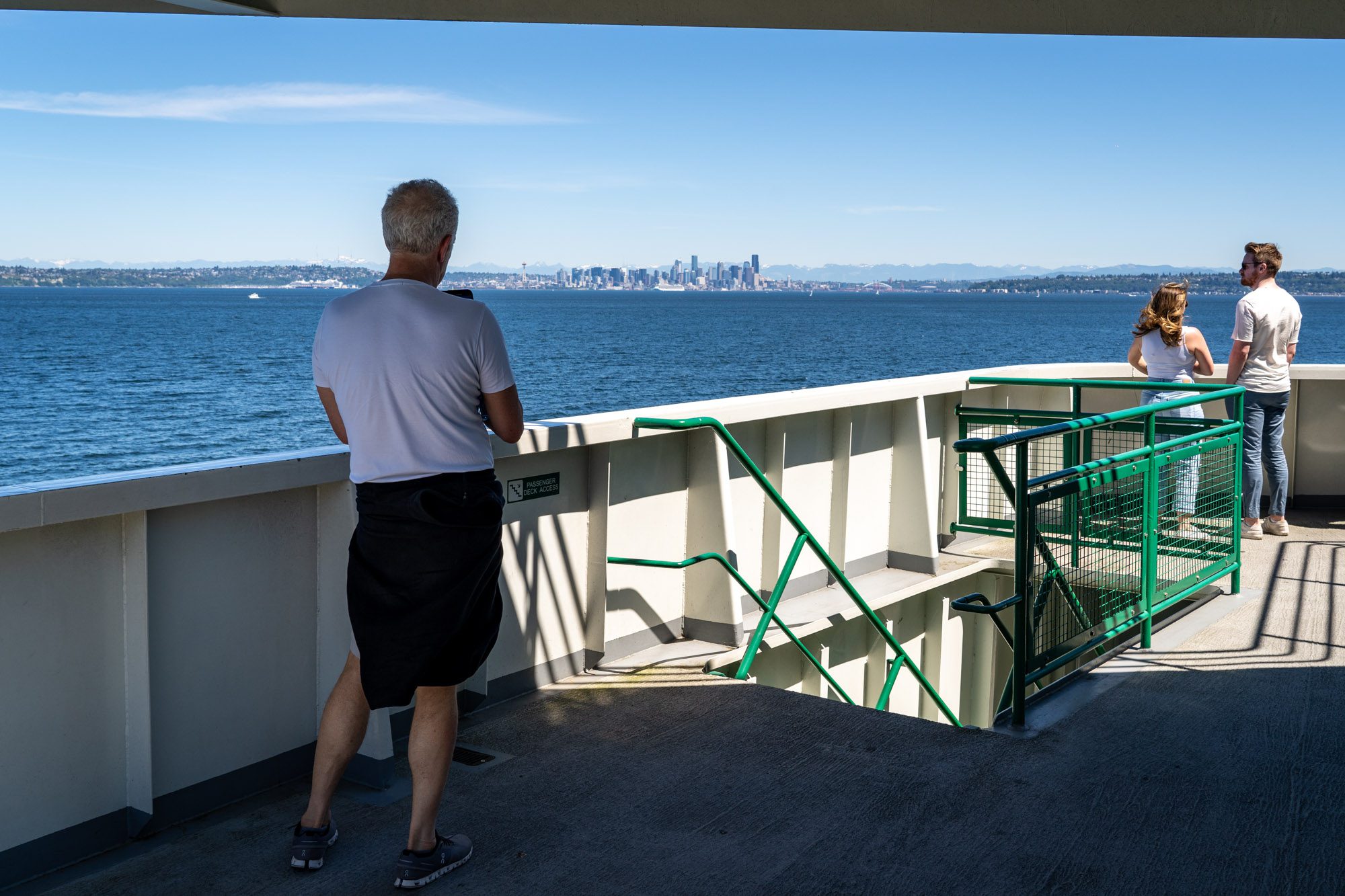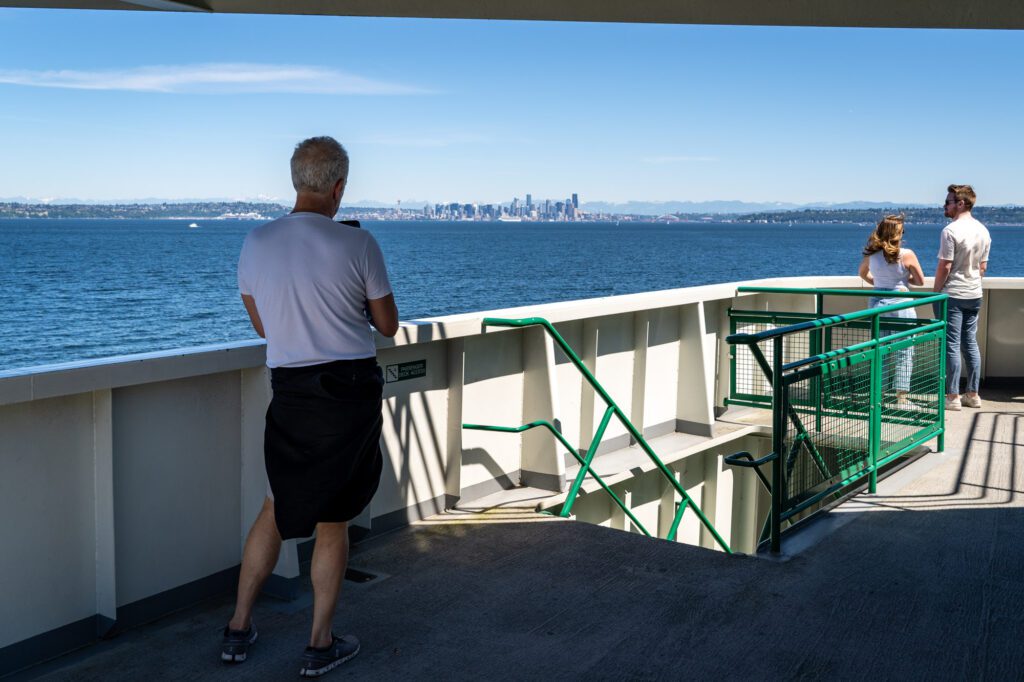 When you get to the island, walk 10-15 minutes up the street into the quaint downtown area. 
10:30 am: Breakfast and Coffee Time!
Turn left on Winslow Way E from the ferry and stroll through the downtown area. Don't worry, you'll be back!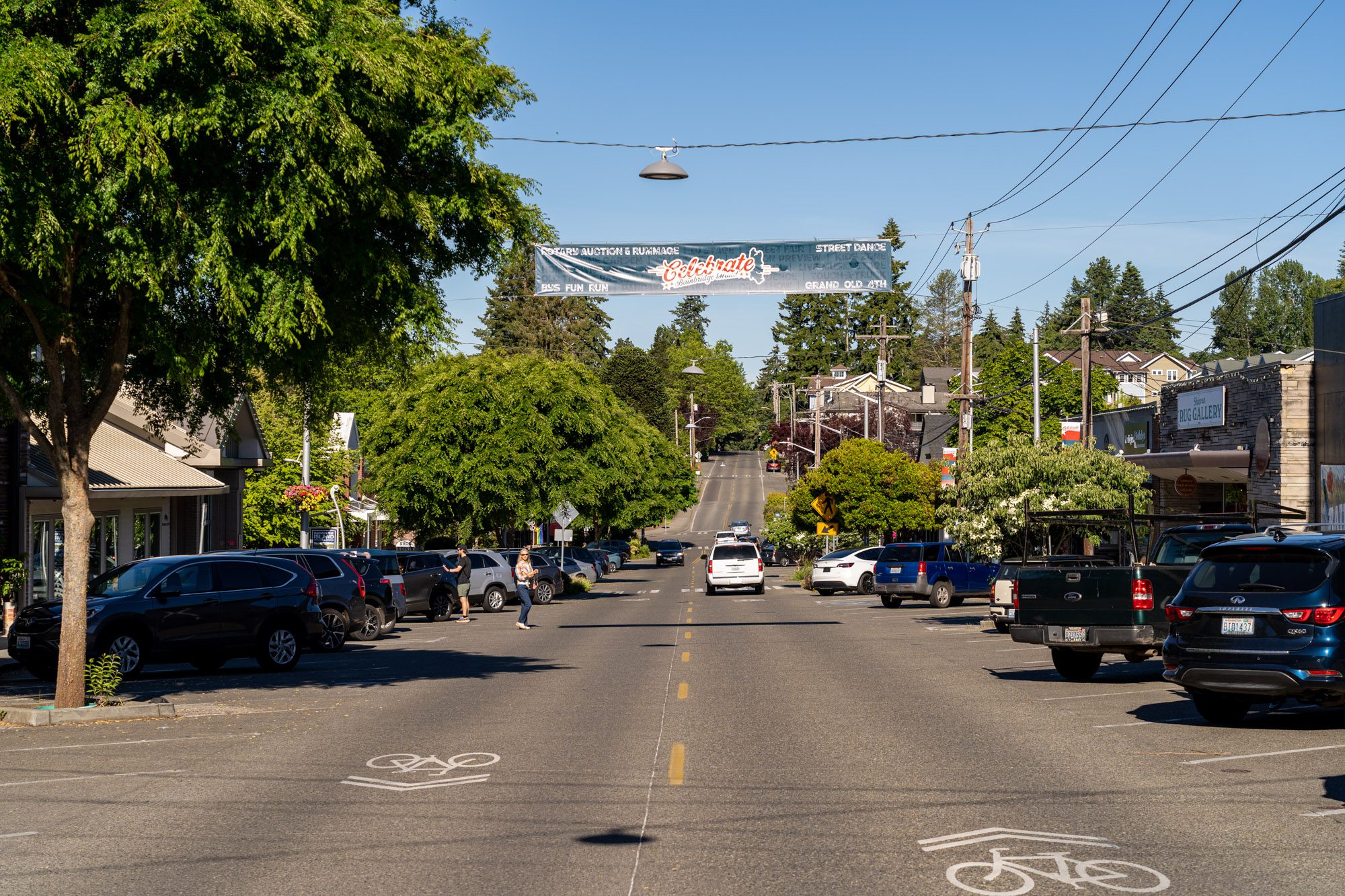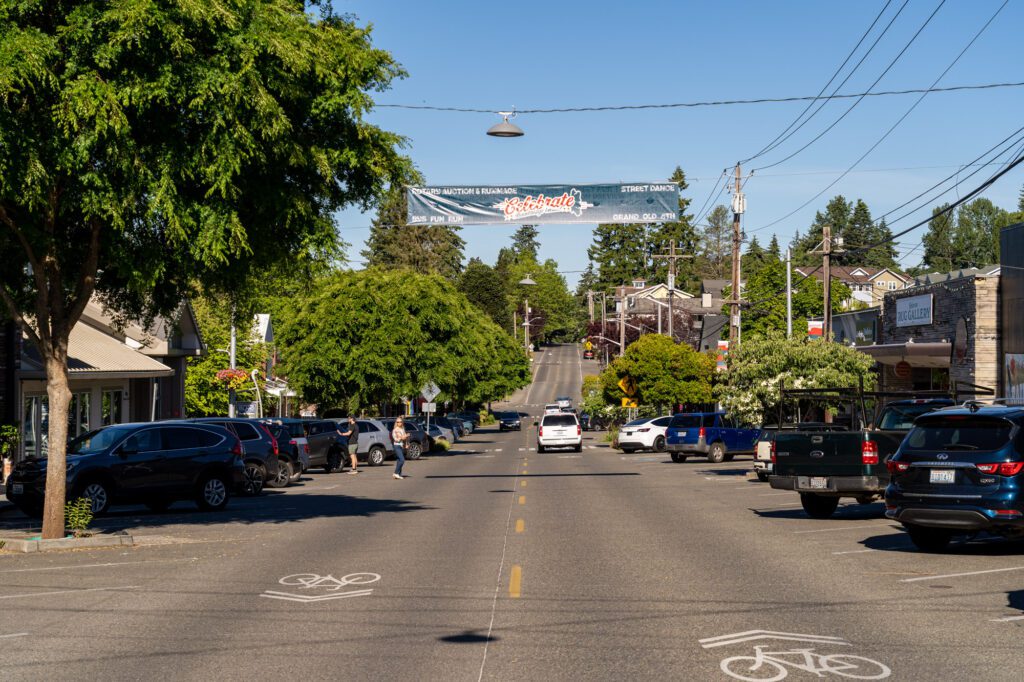 Your first stop is Blackbird Bakery, which is the premier bakery on the island (although the line outside Coquette Bakeshop says that it might be a worthy alternative). Blackbird has all sorts of handmade pastries – including croissants and pain au chocolat that they make in-house.
I, of course, have Celiac Disease, which precludes me from having any gluten whatsoever, so I enlisted my mom and Alysha to sample the pastries here. They chose the orange sweet roll (like a cinnamon roll with orange glaze) and the savory croissant, and they enjoyed both.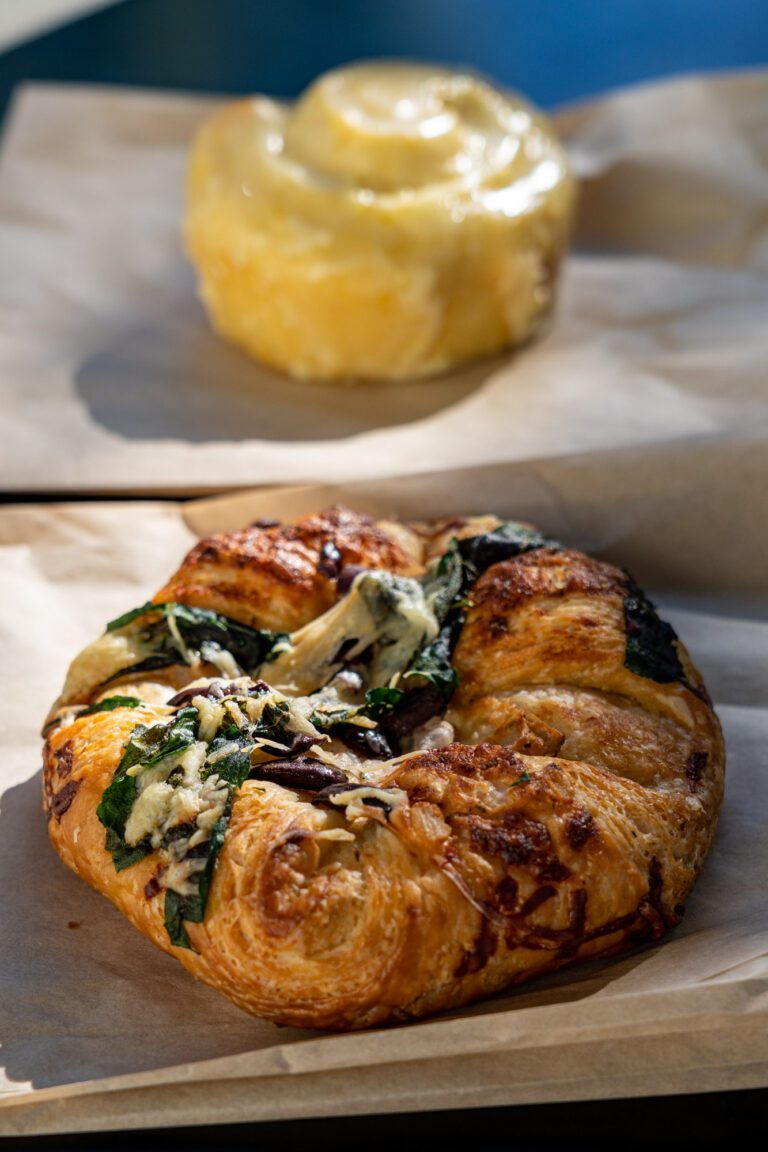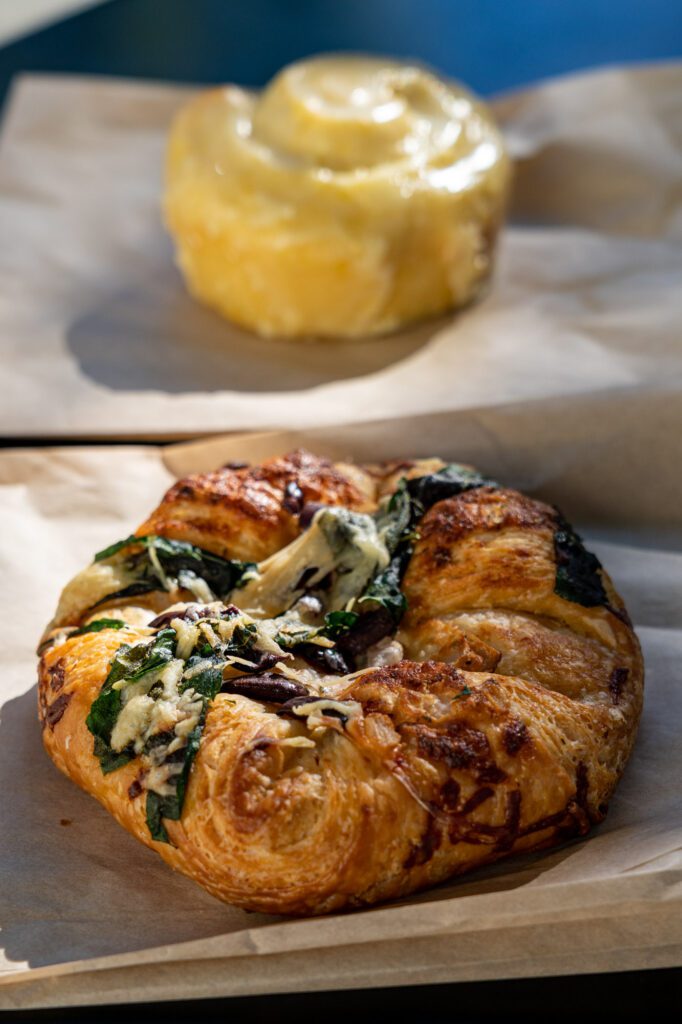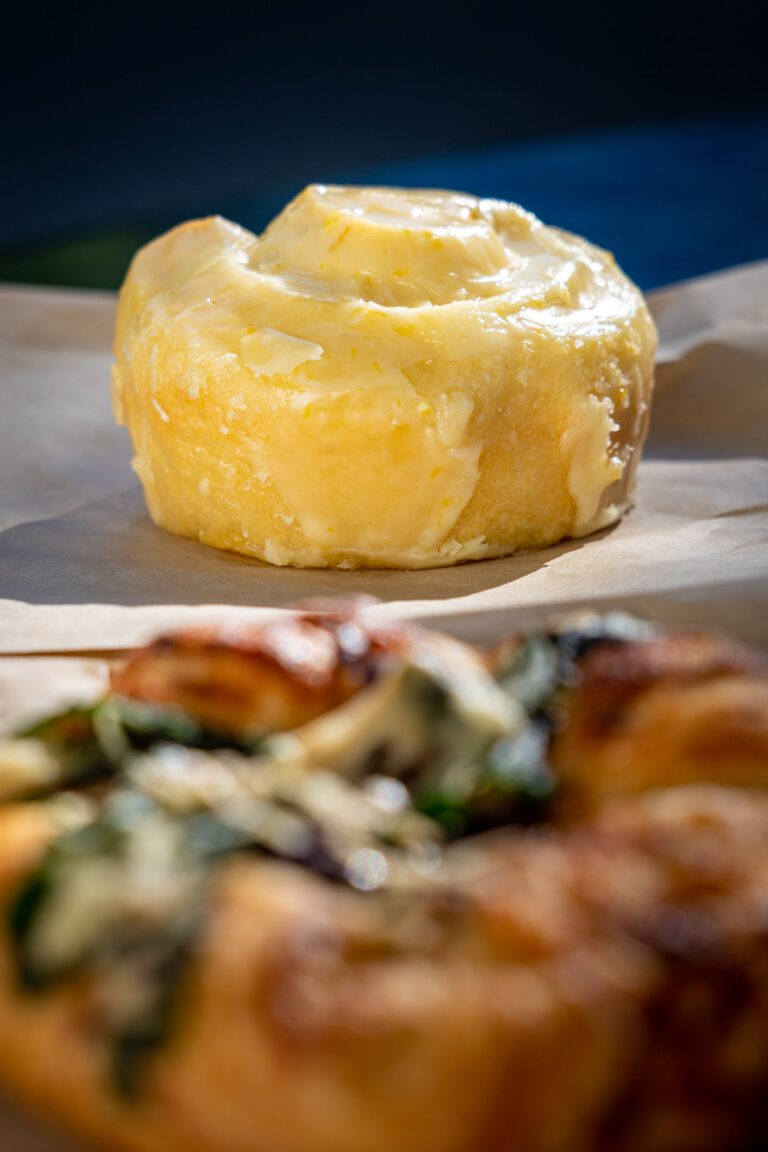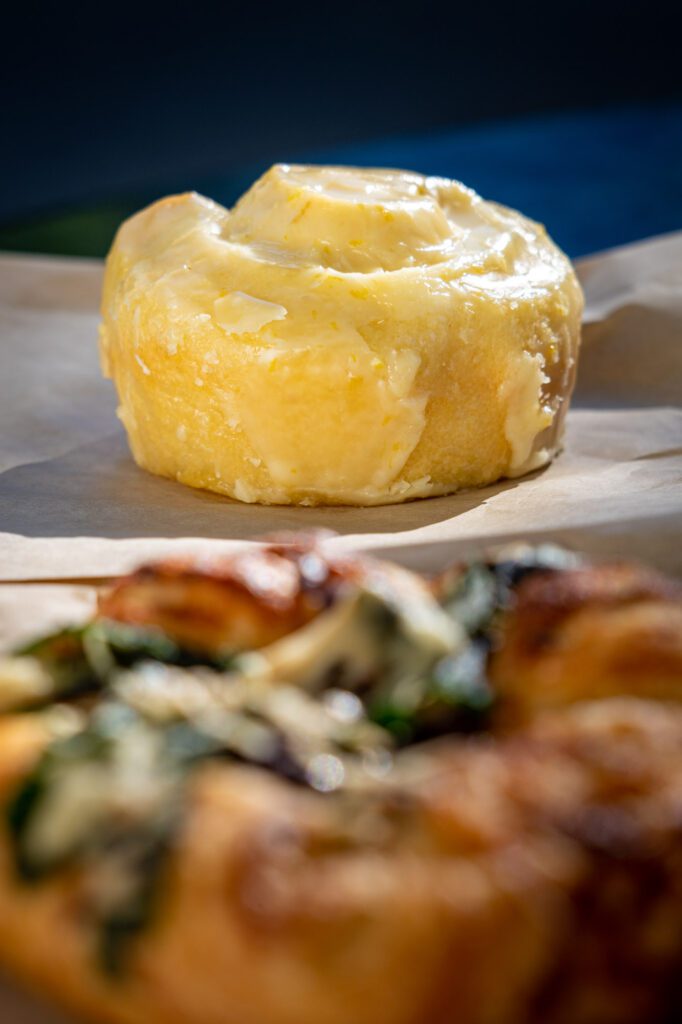 They also have Herkimer Coffee from Seattle, which is what I enjoyed here. If you're looking for something a little more filling, their huge slices of deep-dish quiche looked amazing.
There's a nice little parklet next door with a bunch of tables and chairs where you can enjoy your pastries.
From there, walk through the main strip of Winslow and take a left on Madison Ave S. You'll end at Pegasus Coffee, who has the best coffee in town.
Grab your drink of choice and take a seat to savor it. Or, if you're in a hurry and it's a nice day, get it to go and head over to Waterfront Park to admire the views of the harbor and beyond. 
One thing I discovered on our last trip to Bainbridge is the fact that they have gluten free and vegan donuts here from Dude's Donuts in Port Orchard, AND they have separate tongs to grab them from their dedicated gluten free boxes. Pistachio Lime was amazing. A great treat for my gluten free friends!
11:45 am: Exploring Downtown Bainbridge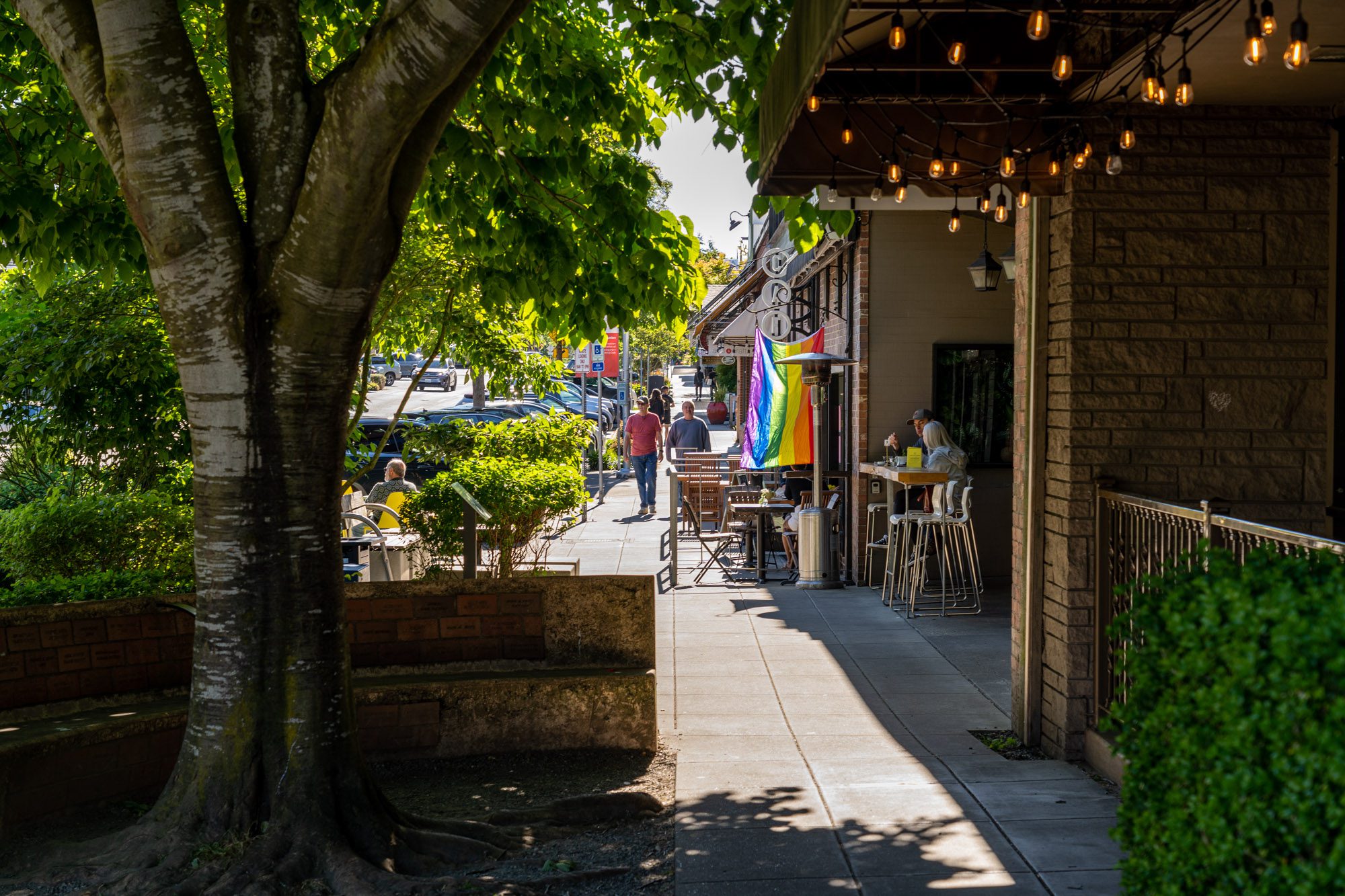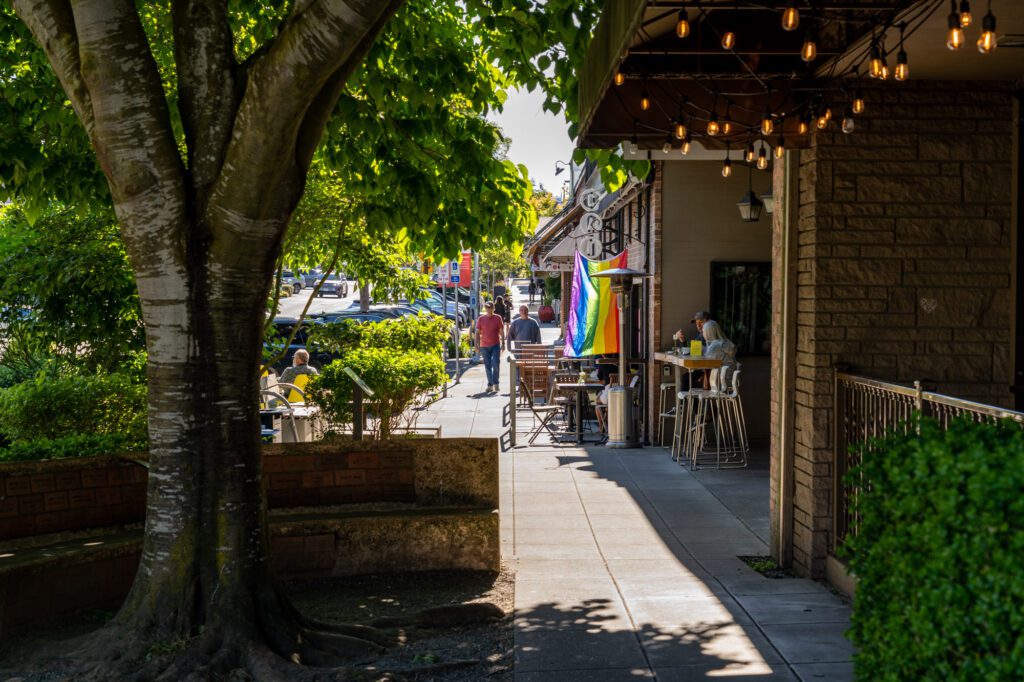 Remember that cute little downtown strip you walked past? Now it's time to explore that little slice of heaven.
If you're in town on a Saturday, don't miss the Bainbridge Island Farmers Market, which is a few blocks north of Winslow Way. It's small, but it's a great showcase for the wide variety of produce that's grown on Bainbridge.
A must-stop for book lovers (and pretty much everyone, I guess) is Eagle Harbor Books. Spend a few minutes wandering the shelves. If you see something you like, buy it! SUPPORT LOCAL BOOKSTORES (not Amazon).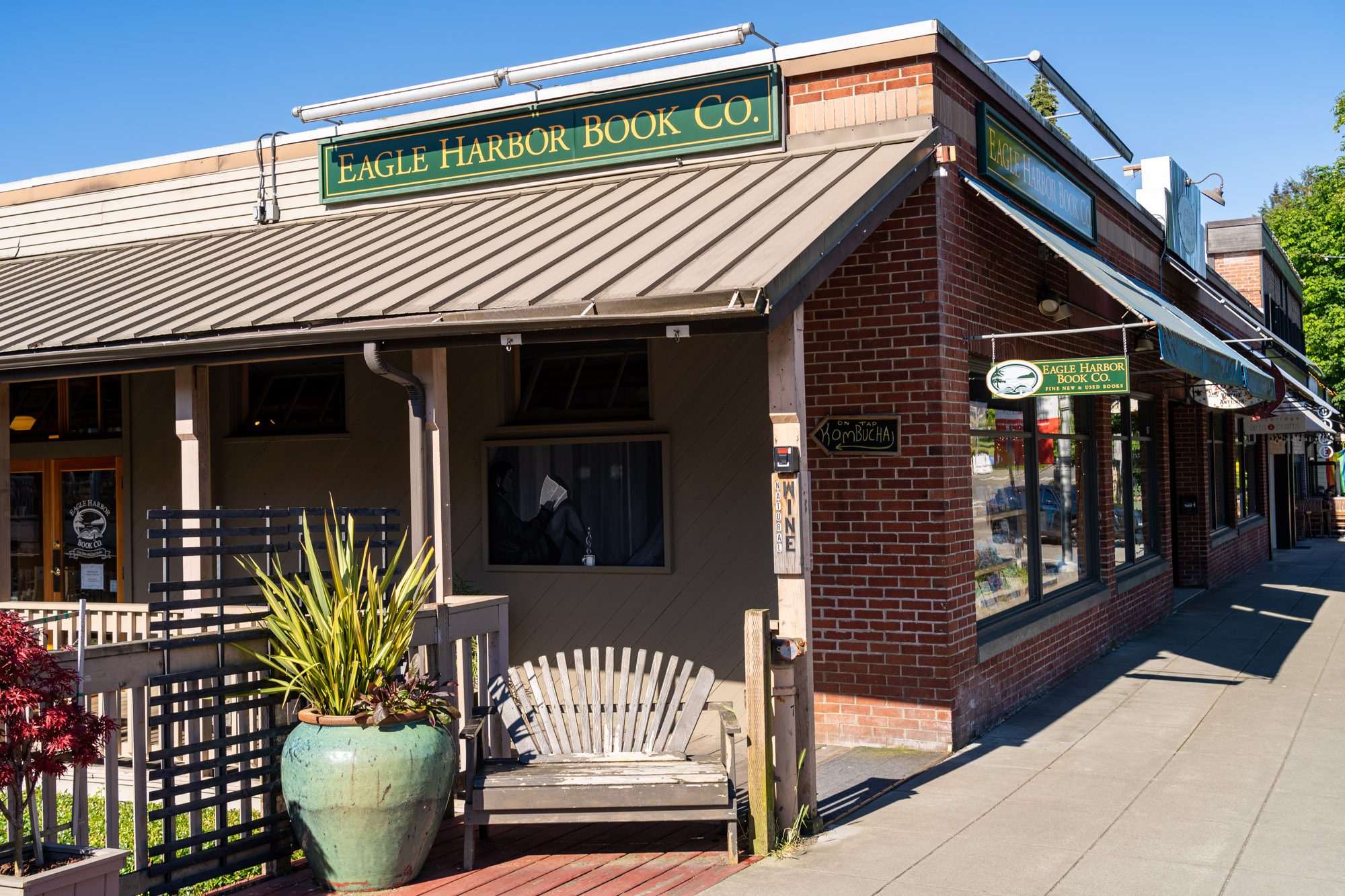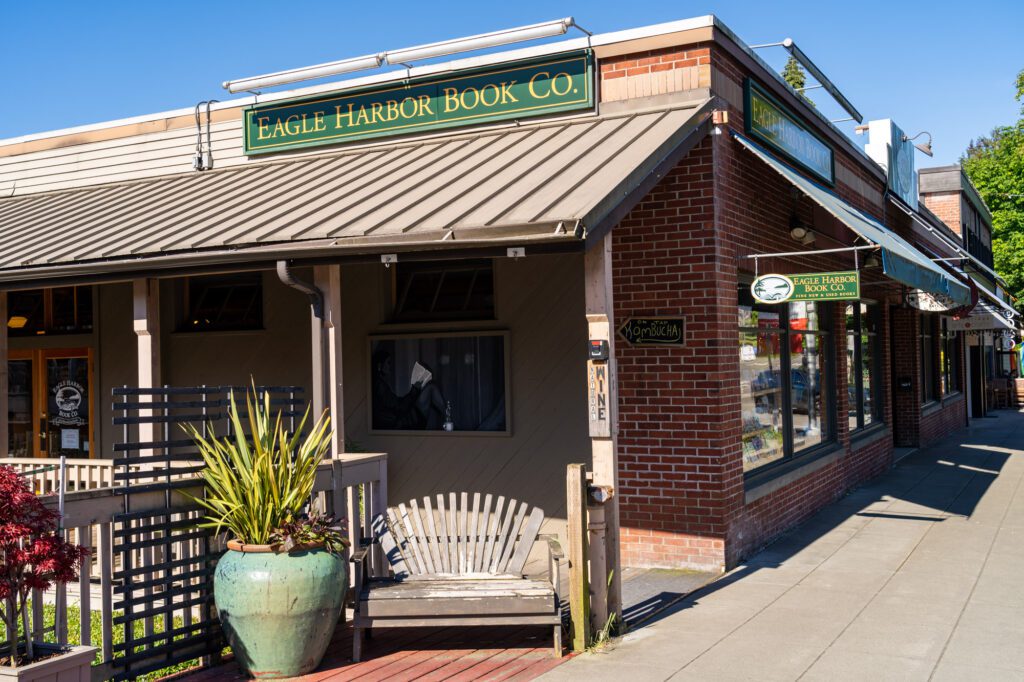 Next, time for some shopping. You won't want to miss Millstream, which specializes in Pacific Northwest inspired art, gifts, and souvenirs. This was BY FAR the best stop we made for shopping.
Another great stop is Salt House Mercantile, who carry Farmhouse Pottery (the most gorgeous pottery we've ever seen) all the way from Vermont!
1:00 pm: Lunch at Proper Fish
There are a couple of good food options in this area, but I want you to ignore all the others and head directly for Proper Fish.
Independently, my mom and Alysha – who were the critics here due to the whole gluten thing – both claimed that these were the best fish and chips they've ever had.
They use fresh fish, they serve them in newspaper, and they serve it with sides of fat fries, tartar sauce, and mushy peas (a mash up of peas and mint that Brits serve alongside their fish and chips).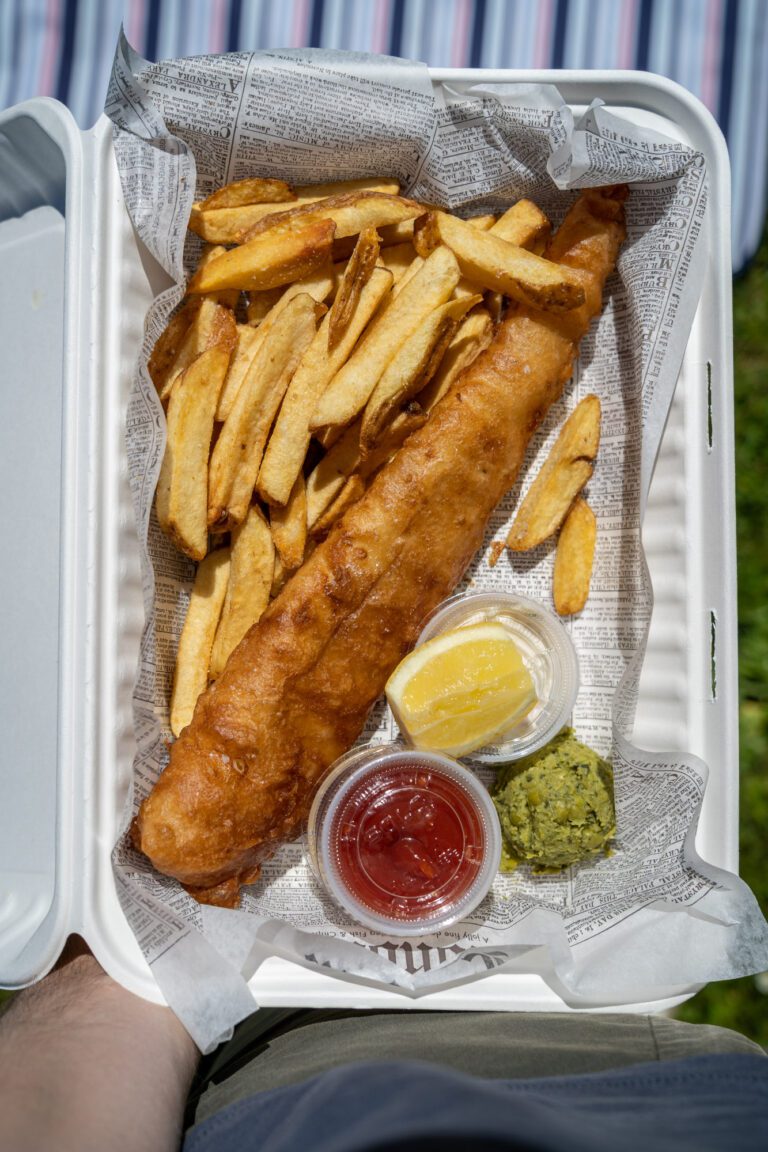 Oh, and they're gigantic. Originally, Alysha wanted the fish sandwich, but I made the audible to order the fish and chips after seeing them come out of the kitchen while I was in line.
If you have a car, we'd highly, HIGHLY recommend grabbing them to go and taking them to nearby Rockaway Beach, where you'll have a nice secluded beach and patch of grass with a view of Seattle to enjoy while you eat.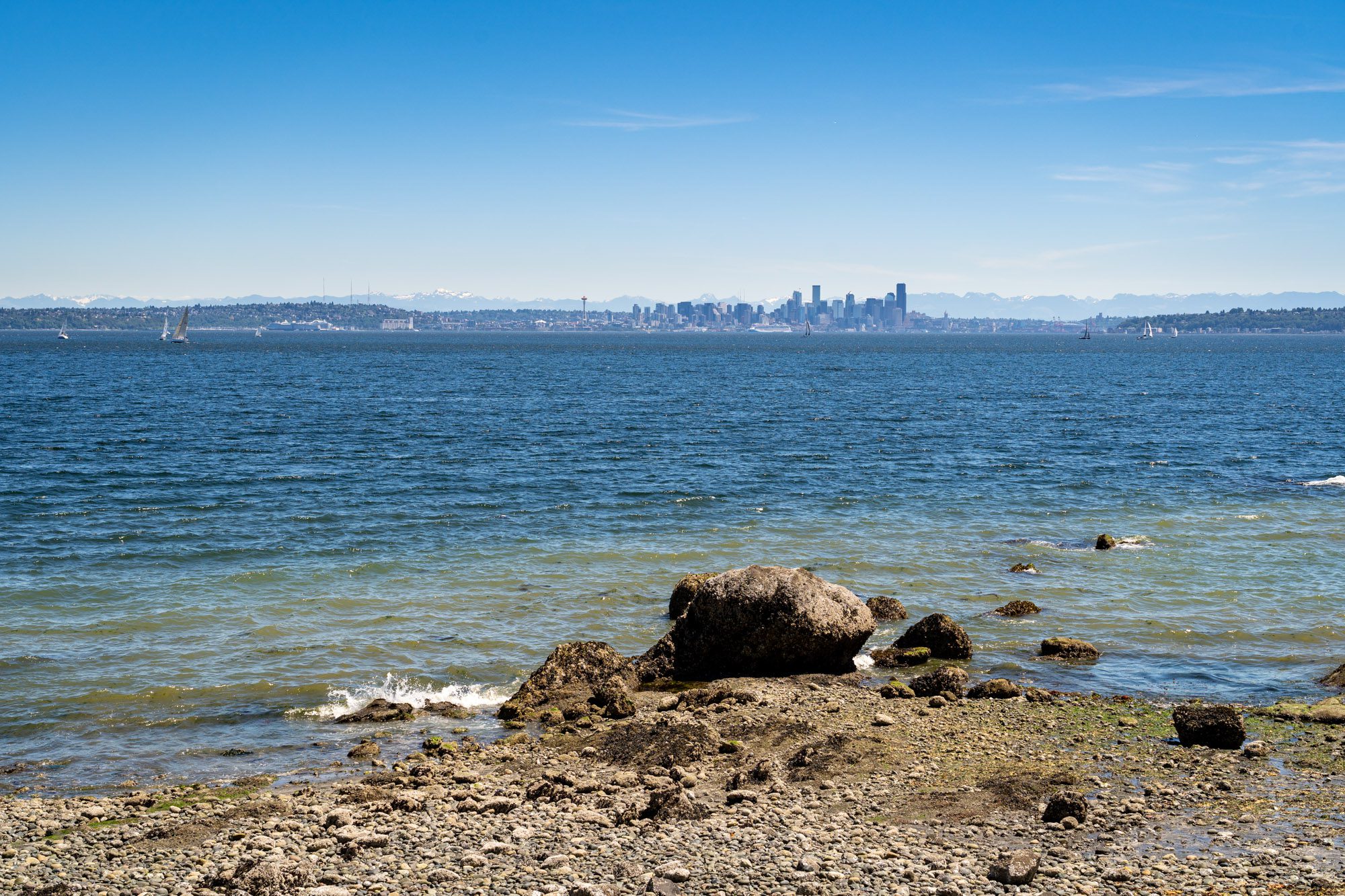 That's what we did, and it was magical.
2:30 pm: We All Scream for Ice Cream
For post-lunch ice cream, head to Mora Iced Creamery for the best ice cream on the island. I say "best' because we tried the other place in town, and this was the clear winner.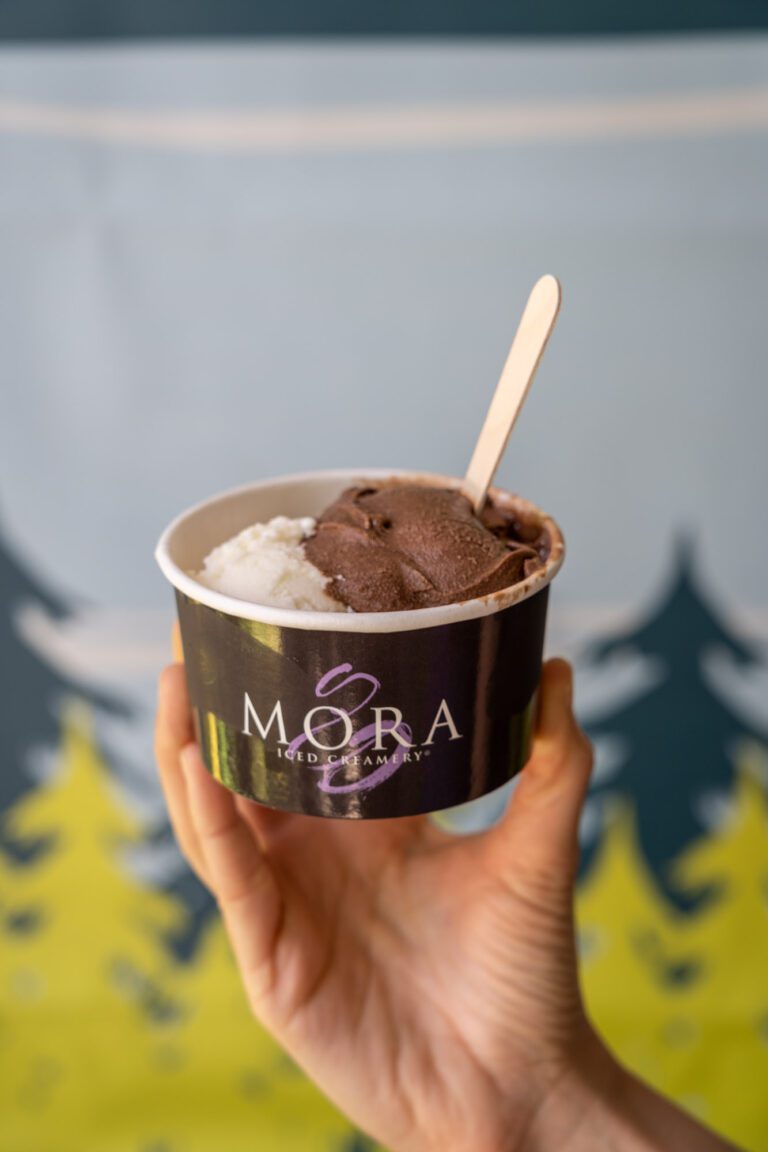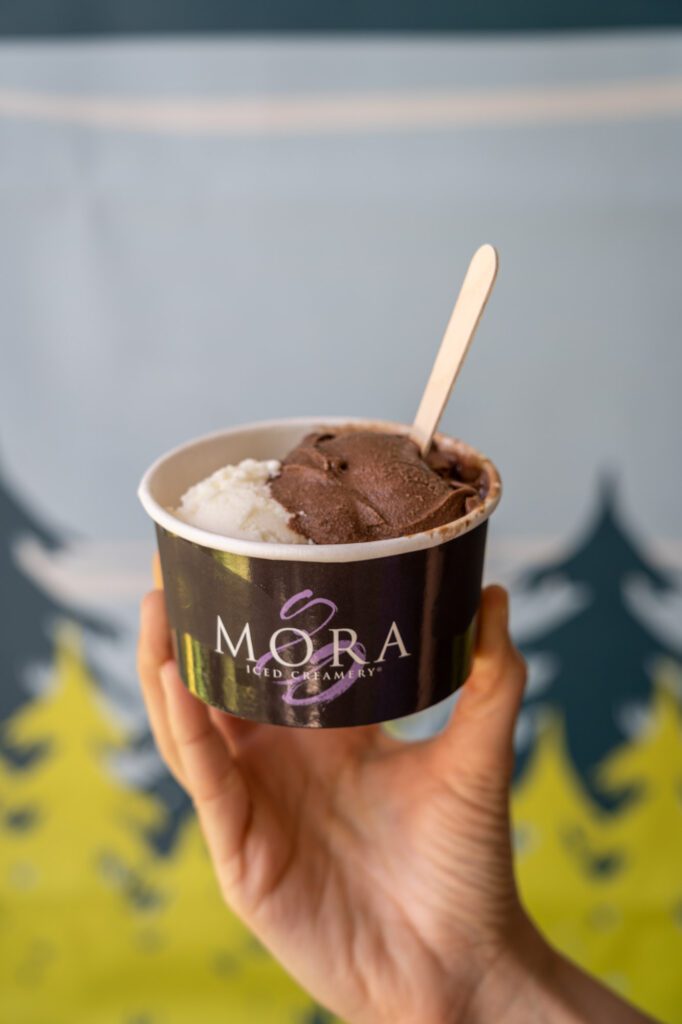 The lavender ice cream in particular was the winner. They'll use a clean scoop and cup if you need to eat gluten free – make sure to ask nicely. 
3:00 pm: Grab a Pre-Ferry Drink
Before catching the ferry home, grab a drink (or three) in town before making your way towards the ferry terminal.
Remember – if you're driving onto the ferry, you need to show up at the terminal ~20-30 minutes early to make sure you get on the ferry! Make sure to leave yourself enough time to catch the 3:55 ferry home, which will get you home in time for dinner.
For wine… head to Eleven Winery's tasting room along Winslow Way. Or, if you've got a car, you should head to the actual winery a few miles away on Bainbridge Island.
For beer lovers… head to Bainbridge Brewing's Alehouse for some craft beer made on Bainbridge Island. If you have a car, their brewery is a few miles north along state highway 305 and is worth a visit. They have a couple of rotating taps for cider AND gluten free beer (in cans) for my Celiac friends. Plus some local wines, if neither beer nor cider are your thing.
3:55 pm: Catch the Ferry Home to Seattle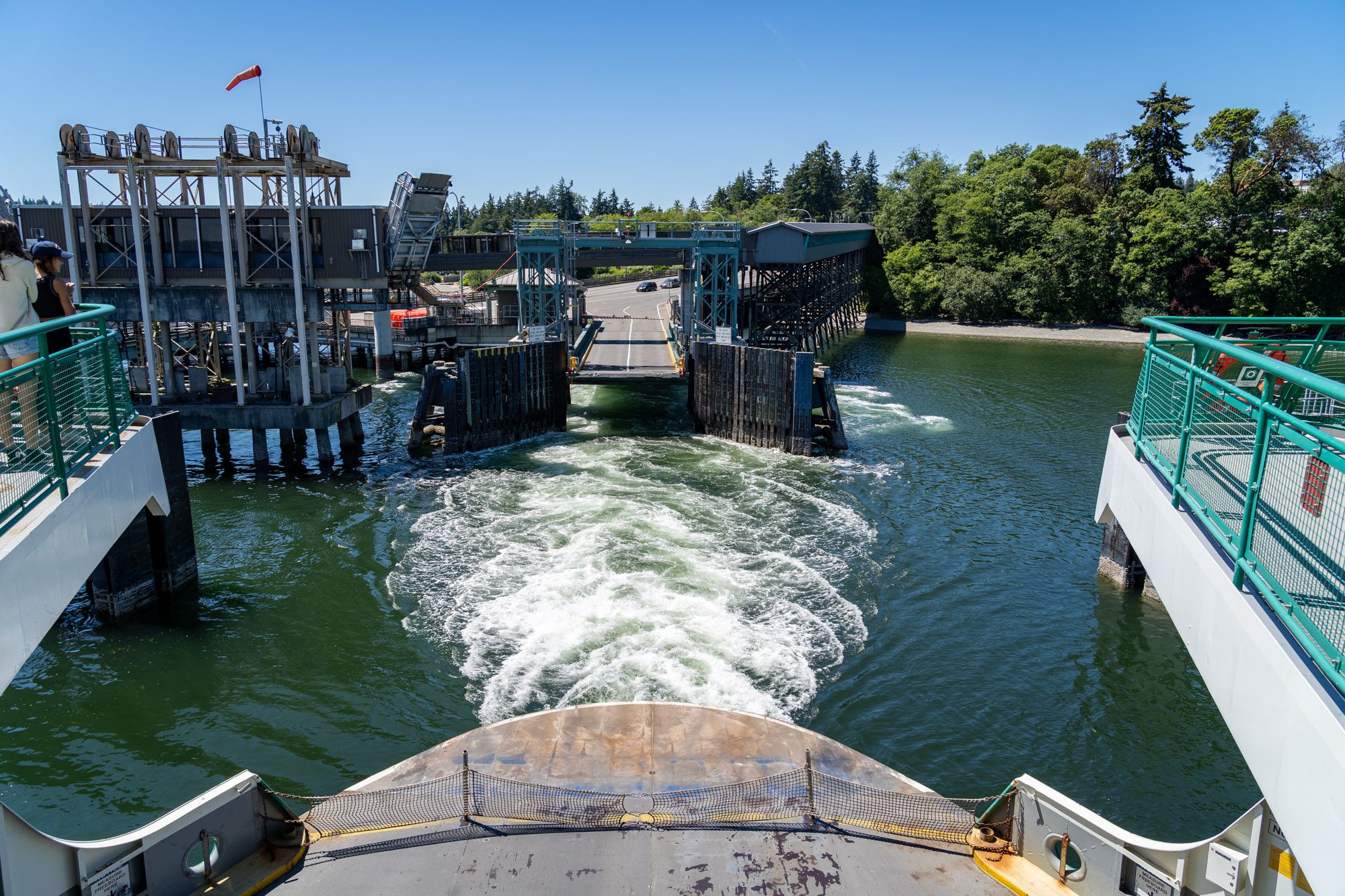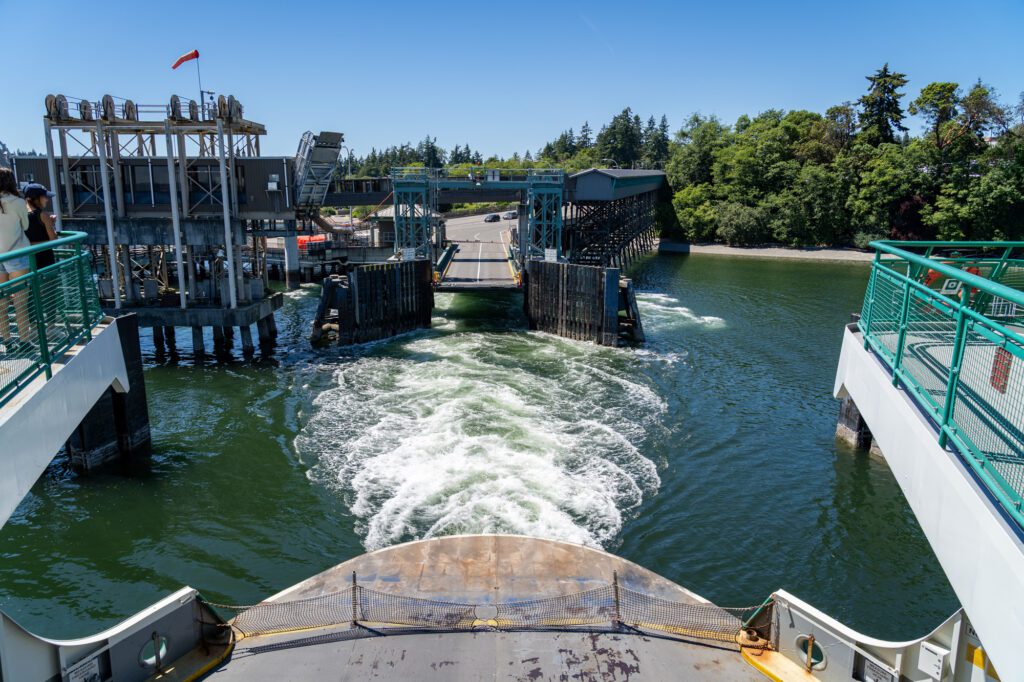 That's it! Head back to the Ferry Terminal (same one you arrived at) and take the ferry back to Seattle. 
Want to stay longer?
Here are some other fun activities to add to your Bainbridge Island day trip.
Make it a romantic overnight trip! Bring a car and stay at the Marshall Suites in Winslow, or one of the many stunning Airbnbs on the island (like this stunning new guesthouse – so much natural light!)
What Next?
That's all I've got for you on planning an amazing day trip to Bainbridge Island.
But I have tons of other posts on Seattle for you to read while you're here. I grew up in Seattle, lived there for 15+ years, and still have dreams of moving back in the not-so-distant future.
I put together a complete guide to spending 3 days in Seattle, and a guide on where to stay in Seattle with the 3 coolest neighborhoods – all according to me, a former Seattle local.
Discover other amazing day trips in my guide to the best day trips from Seattle.
More to Explore in Washington State
Heading to the great state of Washington? Here are some other posts you might like.
The Best Things to Do in Seattle: A Local's Complete Guide (coming SOON!)
Hungry (I always am) for more travel inspiration, guides, and tips?
First, connect with me on Instagram to follow along on my yearlong worldwide adventure.
Next, check out my favorite travel resources to travel cheaper, faster, and better.
Finally, head over to read my latest posts to stoke your sense of wanderlust.