The Best Things to Do on Orcas Island: A Complete Guide
Out of the island getaways in western Washington, Orcas Island is my personal favorite. After countless trips to San Juan Island in the summertime as a kid, many more to Bainbridge Island – which makes for a great day trip to Seattle – and more recent excursions to Whidbey and Vashon Island, Orcas has come out on top of the Washington Island battle royale. Why?
Orcas has everything you're looking for in a trip to the islands. You board the ferry, filled with anticipation, but as soon as your feet touch the solid ground on the other side of the ferry journey, time seemingly slows down. Orcas is home to a charming town – Eastsound – with a surprising number of good food, drinks, and shops to explore.
It has a plethora of hiking trails, including multiple mountains to climb for spectacular views out over the San Juan Islands, Canada, and Mt. Baker. And if you're looking for a quiet retreat from urban life, it has quiet corners where you can spend a weekend unwinding with a book and the cool ocean breeze to keep you company.
In this guide to Orcas, we're going to give you our take on the best things to do on Orcas Island, from getting out on the water in a sea kayak, to exploring the best food and drinks that Eastsound has to offer.
Sound good to you? Off we go!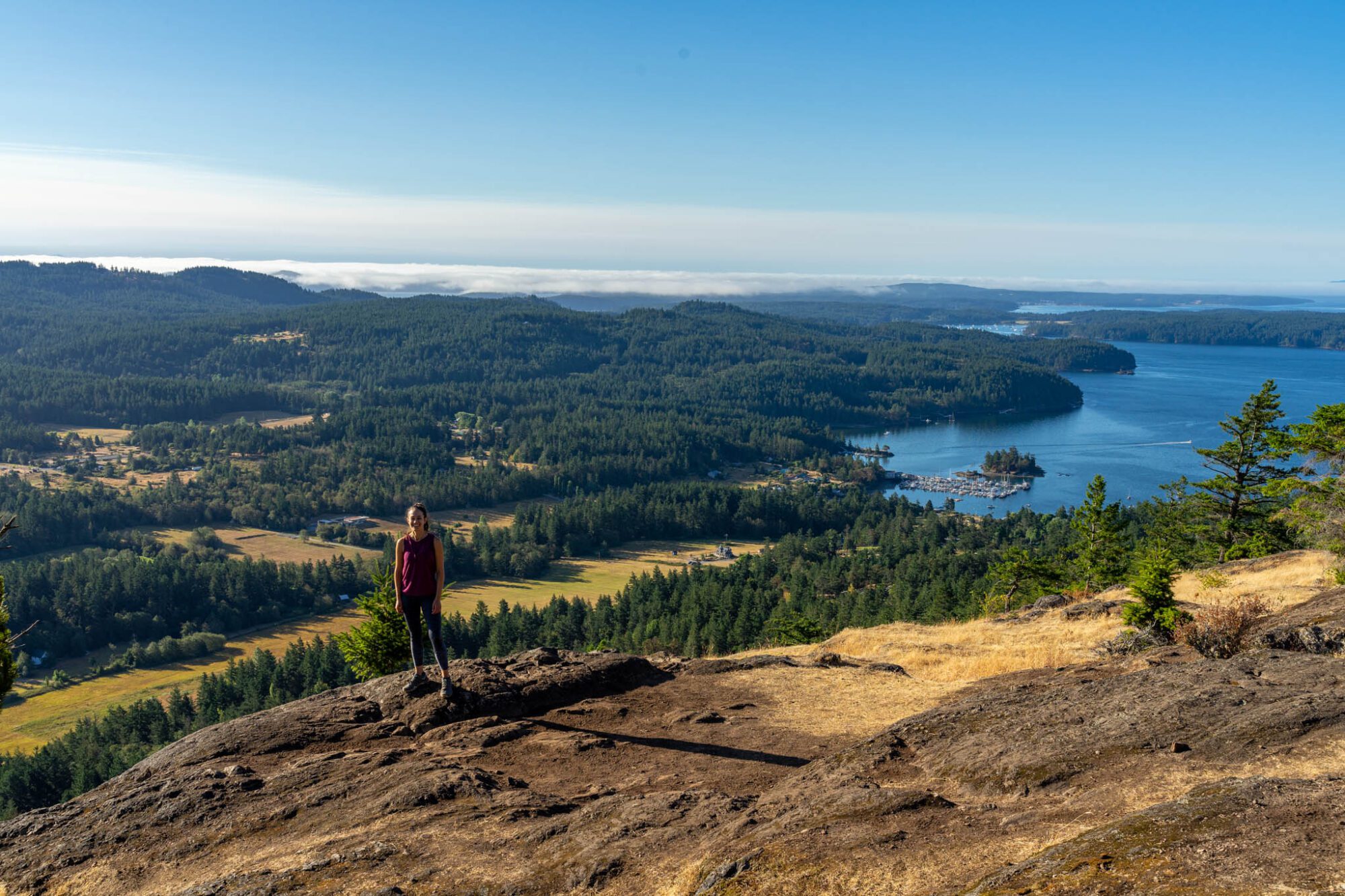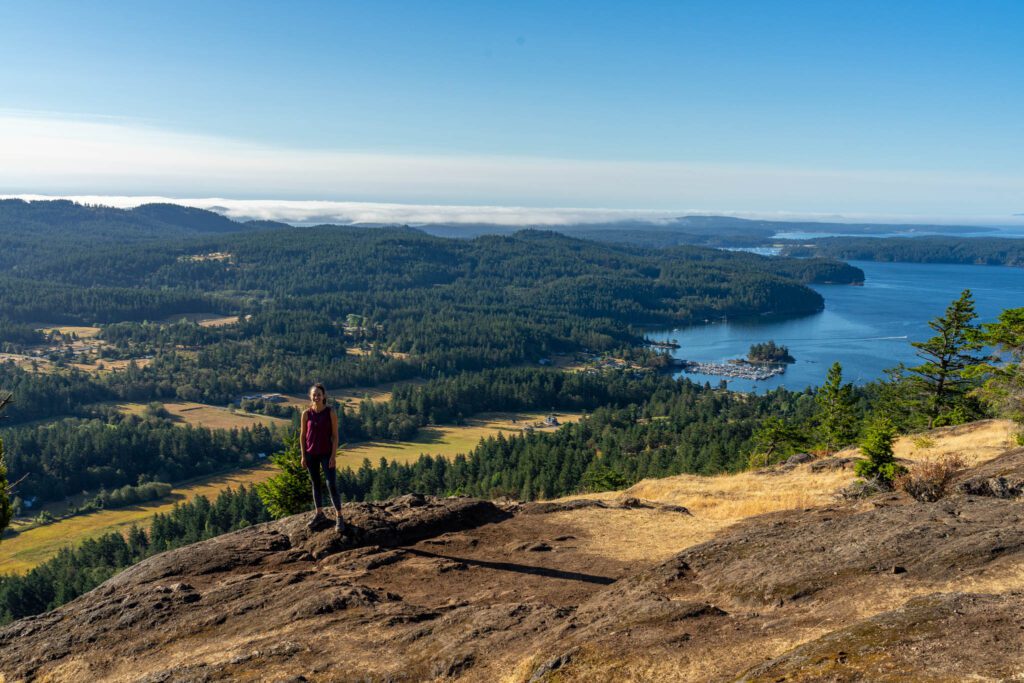 Disclaimer: Some of the links in this post, like hotel links, are affiliate links, meaning at no additional cost to you, we make a little bit of money if you click through and book. That being said, we would never recommend something to you that we don't stand behind 100%.
Getting to Orcas Island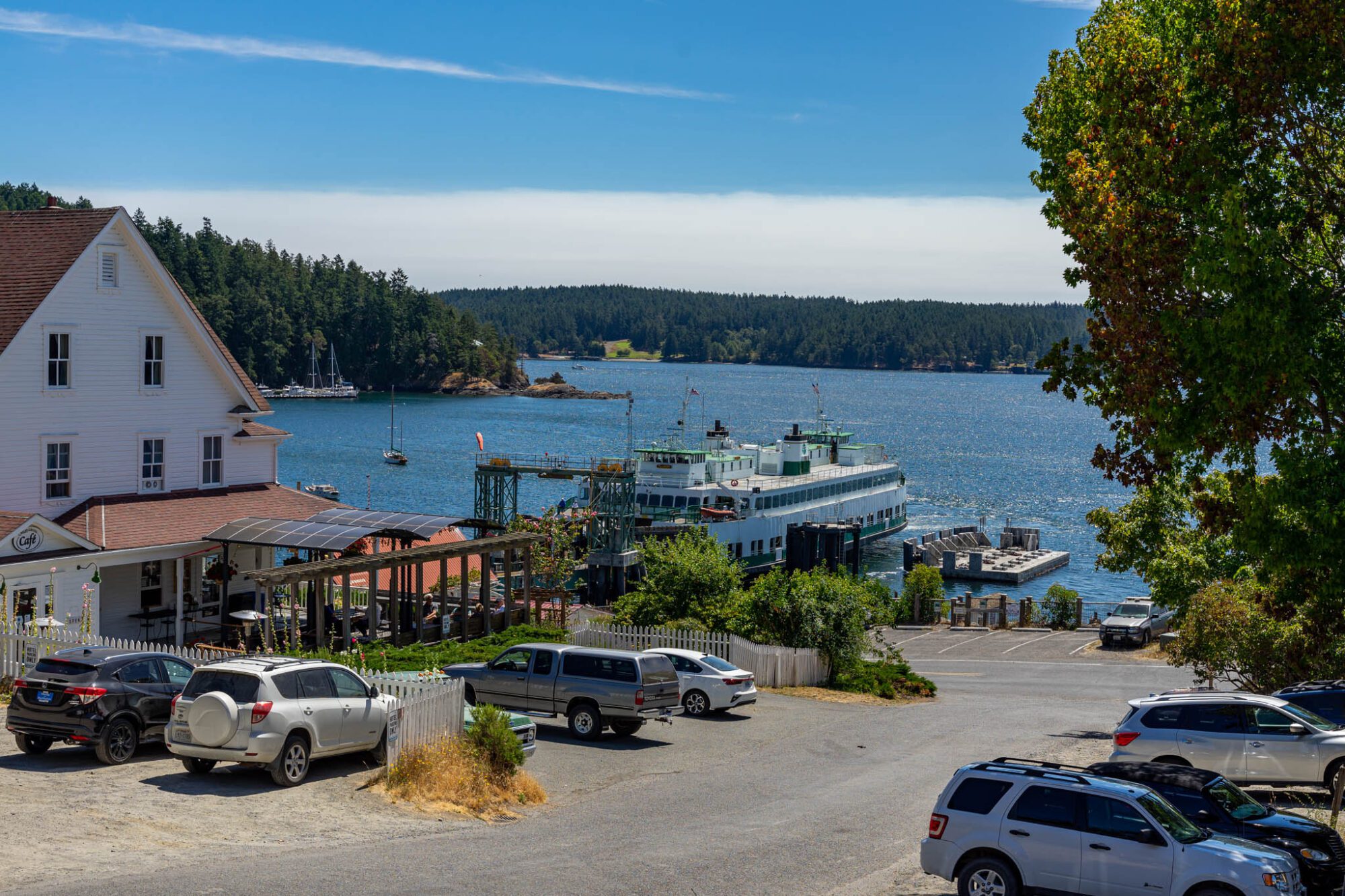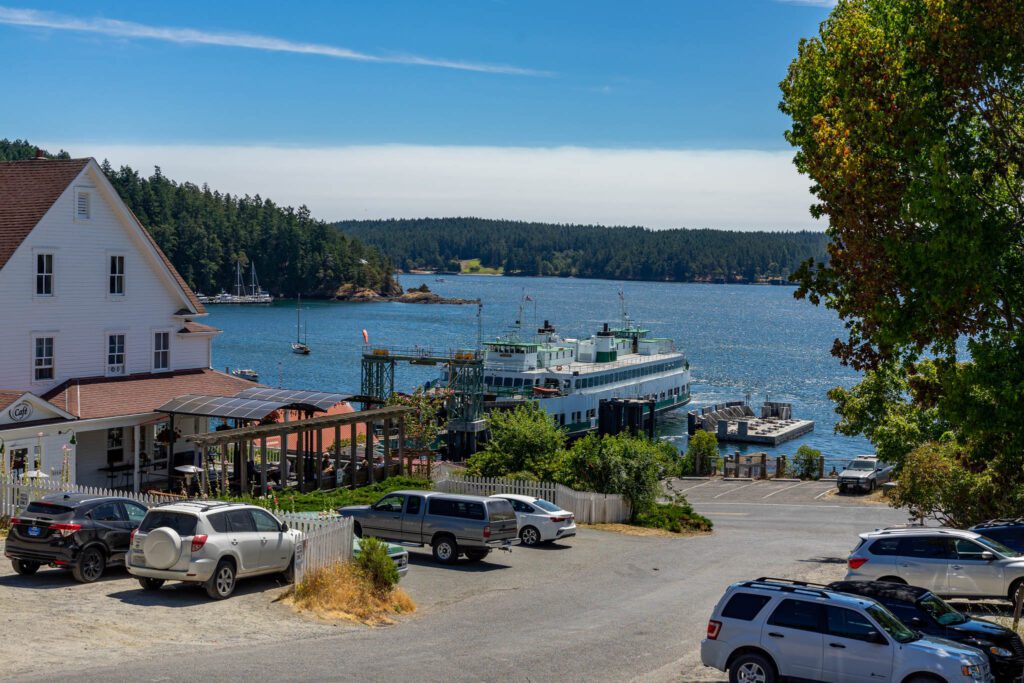 Orcas Island is one of the four main islands in the San Juan Islands (there are literally hundreds of them) just off the western coast of Washington State in the Haro Strait. Since it's an island, you'll need to take a boat to get there. Well, you could take a private seaplane flight with Kenmore Air, but it's expensive, and the ferry is pretty scenic in its own right.
The best way to get to Orcas Island from the Seattle area (or really anywhere in Western Washington) is by ferry from Anacortes. Washington State Ferries runs the system of ferries between Anacortes and the other San Juan Islands, and also the interisland ferries between the islands.
Here is the ferry schedule from Anacortes out to the San Juan Islands. At the time of writing (summer 2021, literally sitting at a campsite on Orcas Island as I'm writing this), there are seven sailings per day in the summer going in either direction. Some ferries stop at Shaw or Lopez Island before Orcas, which adds a few minutes to the sailing time. The fastest time between Anacortes and Orcas is 65 minutes, some take as much as 85 minutes.
Reservations are essentially required in the summertime – especially on weekends when the standby lines for ferries are bonkers – and we'd recommend reservations on weekends year-round for peace of mind. You're essentially paying a little extra money to guarantee your spot on a specific ferry, rather than potentially having to wait hours to get on a ferry in the standby line, which could ruin your trip real quick if you have a short amount of time. You can make a reservation for the ferry here.
The ferry reservation IS NOT your fare. You'll need to pay at the toll booth for a round trip journey out to Orcas Island. Here are the prices. Remember, you'll pay in Anacortes for a round trip fare, so the (relatively expensive) cost of the ferry ride includes your trip back.
Keep in mind that once you're out in the islands, your ferry is free as long as you're traveling east, back towards the mainland. This means that a ferry from Friday Harbor on San Juan Island to Orcas Island is free, but the ferry in the opposite direction is not. As a result, if you're planning on including San Juan Island in your itinerary, we'd recommend heading there first (and reading our guide to the best things to do on San Juan Island, obviously). If you're not, then know that the hefty price you pay for the ferry includes your fare back to the mainland.
However, you WILL need to make ferry reservations – one in either direction – to save a spot on a ferry to and from the island (I repeat, that's TWO ferry reservations – one there, one back – and only ONE roundtrip fare – which you pay leaving the mainland).
Getting Around on the Island
As much as I hate to say it (because I'm a big fan of using public transportation when we're traveling), you really need a car to visit Orcas.
Unlike San Juan Island, which has a fairly useful transportation system for visitors without a car, Orcas really doesn't. There's a shuttle that will pick you up and take you to stops around the island, but it's pricey at $40+ for a day pass. And because the island is so big, biking isn't a great option. To get from the ferry terminal out to Moran State Park, it's 13 miles.
Lopez Island is a far better destination if you're traveling by bike because it's significantly smaller and less trafficked.
The Best Things to Do on Orcas Island
Here were our favorite activities on Orcas Island, in no particular order. We should mention that we didn't go sea kayaking on Orcas (we did on San Juan Island though!), and we skipped whale watching for reasons we'll get into below.
Hiking on Orcas Island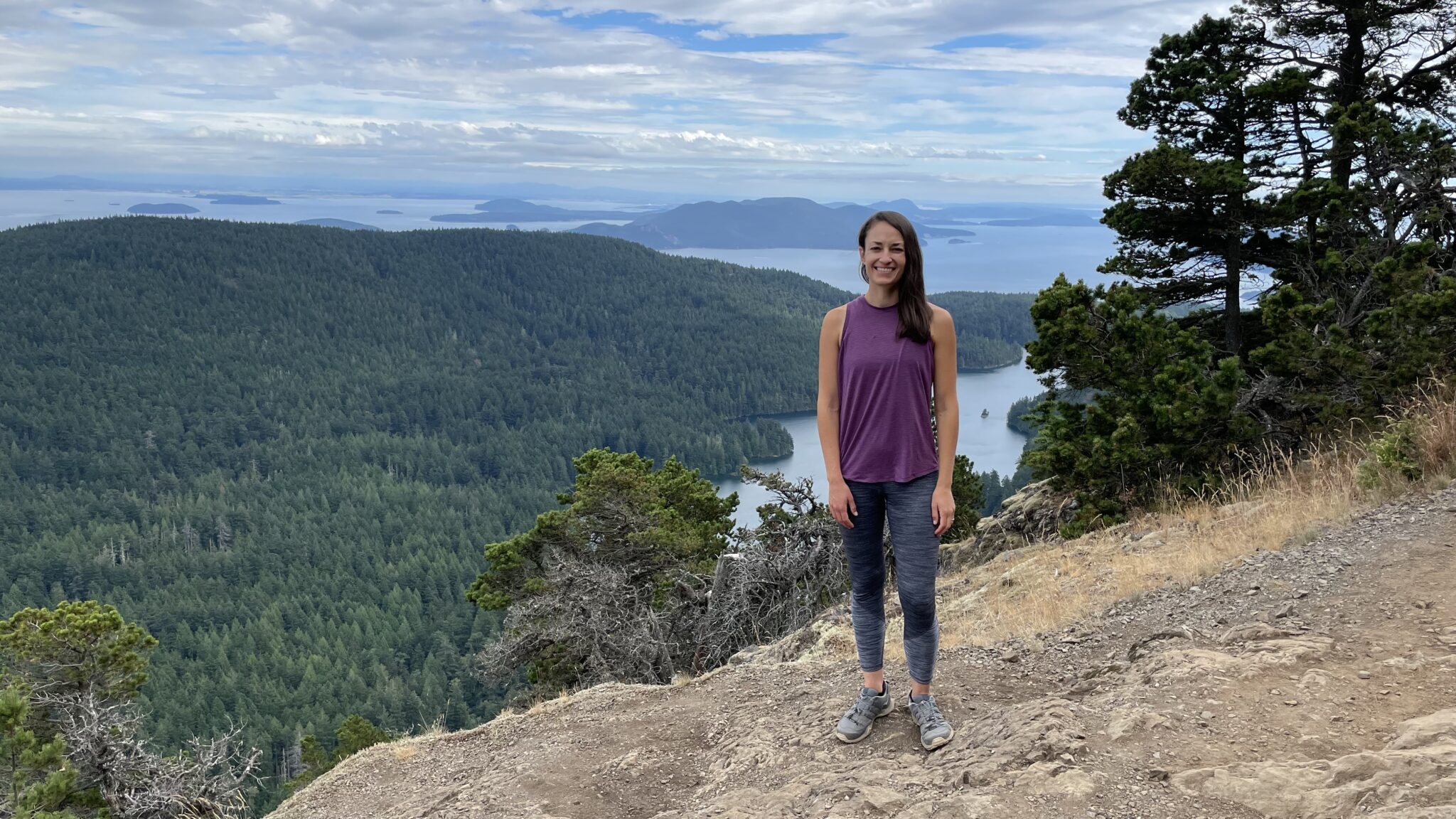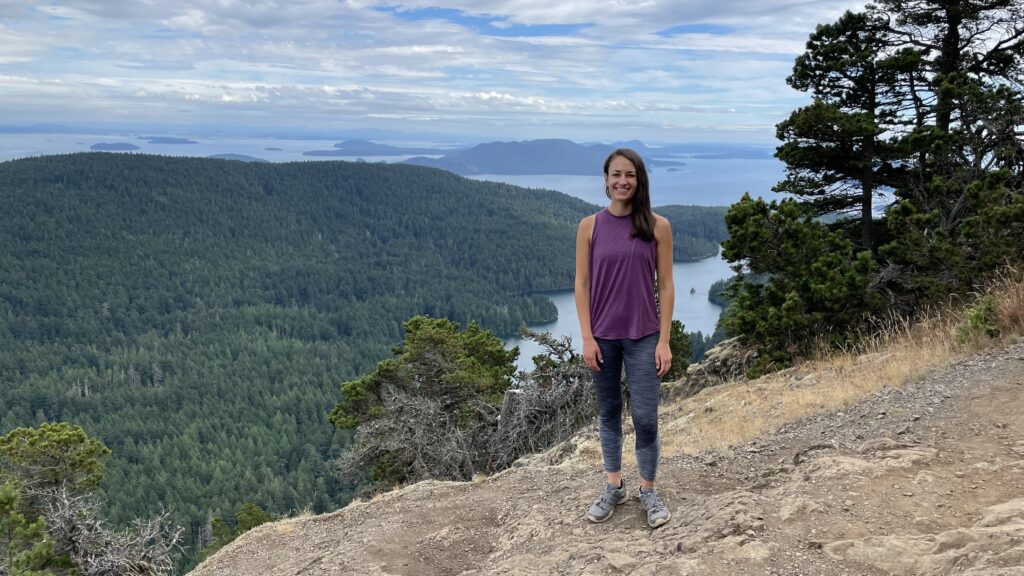 Unlike San Juan Island, which didn't really have too much great hiking, Orcas Island has multiple great hikes to tackle, some easy, some more strenuous.
In fact, we have an entire guide dedicated to hiking on Orcas Island with everything you need to know to find the perfect hike for you and your group.
Turtleback Mountain: There are a few different hikes to do in Turtleback Mountain Preserve, and we have thoughts on them. In general, we'd say the best views are from the south end of the mountain, where you'll find multiple wooden benches looking out to the west over San Juan Island, the Haro Strait, and the Olympics in the distance.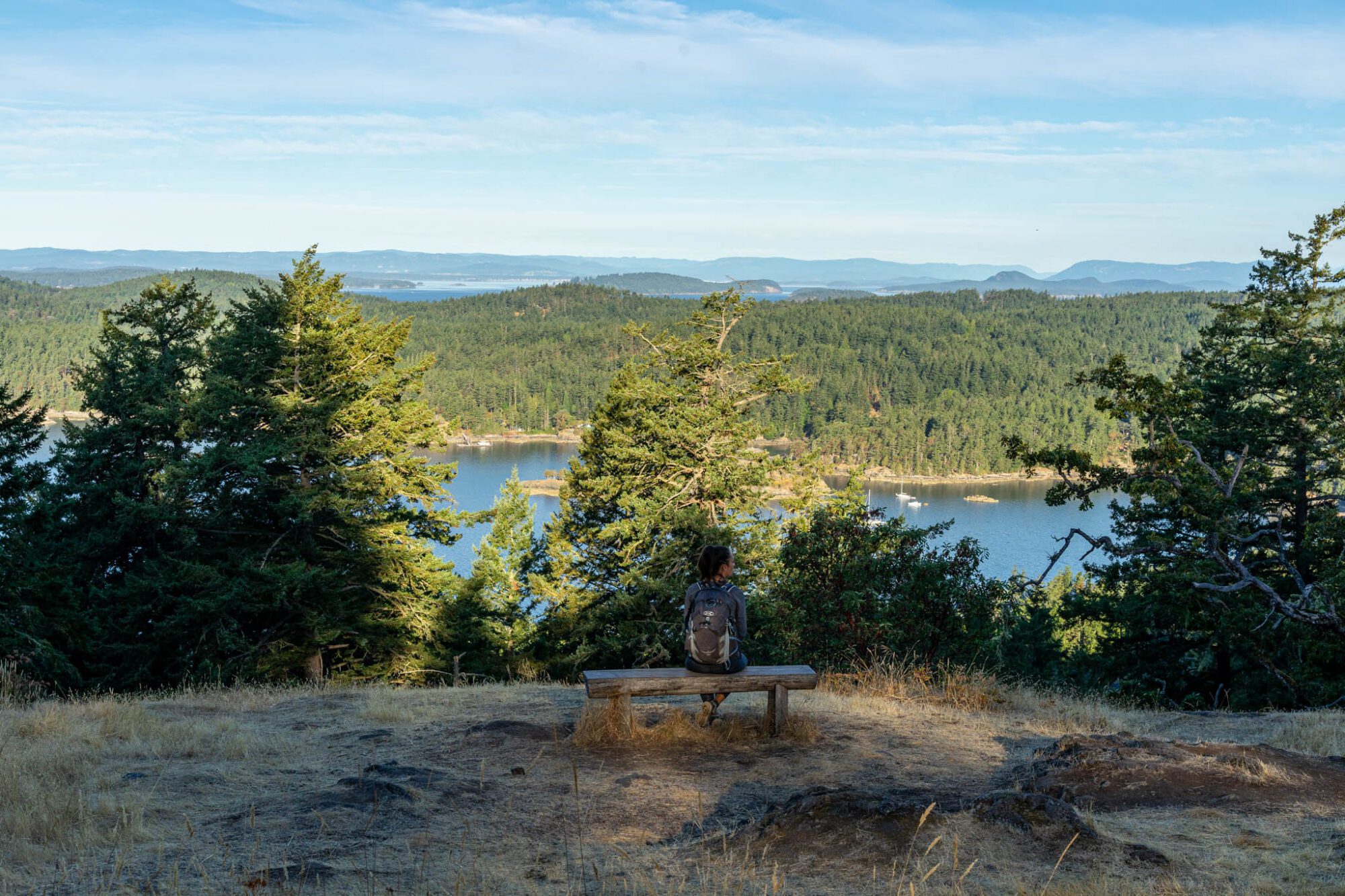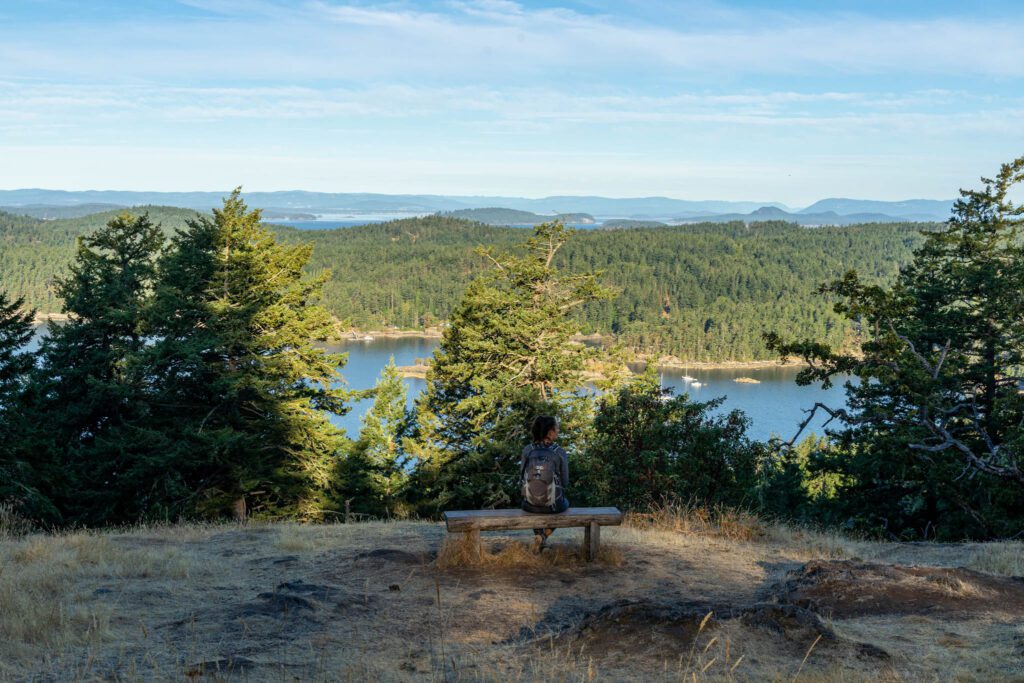 The full lollipop hike from the South Trailhead (6.5 miles / 1,500 feet elevation): This hike climbs aggressively, first to Ship Peak, then up to the "summit" which isn't really marked or special in any way, then descends through the fir forest back to the trailhead.


The Ship Peak Loop (3 miles / 900 feet of elevation gain): This hike is the first part of the lollipop from the South Trailhead, which is where you'll find the best views, and just past Ship Peak you take a left to catch the loop trail back down. This is the best bang-for-your-buck, since the other part of the full loop really isn't that interesting.


Turtlehead from the North Trailhead (6 miles / 1,300 feet elevation gain): This hike leaves from the north trailhead, up on Crow Valley Road, and heads out to Turtlehead Overlook (or Orcas Knob, I've seen it referred to as both names). The views from there out over Vancouver Island are spectacular.
Cascade Falls + Rustic Falls: A short and sweet hike through a gorgeous fern-y, forest where you'll see two great waterfalls in just 0.7 miles roundtrip. First is Rustic Falls, a small cascading waterfall that's about 0.1 miles from the trailhead. Continue down the trail to Cascade Falls, where you can descend down to the base of a towering waterfall tumbling off of a rocky ledge 75 feet up.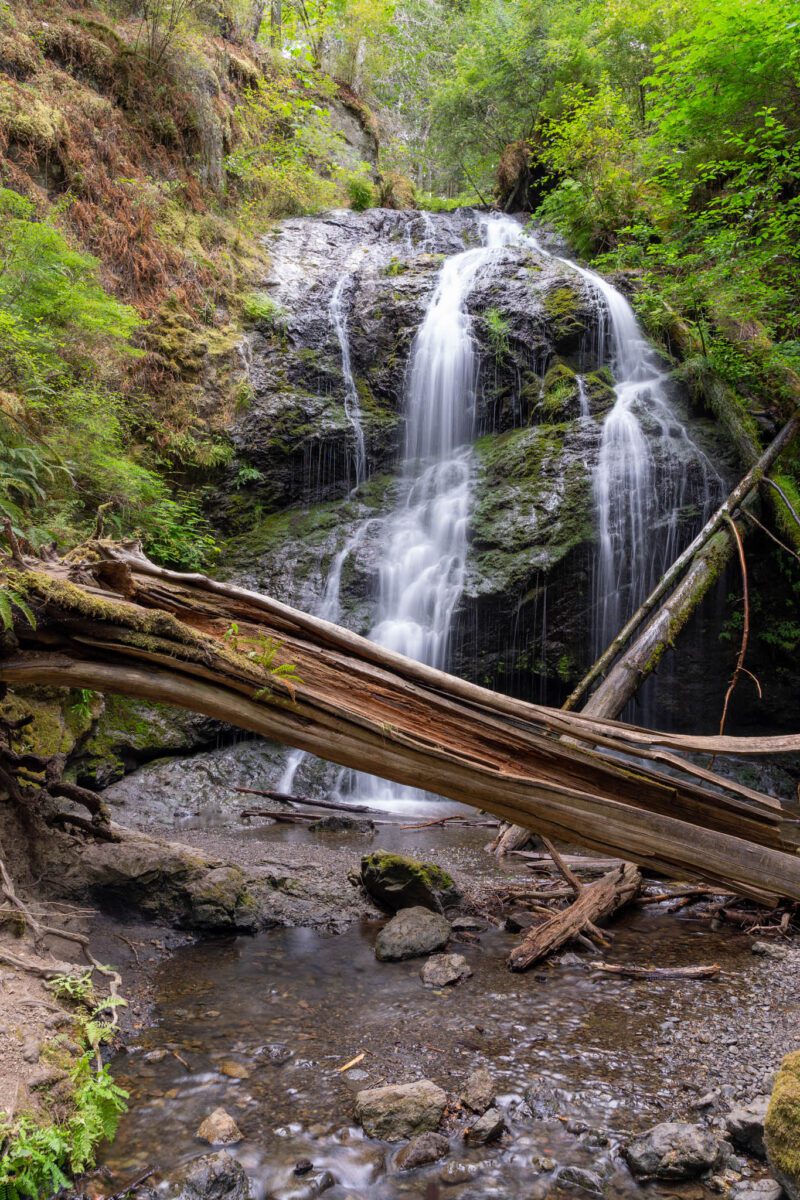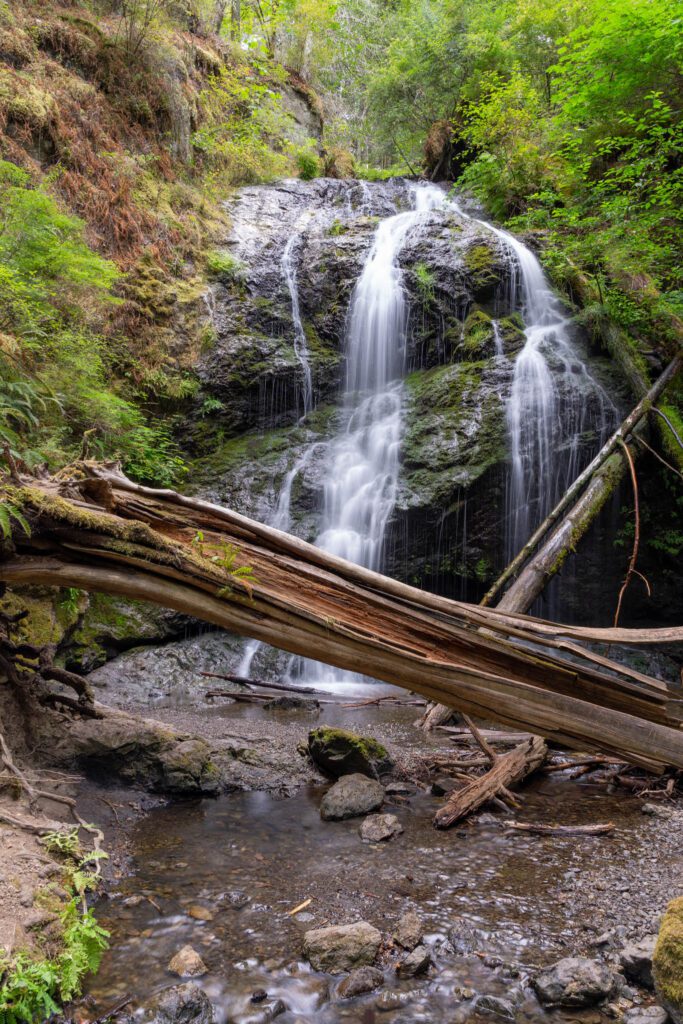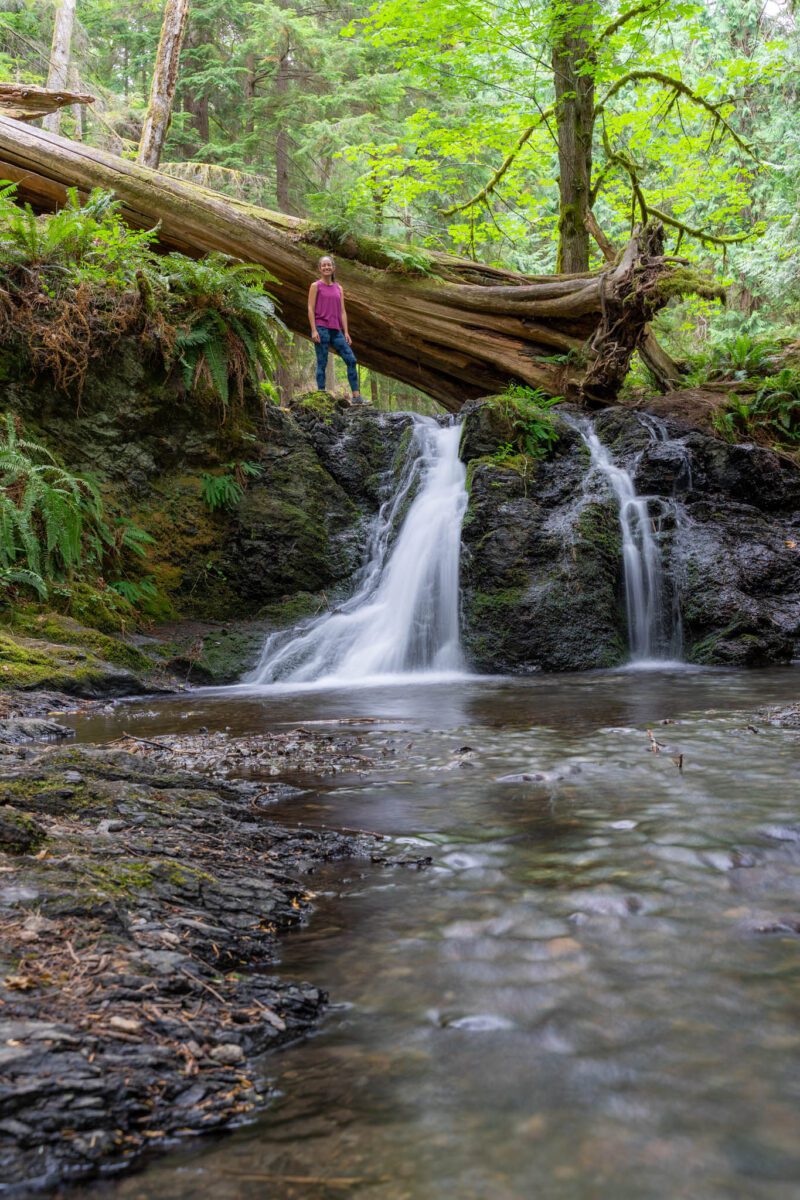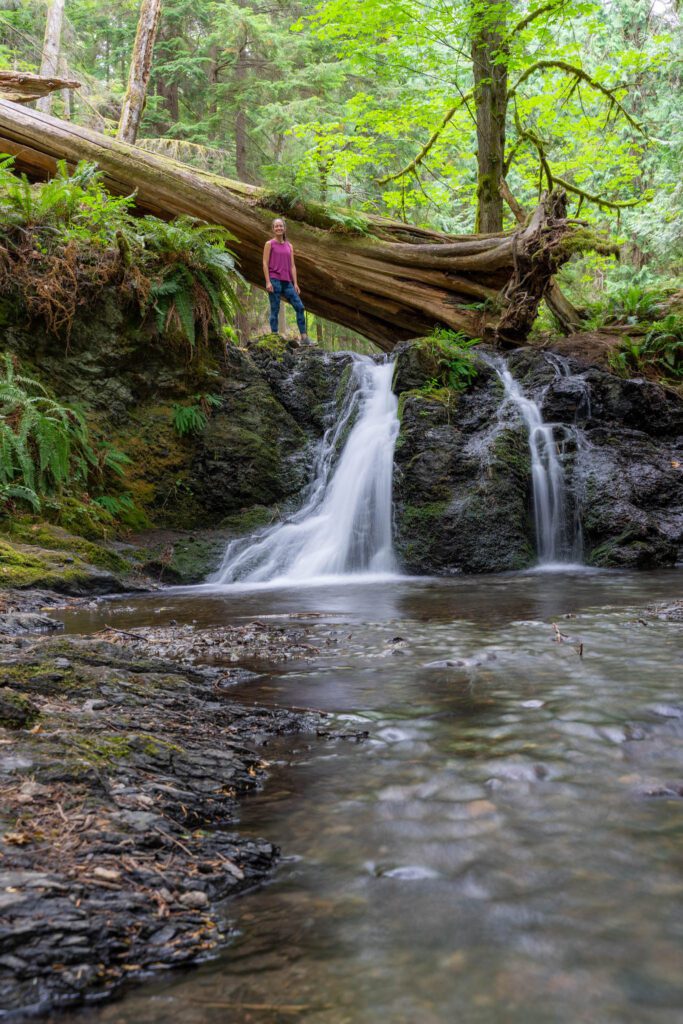 Mountain Lake Loop: This is a nice and easy, mostly flat four mile loop that circumnavigates Mountain Lake, the less-traveled of the two lakes in Moran State Park.
Mount Constitution from Mountain Lake: This loop trail starts along the western shore of Mountain Lake, then cuts up to Twin Lakes and climbs steeply to the summit. All-in, it's 8 miles long with 1,700 feet of elevation gain, most of it happening in about a mile and a half between the turnoff to Twin Lakes and the summit.
Mount Constitution from Little Summit: If the hike from the lake seems too intimidating for you, you can still totally hike to the summit of Mt. Constitution. Leaving from Little Summit, which is 1,000 feet higher than the lake, means you only have to hike about 4.5 miles (500 feet of climbing) to get to the top, which is much, much more pleasant.
Wine Tasting on Orcas
There are two great places to go wine tasting on Orcas Island.
The first is Orcas Island Winery, which is the only winery on the island (at least in a traditional sense, where there's a tasting room and a property with grapes). They have a cute little farmhouse with a nice property full of Adirondack chairs where you can sit in the sun and try some of their small batch wine made right there on Orcas Island. They're locally owned, and the wine was pretty good – we tried a pet-nat rose that I would definitely order again. Tastings are relatively expensive at $26, so we opted to share a glass between the two of us.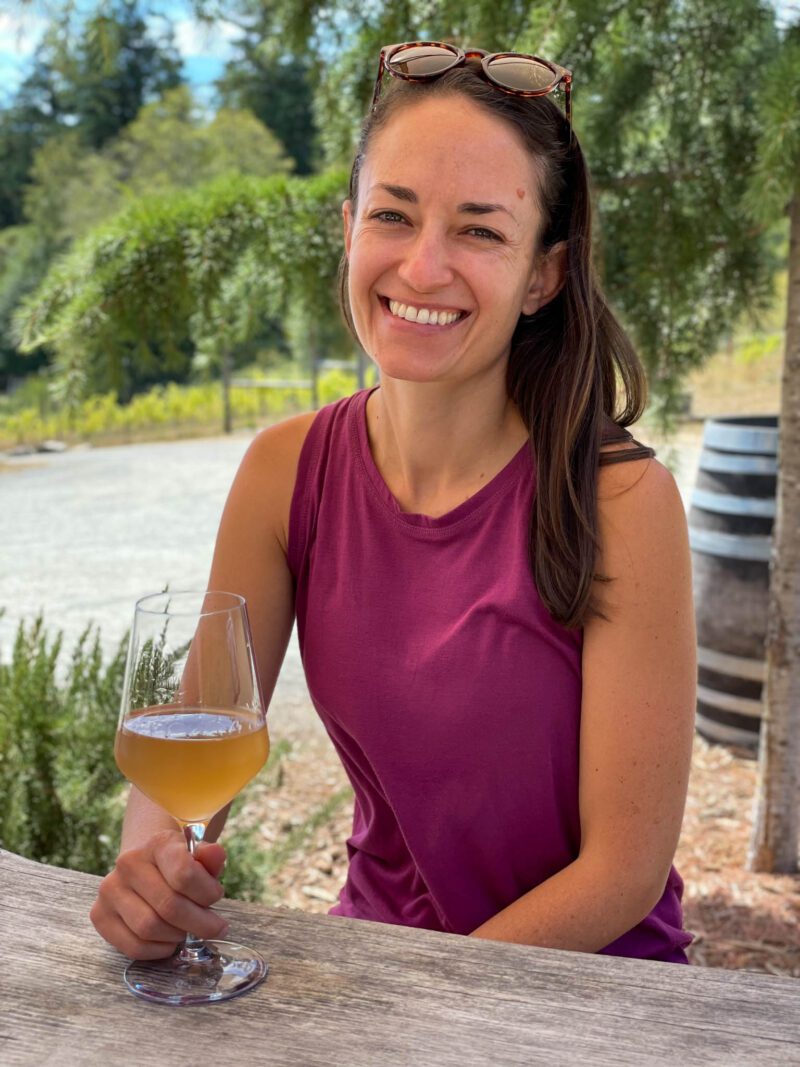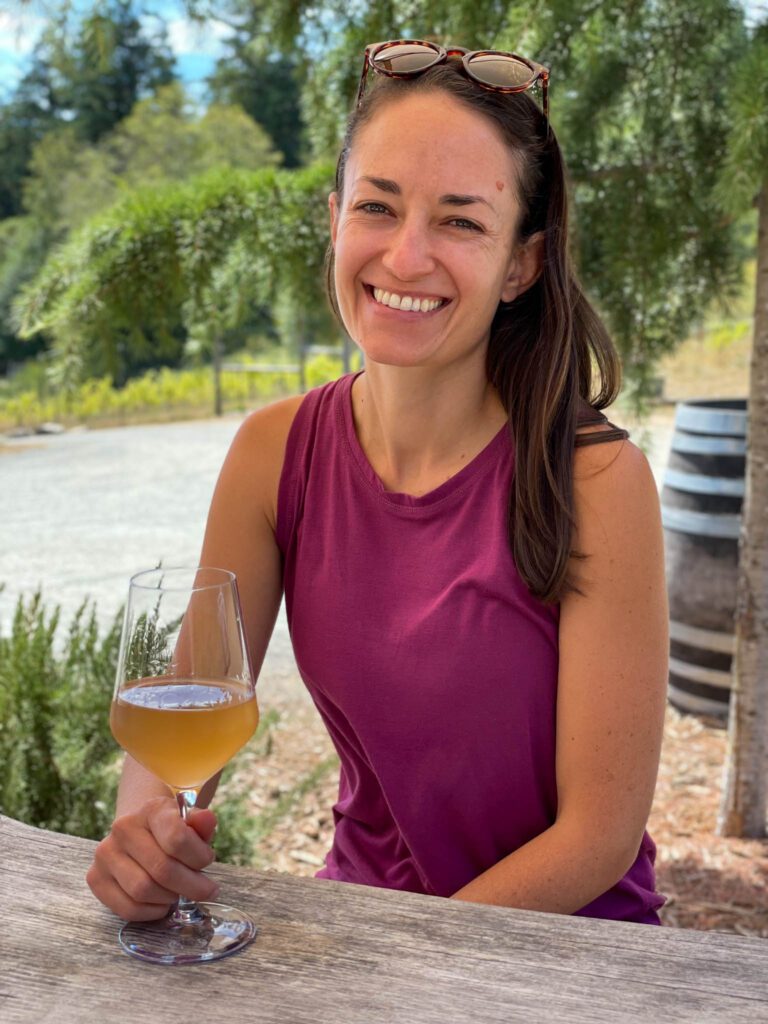 The second is not a winery, but a small wine shop in Eastsound called Doe Bay Wine Company, which is home to the Orcas Project. Doe Bay Wine Co is owned by Orcas Island local Cole Sisson, who fulfilled his dream by opening up a wine shop back here on the island. They have a great wine selection, including a collective project called "the Orcas Project" and a surprisingly good cider selection too! We're big cider fans, and we happened to find a bottle of cider from Fable Ciderworks that we'd been on the lookout for. You can do a tasting of three of their Orcas Project wines for $15.
Sea Kayaking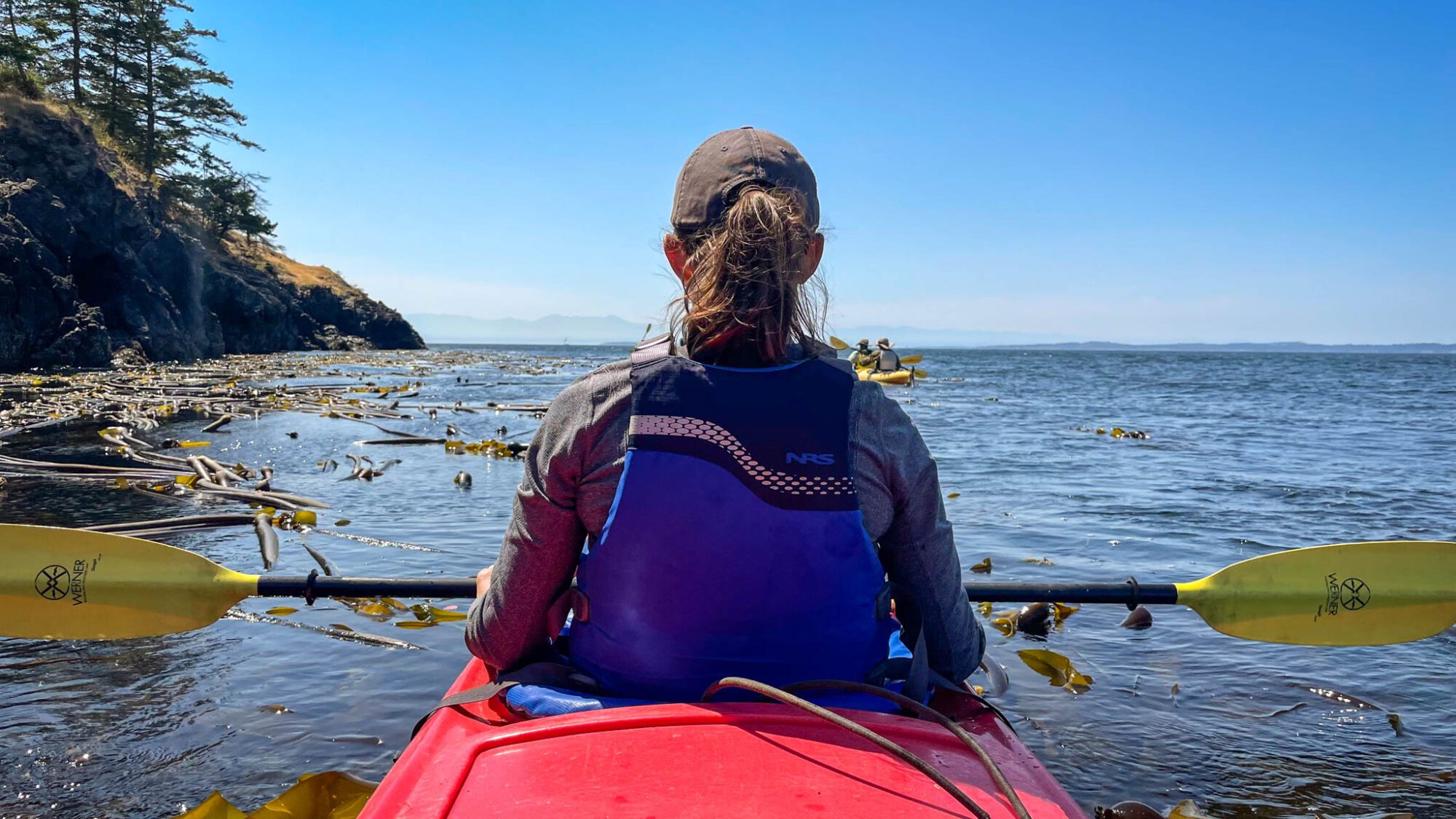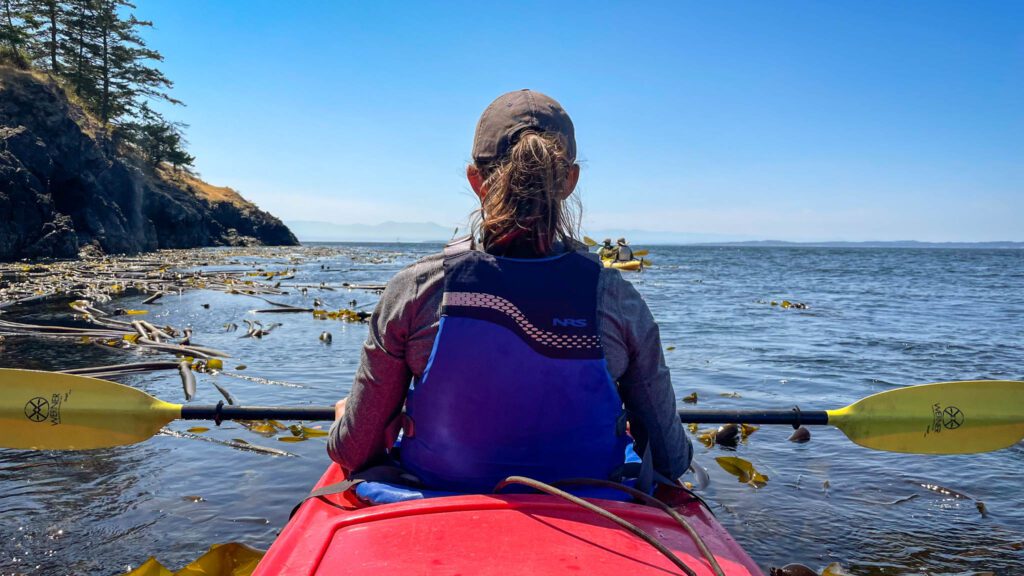 While we didn't do any sea kayaking from Orcas, we DID do it while we were on San Juan Island, and we'd highly, highly recommend sea kayaking in the San Juan Islands. We've met a fair number of sea kayakers over the course of our travels, and every single one of them mention the San Juan Islands as some of the best sea kayaking in the world.
However, it's also some of the most dangerous thanks to converging currents and wind patterns. So much so that you can't rent a sea kayak in the islands without an ACA / BCU 4* certificate. Your only option if you're not a very experienced sea kayaker is to take a guided tour.
The best option on the island is Shearwater Kayak Tours, which has a variety of tours leaving from either end of the island, depending on where you're staying.
Whale Watching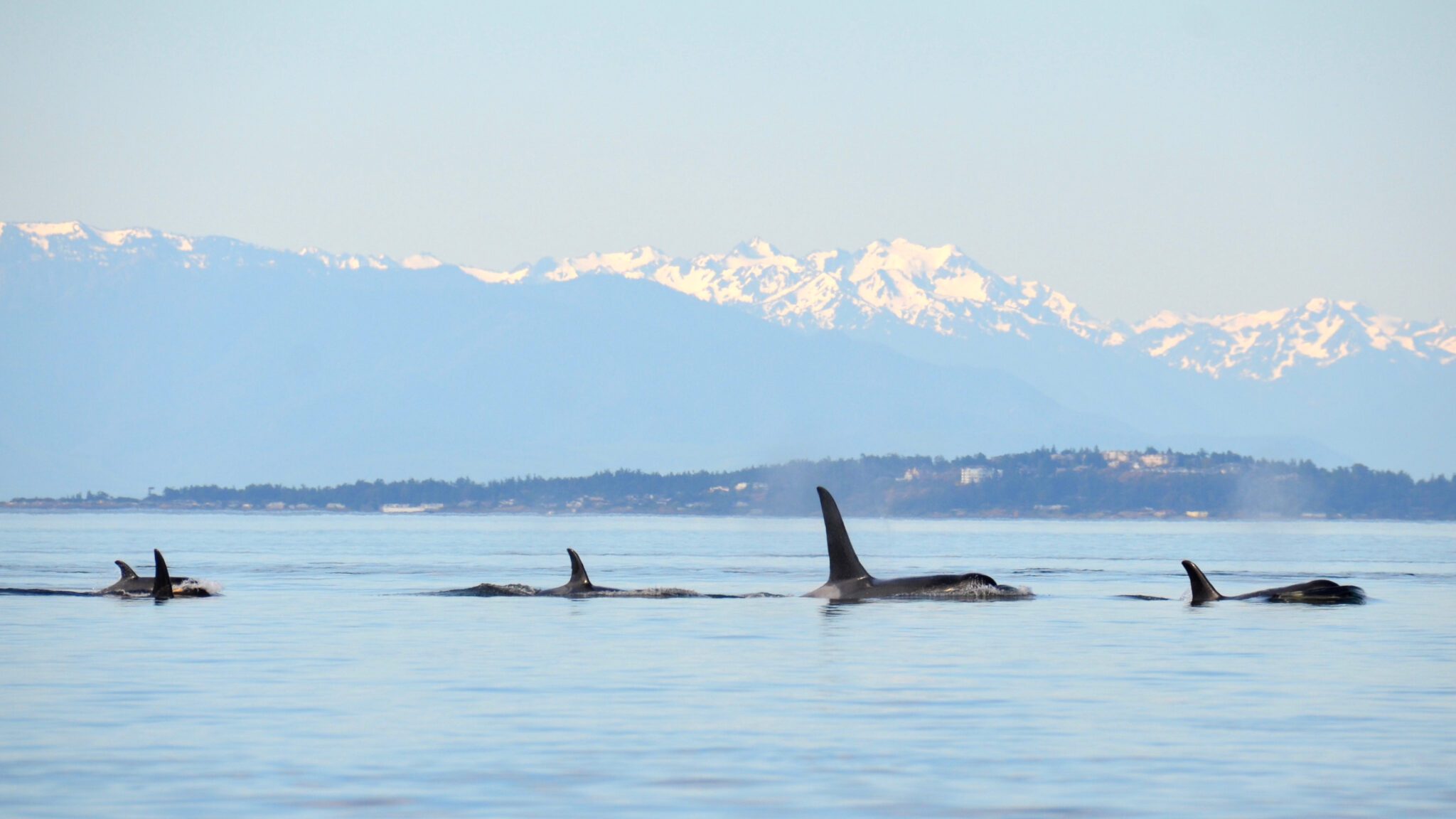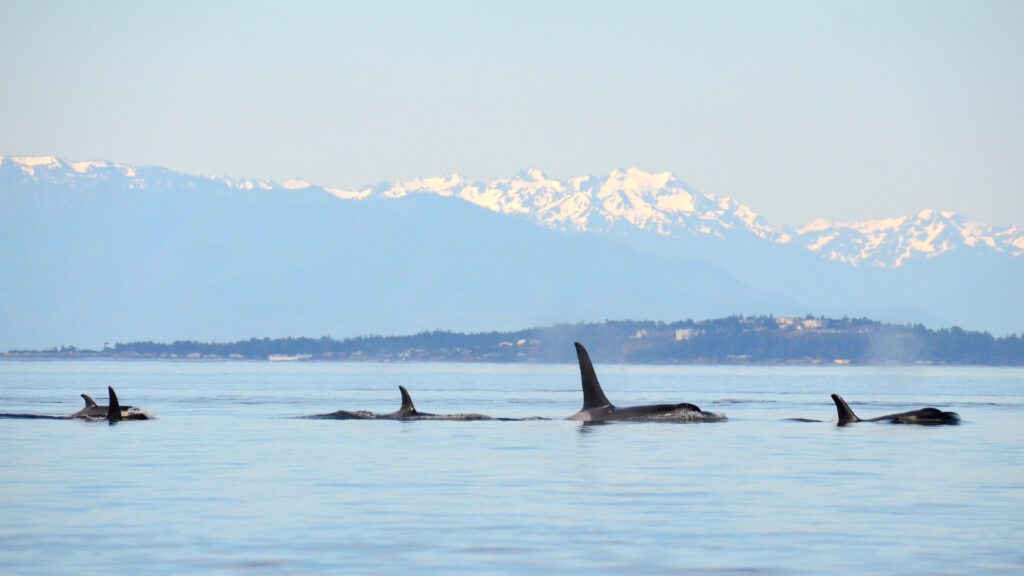 Whale watching is another thing that makes the San Juan Islands special, but we have mixed feelings about commercial whale watching and the impact on the animals.
San Juan Island, in particular, is known as one of the best – if not THE best – place to see orcas from land. Growing up, we used to visit San Juan Island every summer, and I have very fond memories of going to Lime Kiln State Park every day and seeing orcas.
However, the Southern Resident pod that calls this part of the world home is down to a population in the 70's. A decade or two ago, it was at 300.
There are a lot of reasons that contribute to that loss, and many experts who know and love whales more than I do are working to fix it, but one of the reasons is noise pollution, which interferes with the whales' communication. Based on what we've seen – five or six boats following a group of orcas around relentlessly, for starters – there's little doubt in my mind that commercial whale watching plays a role in that. How big a role? I'm not the right person to answer that question. But I can direct you over to this guide to ethical whale watching to help you figure out how to choose an operator and enjoy the whales responsibly.
For what it's worth, I'd recommend Deer Harbor Charters based on my research. They follow a "responsible wildlife viewing method," they've been operating since 1988, and they have a bunch of non-profit partners that they work with to help protect the wildlife and environment. Learn more about them here. They have public and private tours leaving from both Deer Harbor and Rosario Resort.
The best time to see whales – orcas, humpback, and minke – is between June and September.
Explore Eastsound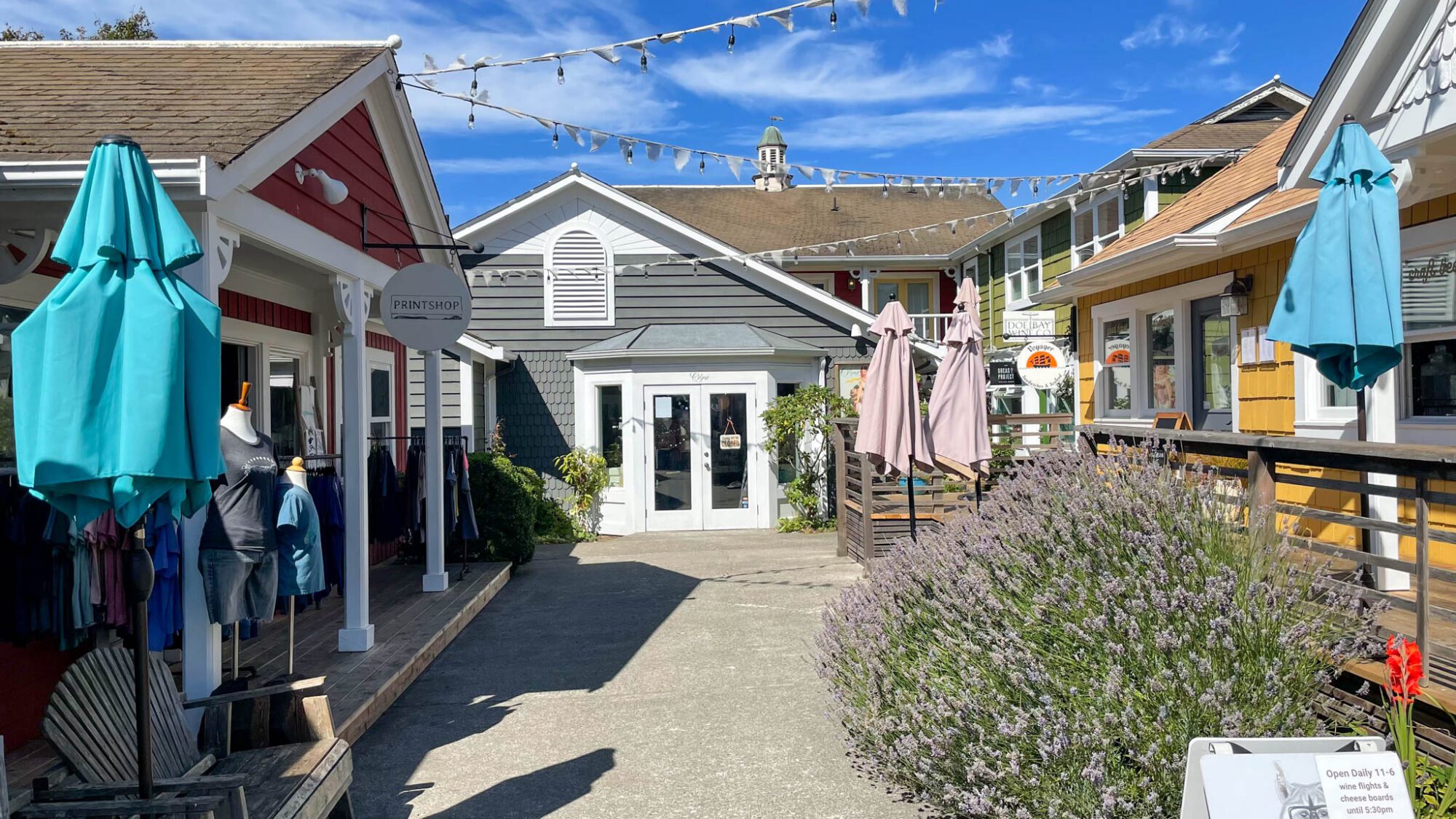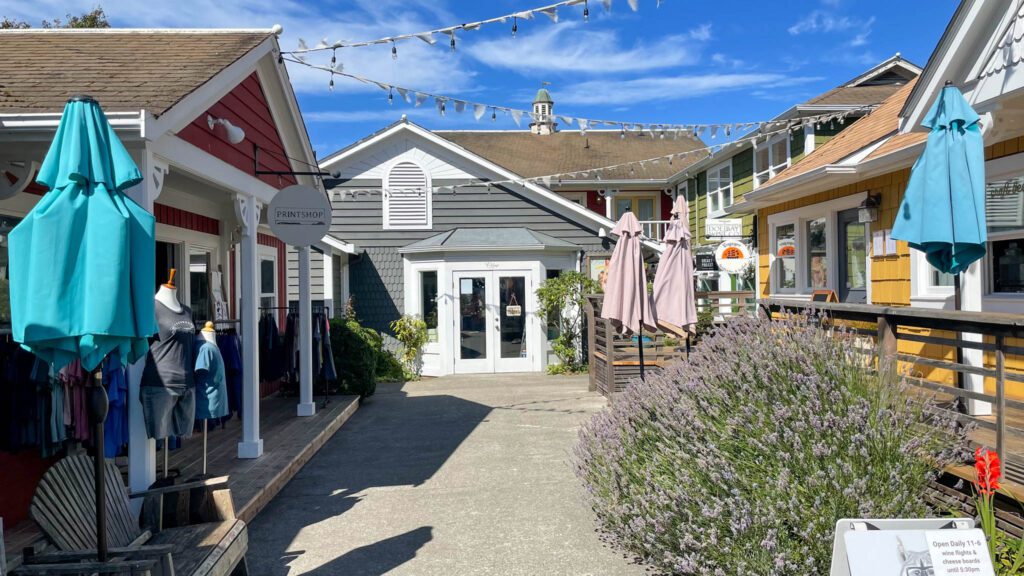 Eastsound is the biggest community on Orcas Island, but I wouldn't exactly call it a bustling metropolis. It's a couple of blocks by a couple of blocks, and has all the small island charms you'd expect from a town on Orcas. There are a variety of restaurants, a couple of bars and coffee shops, two grocery stores, and a bunch of local small businesses selling everything from local wine to screen-printed-to-order shirts, and just about everything in between.
We were big fans of strolling around town, popping into shops, and ended up buying multiple things to take home. We're big lovers of supporting local small businesses when we're traveling, and Eastsound has a bunch of them!
Here were our favorites, in no particular order.
Doe Bay Wine Company & the Orcas Project: A tiny, locally-owned wine shop where they carry their own wines – the Orcas Project – which are a collaboration with local winemakers for the wine, and artists for the labels. They also have a great selection of other wines, from European varietals to natural wine from other parts of the country, and a solid cider selection. We found a bottle of cider from Fable, which is in Vermont, that we've been on the lookout for for months! Literally across the country on a tiny island. What are the chances?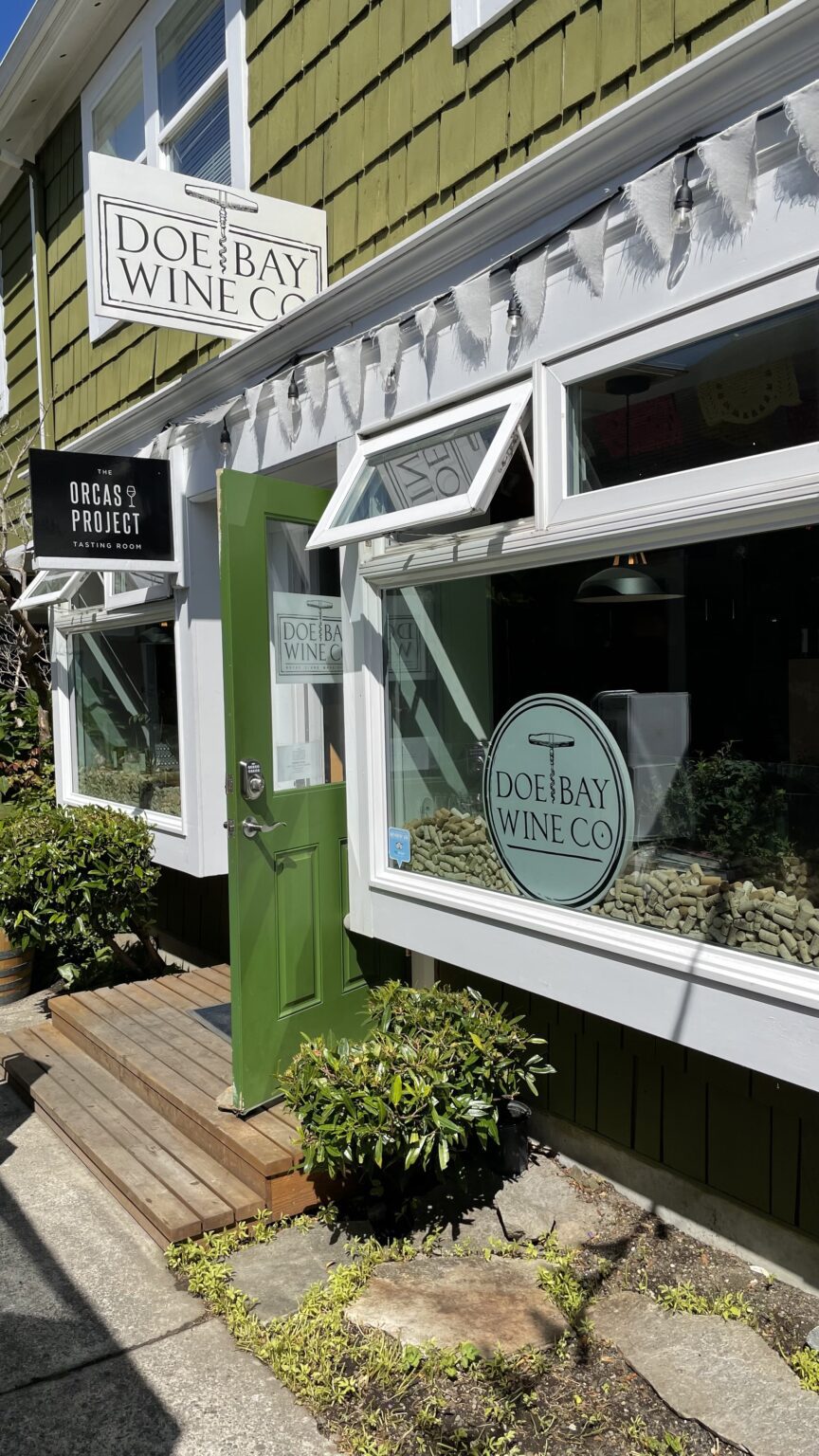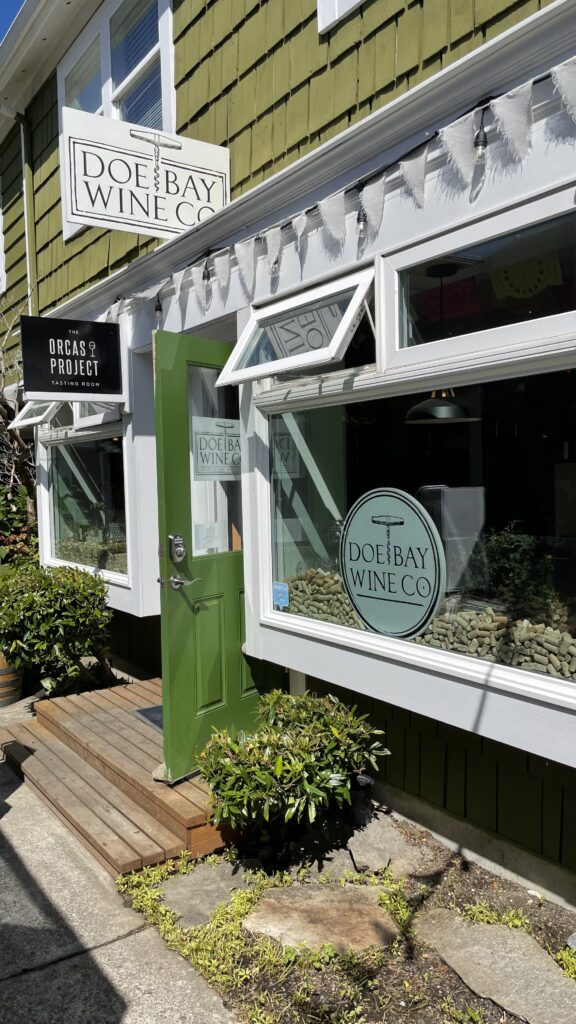 Darvill's Bookstore: If you've been following this blog at all for the past few years, you'll know that we're big fans of local bookstores. I've been known to walk in empty handed, and walk out with $80 of books, no problem. SUPPORT LOCAL BOOKSTORES. Also, the best coffee in Eastsound can be found at the tiny coffee shop inside the bookstore.
Clever Cow Creamery: The best ice cream on the island. Does anything more need to be said?
Brown Bear Baking: A local bakery owned by two bears, of the San Francisco variety. DEFINITELY not gluten free. Not even a little. Alysha turned to me on the ferry and said "I think I need to go to this bakery" and the rest is history! The line out the door says it all. Get the bear paw and go early to get your hands on the orange morning bun and spinach feta croissants, which sell out FAST. They also serve Victrola Coffee, one of my favorite coffee shops in Seattle!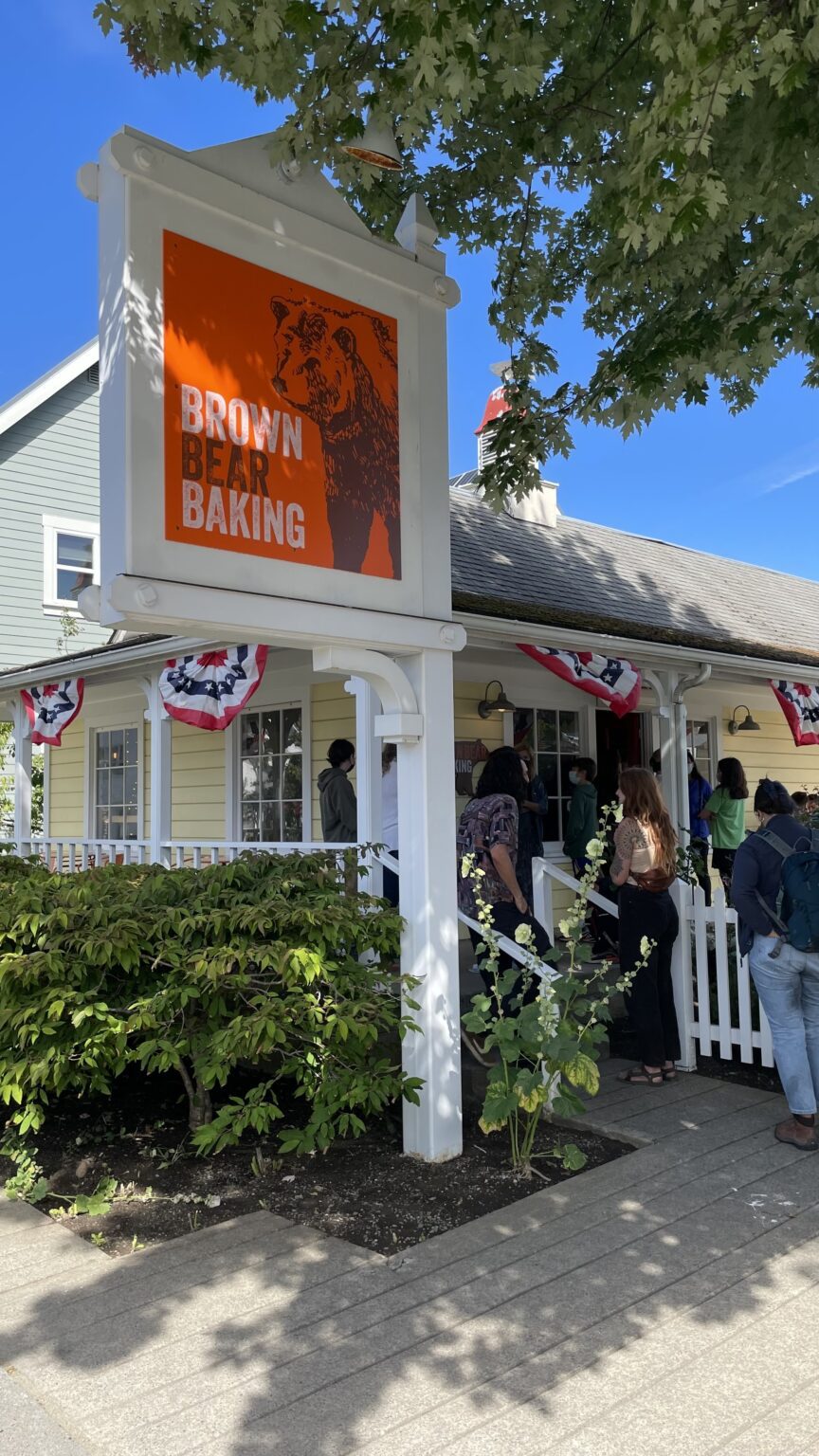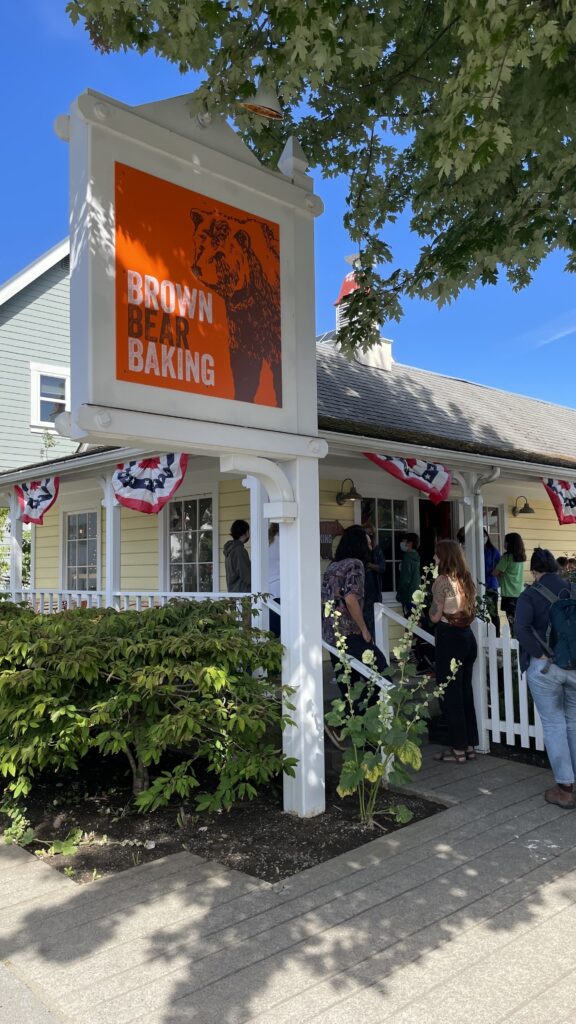 Printshop Northwest: I'm in love with this concept! Basically, they work with local artists to put together a variety of pieces of art that they then screen print, on demand, onto a shirt of your choosing in about ten minutes flat. For example, you can get an orca whale on a blue long sleeve tee. Or a topographical map of Orcas Island on a grey hoodie. The art rotates, and they also have some pre-printed options you can buy.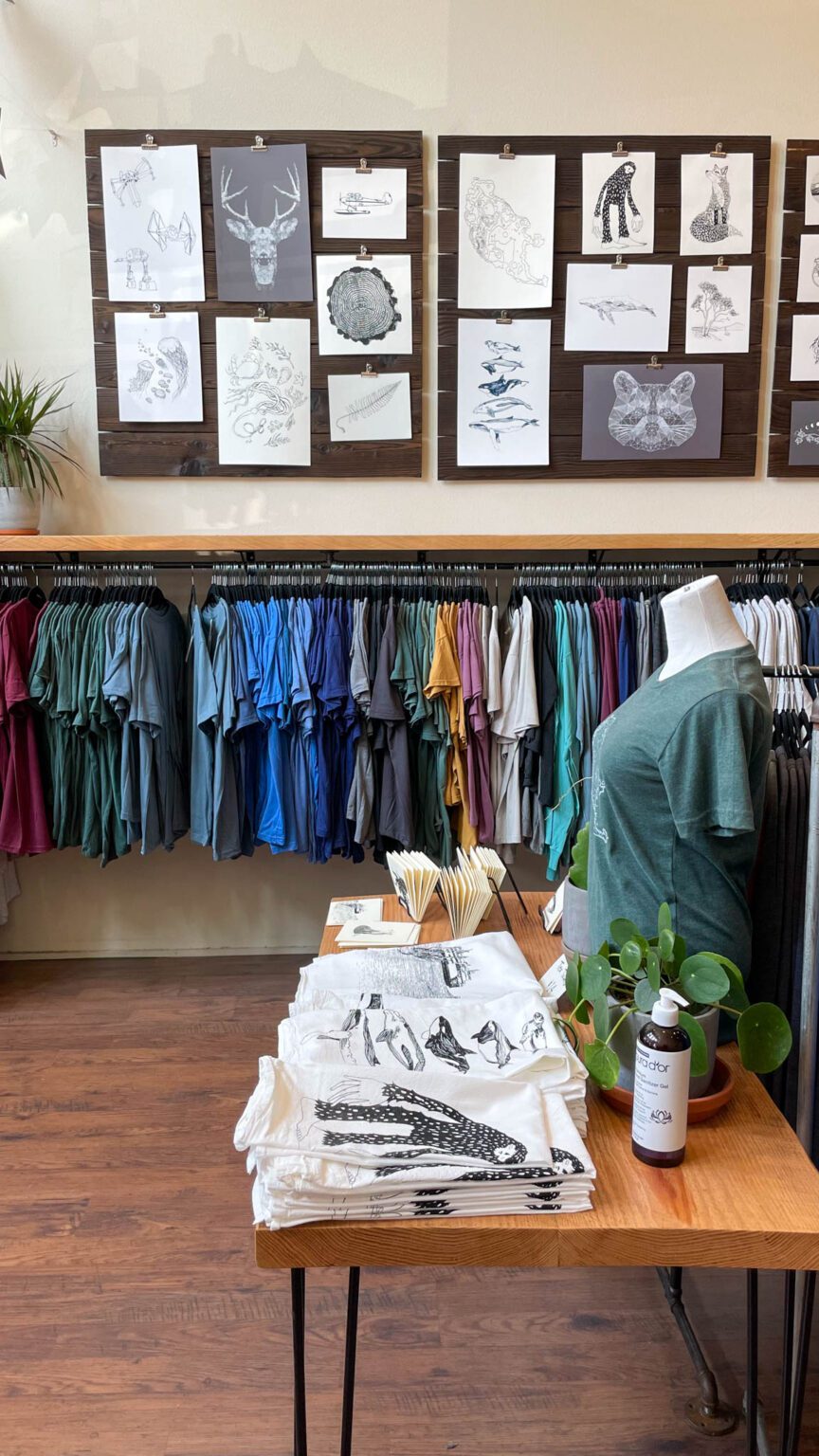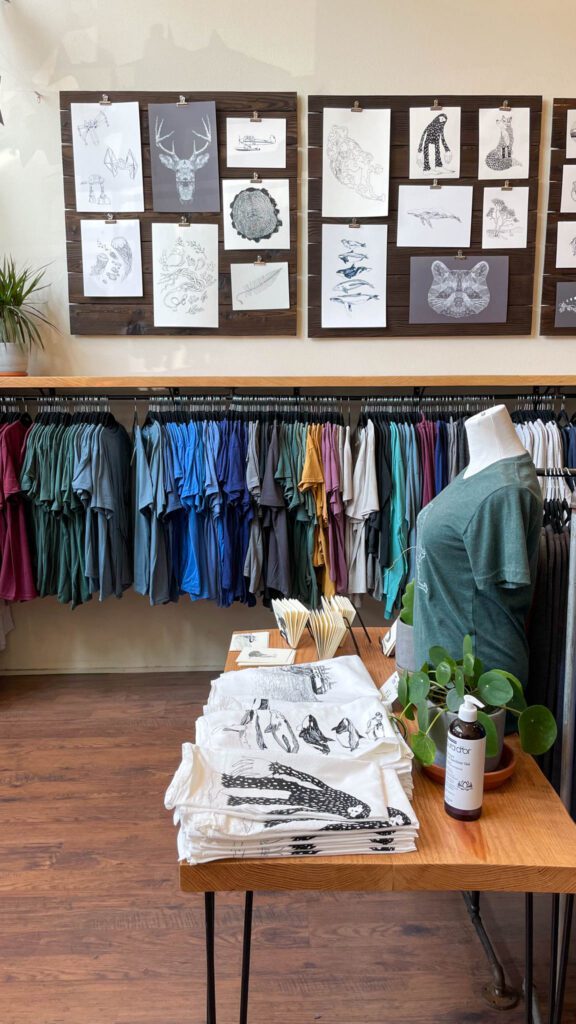 Orcas Food Co-Op: Having worked in the food industry, I'm a huge nerd when it comes to grocery stores. Alysha is always exasperated when I walk into every grocery store in town to see what their gluten free snack selection looks like, and check out the beer and cider selection. This was our favorite in the San Juan Islands, and is the place to go if you're looking to grab some essentials for your stay on Orcas.
Girl Meets Dirt: I had heard about Girl Meets Dirt from my mom, who got a sampler for Christmas one year. And when we were at the Co-op, I saw them on the shelf and realized they're from Orcas! But I couldn't figure out whether their preserves were gluten free or not, so I looked it up and realized they have a storefront + production facility in Eastsound! Worth a stop to check out their full range of flavors – most stores only have two to three at a time, when they have about 12 flavors total – and try before you buy. All the fruit is locally grown, and the products are all made right there in Eastsound!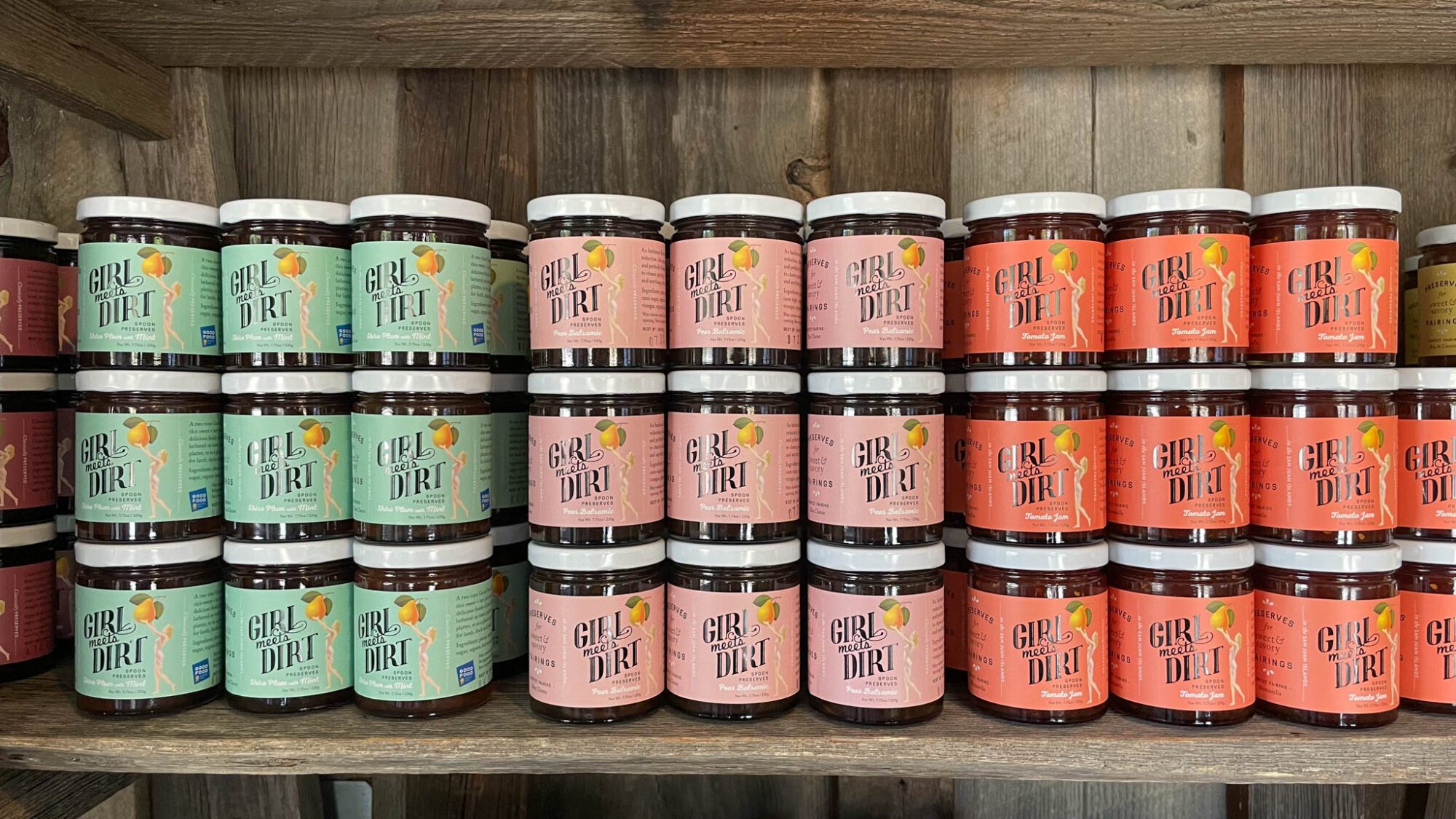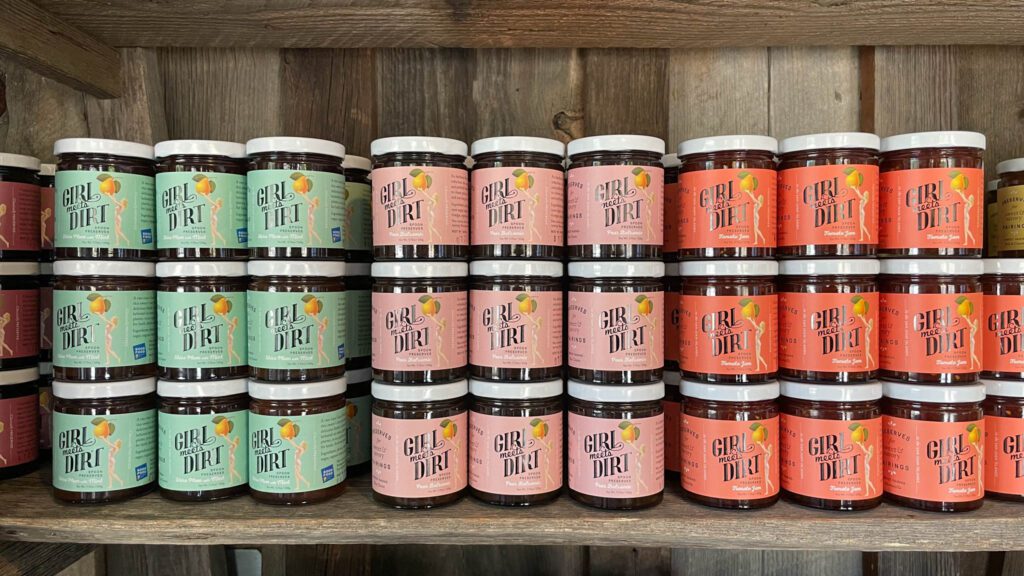 On Saturdays from May to September, the Orcas Island Farmers Market takes place on the green in the heart of Eastsound. Featuring all sorts of locally grown, crafted, and produced vendors from farms to pottery to food stands, it's worth your time on a warm summer day. It's small, with only a handful of vendors, so it won't take long to browse.
Obstruction Pass State Park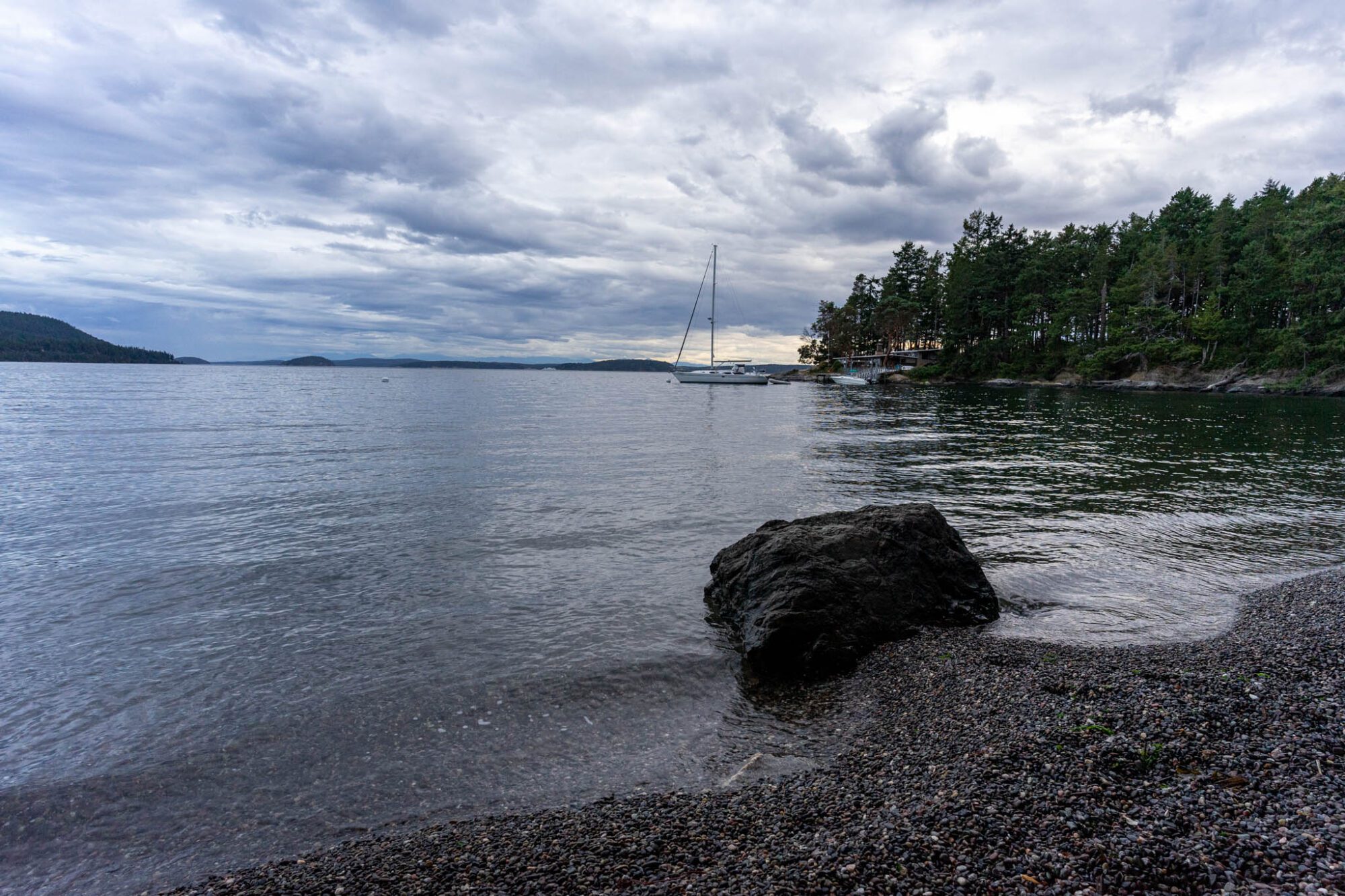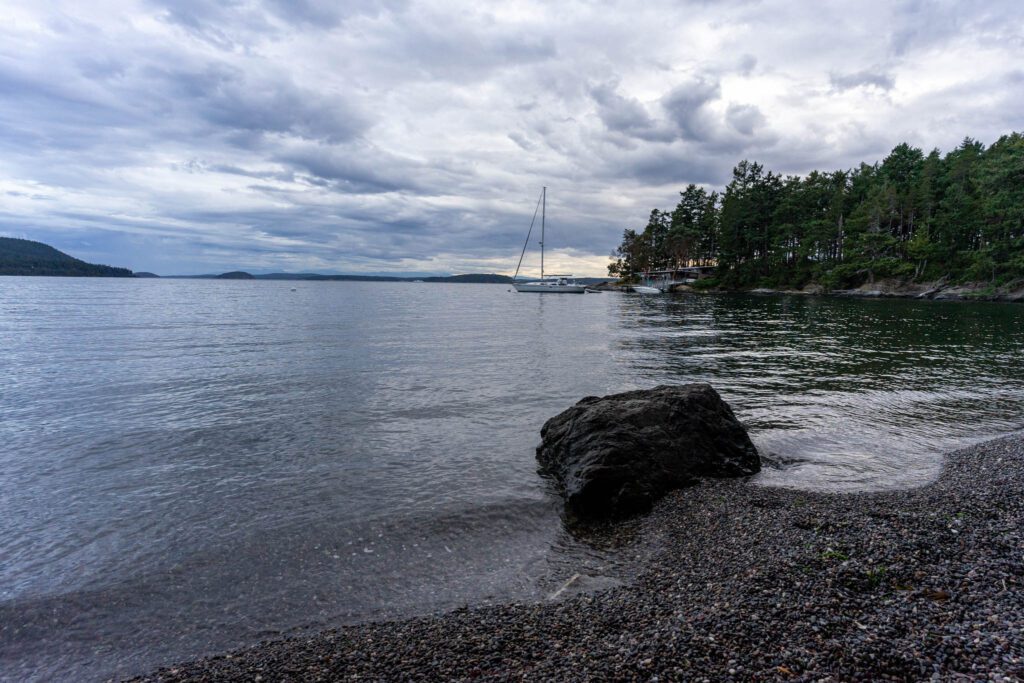 On an island with so much coastline, there really aren't that many public access points to the beach. Obstruction Pass State Park, which is east of Moran and due south of Mount Constitution, is probably the best beach access on the island.
Unfortunately, we tried to go here for sunset and showed up late, which means we basically did the two mile loop as a trail run rather than really taking the time to enjoy the hike. It's a relatively easy two mile loop, but the best part is definitely the west side of the loop (to the right if you're facing the trailhead), which has beach access at a couple of different points along the way. The other side of the loop stays in the dense fir forest until it reaches the beach, which is still pretty, but not beachy.
It's worth clarifying that when I say "beach" I'm not talking about a sandy SoCal beach, I'm talking about a rocky Washington beach. Welcome to the Pacific Northwest.
The other place where there's public beach access is North Beach, which is a couple of minutes north of downtown Eastsound. It's literally a sliver of beach with private property on either side, but if you walk out to the water on a clear day, you have a nice view of Mt. Baker to the east, towering over Lummi Island and the mainland.
Summit Mount Constitution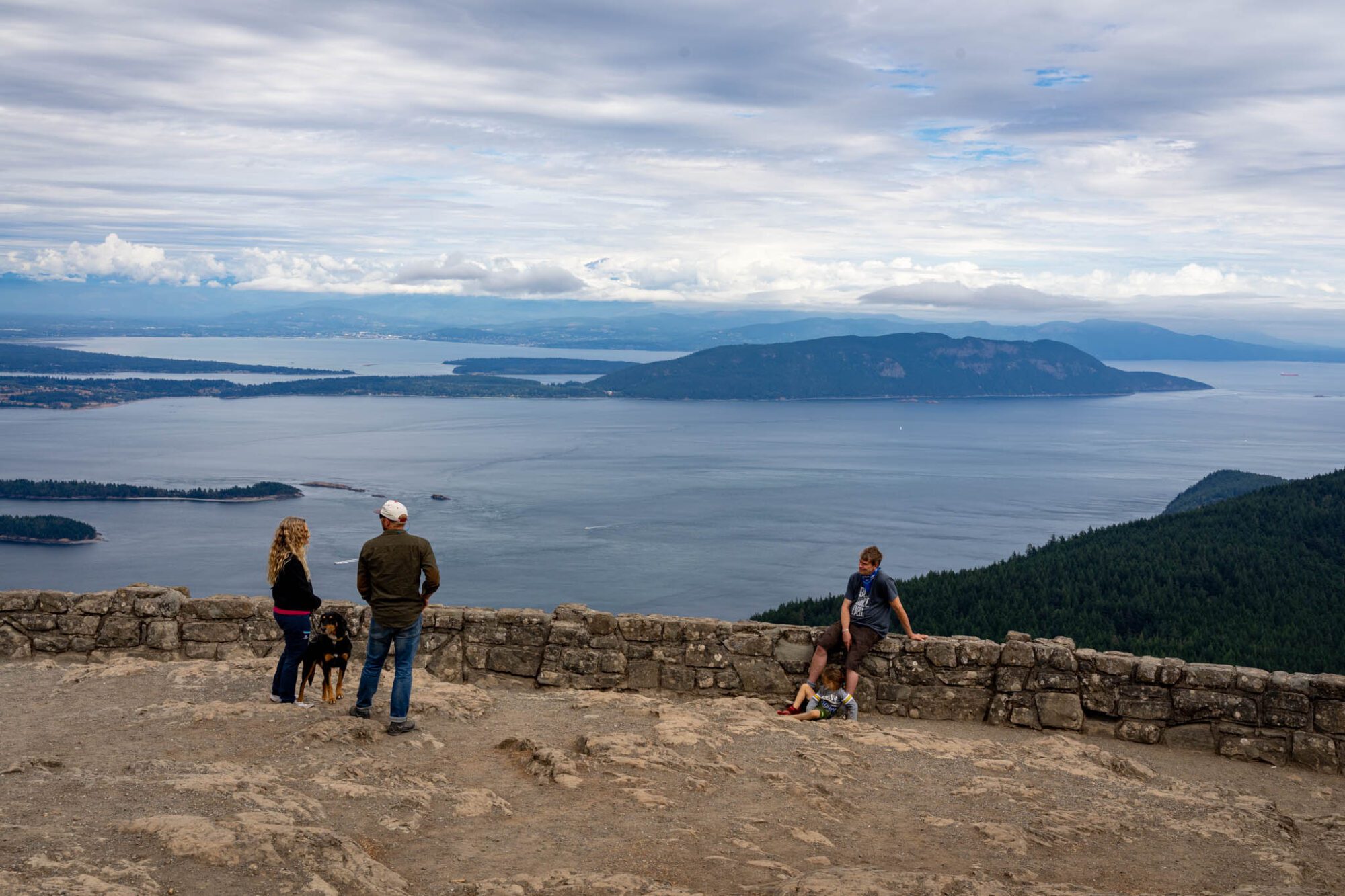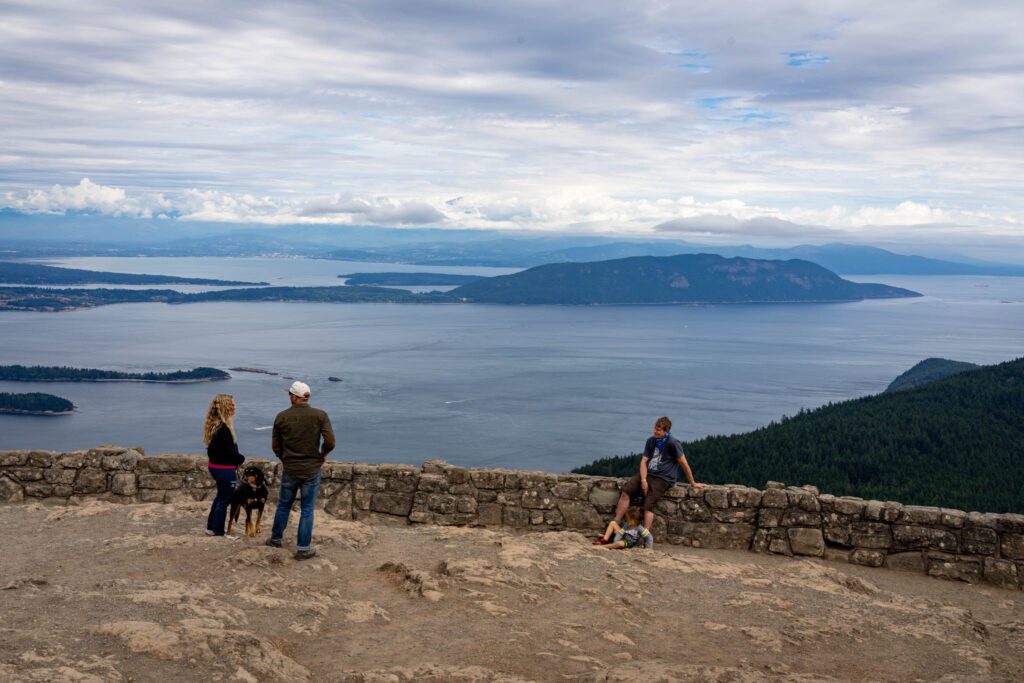 Over the course of your time on the island, you definitely have to make it up to the summit of Mt. Constitution. It's 2,500 feet above sea level, and is the highest point in the San Juan Islands, and the second highest point on an island in the lower 48 states.
From the top, you can see Mt. Baker, Lummi Island, and Bellingham straight ahead, and you can even see the skyscrapers of Vancouver, B.C. off to the north, and Rainier to the south (but only on a super clear day with no haze).
You can get there three ways.
First is driving. Pretty straightforward, you follow the narrow winding road up from Mountain Lake, climbing 1,500 feet from the lakeshore.
Second is cycling, which is also fairly straightforward. You follow the same road, but you're going to be moving much more slowly. We saw two groups of cyclists – the ones with e-bikes, who were gliding along like the climb was nothing, and the intense road cyclists, who were working for the views they were about to get.
Third is hiking, which we covered above. Start from Mountain Lake and do the loop up past Twin Lakes for an intense climb (1,700 feet gained, 8 miles), or cheat a little bit and park at Little Summit to cut out 1,000 feet of climbing and make it a 4.5 mile moderate hike. If you're really feeling up for it, start from Cascade Lake and climb up to the summit, which is 8.5 miles long with 2,300 feet of climbing.
We recommend hiking if you can manage it – the hike from Little Summit to the top is not that bad, and being at the top as one of the few people who used their own two feet to get there is either rewarding or disappointing, depending on your outlook I suppose.
Head to the Lake(s)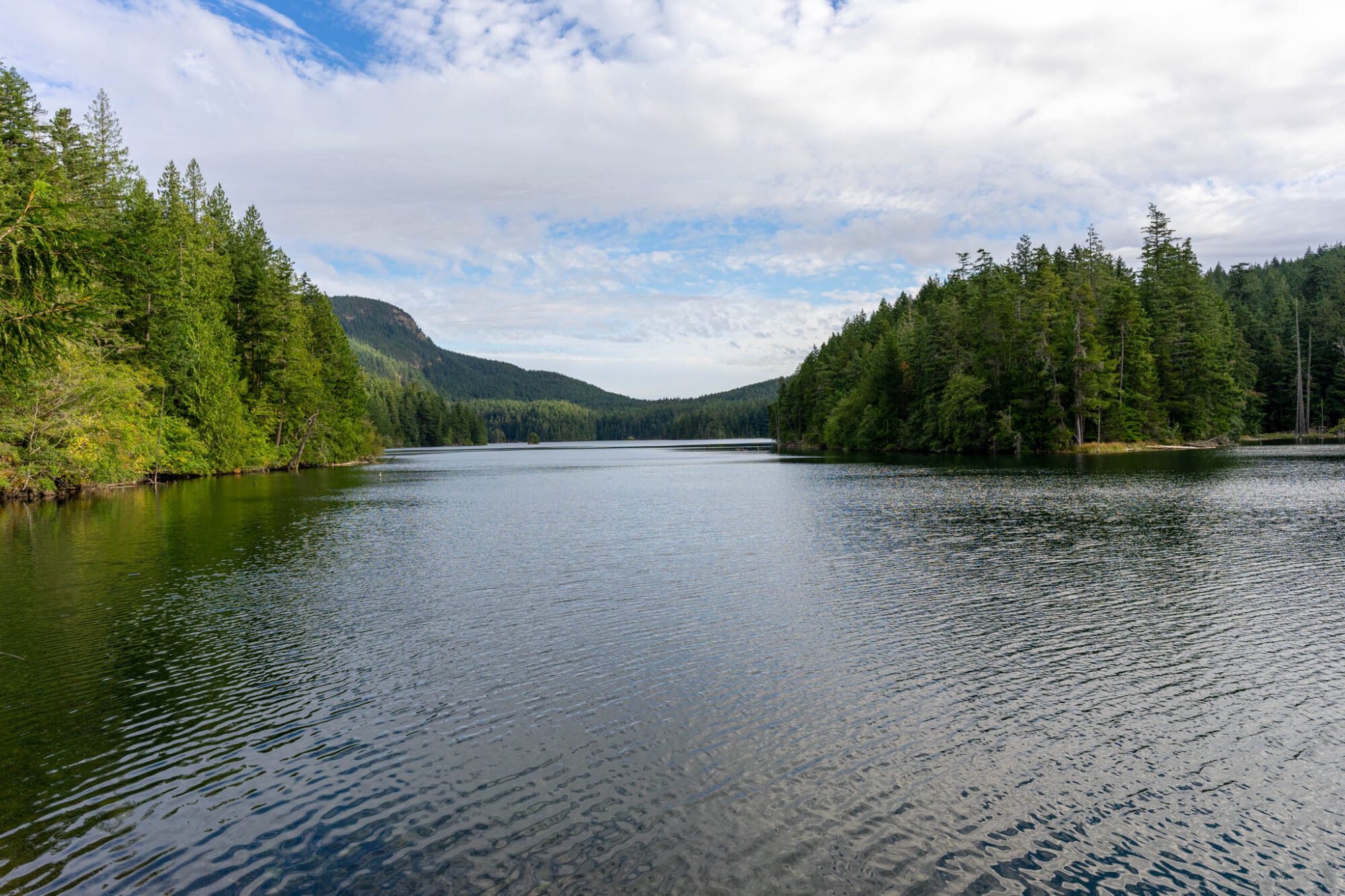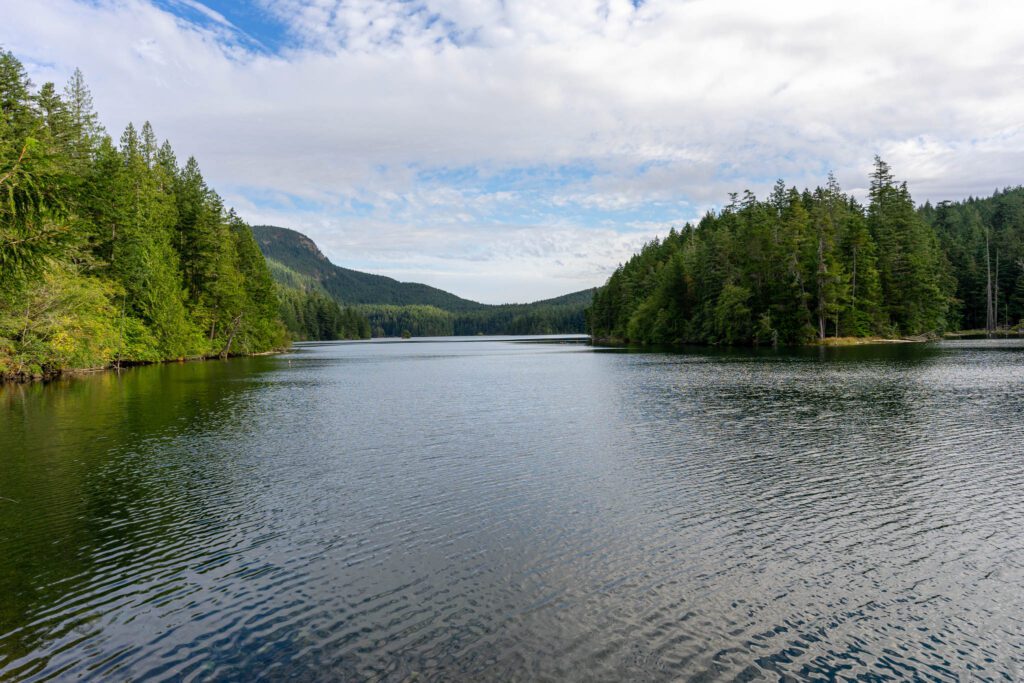 There are two freshwater lakes on Orcas Island, both in Moran State Park. There's Cascade Lake and Mountain Lake.
Cascade Lake is the more popular of the two, since the campground is right on its shore. You can rent kayaks, paddleboards, and canoes to explore around the lake, and they're available on a first-come, first-served basis. Sunset on the lakeshore is particularly nice, especially on a warm summer evening.
Mountain Lake is a little more remote and sees fewer visitors, but it's not like you're going to have it to yourself. You can also rent kayaks, paddleboards, and more here, but you need to reserve them in advance. The hike to Mt. Constitution starts from the trailhead on the south end of the lake, and there are two other good hikes – Twin Lakes and the Mountain Lake Loop (which we covered above) – that take you along the shore of the lake to various destinations.
If you ask us, a perfect day on Orcas Island goes like this: morning hike, head to Eastsound for coffee and lunch, then an afternoon on the lake exploring by kayak or paddleboard.
Editor's Note: Matt generally spends more time in the water than on his paddleboard. Balance isn't really his strong suit.
Where to Stay on Orcas Island
You basically have three options when it comes to finding a place to stay on Orcas.
If you want to camp and you're visiting in the summertime when it's dry and relatively warm, stay at Moran State Park. We stayed at the campground right on Cascade Lake, and it was phenomenal. The downside is that it's very competitive to secure a site during the summer. You need to do it basically the day they're released (six months in advance). If you aren't able to snag one, check back every day or two because a lot of people end up canceling. We ended up camping for a few nights, and had to stay in a separate site each night because that was all that was available.
If you want to stay near the amenities like restaurants and grocery stores, stay in Eastsound, the biggest "city" on the island. Really, it's a very charming waterfront community with a couple of good places to eat and drink, and a bunch of fun shops to poke around in and support the local small businesses.
Outlook Inn is a historic hotel (first built in 1888!) with views of the water just a few blocks from the main stretch of Eastsound. Choose from budget-friendly rooms in the main building (some rooms have shared bathrooms to save a little extra money) or the luxury water view suites with private balconies.
If you want something a little quieter and more removed from the hustle and bustle (not that there's a whole lot of it on the island), then look to either a resort or vacation rental.
For a more charming, rustic resort experience, look at either Doe Bay Resort or West Beach Resort – both are right on the water.
If you're looking for a vacation rental, Orcas has plenty of amazing retreats for you to choose from. Here are three that caught our eye.
When to Visit Orcas Island
Summer is really the best time to be on Orcas Island. The weather is warm – but not too warm, you still have that pleasant island breeze – and dry. The issue with summertime, as you might imagine, is that it's also the busiest time of year. July and August are peak season. Plus, summertime is the best time to see whales – particularly orcas – which means whale watching or sea kayaking should be on your agenda.
Shoulder seasons in the late Spring (Memorial Day through June) and early fall (post-Labor Day through October) are great times to visit. You'll have good, albeit more unpredictable weather, and fewer tourists on the island. Pack a rain jacket and some waterproof shoes or boots, but you might get lucky and have a bluebird weekend.
November through April is low season, and the island is pretty quiet. I wouldn't say winter is a bad time of year to visit though, because unlike other parts of Washington, you're not going to get a whole lot of snow on Orcas (with the exception of up on Mount Constitution).
Being situated between the Olympics and Vancouver Island means the rainshadow effect protects Orcas from some of the dreary, gray, rainy days that Western Washington experiences during those months. I'm not saying it's not going to rain – it very well might – but I am saying that you have a better chance of it not raining on Orcas Island than you do on the mainland, where "50 degrees and a 50% chance of rain" is basically the forecast from November through April.
Plus, Orcas Island would make a lovely winter weekend getaway from Seattle where you can rent a room or cabin with a fireplace, go on a wet morning hike, and come back to curl up by the fire with a good book.
How Much Time to Spend on Orcas Island
We think you need at least one night to make the journey out to Orcas worthwhile – it doesn't make a great day trip from Seattle because it's just a bit too far for just a day. A weekend (two to three nights) is a perfect amount of time to spend on Orcas, plus that means you'll be able to catch the Saturday Farmers Market in Eastsound, which is fantastic.
The best part about spending time on Orcas is orienting yourself to "island time." Visiting Orcas Island is not necessarily about rushing from one attraction to the next, it's much more about taking your time, relaxing, and moving a little slower than you might at home (at least if you're city dwellers, like us).
---