12 Amazing Things to Do on San Juan Island
Part coastal, part pastoral, and 100% beautiful, San Juan Island is a dream. As you disembark the ferry in Friday Harbor and get on "island time," all the worries and concerns you had back when you boarded the ferry will seemingly melt away. Over the course of your time on the island, you'll smell the ocean breeze (it's a little sweet-smelling, a little salty, we think), search for elusive marine wildlife including orca whales, and enjoy the bounty of fresh local ingredients.
San Juan Island was my (this is Matt!) family's preferred summer camping destination when we lived in the Seattle area, and I guess I took for granted the sheer natural beauty that exists in this incredible slice of the Pacific Northwest. Don't be like teenage me – live in the moment, turn off your phone, and let yourself be immersed in island life.
In this guide to the best things to do on San Juan Island, we'll go through our favorite experiences, from whale watching from the land, to getting out on the Haro Strait in sea kayaks, and much, much more. For such a small island, there's a pretty wide array of things to do and see.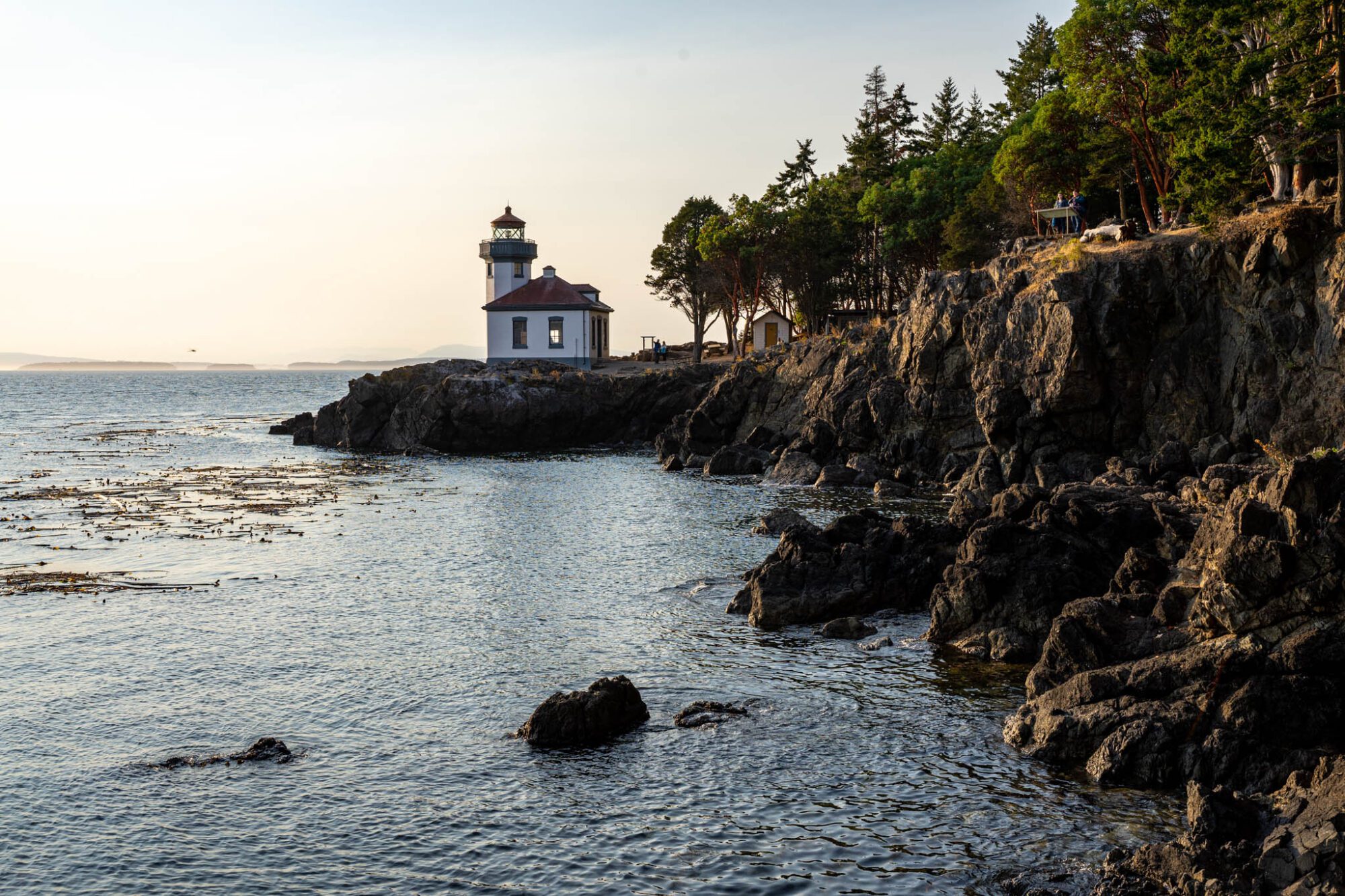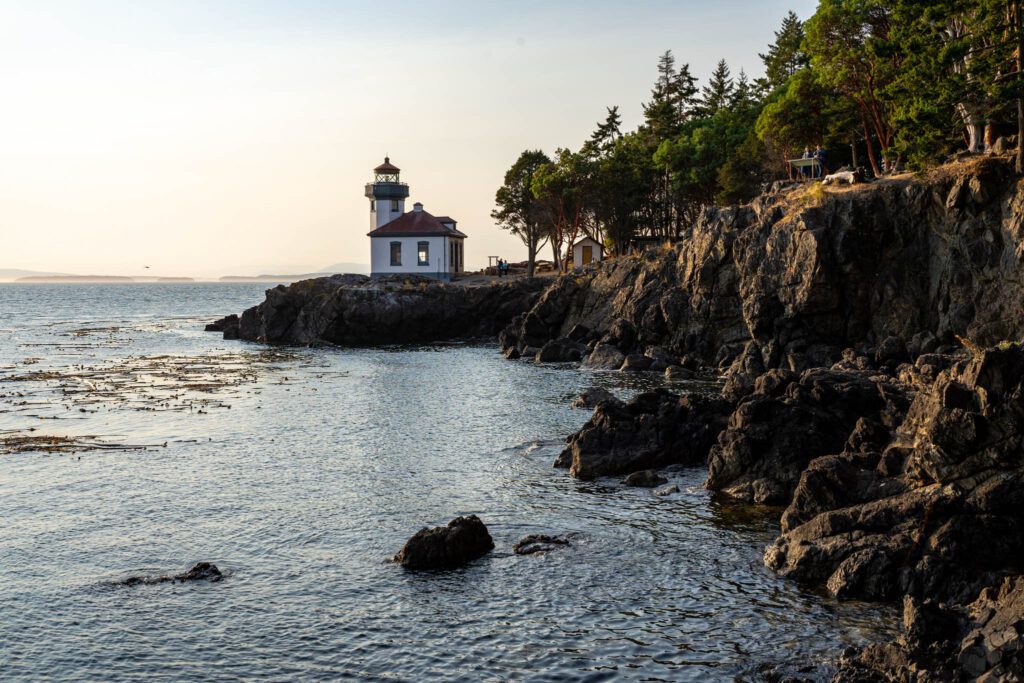 We should note that, in this guide, we are talking specifically about San Juan Island, the most visited of the greater San Juan Islands. There are four islands that are accessible by ferry in the San Juan Islands – San Juan, Orcas, Lopez, and Shaw. Again, we're talking about San Juan Island here, home to Friday Harbor and Lime Kiln Lighthouse. We know, it's a little confusing.
We also have a guide to Orcas Island, which is the biggest by area and second-most visited and well-worth a day or two of your time, if you have it. It's a similar vibe, but far less tourists make it to Orcas. Bonus: it's free to take the ferry from San Juan Island to the other islands, as long as you're heading east. It will cost you money to go from Orcas back to San Juan, but not from San Juan to Orcas or from Orcas to the mainland.
Disclaimer: Some of the links in this post, like hotel links, are affiliate links, meaning at no additional cost to you, we make a little bit of money if you click through and book. That being said, we would never recommend something to you that we don't stand behind 100%.
Getting There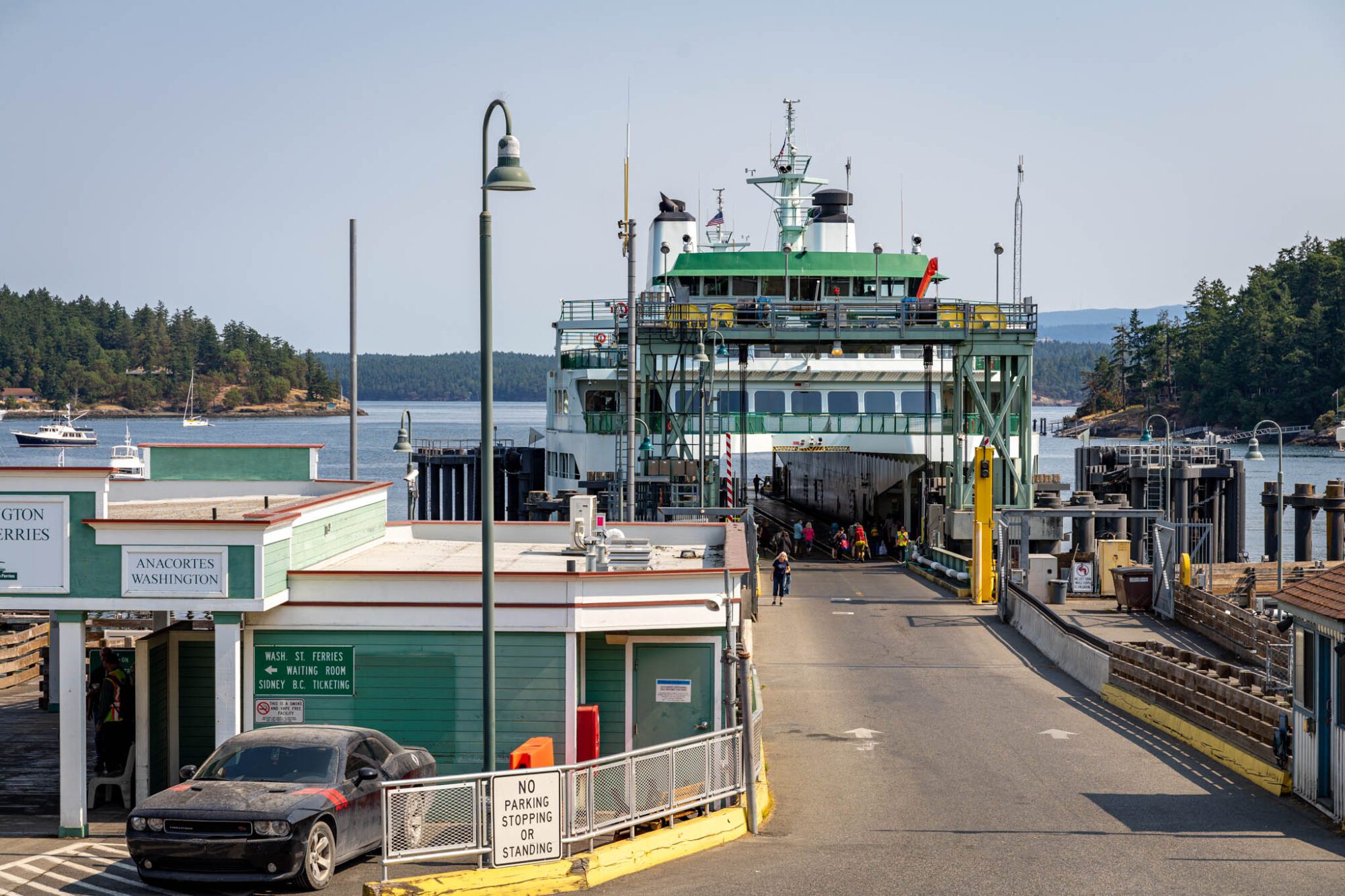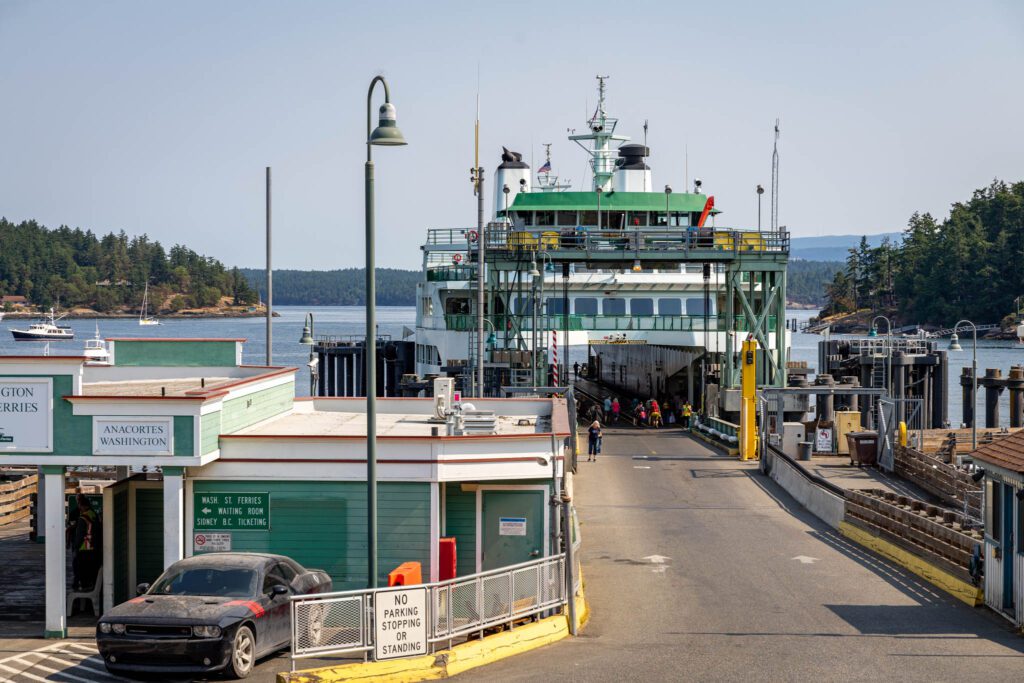 To get to San Juan Island from the mainland, you have to take a ferry from the Anacortes Ferry Terminal, which is two hours (84 miles) northwest of Seattle. It's a scenic 65 minute ferry ride, and you can bring your car on the ferry.
We'd recommend making reservations for the ferry to and from the island from Anacortes if you're traveling between Memorial Day and Labor Day, which can be made in advance here. This is particularly important on summer weekends, when the ferries are going to be packed to the gills. This reservation is simply to save you a spot on the ferry and give you priority boarding over the first-come-first-served people, you'll still have to pay a roundtrip fee at the toll booth.
You also need to be through the toll booth at least 30 minutes before the ferry departure time, which means you should show up 45-60 minutes early. Yes, even if you have a reservation. This is a super popular ferry route, and there's only one way to get to the island.
Taking the ferry is not cheap (see prices here) but it's worth noting that this cost covers you roundtrip. As long as you're traveling west to east (i.e. San Juan Island to Orcas Island, or San Juan Island to Anacortes), it will be free.
Make sure to make reservations both leaving from Anacortes and returning to Anacortes, which are both very popular routes.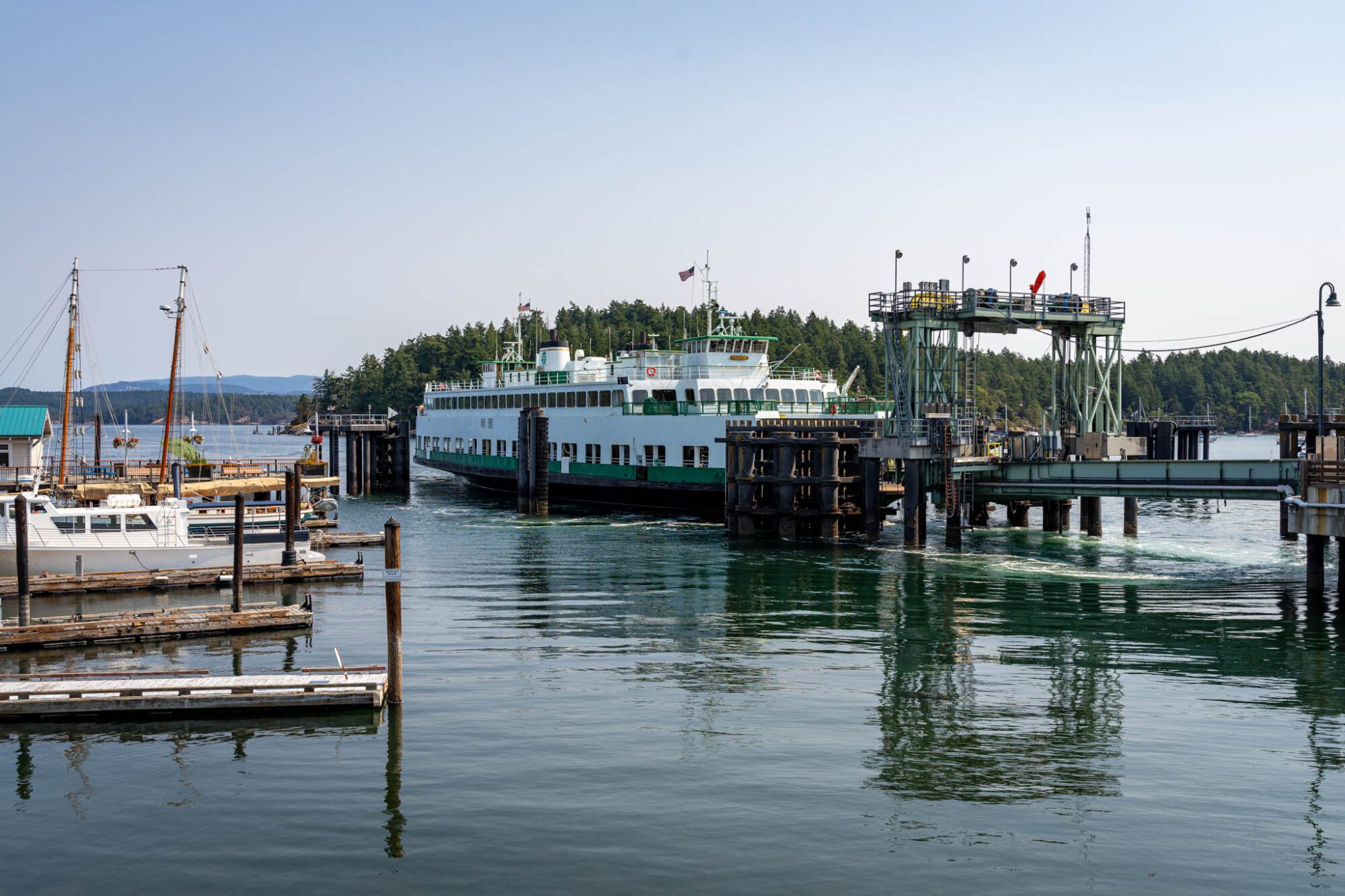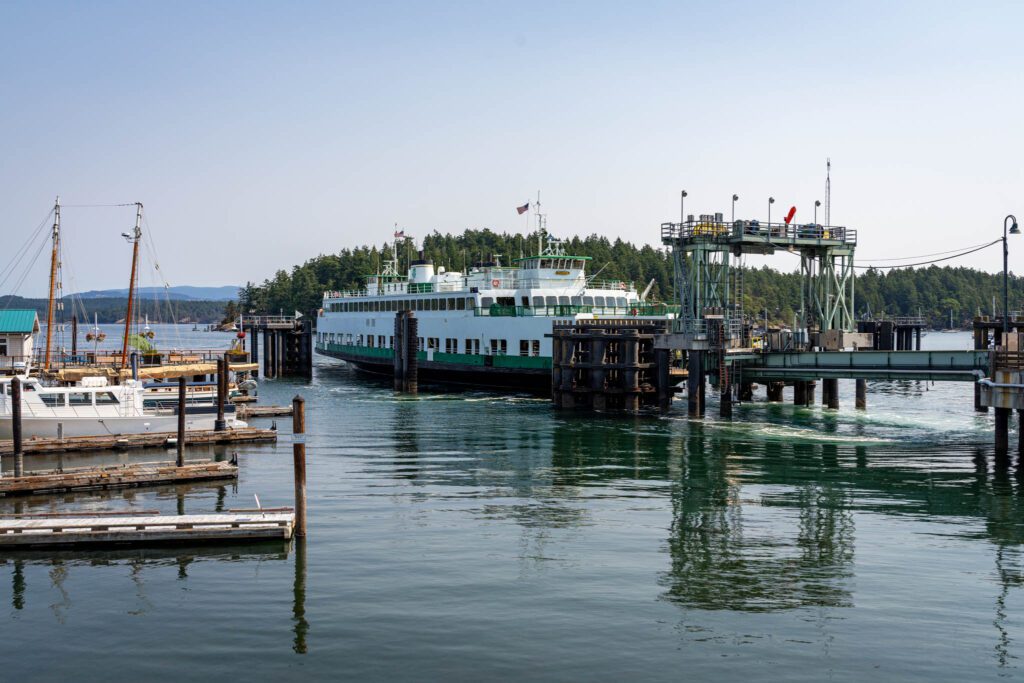 If you aren't able to get reservations, don't panic. First, check back two days before your trip, when more slots are released. Second, try traveling standby, which means you need to show up extra early (60-90 minutes in advance). Third, try traveling on either the first or last ferry of the day, which are generally the least crowded. Last, opt to walk on and park your car at the ferry terminal.
Getting Around
Once you're on the island, you have a few different options for getting around.
First, and the clear best option, is driving yourself. You'll have access to every corner of the island, which gives you the flexibility to join the crowds at popular spots like the lavender farm and in Friday Harbor, and then leave them behind while you explore the far flung corners of the island.
Parking in Friday Harbor can be horrendous midday, so if you're doing a kayaking tour that lasts more than two hours, get there early to secure an 8-hour parking spot (which can be found around the courthouse in downtown Friday Harbor). There's also a public parking lot with 10-hour parking a few blocks up Spring Street from King's Market.
Don't have a car? You've got a few options for getting around.
Public Transportation: San Juan Transit has a nice route that takes you to most of the main spots on the island, including Lime Kiln State Park, Pelindaba Lavender Farm, and more. It leaves from Downtown Friday Harbor, and you can buy a day pass that essentially turns it into a hop-on, hop-off tour of the island.


Rent bikes: You can rent bikes to get around the island, but you should know that some spots are pretty far from Friday Harbor. For example, getting out to Lime Kiln State Park is eighteen miles round trip from Friday Harbor. This isn't a great option if that seems like it's too far for you to bike.


Rent Mopeds: Or those cheesy little three-wheel red cars. This is the most expensive option on the list, but would definitely make for a fun day on the island! Rent from Susie's Mopeds in Friday Harbor.
If you don't have a car, make sure you either stay in Friday Harbor (by far the best option), where you'll have access to all three modes of transportation above, or at Lakedale Resort or Snug Harbor Resort, which are on the San Juan Transit lines.
The Best Things to Do on San Juan Island
Now, onto the main attraction! Here are our top picks for the best activities on San Juan Island.
Get Out on the Water in a Kayak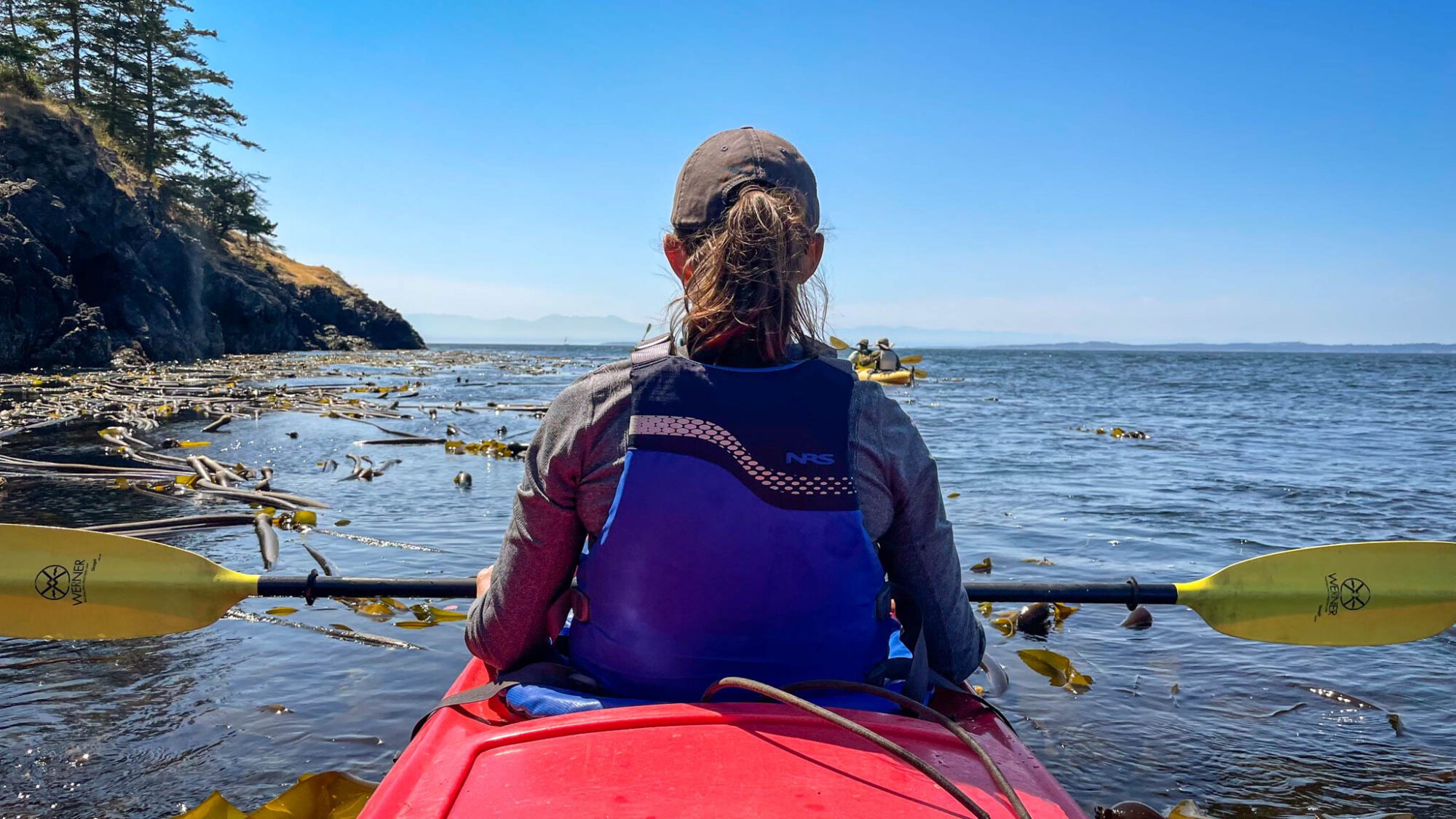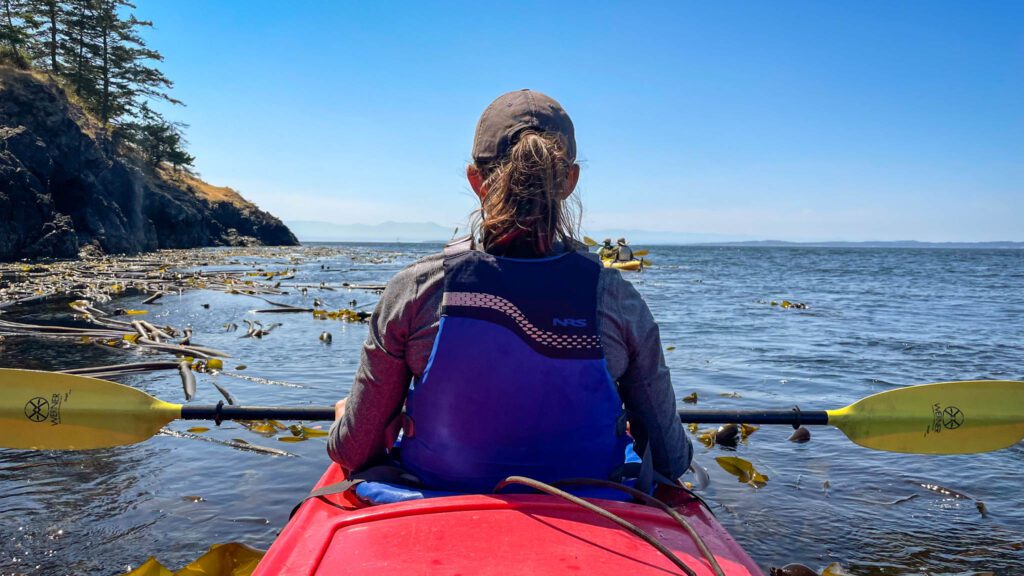 We know a bunch of sea kayakers, and without exception every single one of them recommends the San Juan Islands as some of the best sea kayaking in the world. In fact, when we were in New Zealand, our guide for our kayaking tour on Milford Sound told us that he spends part of the year down there, and the summer and fall leading tours in the San Juan Islands.
So, as you might imagine, the first thing we looked at was hopping in a sea kayak.
We quickly learned that in order to rent a sea kayak on the island (there are very few companies who do it at all), you need to be certified with an ACA / BCU 4* certificate, which we definitely are not. The reason? The water out here (currently writing this from our campsite on San Juan Island) is downright dangerous. The way I, an amateur kayaker at best, understand it, the convergence of a bunch of different currents and wind patterns plus deep, cold open water make it one of the more dangerous places in the world to take a sea kayak out if you don't know what you're doing.
If you are in the "I have no idea what I'm doing" group like us, your only option is taking a guided tour with one of the many companies operating on the island. You'll get all the excitement of being out on the water with an experienced, professional guide who actually has a clue about the water, weather, wildlife, and more.
Sea Kayaking with Outdoor Odysseys
We chose Outdoor Odysseys because they're a local company that has been operating on San Juan Island for 30+ years, and they have specifically chosen to only do "human-powered" exploration, unlike many companies who offer whale watching tours on motorized boats alongside their kayaking excursions. They are experts in sea kayaking, and are laser-focused on putting together the best possible trips.
To be clear, we paid for our trip ourselves, and this is in no way a sponsored post or anything. We just loved our experience and our guide Zoe, and think you will too.
From there, you'll have to choose which tour you're up for. At the time of writing, they offer a half-day tour on the eastern side of the island, and a full day tour on the western side, which is prime whale spotting territory. We opted for the full day tour, which takes you out into the Haro Strait between San Juan Island and Vancouver Island. It picks up and drops off from the heart of Friday Harbor, where you'll meet your guide and be whisked away to the western end of the island.
From there, you'll do a brief safety briefing, and then get all dressed up to get in the kayak. You'll kayak from San Juan County Park, south along the coast past the Lime Kiln Lighthouse, stop for lunch at a beach just south of the lighthouse, and then head back the way you came. It was an exceedingly pleasant way to spend a day, and about half of the six hours will be spent out on the water.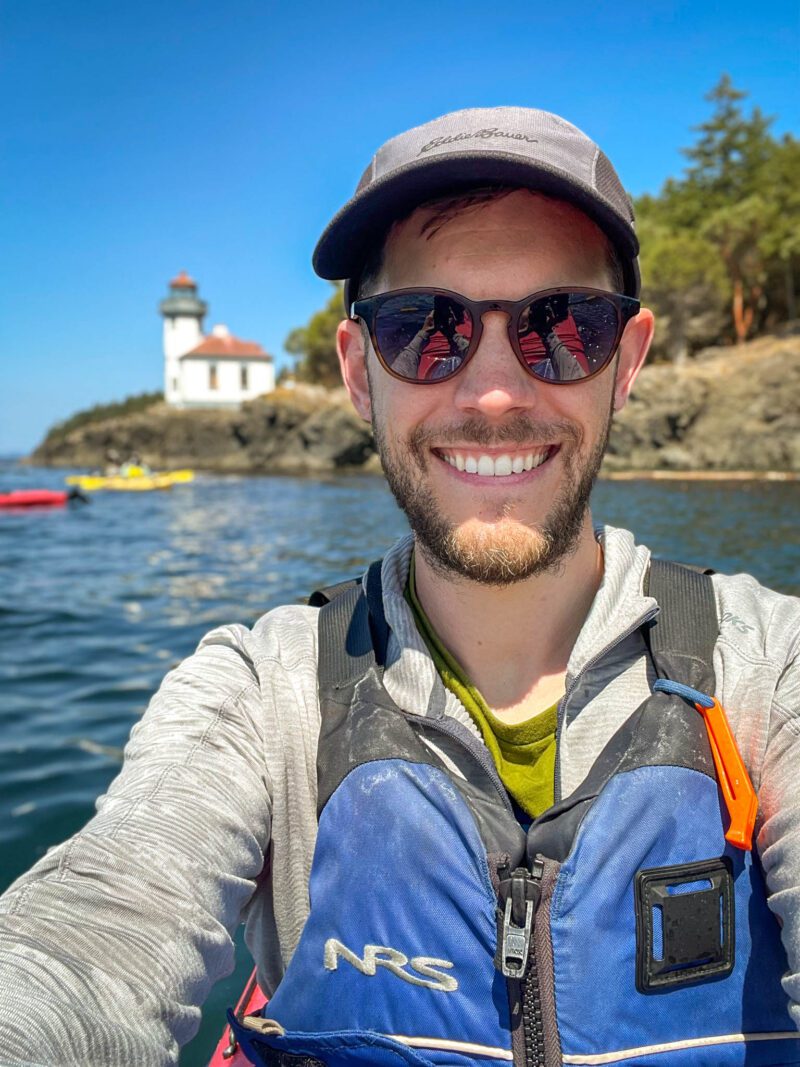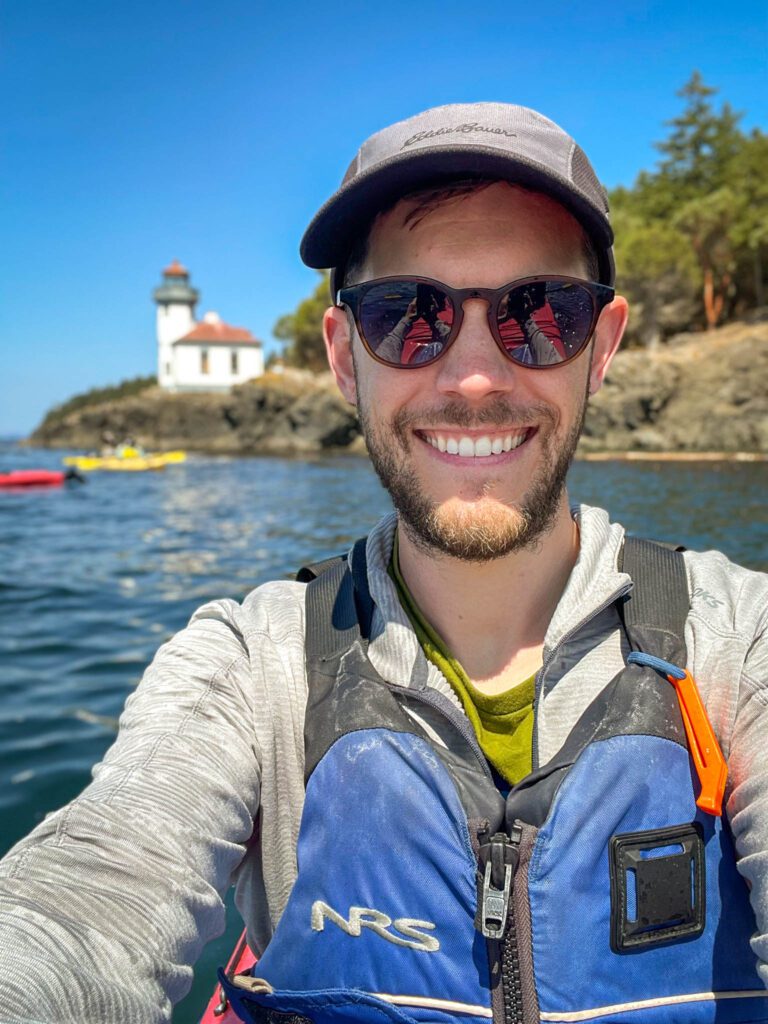 I will say that I didn't like the fact that you go out-and-back along the same route, but I'm not sure that can really be solved.
They also offer multi-day tours, which we questioned our guide (Zoe was amazing!) about extensively. They're part kayaking, part culinary extravaganza – they bring dutch ovens on the kayaks, which is above and beyond! They have two and three day options, which are on our list for future trips to the islands. Having a couple of days means you can get a little further off the beaten path than a day trip allows. If you have an extra day or two, that would be an amazing way to spend it. They assured me that they take dietary restrictions seriously, and would be able to pack an entire separate set of dishes and cookware for me since I have Celiac Disease, and allowing others to cook for me is generally stressful.
The other tour I would consider is the Orca Search tour from San Juan Outfitters because it leaves from Roche Harbor and takes you to a spot that you can only reach by boat. You won't always see orcas on that tour, but it takes you out into the Haro Strait, which gives you a decent chance at seeing either orcas or tons of other marine wildlife.
Go on a Whale Watching Tour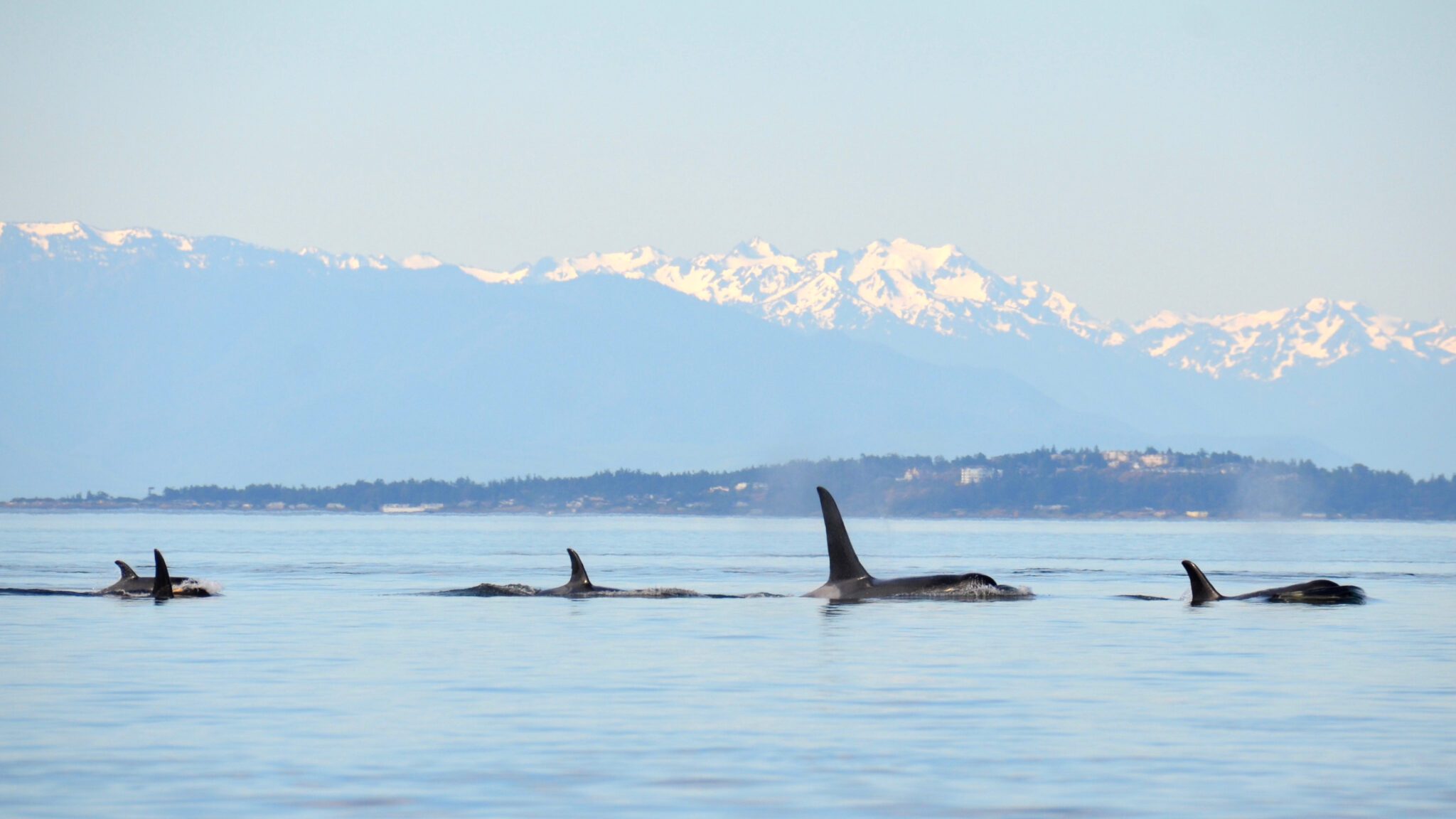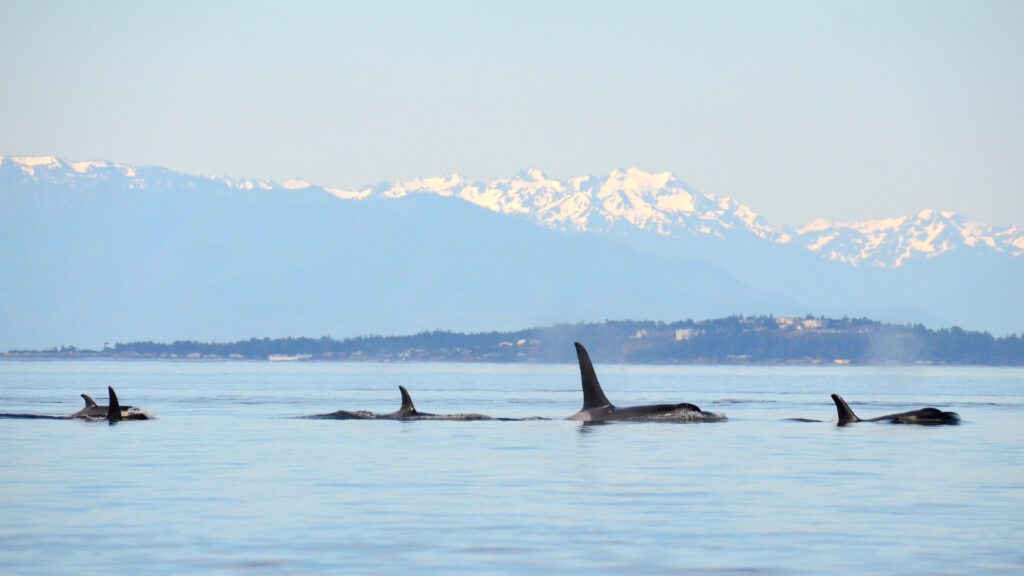 San Juan Island is one of the best places to see orca whales in the world. Both from land (more on this below), and up close and personal. The best way to see whales up close is by hopping on a whale watching tour.
We had a long conversation about the ethics of whale watching between ourselves, and then brought it up with our kayaking guide to get her take on it.
We have mixed feelings about it. On the one hand, it's certainly a cool and amazing experience to get out and see whales in their natural habitat. That experience can only have positive effects on the way people see and appreciate wildlife.
On the other hand, the constant noise (and other) pollution and borderline harassment of the whales is certainly not good for them. The noise pollution in particular messes with their ability to communicate through echolocation. Combine that with the fact that whale watching companies often send out scouts in the morning, then follow the whales all day long, and you've got a real ethical dilemma on your hands if you care about the well-being of the whales.
I mean, there was a case being made not long ago to completely ban whale watching altogether in the Pacific Northwest to protect the dwindling southern resident orca whale population (which has other contributing causes aside from whale watching, but they're all human-driven).
The key is doing your research to find a company that is doing the right things – giving plenty of distance, not harassing the whales, and going on smaller boats. Here is a company that we looked into and felt relatively good about:
San Juan Safaris: Their adventure whale watching tour goes out on a small boat, and they don't guarantee sightings which makes me think they aren't as focused on rushing out to the spots that other people have already seen whales at. They still have a 90%+ sighting rate, they just can't guarantee you'll see whales because, you know, they're wild animals.
Whale Watching from the Land at Lime Kiln Point State Park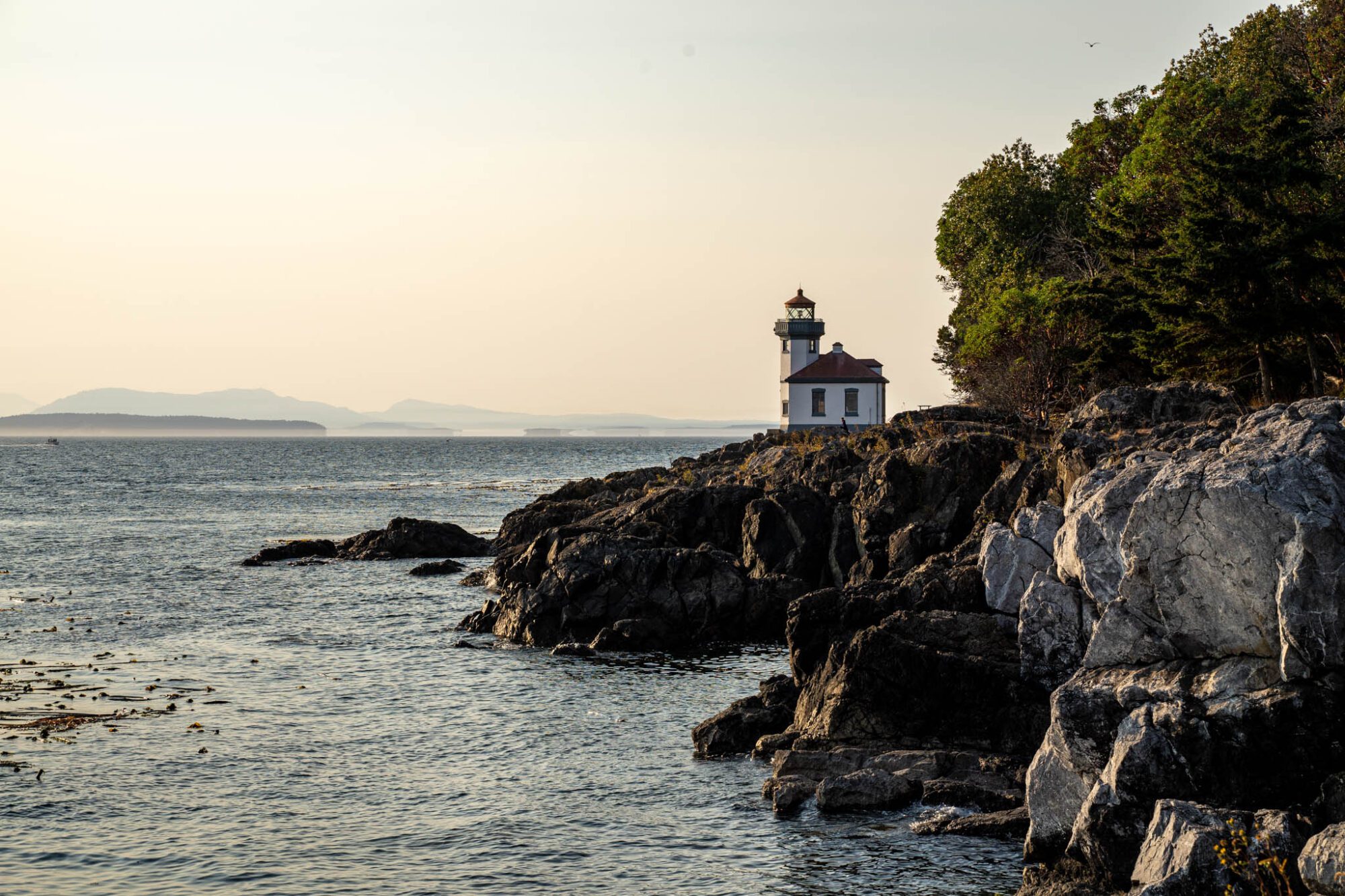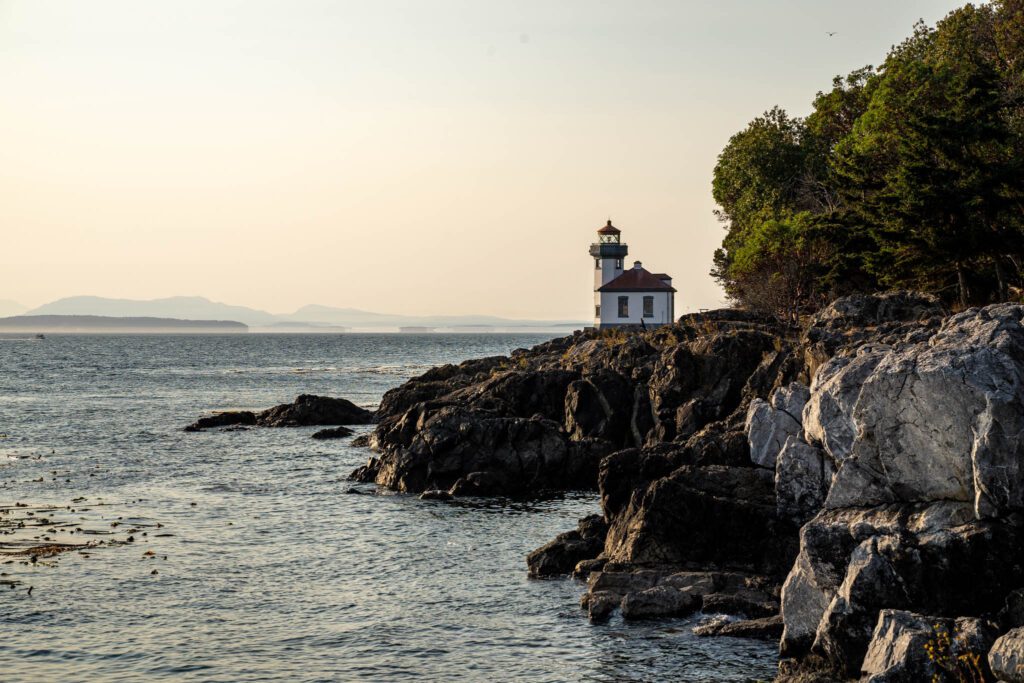 San Juan Island is THE best place in the world to see orcas from the land. I remember spending hours and hours out by the lighthouse at Lime Kiln Point talking to the researchers and learning all about whales and their migratory patterns. And seeing orcas. All. The. Time.
Today, the southern resident pod is much smaller, down to around 73 whales from about 300. Sightings of those residents are also down, which isn't surprising. There are a couple of factors at play, including overfishing of the chinook salmon that is the biggest part of their diet, noise pollution making it hard for them to communicate and hunt, and worsening fertility due to malnutrition. A decade or two ago, you'd see them nearly everyday. Today, not so much.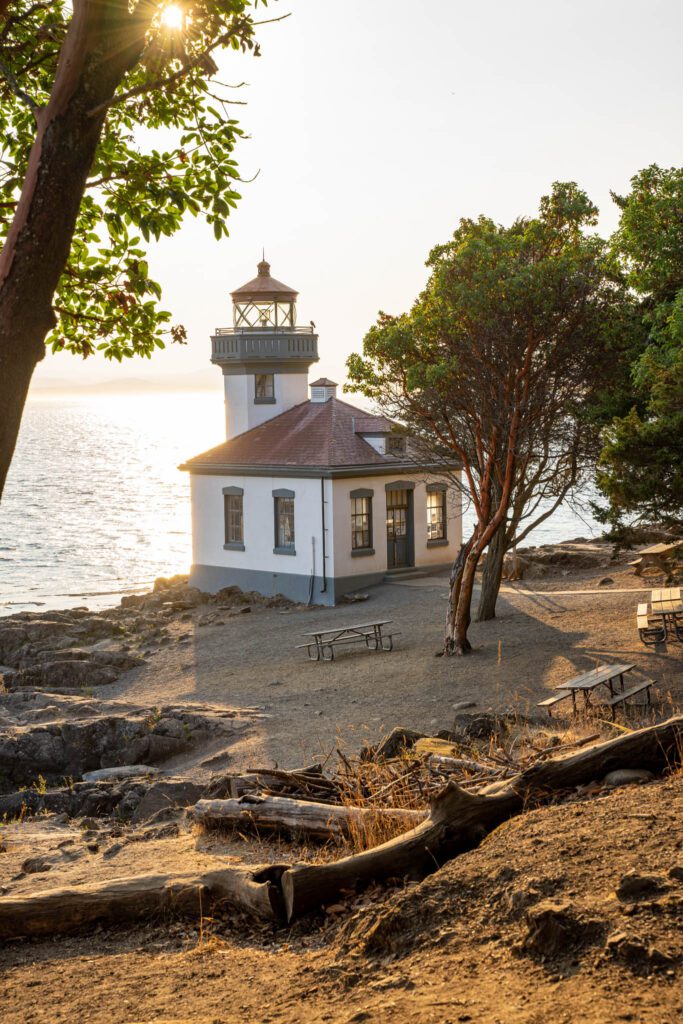 BUT, I have good news! You can see transient orcas, who are less reliant on salmon since they primarily eat mammals. We were driving down the road just south of Lime Kiln (on our way to the park) when I happened to glance out towards the water. There were four or five boats circled around, and as soon as I saw blowholes, we pulled over to watch them. From shore, you can get a sense of their scale by comparing the size of their dorsal fins to the boats surrounding them. These are huge animals!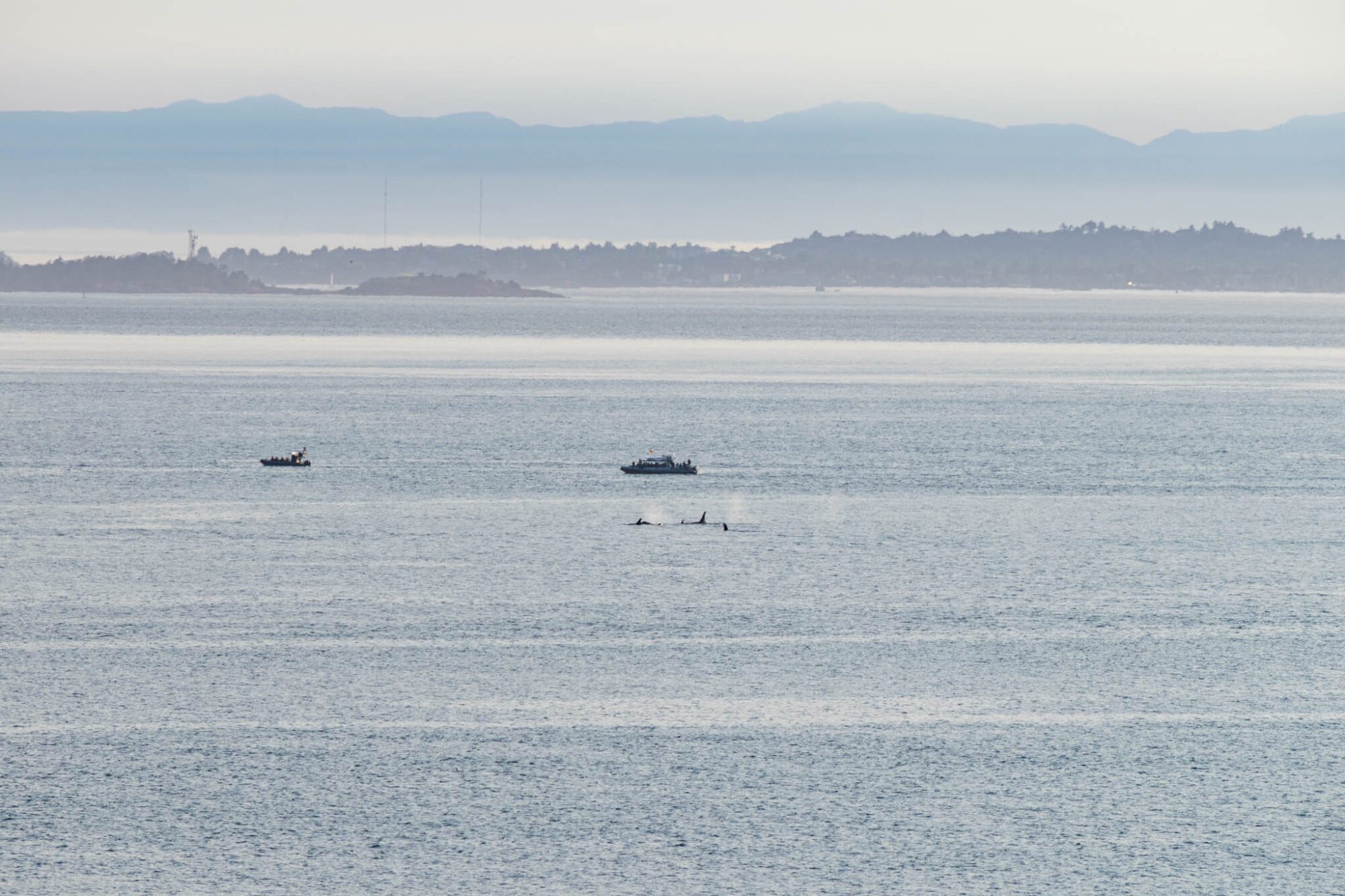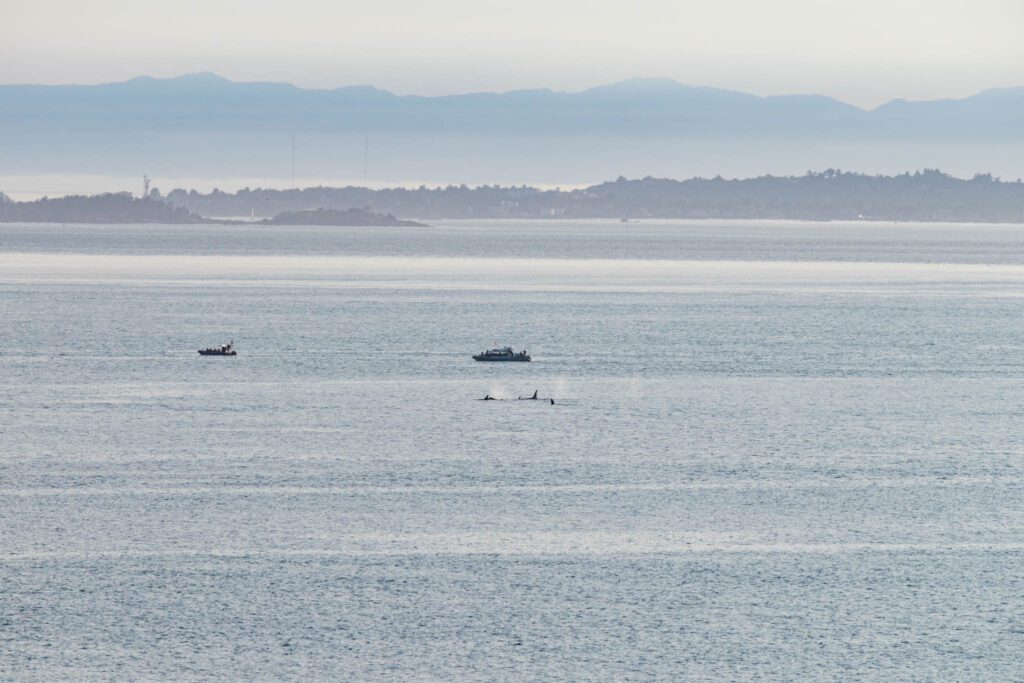 There is really no "best time to see whales" in terms of time of day, so if you really want to see them I'd suggest multiple trips out here. Look for blowholes or groups of boats, both of which are a good sign that whales are there.
In addition to orcas, you'll be able to see humpback and minke whales, sea lions and seals, and bald eagles. We were lucky to see a seal pup swimming right below the lighthouse, and a bald eagle happened to fly by as we were pulled over to watch the whales from a pullout on the side of the road.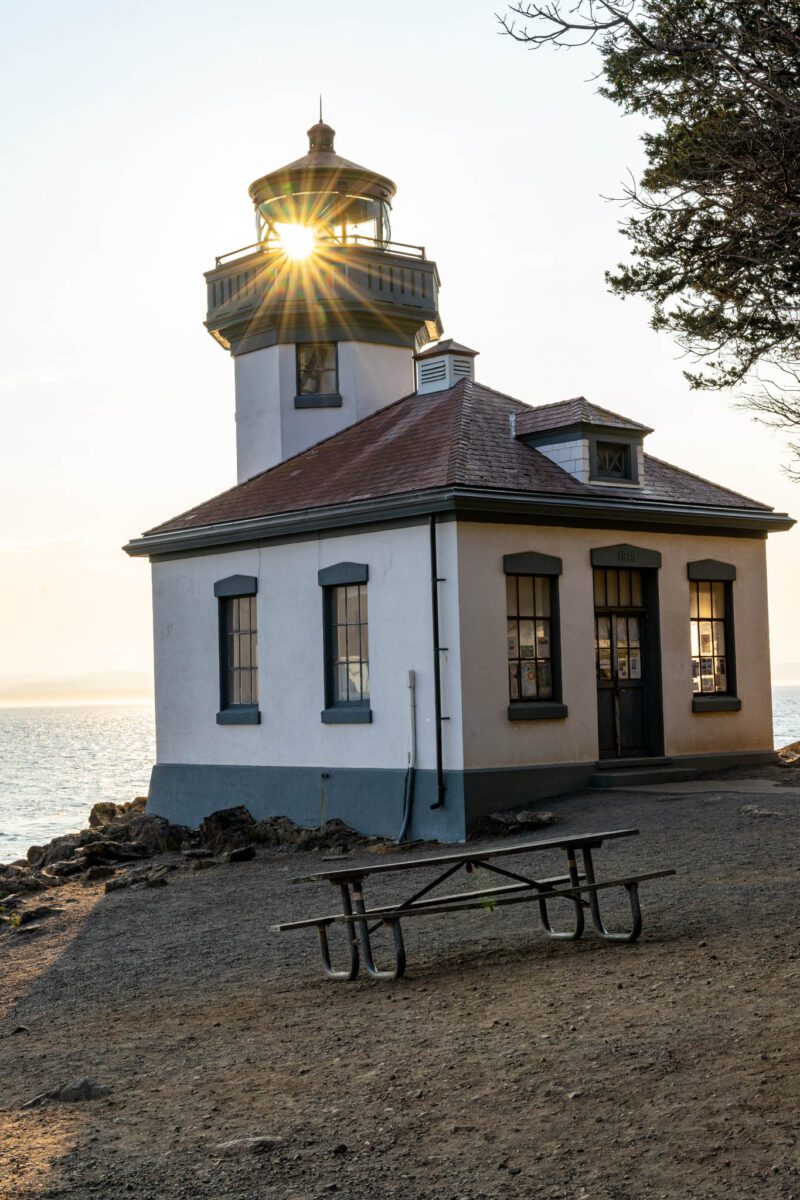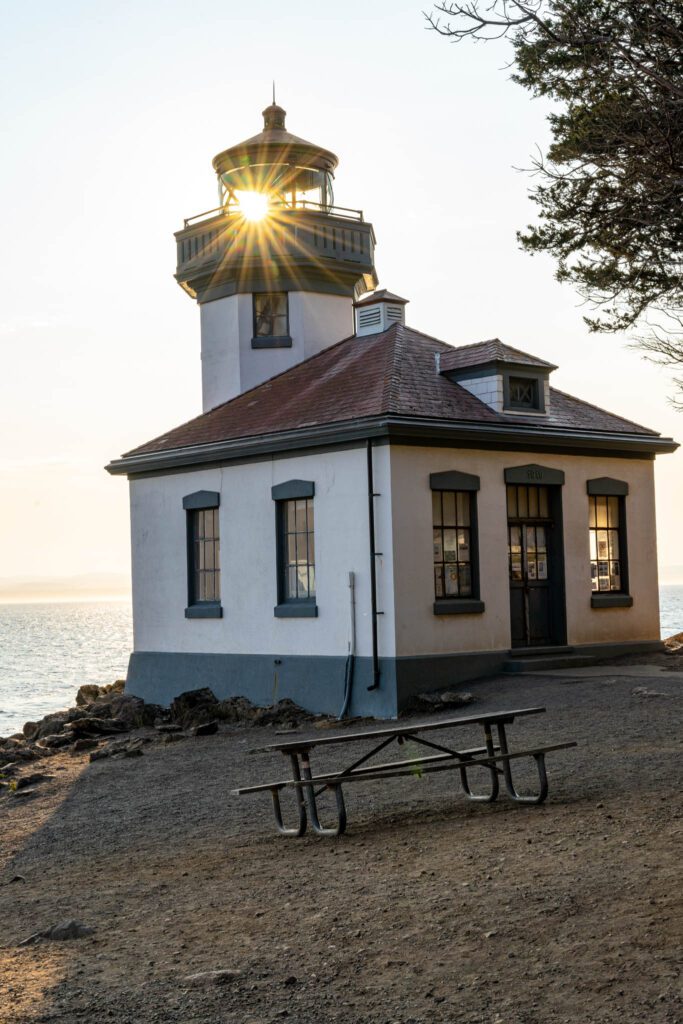 Explore American Camp
Down at the southeastern end of San Juan Island is American Camp, which is part of San Juan Island National Historic Park, is the site where the Americans lived in the mid-1800's after the Americans and British decided to split San Juan Island until they figured out the water boundary. We'll get to English Camp in the next section, which is up at the northwest corner of the island.
After 15 years, the whole water border (not to be confused with "waterboarder") issue was figured out, and the British left (but not after the killing of a British man's pig literally put us on the brink of war).
There are two attractions here that we really enjoyed.
First is the loop hike to Mt. Finlayson (4 miles, 450 ft. elevation gain) and down past the lagoons. It starts at this parking lot just past the turn to South Beach, and winds its way up along the grassy hillsides, where you'll have spectacular views of the Olympic Mountains across the water to the south, and have a good shot at seeing some wildlife. We saw a bald eagle, a snake, and a fox along this stretch.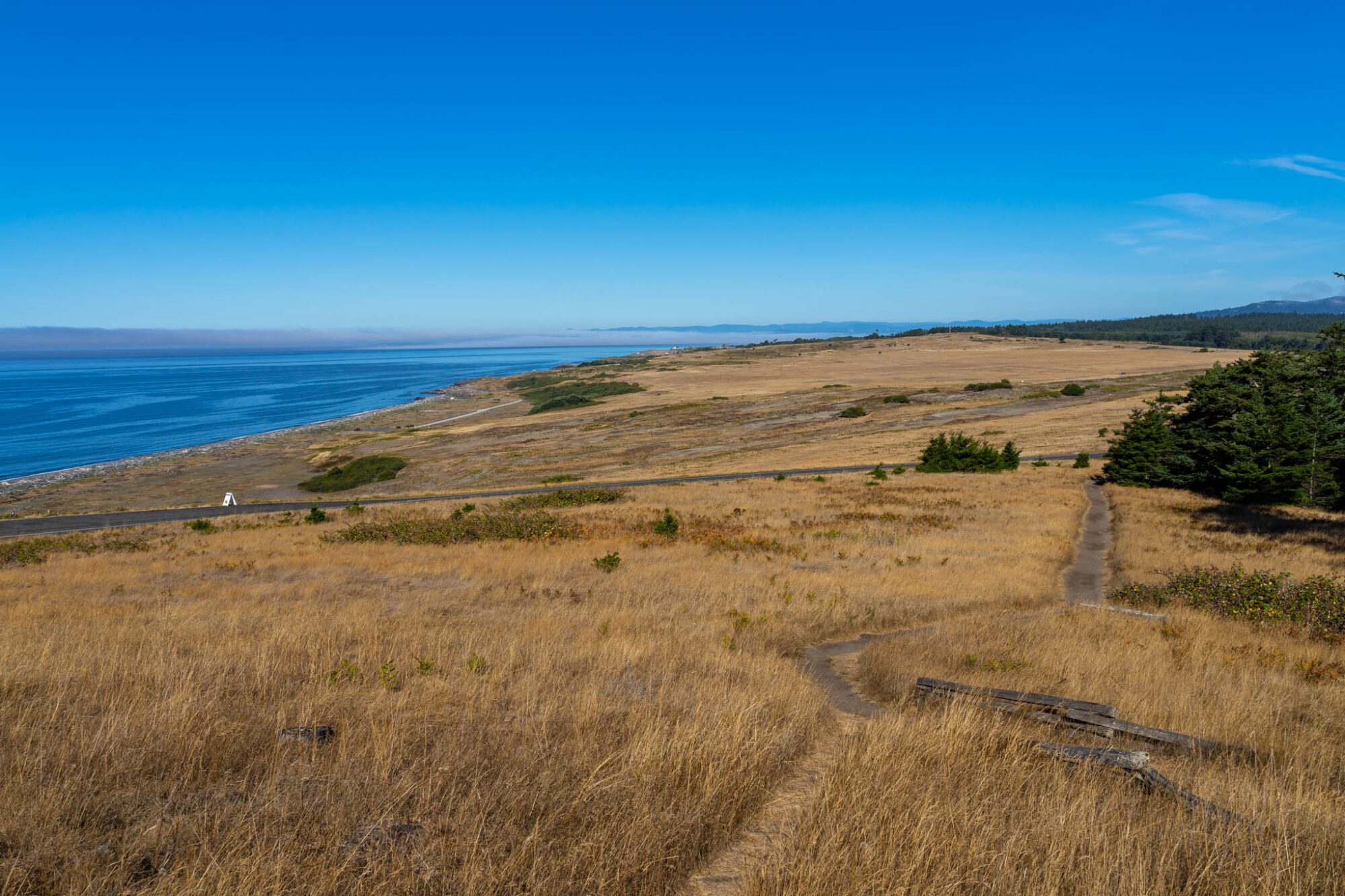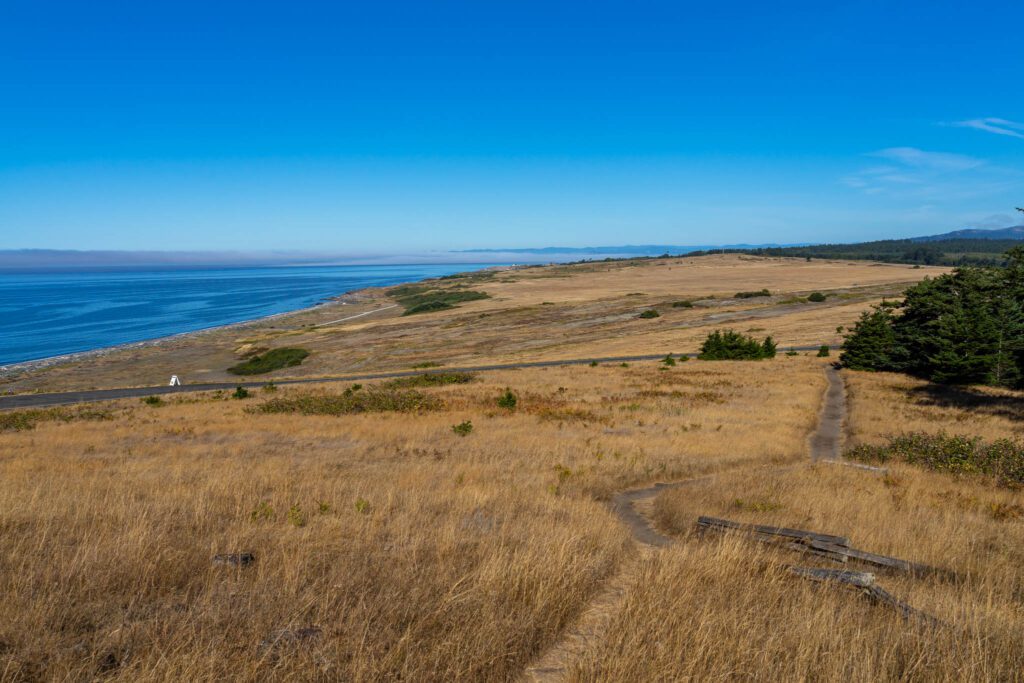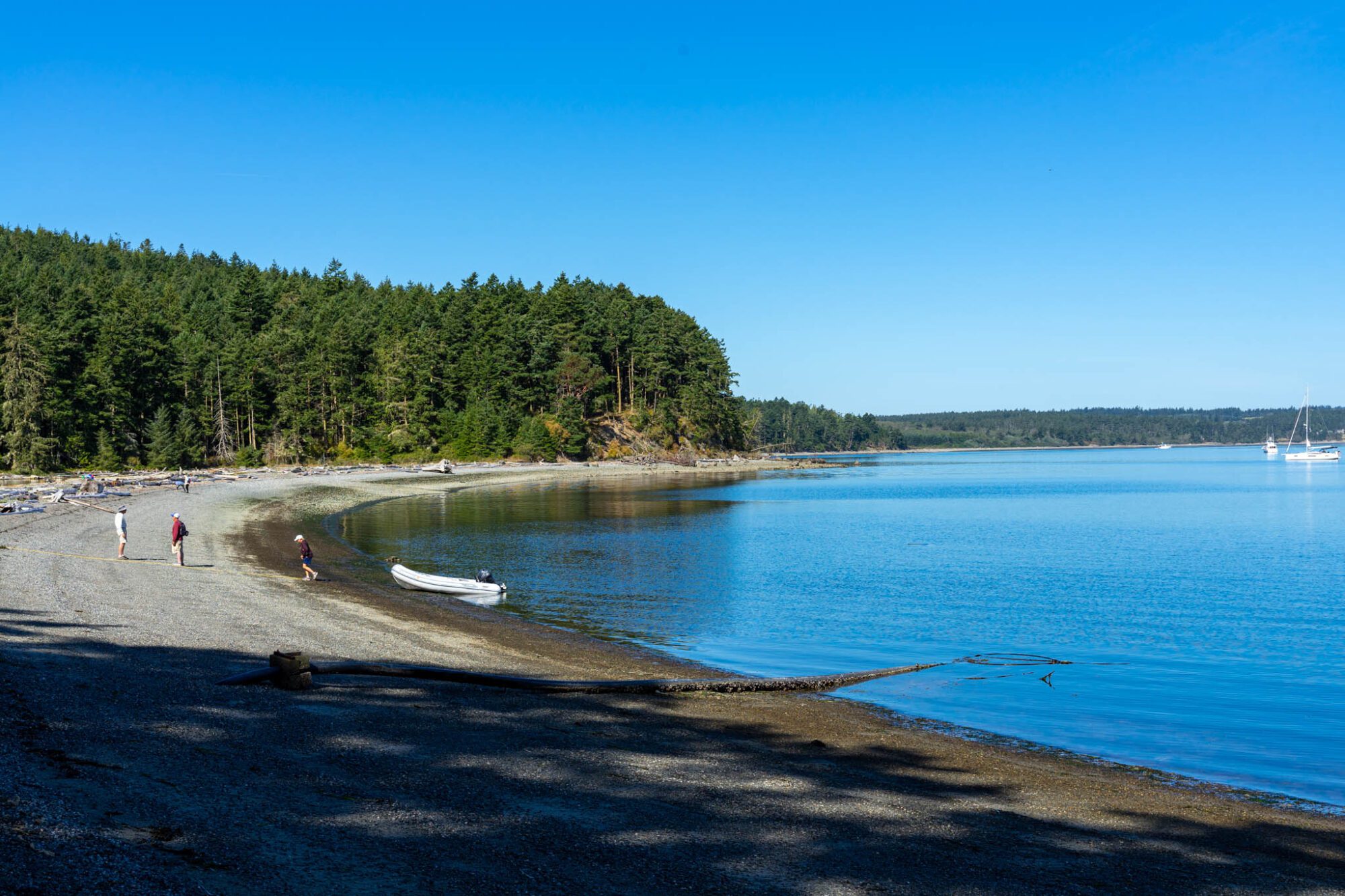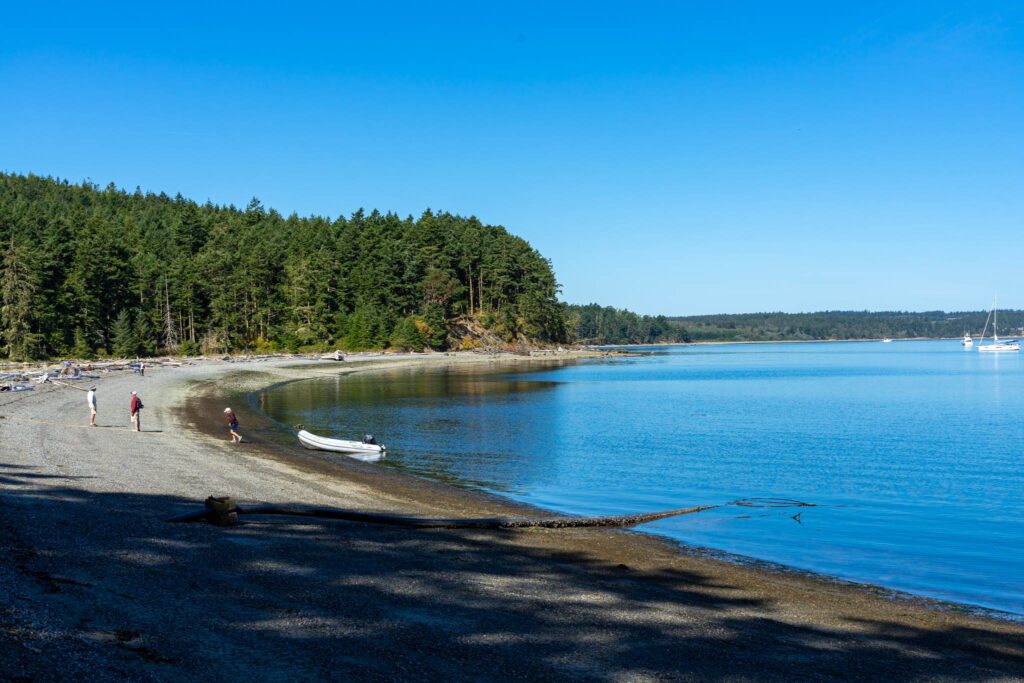 Eventually, you'll reach the summit of Mt. Finlayson (which was in a cloud of fog when we were there) and continue on until you reach a left turn, which takes you back to the parking lot past Third Lagoon and Jakles Lagoon.
The second thing to do is walk up and down South Beach, a driftwood-laden beach from which you'll have water-level views across to the mountains on the other side of the Strait of Juan de Fuca.
Explore English Camp
On the opposite side of the island, you'll find English Camp, which is – you guessed it! – where the English set up camp for that 15 year period of shared occupation of the island.
The highlight here is the short-but-steep hike to the summit of Young Hill. From there, you'll have great views out over the Haro Strait over to Victoria and Vancouver Island. It's a fantastic place to catch a sunset.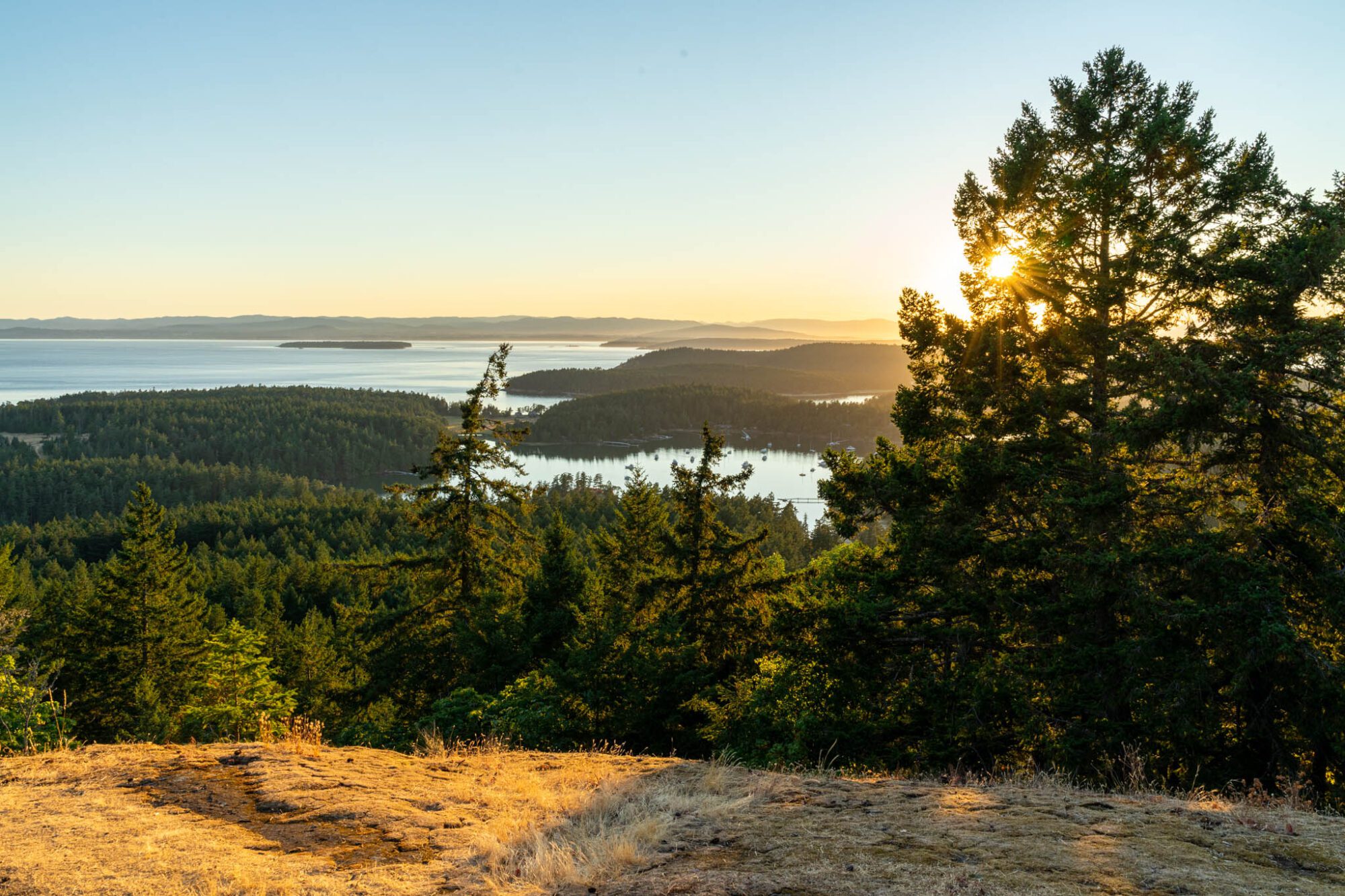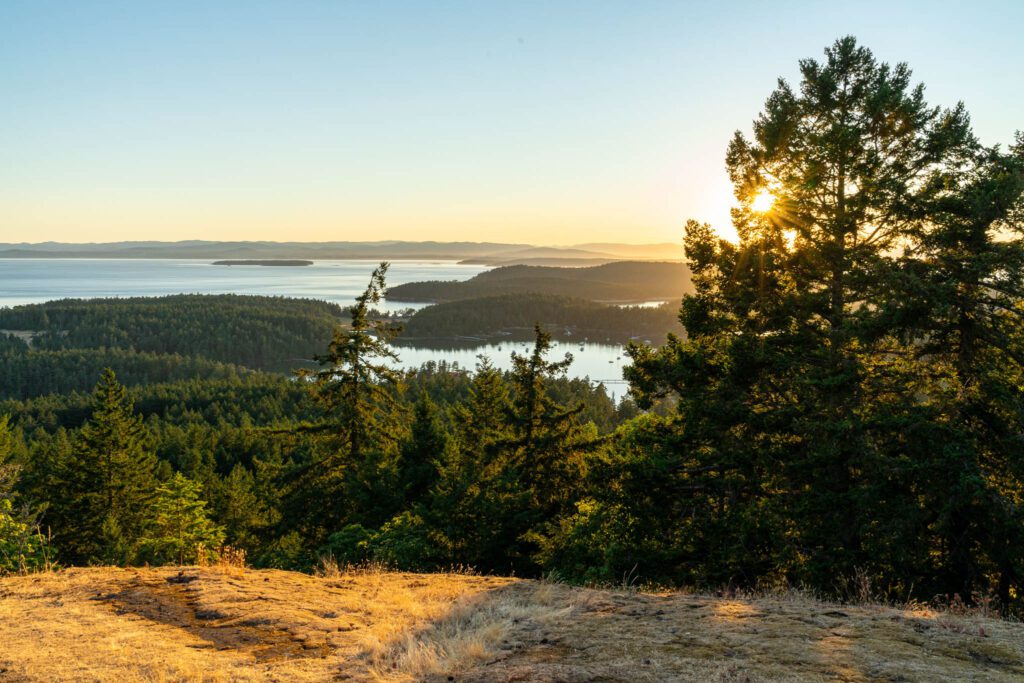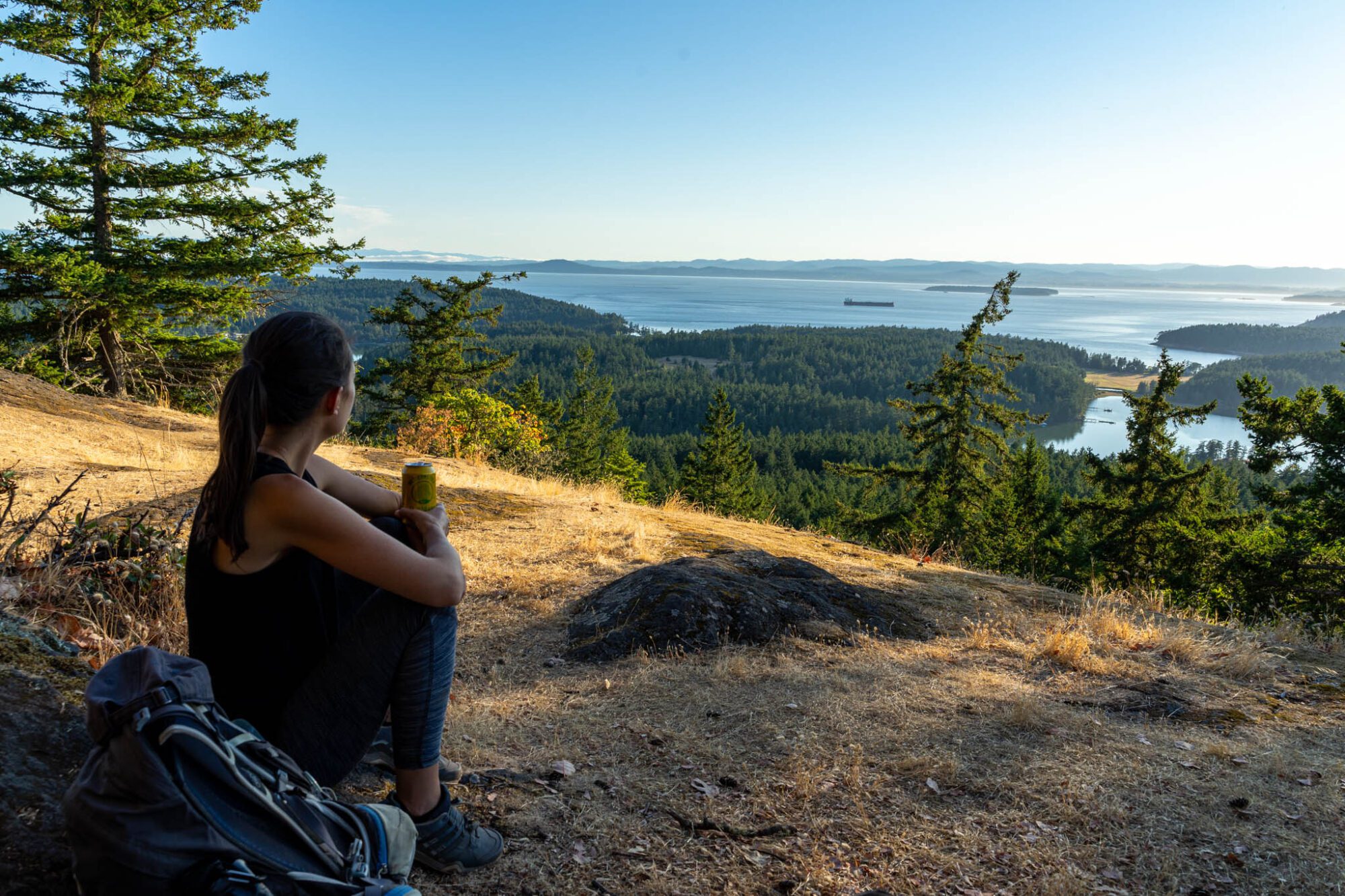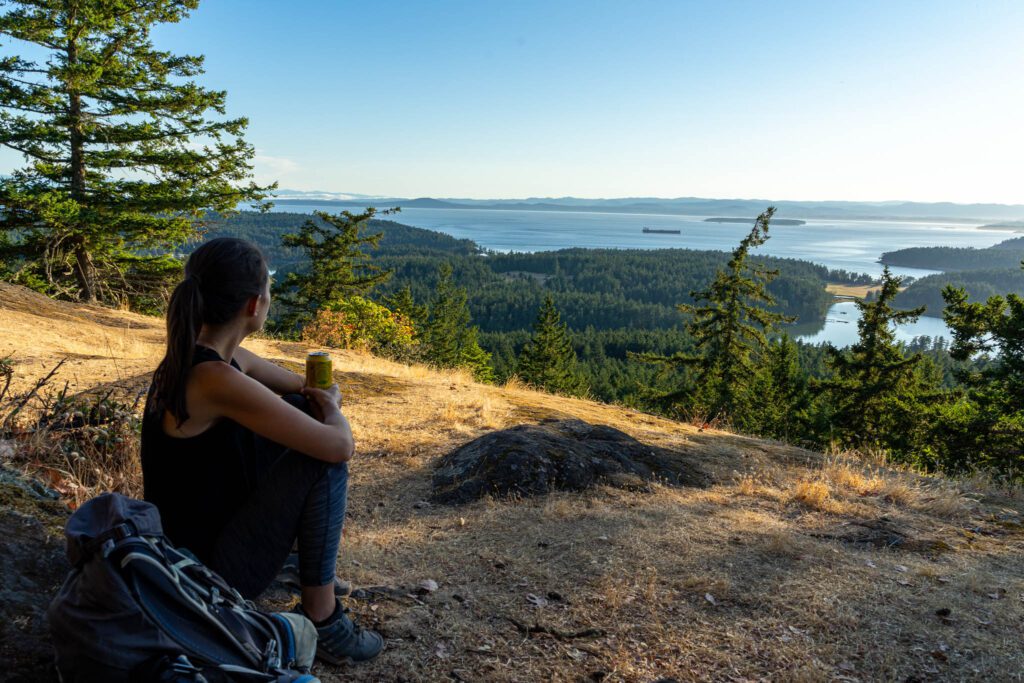 Pro-tip for hiking up to Young Hill – you can park along the road where the trail crosses the road to shorten the hike, but it's still a steep climb. Make sure you're all the way off of the pavement when you park!
Explore Friday Harbor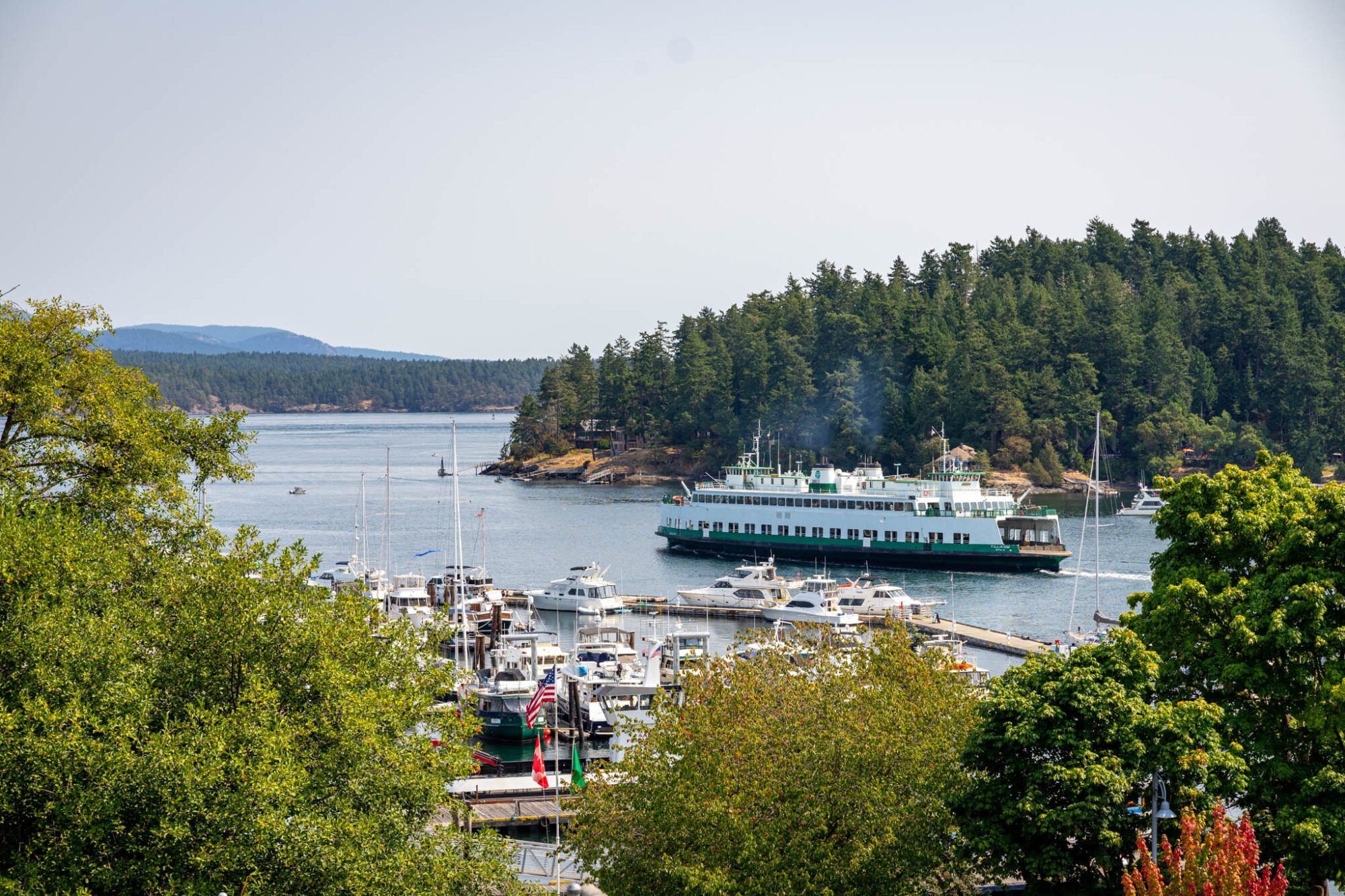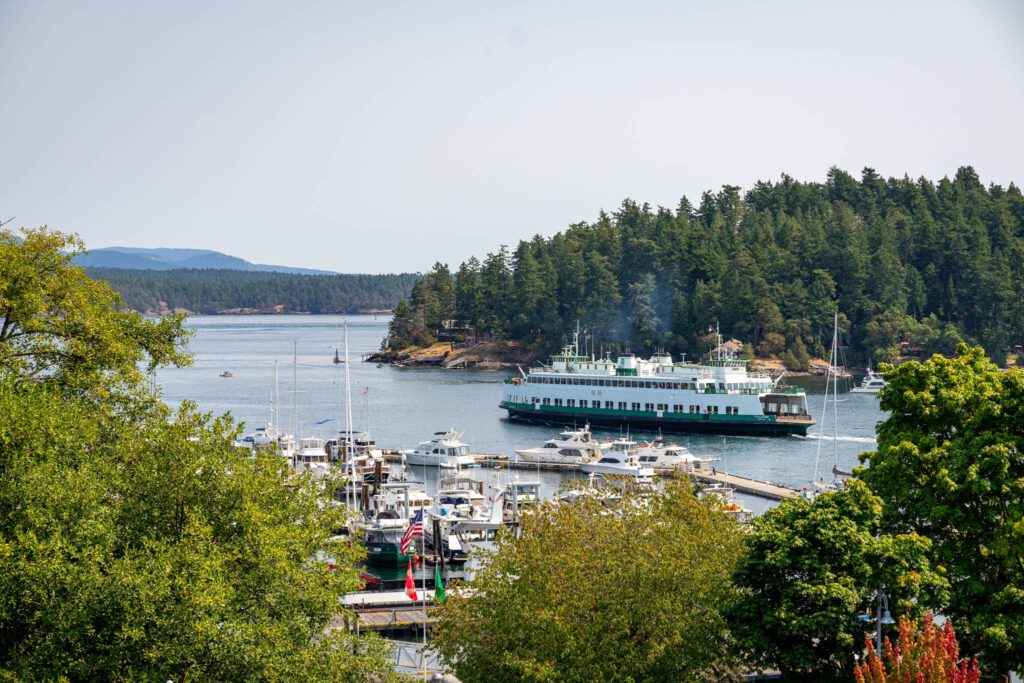 Friday Harbor is a charming little tourist town located on the eastern side of the island. All ferry passengers from the mainland come through Friday Harbor, so it's noticeably more packed between the hours of 9am and 6pm, when the day trippers are on the island. Still, it's well worth spending a few hours poking around, and we found some great spots that we think are definitely worth your time.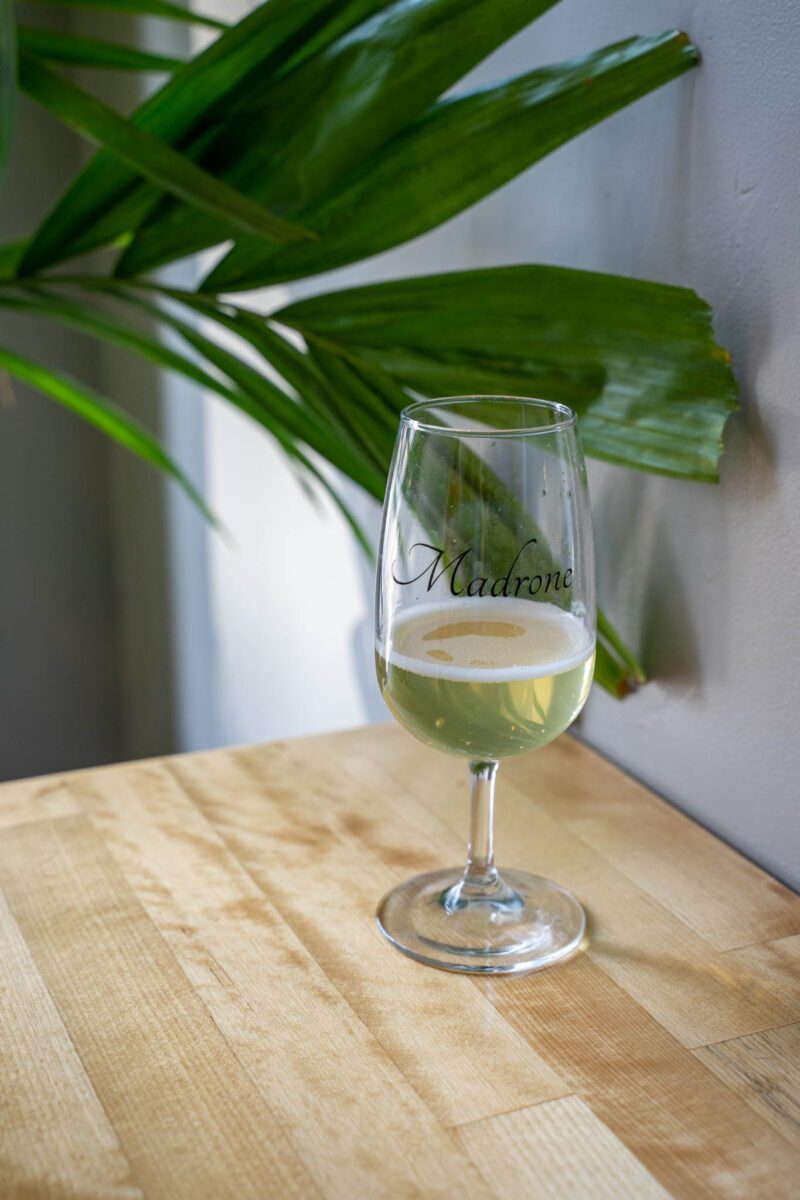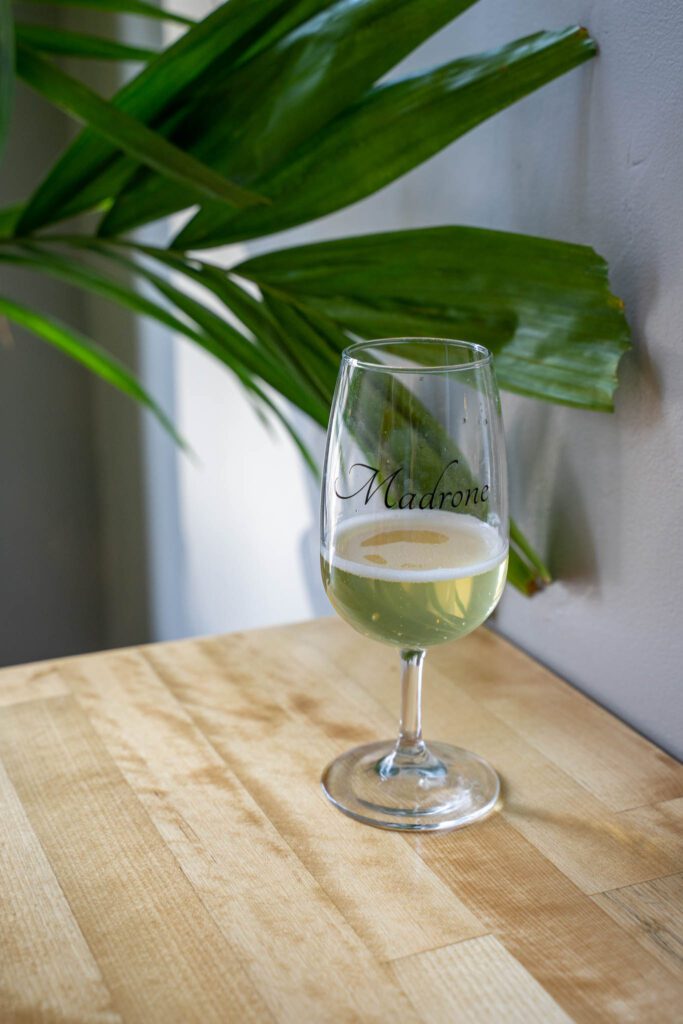 ---
Pelindaba Lavender Farm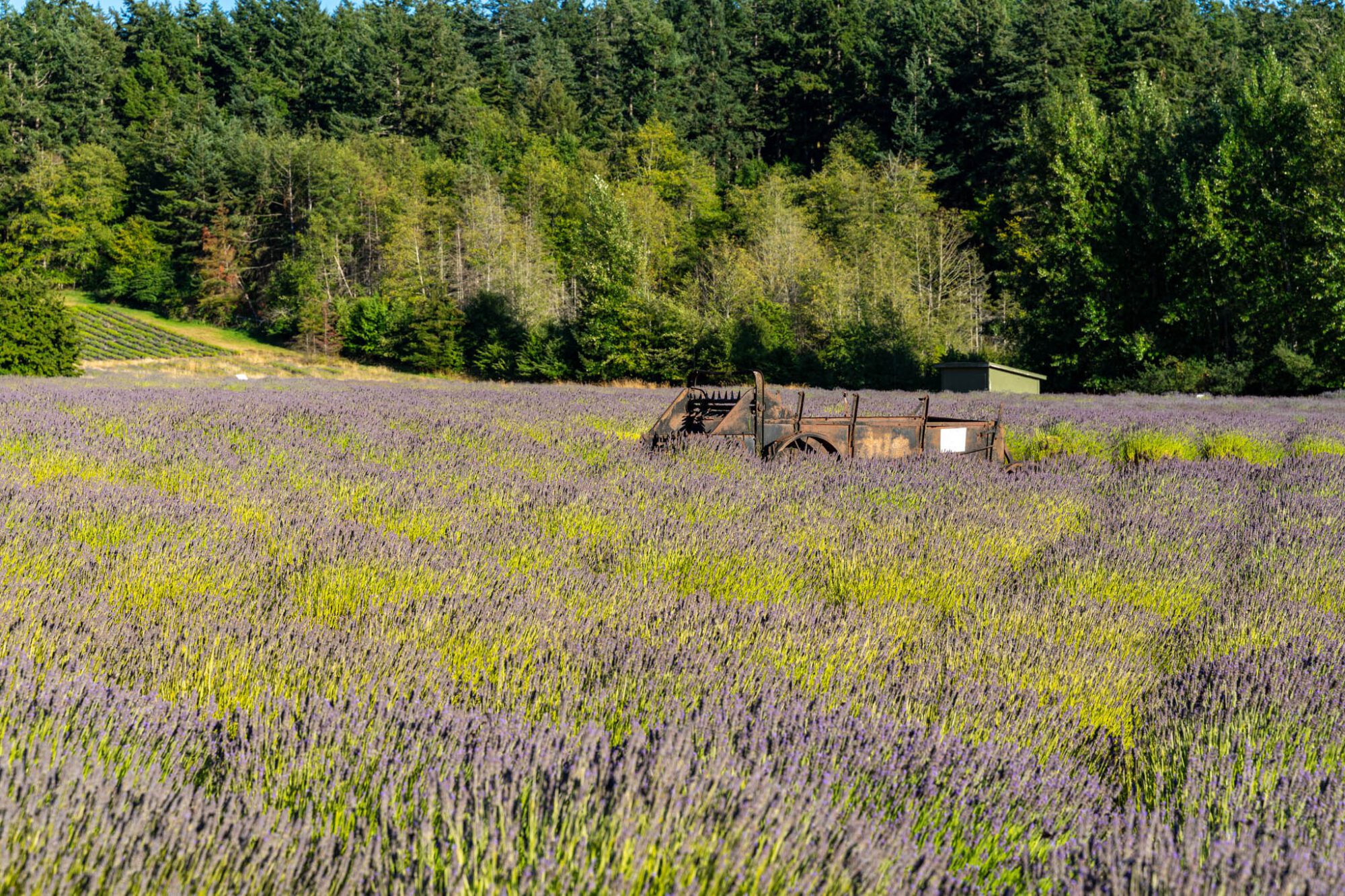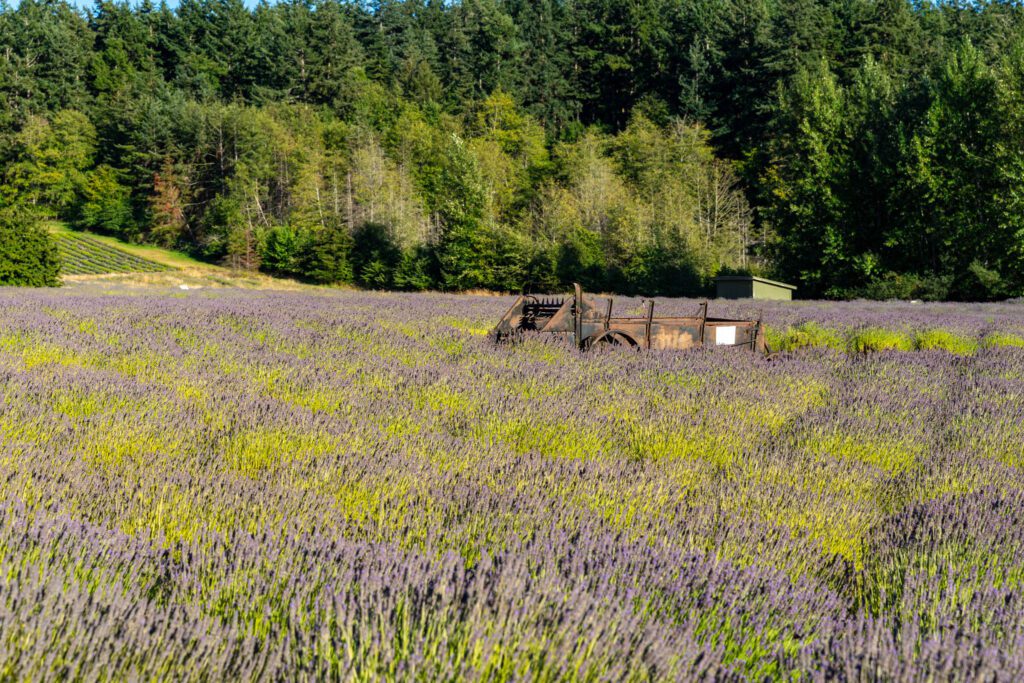 In addition to independent bookstores, we're also suckers for a good lavender farm. Specifically, Alysha is a big fan of lavender farms. Especially when there's lavender ice cream to be had.
Pelindaba is the biggest name in Pacific Northwest lavender, and I've now seen several Pelindaba stores pop up throughout western Washington selling all sorts of stuff made out of their lavender.
Their farm on San Juan Island is best in July and early August, which is when the purple stuff will be in full bloom. The contrast between the bright greens and deep purples of the blooming lavender plants will take you back to a time when you were younger, plopped in front of the tv watching a big friendly dinosaur sing about making friends. Just me?
They have a farm store on site where you can buy everything, including (but not limited to) insect repellant, gluten free lavender brownie mix, lavender tea, and just about anything else you could possibly imagine. You can also get lavender ice cream, lavender iced tea, and lavender lemonade from the tent out near the field. I can personally recommend the lavender ice cream, which is made by local Lopez Island Creamery.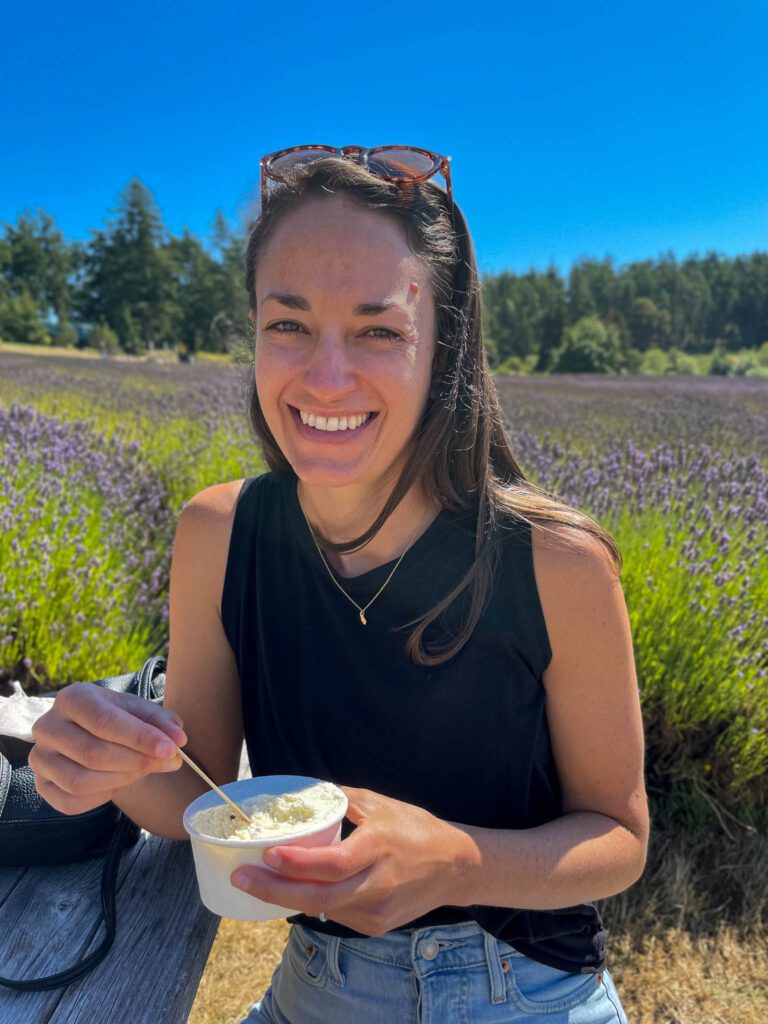 Spend some time walking through the lavender fields and seeing the different varieties (in the summer, anyway), enjoy your ice cream, and play some lawn games like life-size jenga and cornhole.
Even More Things to Do on the Island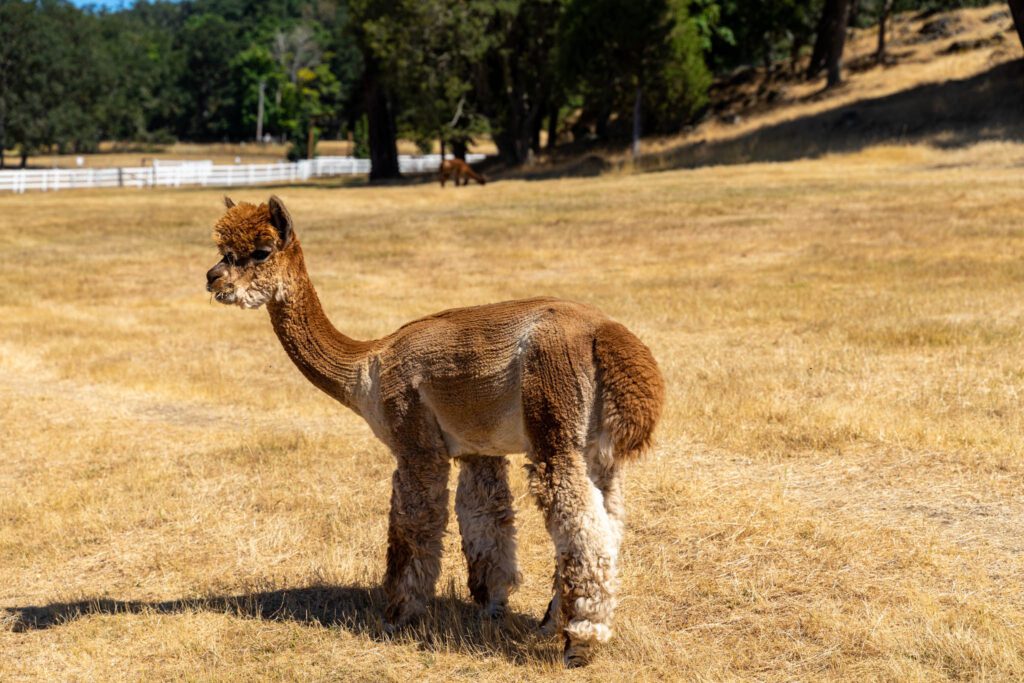 Here are a few more things to do while you're on the island, in no particular order.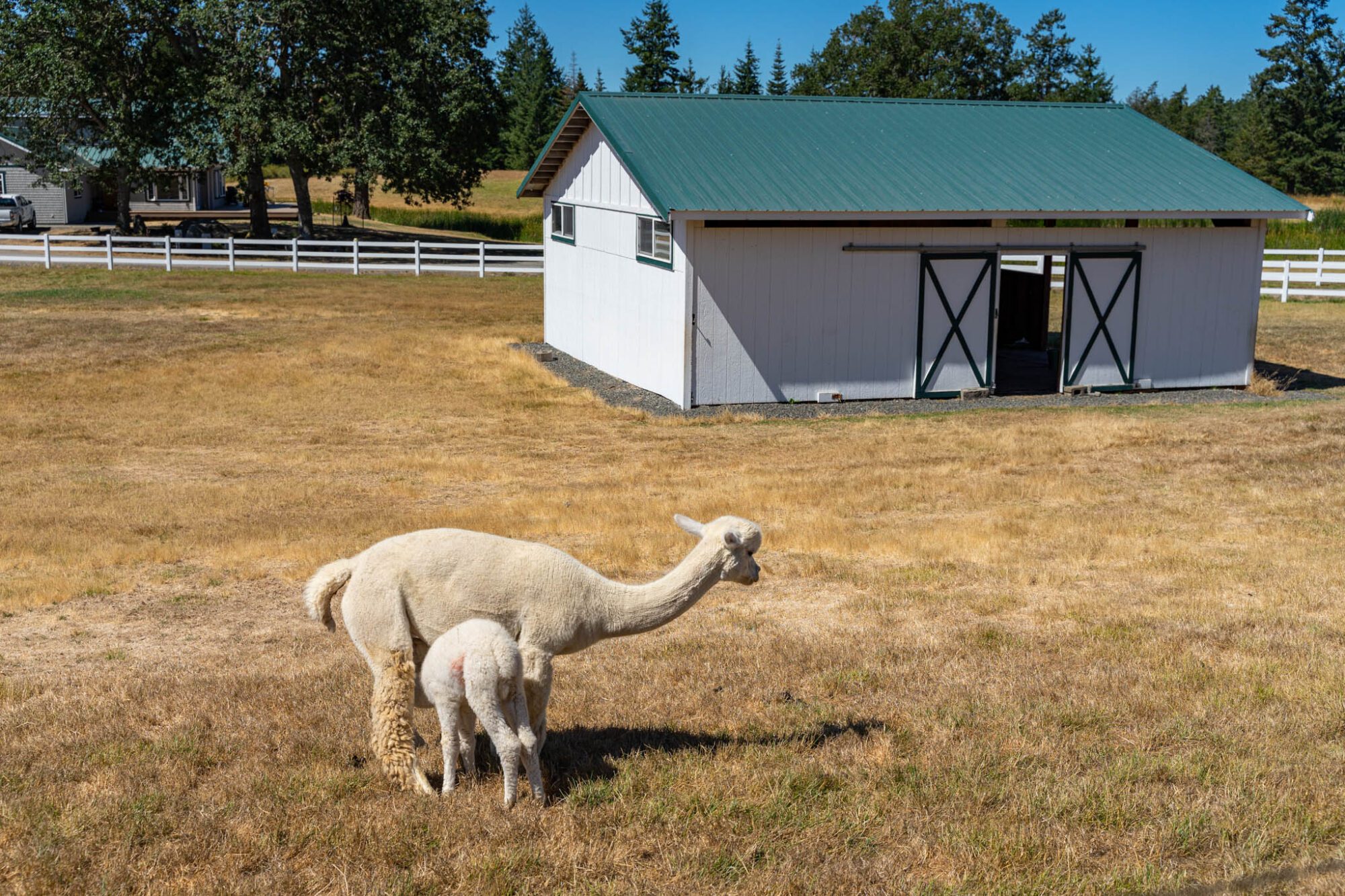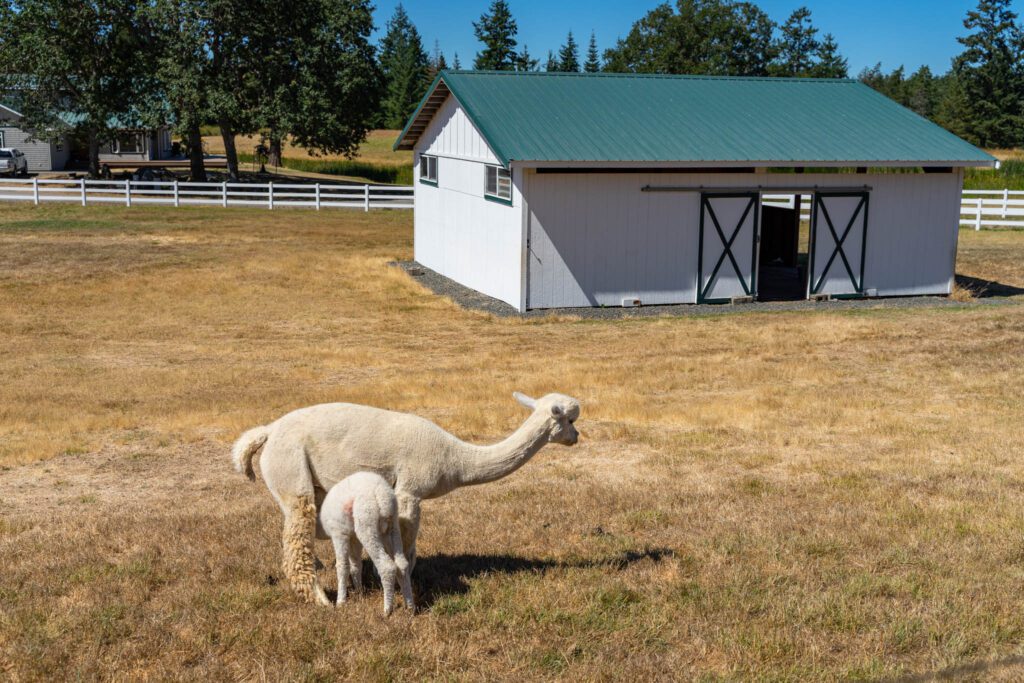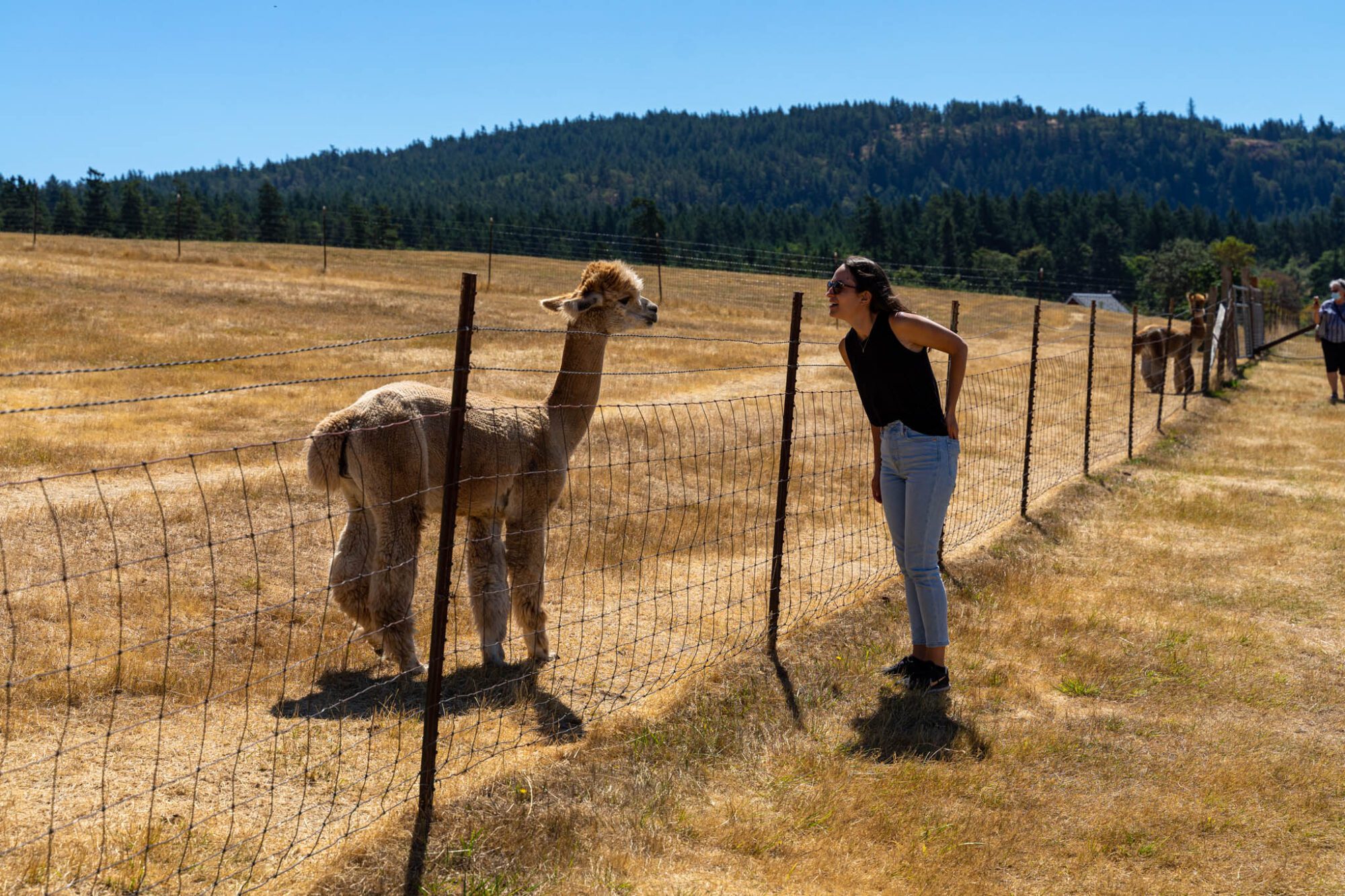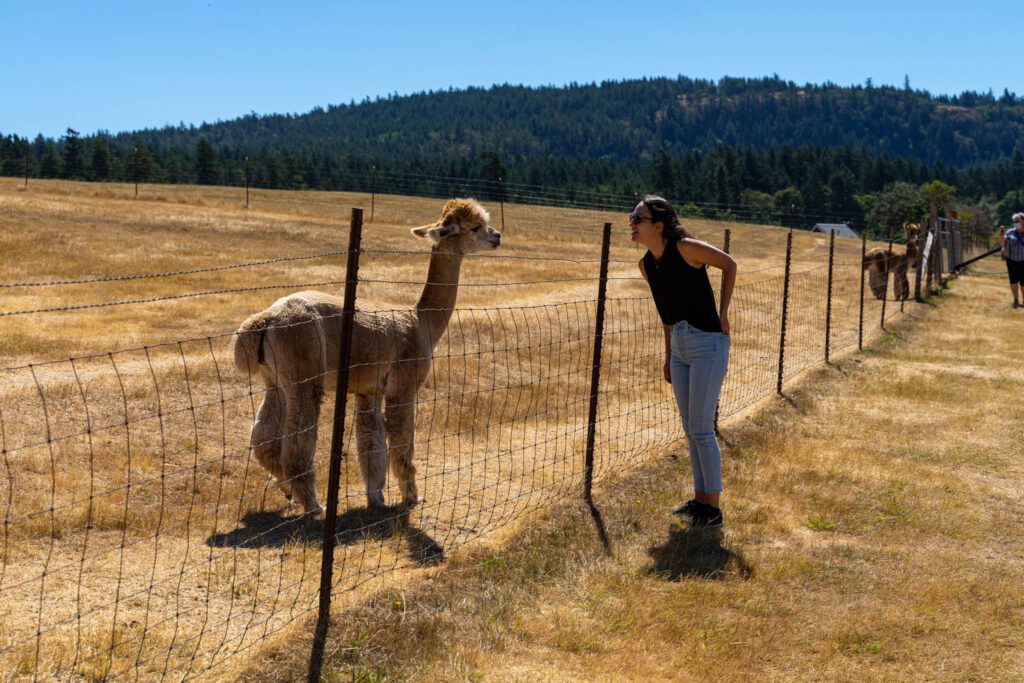 Where to Stay on San Juan Island
We think that the best place to stay on the island depends on what you're looking for, and is either going to be in Friday Harbor itself, or on the less-trafficked west side of the island.
If you're looking to camp during the summer, Lakedale Resort is where we stayed (and where we used to camp when I was growing up). It's popular and you'll need to book well in advance to secure a site. It's also kid-central, so if you're looking for a quiet retreat, this ain't it. They also have a selection of glamping tents, lodge rooms, and even an Airstream on site if camping isn't your thing.
San Juan County Park also has a handful of campsites on the western side of the island, but the sites are a little underwhelming.
Staying in Friday Harbor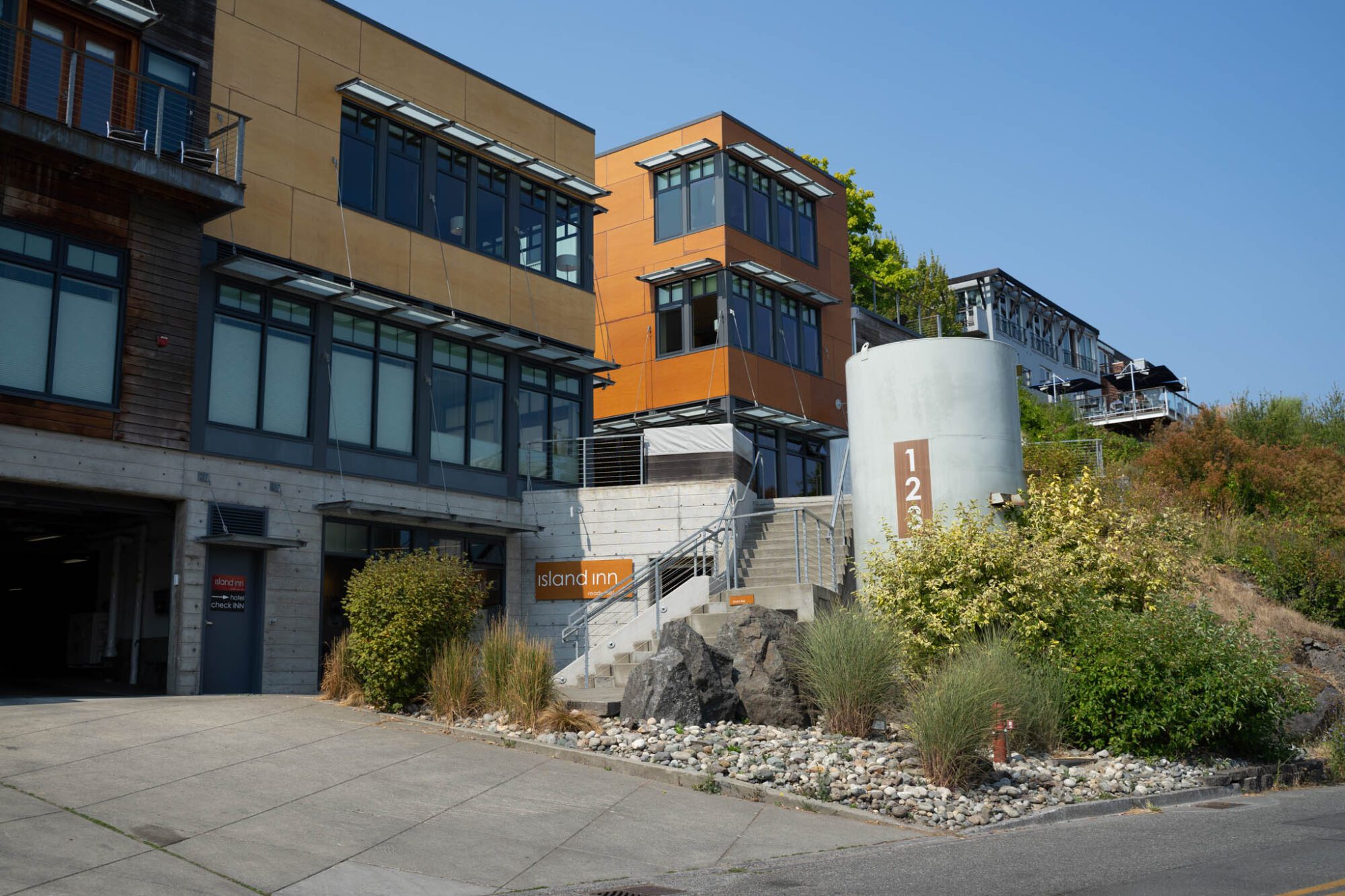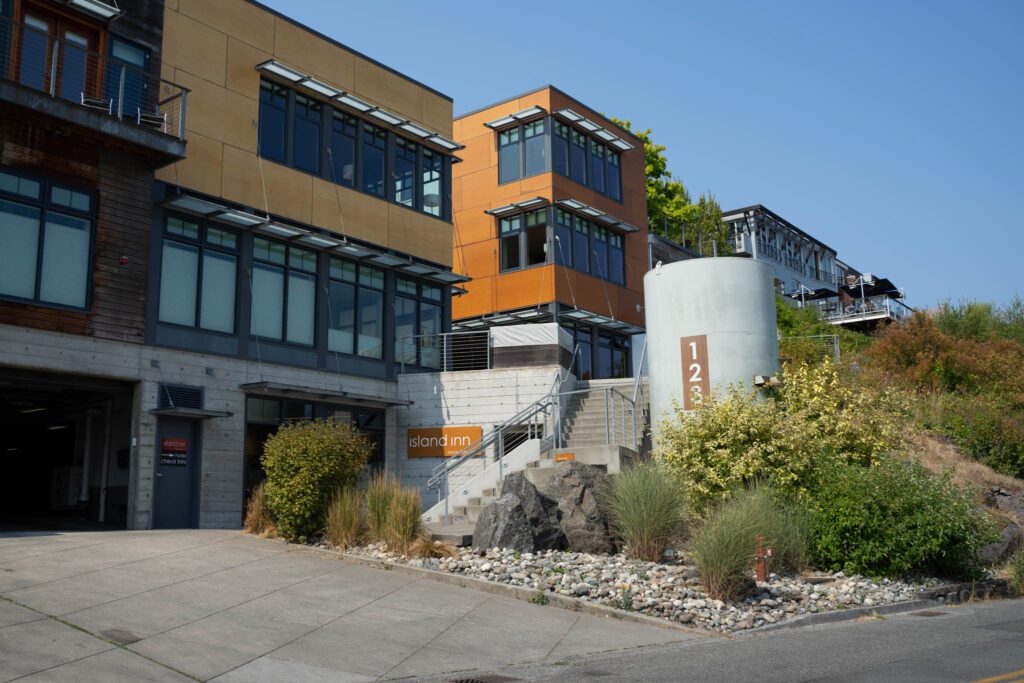 Friday Harbor is very much the hub of all activity on San Juan Island. It's on the eastern side of the island, and it's the place where the ferry drops off all passengers coming to the island. It has, by far, the best selection of restaurants, bars, shops, and other amenities like gas and groceries on the island. Like I mentioned above, if you don't have a car, this is definitely your best option in terms of places to stay. The downside is that it's crowded, particularly during the day when the steady flow of tourists arrives from the mainland. It's remarkably quaint and quiet before about 9am and after 8pm.
In Friday Harbor, you've got a few good hotel options.
Island Inn at 123: Pet-friendly and modern, this place is right across the street from the main square in Friday Harbor (main roundabout?). Choose from Euro-style hotel rooms with a shared common area, or private suites with a little bit more space to spread out. Penthouses, which are basically apartments, are another option that are particularly good for groups.


Earthbox Inn & Spa: Four blocks up Spring Street from the ferry, this place has both hotel-style rooms and apartments for rent. It's pet-friendly, and even has an indoor pool. Plus, complimentary bikes. Their sister hotel, the Bird Rock Hotel, is two blocks away, and has similar offerings in a perfect location.


Friday Harbor House: If you're looking for a romantic place to stay in Friday Harbor, this is it. Just a couple of blocks up from the ferry, this place is spectacular. Great views from the deck overlooking the harbor below. Some rooms have water views, and all rooms have cozy fireplaces. You'll also have freshly ground local coffee and a Chemex brewer to make your morning coffee (or Smith Tea, for tea lovers).
Staying on the West Side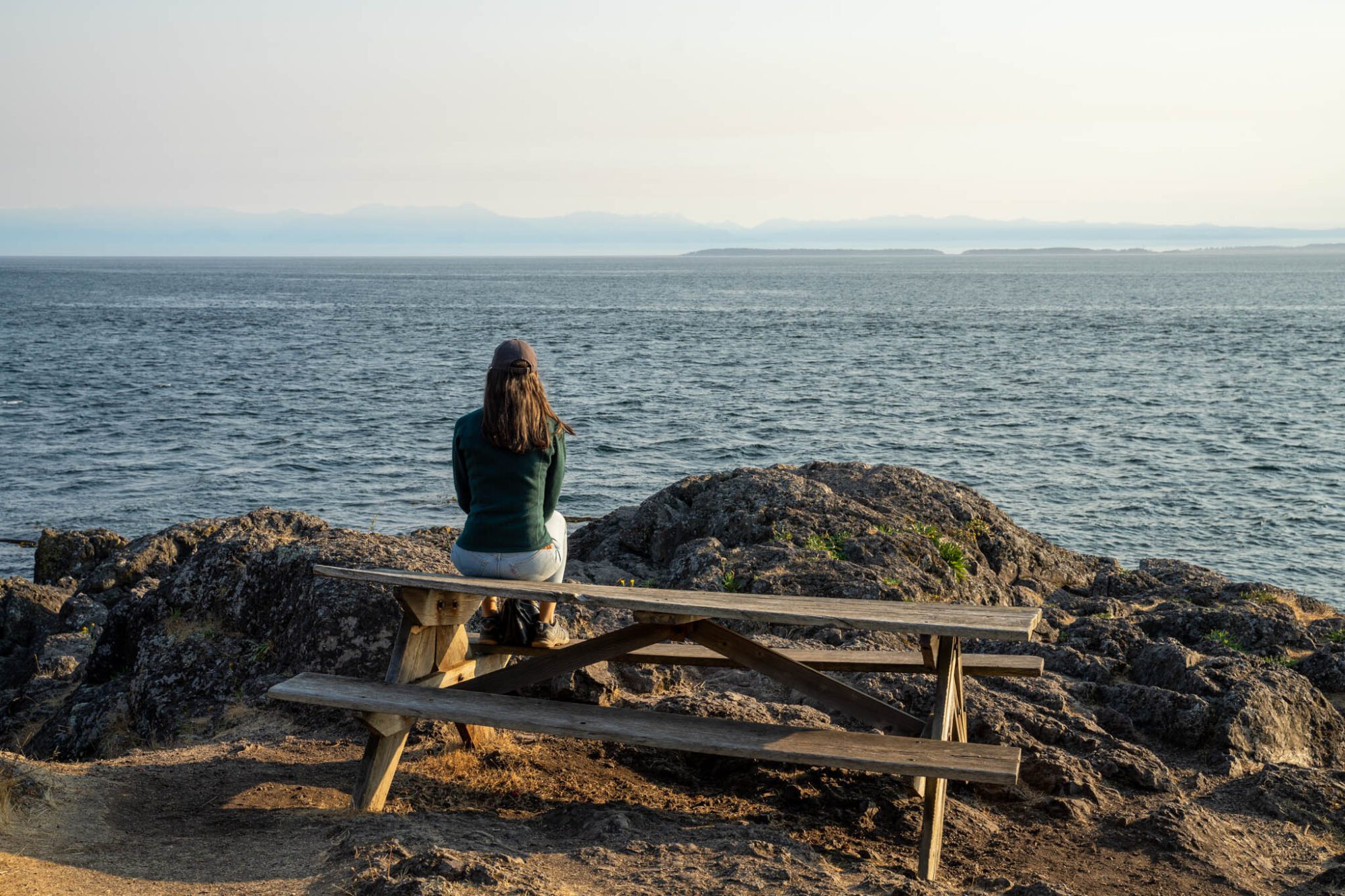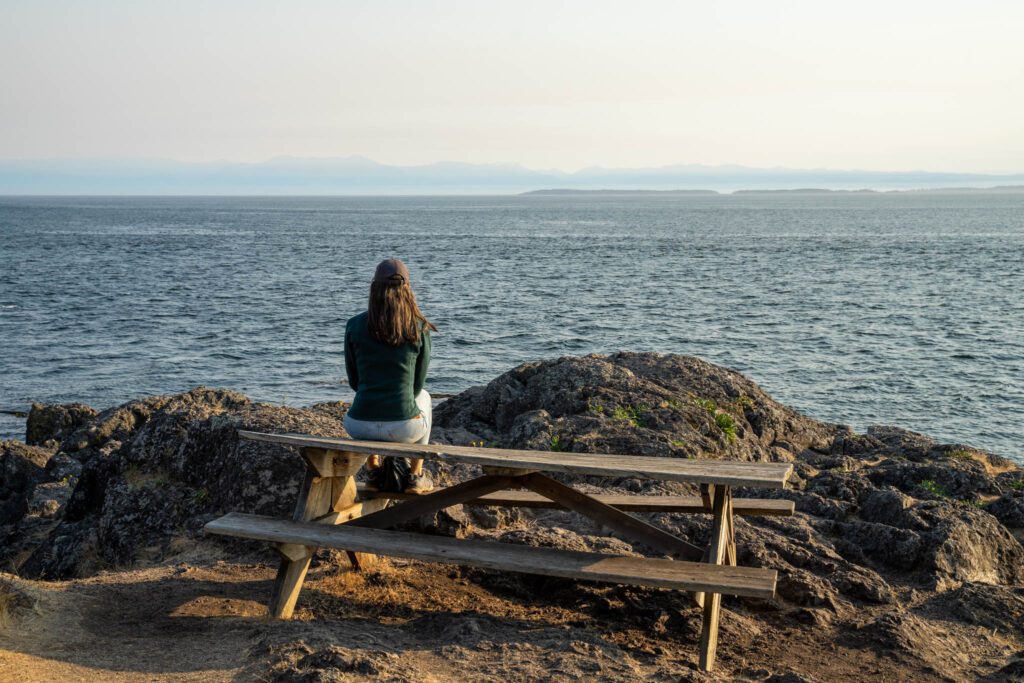 Rugged and gorgeous, the west side of San Juan Island is home to some of the best whale watching in the world, and is decidedly more quiet than staying in downtown Friday Harbor. The downside is that amenities are further away, and you'll likely need a car.
In this stretch of the island, your best bets are going to be the two resorts perched on the western coast.
Snug Harbor Resort: This would be our top recommendation on the west side. You'll find Snug Harbor on Mitchell Bay, north of Lime Kiln Point State Park on the west side of the island. Rooms are a cross between rustic and modern, with wood-paneling and vaulted ceilings. Choose between their suites, which have full kitchens and some have water views, or cabins – both have options for one bedroom and two bedrooms for couples and larger groups. They have amenities like free kayaks and paddleboards, plus an onsite coffee shop.


Roche Harbor Resort: Slightly more upscale, Roche Harbor Resort is a sprawling complex at the northwest corner of the island, and offers a wide variety of room types for various budgets. They have multiple hotel options, houses for rent, and historic cottages on the water.
When to Visit
Summer is definitely the best time to visit San Juan Island. Both because the weather is fantastic, and because it's whale season between May and September, which means you have a good chance of seeing either the Southern Resident Orcas, which call this part of the world home year round, or transient Orcas, who are making their way south past the San Juans.
The downside to summer is the crowds. Every summer, thousands and thousands of people flock to the San Juans for the exact reasons I mentioned above. It's a small island community that can only support so many people, and it can feel crowded at times, particularly in the town of Friday Harbor where the ferry drops off and picks up. To escape the crowds in the summer, at least a bit, get out of Friday Harbor and off to the more remote southern and northern ends of the island, where a small fraction of tourists end up making it.
One thing to know about the San Juan Islands is that they get far less rain than most of Western Washington thanks to the rain-shadow effect and their unique position situated between the Olympic Mountains and Vancouver Island. So while it might be dreary and rainy in Western Washington, there's a solid chance that it's sunny in the San Juans. That means that spring and fall are good times to be on the island, though you likely won't have whales, and sea kayaking is going to be a little less pleasant thanks to cool ocean air.
Winter is the offseason, and it'll be cheaper to be in the San Juans. It'll be cool and sometimes wet, so choose a place to stay with a fireplace and cozy up with a good book or three. Since it's a tourist town, you'll also find things in Friday Harbor closed more often than they are in the summer. There's still plenty to do and see, you might just be a little colder or wetter doing it.
---
More to Explore in Washington State
Heading to the great state of Washington? Here are some other posts you might like.
The Best Things to Do in Seattle: A Local's Complete Guide (coming SOON!)