The Best Things to Do in Leavenworth, WA: Complete Guide
The Bavarian-themed town of Leavenworth, tucked away in the eastern foothills of the Cascades in Washington State, is surprisingly enjoyable without feeling cheesy or overdone. It doesn't seem like a themed town like this should work, and we've been to a few like it that definitely don't, but Leavenworth is special.
The combination of the unparalleled access to outdoor activities ranging from hiking to water sports, the bounty of farm-fresh produce (mainly apples) growing in the fertile valley nearby, and the charming, uniform Bavarian-style (ish) architecture create a magical ambiance.
It's a perfect weekend getaway from Seattle (or a day trip), and we've found ourselves in Leavenworth multiple times over the past several years. On our latest trip, we had already started scheming about our next trip – this time in the winter – before we had even left, if that tells you anything about how we feel about Leavenworth. 
In this guide, we're going to take you through all of our favorite things to do in Leavenworth, Washington, plus our recommendations on where to eat, drink, and stay.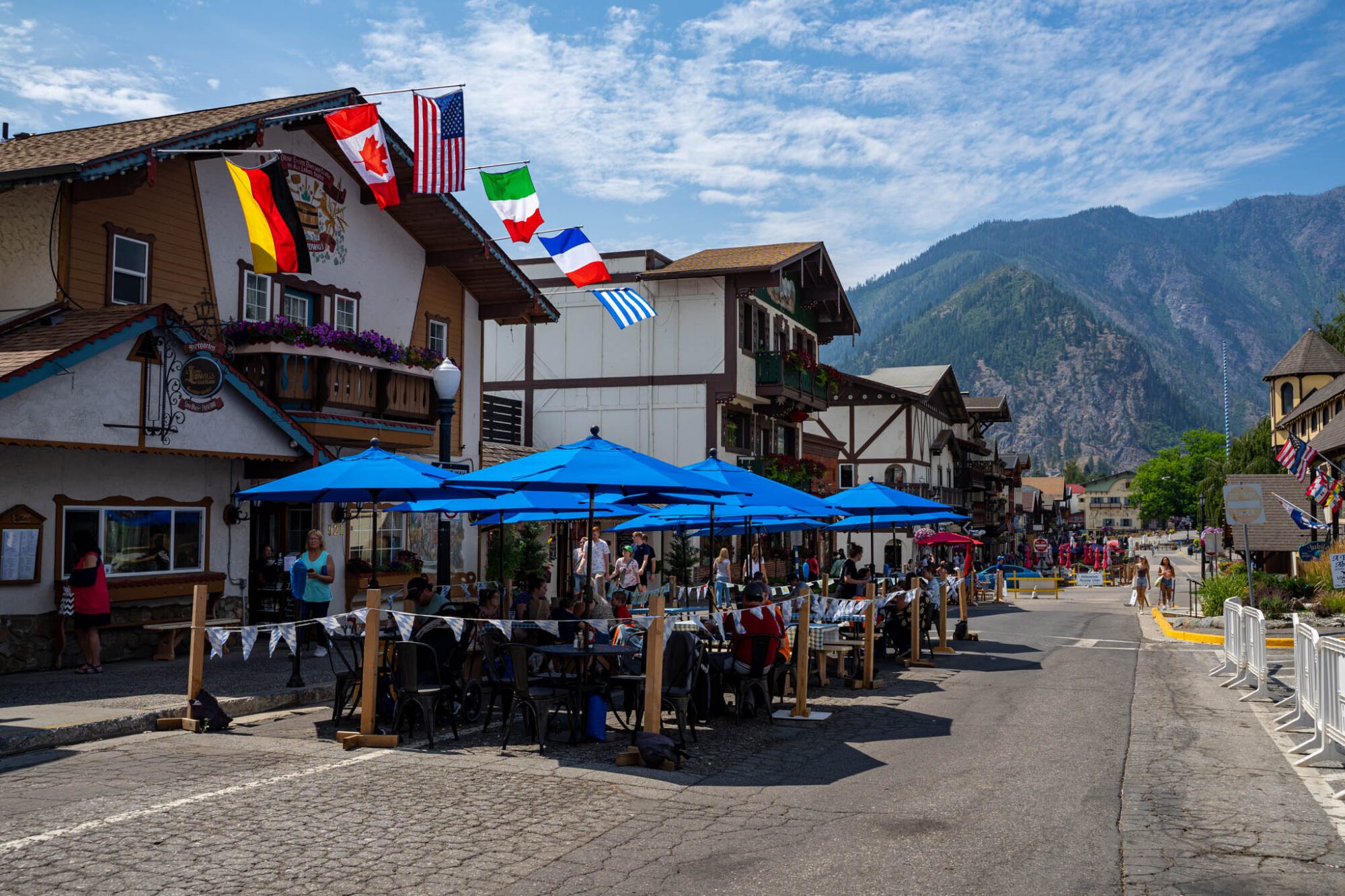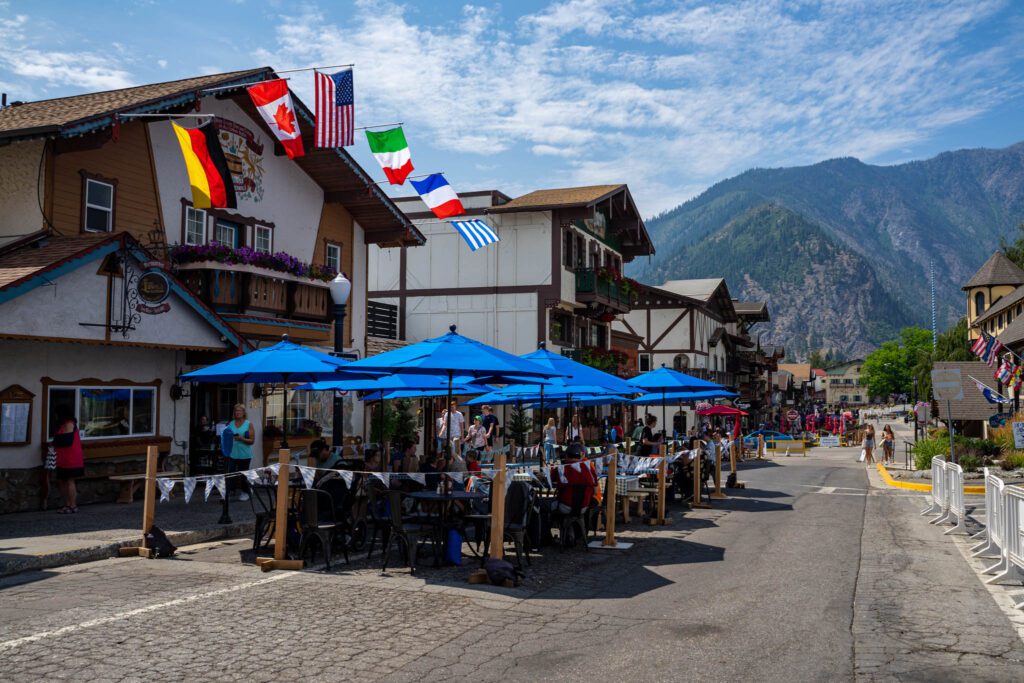 Disclaimer: Some of the links in this post, like hotel links, are affiliate links, meaning at no additional cost to you, we make a little bit of money if you click through and book. That being said, we would never recommend something to you that we don't stand behind 100%.
Where is Leavenworth, and Why Does it Exist?
Leavenworth is in the eastern foothills of the Cascade Range in Washington State, about 120 miles east of Seattle and 22 miles northwest of Wenatchee.
It's along Highway 2, a major thoroughfare through the Cascades that runs from Monroe, Washington all the way to St. Ignace, Michigan.
We actually drove on Highway 2 during our trip to Glacier National Park, though I didn't make that connection until roughly 47 seconds ago. 
Originally, it was a thriving timber community, partially because the Great Northern Railroad was right in town. Then, in the 1920's, the railroad relocated to nearby Wenatchee.
It doesn't seem like a long way today given we all drive cars, but in 1925, it was essentially a death sentence for Leavenworth. The timber industry withered, shops started closing, and the population dwindled. 
In the early 1960's, two businessmen from Seattle decided to buy a cafe in town, for some reason, and shortly thereafter one of the men became the chair of a committee on revitalizing Leavenworth. Convenient, eh? Hopefully next time I make a questionable investment, I can head a committee to help me make the most of it.
Anyway, they came up with the idea of a Bavarian-themed town to attract tourists and revitalize the economy, et voila! Leavenworth, as we know it today, was born.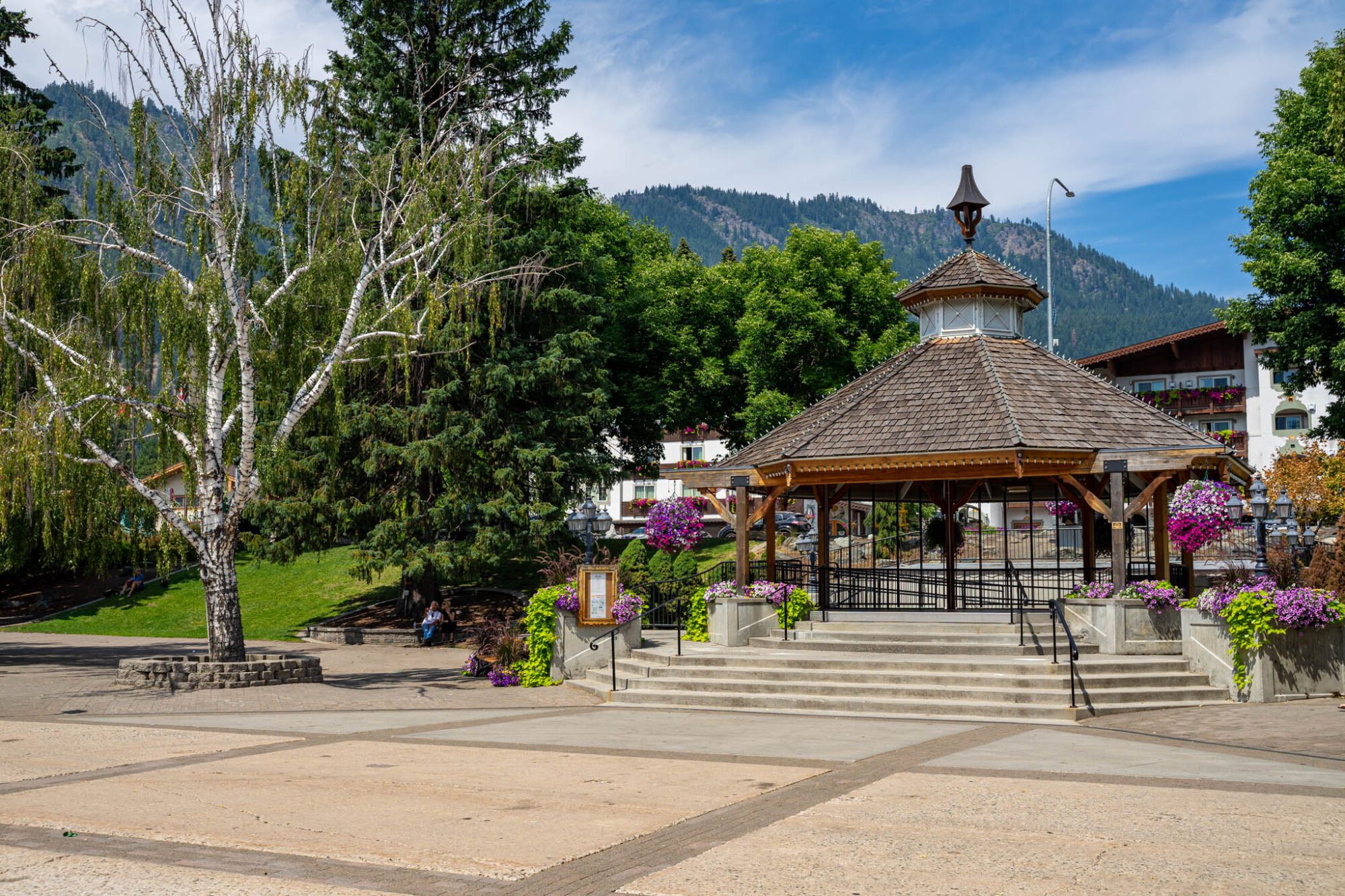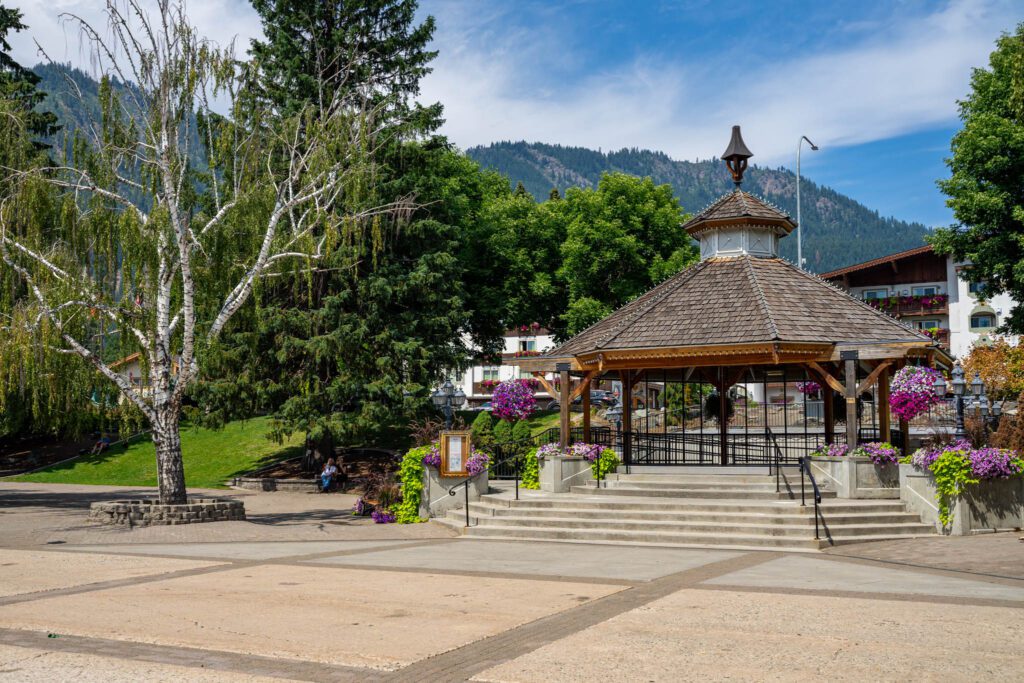 The Best Things to Do in Leavenworth, Washington
Let's get right into it! Here's our take on the best things to do in Leavenworth, Washington.
Normally, we have the logistics – how to get there, where to stay – at the beginning, but in this case you can find those at the bottom, below the guide to what to do in Leavenworth.
Hiking Near Leavenworth
Okay, let's start with our favorite first. Leavenworth and the surrounding region is home to some great hiking. The Alpine Lakes Wilderness, one of the premier hiking destinations in Washington and probably the entire Pacific Northwest, is right on Leavenworth's doorstep. Here are three hikes to add to your list while you're in town.
First and foremost is the hike up to Colchuck Lake. This is one of our favorite hikes in Washington, and serves as the gateway to the Enchantments.
If you're not familiar with the Enchantments, it's about a 20 mile backpacking trail up Aasgard Pass and through a rocky wilderness with a string of gorgeous alpine lakes that is a once-in-a-lifetime experience.
Colchuck Lake is relatively easy to get to comparatively, and we have done it twice in the past year – once as part of our backpacking trip up into the Enchantments, once to celebrate my mom's birthday.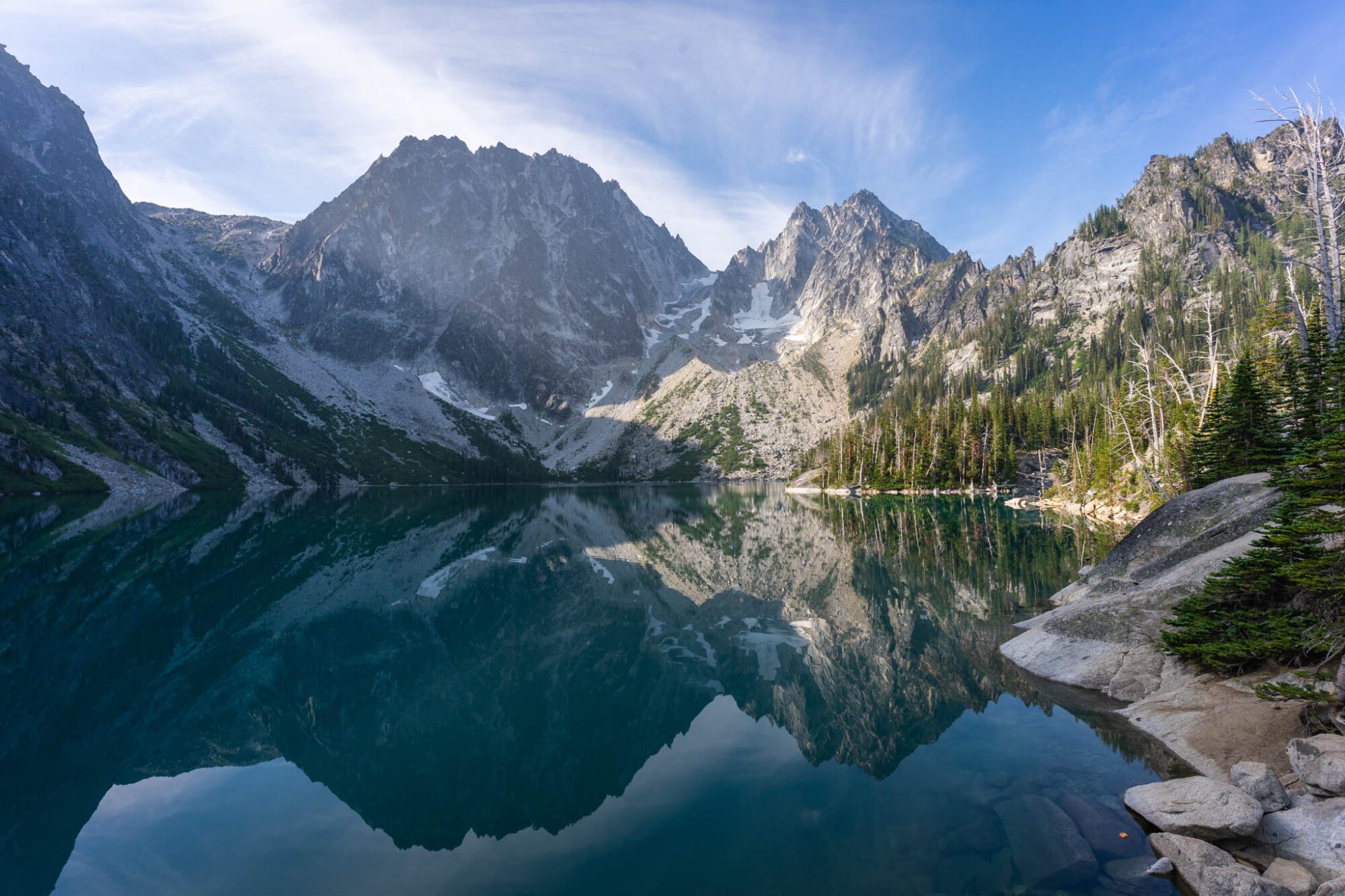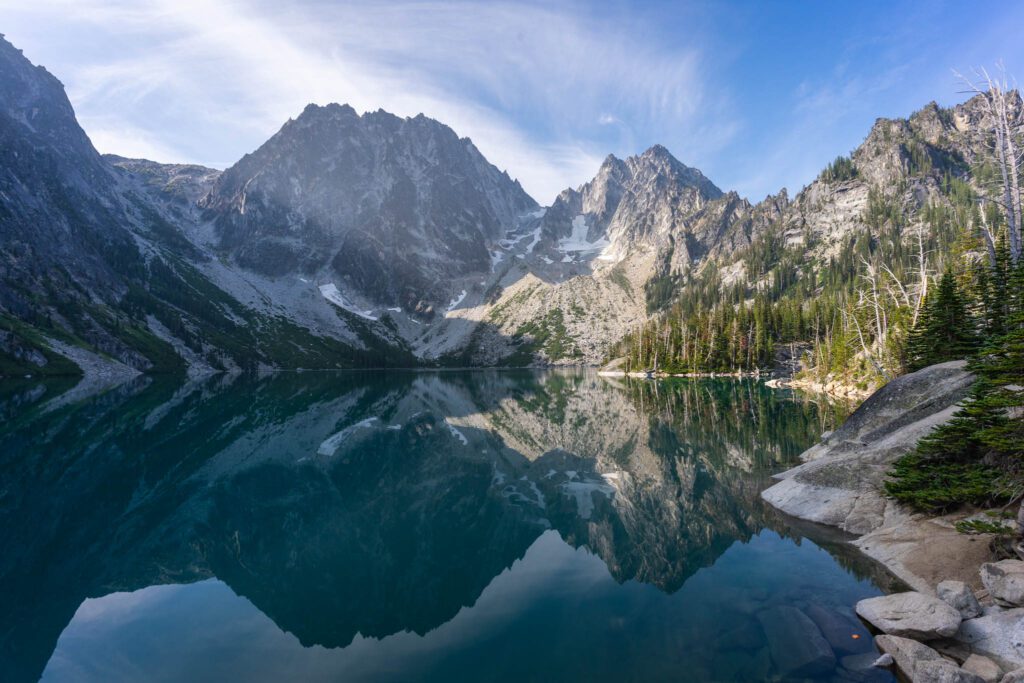 The hike to Colchuck Lake is not easy, but the views are going to be worth the effort.
You'll climb 2,600 feet over the course of the 9 mile hike (that's roundtrip), and when you reach the top, you'll emerge onto a gorgeous turquoise alpine lake that is surrounded by the jagged rocky peaks of the Enchantments, including Dragontail Peak which is dead ahead across the lake.
The best time to be at Colchuck is either early in the morning, before the sun rises over the mountains, or late in the day, after the sun dips behind the peaks on the other side of the lake.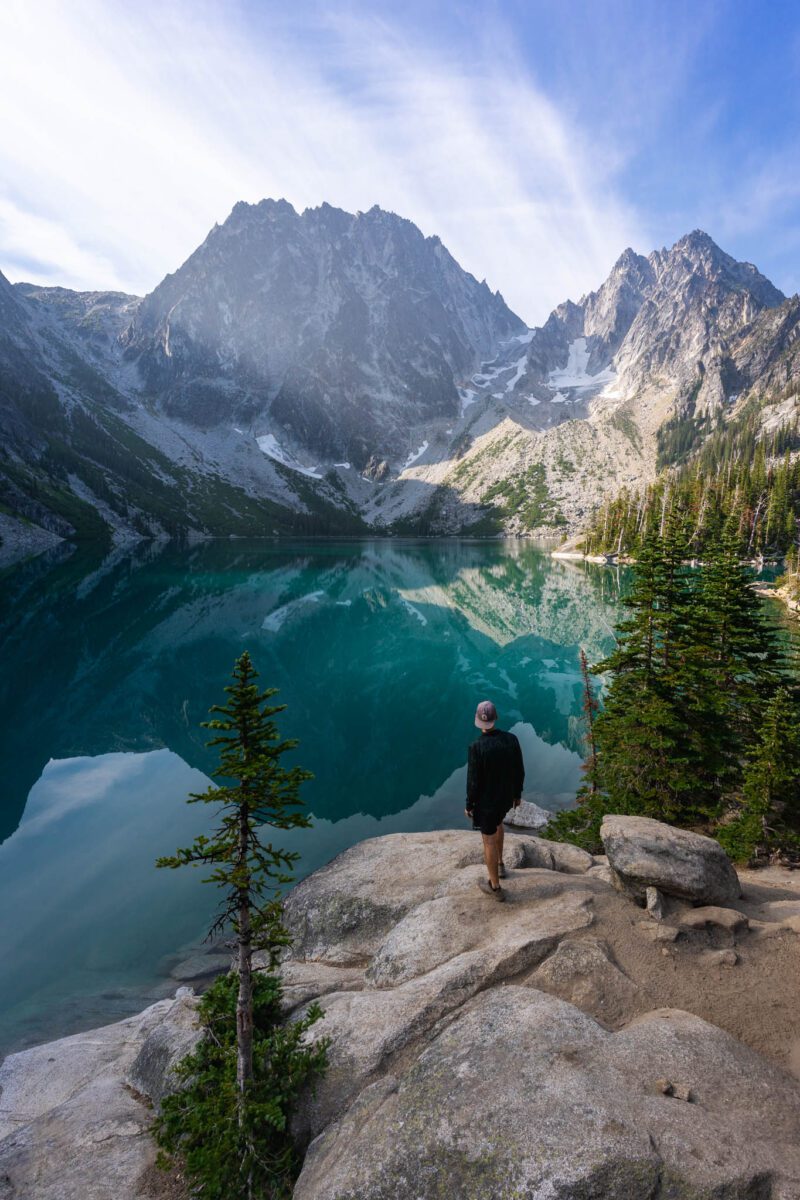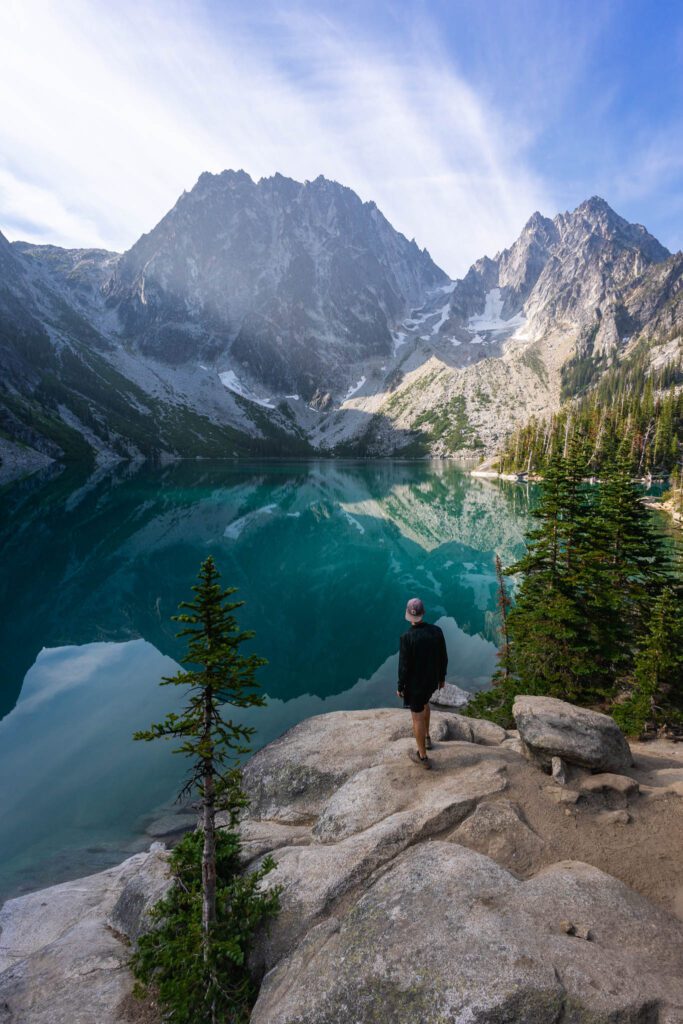 Colchuck Lake is a VERY popular trail, so you'll need to get to the trailhead early to snag a parking spot. I'm talking before 7:00 am, at the latest. It's a rough road, but we've done it in our minivan before.
Other good hiking trails near Leavenworth include the climb up to Icicle Ridge, which is less crowded than Colchuck Lake, and the easier (mostly flat) Icicle Gorge Trail (more information here), Eightmile Lake, and Lake Valhalla.
Float the Icicle River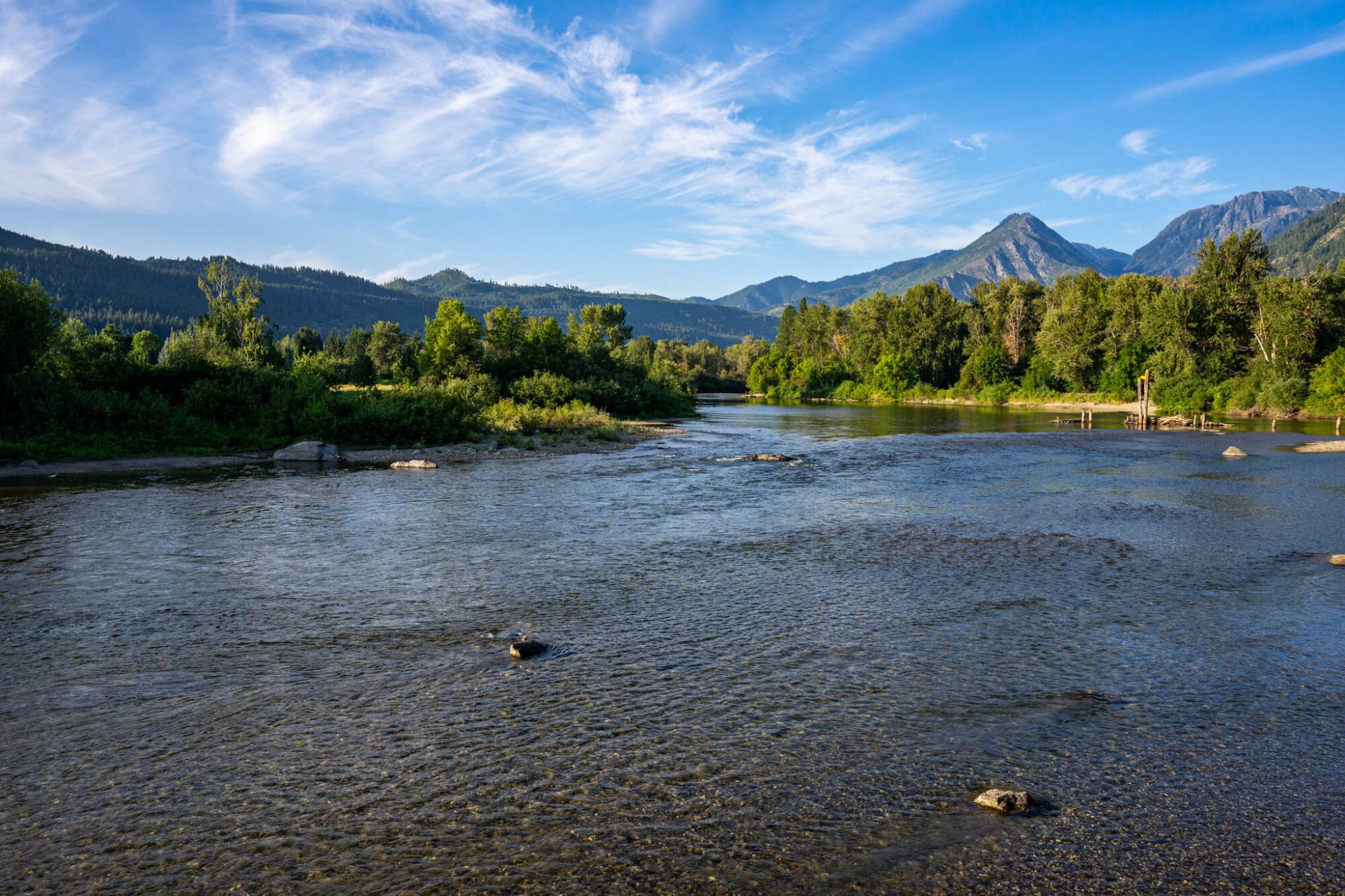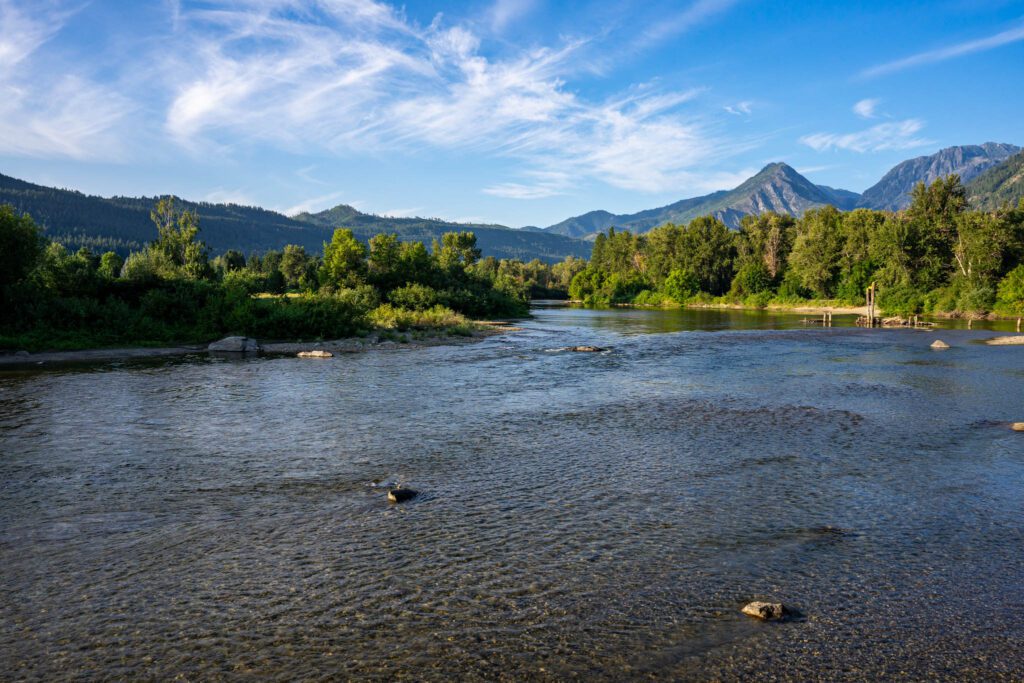 During the summer, when temperatures are often in the triple digits during the heat of the day, there's nothing better than floating the Icicle River to cool off. The easiest and most convenient way to do it is to go with a local outfitter, who will provide you with an innertube, a lifejacket, and transportation to the put-in point.
From there, you'll get a (very quick) safety briefing, and then you'll meander your way down the river in your tube, stopping at any beaches you'd like along the way to relax in the sun, before ending your journey at the beach in downtown Leavenworth.
You'll give them their tube and life jacket back, and walk a few hundred feet up the hill to find yourself smack dab in the middle of Leavenworth at Waterfront Park.
It's a VERY easy float, and it's suitable for all ages. Bring a cooler with snacks and beverages, and make a half day of it!
Whitewater Rafting on the Wenatchee River
If you're looking for a slightly more adventurous river activity than the float on the Icicle River, look south towards the Wenatchee River.
The Wenatchee is one of the best rivers in Washington, and it's the most accessible river to raft if you're coming from the Seattle area. It's a Class III+ river, which basically means there are going to be some intense moments, but not so much that you can't bring kids who are 10 and older. 
This is important (I used to work for a company that runs the Wenatchee) – the Wenatchee is at its best in terms of rapids early in the season.
That means roughly mid-May through mid-June (exact dates depend on the snowpack and weather in that particular year). Water is high, rapids are roaring, and it's a grand old time.
If you're coming to Leavenworth between mid-July and August, it's more of a float, with a couple of rapids thrown in. If you want big water and more of an adventure, I'd suggest coming early in the season.
Here are a couple of companies to consider: Blue Sky Outfitters, Osprey, and Wild Water. They all offer roughly the same journey, though some have full day and half day trips, depending on how much time you have.
For what it's worth, the best part of the river is the bottom half, which is the part that you run on half day trips. So on both full day and half day trips, you're hitting the best part of the river. 
Taste Some Cider
We're BIG cider fans, and this area (particularly Wenatchee) is home to the majority of the apples you eat day in and day out.
Yes, even if you're from across the country. Wenatchee is known as the apple capital of the world. And you know what that means?
CIDER.
Over the past five years or so, multiple places to taste cider have popped up in Leavenworth. There are now four at the time of writing, which is amazing!
Here are those spots, and our thoughts on where you should go to taste cider, whether you're an aspiring cider connoisseur (like us) or you've never had cider before in your life.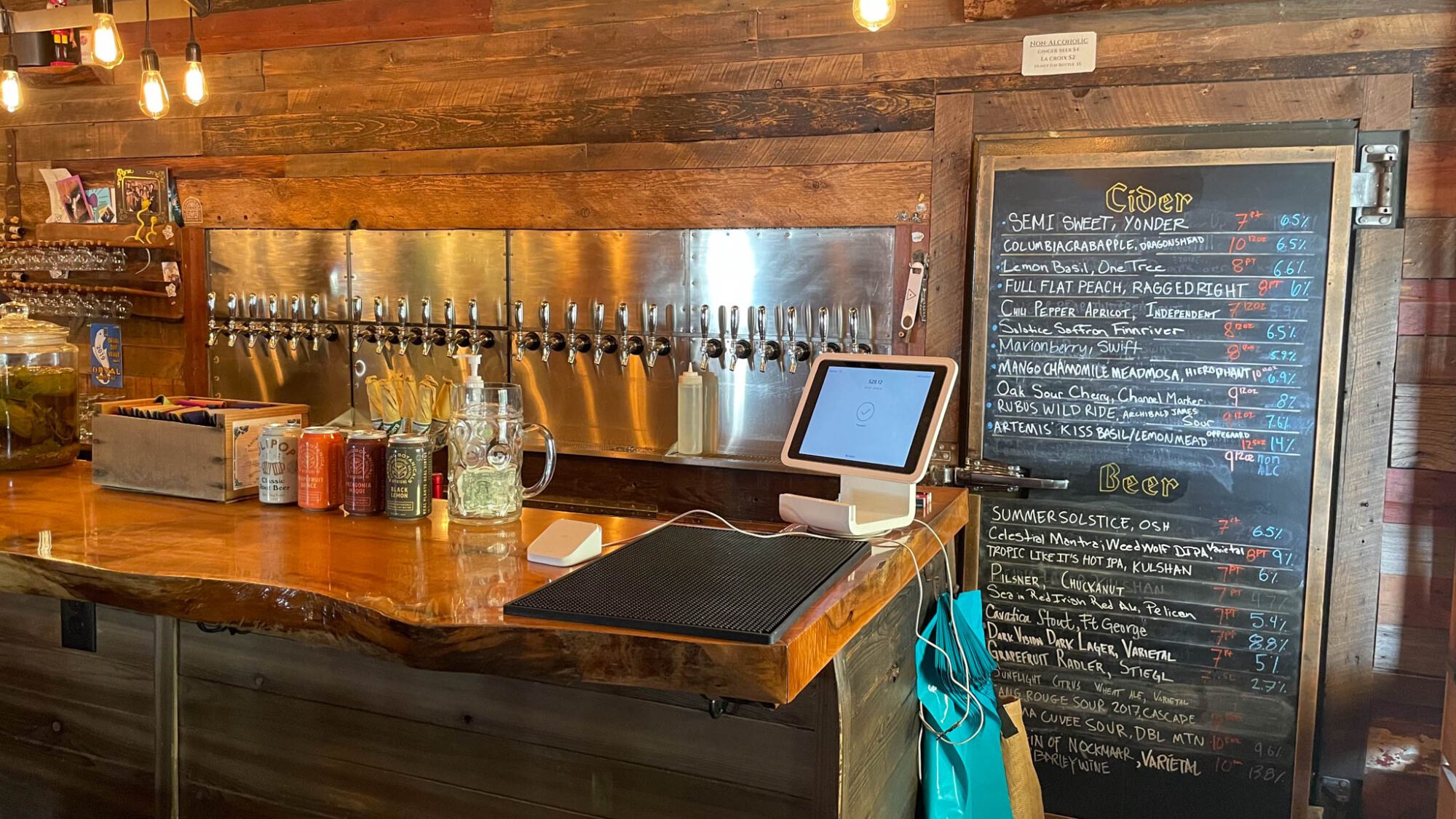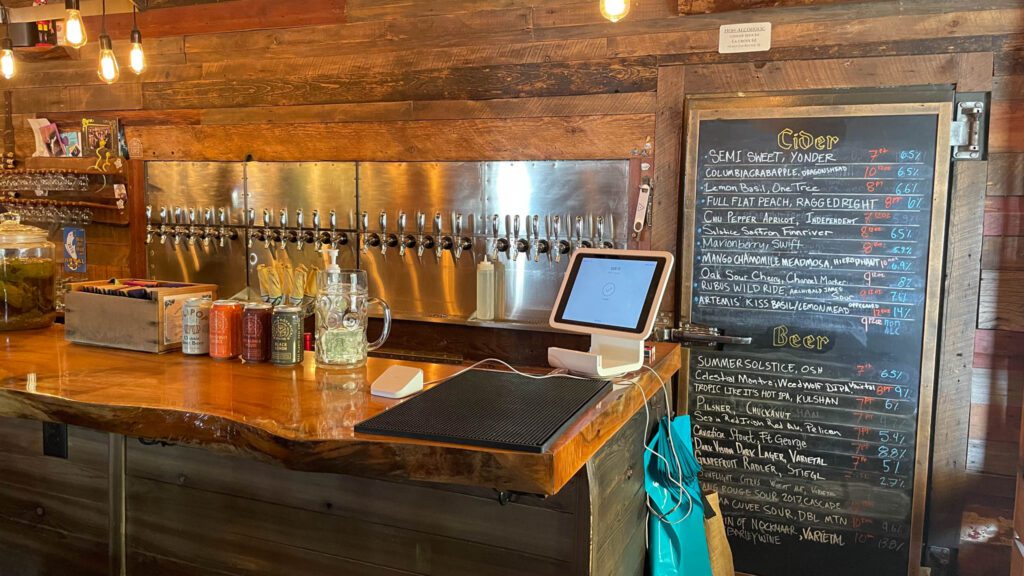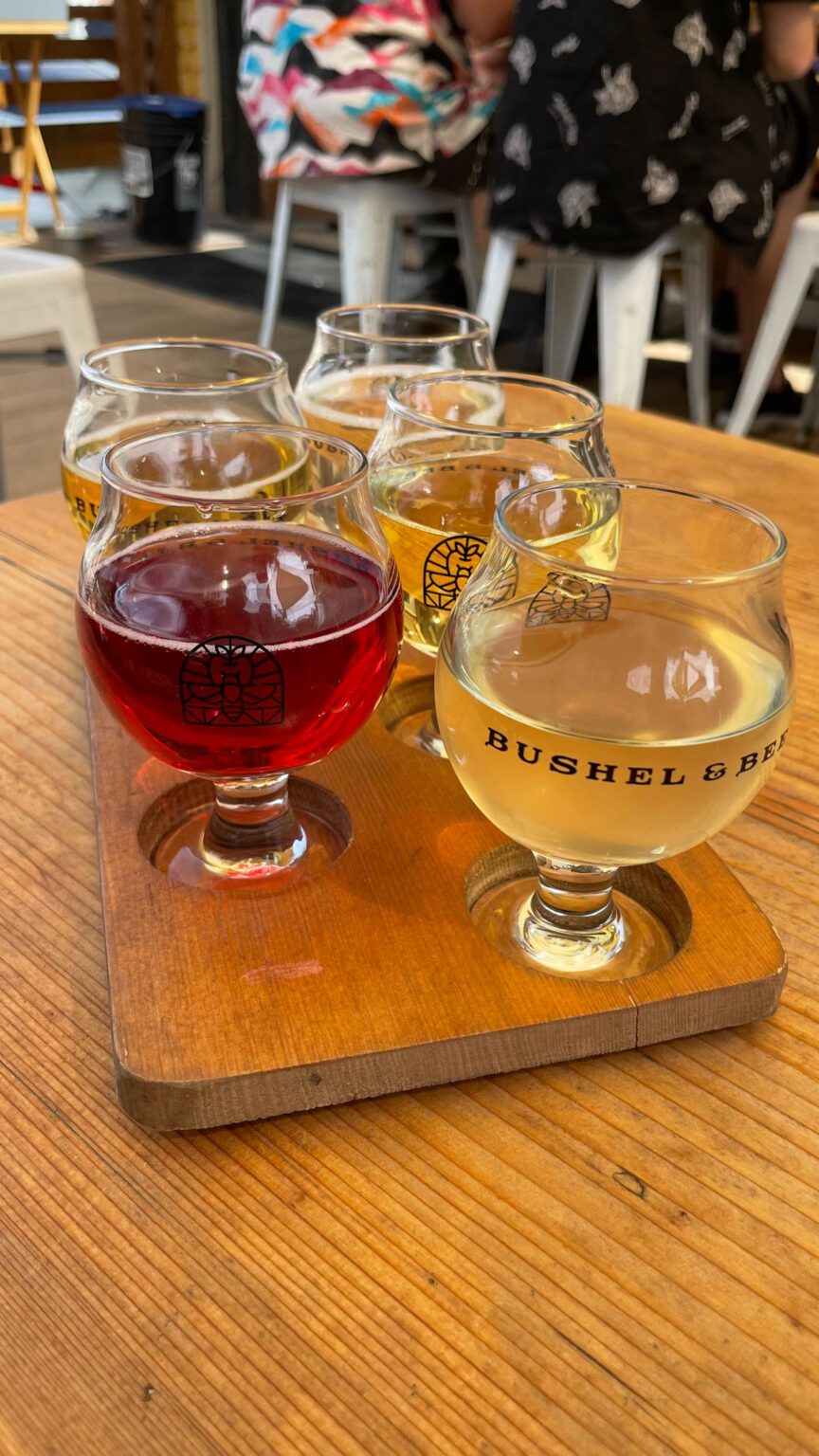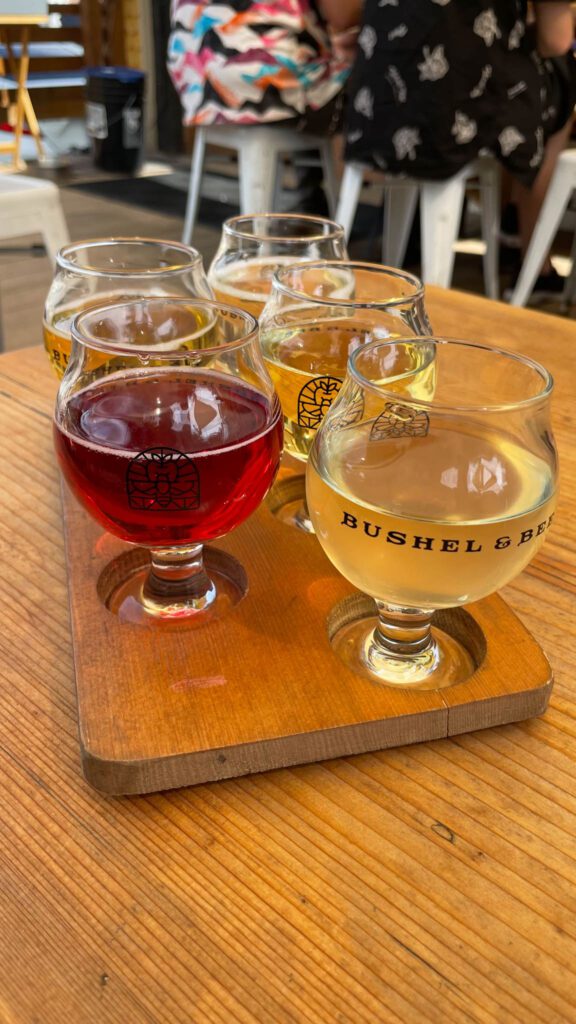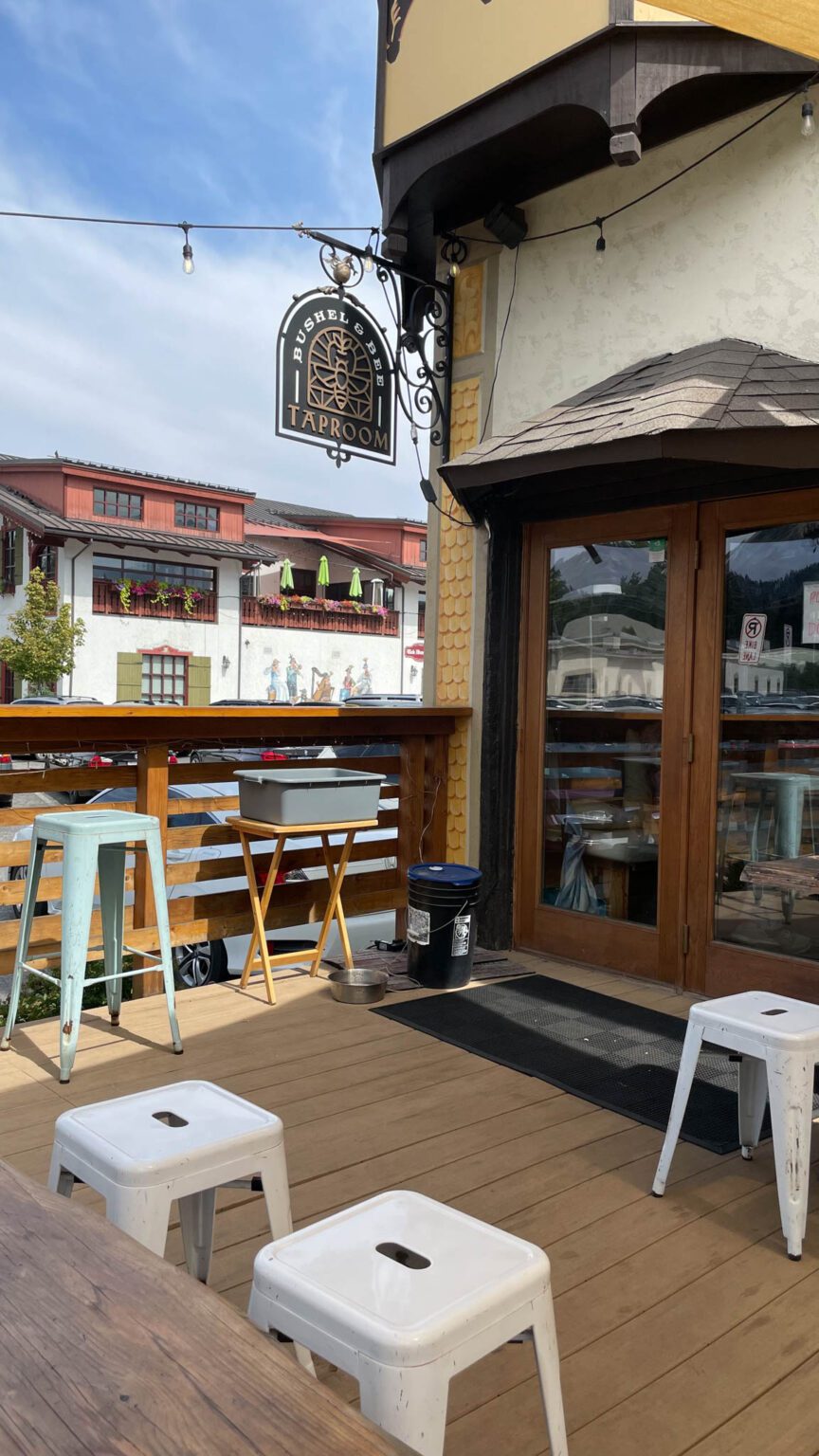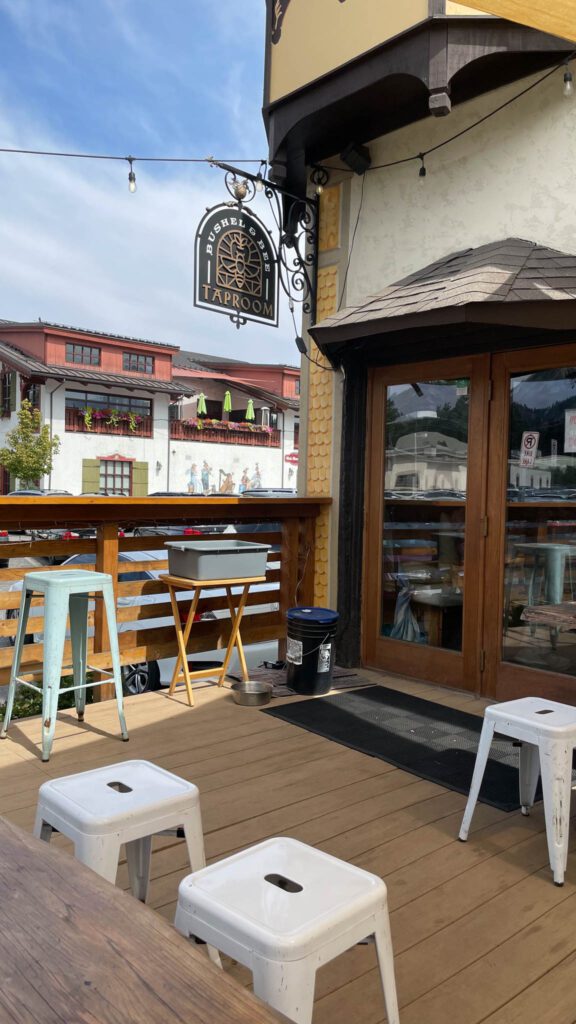 … Or Some Wine
This area, and other parts of Eastern Washington, are also known for producing some of the best wine grapes in Washington.
While there are a bunch of tasting rooms in town where you can try wines from various producers, we'd recommend getting out of town and heading to one of the actual wineries that are within 15 minutes of downtown Leavenworth. 
Silvara's Winery is up on a hill overlooking the Wenatchee Valley, and you can taste inside, or on their spacious outdoor patio. They don't grow grapes, but use grapes from some of the best vineyards in Washington to make their small batch wines.
Icicle Ridge is one of the more famous wineries in town, and their winery is less than ten minutes from downtown Leavenworth. Their tasting room is basically a giant rustic log cabin, with great views of Icicle Ridge across the river. They DO grow grapes on the property, which they started to do two decades ago in 2000.
Eagle Creek Winery is a little off the beaten track, up in the hills north of Leavenworth, but it's still less than ten minutes from downtown. They make their wines from a combination of grapes grown on their property, and grapes from producers throughout the Columbia Valley. Heads up – they're only open between May and October for tours and tastings at the winery.
Explore Downtown Leavenworth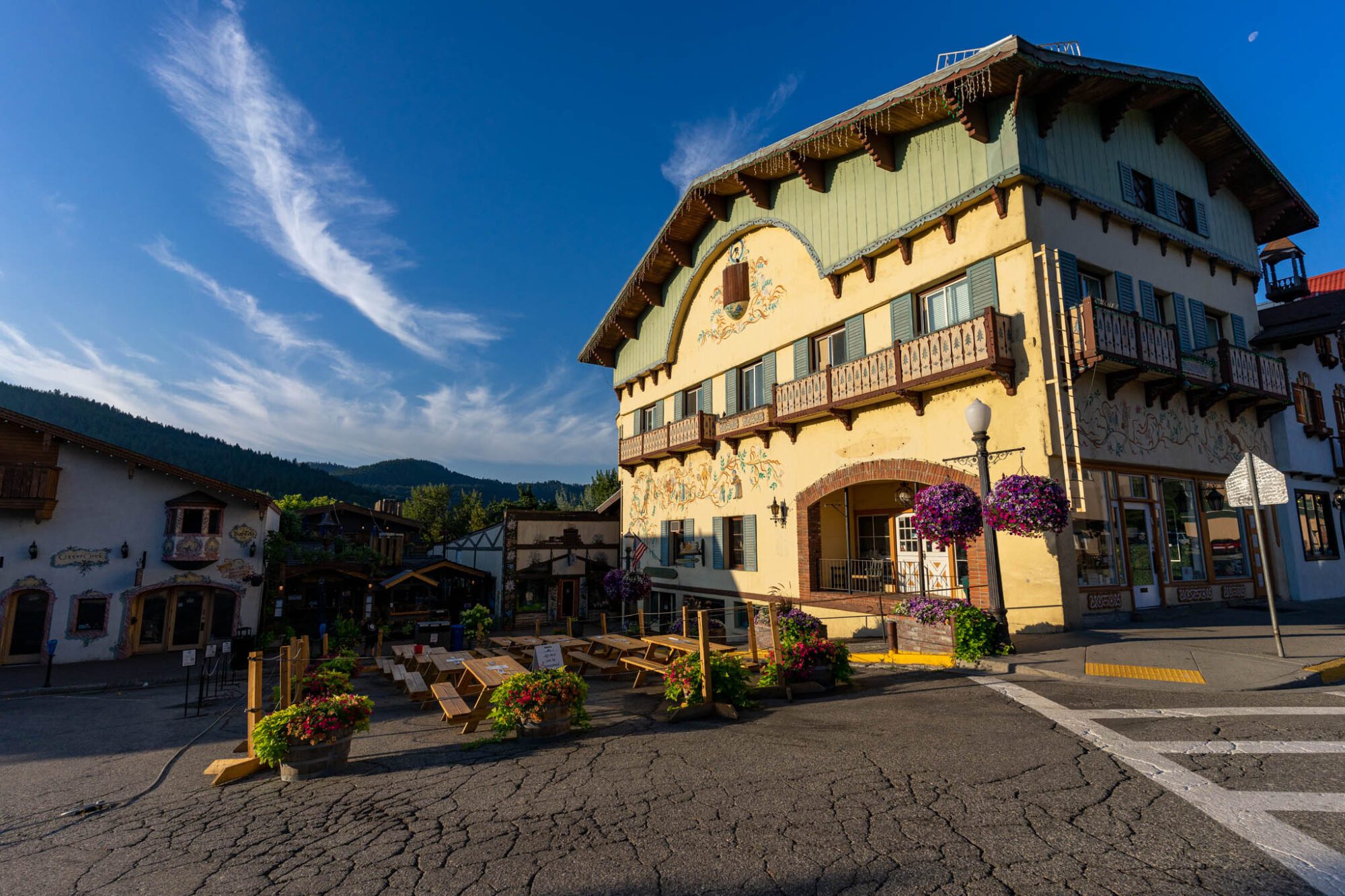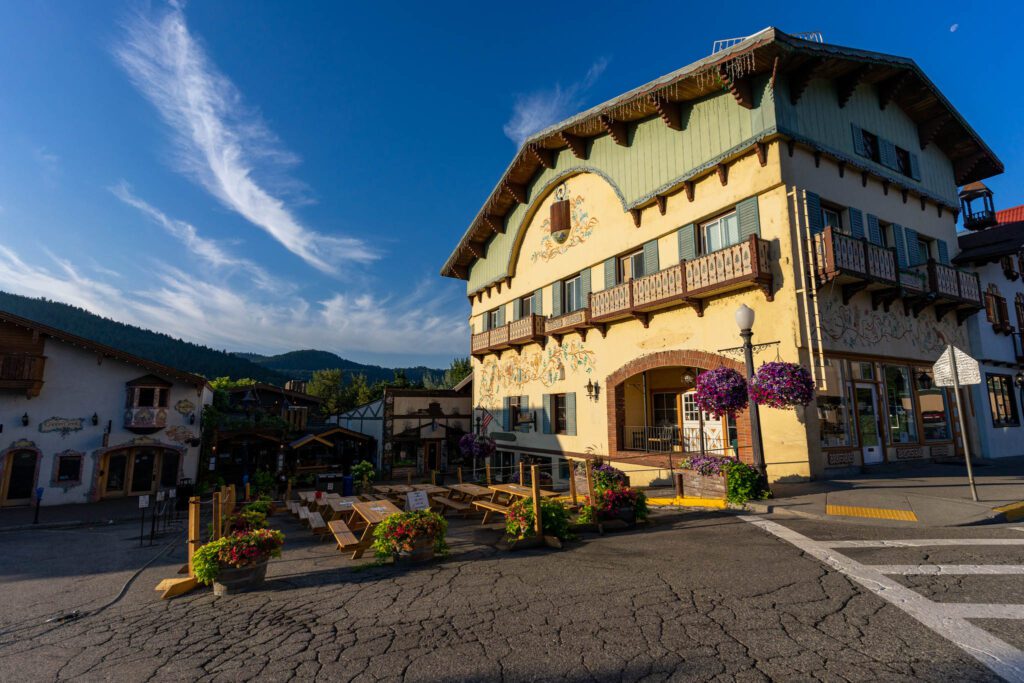 Downtown Leavenworth is a charming little town with all sorts of fun shops, bars, restaurants, cafes, and more.
We'd recommend walking the entirety of the downtown area while you're in town, poking your head into shops that look interesting to you as you go (and maybe doing a wine tasting or four along the way). 
Here are a couple of spots that stood out to us. You'll find more in the sections on cider above, and the sections on where to eat and drink below.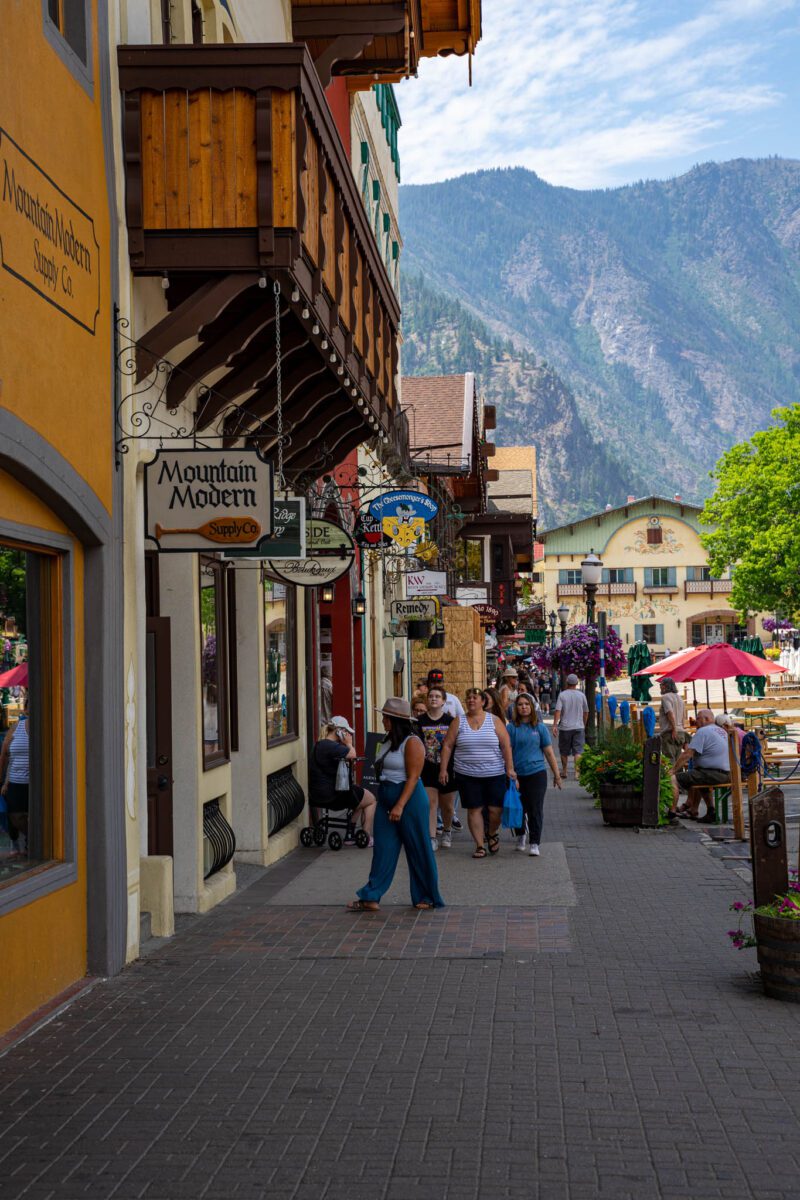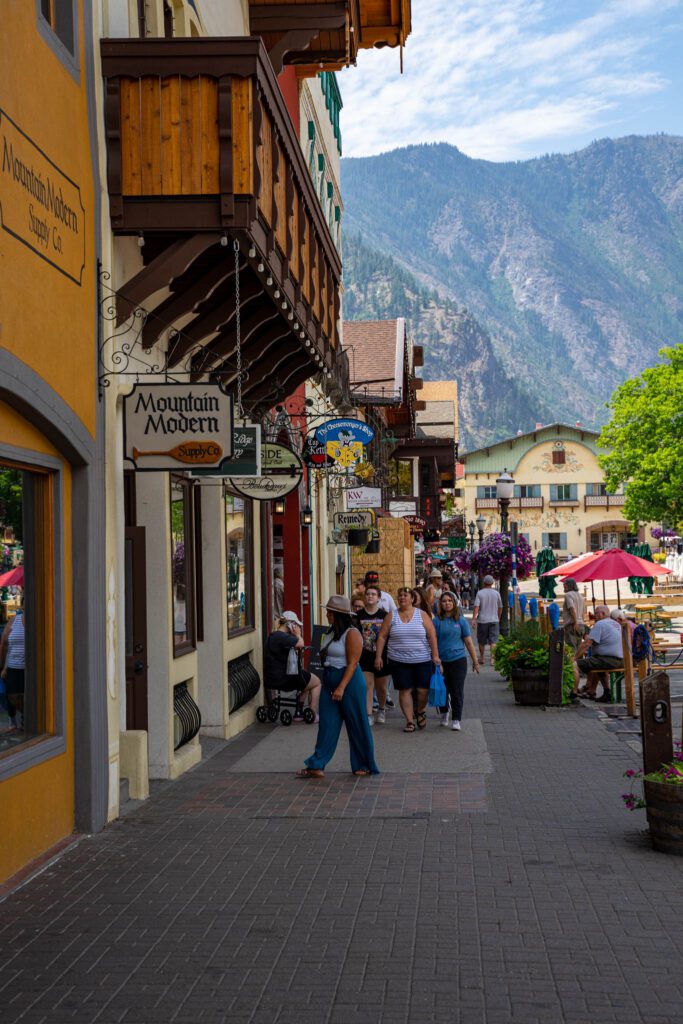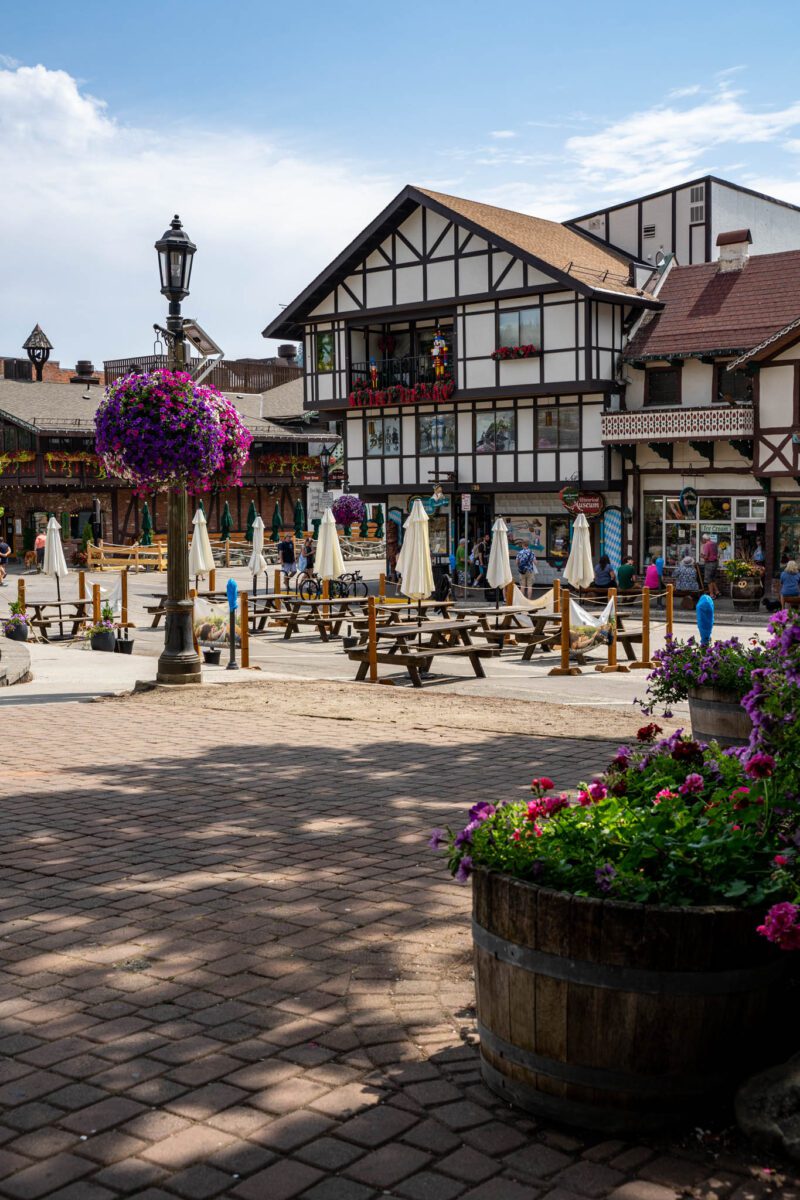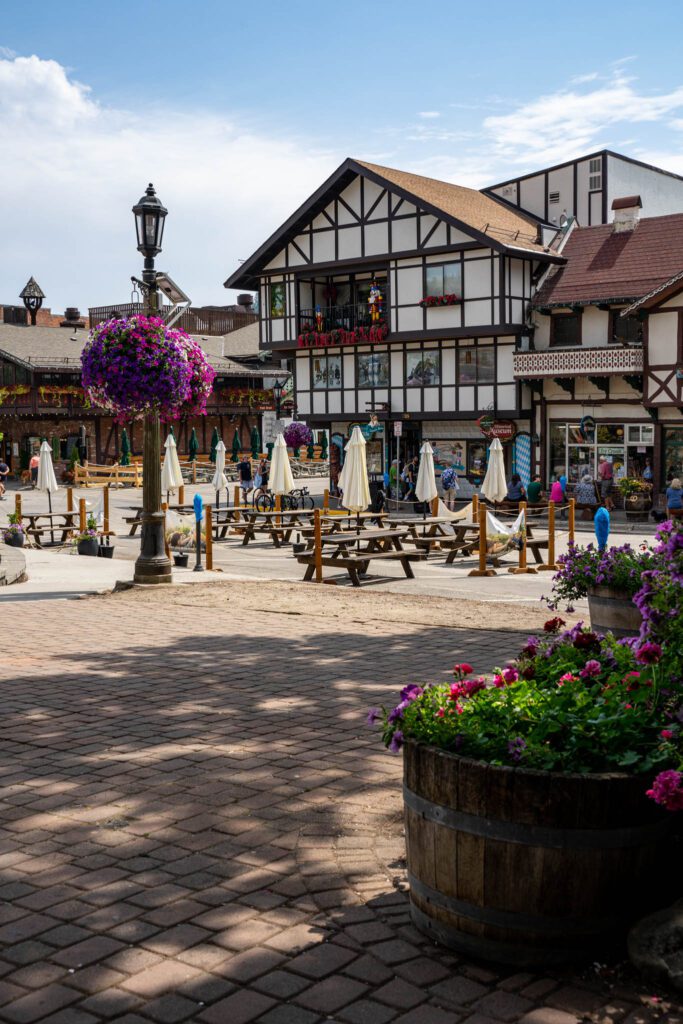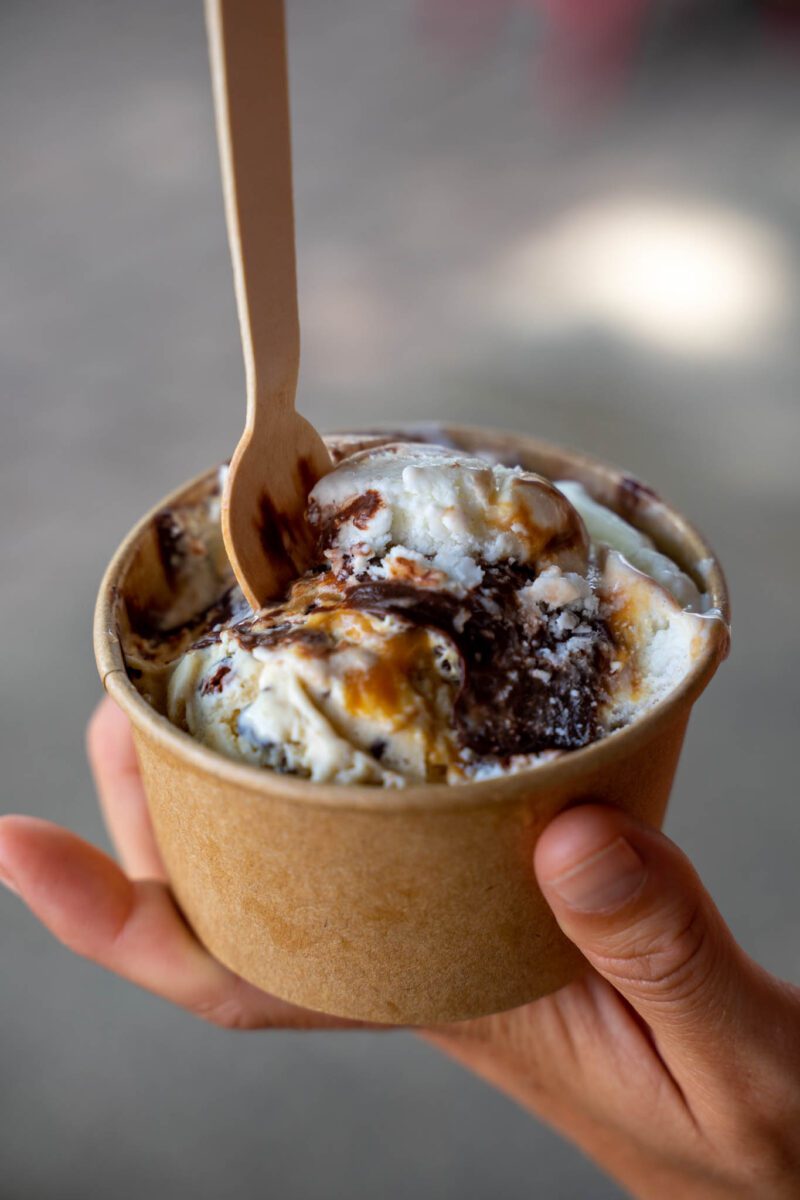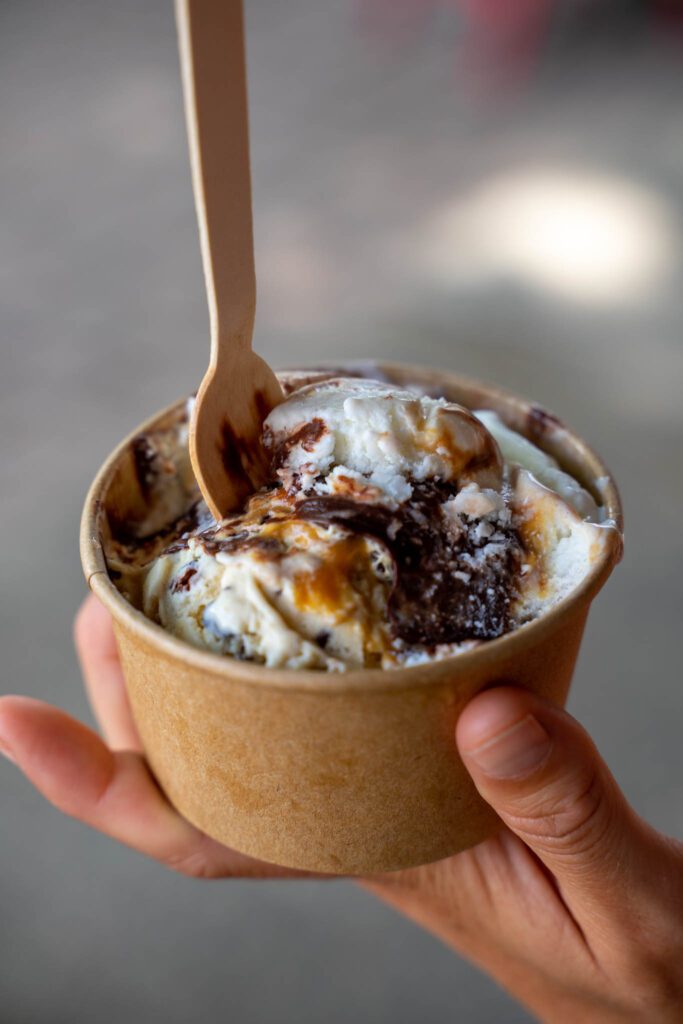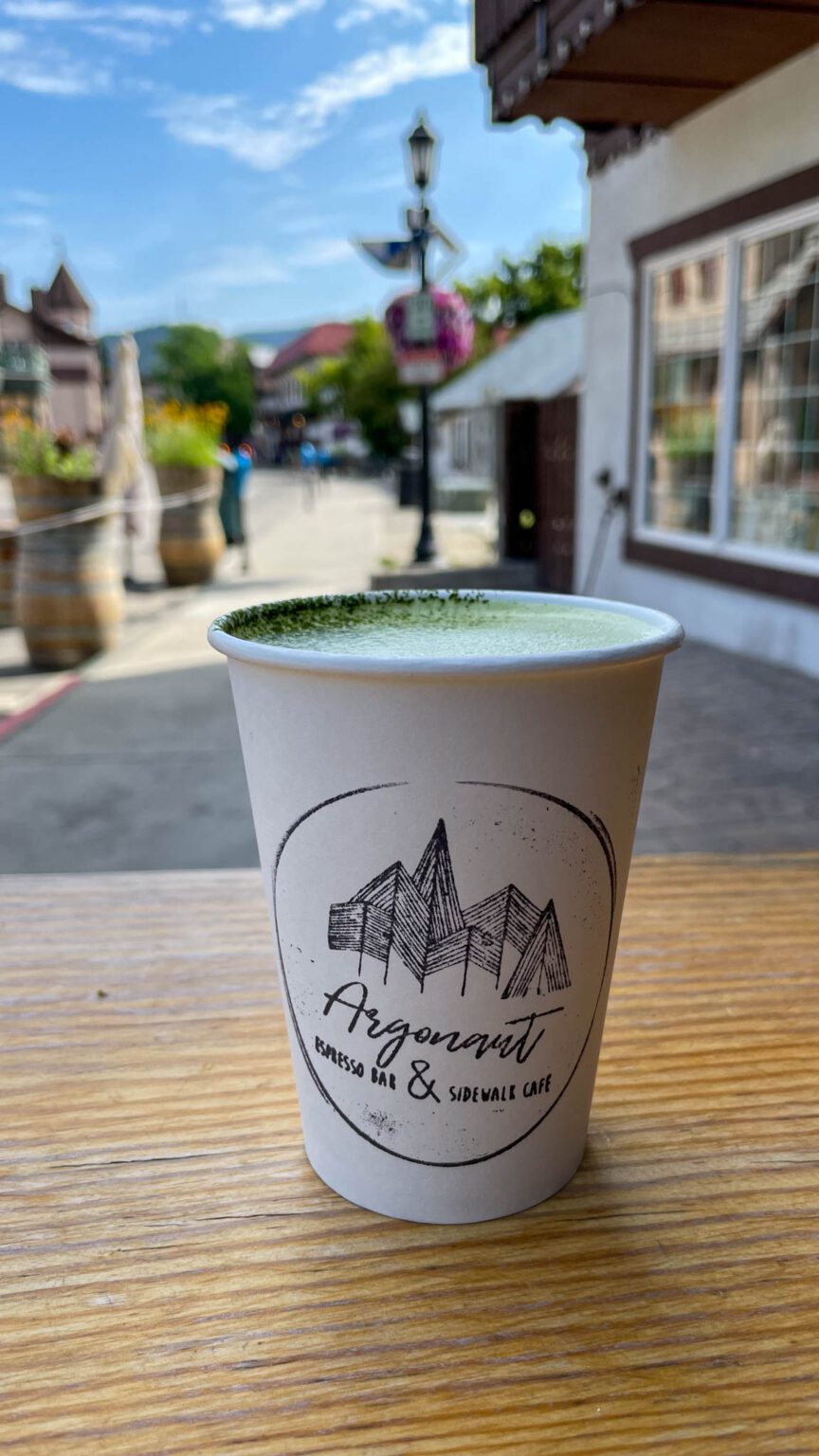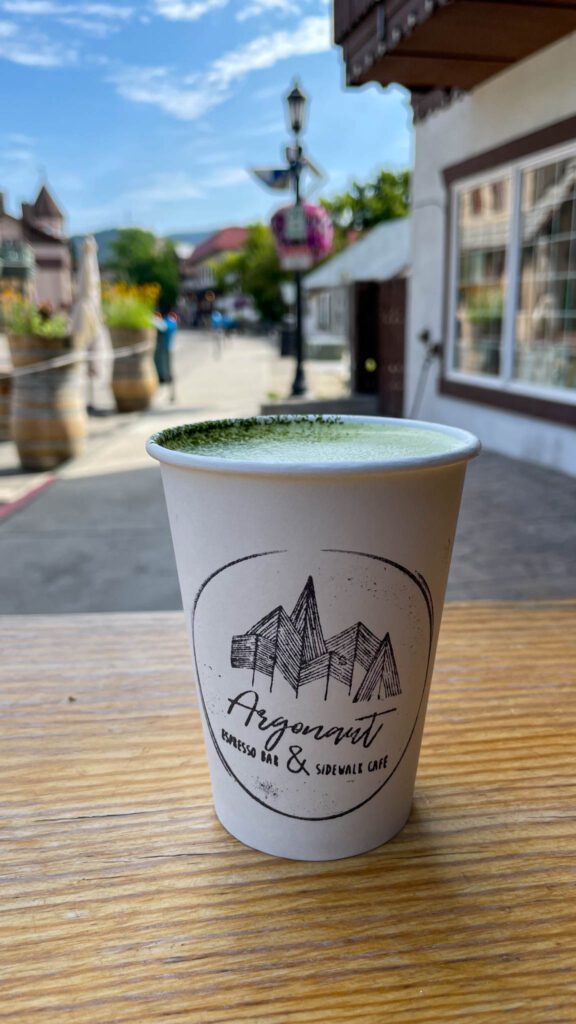 What to Do in Leavenworth: How to Plan a Perfect Day Trip to Leavenworth
Taking a Leavenworth day trip from Seattle (which is where most people are probably coming from) is long, but doable. It's between two and two and a half hours of driving each way.
If you're planning a summer day trip to Leavenworth from Seattle and you're up for an early start, we'd recommend beginning your day with a hike to Colchuck Lake. The problem? You're going to have to be at the trailhead by 6:30 am, which means leaving Seattle by 4:00 am (see below for what to do if you're not up for that super early wakeup call).
But trust us, it'll be worth it. We just did it with my mom for her birthday, and she raves about it.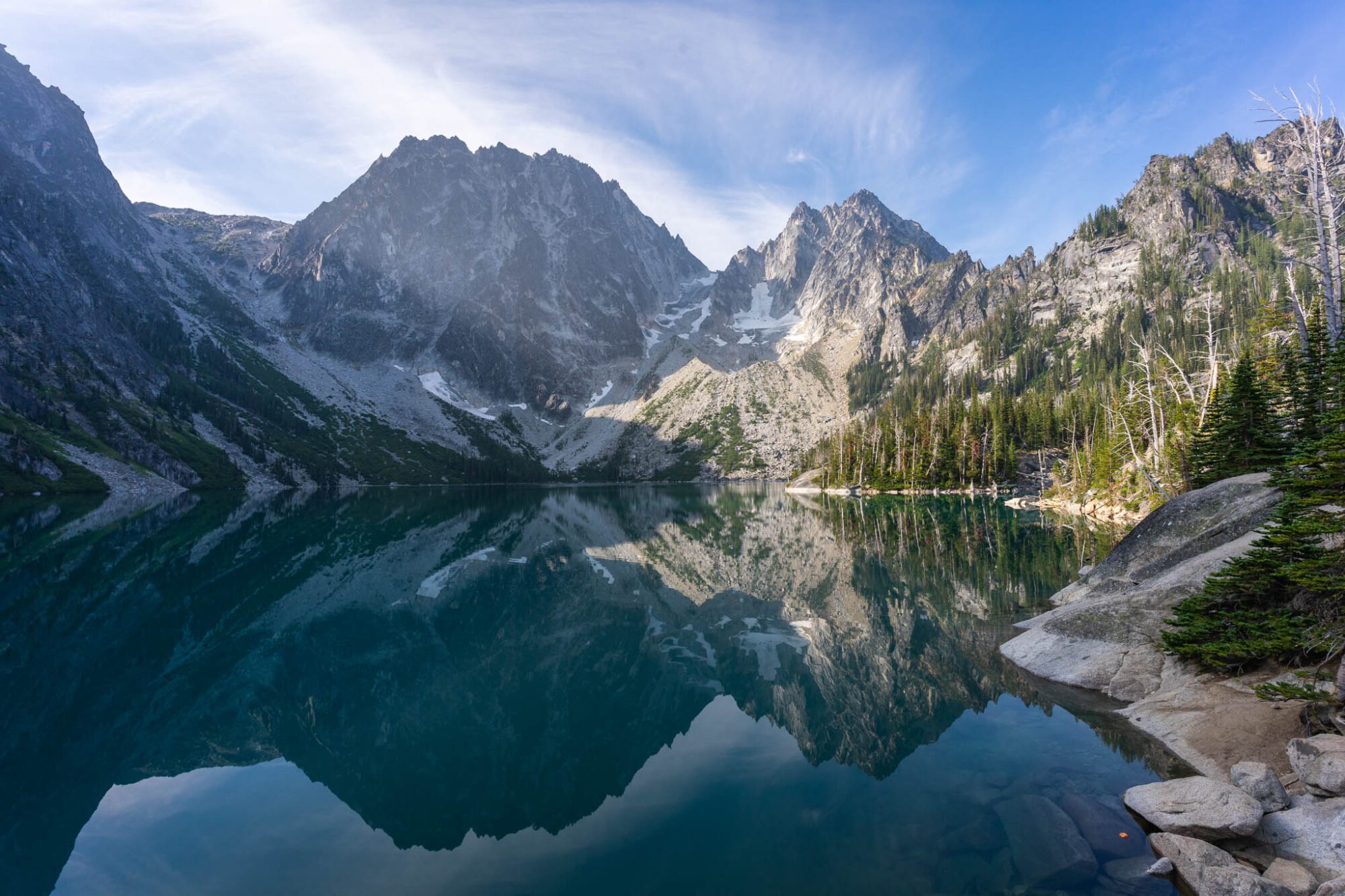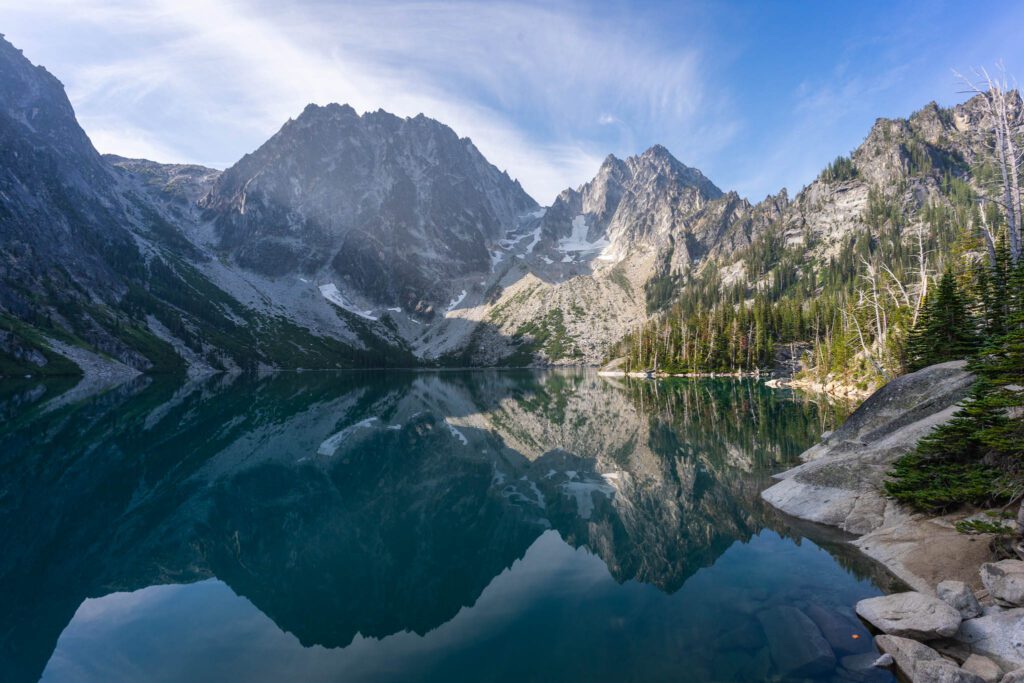 Get to the parking lot as early as humanly possible, and hit the trail soon after. Spend some time at the top exploring around the lakeshore and standing in awe of the sheer natural beauty of the lake before picking your jaw up off the trail and heading back down the way you came.
Once you're back at your car, head straight to downtown Leavenworth for lunch at a sausage and beer garden. You've DEFINITELY earned it. We'd recommend Sausage Garten, which has gluten free options, though München Haus is also very popular (no gluten free options there, though).
After lunch, spend an hour or so walking around downtown Leavenworth. Poke your head into shops that jump out to you, and admire the Bavarian-themed architecture.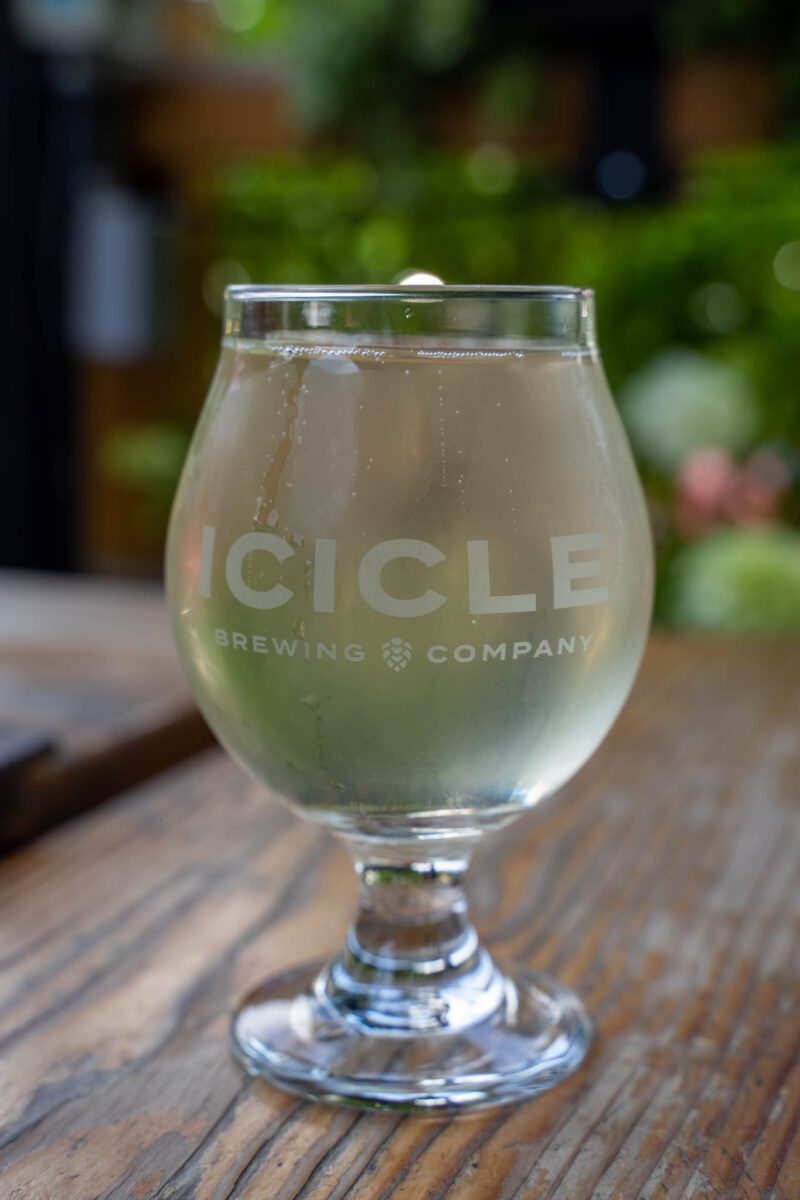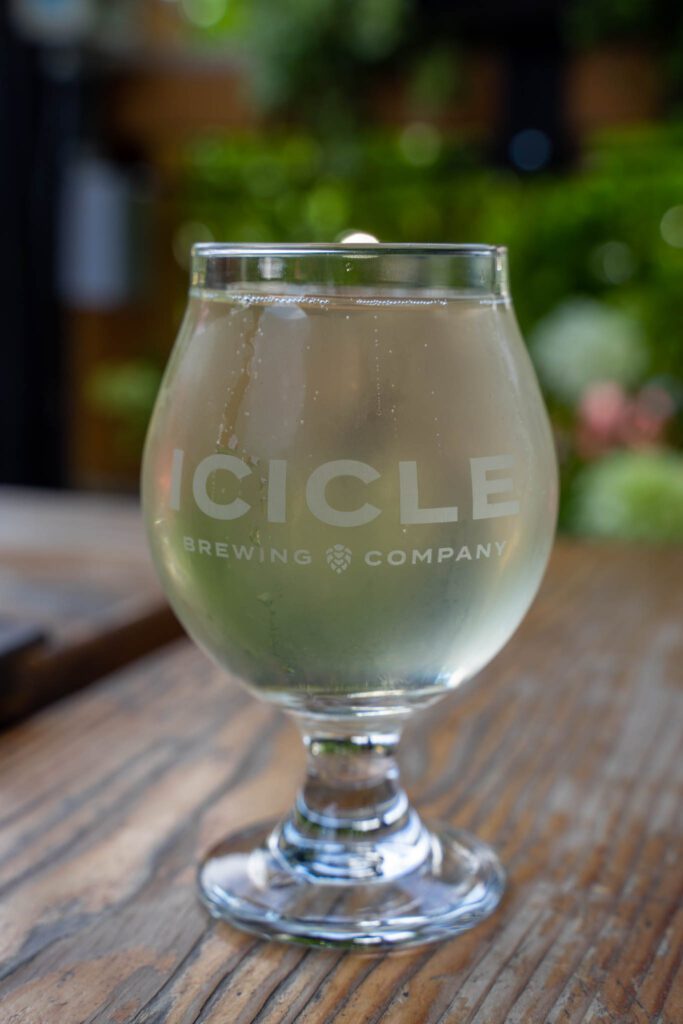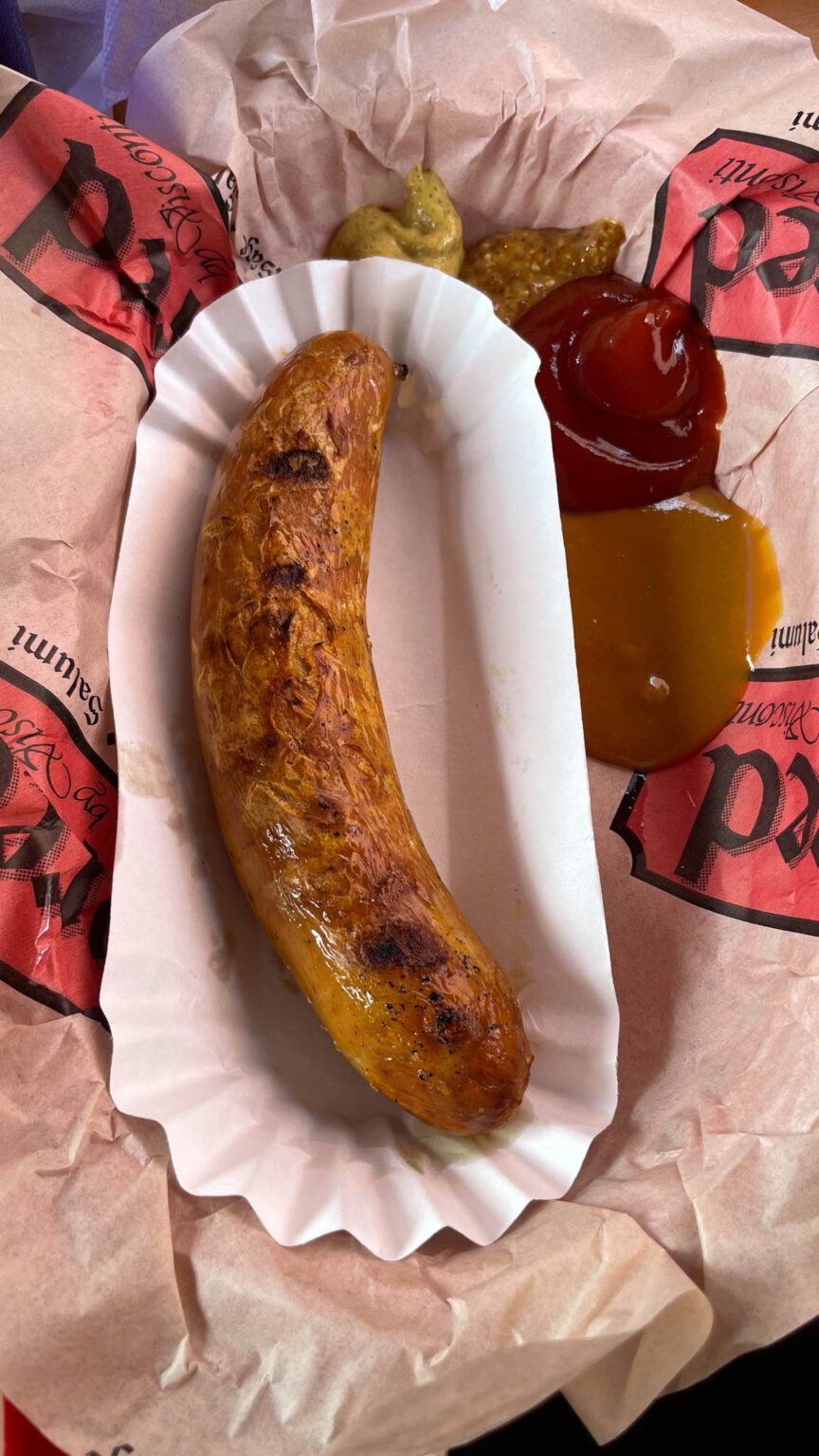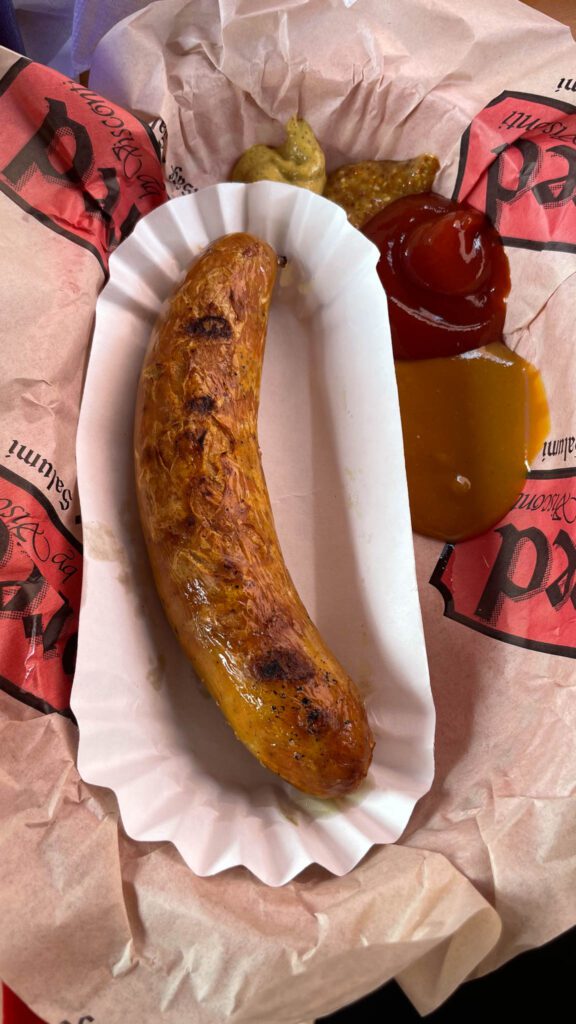 Then, it's time for a drink! Make sure you have a designated driver, then dive into either tasting either some beer at Icicle Brewing, some cider at Leavenworth Cider House (or Bushel & Bee Taproom), or some wine at Archibald James.
By now, it'll be late afternoon, so it's time to hit the road and head home. However, if you want to stick around for dinner, head to sister restaurants Yodelin Broth or Los Soñadores for dinner before heading out.
Not up for a 4:00 am start? Get going later and instead of hiking to Colchuck, choose between a hike to either Icicle Ridge, the easy stroll through Icicle Gorge, or a float on the Icicle River.
How to Spend an Amazing Weekend in Leavenworth
If you've got a little more time in Leavenworth, you'll be able to take full advantage of the plethora of outdoor activities on the mountain town's doorstep.
Again, we're going to assume you're here in the summer. At the bottom of this section, we've got some suggestions for things to do in the winter. 
Arrive on Friday night and get settled before heading out to dinner in town.
On Saturday, get up at the crack of dawn and head out to the Stuart Lake Trailhead to tackle the hike to Colchuck Lake. When you're done, head back to your hotel and get cleaned up before going to either Sausage Garten, which has gluten free options, or München Haus for a well-earned lunch.
Spend the rest of the day tasting beer, wine, and cider in Leavenworth, and intermittently poking your head into the various shops and tasting rooms lining the streets of the downtown area. We'd recommend beer at Icicle Brewing, cider at Leavenworth Cider House (or Bushel & Bee Taproom), or some wine at Archibald James.
For dinner, head to Yodelin Broth or Los Soñadores, then head back to your hotel for a well-earned rest.
On Sunday, do a float of the Icicle River to relax in the sun. It should take a couple of hours, so grab lunch in town before hitting the road to head home. Before you leave the area, stop at either Icicle Ridge Winery or Silvara Winery to taste some locally-made wine at the source.
Coming in the Winter? In the winter, your days should probably be filled with some skiing at Leavenworth Ski Hill or nearby Stevens Pass (or cross-country skiing), a visit to the Reindeer Farm, and witnessing the lighting of the Christmas tree that takes place as the sun dips behind the Cascade Mountains. At night Leavenworth comes alive with the glow of Christmas lights hanging from every tree, building, and light pole in Downtown Leavenworth, which is incredibly romantic.
Eating and Drinking in Leavenworth
Here are some of our favorite places to eat and drink in Leavenworth, from coffee, to beer, to bratwurst.
Coffee in Leavenworth
If you know me, you know I love my coffee. And I usually have strong opinions of my coffee.
The best coffee in Leavenworth – and it's not close – is Argonaut Espresso. They have a tiny coffee window with a nice outdoor patio on the southwest side of town, and are working on a bigger location on the west end of downtown Leavenworth.
They have great coffee – I had a shot of espresso, which is how I judge coffee shops these days, and it was well-pulled – and their seasonal drinks are fun too. Alysha had a Lavender Matcha latte, and still talks about how good it was.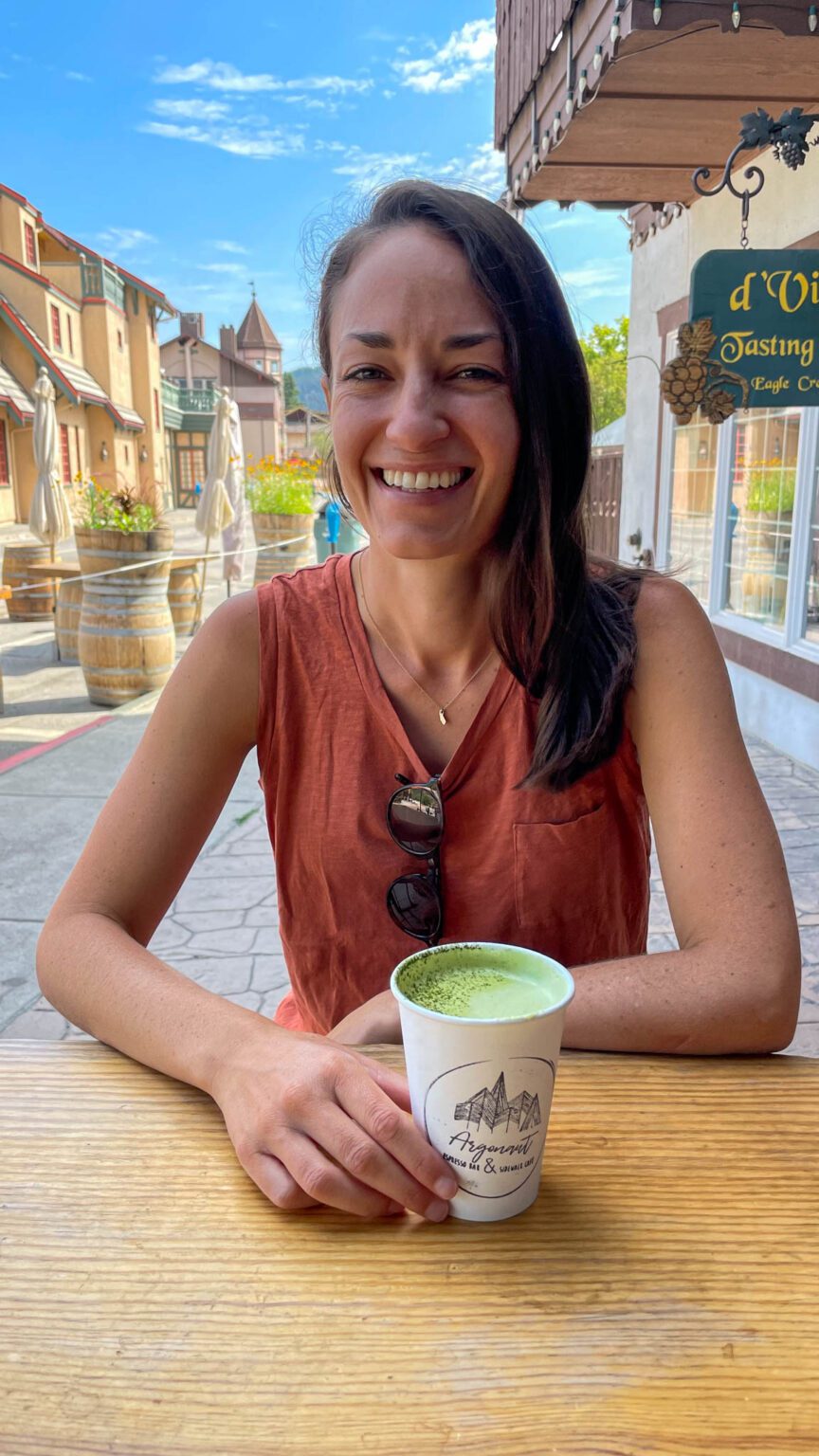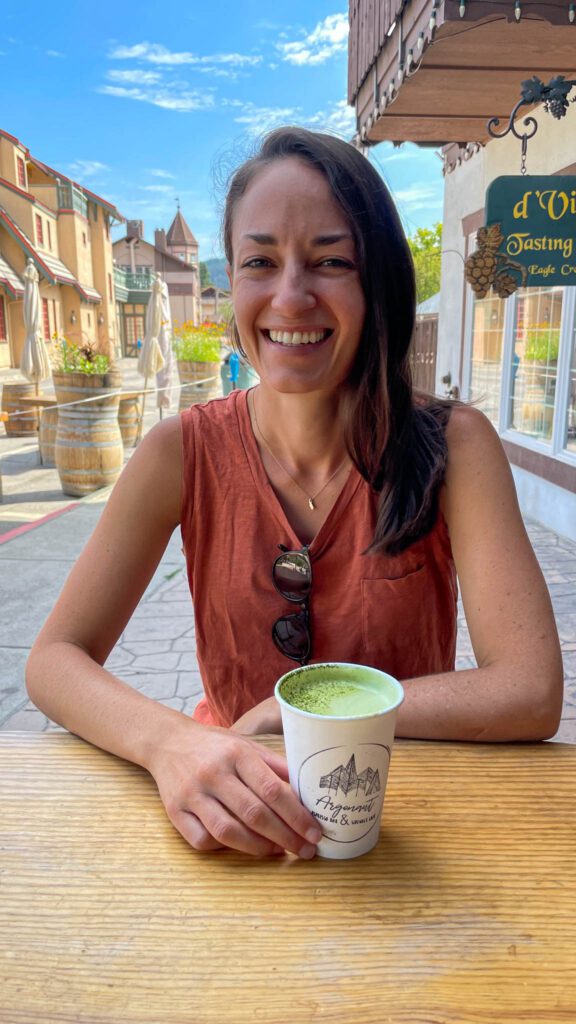 I also went to J-5, and I was pretty disappointed. My expectations were high, since it seems like it'd be right up my alley (go to the location NOT on the main square, if you do choose them), but the coffee just wasn't very good.
Eating in Leavenworth
Sausage Garten: When in pseudo-Bavaria, do as the Germans do. Sausage Garten was one of our favorite eating experiences in Leavenworth. It's an outdoor beer garden, with a window where you have your choice of different sausages and mustard-based toppings (get the sweet and hot mustard). All sausages are gluten free (though they're served on a bun, which you have to ask them to omit), and they have a list of mustards that are gluten free posted. Get the currywurst. They also have pretzels, which my non-gluten free travel companions enjoyed guiltily as I watched longingly.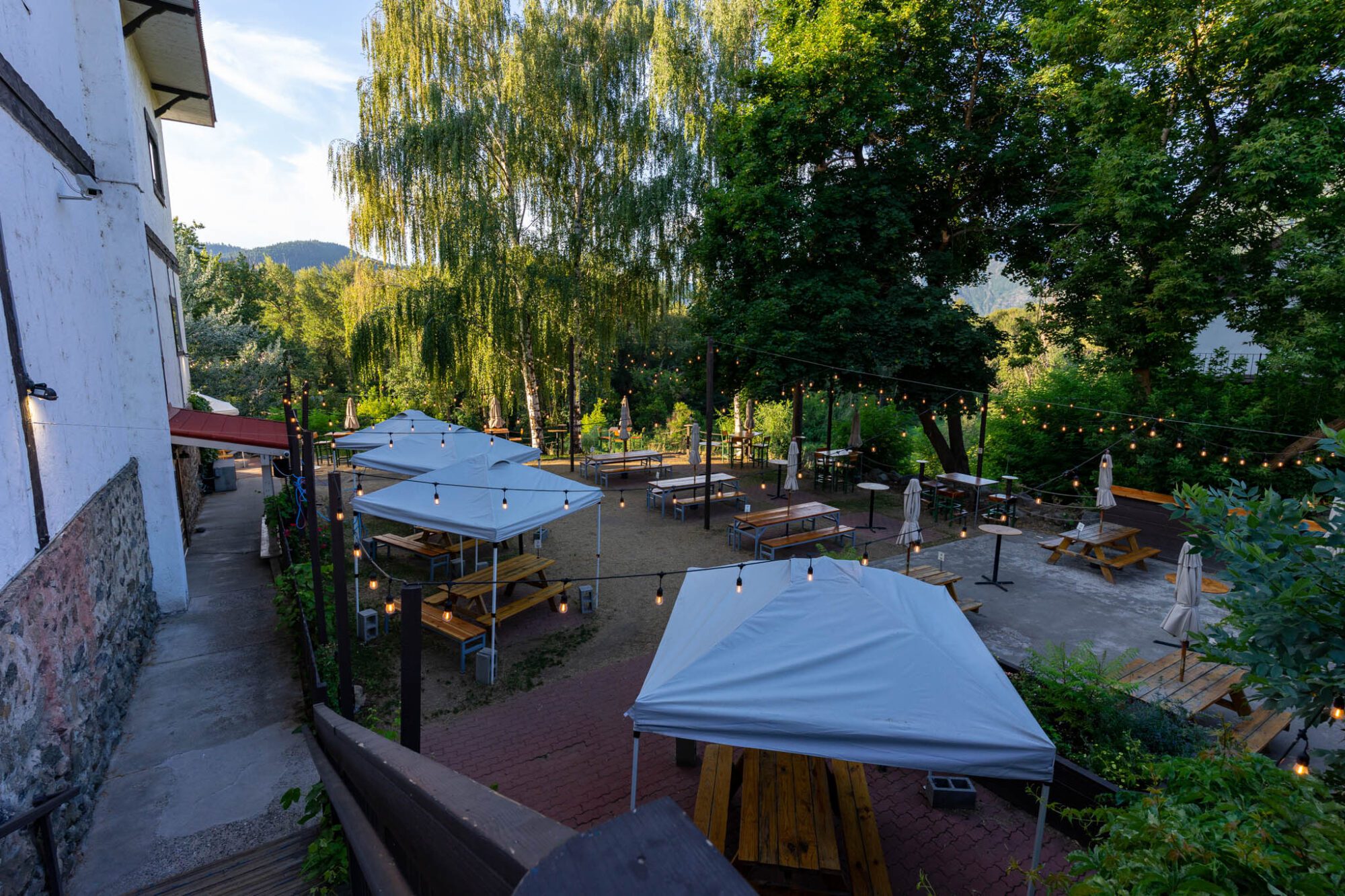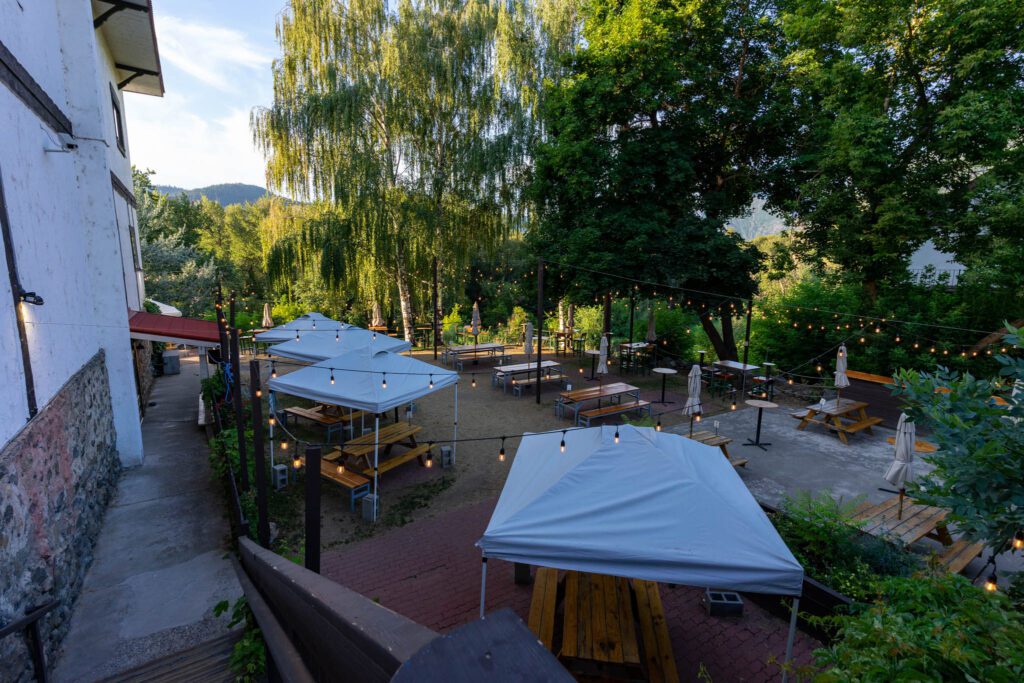 Yodelin Broth: Unfortunately, this spot was closed the two days we happened to be in town, but it came highly recommended from one of the staff at Loge, and they have a menu of broths and rice bowls to choose from featuring fresh Pacific Northwest ingredients (lots of local salmon). It has a cool ambiance too, with string lights and outdoor tables overlooking the river. It's on the east side of town, below the Bavarian Ritz Hotel.
Los Sonadores: Also in the ground floor of the Bavarian Ritz, this is some of the best Mexican food in Leavenworth itself. Plus, margaritas! Get the birria tacos, and the crispy polenta. Lots of gluten free options, and they sometimes have Ghostfish beer, one of the best gluten free beers around!
Whistlepunk Ice Cream: Alysha is an ice cream fanatic, and she demanded ice cream since it was blazing hot. This was the spot for ice cream, judging by the line out the door before they were even open for business.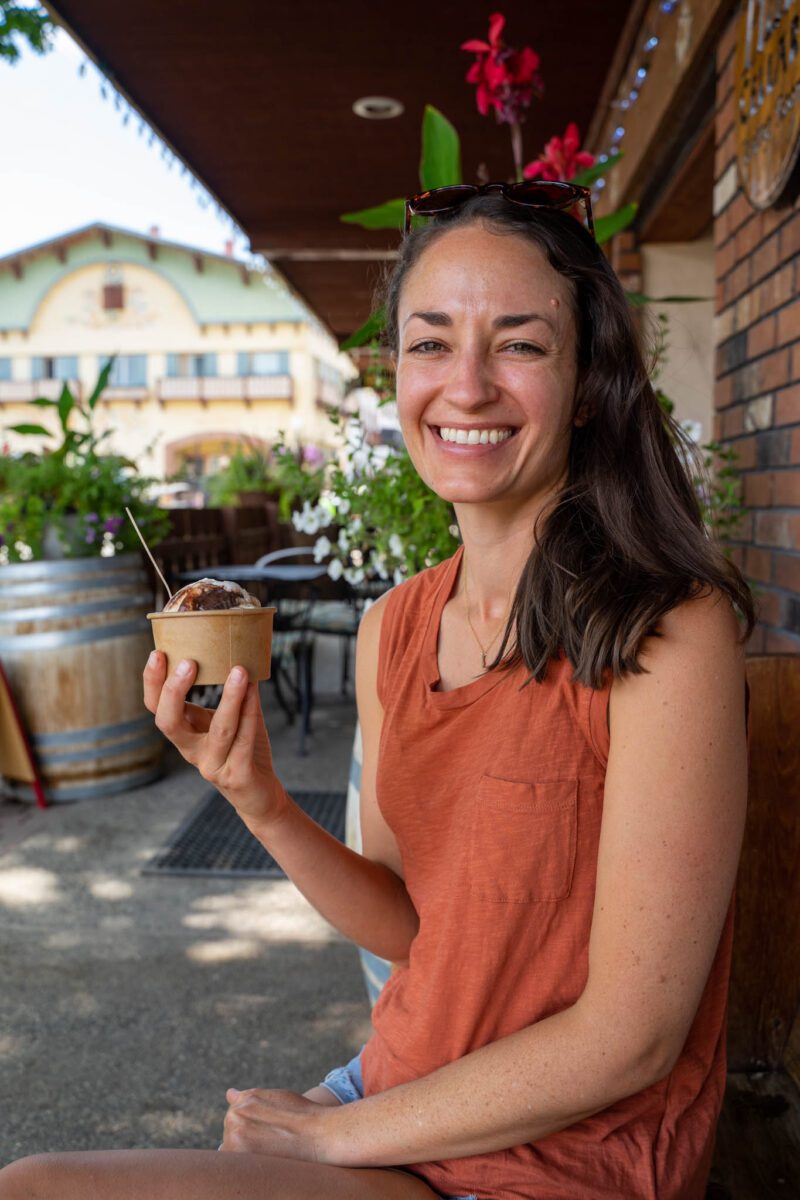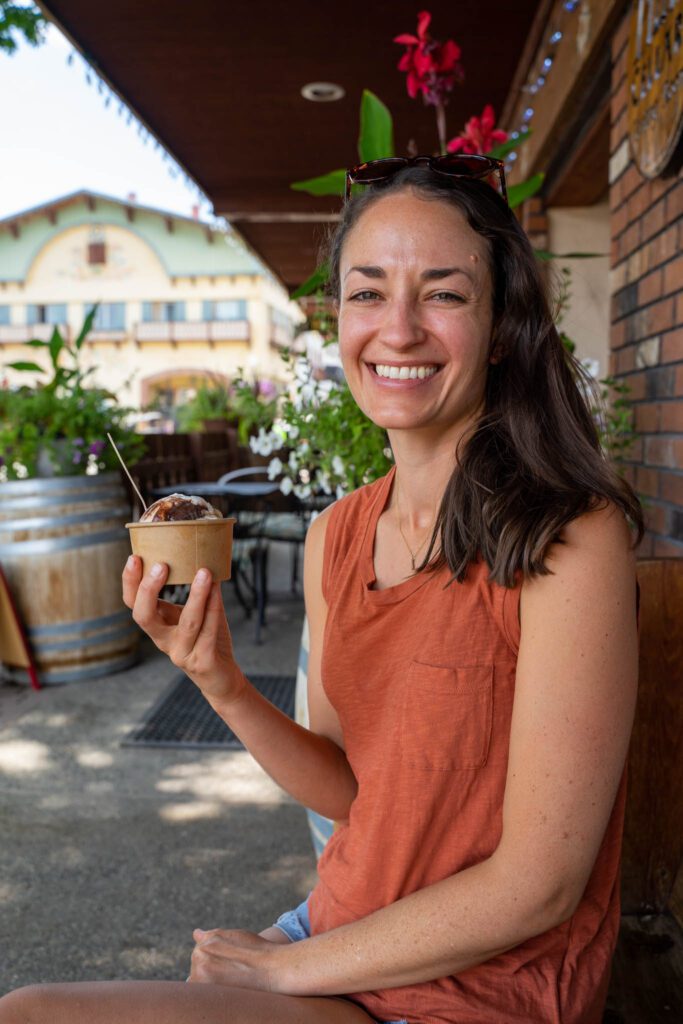 München Haus and Andreas Keller are two good spots to choose if you want a broader range of German food than just sausages. Unfortunately, neither is particularly good for gluten free folks like me, so we ultimately skipped them. But if soft and fluffy pretzels, apple strudel, and schnitzel are your idea of fun, add them to your list! München Haus is much more sausage focused, while Andreas Keller has a more diverse range of options.
Beer, Wine, and Cider in Leavenworth
I already covered some of these in the section above, but it's worth repeating here because Leavenworth is in a unique geographical position where there are farms and orchards growing grapes, apples, and hops all within a handful of miles. Not many places on earth can claim that (New Zealand might be the only one I can think of).
Beer
There are a couple of breweries in town for beer lovers to try – Icicle Brewing and Blewett Brewing Company. We chose Icicle because they have one to two ciders and a (canned) gluten free beer to choose from. The ambiance on the patio of Icicle Brewing can't be beat, especially when there's live music going on a warm summer evening.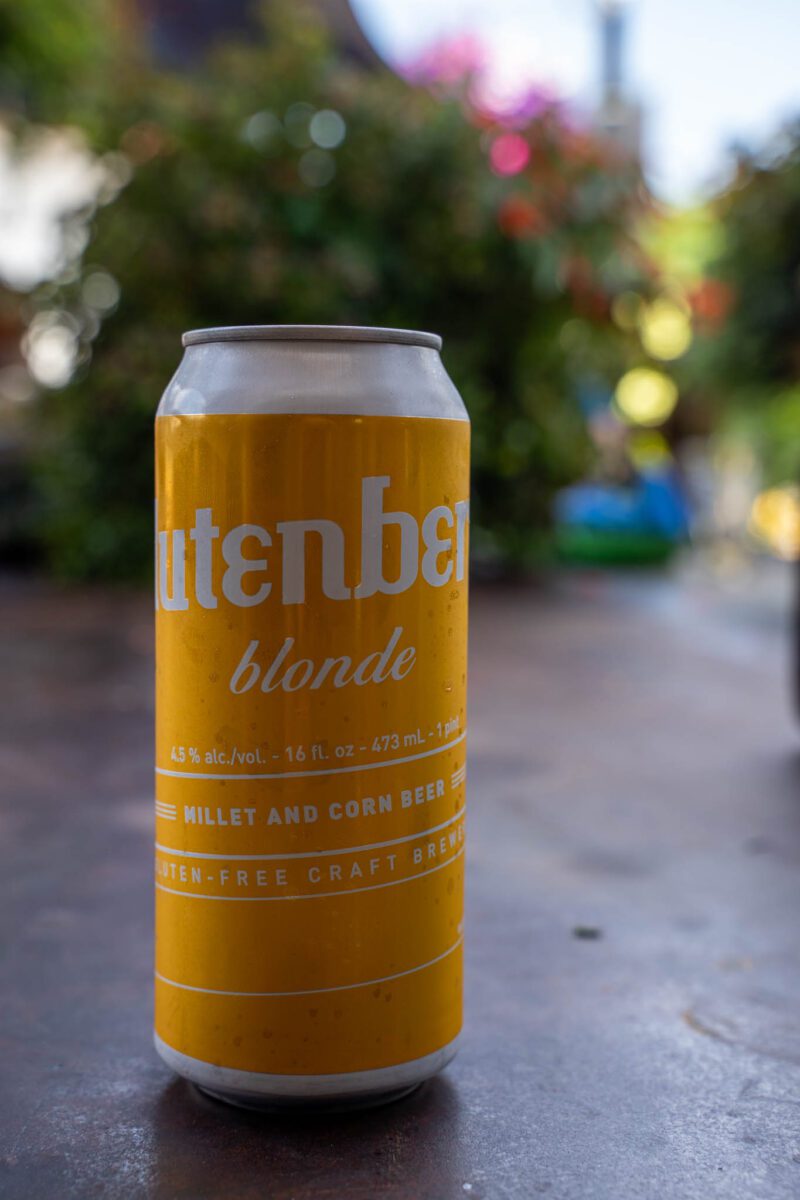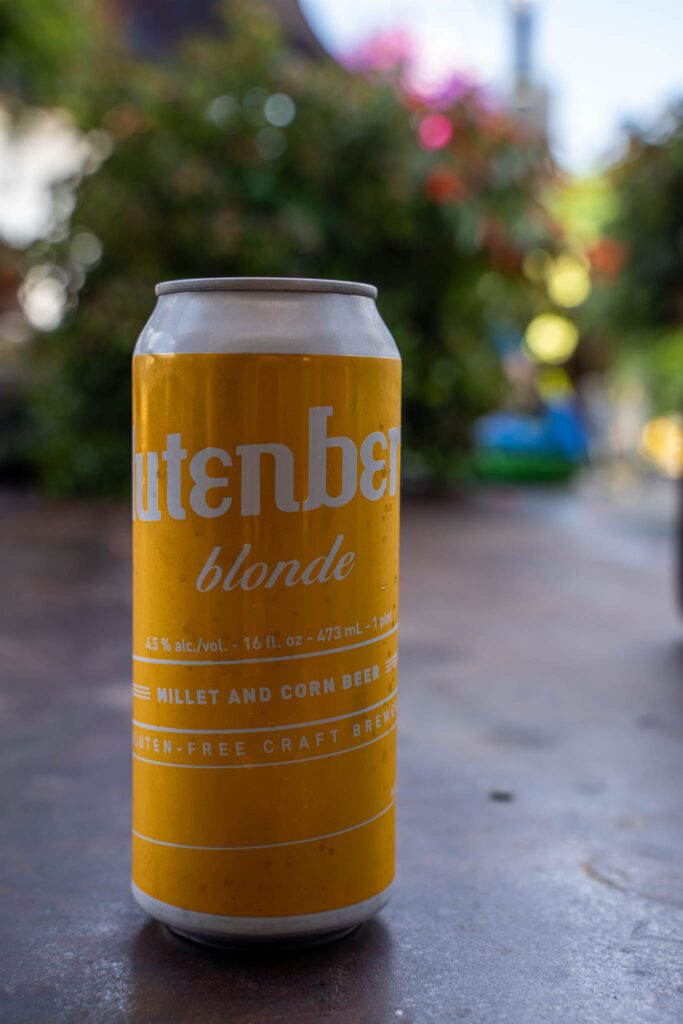 Cider
We're big cider lovers, and Leavenworth is a fantastic place to try some cider whether you're a cider enthusiast, or you've never had it in your life.
Wenatchee is the apple capital of the United States, and it's a 20-30 minute drive out of town before you're surrounded by apples as far as the eye can see. 
Leavenworth Cider House is my favorite selection of ciders on tap, with 20+ to choose from, mainly sourced from the Pacific Northwest. They also have a great bottle selection.
Bushel & Bee has taps evenly split between beer and cider, and they also have a solid bottle and can selection that you can either enjoy there, or take home for later (my mom and brother both bought multiple bottles to take home for later).
Last, but certainly not least, is Archibald James, who is a wine and cider maker with a shop at the west end of the main drag where you can get a flight of either one. Sadly, they were closed when we were in town (they're open weekends), but I managed to find their cider on tap at Bushel & Bee and enjoyed it.
It's the best cider producer in town, so I'd head here to learn about how cider is made and try it straight from the source (but the selection won't be as good as the two cider-focused taprooms, which are good spots to try a wide range of cider).
Wine
You have two options here – go to a winery in the town of Leavenworth, or pay one of the wineries just outside of town along Highway 2 a visit and go straight to the source. Either way, you'll be trying the same wines (if you're comparing between the same winery), but the ambiance will be different.
Icicle Ridge and Silvara are the popular choices, both just five miles outside of town to the south, but we also want to mention Archibald James (the cider + winemaker referenced above) who specializes in low-intervention wines.
Where to Stay in Leavenworth
There's a nice range of places to stay in Leavenworth for a wide range of budgets and styles, from camping to the way-too-expensive Post Hotel. I'm not sure who has a thousand dollars to spend on a night in a hotel, but it ain't us.
Loge Camps
We have personally stayed at Loge Camps in multiple cities on the West Coast and love them. In Leavenworth, they have two properties.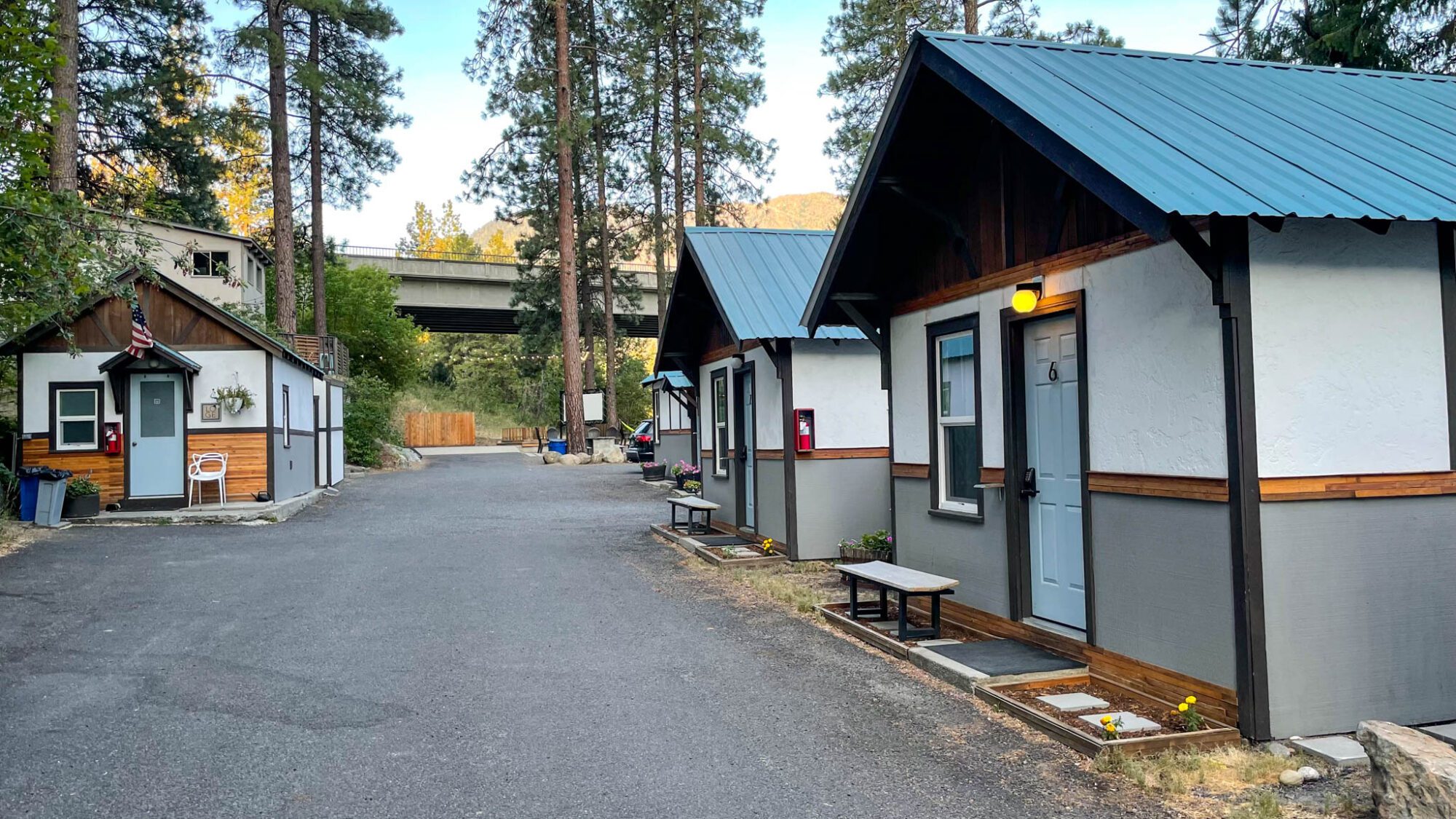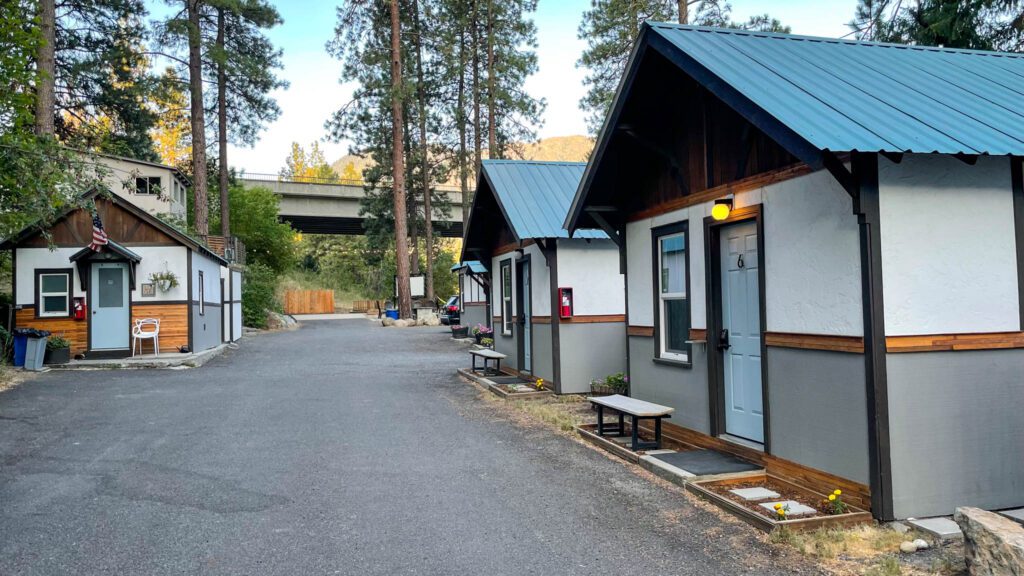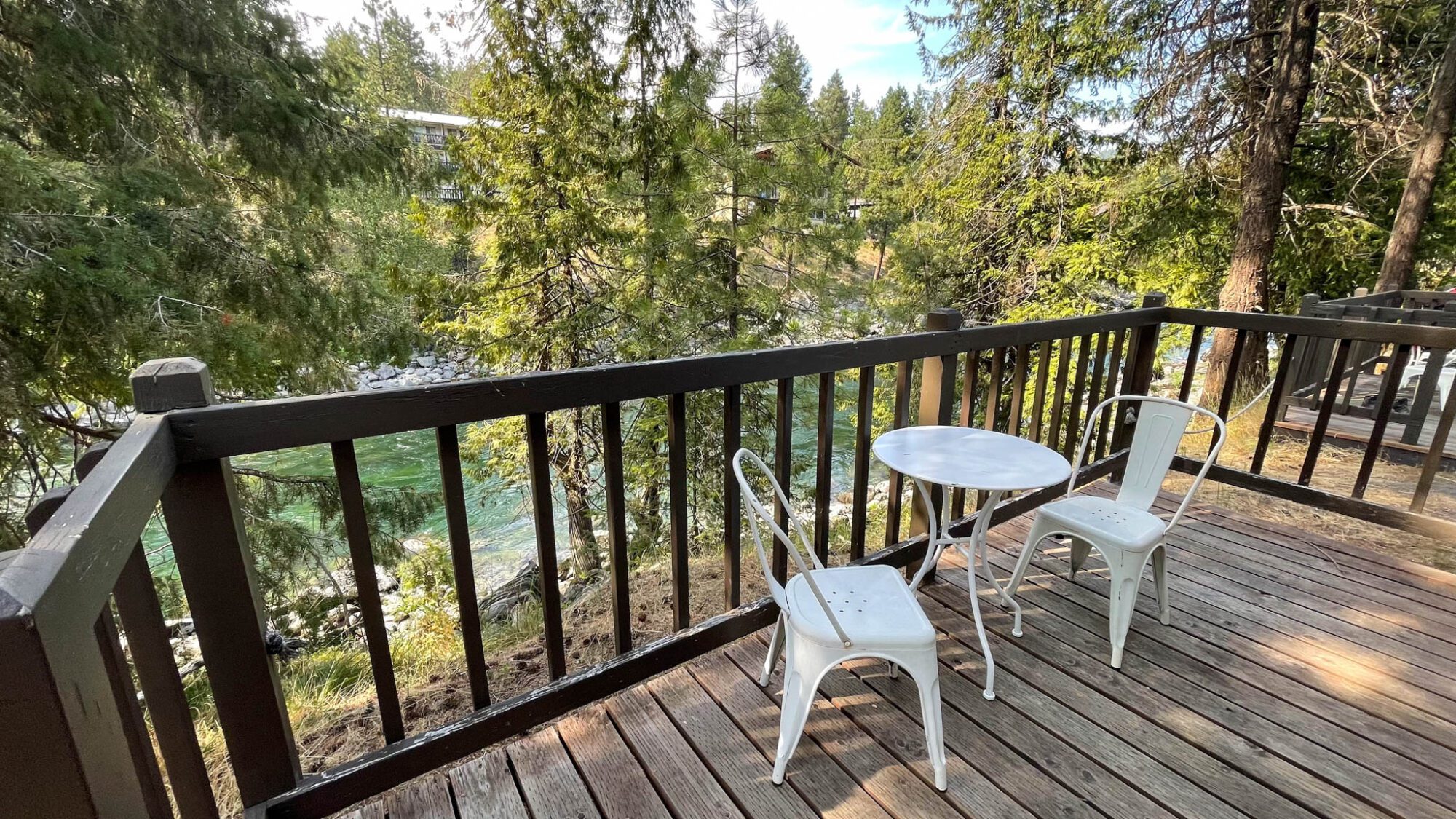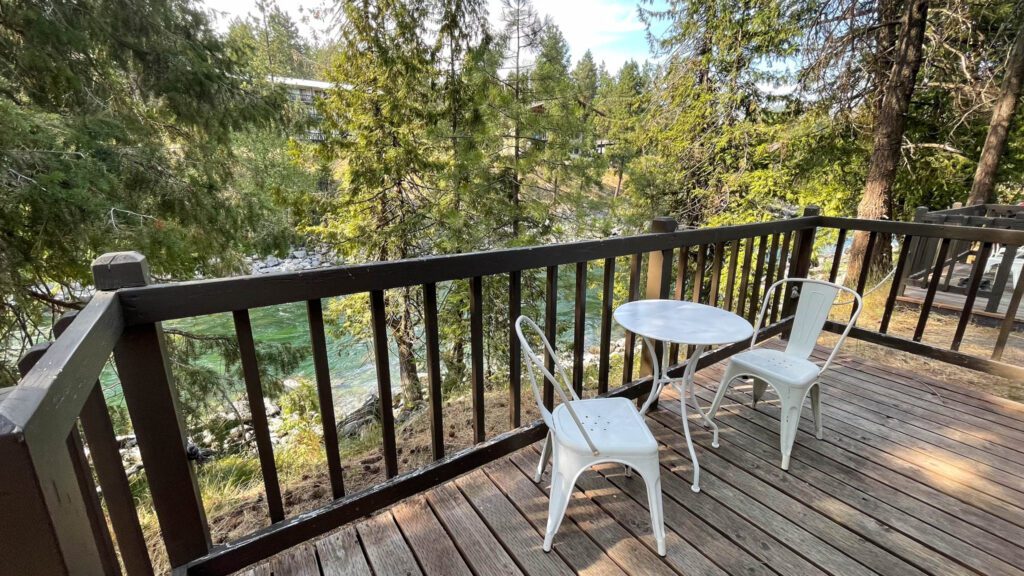 On our latest trip, we stayed at the Riverside Cabins, which are just across the bridge from downtown Leavenworth. They're walkable, and they have complimentary bikes for you to borrow. The cabins themselves are nice too, with a studio layout, ensuite bathrooms, and a nice private patio overlooking the Icicle River below.
The common spaces include a communal kitchen (with oven, stove, etc.), an outdoor dining area with Traeger grills for you to barbecue if you so desire, and a nice green space with hammocks and Adirondack chairs. Overall, highly recommended, though I do wish that the internet was better in the individual cabins.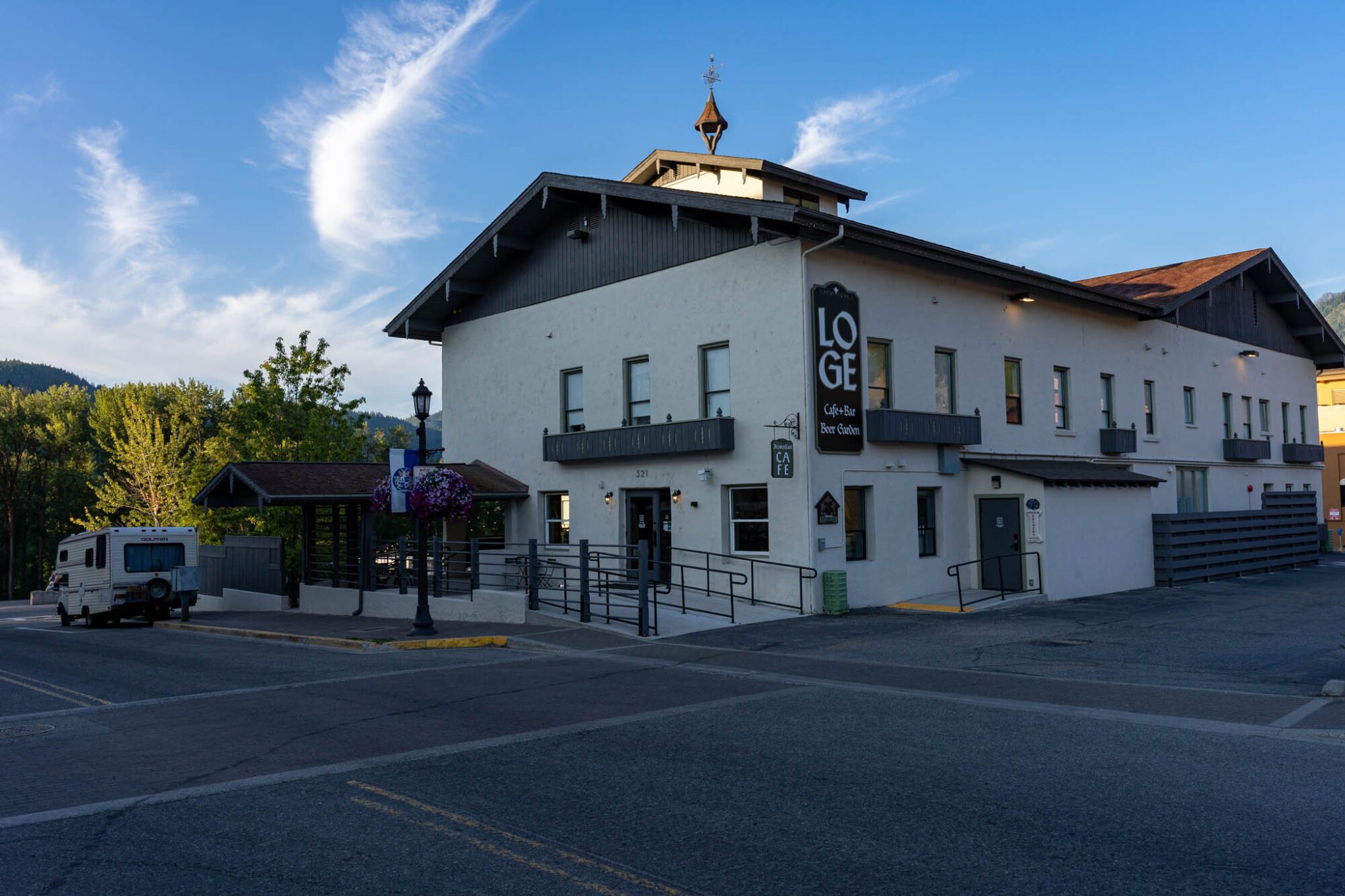 Their other property – Loge Downtown – is smack dab in the middle of downtown Leavenworth. It's part hostel, part hotel, and decidedly more of a social atmosphere than the Riverside Cabins. We have friends who stayed there around the same time we did, and they enjoyed their stay.
It's pet-friendly, which is why they chose it, and they have a range of room types from private rooms with shared bathrooms to private rooms with ensuite bathrooms. There's also an onsite beer garden, coffee shop, and complimentary bike rentals (though you can walk anywhere in town pretty easily from here).
Bavarian Lodge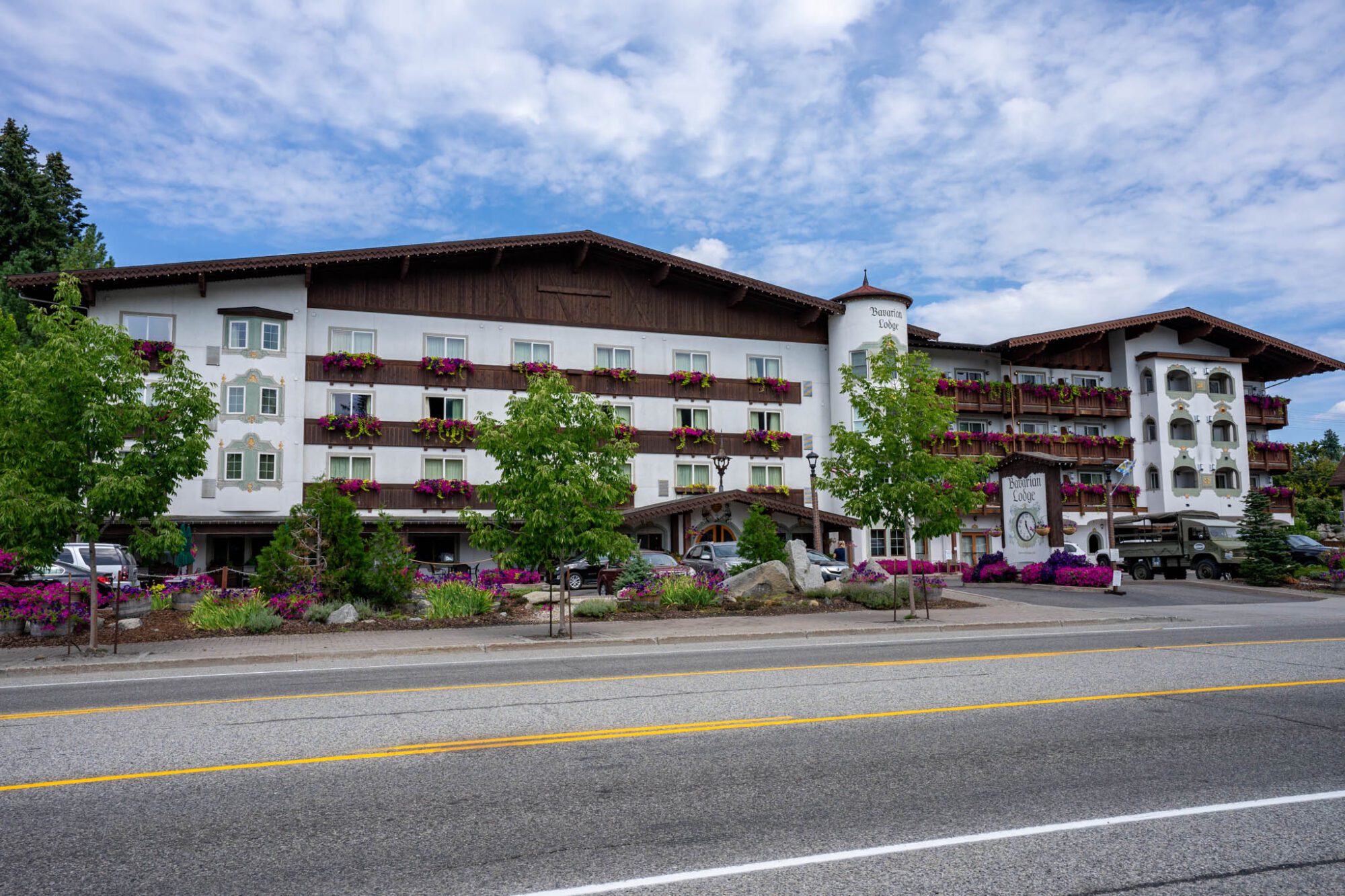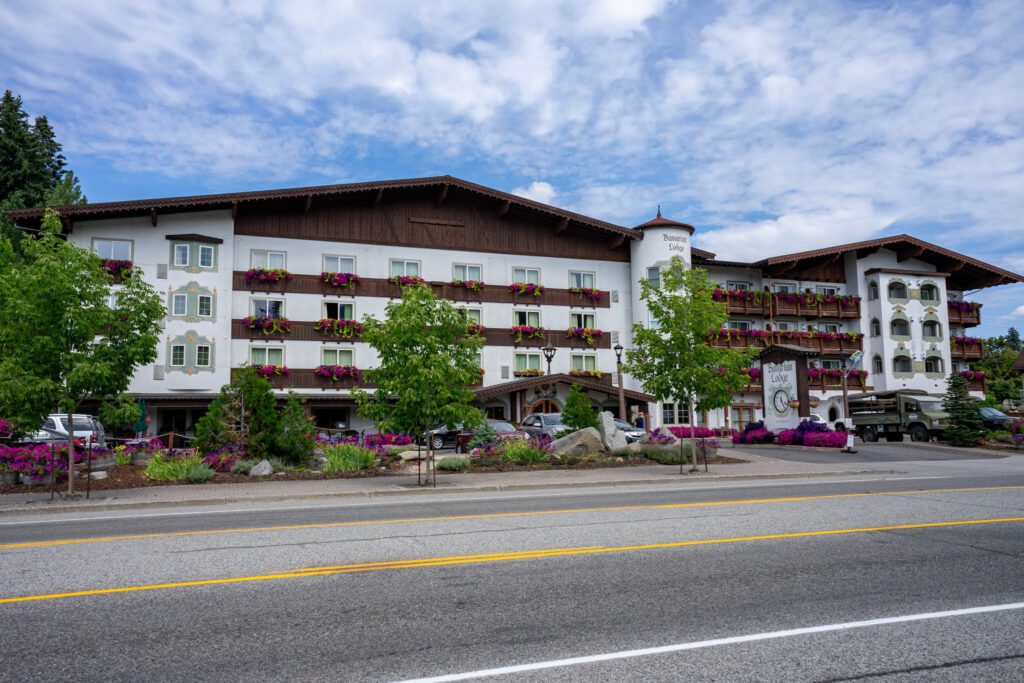 The Bavarian Lodge is a more traditional hotel than Loge, but it perfectly matches the Bavarian theme of the rest of the town. It's a good midrange option, and it's literally right across the street from Leavenworth's main square.
The location couldn't be more central to downtown Leavenworth. Some rooms have cozy fireplaces, private balconies, and family rooms, and all rooms include a full breakfast.
One thing to know is that they charge an additional $15 per adult guest after two per room, which is relevant if you're planning on choosing a room with two queen beds and sharing between four adults. 
Eightmile Campground
We stayed at Eightmile Campground for a night before hiking to Colchuck Lake, and it exceeded our expectations.
First of all, it gets HOT during the summer months, and the campground is heavily forested. We showed up at the Safeway in Leavenworth around 4:00 pm, and it was around 100 degrees at the time. I was roasting alive. 
When we got to the campground, the temperature was exceedingly pleasant with all the tree cover.
It's a good, affordable spot to camp, but there are relatively few sites here, so book early (especially if you're coming on a weekend). I would suggest bringing your own water, if you can. The solar water pumps didn't work too well for us, and we ended up breaking into our water stash because we couldn't get enough water out of the tap.
Getting to Leavenworth
Leavenworth is fairly easily accessible from Seattle. You have two options: driving yourself, or taking Amtrak (which requires you to spend at least one night in town). If you're doing it as a day trip from Seattle, you'll have to drive.
Driving
The best way to get there is by driving yourself, which means taking I-90 east out of Seattle over Snoqualmie Pass. From there, you'll cut over on US-97, which takes you up and over Blewett Pass, and then connect with Highway 2 to cover the final few miles into Leavenworth.
It will take you sometime between two and two and a half hours, depending on conditions and traffic. 
The traffic coming back over Snoqualmie Pass can be brutal on Sundays, particularly in the summer, so plan accordingly. This route is fairly well plowed in the winter, but it's still a pass that gets up over 5,000 feet above sea level, so snow chains may be required.
I remember a few times over the past few years where the pass has been completely shut down due to huge snow storms, but those occasions are relatively rare. 
Taking the Train
Amtrak is a little tricky for reasons we'll get to, but the Empire Builder route travels from Seattle to Leavenworth in just under four hours. I say it's tricky because the timetables change every so often, and there is only one train per day in either direction.
That means you will have to spend at least one night in Leavenworth if you want to take the train – it doesn't work as a day trip (as of the time of writing, the train arrives in Leavenworth at 12:10 pm, and the train going the other way leaves at 1:00 pm).
The exception, and part of the reason I say it's a little tricky, is in the winter between Thanksgiving and Christmas, when there's a separate train journey that leaves Seattle early, drops you in Leavenworth for the day, and returns back to Seattle late, after the famous tree lighting ceremony in Leavenworth.
It's expensive because it includes a continental breakfast and full plated dinner, but it's a good way to see Leavenworth in the winter if you don't want to deal with driving over the pass.
When to Visit Leavenworth
Summer, fall, and winter (Thanksgiving to New Years Day) are all great times to visit Leavenworth. Each season has a distinct set of pros and cons, which we'll go through below.
Summer is our favorite time to visit, but that's because we love hiking, and the Enchantments is one of our favorite hikes of all time. The full Enchantments hike is a 20+ mile adventure, but you can hike a portion of it to Colchuck Lake, which is gorgeous.
That hike is accessible in the summer and early fall, and is a must-do if you're willing and able to cover the 9 miles and 2,400 feet of climbing.
The long daylight hours are great for wandering around town in the evening, soaking in the festive atmosphere and enjoying a nice cold beverage out on one of the many patios in town. Prices and crowds are both high. 
Fall is also a good time to visit, both because the weather is still pretty good through mid-September, and because Oktoberfest turns Leavenworth into a playground for beer lovers.
Fall color starts to show up along the river and in the Enchantments (including Colchuck Lake) sometime in October, but the exact timing varies by year. 
Winter – specifically between Thanksgiving and Christmas – is also a fantastic time to head over to Leavenworth. Having visited Berlin in the winter specifically to experience the Christmas Markets in Germany, I am wholeheartedly in favor of anything that resembles a German Christmas Market.
Snow-covered buildings, Christmas lights, and the tree-lighting ceremony are highlights of a winter visit, and prices will be high on those precious winter weekends between the two major holidays. 
Between January and March, Leavenworth turns into a different sort of outdoor recreation hub, with Stevens Pass and Mission Ridge, two of Washington's best ski resorts (plus the smaller but more convenient Leavenworth Ski Hill) both accessible as day trips from Leavenworth. Plus lots of snowshoeing nearby.
Spring is a shoulder season where it's still too cold and too early to do some of the summer outdoor activities, which means it's going to be a cheaper time to visit if you don't really care too much about being outdoors.
You'll still be able to snowshoe, and skiing is probably on the table into April, depending on the year. 
---
More to Explore in Washington State
Heading to the great state of Washington? Here are some other posts you might like.
The Best Things to Do in Seattle: A Local's Complete Guide (coming SOON!)