One Day in Seattle: How to See the Best of Seattle in a Day
"It's so green!" exclaimed my wife, Alysha, as we made our way from the airport into downtown Seattle, passing through neighborhoods surrounded by greenery on all sides. It's one of my favorite things about Seattle. Sure, it rains. A lot, some might say. But you know what that rain means? It's basically always beautifully green and lush.
And besides, the rain is usually just a fine mist, not a torrential downpour – I never once used an umbrella in my 15+ years of living in Seattle. Alysha makes fun of me for my refusal to use an umbrella. "I'm from Seattle" I say proudly "we don't do umbrellas."
I grew up in the Seattle area and lived there for 15+ years (including around 7 years in the city itself) before moseying down to San Francisco, and I have big plans to make it back up to the Pacific Northwest in the near future.
If you only have one day in Seattle, you're going to want to make the most of it, and I guarantee it's going to leave you wanting more (that's what my guide to 3 days in Seattle is for).
This Seattle city guide is a version of my favorite way to spend a day in Seattle. It goes beyond the usual things you'll find on these lists (like the fake first Starbucks, but we'll get to that) and I hope it gives you a local's perspective on what to do in Seattle.
Like a lot of Seattleites, I love good coffee (but not Starbucks), independent bookstores, handcrafted local doodads, artisanal food and drinks. My favorite thing to do is to explore, even within my own city. On the weekends, you'll find me seeking out those new and exciting places like a new coffee shop I haven't tried, a farmers market in a new neighborhood, or a new cocktail bar that just opened.
Oh, and I love to walk. Even in the light mist that you find in Seattle. So bring your walking shoes.
Read on for:
What to do in Seattle, beyond the (fake) first Starbucks and the Space Needle
Where to eat while you're in Seattle
Where to find the best coffee, cocktails, cider, and beer in Seattle
The boring logistics about Seattle, like how to get around and where to fly into
Sound good to you? Off we go to the Emerald City!
Heading to Seattle? Here are More Seattle Guides to Explore Like a Local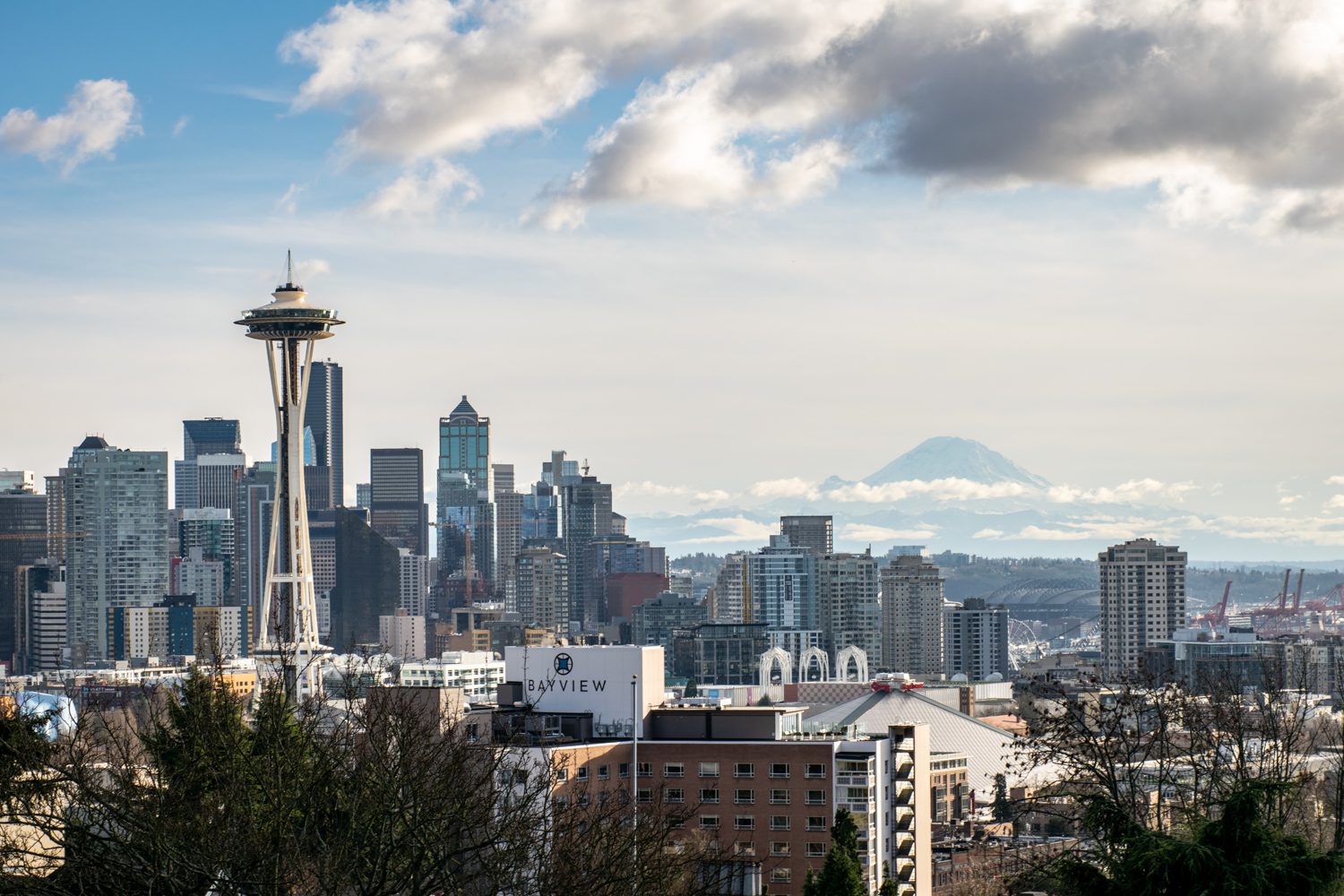 Disclaimer: Some of the links in this post are affiliate links, meaning at no additional cost to you, I make a little bit of money if you click through and book. That being said, I would never recommend something to you that I don't stand behind 100%.
Seattle City Guide: The Best Way to Spend One Day in Seattle
In this guide, you'll find a Seattle local's perspective on the best things that the Emerald City has to offer.
Now that we've got the boring – though important – logistics out of the way, let's get into exactly how to spend your day in Seattle.
Like I mentioned above, I'm going to assume that you're going to be ready to start exploring at 9am, which means you'll have to leave around 6am from Vancouver or Portland if you're coming from either of those places.
Head to Pike Place Market, one of the top places to see in Seattle, to get your day started.
Are you ready for a mini rant?! If you're in dire need of coffee, DO NOT go to the "first Starbucks." It's the same as every other Starbucks on the planet, just with a longer line. And it's not even the first Starbucks! It's just the oldest operating Starbucks, which, let's be honest, just isn't as catchy a title. Every time I read someone recommending it as a cool thing to do in Seattle, I cringe. It's not.
Instead head to nearby Victrola Coffee Roasters (they also have a location in Capitol Hill, if that's where you're staying), which is one of my favorite coffee shops in Seattle, or Seattle Coffee Works, which is even closer to the market.
9am: Pike Place Market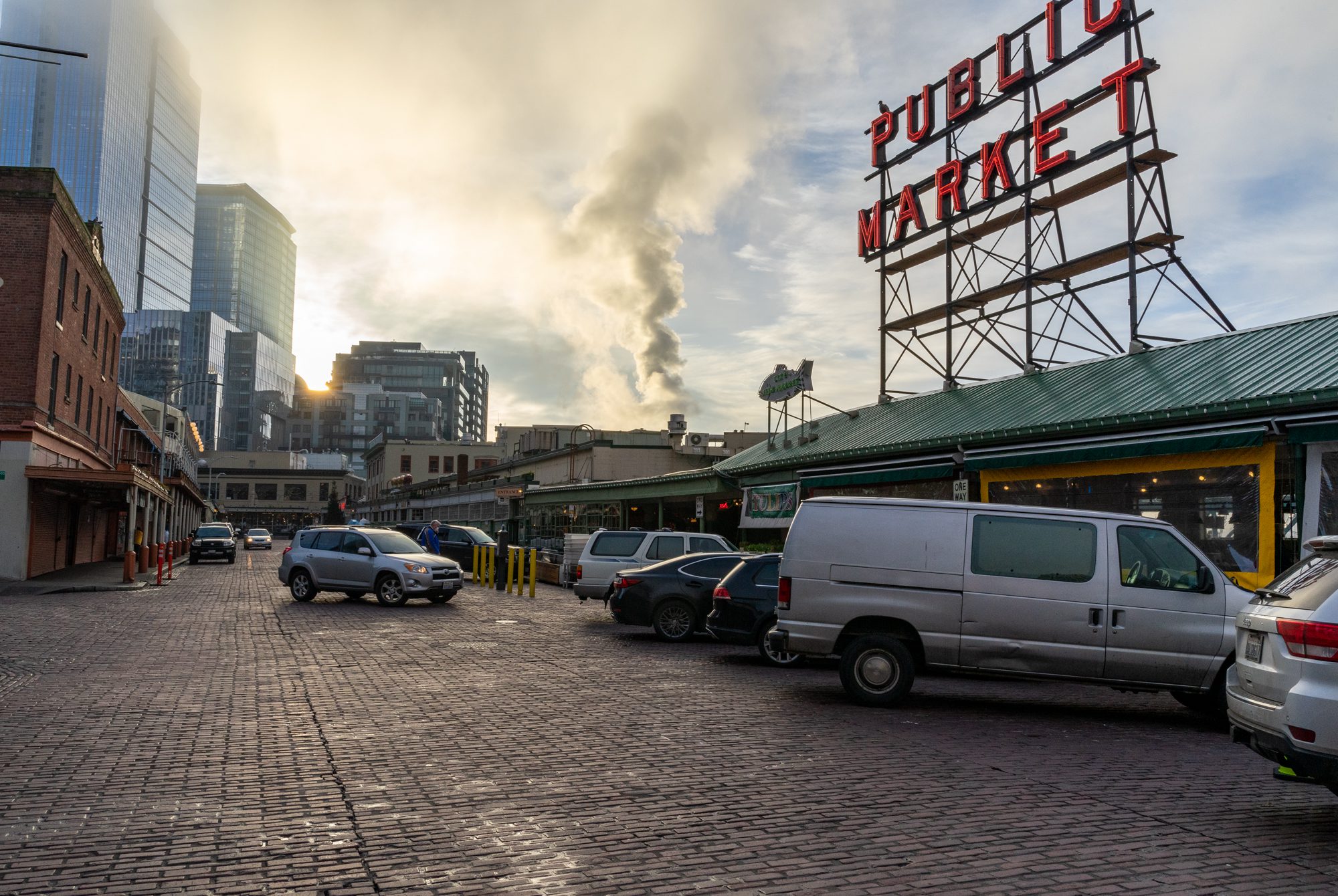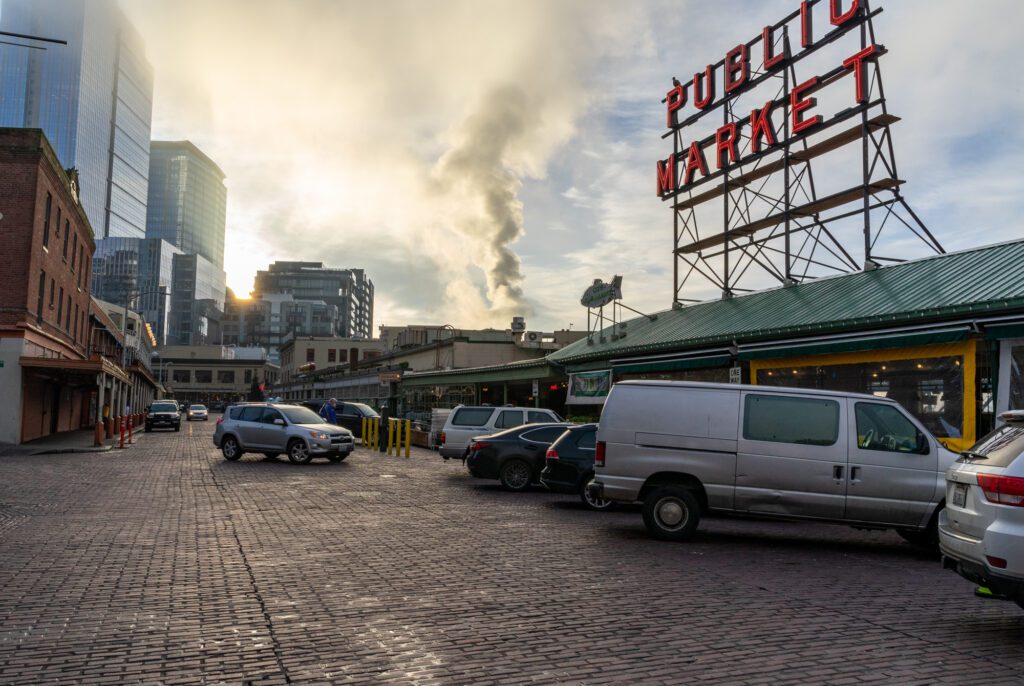 The best time to see Pike Place Market is at opening, when you'll have to deal with drastically smaller crowds, and you'll have more time and space to interact with the vendors at the market. They'll probably still be in the middle of setting up, and you'll be able to catch the market in the calm before the storm.
Make sure to check out the gum wall, which is a little gross if you really stop and think about it, but is still a must-see while you're in the area, and Rachel's Ginger Beer, which makes delicious ginger beer and has a shop right at Pike Place (they open at 10am).
Wander around the market (or take a guided tour with a chef, if you've got the time) and check out the different vendors. Flowers, fish, spices, vegetables, honey – the list is nearly endless. Don't be afraid to ask questions, try some things, and buy a souvenir. In the morning, things will be calm enough for you to actually have a conversation with the people behind the counter.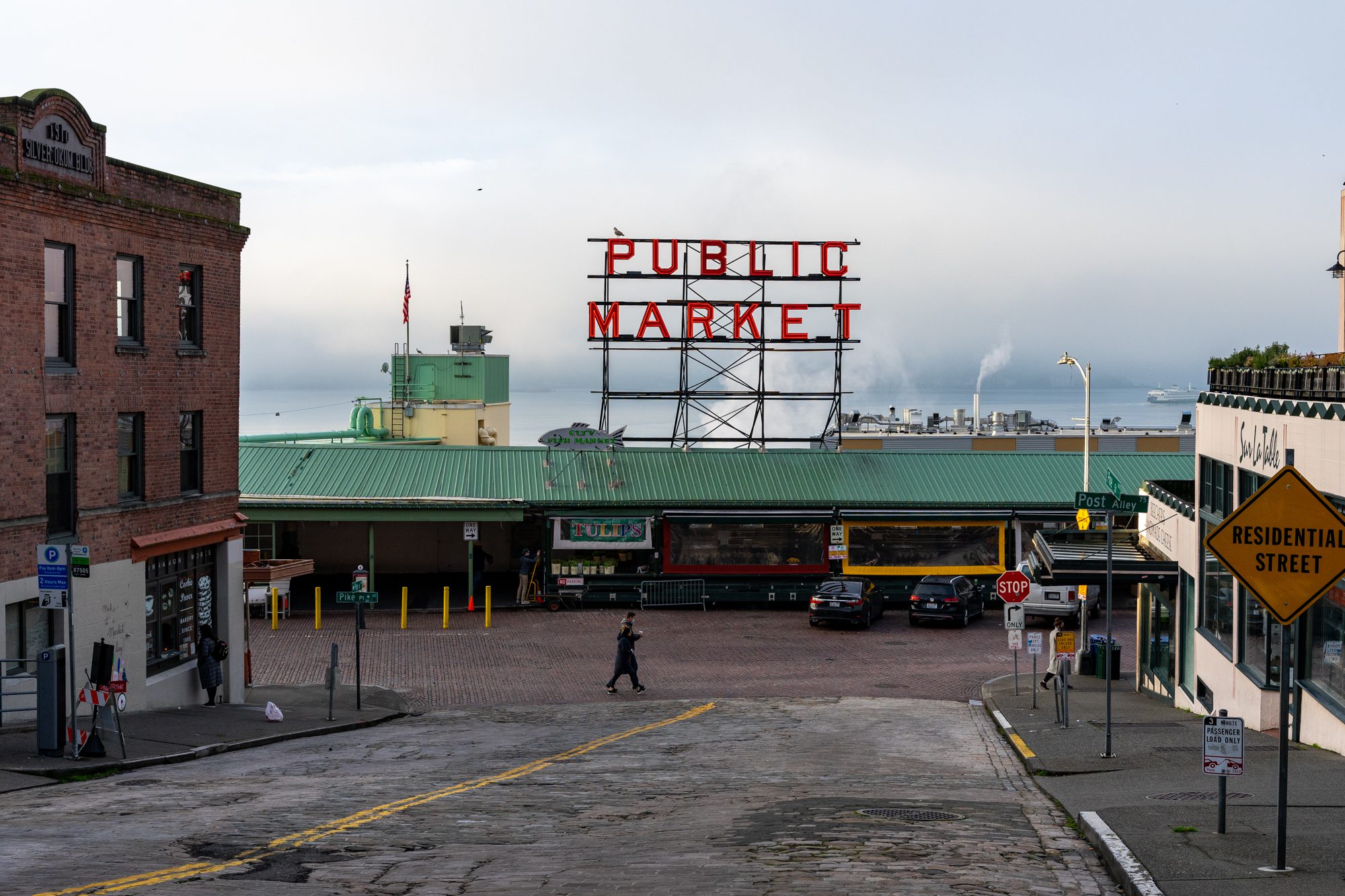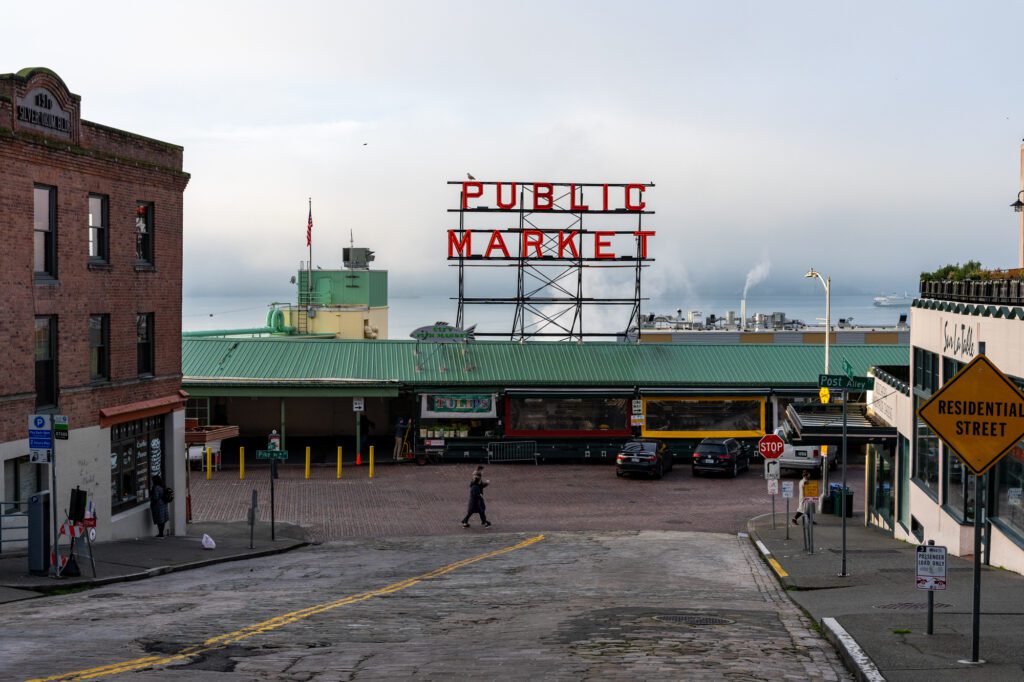 Hungry? I bet you're ready for breakfast!
For breakfast, you've got a couple of options. If you want a quick and easy breakfast, head to Biscuit Bitch. They serve, you guessed it, biscuits! Unfortunately, their gluten free biscuits are made on the same equipment, so they're not suitable for Celiacs like me. But if your attitude is "the more gluten the better," have at it! They've got all sorts of choices (menu here) and you can't go wrong, at least from what I've heard.
If you're more in the mood for a sit down brunch AND you need to eat gluten free, head to either Lola, a Tom Douglas (he's the premier Seattle restaurateur) Greek restaurant and make sure to order the haloumi fig kebabs, or Bounty Kitchen. If you choose Lola, make a reservation because it gets busy.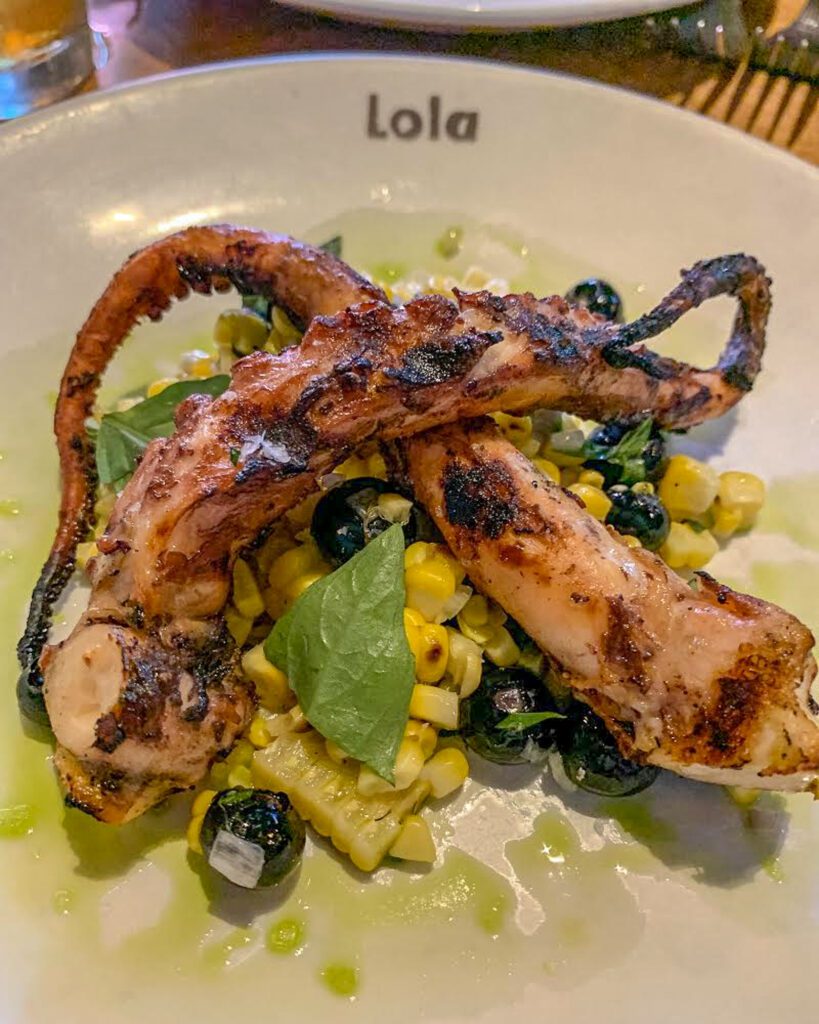 Now that you're fueled up and ready to go, it's off to the next must-see tourist attraction in Seattle – the Space Needle.
To get there, you can either head to Westlake Center, a few blocks northeast of Pike Place, to take the Seattle Monorail, you could walk off that breakfast with the mile or so stroll through Belltown, or you can call a Lyft/Uber. Take your pick.
11:30am: The Space Needle
While the Space Needle is certainly a great place to visit, I actually WOULDN'T recommend going up to the top.
Sure, it's a cool view, but it also costs an arm and a leg, and it's not THAT cool.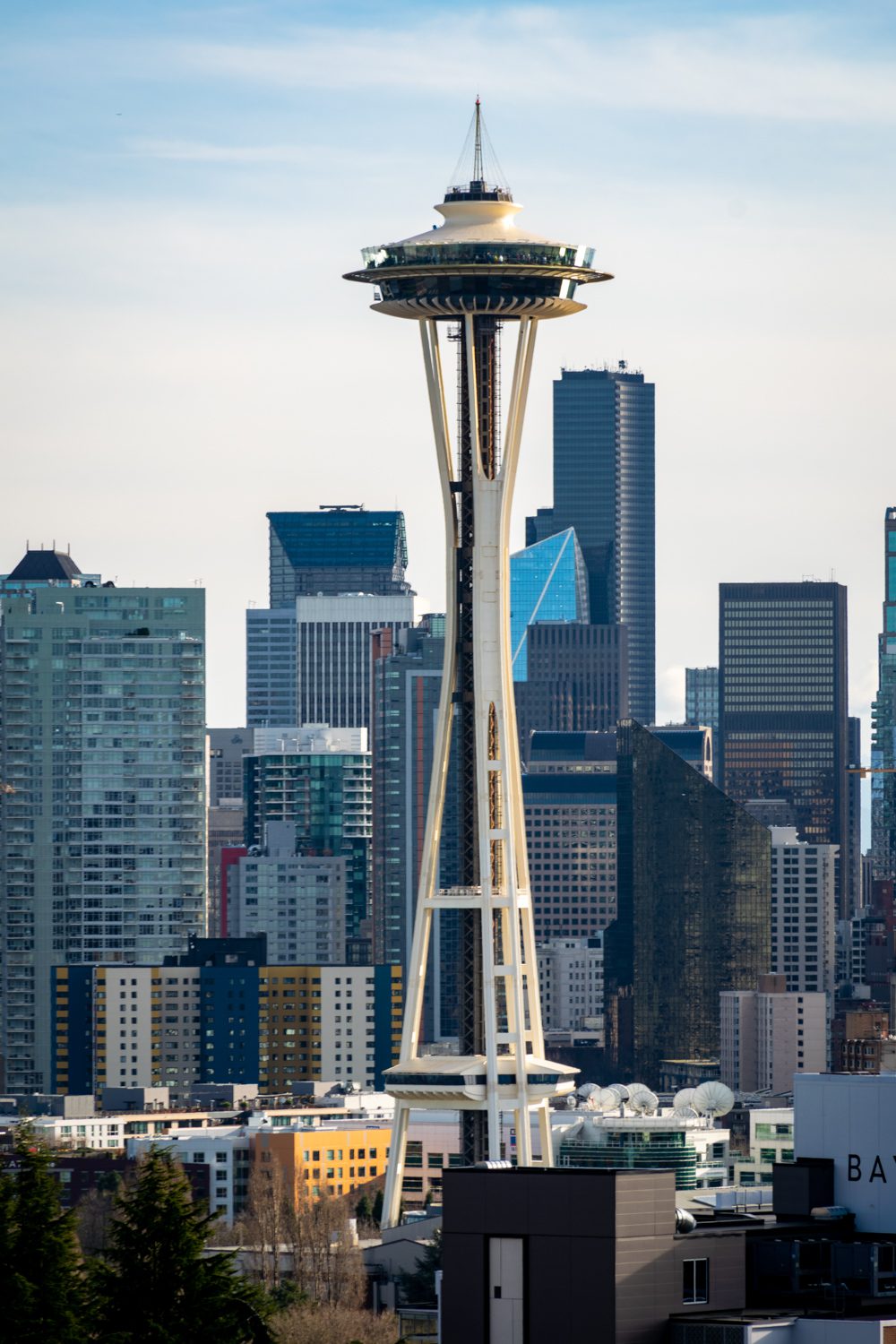 That being said, there are some interesting things to do around it, so I would still recommend heading that direction. Plus, I'll give you an inside tip for getting the best view of the Space Needle in Seattle.
At the Seattle Center, there are three things worth doing (plus one extra that's a great option if you have kids).
First, there's the best coffee in Seattle at La Marzocco Cafe – RIP, it's now a Cafe Vitta location, which is still good but a different experience – which is in the KEXP building at the northwest corner of the Seattle Center. It's a beautiful space, and they bring in a new coffee roaster from around the world every month. They usually have some pretty fun coffee-based drinks and mocktails, so it's well worth a visit if you're into coffee in any way, shape or form. And if you're not, it's Seattle, so you have to pretend you are.
Second is the Chihuly Gardens and Glass, which is a super cool glass-based art exhibition celebrating Dave Chihuly, a local artist. It's well worth spending an hour or two wandering through and taking in the spectacular glass sculptures and art installations.
Last, and possibly the most interesting depending on what you're into, is the Museum of Pop Culture, which used to be the Experience Music Project. I actually haven't been to the MoPOP yet, but the Experience Music Project was one of my favorite things to do in Seattle, and was the location of my high school prom! It's now a collection of all things pop culture – music, movies, books, and video games, among others. It's supposed to be super cool – friends and family rave about it – and I can't wait until I'm in Seattle next to check it out.
If you have kids, the Pacific Science Center is worth a visit. We used to go there all the time for field trips in elementary school, and they've got all sorts of kid-friendly exhibits, including a planetarium and a butterfly garden.
When you're done exploring Seattle Center, head up the hill to find the best view of Seattle at Kerry Park. You'll have a view of the Space Needle, with Downtown Seattle's towering skyscrapers, Mount Rainier (on a clear day), and the Puget Sound as a stunning backdrop. At least on a sunny day. It's one of the postcard views of Seattle, and it's worth elbowing your way through the swarms of people to get a few pictures of Seattle at its best.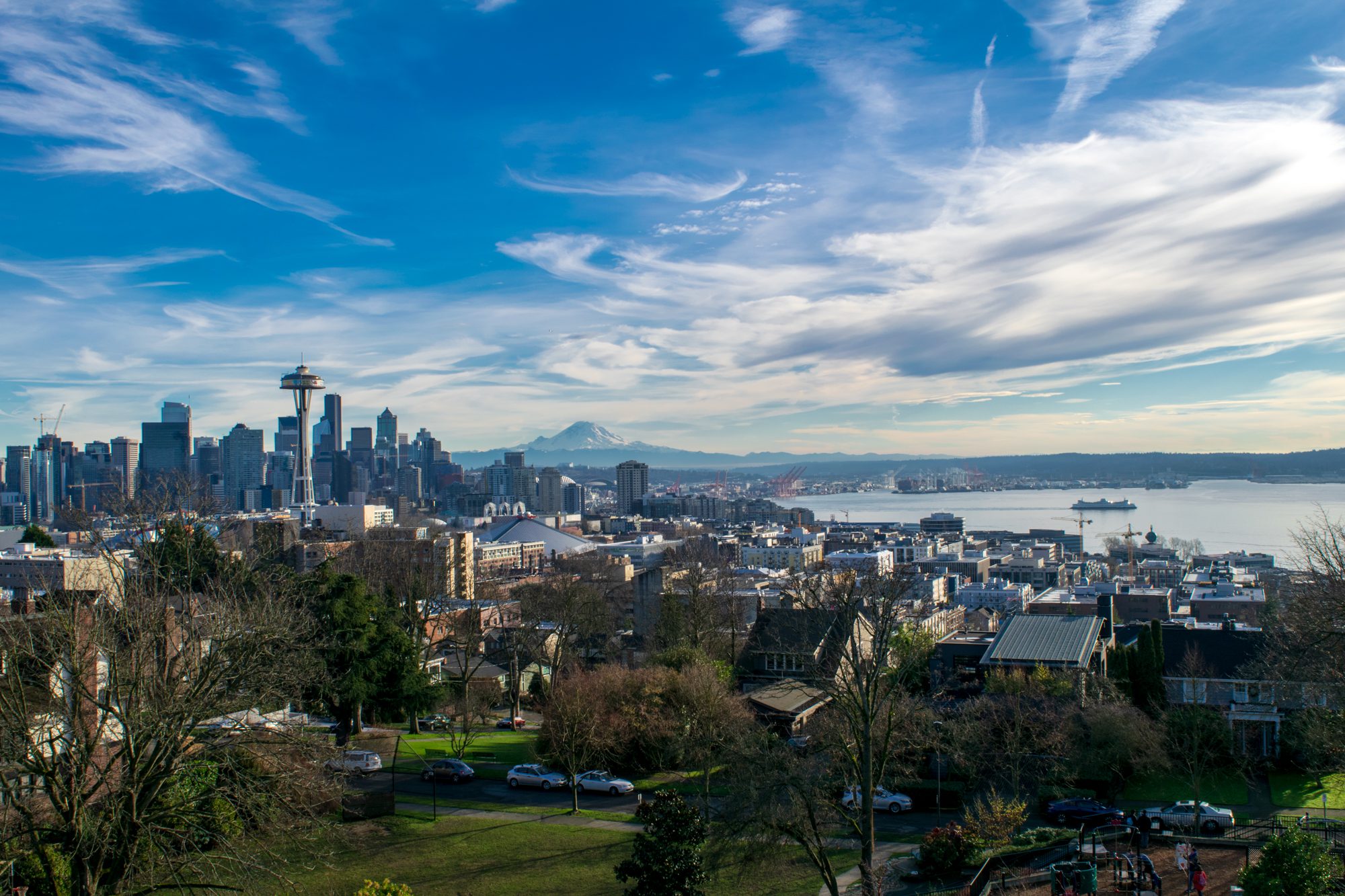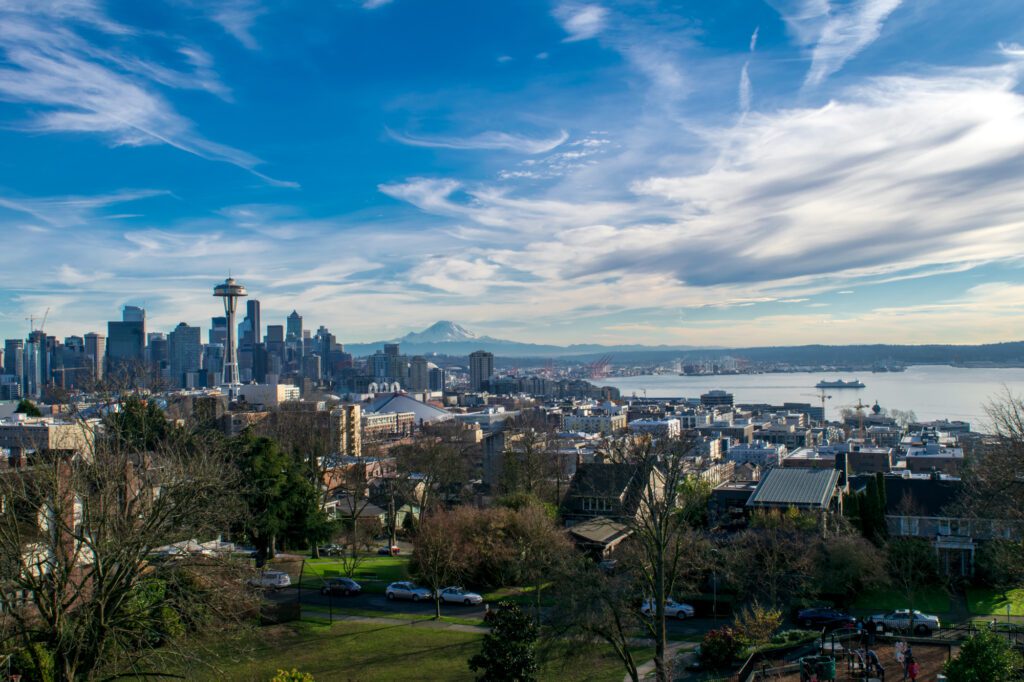 I have some great news for you – you're about three blocks away from the best ice cream in Seattle, Molly Moons. Head to their location on Galer St a few blocks away, and get ready to have your mind blown. They have their selection of "Always" flavors, like earl grey and honey lavender, and a rotating selection of adventurous seasonal flavors, which include things like Changemaker Churro and Rosie the Riveter Milk Tea. They're a Seattle institution, and have grown from one shop to having countless shops all over Seattle. If you're an ice cream fan, this is a must-do.
If you can't handle dairy, don't worry – later in this guide to, take a detour to Frankie and Jo's Capitol Hill location. They're a 100% gluten AND dairy free ice cream spot in the heart of Capitol Hill, and it's one of the best plant-based ice creams I've ever had. Period.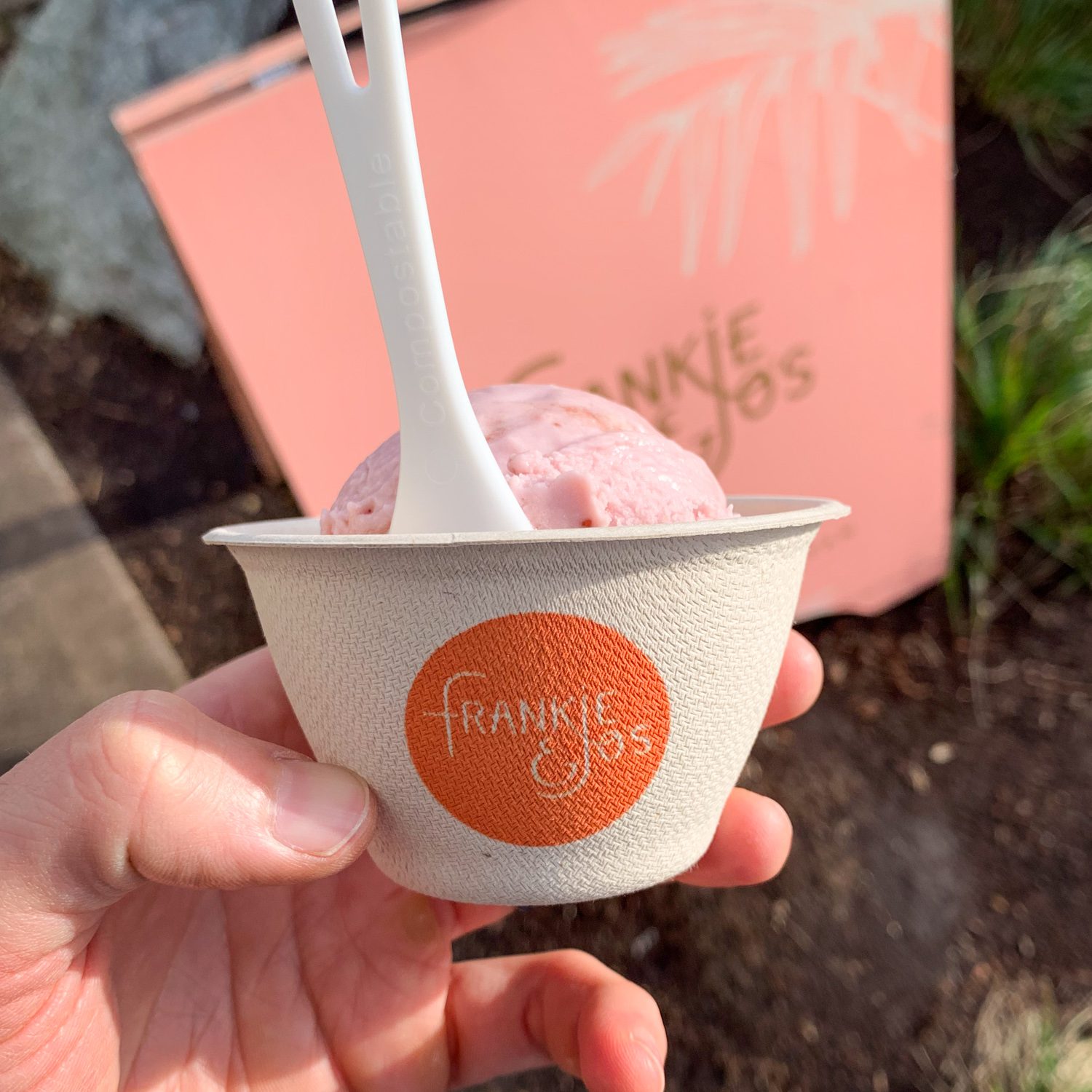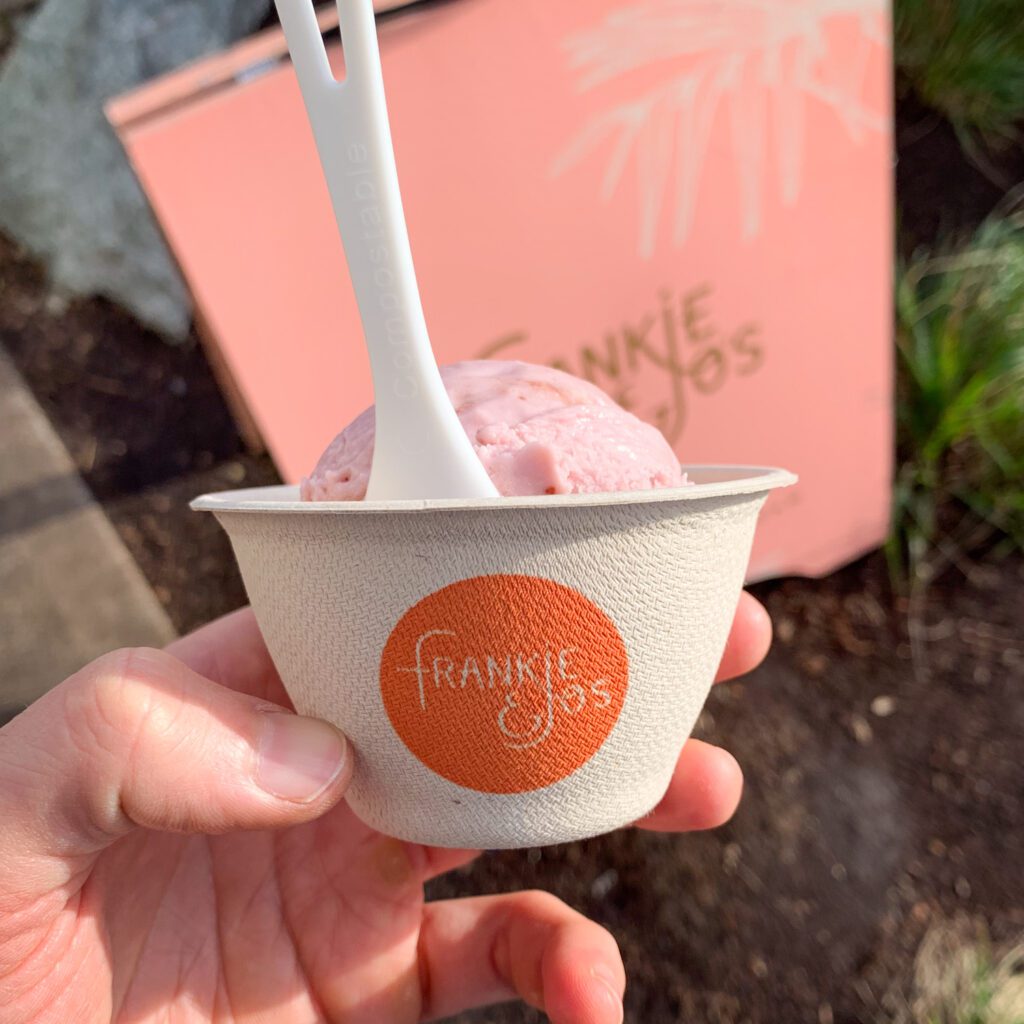 Speaking of Capitol Hill, that's our last stop on your tour-de-Seattle. To get there, grab a Lyft from Molly Moons to the Starbucks Reserve Roastery on Pike Street.
3pm: Capitol Hill
Capitol Hill is a great cherry on top of your 24 hours in Seattle. It's my favorite part of the city because of its young, artsy vibe and collection of some of Seattle's best bars, restaurants, cafes, and shopping.
Start at the Starbucks Reserve Roastery which is a great place to visit, even if you don't like their coffee. This is no regular Starbucks – it's like Starbucks Disneyland. You'll find a cold brew bar with coffee-based cocktails (like a Nitro Mole Mocha – "espresso, dark chocolate, and bitter chocolate mist with notes of chile and vanilla are shaken with almond milk and topped with nitrogen-infused cold brew" YUM), a pour over bar where you can get a single cup prepared basically any way you want it, and plenty more.
It's a cool spot to poke in and explore, as is Melrose Market just around the corner, where you'll find a selection of food and drink vendors in a cool space.
Next, walk up Pike Street until you get to the Elliott Bay Book Company, which is another Seattle institution. It's the best (and most famous) bookstore in the city, and I have spent countless hours perusing the shelves. Their cooking section is particularly good, as are their staff recommendations. I almost always find something new. SUPPORT LOCAL BOOKSTORES (even on Amazon's home turf).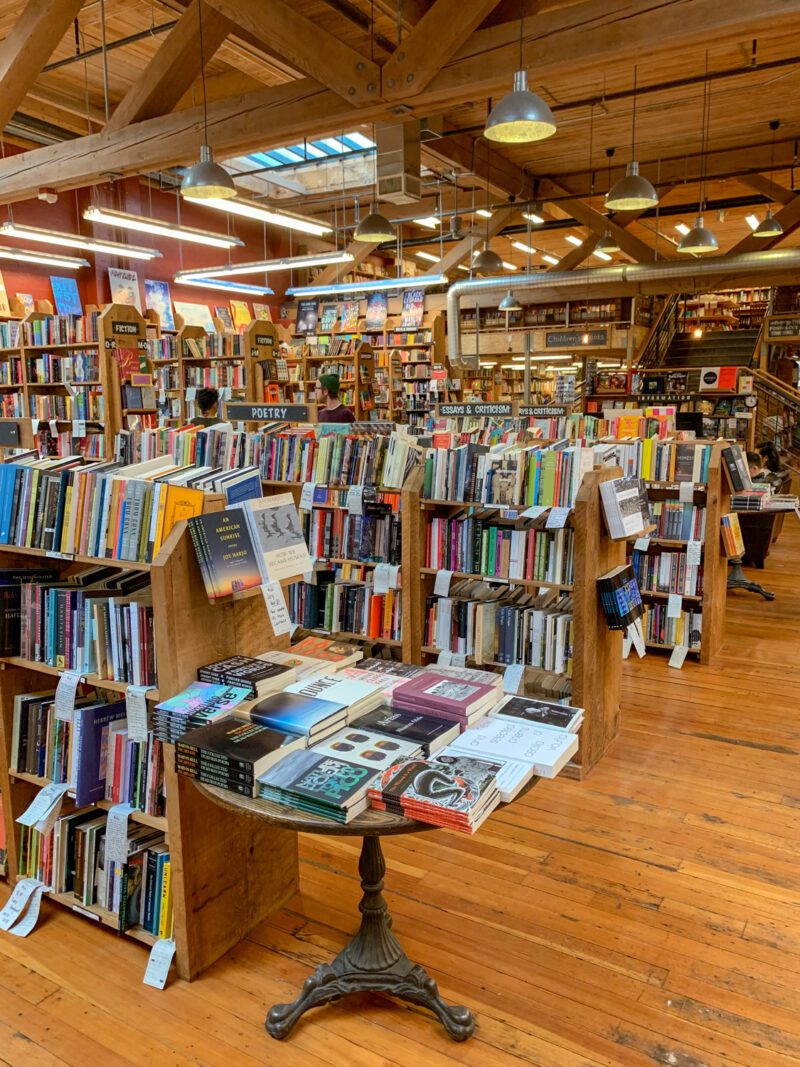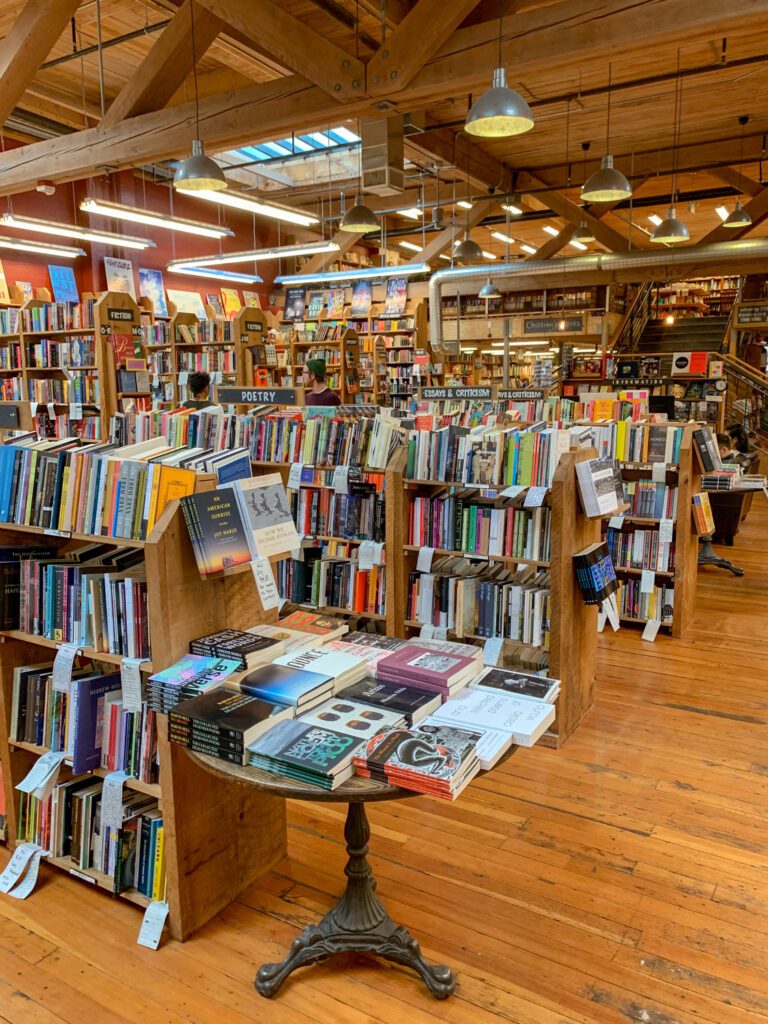 By now, it has been a while since breakfast, and you're probably starving. Here are some of my favorites in Capitol Hill for dinner.
Bok a Bok Chicken – fried chicken that is gluten free and Celiac-friendly? Count me in. It's a casual spot with sandwiches, wings, and bowls, and it is FANTASTIC.
Capitol Cider – 100% gluten free, but you'd never know it. They have some solid happy hour deals (3-5pm, everyday), and the biggest hard cider selection in Seattle. When I'm in Seattle, I almost always make a stop here.
La Cocina Oaxaqueña – head here for outstanding Mexican food – specifically Oaxacan, which is my favorite – and good cocktails.
Craving an after dinner drink (don't drink and drive!)? You've got SO MANY options in Cap Hill.
For cocktails, head to Tavern Law, Canon, or Knee High Stocking Co.
For cider, head to Capitol Cider.
For wine, head to Footprint Wine Tap.
For beer, head to Optimism Brewing, Redhook, or Elysian.
And just like that, your perfect day in Seattle is over. Either head home to your hotel or Airbnb, or start the drive home.
The Best Time to Visit Seattle
The best time to visit Seattle is undoubtedly summer, from July to September, you'll find blue skies, temperatures in the 80's and 90's, and stunning views of Mount Rainier and the surrounding mountain ranges from every part of the city.
Basically every other time of the year, you're rolling the dice. It could be one of those stunning weekends in February, where it is sunny and mid-50's and literally everyone is wearing short shorts even though it's f-ing freezing. Or it could be gray and drizzly. Unfortunately, the odds are in favor of rain, so pack a good rain jacket, some waterproof boots, and plan to do things in the rain. It's the Seattle way – a truly authentic experience!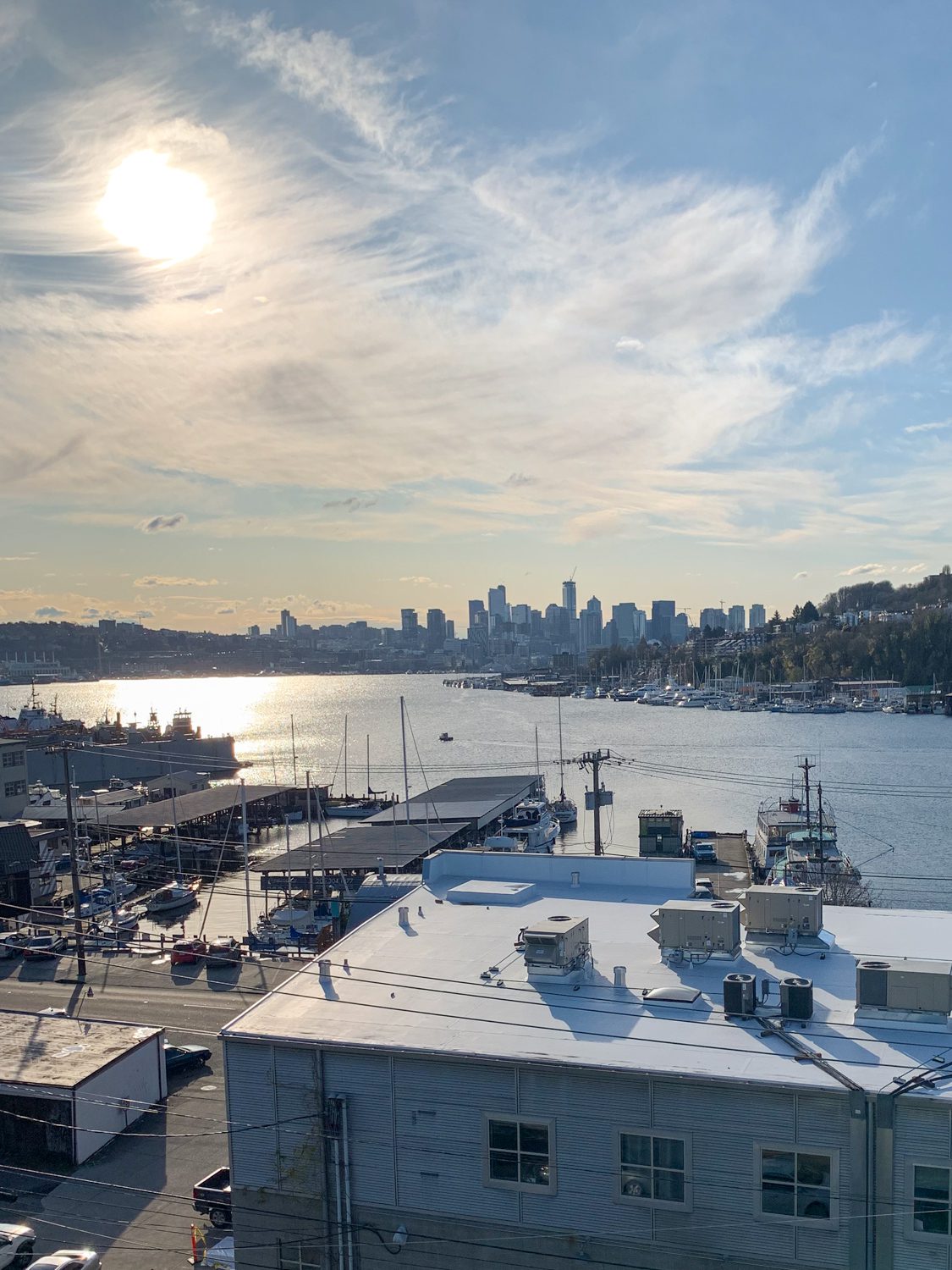 How to Get to Seattle
If you're driving, Seattle is roughly a three hour drive from both Portland and Vancouver along I-5. You're likely going to hit traffic along the way during peak commute times, so bake that into your plan. This guide assumes you'll be in town by 9am, and leaving at around 7pm, which is a long day if you're driving.
If you're flying to Seattle, you now have two airport options.
The main option, and the one I'd recommend to most people, is to fly into SeaTac Airport (SEA), which is about 15 miles south of the city. It's the city's main airport, and has great public transit connections to the heart of the city. Yes, the security lines are often LONGGGGG. But there are tons of flight options coming into SeaTac, both domestic and international, that it's sure to be the most affordable place to fly into.
The other option is to fly into the newly opened Paine Field (PAE), which is sort of like a semi-private airport up in Everett, about 30 minutes north of the city. It's smaller, security lines are shorter, but there are fewer flights to fewer places, and there are no public transit connections to the city. Although, if you're renting a car, they do have plenty of rental car agencies.
How to Get to Seattle From SeaTac Airport
There are two main options for getting from SeaTac Airport, which is ~15 miles south of Seattle, to the city center. You can take the Lightrail from the airport to Downtown Seattle, Capitol Hill, and the University of Washington. And it's super easy. It's cheap, fast, and efficient, and the most affordable way to get to the city.
The other option is Lyft or Uber, which will be more expensive and, depending on traffic, could take a LONG time during rush hour.
How to Get Around in Seattle
The easiest way to get around, especially if you only have a day in Seattle, is to use Lyft, a ridesharing app (like Uber, but slightly less evil) where you download an app, put in your destination, and a car shows up ~5 minutes later to whisk you away to the next stop on your adventure.
Seattle's public transit system is pretty good too – There are a few different forms of public transportation that you can use to get around including light rail, buses, and ferries.
Even if you are in Seattle for a short amount of time it is worth purchasing an ORCA card, which is a travel card that money or passes can be loaded onto.
What If You Have a Car?
If you have a car, I would strongly recommend finding a garage where you can park it for the day, and spend your day in Seattle without it. Parking in the different areas you're going to visit can range from tough to downright impossible, and it will be easier without a car. I promise.
Where to Stay in Seattle
If you're coming to Seattle on a day trip from Portland, or a day trip from Vancouver, then you might not be staying overnight. Although I'd recommend it, because you'll have more time to explore, and it can be a long drive if there's traffic.
When you come to Seattle, the choice on where to stay will dictate what your experience is like.
If you stay downtown, you'll be right in the thick of it – steps away from Pike Place Market and the Space Needle. But you'll be missing out on the "neighborhood-y" vibes that Seattle's other neighborhoods give you.
If you stay in one of the neighborhoods outside of downtown, it'll take you longer to get to the main sights in Seattle, but you'll get to experience Seattle like a local, and life will be a bit slower.
The best blend of both is Capitol Hill, where residential and downtown meet and meld, and create what I think is the best neighborhood in Seattle. It has the best coffee, the best food, the best nightlife, and it's all a 5-10 minute drive away from the heart of downtown Seattle.
If that sounds good to you, then do yourself a favor and stay in Capitol Hill. Airbnb is your best bet in this part of the city (not many hotels). Take a look at this airy, light-filled studio if you're a traveling couple, or this 2 bedroom sunlit gem if you're a family (it sleeps 5).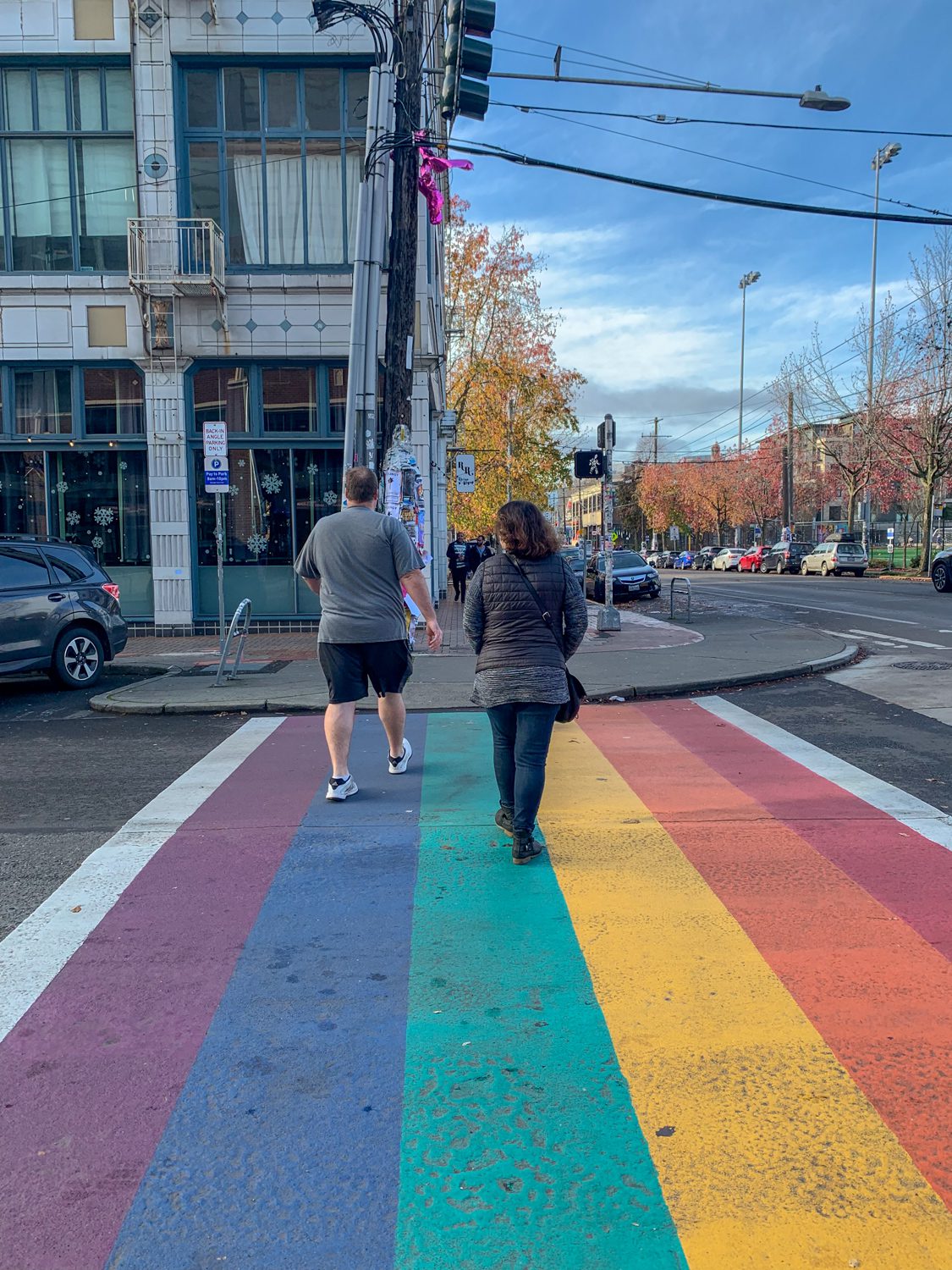 If you want to stay downtown, stay in Belltown. It's literally next door to the main tourist sights in Seattle, perched between Pike Place Market and the Space Needle, and is full of great bars, restaurants, and the coolest boutique hotels in Seattle.
In Belltown, look at Hotel Andra or the surprisingly affordable Ace Hotel if you want a cool boutique hotel.
Or, if you prefer Airbnb, look at this one bedroom apartment near Pike Place or this stunning two bedroom condo if you're a group.
Here are some other posts with more on where to stay in Seattle:
---
That's all folks!.
If your time exploring Seattle in a day left you hungry for more, don't miss my other Seattle travel guides. They're all written by me, a Seattle local, to help you see the best of the city on your trip – whether it's a day in Seattle, or a month.