Hiking the Healy Pass Trail in Banff: A Complete Trail Guide
Looking for a fantastic hike with a tiny fraction of the crowds that descend on Lake Louise and Moraine Lake? Look no further than the Healy Pass trail. Look, Banff is well beyond a hidden gem or secret – it's basically Disneyland for people that love the mountains. Instead of mickey ears and white Nikes, you get daypacks and hiking boots.
It's one of the most popular hiking destinations in the world, and as a result, many of the best hikes in Banff National Park are overrun with tourists.
Which isn't necessarily a bad thing – you can avoid the worst of the crowds if you plan ahead – but it is certainly a different experience that involves far less solitude than we usually like on our hikes.
When we hiked the Healy Pass trail in Banff in mid-July, we were pleasantly surprised to find ourselves alone for the entire hike up to the pass. We saw exactly one other group on the hike up (we started at 7:15am or so), which was refreshing after hiking the Plain of Six Glaciers Trail at Lake Louise the previous day.
You might think the light traffic on this trail means that the views are less spectacular than other places in Banff. Not so! The views from the last mile of this trail rival anything else we saw over the course of more than two weeks in the Canadian Rockies.
Though the reason it might not attract the same crowds might be the fact that it takes a four mile walk through the woods to get to those views (more on that in a second).
In this guide, we're going to go through everything we think you need to know to safely and smoothly hike the Healy Pass trail in Banff. We'll start with the logistics – where to park, and other things you need to know for a smooth trip – and then go into a trail report based on our own experiences hiking the trail.
Sound good to you? Let's get into it.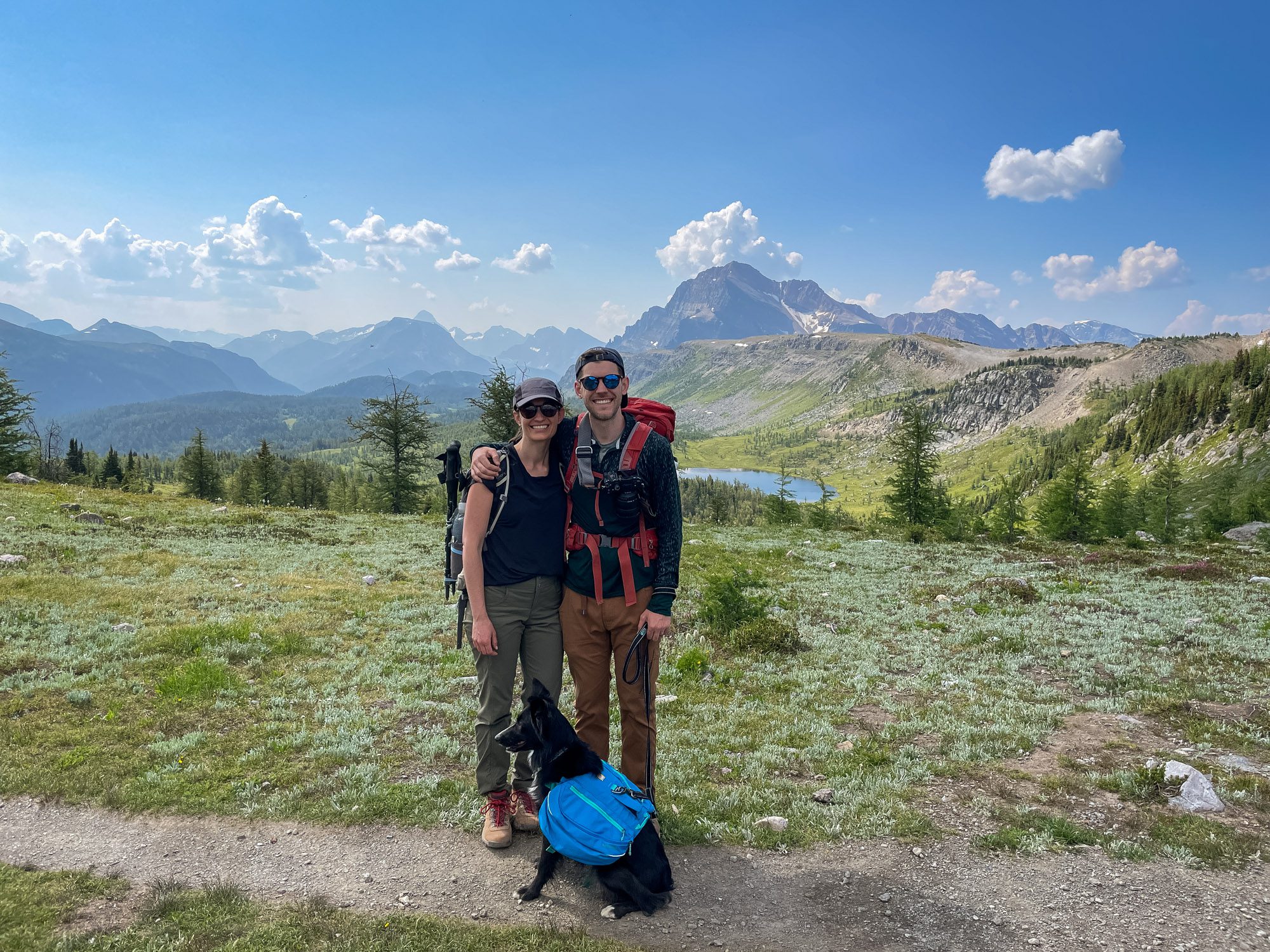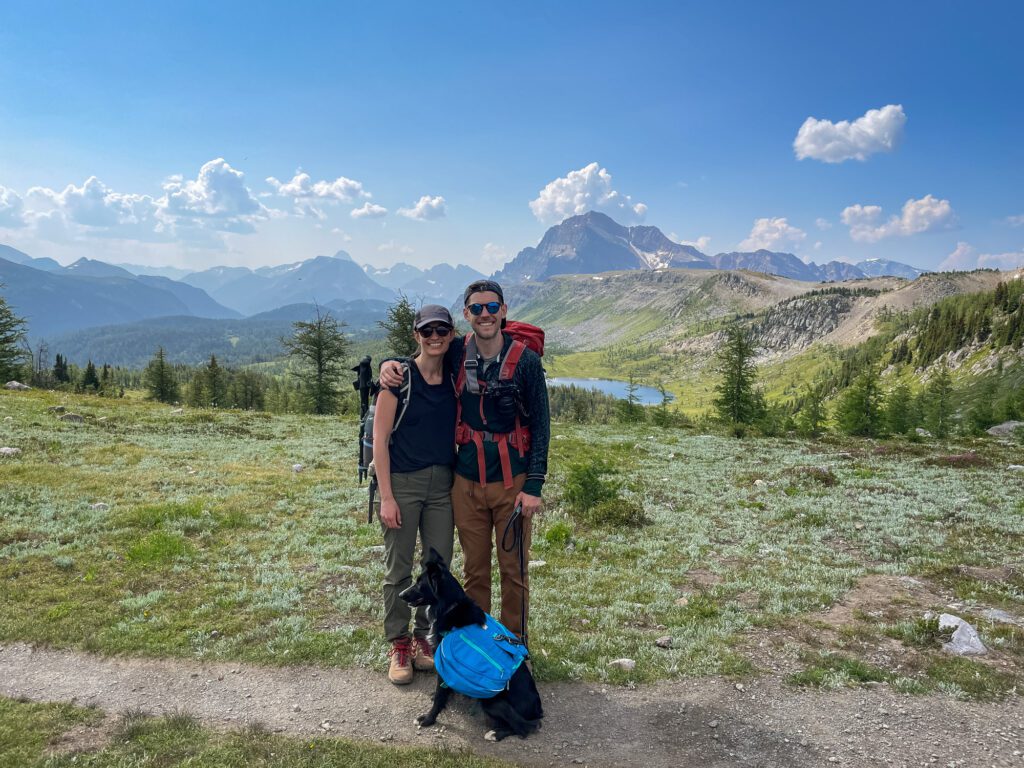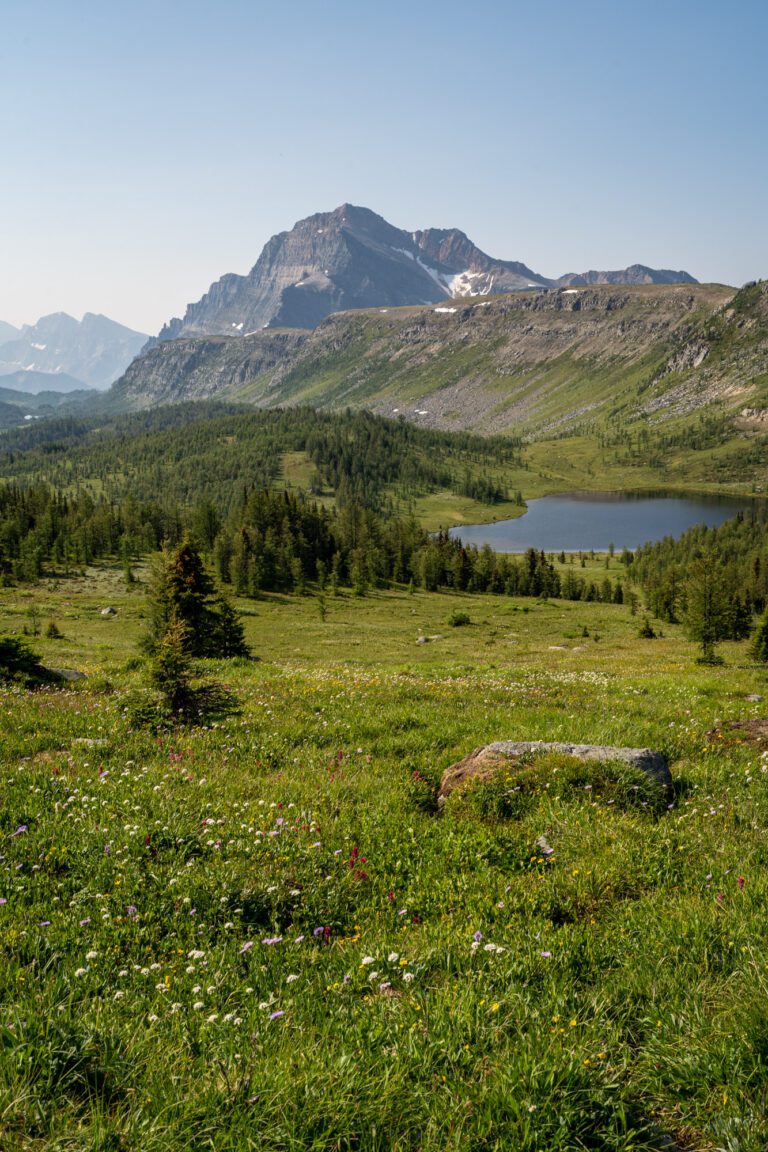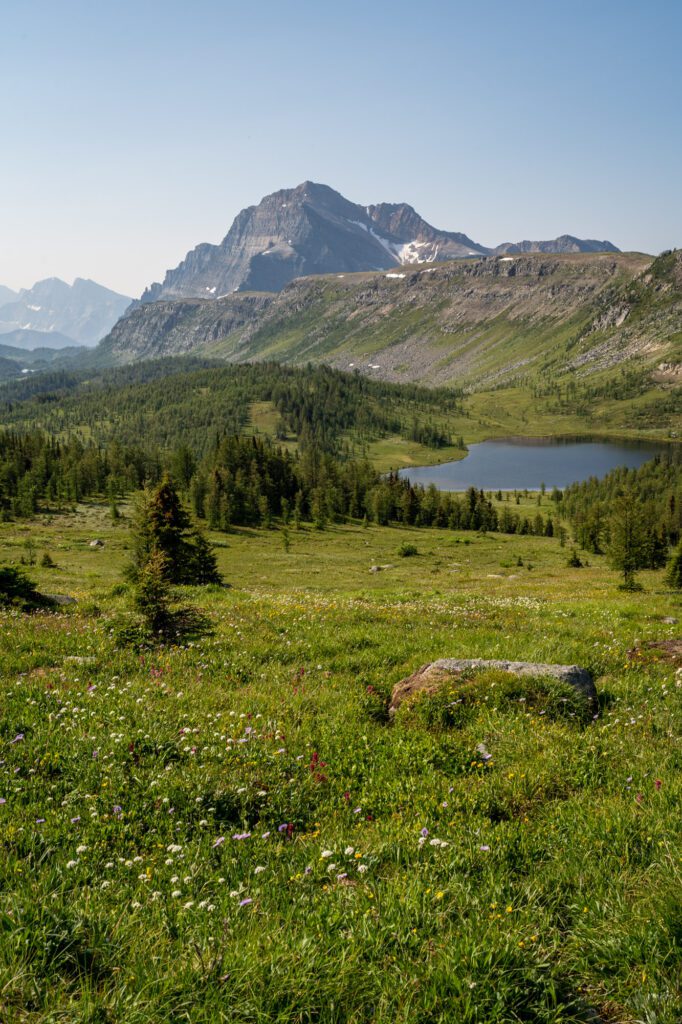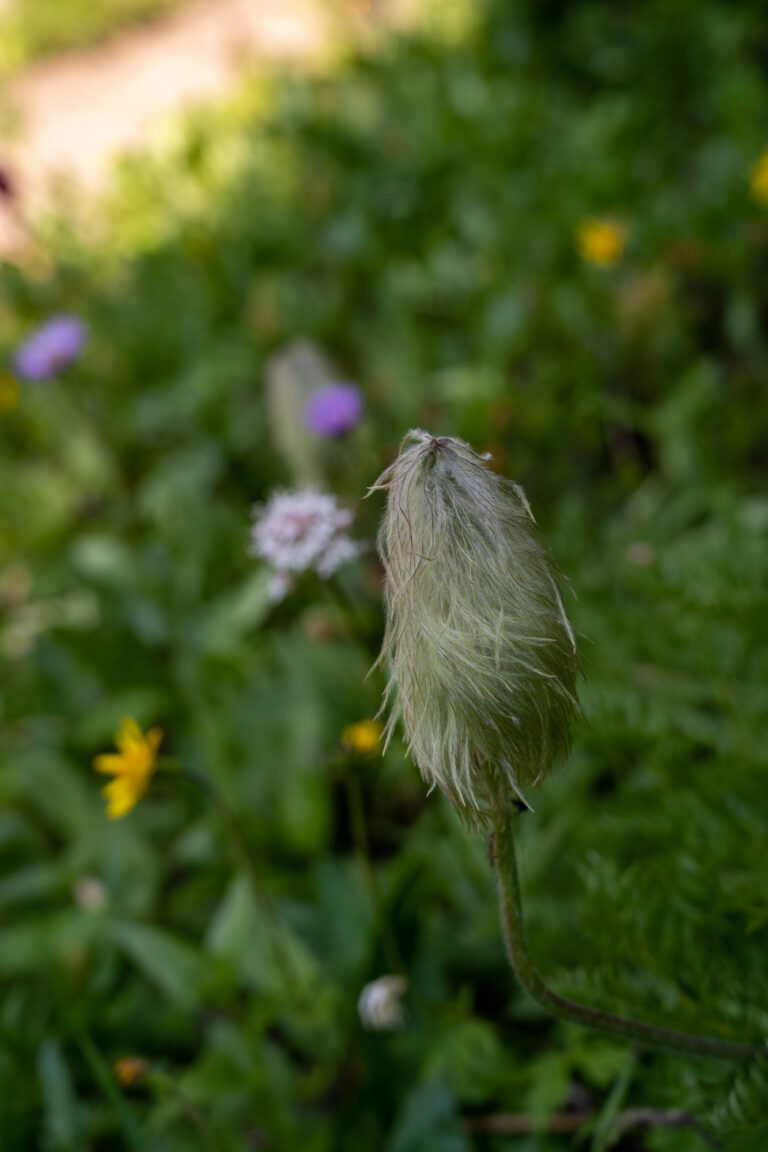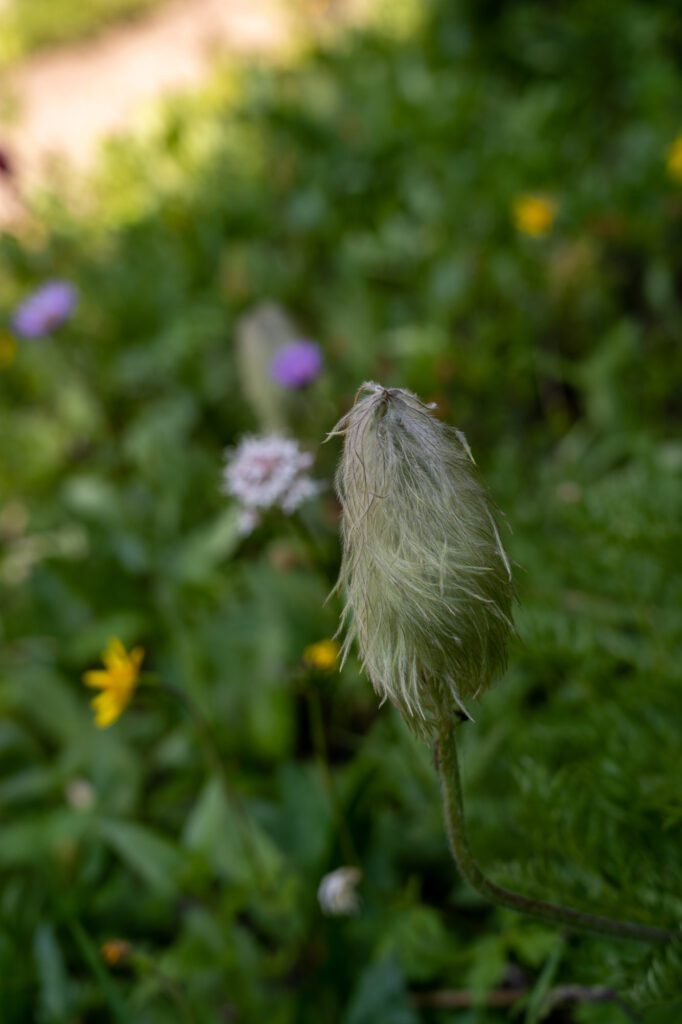 P.S. We're American, as are the majority of our readers, so we talk in feet and miles in the guide below. We've tried adding both measurements to our guides before, and it ends up getting very cluttered and confusing, so we have decided to stick with miles and feet, especially since that's what we know best. It's pretty simple to convert it to kilometers and meters using an online calculator, if you need to.
Disclaimer: Some of the links in this post, like hotel links, are affiliate links, meaning at no additional cost to you, we make a little bit of money if you click through and book. That being said, we would never recommend something to you that we don't stand behind 100%.
Hiking the Healy Pass Trail: Trail Details
Length: 11.1 miles
Elevation Gain: 2,814 ft.
Season: July – October
Trail Type: Out and Back
Difficulty: Moderate
Dog Friendly? Yes, on a leash
Pass Required: Parks Canada Admission OR Parks Canada Discovery Pass
The Route for Hiking to Healy Pass
There's one main route up to Healy Pass, and it's a simple out and back hike that starts at the Sunshine Village parking lot, immediately enters the forest, climbing gently and crossing back and forth over a creek a few times before bursting through the treeline and continuing to climb up to Healy Pass.
The trail spends roughly 75% of the distance in the treeline, so the views only really come out for the last mile or so up to the pass.
Once you're up at the pass, there are several routes that continue on if you're up for more mileage, but it's VERY IMPORTANT to know that the trails that head off to the Ramparts is closed from June to October to protect vital Grizzly bear habitat, so it's basically not accessible anymore.
You can, however, continue on to Egypt Lake (among other lakes in the area), or loop back via Simpson Pass. We will have more details in the "extending your hike" section below the main trail report.
How Difficult is the Hike to Healy Pass?
You might look at the distance on this hike and think "yeah, that hike is probably too hard for me."
And, to be honest, we were a little concerned ourselves after a few days of long hikes and the miles starting to add up (we're not as young as we used to be! Hiking 10 miles a day starts to hurt after a few days in a row). Plus, it was our first trip full of big hikes with our dog, which adds another level of complexity (and worrying about mileage).
However, after completing this hike ourselves, we'd put this firmly in the "moderate" category (rather than somewhere in the hard category). Yes, it's a long hike, but the elevation gain is REALLY gradual, and there were about two short stretches of trail that actually felt hard.
It took us about five hours total, and that includes the hour we spent at the top enjoying a conversation with a lovely woman we met on the trail (hey Mary!), soaking up the views.
So here's our advice to you: bring plenty of water, snacks, and time, and this hike probably won't feel as hard as some of the other hikes you're likely to do in Banff.
Getting to the Healy Pass Trailhead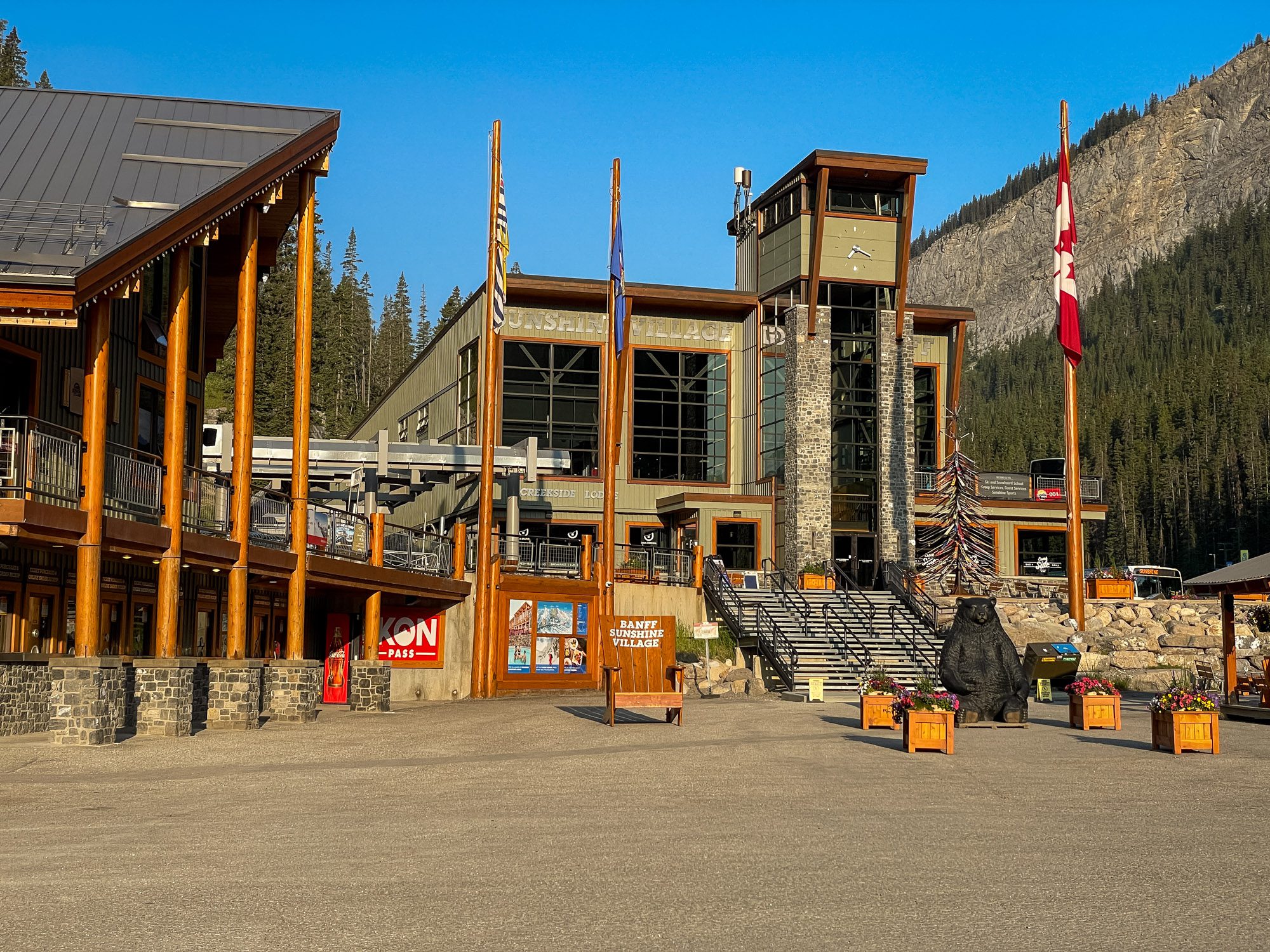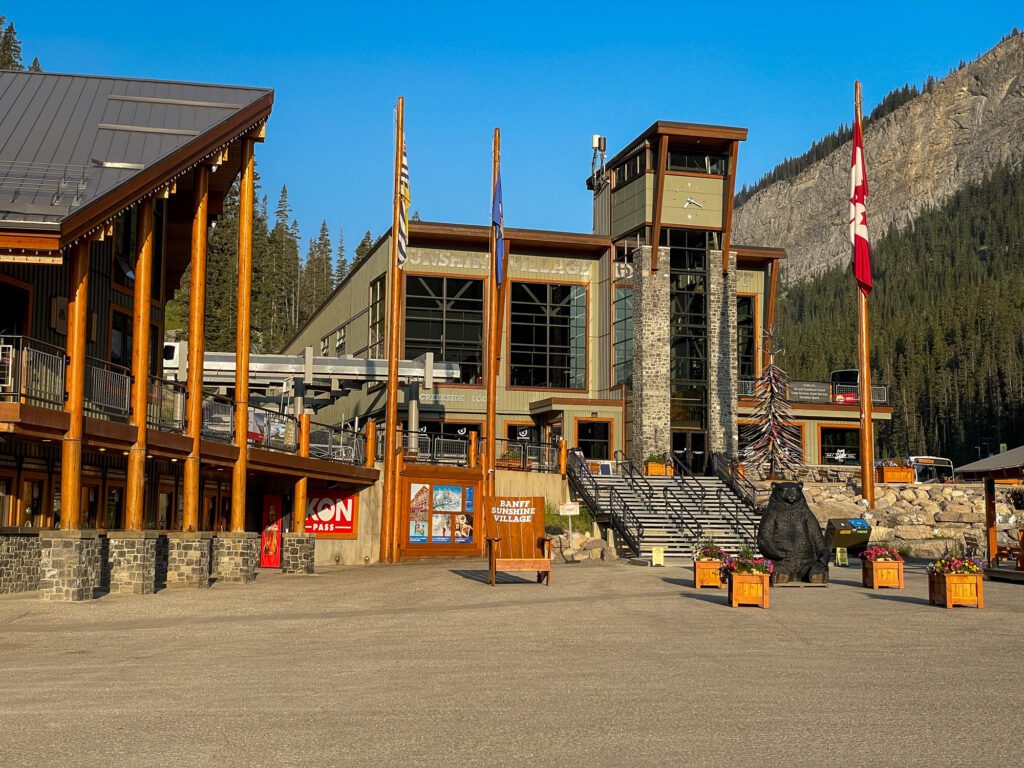 The Healy Pass Trailhead is at the parking area for the Sunshine Village Ski Resort, which is a short drive off of the Trans Canada Highway.
From Banff, it's a 20-25 minute drive. From Lake Louise, it's closer to 40 minutes or so.
In terms of finding the trailhead from the parking lot, if you're standing next to the bear out front facing the complex, it's around the right side, past the end of the building.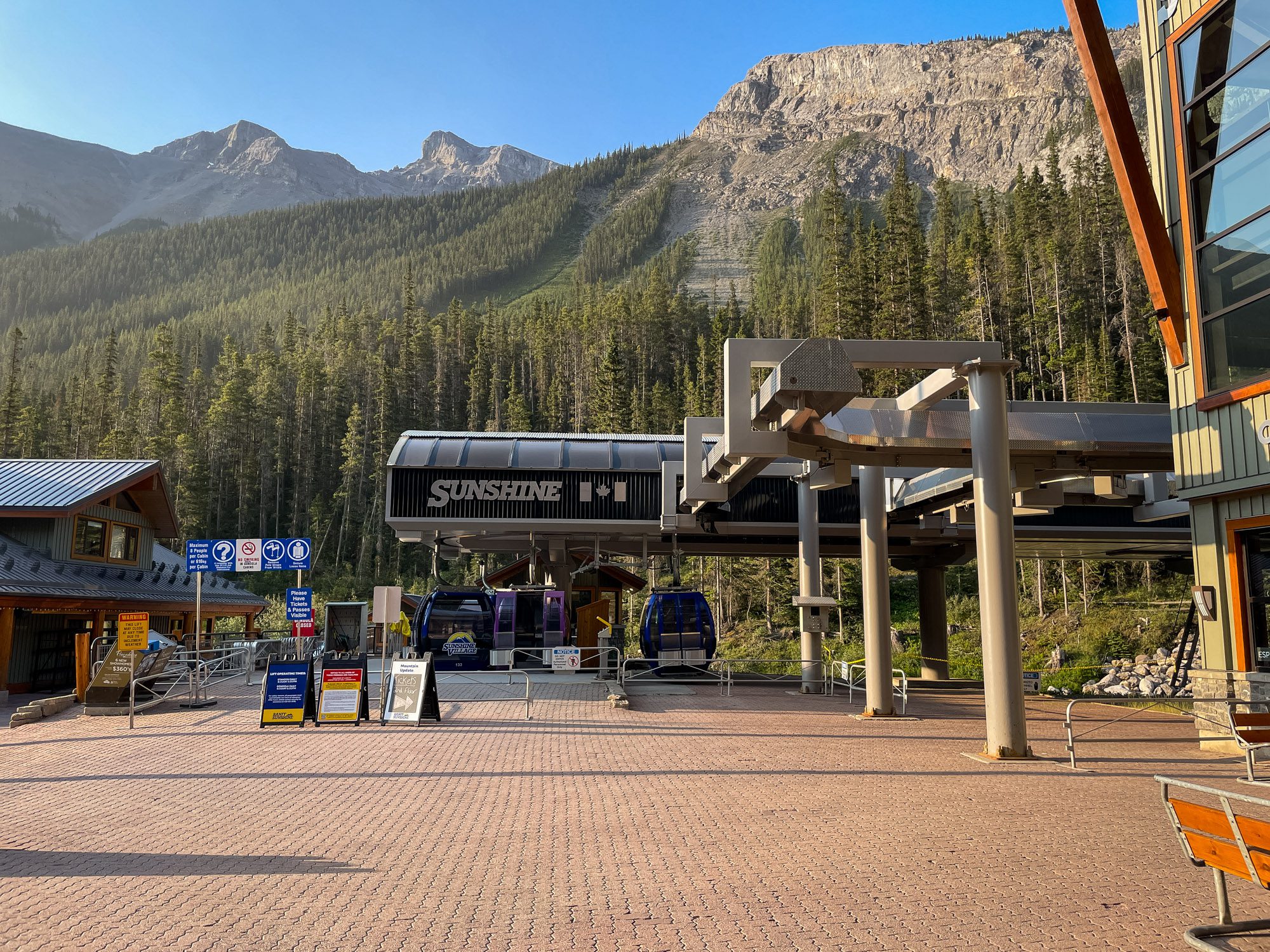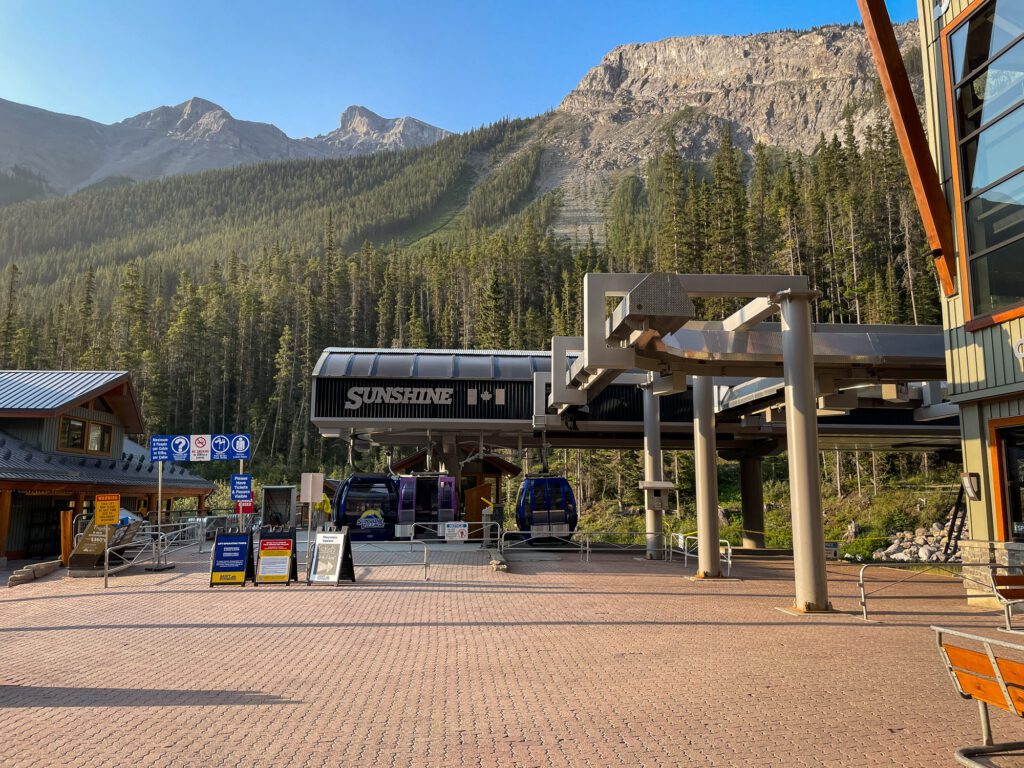 Parking at the Trailhead for the Healy Pass Trail
Unlike most of the other hikes in the national park, the parking lot at Sunshine Meadows Gondola is HUGE, so this is one trail where you probably won't see any fist fights over a parking spot. Never say never, though!
That also means that there's not really a "get here by XX ungodly hour to secure parking" note here, though we'd always recommend an early start for both solitude and to get back to the treeline before any afternoon thunderstorms, which are common in the summer.
The other thing to know is that when we hiked this trail, we arrived at 7:15am and found out that the bathrooms don't open until 7:30am, which is when the cafe at the base of the gondola opens.
The Best Time to Hike the Healy Pass Trail
We thought long and hard about this question, and we landed on a two-part answer.
Per usual with hikes in the mountains, summer through early fall (call it July through mid-October, roughly) is the time when this trail is free of snow and accessible.
However, there are two times in particular where we think this hike rises above some of the other great hikes in Banff that you might be deciding between.
We hiked this trail in early/mid-July, and it was a spectacular display of wildflowers, particularly once you got up past the treeline into the meadows just below Healy Pass.
If you're in Banff in the early summer (exact timing depends on the year) looking for another hike to do after the hikes from Lake Louise and Moraine Lake, we would absolutely not hesitate in choosing Healy Pass if you can handle the distance.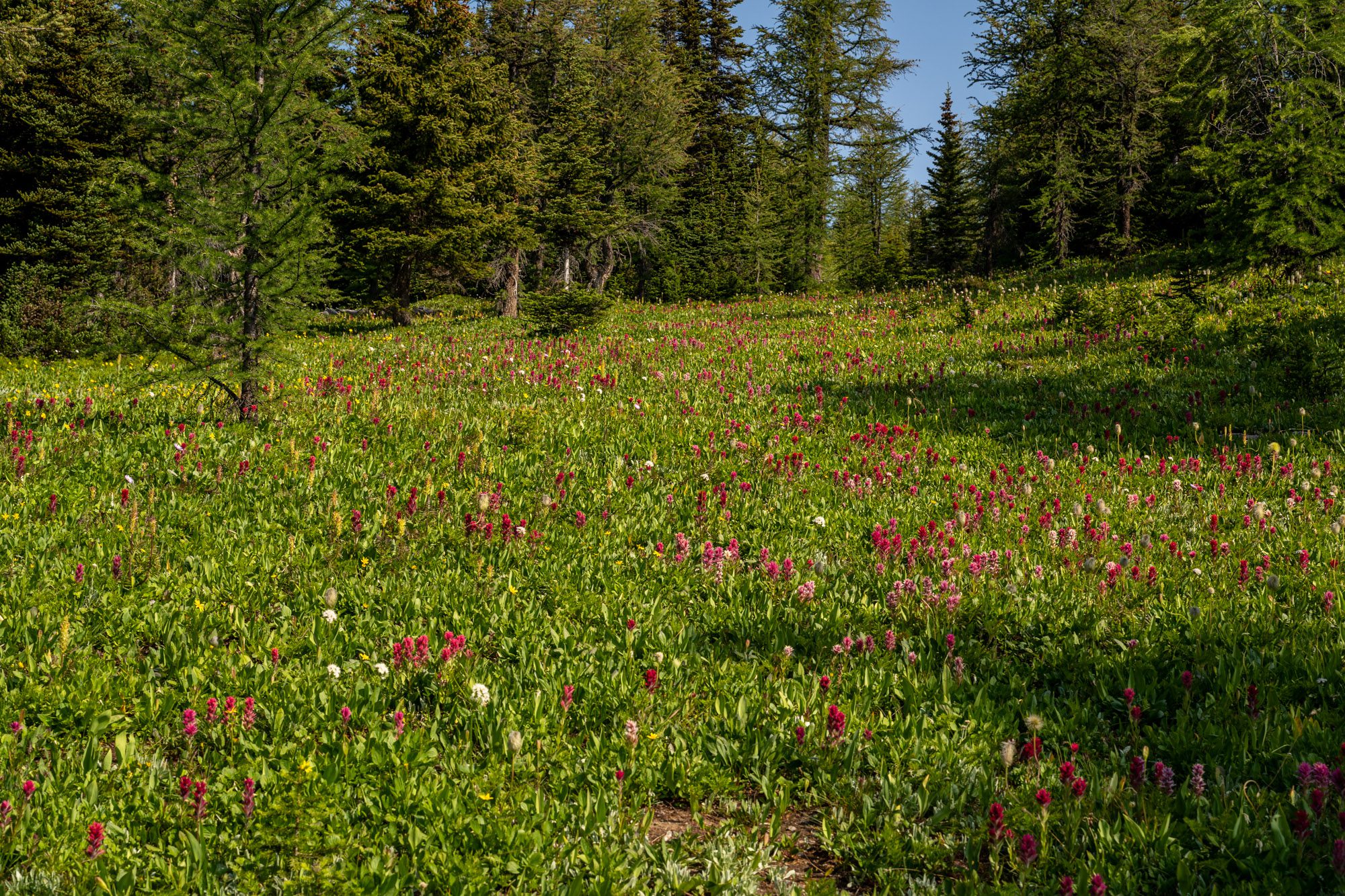 However, if you're there later in the summer when the wildflowers have largely dried up, then we might opt for a different hike (maybe the Helen Lake Trail, which takes less time to get above the treeline for the views).
Though we were up there in July, we also said "are all of those…larches?" at least three times, which brings us to the second great time to hike this trail: larch season in the fall, during that precious week or so when the larch trees turn bright yellow lighting up the surrounding hillsides.
Once again, exact timing largely depends on the year, and the best time to check current conditions is to head to AllTrails to read reviews (though, take them with a grain of salt because they are crowd-sourced reviews). It usually falls sometime in early to mid-October.
Are Dogs Allowed on the Healy Pass Trail?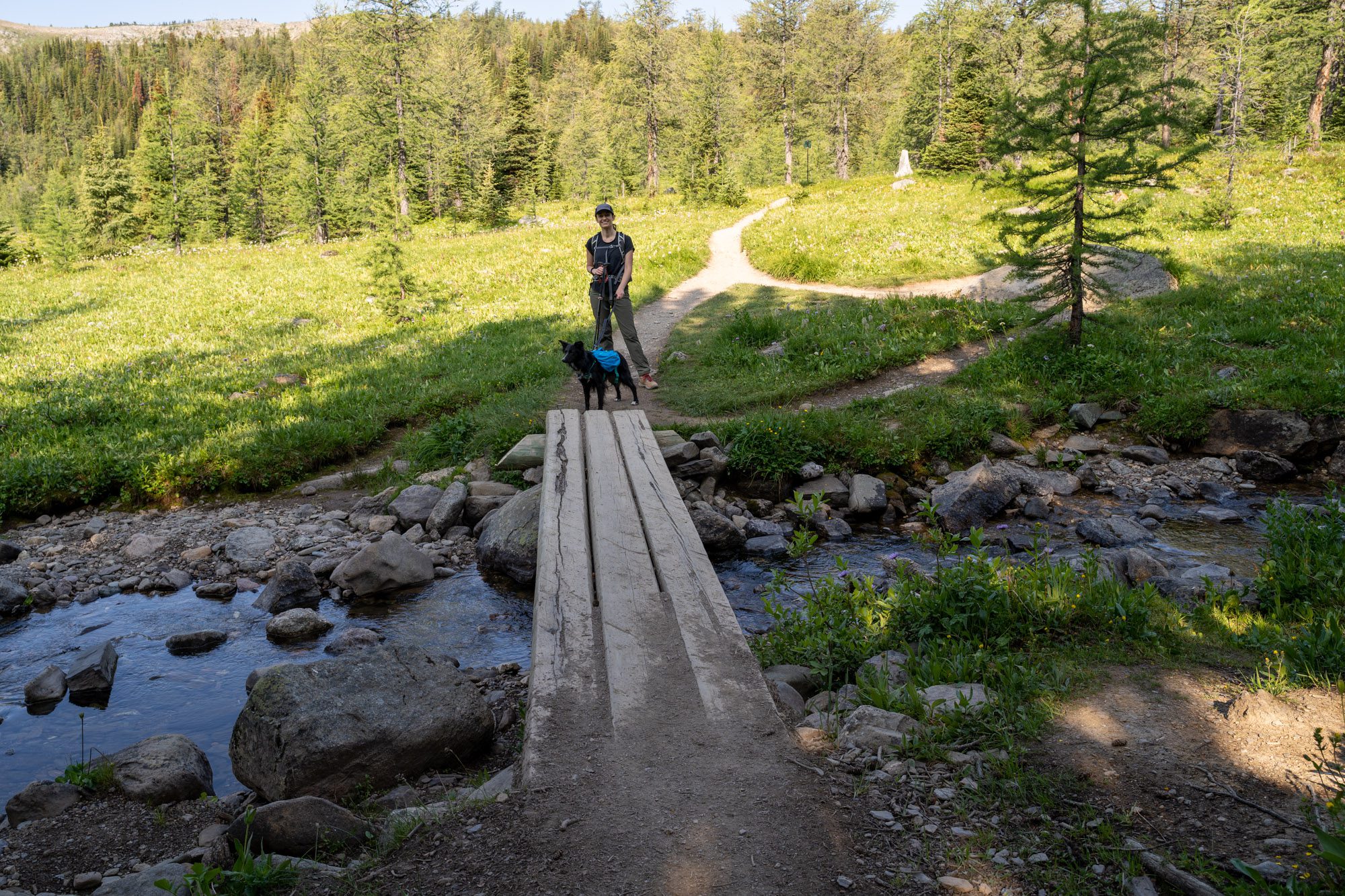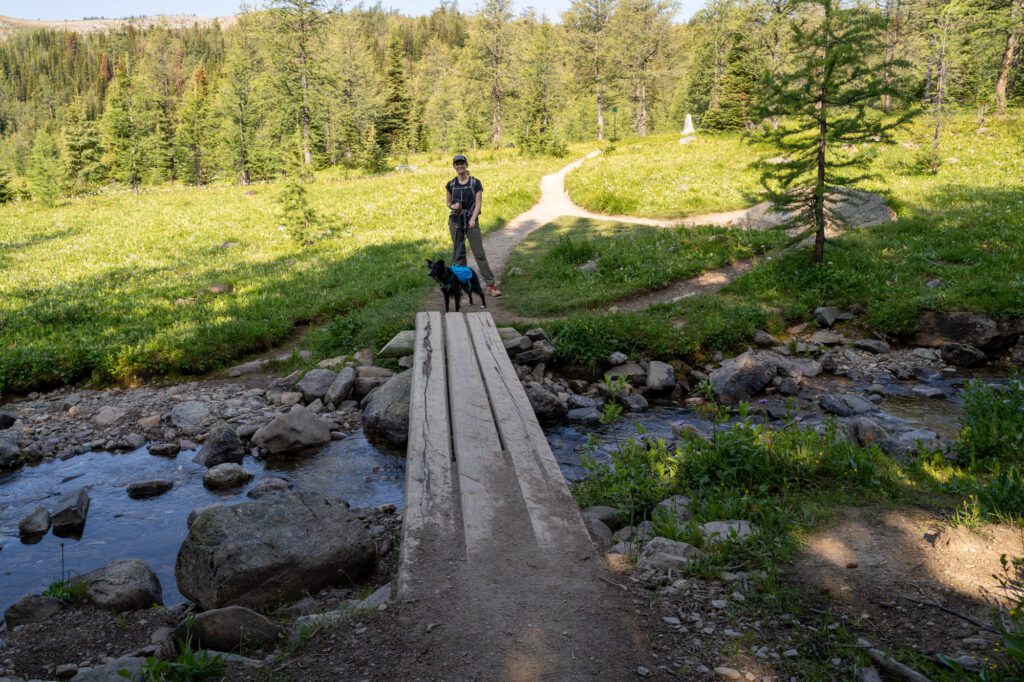 Yes, dogs are allowed on the Healy Pass Trail, and we hiked it with our dog, Lupine. There are several water sources on the way up, too, so you don't have to carry all of their water (though you should still carry some, along with some sort of water bowl).
As with all hikes in Banff National Park, dogs need to be on a leash the ENTIRE time you're on the trail. No exceptions, no matter how good your pup is.
It's at least partially because of wildlife Off-leash dogs can surprise, say, a Grizzly, which is generally going to be a much worse encounter than if they are on leash and under control.
You'll want to bring snacks for your dog – this is a long hike, and dogs need snacks too, just like humans!
As always, make sure to pack out any dog waste with you. We strap Lupine with Ruffwear Saddle Bags so that she can carry her own snacks and poop bags (along with anything else she might need).
Things to Know Before You Hike the Healy Pass Trail
You need a Parks Canada Pass while you're in the park. You have two options – buy a pass for the number of days you need it for, or buy a Discovery Pass, which gives you access to all national parks in Canada for a full year. At a high level, the math on the Discovery Pass works out if you're spending 7 days or more in the parks, though there are some permutations around family passes that might make the math change in your particular instance. You can buy both versions at the park entrance stations, or online in advance.
You're hiking at elevation. Remember that you're at elevation in the Rockies (the parking lot here is at 5,000 feet above sea level, and you'll get up to about 8,000 feet by the end of the hike), so if you're coming from sea level, the hike is going to feel a little harder than you're used to. This is why we recommend starting with an easier hike first to get acclimated, and tackling the more difficult hikes later in your trip. You can read more in our Banff itinerary or Canadian Rockies itinerary (which includes Jasper and Yoho). 
You're in bear country. Both black and Grizzly bears live in Banff National Park, and we saw both (though never up close on a hiking trail, thankfully). Our biggest tip is to make plenty of noise on the trail – Matt is known for freestyle singing as we hike – so that you avoid any surprise encounters. You'll also want to have bear spray, which you can get in town if you're flying in (you can't bring bear spray on a plane). You should check with your hotel or lodge because many of the best places to stay in Banff will lend it to you.
Expect afternoon thunderstorms in the summer. As if you needed another reason to get an early start, we got thunderstorms nearly every single day sometime between noon and 4pm. If you do a hike above the treeline, you'll want to be on your way down by the time they roll in.
Trail closures are fairly common in Banff. Mostly because of bear activity or weather. Check here for current conditions.
The Healy Pass Trail: A Complete Trail Guide
Now that we've covered most of the information we think you need to know before you get out on the trail, let's talk about the trail itself!
The Healy Pass hike is a pretty straightforward affair, but we're going to break it into three distinct sections to make it more digestible, and so that you'll be able to keep track of where you are on the hike when you're on the trail.
Those three sections are:
From the Trailhead to the Campground
From the Campground to Trail Junction
The Final Ascent through the Meadows
From the Trailhead to the Campground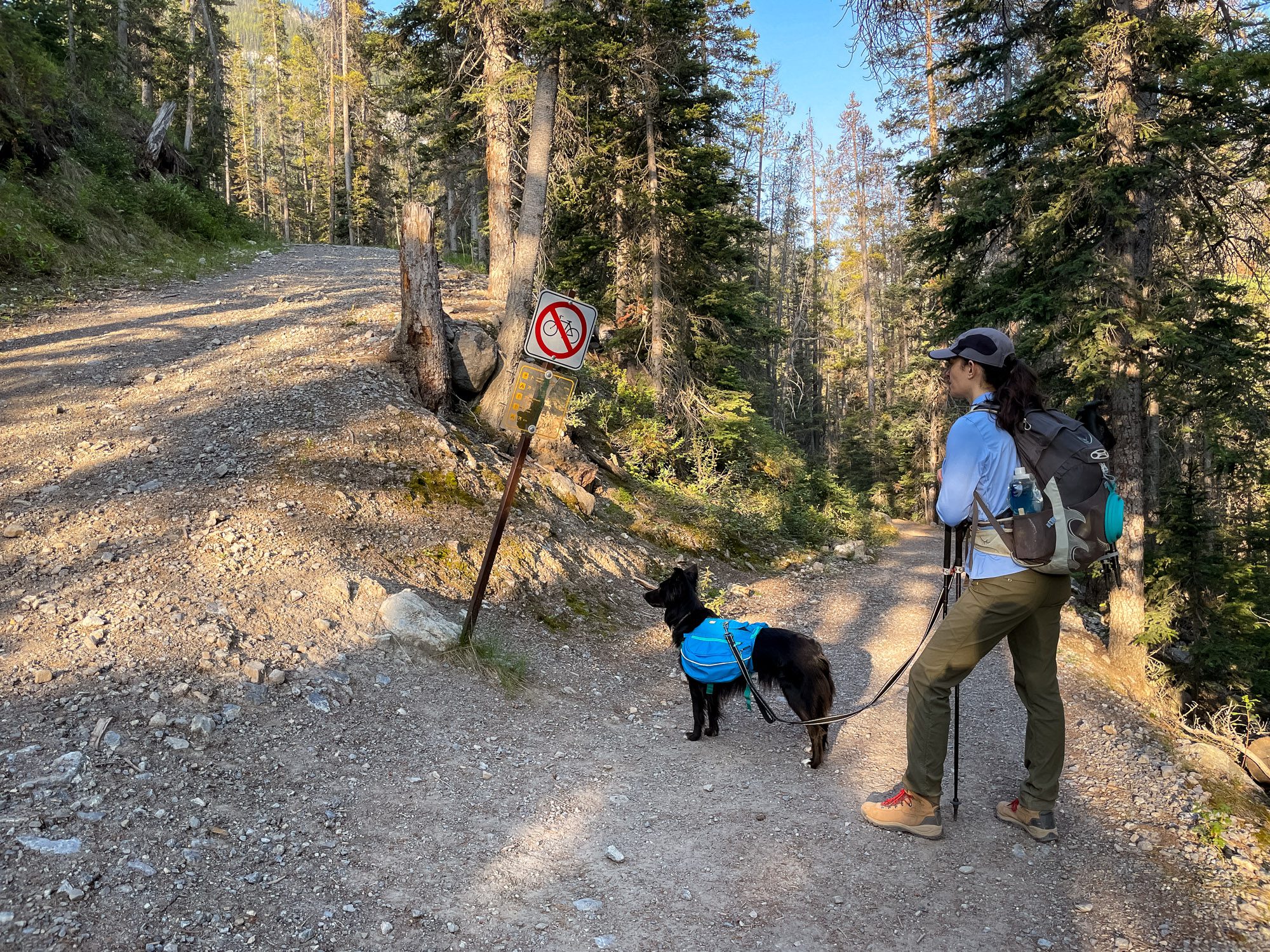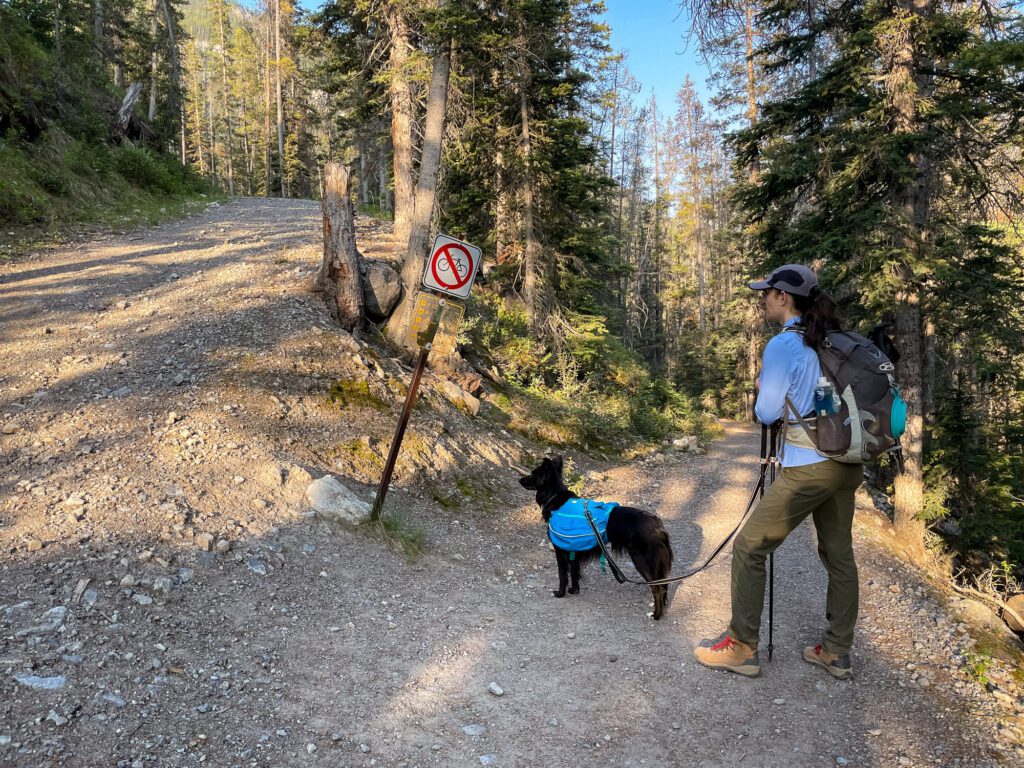 Length: 3.2 miles // Elevation Gained: 1,500 feet
From the parking lot at Sunshine Meadows, your first objective is going to be finding the trailhead, which is back behind the lodge building.
From the trailhead, it's a fairly boring, uneventful walk along a wide gravel fire road for the first half mile or so, when you'll hit a trail junction and take the right fork to get onto a more pleasant walk through the woods.
You'll almost immediately cross a wooden footbridge over a creek – the only bridge on this first stretch of trail that actually had water under it – and start a winding journey through the trees.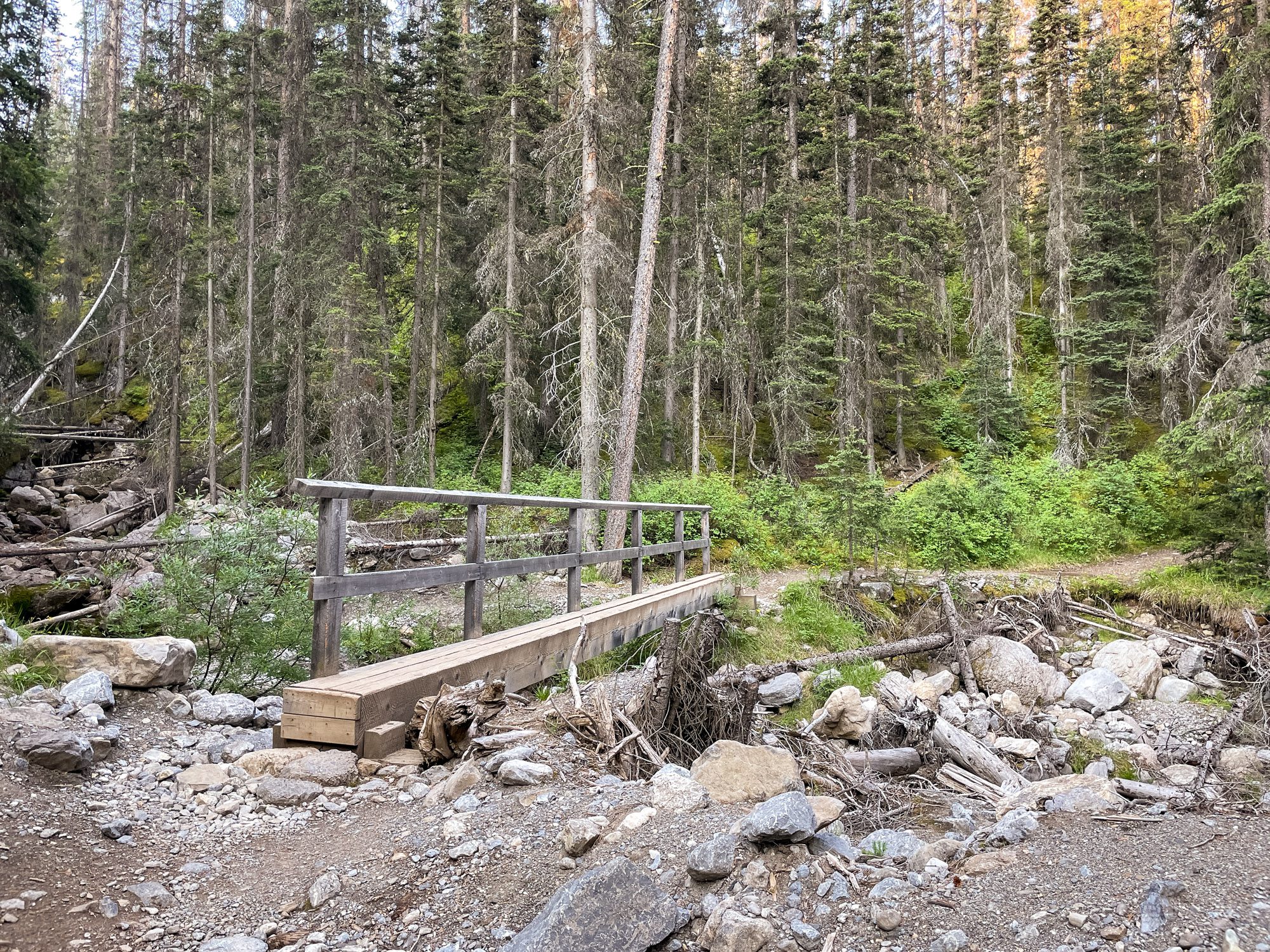 As we alluded to just now, there are quite a few wooden footbridges along this first few miles of the trail, but all of the water was dried up when we hiked it (which we later learned was because of drought conditions and very little rain in the spring and early summer of 2023).
There really isn't that much to say about the second and third miles of hiking here. You'll alternate between a gentle tree-covered ascent and briefly exiting the trees into a little meadow before quickly returning to the tree cover.
Eventually, about three miles into the hike, you'll reach a campground with a few backpacking sites.
Yes, there is a backcountry campground along this trail, a hair over three miles into the ascent (so about half way). And, to be honest, it's a little bit of a perplexing location.
As we hiked, we were talking about who exactly would camp here, and we couldn't really figure it out – it's not far enough along to Egypt Lake to make it worth the stop. There is a cut over to Simpson Pass just past the campground, so maybe it's for longer trips climbing multiple passes?
Either way, this marks the end of the first stretch of trail, where you've completed a little over half of the mileage, and about half of the climbing.
From the Campground to the Trail Junction (and Meadows)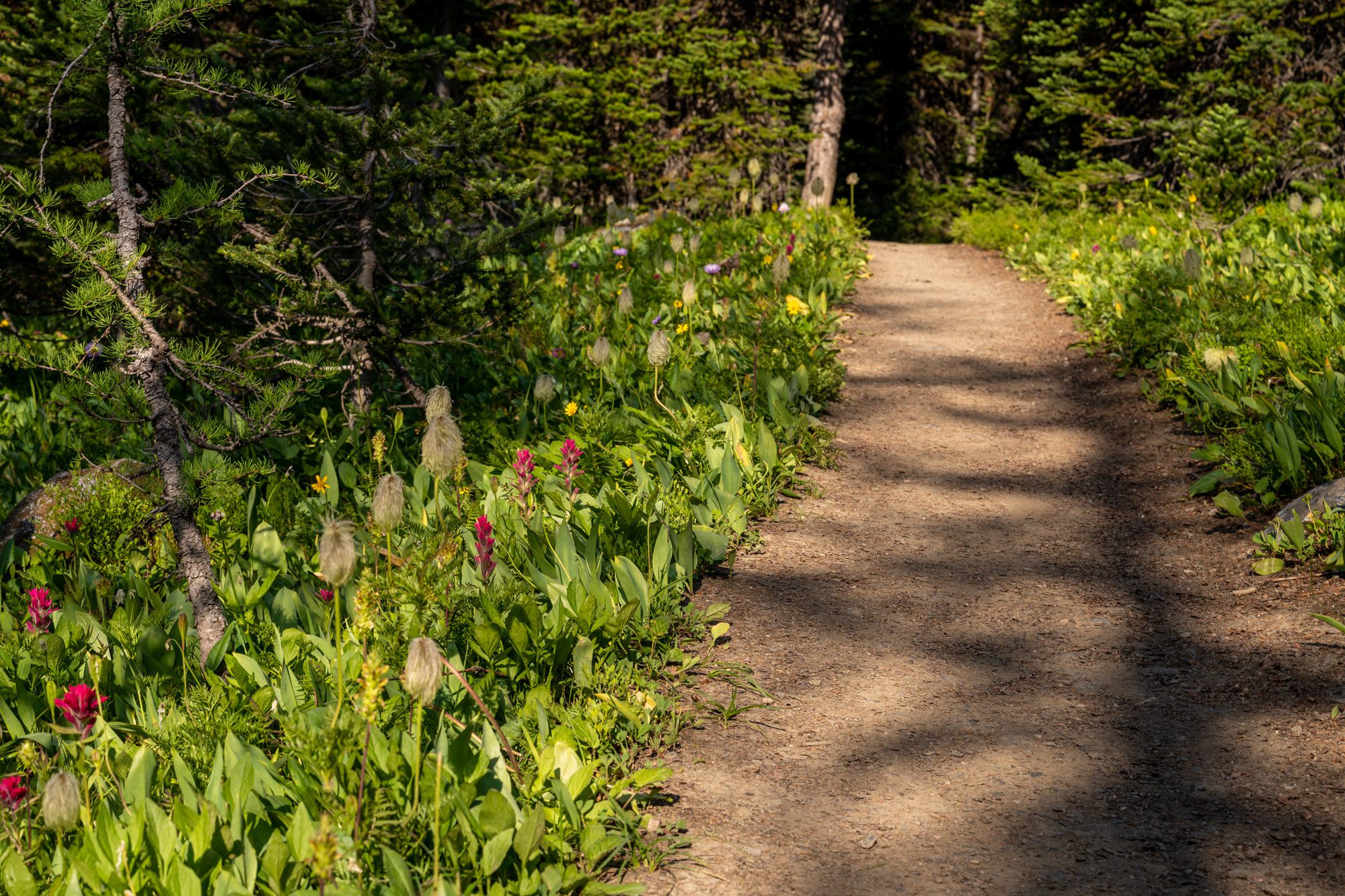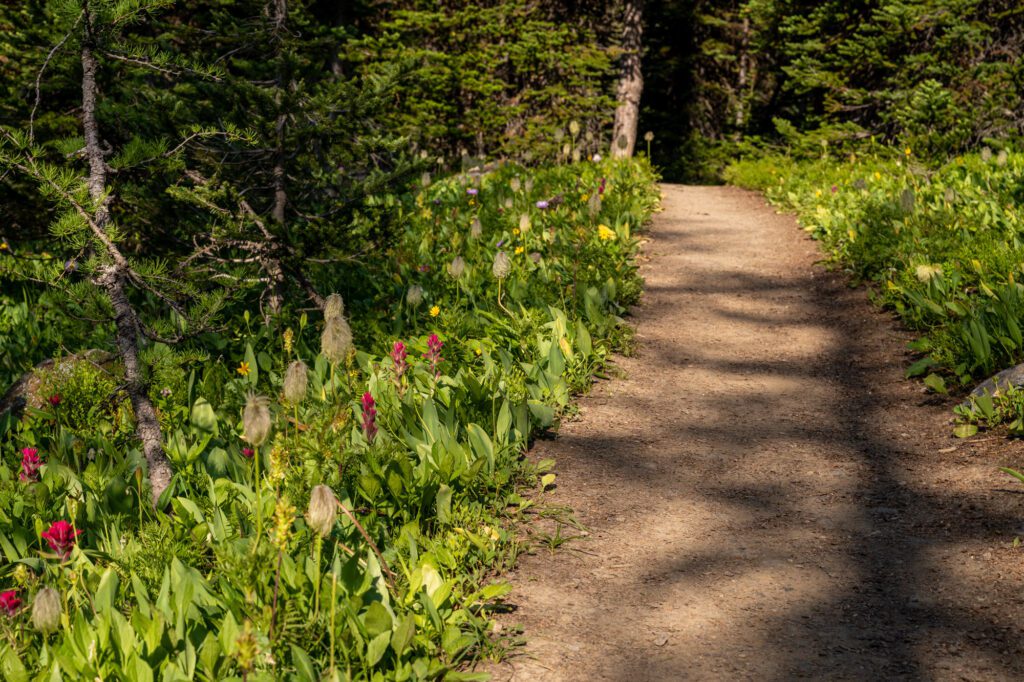 Length: 1.4 miles // Elevation Gained: 650 feet
From the campground, you'll hike another 1.4 miles through the forest, but this stretch of trail is certainly more interesting than the first.
As you climb, the trees get thinner and thinner, which means you get glimpses of the alpine beauty that awaits you up in the wildflower-laden alpine meadows towards Healy Pass.
Immediately after the campground you'll reach a trail junction – you want to stay right, but going left takes you up to Simpson Pass (a worthy addition to this hike, which we'll cover below).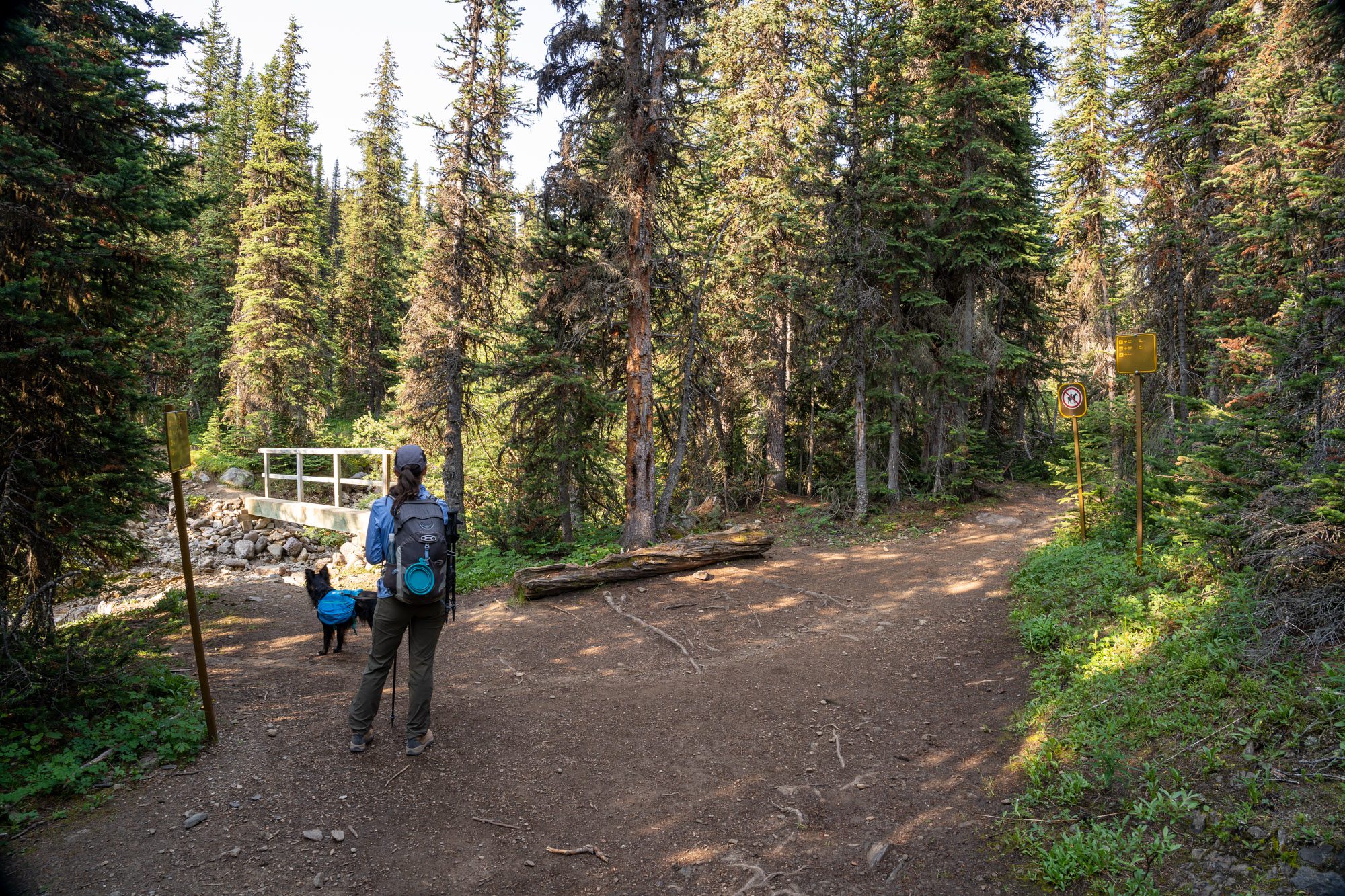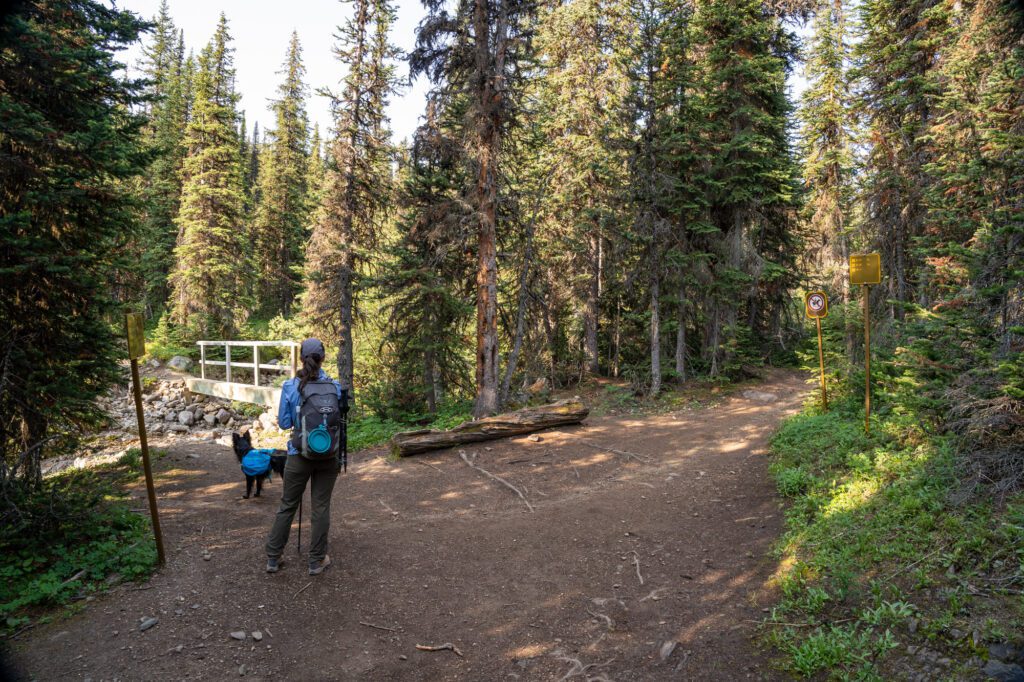 This stretch of trail contains what we think are the two hardest 100 yard stretches on the entire hike.
There are a couple of steep, rocky sections here, but those two brief climbs are the only two parts of this hike that had us saying "that was hard!"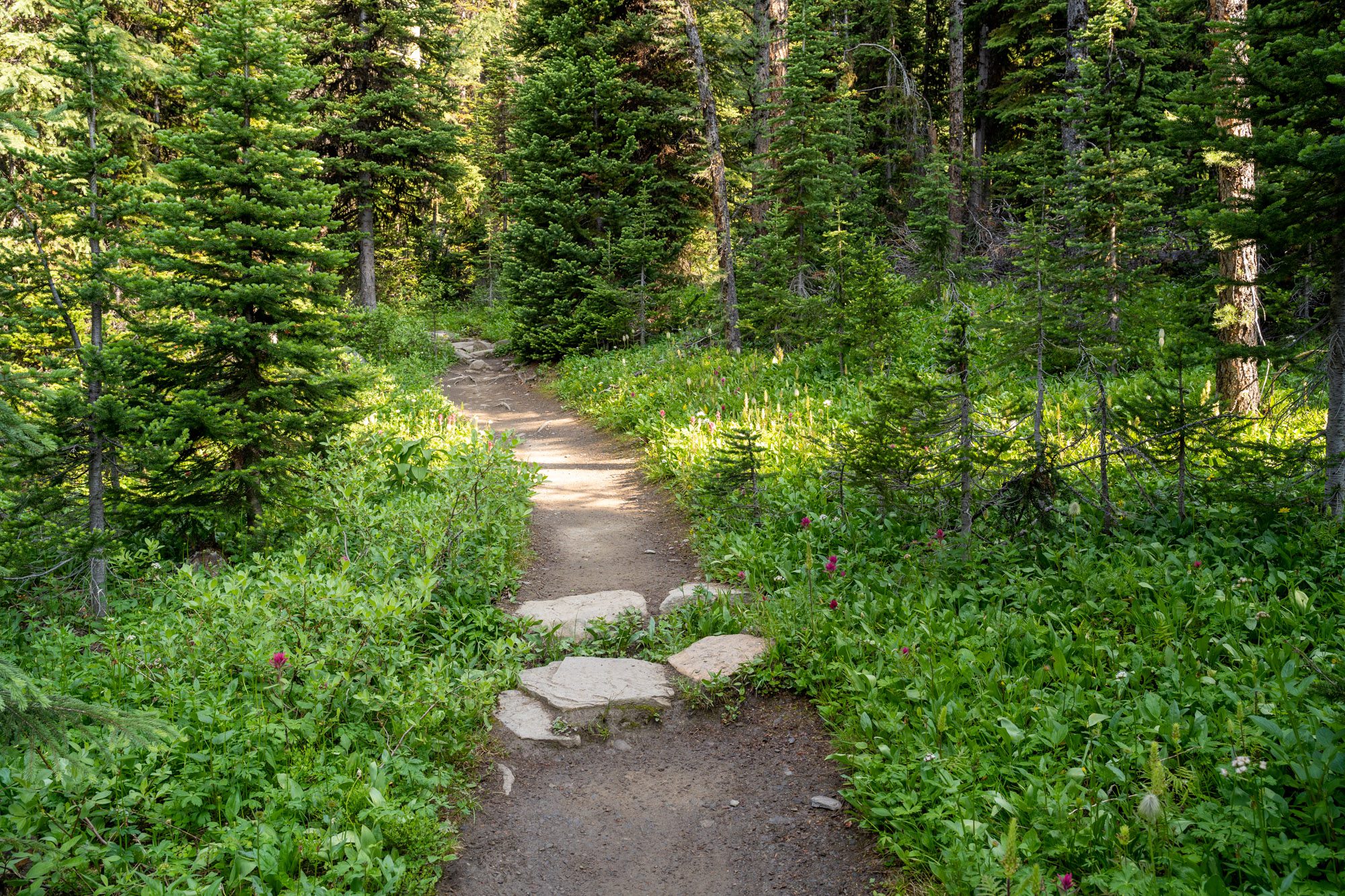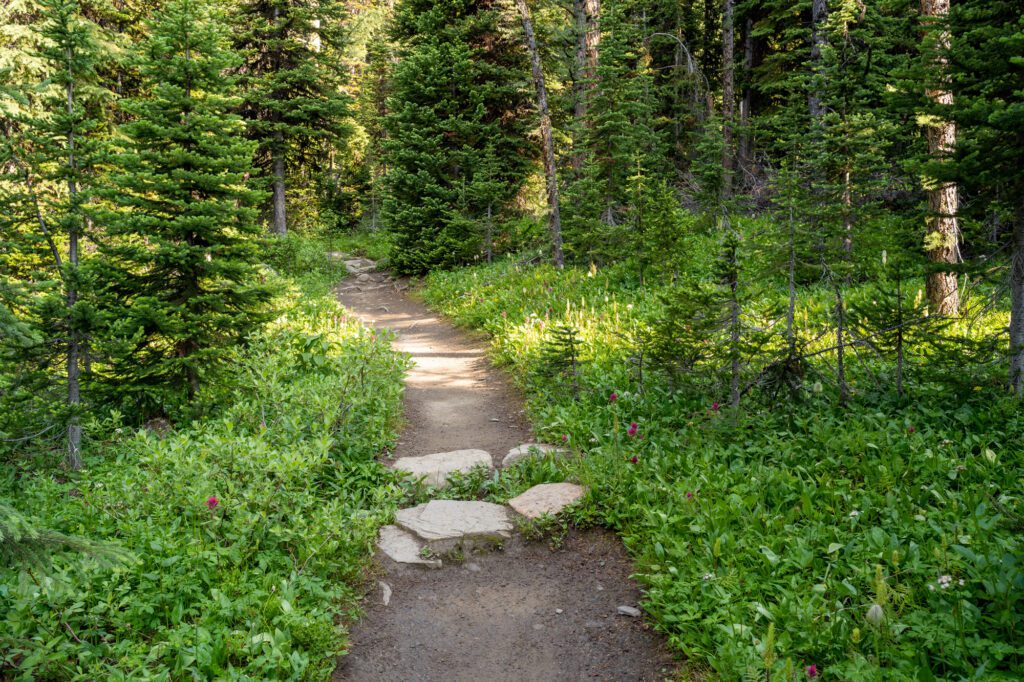 If you are here in wildflower season, the wildflowers also start to give you a preview of what you're going to see up top.
No matter how gorgeous the flowers lining the trail at your ankles seem here, know that it pales in comparison to the blankets of multicolored blooms that line the meadows near Healy Pass.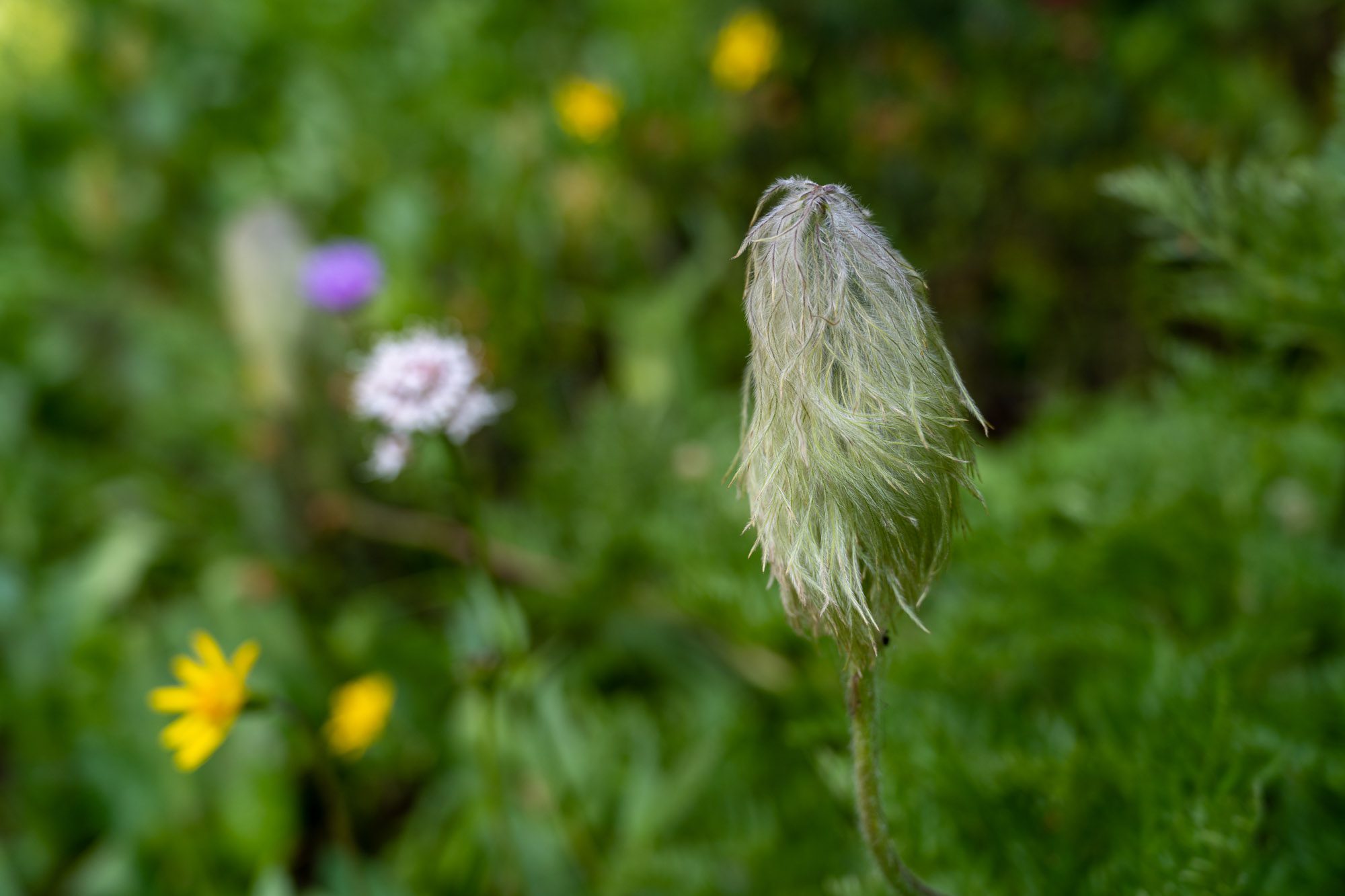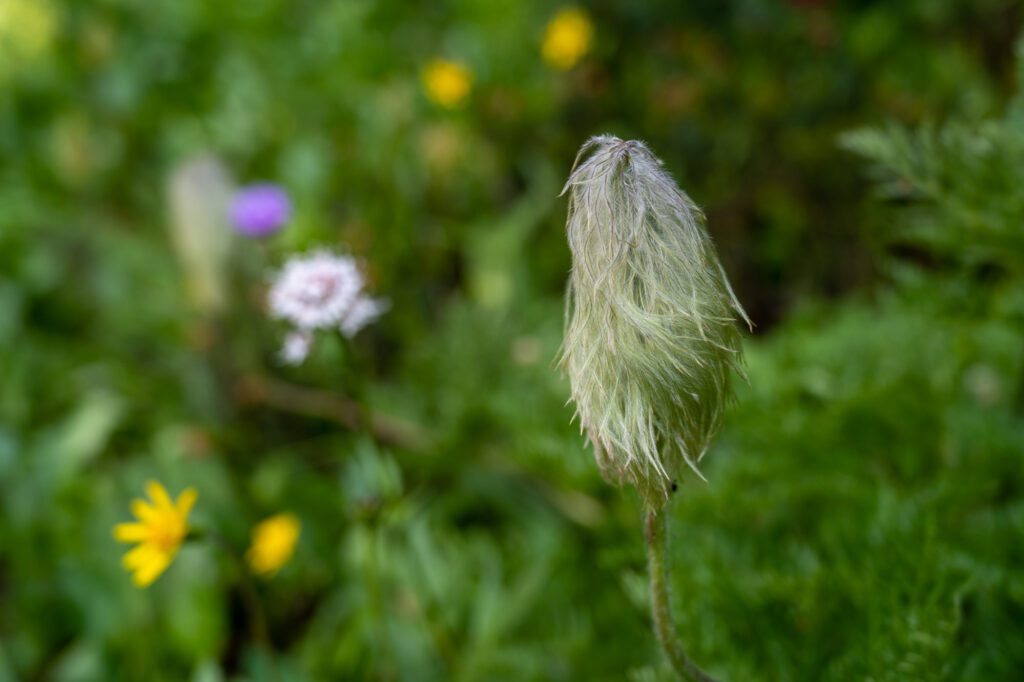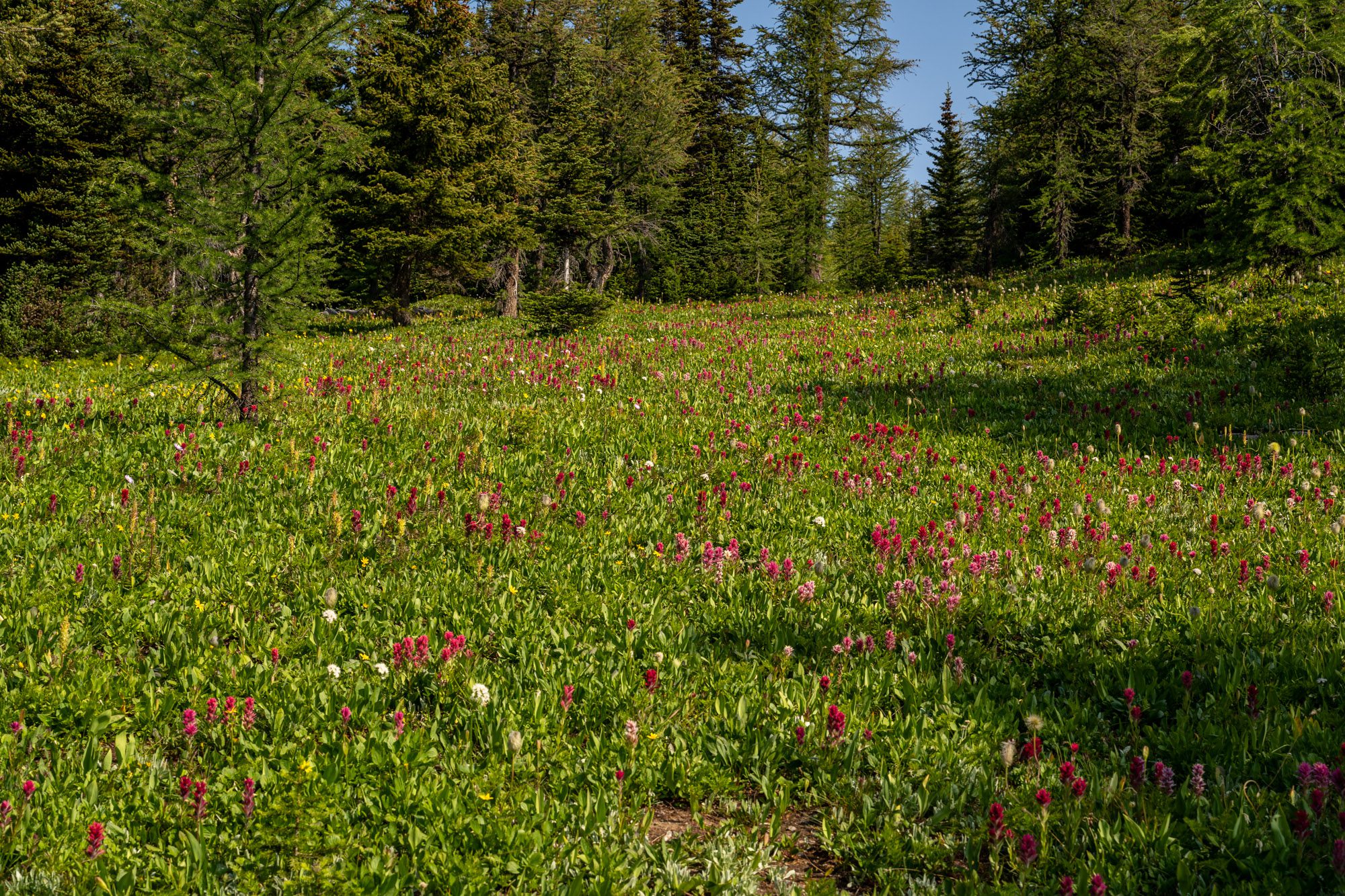 Just before the T junction, you'll burst forth from the treeline and get your first taste of the sheer natural beauty of the meadows from here to the top of Healy Pass.
To your left is the Monarch, to your right is the gurgling water of Healy Creek.
The Final Ascent Through the Meadows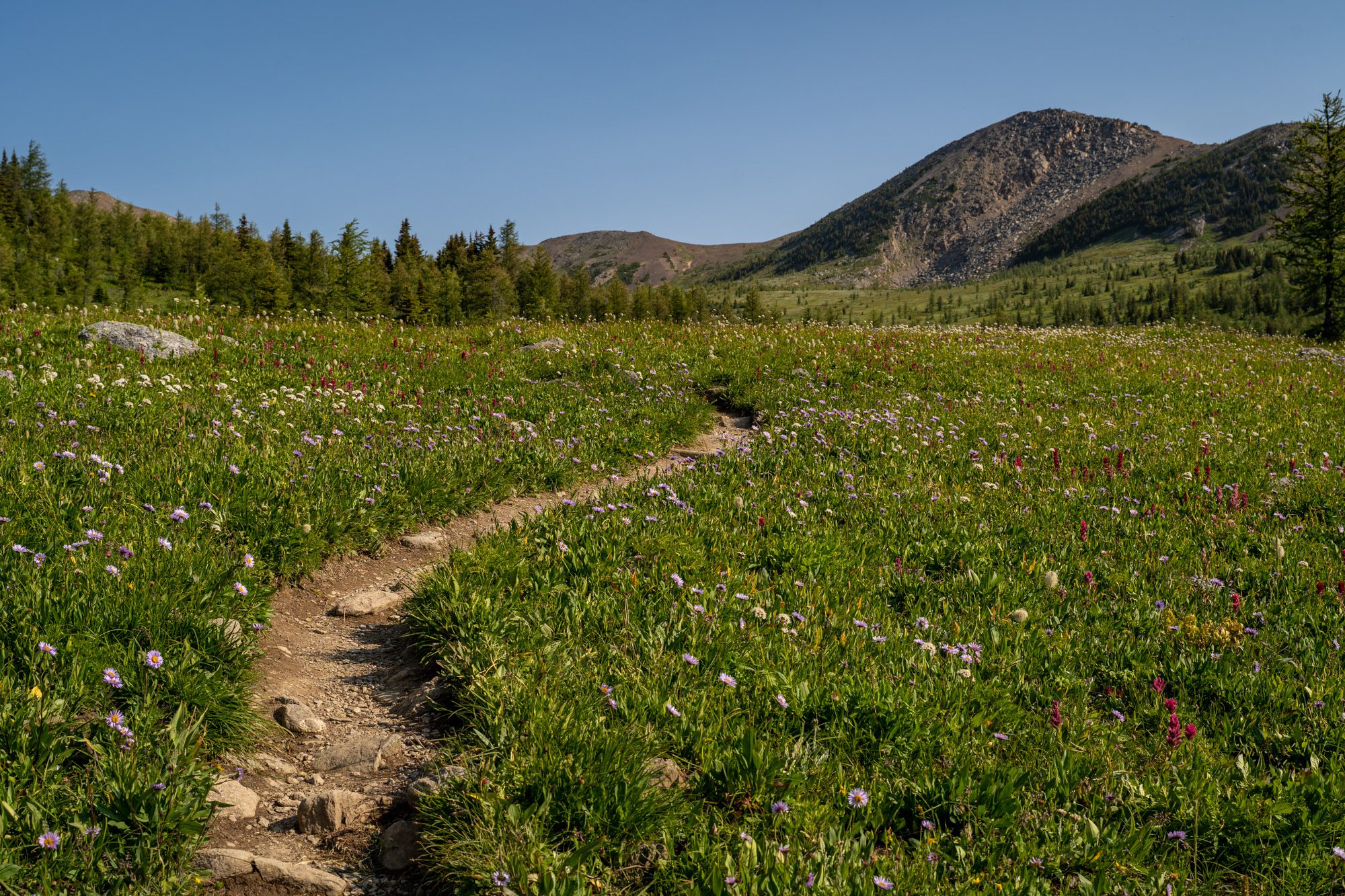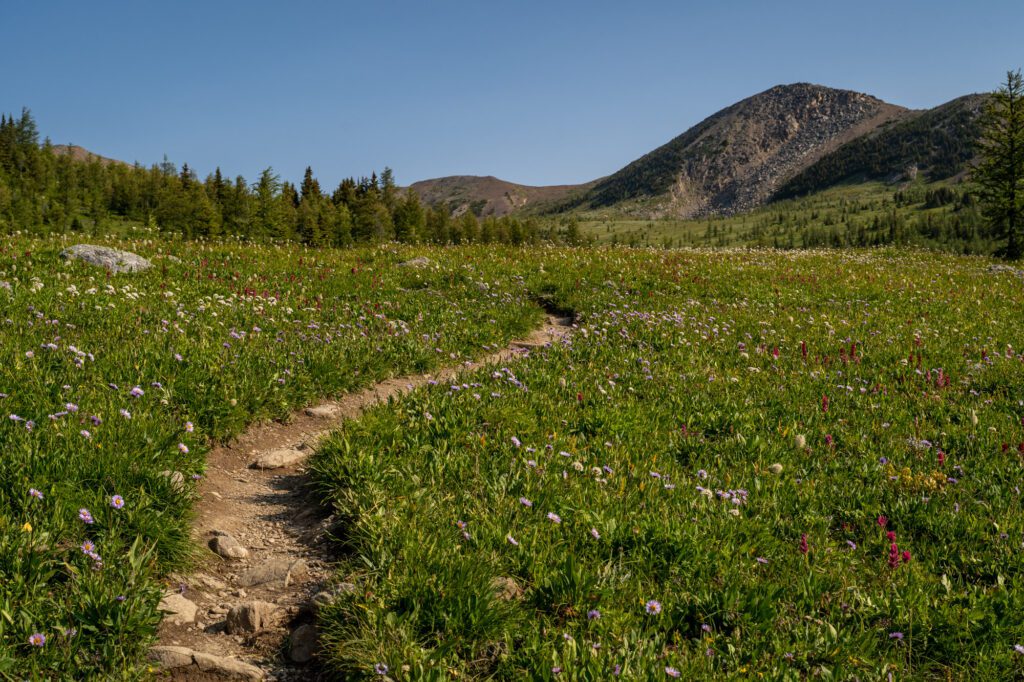 Length: 1.0 mile // Elevation Gained: 650 feet
This final stretch of trail is among the most beautiful miles you'll ever hike in your life, and you're going to take longer on this last mile because you'll both be stopping for pictures and also picking your jaw off the trail every 45 seconds or so.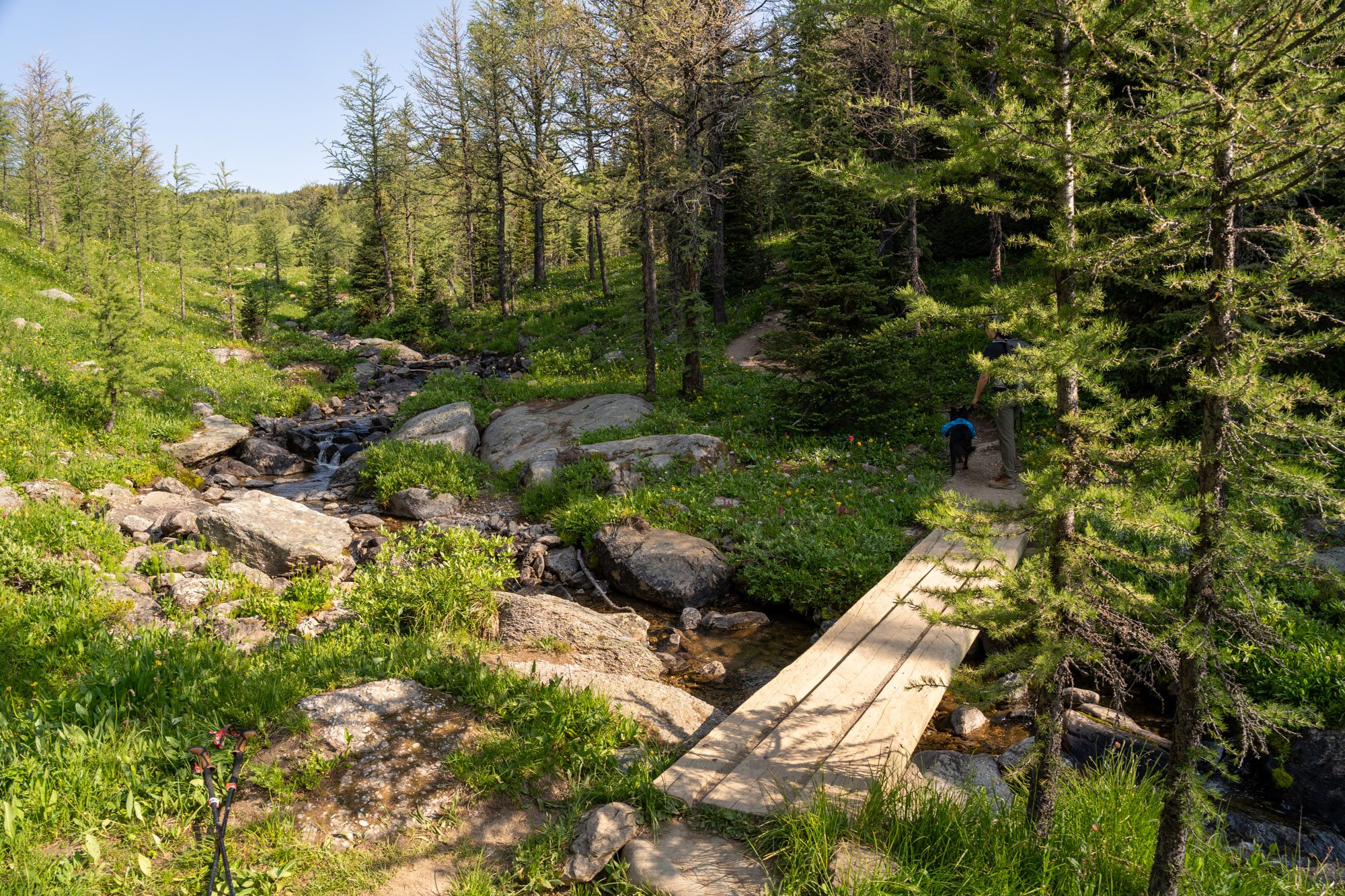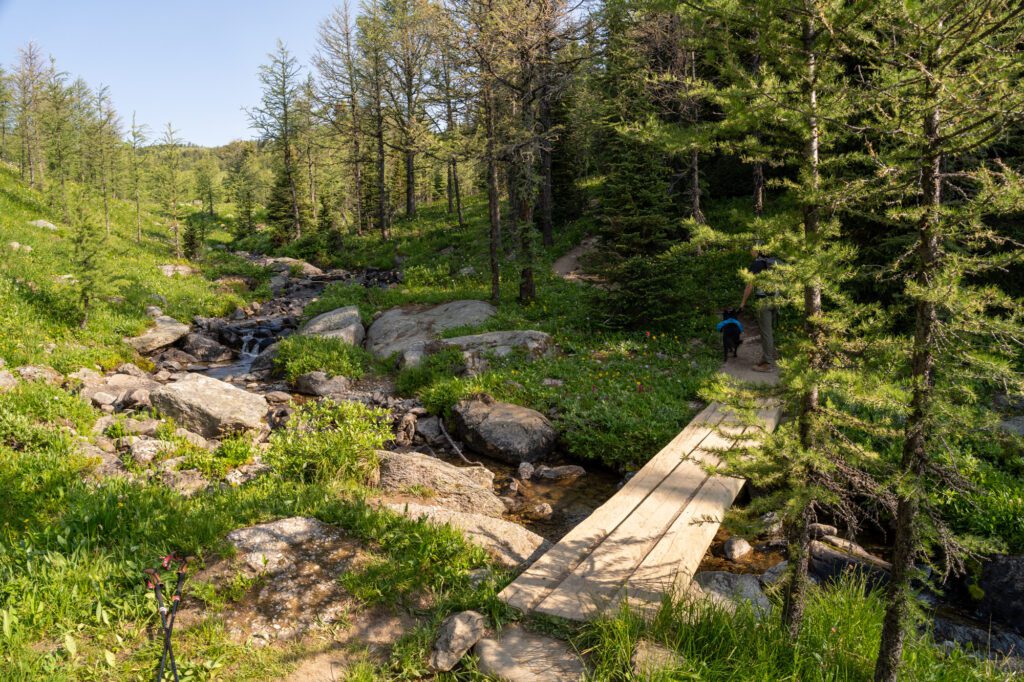 It alternates between following Healy Creek and bursting out into wide open meadows (covered in wildflowers in the early summer), with views back towards the Monarch the entire way through.
The climbing never really feels difficult – especially given the views up here – but this is technically the most intense part of the hike based on distance and elevation gain.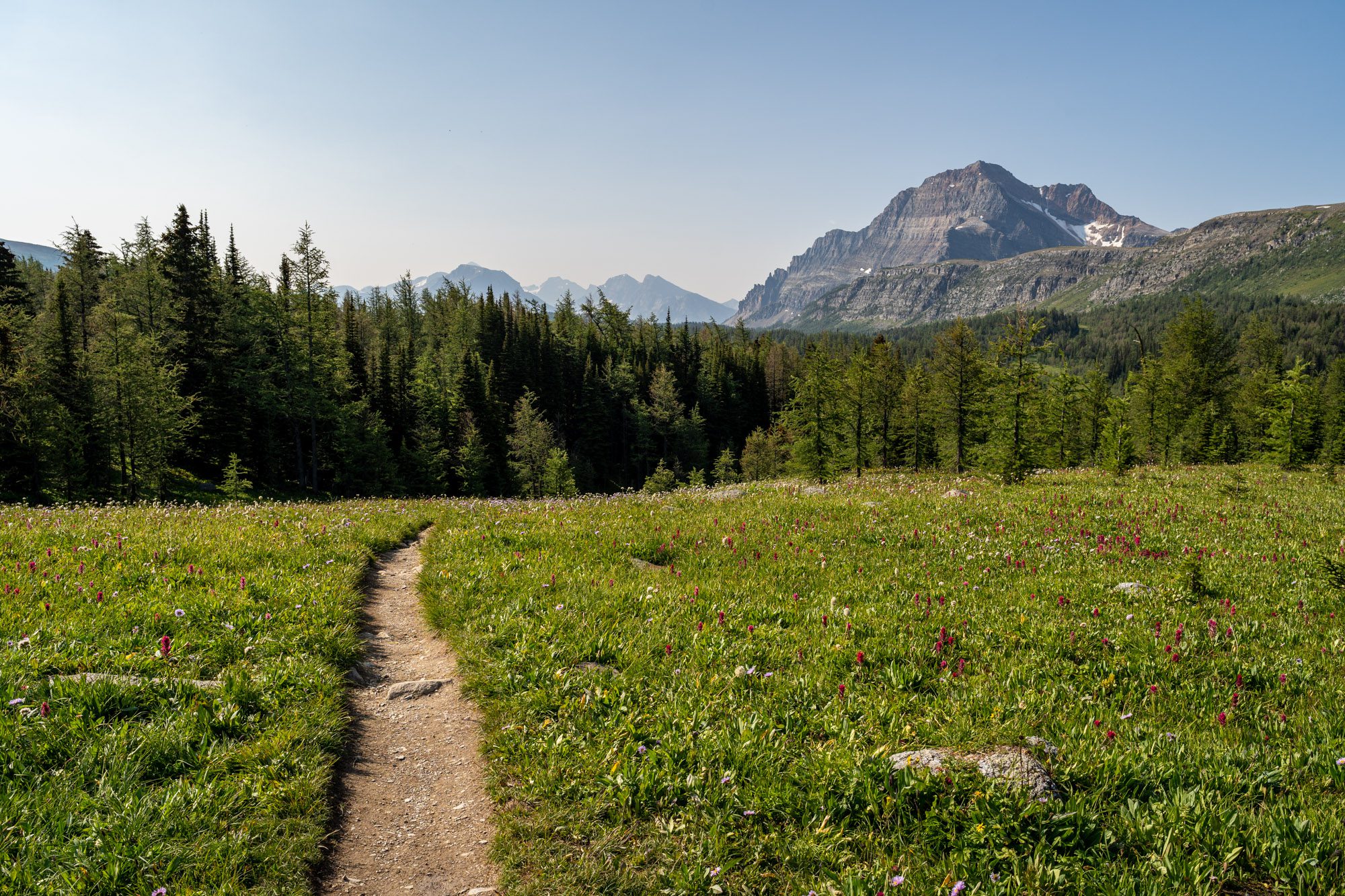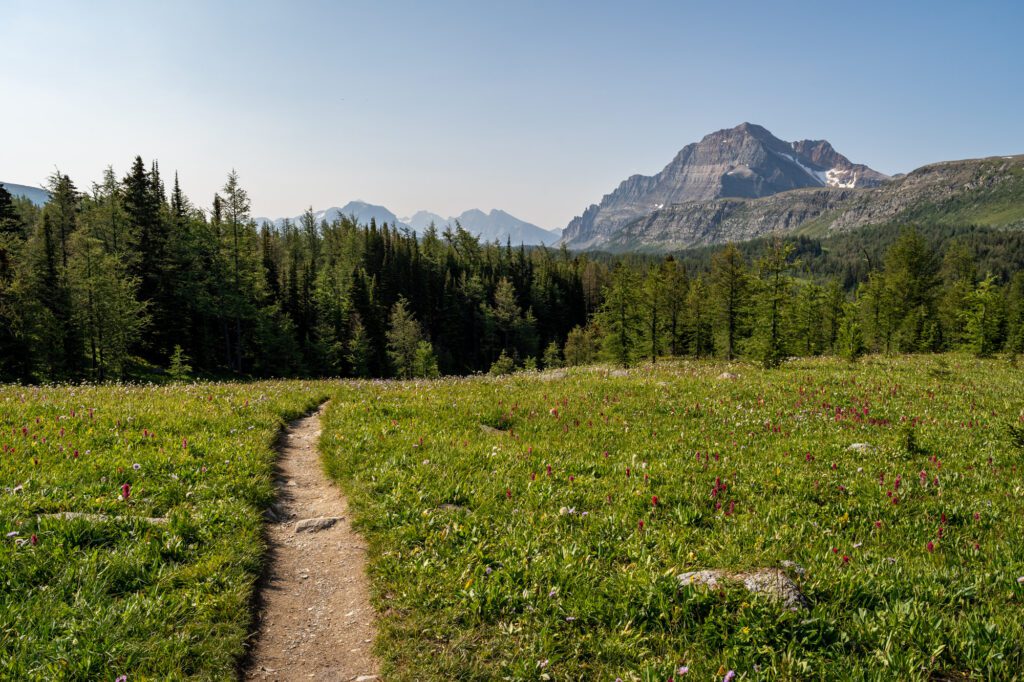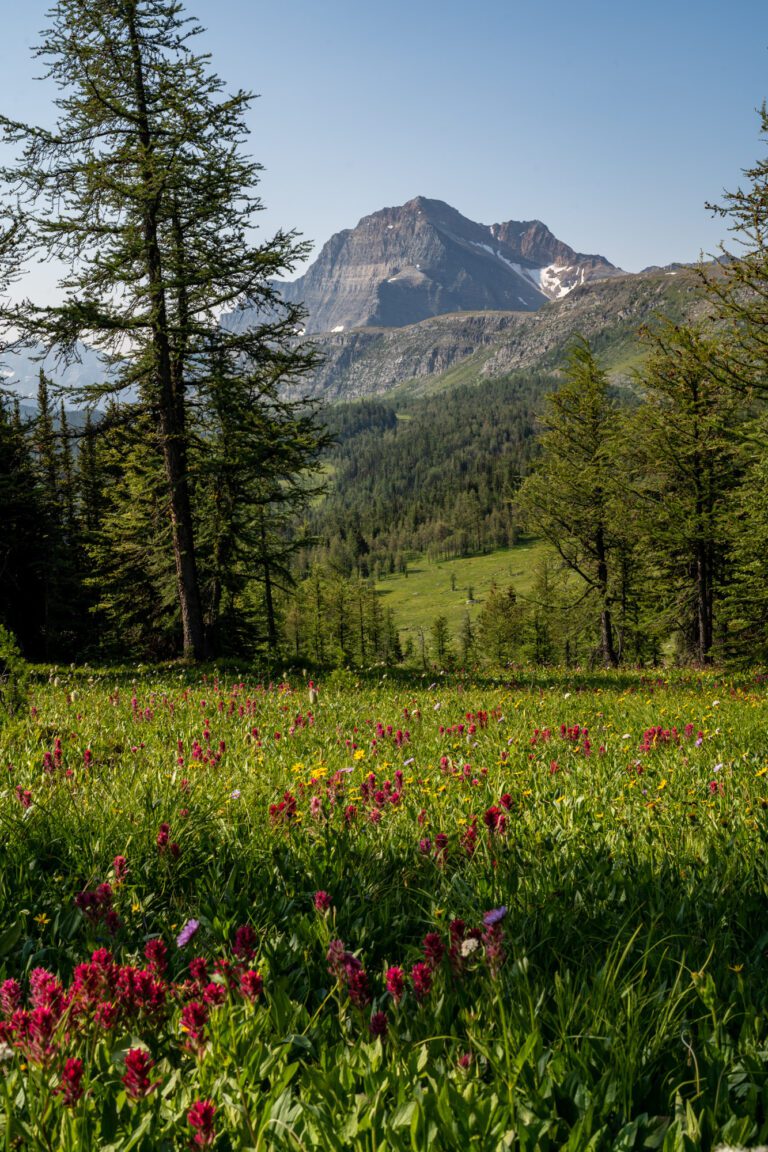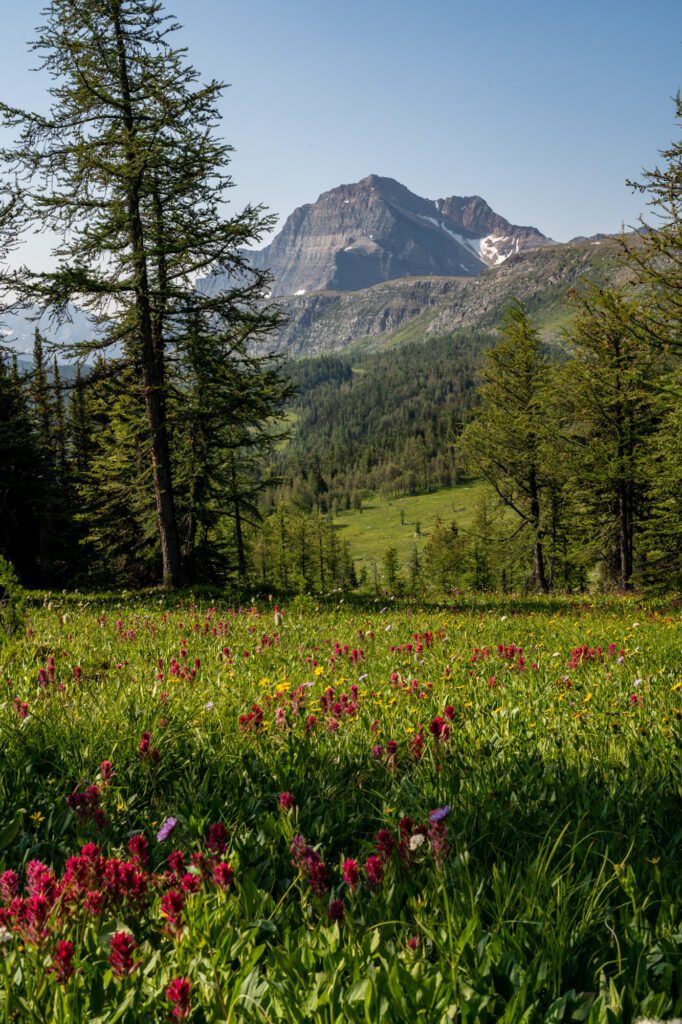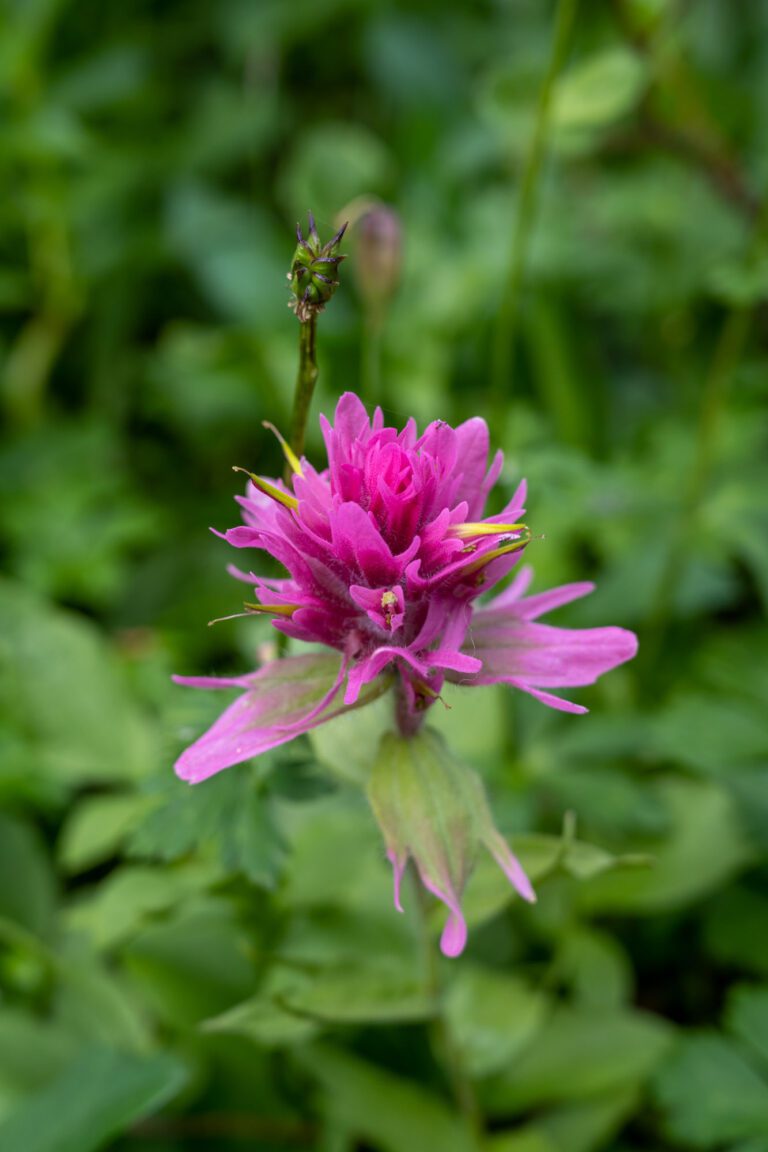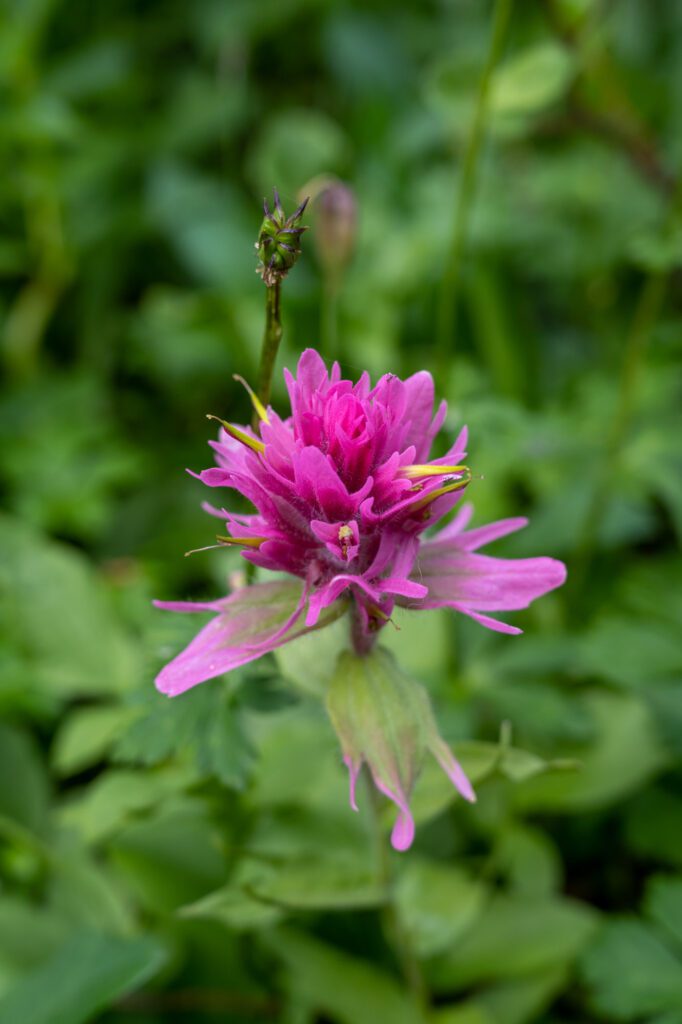 From Healy Pass itself – which you'll know because when you arrive, you'll have views in all directions for miles and miles – you can see Egypt Lake off to the northwest, and the Monarch in the opposite direction (almost due south).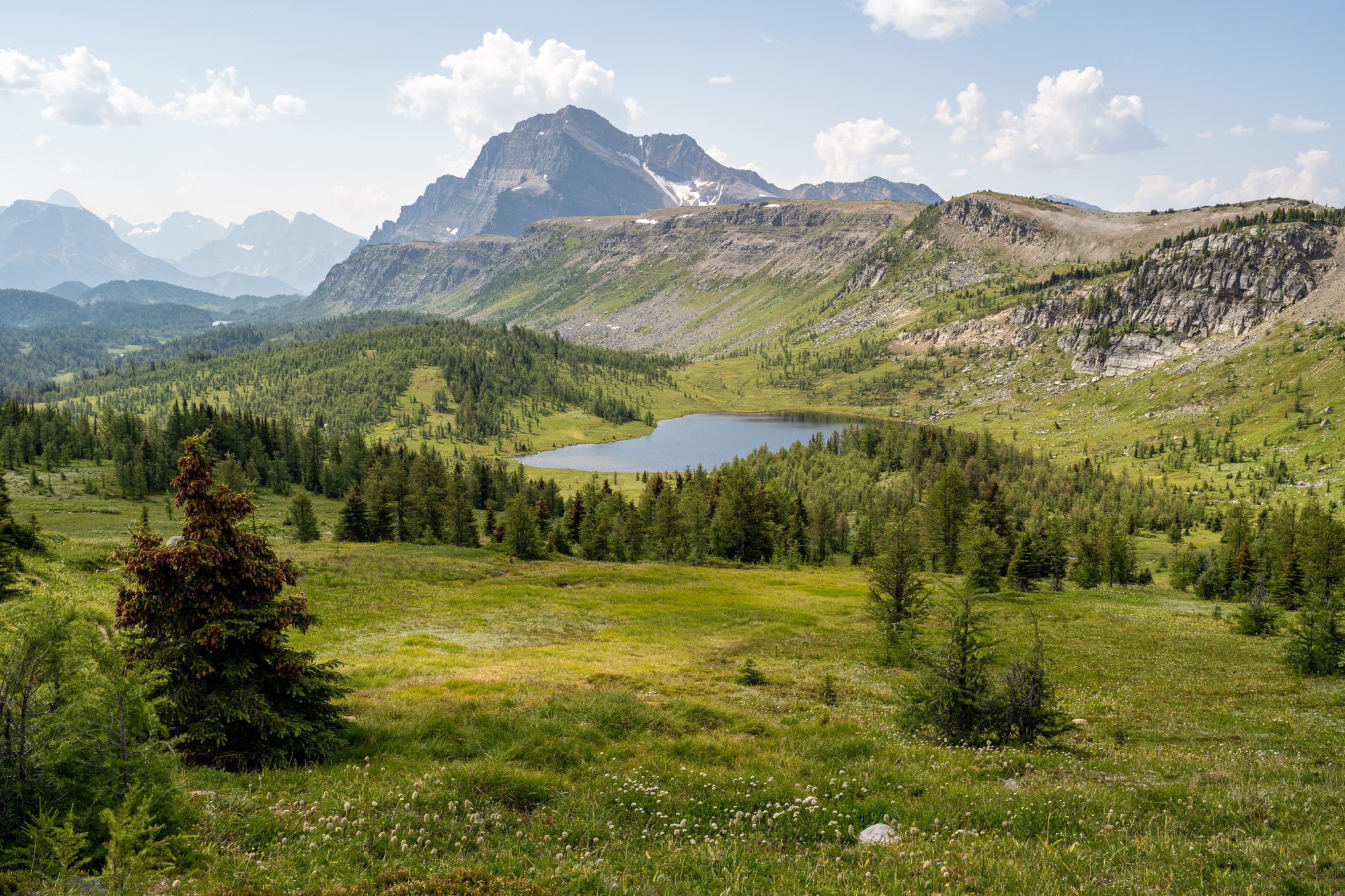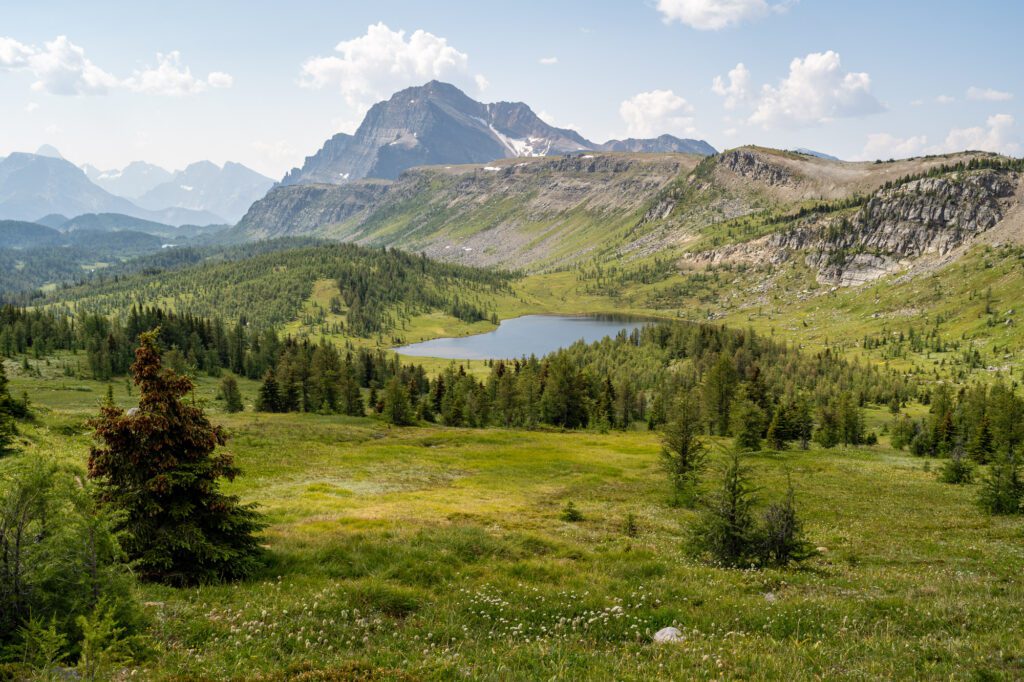 There's exactly one rock to sit on here, though it is a big one, and it has some pretty incredible views. A perfect spot for a snack and some water.
Remember to heed the signage that says not to go up to the Ramparts between June and October to protect fragile Grizzly habitat!
However, there are two worthy additions to this hike, which we'll get to in the next section.
Extending Your Hike: Simpson Pass and Egypt Lake
There are two additions to your hike that we want to mention here – Egypt Lake and Simpson Pass.
Egypt Lake (16.2 miles / 4,400 feet elevation gain)
The first is Egypt Lake, which is another five (ish) miles round trip from Healy Pass, with another 1,600 feet of elevation gain.
It's doable as a day hike given the fact that this trail is not particularly hard, and there's plenty of water to be had along the way, but it's probably better as an overnight backpacking trip. We saw TONS of backpackers heading up the trail as we were coming down, and all were headed out to Egypt Lake and around.
Now, that's a lot of elevation gain added, why is that? It's because from Healy Pass, the high point of the trail, you hike down into the valley to Egypt Lake, which is tucked just below the mountains across the valley from the top of the pass.
Which means you have to come back up from the valley floor on your way out – a climb of roughly 1,300 feet over the course of two miles or so.
If you want to camp overnight at Egypt Lake campground, you'll want to go up early because we saw no fewer than 20 people heading up in that direction with big packs on our way down.
Healy + Simpson Pass Loop (12.4 miles / 3,000 feet elevation gain)
The other addition we'd like to cover here is the Simpson Pass loop, which turns this hike into a lollipop, bringing you back to the trail junction just after the campground we mentioned above.
It's downhill the entire way – there's not really much extra climbing to be done – and it's a good option to extend your hike slightly.
This is a chance to give yourself a different set of scenery on the way back (loop hikes are always better than out and backs), though it is very slightly longer than the straight shot back.
We skipped it because a thunderstorm rolled in while we were sitting at Healy Pass and Lupine is very much not a fan of thunder and lightning, nor are we when we're above the treeline.
---