Gluten Free Vancouver, BC: A Complete Guide for Celiacs
Generally speaking, we're blessed with excellent gluten free food options in the major cities on the west coast. Portland, our home base, is THE best gluten free city in the world, and Seattle, San Francisco, Los Angeles, and San Diego are all pretty good.
However, over the past several years as costs – both of doing business, and of living – have risen, we've started to notice that innovation in the gluten free businesses in those cities has stagnated (Los Angeles and NYC are notable exceptions to that rule, for whatever reason – if you have a hypothesis as to why, we'd love to hear it!).
Heading into our two trips to Vancouver in the span of six months in 2023, we weren't exactly sure what we would find in the city that, like Seattle and San Francisco, is known for its astronomical cost of living.
After multiple trips up to Vancouver, we've found that, while the number of options in Vancouver isn't as high as, say, Portland, there are plenty of great places to eat in the city, including a few spots that would make out top 5-10 restaurants or bakeries on the west coast of North America.
In this guide to eating gluten free in Vancouver, we'll go through our picks for the best gluten free restaurants, bakeries, ice cream shops, and more. Many of them are 100% gluten free, which makes them safer for Celiacs (like Matt).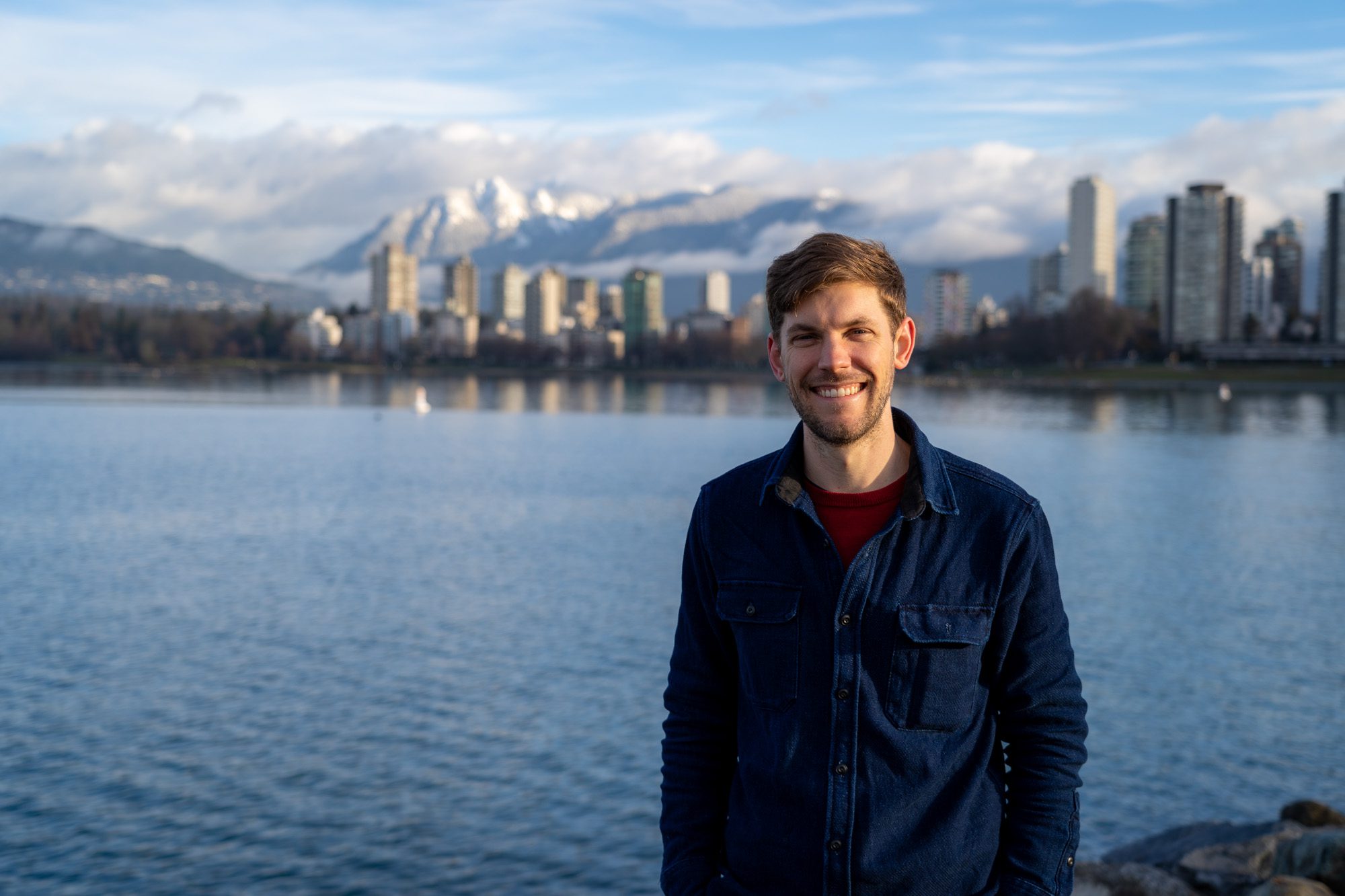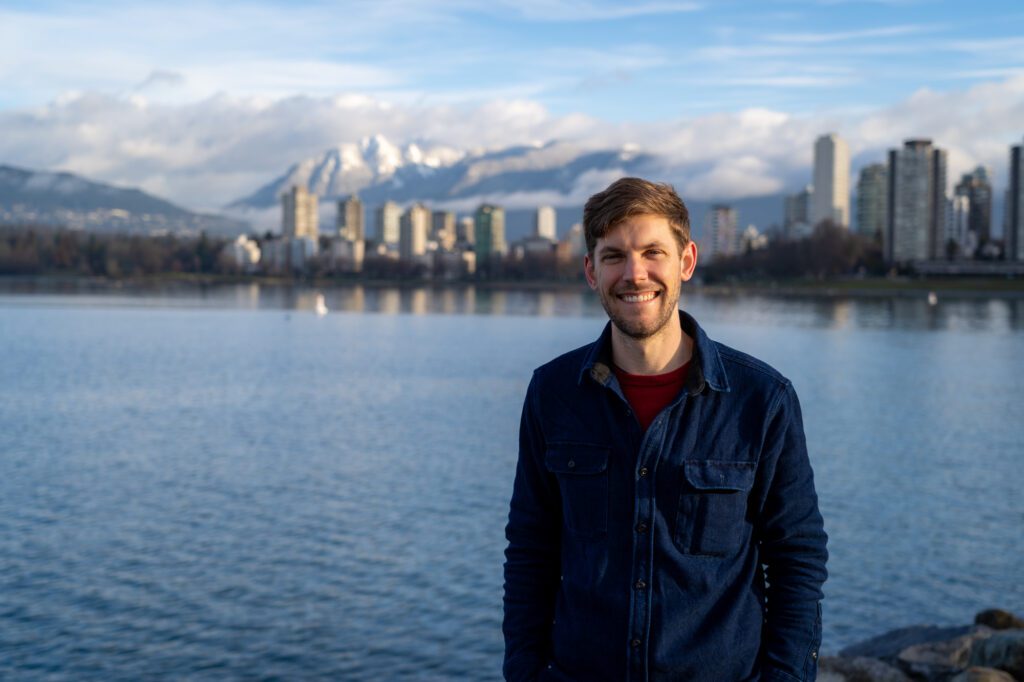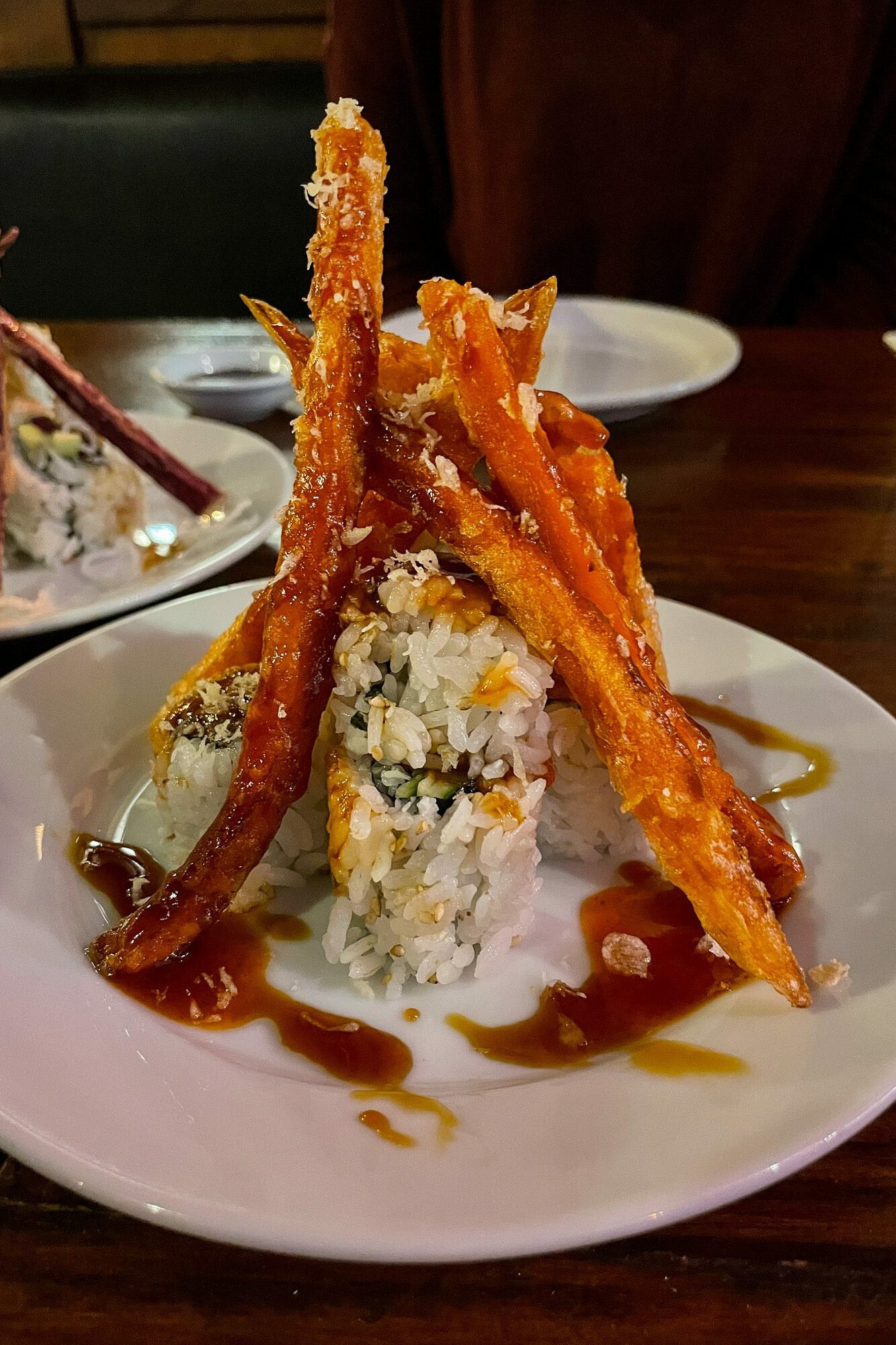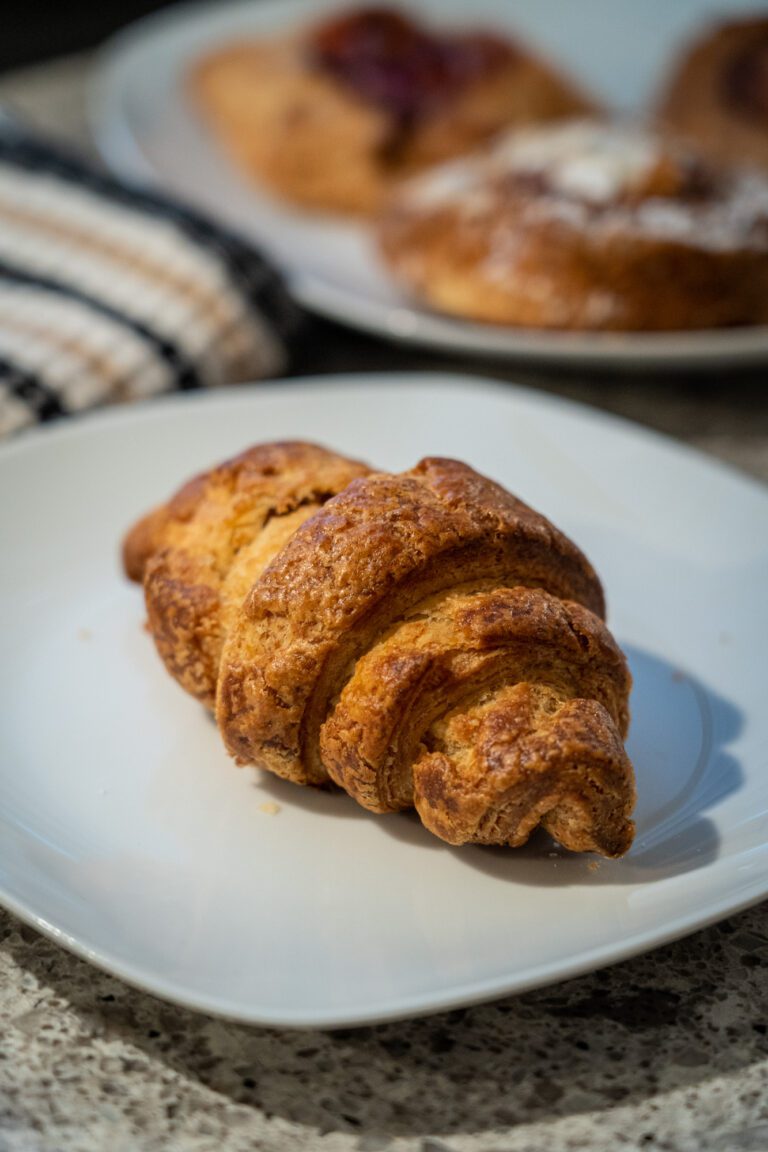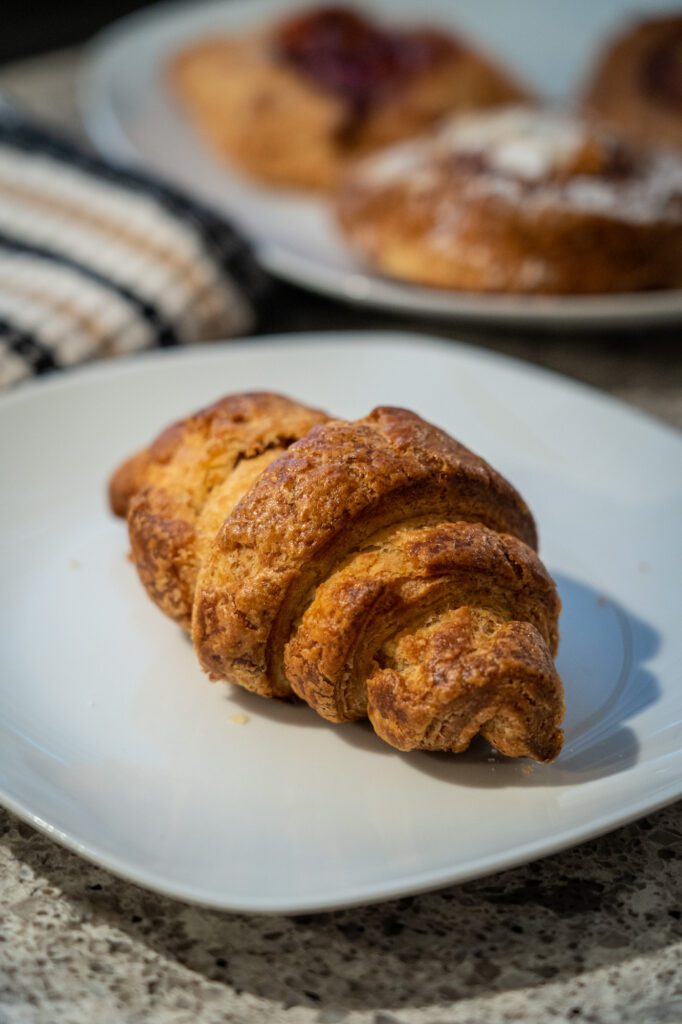 Disclaimer: Some of the links below are affiliate links, which means that if you click on one and purchase something, I make a small portion of the sale at no additional cost to you. It goes without saying that I would never recommend something I wouldn't use or do myself.
Gluten Free Vancouver, B.C.: The Best Gluten Free Restaurants and Bakeries in Vancouver
Before we get into our recommendations for specific places to eat gluten free in Vancouver, let's take a second to talk about how we're going to organize this guide.
We're going to have sections for dedicated gluten free restaurants, dedicated gluten free bakeries, and Celiac-friendly gluten free restaurants that ARE NOT 100% gluten free.
Importantly, all of the offerings in the bakery section are 100% gluten free, so you don't have to worry about cross-contact in an environment where flour is flying around.
At the end of the guide, we'll include a handy map of these gluten free Vancouver restaurants and bakeries so that you can visualize how it all fits together and make plans for your specific trip.
Dedicated Gluten Free Restaurants in Vancouver
Looking back on the options in Vancouver, there actually aren't that many dedicated gluten free restaurants in the city (we're not including gluten free bakeries here – that's the next section down).
Which is a little weird, because if you asked us over the course of our recent trip, we would have probably said it felt like there were far more options.
Iki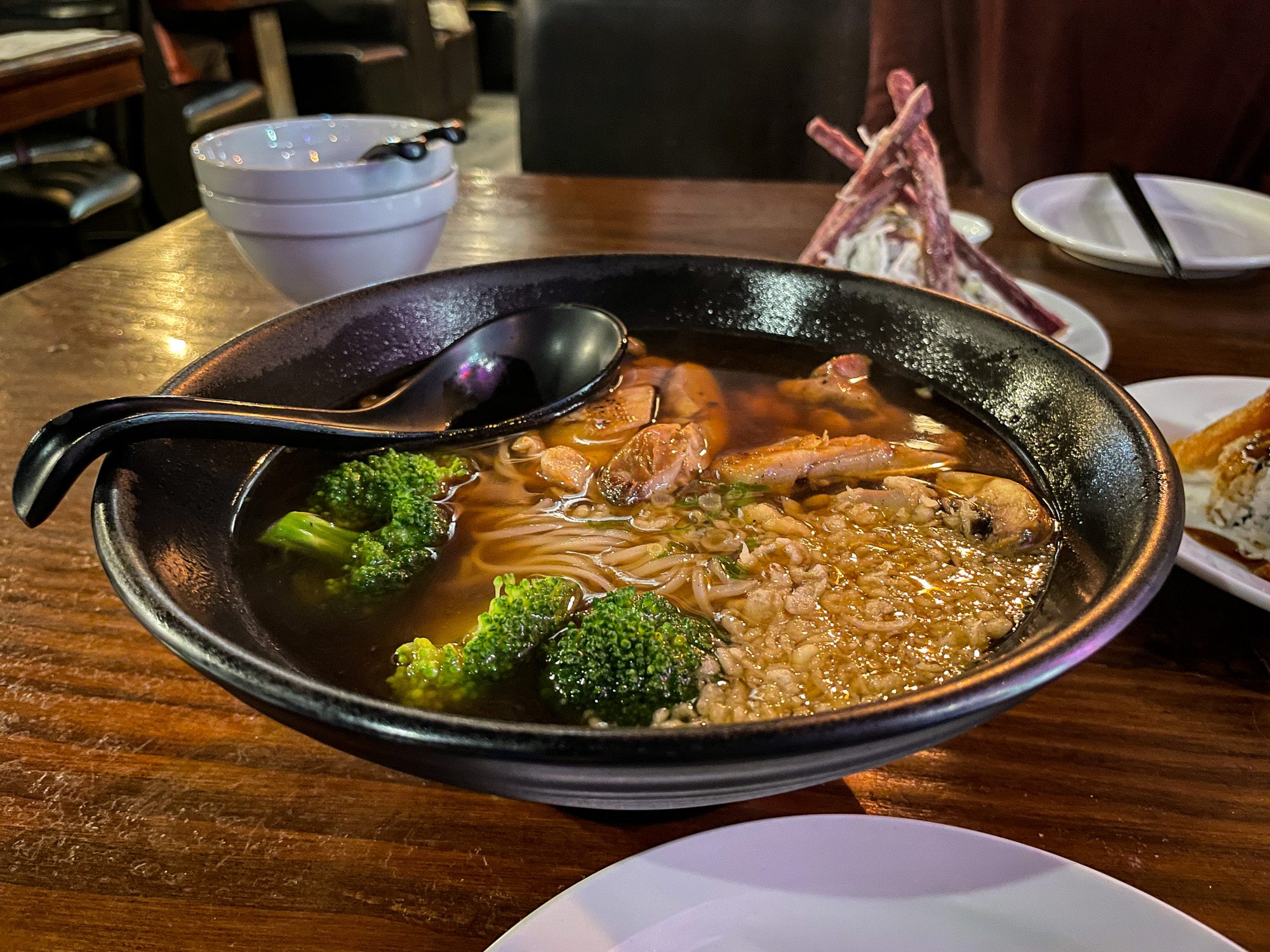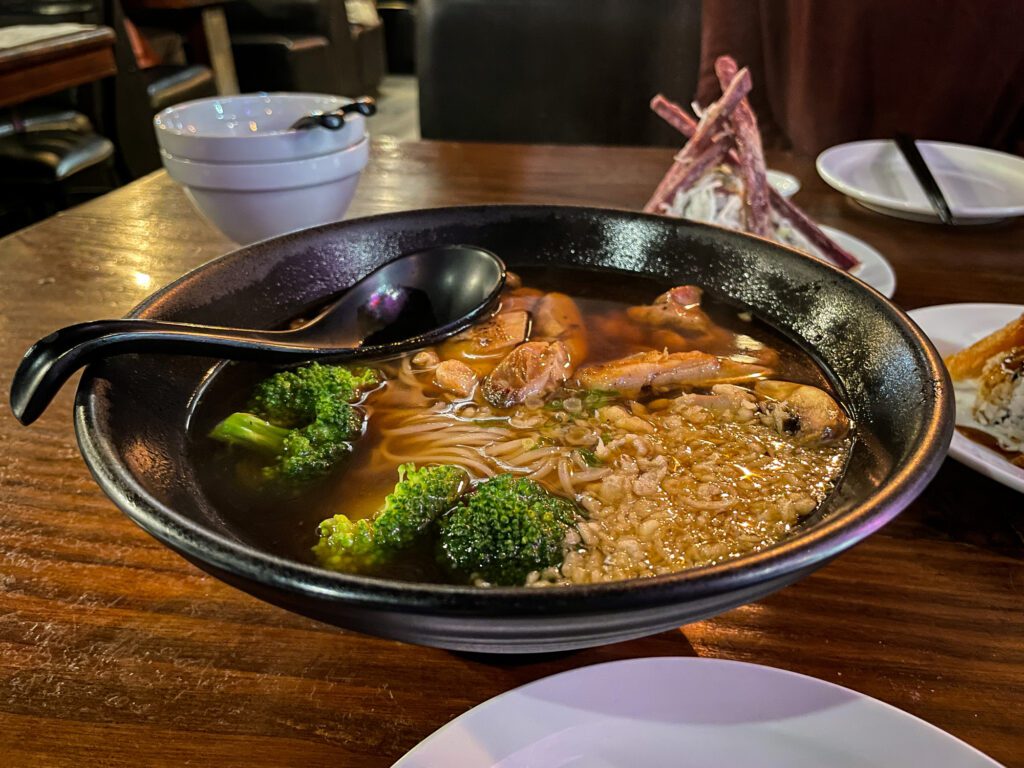 Japanese food is one of the cuisines that is hardest to find gluten free, at least at home in the United States. Especially when you're talking about Japanese food that isn't sushi.
Other than Iki in Vancouver, I can only think of a handful of dedicated gluten free Japanese spots that we've been to around the world (there's one in Madrid called Okashi Sanda that is SPECTACULAR if you ever find yourself there).
As you, dear reader, likely know already, it is SO nice to be able to enjoy a type of food that is usually off limits or difficult to navigate AND be able to order everything on the menu. Which is the case here at Iki, where everything is gluten free (and they're accredited by the local Celiac Association).
The food is authentic and tasty, but you need to make sure to call ahead in advance and make a reservation, because it's a small place and they often are reservation-only, especially on Fridays and weekends.
We showed up for the early bird special (literally at 5:00 pm) on Valentine's Day to make sure we could get a table because we missed out on reservations. Don't make the same mistake we did!
The menu highlights for us were the gyoza, which is something I don't think I've ever had before in my 10+ years of being diagnosed with Celiac Disease, the yam fries (and, more importantly, the dipping sauce), anything tempura, and the teriyaki chicken rice noodle soup.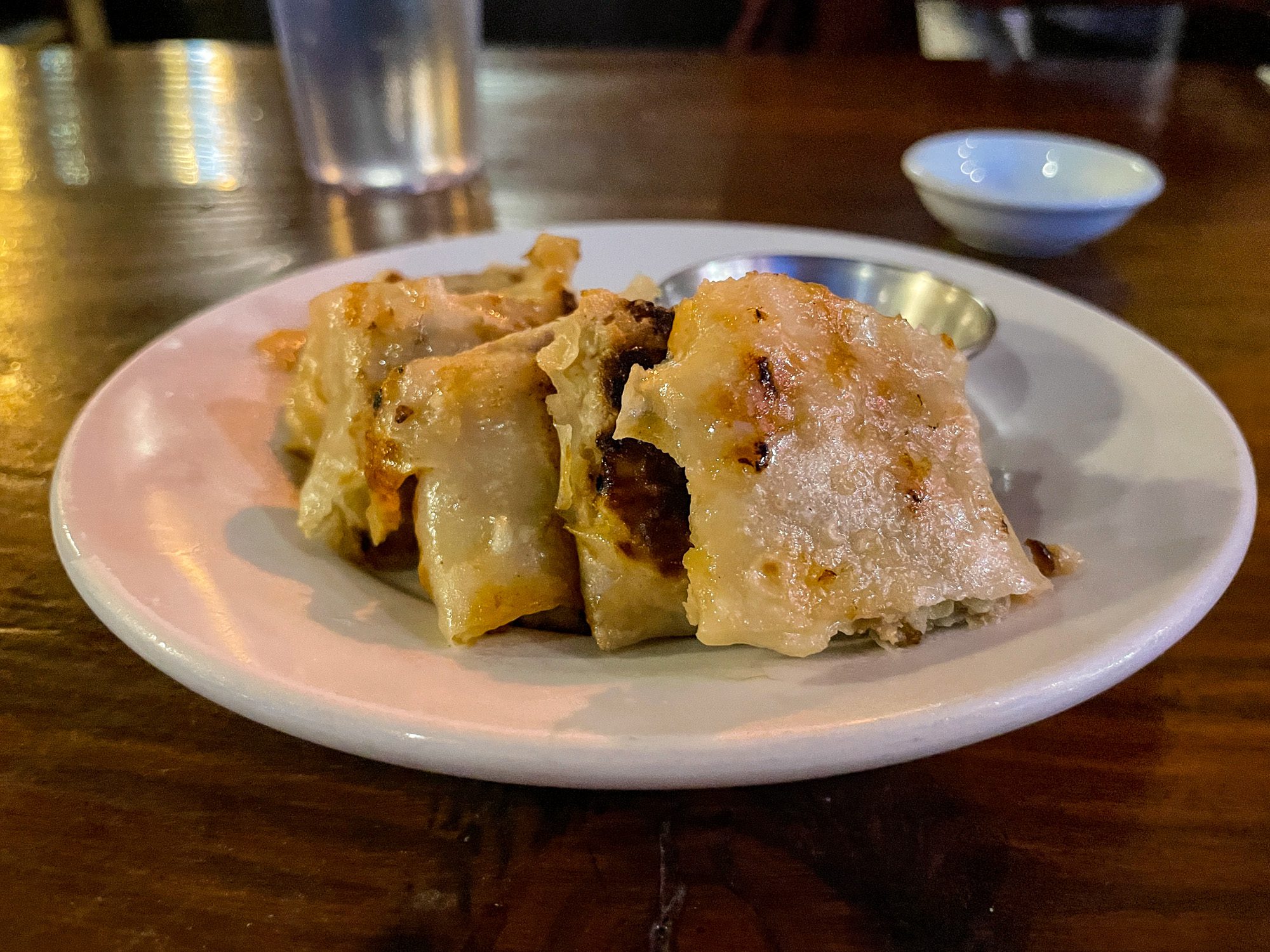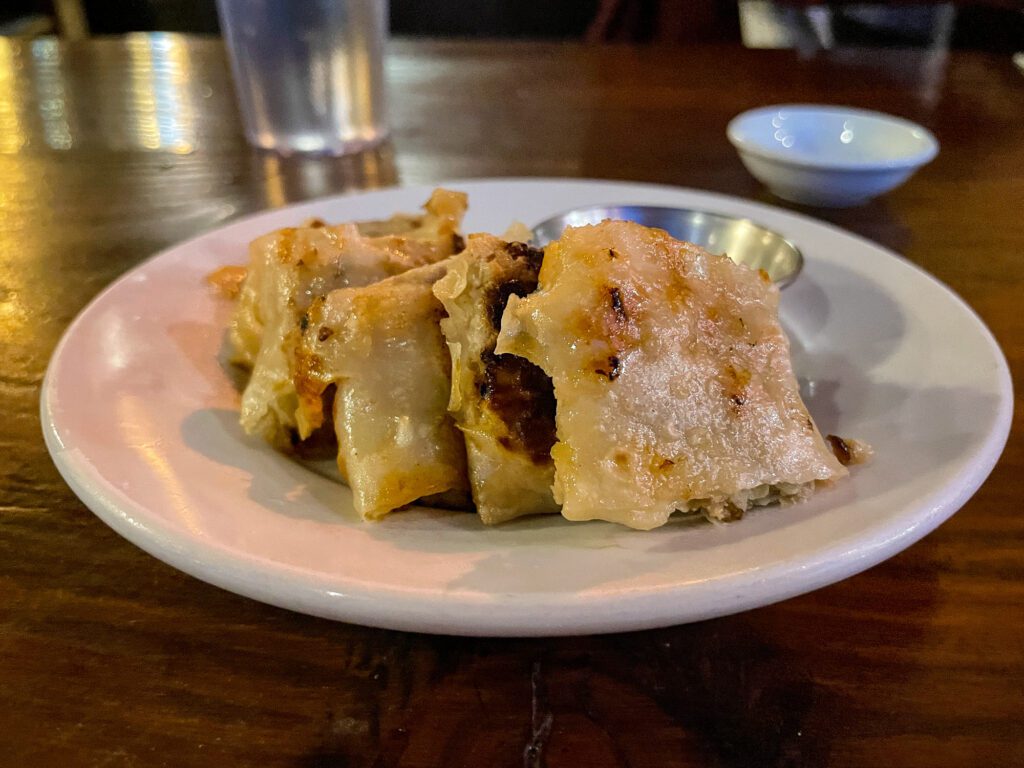 Heirs Pears
This is probably your best bet if you're looking for a gluten free lunch option in downtown Vancouver. It's a casual spot on the border of downtown and Yaletown with a breakfast menu, a weekend brunch menu, and an all day menu with more lunch/dinner-feeling items.
The first thing that I want to say here is that, like many gluten free places that try to do it all, all day long, the downside here is that nothing REALLY stands out. We tried a breakfast sandwich and the chicken shawarma sandwich (maybe our issue was two sandwiches?), and they were…fine.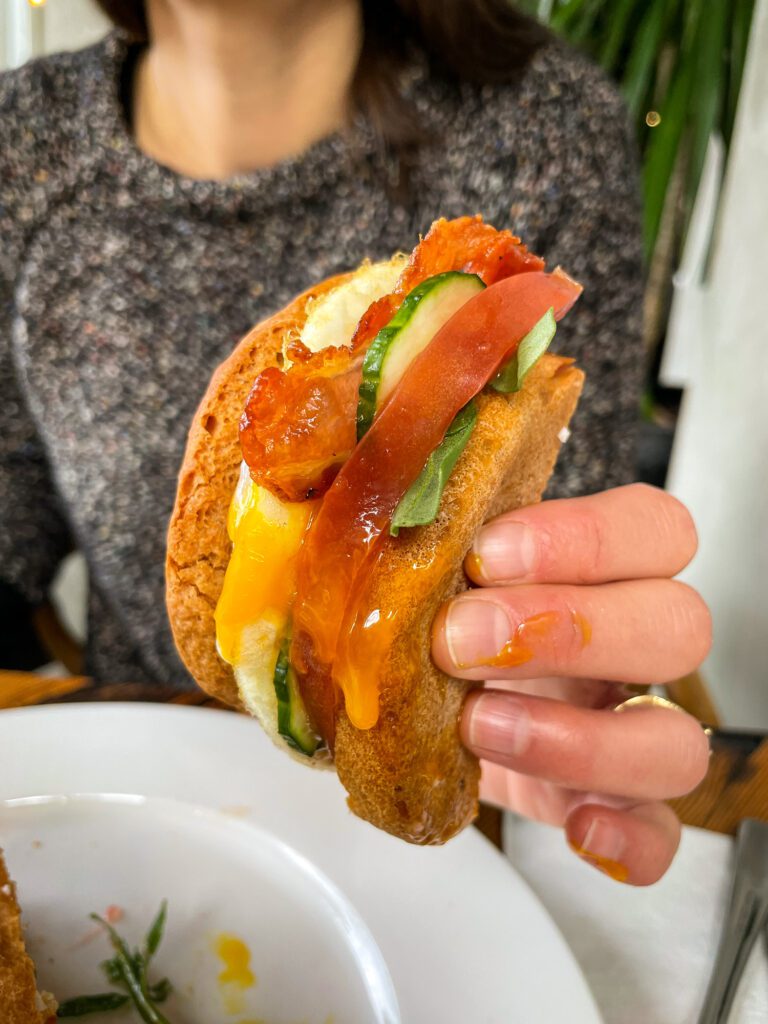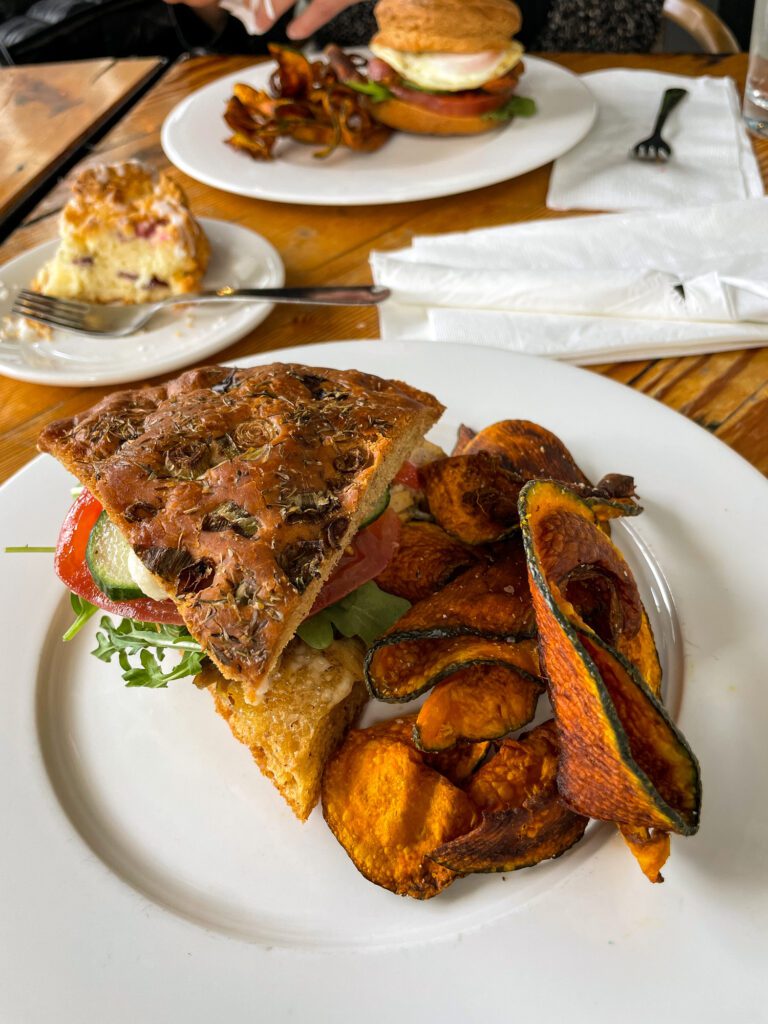 The big winner here was actually the gluten free berry scone, which was excellent.
They also have a robust coffee and tea menu, along with some smoothies and other drinks.
Basically, it's safe, it's simple, and it's probably not going to be the most interesting or delicious meal you've ever had.
Innocent Ice Cream
Innocent is a 100% gluten free ice cream shop on the south end of Main Street. We haven't been here, because – SURPRISE – they weren't open in February. They must not know that it's always ice cream season in our household.
They also have gluten free ice cream sandwiches and ice cream cakes (for the cakes, you need to preorder at least a week in advance).
Good news if you avoid oats – they only use gluten free oats in the oatmeal cookie. All other cookies and cakes are made without oats, which is great news for those of us (like Matt) who avoid gluten free oats at all costs.
We will update this when we head back in June of this year with our thoughts, and they're closed for the next few months as they move into a new space.
Festal Paleo Cafe
After years of being burned by mediocre food with astronomical prices with the "paleo" label, I have a somewhat strict "no paleo" rule that we followed on this trip. We didn't eat here on our last trip, and don't plan to on our return trip in a few months.
HOWEVER, if you're gluten free and keto or paleo, I can see this being a good option for you.
They have a range of gluten free options, from paleo pasta to a burger (that you have to pay extra to have a bun for).
Dedicated Gluten Free Bakeries in Vancouver
In terms of gluten free bakeries, Vancouver is in a significantly better place than my hometown of Seattle, rising close to the level of my adopted hometown of Portland, Oregon.
There are two must-visit spots (though they're both a little tough to access without a car – it's worth it, though!), and a couple of other bakeries that are safe, but weren't our favorite.
We live in Portland, Oregon, which has the best selection of gluten free bakeries around for a city of its size. However, the thing we're missing in Portland is, for lack of a better word, "fancy" gluten free baked goods like croissants and danishes.
Lucky for you, the two bakeries we think you shouldn't miss – Gluten Free Epicurean and Lemonade – do them really well!
Gluten Free Epicurean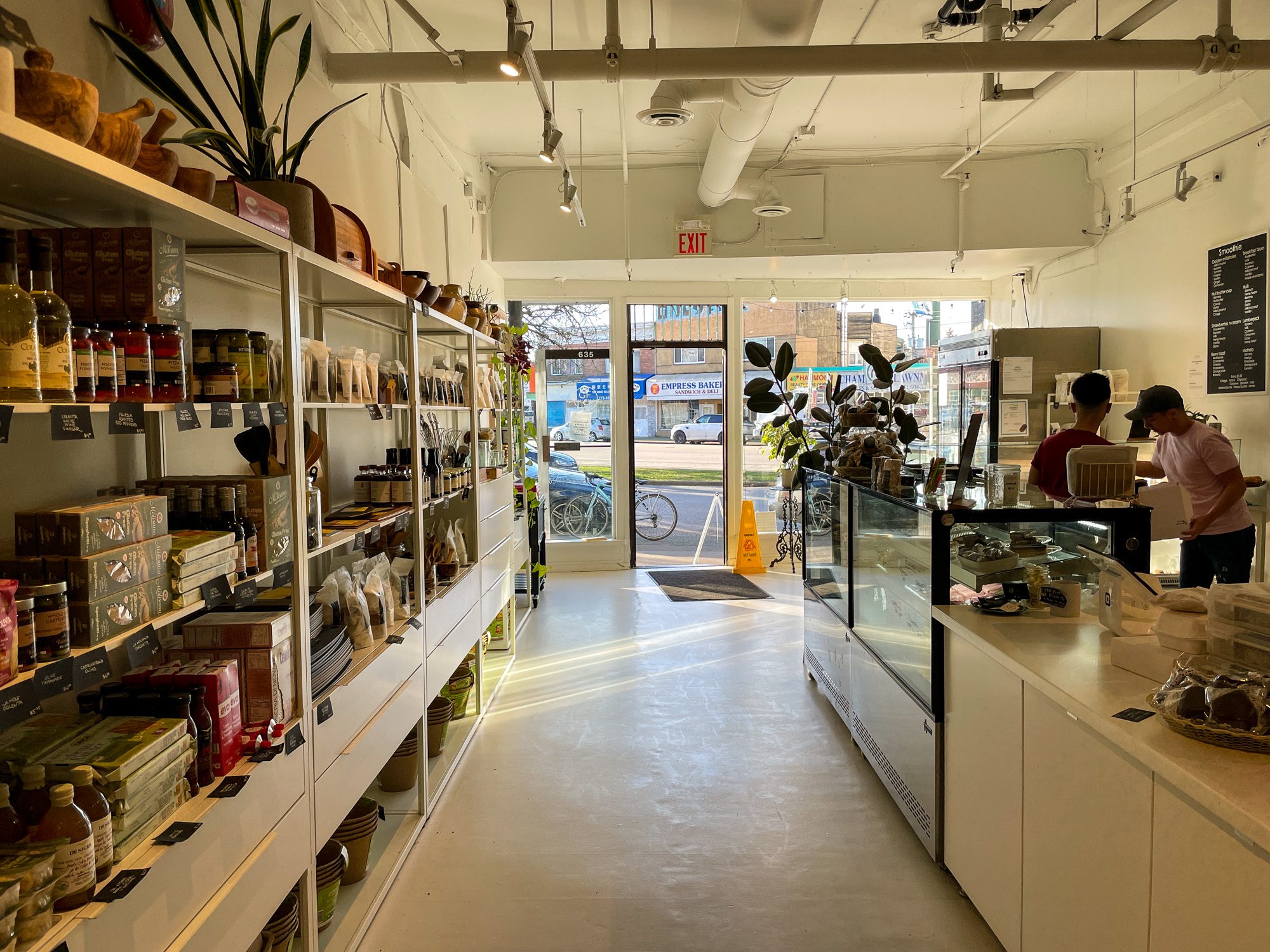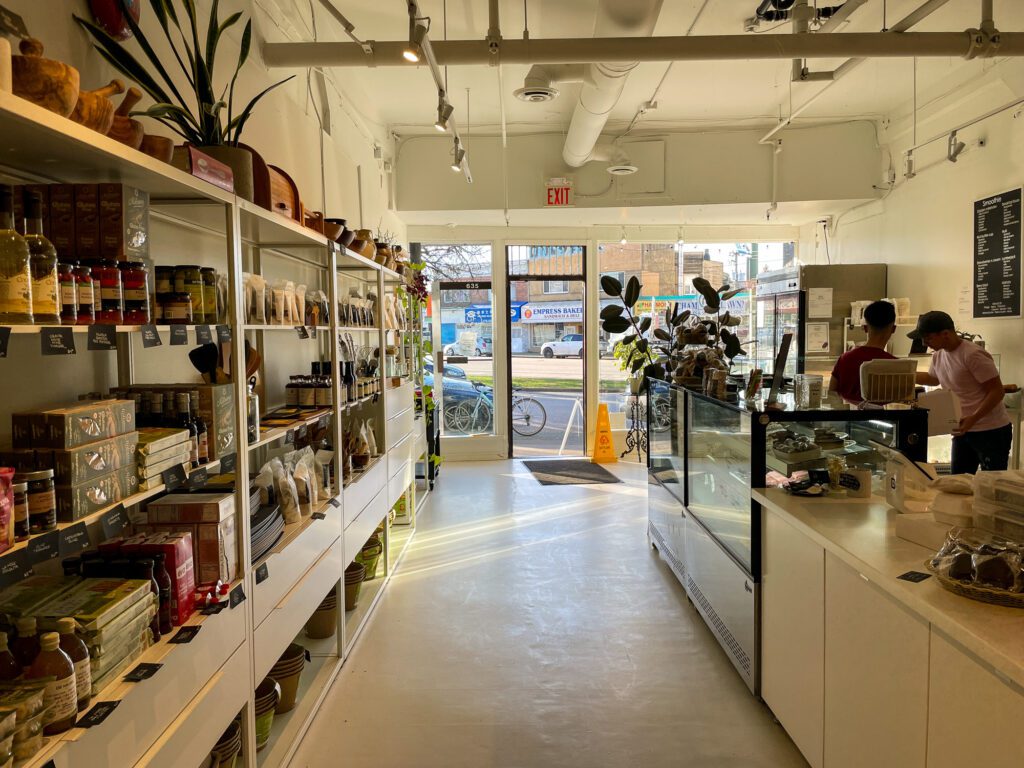 The first of the two must-visit gluten free bakeries in Vancouver, Gluten Free Epicurean is on a similar level as New Cascadia in Portland (which we live a few blocks from and visit often).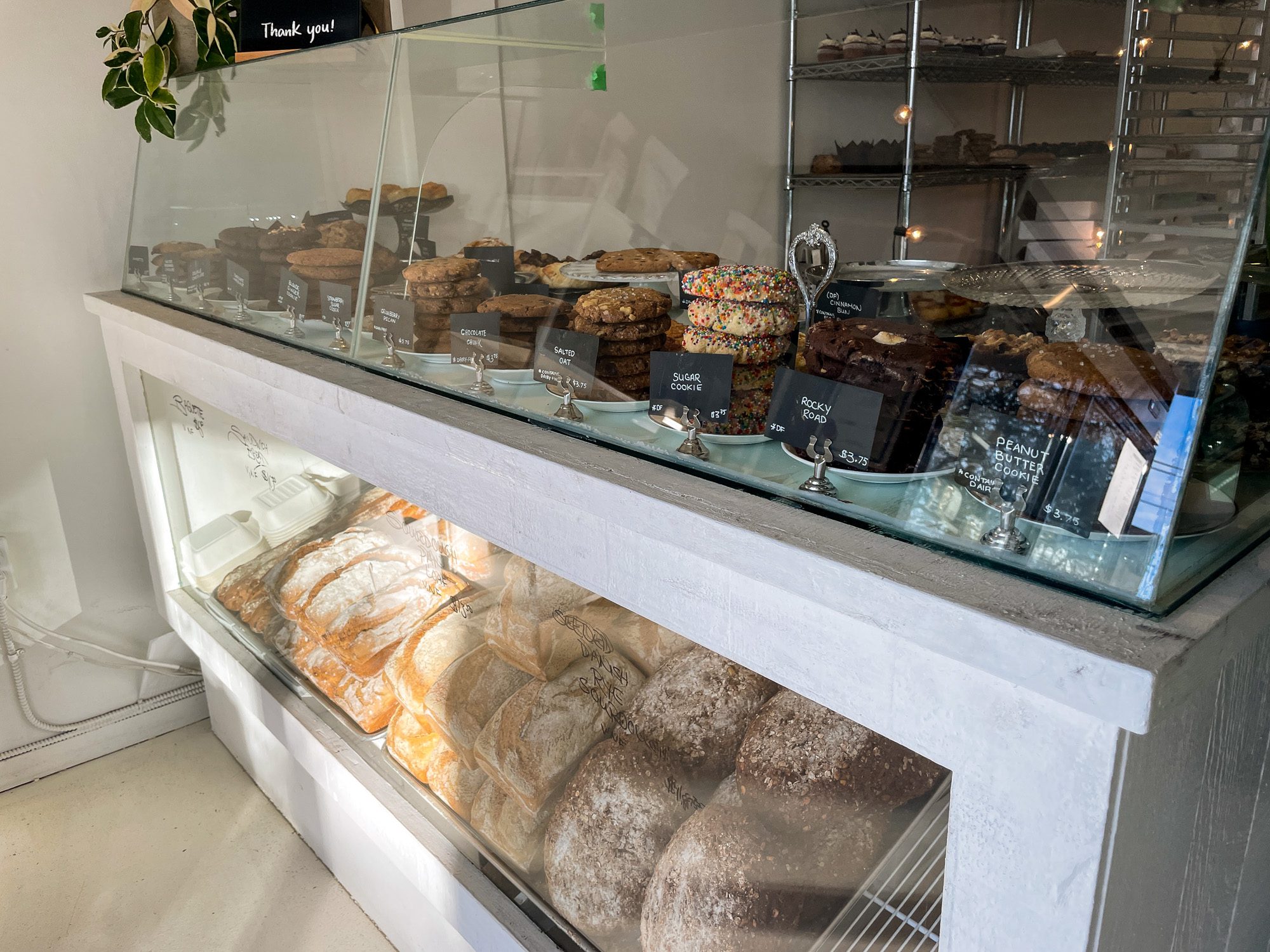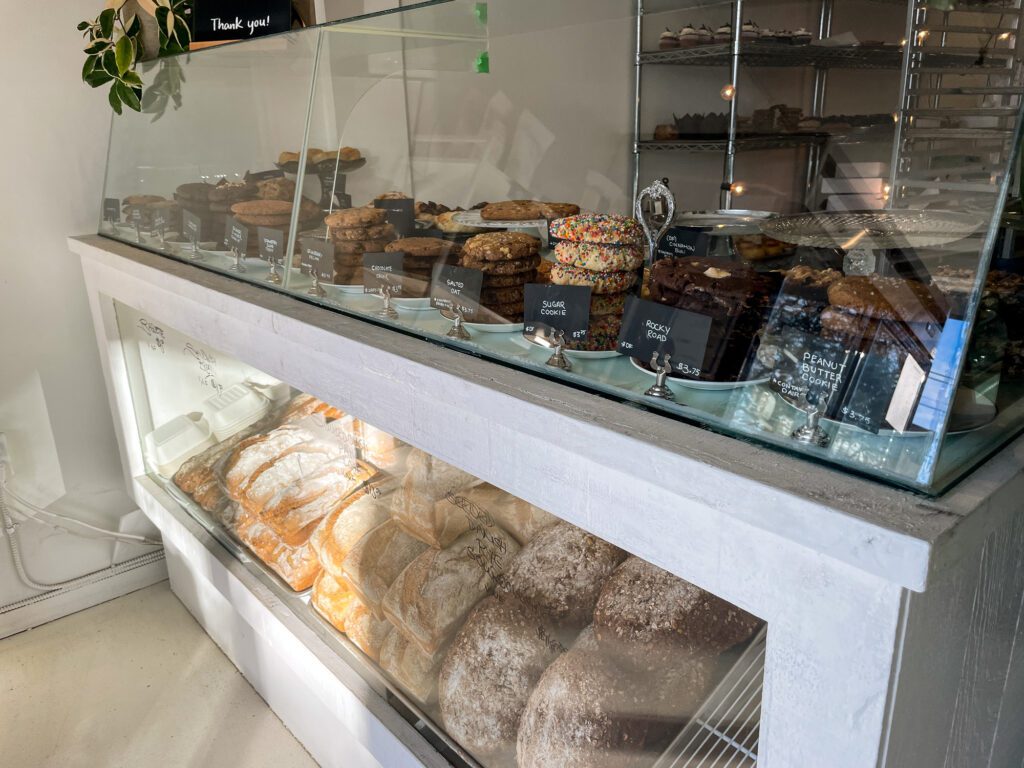 They do a great job at just about everything, but the gluten free bread and pastries are where they really shine.
The only downside is that it's not easy to get to if you don't have a car. It's southeast of the downtown core, and you'll either need to take two buses, rent a bike, or take a rideshare to get there.
They have a bunch of different offerings – we'd break them down like this:
Sweet and savory pastries
All of the breads
Heat & eat options like sandwiches, quiche, and pizza
Frozen take & bake items
Pantry staples (not made by them, but sourced by them).
We liked it so much after our first visit that we made a significant detour to go back a second time during our trip.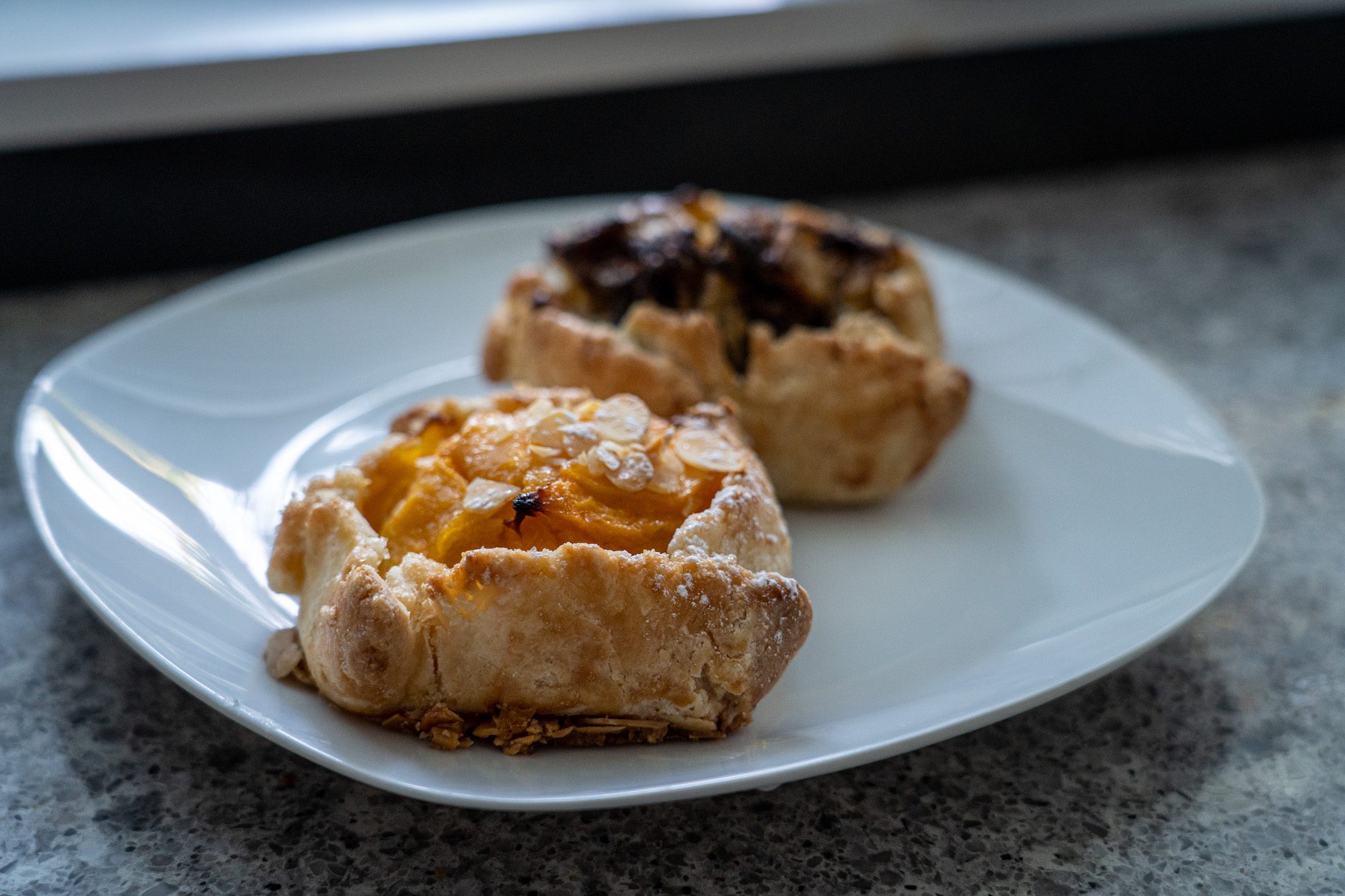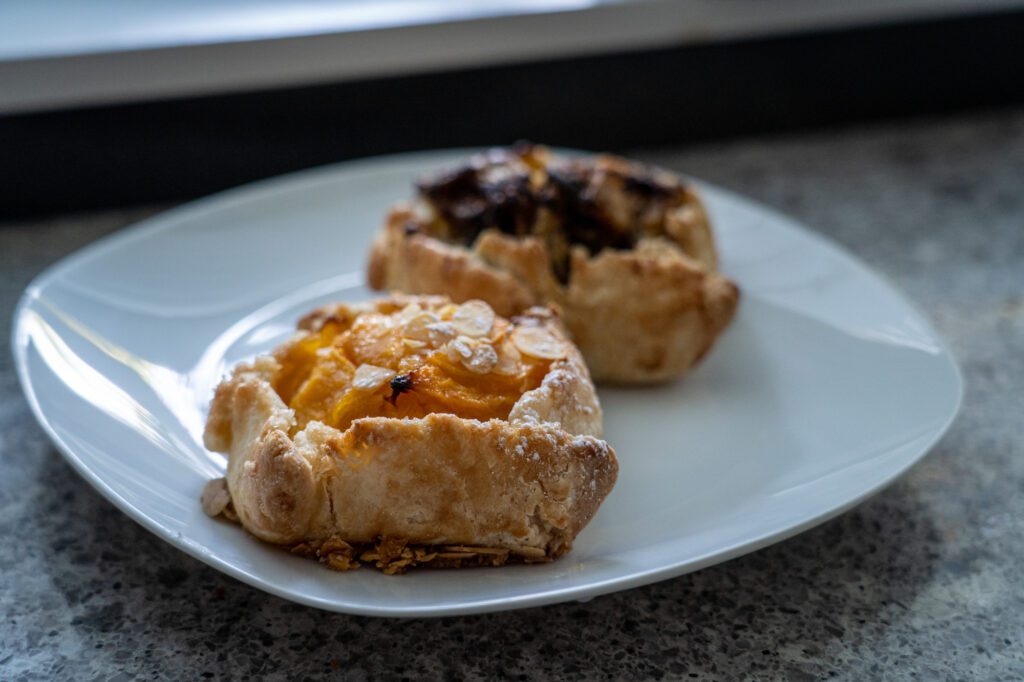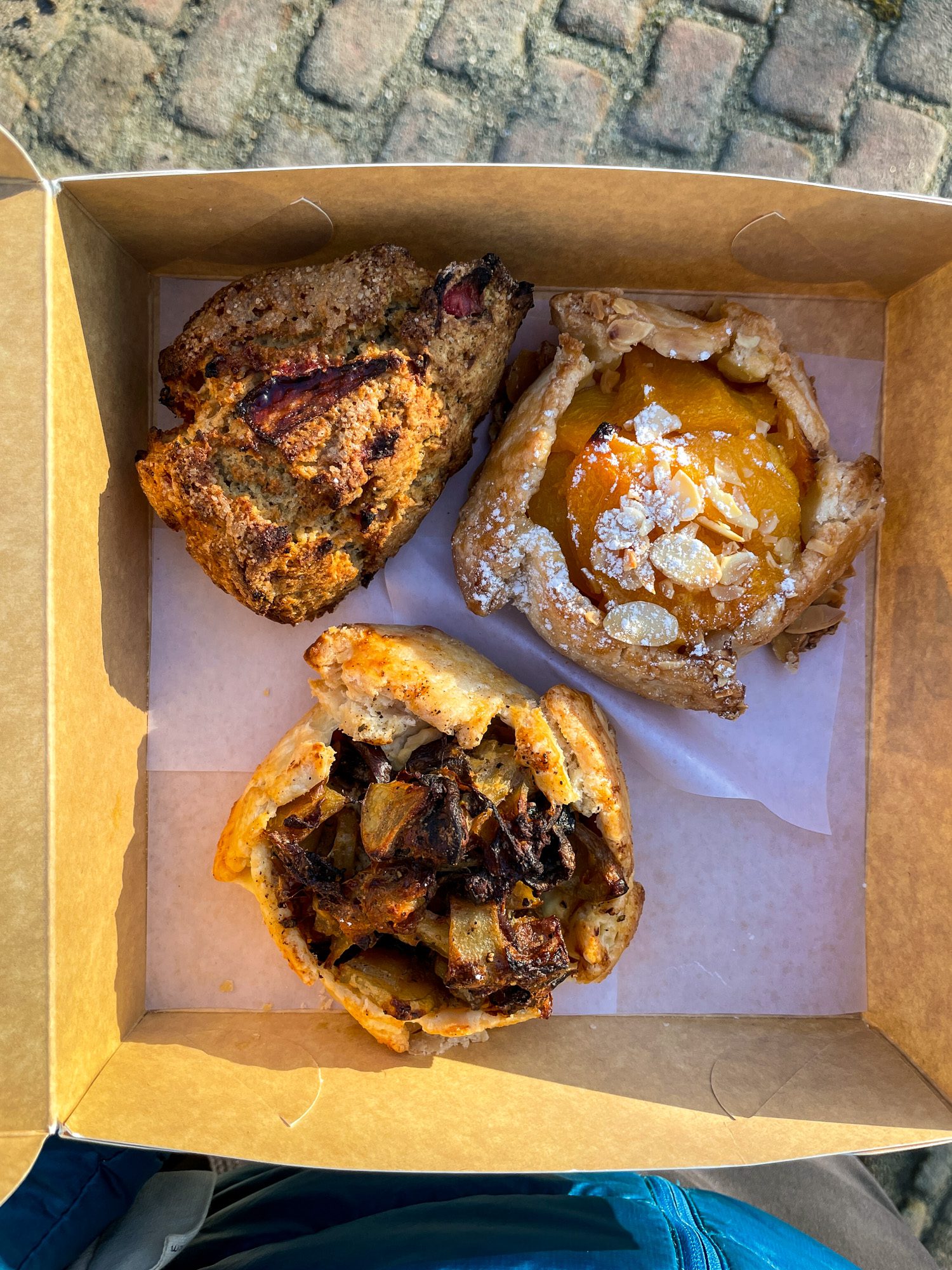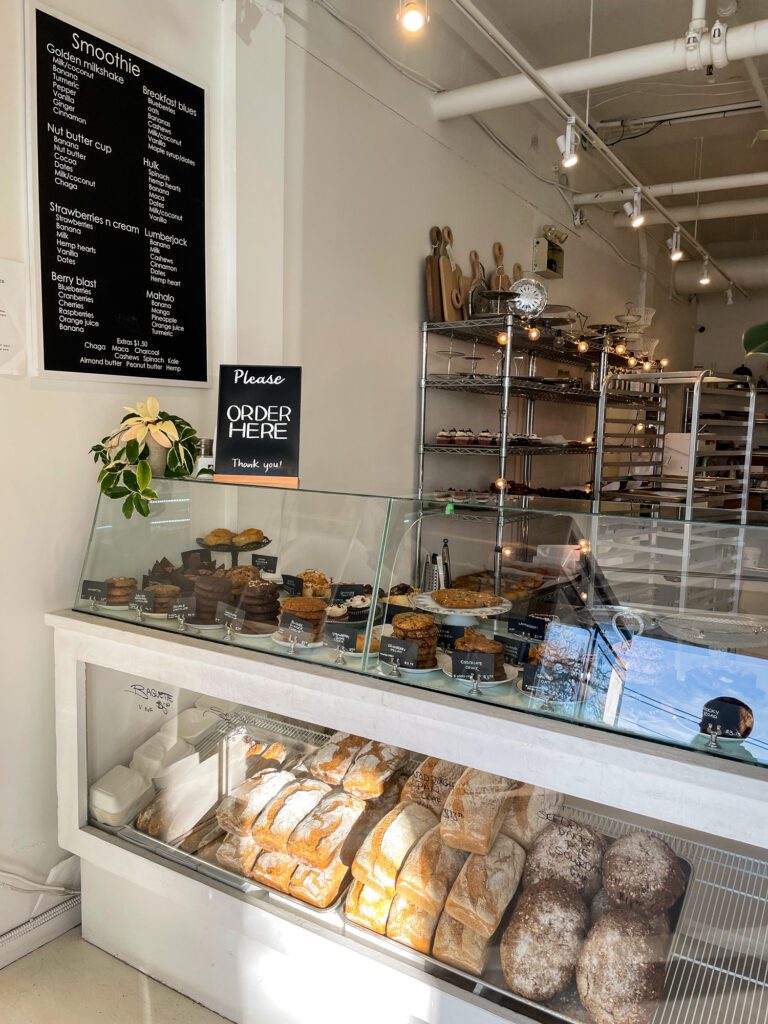 Like we said, the two places where we think they shine are the breads and the pastries.
First, let's talk about the bread. The sourdough loaves, which are easily bigger than my head, are excellent. The texture is great and the flavors are fun – they have everything from plain, to everything, olive, and roasted garlic and rosemary, and they rotate through them. They also have more specialty breads like focaccia and baguettes.
The thing to know about breads is that they have a weekly schedule where certain breads are available on certain days of the week.
At the time of writing, the plain sourdough loaves are Saturdays only, the everything loaves are on Wednesdays, olive loaves are on Thursdays, and the flavored sourdough loaves are on Fridays.
Basically, if you want a sourdough loaf, make sure to come Wednesday to Saturday, depending on what you're looking for.
Next, pastries.
We also really enjoyed their pastries, and made the return trip specifically for the fresh apple fritters and cardamom buns (which is a cinnamon bun, but with cardamom). Both were great, as were the other various scones and croissants we took home to eat over the next few days.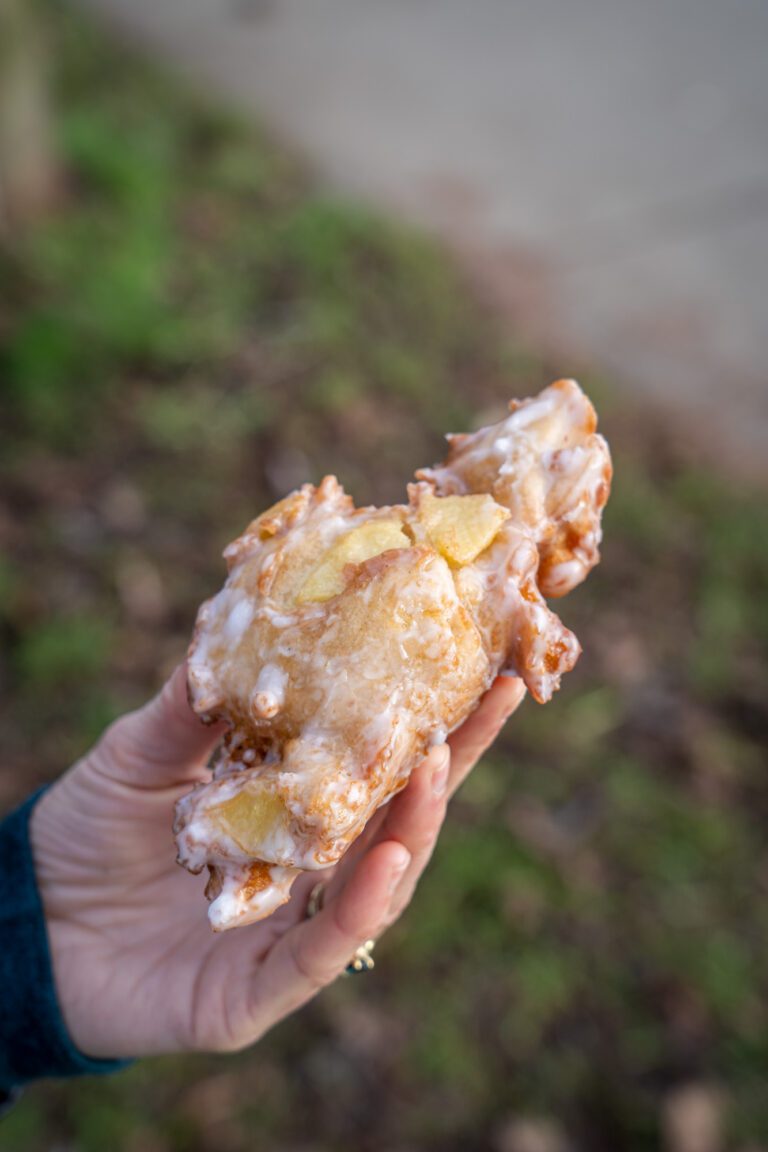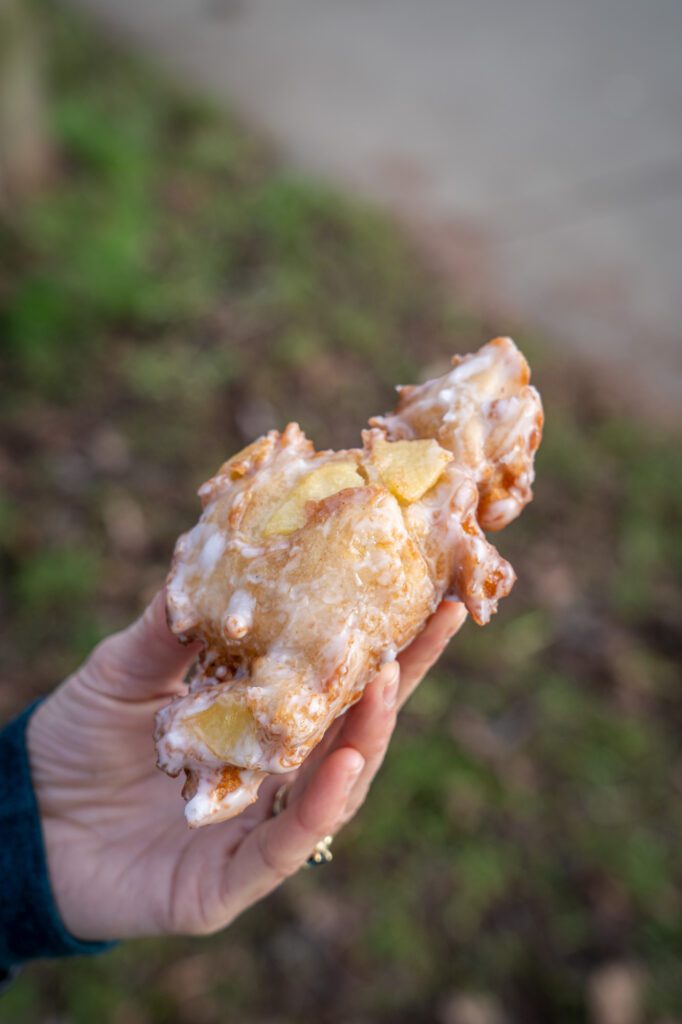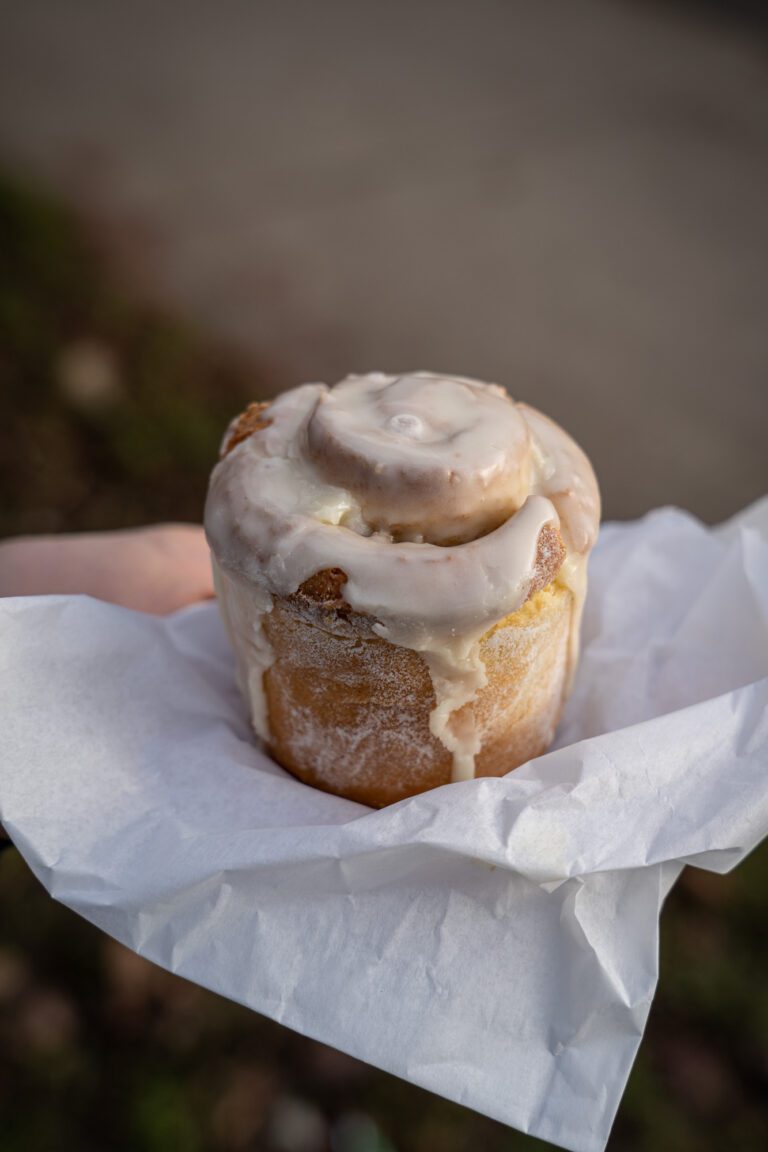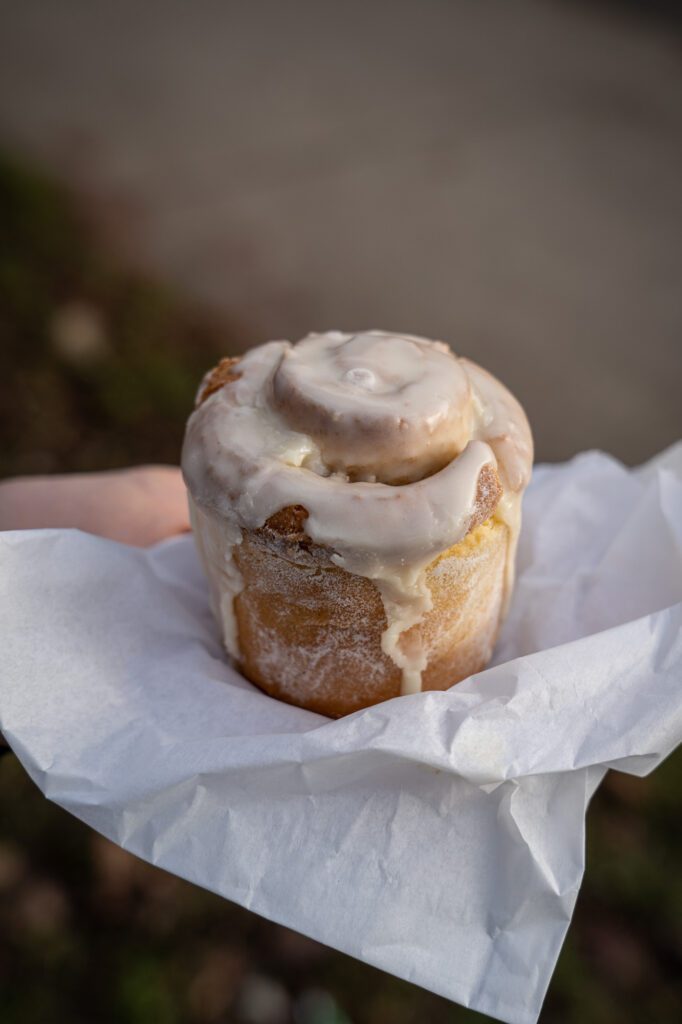 This is also a good option to grab an on-the-go lunch to take with you on a hike (or some other excursion) – they have a selection of ready-to-eat sandwiches, pizza slices, and more that you can grab to go.
Lemonade Gluten Free Bakery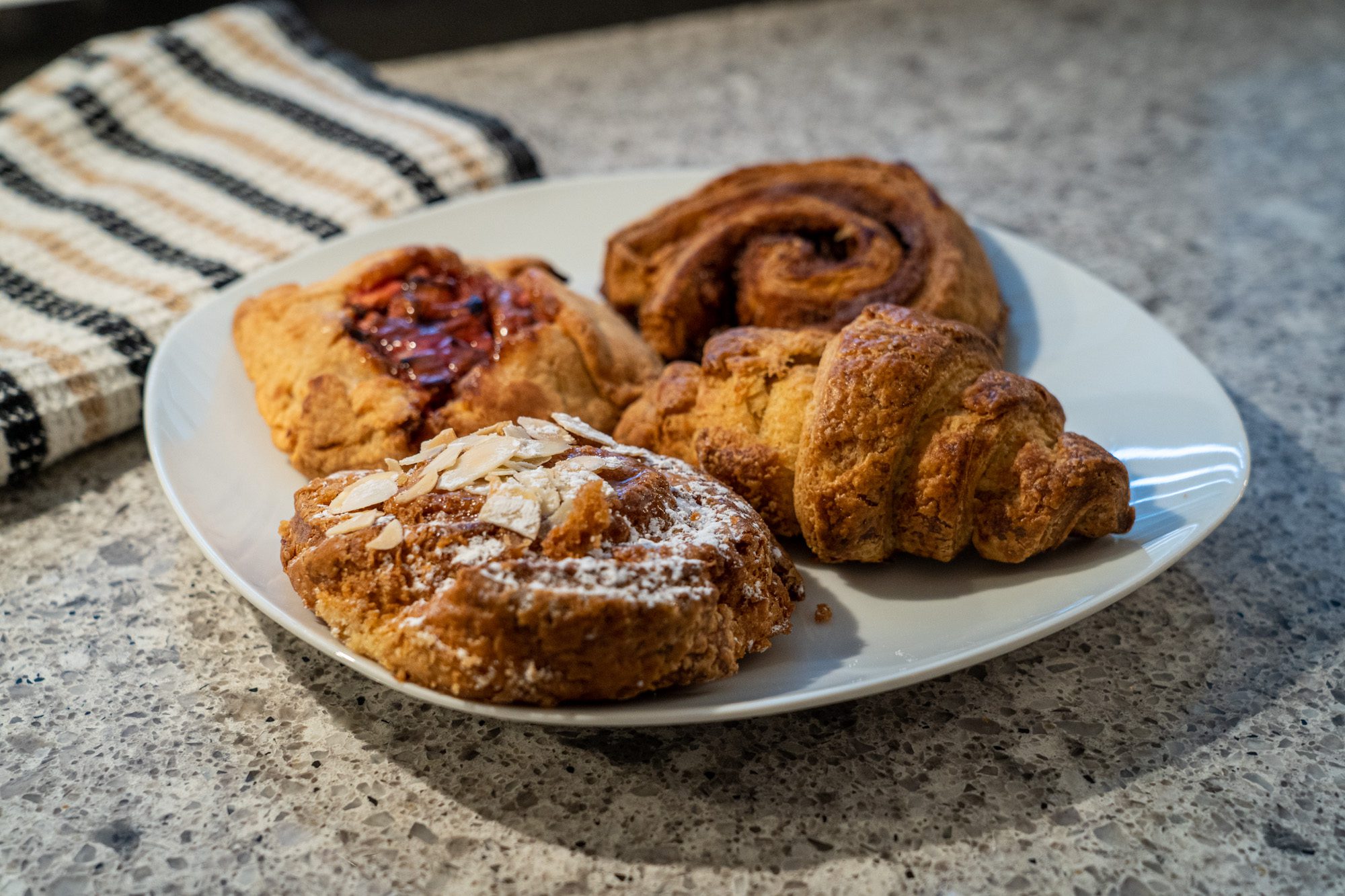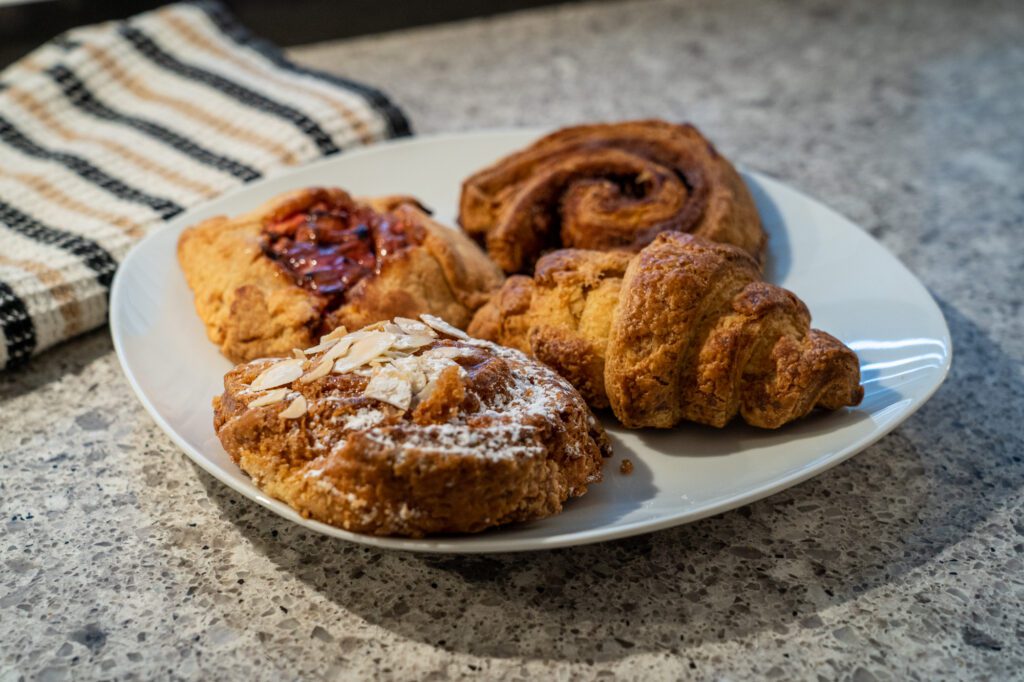 Lemonade was the first gluten free bakery we visited in Vancouver, and it set the bar pretty high.
The thing that Lemonade does really, really well is pastries. We also tried their bread, and it wasn't our favorite – the texture was a little gummy – so we'd focus on pastries here.
They have a couple of cases that you'll be face-to-face with when you walk in the tiny shop on Cambie Street, one of Vancouver's most interesting stretches. First is the pastry case, where you'll see a wide variety of tarts, pies, and more.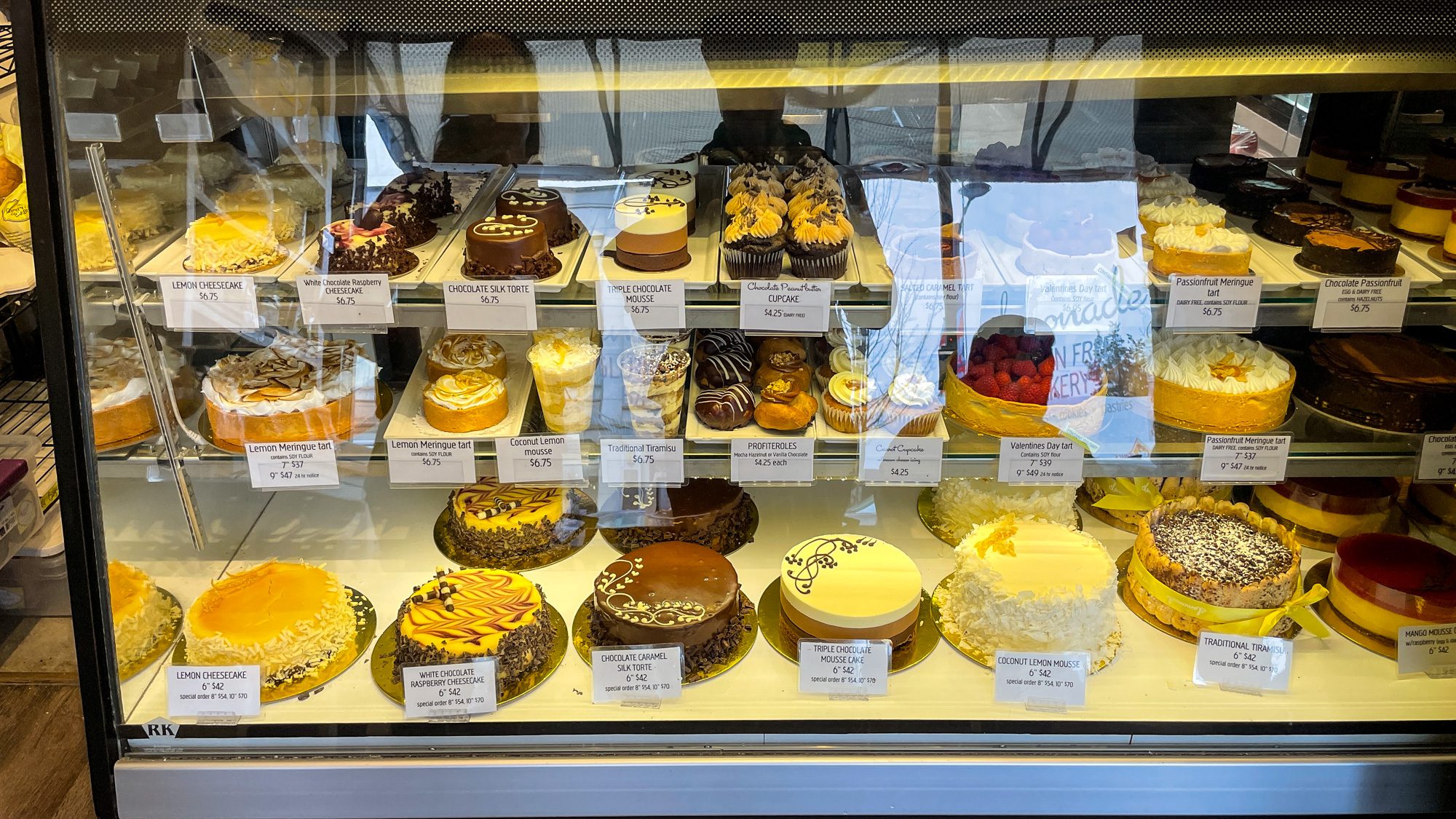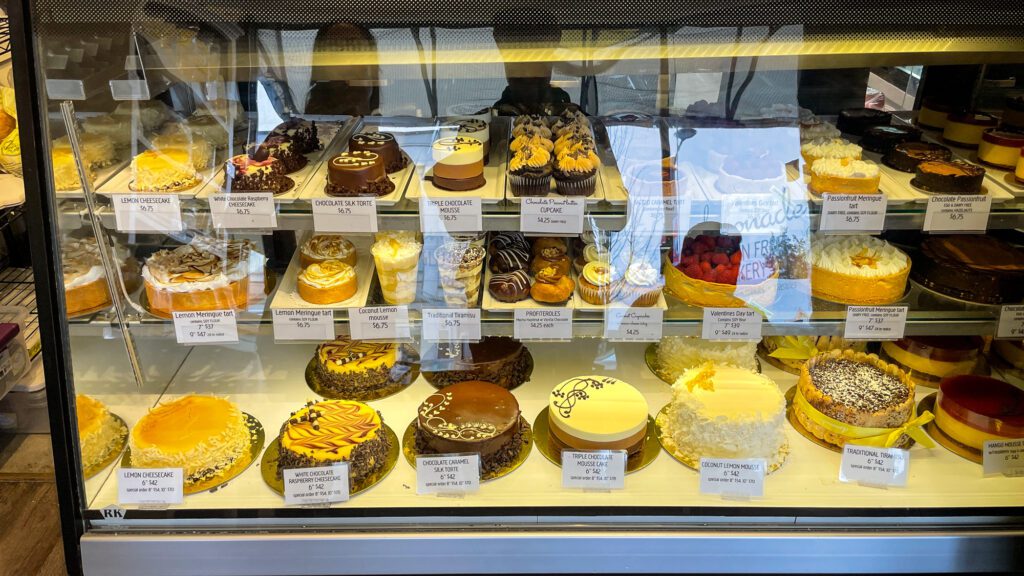 But before you order 16 things from there, make sure to check out the other pastries in the case to the right of the cash register (which we almost missed), which is where you'll find things like croissants and cookies.
Standout pastries for us were the almond croissant and the cinnamon danish. The texture on the croissants was well above average (for gluten free croissants, we mean, which are never quite as flakey as their gluten-full counterparts), which is something that you don't see everyday.
Gluten Fakery
Gluten Fakery is a tiny little operation on Main Street, which is south of the center of Vancouver and relatively close to the other two bakeries we've already covered. If you're over here – especially if you have a car – it's probably worth a stop.
The selection here isn't massive – they basically have a few cookie, muffin, and cake options, but the owner / operator is very friendly, and we really enjoyed the orange almond mini cake we had.
They also sell pre-made flour blends that they use if you want to replicate their products at home.
Panne Rizo
We stayed a few blocks from Panne Rizo, but somehow never made it here over the course of just under a week (that's a good sign for how many options there are in Vancouver). It is, however, 100% gluten free.
We will update this in June after our return trip!
Other Gluten Free Restaurants in Vancouver
This section is the restaurants that ARE NOT dedicated gluten free, but have processes in place to minimize cross-contact with gluten in the kitchen and should be able to serve you a safe meal.
I say "should" because, as always, eating out comes with an inherent risk. You need to clearly communicate your needs to staff everywhere, but it's especially important here. Make sure to:
Always let the server know that you have Celiac Disease and need to eat gluten free.
Ask them (very nicely) to help you figure out what is safe for you.
Confirm with the server when the food arrives that your meal is in fact gluten free.
Ask for Luigi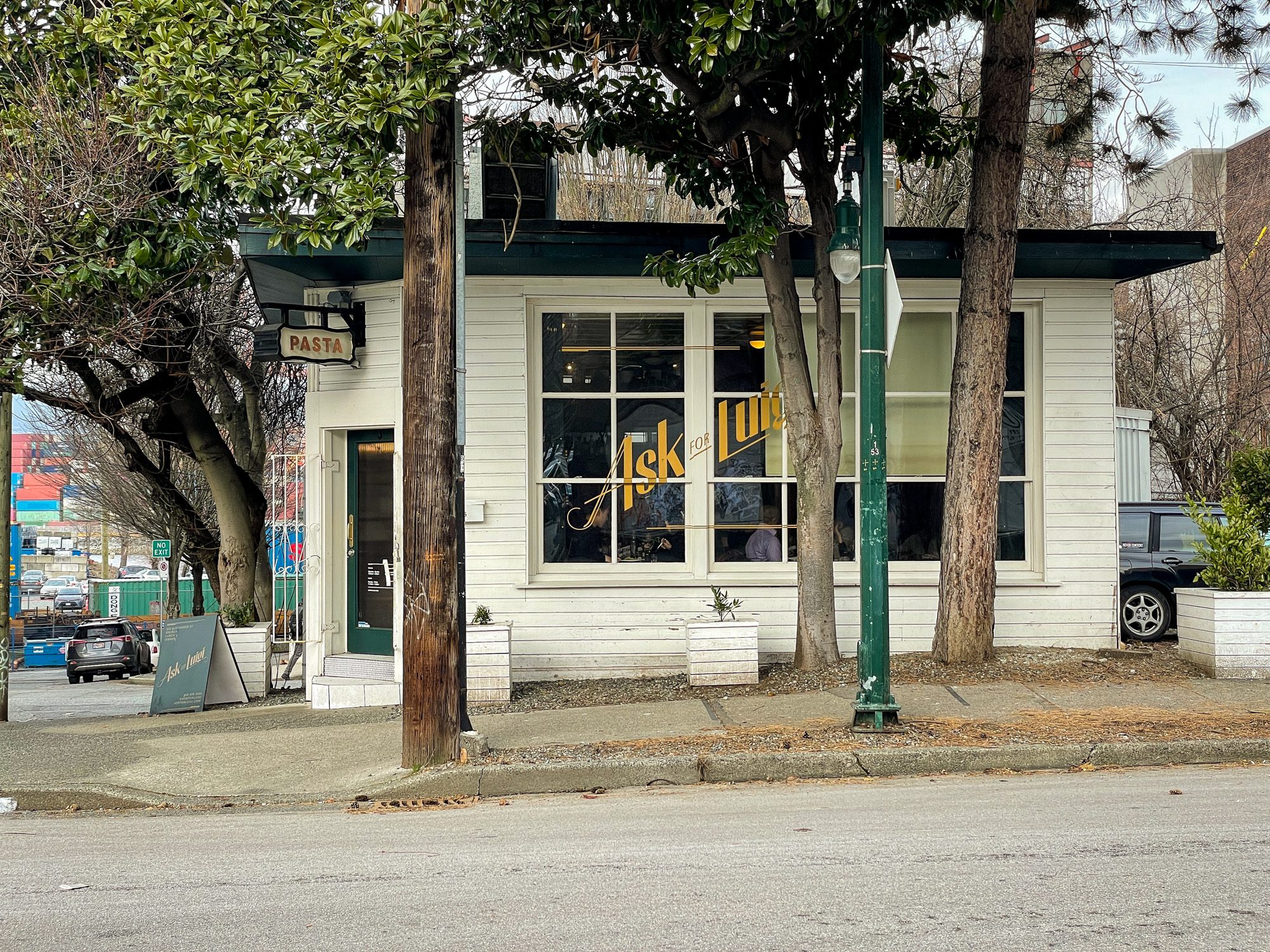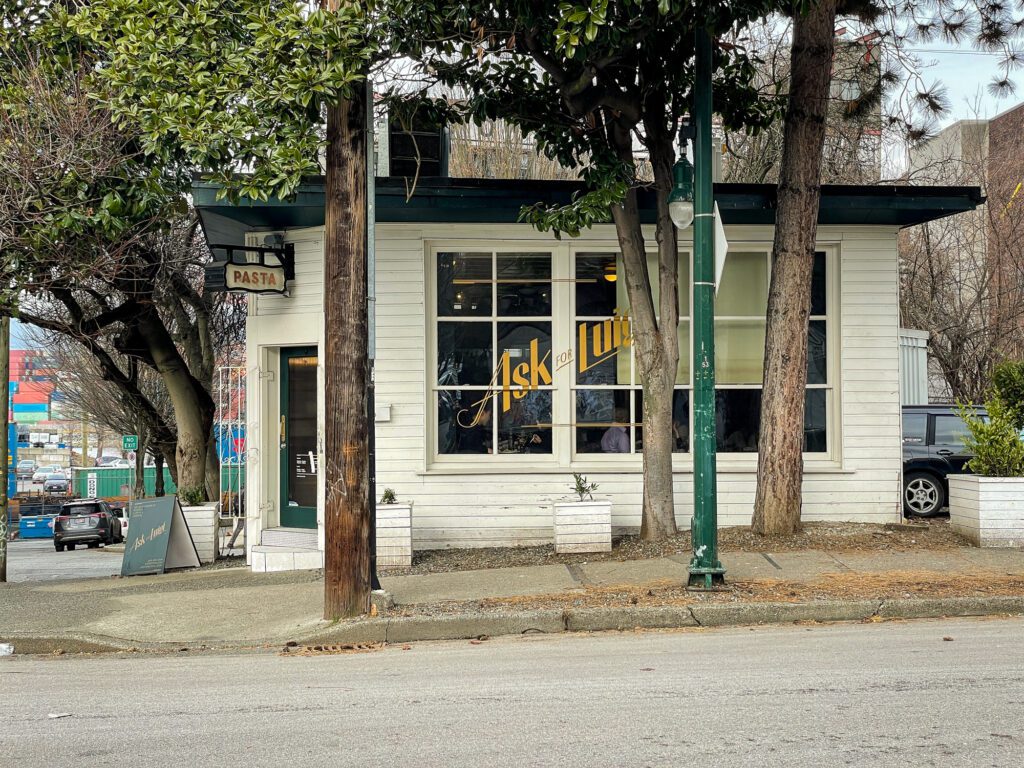 If you've been paying attention to this site for a while, you've no doubt gathered that we're pretty obsessed with Italian food.
Italy is one of the top gluten free travel destinations – particularly for newly diagnosed Celiacs – because of the fact that they go out of their way to be inclusive to Celiacs with their food culture.
For more, you can read our guide to gluten free Italy, which is essentially just one long love letter.
It's no exaggeration to say that Ask for Luigi served us the most authentic and best Italian food we've ever had outside of Italy. We're from the United States, where Italian food has transformed into what has become known as "Italian-American," and might as well be a completely different genre of food.
Most Italian-American food is about as Italian as, well, Italian-Americans, which is to say roughly 50%. Sure, the dishes are there – pasta, pizza, etc – but the makeup of the dishes is actually fairly different.
It's not a bad thing, it's just different.
Ask for Luigi's food menu focuses on handmade pastas, simple (but delicious) sauces, and high quality ingredients, which is as close to the food we've eaten in Italy as we've found.
We made a reservation for lunch on a weekday, and showed up right on time. We were greeted by the uber-friendly staff, who seated us and explained the menu to us.
Now, this is the part of the lunch where I ask about cross-contact in the kitchen, and being an Italian restaurant, I'd expect it to be a little more risky than most. However, the server assured me that the gluten free pasta was handmade in-house using separate equipment, and cooked in new pasta water and in fresh pans.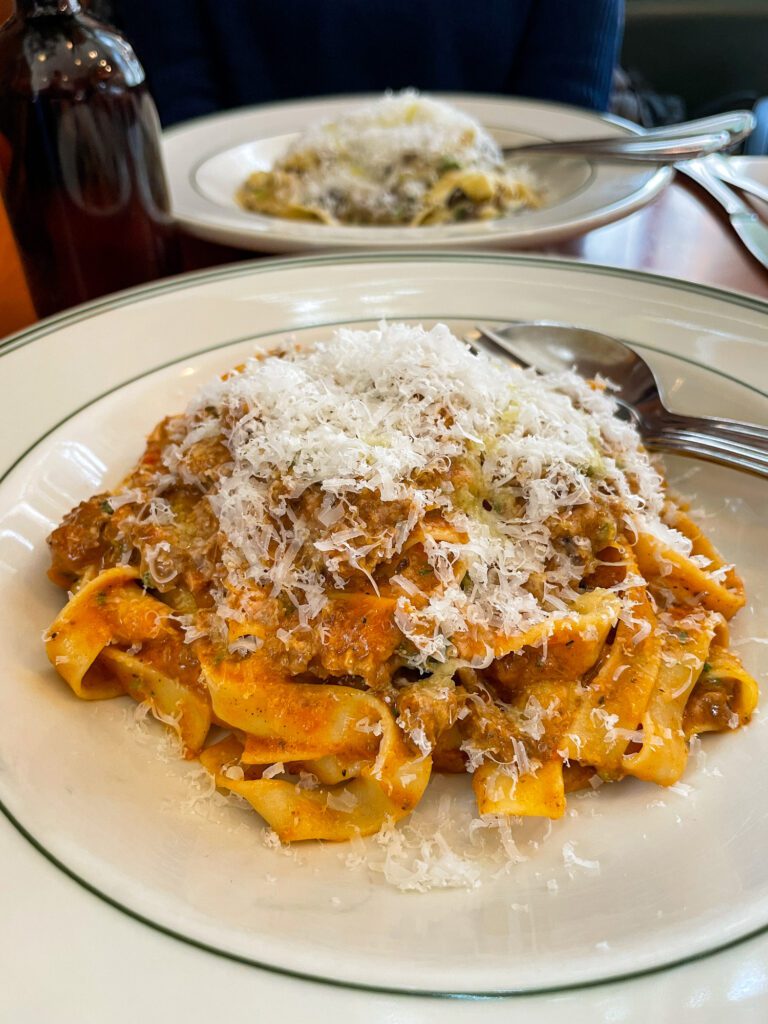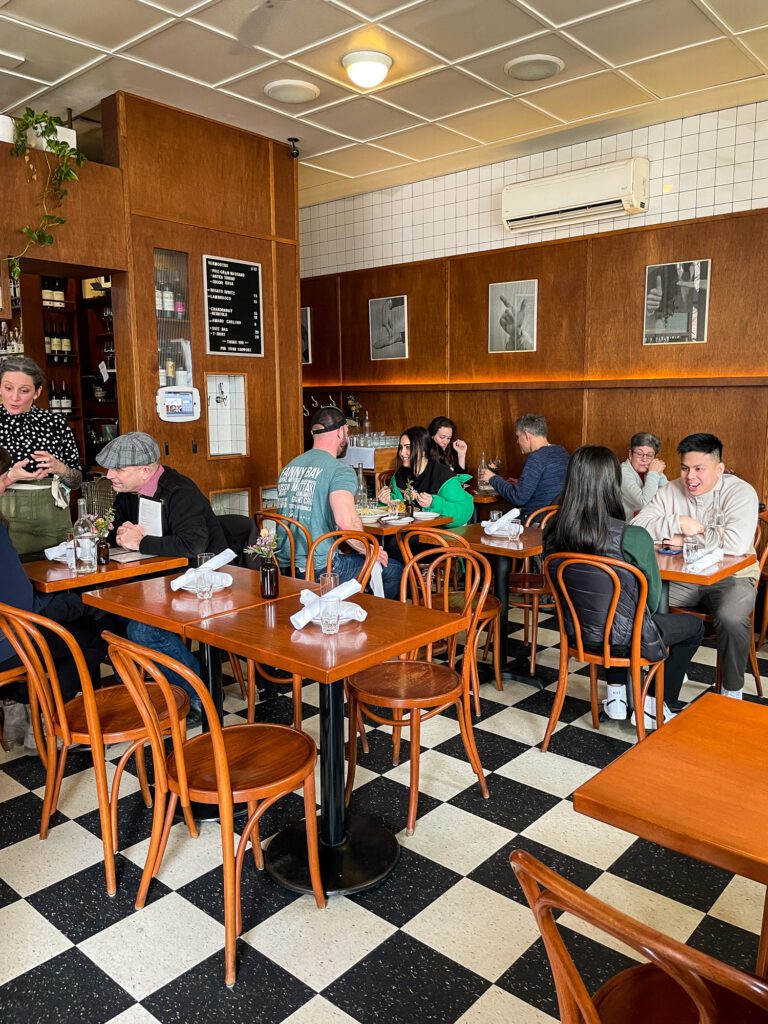 There is definitely gluten in the kitchen, which means there is always going to be some level of risk, but it seems to me that they do about as good a job as you can reasonably expect. Plus, all of their desserts (at the time of writing) were naturally gluten free too, by design.
While they have a few different kinds of regular pasta, there's only one kind of gluten free pasta – a tagliatele, which is an egg noodle (which helps with the texture) that is the perfect vehicle for soaking up sauce.
That does mean that on some of the dishes – a squid ink pasta or a spinach pasta – you're going to miss out on the special pasta. But it's so rare to have ANY option at all!
If you're concerned about the cross-contact on the pasta dishes, they do have a risotto that
You should also know that there's a $5 CAD upcharge for gluten free pasta, which is a bummer but is also understandable given the extra cost of ingredients and labor that goes into it.
Anyway, get the gluten free pasta and whatever ragu they currently have on the menu. I happened to get a venison ragu, which was excellent and took me straight back to Bologna from my last trip to Italy.
What to order: The gluten free pasta, which is made in-house, with any ragu or bolognese they have at the moment. And the olive oil cake for dessert, which has inspired us to get onto baking olive oil cakes at home recently.
Nuba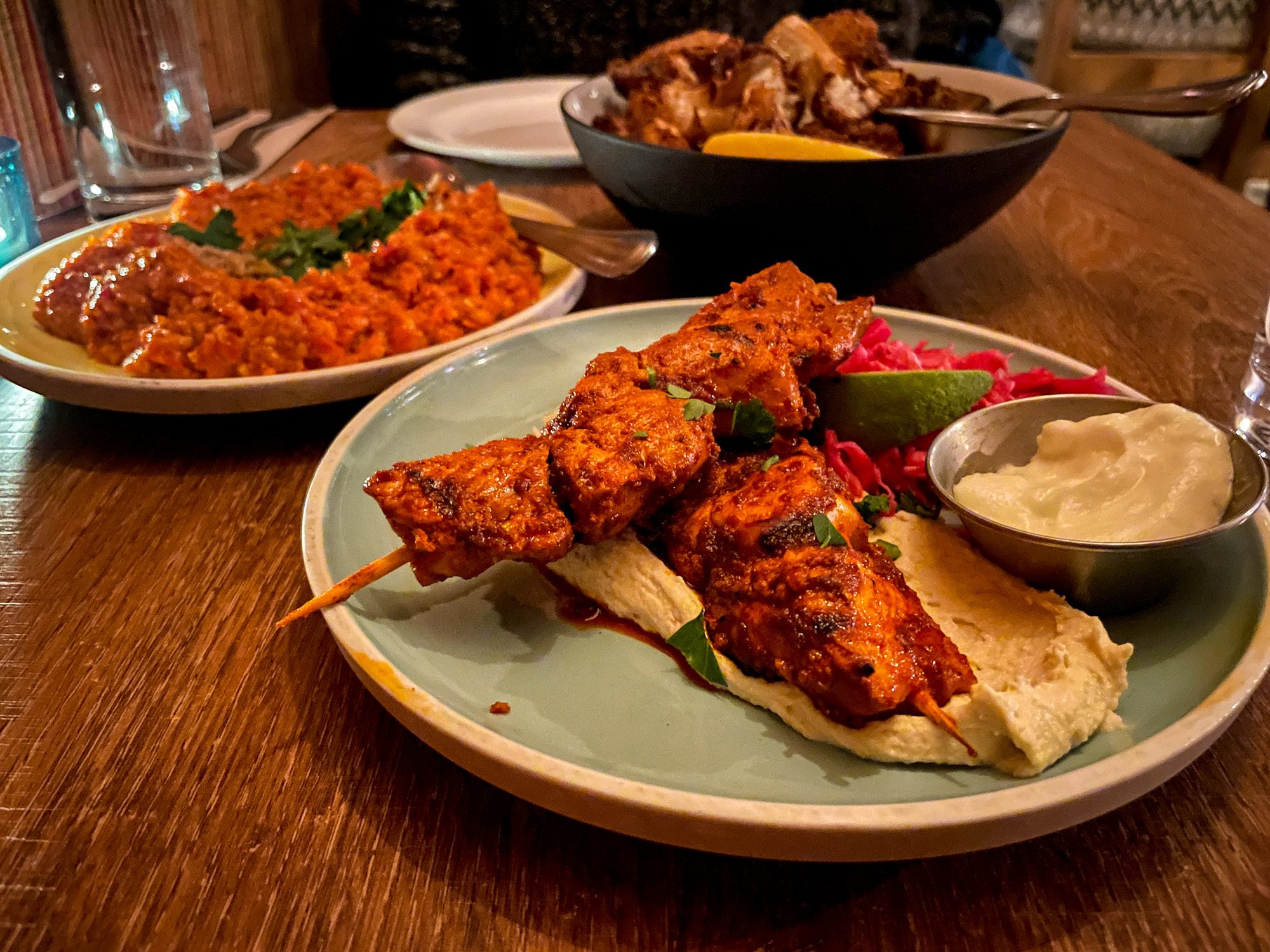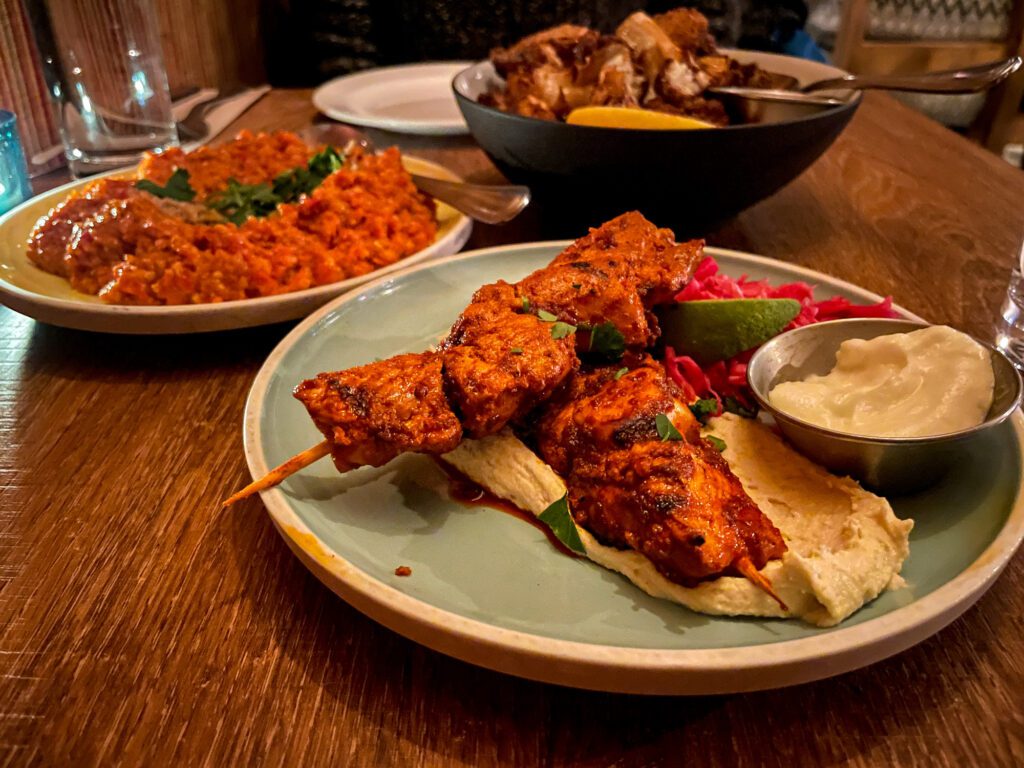 Nuba is the first gluten free restaurant we fell in love with in Vancouver, and our love of their chicken shish tawook dates back to about 2015 or so, when we first stumbled upon them on a snowy New Years Eve.
After a brief hiatus, our love affair resumed on a cold weekday night on this past trip, rekindling the fire.
On our latest foray into Vancouver, we went to Nuba in Kitsilano for dinner on a weekend evening, a cozy candlelit space with high ceilings and an intimate vibe.
Now, the entire menu is NOT gluten free, but they do have a clearly marked menu. The first question I ask at places like this is whether or not anything with gluten goes in the fryer. The server wasn't sure, so they went back to the kitchen to double check for us.
At this location, nothing with gluten goes into the fryer (which was my guess based on the menu). You should make sure to double check though, because this changes often in kitchens where the menu changes.
The food here is Lebanese, which has made its way into our favorites over the past few years. The key at Nuba is fresh ingredients, which really come through when you start digging into the plates that come to your table fast and furious.
Here are the things we've ordered and enjoyed:
Muhammara: This is a roasted red pepper and pomegranate molasses dip (usually served with pita, but they will bring you cucumbers). It's a big portion for two people – it ended up on our sandwiches the next morning.


Chicken Shish Tawook: The highlight for us! When we left, we remarked that we should have just gone all in on shish tawook and ordered several of them.


Najib's Special: Crispy fried cauliflower doused in lemon juice with a delicious sauce to dip it in.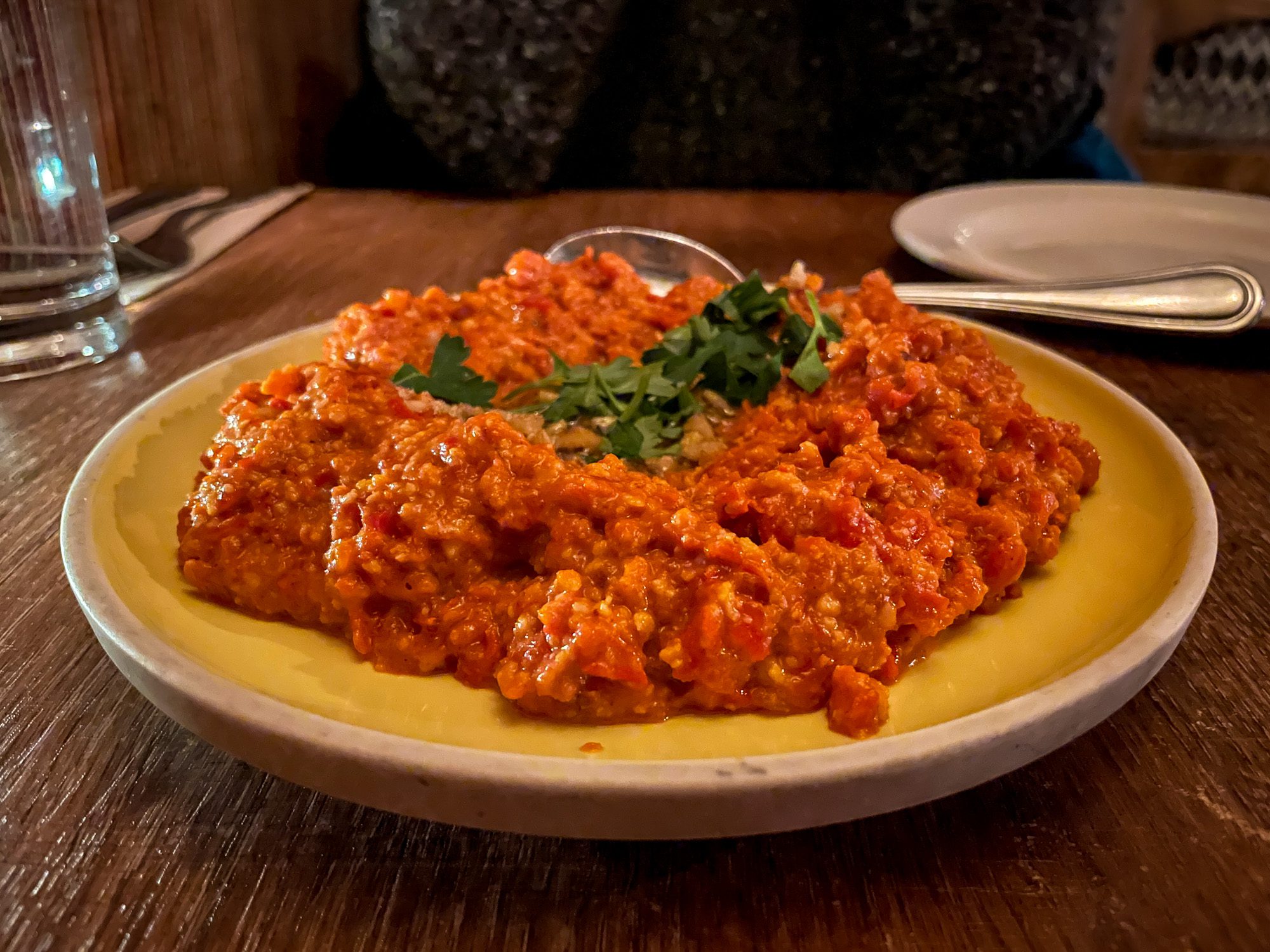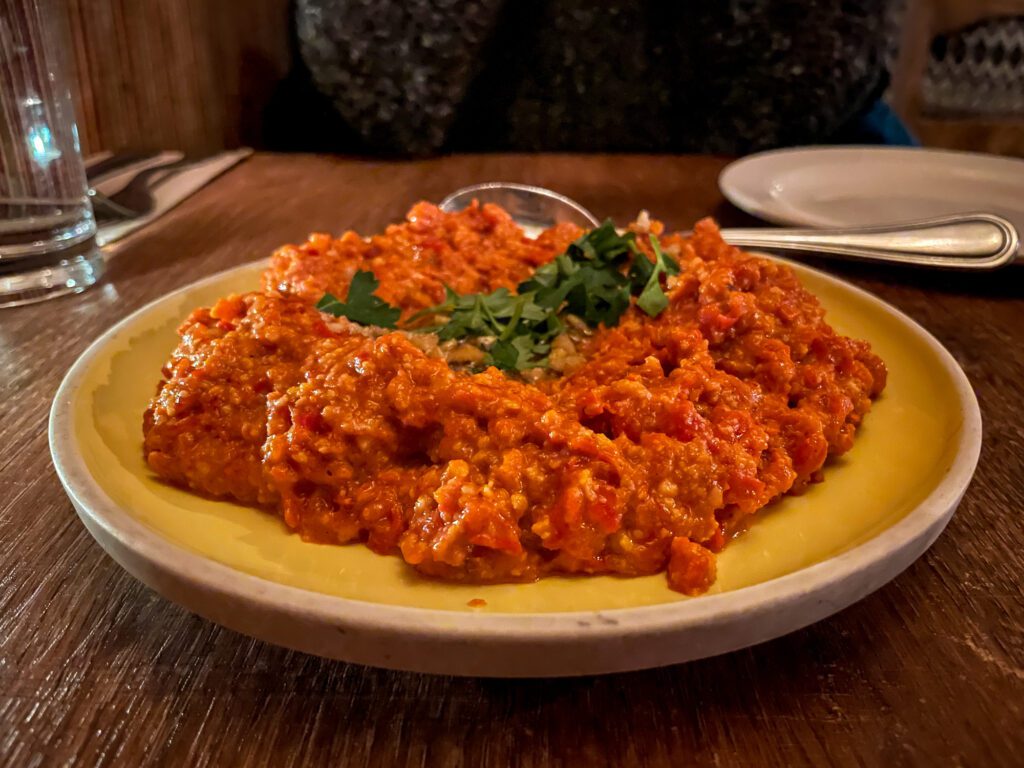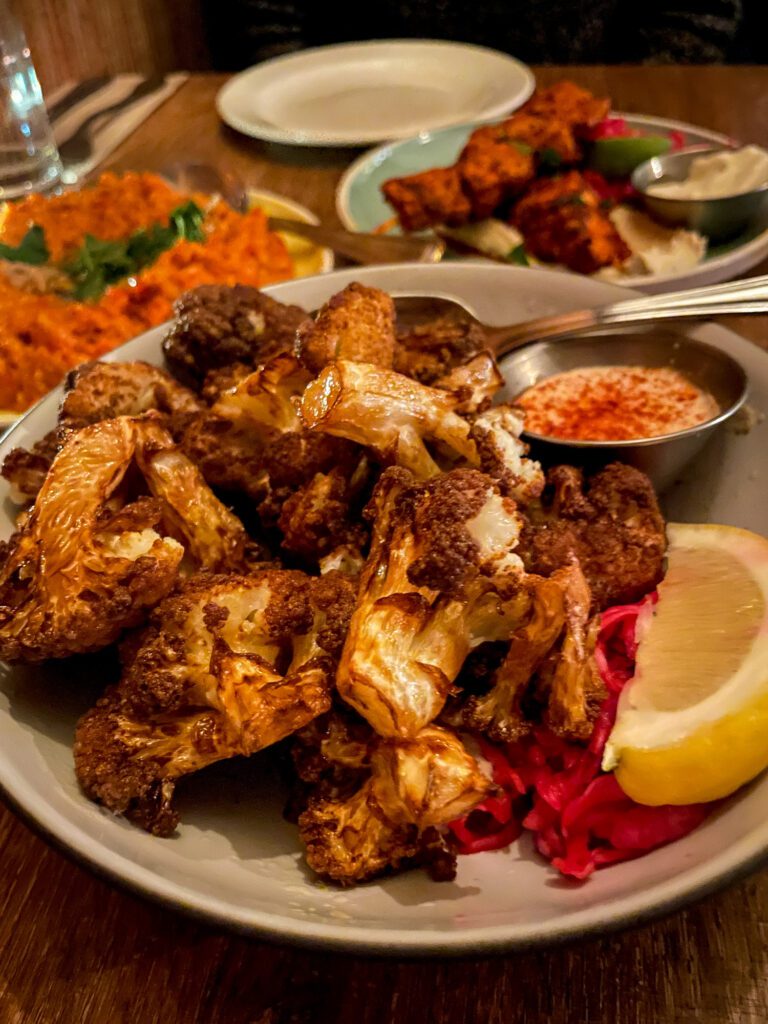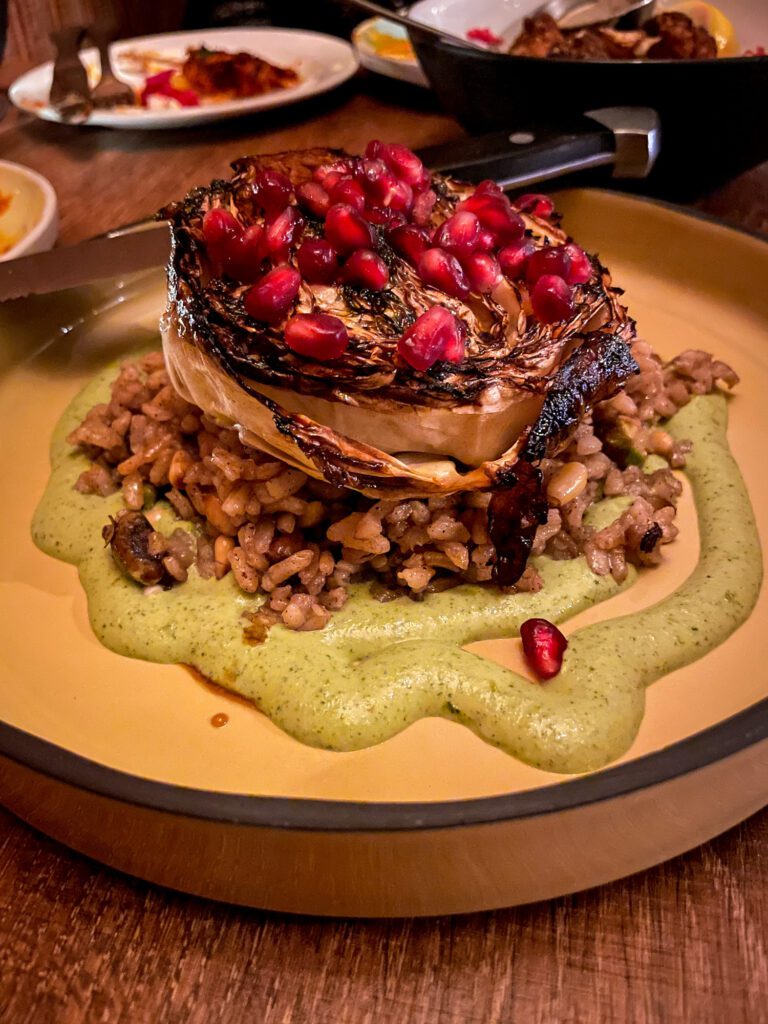 The Fish Counter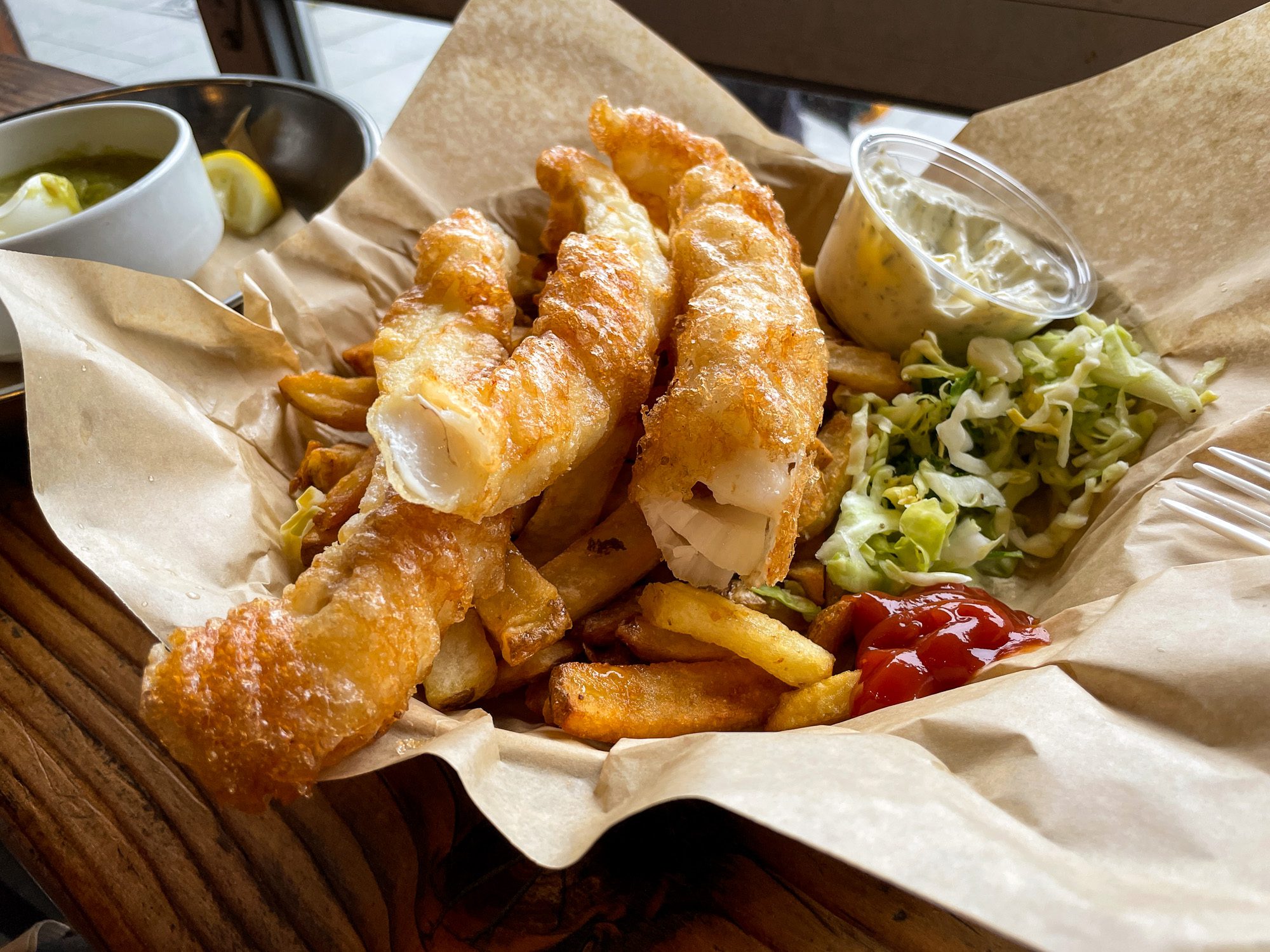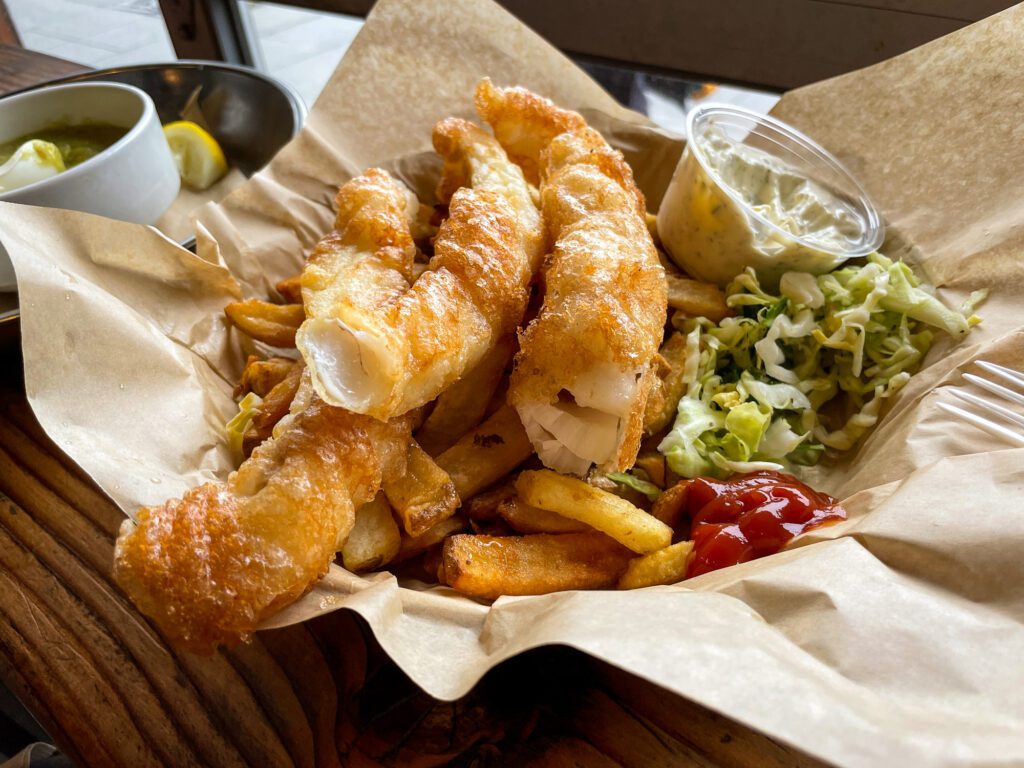 It's a little unusual to find Celiac-safe fish and chips in places that are not dedicated gluten free, but the Fish Counter over on Main Street, just south of Vancouver's downtown core, is doing it about as well as you possibly can.
As soon as I sauntered up to the ordering station and gave the staff member my spiel – I have Celiac Disease, can't eat gluten, etc etc – they started running through the steps they take to prevent cross-contact with gluten in the kitchen.
Here's what they told me: All fish can be made with a gluten free batter, which is prepared and stored separately, and fried in a dedicated gluten free fryer.
Unlike most gluten free fryers, which are right next to the regular fryer, this one is on the other side of the kitchen, which made me feel better. Plus, fries are all fried in the gluten free fryer, so they're also safe. Malt vinegar is not safe, ketchup and tartar are.
They also told me about modifications they can make to their menu of tacos and sandwiches. Personally, I'd stick to the fish and chips to avoid any confusion (or additional risk of cross-contact) with substituting and changing the sandwiches and tacos, but that's just me.
We got the cod, and it was excellent. The fries were great too – not too thin, so they had some "oomph," but they were cooked so that they were still very crispy, which we liked.
Don't sleep on the slaw that comes with the fish and chips, which had Alysha and I fighting over who got the last bite.
Lucky Taco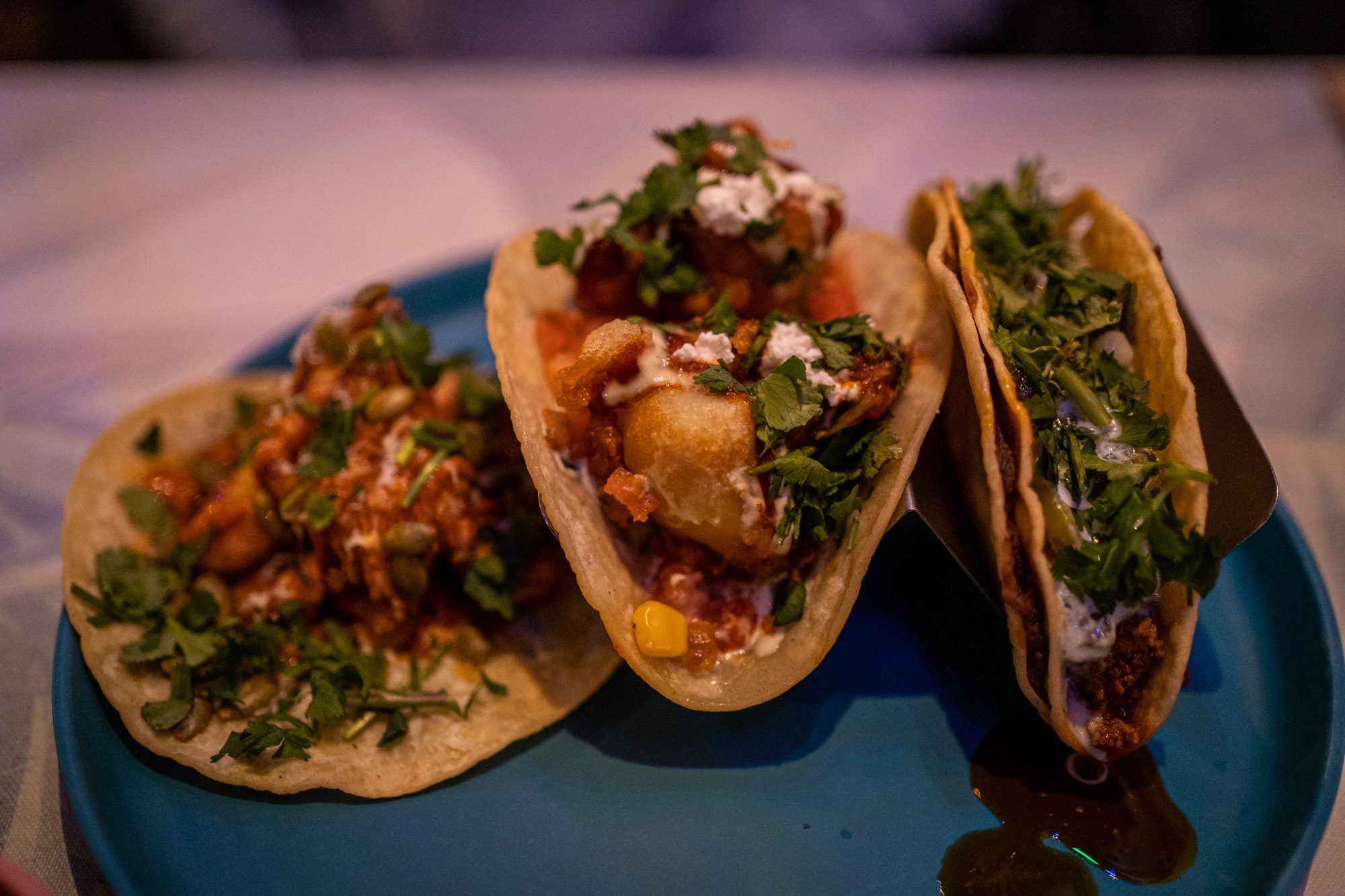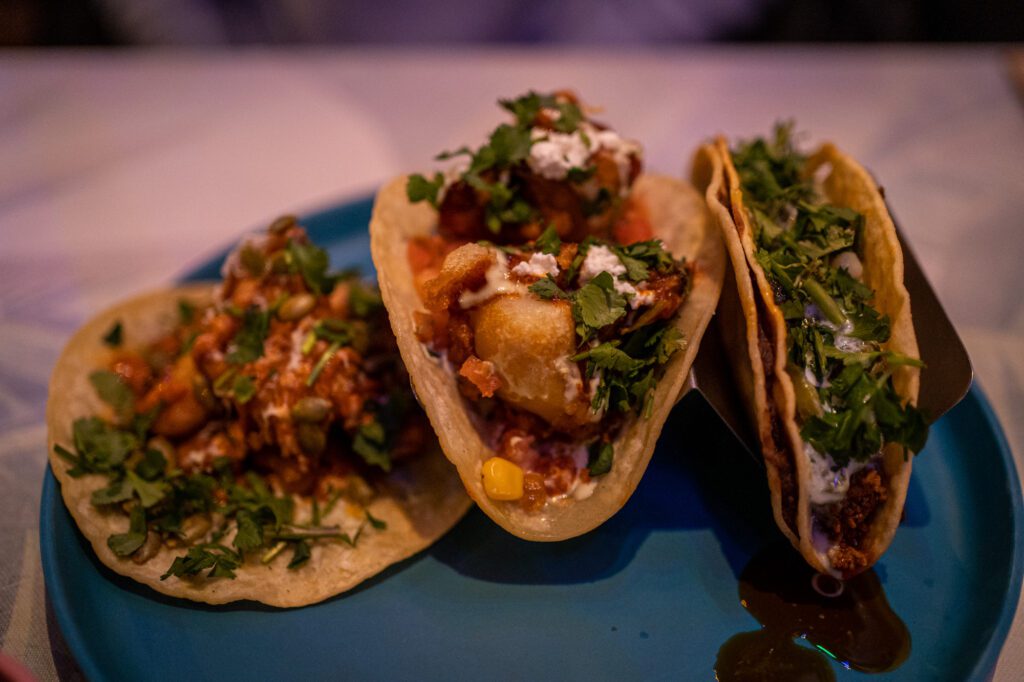 Lucky Taco is a (mostly) gluten free taco joint about a block from Kitsilano Beach. The server exclaimed "Celiacs love us!" and proceeded to tell us that everything on the menu is actually naturally gluten free with the exception of the churros, which are prepared in a distinct part of the kitchen.
The fried chicken is coated in rice flour, the ponzu sauce is made with tamari, and everything else is gluten free. All tortillas are corn, and are prepared to order.
Are they the most authentic tacos in the world? No, definitely not. Are they delicious? Yes. They also have great cocktails. I can imagine this being a lovely place to spend a summer evening after hitting the beach, but we were there in the dead of winter, so the vibe wasn't quite the same.
The two standout tacos were the spicy chorizo, which has two layers – a crunchy and soft tortilla – and is delicious, and the fried chicken. The quesabirria was also pretty good, but not the best I've ever had.
Cider House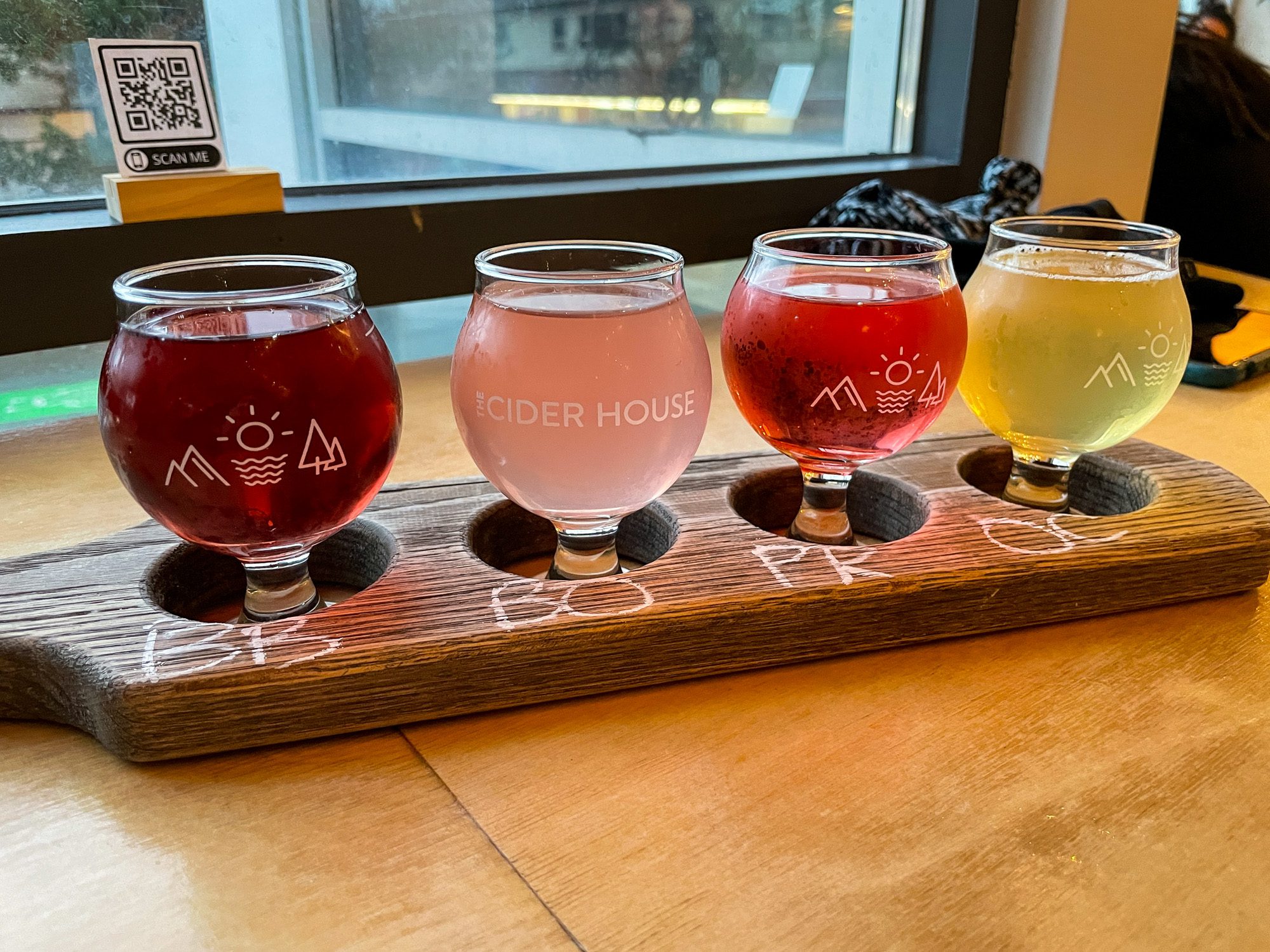 Right across the street from Lucky Taco in Kitsilano, we visited this place twice over the course of our five day winter trip, and I honestly wasn't expecting to eat here when we showed up one rainy night for cider.
However, after asking a few questions of the server (who was also the chef, at the time), I discovered that most of the menu is naturally gluten free (including everything that goes into the fryers, crucially), and those things are largely separate from most of the menu.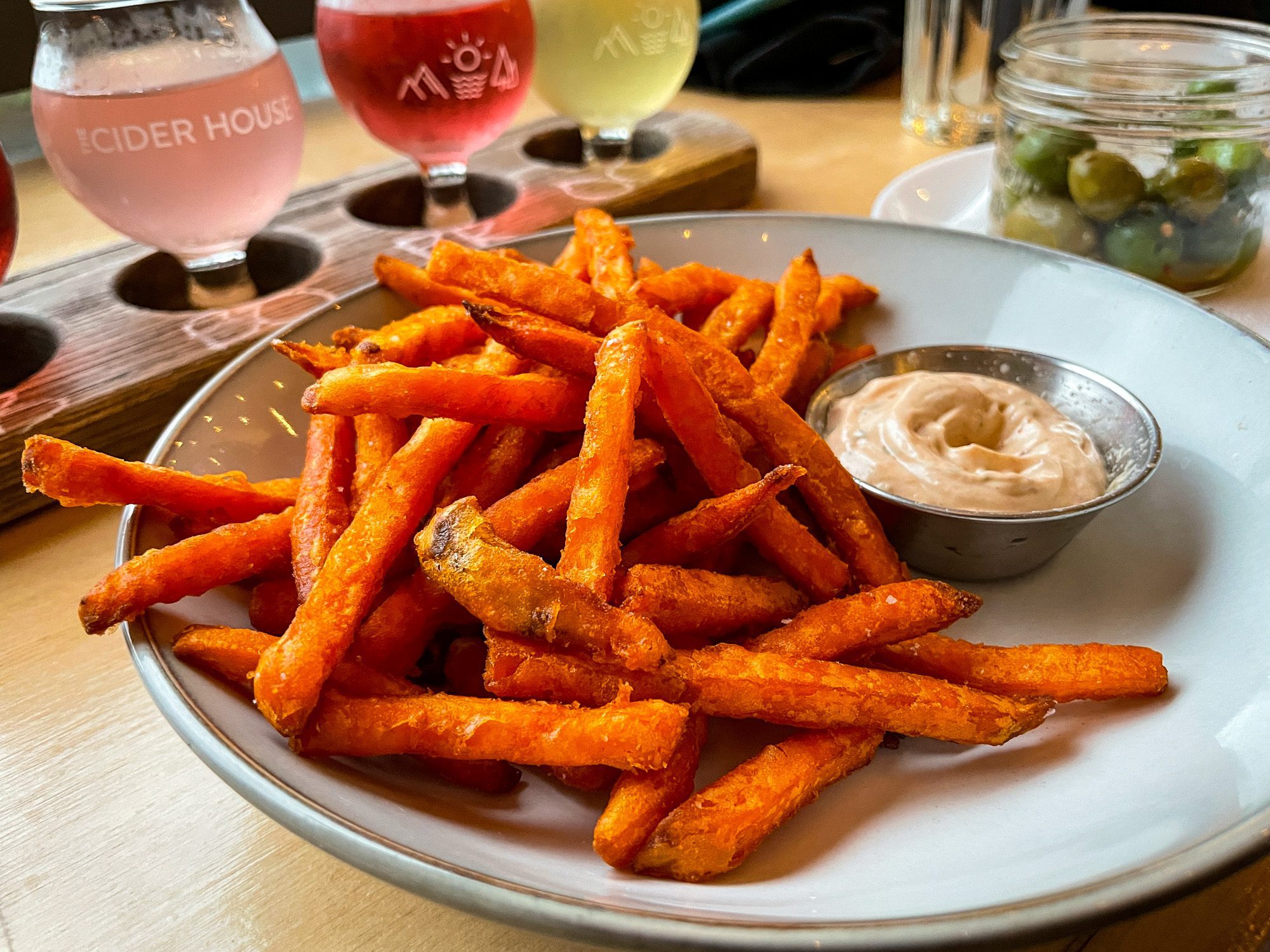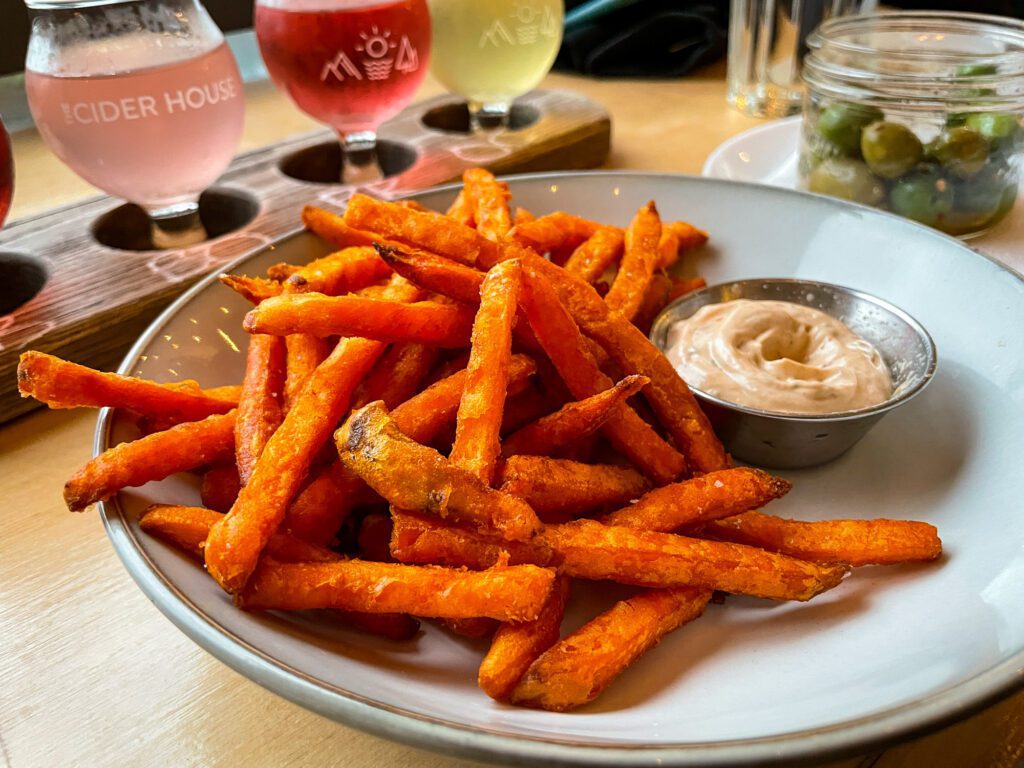 The menu is clearly marked, and the things to avoid (at the time of writing – make sure to double check this when you're there) are the burger, the mac & cheese, and the croutons on the caesar salad.
So we ended up here twice, enjoying some cider and a few snacks (we liked the olives and the fried brussels). We were going to get the poutine, but we had other dinner plans on both occasions, and a plate full of fries and gravy is a surefire way to ruin your appetite for dinner!
---