Gluten Free San Francisco: A Complete Guide for Celiacs
Wondering if San Francisco is a good place to visit if you need to eat gluten free? You're in luck. If you're looking for the best gluten free restaurants in San Francisco, I've got you covered. San Francisco is a gluten free paradise, as long as you know where to look. I'm a foodie at heart who hasn't let Celiac Disease dampen my love of food. I moved to San Francisco seven years ago, and I have been on a quest to find the best gluten free restaurants in SF ever since.
Alysha (my wife) and I have explored the ins and outs (PS I love In-n-Out for Celiacs – protein style, "gluten allergy", special sauce on the side!) of San Francisco's best Celiac-friendly eats. We're here to share our best tips with you to help you navigate San Francisco gluten free and plan an amazing trip.
Below the gluten free restaurant recommendations for Celiacs in San Francisco, you'll find information on the best time to visit, where to stay, and how to get around. In other words, everything you need to plan your trip to San Francisco.
Updated in 2021: While we no longer live in the city of San Francisco, we still spend part of the year in the Bay Area, and got around to updating this guide with some exciting new places to eat (and had to remove a few, sadly).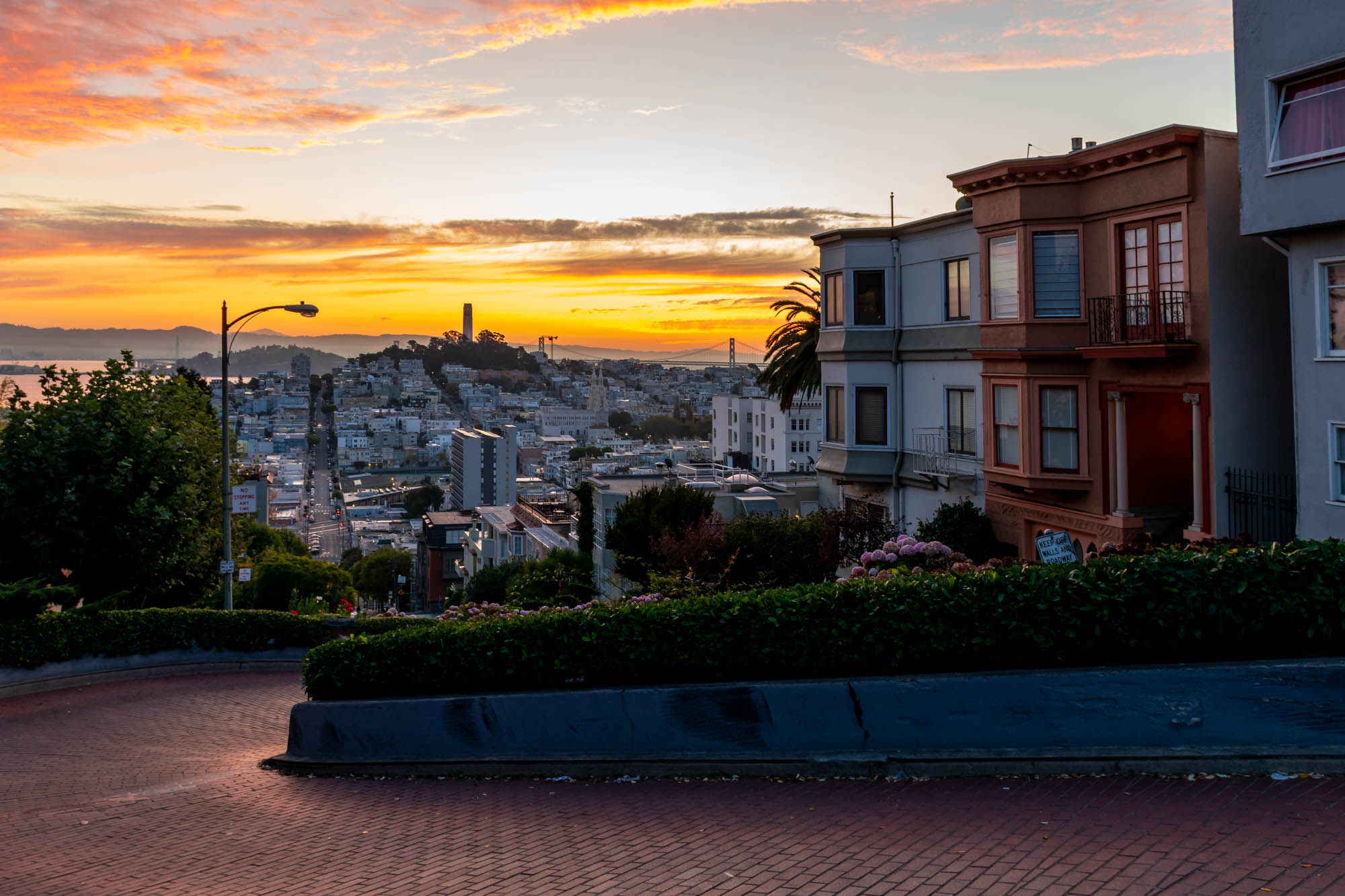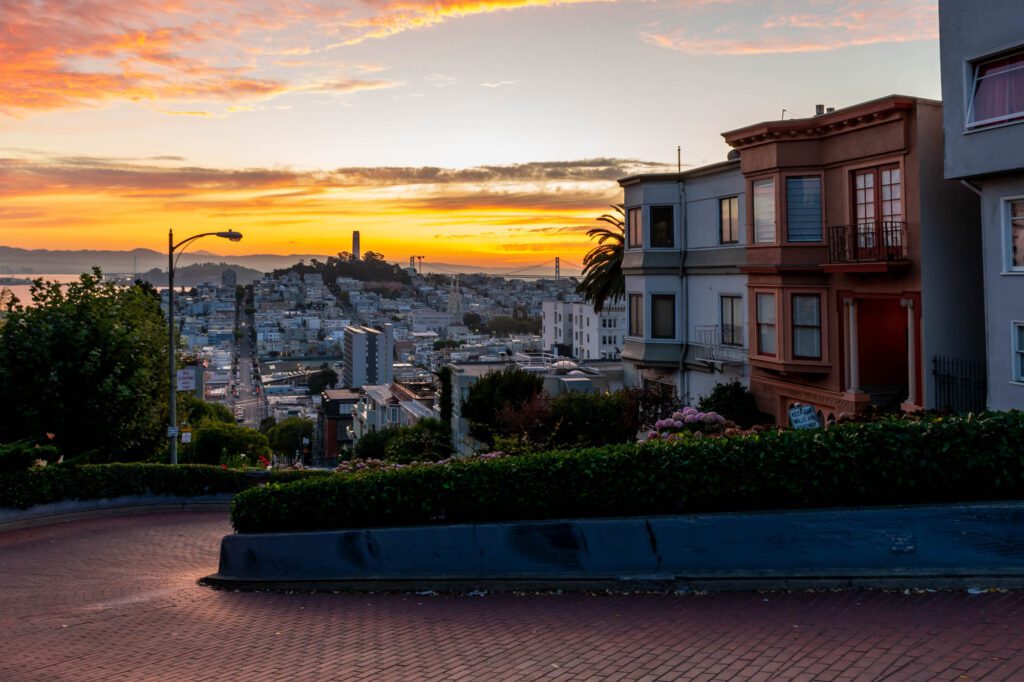 Heading to San Francisco? You're going to need an itinerary and a place to stay.
Disclaimer: Some of the links below are affiliate links, which means that if you click on one and purchase something, I make a small portion of the sale at no additional cost to you. It goes without saying that I would never recommend something I wouldn't use or do myself.
Gluten Free San Francisco: A Complete Travel Guide for Celiacs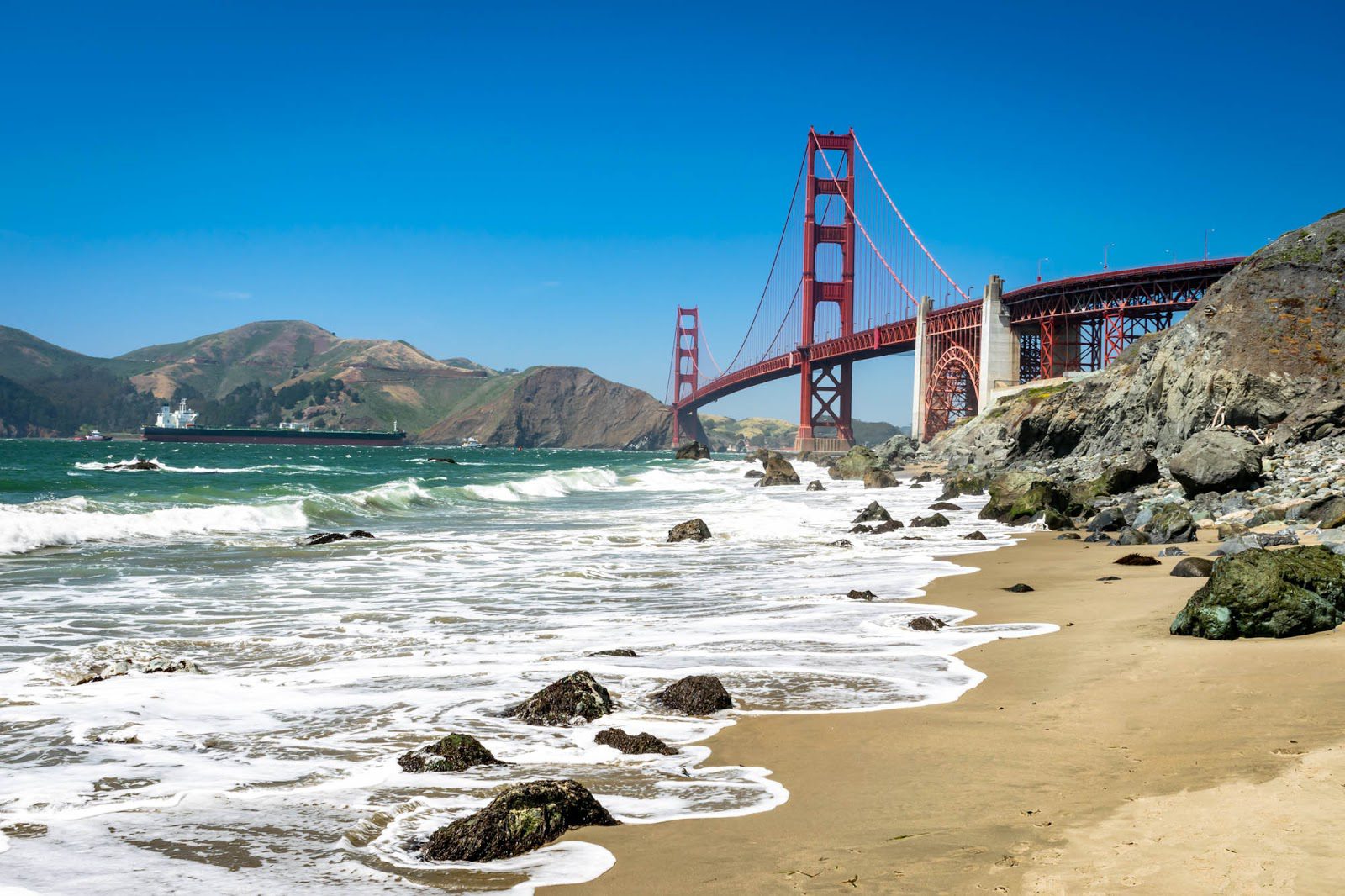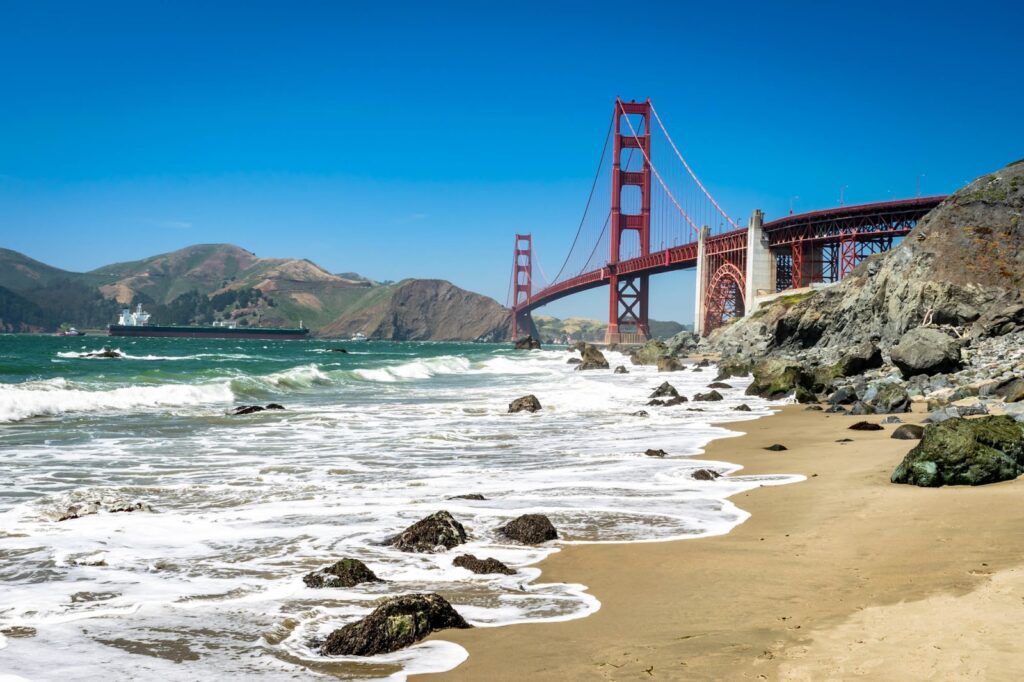 I created my Celiac City Guides to simplify gluten free travel and take the guesswork out of traveling with Celiac Disease.
Why listen to me? I'm a Celiac with seven years of experience exploring San Francisco 100% gluten free, and I know it like the back of my hand. Take the guesswork out of eating gluten free in San Francisco with a detailed travel guide made for Celiacs, by a local Celiac.
---
Top Picks: The Best Gluten Free Restaurants in San Francisco
Here's a link to my Gluten Free San Francisco Google Map with things to do, places to see, and of course, the best gluten free food in San Francisco.
My picks for the best gluten free restaurants, bakeries, and bars in San Francisco are below. Scroll down to read more in the full guide.
Best gluten free bakery: Mariposa Baking Co.
Best 100% gluten free restaurant: Pica Pica
Best Celiac-friendly restaurant: Tie between Nopalito and Firefly
Best cider bar: Upcider
Best cocktail bar: ABV
Best wine bar: Robberbaron or High Treason
Best coffee: Too many to list, but Saint Frank and Sightglass are special
If you have any questions, get in touch with us. We're happy to chat about your upcoming gluten free adventure in San Francisco, and give you some itinerary recommendations.
The Best Dedicated Gluten Free Restaurants in San Francisco
The spots below are 100% gluten free, which is what we usually seek out when traveling so that I don't have to worry too much about cross-contamination.
Pica Pica Arepa Kitchen
Alert for 2021: You might have read that Pica Pica closed permanently. We thought they did too, but now they're back! Go support them so they stay open for the long haul – they're amazing!
Pica Pica is a 100% gluten free restaurant in San Francisco, and serves up fantastic Venezuelan food like arepas and cachapas filled with a variety of delicious meat and meatless combinations.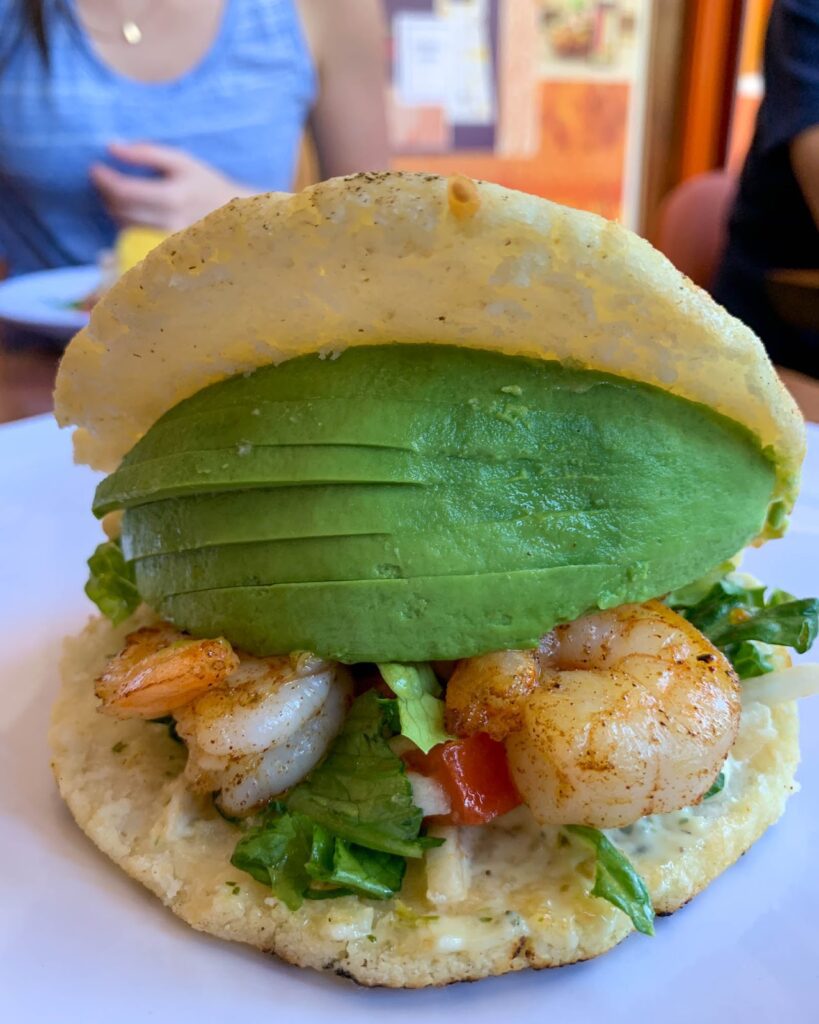 It was actually the first 100% gluten free meal I ever had while I was on a trip to SF with my older brother years ago. He saw it on Diner's, Drive-ins, and Dives, and we went when I was visiting the Bay Area.
It changed my life. Now, I'm obsessed with arepas (I even make them at home!) and I go to Pica Pica at least once a month. I recommend the Crispy Chicken Cachapa, the Shredded Beef Pabellon Arepa, and the Nachos Pica Pica.
Don't sleep on the spicy orange sauce, and be sure to pick up some of the best gluten free beer around (actually gluten free, not gluten removed) from Groundbreaker Brewing – one of the best gluten free breweries in Portland, OR – while you're there.
The Game Parlour
Do you like board games? What about 100% gluten free waffles? If you answered yes to both, we've got a treat for you!
The Game Parlour is in the Inner Sunset, and is a board game cafe with a 100% gluten free menu and just about every board game under the sun.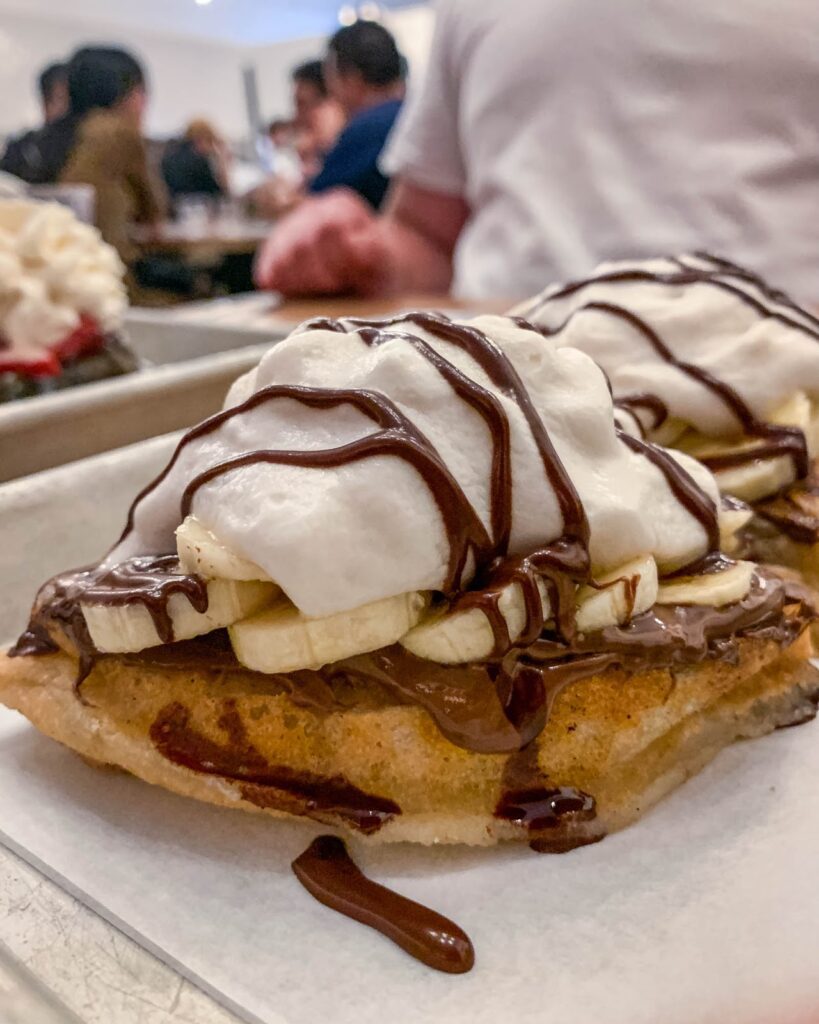 Choose from savory waffle sandwiches (the King of New York is amazing – pastrami, coleslaw, and thousand island dressing), sweet waffles (bannanagrams with bananas, nutella, and whipped cream), and a couple of sides. The chicken bites and waffle fries are both fantastic.
This is an amazing way to spend an evening in San Francisco, gorging yourself on gluten free waffles and playing a new board game.
We recently fell in love with Ticket to Ride (we'd recommend the Europe version), and have been obsessed with it, playing several games a week!
Asian Box
Asian Box is a gold mine for Celiacs in San Francisco! It's a dedicated gluten free restaurant with one location in the Marina on Chestnut Street, and a bunch of locations South of the city (Palo Alto, San Jose, etc).They serve Asian Street food that is 100% gluten free, sustainable (locally sourced, all the dishware is compostable, and 35% of their wood is reclaimed) and delicious.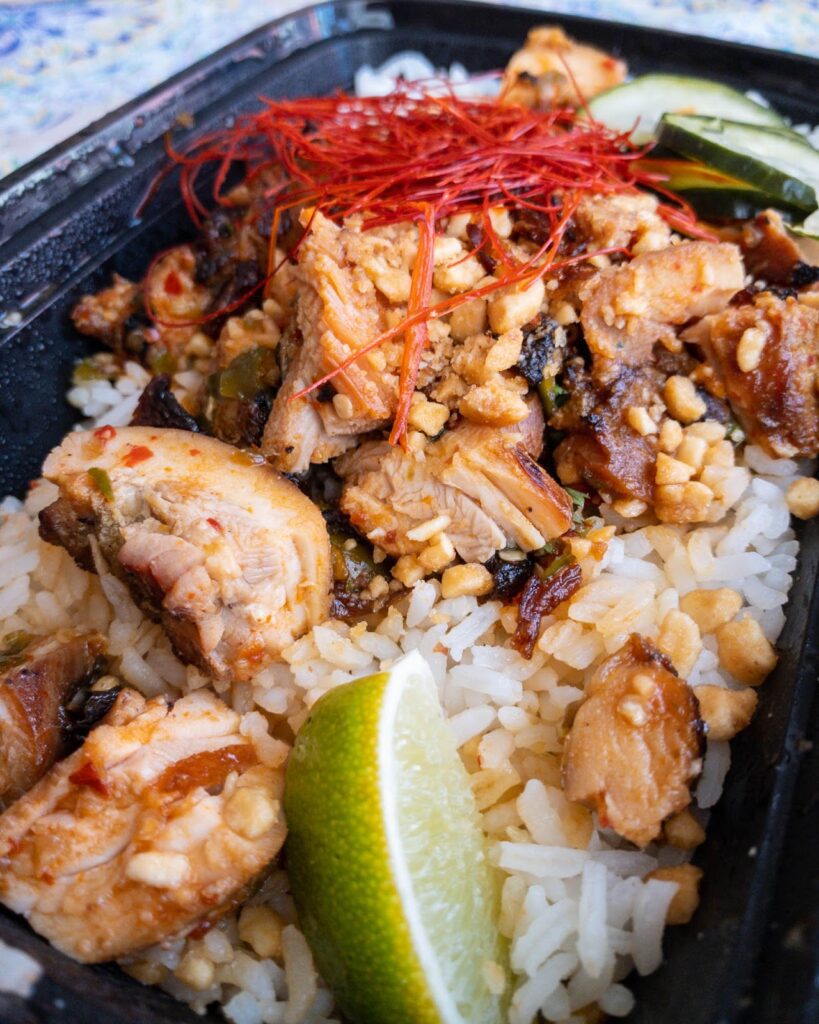 Highly recommend this place for a quick, easy, and delicious meal. It's one of the best 100% gluten free restaurants in San Francisco.
They're also on all of the food delivery apps you could ever imagine, so if you're a Celiac traveling to SF for work and need something quick, they've got your back.
Mariposa Baking Company
Mariposa is a dedicated Gluten Free Bakery with a stall at the Ferry Building. You'll find baguettes, cinnamon rolls, sandwiches, pizza crusts, muffins – all 100% gluten free and Celiac-safe.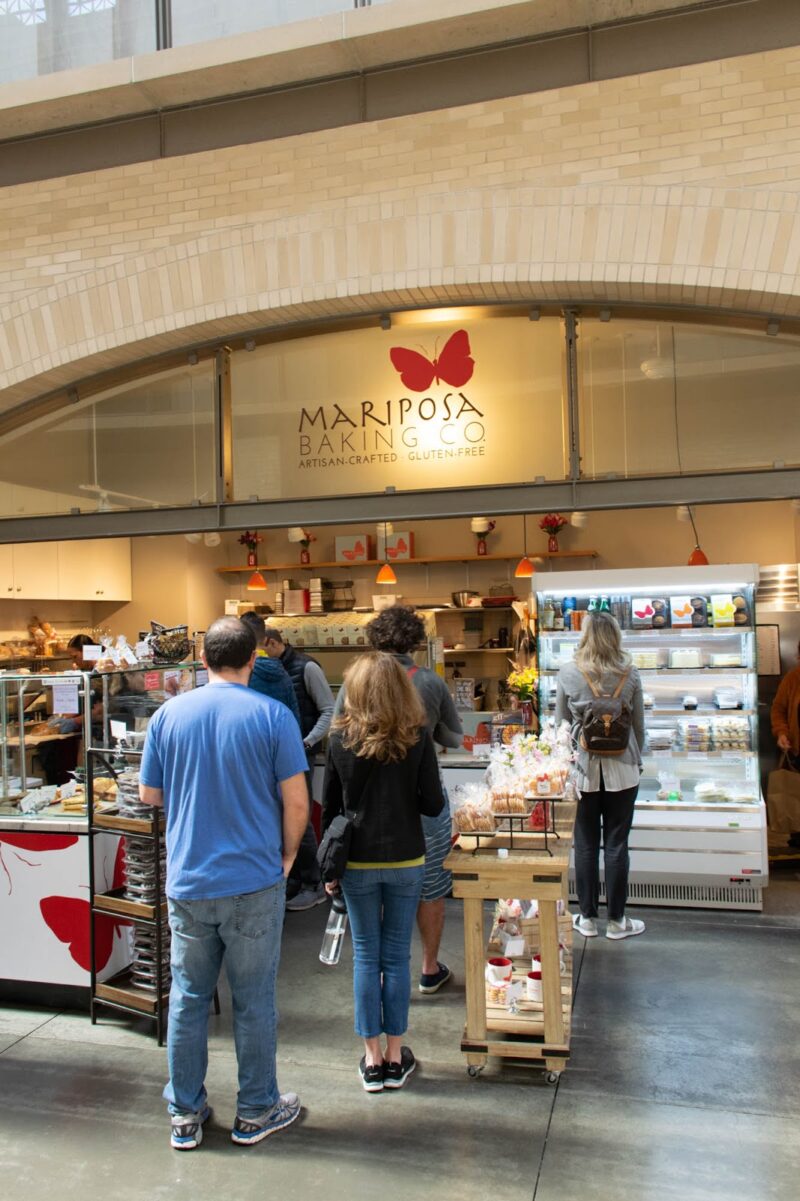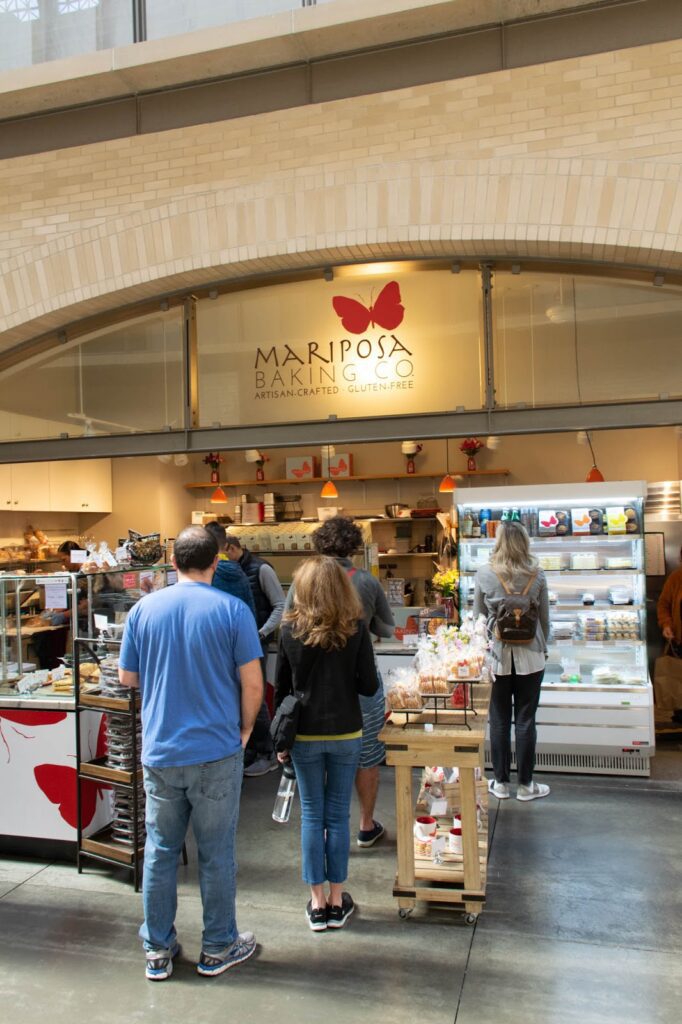 I always recommend a visit to the Farmer's Market at the Ferry Building on Saturday mornings, and a Mariposa breakfast sandwich makes the perfect companion for strolling through the stalls of the bustling market.
Don't forget to grab some baked goods to take home with you and enjoy later!
They also have a location in Oakland if you find yourself in the East Bay in need of some gluten free baked goods!
Kitava
Kitava is a relatively new, dedicated gluten free facility in the Mission. It also happens to be mostly paleo, if that's how you prefer to eat. I've been there a couple of times now, and the highlight has been the Cuban Bowl. Rice, avocado, pulled pork, and plantains. The General Tso's chicken is great too. Kitava is a nice spot for a quick 100% gluten free lunch or dinner while you're in SF.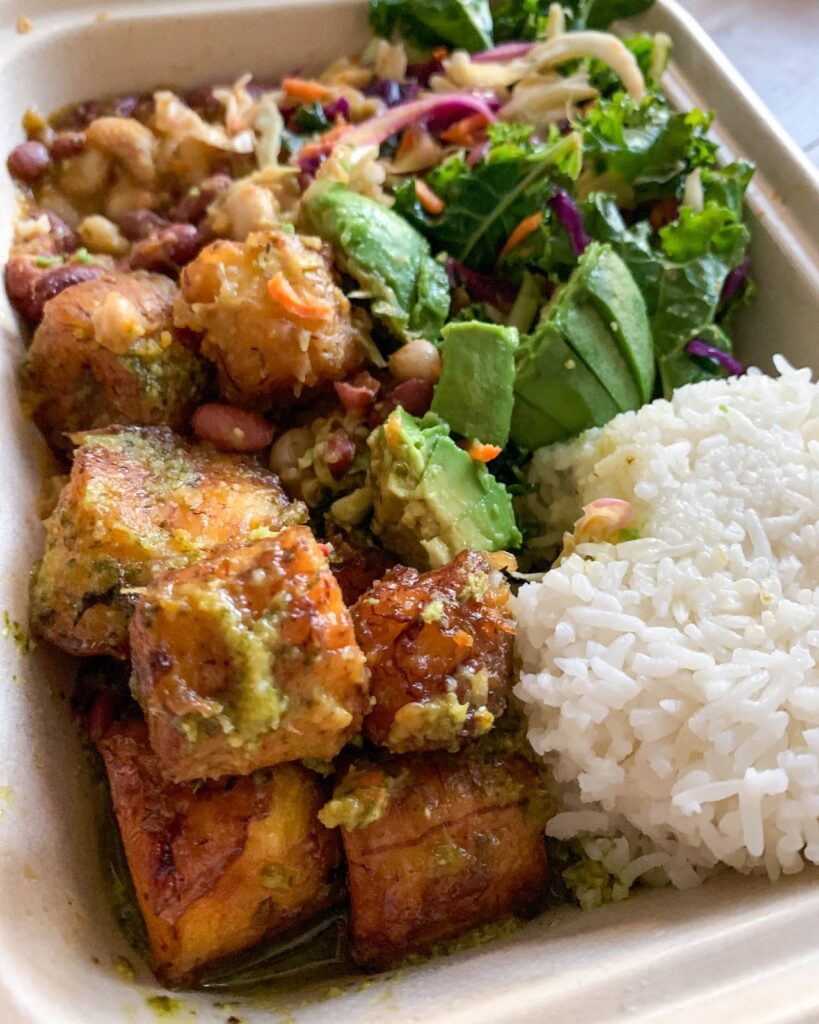 They also supply the food for Buck Wild Brewing, a 100% gluten free brewery in Oakland. More on them below!
Moon Bowls
I was really excited to try this place, and it didn't disappoint! It's an interesting business model, with no storefront – delivery and pickup from a commercial kitchen only. Which, at least according to them, means that they can focus more on the food, and less on the restaurant experience.
Moon Bowls make 100% gluten free Korean-inspired bowls, which is something I've honestly never seen before. We picked up a few bowls for a picnic in Golden Gate Park with friends last time we were in the city, and we really enjoyed them!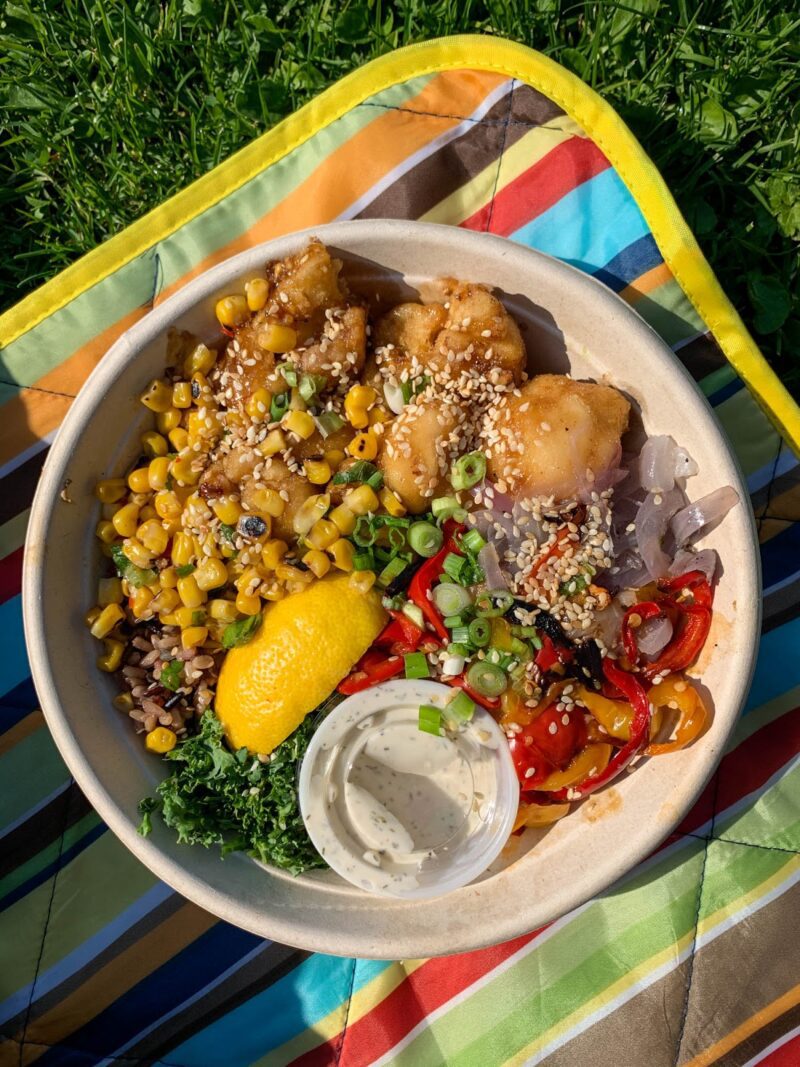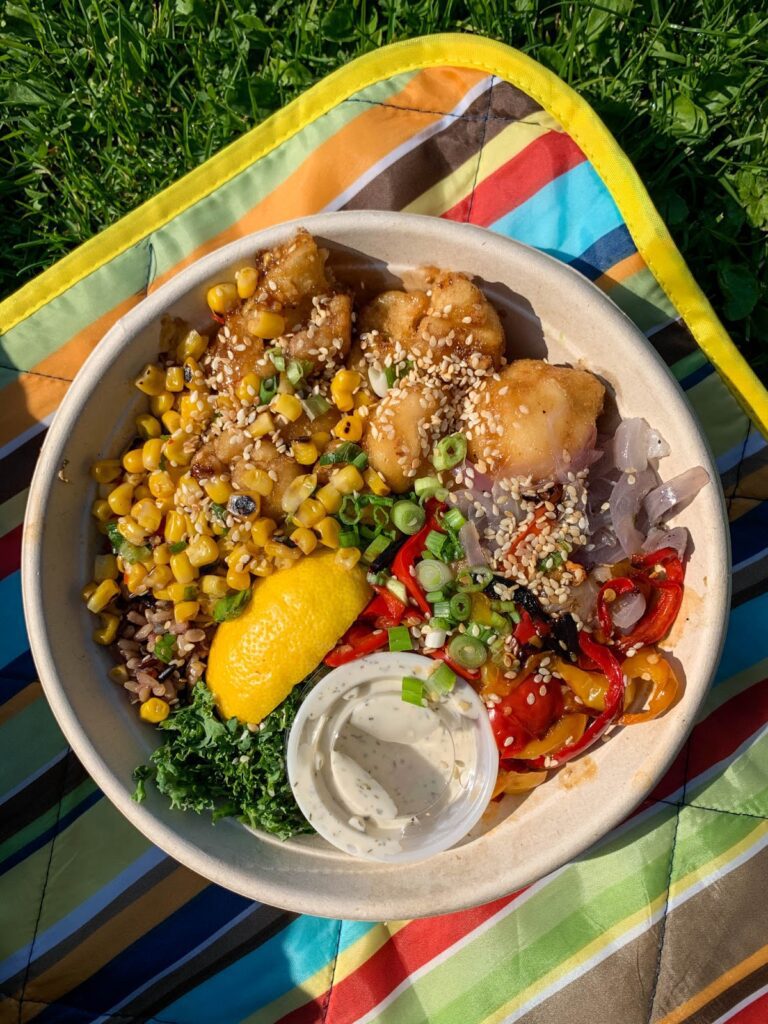 The potstickers – which are something you don't usually find gluten free – were great, and we really liked the cauliflower wings and the "Don't Cauliflower it a Comeback" bowl.

They use Impossible Beef in some of their dishes, including the potstickers, which is a nice touch for vegetarians (and Alysha, who doesn't really eat beef or pork).
Califlower Pizza
No, I didn't spell "cauliflower" wrong. Califlower Pizza is another delivery/pickup only spot that makes the only dedicated gluten free pizza in San Francisco. It's a cauliflower crust, as you might have guessed, and it's gluten, soy, and nut-free! They have two crust options – both are gluten free, one is vegan – and a variety of toppings to choose from, some of which are vegan.
Here's a nutritional panel for their normal gluten free crust.
Unfortunately, I only have one experience with them, and it was when in Los Angeles when they forgot one of our pizzas, and instead of sending another one, they basically said "whoops!" and refunded us (which didn't really solve the problem).
That being said, I'd totally give them another try, and am planning on it next time we're in the city!
Flour Chylde Bakery
Flour Chylde is actually up in Novato, so why are they here? They are at a couple of farmers markets in the city, and were a regular stop on our weekend farmers market strolls. They're a 100% gluten free bakery that makes all sorts of baked goods, but the highlight is their tortes! They're little mini cakes of different flavors – we LOVE the rustic orange torte, which is a sweet and zesty treat while you browse the other stalls at the farmers market.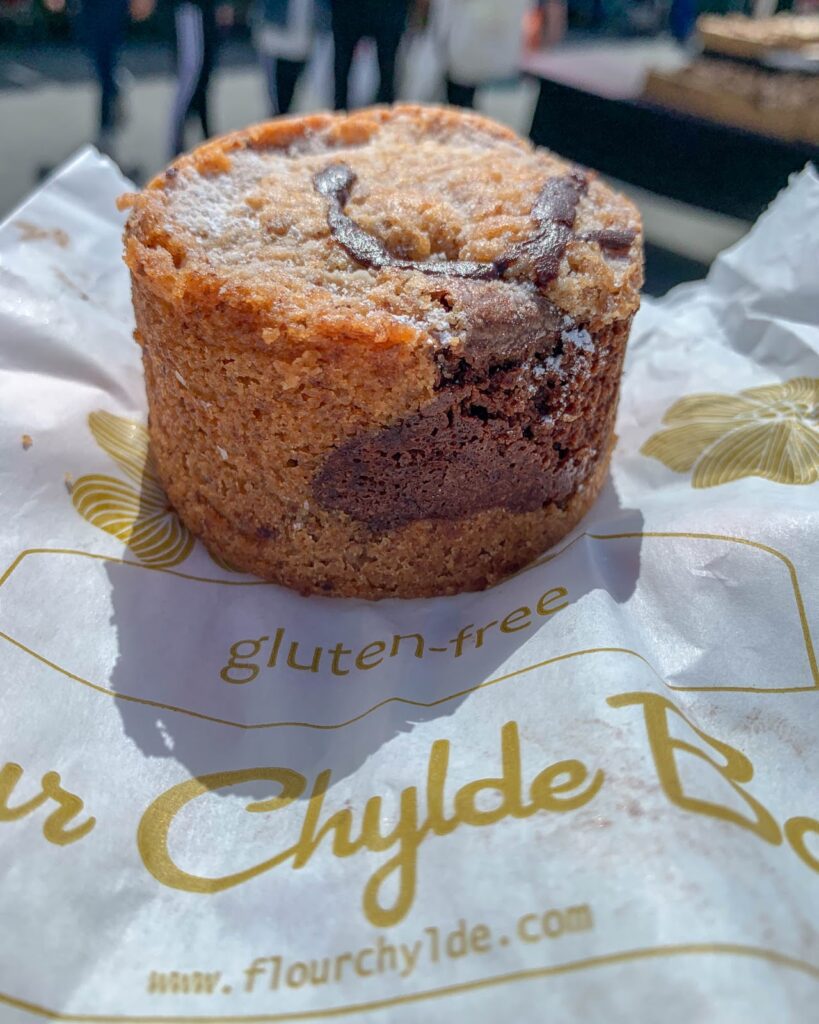 Currently, you can find them at the Clement Street Farmers Market on Sundays, but you should check their website for the most up-to-date information.
As Quoted
As Quoted is a 100% gluten free cafe with high prices, strictly mediocre food, and pretty good coffee. Honestly, you can do better.
Celiac-Friendly Gluten Free SF Restaurants (Not Dedicated Gluten Free)
The restaurants below are not 100% gluten free.
However, I have personally been to all of them and they have really good processes in place to manage cross-contamination and serve people with Celiac Disease.
That being said, remember to always double check with the restaurant directly. Things change all the time (there's a restaurant that used to be 100% gluten free that recently added gluten to its menu for some inexplicable reason).
Firefly
Firefly came highly recommended by some local Celiacs, and it took me a little while to get around to trying it. After my first meal there, I knew it was going to be a staple going forward.
The atmosphere is perfect for (gluten free) date night, and most of the menu is gluten free by design. They even have gluten free bread to start (it contains oats though, so avoid if you are sensitive) and Groundbreaker Brewing gluten free beer.
The highlight was the fried chicken, but the crab cakes were a close second. Highly recommend Firefly as a date night spot for Celiacs or those who need to eat gluten free – they took great care of me and made me feel super comfortable with cross-contamination issues.
Nopalito
I love Mexican food. Pujol in Mexico City is my favorite restaurant experience of all time. Cosme and Claro – I visited both on my recent trip to gluten free NYC – were amazing examples of 100% gluten free Mexican cuisine.
Nopalito, while not a dedicated gluten free restaurant, is the best example of gluten free Mexican food in SF.
A few things to note:
The chips are fried in a dedicated fryer.
The servers are knowledgeable, but you should know that the carnitas are braised in beer – so anything with that is NOT GLUTEN FREE.
They have a really good selection of Mezcal, if you're into that. I know I am.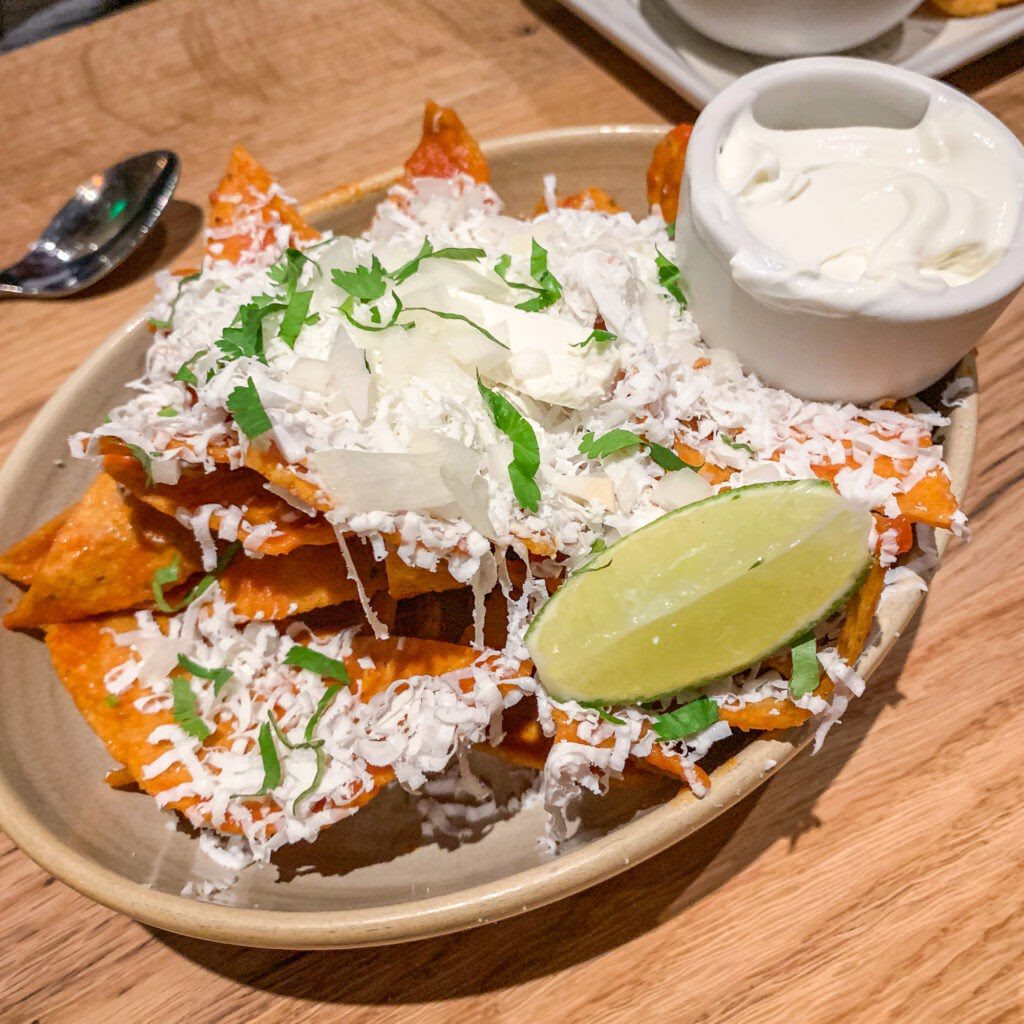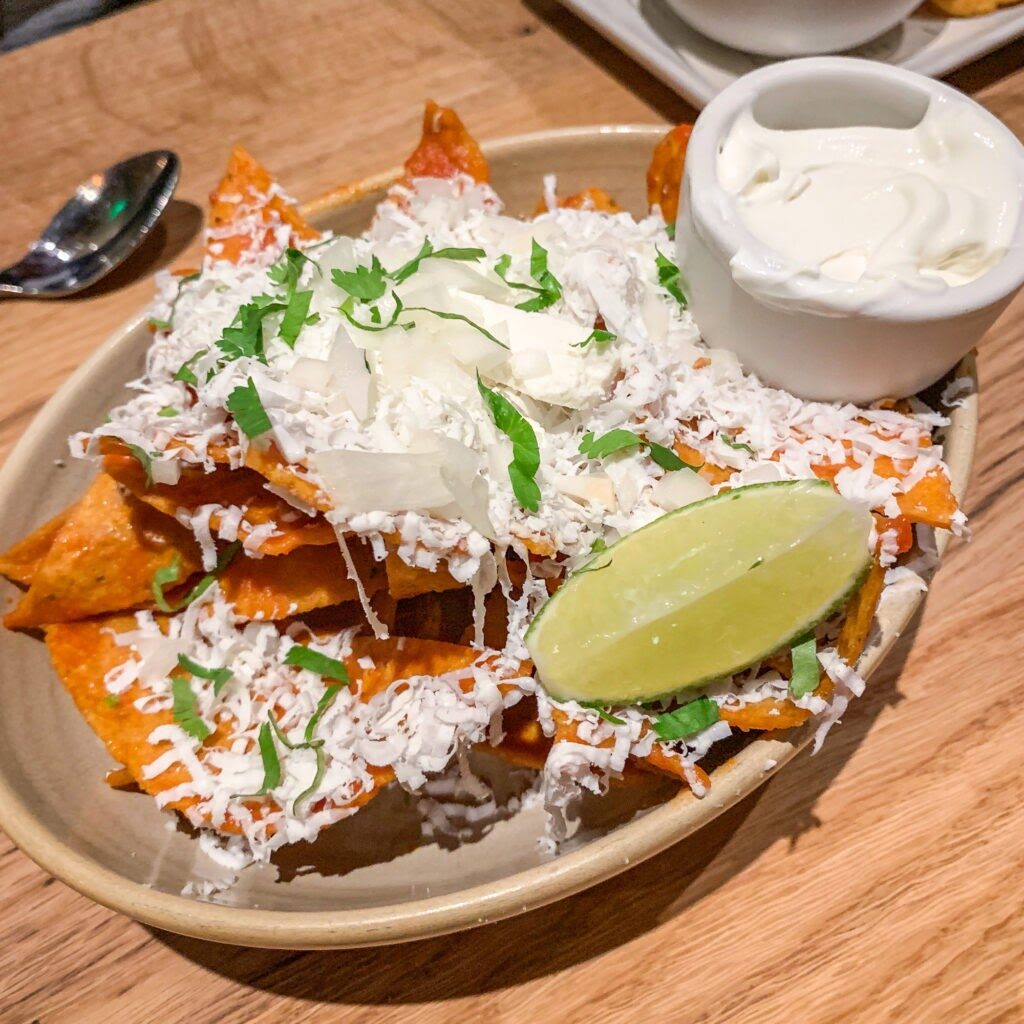 The highlights are the Totopos con Chile (above, basically chips with red sauce and cheese), Tacos de Pescado al Pastor, and the Pozole.
They have two locations – one in NOPA and one in the Inner Sunset. Both are right next to Golden Gate Park, making them a perfect stop during a day of exploring San Francisco. No reservations, first come first served.
Even More Celiac-Friendly Gluten Free SF Restaurants
Ben Thai offers good Thai food on Polk Street. They know how to accommodate people with Celiac Disease and have a separate gluten free menu.
Bask has fantastic tapas. They know exactly how to handle Celiac Disease – no dedicated fryer here. Don't miss the paella and the baked goat cheese. Oh, the sangria is also phenomenal.
Kuma Sushi & Sake on Polk Street in Nob Hill should be your first stop if you're looking for gluten free sushi in San Francisco that is Celiac-friendly. Gluten free sushi can be tricky – aside from the obvious things like tempura and soy sauce, there are some hidden places that gluten might show up. At Kuma, all of their in-house sauces (everything except for eel sauce) are made with tamari and are gluten free, and they will bring you tamari to your table when you tell them you have Celiac Disease and need to eat gluten free. Their rice is also fresh and gluten free. Kuma is not 100% gluten free – you will need to avoid everything with tempura in it, but the staff are knowledgeable and will help you navigate the menu to figure out what you can eat. There was some confusion in the Findmeglutenfree reviews about the rice beer – IT IS NOT GLUTEN FREE as far as I can tell. Like I said, if you're looking for gluten free sushi in SF, look no further.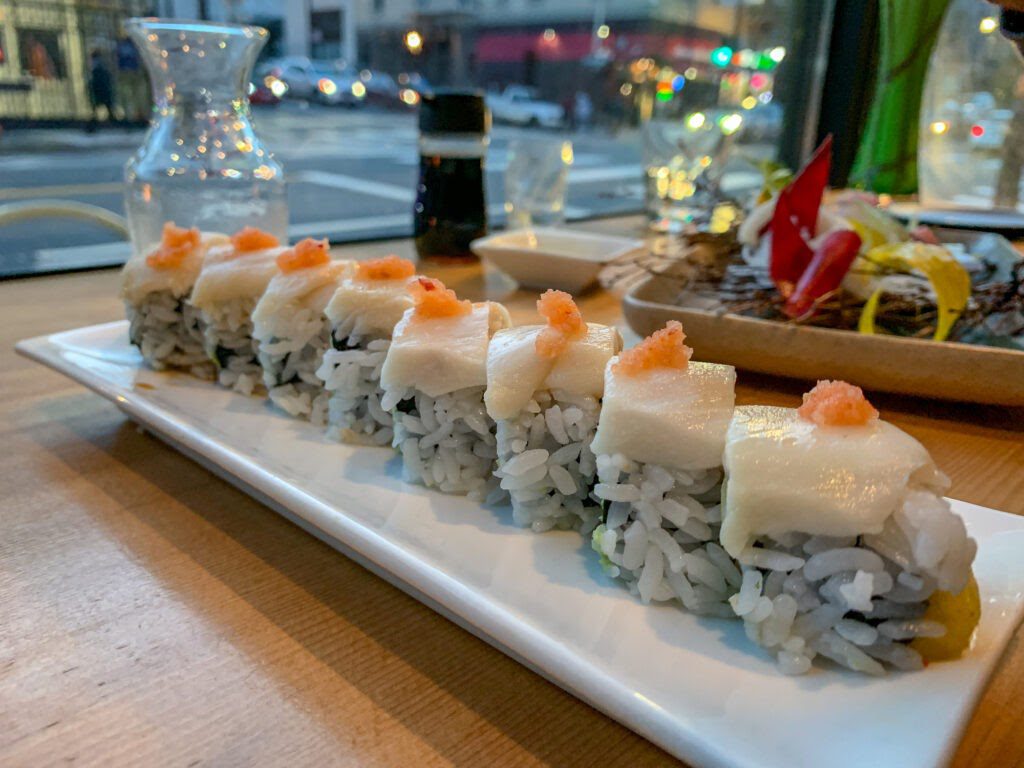 Cafe De Casa: I have a new-found love for Brazilian tapioca crepes after I discovered them in New York City at TAP NYC. Cafe De Casa is a gluten free Brazilian restaurant in SF that is relatively new, but they get it. They are NOT a 100% gluten free restaurant – they make a variety of baked goods and I would avoid them as a Celiac. Including the pao de queijo ("cheese bread") which is in the same case as the gluten-containing pastries. The tapioca crepes, however, are gluten free and safe for Celiacs – the griddle is dedicated for the crepes. You can get a variety of sweet – like caramel & cashews – or savory – smoked salmon, avocado, and cream cheese. The coffee is good, and it's right near Fisherman's Wharf if you're doing the tourist thing.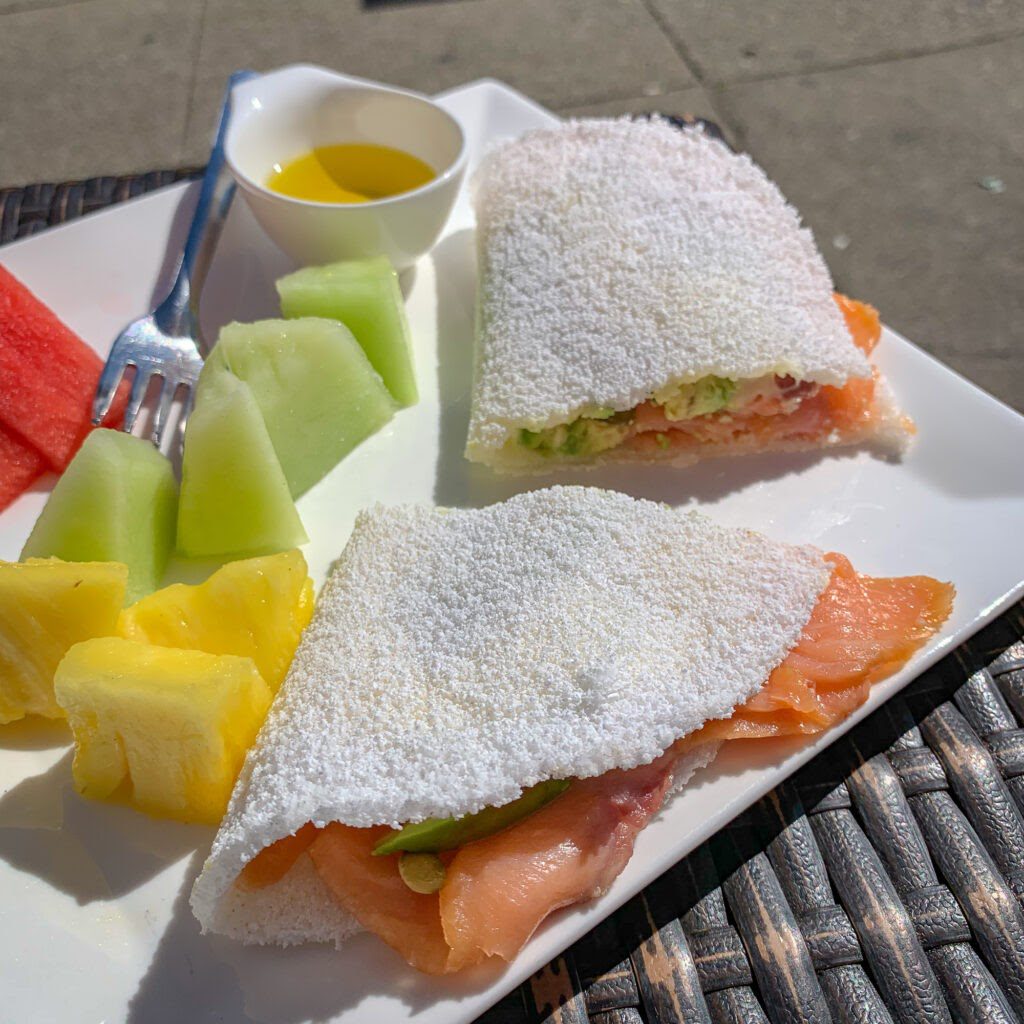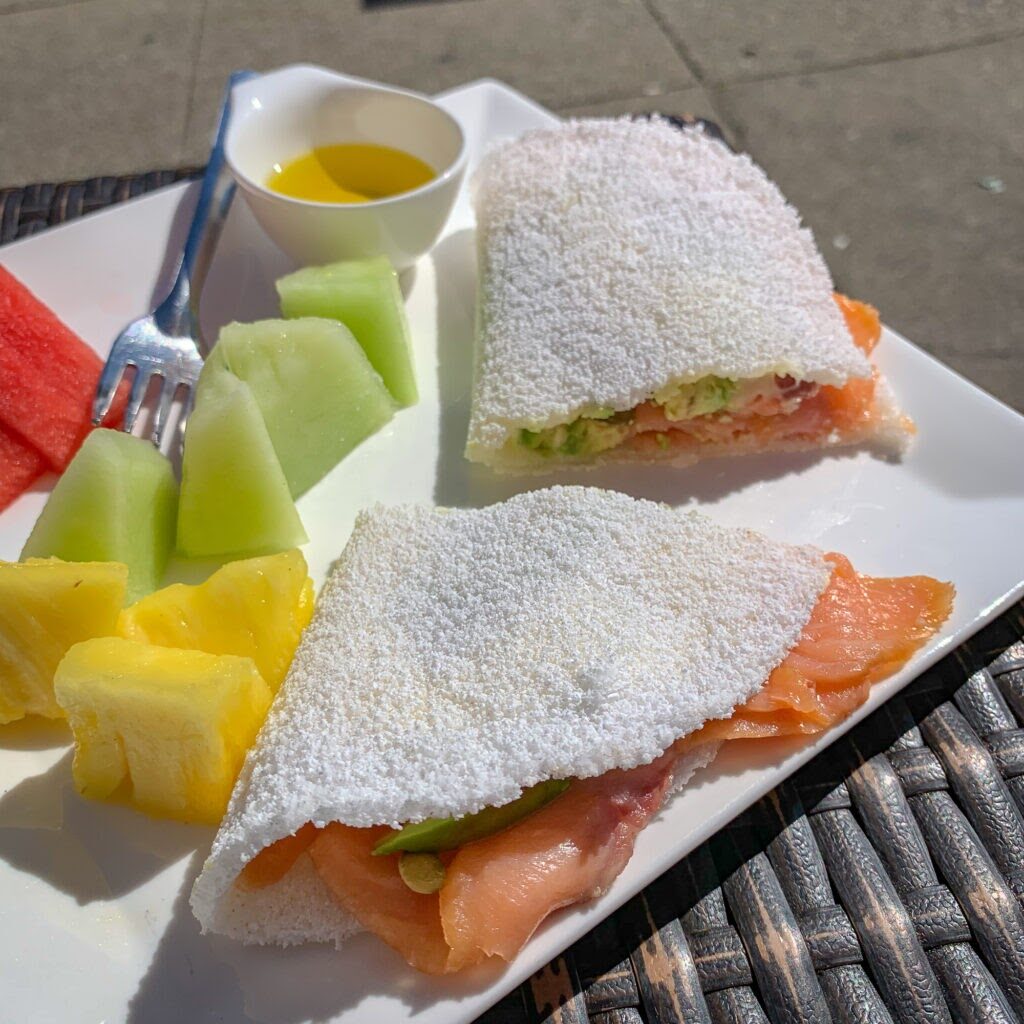 Coqueta will fulfill your Spanish tapas cravings and is right on the beautiful Embarcadero. I've emailed back and forth with them several times, and they have been nothing short of amazing and accommodating. We finally ate there right before we left the city, and it did not disappoint. Get the paella, and try the Basque cider!
Kokkari Estiatorio is higher end than most of the other options here, but has an amazing atmosphere and food. I got lucky last time and my server was a Celiac too, and they were able to accommodate my needs 100%.
In-n-Out: When in California, you HAVE to go to In-n-Out. There's only one actually in the city – it's in Fisherman's Wharf- but there are a few just outside the city limits. The fries and shakes are both gluten free (dedicated fryer). The only thing that contains gluten is the burger buns, which present a bit of a cross-contamination issue, as you can probably imagine. However, here's how to order to minimize that risk and get a safe burger from In-n-Out: "I'd like a *burger type*, protein style, no special sauce (can I have a packet on the side?), with a gluten allergy." Yes, I know Celiac Disease is not "a gluten allergy" but that's the terminology that triggers their allergy protocol, which involves changing gloves and utensils, a separate tray and bag, and potentially a new grill (which depends on the location and the space they have).
More Gluten Free Restaurants in the Bay Area
While those are some of my favorite gluten free restaurants in SF, there are tons of other Celiac-friendly restaurants around the Bay Area.
Gluten Free Restaurants in Oakland, California
Just across the Bay Bridge from San Francisco, you'll find lovely Oakland, California, which has a couple of solid gluten free restaurant options, and is worth the trip if you have an extra day (or if you live here).
Buck Wild Brewing: For years, I've been lamenting the fact that there are no gluten free breweries in the Bay Area. And finally, someone has answered the call! Buck Wild Brewing makes 100% gluten free beer with naturally gluten free ingredients (no gluten-reduced garbage here), and they serve food made by Kitava! It's another story of someone who went gluten free, said "why are there so few gluten free beers that are actually good," and created their own. They have a great taproom in Jack London Square, where you can try a flight of their beers, grab some cans to go, and enjoy some 100% gluten free food on their patio on a warm Oakland day.
Mariposa Baking Company: While the location at the Ferry Building in SF is great, this is where the gluten free bakery started, and continues to be their baking facility. You'll find a larger selection of 100% gluten free baked goods here. It's a great place to stop for lunch if you're over in Oakland.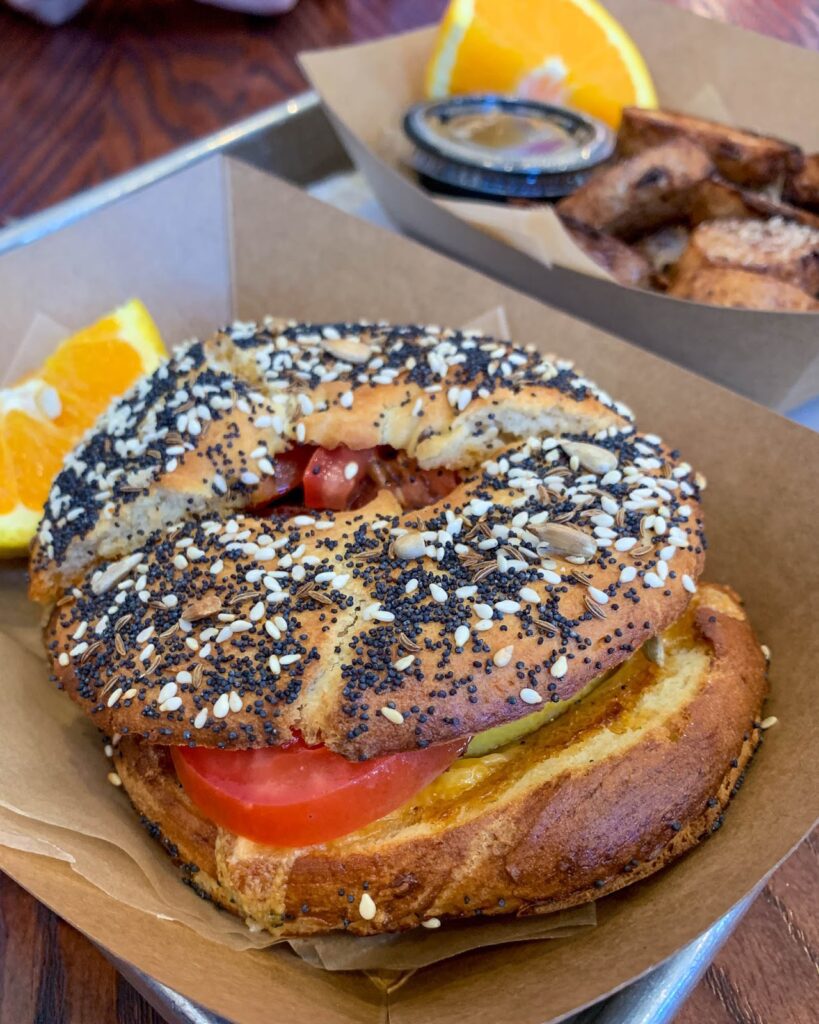 C Casa: A dedicated gluten free Mexican fast-casual restaurant in Emeryville, which is where I worked for five years. Everything is gluten free. You might be scared off by the prices for a taco, but they're MASSIVE. You won't need more than two per person.
Jules Thin Crust Pizza: Separate prep area, and take cross contamination very seriously. They bring out the pizza on a lined tray with a "Gluten Free" stamp. They also happen to have Groundbreaker Brewing gluten free beer on tap. Closed in 2020, unfortunately.
Gluten Free Restaurants in Marin County, California
Copita (Sausalito): First of all, they catered our wedding, which is probably the only endorsement you need. Great 100% gluten free Mexican food in Sausalito in an unbeatable location. I highly recommend starting with a walk from SF across the Golden Gate Bridge and down to Sausalito, and a nice dinner here (complete with margaritas!).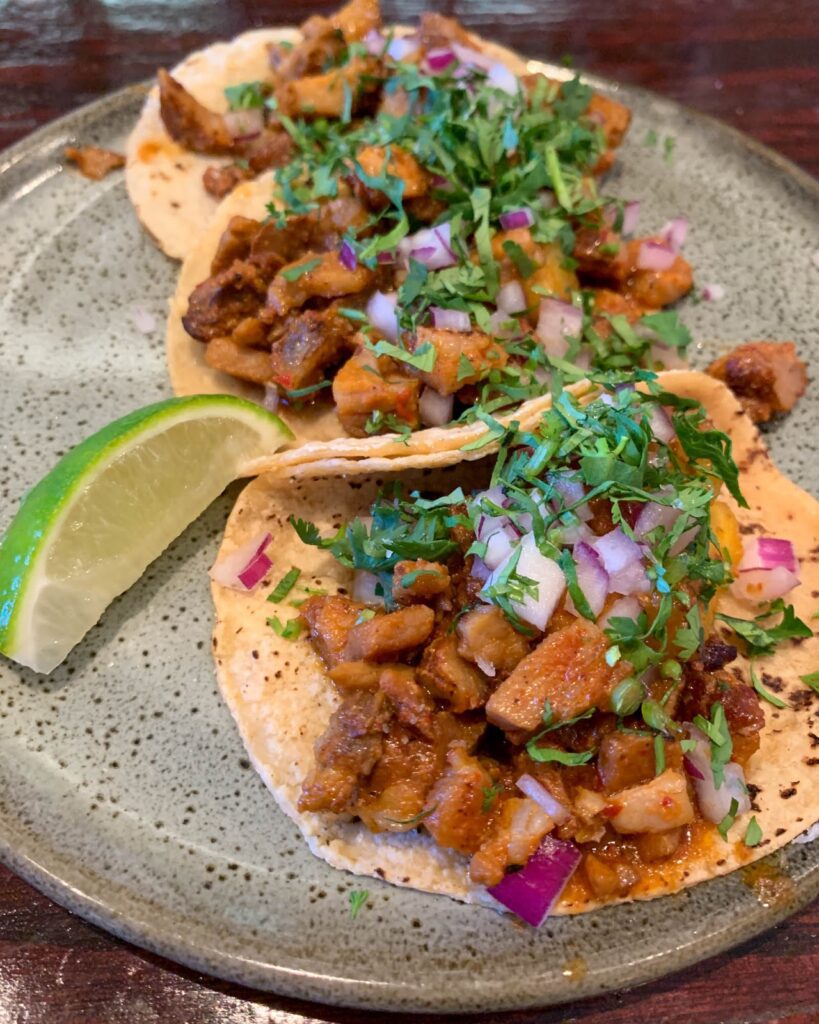 Flour Craft Bakery (San Anselmo and Mill Valley): This 100% gluten free bakery has two locations in Marin. One in Mill Valley, about 20 minutes north of San Francisco, super close to some of the best hiking in California on Mt. Tamalpais and Tennessee Valley and the Marin Headlands, and one in the cute town of San Anselmo a little further north. They're one of my favorite gluten free bakeries in the country.
They make a variety of gluten free baked goods, including cookies, scones, muffins, and donuts, but the star of the show is their breads. Although I will say that their scones are among the best I've ever had.
The walnut sourdough and the brioche are outstanding, and are well worth the trip to Marin. I buy it in bulk and send it around the country to people who have had it while visiting me in San Francisco. It's that good.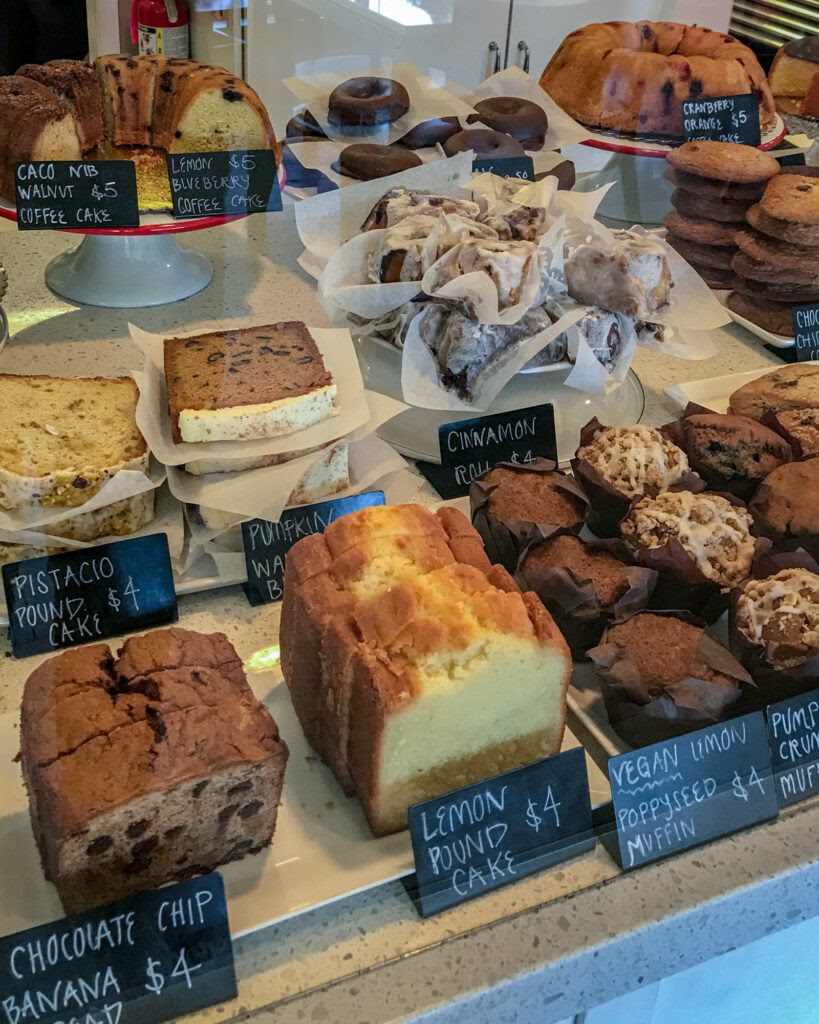 Avatars (Sausalito): The owners of Avatar's might be the nicest people of all time. If you come in, they might come over to talk you through the gluten free options and tell you about their approach and their food. It's a mashup of Indian and Mexican food, which might sound a little weird at first, but it's awesome food. If you're planning on visiting Sausalito, you should stop in to Avatar's for an affordable and delicious gluten free meal.
Mas Masa (Fairfax): Mexican Restaurant in Fairfax, California with a mostly gluten free menu. Perfect lunch or dinner after a lovely Marin hike! CHIPS ARE NOT SAFE FOR CELIACS DUE TO POTENTIAL FOR CROSS-CONTAMINATION. Everything else is safe. Get the pozole if they have it, and the tacos al pastor!
Where to Drink as a Celiac in San Francisco
Here are some of our favorite cocktail bars, cider spots, and wine bars in San Francisco based on nearly a decade of living there.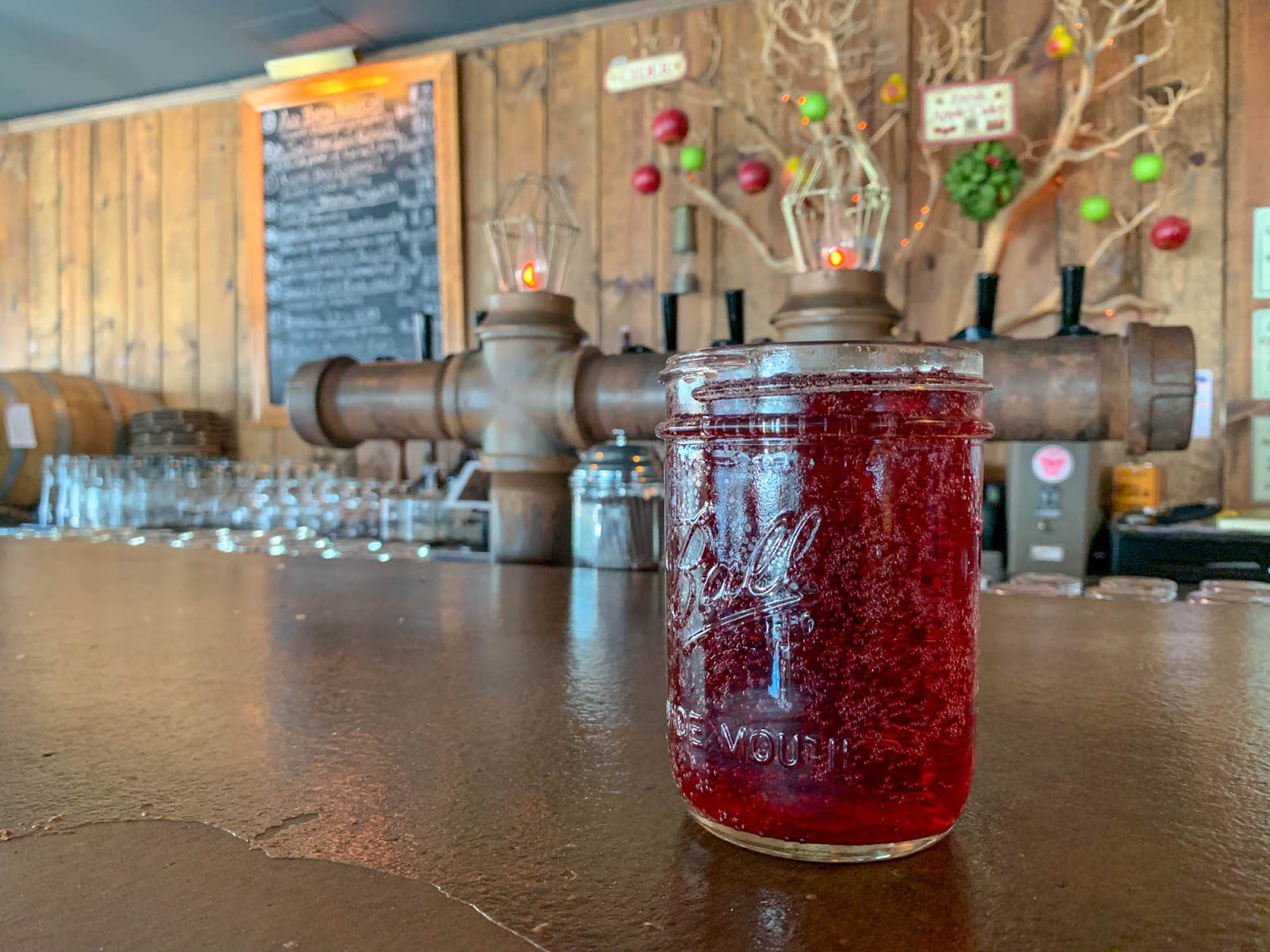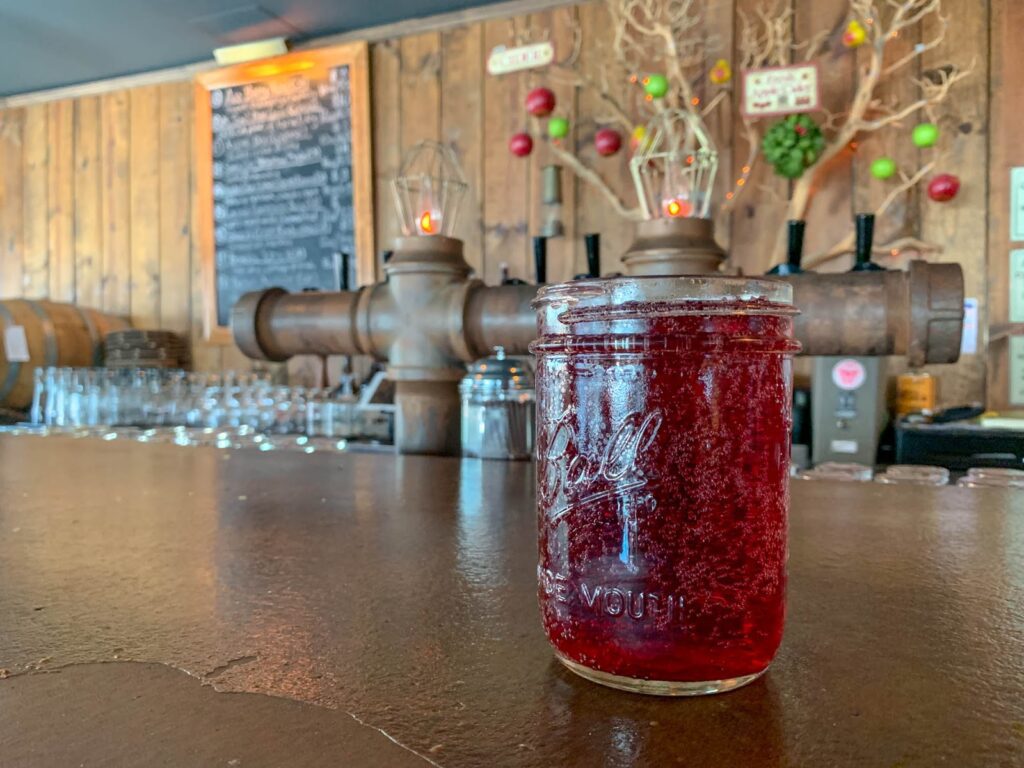 Upcider (Nob Hill): 20+ ciders on tap, and even more bottles and cans. Beautiful space. Food is not gluten free.
Anina / Brass Tacks (Hayes Valley): Right next door to each other with the same owners. Fantastic cocktails in either a speakeasy setting, or a bright airy patio.
Monk's Kettle (Mission): Mostly a beer bar, but they have a robust, rotating collection of ciders and wines both on tap and in bottles/cans.
ABV (Mission): Great cocktails right near Pica Pica.
El Techo de Lolinda (Mission): Rooftop margaritas? Count me in.
Fig & Thistle (Hayes Valley): Cute wine bar tucked away in an alley in Hayes Valley.
Roberbarron (Nob Hill): Cozy neighborhood wine bar with a range of good wines by the glass and a cider or two.
High Treason (Inner Richmond): Great wine bar in the Inner Richmond with a wide selection of interesting wines.
Where to Find the Best Coffee in San Francisco
I'm a coffee snob. One time, we spent 45 minutes circling a block in Australia searching for a hipster coffee shop in an alley that I had read about.
I'm dedicated to finding the best coffee shops in cities we're visiting. Or, in this case, live in. Here are my favorites.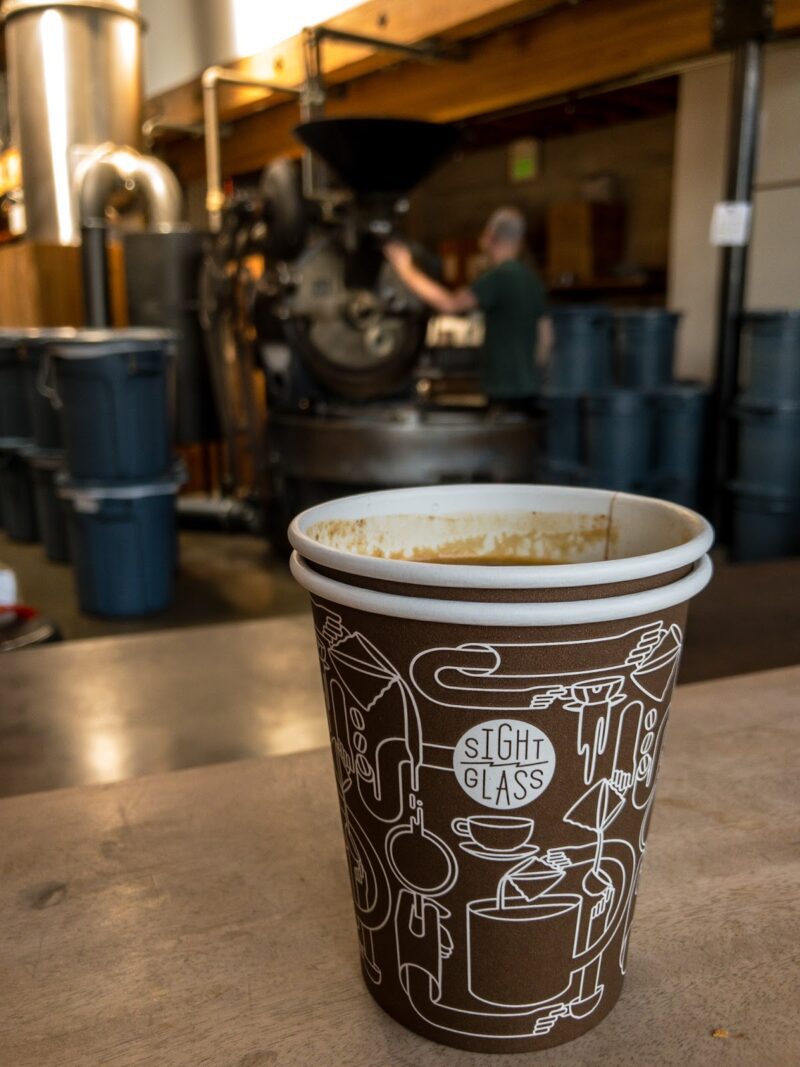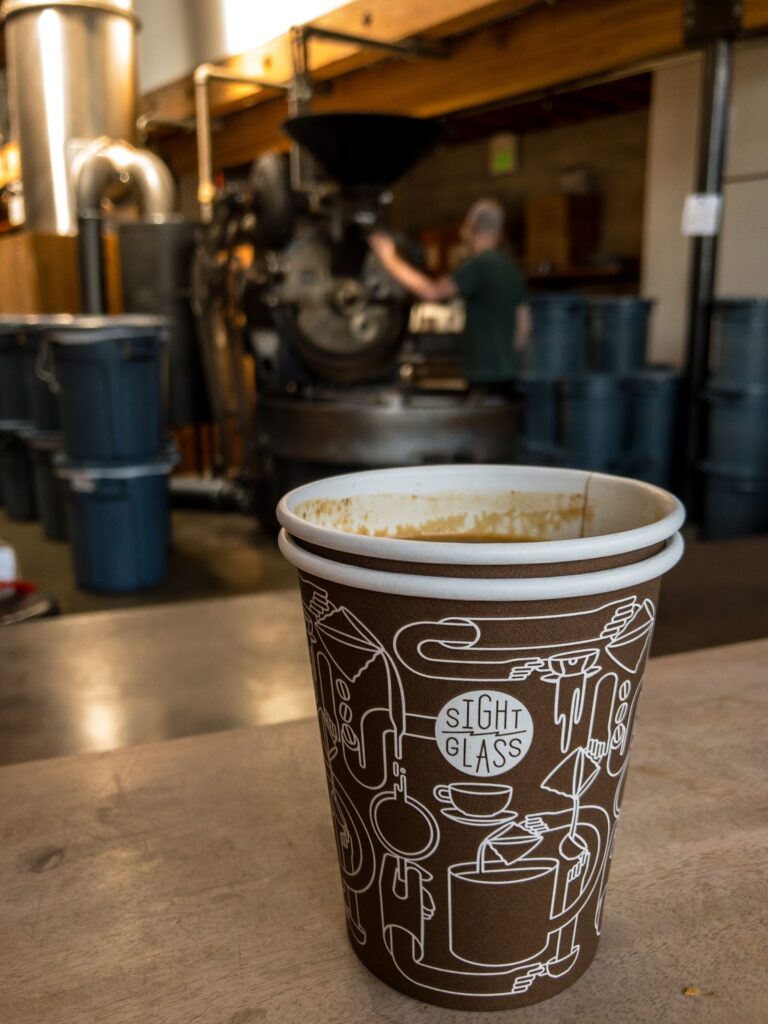 Planning a Trip to San Francisco? We're Here to Help!
Heading to San Francisco? Don't miss our other SF travel guides. They're written by us, two SF locals (at least for the past decade or so).
Best Neighborhoods to Explore in San Francisco
The best place to explore in San Francisco is anywhere other than Union Square and Fisherman's Wharf. Here are three vibrant neighborhoods to add to your itinerary.
Nob Hill – Centrally located, super walkable (though hilly), and filled with an endless list of things to do.
The Mission – Warm, walkable, and filled with some of the best restaurants and bars in the city.
Hayes Valley/NOPA – Charming San Francisco at its finest, with sights like Golden Gate Park and the Painted Ladies just blocks away and some of the city's best food.
Top Things to Do in San Francisco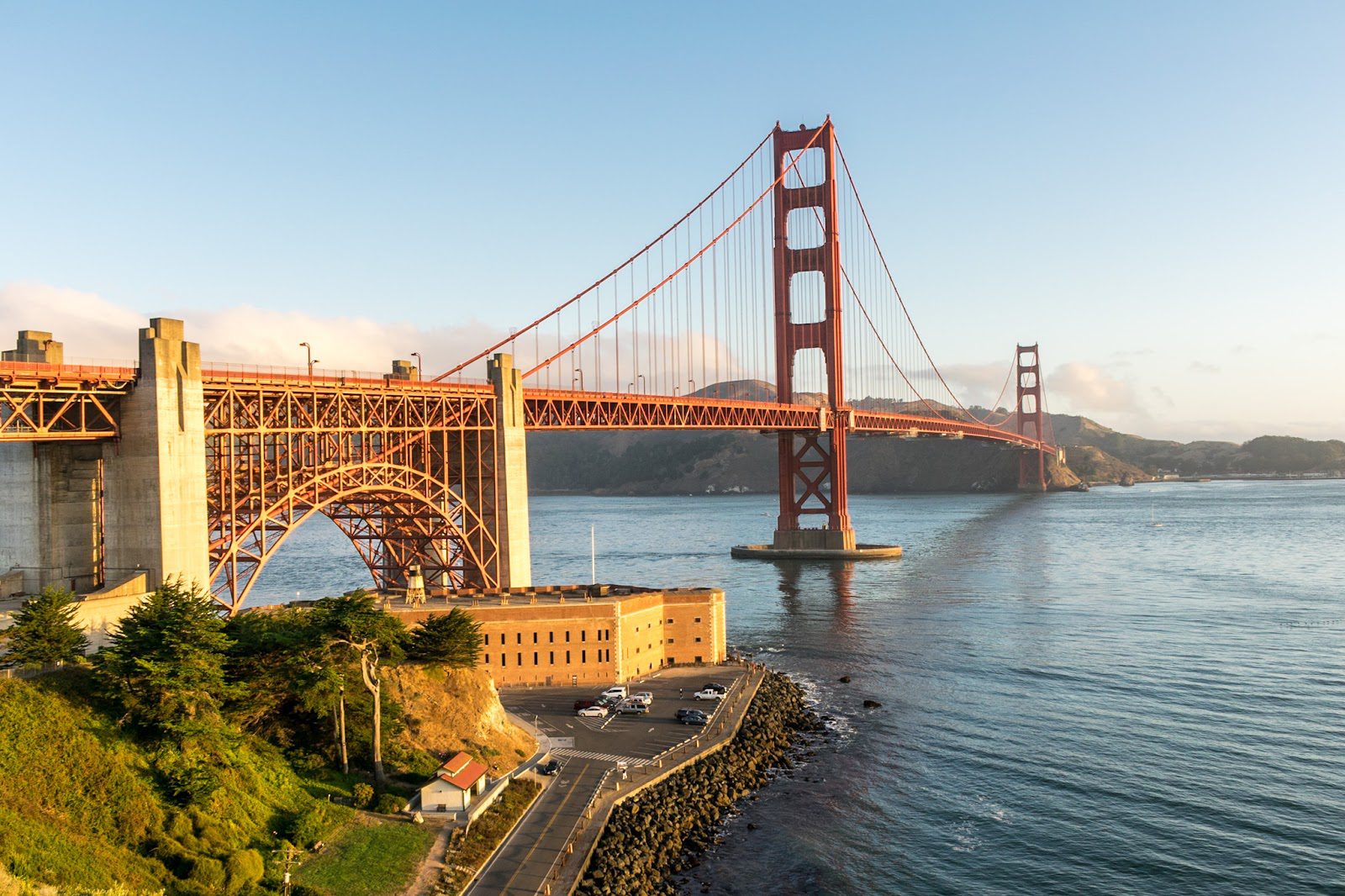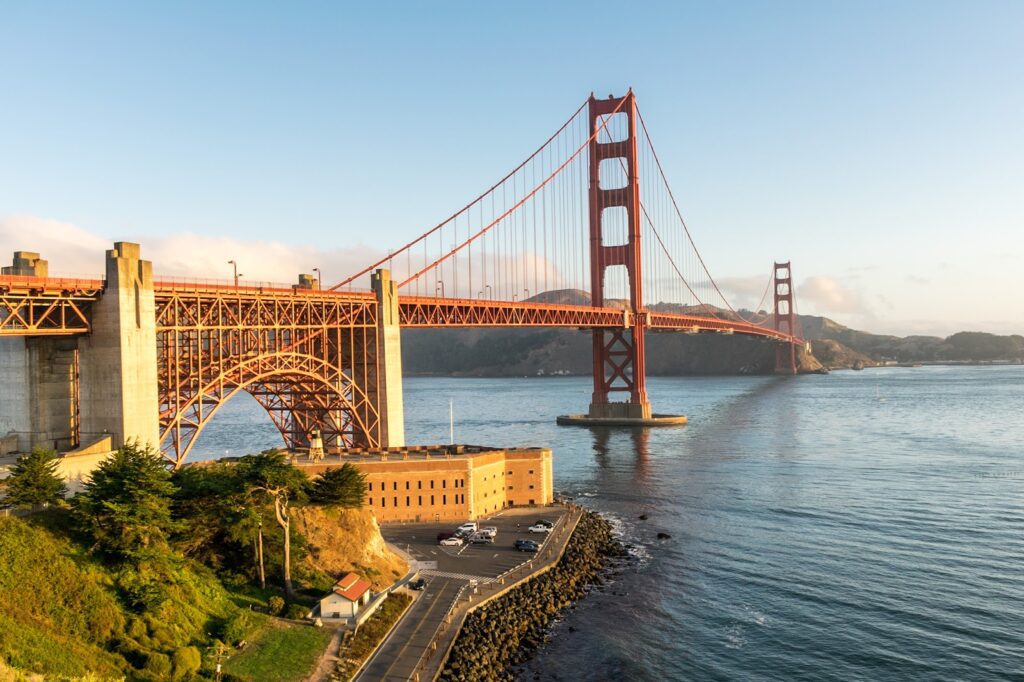 Urban hikes – Lands End and Baker Beach, Take a stroll through Golden Gate Park, or Fort Funston.
The best Urban Hike in San Francisco (you can also do the reverse): Start at the Golden Gate Bridge, walk through the Presidio to Baker Beach, continue on the Lands End trail to the Cliff House, and then catch the sunset on Ocean Beach.
Ferry Building – Stop by the Farmer's Market on Saturday morning, Dandelion Chocolate, Mariposa Baking Co., Blue Bottle Coffee.
Dolores Park – Grab a picnic (from Pica Pica or from nearby Bi-Rite Market) and head to the grass. Be prepared for some interesting people watching.
Sightglass Coffee Cupping – If you're into coffee, this is the best coffee roaster in San Francisco. Well worth a visit. Info here
Heath Ceramics in the Mission. Also, check out their factory tour and seconds store in Sausalito for discounted ceramic pieces.
Check out AT&T Park and catch a Giants game! Don't miss the dedicated gluten free food in the Hearth Table area in left-center field (gluten free flat breads and hot dogs!)
---
Planning a trip to San Francisco? There's more where this guide came from! Check out our other San Francisco travel guides that we put together to help you plan an incredible trip.
Traveling gluten free? You're going to want to head over and read our complete guide to gluten free travel, which has our strategies for traveling the world 100% gluten free.
Here are some of our other gluten free city guides to use to find amazing gluten free restaurants around the United States.