Where to Stay in San Francisco: A Local's Complete Guide
We love San Francisco, which is where we met, got married, and lived for almost a decade. It's an incredible conglomeration of neighborhoods, all with their own unique style and vibe.
For example, in the Marina you'll run into bar-hopping twentysomethings who just moved out of the fraternity, while the Outer Sunset is basically a beach town.
There are so many different neighborhoods in San Francisco, it's hard to keep track of all of them even as a local. How can someone who is visiting for a long weekend be expected to?
When people ask us where to stay in San Francisco, we have a pretty strong perspective. We lived in San Francisco for years before we took off to travel the world full time, and we're here to give you the inside information on the best places to stay in San Francisco for your trip.
Why listen to us? We lived in San Francisco (actually in the city) for more than seven years – Alysha was there for almost a decade (CRAZY). One of our favorite things to do is to explore the best neighborhoods in San Francisco on foot, looking for new coffee shops, cafes, and interesting things to do and see. We'd say "hey, on Saturday, let's do the Castro" and head out there to explore. We've been to all the places listed in this guide, and know the reality of each of the neighborhoods listed below.
DO NOT STAY IN FISHERMAN'S WHARF. That tip alone is worth the price of admission. Which, of course, is free.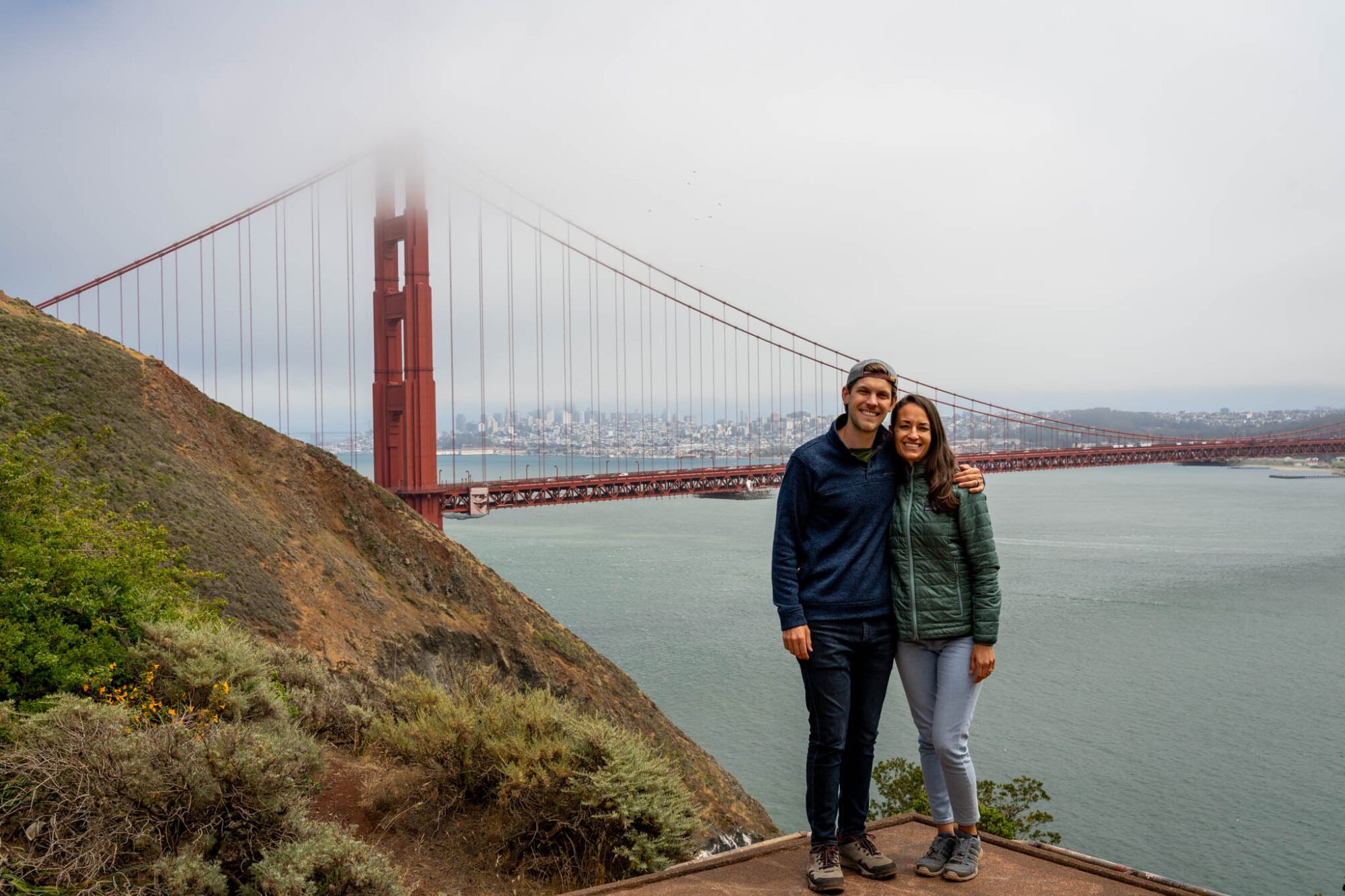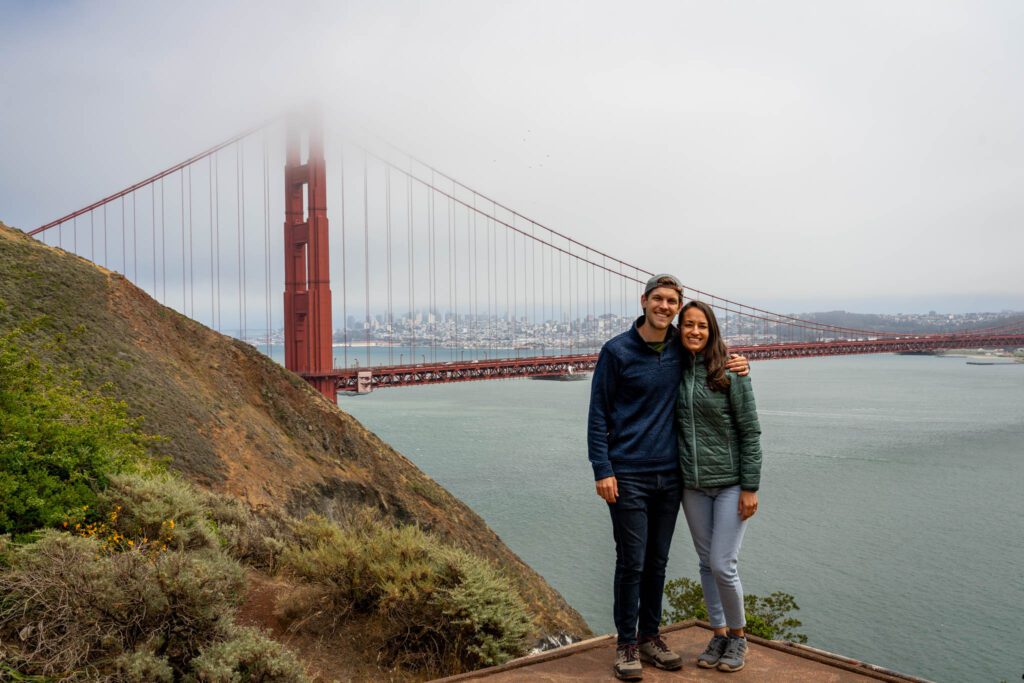 Disclaimer: Some of the links in this post, like hotel links, are affiliate links, meaning at no additional cost to you, we make a little bit of money if you click through and book. That being said, we would never recommend something to you that we don't stand behind 100%.
Where to Stay in San Francisco: A Guide to The 6 Best Areas to Stay
Where you decide to stay while you're in San Francisco will have a fairly big impact on what your trip is like. In this guide, you'll find a variety of neighborhoods to choose from based on your style. We want to match you with the perfect home base to explore San Francisco so that you fall head over heels in love with it just like we have.
There are six neighborhoods where we'd recommend staying for the best San Francisco experience. The criteria we're using to evaluate them are:
Location (are they centrally located?)
Density of things to do and see
Places to eat and drink in the area
Don't have time to read the entire guide? Here's a quick summary.
Our overall recommendation is to find a charming hotel or B&B in Nob Hill, which is where we lived together for our last several years in San Francisco (Alysha lived there for years before that, too). It has great views from just about every street in the neighborhood thanks to its location perched on top of the hill, and the place where the two famous cable car lines intersect. Look at Petite Auberge, a nice B&B that we've personally stayed at and enjoyed, or the Stanford Court for a more modern hotel.


If you want the highest concentration of highly rated hotels, look at Union Square. It's not the most charming part of town (there's an argument that it's actually the least charming), but there's no doubt that it has the best collection of hotels, and it's in a central location that is well connected via public transit. We're big fans of the CitizenM (we love their Seattle hotel, which you can read about here).


If you're looking for a slightly different, more residential experience, look at NOPA or Hayes Valley. Both are central, more residential, and full of charming Victorian houses. Nearby, you'll find great bars and restaurants, the famous Painted Ladies, and Golden Gate Park. Unfortunately, there's not a whole lot of hotel choices here, but there are a couple of good options.
Read on for a detailed guide to our picks for the best places to stay in San Francisco.
Nob Hill: Our Old Neighborhood & Top Recommendation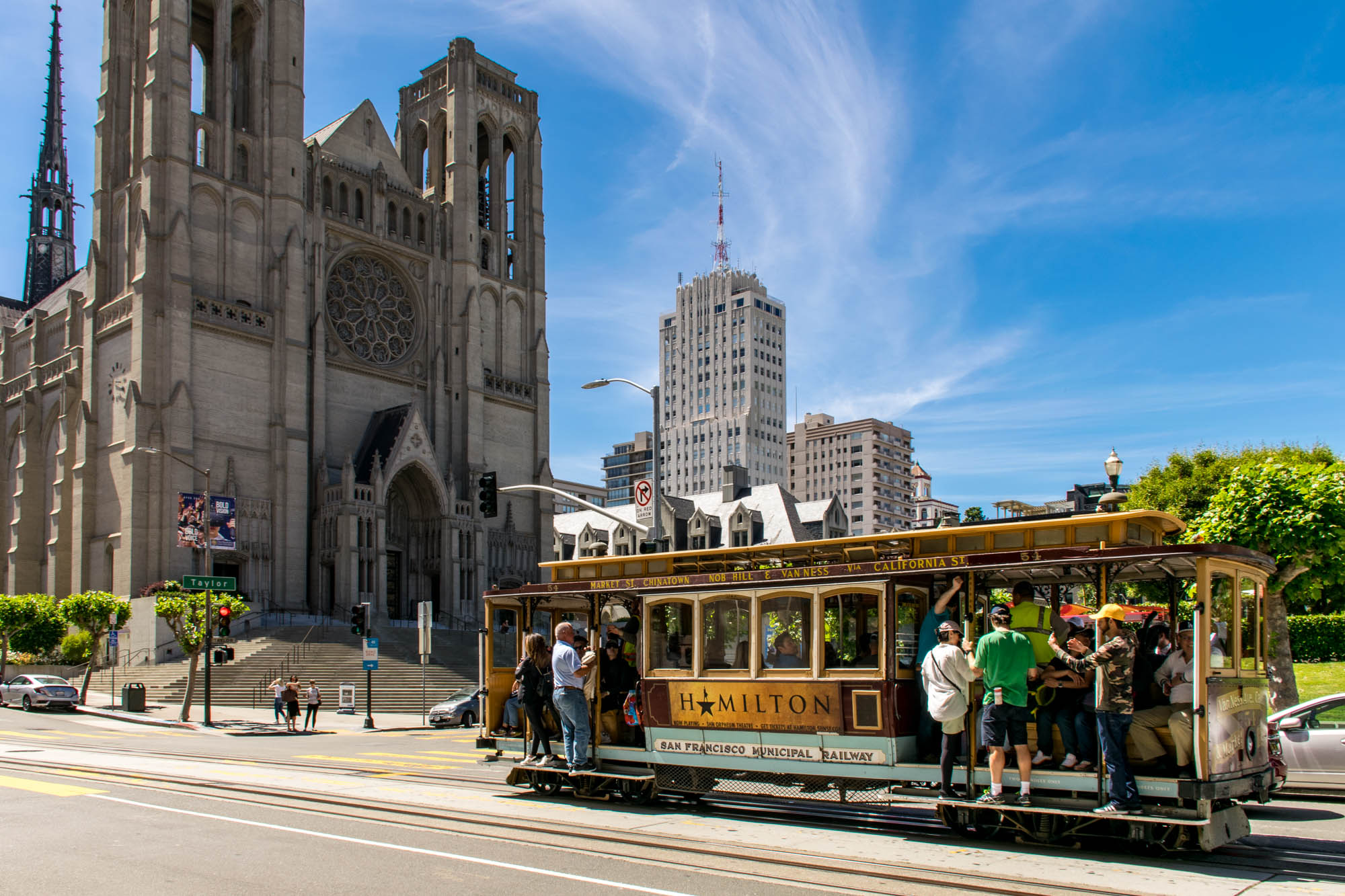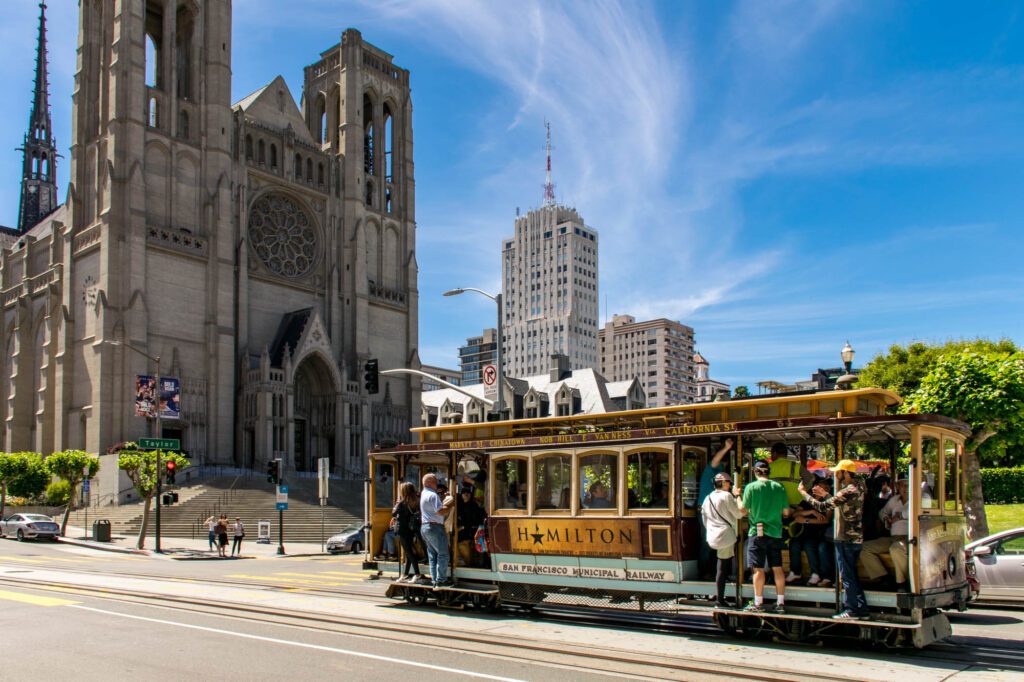 Look, we may be biased on this one. We were lucky to call Nob Hill home together, and even though we don't live there anymore we still recommend it. Hear us out on why it's the best area to stay in San Francisco.
It has picturesque tree-lined streets, a wide variety of great restaurants, bars, and things to do, and both iconic cable car lines run directly through it. It's centrally located with easy access to all corners of San Francisco, and full of hills with sweeping views towards the Financial District and the rest of the Bay Area.
That amazing combination makes it the best place to stay in San Francisco, which is why I chose to live in Nob Hill for years.
Basically, Nob Hill is quintessential San Francisco.
It is at the top of a hill, so take that into account if you have mobility issues. You can always call a Lyft or Uber to get around though. Parking is notoriously difficult, so it's probably best to visit Nob Hill without a car if you can (you don't need to rent a car in SF anyway).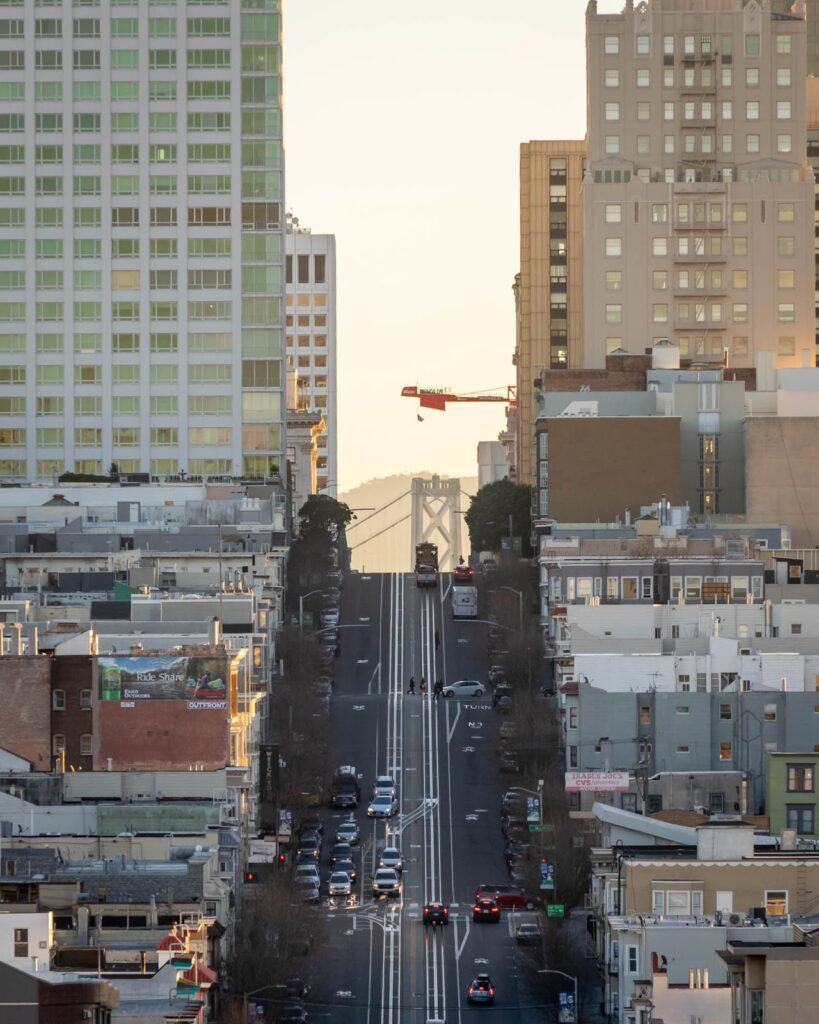 Pros and Cons of Staying in Nob Hill
Pros: You'll be centrally located and walkable to Fisherman's Wharf (if you must), Lombard Street, North Beach, the Embarcadero, and more. Plus, it's a lovely neighborhood, with stunning views of San Francisco around every corner. The stretch along Polk Street is full of great bars, restaurants, shopping, and more.
Cons: The biggest issue with Nob Hill, aside from the steep hill part, is that there really aren't that many places to stay. And a lot of them are expensive for what you're getting. The south end of the neighborhood, known as "Lower Nob Hill," is essentially the Tenderloin, which is not the best part of the city. Parking is a nightmare – DO NOT STAY HERE IF YOU HAVE A CAR.
Nob Hill Highlights
Here are some things to check out in the neighborhood that we called home. For the purposes of this guide, Russian Hill and Nob Hill are combined. Because it's close enough.
Explore Polk Street and Hyde Street: From relaxed gastropubs, to upscale cocktail bars, dive bars, and quirky shops, Polk Street and Hyde Street have something for everyone.


Wander: Chinatown, North Beach, and Ghirardelli Square are just a short walk away, and the walk is second to none. Charming tree-lined streets, with Victorians flanking cable cars that zoom by are what makes Nob Hill special. Try walking from Grace Cathedral at the top of Nob Hill down through Chinatown to the Ferry Building (maybe take the cable car back up the hill, though).


Ride the Cable Car: But keep in mind it is $7 one way, so it's not the cheapest way to get around the city. There's a route that will take you to Fisherman's Wharf or Powell Street, and a route that will take you down California Street to the Ferry Building.


Visit Grace Cathedral: If you're lucky, you can catch yoga on Tuesday nights!


Spend an afternoon at Lafayette Park lounging in the sun alongside young couples and their dogs.


See Lombard Street, the crookedest street in the land (except that one across the city in Potrero Hill, but it's not nearly as scenic). It gets even better at night. Pro-tip: Walk up to the Alice Marble Tennis Courts for an unbelievable view of the Golden Gate!


Visit the Tonga Room – the tiki themed cocktail bar in the basement of the Fairmont. It's tacky but that's the appeal.


Take in the views over a cocktail at the Top of the Mark.


Grab a coffee from some of the best coffee roasters in San Francisco at Contraband Coffee Bar and Saint Frank Coffee.
The Best Places to Stay in Nob Hill
There are a couple of places to stay in Nob Hill that we think you'll like, but you'll need to be prepared for the price tag. This is one of the nicest areas in the city, and the prices here reflect that.
Petite Auberge (Where We Stayed)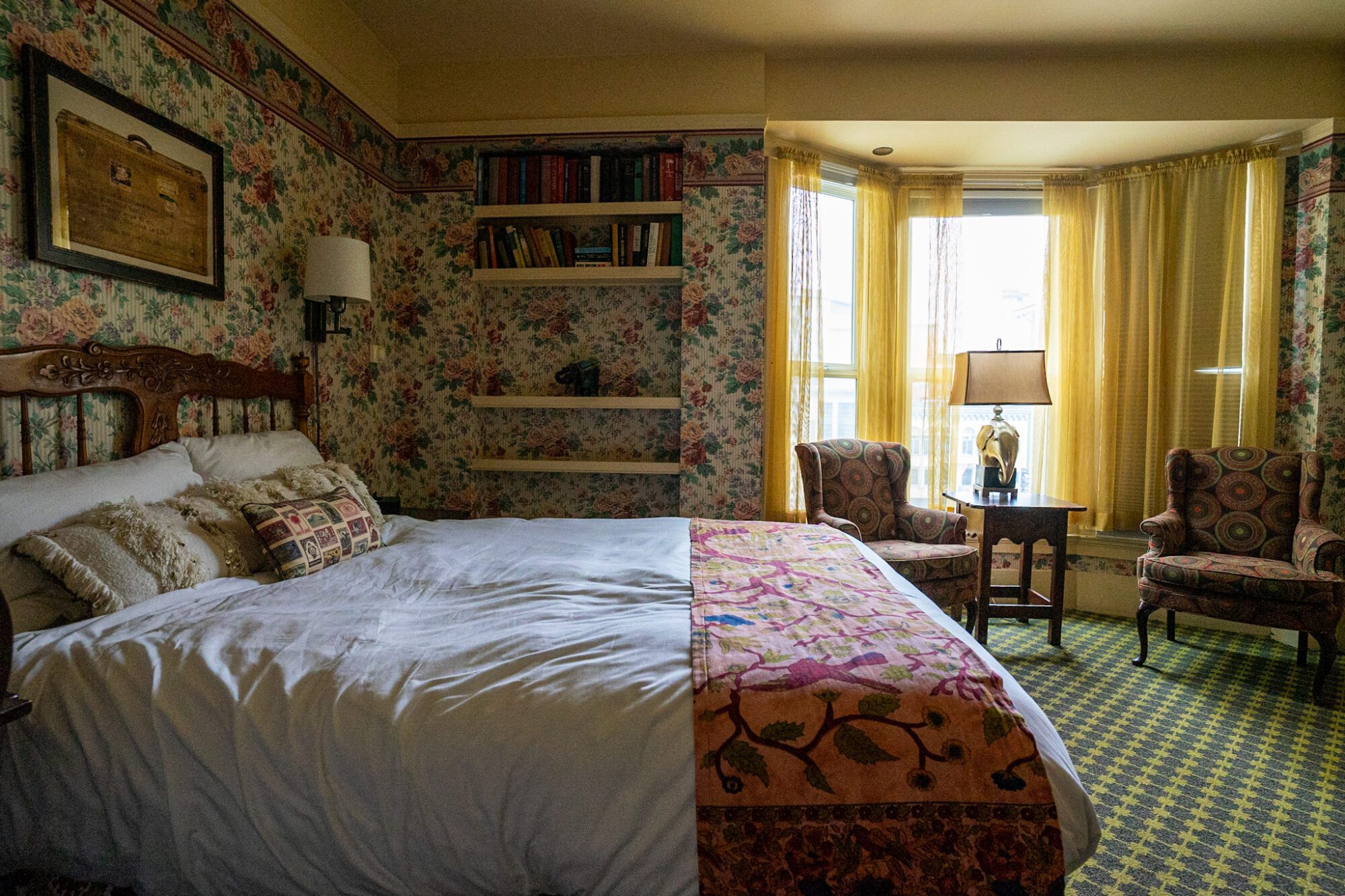 After we moved out of the city, we decided to do a quick staycation and return to our old stomping grounds in Nob Hill.
We chose Petite Auberge because, along with the sister hotel next door – the White Swan Inn – it feels like the most charming hotel in the area.
In fact, it's much closer to a bed & breakfast than a hotel. They describe it as part bed & breakfast, part boutique hotel, which seems accurate based on our experience.
The guesthouse sits in a nice spot on Bush Street, walkable to Polk Street and a bunch of great bars and restaurants, walkable to the Financial District and Ferry Building, and walkable to BART.
Next door is one of the best pizza spots in the city – Del Popolo – which actually does room service for Petite Auberge.  Up the block on Bush is one of our favorite cocktail bars in the city, Peacekeeper.
The point is that the location is great.
But what about the rooms? They're very French-feeling, with floral print wallpaper and wooden furniture. Some rooms have a fireplace, which we very much enjoyed. The rooms are fairly spacious too, which is surprising for a city like San Francisco, which is known for tiny apartments.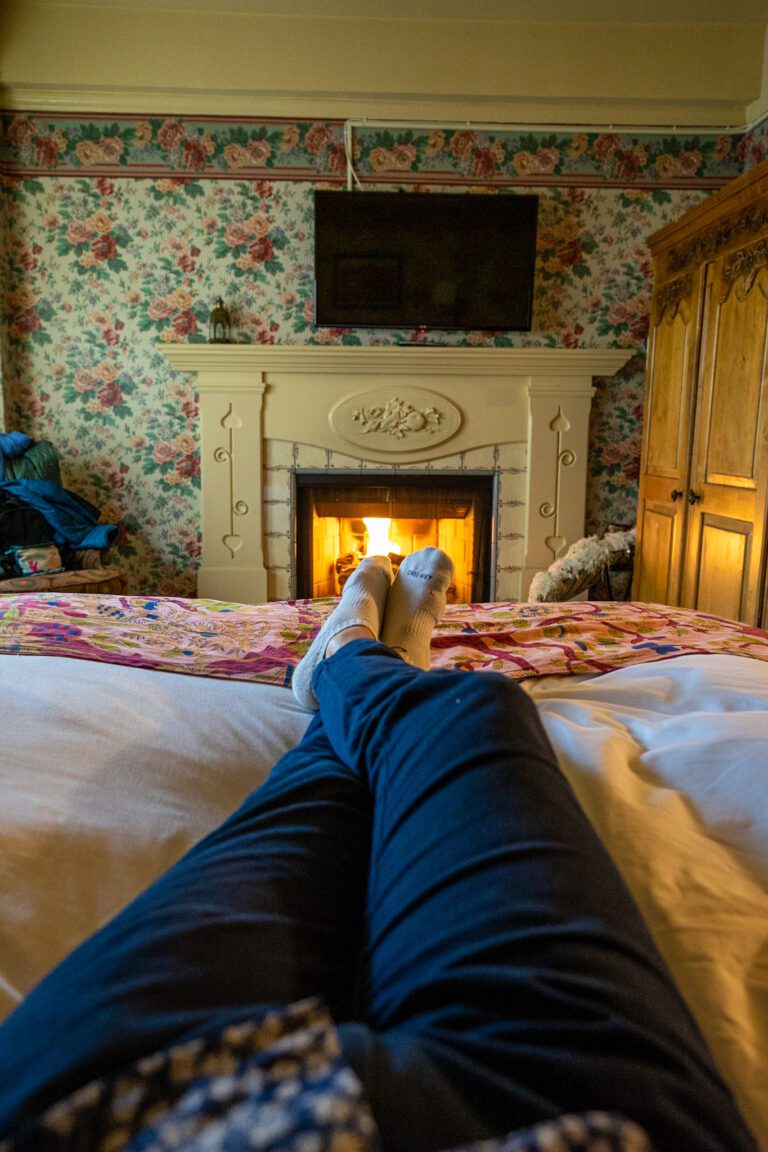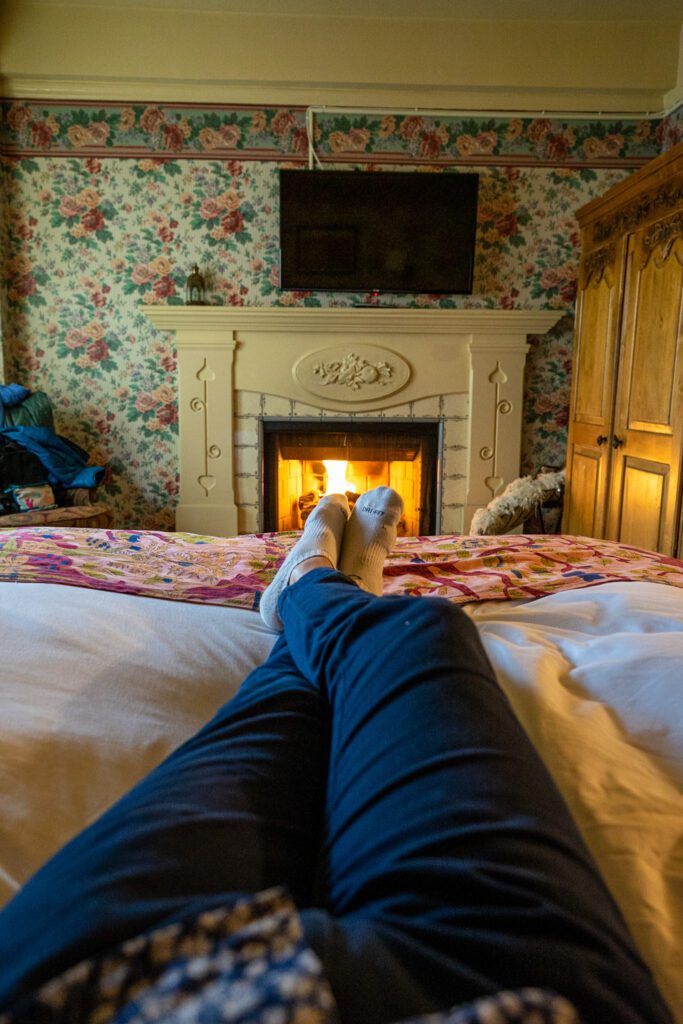 Like many buildings in San Francisco, the building is a little bit dated. You can hear the people above you (though, oddly, not next to you) as they move around, and the pipes are loud. But nothing too crazy at all.
The other thing that's cool about this place is that there are various inclusions – breakfast with coffee from Equator Coffees and pastries, complimentary wine during happy hour in the afternoon, and tea, coffee, and bottled water available throughout the day. There's a nice outdoor patio area where you can enjoy said complimentary beverages, though it was closed when we were there and we had to go to the White Swan Inn next door.
Parking is expensive, however, at $50+ a day (only valet available), so we'd recommend avoiding bringing a car here if you can.
The Stanford Court Hotel
We used to live about five blocks away from Stanford Court, a boutique hotel in Nob Hill, and I regularly walked by it on California Street on the way to catch the bus to work (or on the cable car!).
This is the best value hotel in San Francisco, at least in our opinion. The location couldn't be better – it's right on top of Nob Hill, and it's right along California Street, one of the main thoroughfares to get downtown. The famous San Francisco cable car is quite literally outside the front door.
They took a break in 2020 and early 2021 to completely remodel the place, and it is looking fantastic. Rooms have modern amenities – including USB charging ports! – and all rooms have a mini-fridge in the room. Plus, you'll have access to their fitness center (which is actually surprisingly nice with Peloton bikes), and you can rent real bikes for free (though, good luck riding them anywhere other than on top of Nob Hill).
You'll have good coffee from Equator in your room, and tea from Mighty Leaf tea. Both of which are among the best coffee / tea options I've ever seen in a hotel room.
Last but not least, they allow pets. But there is a $50 pet fee, which includes a goodie bag with treats and toys for the pup.
White Swan Inn
The White Swan Inn is a sister hotel of Petite Auberge above. This place is right on the border of Nob Hill and Union Square on Bush Street, but we're including it here mostly because it is much closer to the Nob Hill aesthetic than the one you find in Union Square.
You'll find a similar set of amenities here as you do at Petite Auberge: free Wifi, breakfast, evening wine, and in-room fireplaces. The amount of food that these two places give you for free is pretty awesome.
The biggest difference between the two is that the White Swan Inn is English-inspired, rather than French.
The Fairmont
If you're looking for the most famous upscale hotel in Nob Hill, stay at the Fairmont Hotel. It's a splurge, but it's BEAUTIFUL and in an absolutely perfect location at the top of the hill. Alysha has run into multiple celebrities here – she used to plan events for a local nonprofit that took place at the Fairmont.
Plus, the cool (and touristy, sure) tiki bar Tonga Room is in the basement, so you can drink seven tiki cocktails and stumble straight up to bed!
Union Square: Central, Convenient, and… Boring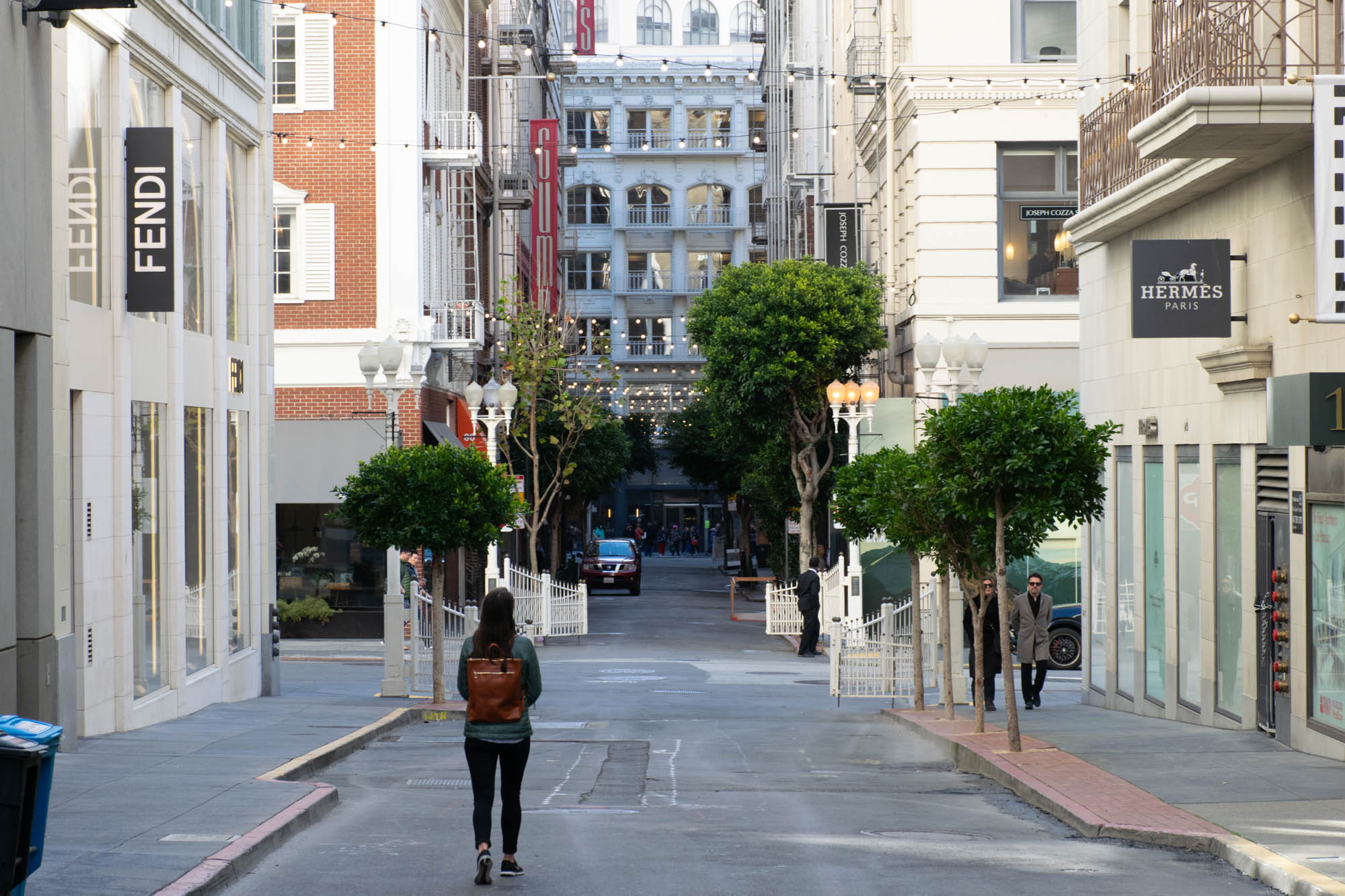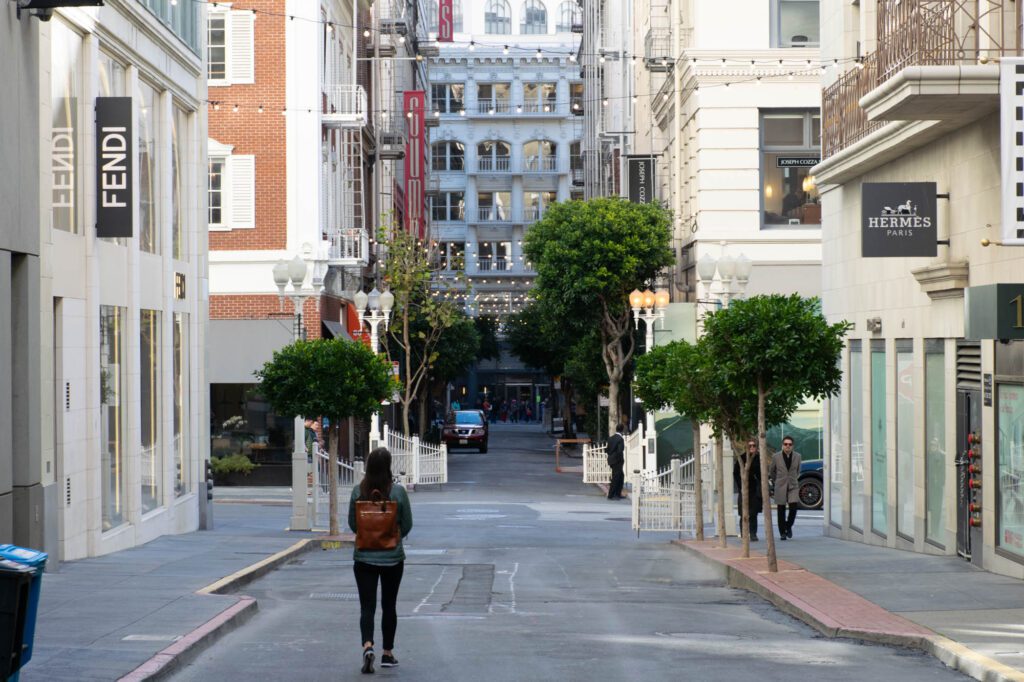 We almost hesitate to suggest Union Square, because you get none of the charm that makes San Francisco special. But most of San Francisco's hotels are in Union Square, and it's super central to everything in the city including public transportation, so it makes the list of best areas to stay in San Francisco almost by default.
However, if you do stay here, you should plan on spending 99% of your waking hours elsewhere.
Pros and Cons of Staying in Union Square
Pros: Tons of nice hotel options. Central to Nob Hill, the Embarcadero, and the Financial District (if you're in SF for work). Well-connected to other parts of the city via public transportation.
Cons: ZERO CHARM. Concrete jungle with very little of what makes SF special. Parking is a nightmare – you'll pay $40+ a night to park, so stay elsewhere if you have a car. The western edge of the neighborhood is adjacent to the Tenderloin, which has some great food and drinks, but is not the nicest neighborhood in SF.
Union Square Highlights
Honestly, not much. The biggest reason to stay in Union Square is that it has a ton of hotel options, and it's central and well-connected to the rest of the city. However, we do think that the Ice Cream Museum and SFMOMA are both worth a stop.
Best Places to Stay in Union Square
There are a nearly unlimited number of hotel options in Union Square. Some are pretty "meh" while others have unique amenities and design aspects.
Here are five that we like out of the sea of hotels in the area.
The CitizenM Hotel San Francisco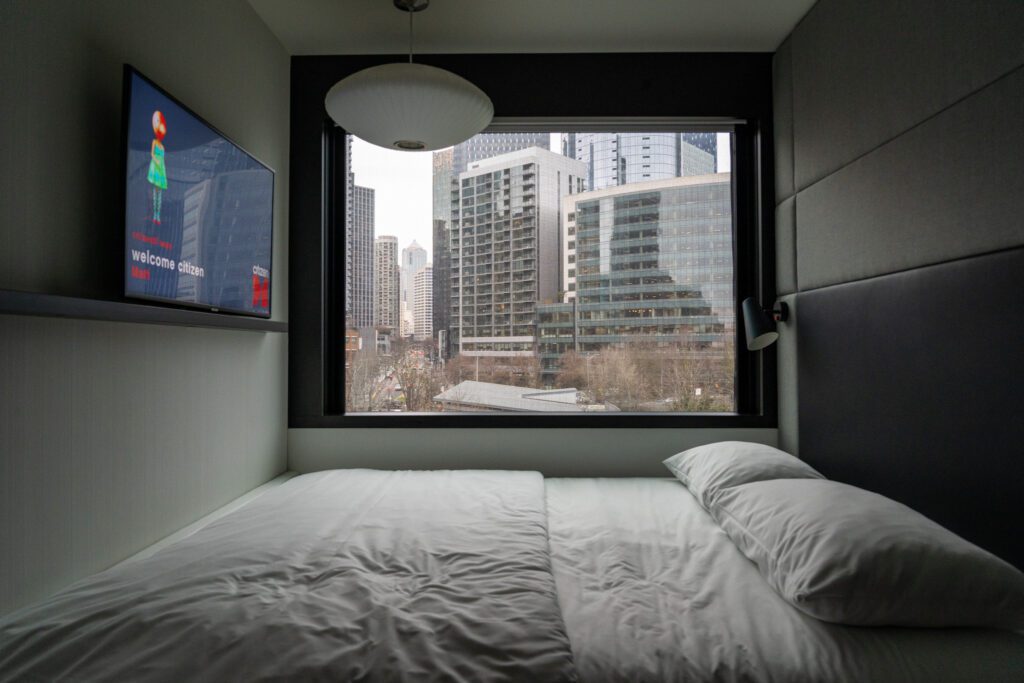 CitizenM Hotels are one of our favorite hotel chains in the world.
We've recommended them in Seattle, among other places, and would recommend the CitizenM in Union Square here in San Francisco. In a city full of expensive, old school, hotels, this is a nice, refreshing, modern change of pace that we very much appreciate.
They're a Dutch hotel chain that has basically made staying in a hotel super easy and streamlined, with all the amenities that modern, younger travelers are looking for (USB charging, climate controls via iPad, and more) while simultaneously stripping out the unnecessary pieces (fluffy robes and slippers or sitting areas, for example) to offer a great value.
The other thing we like is that, in the interest of simplicity and ease, they've stripped away all the slightly different room types you find in most hotels (small vs. small deluxe vs. small deluxe with partial city view), and there's exactly one room type available: a small room with a king bed.
Not ideal for groups who aren't comfortable sleeping in the same bed (though, it's probably about the same price to get one room here as it is to get two rooms at most other SF hotels), but perfect for couples and people who don't mind sharing a bed.
It's right in the heart of Union Square, a block from the cable car and Powell Street Station (where you can hop on BART to get to/ from the airport or Mission District), and walkable to the Financial District and Ferry Building.
Palihotel San Francisco
The gorgeous Palihotel San Francisco is on the border between Union Square, Nob Hill, and the Financial District, and offers great access to all three. Plus, it's a few blocks from Chinatown, which is well worth exploring. I usually wouldn't recommend staying in Union Square if you can help it, but this place is the exception to the rule.
The hotel, set inside a charming, historic building, has 82 king and queen rooms, a full service restaurant, bar and lounge. Guest rooms feature exposed painted brick walls, Smeg fridges, minibars, 43" HDTV's, custom bath products and work spaces. They are comfortable and stylish, offering en-suite facilities and a spacious space in which to relax in after a day of shopping and fun in San Francisco!
If you're traveling to San Francisco by car, you can self-park at Palihotel for $39 per night (which is honestly relatively affordable) and bring your dog with you for an additional charge of $75 per pet, per stay!
StayPineapple San Francisco
Staypineapple hotels are always a little…quirky. But they also usually make the list of good value hotels in cities where they're operating, like Seattle. 
This stylish hotel is close to dozens of shops, bars, restaurants and theaters and within walking distance of Union Square. In fact, if you're seeking a hotel with little extras, Staypineapple ticks all the boxes.
Although, be warned that they charge a $29.95 daily amenities fee (gross – why not just include it in the price?) which gives you access to WiFi, food and drink credits, unlimited bottled water, streaming, and beach cruiser bikes.
There is double duvet style bedding in each room for extra comfort, plus walk-in showers, Keurig coffee makers, in-room fridges and air conditioning. You can listen to your favorite music courtesy of the iHome Bluetooth docking station or stream TV shows onto a 50" HDTV.
Hotel Nikko
Rooms at Hotel Nikko are decorated with cool hues, wall murals, pillow-top beds, flat screen TV's and iPod/iPhone docking stations. If you're traveling to San Francisco for a special occasion, upgrade to an Imperial Club room or suite to get the best views and benefit from Subarashii Ame rain showers!
You should know: there's a daily amenity fee of $34 (again, WHY?!), but this includes access to the fitness center, indoor swimming pool and WiFi, plus it gives you food and beverage credits.
The Found Hotel
We think the stylish Found Hotel offers one of the best value stays in San Francisco. Just five minutes from Union Square, its shops, bars and restaurants, and close to the Powell Cable Car Line, it's a great place for friends and couples to use as a base to explore the city.
They offer a choice of Superior Queen Rooms with cable TV, AC, WiFi and bathroom with shower, double rooms and shared dorm options, plus there are accommodations available for those with limited mobility.
There are also female only bunk rooms accommodating up to four guests, great for groups visiting the city. There's a trendy lobby lounge where you can sit and plan your day, and workspace if you need to check in at work or home.
Hotel Zeppelin
Showcasing San Francisco's bohemian past in all its glory, is 196 room Hotel Zeppelin, a block from the buzz of Union Square. With designer shopping, theaters and dozens of cafes, bars and restaurants nearby, you'll never be stuck for places to shop, drink, eat, or be entertained.
Rooms at the Zeppelin are dedicated to the city's bold and creative residents – the authors, poets and musicians, and in the suites, you'll discover vintage turntables, artwork, desks and bathroom amenities by ROIL.
There's a fitness center, 24 hour valet parking for $58 a day plus tax (YIKES), pets can stay with you, and you can even rent bikes and scooters to explore the city sans-car.
Hotel Emblem
We love the creative vibe of this 96 room hip hotel, from the writer's alcove filled with books in the lobby, to eclectic guest rooms with unique artwork and unusual touches.
You'll have free WiFi in the rooms, a 55" flat screen TV, book butler, Bluetooth audio system, luxury bath amenities by ROIL and a Nespresso coffee and tea maker!
Some rooms have additional accessibility for those with limited mobility, plus the hotel allows you to bring your pet with you for an additional charge. If you plan to drive in San Francisco, valet parking is also available at a cost of $58 per night. So probably don't stay here if you plan on having a car, or arrange for alternate parking at a nearby garage for your trip.
North Beach: Amazing Views from Little Italy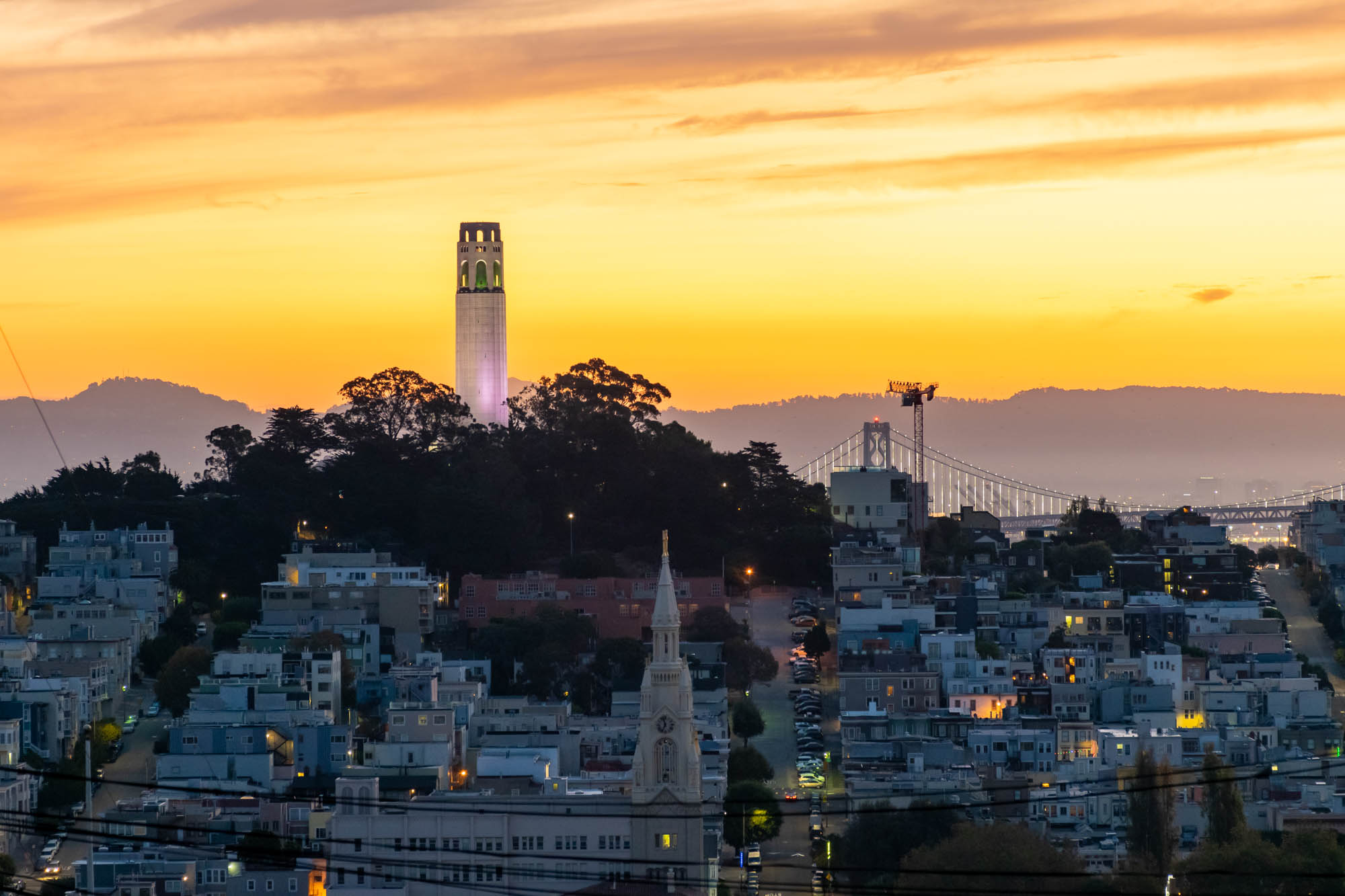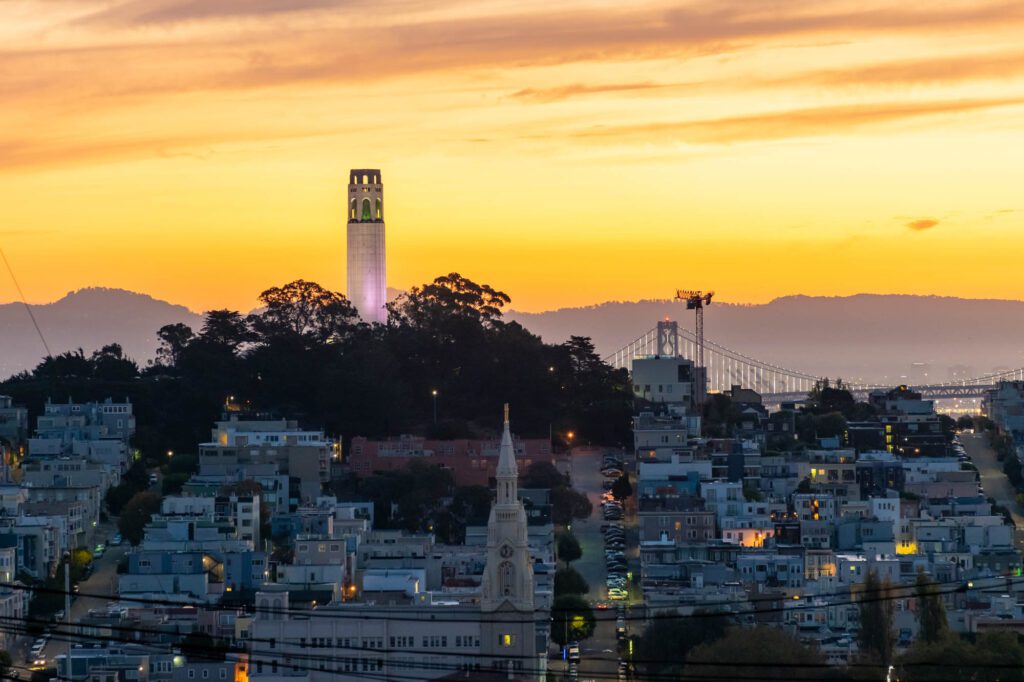 North Beach, which is at the northeastern corner of the city, west of Nob Hill and Chinatown, and south of Fisherman's Wharf, is a cool neighborhood. Traditionally Italian, this is where the Italian-American community in San Francisco ended up, which is not hard to see as you walk the streets. If you're looking for good pasta and pizza, chances are it's in North Beach.
It's a charming neighborhood by day, and the area around Washington Square Park is one of the most pleasant places to be on a weekend morning. Coit Tower, just up the hill, is worth a stop for the views over the Bay all the way to the Golden Gate Bridge.
The neighborhood also has a slightly seedier side. After dark, the bright neon signs will be advertising everything from bars and restaurants to strip clubs. It's also a great nightlife spot, which might mean different things to you depending on what stage of life you're in.
Pros and Cons of Staying in North Beach
Pros: Lovely, charming neighborhood. Great Italian food. Easy access to the Financial District and the Embarcadero, as well as Fisherman's Wharf.
Cons: Parking is going to be tough. At night, it's not quite as charming, and it can be loud depending on where you're staying. It's going to take you FOREVER to get to places like the Mission and Golden Gate Park, so it's best if you're planning to spend most of your time on the eastern half of the city (likely shorter trips).
North Beach Highlights
Tony's Pizza: The best pizza in SF, and internationally acclaimed.
City Lights Books: Charming little independent bookstore – one of the best in the city.
15 Romolo: One of the best cocktail bars in the city.
Coit Tower: It's worth a stroll up the hill for the views of the Bay.
Cafe Reveille: The best coffee shop in the neighborhood.
Best Places to Stay in North Beach
There are only a couple of places to stay in North Beach itself, and only two of them are really worthwhile in our opinion.
There are a lot of places to stay at the northern edge of the neighborhood, which is Fisherman's Wharf. DO NOT STAY THERE. It's constantly full of people, and is the most touristy part of the city. Worth an hour or two, but not a good place to base yourself.
Columbus Inn
The Columbus Inn, which is at the northwestern part of North Beach, is basically the only game in town. It's walkable to both Fisherman's Wharf and Ghirardelli Square, and is steps away from North Beach's best parts. Rooms are simple, coming with either a queen, king, or two full beds.
Parking is free here! That's a huge plus if you're traveling with a car, and will likely save you ~$100 over the course of your trip vs. paying for parking at a different hotel, or paying for the parking ticket you got for not paying attention to the confusing signage (we're not bitter or anything).
Hotel Boheme
Right on Columbus Avenue, the main stretch in North Beach, Hotel Boheme is a relatively small boutique hotel with just 15 rooms. It was built in the 1800's by Italian immigrants, and has been remodeled to be reminiscent of 1950's San Francisco after it was essentially leveled in the 1906 earthquake.
Some rooms are on Columbus, while some rooms are at the back of the hotel, which are quieter, so make sure to ask if you have a preference. The staff and the afternoon servings of sherry are among the highlights here.
The Haight / NOPA: Residential + Charming Victorians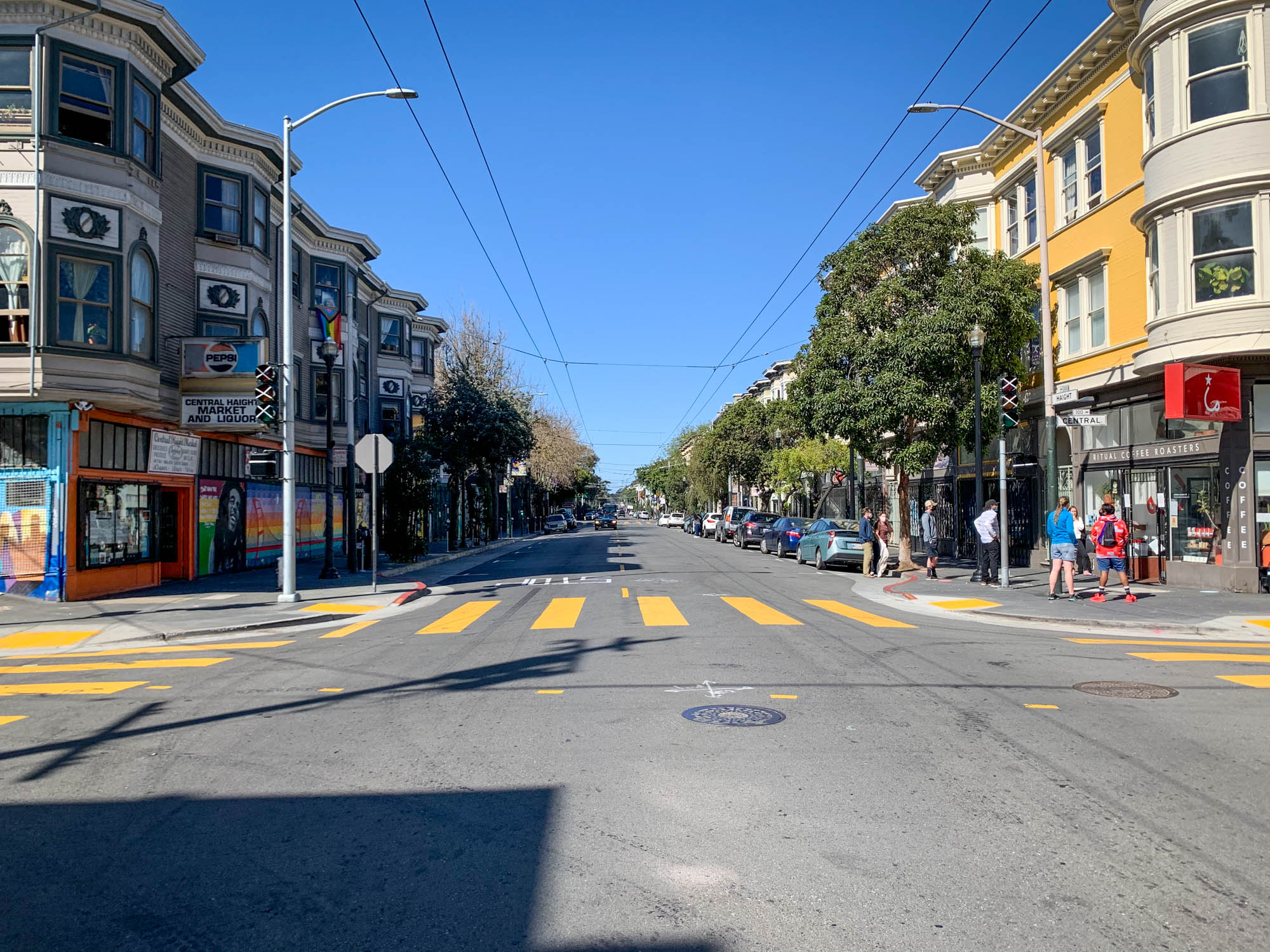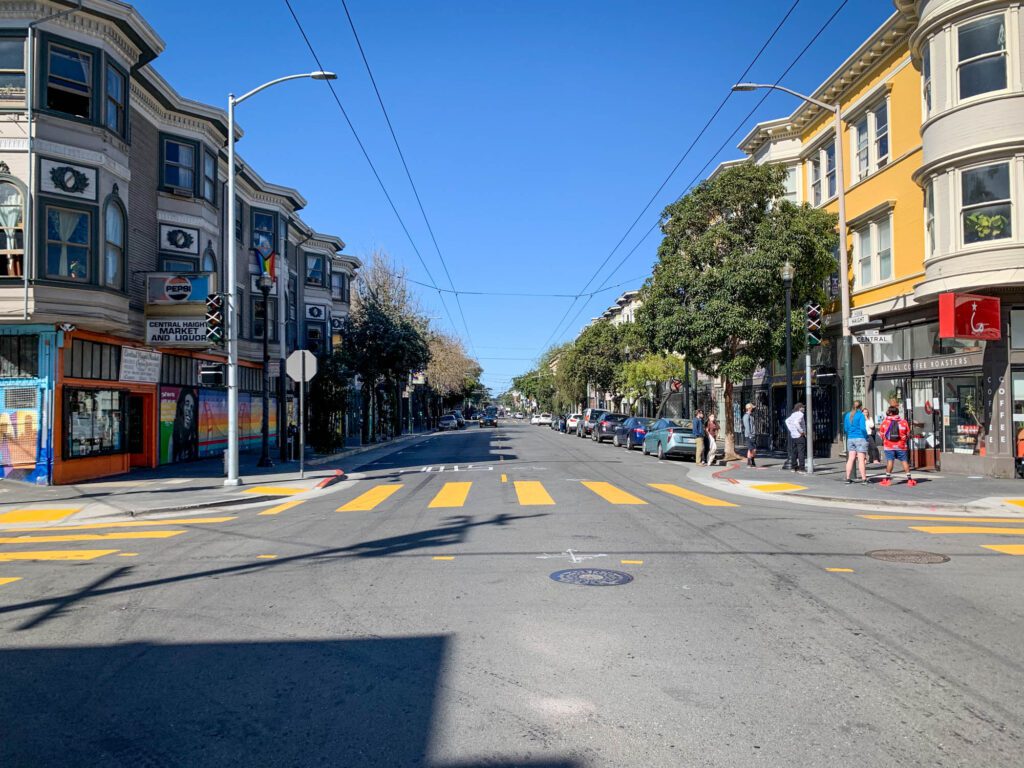 Set along the bustling corridors of Divisadero Street and the famous hippie-haven that is Haight Street, NOPA was our old stomping grounds (Matt lived in the vicinity for four years). If you're wondering where to stay if you want something charming and walkable, but relatively quiet, this neighborhood is for you.
First, let's talk about NOPA. To be completely honest, I had to Google what NOPA actually means (it's "north of the panhandle") – that's just what we've always called it. It's nicely located between Alamo Square to the east and Golden Gate Park to the west, with plenty of restaurants, bars, and coffee along Divisadero Street, which is one of the best streets in San Francisco.
The Haight is the world-famous Haight Ashbury, home of the hippie movement in San Francisco. It's at the south end of Divis (the way locals refer to Divisadero, pronounced "Diviz") just south of Alamo Square, and has a great selection of things to eat and drink along Haight Street.
Both areas are fairly residential, and are super charming and walkable. You'll find yourself among tree lined streets with the famous Victorians on either side. It's a very pleasant place to stay, and it's fairly central to most places you're going to be visiting on your San Francisco itinerary.
Unfortunately, there's exactly one hotel here, so choices are limited (to put it mildly).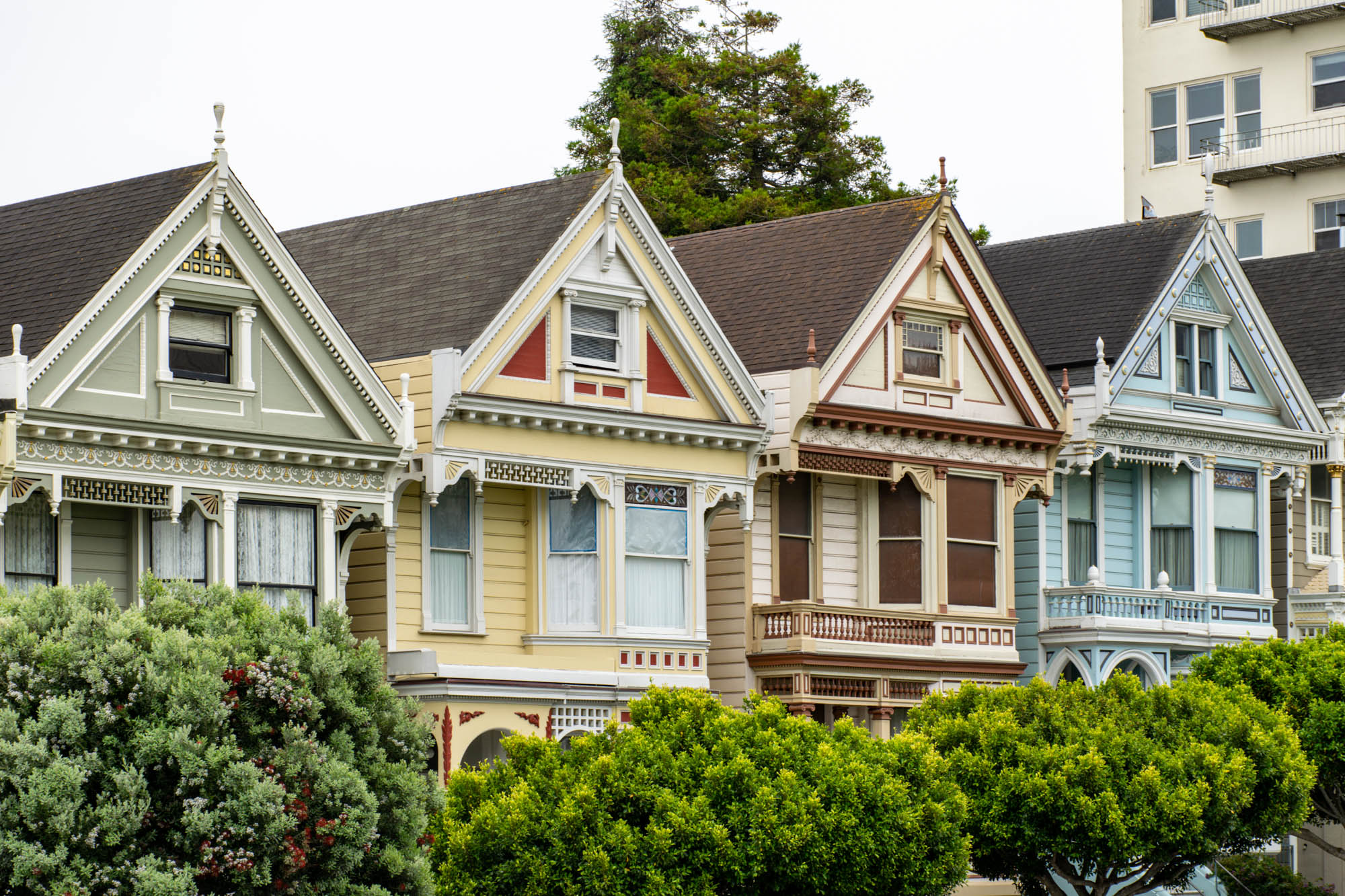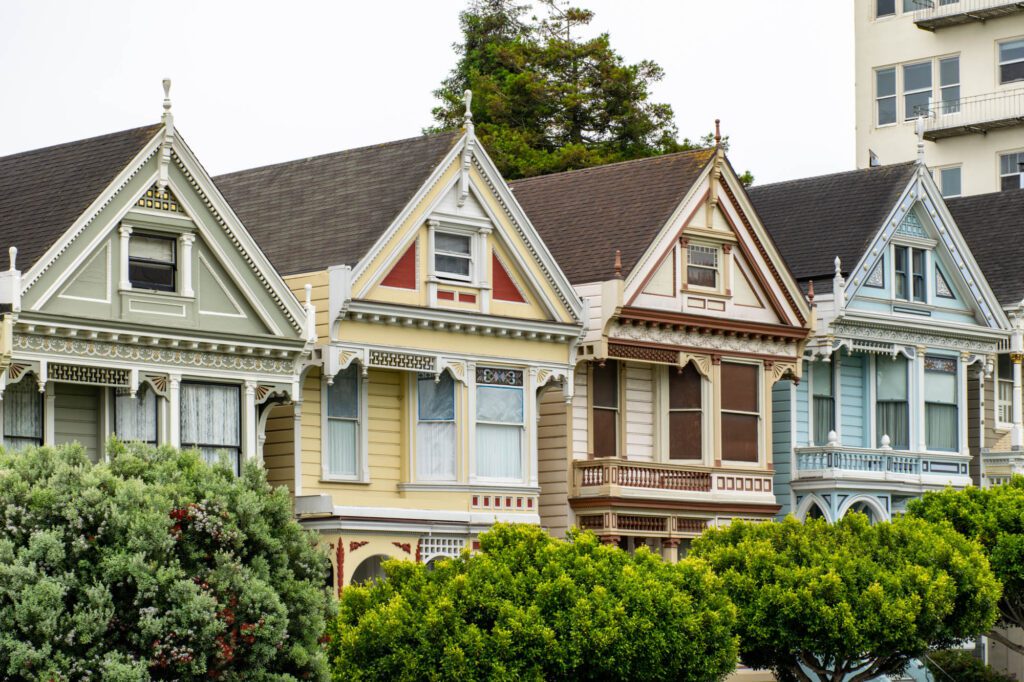 Pros and Cons of Staying in the Haight / NOPA
Pros: If you wanted to spend your entire weekend here and never leave, you would certainly not run out of things to do. You'll have Golden Gate Park, the Haight Ashbury, and the Inner Sunset basically out your front door. Plus, parking is relatively easy out here, so if you have a car, you can avoid the extra $30+ a day for parking.
Cons: Not the most central neighborhood on this list – plan on a 20+ minute ride to get to the Embarcadero and North Beach. Also, not a whole lot of places to stay in the area.
The Haight / NOPA Highlights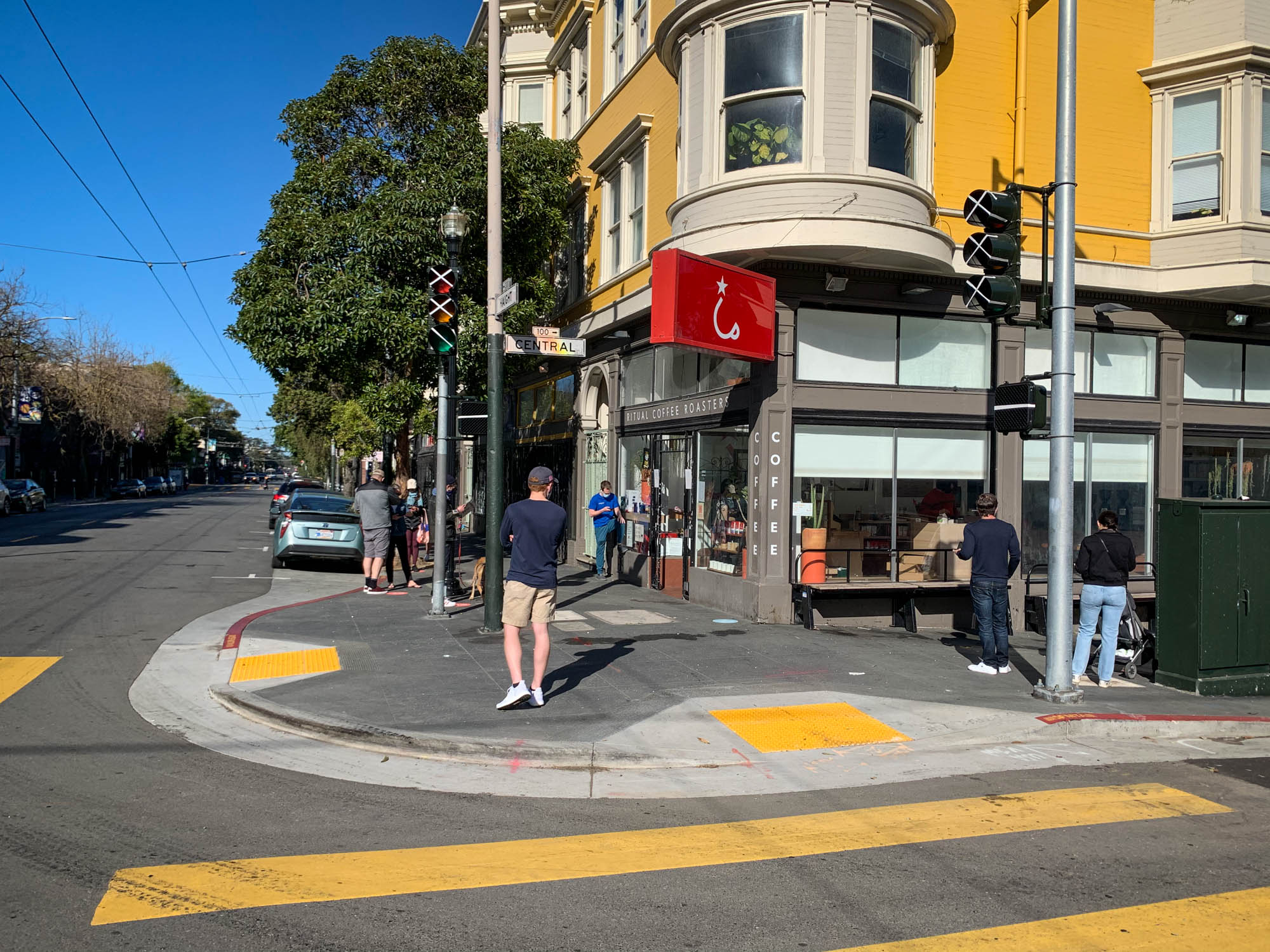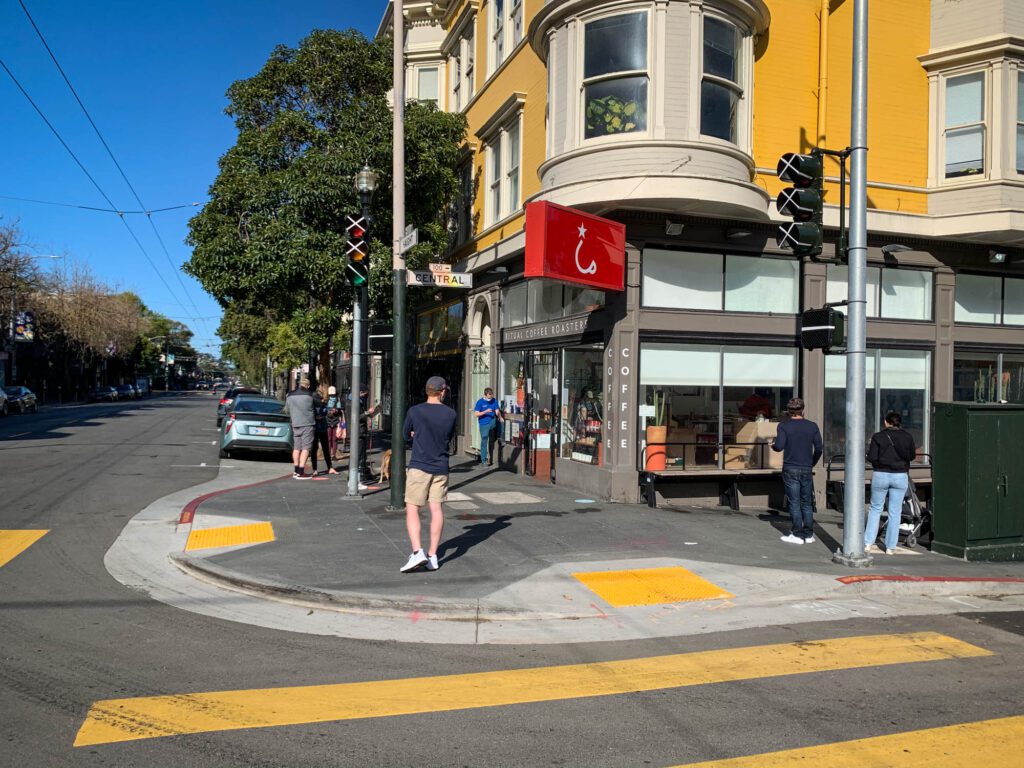 While you're in the area, don't miss Matching Half and Sightglass Coffee for a caffeinated pick-me-up. If you find yourself at Alamo Square, look for Lady Falcon Coffee Club at the top of the hill overlooking the Painted Ladies – it's a women-owned coffee truck that has great coffee and an even better story.


Brunch at Zazie is a must – it's one of our favorite restaurants in the city, and their backyard garden is a very pleasant place to enjoy brunch on a sunny San Francisco day. No reservations, get there EARLY to avoid a two hour wait on weekends.


Nopalito is one of our favorite restaurants in San Francisco, serving modern Mexican cuisine alongside killer cocktails, and Souvla is a good fast-casual option where you can get a Greek-inspired bowl and frozen Greek yogurt (yum).


Emporium is a cool bar along Divis featuring a full arcade, while Toronado on Haight Street is one of the best beer bars in the city.


Oh, and while it's not good for gluten free folks like me, Brenda's Meat & Three at the north end of Divis is a must-eat brunch spot for their southern-inspired fare.
Best Places to Stay in the Haight
Unfortunately, there's basically only one place to stay in this charming neighborhood, and that's the Stanyan Park Hotel. It's at the western end of Haight St (roughly half a block from Alysha's old office), which puts you right on Golden Gate Park. It's walkable to the Inner Sunset, NOPA, and of course, Haight Street, which puts you in a great location for exploring some of the less-visited parts of the city that we love.
Rooms come with breakfast and evening tea service (FANCY), and are decorated in charming Victorian style. They have rooms ranging from standard doubles, perfect for a couple on a budget, to suites that have a kitchen, which are great if you're traveling with a group or need access to a kitchen.
Hayes Valley: Central, Charming, and Well Connected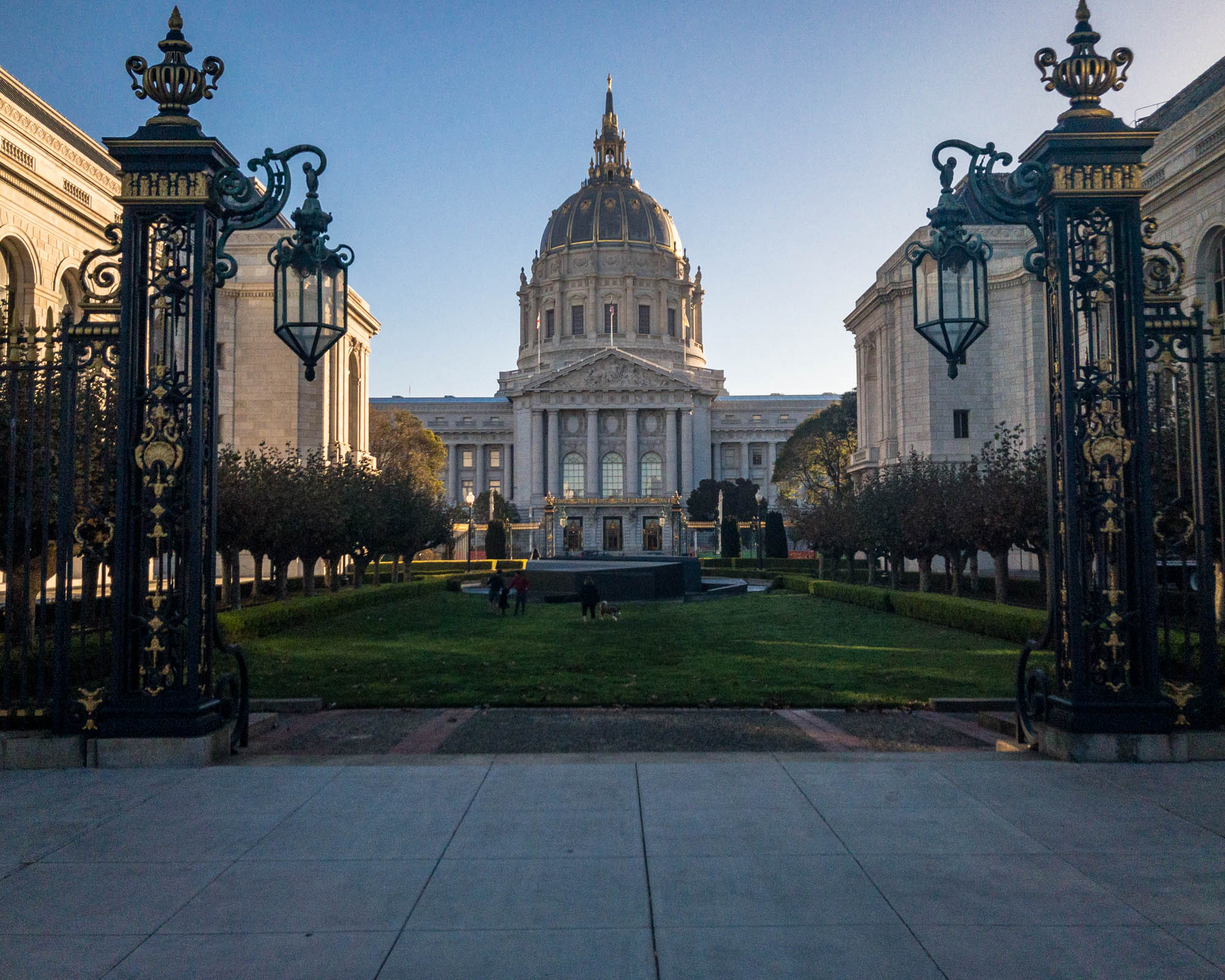 Hayes Valley, with its cute tree-lined streets, classic Victorian houses, and uniquely-SF charm, is absolutely one of the best areas to stay in San Francisco. In terms of density of things to see and do, and central location, you really can't beat it.
But it didn't used to be that way. Hayes Valley has seen a resurgence in the past few years, and now has become one of the coolest neighborhoods in San Francisco.
It is the most walkable neighborhood in San Francisco (completely flat!), lined with boutiques, trendy restaurants and coffee shops, and art galleries. It's a one-stop-shop whether you're looking to do some shopping or looking for a glass of wine or cocktail in the sunshine.
If you stay here, you'll find yourself a few blocks away from Market Street and all the public transportation options in SF, the Painted Ladies (of "Full House" fame), and some of the best food and drink in San Francisco.
Pros and Cons of Staying in Hayes Valley
Pros: It's about as central as you can be, and it's right on both BART and the MUNI Underground lines, which gives you amazing access to the rest of the city. The neighborhood itself is charming, with tree-lined streets and outdoor spaces to eat and drink. Lots of great food, coffee, and drinking to be done here!
Cons: Not many places to stay in the neighborhood. It's crowded, which means it's usually loud and boisterous thanks to the outdoor bars and restaurants.
Hayes Valley Highlights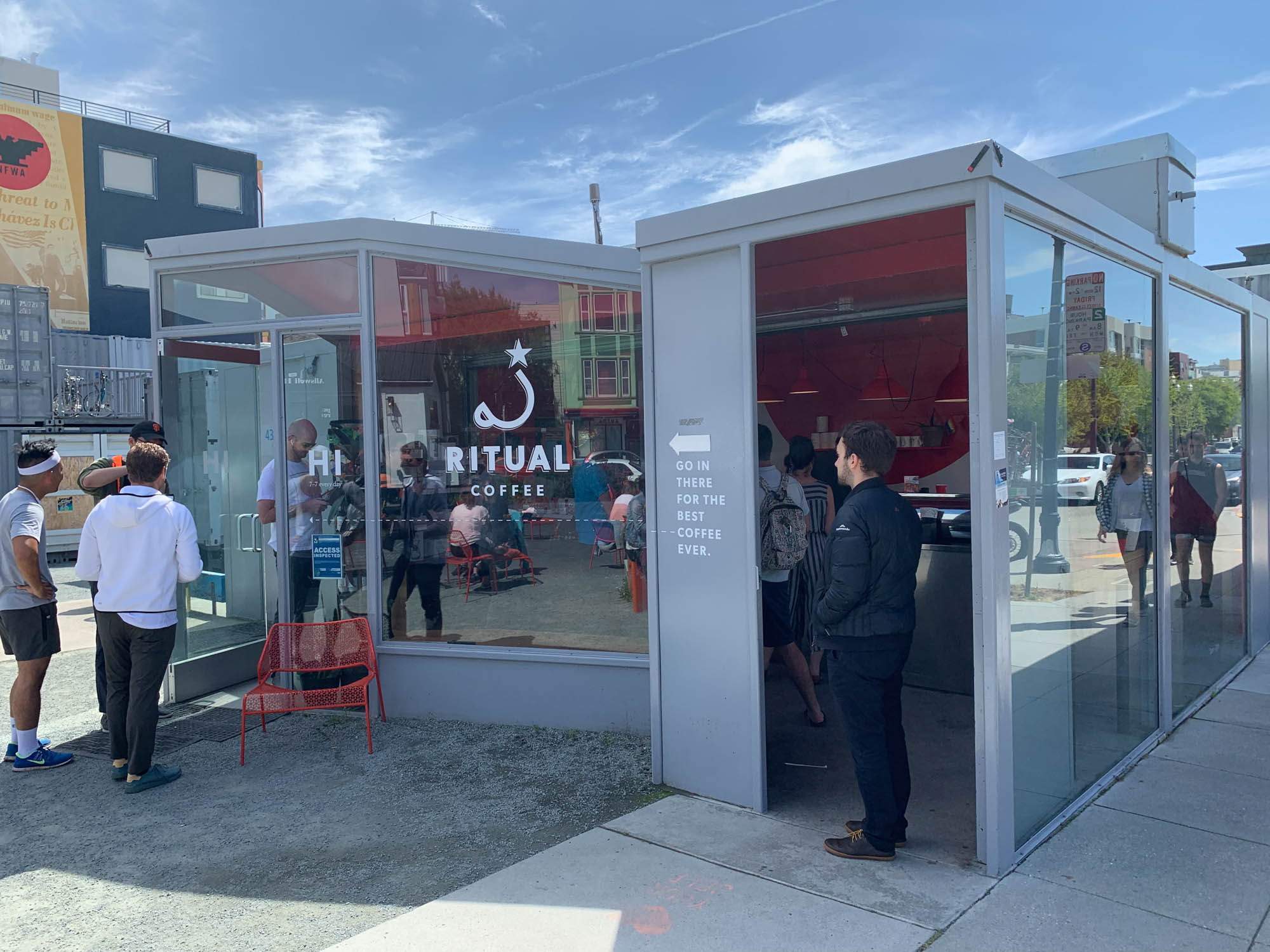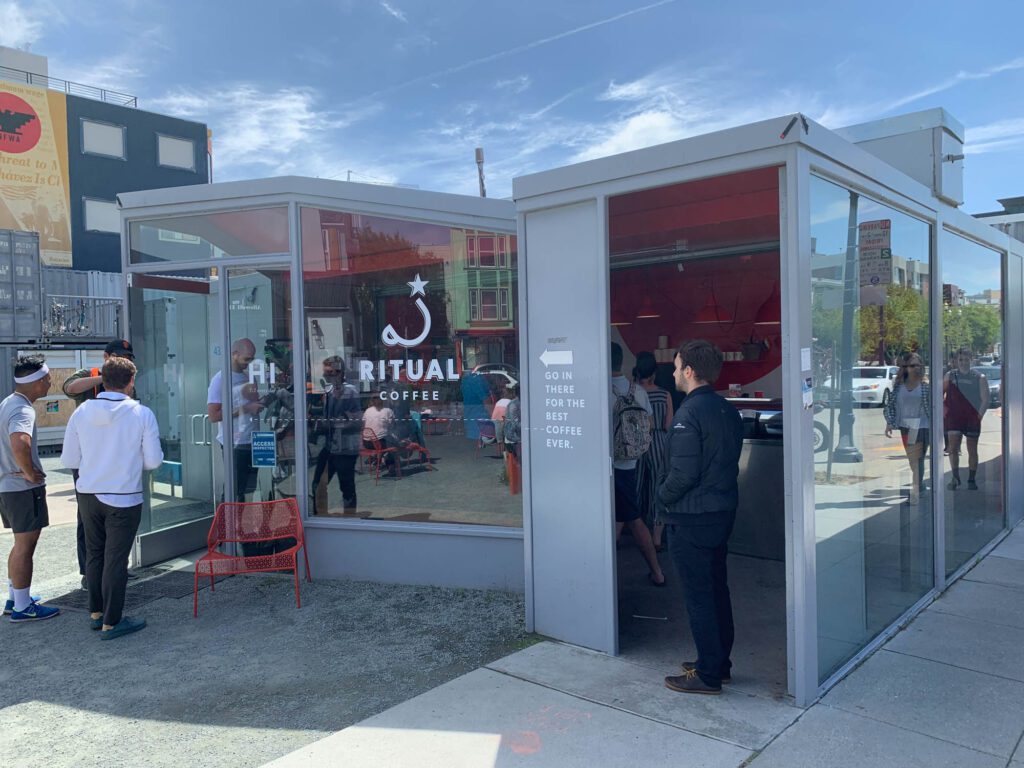 Best Places to Stay in Hayes Valley
You're not going to believe this – Hayes Valley is ANOTHER neighborhood with very few options in terms of places to stay. There are essentially two hotels here.
The Grove Inn
The Grove Inn, which is literally a block away from the Painted Ladies, is one of two hotels here that are worthwhile. It's quiet, clean, and central.
You'll be smack dab in the middle of Hayes Valley, the Fillmore District, and NOPA, which is a great place to be. Rooms are simple and spacious, and there are a variety of configurations and sizes depending on what your group looks like.
Some of the rooms have bay windows, which will bring in more natural light.
Hayes Valley Inn
The Hayes Valley Inn is a great value, particularly for San Francisco, which is generally an expensive city to be in.
As long as you know what you're getting into – some of the rooms have a shared single-occupancy bathroom down the hall – you'll be content staying here.
The rooms aren't huge, and they aren't decorated in the newest modern styles, but that's all part of the charm. It's affordable, central, and would be a great place to spend a few nights while you explore the city.
The Castro: Fun and Charming (& LBGTQ+ Friendly)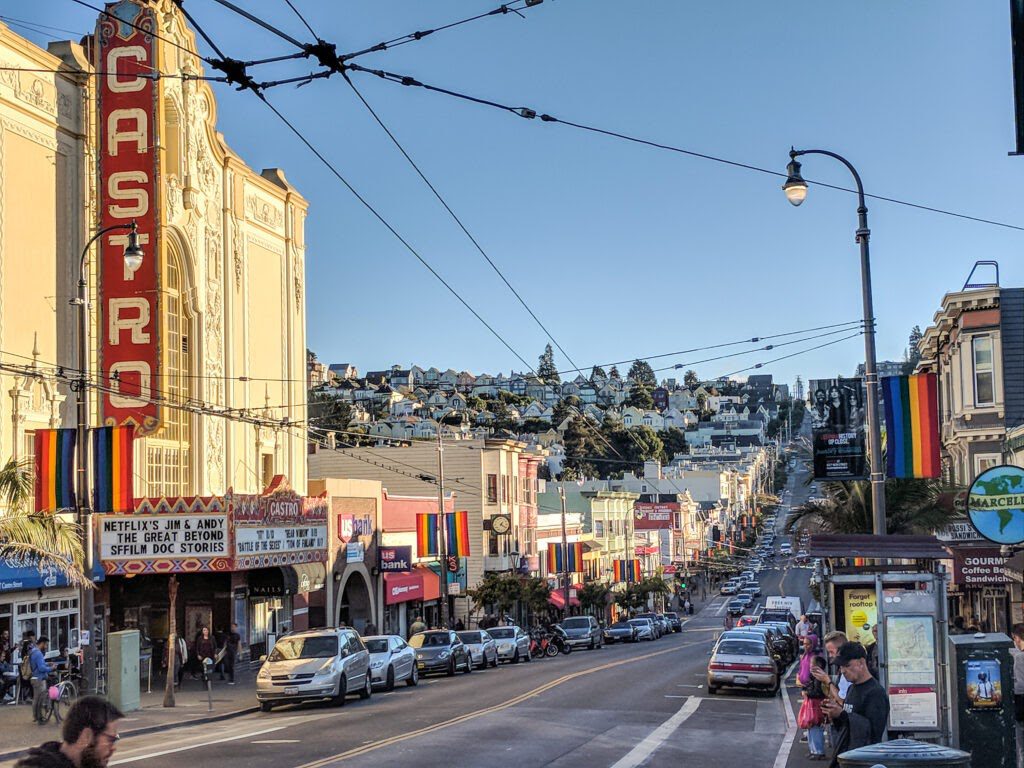 The Castro, which is one of the most famous LBGTQ+ neighborhoods in the country, if not the world, is a lovely place to both visit and stay.
However, we should note before we get into it that if you're uncomfortable with being in the heart of the LGBTQ+ community in San Francisco, you should not stay here. There are other great neighborhoods in this guide for you to choose from.
The Castro is lovely. It's adjacent to the Mission and Hayes Valley, which are both walkable, and just a few blocks from Dolores Park, which is a great place to spend a sunny afternoon. And in this part of San Francisco, it's basically always sunny when fog is taking up residence in the rest of the city.
It's also right along Market Street, the main thoroughfare to downtown, which means you're well-connected to the Financial District and Ferry Building thanks to the metro lines.
Pros and Cons of Staying in the Castro
Pros: This is the heart of the LGBTQ+ community in SF, which you really can't miss. Rainbow crosswalks, rainbow flags flying from every other building, and more. Drinks are cheap and plentiful in the Castro, and there's a bunch of good food and shopping too. Plus, the historic Castro Theater is a fun night out. It's also adjacent to the Mission, which puts you within walking distance of one another one of our favorite areas in the city.

Cons: The nightlife is legendary, which means it's not the quietest neighborhood in the city. Which is putting it mildly. There are only a few hotels and B&Bs to choose from.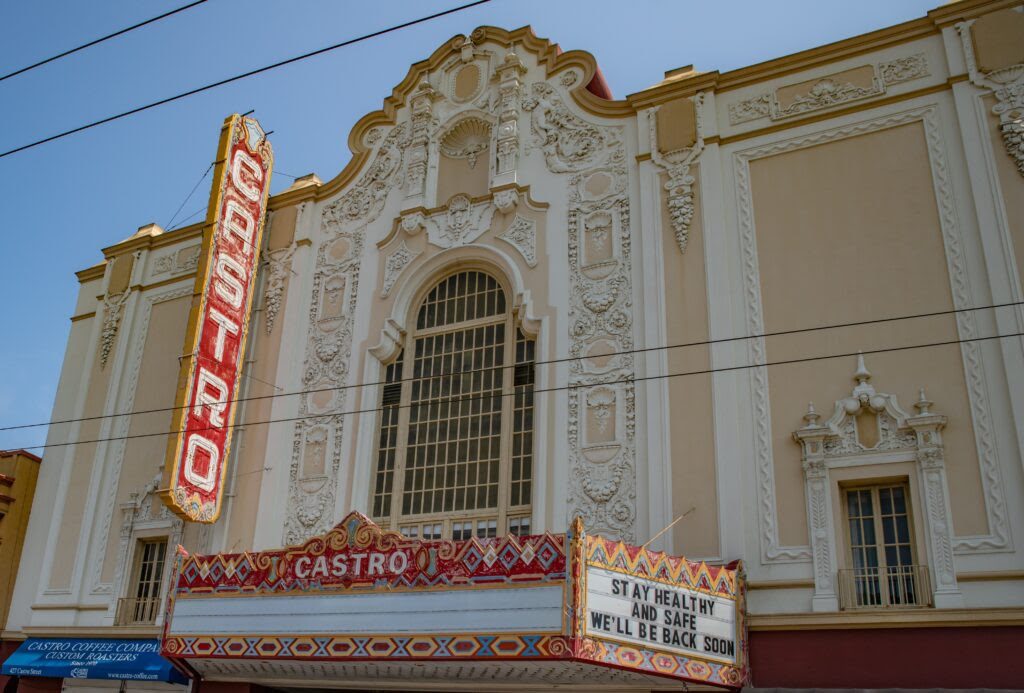 Neighborhood Highlights
Catch a Disney sing-along at the Castro Theater if you can. They're SO MUCH FUN.


For non-Celiacs (you lucky ducks) Kitchen Story is one of the best brunch spots in SF. And Starbelly Pizza is supposedly amazing, and also definitely not even close to gluten free.


At the northeast part of Market Street is Verve Coffee, which is at the top of my list of the best coffee in SF.


The nightlife in the Castro is legendary, and is second to none in San Francisco. Spend a night bar-hopping in the area that you probably won't forget for a while.
Here's a guide to what to do, eat, and drink in the Castro.
Best Places to Stay in the Castro
There are basically two places to stay in the Castro that are worth your time. Again, like a lot of the neighborhoods on this list, there aren't very many beds here for tourists, so make sure to book well in advance if you want to stay here.
Beck's Motor Lodge
The first place that should be on your radar if you want to stay in the Castro is Beck's Motor Lodge. It's a renovated motel that still has the outside look and feel of a motel next to a strip mall, but has been renovated to be modern and slick on the inside.
Beck's is along the Market Street corridor, which is perfect for getting downtown, and just a few blocks from the hip stretch of Valencia Street in the Mission.
Parker Guest House
Parker Guest House is part boutique hotel, part bed & breakfast. Either way, it's in one of our favorite areas of the city, and it's a great place to base yourself for a trip to San Francisco.
It's inside an Edwardian mansion that was built in 1909 (after the earthquake). You'll have your choice between rooms with private bathrooms and rooms that have a shared bathroom down the hall, the latter of which will save you a bit of money if you don't mind sharing a single-occupancy bathroom with other guests.
The beds are comfortable, the rooms are somewhat spacious, and the location is great. Plus, free continental breakfast and free wine in the afternoons!
The Mission District: Best For Foodies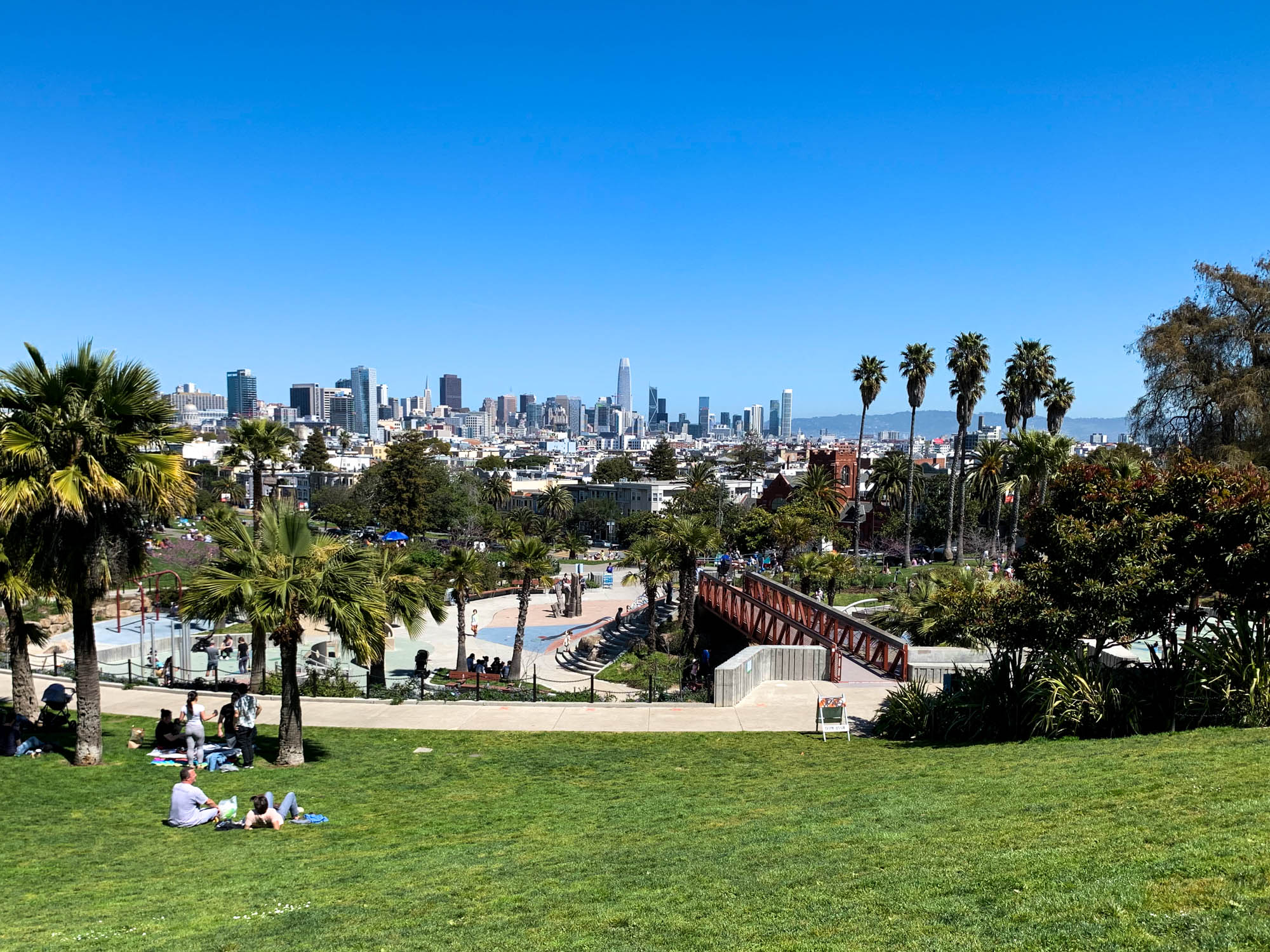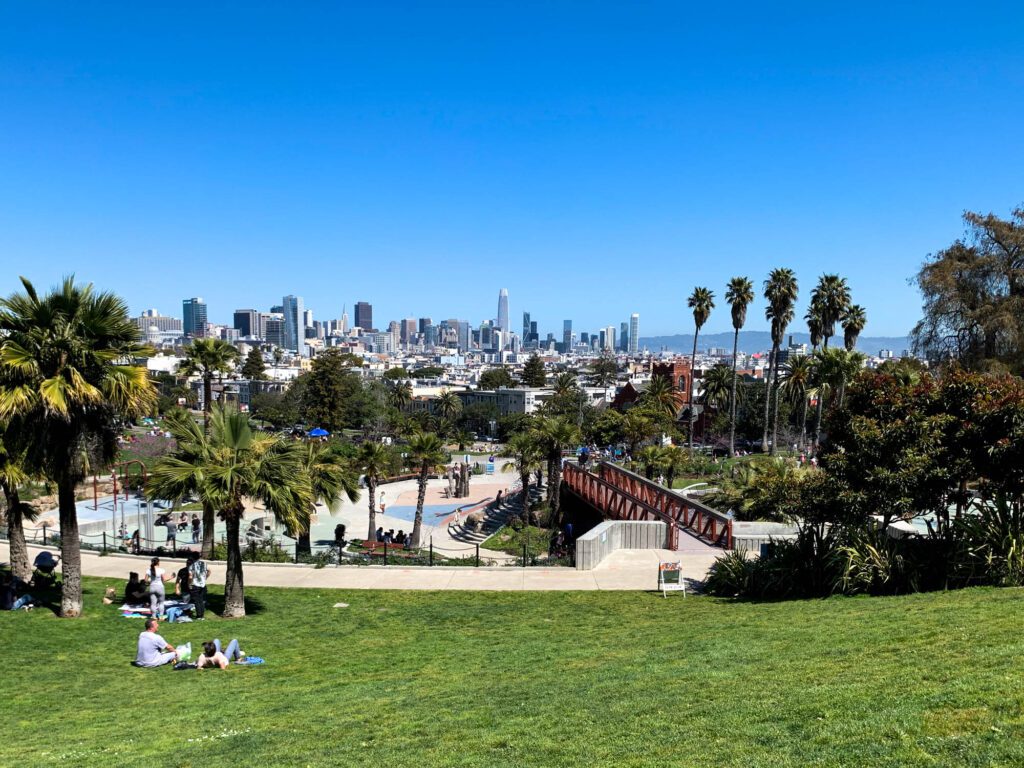 The Mission has the best food and drinks in San Francisco. If you're a foodie, stay in the Mission. You won't regret it. It's the best area to stay in San Francisco for the food and drinks alone.
At all hours of the day, the Mission is buzzing, and there is always something to do, see, eat, or drink. It is one of the most vibrant, diverse, and lively neighborhoods in the city. When people talk about the cool neighborhoods in San Francisco, the Mission always seems to be a part of the discussion.
It has some of the best food in the city – you'll find everything from locally owned and operated taquerias to some of the most upscale, world-renowned restaurants in California. It also is home to some of the best gluten free restaurants in San Francisco, and many of the best bars in San Francisco.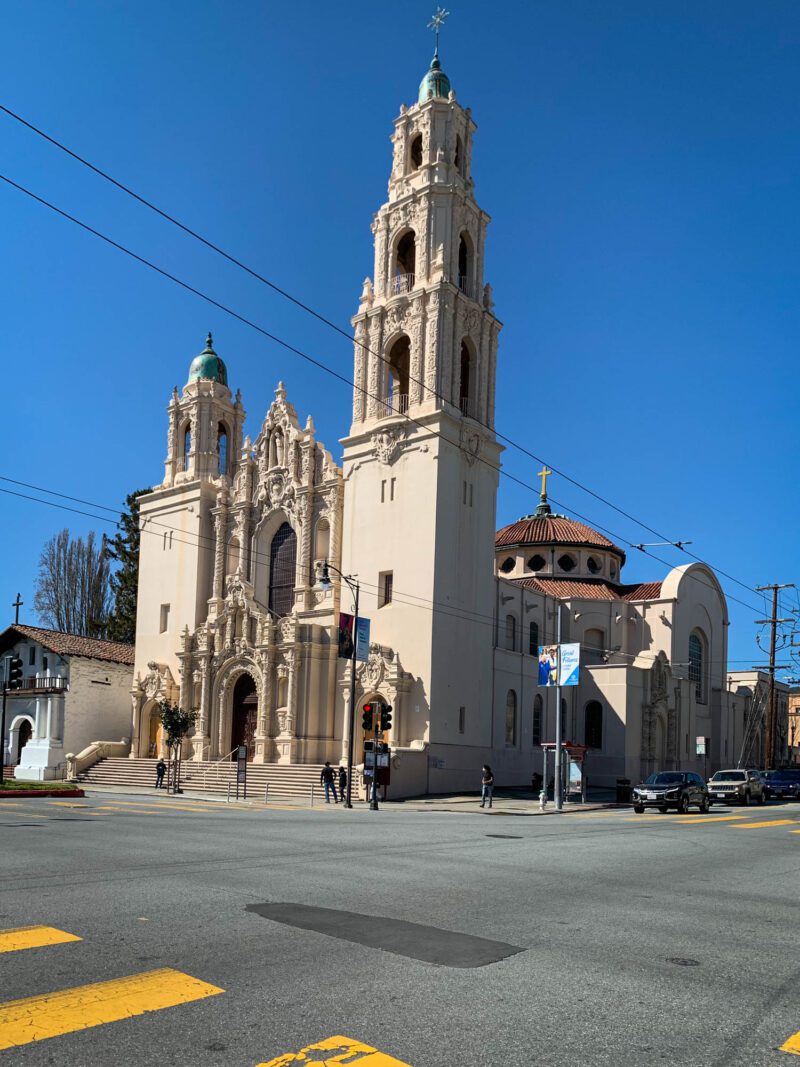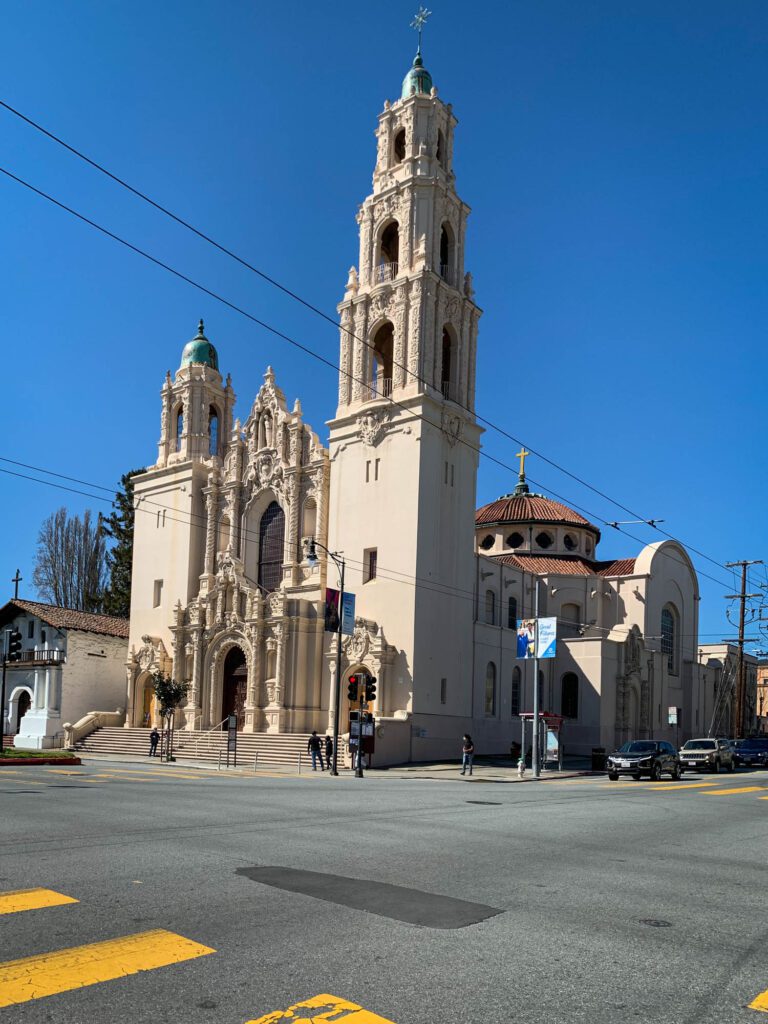 It has been feeling the effects of gentrification as rents rise and the Silicon Valley tech industry shows no signs of slowing down. That's why you see swanky gastropubs and small batch coffee roasters opening in the last few years next to authentic taquerias that have been around since the 60's.
That gentrification is also a con of staying here – rising rents have forced out working class families who have lived there for decades – although if you're concerned about gentrification, San Francisco is essentially one big gentrification hot spot.
One thing we should note here at the top is that there is a large unhoused population in San Francisco. We love the Mission, but there are certainly parts of it where that population is visible. If you are uncomfortable with that, stay elsewhere (we'd recommend Nob Hill).
As you walk the streets of the Mission, you'll see some of the street art that makes the area special. Every wall or building serves as a canvas for local artists to express themselves.
Pros and Cons of Staying in the Mission
Pros: It's vibrant, energetic, and full of amazing bars, restaurants, shopping, and more.
Cons: Rising rents have increasingly displaced lifelong residents, forcing them to move out of their homes in service of building new luxury condos and hip brunch spots. This is a reality in basically every neighborhood in San Francisco, but it has been a big issue in the Mission as it has become the "it" neighborhood for people working in the tech industry. There is also a large unhoused population in certain parts of the Mission, which might make you uncomfortable.
Mission District Highlights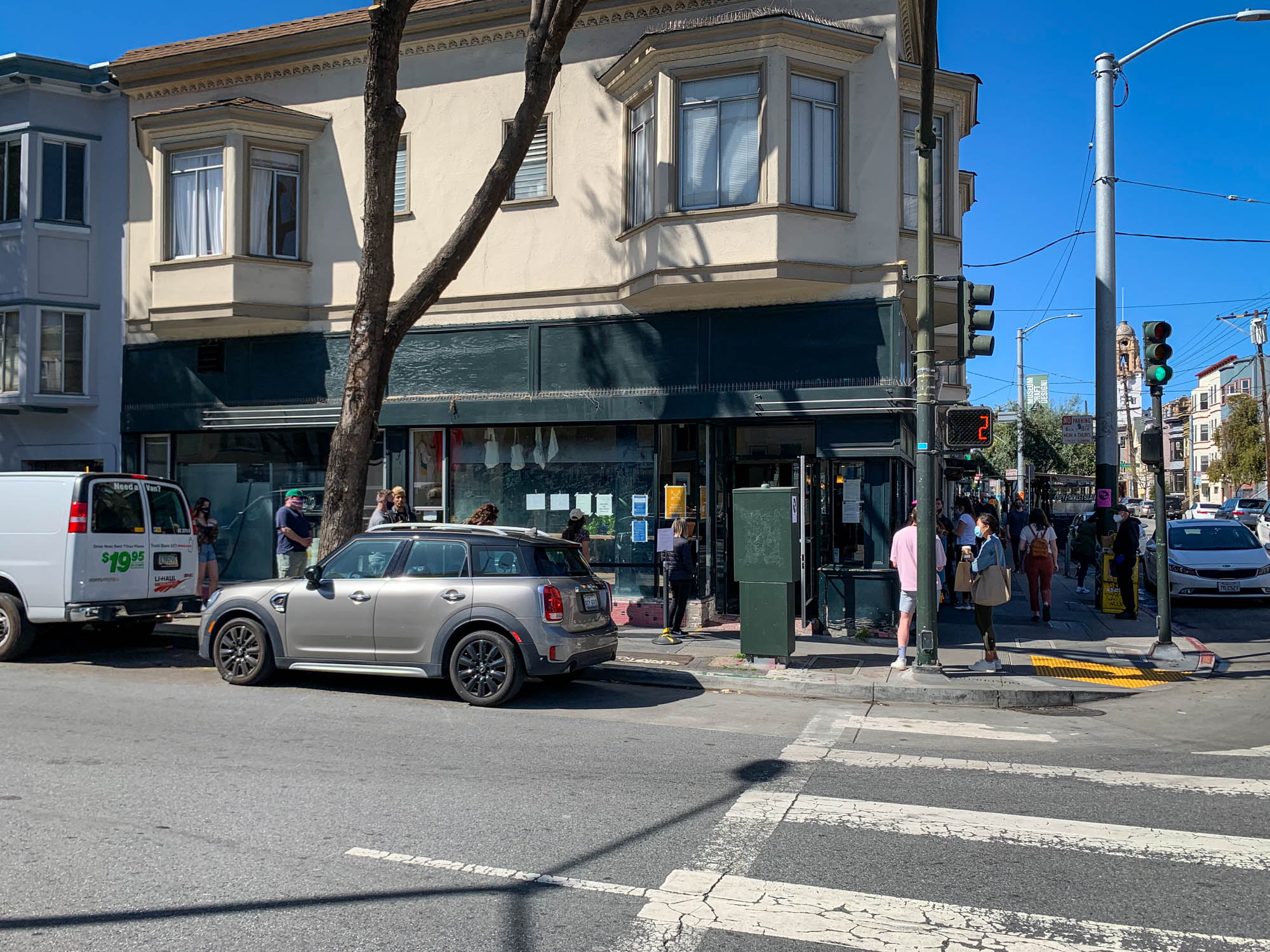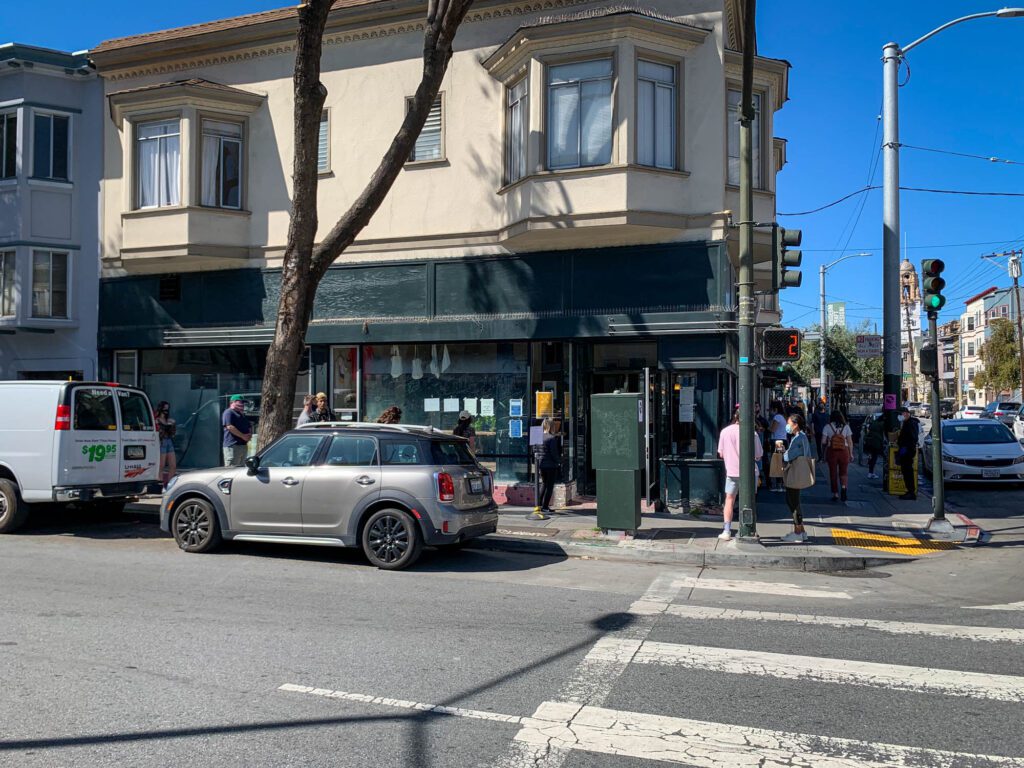 Admire the colorful murals in the Mission, particularly in Clarion Alley.


Take a tour of the Dandelion Chocolate factory and learn about the bean to bar process. And, of course, taste some delicious single origin chocolate.


If you're a coffee fanatic, visit Fellow's Coffee Playground to try out their design-forward kettles and discover some new coffee. Pro-tip: they have a free public cupping every Saturday at 1pm!


Walk Valencia Street and do some shopping at Therapy, Mission Workshop, Unionmade, or Everlane.


Take in the sights and sounds at Dolores Park. Bring a picnic from BiRite Market just down the street.


Play a round of miniature golf at Urban Putt. Drinks are optional, but recommended. No kids allowed at night.


If rock climbing is your thing, visit Mission Cliffs to get a session in.


Catch a movie at Alamo Drafthouse.


Visit the Heath Ceramics Factory and Showroom.


Grab a coffee at some of the best coffee roasters in San Francisco. Ritual. Sightglass. Verve. Take your pick.
The Best Places to Stay in the Mission
There are only a few places to stay in the Mission, and they are both more B&B's than hotels. Book early, because there's a very limited number of beds for tourists here.
1906 Mission
The first is Nineteen 06 Mission, which is in a lovely location in the Mission a few blocks from BART for easy access to the rest of the city, a block off of bustling Valencia Street, and a couple of blocks from some of the best food in San Francisco.
One thing worth noting, the location itself isn't the best, but it's nice and central, and the place itself is gorgeous.
Noe's Nest
Noe's Nest is a charming bed & breakfast at the south end of the Mission, where it meets Noe Valley. It's inside a charming Victorian (of course), and they have done some cool stuff with the property that makes it a more unique place to stay than some of the bigger hotels in the city.
They have a breakfast buffet, a lovely outdoor garden area where you can enjoy the perpetual sun in this part of the city, and thoughtfully designed rooms that match the charm of the surrounding area.
Parking is tough in this area – it's restricted to two hours on weekdays – but there's a parking garage nearby that will cost you $27 a day (which isn't terrible in this city).
Planning a Trip to San Francisco? We're Here to Help!
Heading to San Francisco? Don't miss our other SF travel guides. They're written by us, two SF locals (at least for the past decade or so).
Hotels vs. Vacation Rentals in SF: Which to Choose?
One thing I do want to touch on is vacation rentals in San Francisco. San Francisco is in the midst of a full-fledged housing crisis, and while I wouldn't point to vacation rentals as the primary cause, they're almost certainly a contributing factor.
I have mixed feelings about staying in vacation rentals in cities.
On one hand, as a traveler who has Celiac Disease and usually needs access to a kitchen, they are a godsend that has allowed me to travel to places that just would not have been easy to visit if I had to stay in a hotel, where I MIGHT get a mini-fridge.
On the other hand, in cities where there's a housing crisis driven by a lack of supply and surging demand (which basically describes every major city on the West Coast, at this point), vacation rentals contribute to the problem by taking long term rental units off the market, since the landlord can usually make more money by renting it out for a weekend at a time.
Plus, vacation rentals contribute to gentrification in up-and-coming neighborhoods, pushing out residents who have lived there for decades in favor of brand new luxury condos and new brunch spots and boutiques.
I used to recommend finding an Airbnb in the Mission, which is one of our favorite neighborhoods in San Francisco but has basically zero hotels, but I would no longer recommend that given the impact it has had on the local community.  
There are certainly pros and cons to staying in vacation rentals. To be a responsible traveler, our recommendation would be to avoid vacation rentals in San Francisco altogether.
There are tons of great hotels in San Francisco, so if you want to avoid that choice altogether, you'll have no problem finding an amazing place to stay. In general, places to stay in San Francisco are expensive, and the vast majority are in Union Square, which isn't the BEST place to stay if you ask me, but there are some cool hotels worth considering.
---