7 Days in Italy: 6 Ways to Spend an Amazing Week in Italy
After two trips over the past two years that spanned six and three weeks respectively, we are confident in saying that Italy is one of our favorite places on earth. Which isn't really a hot take – many people who spend a solid chunk of time exploring Italy feel this way.
There's something about the food, the diverse geography and cultures within Italy, and the cadence of the language that come together to envelop you in a warmth that is a little unusual when you're traveling to well-trodden places (looking at you, Paris).
If you're planning a trip with 7 days in Italy and are looking for some ideas on what to do and see, you're in the right place!
If you're in the midst of planning an Italy trip – and especially if it's your first time – it's hard to narrow down what you should focus on. Should you do the highlights, or should you venture ever-so-slightly off the beaten path and hit some lesser-known cities in Italy?
In this guide, we're going to take you through six different 7 day Italy itineraries to help you plan an amazing trip to Italy. Our intention here is to give you some ideas and options for destinations that go together from a logistics standpoint.
From there, you can mix and match and customize for your trip. For example, if you have two weeks, you could go ahead and combine northern Italy and Sicily (or you could follow our 14 day Italy itinerary for first timers).
By the end, we hope you'll have a good starting point for planning your trip. If you're craving more, well, there's more where this came from! Throughout, we'll link you to deeper posts for specific destinations that have all the details you need to plan an amazing trip.
Sound good to you? Let's get into it.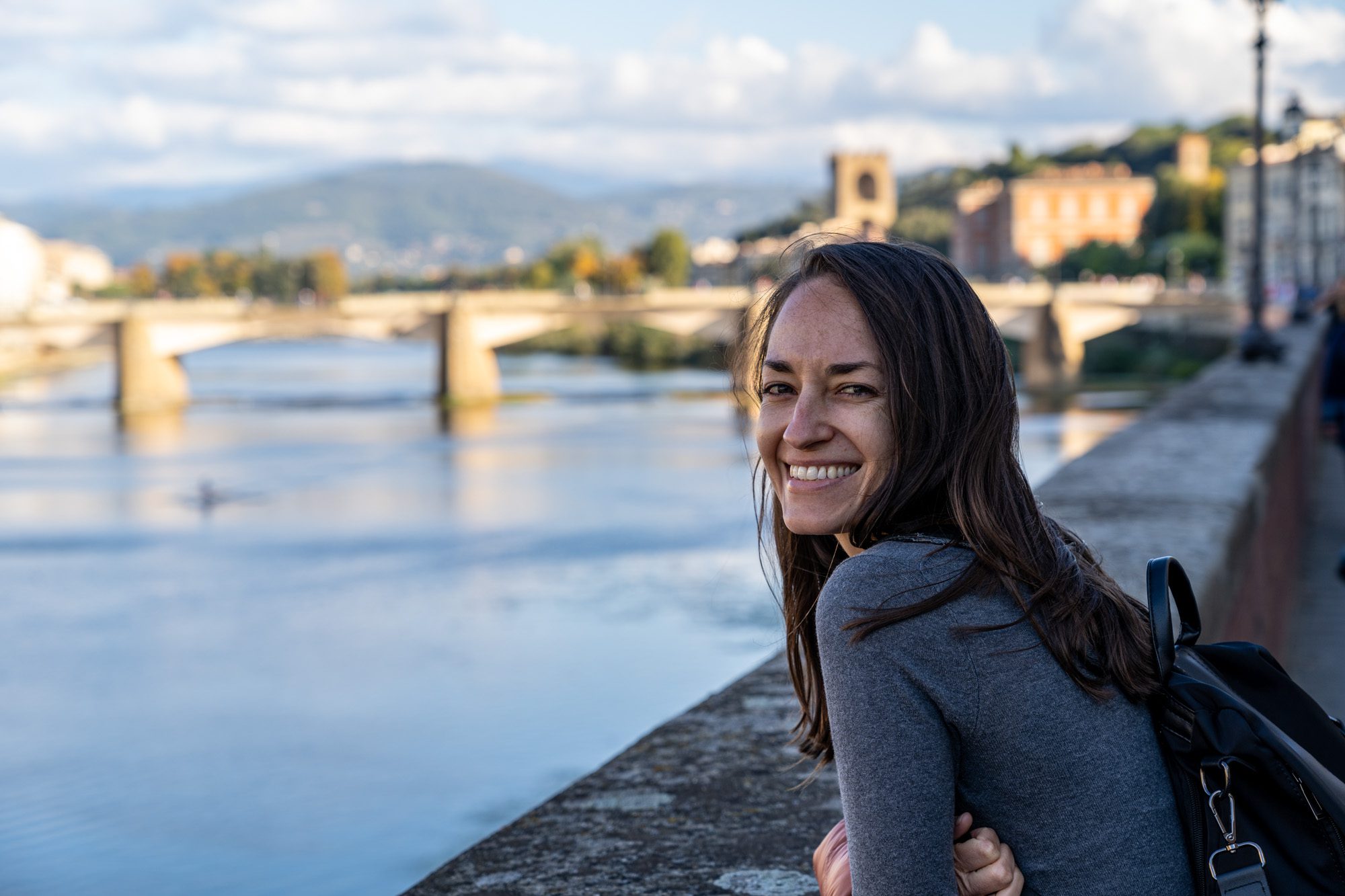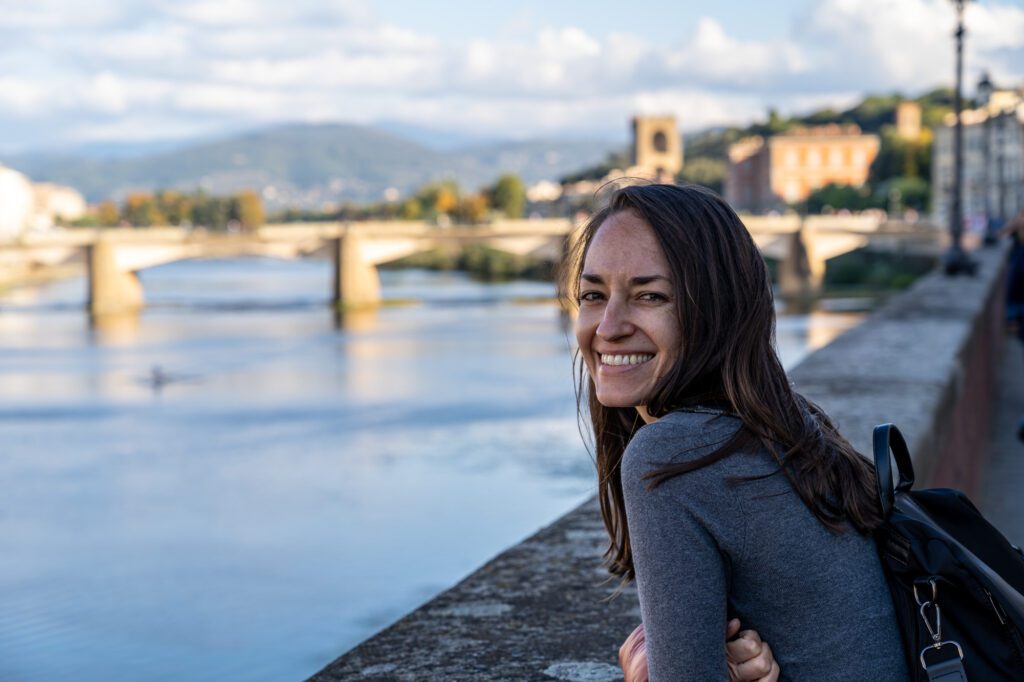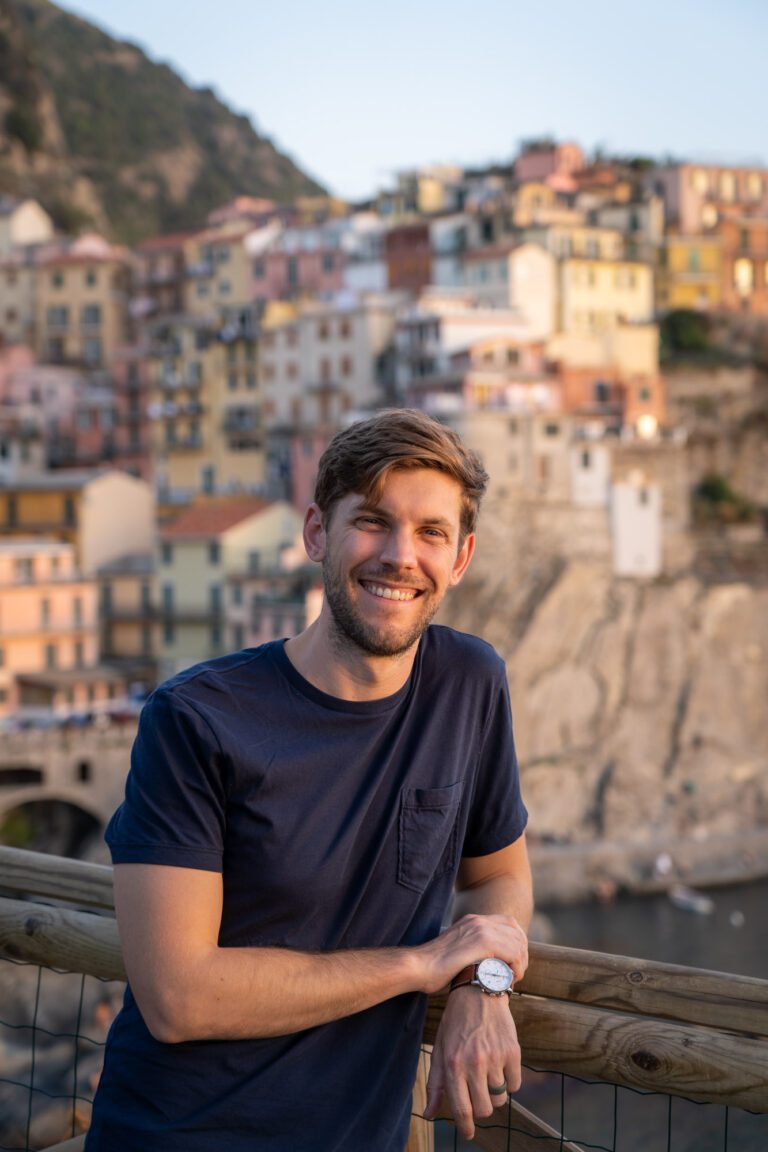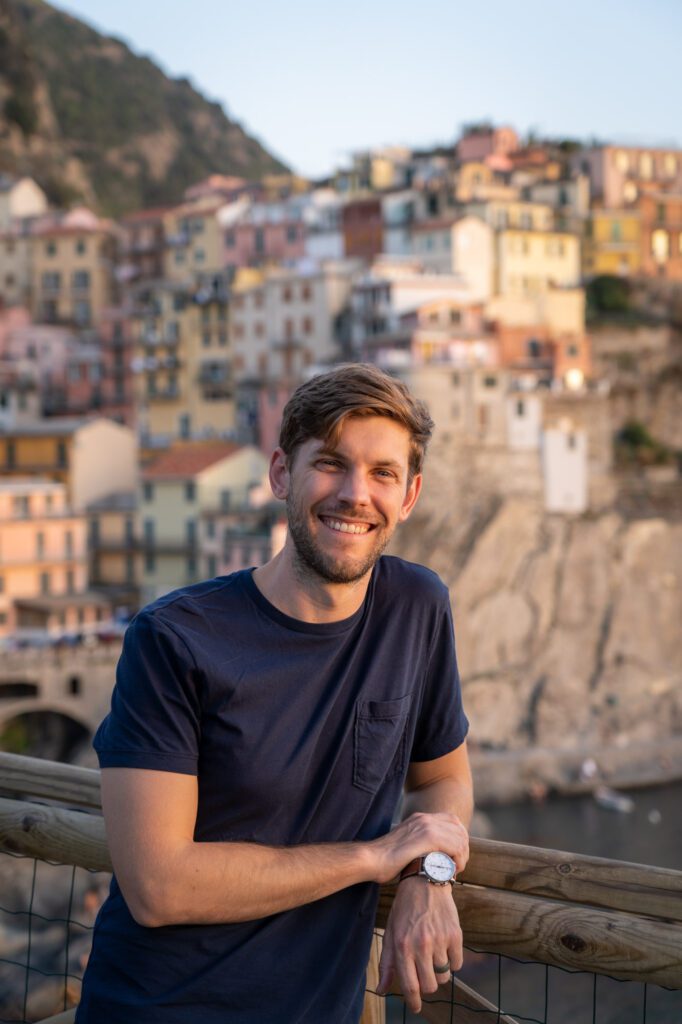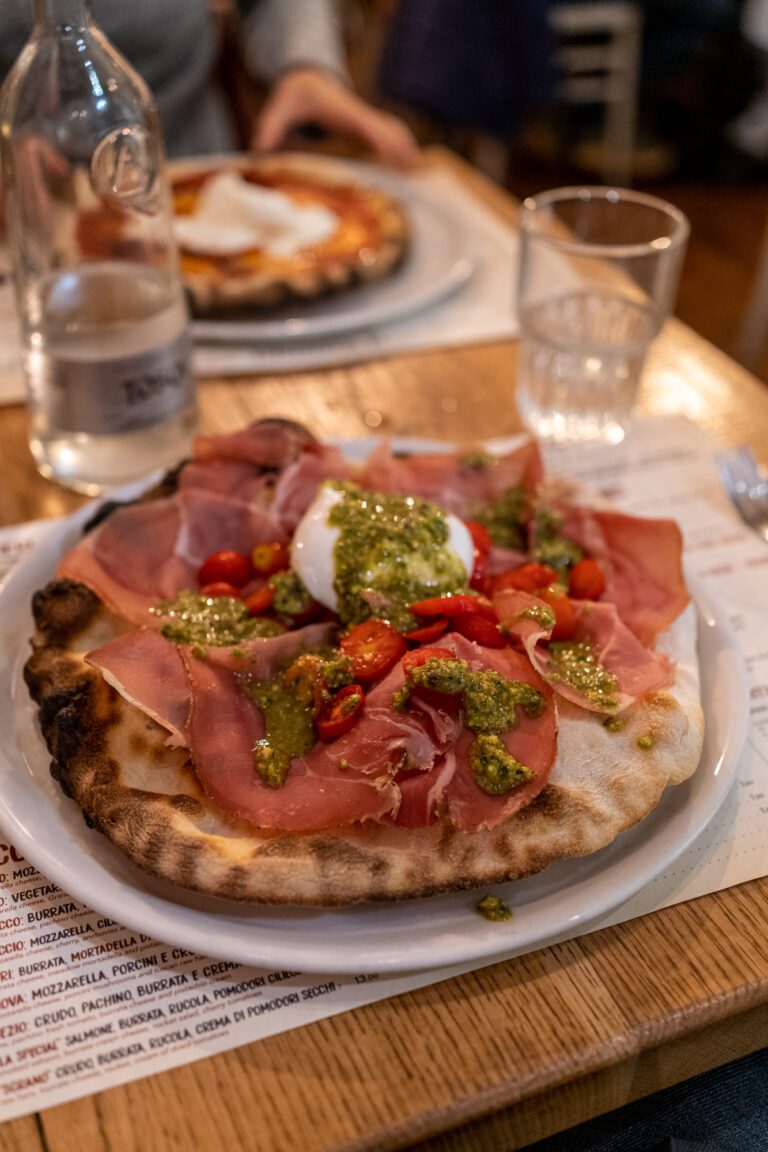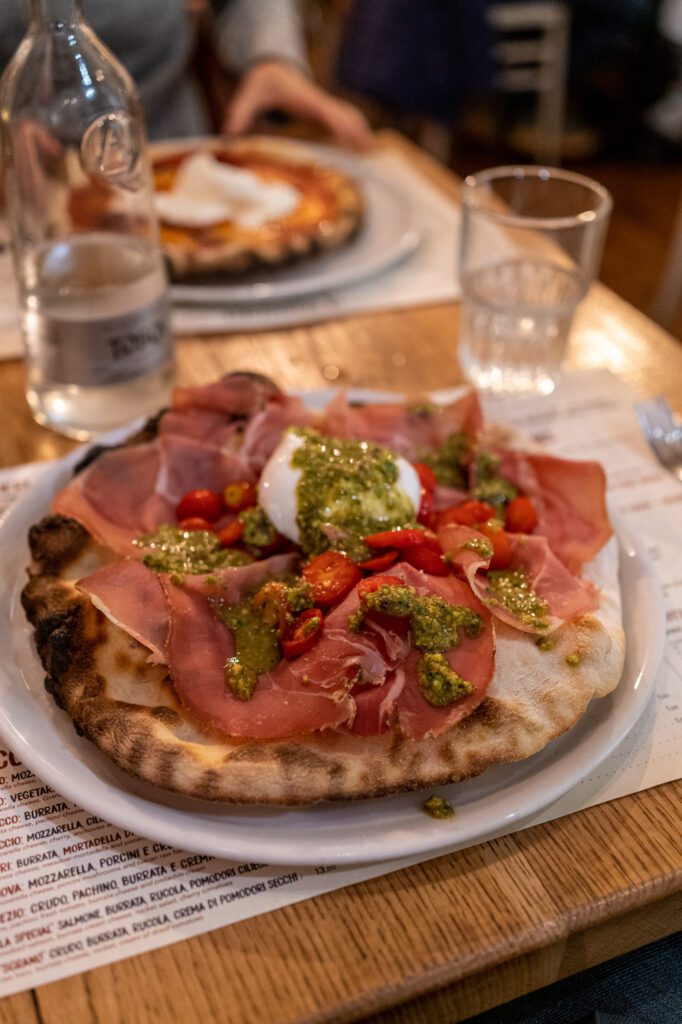 Disclaimer: Some of the links in this post, like hotel links, are affiliate links, meaning at no additional cost to you, we make a little bit of money if you click through and book. That being said, we would never recommend something to you that we don't stand behind 100%.
Structuring Your One Week Italy Itinerary
Before we get into exactly what to do with a week in Italy, let's talk through some logistics, questions to think about, and things to know before you visit Italy.
How Much Do You Want to Move Around?
As you're thinking about how to structure your one week Italy itinerary, the first question you need to ask yourself is how much you want to move around over the course of your trip.
Do you want to stay in one or two places and use Italy's excellent high-speed train network to do day trips, or do you want to move around more, staying in two or three places?
There are definitely pros and cons to each approach, and we prefer the first option – staying in fewer places and doing day trips – because packing up and carrying your stuff every day or two just kind of sucks.
But if you're someone who travels light and you don't mind moving around a lot, the second option can work too, and you'll get a different experience by staying in a place overnight, where you'll have the ability to explore in the early and late hours when all the day trippers have gone home.
How Many Cities Should You Include?
Next, you need to decide how many cities you want to include in your trip.
We'd strongly recommend that you don't try to fit more than 2-3 major cities into only a week. Even three is pushing it – that's a lot of ground to cover in 7 days.
If you have limited time in the country and want to see the best of Italy in 7 days, you can just about fit Rome, Florence, and Venice into one week (more in the itinerary below). But be warned, it's going to be a hectic trip.
Personally, we'd opt to focus on one geographical area (e.g. Tuscany) at a time, where you can spend more time and dive deeper into each place. Pick a base city (or two), then use Italy's nice high-speed train network to get around and visit other destinations.
When Are You Visiting?
Another important factor to consider when planning your 7 day Italy itinerary is the time of year that you're visiting. The weather can make a big difference to your trip.
The Italian peninsula stretches over 620 miles (that's 1,000km) from north to south, with vastly varying climates between the different regions.
Visiting Italy in Summer and Fall
With its beautiful country-wide weather, summer is peak tourist season all across Italy. But this also means that it's the busiest and most expensive time to visit.
During the peak summer months, many Italian cities get unbelievably hot. So if you're not a fan of extreme heat or are traveling with young children or the elderly, you may want to avoid 7 days of city hopping during July and August.
Many locals and tourists also flock to the country's beaches during the summer (especially in August). The Cinque Terre, the Amalfi Coast, and Sicily are some of the most popular coastal destinations to visit during the hot summer months.
September and October are the best months to visit the cities for warm and sunny weather, but with smaller tourist crowds and slightly more affordable prices. Trust us, we've been to Italy in consecutive years in September and October, and it's our favorite time to explore Italy.
Visiting Italy in Winter and Spring
The winter sees the biggest difference in temperatures throughout Italy.
Northern Italy has the coolest climate, with cold winters and even snow in some areas. The canals of Venice are known to flood during the winter months, while temperatures in Milan can drop below freezing.
However, if you're looking for a cozy winter vacation, Italy's northern cities are known for their charming Christmas markets and festive decorations.
Southern Italy has a Mediterranean climate, with pleasantly mild winters. So if you're seeking some winter sun, you may want to stick to central and southern Italy for your one-week vacation.
Although, winter is also the low season in many coastal destinations. This means that the beach resort towns in the Cinque Terre and the Amalfi Coast are fairly dead, with most of the restaurants and shops closed until the spring. So it may not be the best time to do a couple of the itineraries below.
In spring, the weather in the north is starting to warm up again, and the coastal resorts in the south are reopening in preparation for the summer. This is an ideal time to spend a week in Italy and do any of the below 7 day itineraries.
Use Italy's Trains to Get Around
The last thing to consider when structuring your trip to Italy is how you plan to get around during your trip.
For 99% of journeys in Italy, the train is the best way to go. Both when it comes to day trips and longer journeys.
Italy's high-speed train network is affordable, comfortable, and can get you between most major destinations in no time at all (usually much faster than traveling by car). The regional trains can get you between smaller destinations when taking day trips.
You''re going to want to book high-speed train tickets in advance for the cheapest prices – those are the trains that cover longer distances, like between Rome and Florence, or Milan and Venice. If you know which days you're going to be doing the longer journeys of your trip, such as Rome to Florence, you can save up to 50% by booking a month in advance.
However, the tradeoff is that you'll have less flexibility in terms of when, exactly, that train journey will happen.
Book your trains through Trenitalia, the official site for the Italian train network.
One Week in Italy: 6 Amazing Ways to Spend 7 Days in Italy
And now, what we're here for! Let's get into our ideas for a one week itinerary in Italy.
For each version, we're going to give you the stops to make, the best time to do that specific itinerary, how to get around (sometimes trains connect all of the destinations, but occasionally you're better off renting a car), what to do, see, eat, and drink on each stop, and more.
At certain points, we're going to include the same city in multiple itineraries. For example, Rome, Florence, and Venice pop up a few times throughout this guide.
To avoid just re-writing what we said about the city in an itinerary, above, we'll hyperlink you to that section so that you can easily go back and read through our recommendations on that city.
#1: The Greatest Hits for First Timers (Rome, Florence, Venice)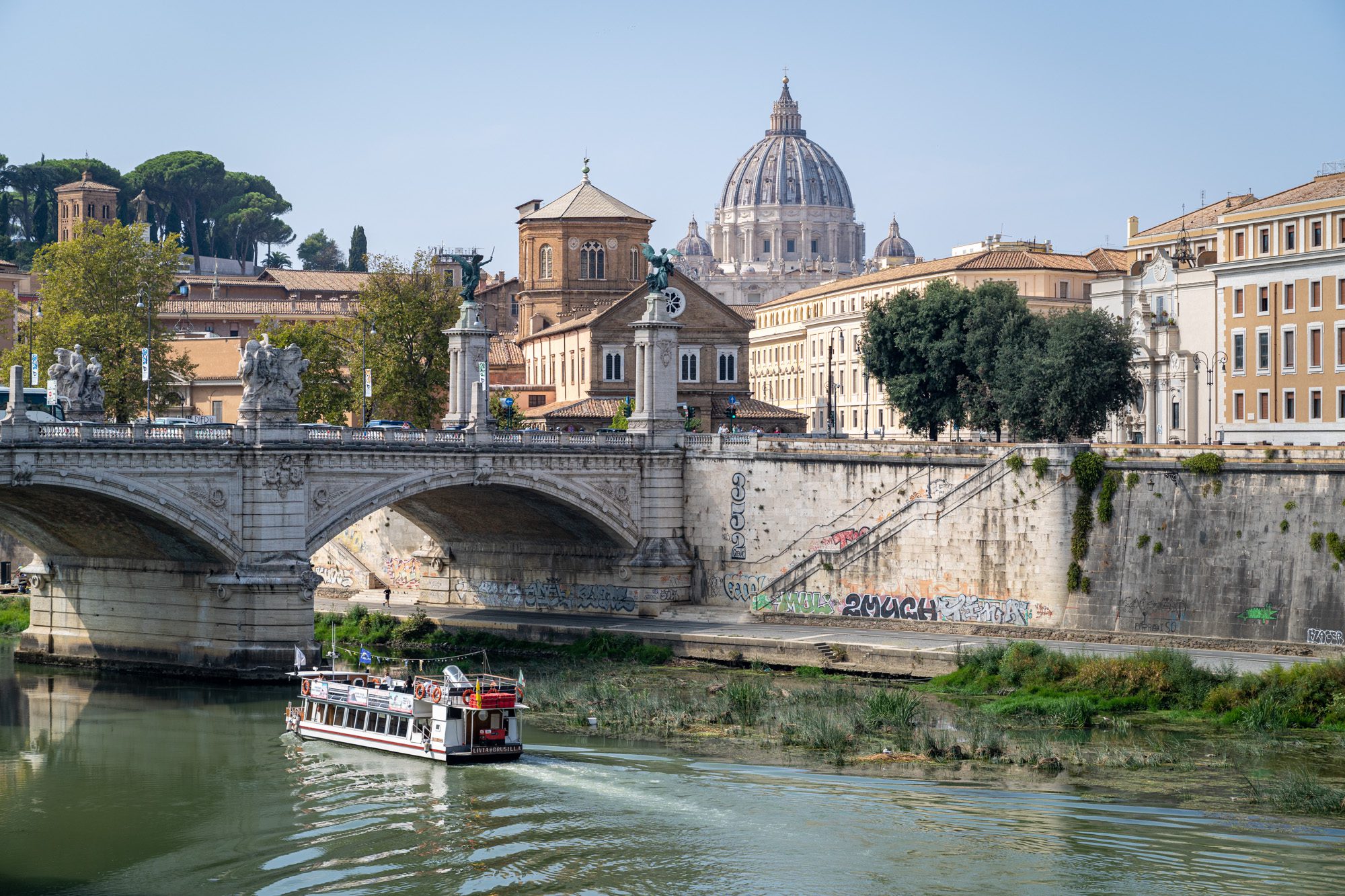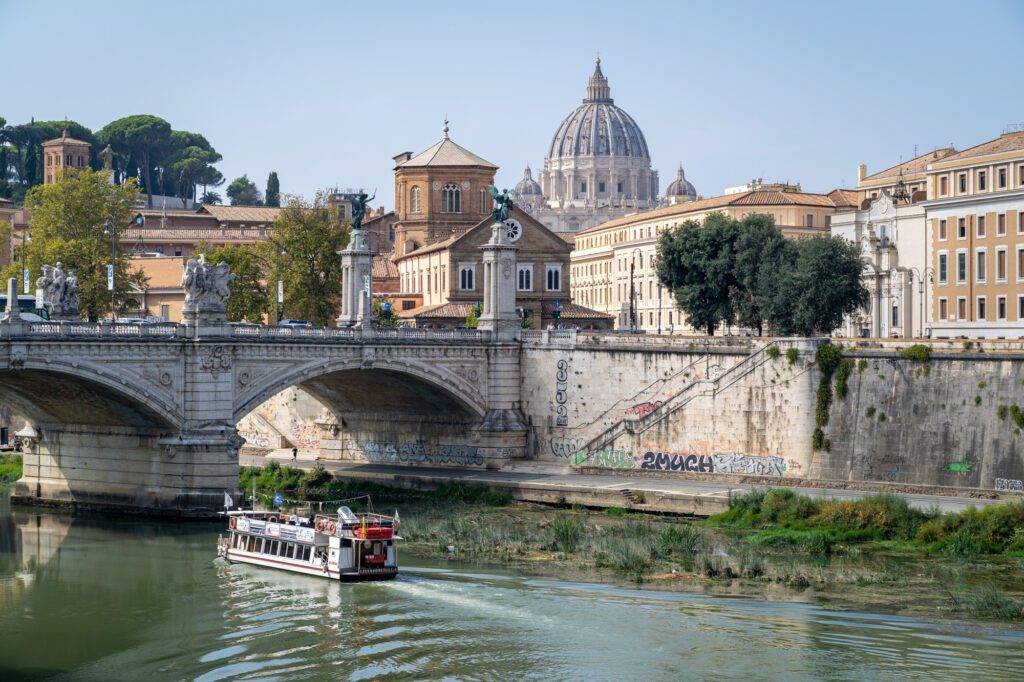 If you only have a week in Italy, it's your first time in Italy, AND you want to check off the country's main highlights, this is the itinerary for you. It's going to be a busy seven days, but you will get to experience three of Italy's most famous and popular cities.
The Best Time to Do It
Not summer (if you can help it)! Italy's major cities can get incredibly hot and extremely crowded with tourists during the peak summer months. It's also the most expensive time to visit these popular tourist destinations.
During August, many locals leave the cities to escape the heat and tourist crowds and head to the coast instead. Some local restaurants and shops may be closed.
Spring and fall are much better options. The weather will be cooler and crowds will be (slightly) lighter. Personally, we love September and October in Italy.
Where to Fly In and Out Of
For this itinerary to work in just a week, you'll need to fly into Rome and out of Venice.
Fiumicino Leonardo da Vinci International Airport (FCO) is Rome's major international airport. You can reach the city center from Fiumicino Airport in around 45-50 minutes by taxi or bus, or just 30 minutes by express train. This is the airport most international flights will fly in and out of, and is where you should aim to fly into.
Ciampino Airport (CIA) is the smaller of Rome's airports and serves many budget airlines such as EasyJet and Wizz Air. Despite being slightly nearer to the city, Ciampino Airport isn't as well connected as Fiumicino. You'll need to either jump in a taxi or get the bus, which takes around 30 minutes to reach the city center.
Venice Airport Marco Polo (VCE) is the major international airport serving Venice. The airport can be reached from Venice Island by train, water taxi, or water bus. Or from Venice Mestre (the mainland) by taxi, train, or bus.
Getting Around
Rome, Florence, and Venice are all well connected by Italy's high-speed rail network. Getting between the cities is quick, easy, and affordable by public transportation. No need to rent a car for this one!
Days 1-3: Rome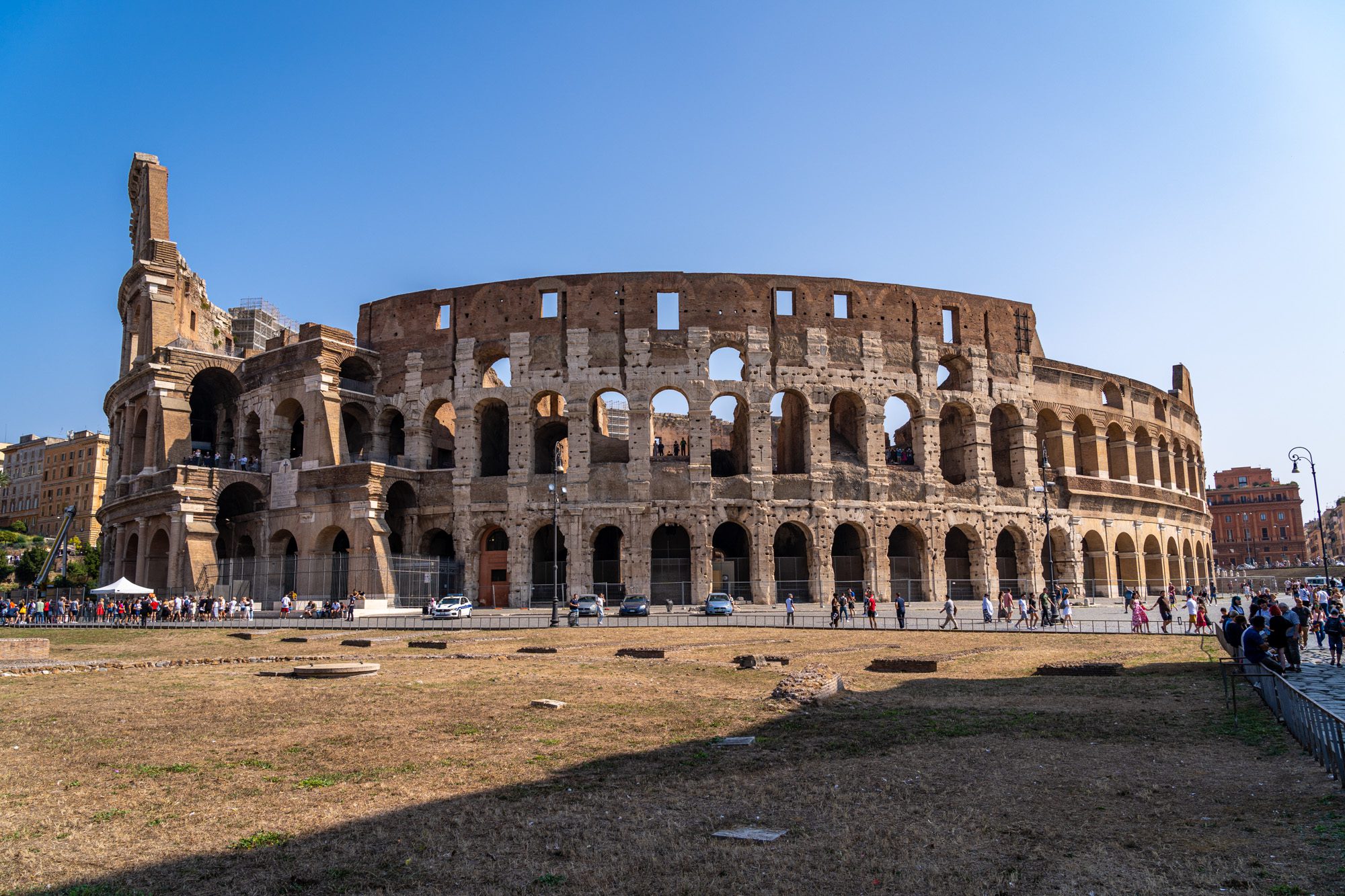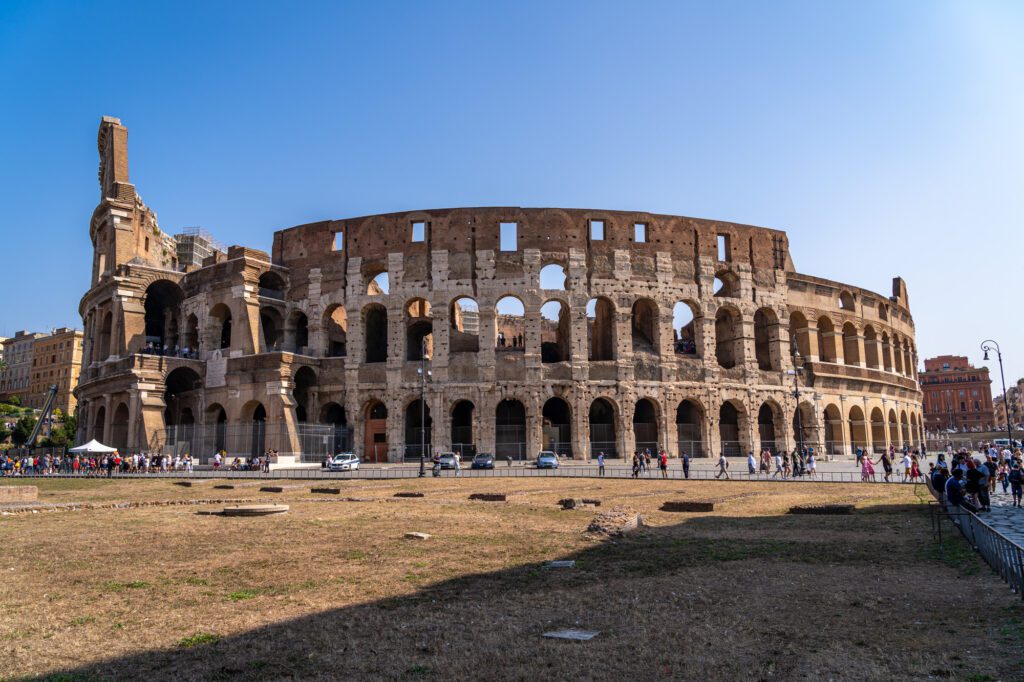 Italy's exciting capital city and the former capital of the mighty Roman Empire, Rome is truly one of the most impressive cities in all of Europe, if not the world.
With its long and fascinating history, incredible architecture – some of which dates back over a thousand years ago – and amazing food and drink scene, the Eternal City is a place that caters to just about every traveler, and is a must-visit when in Italy.
We've been to Rome several times now, including 10 days as part of our six week Italian adventure. There's a lot more to Rome than the main sights, though you should make an effort to see those too.
We'd recommend 3 days in Rome as a minimum. And if you have more time, then even better. You can check out our detailed 4 day Rome itinerary here.
But if you only have one week to explore the best of Italy, 3 days is certainly enough time to experience Rome's top sites and attractions.
Our top recommendations for must-dos in Rome are:
The Vatican. An independent city-state and headquarters of the Roman Catholic Church, The Vatican is home to the largest church in the world – St. Peter's Basilica (they have actively stopped the construction of bigger churches, like in Bologna, to keep this title, which I think is funny) – and one of the greatest art museums on the planet. Don't miss Michelangelo's beautiful Renaissance frescoes in the Sistine Chapel. And check out the "Pristine Sistine" guided tour with TakeWalks to experience the Vatican Museums before they open to the public.
The Colosseum and Roman Forum. These are perhaps the city's best examples of the grandeur of the Roman Empire almost 2,000 years ago. The Colosseum is the largest amphitheater in the world and an architectural marvel of its time. While the Roman Forum is home to the ruins of many of the most important buildings in Ancient Rome. We'd recommend visiting on a guided tour to really get the most out of your experience. We loved and highly recommend TakeWalks' Skip the Line Tour – you can read about our experience here.
Centro Storico. A self-guided walk through Rome's historic city center is a great way to see many of the city's most famous landmarks. We'd suggest doing something like this walk, which takes you past numerous iconic sites including the Spanish Steps, the Trevi Fountain, the Pantheon, and more.
Roman Cuisine. ​​Rome is most famous for its simple but delicious pasta dishes, most notably; Carbonara, Gricia, Amatriciana (our favorite), and Cacio e Pepe. Make sure to indulge in plenty of local coffee, gelato, and wine too. A great way to explore Roman cuisine and the city's food culture is on a guided food tour with a local, who can give you the context around the food that will enrich your experience (and help you find the most delicious places to eat).
Note: Try to visit The Vatican and The Colosseum and Roman Forum on different days. You'll be physically and mentally exhausted if you try to tackle them both on the same day. Trust us.
For more of the Italian capital's best sites and attractions, check out our full guide to the best things to do in Rome.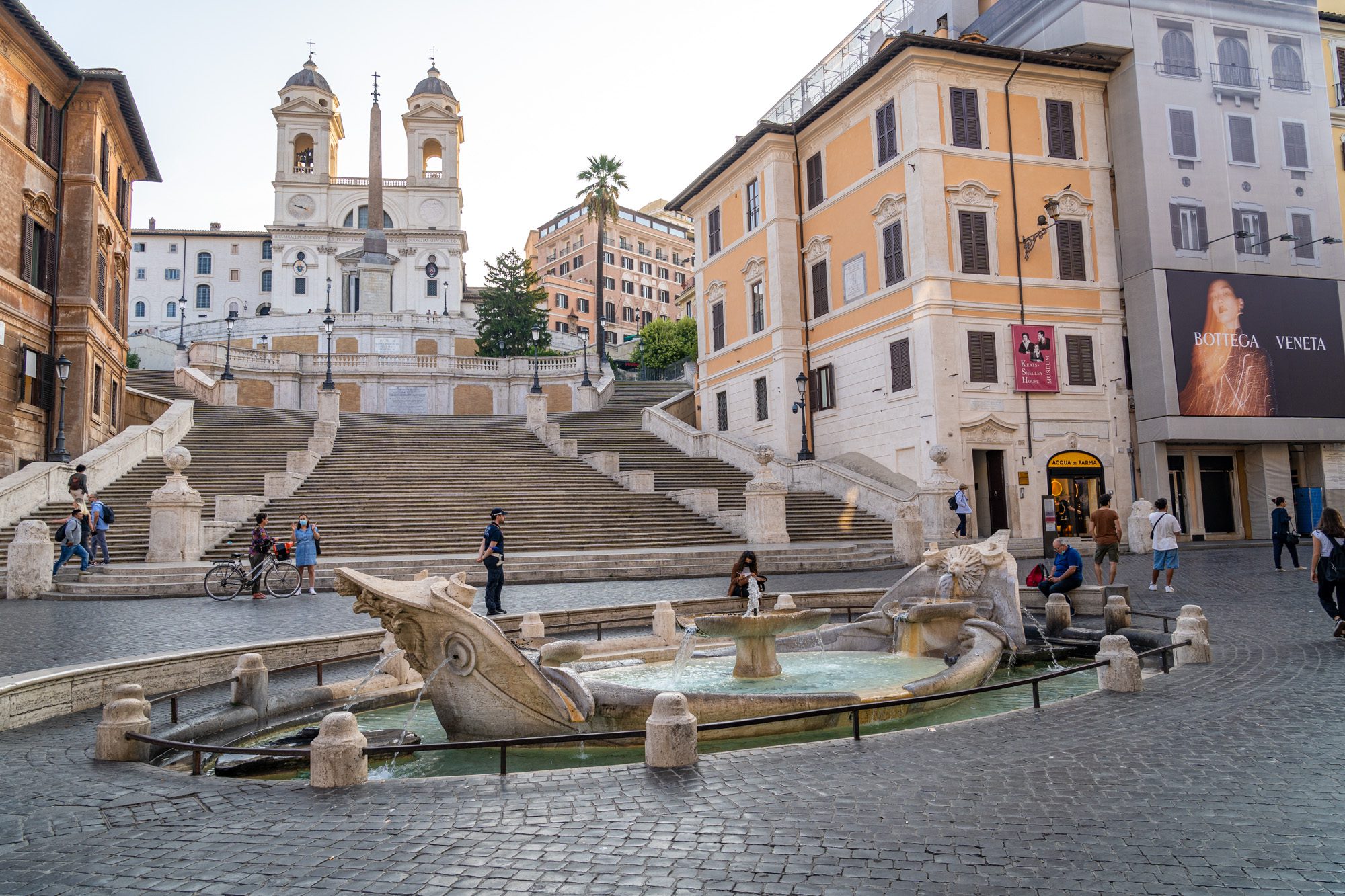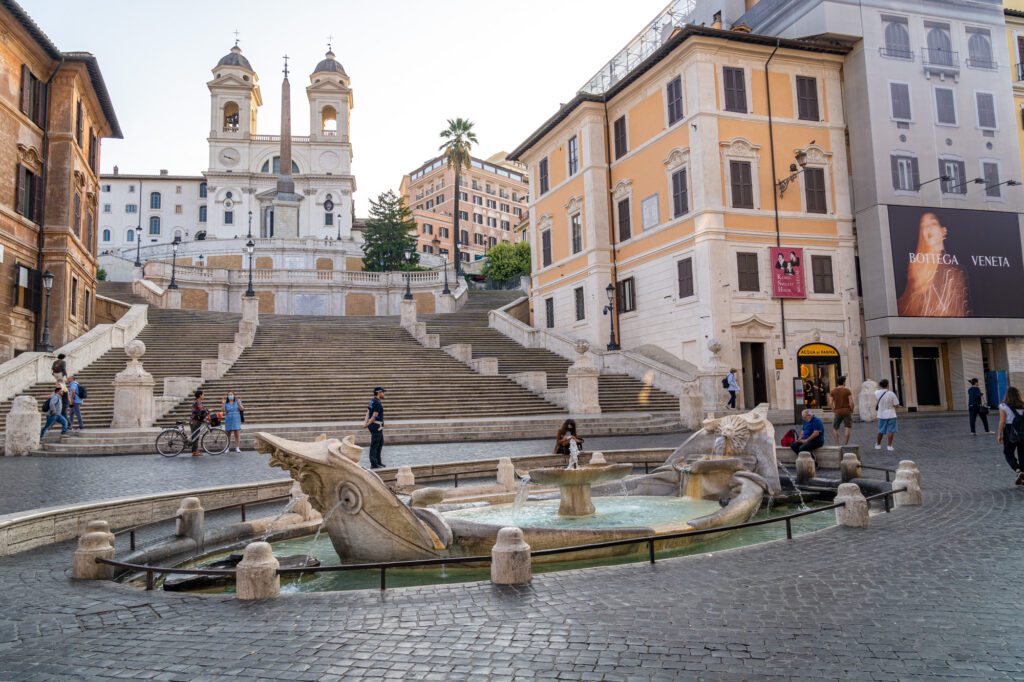 Where to Stay in Rome
If it's your first time in Rome, you can't go wrong with the Centro Storico. It's close to many of the city's main attractions, you'll find a good selection of hotels, and there are plenty of restaurants, bars, and shops right on your doorstep.
For somewhere a little different, check out Monti, a hip part of Rome that's near the Colosseum and Forum, or Trastevere, which is a little further out but is one of our favorite areas of the city and where we stayed on our last stint in Rome.
The above is just a summary. You can read more in our detailed guide to where to stay in Rome.
Days 4-5: Florence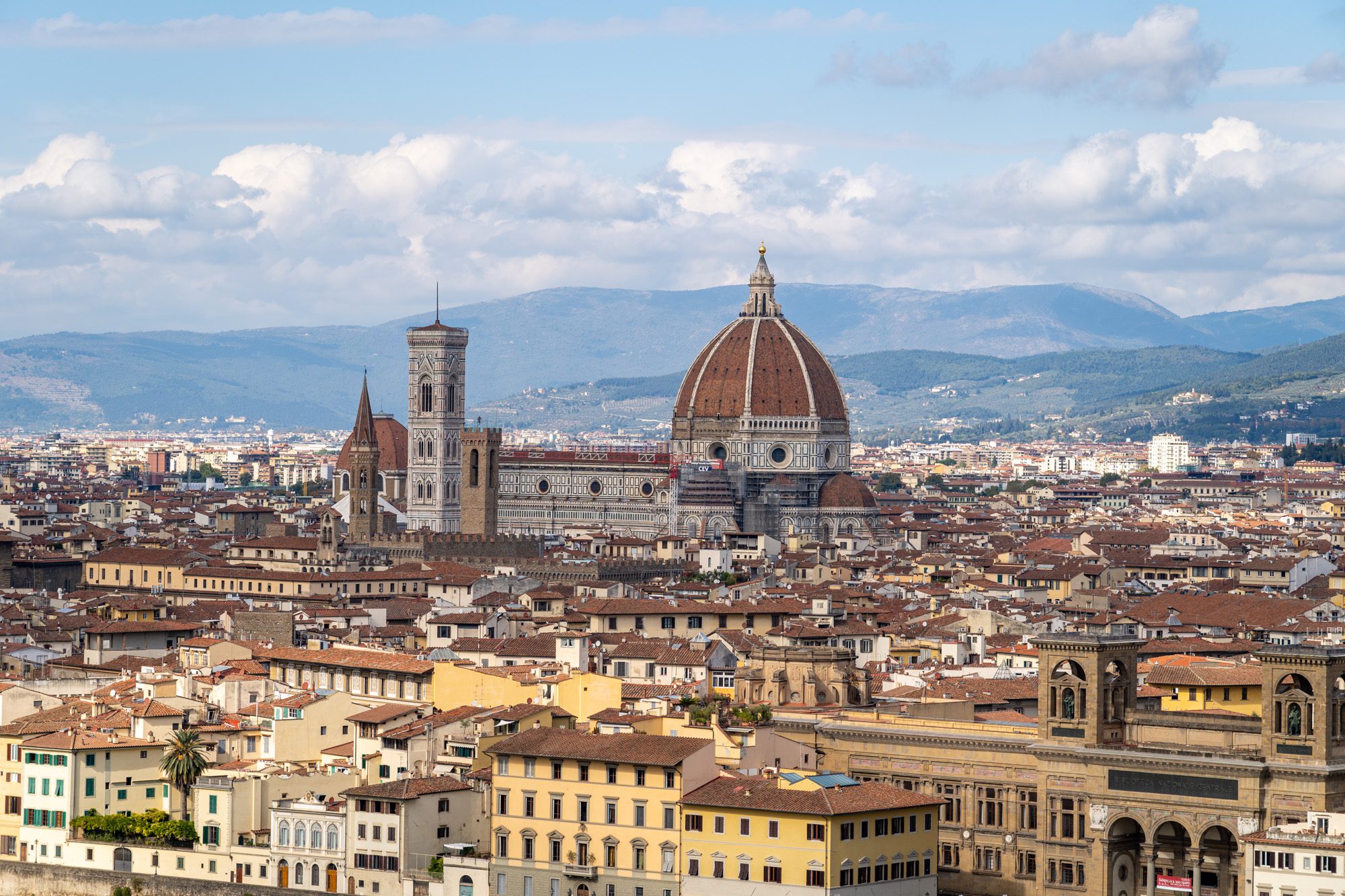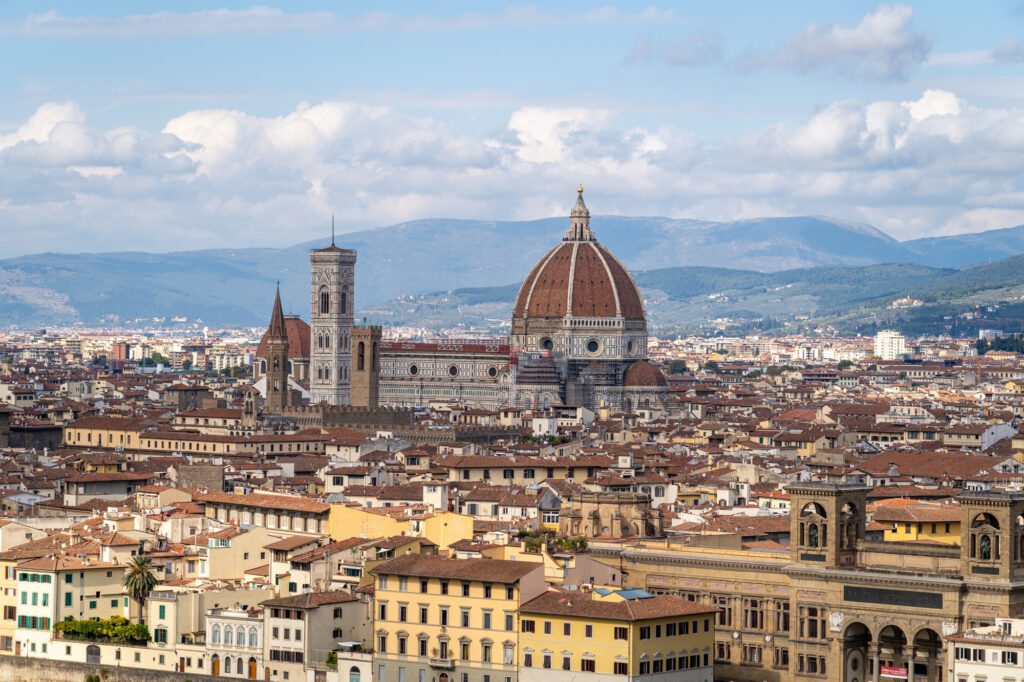 During the 15th century, Florence was one of the richest cities in Europe (if not the world), which can still be seen in its elegance and grandeur today. The Tuscan capital is one of the most beautiful and most visited cities on the Italian peninsula.
Known as the 'Birthplace of Renaissance', Florence is an unparalleled hub of art and architecture. The city is home to numerous world-class art museums housing more masterpieces than you'll know what to do with.
In this itinerary, you have two days to explore the best of Florence, which is enough time to experience the city's top sites and the two main museums.
You'll unfortunately be missing out on taking a day trip from Florence to places like Tuscany and Bologna, which is probably the first thing we'd add to this itinerary with more time.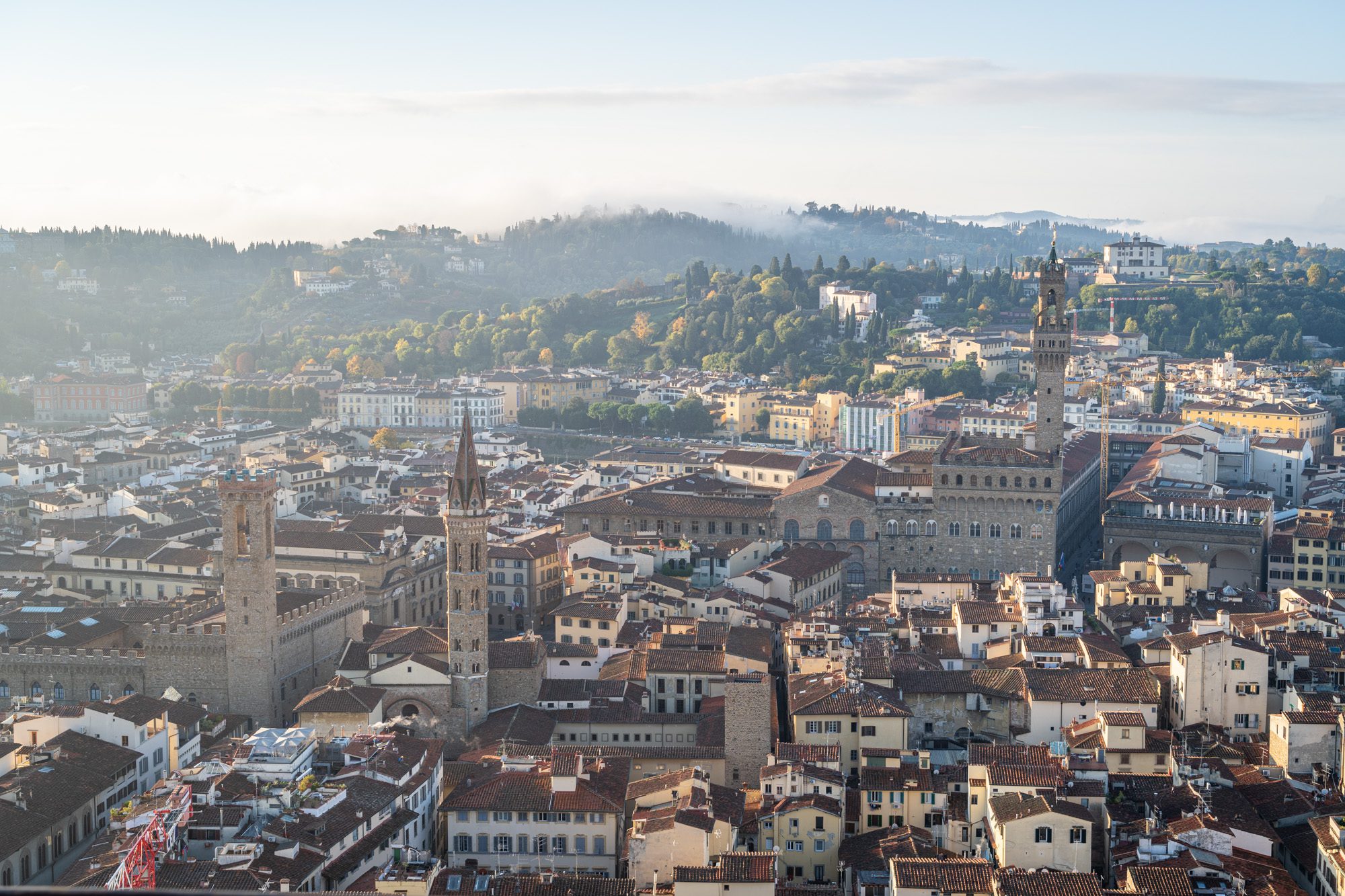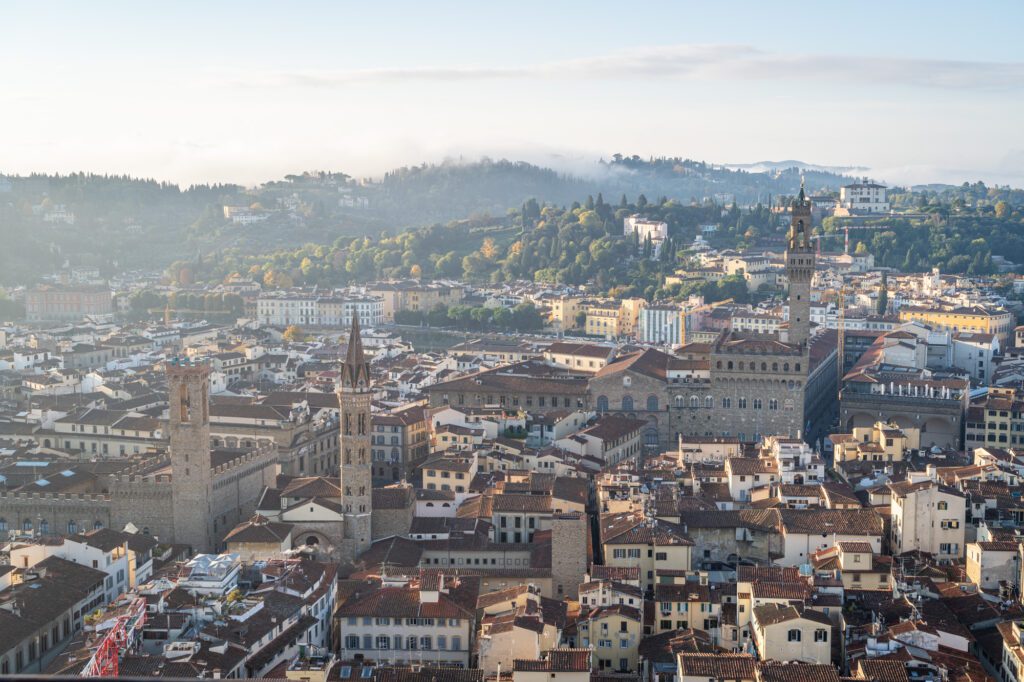 Our top recommendations for must-dos in Florence are:
The Uffizi Gallery. This world-class gallery holds an unparalleled collection of Renaissance and European art assembled by the ruling Medici family. The Uffizi has 101 rooms and thousands of artworks to explore, which can be a little overwhelming. This is why we'd suggest visiting on a guided tour to add context and richness to your visit (the one we linked is the one we did, and we loved it!).
Galleria dell'Accademia and the David. The Accademia Gallery is a must-visit for one reason; Michaelangelo's Statue of David. It's worth visiting the gallery on a guided tour to learn more about the world's most famous sculpture.
Florence Duomo and Brunelleschi's Dome. Florence's striking 13th-century Gothic-Renaissance cathedral is one of the largest Christian churches in the world. The best way to experience the Duomo's impressive interior is to climb its magnificent dome to see the detailed frescoes up close. Try to do it first thing in the morning for the fewest people, and book in advance here.
Tuscan Cuisine. Florence and the wider Tuscany region are known for their fantastic cuisine. We love Pappardelle al ragù di cinghiale (pasta with wild boar sauce), pappa al pomodoro (tomato and bread soup), and the Schiacciata (similar to a focaccia sandwich). And don't forget to pair your food with some bold Tuscan reds, like Chianti Classico or Brunello. Trattoria da Garibardi is our favorite spot in the city for trying traditional Tuscan cuisine and wines.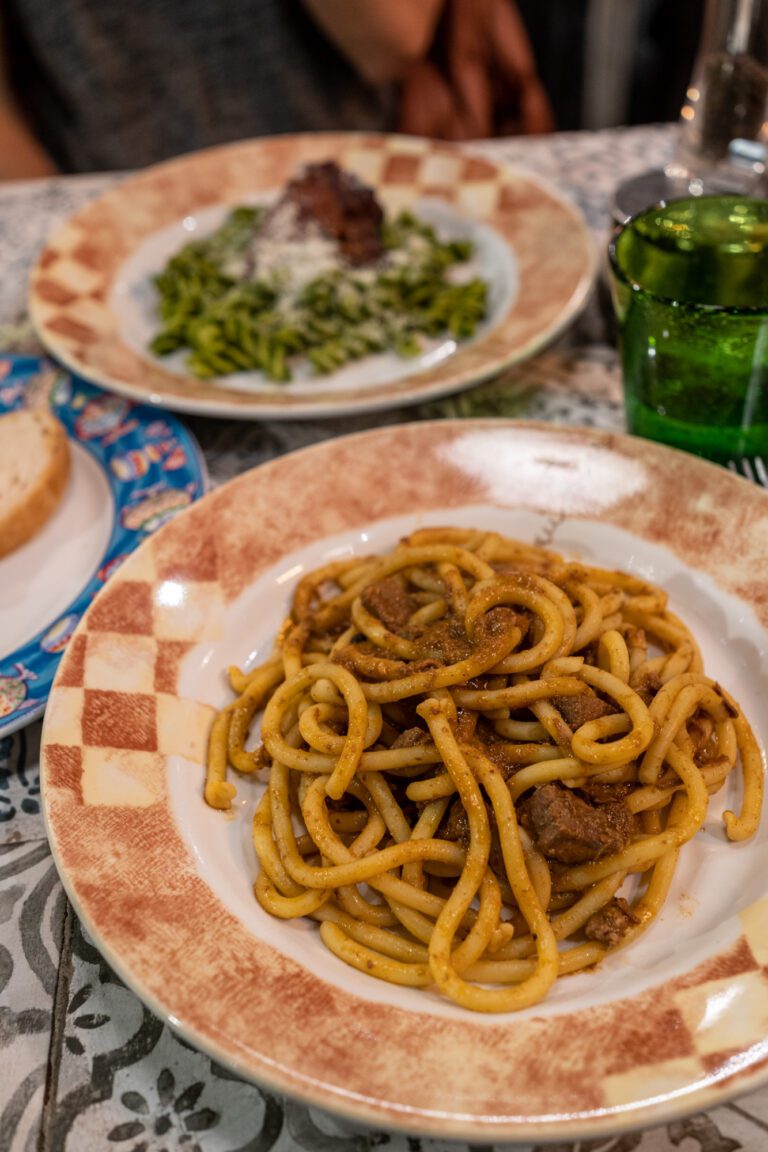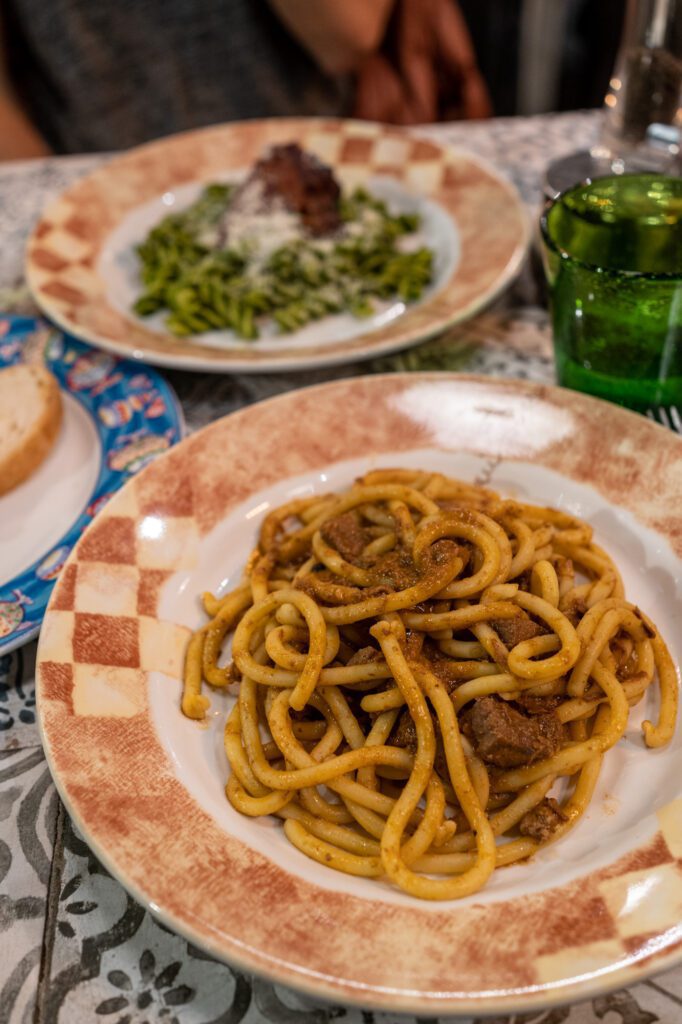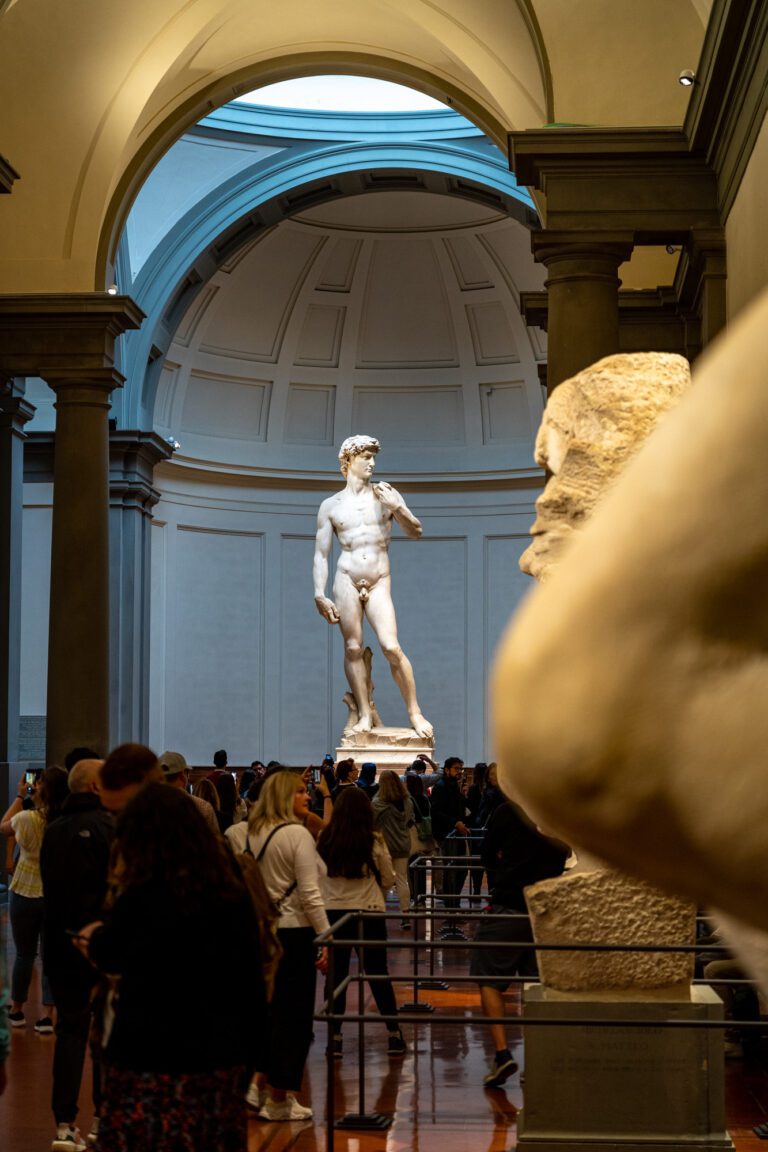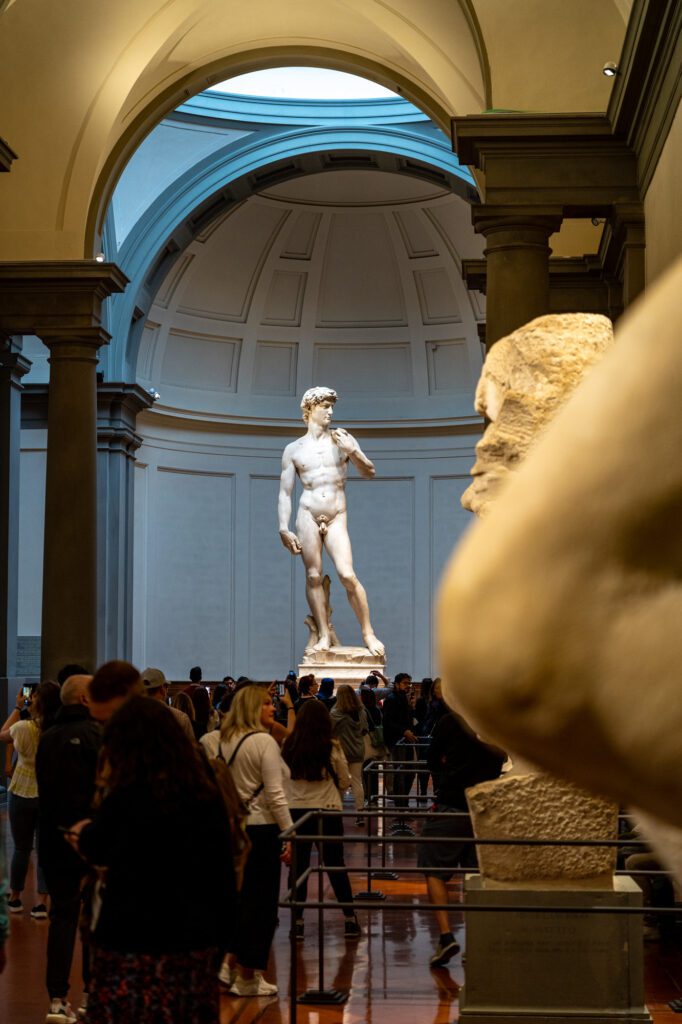 Note: Try to avoid visiting the Uffizi Gallery and Galleria dell'Accademia on the same day. Even for the most devoted art lover, it's simply too much information to digest. And if you only have the time or budget for one guided tour, you'll get more out of the Uffizi than the Accademia – in our experience at least.
Where to Stay in Florence
Florence is a fairly small and compact city, so you really can't go too wrong no matter where you choose to stay.
A perfect place to stay for first-timers in Florence is the Centro Storico, centered around the Piazza del Duomo and Piazza della Signoria (home to the Uffizi Gallery). The neighborhood is super walkable to the majority of the city's main sites and close to the central train station.
Another nice area to stay in Florence is Santa Croce / Sant'Ambrogio, which sits just a few minute's walk east of the Duomo. It has the best food (we think), fewer tourists, and is still close to everything you'll want to see in the city.
For more information, check out our full guide to where to stay in Florence.
Days 6-7: Venice
Located in the northeast of the country, the enchanting floating city of Venice is another of Italy's most unique and well-known tourist destinations.
We have mixed feelings about Venice. Unfortunately, the ever-increasing popularity has caused many problems for the historic city. Large crowds are putting too much pressure on the infrastructure. Locals are moving away to escape the chaos and skyrocketing cost of living, and pollution and erosion in the canals are continuing issues.
That's not to say you shouldn't visit Venice. If you want to go, we'd just recommend visiting in a considerate and deliberate way. Head out early morning or late in the evening, visit some of the more off-the-beaten-path locations. and eat at local cafes and restaurants to support the local economy.
This itinerary gives you a couple of days to explore Venice, so you'll stay overnight and have at least one evening and morning to soak up the city without the large day-trip crowds.
Our top recommendations for must-dos in Venice are:
St. Mark's Basilica. The 9th-century cathedral is the biggest church in Venice and one of the city's most famous landmarks. The beautiful building is also one of the best-known examples of Italo-Byzantine architecture. The church's intricately decorated interior is free to visit. But the lines to get inside can be long during peak periods, so make sure to arrive early.
The Doge's Palace (Palazzo Ducale). This stunning Gothic-Renaissance building was the former residence of the Doges – the rulers of Venice – for more than 1,000 years. You can explore the unique Venetian palace on this Secret Itineraries tour to access the public areas of the palace and usually inaccessible areas such as the secret torture chambers and prison cells.
Gondola Ride Along the Grand Canal. A gondola ride along the city's many charming canals is one of the most famous things to do in Venice and a bucket-list item for many visitors. You can pick up a gondola at stations all across the city, so no need to book in advance. The experience will cost you €80 for 40 minutes before 7:00 pm or €100 for 30 minutes after.
Ponte de Rialto. Venice's most iconic bridge is home to a number of shops and boasts some of the best views along the Grand Canal.
The Rest of the Venetian Lagoon. While many visitors choose to stick to Venice island, there are plenty of other places to visit in the Venetian Lagoon. Jump on a Vaporetto (water bus) and spend an afternoon discovering some hidden gems, such as Burano and Murano. Burano is a beautiful fisherman's town, known for its rows of brightly colored houses. Murano is a series of little islands linked by bridges, known for their luxurious Murano glass.
You can read more in our detailed guide to 2 days in Venice.
Where to Stay in Venice
Cannaregio and Castello are our two top recommendations for staying in Venice.
Cannaregio is the city's Jewish quarter, located in the north of Venice. The residential neighborhood is filled with many beautiful synagogues, as well as plenty of affordable local restaurants and bars. Cannaregio is located within walking distance of Venezia Santa Lucia train station, so is convenient for shorter visits.
Castello is another good option just to the east of the main tourist district of San Marco. It's a good place to stay to be just a short walk away from many of the city's main attractions.
#2: A Week in Florence and Wider Tuscany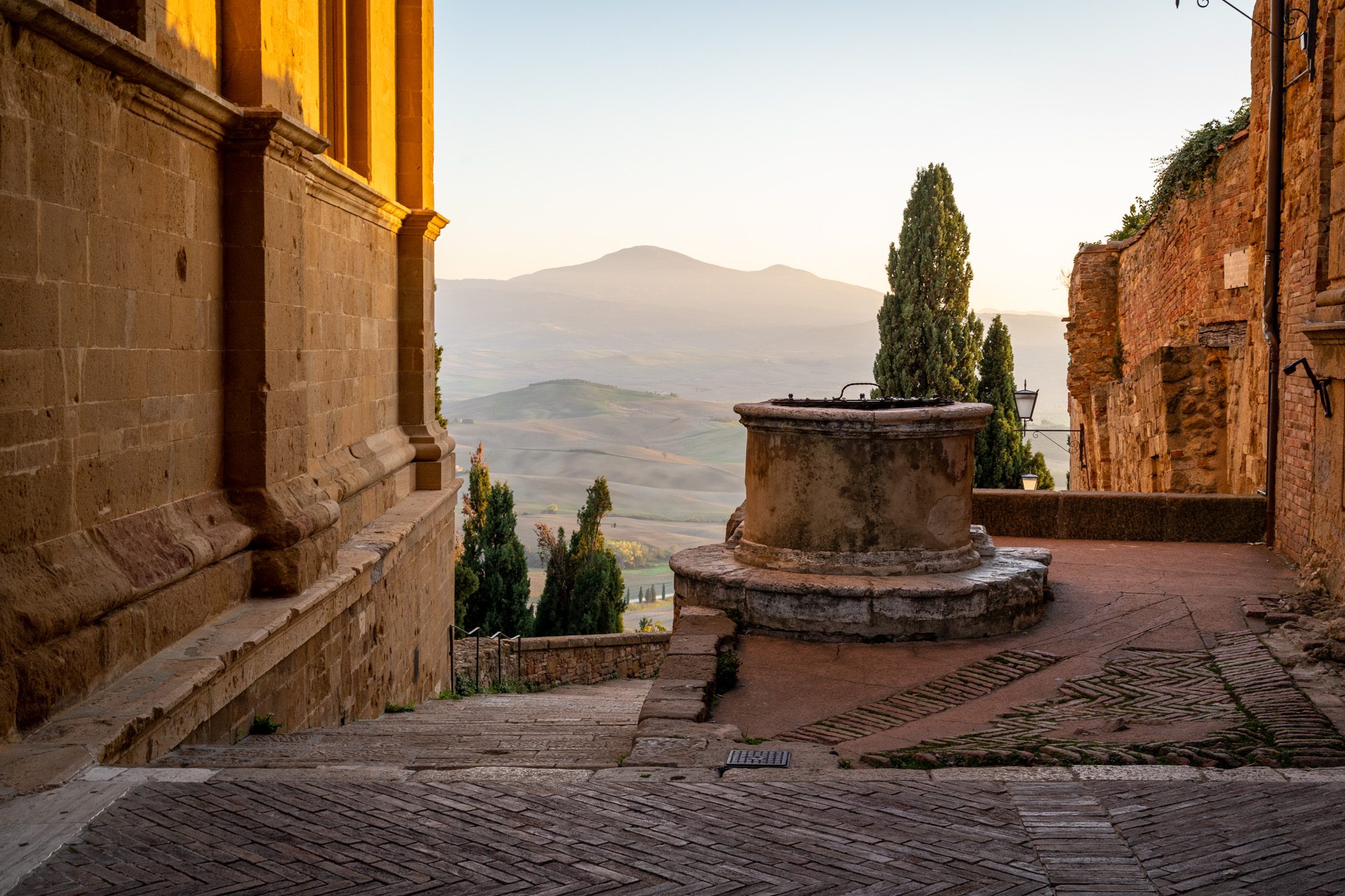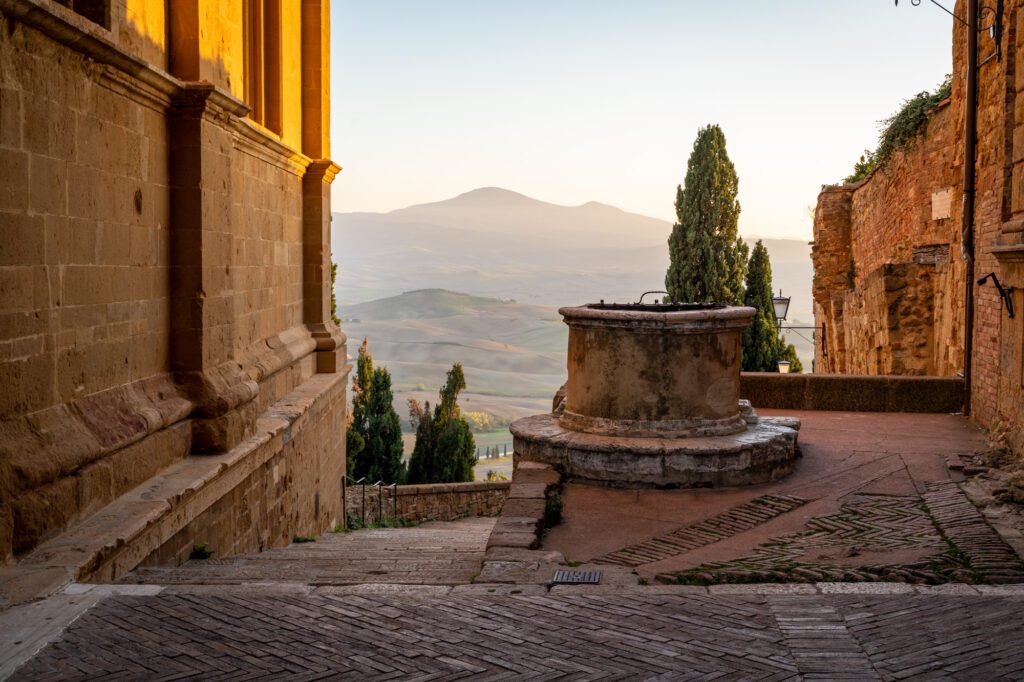 From the beautiful Renaissance architecture and art of Florence to the breathtaking natural landscapes of the Tuscan hills, Tuscany is a region that has something for everyone. It's also a region that we think is worth spending some time delving deeper into, rather than a quick stop in its most famous city (as many tourists do).
Last fall, I (Matt here!) was lucky enough to spend a full week in Tuscany with just my mom and I, and it was magical. There are few better places in Italy to soak up the dolce vita and slow pace of life than the Tuscan countryside.
On this one week Tuscany itinerary, you'll have the chance to peruse the world-renowned galleries of Florence, explore the charming medieval towns of Siena and San Gimignano, and journey through the rolling hills of the Val d'Orcia.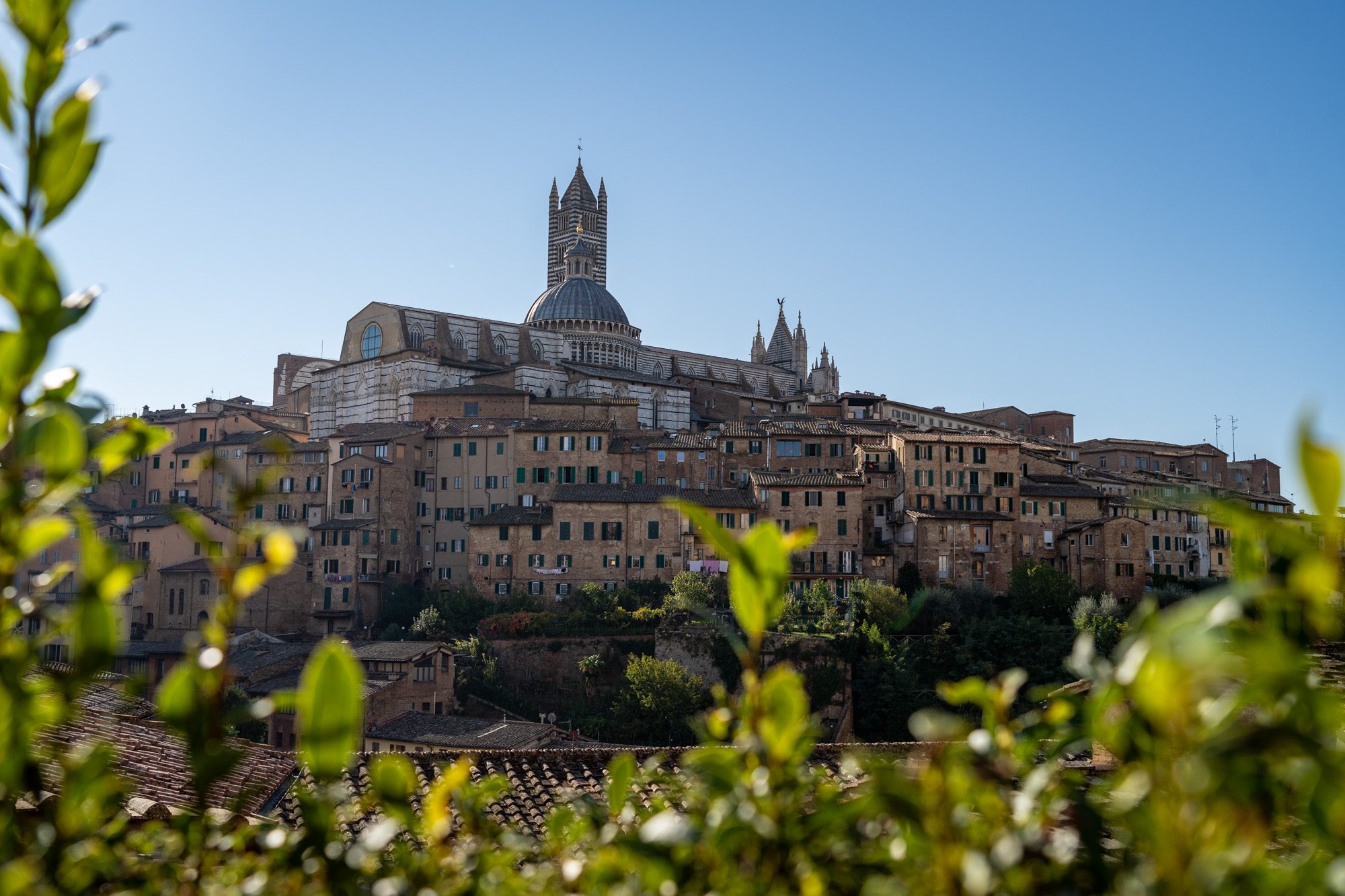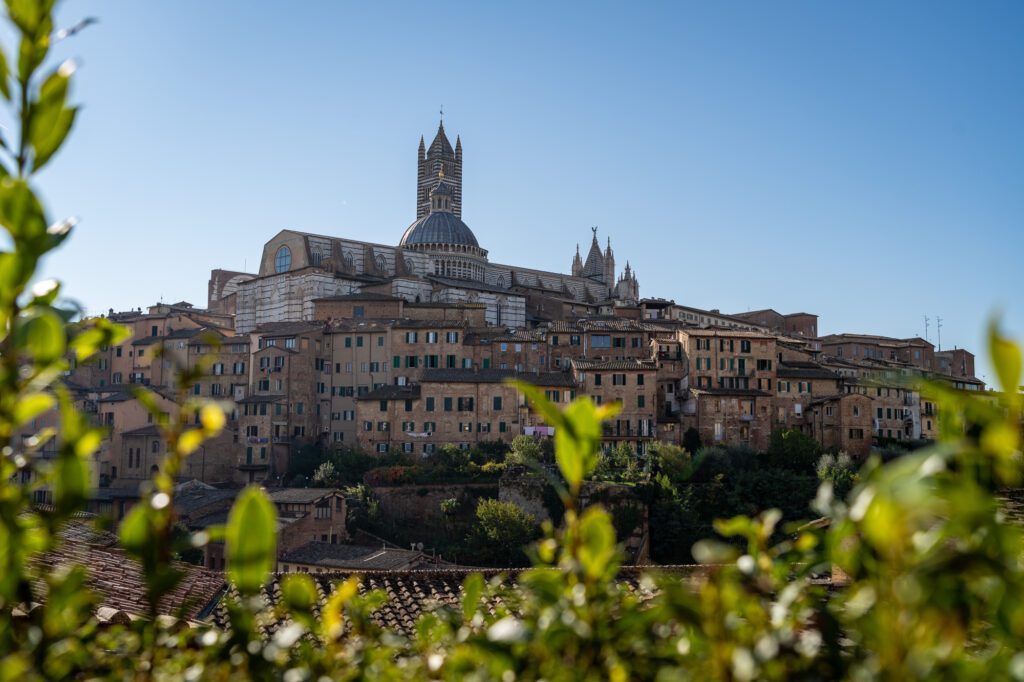 The Best Time to Do It
Fall is our favorite time to visit the Tuscany region. It's harvest time in the vineyards, the weather is cooler but still sunny, and fewer tourists are around than in the peak summer months.
Where to Fly In and Out Of
For this itinerary, you have a few options. You can fly in and out of Florence, Pisa, or even Bologna (which is what we did), depending on which works best for you.
Aeroporto di Firenze-Peretola (FLR) is Florence's main airport, located just a couple of miles from the city center. But despite its proximity to the city, the airport is fairly small and only has one runway, so only serves a small number of flights per day.
Galileo Galilei Airport (PSA), aka Pisa Airport, is Tuscany's main international airport that serves the majority of European carriers. With more flights per day, there's a good chance you'll end up flying here instead. The airport is located 70km from Florence and can be reached in around an hour by train or bus.
Finally, Bologna Guglielmo Marconi Airport (BLQ) is another option if you're flying from the US and other destinations outside of Europe. The airport is one of the biggest in Italy and serves many international carriers. Sitting 100km from Florence, you can easily reach the city by jumping on a train to Bologna Central, then connecting to a high-speed train to Florence which takes just 35 minutes.
Getting Around
While it is possible to do the majority of the itinerary below using public transportation and guided tours, wider Tuscany is not the most accessible region using public transportation. Journeys may be long and require multiple changes and connections.
The region is better explored by car. You won't need to drive during your time in Florence, so it's best to rent a car on your third morning to head to Siena and return to Florence at the end of your trip.
Days 1-2: Florence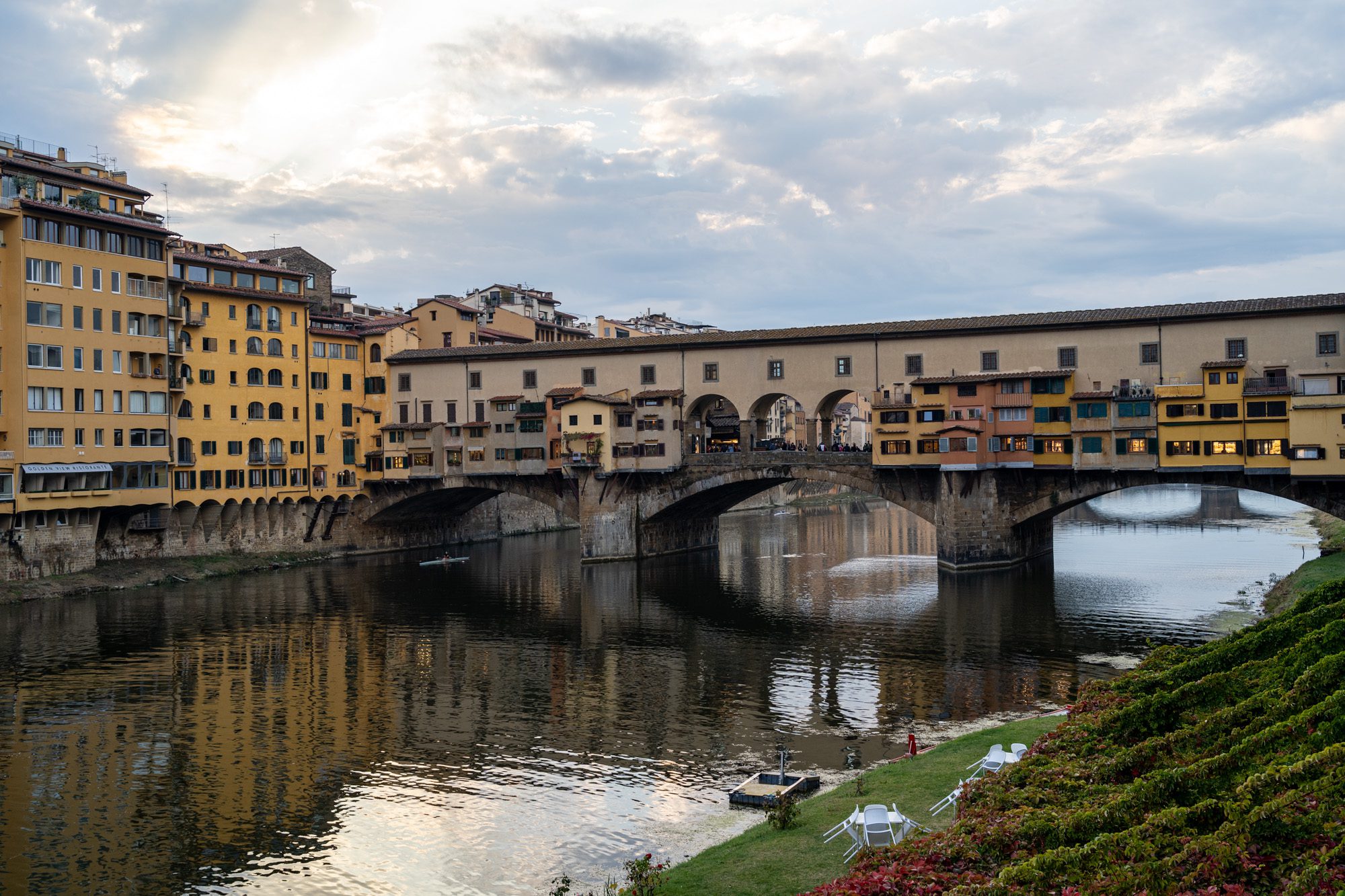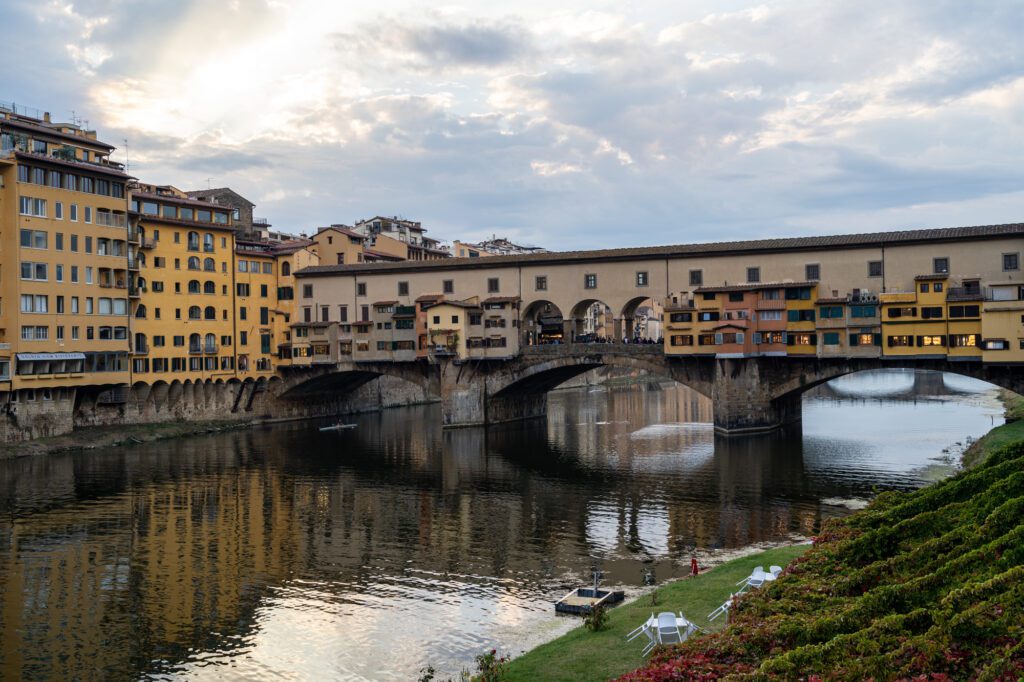 As the regional capital, Florence is the obvious place to start your Tuscany trip. This itinerary gives you two days to visit the beautiful Renaissance city before heading out to explore the region's picturesque countryside and historic towns.
Remember, if you want to see both the Uffizi Gallery and the David, plan to do them on separate days to avoid being burnt out for whichever you do second.
– See above for more information on Florence.
Days 3-4: Siena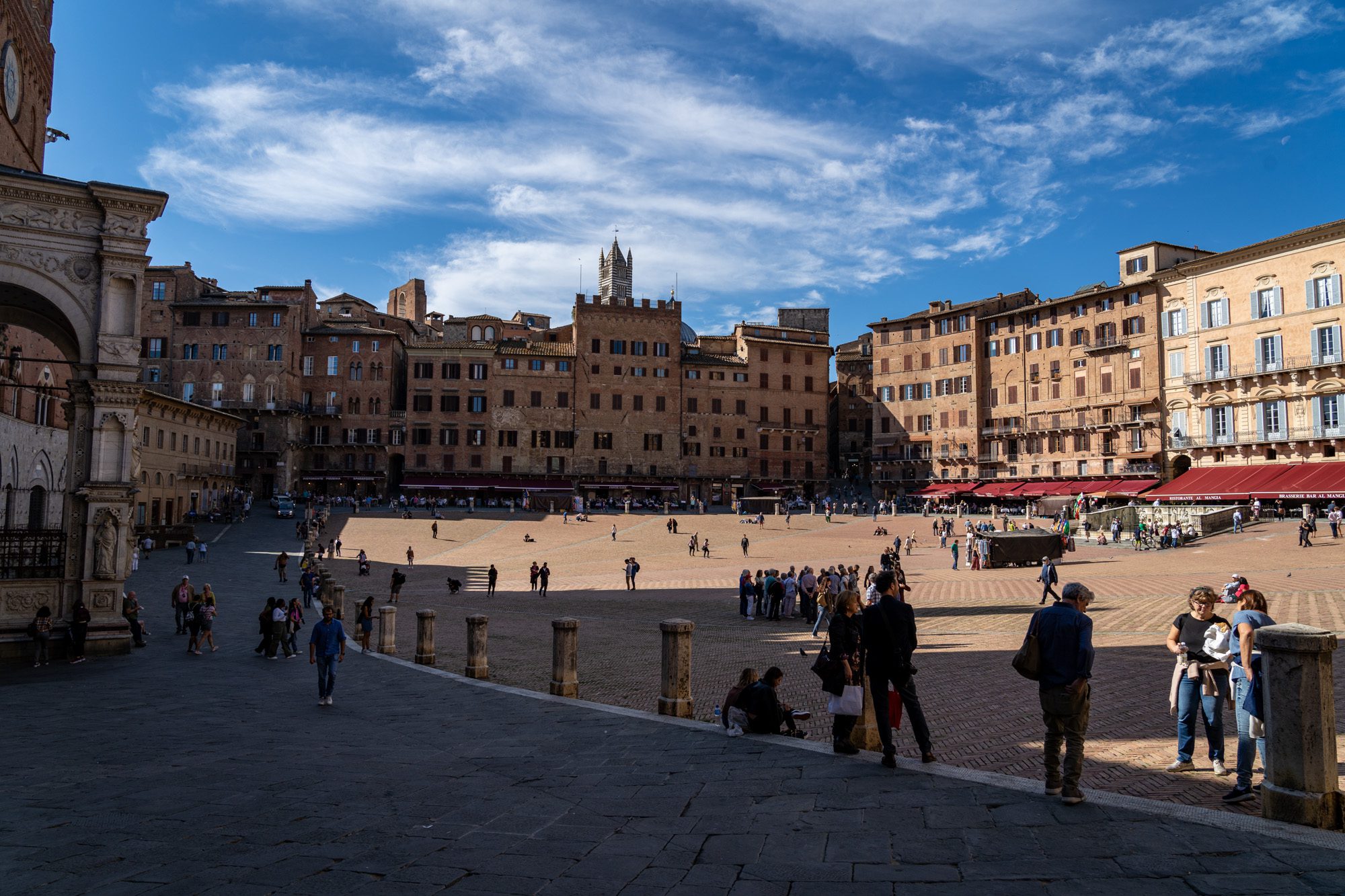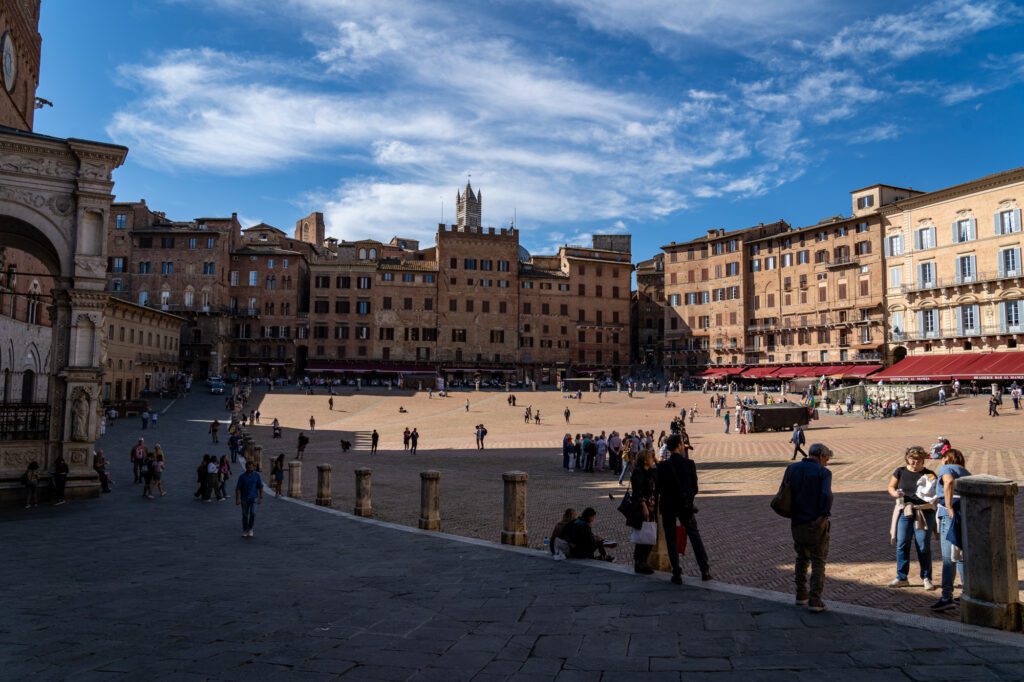 Siena is perhaps the best example of a Tuscan hilltop town and one of Italy's best-preserved medieval villages, with its red brick houses, Gothic churches, imposing palaces, and narrow soaring towers.
Siena's authentic charm and distinctive medieval architecture have even earned the city the recognition of a UNESCO World Heritage Site, making it a popular stop on most Tuscany itineraries.
Our top recommendations for must-dos in Siena are:
The Siena Cathedral. The city's 13th-century cathedral is one of the finest examples of Gothic architecture in all of Italy. The marble exterior is adorned with statues and carvings by artist Giovanni Pisano, while the large interior is lavishly decorated with frescoes, paintings, and intricate mosaic floors.
Piazza Del Campo. Siena's main square is one of the most impressive of its kind in all of Europe, surrounded by historic palaces and lively cafes and bars. The large square is also the location of the city's world-famous Palio horse race each summer.
Days 5-6: The Val d'Orcia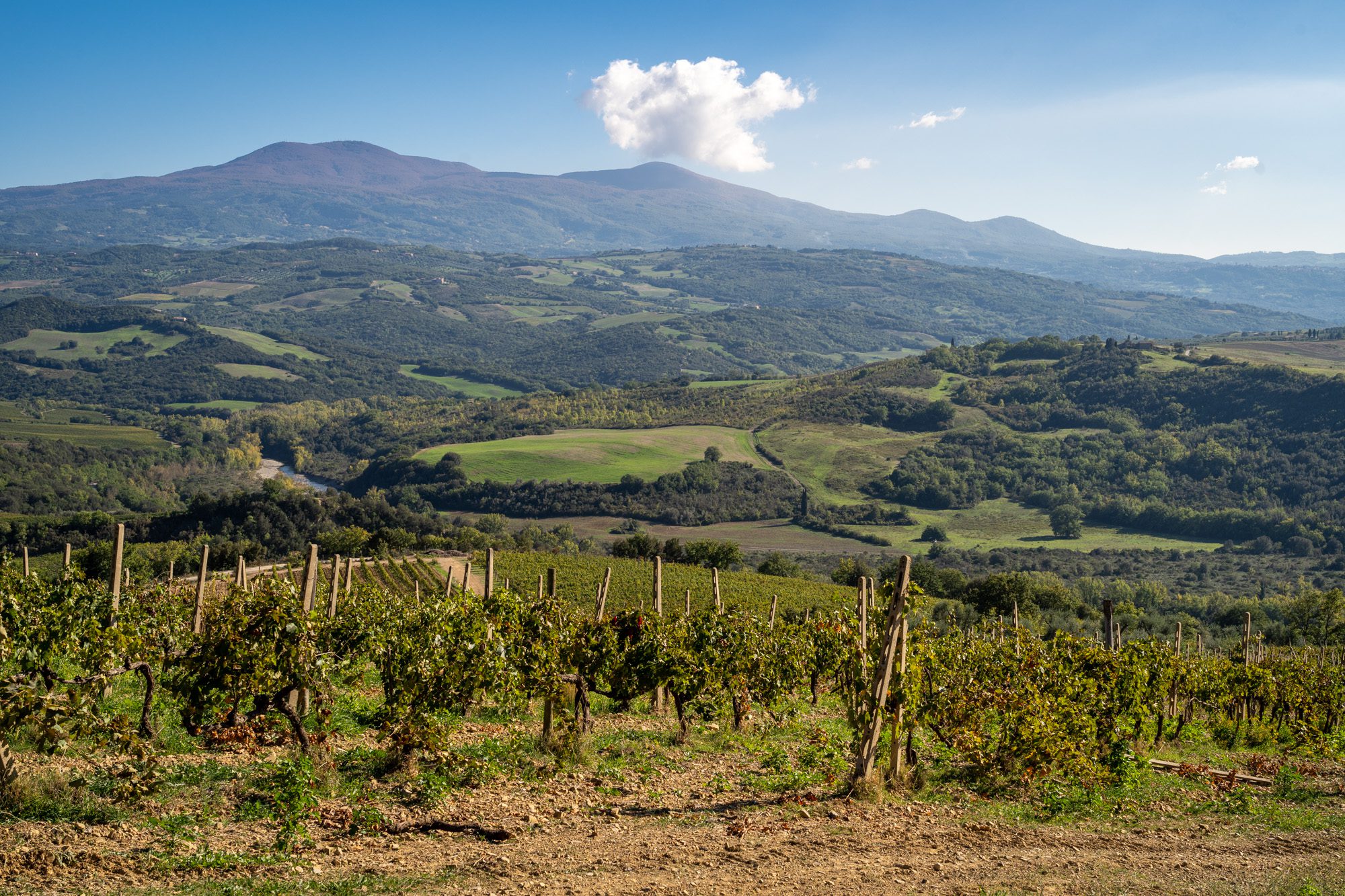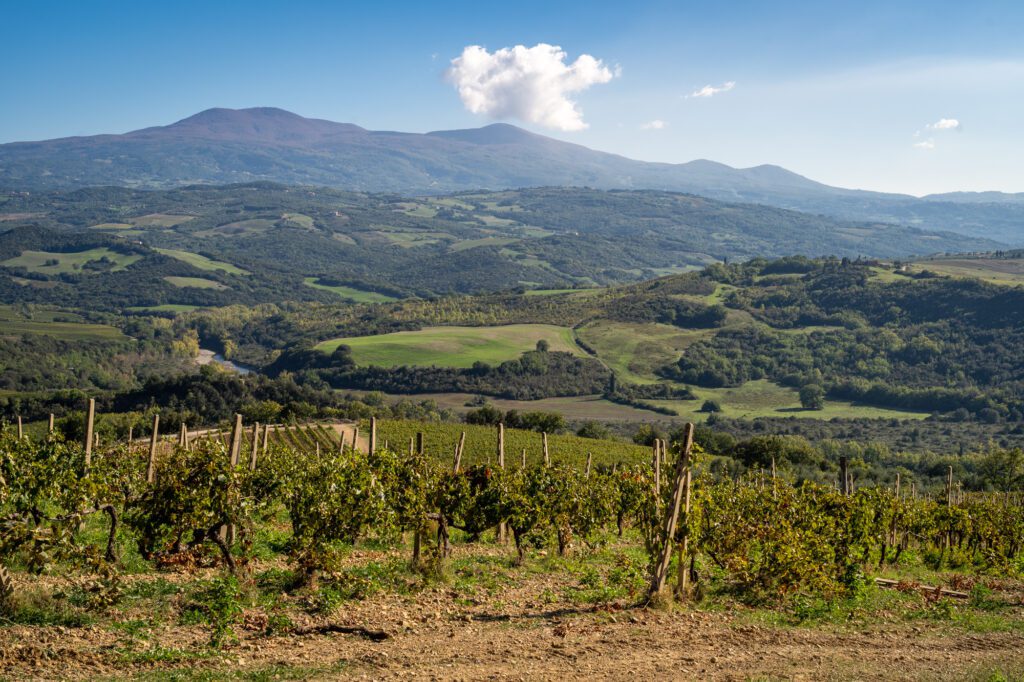 Located to the southeast of Siena, the Val d'Orcia is one of our absolute favorite areas of Tuscany and a must-visit when in the region.
It's quintessential Tuscany in our minds, a lush valley known for its rolling green hills, gorgeous landscapes, historic agriculture, and picturesque hilltop towns such as Pienza and Montepulciano. Oh, and the wine, cypress trees, and amazing food are nice, too.
Thanks to its unparalleled beauty that inspired many Renaissance painters, the valley was even awarded UNESCO World Heritage status in 2004.
Note: The Val d'Orcia isn't easily accessible by public transportation. Even if you're doing the rest of your trip by train, we'd recommend renting a car for a couple of days for this part. The valley is a 45-minute drive from Siena and you can return the car to the city afterward – you'll need to head back in this direction for the next destination anyway.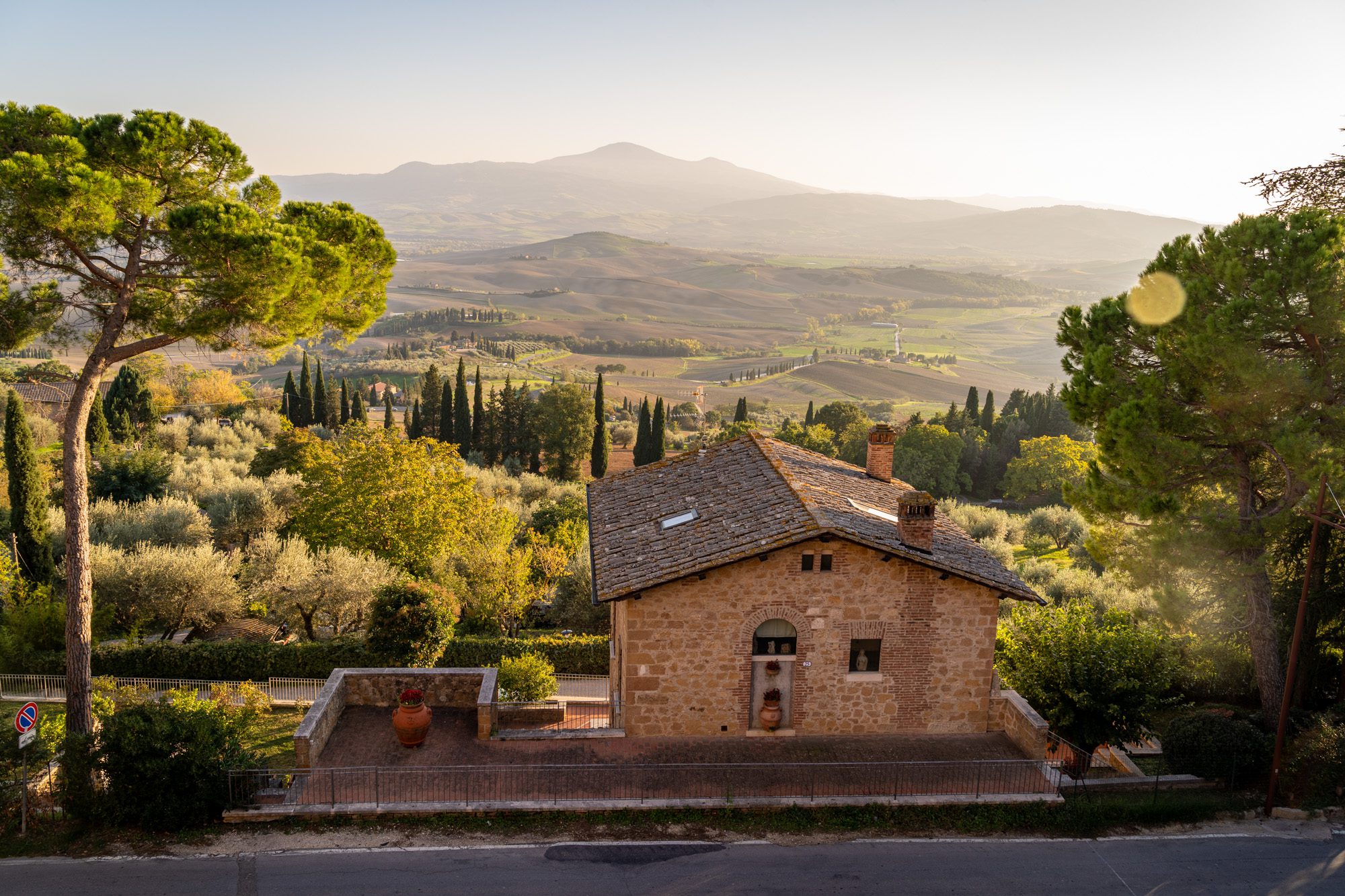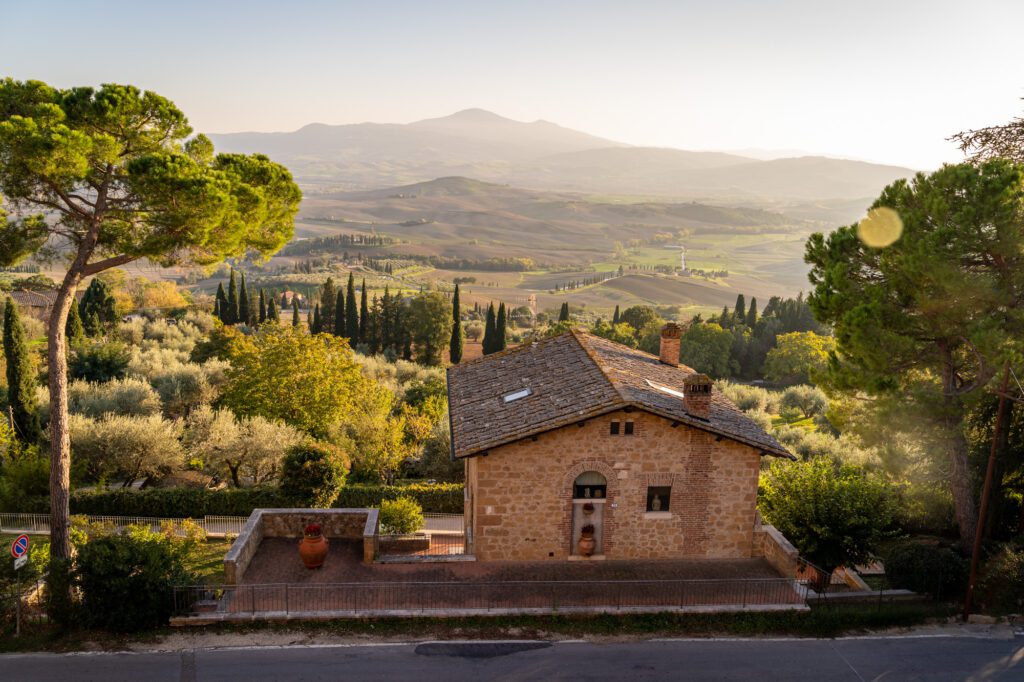 Our top recommendations for places to visit in Val d'Orcia are:
Montepulciano. A quaint Tuscan town on the edge of a volcanic rock cliff face, with small medieval streets engulfed by grand Renaissance buildings. Don't miss the town's signature Vino Nobile di Montepulciano red wine.
Pienza. A romantic Renaissance town perched on a hilltop with stunning panoramic views over the surrounding valley and countryside. The town is well-known for its Pecorino di Pienza cheese, but our favorite part is the excellent views out to the south.
Montalcino. This town sits in the heart of Tuscany's world-famous Brunello red wine production. Visit the local wineries and vineyards to learn more about one of Italy's most popular wines – and sample plenty for yourself.
Day 7: San Gimignano and Volterra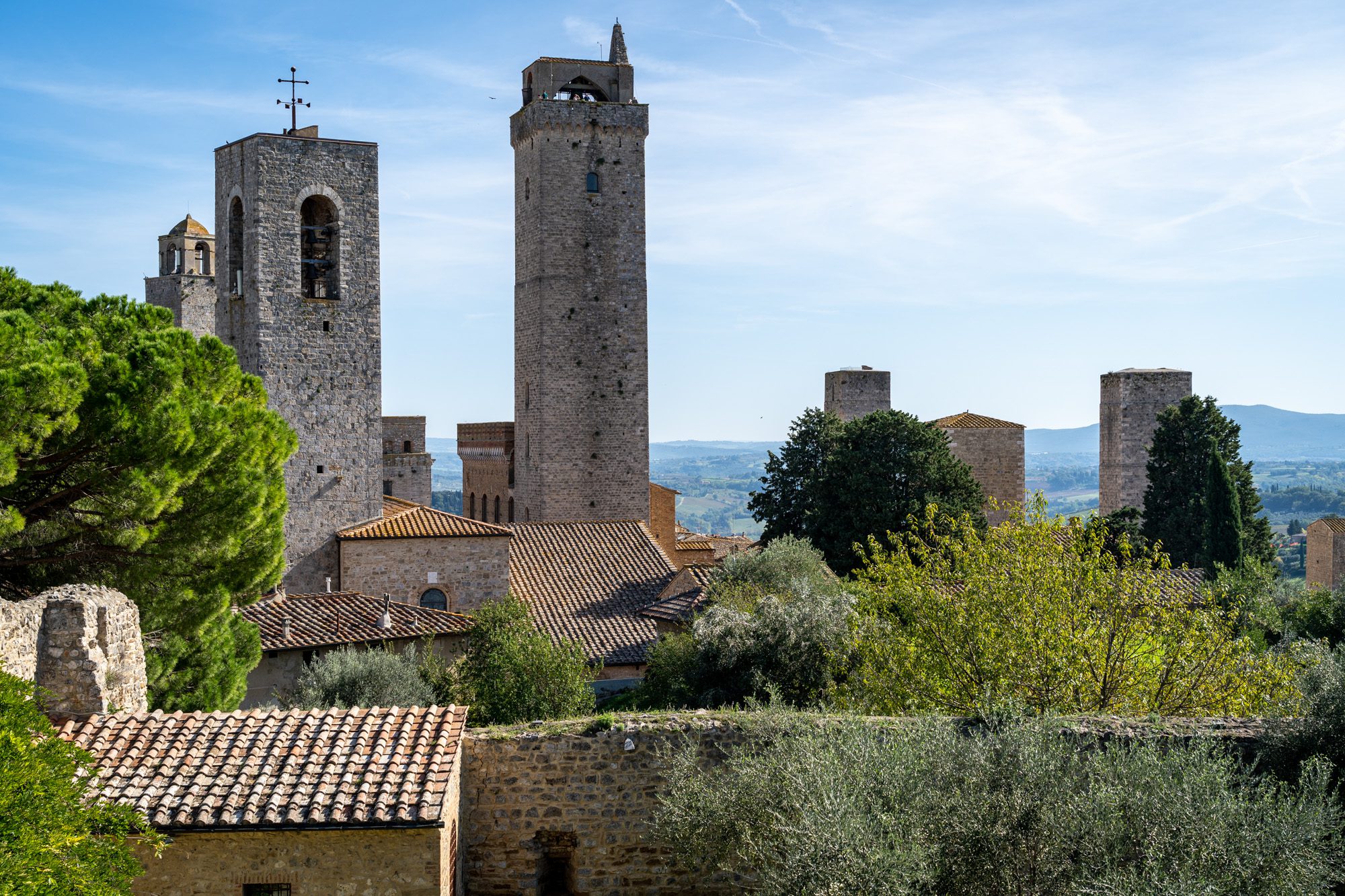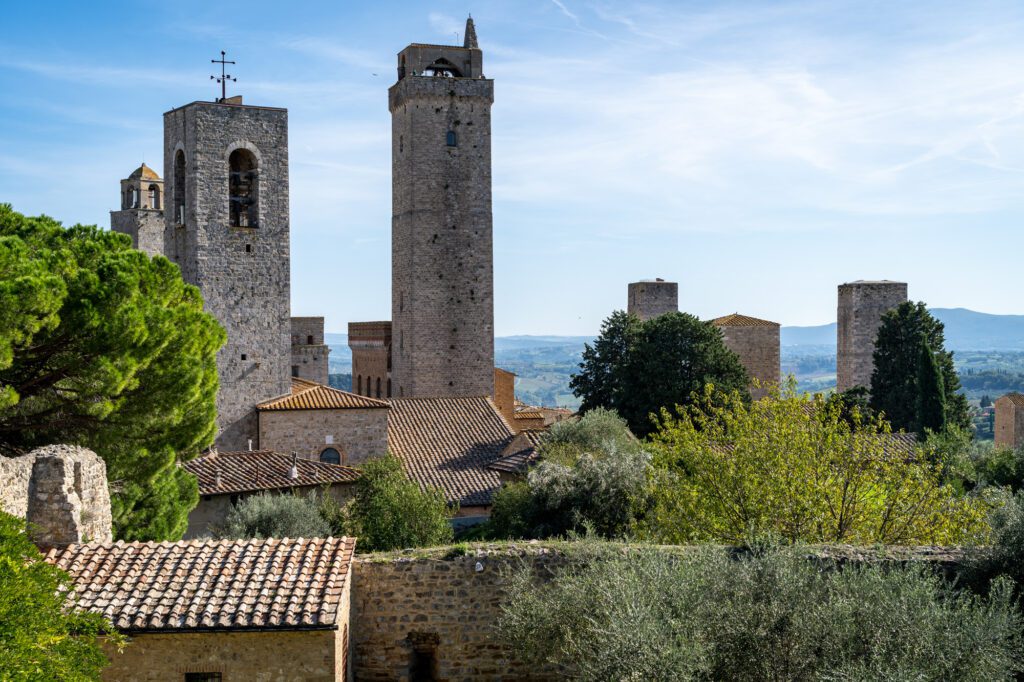 As you make your way back towards Florence (or the airport), finish your Tuscany vacation with a day exploring the beautiful towns of San Gimignano and Volterra.
The small medieval town of San Gimignano is another of Tuscany's UNESCO World Heritage sites and one of the region's most popular destinations among visitors.
The town has been suitably nicknamed the "Manhattan of the Middle Ages" due to the 70+ medieval towers that once dominated its skyline. While only 14 of these towers remain today, it's still a unique spot that's very much worth visiting.
Our top recommendations for must-dos in San Gimignano are:
Torre Grossa. The 177 feet tall bell tower of the Palazzo Communale (town hall) is the tallest remaining tower in San Gimignano. You can climb 218 steps to reach the top and enjoy beautiful panoramic views over the historic town.
Vernaccia Di San Gimignano. While Tuscany is mostly known for its bold reds, Vernaccia is the region's most famous white wine. The wine is produced in the vineyards surrounding San Gimignano. You can sample Vernaccia in restaurants and bars all around the town, or head to the Vernaccia di San Gimignano Wine Experience to learn more.
Located 20km west of San Gimignano, you'll also find the town of Volterra.
Despite being slightly less well-known, the walled hilltop town is still a great place to explore, with many fascinating historic and archeological sites and smaller crowds than its famous neighbor.
Our top recommendations for must-dos in Volterra are:
Walking Tour. This walking tour was the highlight of our time in Volterra. The short one hour tour takes you to explore the city's highlights while learning about the local culture, history, and traditions.
Etruscan Museum. One of the oldest museums in Europe, showcasing ancient archaeological finds from the Etruscan civilization of ancient Italy (4th to 6th centuries BC).
Piazza dei Priori. The town's grand 13th-century piazza is home to the impressive Palazzo dei Priori, the oldest town hall in Tuscany.
Cathedral of Santa Maria Assunta. Volterra's 12th-century cathedral is a beautiful mix of Romanesque and Renaissance architecture. The church houses a large amount of artwork by renowned Italian artists. The Baptistery of San Giovanni also sits just across from the cathedral.
Roman Ruins. Volterra is packed with ancient Roman ruins and archeological sites, but among the most famous has to be the extremely well-preserved 2,000-year-old Roman amphitheater and the 4th-century Roman baths.
Note: If you are traveling by public transportation, you should stick to just visiting San Gimignano to reduce travel time on this day. The town is better connected to both Siena and Florence by bus. It's also difficult to move between the two towns using public transportation. If you do have a car, you'll have more time and freedom to move between both destinations in one day.
#3: A Tour of Southeastern Sicily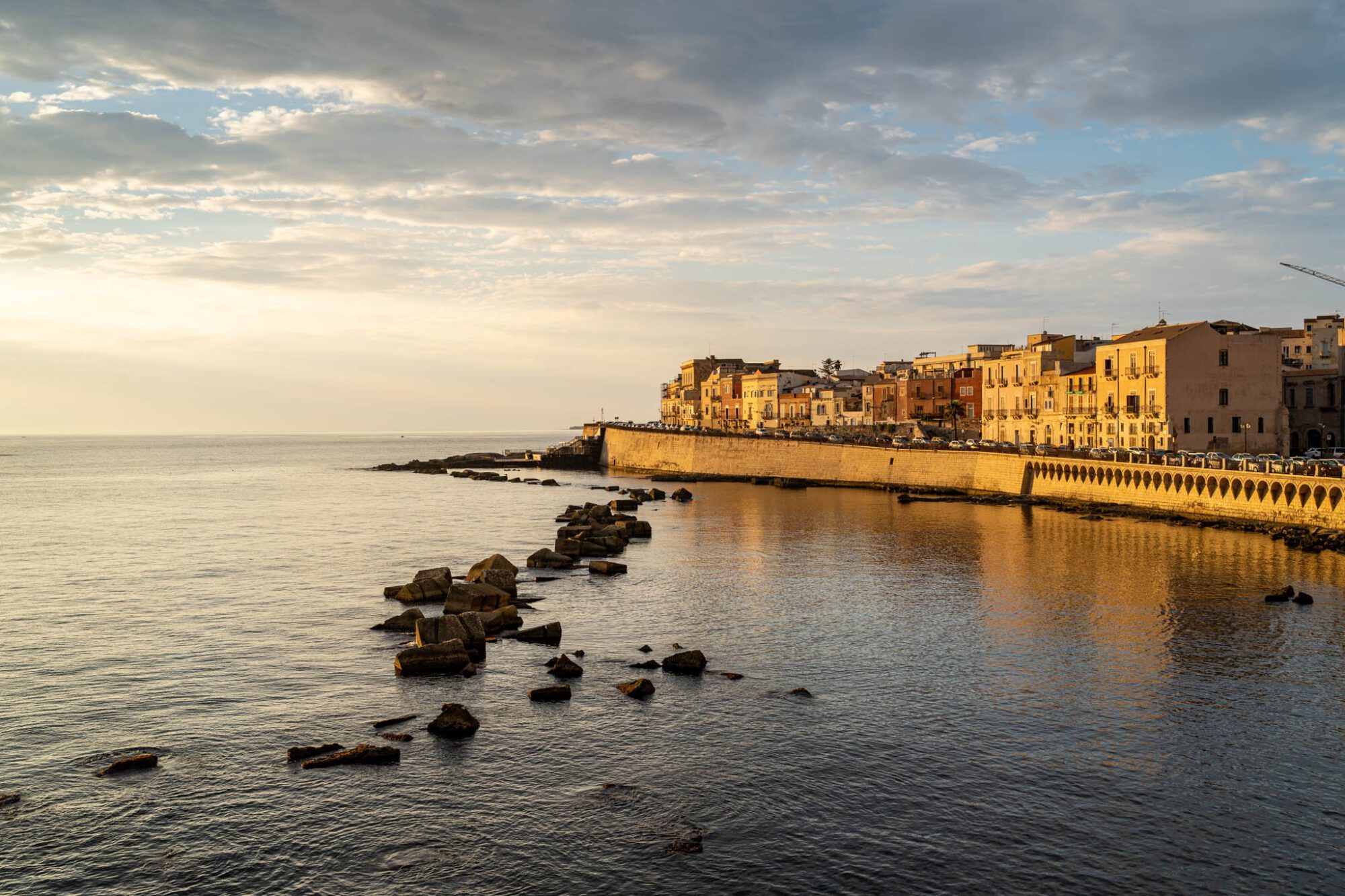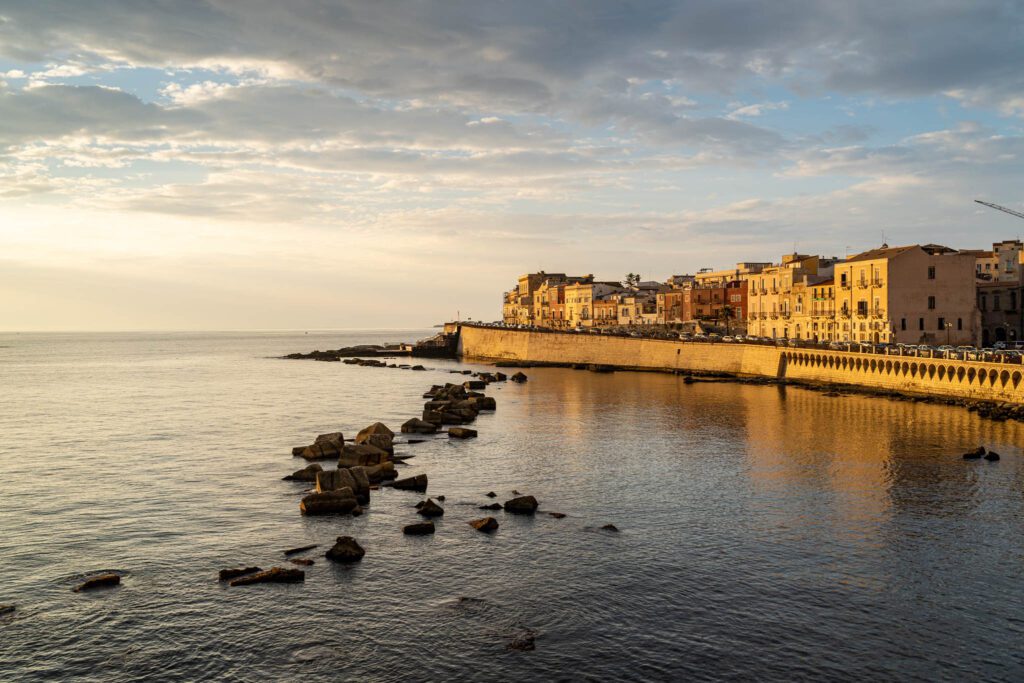 Sicily is a large island sitting off the tip of Italy's boot. It's one of the country's most popular summer destinations among both domestic and international tourists. And it's not hard to see why.
With its well-preserved Greek and Roman ruins, beautiful sandy beaches, laid-back coastal towns, and stunning natural landscapes, there's so much to see in Sicily.
The bad news is that 7 days isn't nearly enough time to explore the entire island. We'd recommend at least two weeks for this – which you can read more about in our detailed two week Sicily road trip itinerary here.
With 7 days in Sicily, we'd suggest sticking to either the eastern half OR the western half of the island. 
If it's your first time in Sicily, we think you should head to the eastern half. As well as beautiful beaches and coastal landscapes, eastern Sicily is home to many of the prettiest towns and interesting sites like Mount Etna, Taormina, and Syracuse.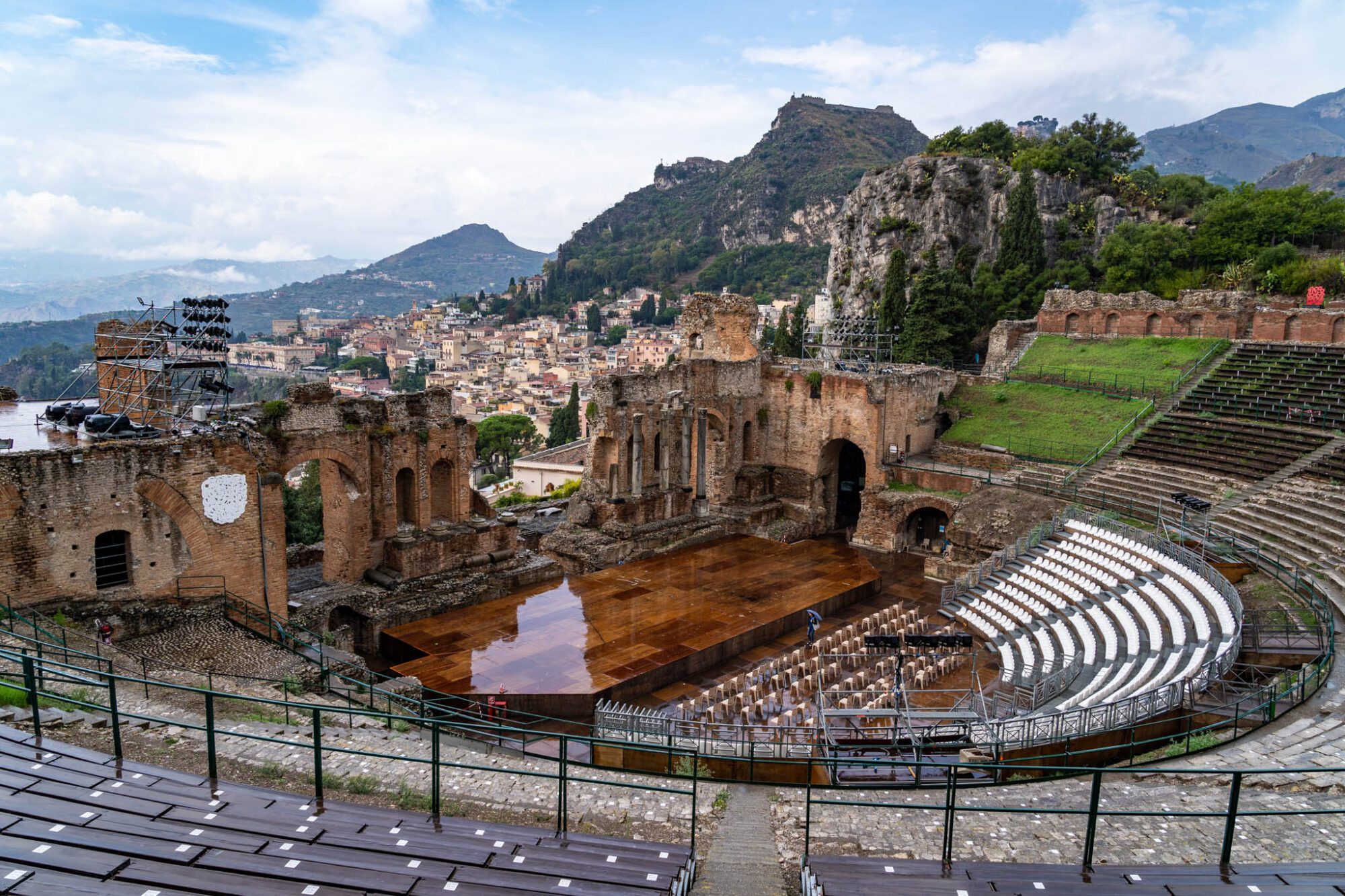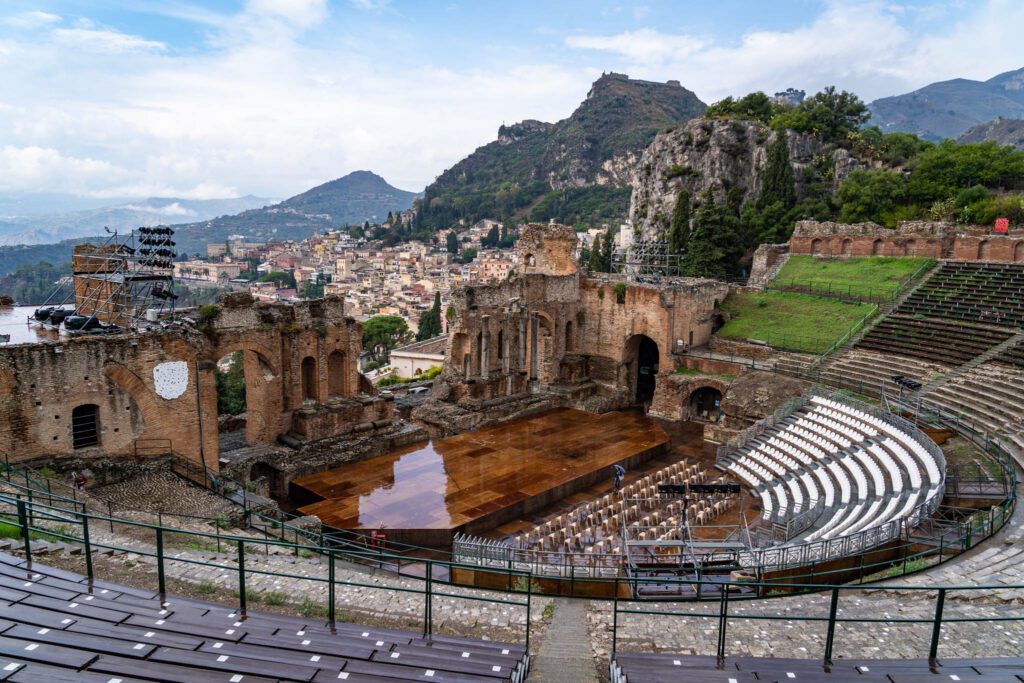 The Best Time to Do It
Summer is the most popular time to visit Sicily, with its beautiful sunny weather and vibrant atmosphere. If you're not a fan of extreme heat and big crowds, it may be better to avoid this period.
Spring and fall are our favorite times to visit the island for warm weather and smaller crowds. Although it's important to note (based on our experience) that many locals go away during October, so some restaurants and bars will be closed for a break after the busy summer months.
Winter weather in Sicily is still pleasant and mild around the coastal areas. However, being the low season, the region is pretty dead and a lot of things will be closed. You'll still be able to see some of the main sights, but you might miss out on experiencing some of Sicily's food and drink culture. But it will be cheaper!
Where to Fly In and Out Of
For this itinerary, we'd recommend flying in and out of Catania.
Catania–Fontanarossa Airport (CTA) is Sicily's second-largest international airport and the largest on the island's east coast. It serves numerous European carriers. You can reach central Catania in just 20 minutes using the AMT Alibus shuttle bus.
Getting Around
Generally speaking, Sicily is a region that is best explored by car (other than in the major cities). Having a car gives you the freedom to move around at your own pace, explore the beautiful countryside, and visit more off-the-beaten-path destinations.
However, if you do need or want to use public transportation, eastern Sicily is the easiest part of the region to get around without a car (which is partly why we picked it).
Catania, Taormina, Siracusa, and Noto are all well connected by Trenitalia trains and Interbus buses. We've made sure the below itinerary is largely accessible using public transportation if you're not into renting a car and driving in Sicily (which, speaking from experience, is wild and chaotic, but in a more orderly way than we expected). 
Read More: 7 Days in Sicily – A Complete One Week Sicily Itinerary
Day 1: Catania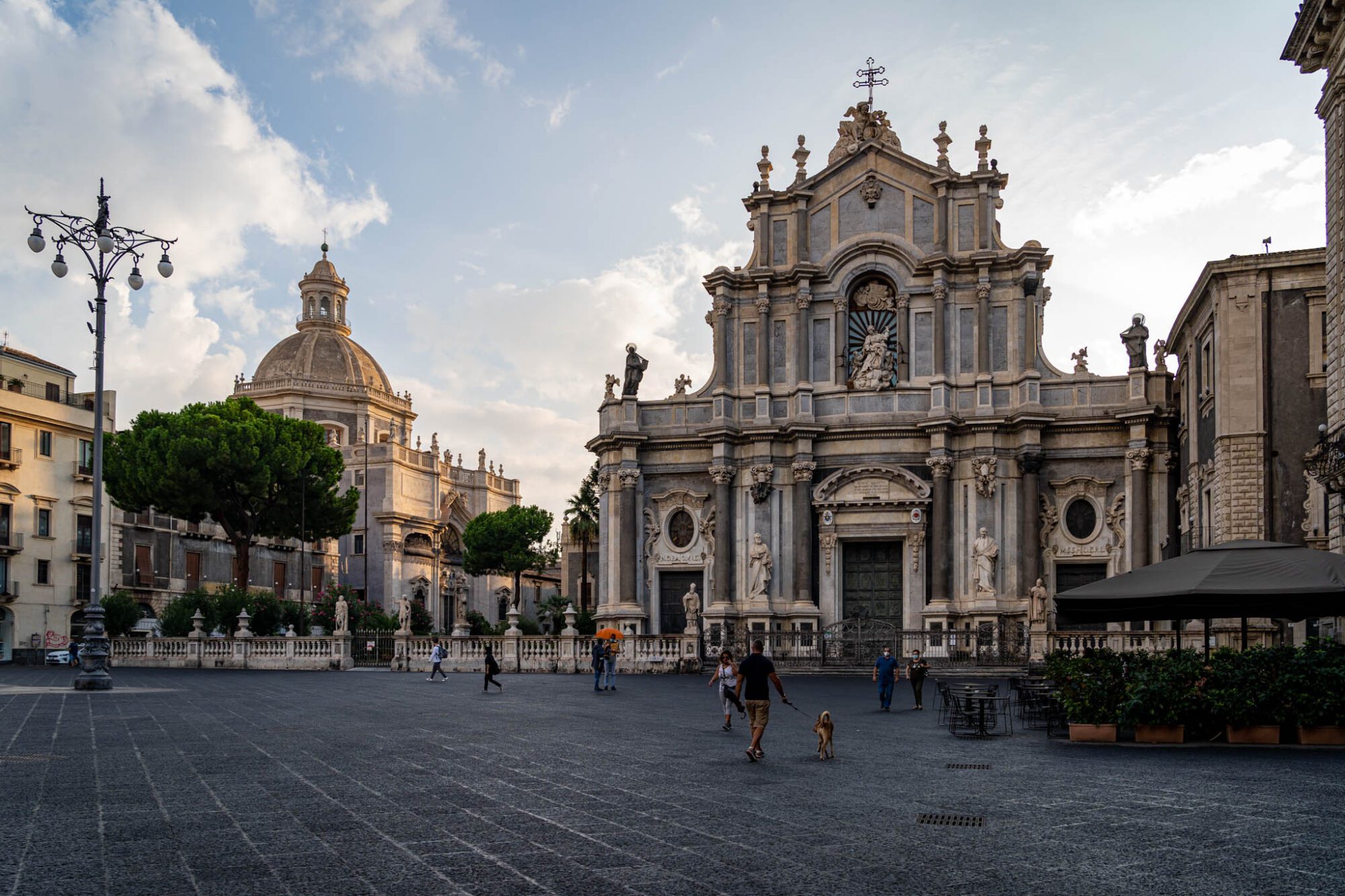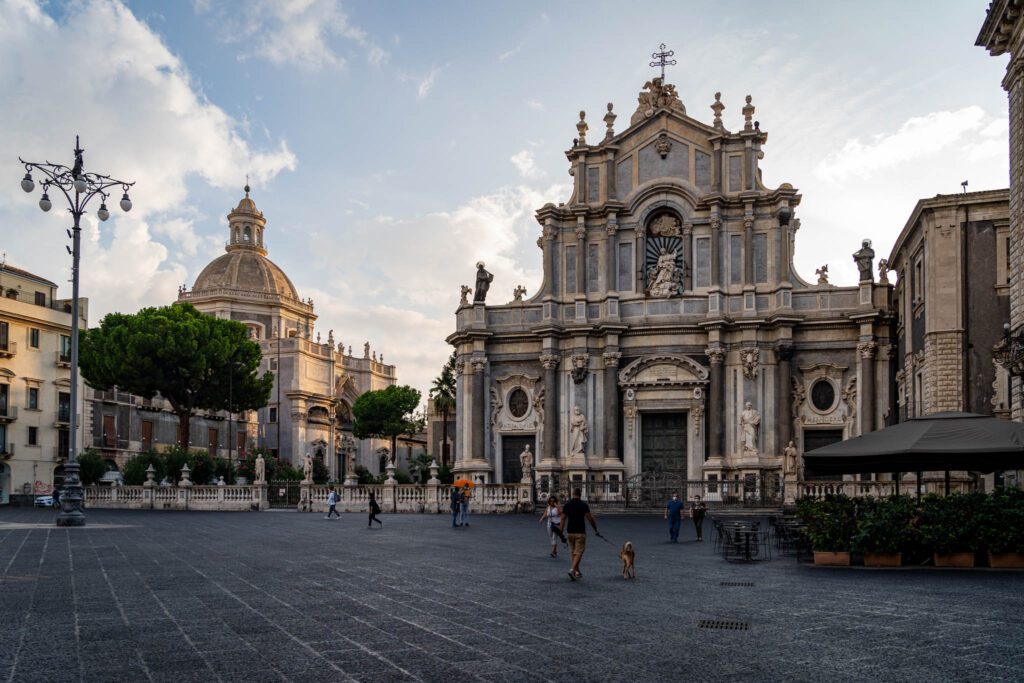 Catania is the second largest city in Sicily and the largest on the east coast. Yet it's somewhere that's often overlooked in favor of other better-known destinations in the region such as Taormina and Syracuse (don't worry, we've included these too).
But we think that skipping Catania completely is a mistake.
Not only is the city an interesting city to visit in its own right, with a long and fascinating history, but it also makes a convenient and affordable base for exploring the likes of nearby Mount Etna and Taormina.
So for this itinerary, we have you staying in Catania for days 1-3 and doing day trips to Etna and Taormina, instead of moving around every day.
Before we get into these other destinations, spend your first day in Sicily exploring Catania itself.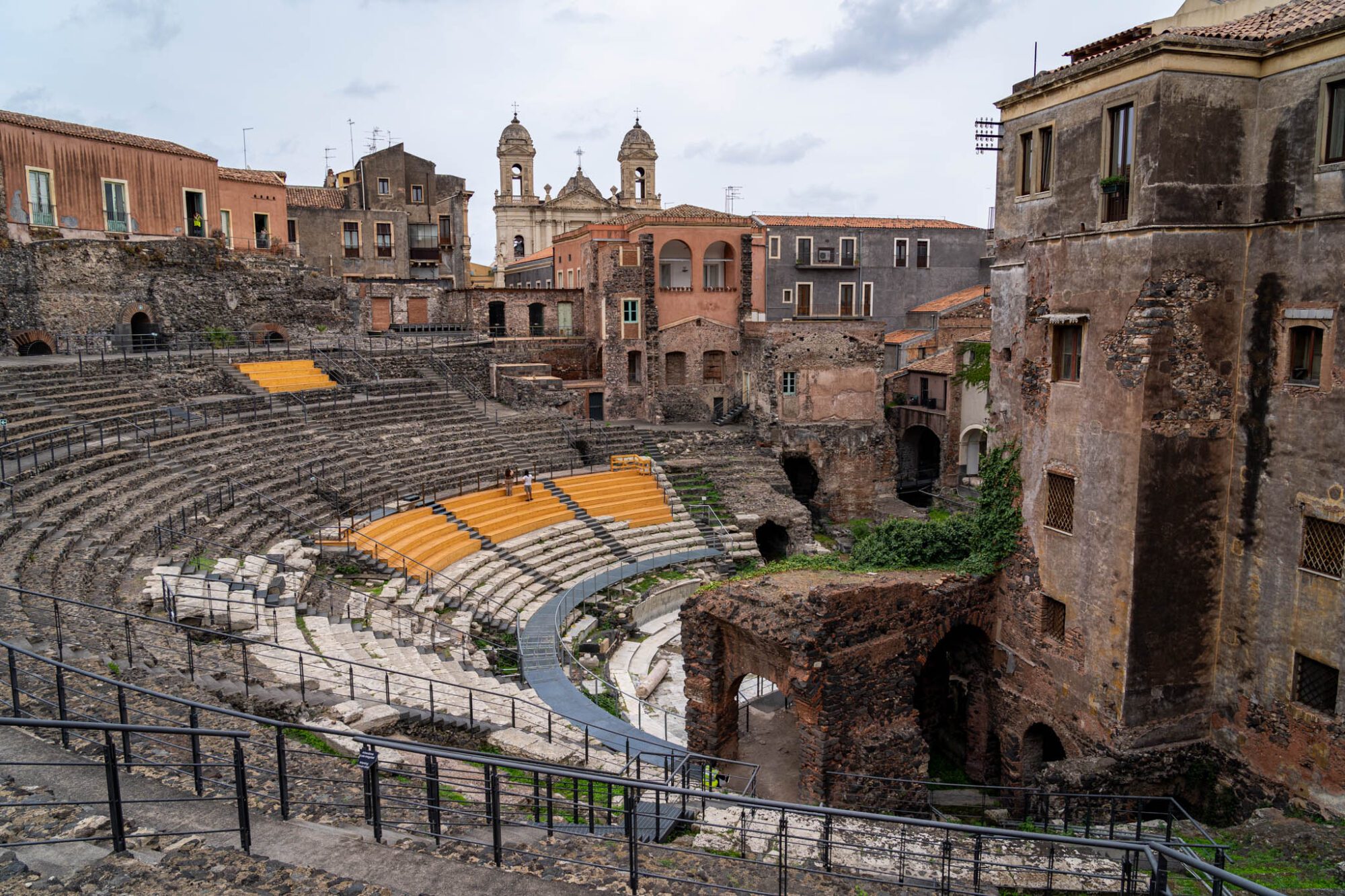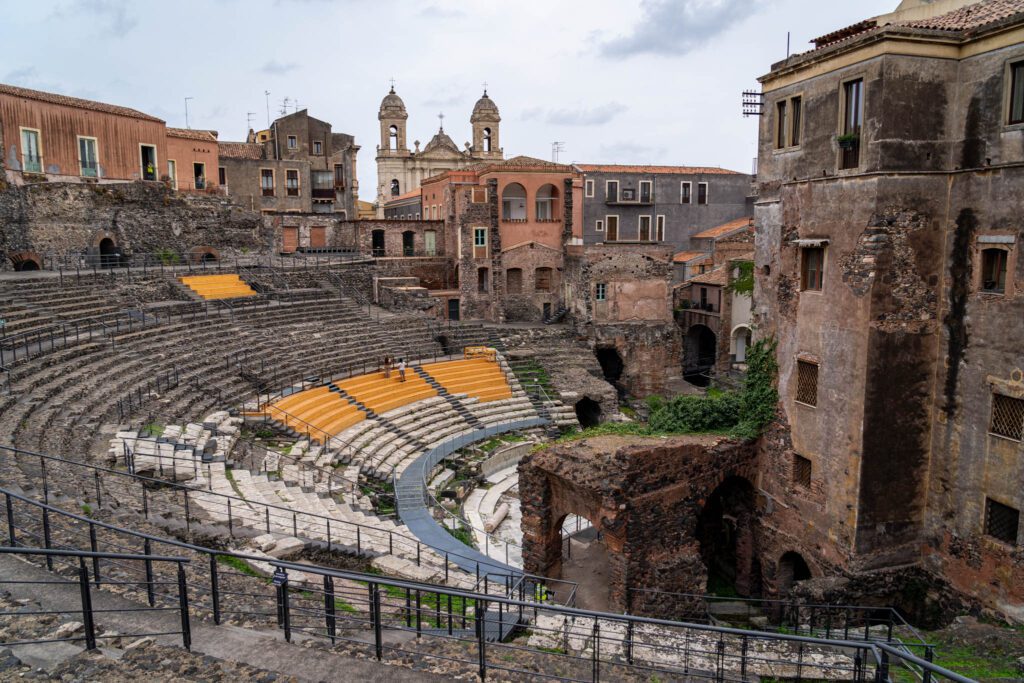 Our top recommendations for must-dos in Catania are:
Monastero dei Benedettini di San Nicolò l'Arena. The city's beautiful baroque Benedictine Monastery is one of the biggest of its kind in Europe and was one of our favorite places in Catania. The monastery can only be visited on a 75 minute guided tour which offers a great introduction to the history of the building and the city as a whole.
Teatro Romano di Catania. The fully excavated remains of a 2nd Century CE Roman amphitheater are a great example of how the city is built on top of an old city due to the lava flows caused by eruptions of Mount Etna
Sicilian Cuisine. Food in Sicily is delicious, and Catania offers a great introduction. Don't miss the local specialty of granita, which is like ice cream without the cream. The island is also known for its fish and seafood (check out Catania's fish market), wine, and nuts.
For even more, check out our full guide to the best things to do in Catania.
Day 2: Day Trip to Mount Etna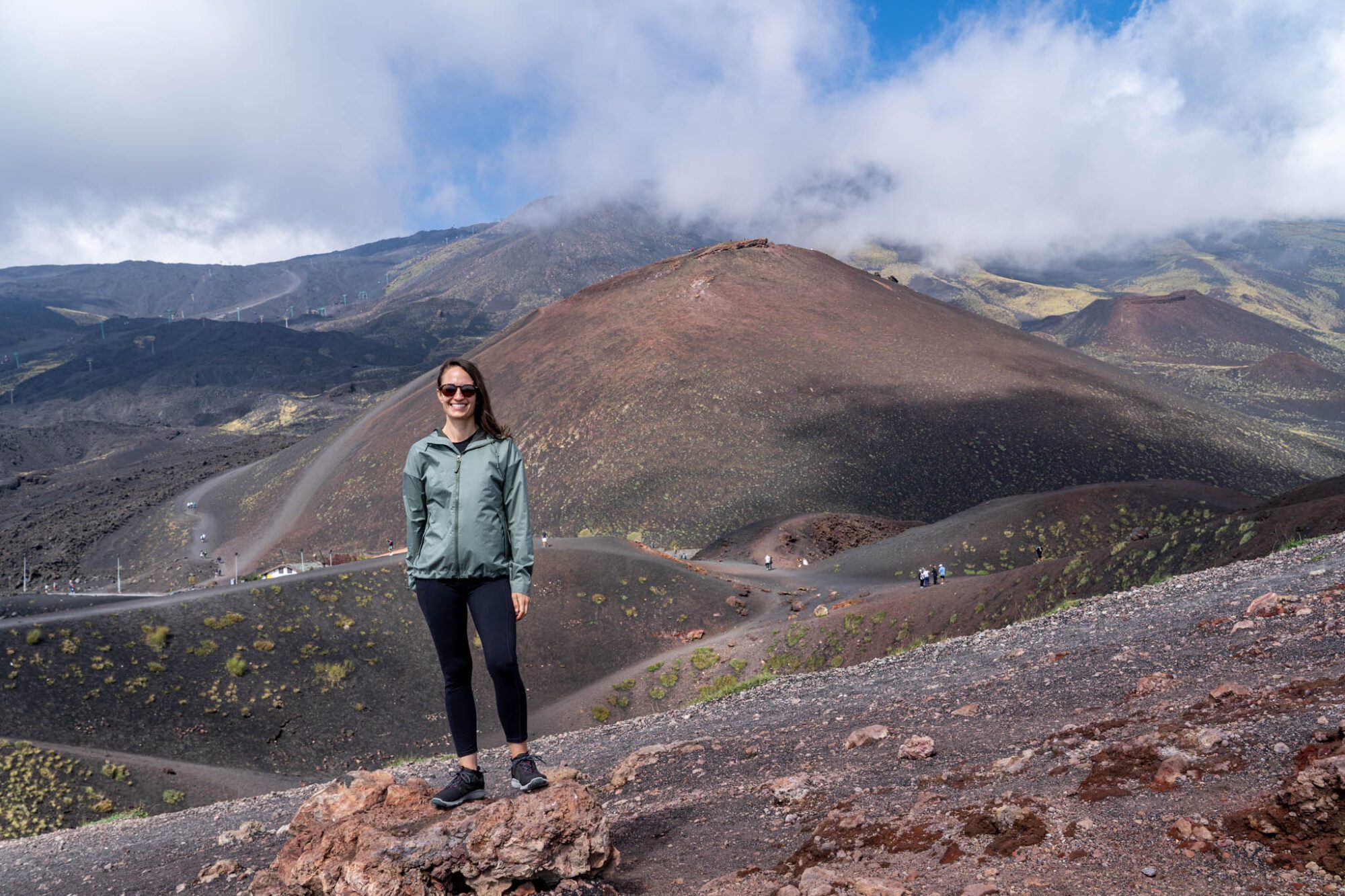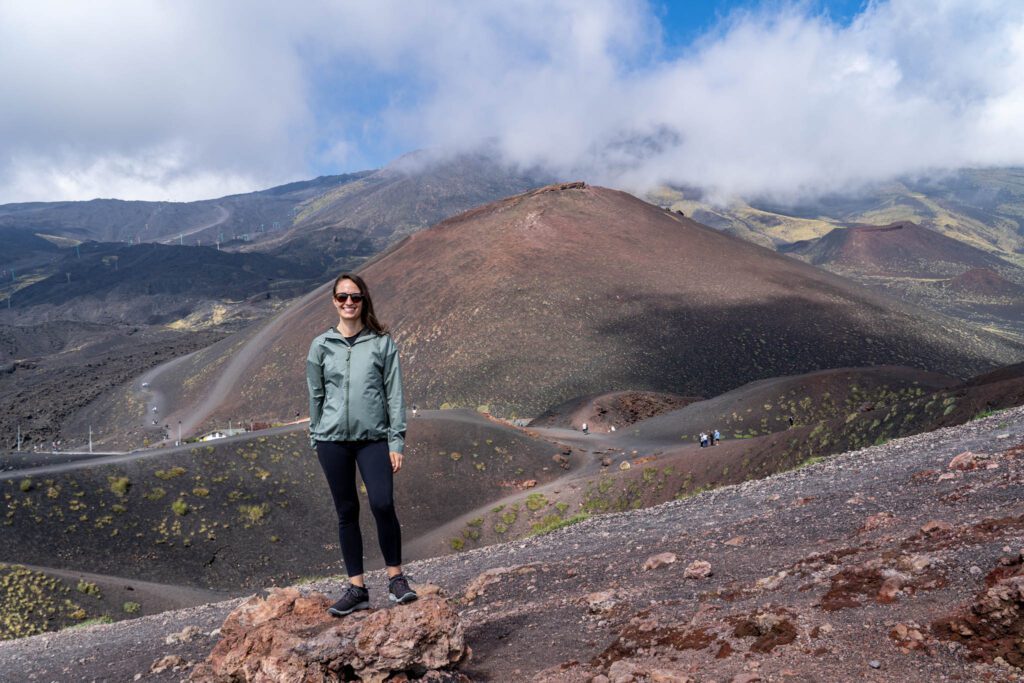 Sitting just north of Catania, Mount Etna is the second-largest active volcano in Europe and one of the most active volcanoes in the world. The volcanic activity has shaped much of eastern Sicily and is intrinsically linked to the history of the region.
There are a few options for visiting Mount Etna on a day trip from Catania:
On a guided tour. On the plus side, a guided tour picks you up and drops you off in Catania, so you don't need to mess around with public transportation if you don't have a car. The downside is that no tours from Catania go to the summit. But we wouldn't let this put you off. We did this tour and really enjoyed it. Our local guide Marco took us on a short hike to see Etna's southeastern crater and lava flows in the Bove Valley.
By public transportation. Public transportation between Catania and Mount Etna is extremely limited. But it does exist. There's one bus that runs to and from Etna once per day – so you can't miss it! The bus drops you off at Rifugio Sapienza, where you can catch the cable car up to a certain point, then hike the rest of the way up to the craters.
By car. If you do have a car, you can also drive yourself to Rifugio Sapienza in around an hour. Driving allows you to join one of the guided tours up to the summit which leaves at 9:00 am each morning.
Day 3: Day Trip to Taormina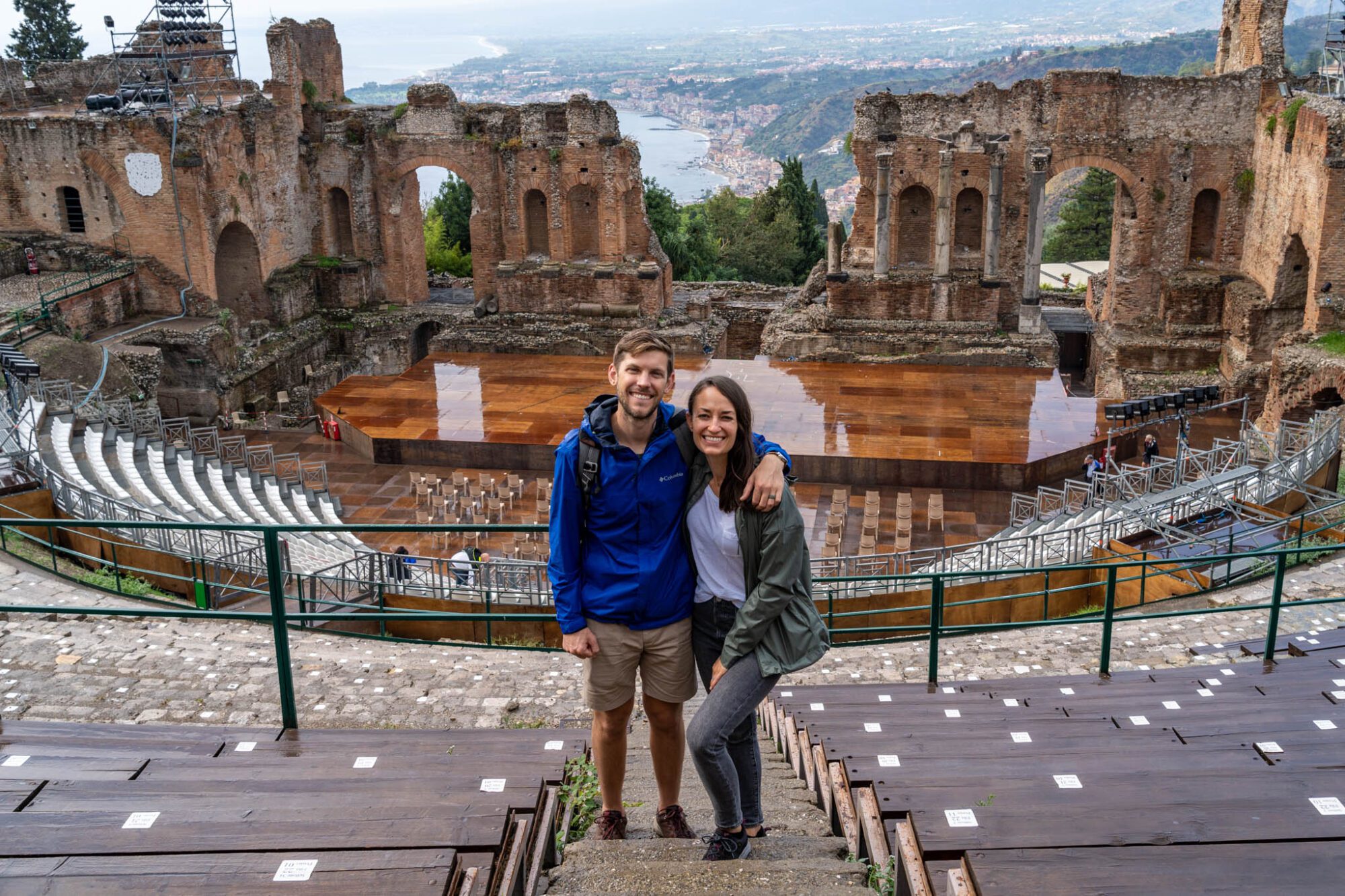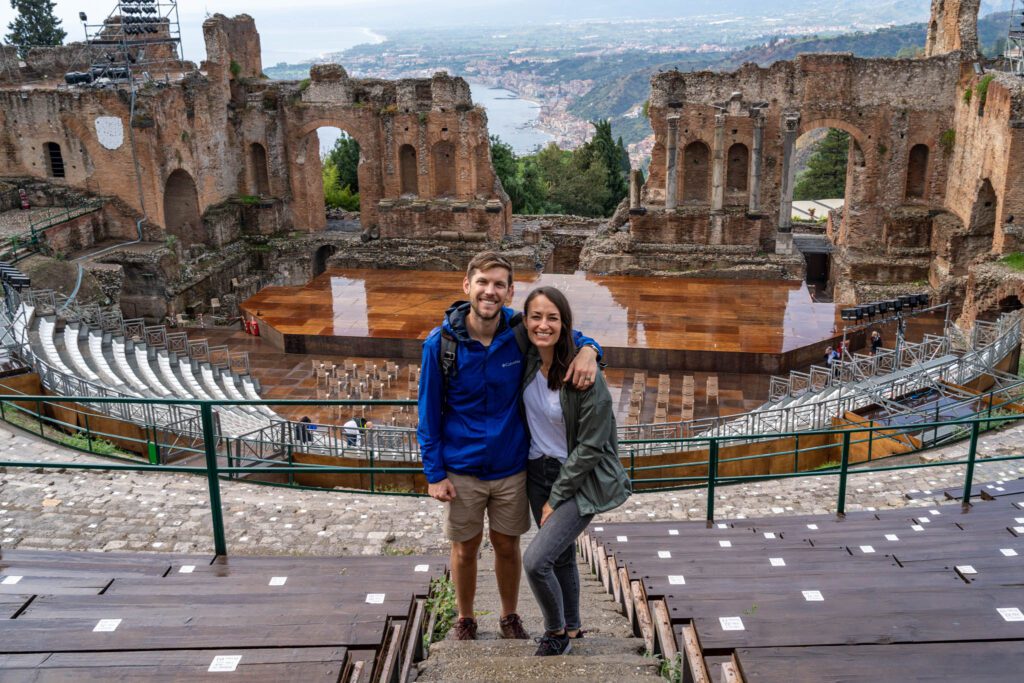 On your third day in Catania, take another day trip to the charming little seaside town of Taormina. The town is fairly popular among day-trippers, so try to arrive early in the morning to avoid the worst of the crowds.
Teatro Antico di Taormina. Taormina's ancient Greek theater is perched high on a hill above the town and boasts stunning views back down over the sea. They still host shows at the theater, so it's worth seeing if there's anything on during your visit.
Chiesa Madonna della Rocca. Take a walk up to this historic hilltop chapel for excellent views out over Taormina and the sea. It's a bit of a hike, but well worth it. The views get better the closer to the church you get.
Corso Umberto. Take a stroll along Taormina's lively pedestrianized main street which is packed with shops, bars, and restaurants.
Isola Bella. If you visit the town on a sunny day, take a walk (or the cable car) down to this small island that's connected to the mainland via a narrow pebble beach that's great for sunbathing and taking a paddle in the sea.
Days 4-5: Siracusa & Ortigia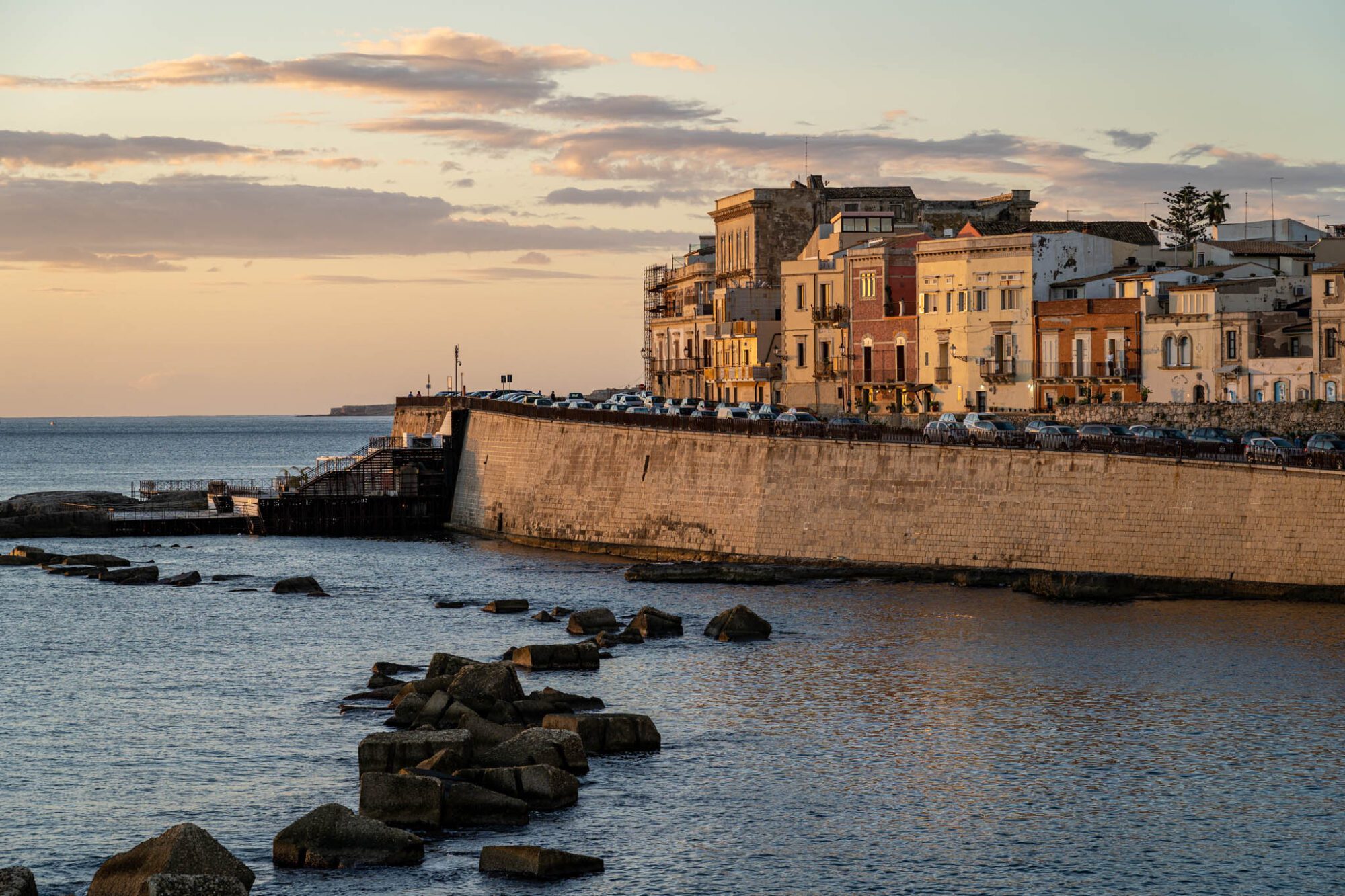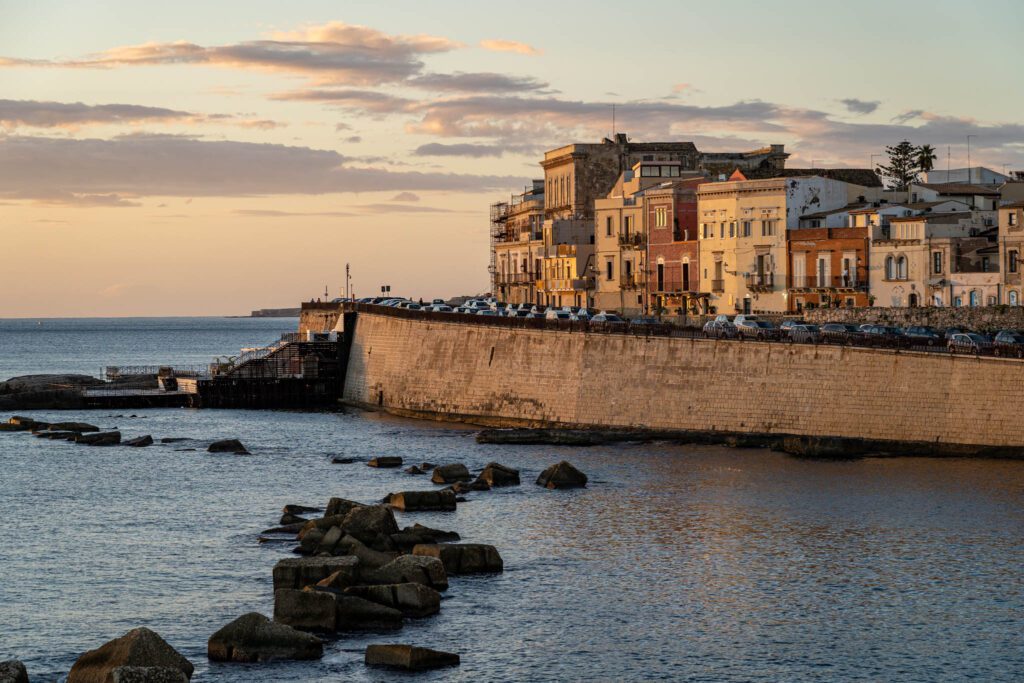 First thing first, a quick geography lesson. It's a common misconception to think that Siracusa and Ortigia are two different places. But this isn't exactly true.
Siracusa is the city on the mainland, while Ortigia is a small island that is home to the historical city center of Siracusa. The two are connected by two short bridges, so a visit to one means a visit to the other.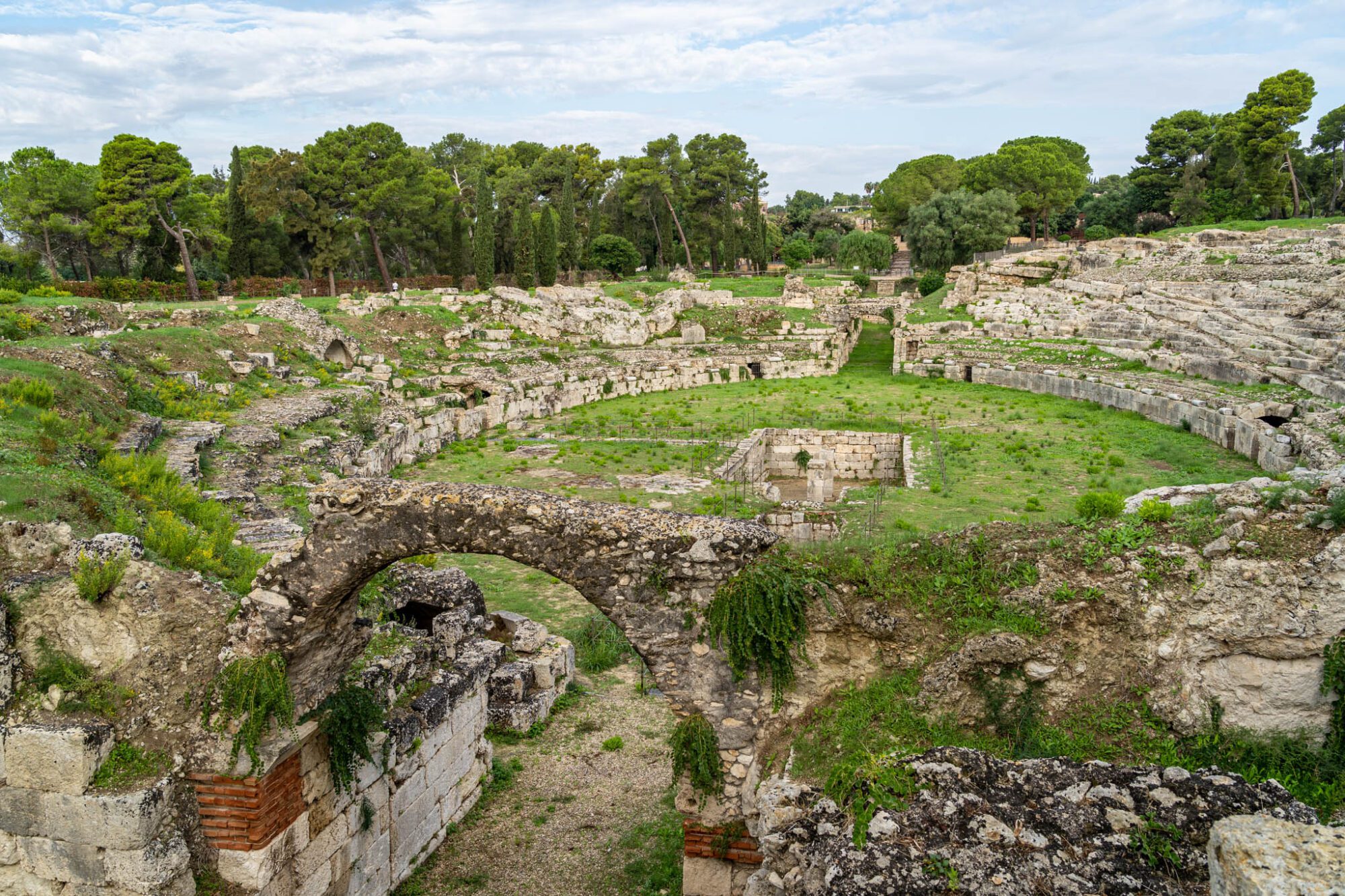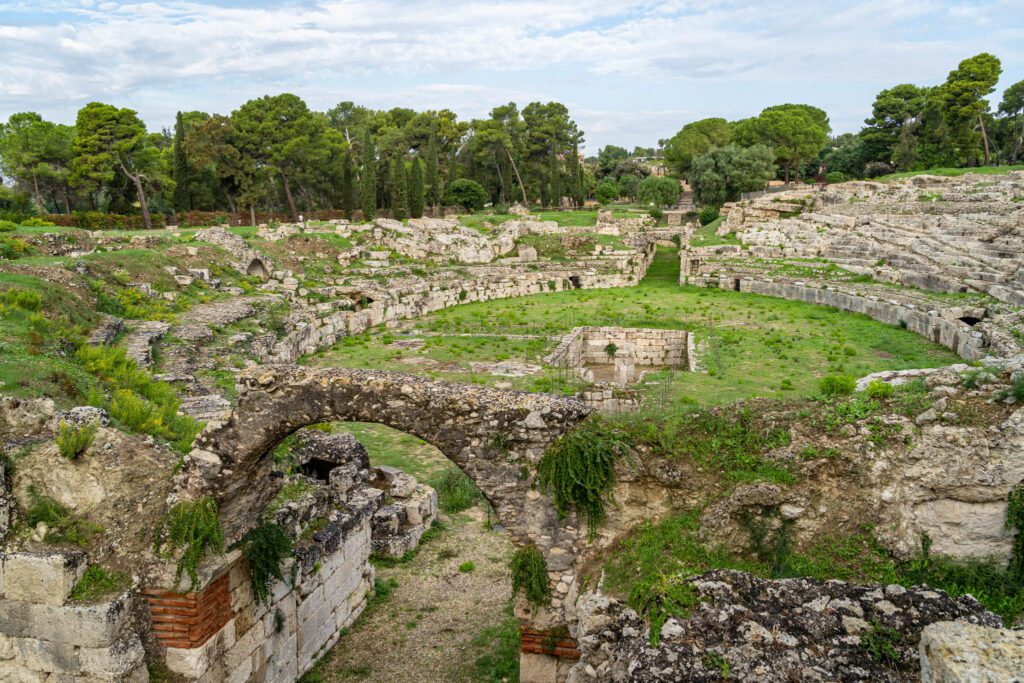 Our top recommendations for must-dos in Siracusa & Ortigia are:
The Parco Archeologico Neapolis. Located on the mainland, Siracusa's Archaeological Park is the most visited tourist attraction in the city. This is because it's the site of both a Greek AND Roman theater, plus some beautiful gardens and limestone quarries.
Chiesa di San Filippo Apostolo. Take an underground tour of the crypts below this church in the city's Jewish Quarter and see the tunnels that were used to shelter civilians during the Allied bombings in World War 2.
Lungomare. Taking a walk along the long promenade that encircles Ortigia is one of our favorite things to do in the evening. Watch the sunset over the sea and stop for a pre-dinner aperitif. Try something like this route, which makes a big loop.
Day 6-7: The Val di Noto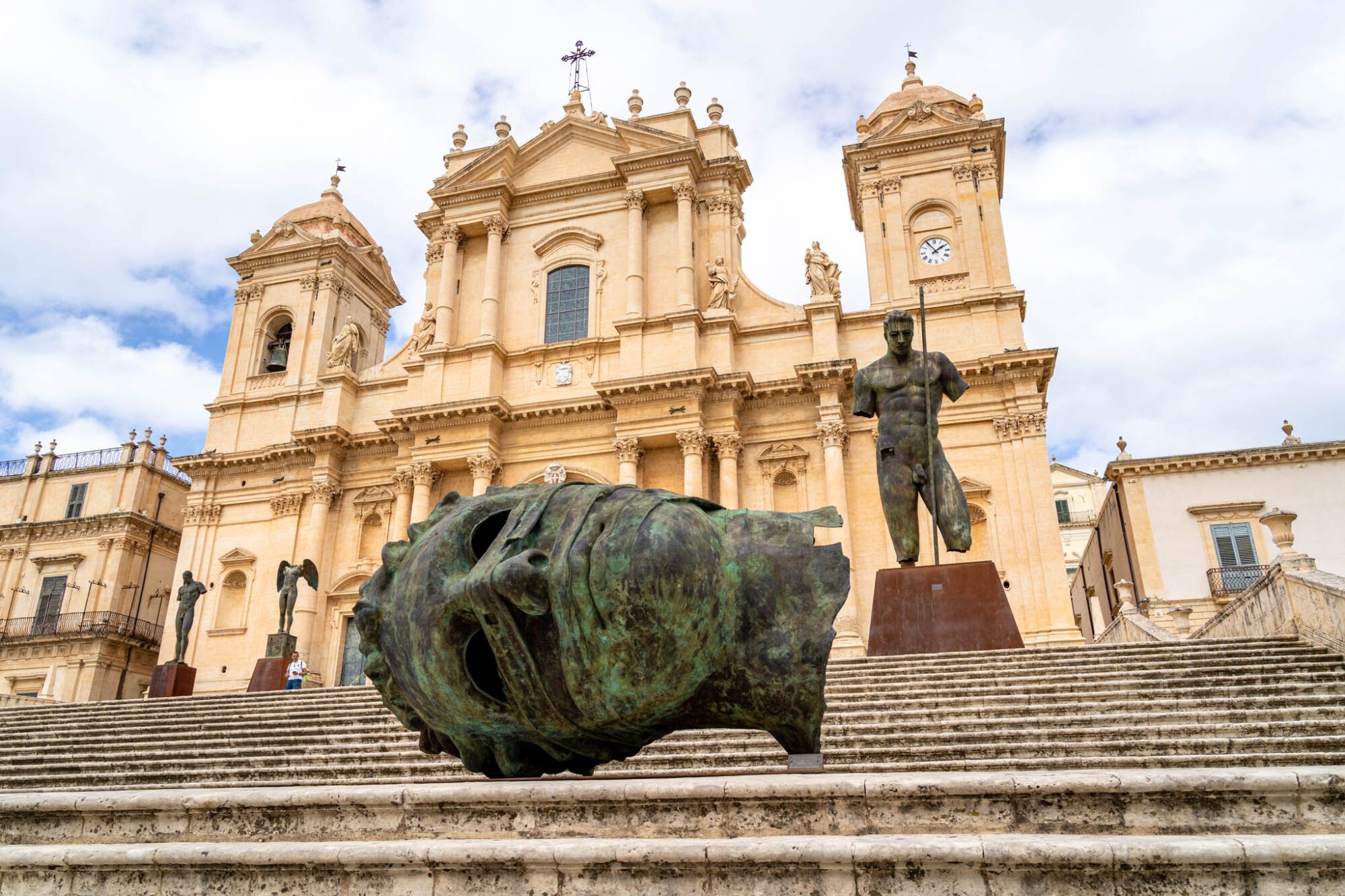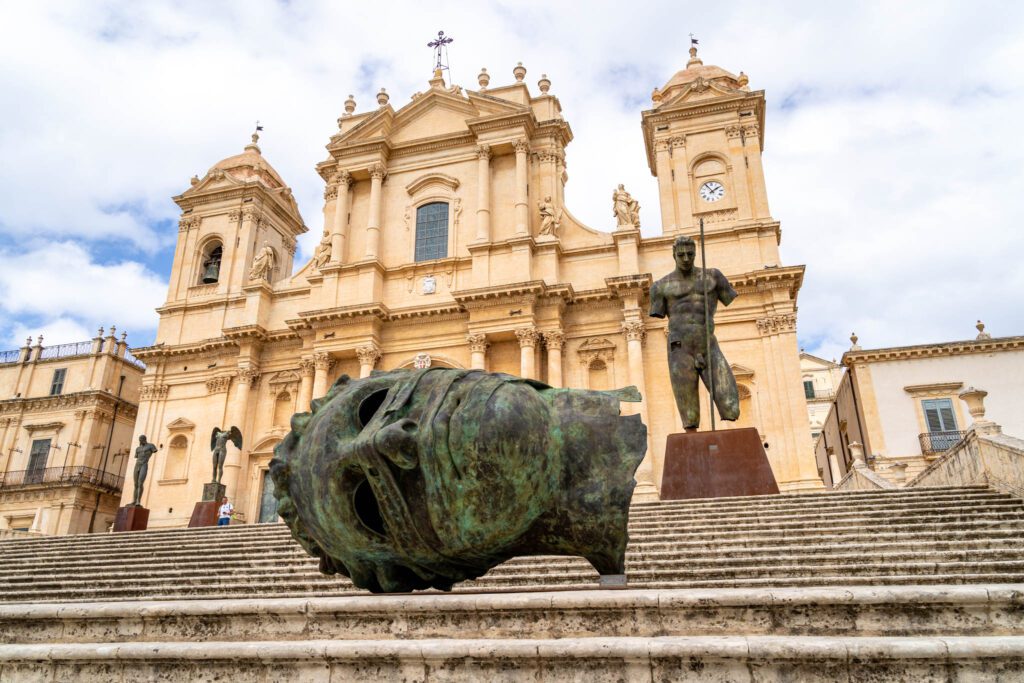 The Val di Noto is an area of southeastern Sicily that's known for its beautiful baroque towns that glow orange as the sun sets. Most of the towns were built after the devastating earthquake of 1693 destroyed much of the area. The region was declared a UNESCO World Heritage Site in the early 2000s.
With two days in the area, you'll have enough time to visit a couple of different towns and enjoy some of the area's natural beauty and sandy beaches.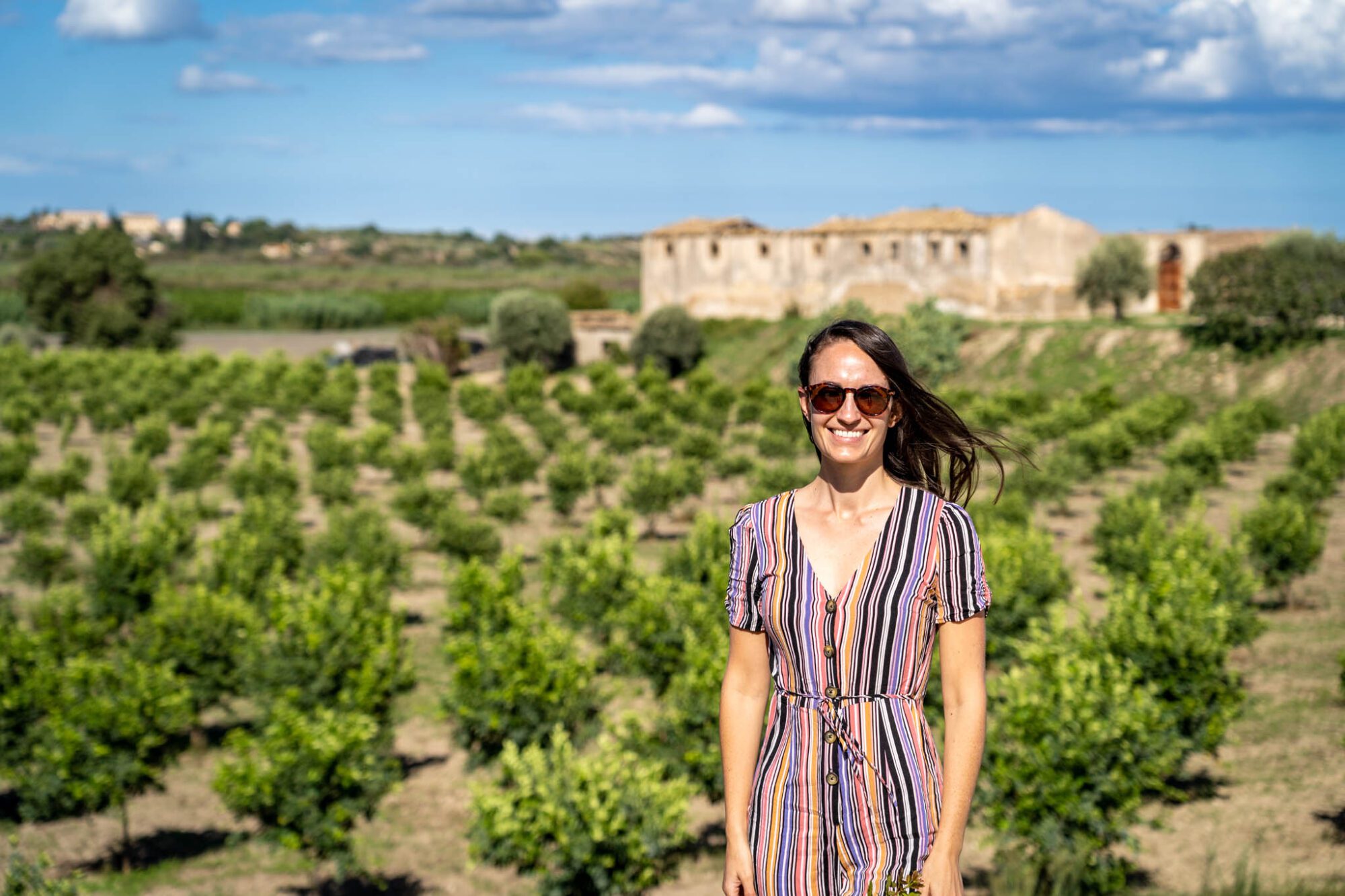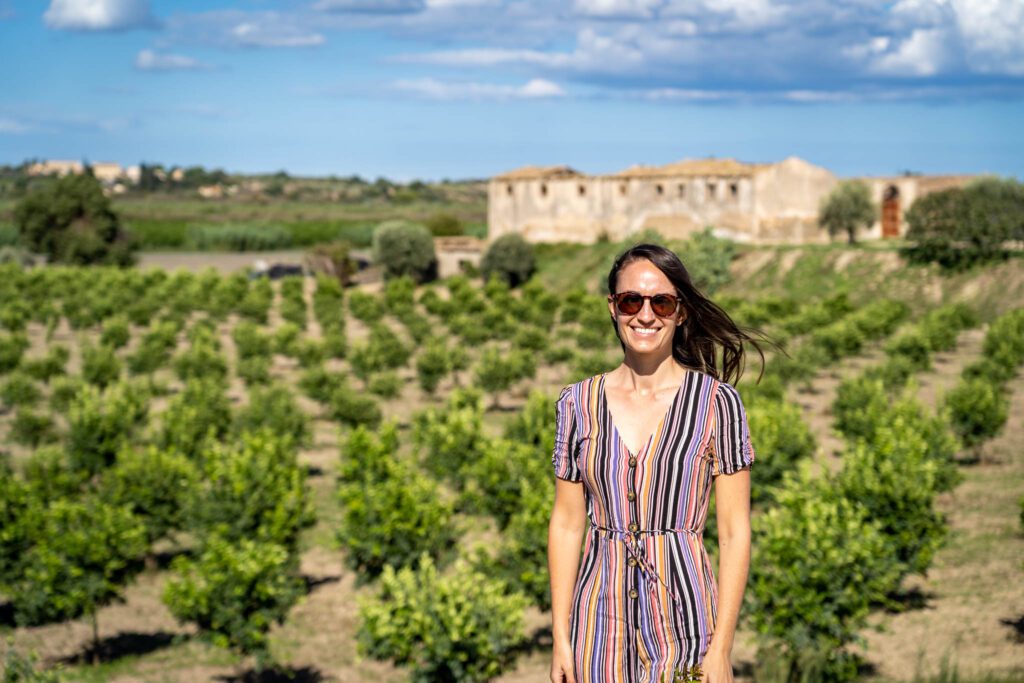 The places we'd recommend visiting in the Val di Noto are:
Noto. The hilltop city of Noto is known for its beautiful baroque architecture made of limestone from the surrounding plateau. Take a stroll through the whitewashed streets and uncover the best viewpoints, admire the impressive baroque cathedral, and make sure to try some fresh fish and almond granita.
The Vendicari Reserve. This area is home to three beautiful beaches; Spiaggia di Vendicari, Spiaggia di Calamosche (the prettiest and busiest), and Spiaggia di Marianelli (a nudist beach). Park at the main entrance (here) then take a hike along the coast to find the beaches.
Marzamemi. Head to this small fishing village in the evening (around 7:00 pm) to enjoy an aperitivo and dinner around Palazzo di Villadorata.
Note: The city of Noto is quick and easy to reach from Siracusa by regional train, but you won't be able to reach Marzamemi or the Vendicari Reserve easily by public transportation. It may be worth renting a car from Siracusa for these couple of days in the Val di Noto. You'll be passing back by the city to reach Catania and the airport. Alternatively, you could organize a taxi to take you around the area.
#4: Central and Northern Italy: Florence, Cinque Terre, and Milan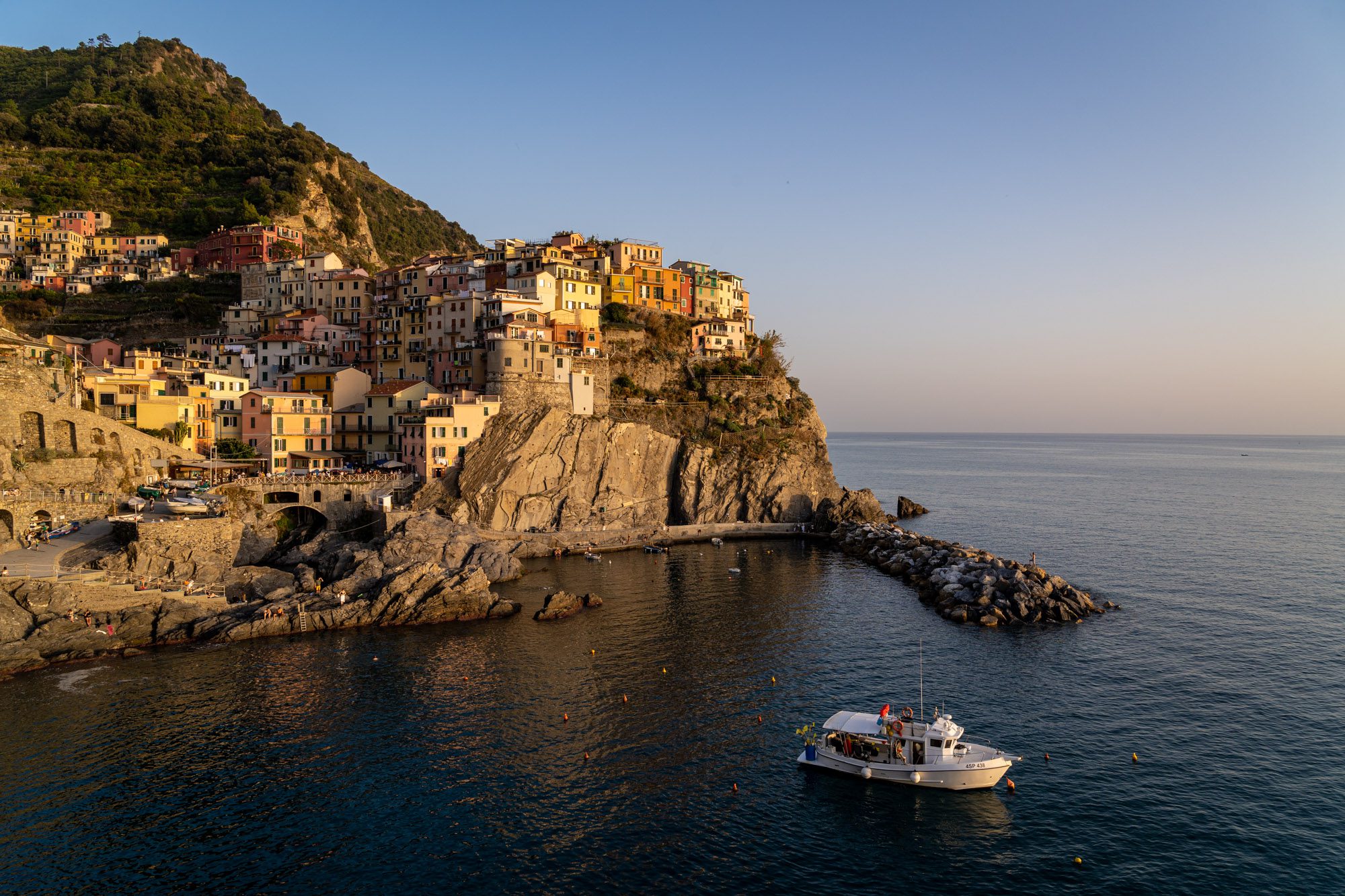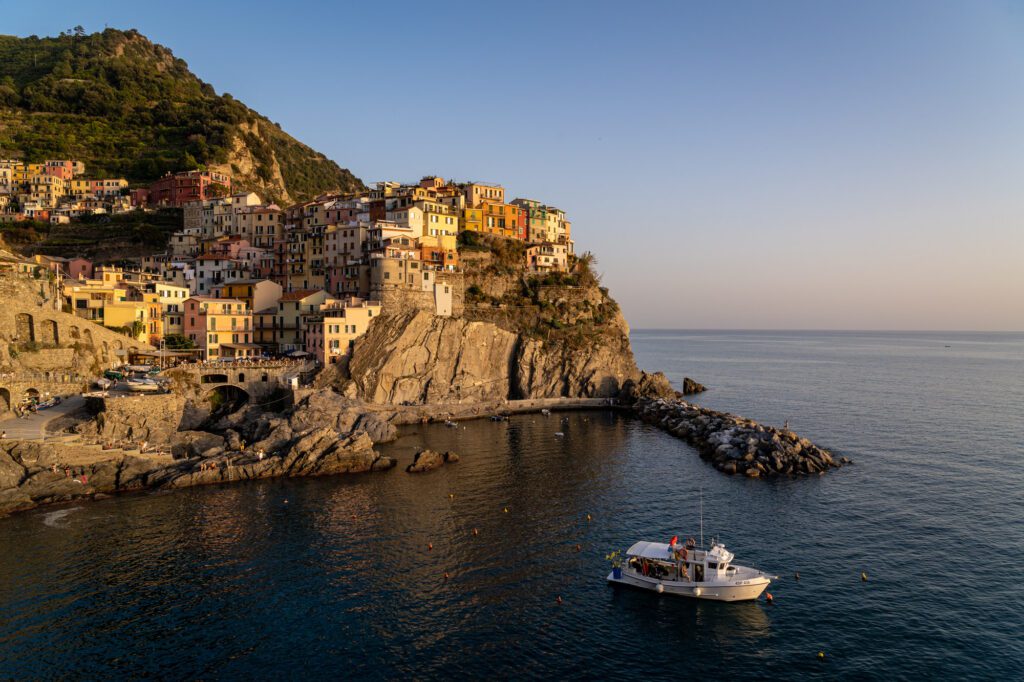 To get the most variety from just one week in Italy, this central and northern Italy itinerary is a great choice. From the rustic fishing villages and coastal views of the Cinque Terre to the Renaissance architecture of elegant Florence and the modern metropolis of Milan, this itinerary lets you experience Italy's regional diversity from all angles.
The Best Time to Do It
Spring, summer, and fall are all great times for visiting central and northern Italy. Try to avoid winter for this itinerary.
Much of the Cinque Terre is shut during the low season (roughly late October through March), while Milan can get extremely cold (and even some snow).
Where to Fly In and Out Of
For this route, you'll need to fly into Florence and out of Milan.
To get to Florence, there are three main airports you can fly to; Aeroporto di Firenze-Peretola (Florence, FLR), Galileo Galilei Airport (Pisa, PSA), or Bologna Guglielmo Marconi Airport (Bologna, BLQ).
Milan is also served by two main airports; Malpensa (MXP) and Linate (LIN). Malpensa is the largest and busiest of the three, and is probably your best bet (with Linate as a close second). MXP can be reached from the city center by the Malpensa Express Train in 40-50 minutes.
Getting Around
This entire itinerary is easy enough to do using public transportation. High-speed trains, regional trains, and buses/coaches connect all three major destinations.
Although, it's worth noting that the train takes around 3 hours to get from Florence to Cinque Terre AND from Cinque Terre to Milan. It's a lot of travel time to invest in one week. But it is the best (only) way to visit the Cinque Terre with limited time.
When in the Cinque Terre, you can either walk, take the small local train, or even catch a boat between the five different villages.
Days 1-2: Florence
Start this one week Italy itinerary in the beautiful Tuscan capital of Florence. Spend your first couple of days soaking in the stunning Renaissance architecture and exploring world-class art galleries.
– See above for more information on Florence.
Day 3: Day Trip to Bologna / Tuscany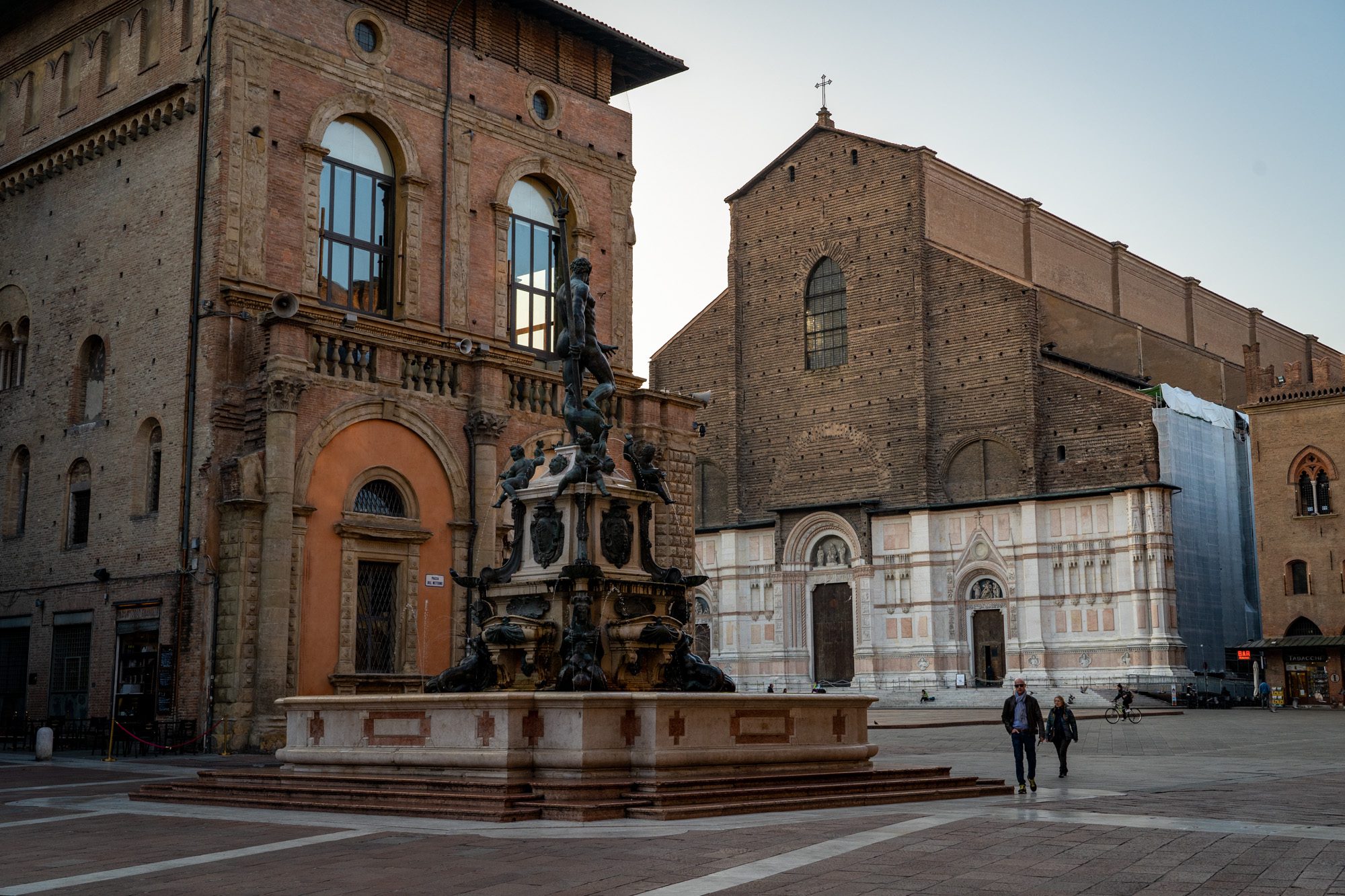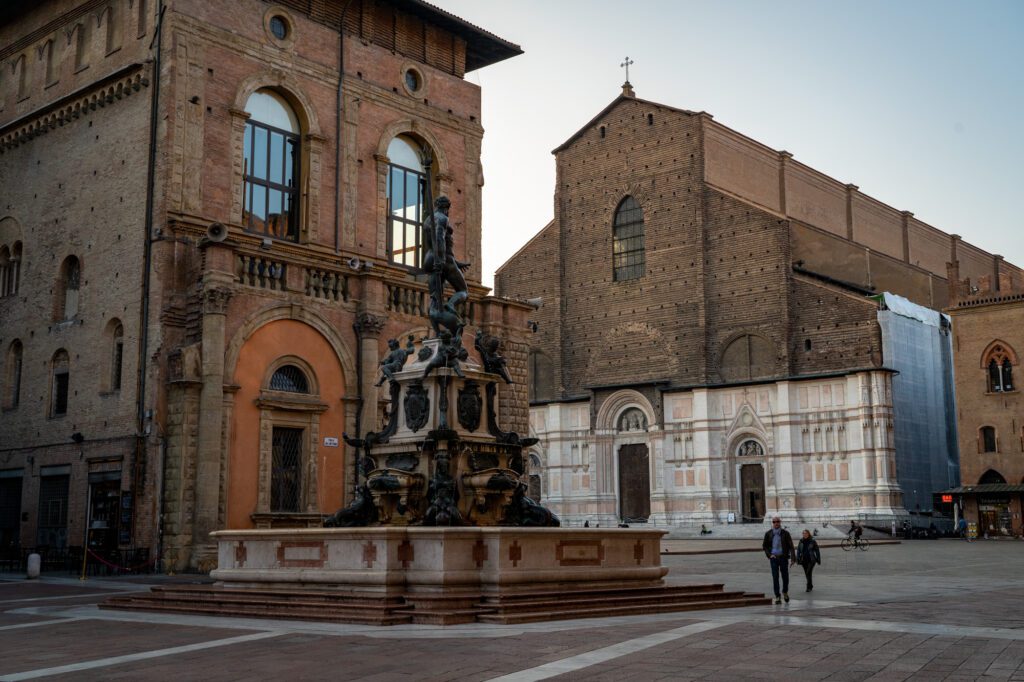 While you should spend two days exploring Florence itself, you can use the city as a base for the first three days of this itinerary. Use your third day to take a day trip to either nearby Bologna or wider Tuscany.
Below is a quick run-through of the places we'd recommend visiting. But for more information, check out our detailed post on the best day trips from Florence.
Bologna. Located in the heart of the Emilia-Romagna region, Italy's culinary capital, this is the ideal day trip for foodies. The city is just 35 minutes away by high-speed train, making it one of the quickest and easiest day trips too.
Chianti. Wine lovers shouldn't miss the chance to visit the largest wine-producing region in all of Italy and home of the prestigious Chianti Classico red wine. You can visit the wineries and vineyards on a guided tour from Florence. We did this one and really enjoyed it.
Siena. The best example of a Tuscan hilltop town, with beautiful medieval architecture and some of the finest art in all of Italy. With one day in Siena, you can take a guided walking tour, visit the beautiful 13th-century Duomo, and take a stroll around the impressive Piazza il Campo. See more above.
Days 4-6: Cinque Terre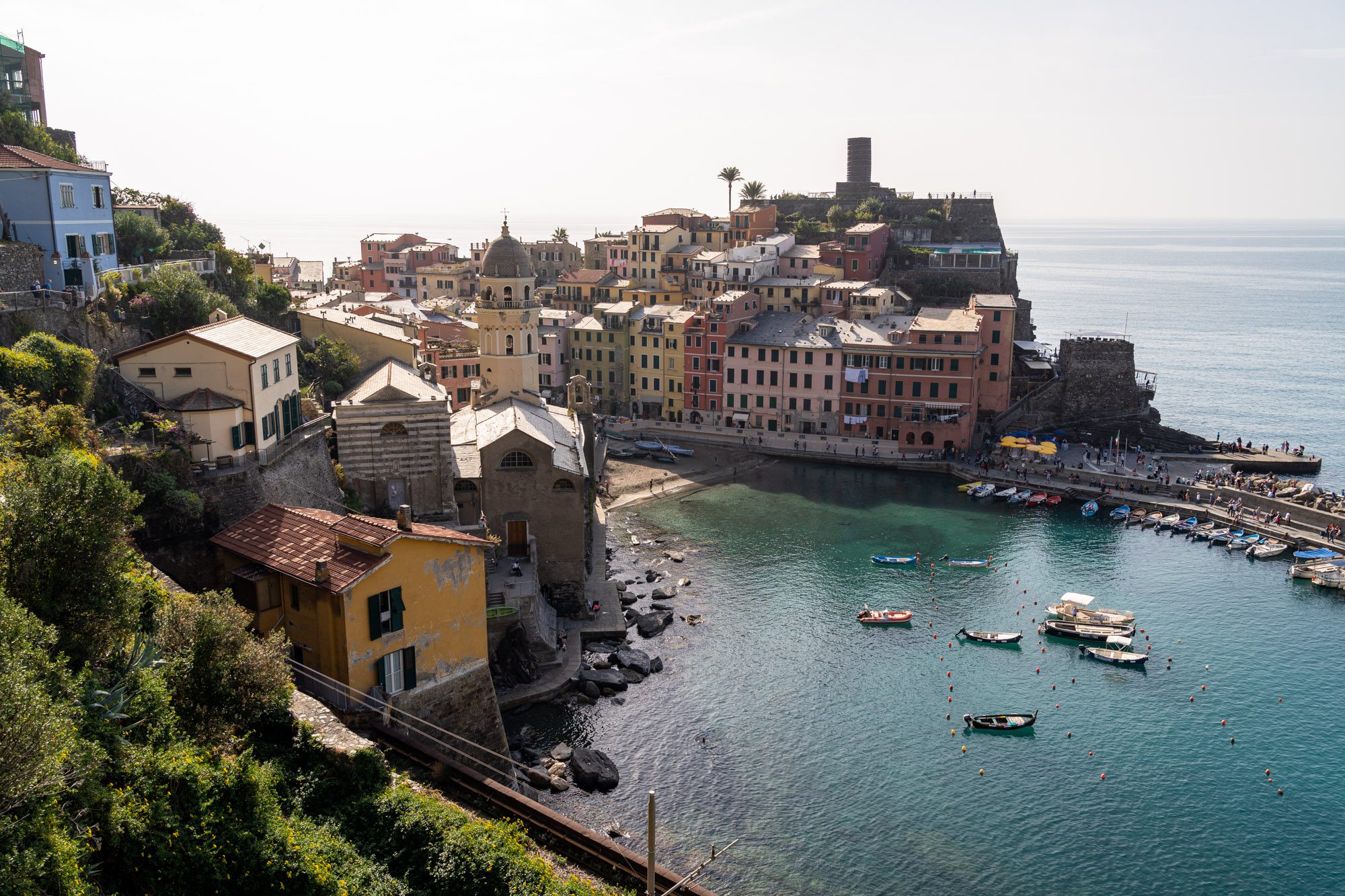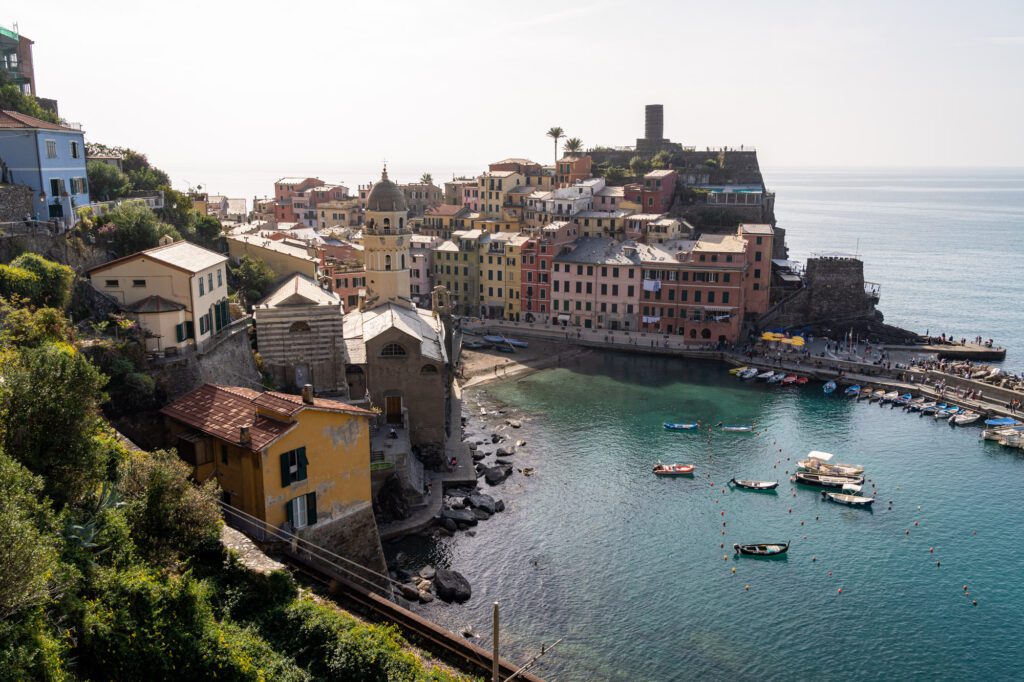 The Cinque Terre is one of Italy's most unique landscapes and charming coastal destinations. Made up of five former fishermen's villages, famous for their colorful houses tumbling down towards the sea, the Cinque Terre is a common addition to almost every Italian bucket list.
Quick geography lesson: The five towns of the Cinque Terre are Manarola, Riomaggiore, Vernazza, Monterosso al Mare, and Corniglia.
It's going to take you 2-3 hours to get from Florence to the Cinque Terre by public transportation – the journey requires a couple of changes – giving you two and a half days to spend exploring the towns.
While many people visit the region on day trips, we think you need at least two days in the Cinque Terre to fully appreciate it.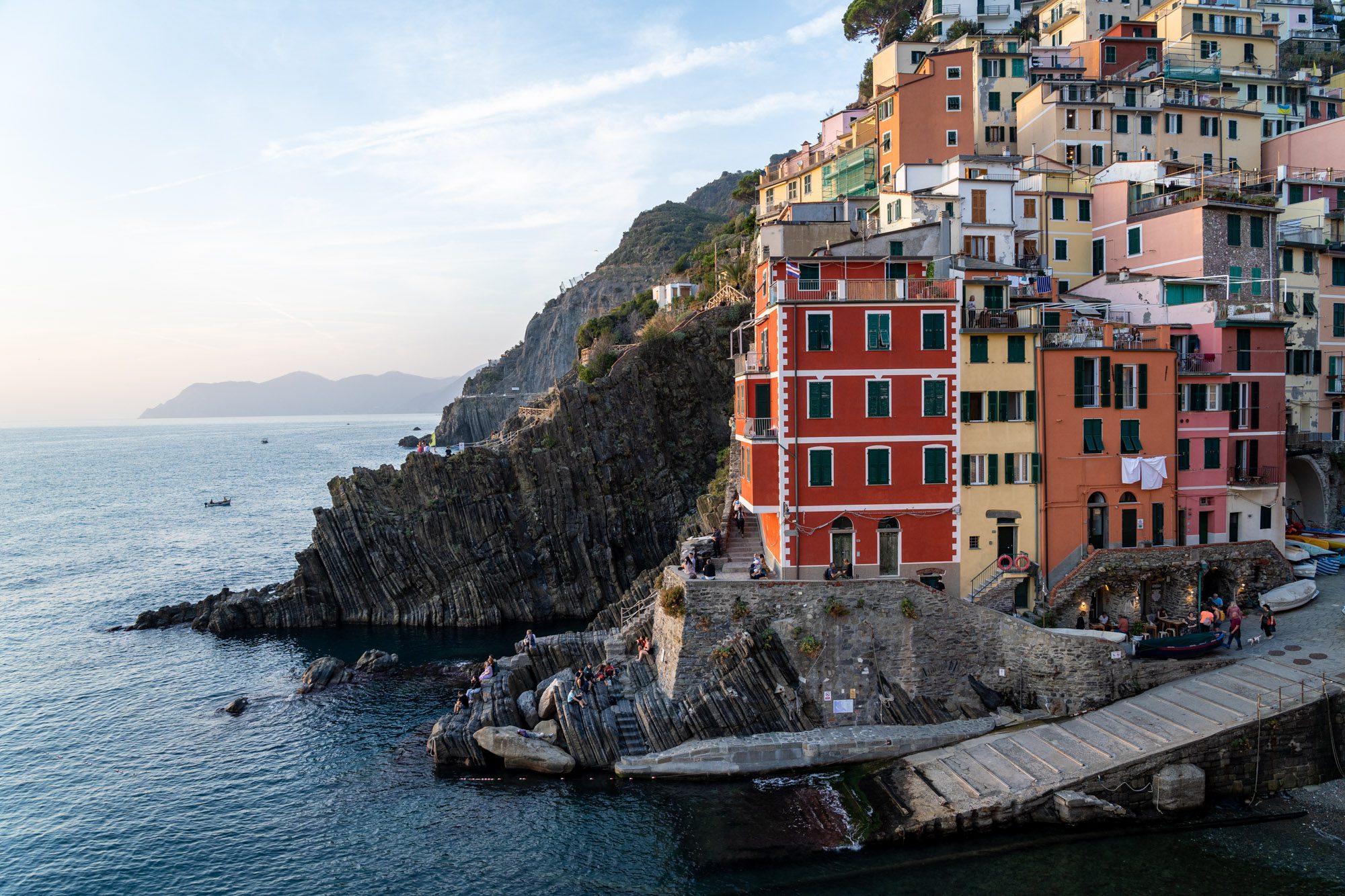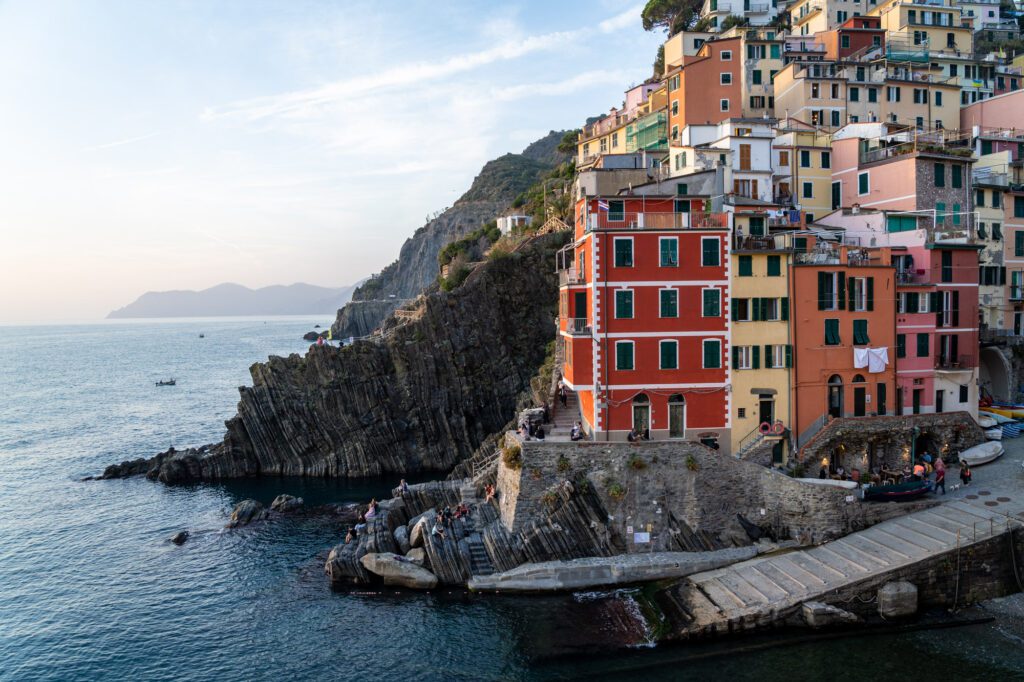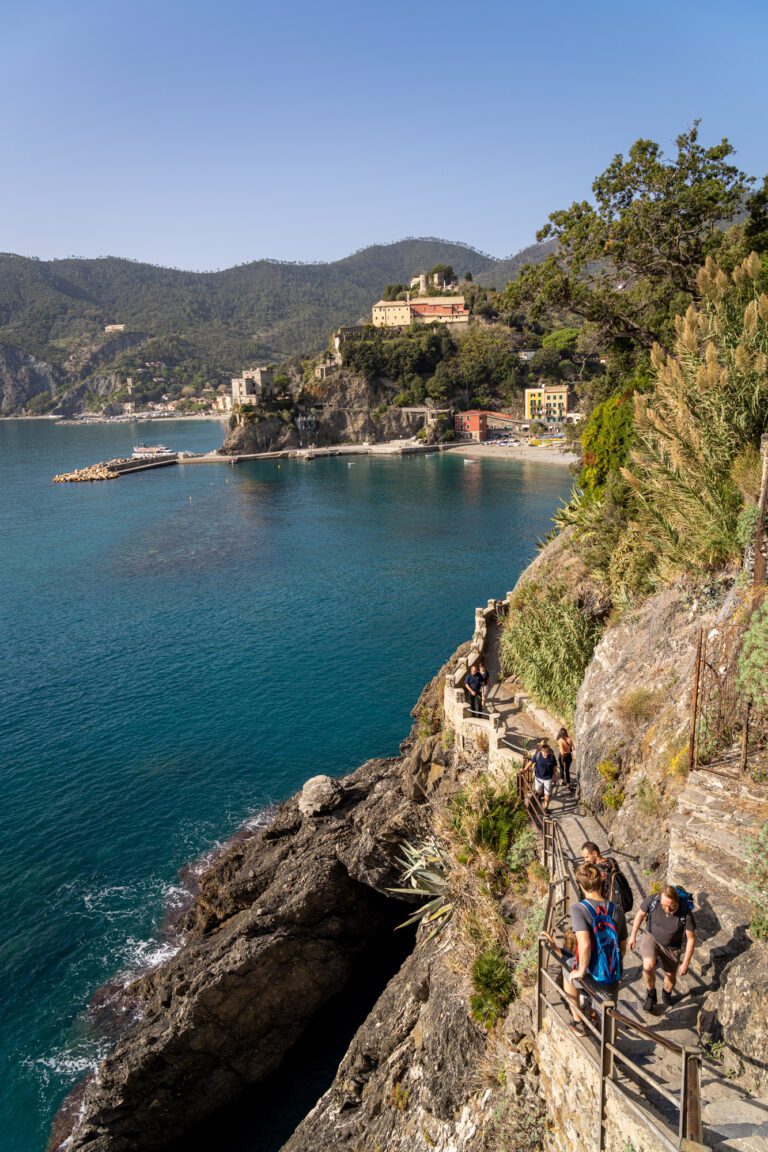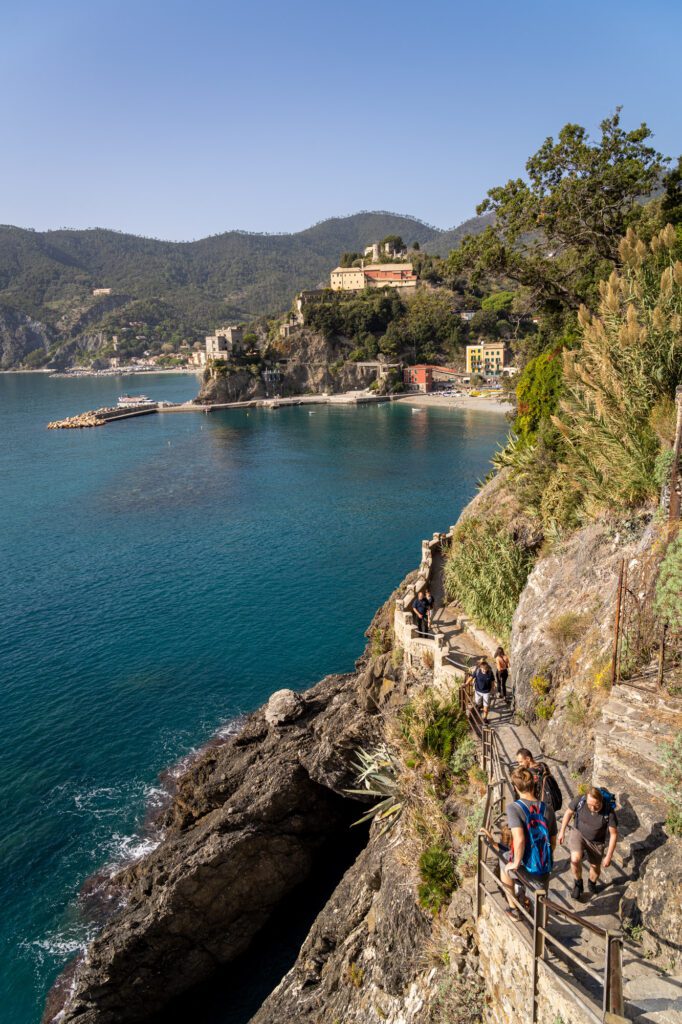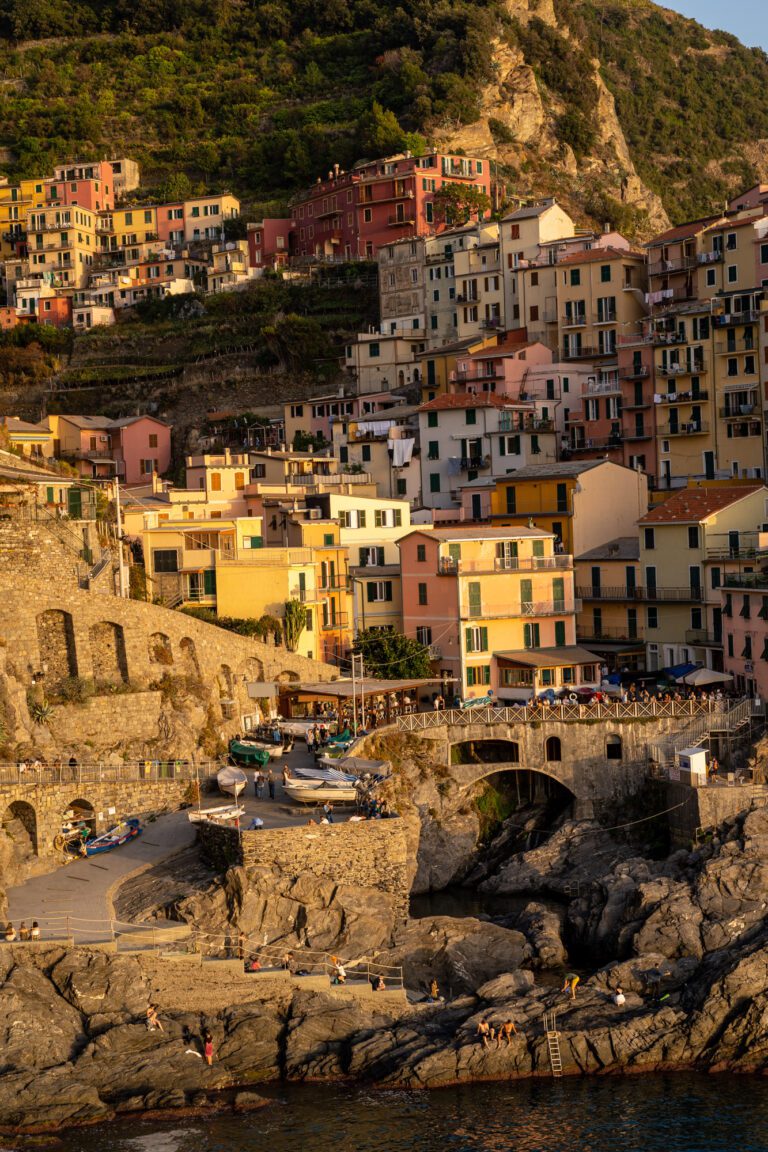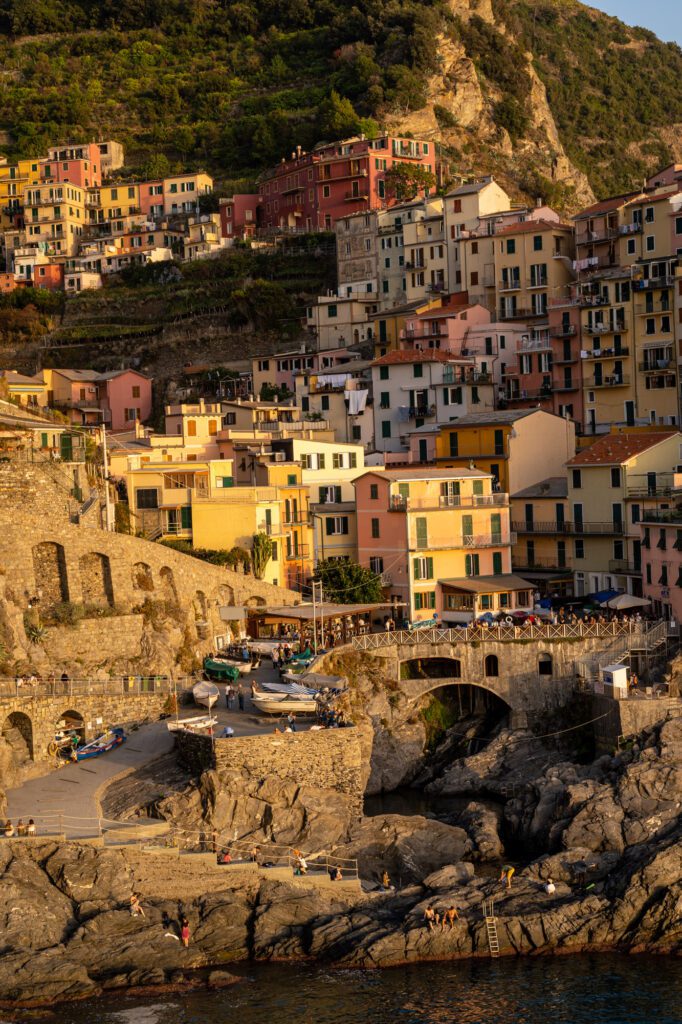 Our top recommendations for must-dos in the Cinque Terre are:
Explore all five towns. Two and a half days is definitely enough time to make it to all five towns of the Cinque Terre. In fact, it gives you around half a day in each. Each town has its own unique character and different things to see and do, so it's worth visiting them all.
Hike the Blue Trail. While it is possible to get between the five towns via the small local train, hiking is a much more fun and scenic way to explore the Cinque Terre. It's worth hiking at least some of the Sentiero Azzurro (Blue Trail), the coastal route that connects the towns via terraced vineyards.
Pesto. Did you know that pesto is a DOP product that comes from the region of Liguria, where the Cinque Terre is located? Make sure to try some delicious local pesto slathered on warm focaccia or in a local pasta dish.
Boat trip. Get out on the water on a sunset boat cruise to experience the villages of the Cinque Terre from a completely different perspective.
For even more, check out this guide to the best things to do in the Cinque Terre.
Where to Stay in the Cinque Terre
It's best to stay in one town for your entire time in the Cinque Terre, rather than moving around each day. It's easy to move between the different towns.
Manarola, Riomaggiore, and Vernazza all make great bases for exploring the Cinque Terre.
Personally, we stayed in Manarola, and would absolutely do it again – it's a little quieter than some of the other towns (namely Vernazza and Monterosso al Mare), and is the jumping off point for a couple of great hikes.
Just don't stay in Corniglia because of the brutal stairs from the train station that you'll have to walk up and down over and over again – thank us later!
You can read more about the benefits of staying in each of the four towns in our full guide to exactly where to stay in the Cinque Terre.
Day 7: Milan in a Day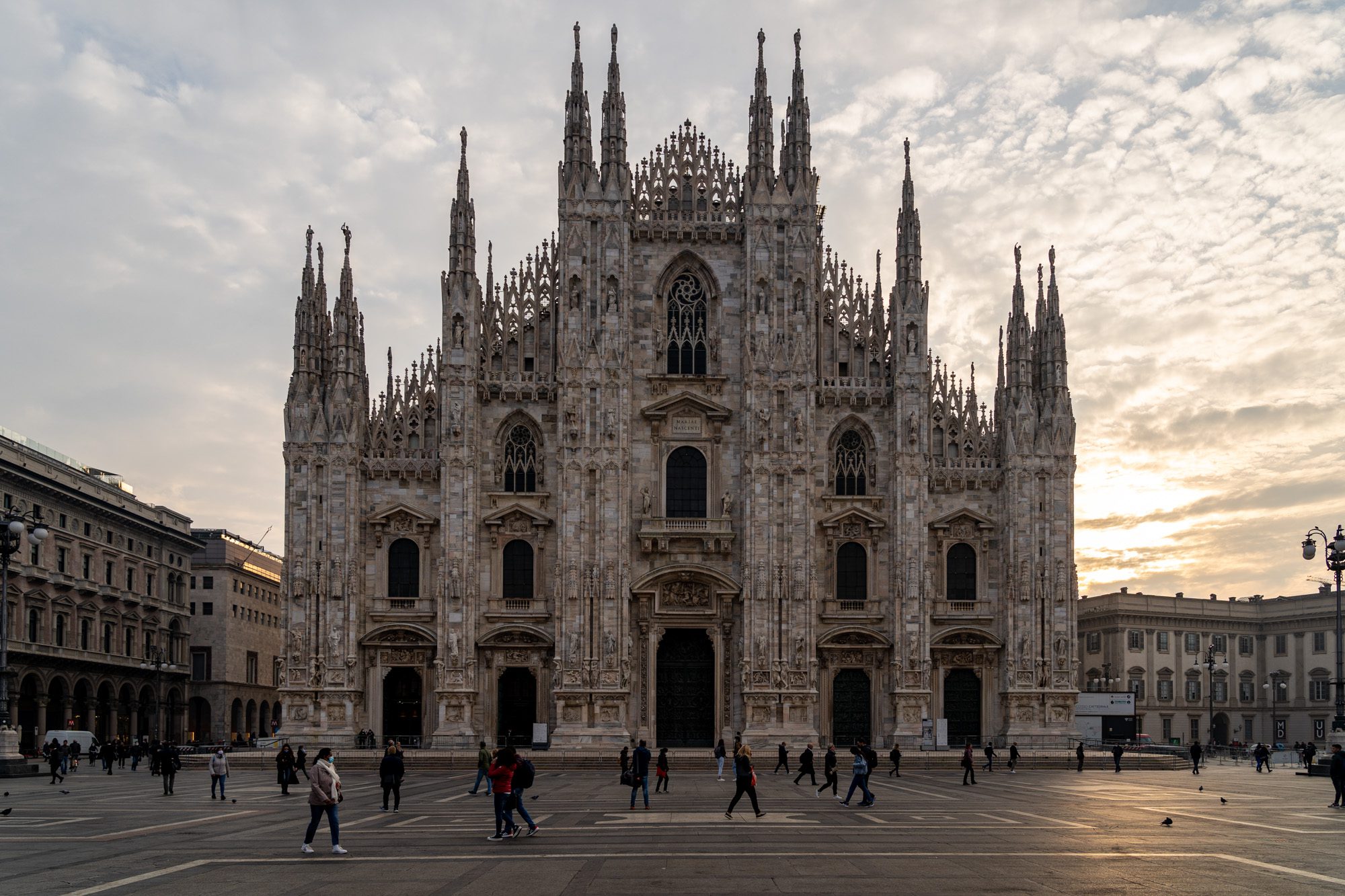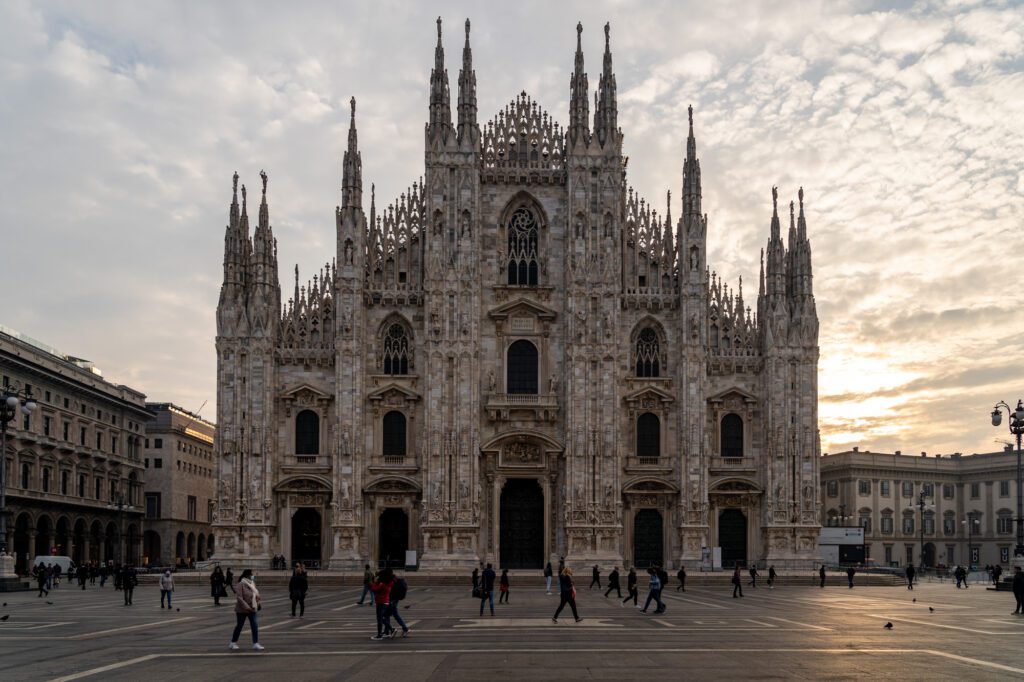 End this itinerary by jumping on the direct train up to Italy's fashion and financial capital of Milan, before catching your flight home/onwards.
To make this work, we'd strongly recommend an evening train on your last day in the Cinque Terre to give yourself a full day in Milan.
Modern Milan is unlike any other city in Italy and provides a stark contrast to the historic city of Florence and the small fishermen's villages of the Cinque Terre.
One day isn't enough to experience everything the huge metropolis has to offer, but it is enough to see a few highlights and get a taste of the city. You can check out our one day Milan itinerary here for a detailed breakdown of how to plan your day.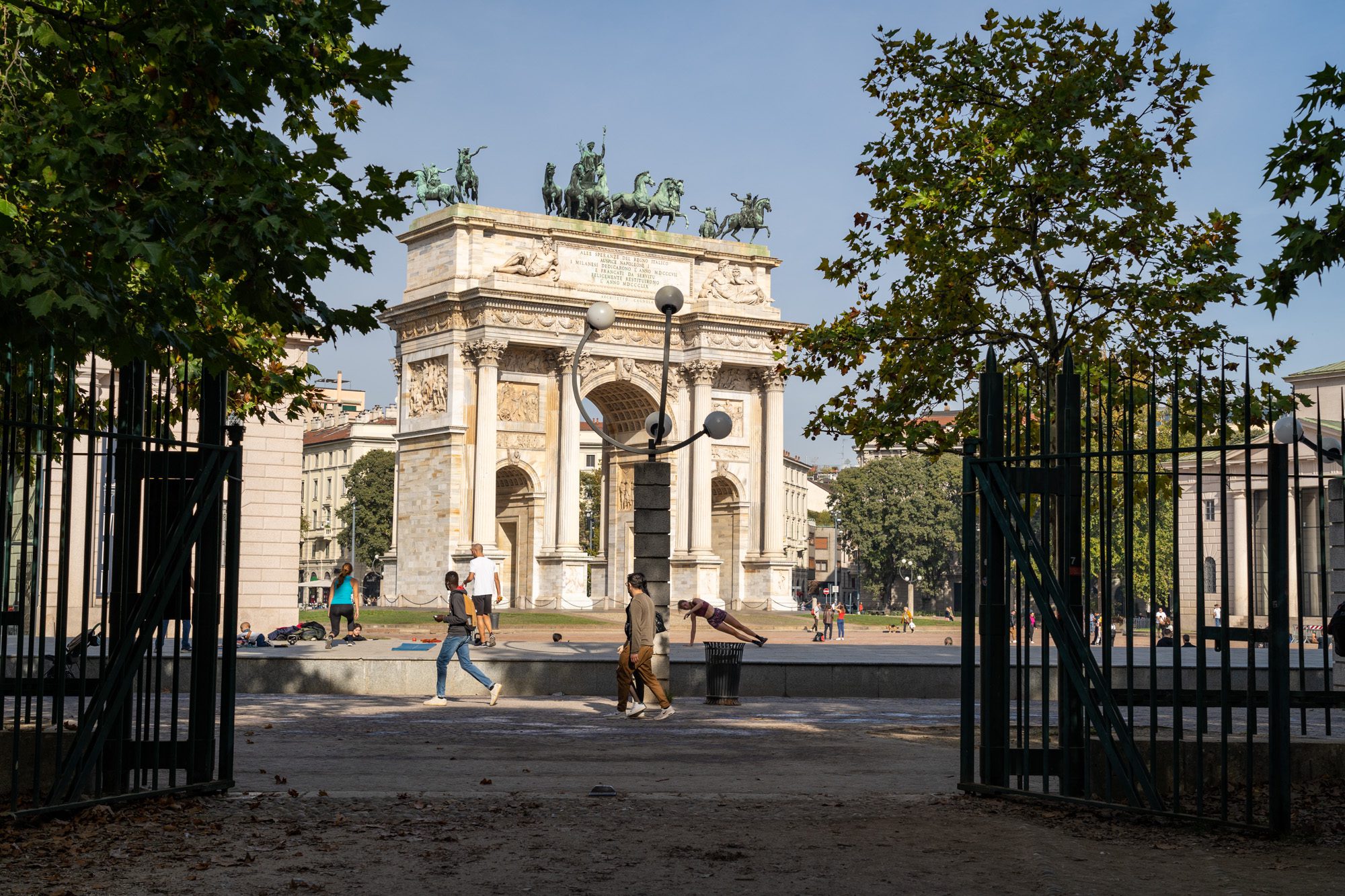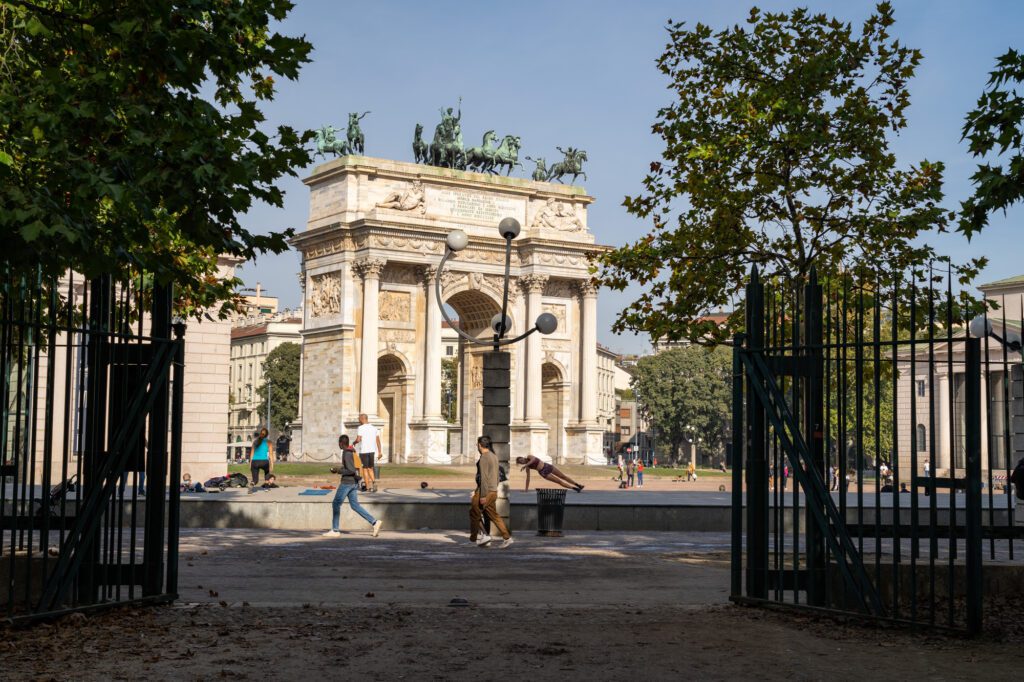 To summarize, our top recommendations for must-dos in Milan are:
The Duomo di Milano. Milan's striking cathedral is the largest church in all of Italy and truly an amazing site to behold. There are four different areas of the cathedral that you can explore, but with limited time, we'd prioritize the Duomo Terraces – they're pretty spectacular.
The Last Supper. Da Vinci's painting of the Last Supper is one of the world's most famous and important murals. The painting is located inside the convent next to the church Santa Maria delle Grazie. Tickets are limited and hard to get, so make sure to book as far in advance as possible.
Castello Sforzesco and Parco Sempione. This grand medieval castle and surrounding park (Milan's biggest green space) are a welcome break from the hectic streets of the busy city center.
#5: Rome, Naples, and the Amalfi Coast
There's a reason we've left this itinerary until close to the end. Southern Italy's Amalfi Coast is certainly one of the country's most beautiful coastal destinations, but its huge popularity has led to insane crowds and over-tourism in the area.
Personally, we prefer the Cinque Terre and Sicily to the Amalfi Coast. Yes, you still get lots of tourists in these places, but they're not quite as overcrowded and have maintained a slightly more authentic feel.
But if the Amalfi Coast is somewhere that's high on your Italian bucket list (no judgment here – it is stunning!), this is the itinerary for you.
The Best Time to Do It
We'd recommend spring or fall for this itinerary. Rome gets hot and overcrowded during the summer, while everything will be closed on the Amalfi Coast in winter.
Where to Fly In and Out Of
For this itinerary, you can fly in and out of Rome.
Rome has two international airports; Fiumicino Leonardo da Vinci International Airport (FCO) and Ciampino Airport (CIA). Fiumicino is the larger of the two, while Ciampino serves many low-cost European carriers. You're probably going to fly into FCO, and that should be the one you look at first so you can catch the train into the city.
The other option is flying into Rome and back out of Naples. Naples-Capodichino International Airport (NAP) is well connected to central Naples by public transportation.
Days 1-3: Rome
Start your week in the historic Italian capital of Rome. Three days is enough time to experience the city's best sites and still enjoy some downtime indulging in the local cuisine and sipping wine in a beautiful piazza.
– See above for more information on Rome
Days 4: Naples
Despite being the third-largest city in Italy (after Rome and Milan), Naples is far less visited by tourists than many other destinations in the country. This is what makes the lively Italian city such a unique and authentic place to visit.
Our top recommendations for must-dos in Naples are:
Eat Pizza. Naples is the native home of Italy's most famous dish and is where you'll find the best pizza in Italy (read: the world). Neapolitan pizza is thin with a light crust and simple toppings. There's nothing quite like it. L'Antica Pizzeria da Michele is one of the oldest and best pizzerias in Naples and a must-visit in the city.
Naples National Archaeological Museum. An important archaeological museum, filled with countless ancient Roman remains and many artifacts from nearby Pompeii, Stabiae, and Herculaneum. More information here.
Day 5: Pompeii Day Trip
Continue to use Naples as your base for day five, but use this day to take a trip out to Pompeii – a World Heritage Site and one of the most visited attractions in Italy.
The ancient city of Pompeii was a Roman city that was destroyed in an eruption of the nearby volcano Mount Vesuvius in AD 79. Today it's a fascinating archaeological site where you can experience the way of life of this ancient society through the perfectly preserved (thanks to a layer of volcanic ash) buildings and artifacts.
How to visit Pompeii from Naples:
Public transportation. Jump on the Circumvesuviana train from Napoli Piazza Garibaldi station, reaching Pompeii in as little as 30 minutes. You can then buy a ticket at the entrance and explore the city by yourself or join a tour once you arrive.
Guided tour. Another option is to take a Pompeii tour like this one which includes transport from Naples and a guided tour of the archeological site.
Days 6-7: The Amalfi Coast
The Amalfi Coast is a 50km stretch of breathtaking rugged coastline, dotted with small beaches, colorful fishing villages, and grand villas. It's one of the most picturesque coastal regions in all of Italy and a popular tourist destination.
Our top recommendations for must-dos on the Amalfi Coast are:
Positano. A picturesque resort town with colorful houses and a pebble beachfront. The quintessential postcard image of the Amalfi Coast, the town is known for its many elegant villas and luxury hotels.
Sorrento. This small clifftop town has a charming historic center filled with narrow alleyways and grand villas. It's also the birthplace of Limoncello, so make sure to taste some (lots!) and grab a bottle to take home with you.
The Blue Grotto. A hidden sea cave along the coast where the beautiful blue water appears to glow in the dark. The mesmerizing spectacle can only be seen by visiting the cave on an organized boat trip.
#6: Milan to Venice (with Verona)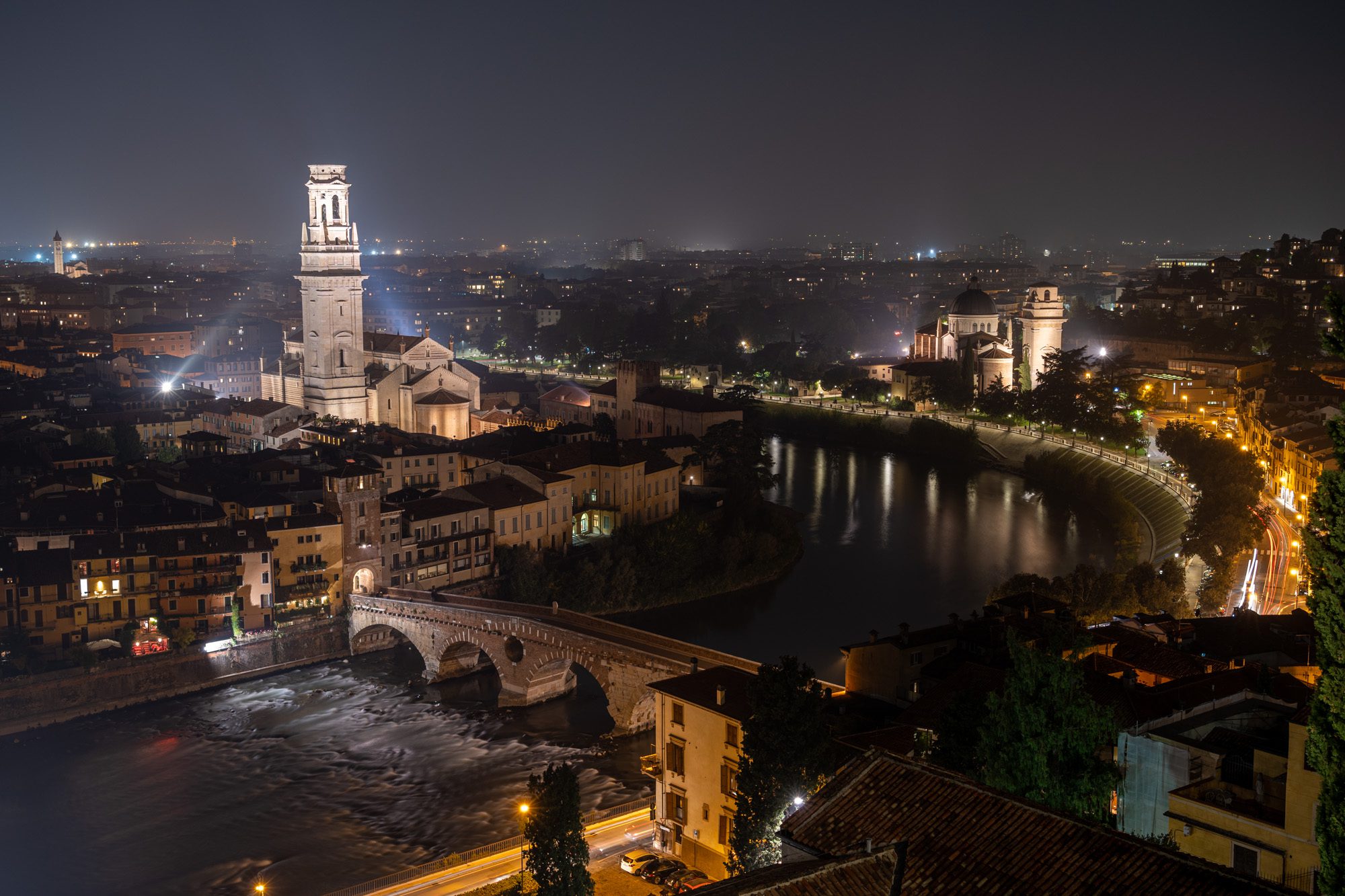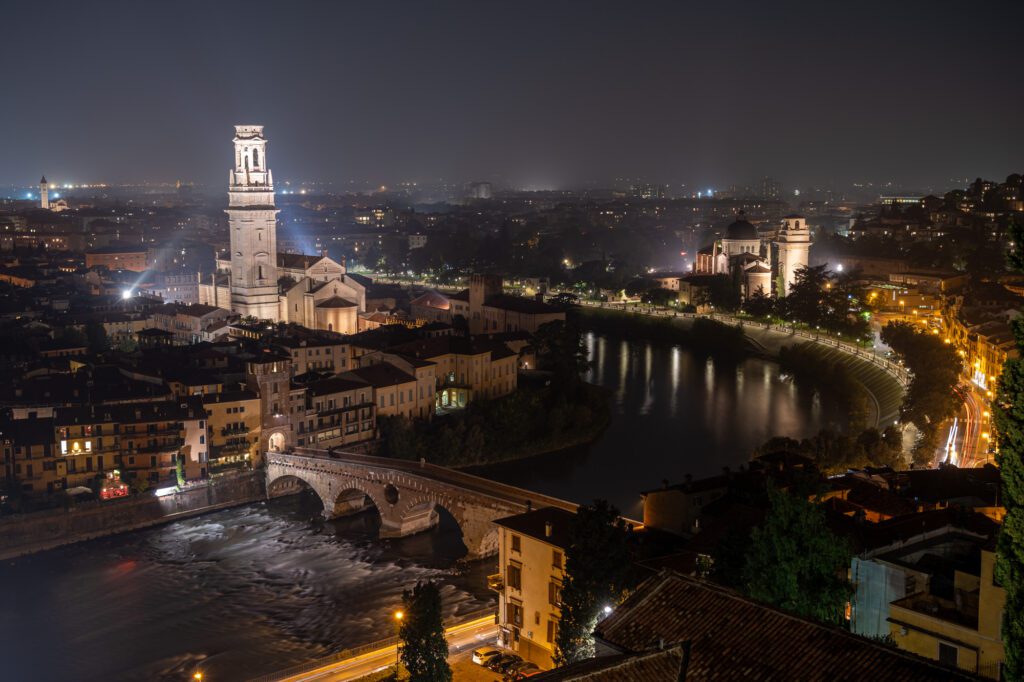 Our final suggestion for what to do with a week in Italy is to explore the highlights of northern Italy.
This itinerary takes you through the wealthy regions of Lombardy and Veneto, stopping at some of the country's most popular and luxurious destinations, including Milan, Lake Como, and Venice.
We love this part of Italy, which is very, very different from central and southern Italy from a cultural, geographical, and culinary standpoint.
On our six week Italian extravaganza a few years ago, Verona was the standout city that blew our expectations out of the water, which is why we've essentially designed this itinerary around it, sandwiching it between a few of northern Italy's more well-known destinations.
The Best Time to Do It
Winters in northern Italy can get fairly cold with plenty of rain, so it's not the best time to visit the likes of Lake Como and Venice. Spring, summer, and fall are better times to visit for a higher chance of beautiful sunny weather.
Where to Fly In and Out Of
Start this itinerary by flying into one of Milan's two main airports; Malpensa (MXP), or Linate (LIN).
Then, at the end of your trip, fly back out of Venice Airport Marco Polo (VCE), which is located on the mainland of Venice, not far from Venice Island.
Getting Around
The entire itinerary can be done using public transportation. High-speed trains link all of the below destinations.
Days 1-2: Milan
Start this 7 day Italy itinerary in the country's second-largest city; the chic fashion capital of Milan. The exciting and modern capital of the northern Lombardy region has plenty to see and do to fill the first couple of days of your trip.
– See above for more information on Milan
Day 3: Day Trip to Lake Como
Continue to use Milan as your base, but use your third day in Lombardy to take a day trip to Lake Como, a vacation destination of the world's rich and famous.
With just one day, we'd suggest jumping on the direct fast train to either Como or Varenna.
Como is big but it isn't the prettiest town on the lake. However, it is the nearest to Milan and takes just 30 minutes to reach by train. You can then jump on a ferry to explore more of the lake and visit other prettier towns.
Varenna takes around an hour to reach by train from Milan. It sits within the "Golden Triangle", which is the most picturesque part of Lake Como, filled with beautiful lakeside towns and elegant Renaissance villas. From Verenna, you can easily jump on a 15 minute ferry to reach the popular town of Bellagio just across the water.
Days 4-5: Verona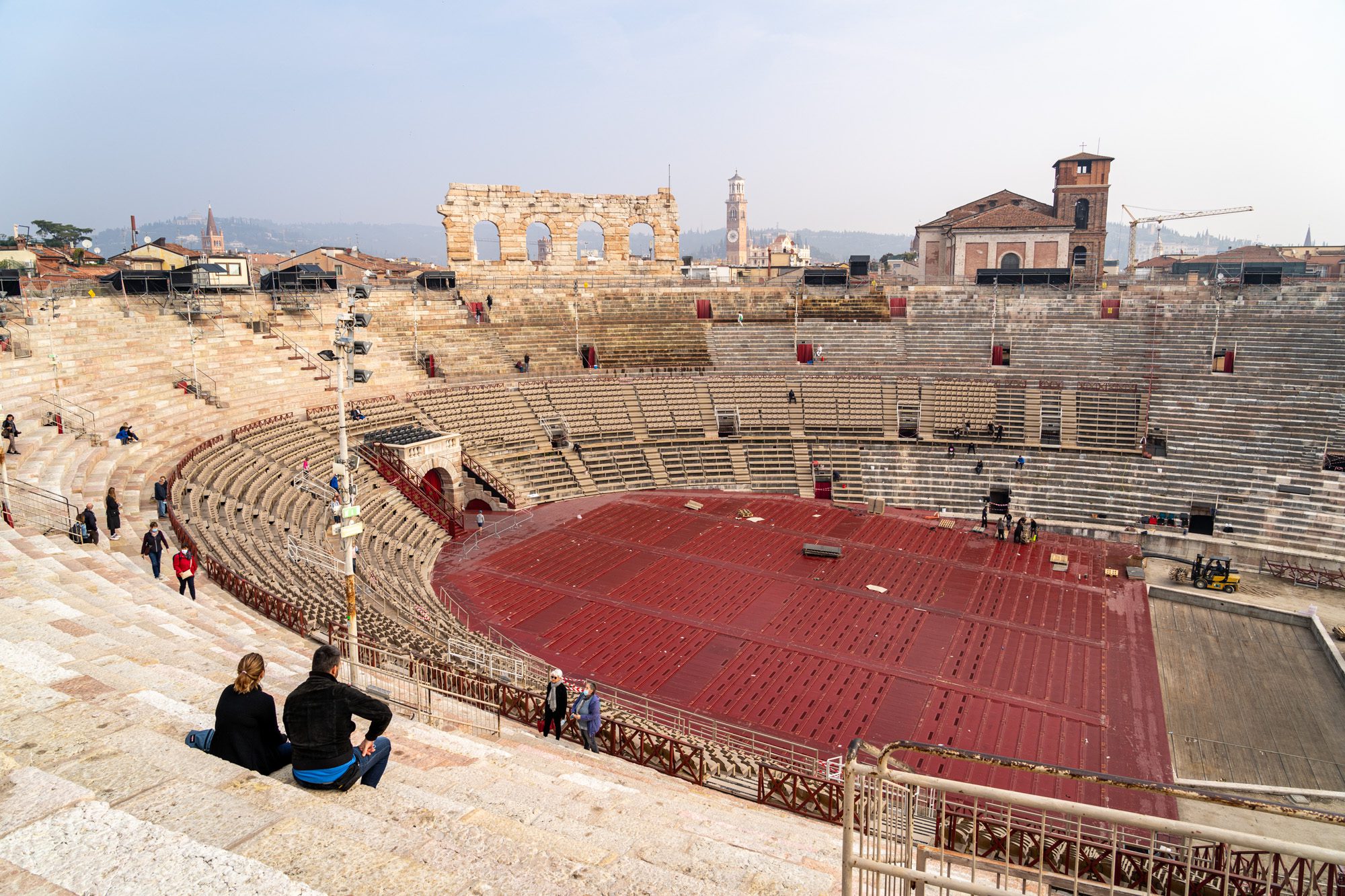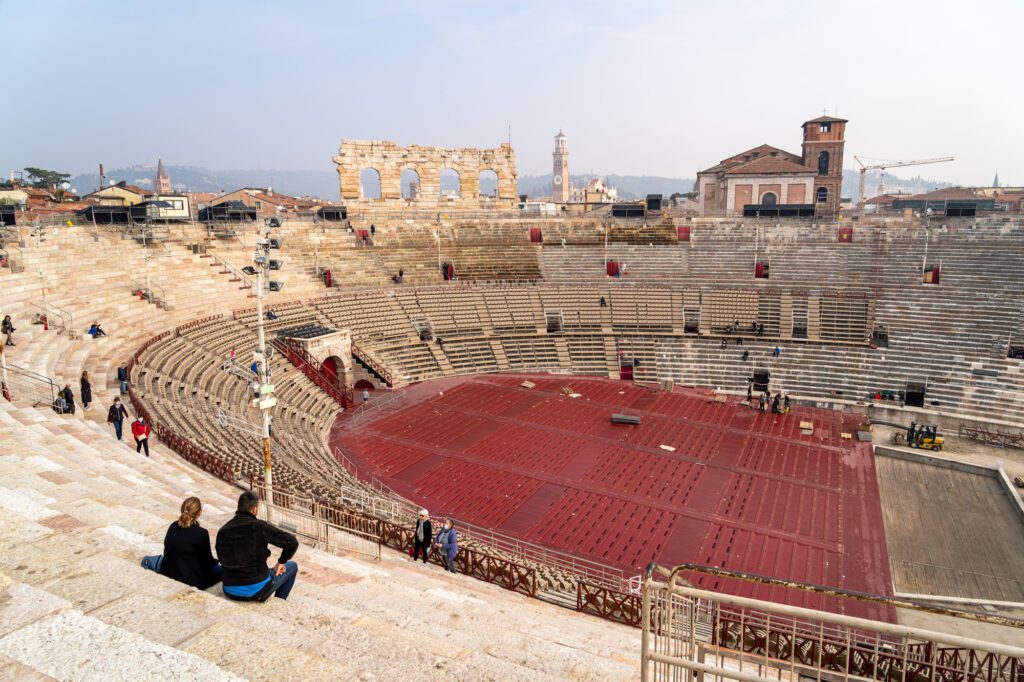 Famous for being the setting for Shakespeare's Romeo and Juliet, "Fair Verona" is known as Italy's city of love. It's a true hidden gem in northern Italy that's all too often overlooked in favor of nearby Venice.
Verona is somewhere that really surprised us and makes for a welcome break from the much busier tourist destinations of Milan and Venice – which is why we included it in this itinerary.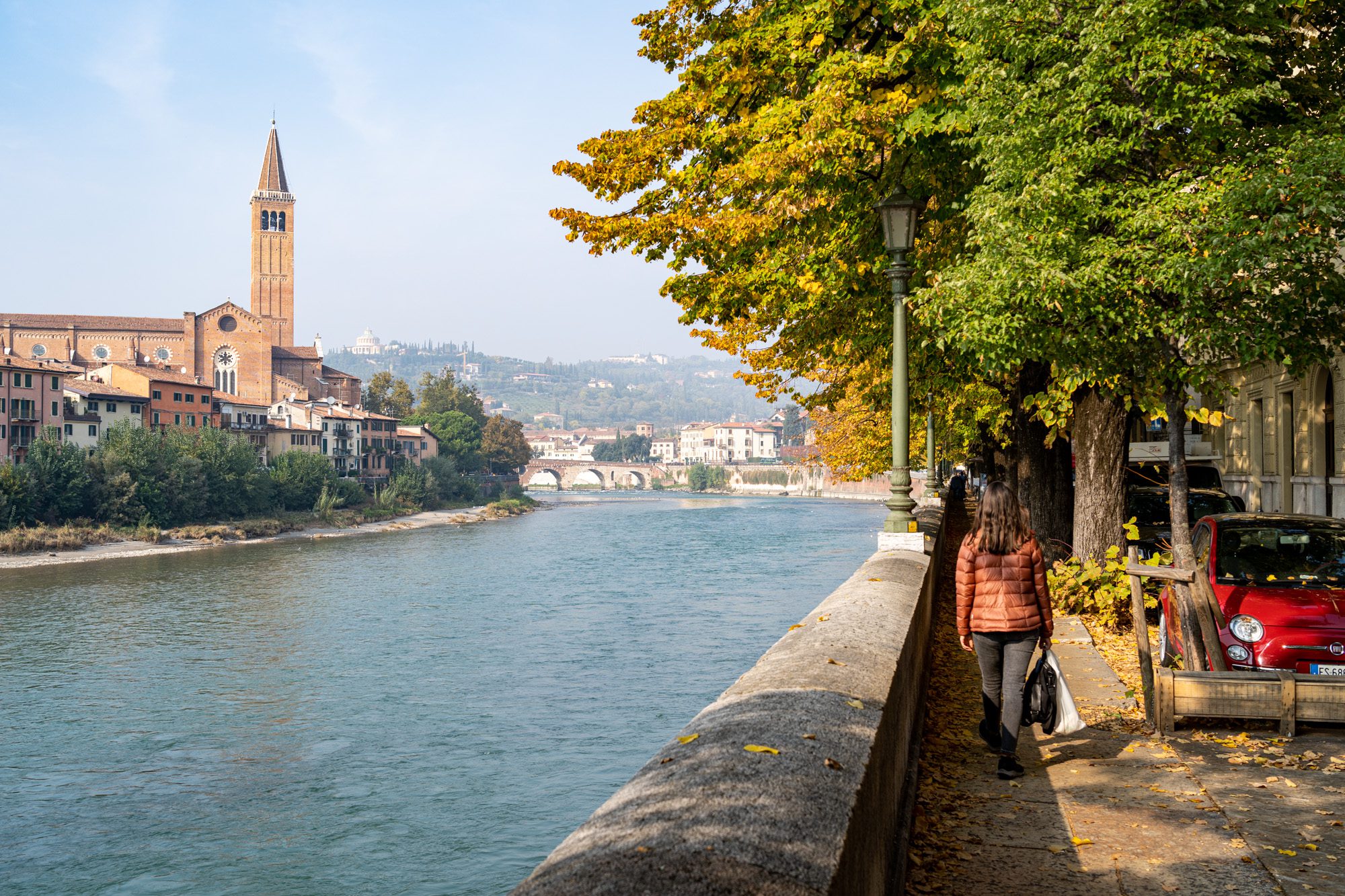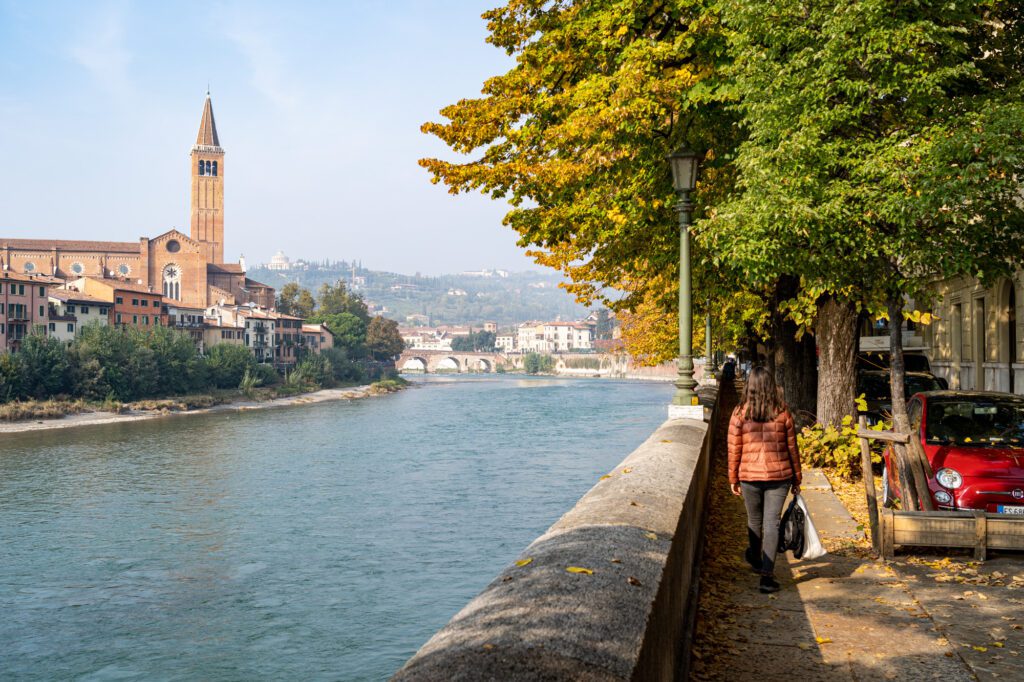 Our top recommendations for must-dos in Verona are:
The Arena di Verona. Verona's large Roman amphitheater is one of the biggest of its kind in Italy and is actually older than the Colosseum in Rome. You can visit the arena on a self-guided tour or even attend the Opera or a performance during the summer months.
The Castel San Pietro. A historic castle perched on a hill with amazing (and free) panoramic views back over the rooftops of Verona.
Adige River. A walk along the river that encircles the historic city center is one of the most peaceful things to do in Verona. Along the route, you'll get to pass the city's many historic bridges and other scenic views.
Check out this post for more things to do in Verona.
Days 6-7: Venice
End this 7 day northern Italy itinerary with another of the country's most popular destinations; the floating city of Venice.
Like we mentioned above, Venice suffers from over-tourism and the pressure it puts on its infrastructure and locals isn't great.
However, as we talked about above, that doesn't necessarily mean you shouldn't go to Venice. It does mean that you should be conscious of your impact, and do your best to not contribute to the problem.
We'd recommend staying in Venice for a few nights (rather than doing a day trip from a cruise ship, for example), spending money at local shops and restaurants that help the local economy, and visiting some of the less-visited places in Venice (relatively speaking – everything is highly visited in Venice!).
Oh, and definitely don't stay in an Airbnb in Venice, which puts further pressure on a super constrained housing market that many locals working in Venice already can't afford.
– See above for more information on Venice.
---
Heading to Italy?
We've been to Italy multiple times – obviously we love it – including more than a month on our last trip!
If you enjoyed this guide and found it helpful, you definitely won't want to miss our detailed guide to planning an amazing 10 Day Italy itinerary, which covers Rome, Florence, and Venice and is perfect for a first trip.
We also have a guide to spending two weeks in Italy, which combines those three main cities with a few lesser known cities (Bologna and Verona), or a guide to spending one week in Italy, which has six different ways to spend 7 days.
Here are some of our other Italy guides to help you plan an incredible Italian adventure.
Rome:
Florence:
Venice & Milan:
Cinque Terre:
Sicily:
Need to Eat Gluten Free in Italy?
If you're traveling and need to eat gluten free like me, Matt (I have Celiac Disease, which is why I started this site in the first place), then you'll want to check out our gluten free guide to Italy, along with our city guides for Rome, Florence, and Milan to help you find the best gluten free pastries, pizzas, and more.