The Best Colosseum Tour in Rome? Our Walks of Italy Experience
Want to do a guided tour of the Colosseum, but you're not sure if it's worth it? Or maybe you're wondering what the best Colosseum Tour in Rome is when there are so many options to choose from? Either way, you're in the right place. We're covering our experience on a Colosseum Tour with Walks of Italy that we loved and highly recommend.
When in Rome, you're going to want to see the Colosseum and Roman Forum. They're staples on just about any Rome itinerary, and for good reason.
There's something spectacular about marveling at the ancient architecture and walking the same cobblestone paths (well, sort of the same, anyway) as figures like Julius Caesar did two thousand years ago. 
You're probably wondering what the best way to experience the Colosseum is, and I have some good news for you. Answering that question is exactly why I wrote this review.
I've been to Rome three times now – including more than a week on our latest trip – and I have done the Colosseum three different ways.
Once on my own without a tour or guide, once with your run-of-the-mill tour with a group of 50 people and a guide reciting a memorized script, and once with an expert guide (an archaeologist, which happens to be super relevant here) who brought all sorts of amazing anecdotes and helped us use our imaginations to bring the world of Ancient Rome to life as we explored the Colosseum and Roman Forum together.
Can you tell which one I'd recommend based on the descriptions I gave?
As you can imagine, there are hundreds – literally hundreds – of different Colosseum + Roman Forum tours out there, and a large percentage of them have stellar reviews. So how in the world do you choose?
The tour we chose is the Premium Colosseum Tour with Roman Forum & Palatine Hill with Walks of Italy, one of the best tour companies in Italy (and other places around the world), and I'm here to tell you all about it. We think this is the best Colosseum Tour in Rome (though we have two other suggestions at the bottom for a slightly different experience).  
Below, you'll find the details you need to choose the right tour, including what to expect along the way and some alternative tours to consider.
Planning a trip to Rome? We spent ten days in Rome on our last trip to Italy, and have plenty of detailed travel guides to help you plan an unforgettable trip.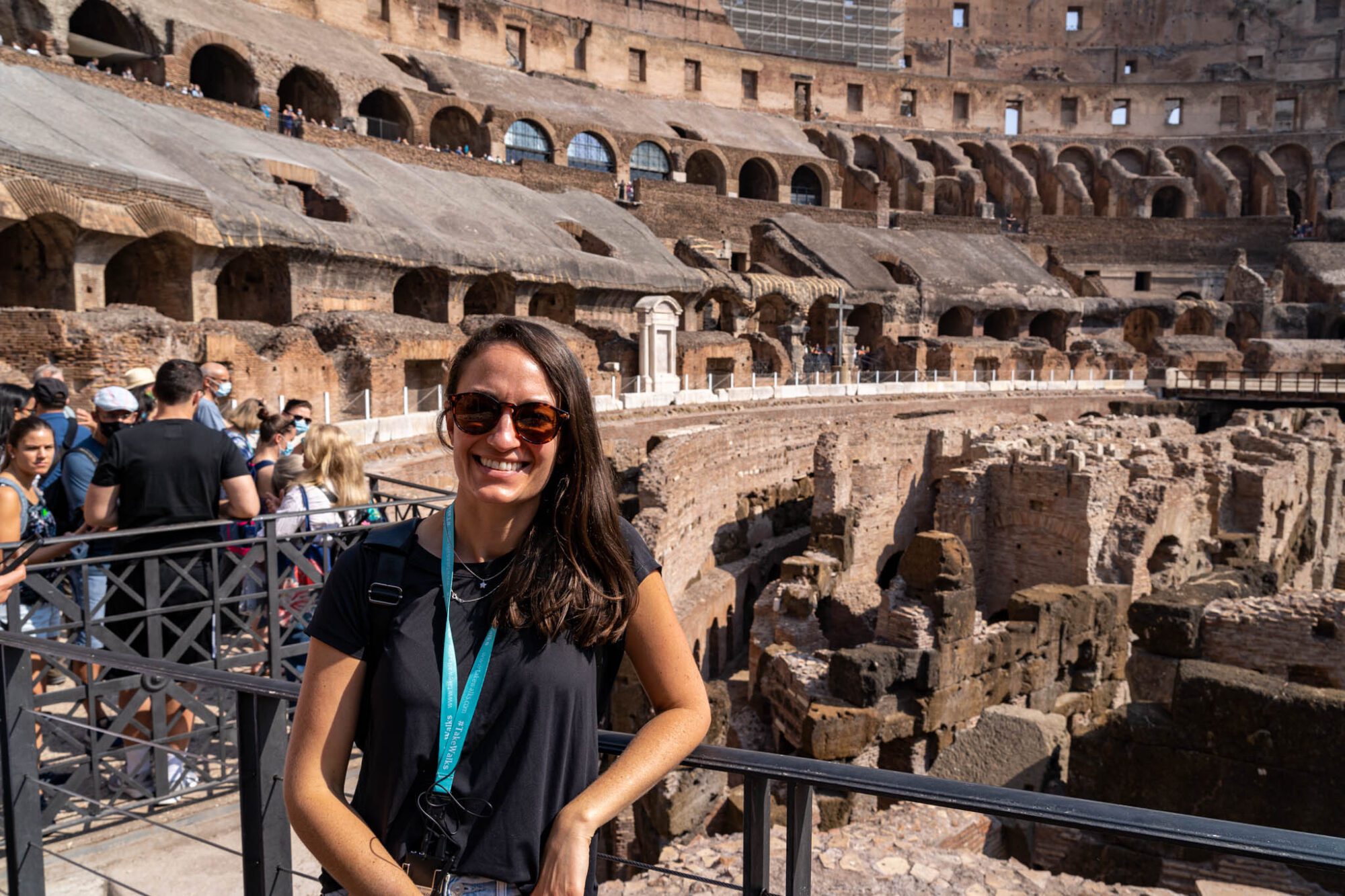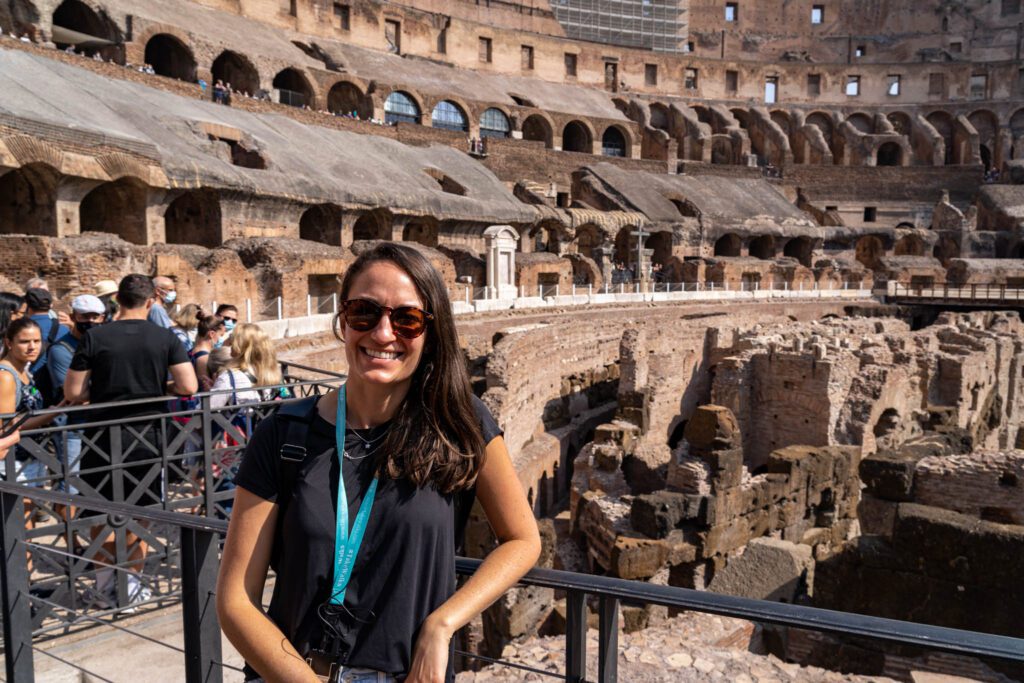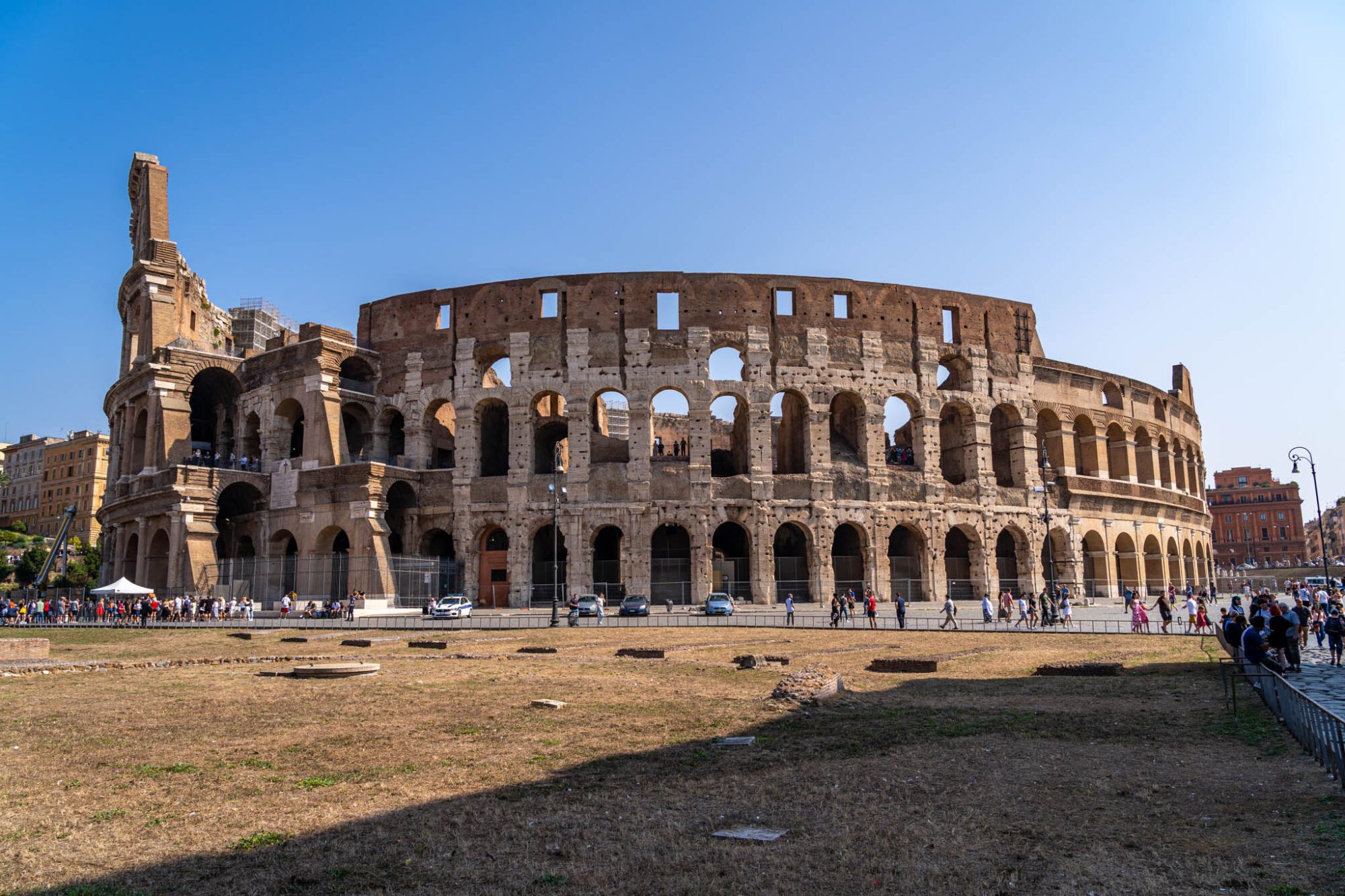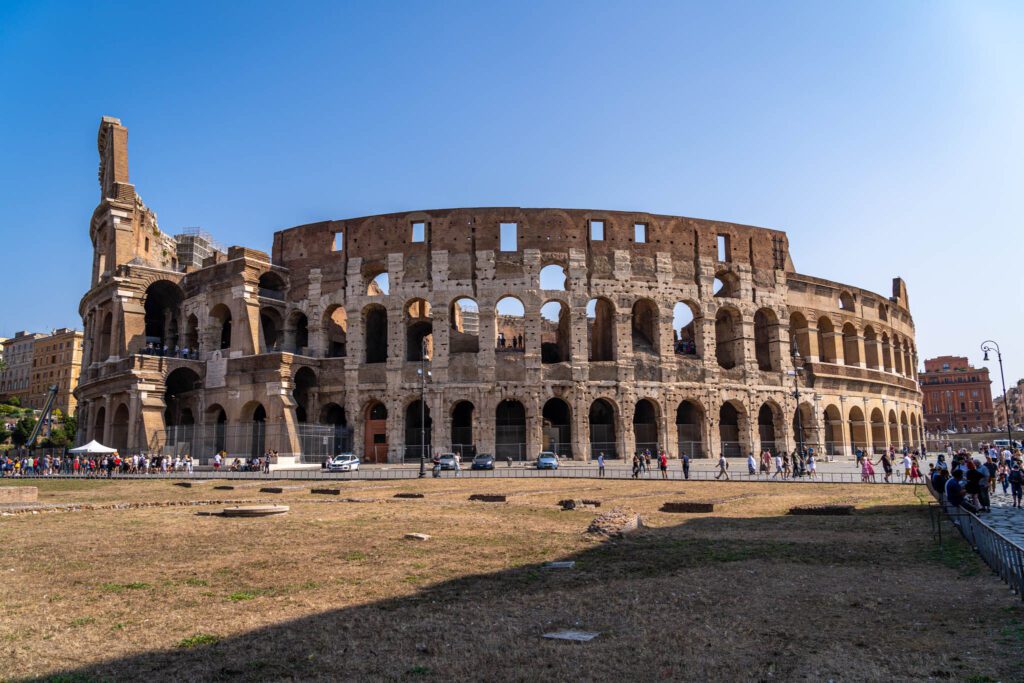 Disclosure: We paid for our own tours with our own hard-earned cash. No sponsored tours here! However, some of the links in this post are affiliate links, which just means that if you like what you're reading and click on a link to book, we get a small percentage of the booking at no additional cost to you. Thanks for reading, and we hope you enjoy your tour!
The Short Version
Don't have time to read the entire review below? Here's what you need to know.
Taking a guided tour of the Colosseum with a knowledgeable guide is well worth the extra money you'll pay for it versus skip-the-line tickets and exploring on your own (61 Euros vs. 22 Euros).
You'll get added context around the history behind the spectacular sights you're seeing, along with anecdotes and myth-busting facts that will change the way you think about Ancient Rome. You'll walk away from the experience with a much richer understanding of the two sights, and will learn more than a few things along the way.
Duration: 3 hours
Includes: Skip-the-Line Entrance to the Colosseum and Roman Forum with an Expert Guide
Max Group Size: 15 people (Our tour happened to only have seven people, which was great!)
Highlights: The Colosseum, duh, including the best views of the interior and exterior, and the Roman Forum
Cost: 61 Euros per person
One thing I do want to note: your guide is going to have a huge impact on your experience. For example, our first guide – Dario – was amazing. He had a solid handle on Rome's history, and wove together a three hour long story over the course of our tour.
We also did the Colosseum at Night Tour with Walks of Italy, and our guide just wasn't as good at storytelling or answering questions from the group. My point is that your experience might be different from ours depending on the guide you end up with. 
Should You Book a Guided Tour or Do It Yourself?
Having done it both ways, I can definitively say that a guided tour is the way to go.
In general, over the past several years, I've come to the realization that it is almost always worth the extra money to have a local guide show you around a place or city. Here's an example to illustrate my point.
Have you ever been to a "local market" in a city you're visiting? On our first trip to Mexico City, we went to a couple of them completely on our own. Which was fine – we basically walked around the market, admiring all the amazing fresh produce and watching people make tortillas for a bit before deciding to move on. It took all of about 15 minutes.
On our second trip to Mexico City, we did a cooking class that involved an hour long deep dive into that market with a local. We learned about all sorts of peppers that we'd never heard of, tried some chocolate, fruits, and chapulines that our guide recommended, and discovered the deliciousness that is tamales dulces ("sweet tamales").
It was a COMPLETELY different experience, and the context that our guide was able to bring to the table – context that we never, ever would have gotten on our own – was invaluable, and led to a much more memorable experience that we still talk about (clearly, because here I am talking about it).
That's why we believe you should book a guided tour of the Colosseum and Roman Forum – to have a more rich experience with a guide who will share anecdotes, tidbits, and facts to help you use your imagination to bring Ancient Rome to life.
Without that context, you'll probably be walking through the Roman Forum and seeing some old, broken buildings, which will take you all of 30 minutes before you're ready to move on.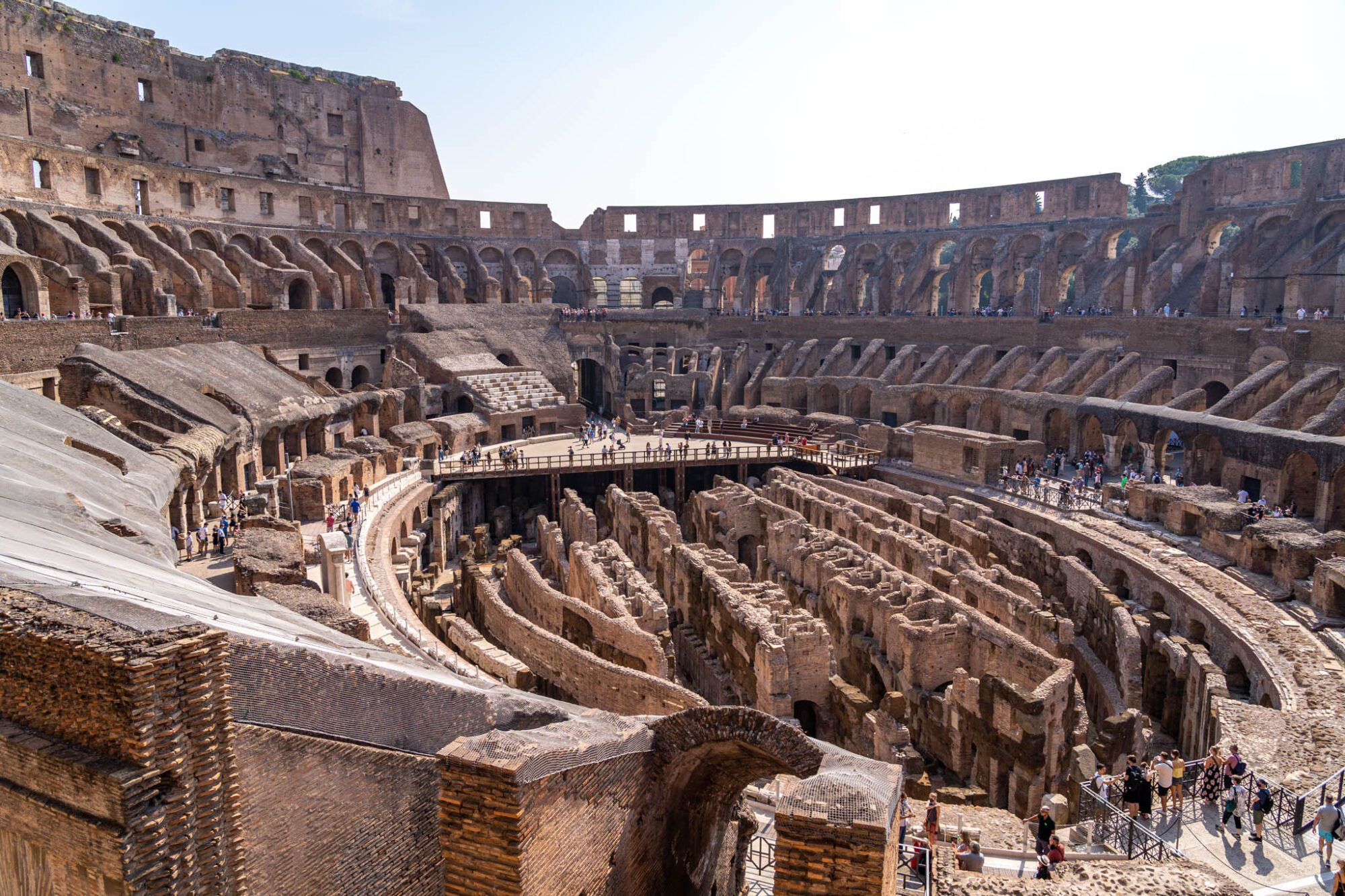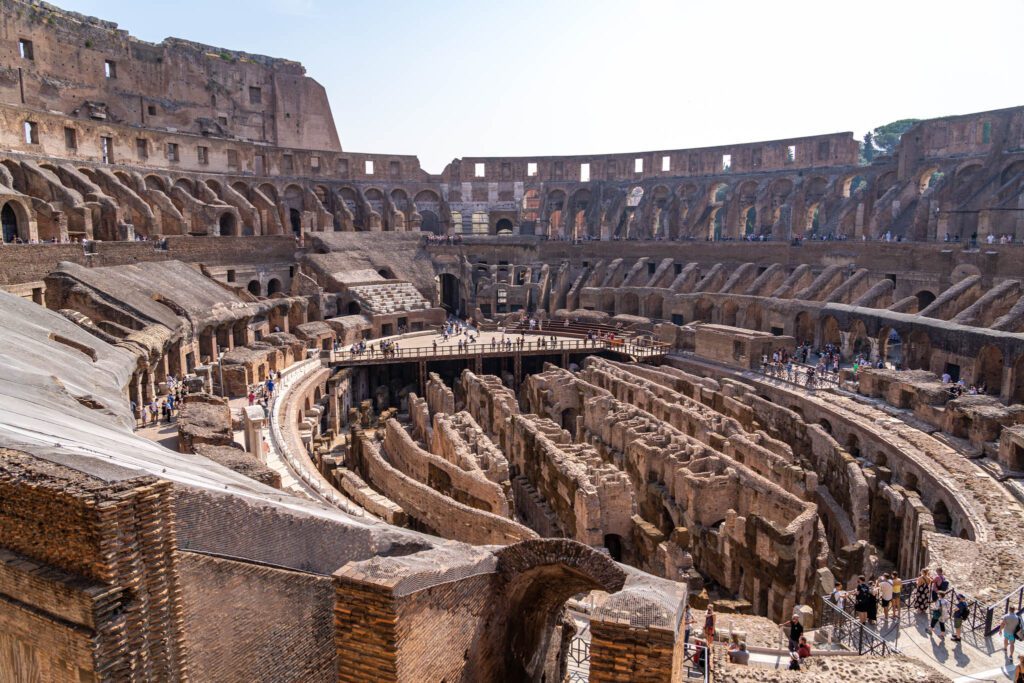 What to Expect on Your Colosseum + Roman Forum Tour with Walks of Italy
First of all, expect at least a few of the facts you thought you knew about the Colosseum to be flat out wrong.
At one point, Dario, our excellent guide, posed the group a question; how many times do you think the Colosseum was used per year?
Alysha's guess was four times a year. Because quarterly, right?
Wrong. Turns out, the answer is less than once a year, which blew my mind. They have this giant, spectacular structure, but it's only used for one thing, and that one thing only happens once a year, if that? Wild.
I'm not going to spoil the other myths that got busted along the way, but trust us, there are going to be a few.
You'll start your day at the meeting point near the Colosseo Metro stop, an easy walk from the Centro Storico, Monti, or even Termini (we ended up walking after the line to buy tickets for the metro at Termini was gigantic), where you'll meet your guide, get an introduction to the day ahead, and get a headset.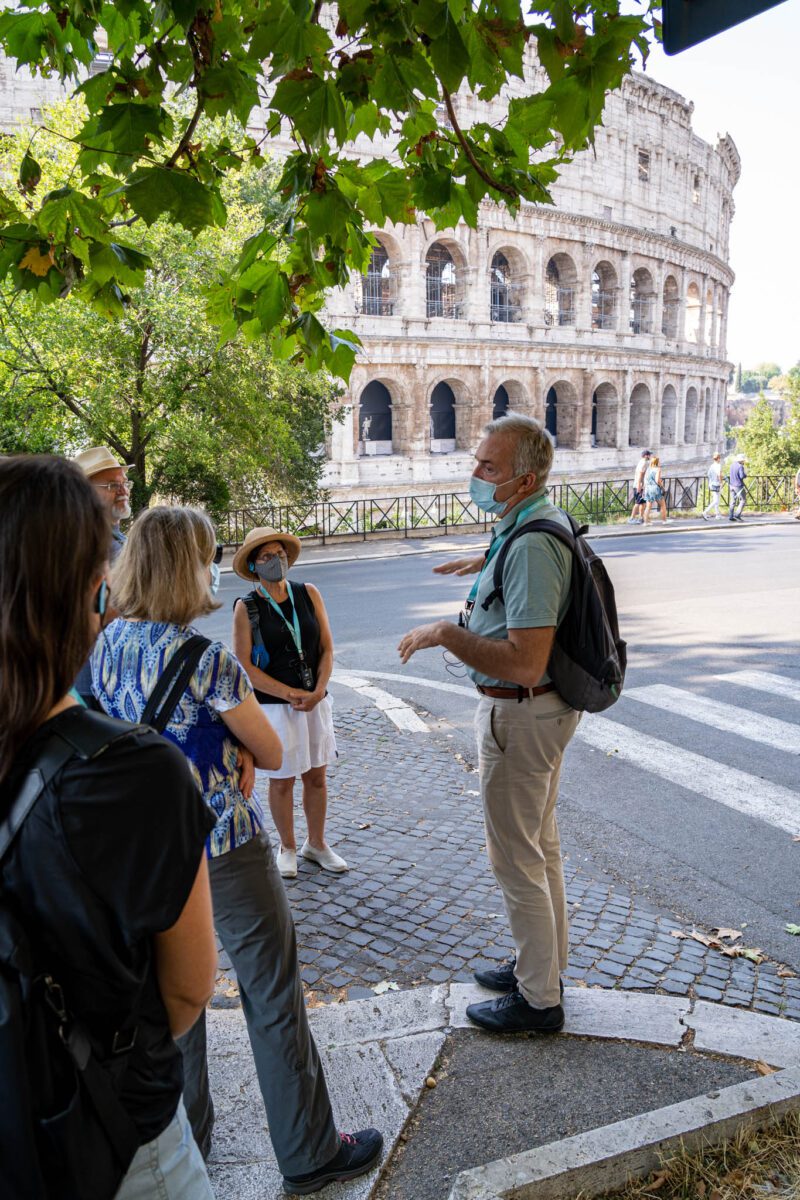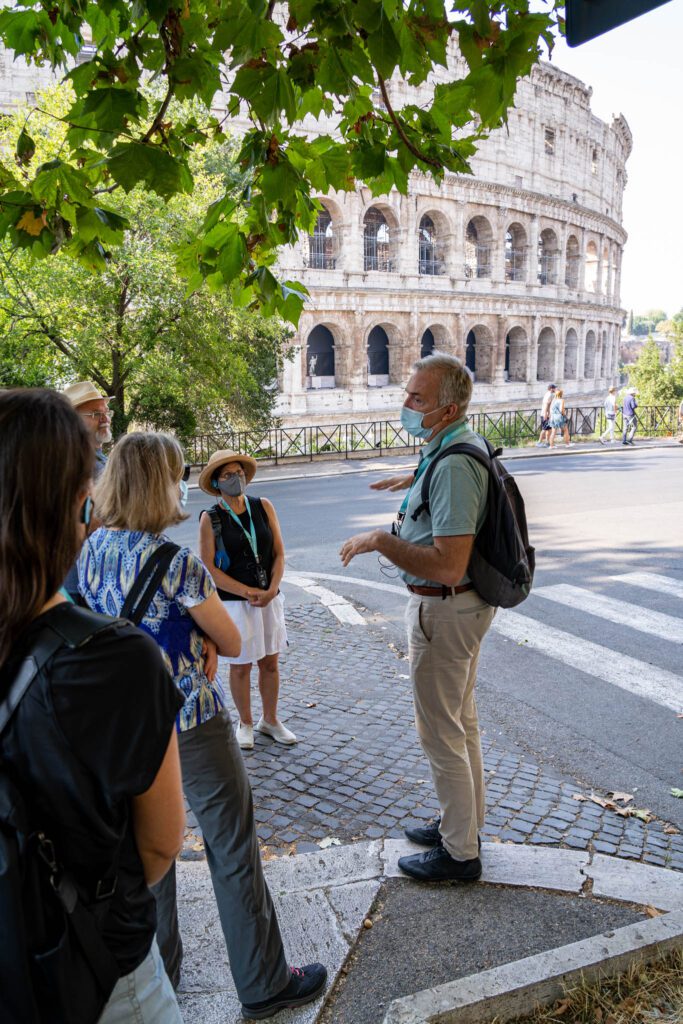 At first, we thought headsets were lame, but as the tour progressed, we realized that if every single guide was yelling to make sure the entire group could hear, the entire place would be more chaotic and crazy than it already is. Plus, the headsets save the guide's voices.
From there, you'll enter the Colosseum, which is a breeze because you get to use a separate line saved for guided tours, and your guide will do the talking (in Italian) and all you have to do is put your bag through the scanner and say "grazie" as you walk by the security team.
You'll head to the Colosseum and get your first glimpse of the interior. After a few pictures, you'll find a nice shady spot to sit down and talk about the history around you (and do some myth busting too).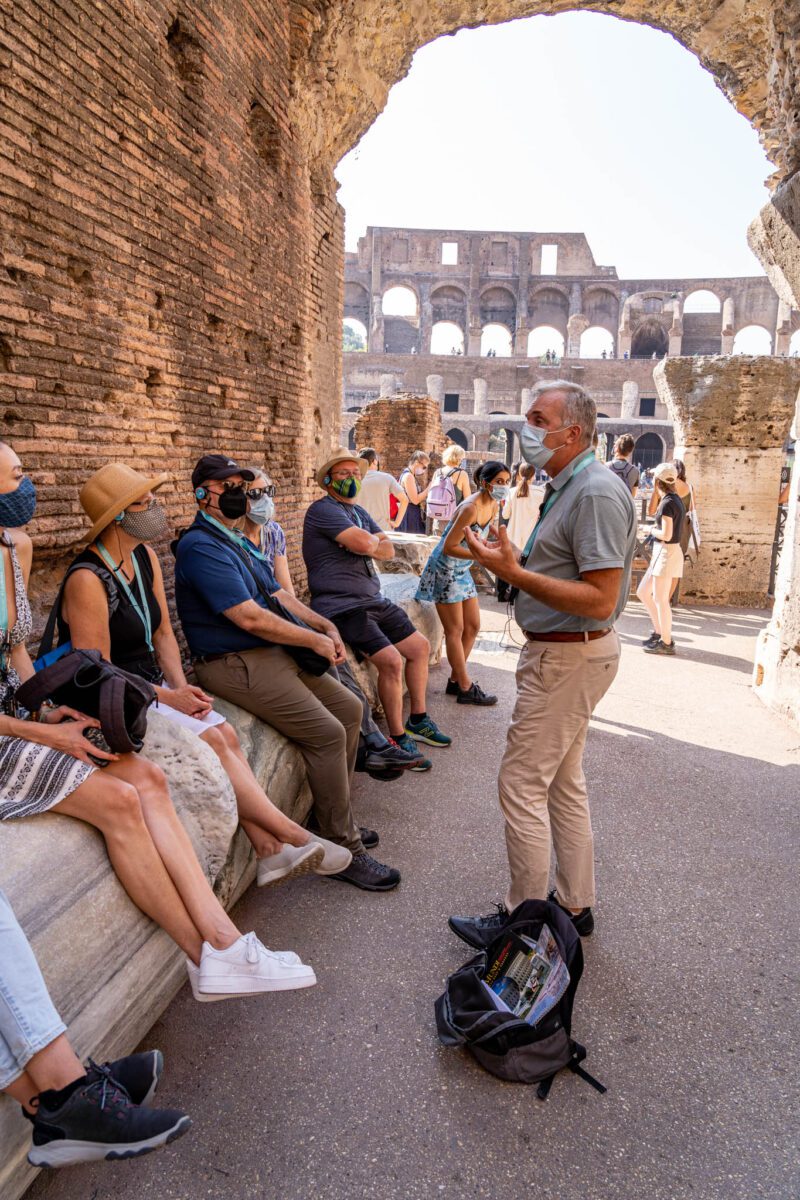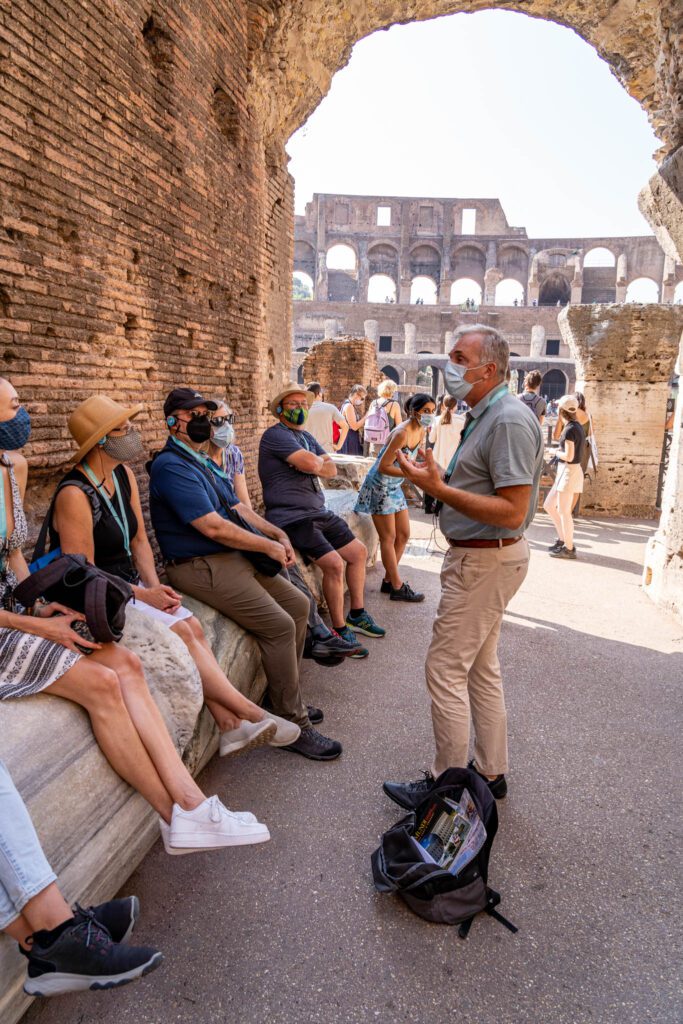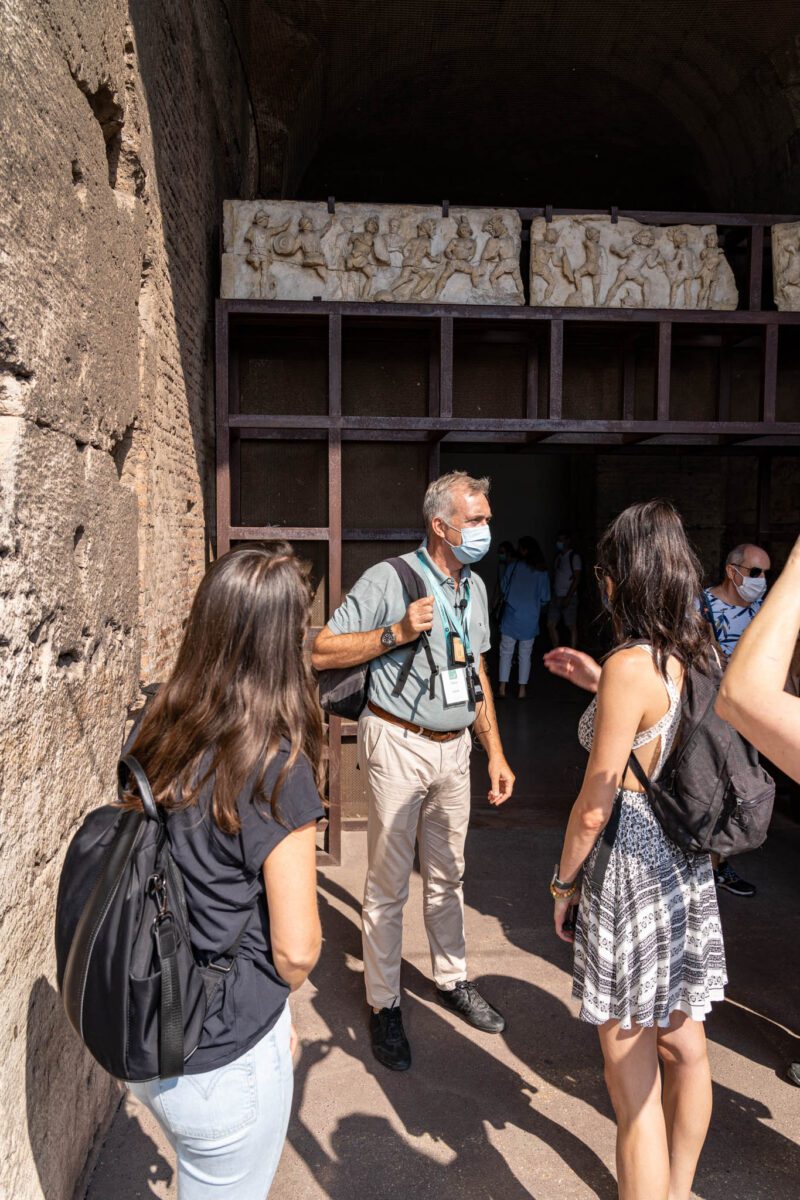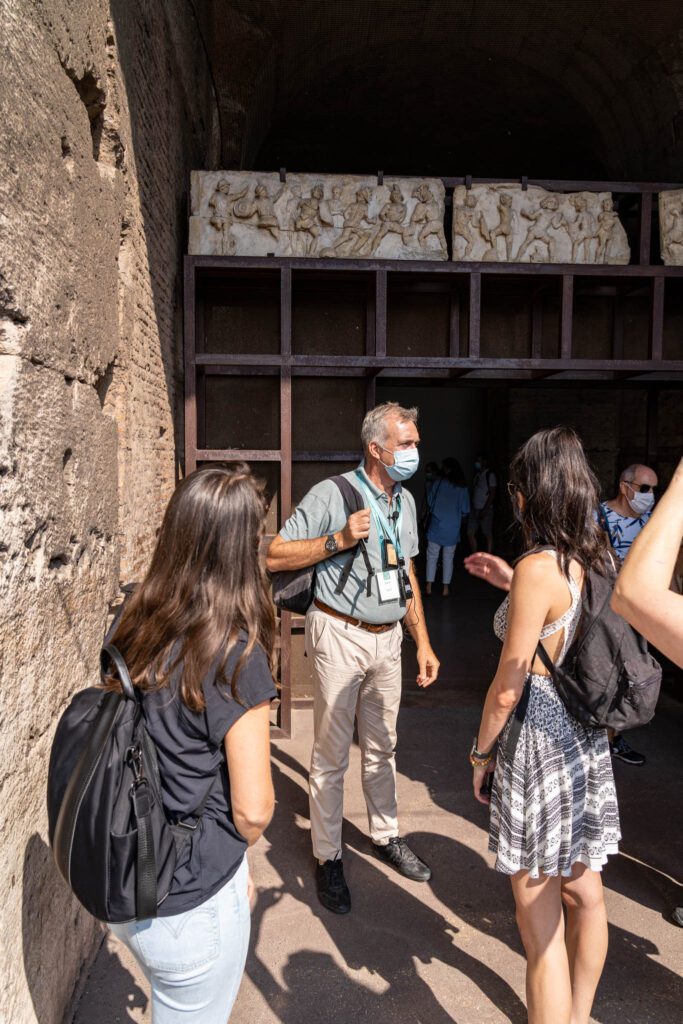 After the first level and a history lesson, you and the group will head up to the second level, which is where some of our favorite photo spots of the day were.
Eventually, you'll end your time after spending a few minutes at the northwestern side looking at the Arch of Constantine (where another myth gets shattered) before exiting the Colosseum and moving on to the Forum.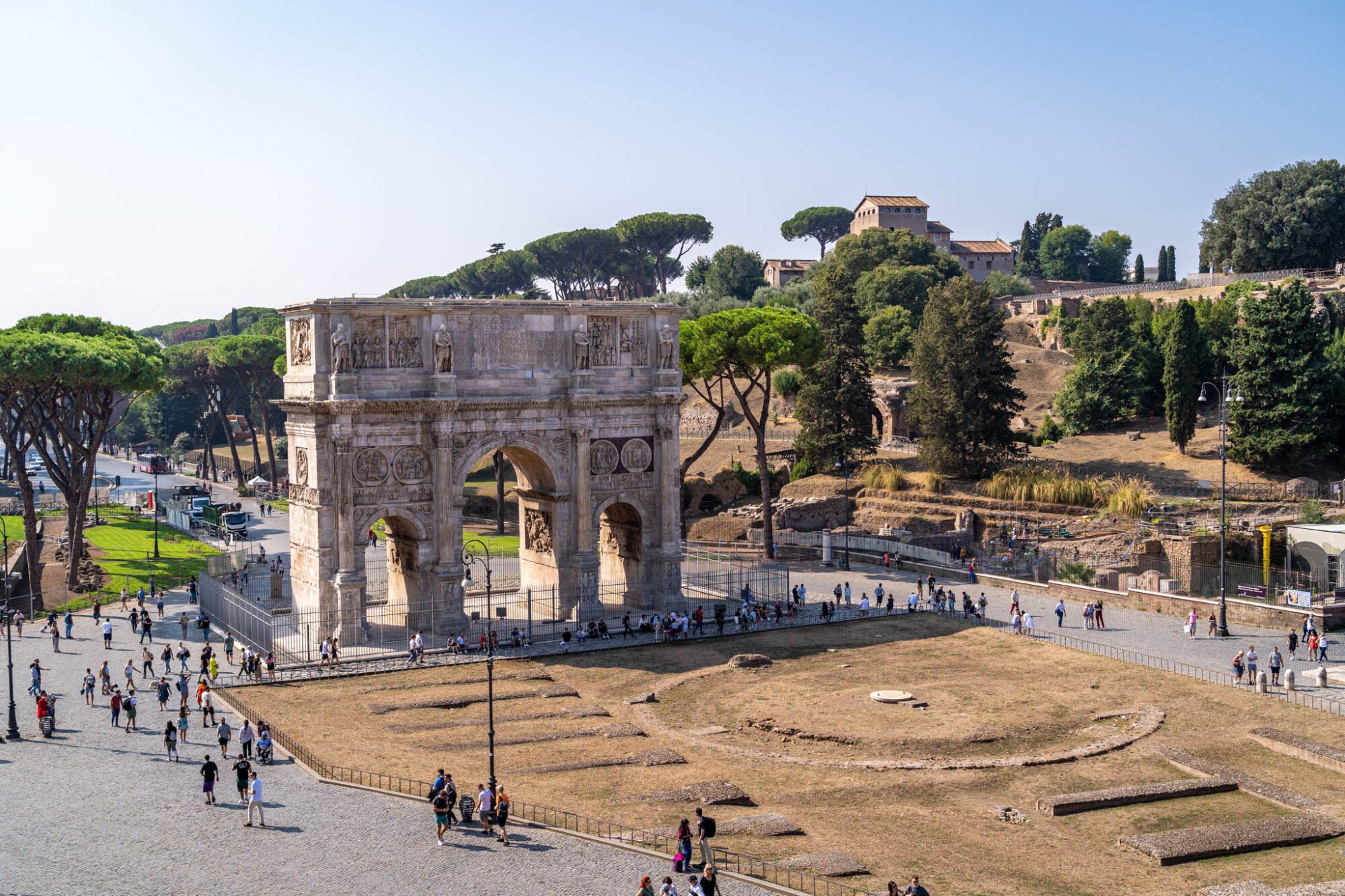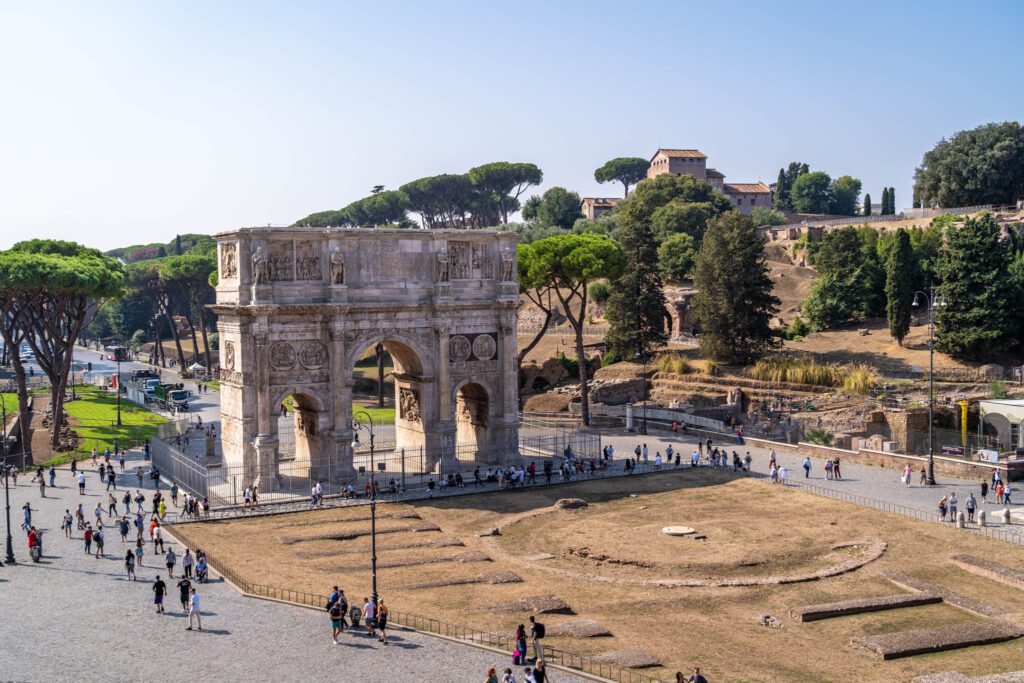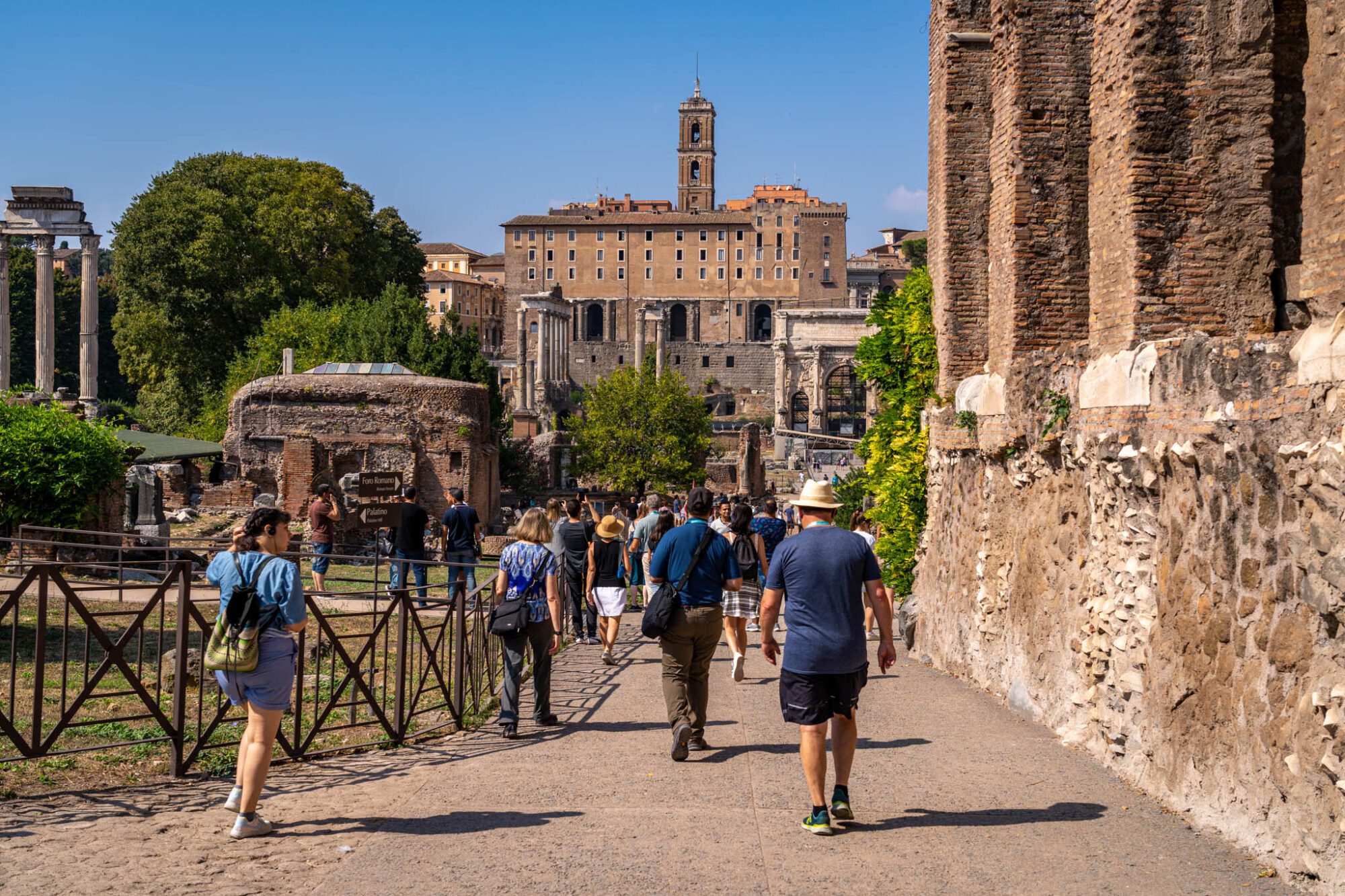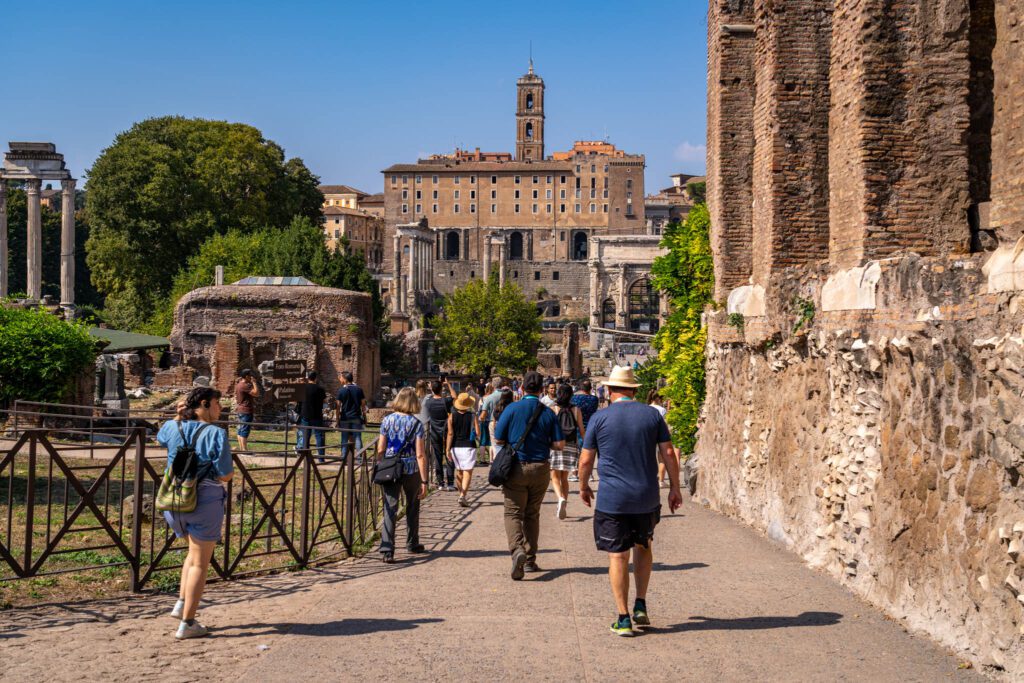 Finally, you will enter the Forum – which is again super easy thanks to the skip-the-line aspect and the fact that your guide is there to do the talking – and head to the Imperial Forum to see a few of the sights on Palatine Hill before moving on to the core of the Forum.
You'll end with a stop at the place where Julius Caesar was cremated (though, SPOILER ALERT, we learned that he actually didn't die in the Forum as we know it today, but over near Largo di Torre Argentina in the Centro Storico).
Over the course of the entire tour, Dario (our guide) pointed out little details that we NEVER would have noticed on our own, like the reliefs featuring gladiators in their full garb inside the Colosseum, or the reliefs on the Arch of Titus depicting the triumphal procession after the sack of Jerusalem during the Jewish War in Judea in the 1st Century C.E.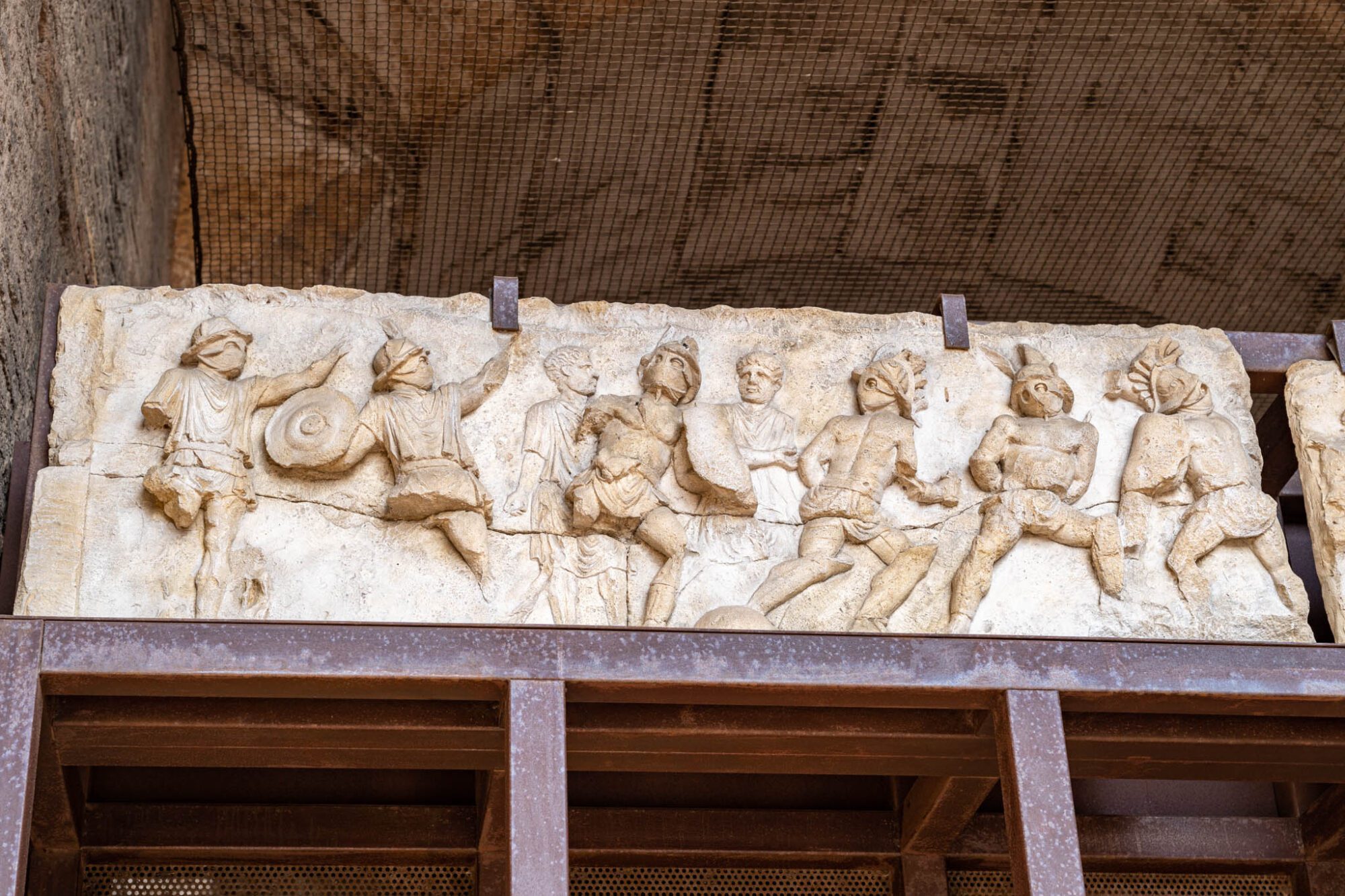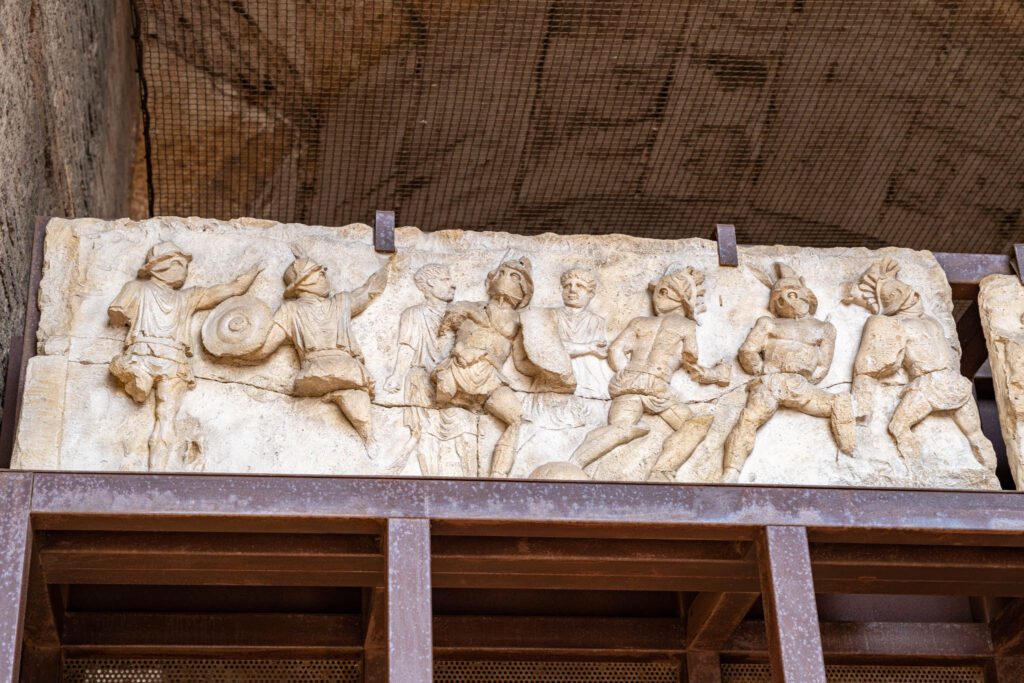 Those are just two examples of richness that Dario brought to our tour that made our experience that much more memorable and immersive.
Tips for Your Colosseum and Roman Forum Tour
Here are a few things to know if you decide to book this tour.
Rome is hot during the summer months (and spring and fall, but less so). The entirety of this tour takes place outside. Dario did a pretty good job at making sure we had shade, plenty of water breaks, and more, but the portion in the Forum got hot. Bring a reusable water bottle, a hat, sunscreen, and sunglasses and be prepared to be in the sun for long stretches.


For whatever reason, the stairs in the Colosseum are super steep. You can take the elevator for some of them, but be prepared to traverse at least one set of steep stairs over the course of the day.


Bring walking shoes. And leave the stilettos at home. You'll be covering a lot of ground, particularly in the Forum, so you'll want comfortable footwear. The ground is also mostly cobblestone, which aren't exactly known for being even or flat.
Alternatives to This Particular Tour
There are two Walks of Italy alternative tours that I want to highlight here for the unique offerings they bring to the table. 
The first is the VIP Colosseum Underground Tour (with Roman Forum and Palatine Hill), which takes you under the arena floor to a part of the Colosseum that the vast majority of visitors never get to explore.
It's more expensive – mostly because tickets themselves to enter this part of the Colosseum are more expensive – but it's a completely different experience than most people get. 
The second, and another Colosseum tour that we did on our latest trip to Rome, is the VIP Colosseum at Night Tour, which includes the underground portion mentioned above along with the arena floor, but takes place after hours when 99% of the tourists have gone home for the day.
Bonus: it's not BLAZING HOT (though it will still be warm if it was hot during the day).
Seeing the Colosseum at night is a really unique experience, and you get to go underground on this tour and see the belly of the arena.
Our guide for this version of the tour was not nearly as good as Dario at weaving together a narrative and telling a story (it was kind of just a lot of disjointed facts), but that's probably an exception rather than the rule.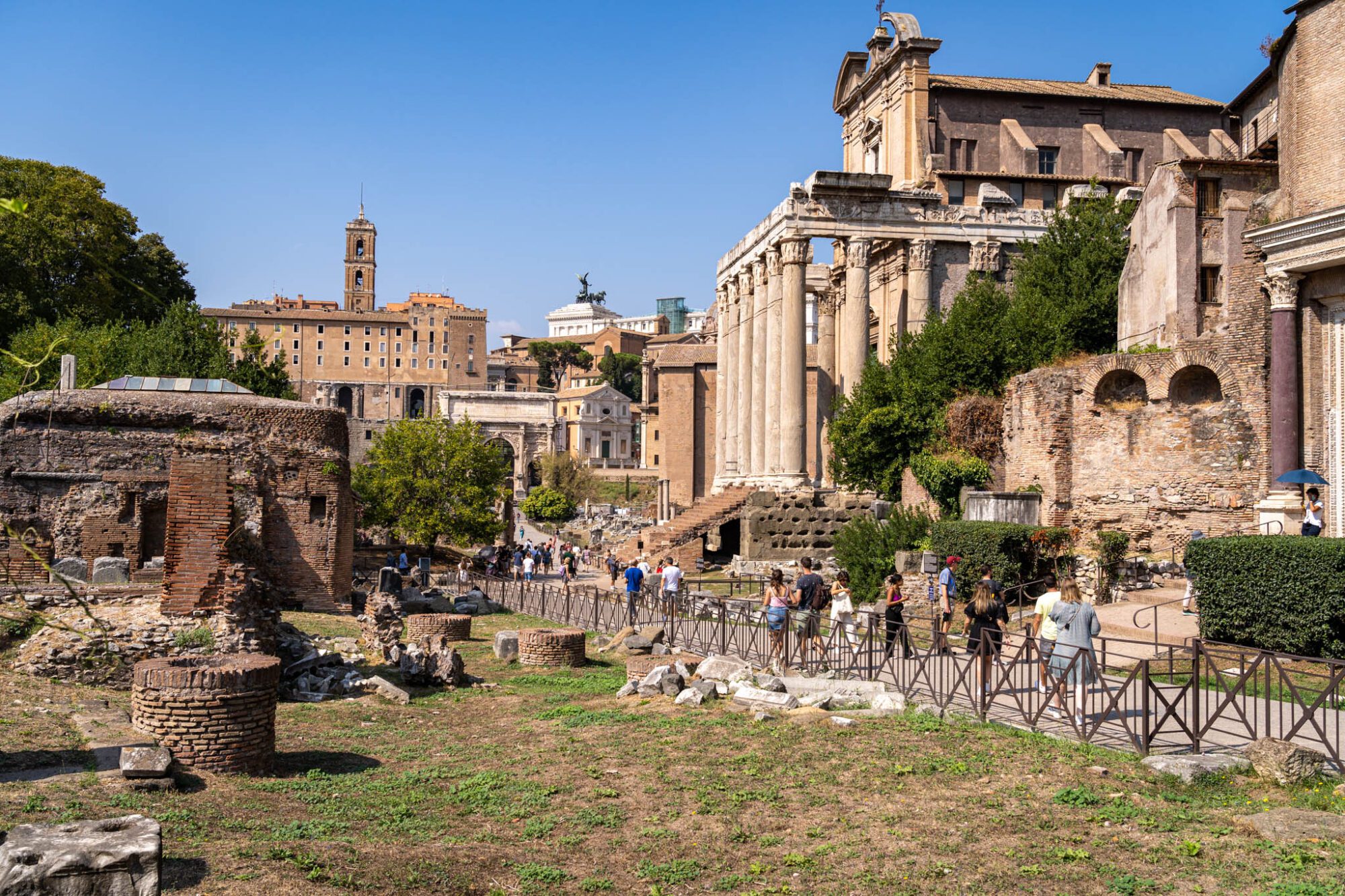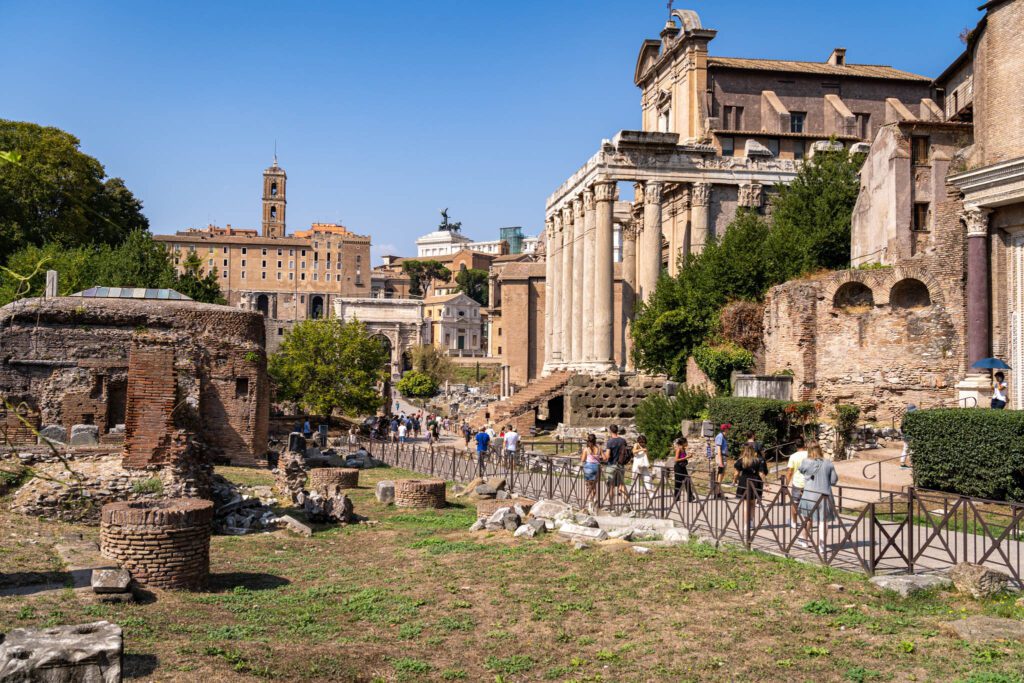 ---
Heading to Italy?
We've been to Italy multiple times – obviously we love it – including more than a month on our last trip!
If you enjoyed this guide and found it helpful, you definitely won't want to miss our detailed guide to planning an amazing 10 Day Italy itinerary, which covers Rome, Florence, and Venice and is perfect for a first trip.
We also have a guide to spending two weeks in Italy, which combines those three main cities with a few lesser known cities (Bologna and Verona), or a guide to spending one week in Italy, which has six different ways to spend 7 days.
Here are some of our other Italy guides to help you plan an incredible Italian adventure.
Rome:
Florence:
Venice & Milan:
Cinque Terre:
Sicily:
Need to Eat Gluten Free in Italy?
If you're traveling and need to eat gluten free like me, Matt (I have Celiac Disease, which is why I started this site in the first place), then you'll want to check out our gluten free guide to Italy, along with our city guides for Rome, Florence, and Milan to help you find the best gluten free pastries, pizzas, and more.