Where to Stay in Rome: A Complete Guide
It's no secret that Rome is basically paradise for tourists. The city is dedicated to protecting its historical and cultural heritage so you'll find plenty of relics from the Roman Empire. When it comes time to decide where to stay, it can be a little overwhelming. Should I stay near the Vatican? Or maybe near the Colosseum?
In this guide to the best areas in Rome, you'll find three of our favorite neighborhoods and a selection of the best places to stay in Rome.
Alysha lived in Rome for six months, and Matt loved it so much on his first trip, he made the return trip just two years later. Between us, we're certainly not locals, but we have a solid working knowledge of Rome beyond a typical tourist who has been once for a couple of days.
We're here to help you learn from our decisions so that you can skip staying somewhere mediocre (like Matt did on his first trip) and find an amazing place to stay in Rome.
Keep in mind, we haven't stayed at most of the specific places in this guide. However, we have explored each of the neighborhoods below, and did the research to find the top-rated places to stay in each, mostly in service of planning our most recent 10 day stay in Rome.
You can read it as "here are the best areas to stay in Rome, and where we'd stay in Rome if we were planning a trip."
Most people are drawn to Rome to visit the Vatican, explore the Colosseum, and to climb Palatine Hill. Others are drawn for the food, dreaming about pizza, pasta, gelato, tiramisu, and espresso.
Whatever brings you to Rome, you'll fall in love with the dolce vita, so make sure to put time aside to relax rather than rushing between tourist attractions.
Check out our guide to 4 Days in Rome for a perfect itinerary for your trip.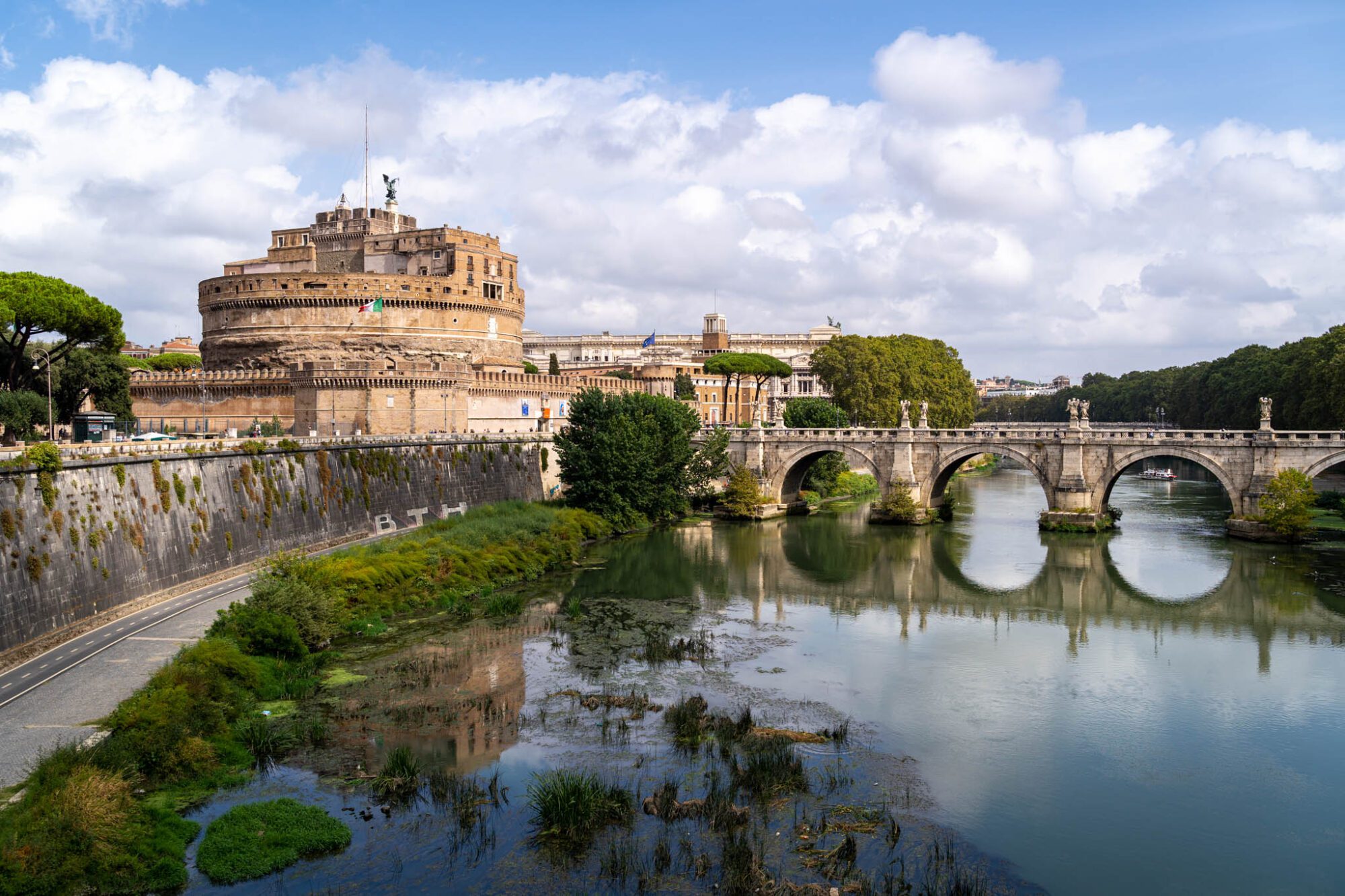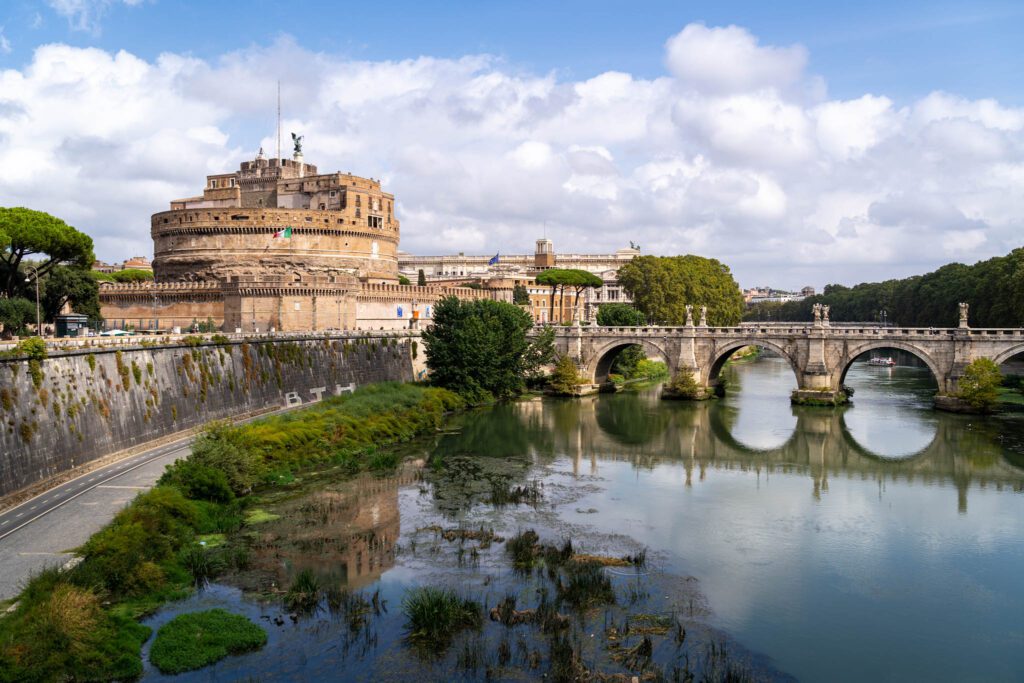 Disclaimer: Some of the links in this post are affiliate links, meaning at no additional cost to you, I make a little bit of money if you click through and book. That being said, I would never recommend something to you that I don't stand behind 100%.
Planning a trip to Italy? You won't want to miss our guide to planning an incredible Italy itinerary, with ideas for 7, 10, and 14 days in Italy, how to organize your trip, and the best things to do and see along the way.
Where to Stay in Rome: The Best Areas for First Time Visitors
A few general thoughts on choosing a place to stay before we jump in.
We're strong believers that the best way to do it is to first pick the neighborhood you want to stay in, then pick a place within that neighborhood. That's what you'll see below – we've organized this guide to first cover the neighborhoods, then recommend some cool places to stay within each neighborhood.
Don't have time to read the entire guide? Here's a quick summary.
Our overall recommendation is to find a charming hotel or guesthouse in Trastevere, which is far and away our favorite part of Rome. Cobblestone streets, energetic piazzas, and some of the best bars and restaurants in Rome? Sign us up! We stayed at Horti 14, a beautiful hotel in a quiet part of Trastevere that's walkable to the Vatican and the Centro Storico, and loved it.


If it's your first time in Rome, you can't go wrong with the Centro Storico. Stay at Casa Pietra or Coronari Palace if you're looking for a charming guesthouse with helpful, friendly staff and a great location. If you're looking for an apartment with more space and a kitchen, look at these apartments near Piazza Navona, where we spent five days on our latest trip.


If you're looking for a slightly different experience, look at Monti, a hip part of Rome that's near the Colosseum and Forum, and is packed full of bars, restaurants, cafes, and more. It's a good central location, and generally feels much younger than, say, the Centro Storico.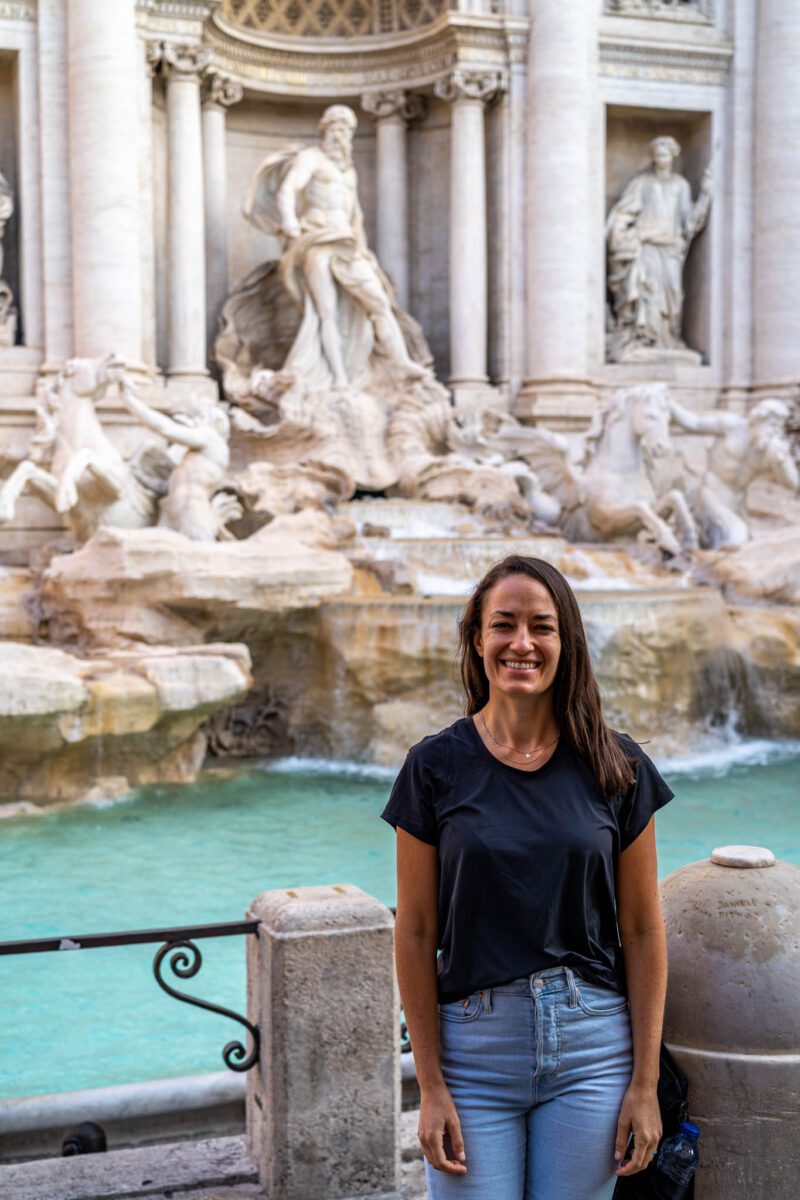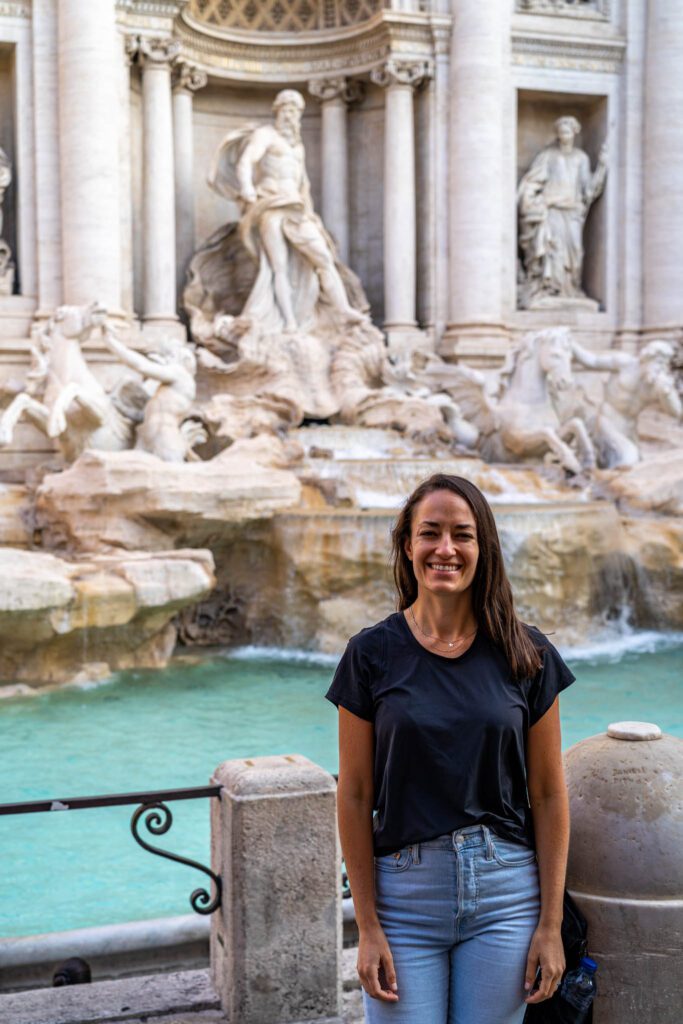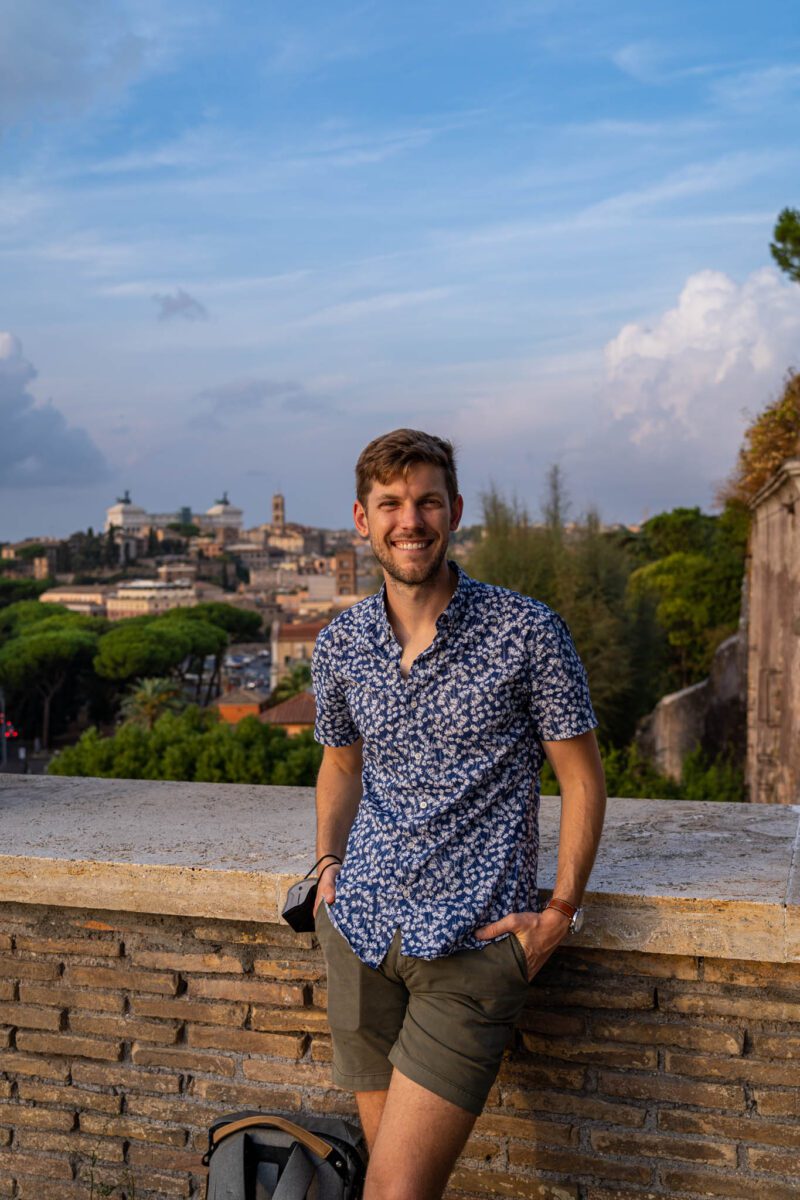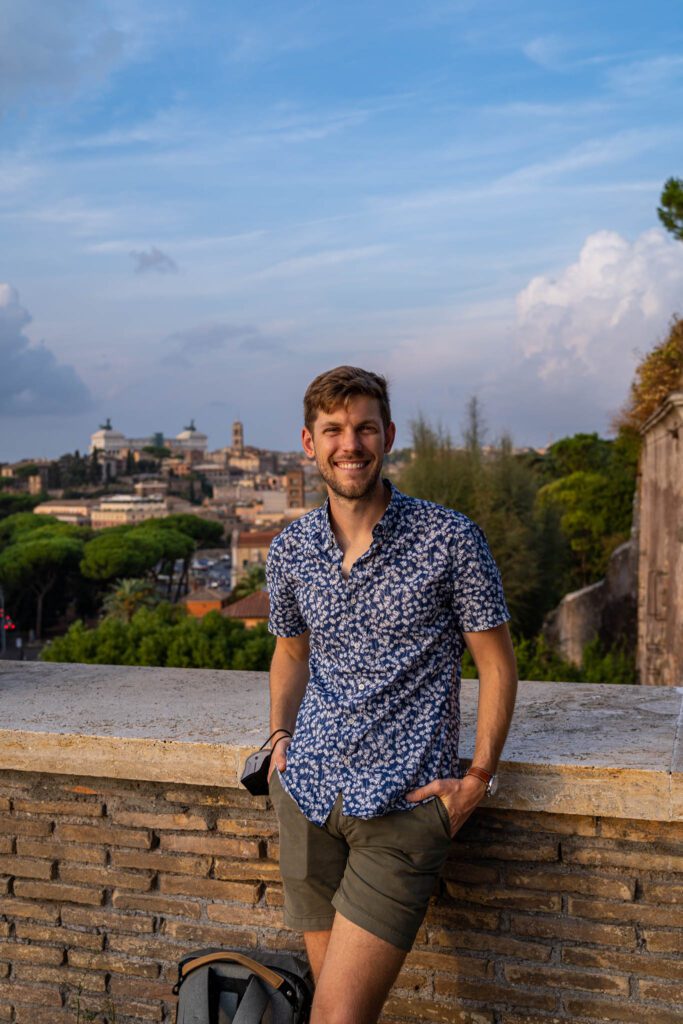 Where We've Stayed in Rome
Our own personal experience might be a good place to start this guide.
On our most recent trip to Italy, we spent a total of 10 days in Rome (five days on either side of our Sicily road trip). Over those 10 days, we stayed in three different areas.
We spent a full five days staying on the southern end of the Centro Storico, near Piazza Navona and Campo de' Fiori, and it was a fantastic place to base ourselves for our reintroduction to Rome (also, if it's your first time, this is where you should stay). We stayed at these apartments, and it was the perfect short-term home for five days. The apartments are fully equipped with a nice kitchen, hot showers with good water pressure (not something you always find in Italy, we've learned), and comfortable beds.
When we returned to Rome to close out our time in Italy, we stayed in two separate places over five more days. We split our time between Horti 14, a gorgeous boutique hotel just outside the heart of Trastevere that's a great location in between Trastevere, the Centro Storico, and the Vatican, and RomeHello, a charming boutique hostel that is a great budget-friendly option just northeast of the Centro Storico.
Don't miss the best walking tours in Rome with Take Walks. They're experts in all things Rome. From their early morning tours of the Vatican, to the after hours Colosseum tour, they are hands down the best tours in Rome. If you're going to do a tour in Rome, do it with Take Walks.
Trastevere: The Best Area to Stay in Rome if You Have a Pulse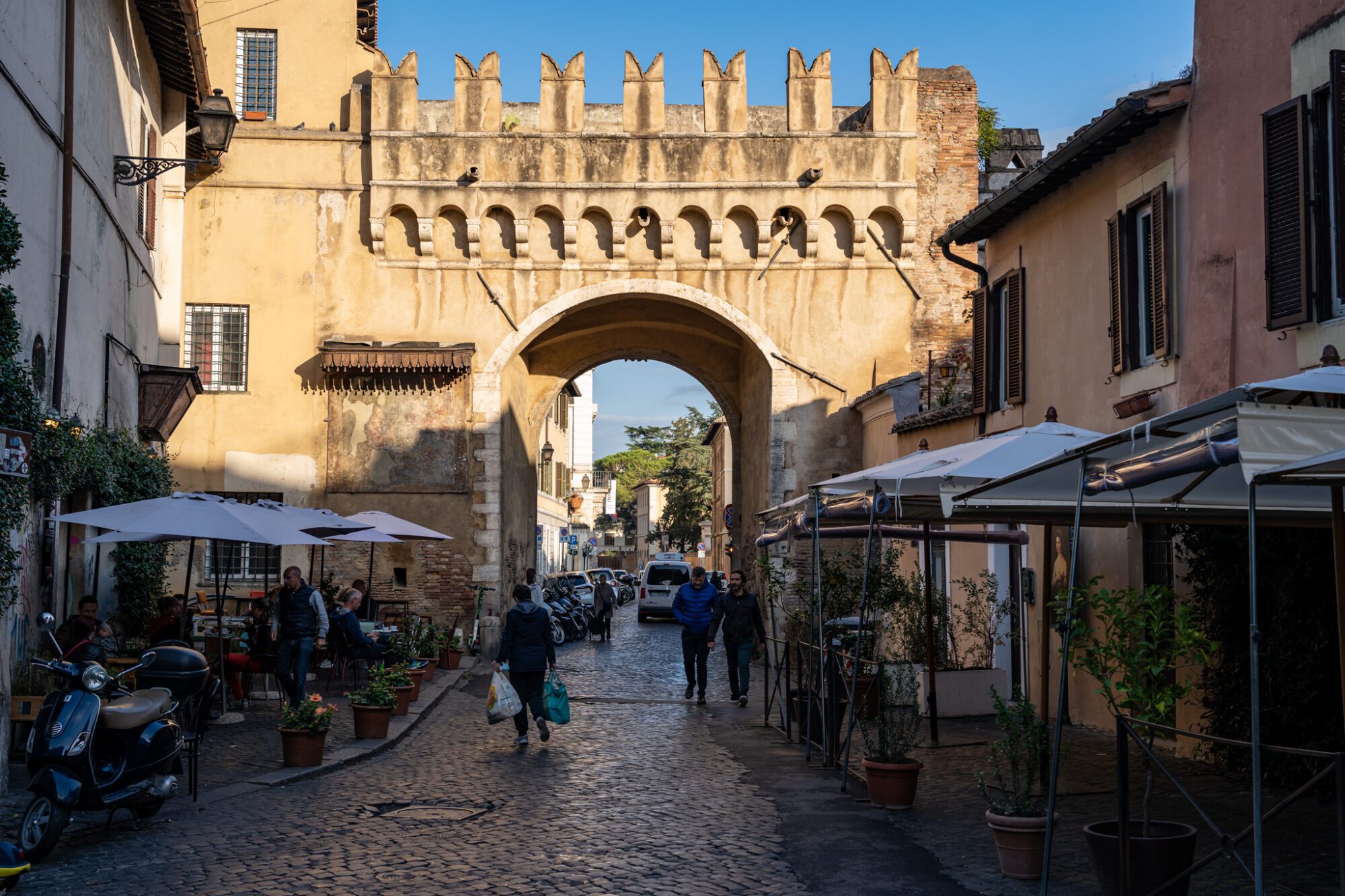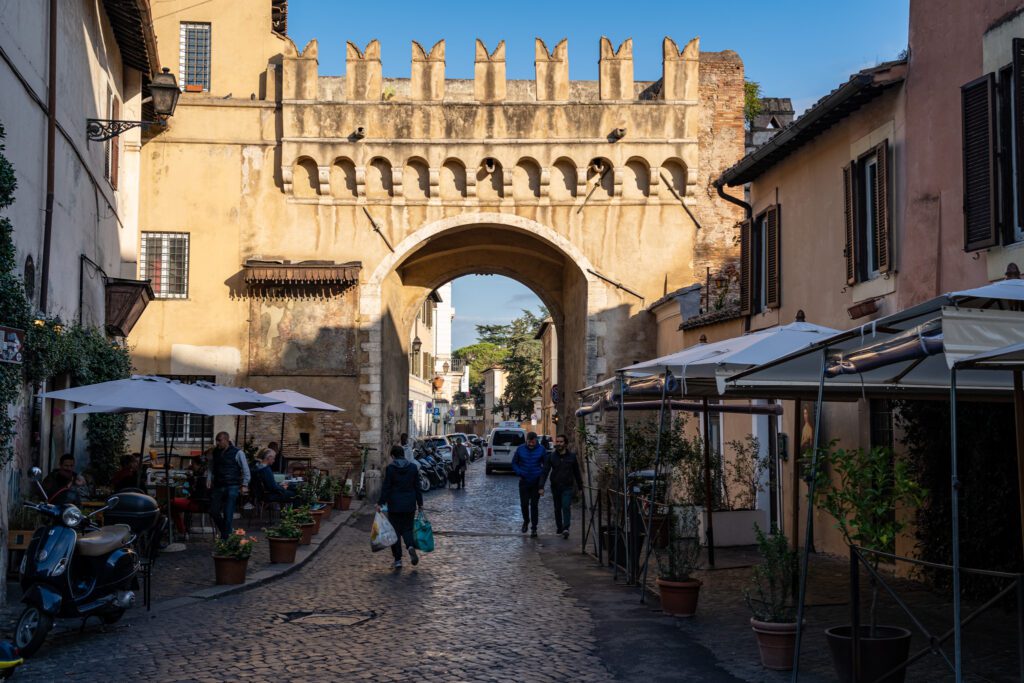 Trastevere is hands down my number one recommendation for the best area to stay in Rome. In fact, I've literally stayed in Trastevere every single time I've been to Rome. And I'm doing it again for an upcoming trip this year.
To me, it feels like one the most authentic areas of Rome – with winding cobblestone streets opening up onto vibrant piazzas filled with markets and locals going about their day.
The neighborhood is about a 30 minute walk to all of the main attractions, and less on the extensive metro system, so the location is plenty convenient for exploring the main sights of Rome. However the neighborhood is an attraction in itself with little shops and markets and beautiful churches that you will have seemingly all to yourself. It's just far enough off of the beaten path to avoid the throngs of tourists (although it is certainly getting more busy by the day).
Here you will be among the locals as they go by their daily lives. Which makes it the best place to stay in Rome if you really want to immerse yourself in the true culture and lifestyle of the Eternal City.
Personally, this is my favorite neighborhood in Rome as it offers a little bit of everything.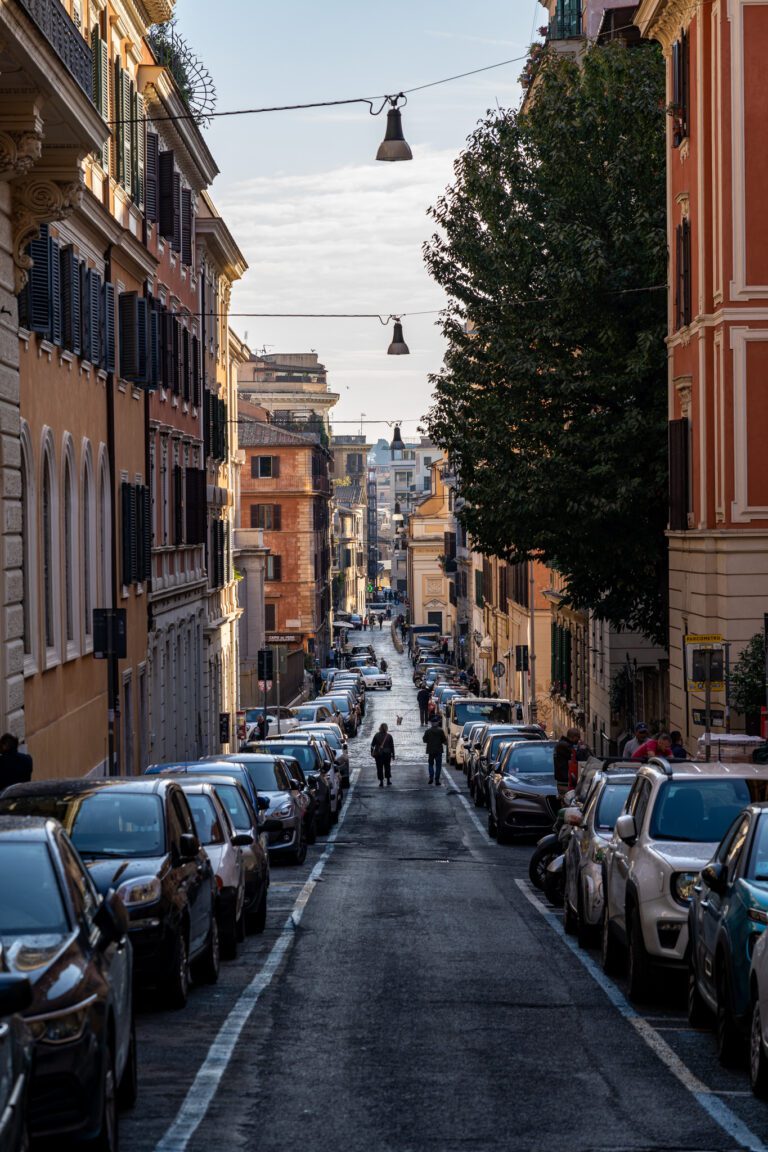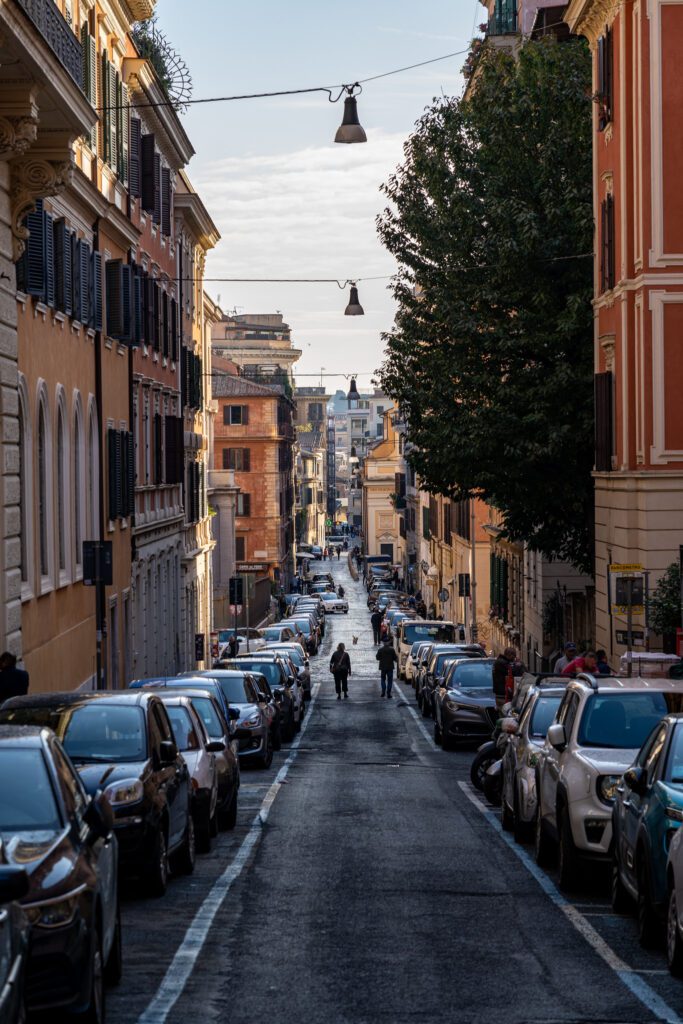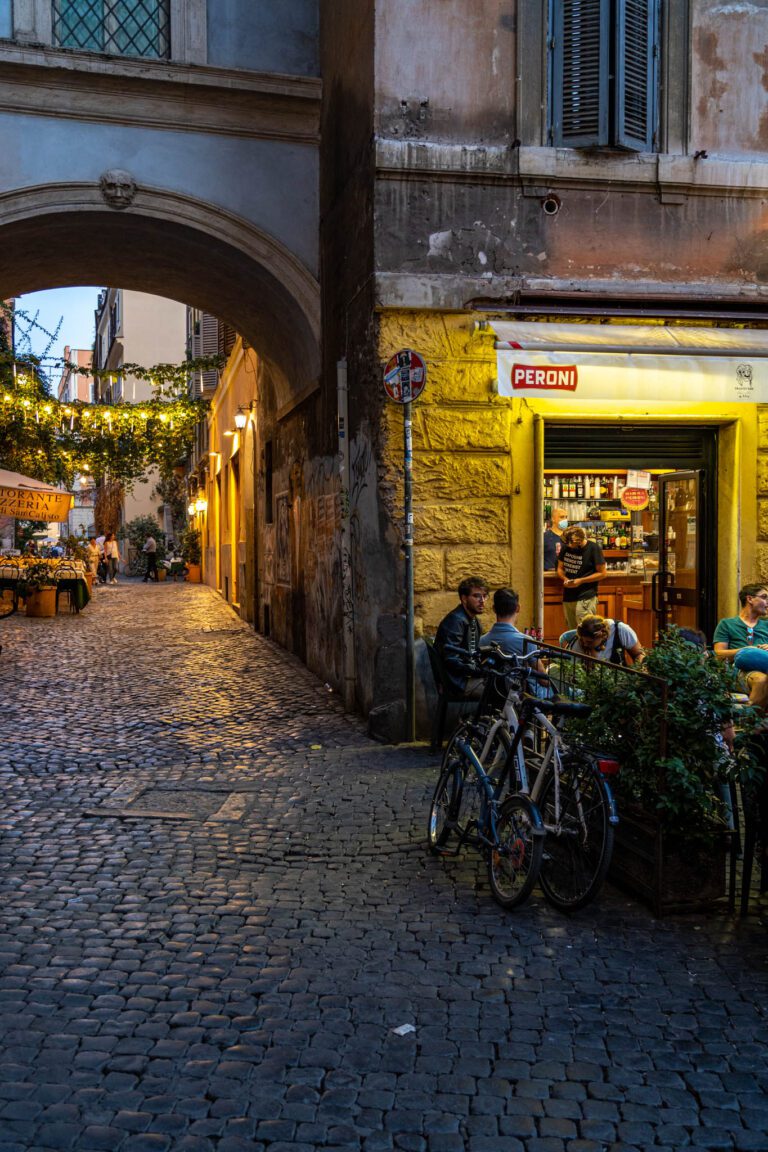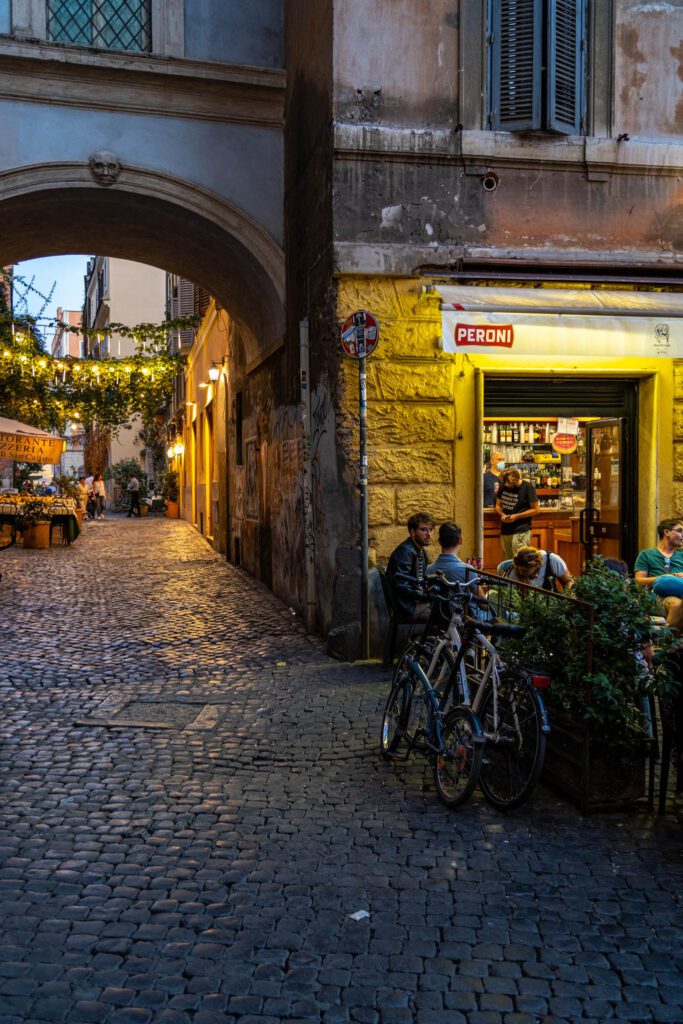 Pros and Cons of Staying in Trastevere
Pros of Trastevere:
The Atmosphere. Romantic cobblestone streets that are a joy to get lost in. Markets happening in the many piazzas of Trastevere. People sitting on benches in said piazzas in the afternoon. This is romantic Rome at its finest.


Nightlife: There's a surprisingly good nightlife scene in Trastevere. Not so many bumping clubs, but Trastevere is still a great place to spend a night out in Rome.


Fewer Tourists. These days, it's barely true, but it still does feel like there are fewer tourists in Trastevere than, say, Prati or the Centro Storico.
Cons of Trastevere:
Not Super Central. This obviously goes along with the last bullet above. It's a little out of the way from the main tourist sights like the Vatican and Colosseum, so plan on using the Roman metro and buses to get from home to your days attractions.
Trastevere Highlights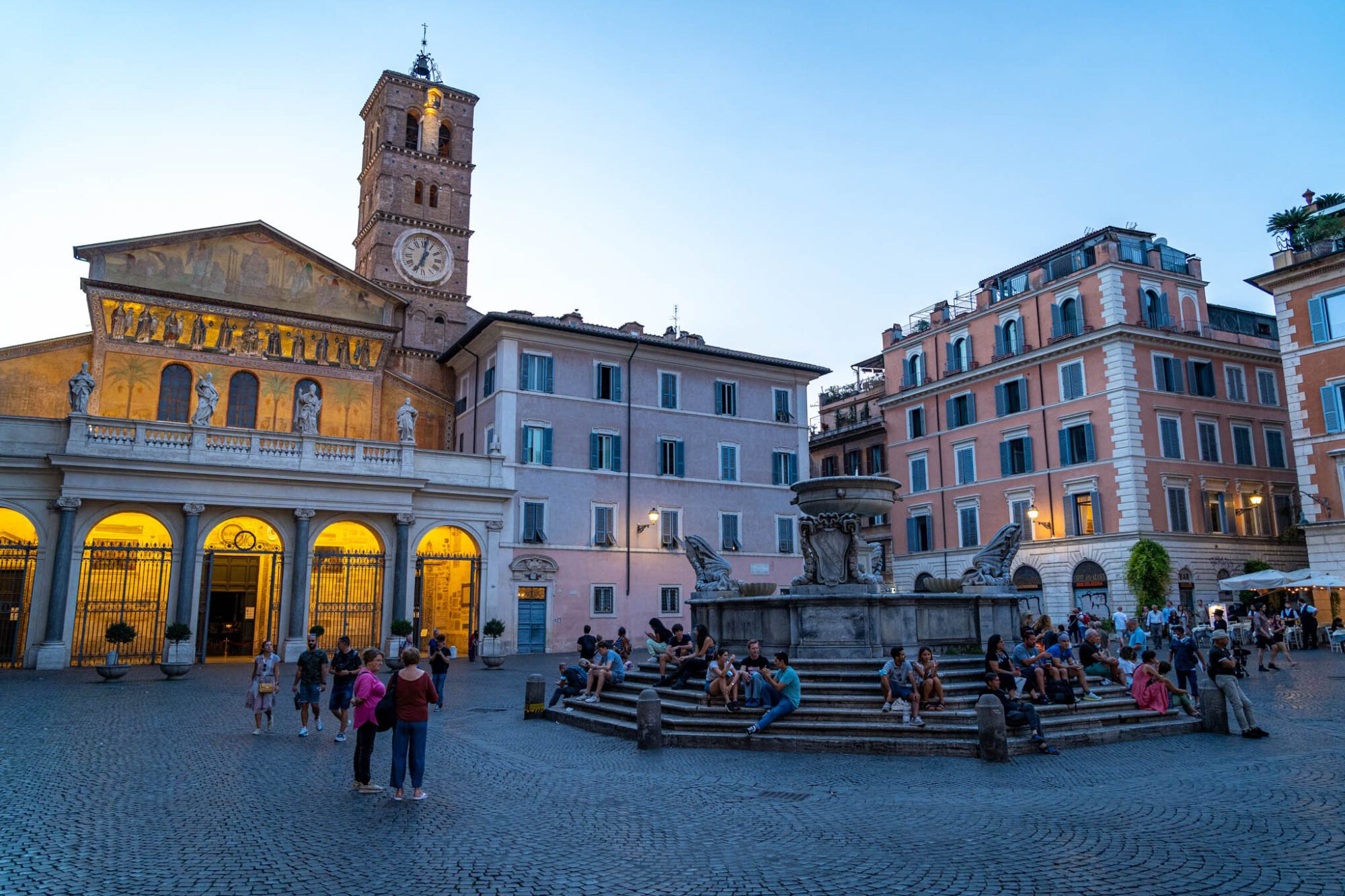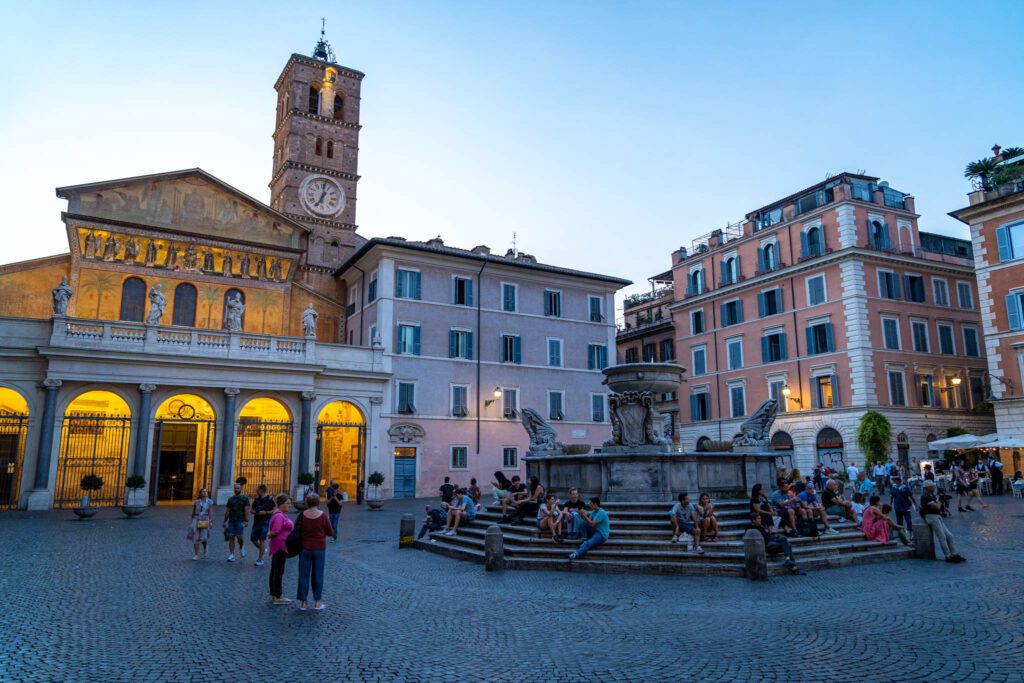 If you know me, you know that I strongly believe that the best way to explore a city is on foot, and Rome is no exception to that rule. Spend some time wandering the alleyways and basking in the sun on a piazza, sipping an espresso and watching life go by. That's the dolce vita.
Two of my all-time favorite things to do in Rome are in Trastevere. First is eating at Mama Eat, one of the best gluten free restaurants in Rome. Get the carbonara and the tiramisu.
Second is the Porta Portese Market, which is one of the best in Rome. Go on Sundays for a flea market with all sorts of fun browsing.
If it's not the weekend, the open-air market in Piazza di San Cosimato is also worth a visit – it's more of a farmers market rather than a flea market, and is full of farm-fresh produce, and handmade meats and cheeses. It's full of locals, not tourists, which is how you know it's good. Grab ingredients for a dinner to cook at your place later that evening (if you have a kitchen).
Here are some things to check out in Trastevere:
Marvel at the Basilica Santa Maria: A beautiful church in the center of this pretty area filled with gold mosaics by Cavallini. This is one of the prettiest and most underrated churches in Rome so a must see in this area. The square in front of it is a meeting place of sorts so is an amazing place to sit and people watch by the fountain.


Nightlife: Trastevere is one of the liveliest neighborhoods in Rome packed with little bars and trattorias that stay open to the early hours. There are no clubs here but plenty of little wine bars and craft beer to sip on until the first light of dawn. In summer bars and restaurants spill out into the streets with tables and chairs outside to enjoy the long sunlight hours. If you love exploring a city's nightlife scene, Trastevere is for you. Check out Bar del Prado – which is slightly hipster, slightly beatnik – and Alembic. It's right by the Tiber and has an interior that feels like an artist's residence. Another option is La Punta Expendio de Agave fir agave-based cocktails.


Isola Tiberina: The only island in the Rome section of the Tiber river. This island is connected to Trastevere by a small bridge and the island has been asked in the past as a place of healing with a temple built for Aesculapius the Roman God of healing. People with contagious diseases were sent here to prevent infecting the rest of the population of Rome.


Villa Farnescia: A beautiful 16th century villa built by a banker from Siena today it is a tourist attraction for lovers of art and culture. The building is a perfect example of the luxury and opulence enjoyed during the Renaissance and features interior frescos throughout the whole villa.
Places to Stay in Trastevere
We've established that Trastevere is the best neighborhood in Rome, but where you should stay in the area largely depends on you, your budget, and your style.
The good news is that, whatever your style and budget are, Trastevere has options for you.
Tree Charme: The Best Mid-Range Hotel in Trastevere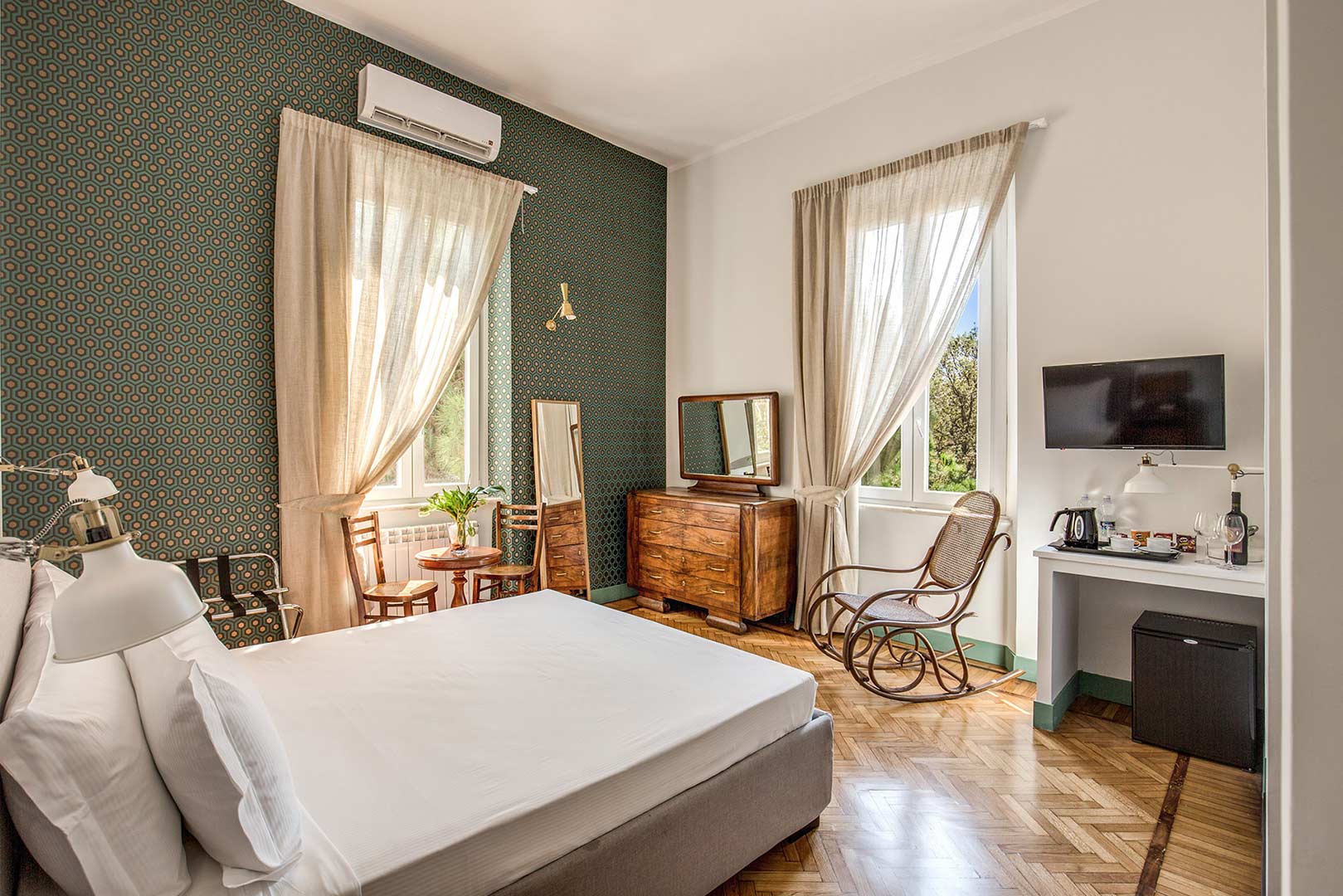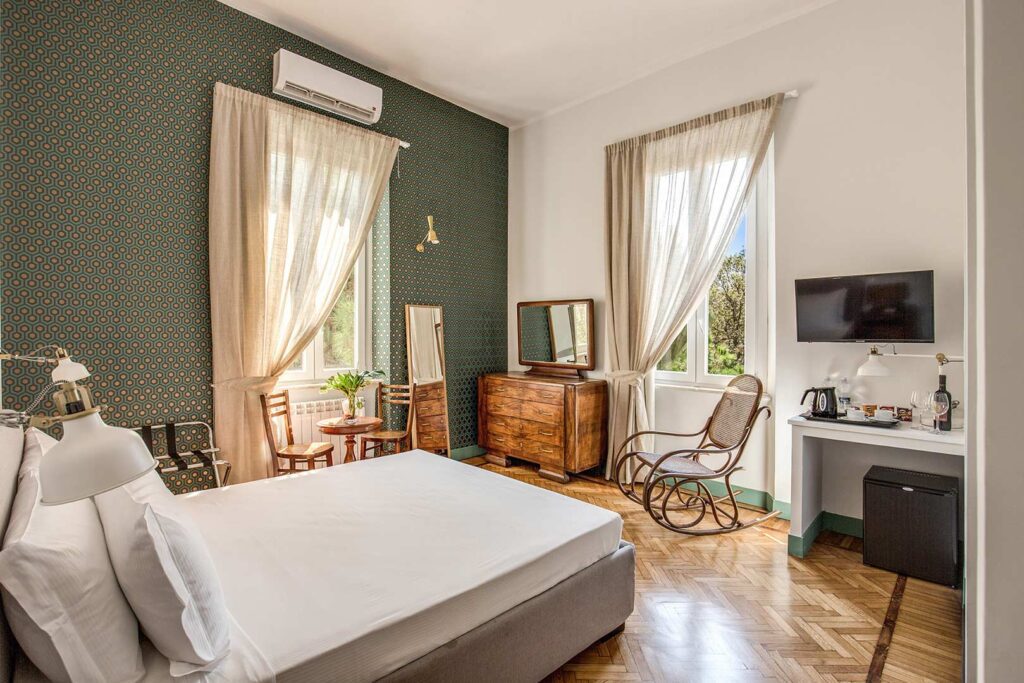 Located in the heart of Trastevere, Tree Charme is a stylish design-forward hotel just across the river from Campo de' Fiori and Piazza Navona, and within walking distance of the Vatican. As the name implies, you'll be charmed by the light-filled rooms and gorgeous garden terrace.
You'll have A/C, and you'll get to enjoy a lovely breakfast on the outdoor terrace, which is definitely a theme for the best hotels in Rome.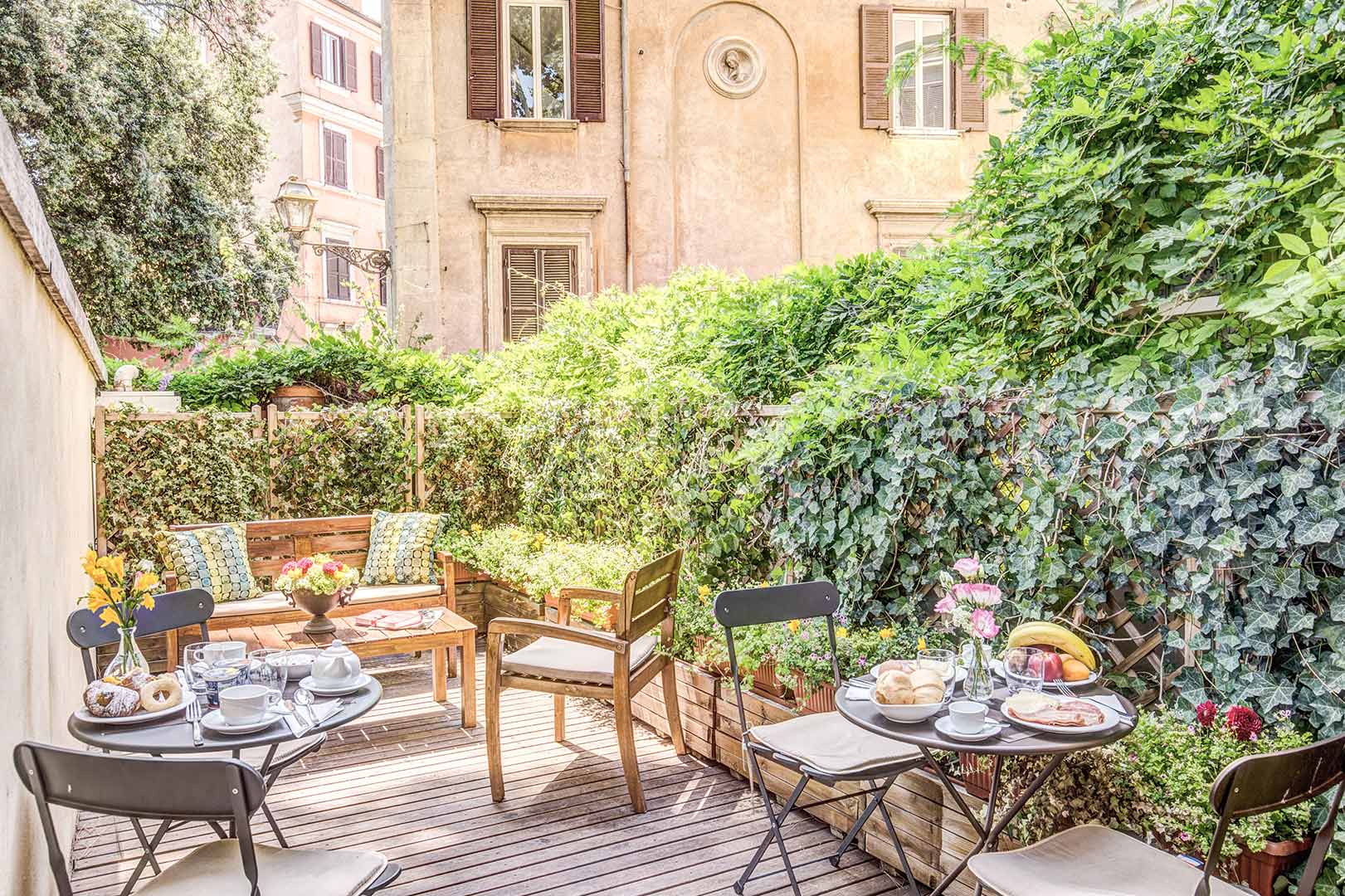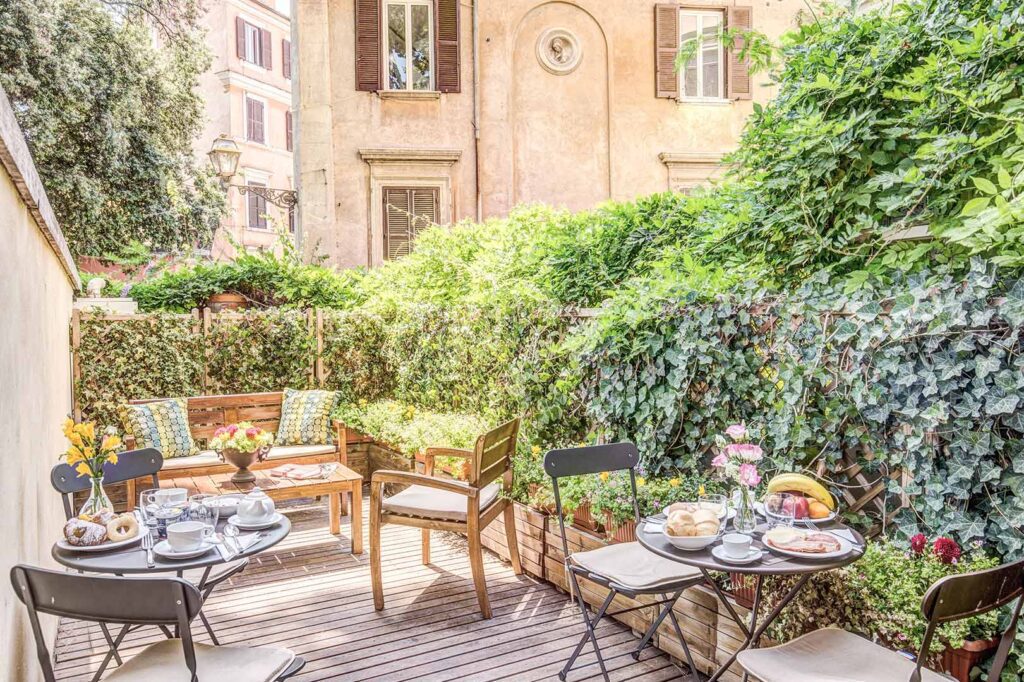 You'll have your choice between classic rooms, which are relatively small but have everything you'll need for a trip to Rome, all the way up to their triple "suites" – a double bed + a single bed in a larger space.
Horti Borgo 14 (Where We Stayed): The Most stylish hotel In Trastevere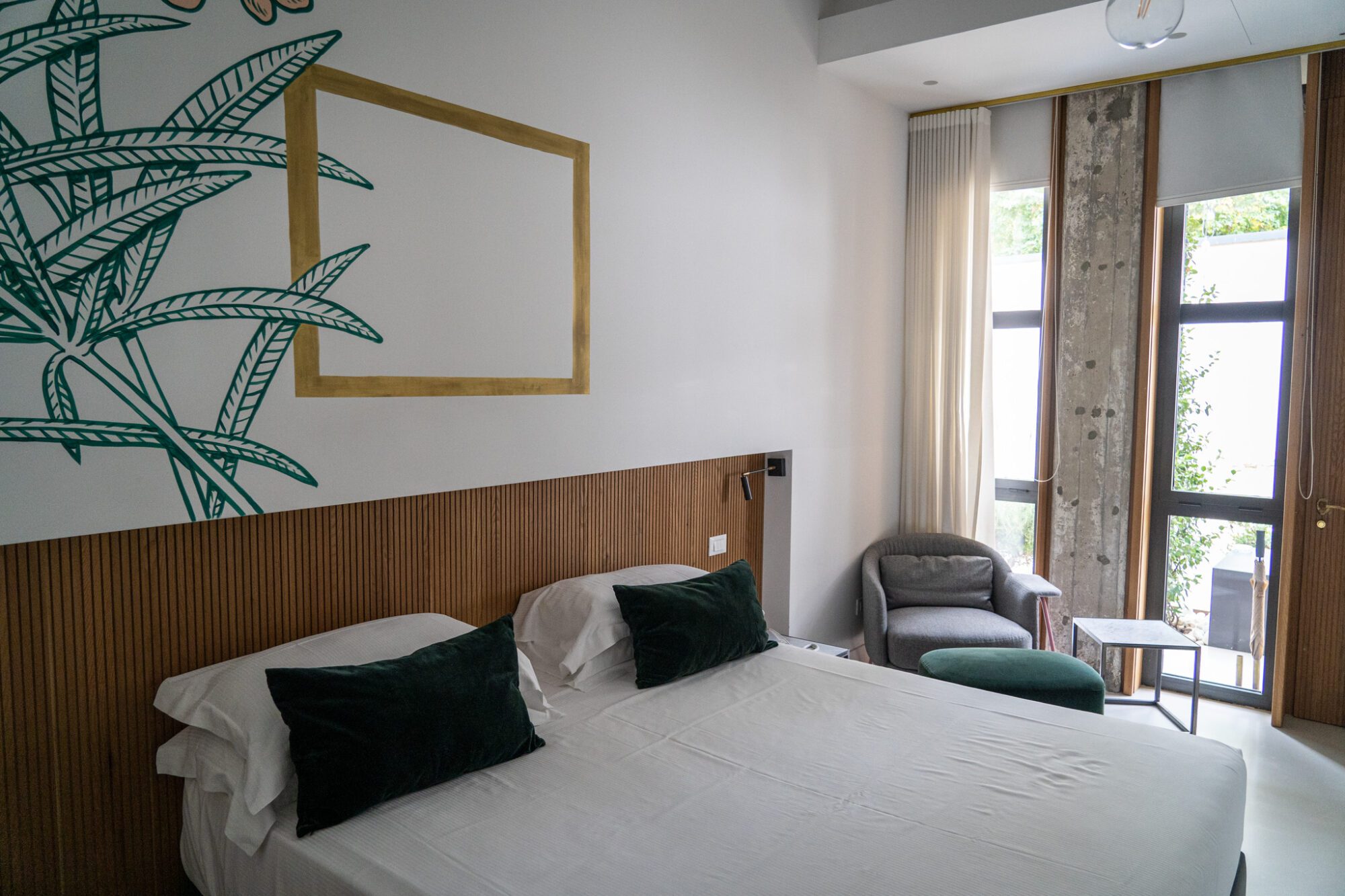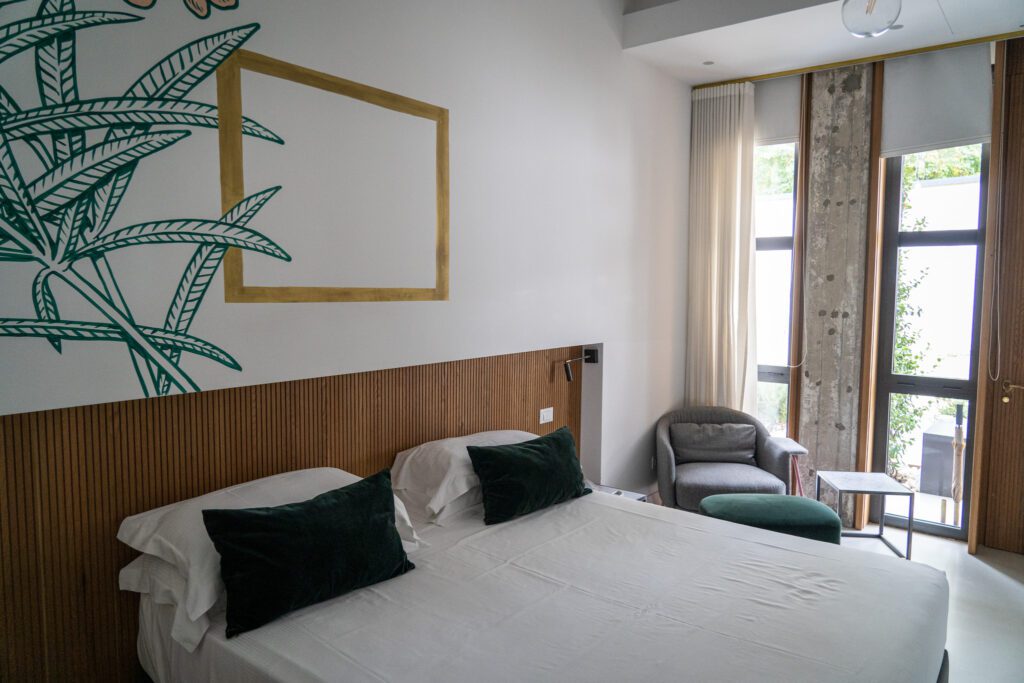 First of all, we're staying here for part of our upcoming trip to Rome, which should tell you all you need to know.
All of the 17 rooms at Horti 14, a little boutique gem, are air conditioned and the hotel even offers a little garden to relax in. You will find a restaurant and bar and the friendliest staff.
Rooms are beautifully furnished with modern touches and floor-to-ceiling windows that bring in plenty of natural light. They also have a gorgeous terrace on the top floor, where you can enjoy breakfast in the morning or aperitivo in the afternoon.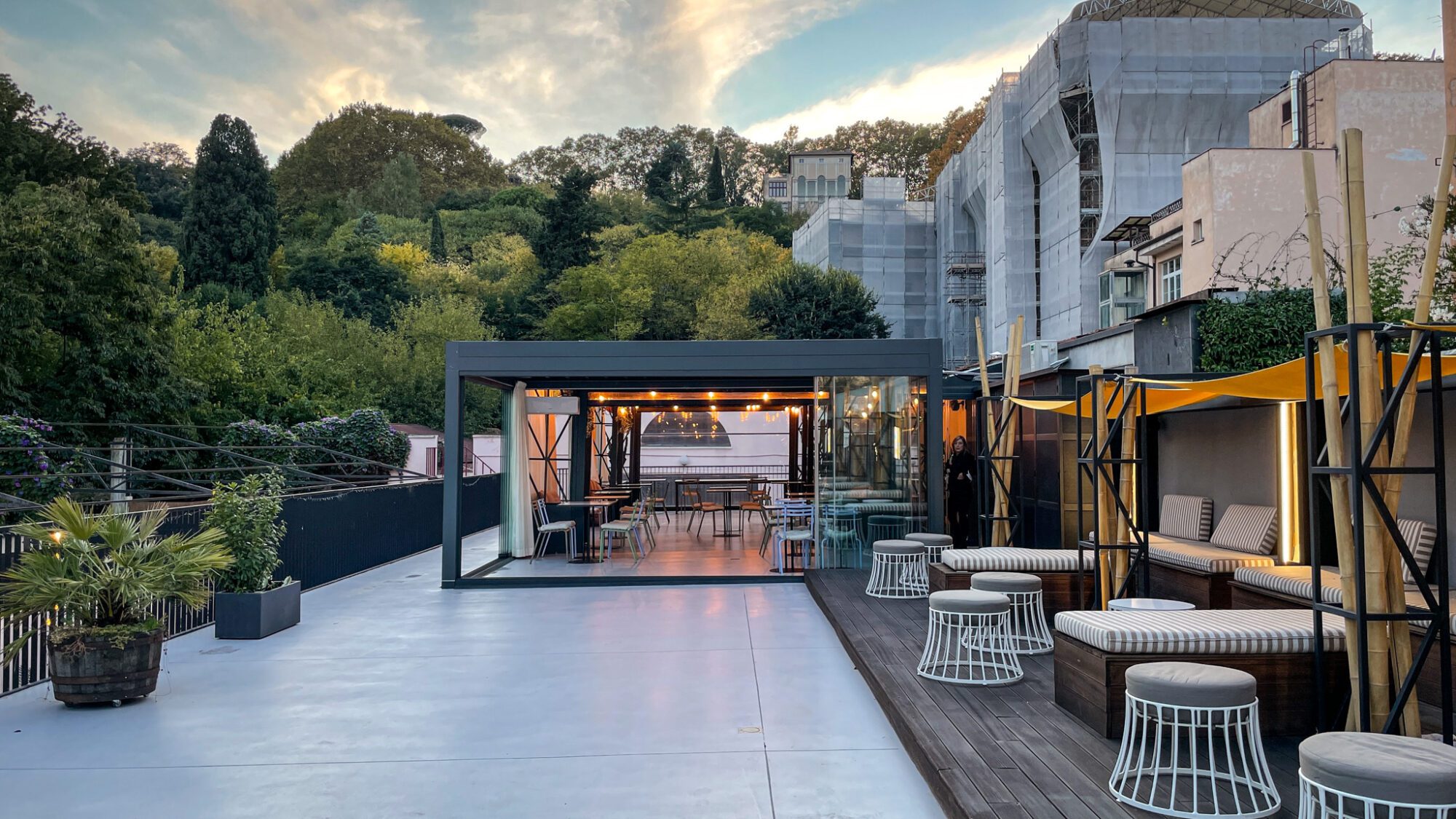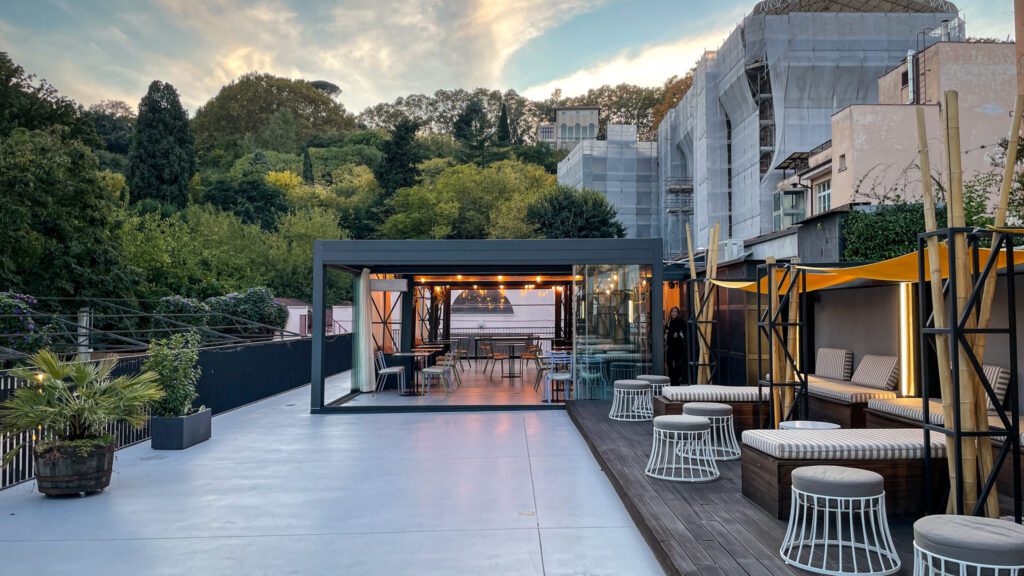 Located on the edge of Trastevere, it is just a 10 minute walk to the thick of it all, making it the perfect place for someone looking for a stylish, quiet place to stay in Rome. The best nightlife in the city will be right outside your front door too, if you're looking to spend a night exploring the bars of Trastevere.
Sonder Trastevere: Modern Apartments in the Heart of Trastevere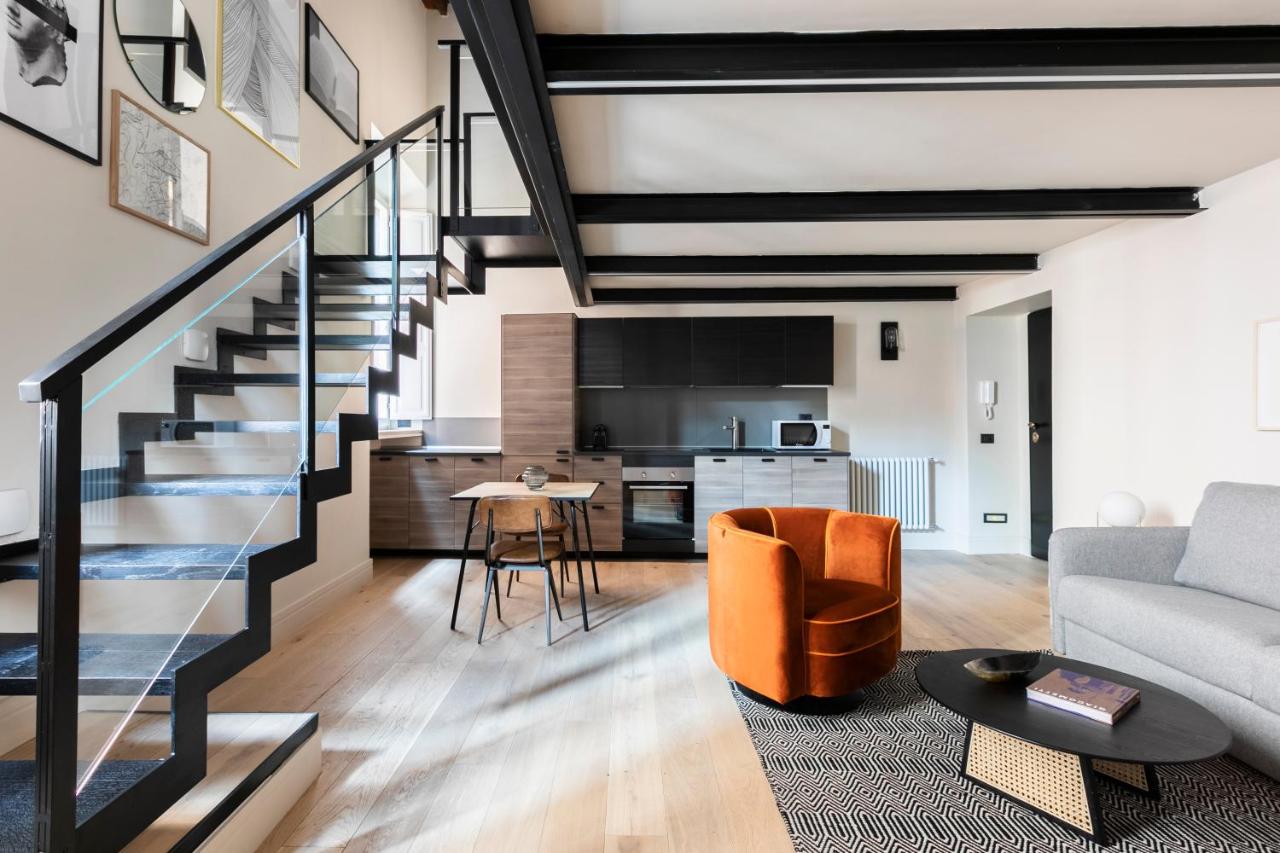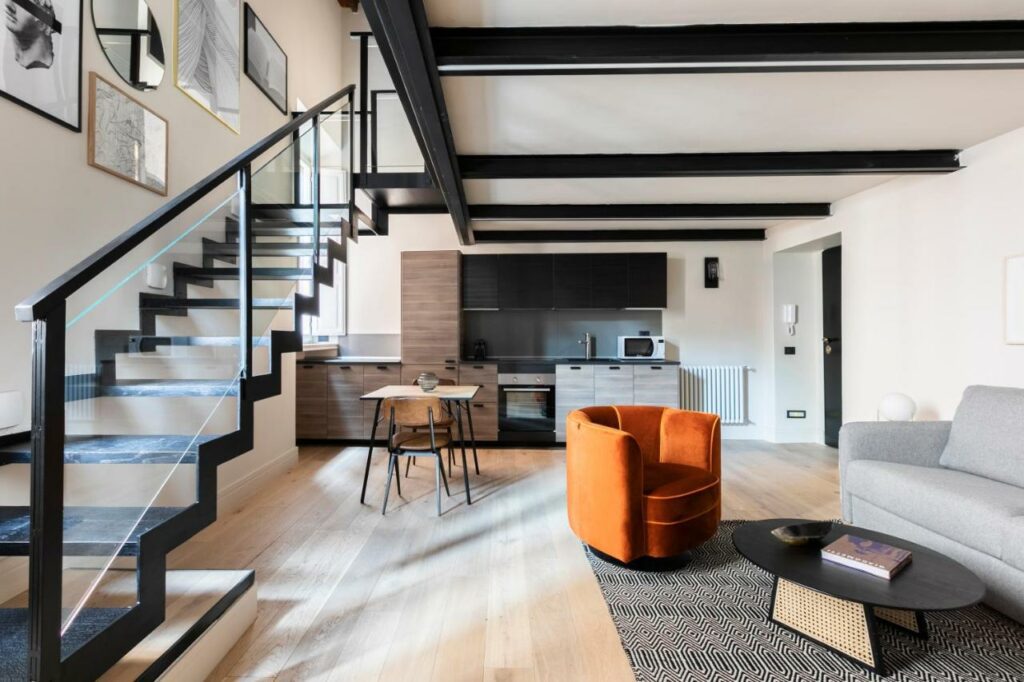 Sonder is similar to other vacation rental companies, except instead of merely being a platform that connects hosts and people looking to stay, they own the buildings and control the process from end to end. Which we see as largely positive (with some drawbacks, of course).
They're more like serviced apartments than vacation rentals, and what they lack in personal touch is more than made up for by convenience, cleanliness, and general standards of living (think modern appliances and comfortable beds).
It's a very modern experience, from the contactless check-in to the decor of the apartments.
This particular property,which is in the heart of Trastevere on its northern end (near Freni e Frizioni, a great place to experience aperitivo). It's also a couple of blocks from both the river, and Ponte Sisto, the bridge to the historic center.
There are a variety of apartment configurations here, from one bedroom lofts to bigger two bedroom apartments.
It's a little more pricey than staying in a hotel, but would be a good option if you're looking for a little more space, or if you're traveling with a group.
Casa Mia in Trastevere: Great Value!
A slightly cheaper option nestled at the north end of the neighborhood along the Tiber would be Hotel Casa Mia. It's another quaint hotel in the heart of Trastevere with only 12 rooms to choose from. Standard rooms aren't the largest around, but they're well-laid-out with plenty of space for a couple.
They also have configurations that will work for groups – like the triple room, which has a queen bed and a sofa bed, and the deluxe family room, which comes with a double bed and a single bed for kids.
This hotel is a little more on the modern side and offers comfort features like a safe, large TV, and kettle for tea and coffee.
Hostel Trastevere: A Solid Budget-Friendly Option
A small hostel on a private street in Trastevere, Hostel Trastevere is complete with a gym, sauna, and indoor pool for a small daily cost.
The gym offers fitness classes like yoga or Pilates if you want a chance to work off the delicious food you are consuming.
Hostel Trastevere has a mix of private rooms and shared dorms, and all have air conditioning for Rome's sweltering summers.
Planning a trip to Rome? We spent ten days in Rome on our last trip to Italy, and have plenty of detailed travel guides to help you plan an unforgettable trip.
Centro Storico: Best Place to Stay for First Timers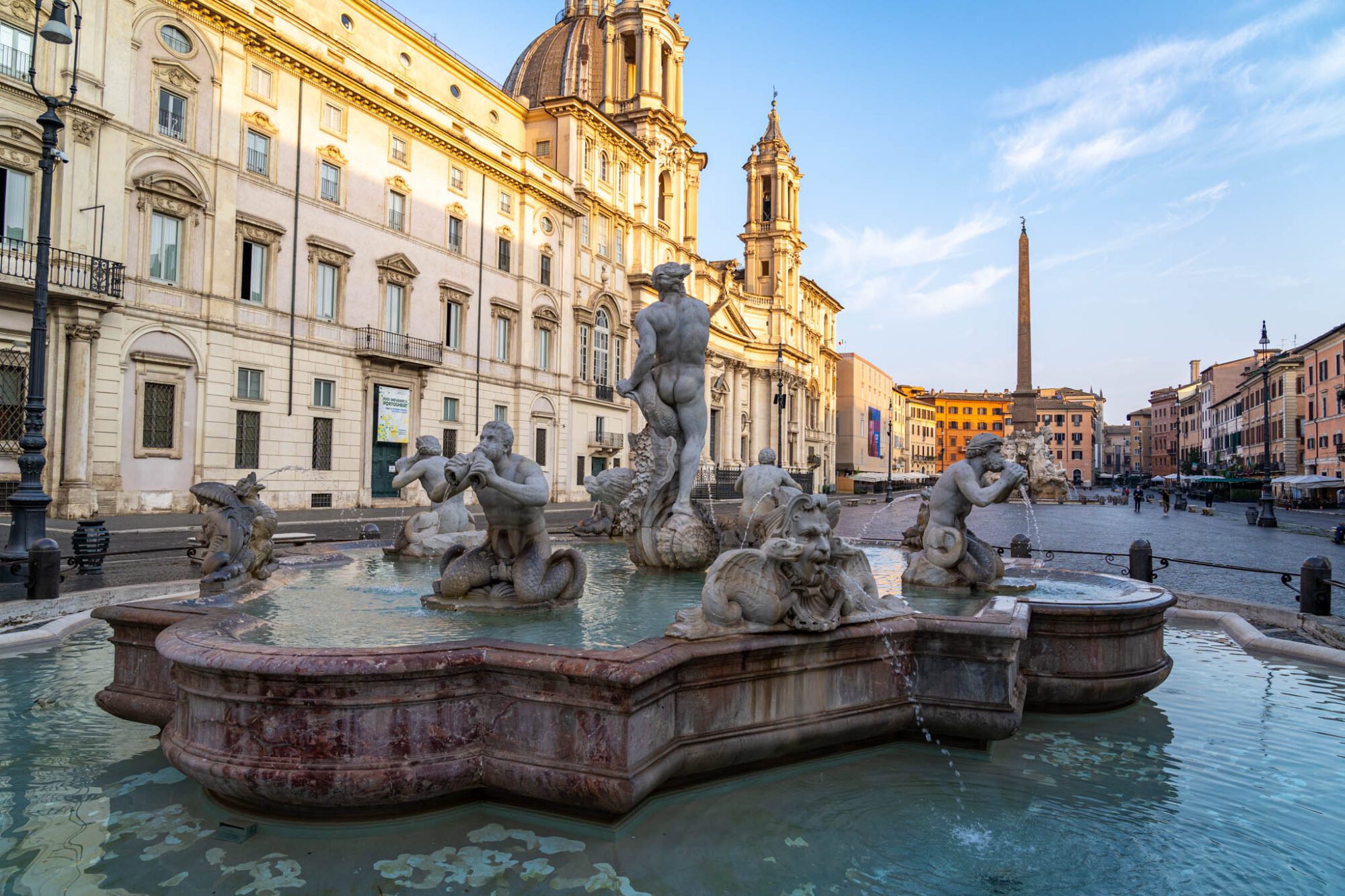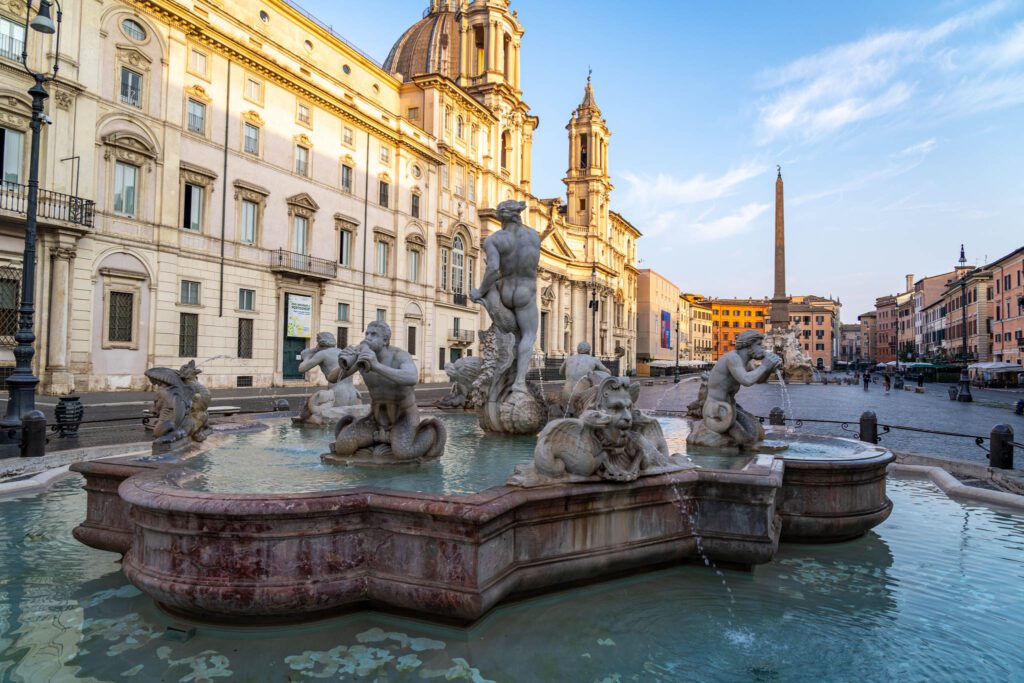 When the sun went down on my first day in Rome almost a decade ago (I'm getting old!) I found myself wandering the Centro Storico – Rome's Historic Center – during blue hour. As I followed the sometimes narrow streets in this part of the city, the streetlights started to come on, and the first thing I noticed was that they are designed to look like torches, invoking the feeling that you're experiencing the Eternal City in the heyday of Ancient Rome.
A soft golden light washes over the streets of the Centro Storico, transporting you thousands of years into the past. It's SUPER romantic. Not in a "let's kiss under the mistletoe" way, more in the sense that you'll feel immersed in the rich history and culture that Rome has cultivated over the course of many, many years.
Until, of course, a drunk tourist stumbles out of a bar on Campo de' Fiori and ruins your vibe, which is a distinct possibility, unfortunately.
Still, if you're looking to be immersed in that Ancient Rome feeling, then this is the place for you.
For the purposes of this guide, this neighborhood includes the entire area east of the Tiber River, and west of Via del Teatro di Marcello and Via del Quirinale, which separate this part of the city from Monti. At the north end, the border is Piazza del Popolo and Villa Borghese.
There are really two distinct areas here that we're combining. At the north end, near Piazza del Popolo, it gets very upscale very fast, with all sorts of shopping including the North Face, Vans, and more. The southern end – between the Spanish Steps and Piazza Navona – has a much more "Ancient Rome" feeling, and is our recommendation.
To reiterate, if you're looking for that uber romantic feeling of wandering the streets of Ancient Rome (with thousands of other tourists, it should be said), then stay between the Spanish Steps and Piazza Navona.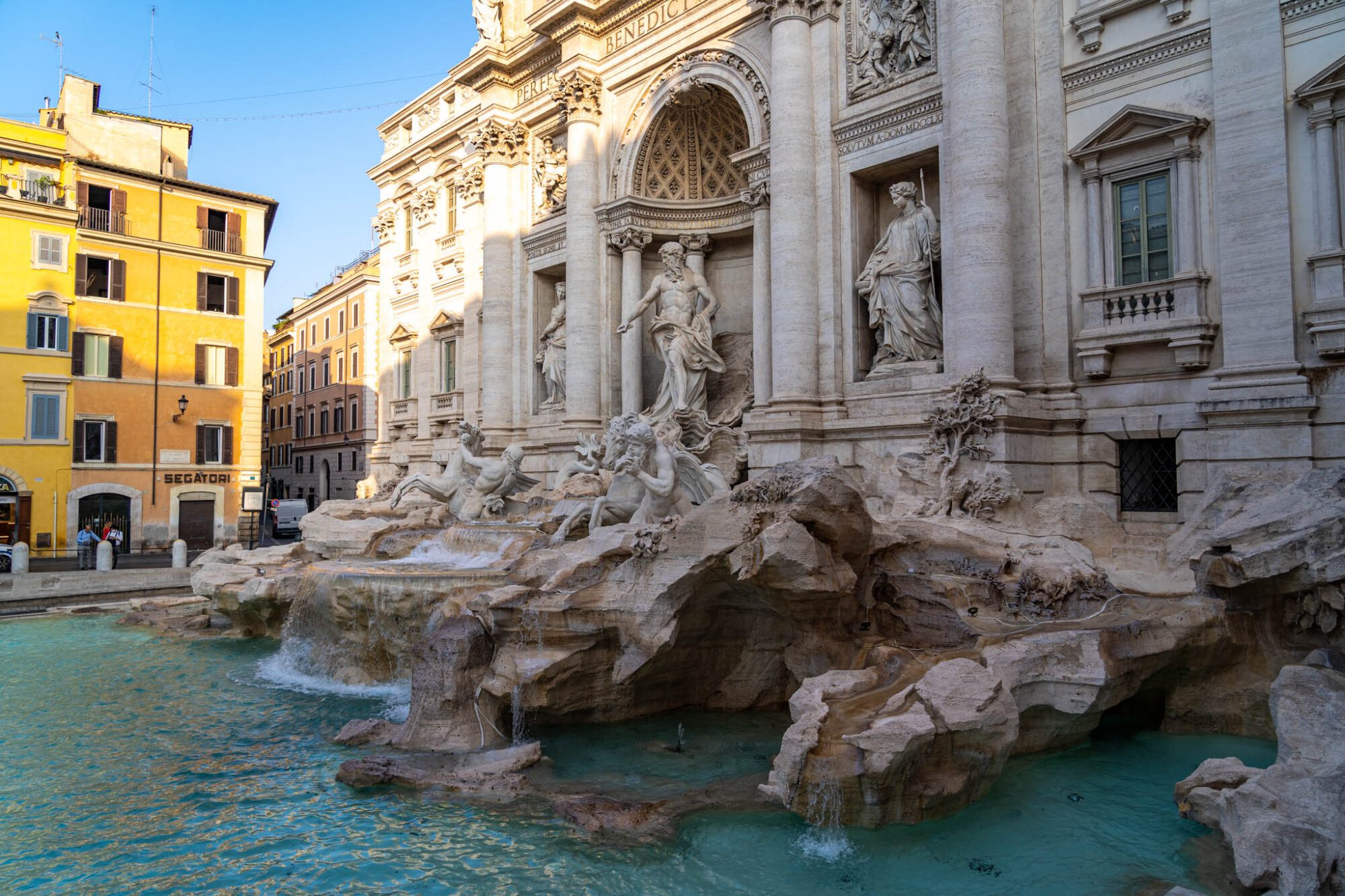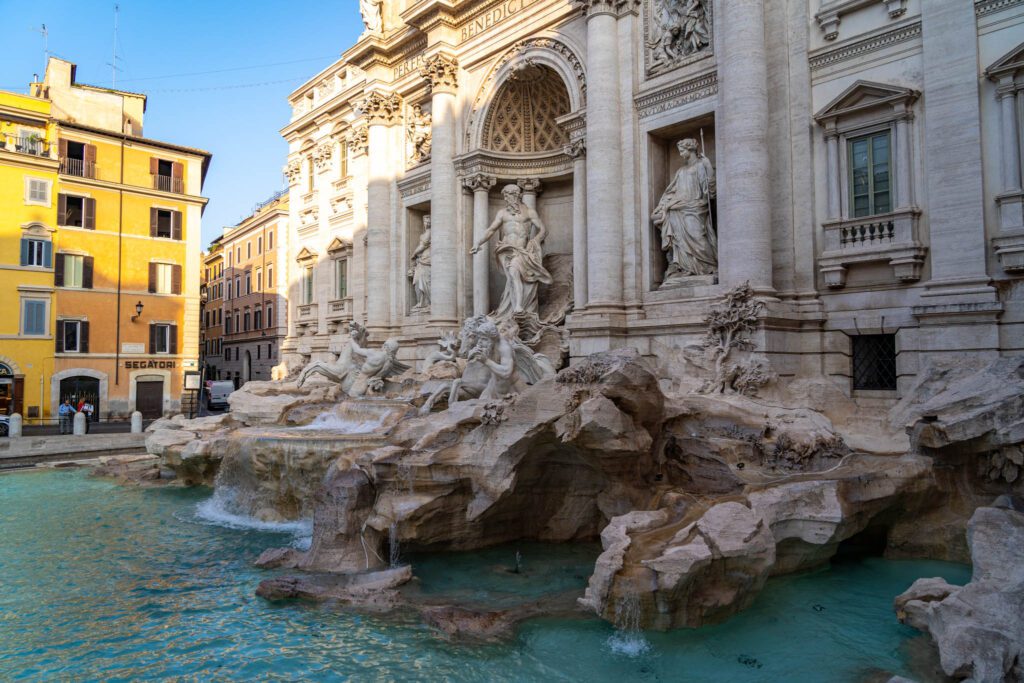 Pros and Cons of Staying in the Centro Storico
Pros of the Centro Storico:
It doesn't get more central. You'll be right in the heart of Rome, walking distance to pretty much anything you want to see.


You want the romantic version of Rome. Cobblestone streets. Torchlight ambiance. This is one of the more romantic places to stay in Rome.
Cons of the Centro Storico:
Where are the locals? If you're looking for a slice of local life, this ain't it. You'll be surrounded by tourists, and you're probably going to hear the majority of words spoken in languages other than Italian.


It's pricey. You're going to pay for the convenience of staying in one of the most central parts of the city. If you're able to pay for it, it's a worthy splurge to be able to walk out your front door to the Pantheon or the Spanish Steps.


It can be loud and boisterous. Thousands of tourists pass through each and every day. Especially near the southern end of the neighborhood, namely Campo de' Fiori, it can be particularly loud and rowdy after dark as many of the bars cater to tourists.
Highlights of the Centro Storico
Within the Centro Storico, you'll find treasures reminiscent of Ancient Rome and the Renaissance, like:
Piazza Navona: Used to be the Stadium of Domitian, hence the oblong shape. The Fontana del Nettuno (Fountain of Neptune) at the northern end is a great example of Baroque architecture.


The Pantheon: A pagan temple built in the 100's AD that now holds Raphael's tomb, the square outside is a perfect place to people-watch (it's ALWAYS packed).


Campo de' Fiori: A normal-shaped square, Campo de' Fiori was actually built far later than other parts of this area – somewhere in the 1500's AD. It's rowdy and loud at night.


Trevi Fountain: Probably the most famous fountain in the city (the world?) and another great piece of Baroque architecture. It was built in the 1700's on the site of another, less beautiful fountain. It's going to be packed with people at all hours, all trying to throw coins in the water for good luck (don't do that – someone has to fish them all out!).


The Spanish Steps: Another less ancient piece of Baroque architecture built in the 1700's, the piazza at the foot of the steps is some of the best people watching in all of Rome, if you're into that.
One of my favorite things to do in Rome – and a staple of my 4 day Rome itinerary – is a walking tour that takes you from one end to the other. Here's a map of what that might look like.
In addition to those main sights, there are squares and fountains tucked away within the narrow, lamp-lit streets. It's one of the best places to wander and get a little lost.
In general, I'd strongly recommend avoiding the vast majority of bars and restaurants in this part of Rome, especially if they have pictures on their menu. Here are a few exceptions: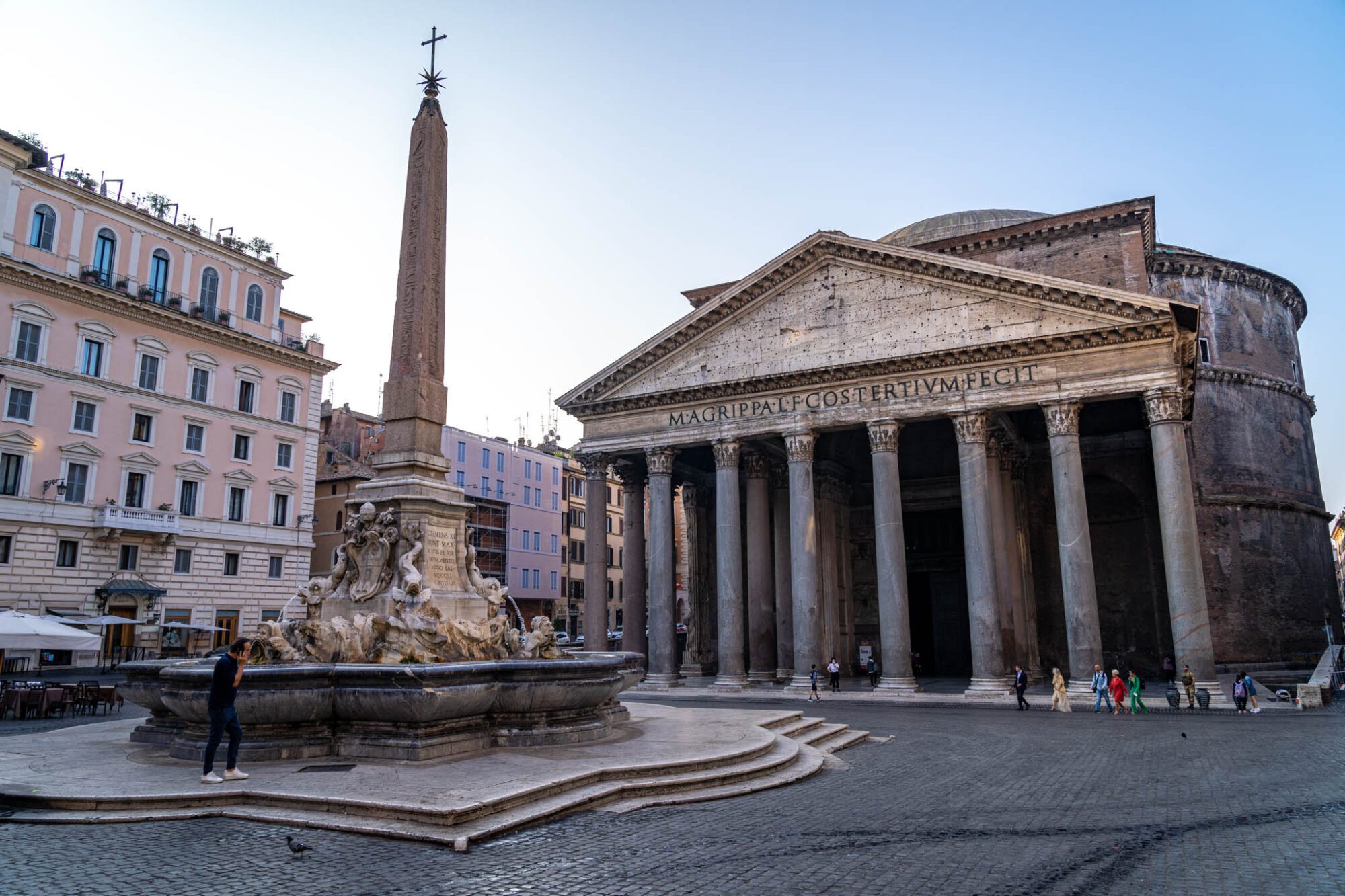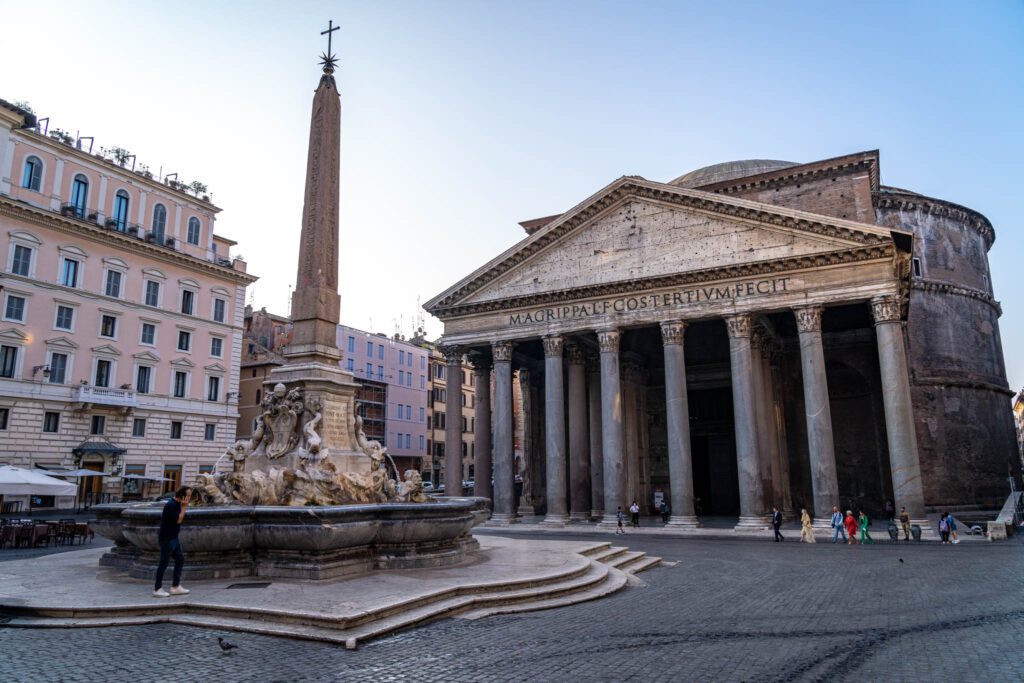 Places to Stay in the Centro Storico
This area is chock full of places to stay, from bougie boutique hotels to charming mid-range guesthouses, and everything in between. There's not a whole lot of budget options given the nature of the location, but Casa Pietra is a solid, affordable choice (more on that below).
Rome As You Feel – Grotta Pinta: Apartments in the Perfect Location (Where We Stayed)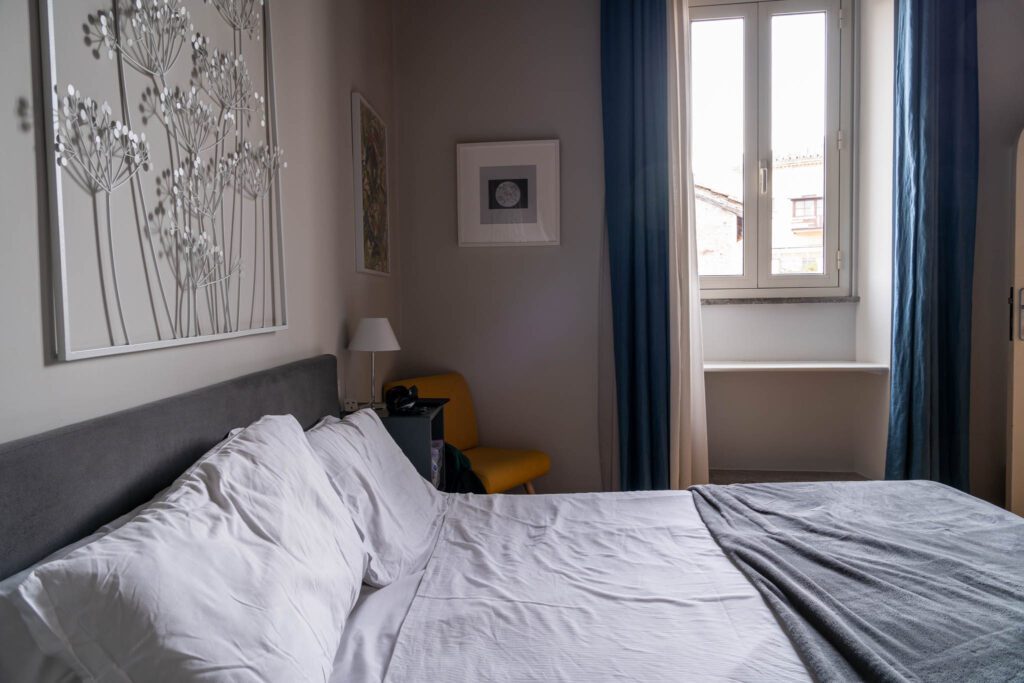 We were looking for an apartment in the Centro Storico for a part of our latest trip to Rome, and we could not have been happier with the location, amenities, and basically everything else about the Grotta Pinta Apartments.
The apartments are tucked away in an old building with a slow elevator (classic) on a quiet street within walking distance of the entire Centro Storico, but Piazza Navona and Campo de' Fiori in particular are literally a few blocks away.
Around the corner is Fatamorgana, one of our favorite gelato shops in Rome, and Antico Forno Roscioli, which is basically a must-visit place for foodies in Rome.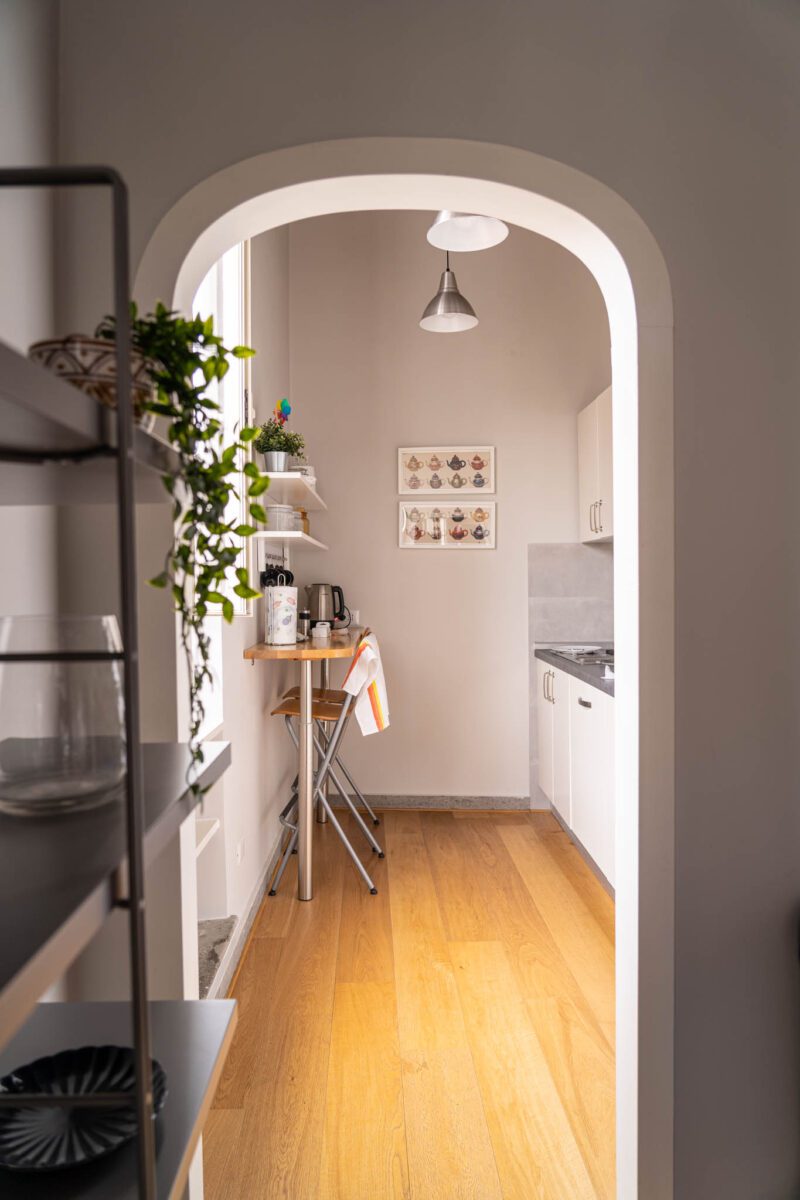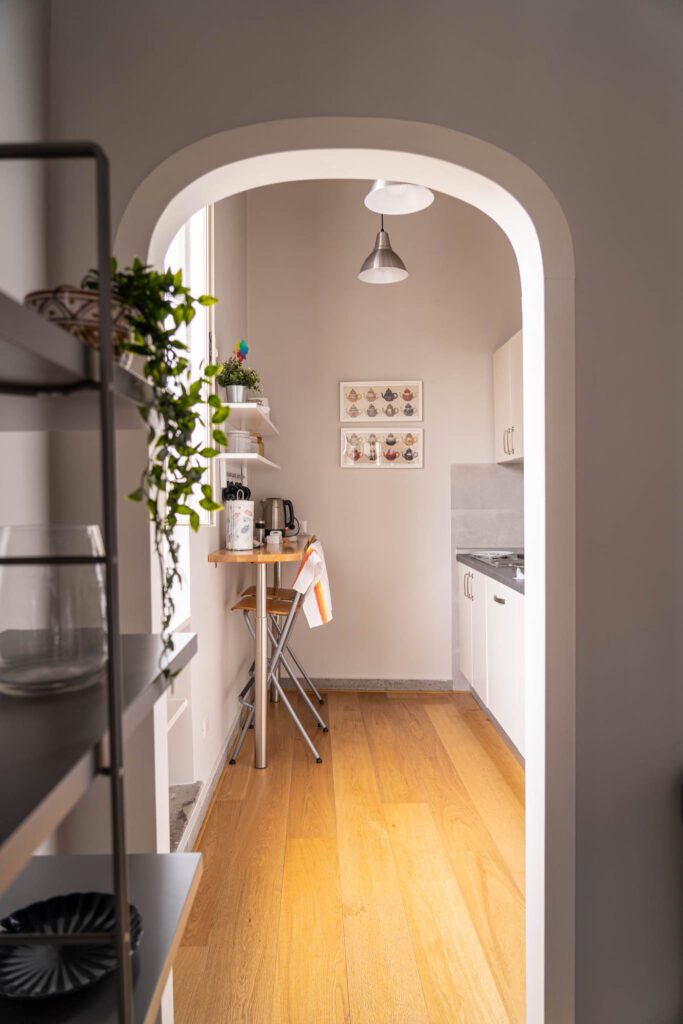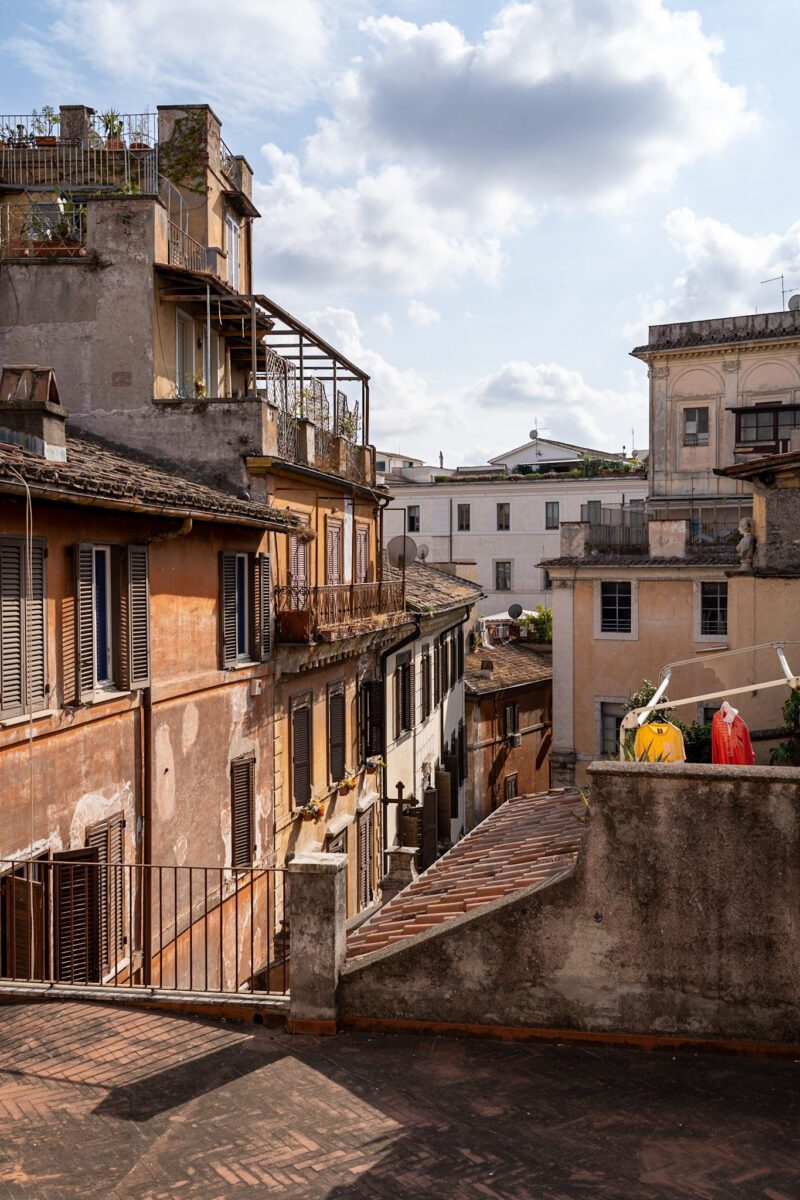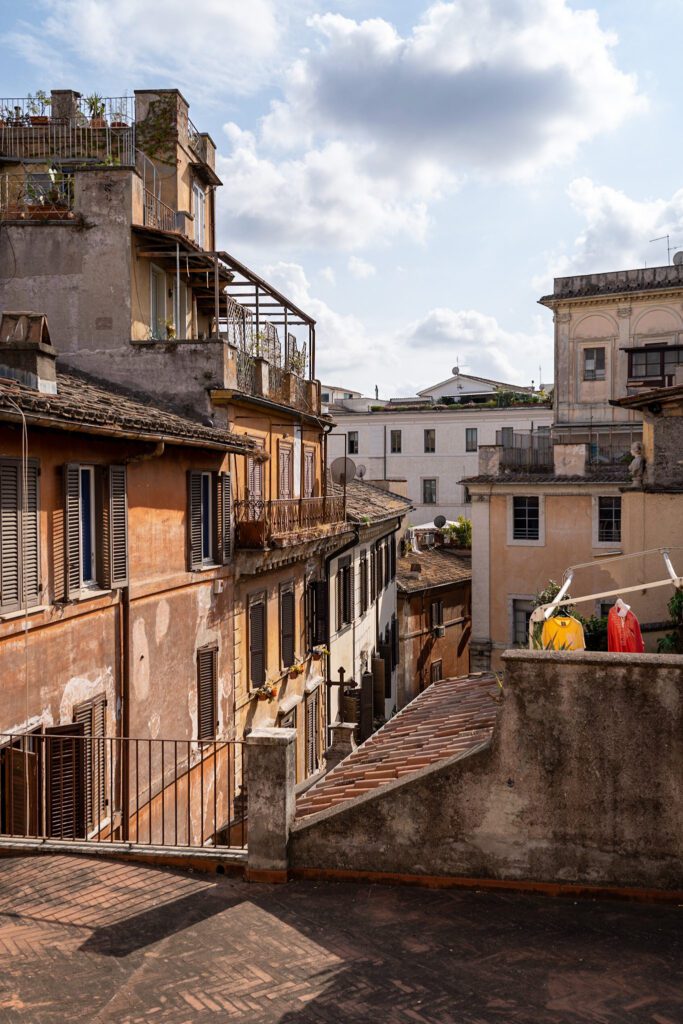 The apartments are surprisingly spacious, and they have a range of layouts that can accommodate between one and six people.
The kitchen, which is part of the reason we look for apartments when we travel, was perfect, and the view from the windows over the rooftops of Rome was a very pleasant thing to look at as I made my morning coffee.
If you're looking for an apartment in the center of Rome, we'd recommend looking at these.
Coronari Palace: Quiet Hotel in a historic building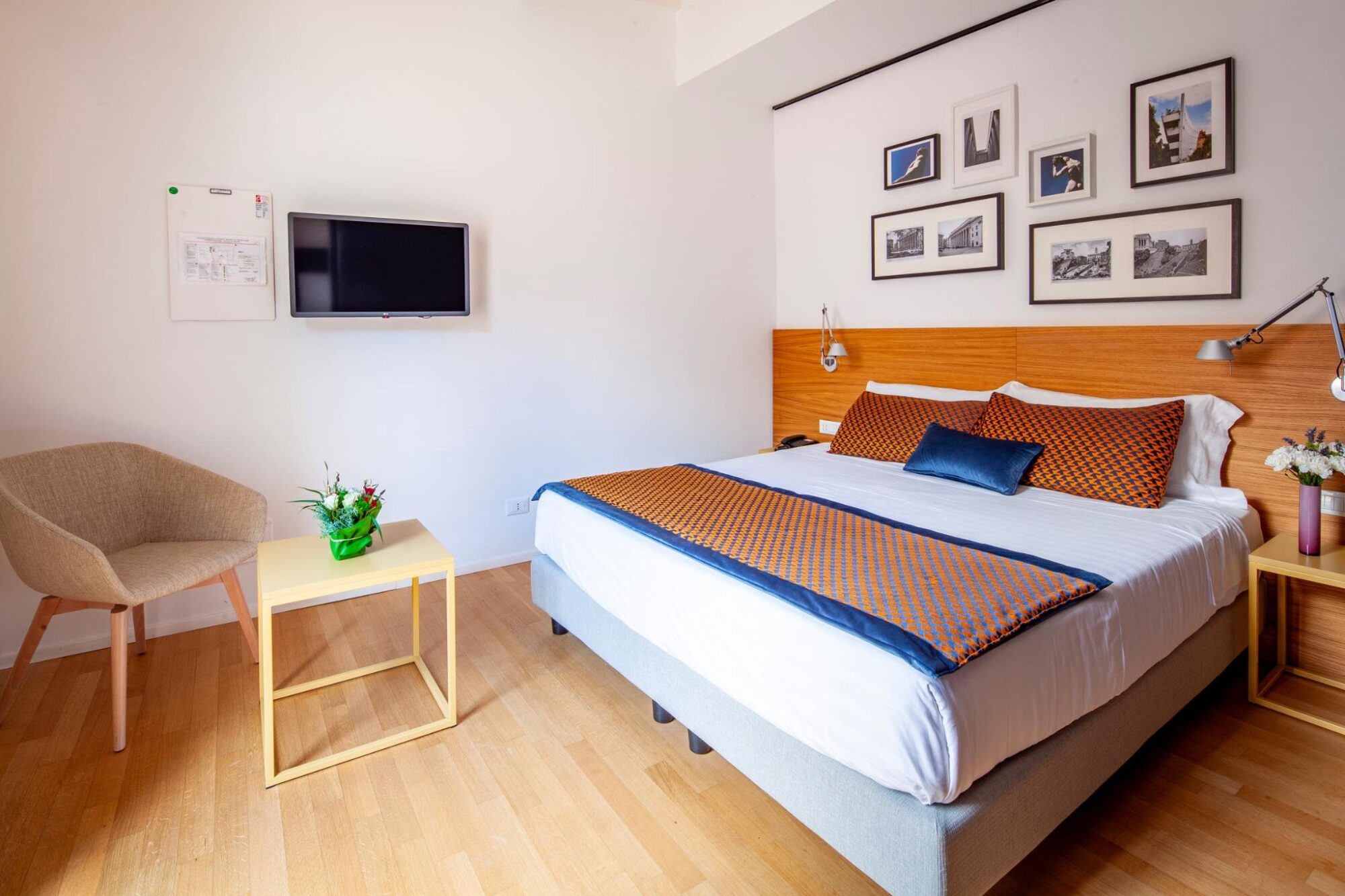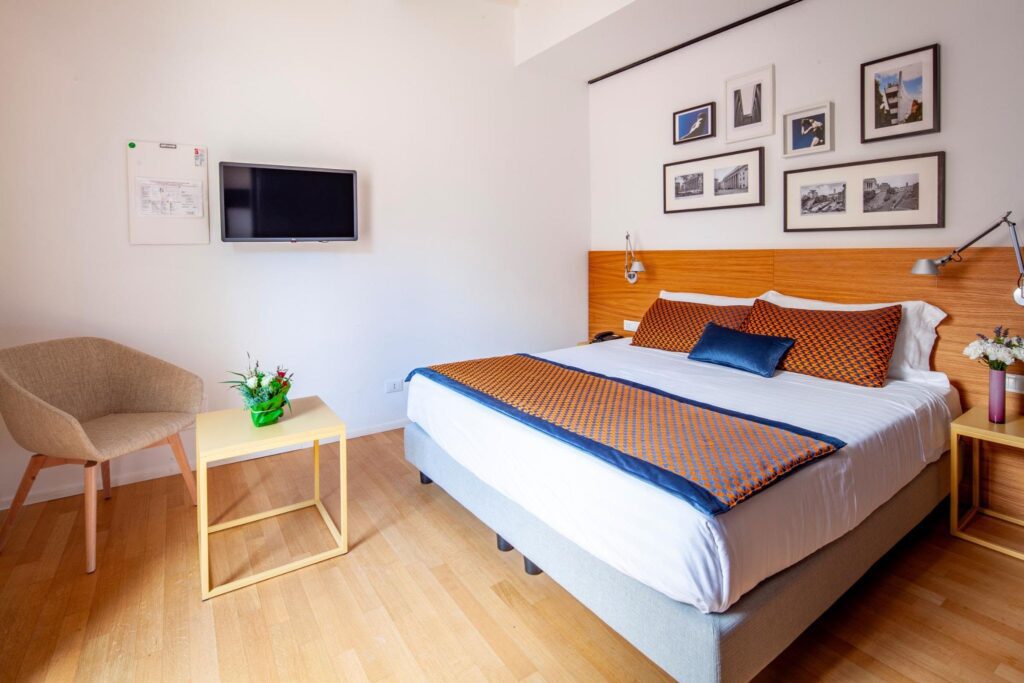 I really like this place for two reasons.
First, if you're looking for a slightly quieter location that's still in the middle of all the action, Coronari Palace is tucked away at the north end of the neighborhood. It's still within a few minutes of the Pantheon and Piazza Navona, but it's far enough outside of the usual tourist hotspots that it's going to be at least marginally more peaceful.
Second, the rooms are beautiful. It was renovated in 2019, and everything looks and feels brand new. They do a good job merging the old with the new.
Some rooms have windows that open to a spectacular view out over the rooftops of Rome, and some of their rooms have private terraces, where you'll be able to enjoy your morning coffee in the warm sun.
On the other hand, for those sweltering summer days, they have A/C, which is important if you're in Rome in July or August (speaking from personal experience, having been on a sleeper train to Rome in 100+ degree weather…A/C is important).
Casa Pietra: A Beautiful + Charming Boutique Guesthouse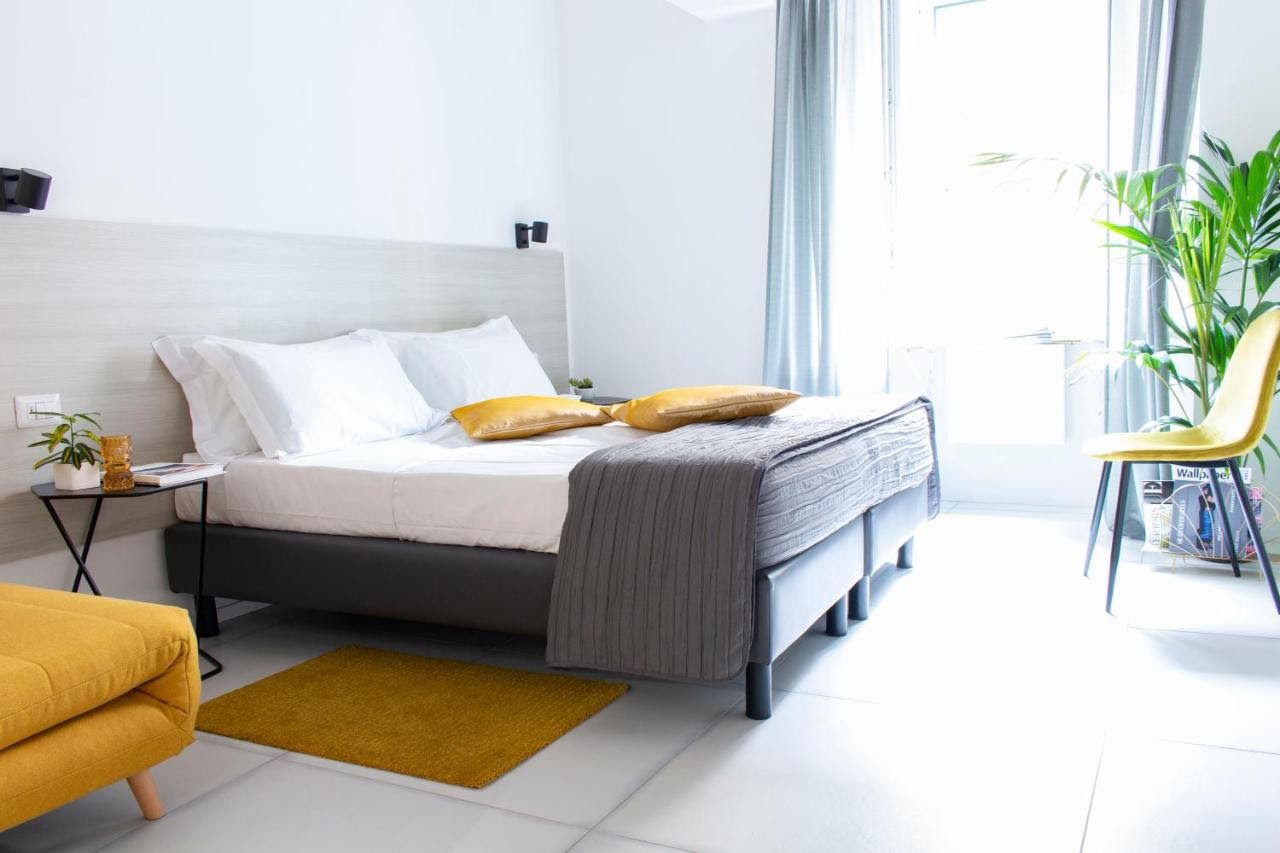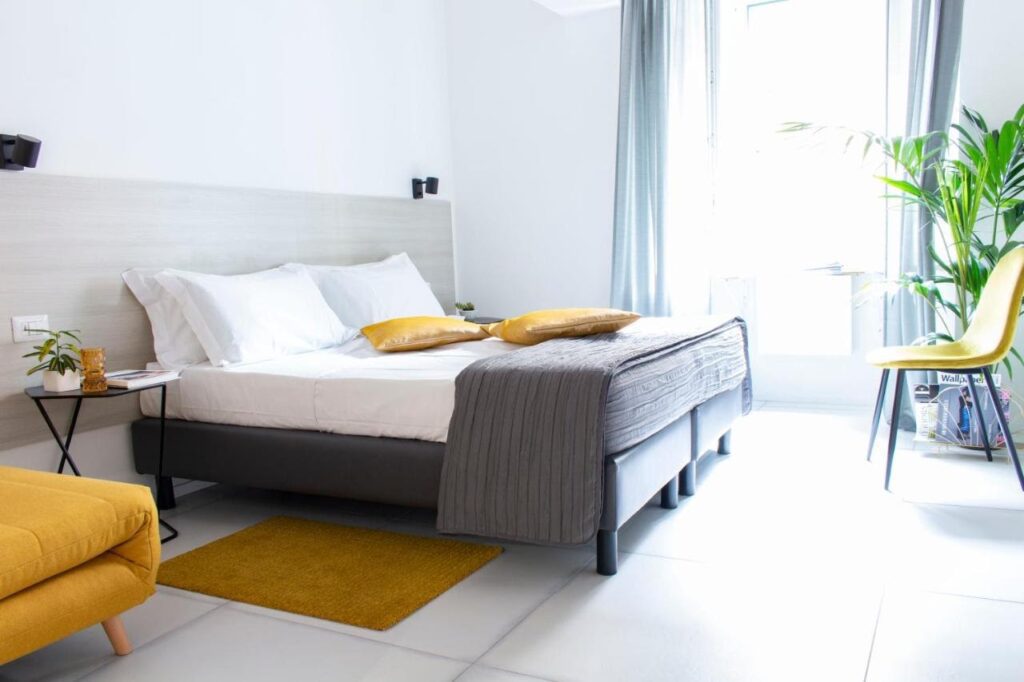 I also REALLY like Casa Pietra as a sleek, modern place to stay in the heart of the Centro Historico that is ALSO very budget-friendly.
Just northeast of the Pantheon, this small guest house is one of the better budget-friendly options in the area. Only five rooms at this place, so the service is going to be top notch. It's in a historic 18th century palace that they have done a great job restoring and bringing into the 21st century.
The first thing you'll notice is that the rooms are filled with tons of natural light. Sleek design elements keep things modern and contemporary, which is a fun juxtaposition with the exterior of the building and the surrounding neighborhood.
The three rooms at the front of the renovated building have a view out onto the piazza below, while the rooms at the back are going to be a little quieter and don't have the views.
There's no onsite restaurant, but there IS a small communal kitchen, which I always appreciate (make sure to check if it's open, given the current situation).
Little Queen Pantheon: A Beautiful Boutique Hotel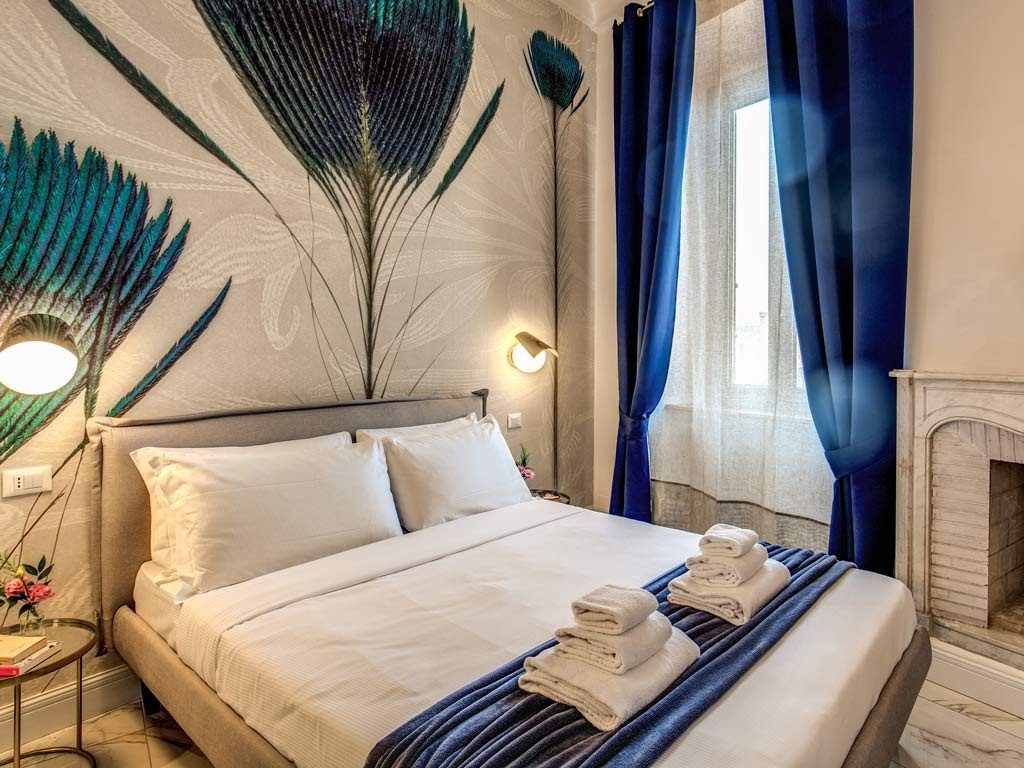 Little Queen is a small, charming guesthouse (or bed & breakfast) that is, as you might have guessed from the name, a couple of minutes away from the Pantheon.
It straddles the budget and mid-range categories, and generally offers a really good value for the location and amenities it offers. It's another restored historic building that has been renovated to make the interior more modern and contemporary.
Choose from standard hotel rooms, which are about average in terms of size at 160 square feet, and Junior Suites, which have a little more room but are still relatively compact. Rooms are modern and colorful, and have amenities like Netflix access, A/C, and more.
PS: They have another location near Piazza Navona that might be worth checking out if they're sold out at this location.
Hotel Charme Spagna: Elegant Luxury Hotel near the Spanish steps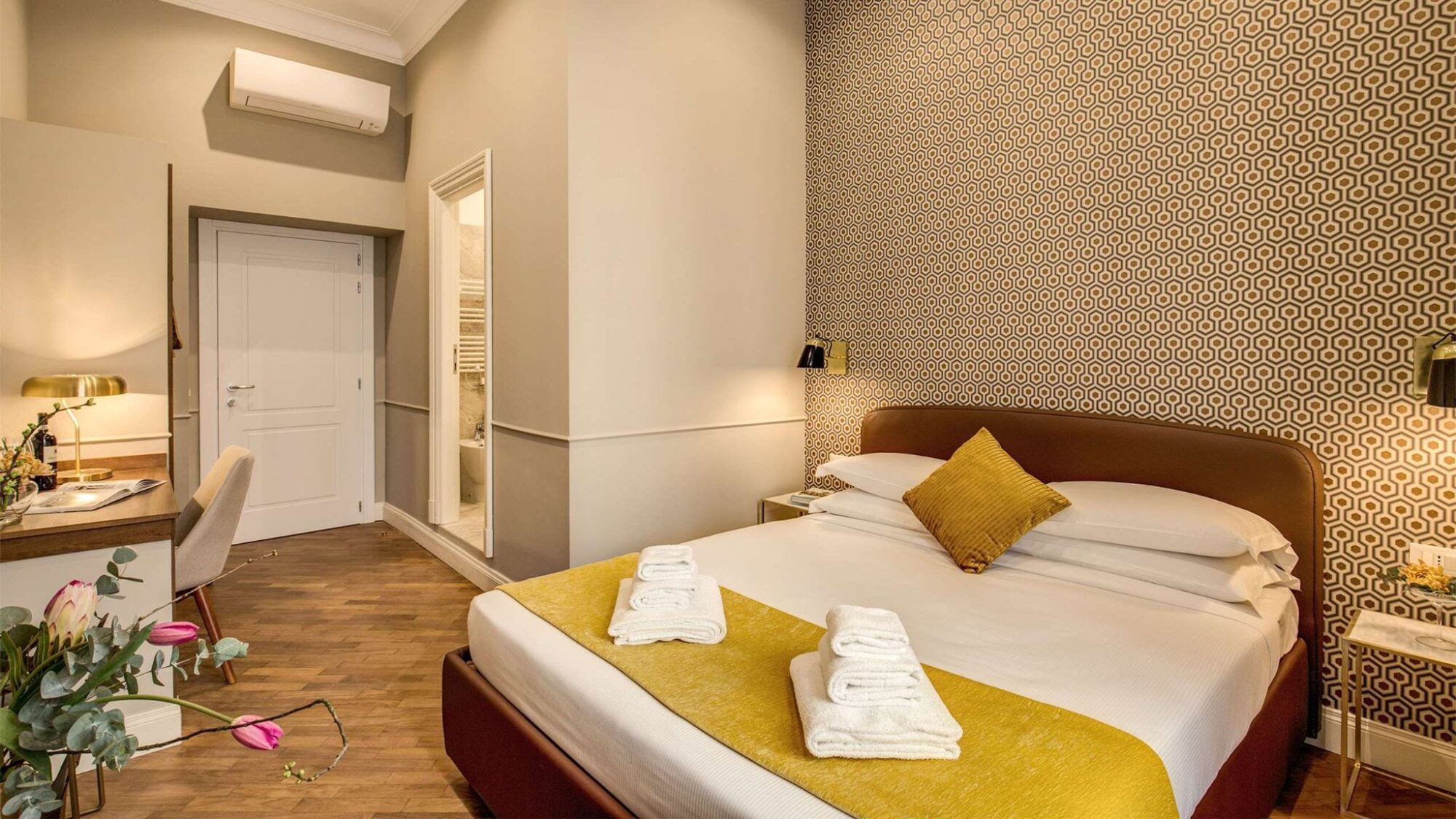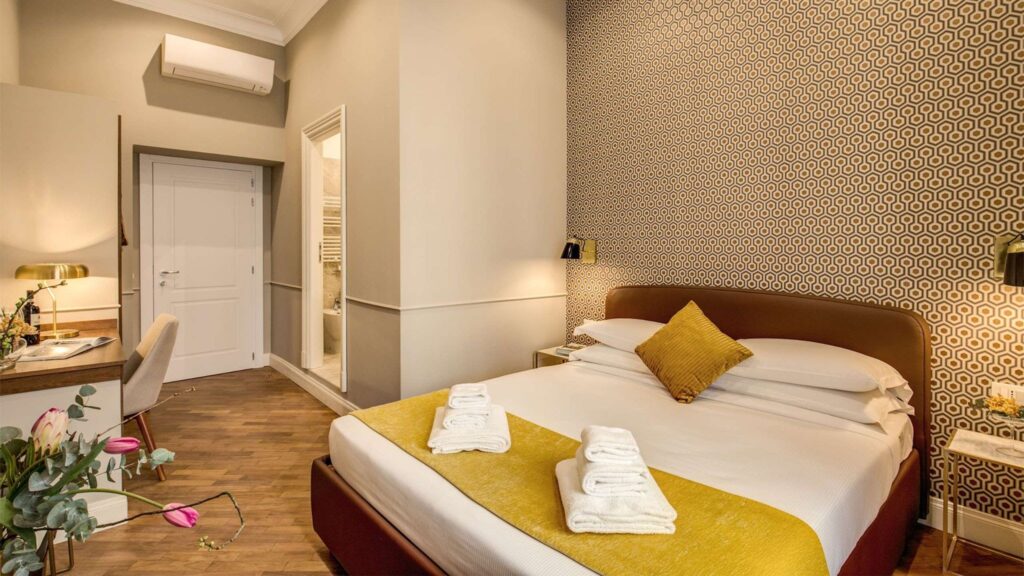 Similar to Tree Charme in Trastevere, Charme Spagna is a really nice hotel with elegant design and a fantastic location just five minutes from both the Spanish Steps and Trevi Fountain.
It's a relatively small hotel, with only 23 rooms. Rooms range from compact to spacious, and all include breakfast, A/C, and great service from the friendly staff, who are called out in a bunch of the reviews as being particularly special.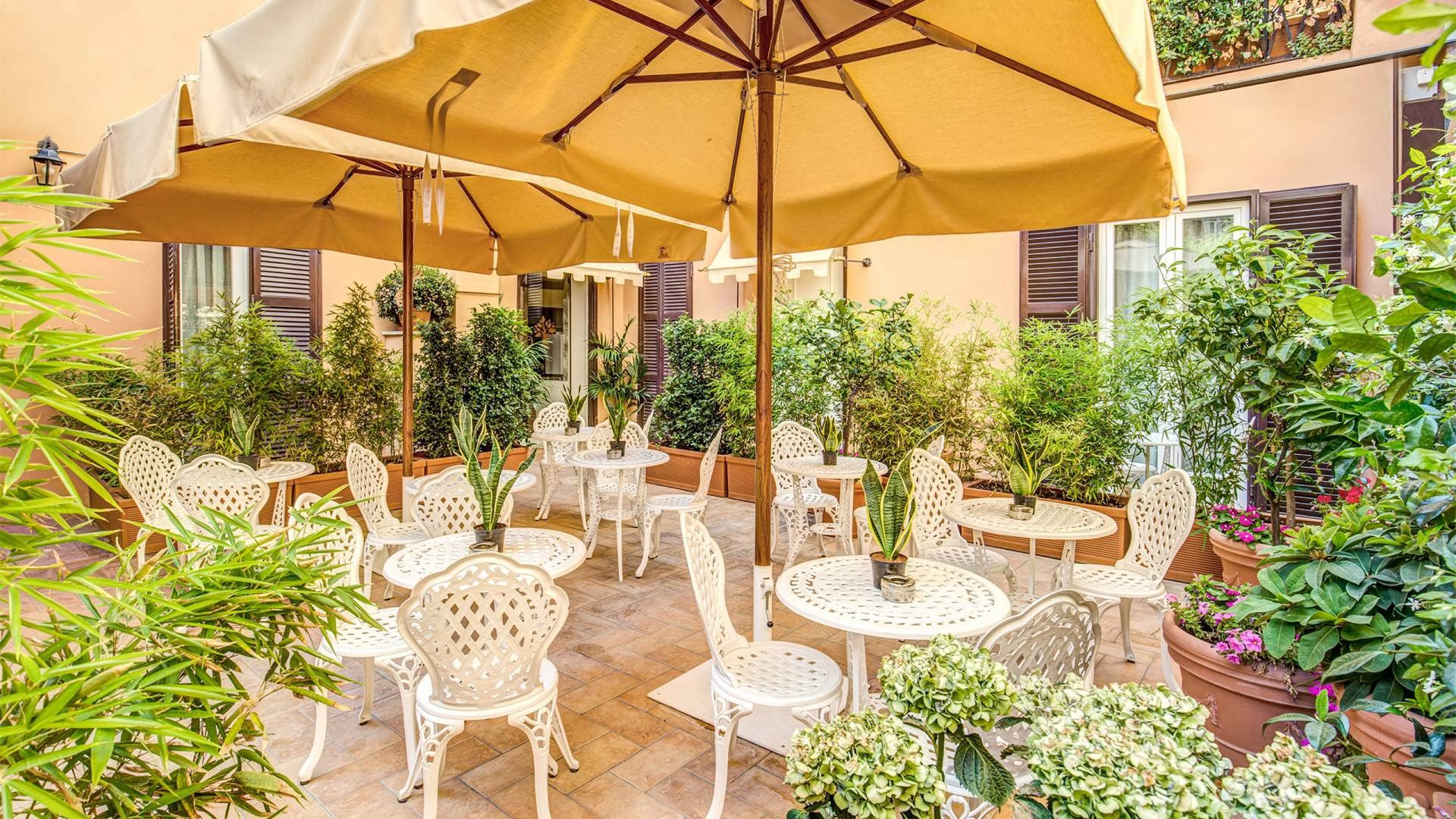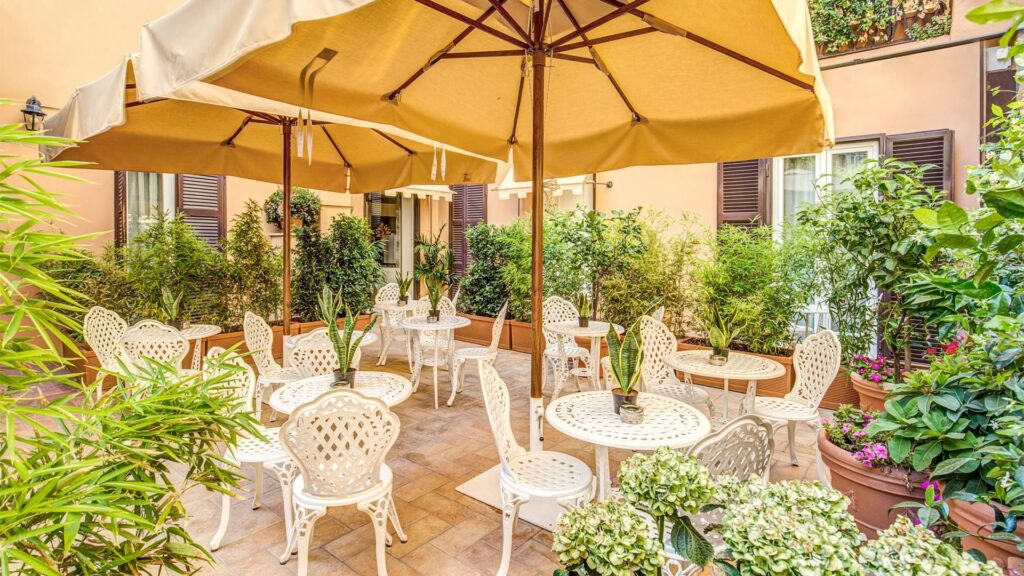 There's a nice outdoor terrace where you can enjoy breakfast and coffee, or have it delivered straight to your room. Six of those rooms are in a separate building, which is just down the street.
Hotel Indigo: Mid-Range + Stylish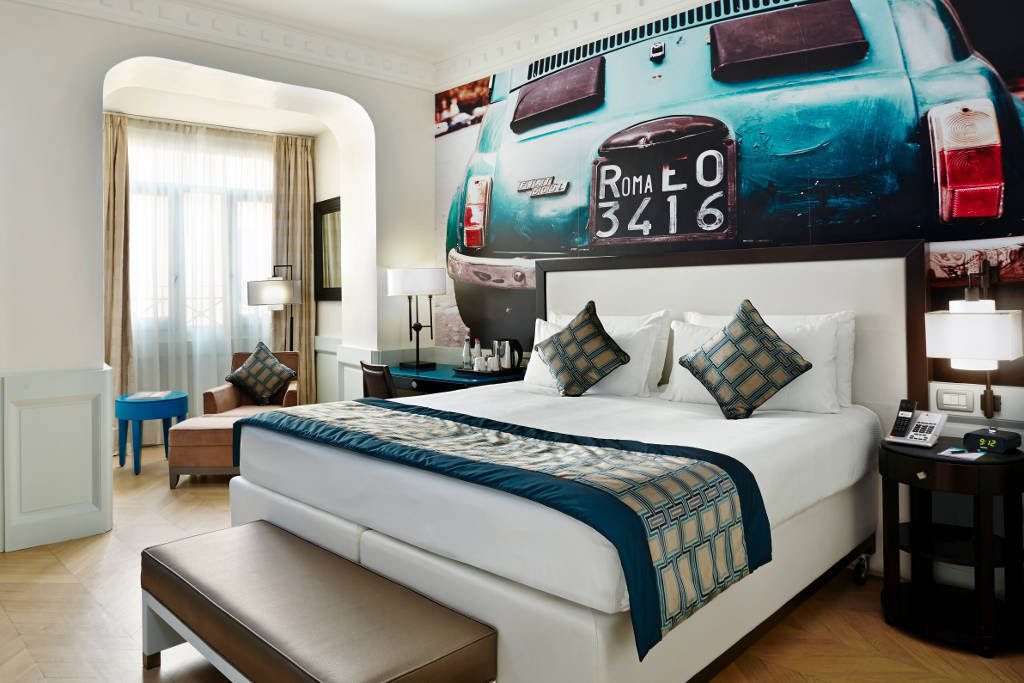 We have stayed at Hotel Indigo locations before, and think that they're generally a really good value and experience. The Hotel Indigo Rome is located at the western edge of the neighborhood, just a block or two away from the river (and, by extension, Trastevere, one of our favorite places to stay and explore).
This hotel definitely leans more towards the luxury side of the spectrum than other Hotel Indigo locations, and the price reflects that.
Rooms are relatively spacious, coming in at over 200 square feet (a rarity for hotel rooms in Rome), and they're super modern and have all the amenities you'd expect from a boutique hotel – A/C, tea and coffee, etc – with some of the extra touches that make it feel really special (HELLO fluffy slippers!).
Choose from a variety of room sizes and configurations, some of which have a seating area and a little more space.
Plus, an incredible rooftop terrace with 360 degree views out over Rome!
Monti: Hip Neighborhood Near the Colosseum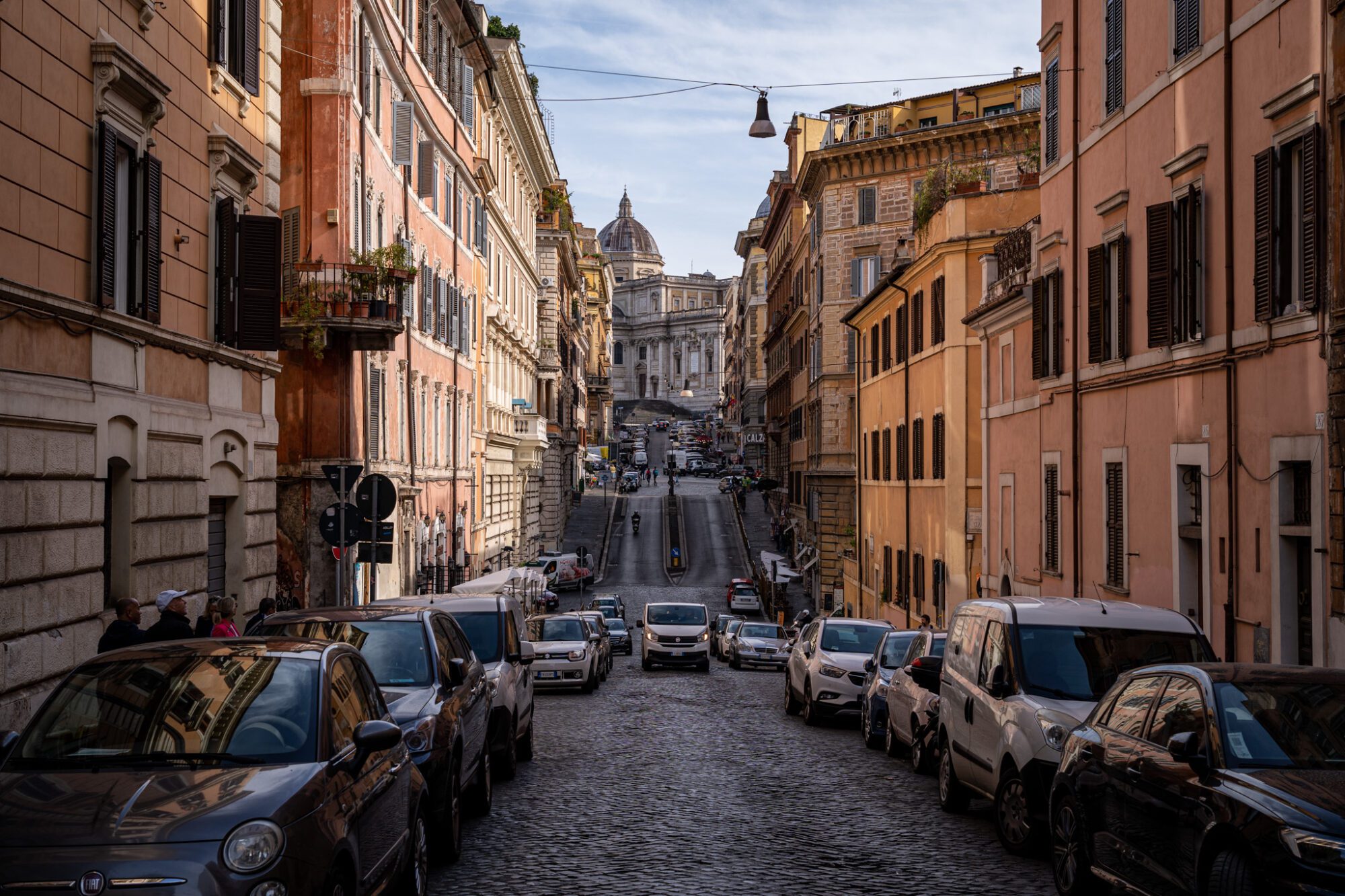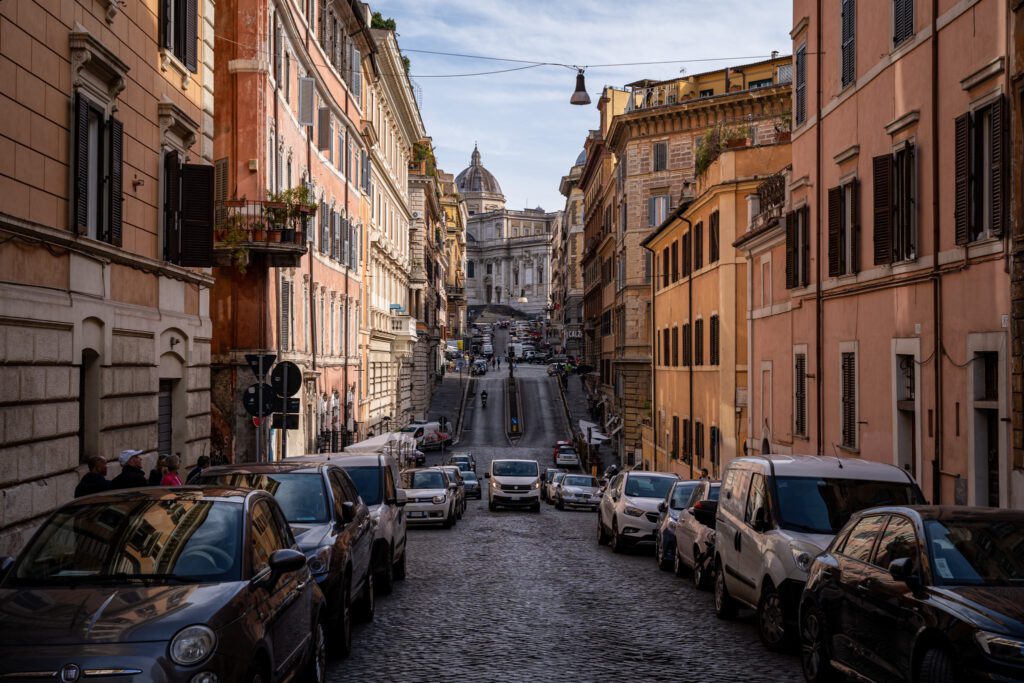 Monti is the neighborhood immediately to the northeast of the Colosseum, which violates my rule of not staying right next to tourist attractions… but it's legitimately a cool place to stay.
It's hip and happening, with plenty of restaurants and bars lining the streets, and it's conveniently located near the Colosseum and Forum, which you'll probably be stopping by on your trip. It's well-connected via public transportation if you're heading out to other parts of Rome to do some exploring.
Pros and Cons of Staying in Monti
Pros of Monti:
It's Central. If you choose to stay in Monti, you'll be well positioned between the main train station (Termini), the Centro Storico, and the Colosseum and Forum. It's a convenient location, and it's well connected via the metro if you need to go elsewhere.


Restaurants and Bars Galore. Monti, which has made the transition from up-and-coming / hipster to flat out trendy over the past decade, is full of bars and restaurants of all kinds. In particular, look around the Chiesa di Santa Maria ai Monti along via Urbana and the surrounding area for some of the best food and drinks in Rome.
Cons of Monti:
Pricey. This is a sought-after district, which means there's plenty of demand to call for higher prices. You'll be in a hip, convenient location, so be prepared to pay for it. Probably not the best place to stay for budget travelers.


Touristy. Given its proximity to the Colosseum, Forum, and train station, there are going to be a lot of people here. Which is fine, but it's something you should know going in.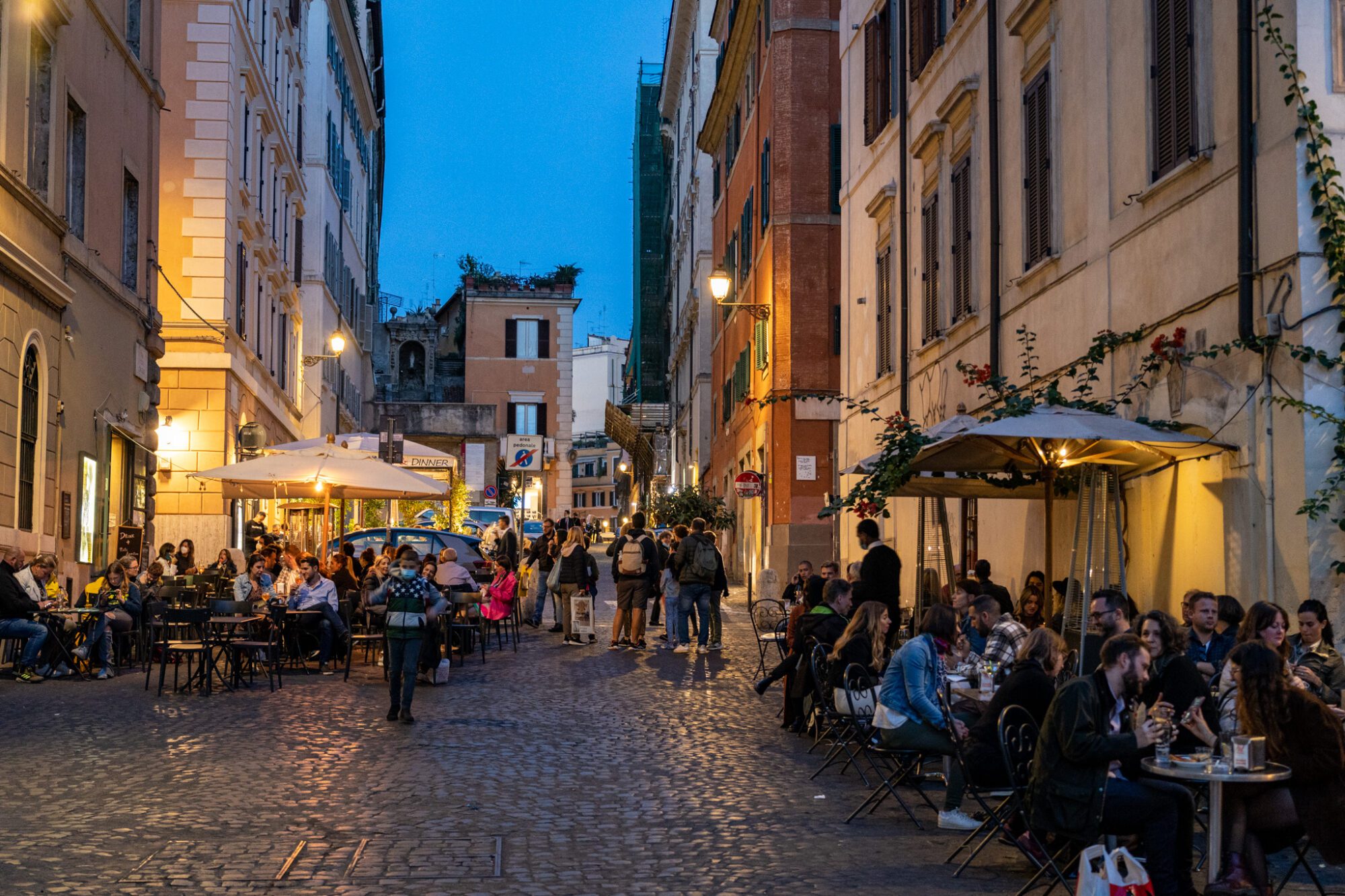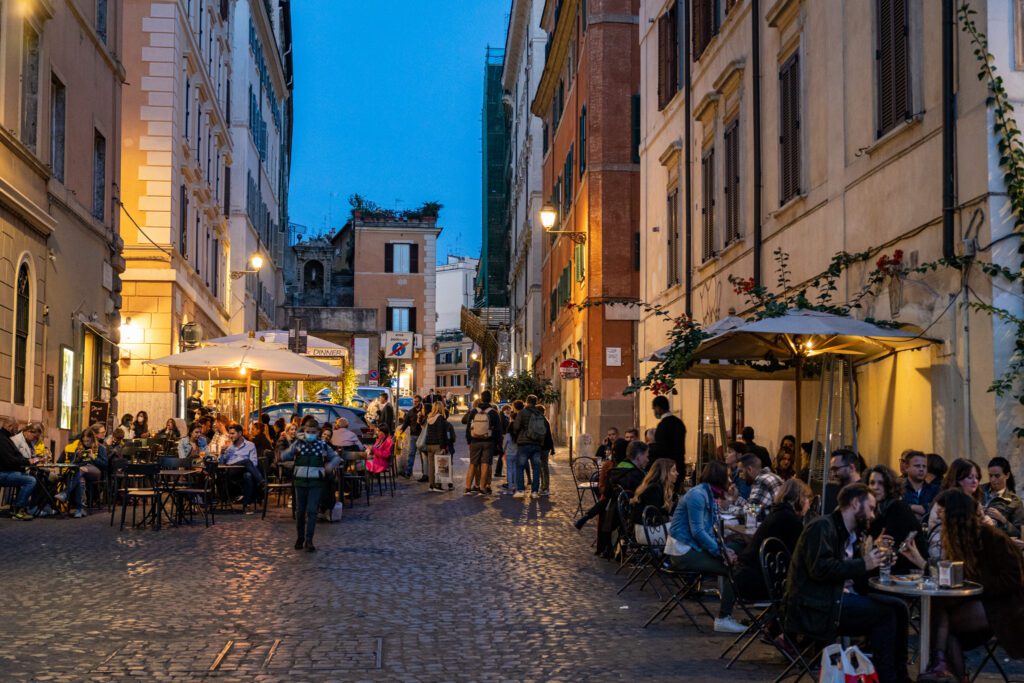 The Best Places to Stay in Monti
Whether you're looking for a charming hotel, an affordable hostel, or a nice vacation rental, Monti has a nice range of options for you to choose from, all conveniently located near many of Rome's main tourist attractions.
Fifteen Keys Hotel: Best Overall Hotel in Monti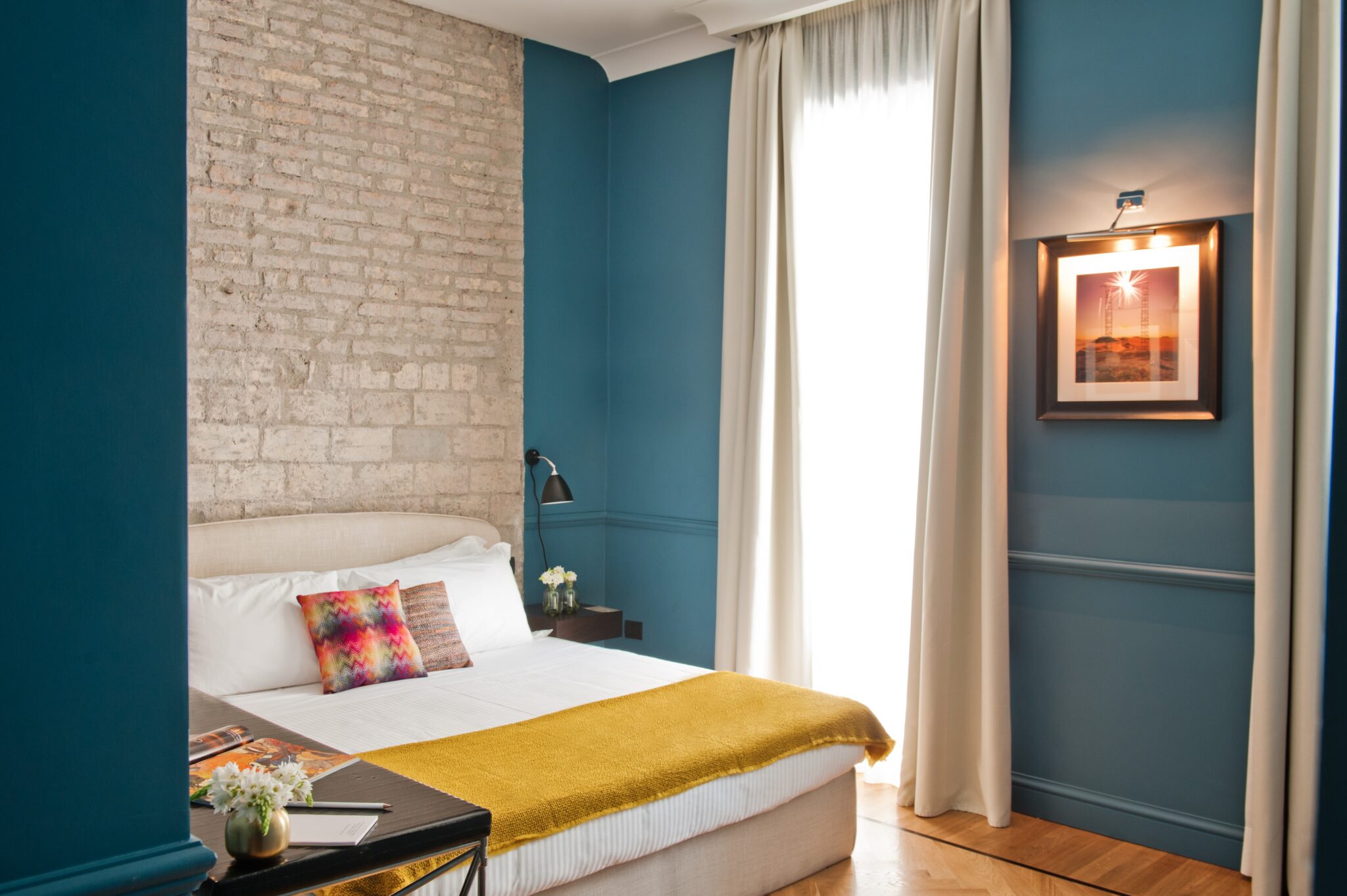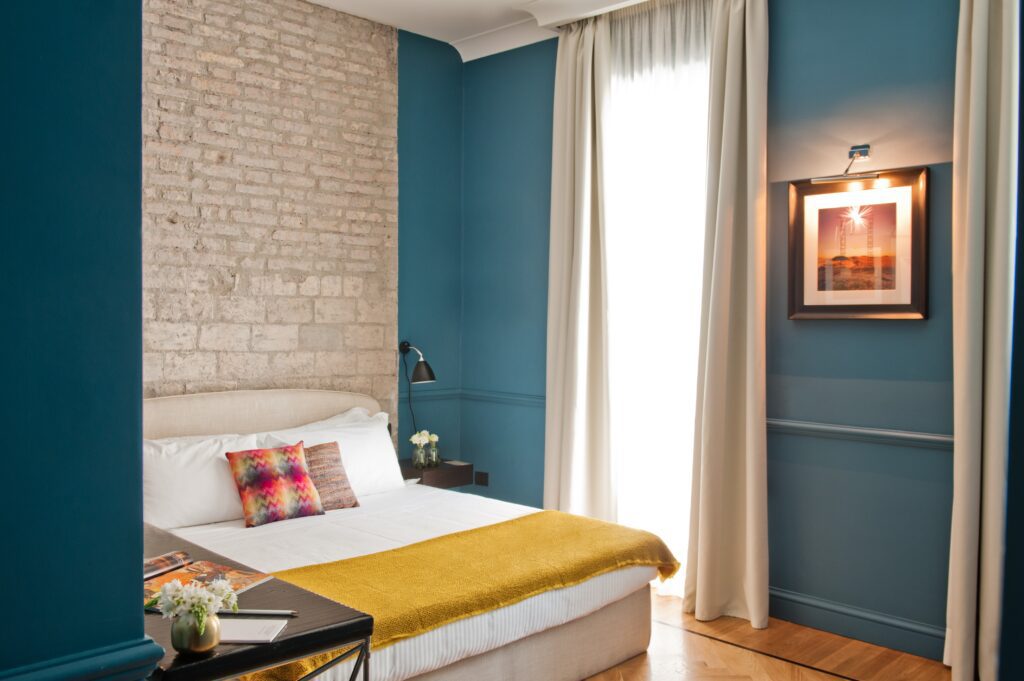 15 tastefully designed rooms make this charming hotel a lovely place to base yourself in Monti.
Unlike the mega hotels that are found just a few blocks away, you'll get personalized service here, which will make your trip more pleasant by giving you the insider knowledge you can only get from a local that actually cares about your experience in Rome.
It's inside a renovated five story building in the heart of Monti. Rooms are thoughtfully laid out, with everything you'll need for your trip including a desk (nice to have somewhere to sit other than the bed), USB charging ports, and a kettle for hot water for coffee or tea.
Breakfast is served in their aptly-named "breakfast room" with floor-to-ceiling windows looking out onto their internal courtyard, or in the courtyard itself when the weather is cooperating (it will be in the summer!).
They also have complimentary bikes, and you can rent a Vespa (sounds terrifying to us, but you might feel differently).
Salotto Monti: Great Value in Monti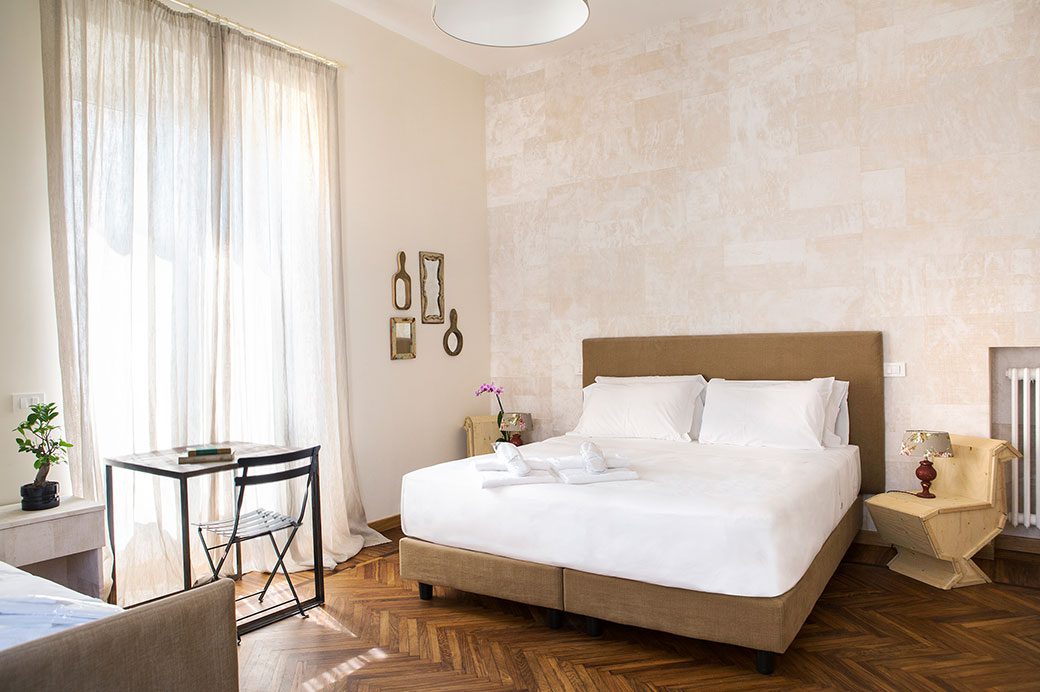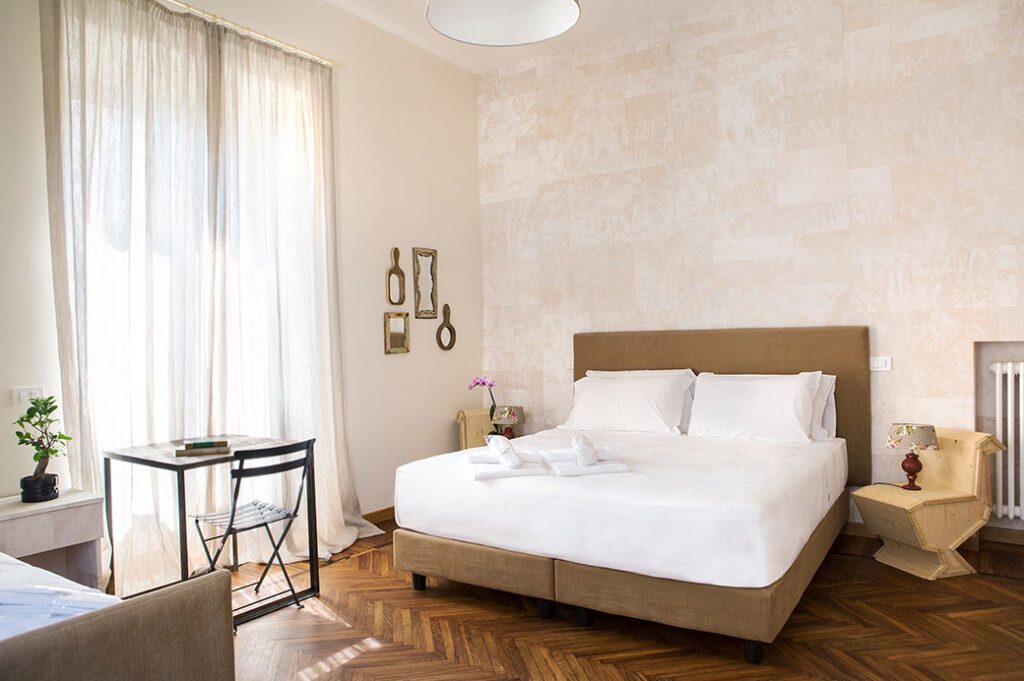 If you're looking for a mid-range, stylish hotel in Monti, Salotto Monti is a great option. Rooms are simple but stylish, with options that range from small hotel-style rooms, to triple rooms, all the way up through the apartments, which have kitchens and sleep up to four thanks to sofa beds in the living room – perfect for groups and families who want a bit of extra space.
Breakfast is included in your stay, and as long as the weather is cooperating, you'll enjoy it on their rooftop terrace overlooking Via Nazionale (or get it delivered straight to your room).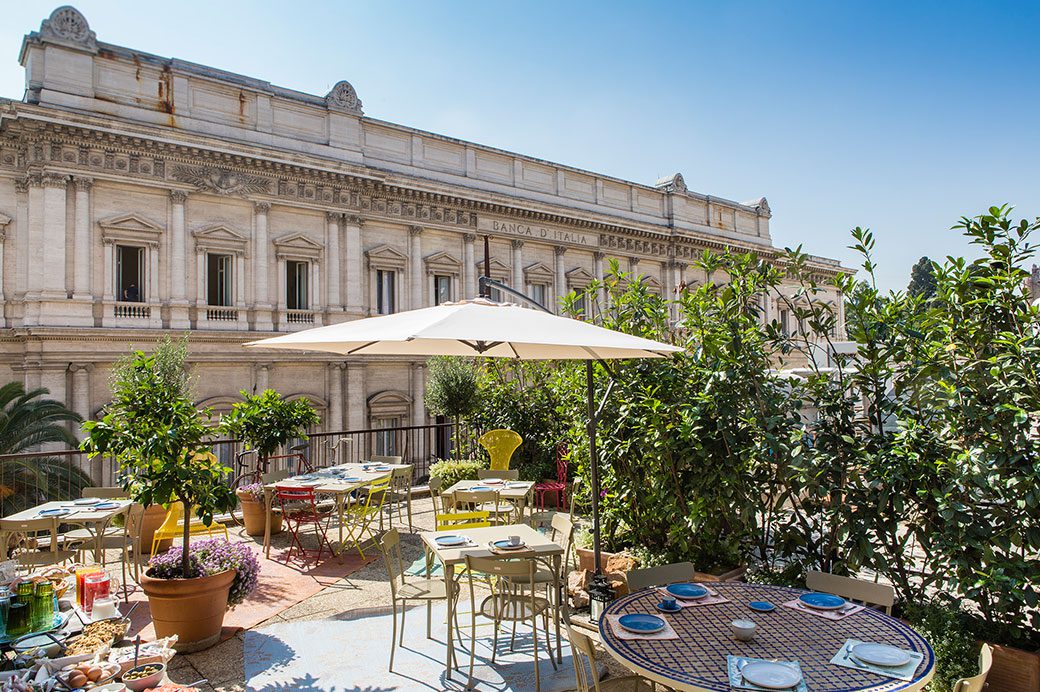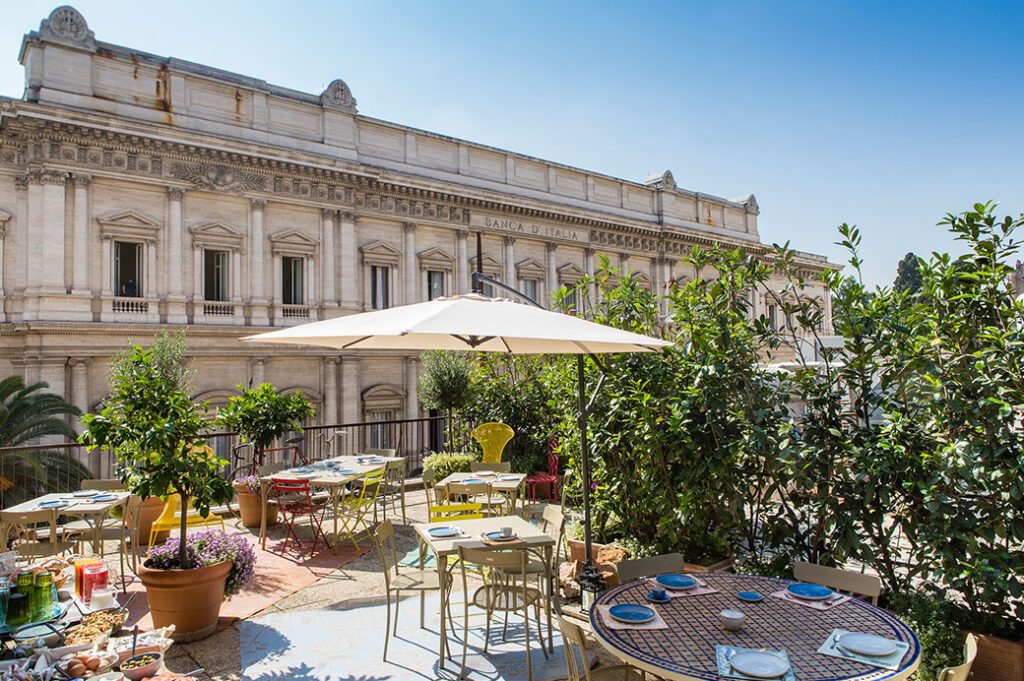 It's well positioned between the Colosseum and Forum and Trevi Fountain and the Centro Storico – both are under a kilometer away (that's just a hair over half a mile for my fellow Americans).
Termini / Esquilino: Convenient & Affordable, but Less Charming
Choosing a place to stay is all about evaluating the pros and cons of a neighborhood, and making a decision based on what's important to you.
There is probably no other neighborhood in Rome that is more polarizing than the area immediately around Termini station, Rome's main train station.
On one hand, it's not the nicest or most romantic/charming area to explore. On the other hand, it's about as central as it gets if you want to be connected both to the main sights in Rome via public transportation, and to any day trips or next destinations on your Italy itinerary.
In this section, we're including the entire area around Termini, but the main area where you're going to find the best places to stay is Esquilino, which is on the southern side of the station, adjacent to Monti.
We'd avoid the section around Via Nazionale, which is always bustling, loud, and busy, and isn't the most pleasant place to stay. Believe us, Matt stayed here on his first trip to Rome, and we stayed a few nights at a hostel here on our last trip (which was honestly very pleasant, but not the best location).
There are a few other cool spots in San Lorenzo (which we don't think deserves its own writeup, but is a good offbeat option with nearly zero tourists), a hip, young-feeling neighborhood on the northeastern side of Termini. We included one of them in the places to stay section below, but you should know it's a bit further away from public transportation.
Pros and Cons of Staying in Termini / Esquilino
Pros:
It's well connected. The proximity to Termini, the main train station in Rome, means you're well connected, both to places within Rome (most of the public transportation, including metro and buses, passes through Termini), and to other places in Italy. When you arrive and depart, you'll be no more than a 10 minute walk away from the station.


It's affordable. There are a TON of places to stay within four or five blocks of Termini, which means it's going to be just about the most affordable place to stay in Central Rome. If you're on a budget, this is a great option, and there are tons of affordable hostels and B&Bs in the area.
Cons:
It's modern. You'll get none of the charm here, it's very modern, with a grid layout and tall buildings. This becomes less true as you move further away from the main entrance to Termini.


It's busy. As you can imagine, being near the main train station in Rome draws all sorts of people. At all hours, there are people running around trying to catch their train, or loitering and trying to sell you a cool new bracelet. Quiet is not exactly the first word we'd use to describe this area.
Neighborhood Highlights
If you choose to stay here, you're probably going to spend most of your time outside of the neighborhood. That being said, there are a few places of note within the neighborhood itself.
Grom Gelato: There's a Grom – our favorite gelato in Rome – INSIDE Termini Station. YUM.


Mercato Centrale: After the success of their market in Florence, the same company decided to take their chances with a location in Rome at Termini. There's a collection of stalls in a big, open food hall, with communal seating and a bunch of unique options from all over the world. Plus a coffee shop and a beer bar.


La Pasticciera: Tucked away on a side street on the north side of Termini, you'll find the best gluten free bakery in Rome. Or at least top two. If you're looking for gluten free cannoli, this is the spot!


San Lorenzo: This is a neighborhood on the northeastern side of the train station that is VERY hip. There's a great selection of bars and restaurants here, from a beer bar with an unbelievable number of taps (at least for Italy, which is still working on the whole craft beer thing), to one of the best coffee shops in Rome, and just about everything in between. It's well worth a visit, especially in the late afternoon and into the evening, when it comes alive with students from the nearby university.
The Best Places to Stay near Termini
Like we mentioned, this is a great place to stay if you're on a budget. Here are some nice options in the area.
The Blue Hostel: A Nice Boutique Hostel
This boutique hostel caught our eye because, well, we LOVE boutique hostels! They bring together the best parts of both hostels and boutique hotels for a great blend of the social aspects of hostels, with the comfort of hotels.
Rooms are beautiful – they look out over a private courtyard – and they only have private rooms, so if you're looking for dorms, this isn't a good option.
Choose between a standard double, a triple room with three twin beds, or a one bedroom apartment that has more space (sleeps 4 with a sofa bed) and a full kitchen, which the other rooms do not have.
It's a great value – hotel quality, hostel prices. It's just a block away from the Basilica Papale di Santa Maria Maggiore at the northeastern edge of the neighborhood. It's also mere blocks from Termini Station if you're planning on taking a day trip, or for a convenient arrival and departure.
B&B Arco Di Gallieno: A B&B in a Great Location + Good Value
Another great option right in the middle of Esquilino, this charming and eclectic B&B is conveniently located, both for getting to and from the train station, and getting to or from the main sights in Rome (either by metro, bus, or on foot).
It's a small place, with just a few rooms available, but that's part of the charm, we think. You'll get personalized service from the staff, and a much more intimate experience than staying at a mega hotel chain. They have a range of room types and sizes, from small hotel-style rooms to a larger suite with more space (and a spa bath!).
Some of the rooms have an external private bathroom (which means you don't have to share, but it's not inside the room). Rooms have A/C, for those blistering summer days.
La Casa Di Amy: A Charming Family-Owned B&B
This family owned bed and breakfast is a five minute walk from Termini Station, which puts you in a great location for access to the train station and metro. It's also only 20 minutes to both Trevi Fountain and the Colosseum, which is totally walkable if you're up for a longer journey.
It's in the heart of Esquilino, about two blocks northeast of Basilica di Santa Maria Maggiore, which marks the beginning of hip and happening Monti (roughly).
You might be wondering "who is Amy?" Amy is actually a fictional character, and the name comes from the names of the family's three sons.
The rooms are clean, affordable, and give you everything you'll need for a good night's sleep (including climate control, which is important for those hot summer days!).
You'll also get a full continental breakfast to get your day started off on the right foot! The thing that really stands out here is the helpful and friendly staff, which we know can be the difference between a good stay and a great stay.
Sonder San Lorenzo: Modern & Spacious Serviced Apartments
We touched on Sonder above in the "Trastevere" section. They run serviced apartments all over the world that are geared towards modern travelers who want amenities like good Wifi and contactless check in, and who want a little more space.
They have a location right in the heart of San Lorenzo that would be a great option for a longer stay, or if you're looking for more of a local feel than staying, say, in the Centro Storico.
This property has fully furnished apartments of multiple sizes, ranging from smaller studios to vast (by Rome apartment standards) three bedroom apartments.
All have full kitchens, so you'll be able to cook meals for yourself and save money on dining out, and much more space than you'd get in a hotel room.
Some of the units have terraces and balconies to enjoy that warm Roman sun (they also have air conditioning, if you're sick and tired of that warm Roman sun in the middle of August).
Heading to Italy?
We've been to Italy multiple times – obviously we love it – including more than a month on our last trip!
If you enjoyed this guide and found it helpful, you definitely won't want to miss our detailed guide to planning an amazing 10 Day Italy itinerary, which covers Rome, Florence, and Venice and is perfect for a first trip.
We also have a guide to spending two weeks in Italy, which combines those three main cities with a few lesser known cities (Bologna and Verona), or a guide to spending one week in Italy, which has five different ways to spend 7 days.
Here are some of our other Italy guides to help you plan an incredible Italian adventure.
Rome:
Florence:
Venice & Milan:
Cinque Terre:
Sicily:
Need to Eat Gluten Free in Italy?
If you're traveling and need to eat gluten free like me, Matt (I have Celiac Disease, which is why I started this site in the first place), then you'll want to check out our gluten free guide to Italy, along with our city guides for Rome, Florence, and Milan to help you find the best gluten free pastries, pizzas, and more.
Testaccio: The Best Place To Stay For Foodies
Testaccio is another neighborhood in Rome that is just far enough off the beaten path to be filled with more Romans than tourists. Which is part of what I look for in a neighborhood.
Testaccio is known for some of the best and more authentic traditional Italian food. Think tiny Italian delis, local markets, and restaurants serving only the best Italian food. You'll also probably save a little bit of money because it's generally a little bit cheaper than other parts of the city that are closer to the main tourist attractions.
Pros and Cons of Staying in Testaccio
Pros:
It's gritty and real. Testaccio is not the romantic cobblestone streets of Trastevere, or the manicured, carefully curated Centro Storico. It's just now becoming a place that tourists visit, which means it still has a charm that only comes from real people living there. It's still Rome, which means there are still tourists everywhere, but Testaccio has a better locals:tourists ratio, we think.


It's close to the Giardino degli Aranci (Orange Gardens). Which is the best park in Rome, we think, and is a great place to watch the sunset over the Tiber and the city.


Great, affordable food. This is an up-and-coming part of the city, and there are some great eats to be had. Don't miss the Mercato Testaccio, a mix of daily farmers market and hip food hall.
Cons:
Outside of the Historic Center of Rome. While this might actually be a good thing for some travelers, it certainly means that you're going to have a longer way to go to get to places on the tourist map.

Not many great places to stay. There's a couple of hotels, but none of them really stand out to us as special. There are a few vacation rentals that caught our eye, but nothing outstanding.
Testaccio Highlights
Non-Catholic Cemetery: When Rome was still a devoutly Catholic city the remains of protestant foreigners weren't permitted to be buried in the regular cemeteries alongside the Catholic citizens. Instead a few non-Catholic cemeteries sprung up to accommodate them and the one in Testaccio is one of the most famous. Remains of Percy Shelley and John Keates can be found buried here.


Volpetti Salumeria Market: A popular market selling all manner of meats, cheeses, preserves, baked goods, and wine. It is open everyday and perfect for grabbing picnic food to enjoy while exploring Rome. Mingle with the locals as they go about their daily shopping to purchase the ingredients used in real Italian cooking.


Mattatoio di Testaccio: a contemporary art gallery housed in the old stockyards and abattoir of Testaccio. Many of the mechanisms and fixtures of the slaughterhouse remain giving the gallery a slightly macabre feel that exhibiting artists like to reference in their works. The onsite bar is housed in the holding pens outside so guests can make the most of the sunny weather.


Jewish Quarter: Just on the outskirts of Testaccio is the Jewish Quarter of Rome and it is well worth a visit for interesting Roman-Jewish baked goods and cuisine. This area is perfect for an afternoon of wandering and is known for having all sorts of amazing casual eats.
Where To Stay In Testaccio
There are a lot of hotels in the area known as "Aventino," which is adjacent to Testaccio and is your best bet for exlporing this part of the city.
Hotel San Anselmo: For a Romantic Getaway
This is a beautiful hotel ornately decorated with plenty of golden gilding and rich reds throughout the whole establishment. Hotel San Anselmo is really small and has no restaurant or spa, and very little space in common areas, with the extra room being used to make the rooms more spacious.
The hotel is very much aimed at couples on a romantic getaway with its luxurious rooms and in higher room types four poster beds. Some of the rooms have private balconies or bathtubs with whirlpools for a little extra romance and they even have complimentary smartphones in each of the rooms for the convenience of guests.
Their sister hotels are also a great choice – Hotel Aventino and Hotel Villa San Pio – both of which are nearby in the same general vicinity.
On a Budget? Testaccio Village Guesthouse
Testaccio Village Guesthouse fantastic option if you're on a budget, but want to stay in the heart of Testaccio. This hotel offers family rooms as well as a hot tub, and the internet is plenty fast. The décor of this guesthouse can be described as cozy and no frills. It feels like a stay in a minimalist countryside cottage.
Prati: The Best Place To Stay Near the Vatican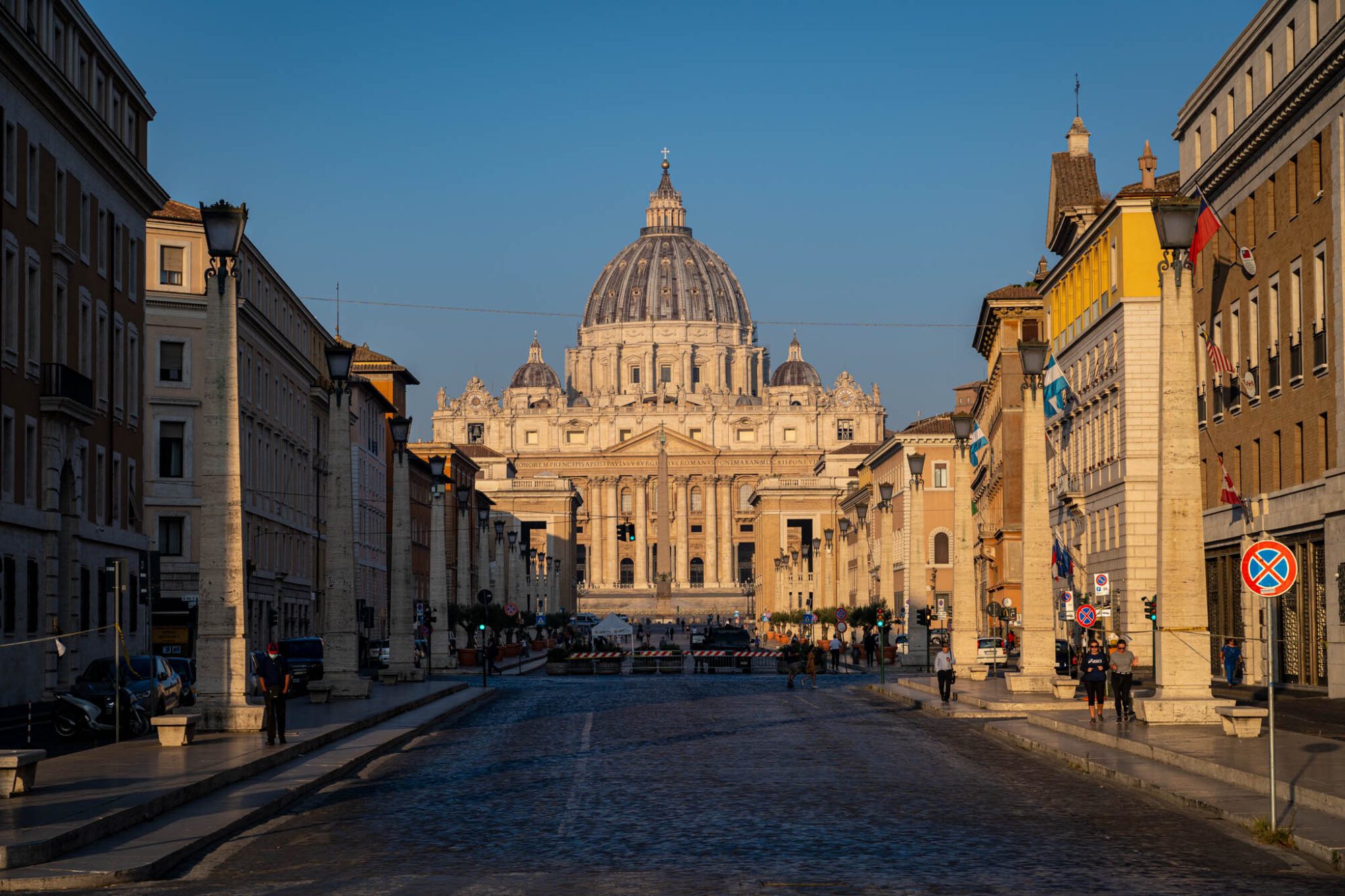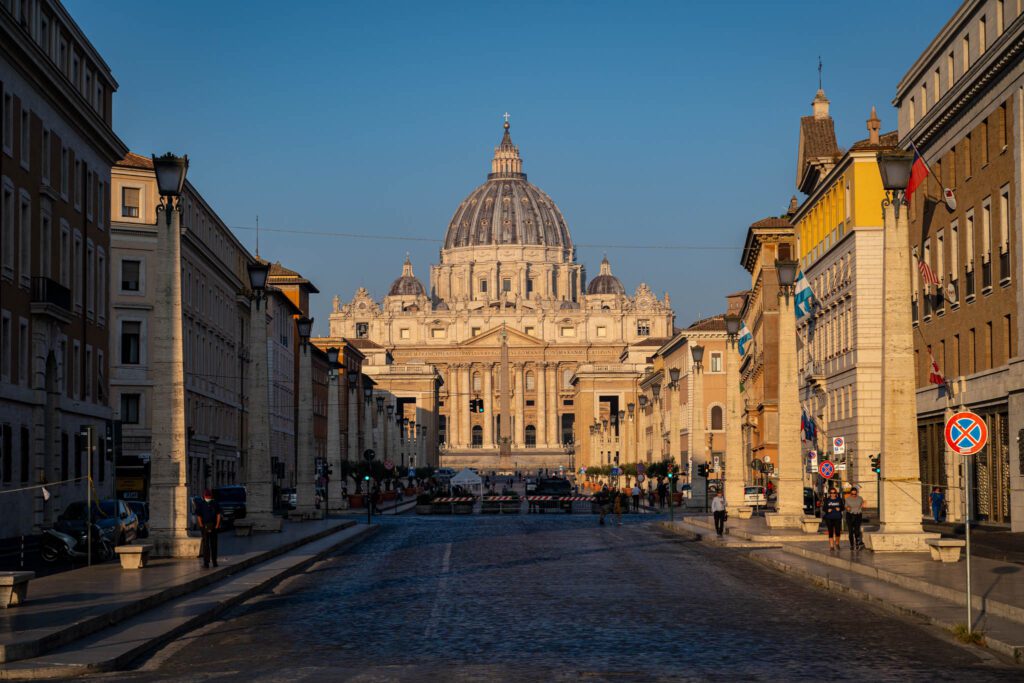 The Prati neighborhood is the best area to stay in Rome if you are looking for somewhere a little quieter, away from the hustle and bustle. Though it's a hop, skip, and a jump away from the Vatican, so you'll be perfectly set up to explore either early in the morning or late in the evening, depending on how you want to do it.
In fact, Alysha lived in Prati for six months, and loved it. I've been trying to get her to take me back for years, and it's finally happening in 2020 (update: it's not)!
Deciding where to stay in Rome as a family is an important decision, and staying in Prati is a great place to base yourself, particularly with kids. It's a little quieter, but still plenty close to Rome's main attractions.
It is more reminiscent of Parisian neighborhoods with its wide avenues and large elegant buildings than expected of the narrowed alleys of Rome. With the Supreme Court and two other tribunal courts housed here it is a hot spot for lawyers during the work week but in the evenings and on weekends you can expect to find a multitude of wine bars, restaurants, and trattorias.
A place predominantly frequented by locals, Prati is a perfect place to stay for families or other travelers seeking a more peaceful base.
Pros and Cons of Staying in Prati
Pros:
The Vatican. There's no place to stay that is closer to the Vatican.


It's quiet. Especially once you get away from the area immediately adjacent to the Vatican, when it becomes more residential the further north you go.
Cons:
…it might be too quiet. There's not a whole lot going on after dark, when all the tourists go home and the partiers go elsewhere.


It's hard to get to from the train station. Other neighborhoods, like Monti, are walkable from Termini. To get to Prati, you'll have to either hop on the bus with your luggage, or take a taxi.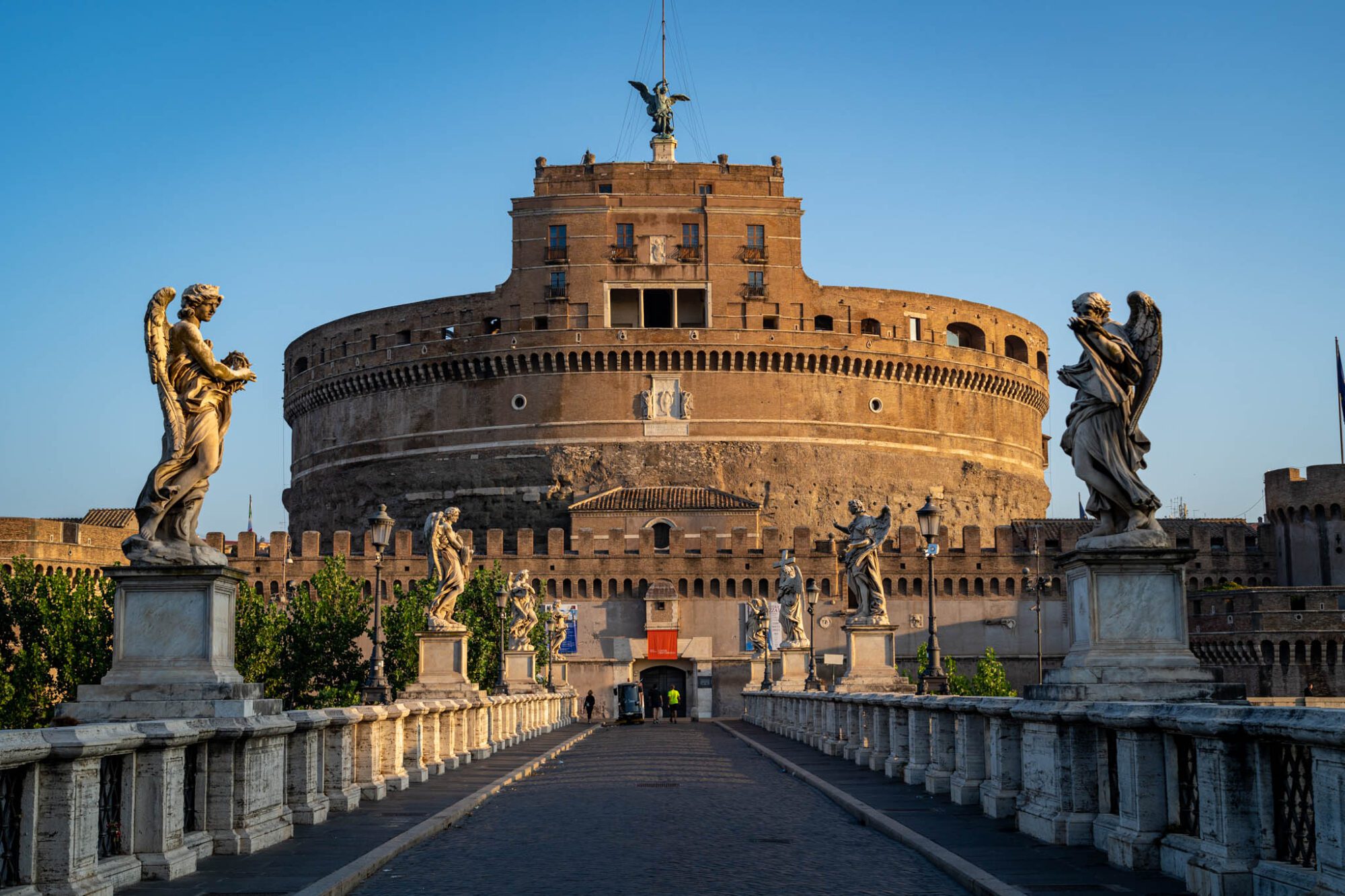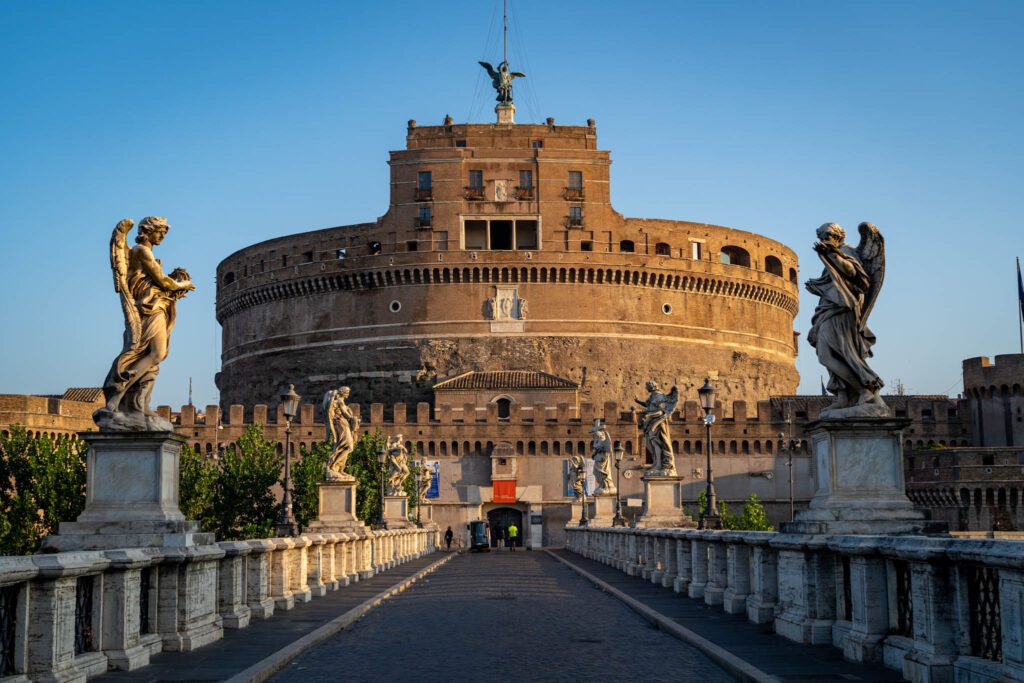 Neighborhood Highlights
Cola di Rienzo: The perfect place to shop where the locals shop. Cola di Rienzo is home to many mid-range to high end Italian and international brands. Just off this street are little restaurants and cafes ready for weary shoppers to rest their feet.


The Vatican and museums: Prati is perfectly located to explore the Vatican and its museums being either one stop away on the metro or a very short walk through the beautiful neighborhood.


Alexanderplatz: A lively jazz venue bringing in local and international acts to play the popular bar. This is the most popular jazz bar in Rome so well worth the visit if you are a jazz fan.
Best Places to Stay In Prati
NH Collection Roma Giustiniano: A TRADITIONAL HOTEL STEPS FROM THE VATICAN:
Location-wise, this beautiful hotel is one of the best places to stay in Rome, just a few minutes walk away from the Vatican. With 161 rooms this hotel is bigger than most of the ones in Rome that we've talked about so far, but this means more facilities. The hotel has a large restaurant, meeting rooms, babysitting, and accessible rooms. It's very much a more traditional hotel, if that's what you're looking for.
Hotel Della Conciliazione: BEST BOUTIQUE HOTEL IN PRATI
If you'd prefer a boutique hotel in the Prati area, look at Hotel Della Conciliazione. It has been recently renovated and the design is modern but with traditional touches. The bathrooms either have a shower or jacuzzi bathtub. But even better all of the rooms have private balconies to enjoy the music of the busy city around you.
Domus Terenzio: MODERN LUXURIES, SMALL BUDGET
The Domus Terenzio is a modern hotel in a historic building. Renovated in 2016 the rooms are extremely comfortable with down comforters and tea and coffee makers as well as a phone offering free local calls. Onsite is a lounge, a terrace, and gardens for shared spaces. This hotel is a mere 10 minute walk from St Peters Square so ideal for sightseeing.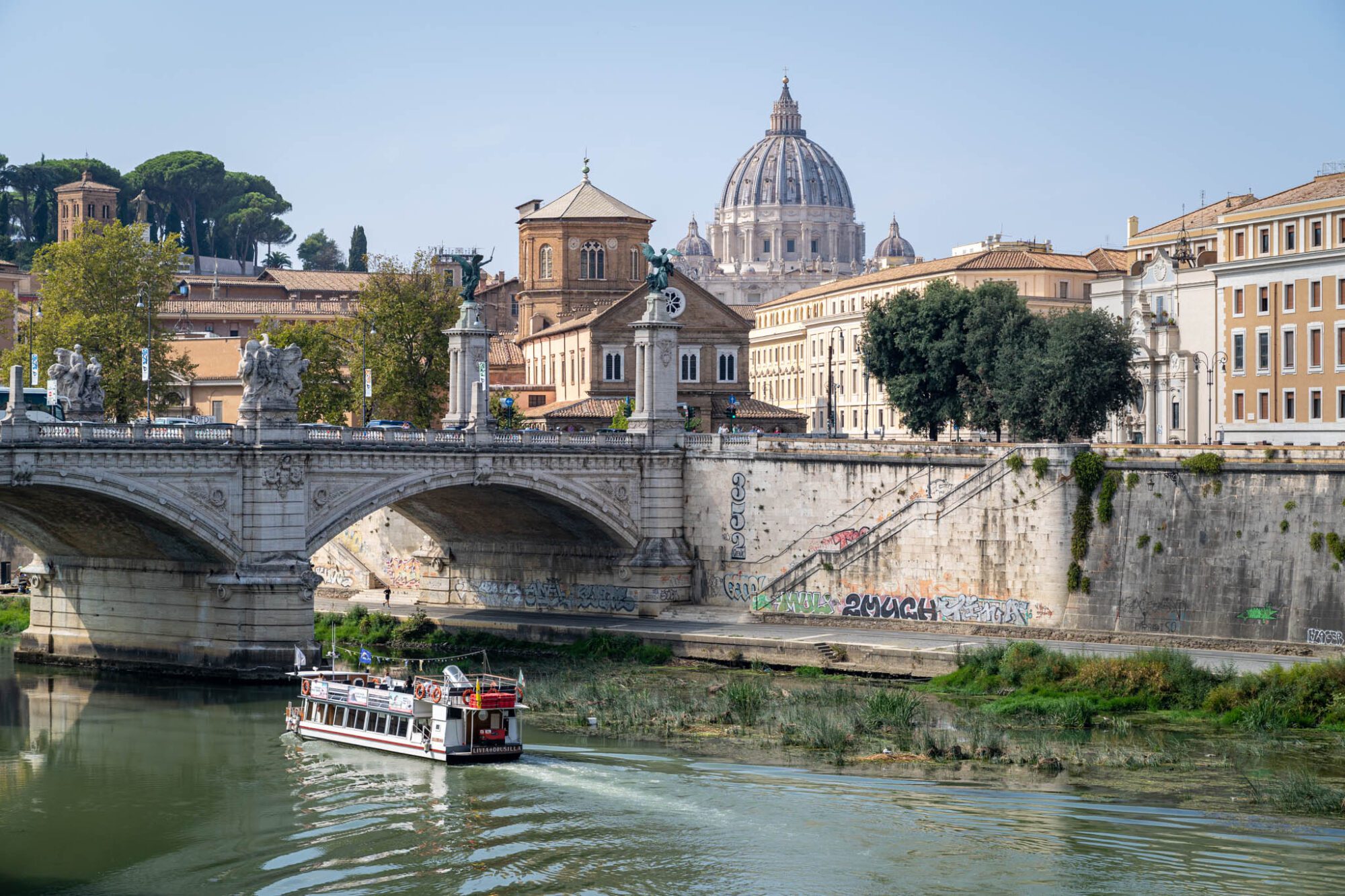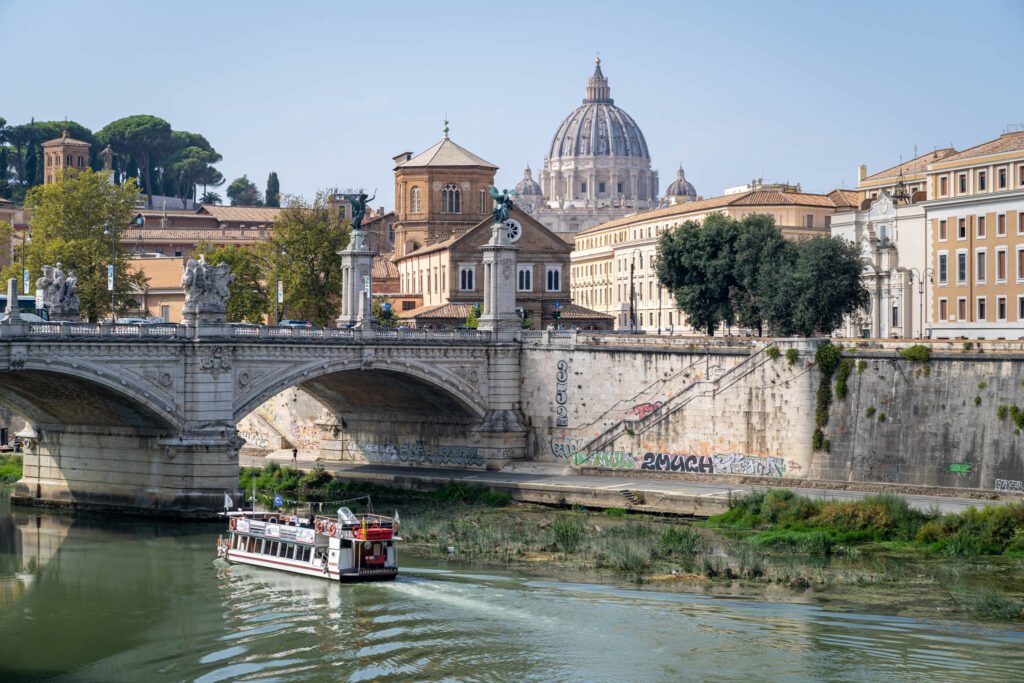 Vacation Rentals vs. Hotels in Rome
A word on vacation rentals before we dive in.
We love vacation rentals. But it's worth considering the pros and cons of hotels and vacation rentals in a place like Rome.
We love vacation rentals for the slice of local living you get by staying in one. Instead of being in a hotel, where you're waited on at all hours of the day, you have a little autonomy. Not to mention space to spread out (more places to sit than just on top of the bed? CRAZY!).
For us – two (gluten free) foodies – the best part about vacation rentals is access to a kitchen. I have Celiac Disease, which means I need to eat strictly gluten free. Having a kitchen allows us the flexibility to cook for ourselves, which also happens to save money.
One of our favorite things to do is go to the local market, grab some fresh local ingredients, and cook dinner at home, eating on the patio outside with a glass of wine while the sun sets over the city.
There are downsides to vacation rentals, which also happen to be on the "pro" side for hotels.
It's less convenient – we often find ourselves waiting around for check-in time, which is less flexible than hotels or hostels (plus you can usually leave your bags at hotels – not so much at hostels).


Cancellation is less flexible with vacation rentals (understandable since they're often operated by individuals rather than big corporations), which is a consideration. It's not great to lose the money you spent on your accommodations if something causes you to cancel your trip.


It's not necessarily cheaper. While vacation rentals USED to be the cheaper way to go, we think it's getting to be pretty even when you take into account all the fees (like the cleaning fee) that come with a vacation rental. Hotels have responded to the competition by upping their game and lowering their prices, in most cases. It is worth saying that it's probably cheaper for groups of 4+ to stay in a vacation rental instead of multiple hotel rooms.
It's also worth noting that vacation rentals often have a negative impact on local residents, particularly the less wealthy ones who can't afford rising rents in trendy neighborhoods, which we've seen firsthand in both Seattle and San Francisco
Whichever direction you go, you're going to love Rome. We wanted to put our thoughts out on the table to help you make an informed decision about which to choose for your stay in Rome.
---
If you pick one of the four neighborhoods above, you're going to end up with an amazing trip to Rome.
You'll notice that we skipped over some of the more central and touristy neighborhoods in Rome. They're fine – especially if you're only in Rome for two or three days and want to be super central – but they're not SPECIAL. We think Trastevere, Testaccio, and Prati are special, and that's why we think they're the best neighborhoods for you to choose in Rome.
Plan an Incredible European Adventure
Planning (or thinking about planning) a trip to Europe? We've got you covered! We've been to Europe many times, including a recent three month trip to Portugal, Paris, Italy, and Spain.
Here are our in-depth European travel guides to help you plan a trip full of learning, discovery, and unforgettable experiences.
LONDON: How to Plan your London Itinerary, Where to Stay in London, and the Best Coffee Shops in London
PARIS: A Perfect Paris Itinerary, Where to Stay in Paris, and the Best Coffee in Paris
ROME: A Complete Rome Itinerary, Where to Stay in Rome, and the Best Things to Do in Rome
AMSTERDAM: A Perfect 2 Day Amsterdam Itinerary and Exactly Where to Stay in Amsterdam
BARCELONA: A Complete Barcelona Itinerary and Where to Stay in Barcelona
MADRID: An Amazing 2 Day Madrid Itinerary and Where to Stay in Madrid
LISBON: A complete guide to 3 Days in Lisbon and Where to Stay in Lisbon
FLORENCE: The Best Things to Do in Florence, Where to Stay in Florence, and a Perfect 3 Day Florence Itinerary
SICILY: How to Plan an Amazing Sicily Road Trip and the Best Things to Do in Catania
SPAIN: A Complete 14 Day Spain Itinerary and a 2 Day Seville Itinerary
PORTUGAL: How to Plan an Amazing Portugal Itinerary and a guide to planning an Algarve Road Trip