Where to Stay in Rome: A Complete Guide for First Timers
There aren't a whole lot of places in the world where you can walk by a column that was completed in 113 A.D on your way to a massive amphitheater that was built more than a millennium ago. The preserved history that exists in Rome is one reason why the Eternal City is consistently in the top 10 most visited cities in the world.
Every time we're in Rome (and the rest of Italy, really), we're reminded just how young the cities we've called home really are (Seattle, San Francisco, and now Portland, Oregon).
Despite each having visited Rome multiple times before, there's something about it that is always drawing us back in. Part of it is the novelty of just how old some of the things in Rome are, which consistently makes our jaws drop as we marvel at the accomplishments of a group of people who built things without the technological power we have today.
But there's something beyond that. Rome is romantic. The people are warm. And, arguably most importantly in our book, the food is simple and delicious. Which is why we decided to spend a full 10 days in Rome last year.
Alysha lived in Rome for six months, and Matt loved his first trip to Rome so much (nearly a decade ago now, we're getting old!) he made the return trip just two years later. Then, last year, we spent a full 10 days in Rome to dive a little deeper into the city. Between us, we're certainly not locals, but we have a solid working knowledge of Rome beyond a typical tourist who has been once for a couple of days.
We're here to help you learn from our decisions so that you can skip staying somewhere mediocre (like Matt did on his first trip) and find an amazing place to stay in Rome.
Keep in mind, we haven't stayed at most of the specific places in this guide. However, we have explored each of the neighborhoods below, and did the research to find the top-rated places to stay in each, mostly in service of planning our recent 10 day stay in Rome.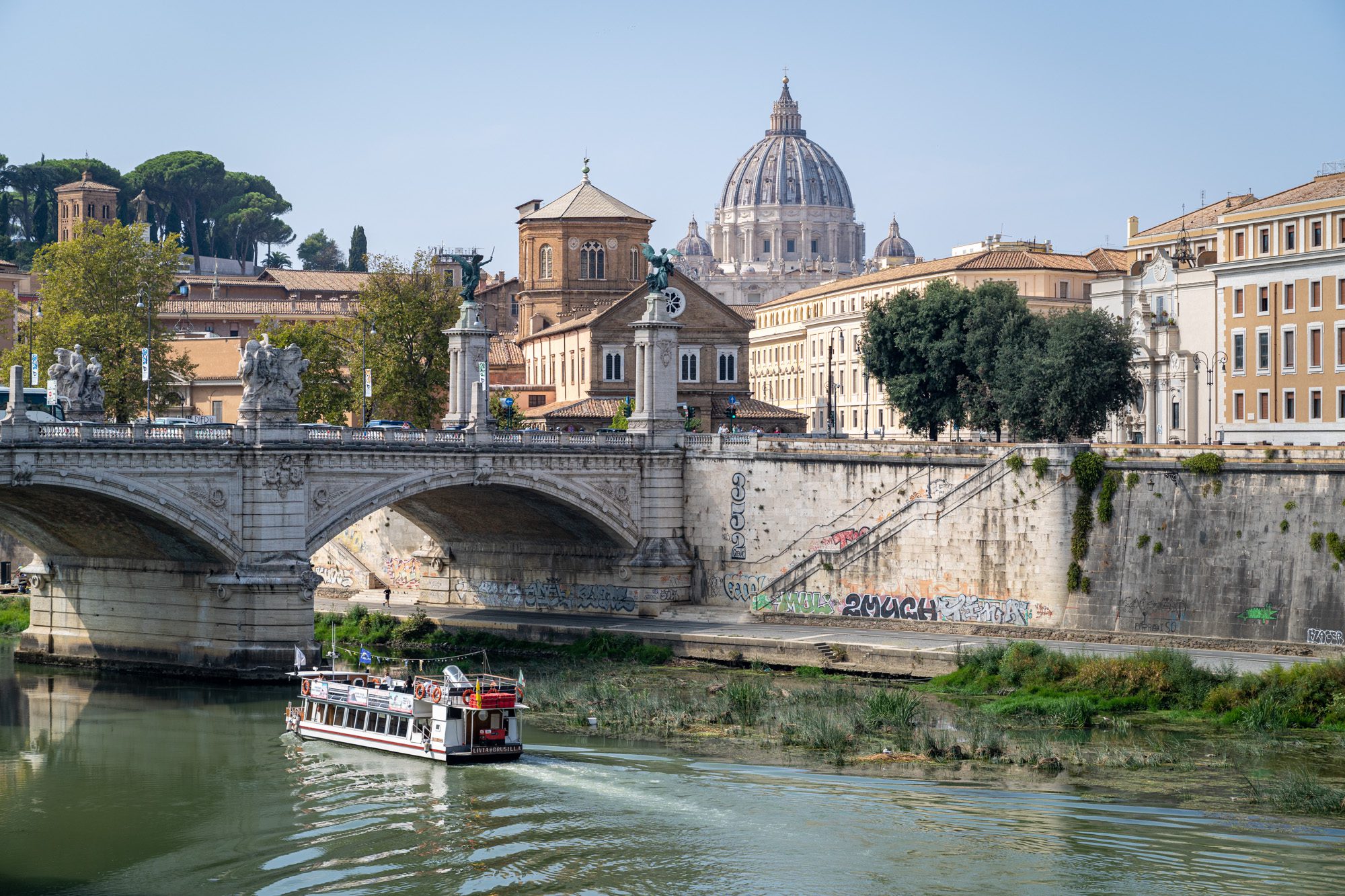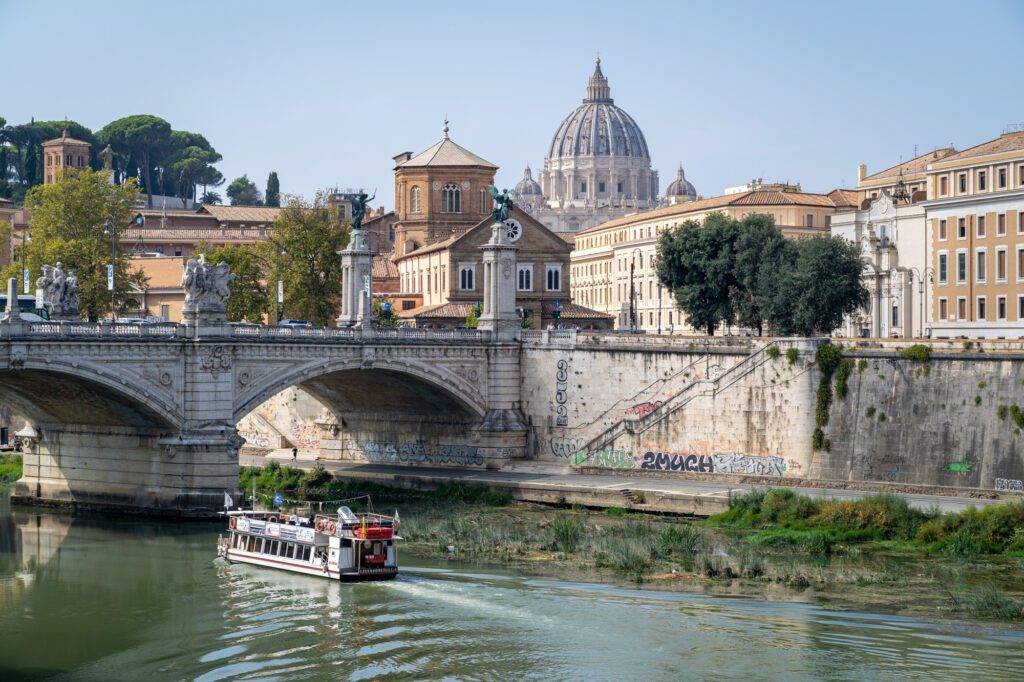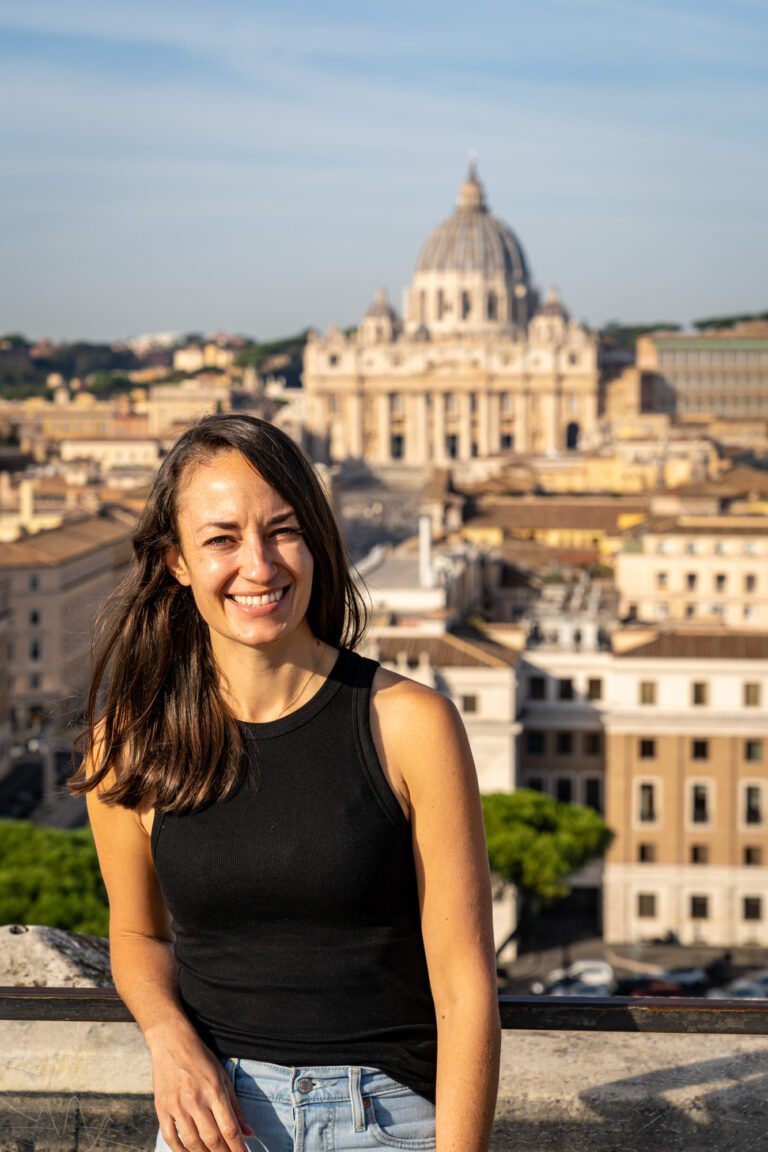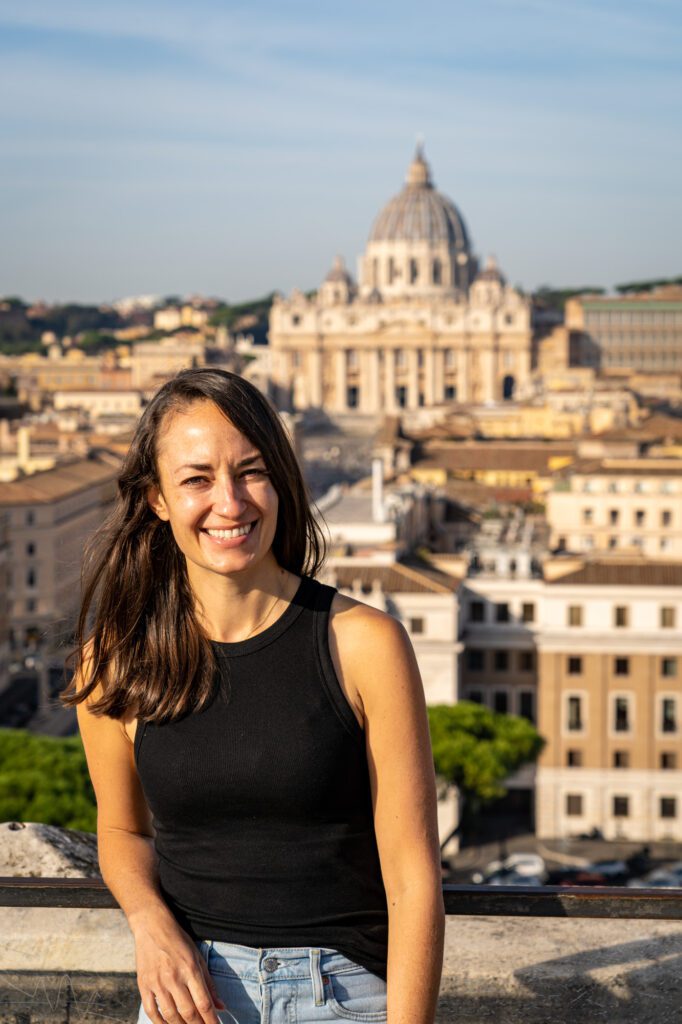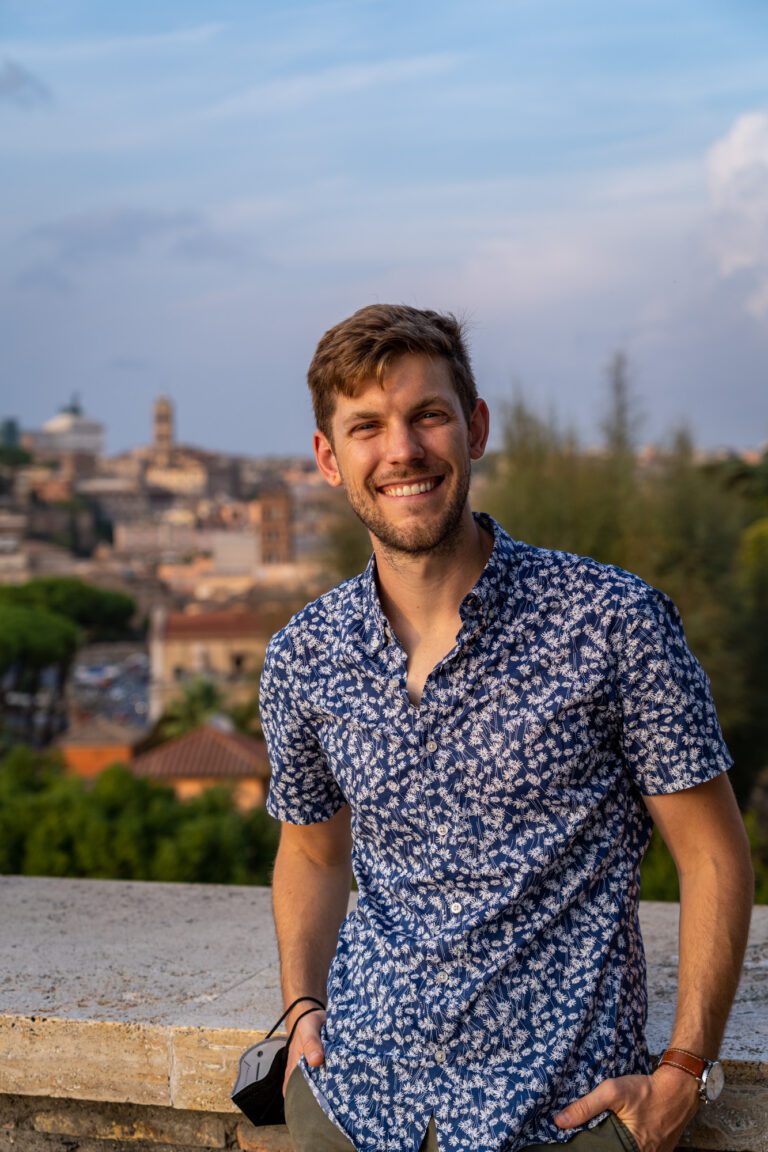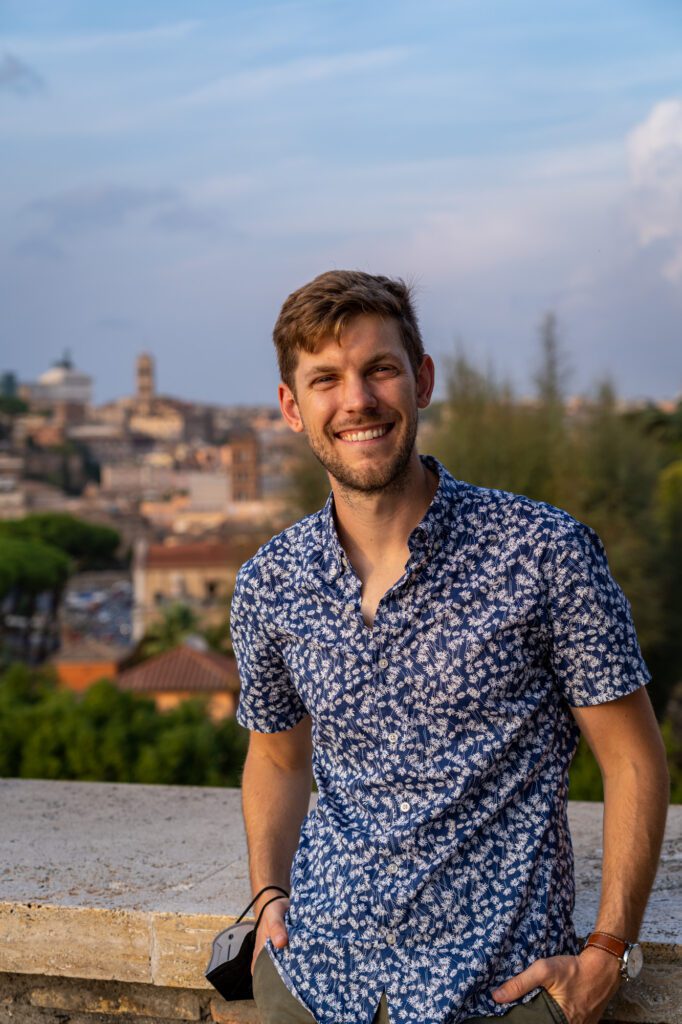 In this guide to where to stay in Rome, we're going to cover five excellent areas to stay that would make a good home base for your trip to the Eternal City.
We'll give you our experience with the neighborhood, a list of pros and cons of staying in each area, our favorite discoveries in the area (think coffee shops, bars, and parks), and some cool places to stay.
Our intention is that, by the end of it all, you'll have the information you need to choose the perfect place to stay in Rome based on your particular style, budget, and preferences.
Sound good to you? Let's get into it.
Disclaimer: Some of the links in this post, like hotel links, are affiliate links, meaning at no additional cost to you, we make a little bit of money if you click through and book. That being said, we would never recommend something to you that we don't stand behind 100%.
Where to Stay in Rome: A Detailed Guide to the 5 Best Areas to Stay
Our philosophy when it comes to deciding on a place to stay is to first choose the neighborhood, then move on to finding a great hotel, hostel, or apartment in that area.
The beauty of Rome, like most big cities, is that each neighborhood has a unique personality. The best neighborhood in Rome for you totally depends on what you're looking for.
The downside of that fact is that it can be REALLY confusing when it comes time to decide on where to stay.
With so many great neighborhood options, each with their own quirks and unique charm, which area should you choose?
It seems impossible to do, but we've narrowed down the list of the best places to stay in Rome to just four neighborhoods.
When it comes to where to stay in Rome, there are an astounding number of possible neighborhoods you COULD stay in. In the guide below, you're going to find the four that we think you SHOULD stay in, depending on what you value.
Rather than take a shallow look at every neighborhood in Rome, we're going to go deep on the four we think are best for 99% of people visiting the Eternal City.
Now, we're well aware that a few of you are currently ready to throw your left shoe at the screen, saying "I don't have time to read all of that, JUST TELL ME THE BEST PLACE TO STAY!"
Well, here's a quick summary of this guide if you're short on time (though we'd recommend reading the section of the place you end up staying for tips and places to add to your list!).
Here's a map to help you visualize what we're talking about in this guide.
We've given you the five areas we're recommending below, along with the main landmarks in Rome (e.g. the Colosseum, the Vatican, Termini Station, etc) with yellow pins so that you can see what we're talking about when we mention things about location.
Pro-tip: If you want to open the map in a bigger window, hit the "expand" button in the top right corner.
Where We've Stayed in Rome
Our own personal experience might be a good place to start this guide.
On our most recent trip to Italy, we spent a total of 10 days in Rome (five days on either side of our Sicily road trip). Over those 10 days, we stayed in three different areas.
We spent a full five days staying on the southern end of the Centro Storico, near Piazza Navona and Campo de' Fiori, and it was a fantastic place to base ourselves for our reintroduction to Rome (also, if it's your first time, this is where you should stay).
We stayed at these apartments, and it was the perfect short-term home for five days. The apartments are fully equipped with a nice kitchen, hot showers with good water pressure (not something you always find in Italy, we've learned), and comfortable beds.
When we returned to Rome to close out our time in Italy, we stayed in two separate places over five more days. We split our time between Horti 14, a gorgeous boutique hotel just outside the heart of Trastevere that's a great location in between Trastevere, the Centro Storico, and the Vatican, and RomeHello, a charming boutique hostel that is a great budget-friendly option just northeast of the Centro Storico.
While you're in Rome, you're probably going to want to see some of the main sights, like the Colosseum and Vatican.

Don't miss the best tours in Rome with Walks of Italy. They're experts in all things Rome. From their early morning tours of the Vatican, to the after hours Colosseum tour, they are hands down the best tours in Rome.

We have personally done this tour of the Colosseum with them, and it was incredibly informative – our guide was an expert, and dispelled some of the common myths about the structure and what it was built for as we moved through it.

If you're going to do a tour in Rome, do it with Walks of Italy.

We've now done at least four tours with them over our travels the past few years – you can read about our experience on their Colosseum Tour in Rome here. 
Trastevere: Our #1 Recommendation for Just About Everyone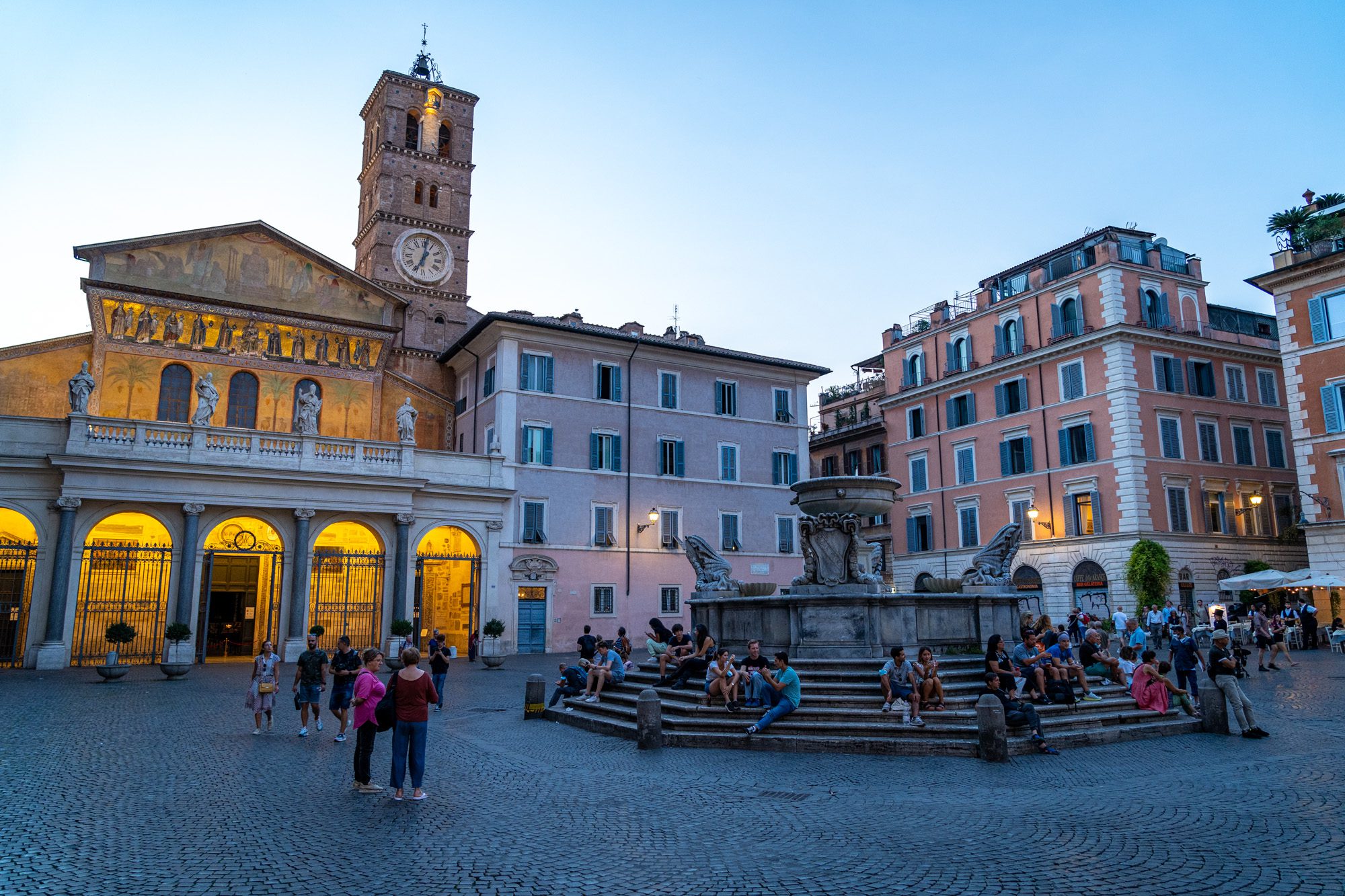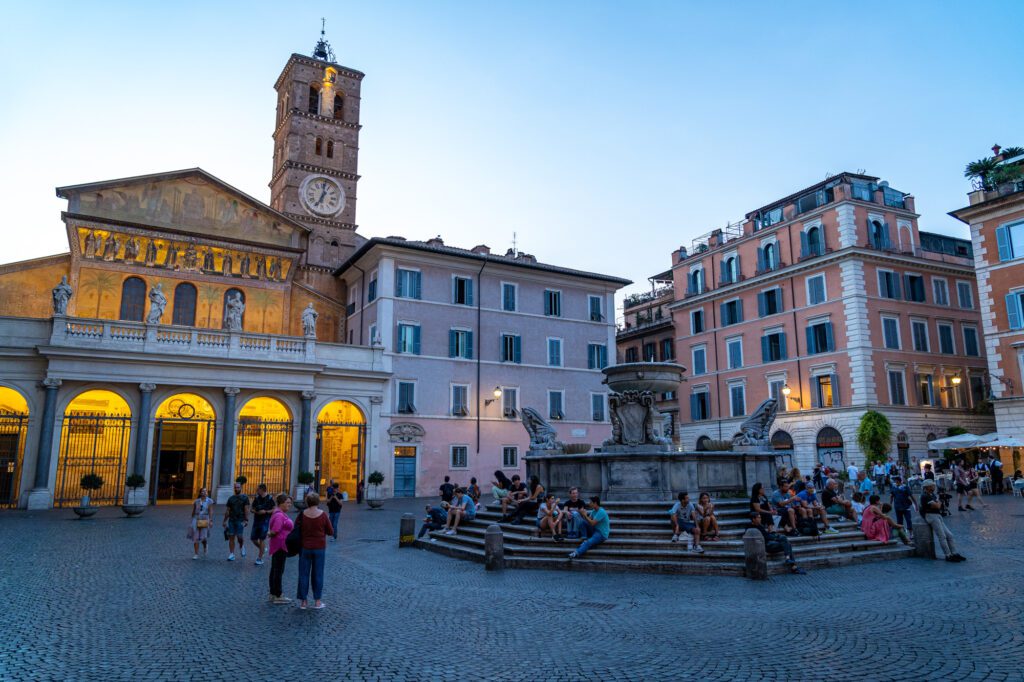 Trastevere is hands down our number one recommendation for the best area to stay in Rome. In fact, we've literally stayed in Trastevere every single time we've been to Rome.
To us, it feels like one the most authentic areas of Rome – with winding cobblestone streets opening up onto vibrant piazzas filled with markets and locals going about their day. Sure, there are definitely tourists (I mean, it's Rome), but it's far less tourist-centric than an area like the Centro Storico or Monti.
The neighborhood is about a 30 minute walk to all of the main attractions, and less on the metro system, so the location is plenty convenient for exploring the main sights of Rome.
However the neighborhood is an attraction in itself with little shops and markets and beautiful churches that you will have seemingly all to yourself. It's just far enough off of the beaten path to avoid the throngs of tourists (although it is certainly getting more busy by the day).
Here you will be among the locals as they go by their daily lives. Which makes it the best place to stay in Rome if you really want to immerse yourself in the true culture and lifestyle of the Eternal City.
Personally, this is our favorite neighborhood in Rome, and it offers a little bit of everything.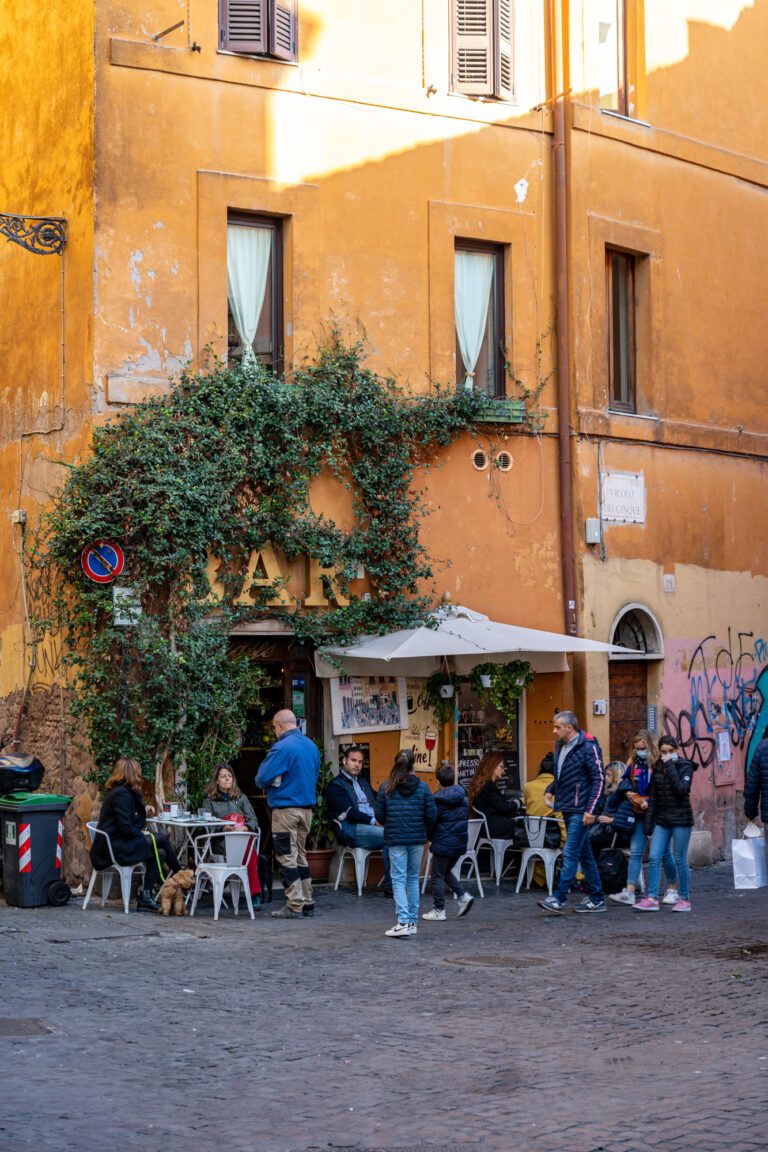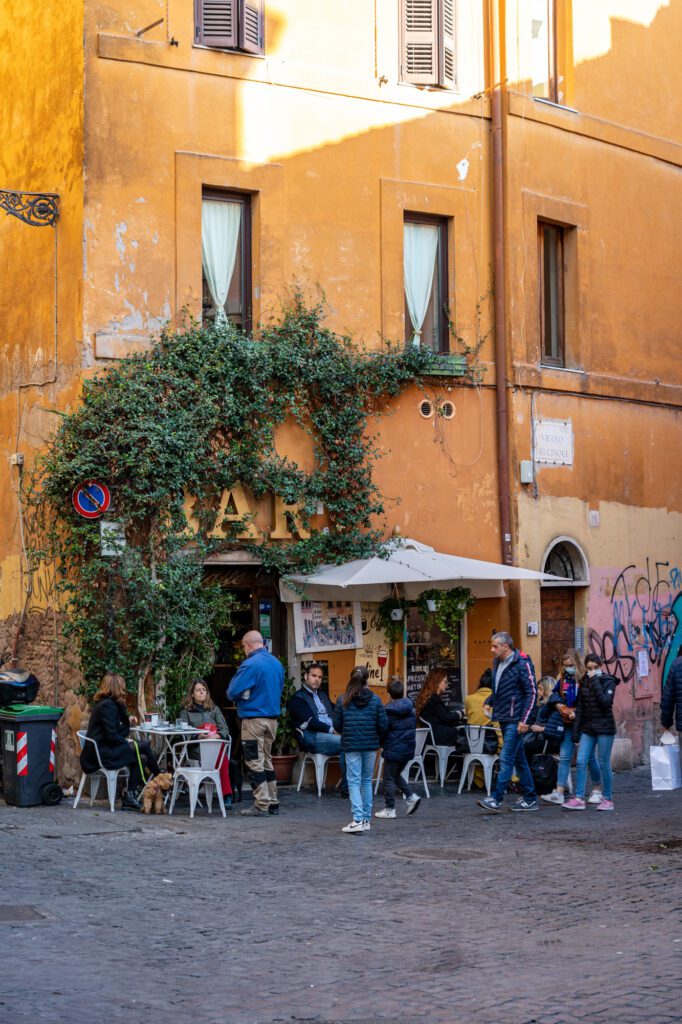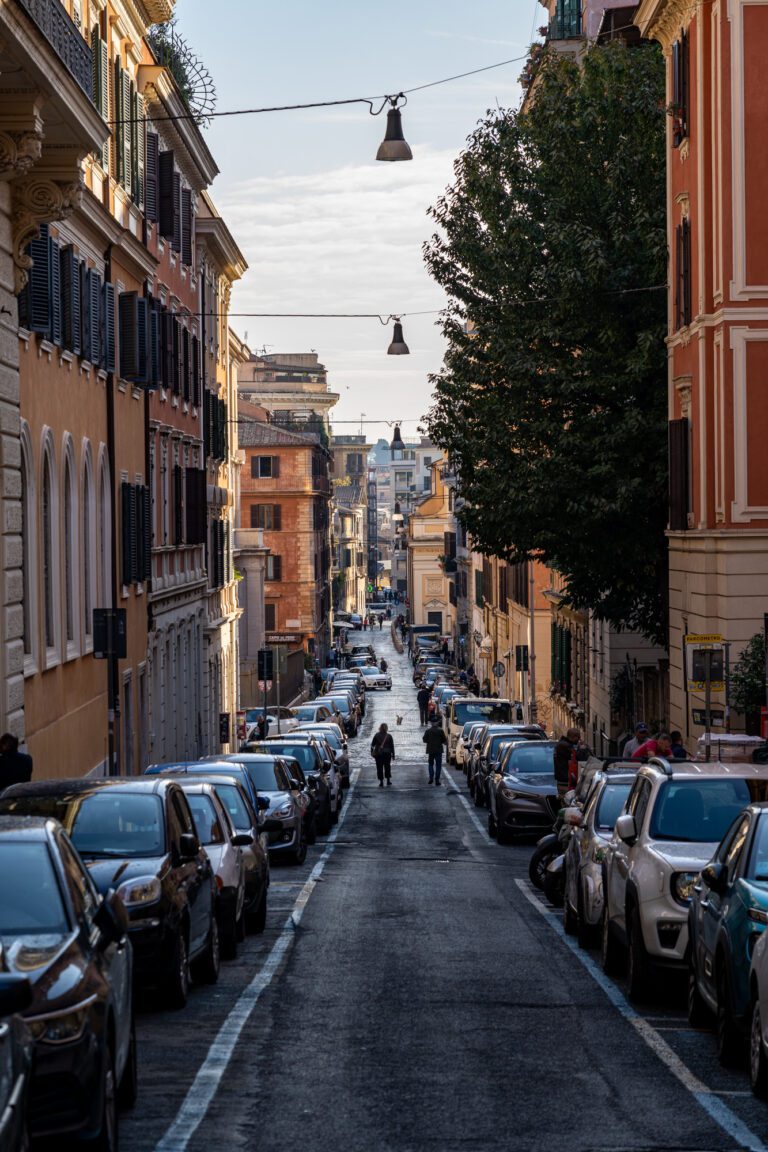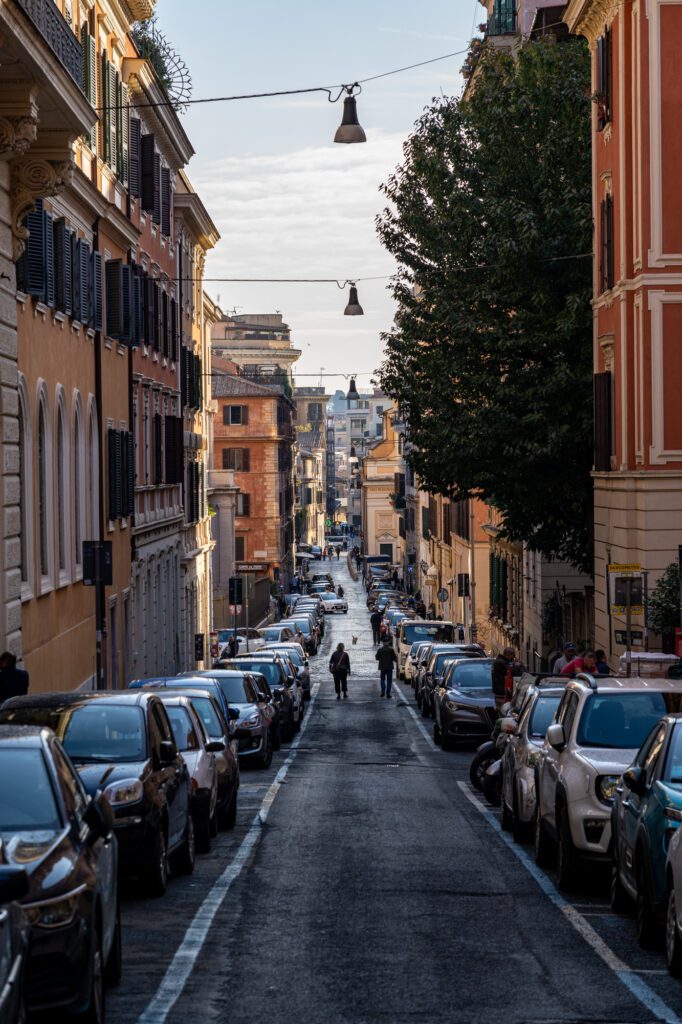 Pros and Cons of Staying in Trastevere
Pros of Staying in Trastevere:
All of the charm. Cobblestone streets. Greenery. Bars and restaurants with people spilling out into the streets after dark. Trastevere is as charming as it gets, in our opinion.


Great nightlife. Trastevere is great during the day, but it really comes alive when the sun goes down and people settle into the numerous terraces and piazzas for dinner and drinks, which can last until the early morning hours.
Cons of Staying in Trastevere:
It's not particularly central. While you'll be able to walk to the Centro Storico (particularly the southern end, around Piazza Navona), it's not walkable to much of the northeastern side of the city (think Spanish Steps and Villa Borghese).


There's no easy connection from Termini (Rome's main train station). It's just not that easy to get there from Termini – we had to take a taxi.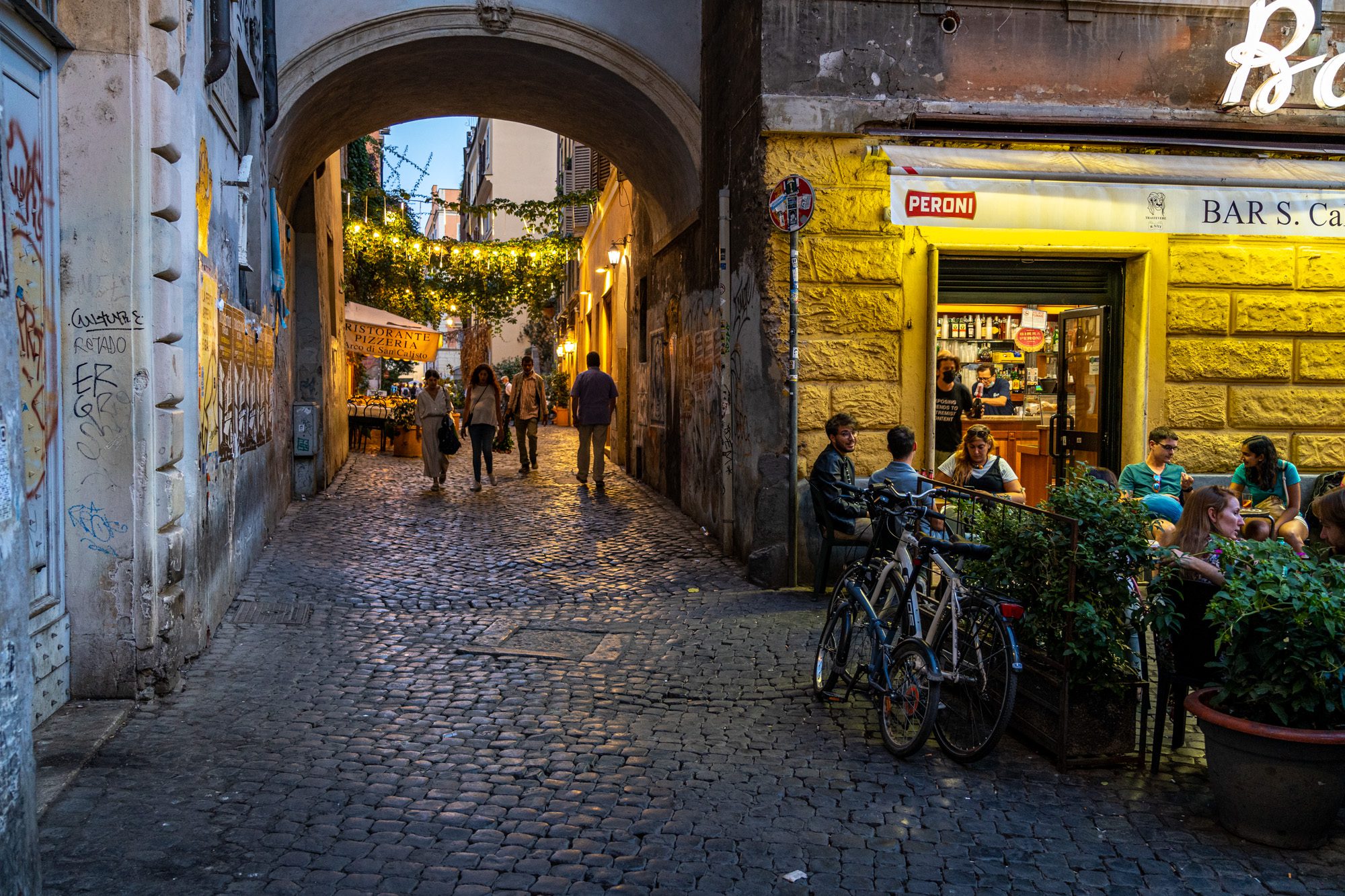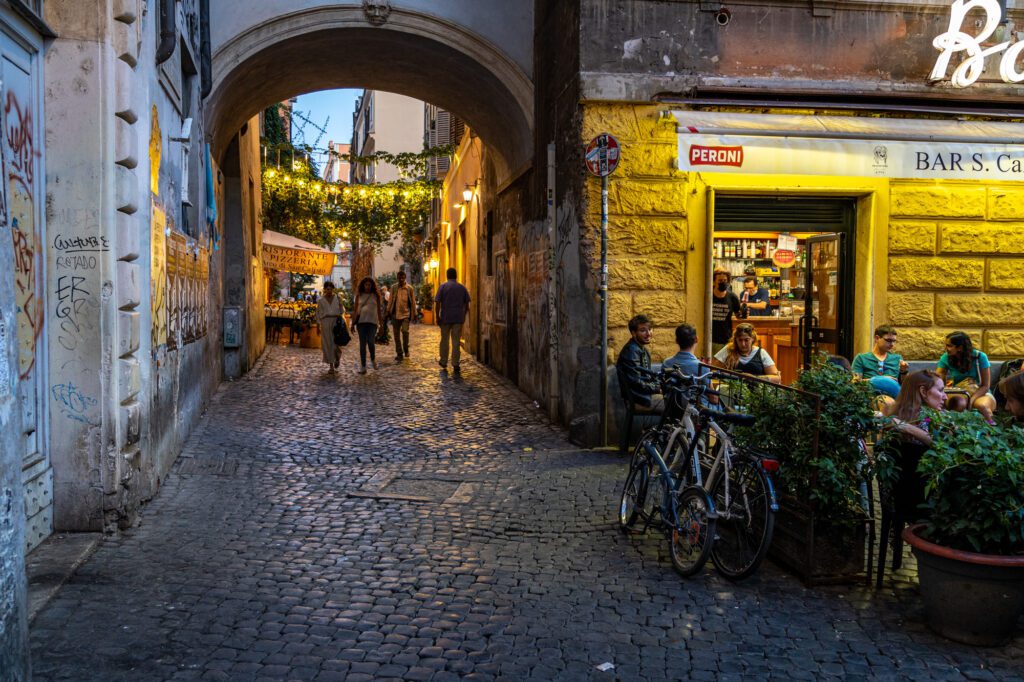 Trastevere Highlights
Here are some places in Trastevere that we love, and think you probably will too.
Freni e Frizoni: The staff at Horti 14 suggested this place to us when we asked where to go for an afternoon drink, as did Alysha's friend who used to live in Rome. The aperitivo buffet is a thing of the past, but it's still a nice place to go for an afternoon drink before dinner. It's a little more expensive, but that's because their cocktails are legitimately good and interesting.


Les Vignerons: A cozy little beer and wine shop on a side street in Trastevere. Great selection and friendly staff. They even have a bunch of Italian cider, which was a lovely surprise for us (we LOVE cider).


Enoteca L'antidoto: A tiny little natural wine bar / bistro in Trastevere.


Belvedere del Gianicolo: I'm not sure if this viewpoint up above the neighborhood technically counts as Trastevere, but we're going to include it. It's a lovely walk to do in the morning or around sunset, and it ends at a viewpoint with an incredible view out over Rome with all of its towers and churches. Here's an excellent walking route up to the viewpoint, which includes an interesting history lesson on Italian independence along the way.
The Best Places to Stay in Trastevere
Here are a few places that caught our eye in Trastevere, including a place that we stayed and loved.
Horti 14 Borgo: A Beautiful Modern Hotel with a Great Breakfast Buffet (Where We Stayed)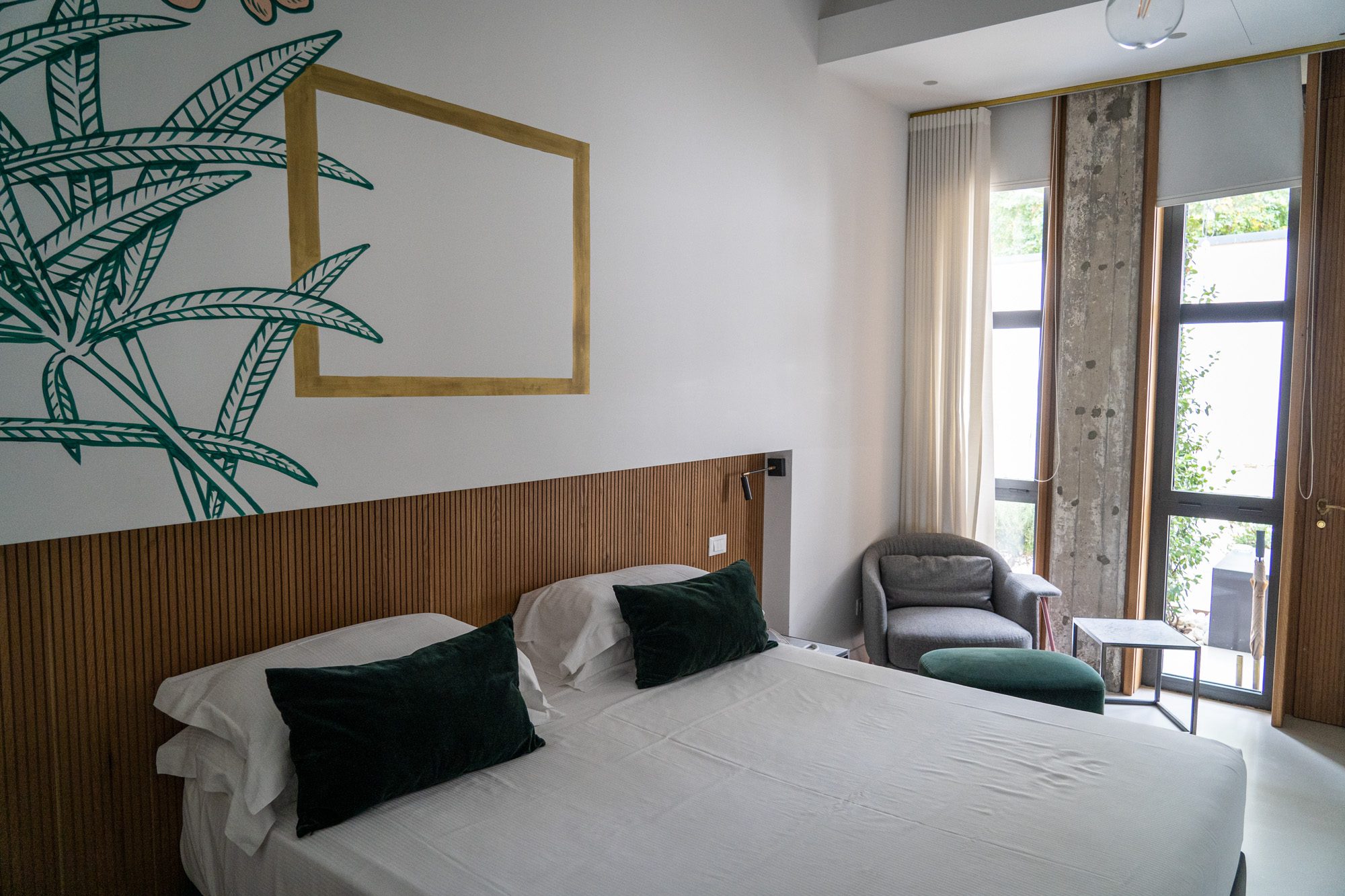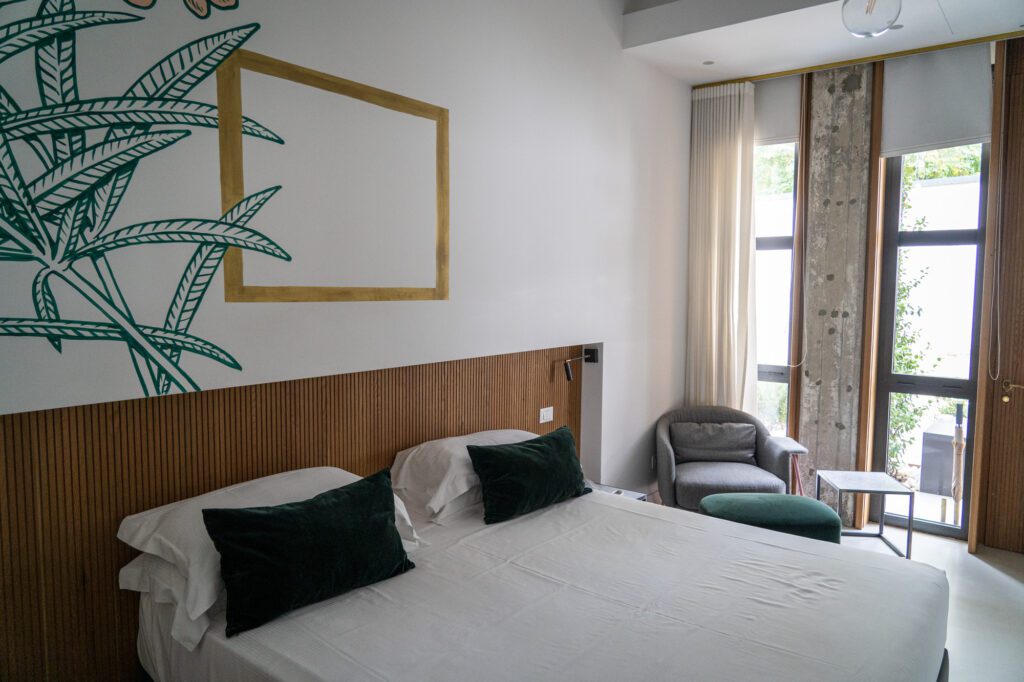 I had this boutique hotel bookmarked for my next trip to Rome for YEARS before we decided to stay here for the tail end of our last trip to Rome.
My expectations were high – it gets stellar reviews, it looks beautiful, and it's in one of my favorite parts of the city – and I would say that it lived up to the expectations I had, if not exceeded them.
It's on the northern edge of Trastevere, about a 10 minute walk outside of the center of the neighborhood.
At first, I saw that as a negative, but then I realized that, given the nightlife scene in Trastevere and the fact that we need our sleep or we're grumpy messes, the quiet location is actually nice.
It's a small hotel with just 17 beautifully furnished rooms with modern touches and floor-to-ceiling windows that bring in plenty of natural light. They also have a terrace on the top floor, where you can enjoy breakfast in the morning or aperitivo in the afternoon.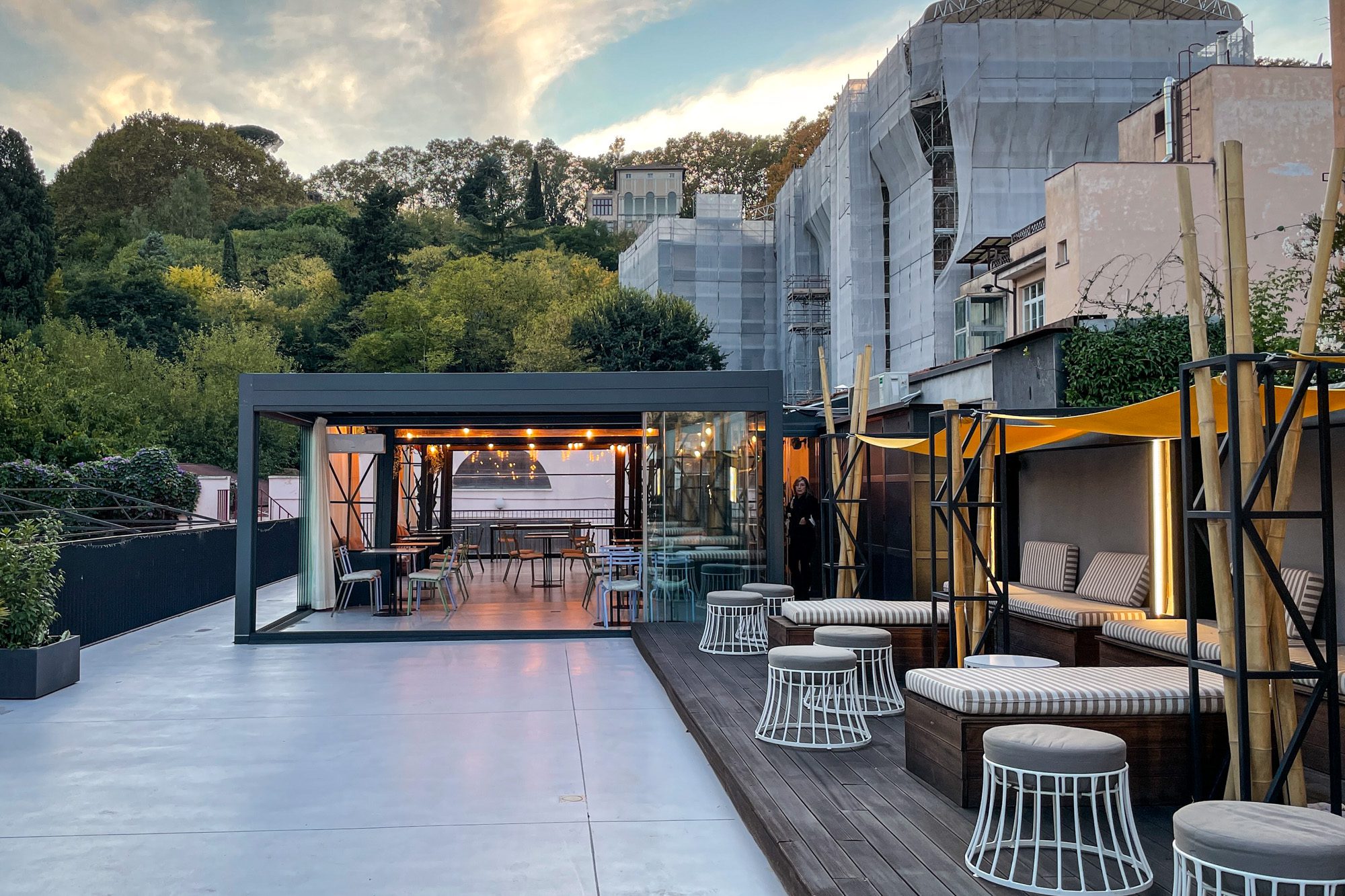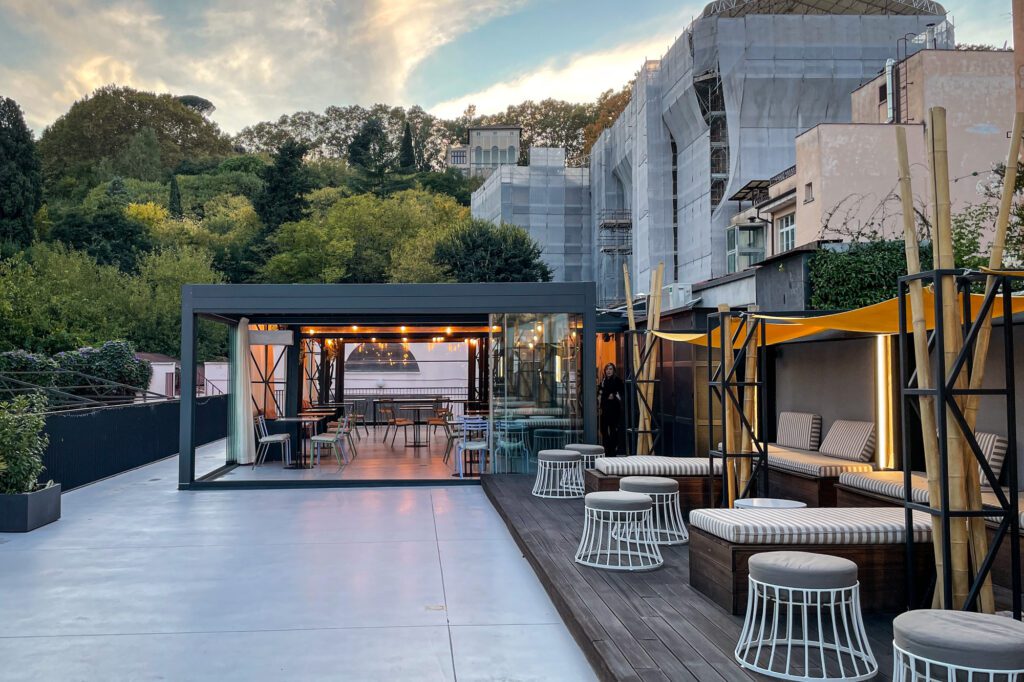 We grabbed a bottle of cider – yes, cider – from a beer and wine shop in Trastevere (Les Vignerons) and enjoyed a nice sunset on the rooftop patio.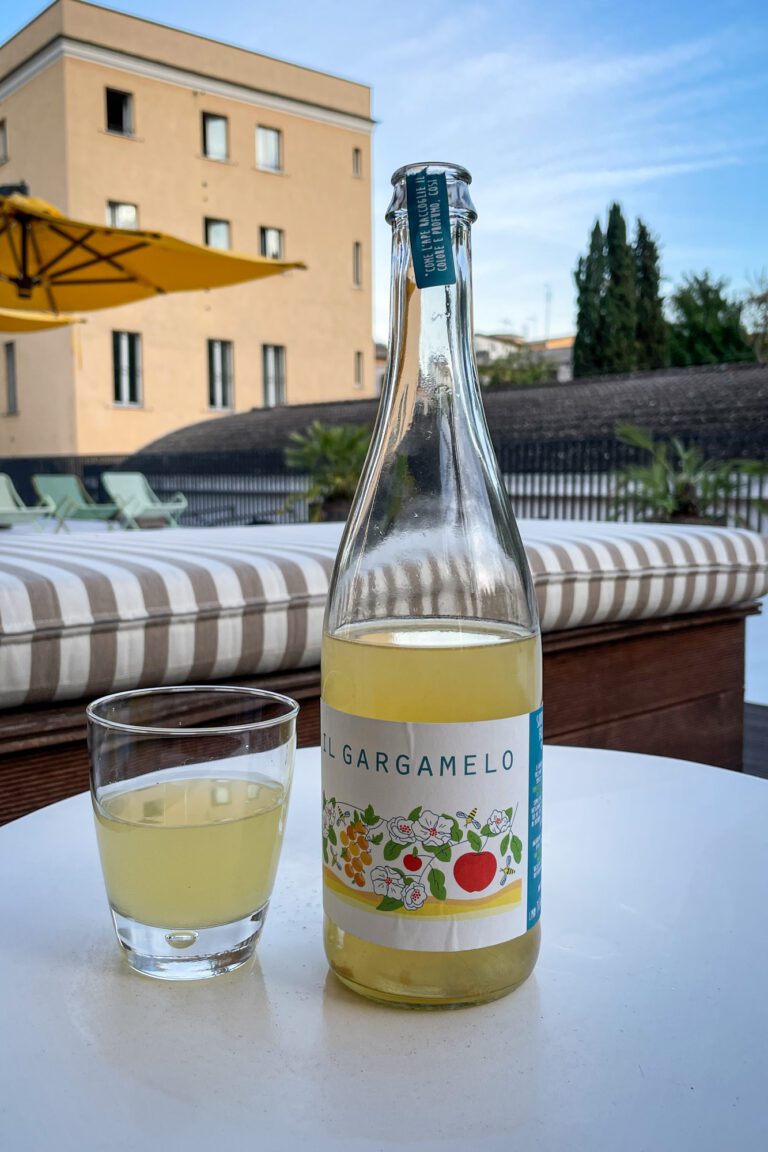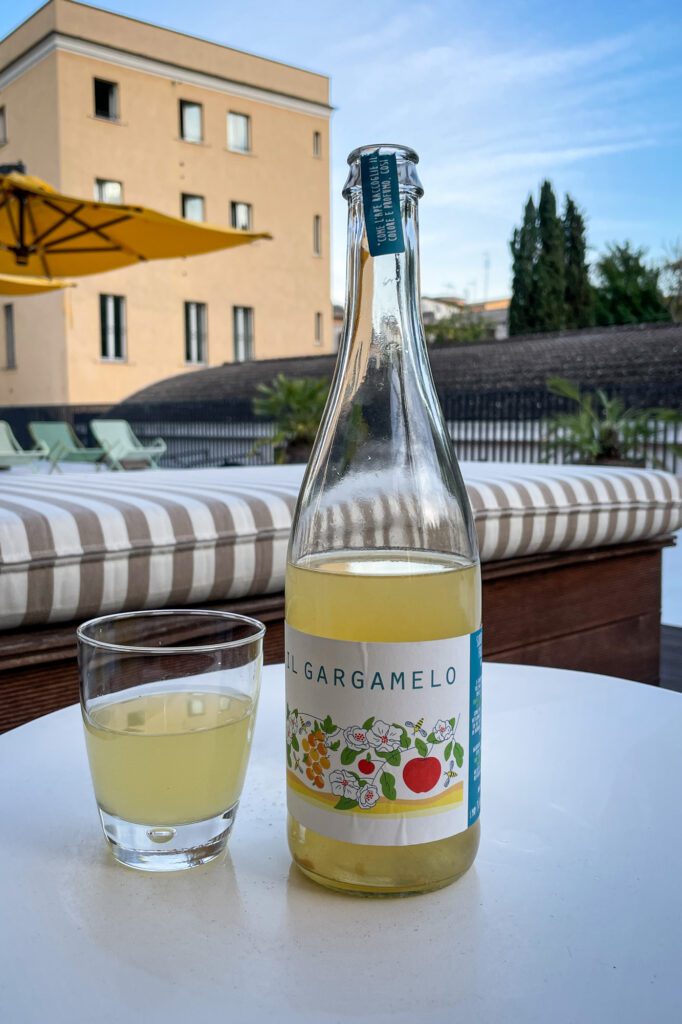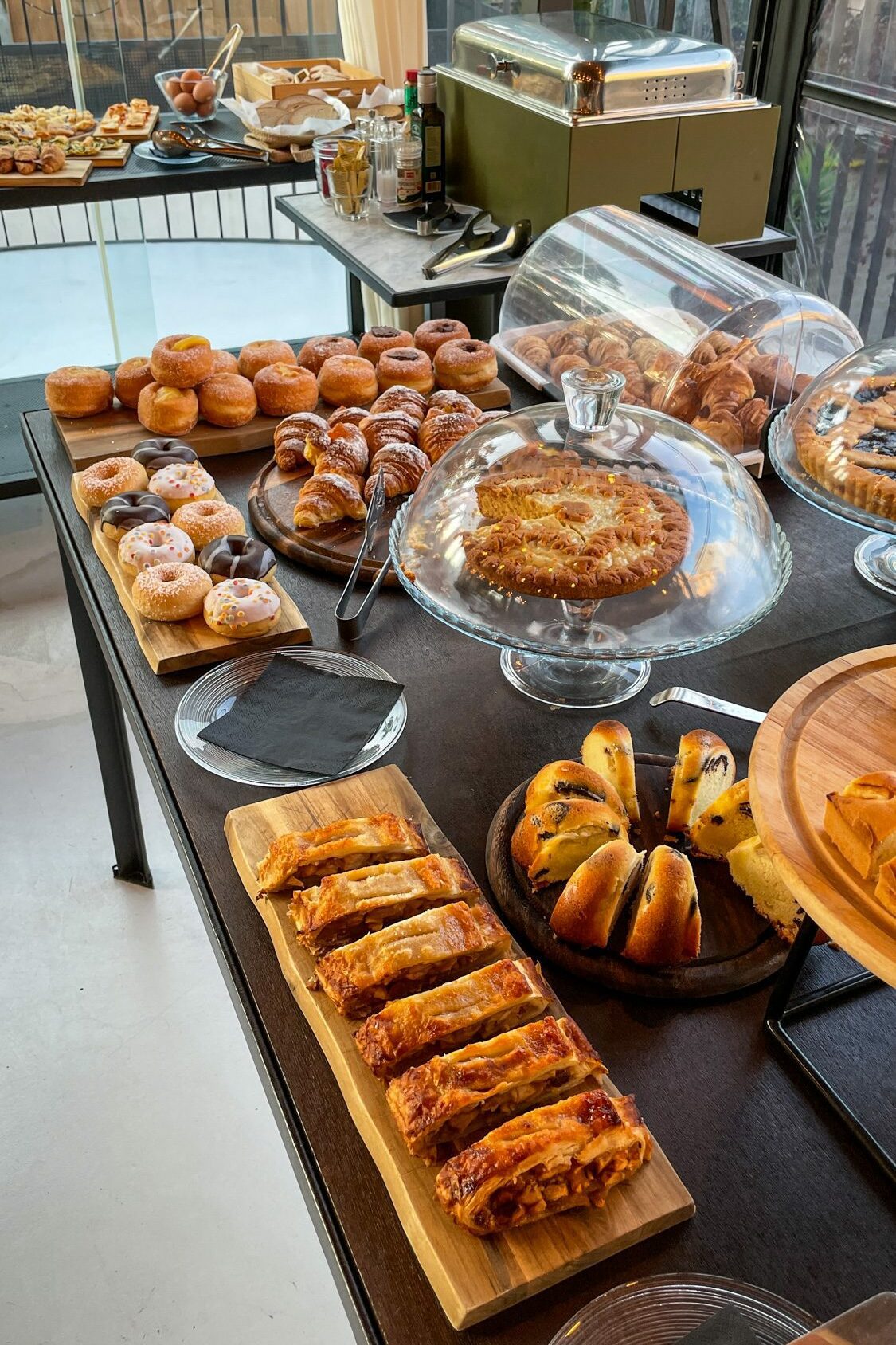 Another surprise, at least to us, was the incredible spread for breakfast, which is included in the room rate.
I have Celiac Disease, and there were plenty of options for me, but Alysha was the real winner here. Pastries, fruit, toast and jams, cheese and cold cuts – you name it, they probably have it. Plus, made-to-order coffee. What a nice way to start the day.
It's a little more expensive than most of the places we tend to stay, but given the breakfast, the location, and the ambiance, we'd say it's worth the splurge if you can afford it.
Donna Camilla Savelli: A Unique Stay in a Renovated Former Monastery
If you're looking for one of the more unique places to stay in Rome, you've found it! We stayed in a renovated monastery on our Tuscany road trip and enjoyed it, so when I saw this place, I immediately jotted the name down to include on this list.
Now, it's not going to be the cheapest place to stay in Trastevere, but we would say that it is definitely among the most unique.
Donna Camilla Savelli is housed in a former baroque monastery, which has been renovated to leave the structure intact, but bring in the modern touches that you'd associate with a contemporary hotel. The rooms are relatively simple, and it's a big property with gardens, an outdoor terrace, and staff who are able to help organize all sorts of different activities, from wine tasting to pilates.
Some rooms have a view of the city, and some have a separate seating area with a little more space to spread out (which might be appreciated if it's a longer trip – living out of a tiny hotel room for long periods can be exhausting).
The location is nice, at the base of the hill that takes you up to Belvedere del Gianicolo (which we'd recommend for sunset). It's a quieter corner of Trastevere, but is only a 5-10 minute walk to just about anywhere in the neighborhood.
There's an onsite restaurant, which is where you'll find a big breakfast buffet in the morning – an excellent start to a day of exploring Rome.
UNAHOTELS Trastevere: A Beautiful Luxury Hotel in Trastevere
UNAHOTELS Trastevere is a brand new offering in Trastevere – it opened in 2022 – and has quickly become one of the city's best luxury hotels.
It's perfectly located in Trastevere on the south end of the neighborhood, which is a little more quiet and residential compared to the winding cobblestone streets lined with bars in the heart of it. Still, it's just a few short blocks to Basilica di Santa Maria, which we consider to be the main piazza in Trastevere.
Rooms are contemporary, clean (design-wise, we mean – lots of white walls and empty space) and comfortable, with good soundproofing, luxury bath products, coffee machines and, crucially, air conditioning.
Choose from their standard rooms (though they call them "superior"), which are right around 180 square feet, bigger rooms under the "deluxe" and "premium" monikers, and bigger, more spacious suites. There's also an option to have two adjoining rooms, which they call a "family" room.
There's an onsite cocktail bar, which we love the look of (big arches and floral wallpaper – yes please), though there are plenty of great places to grab a drink within a few minutes of the hotel.
Sonder Trastevere: Modern Apartments in the Heart of Trastevere
Sonder is similar to other vacation rental companies, except instead of merely being a platform that connects hosts and people looking to stay, they own the buildings and control the process from end to end. Which we see as largely positive (with some drawbacks, of course).
We've stayed in Sonder properties at home in the US, and they're generally a good option if you want to stay in an apartment, but don't want to be at the whims of a single host.
They're more like serviced apartments than vacation rentals, and what they lack in personal touch is more than made up for by convenience, cleanliness, and general standards of living (think modern appliances and comfortable beds).
It's a very modern experience, from the contactless check-in to the decor of the apartments.
This particular property,which is in the heart of Trastevere on its northern end (near Freni e Frizioni, a great place to experience aperitivo). It's also a couple of blocks from both the river, and Ponte Sisto, the bridge to the historic center.
There are a variety of apartment configurations here, from one bedroom lofts to bigger two bedroom apartments.
It's a bit more pricey than staying in a hotel, but would be a good option if you're looking for a little more space, or if you're traveling with a group.
The Centro Storico: The Best Place to Stay for First Time Visitors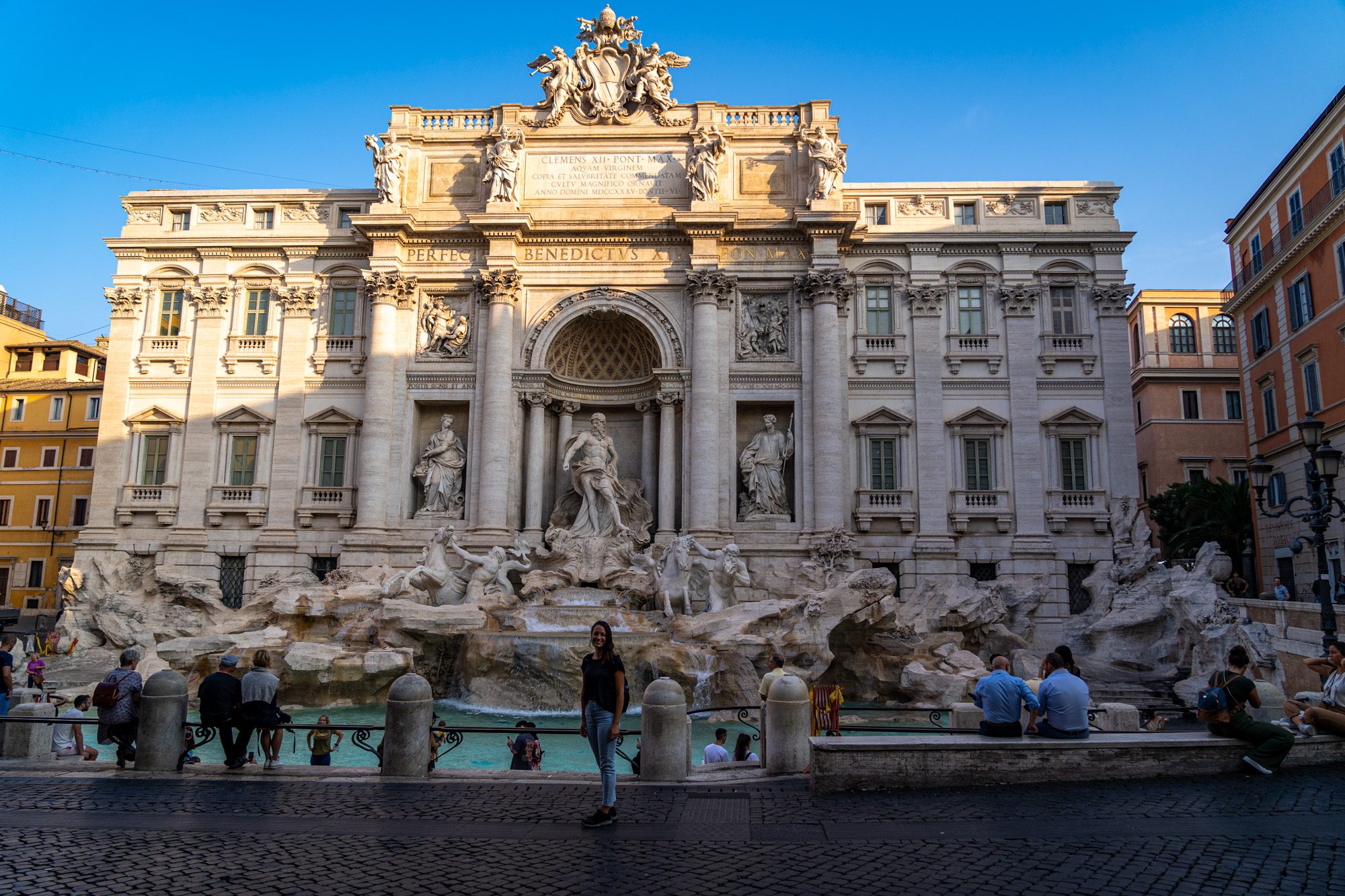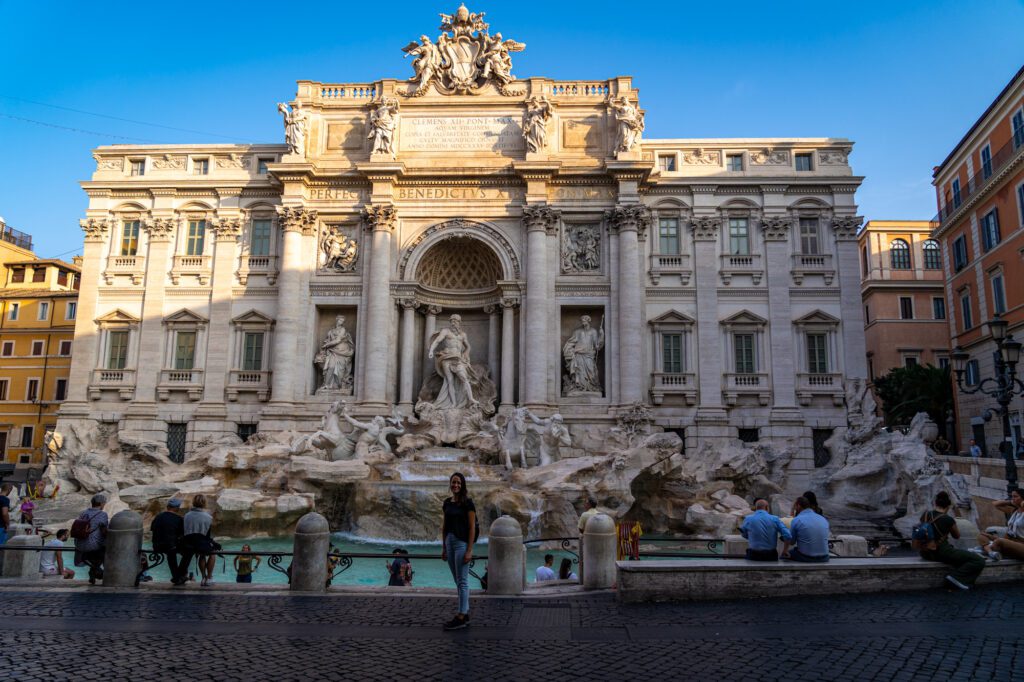 When the sun went down on my first day in Rome almost a decade ago (I'm getting old!) I found myself wandering the Centro Storico – Rome's Historic Center – during blue hour, that glorious period just after sunset where it's almost dark, but not completely.
As I followed the sometimes narrow streets in this part of the city, the streetlights started to come on, and the first thing I noticed was that they are designed to look like torches, invoking the feeling that you're experiencing the Eternal City in the heyday of Ancient Rome.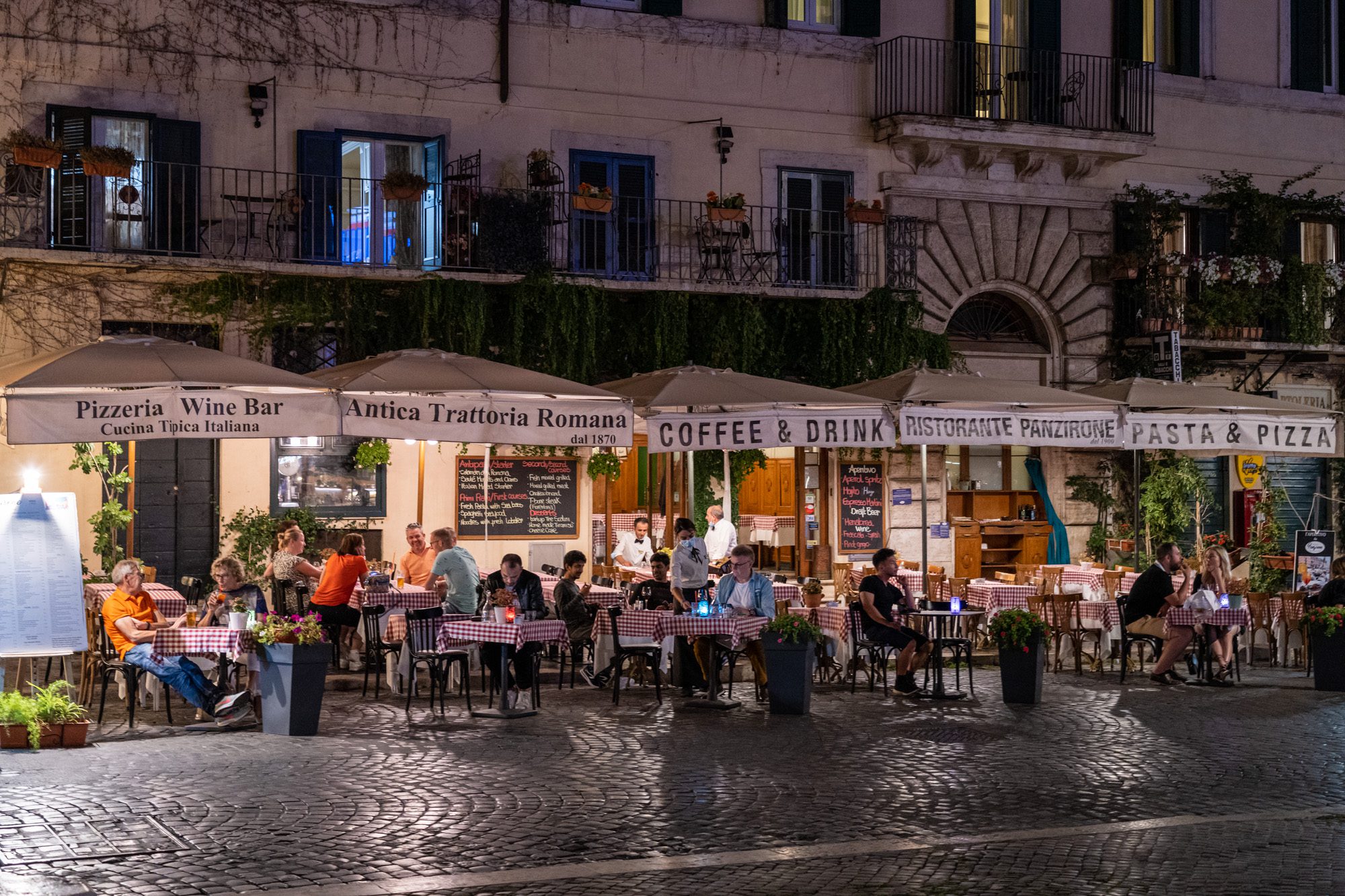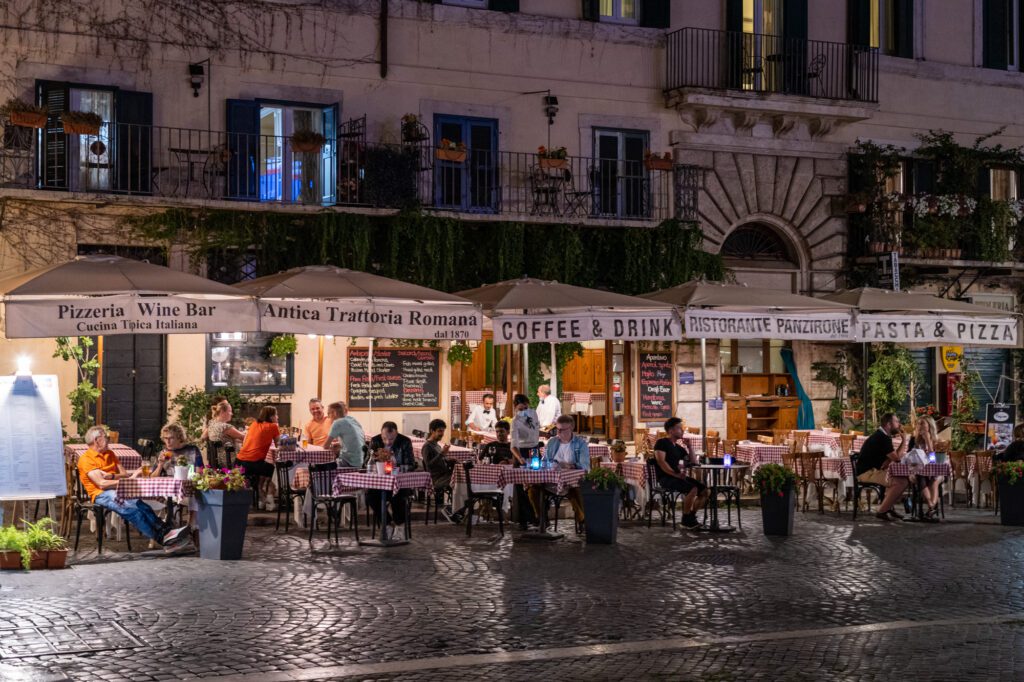 A soft golden light washes over the streets of the Centro Storico, transporting you thousands of years into the past. It's SUPER romantic. Not in a "let's kiss under the mistletoe" way, more in the sense that you'll feel immersed in the rich history and culture that Rome has cultivated over the course of many, many years.
Until, of course, a drunk tourist stumbles out of a bar on Campo de' Fiori and ruins your vibe, which is a distinct possibility, unfortunately.
Still, if you're looking to be immersed in that Rome feeling, then this is the place for you.
For the purposes of this guide, this neighborhood includes the entire area east of the Tiber River, and west of Via del Teatro di Marcello and Via del Quirinale, which separate this part of the city from Monti. At the north end, the border is Piazza del Popolo and Villa Borghese.
There are really two distinct areas here that we're combining.
At the north end, near Piazza del Popolo, it gets very upscale very fast, with all sorts of shopping including the North Face, Vans, and more.
The southern end – between the Spanish Steps and Piazza Navona – has a much more "Ancient Rome" feeling (though, this area really was built out to look like it does today much, much later than that), and is our recommendation.
To reiterate, if you're looking for that uber romantic feeling of wandering the streets of Ancient Rome (with thousands of other tourists, it should be said), then stay between the Spanish Steps and Piazza Navona.
We think the Centro Storico is the best area to stay in Rome for first time visitors because of the central location, good selection of hotels (some of Rome's best hotels are here), and, for lack of a better word, the vibes.
Pros and Cons of Staying in the Centro Storico
Pros of Staying in the Centro Storico:
It doesn't get more central. You'll be right in the heart of Rome, walking distance to pretty much anything you want to see.


The most romantic version of Rome. Cobblestone streets. Torchlight ambiance. This is one of the more romantic places to stay in Rome.
Cons of Staying in the Centro Storico:
Where are the locals? If you're looking for a slice of local life, this ain't it. You'll be surrounded by tourists, and you're probably going to hear the majority of words spoken in languages other than Italian.


It's pricey. You're going to pay for the convenience of staying in one of the most central parts of the city. If you're able to pay for it, it's a worthy splurge to be able to walk out your front door to the Pantheon or the Spanish Steps.


It can be loud and boisterous. Thousands of tourists pass through each and every day. Especially near the southern end of the neighborhood, namely Campo de' Fiori, it can be particularly loud and rowdy after dark as many of the bars cater to tourists.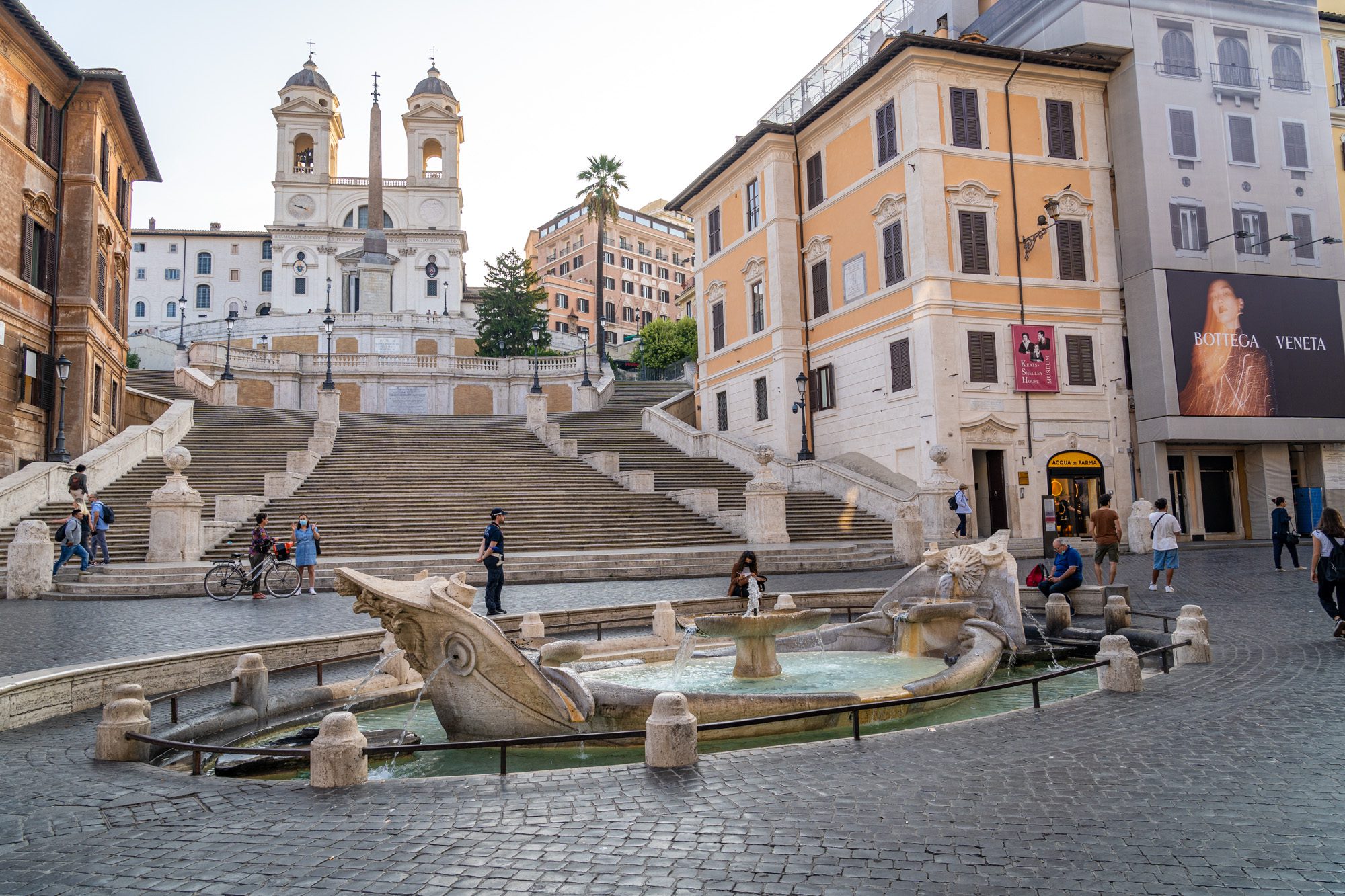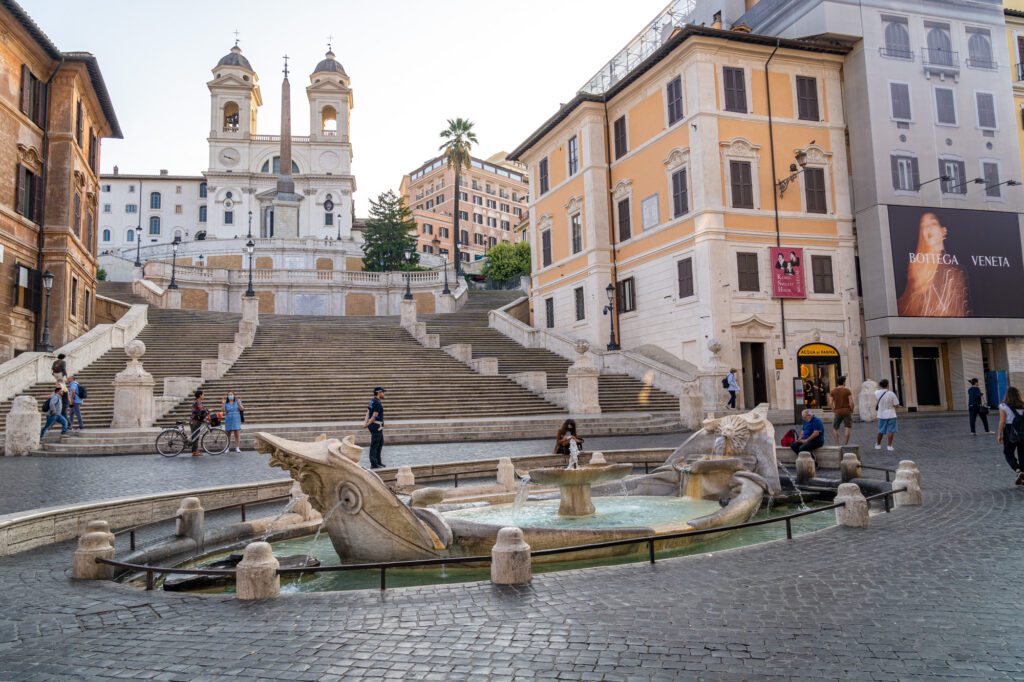 Centro Storico Highlights
Here are some of our favorite spots in the Centro Storico.
Piazza Navona: Used to be the Stadium of Domitian, hence the oblong shape. The Fontana del Nettuno (Fountain of Neptune) at the northern end is a great example of Baroque architecture.


The Pantheon: A pagan temple built in the 100's AD that now holds Raphael's tomb, the square outside is a perfect place to people-watch (it's ALWAYS packed).


Campo de' Fiori: A normal-shaped square, Campo de' Fiori was actually built far later than other parts of this area – somewhere in the 1500's AD. It's rowdy and loud at night.


Trevi Fountain: Probably the most famous fountain in the city (the world?) and another great piece of Baroque architecture. It was built in the 1700's on the site of another, less beautiful fountain. It's going to be packed with people at all hours, all trying to throw coins in the water for good luck (don't do that – someone has to fish them all out!). Go really, really early in the morning for the best chance at a good picture.


The Spanish Steps: Another less ancient piece of Baroque architecture built in the 1700's, the piazza at the foot of the steps is some of the best people watching in all of Rome, if you're into that.
One of my favorite things to do in Rome – and a staple of our 4 day Rome itinerary – is a walking tour that takes you from one end to the other.
Here's a map of what that might look like.
In addition to some of Rome's main attractions, there are squares and fountains tucked away within the narrow, lamp-lit streets. It's one of the best places to wander and get a little lost.
In general, I'd strongly recommend avoiding the vast majority of bars and restaurants in this part of Rome, especially if they have pictures on their menu. Here are a few exceptions:
La Casa Del Caffè Tazza D'oro and Sant' Eustachio Il Caffè: Two of the best coffee shops in Rome, just a few short blocks away from each other!


Enoteca il Piccolo: Our favorite wine bar in Rome! We sat down on the patio here on a nice fall evening, and the owner sauntered up and asked us what we wanted. In broken Italian, I asked for one glass of dry white wine, and one glass of sparkling wine. Rather than give me options, he just walked away. Alysha and I were a little confused, but when he came back a few minutes later with two perfect glasses of wine, that confusion turned to delight.


Open Baladin: One of the best beer bars in Rome, which is a city that is decidedly NOT a beer city (though that is changing).


Gelateria Fatamorgana, Fiocco di Neve (both 100% gluten free), and Frigidarium: Some of the best gelato in Rome! Rome is ideally explored with gelato in hand, we think.


Risotteria Melotti Roma (100% gluten free): Focusing on risotto and all things rice, which hails from Northern Italy. Really, really solid food.
The Best Places to Stay in the Centro Storico
This area is chock full of places to stay, from bougie boutique hotels to charming mid-range guesthouses, and everything in between.
There aren't a whole lot of budget options given the nature of the location, but Casa Pietra is a solid, affordable choice (more on that below).
Rome As You Feel – Grotta Pinta: Apartments in the Perfect Location (Where We Stayed)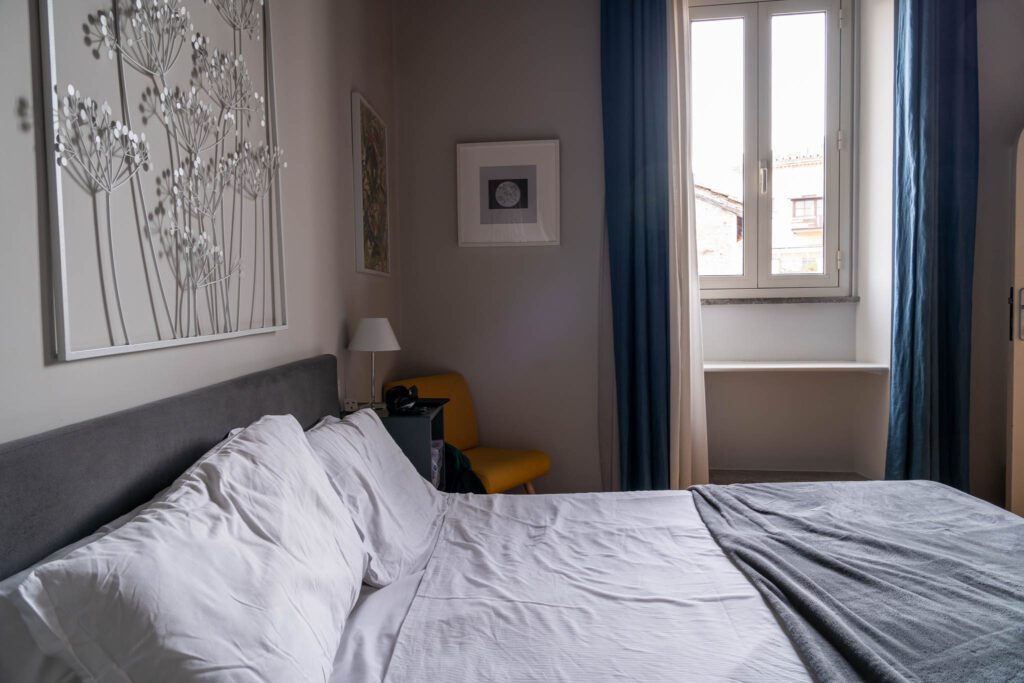 We were looking for an apartment in the Centro Storico for a part of our latest trip to Rome, and we could not have been happier with the location, amenities, and basically everything else about the Grotta Pinta Apartments.
The apartments are tucked away in an old building with a slow elevator (classic) on a quiet street within walking distance of the entire Centro Storico, but Piazza Navona and Campo de' Fiori in particular are literally a few blocks away.
Around the corner are Fatamorgana, one of our favorite gelato shops in Rome, and Antico Forno Roscioli, which is basically a must-visit place for foodies in Rome.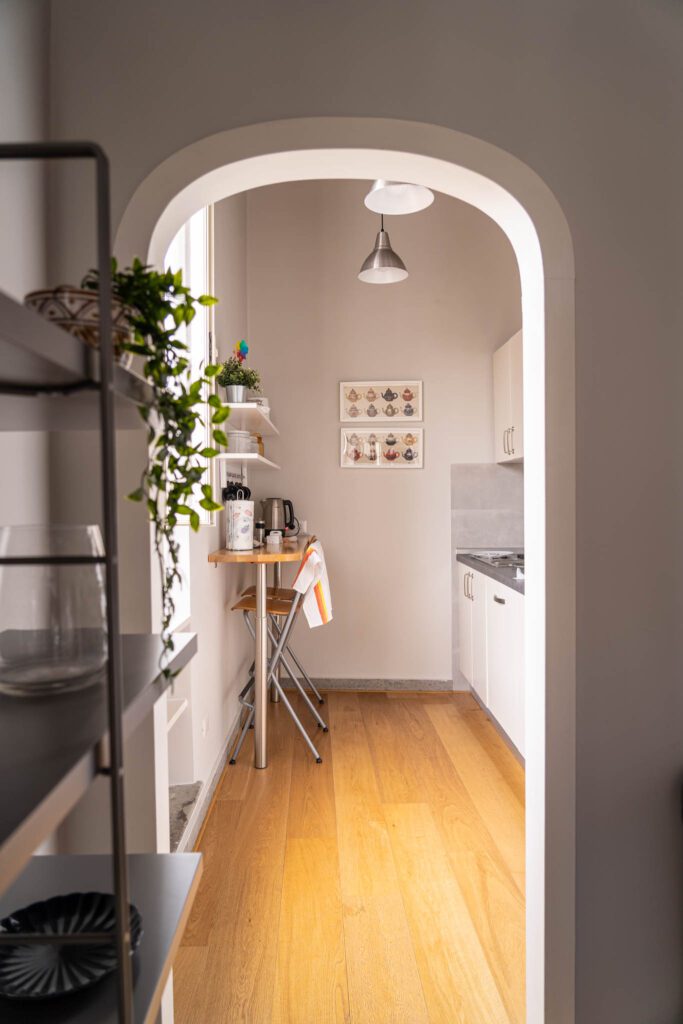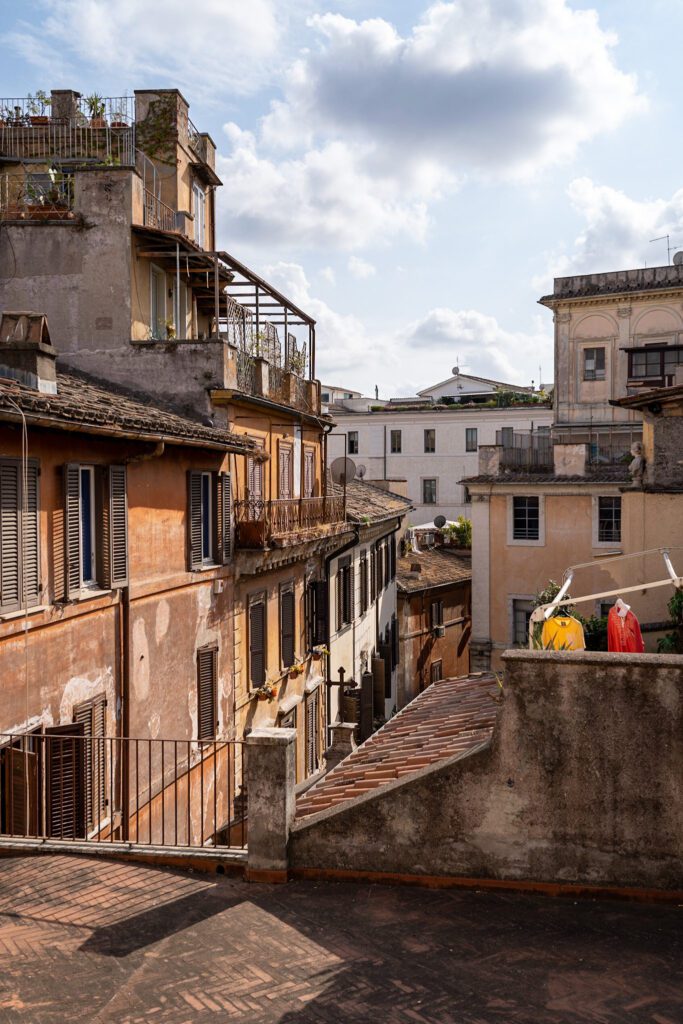 The apartments are surprisingly spacious, and they have a range of layouts that can accommodate between one and six people.
The kitchen, which is part of the reason we look for apartments when we travel, was perfect, and the view from the windows over the rooftops of Rome was a very pleasant thing to look at as I made my morning coffee.
If you're interested in an apartment in the center of Rome, we'd recommend looking at these.
Coronari Palace: Quiet Hotel in a Historic Building
I really like this place for two reasons.
First, if you're looking for a slightly quieter location that's still in the middle of all the action, Coronari Palace is tucked away at the north end of the neighborhood.
It's within a few minutes of the Pantheon and Piazza Navona, but it's far enough outside of the usual tourist hotspots that it's going to be at least marginally more peaceful.
Second, the rooms are beautiful. It was renovated in 2019, and everything looks and feels brand new. They do a good job merging the old with the new.
Some rooms have windows that open to a spectacular view out over the rooftops of Rome, and some of their rooms have private terraces, where you'll be able to enjoy your morning coffee in the warm sun.
On the other hand, for those sweltering summer days, they have A/C, which is important if you're in Rome in July or August (speaking from personal experience, having been on a sleeper train to Rome in 100+ degree weather…A/C is important).
Casa Pietra: A Beautiful + Charming Boutique Guesthouse
I also REALLY like Casa Pietra as a sleek, modern place to stay in the heart of the Centro Historico that is ALSO very budget-friendly.
Just northeast of the Pantheon, this small guest house is one of the better budget-friendly options in the area. Only five rooms at this place, so the service is going to be top notch. It's in a historic 18th century palace that they have done a great job restoring and bringing into the 21st century.
The first thing you'll notice is that the rooms are filled with tons of natural light. Sleek design elements keep things modern and contemporary, which is a fun juxtaposition with the exterior of the building and the surrounding neighborhood.
The three rooms at the front of the renovated building have a view out onto the piazza below, while the rooms at the back are going to be a little quieter and don't have the views.
There's no onsite restaurant, but there IS a small communal kitchen, which I always appreciate (make sure to check if it's open, given the current situation).
Little Queen Pantheon: A Beautiful Boutique Hotel
Little Queen is a small, charming guesthouse (or bed & breakfast) that is, as you might have guessed from the name, a couple of minutes away from the Pantheon.
It straddles the budget and mid-range categories, and generally offers a really good value for the location and amenities it offers. It's another restored historic building that has been renovated to make the interior more modern and contemporary.
Choose from standard hotel rooms, which are about average in terms of size at 160 square feet, and junior suites, which have a little more room but are still relatively compact. Rooms are modern and colorful, and have amenities like Netflix access, A/C, and more.
PS: They have another location near Piazza Navona that might be worth checking out if they're sold out at this location.
Hotel Charme Spagna: Elegant Luxury Hotel near the Spanish Steps
Similar to Tree Charme in Trastevere, Charme Spagna is a really nice hotel with elegant design and a fantastic location just five minutes from both the Spanish Steps and Trevi Fountain.
It's a relatively small hotel, with only 23 rooms. Rooms range from compact to spacious, and all include breakfast, A/C, and great service from the friendly staff, who are called out in a bunch of the reviews as being particularly special.
There's a nice outdoor terrace where you can enjoy breakfast and coffee, or have it delivered straight to your room. Six of those rooms are in a separate building, which is just down the street.
Hotel Indigo: Mid-Range + Stylish
We have stayed at Hotel Indigo locations before, and think that they're generally a really good value and experience.
The Hotel Indigo Rome is located at the western edge of the neighborhood, just a block or two away from the river (and, by extension, Trastevere, one of our favorite places to stay and explore).
This hotel definitely leans more towards the luxury side of the spectrum than other Hotel Indigo locations, and the price reflects that.
Rooms are relatively spacious, coming in at over 200 square feet (a rarity for hotel rooms in Rome), and they're super modern and have all the amenities you'd expect from a boutique hotel – A/C, tea and coffee, etc – with some of the extra touches that make it feel really special (HELLO fluffy slippers!).
Choose from a variety of room sizes and configurations, some of which have a seating area and a little more space.
Plus, an incredible rooftop terrace with 360 degree views out over Rome!
Monti: A Hip Neighborhood Near the Colosseum (Good Nightlife)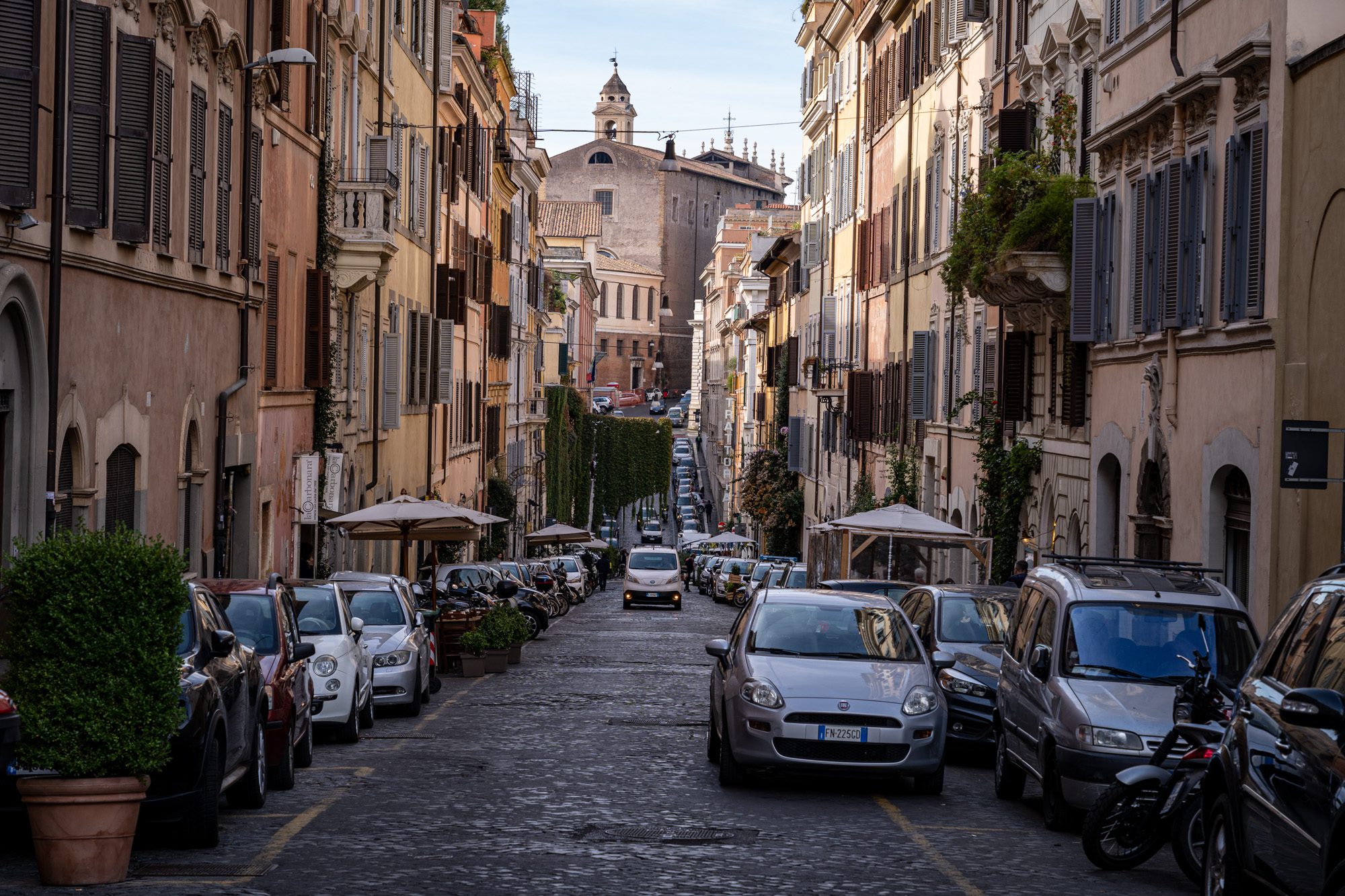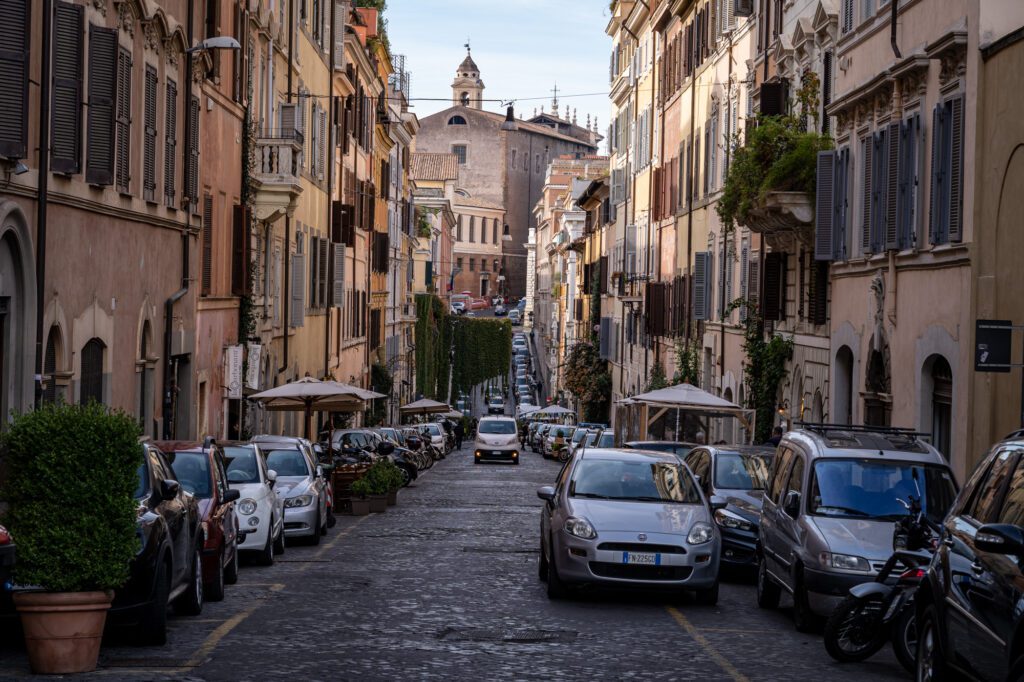 Monti is the neighborhood immediately to the northeast of the Colosseum, which violates my rule of not staying right next to tourist attractions… but it's legitimately a cool place to stay.
It's hip and happening, with plenty of restaurants and bars lining the streets, and it's conveniently located near the Colosseum and Forum, which you'll probably be stopping by on your trip.
It's well-connected via public transportation if you're heading out to other parts of Rome to do some exploring.
While Monti is fun to walk through during the day, it really comes alive at night. Walking down the narrow cobblestone streets, you'll pass countless patrons of various bars and restaurants spilling out into the street (as they do in Italy).
It can be loud and raucous, particularly on weekends, but it's all part of the charm.
If you're looking for a central area to stay where you will within walking distance of some of Rome's best food and drinks, Monti is a solid option.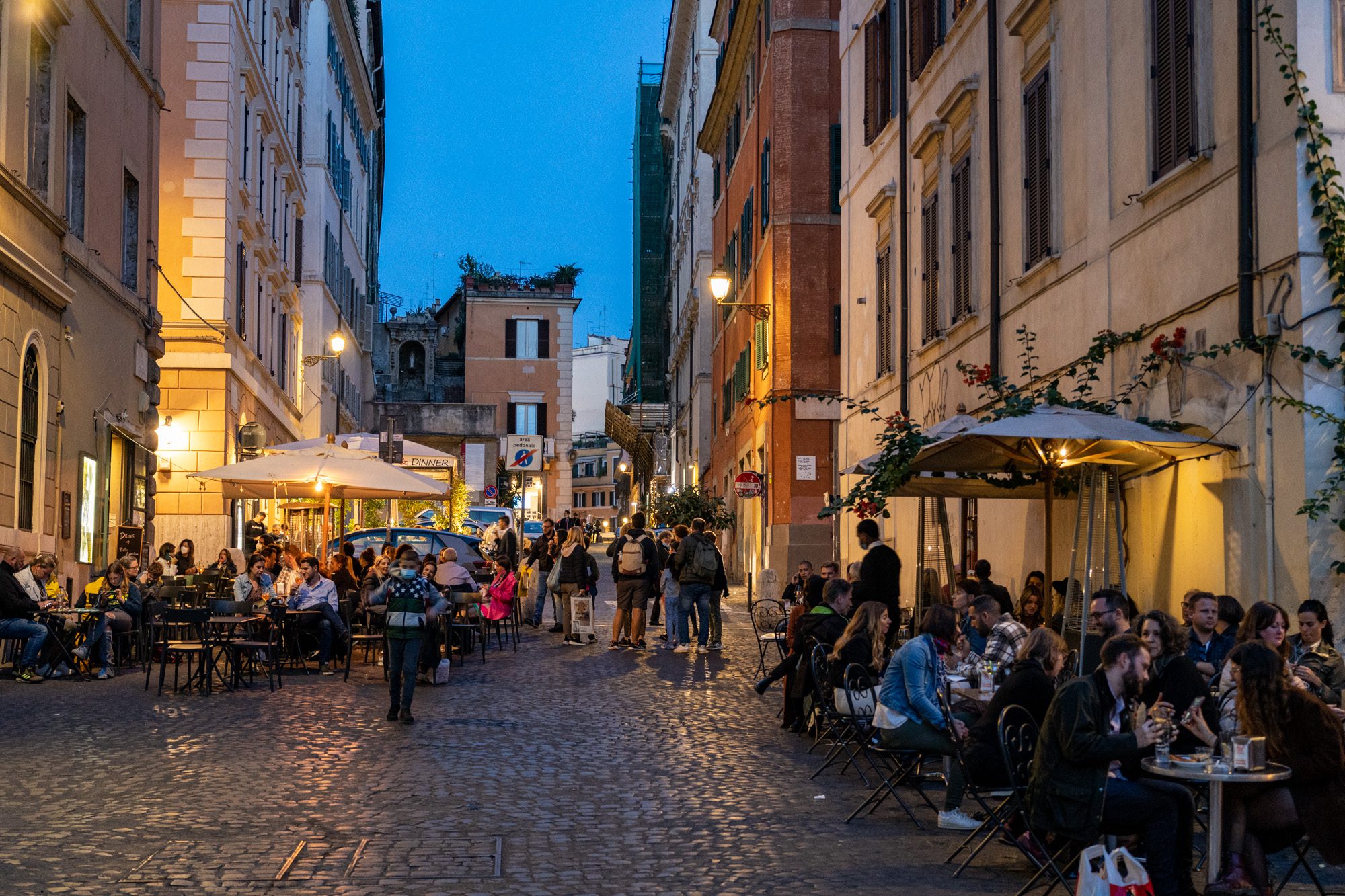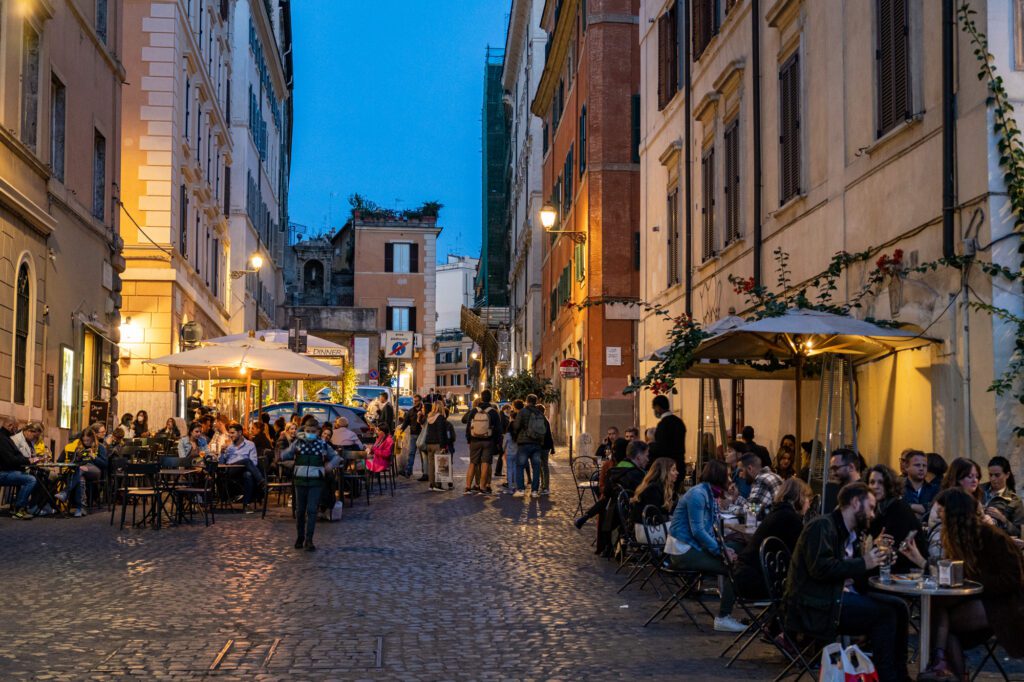 Pros and Cons of Staying in Monti
Pros of Staying in Monti:
It's central. If you choose to stay in Monti, you'll be well positioned between the main train station (Termini), the Centro Storico, and the Colosseum and Forum. It's a convenient location, and it's well connected via the metro if you need to go elsewhere.


Restaurants and bars galore. Monti, which has made the transition from up-and-coming / hipster to flat out trendy over the past decade, is full of bars and restaurants of all kinds. In particular, look around the Chiesa di Santa Maria ai Monti along via Urbana and the surrounding area for some of the best food and drinks in Rome.
Cons of Staying in Monti:
Pricey. This is a sought-after district, which means there's plenty of demand to call for higher prices. You'll be in a hip, convenient location, so be prepared to pay for it. Probably not the best place to stay for budget travelers.


It can be touristy. Given its proximity to the Colosseum, Forum, and train station, there are going to be a lot of people here. Which is fine, but it's something you should know going in.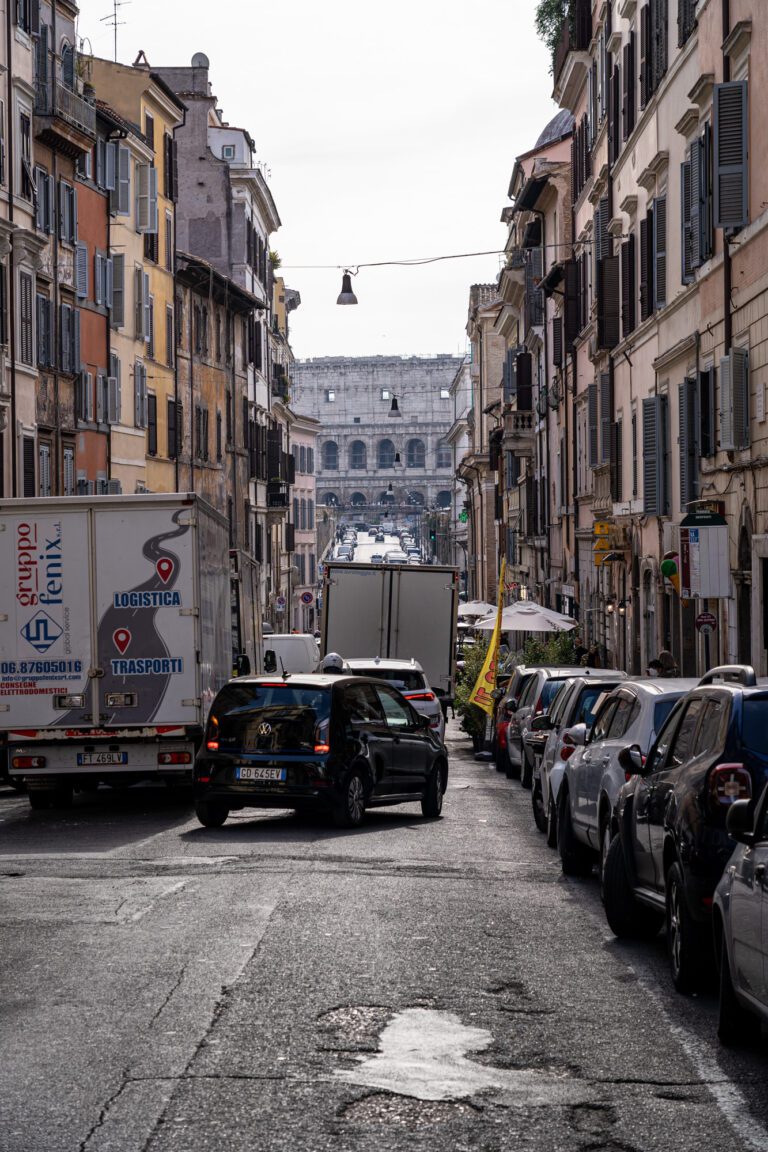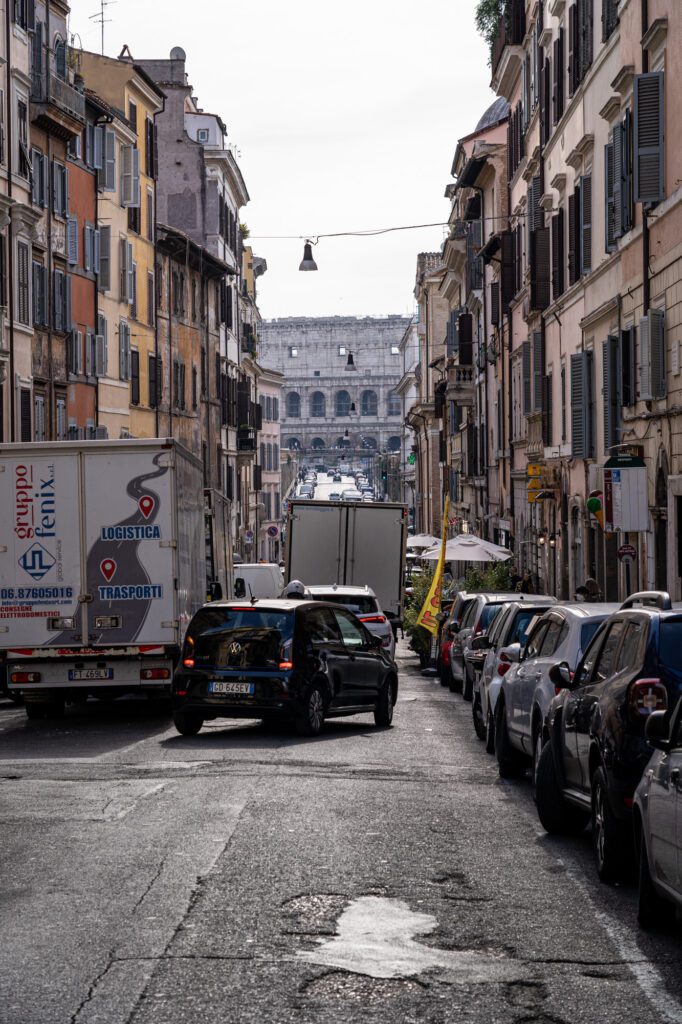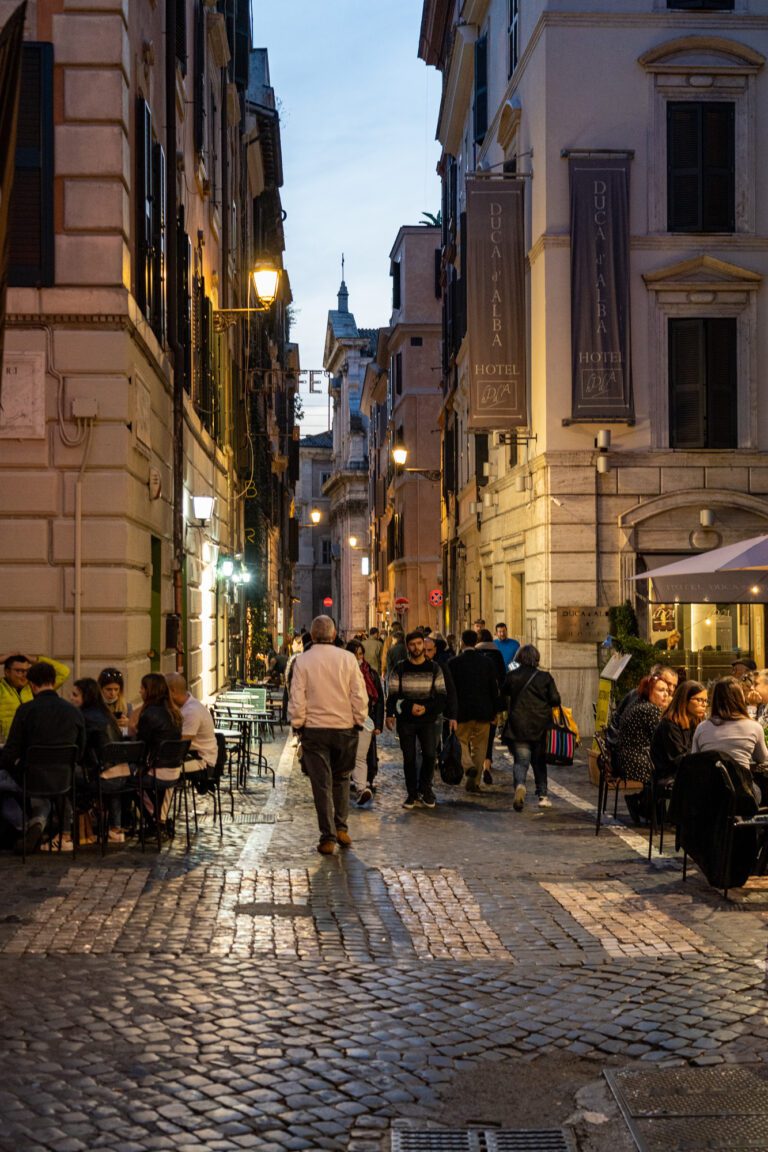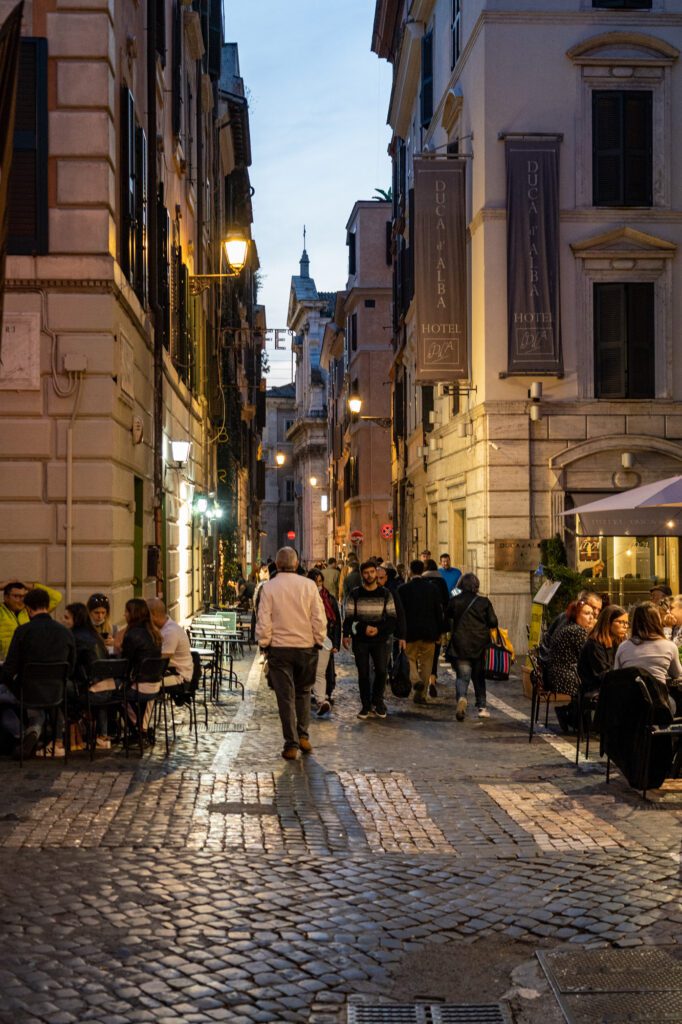 The Best Places to Stay in Monti
Whether you're looking for a charming hotel, an affordable hostel, or a nice vacation rental, Monti has a nice range of options for you to choose from, all conveniently located near many of Rome's main tourist attractions.
Fifteen Keys Hotel: Best Overall Hotel in Monti
15 tastefully designed rooms make this charming hotel a lovely place to base yourself in Monti.
Unlike the mega hotels that are found just a few blocks away, you'll get personalized service here, which will make your trip more pleasant by giving you the insider knowledge you can only get from a local that actually cares about your experience in Rome.
The hotel is located inside a renovated five story building in the heart of Monti. Rooms are thoughtfully laid out, with everything you'll need for your trip including a desk (nice to have somewhere to sit other than the bed), USB charging ports, and a kettle for hot water for coffee or tea.
Breakfast is served in their aptly-named "breakfast room" with floor-to-ceiling windows looking out onto their internal courtyard, or in the courtyard itself when the weather is cooperating (it will be in the summer!).
They also have complimentary bikes, and you can rent a Vespa (sounds terrifying to us, but you might feel differently).
Salotto Monti: Great Value in Monti
If you're looking for a mid-range, stylish hotel in Monti, Salotto Monti is a great option. Rooms are simple but stylish, with options that range from small hotel-style rooms, to triple rooms, all the way up through the apartments, which have kitchens and sleep up to four thanks to sofa beds in the living room – perfect for groups and families who want a bit of extra space.
Breakfast is included in your stay, and as long as the weather is cooperating, you'll enjoy it on their rooftop terrace overlooking Via Nazionale (or get it delivered straight to your room).
It's well positioned between the Colosseum and Forum and Trevi Fountain and the Centro Storico – both are under a kilometer away (that's just a hair over half a mile for my fellow Americans).
Prati: A Quieter Alternative Near the Vatican (Good for Families)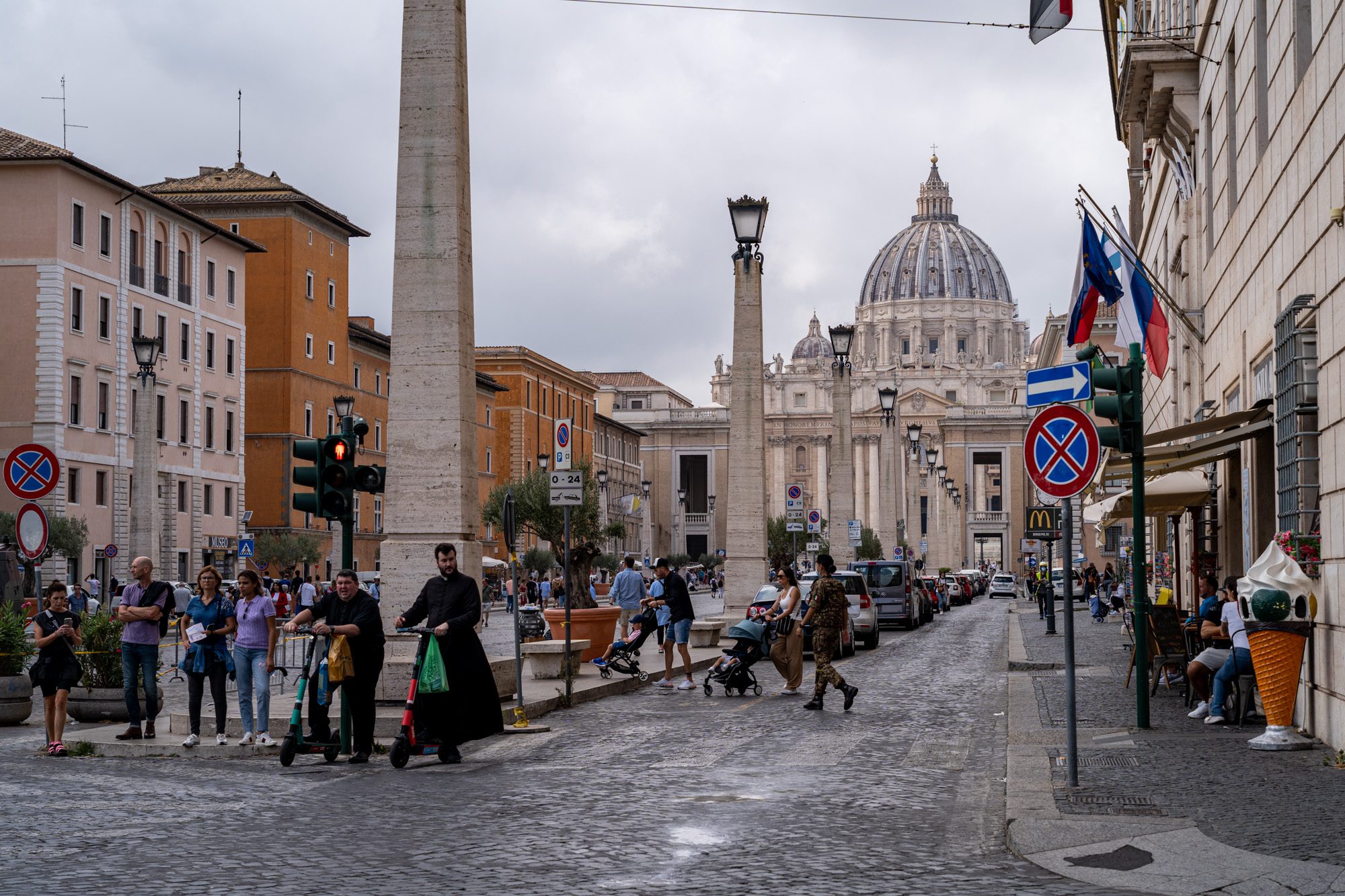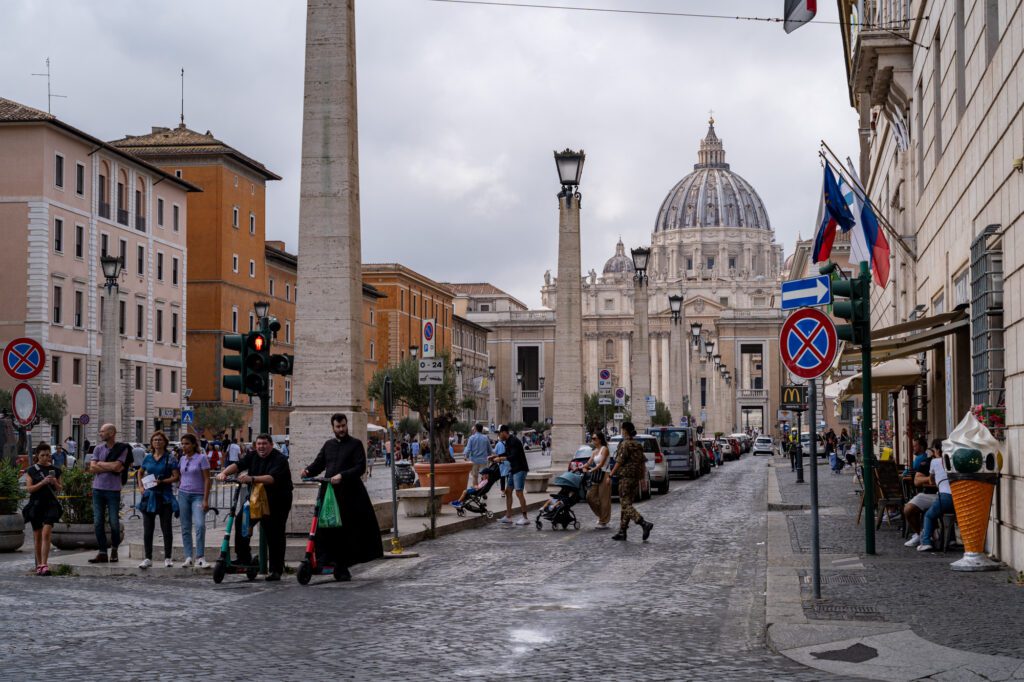 First of all, when Alysha lived in Rome for six months, she lived in Prati. Prati is the area immediately northeast of Vatican City – which is NOT a part of Rome, it's a separate country – which makes it a convenient home base for a trip to the Vatican Museums and St. Peter's Basilica.
However, that's not the only thing that Prati has going for it. It's a more residential area, and as soon as you get a few blocks from the Vatican you'll find yourself walking down streets lined with five story high apartment buildings. While the main street – Cola di Rienzo – is full of stores and commercial real estate, once you get deeper into the neighborhood it gets quieter.
There are also some great places to eat and drink in Prati, from Venezuelan street food to traditional Italian trattorias. We'll cover a few of our favorite places in the "highlights" section below.
Pros and Cons of Staying in Prati
Pros of Staying in Prati:
It's super convenient for Vatican City. You'll be within walking distance of the Vatican, so you'll be able to walk to your early morning Pristine Sistine Tour with Take Walks (a company we love and recommend).


It's connected to Termini with the Metro. Rome's metro doesn't go a whole lot of places, but one place it does go is between Termini (Rome's main station, where you'll arrive by train from other cities or the airport) and Prati. However, you do have to connect at Termini to get to the Colosseum on the metro.
Cons of Staying in Prati:
It's a little out of the way. Similar to Trastevere, which is on the southwestern end of the main city center of Rome, Prati is up on the northwest edge. It's plenty close to the Centro Storico, but it's a little bit of a journey down to the Colosseum and Termini (though Termini is connected via the Rome Metro).


There aren't many places to stay. Because it gets a little more residential here, there aren't nearly as many hotel options. And the proximity to the Vatican means that the ones that do exist are going to be a little pricier than they probably should be.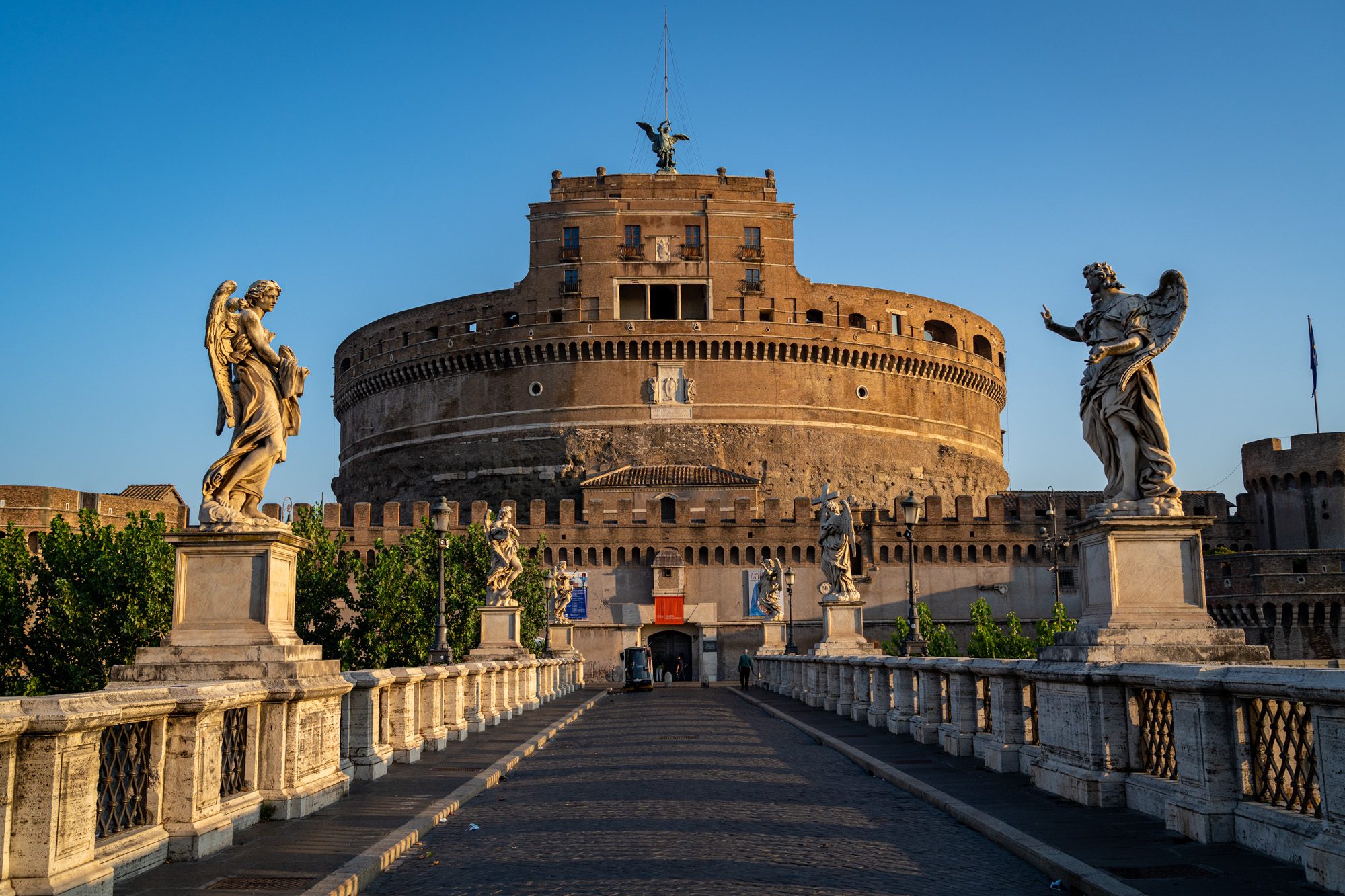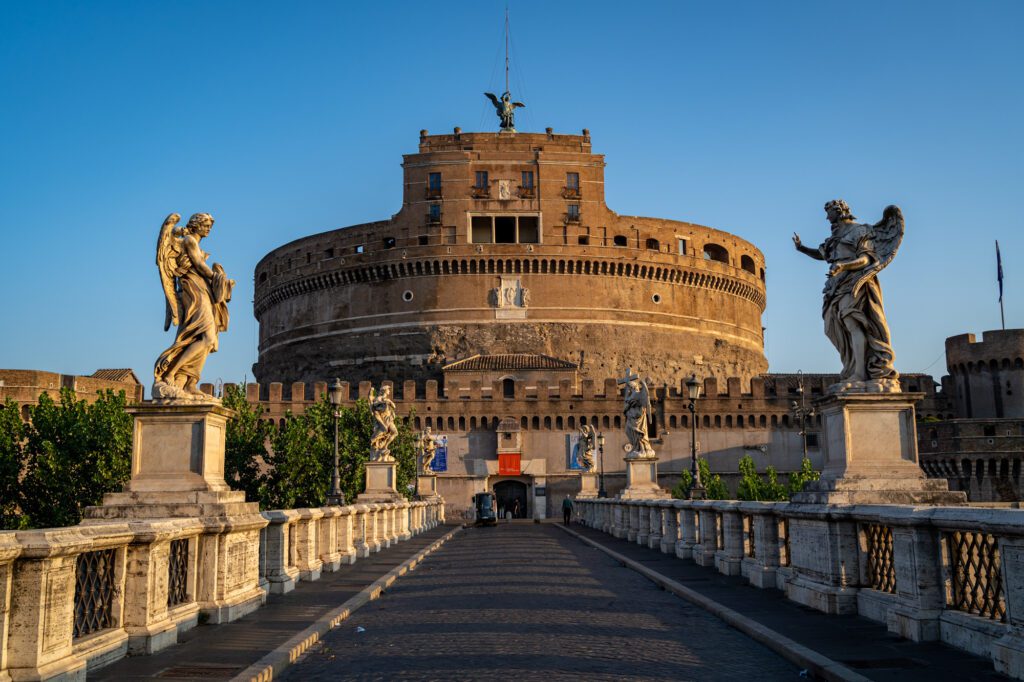 Prati Highlights
Here are some places we enjoy in Prati / Vaticano. We're not going to include the Vatican Museums and St. Peter's Basilica here, because those are obviously top things to do in this area.
Pergamino Caffè: If you're into specialty coffee at all, this is the place to go in Rome. They have beans from various roasters in Italy, including Gardelli and Garage (two of Matt's favorite Italian specialty coffee roasters). It's not the cheapest coffee in Rome, and it's a different experience compared to most other coffee bars in Rome, but if you're looking for a special filter coffee, go here.


El Maìz: If you know us, you know that we're suckers for a good Venezuelan-style arepa, which is essentially a sandwich between two corn cakes stuffed with meats, cheeses, plantains, and avocado (among other things). We were not expecting to find this dish in Rome, but we did, and they were amazing. Highly recommend if you're looking for something a little different than Italian food.


Castroni: A huge specialty grocery store with primarily Italian offerings. A good place to pop into for a gift or souvenir, but definitely not your typical grocery store.


Castel Sant'Angelo: Part castle, part mausoleum for Roman emperor Hadrian, this is a cool activity in Rome. The best part is probably the view of the city from the rooftop terrace, which includes the dome of St. Peter's Basilica. The Supreme Court building next door is also worth looking at.


Pizzarium: The most famous place in Rome to get pizza al taglio, Rome's signature type of pizza that is sliced in squares or rectangles rather than a triangle. They've been making amazing pizza for well over a decade, and the chef is very famous (and now is featured on Chef's Table on Netflix). It's super popular, and almost always busy, so be prepared for a line (and to navigate said line alongside Italians, which is an experience in its own right).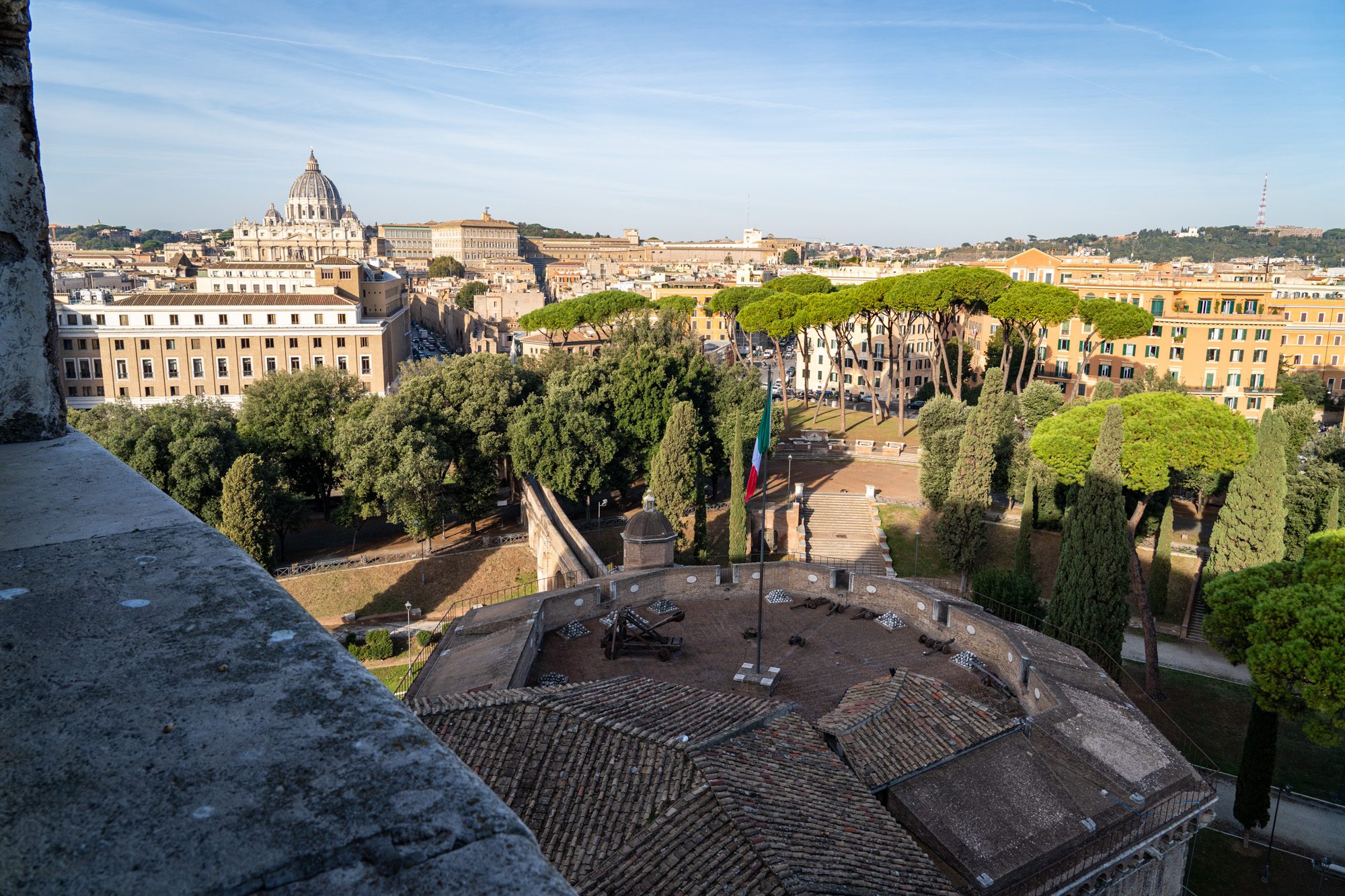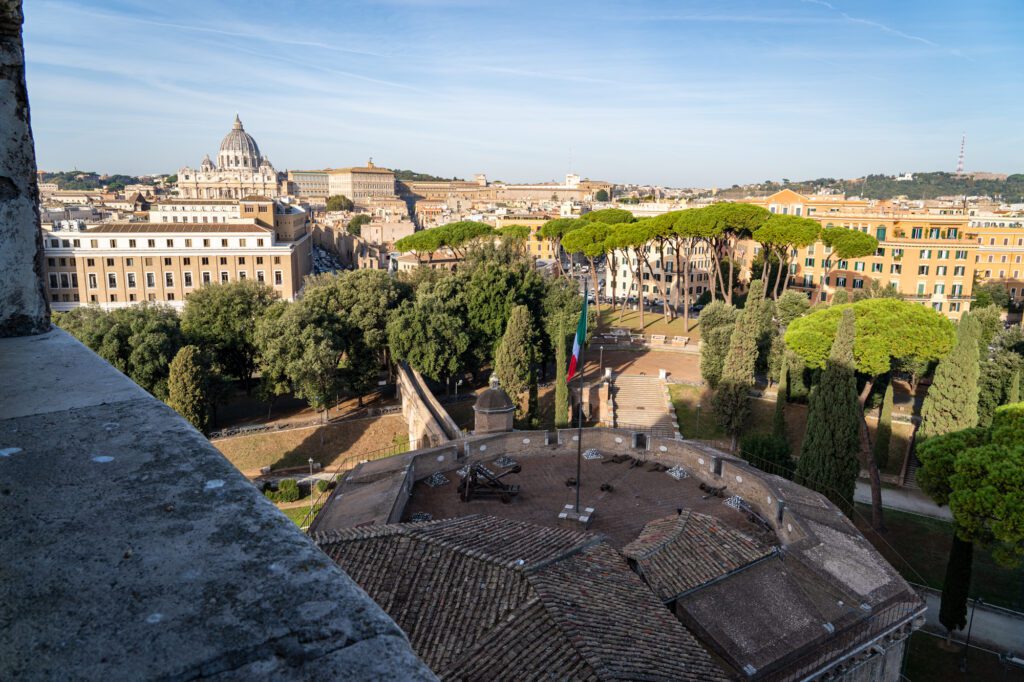 The Best Places to Stay in Prati
Here are some places to stay in Prati that caught our eye.
Hotel Paolo II: A Straightforward Hotel Option Blocks Away from Vatican City
Hotel Paolo II isn't located in the heart of Prati, which is on the northern side of Vatican City, but is in a nice location just off of the southern end of Piazza San Pietro. The upside is that it's going to be a little quieter, the downside of the location is that it's a little further from some of the bars, restaurants, and shopping elsewhere in Prati.
Rooms here are simple, modern, and relatively compact. You're not going to have a big seating area and room to spread out, but you will have a comfortable place to sleep with air-conditioning and comfortable beds.
Side note: I do enjoy the wall of greenery in their Superior Rooms, and am curious whether or not they're real plants or not.
This is a solid mid-range hotel with modern rooms at an affordable price. If you're okay with a little bit of an extra walk, it would be a great home base for exploring Rome.
Alea Home Roma: A Design-Forward Guesthouse in a Quiet Location
This design-forward guesthouse is gorgeous, and they've leaned into the idea of minimalism with clean, white walls, and limited hanging artwork.
It's on the northern side of Vatican city, around the corner from our favorite coffee shop in Rome (Pergamino Caffè) and a few blocks from the heart of Prati. It's a good location, and is two blocks from the Cipro metro station, which will take you to Termini and various other places in Rome that are too far to walk to.
The downside of the location here is that it's less walkable to places like Trastevere and the Centro Storico, which is why all the other recommendations in this section are on the eastern end of Prati. It's not a deal breaker, but it's certainly something to consider.
The rooms, like we mentioned above, are beautiful, with lots of natural light. There are only five of them, which generally means more personalized service from the staff (think recommendations for bars and restaurants). Your room includes a self-service breakfast, air conditioning, and coffee.
They have double rooms (that's the standard), deluxe rooms which have a little more space, and junior suites, which have a sitting area with a couch (that can be turned into a sofa bed to accommodate a third guest).
Saint Peter's Keys: A Small + Affordable Bed & Breakfast
Saint Peter's Keys is a small bed and breakfast on the eastern end of Prati close to the Tiber River. And we do mean small – there are only three rooms here. Which is generally a good thing, because it's correlated (in our experience) with better, more personalized service.
Rooms are about average in terms of size, and there are a couple of common areas, including a dining room with a communal fridge and toaster. A self-service breakfast is included in the room price, as is coffee.
Rooms are simple and comfortable, and it's a great value given the central location in Prati (equidistant between the Vatican and the Centro Storico, roughly). It's also a couple of blocks from the metro station, which connects you to Termini for your arrival and departure.
Hotel La Rovere: A Mid-Range Option in a Central Location
This charming hotel is also on the south end of Piazza San Pietro and the Vatican, which, as we explained above, has its pros and cons (quieter, but further out). We like the location here because it'll take the same amount of time to walk to either the Vatican, Trastevere, or the Centro Storico.
It's a 27 room hotel that has been completely renovated from top to bottom, and the result is an elegant, modern hotel in the heart of one of the city's oldest areas.
They have a few different room types, including the deluxe rooms (which, as far as I can tell, are the lowest on the totem pole of room types), rooms with a city view, and rooms that have a private terrace (which would be a perfect place for an afternoon glass of prosecco). For all of their rooms, you can choose between one double bed, or two twins.
---
Heading to Italy?
We've been to Italy multiple times – obviously we love it – including more than a month on our last trip!
If you enjoyed this guide and found it helpful, you definitely won't want to miss our detailed guide to planning an amazing 10 Day Italy itinerary, which covers Rome, Florence, and Venice and is perfect for a first trip.
We also have a guide to spending two weeks in Italy, which combines those three main cities with a few lesser known cities (Bologna and Verona), or a guide to spending one week in Italy, which has six different ways to spend 7 days.
Here are some of our other Italy guides to help you plan an incredible Italian adventure.
Rome:
Florence:
Venice & Milan:
Cinque Terre:
Sicily:
Need to Eat Gluten Free in Italy?
If you're traveling and need to eat gluten free like me, Matt (I have Celiac Disease, which is why I started this site in the first place), then you'll want to check out our gluten free guide to Italy, along with our city guides for Rome, Florence, and Milan to help you find the best gluten free pastries, pizzas, and more.