9 Spectacular Day Trips from Florence to Plan Now
Ah, Firenze. Before our last trip to Florence, where we spent five days exploring (read: eating and drinking) our way through the city, Alysha wasn't a fan. "It's too touristy!" she said. And she's not exactly wrong – Florence sees a TON of tourists, especially in the height of summer – but there's a reason for that. The food, the art, and, we'd argue, the location in Italy.
Because of its location in the heart of Tuscany, which is in central Italy and is roughly equidistant between Rome and Venice, and the high speed rail lines in Italy, Florence is an ideal home base for exploring the entire stretch between Rome and Venice / Milan.
From the rolling Tuscan Hills to the picturesque vineyards of Chianti, the medieval charm of Siena to the foodie haven of Bologna, there are so many amazing day trips from Florence that it's easy to fill up your Italy itinerary in no time at all.
If you're still in the planning phase, we actually recommend at least one extra day on the end of your Florence itinerary dedicated to a day trip.
In this guide, we're going to take you through nine day trip destinations that we have personally been to and enjoyed. We'll give you the crucial info – like how to get there without a car and the best things to do – so that you can get into planning your trip.
Are there more than nine day trips that you could take from Florence? Yes. But these are our nine favorites.
One quick note. All of the below Florence day trips are within two hours of Florence by either car or public transportation. Any longer than this and you'll need more time – otherwise you'll spend half of your day traveling to and from the destination.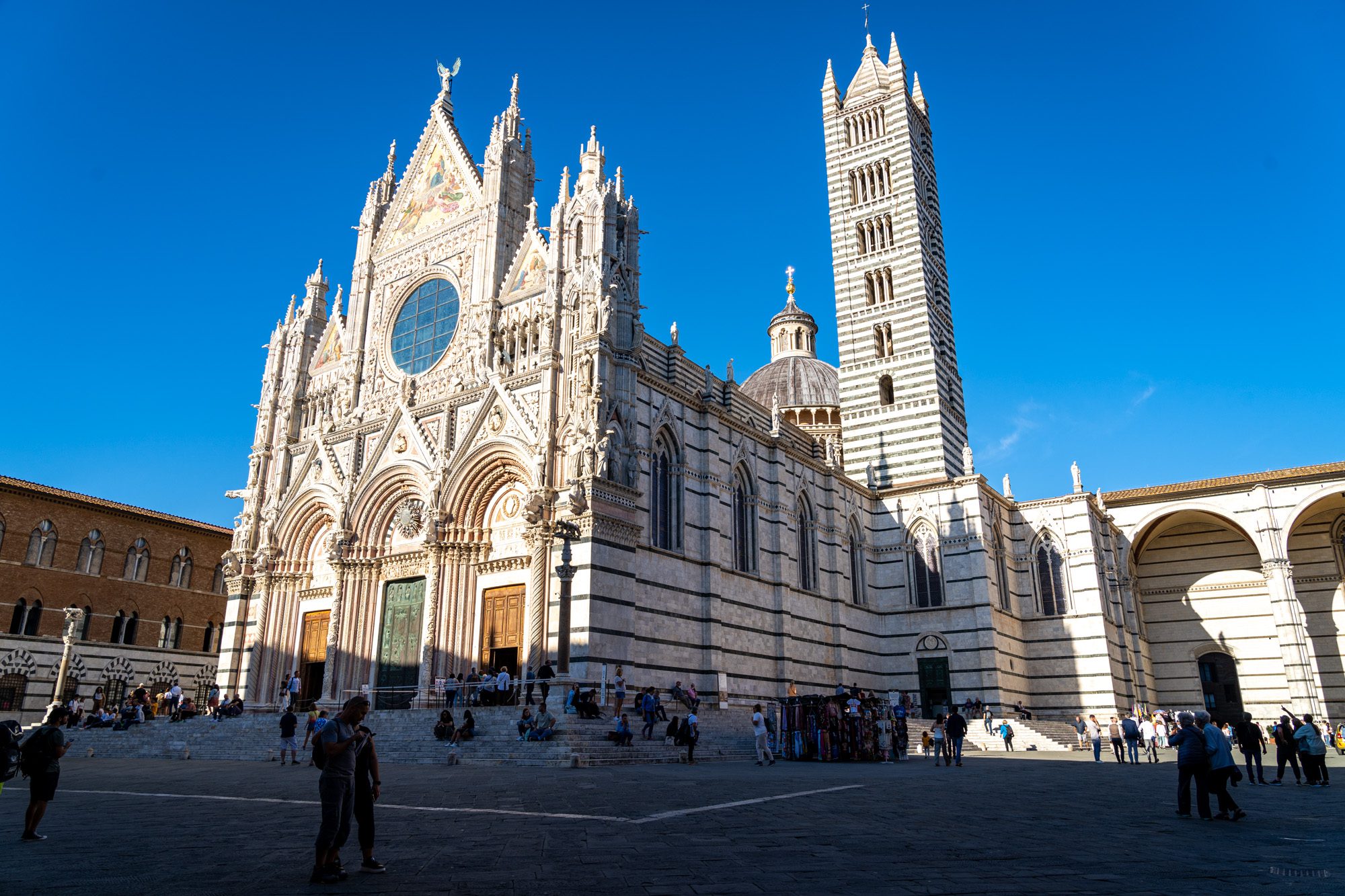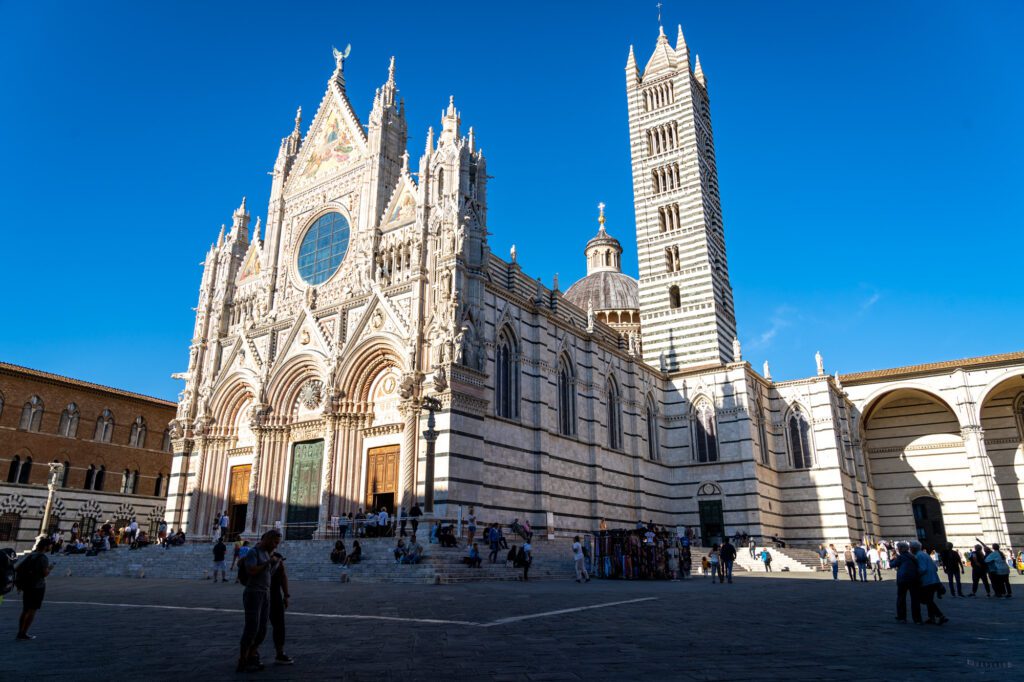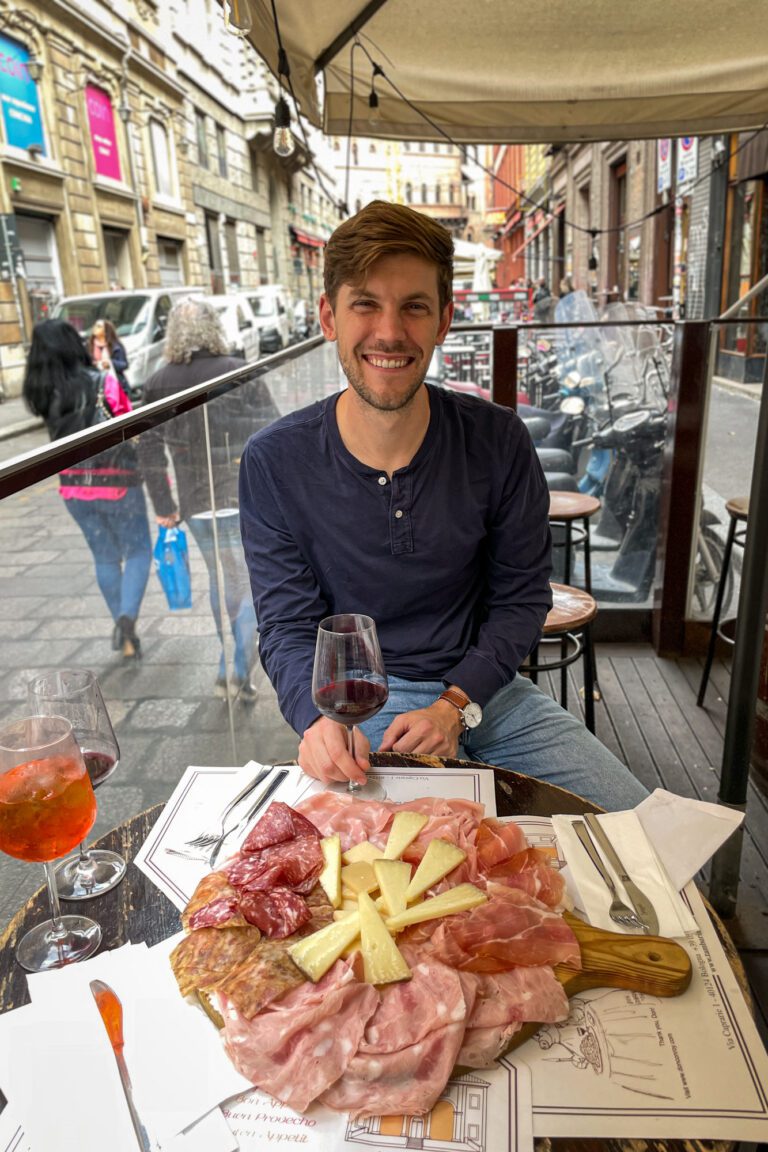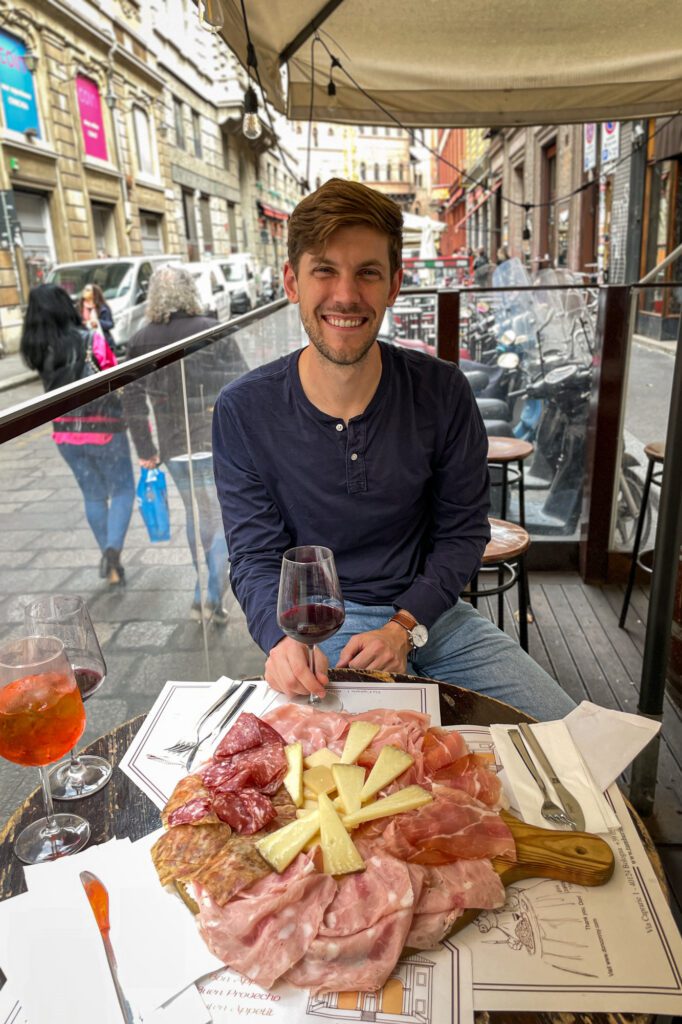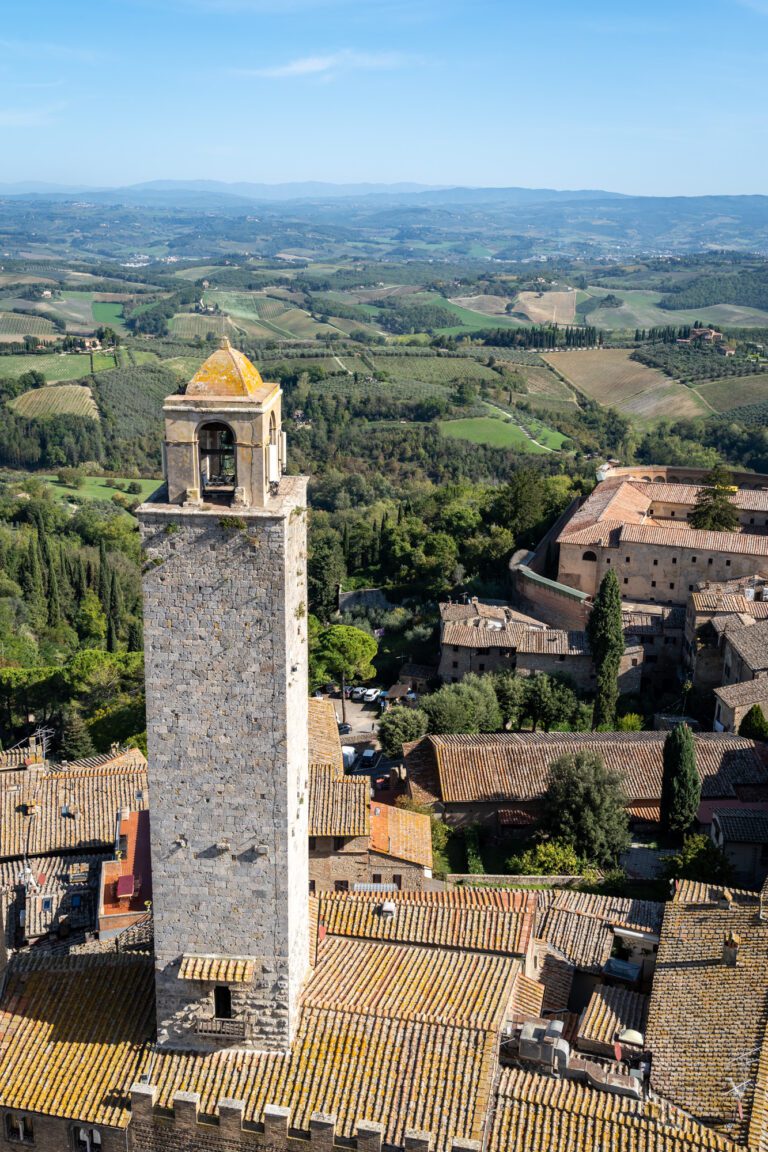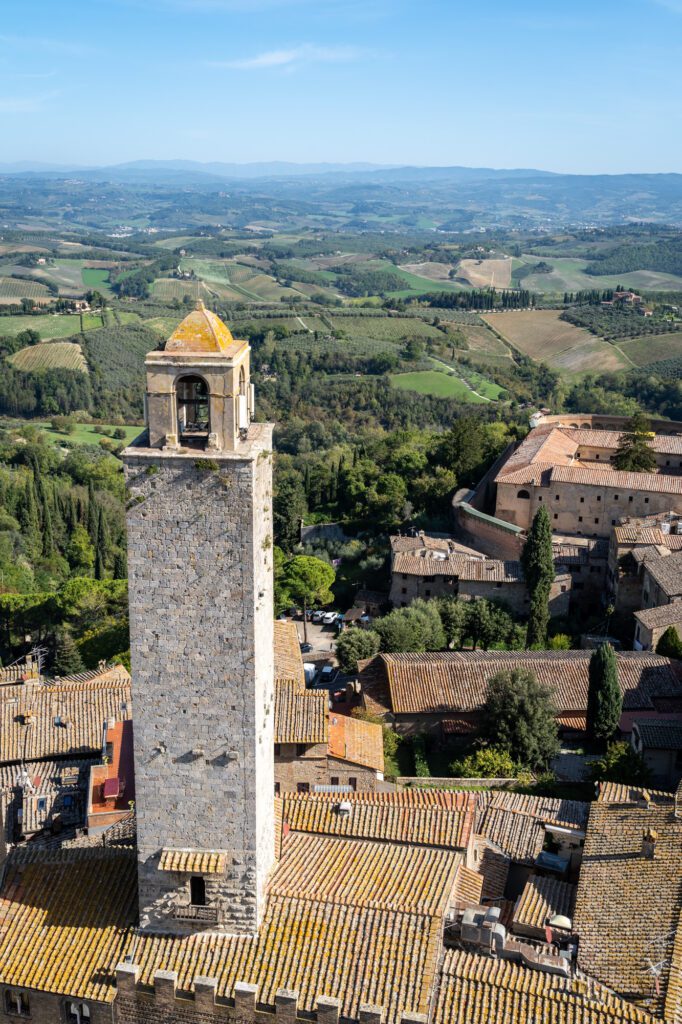 Disclaimer: Some of the links in this post, like hotel links, are affiliate links, meaning at no additional cost to you, we make a little bit of money if you click through and book. That being said, we would never recommend something to you that we don't stand behind 100%.
How to Get From Florence to Your Day Trip Destination
Many of the best day trips from Florence are easily accessible by train or bus. Italy has a good national public transportation network, particularly between the larger cities such as Florence, Milan, Rome, and Venice.
However, public transportation within rural Tuscany can be a little more hit or miss. As a result, you won't be able to reach some of the smaller destinations below without a car or taking a guided tour.
If you do want to visit the less accessible destinations in Tuscany, hiring a car for a day is one option. Although we wouldn't recommend renting a car for your entire time in Florence – you definitely won't need it for getting around the city itself.
A guided tour may be a more convenient – though slightly more expensive – choice.
By taking a guided tour, you won't have to worry about driving in Italy or getting behind the wheel after a few glasses of wine (definitely don't do that!). You'll also have a local guide who will plan your day and teach you about the places you visit.
If you're looking to combine San Gimignano, Chianti, and Siena into one day, it's going to be a long day, but this tour with Take Walks (which is one of our favorite tour companies on earth – read our review of our Colosseum Tour in Rome to learn why), covers San Gimignano, Chianti, and Siena in one action-packed 10 hour day.
Read More: How to Plan an Amazing Tuscany Itinerary 
The 9 Best Day Trips from Florence: A Complete Guide
And now, onwards to nine incredible day trips from Florence. For each, we'll give you our take on how to get there (public transportation, guided tour, or rent a car), along with our favorite things to do and see.
Bologna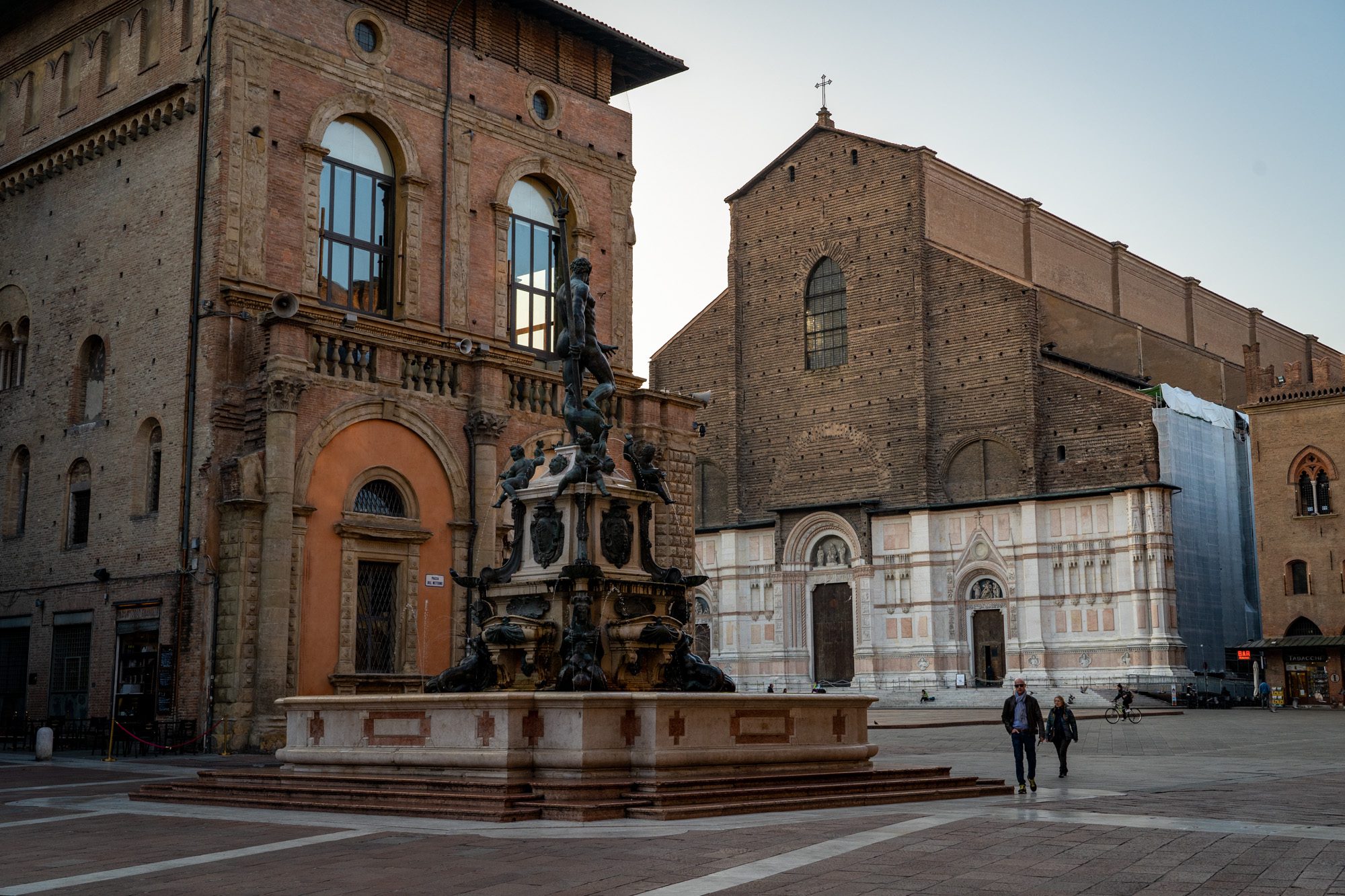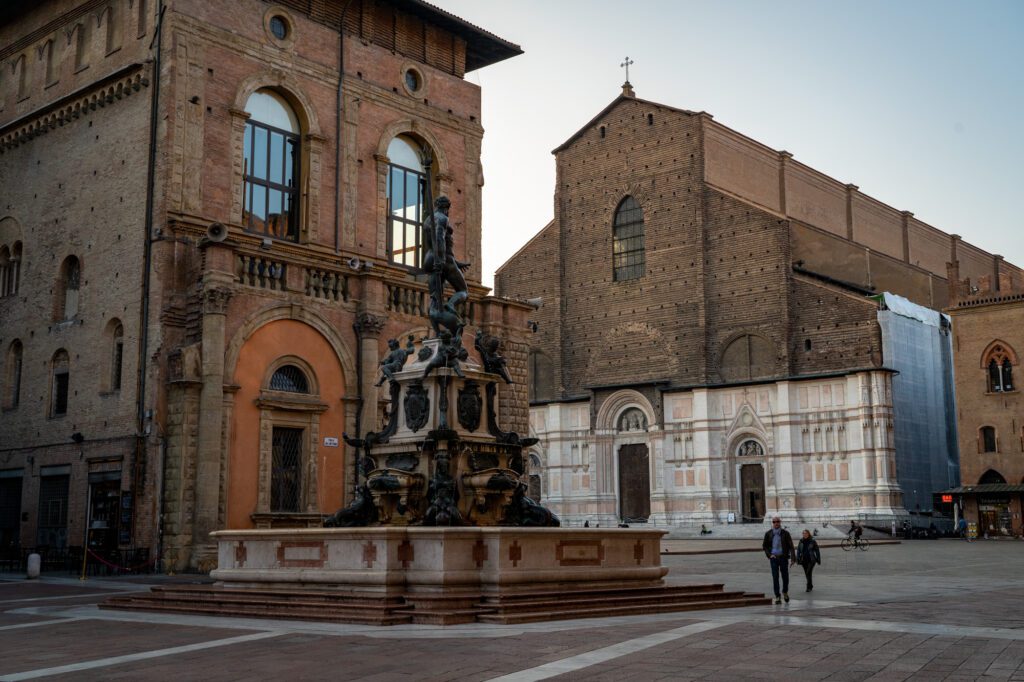 Located just north of Florence, Bologna is a charming and historic city with a certain vibrance and youthful energy thanks to its prestigious university. It is also one of the more authentic major cities in Italy, and provides a stark contrast to the open-air museum that is Florence.
We love Bologna for a few reasons. One, it's a refreshing change from some of Italy's other popular cities, where tourists are the primary people you'll encounter on the street.
Wandering through the porticoed medieval streets, you'll feel like you're surrounded by ordinary people going about their daily lives, rather than eager tourists congesting narrow lanes for photo opportunities (for the most part anyway).
It's like real life people actually live in the city, which is something you sometimes forget in places like Rome and Florence.
Second, and arguably most importantly for your purposes, it's one of the best food cities in Italy.
Bologna is located in the heart of the Emilia-Romagna region – Italy's culinary capital – making it the perfect Florence day trip for foodies. Many of Italy's most famous delicacies and dishes originate from the city and the surrounding region. So make sure to arrive hungry – you're going to want to eat everything!
How to Get from Florence to Bologna
We wouldn't recommend traveling to Bologna from Florence by car. The drive takes around an hour and 30 minutes, which is considerably longer than the train journey. Plus, parking in Bologna is fairly expensive and difficult to come by.
By train. Bologna is an easy train ride from Florence and one of the quickest day trips you can take by public transportation. Direct high-speed trains from the Florence Santa Maria Novella station to Bologna run regularly each day and the journey takes just 35 minutes.
On a guided tour. This foodie tour from Florence will take you to explore both Bologna and some of the wider Emilia-Romagna region in a day. It includes a Bologna food tour, as well as a visit to a small farm producing artisanal balsamic vinegar and a Parmigiano-Reggiano factory.
What to Do in Bologna
These are some of our favorite things to do in Bologna in a day.
Climb the Asinelli Tower for Great Views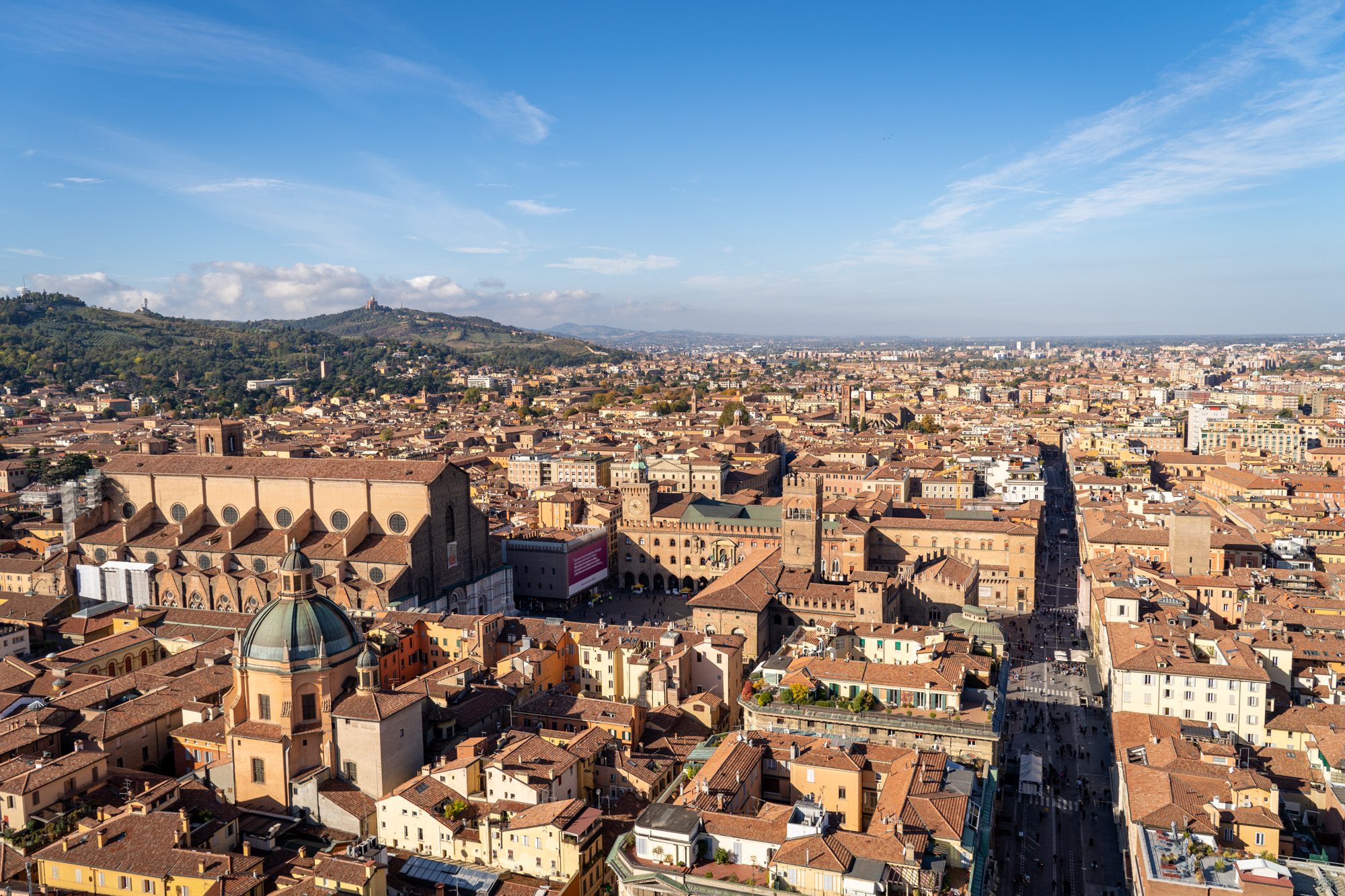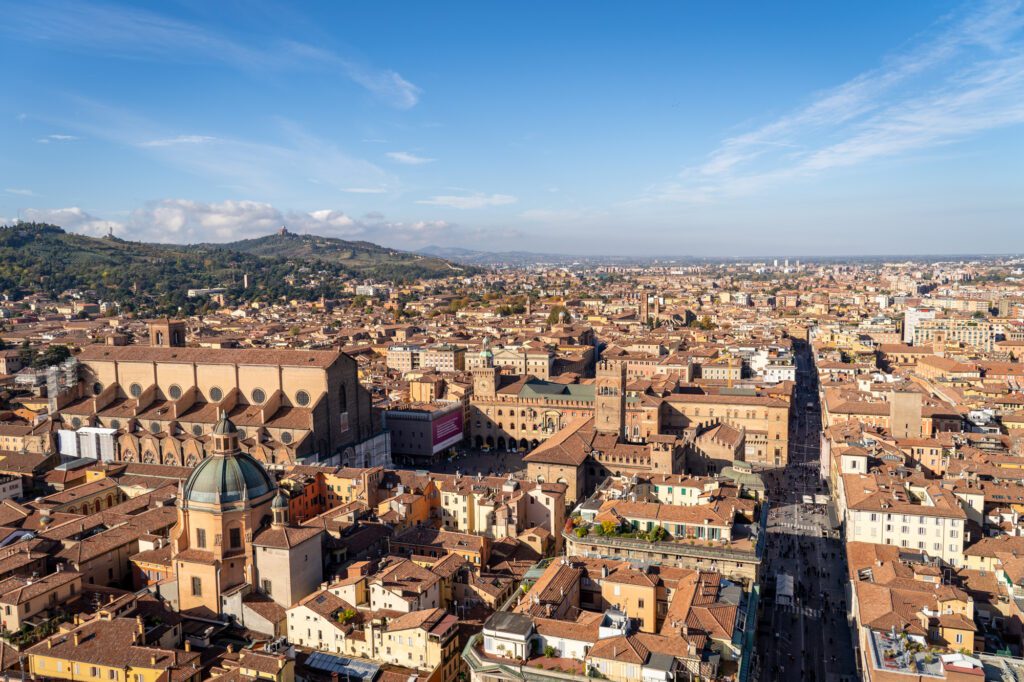 Garisenda and Asinelli (aka the Two Towers) are the most famous of Bologna's many slender medieval towers that fill the city skyline. With their unusual inward leans, the twin towers are an important symbol of the city.
If you're looking for a substitute for the more famous leaning tower of Pisa, this would be a good option (and we like Bologna WAY more than Pisa).
Asinelli is the tallest of the two – it's the tallest tower in Bologna at 97.2 meters high – and offers spectacular views over the city. To reach the top, you'll need to pay €5 and climb 498 steps up a winding wooden staircase.
Interesting fact: Garisenda was once the same height as Asinelli but had to be shortened in the 14th century due to its increasing lean. Nicknamed the "leaning tower of Bologna", it's no longer possible to climb the smaller of the two towers.
Eat Your Heart Out
Bologna is one of Italy's top foodie cities, so indulging in plenty of tasty Italian cuisine while you're there is a must!
Mortadella and filled pasta such as tortelloni both originate from Bologna. Tagliatelle al Ragù Alla Bolognese is another famous dish you have to try – you'll be surprised how different it is to the Americanized Spaghetti Bolognese.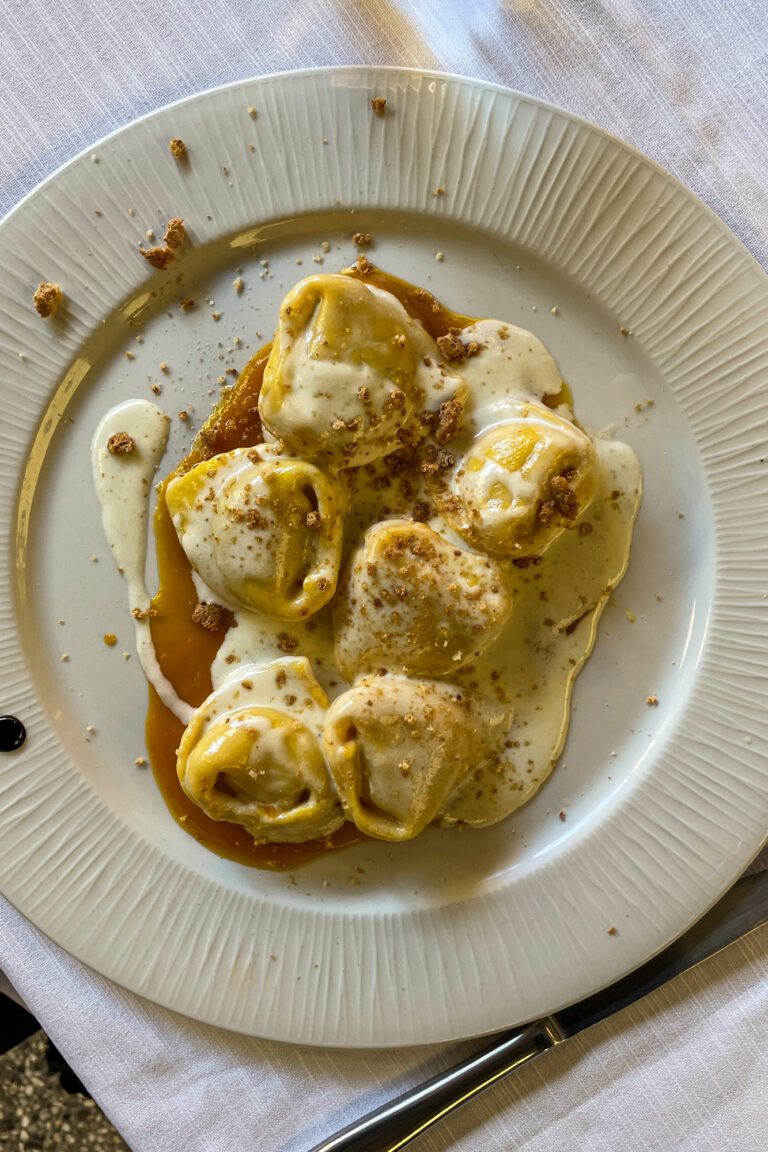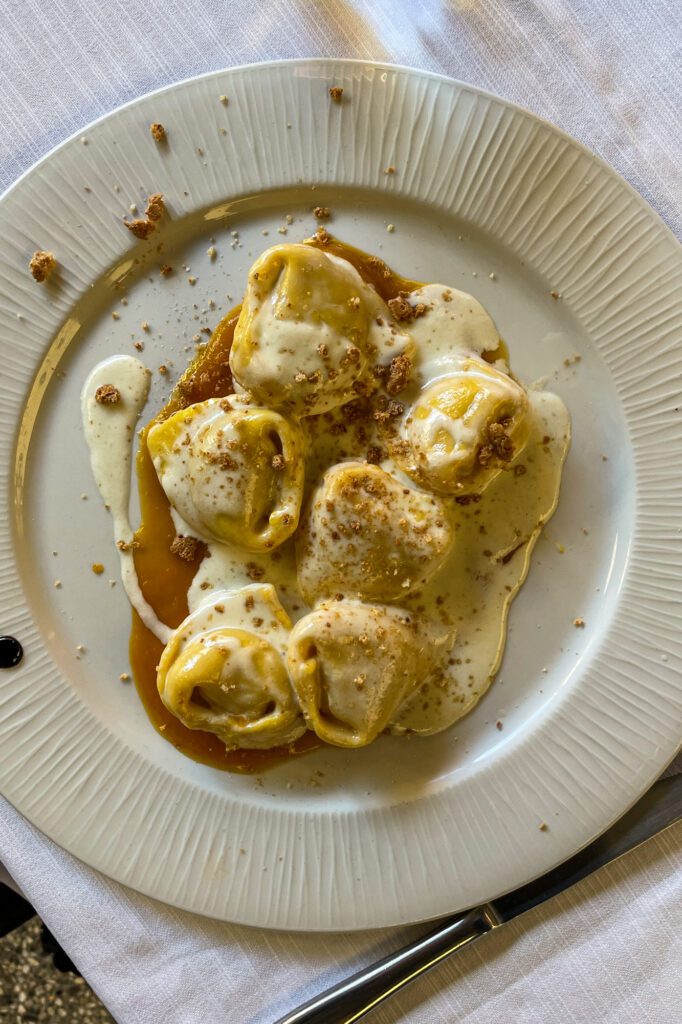 The broader Emilia-Romagna region is also the birthplace of just about every delicious food you associate with Italy. Parmesan cheese, prosciutto di Parma, balsamic vinegar, and Lambrusco wine are all products of the region.
To taste some of the best food in Bologna, head anywhere in Quadrilatero. Sitting just off Piazza Maggiore, the city's historic food quarter is packed with countless incredible market stalls, delis, cafes, and restaurants.
Take a Bologna Food Tour
Another way to experience Bologna's food scene is by taking a guided food tour with a local guide. We like the look of this food tour, which takes you to the city's bustling food market, as well as some local hidden gems.
In 4 hours, you'll taste plenty of local delicacies, from fresh pasta to homemade gelato. The tour includes a visit to an artisanal pasta workshop, so you can watch tagliatelle and tortelloni being made from scratch in front of you.
Visit Piazza Maggiore and Basilica di San Petronio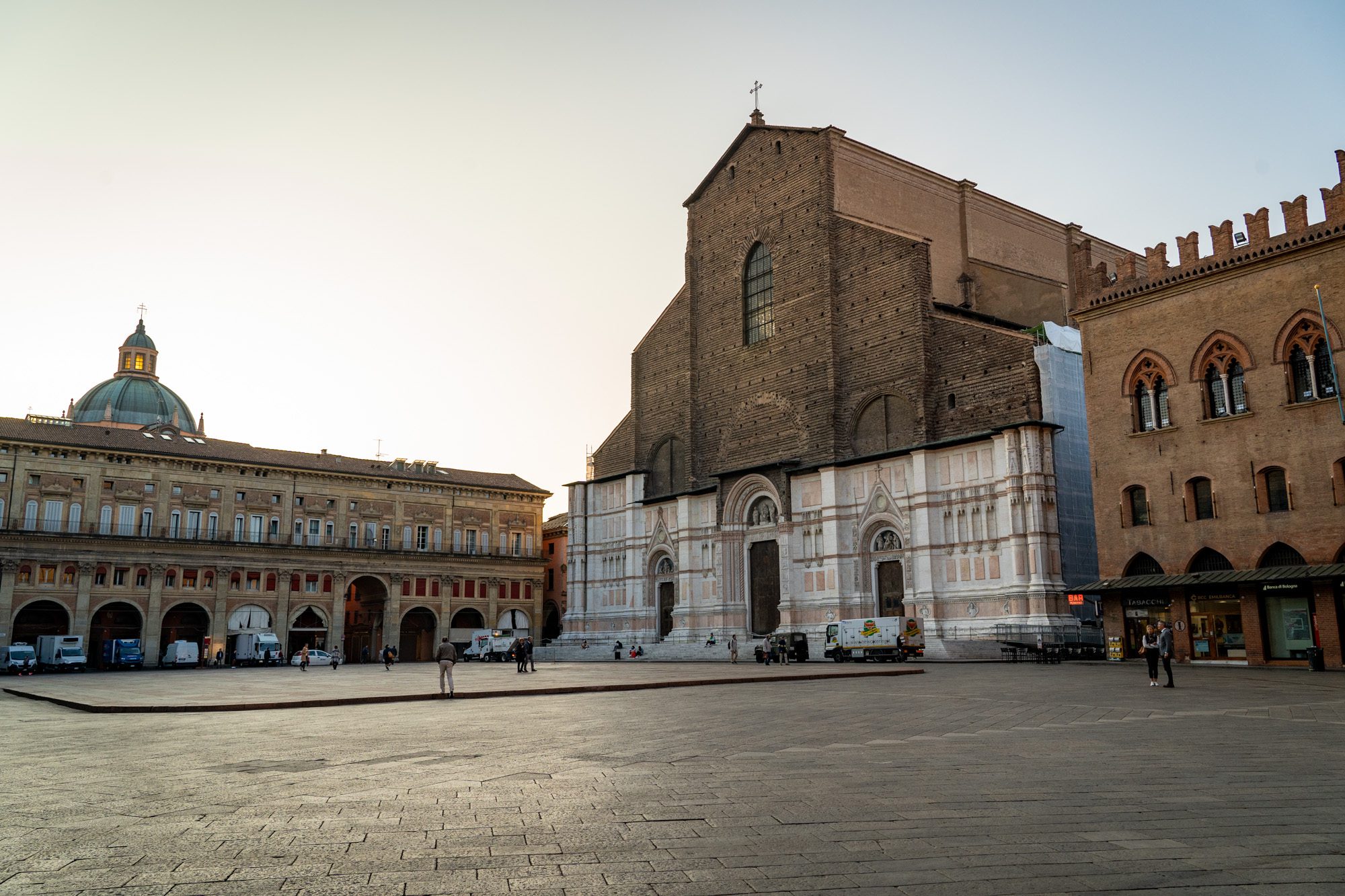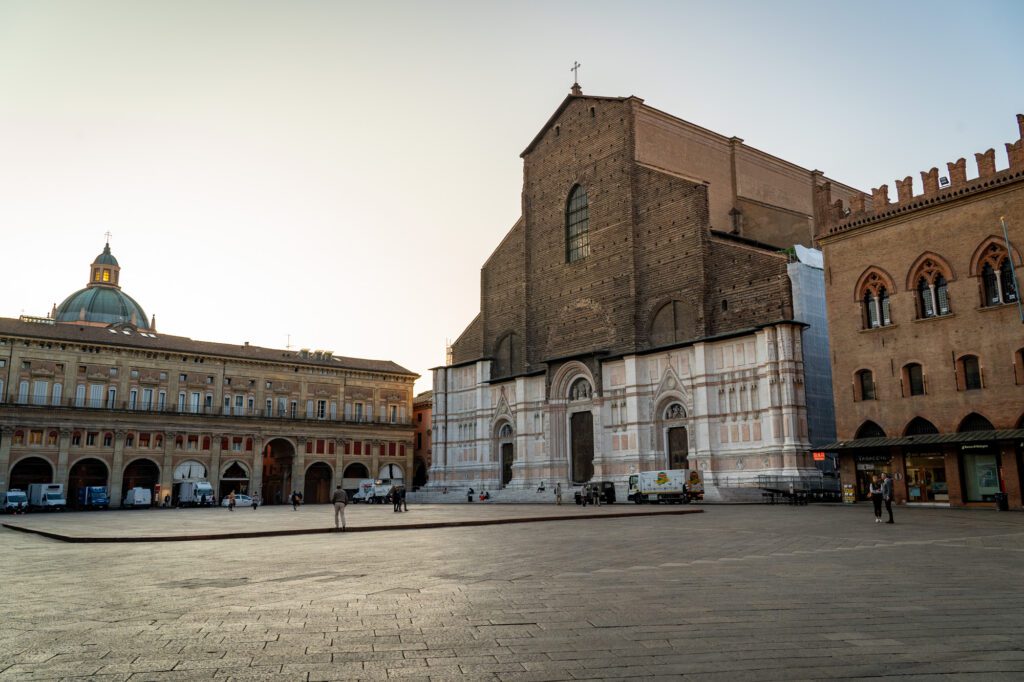 Piazza Maggiore is the beating heart of Bologna and one of Italy's best piazzas in our opinion. A visit to the city isn't complete without stepping foot in the square.
The large piazza is surrounded by many of Bologna's most important buildings, including several grand palaces and the unfinished façade of Basilica di San Petronio.
Basilica di San Petronio is a beautiful example of Italian Gothic architecture. Construction of the church was started in the 14th century but never completed. Despite the half-finished marble façade, it's still the most important church in the city and a must-visit.
Entrance to the basilica and its museum are completely free. Although, you'll need to pay €5 to visit the rooftop terrace.
Climb to Santuario Madonna di San Luca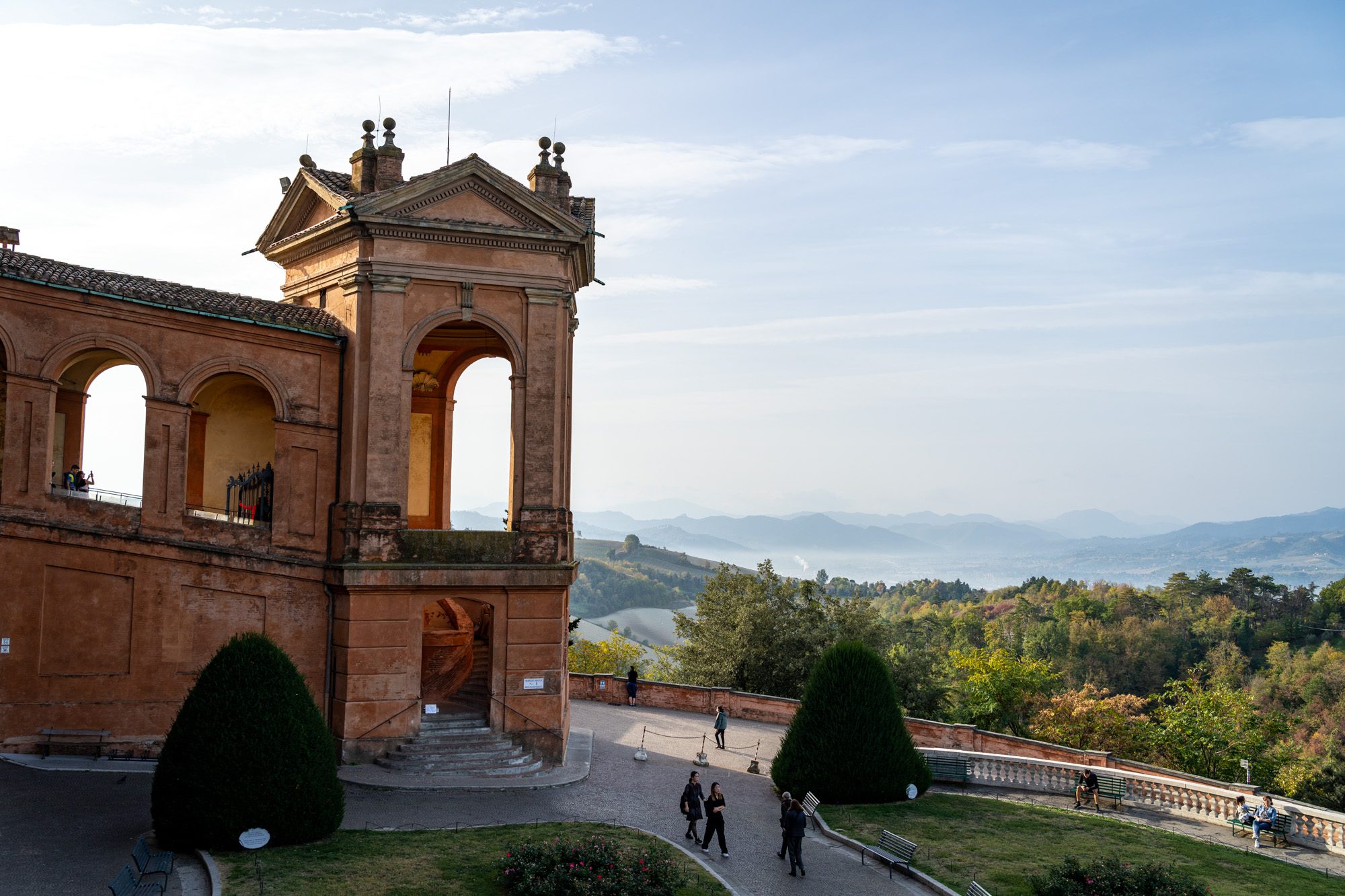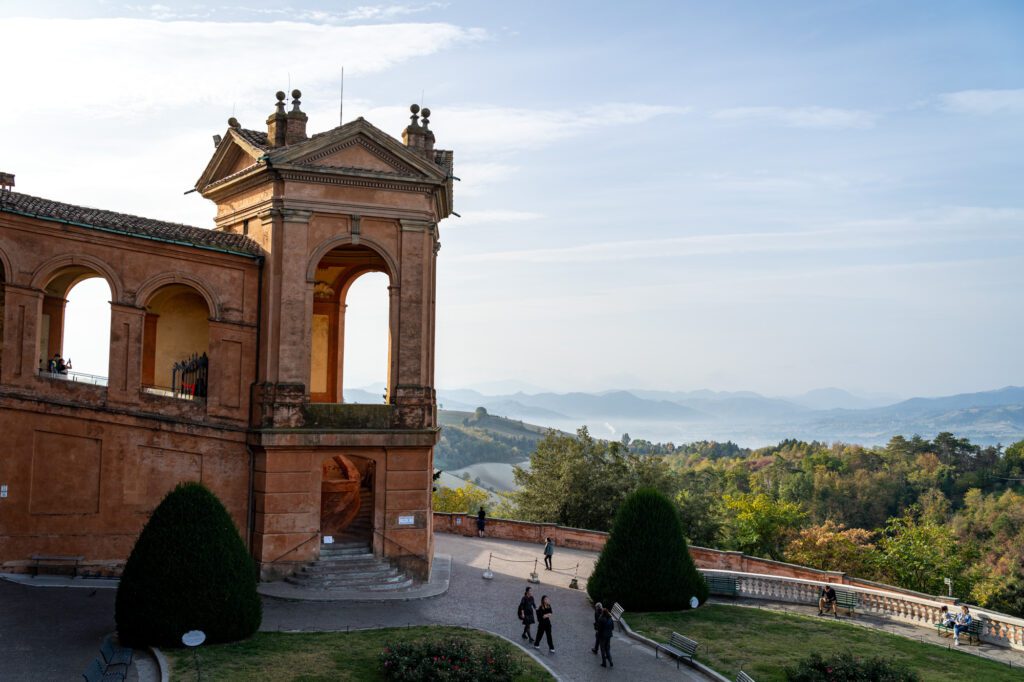 Bologna is known for its many porticoes, and you can walk through 666 (someone has a sense of humor) of them on the 4km pilgrimage up to hilltop Santuario Madonna di San Luca.
The scenic hike takes around 45 minutes, has a gradual incline, and is largely shaded by the porticos, so it's not overly challenging.
But if the walk feels like too much for you, you can also jump on the San Luca Express street train to reach the impressive 18th-century church and viewpoint. The train will pick you up in Piazza Maggiore and whisk you away to the church on the hill, which will cost you €12 for a round trip ticket.
Dive Deep into Parmesan-Reggiano
For foodie travelers, another must-visit destination in the Emilia-Romagna region is Reggio Emilia, the birthplace of parmesan cheese. You can visit the town on a separate day trip from Florence, or combine it with nearby Bologna.
The best way to explore Reggio Emilia is on a guided tour. We did this "Secrets of Parmigiano Reggiano" tour and it was incredible – the highlight of our last trip to Italy.
The tour includes pickup at Reggio-Emilia AV station, a farm and factory visit where you get to watch and learn about the process of making Parmigiano-Reggiano, and a tasting of several local products. You even receive 1/2kg of parmesan cheese vacuum packed to take home with you.
Lucca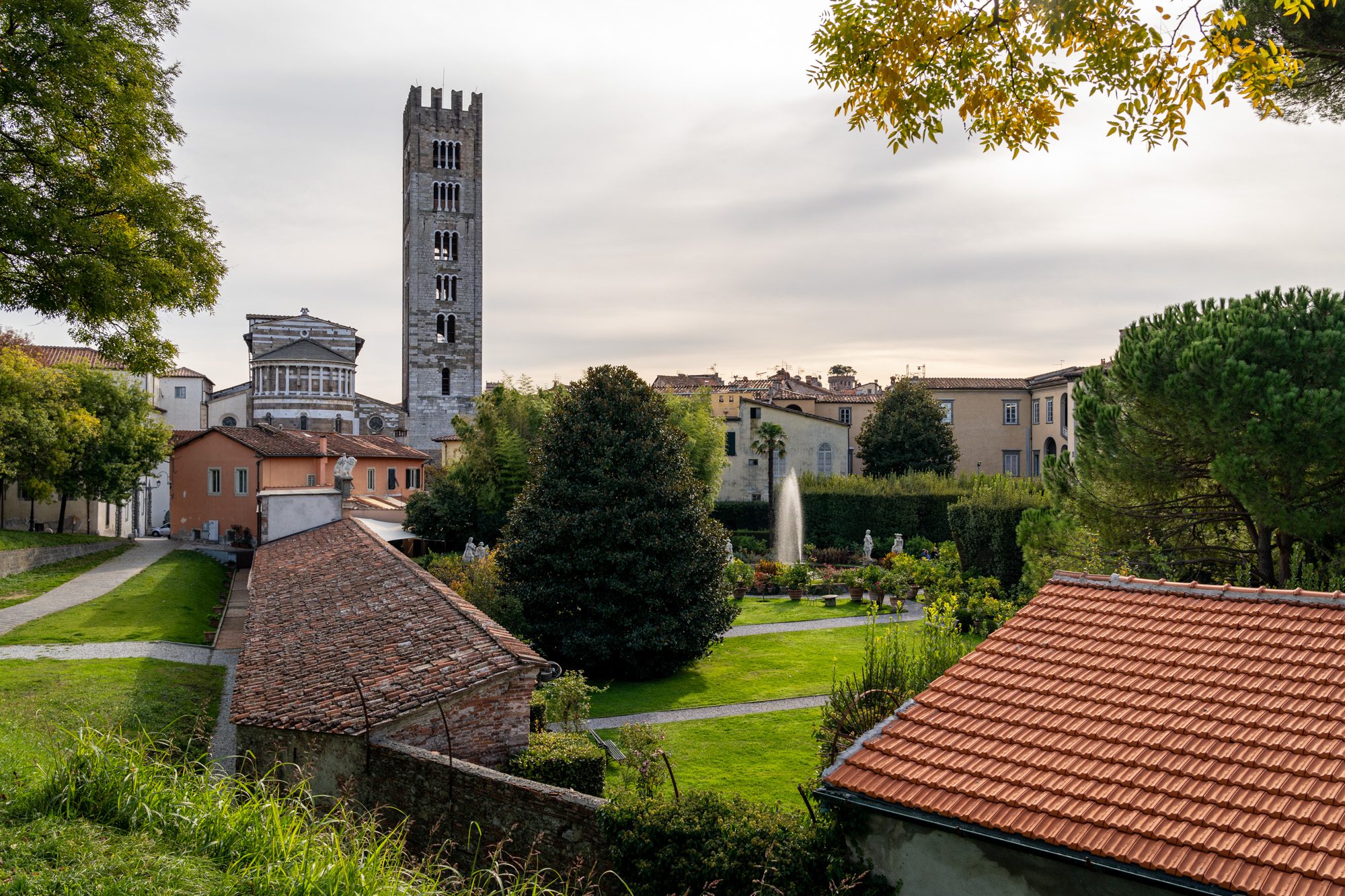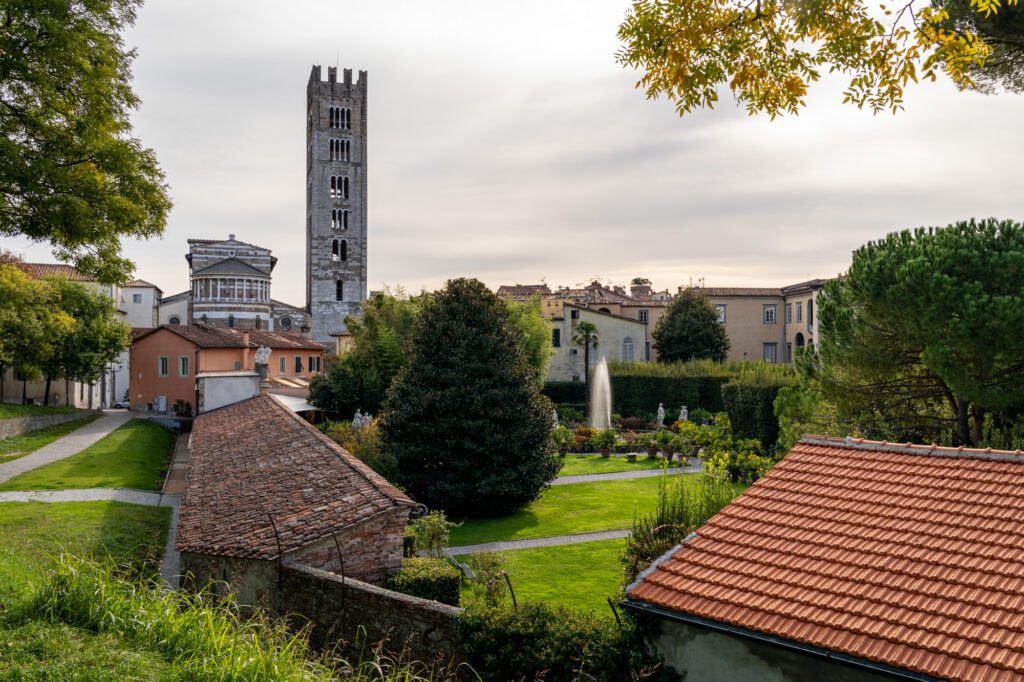 Sitting close to the popular city of Pisa, Lucca is a good alternative for those who need a break from large crowds of tourists. The city's peaceful ambiance and alluring architecture make it one of the best day trips from Florence.
The intact Renaissance city walls are what makes the Tuscan city so special. Then inside the walls, you'll find an enchanting maze of cobblestone streets, countless historic churches, cozy cafes sitting inside medieval buildings, and one of Italy's most unusually shaped piazzas.
Lucca is the perfect day trip for enjoying a slow stroll and a relaxing long lunch with a glass of wine (or three) while people-watching in a local piazza.
How to Get from Florence to Lucca
By train. Despite the close proximity of the two cities, only slow regional trains run between Florence and Lucca, which can take up to 1 hour 45 minutes. Although, the train is direct and you'll be treated to some beautiful scenery along the route. It's a good option for a quick half day trip from Florence.
By car. Driving from Florence to Lucca may be a better option. The journey takes around one hour in normal traffic. However, cars are not allowed in Lucca's Old Town, so you'll need to park outside the city walls and walk in (it's only a 15 minute walk). We'd recommend parking at Parcheggio Carducci to the south of the city which costs just €1 per hour.
What to Do in Lucca
These are some of the best things to do in Lucca on a day trip from Florence.
Walk the City Walls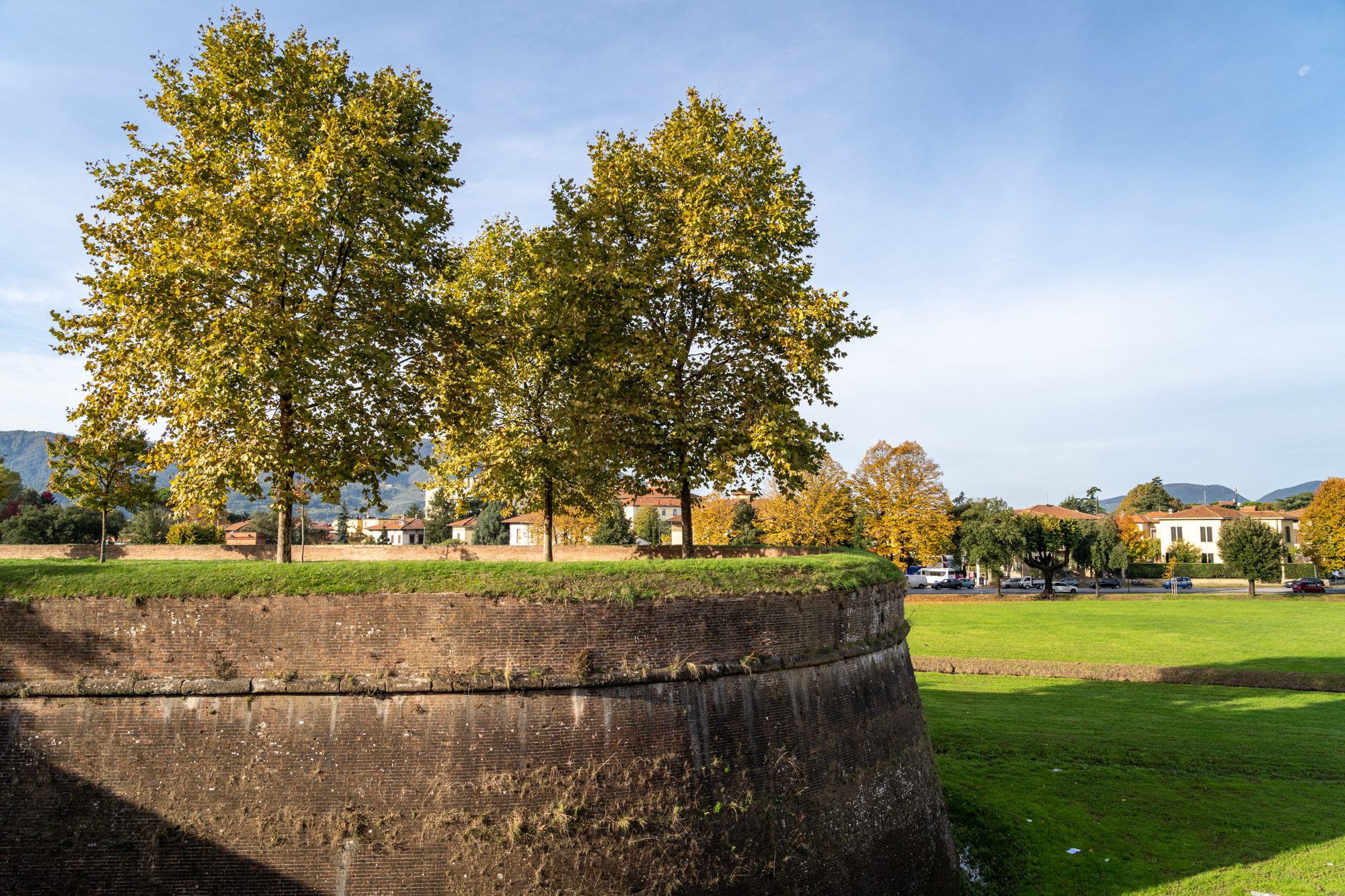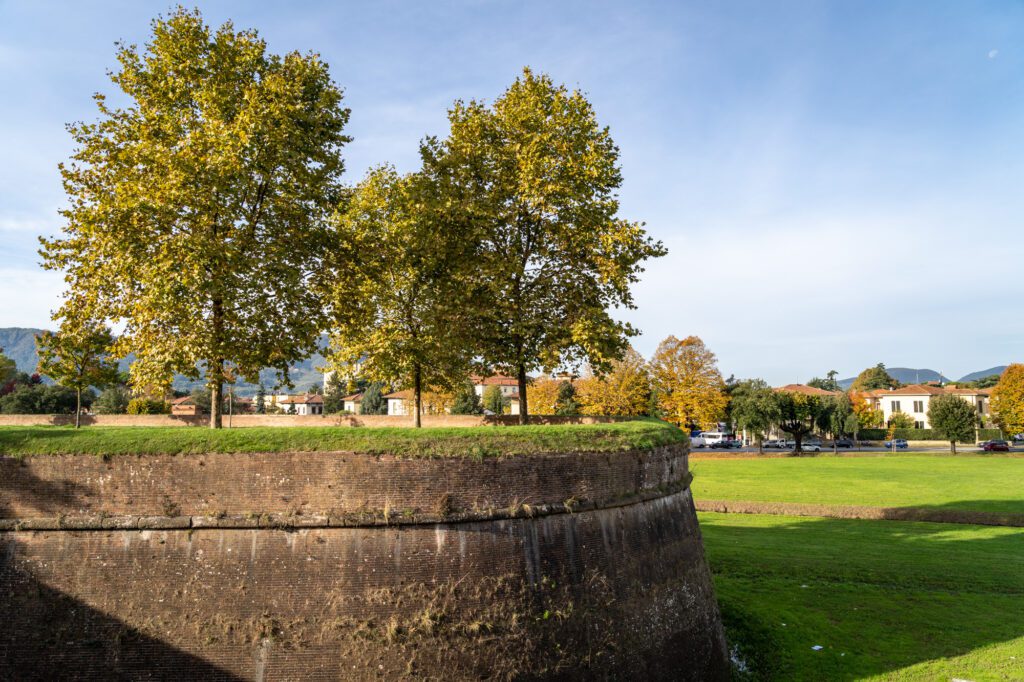 Lucca's historic walls are the city's most famous attraction. And rightly so. Spanning over 4.2km around the city, it's one of the most impressive and well-preserved defensive structures of its kind.
What makes the walls particularly unique is that they were built during the Renaissance era rather than the typical medieval walls you find encasing many other European cities. Hence their much shorter and wider stature.
The walls have since been converted into a charming tree-lined promenade, which is ideal for enjoying a peaceful stroll amongst the greenery. From the walkway, you'll be treated to some beautiful views over the rooftops of Lucca on one side and the Tuscan hills on the other.
Climb Guinigi Tower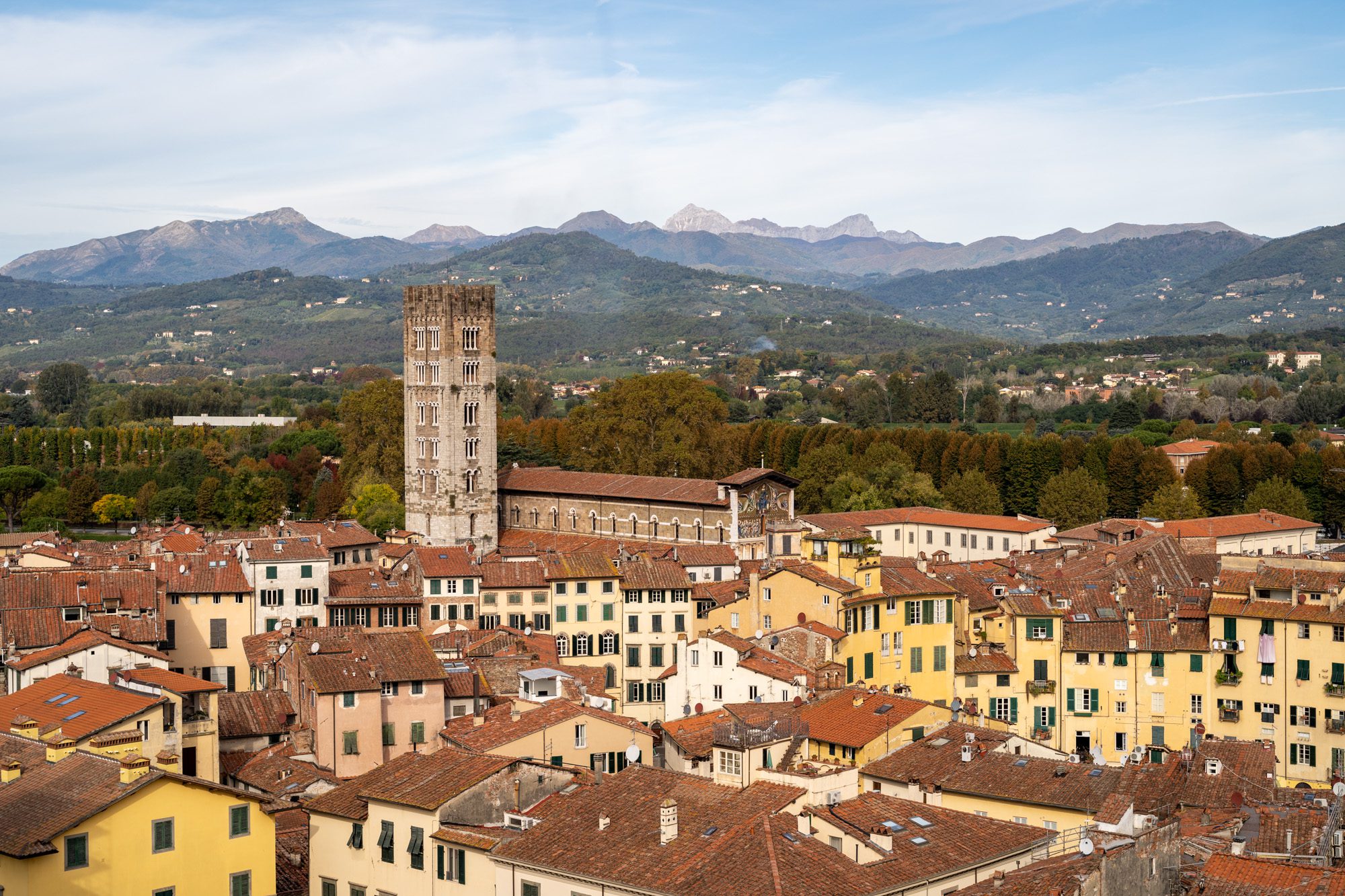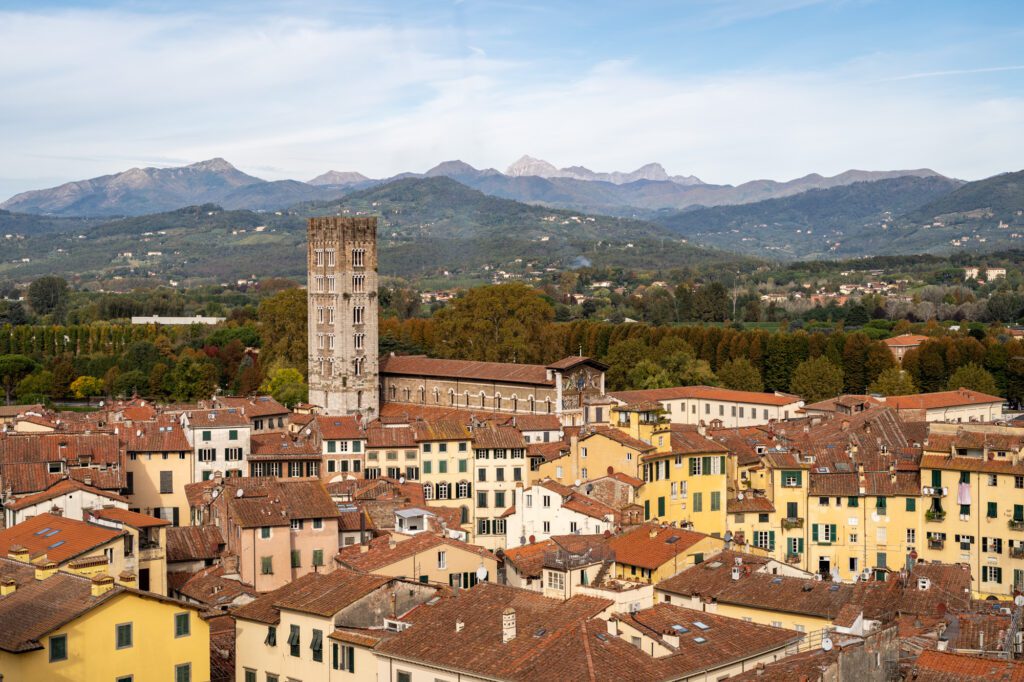 At 125 feet tall, the Guinigi Tower is the tallest building in Lucca. Built by the wealthy Guinigi family in the 14th-century, the Romanesque-Gothic tower was one of just a handful that survived the many medieval raids and battles in the city.
The tower has a unique rooftop garden with several ancient oak trees providing shelter from the sun. The peaceful garden offers stunning views over the red rooftops of Lucca and out to the surrounding hills. So it's well worth the €5 entry ticket and 230 step climb to the top (there's also a lift).
Step Inside Duomo di San Martino
Known as "The City of 100 Churches", visiting at least one of Lucca's many historic religious buildings is a must.
Duomo di San Martino is Lucca's grand Roman Catholic cathedral and our top recommendation. The church's amazing Romanesque exterior holds an equally impressive interior, so make sure to head inside.
Inside the 11th-century cathedral, you'll find remarkable frescoes, a carved medieval crucifix known as "the holy face" – the face was said to have been carved by a disciple so is the true face of Jesus – and the intricate tomb of Ilaria del Carretto, the young wife of Lucca's Lord Paolo Guinigi.
Entrance costs just €3 and includes the small treasury museum displaying important religious artworks.
Visit Piazza dell'Anfiteatro
Lucca's central Piazza dell'Anfiteatro is the only oval-shaped piazza in the country, making it one of the region's most unique attractions.
The piazza was named after the 1st-century Roman amphitheater that once stood in the area. Around the middle ages, the ancient amphitheater ruins were converted into a public square, encircled by towering medieval houses.
Piazza dell'Anfiteatro is now home to numerous restaurants, cafes, and the town's market. You can also still see some of the original Roman ruins around the square.
Chianti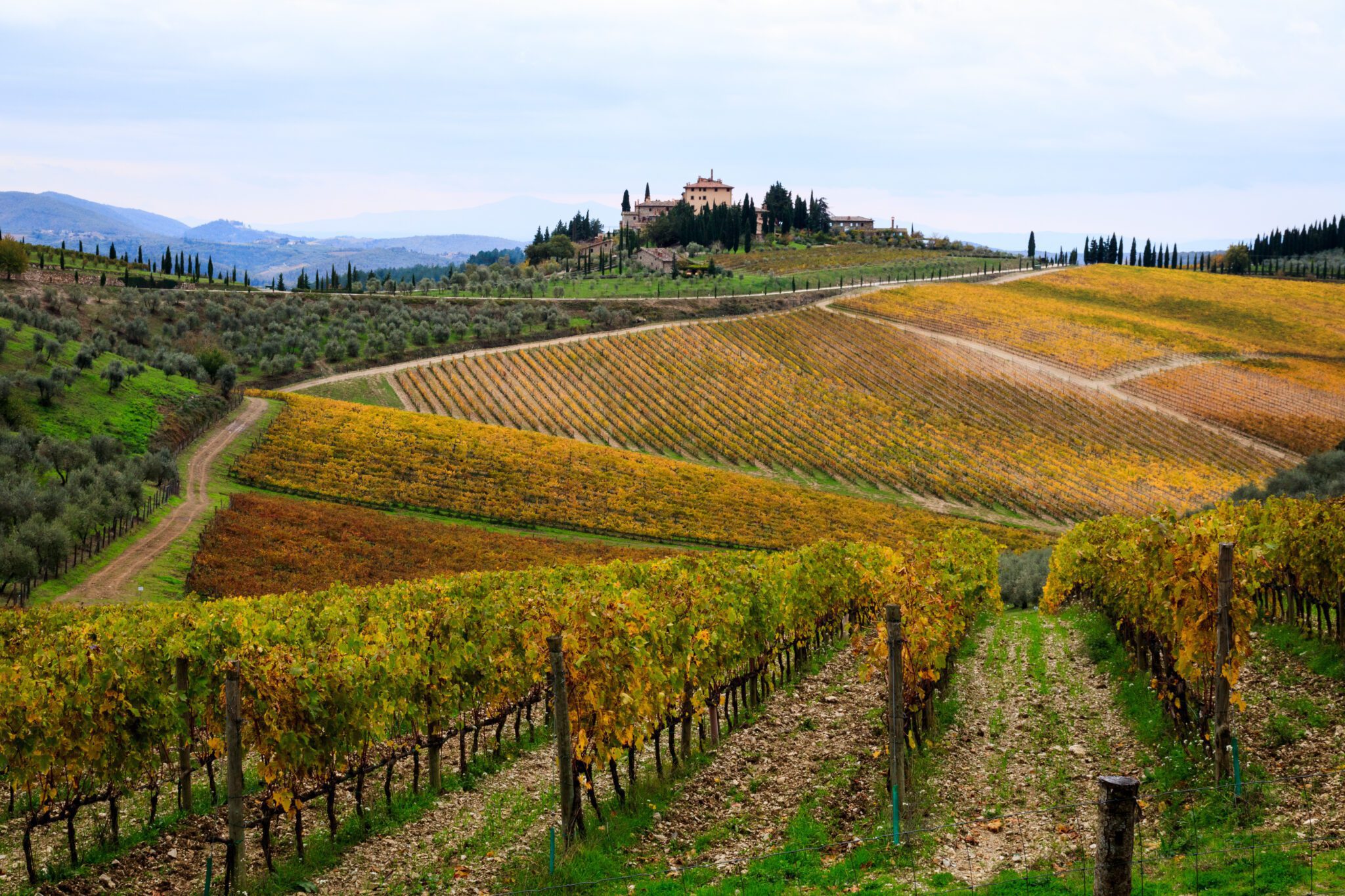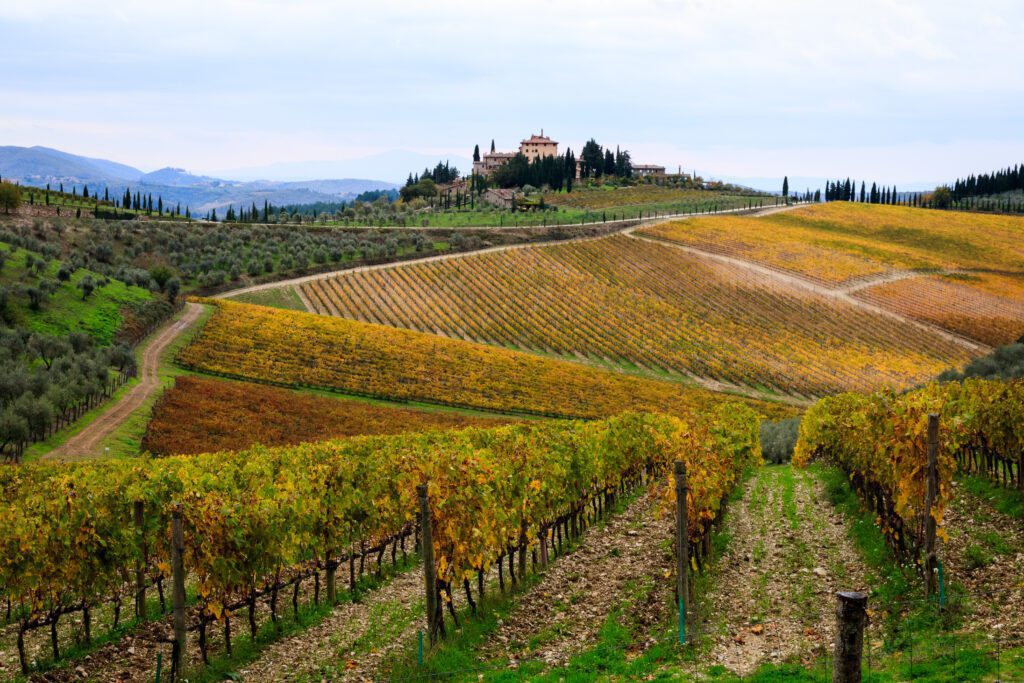 Located immediately to the south of Florence, Chianti is the largest wine-producing region in all of Italy and was one of the world's earliest legally defined wine-making zones. It is known for producing the world-famous Chianti Classico red wine, which is one of the most prestigious wines that comes out of Italy.
And, if we're being honest, the wine is the reason you're coming here for a day trip. There are other towns that are more interesting and charming, but Chianti has the best opportunities for wine tasting near Florence.
The region's main hubs are Badia a Passignano (a charming little town), Castellina, Radda, and Greve. All of these are worth a visit if you have the time. But the real highlight of Chianti is its many vineyards.
Chianti's vineyards are scattered amongst the region's rolling hills, broken up by olive groves, quaint stone farmhouses, grand Renaissance villas, imposing medieval castles, and sleek modern wineries.
Many of the local wineries offer tours and tastings, so you can learn about wine production in the region, and – of course – sample plenty of the local products.
How to Get from Florence to Chianti
By public transportation. Castellina can be reached from Florence by train, while Greve and Radda are accessible by bus. However, we wouldn't suggest using public transportation to get to Chianti as it will limit your visit to the towns. You won't get a chance to explore the region's beautiful scenery or see the famous vineyards. We'd highly recommend going by car or guided tour instead.
By car. Many of the most popular destinations in Chianti are somewhere between 20 minutes and one hour from Florence if you're driving. Having a car will give you more freedom to move around and visit off-the-beaten-path wineries and viewpoints. But the one major downside of visiting Chianti by car is that someone will need to be the designated driver, so won't be able to do the wine tastings.
On a guided tour. A wine tour is our top recommendation for visiting Chianti from Florence if you don't have a car. You have two options here – a tour to one winery where you'll dive deep into Chianti wine, or multiple wineries where you'll get to see a few different approaches. We did this one and really enjoyed it.
What to Do in Chianti
There are two main things to do in the Chianti region – eat and drink!
Visit a Winery or Three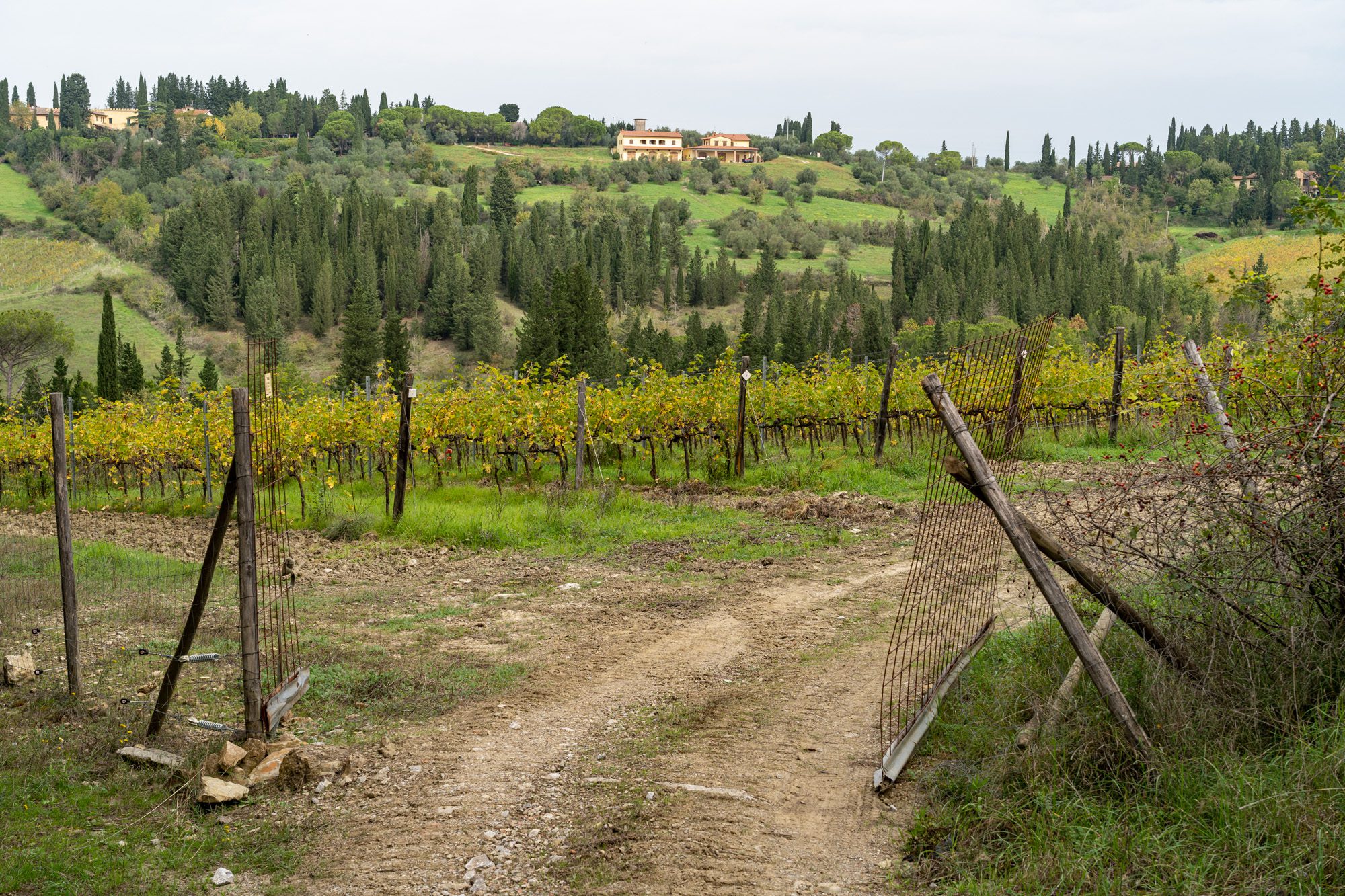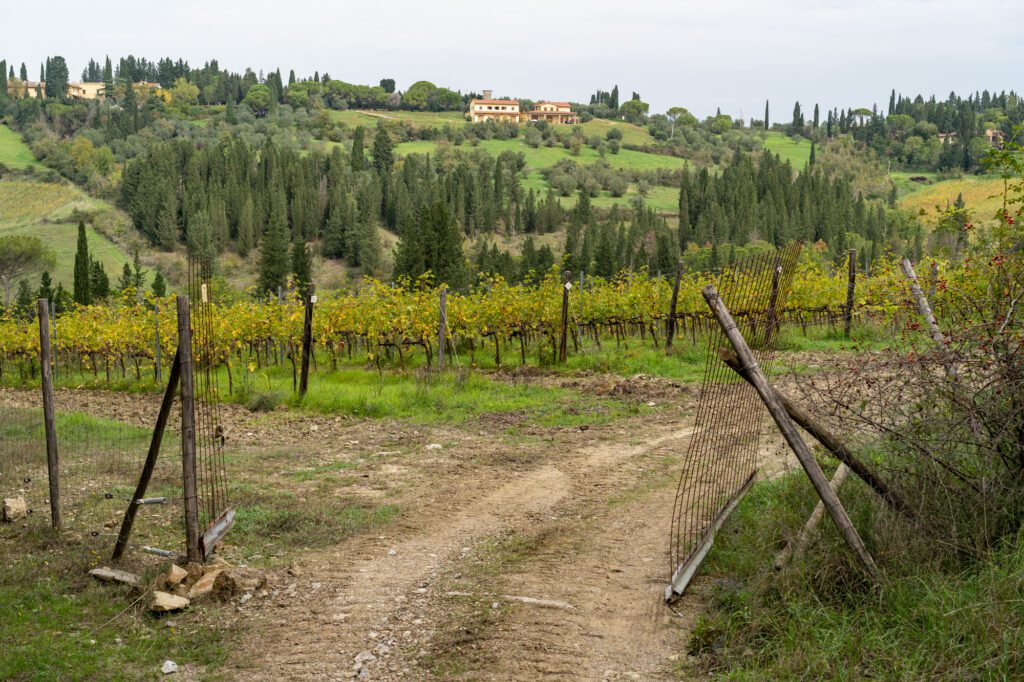 Visiting a winery in Chianti is a top Italian experience for wine lovers.
There are a nearly unlimited number of places to get some wine tasting in, and our biggest piece of advice is to avoid the huge, commercial options and focus on the smaller producers who can spend the time to walk you through their approach to winemaking and talk about their wines in detail.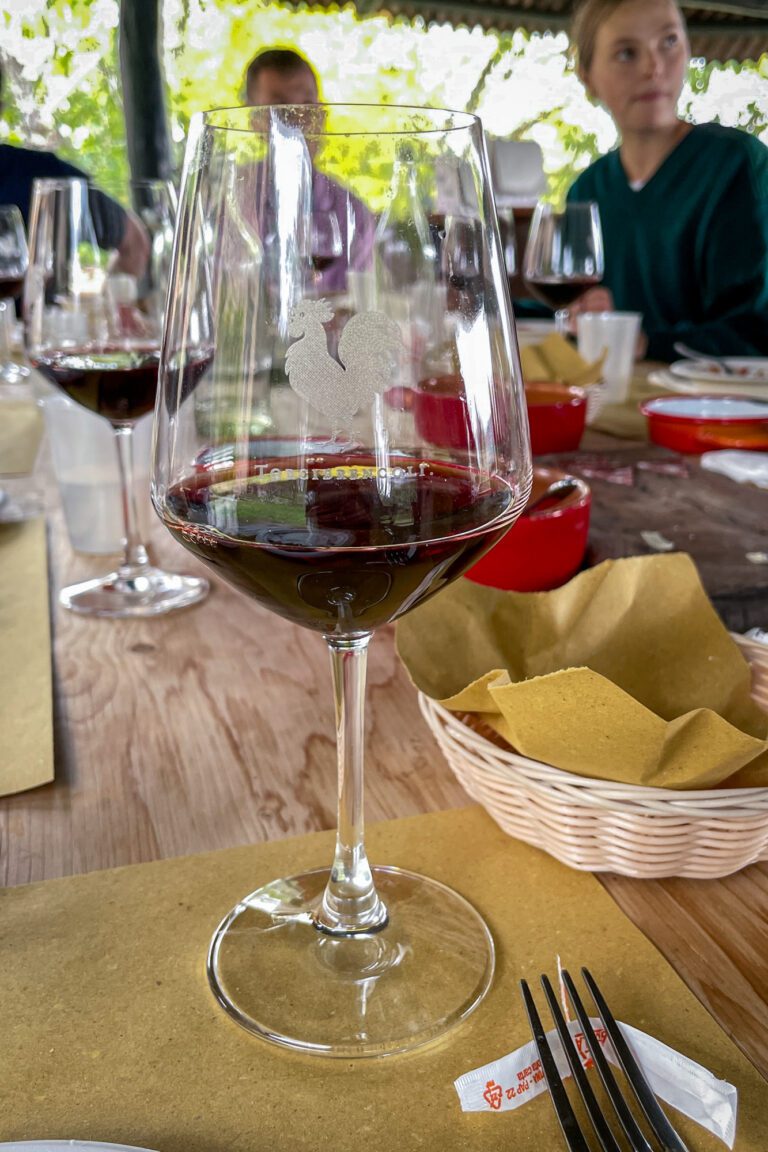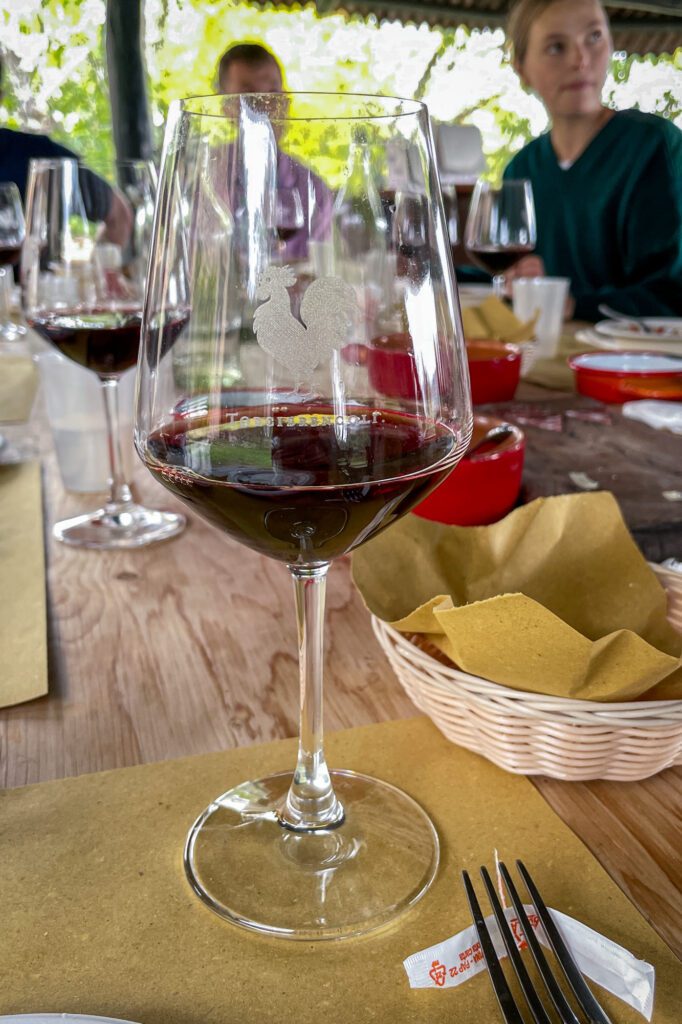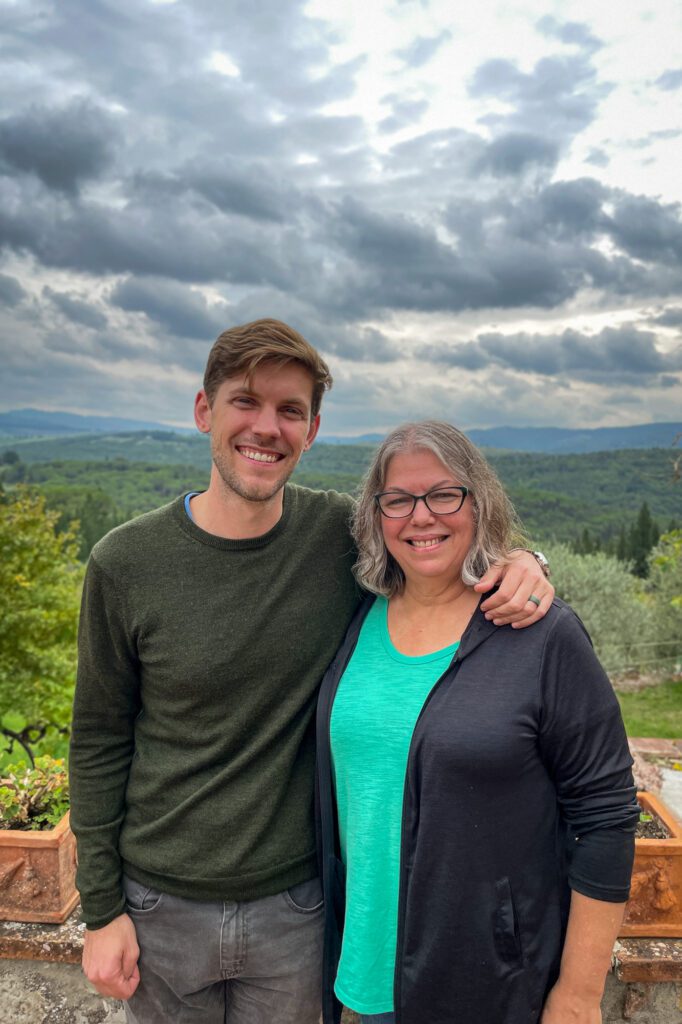 On an ideal winery visit, you'll get to walk through the vineyards, see wine being produced, visit the cellars, and sample plenty of Chianti wine paired with local snacks. All while learning about the winemaking process from a local winemaker.
If you're not visiting the Chianti region on an organized tour but still want to do a DIY winery visit and wine tasting, it's important to book an appointment in advance (especially during the summer).
Take a Cooking Class
The Chianti agricultural region is also known for producing some fantastic olive oils, cheeses, and meats. All perfect pairings for a lovely glass of red.
One of the best ways to experience the cuisine of Chianti is by taking a cooking class.
This small-group cooking class is held in a traditional hillside woodland home with locals Luca and Lorenzo. In the interactive class, you'll learn how to make different types of pasta, tasty sauces, and a delicious dessert. You'll then get to enjoy your feast alongside some Italian snacks, homemade oils, and three local wines.
Siena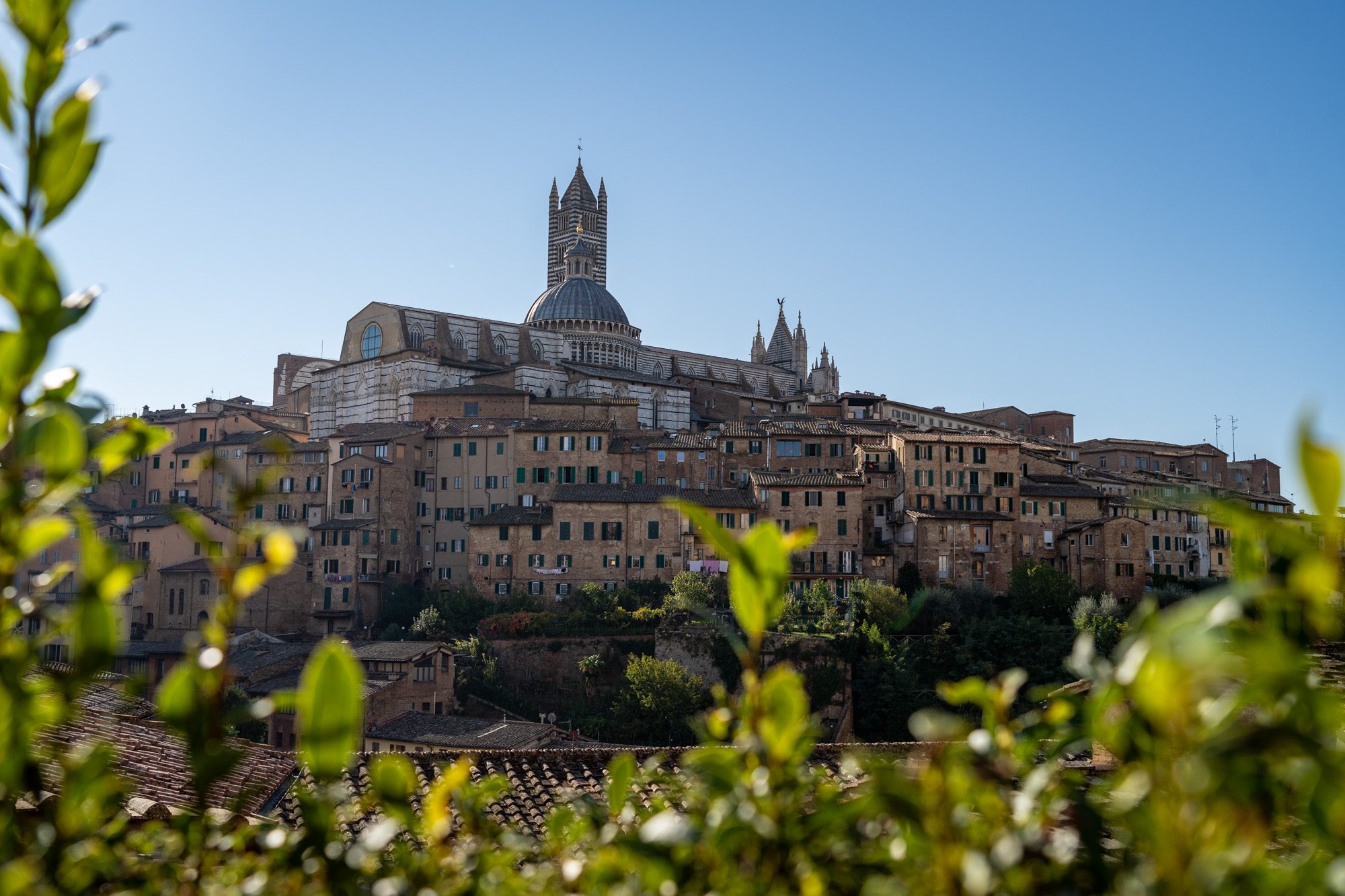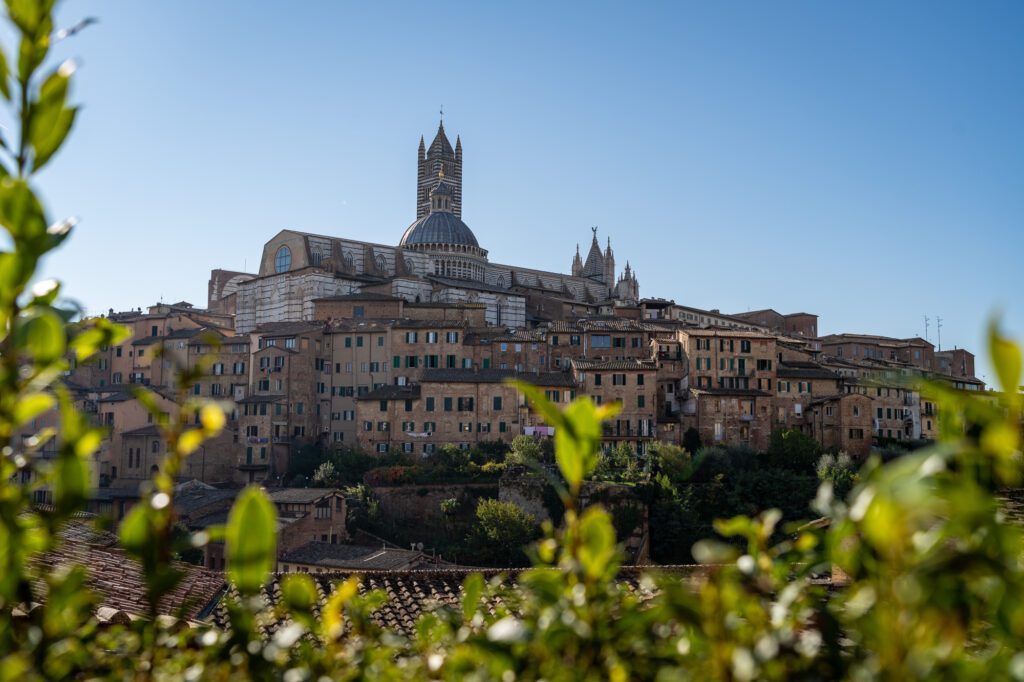 During the 13th and 14th centuries, the hilltop city of Siena rivaled nearby Florence in its wealth and power. And much like Florence, it's where you'll find some of the finest art and architecture in all of Italy.
Siena is perhaps the best example of a Tuscan hilltop town, with its red brick roofs cascading down the hill from the city center, which sits at the top of the hill.
Today, Siena is one big open-air museum. Its unparalleled medieval architecture has earned the city the recognition of UNESCO World Heritage Site.
You can't help but fall in love as you wander down the narrow cobbled streets, winding between Gothic churches, imposing palaces, soaring medieval towers, and characteristic red clay brick houses.
However, Siena's beauty also attracts large crowds that rival even Florence and Pisa. The city can get extremely busy.
The busiest time of year in Siena falls in peak summer when the city hosts its famous Palio horse race on Piazza del Campo.
The historic event has been taking place in Siena since the 15th century. It sees 10 riders from different districts of the city race bareback around the large square. The race takes place twice, on 2nd July and 16th August, each year, and is a fantastic – though crowded and expensive – time to visit the city.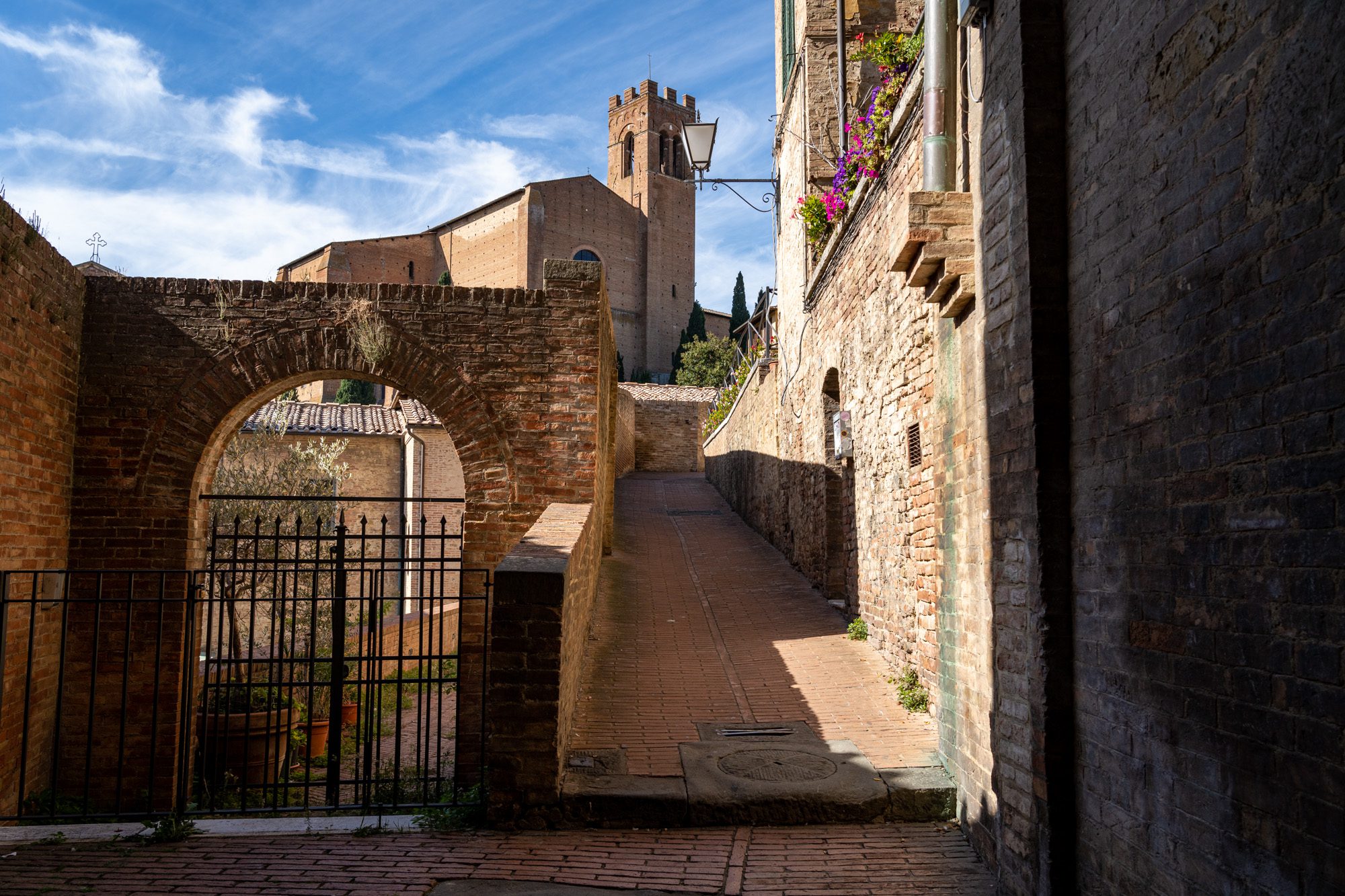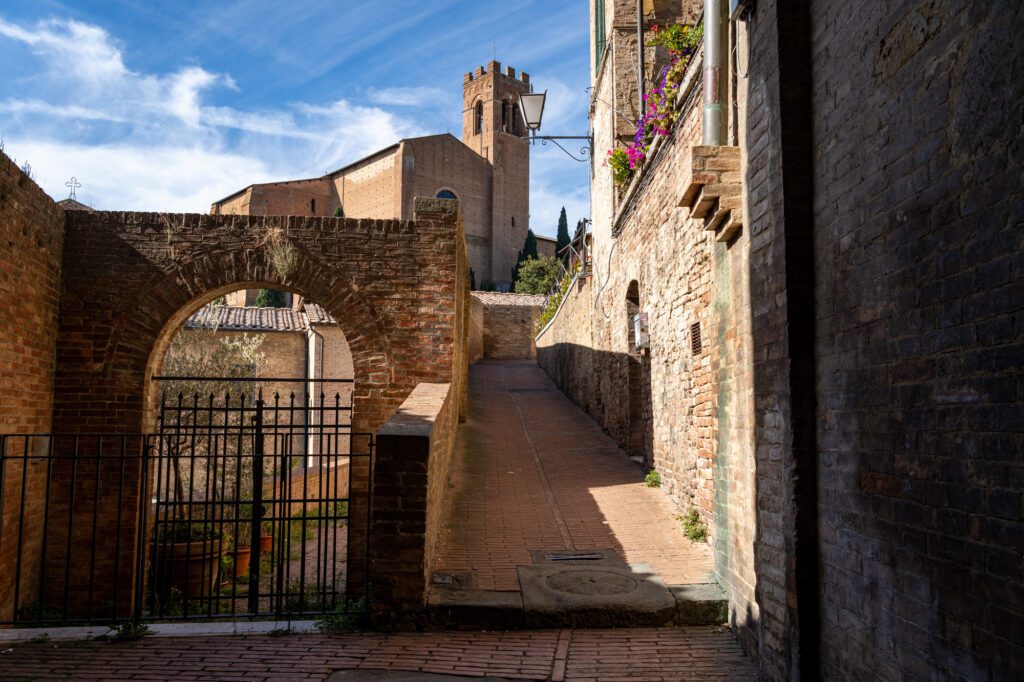 How to Get from Florence to Siena
By train. Siena is simple and easy to reach from Florence by train. A direct train runs from Florence Santa Maria Novella to Siena, and it only takes about 1 hour and 15 minutes.
By car. If you have a car, you can reach Siena by road in around one hour. But we wouldn't recommend renting a car just for this day trip – public transportation is cheaper and easier. If you do arrive in Siena by car, park either here or here – we parked at both with no issues. Both parking lots cost €2 per hour.
On a guided tour. You can also visit Siena on a guided tour from Florence. We love Take Walks, and would look at this tour which includes Siena, Chianti, and San Gimignano in one action-packed day.
What to Do in Siena
Below are some of the best things to see and do in Siena in a day from Florence.
Visit the Cathedral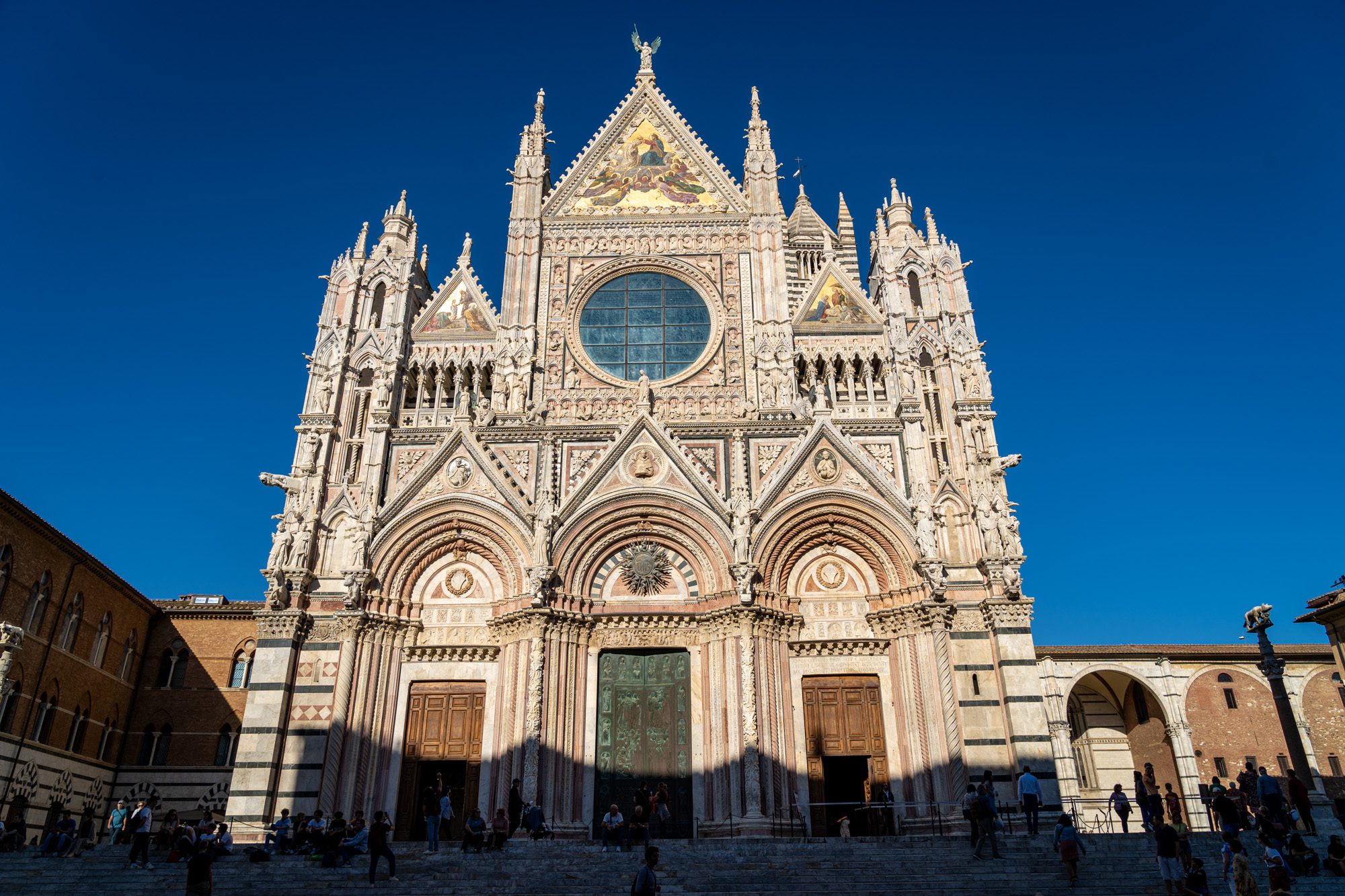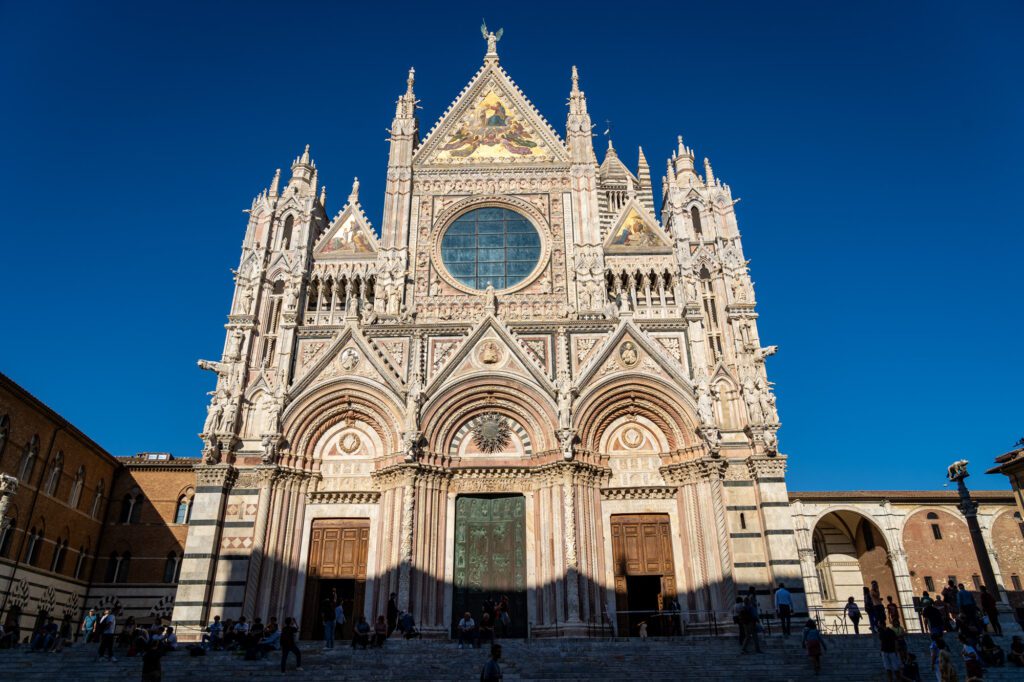 Siena's cathedral is one of the finest examples of Gothic architecture in all of Italy. Its impressive façade is characterized by rows of colored stone and marble adorned with statues and carvings by famed artist Giovanni Pisano, while the church's large dome and black-and-white striped tower rise high above the city skyline.
And if you're impressed by the cathedral's exterior, just wait until you step inside. The lavishly decorated church is filled with amazing frescoes, paintings, carvings, and colorful stained-glass windows by some of the city's greatest artists.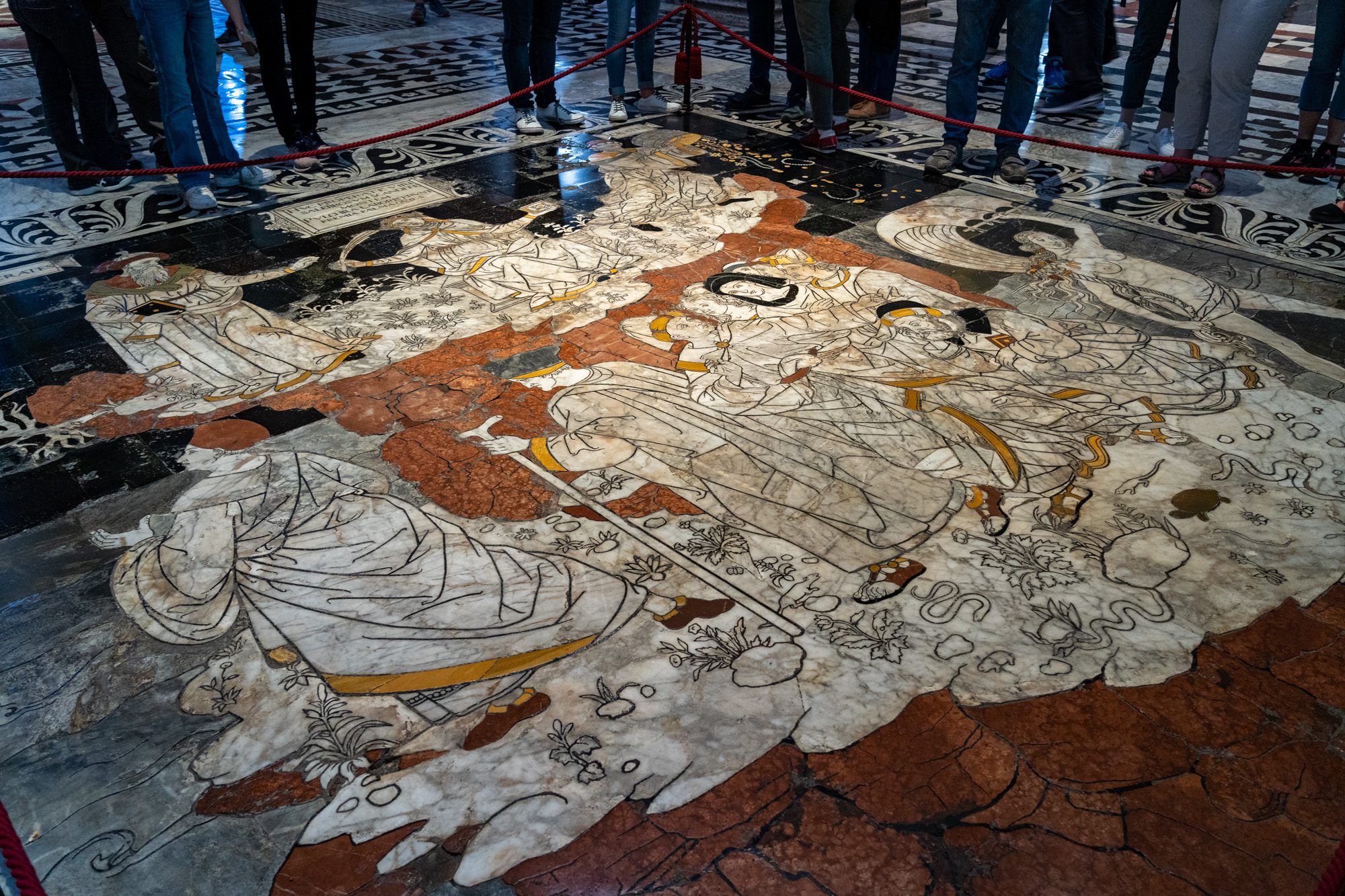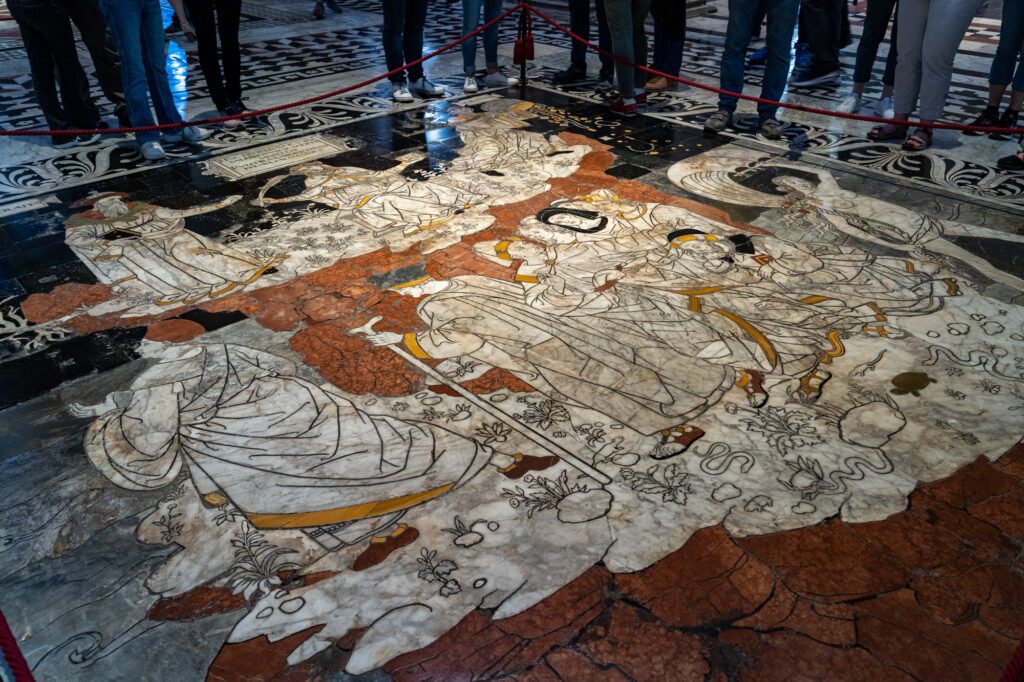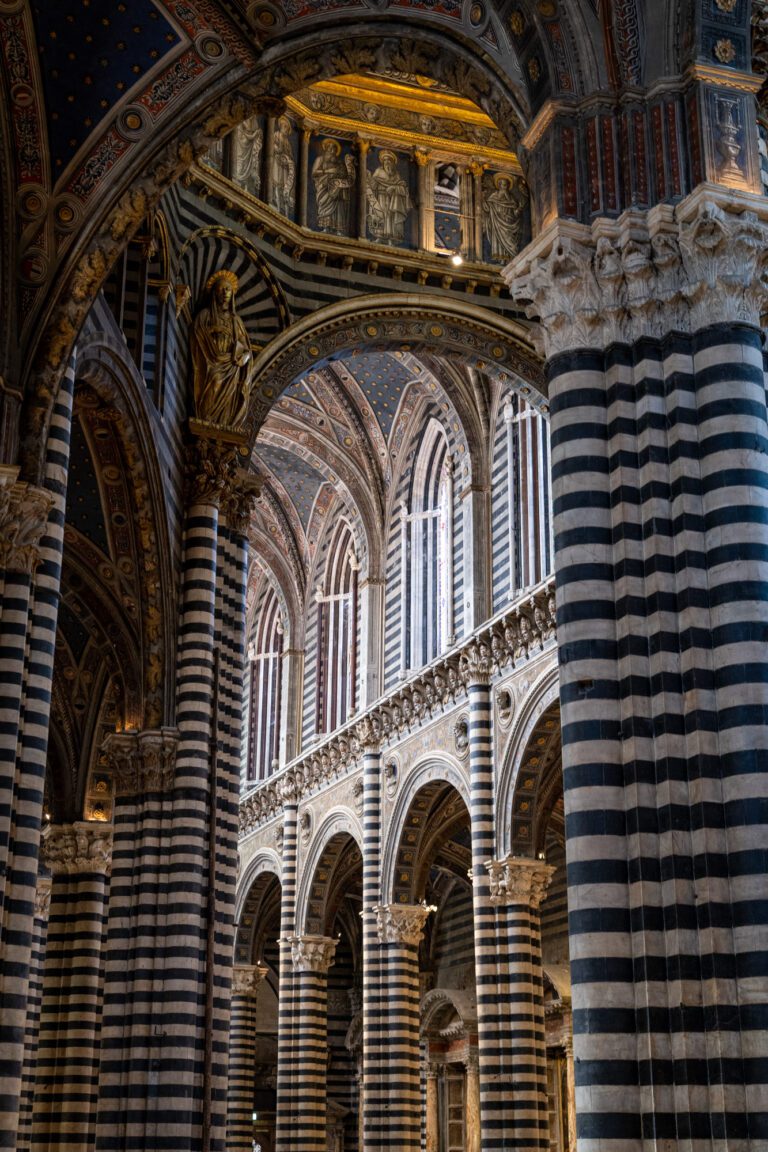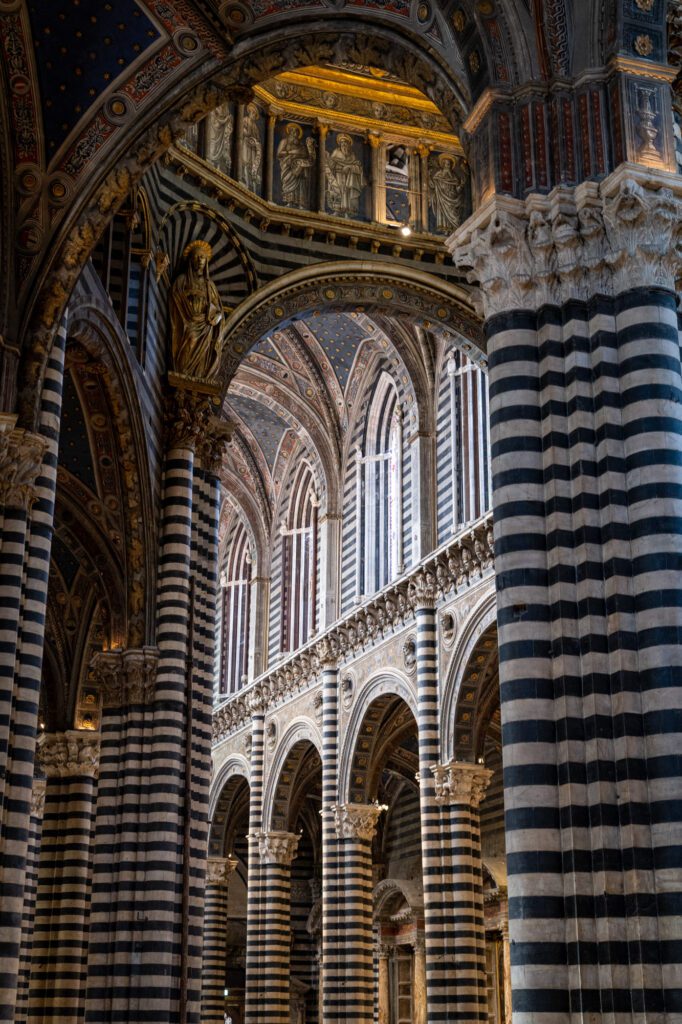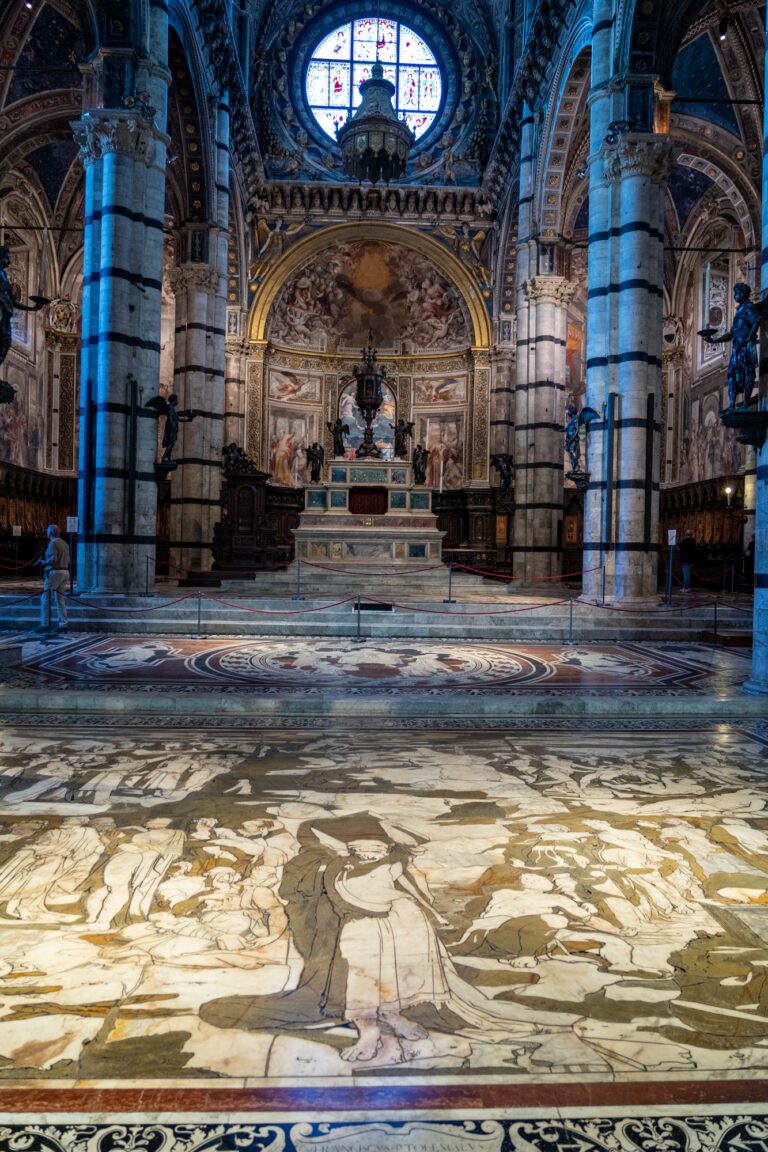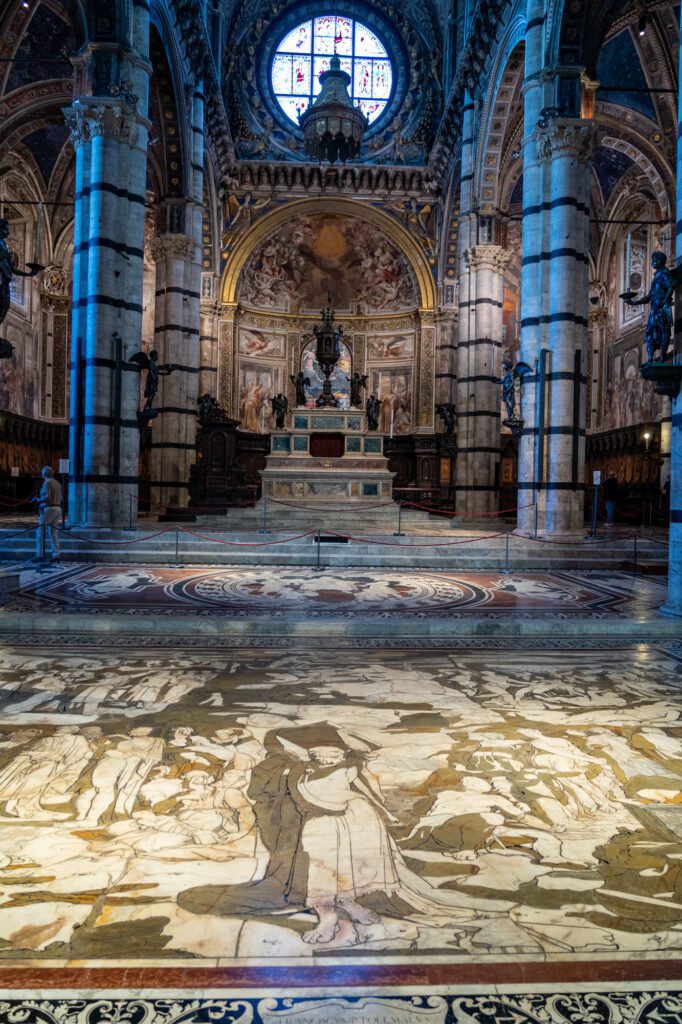 Plus, if the floor is uncovered (it isn't always), you're in for a treat with its intricate mosaic designs.
You'll need around an hour to explore the cathedral's many chapels, crypt, library, and museum. And make sure you don't miss the viewpoint on the top floor of the museum for fantastic views over the city.
Take a Stroll around Piazza del Campo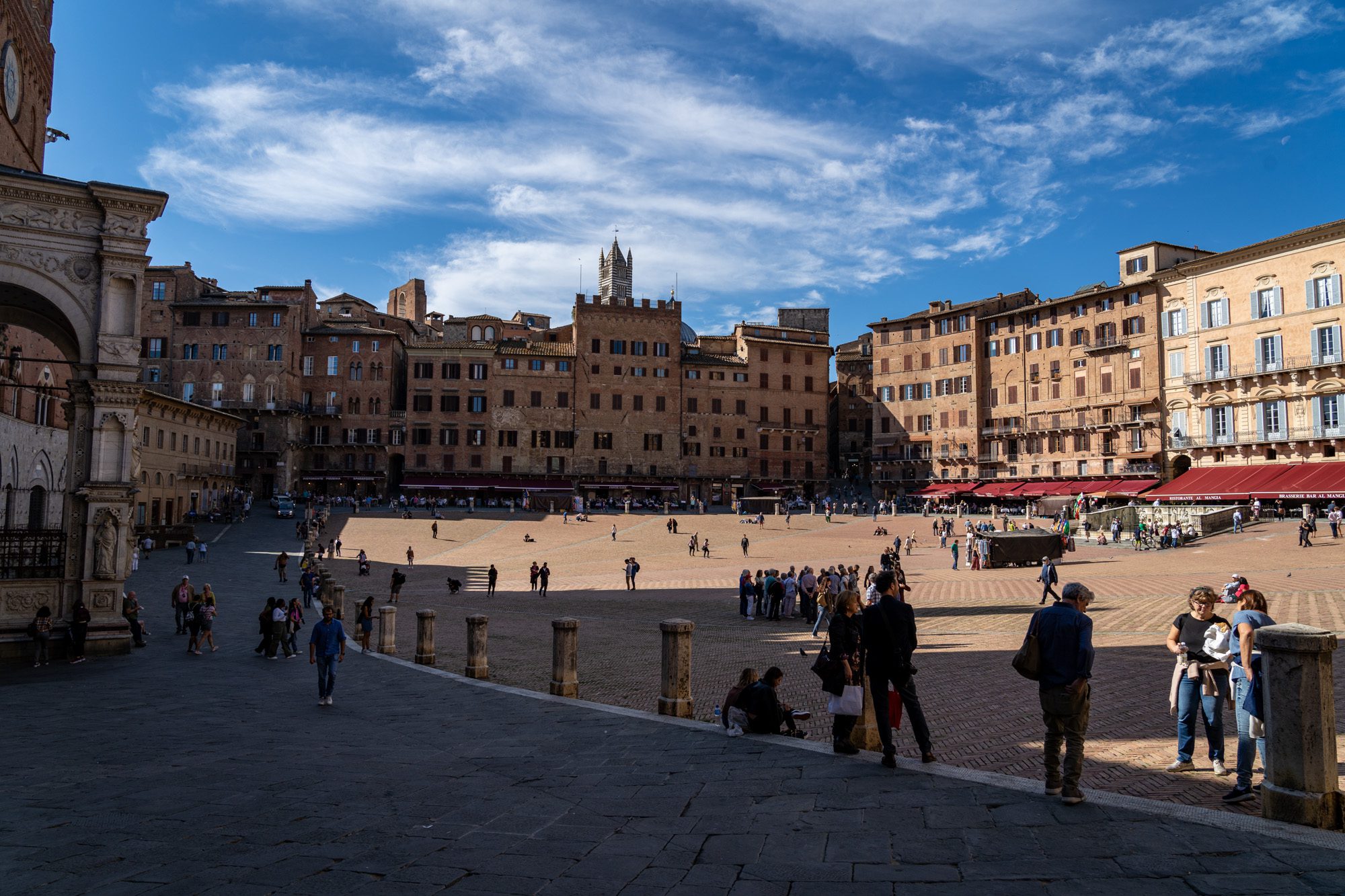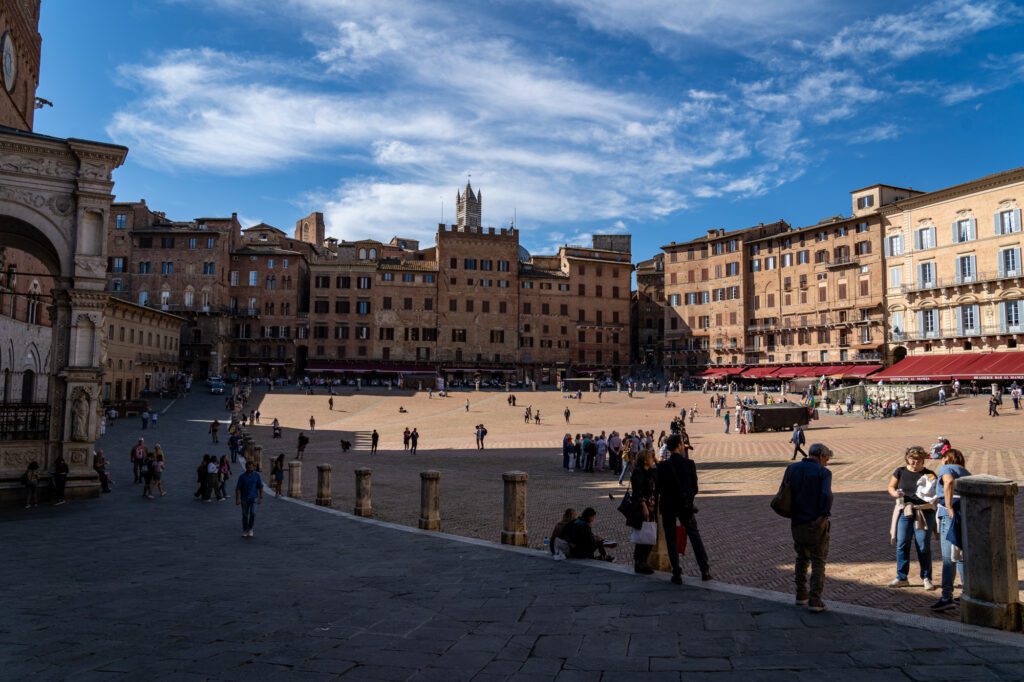 Piazza del Campo is Siena's main square and one of the most impressive of its kind in all of Europe.
Surrounded by historic palaces, charming cafes, and lively bars, the piazza is a hub of social activity in the city. It's the perfect place to enjoy an afternoon aperitif on a sunny terrace and watch the world go by.
The large, sloped square is also known for being the location of the city's annual Palio horse race each summer, which has become famous all across the world.
Go on a Walking Tour
Siena is a city with a long and interesting history. And a great way to learn about it is on a guided walking tour with a local guide.
We did this tour and it was an excellent introduction to Sienese history and culture. It even included a visit to the cathedral, which is a fascinating place to explore with a guide who can teach you about the architectural elements and historic artwork.
Eat and Drink
Much like the rest of Tuscany (okay, the rest of Italy), Siena is a top foodie destination with plenty of delicious things to try.
Try cantucci. Cantucci is a crunchy almond cookie that's similar to biscotti. Originally from the nearby Tuscan city of Prato, the sweet treat has become a delicacy of Siena and one of the most popular ways to round off a meal. For some of the best cantucci in Siena, head to Bakery Il Magnifico.


Enjoy a coffee at Torrefazione Fiorella. A traditional Italian coffee bar that serves artisanal coffee and freshly baked pastries. Sitting just a minute from Piazza del Campo, Torrefazione Fiorella is a perfect first stop of the day.


Eat sandwiches at Du' Cose Da Berna. We got this lunch recommendation from the host where we stayed. Located close to the cathedral, Du' Cose Da Berna is a traditional deli and cafe that serves huge freshly-made sandwiches packed with local ingredients (meats, cheeses, and veggies). Unfortunately, there were no gluten free options, so we had to skip it – but you shouldn't!
San Gimignano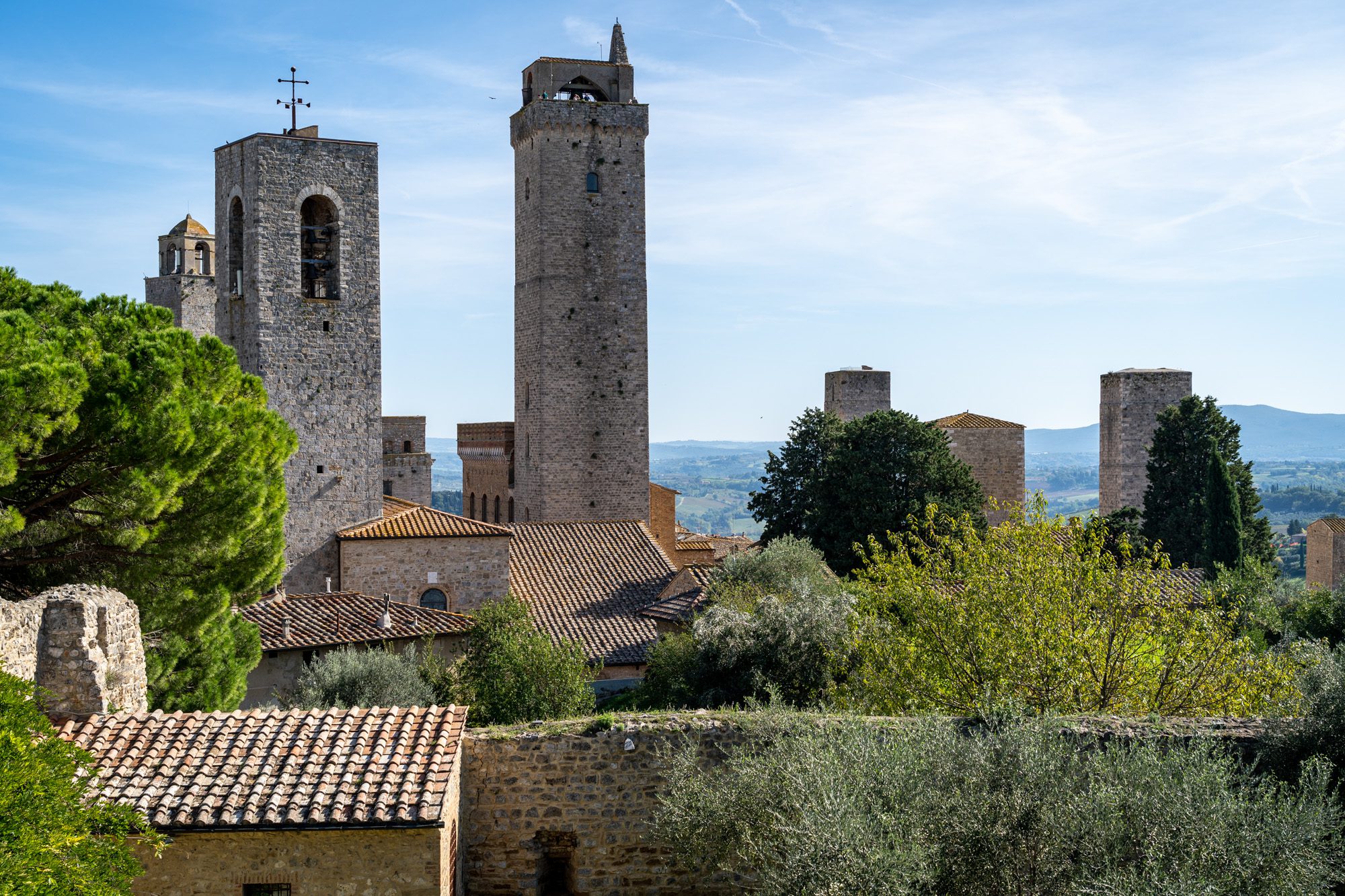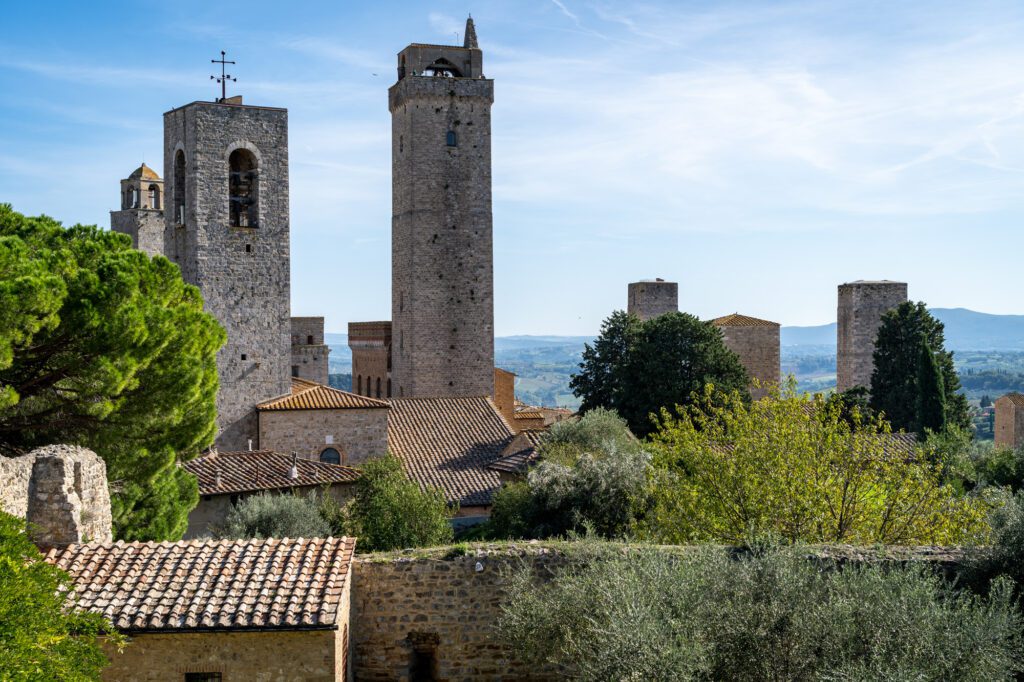 Declared a UNESCO World Heritage site in 1990, the medieval town of San Gimignano is the crown jewel of the Tuscan hills and one of the best Tuscany day trips from Florence. It is one of the best examples of a classic Tuscan hilltop town, though Siena is perhaps a slightly better example.
At one time, the small town had over 70 soaring towers defining its skyline, gaining it the unique title of the "Manhattan of the Middle Ages". Today, only 14 of these still stand. Despite this, the town is still known as Italy's "City of Towers"!
For such a small town, there's plenty to see and do in San Gimignano. As well as climbing the historic towers, you can take a walk around the well-preserved city walls, explore the ornately decorated Romanesque cathedral, and visit the city's many museums.
How to Get from Florence to San Gimignano
By public transportation. Reaching San Gimignano from Florence by public transportation isn't the easiest, but it is doable. You'll need to take the train from Florence to Poggibonsi-San Gimignano station, which takes around an hour. You can then get a small regional bus (line 130) to San Gimignano in about 25 minutes.
By car. San Gimignano is located 50km southwest of Florence and can be reached by car in just under an hour. The historic town center is off-limits to cars, but you can park just outside of the city walls. When arriving from Florence, head to the P3 Bagnaia Superiore or P4 Bagnaia Inferiore parking lots. These are as near to the center as you'll be able to get. Both cost €2 per hour.
On a guided tour. You can also visit San Gimignano on a guided tour from Florence. We love Take Walks, a tour company we've done multiple tours with (read about our Colosseum Tour), and they offer this tour which includes San Gimignano, Siena, and Chianti in a day. It's a lot, but it's one of the better options if you want to get to San Gimignano without a car.
What to Do in San Gimignano
Below are our recommendations for the best things to do in San Gimignano.
Climb the Torre Grossa at Palazzo Comunale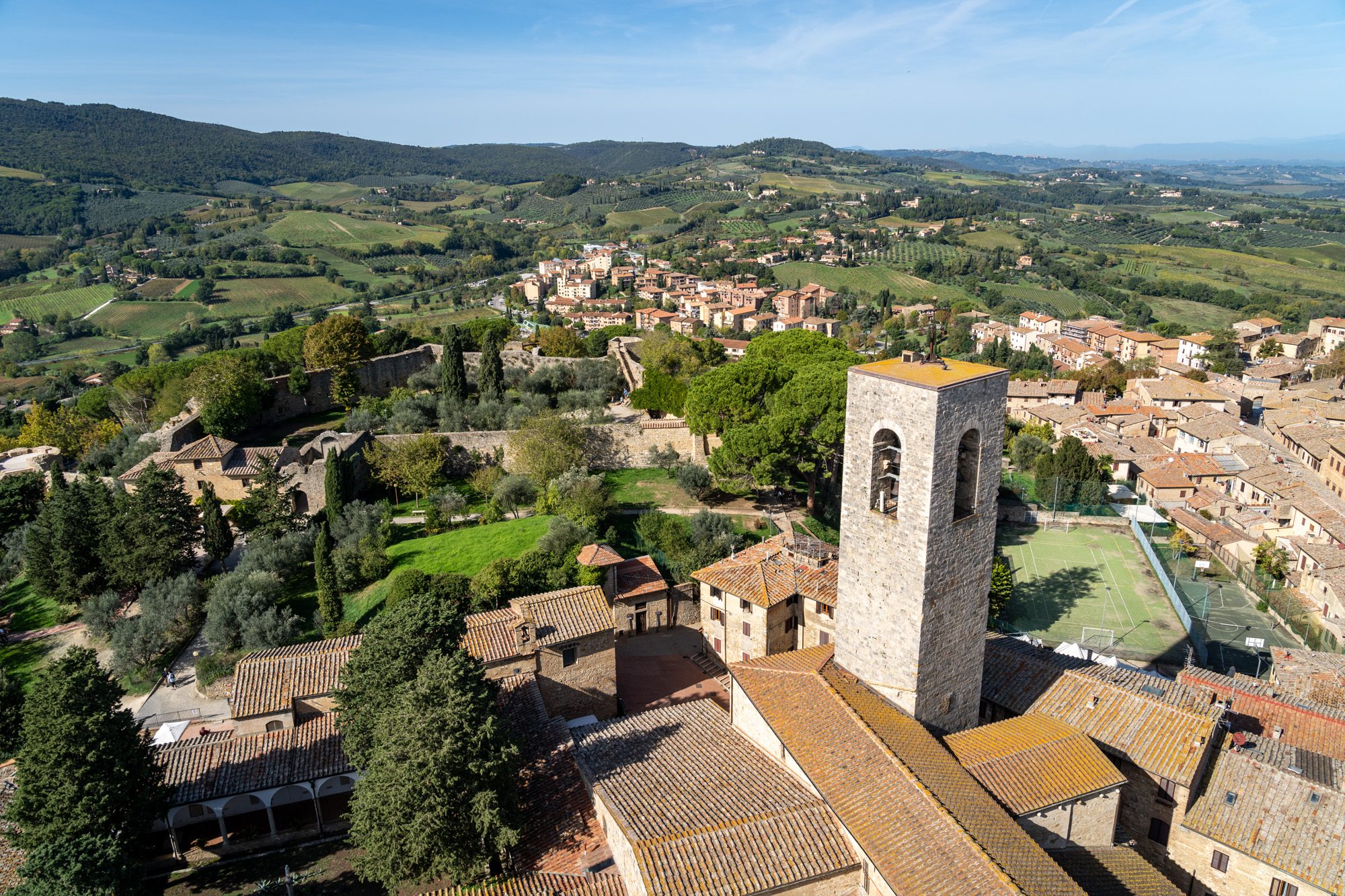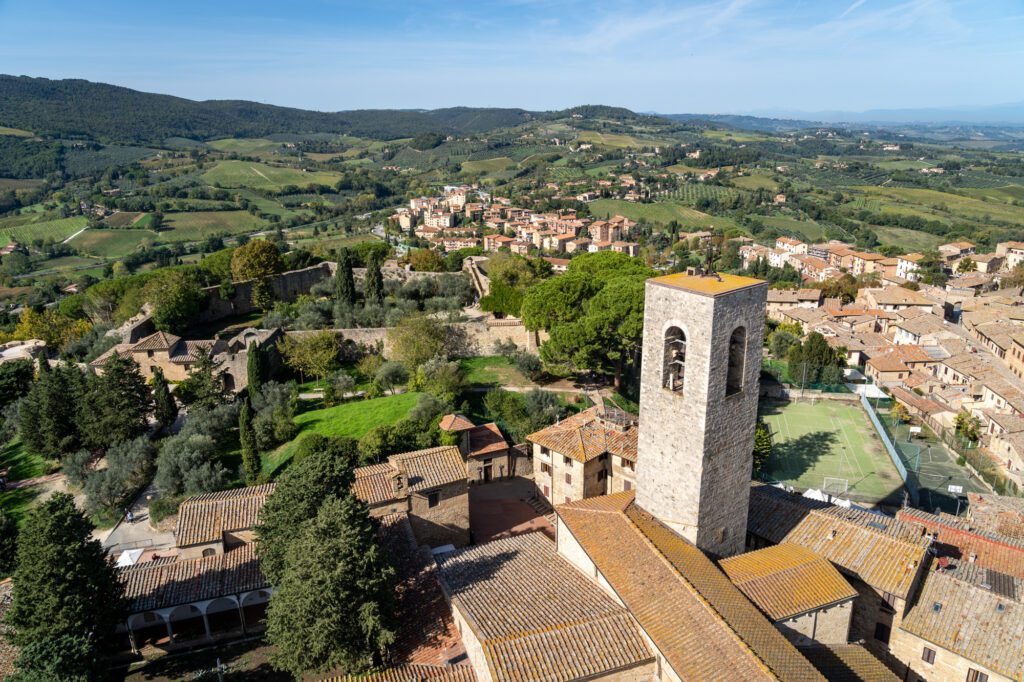 Standing at 177 feet, Torre Grossa – or "Big Tower" – is the tallest of San Gimignano's remaining medieval towers. The mighty structure is the bell tower of the Palazzo Communale, the city's town hall.
Torre Grossa is one of just two towers that are open to the public. You can climb the 218 steps to reach the top and enjoy beautiful panoramic views over the historic town and surrounding hills. But be warned, you do need to climb a steep ladder to reach the top floor of the tower – so it's not for the faint-hearted.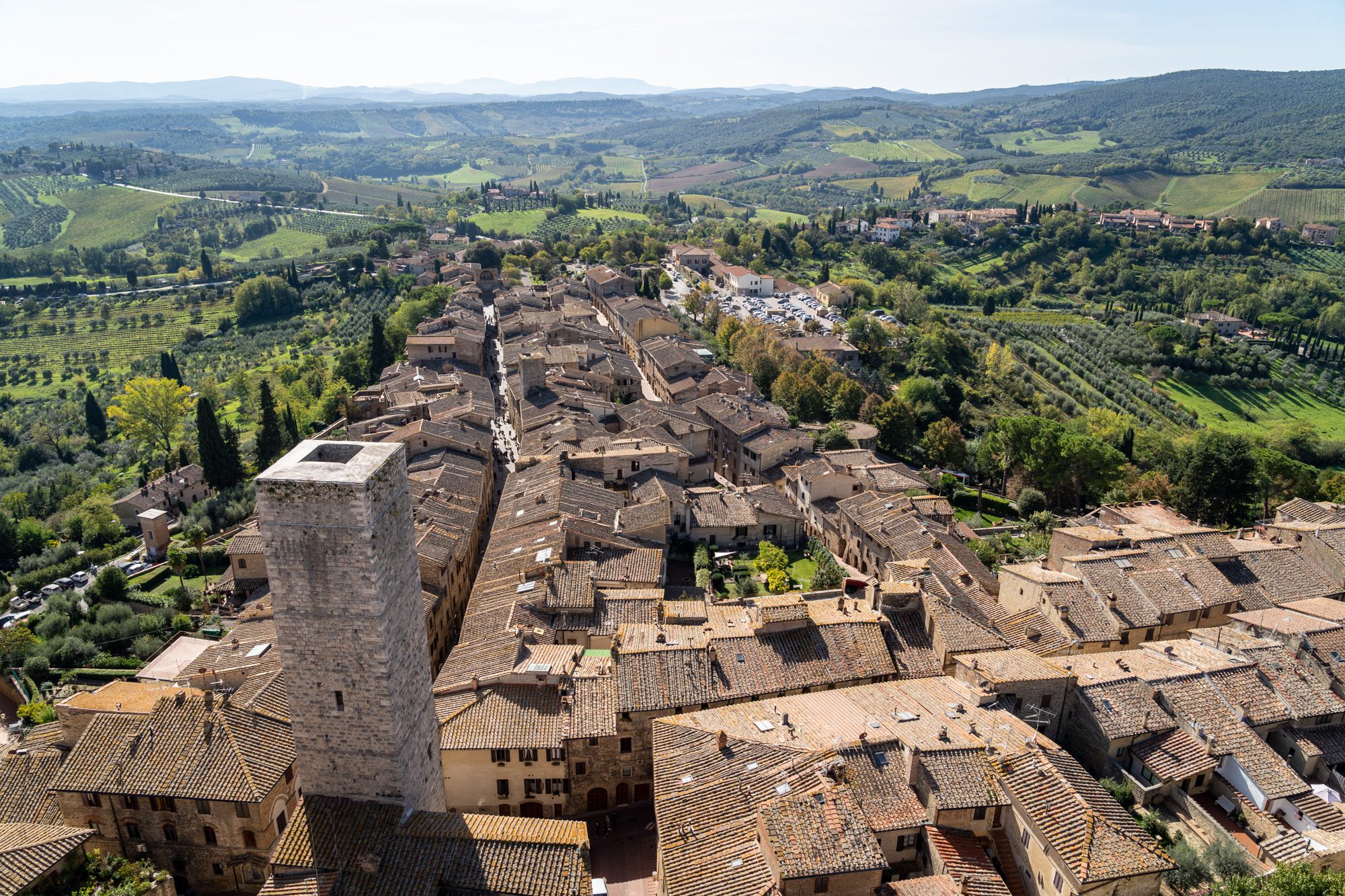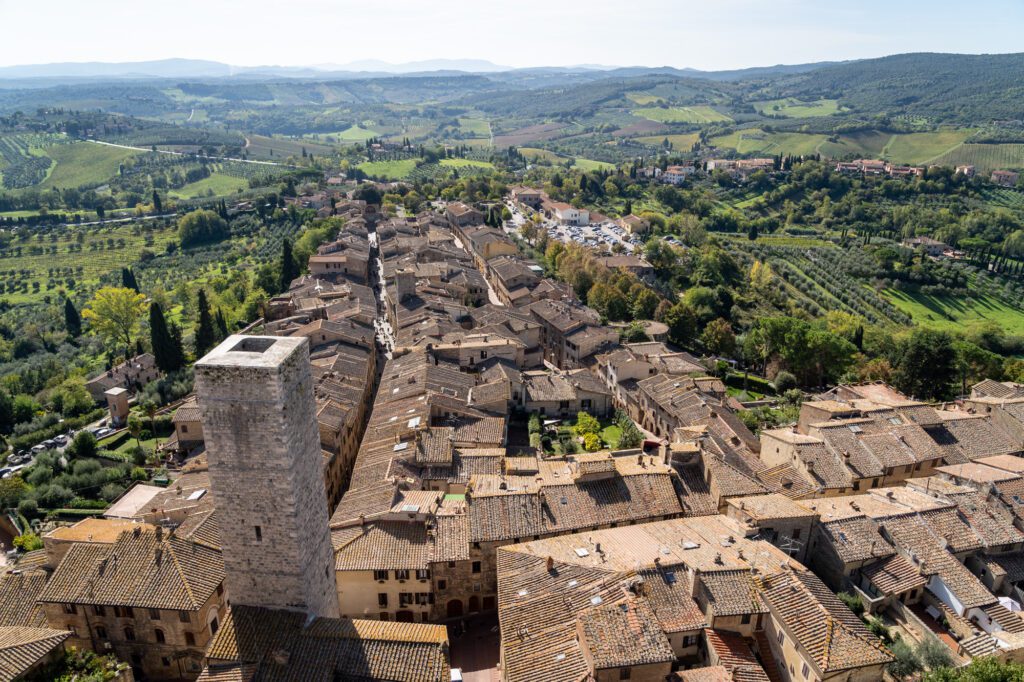 There's also a few rooms adorned with art in the Palazzo Communale, which is included in the ticket price. It's worth poking around, but it was only a 10-15 minute activity for us.
Drink Vernaccia di San Gimignano
If, like us, your taste in wine skews towards dry white wines with minerality, Tuscany is going to be a little bit of a rude awakening. Enter Vernaccia, the region's primary white wine varietal, to save the day!
Discover Tuscany's primary white wine, Vernaccia, which is produced in the vineyards surrounding San Gimignano. We're usually white wine drinkers, so this was a delight in a sea of the deep, dark reds that are more typical of Tuscan wine.
You can sample the local white wine at almost every restaurant and bar in town. Or to learn more, head to the Vernaccia di San Gimignano Wine Experience.
One of the town's newest attractions, the Wine Experience is a multi-media museum that lets you deep dive into the history and culture of the local wine.
They have a variety of different versions of Vernaccia that you can try (it's not free) by buying a tasting card with money on it that you can use on the automatic machines here. It's like a vending machine, but for Vernaccia.
Eat at Le Vecchie Mura
Wild boar – or "cinghiale" in Italian – is a specialty of the Tuscan hills and a must-try when in San Gimignano.
Le Vecchie Mura was our favorite restaurant in San Gimignano and a great place to sample wild boar – try the stew if they have it!
The restaurant has a lovely outdoor terrace for basking in the Tuscan sun on a hot day. They also serve gluten free pasta, which is always a bonus for me (I have Celiac Disease).
Gelato at Gelateria Dondoli
For dessert, head to award-winning Gelateria Dondoli for a delicious and refreshing Italian gelato. The local gelateria has many creative, unusual, and sometimes downright weird flavor combinations.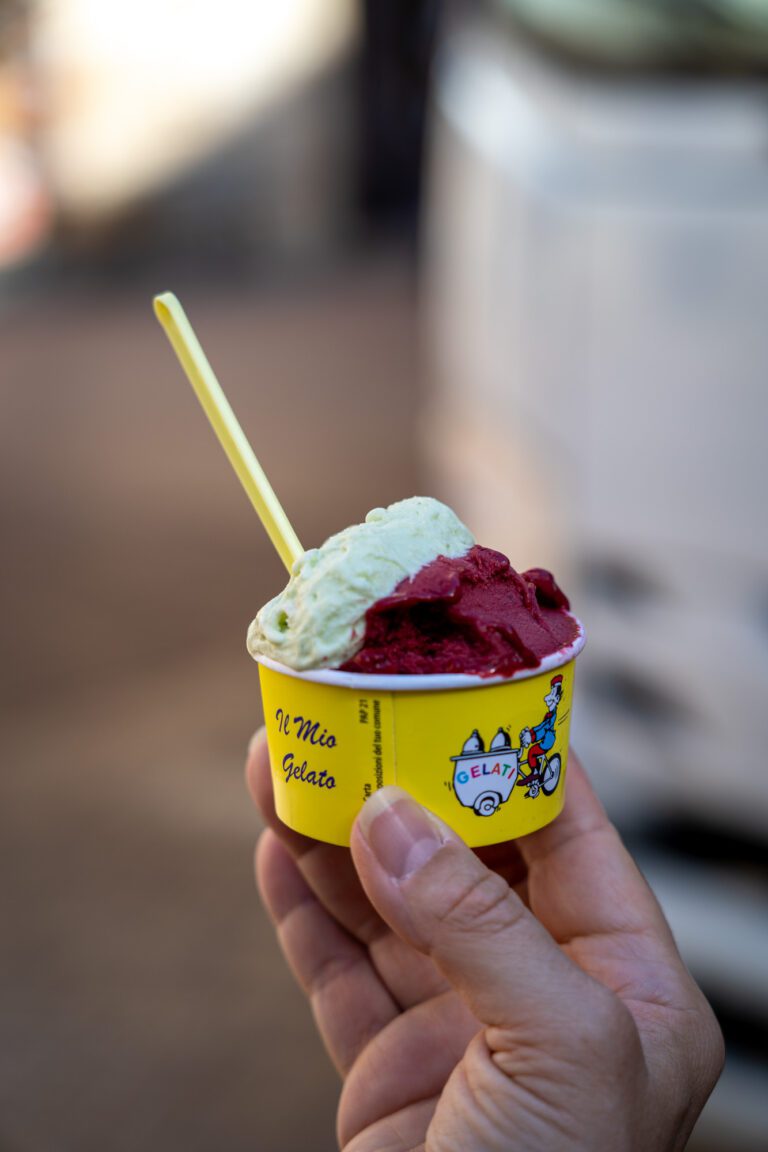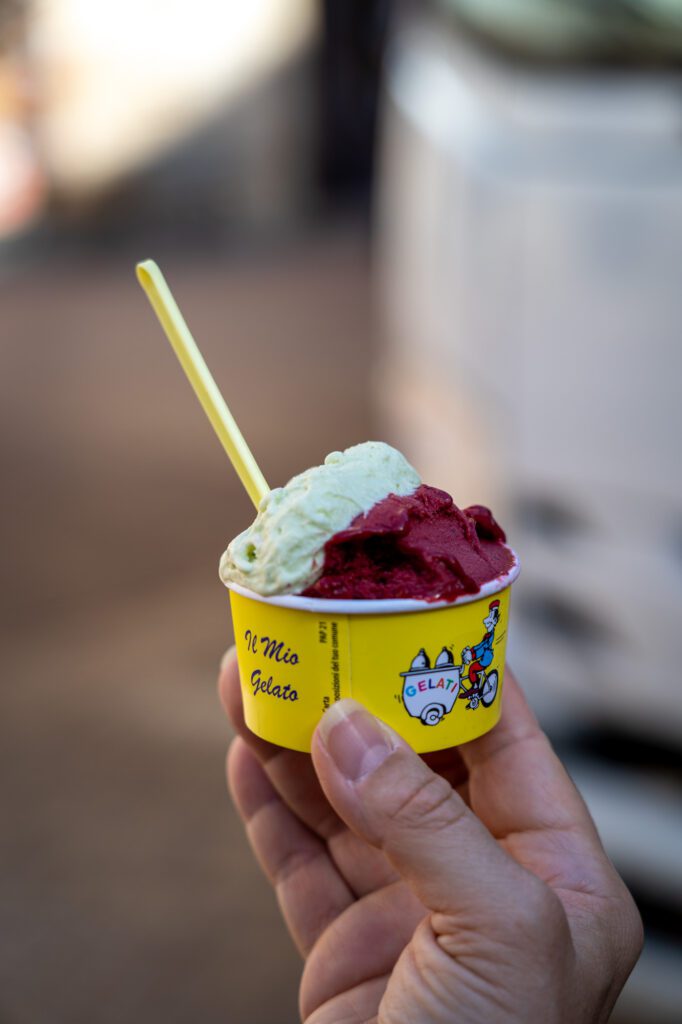 My mom got "the Italian garden" with all sorts of herbs in it. It was a little odd, but in a good way. They have gelato-making classes at their educational facility nearby.
The Val d'Orcia (Pienza, Montalcino, and Montepulciano)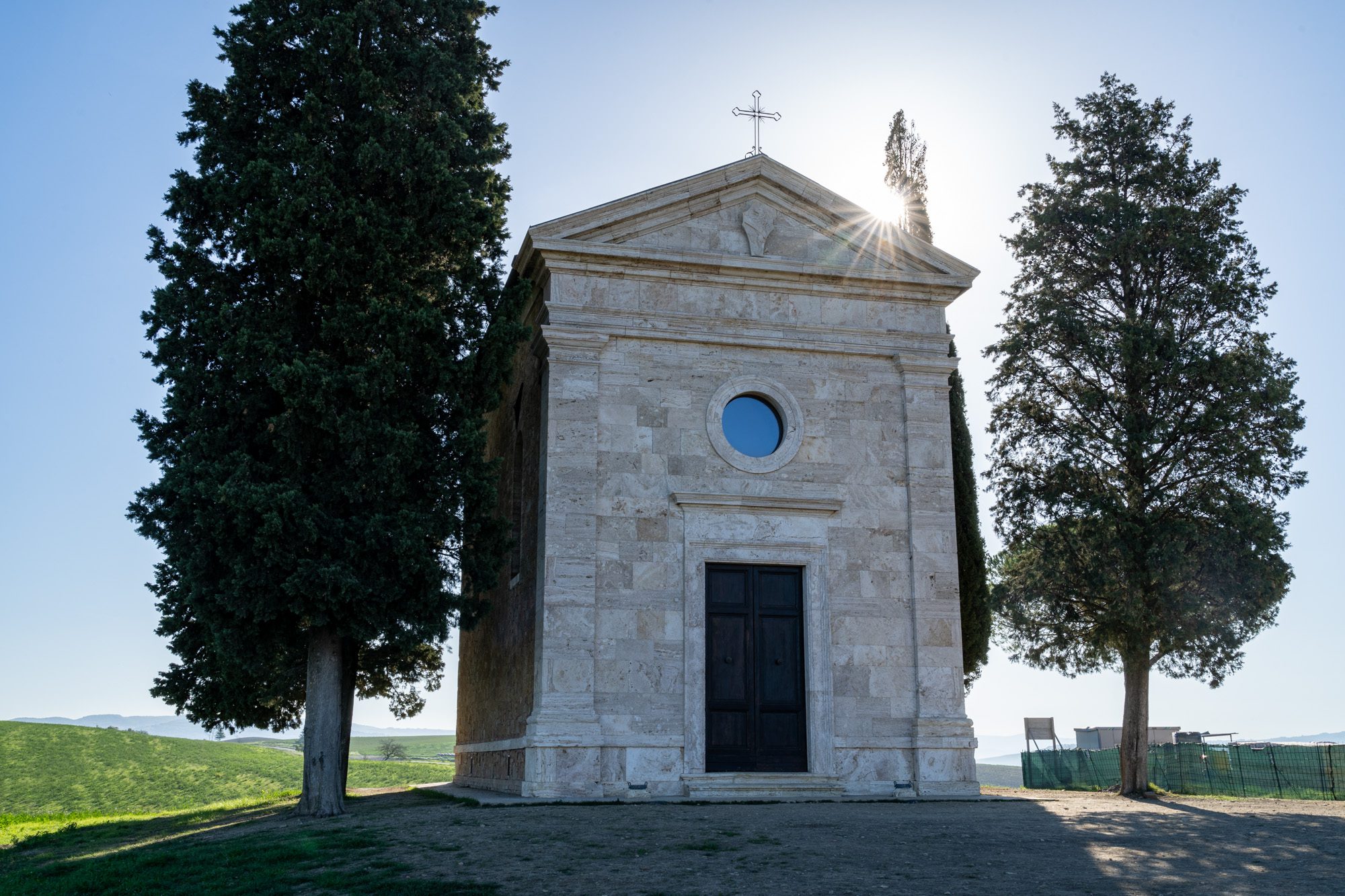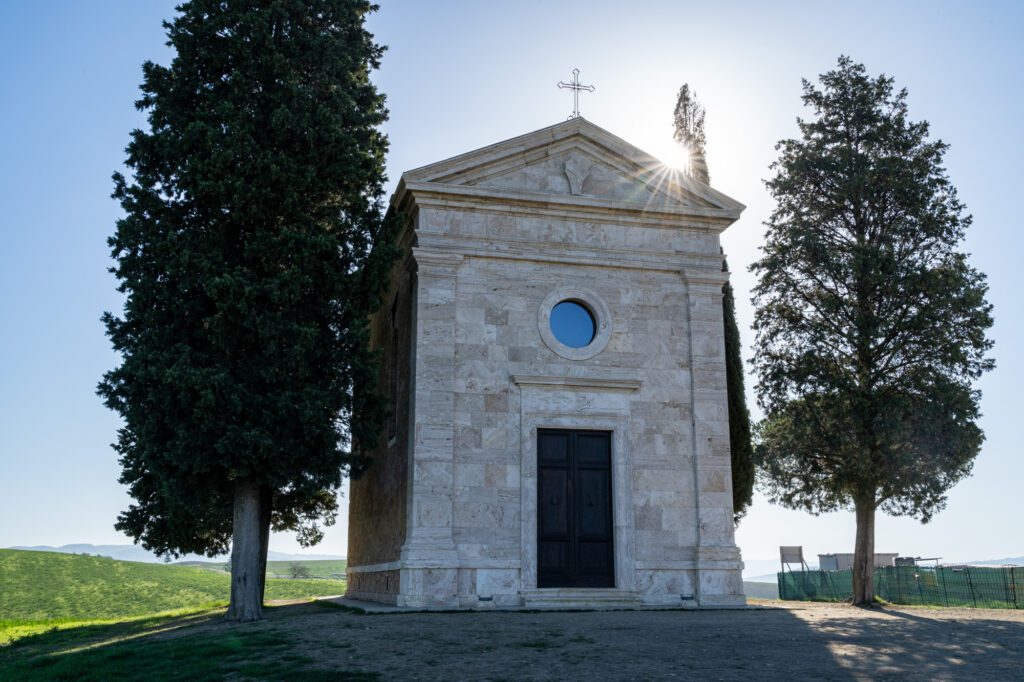 The Val d'Orcia is a region of Tuscany centered around the picturesque towns of Pienza and Montepulciano. This is, in our opinion anyway, the best part of Tuscany.
The charming hilltop towns have incredible views over the surrounding Tuscan countryside, which is characterized by its rolling hills, historic vineyards, and cypress trees leading up to grand villas.
The region is also the birthplace of world-renowned Brunello wine and delicious Pecorino cheese (there's a version here that is served baked in a cast iron pan and drizzled with local honey called "pecorino con miele" – you should order it if you see it.
The Val d'Orcia is quintessential Tuscany, in our minds, and definitely one of the top day trips from Florence.
How to Get from Florence to the Val d'Orcia
Unfortunately, the Val d'Orcia isn't easily accessible by public transportation. We'd recommend visiting by car or on a guided tour only.
By car. The towns of Pienza and Montepulciano are somewhere between one hour and 30 minutes to two hours away from Florence, depending on traffic. Like most historic towns, you won't be able to take your car into the center. But there's plenty of parking available just outside the city walls in each of these towns – be aware that you'll likely have to pay for it.
On a guided tour. Another great way to explore the Val d'Orcia is on a day tour from Florence. This guided tour takes you to the region's three most famous towns, while also sampling plenty of local wine and Pecorino cheese.
What to Do in the Val d'Orcia
With only one day in the Val d'Orcia, we'd recommend sticking to two or three of the towns. This is one of the furthest and busiest Tuscany day trips from Florence, so leave early so you can fit more into your day.
Montepulciano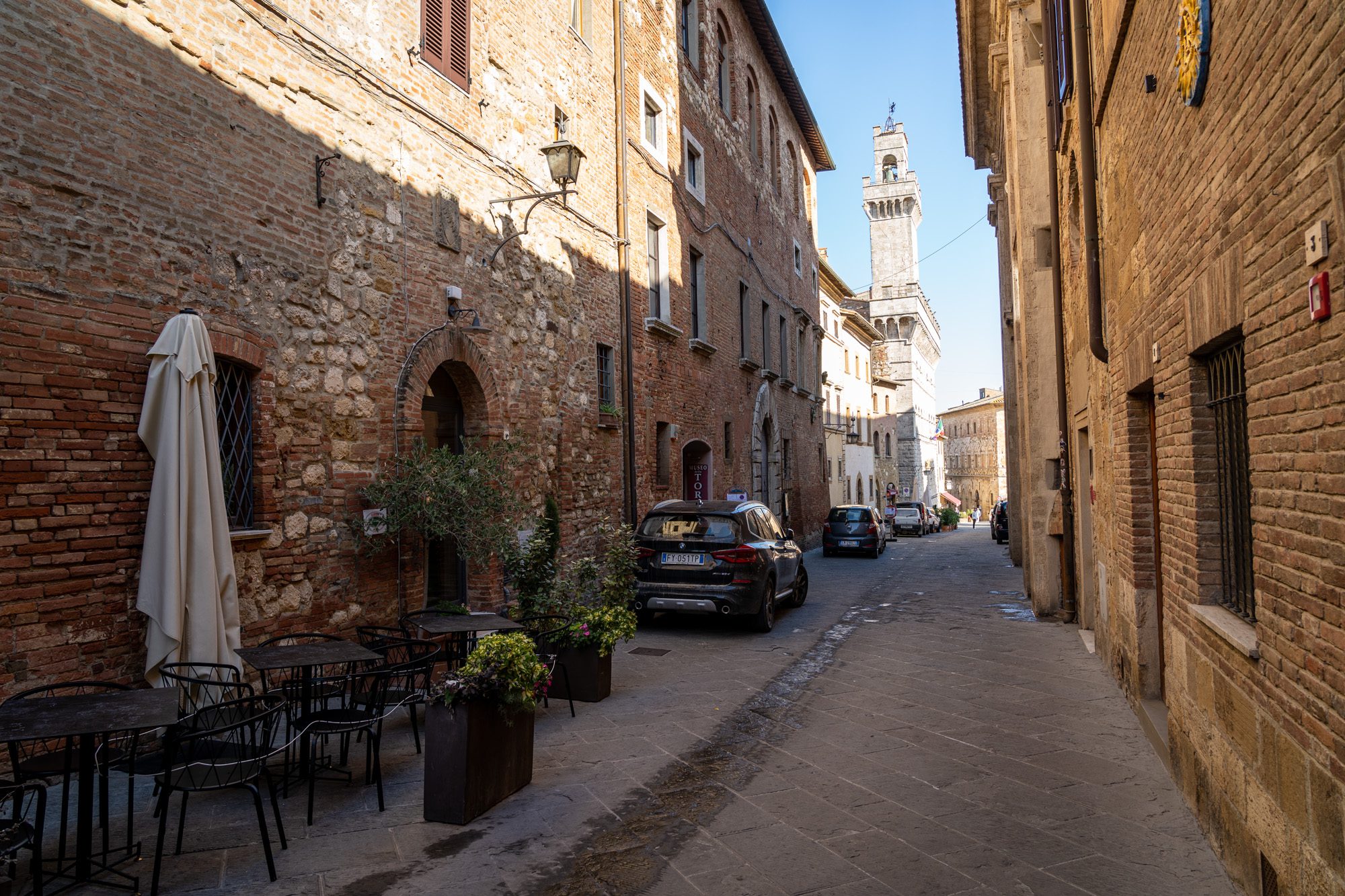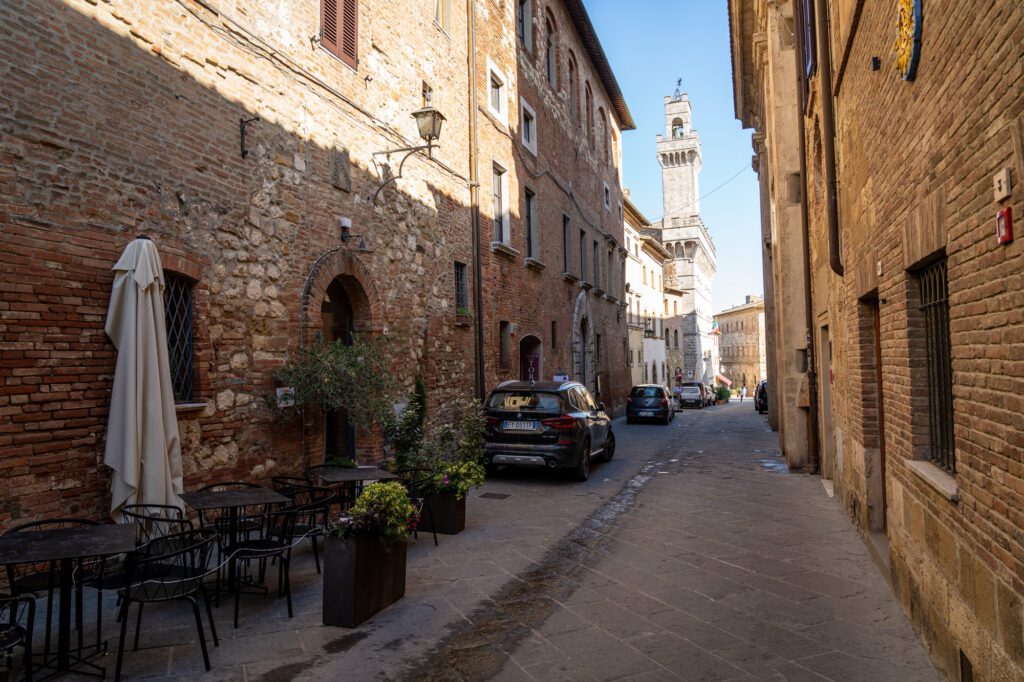 Montepulciano is a lovely little Tuscan town sitting on the edge of a volcanic rock cliff face, with twisting medieval streets engulfed by grand Renaissance buildings. It's one of the most popular towns in Tuscany, and it gets unbearably packed in the summertime from about 10:00 am to 4:00 pm.
On a visit, you can explore the many churches, wander through ancient piazzas, and drink the town's signature Vino Nobile di Montepulciano red wine.
Pienza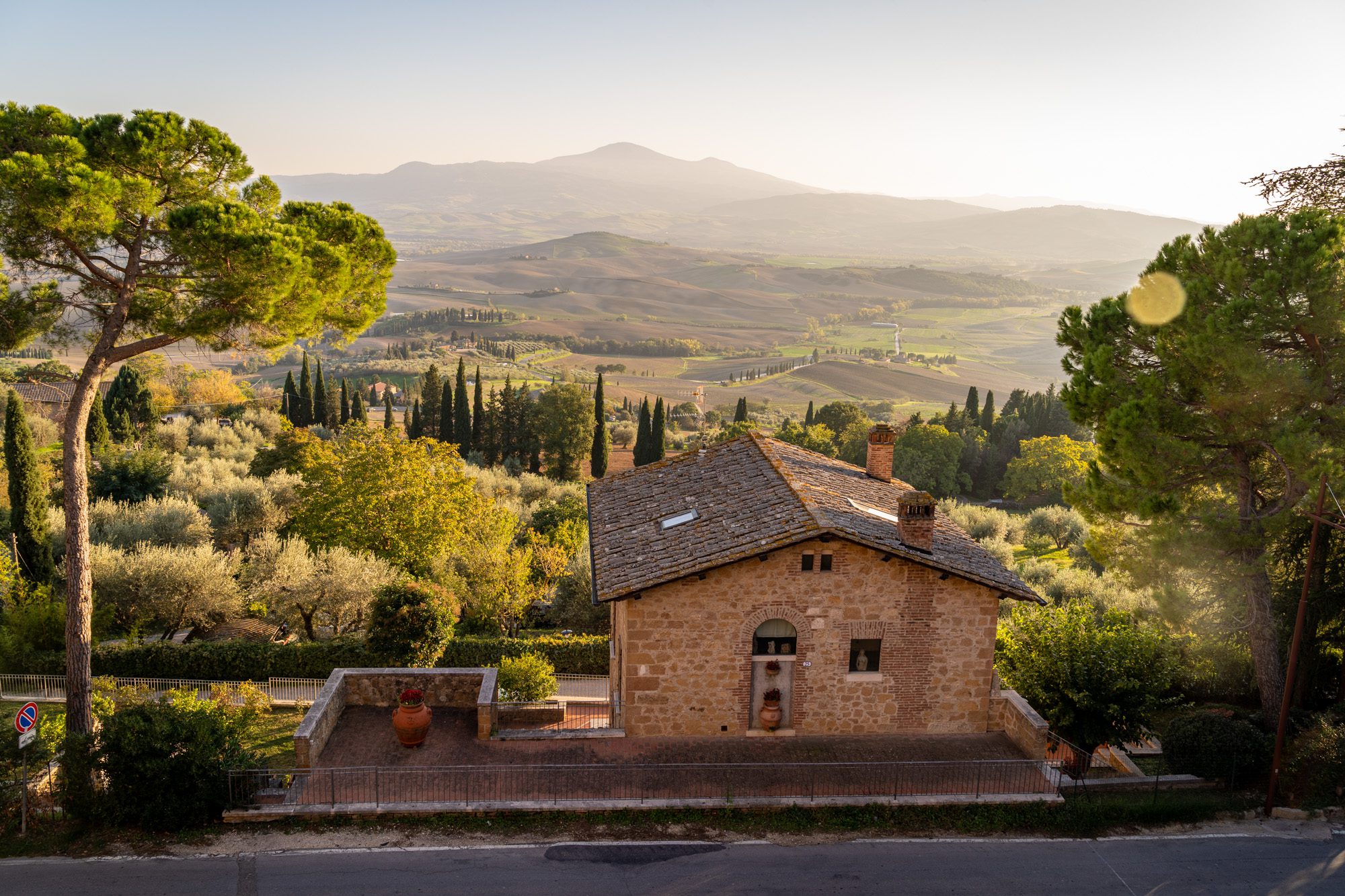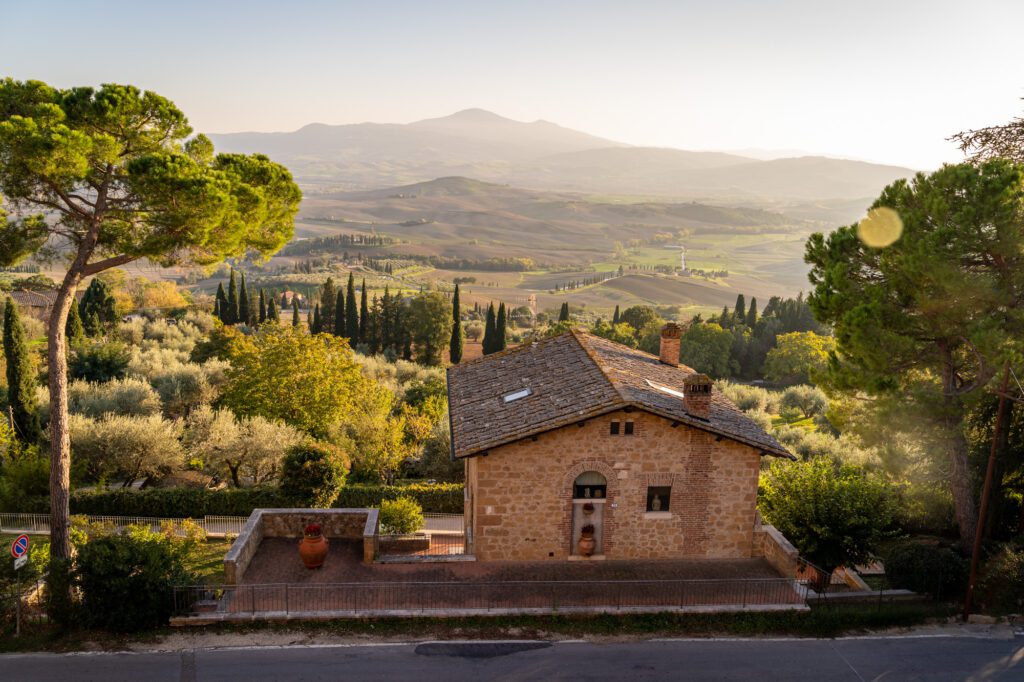 The Renaissance town of Pienza sits in a prime location perched on a hilltop with excellent views, especially on the southern side of town. We stayed near Pienza when we were in the Val d'Orcia, so we found ourselves here multiple times.
We'd recommend going to Bar Il Casello for great coffee, La Taverna del Pecorino for cheese – the town is famous for pecorino di Pienza – then heading to this viewpoint for our favorite view in town.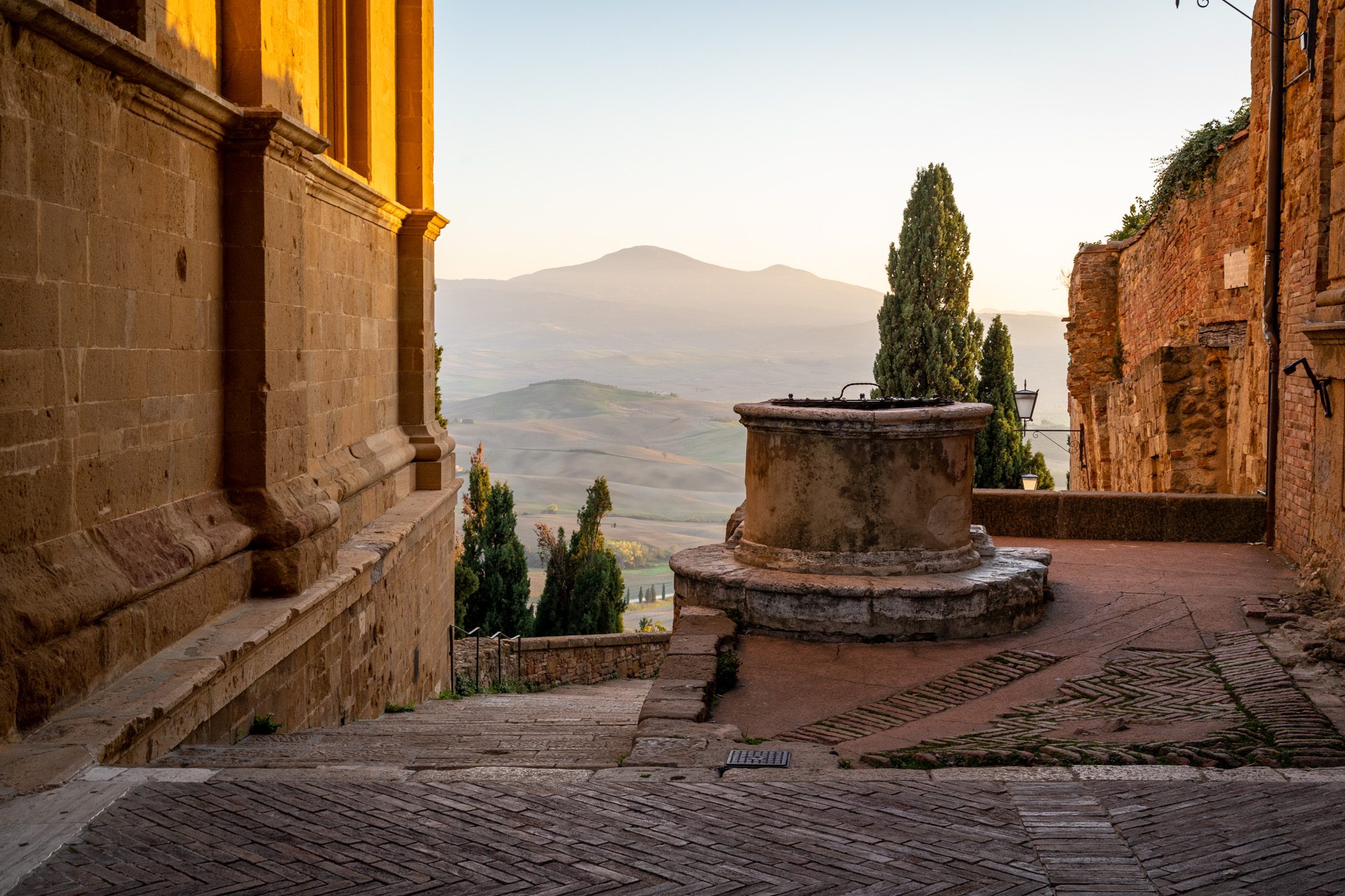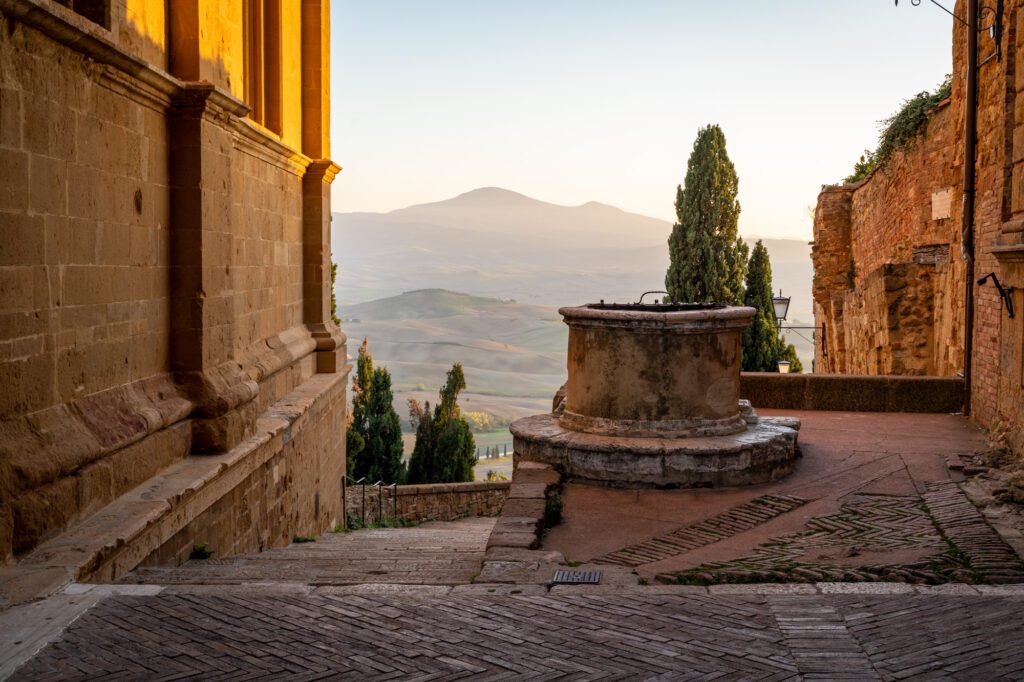 Just a 10 minute drive outside of Pienza, La Taverna del Barbarossa is where we ate one of our favorite meals in all of Tuscany. The restaurant is where we first discovered wild boar ragu AND pecorino con miele – both of which are delicious and became staples for the rest of our eating in Tuscany.
The unsuspecting spot also serves an extensive gluten free menu, which was great for us.
Montalcino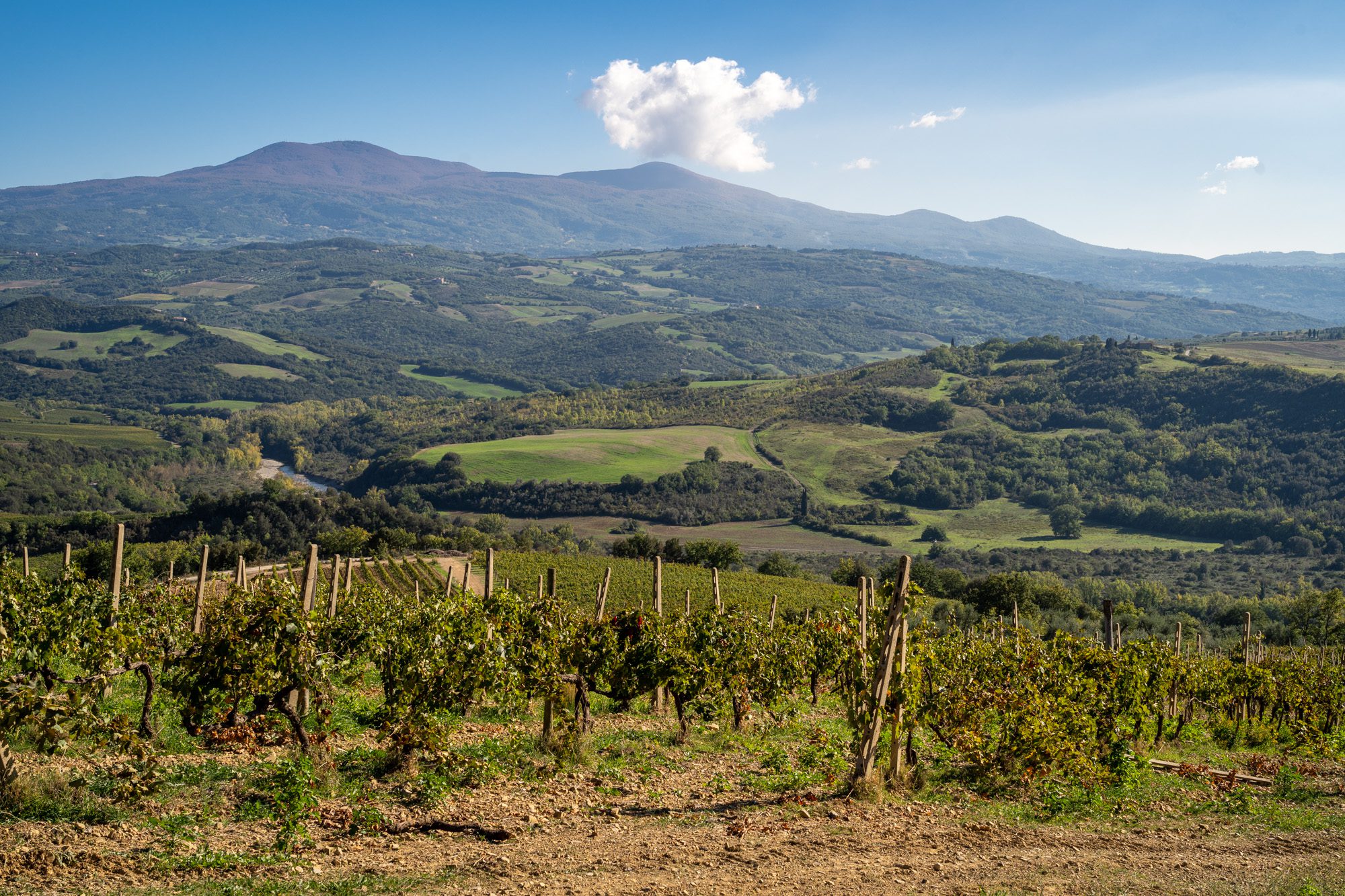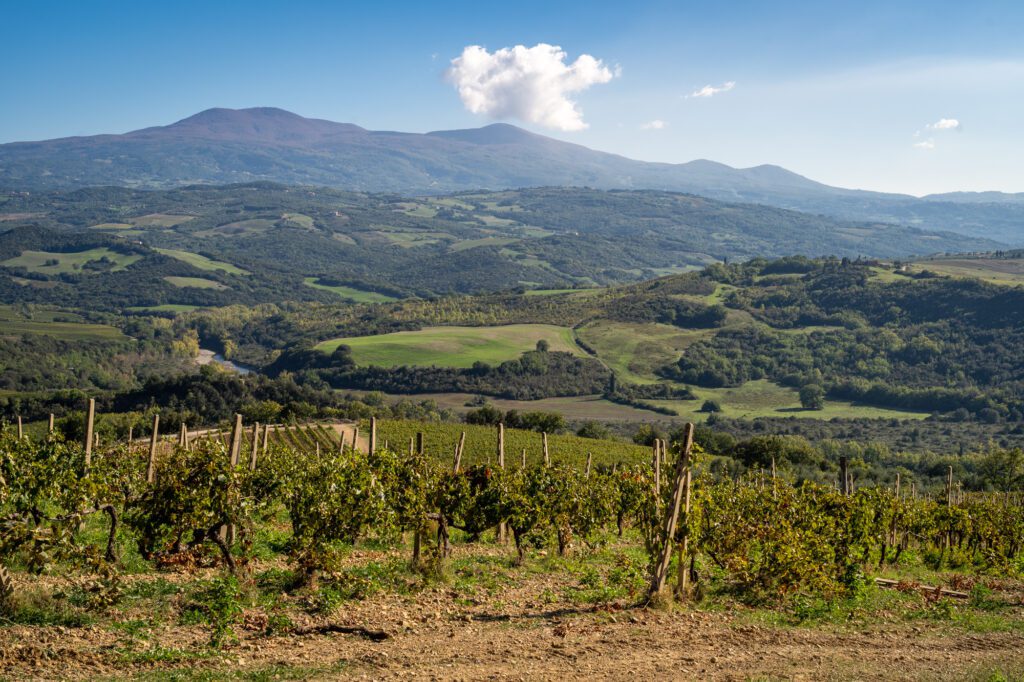 The town of Montalcino is the heart of Tuscany's world-famous Brunello red wine production. Most of the wineries here are found on the south side of town, and the drive is beautiful, winding through a valley with vineyards lining both sides of the road.
We went to Ciacci Piccolomini D'Aragona wine estate to see what all the fuss was about and thoroughly enjoyed our visit. Although we liked the rosso al Montalcino more than the famous Brunello because it was lighter and fruitier, we enjoyed learning about the different production methods for Brunello.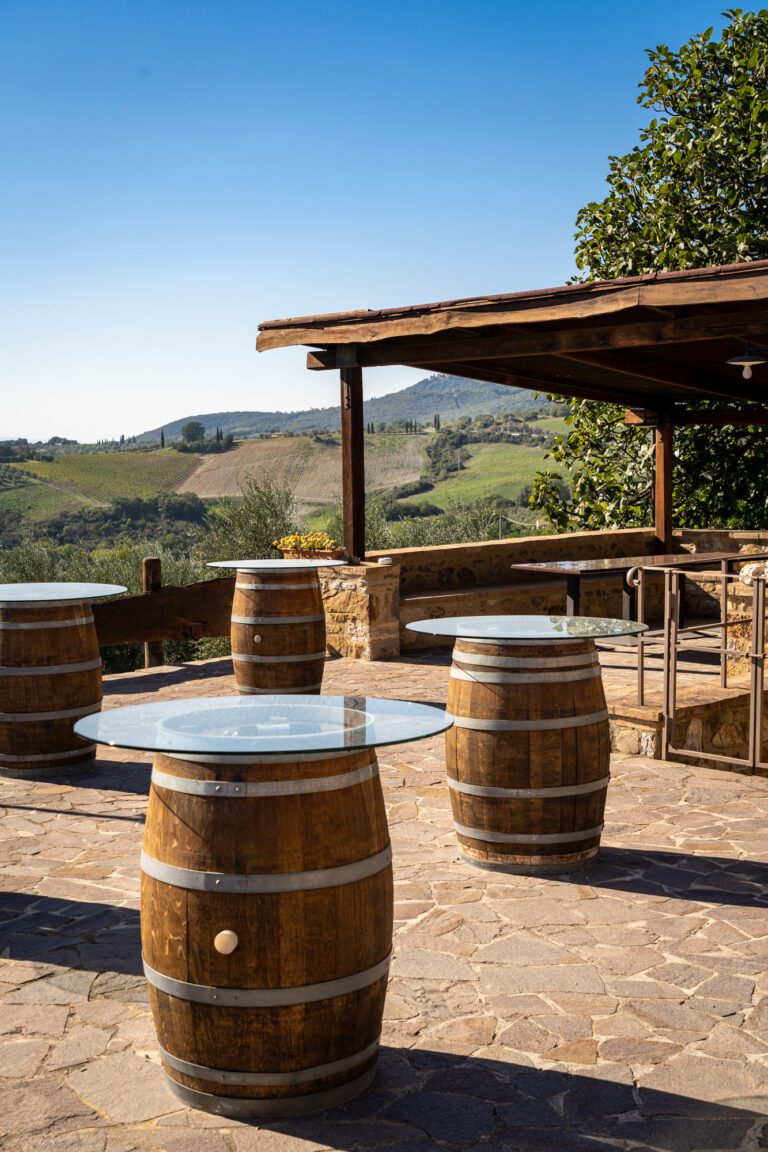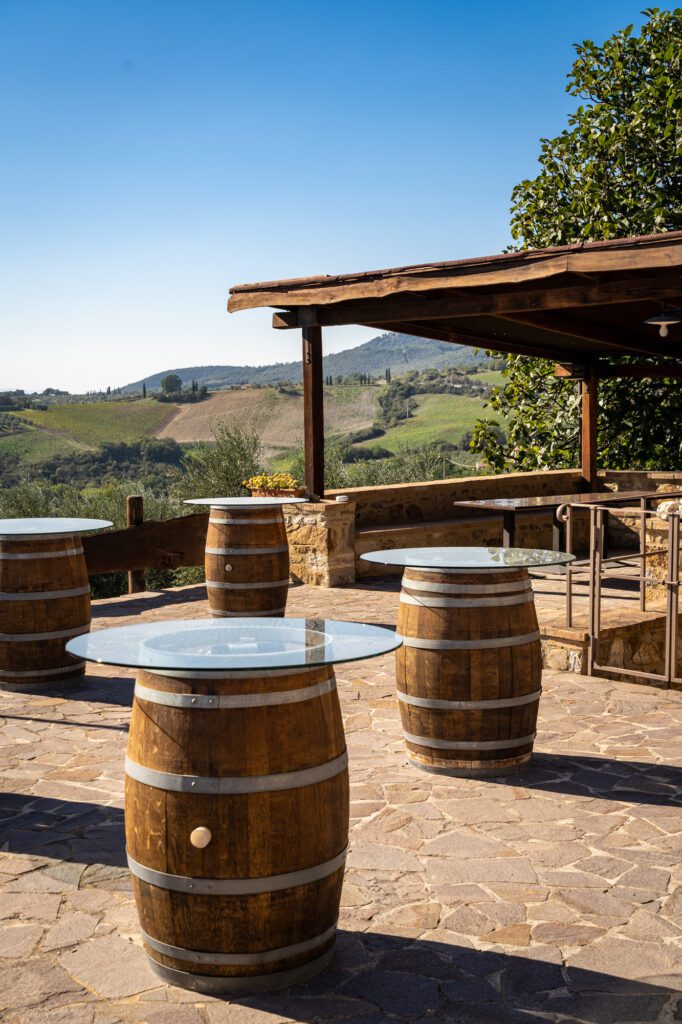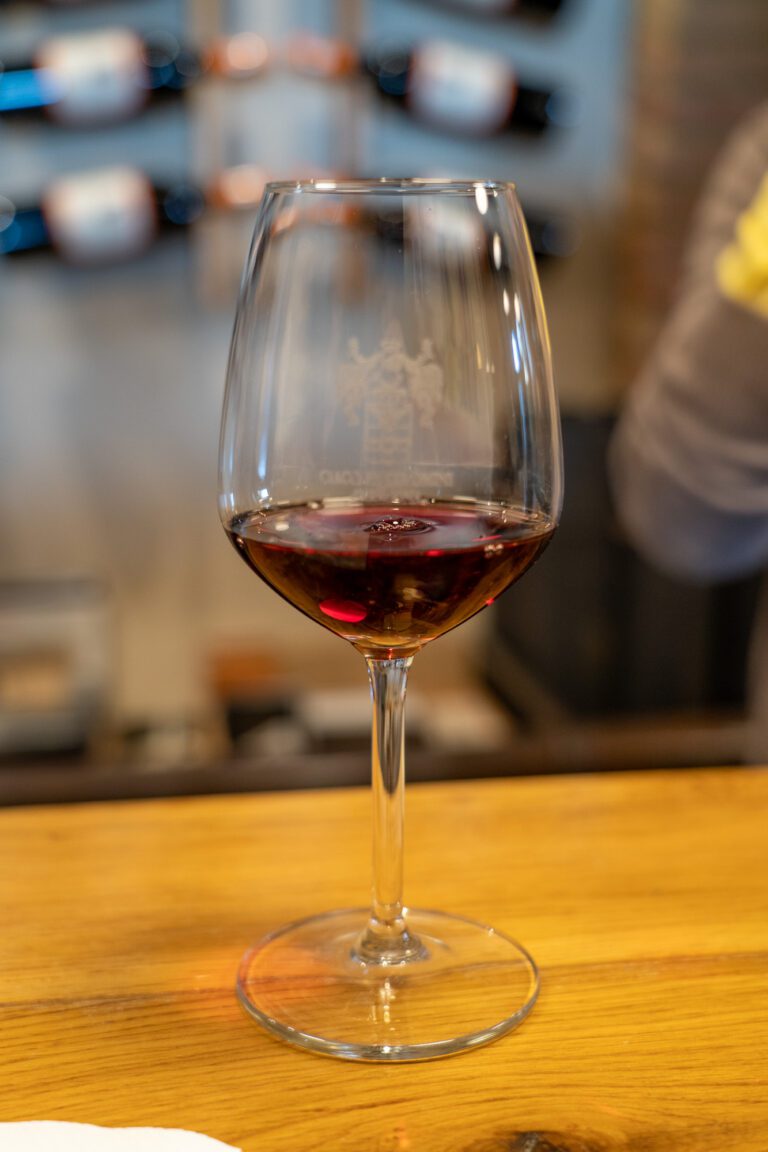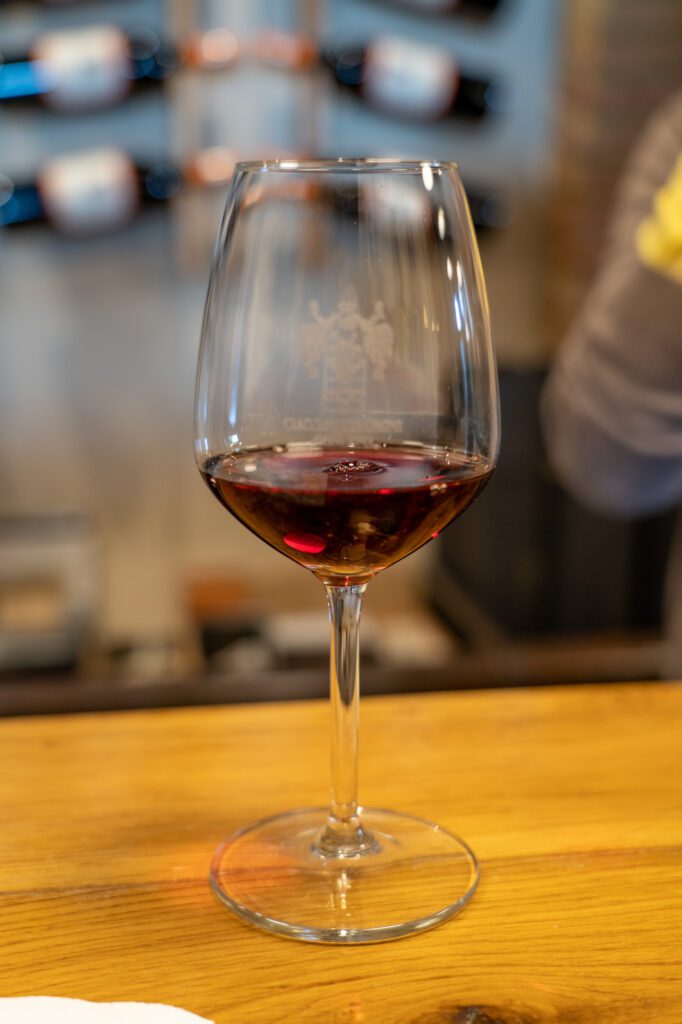 It is essentially the same grape varietal as Chianti Classico (Sangiovese), but a completely different process, which results in a different wine. If you want to visit for yourself, reservations in advance are helpful – we were there in the fall and made one, though the people next to us just showed up and were totally fine.
Plus, don't miss nearby Abbazia di Sant'Antimo, an enchanting former Benedictine monastery nestled amongst the region's greenery.
Verona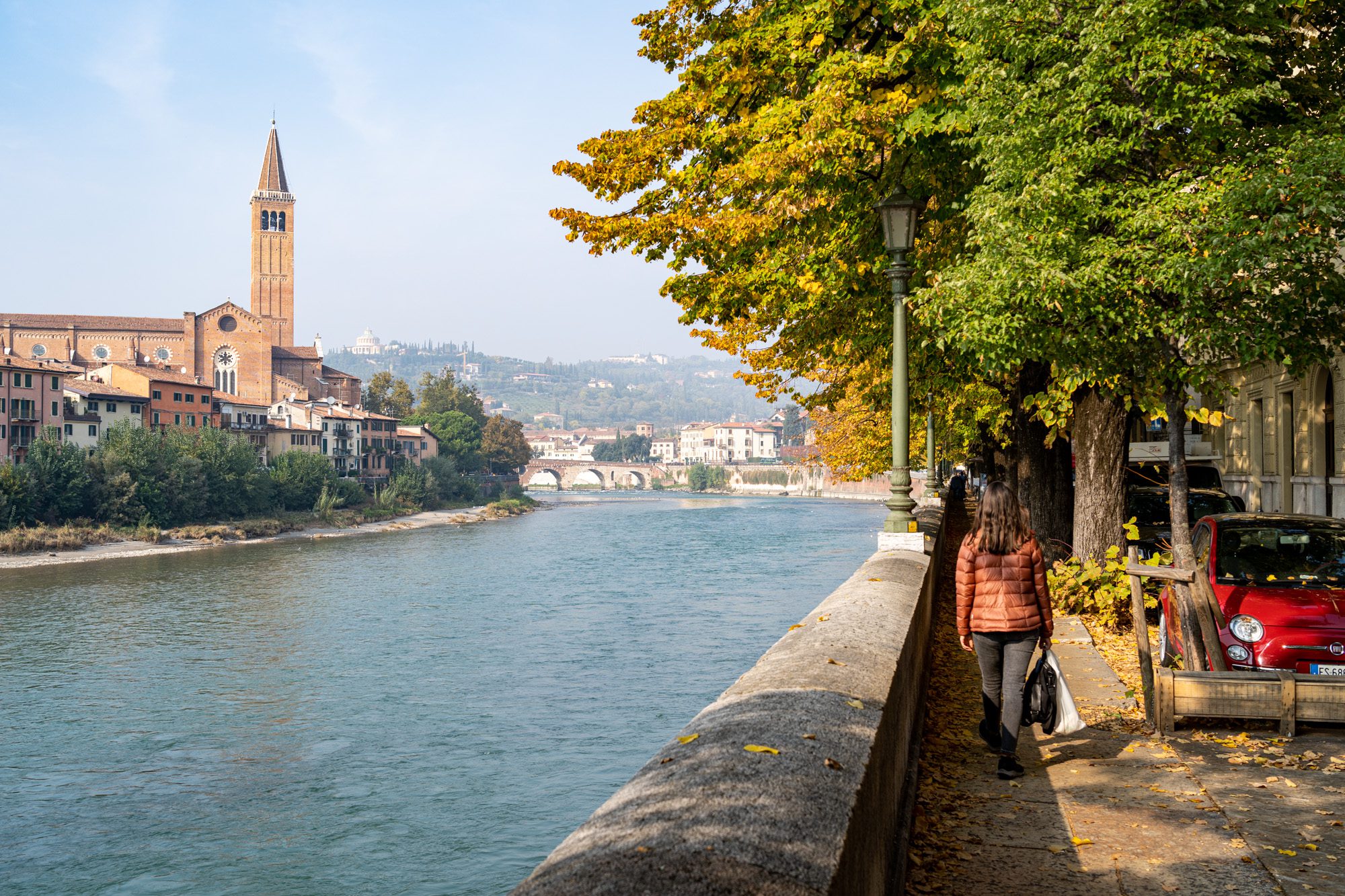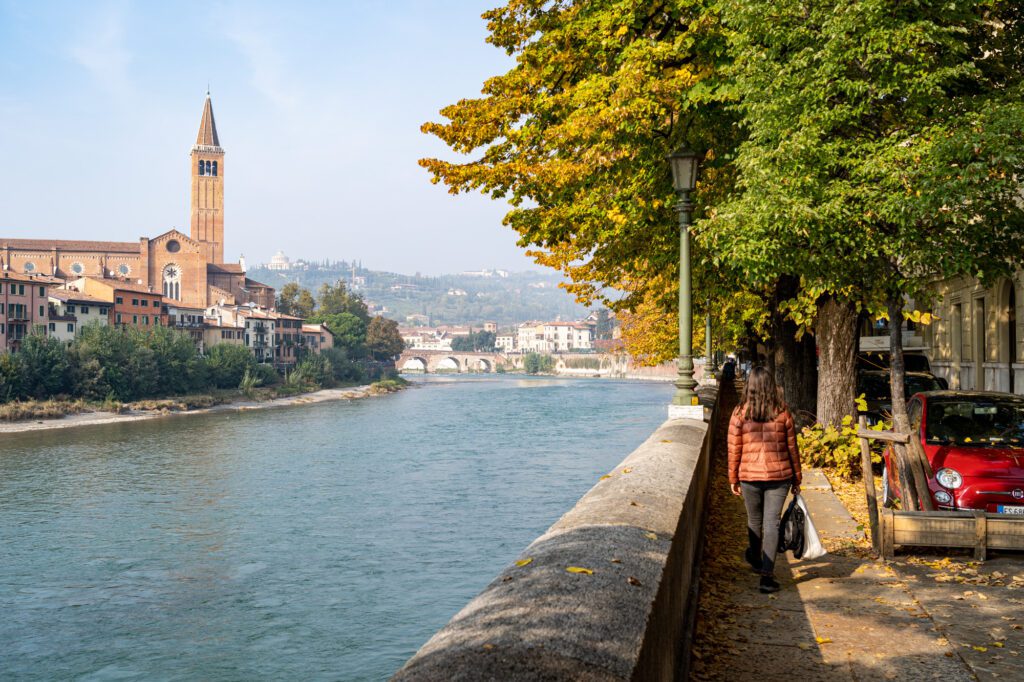 Verona is an underrated gem in northern Italy that's all too often overlooked in favor of its famous neighbor Venice – but we absolutely love Verona. And it's an easy day trip from Florence thanks to a high-speed train that runs between Florence and Venice (stopping in Verona).
Known as Italy's "City of Love", Verona is most notable for being the fictional setting of Shakespeare's romantic tragedy, Romeo and Juliet.
However, whenever we talk about Verona, we feel obligated to mention the fact that the Casa di Giulietta in Verona is, quite possibly, the worst tourist attraction we've ever experienced. Skip it, save the money, and thank us later.
But this isn't where the romance of Verona ends. Long walks along the Adige River, strolling over beautiful bridges, sipping Prosecco in bustling piazzas, and visiting historic castles with stunning hilltop views. All without the huge crowds of many other northern Italian cities. There's really nothing quite like it.
How to Get from Florence to Verona
Driving to Verona can take up to 3 hours, which is a lot of travel time for just a day. We'd suggest heading there by train instead.
By train. The quickest way to visit Verona from Florence is by train. A direct high-speed train runs regularly each day and takes just 1 hour 30 minutes. It's worth noting that Verona's train station is located around a 15 minute walk from the historic city center, though there are a variety of buses that will take you into the center.
What to Do in Verona
The northern Italian city is fairly small, so one day in Verona is more than enough. Below are the things you shouldn't miss.
The Arena di Verona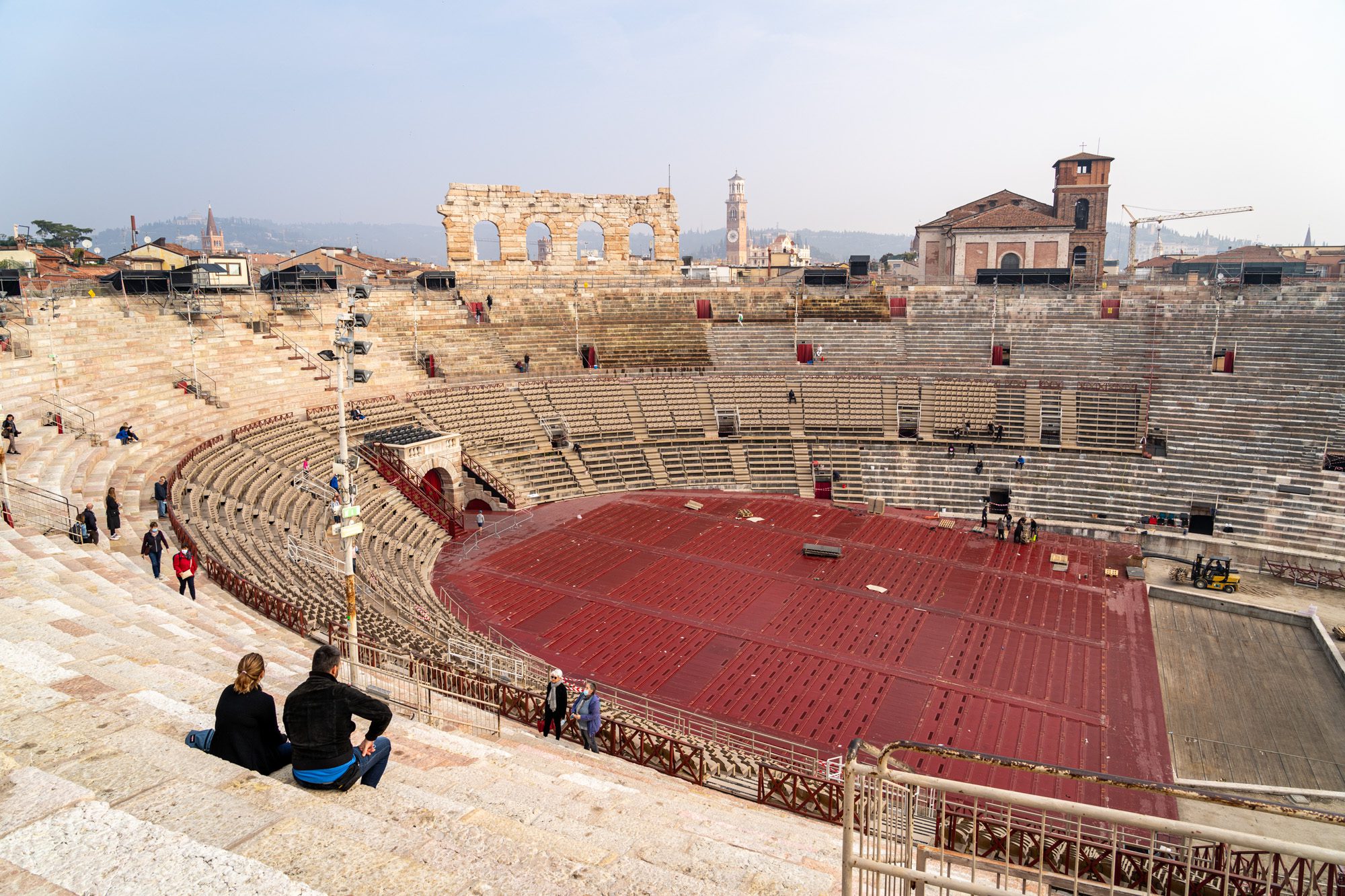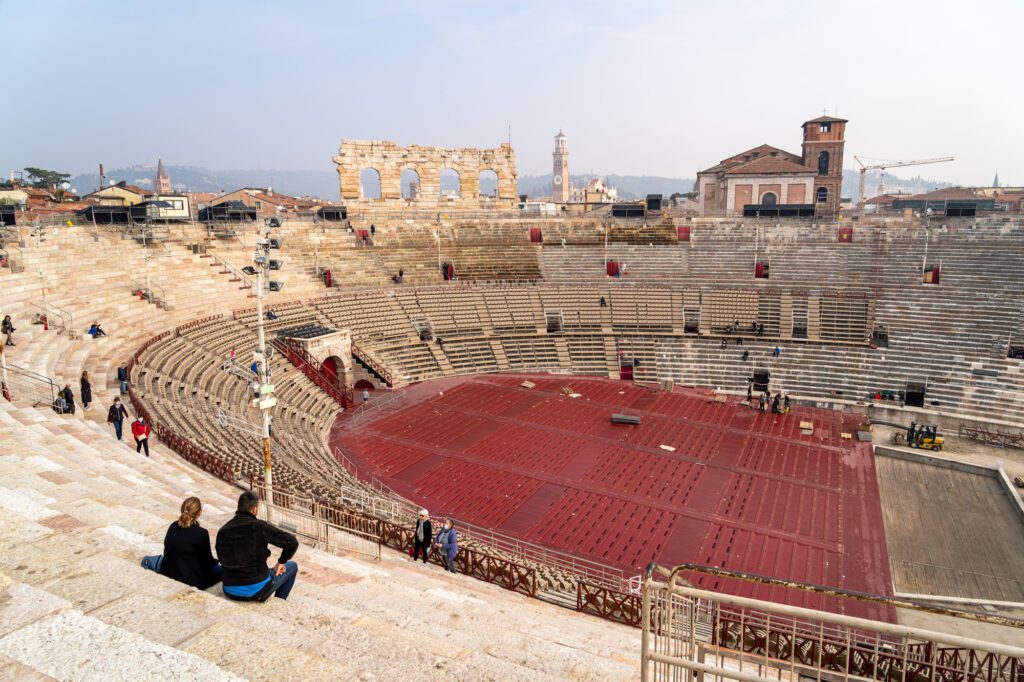 Verona Arena is one of the oldest and largest Roman amphitheaters in all of Italy – it's actually older than the colosseum in Rome. Today, the well-preserved structure and archeological site is open for visitors to explore. It's even used for opera performances and music concerts during the summer months.
You can visit the arena on your own for €10, or on a guided tour. The huge amphitheater is an amazing sight. Although, we found that the signage inside was somewhat lacking. So if you're particularly interested in the arena's history, a guided tour may be worthwhile.
Museo Archeologico al Teatro Romano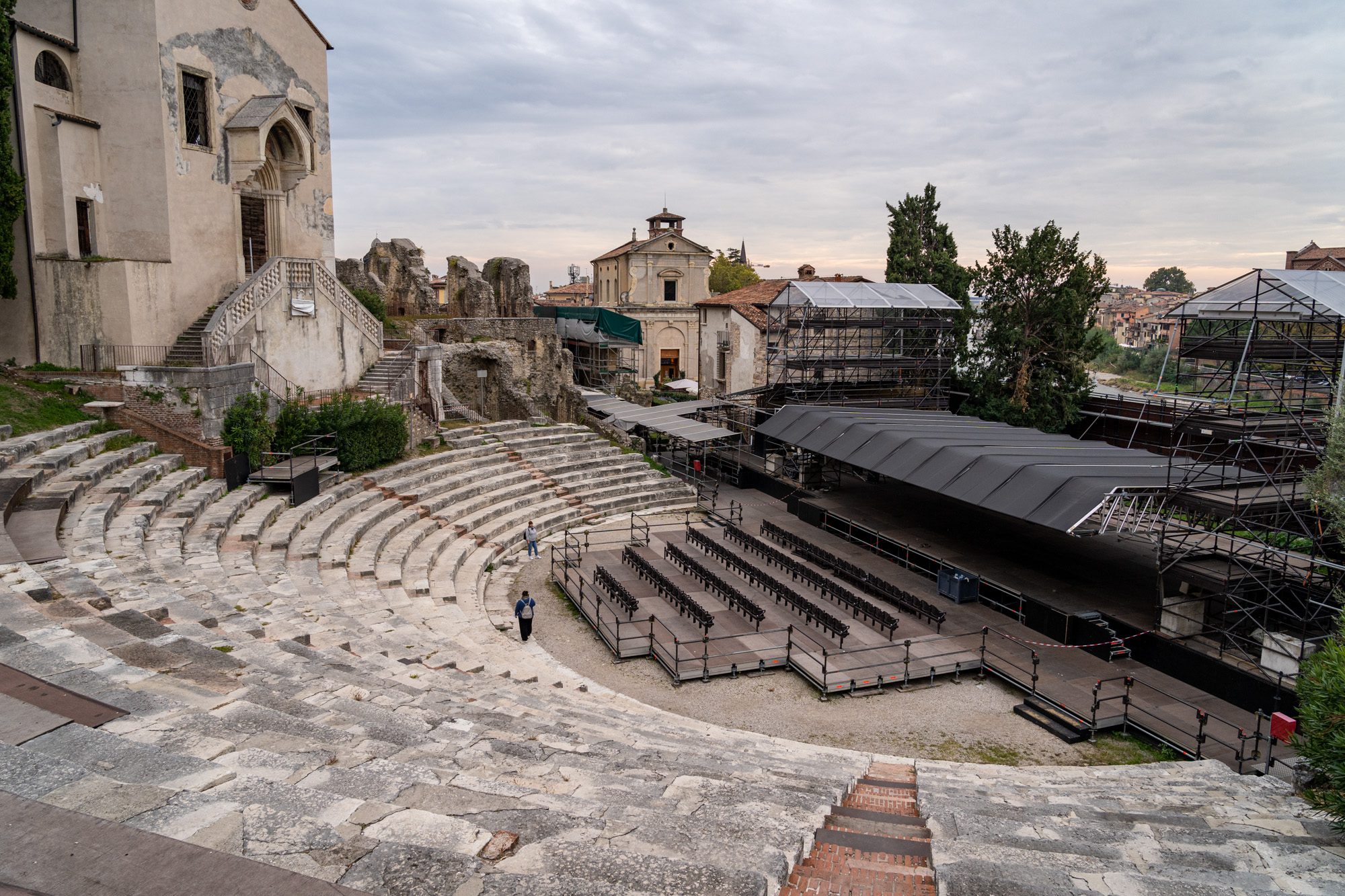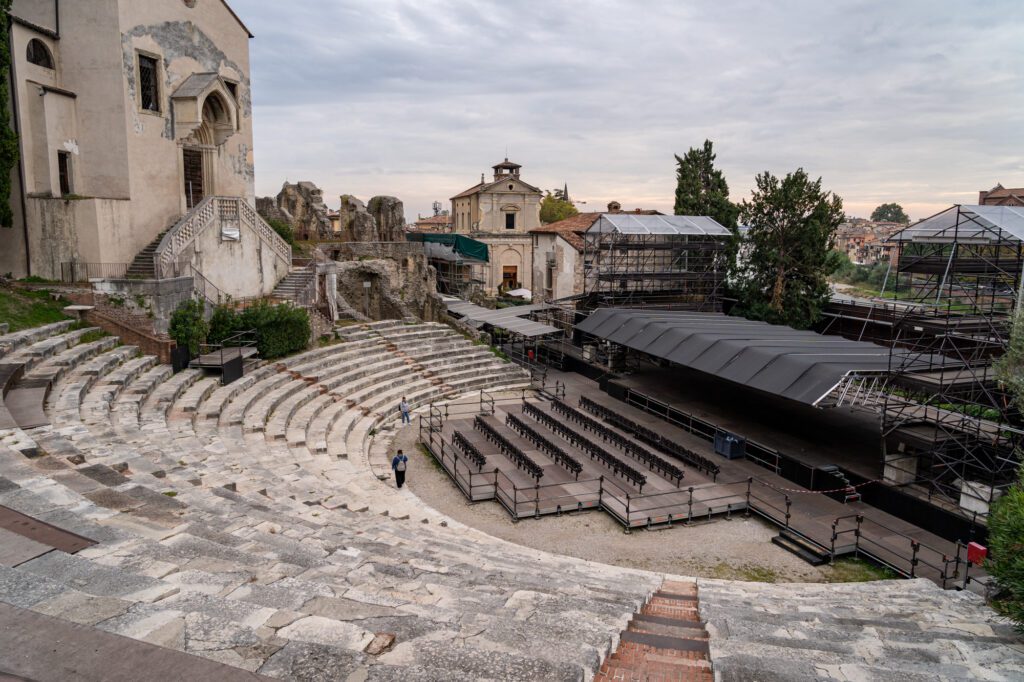 Not to be confused with the amphitheater, Verona's Roman Theatre is another important historical site and home to an interesting archaeological museum. The unsuspecting museum is definitely a hidden gem and somewhere we almost skipped altogether. But we're extremely glad we didn't and you shouldn't either.
The museum has some really cool artifacts from the region that are over a millennia old. Plus, there are some amazing views from the outdoor portion of the museum.
Admire the View from Castel San Pietro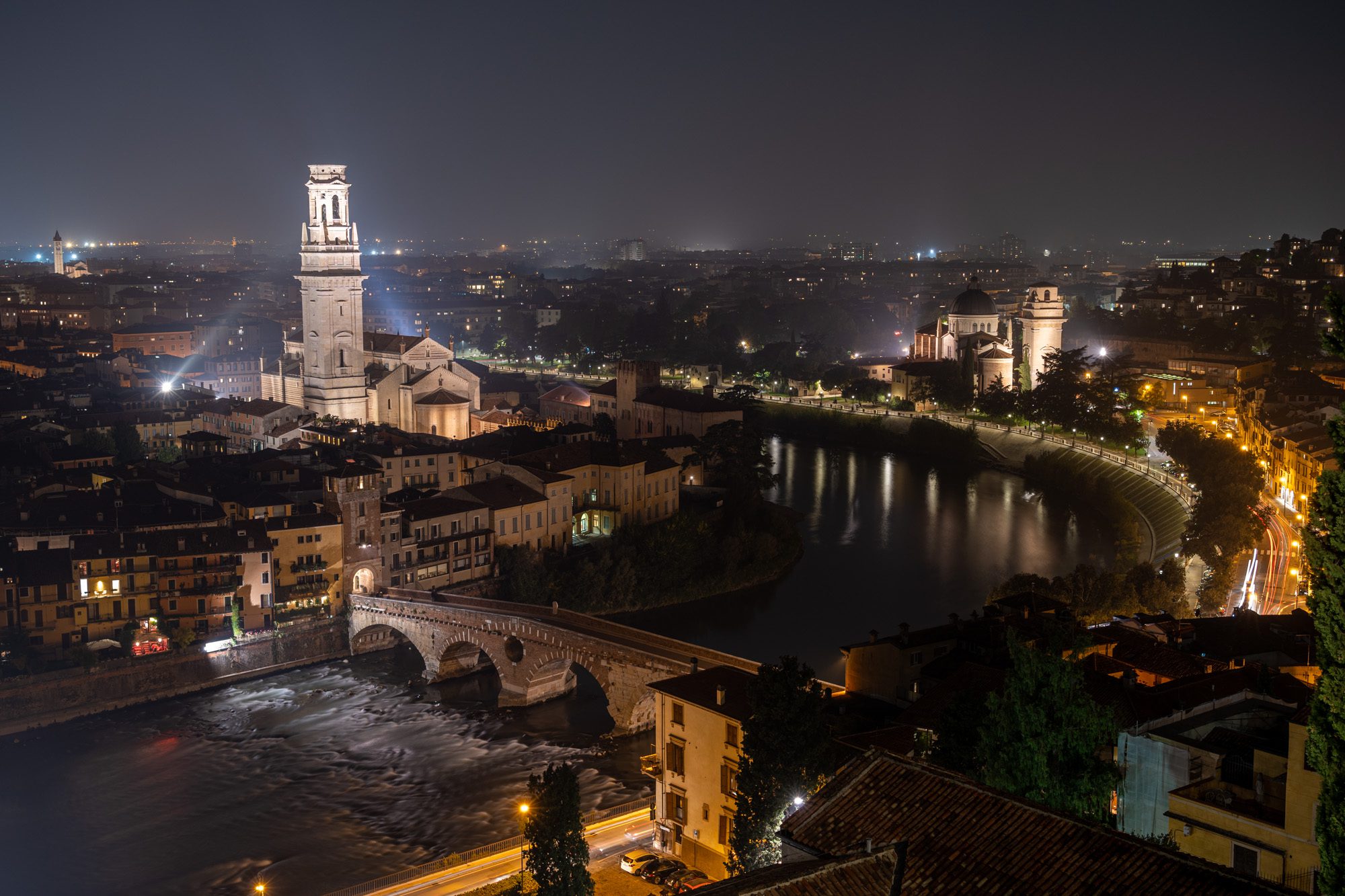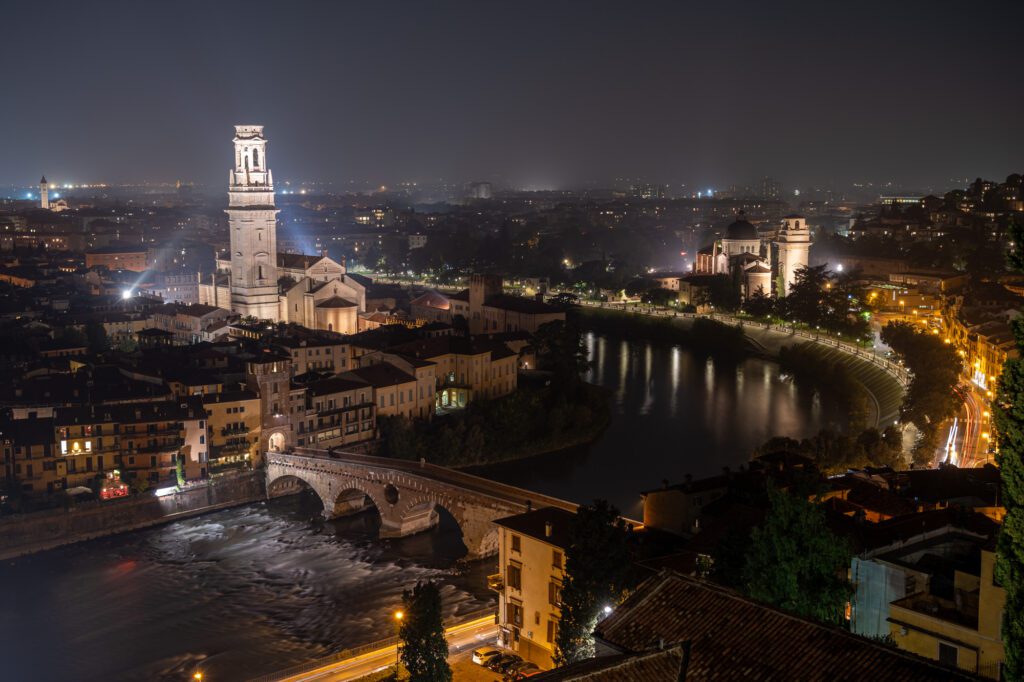 Located on a hilltop on the east side of the Adige River, medieval Castel San Pietro is where you'll find some of the best free views over the city. The views from the castle are particularly spectacular at night. It's a great place to bring a little picnic and watch the sunset over the city.
You'll need to climb up a long flight of stairs to reach the castle, but it's worth the effort for the views along the way. You can also take the funicular, which costs €2 per person each way and closes at 8:45 pm.
Milan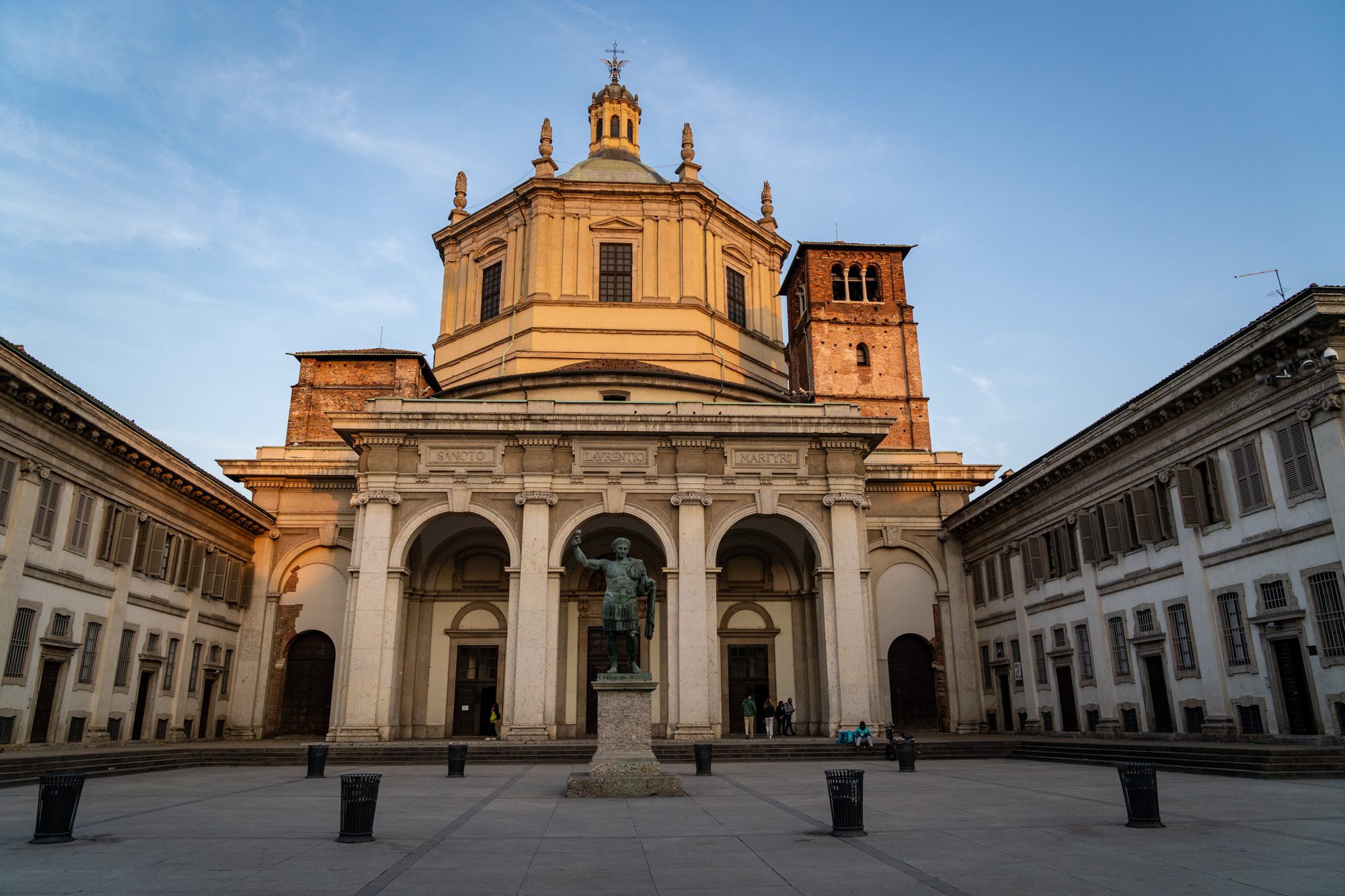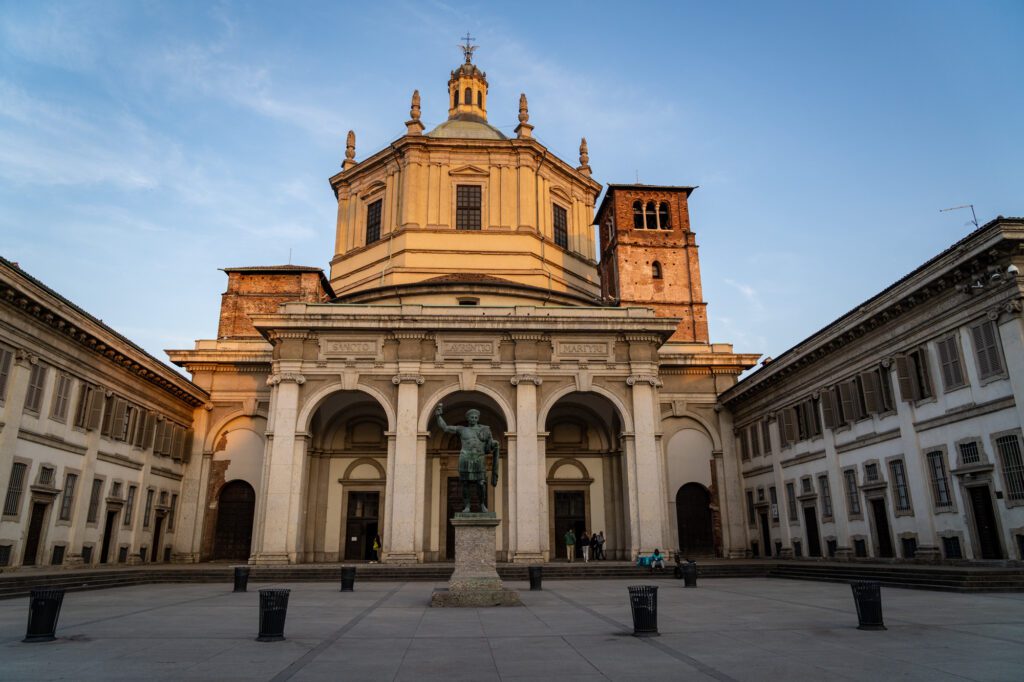 Located over 300km north of the Tuscan city, Milan may not be the most obvious day trip from Florence. But thanks to Italy's high-speed train network, it's actually possible to reach the northern city in less than 2 hours.
The financial powerhouse of Italy has a completely different vibe from most other major cities. Milan is far more modern and more fashion-forward than the rest of the country – something you'll notice the second you step foot in the city.
It's also worth mentioning that Milan is a BIG city, so if you only have a day to explore, the 24 hour metro card is well worth it.
How to Get from Florence to Milan
Driving between Florence and Milan will take you around 4-5 hours. Obviously this is far too much driving for one day. If you do want to visit Milan on a day trip from Florence, public transportation is the way to go.
By train. The high-speed train from Florence can reach Milan in under 2 hours (some take as little as 1 hour 40 minutes) – pretty impressive right!?
What to Do in Milan
One day in Milan isn't enough to see and do everything in this sprawling metropolis, but we'd recommend focusing on the below.
The Duomo di Milano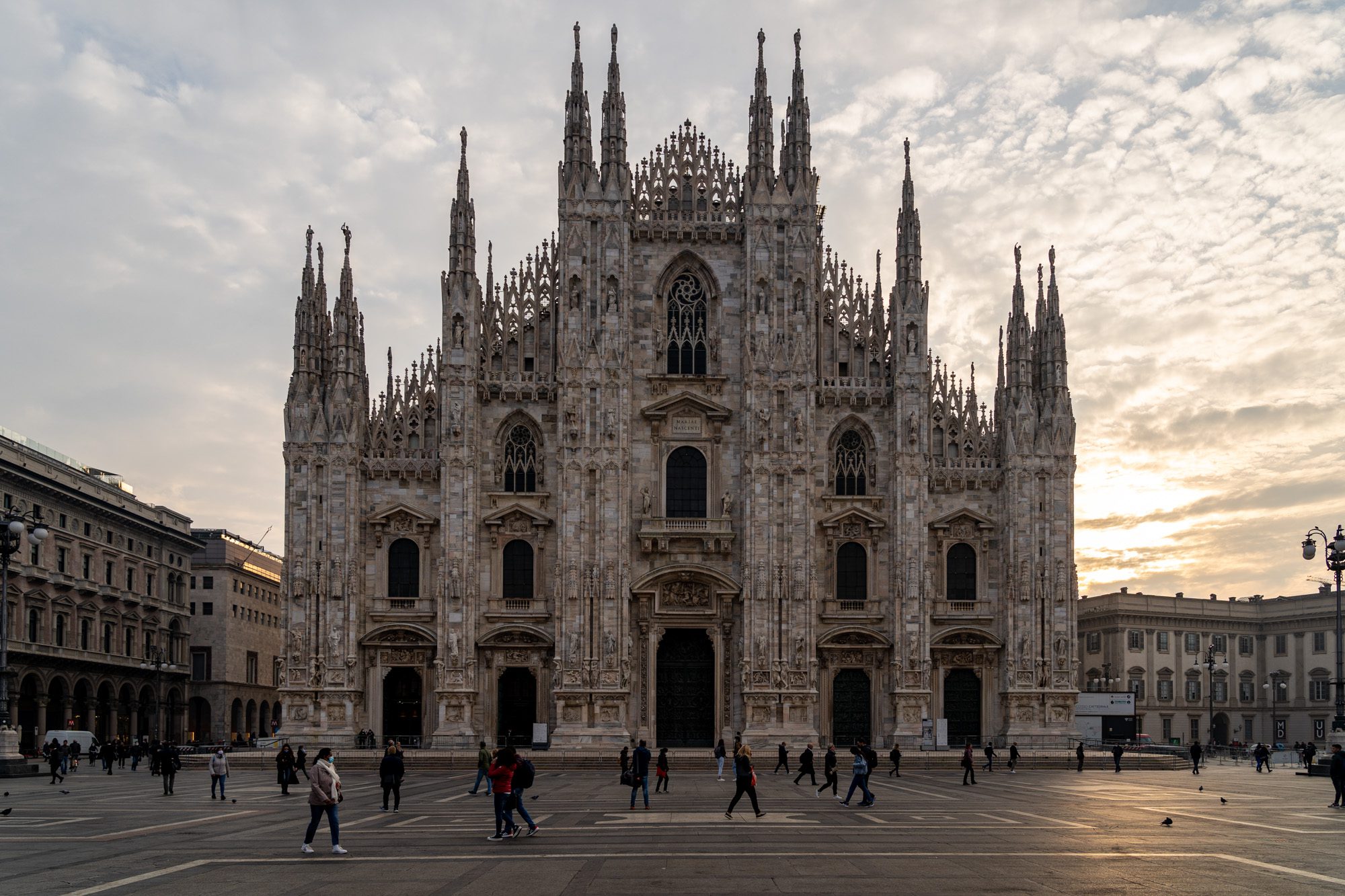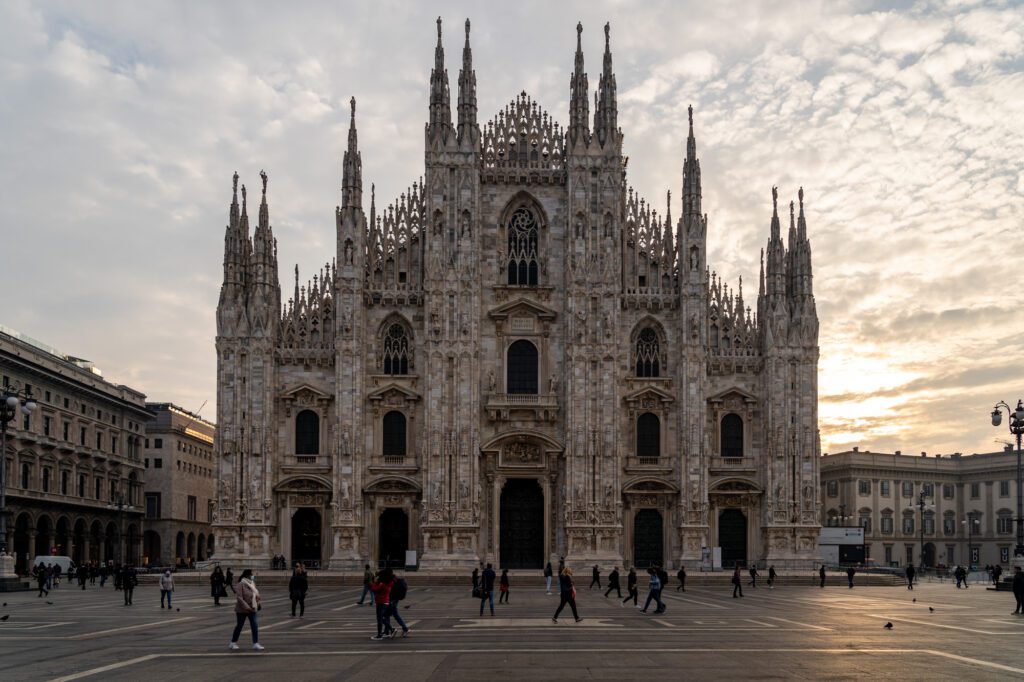 The Duomo di Milano is world-famous for its elaborate construction and imposing façade. It's unsurprising that it's one of the most photographed landmarks in the entire country.
The real highlight of the Duomo for us was getting up onto the terraces, where you can appreciate just how incredibly elaborate the construction really is. Plus, the views over Milan aren't bad either.
The Last Supper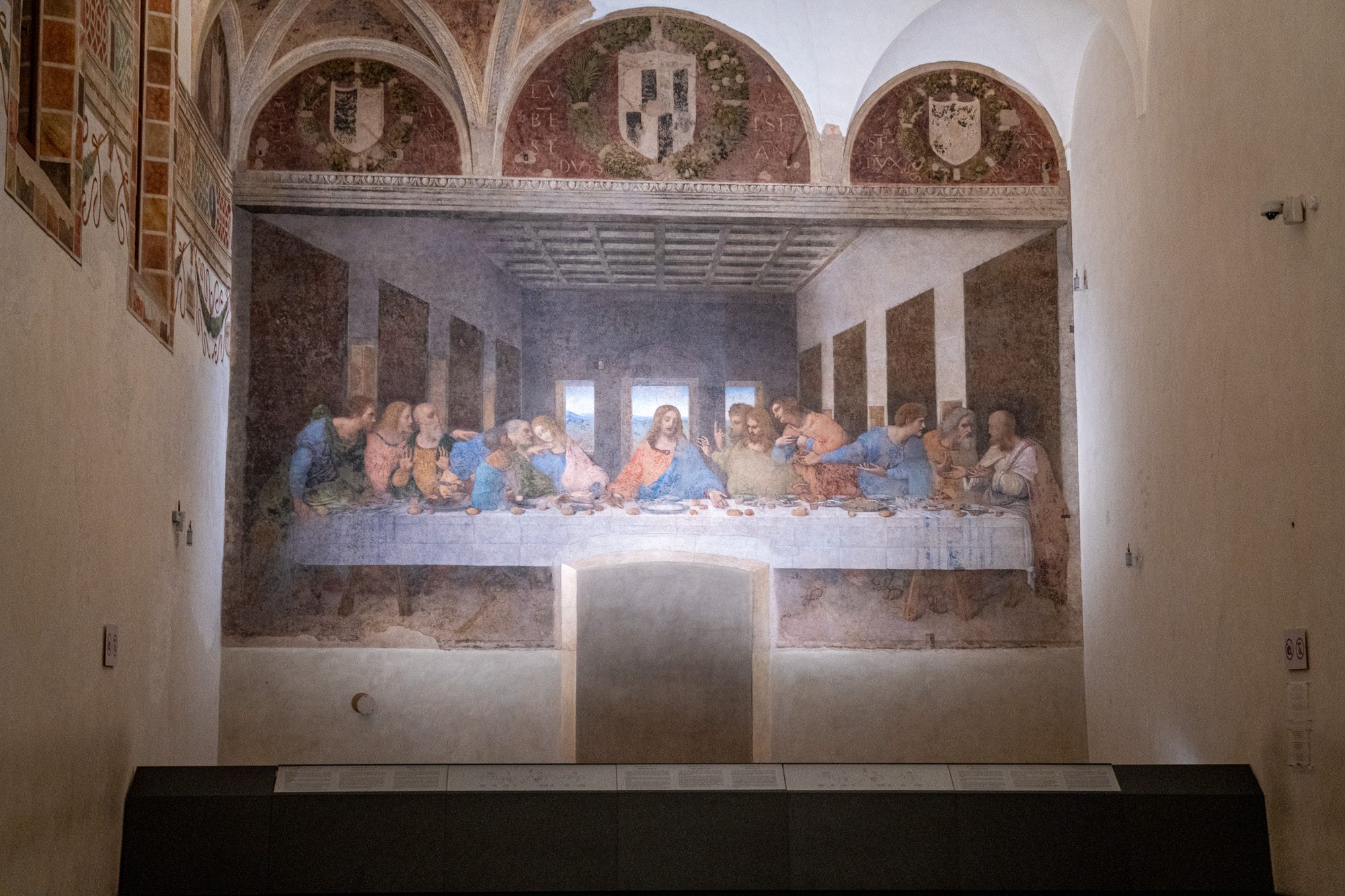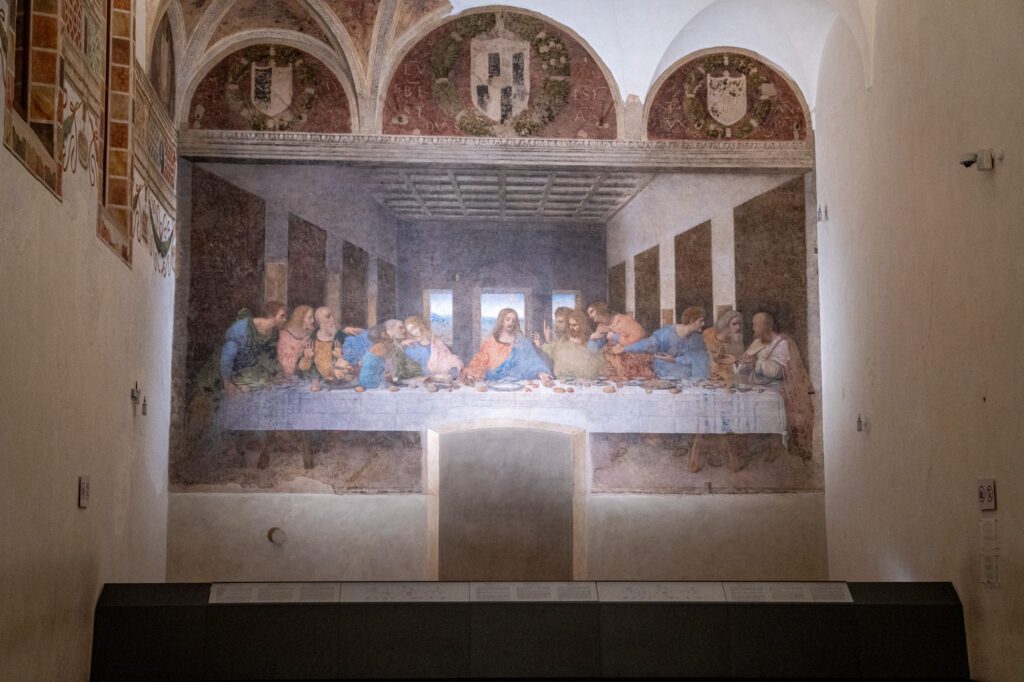 Leonardo Da Vinci's Last Supper depicts Jesus and his disciples having their final meal together and is one of the most famous paintings in the world.
The iconic painting is housed inside a small convent next to the church of Santa Maria delle Grazie in central Milan.
Tickets to visit the artwork can be quite difficult to get your hands on. You can find our top tips for securing your tickets in our full Milan guide here.
Castello Sforzesco and Parco Sempione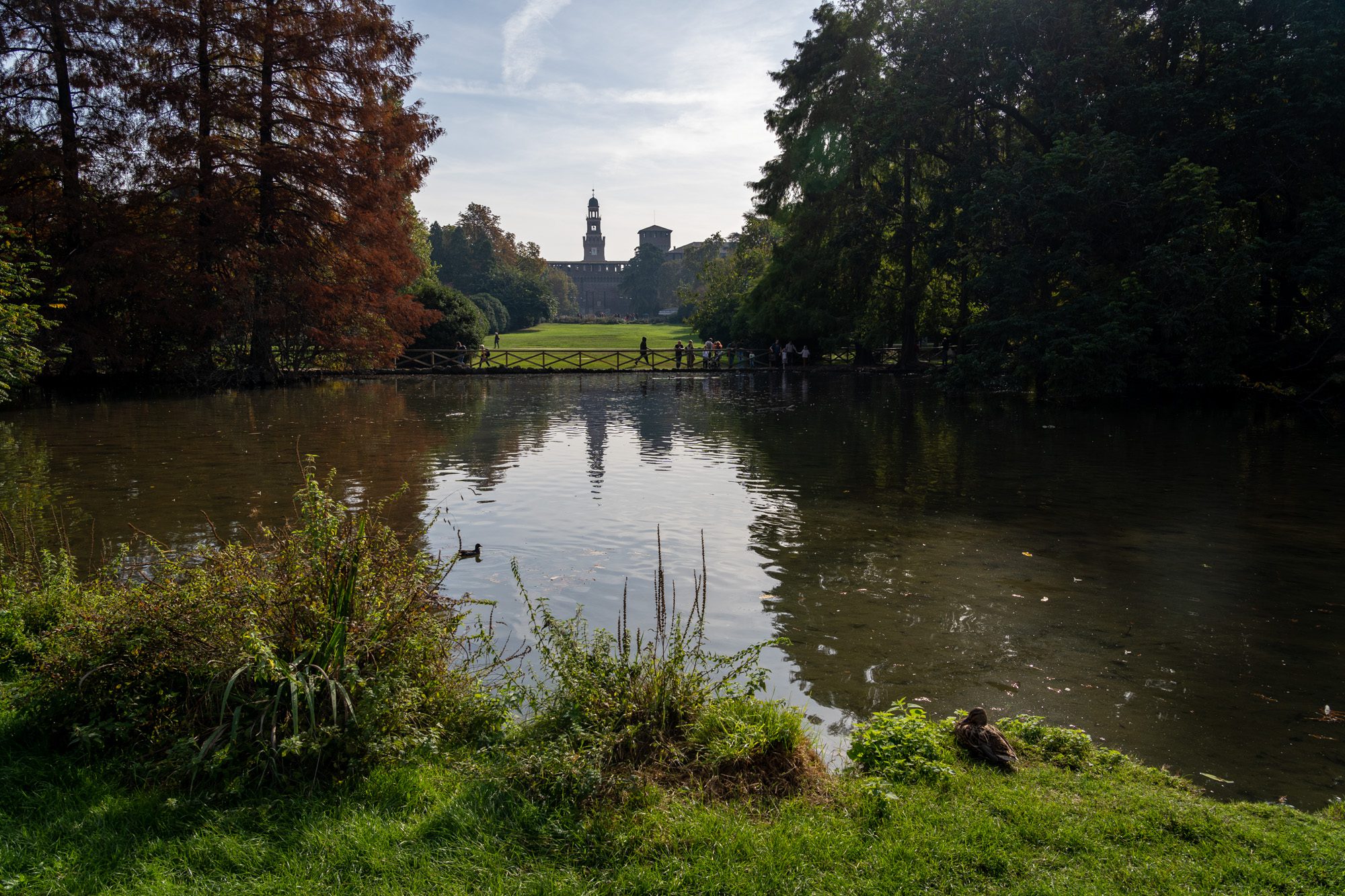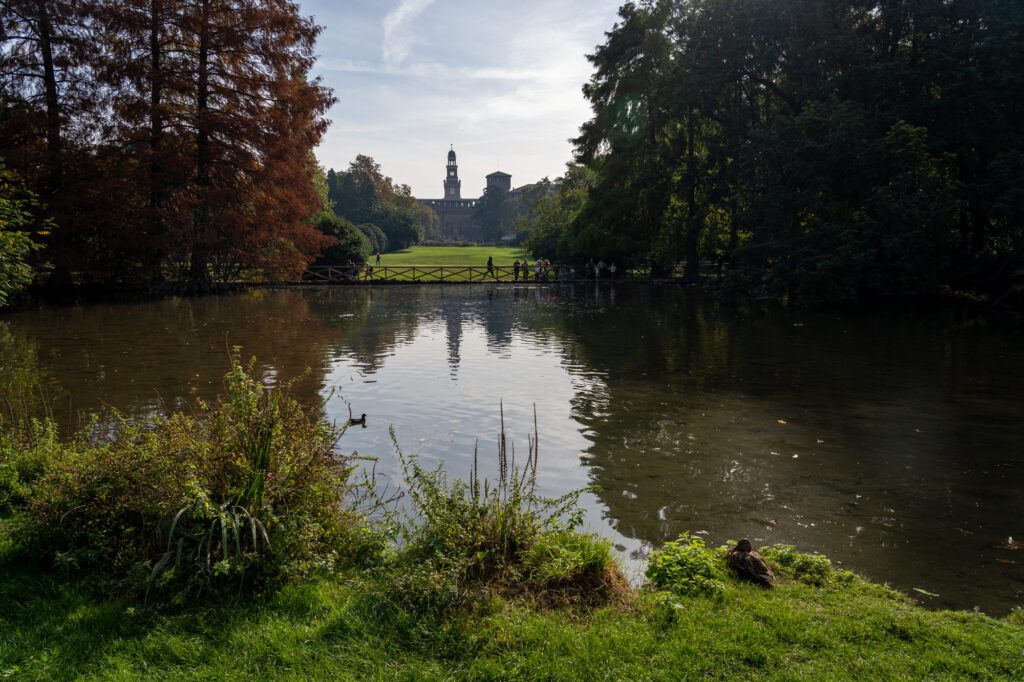 Parco Sempione is Milan's largest green space. With its central pond and many trees, the park is the perfect spot to escape the built-up city center for a while.
The park is also where you'll find medieval Castello Sforzesco. You can take a walk through the castle's central courtyard for free. Or if you have the time (it may be tough in a day), the castle also houses several interesting museums.
Eat Ossobuco and Risotto alla Milanese
Ossobuco is a specialty of the Lombard region featuring veal shanks braised with vegetables, white wine, and broth. In Milan, the dish is often served alongside risotto alla milanese, a tasty saffron-infused variety of risotto. You can find the dish in restaurants all over Milan, so make sure to give it a try.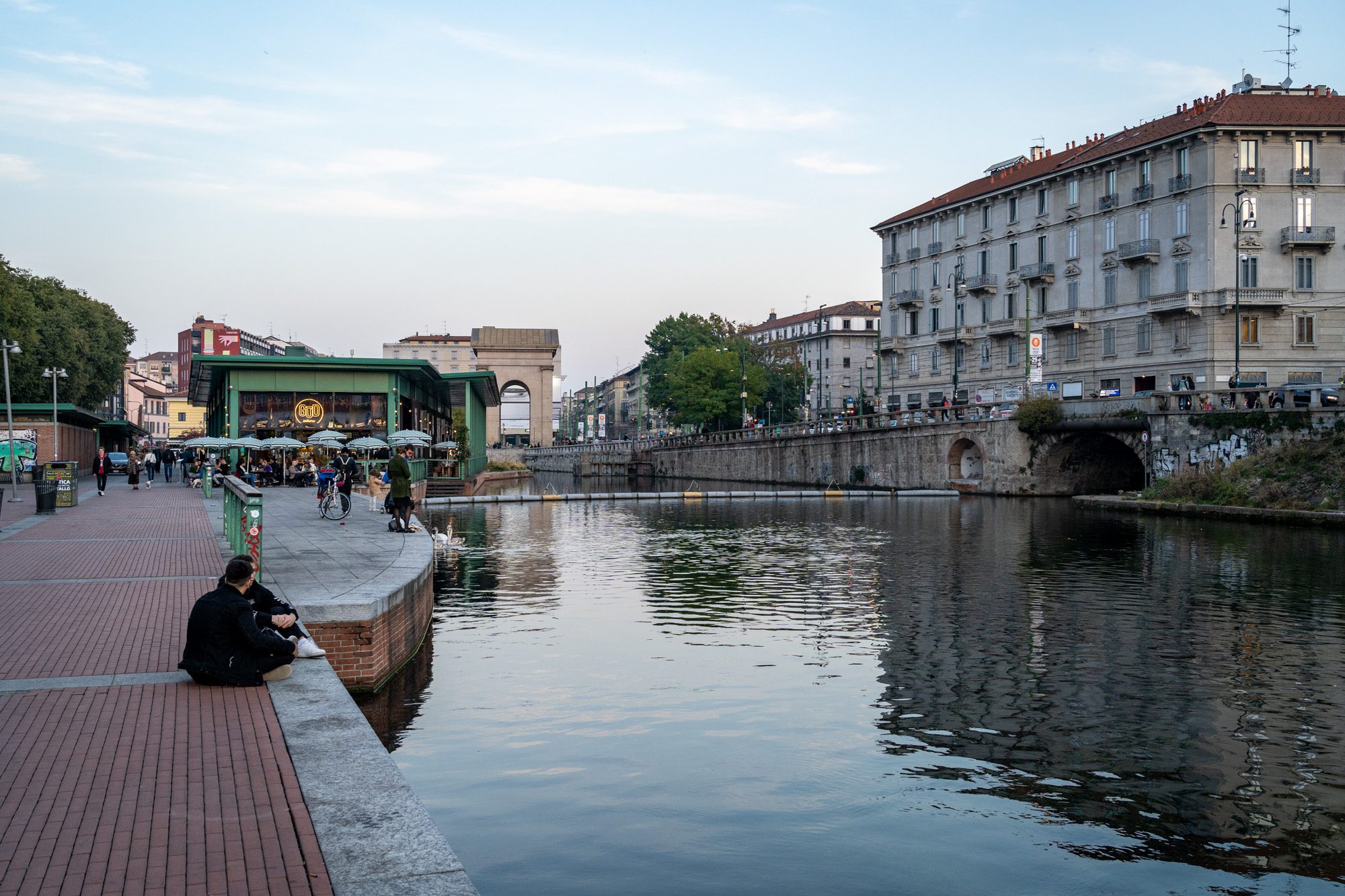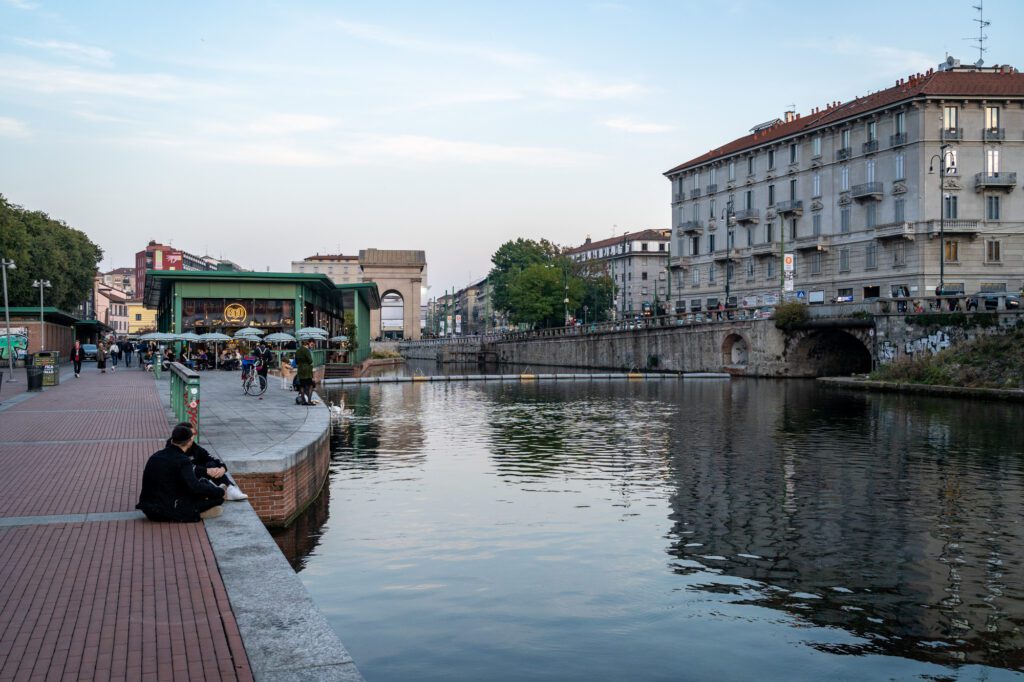 Did you know Milan has canals? Neither did we until we started researching our trip.
As it turns out, Milan used to look like Venice before most of the canals were covered up to make way for the modern city you see today.
Fortunately, there is still one district where you can enjoy the canals of Milan – Naviglio. Naviglio Grande (the main canal) is a great place to grab an afternoon aperitif before dinner. The popular local neighborhood is particularly lively around sunset and into the night.
Rome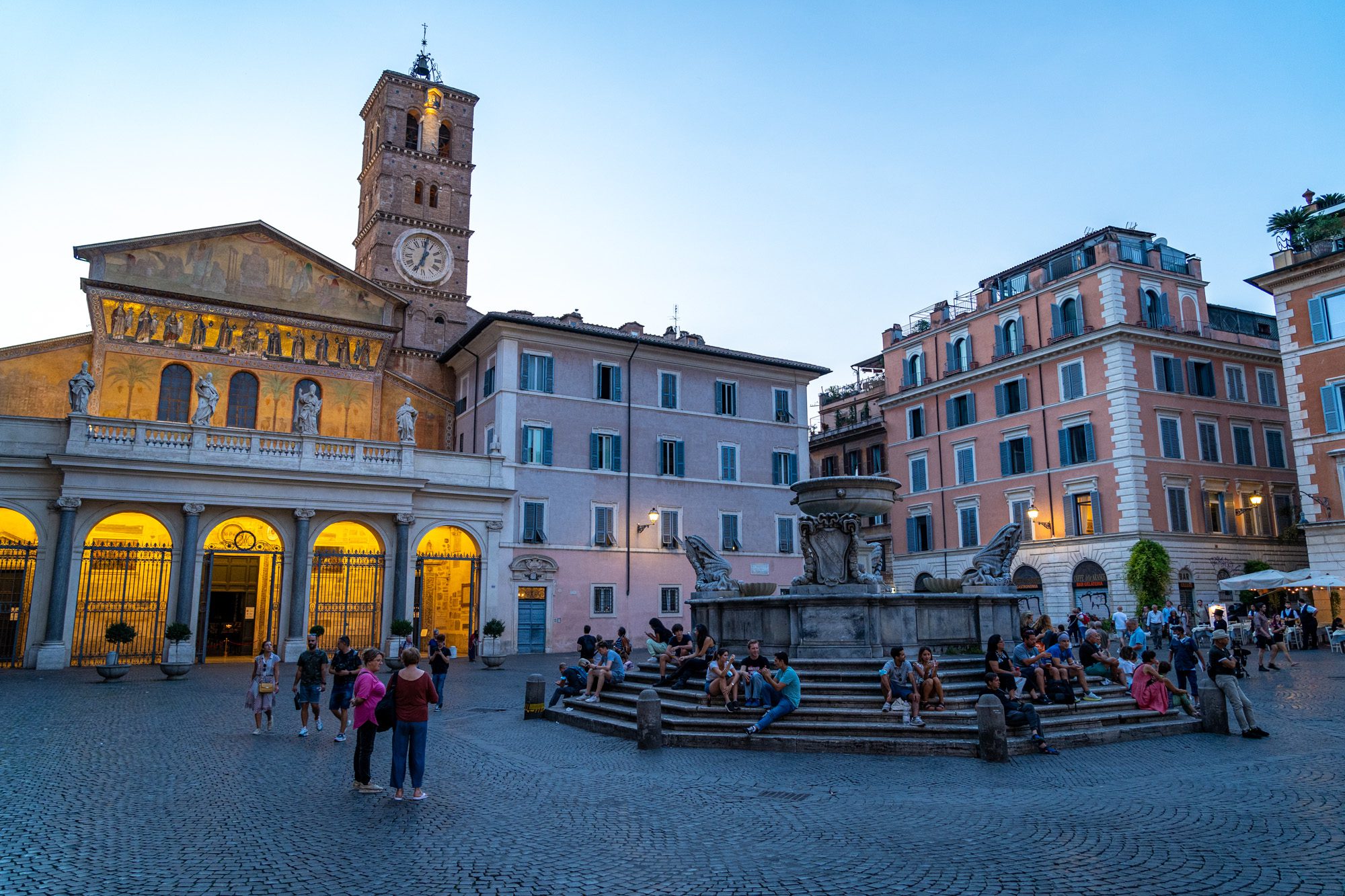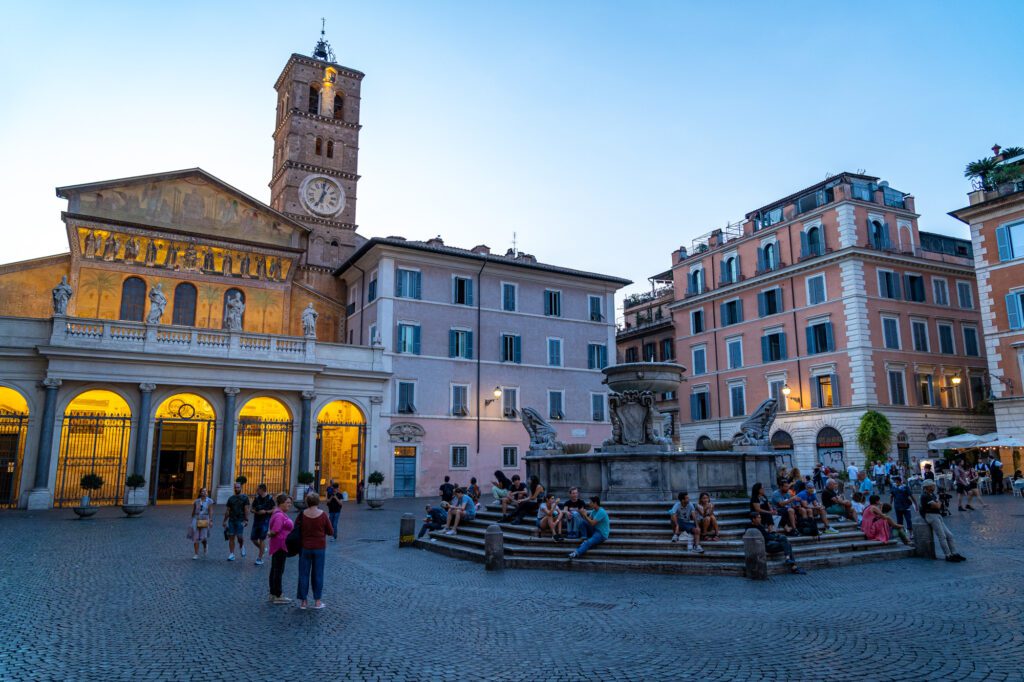 If, somehow, your trip to Italy doesn't include a stint in Rome and you do want to experience it, the country's exciting and historic capital is an easy 90 minute train ride away from Florence Santa Maria Novella station!
A day is not nearly enough time in Rome. But we understand that not everyone has the gift of time. And the Eternal City is a must-visit when in Italy.
If you do only have a day in Rome, we'd encourage you to choose just one of the main sights – the Colosseum or the Vatican – to give yourself plenty of time to experience the other parts of the city.
How to Get from Florence to Rome
Do not, under any circumstances, drive to Rome. Thank us later!
By train. From Florence Santa Maria Novella station, you jump on an easy 1 hour 30 minute train to Roma Termini, with a stop at Roma Tiburtina station too.
What to Do in Rome
With just a day, these are some of the best things to do in Rome.
Experience the Colosseum and Roman Forum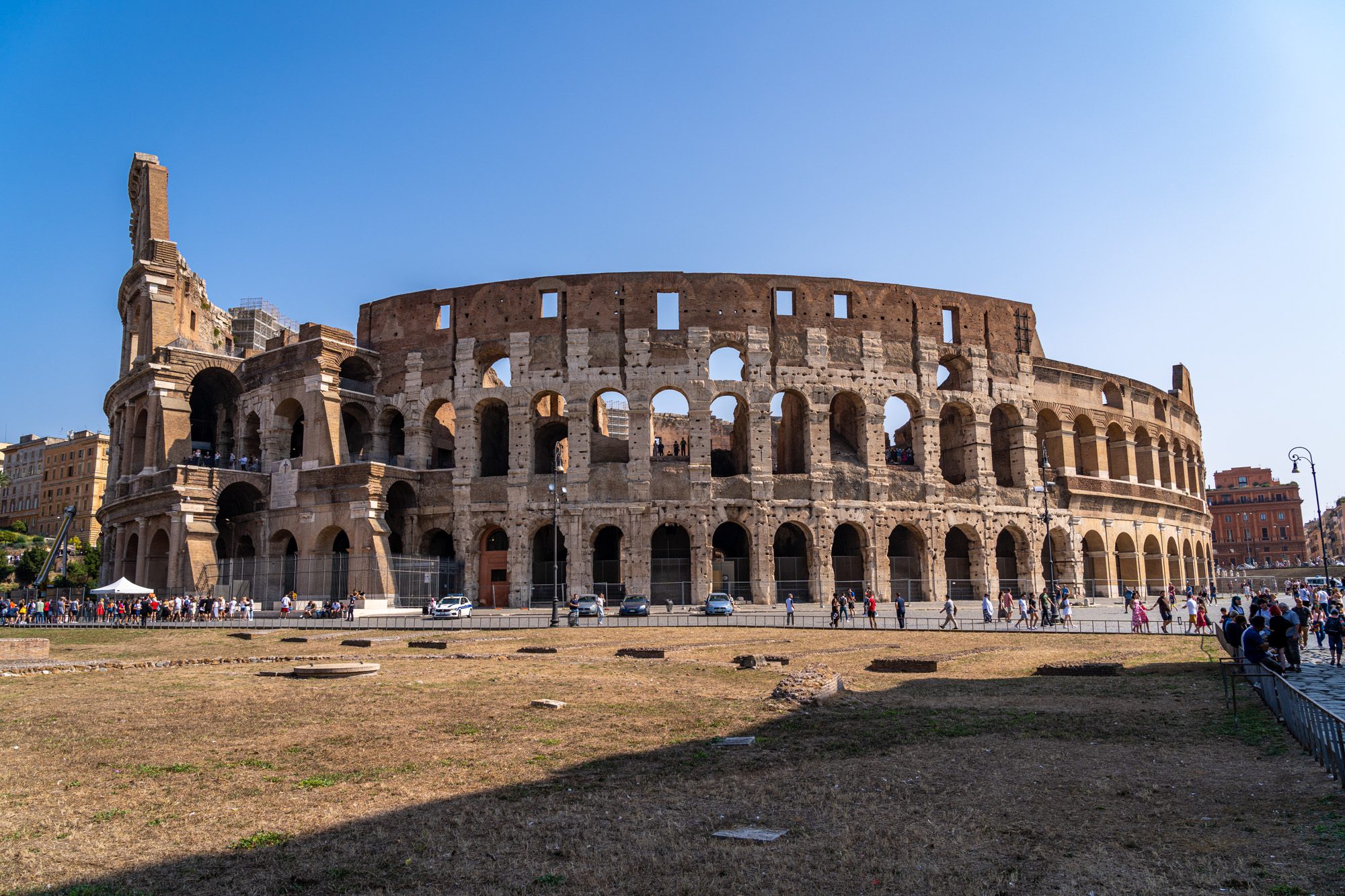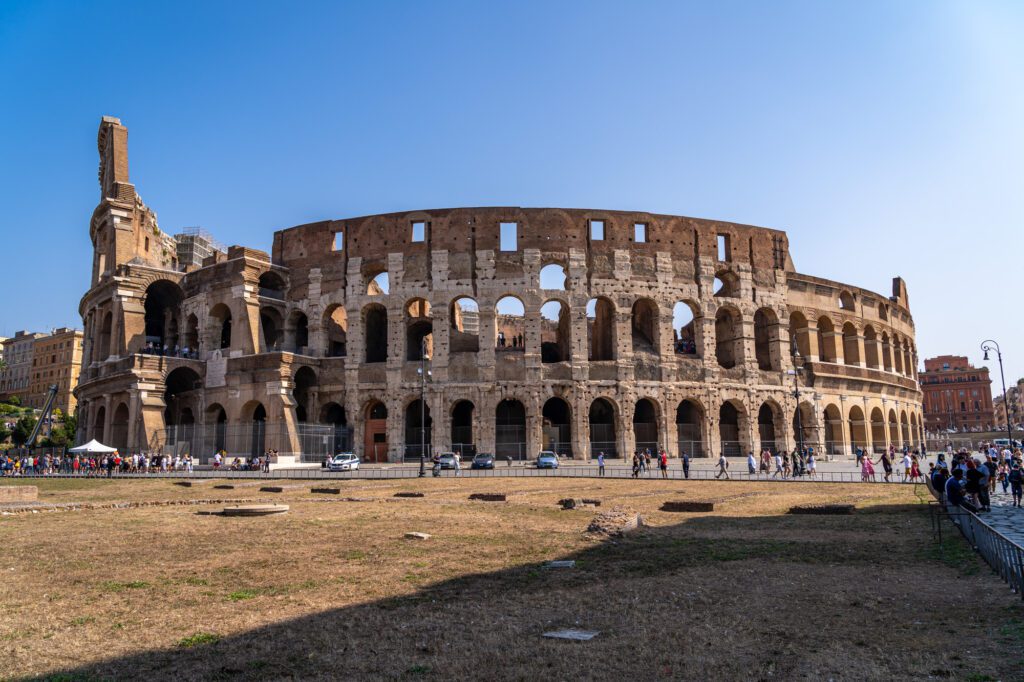 The Colosseum and Roman Forum are the heart of Ancient Rome and a must-visit on a trip to the city. Dating back thousands of years, the depth of history and culture that exists within this little complex is truly mind-boggling.
The massive Roman amphitheater and archeological site are located just a short distance from each other, so it makes sense to visit them together.
The best way to visit the two (in our opinion) is on a joint guided tour. We did this tour and loved it!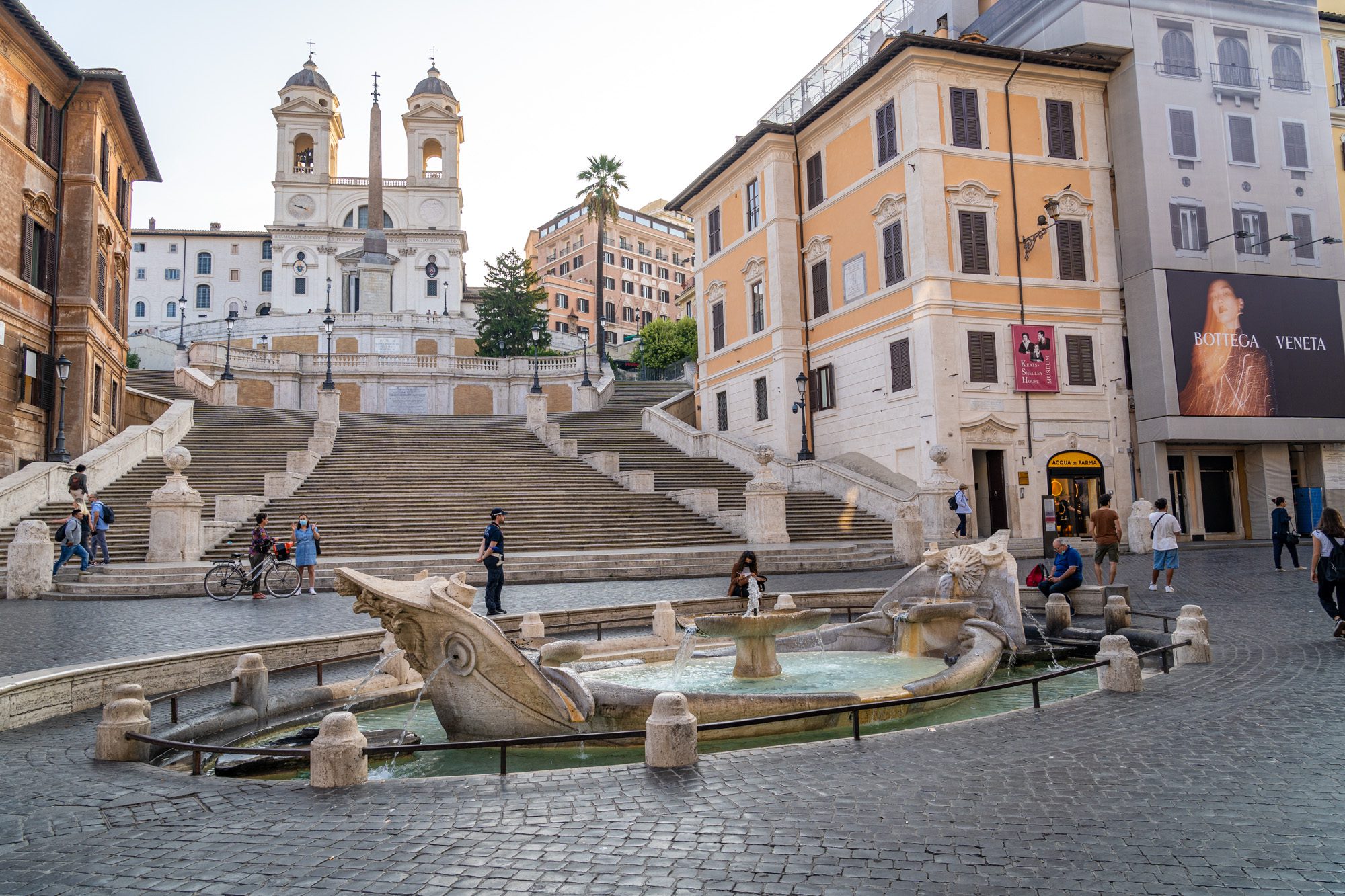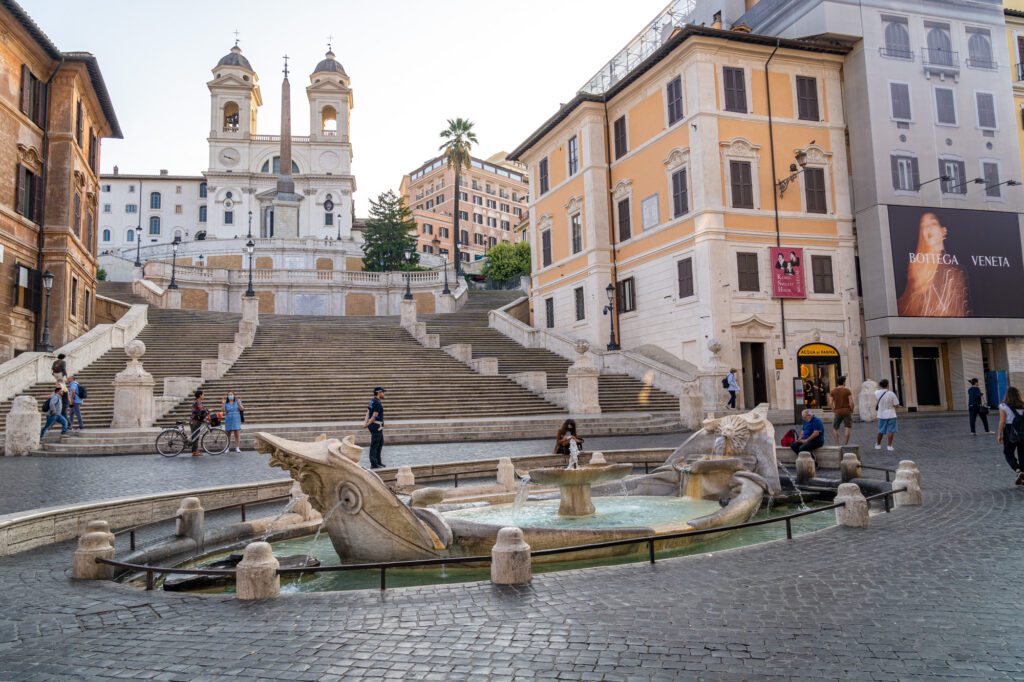 The best way to explore the many historical treasures of Rome is on foot. On a self-guided walking tour of the Centro Storico, you can check off several of the city's most well-known landmarks in just a couple of hours.
To see as much as possible with limited time in the city, we'd recommend taking the following route:
Piazza Di Spagna (The Spanish Steps)
The Trevi Fountain
The Pantheon
Piazza Navona
Finish your walk with lunch at Roscioli Caffè, and gelato next door at Fatamorgana. Or if you've already eaten, stop for a glass of wine on the terrace of Enoteca Il Piccolo, just off Piazza Navona.
Marvel at the Vatican and St. Peter's Basilica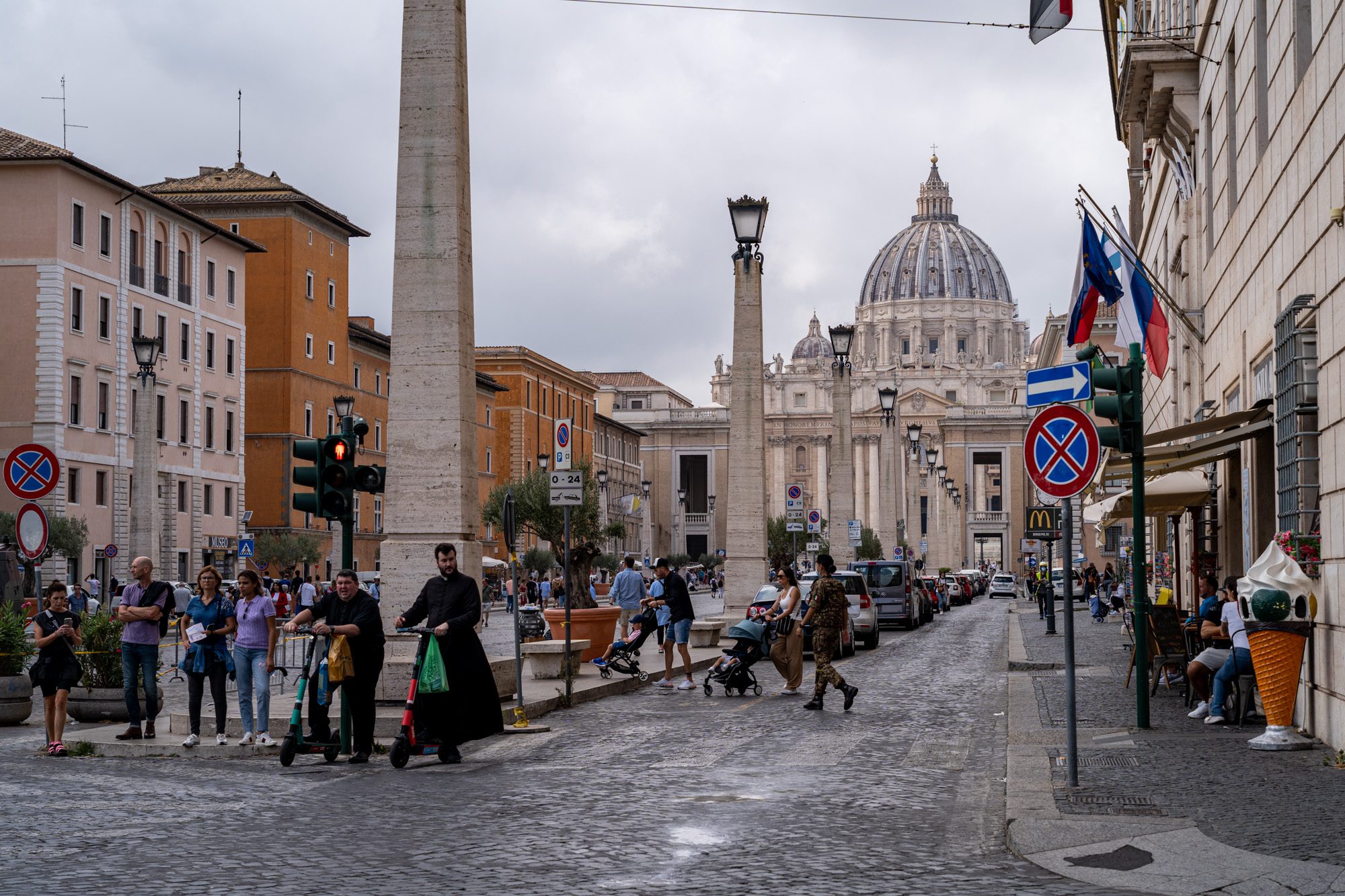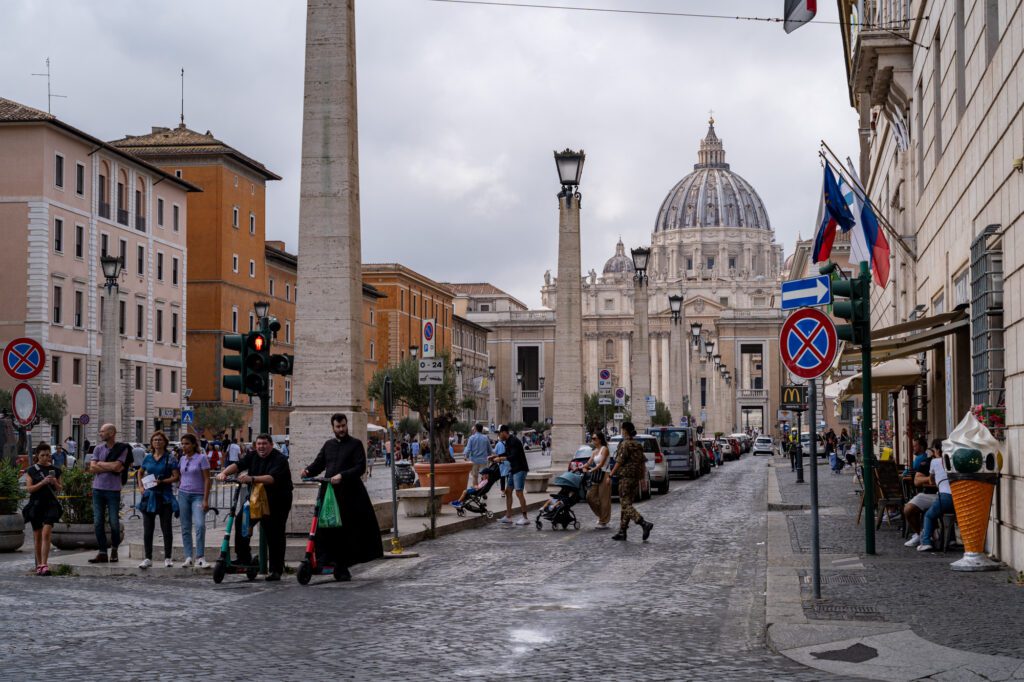 You won't be able to fit the Colosseum, Roman Forum, and the Vatican into a one day trip. But if you prefer art over history, head to the Vatican instead.
There are two key places you should try to visit within Vatican City (an enclave within Rome) – the Vatican Museums and St. Peter's Basilica.
The Vatican Museums are arguably the most famous of their kind in the world, with a whopping 20,000 pieces of art and the legendary Sistine Chapel, where the ceiling frescos bear the work of Michelangelo.
Renaissance-style St. Peter's Basilica is one of the largest Christian churches in the world and the most important in Christendom. While visiting the Vatican, it's well worth climbing the dome of the church for stunning views over the rooftops of Rome.
These sites are some of the most popular attractions in Rome, so you'll need to book your tickets in advance to avoid disappointment.
---
Heading to Italy?
We've been to Italy multiple times – obviously we love it – including more than a month on our last trip!
If you enjoyed this guide and found it helpful, you definitely won't want to miss our detailed guide to planning an amazing 10 Day Italy itinerary, which covers Rome, Florence, and Venice and is perfect for a first trip.
We also have a guide to spending two weeks in Italy, which combines those three main cities with a few lesser known cities (Bologna and Verona), or a guide to spending one week in Italy, which has six different ways to spend 7 days.
Here are some of our other Italy guides to help you plan an incredible Italian adventure.
Rome:
Florence:
Venice & Milan:
Cinque Terre:
Sicily:
Need to Eat Gluten Free in Italy?
If you're traveling and need to eat gluten free like me, Matt (I have Celiac Disease, which is why I started this site in the first place), then you'll want to check out our gluten free guide to Italy, along with our city guides for Rome, Florence, and Milan to help you find the best gluten free pastries, pizzas, and more.