One Day in Milan: The Best Things to Do in Milan in a Day
Only have one day in Milan, and looking to make the most of it? Lucky for you, we're going deep into the perfect way to spend a day in Milan based on our recent experience of spending almost exactly 24 hours in the northern Italian gem (2022 update: Matt made it back to Milan for the better part of a week, and has some new information to add to the guide below).
Milan was a bit of a surprise for us. We have a certain preconceived notion – several, really – about Italian cities that Milan shattered. Milan is a modern metropolis, which feels very different from other famous Italian cities like Rome, Florence, and Venice, which are full of charming narrow alleyways and historic buildings.
That's not to say that Milan doesn't have those things, though. It does in parts of the city. But the overwhelming feeling we got walking around Milan is that it felt closer to a city like Paris, Berlin, or New York City than it did to Florence or Venice.
And, really, that's one of our favorite parts about Italy. The fact that each region has such a strong sense of identity stemming from thousands of years ago gives each of Italy's big cities a very unique vibe (for lack of a more sophisticated word), and Milan is no different. It's modern, while Rome is ancient. It's huge, while Venice is tiny. It's more locals (or people who live there, at least) than tourists, while Florence is Disneyland.
Oh yeah, that reminds me – you will probably feel either like a slob, or like you're very, very old at times in Milan. The presence of the fashion industry means that there's a ton of stylish folks walking around, and sometimes the "stylish" will have you saying "is THAT how the kids are dressing these days?"
Heading to Milan and need to eat gluten free? We've got a gluten free guide to Milan with the best restaurants, bakeries, and gelato to stuff your face with if you need to eat gluten free.
Planning a trip to Italy? You won't want to miss our guide to planning an incredible Italy itinerary, with ideas for 7, 10, and 14 days in Italy, how to organize your trip, and the best things to do and see along the way.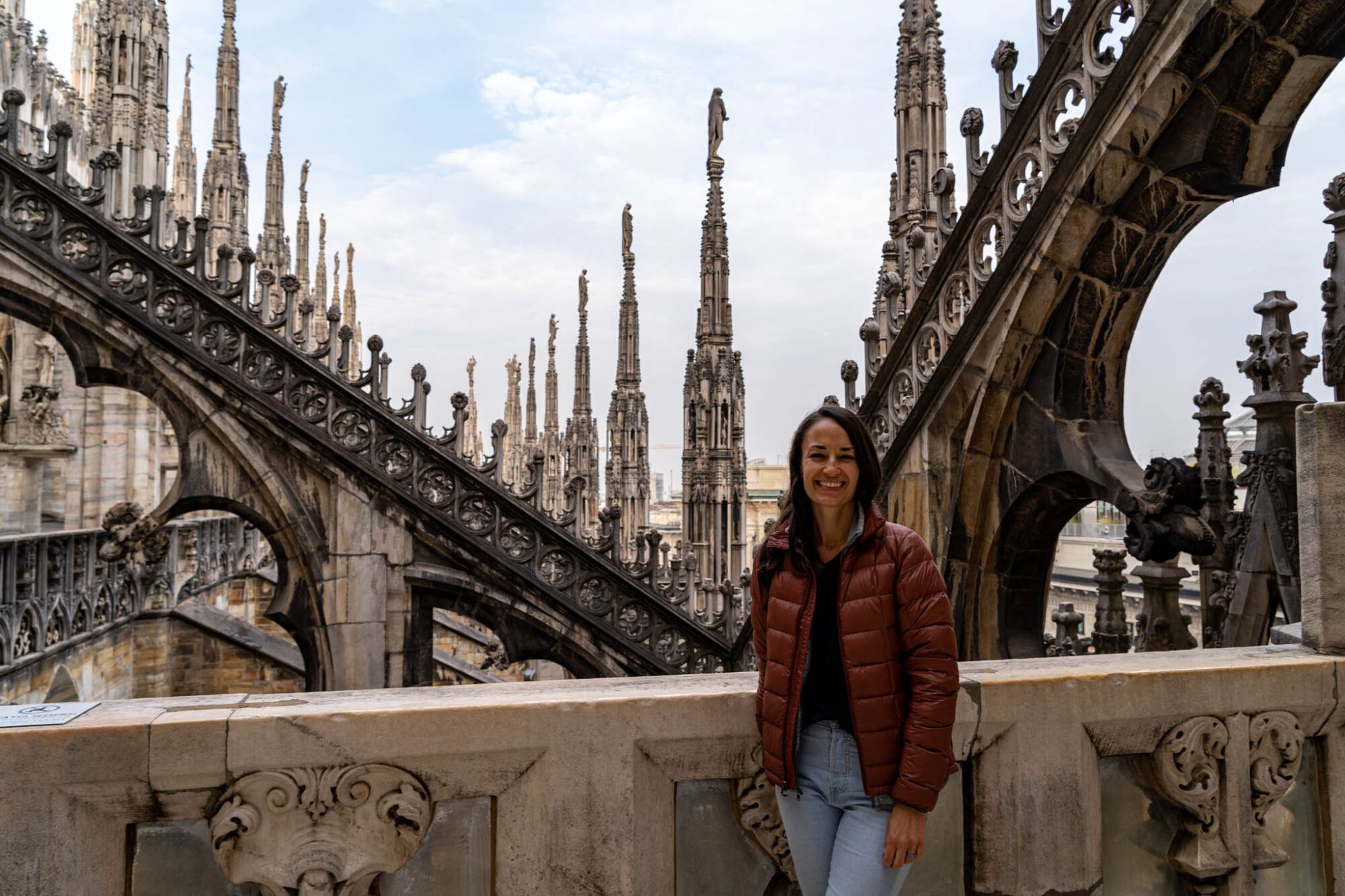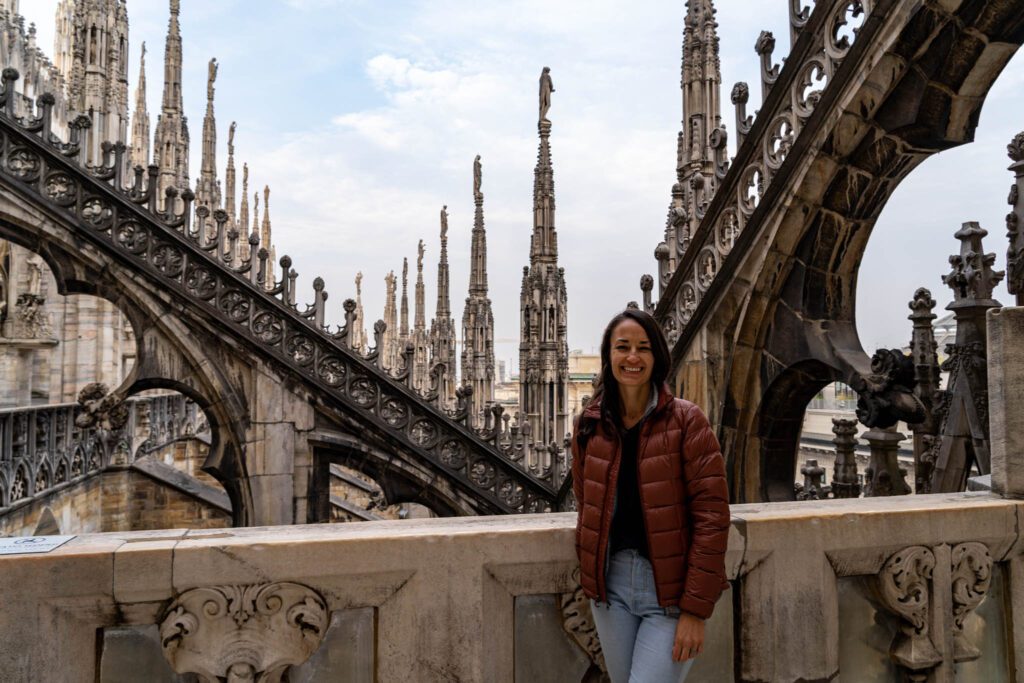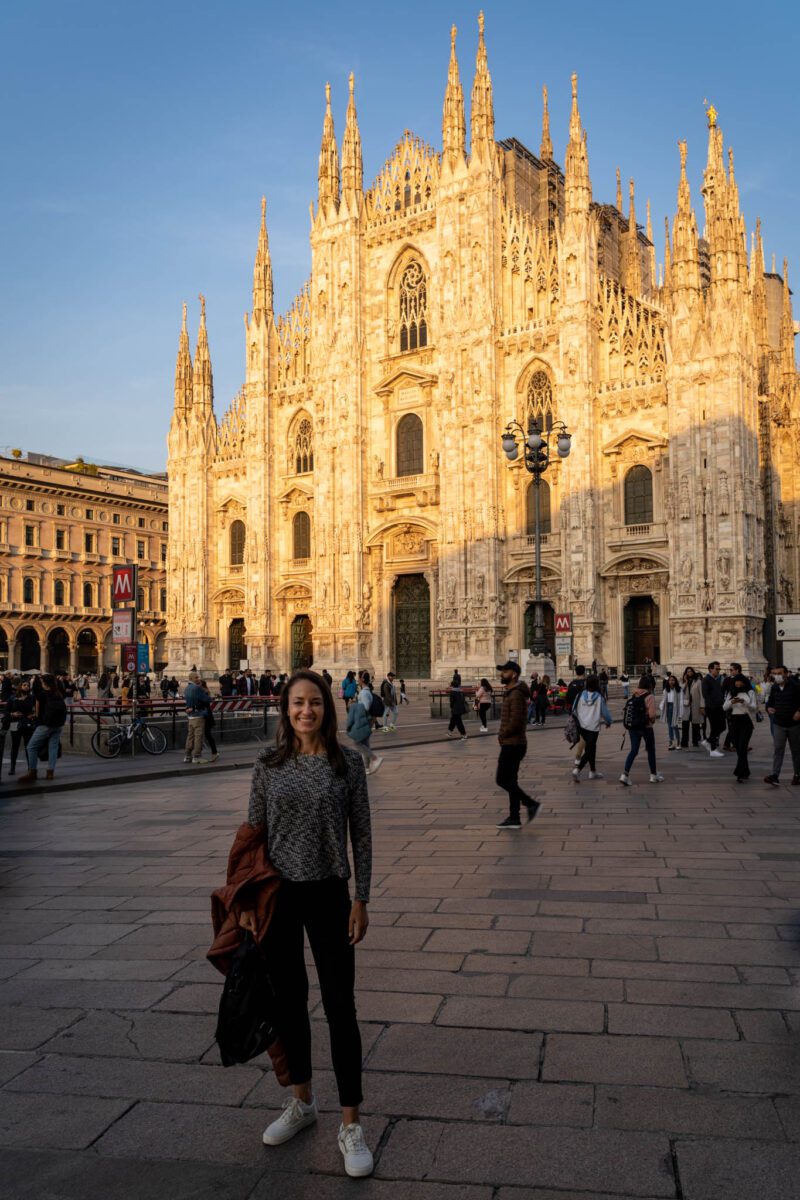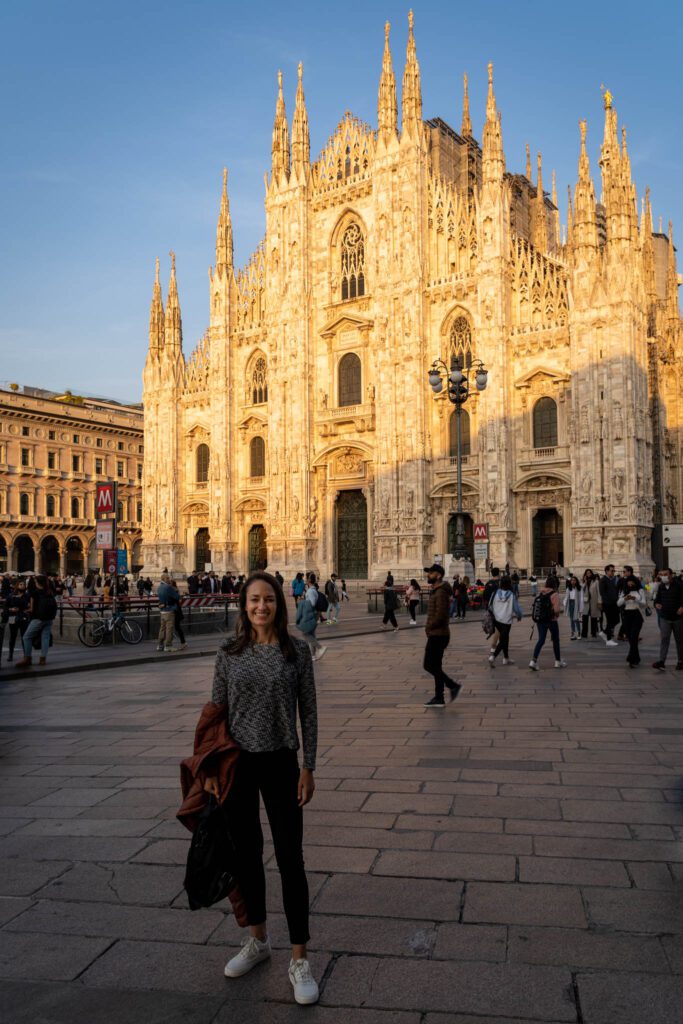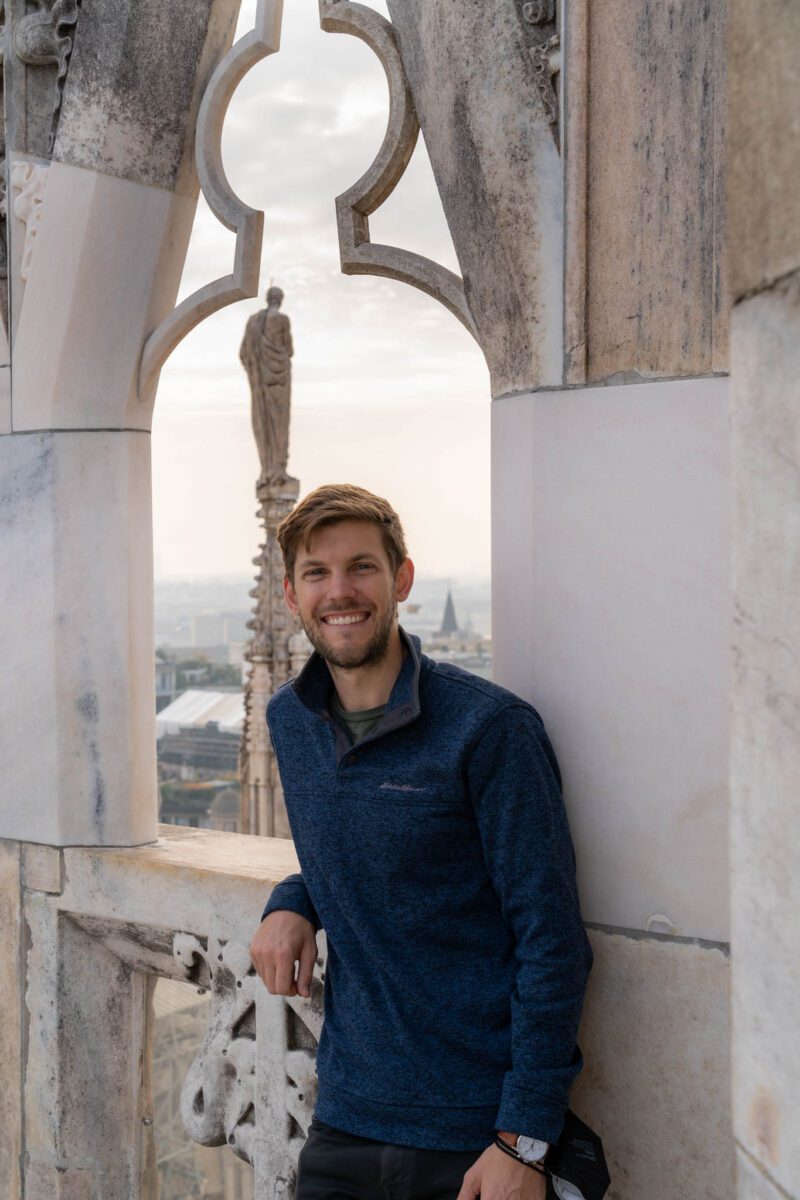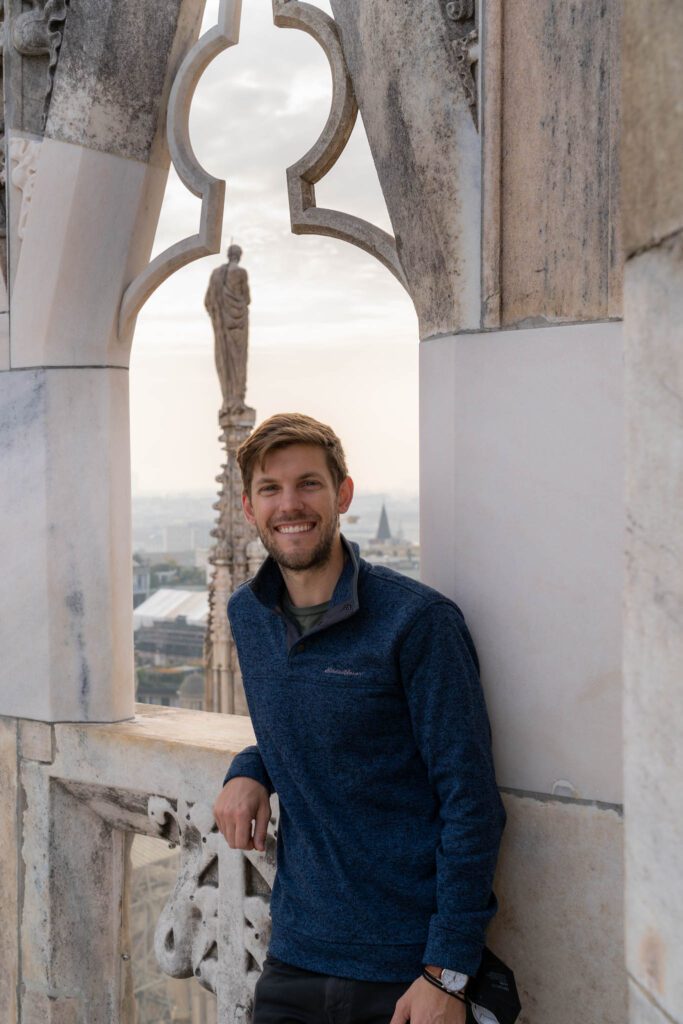 Disclaimer: Some of the links in this post, like hotel links, are affiliate links, meaning at no additional cost to you, we make a little bit of money if you click through and book. That being said, we would never recommend something to you that we don't stand behind 100%.
Can You See Milan in One Day?
Obviously, there is plenty more to do and see in Milan if you have more than one day, especially when you include day trips to places like Lake Como on the list.
However, as we've outlined above, we do believe you can see the highlights in Milan in just a day. It's going to be packed, but it's doable.
Would more time be better so that you have a more leisurely pace? Yes, of course. We usually recommend doing no more than one major attraction in a day (like, for example, the Duomo and the Last Supper).
But, like we did, if you have only one day, we're here to help you make the most of it. Which means fitting both of those places in a single day while still leaving room to explore a little bit.
What to Focus on With Only a Day?
Now, if you're short on time, here are the four things to do in Milan that we think you shouldn't miss.
The Duomo Terraces: The Duomo is world famous for its elaborate construction and imposing façade, but the real highlight for us was getting up onto the terraces, where you can appreciate just how incredibly elaborate the construction really is. Plus, the views over Milan aren't bad either. You can book your tickets in advance here (that's what we did – we booked this exact link – and it was a breeze).
The Last Supper: So we didn't actually get to see the Last Supper on our first foray into Milan due to poor planning. But when Matt's mom said that seeing the Last Supper in person was one of her must-have experiences on their trip to Italy to celebrate her 60th birthday, he made it happen (with slightly better planning)!
Castello Sforzesco and Parco Sempione: A pleasant surprise, Milan's biggest green space (Central Park vibes) and a medieval castle are well worth an hour or two of your time.
Naviglio Grande: Did you know Milan has canals? Neither did we until we started researching for our trip to Milan. It's a great place to grab aperitivo before dinner, and it's particularly lively around sunset and into the night.
Obviously, if you have more than a day, there's plenty more to do and see in the city itself to fill two or three days, and a bunch of great day trips (like Lake Como – here are some of the best things to do in Lake Como!) that can fill even more time.
We have a whole section on what to do with more time below the main itinerary.
How to Get Around Milan
Unlike many Italian cities, which are very walkable, Milan's center feels a bit bigger and more spread out. It's also less charming and more modern, which means it doesn't feel nearly as romantic as, say, Florence, Rome, or Venice, which we're more than happy walking around for hours on end without getting bored.
The bottom line is that with such a short time in Milan, you're going to want to use public transportation to get from place to place to cut down on travel time.
Using Public Transportation in Milan
First of all, while Milan is plenty walkable given an unlimited amount of time, we highly, highly recommend using the metro, tram, and bus system to get around if you only have a day in Milan.
They're clean, efficient, and connect most of the city center (sometimes with a transfer, but only sometimes).
For context, we used public transportation 12 different times in 24 hours. We still walked plenty – 27,000 steps, to be nearly exact – but we would've walked double or triple that had we been doing everything on foot.
Your next question is probably something along the lines of "12 times? That must have cost a fortune!"
If we had paid the 2 Euros per ticket per person for each journey (only good for a single metro ride, too, so limited transfer potential), you'd be right. It would have cost us nearly 50 Euros between the two of us!
But we were lucky enough to discover the 24 Hour Pass, which covers all forms of public transportation in the center of Milan (which is all you'll really need, save the trip to the airport if you need it, which will have to be bought separately – more on that in a second).
That pass, which was essential for our exploration of Milan and we highly recommend investing in, is only 7 Euros a person. A steal, given our extensive use of the public transit system.
Here's more on Milan's public transportation network, which you should check out for the most up-to-date information.
Getting from the Train Station to the City Center
Milan Centrale is the main train station in Milan, and is the one you should shoot for if Milan is part of a broader Italy itinerary by train. It's at the northern edge of the city center, and has plenty of bus, tram, and metro connections to the rest of the city.
All you'll need to do is read the section on Milan's public transportation above, plug in your accommodations to Google Maps, and off you go!
The same goes for Milan's other train stations, though the connections are fewer and they take longer, which is why we'd shoot for Milan Centrale (which, by the way, is quite possibly the most beautiful train station we've ever set foot in).
Only Have a Day in Milan? Here's How to See the Best of Milan in a Day
Here is exactly how we'd spend a day in Milan if we could do it over again. The guide you'll find below covers the four best things to do in Milan (at least in our opinion) if you're short on time, and combines them into a completely manageable itinerary that doesn't have you rushing from place to place without any real time to enjoy it.
We also recognize that oftentimes your day in Milan actually falls over two days – the afternoon and evening of the first, and the morning of the second – due to train and flight schedules.
That's how our 24 hours in Milan broke down, so we have an easy solution for you if you fall into that bucket: simply follow the afternoon/evening portion of the itinerary below on your first day after you check into your hotel, then pick up the morning portion in the morning before you leave Milan!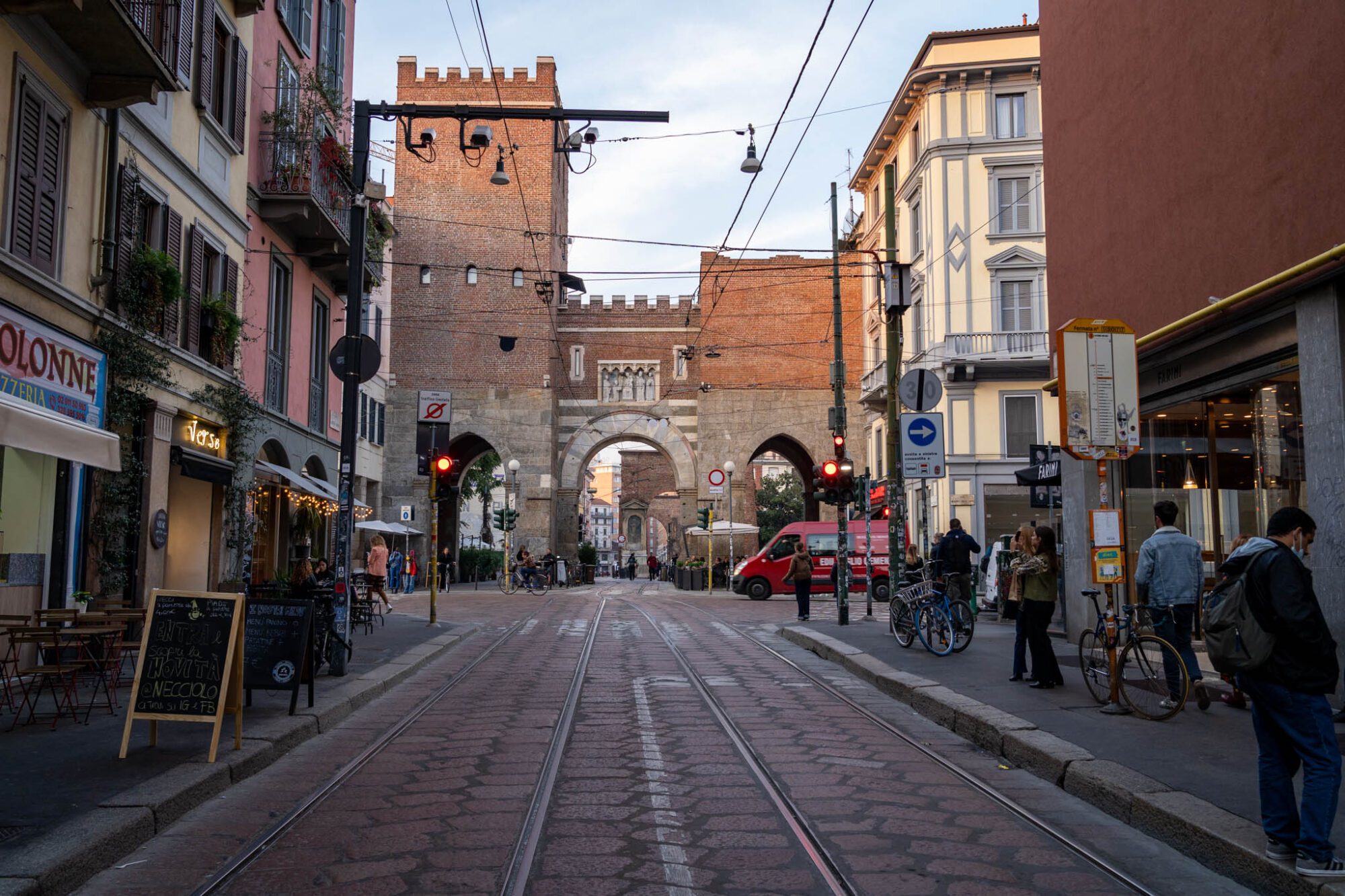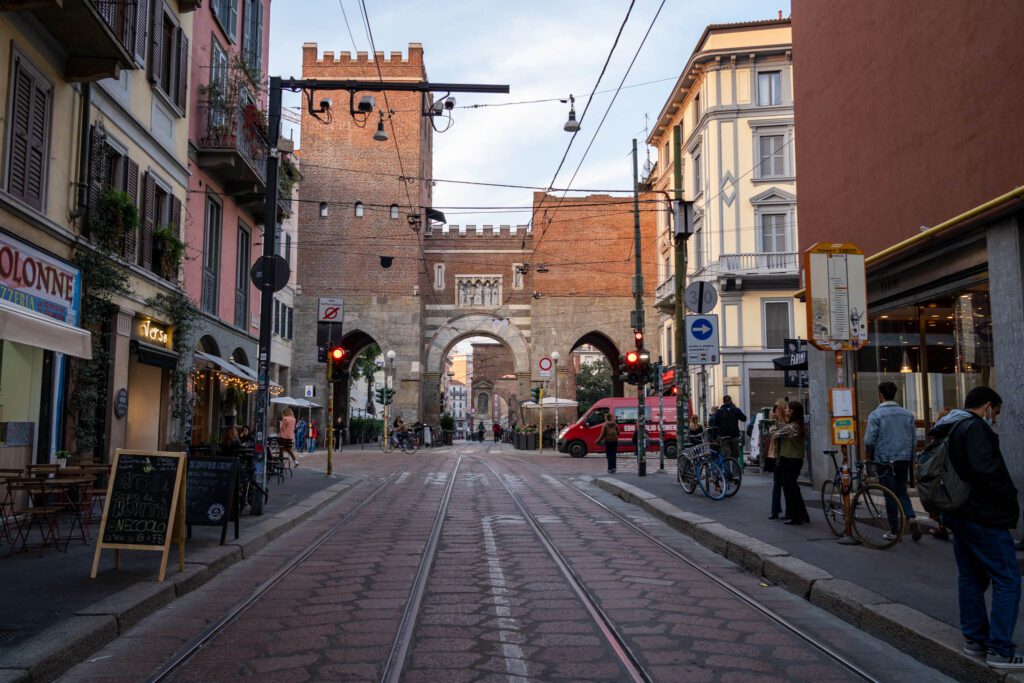 Guided Tours in Milan: Going Deeper with a Local Guide
Another way to see the best of Milan is to join a guided tour, which is usually our preferred way of seeing the city because it allows you to connect with a local and get a fresh perspective on the city that no guidebook or travel blog could possibly give you.
In addition to that professional guide and local perspective, most guided tours also include skip-the-line entry to the main attractions in Milan – in this case, the Duomo and the church where you'll find the Last Supper.
While more expensive than simply seeing everything on your own, we've learned over the years that paying for a guided tour is almost always worth it for the extra richness, color, and context it brings to your experience of exploring a new city.
Here are a couple of tours that we'd recommend in Milan (though, for the sake of transparency, we want to make it super clear that we haven't necessarily done these exact tours ourselves).
Best of Milan – The Last Supper Tickets, Duomo & City Highlights Tour: Look, we love Take Walks (we've done multiple tours with them in Rome), and this is a great way to see both the Duomo and the Last Supper in one tour (with skip-the-line tickets for both). The thing to know is that this tour usually meets at 1:00 pm, which means it doesn't work as a morning activity.
Da Vinci's Last Supper Skip-the-Line Guided Tour: This tour is just for the Last Supper, and includes skip-the-line entry and a one hour tour that includes the maximum 15 minutes with the painting itself (even if you do this yourself, you still only get 15 minutes). This is one of the better alternatives to book if, like us, you neglected to book your tickets for the painting yourself, and need to go with a guided tour instead (more on that below).
City Center & Last Supper Walking Tour: This tour includes the highlights of Milan, including the Castello Sforzesco and skip-the-line entry to the Last Supper, but it does NOT include the interior or terraces of the Duomo (so you'd want to book that in addition, which you can do here).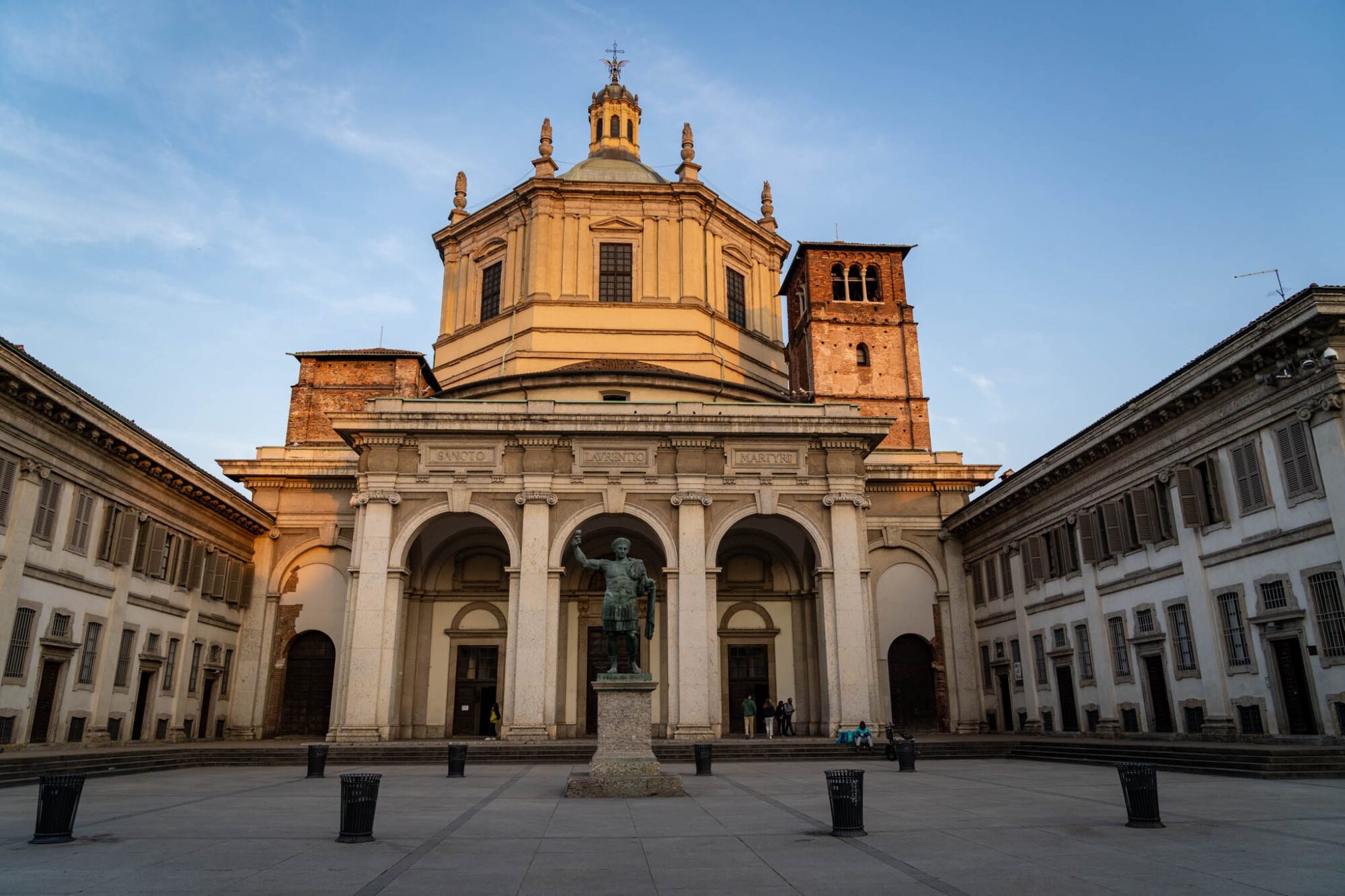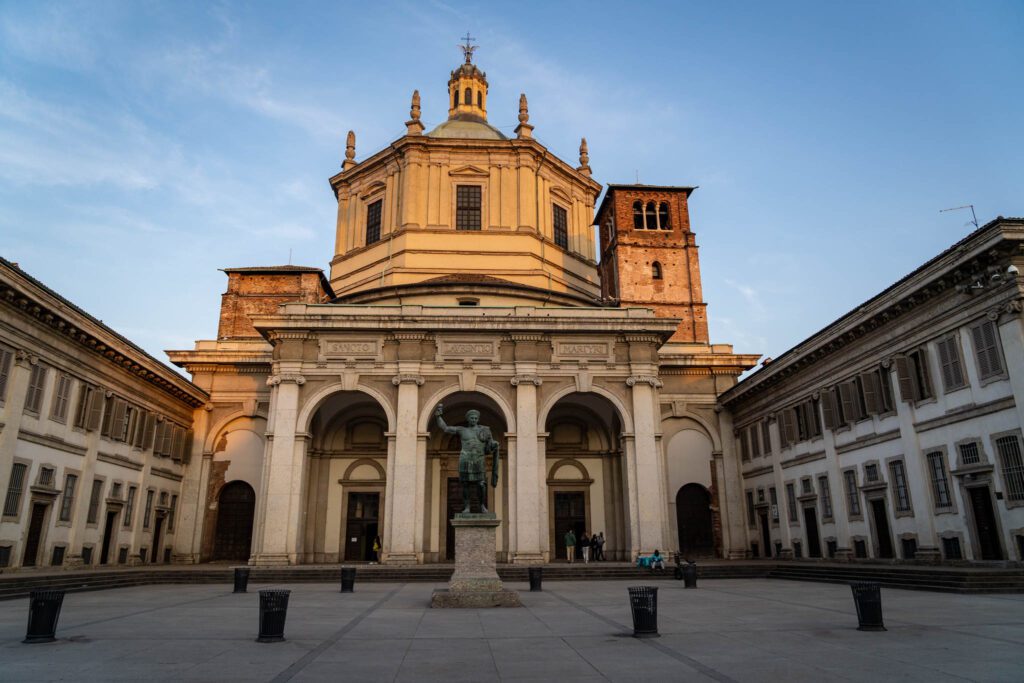 Putting it All Together: A Perfect Way to Spend One Day in Milan, Italy
Now that you have our perspective on the four things not to miss in Milan, let's get to putting it together in a manageable and enjoyable way.
You're not going to see everything there is to see in Milan in a single day. So think of this as our take on, if we had to experience Milan for the first time all over again knowing what we know now, what to do in Milan in a single day if it's your first time in the city.
Remember, if, like us, your day in Milan is split so that you have an afternoon on the first day and a morning on the second, then follow the afternoon activities (Last Supper and the canals) on the first day, and then tackle the Duomo and Castelo the next morning (you'll need to leave your bags at your hotel, if you can, or be prepared to head back for check out).
The Mighty Milan Duomo (and Piazza del Duomo)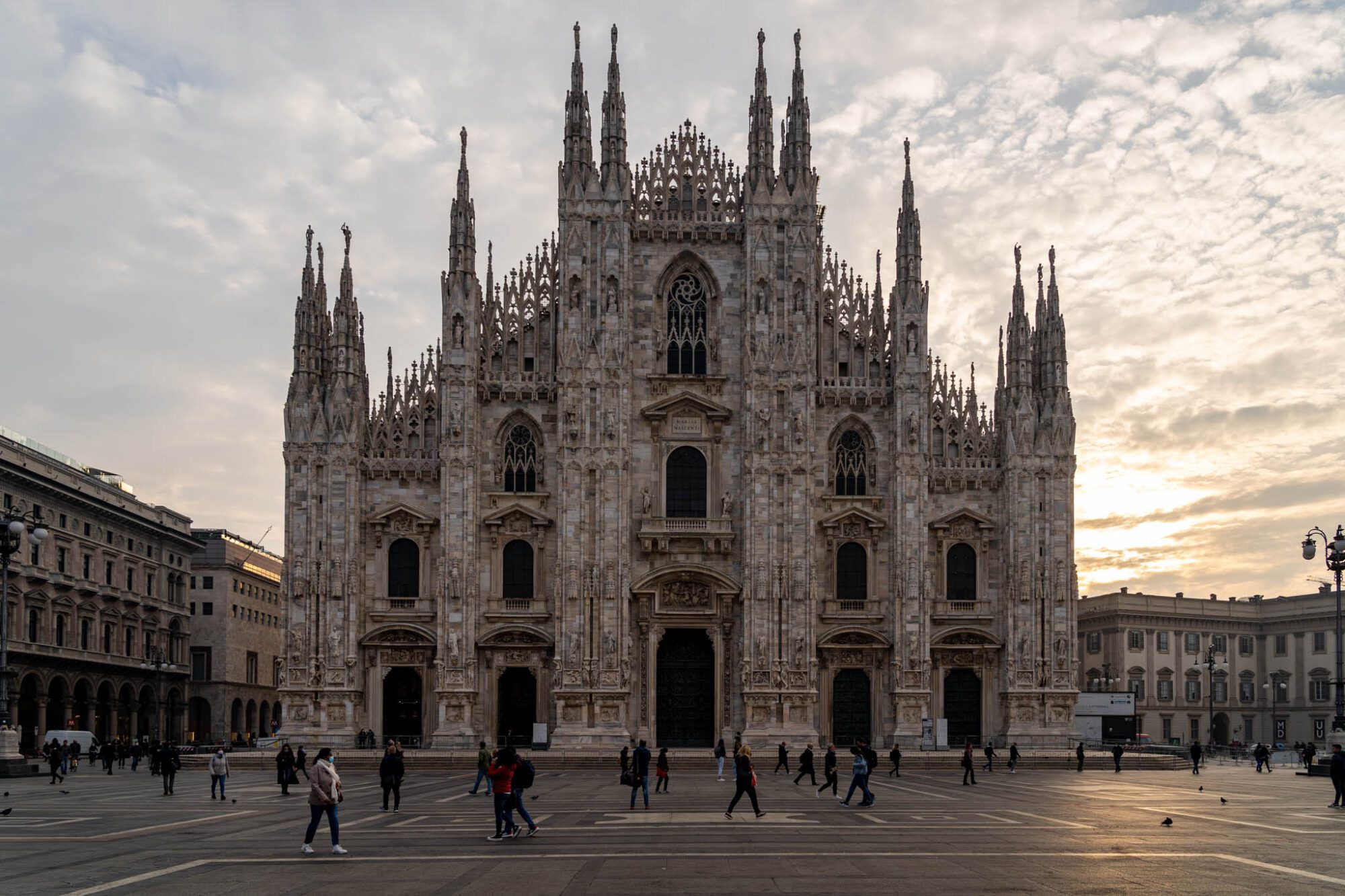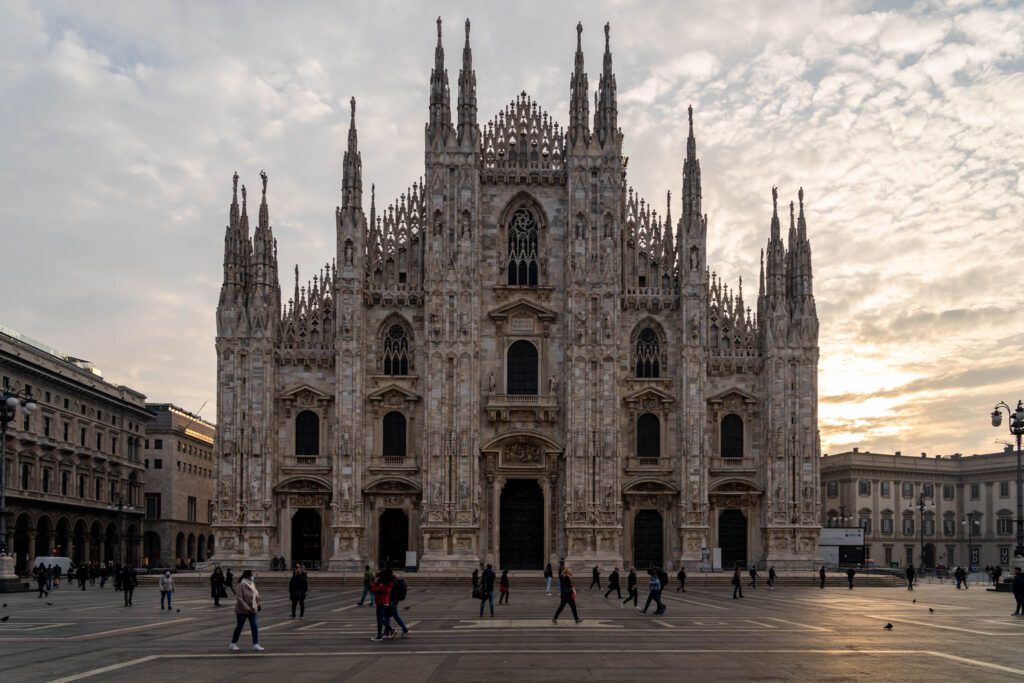 The whole area around Piazza del Duomo is best explored in the morning, before the hordes of tourists show up. The savvy tourists do the first entry to the terraces to beat the crowds and get the best light for pictures, which is what we did, and exactly what we suggest you do.
The Milan Cathedral is the biggest church in Italy (and the third biggest in the world!).
That fact confused us at first, until we realized that the Vatican is technically a sovereign state, which means that St. Peter's Basilica in Rome isn't really in Italy. The construction of Milan's Duomo began in the 14th Century, and was finished in *checks notes* … the 20th Century? That's six centuries!
It was built on the site of a (much) smaller cathedral that burnt down in the 11th Century, and construction started in the 1300's. The process was interrupted multiple times, mostly by different groups ascending to power or occupying the city and hitting "pause" on any construction efforts.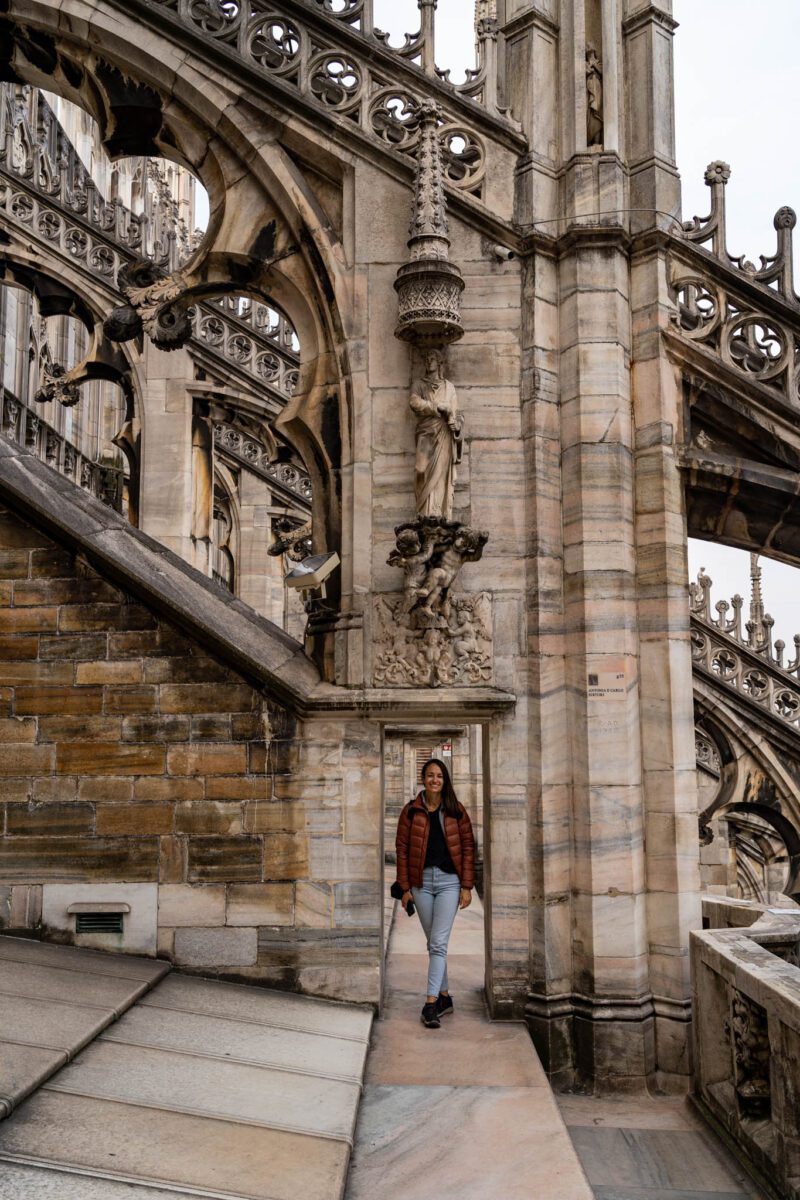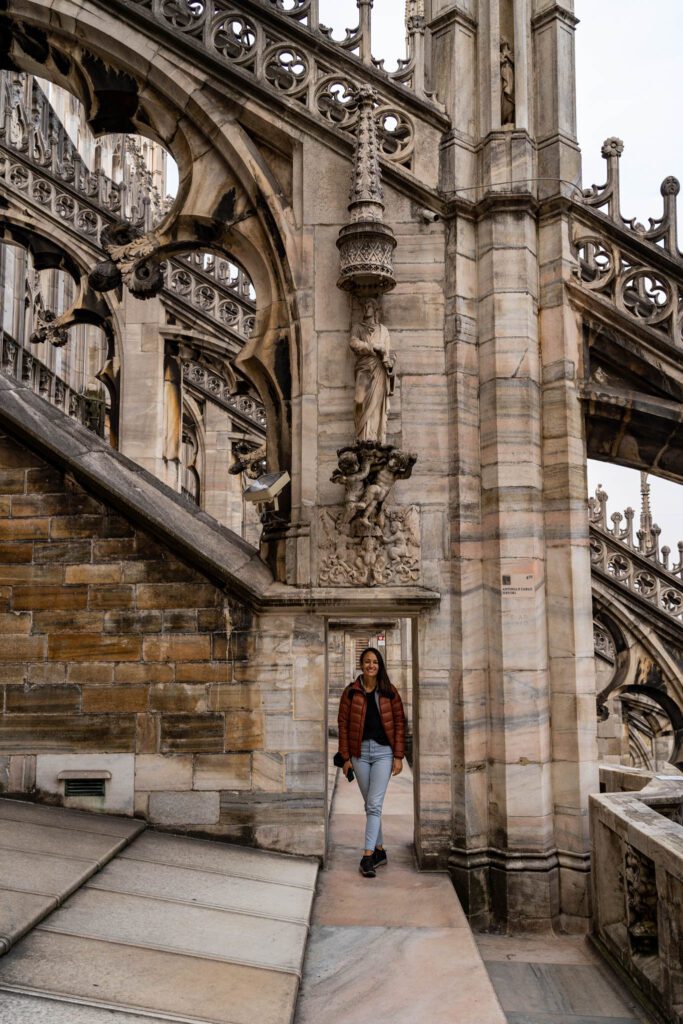 Funny enough, Napoleon (yes, that Napoleon) actually played a pretty big role in the efforts to finish it in the 19th Century. He was crowned king of Italy and stayed on the throne for about a decade. His coronation actually took place at the Duomo. I enjoyed reading this, if you're looking for a good summary of Napoleon's foray into Italy.
The fact that it took so long to complete – and had so many different architects involved – means that the architectural style of the cathedral is all over the place. As you can imagine, the en vogue style changed many, many times over the course of those six centuries, so it's not all that surprising that it's hard to place it in one specific era.
The Different Aspects of the Duomo di Milano
There are four different parts of the Duomo that you can visit, and we definitely don't think all of them are a "must do" while you're visiting Milan.
The Terraces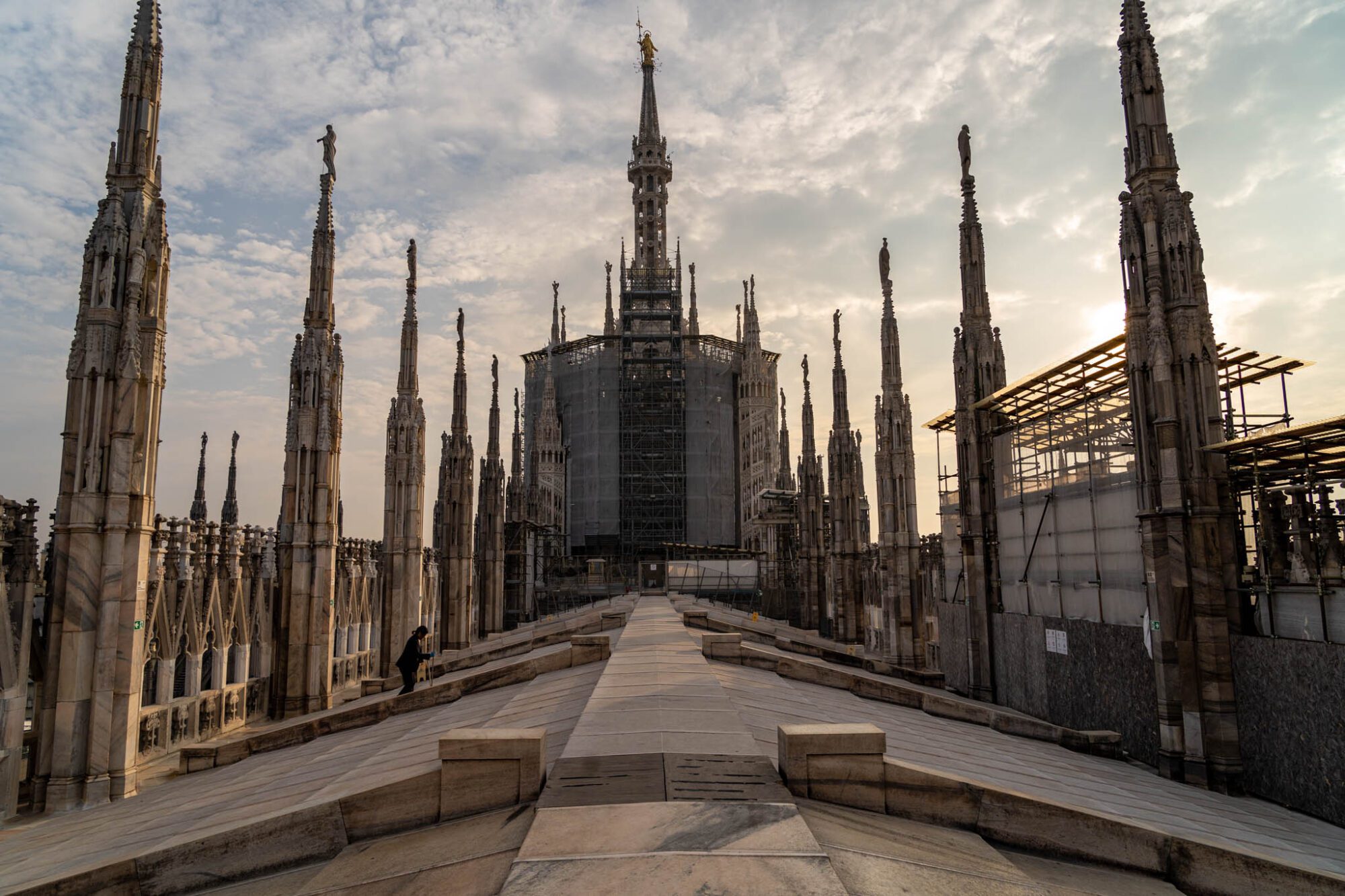 First, and the part you really shouldn't miss, are the terraces, which you can access either by climbing a long, narrow flight of stairs (it's not too bad – this is the way we did it) or by paying a little extra to take the elevator.
The terraces are great because they allow you to get up close and personal with all of the architectural details of the cathedral that you can barely see from Piazza del Duomo below.
For example, did you know there are unique figures standing on top of each of the cathedral's spires? Some are clothed, others are enjoying the cool breeze on their undercarriages!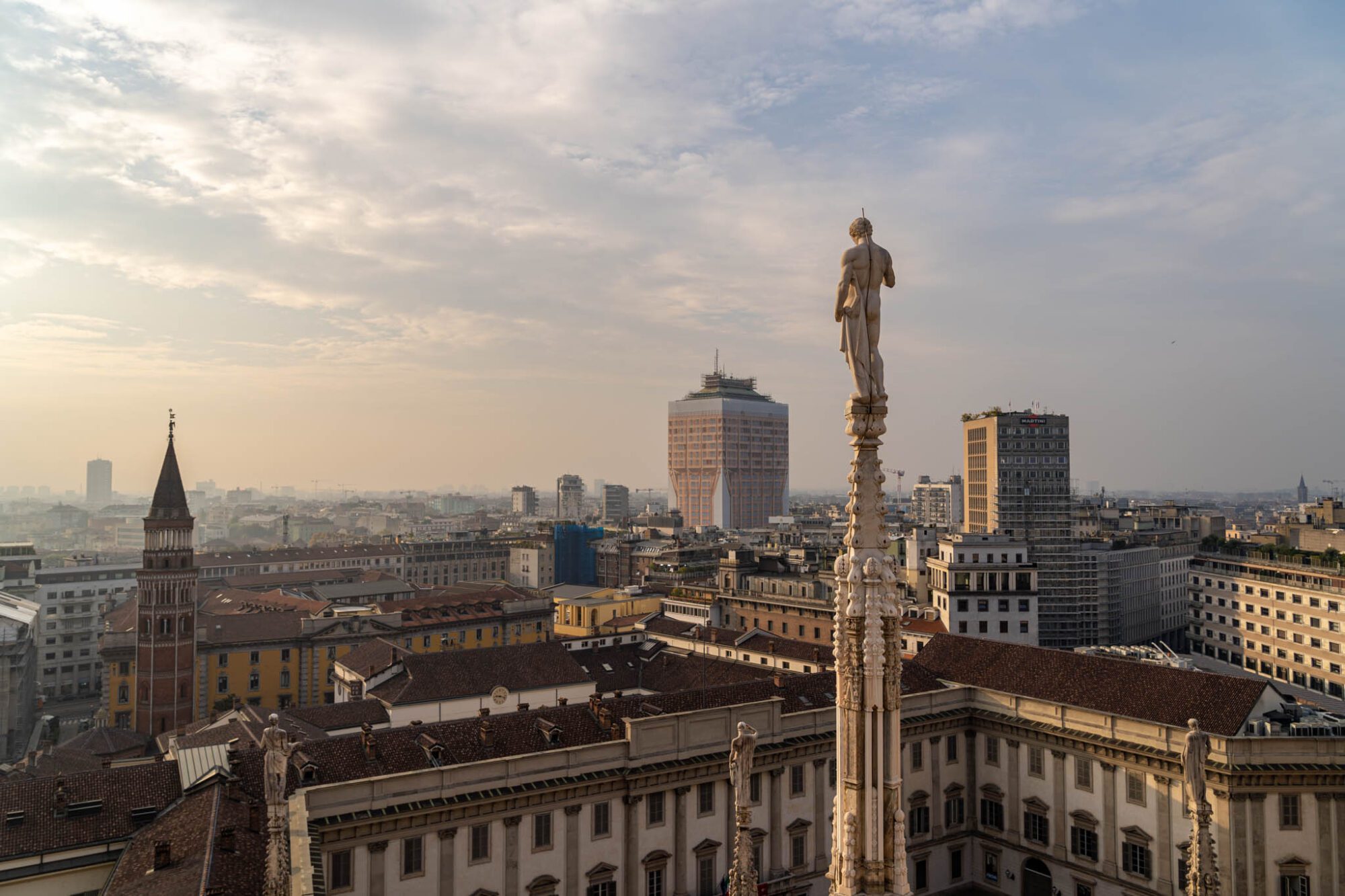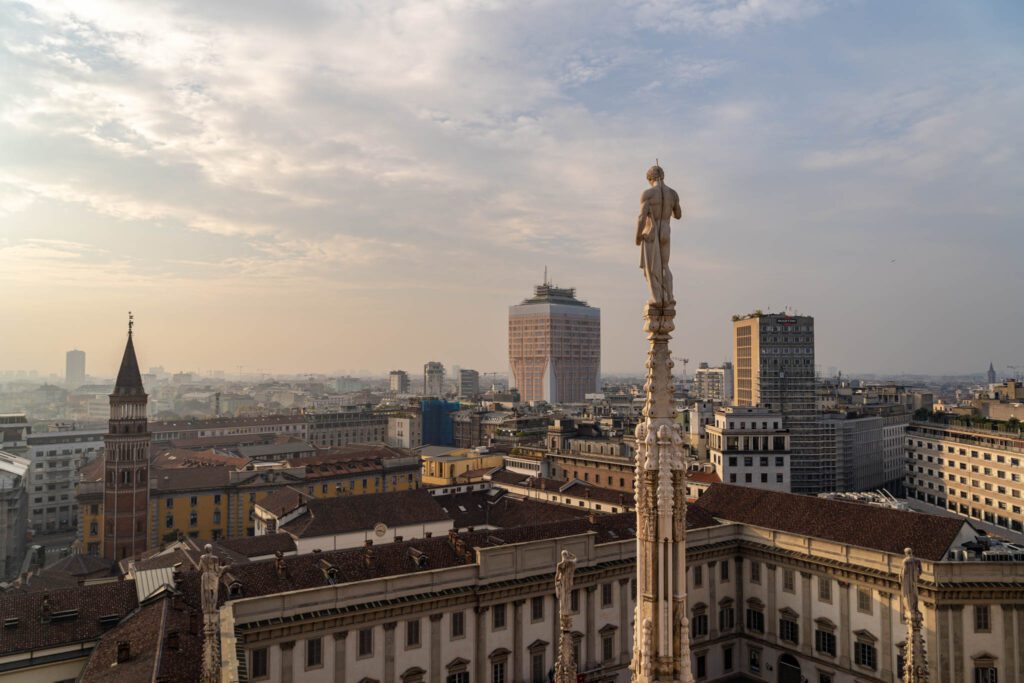 Then there's all the creatures serving as gargoyles on the exterior of the cathedral. Some are weird hybrid animals that, uh, must have taken some imagination (or some wild-foraged mushrooms, which is honestly probably more likely). Like this one.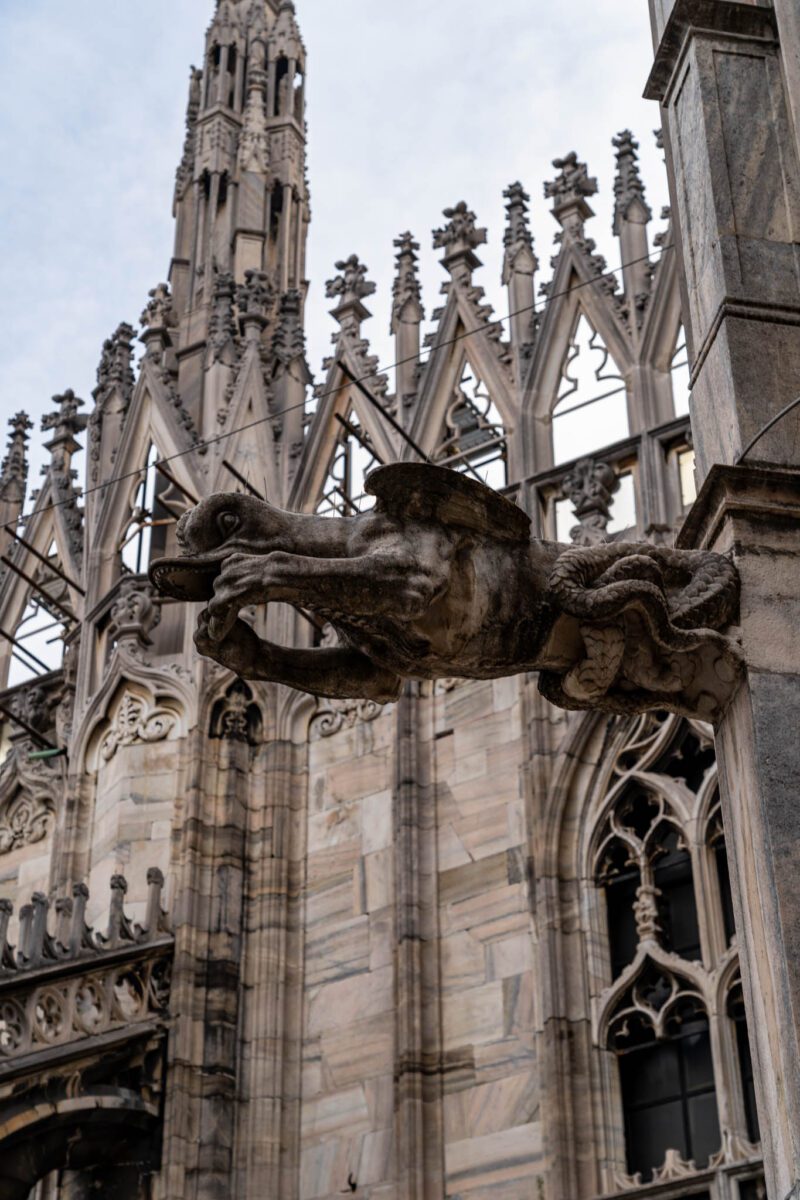 Anyway, the point is that the terraces should be your main priority. We think it's the most unique aspect of the cathedral and, while the interior is also beautiful, with a nice collection of paintings and the usual ornate decor, we think that it's not THAT different from other churches in Italy we've seen.
Maybe we should make it clear at this point that we're not huge "see all the churches!" people. At all. One or two per city and we're good. Which is why you won't find every church in Milan in this itinerary. We think your time is better spent elsewhere.
Plus, visiting these churches always makes us wonder how many people could have been fed for a lifetime with the amount of wealth stored in this one massive building (the answer is a lot of people).
The Interior of the Church
Like we said, the interior of the Milan Cathedral is really not that different from a lot of the other main churches in big Italian cities. It's large, it's impressive, it's beautiful, but we could take it or leave it.
The stained glass windows are cool, and the vastness of the cathedral is somewhat unique, but if you're feeling short on time, we'd skip it. Or, spend ten minutes walking around, admiring the grandeur, and then move on.
The Archaeological Site and Museum
We'd say to check out the archaeological site – where you can see the footprint of the original cathedral – if you decide to spend some time on the interior of the cathedral.
We'd also say skip the museum altogether, which is located in a separate building and is only worth your time if you have a few days in Milan (and we're not sure it is, even then).
Tips for Visiting the Duomo di Milano
There are a few things you'll need to know before you visit.
First, and arguably most important, is that you will be denied entry if your shoulders and knees are not covered. That means, for your day in Milan, you'll need to plan to be wearing something that covers both (for example, pants and a t-shirt, or a sundress and a cardigan to cover your shoulders).
The second thing to know is that the crowds in the summertime are quite something, and every last tourist wants to go to the Duomo. Lucky for you, there's a fast track lane where you can skip the ticket line and head straight to the security line, which saves you a lot of time in the end. We bought these tickets for our trip to the terraces (buy this one instead if you want to do the interior of the cathedral too).
Last, but certainly not least, is the fact that the climb to the terraces without the elevator requires you to climb up a long, winding staircase that is narrow and somewhat steep. Alysha gets very claustrophobic, and was totally fine, but if that climb doesn't sound like a good time to you, then you should take the elevator, which costs a bit extra.
It bears repeating that you should absolutely plan on being the first people up to the terraces, if you can. We did it, and it was great. Get there 20-30 minutes early to be at the front of the line (as of the time of writing, the stairs open at 9:00 am, which means you'd want to be there around 8:30 or 8:40 am). Yes, it's early. Yes, it's worth it.
Galleria Vittorio Emanuele
Before you leave the Piazza del Duomo, poke your head into the Galleria Vittorio Emanuele, which is a high end mall that is about as ornate as any mall you'll ever see in your life. Which kind of makes sense when you realize that stores like Prada have locations here (they actually have two right across from each other, which is wild).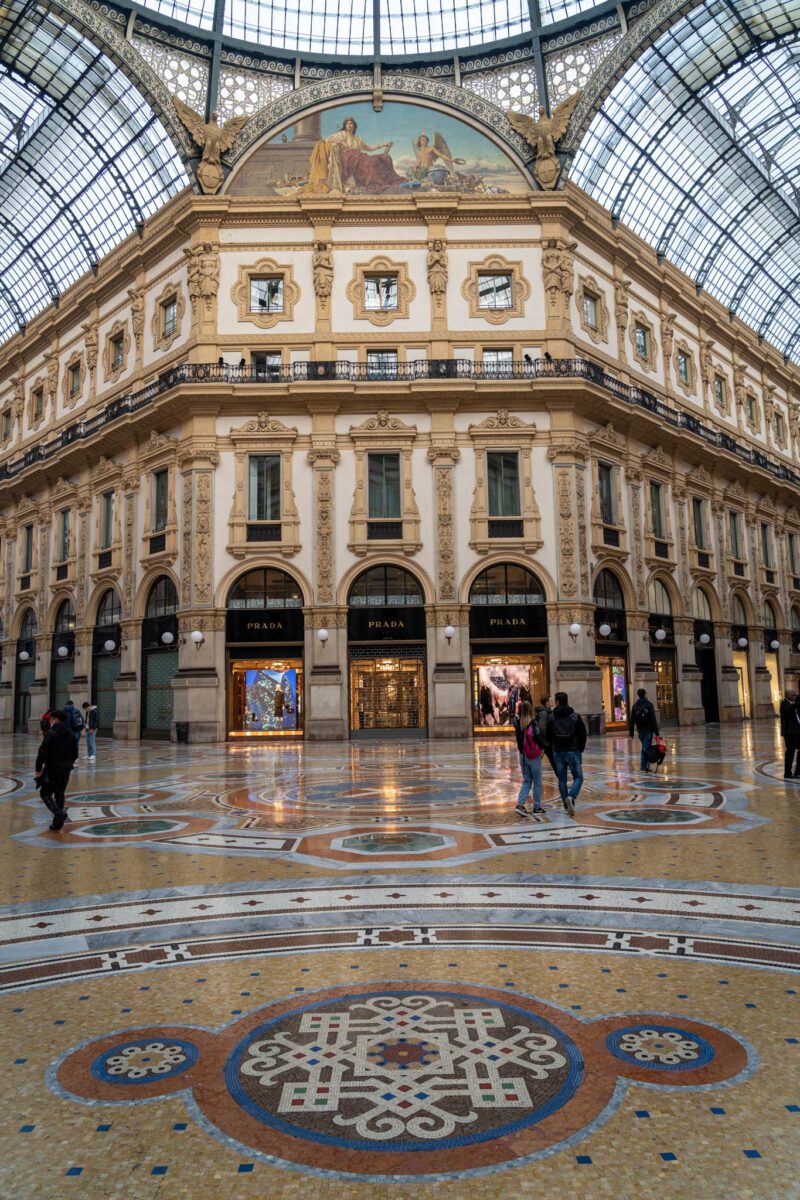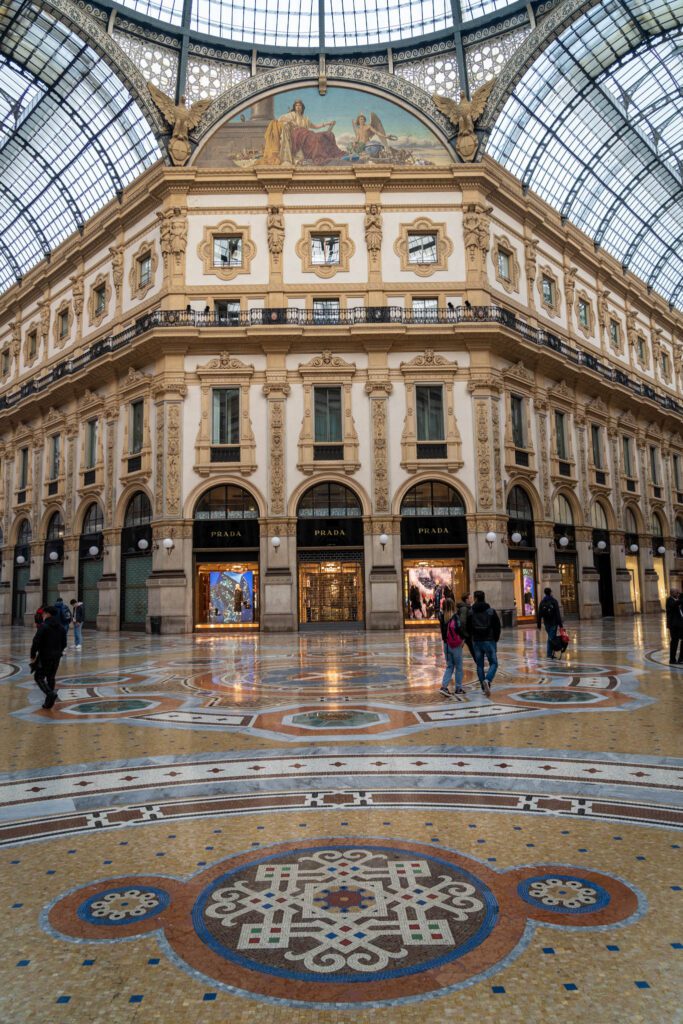 It's a good thing to do before your climb to the terraces, because it's packed from about 9:00 am to 7:00 pm, and it's far less enjoyable and impressive with swarms of people around.
It should take you all of about ten minutes, if that. There's really no need to linger.
Castello Sforzesco and Parco Sempione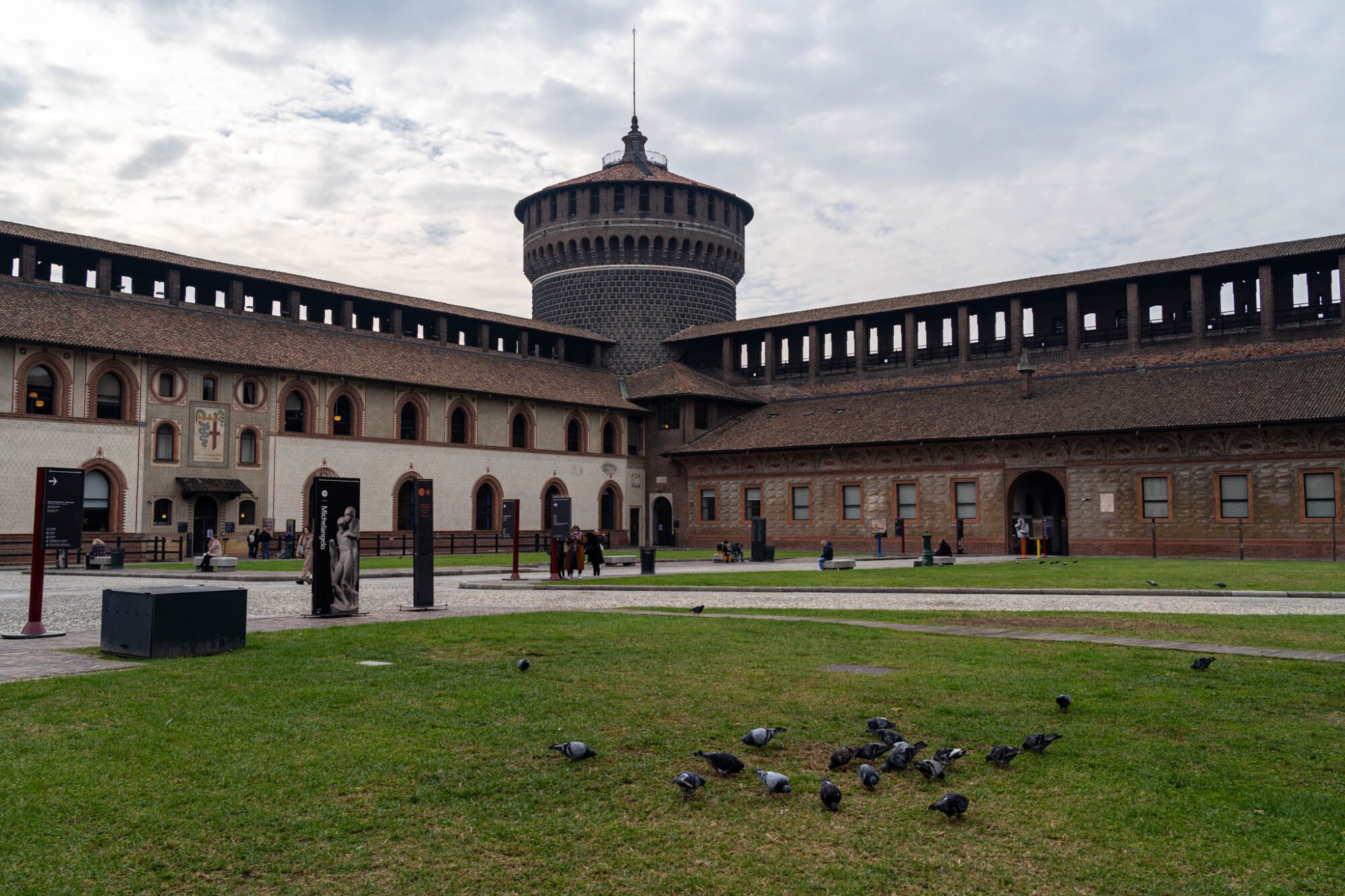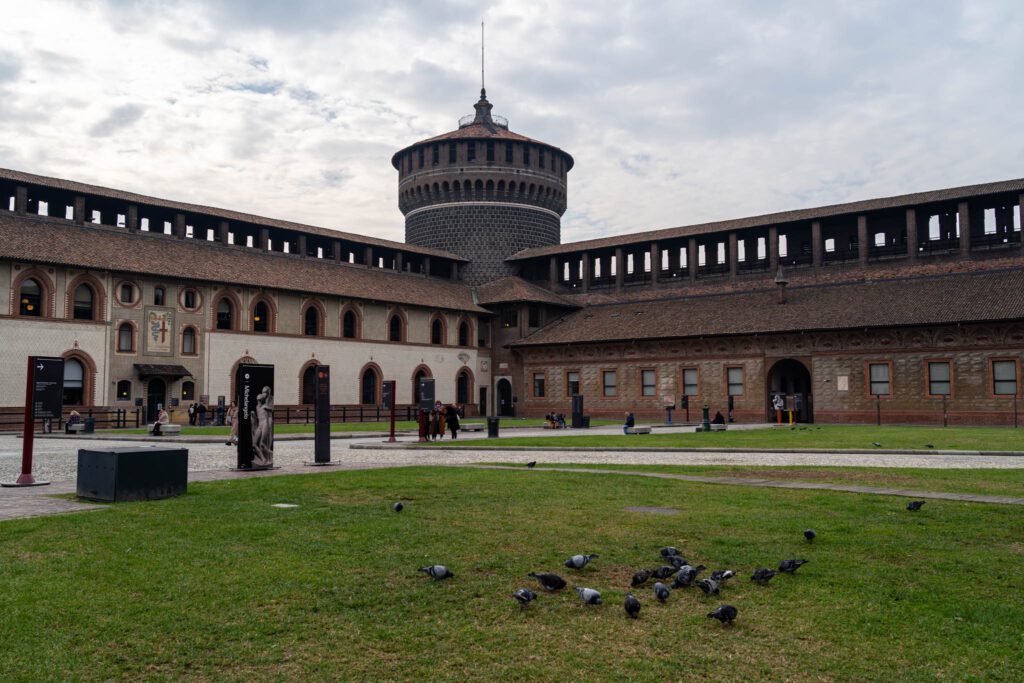 Your next stop is a nod to the medieval history of Milan – the Castello Sforzesco – which was built in the 14th Century by the Duke of Milan before being transformed into a private residence by the Visconti Lords. They invested a ton of money in decorating it with the highest quality art imaginable – including frescoes by Leonardo da Vinci, of course.
From there, it was occupied by various external forces over the years starting with the Spanish, followed by the Austrians, and finally the French under Napoleon, who had big plans to demolish the castle, but was defeated before his plans could come to fruition. It was transferred to the city of Milan, and has undergone reconstruction over the years, most recently after Allied bombs destroyed much of the castle during World War 2.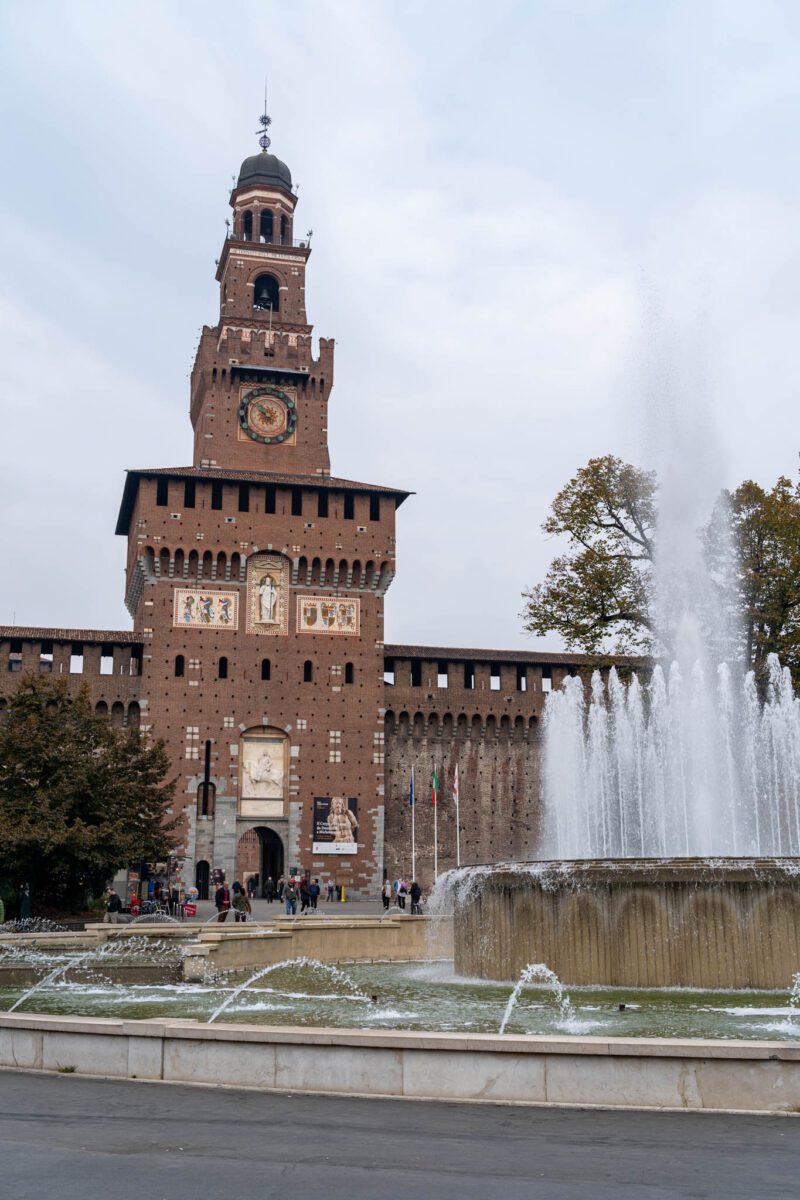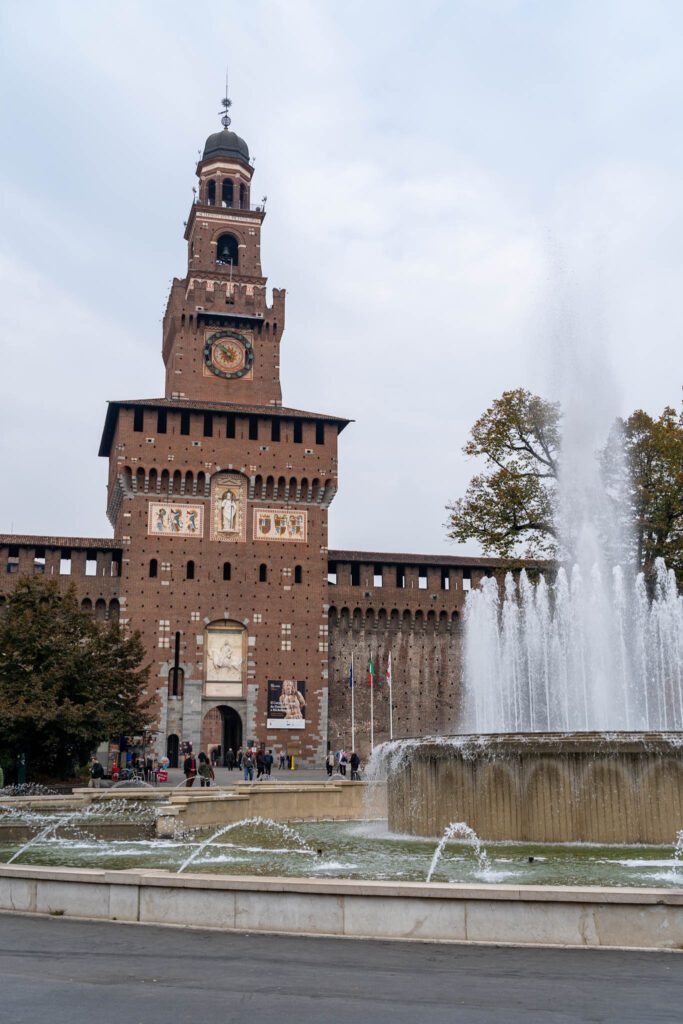 If you only have a day in Milan, we'd opt for walking through the castle and reading the surprisingly in-depth signage over entering the museum. If you do decide to enter the museums, focus on walking the ramparts for some nice views of the city, and the Museum of Ancient Art, where you'll find the Rondanini Pietà, Michelangelo's last work.
The museums – all are included under a single ticket – cost 10 Euros per person (5 Euros on the first Sunday of the month, and 8 Euros for students and seniors). We think that's a pretty high price if you have limited time and are only going to do one of the museums, and it's a much better deal if you have more time in Milan and can spend some time visiting a couple of the other museums included in the price.
Then, spend some time walking through Parco Sempione, the largest green space i
n central Milan. It has major Central Park vibes (of New York City fame), and even has a victory arch – the Porta Sempione – at its northern perimeter that is eerily similar to the Arc de Triomphe in Paris. Which isn't really surprising once you learn that it was commissioned by, you guessed it, Napoleon (though it was completed after Napoleon left Milan).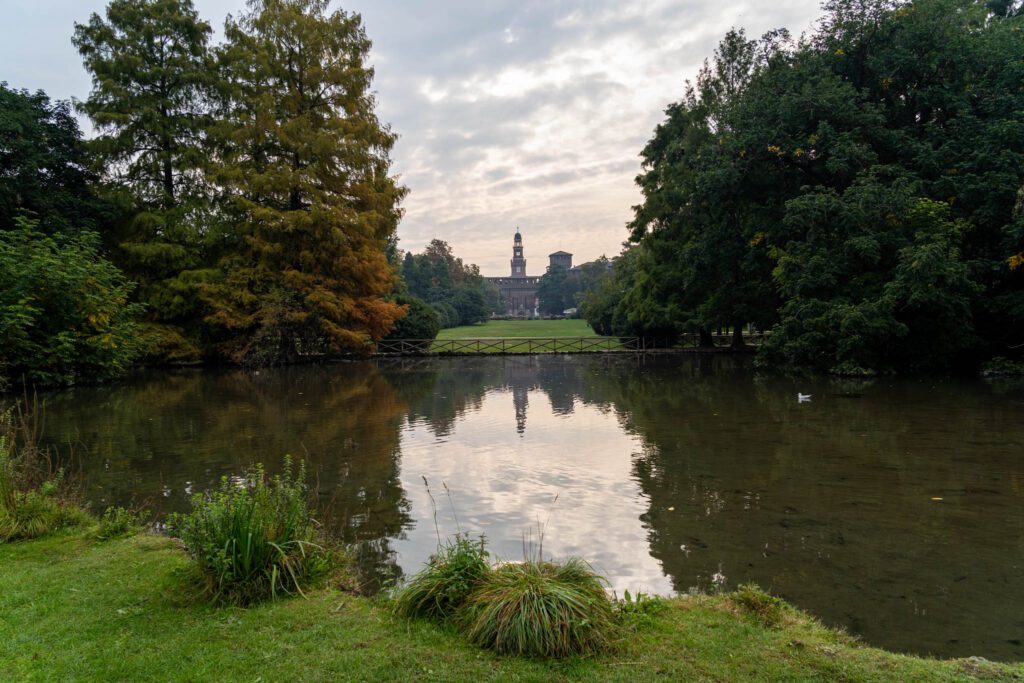 The park is great to stroll through – don't miss the pond in the middle with the Ponte delle Sirenette (bridge of the mermaids, roughly). We were there in the fall and the cool, crisp fall air and changing colors on the leaves of the trees was a lovely break from the hustle and bustle of Milan.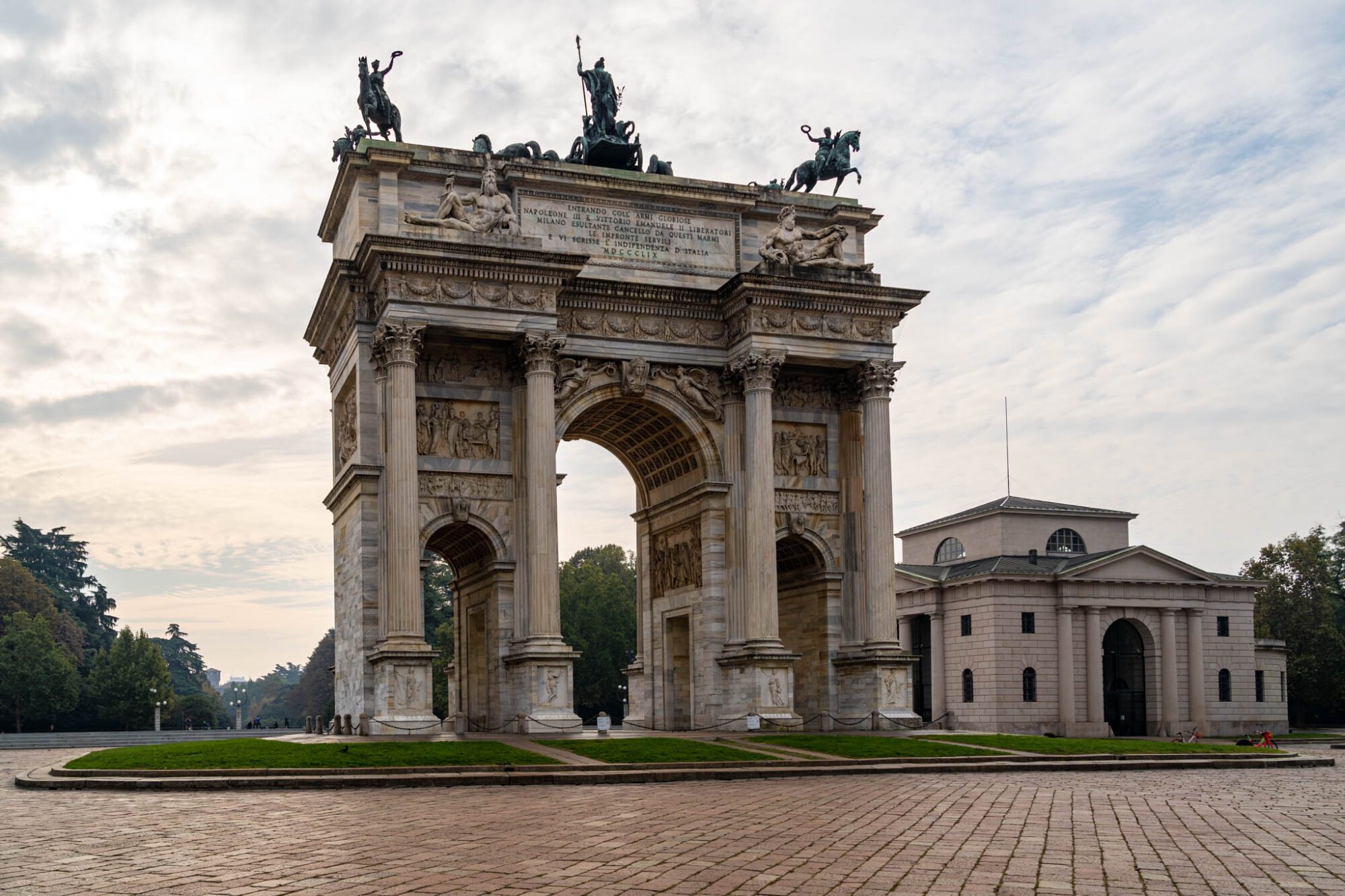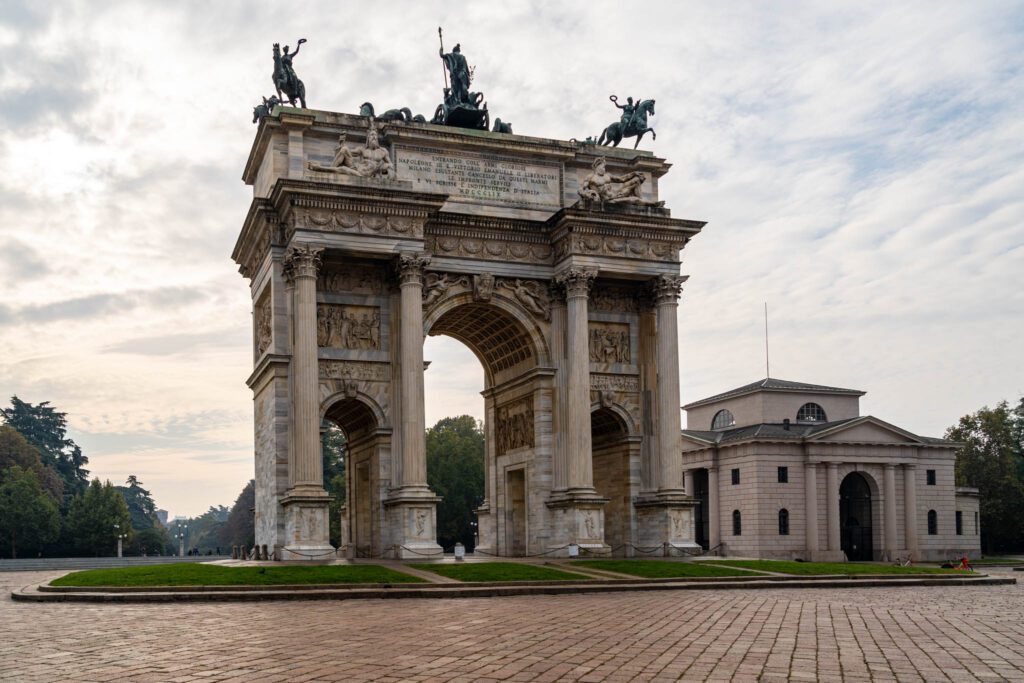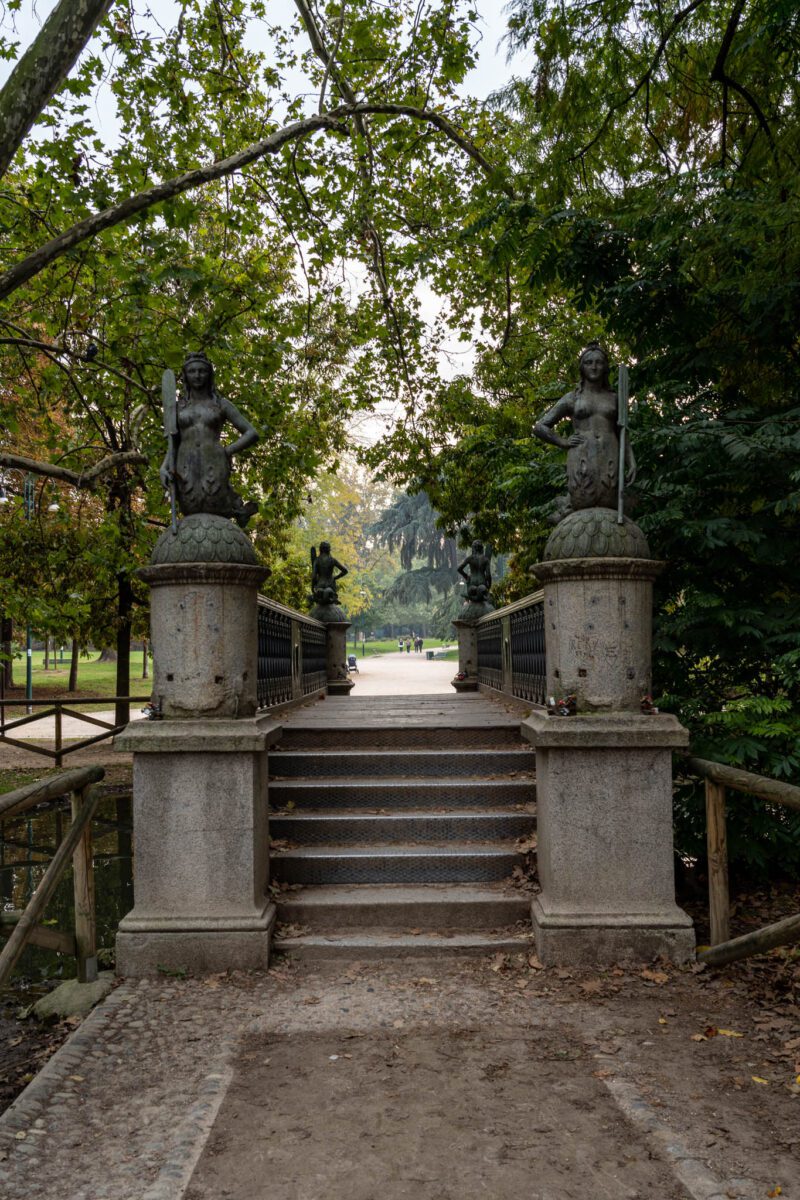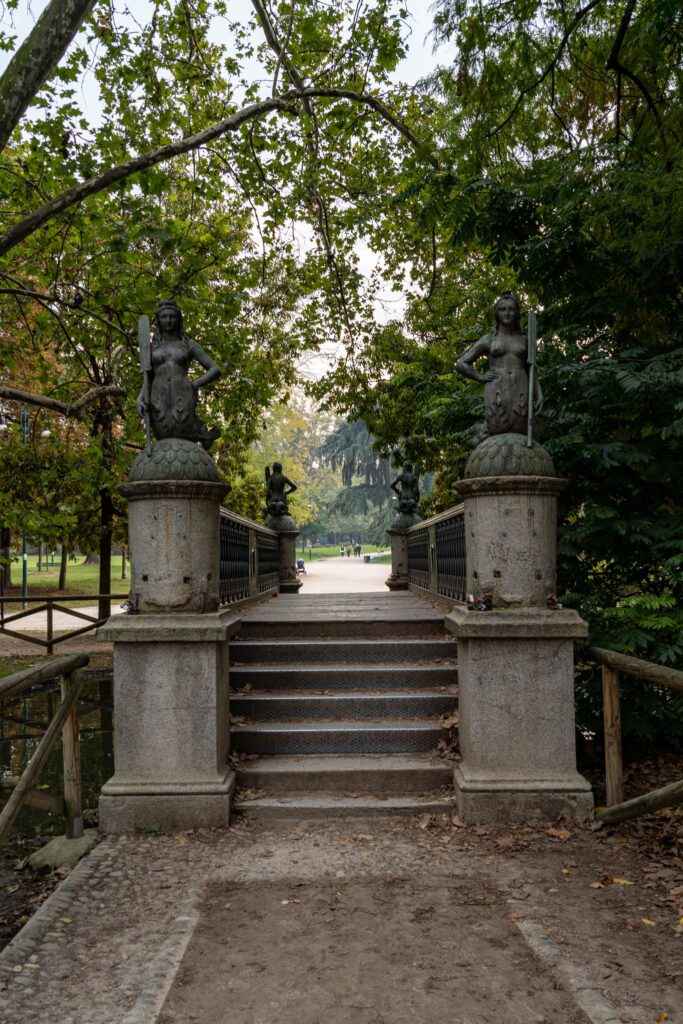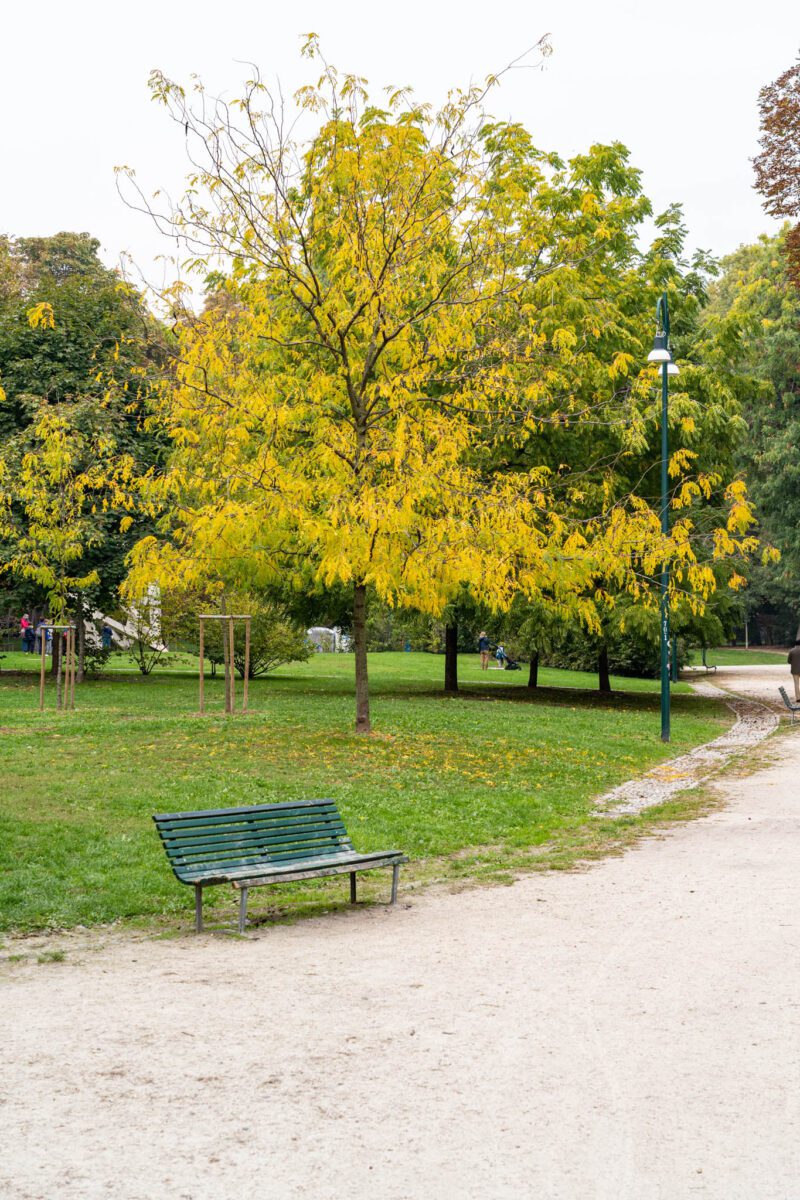 After the park, break for lunch. There's a bunch of great places to eat in the neighborhood northwest of the park. We'd recommend Maison Bretonne, which we tried to visit, but they were closed, and Mama Eat, which we've been to multiple times in Rome (both have gluten free options).
Santa Maria delle Grazie and Leonardo Da Vinci's Last Supper
The Last Supper depicts Jesus and his disciples having, well, a last supper. The scene is notable because Jesus tells them that one of them will betray him (and sure enough, Judas does). It was painted at the tail end of the 15th Century by Leonardo Da Vinci, and today it's in its original spot in a convent next to the church of Santa Maria delle Grazie, a relatively small church in the center of Milan.
This is the most complicated part of this entire Milan itinerary, so prepare to take notes. The tickets to see the Last Supper, a masterpiece by Leonardo Da Vinci and quite possibly one of the most famous paintings in the world, are nearly impossible to get. Entries are severely limited, and tour companies get first crack at them, leaving few for the independent travelers.
For context, tickets come in 15 minute time slots, and there are about 25 people allowed per time slot. Which is not a lot of people when you consider the fact that thousands of tourists come to Milan every day hoping to see it.
On the bright side, we have a few solutions for you, from snagging tickets on your own, to joining a guided tour that includes tickets. Let's talk about the Last Supper and how to see it.
Important Note: Like the Duomo, you will be denied entry to see the Last Supper if your shoulders and knees are not covered, so make sure to dress appropriately for your day in Milan!
Getting Tickets on Your Own
During the summer, which is the busiest time in Milan, tickets will sell out months in advance. It is absolutely mandatory to book as far in advance as humanly possible in the summer.
Tickets are available on this website. Yes, it's the official website. Yes, it looks like it was designed in 2006.
The biggest problem is that there is no set date when tickets go on sale (e.g. three months in advance). Instead, you'll have to check back at the website (linked above), which gives a date range that tickets are available for.
To make things more complicated, I'm sitting here at the end of October, and tickets haven't been released past October 31st (which is 10 days away). Tickets for weekends in the offseason still sell out, so you'll need to pay attention even if you're not coming to Milan in the summer.
At the time of writing, tickets to see the Last Supper cost 15 Euros per person, plus a 2 Euro service fee. Reduced price tickets are just 2 Euros (for EU residents between 18 and 25), and tickets for minors are free (you still need a reservation, though).
Here's what the ticket site looks like.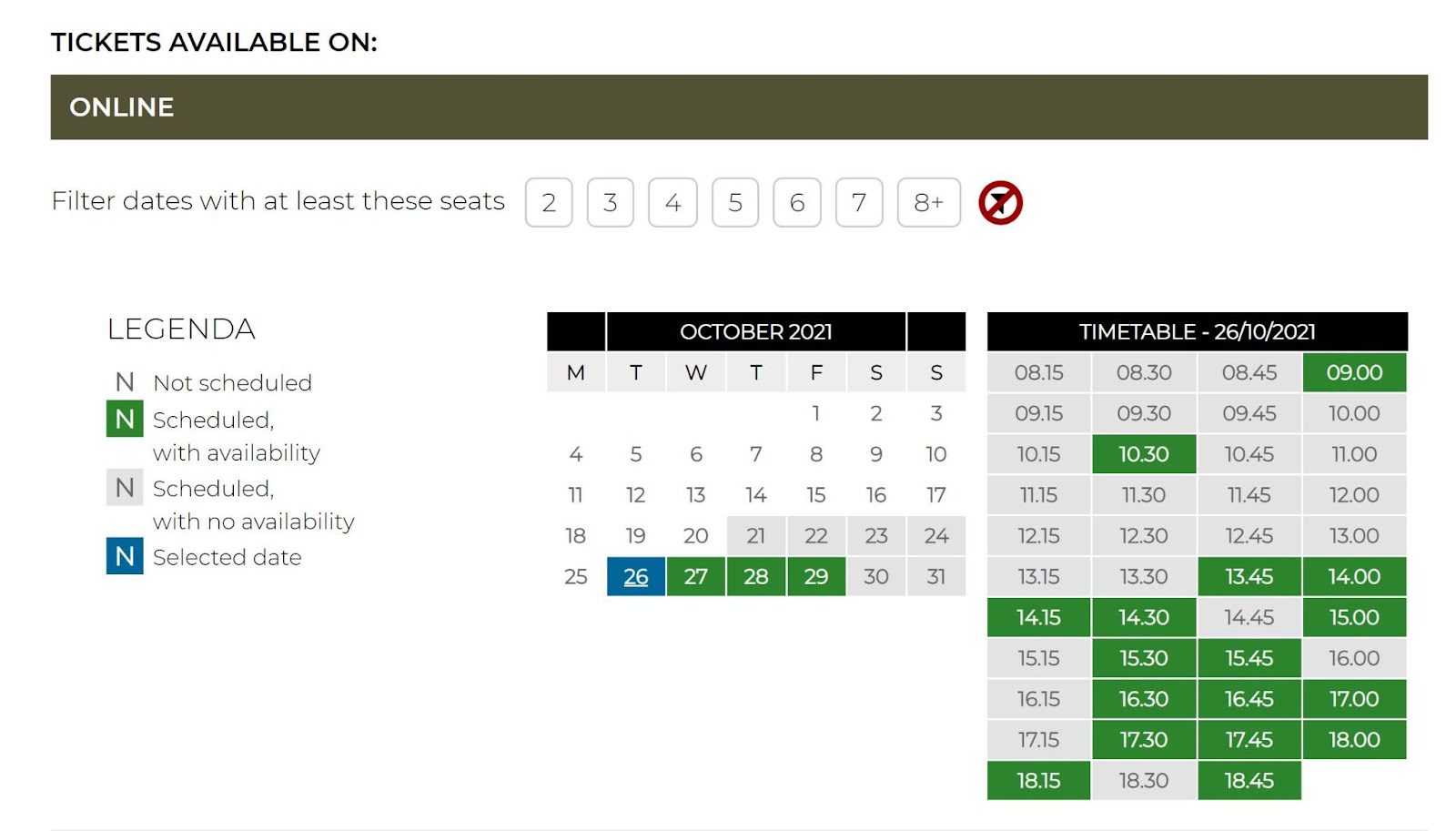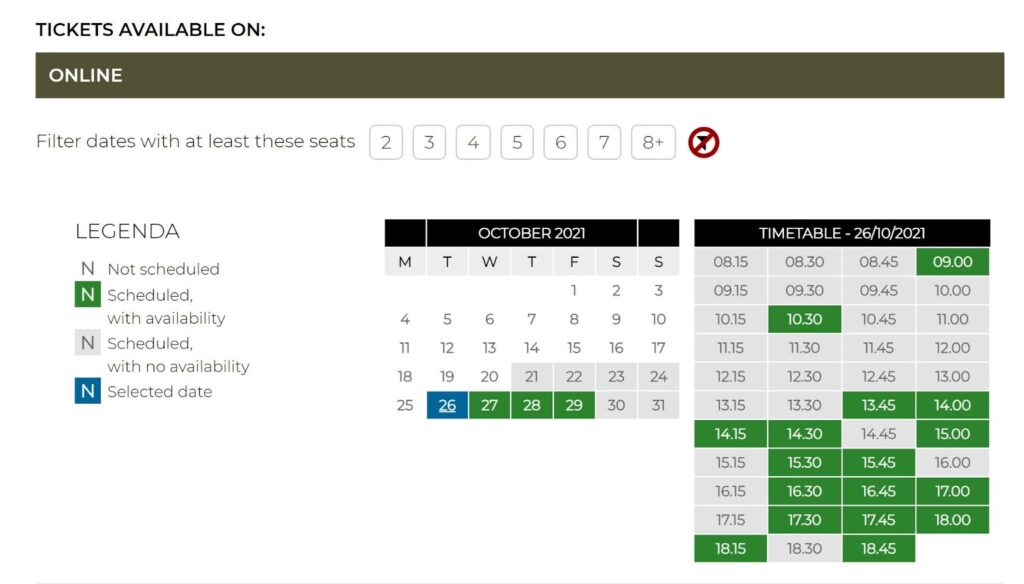 Note that you will have to show up 15 minutes early at the ticket desk to grab your tickets, even if you booked them in advance. There can be long lines in peak season, so budget some extra time to get there early.
Joining a Guided Tour
If you're planning your visit to Milan at the last minute, or are just doing the research now on how to see the Last Supper for an upcoming trip, you might be saying "ah, guess I won't be able to see it after all" at this point.
The good news is that there's another option for seeing the massive piece of art. The bad news is that it's going to be significantly more expensive. But if you aren't able to get tickets on your own and seeing the Last Supper is a must-do while you're in Milan, you don't really have another choice.
There are two options under this "guided tour" heading, and they are joining a tour that only covers the Last Supper (like this one), or joining a broader Milan walking tour that takes you around to multiple sites (like this one).
Guided Tours of JUST the Last Supper
Here are some guided tour options that are just focused on the Last Supper (spoiler alert: they're all largely the same – tours are about an hour, you get to see the Last Supper for 15 minutes, and a licensed guide accompanies you).
Joining a Broader Milan Walking Tour
Like I mentioned above, your other option is to do a broader Milan tour that includes entry to see the Last Supper.
Our top pick is the Take Walks Best of Milan Walking Tour (a company that we really like), which includes skip-the-line entry to the Last Supper AND the interior of the Milan Cathedral, along with some other sites in between. All with an expert local guide, who will help add depth to the experience.
Another option, which doesn't include entry to the Duomo (which is easy to do on your own – see the section above on the Duomo for details), is this walking tour. It includes entry to the Last Supper, along with other cool spots in Milan (like the Castello Sforzesco and Teatro alla Scala (Milan's opera house). It includes a brief visit to the exterior of the cathedral, but you'll have to book your tickets for the interior and/or terraces separately.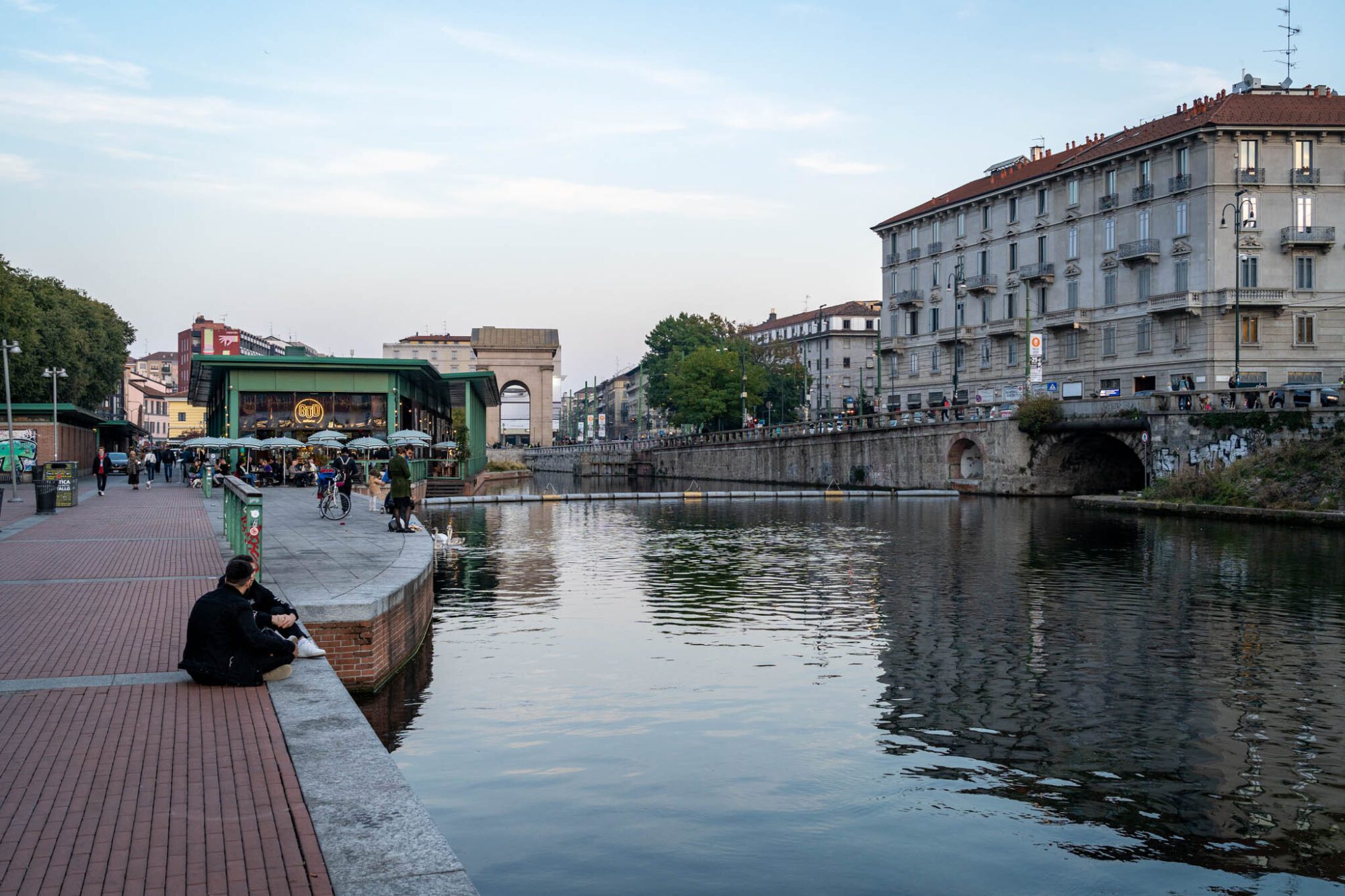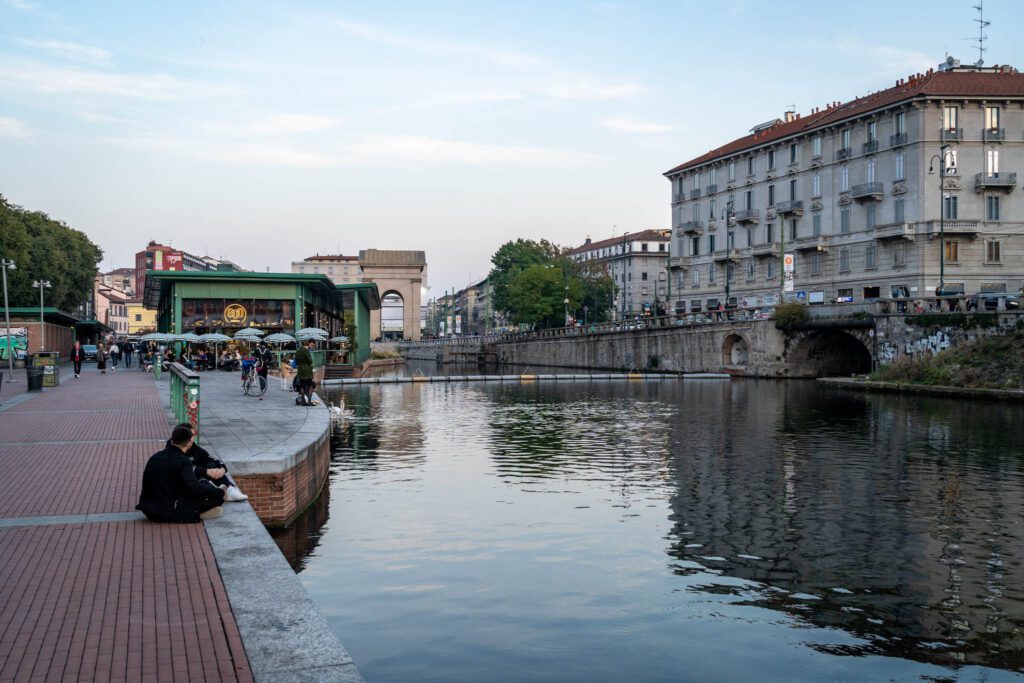 Milan joins Paris and Venice (among many other cities in Europe) in the category of "has a system of canals that are begging you to have an afternoon drink near them."
The Navigli, as they're referred to in Milan, are a system of canals that were originally used for irrigation, but quickly became a main shipping thoroughfare when people realized it was easy to send goods to the center of Milan via the interconnected waterways. The stone to build the Duomo, for example, was sent through the canals.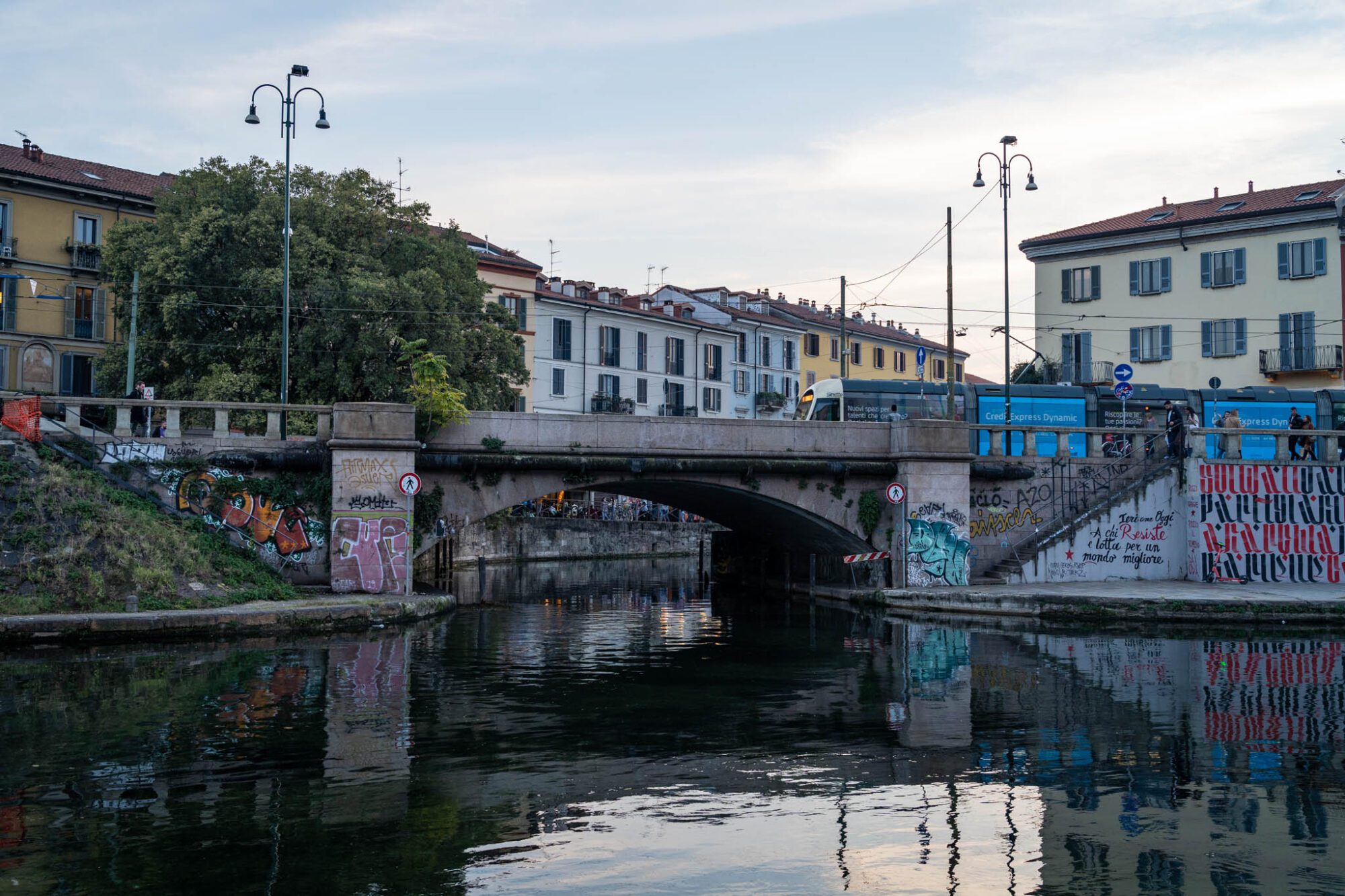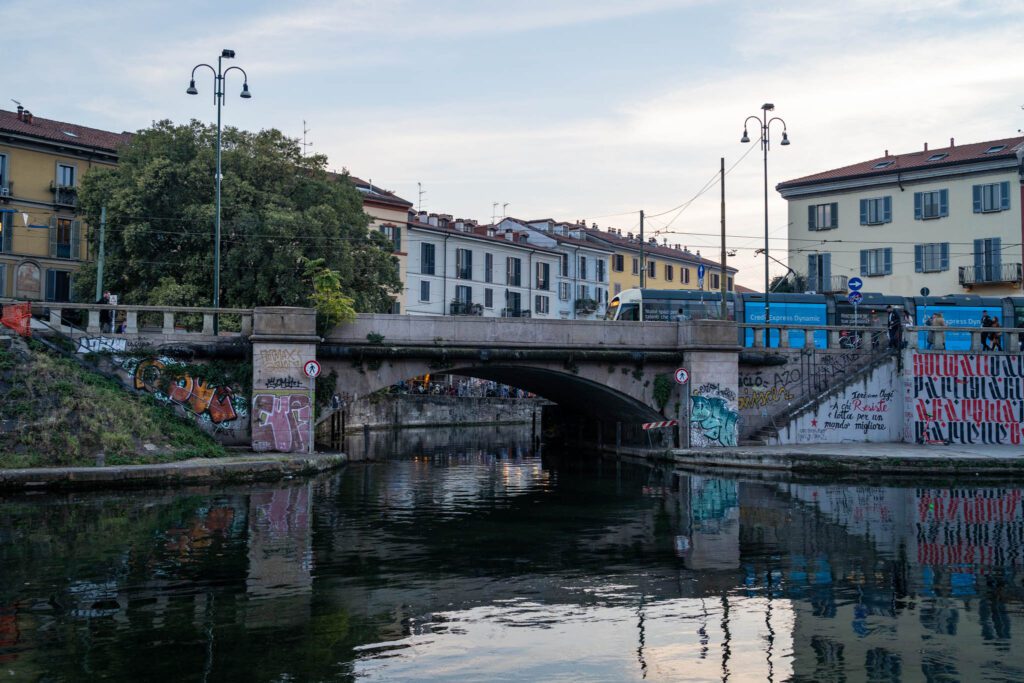 However, in the 20th Century post World War 2, the importance of the canals diminished significantly (and portions were filled in and covered) with the increase in the efficiency of transport by road.
Today, they're mainly just a really nice place to grab a drink in the afternoon and early evening (though it is still used for irrigation).
There are numerous places to grab a drink – we'd recommend either a spritz or a negroni – along the canals.
We'd highly recommend walking a loop that takes in Naviglio Grande, the biggest and most interesting of the canals. Start from the Arco di Porta Ticinese, head west around the Darseno di Milano, a small reservoir, cross over the bridge and down one side of the canal, then come back along the other side. Confused? Here's a map of what that walk looks like.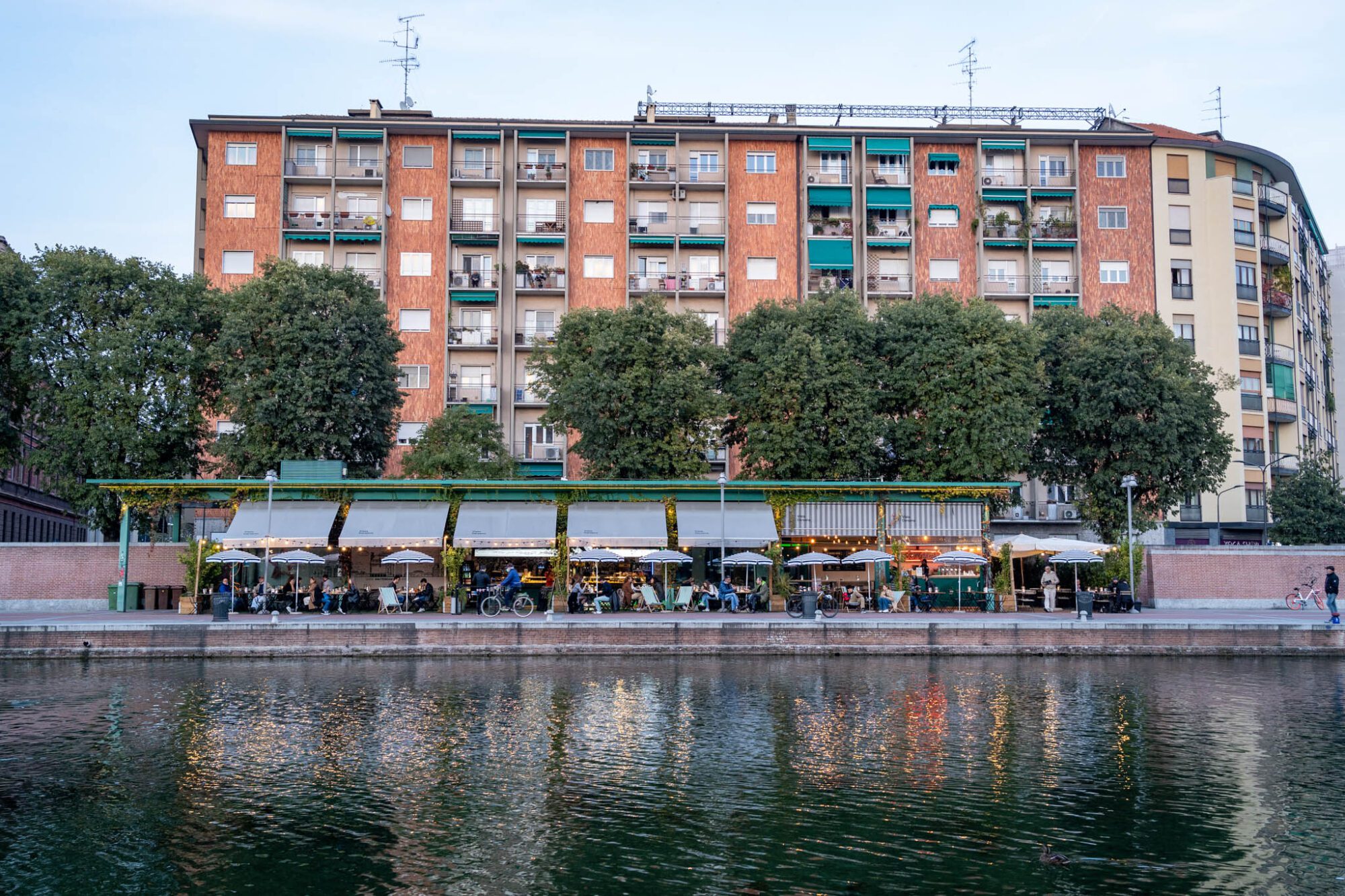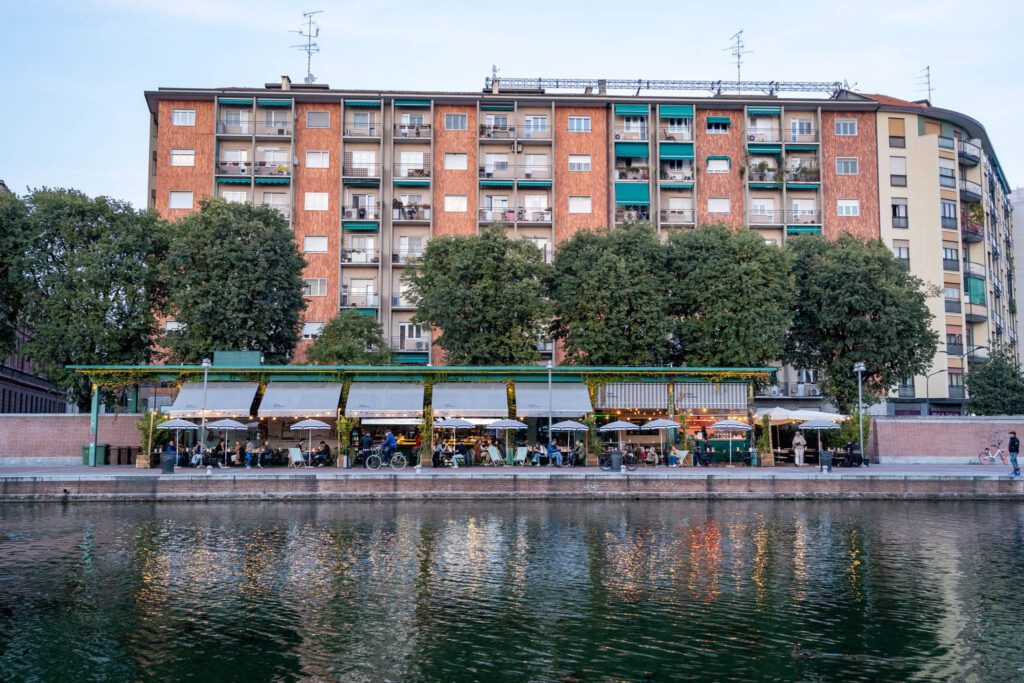 For drinks, there are a series of bars along the north side of the reservoir that are nice, and plenty of places with eager hosts waiting to offer you a table along either side of Naviglio Grande itself.
Our favorite spot wasn't actually along the canals, but was a few blocks away. It's called e/n enoteca naturale, and they have a gorgeous location with an outdoor garden that has views of Basilica di Sant'Eustorgio, which is directly behind the garden. Great natural wines by the glass, and they even have a rotating cider (we LOVE cider!).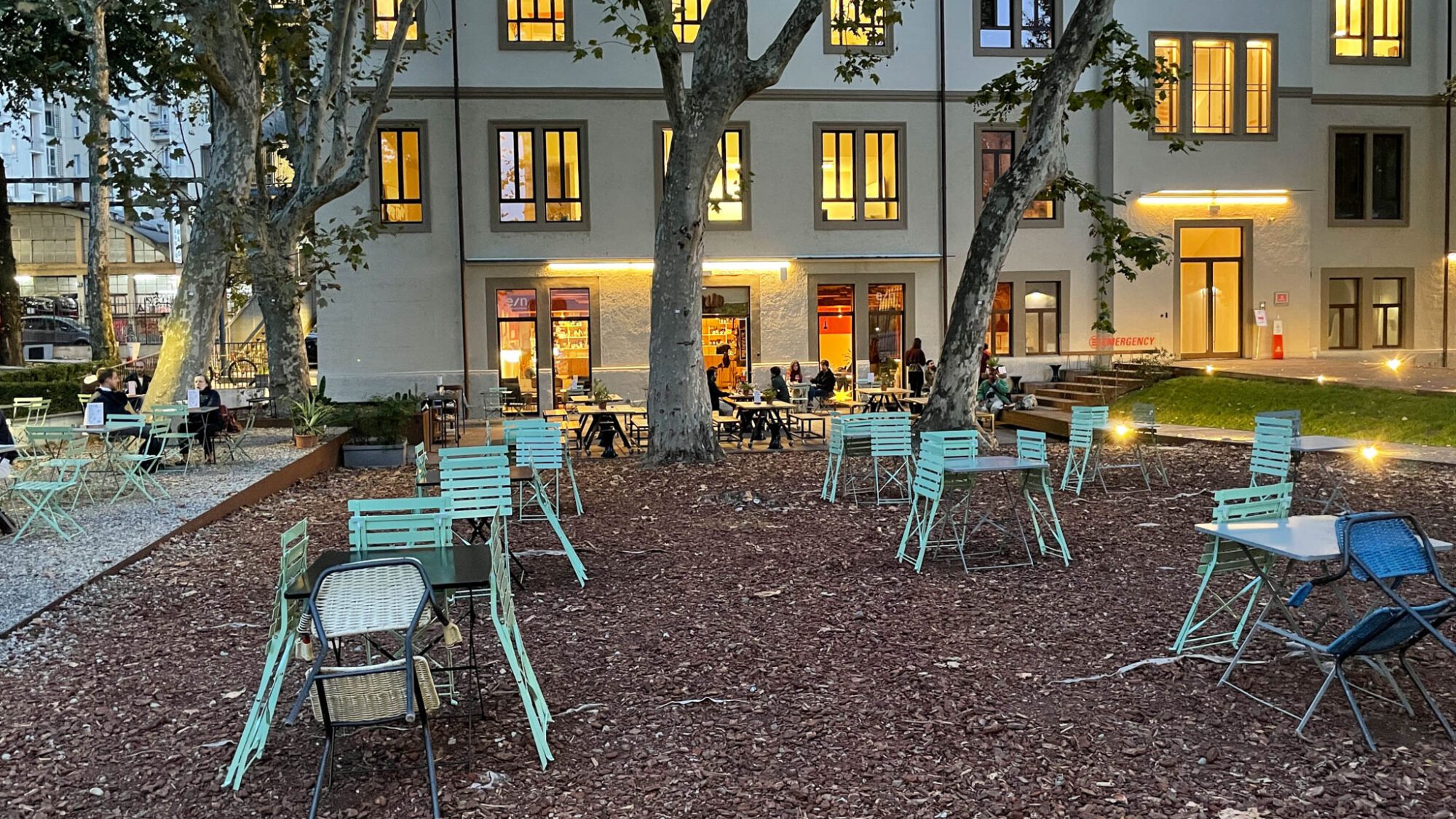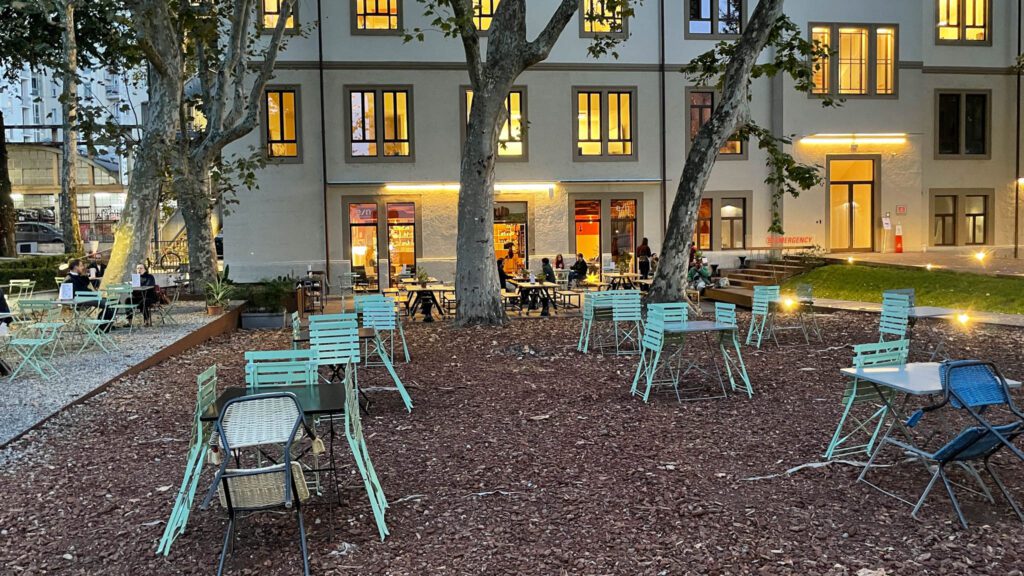 Where to Stay in Milan
We chose to stay near the train station for maximum convenience, knowing that we'd want a quick and easy journey to and from Milan Centrale to head to our next stop on our Italy itinerary, Verona.
Where We Stayed
We chose Ostello Bello Grande, which is literally a block from the station. It's not the nicest area, but you'll be spending the majority of time in central Milan anyway, and it's well connected to the rest of the city through the metro and bus network. It's a nice hostel, though it got a bit loud at night.
There's a big shared kitchen, a rooftop terrace, and a bar on the ground floor. They have private rooms with ensuite bathrooms that are basically hotel rooms, and dorm rooms (which we are decidedly too old for). We were able to leave our bags in their secure luggage room too as we went out to explore the city for the morning before coming back to catch our train.
Ostello Bello has another location in Milan in a MUCH better area at the south end of the city center, which is within easy walking distance of almost every single main site in the itinerary. The downside is that it's pretty far from the train station. If we had more time in Milan, we would've chosen that location.
Other Places to Stay in Milan
If we were to do it again, we would definitely consider staying elsewhere (especially with multiple days). We have our eye on two neighborhoods for a return trip.
Brera is just north of the Duomo, sandwiched between the park and the historical center. It has some great bars, restaurants, and one of the city's best coffee shops, and is walkable to basically everywhere.
Carrobbio, which is just north of the canals, is the other place we'd consider staying (and this is where the other location of Ostello Bello is located). It's a good mix of central and fun, with nightlife, shopping, and great food and drinks at your fingertips.
Getting from the Airports to the City Center
Milan is served by two main airports: Malpensa International Airport (MXP) and Linate Airport (LIN).
From Malpensa Airport
We flew into Malpensa (MXP) and took the easy train connection – the Malpensa Express – from the airport straight to Milan Centrale. We were able to walk from the train station to our accommodations, otherwise we would've hopped on the bus, tram or metro from there.
It's an easy journey that takes about 45-50 minutes and costs 13 Euros (6.50 for kids 4-13, kids 3 and under are free).
Trains come every 15-30 minutes for most of the day, and you have to buy tickets before boarding either at the machines near the entrance to the platform (they DID NOT take my American credit card, so have cash handy in exact change just in case), or at the ticket counter, which did accept my credit card but I imagine has long lines at peak travel times.
From Linate Airport
Linate Airport (LIN) is just 7 km away from the center of Milan, and getting to the city center is a breeze. It's mainly used for domestic flights, while Malpensa is more of an international airport.
There are two express buses that will take you from the airport to Milan Centrale, where you can then continue on to your accommodations.
More information on the train and bus connections can be found here.
---
Heading to Italy?
We've been to Italy multiple times – obviously we love it – including more than a month on our last trip!
If you enjoyed this guide and found it helpful, you definitely won't want to miss our detailed guide to planning an amazing 10 Day Italy itinerary, which covers Rome, Florence, and Venice and is perfect for a first trip.
We also have a guide to spending two weeks in Italy, which combines those three main cities with a few lesser known cities (Bologna and Verona), or a guide to spending one week in Italy, which has six different ways to spend 7 days.
Here are some of our other Italy guides to help you plan an incredible Italian adventure.
Rome:
Florence:
Venice & Milan:
Cinque Terre:
Sicily:
Need to Eat Gluten Free in Italy?
If you're traveling and need to eat gluten free like me, Matt (I have Celiac Disease, which is why I started this site in the first place), then you'll want to check out our gluten free guide to Italy, along with our city guides for Rome, Florence, and Milan to help you find the best gluten free pastries, pizzas, and more.