How to Plan an Amazing Portugal Itinerary (10 Days)
Planning a trip to Portugal? You're in the right place. We started and ended our three month European adventure in Portugal, and fell in love with its warm, inviting culture (and SUPER friendly people), its food and wine, and its beautiful landscapes from the terraced vineyards in the world-famous Douro Valley, to the stunning beaches on the Algarve.
In this guide to planning your Portugal itinerary, here's what we're going to cover:
Exactly how to plan a 10 day Portugal itinerary, including what stops to make, what route to take, and all the important logistics you need to know
A guide to what to do, where to stay, and how to get there for each stop on the itinerary
Options for shorter (5-7 days) and longer trips if you have more or less time than 10 days in Portugal
Throughout the guide, we'll share our favorite finds and experiences in Portugal based on our trip to help you plan your unforgettable trip.
Sound good to you? Let's get into it!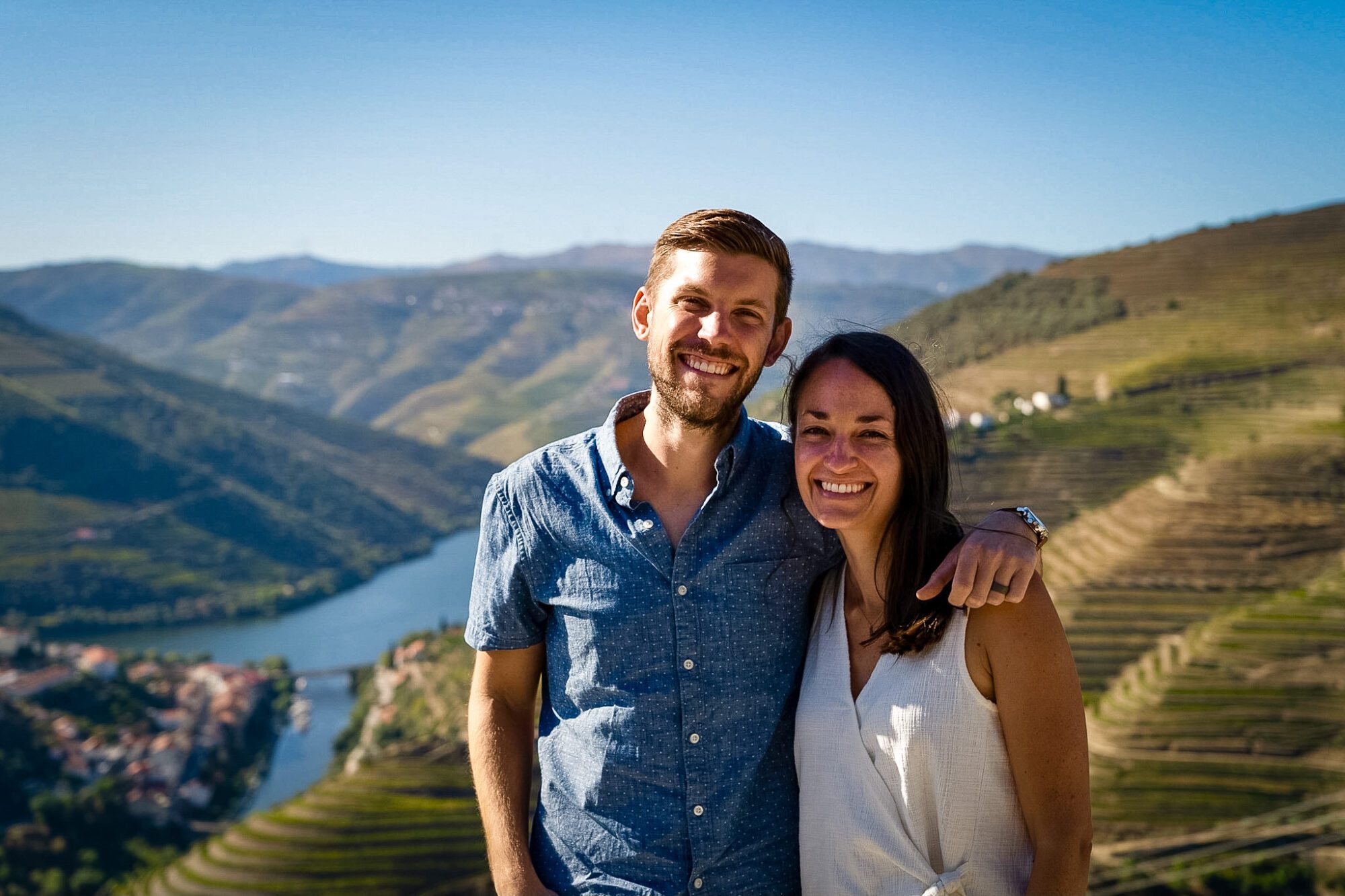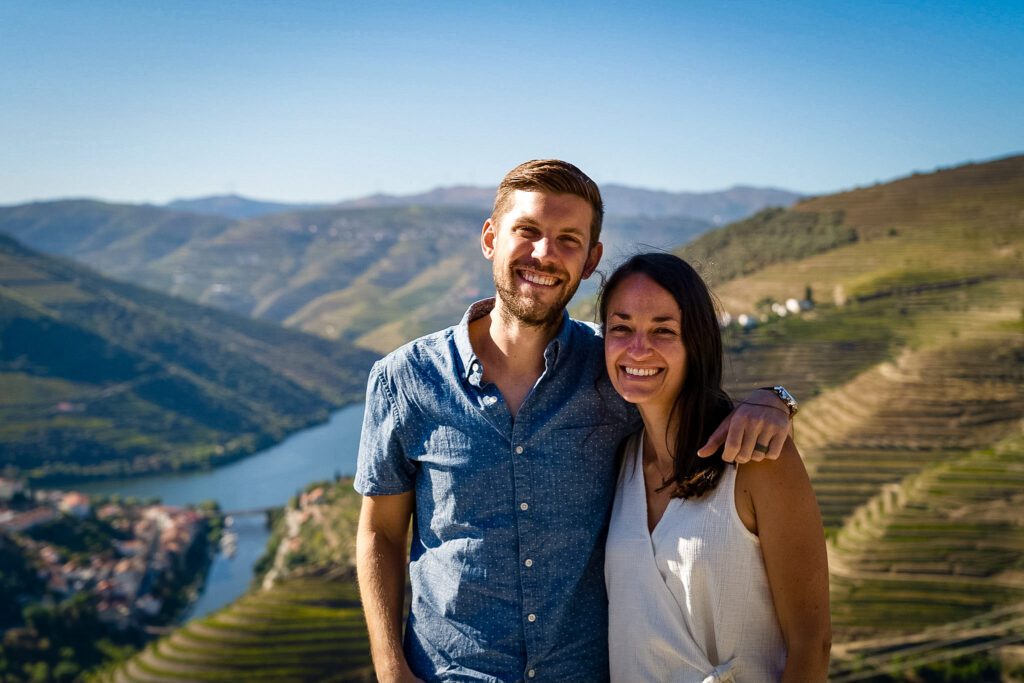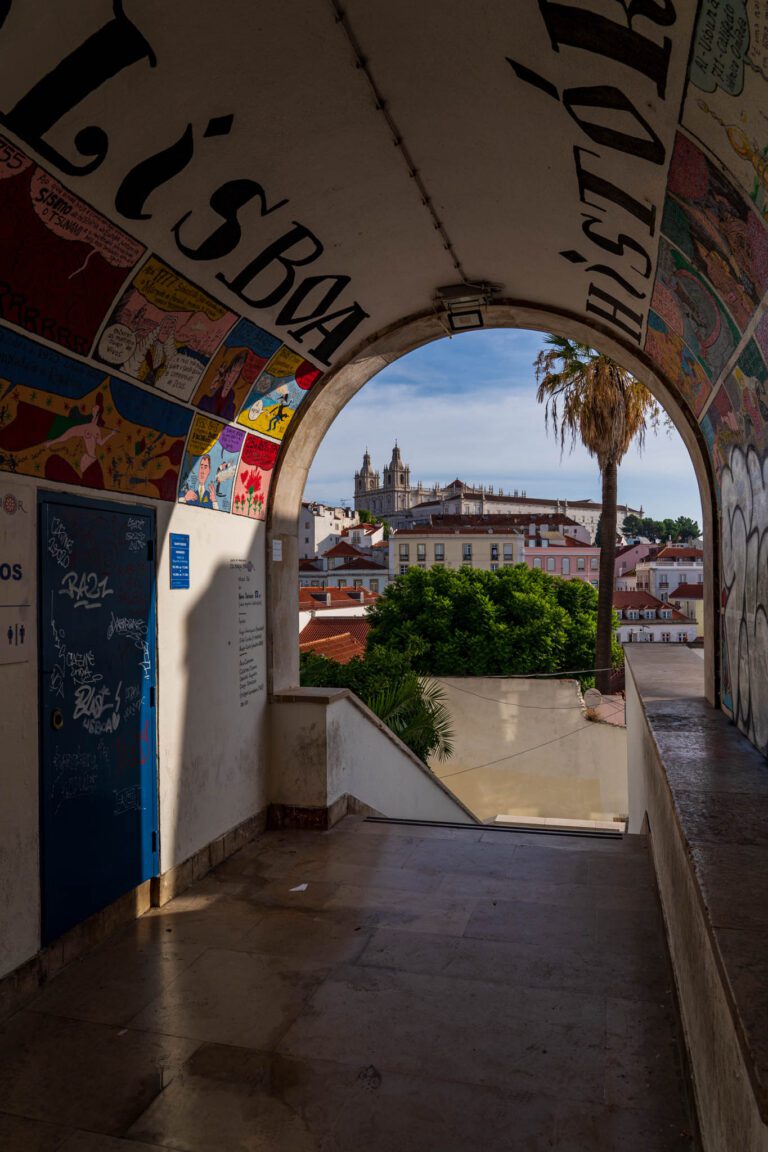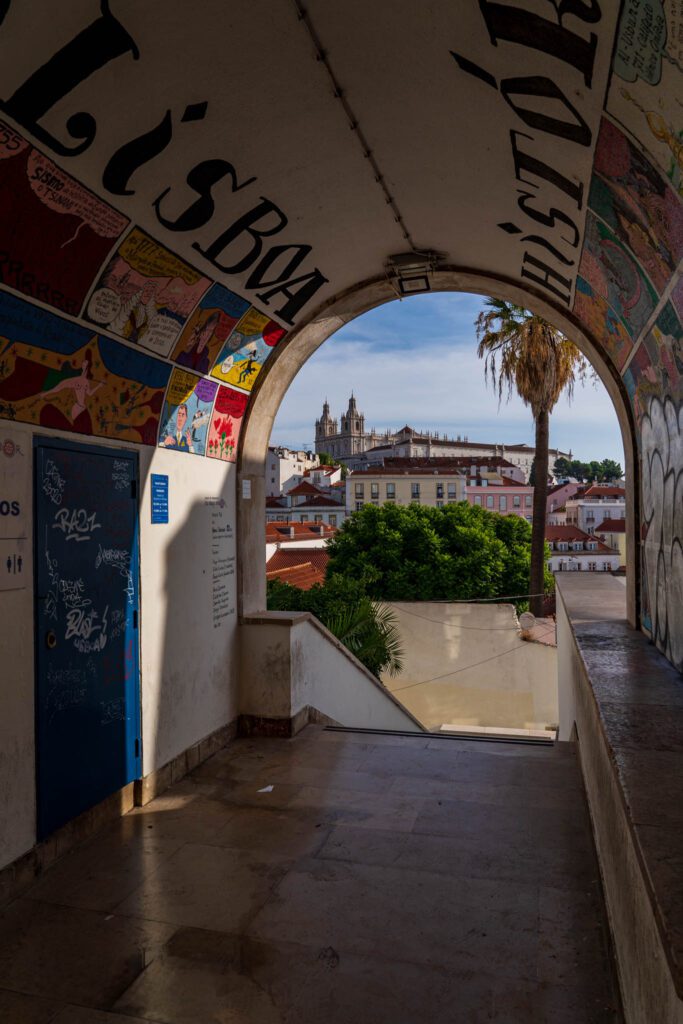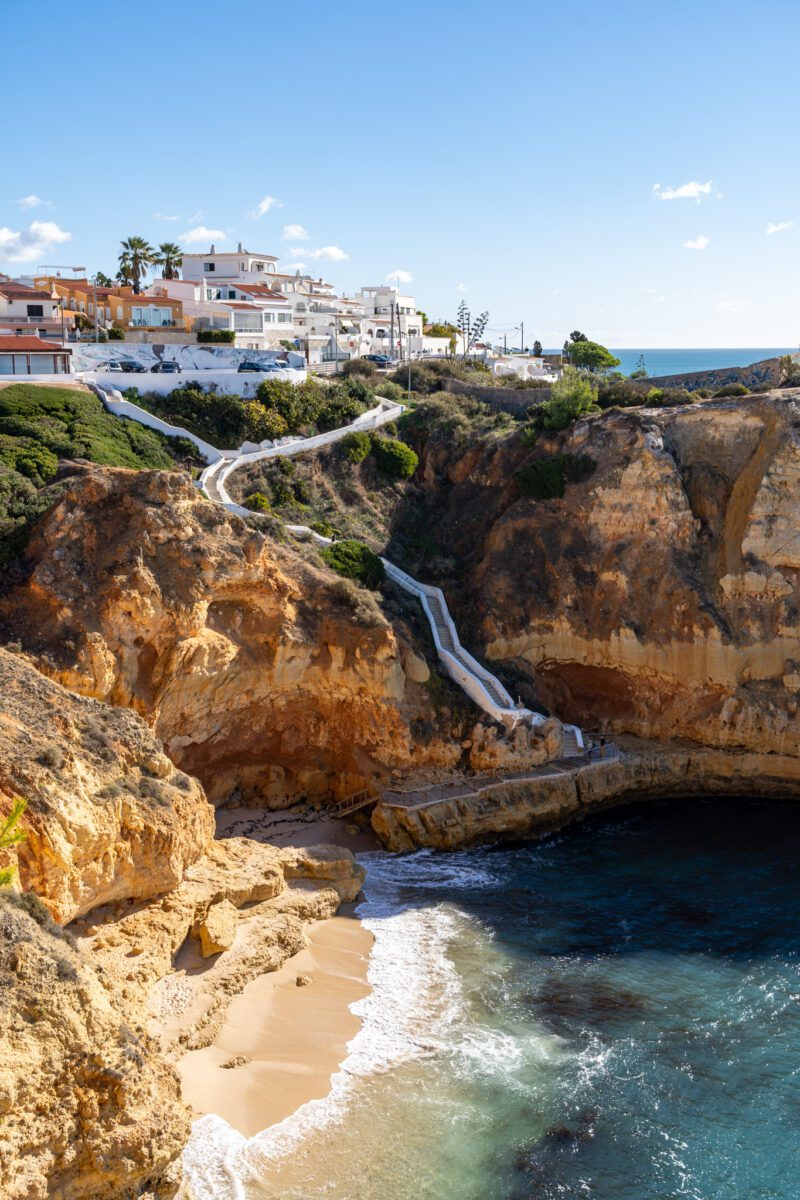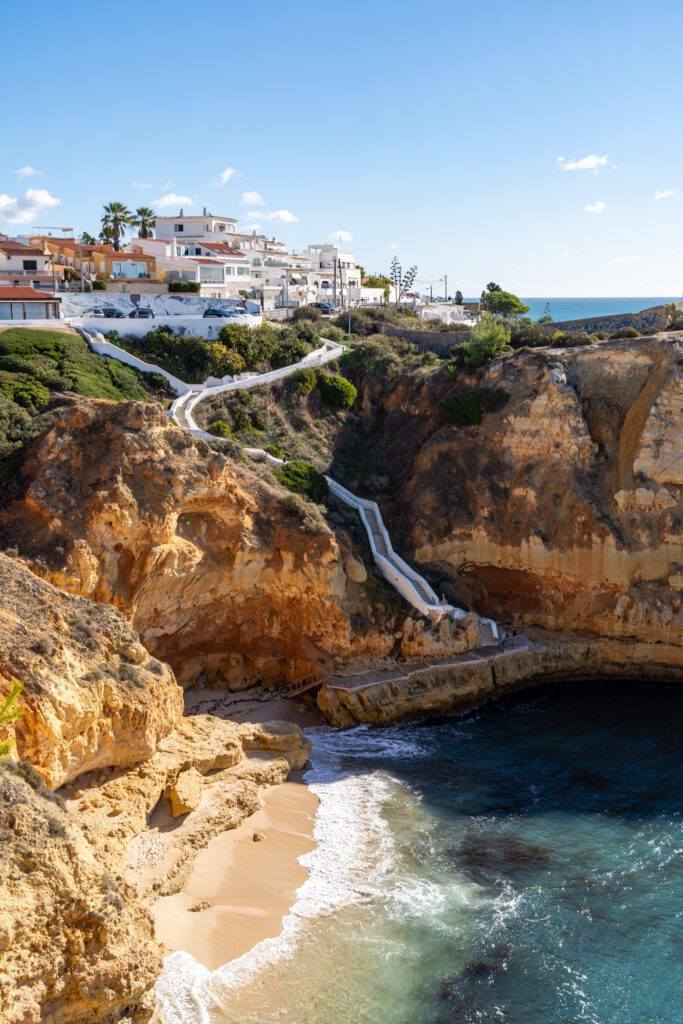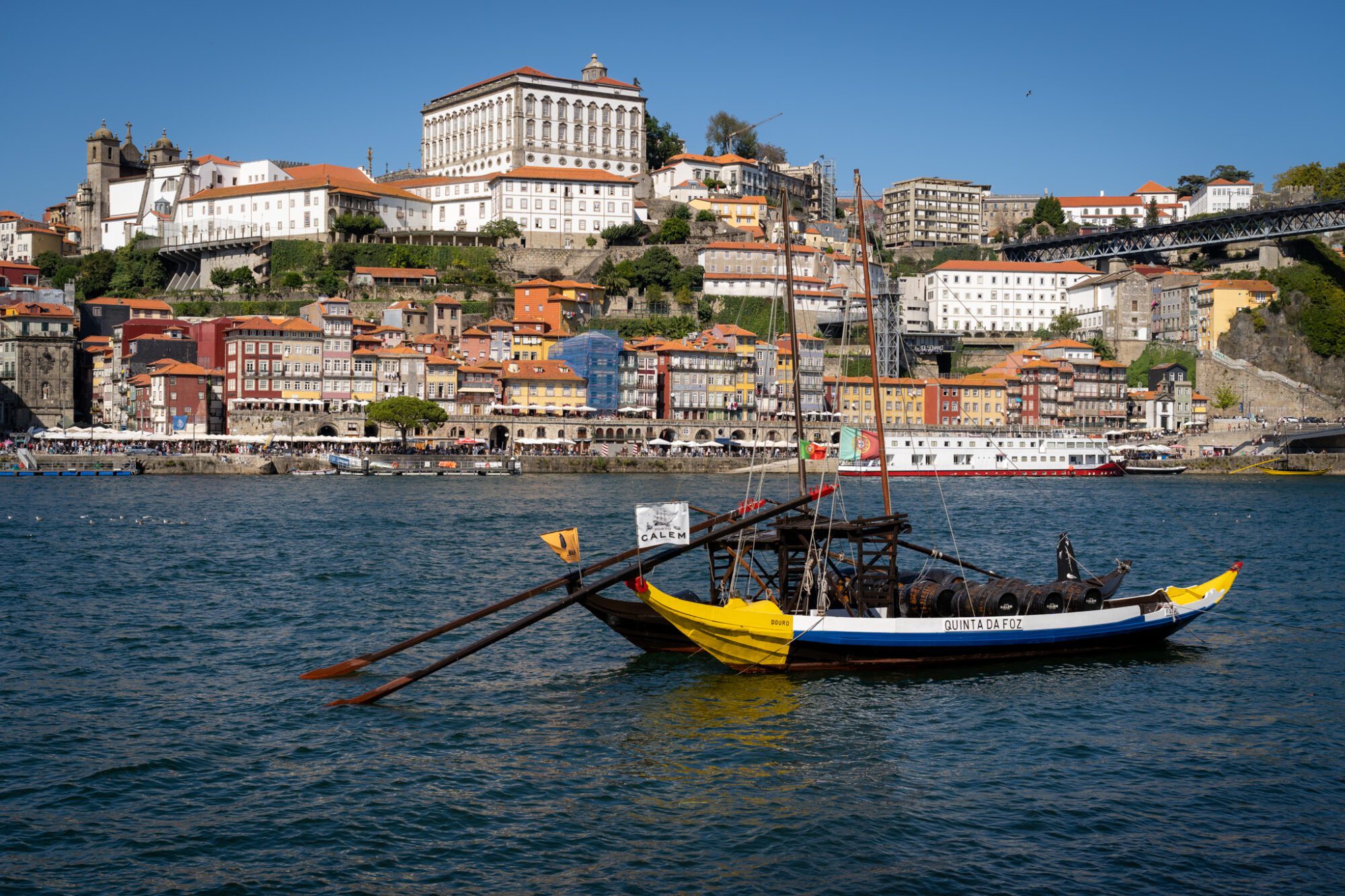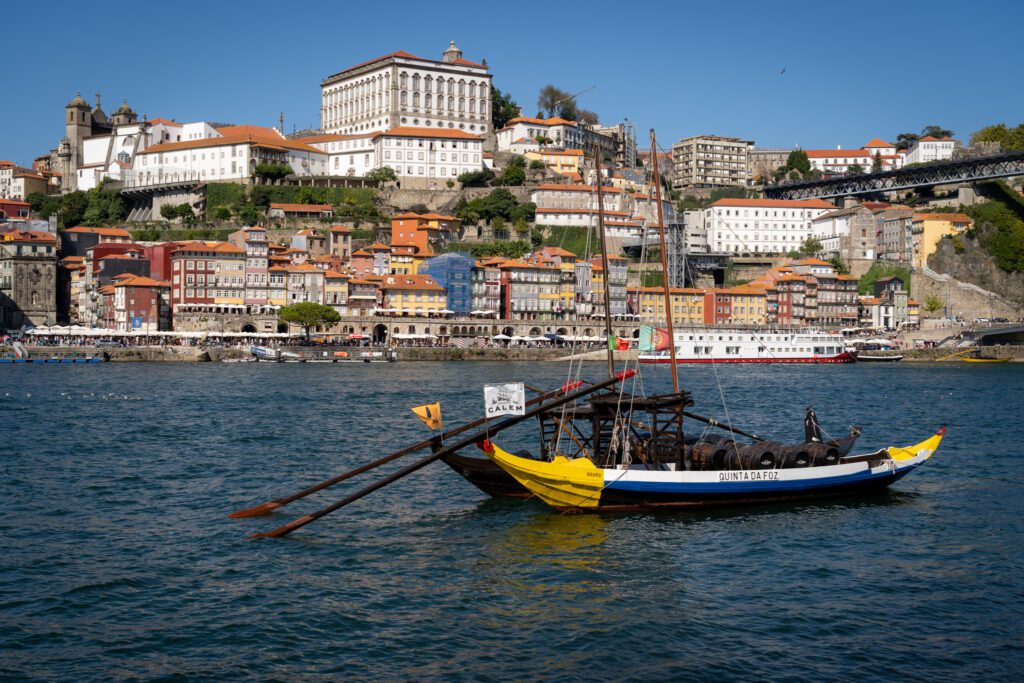 Disclaimer: Some of the links in this post, like hotel links, are affiliate links, meaning at no additional cost to you, we make a little bit of money if you click through and book. That being said, we would never recommend something to you that we don't stand behind 100%.
Is 10 Days in Portugal Enough?
We want to start this guide out by setting expectations before we dive into how to make the most of a trip to Portugal if it's your first trip.
No, 10 days is not nearly enough time to see everything there is to see in Portugal. It's true that Portugal is a relatively small country, compared to other countries in Western Europe like Spain, France, and Italy. It's also true that there's just too much ground to cover in 10 days.
So you need to go into this itinerary knowing that you're not going to be able to see it all.
If it's your first trip to Portugal and you have 10 days, we think you'll be disappointed if you don't see Lisbon, Porto, and the Algarve. So we've structured this 10 day Portugal itinerary to make sure you're able to spend about three days in each of those places.
Is it ideal? No, ideally you'd have more time to explore within each region. But with limited time, you have to make some compromises.
But Matt and Alysha, what about Coimbra / Nazare / Braga (insert many other Portuguese cities here)? Yes, all of those are well worth seeing, but if you only have ten days and it's your first time, we'd recommend focusing your time on the three places we outlined above – Lisbon, Porto, and the Algarve.
What if you have more or less than 10 days?
With 7 days in Portugal, we think you can realistically tackle the Lisbon – Porto corridor (including some nice day trips) OR the Algarve. Not both.


With two weeks in Portugal, you'll have more time to breathe and can add a few additional stops in smaller cities like Braga, Coimbra, Tavira, or Évora in addition to seeing Lisbon, Porto, and the Algarve.
Getting Around Portugal
Getting around Portugal with limited time is a bit complicated, which we'll get into in a second.
At a high level, there's a robust train network run by Comboios de Portugal and bus network through companies like FlixBus and ALSA that connect most major cities and towns throughout the country.
We used Omio a lot on our trip to Portugal. Omio shows you all the options for getting from one city to another in one place – by train, bus, or plane – so that you can compare without going to multiple other websites. Plus, we ran into issues occasionally with our American credit cards getting declined through the official train website, and Omio was much easier to use without throwing our phones across the room. It'll cost you a very small service fee (usually one Euro per ticket), but we think it was a much, much better experience (which is why we used it so often).
We love traveling by train, and it's the best way to get around on the west coast, between Lisbon and Porto (and even further north than Porto) where there are both regional and high speed trains to choose from.
Trains in Portugal are significantly cheaper than in places like Spain and Italy, which is an added bonus (they're also slightly less comfortable, in our experience).
With limited time, always choose the high speed (Intercity, or IC) trains, which will be more expensive but significantly faster.
Once you get out of that major thoroughfare, the options for train travel get a little worse, which is where the bus network comes in. Oftentimes the buses take roughly the same amount of time as the regional trains, and can be even cheaper.
For each step in this itinerary, we're going to give you our take on the best way to get from one place to another. Oftentimes it will be the train, but sometimes the buses offer a convenient alternative.
Should You Fly Between Cities in Portugal?
This one highly depends on which route you choose below. There are some journeys, particularly from Porto to the Algarve, that are actually best done by flying between cities.
We'll get into this in the "routes" section, but we'd only recommend flying if it's absolutely necessary – it will be expensive, oftentimes slower if you count all the time getting to the airport and sitting around waiting, and less convenient overall.
Definitely don't fly between Lisbon and Porto – the high speed train does a good job connecting those two major cities.
Should You Rent a Car in Portugal?
We think you should rent a car to visit the Algarve. The car will give you the flexibility to get off the beaten path a little bit and out to some less crowded (but equally beautiful) beaches that just aren't well connected with public transportation. We would not have been able to make it to nearly as many places as we did if we didn't have a car.
That being said, you can still enjoy the Algarve without a car, but it will be a slightly different experience.
However, we absolutely would not recommend having a car in either Lisbon or Porto, where it will be more of a hindrance than a help thanks to parking and traffic.
Instead, plan on renting a car when you arrive on the Algarve, and keeping it only during that leg of the trip. This will also save you money in the long run on gas, days of car rental, and tolls.
We rented a car through AutoEurope, which gives you the prices and availability for multiple car companies all in one place.
When you choose your carrier, stick to the major international car rental companies like Europcar, Hertz, and Avis, and steer clear of the regional Portuguese car rental companies, which will do their best to nickel-and-dime you into financial ruin.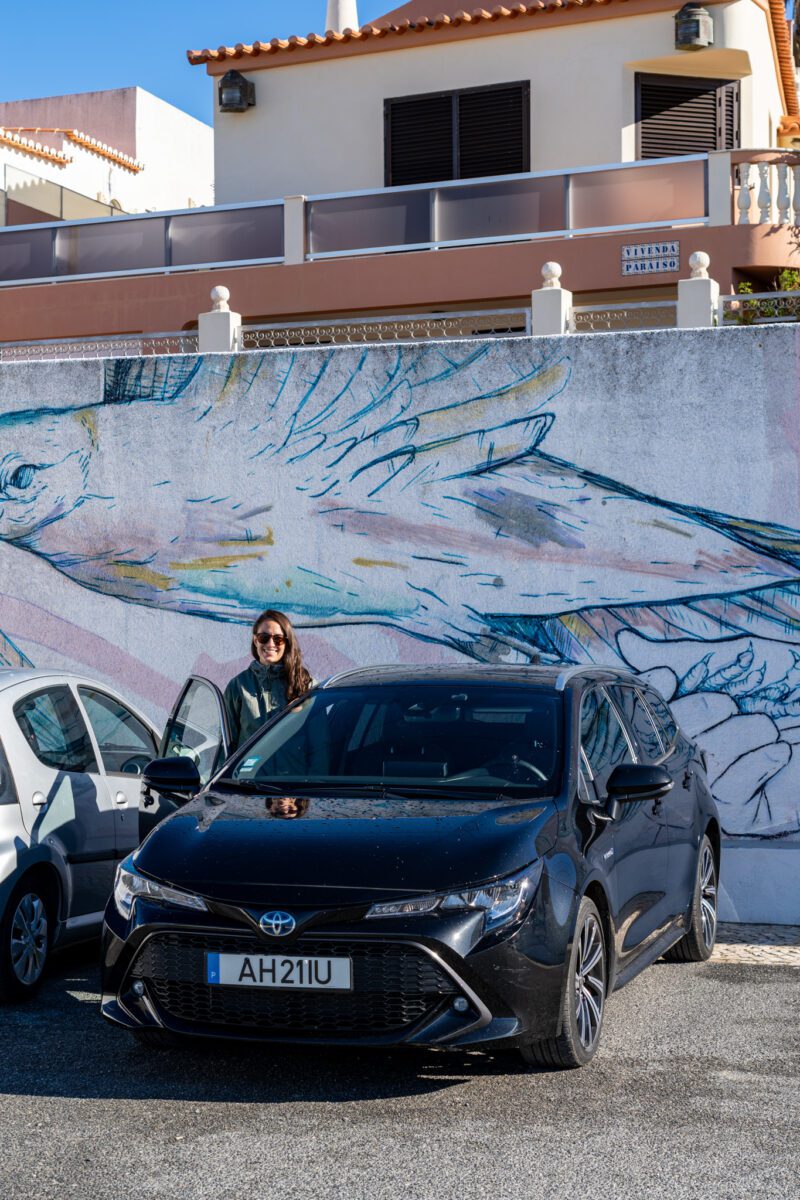 Tips for Renting a Car in Portugal
We think you should definitely rent a car to do the Algarve, it's just a matter of figuring out the best way to do it for your particular trip.
Here are a few things to consider about renting a car in Portugal that we discovered over the course of our trip.
If you're picking up a rental car in one place and dropping it in a different place, your rental will be subject to a "one-way" fee that escalates based on the distances between locations. For reference, we picked up our car in Lagos and dropped it in Évora, which is about a three hour drive, and it was a 50 Euro fee. We imagine the fee would be similar for Lisbon.


There is an airport surcharge of about 30 Euros, depending on the company, that applies when you are either picking up or dropping off at an airport (in this case, likely either Lisbon Airport or the Faro Airport). You could avoid this by picking up the car in Lagos instead, but if you are arriving at the Faro Airport, it makes more logistical sense to just pay the fee.


There are toll roads throughout Portugal, which means you will pay to use the bigger, faster highways. The two you're most likely to encounter are the A2 between Lisbon and the Algarve, and the A22 between Lagos and Faro. The easiest way to handle them is to ask your rental car company to activate their electronic transponder, which will automatically bill you for any tolls. More information on toll roads in Portugal here.
Where to Start & End Your Trip
There are two options that we've come up with, and each has a set of pros and cons. Which one you choose most likely depends on your flight into Portugal.
The first option is flying in and out of Lisbon, which tends to have the most routes – particularly direct flights – in and out of Portugal to international destinations.
This is also likely to be the cheapest option, though it's the least convenient in terms of logistics (as we'll get into in the next section) because it involves you making your way back to Lisbon from the Algarve, which can be a bit of a journey at over four hours.
The second option, and the one we'd strongly recommend, is to fly into Porto and out of Faro (the main airport on the Algarve).
This option might have fewer flight options and can be a bit more expensive, but it's also by far the most convenient because it doesn't involve hours of backtracking to catch your flight home.
The Route for This Portugal Itinerary
We're putting our stake in the ground and recommending the version of the itinerary that has you flying into Porto and out of Faro, which is by far the least complicated way to do it. We think the potential added cost is going to be worth it for the time saved by not having to get back to Lisbon to catch your flight.
We get that you might not agree, and it's pretty easy to rearrange the itinerary below to accommodate flying in and out of a single city. You'll just need to add a train or bus journey to your itinerary at the end to get back to catch your flight.
With that out of the way, here's how we'd spend 10 days in Portugal if it's your first time.
Day 1: Arrive in Porto in AM
Day 2: Porto
Day 3: Day Trip to Douro Valley
Day 4: Travel to Lisbon (as early as possible)
Day 5: Lisbon
Day 6: Day Trip to Sintra
Day 7: Travel to Algarve + Pick up Rental Car
Day 8: Algarve
Day 9: Algarve
Day 10: Algarve + Fly Home
You obviously have a bit of flexibility in terms of when you choose to do the day trips from Lisbon and Porto, what days to do which activities, and more. We're not going to give you a day-by-day itinerary – instead, we're going to give you our picks for what to do, where to stay, and how to plan a day trip (to the Douro or to Sintra) for each city.
The Complete 10 Day Portugal Itinerary for First Timers
And now that we've got all the boring-but-important logistics out of the way, onto the fun stuff!
If you're coming from somewhere like the US or Canada, you're going to be a little slow on your first day due to jet lag. Plan on taking it relatively easy, drink plenty of water, and don't go buckwild on the Port on your first day in Portugal.
Days 1-3: Porto + Day Trip to the Douro Valley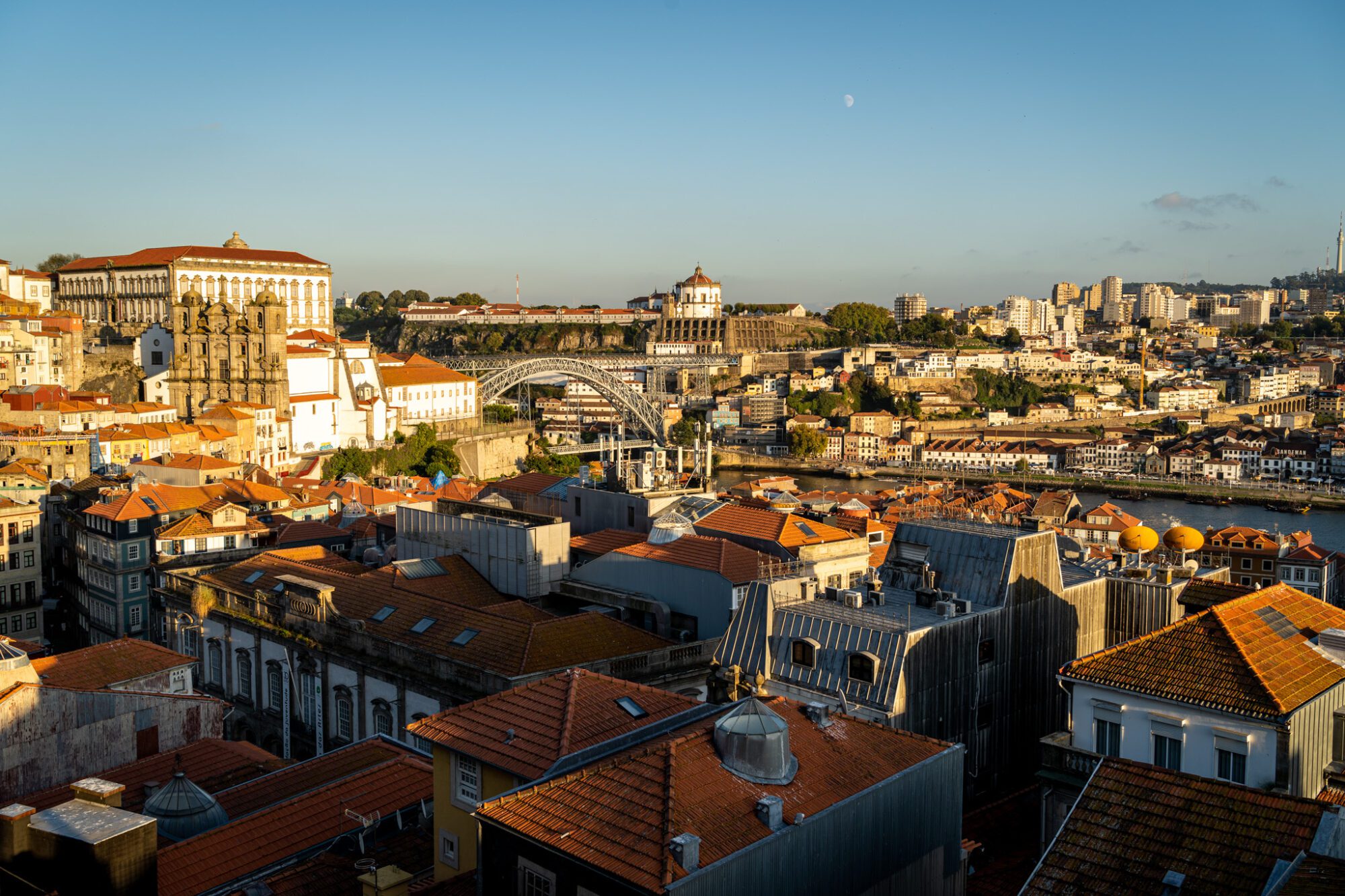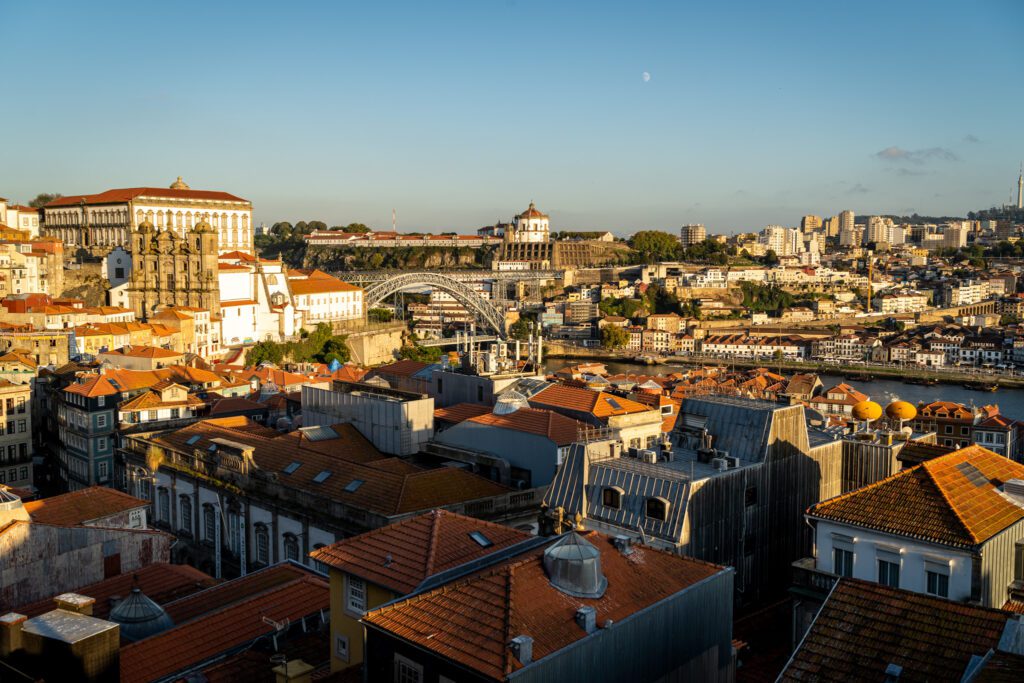 Your first stop in Portugal is Porto, which has a friendly rivalry with its neighbor to the south, Lisbon, over the fact that Porto was the original capital and is the city that the entire country is named after.
Portugal was conquered by the Christian armies of the Inquisition from north to south, ending in the 12th Century, which is when the borders of present-day Portugal were formed (and have more or less stayed the same since).
We found Porto to be similar to Lisbon in some ways, but significantly different in many respects.
The first is that it's a much older city. Lisbon was leveled by a massive earthquake (somewhere between 8.5 and 8.9 on the Richter scale) in 1755. Along with the subsequent fires and a tsunami. Not a great day for Lisbon.
Porto survived the earthquake, which means the buildings in the city center are much, much older. Which gives it a more lived-in feeling, and a less polished look. We heard the word "gritty" used, but don't quite agree with that assessment. Lived-in is a better term in our experience.
Everywhere you go in Porto, it feels like real people live there (rather than parts of Lisbon that feel like it's exclusively tourists). And that's a feeling that we really enjoy.
P.S.: To help you plan an amazing few days in Porto, we wrote a guide to planning an amazing 3 days in Porto! We also have a guide to spending one day in Porto, if you're short on time.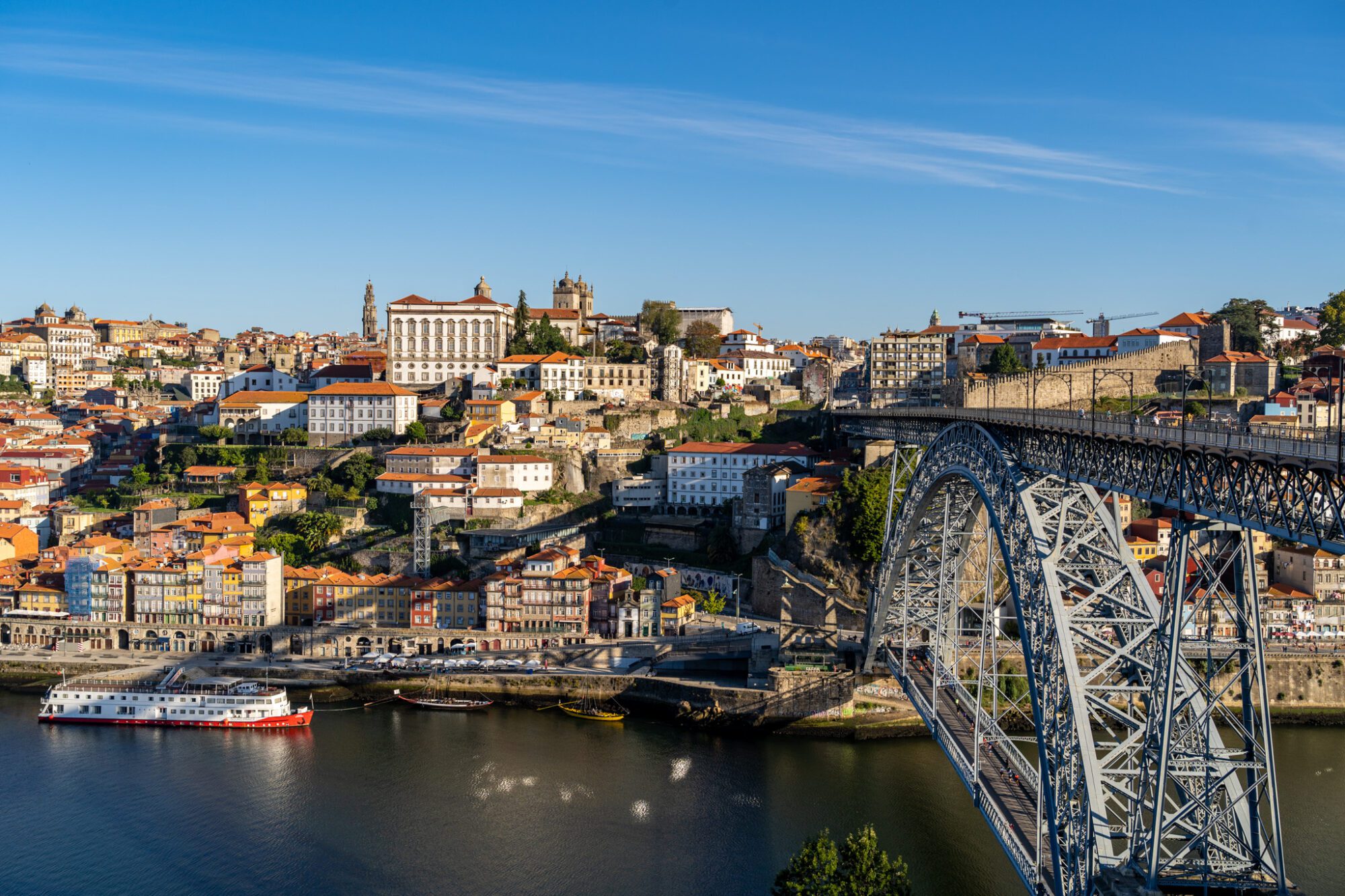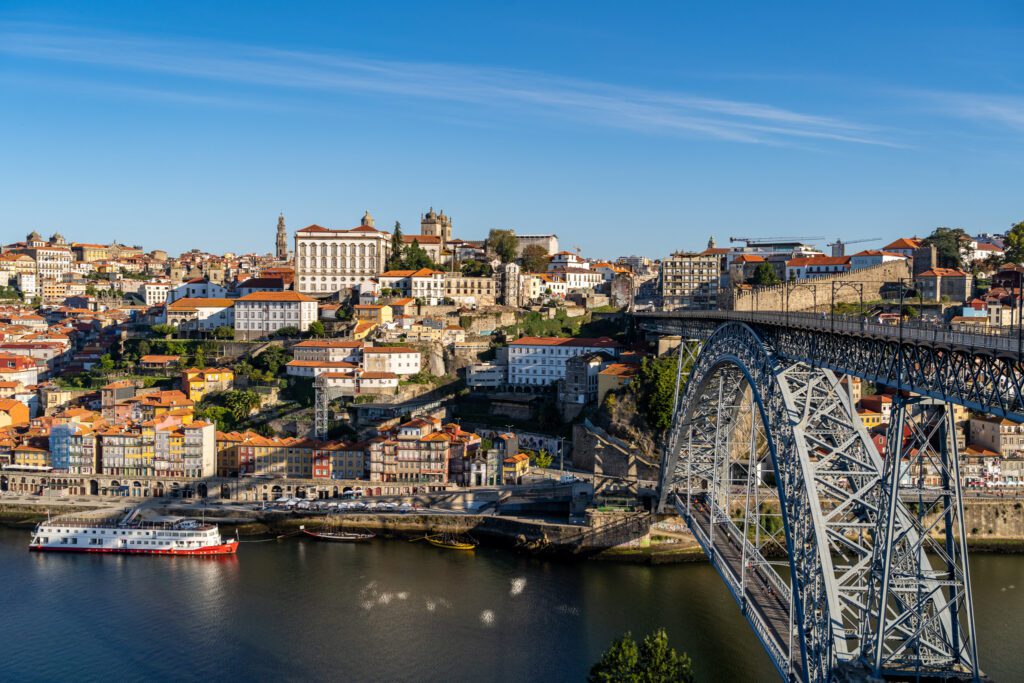 Porto is a great two day destination, which begs the question "why do you have us here for three days then?"
At the end of every trip, we do a "best experience / food / drinks" recap together over a glass of wine (or several). There was an experience that came up over and over again during the conversation about our trip to Italy, Spain, and Portugal.
And that experience was our day trip to the Douro Valley, which included a winery visit to try port, an amazing lunch experience, and a boat cruise on the picturesque Douro River.
It's expensive, it's true, but we think it's worth a whole day of your time to see the famous terraced vineyards of the Douro Valley, one of the oldest wine regions in Europe (if not THE oldest).
Pro-tip: Every single local we met in Porto said something along the lines of "hey, be careful with port" – it's super easy to drink, it's 20% alcohol, and it's full of sugar so the hangovers are awful. You've been warned.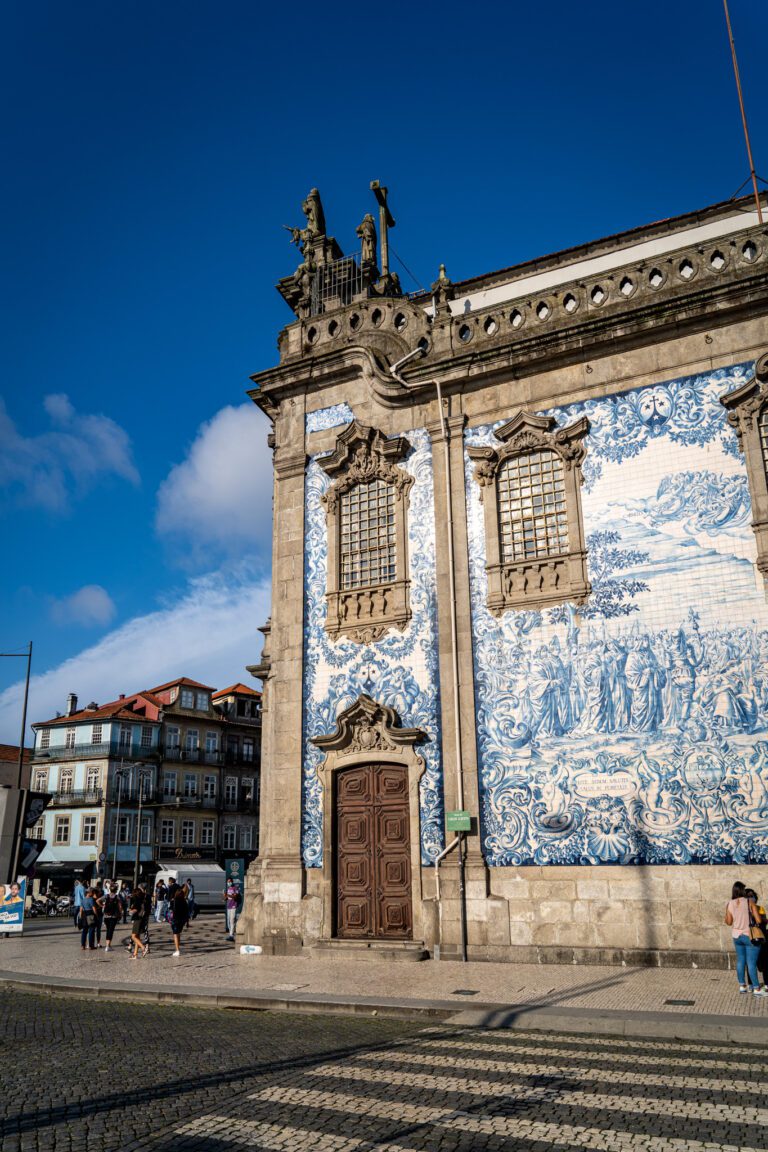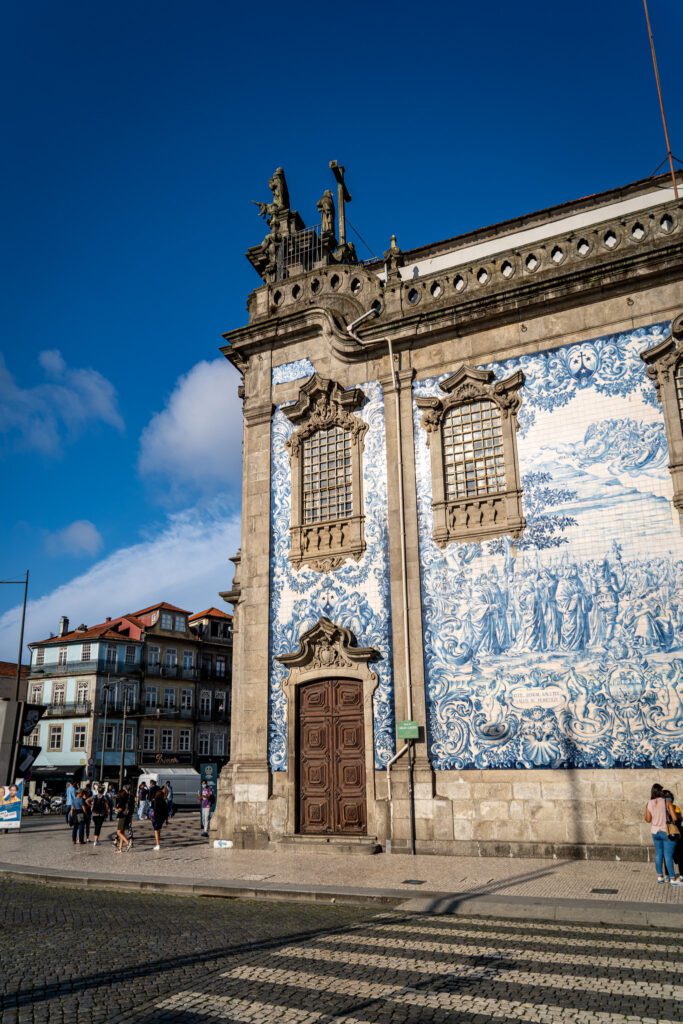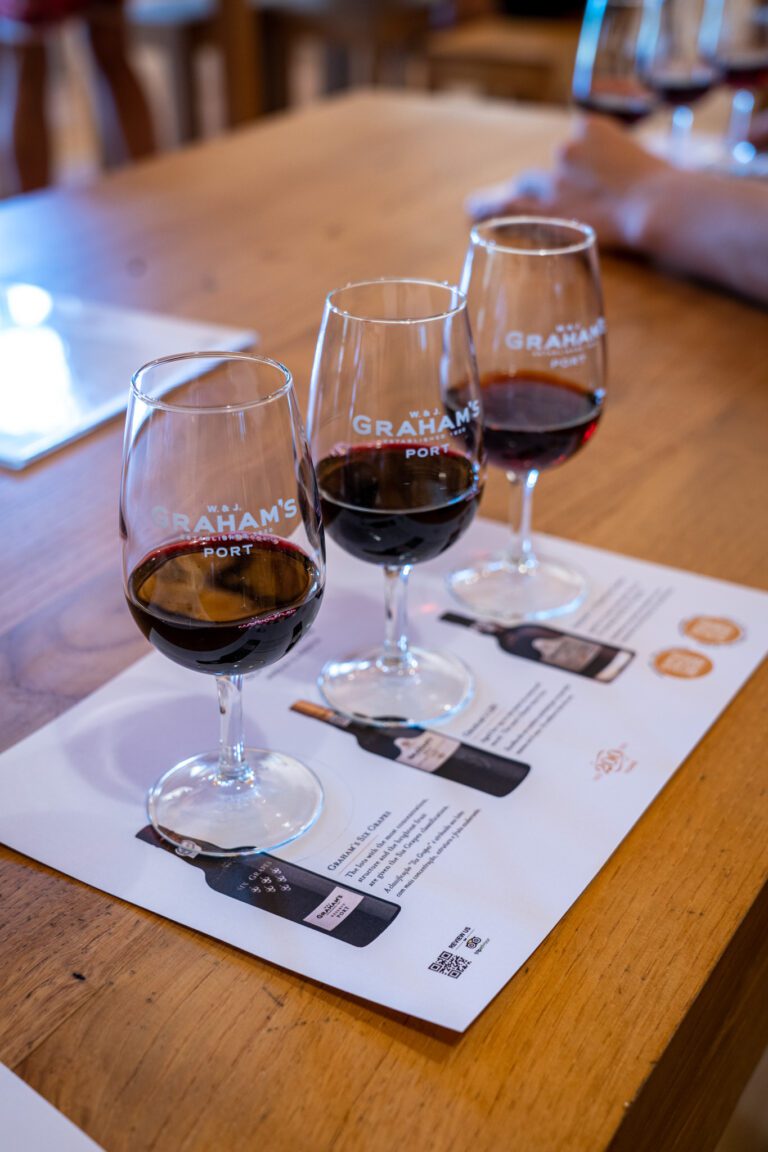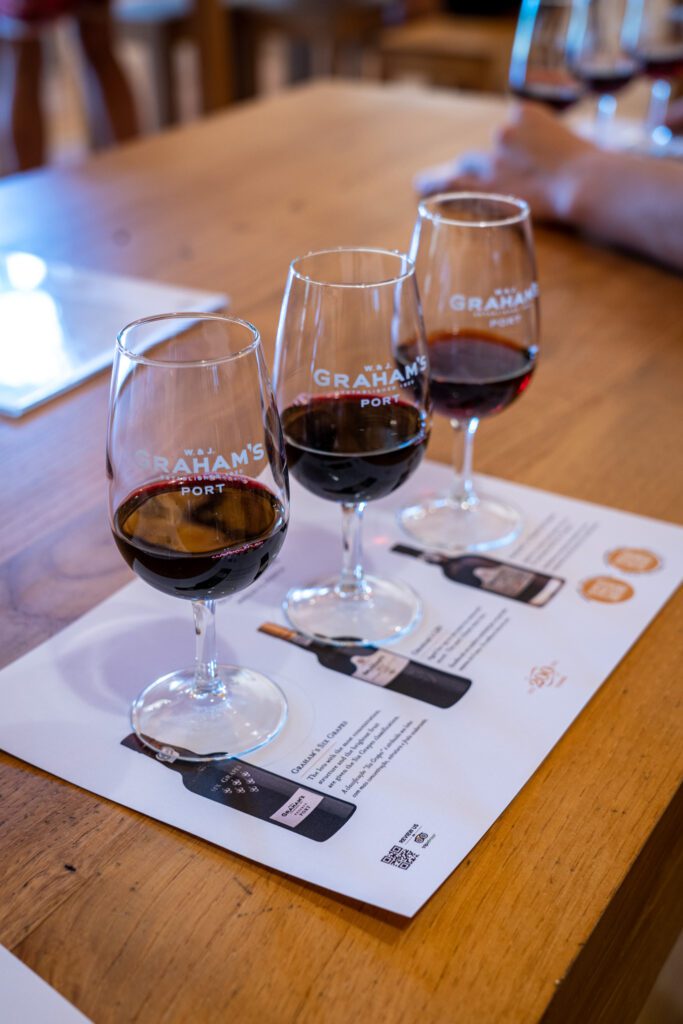 Arriving in Porto
There's a handy metro line that goes to and from the Porto airport – Porto Francisco Sá Carneiro Airport (OPO) – in 30-40 minutes. You can buy tickets at the entrance, and it will connect you with the other metro lines once you arrive in the city. More information here.
You can also take a taxi (which will cost around 23 Euros) or pre-book a private transfer to take the stress out of arriving.
What to Do in Porto
Here are some things we enjoyed in Porto, in no particular order.
A Walking Tour to Learn about Porto's History. Porto's history is fascinating, going all the way back to the Roman Empire (and beyond that, too) and along the way becoming the capital of Portugal before Lisbon was given that title. One thing you'll notice is the fact that Porto is an older city than Lisbon, mainly because of the earthquake that leveled Lisbon in 1755. A walking tour will introduce you to all that history and more with a local who can give you tips on what to eat and where to eat it, how to get around, what not to miss, and more. We always do walking tours in nearly every city we go to, and always walk away (ha!) with a bunch of new stories and a better understanding of history. We've also learned that you get what you pay for here, and there's a reason the free tours are, well, free. Here's the one we'd choose in Porto, though we actually chose this private walking tour in Porto ourselves with our favorite tour company, Withlocals.


Miradouros. Porto is a beautiful city, perched on a hill overlooking the river below, so there are a few viewpoints that we think you shouldn't miss. First is Miradouro da Vitória (here on Google Maps), which is a place we found ourselves multiple times on our trip. It's a great view out over the city and river, and it's worth the effort you'll expend coming from the bottom of the hill. On the opposite side of the river, Jardim de Morro (here on Google Maps – technically in Vila Nova de Gaia) has some of the best views of the city, which sprawls up the hill away from the river, and the Ponte Dom Luis I (the bridge).


The Port Houses in Vila Nova de Gaia. Across the river from the city of Porto is a separate city called Vila Nova de Gaia, which is where all of the port houses are located. It's worth an afternoon of your time to cross the river and do a tour, where you'll learn about the process of making port and usually get to enjoy a tasting at the end to understand the differences between ruby, tawny, and the other types of port. We did the tour at Graham's Port Lodge and really enjoyed it, though we also heard good things about Taylor's and Churchill too from various locals we interacted with. If you're looking to try port in the city center of Porto, go to Prova, where we got a mini-lesson on the basics of port before we made it across the river later in the trip.


Eat a Bifana and a Francesinha. Two of Porto's most famous dishes are meat-heavy sandwiches that we had mixed feelings on. Neither of us are huge meat eaters, and I have Celiac Disease and need to eat gluten free, so our choices were limited. We did manage to find both, though! The Francesinha is a sandwich stacked with multiple types of meat, a fried egg, and a spicy sauce made of beer and broth. It's basically a heart attack on a plate. We enjoyed it, but probably wouldn't eat it again. The second is the bifana, which is a pork sandwich that is both cheap and delicious. My brother was the guinea pig here, and ended up enjoying it. We got it at Conga, recommended to us by our walking tour guide. You know it's authentic when you can see them making the meat in the window.


Livraria Lello. We're conflicted about this one, because we actually chose to skip it after seeing the massive line outside – which exists all day long, opening to closing. This is a beautiful bookstore that became famous when fans learned that J.K. Rowling wrote a portion of the books while working in Porto as an English teacher in the early 90's, and that this bookstore might have served as inspiration (key word: might). The interior, particularly the staircase, is beautiful, but we were a little shocked by the price and popularity. It's 5 Euros to enter, which you'll get back if you decide to buy a book.
You might notice that all of the port houses have very, uh, English names. Graham's. Taylor's. Sandeman's. That's because they were, and still are, owned by English companies who, at the time they were started, were looking to find a new source of wine after the French ramped up prices.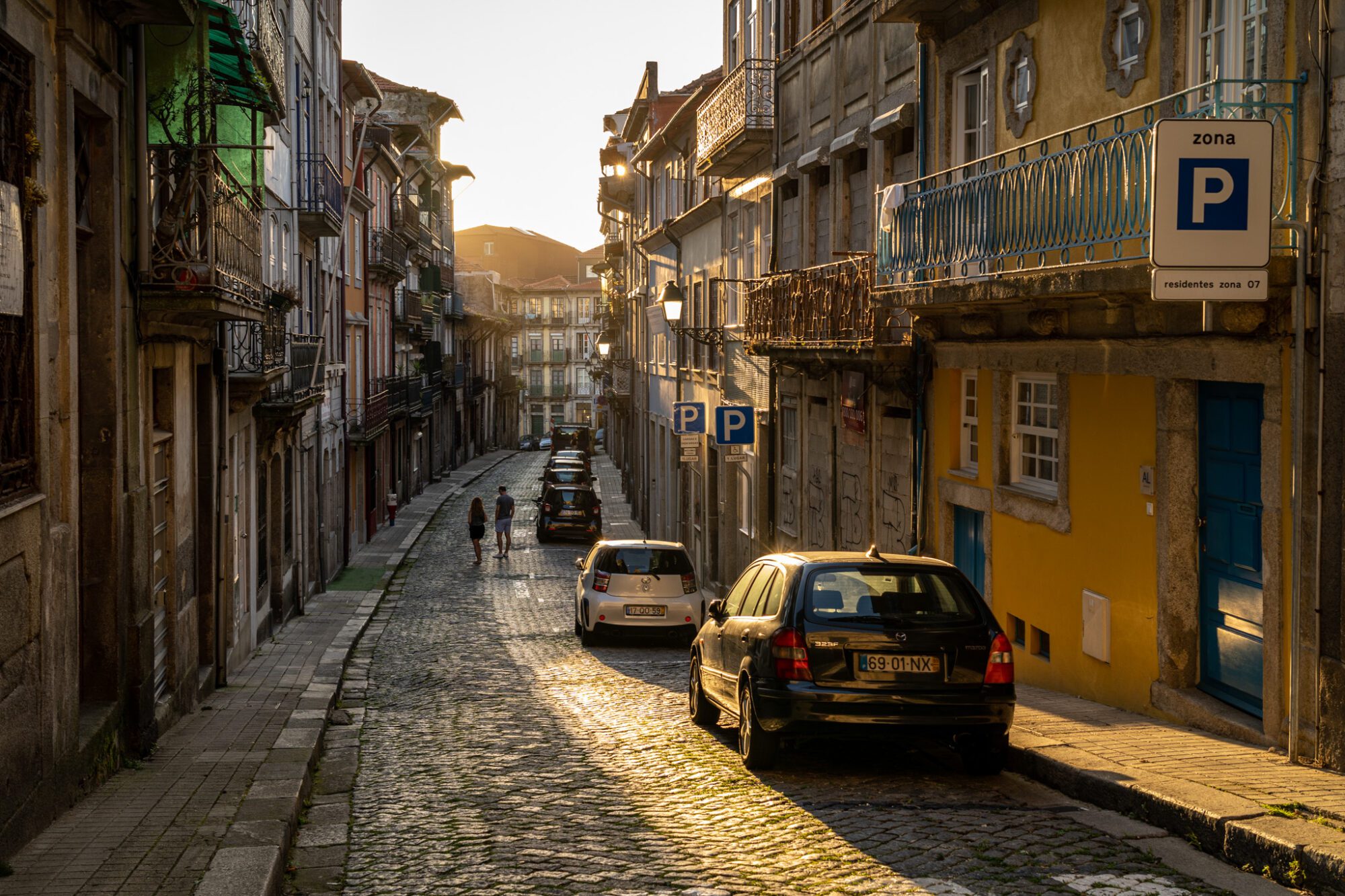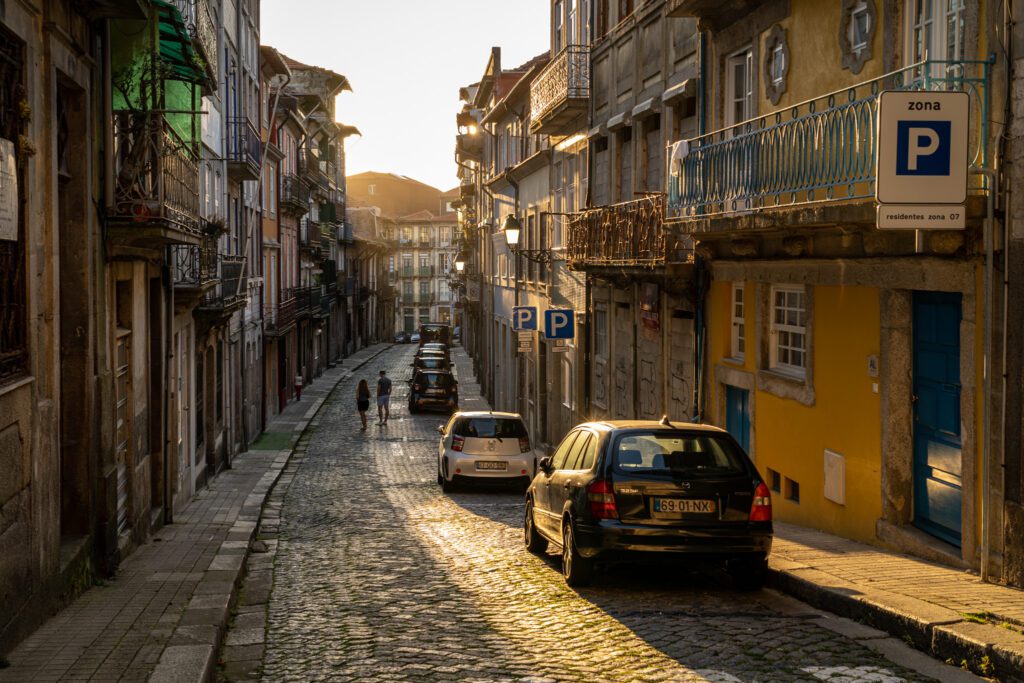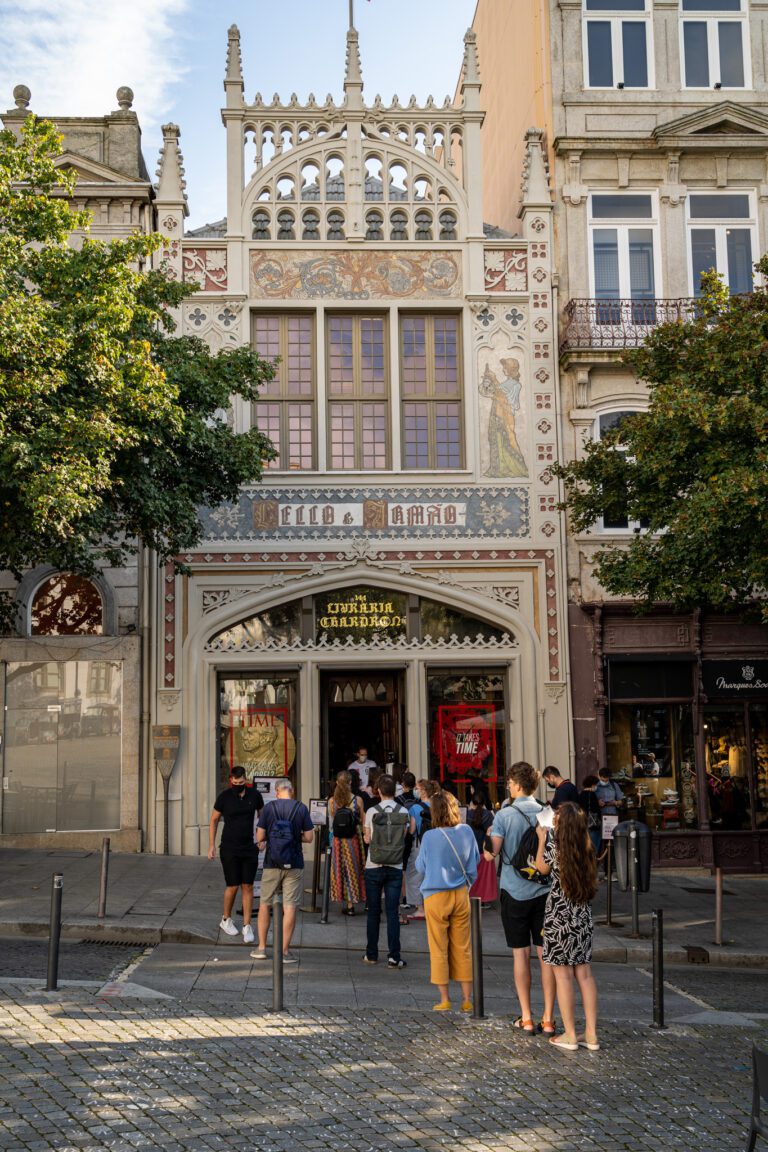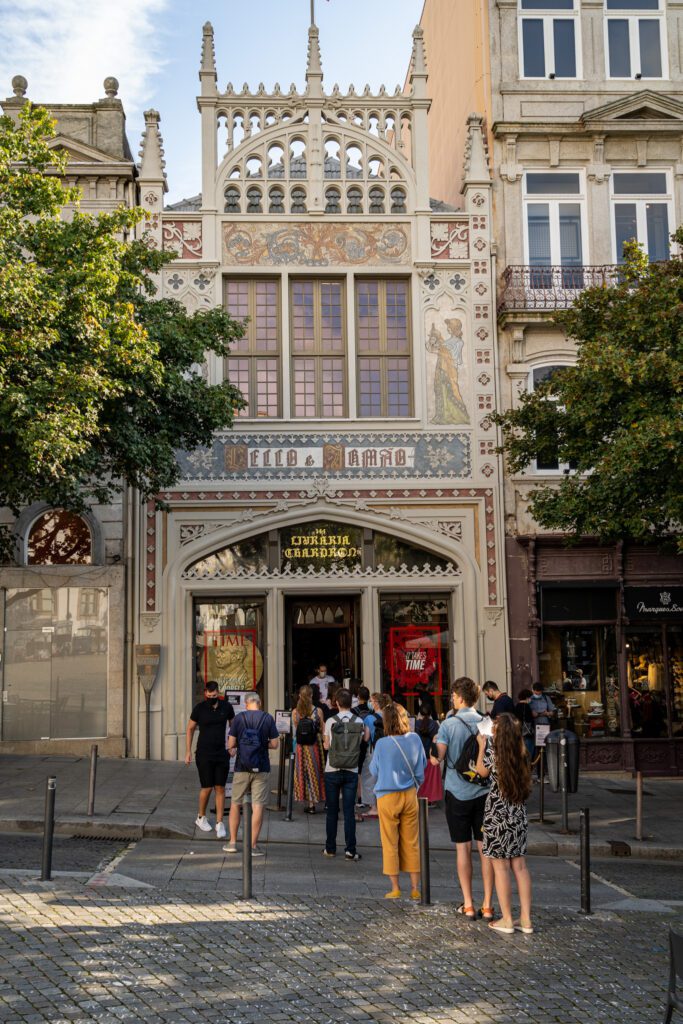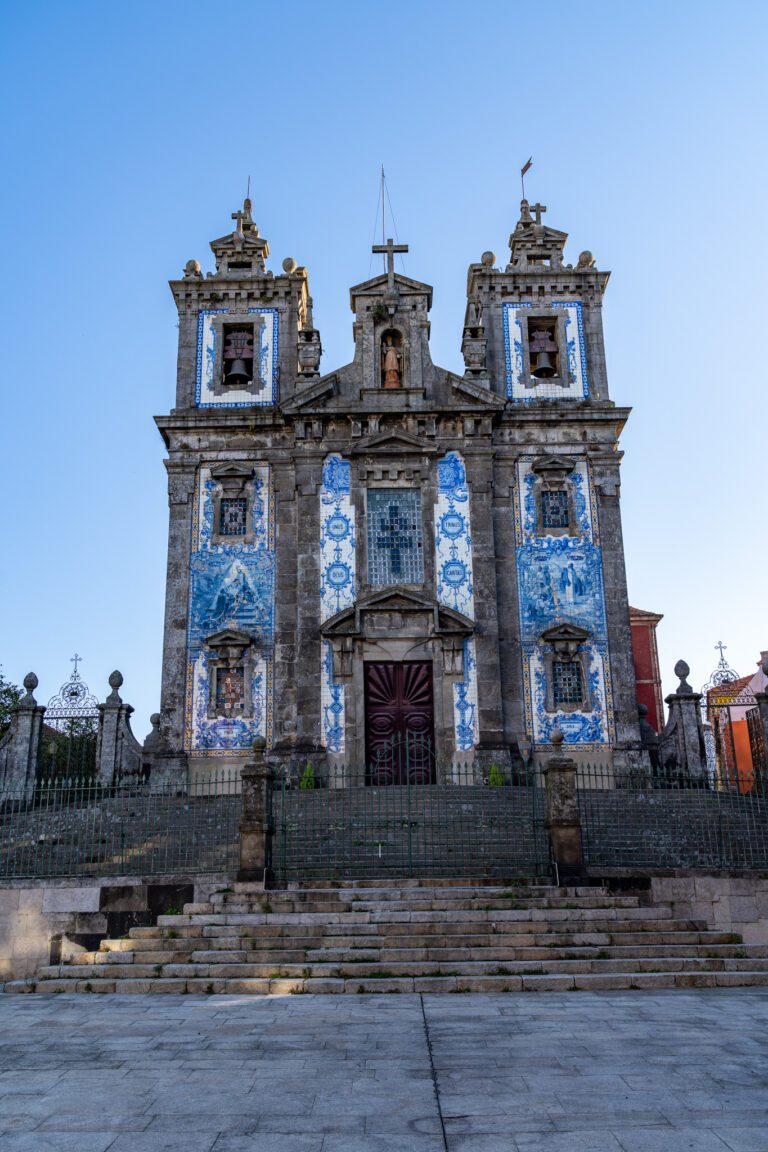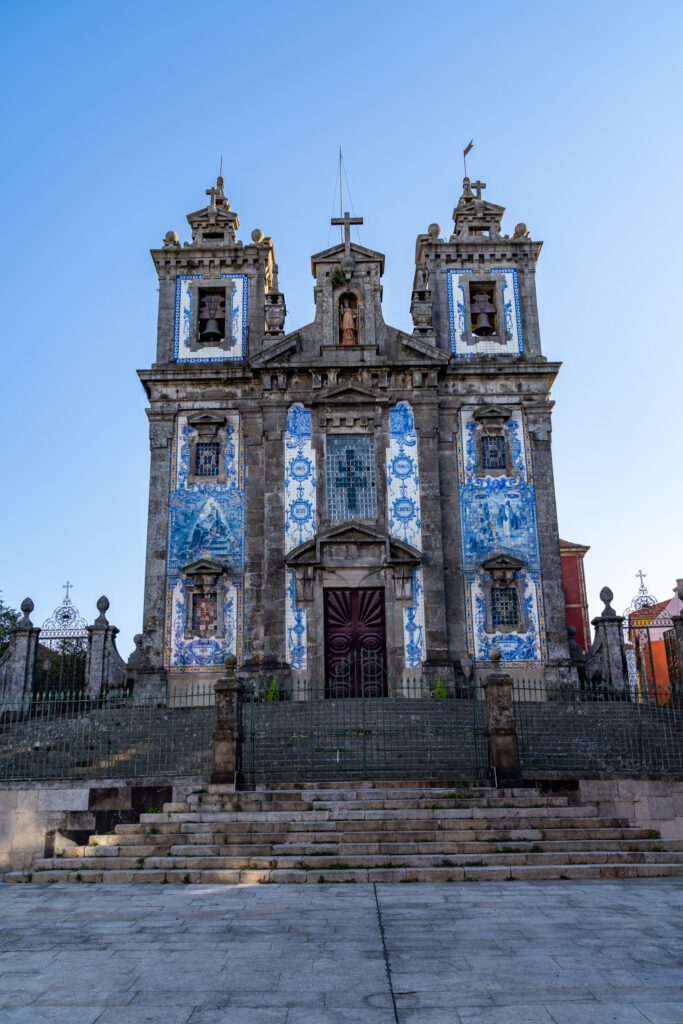 If you're looking to get some deeper knowledge and insight into the food scene in Porto and northern Portugal, we'd recommend a food tour. Given the fact that I have Celiac Disease, we didn't do one ourselves (it would just be me salivating over everyone else eating delicious food, even though I'd love the history and stories part of the tour). Here's the tour we would have done, had it made sense.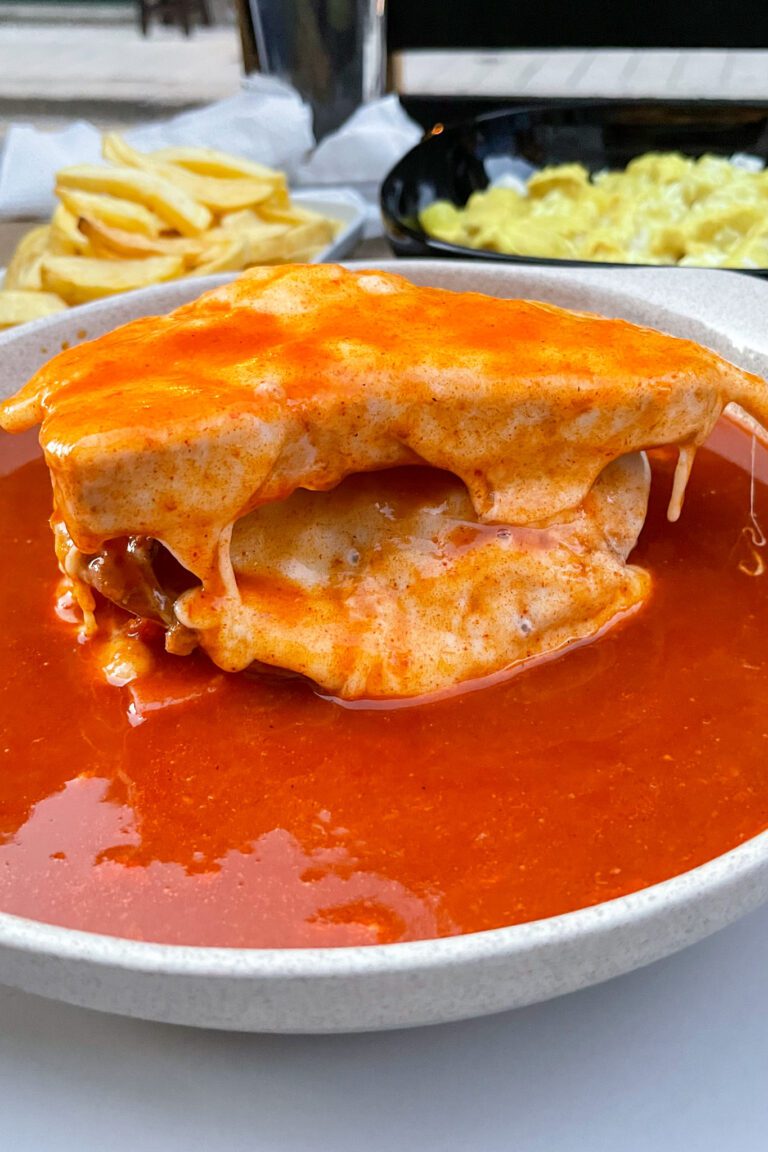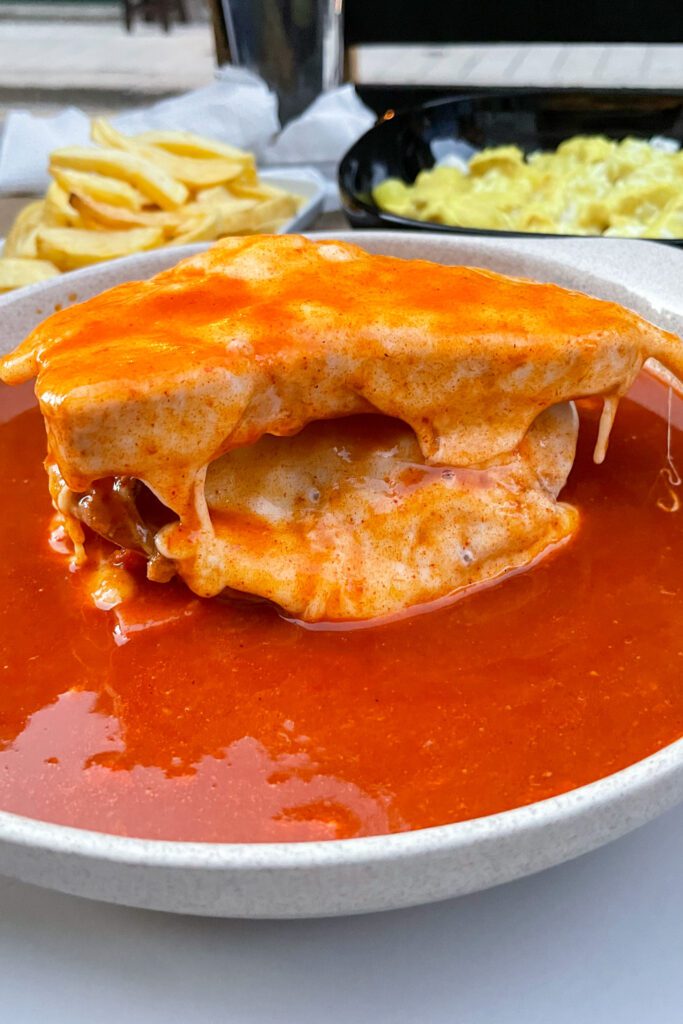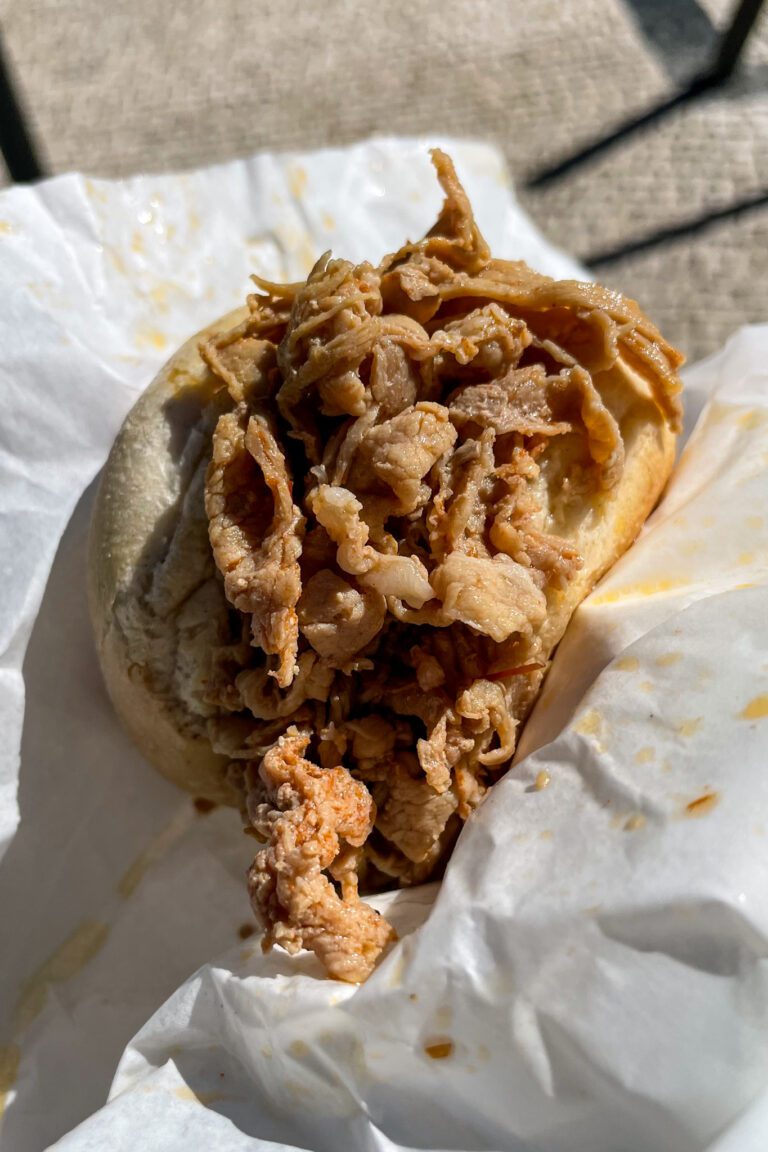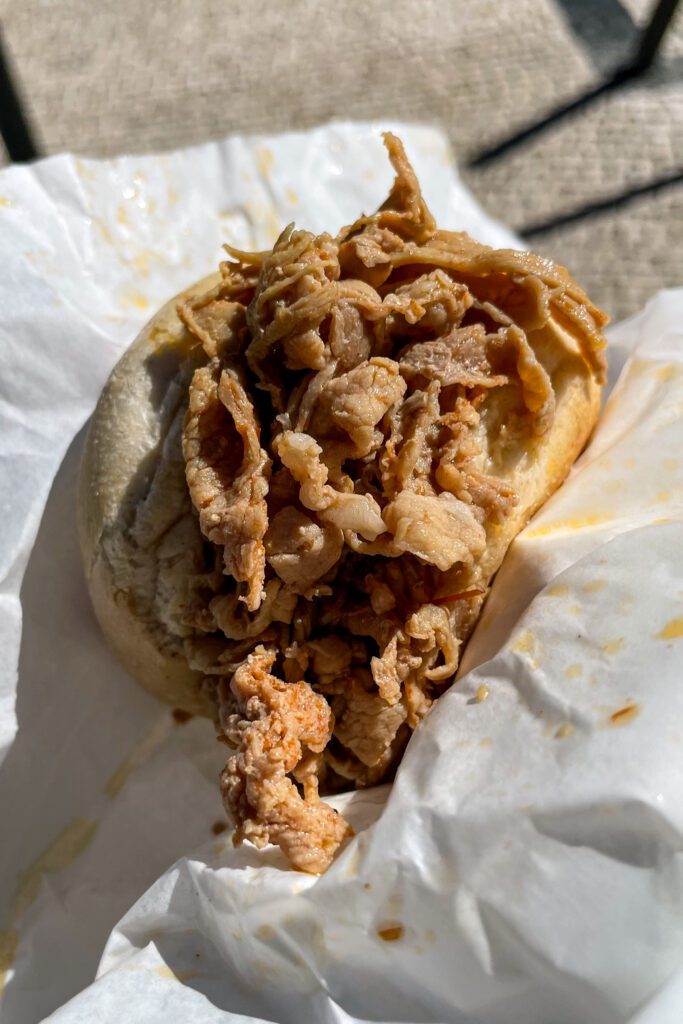 Where to Stay in Porto
Porto is a compact city, so staying anywhere near the center of the city is going to put you within walking distance of basically everything in the city. It's a little bit hilly, but not too bad.
We have an entire guide dedicated to deciding where to stay in Porto, which you should definitely read if you want to get deeper into each neighborhood we recommend and why we like it.
Otherwise, here are the highlights.
That being said, we'd recommend staying relatively close to the river, either in the upscale Ribeira neighborhood along the river, or in one of the neighborhoods adjacent to it to the north.
We personally stayed in Bolhão, which was about 10-15 minutes away from the river on foot, and was a more affordable location than the area along the river. And, to be honest, it was much more enjoyable and we'd stay there again in a heartbeat.
We heard mostly Portuguese (versus the mix of English, French and Spanish you'll hear near the river) and there were a ton of great places to eat and drink within 3-5 minutes of walking. And it felt younger and more lively, particularly at night.
We stayed at Your Opo Cozy Apartments, which was the perfect base for us because we need access to a kitchen and prefer having more space to spread out (especially since we were traveling with my little brother). We also had our eye on Hotel Moon & Sun, which is a good option if you're looking for a nice hotel in a great location (across from one of our favorite coffee shops in the city).
We were originally going to stay at The Passenger Hostel, but changed to an apartment with more space when my brother decided to join.
Planning Your Day Trip to the Douro Valley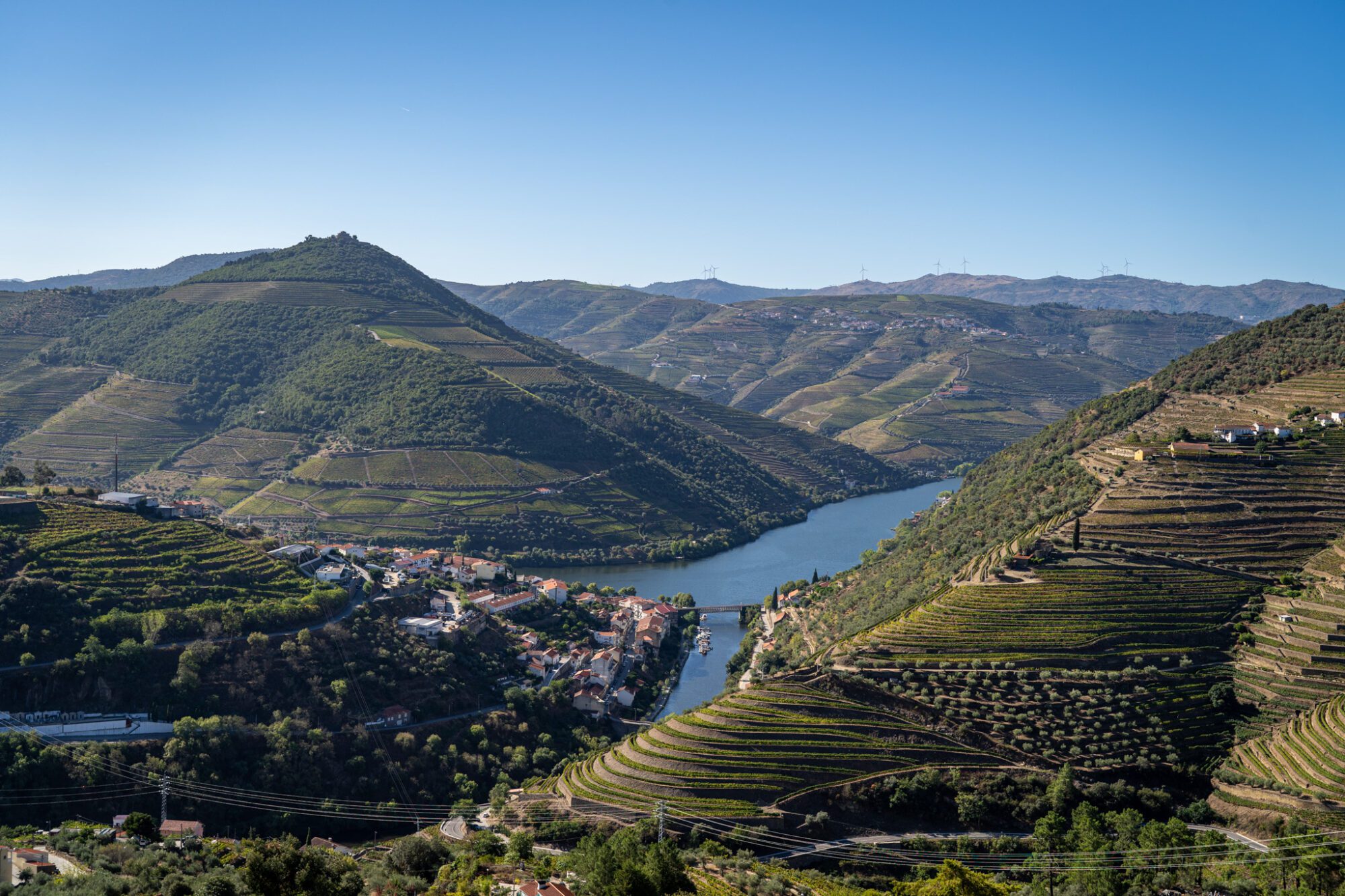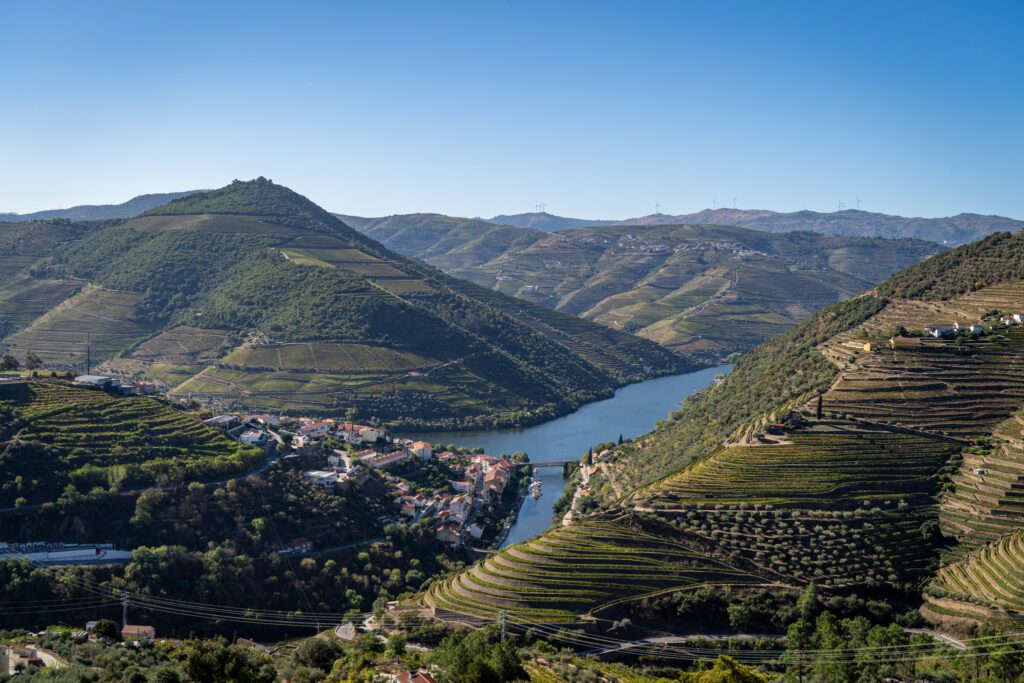 In short, we could not recommend the tour we did more highly. Like we said above, we spent a full 90 days (well, 89, really) in Europe, and that day was at the top of the list of our favorite experiences.
If you're looking for our top recommendation, that's the tour we'd choose. However, there are a couple of other ways you could tackle the Douro Valley.
Do it independently by public transportation: It is possible to do this day trip using public transportation, but we think you have to make significant trade offs doing it that way (though it is much cheaper). There is a train from Porto to Pinhão, a major town in the Douro Valley full of wineries and restaurants along the river. However, once you're there, you'll have to walk / taxi between places, and you're really confined to the area immediately around town.


Do it independently by car: If you rent a car, we think you'll have a better experience than using public transportation. But, again, it comes with tradeoffs. You'll have to drive, which means watching how much port you drink (don't drink and drive, folks!), and it can be expensive and inconvenient to rent a car for a day. That being said, it does give you more flexibility even than a guided tour to discover places that you wouldn't have otherwise found, which we like. If you want to do the Douro Valley independently, this is how we'd do it.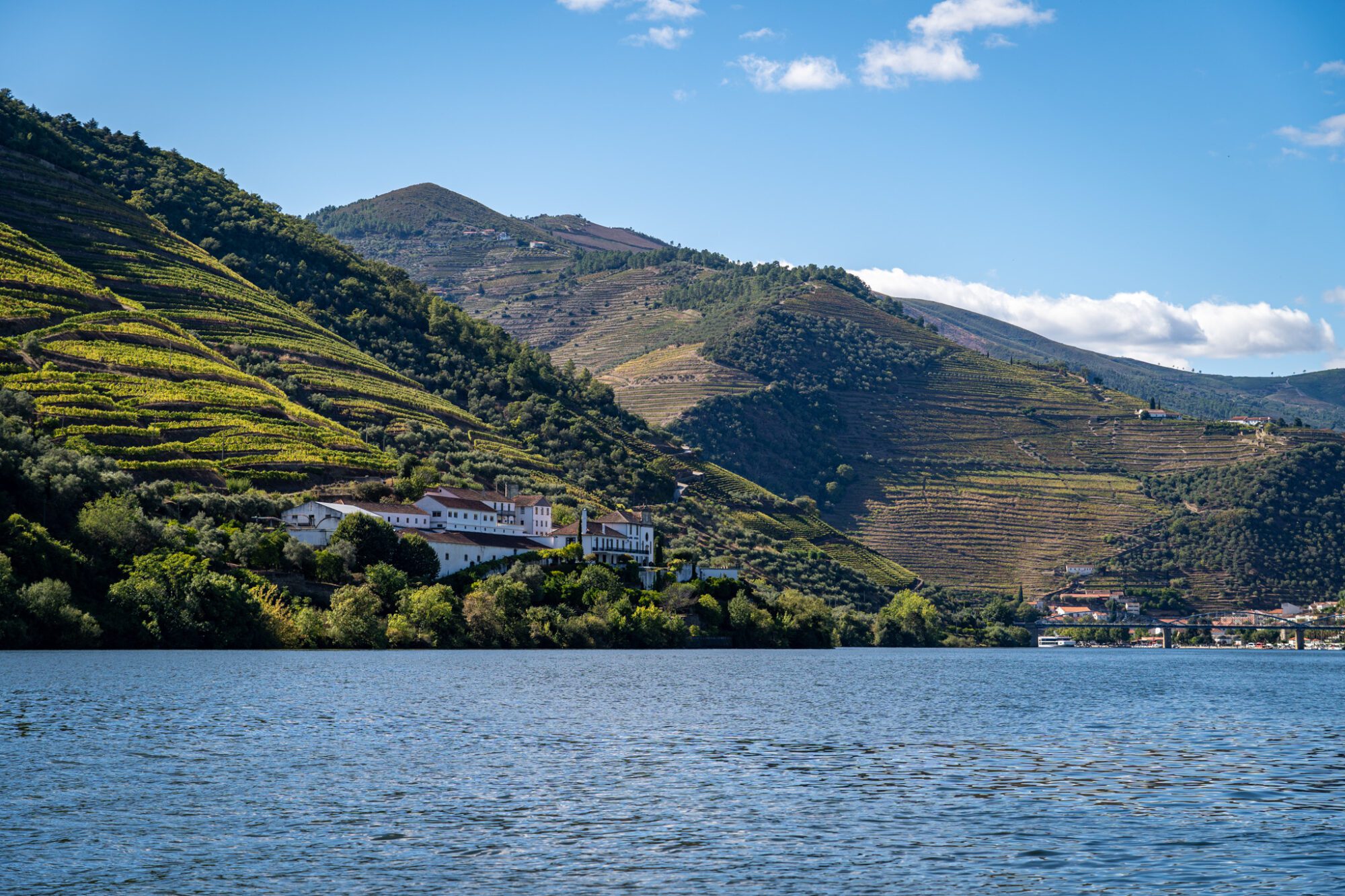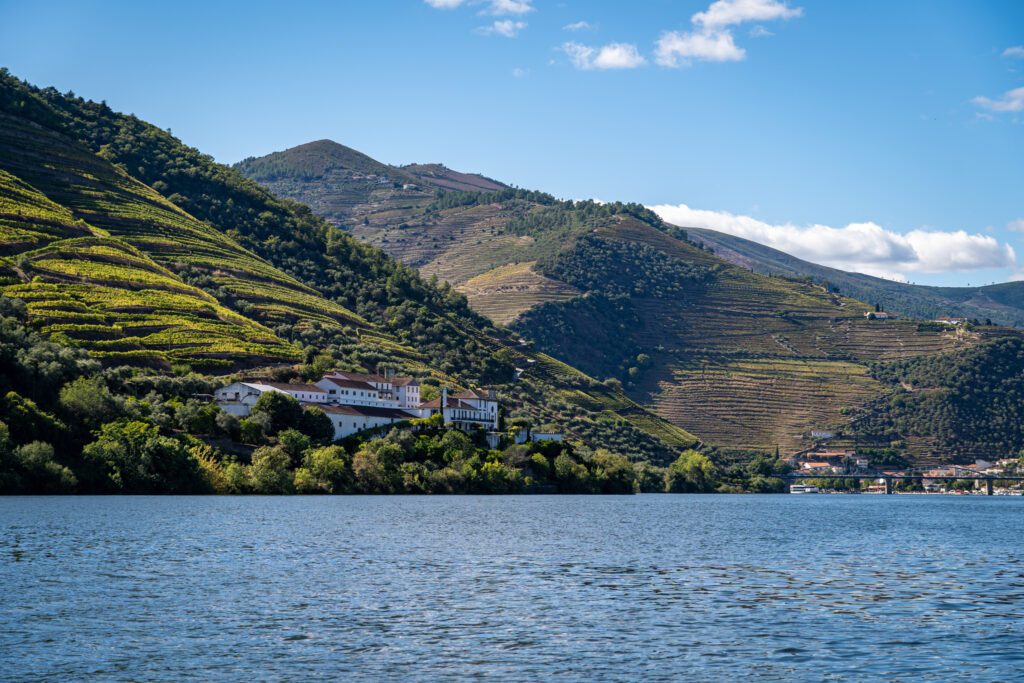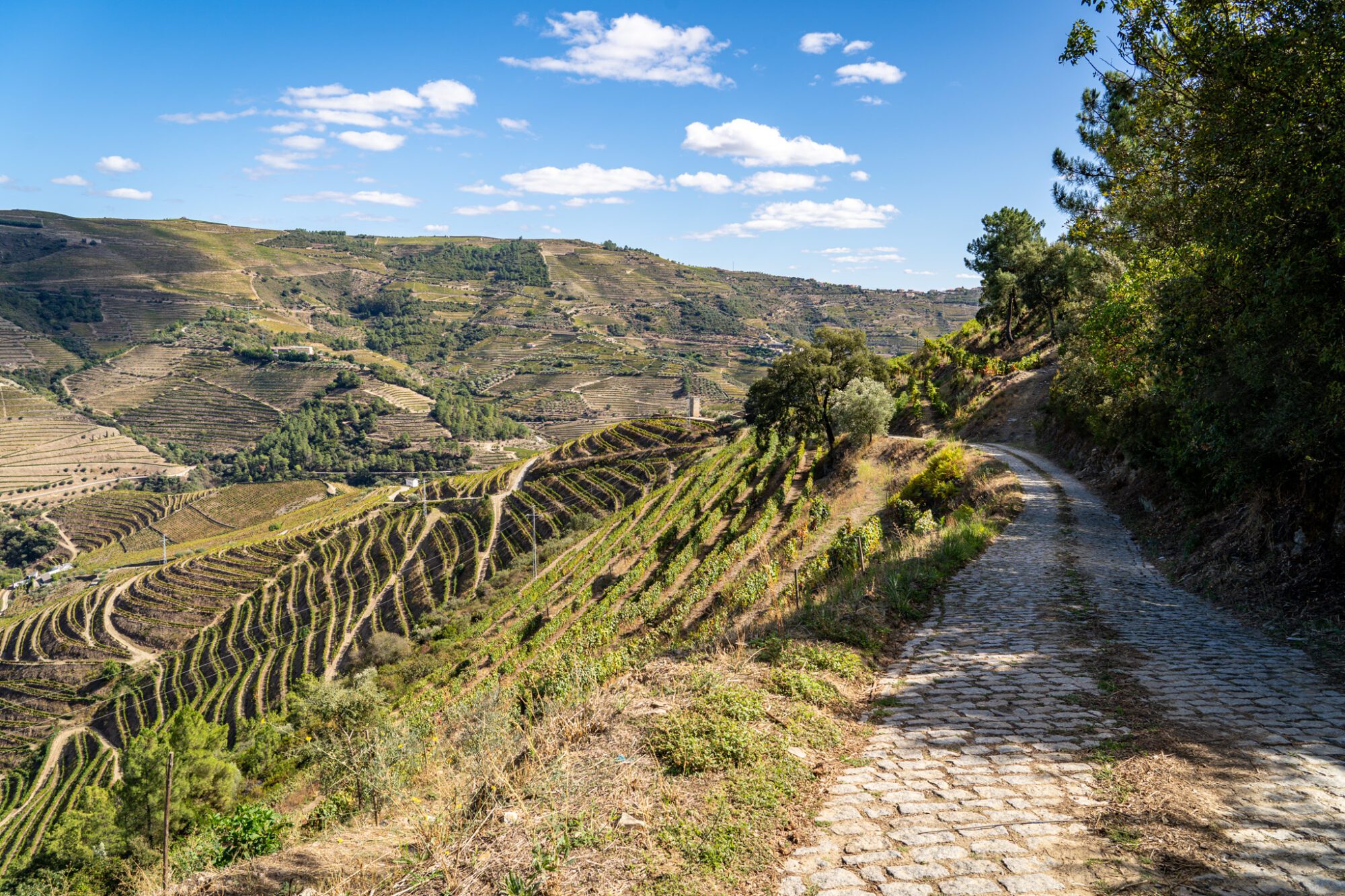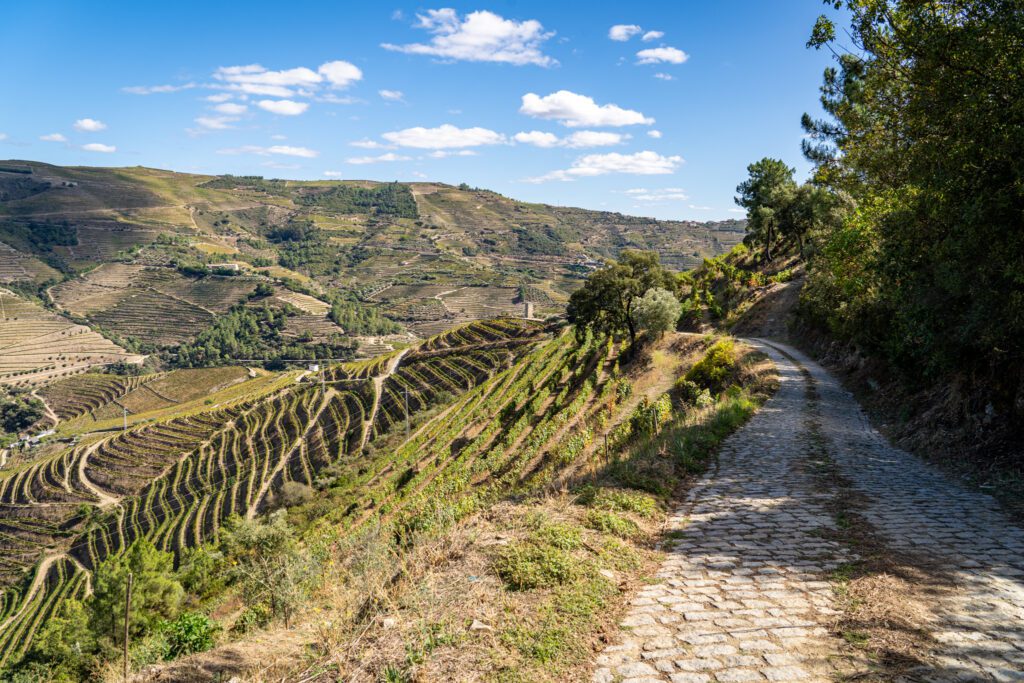 We'd definitely recommend making it out to the Douro Valley. The best way to do it is either by booking the tour we did, which includes a winery, an amazing lunch (with more wine), a Douro River cruise (with more wine), and all transportation, or renting a car and doing it independently.
Days 4-6: Lisbon + Day Trip to Sintra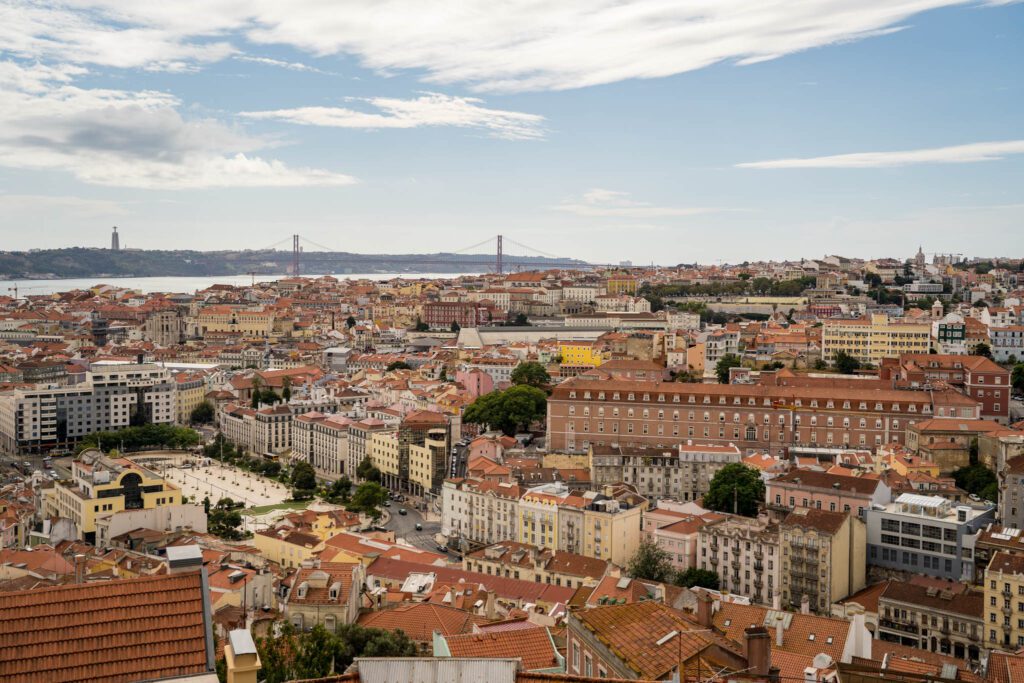 Lisbon, Portugal's capital, is a lovely city to explore. In fact, it reminds us a lot of San Francisco, our last home before we quit our jobs and hit the road full time (ish). It has hills with amazing views, a great food and drink scene, and even has a red bridge that looks suspiciously like the Golden Gate.
We were somewhat surprised to learn that the entire city was essentially flattened in the 18th Century thanks to a giant earthquake (another similarity to San Francisco). It has since been rebuilt, and has made multiple lists of "best places to travel" over the past decade or so.
Lisbon is no longer off the beaten path, but it still very much has the charm of a mid-sized city, with a mix of tourists and locals, that places like Paris and Rome just don't have.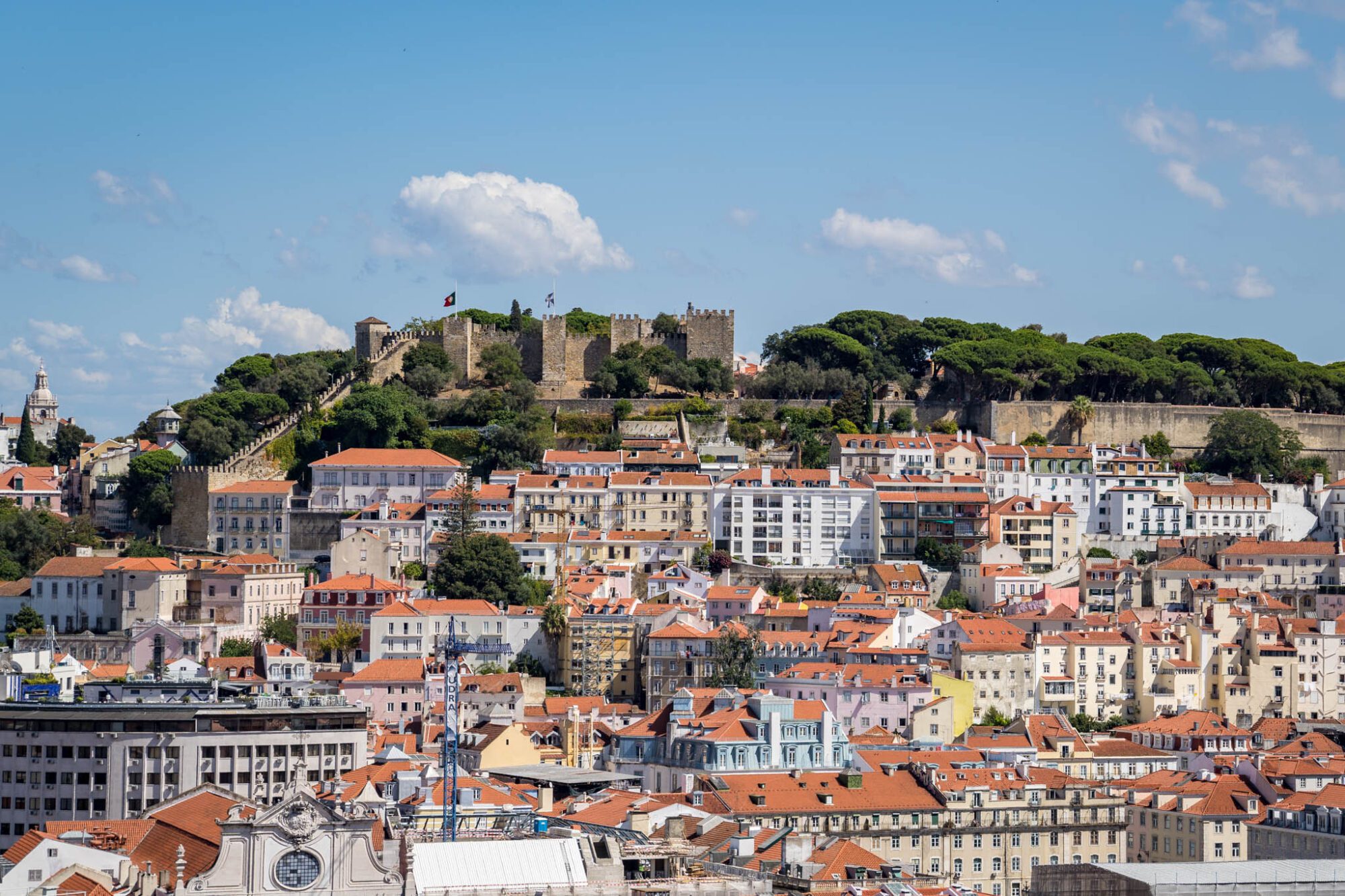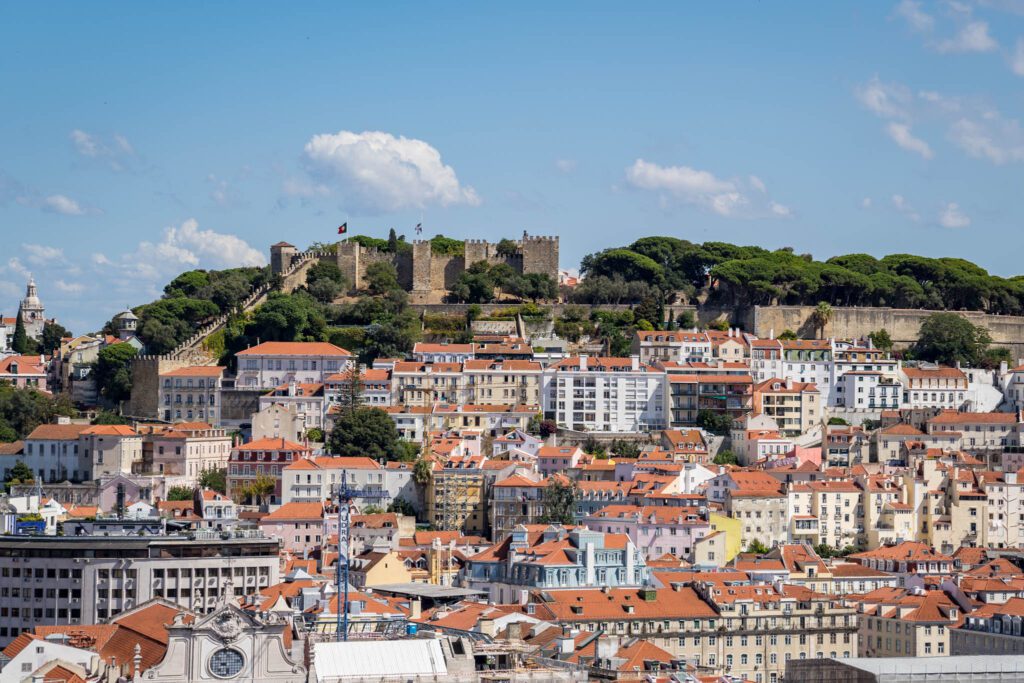 Getting to Lisbon
Hourly Intercity (IC) trains – those are the fast ones – depart from Porto's Campanhã train station and will take you to Lisbon in about three hours. We'd opt for an early train to get to Lisbon by noon or so.
Plan to arrive at Lisbon's Santa Apolonia station, which is connected to the rest of the city with Lisbon's clean and efficient metro. The alternative is Oriente, which is further out and not as well-connected.
Click here to see prices and train times for the journey from Porto to Lisbon.
What to Do in Lisbon
We have an entire guide to spending 3 days in Lisbon, which you should definitely read for far more detailed information on exactly what to do and see in Lisbon.
Here are the highlights.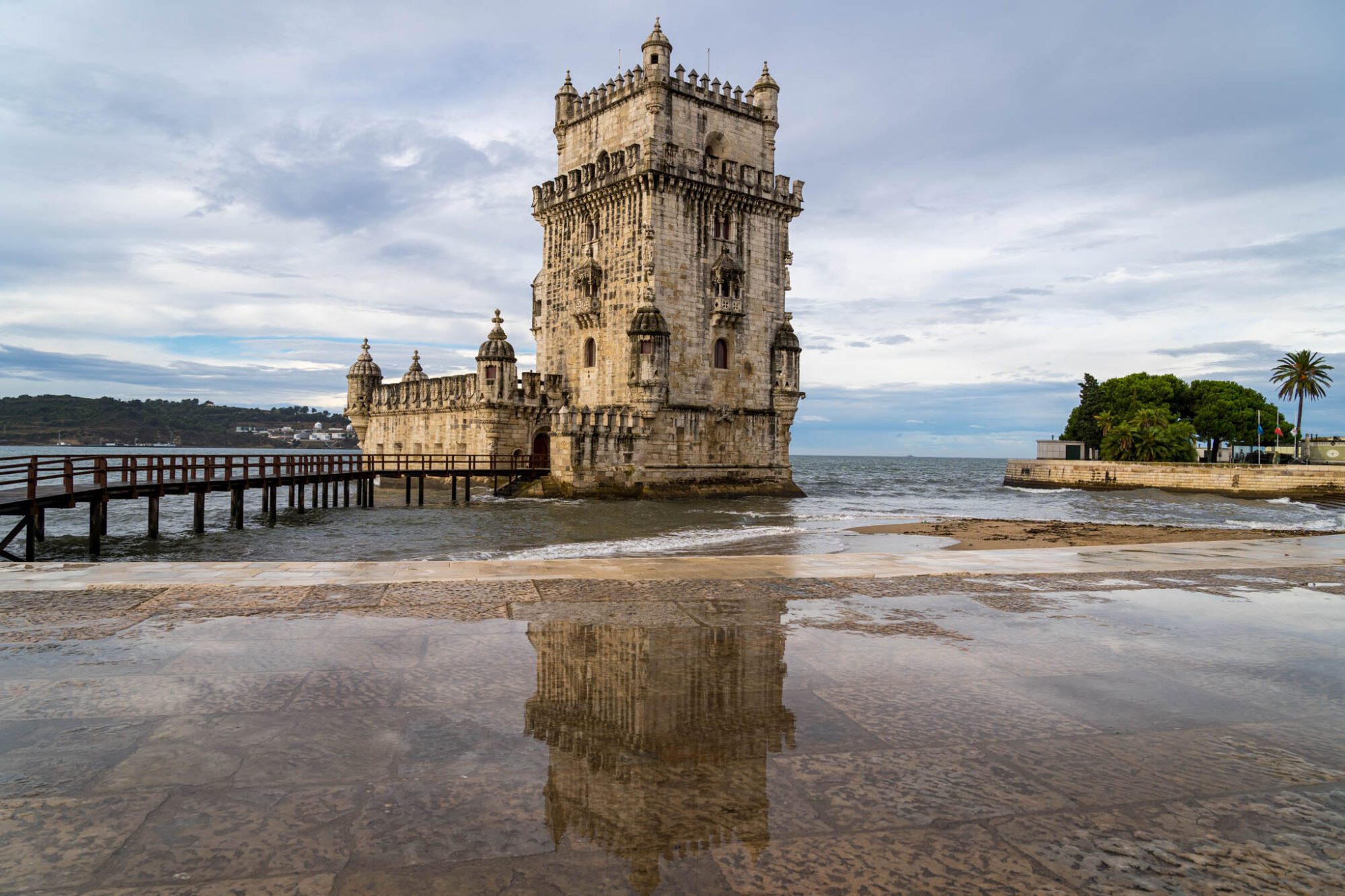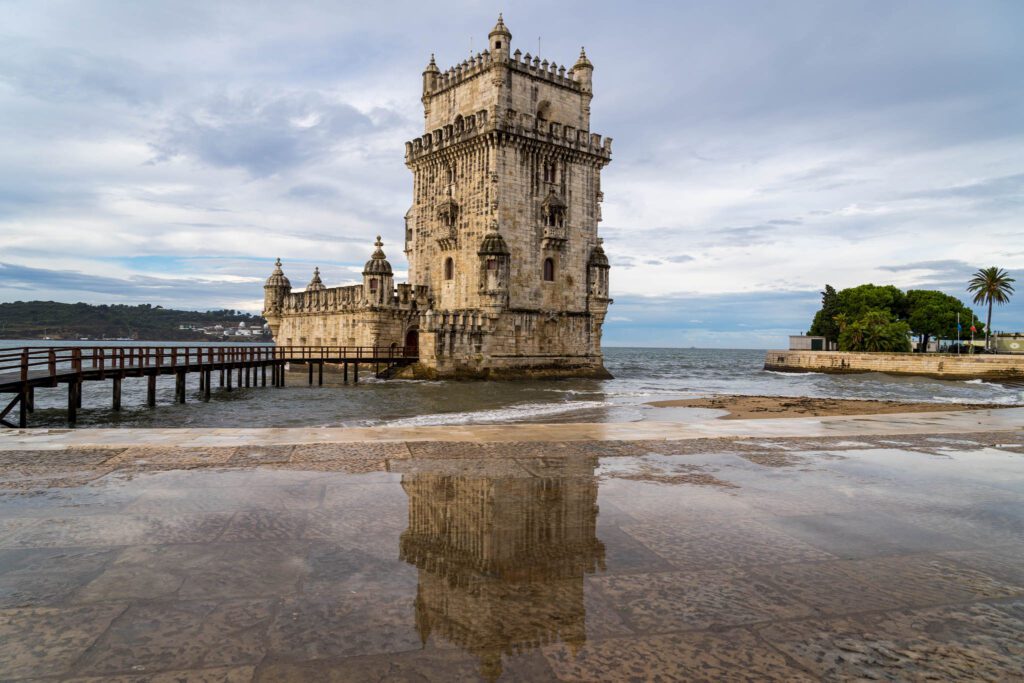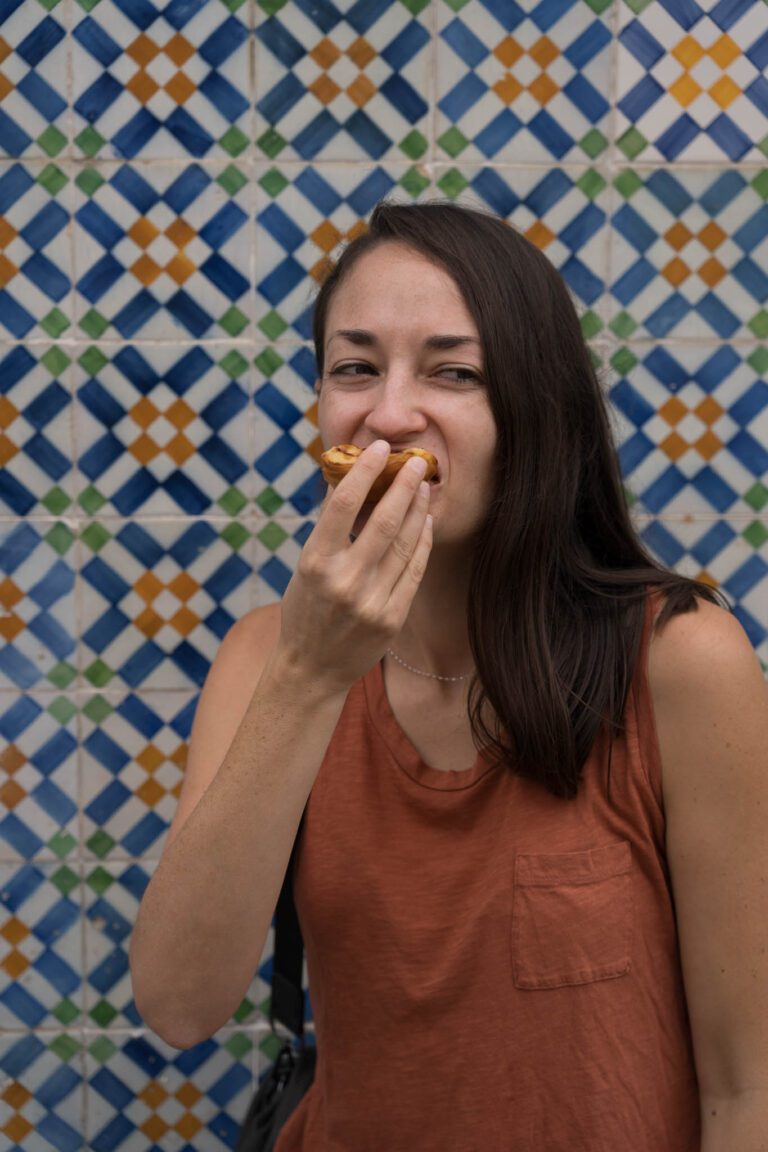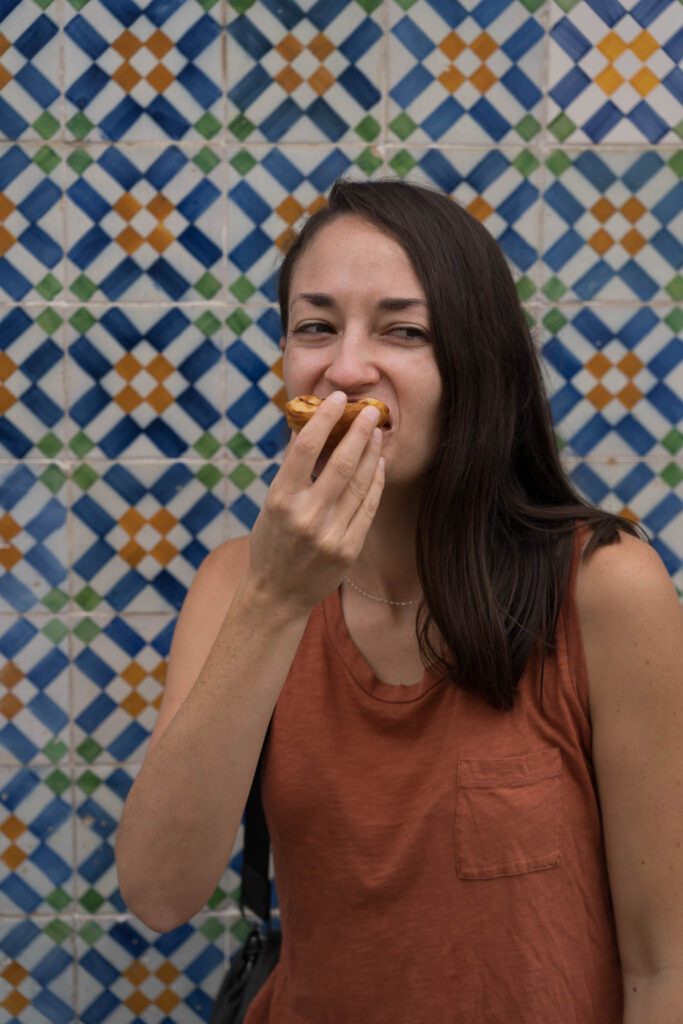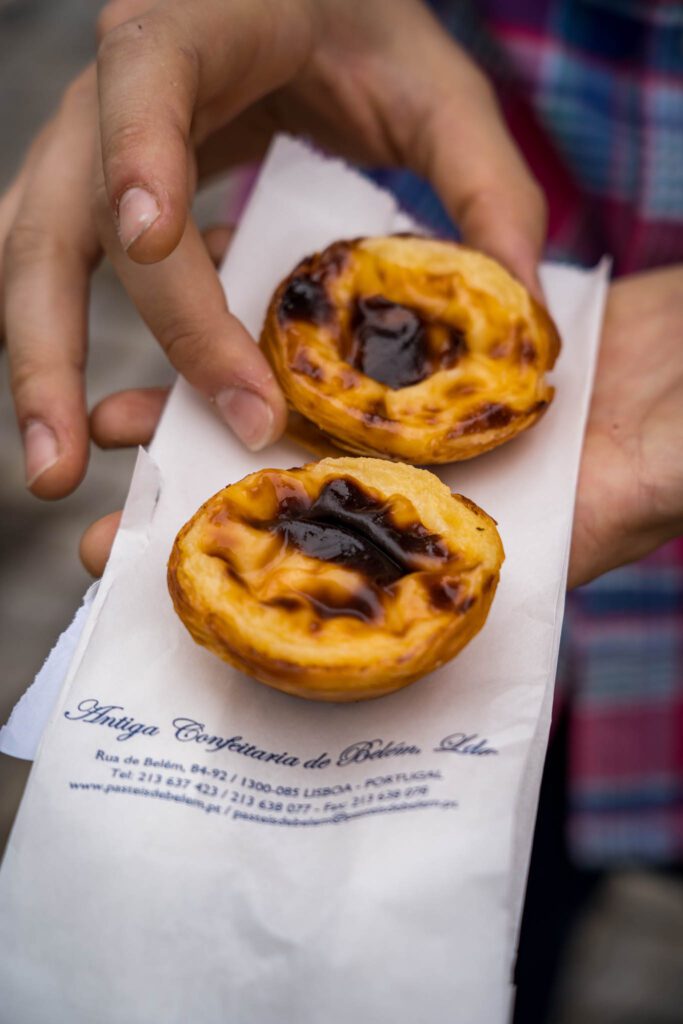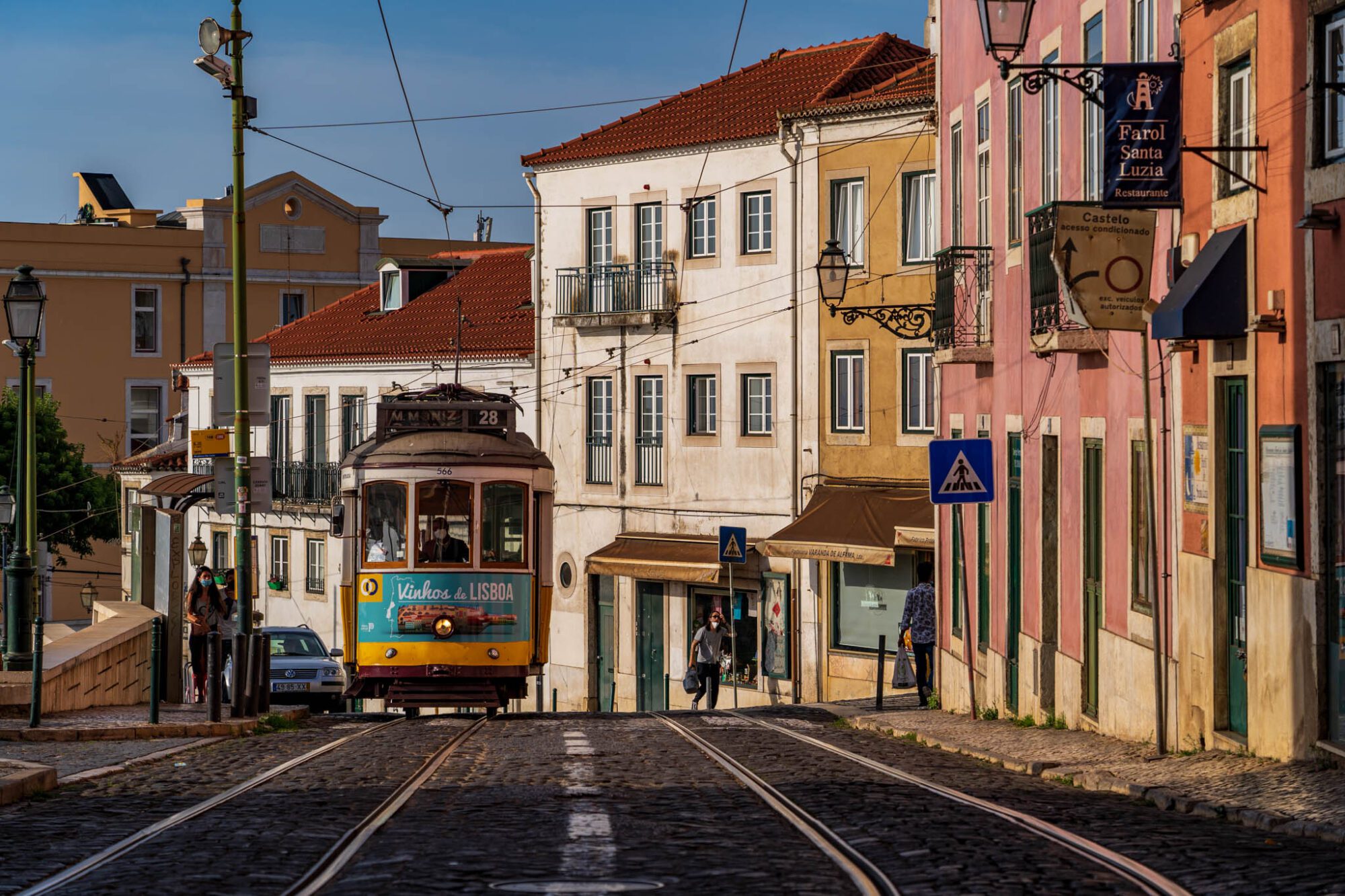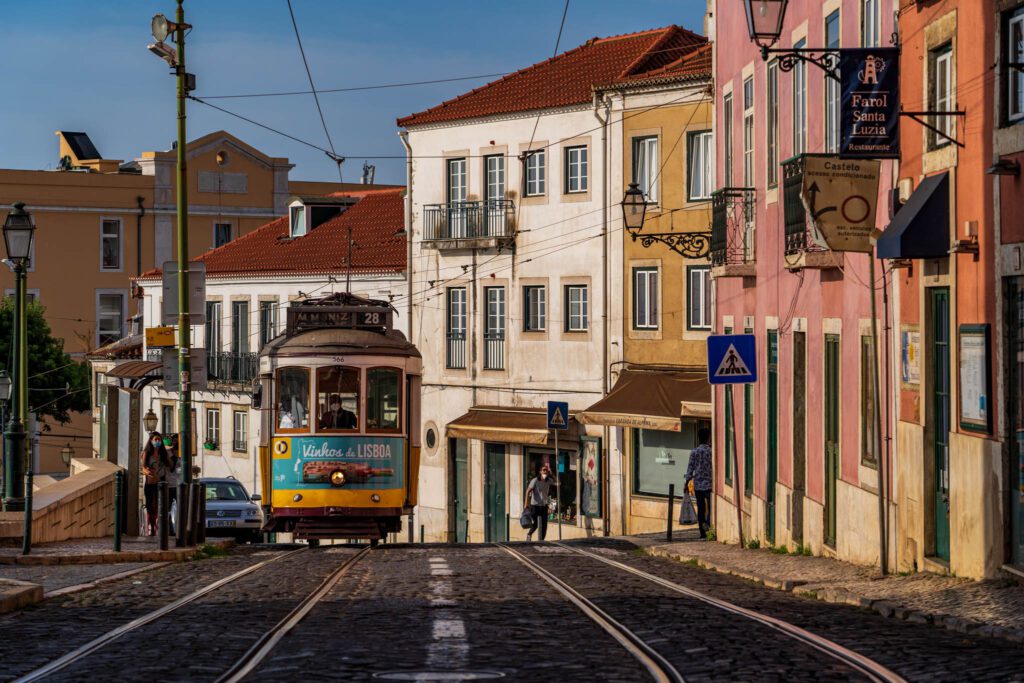 Where to Stay in Lisbon
First of all, below is the short version. We have an entire guide dedicated to deciding where to stay in Lisbon, which you should read for more detail on the options, pros/cons, and specific places to stay.
While there are many possible answers to this question, we think 99% of people should choose between the central and charming Chiado neighborhood, and the historic Alfama neighborhood, which is full of narrow cobblestone streets and amazing viewpoints.
Chiado is more utilitarian – it's well connected to the rest of Lisbon with its central location in the center of the city and a dedicated metro stop. There's an endless number of places to eat and drink your heart out, and you're going to be 5-10 minutes away from the best food and nightlife in the city (which we think are in Bairro Alto and Principe Real).
Alfama is the most romantic part of the city. It's the part of Lisbon where you'll find narrow, pedestrian-only cobblestone streets, and it's home to two of the best views of the city. There are a handful of hotels and guesthouses scattered throughout the neighborhood.
We'd highly recommend avoiding staying in an Airbnb in Lisbon because of the impact it has had on housing prices, which have in turn forced locals out of the city and further out into the suburbs. Choose hotels, apart-hotels, guesthouses, and hostels instead.
Planning Your Day Trip to Sintra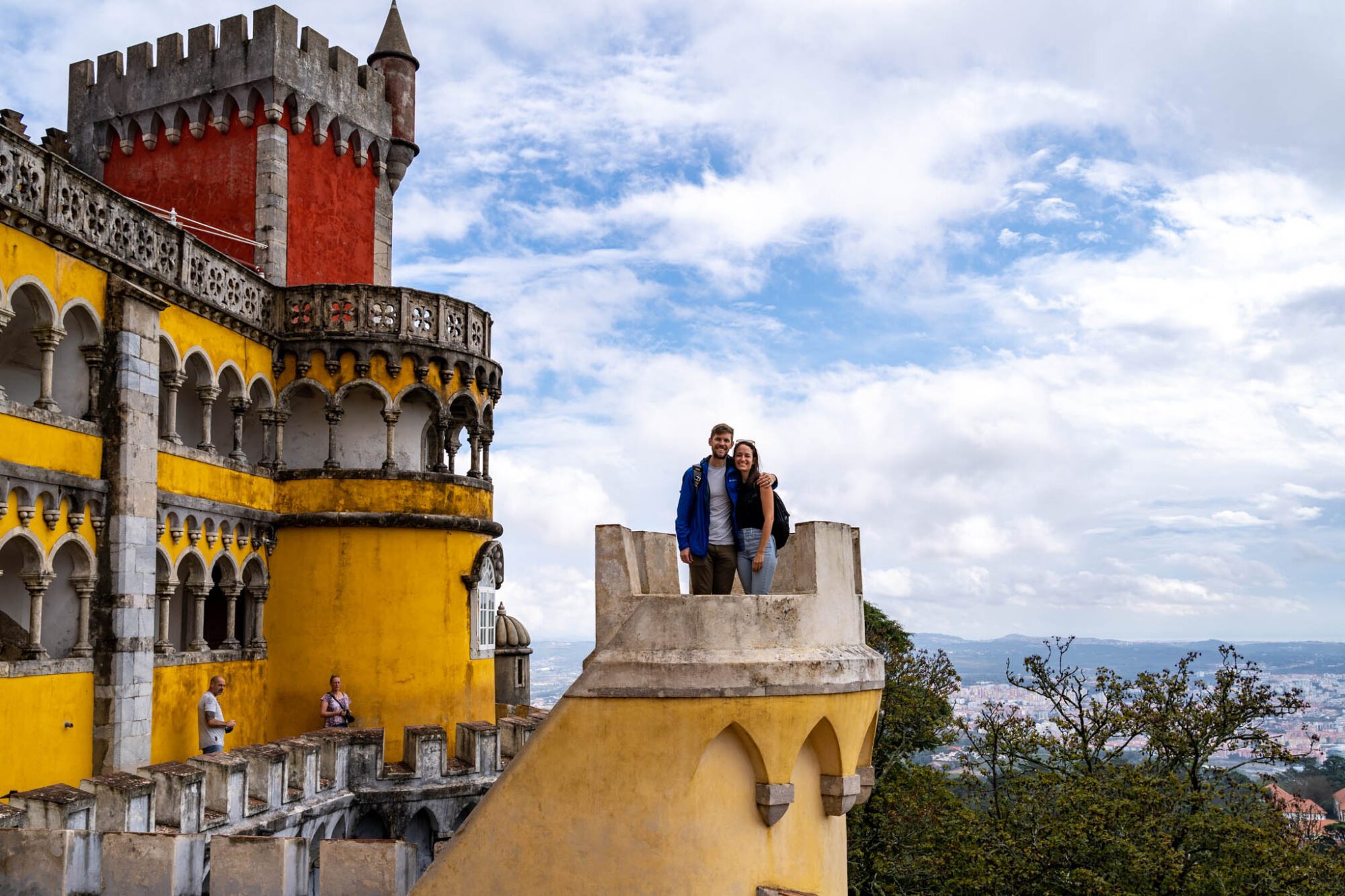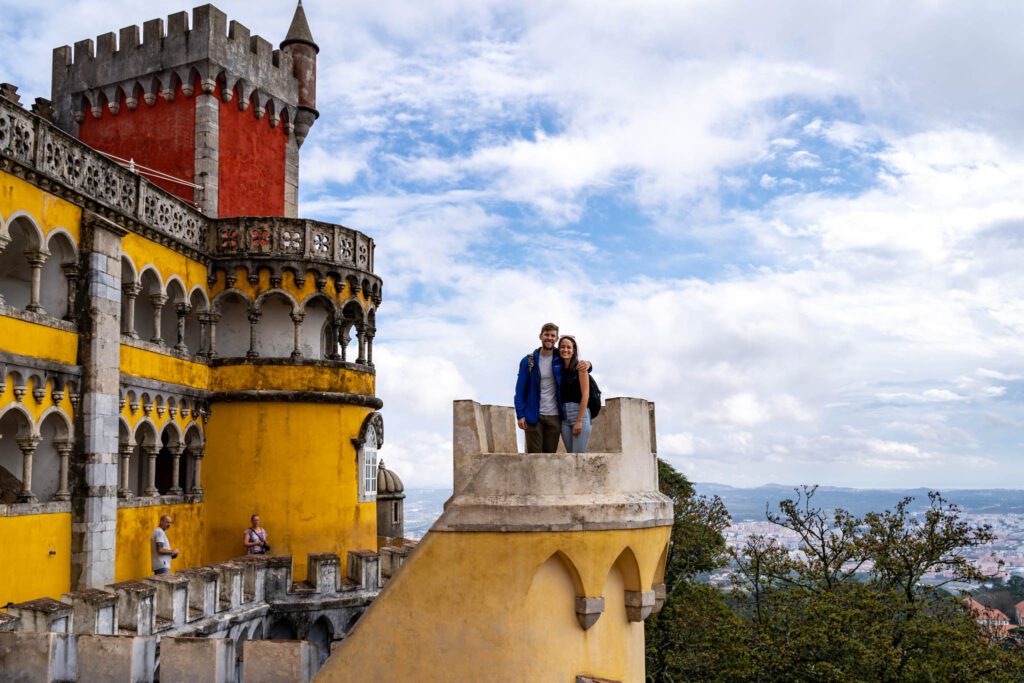 Sintra is a great day trip from Lisbon, and is also the most common day trip that visitors take, which means you're not going to be alone on the journey out there.
The main attraction here is Pena Palace, which is all the way at the top of the hill. Take the bus or a taxi to get there from the train station, it should be your first stop in Sintra. From there, work your way back down the hill.
Pena Palace is essentially a summer home, built in the Sintra Mountains by King Ferdinand II. Originally, it was a monastery on the hill, but it was destroyed during the 1755 earthquake and sat there in disrepair for years. Then, Ferdinand said "wouldn't it be great to have a place to escape the oppressively hot Lisbon summers? Maybe a place on a hill, with nice views and a cool coastal breeze?"
12 years later, the palace was finished. There are tons of other attractions to see in addition to Pena Palace, but you should keep in mind that you won't be able to see them all on a day trip.
Focus on 2-3 (we have thoughts below on what those 2-3 should be, duh), and save some time for walking around the town of Sintra at the bottom of the hill.
Planning on taking a day trip to Sintra? We have an entire guide dedicated to planning an amazing Lisbon to Sintra day trip, which has more detail than the section below.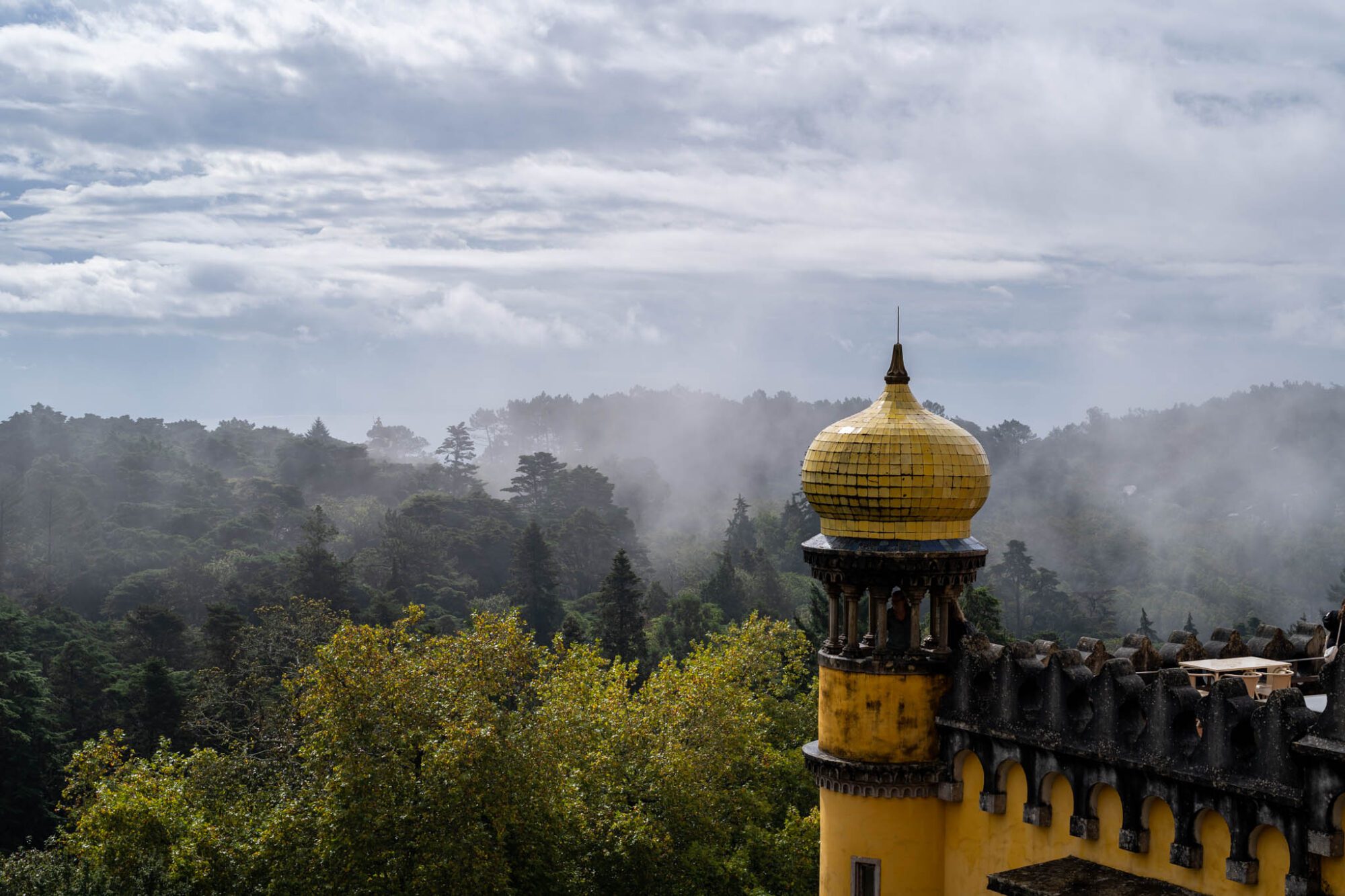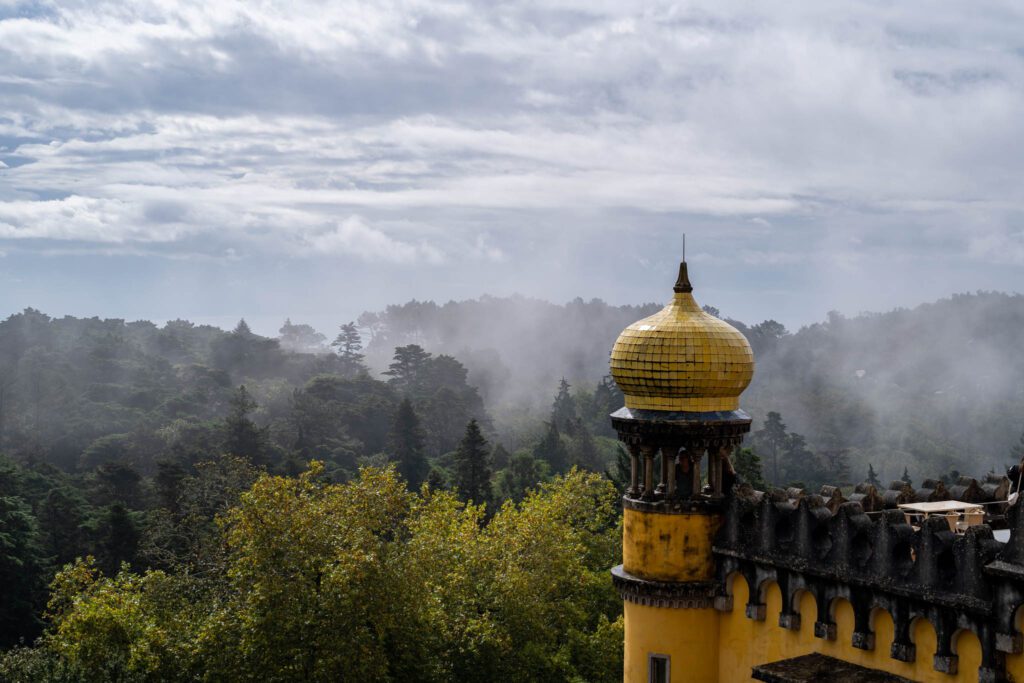 Getting to Sintra
Sintra is an easy 45 minute train ride from Lisbon's Rossio Station in Baixa. Getting to Rossio is pretty easy from basically anywhere in Lisbon, including Baixa, Chiado, and Alfama.
The most important thing to know is that you will want to be on the first feasible train out to Sintra, which totally depends on how early you want to wake up.
The train we chose left at 8:11 am, which we think is the perfect time because you'll arrive in Sintra around 9:00 am, and most of the attractions open at 9:30 am, giving you about 30 minutes to get up the hill to Pena Palace to start your day and beat the rest of the visitors.
What to Do in Sintra
Here's the thing – there's actually A LOT to do in Sintra. So much so, that you're definitely not going to be able to comfortably fit it all into a single day, which is likely the amount of time you have.
For context, we were on one of the first trains out to Sintra, and didn't make it back to the city until somewhere around 3:00 or 4:00 pm. And we only really did a couple of the many tourist attractions in Sintra. We would suggest picking two or three things that you're most interested in, and tackling those two plus the town of Sintra, which has some good places to eat and drink.
We also obviously have an opinion on what you should focus your time on, and we think the two sites you should choose are Pena Palace and the Moorish Castle. Both offer different experiences – one is an opulent palace with fertile gardens, one is a replica of a former, you guessed it, Moorish Castle with spectacular views out over the ocean.
If you want to add in a third sight, we'd recommend the Quinta da Regaleira.
We'd do the two aforementioned sights before lunch, making your way down the hill as you go, having lunch in the town of Sintra, then doing the 10 minute walk out to the Quinta da Regaleira before heading back into town to catch the train back to Lisbon.
Strap in, bring water and snacks, and prepare yourself for a full day affair.
Here are some more details on the Pena Palace and Moorish Castle.
Pena Palace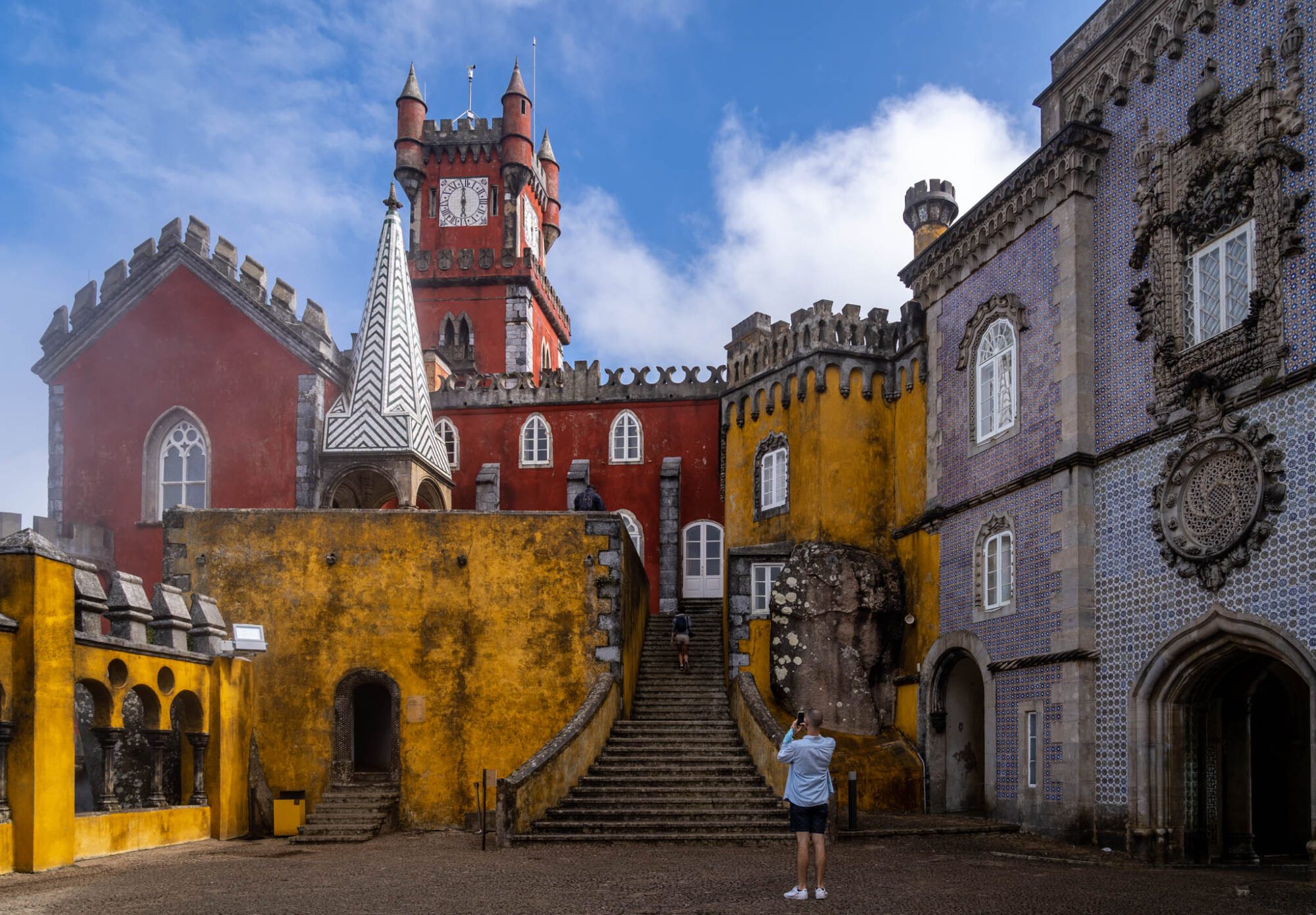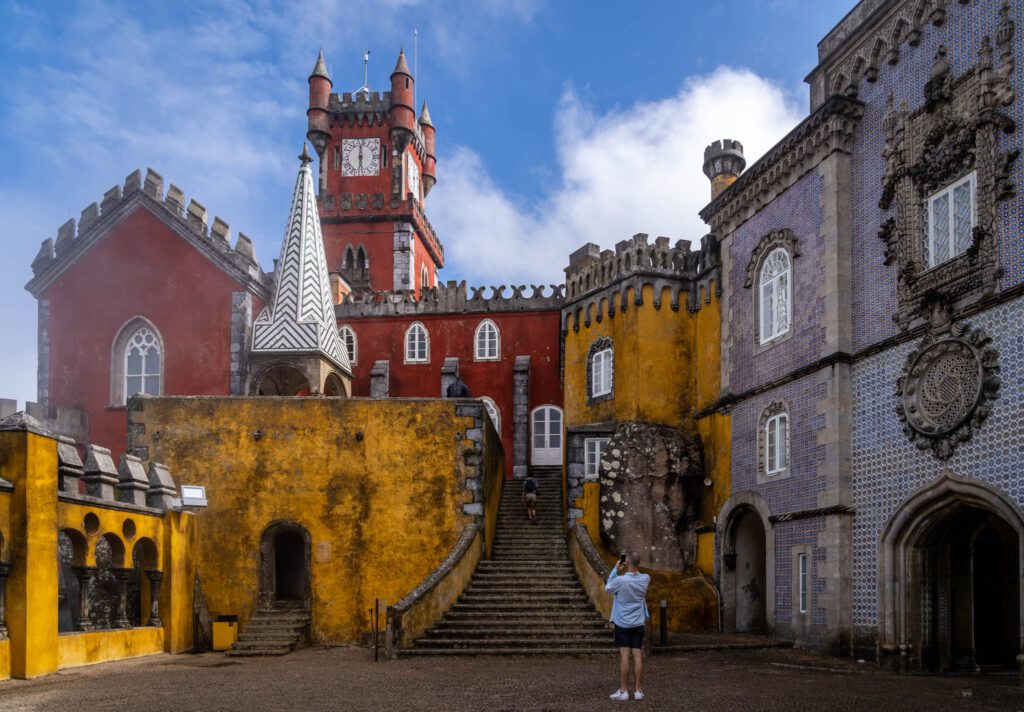 There are two parts of the Pena Palace complex, and they require different tickets. There are the gardens, and then there's the interior. We decided to skip the interior – we've seen plenty of opulent palaces over the course of our travels, maybe the rich dudes should have spent the money that they spent on their summer home on something, I don't know, more useful?
We would recommend just getting a ticket for the grounds, and admiring the palace from the outside. Here's how we'd spend your time:
Start by exploring the gardens. When we arrived, the palace was fogged in and you could barely make out the bright yellow facade. If you find yourself in the same boat, fear not! It will likely burn off. Head out to the High Cross in the gardens, which is a nice view (if the fog happens to be gone – it wasn't when we were there). In general, our favorite part of the gardens was the lakes area at the bottom of the hill.


Then make the walk up to the palace. Admire the arches and tiles along the outside, and go up into the chapel, which is free.


Walk the walls of the palace. There's a short path around the palace walls, which you should save for last because it's a great view out over Sintra and all the way to the coast, so you want it to be clear.
More info here.
Castelo dos Mouros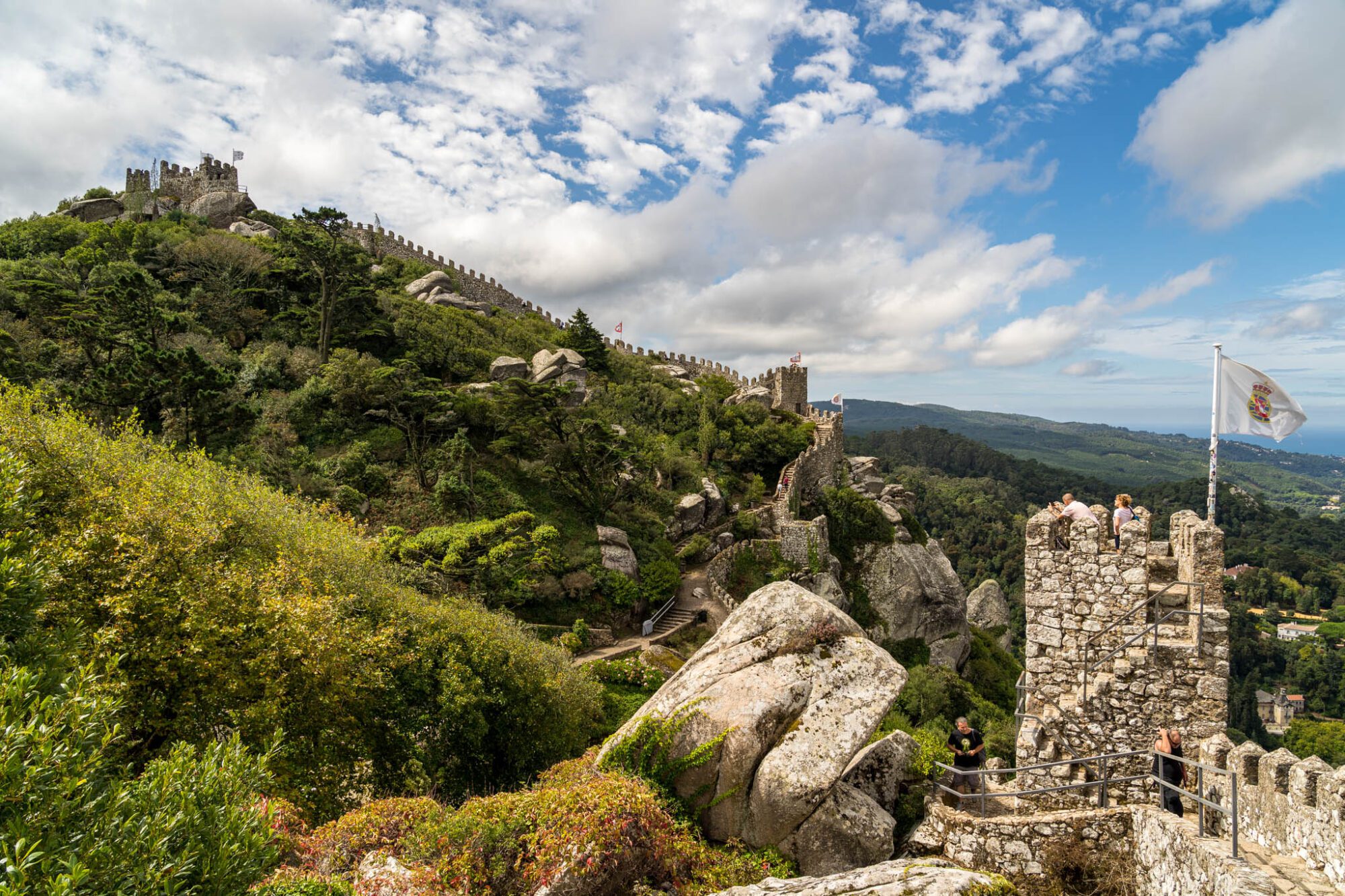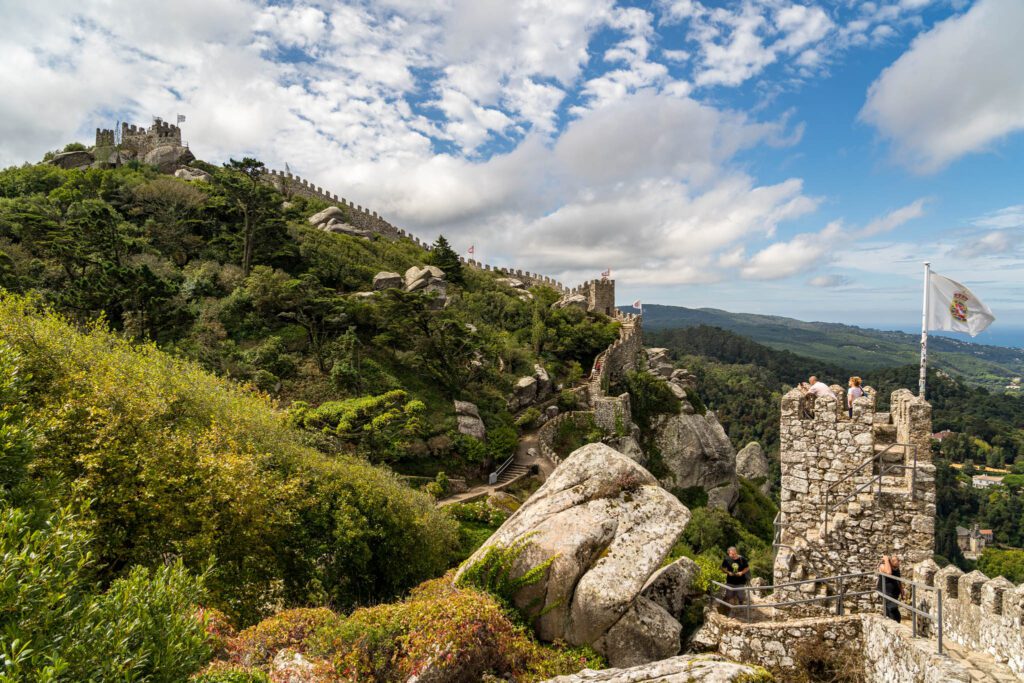 Honestly, we were SO close to skipping this. But we were so glad we didn't! Walking along the reconstructed walls of this Moorish Castle from the 8th or 9th Century was the highlight of our time in Sintra, and the views are nothing short of spectacular.
It was built when the Moors were in control of the Iberian Peninsula, and then it was taken by the Christians in the 12th Century, and basically left in various levels of desertion ever since as tensions calmed and people no longer felt the need to live within the castle walls and started making their way downhill towards Sintra and proverbial greener pastures.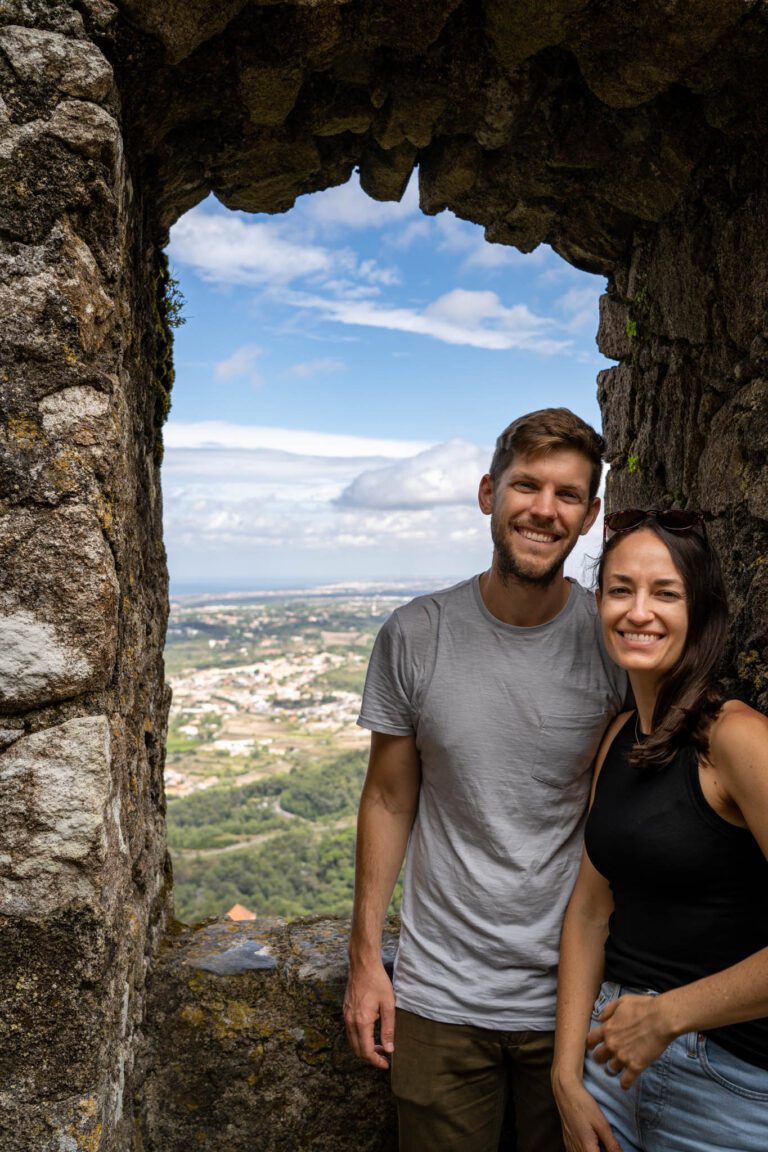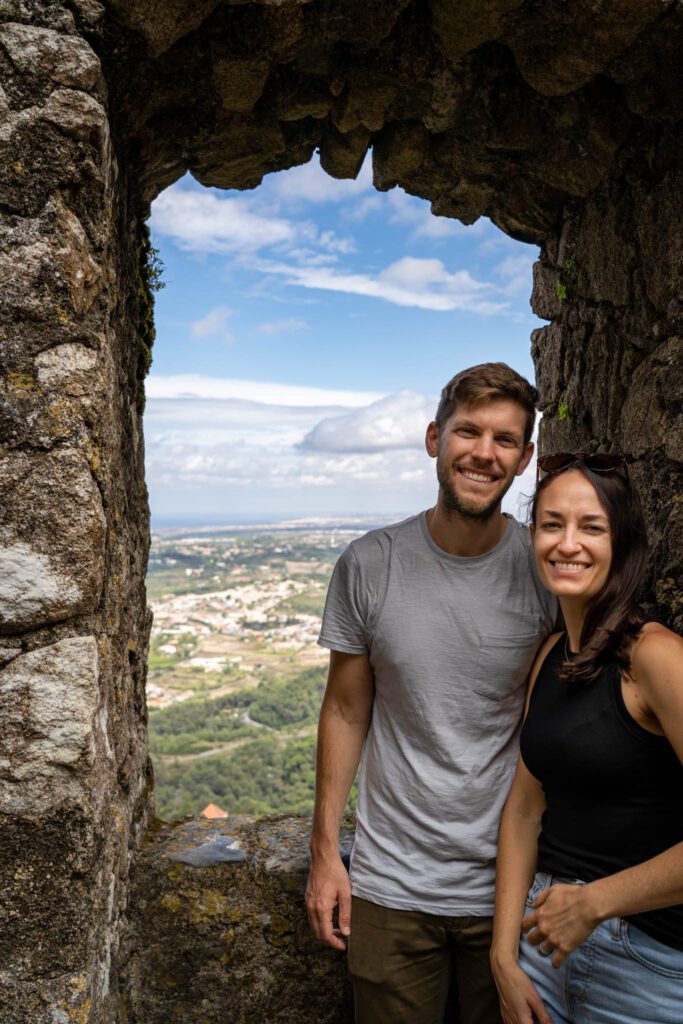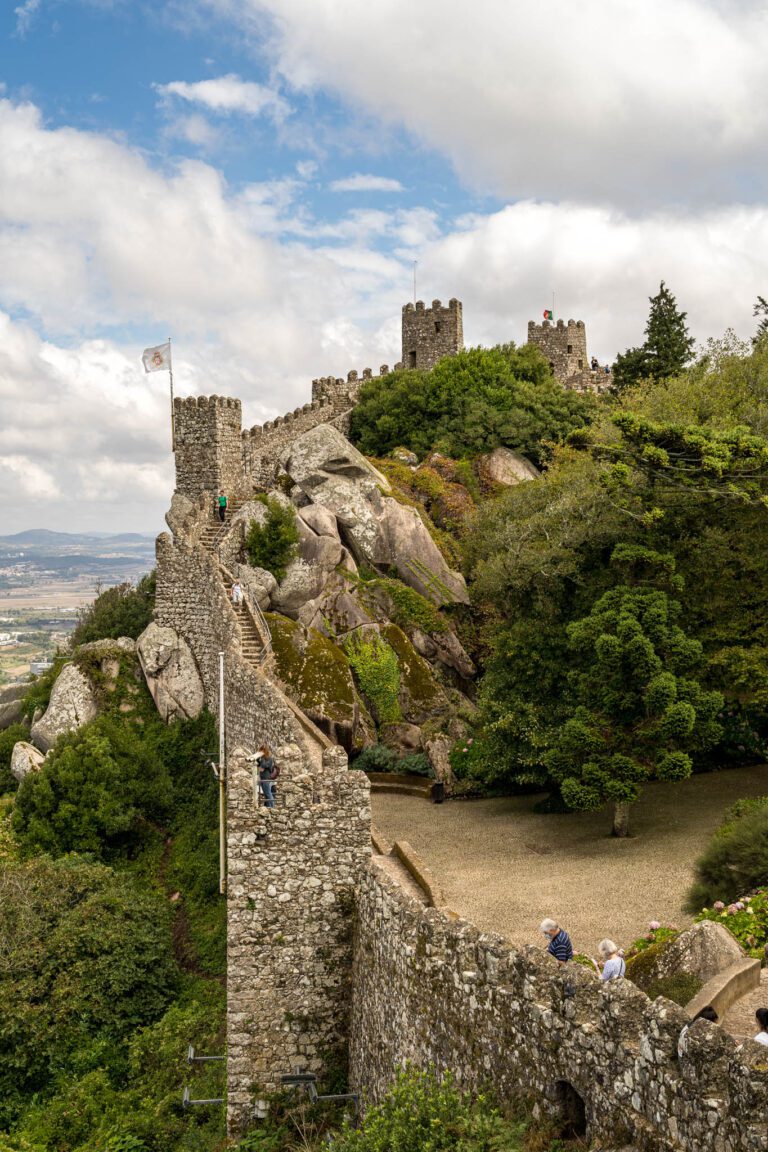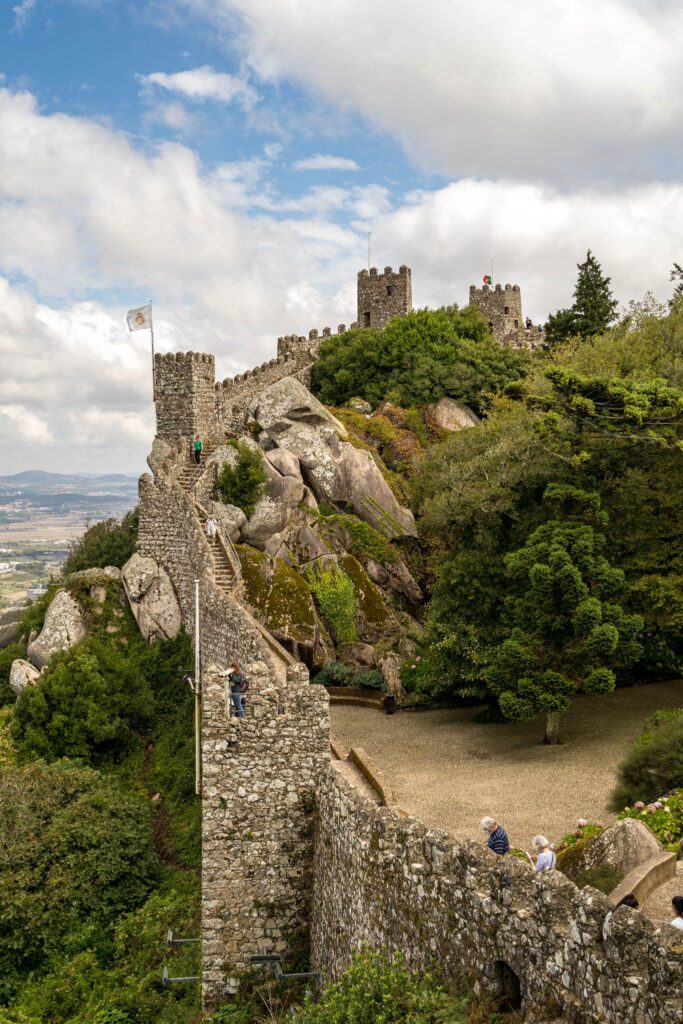 There are some historical sights to see along the way, but we'd focus your time on walking the walls from one end to the other, which involves some steps (which are actually kind of hard), and is basically a nonstop spectacular view from start to finish. Go counter-clockwise.
More information here.
Days 7-10: The Algarve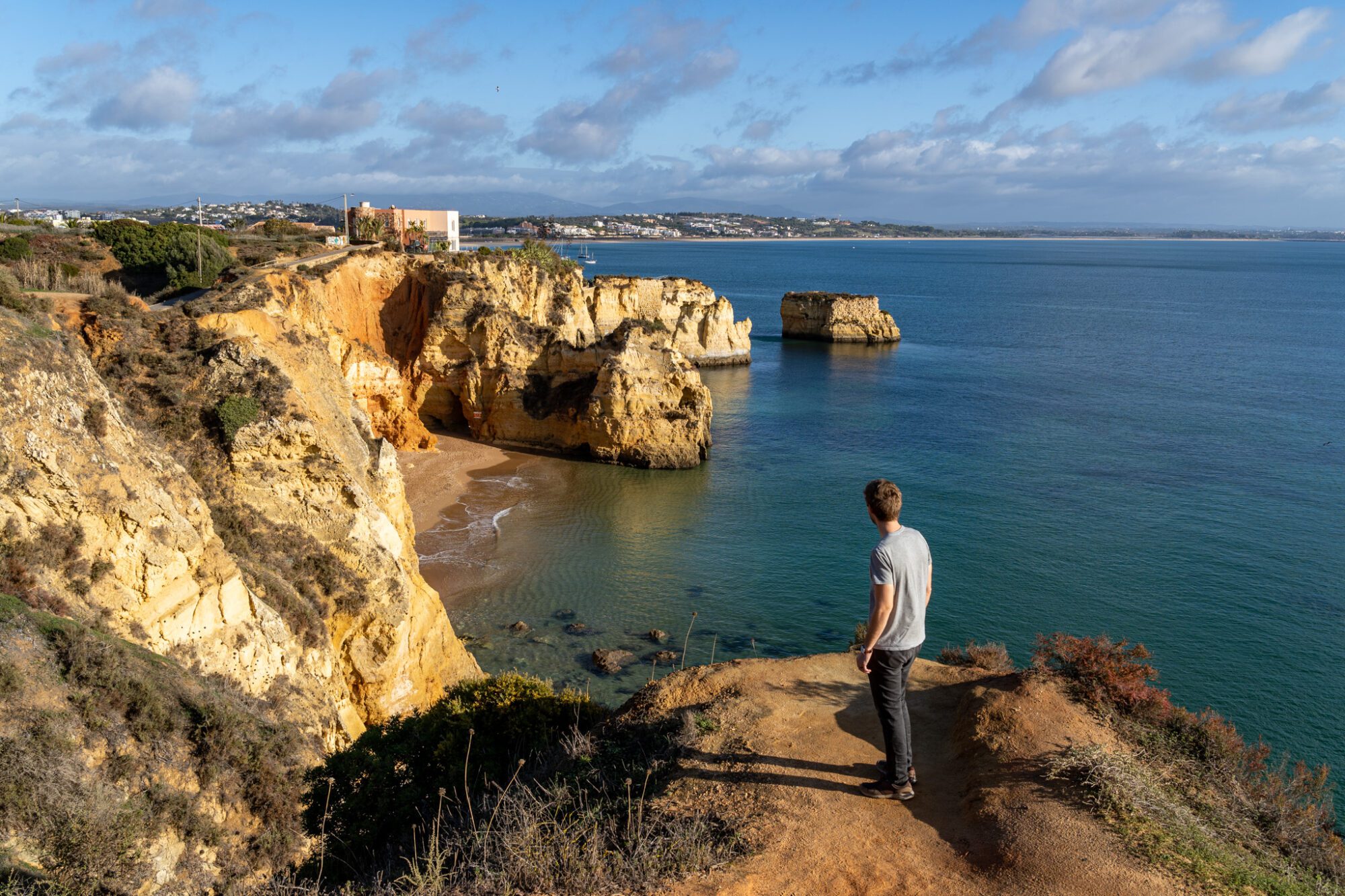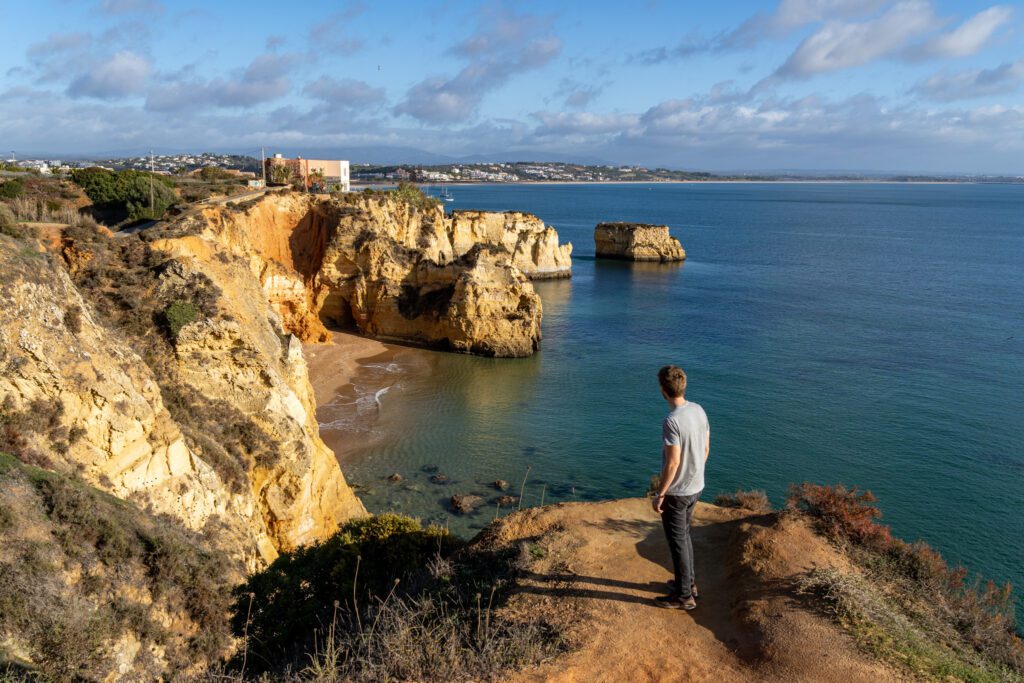 The Algarve is the area along Portugal's southern coast, and it's very, very different from the other cities and regions in the country. It's more Mediterranean, with incredible fresh fish and seafood, warm weather (too warm in the summer for us), and a gorgeous coastline full of golden sand beaches and coves of turquoise water.
It's the perfect place to spend the last few days of your Portugal itinerary soaking up the sun and relaxing on the beach before returning home.
Getting to the Algarve
There are three options for getting to the Algarve if you're coming from Lisbon. We used Omio to compare (and usually, book) our trains and buses in Spain and Portugal.
It's a better user experience (we occasionally ran into issues with our foreign credit cards being declined by the official train websites) and it'll just cost you a small service fee (usually 1 Euro per ticket).
First is the train. We love traveling by train in Europe, and there are intercity trains (those are the fast ones!) that will get you from Lisbon to Faro in 3 hours.
From there, you'll have to connect with a regional train to get to places on the Algarve like Lagos or Carvoiero (spoiler: those are two places we'd recommend staying on the Algarve). Book your train tickets as far in advance as possible for lower prices.
Second is the bus – we'd opt for FLIXBUS. The bus is slightly less comfortable, we think, but usually cheaper (especially if you're booking close to the date of travel, when Intercity trains become more expensive).
There are also more direct options to more places on the Algarve (Lagos, in particular), versus the train to Faro and then connecting with a regional train from there. The bus is going to take about 3.5 hours, and cost somewhere around 6-10 Euros.
Third is renting a car in Lisbon and driving, which takes about three hours or so. This is a particularly good option if you're flying out of Lisbon to get back home.
If that's the case, this is actually our top recommendation because it'll make getting back to catch your flight a little more simple, and you won't have to pay a one-way fee for dropping off the car in a different place than where you picked it up.
Whichever way you choose, we'd opt for an early departure from Lisbon to get you to the Algarve for the afternoon. Click here to compare your different options on Omio.
Do You Need a Car on the Algarve?
After traveling by train and bus for part of our trip to the Algarve, and then renting a car for the second part, we have a strong perspective that the best way to enjoy the Algarve is by renting a car.
Sure, there is a regional train network that connects the major towns on the Algarve, but oftentimes the best beaches are going to be a bit outside of town, and a car makes it easier to get there.
Having a car will also give you more flexibility, since trains aren't that plentiful (they only come a few times a day) and it's hard to figure out exactly when local and regional buses come (or if they come at all).
We rented a car twice during our three month European adventure, once in Sicily, once on the Algarve.
Both times we used AutoEurope to compare prices with different rental companies and find the best rates, and booked a car through Europcar, which was a pleasant experience both times. We'd recommend both.
What to Do on the Algarve
You have three days on the Algarve, and we have a strong perspective on what you should do with those days based on our own experiences.
Heads up: In this section, we're going to give you a bit more of a day-by-day itinerary to help you organize your time. For more detail, head over to our Algarve itinerary, which has all the information you'll need to make the most of your time on Portugal's southern coast.
Day 7: Lagos and Around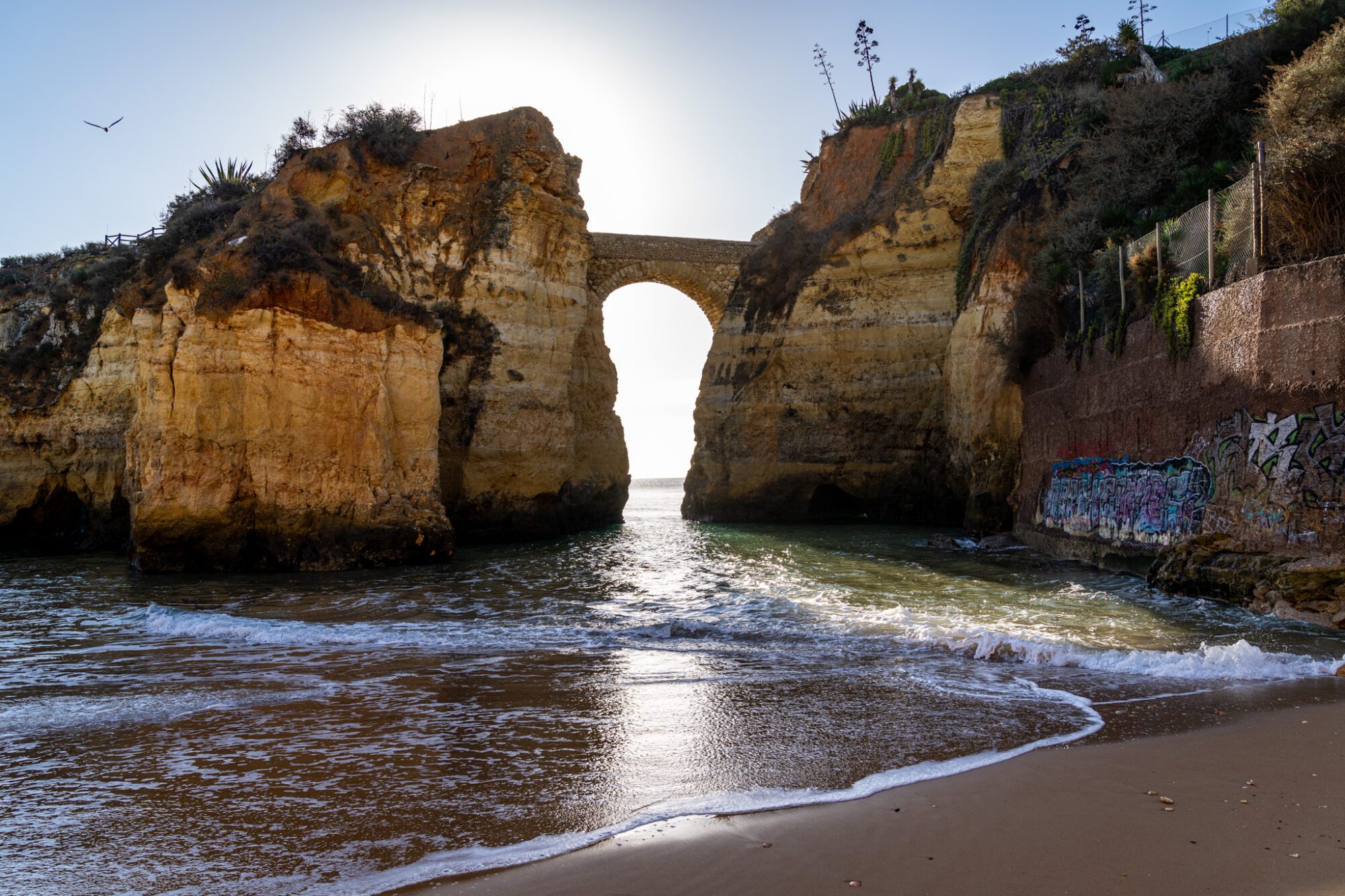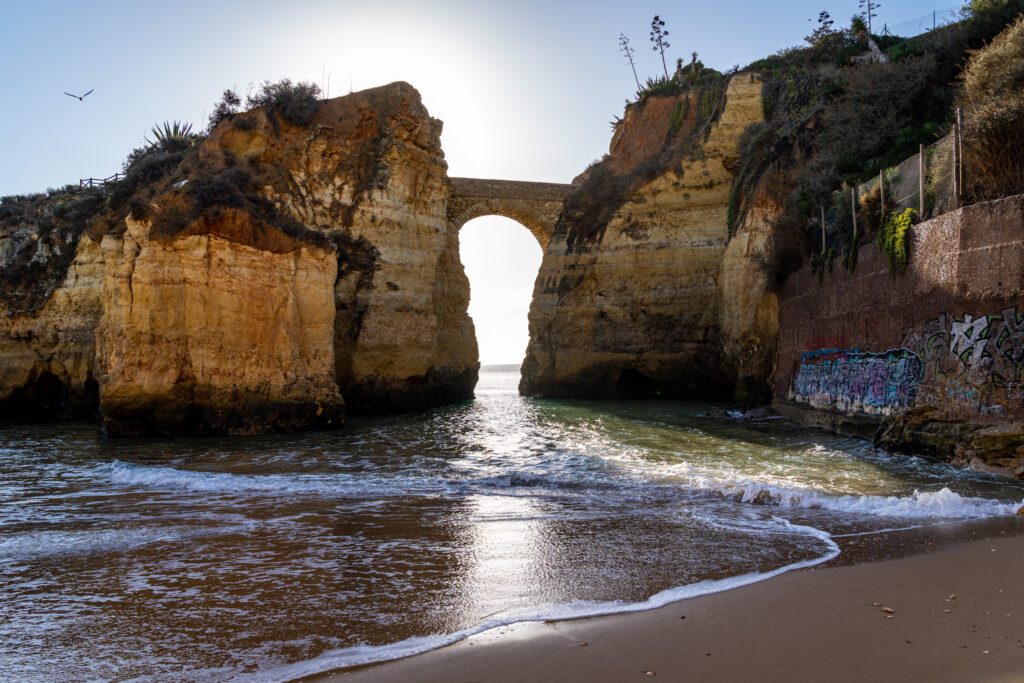 On your first day, spend the day settling in and exploring the area around Lagos. There are three beaches in particular that we think are well worth your time.
The first, Praia dos Estudantes, is one of the Algarve's most famous beaches thanks to the Roman bridge that is visible from the beach.


Next, stop by Praia do Pinhão, where you can pick up a coastal route up on the bluffs that takes you to the third beach on your tour-de-Lagos-beaches.


The last beach, Praia da Dona Ana, is also one of the most-visited beaches in the entire region. It's a little cove, accessible from both ends, and the best views of the beach are from the bluffs on the eastern side (which is where you'll find yourself if you follow the coastal trail).
All three beaches would be a good spot to relax in the sun for a few hours. Make sure to bring sunscreen and plenty of water. You can walk to all of them, doing one big loop back to the center of Lagos.
For seafood that's about as fresh as it can be, head out to Restaurante Chico Zé for lunch, which is a 10 minute drive north of the center of Lagos.
It's a family run, lunch-only establishment where there is almost always a line out the door during the high season (and sometimes during shoulder seasons). Don't miss the grilled sardines, served with potatoes.
An alternative closer to town would be Tasca Da Lota, which is within walking distance of the city center near the train station. It's cash only.
For sunset, drive out to Ponta da Piedade, which is a unique rock formation surrounded by sheer cliffs. It's a spot that most of the boat tours leaving from Lagos stop at because there's a series of cool sea caves and hidden grottos.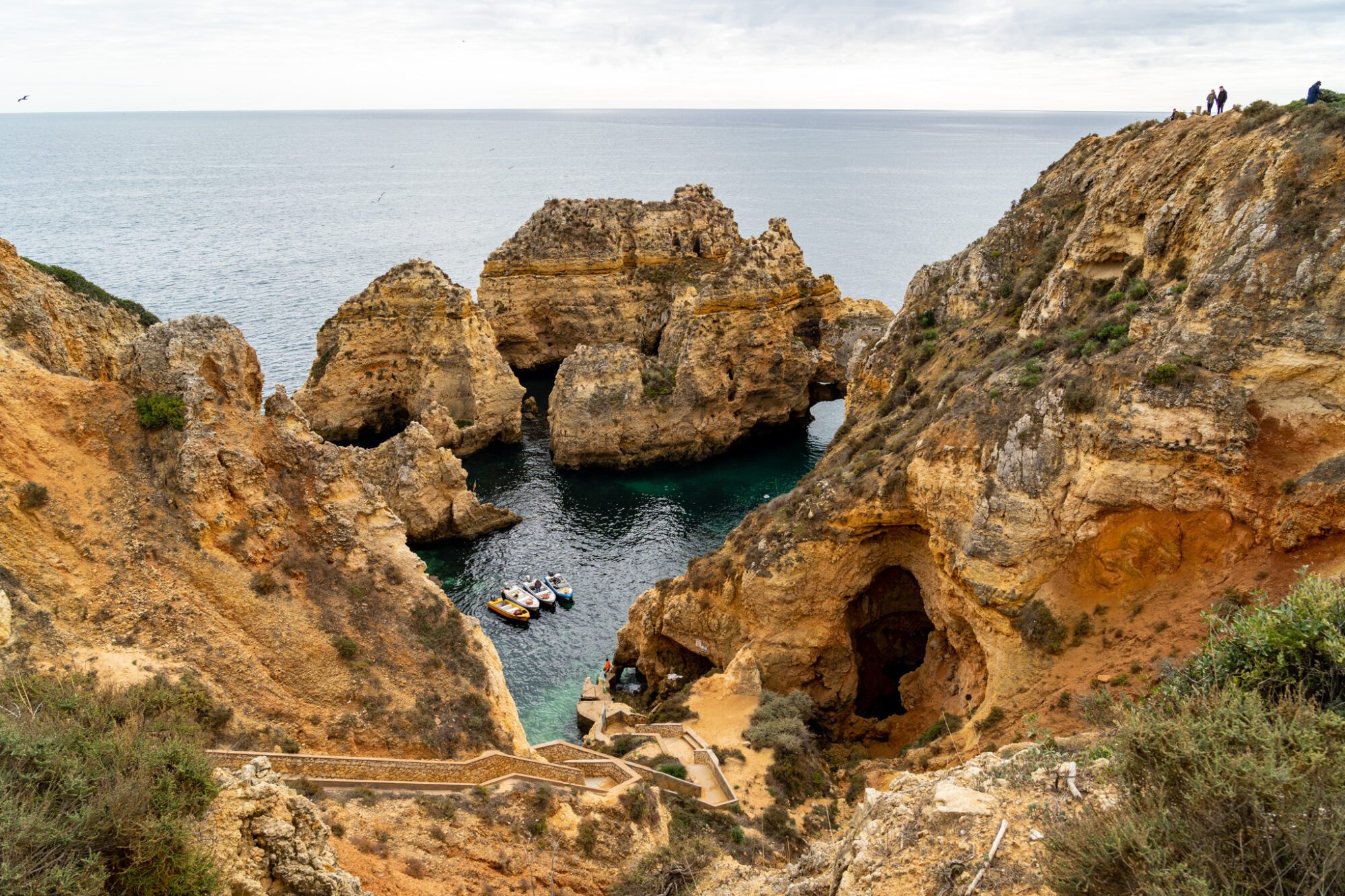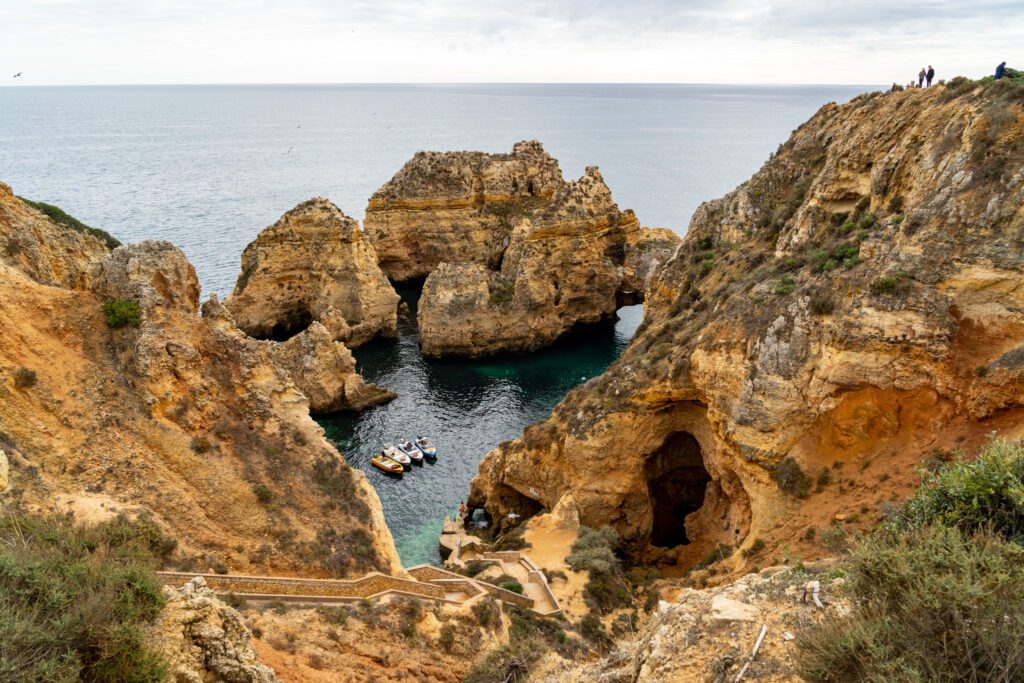 On foot, you can walk down the long set of stairs to get to the base of the cliffs – just remember that you'll have to climb back up. Once you've done that, it's also worth finding the trail that heads west from the parking lot and walking along the boardwalks for more amazing coastal views.
On the way, stop by Praia do Camilo, a small, hidden beach accessible only by climbing down a long set of steep stairs (and, again, climbing back up when you're done, of course).
Day 8: The Seven Hanging Valleys Trail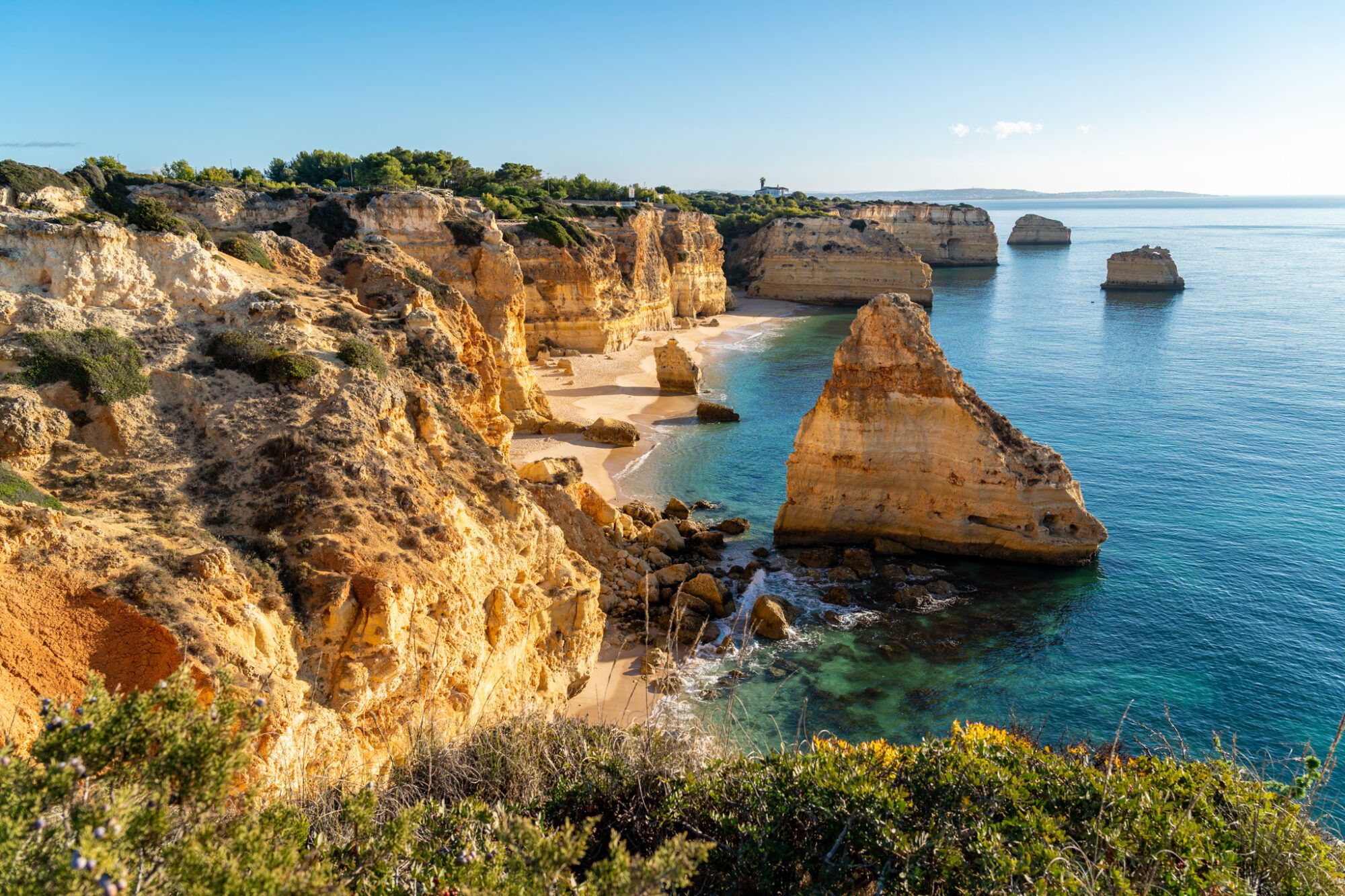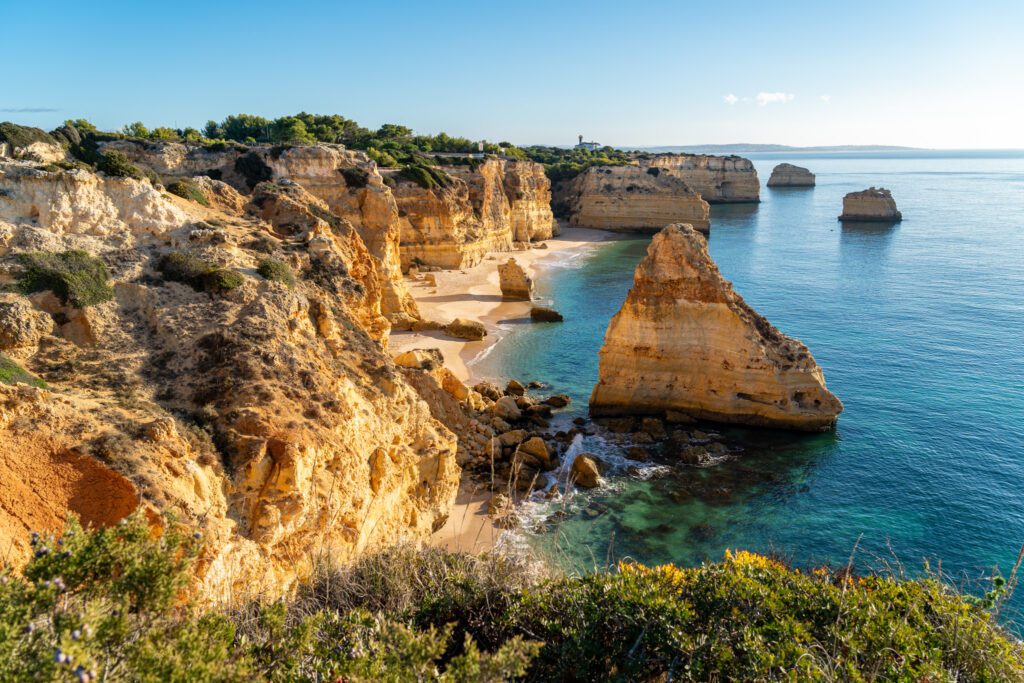 On your second day, tackle what we think is the best hike on the Algarve – the Seven Hanging Valleys Trail.
This hike, best done from east to west starting from Praia da Marinha to Praia do Vale de Centeanes, was one of our favorite experiences in Portugal. And we're from coastal California, which we learned is very similar to the Algarve in terms of scenery, flora, and fauna.
The point is, it's a great hike, and that's coming from two people who have done countless hikes with similar views and scenery.
First, an overview of the full out-and-back hike.
Length: 7 miles / 11.4 km
Elevation Gain: 1,200 ft. / 365 meters
Season: Year round (more on this below)
Trail Type: Out and Back (we have ideas on alternate routes below)
Difficulty: Easy / Moderate
Trailhead Location: Either Praia da Marinha or Praia do Vale de Centeanes
Dog Friendly: Yes!
If that sounds like too much for you, you have a few options in terms of shortening the hike.
Option 1: The Full Hike, Round Trip – 7 miles / 1,200 feet of elevation gain (11.4 km / 365 m). Hike the entire trail out-and-back from Praia da Marinha to Praia do Vale de Centeanes, and then back the way you came.


Option 2: The Full Hike, One Way – 3.5 miles / 600 feet of elevation gain (6 km / 180 m). Do the entire hike, but only one way. This requires using either taxis, Uber, or hitching a ride to get back to your car at the first trailhead (or finding a way to get there without a car).


Option 3: Partial Hike, Out and Back – 3.3 miles / 600 feet of elevation gain (5.6 km / 180 m). Hike the section between Praia da Marinha and Praia do Carvalho, which in our opinion is the best part of the trail. You can continue on to the nice lighthouse – Farol de Alfanzina, for an additional 2 miles (3.2 km) added to your round-trip distance.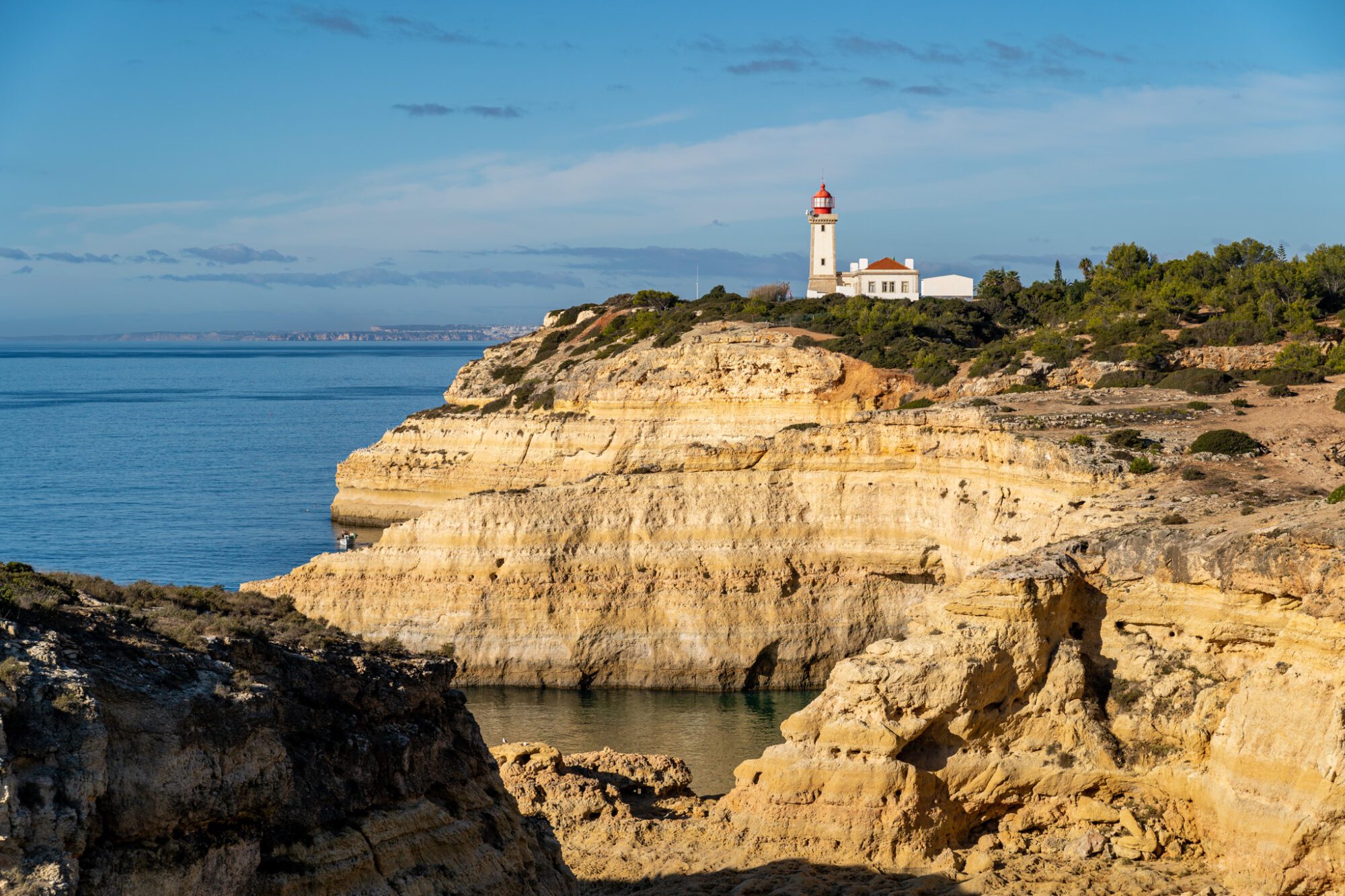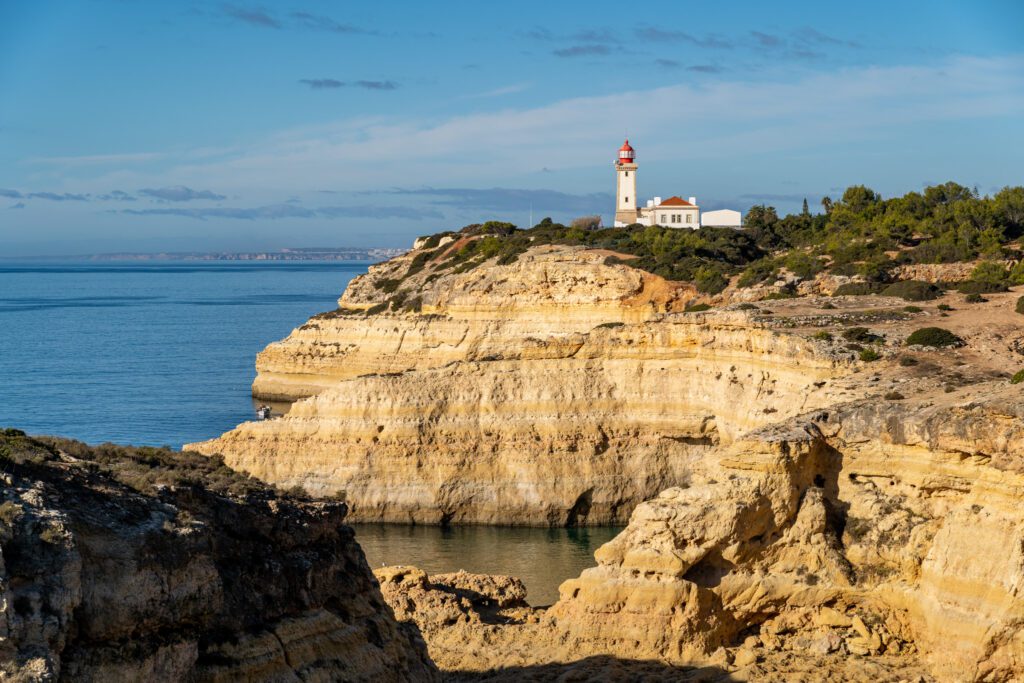 For more details, including which direction to go, where to park, what time of day to hike, and a detailed trail report, head over to our Seven Hanging Valleys Trail Guide.
Finish your day at the ending point for the trail you hiked earlier in the day – Praia do Vale de Centeanes – which is a pretty spectacular place to watch the sunset.
You can either bring a blanket and set up shop on the beach, or head up onto the bluffs to the east of the beach, where there's a point that juts out into the sea and has some benches overlooking the spectacular coastal landscape.
Day 9: Sagres and the Western Algarve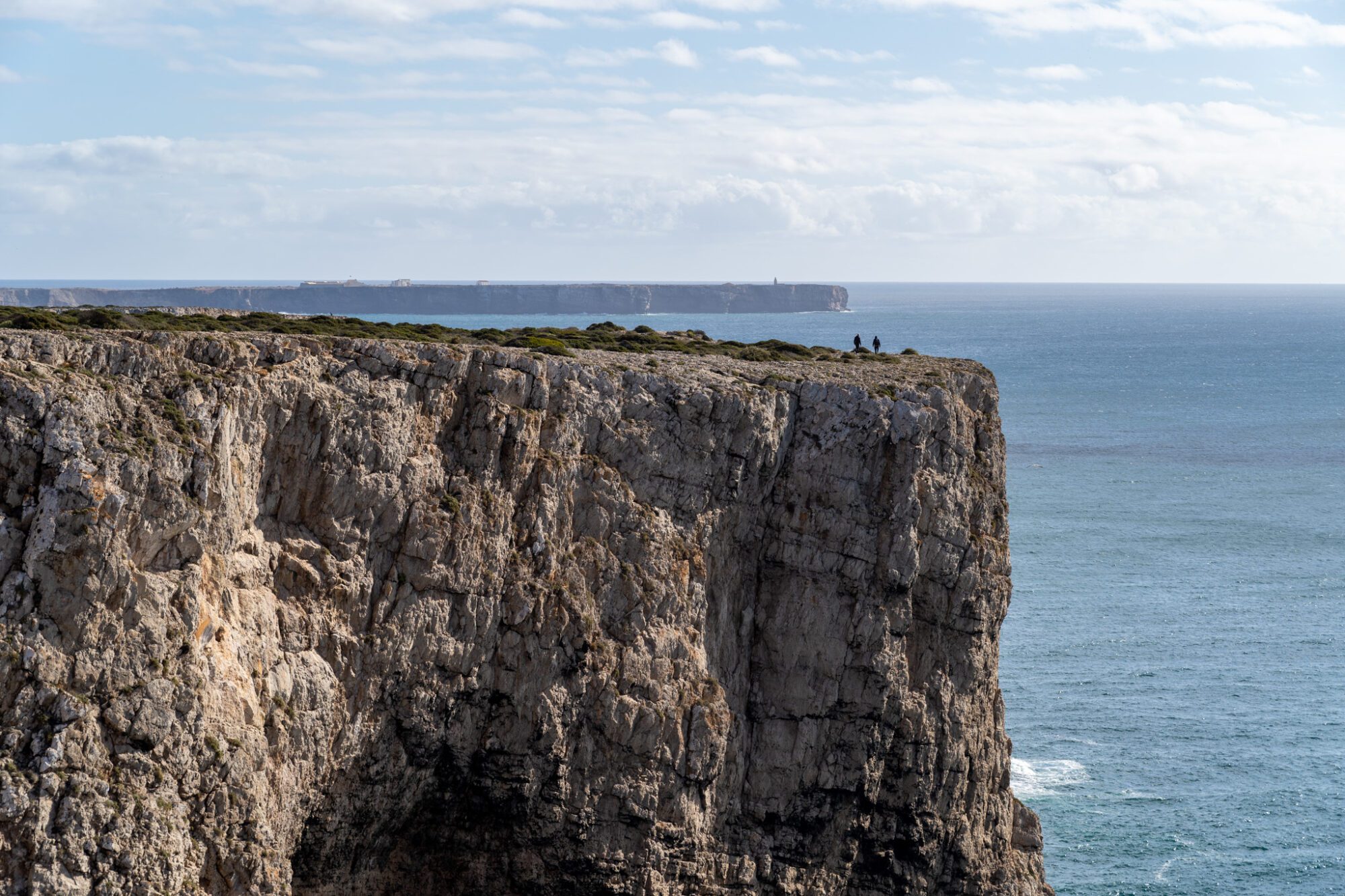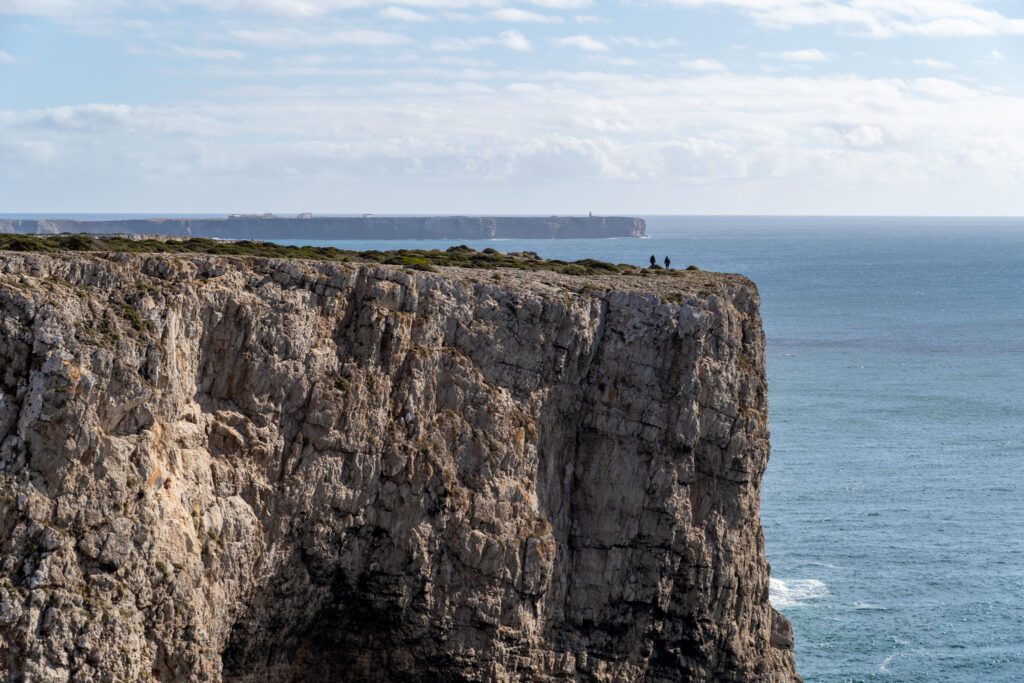 On your third day, head the opposite direction towards the Atlantic Ocean, where you'll find a dramatic coastline that looks a little bit different than the one you've explored so far. Think towering limestone cliffs and dramatic drop offs with the churning sea below.
This part of the Algarve, which is much quieter than the area around Lagos and to the east, reminds us a lot of Point Reyes National Seashore, which is a short drive from our home base in California.
Start by driving all the way out to Farol do Cabo de São Vicente, the southwestern-most point in Europe, and making your way back east towards Lagos.
Praia do Beliche (here on Google Maps) was our favorite beach in the area, and the steps leading down to it are super steep (which is saying something in Europe, land of the unnecessarily steep steps).


The town of Sagres is a little sleepy, but it's worth heading out to the Fortaleza de Sagres, which you'll have to pay a few Euros to access, but the views from the point are worth it. It is going to be windy when you're there – it almost always is. It's also home to some of the best surfing in Europe if that's something you're into. We were there in the winter, so we took a hard pass on surfing lessons.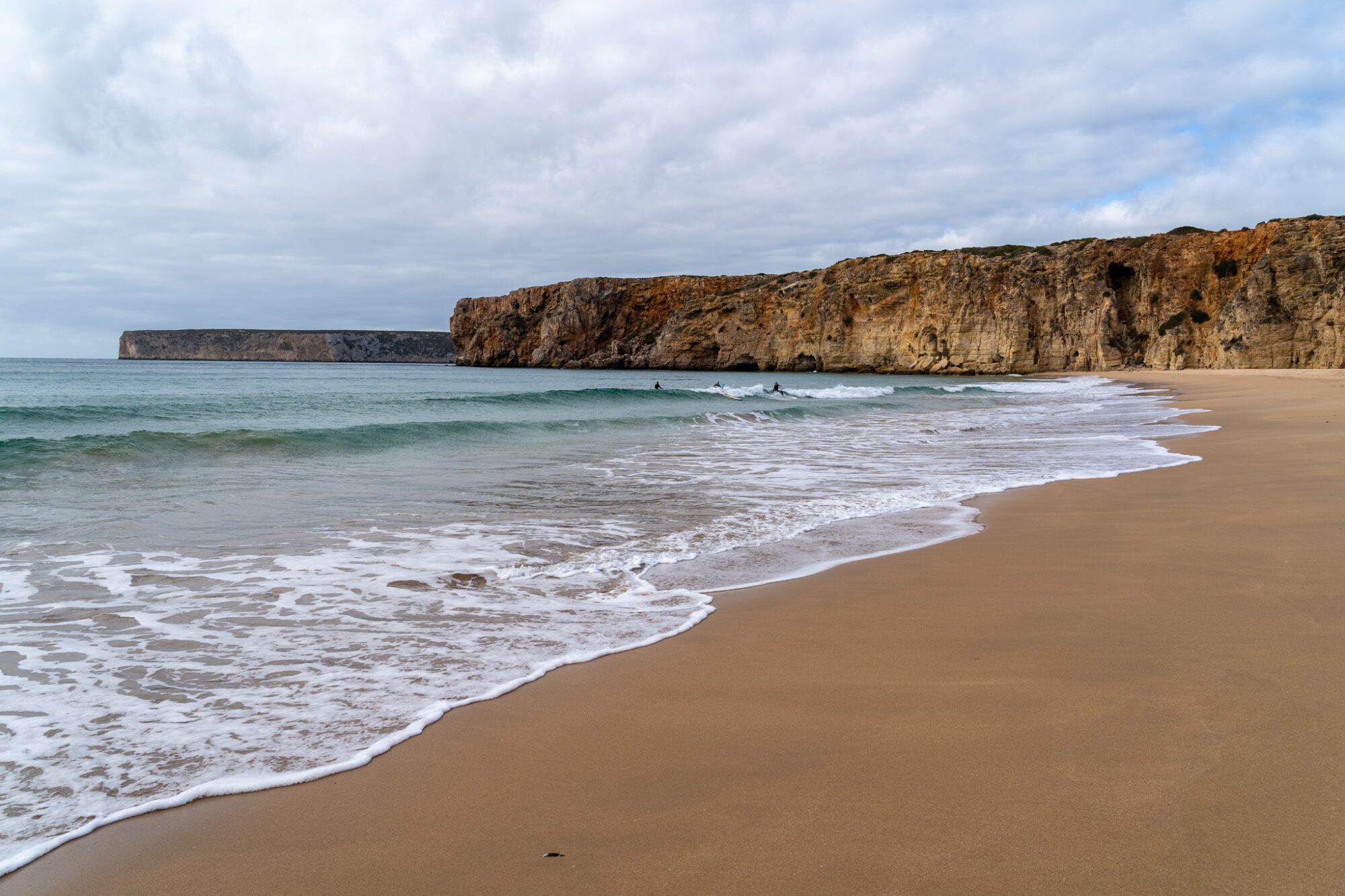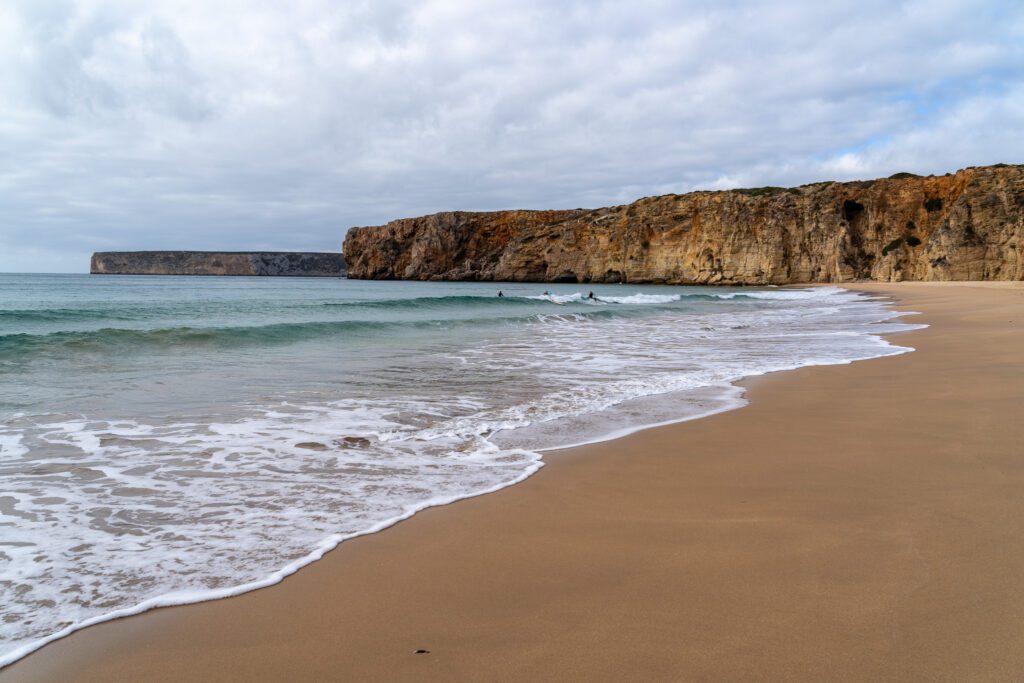 After you've explored Sagres and the surrounding area, you can either head back to where you're staying and do some more exploring, or head up the coast north along Portugal's Atlantic coast to Praia da Arrifana, which is a different feeling than the Algarve. Or you could stop by the small fishing town of Salema on your way back to Lagos.
Where to Stay in the Algarve
For this amount of time on the Algarve, we'd recommend choosing one home base and exploring from there.
Keep in mind that this is the quick version. We have an entire guide dedicated to choosing exactly where to stay in the Algarve, so you should head over there if you want the details.
For the sake of convenience, we also think that place should be relatively central to give you the best access to both the eastern Algarve and its pristine white sand beaches, and the rocky, cliff-y (is that a word?) coastline of the western Algarve.
We stayed in two separate places in the Algarve, and would recommend them both. Those two places are Lagos and Carvoeiro, and anywhere in between those two, which are a 35 minute drive apart, would be a perfect place to stay.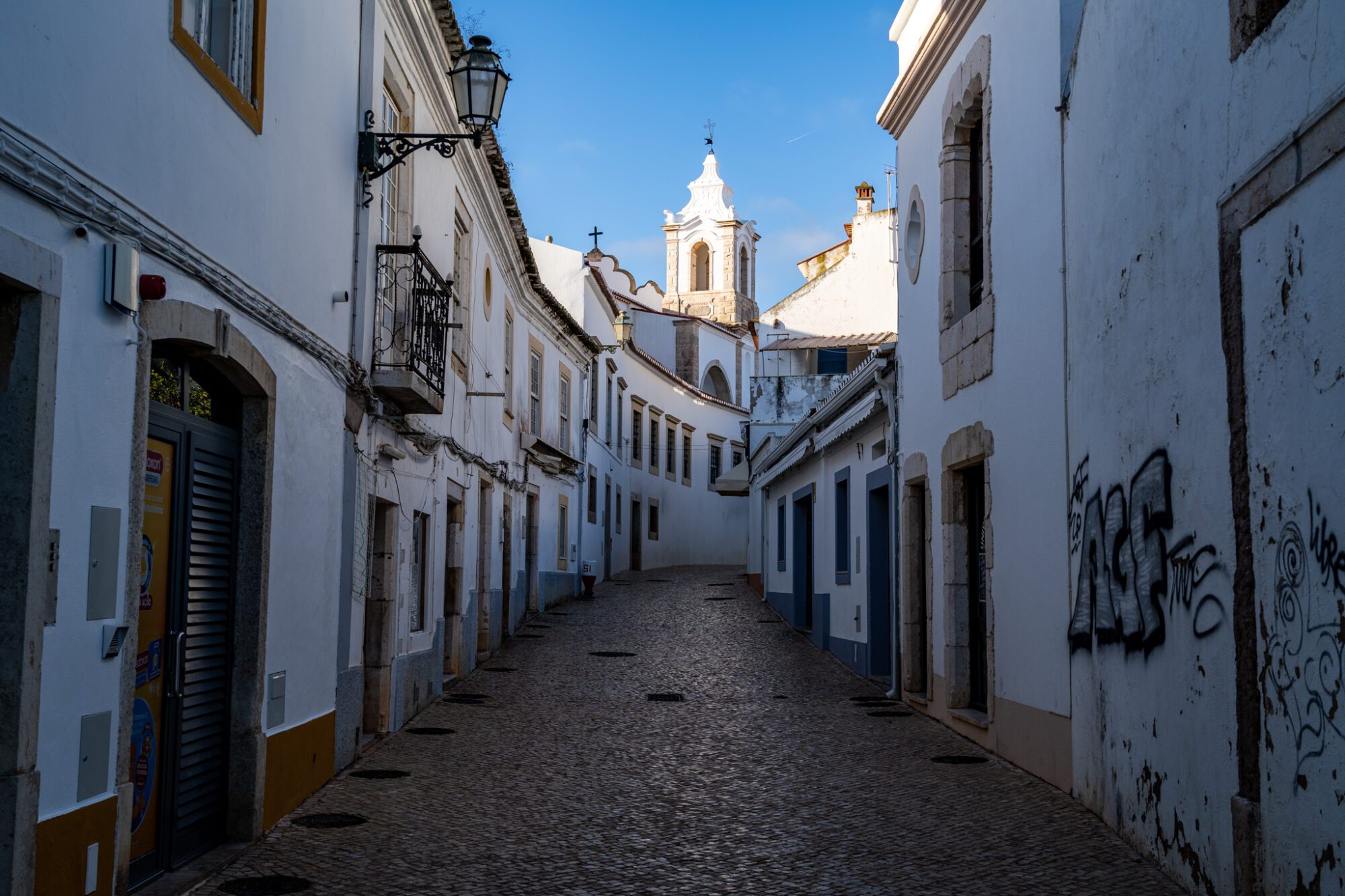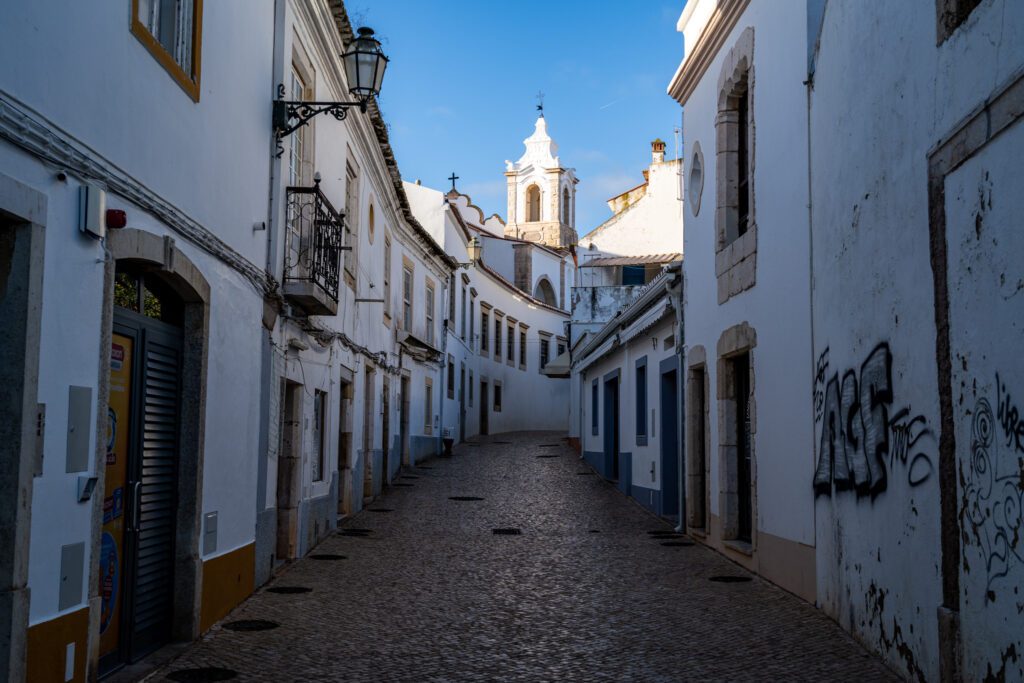 Lagos is more of a city, with a charming old town and plenty of bars, restaurants, and other amenities that you might be interested in.
If you're looking to stay in the middle of a bustling city with lots of restaurant options and bars that are open until the early hours of the morning, Lagos is for you.
In Lagos, we stayed at the Salty Lodge, which is smack dab in the middle of the old town. We really enjoyed this place, and our room had a pretty spectacular view towards the ocean. If your room doesn't, they also have a rooftop terrace with this view.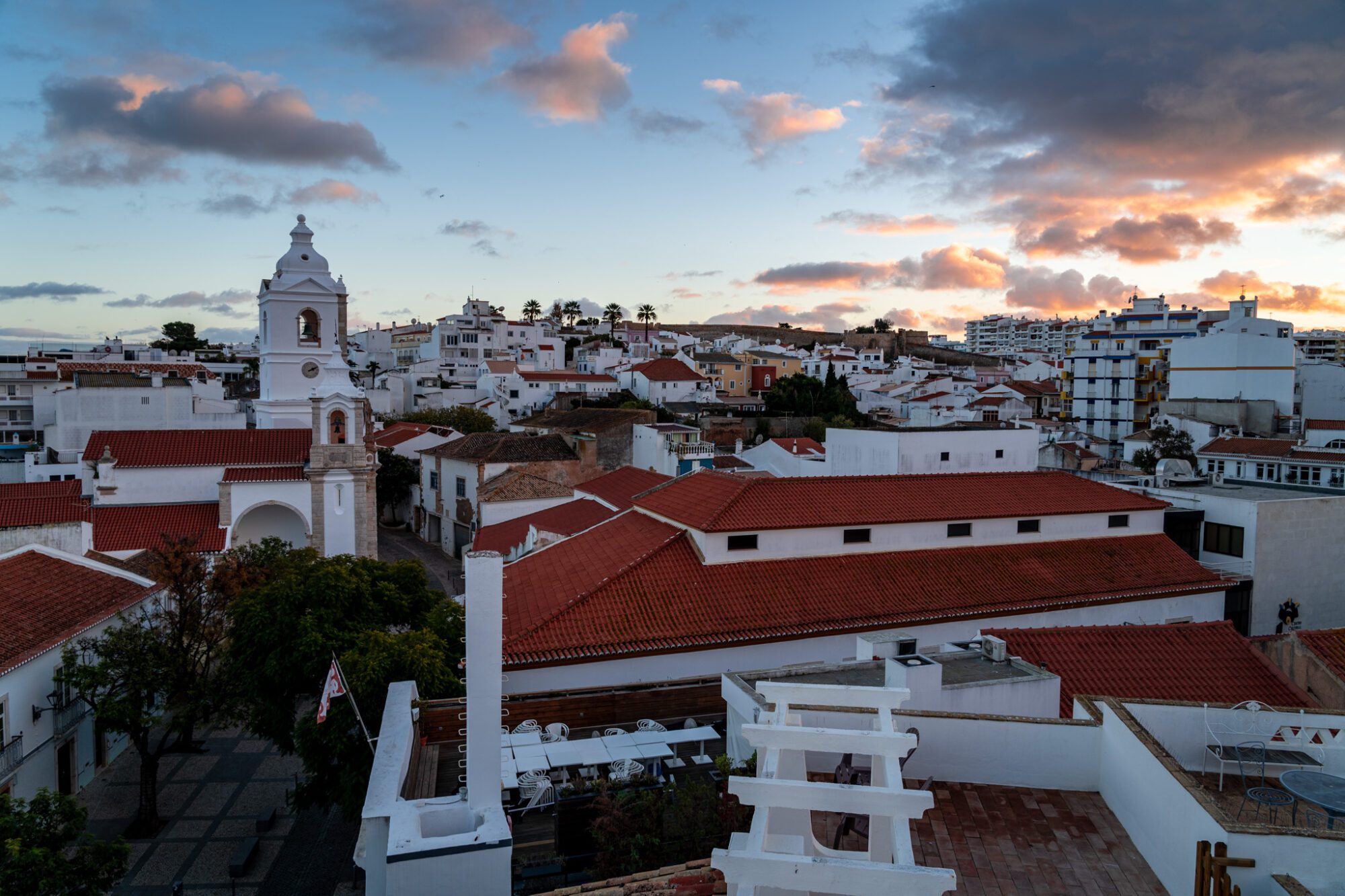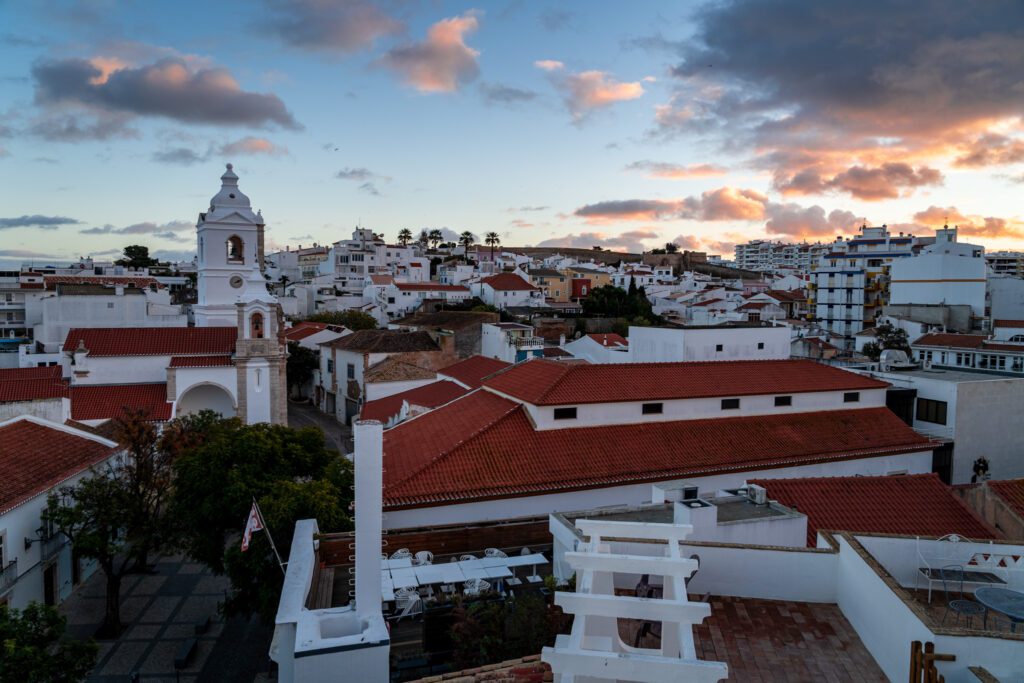 Rooms at the Salty Lodge are apartment-style, complete with stovetops and ovens for cooking. Though you'll be within walking distance of about 25 different restaurants, if you'd rather do not cook on your trip to Portugal.
Carvoiero has a more relaxed vibe. Sure, there's a little area near the main beach that has a nice stretch of bars and restaurants, but the draw here is the unparalleled access to beautiful beaches and the laid back nature of the town. If you're looking for a relaxing, quiet place to stay, we'd recommend Carvoeiro.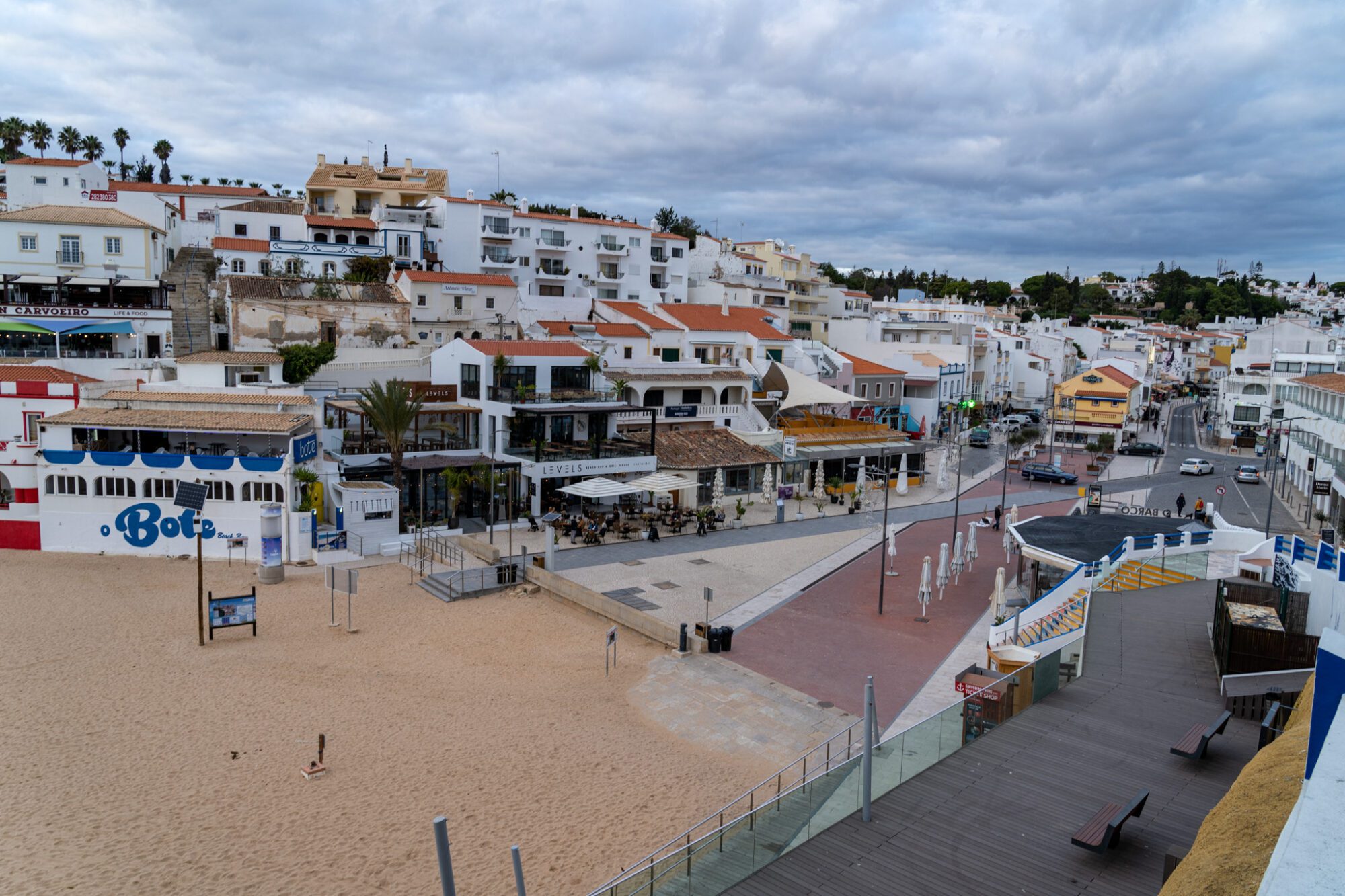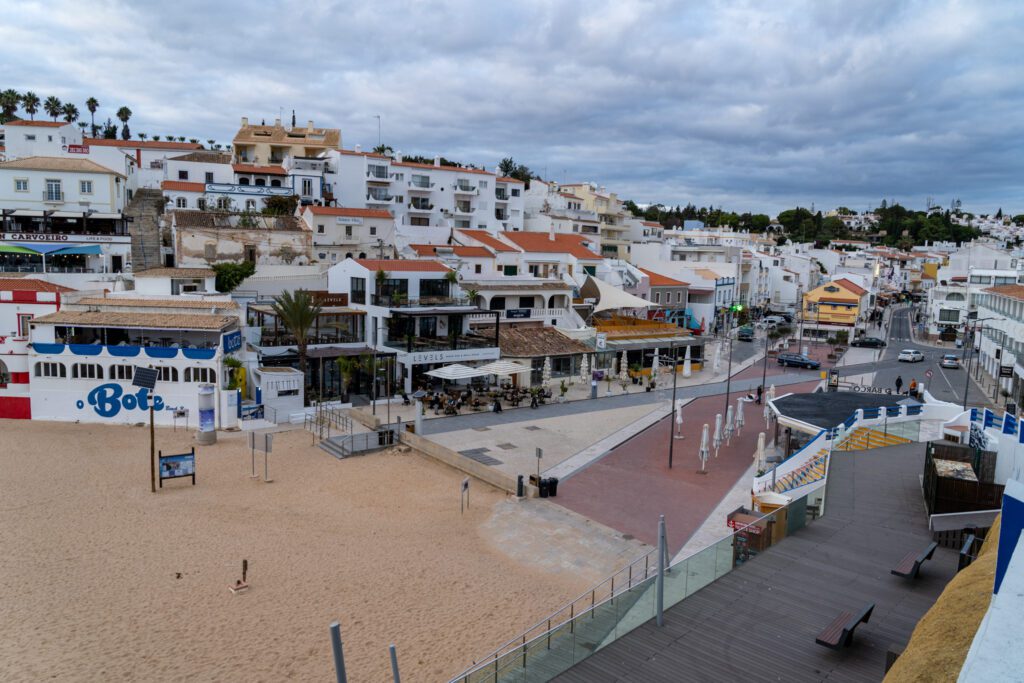 In Carvoeiro, we stayed at Hello Villas, which turned out to be among the nicest places we stayed on our entire Portugal trip.
They're spacious, quiet, and have everything you need to cook meals at home. Plus, they're walking distance to town, though there's a rather steep hill in between.
Dive deeper into the Algarve with our other Algarve travel guides:
What to Do with More Time in Portugal
If you're lucky enough to find yourself with more than 10 days when you're visiting Portugal, here are a few things that we'd add to your itinerary, along with how much time we'd allocate to each.
Évora (1-2 Days): A stop in Évora, a walled town in Portugal's Alentejo region, known for its great food and wine, that has been designated a UNESCO World Heritage site. We were here for about 24 hours, and that was perfect. It's just 90 minutes from Lisbon by train, but we'd recommend staying overnight if you can.


Coimbra (1 Day): A charming, riverfront town known for having the oldest university in Portugal. Students walking around with Harry Potter-style capes give the town a lively, fun vibe, though only when school is in session. We spent a night here between Lisbon and Porto and enjoyed walking up the hill from the river, though school wasn't in session so the town was a little empty.


Óbidos (1 Day): Another good stop between Lisbon and Porto, this one is known for its intact medieval walls and castle, along with its charming narrow cobblestone streets. Plus, ginjinha, the sour cherry liqueur from Portugal, is served in a traditional chocolate cup here.


More time on the Algarve (1-2 Days): You could easily add a day or two on the Algarve and spend it going deeper, especially on the eastern Algarve. We loved Tavira, and heard good things about Olhão (though we didn't personally make it there).


Braga (1-2 Days): Braga, way up in northern Portugal, is worth adding either as a day trip from Porto, or as an overnight destination on its own. We didn't have time to fit it in (despite having almost a month in Portugal), but if we did, our first stop would have been Bom Jesus do Monte, a sanctuary on a hill with excellent views and architecture.
What to Do with Less Time in Portugal
If you have less than 10 days in Portugal, you're going to have to choose between the Lisbon / Porto corridor OR the Algarve. It's just not possible to do Lisbon, Porto, and the Algarve in less than 10 days.
We'd recommend the Lisbon / Porto corridor for most people, which is the more culturally interesting place where you'll find great food, wine, and historical places to learn more about Portugal's history. You can easily spend anywhere from 5-9 days on this part of Portugal alone (honestly, you could spend months and not see it all).
If you want a beach vacation, well, then the Algarve is probably your best bet.
7 Days in Portugal
With 7 days in Portugal, we'd focus on the corridor between Lisbon and Porto and spend 2-3 days in each with time for day trips into the surrounding areas. There's a high-speed train connecting the two cities, so you can either fly in and out of the same city, or fly into Lisbon and out of Porto (or vice versa) – whichever is cheaper.
You definitely shouldn't rent a car for this version of the itinerary. It'll be more of a pain than anything if you're using Porto and Lisbon as home bases for exploring the surrounding areas.
The good news is that everything in this 7 day Portugal itinerary is also in the more detailed itinerary above, so you'll be able to use the information above to plan your trip.
Here's what that 7 day itinerary could look like. It depends on where you're flying in and out of – this assumes into Porto and out of Lisbon, but it totally works if you're flying into Lisbon, or even if you're flying in and out of Lisbon or Porto.
Day 1: Arrive in Porto
Day 2: Porto
Day 3: Day Trip to Douro Valley
Day 4: Travel to Lisbon (as early as possible)
Day 5: Lisbon
Day 6: Day Trip to Sintra
Day 7: Lisbon + Fly Home
5 Days in Portugal
With 5 days, you have a few options. We're going to give you three of our top picks, but of course there's a nearly unlimited combination of different ways to tackle your visit to Portugal.
You can do a shorter version of the 7 day Portugal itinerary we covered above, which could look something like this:
Day 1: Arrive in Porto
Day 2: Porto
Day 3: Travel to Lisbon (as early as possible)
Day 4: Lisbon
Day 5: Lisbon
The downside of that option is that you don't have time to fit in day trips from either place. Which leads us to a second option, which involves focusing your entire time on Lisbon.
Day 1: Arrive in Lisbon
Day 2: Lisbon
Day 3: Day Trip to Sintra
Day 4: Lisbon or Another Day Trip (Cascais or Óbidos)
Day 5: Lisbon and fly home
Last, but not least, is to spend 5 days on the Algarve. This involves either flying in and out of Faro and renting a car there, or flying in and out of Lisbon and renting a car from there. Here's what that could look like. For more detail, check out our Algarve itinerary.
Day 1: Arrive in Faro + Travel to Lagos / Carvoiero
Day 2: Lagos + Surrounding Beaches
Day 3: The Western Algarve (Sagres + Praia do Beliche)
Day 4: Hike the Seven Hanging Valleys Trail
Day 5: The Eastern Algarve (Faro + Tavira) + Travel Home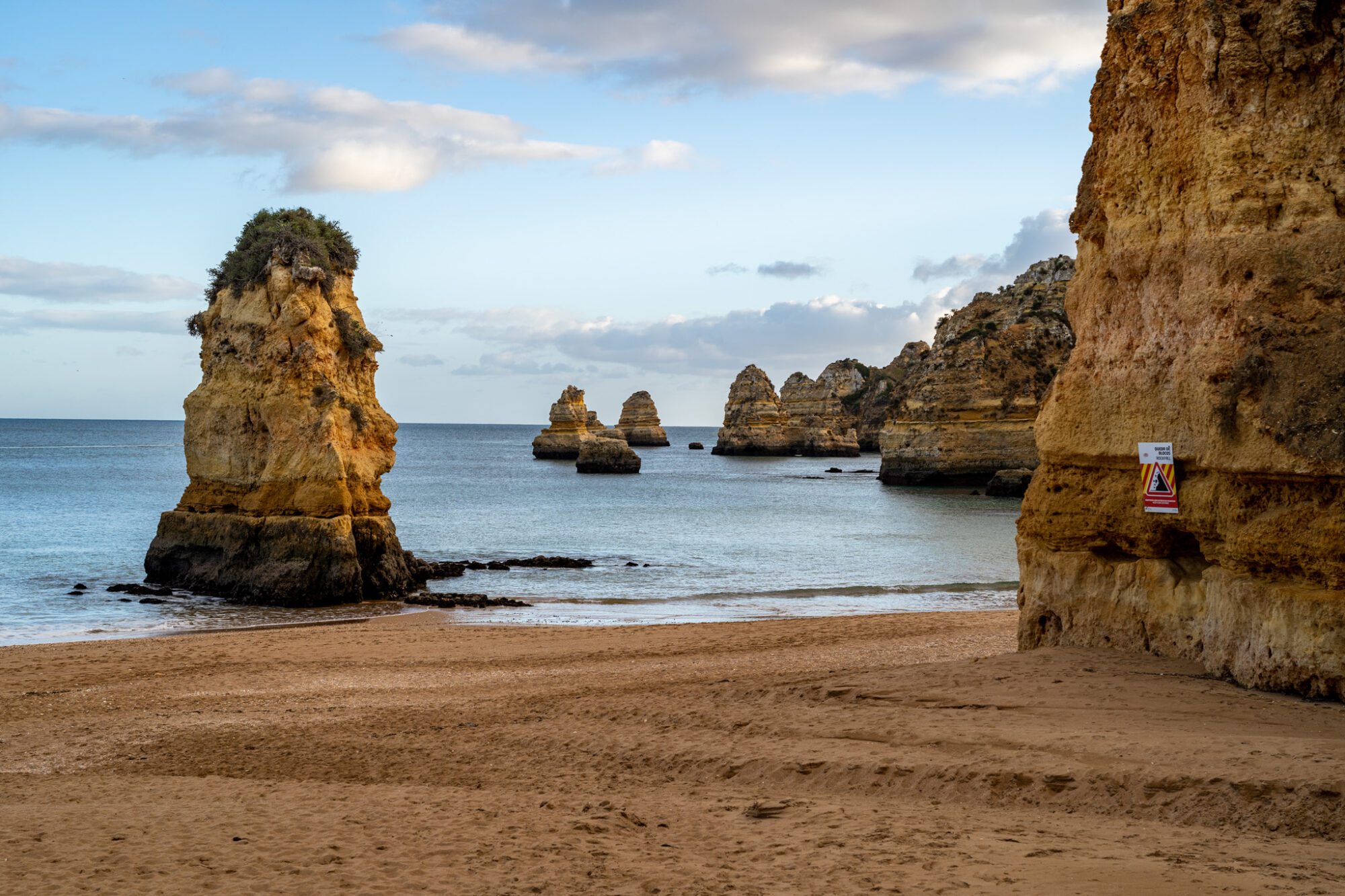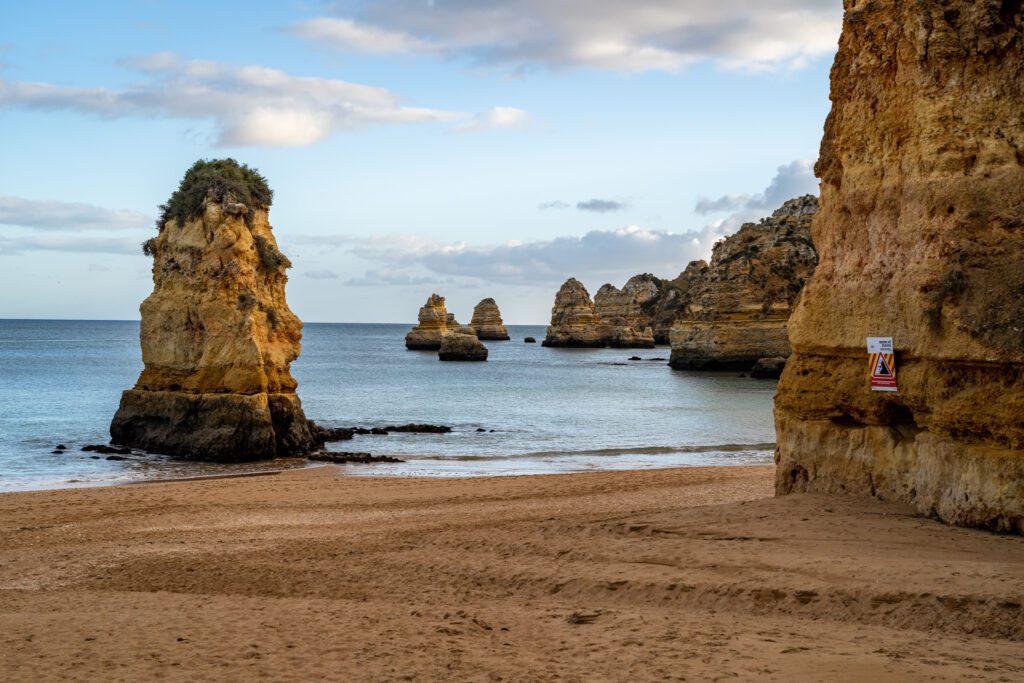 ---
Planning a trip to Portugal?
Here are our other Portugal travel guides to help you plan an incredible trip (even if you have to eat gluten free!).
If there's no link below, it means we're still working on it – long, in-depth guides take time! We're working on it, though, we promise.
Portugal:
Lisbon
Porto:
The Algarve: