The Best Specialty Coffee Shops in Lisbon: A Complete Guide
When we started researching for a trip to Lisbon, I wasn't quite sure what to expect in terms of coffee. If it was anything like my previous experiences with coffee in Europe – which, to be fair, were outdated by more than a decade – then it wasn't going to be my cup of tea (coffee? Forgive me).
But as I dove into my spreadsheet of things to do and see, places to stay, and of course, coffee shops to visit, I realized that I was about to stumble upon a cornucopia of amazing coffee in Lisbon, Portugal – which has a thriving specialty coffee scene. 
In this guide to the best coffee in Lisbon, you're going to find four Lisbon coffee shops where we – my two coffee-loving brothers and I – personally visited and tried coffee. We're going to be real with you and give you our thoughts on the places we think you should focus on, along with what stood out to us about each one.
After that, we'll give you a broader list of places to get good coffee in Lisbon that didn't quite make the top four in our minds, but will still brew you a great cup of coffee.
It's worth mentioning up front – coffee is entirely subjective. What I like (light roasts and fruit bombs) might be completely different from what you like. And that's okay, and is actually part of what I love about coffee.
First, a quick overview of my coffee journey to help you understand where I'm coming from, what my preferences are in terms of coffee, and how I think about the world of specialty coffee.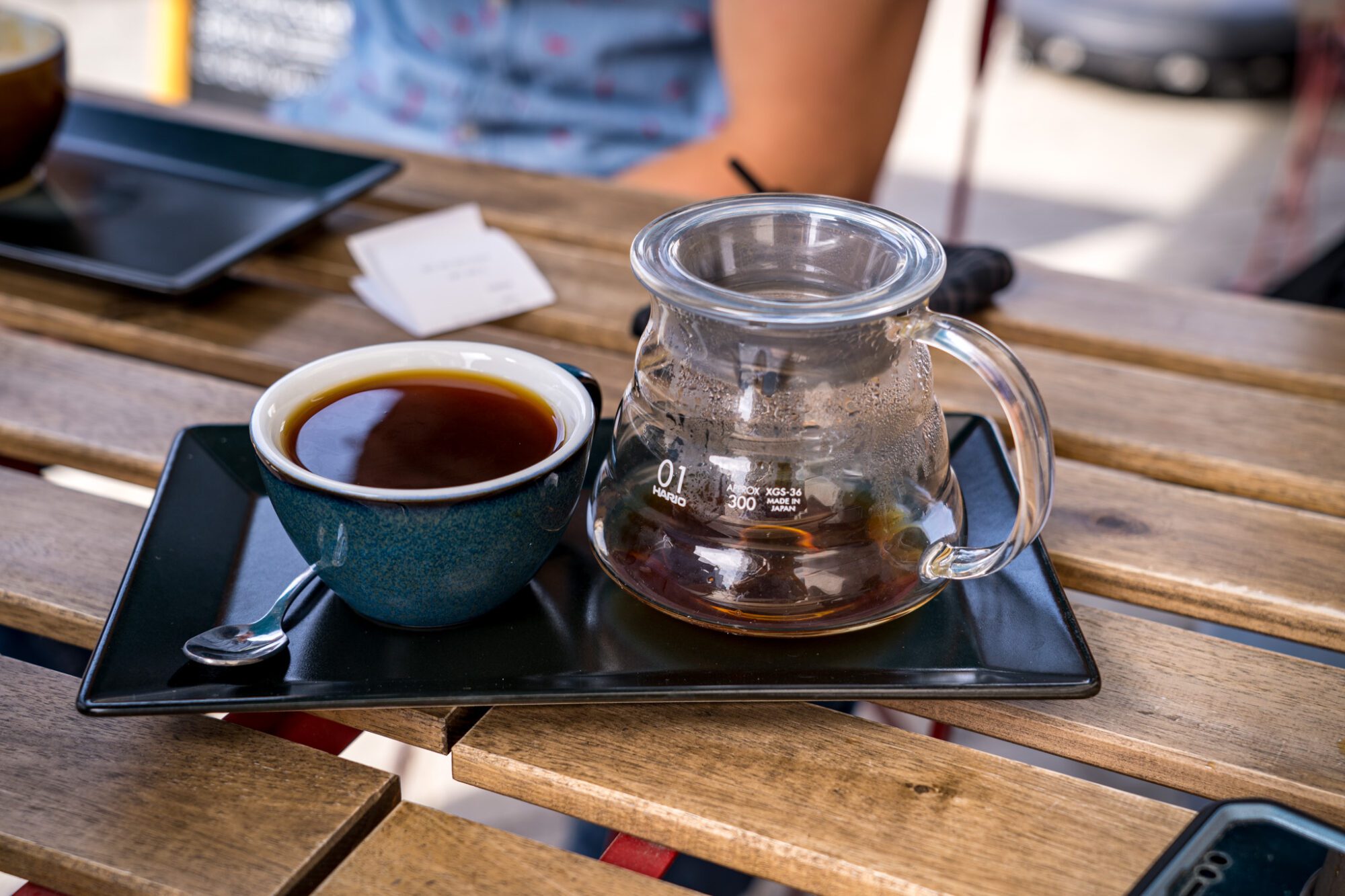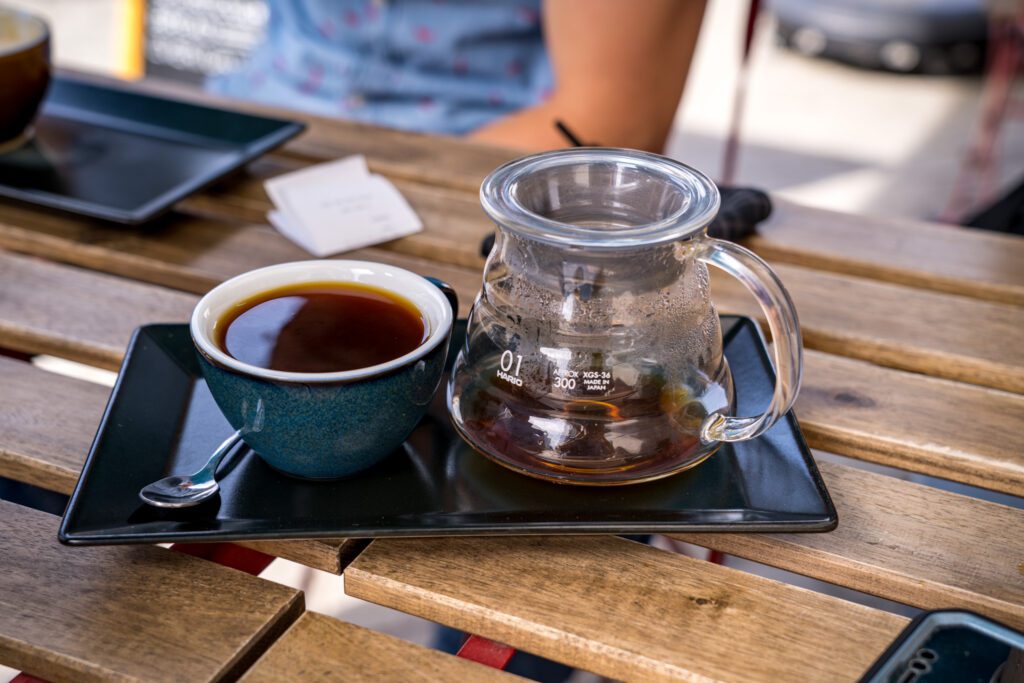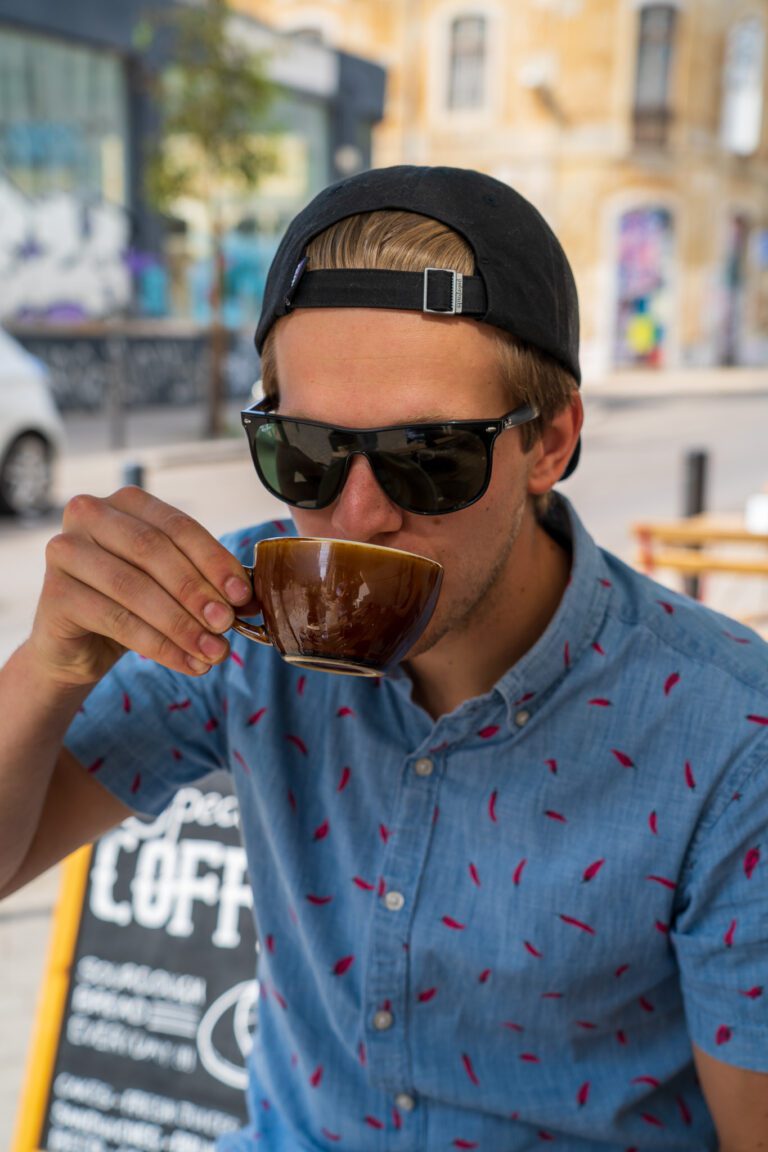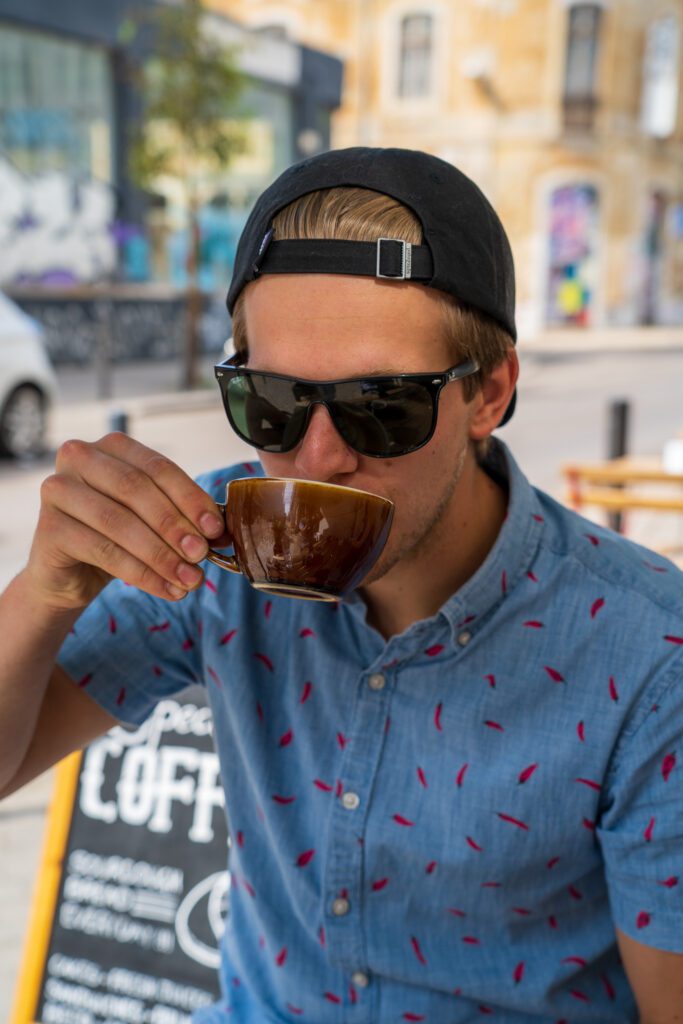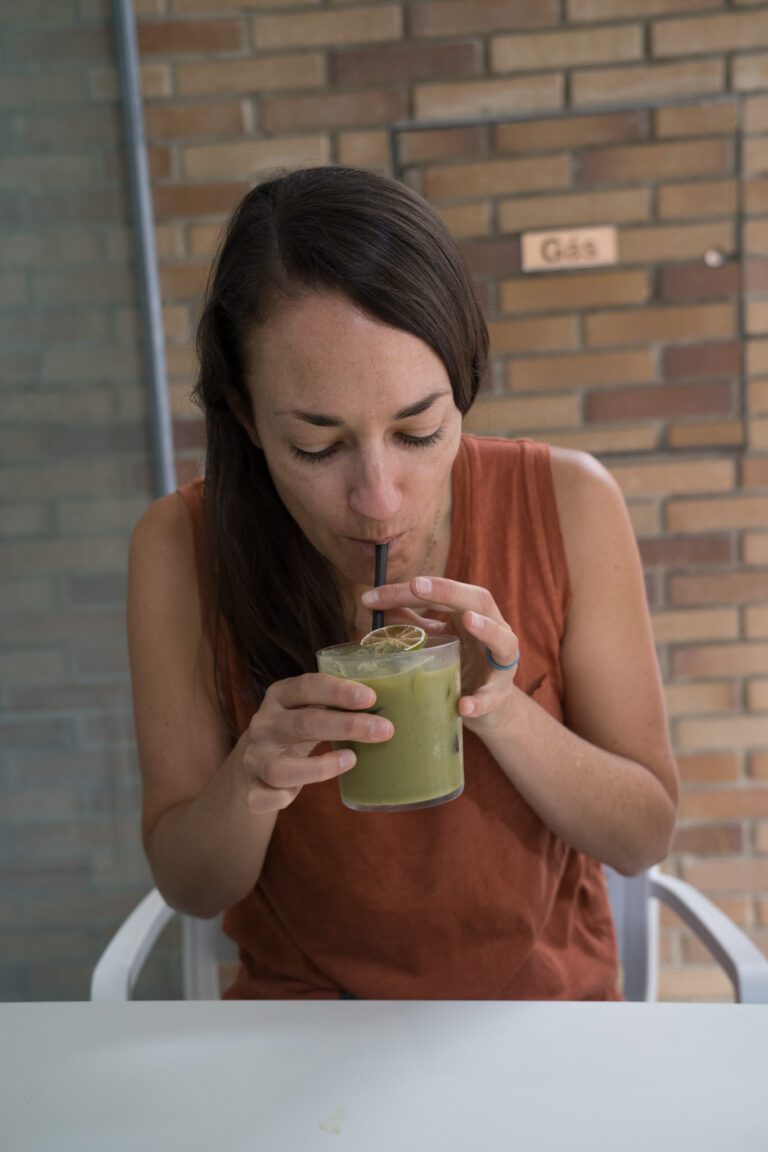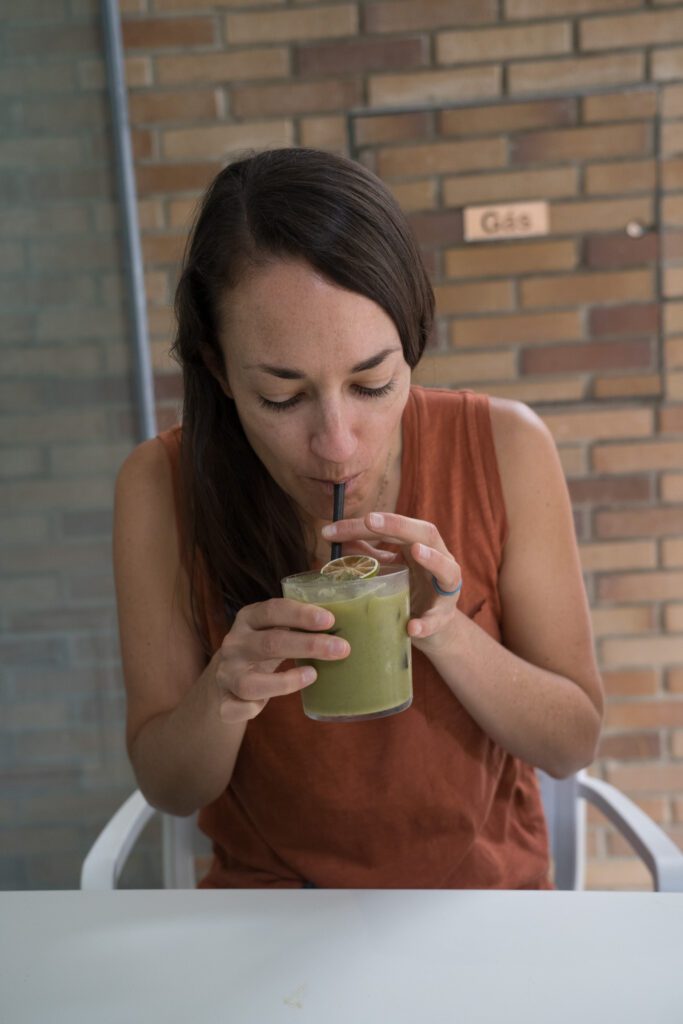 Disclaimer: Some of the links in this post, like hotel links, are affiliate links, meaning at no additional cost to you, we make a little bit of money if you click through and book. That being said, we would never recommend something to you that we don't stand behind 100%.
Where to Find the Best Coffee in Lisbon: Our 4 Favorite Lisbon Coffee Shops
Before we jump into specific recommendations for coffee in Lisbon, let's talk briefly about the approach.
I've done a coffee guide to Seattle, my hometown, where my two brothers and I went to 20+ coffee shops, tried a filter coffee and a cappuccino, gave each a rating, and tallied up those ratings to create a ranking of our favorite coffee in Seattle. 
This is not that. Mostly because we didn't have enough time to do a comprehensive guide like that, which took several weeks.
Instead, this guide to specialty coffee in Lisbon is based on our experience. We like trying new things, which means we're going to skew towards the places that have multiple roasters, multiple preparation methods (or unique preparation methods), and unique coffee concoctions (love a good espresso tonic).
In my other coffee guides, I have talked about my take on the three different types of coffee shops you'll find in cities around the world. They are:
Coffee Roasters: Pretty self explanatory – these are the places that roast their own beans in house, usually with a variety of origins and roasting styles (e.g. Colombia vs. Ethiopia, filter vs. espresso roast).


Coffee Monogamists: These are the coffee shops that are in an exclusive relationship with a single roaster. They don't roast the beans in-house, but get them from an outside roaster. Usually a local roaster, but not always (especially in Lisbon).


Coffee Curators: These are my personal favorite type of coffee shop because they offer a wider, more diverse range of coffees to try in one place. They curate the best coffees that they can find from roasters around the city, region, and world, and brew them in their own shop. Over the years, I have gravitated to these shops because they usually offer what I'm looking for: a chance to try a truly special coffee brewed by an expert. Because I can order beans from around the world to my house, but having those beans brewed by an expert is the difference between a good and great coffee experience. In general, and this is a big generalization, I've found that my best coffee experiences are at this type of shop.
There is an additional kind of coffee shop that I'll touch on briefly because I've seen it popping up more and more over the past several years.
And that, my friends, is the Instagram brunchy café. While the aesthetics are on point, the food menu is full of toasties, and the décor is perfect for your post on the 'gram, the coffee isn't quite as good.
This list below will focus on where to find the best coffee in Lisbon, which means you aren't going to find that last kind of coffee shop here. You're going to find places that are focused on brewing the best possible cup of coffee across different methods.
Which, of course, is entirely subjective. So take this list, which is based on our experience and is full of our own biases, with a big grain of salt.
I'm mostly a filter coffee guy, it's what I prepare and drink every single day, and I feel most comfortable weighing in on tasting notes and brewing styles of filter coffee over espresso.
Now that I've rambled for a bit, let's talk about coffee.
If You're in a Hurry
There are really four coffee shops in Lisbon that are a cut above the rest, and what I like about them is that they all bring a slightly different approach to the table.
You'll find plenty more on each of them in their individual sections below, but here's a quick overview for those of you who are limited on time.
Now, here are the deeper looks at each of the coffee shops we visited (and liked enough to include in this list).
Bloom Coffee Room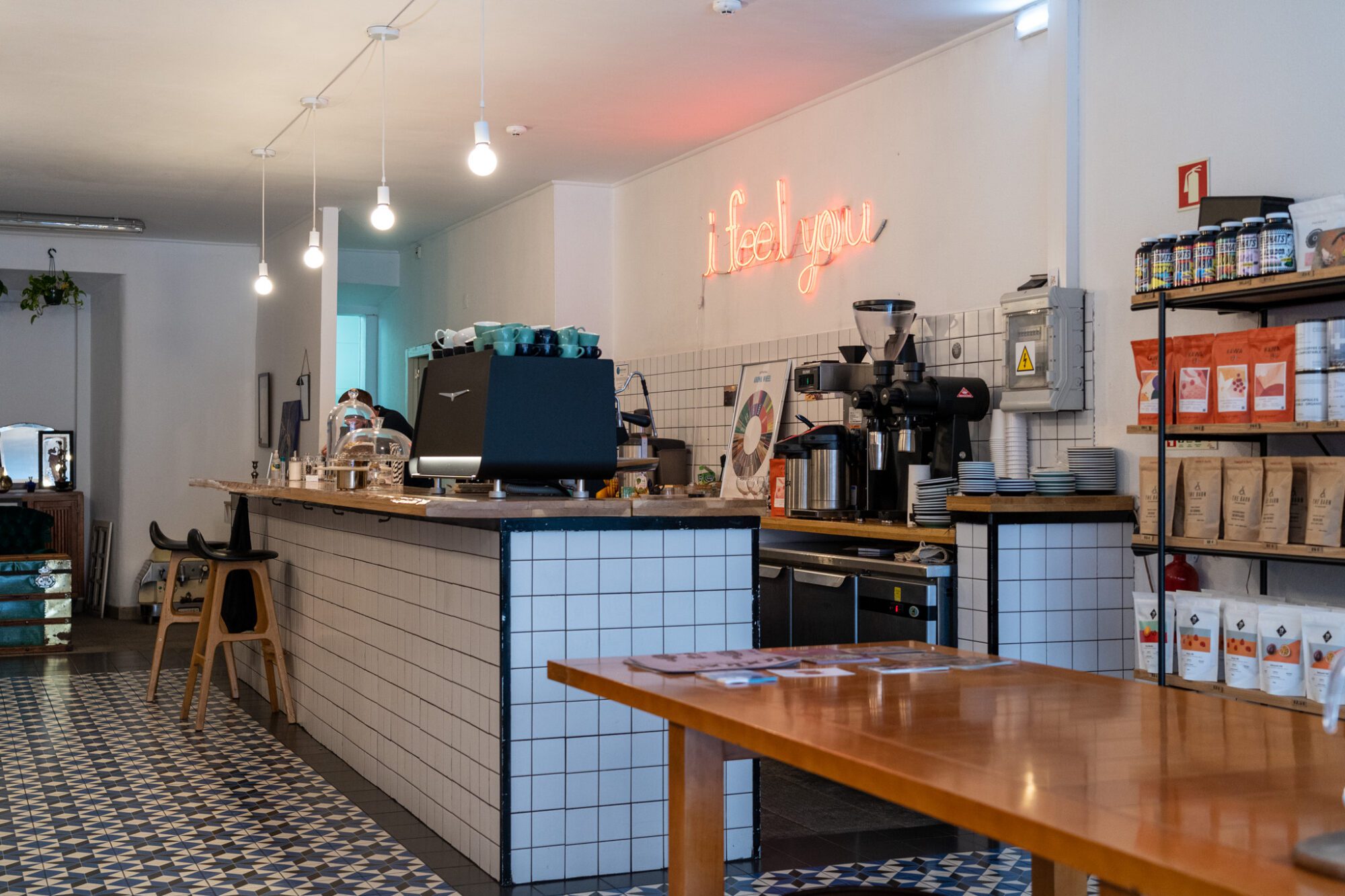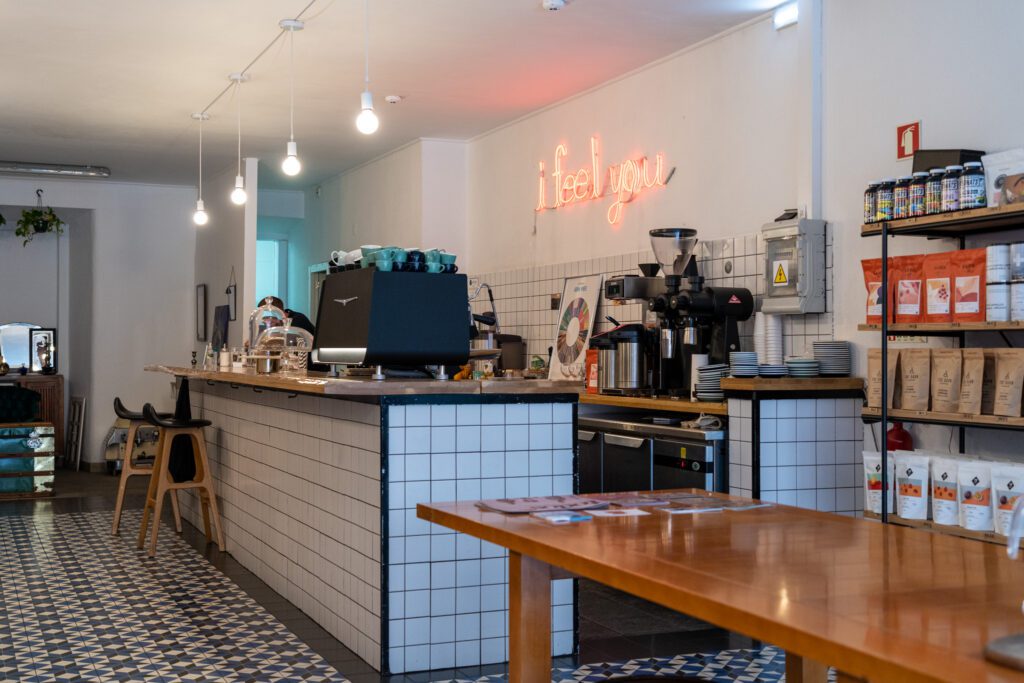 If you love coffee, then Bloom Coffee Room is the first coffee shop in Lisbon that you should go to. The owner – Nikita – was behind the bar all three times I stopped by, and his passion for coffee is contagious.
Nikita is a Russian immigrant (for whatever reason, there's a bunch of Russian-owned specialty coffee shops in Lisbon), and he spent a long time talking to us about the many different coffees he has in his shop.
They're a coffee curator, bringing in a bunch of different coffees from a wide variety of places. He sources beans from roasters all over Europe, including the Barn in Berlin, Friedhats in Amsterdam, and Kawa in Paris (psst – make sure to read our guide to the best coffee shops in Paris).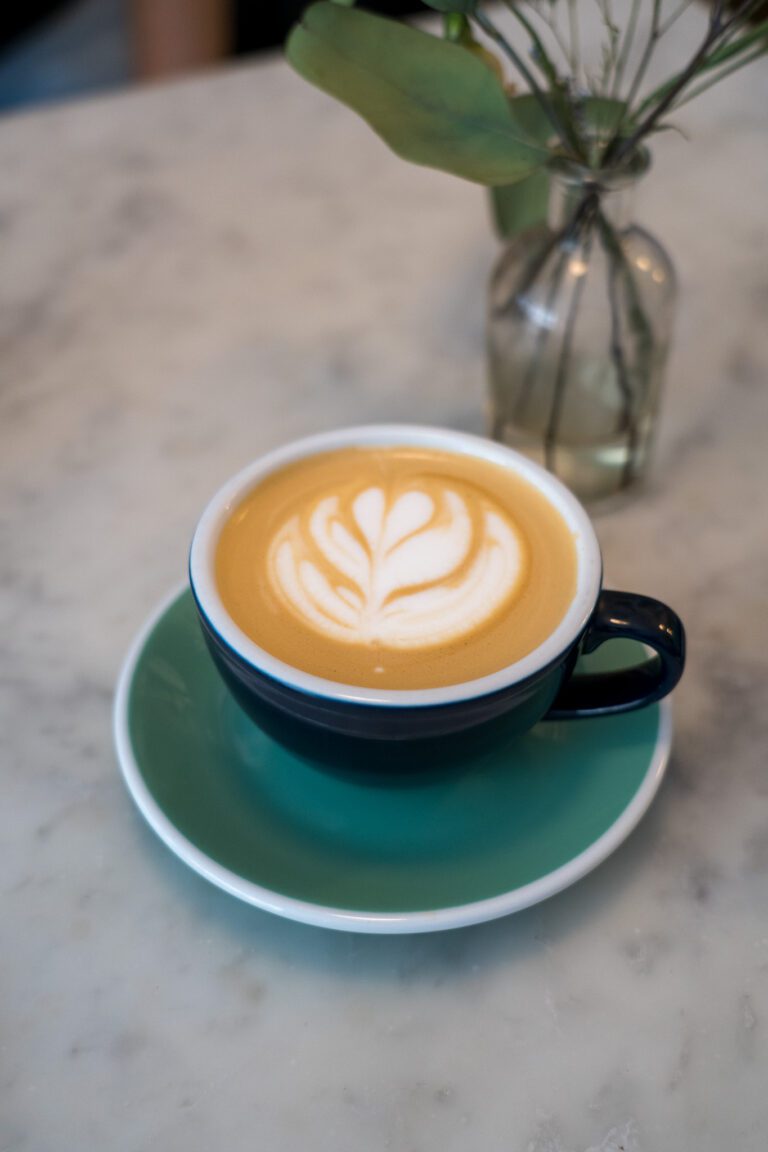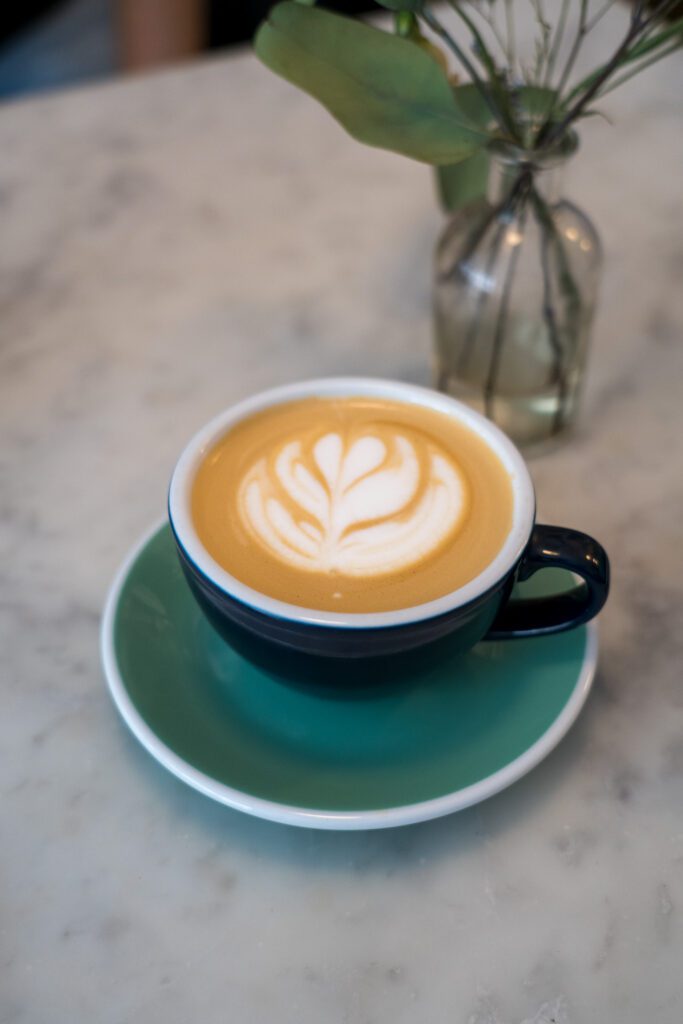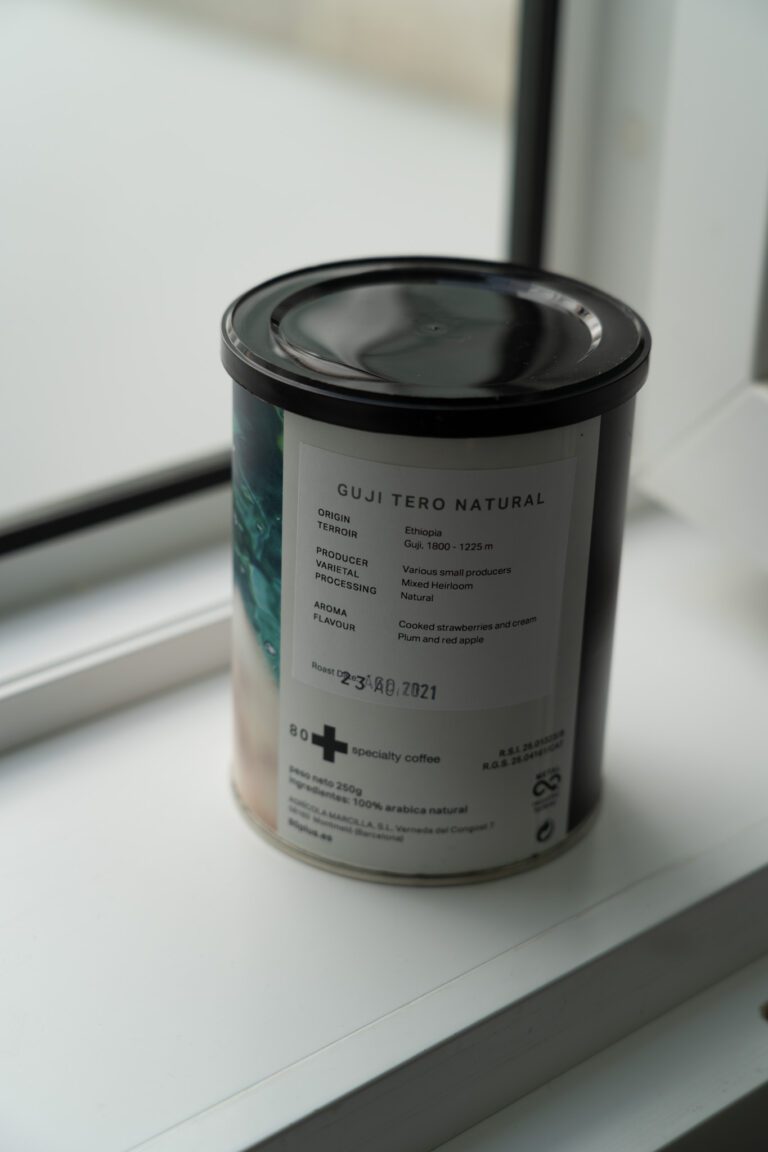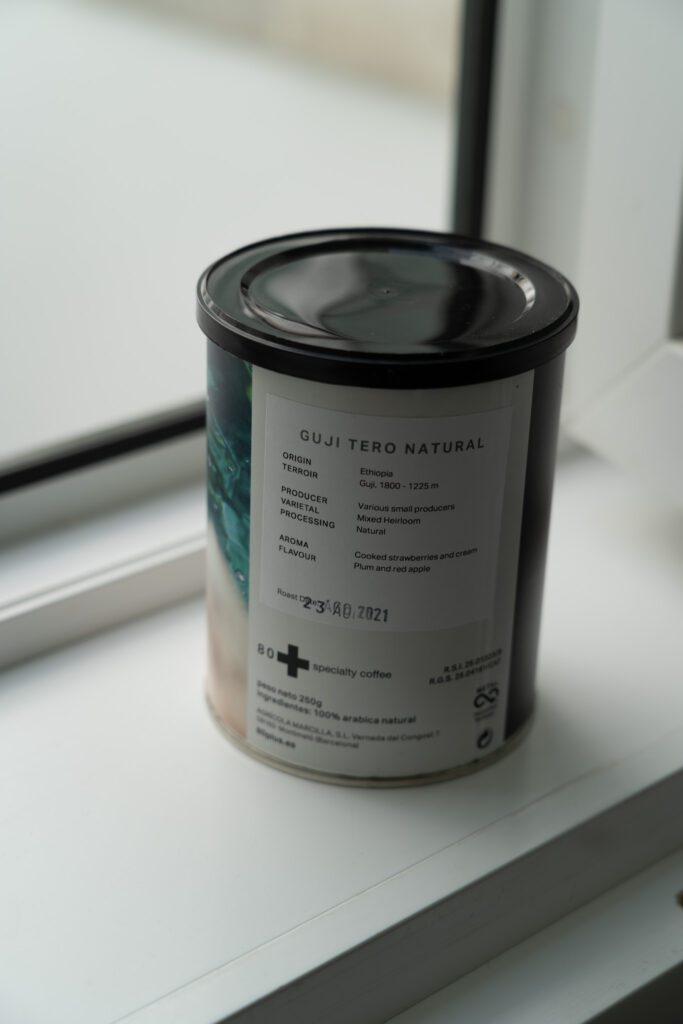 The first time we stopped by was our first morning in Lisbon, and we were in desperate need of coffee. After trying (and failing) to speak Portuguese to the other barista, Nikita jumped in with English to save me from further disaster. We got a filter coffee made with a natural-process Ethiopian coffee from 80plus, a roaster from Barcelona, and a cappuccino.
There's an important thing you should know about ordering a cappuccino in Europe. In our experience, every cappuccino comes served as a single shot – which is different than at home in the US or Canada, where it's a double shot. If you want something resembling the cappuccino you're used to at home, get a flat white instead.
Anyway, the pour over was so good that I bought the exact beans he used to make it. And here's the part where Nikita won me over.
As we were buying the beans, he made us a shot of espresso using the same beans just so we could experience the different ways the same coffee comes to life made as filter coffee and as a shot of espresso.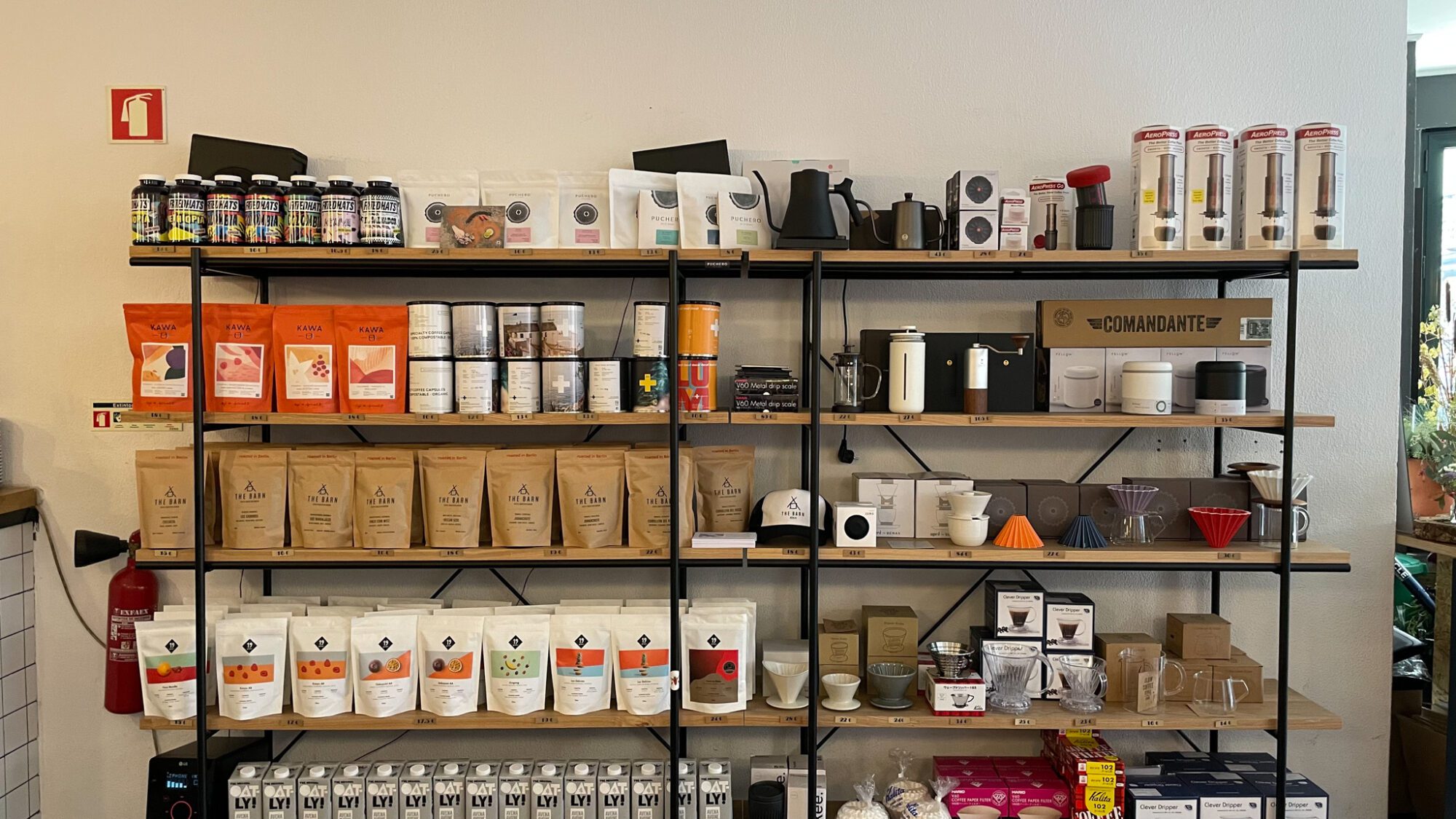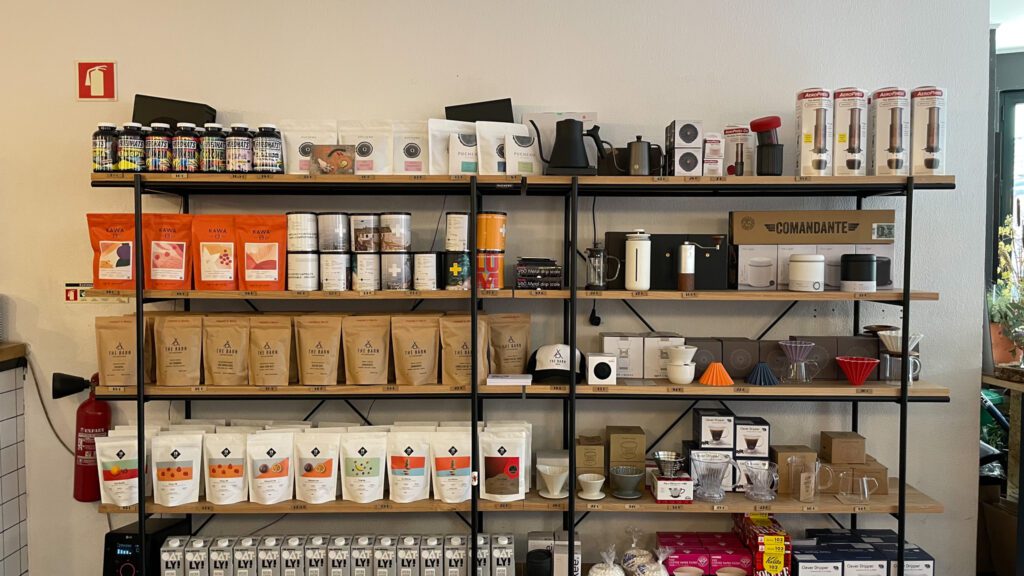 The second time we stopped by, Connor, my little brother, wanted to buy the Origami pour over brewer he used and told us he liked a lot. Plus, it's beautiful.
The third time was three months later, and somehow Nikita managed to remember me and my brothers. He helped me pick out two special bags of coffee to bring home as Christmas gifts (they were a natural process Colombian coffee from Kawa – that turned out to taste and smell like straight up peaches in the cup – and an El Salvadoran coffee from Puchero Roasters in Spain).
Like I said, I think this place earned its place at the top of my list of Lisbon coffee shops. If you're lucky, Nikita will be behind the bar and will give you some recommendations based on what he's liking at the moment, which will make the experience that much better.
Fábrica Coffee Roasters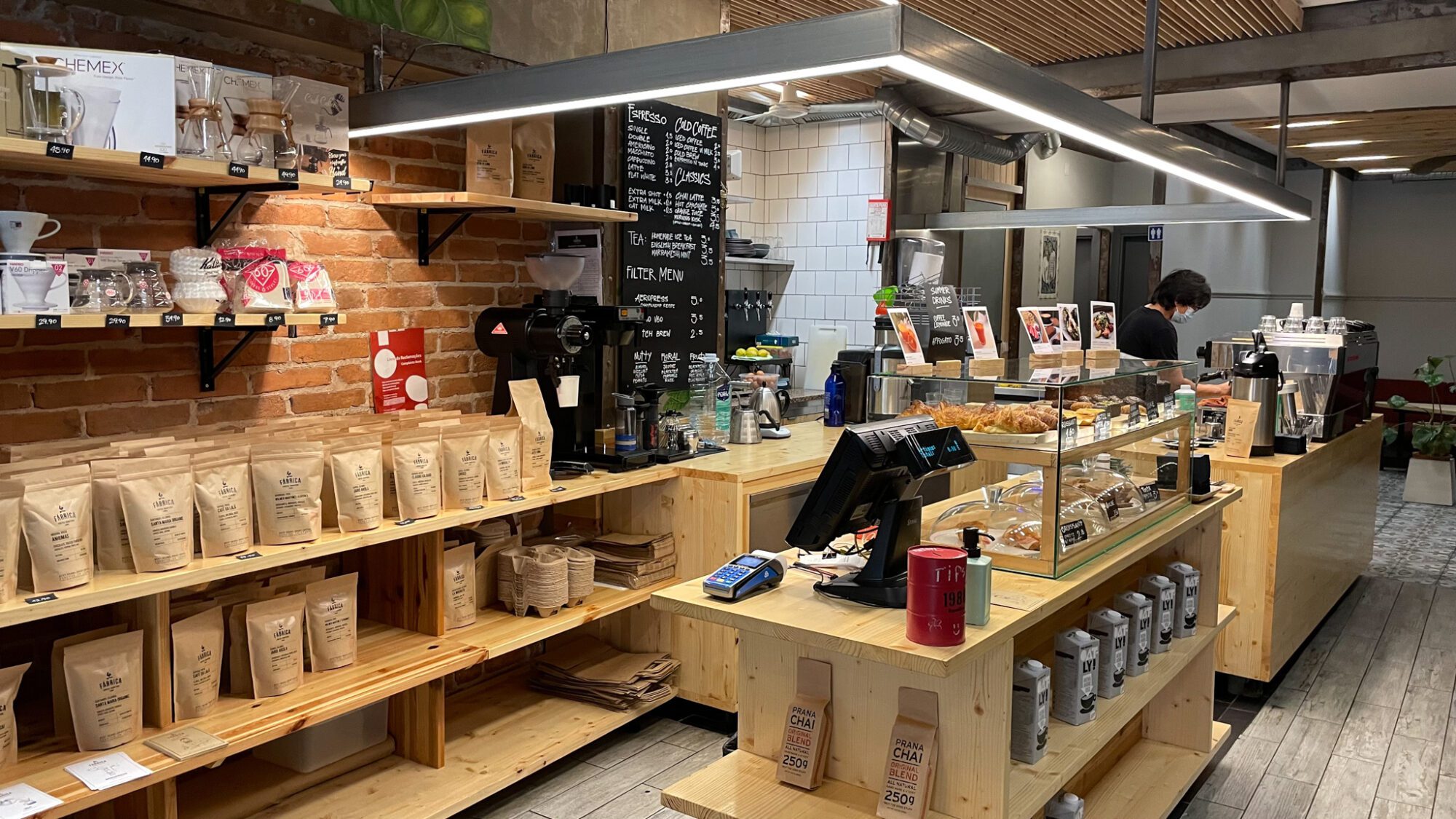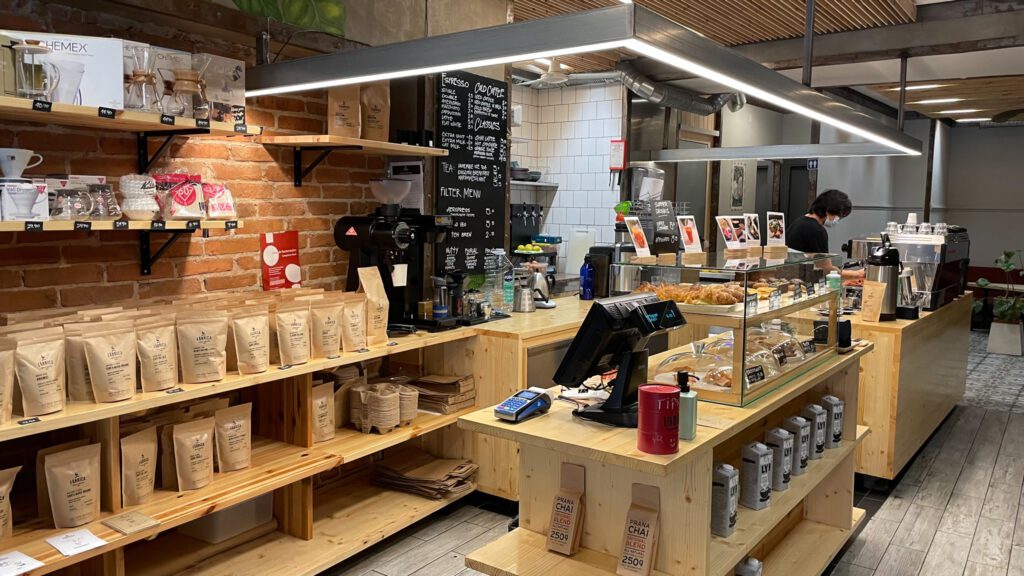 Fábrica is a coffee roaster in Lisbon, and they are one of the places that led the charge in terms of introducing specialty coffee to Lisbon (and Portugal, more broadly) with the opening of their first location more than six years ago.
The owner Stanislav Bendersky, who is part Russian, part Portuguese, was inspired by the rise of specialty coffee in Germany, and funneled that passion into Fábrica. It was among the first places to open in Portugal selling lighter roasts of different single origin beans.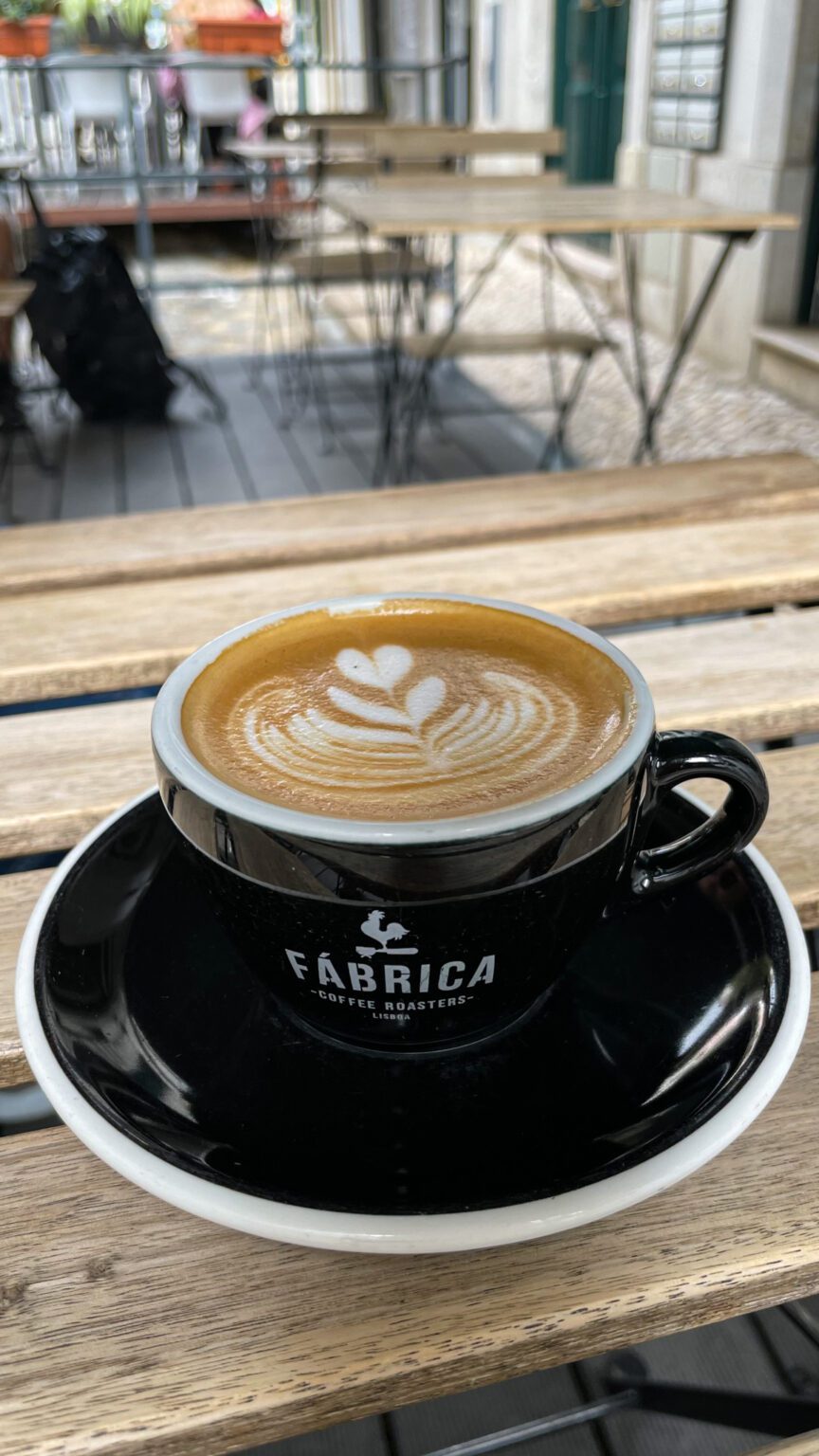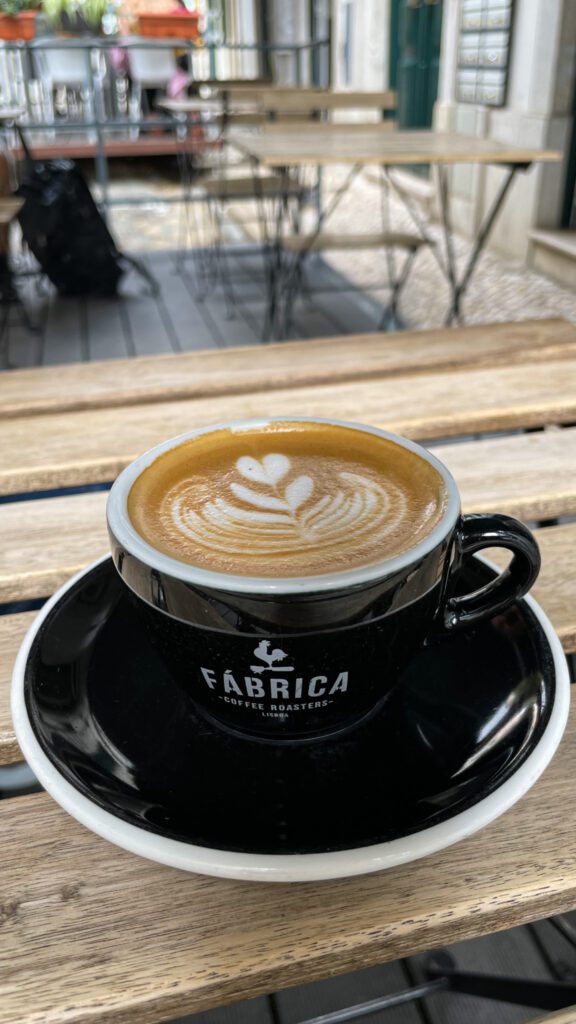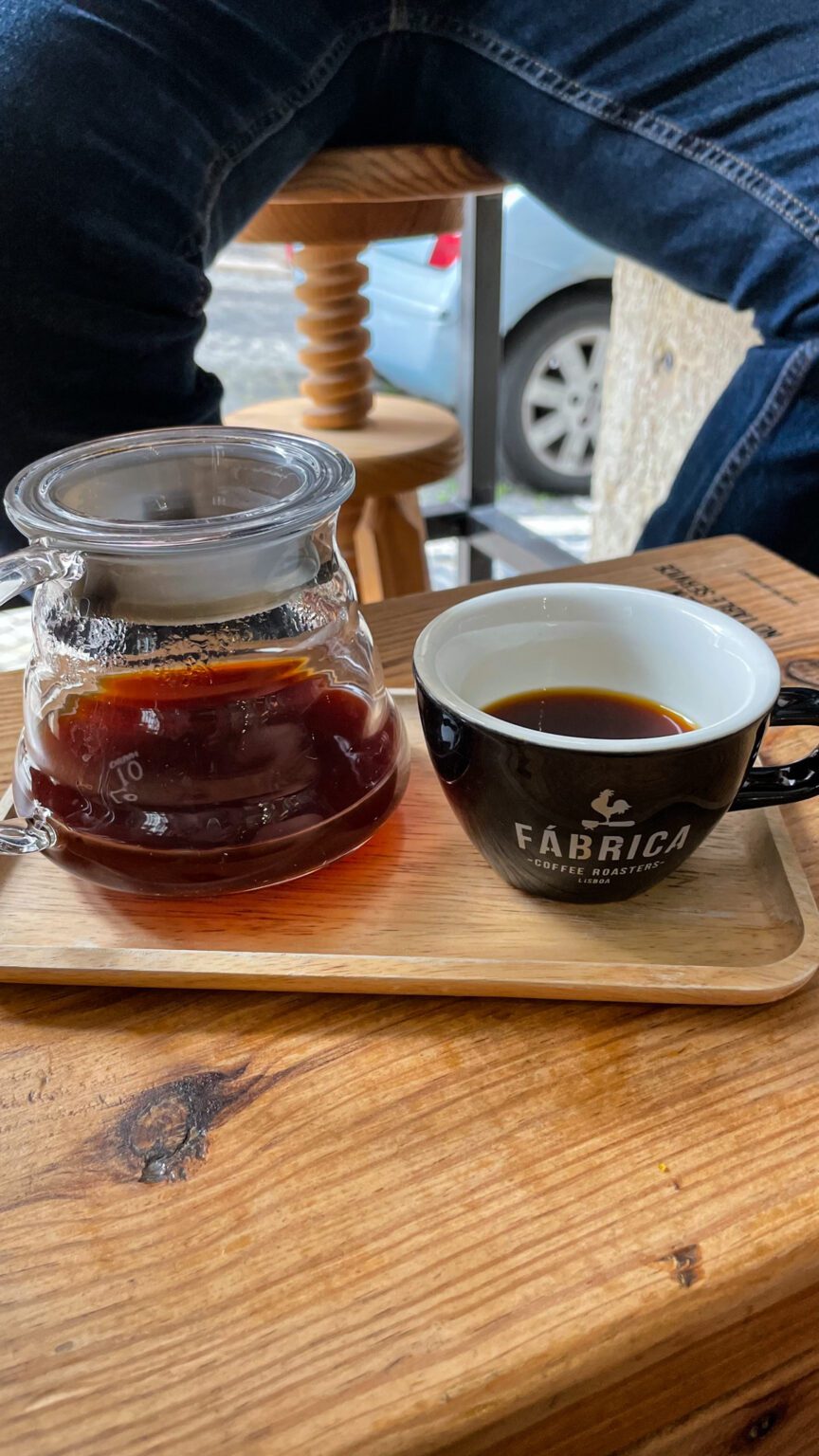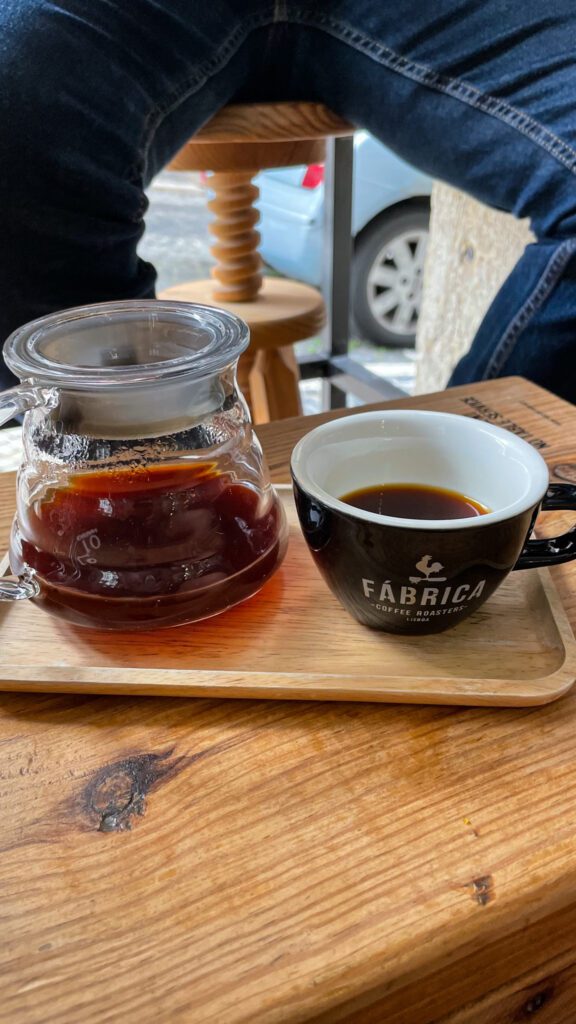 They roast their own beans in house, and had a pretty wide variety of origins and roast styles when we were in town, including different espresso and filter roasts, and beans from Brazil, Peru, Ethiopia, Colombia, and more.
We actually ended up at Fábrica twice, in two different locations. Funny enough, we never made it to the location in Baixa, which was closest to our apartment in Lisbon. We did make it to their other two locations – one just off of Avenida da Liberdade near the funicular on the east side, and the one in Chiado.
On our first stop, my little brother and I had the first cappuccino in Portugal that was 6oz (most places we had tried were doing a larger milk:espresso ratio, which we weren't huge fans of), and the milk was frothed nearly perfectly. As I watched him try it after I had taken a sip, I saw the raised eyebrows and eyes lighting up that generally means "whoa, this is good!"
We went twice because it was only after I ordered our cappuccino and espresso that I saw that they brew coffee using the AeroPress, which is my brewing method while we're traveling. Despite trying to use it for multiple years now, I still haven't quite dialed it in as much as I'd like. So when I saw that they brew using the winning AeroPress World Championships (yes, that's a real thing) recipe, I had to try it!
I asked the barista what her favorite coffee was at the moment, and she directed me towards a coffee from Peru. I watched them brew it, noting that they make a strong cup and dilute it with hot water at the end (which is a common theme I've seen with good AeroPress recipes).
The coffee was an explosion of all sorts of tropical fruit flavors! Which is something I don't usually associate with the AeroPress (probably because I'm not quite using it right). It was fantastic, and I'd highly recommend it if you're looking for a filter coffee in Lisbon.
Roastberry Coffee Lab
RoastBerry is another coffee roaster in Lisbon, and they are tucked away in a little courtyard just a few blocks from the hip and happening LX Factory (which should probably be on your Lisbon itinerary). It took us a second to find it – it's inside an internal courtyard, which is a perfect oasis for trying some amazing coffee and specialty drinks.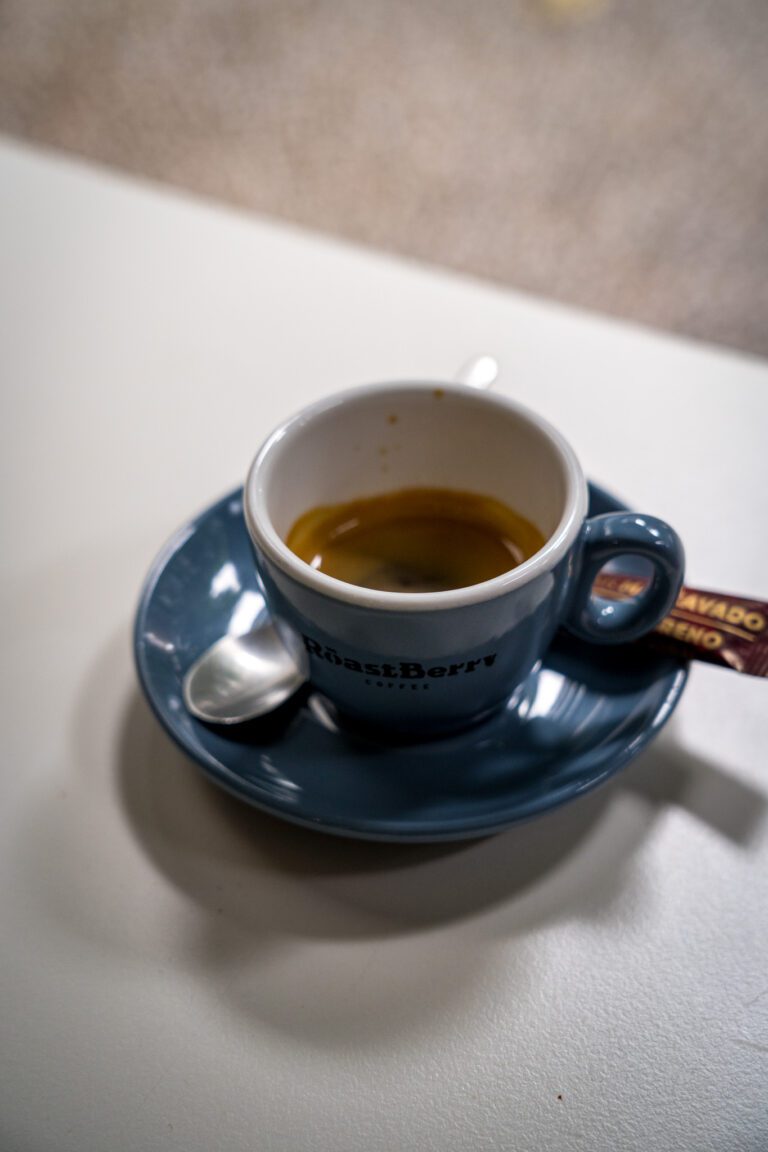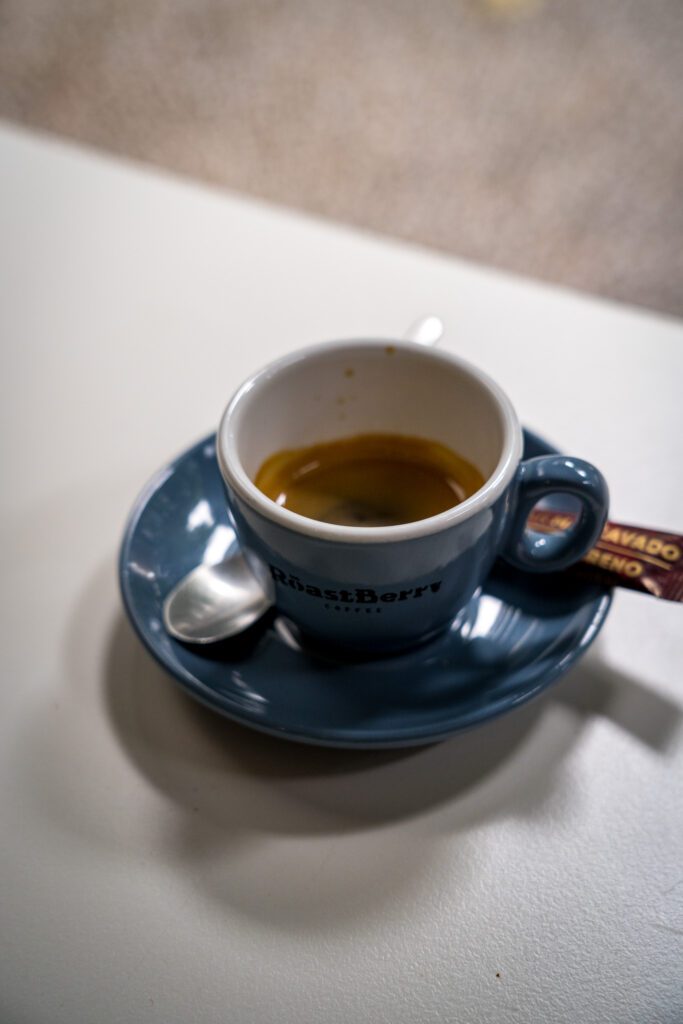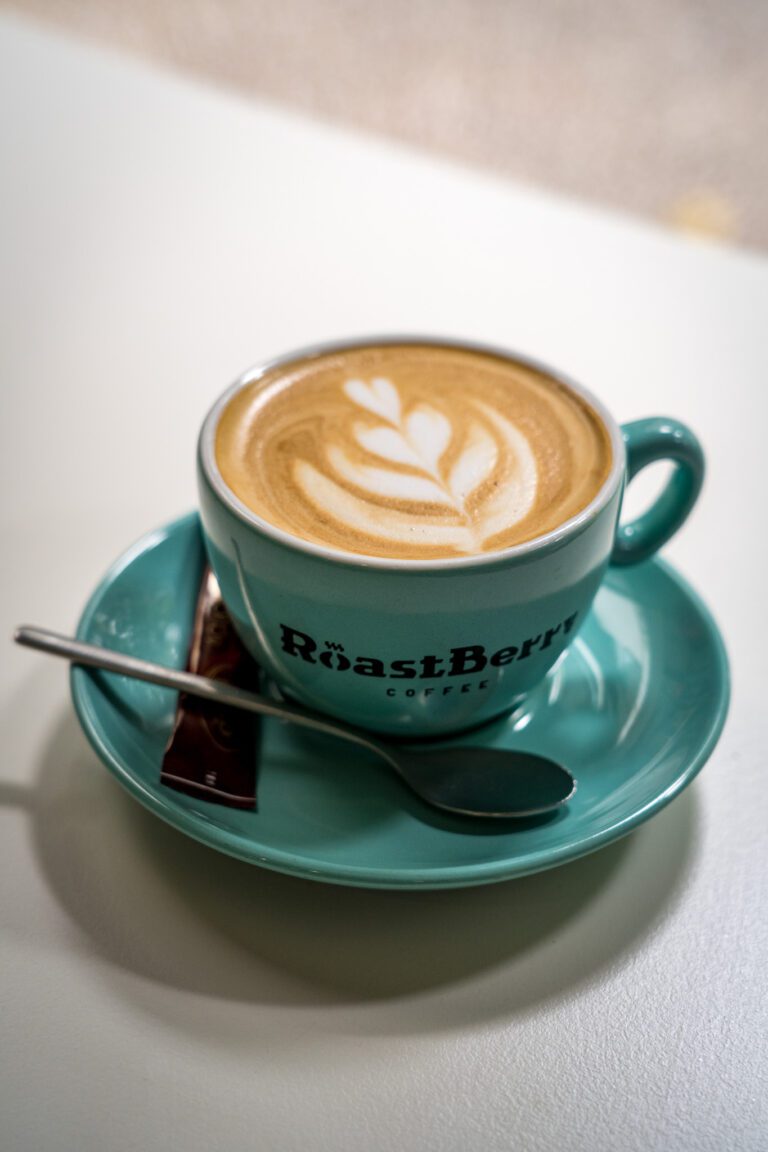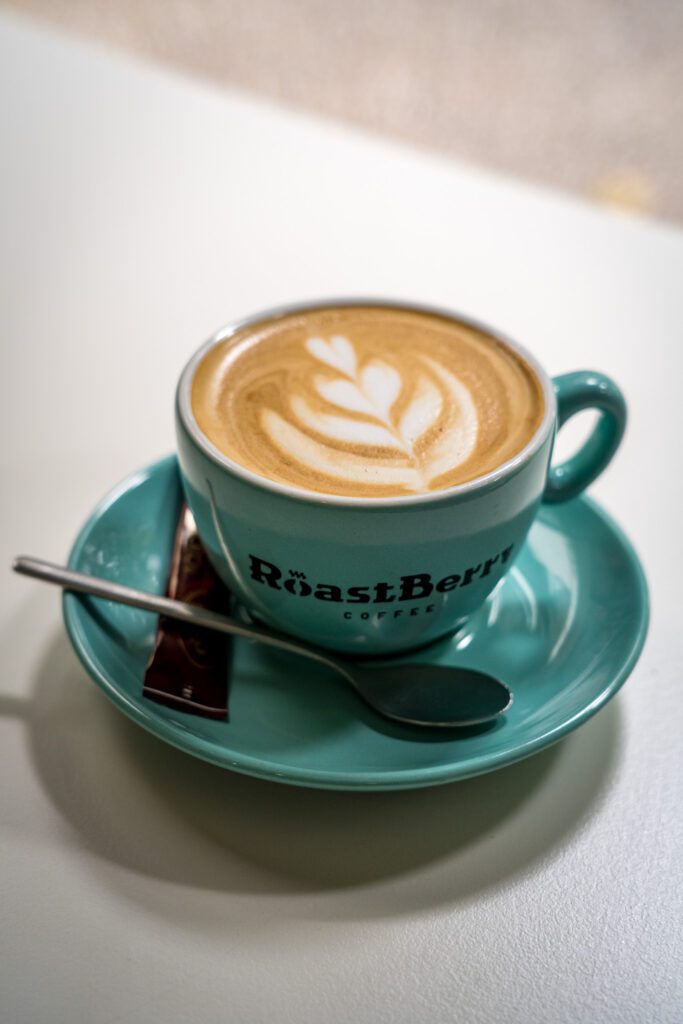 The thing that really sets this place apart is the specialty drinks, which are essentially coffee cocktails, sans alcohol. I'm NOT saying that their coffee, which they make from house-roasted beans, is not good.
In fact, I grabbed a bag of their natural process Nicaraguan coffee to bring home as a Christmas gift for my coffee-loving brothers on our second trip to Lisbon. If you're into specialty coffee, they'll brew you up a pour over coffee using a V60 or make you a great flat white if that's what you're looking for.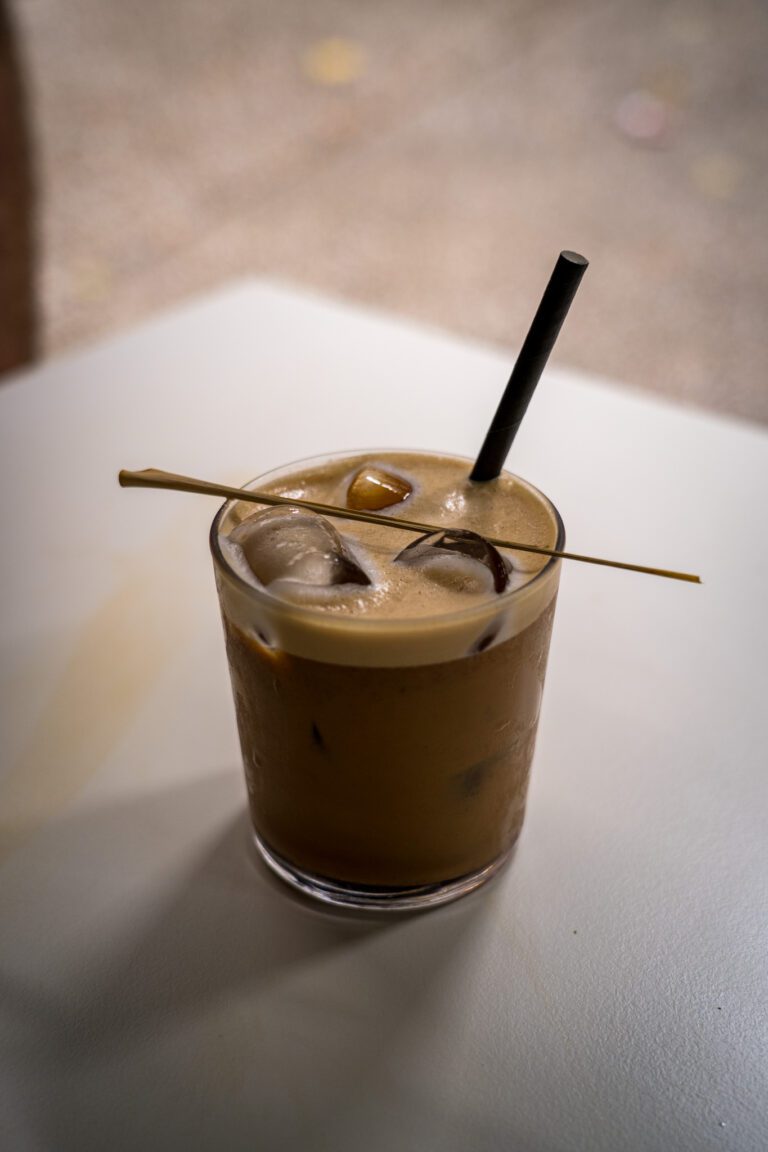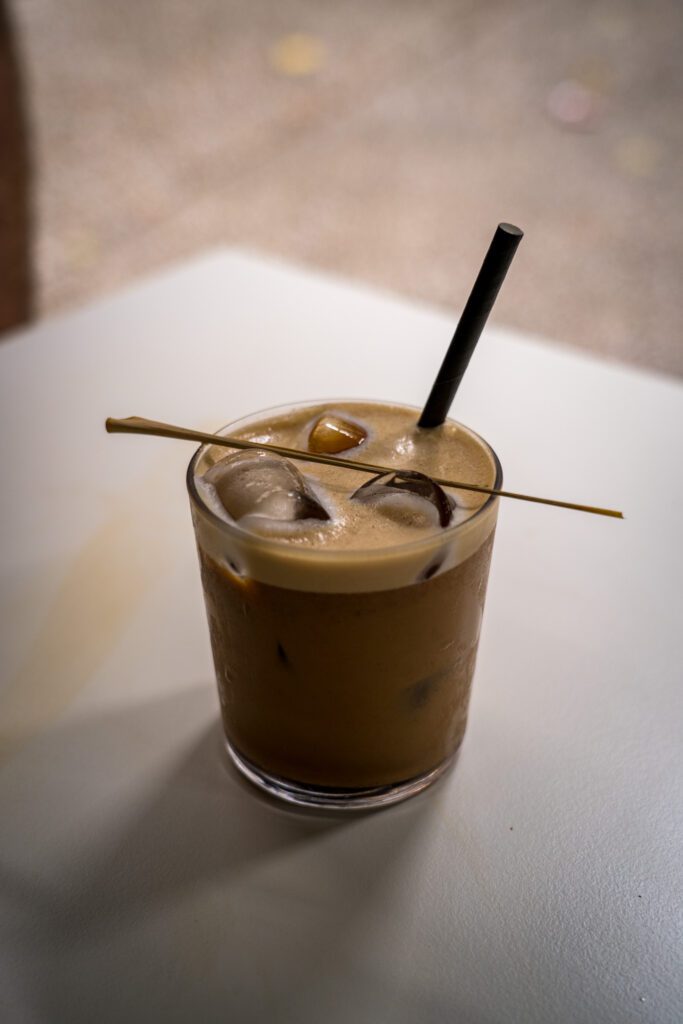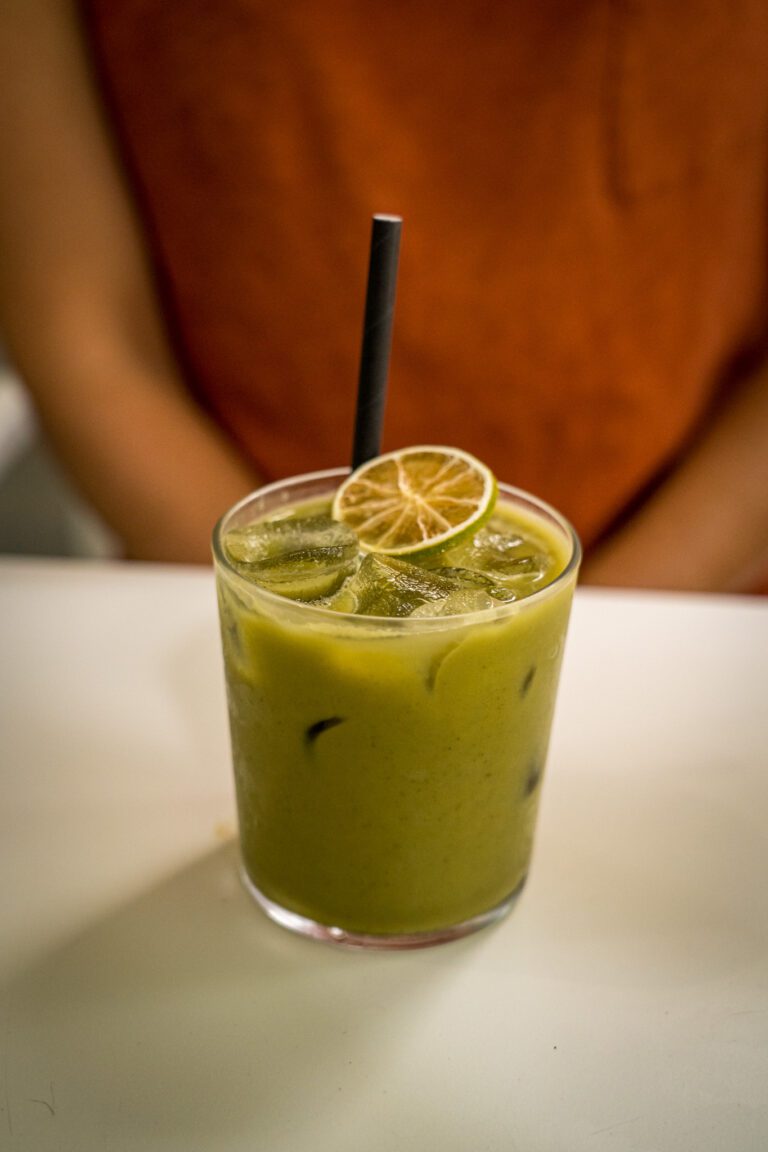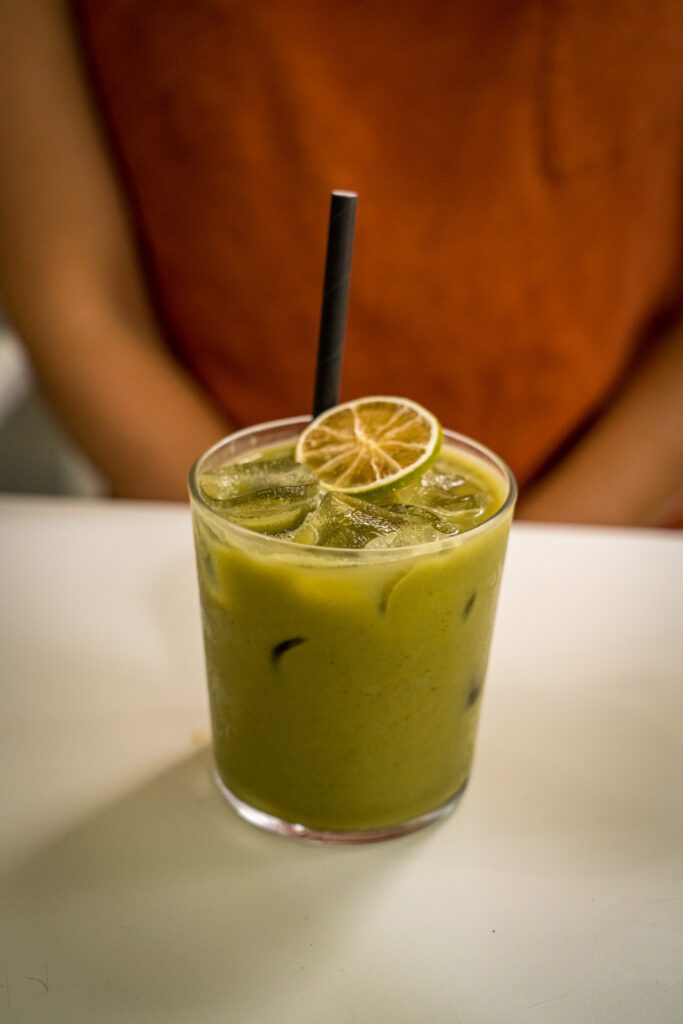 What I am saying is that the most unique part of their offering is the specialty drinks. They're fun, they're delicious, and they're perfect for people who aren't necessarily into the taste of coffee (like Alysha).
They also have an impressive tea selection, which Alysha appreciated.
Buna Specialty Coffee Shop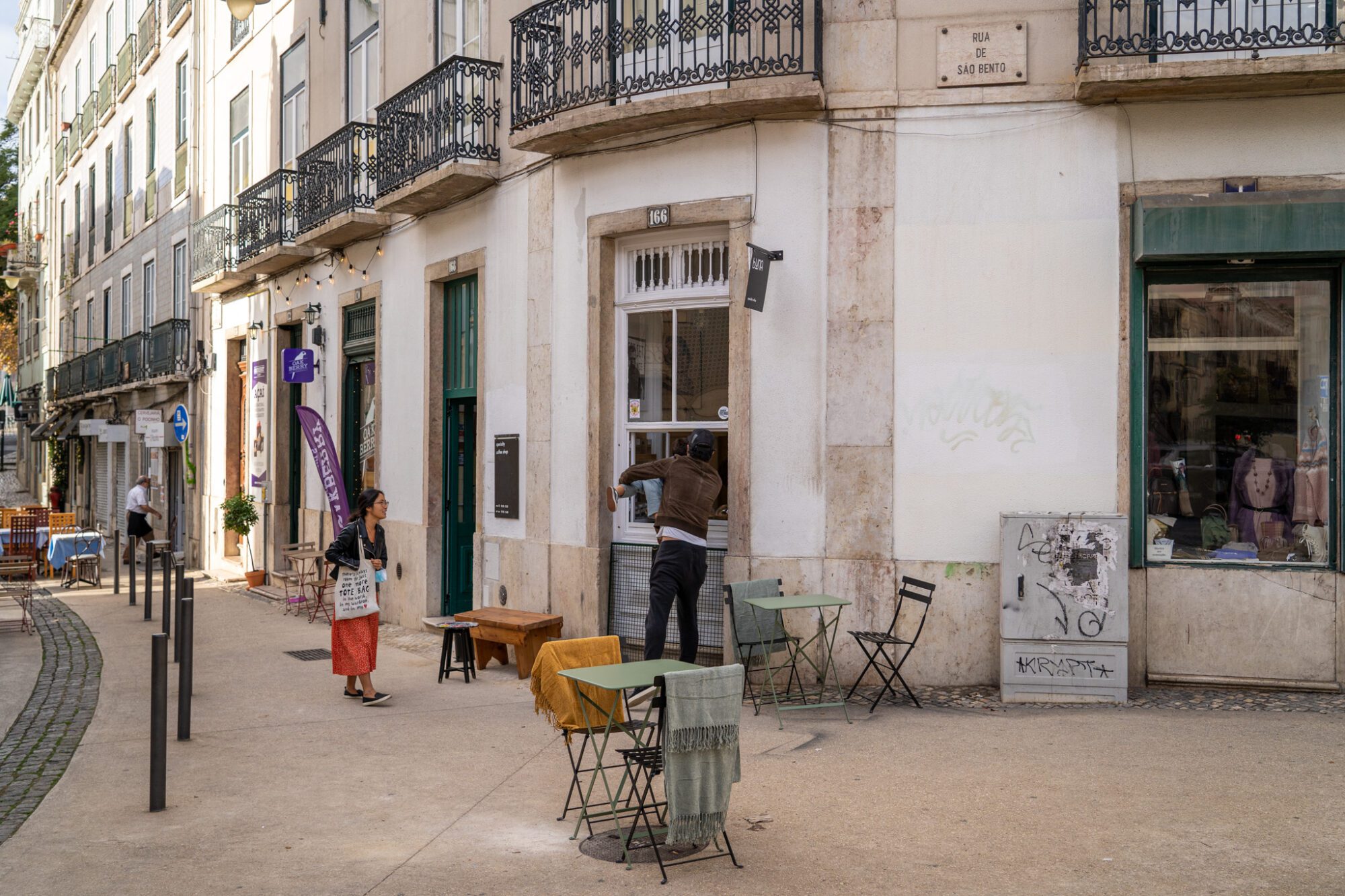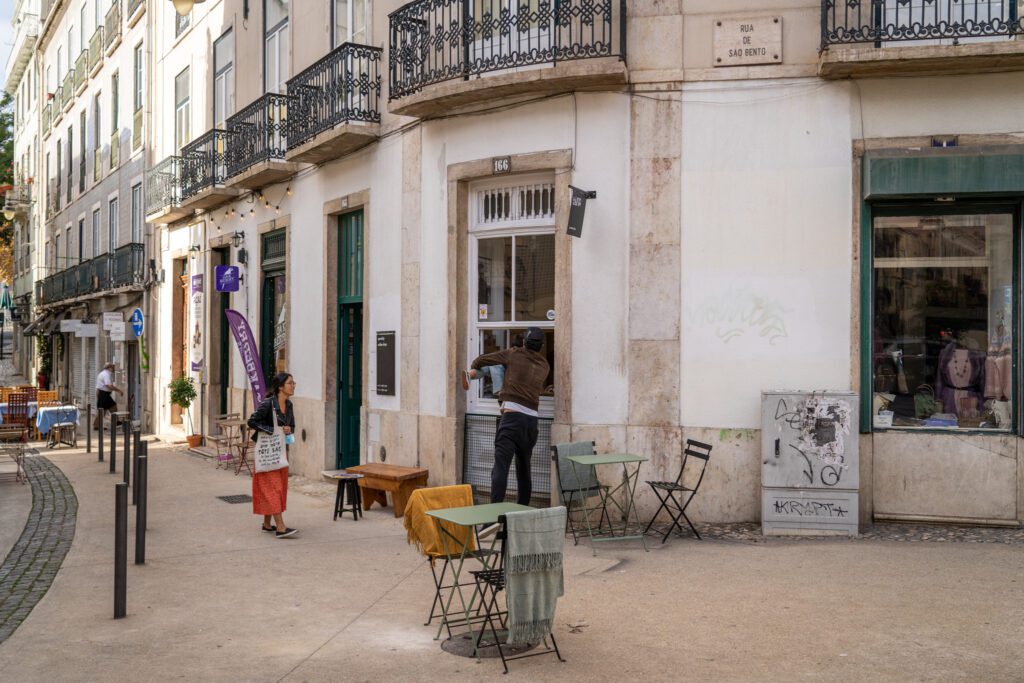 We stopped by Buna on both of our trips to Lisbon, which were roughly three months apart. The first time, they were in a small space down an alley, which was fine, but not exactly ideal. The second time, they had recently moved into a beautiful space on a bustling corner a half block away, with plenty of outdoor seating, a sun-drenched patio out in front, and a bunch of cute pups on parade.
In other words, when you combine the location with the good coffee they're making, paradise. Even for Alysha, who doesn't drink coffee but is all about the pups.
Buna is somewhere between a coffee curator and a coffee monogamist. When we visited them in their new space, they were primarily working with a single roaster, Drop from Sweden, but they also had a few other roasters. Most notably, Sumo Coffee from Ireland, which are the beans I eventually chose for my filter coffee, made with a V60.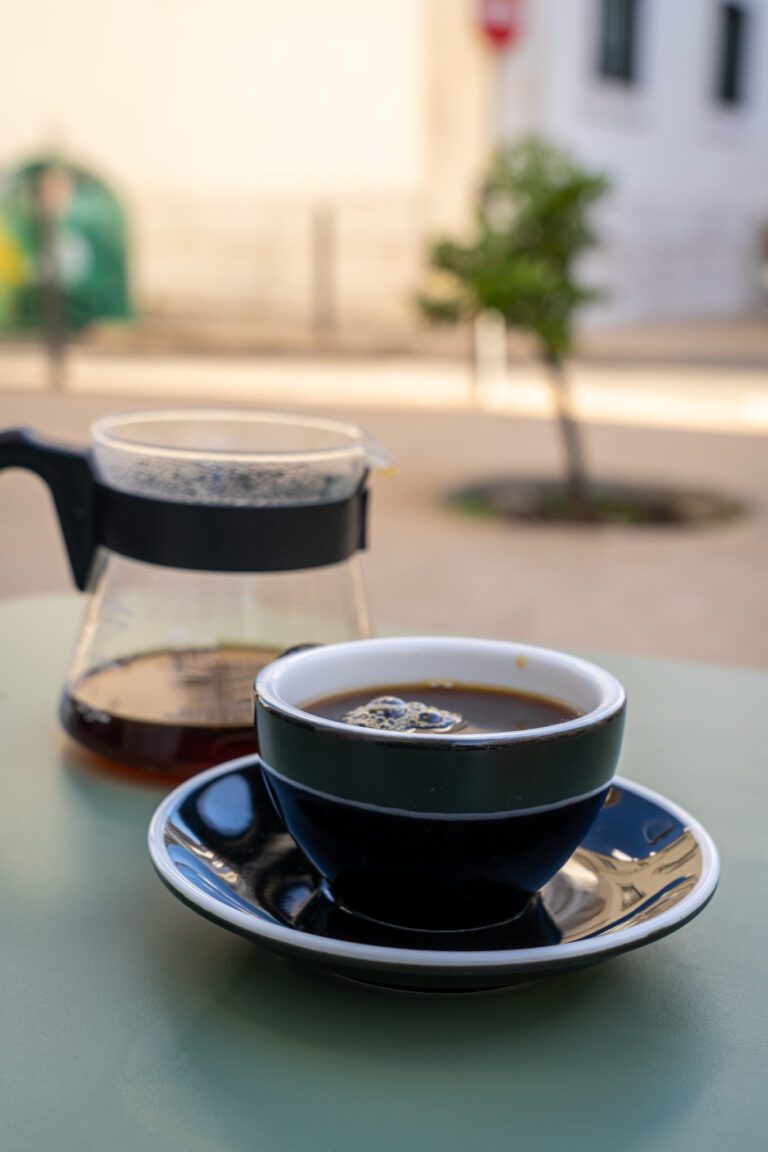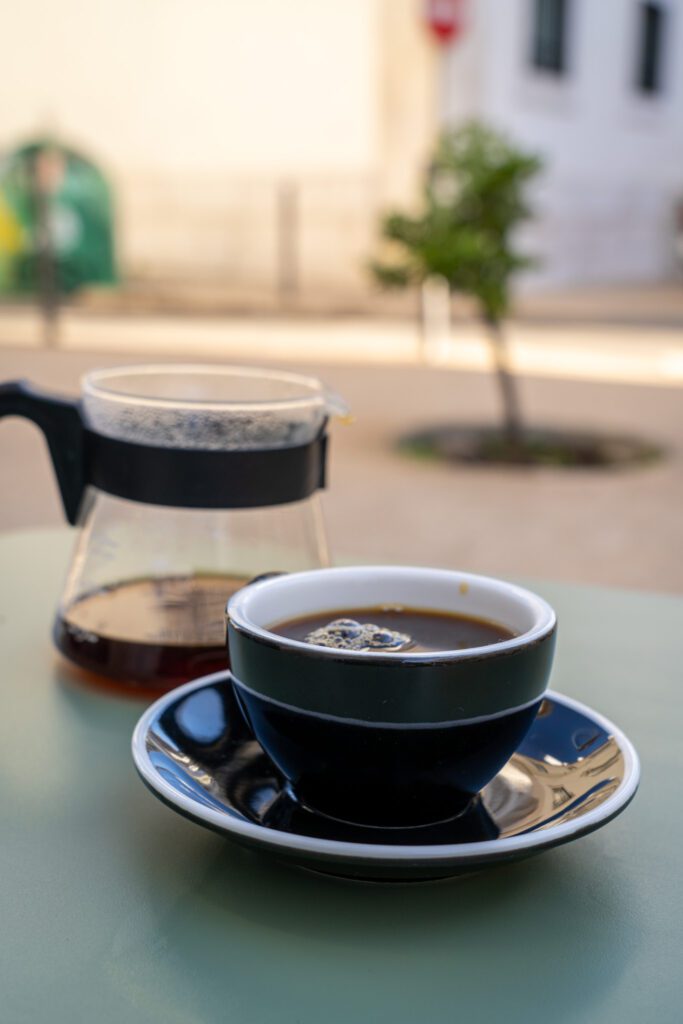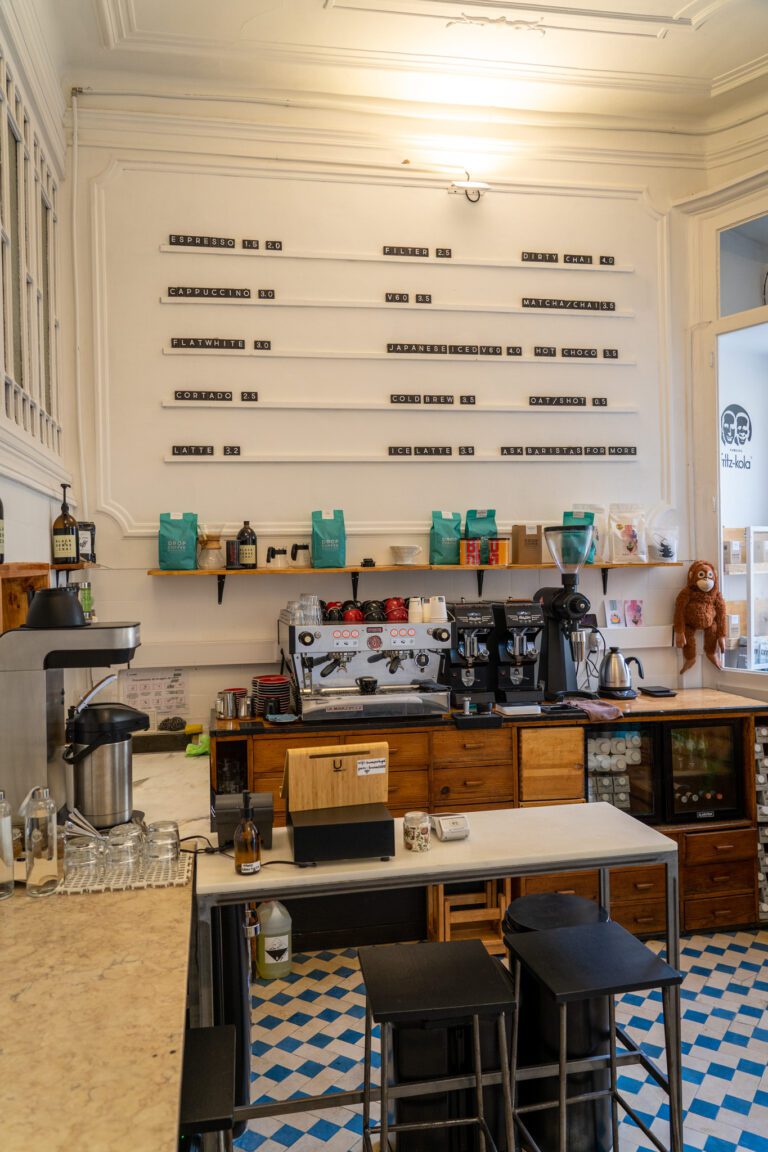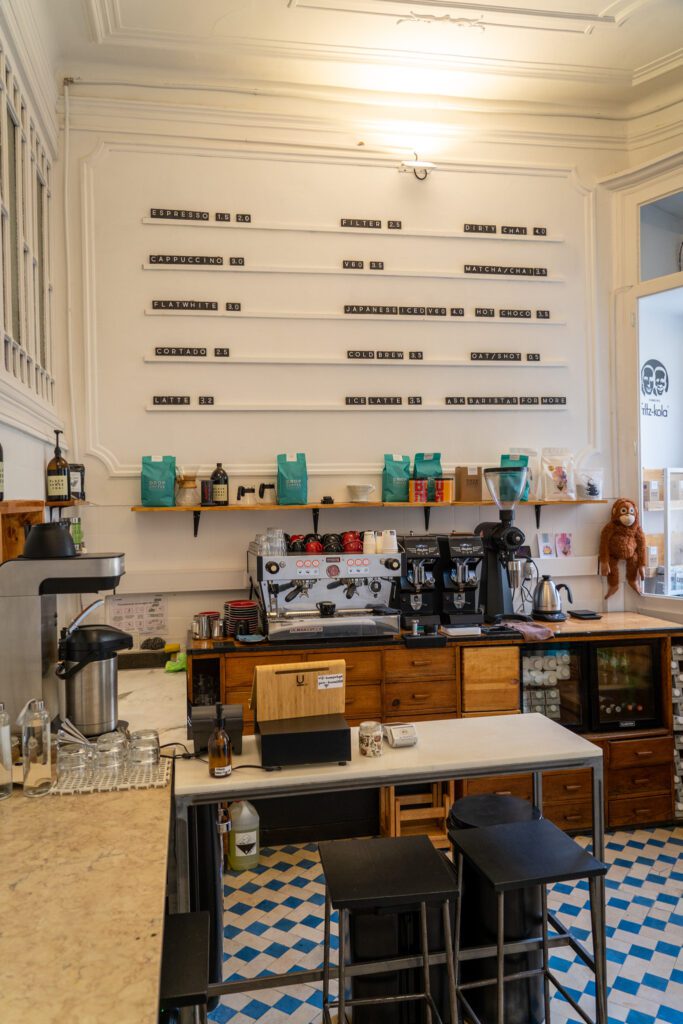 First of all, the barista was super friendly, even coming back outside to chat (and ask what I thought about the coffee) after she brought out the coffee.
Second of all, one of the co-owners, Sergio, also came over to chat AND he had spent time working in Emeryville, CA (which is just across the Bay Bridge from San Francisco), which is where I worked throughout the majority of my decade living in San Francisco.
Small world.
Anyway, the coffee is great, the people are super friendly, and the pups are both endless and adorable. If I lived in the neighborhood, this would be "my spot."
Other Places to Get a Nice Cup of Coffee in Lisbon
It seems like there are an endless number of hip cafes opening up all over Lisbon. It's hard to go a couple of blocks in Lisbon's center without coming across a good coffee shop.
Here are the best coffee shops that don't quite fit into the top four, but still deserve a mention. You can go to any of the places below and get a good cappuccino or latte, or a nicely pulled shot of espresso.
You might not have as much choice in terms of what coffee you get, or different filter preparation methods, which is something I'm looking for and value. But you'll still get a nice cup of coffee to get your day started.
Milkees
This place is known for two things – good coffee, and their chocolate chip cookies (not gluten free, sadly). We stopped by twice when we found ourselves in the neighborhood, which is decidedly north of Lisbon's main tourist-friendly area.
The coffee is good – I had an espresso and a macchiato and both were well above average – and they rotate through local roasters like Roastberry and Olisopo.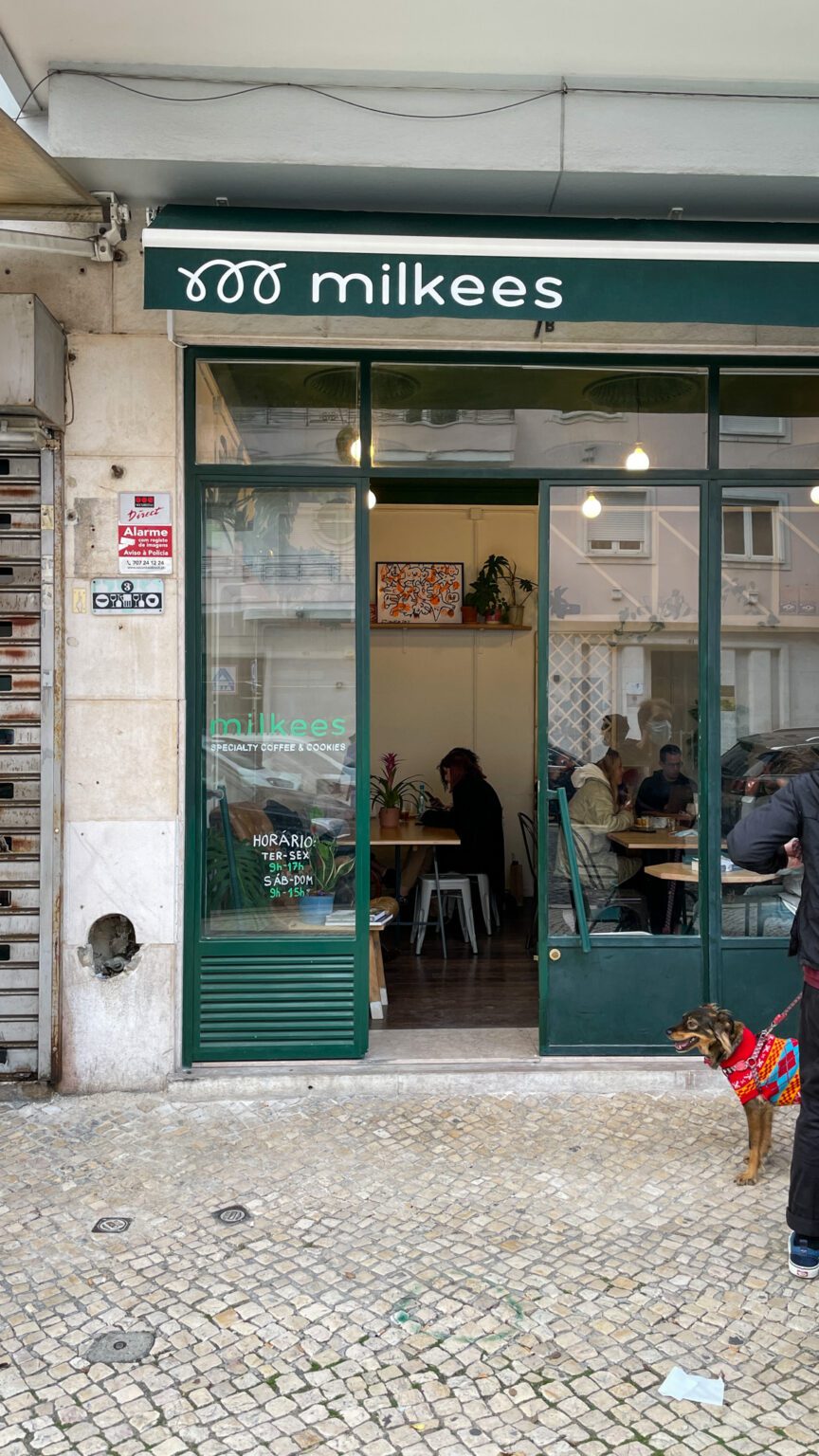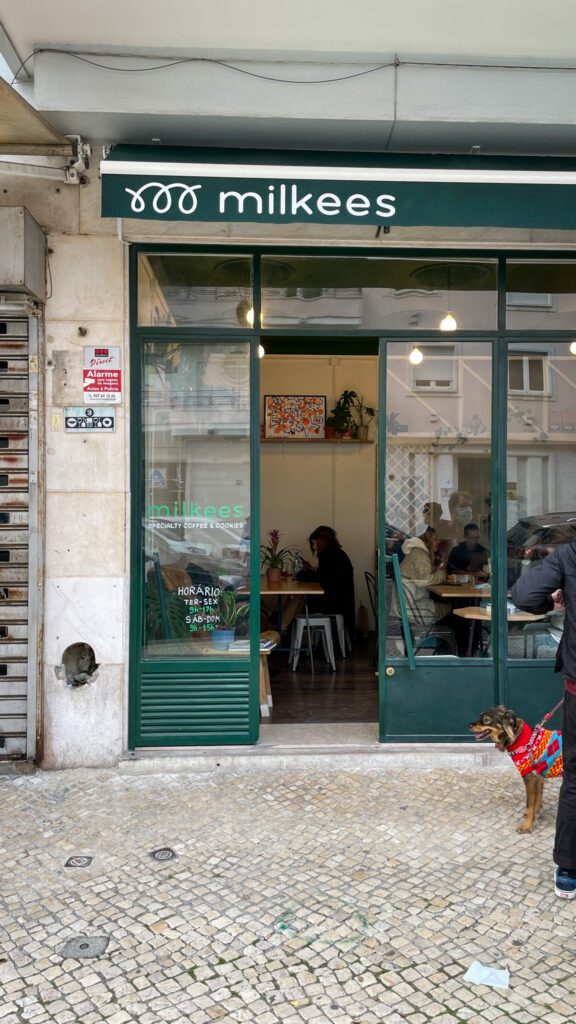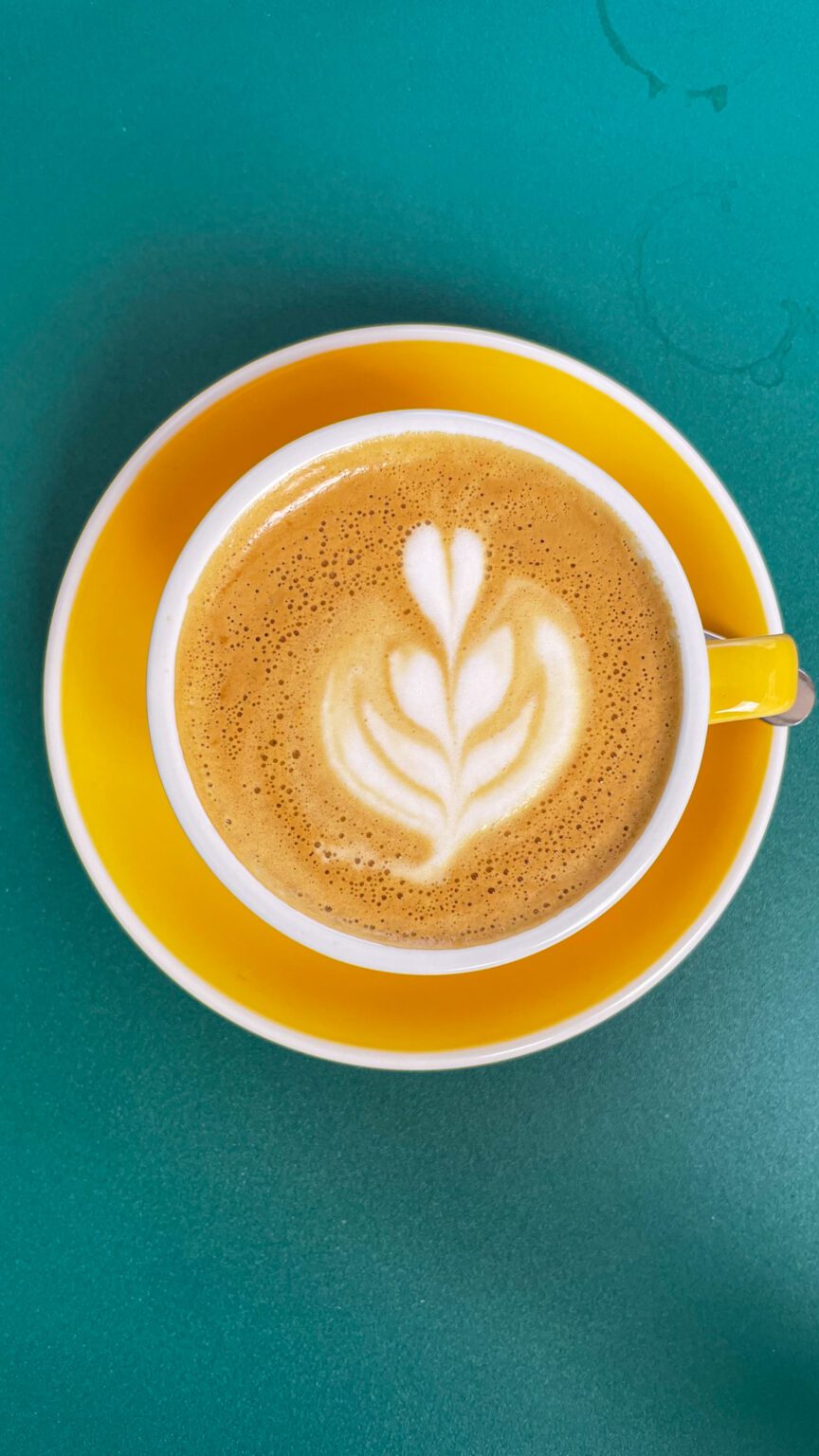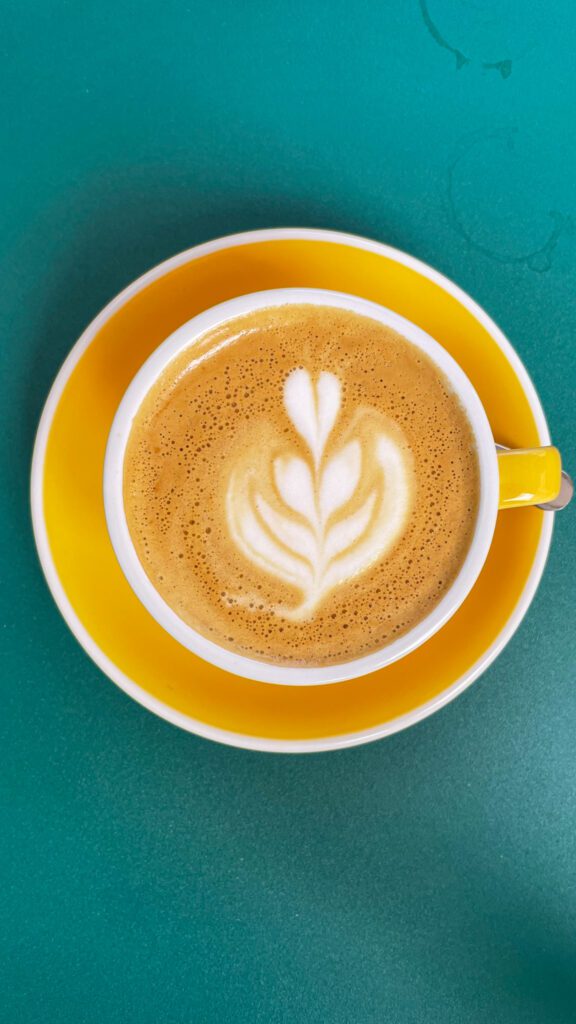 SO Coffee Roasters
We happened to stop by So Coffee Roasters in Lisbon (which is inside a shoe store) on a day that they were closed. But fear not! They have their own space up in Porto, which we made it to later in our trip.
They have a variety of different coffees available as filter, which I love, and they give you a fun little card with the tasting notes alongside your cup. The coffee itself, at least the one cup we shared, was fine. Nothing that blew our socks off, but definitely a solid cup of coffee.
Give it a Shot Specialty Coffee
My older brother's apartment that he stayed in for a week was in the building above Give it a Shot, so we ended up here a couple of different times.
We tried filter coffee and cappuccinos, and the verdict was "good, not great."
I do like that they're rotating through different roasters, and they recently started doing public cuppings, which is a fun experience if you've never done one (follow them on Instagram for updates).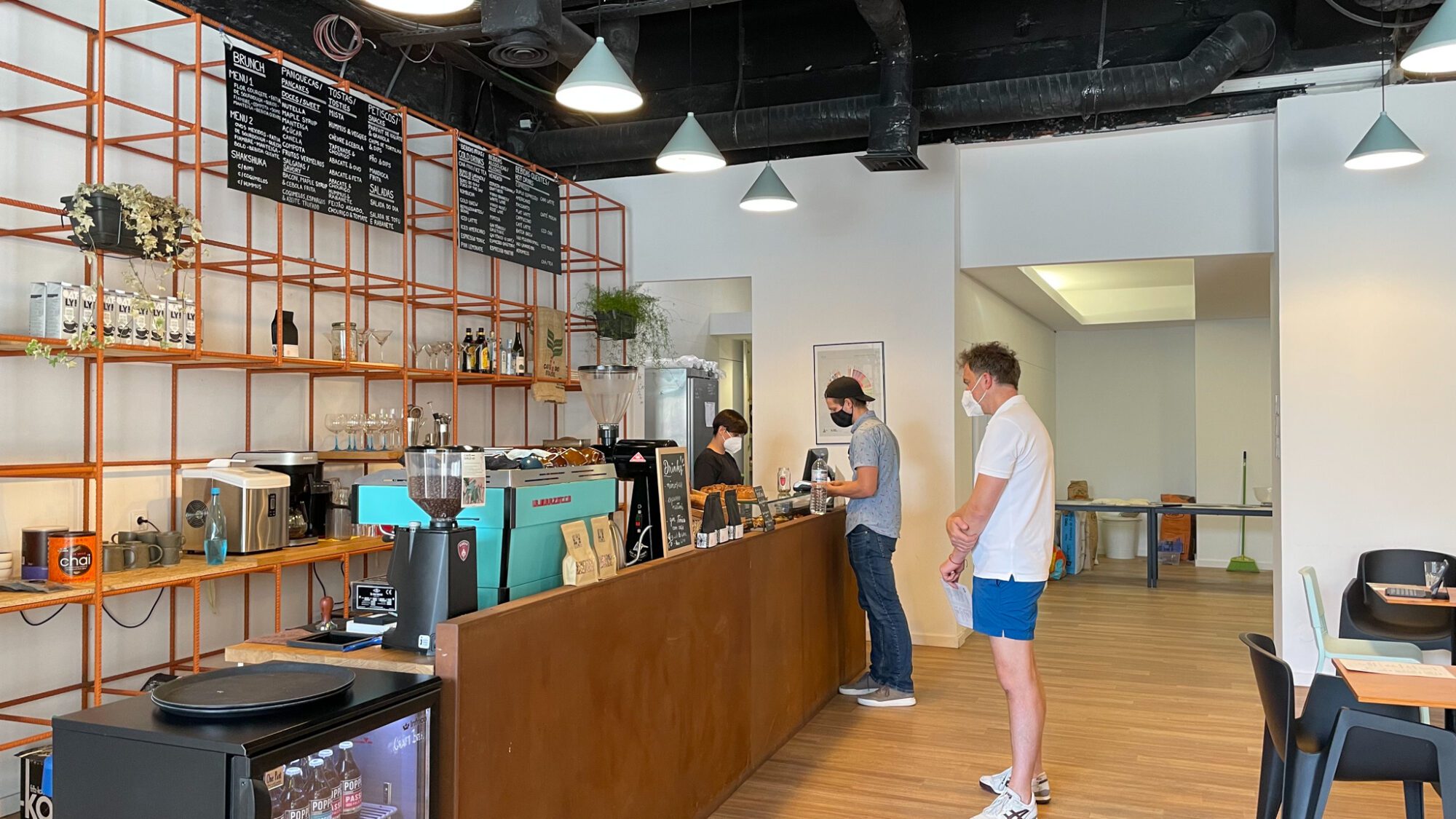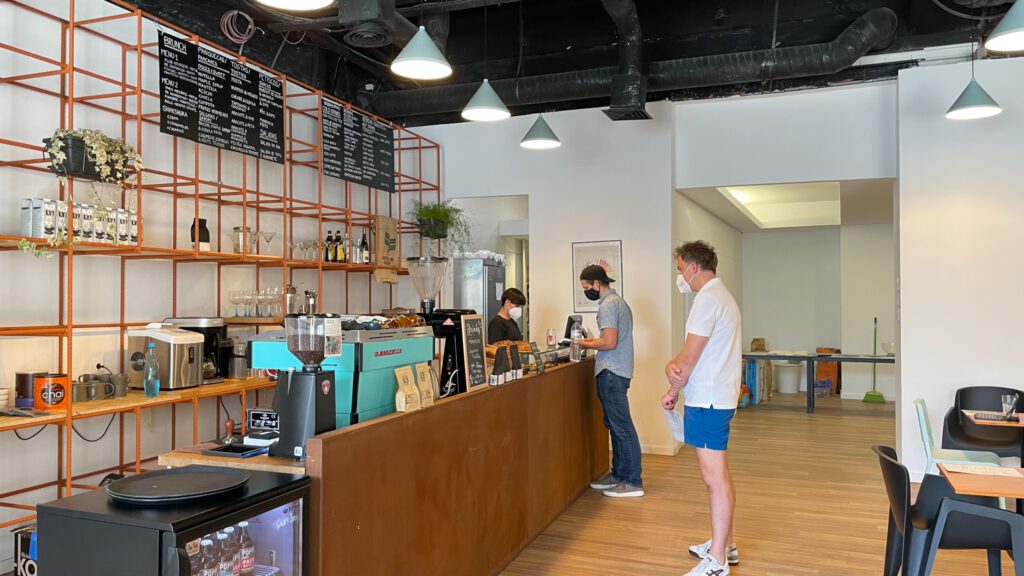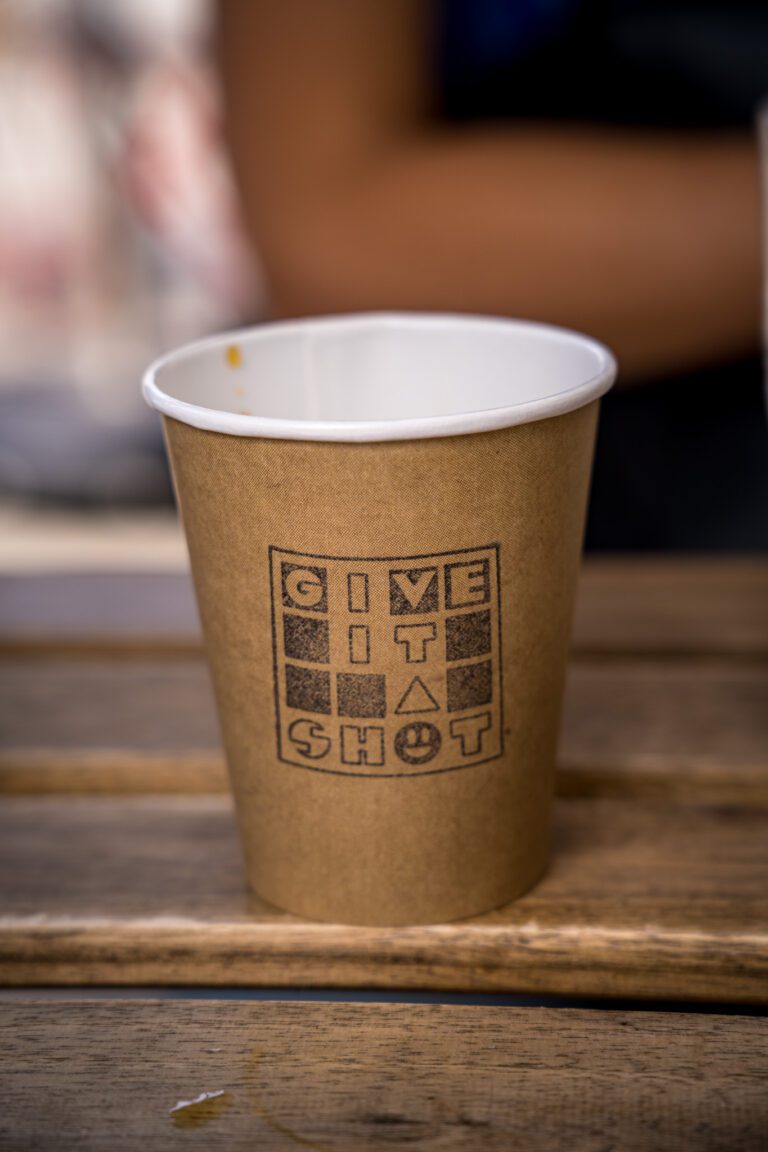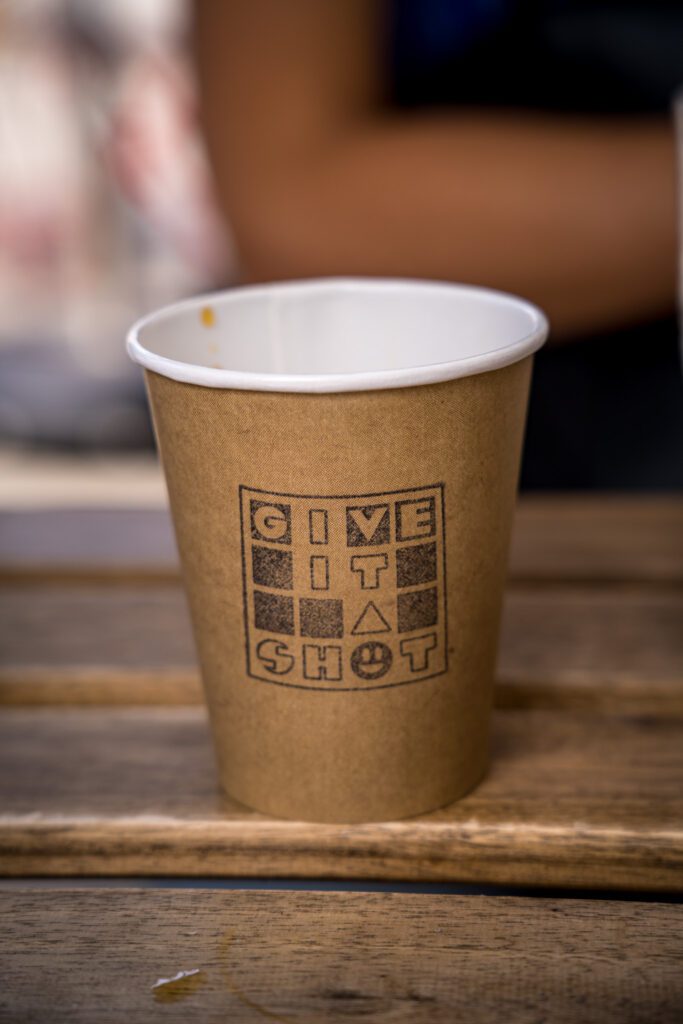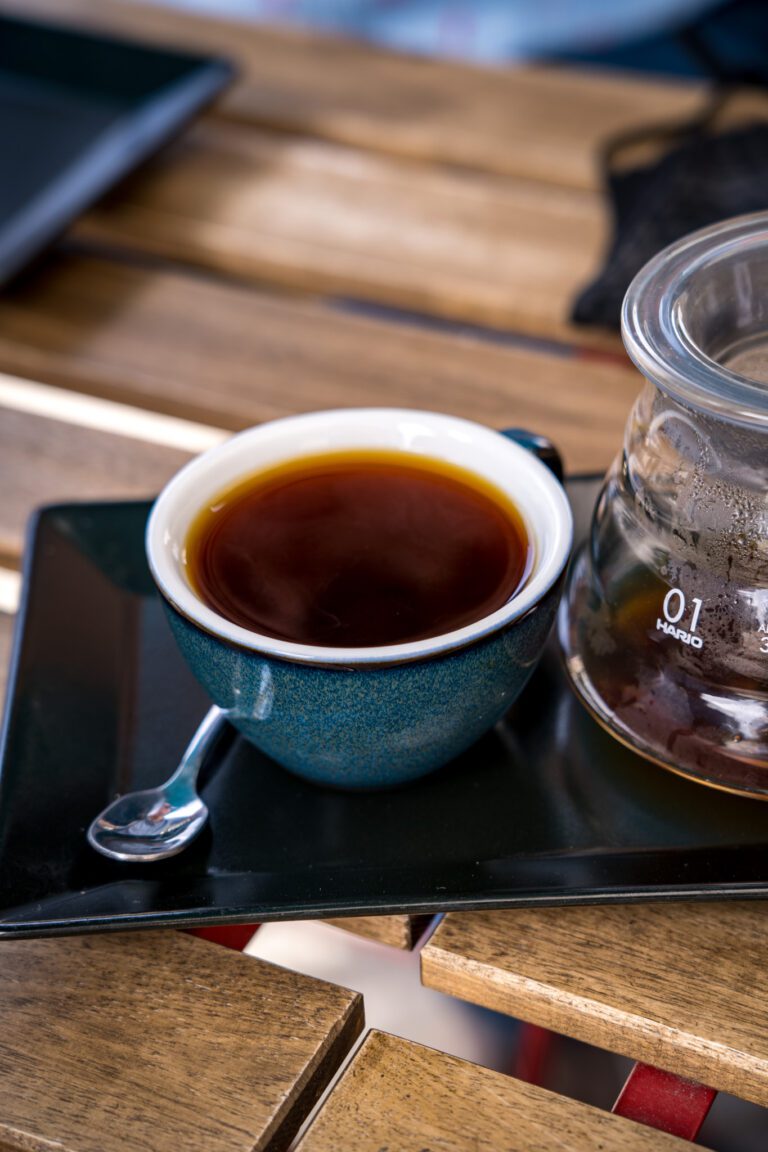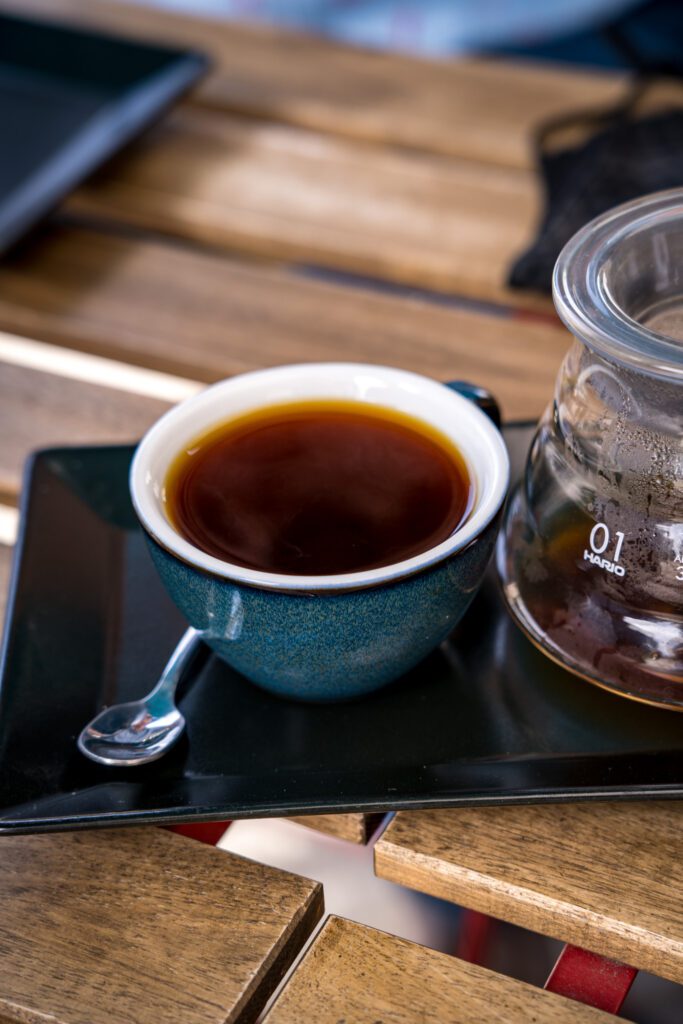 Hello Kristof
When I think about hip coffee shops around the world, Hello Kristof is up there in terms of aesthetics. The small space is adorned with all sorts of plants, a wooden bookshelf on the back wall holds all sorts of design-forward magazines, and there's a large communal table smack dab in the middle.
We enjoyed sitting in a nook by one of the huge windows, enjoying the natural light pouring in (which is an excellent side dish to a good cup of coffee). The coffee is good, but there's nothing particularly unique about the coffee menu. Still, a great flat white is waiting for you here.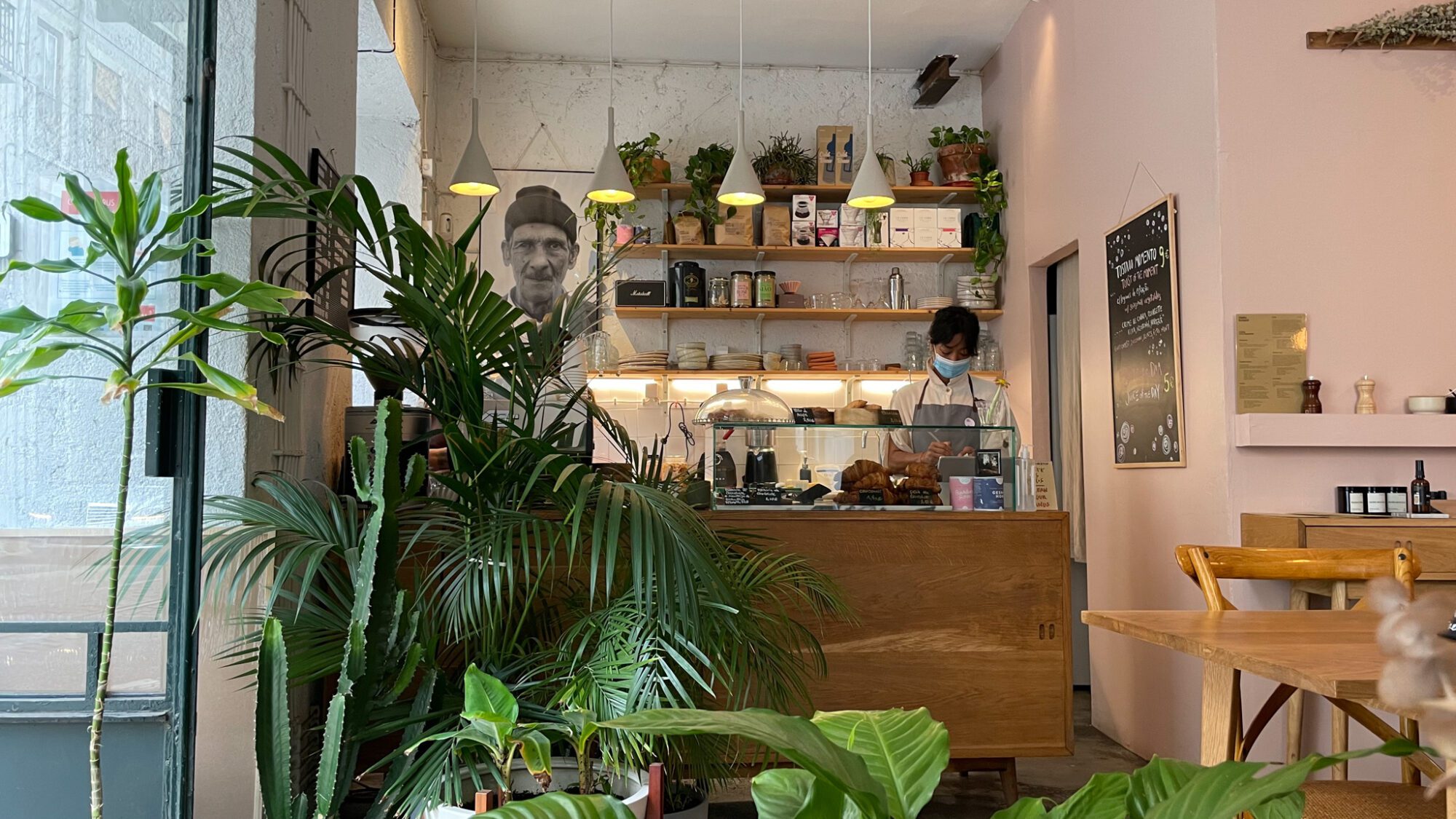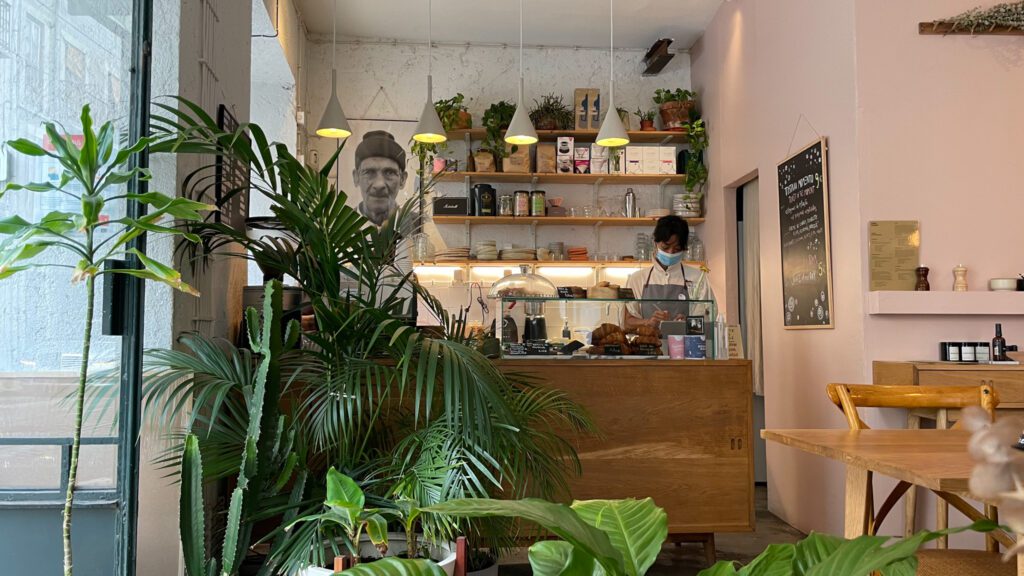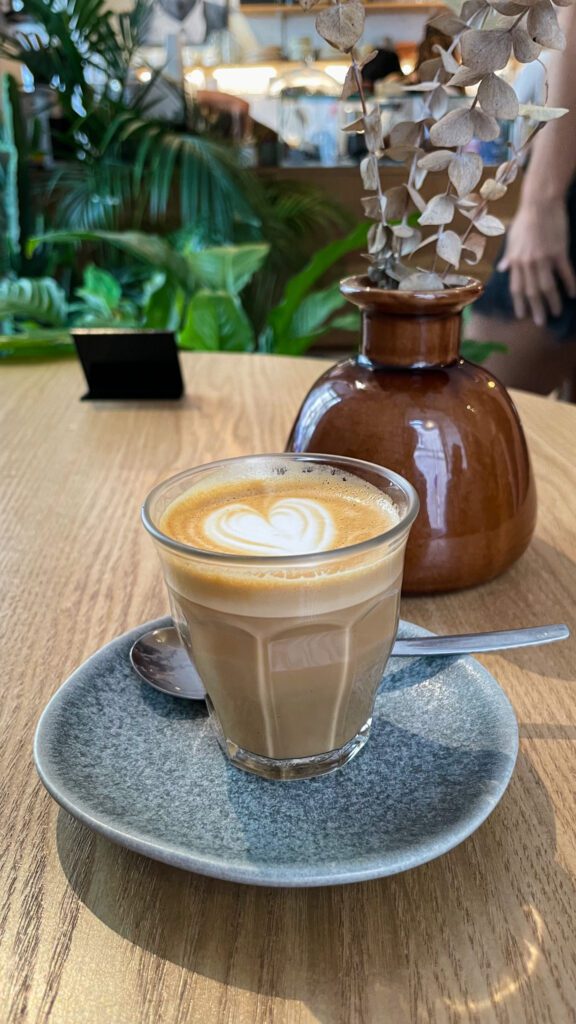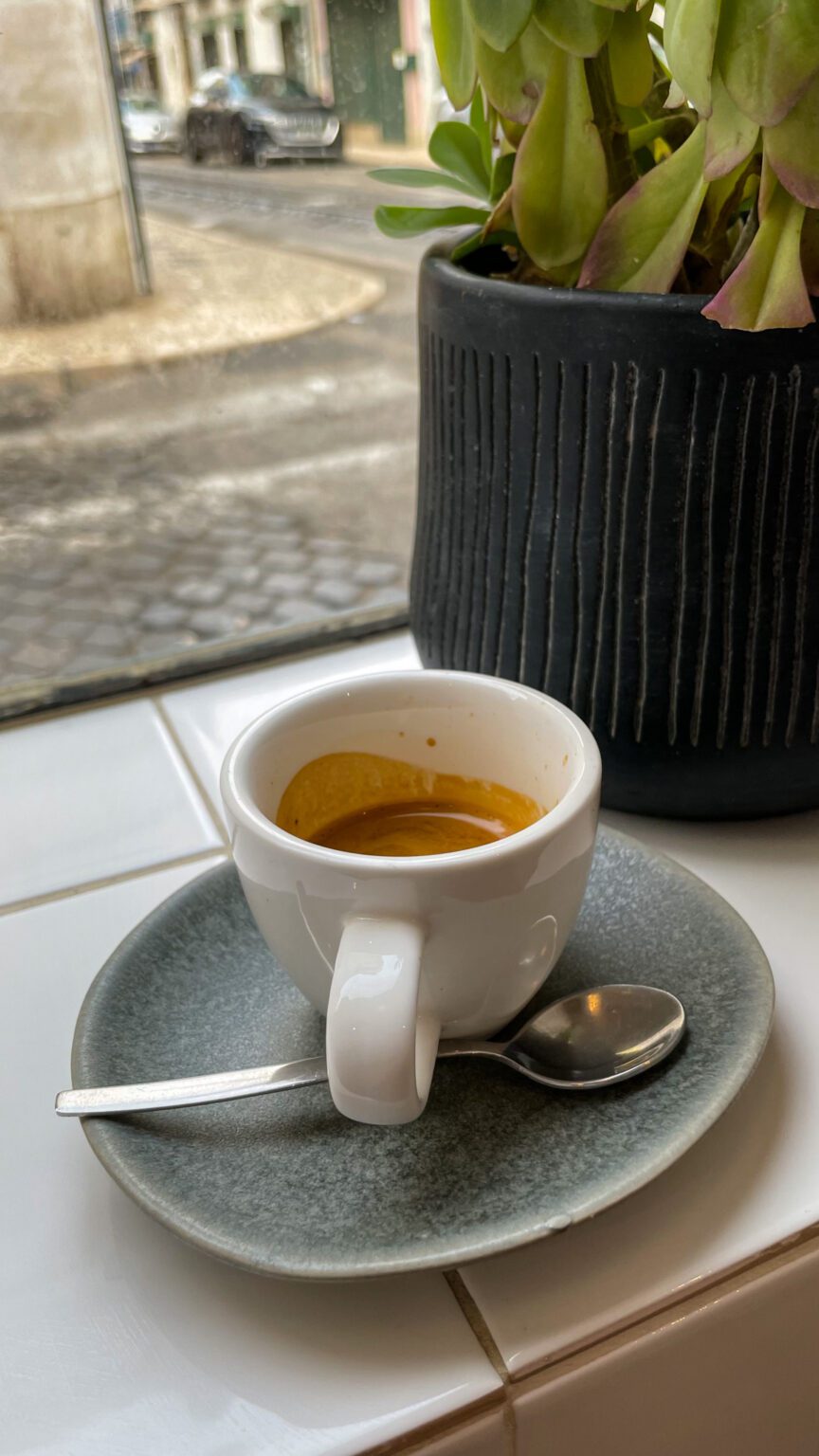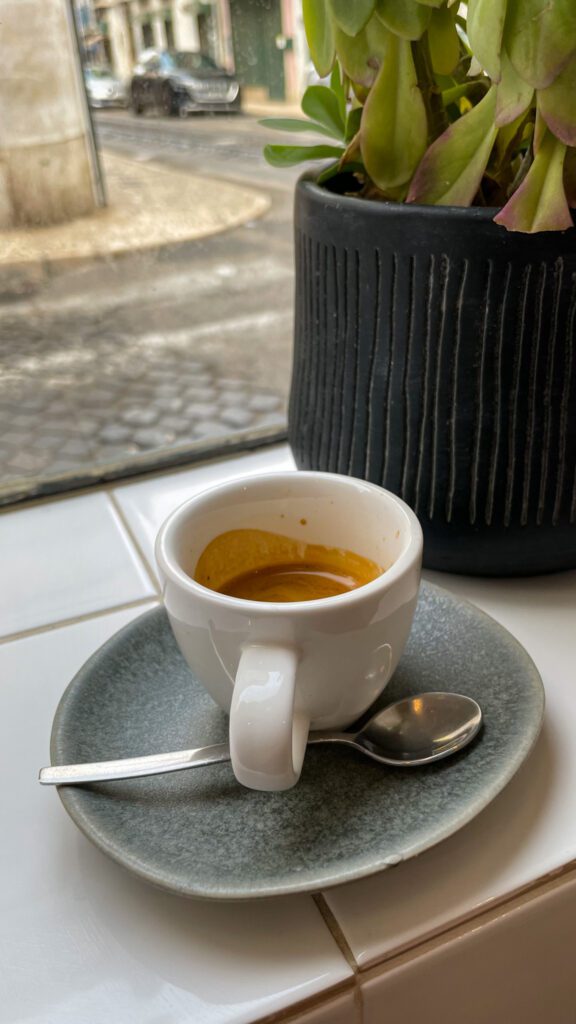 Neighbourhood Coffee
This Aussie-run café near the water is the place to go if you want your coffee with a side of an avocado toast. They crank out flat whites, which in my mind are an Australian coffee staple based on our trip a few years ago, and a series of brunch items with a twist – like the jalapeno avocado toast, which looked delicious.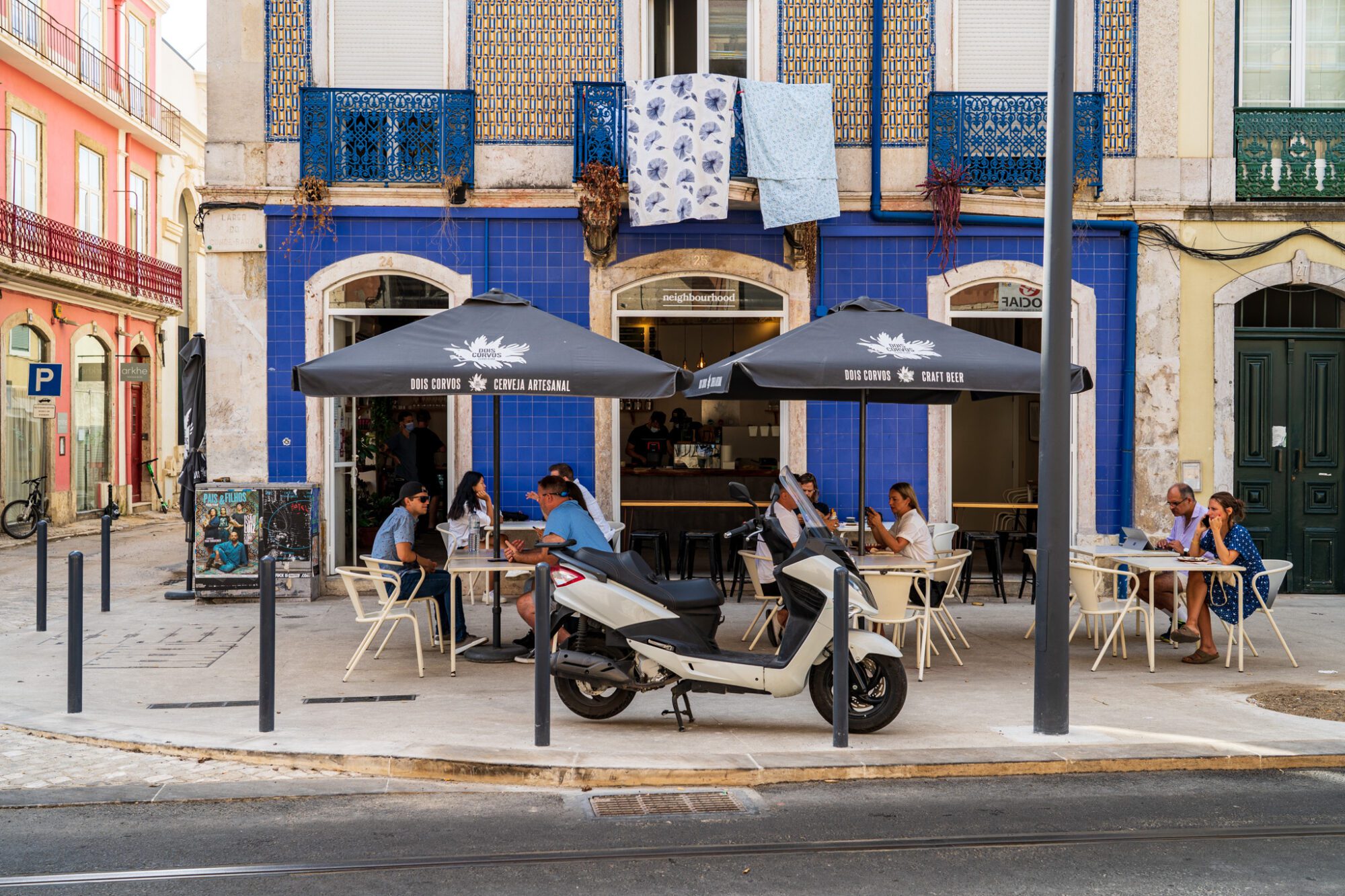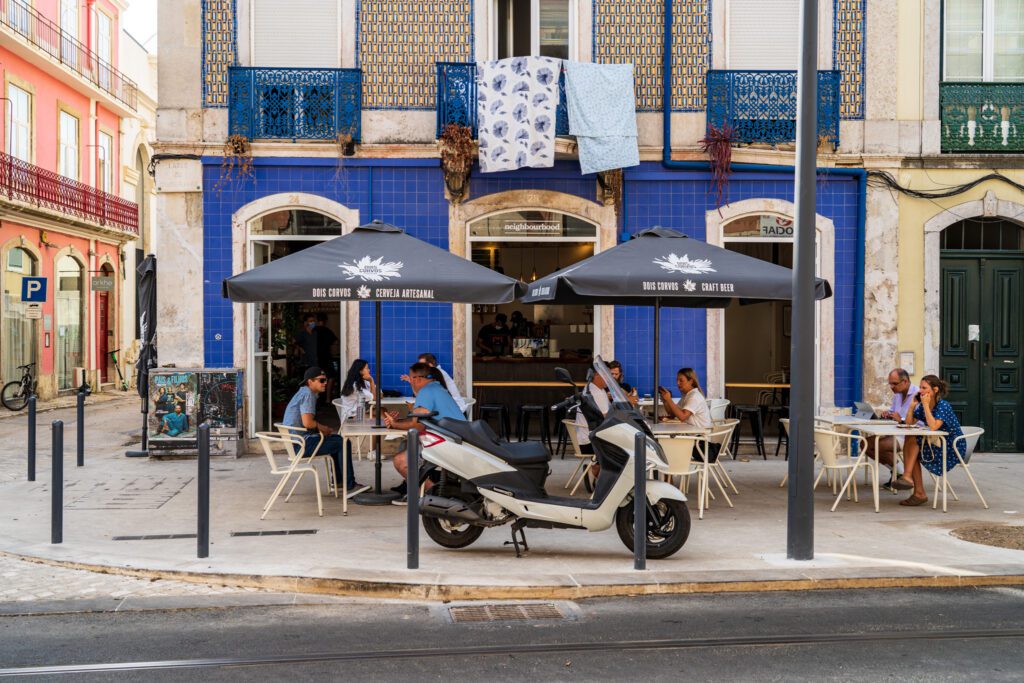 Olisipo Coffee Roasters:
Olisopo is a small-batch roastery in Lisbon, a bit west of the main city center. They're one of the few roasters operating out of Lisbon itself. Unfortunately, they have extremely limited hours (currently 2:00 pm to 6:00 pm, Friday and Saturday), which meant that we didn't actually make it here. Though I did have their coffee at Milkees (above).
My Coffee Preferences and Experience
First of all, you should know that I am in no way a professional when it comes to coffee. I am, however, an amateur coffee enthusiast who has a home coffee setup with far too many "coffee contraptions" (as Alysha calls them) to count.
I've been to Europe several times before, and have generally found the coffee to be fairly underwhelming.
On my first trip to Europe, I loved (read: was addicted) to coffee, but I wasn't as into specialty coffee as I am today. For example, I brewed coffee at home either using an old-school drip machine, or a Keurig. Which was good, because in 2012, the specialty coffee scene in most of Europe was basically nonexistent. Coffee in Paris and Florence was dark, bitter, and all the fun flavors were roasted away.
On my second and third trips to Europe two years later, I had graduated from a Keurig machine to a V60, but still didn't have much of a clue how to use it. The coffee scene in Europe in 2014 was largely the same as it had been a couple of years before. Burnt espresso and cappuccinos, enjoyed either quickly and efficiently at the counter (in Rome) or leisurely on an outdoor patio (in Paris).
Fast forward seven years, and I'm a full blown "coffee snob," as Alysha – a non-coffee drinker (don't trust anyone who doesn't mainline caffeine) – likes to put it.
I love exploring the world of specialty coffee, and am always on the lookout for something new and exciting to try. Whether it's a new brew method or a coffee with wild tasting notes (my personal favorite has been "watermelon jolly rancher"), I'm up for experimenting.
Lucky for me, the European coffee scene has evolved at a similar pace as my tastes have, which means I had plenty of cafes to add to my list of places to find good coffee in Lisbon.
Below, you'll find my philosophy on specialty coffee – what kind of coffee I prefer, different categories of coffee shops, and more – to give you an idea of how I evaluate these places. Because at the end of the day, coffee is mostly about personal preference.
You may like your coffee strong, dark, and bitter, and that's totally fine! But if you go into reading this thinking I also prefer my coffee that way, you may not enjoy the places I did in the same way (or, you might discover a new way to experience coffee!).
Coffee in Portugal: A Brief (and Completely Incomplete) History
During our time in Lisbon, we did a private walking tour through WithLocals (one of my favorite tour companies around because you get to choose your guide!), and our guide, Isabel, gave us a brief overview of the history of coffee in Portugal, how to order it, and more. It was this tour, and I highly, highly recommend it.
At a high level, coffee came to Portugal wayyyy back in the 1800's from South America. It's unclear if it was Brazil, which was a Portuguese colony, or somewhere else in South America like French Guiana, from my further reading. If you know, I'd love to hear about it!
Anyway, the coffee that came back was served similar to espresso today, but without the pressure. In other words, it was extremely dark and bitter.
The term "bica," which is the Portuguese word for a drink that is similar to (but slightly different from) it's Italian counterpart, espresso, has two potential origin stories. Again, unclear which one is real.
The first potential origin story is that bica is said to be an acronym for "Beba Isto Com Açúcar", which means "drink this with sugar." In the early 1900's, one of the first coffee houses opened in Lisbon's Chiado district. In fact, it's still there today – it's called Café A Brasileira. They started offering up coffee sourced from Brazil, and said "drink this with sugar" because it was so dark and bitter.
The second bica origin story that Isabel had for us was that the way it comes out of the machine is similar to a fountain or tap, which are also called "bica."
From there, the coffee scene in Portugal took off. I mean, if you're reading this, you probably have experienced the euphoria of that first cup of coffee of the day, so it's totally understandable why Portuguese people said "yeah, I'll have more of that, please."
One aspect of the Portuguese coffee scene that is a little different from the one at home (but similar to other places in Europe that I've visited) is the social aspect.
Walking around Lisbon, you're likely to see groups of people meeting at a café, having a bica, and catching up. In fact, we walked past the same group of older men outside a café in Alfama around the same time on two different days, which tells me it must be a daily ritual of theirs.
The Coffee Scene in Lisbon Today
For whatever reason, Lisbon's coffee scene is more well-developed than places like Rome, or Paris (although the latter is definitely catching up).
In other words, there seems to be a higher number of "specialty coffee shops per capita" in Lisbon than in other places we've traveled. Why is that? I'm not quite sure.
It probably has something to do with the lower cost of living – and therefore, barrier to entry – in Lisbon versus some of the bigger European cities, which gives more opportunity to take risks.
It's similar to the way that Portland and Seattle have better coffee scenes than San Francisco, and Los Angeles (in my opinion, anyway).
---
Planning a trip to Portugal?
Here are our other Portugal travel guides to help you plan an incredible trip (even if you have to eat gluten free!).
If there's no link below, it means we're still working on it – long, in-depth guides take time! We're working on it, though, we promise.
Portugal:
Lisbon
Porto:
The Algarve: